Quality Friends Famous Quotes & Sayings
List of top 43 famous quotes and sayings about quality friends to read and share with friends on your Facebook, Twitter, blogs.
Top 43 Quotes About Quality Friends
#1. One should feel that one's friends, the people who meditate around you, who seek, are likewise pligrims on a journey. They're traveling to eternity also. You should love them. Whenever you see a good quality in them, you should repect them. - Author: Frederick Lenz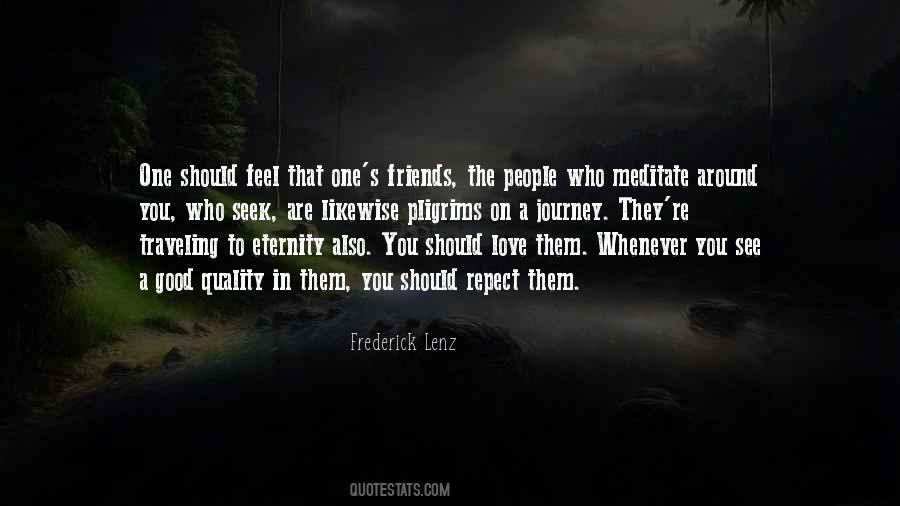 #2. A thug is what I want and a thug is what I need. And my friends don't understand, and I think it's jealousy. - Author: Curtis Jackson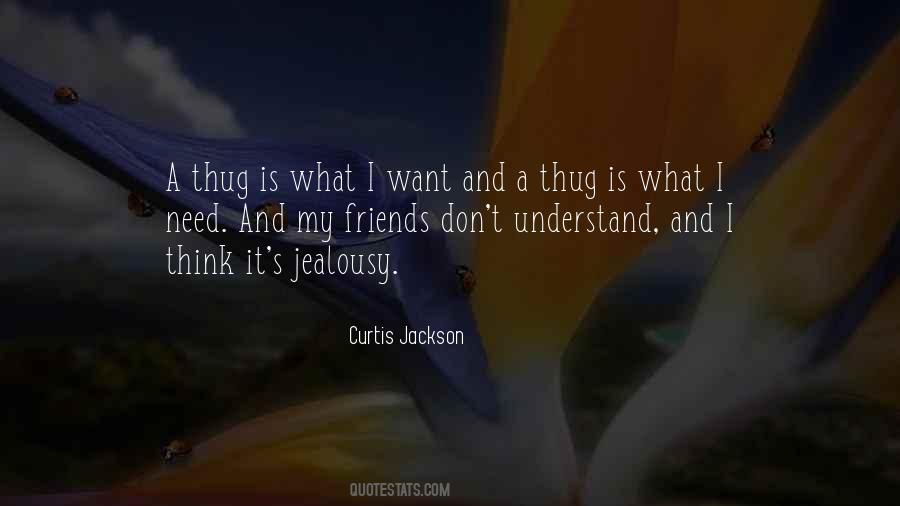 #3. During adolescence, friends bring an intimate quality of support that can't be provided by any adult. - Author: Sara Shandler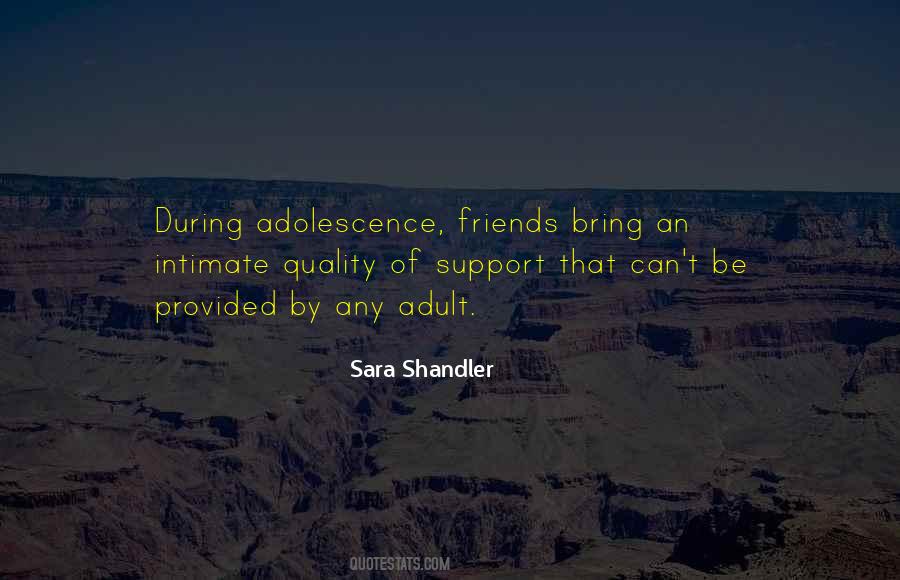 #4. The most important form of selfishness involves spending time on your fitness, eating right, pursuing your career, and still spending quality time with your family and friends. - Author: Scott Adams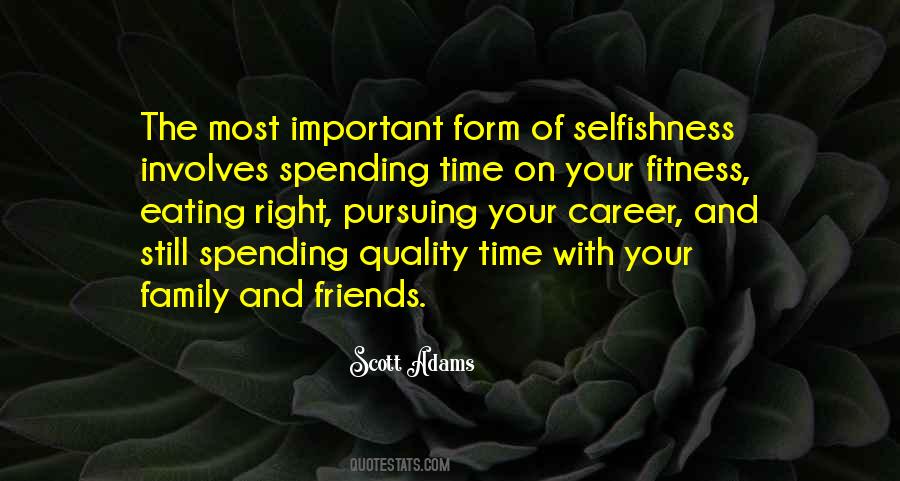 #5. Quality of life is very important in France. I have many friends who turned down promotions and more money because it would affect their quality of life as a couple or a mother. - Author: Mireille Guiliano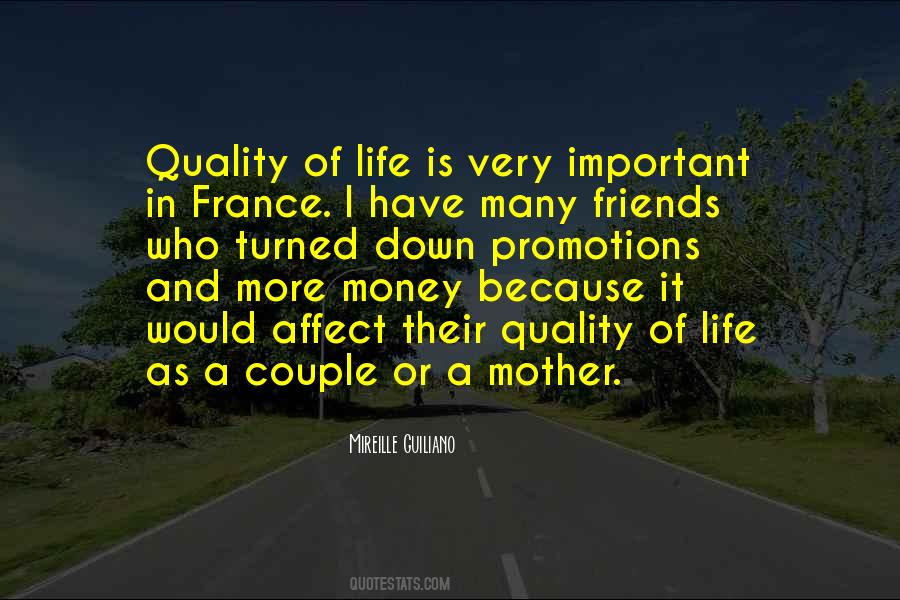 #6. I would rather have 1 amazing best friend than 100 decent regular friends. It's not about quantity, it's about quality. - Author: Connor Franta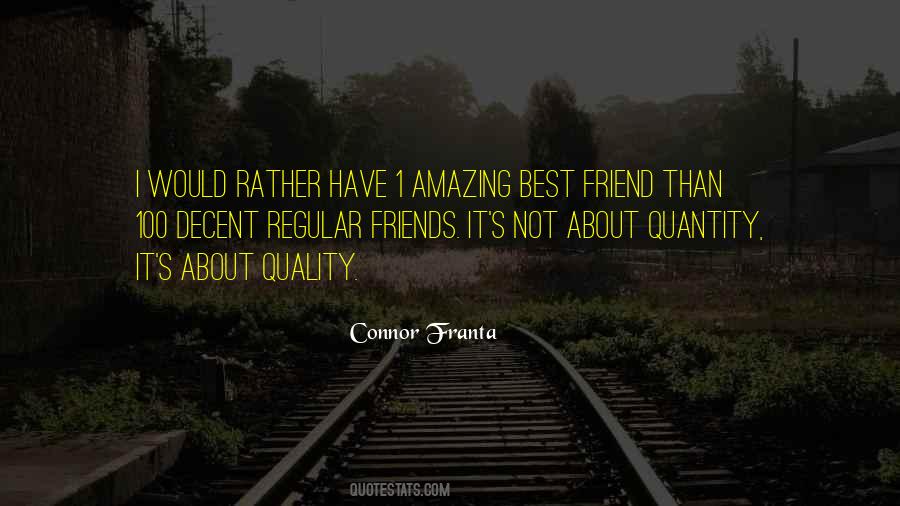 #7. I started in the industry in Public Relations, Quality Assurance, Information Systems and furniture moving. I tried my hand in design and haven't looked back. I'm fond of hackysack, racquetball, BBQ grilling, hanging out with my wife and friends - Author: Dan Miller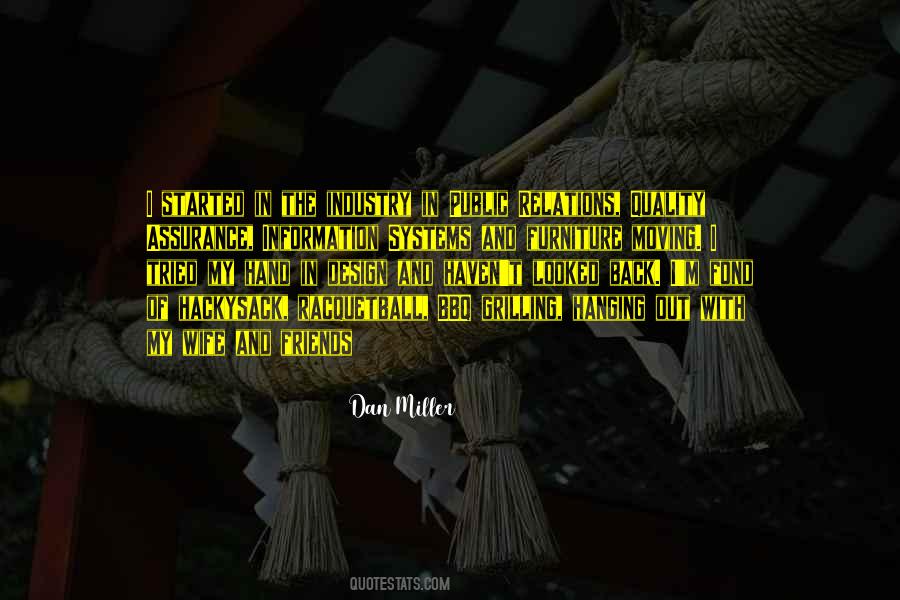 #8. In Community of Caring, we believe the quality of caring we give to our parents, to our brothers and sisters, to our families, to our friends and neighbors, and to the poor and the powerless endows a life, a community with respect, hope and happiness. - Author: Eunice Kennedy Shriver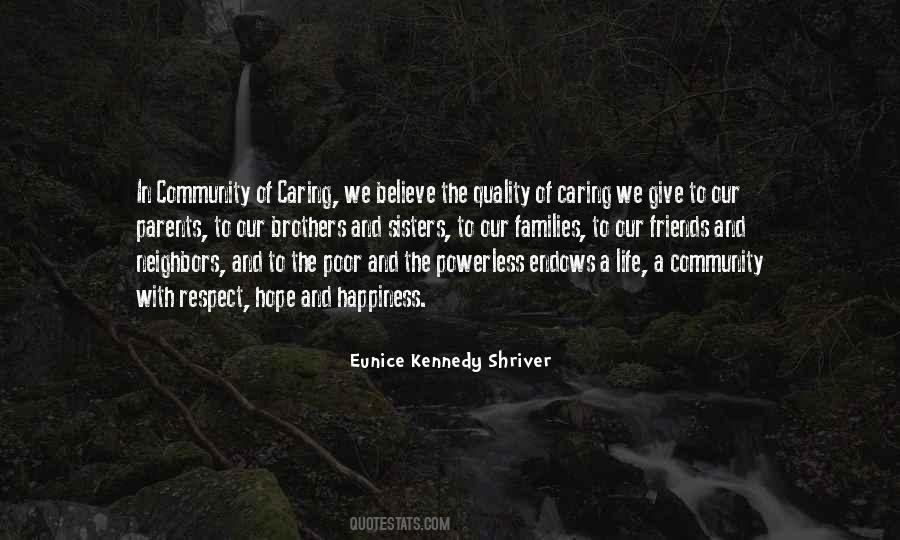 #9. Whether people want to do business or sell things online, reach new people and be found, showcase their achievements, or communicate with their friends or family, Weebly is the best way for them to create a high-quality site that meets their goals. - Author: David Rusenko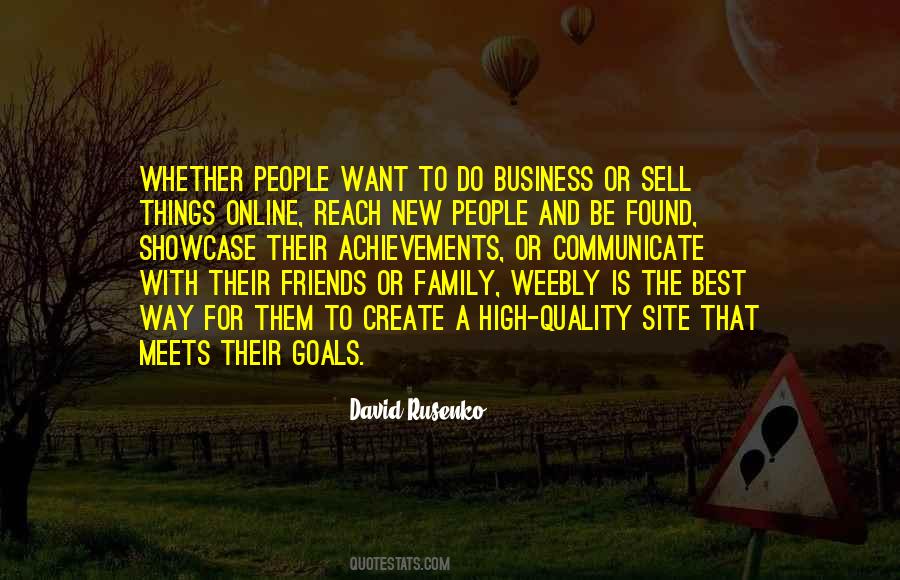 #10. Deliberately seeking solitude-quality time spent away from family and friends-may seem selfish. It is not. Solitude is as necessary for our creative spirits to develop and flourish as are sleep and food for our bodies to survive. - Author: Sarah Ban Breathnach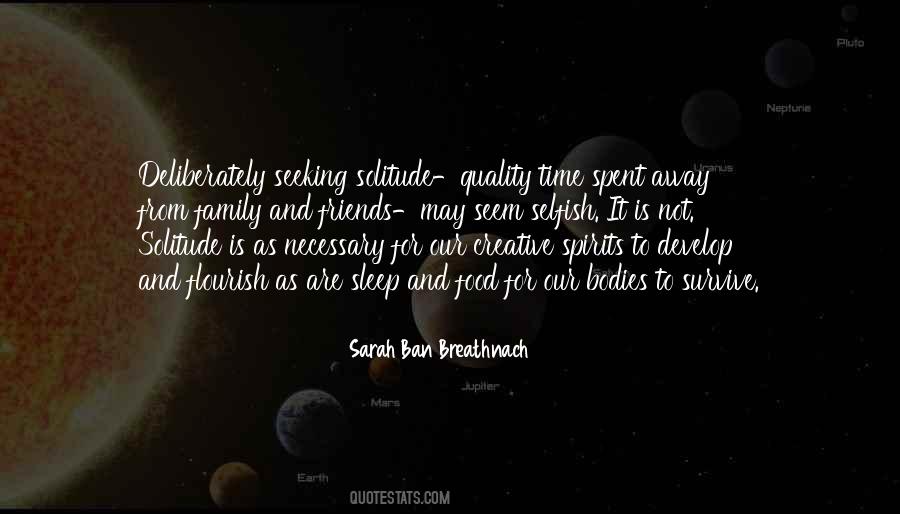 #11. I will reflect the finest qualities my friends offer me and remind them of all the promise I see in them. - Author: Mary Anne Radmacher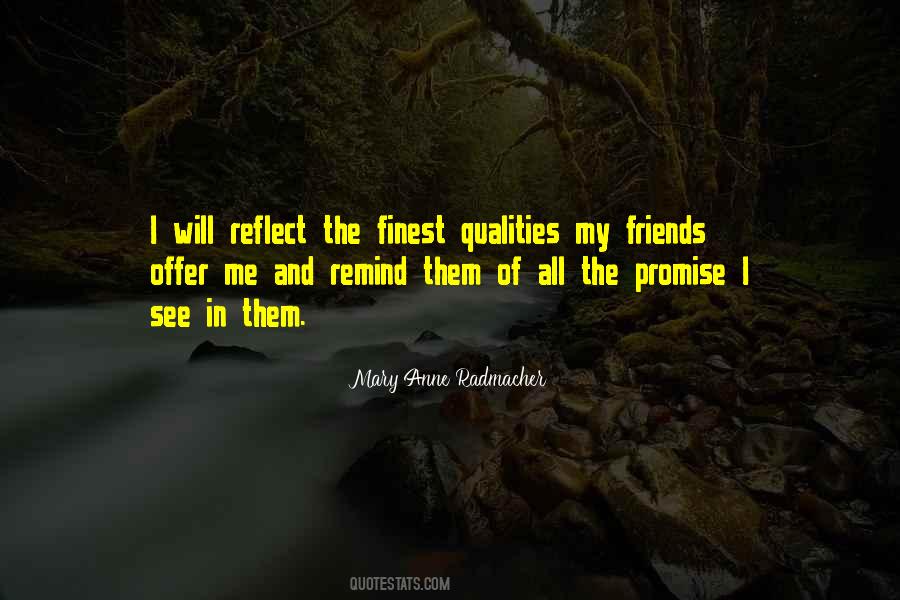 #12. When choosing friends, I seek quality, not quantity. - Author: Charles F. Glassman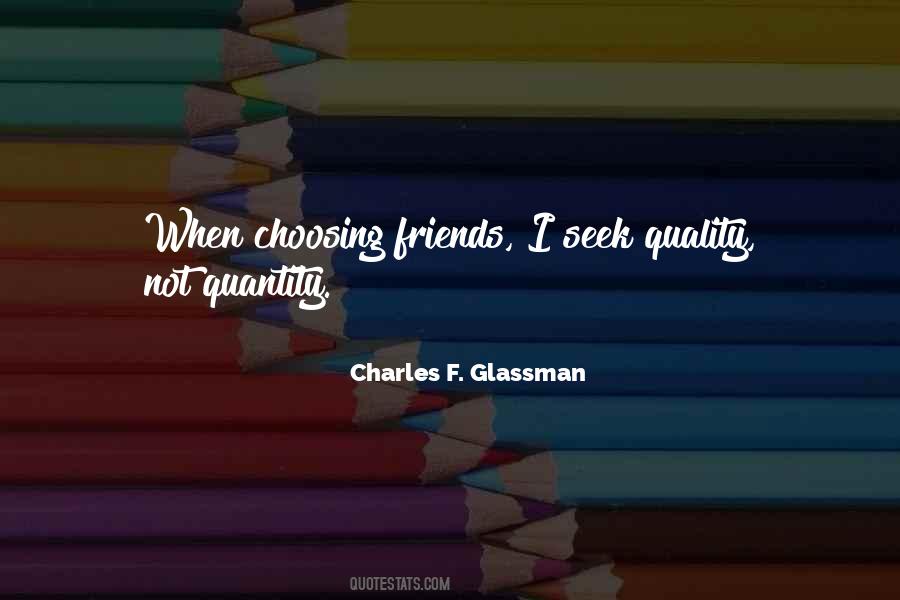 #13. discover that the quality of our relationships with our teachers, families, friends, and communities is as important to learning as the curriculum, testing, and technologies which usually occupy our attention. - Author: Louis Cozolino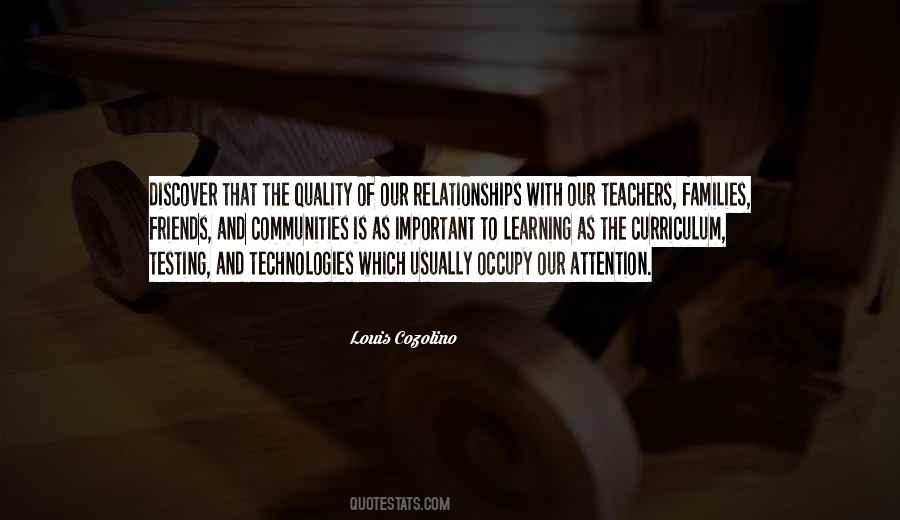 #14. I come alive by giving back, seeing my children smile and hearing them laugh, standing up for things I believe in, achieving a goal, being there for those who need me, spending quality time with my husband, and indulging in "me moments," whether it's a vacation or just a night out with friends. - Author: Trista Sutter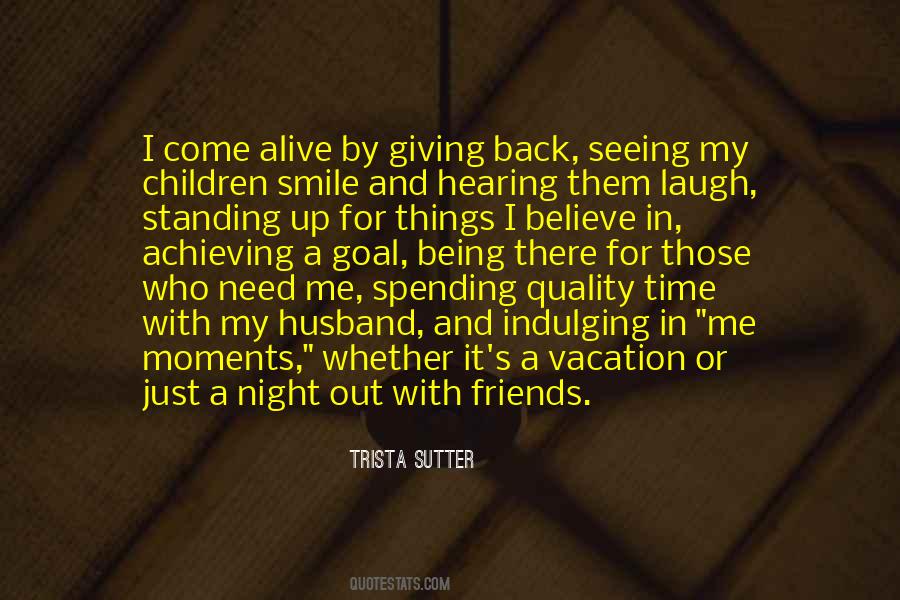 #15. Anytime you have chance to meet with old friends, greet them sincerely.
This is one easy way to build relationship by utilizing unexpected moments. - Author: Toba Beta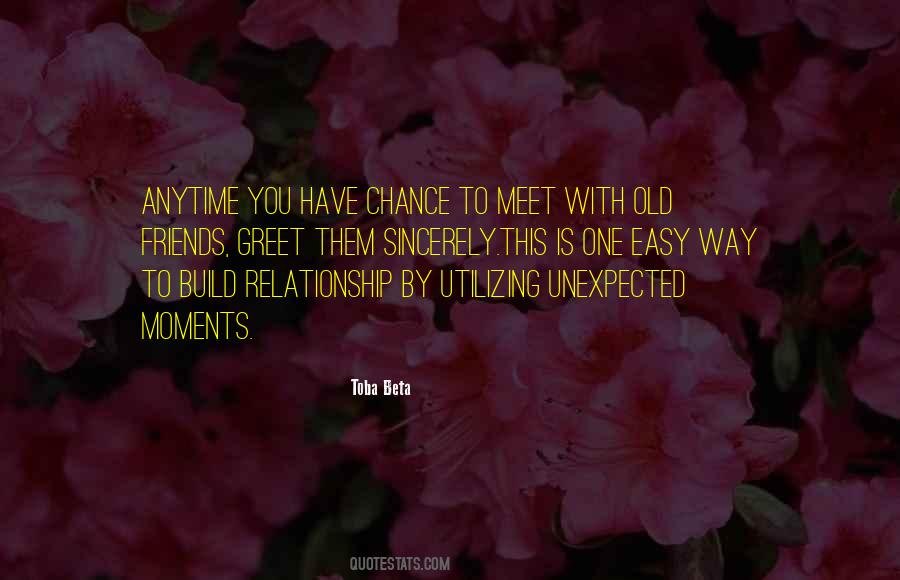 #16. Tea beckons us to enjoy quality time with friends and loved ones, and especially to rediscover the art of relaxed conversation. - Author: Dorothea Johnson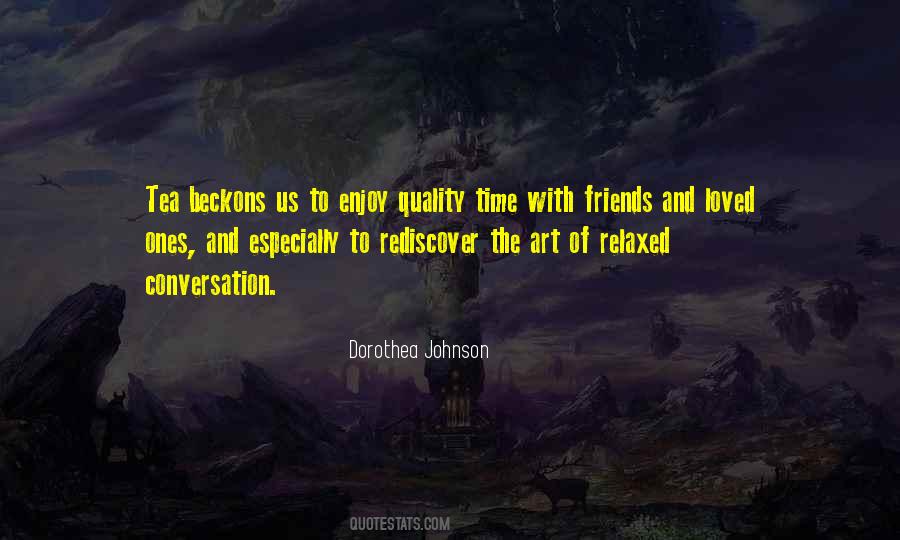 #17. Craft can be practiced by anyone, regardless of the skill or artistry that has come to be demanded by those who preach craft. Like a good meal, a good Crafternoon shouldn't need much - a few quality ingredients, a couple of good friends, and a little bit of creativity. - Author: Maura Madden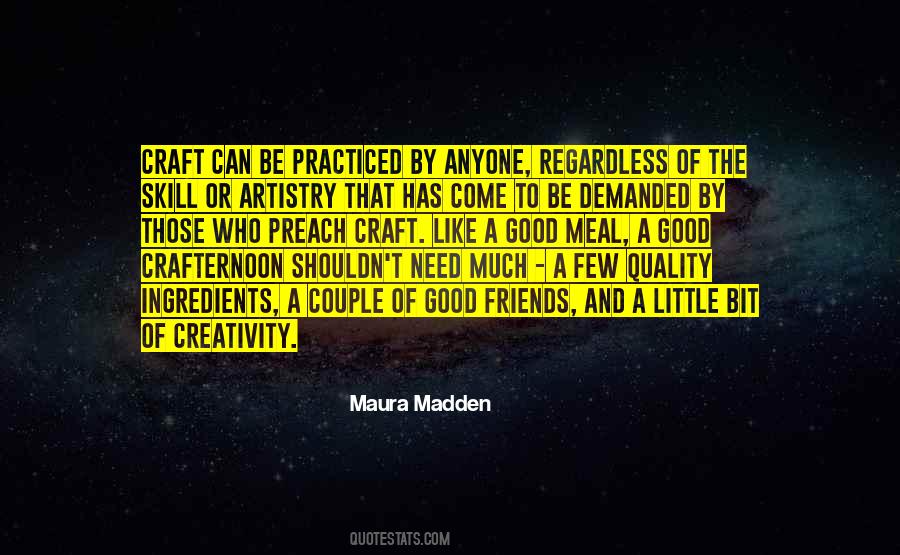 #18. A few caring kind quality friends are worth more than any amount of shallow popularity. - Author: Rachel Hamilton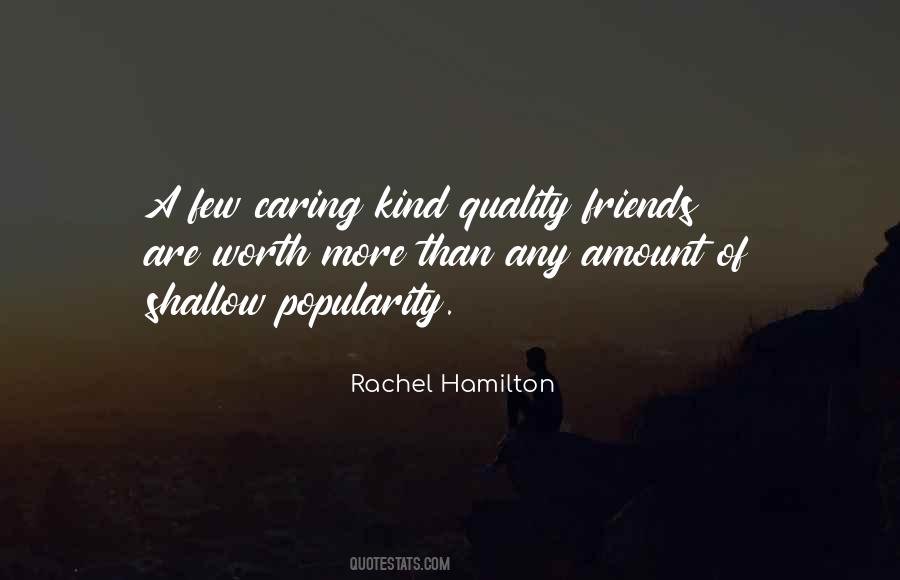 #19. Social scientists estimate that about 70 percent of our happiness stems from our relationships, both quantity and quality, with friends, family, coworkers, and neighbors. During life's difficult patches, camaraderie blunts our misery; during the good times, it boosts our happiness. - Author: Eric Weiner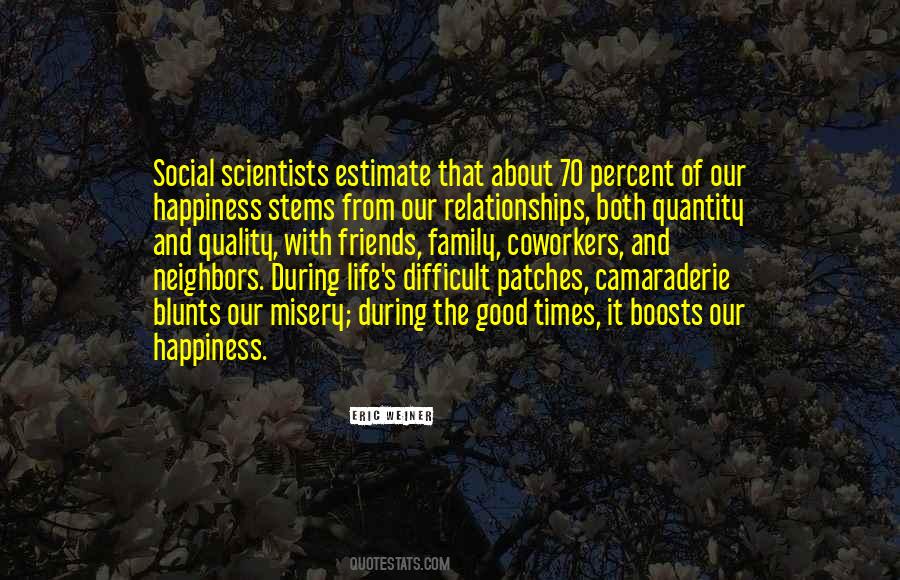 #20. I have friends that I talk to once a year, and we can pick right back up like no time has passed at all, but it is quality and trust that maintains those bonds. - Author: Lydia Elle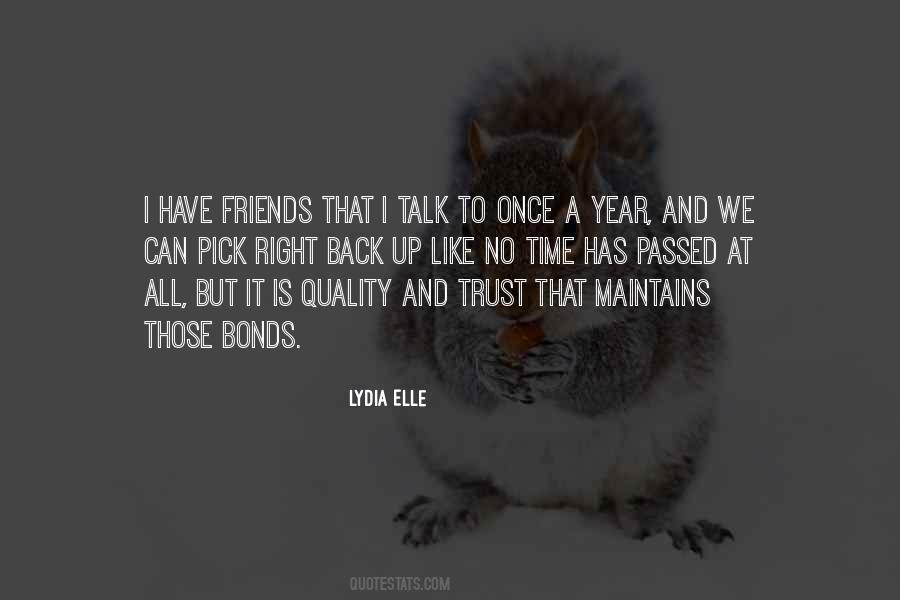 #21. It's all about quality of life and finding a happy balance between work and friends and family. - Author: Philip Green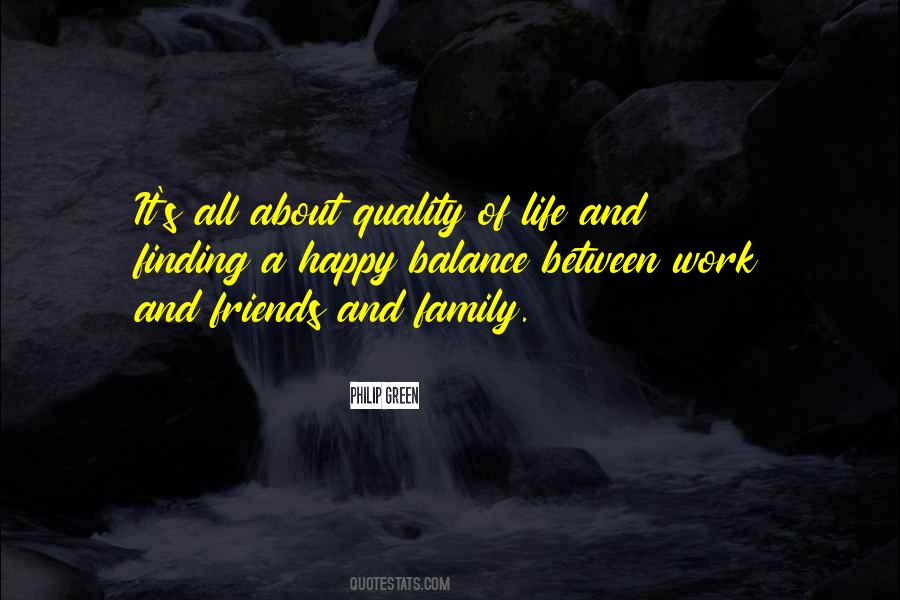 #22. We women often gauge our own self-worth by the quality of our interactions with our lovers. And often these interactions are interpreted for, described for, processed by our women friends. Relationships are the conduits through which flows our connection with each other. - Author: Carrie Preston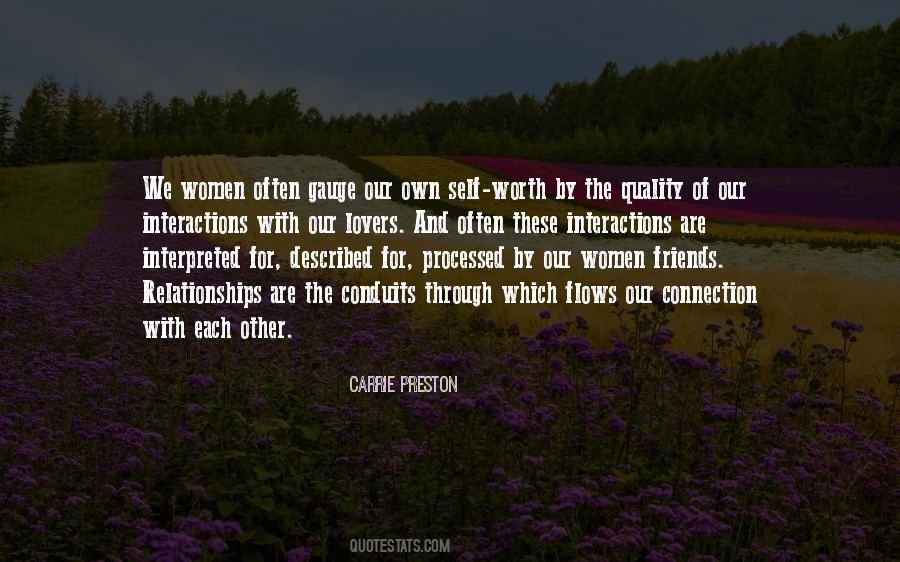 #23. I like my home to be somewhere where my friends can feel like they can put their feet up on the couch and for it to feel like really easy living. I really love to have my friends over, cook dinner for them, catch up, and spend quality time with quality people in my life. - Author: Stacy Keibler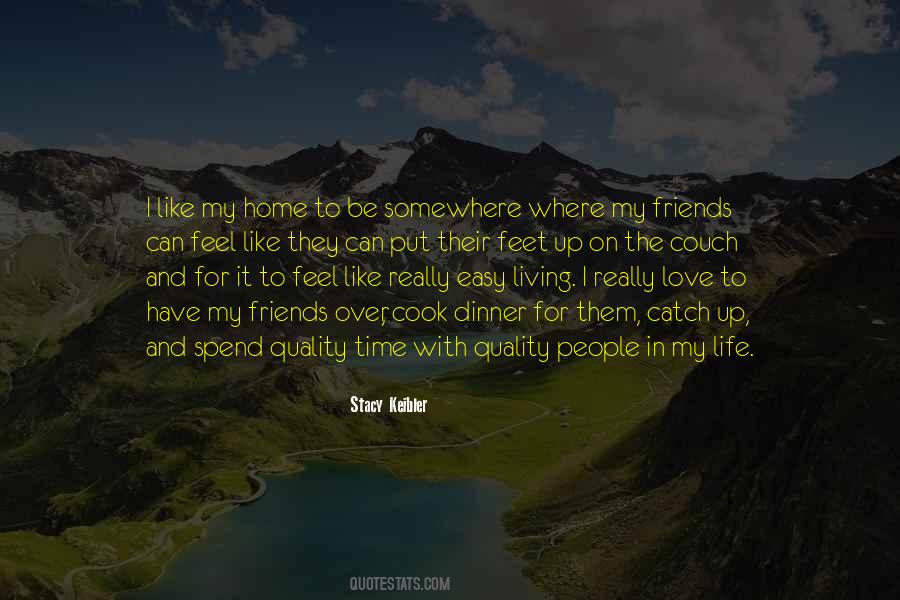 #24. The actions of our closest friends say a lot about our character - what we overlook, what we contribute to and what is important to us when the world doesn't take notice. - Author: Shannon L. Alder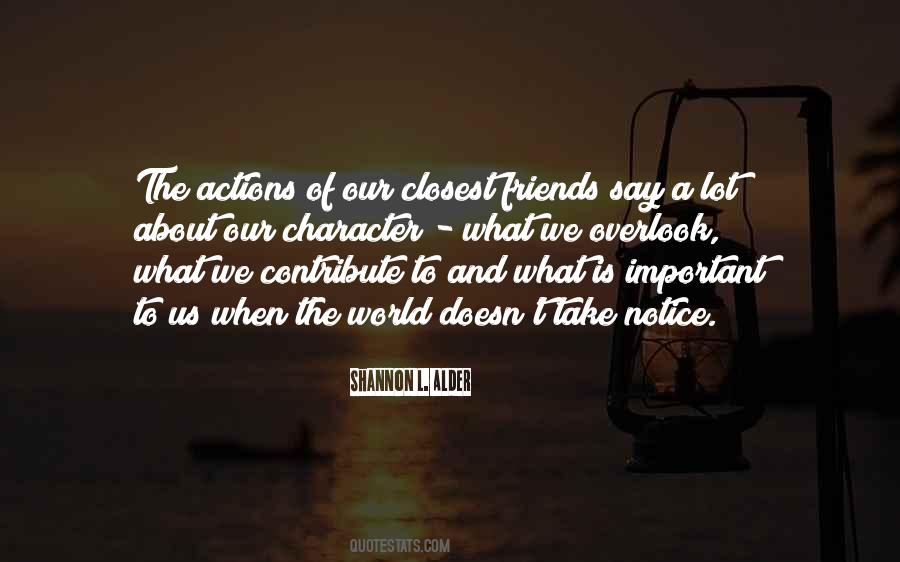 #25. The Power of WHO provides great lessons about how to succeed in business and in life. If you surround yourself with quality people and great friends, the sky's the limit. - Author: Wayne Gretzky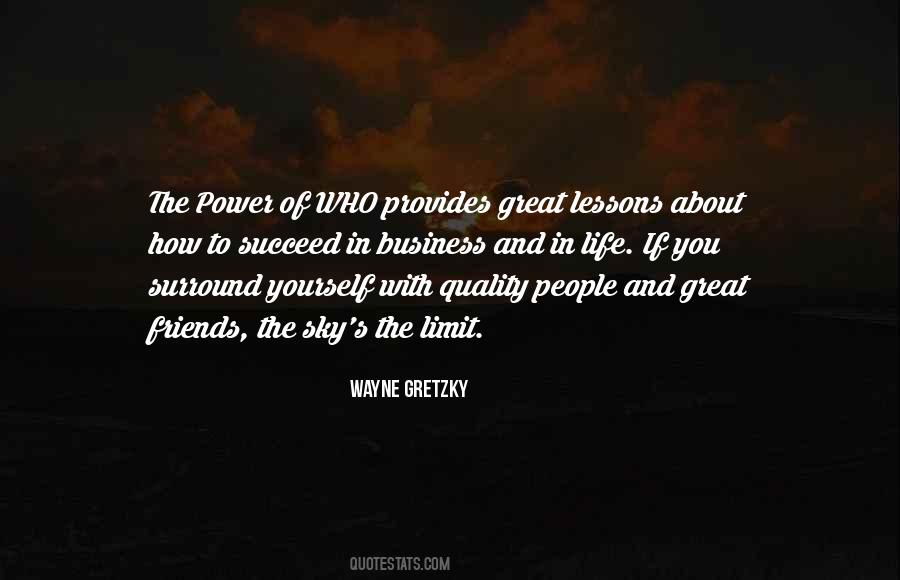 #26. If thy friends be of better quality than thyself, thou mayest be sure of two things; first, they will be more careful to keep thy counsel, because they have more to lose than thou hast; the second, they will esteem thee for thyself, and not for that which thou dost possess. - Author: Walter Raleigh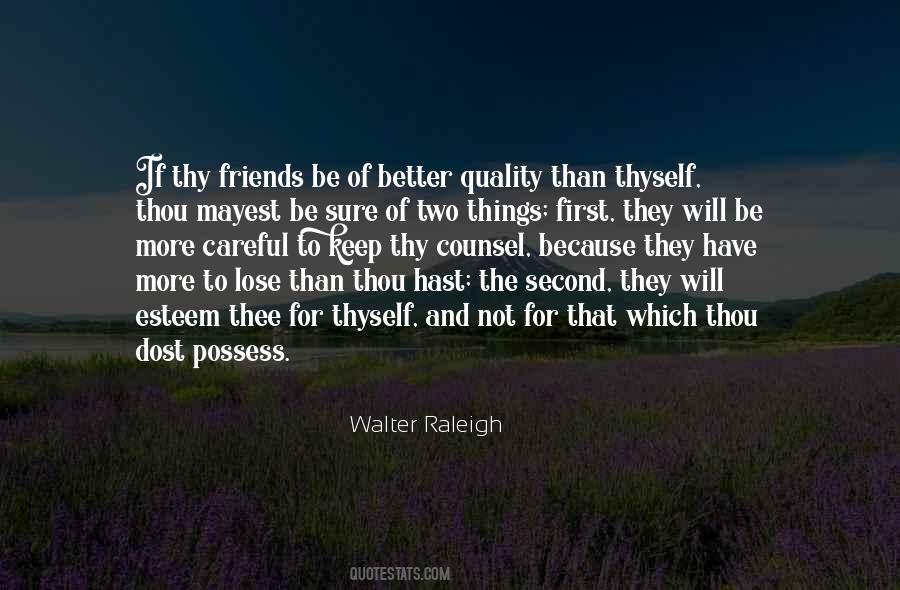 #27. Affection is the most important thing. And the quality of affection - with your friends, your lovers, your family. But particularly for your own generation. - Author: Allen Ginsberg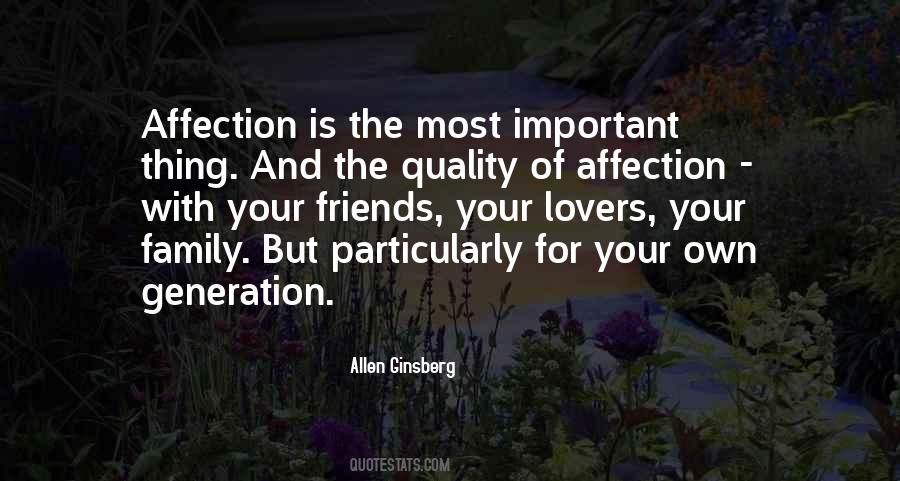 #28. I toured for about 2 1/2 years on twentythree and then I took about a year off. I really just spent some good quality time by myself at my house, cooking, watching movies, hanging with my friends, and family. I just really needed a chance to get away from the music for a minute and decompress. - Author: Tristan Prettyman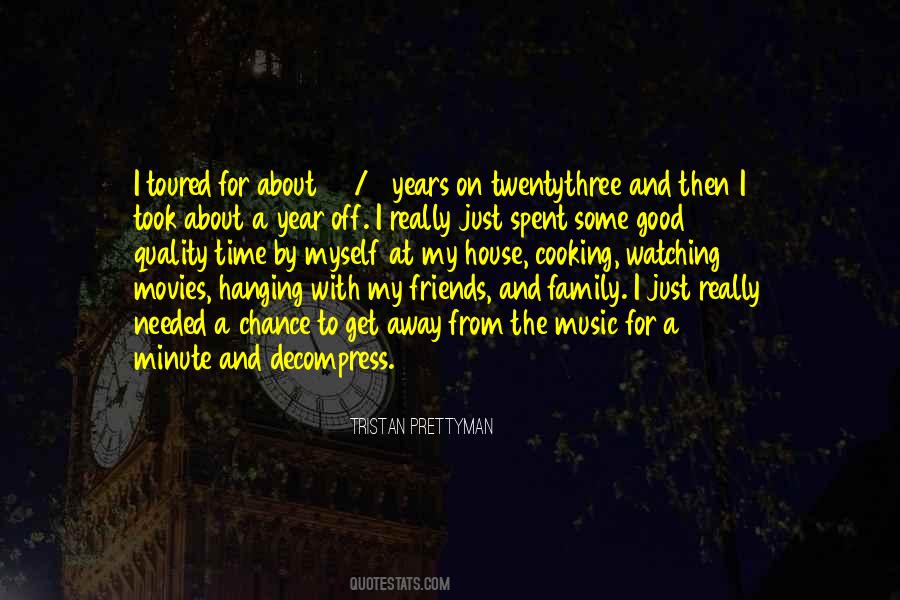 #29. When my son was growing up, I was always guilty, no matter what I did. Make decisions and be happy with the decisions you've made. I tell myself, in the long run, it's the love, the quality of relationships that you have with your family, your friends and giving back to the community that matters. - Author: Padmasree Warrior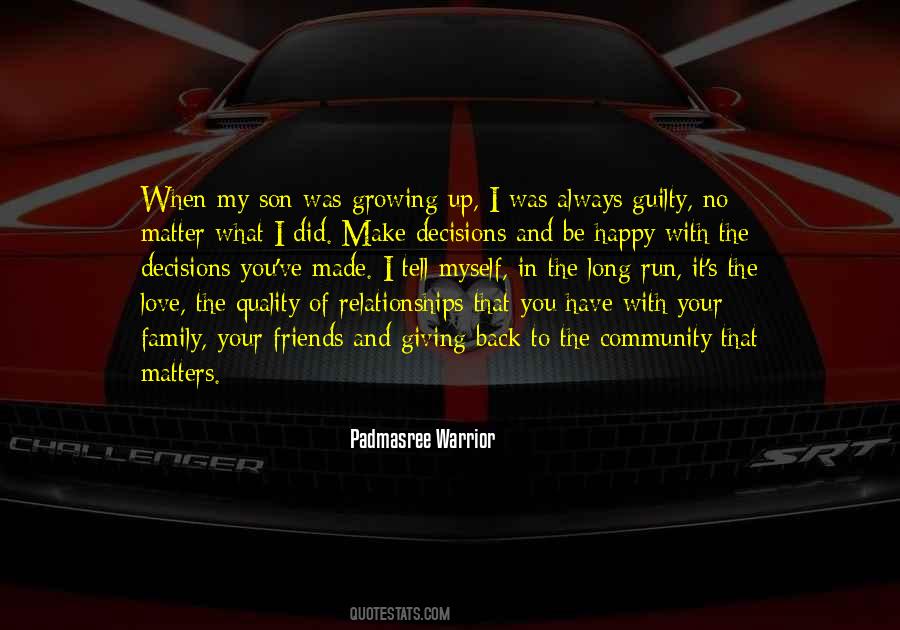 #30. Your friends will determine the quality and direction of your life. - Author: Andy Stanley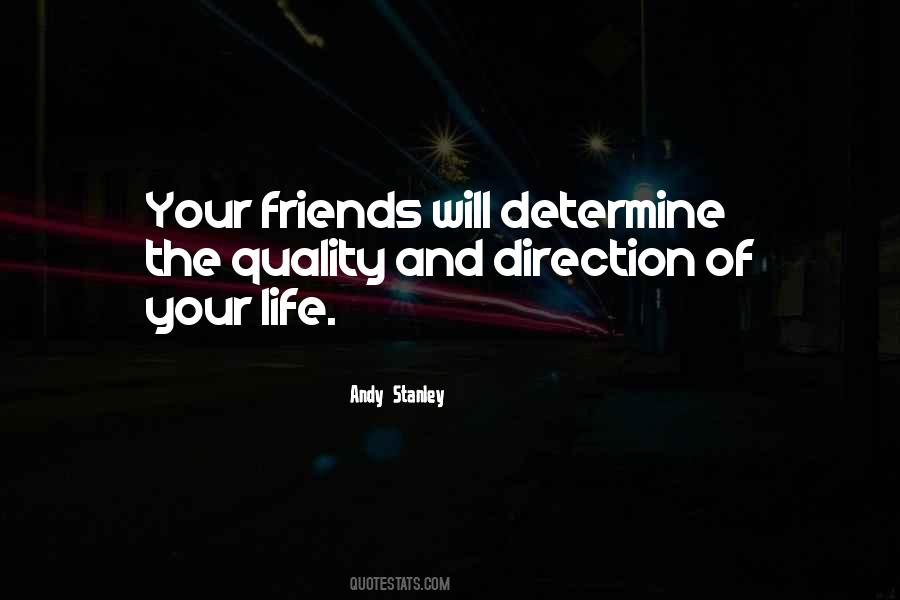 #31. The stranger might laugh and seem to enjoy the writing, but you hug to yourself the thought that they didn't quite understand its force and quality the way you do - just as your friends (thank heavens) don't also fall in love with the person you are going on and on about to them. - Author: Stephen Fry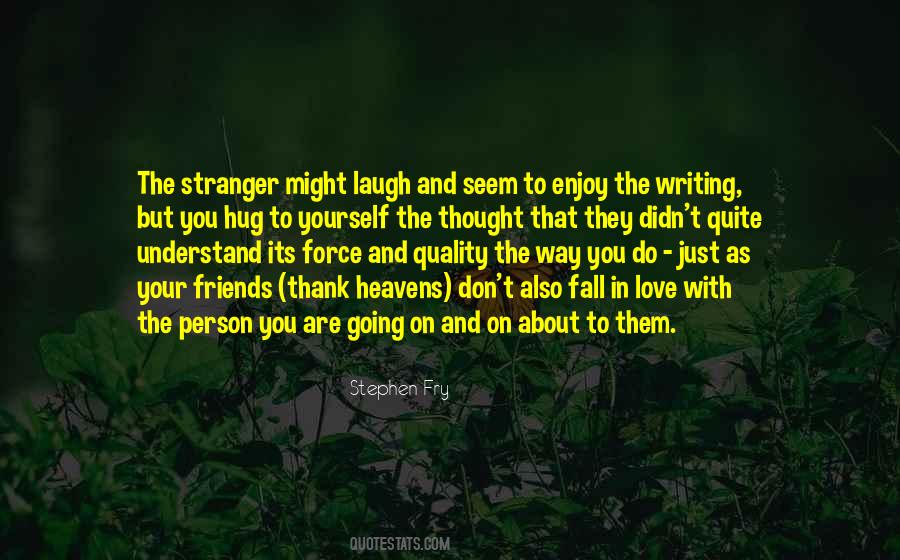 #32. Between friends there is no need for justice, but people who are just still need the quality of friendship; and indeed friendliness is considered to be justice in the fullest sense. - Author: Aristotle.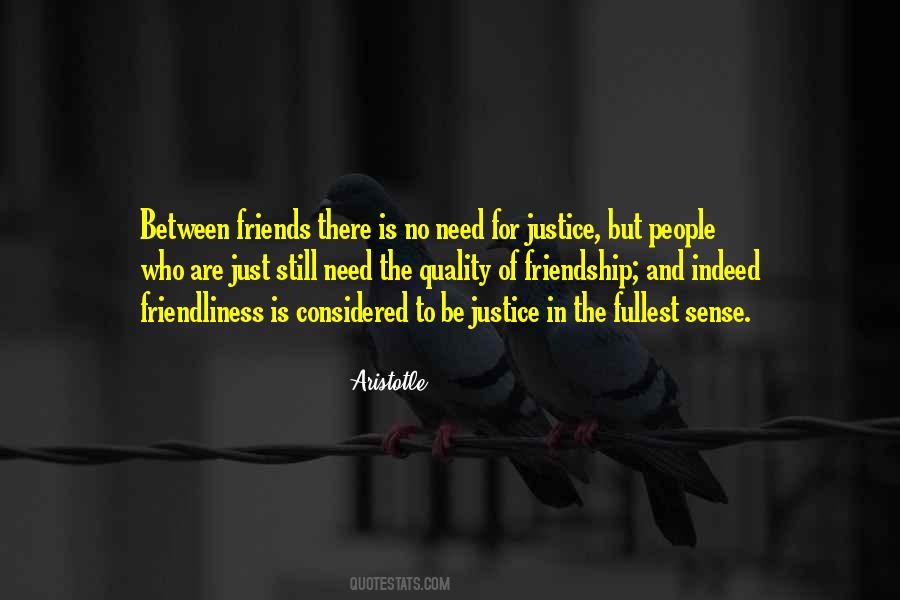 #33. With your permission you give us more information about you, your friends, and we can improve the quality of our searches. We don't need you to type at all. We know where you are. We know where you've been. We can more or less guess what you're thinking about. - Author: Eric Schmidt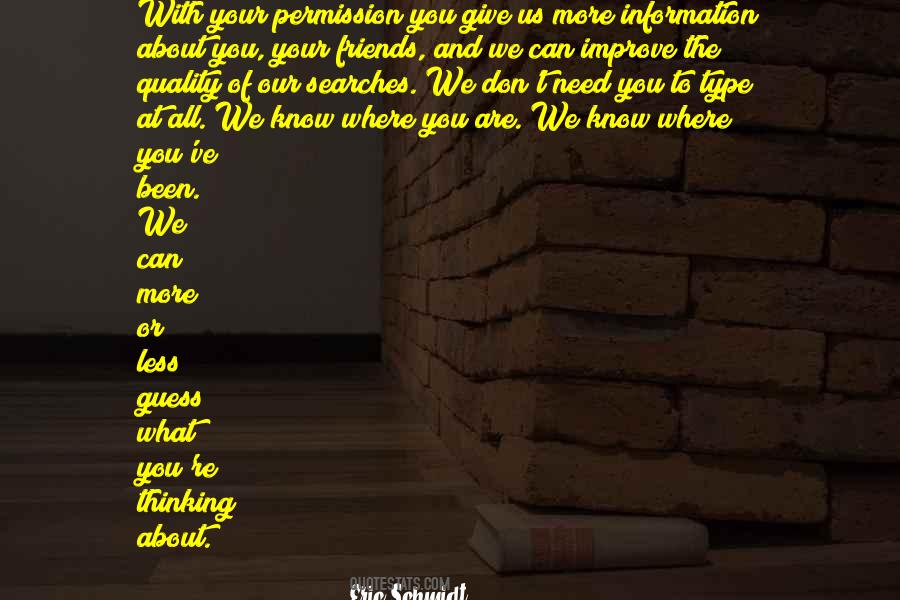 #34. We are not greatly pleased that our friends should respect our good qualities if they venture to perceive our faults. - Author: Luc De Clapiers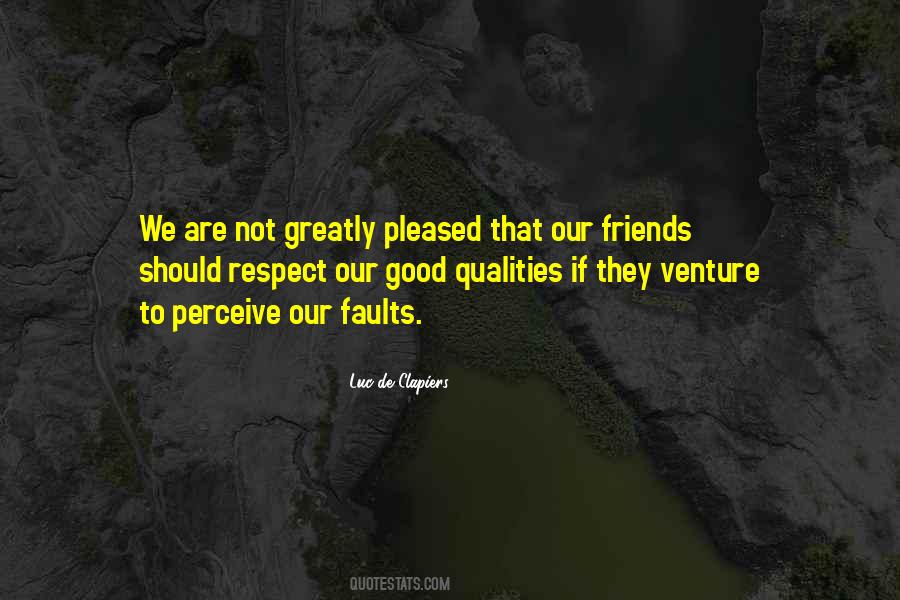 #35. It's important that all my friends have verified Twitter accounts. The blue checkmark makes me feel comfortable and like I'm friends with a legit, high-quality person. I also prefer friends with ridiculously long usernames. - Author: Jonah Peretti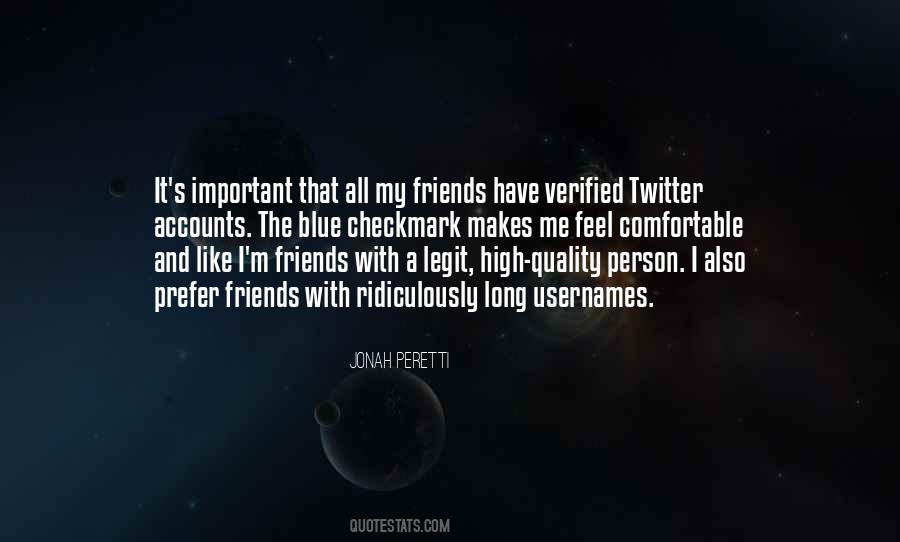 #36. Anyone can have a friend, but the one that would walk in a storm to find you is all you will ever need. - Author: Shannon L. Alder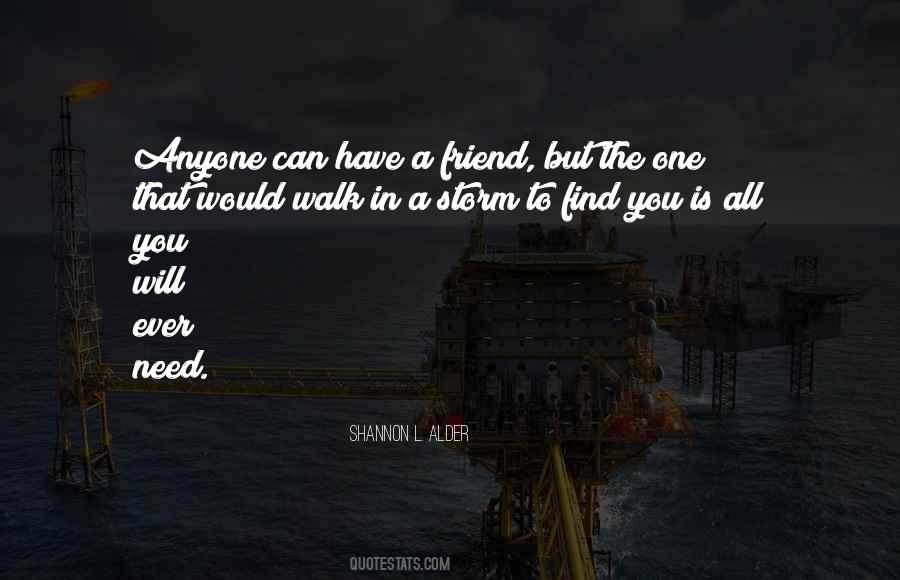 #37. We want all our friends to tell us our bad qualities; it is only the particular ass that does so whom we can't tolerate. - Author: William James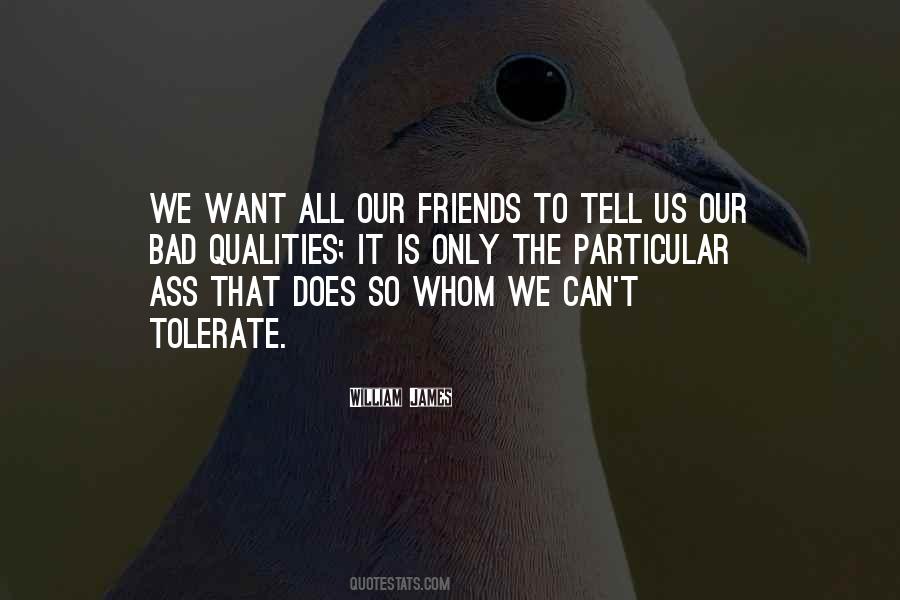 #38. July 4 is the perfect day to relax. It also provides a very good chance to spend quality time with friends and family since everyone is able to get away from the hassles of every day life, such as work. - Author: Colin Chapman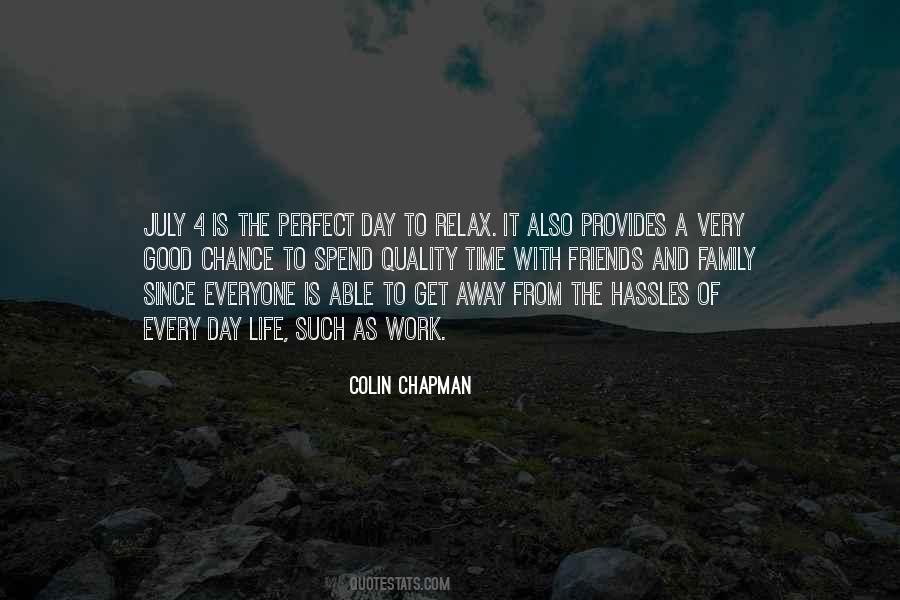 #39. Love is at the heart of the world, just as it is at the heart of your life. Your relationships with your lover, your family, your friends, and the world around you define the quality of your emotional wholeness and reflect your relationship with yourself. - Author: Sebastian Pole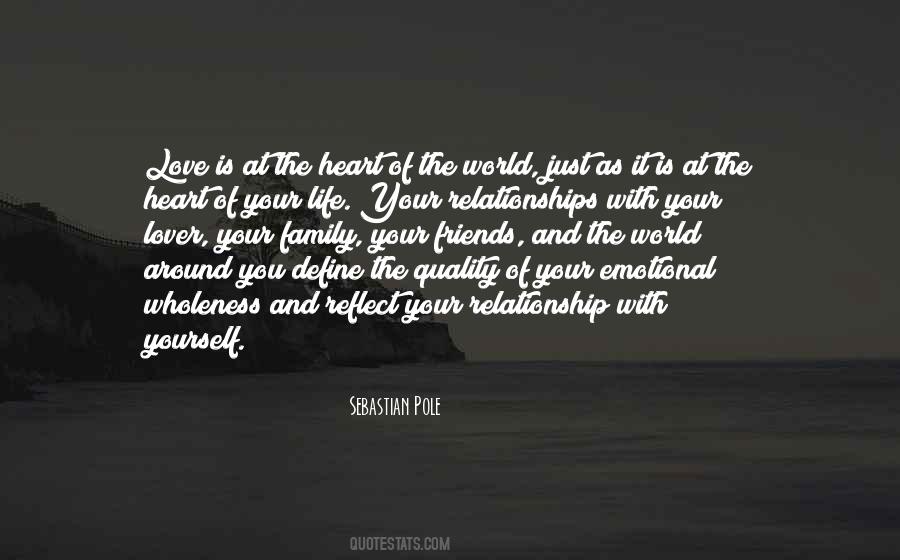 #40. As the quality of water changes with the nature of the soil;So will a man's reason vary with the quality of his friends. - Author: Thiruvalluvar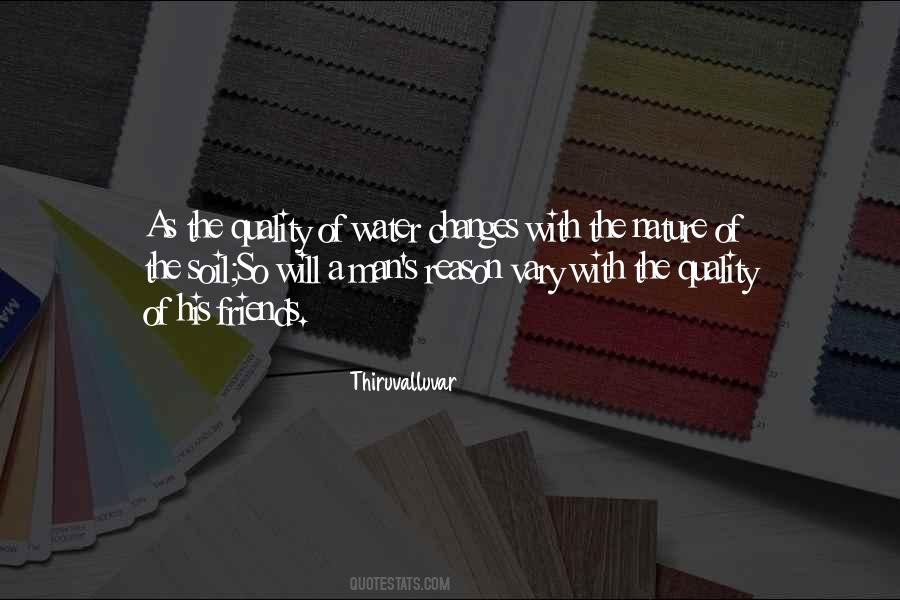 #41. Now, I can smile at the stock quality of these friends, these uniforms. these looking-glasses, these sharers. Each is a character lifted straight from literature and yet, life successfully aping art, they are alive, and fulfil their destinies - or act their parts - flawlessly. - Author: Hal Porter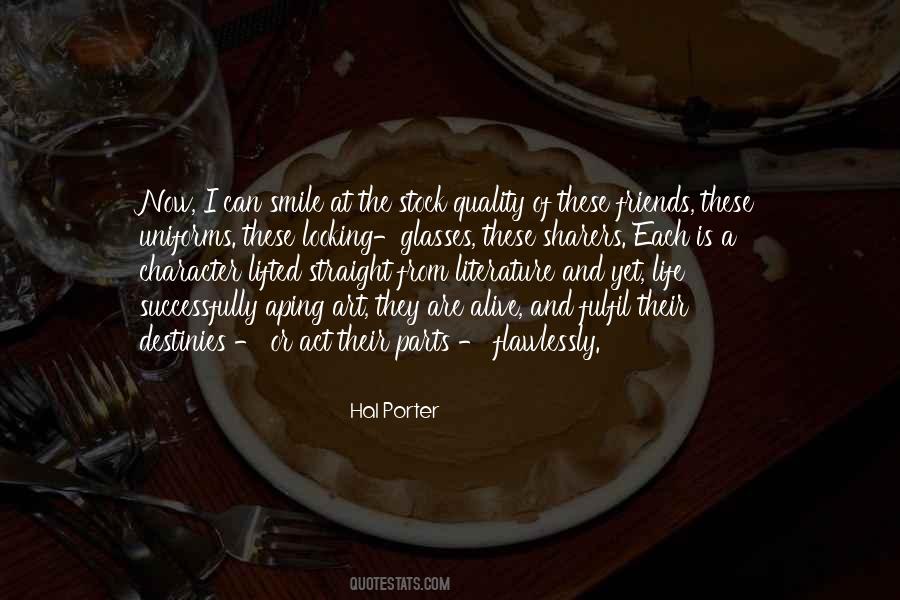 #42. A good man measures his life not in the number of his years but in the quality of his friends. - Author: Todd Stocker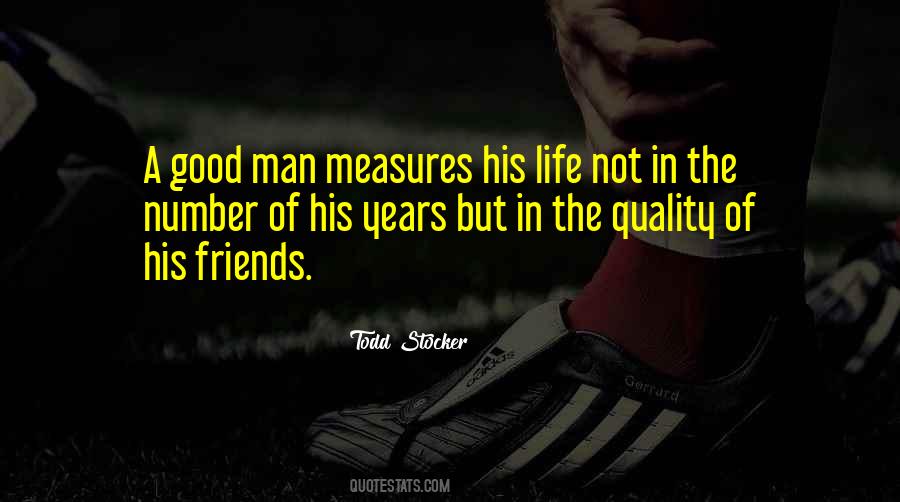 #43. When our friends are alive, we see the good qualities they lack; dead, we remember only those they possessed. - Author: Jean Antoine Petit-Senn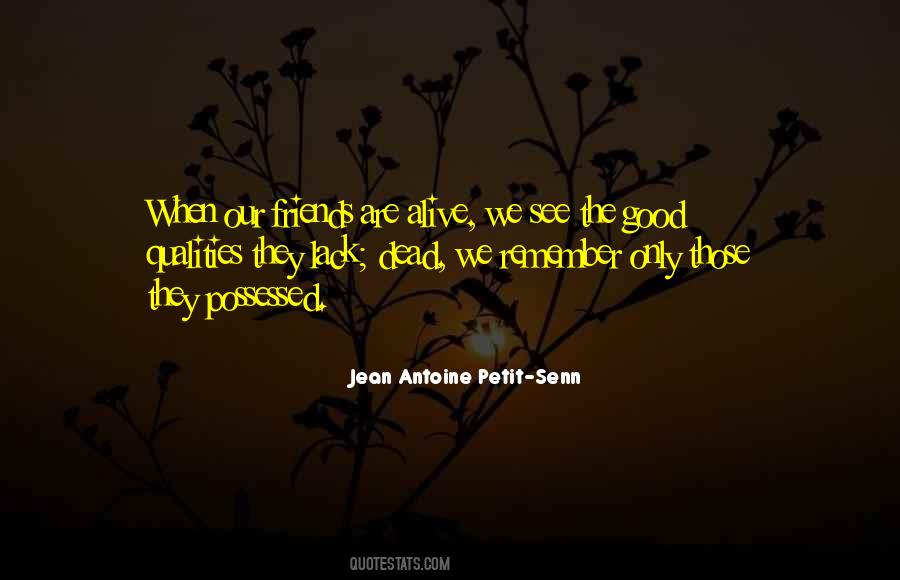 Famous Authors
Popular Topics