Prioritize Famous Quotes & Sayings
List of top 100 famous quotes and sayings about prioritize to read and share with friends on your Facebook, Twitter, blogs.
Top 100 Quotes About Prioritize
#1. Tomorrow is promised to no one. Prioritize today accordingly. - Author: Gina Greenlee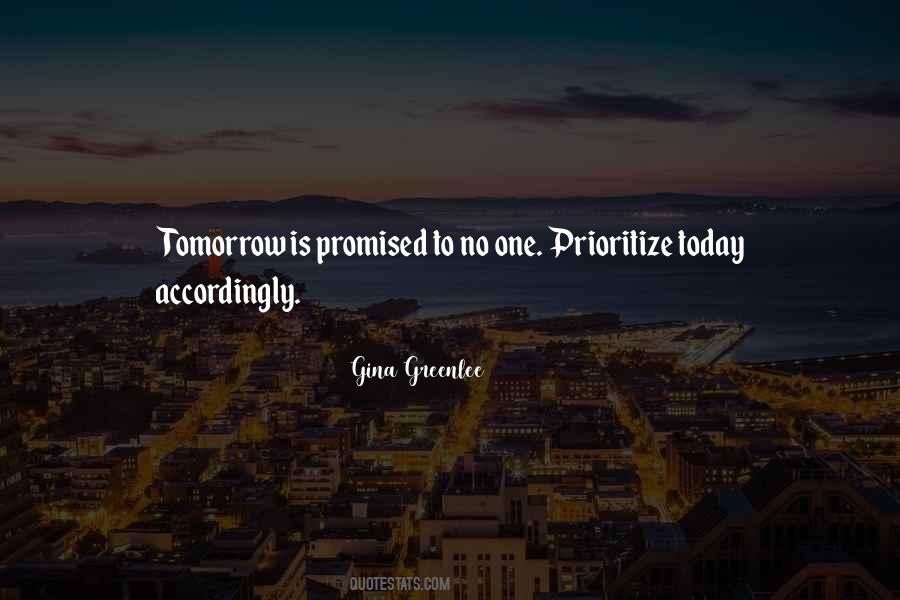 #2. It isn't our responsibility to defend our values and prioritize our message over our posture. We inherited a kingdom that cannot be shaken; we are an unthreatened people. God will stay on His throne without our rigorous defense. - Author: Jen Hatmaker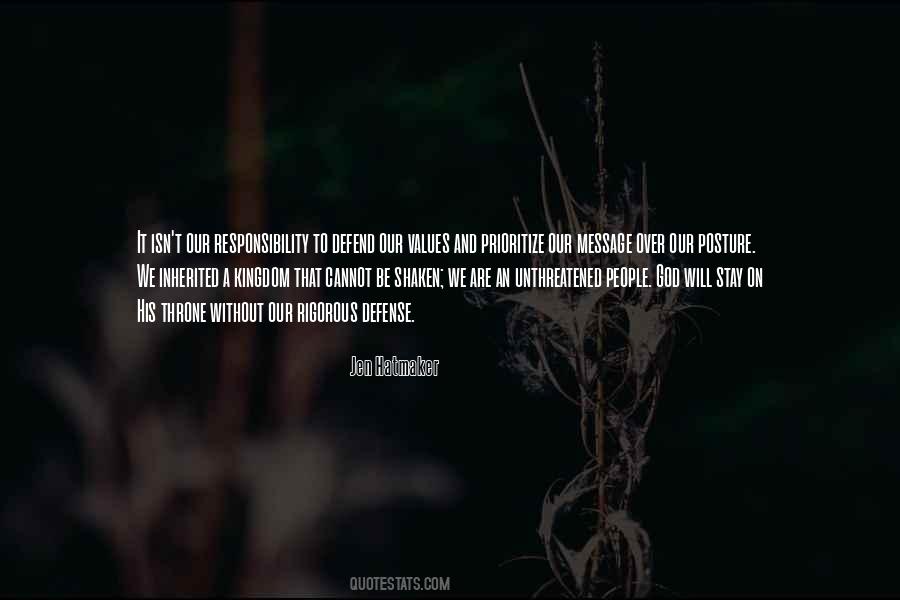 #3. As all entrepreneurs know, you live and die by your ability to prioritize. You must focus on the most important, mission-critical tasks each day and night, and then share, delegate, delay or skip the rest. - Author: Jessica Jackley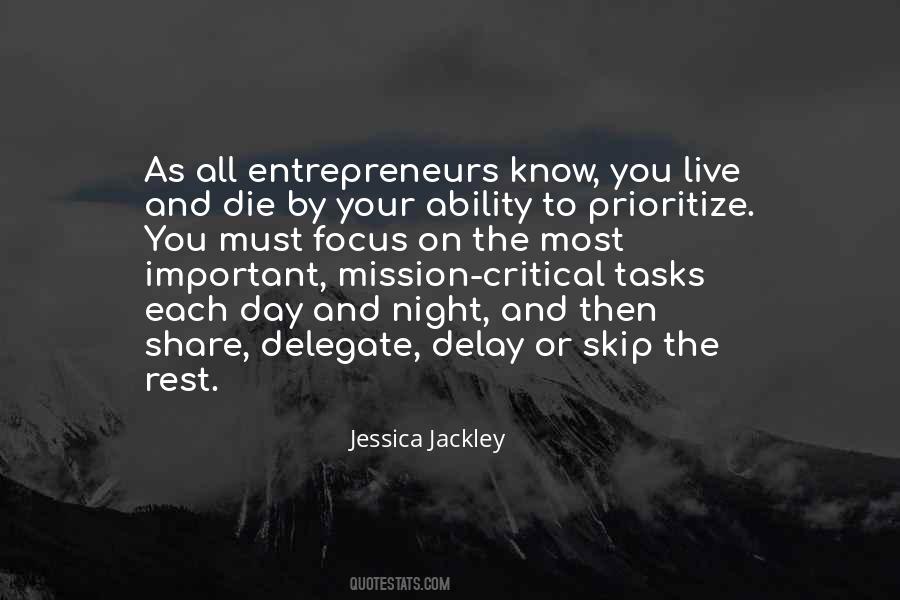 #4. My job is to prioritize multi-lateralism, and that of course interests Brazil, which is a global player. I'm representing 159 members, and one of them happens to be Brazil. - Author: Roberto Azevedo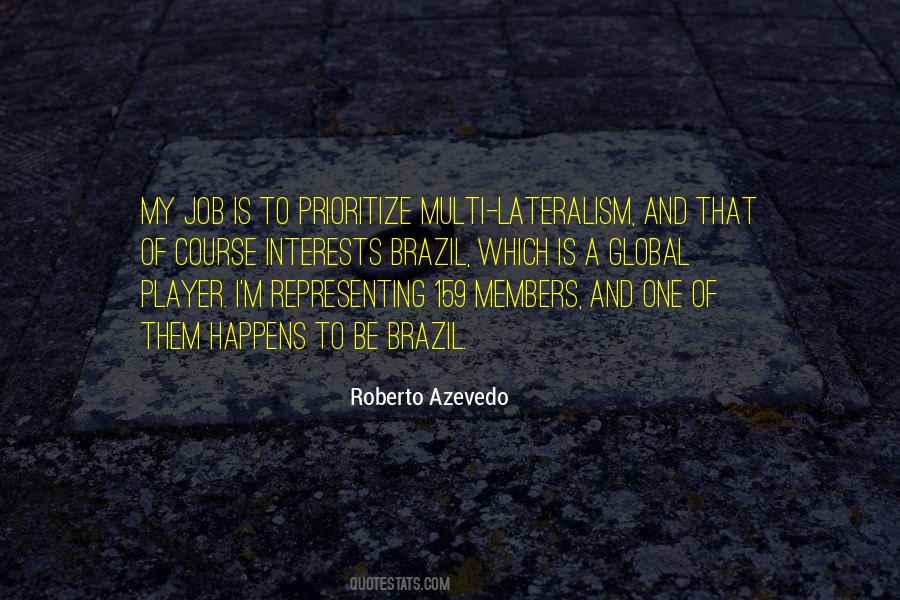 #5. While restoring a sense of fiscal discipline to Congress is a top priority, infrastructure spending is an important and necessary task of government. Our nation's long-term debt requires us to prioritize and economize with every tax dollar. - Author: Cynthia Lummis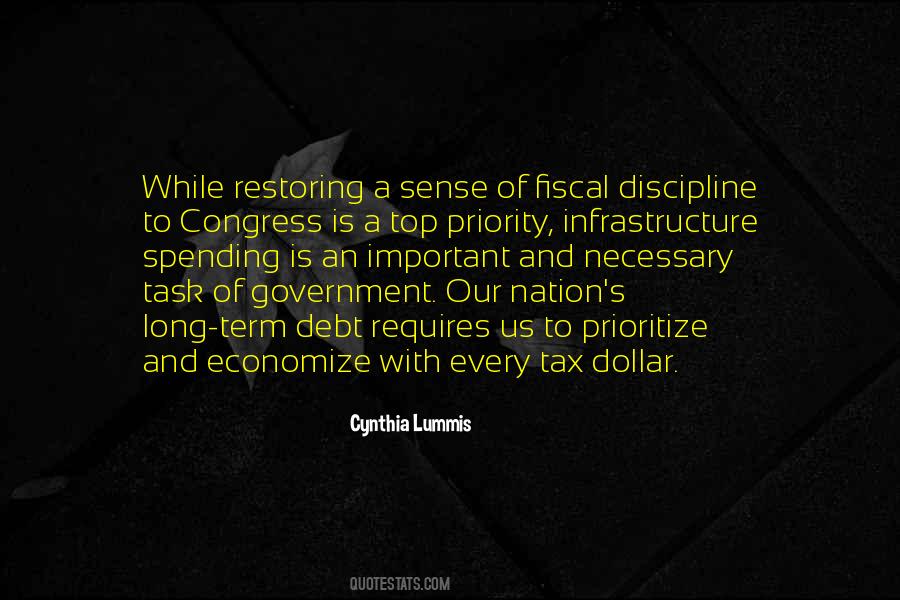 #6. Paint your vision, develop tasks, prioritize action steps and do it now. - Author: Pat Croce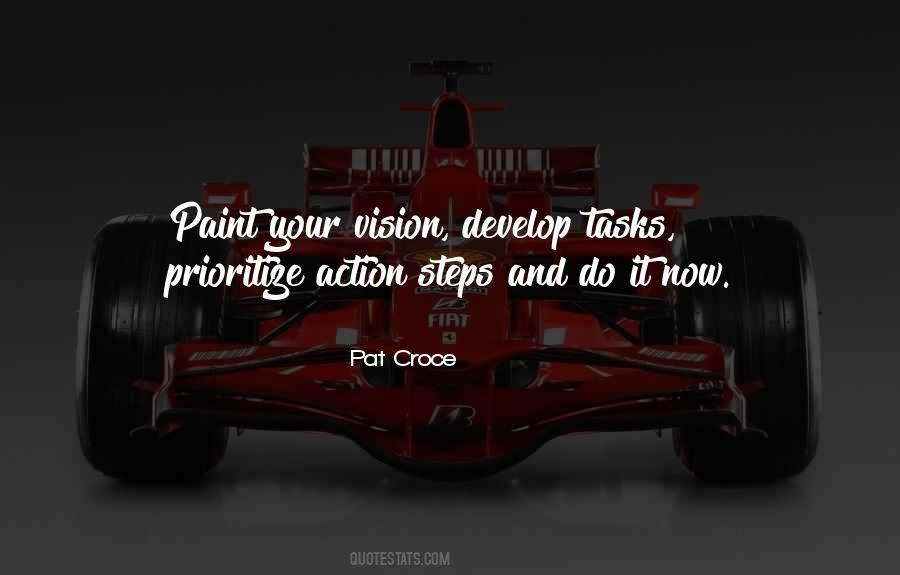 #7. I prioritize the things that need to get done at work, and I ask myself where I'm spending the majority of my time. The answer to that question always needs to be 'with my family.' - Author: Elisabeth Hasselbeck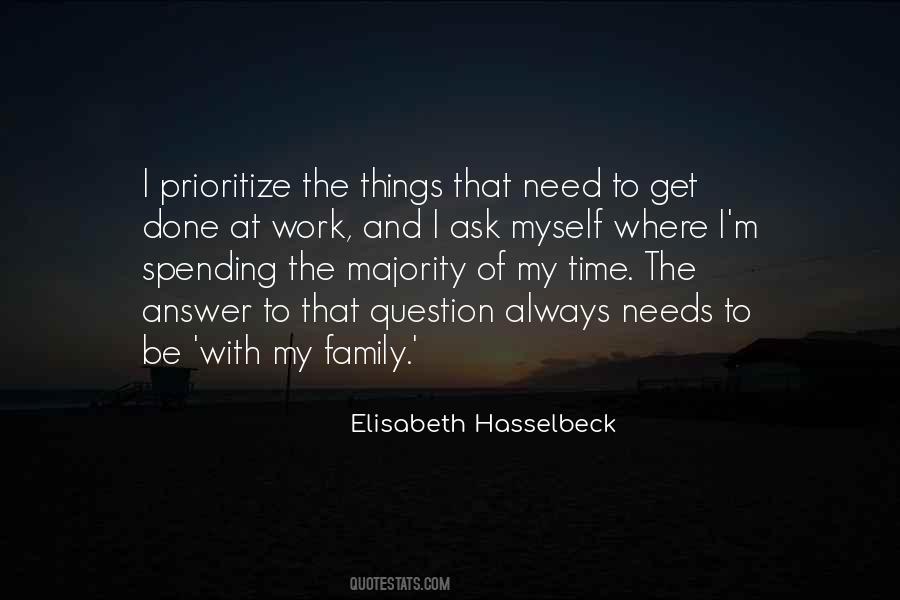 #8. I'm not a wealthy person and I don't think that I would be able to prioritize that much money to go for a ride to a place that I have already lived. But if the price comes down or I win a lottery or something, why not? - Author: Chris Hadfield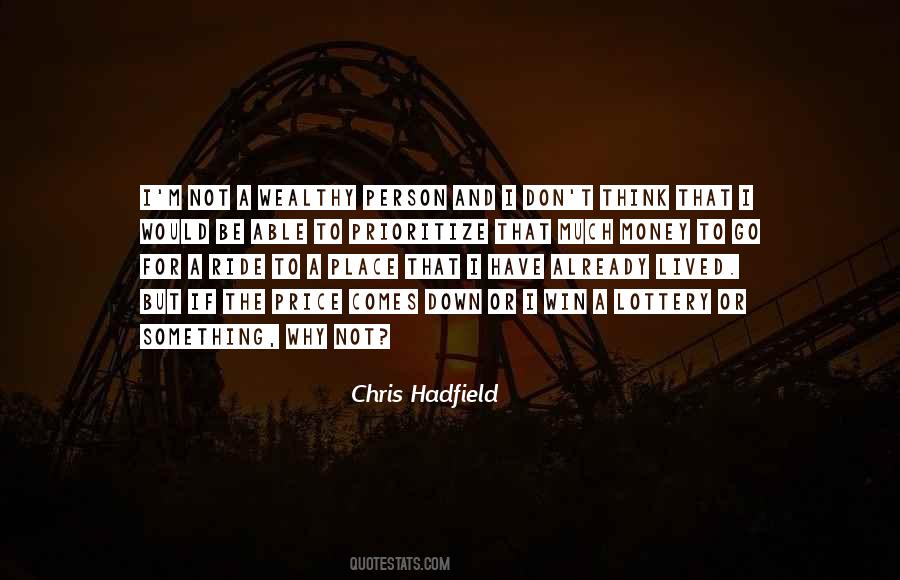 #9. Start with a "discussion map" of where to prioritize different concerns, such as customer feedback. - Author: Anonymous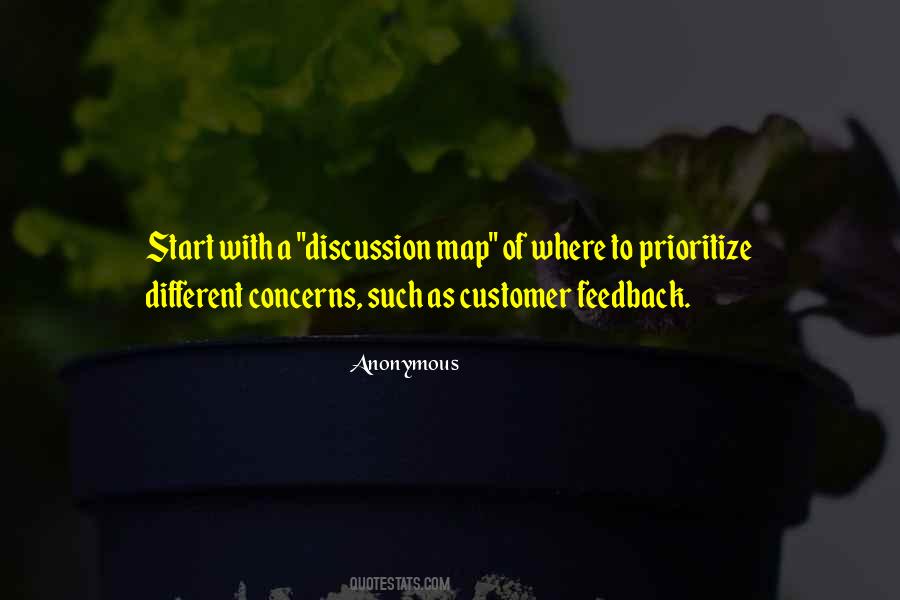 #10. I manage my time by prioritizing tasks, working smarter not harder, and by avoiding procrastination. - Author: Jeet Banerjee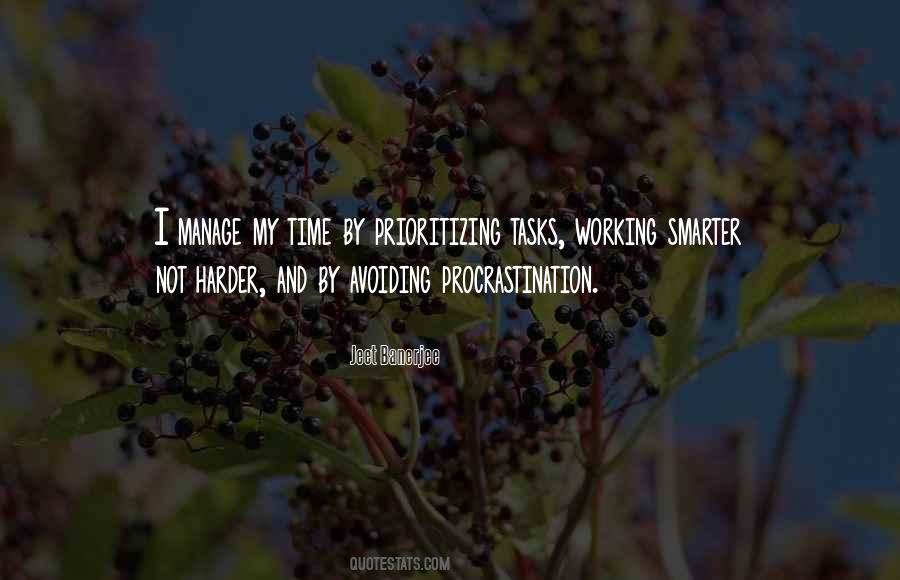 #11. People who can focus, get things done. People who can prioritize, get the right things done. - Author: John Maeda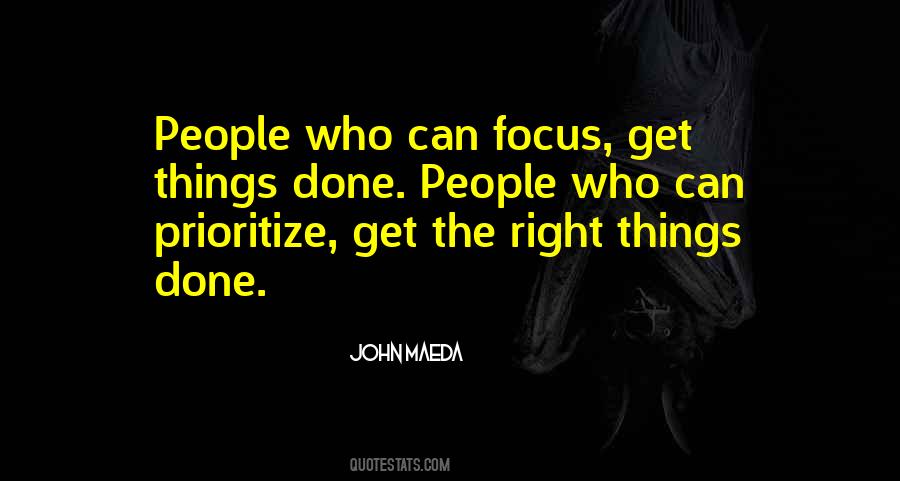 #12. What cancer does is, it forces you to focus, to prioritize, and you learn what's important. I mean, I don't sweat the small stuff. I used to get angry at cab drivers. It's not worth it ... And when somebody says you have cancer, you realize it's all small stuff. - Author: Joel Siegel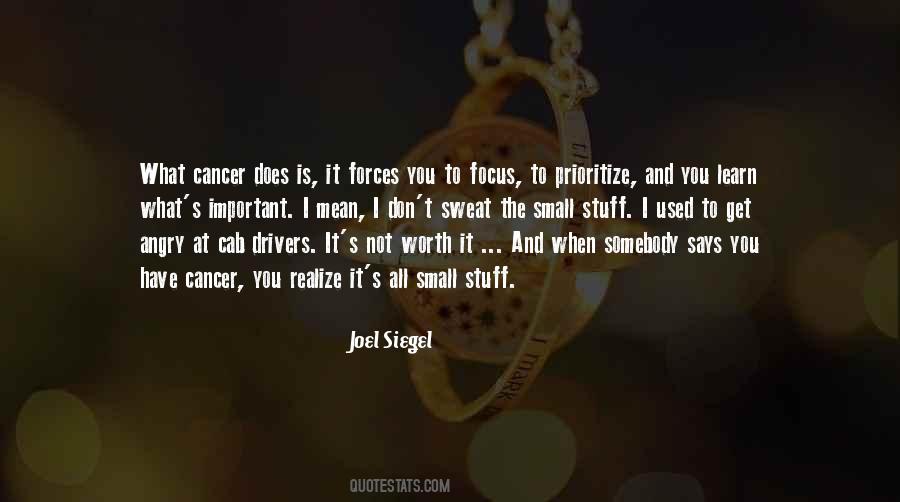 #13. Someone you considered a friend will kick you to the curb because you stop hanging out so much with the fellas to be with your girlfriend. Prioritize your relationships and you will discover who your real friends are. - Author: T.D. Jakes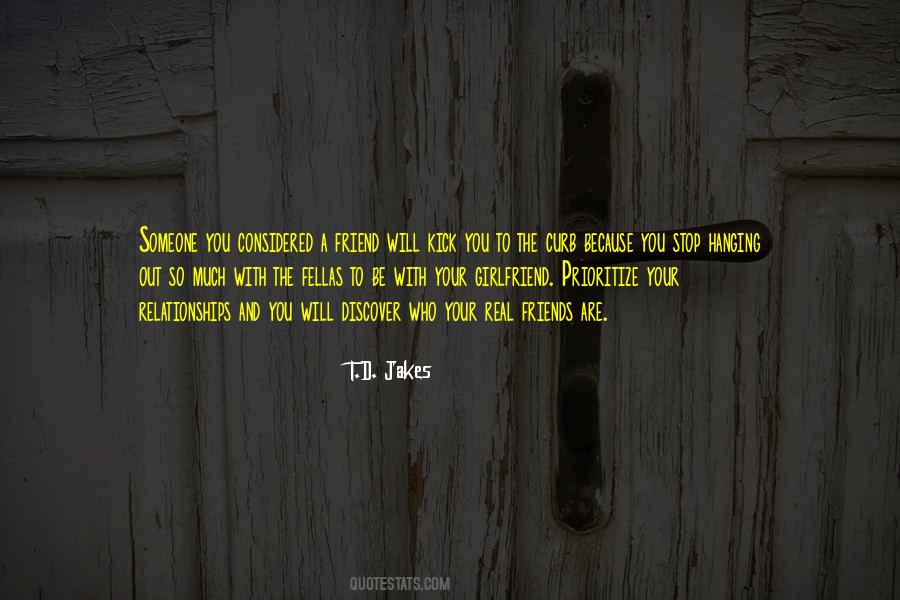 #14. On my team, we prioritize merits over politics. - Author: Ron Barber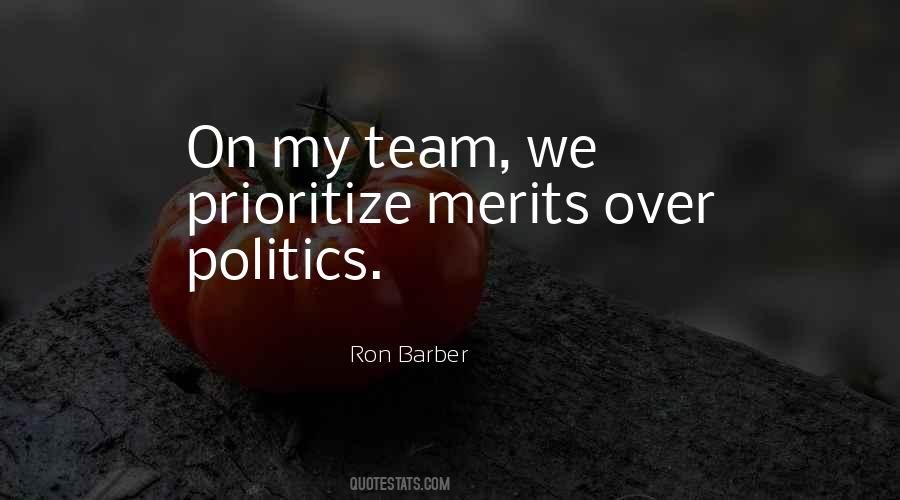 #15. As long as we prioritize material truths over spiritual truths we will live in tyranny because we are living an illusion - Author: Russell Brand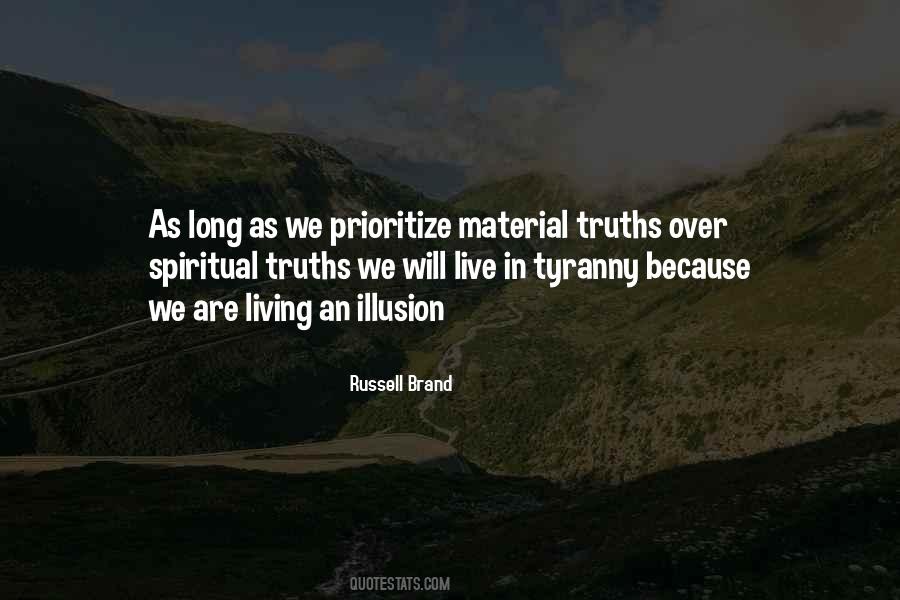 #16. You have to ruthlessly prioritize. - Author: Marissa Mayer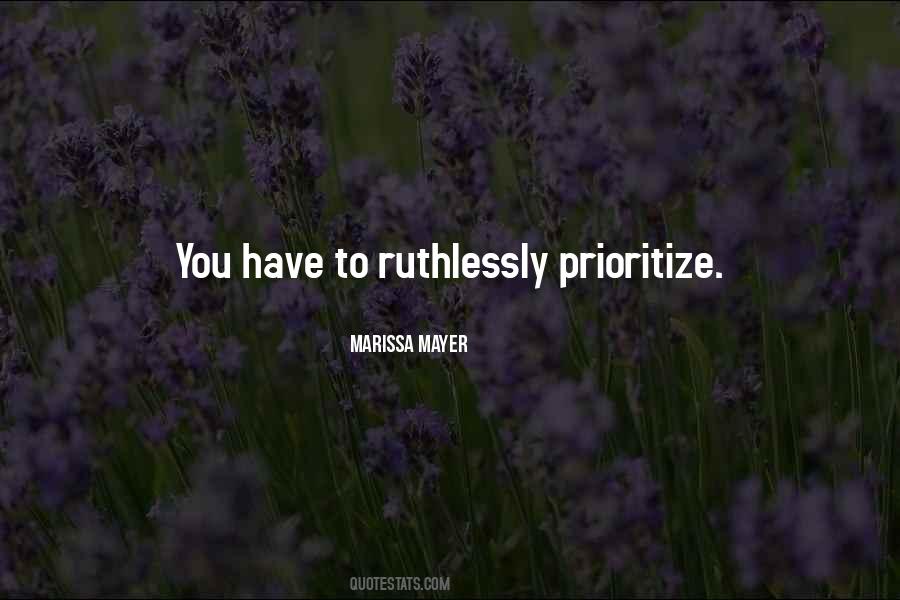 #17. It's a good idea to prioritize your life and not making drinking the top priority. I think there are aspects of it that definitely illuminate bad decisions and how they'll negatively affect you. - Author: Madeline Zima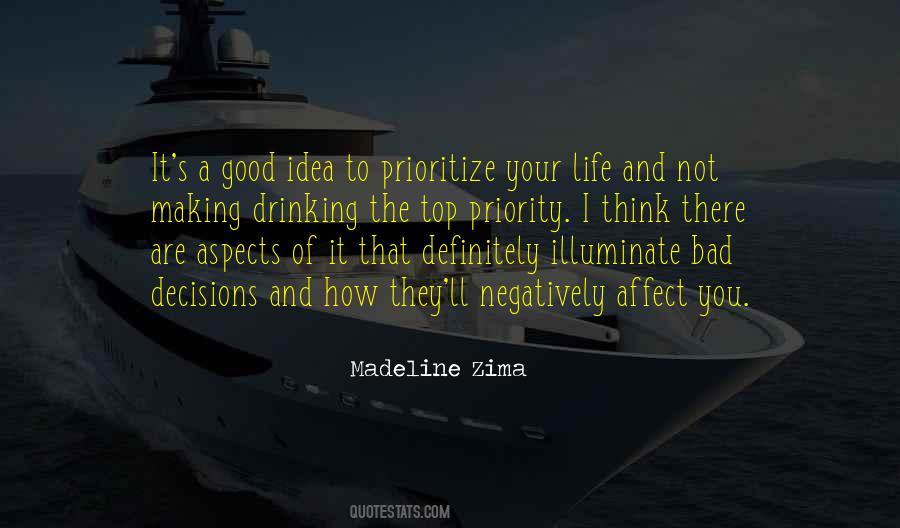 #18. Though health care providers should prioritize the care of women, - Author: Anonymous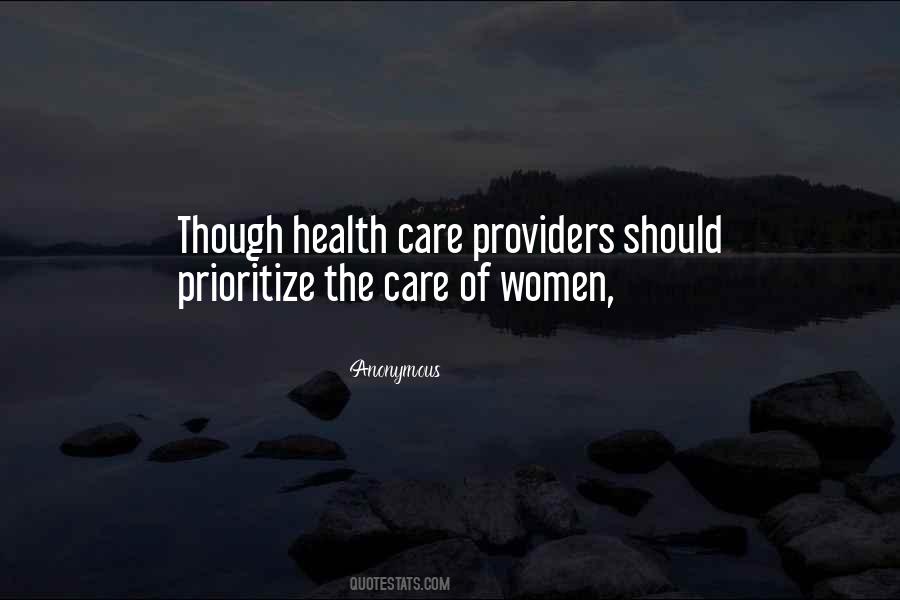 #19. Pumpkin, stop rubbing your ass against me. We gotta go! I don't have time to do you now. Prioritize, woman. - Author: Kylie Scott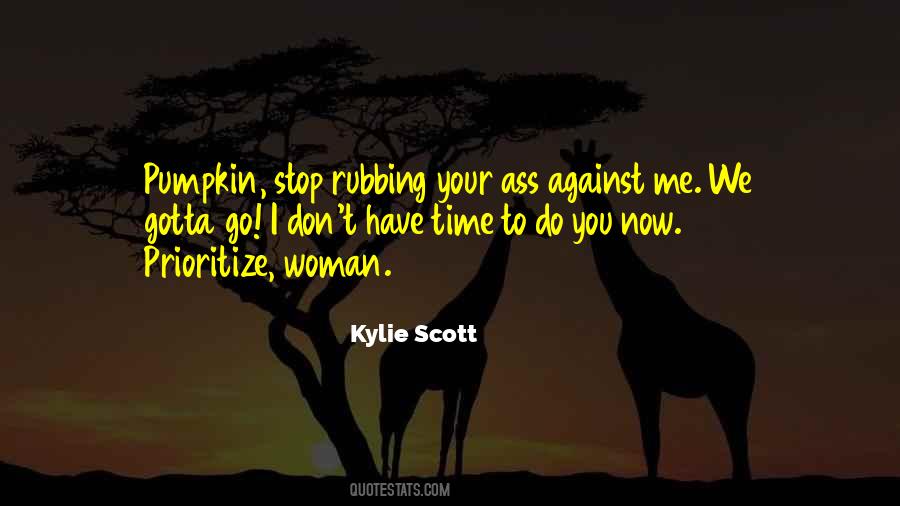 #20. Part of water which is cooler always flows to below surface.
I understand that hotheaded men always want to be noticed. - Author: Toba Beta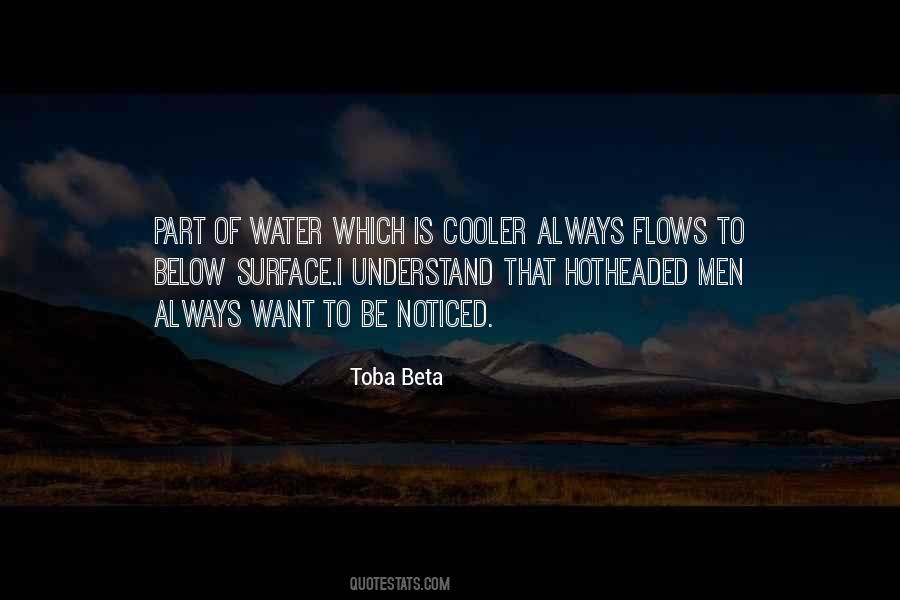 #21. The answer is, of course, to simplify, to prioritize, and in some cases, to use a well-known phrase, "Just say no!" But actually doing it may prove to be one of the real challenges in our complicated, overheated lives. - Author: M. Russell Ballard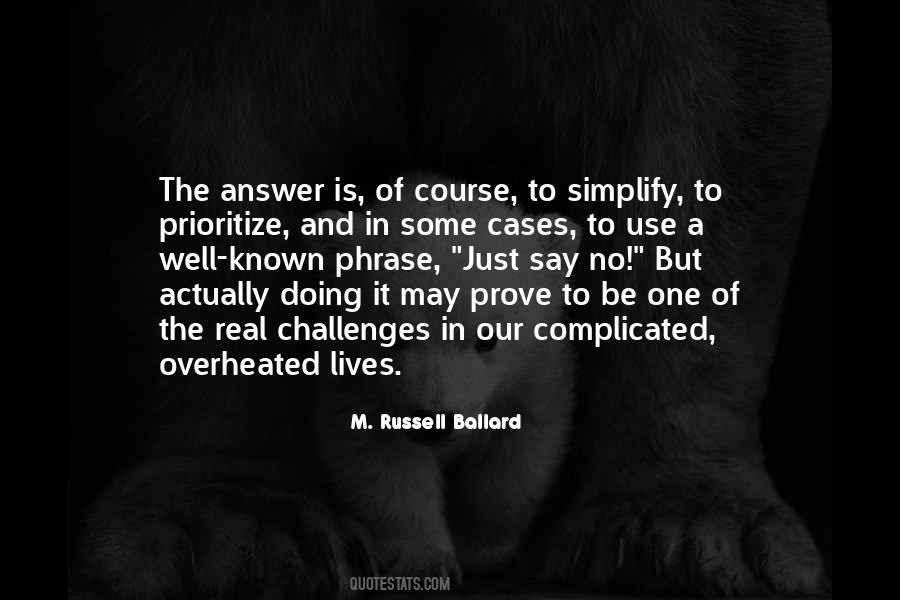 #22. The point is that this is not only for the rich; it is for those who prioritize healthy, naturally raised food over other discretionary spending. - Author: Tim Young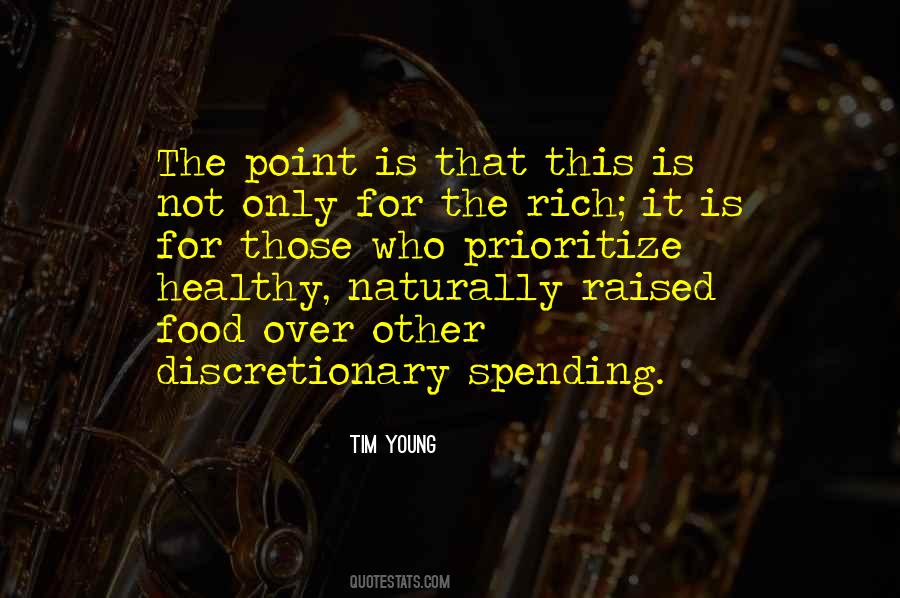 #23. I'd failed my first hooded box test at S&T, but the lesson learned wasn't one I'd forget. Assess, prioritize, and act. - Author: Mark Owen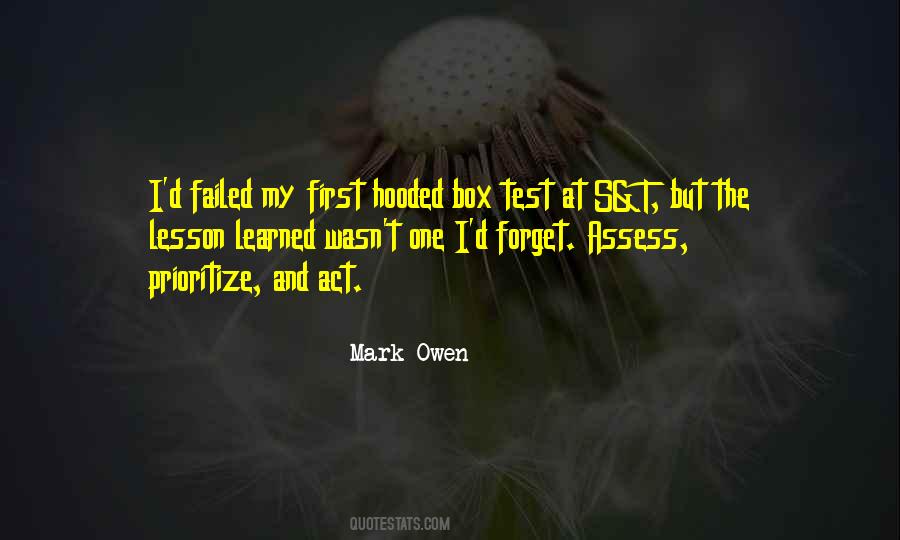 #24. A poem is a heroic act of integration that binds into rough harmony the chorus of forces within and outside the soul. A poem struggles to orchestrate, prioritize, cohere, and coordinate these potentially shattering forces. - Author: Tony Hoagland
#25. The best is to prioritize kingdom laws and principles - Author: Sunday Adelaja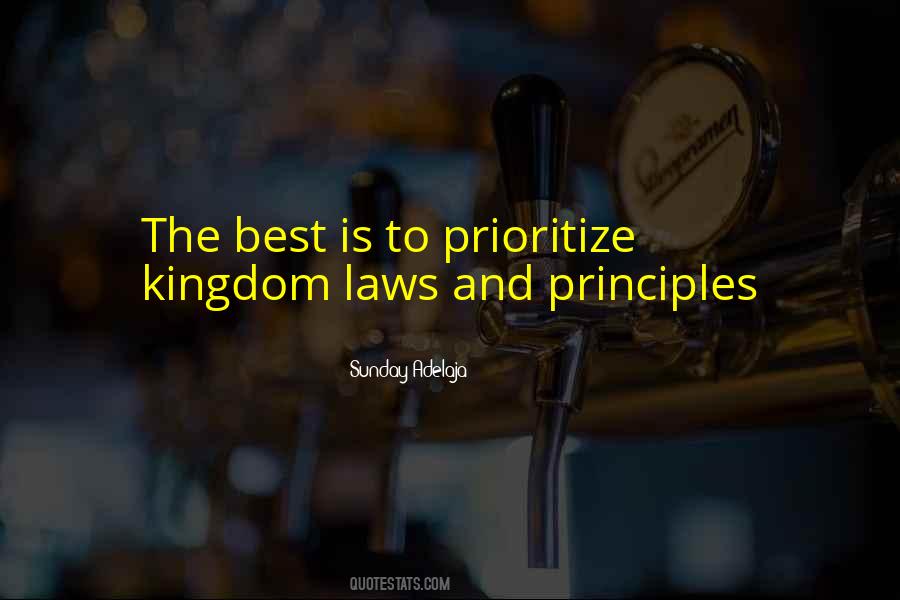 #26. You need to prioritize. If you can't get to everything or do everything, that's okay. - Author: Julie Chen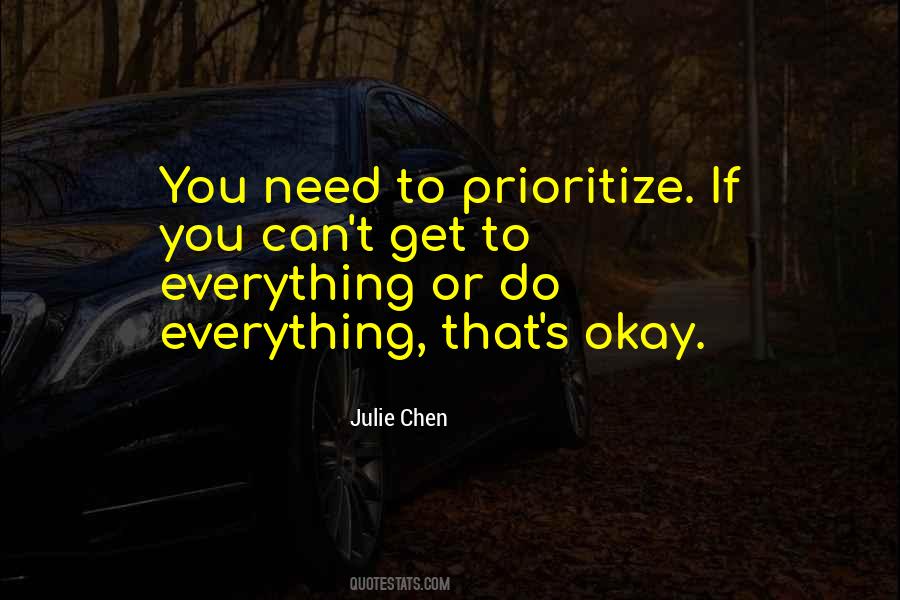 #27. focus on the boring stuff: how to measure progress, how to set up milestones, and how to prioritize work. - Author: Eric Ries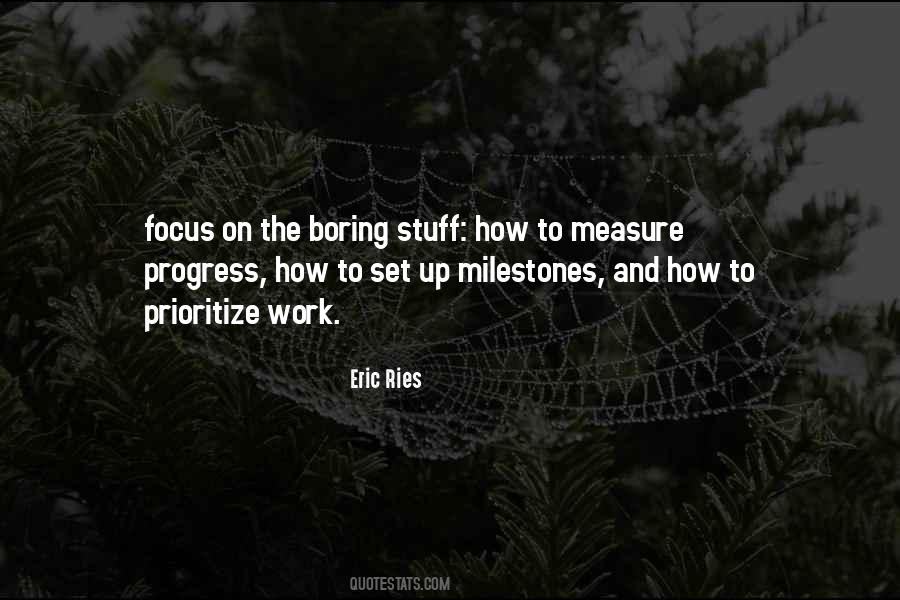 #28. We don't drift in good directions. We discipline and prioritize ourselves there. - Author: Andy Stanley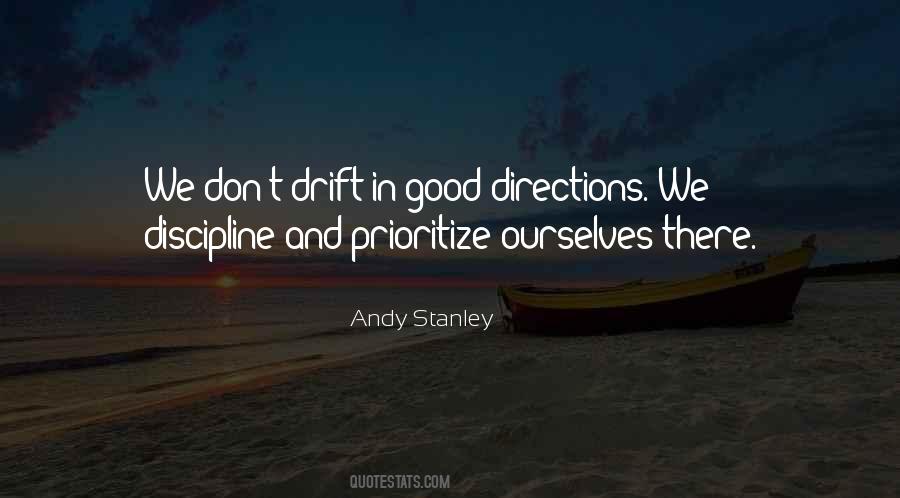 #29. I have the distinct feeling that when I'm old, and I look back on my life, my thirties will be one huge blur. There's a lot that gets neglected: exercise, dishes, laundry, my poor garden. I try to prioritize the important but non-urgent things over the unimportant but urgent things. - Author: Rebecca Makkai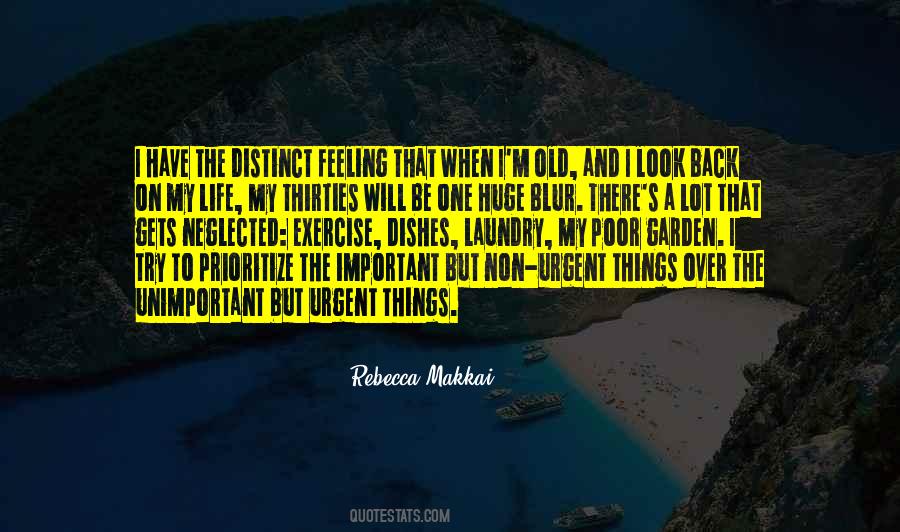 #30. Everyone needs peace of mind, inner-happiness and joyful relationships but most people don't prioritize these. Do you set goals or invest in learning to achieve these?
If you focus only on career, social and financial goals then you will never be fulfilled or fully successful! - Author: Maddy Malhotra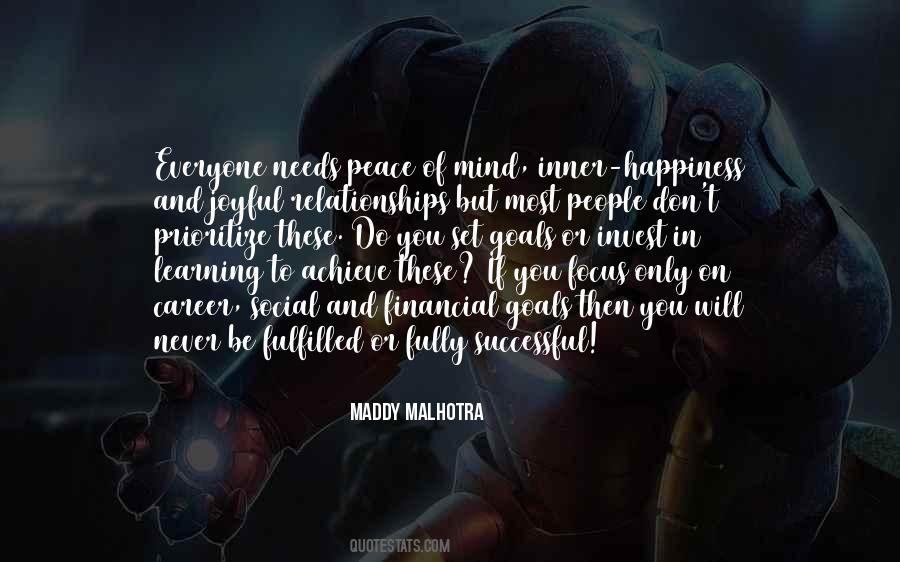 #31. The more we construct lives that prioritize safety, the bigger the prison we construct around ourselves. - Author: Craig D. Lounsbrough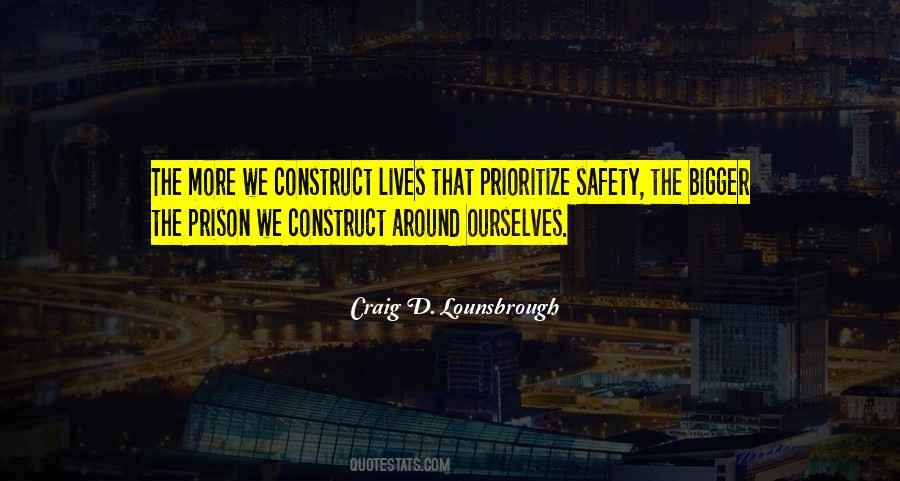 #32. Surely the biggest problem we have in the world is that we all die. But we don't have a technology to solve that, right? So the point is not to prioritize problems; the point is to prioritize solutions to problems. - Author: Bjorn Lomborg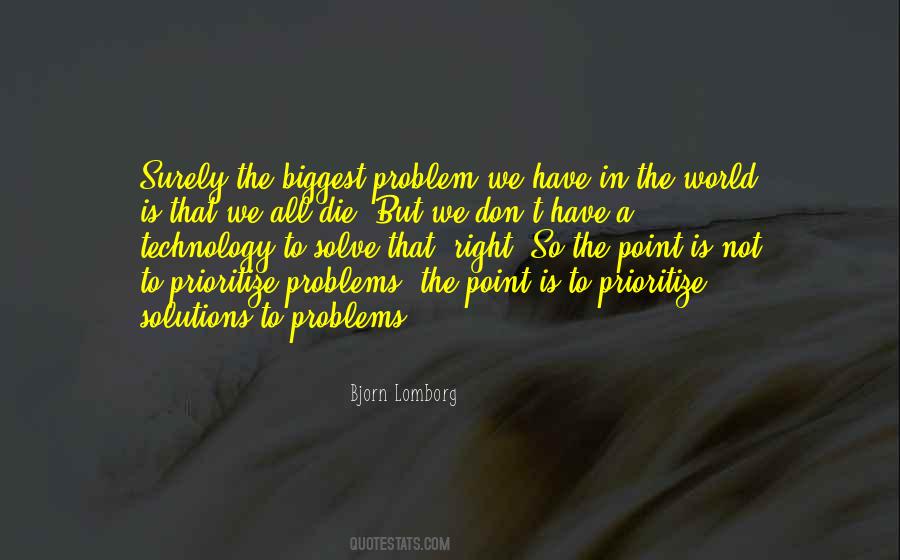 #33. Having a child is an experience that teaches a person how important to prioritize the happiness of another person.Whatever you do, even whatever you are, is an example for him . In fact, that little being who depends on you so much , makes you also to have a huge dependence on him. - Author: Neymar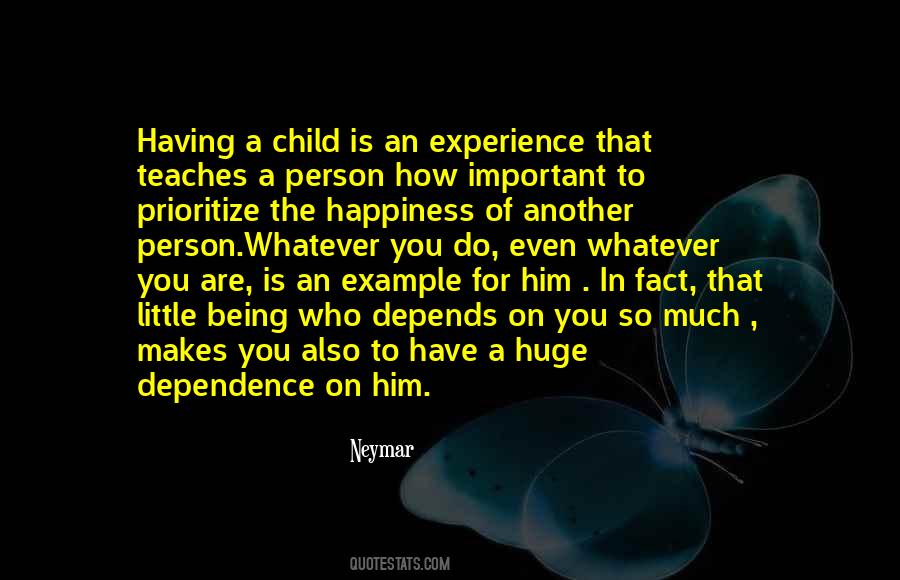 #34. We do not see everything in the environment in the complete, totally resolved, explicit character of the photograph. We, in fact, prioritize our seeing. - Author: Burton Silverman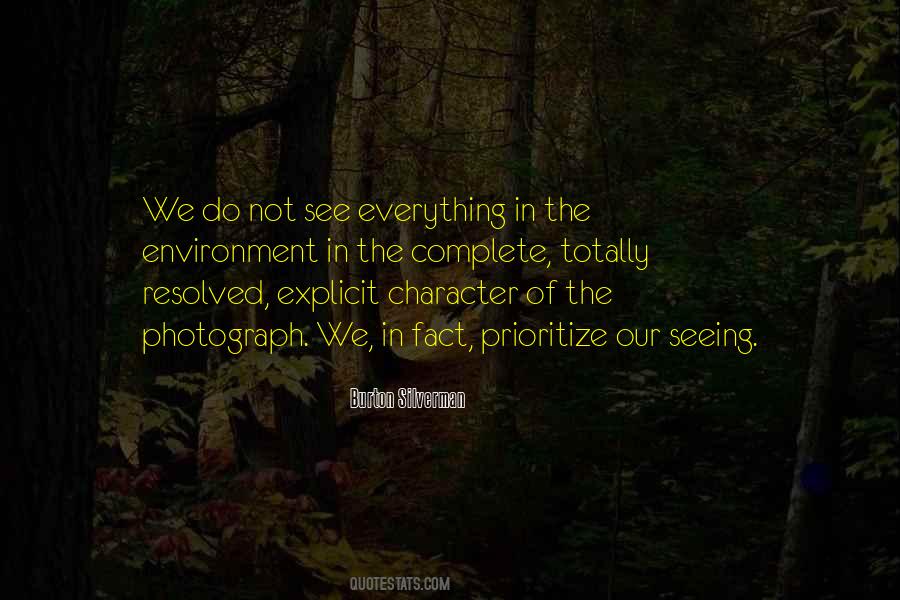 #35. As voters and taxpayers, we must demand that our local governments properly prioritize libraries. As citizens, we must invest in our library down the street so that the generations served by that library grow up to be adults who contribute not just to their local communities but to the world. - Author: Karin Slaughter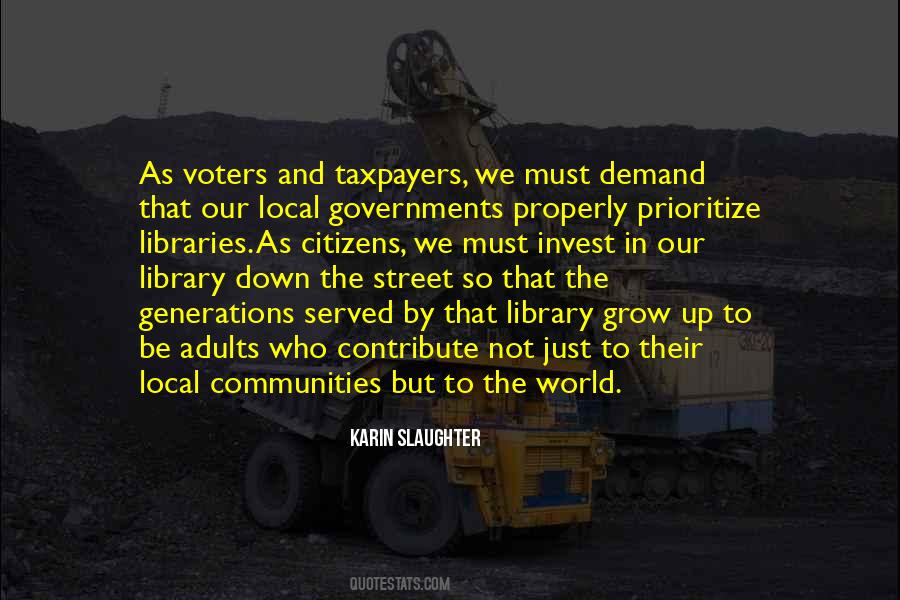 #36. Everyone is busy, but I believe it depends on what you prioritize. My husband and I teach Sunday School together at our church and are very involved. - Author: Gretchen Carlson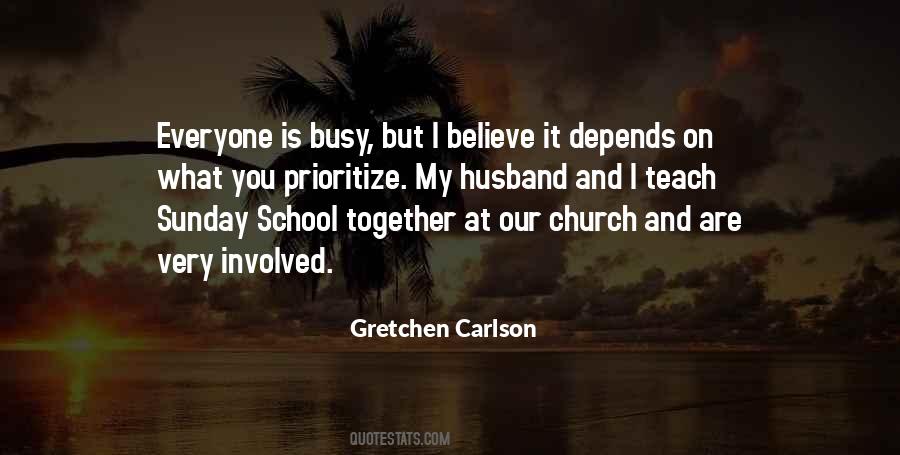 #37. I just work hard and do things as they come along. But it has been a challenge to learn that I have to say 'no' to things and to know how and what to prioritize. - Author: Hanneli Mustaparta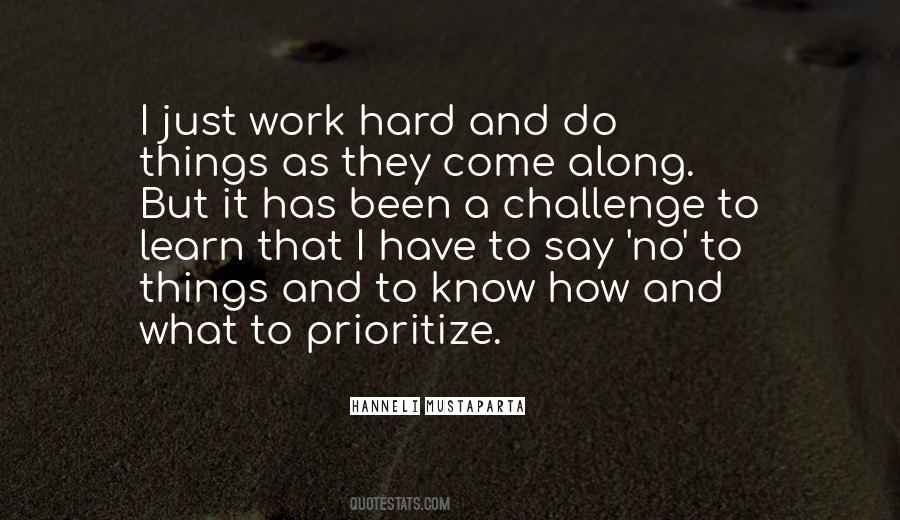 #38. I prioritize in life. I like to work, I do TV shows, I do a lot of Iron Man training. I enjoy kicking back on a good night and drinking wine until I go to bed, and having fun with my friends. You just have to make time for it and keep it balanced. - Author: Joe Bastianich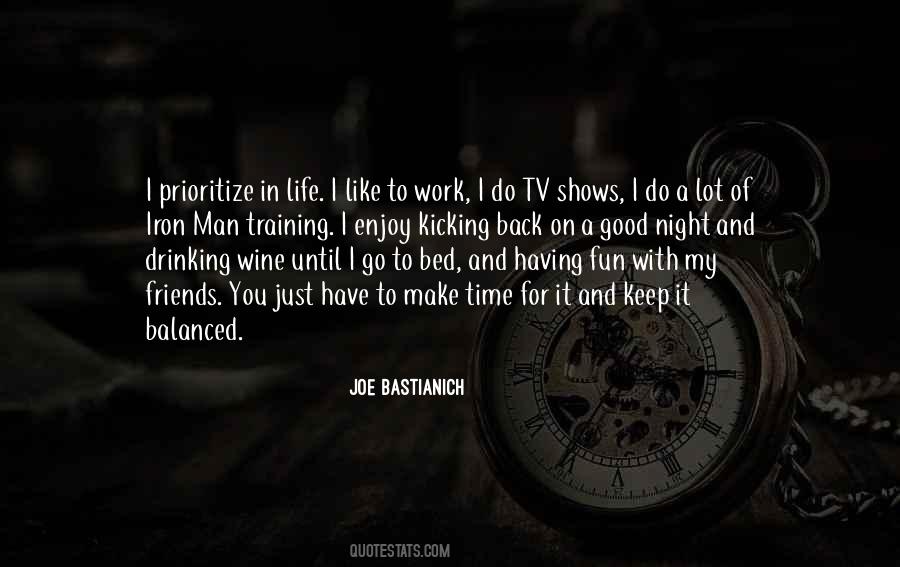 #39. So there is a natural efficiency that you pick up as you can prioritize capital across a bigger set of opportunities. - Author: Bill Vaughan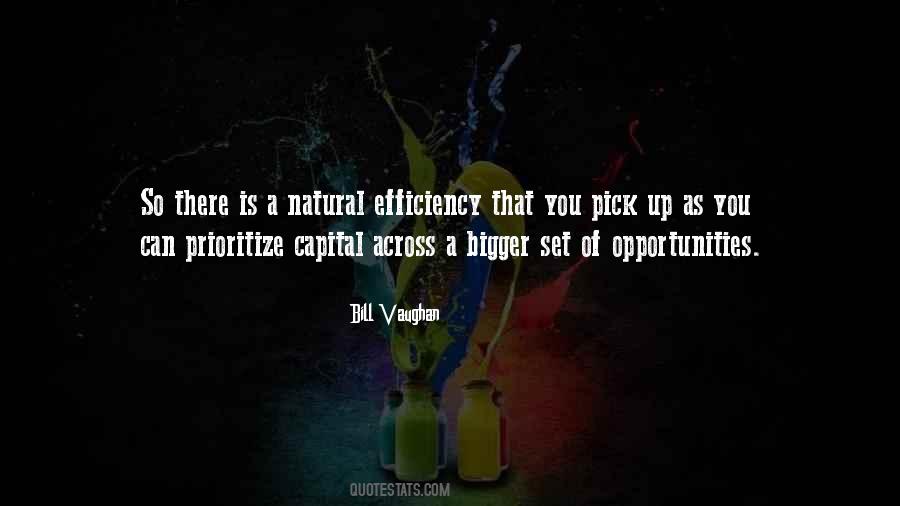 #40. Sometimes our stop-doing list needs to be bigger than our to-do list. - Author: Patti Digh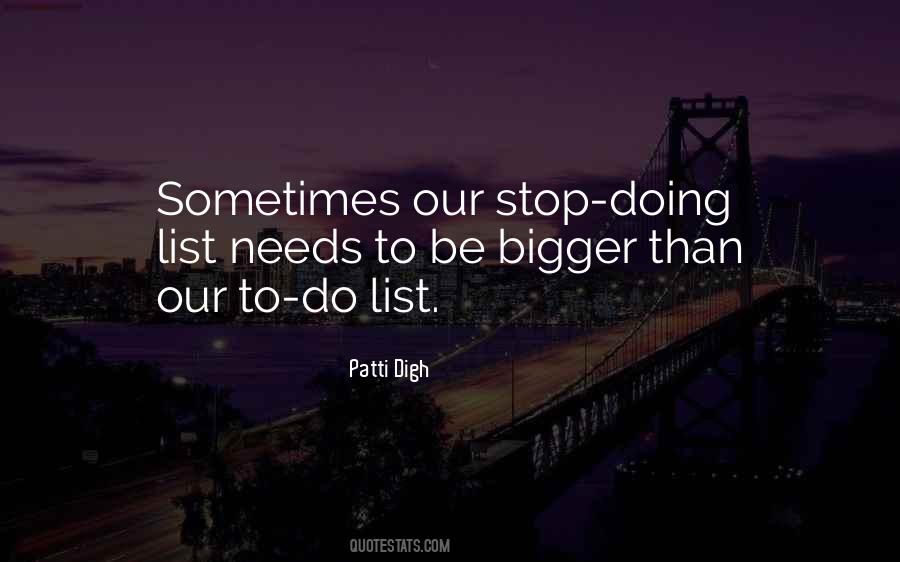 #41. One of the most destructive mistakes we Christians make is to prioritize shared beliefs over shared relationship, which is deeply ironic considering we worship a God who would rather die than lose relationship with us. - Author: Rachel Held Evans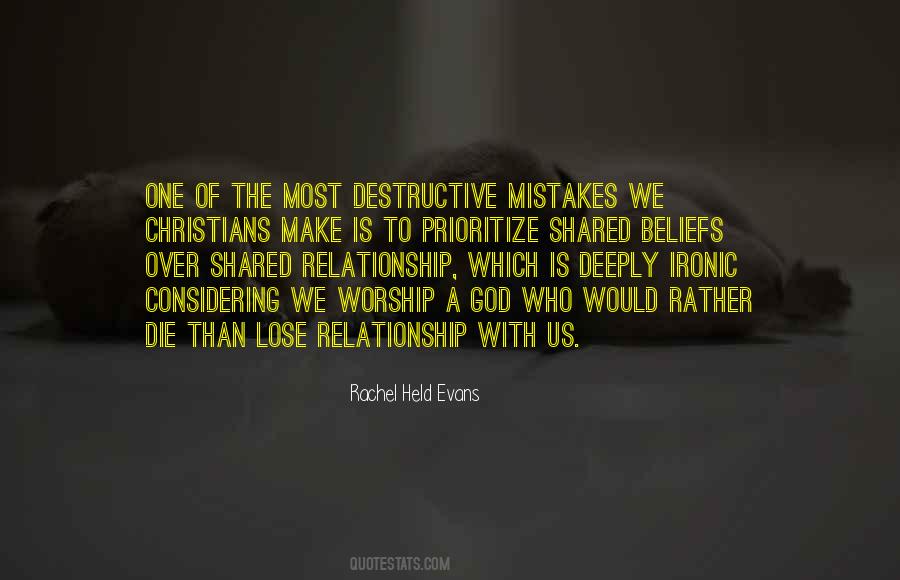 #42. My message to women is: Women: We can do it. We are capable of doing almost anything, but we must learn we cannot do it all at once, we need to prioritize. - Author: Michelle Bachelet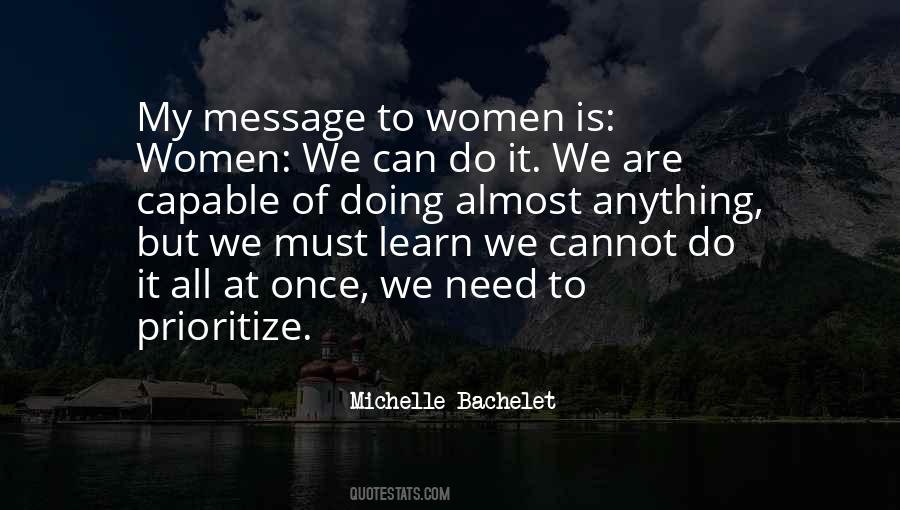 #43. Dream sets us on fire.
Dream gives us direction.
Dream betters our potential.
Dream helps us prioritize.
Dream adds value to our work and
life.
Dream colors our future. - Author: Ifeanyi Enoch Onuoha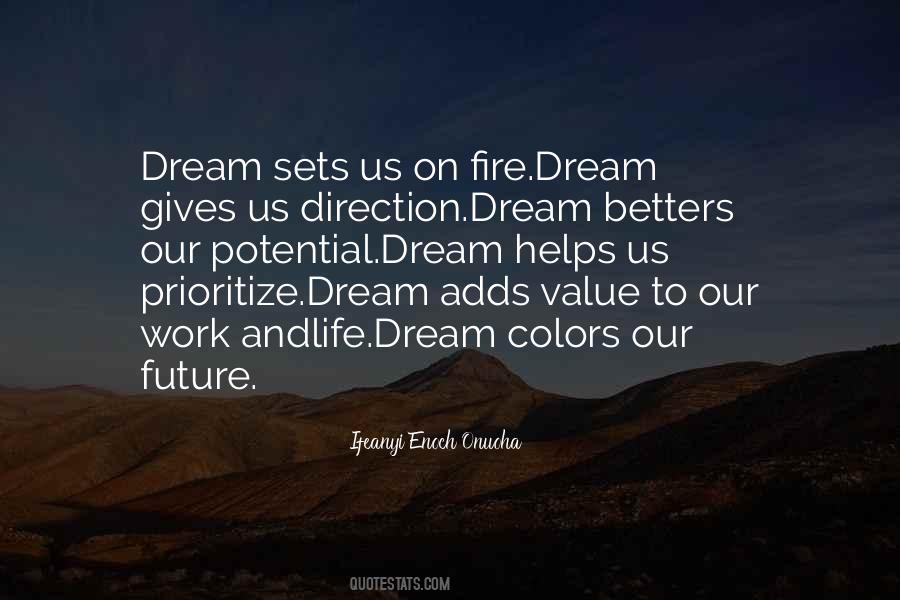 #44. I have to prioritize: father first, and then a pastor and a recording artist and entrepreneur. I try to put everything in proper perspective, and then the proper priority. - Author: Marvin Sapp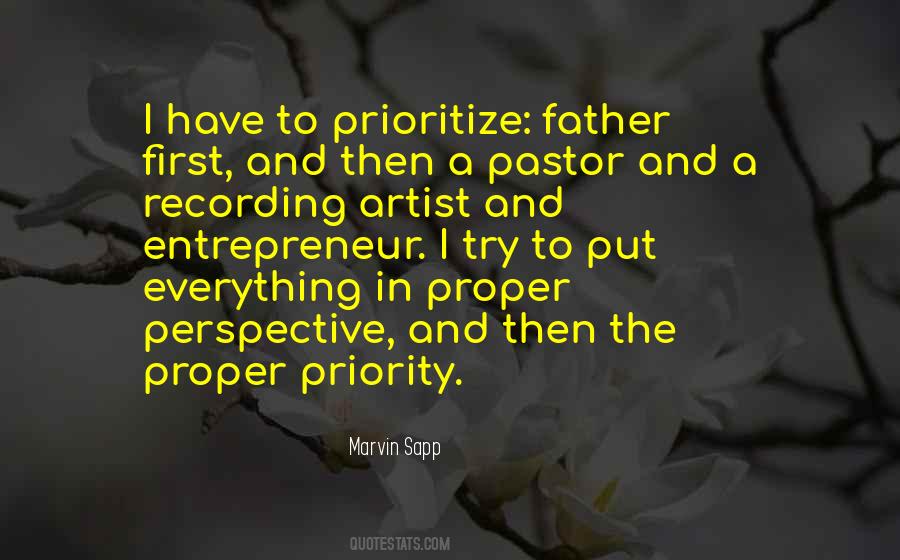 #45. When you think about success, shoot for the moon. The moon is reachable if you prioritize everything and put all of your energy into accomplishing the most important thing. - Author: Gary Keller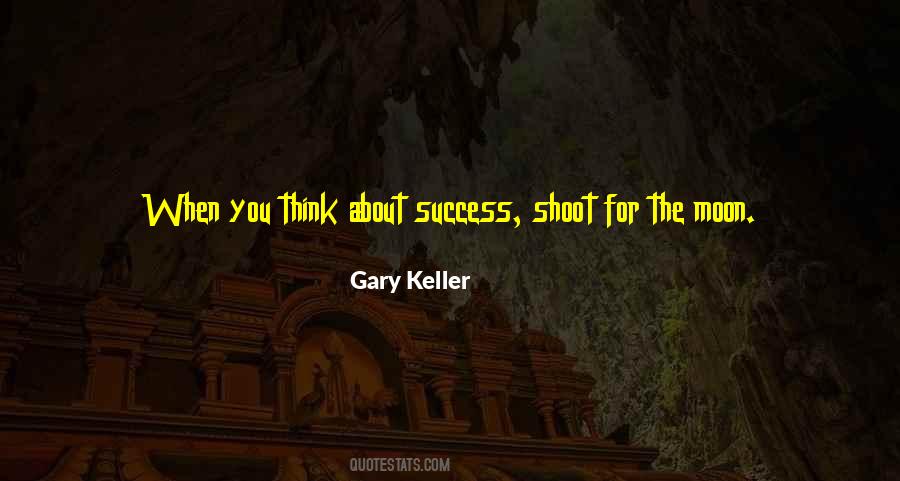 #46. Learning to prioritize is the secret to annihilating clutter. - Author: Geralin Thomas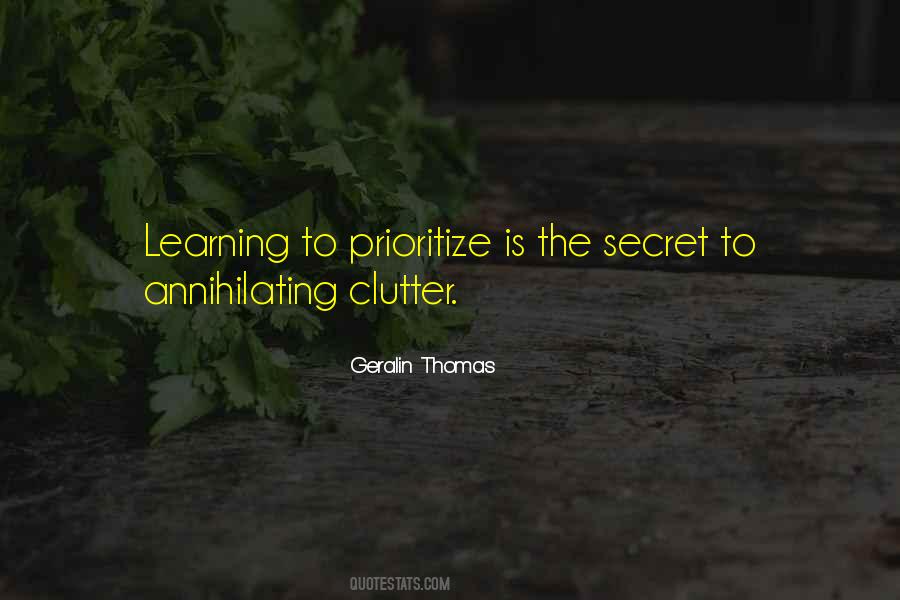 #47. When we prioritize and focus and that becomes the anchor the relationship becomes the anchor and it trumphs everything else than it's at once freeing and anxiety relieving because the connection itself feeds empowerment and self-worth and self-esteem so it takes away the anxiety of raising a child. - Author: Shefali Tsabary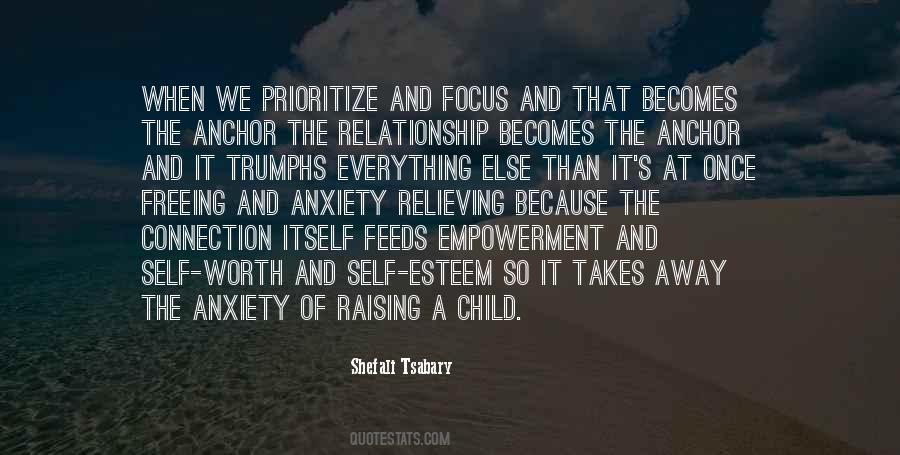 #48. Perspective gives us the ability to accurately contrast the large with the small, and the important with the less important. Without it we are lost in a world where all ideas, news, and information look the same. We cannot differentiate, we cannot prioritize, and we cannot make good choices. - Author: John Sununu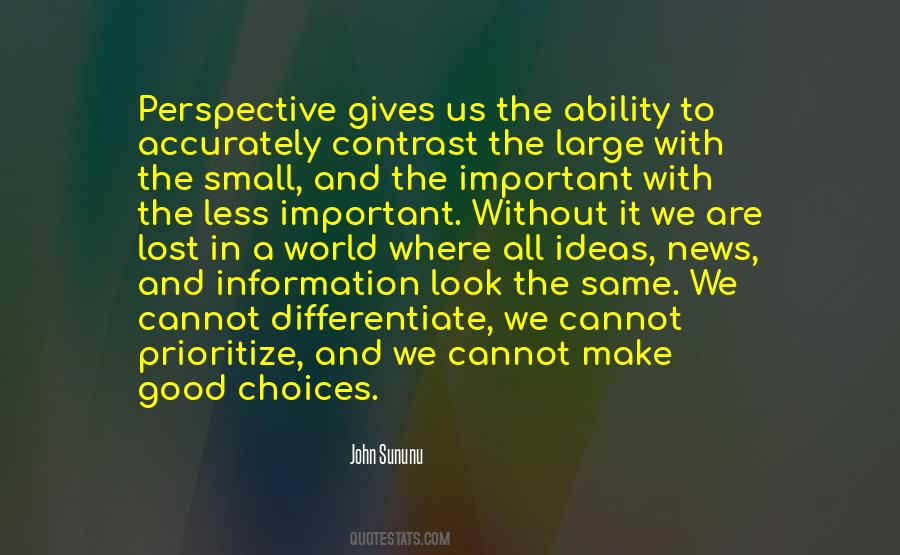 #49. We have a family calendar and it's how everybody runs. In truth, there's no trick to balancing it. If you look at the calendar and you've seen you've gone 10 days without a date night, you know you need to prioritize more. - Author: Kristen Bell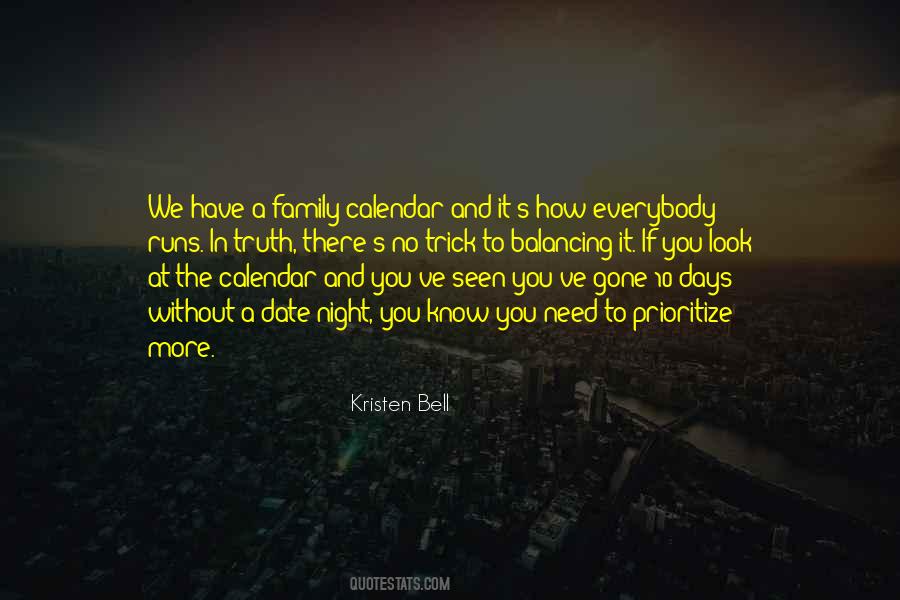 #50. The devil loves it when we say we believe then prioritize everything in our lives ahead of God. - Author: Aiden Wilson Tozer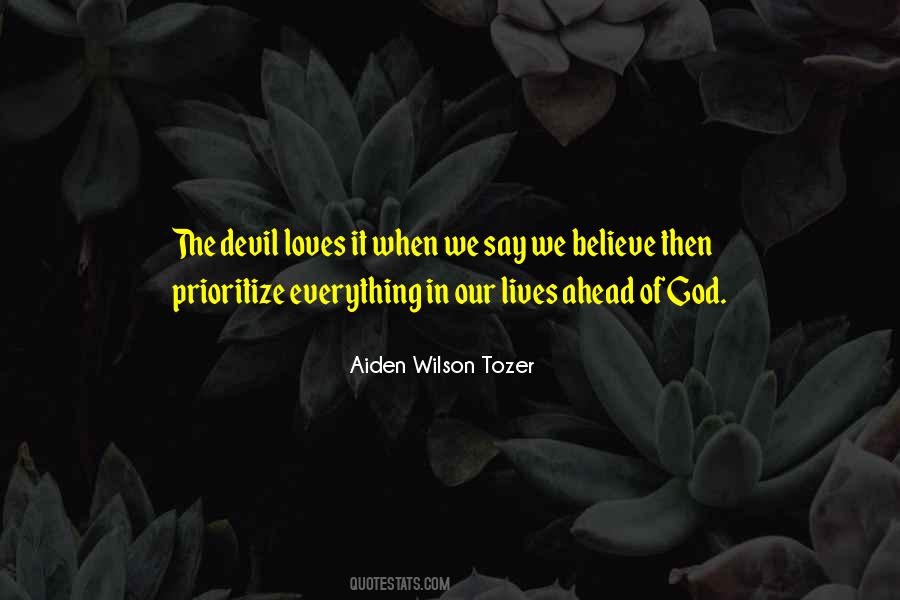 #51. Thinking about writing as an act of celebration is sometimes a helpful framework for me. It allows me to prioritize what I want to call attention to and what I want others to know about me. It makes me ask: What is worth celebrating? - Author: Sarah Kay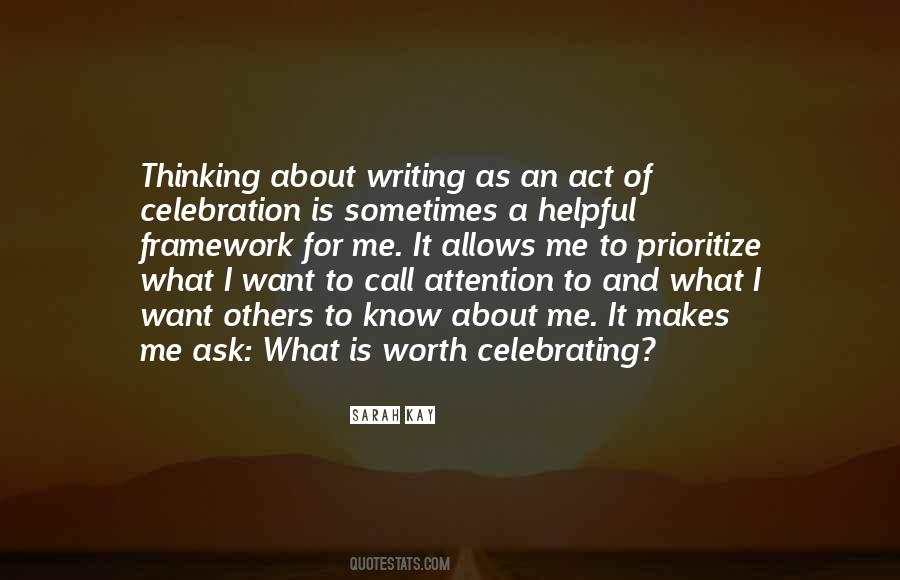 #52. The two most underrated priorities of a woman's life are Love for God and Love for self. Prioritize these two and all other loves will fall into place. - Author: Michele Owes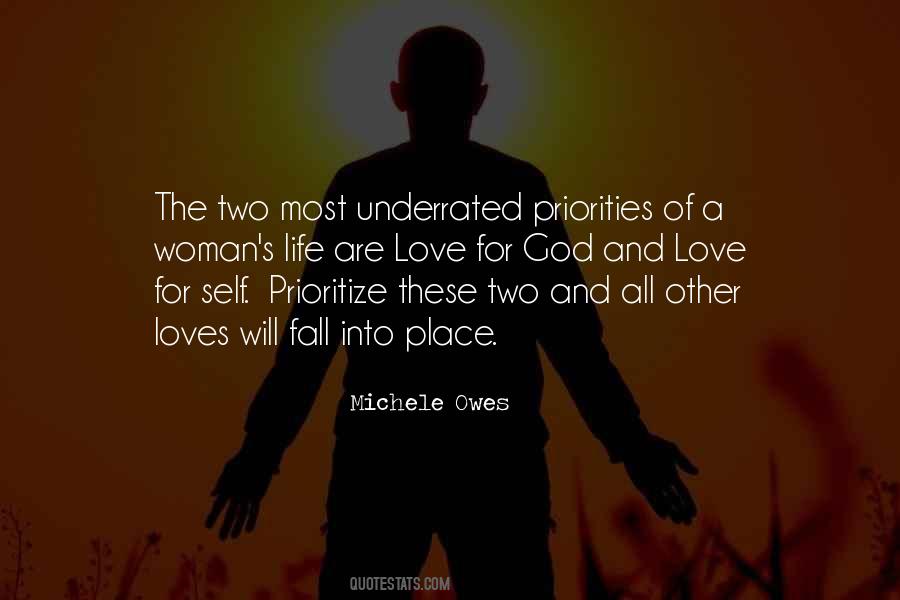 #53. We each get twenty-four hours.
1,440 minutes.
86,400 seconds.

Every day for the rest of your days.

You can't make more, or give any away.

But you can prioritize them for the right people, or waste them on the wrong ones. - Author: A.J. Compton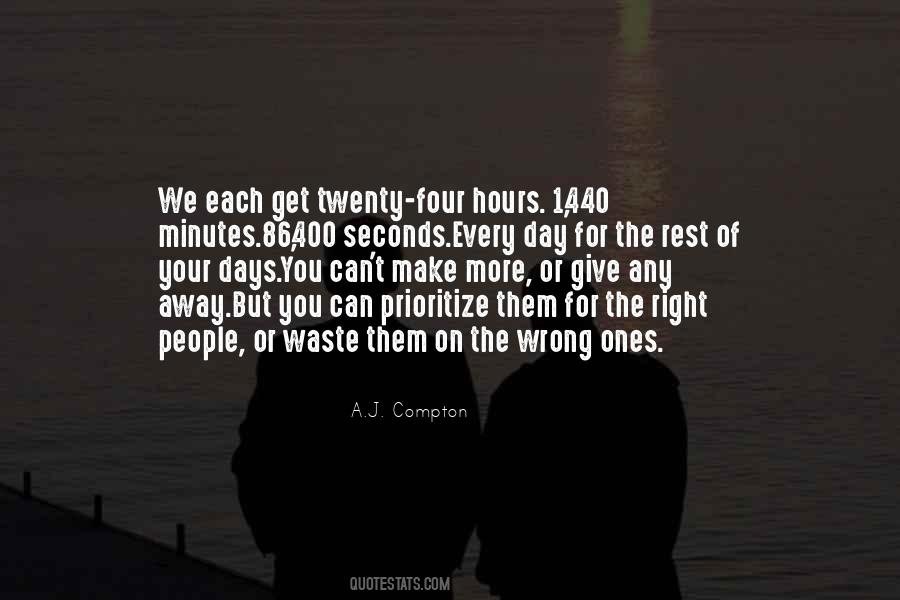 #54. I learned to stop saying yes because I then have to back out. I've been trying to prioritize my health. - Author: Laura Benanti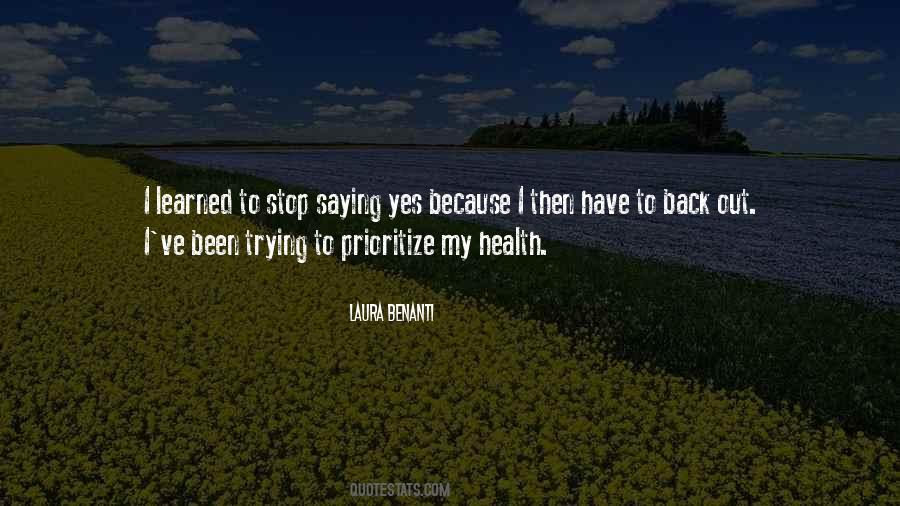 #55. I never try to be the poster child for the perfect mother/wife ... You prioritize, you do the best you can possibly do, and you don't beat yourself up. - Author: Candice Olson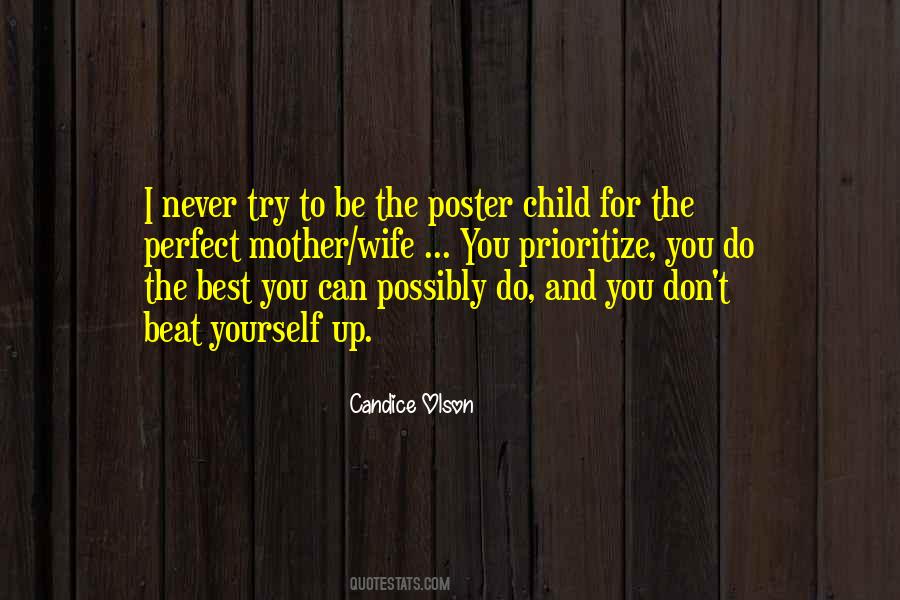 #56. Even before I had an assistant, my calendar was color-coded and I had all these different e-mail rules for how to prioritize e-mails, so I made it a point years ago to figure all that stuff out because my life was a mess. - Author: Chris Hardwick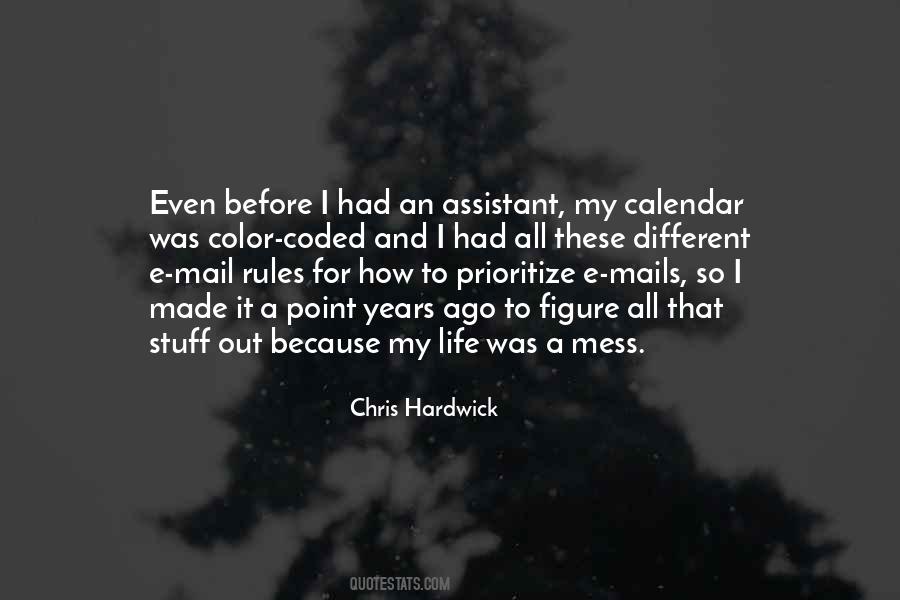 #57. Make your body your prized possession above all physical things. Spare no expense, re-prioritize and invest in your health. - Author: Bryant McGill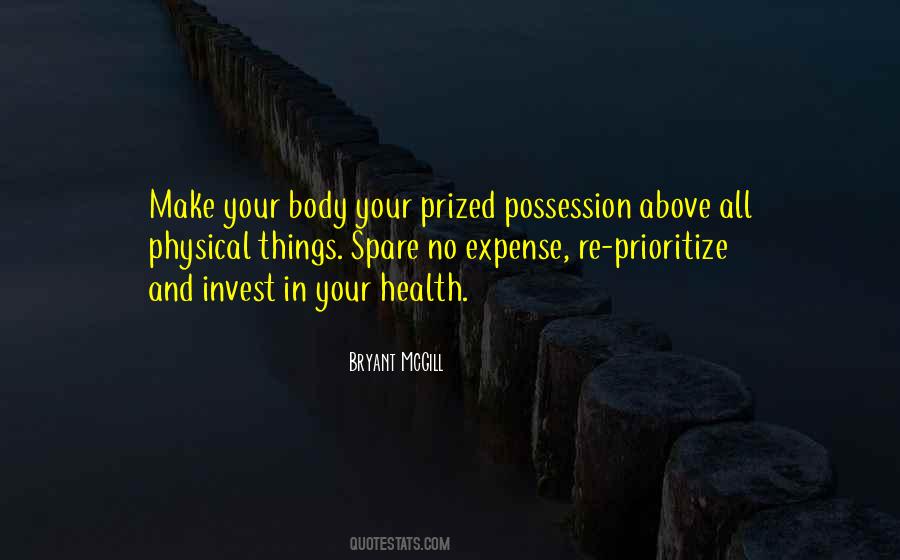 #58. I think I prioritize other people's opinions of me very highly, which is not necessarily a good thing - it's a thing that causes a lot of anxiety. - Author: Jesse Eisenberg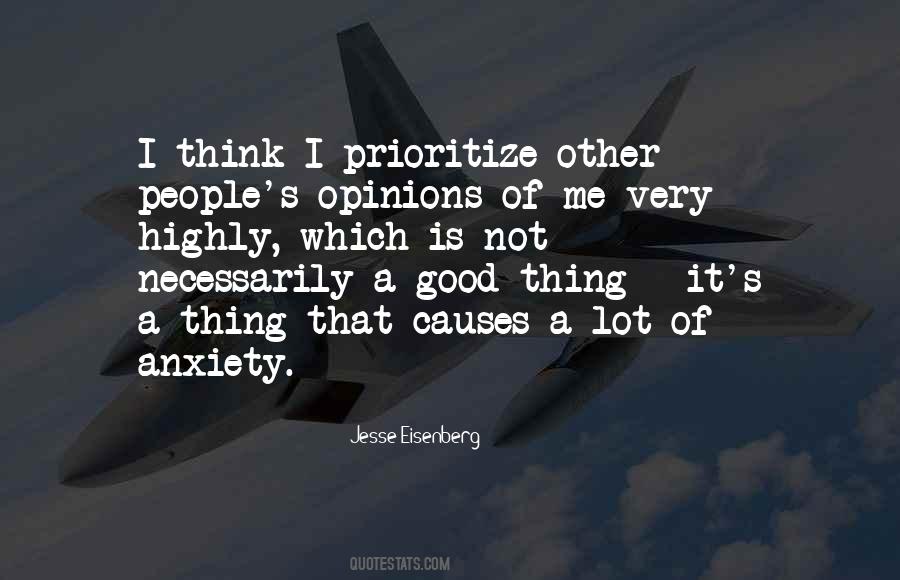 #59. Look, I really appreciate your helping with the med-droids, and I'm sure the best mechanic in the city has a million jobs to prioritize, but at the risk of sounding like a spoiled prince, could I ask that you move Nainsi to the top of your list? - Author: Marissa Meyer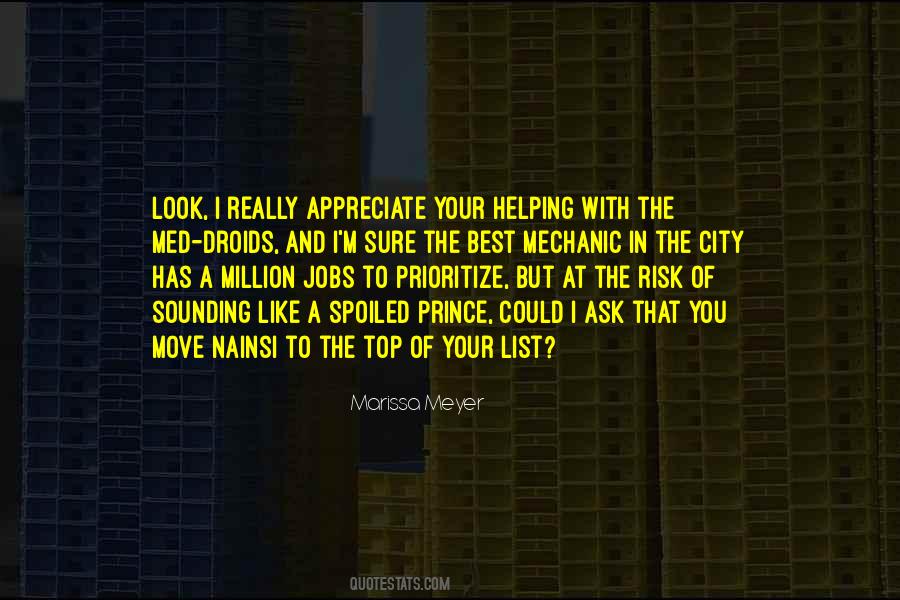 #60. Career politicians do not have the courage to prioritize spending and say no to demanding special interest groups who do not reflect the best interests of the country. - Author: Tom Coburn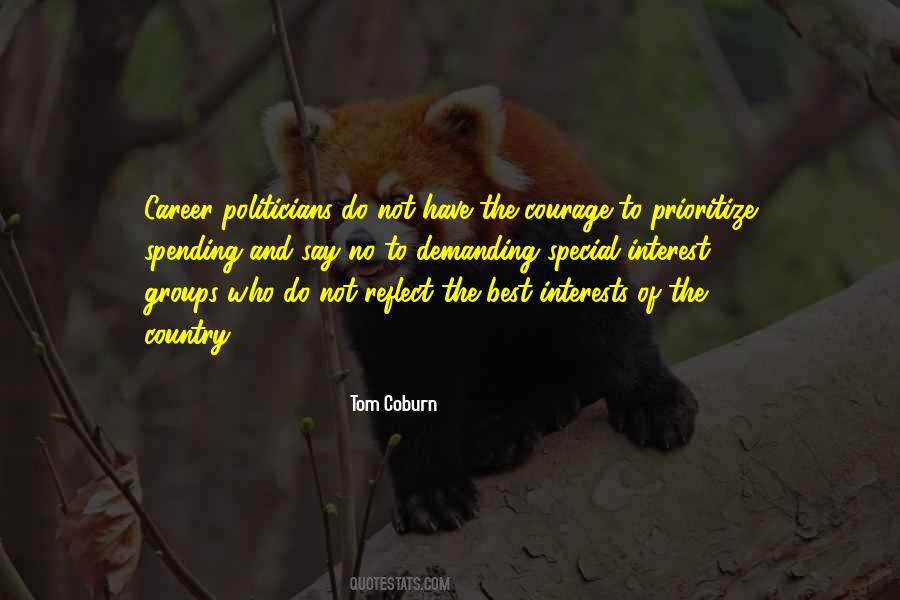 #61. Working smarter is learning to prioritize, plan, and focus our energies with meaningful intent. - Author: Michael Thomas Sunnarborg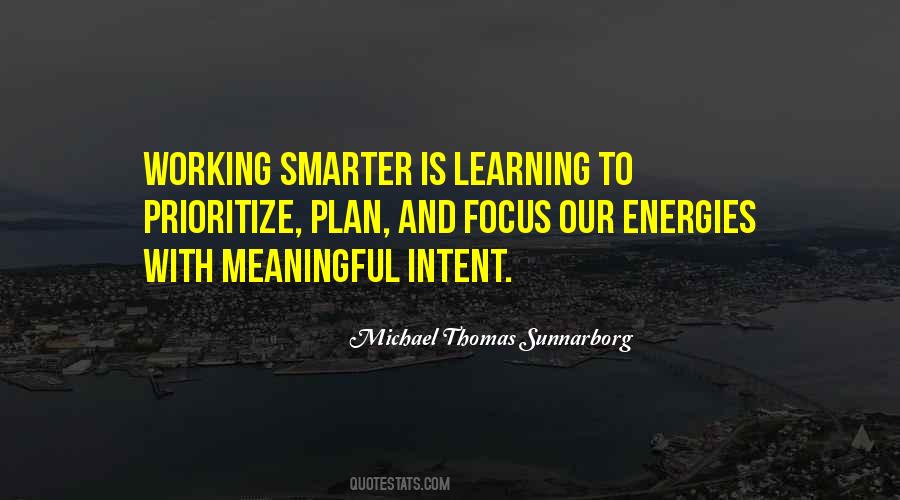 #62. We have to remove clutters from our life and prioritize our life with those things we need, this is the way to become Ekantik. - Author: N.a.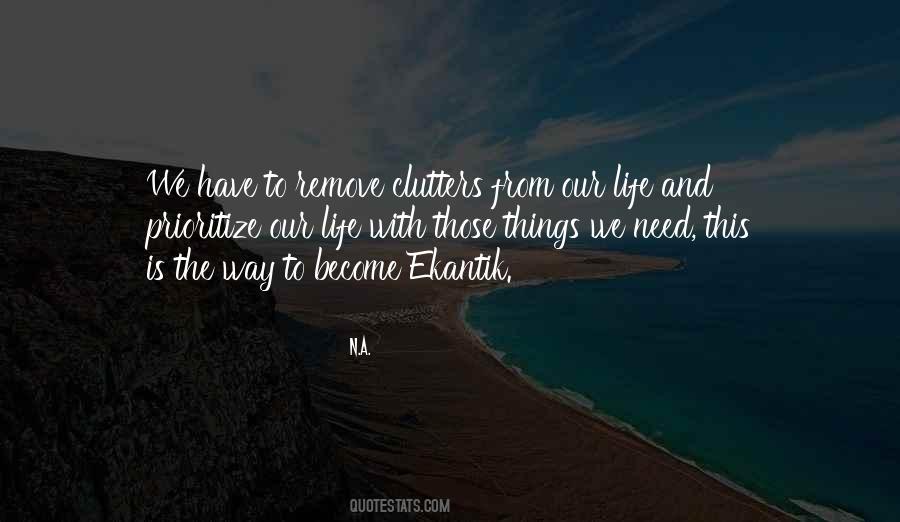 #63. When our priorities are out of order, we lose power. It takes personal revelation every day to help us prioritize and keep at bay the influences of the world that would draw us from what we are to do. - Author: Julie B. Beck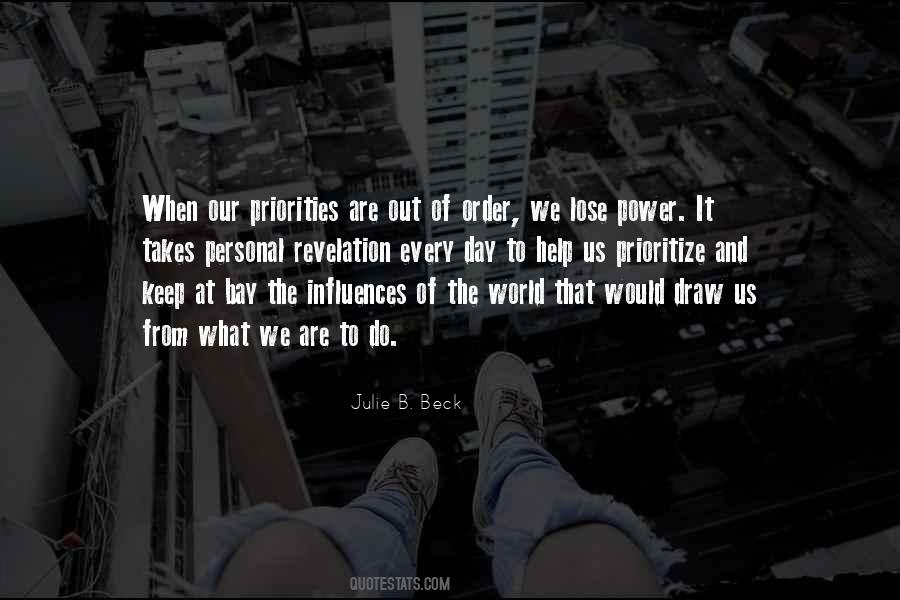 #64. Now I think that a true liberal will always prioritize individuals over the group, will always prioritize heresy over orthodoxy, will always prioritize the dissenting voice over the status quo. - Author: Maajid Nawaz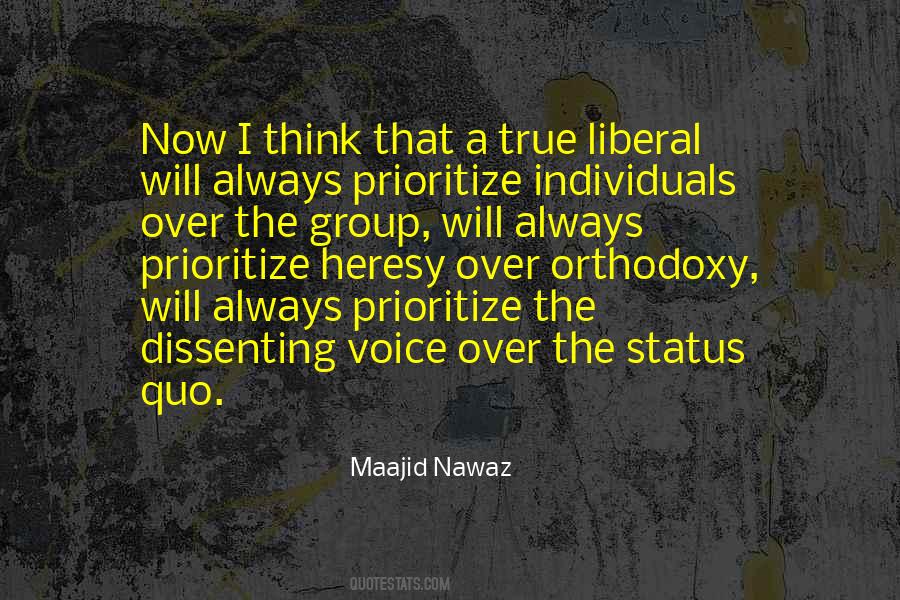 #65. We should not prioritize on the basis of project profitability, but rather on how this profitability is affected by delay. - Author: Donald G. Reinertsen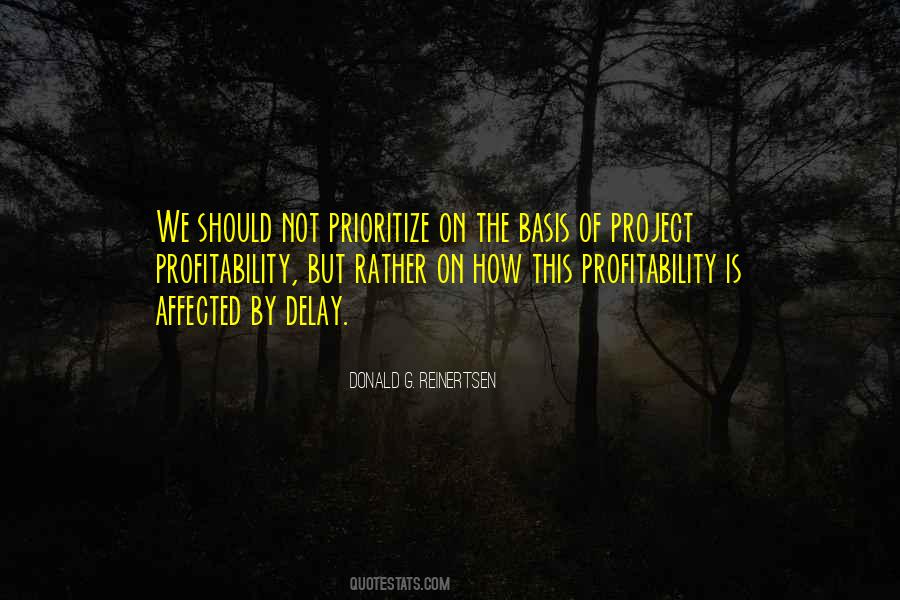 #66. I learned there that the key was first to prioritize all the individual stressors and then act. I break it all down into the little things I can manage. The stressors that I can't affect, I don't worry about. The ones I can affect, I simply deal with one at a time. - Author: Mark Owen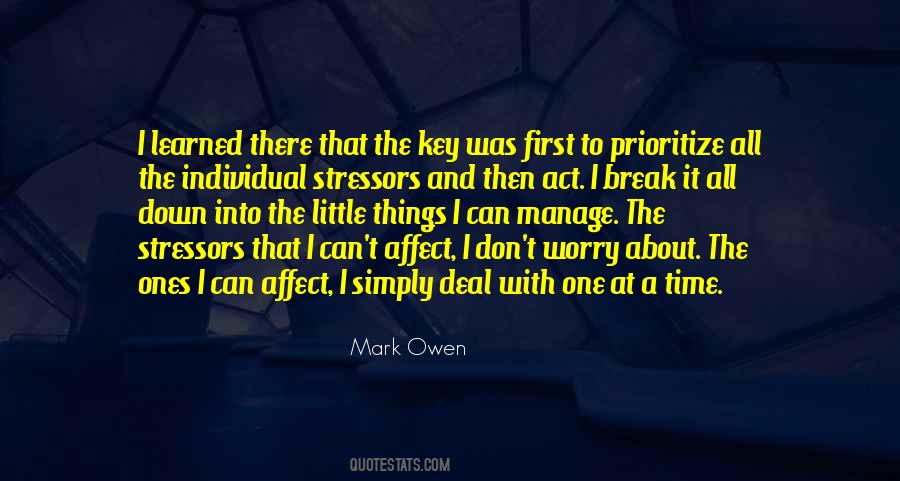 #67. When I served as prime minister last time, I failed to prioritize my agenda. I was eager to complete everything at once, and ended my administration in failure. After resigning, for six years I traveled across the nation simply to listen. - Author: Shinzo Abe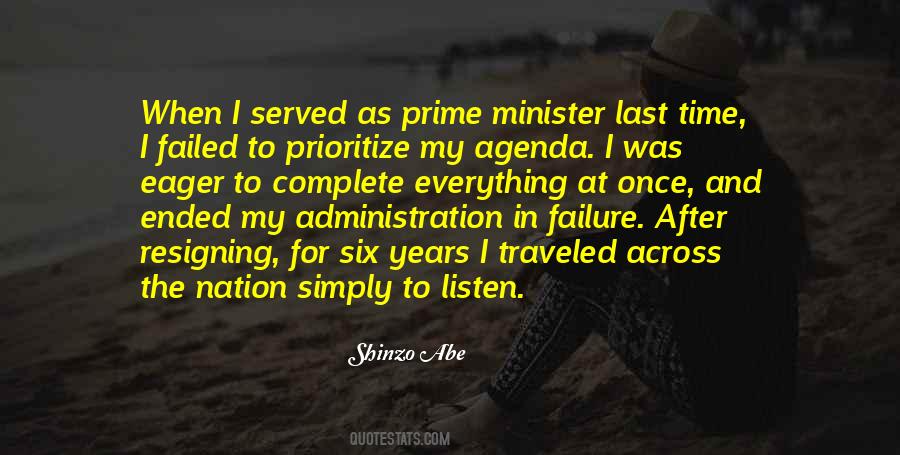 #68. Nothing focuses your mind quite like flying a jet. That's one reason NASA requires that astronauts fly T-38s: it forces us to concentrate and prioritize in some of the same ways we need to in a rocket ship. - Author: Chris Hadfield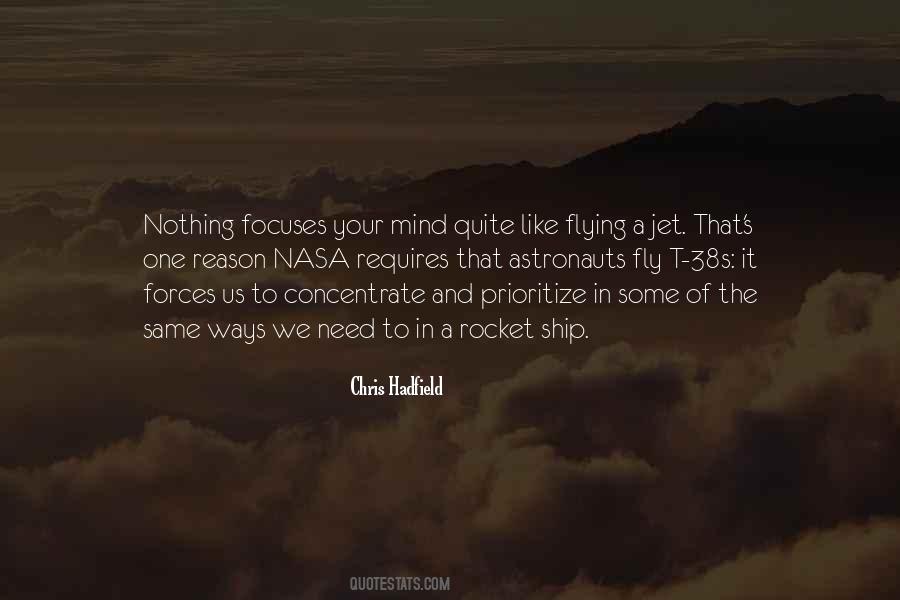 #69. Becoming a mom forced me to re-prioritize and make room for the things that are most important, while recognizing that there are things I can let go of, and the world won't crumble around me. - Author: Shakira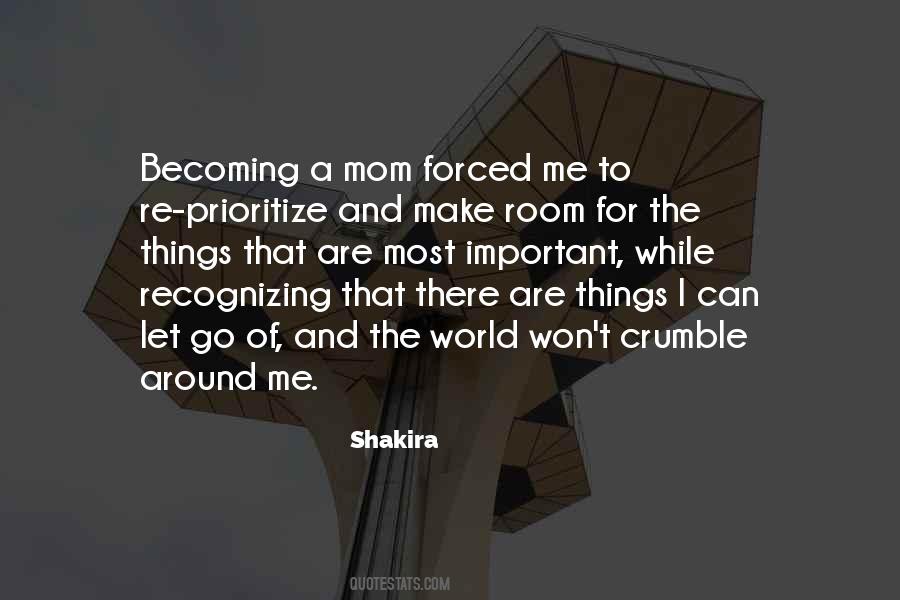 #70. Just because you have chemistry with someone doesn't mean you're naturally going to be the best for each other. You have make choices and prioritize. - Author: Missy Peregrym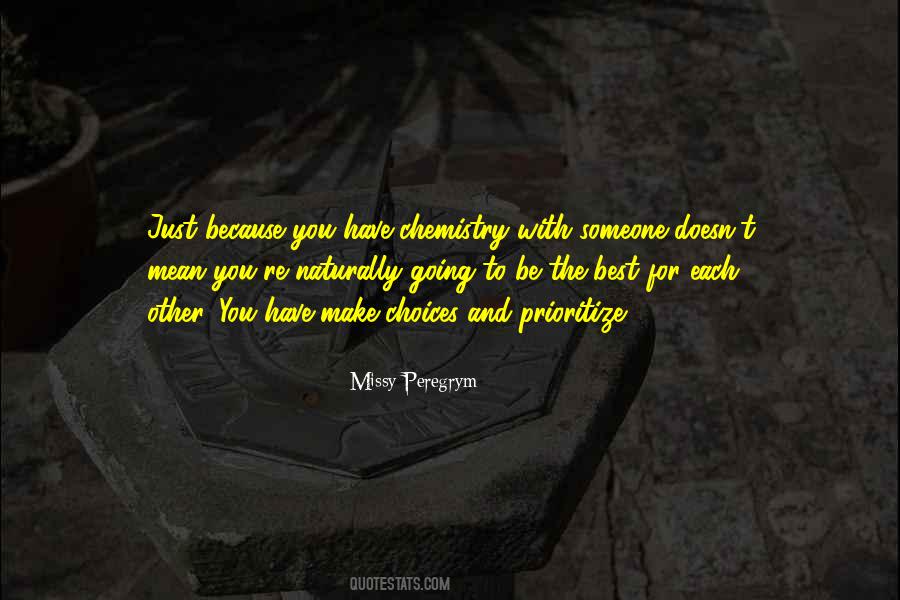 #71. The key to fulfilling our desires in life, we must prioritize your passions. - Author: Kathy McClary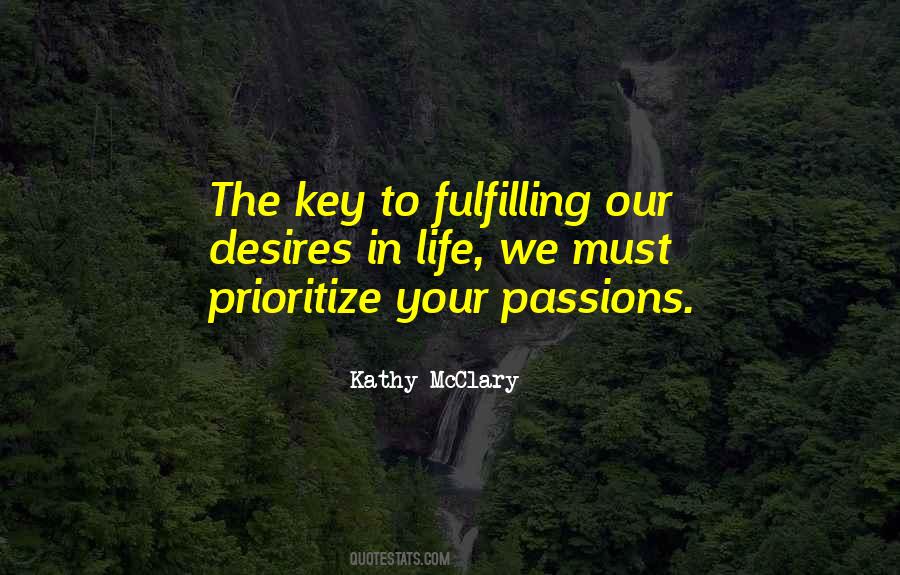 #72. A Champion is all they can be in every facet of their lives. They prioritize what they need to get done. But for me it's someone who works every single day on being a better person. - Author: Shannon Higgins-Cirovski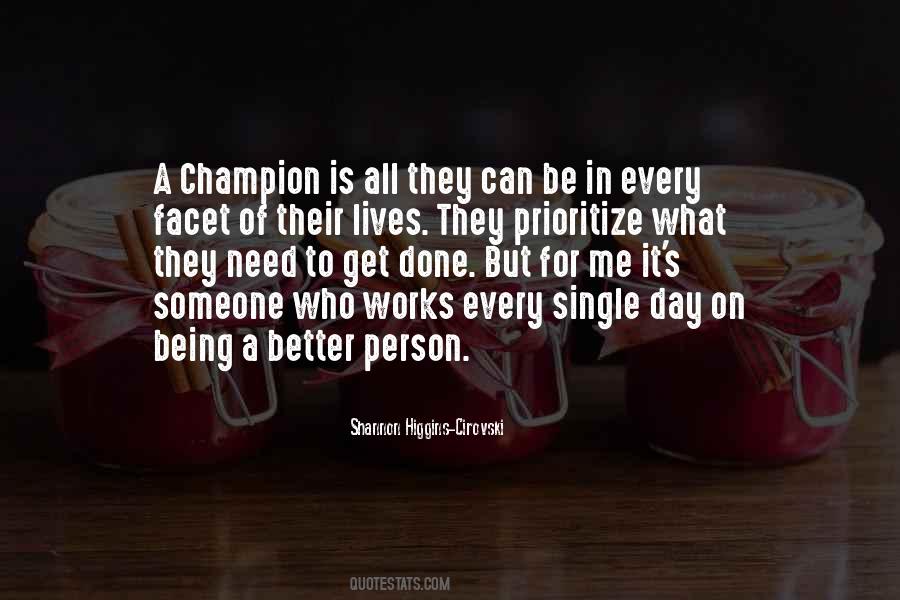 #73. Many of us have convinced ourselves that compromise is necessary to achieve our goals, that all of our goals are not attainable so we should eliminate the extraneous, prioritize our desires, and accept less than the moon. - Author: Garth Stein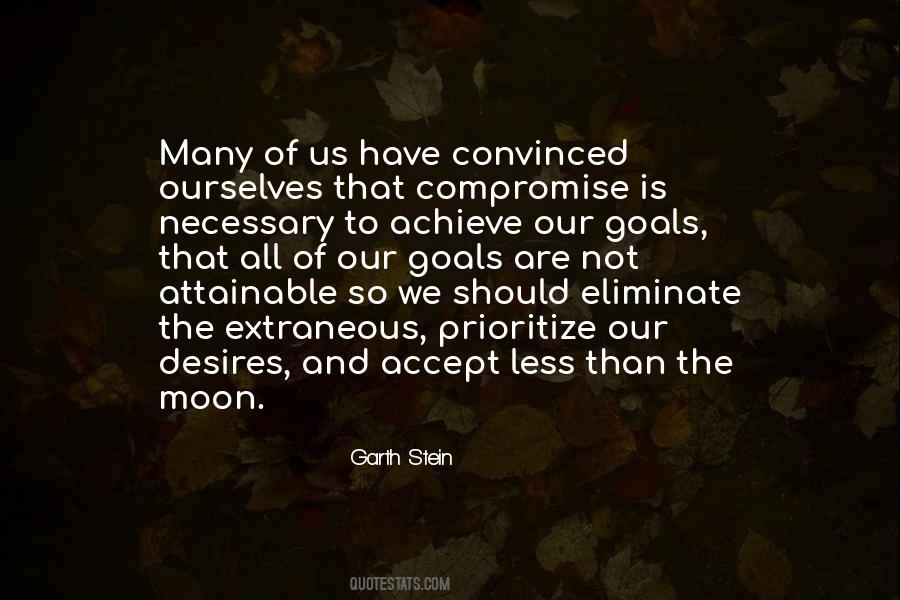 #74. When politicians prioritize local rule instead of trying to force the whole country to agree with them, I think the pursuit of happiness will be within the reach of a far greater portion of our populace. - Author: Ben Carson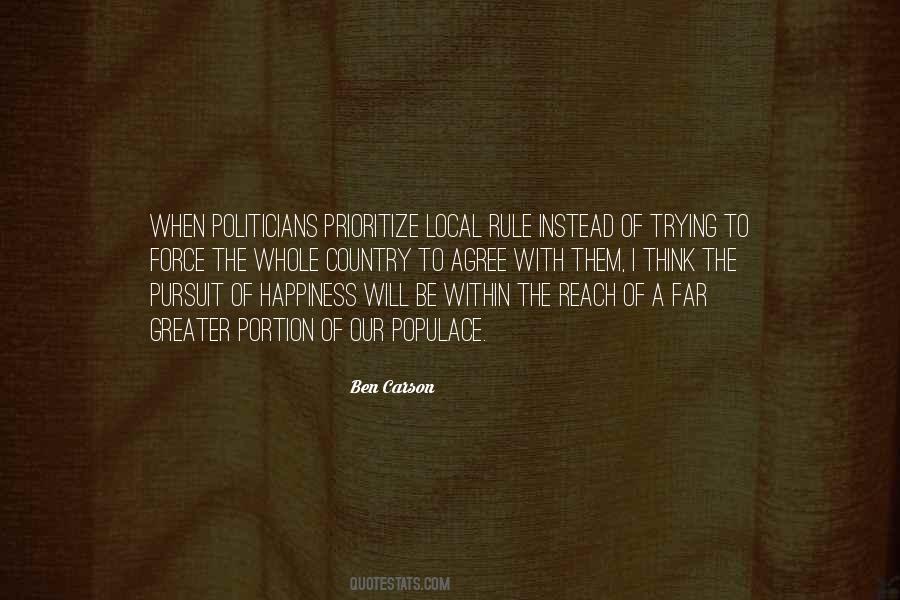 #75. Don't prioritize the mundane. - Author: J.A. Konrath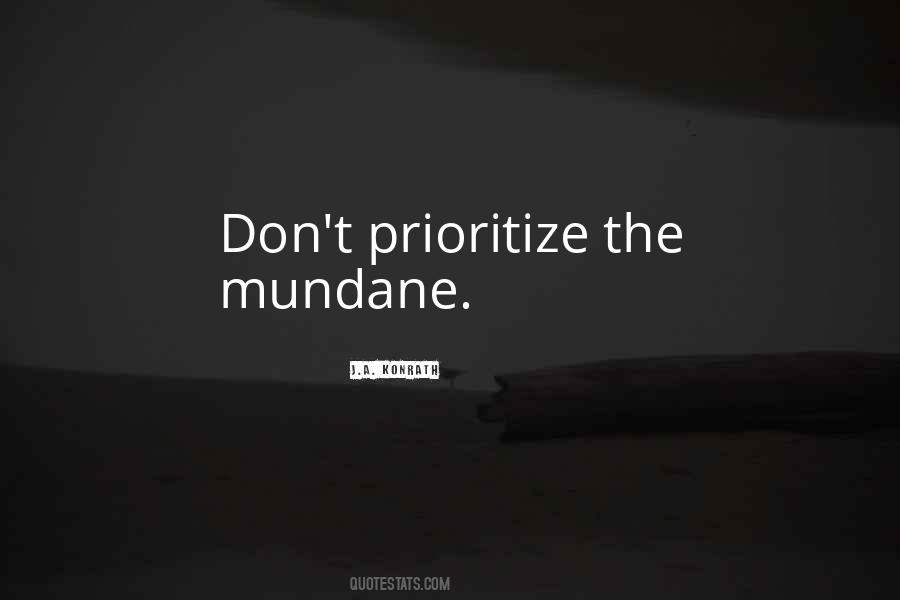 #76. Looking at your day from a "golden day" perspective helps you prioritize. - Author: Elizabeth George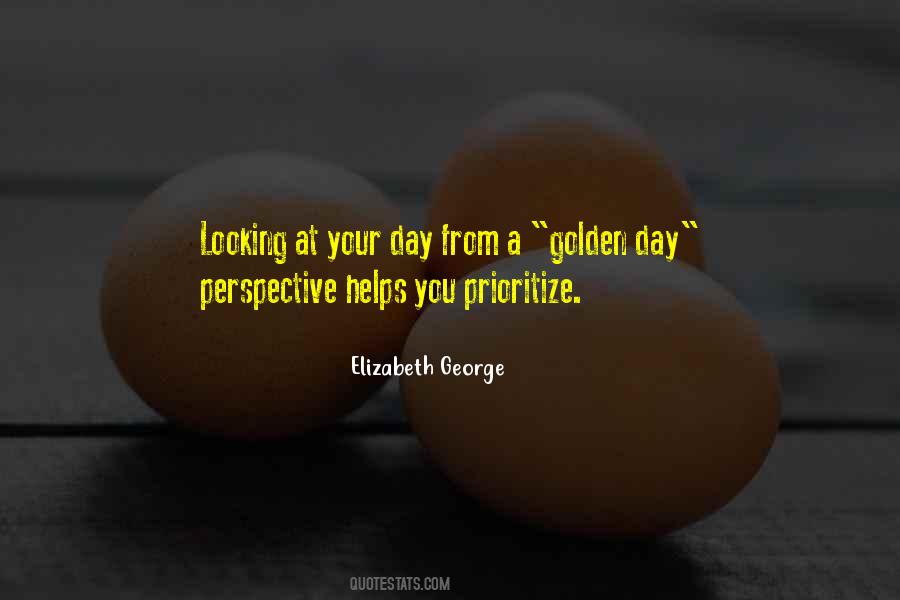 #77. Make a list of your prospects. Prioritize the contacts and select the leads with the highest potential to buy first. - Author: Timi Nadela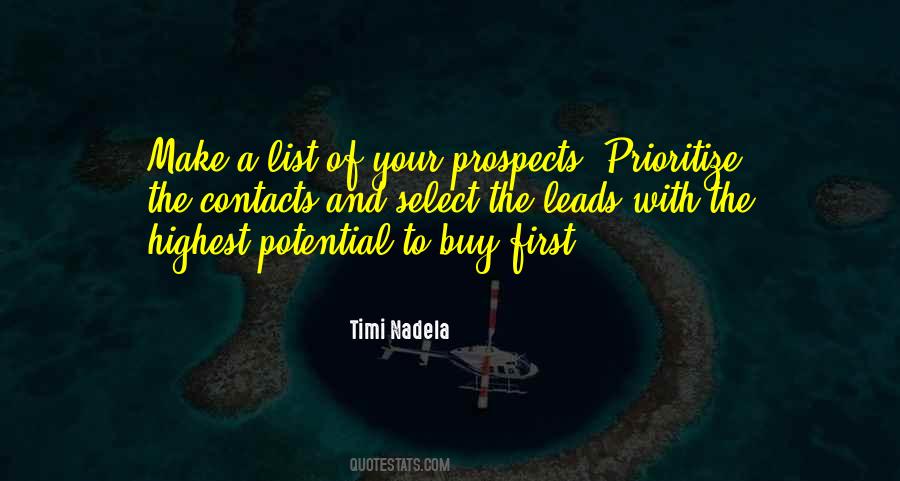 #78. I don't know about you,
but for me ... to be honest,
I would prioritize myself,
before helping other people. - Author: Toba Beta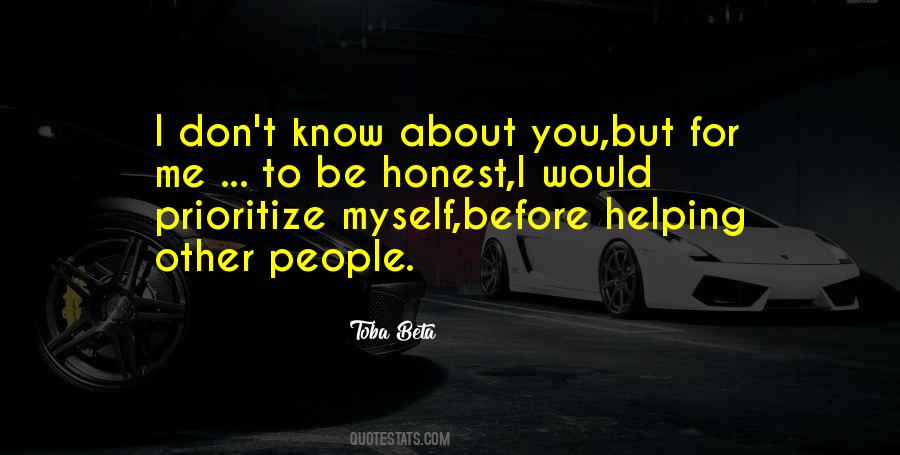 #79. Learn how to prioritize all your debt. And did you know student loan debt is the most dangerous debt any of us can have? - Author: Suze Orman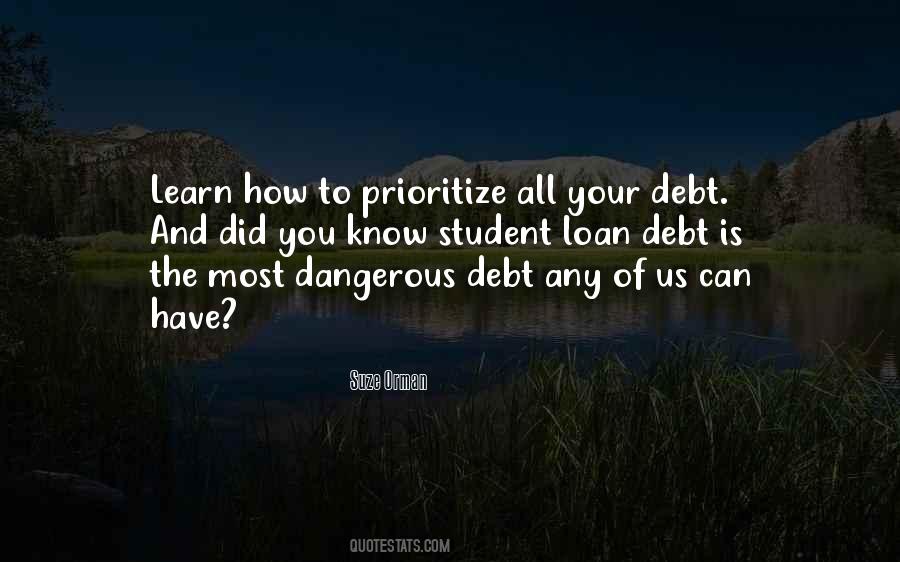 #80. Trying to prioritize among things we're unlikely to do is pretty fruitless. - Author: Charlie Munger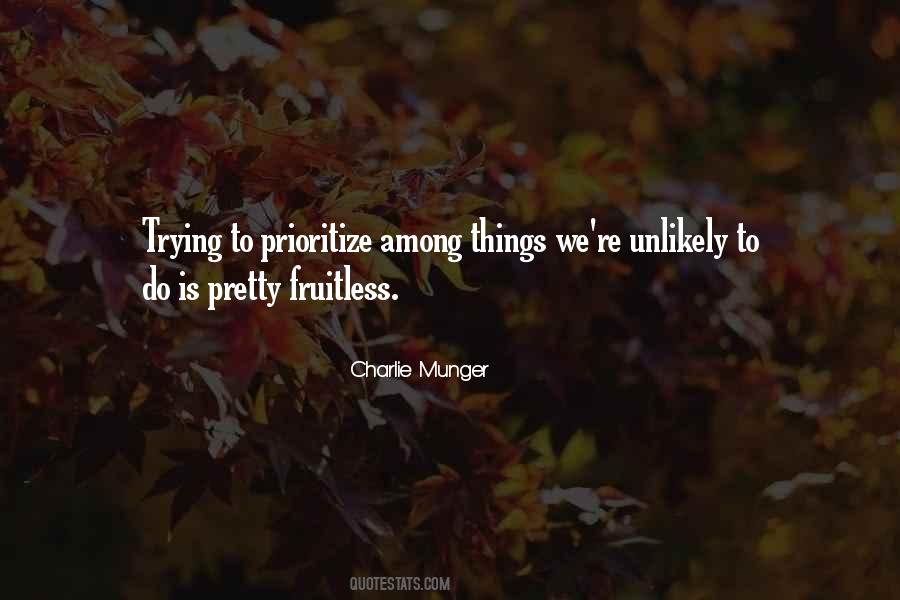 #81. Prioritize activities under the captions "important" and "urgent". Do the urgent things first and the important things later. - Author: Israelmore Ayivor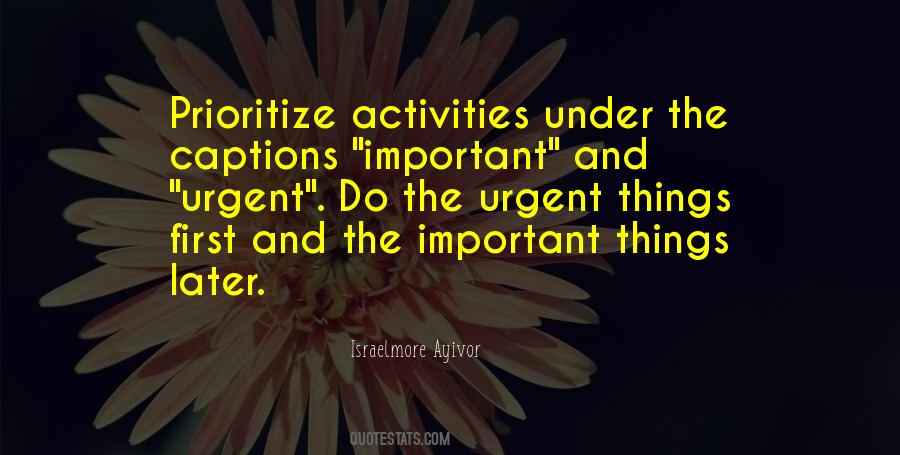 #82. The role of leadership is to transform the complex situation into small pieces and prioritize them. - Author: Carlos Ghosn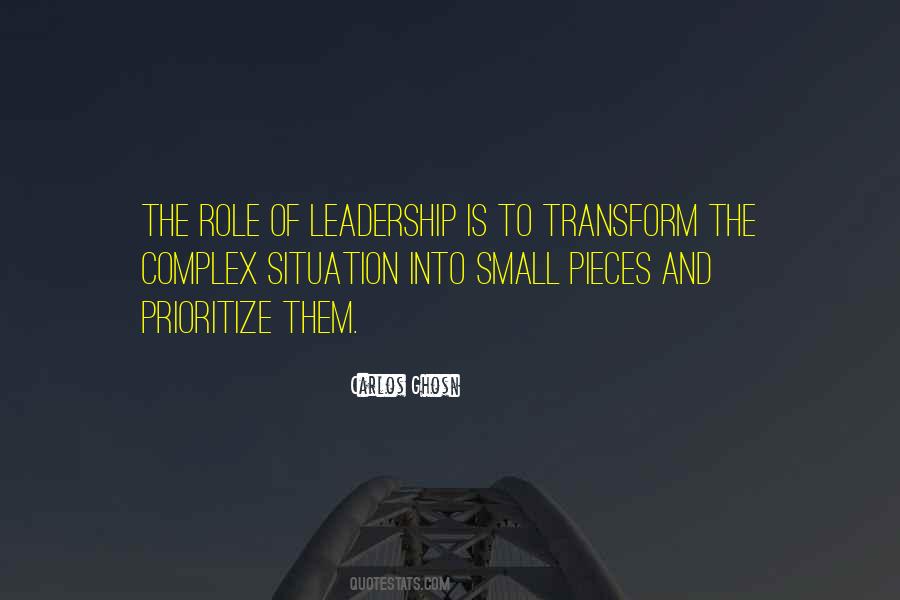 #83. When we're always connected, we allow others-colleagu es and celebrities, close friends and distant acquaintances, bloggers and news aggregators-set our life's agenda. Our ability to prioritize is paralyzed by the sheer volume of requests, demands, opportunities, and information. - Author: George Barna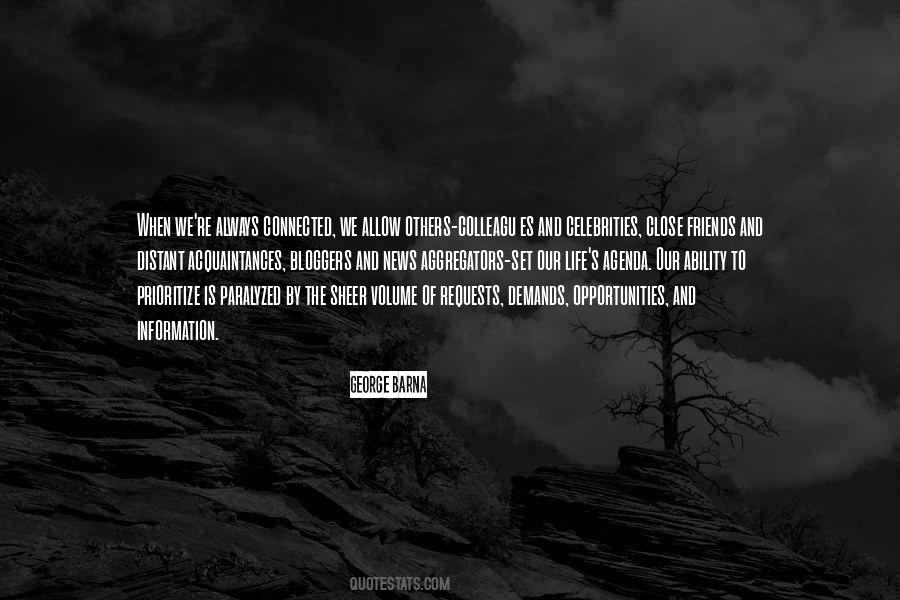 #84. Take what's there, assess the situation, prioritize, and break it down into small tasks you know you can accomplish or eliminate or fix immediately. - Author: Mark Owen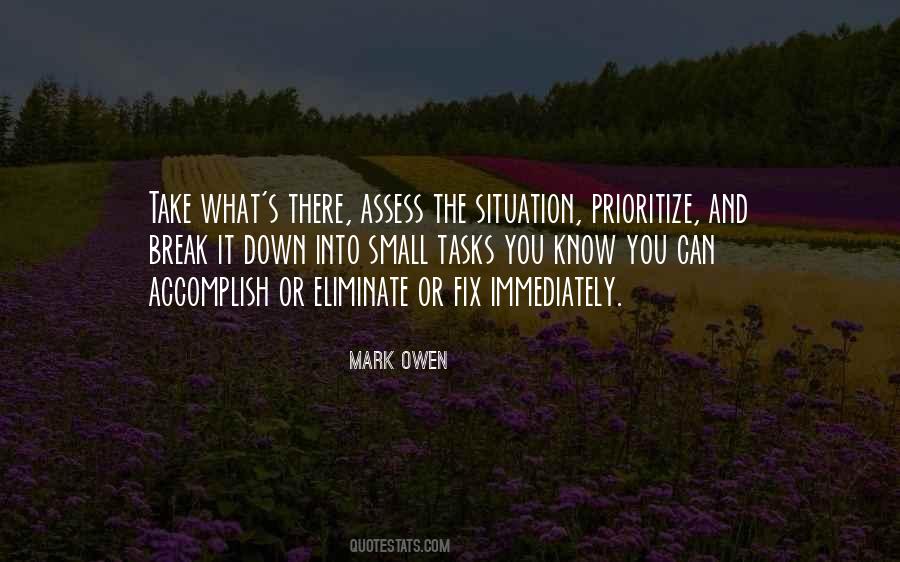 #85. When we make decisions that honor our dreams and priorities, we also make choices about what we won't prioritize. We must embrace these choices as well. - Author: Sarah Hackley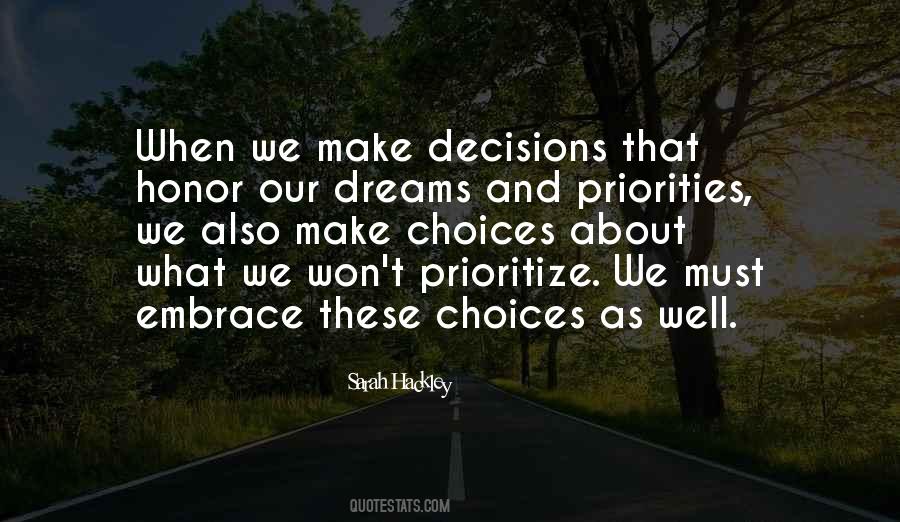 #86. The key is not to prioritize what's on your schedule, but to schedule your priorities. - Author: Stephen Covey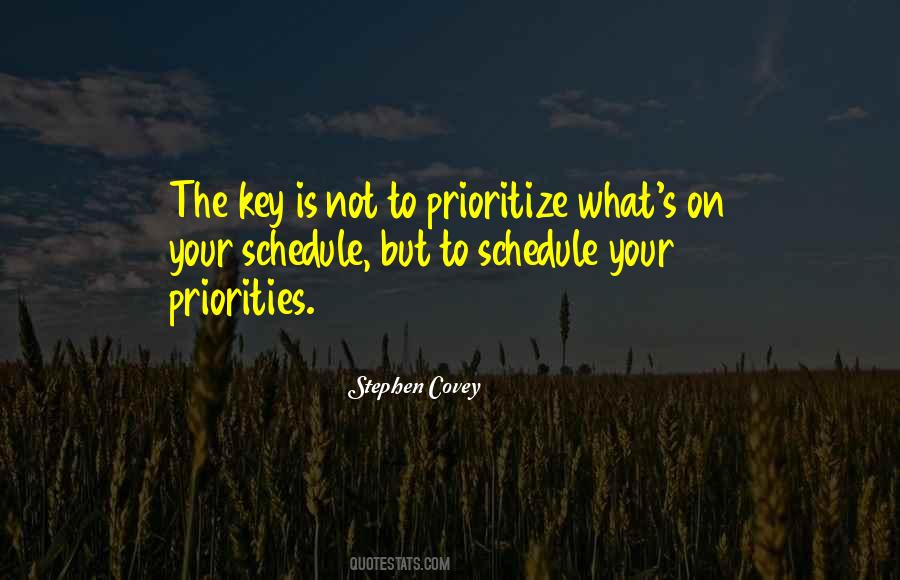 #87. I tend to prioritize emotional realism above the known laws of time and space, and when you do that, it's inevitable that strange things happen. Which can be quite enjoyable, I think. - Author: Helen Oyeyemi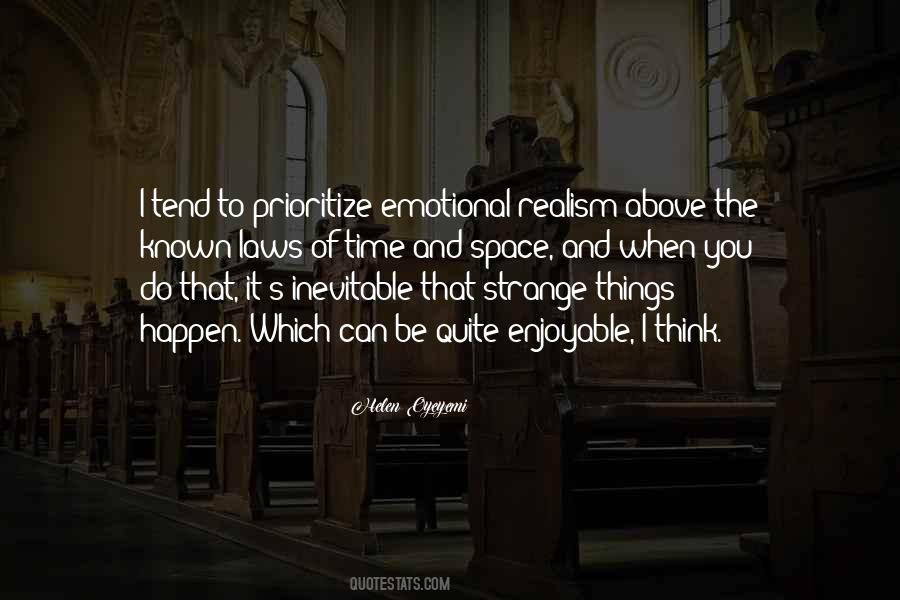 #88. AND THEN I REACH INSIDE MYSELF. DIRECTIVE QUANDARY. PROTECT. PRIORITIZE. REACHING DEEP. DELETING SUBDIRECTORY 84823MOR-(*-)001 AND I OPEN THE DOORS TO HANGAR BAY 4. - Author: Amie Kaufman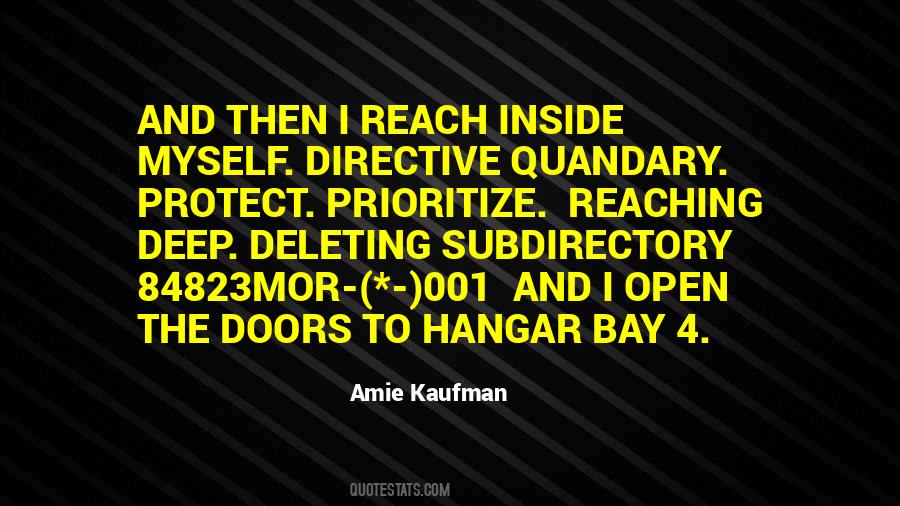 #89. AND THEN I REACH INSIDE MYSELF. < DIRECTIVE QUANDARY. PROTECT. PRIORITIZE. > REACHING DEEP. < DELETING SUBDIRECTORY 84823MOR-(*-)001 > AND I OPEN THE DOORS TO HANGAR BAY 4. - Author: Amie Kaufman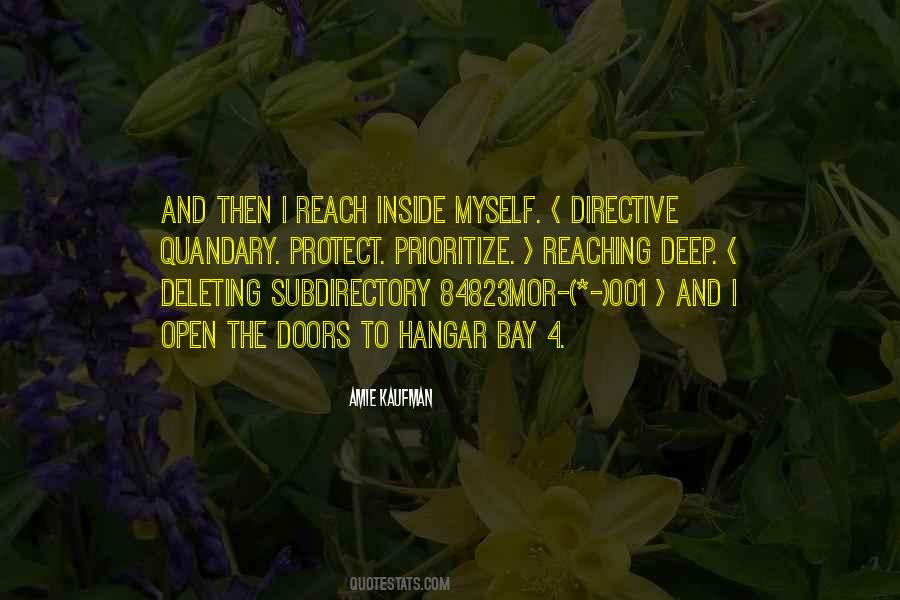 #90. In a world where the larger majority of society is careless, it's the small percentage of people who make the choice to be different and prioritize relationships that stand out. - Author: Farshad Asl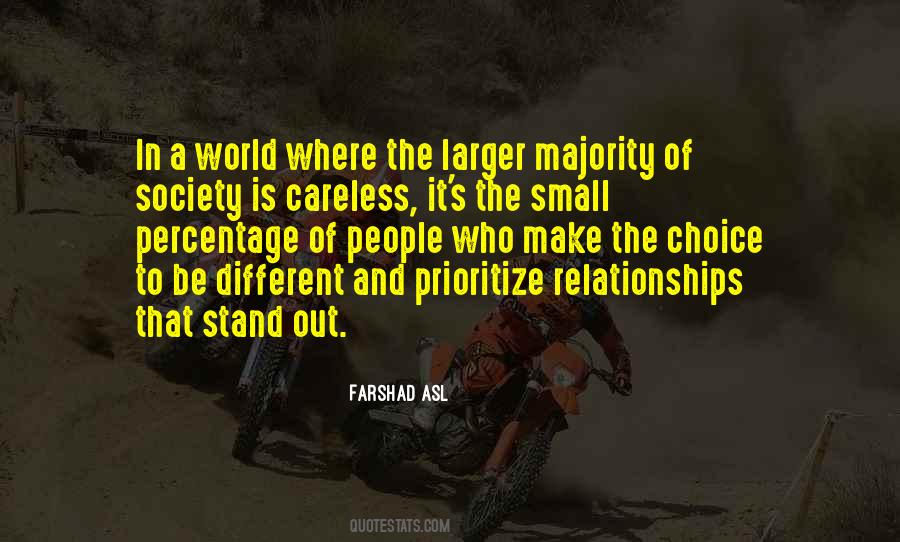 #91. God's eyes are fastened with eternal intentions on the inner man. That's why sometimes God may prioritize performing a miracle on our hearts and minds over a miracle concerning our circumstances. - Author: Beth Moore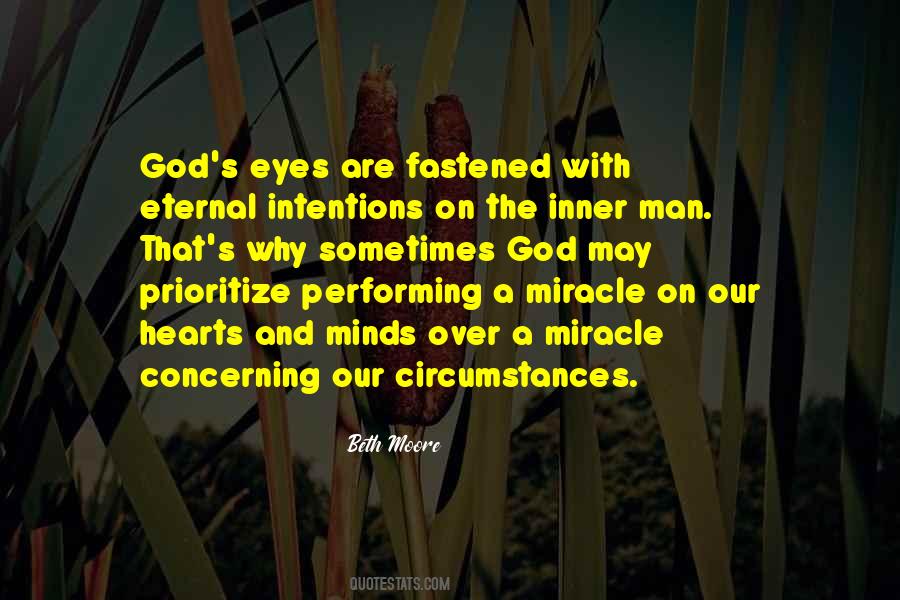 #92. If you ask anybody at Cyber Command or look at any of the job listings for openings for their positions, you'll see that the one thing they don't prioritize is computer network defense. It's all about computer network attack and computer network exploitation at Cyber Command. - Author: Edward Snowden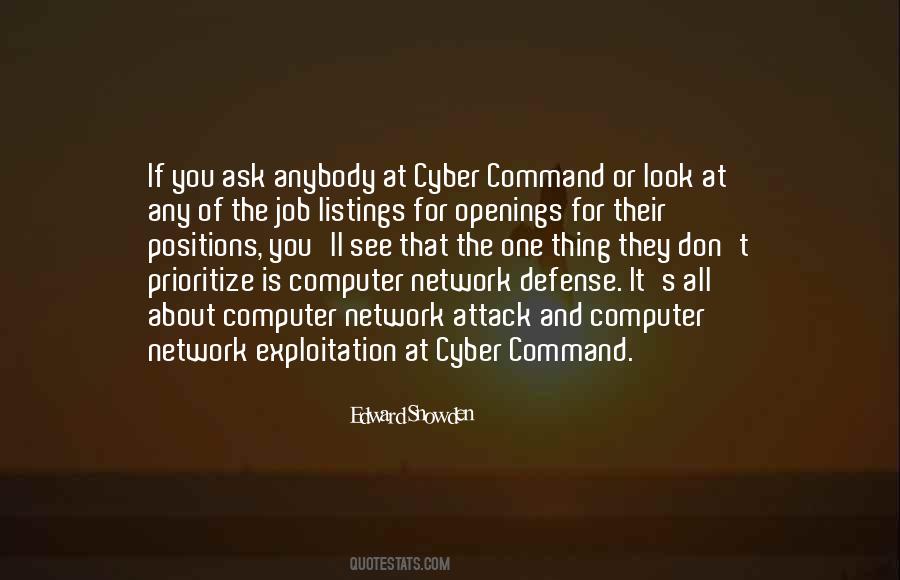 #93. Remember that if you don't prioritize your life someone else will. - Author: Greg McKeown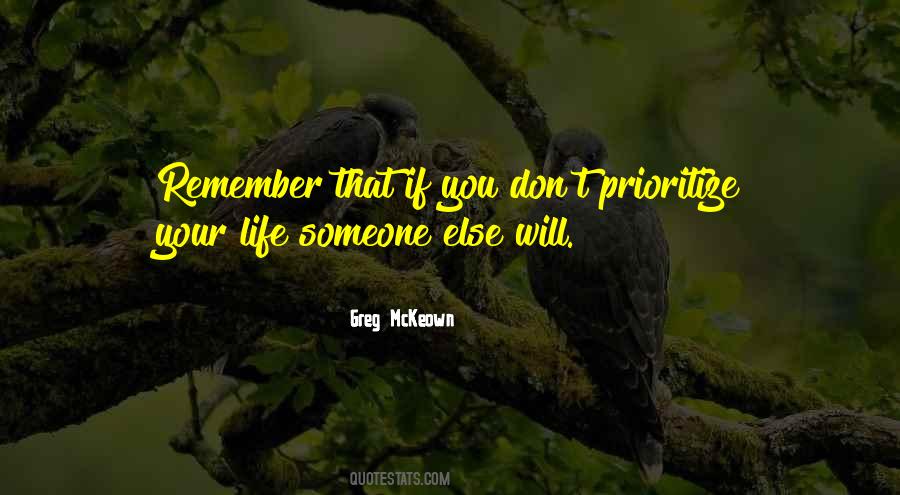 #94. Data can generally travel the speed of light unless networks are congested. When there's congestion, usually the cheapest and best thing is simply to add capacity generally, not to prioritize certain sites over others. - Author: Marvin Ammori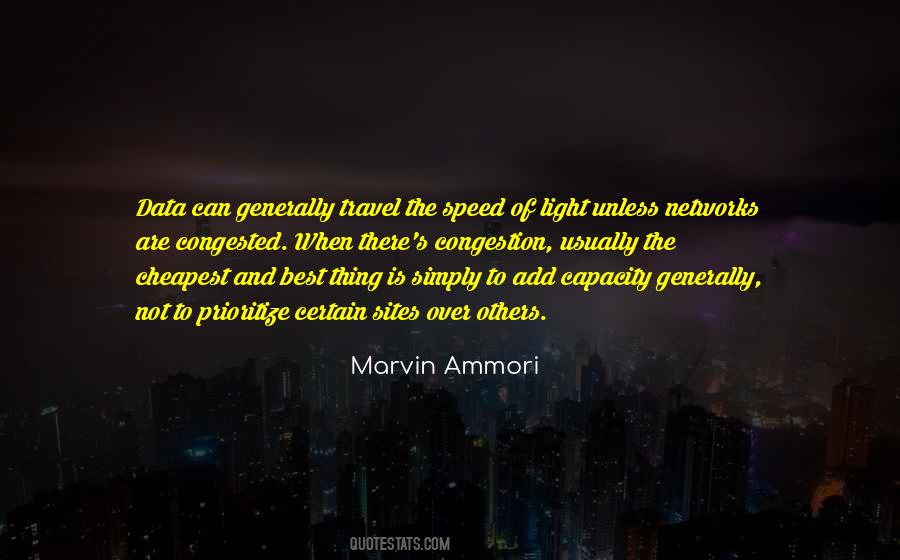 #95. The myth is that women and their families don't have to make trade-offs to have an 'extreme career'; they absolutely do. How you prioritize your life and career is your choice. Once you make a decision, stick to it; don't always second-guess yourself. - Author: Angela Braly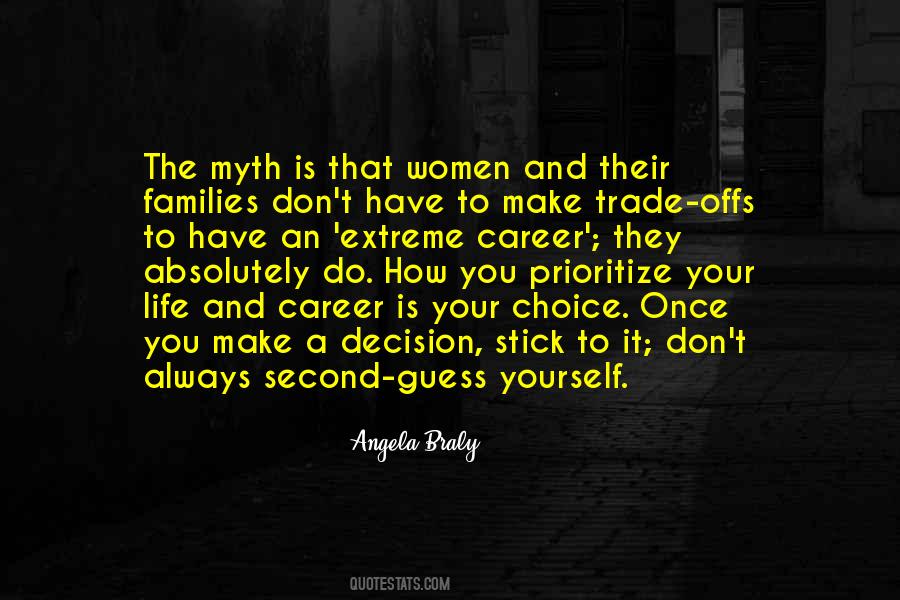 #96. To the extent people prioritize values and goals such as achievement, money, power, status and image, they tend to hold more negative attitudes towards the environment, are less likely to engage in positive environmental behaviors, and are more likely to use natural resources unsustainably, - Author: Naomi Klein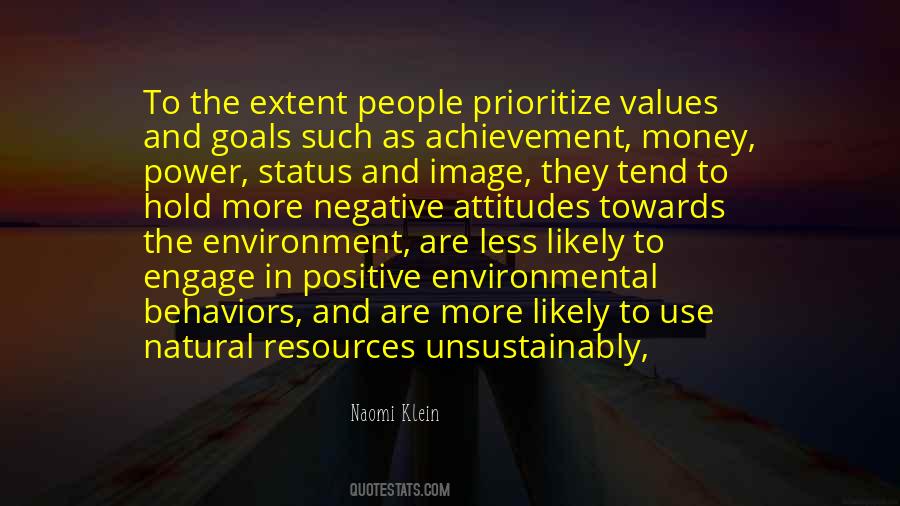 #97. It's very important to prioritize. I know, for me, my family comes first. That makes every decision very easy. - Author: Jada Pinkett Smith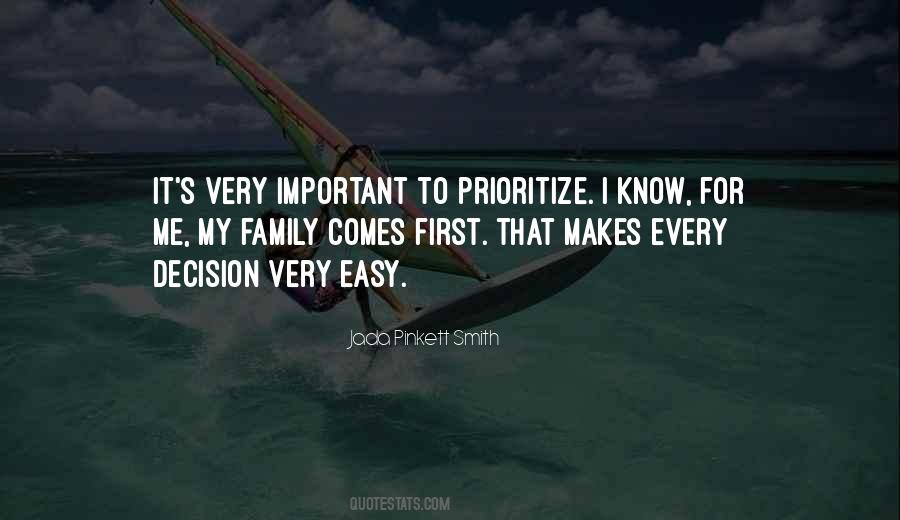 #98. I will either adamantly prioritize my agendas at the expense of the truth, or I will consistently bring my agendas into unrelenting obedience to the truth. And if for some reason you're trying to determine who I truly am, the choice I make will tell you. - Author: Craig D. Lounsbrough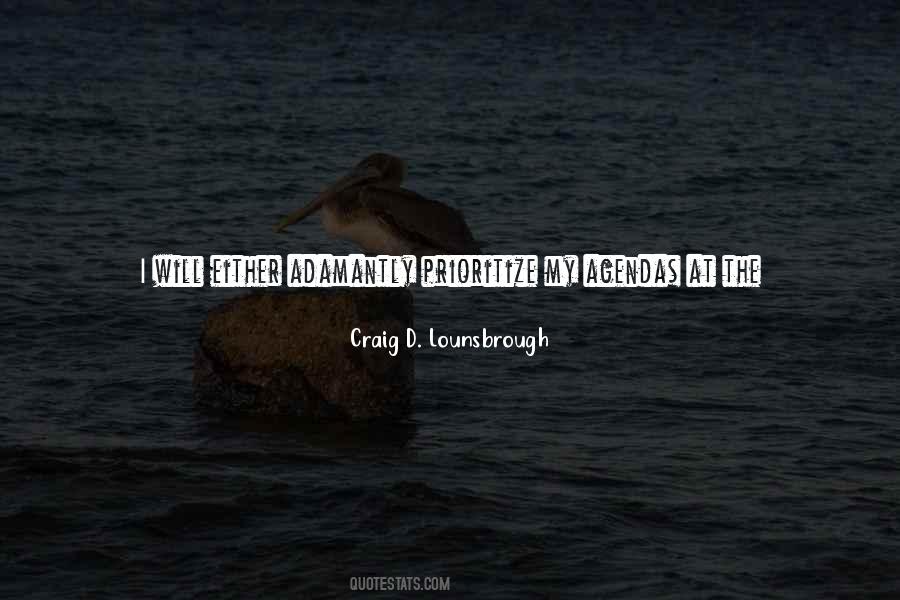 #99. I have a New Year's tradition. I lay all my travel dreams on the table, sort them out, prioritize, and begin the process of turning those dreams into reality. - Author: Rick Steves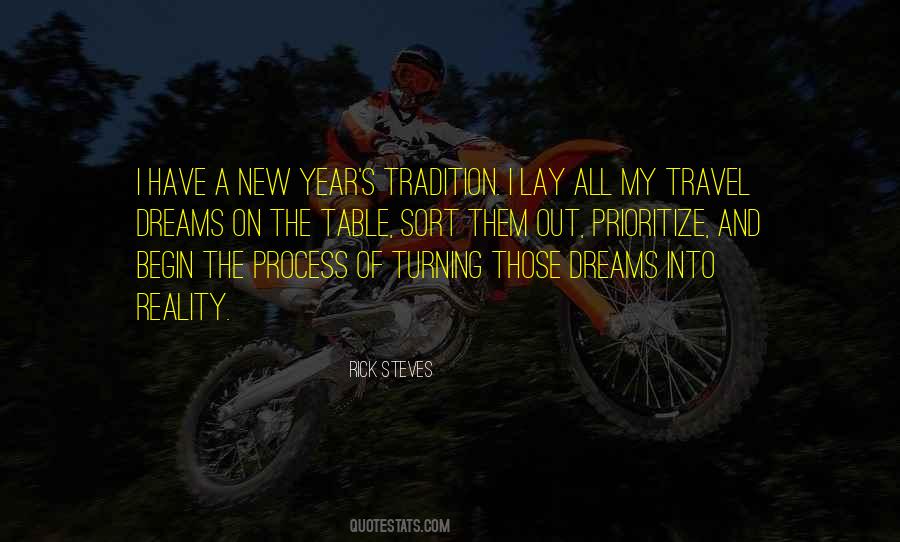 #100. So sound art I'm always intrigued with how little we use of other senses and we just prioritize the eye and you just want to see everything and navigate. You know the art world is similar. Like I wish people would use their ears a lot more. - Author: DJ Spooky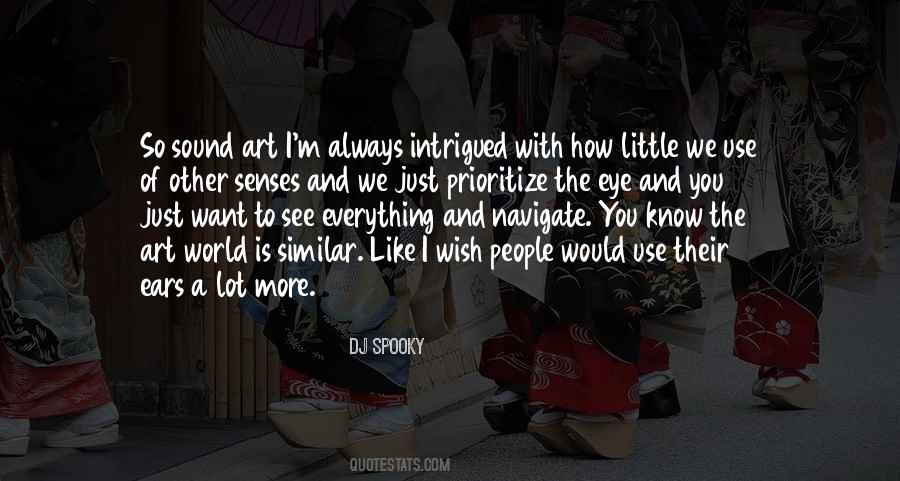 Famous Authors
Popular Topics