Photography Light Famous Quotes & Sayings
List of top 76 famous quotes and sayings about photography light to read and share with friends on your Facebook, Twitter, blogs.
Top 76 Quotes About Photography Light
#1. When a moment in front of me appears to be particularly special, whether it be by beauty or experience, I capture it. I usually find a reason to justify taking that photo - symmetry, or color, or contrast - and it's my hope that my photography sheds light onto what I see and do on a daily basis. - Author: Connor Franta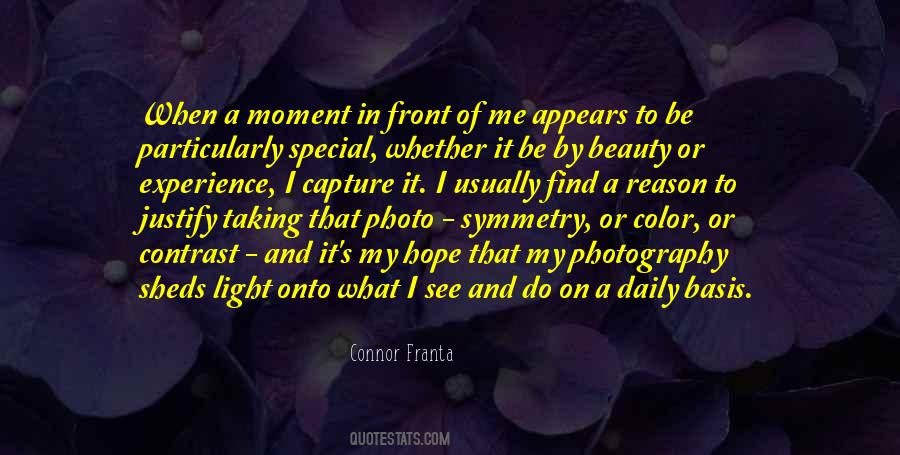 #2. My directors of photography light my films, but the colours of the sets, furnishings, clothes, hairstyles - that's me. Everything that's in front of the camera, I bring you. - Author: Pedro Almodovar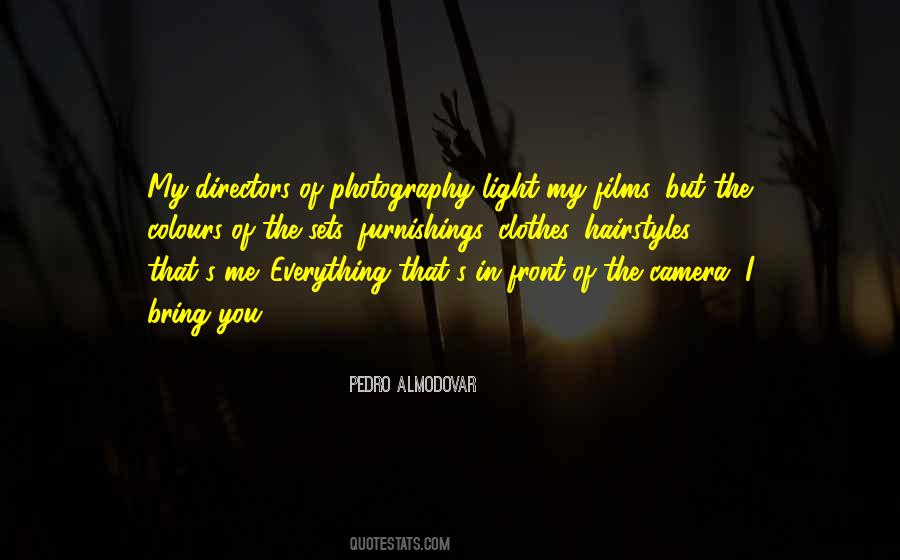 #3. I think that digital is offering many great possibilities for cinematographers. Particularly in urban cityscapes and low light photography its allowing us to render what we actually see with our eyes; which is interesting. - Author: Seamus McGarvey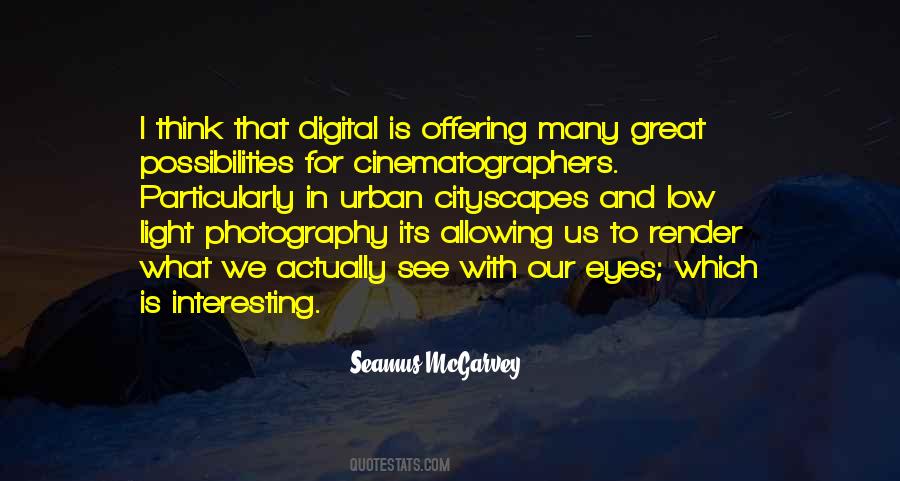 #4. Light is one of the most important factors in photography. - Author: Laura Gilpin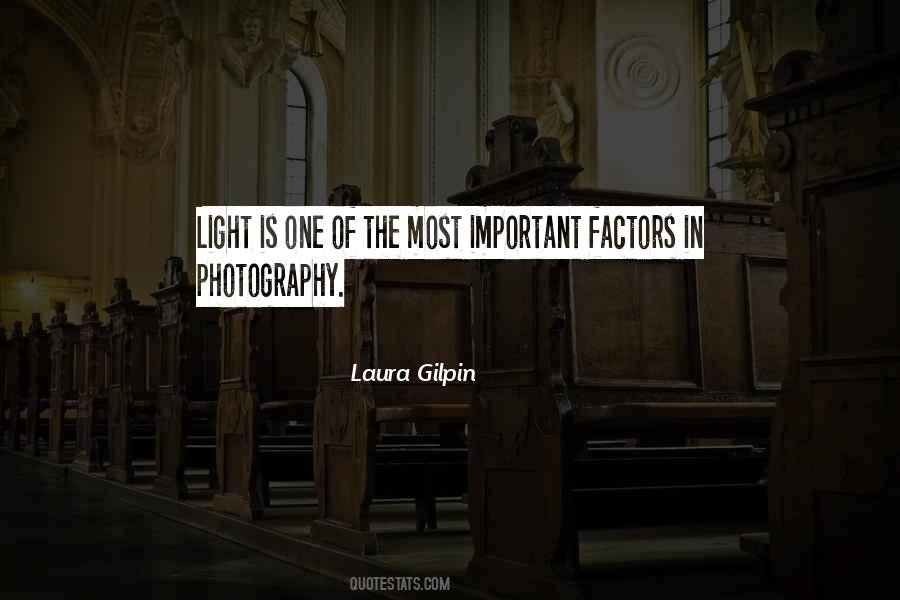 #5. Prayer Against the Darkness
Shekhina
Pray for us now
bound with scripture
and shielded with shawl
Armed with passion
and loving care
Pray for us now
against suffering, turmoil, and injustice
Pray for us now
against the chaos of the dark. - Author: Leonard Nimoy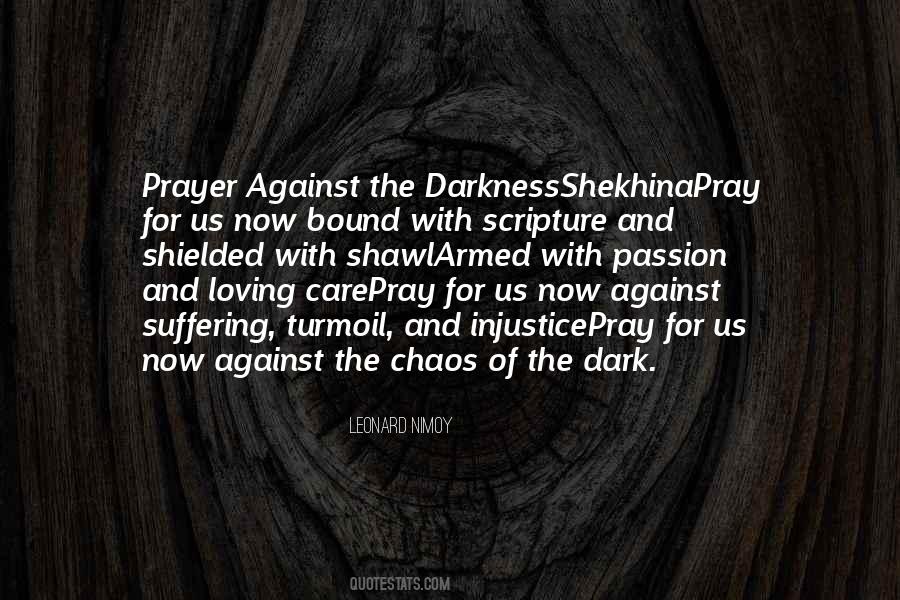 #6. Photography is about light and what it does and how it is captured on a piece of negative. - Author: Matthew Modine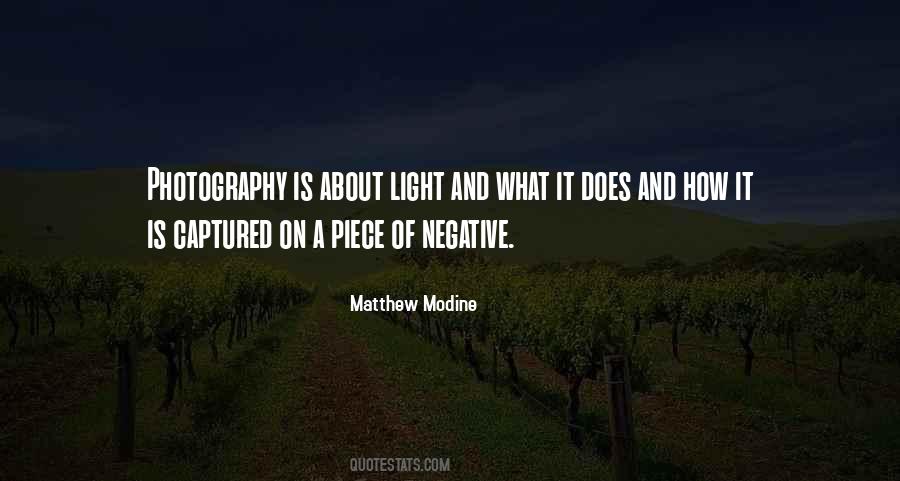 #7. The shutter of the photographer's camera makes that repeated mechanical sound. That unlocking and locking of the doors of light to send momentary images of the present into the light trap of the past. - Author: Simon Mawer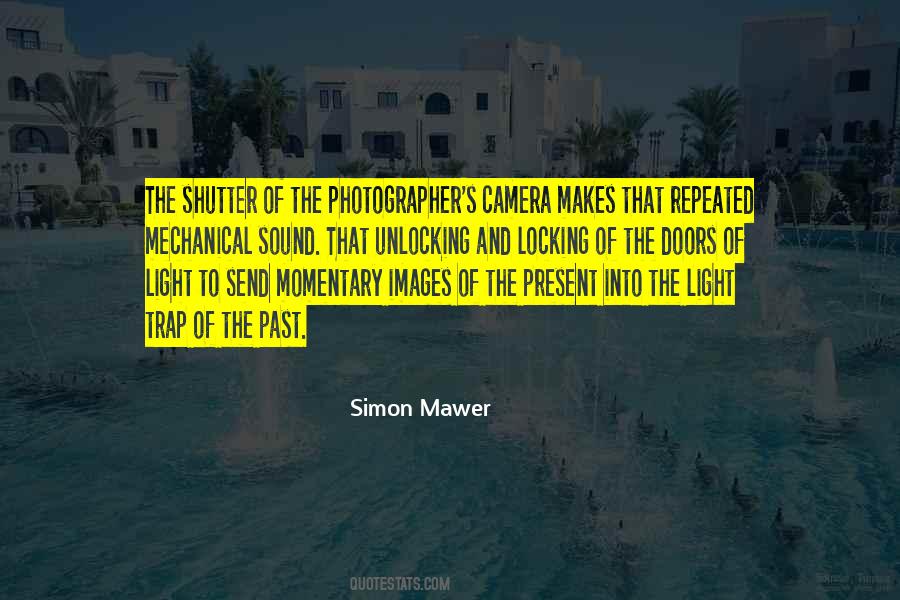 #8. In terms of digital photography, I continue to print and use film for the most part. I still shoot with film, 21/4 film specifically, and I love it. I love it because I know what it does, how it really responds to light. - Author: Carrie Mae Weems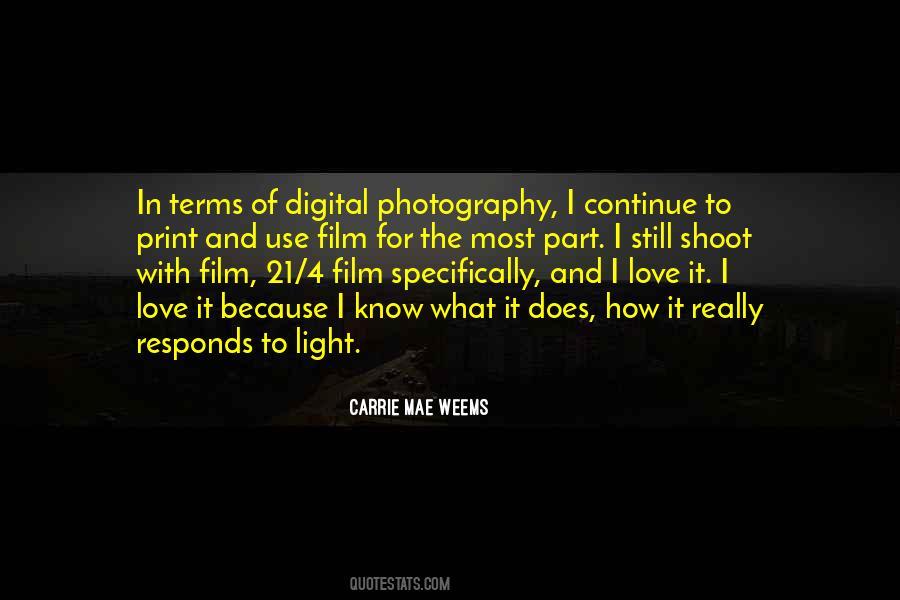 #9. Everything around us, dead or alive, in the eyes of a crazy photographer mysteriously takes on many variations, so that a seemingly dead object comes to life through light or by its surroundings ... To capture some of this - I suppose that's lyricism. - Author: Josef Sudek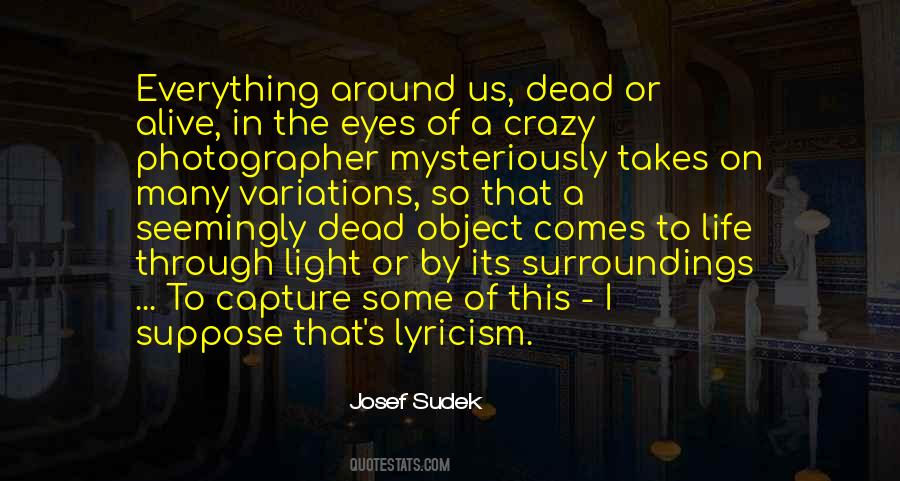 #10. To deal with the chaos of life, I escape into the prism of glass, dancing to the visual music in my mind. My photographs express my interior movement from darkness into light and back. - Author: Polly Norman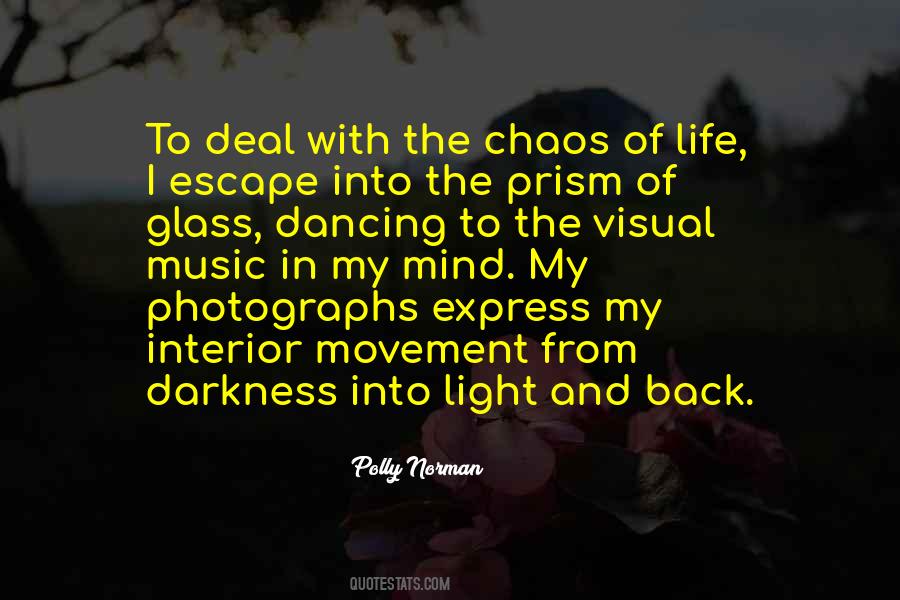 #11. Flash photography can be horrible. In the hands of an expert who knows how to bounce all that searing bright light in the right direction, it may make an impossible picture workable. - Author: David Hewson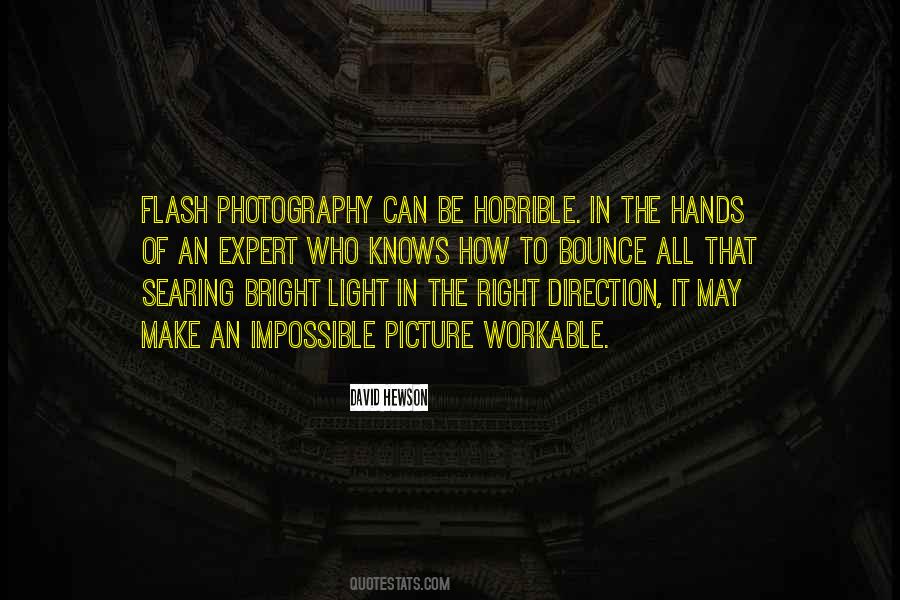 #12. Light is the photographic medium par excellence; it is to the photographer what words are to the writer; color and paint to the painter; wood, metal, stone, or clay to the sculptor. - Author: Andreas Feininger
#13. Photography is just light remembering itself. - Author: Jerry Uelsmann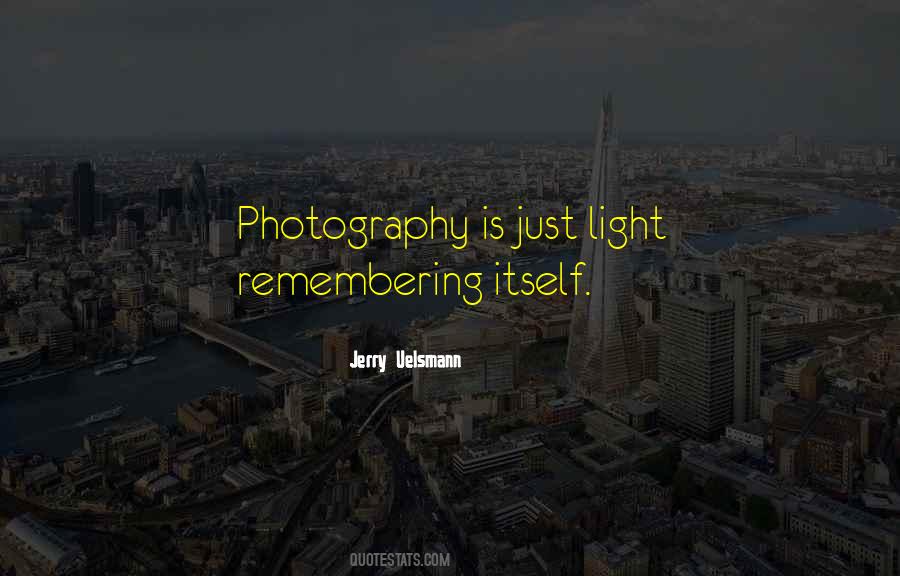 #14. As sounds in a musical composition can be used not to express physical objects but ideas, emotions, harmonies, rhythmic orders and most any expression of the human mind and spirit, so light can be used visually to express the mind and spirit. - Author: Wynn Bullock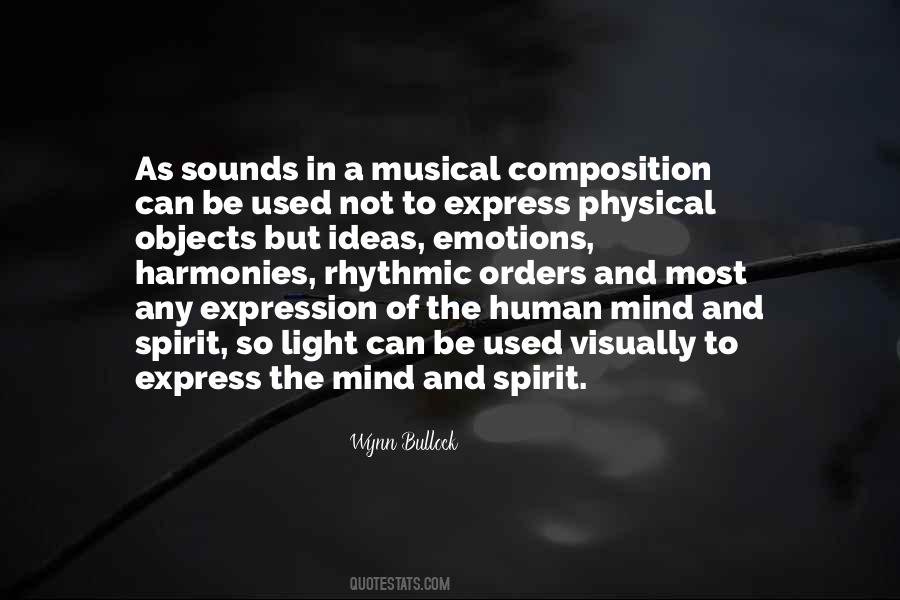 #15. And no photographs taken with the aid of flash light, either, if only out of respect for the actual light - even when there isn't any of it. - Author: Henri Cartier-Bresson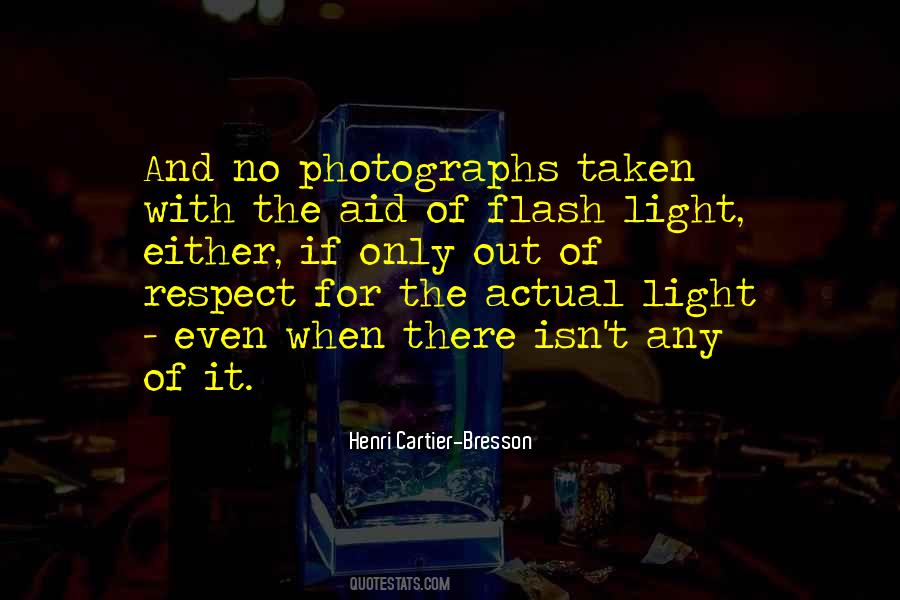 #16. The photogram, image formation outside the camera is the real key to photography,it embodies the essence ... that allows us to capture light on light sensitive material without the use of any camera. - Author: Laszlo Moholy-Nagy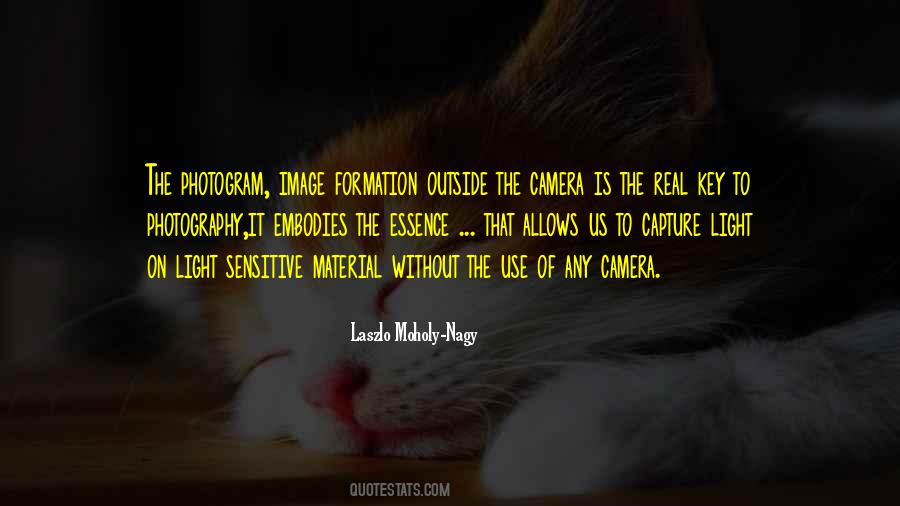 #17. The word 'photography' literally means "writing with light. - Author: Mary E. Foster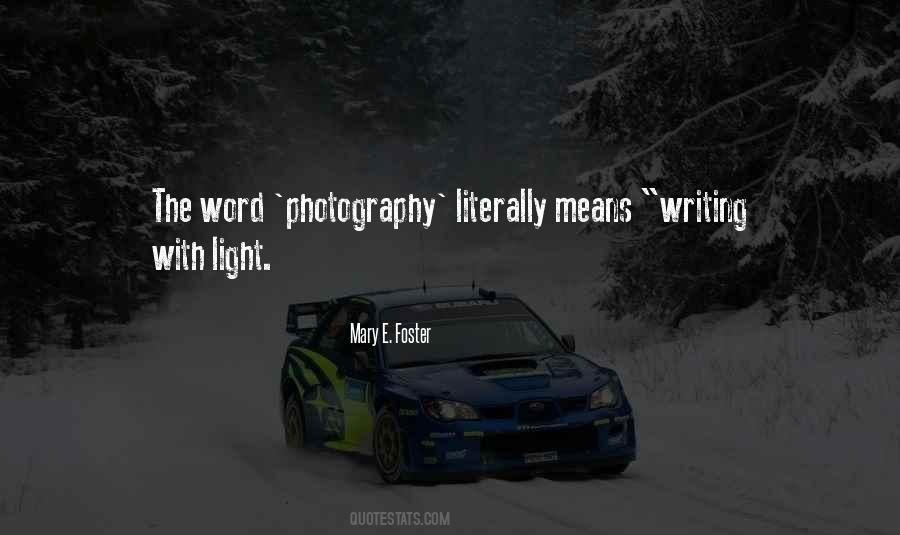 #18. Evolution in action: First, God said, 'Let there be light.' Then, he created two nude models. Now we have photographers. - Author: Bill Jay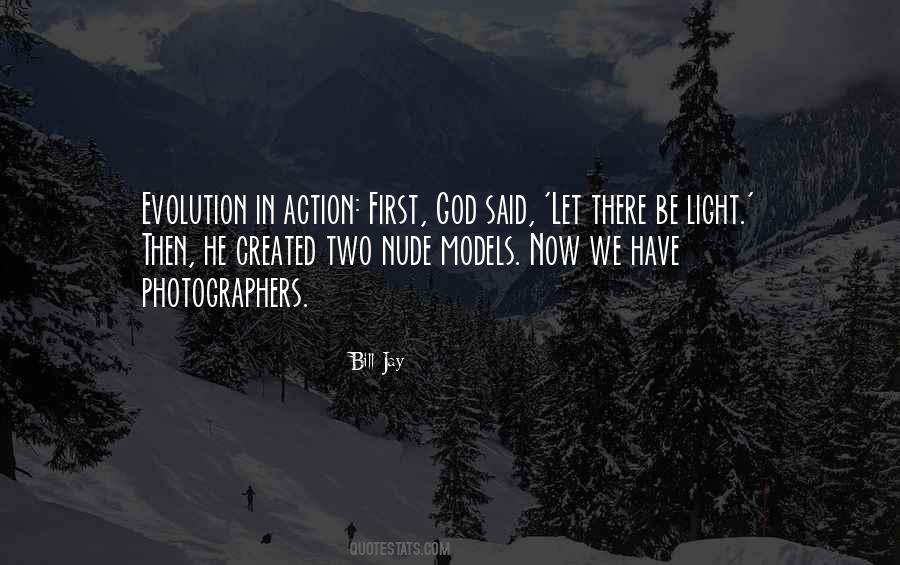 #19. I find it some of the hardest photography and the most challenging photography I've ever done. It's a real challenge to work with the natural features and the natural light. - Author: Galen Rowell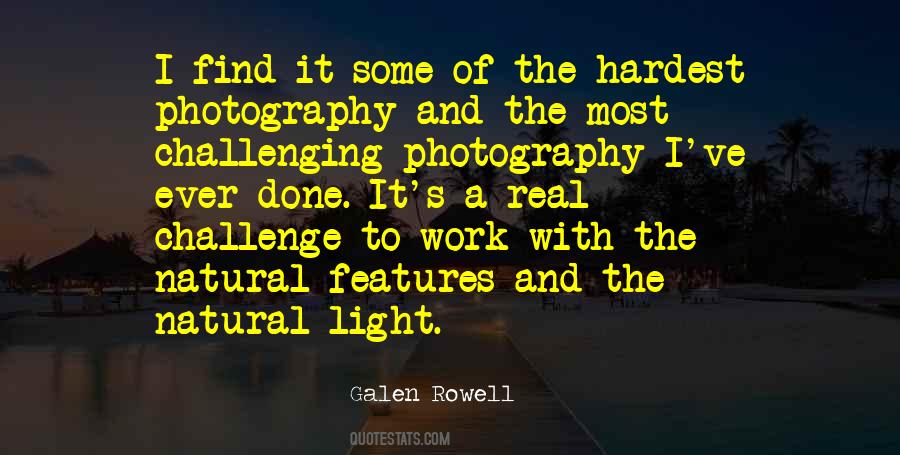 #20. It's about finding meaning through light. I'm always interested in tensions. A primary one is the collision between the familiar and the strange. - Author: Gregory Crewdson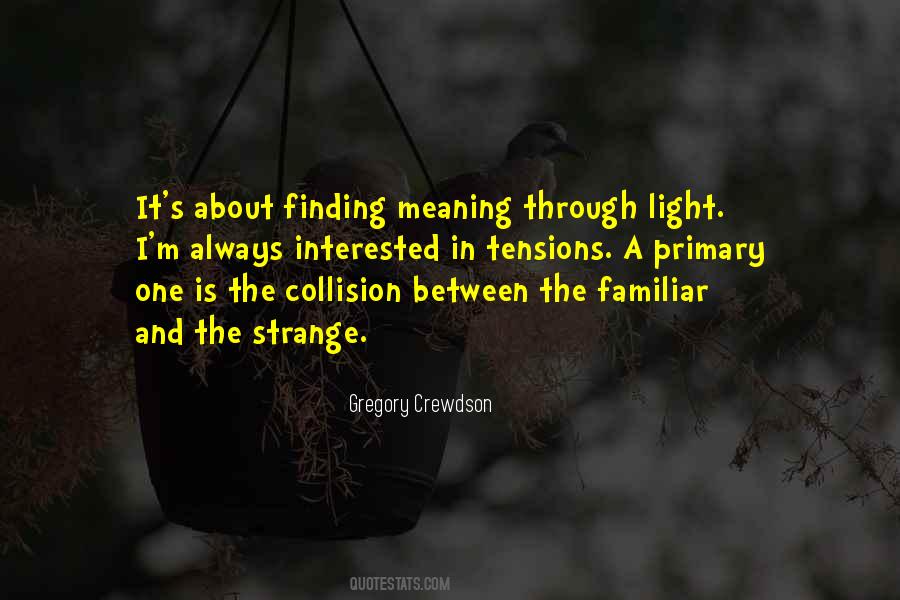 #21. Photography is light-writing, the language of images. Less abstract than written or spoken language, it selects images from the existing world of appearances and arranges them in patterns. The camera-eye doesn't think, it recognizes. It shows us what we already know, but don't know that we know. - Author: David Levi Strauss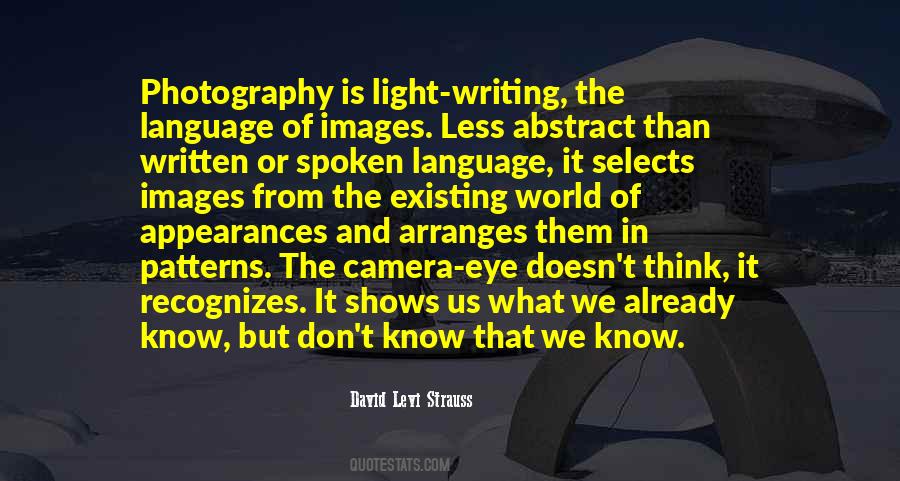 #22. There's something about light field photography that's just magical. - Author: Ren Ng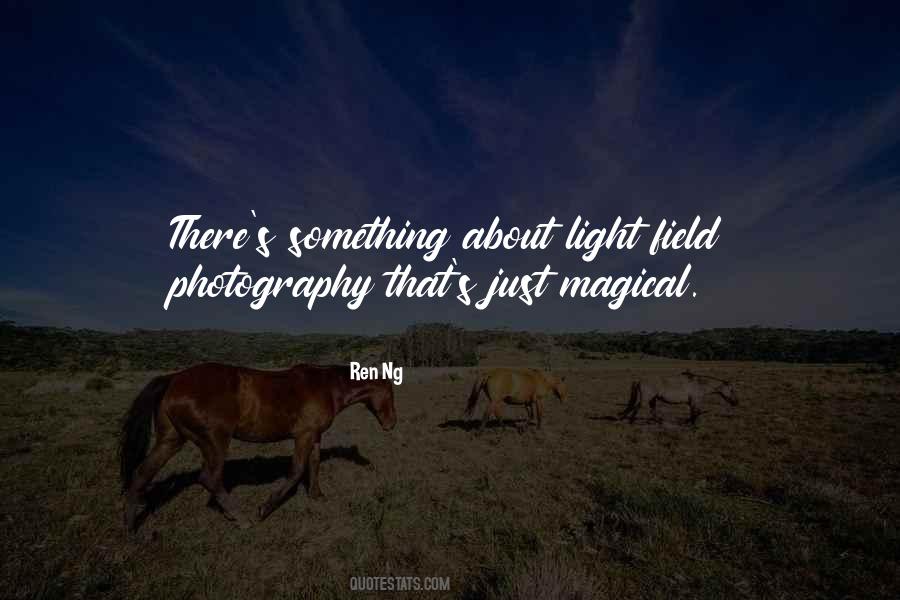 #23. I struggle against photography. I struggle against the fact that it is silent, that it is just a piece of paper on the wall, often presented in a tedious white matt frame. - Author: Michael Light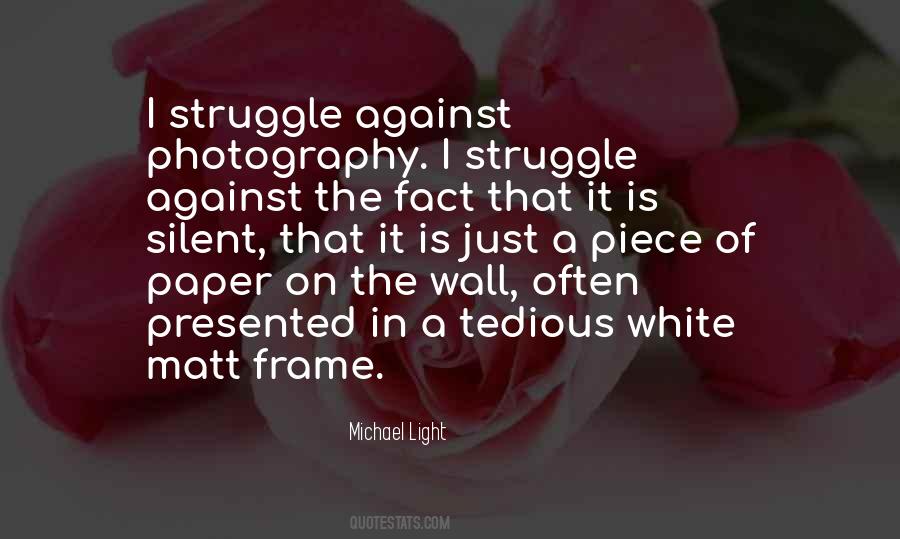 #24. Jesus would have been one of the best photographers that ever existed. He was always looking at the beauty of people souls. In fact Jesus was constantly making pictures of God in people's life by looking at their souls and exposing them to his light. - Author: Francis Bacon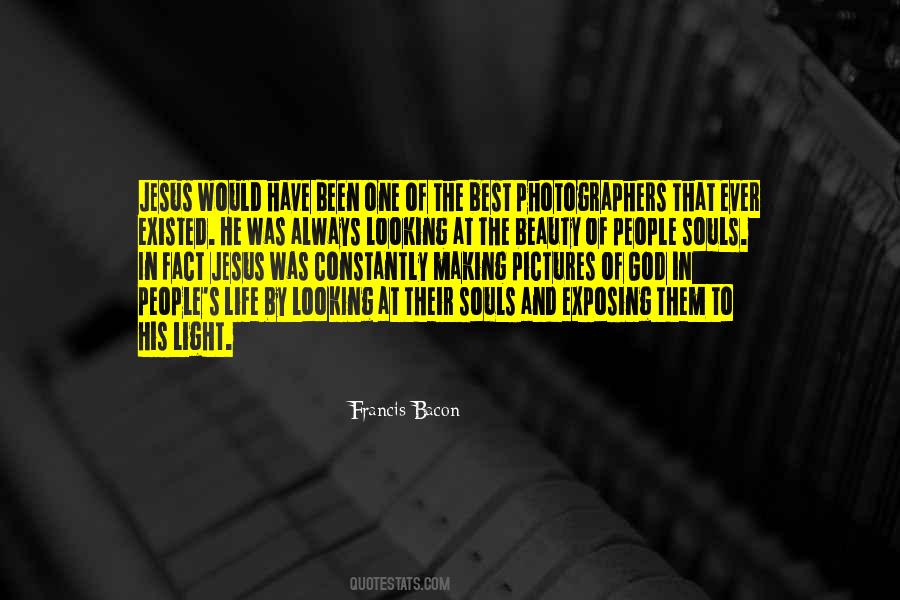 #25. Light is my inspiration. My photographic images search for dimensions that words cannot touch- the result of intense responses to personal experiences. I do not wish to "record," but rather to touch upon the illusive meanings which I perceive and try to comprehend in this limitless universe. - Author: Ruth Bernhard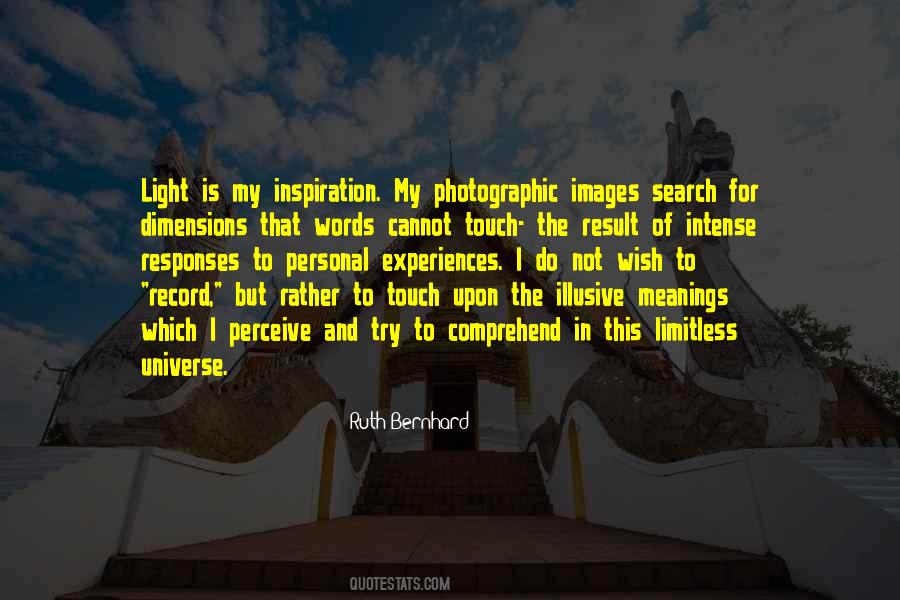 #26. How the visual world appears is important to me. I'm always aware of the light. I'm always aware of what I would call the 'deep composition.' Photography in the field is a process of creation, of thought and technique. But ultimately, it's an act of imaginatively seeing from within yourself. - Author: Sam Abell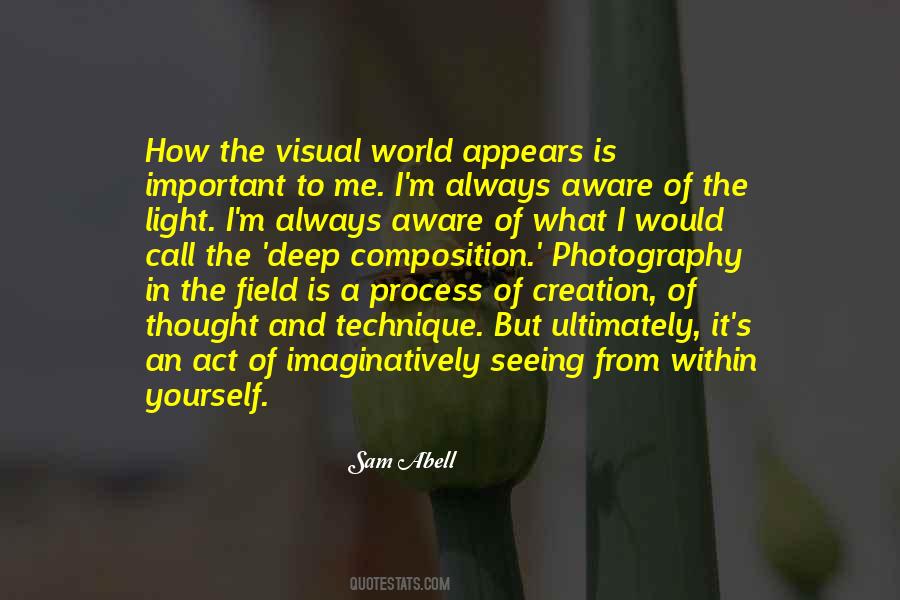 #27. Balance of light is the problem, not the amount. Balance between shadows and highlights determines where the emphasis goes in the picture ... make sure the major light in a picture falls at right angles to the camera. - Author: Elliott Erwitt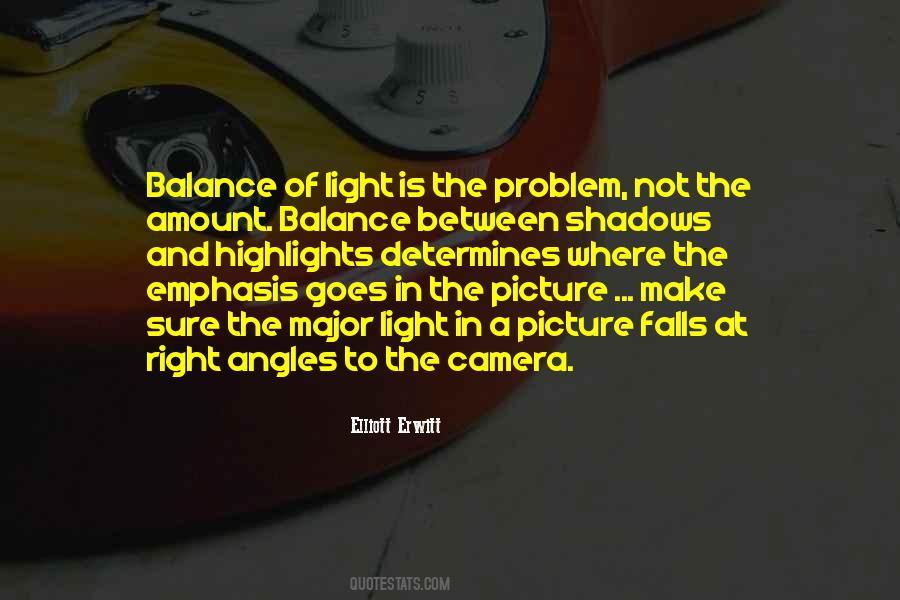 #28. Light is my inspiration, my paint and brush. It is as vital as the model herself. Profoundly significant, it caresses the essential superlative curves and lines. Light I acknowledge as the energy upon which all life on this planet depends. - Author: Ruth Bernhard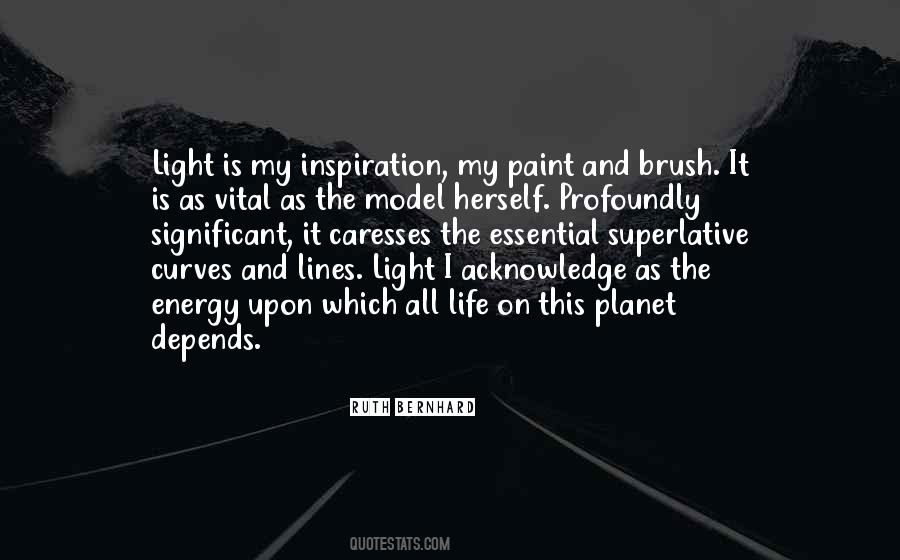 #29. I'm paid to be lucky and that means making your own luck - getting yourself in the right position, in front of the right subject at the right time, and in the right light. - Author: Michael Yamashita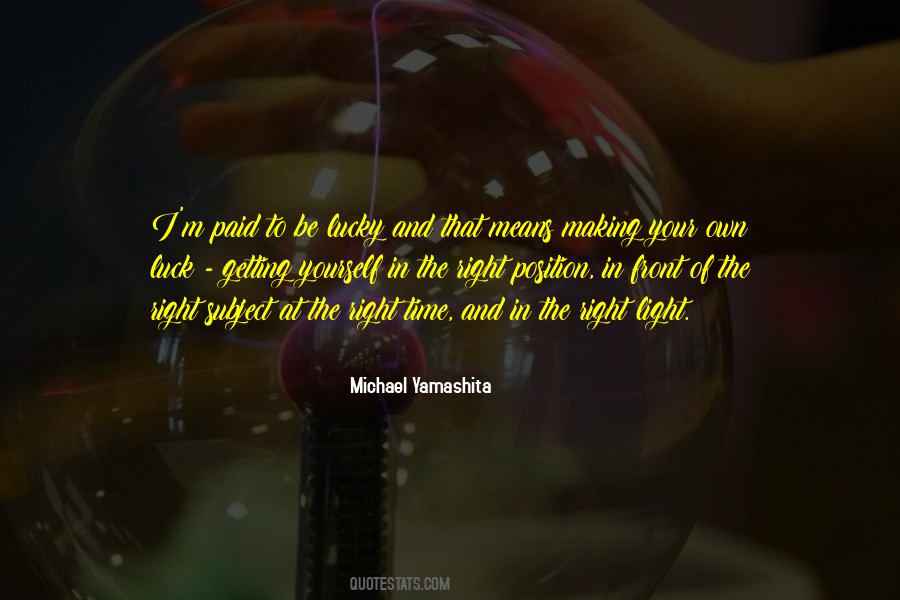 #30. Photography is thus brought within reach of every human being who desires to preserve a record of what he sees ... and enables the fortunate possessor to go back by the light of his own fireside to scenes which would otherwise fade from memory and be lost. - Author: George Eastman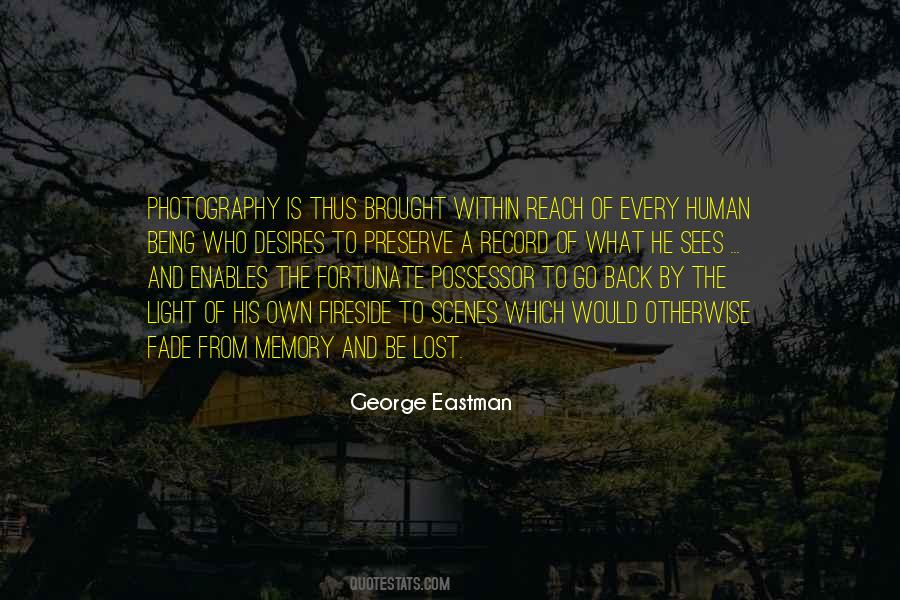 #31. The way that light hits objects, I think, is one of the more important things that sculpture and photography share. - Author: Rashid Johnson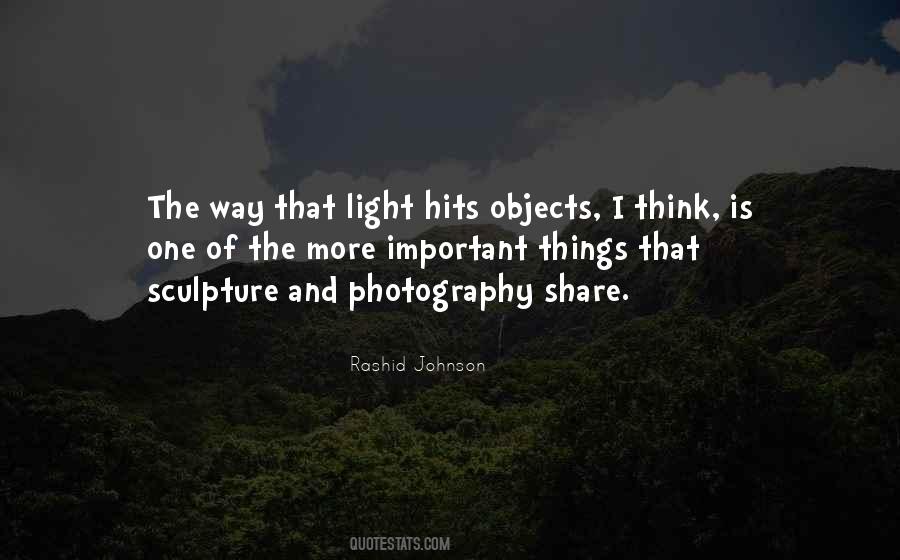 #32. I don't see light as something that falls, but as a positive force. - Author: Jay Maisel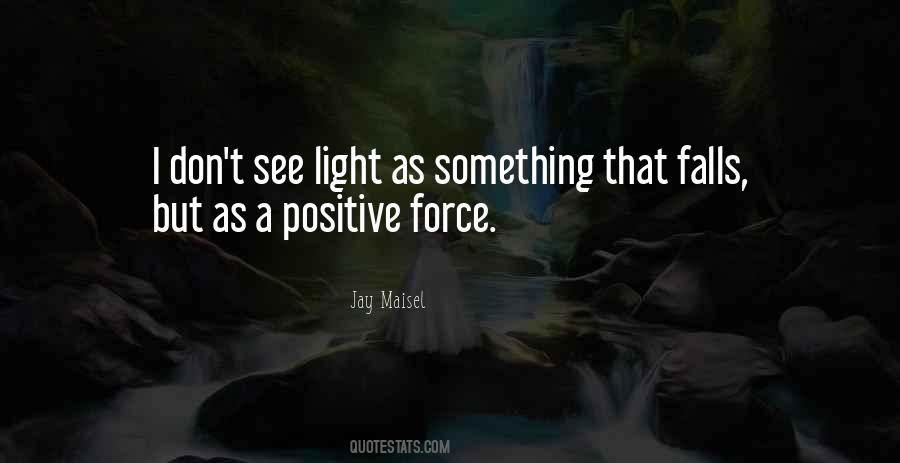 #33. It's easy to photograph light reflecting from a surface, the truly hard part is capturing the light in the air. - Author: Walker Evans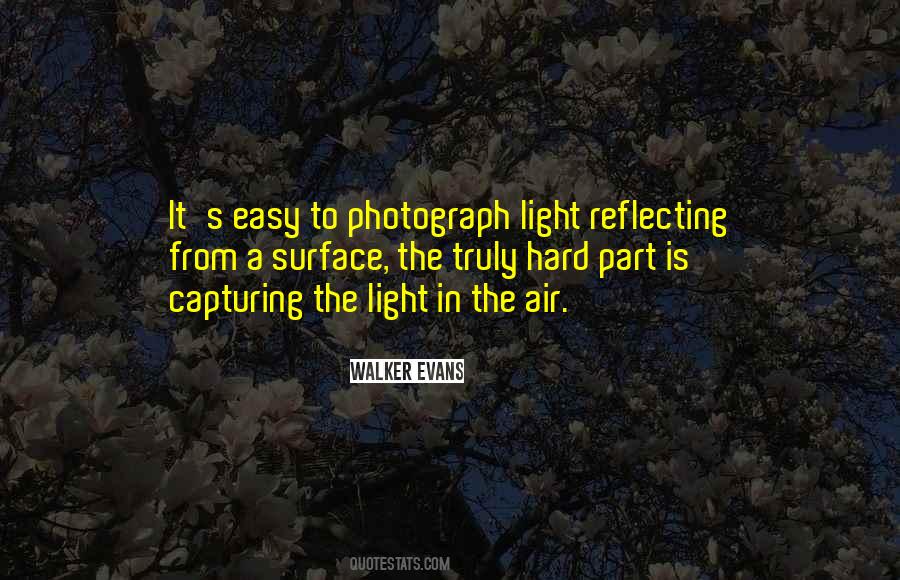 #34. The truth is that you have to fight your way through brutal, ugly realities in order to find that moment of clarity, that one slant of light or shift in emotion that yields unexpected art. That's just as true for life as it is for crime scene photography. - Author: Maggie Ybarra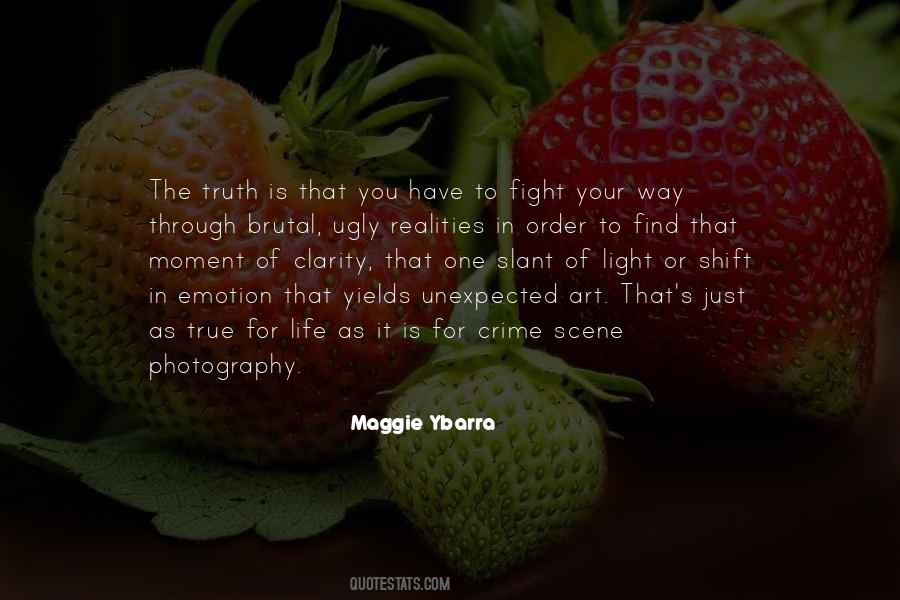 #35. Embracing the Light
Collected bits of truth
Shimmering sparks
Shards of light
Merge
Healing
Restoring
Bursting Bright
Rising
in divine ecstatic flame. - Author: Leonard Nimoy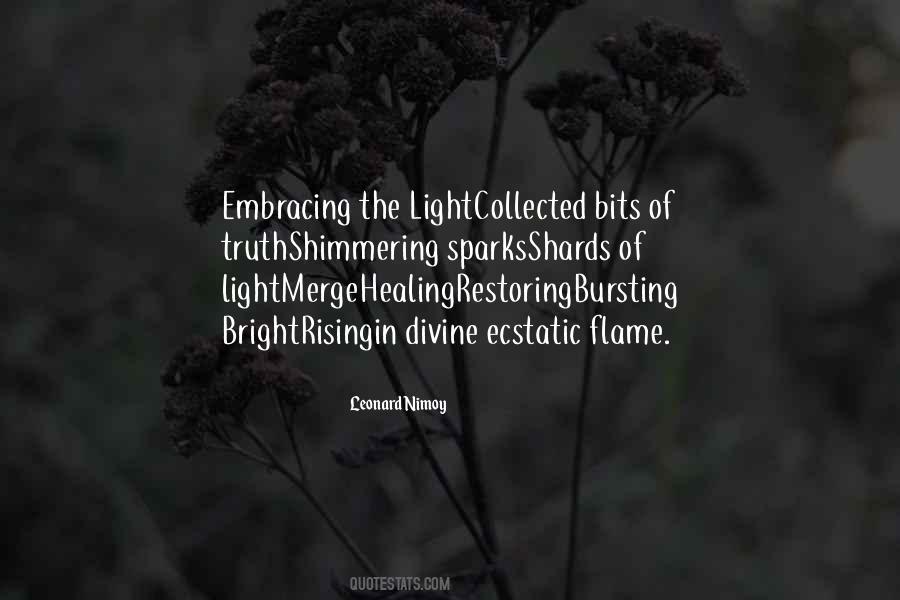 #36. It's nothing but a matter of seeing, thinking, and interest. That's what makes a good photograph. And then rejecting anything that would be bad for the picture. The wrong light, the wrong background, time and so on. Just don't do it, not matter how beautiful the subject is. - Author: Andreas Feininger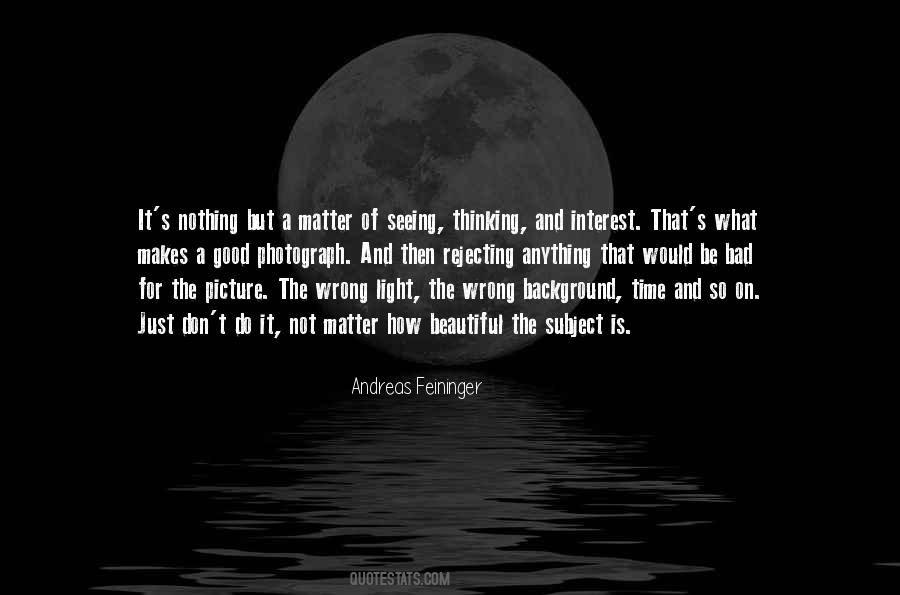 #37. Light makes photography. Embrace light. Admire it. Love it. But above all, know light. Know it for all you are worth, and you will know the key to photography. - Author: George Eastman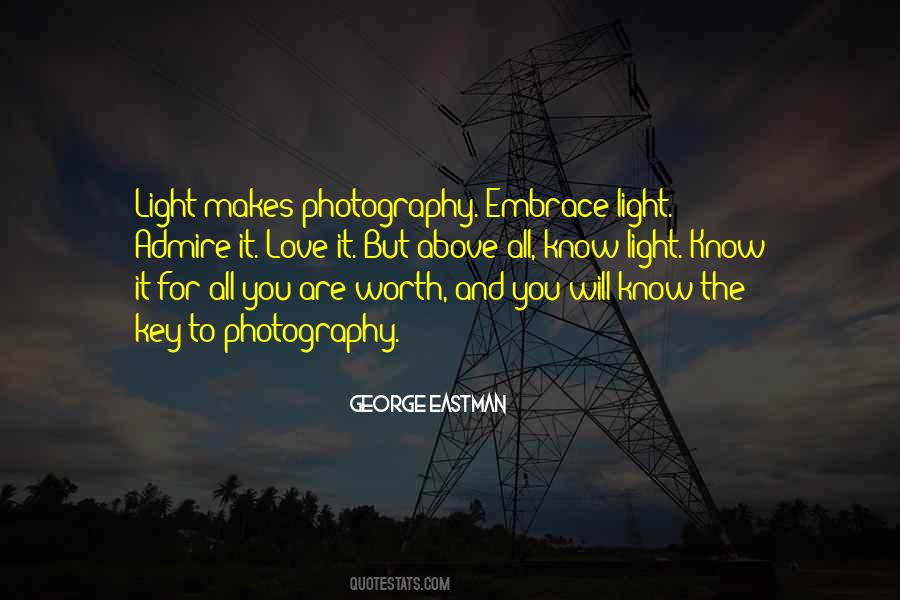 #38. [The photographer's task] is to describe the existing light ... Chances are, if you believe the light, you're going to believe that the things photographed existed in the world. - Author: Henry Wessel Jr.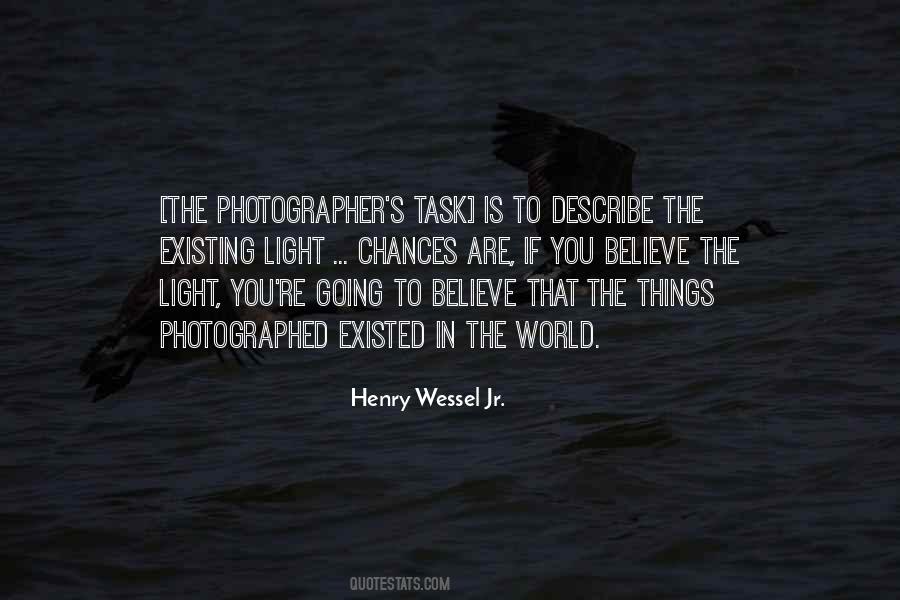 #39. The raw materials of photography are light and time and memory. - Author: Keith Carter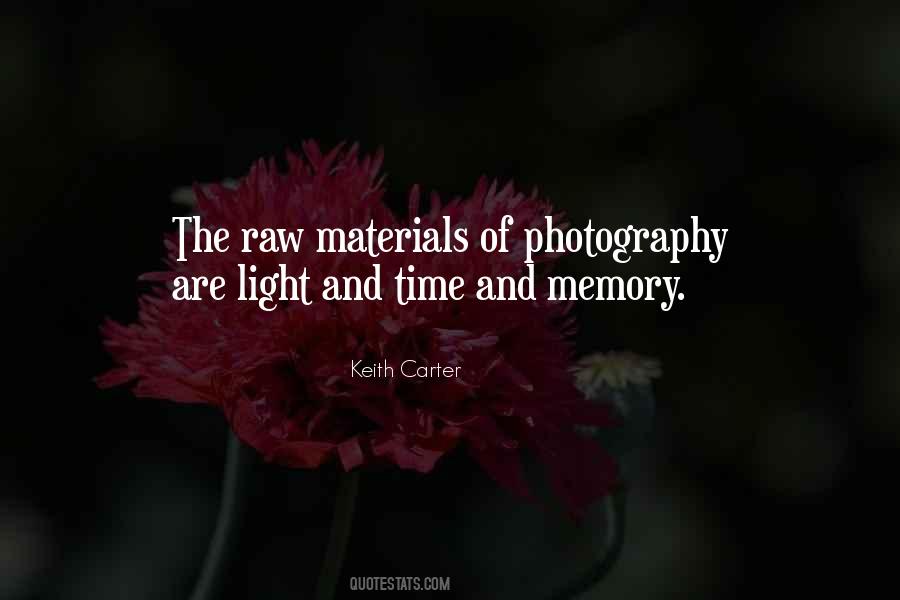 #40. The way that light hits objects in life, three-dimensional objects before you photograph them, is really the story of photography. - Author: Rashid Johnson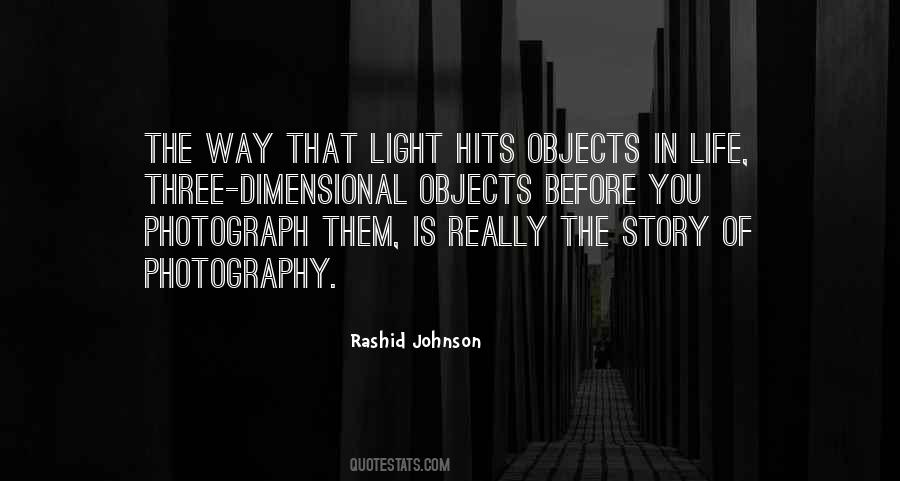 #41. Our job is to record, each in his own way, this world of light and shadow and time that will never come again exactly as it is today. - Author: Edward Abbey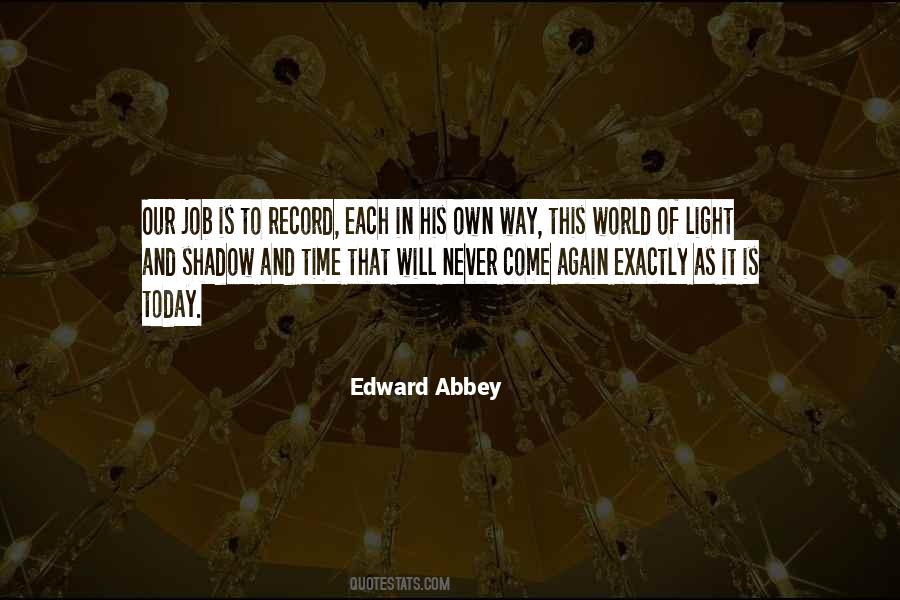 #42. Why do we use flash at all? Because photography is not the same as eyesight. We can see in low-light situations where cameras, dependent upon a physical process to record visual information, are half blind. - Author: David Hewson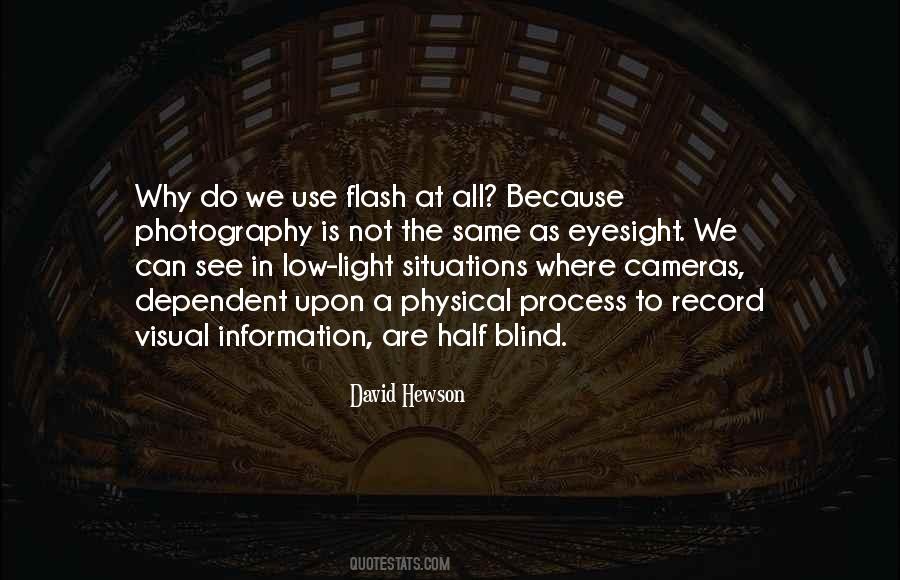 #43. You've gotta taste the light, like my friend and fellow shooter Chip Maury says. And when you see light like this, trust me, it's like a strawberry sundae with sprinkles. - Author: Joe McNally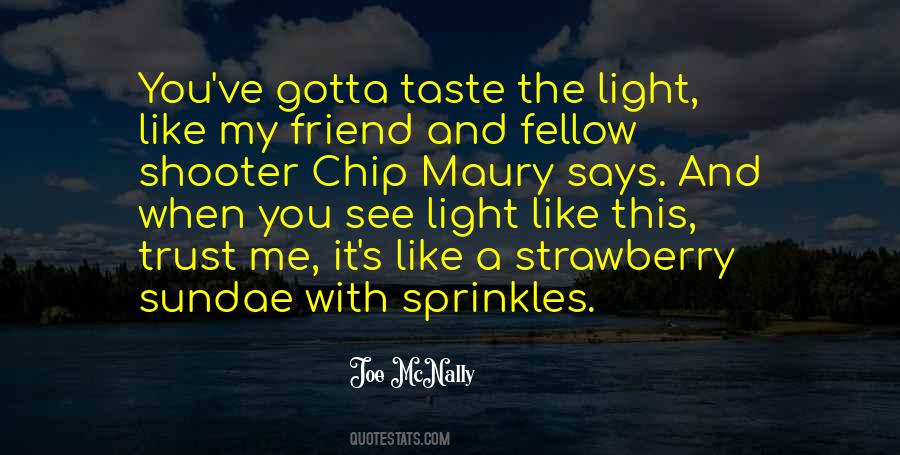 #44. No, you don't shoot things. You capture them. Photography means painting with light. And that's what you do. You paint a picture only by adding light to the things you see. - Author: Katja Michael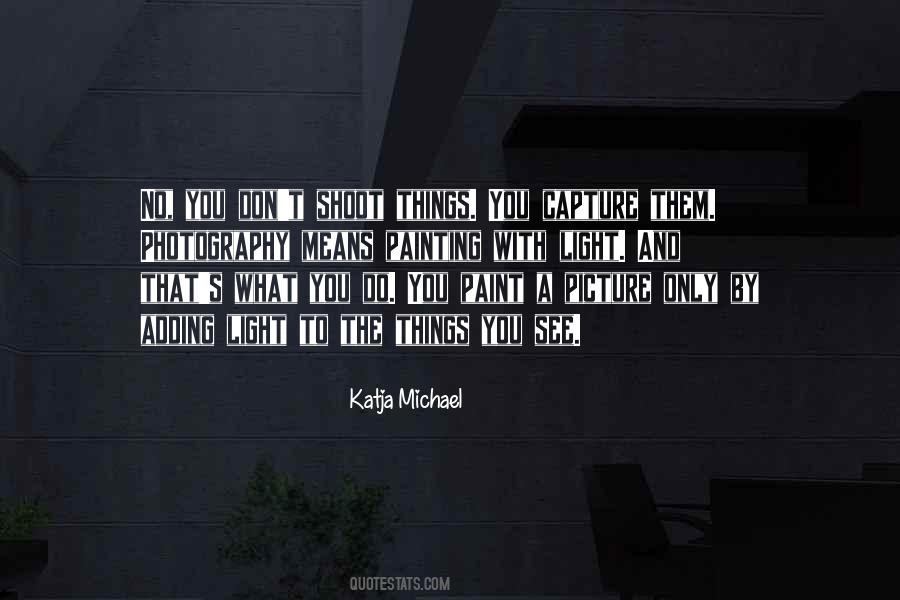 #45. Photography was the first available demonstration that light could indeed exert an action sufficient to cause changes in material bodies. - Author: Henry Fox Talbot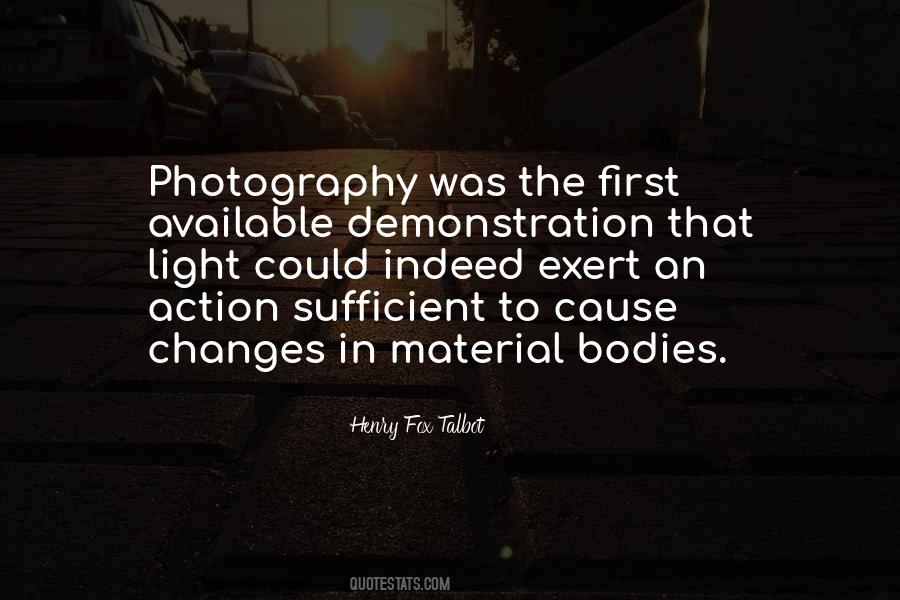 #46. Photography is a demanding action sport. The light can change so quickly. I often find myself sprinting so that I can catch the perfect light falling on a photogenic subject. - Author: Steven Pinker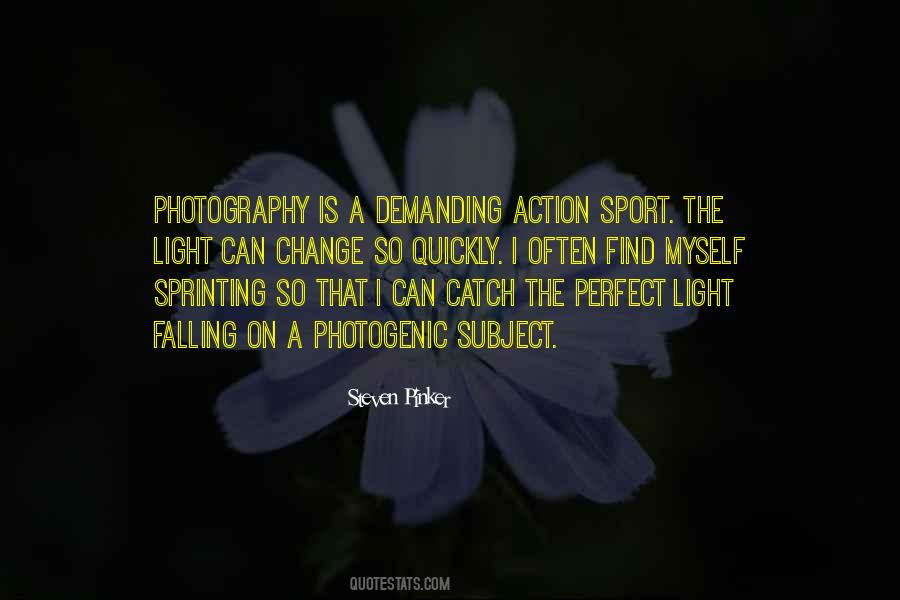 #47. There is no closed figure in nature. Every shape participates with another. No one thing is independent of another, and one thing rhymes with another, and light gives them shape. - Author: Henri Cartier-Bresson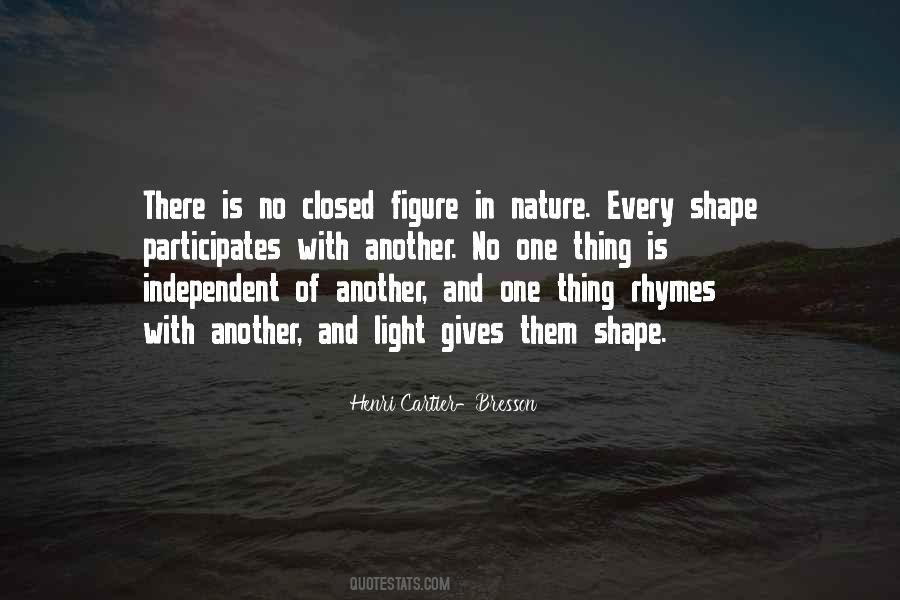 #48. There's something really magical about trying to see things in new ways that go beyond, in some sense, the biological human experience. Light-field photography, too, goes beyond the human experience because our eyes work like conventional cameras. - Author: Ren Ng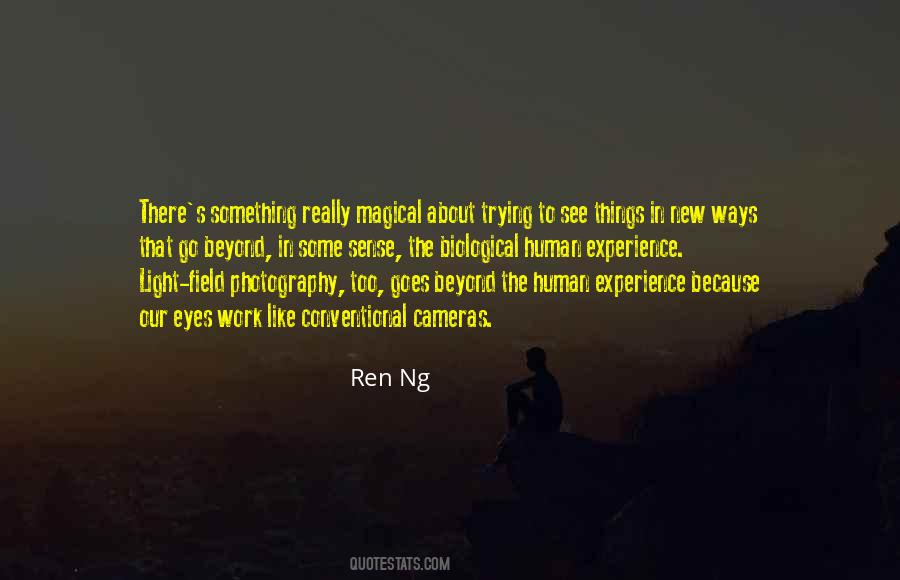 #49. I am forever chasing light. Light turns the ordinary into the magical. - Author: Trent Parke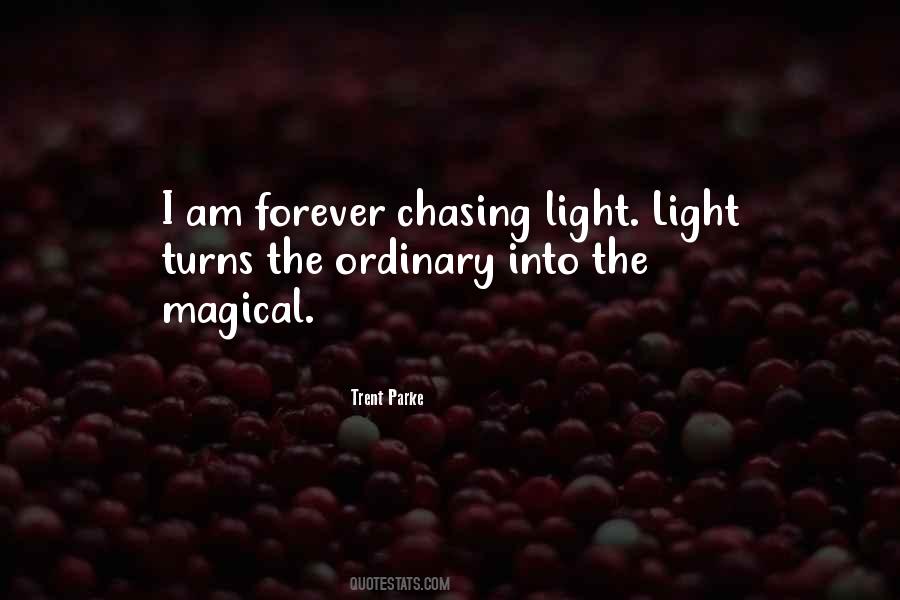 #50. Photography is not only drawing with light, though light is the indispensable agent of its being. It is modeling or sculpturing with light, to reproduce the plastic form of natural objects. It is painting with light ... - Author: Berenice Abbott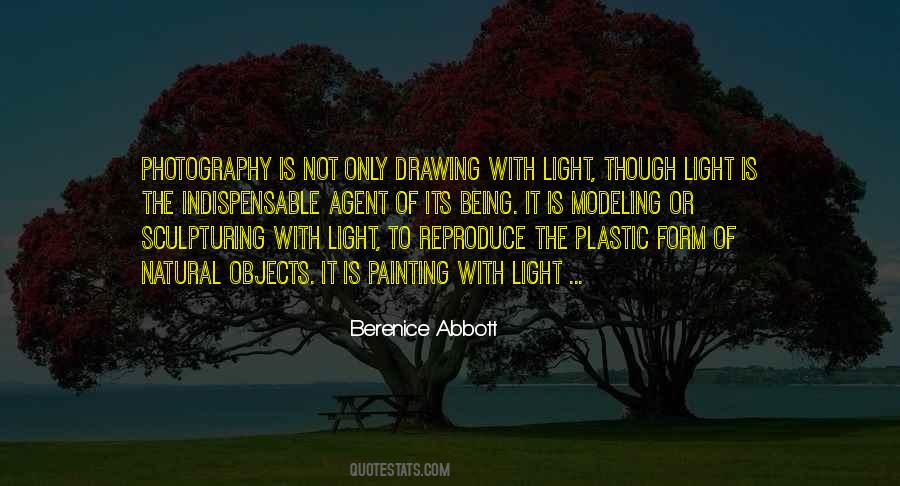 #51. Photography concentrates one's eye on the superficial. For that reason it obscures the hidden life which glimmers through the outlines of things like a play of light and shade. One can't catch that even with the sharpest lens. - Author: Franz Kafka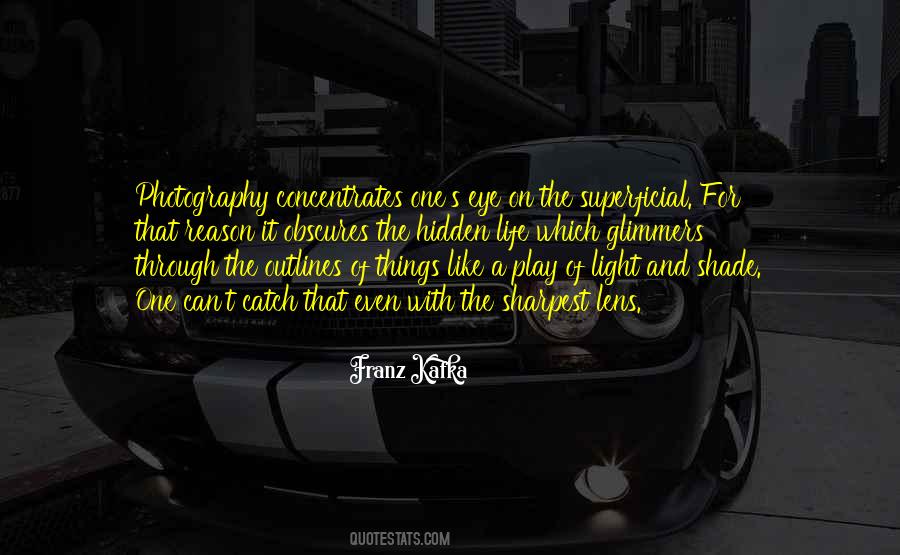 #52. When the light is right and everything is working for me, I feel as tense as when making a difficult maneuver high on a mountain. A minute - and sometimes mere seconds - can make the difference between a superb image and a mundane one. - Author: Galen Rowell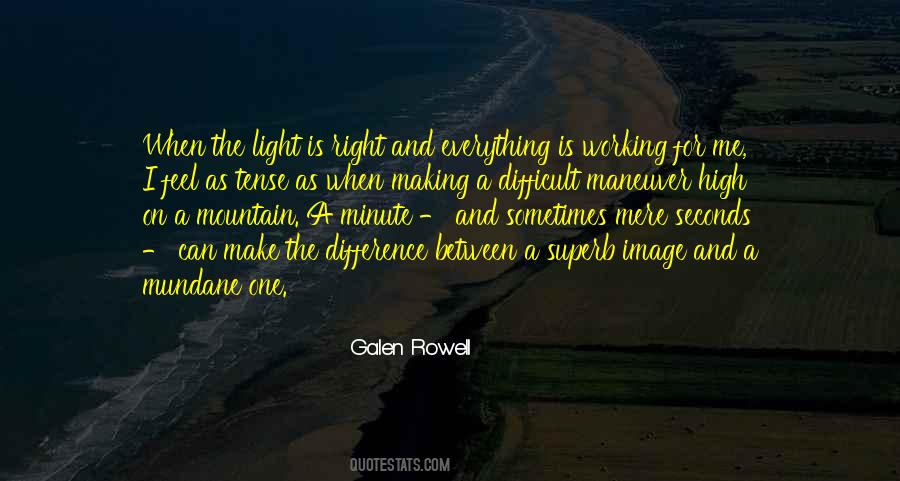 #53. Sometimes it's not how much light you use to get an effect, it's how
little you use and still make it work. There are a lot of rules to be
broken in photography, and you've got to have courage. - Author: James Wong Howe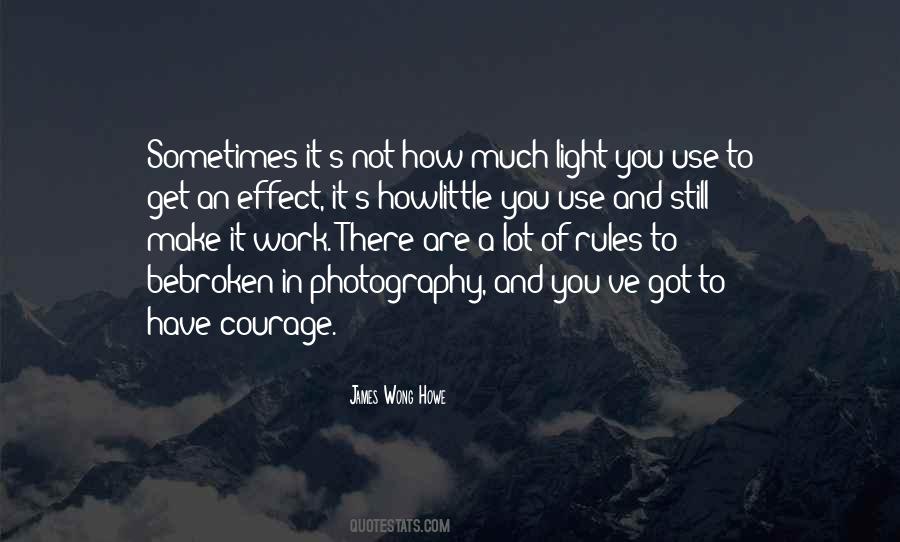 #54. The word "photography" can be interpreted as "writing with light" or "drawing with light." Some photographers are producing beautiful photographs by drawing with light.. Some other photographers are trying to tell something with their photographs. They are writing with light ... - Author: Philippe Halsman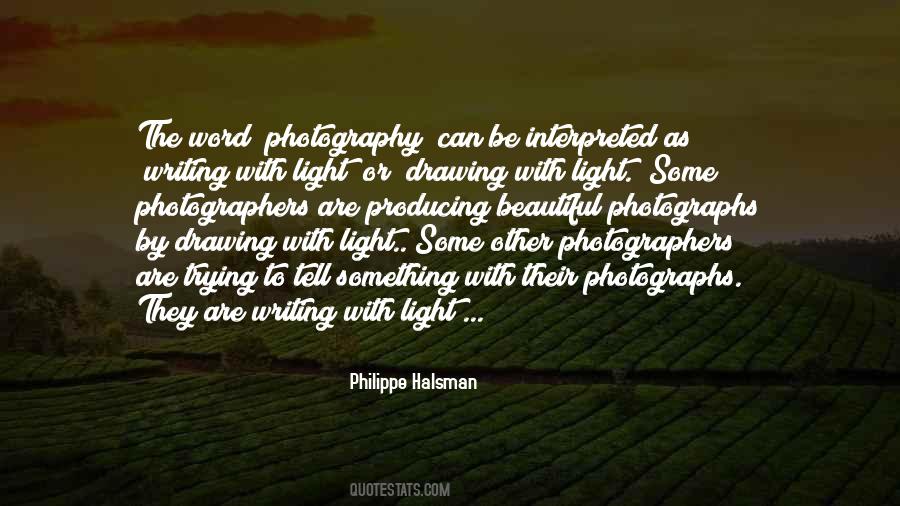 #55. With light field technology, there is a huge opportunity for creativity in photography that hasn't been available in the past. - Author: Ren Ng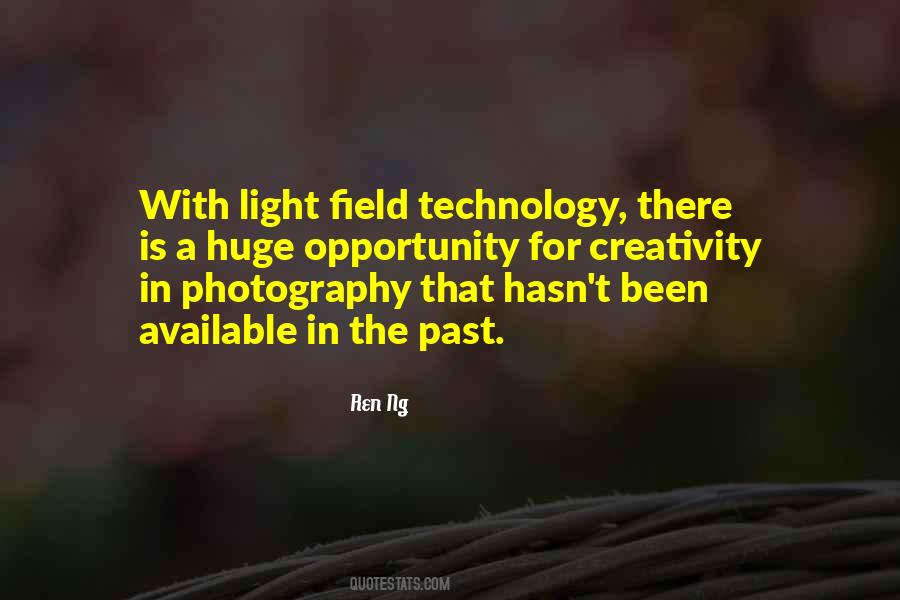 #56. Photography has always been a passion of mine, but I began to study light field photography when I was in the Ph.D. program at Stanford University. - Author: Ren Ng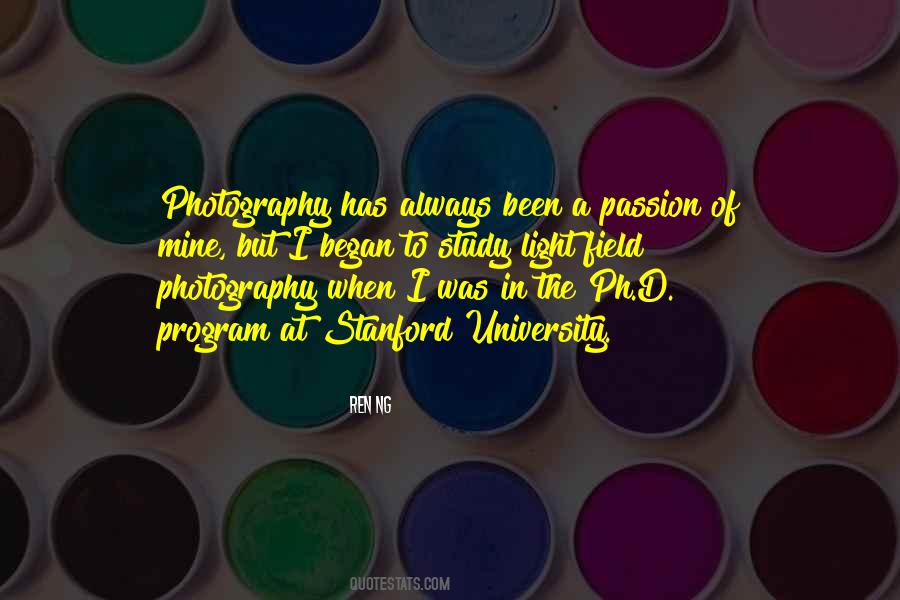 #57. The photographer is a manipulator of light; photography is a manipulation of light. - Author: Laszlo Moholy-Nagy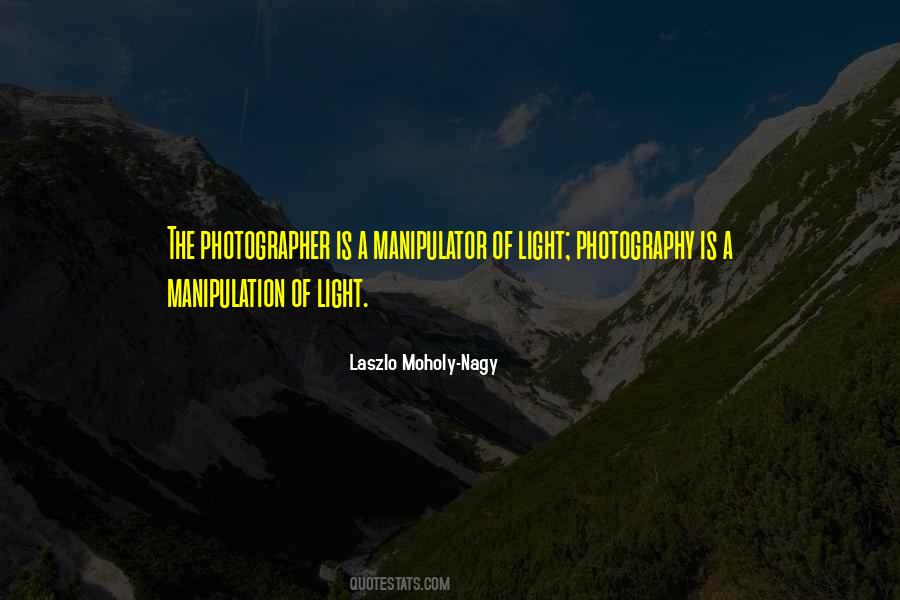 #58. The word photography comes from two ancient Greek words: photo for "light" and graph for "drawing." "Drawing with light" is a way of describing photography. - Author: Vishal Diwan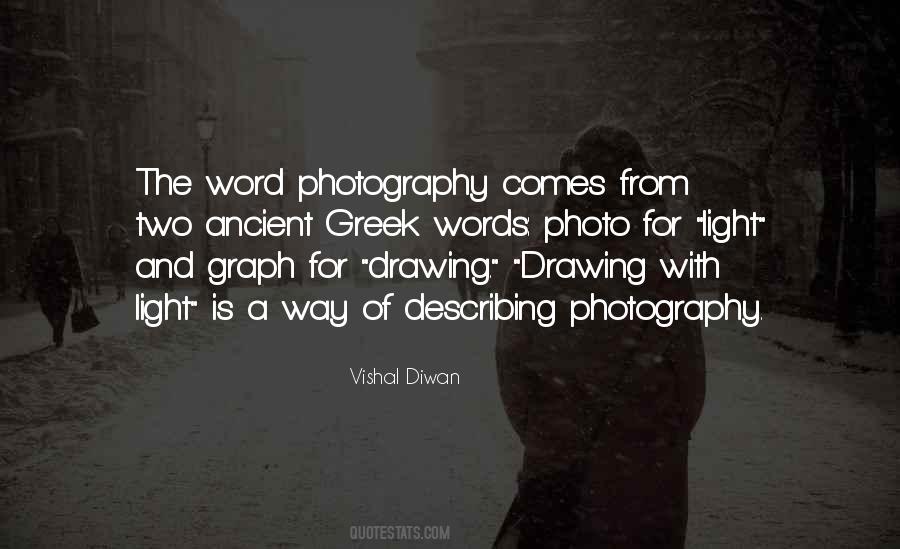 #59. Available light is any damn light that is available! - Author: W. Eugene Smith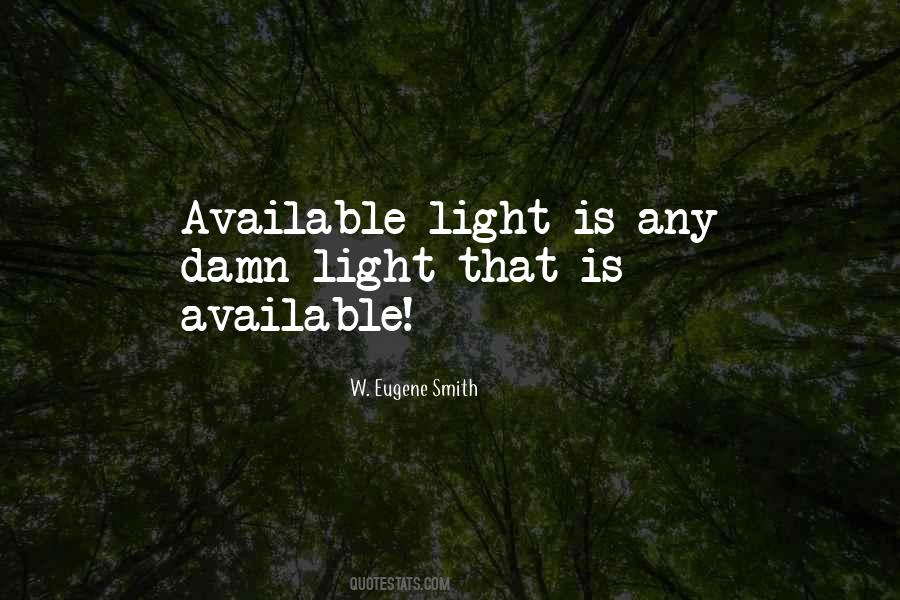 #60. Contrary to the general belief about photography, you don't need bright sunlight: the best moodiest pictures are taken in the dim light of almost dusk, or of rainy days ... - Author: Jack Kerouac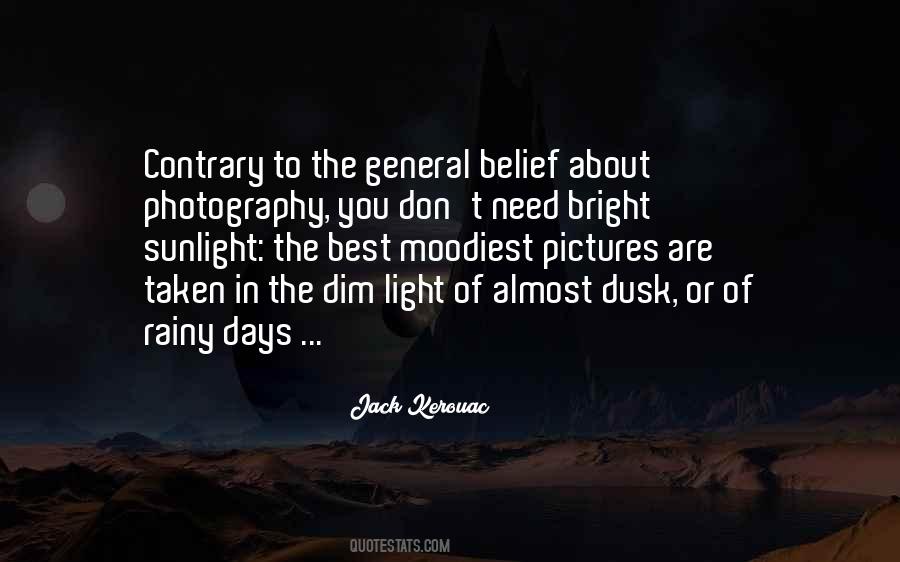 #61. The photogram, or camera-less record of forms produced by light, which embodies the unique nature of the photographic process, is the real key to photography. - Author: Laszlo Moholy-Nagy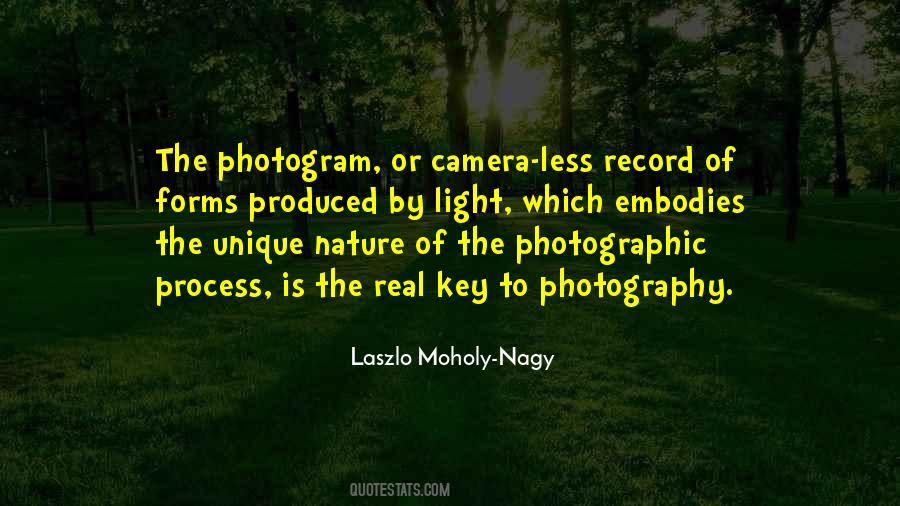 #62. The greatest tool at our command is the very thing that is photography. Light. Light is our paintbrush and it is a most willing tool in the hands of the one who studies it with a sufficient care. - Author: Laura Gilpin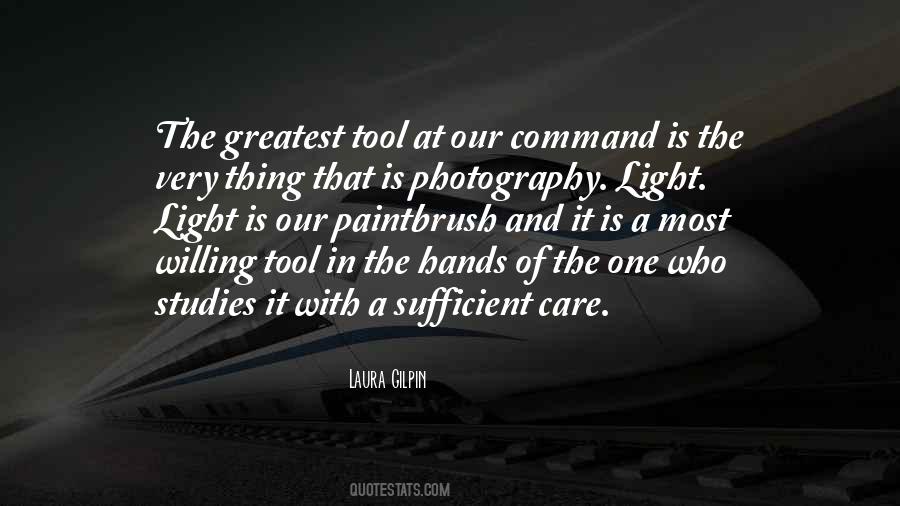 #63. I also have to add that if Rembrandt had been given a camera then that guys understanding of light and form would have blown the rest of us shooters into a black hole of despair. - Author: Steve Merrick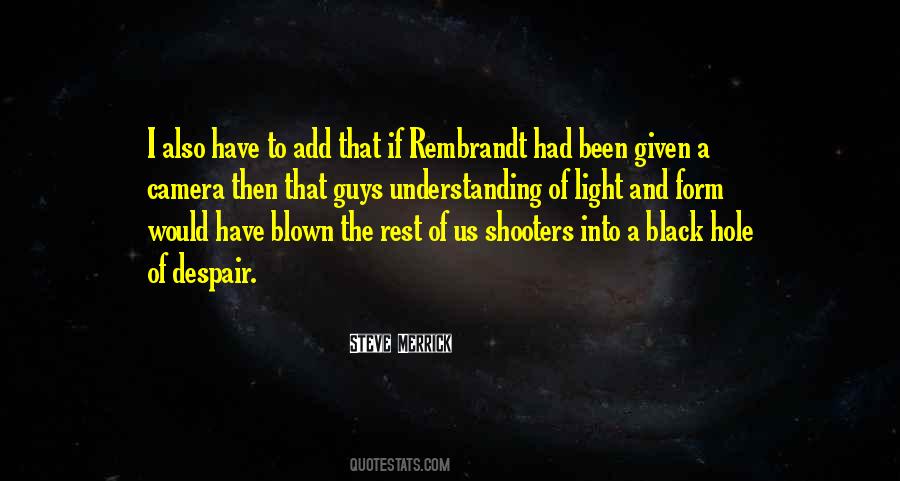 #64. Photography by nature is spiritual, considering it comes from the darkness to show the light. - Author: Kevin Russo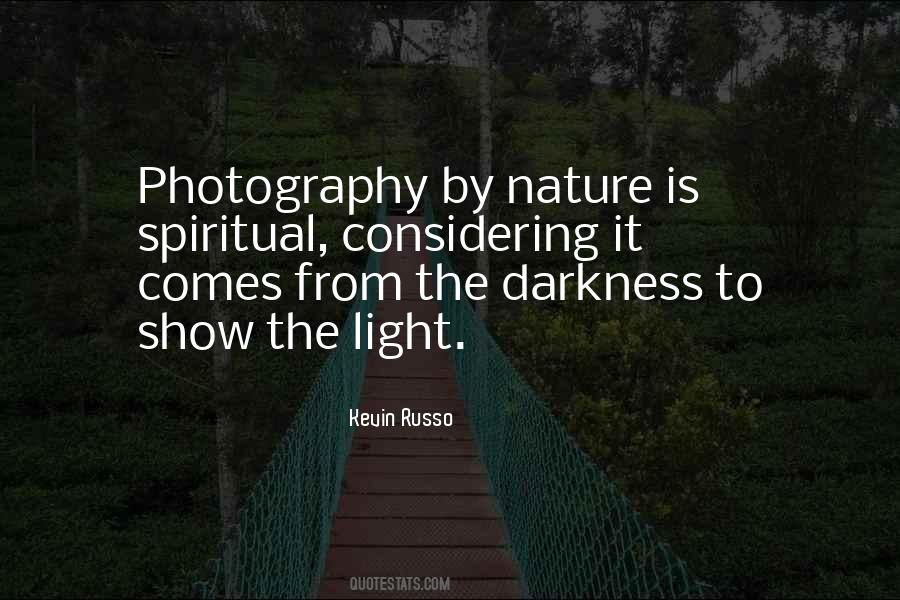 #65. I don't want anyone to appreciate the light or the palette of tones. I want my pictures to inform, to provoke discussion - and to raise money. - Author: Sebastiao Salgado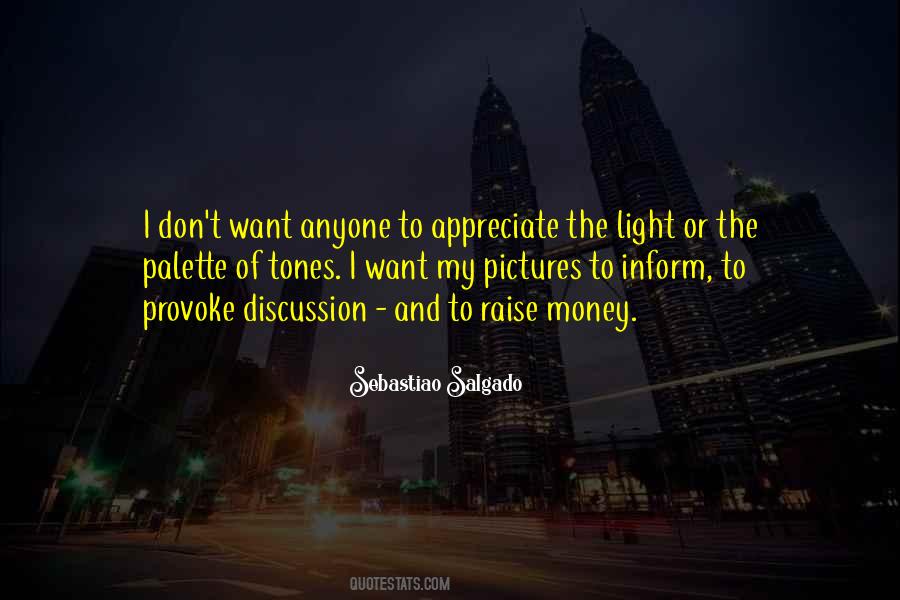 #66. What makes photography a strange invention is that its primary raw materials are light and time. - Author: John Berger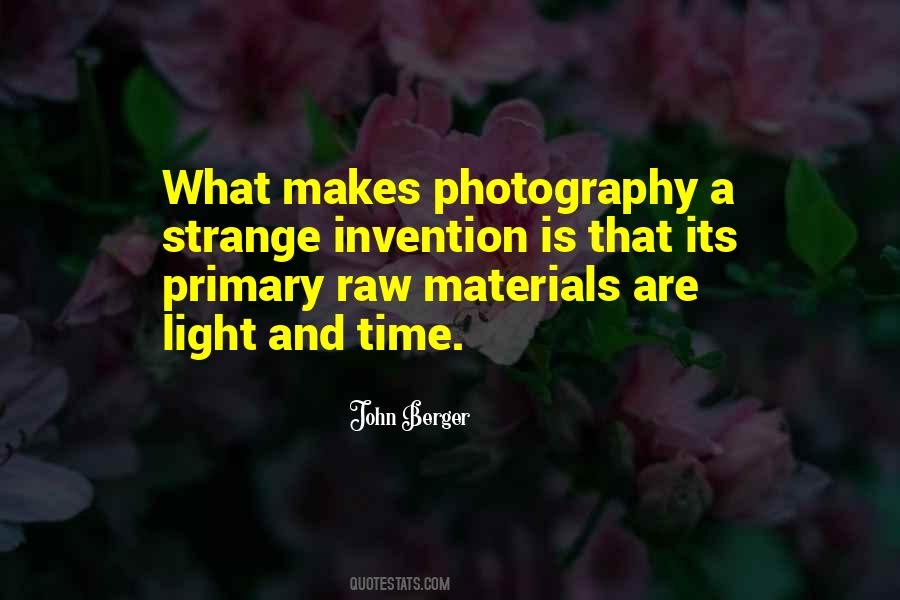 #67. But I always liked the fact that you get these totally unacceptable images, but they're taken by a really expensive photographer, with great light, and in terms of the quality of the photograph it's a great photograph, but in terms of imagery it's unacceptable, and I like that contradiction. - Author: Damien Hirst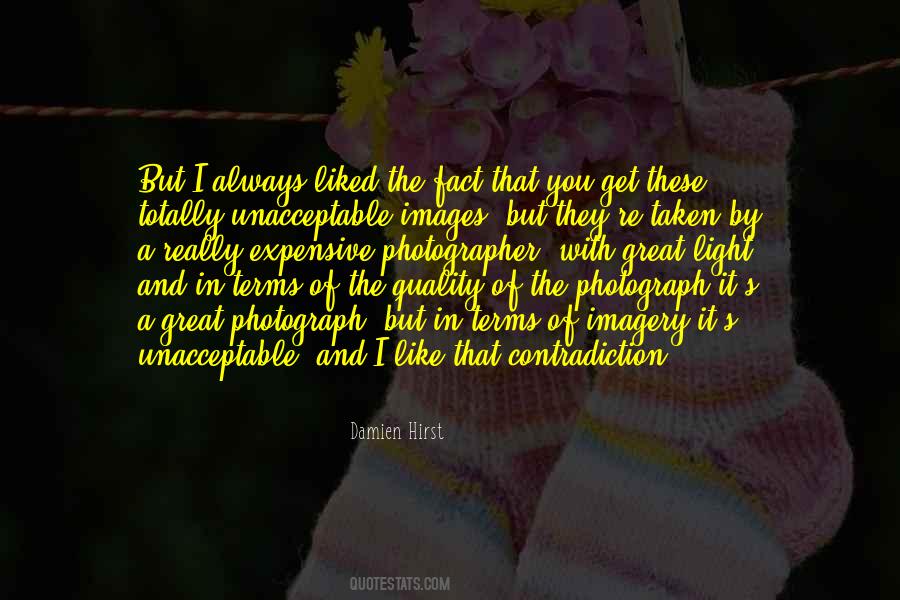 #68. White is the color of decomposition. White is also no color. White is nothing. In photography, the paper is white, next comes the light, which is also white, then the shadow is created, the apparition. - Author: Dieter Appelt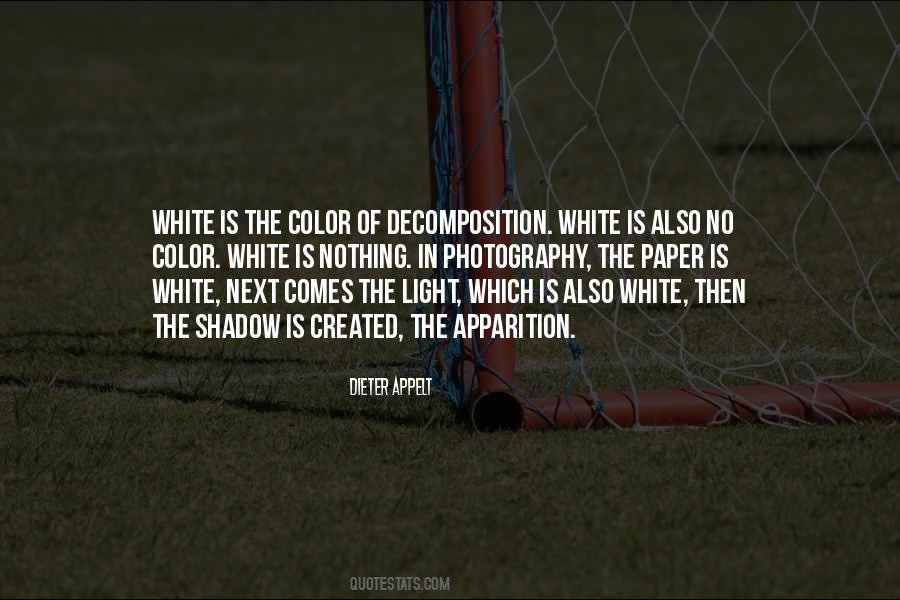 #69. Light-field photography is a transformational technology that needs a transformational product to introduce it. For the first time, we have a light-field camera that's going to be for everyone - not something in a huge room in a research facility. - Author: Ren Ng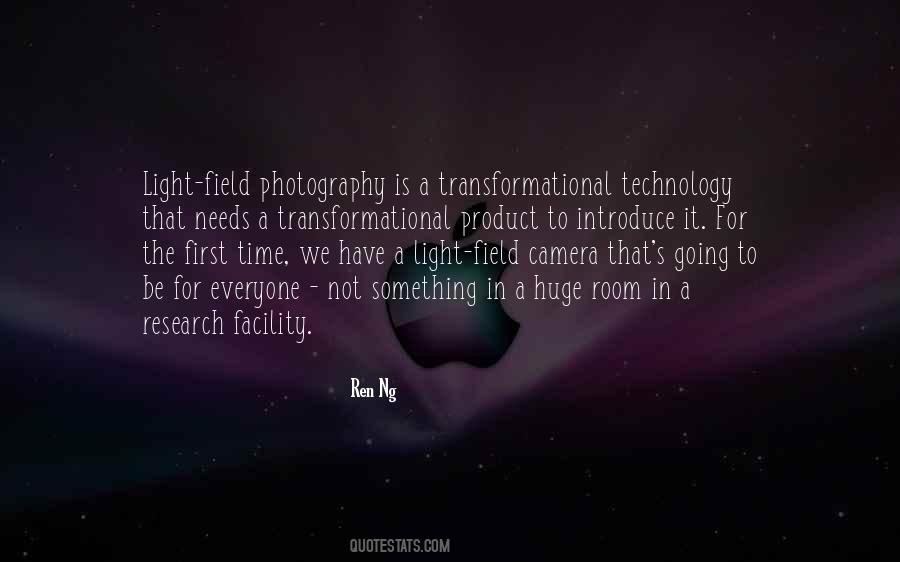 #70. Photography is space, light, texture, of course, but the really important element is time - that nanosecond when the image organizes itself on the ground glass. - Author: Ezra Stoller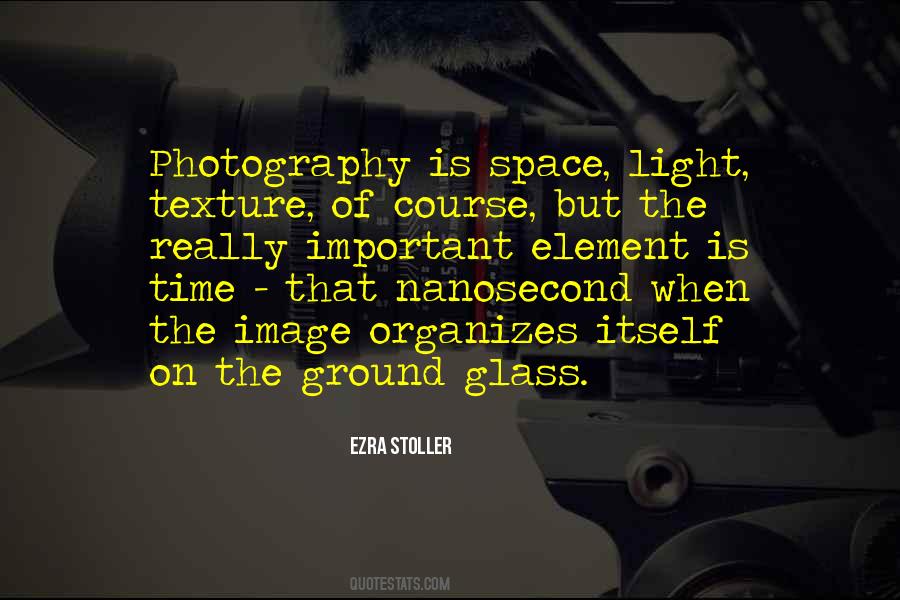 #71. Light field photography unleashes the power of the light, to forever change how everyone takes and experiences pictures. - Author: Ren Ng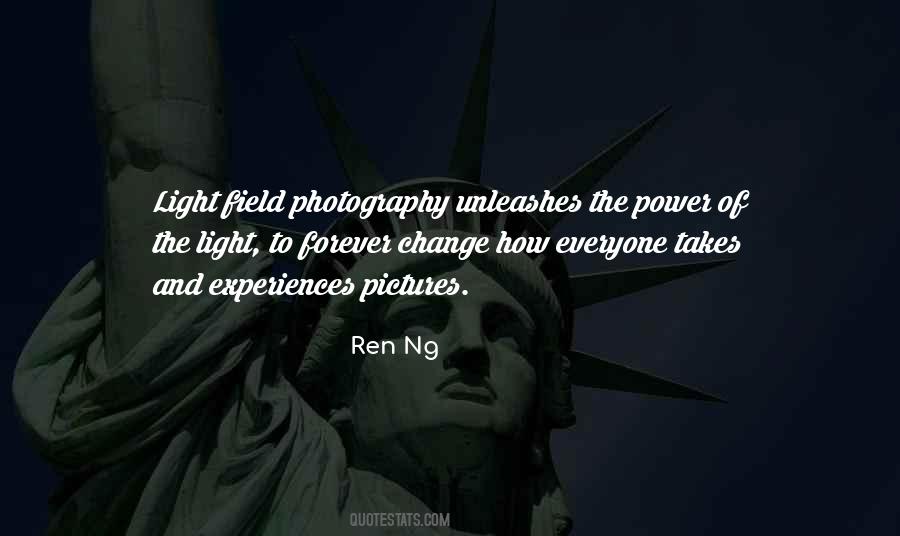 #72. I take pleasure in working with the non-art photographs that reside in public archives, essentially authorless and owned by the world itself, because I find the world of fine art photography to be pretty silly and pretentious. - Author: Michael Light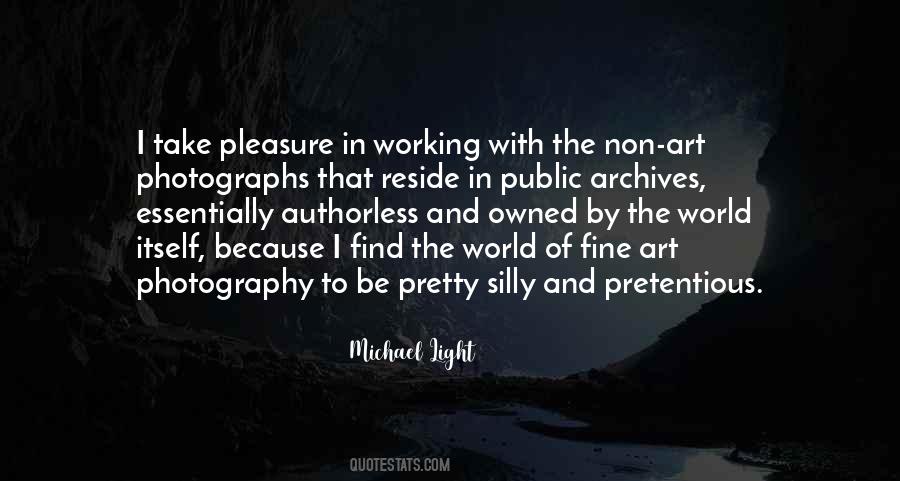 #73. Photography can light-up darkness and expose ignorance. - Author: Lewis Hine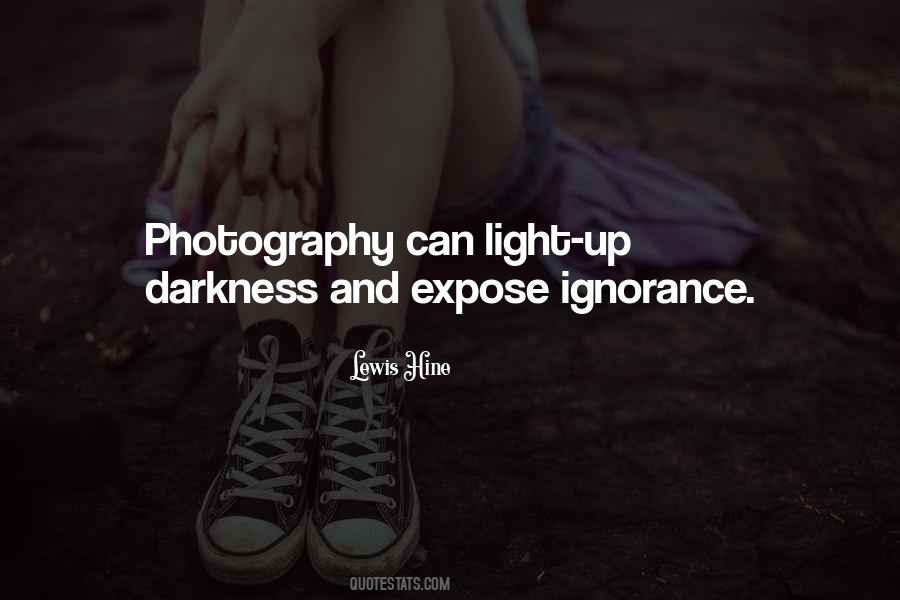 #74. Lifes light. Life is light. You can make light do anything you want to. Photography means 'light writing'. - Author: L. Ron Hubbard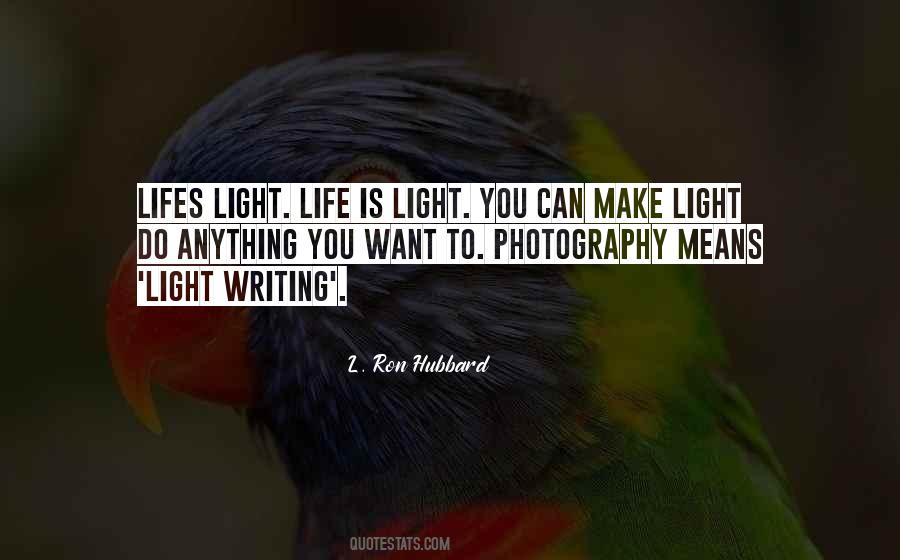 #75. John Loengard, the picture editor at Life, always used to tell me, If you want something to look interesting, don't light all of it. - Author: Joe McNally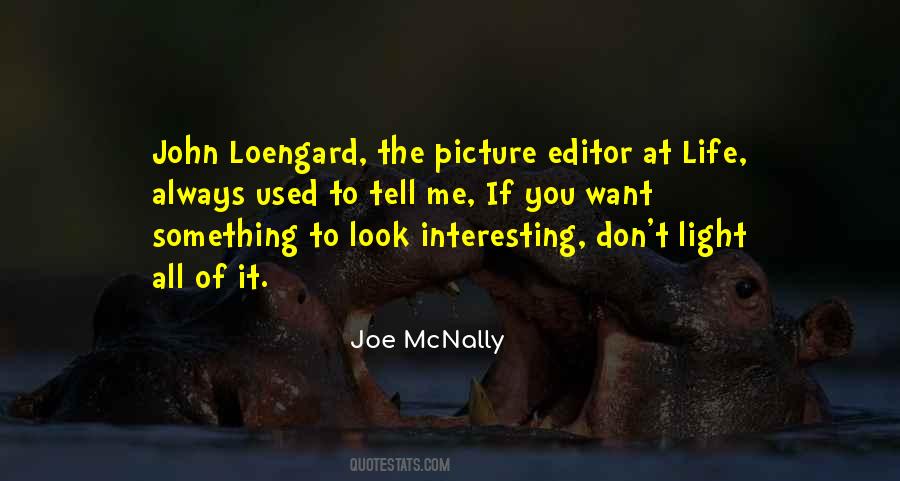 #76. Photography is a holding together of opposites: Light and dark, beautiful and ugly, sublime and banal, concious and unconcious. I am still struck by the power of photography to strip away the bark of the mind and reveal the visceral workings underneath. - Author: Jack Welpott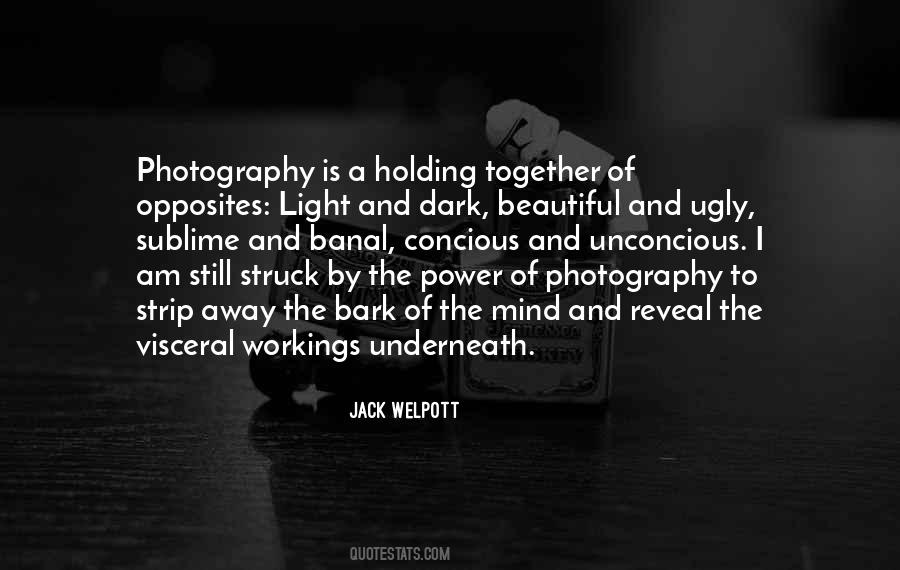 Famous Authors
Popular Topics