Pessimists Famous Quotes & Sayings
List of top 77 famous quotes and sayings about pessimists to read and share with friends on your Facebook, Twitter, blogs.
Top 77 Quotes About Pessimists
#1. There are no pessimists; there are only realists and liars. - Author: Paul Virilio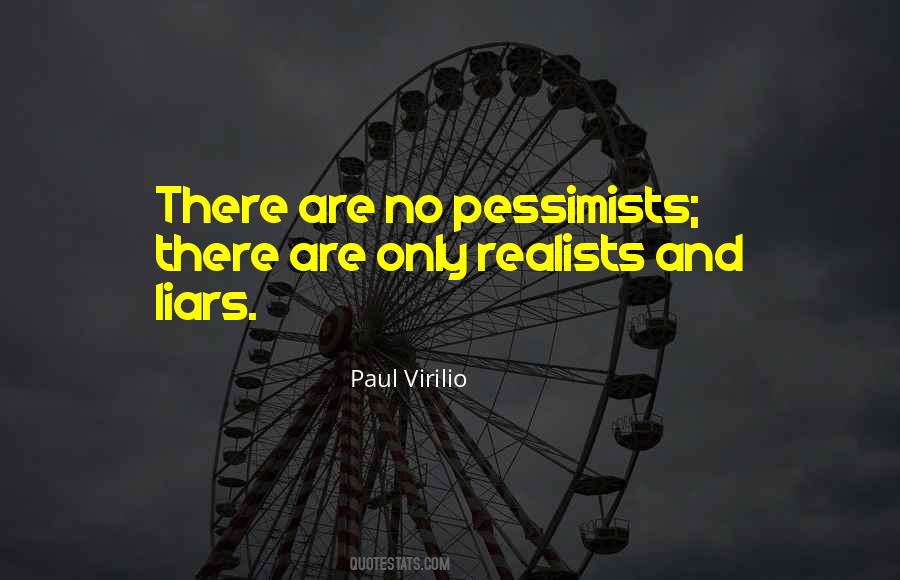 #2. Whereas in the past optimism had been regarded as rather shallow - because 'oh well, it's just your temperament, you happen to be just a cheerful sort of person' - what I wanted to do was to establish that in fact it is the pessimists who are allowing all kinds of errors to creep into their work. - Author: Colin Wilson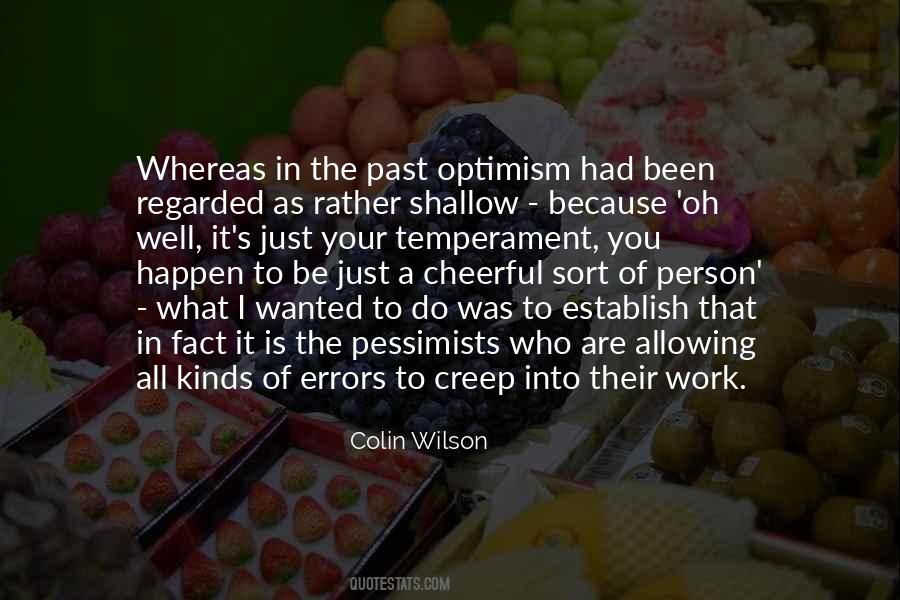 #3. You may hear people say that submarines have done away with the battleship, and that aircraft have annulled the mastery of the sea. That is what our pessimists say. But do you imagine that the clumsy submarine or the fragile aeroplane is really the last word of science? - Author: John Buchan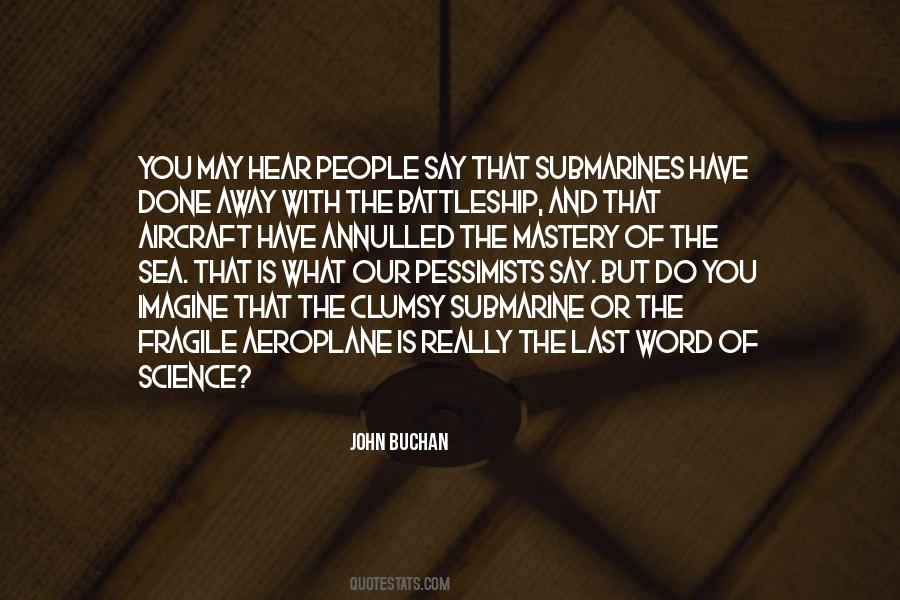 #4. Optimists envision the best that could happen.
Pessimists envision the worst that could happen.
Pragmatists envision the likely to happen.
The pessimist finds many reasons to quit.
The optimist finds many reasons to keep going. - Author: Matshona Dhliwayo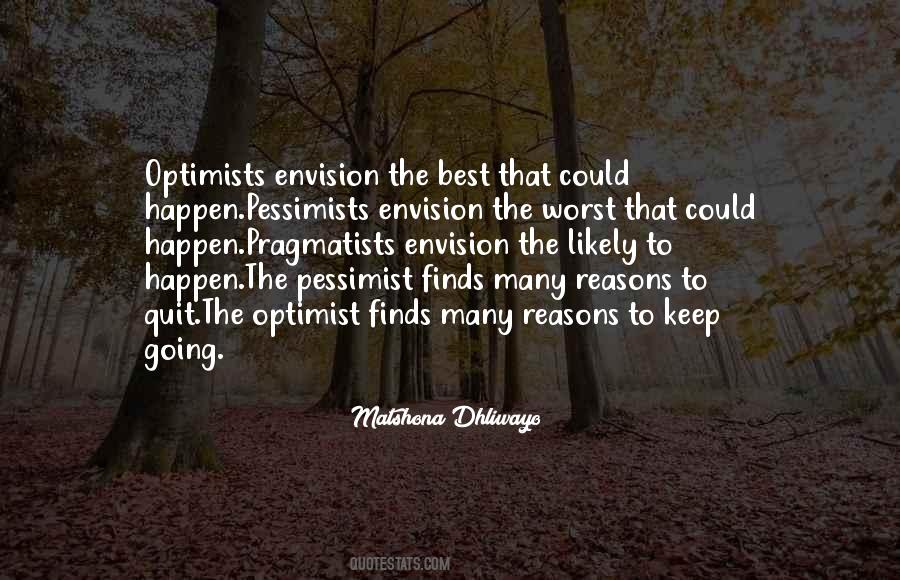 #5. We're all born pessimists. It takes effort to be optimistic. - Author: Rush Limbaugh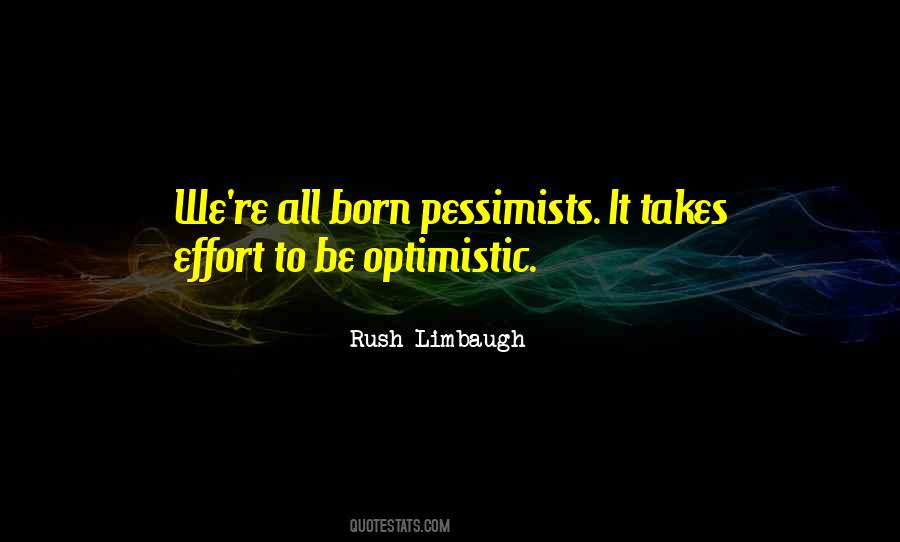 #6. Optimists think that this is the best of all possible worlds; pessimists fear they are right. - Author: J. Robert Oppenheimer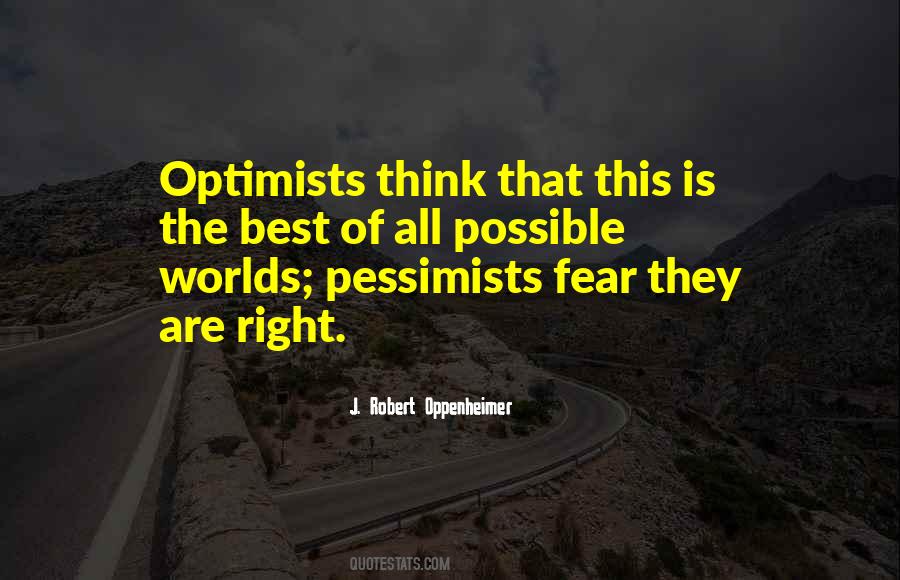 #7. Men are always optimists when they look inwards, and pessimists when they look round them. - Author: Ouida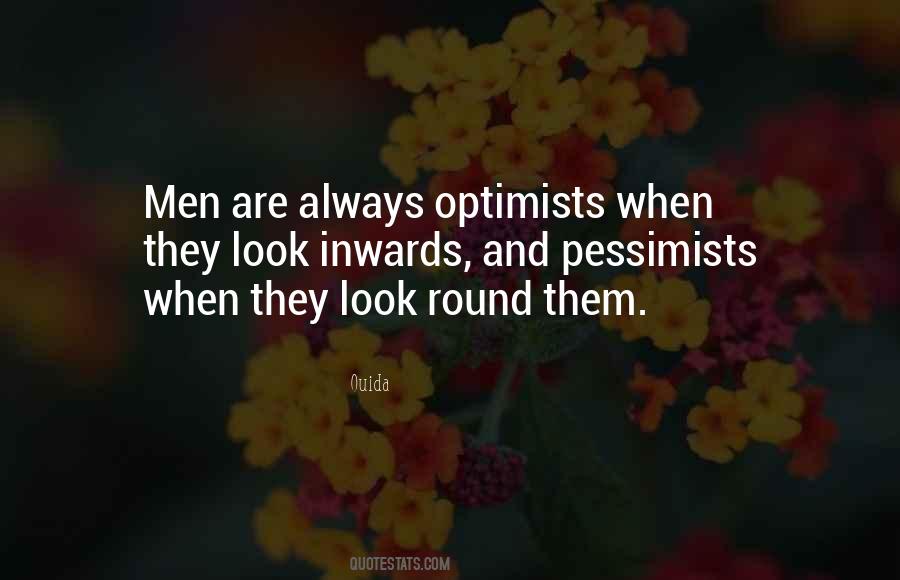 #8. If the tenth of the population that is gay became visible tomorrow, the panic of the majority of people would inspire repressive legislation of a sort that would shock even the pessimists among us. - Author: Jane Rule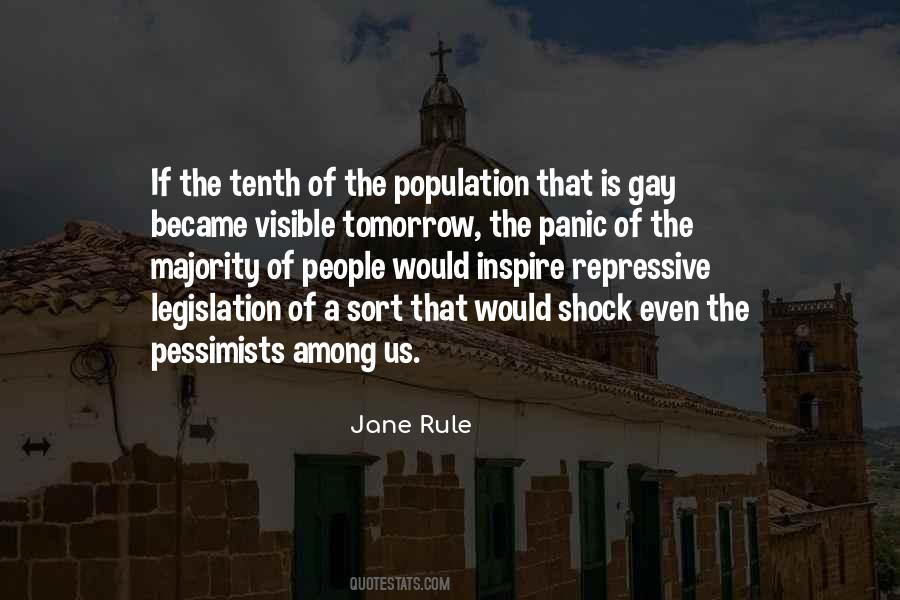 #9. I think I'm a realist. Which people who don't like me consider to be pessimism. It isn't pessimism at all. If I was a pessimist I wouldn't get up, I wouldn't shave, I wouldn't watch Batman at 7:30 a.m. Pessimists just don't do that sort of thing. - Author: Steven Morrissey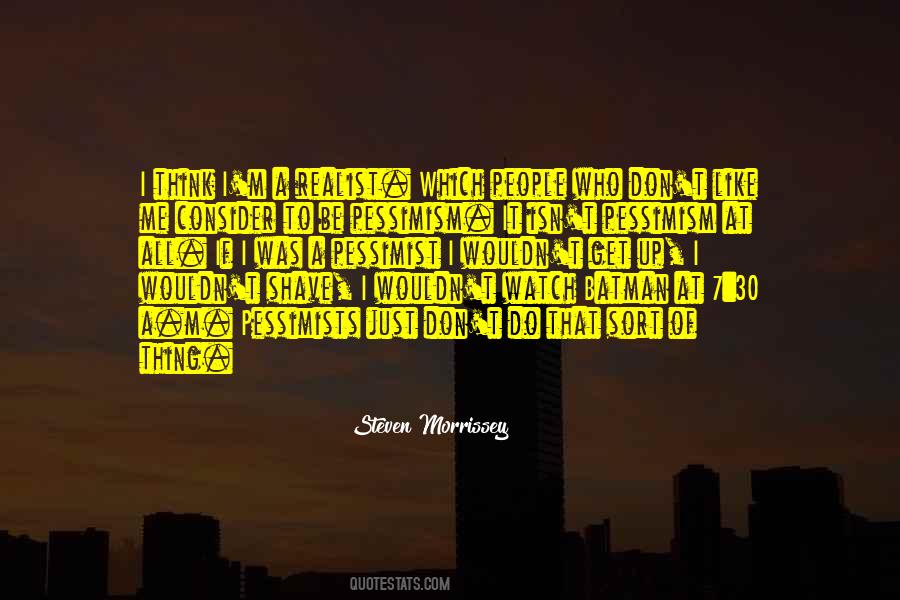 #10. This is the crux of the moral pessimists: if they really wanted to promote their neighbor's redemption, then they would have to resolve themselves to spoiling existence for him, and thus to being his misfortune; out of pity, they would have to
become evil! - Author: Friedrich Nietzsche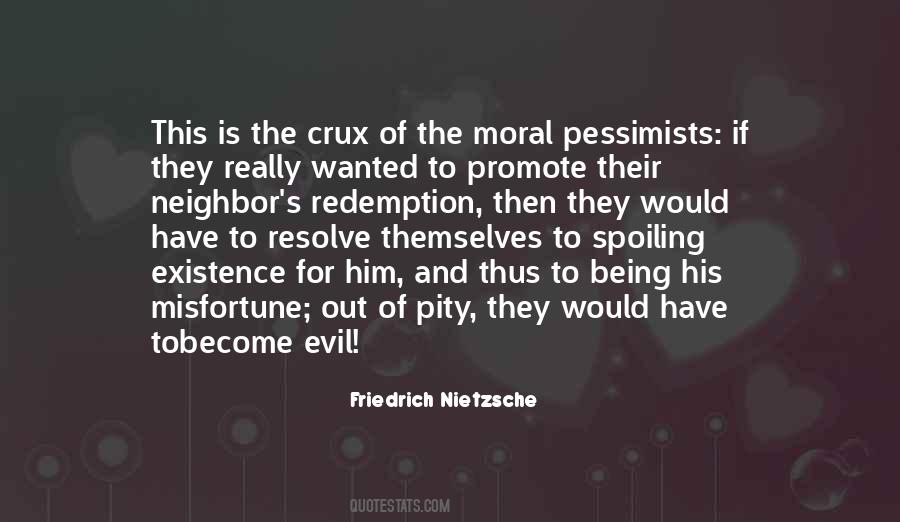 #11. Pessimists are only pessimists when they're wrong. When we're right, the world calls us prophets. - Author: Karen Marie Moning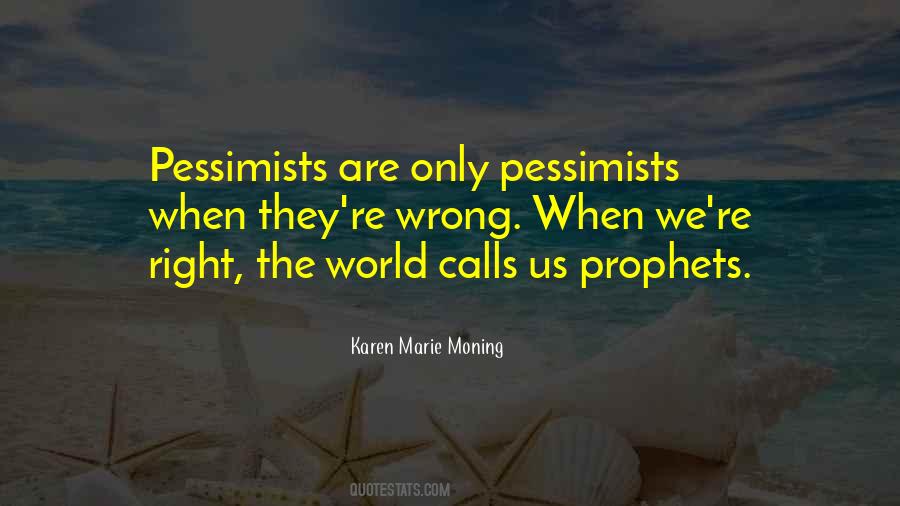 #12. Pessimists see a problem behind every opportunity. Optimists see an opportunity behind every problem. - Author: Denis Waitley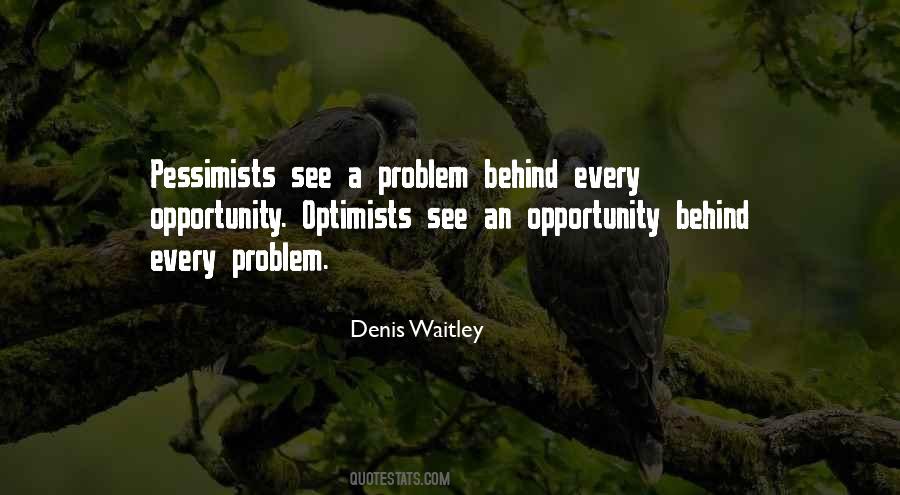 #13. pessimists see people as liabilities to manage, as burdens or threats that we must minimize. - Author: Arthur C. Brooks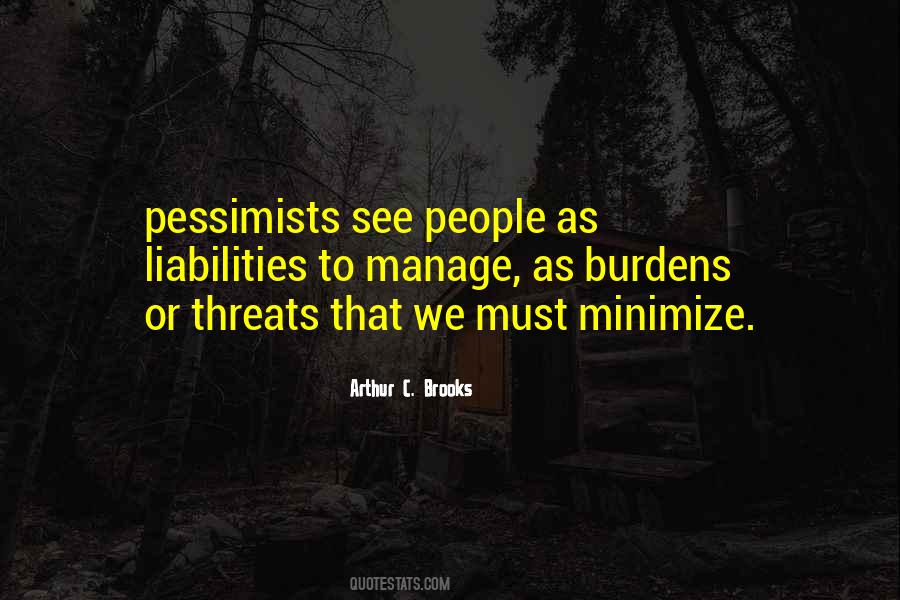 #14. The soul must have its chosen sewers to carry away its ordure. This function is performed by persons, relationships, professions, the fatherland, the world, or finally, for the really arrogant - I mean our modern pessimists - by the Good God himself. - Author: Friedrich Nietzsche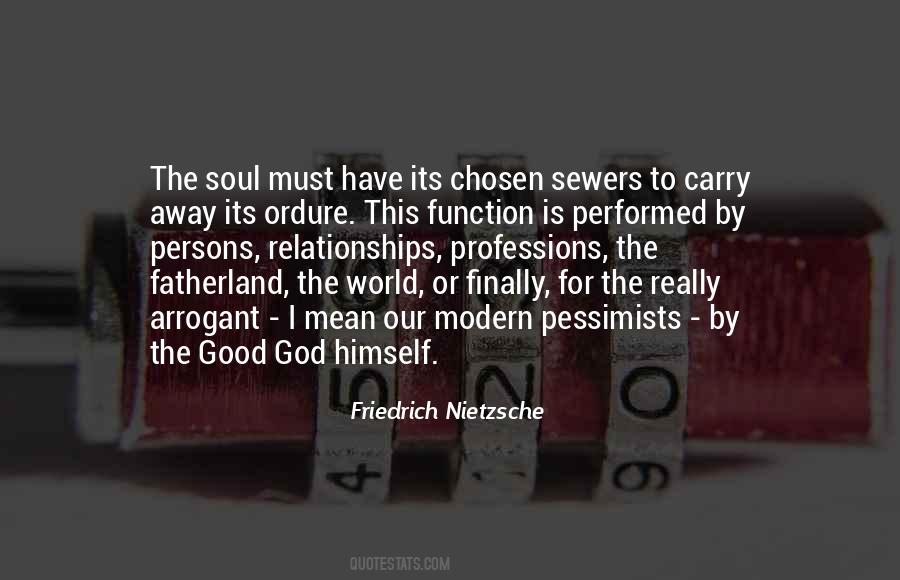 #15. People don't like to follow pessimists. - Author: Bob Iger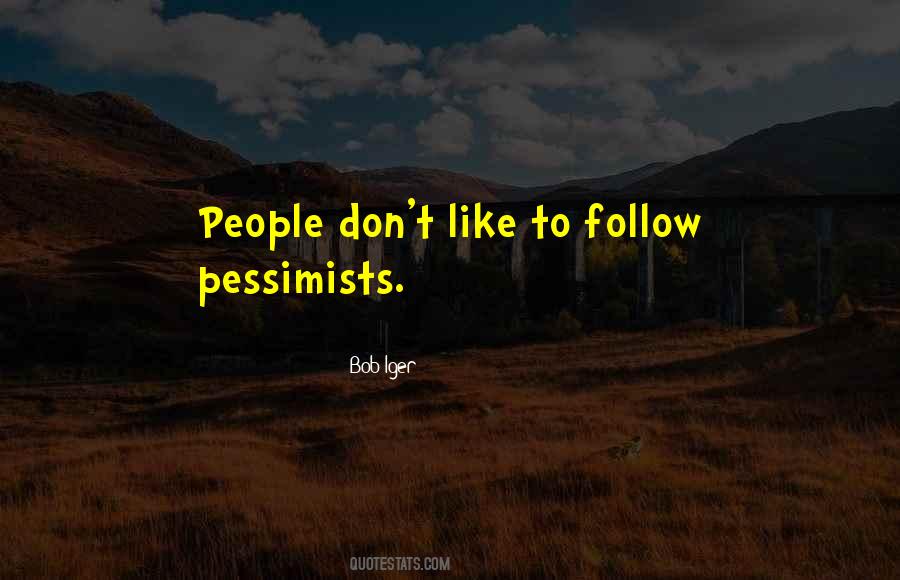 #16. Optimists and pessimists die the exact same death, but they live very different lives! - Author: Shimon Peres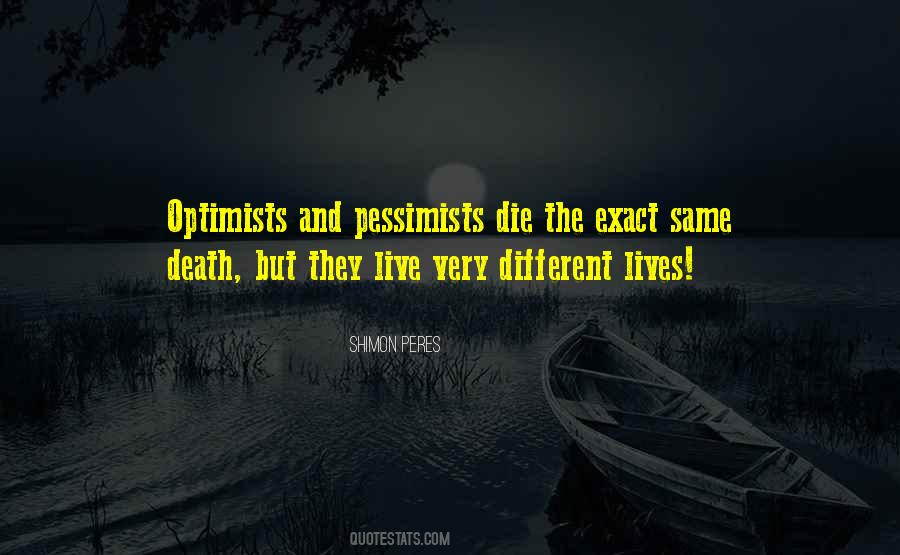 #17. It is not usually our ideas that make us optimists or pessimists, but it is our optimism or pessimism that makes our ideas. - Author: Miguel De Unamuno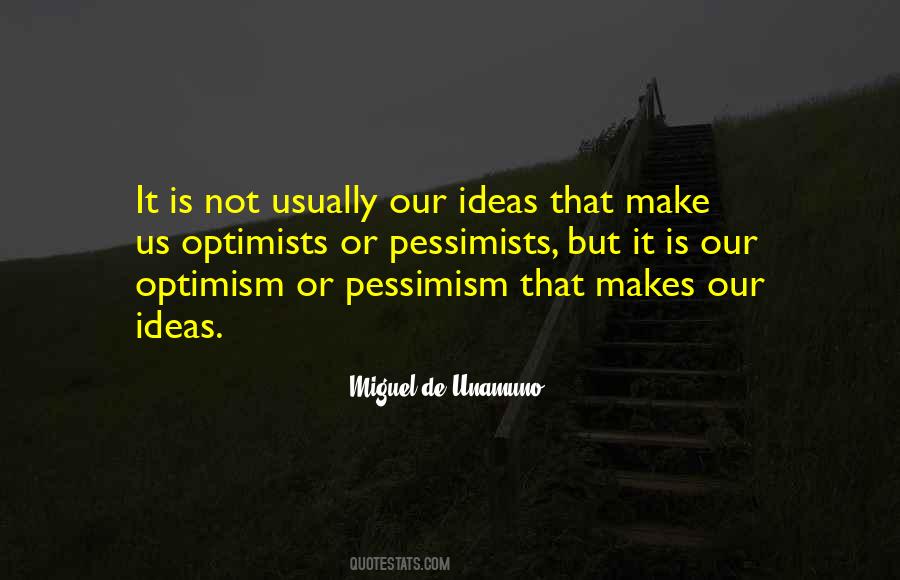 #18. The intelligent investor is a realist who sells to optimists and buys from pessimists. - Author: Benjamin Graham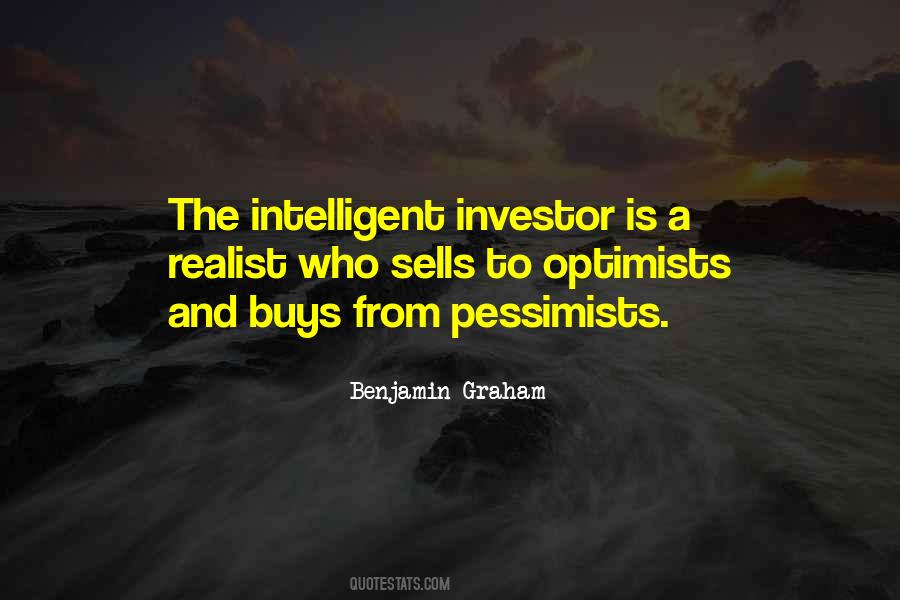 #19. I'm a lawyer. Pessimists see a glass half-empty; optimists see a glass half-full. Lawyers see a glass containing possible carcinogenic materials without a warning label. Skepticism is coded in our DNA. - Author: Naima Simone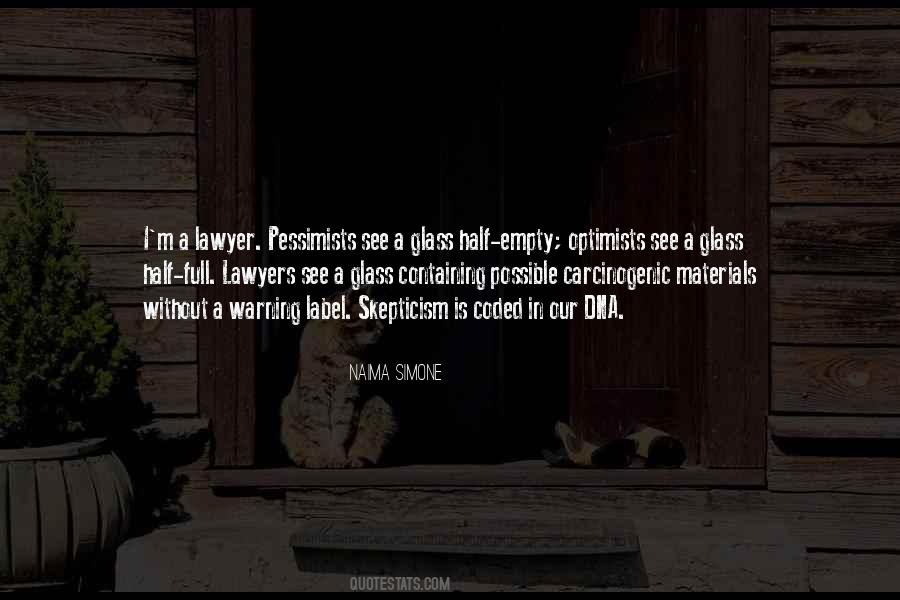 #20. Nuclear war is inevitable, says the pessimists; Nuclear war is impossible, says the optimists; Nuclear war is inevitable unless we make it impossible, says the realists. - Author: Sydney J. Harris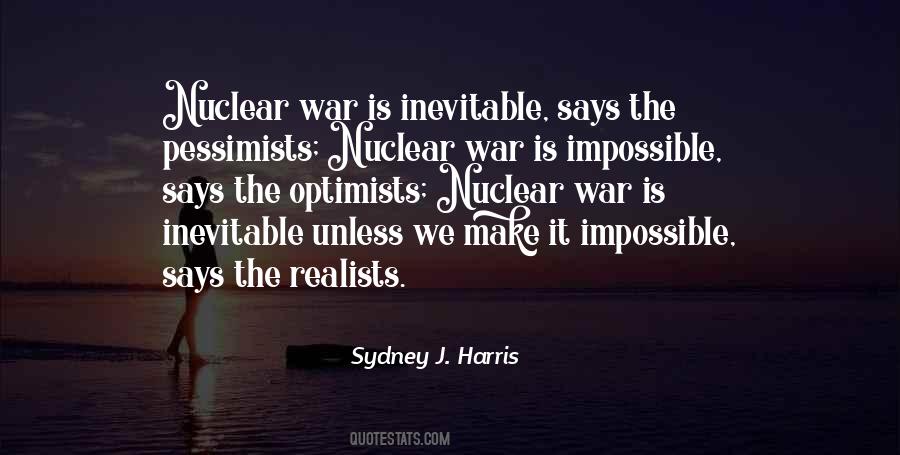 #21. Oh happy pessimists! What a joy it is to them to be able to prove again and again that there is no joy. - Author: Marie Von Ebner-Eschenbach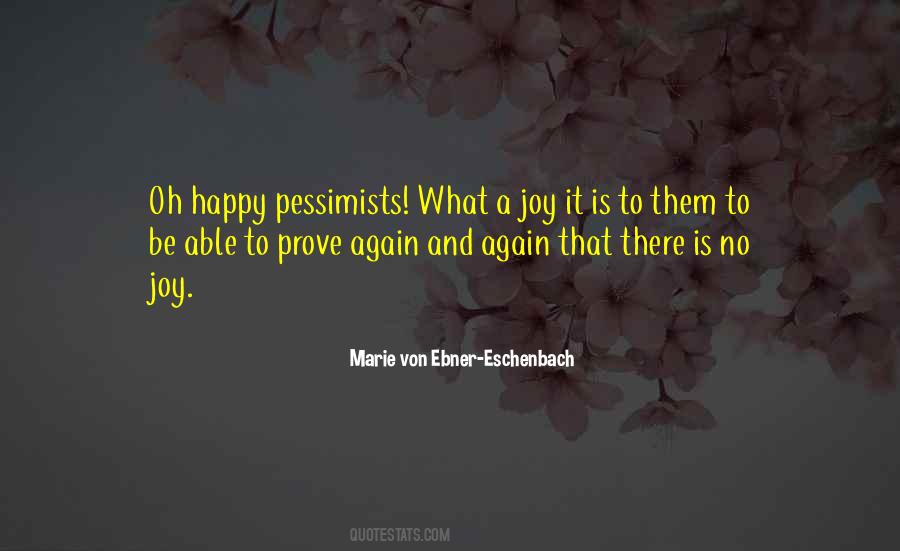 #22. Pessimists try to convince you the world sucks, optimists already know it does and smile anyway. - Author: Jonathan Harnisch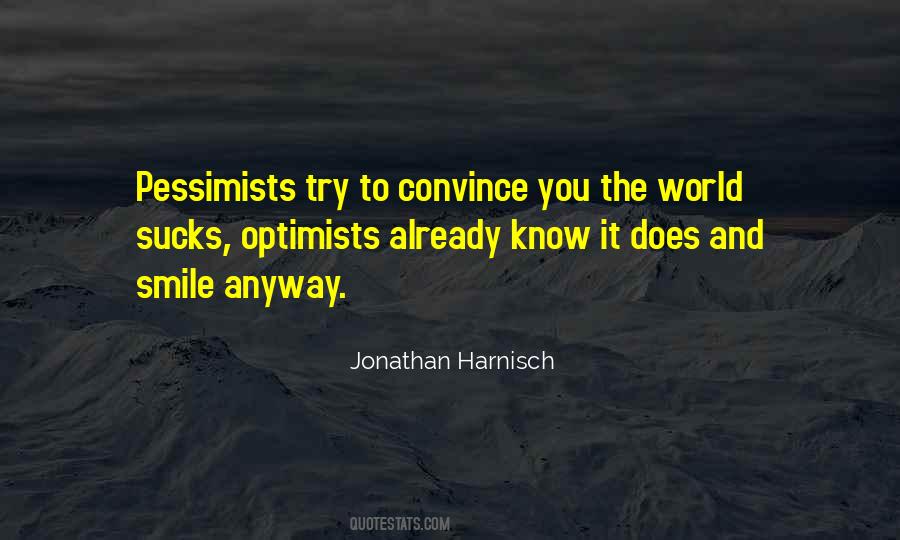 #23. Pessimists thrive while optimists starve. - Author: Zachariah Dracoulis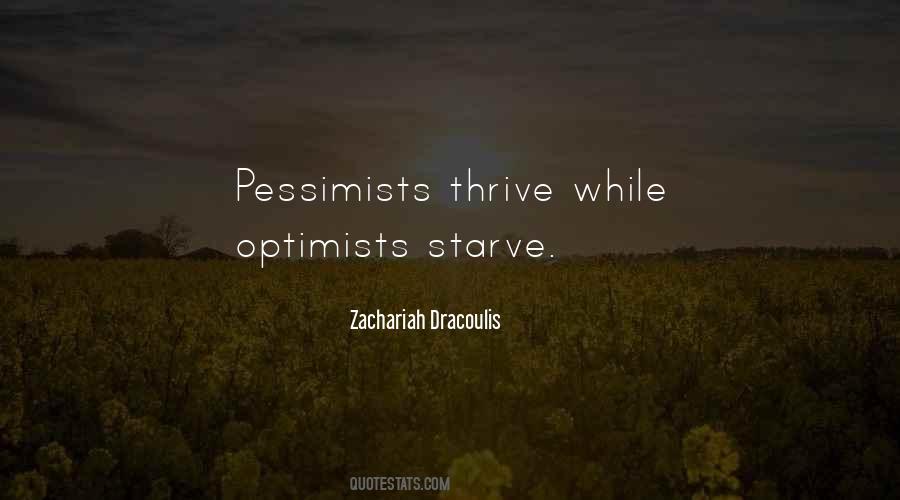 #24. Prophets are dastardly pessimists, to a man. - Author: Janny Wurts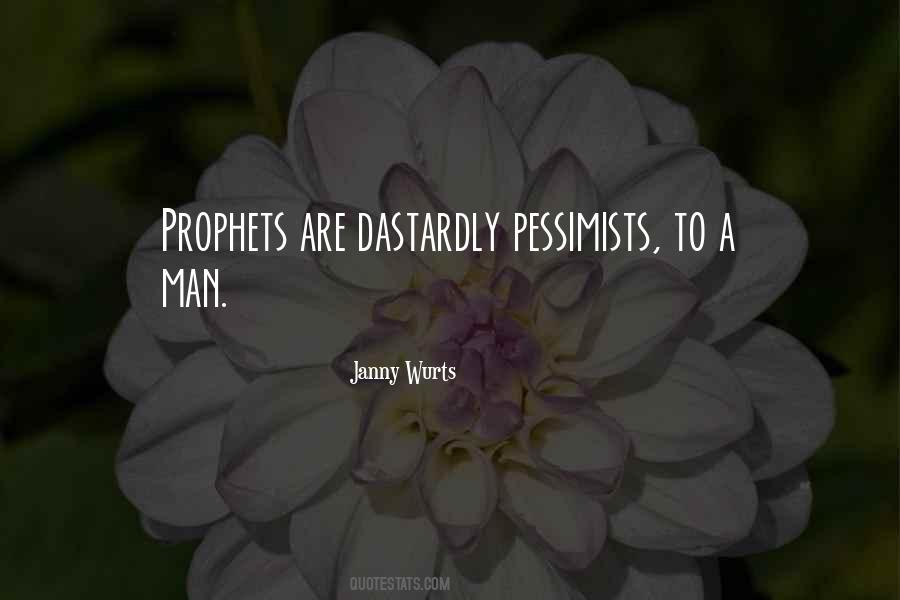 #25. If empathy channels our optimism, we will see the empathy and the diseases and the poor school. We will answer with our innovations and we will surprise the pessimists. - Author: Bill Gates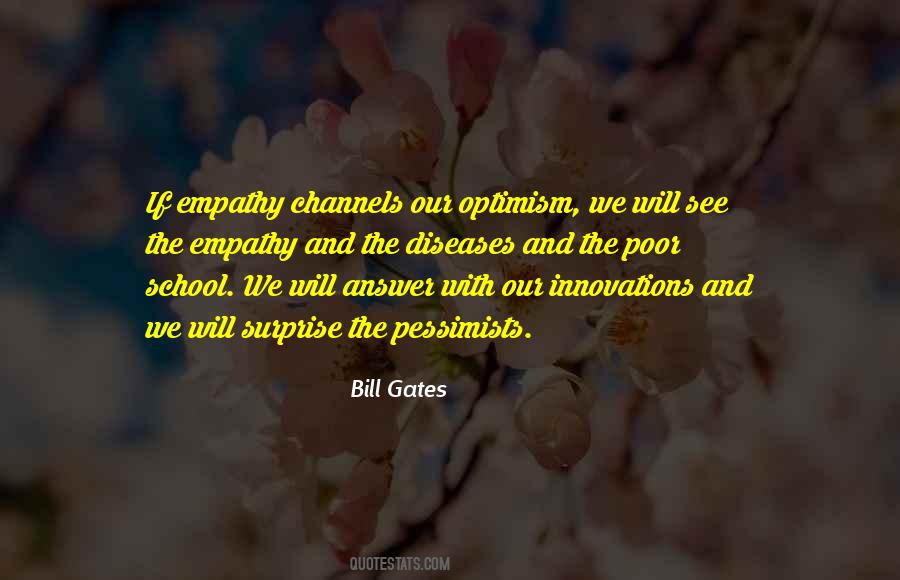 #26. How happy are the pessimists! What joy is theirs when they have proved there is no joy. - Author: Marie Von Ebner-Eschenbach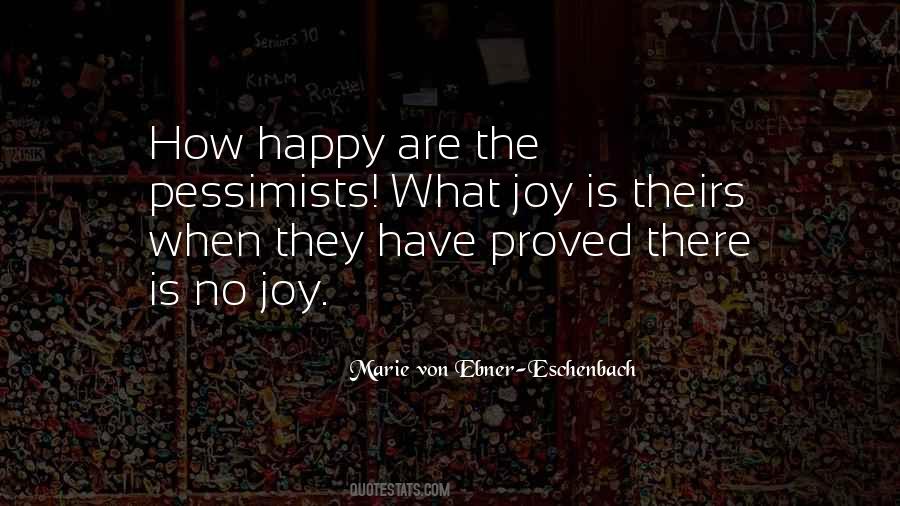 #27. Pessimists are born, true, but they also can be made. - Author: David Rakoff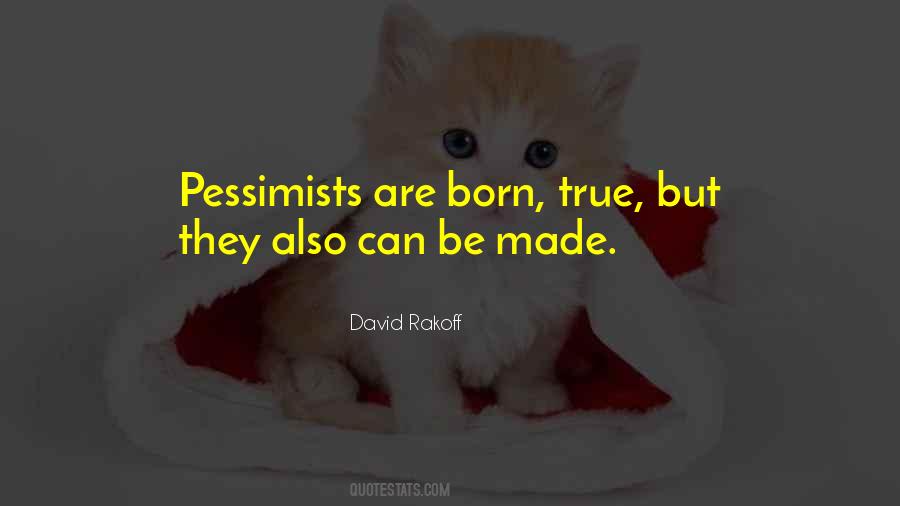 #28. They too entered the world of dreams- that world in which a third of each man's life is spent, and which is thought by some pessimists to be a premonition of eternity. - Author: E. M. Forster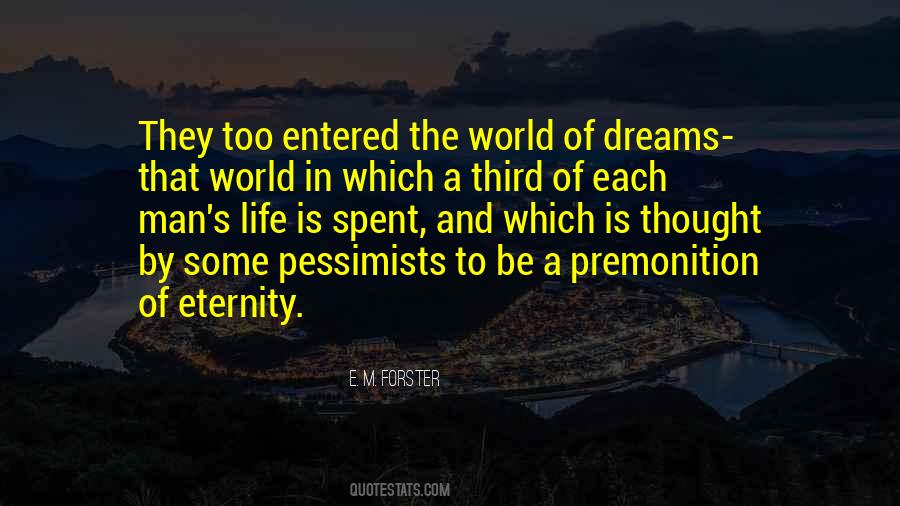 #29. Humorists are always pessimists. They're reactionaries: because they see that every golden cloud has a black lining. - Author: Christina Stead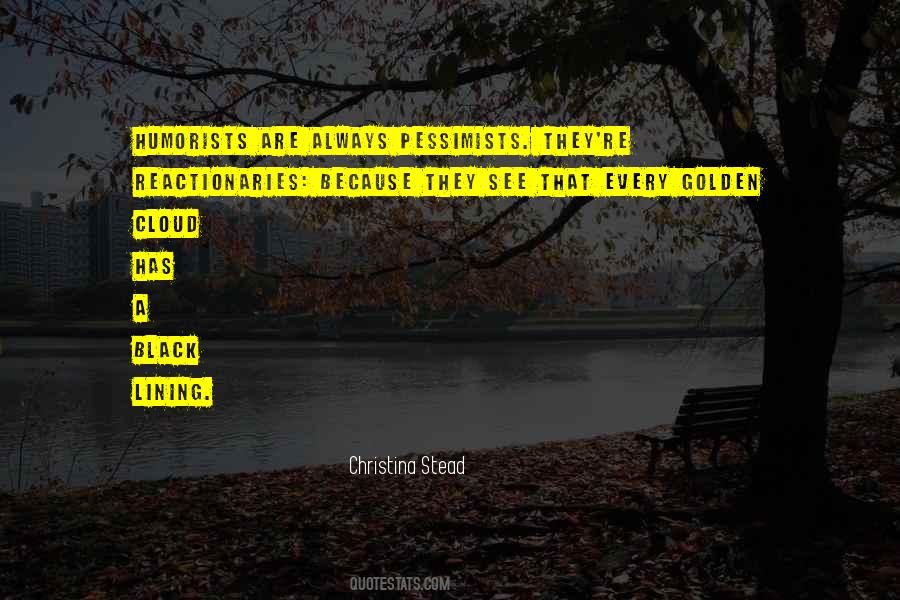 #30. Pessimists can be such bores, and it's lazy to believe the worst. - Author: Paul Morley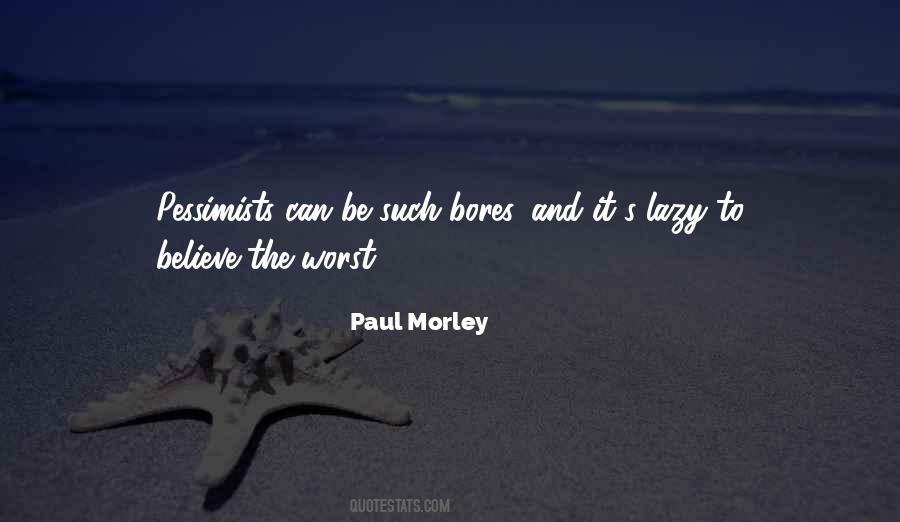 #31. I don't know if the optimists
or the pessimists are right.
But, the optimists are going to get something done. - Author: Craig Venter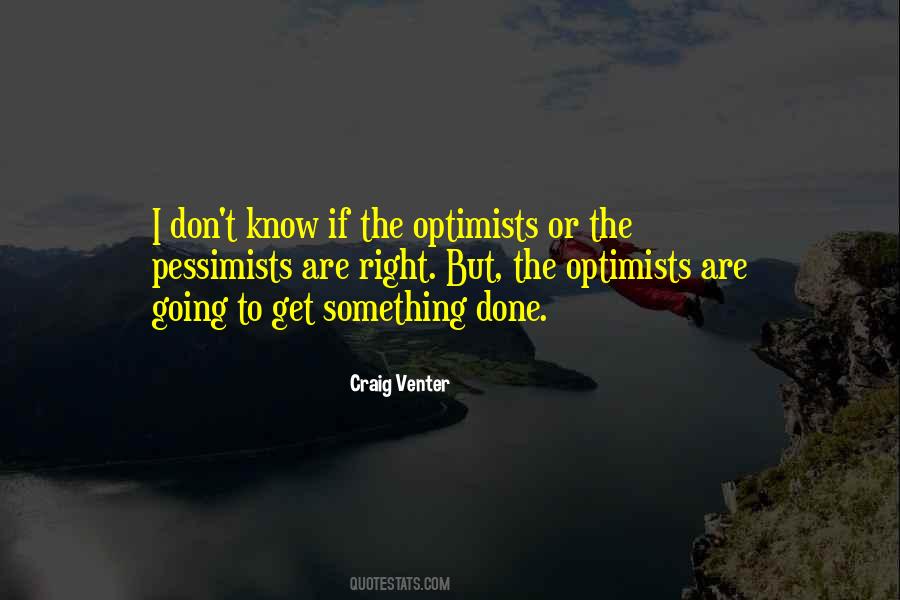 #32. The pessimist! Whenever something good came along, he knew how to make the worst of it. - Author: Marty Rubin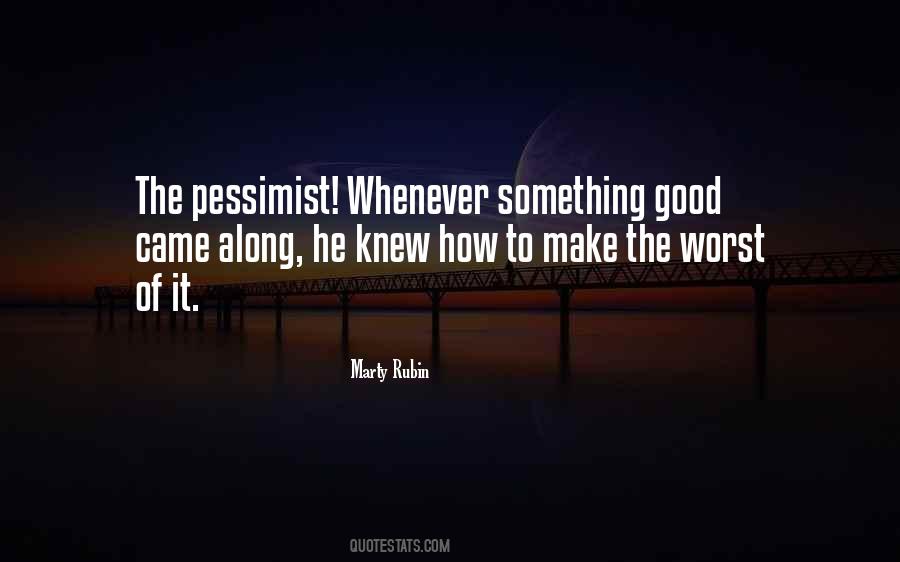 #33. Traditionalists are pessimists about the future and optimists about the past. - Author: Lewis Mumford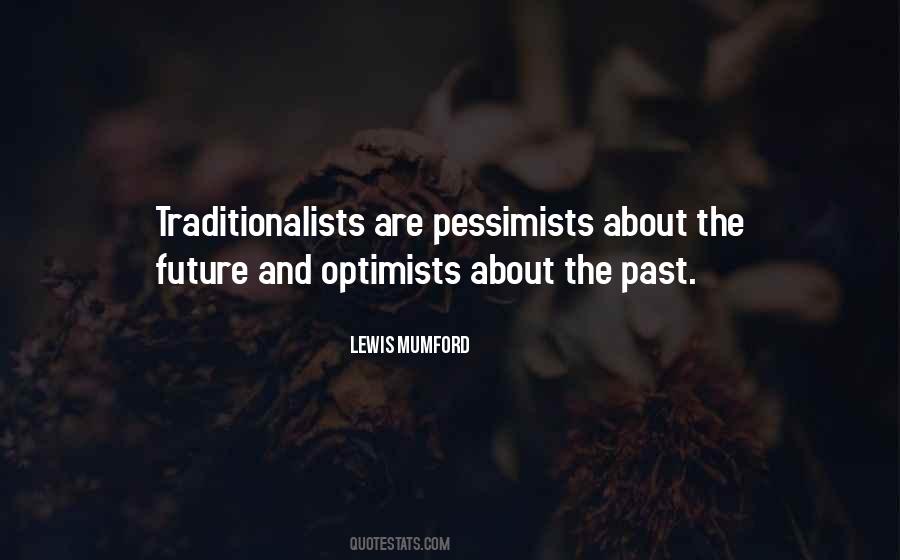 #34. Which is more subversive-and corrosive-to believe in altruism or to see it simply as a cloak of self interest? Even if altruism did not exist, it would be necessary to believe in it. Pessimists in power are prone to despotism. - Author: Frank Prochaska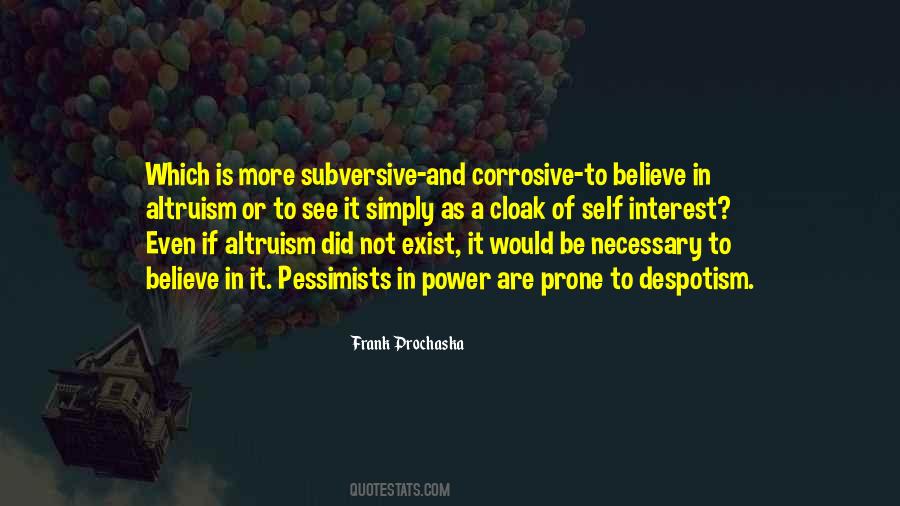 #35. The misnomer is that satirists are pessimists, or even misanthropes, but usually it is just a way to unlock human potential. - Author: Marietta Rodgers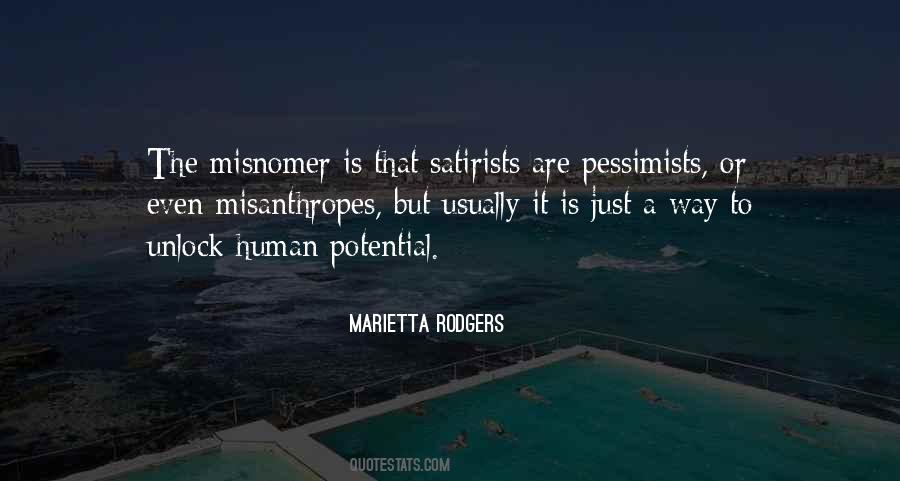 #36. The bottom line on attitude is that a good one helps to increase your possibilities. Pessimists usually get what they expect. So do optimists. - Author: John C. Maxwell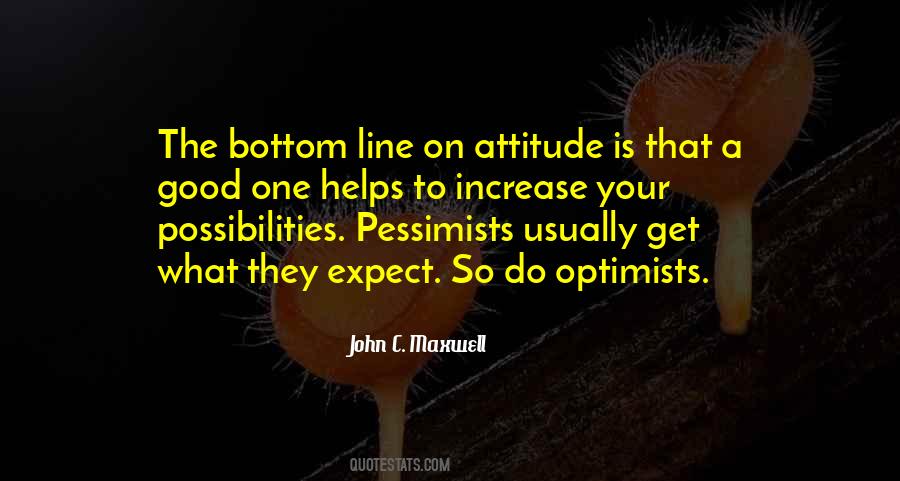 #37. Whatever pretended pessimists in search of notoriety may say, most people are naturally kind, at heart. - Author: James Branch Cabell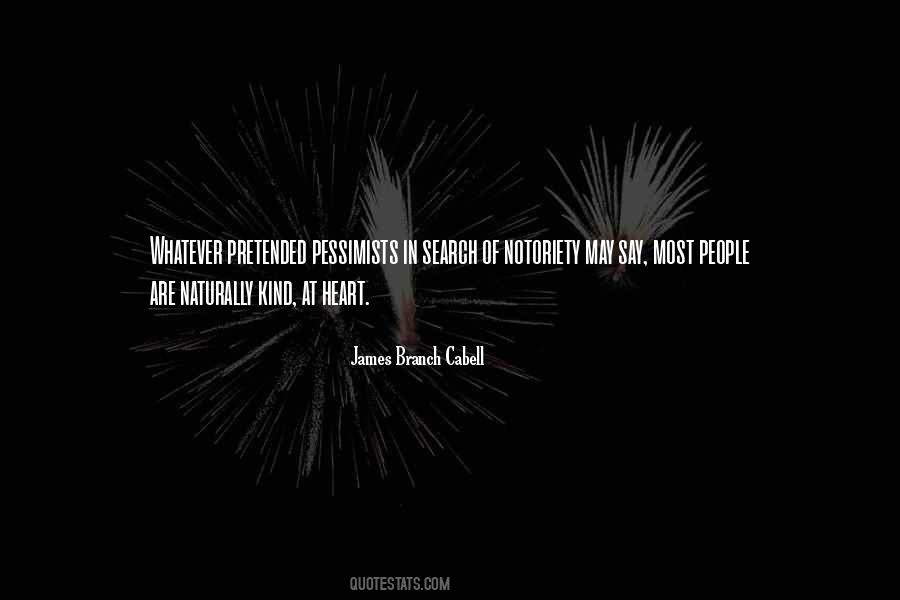 #38. Some people are optimists. Some people are pessimists. I'm just a realist who believes that some things are worth fighting for. - Author: C. JoyBell C.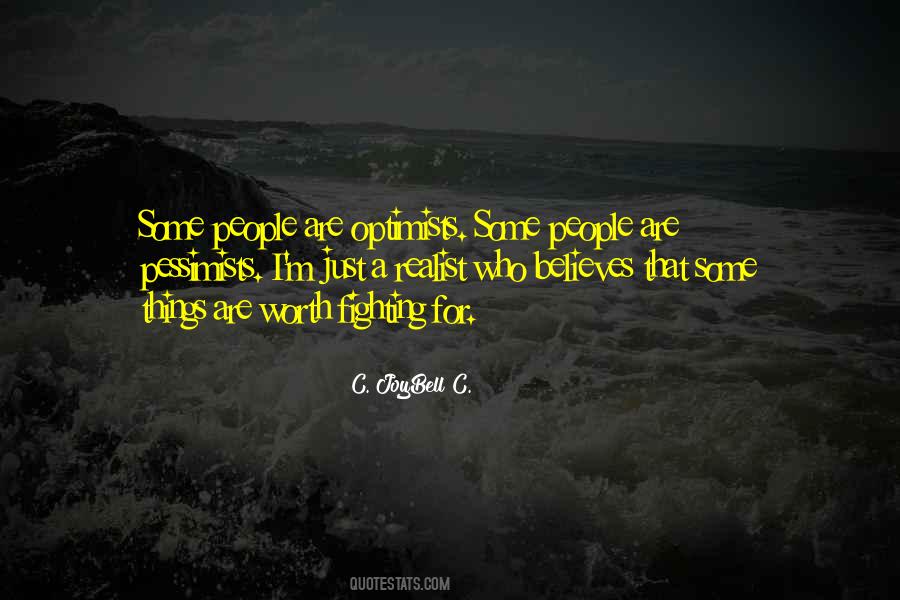 #39. And our pessimists think this has taken too long. Our pessimists believe that too many Americans have died. Our pessimists believe that we have lost the war. - Author: John Linder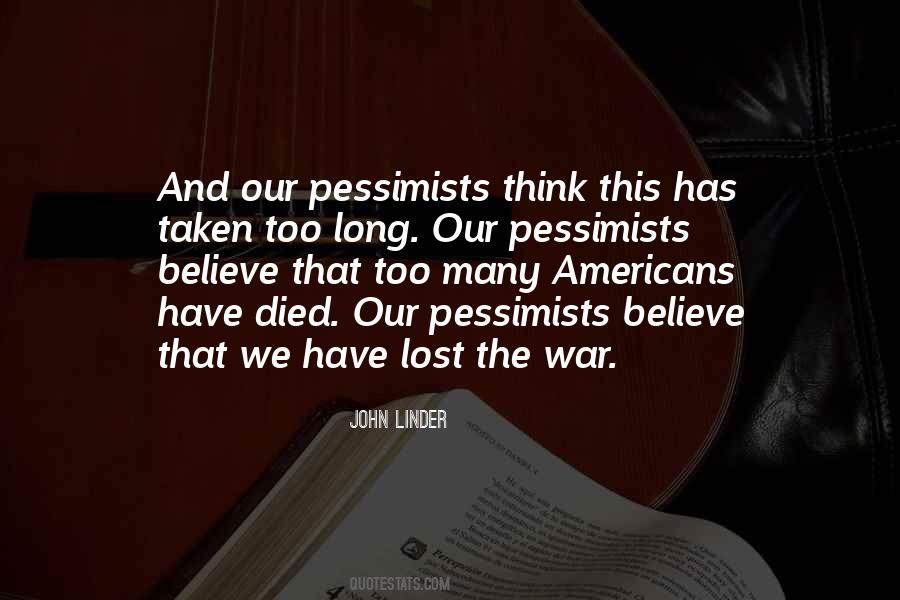 #40. Actually he was a pessimist, and, like all pessimists, a ridiculously unobservant man. - Author: Vladimir Nabokov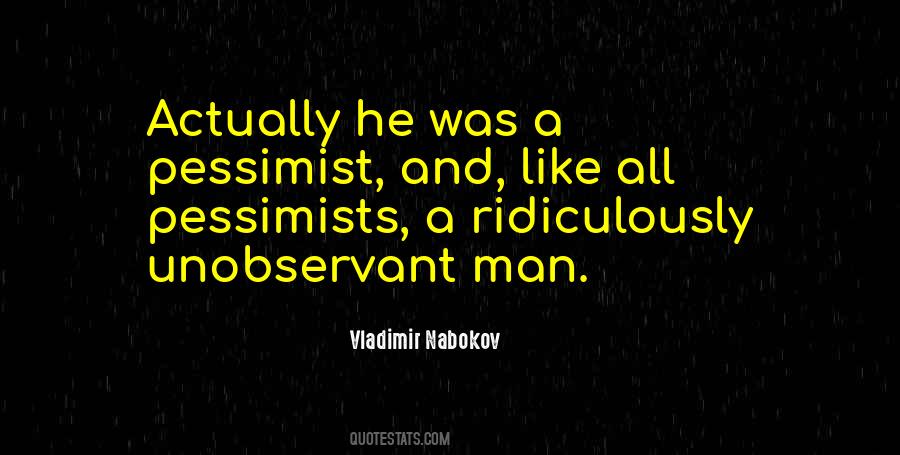 #41. The world belongs to optimists. Pessimists are only spectators. - Author: Francois Guizot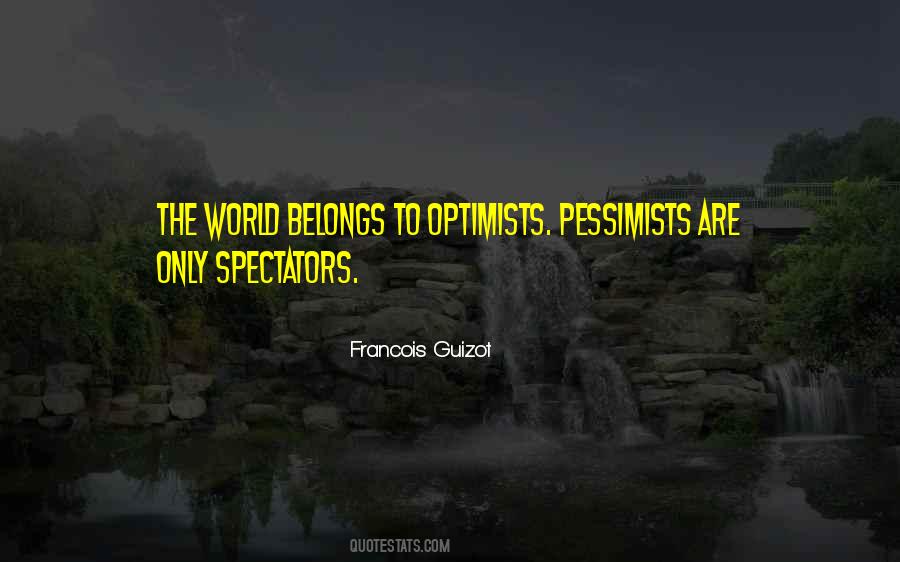 #42. Life belongs to optimists. Pessimists are just viewers. Making it real, starts with our attitude. - Author: Cathy Burnham Martin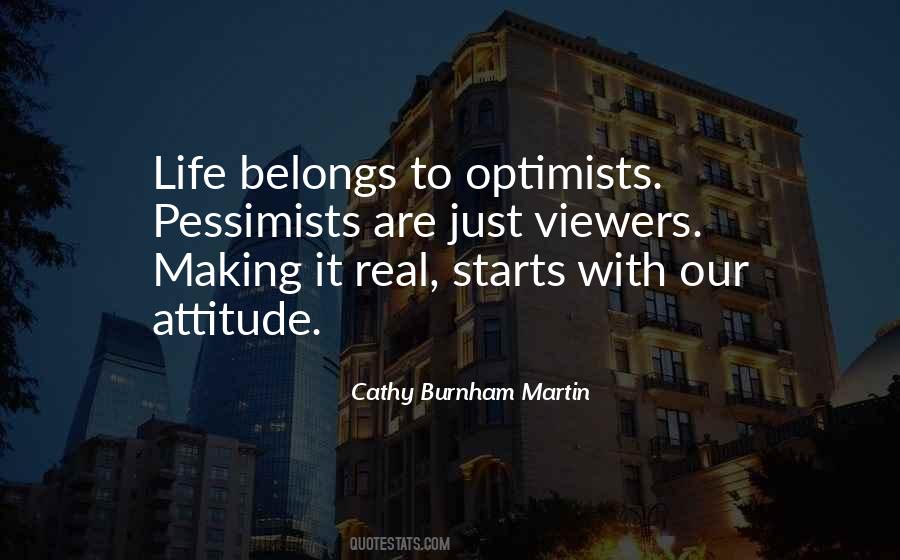 #43. Pessimists are second rate people. They do not believe in life ... All they want to do is drag you down and appease their own feelings of mediocrity and fear. - Author: Uell Stanley Andersen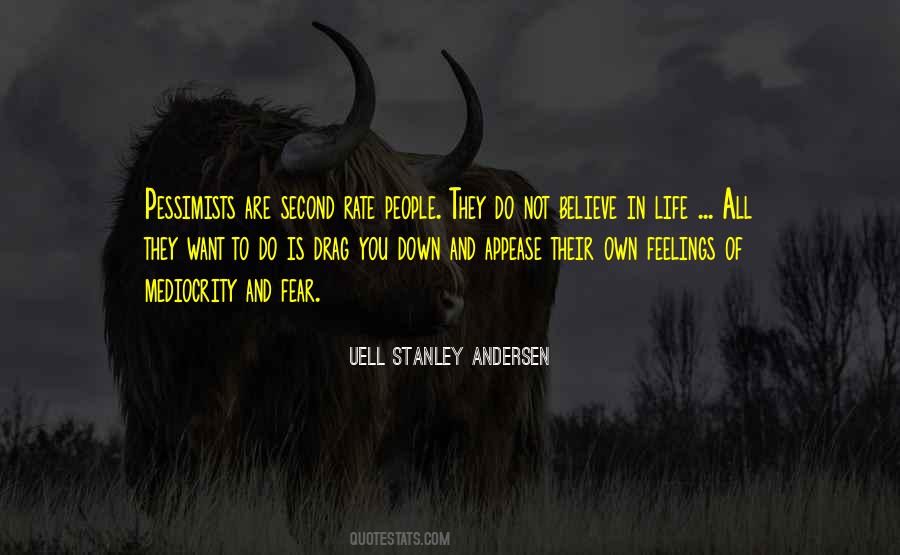 #44. How many pessimists does it take to change a lightbulb? Never mind. Nobody would get the joke anyway. - Author: Garrison Keillor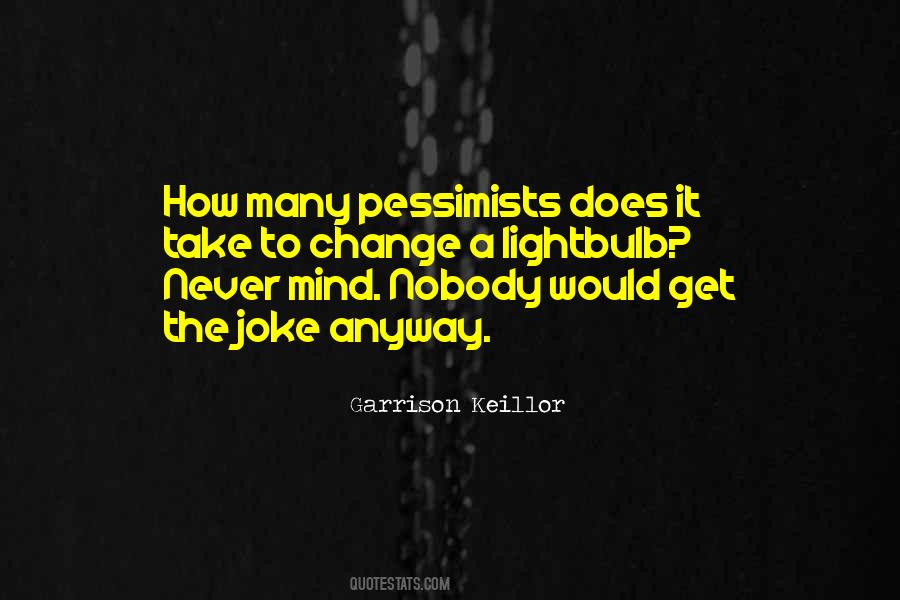 #45. In the 1970s, after the Damansky Island clashes, a joke began circulating: 'Optimists study English; pessimists study Chinese; and realists learn to use a Kalashnikov. - Author: John Vaillant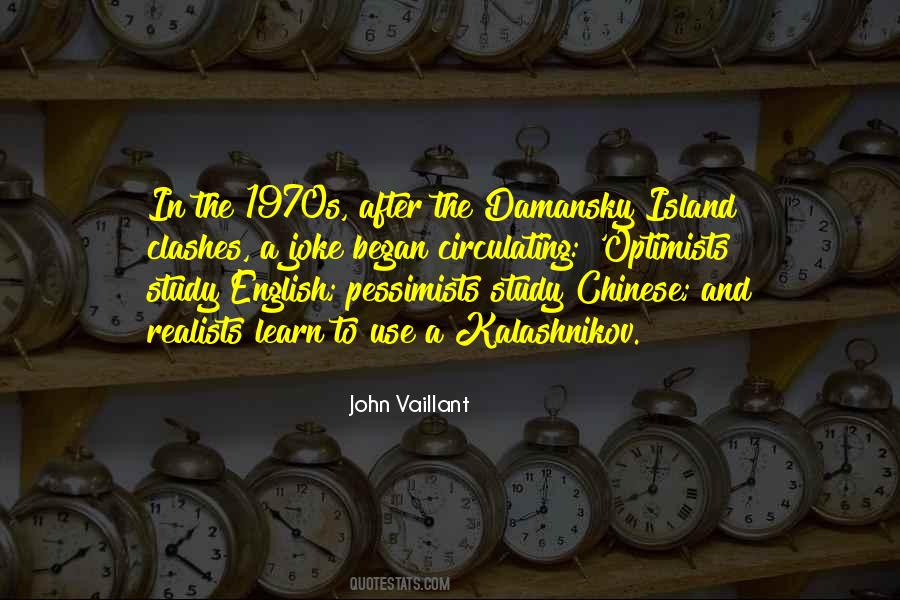 #46. Optimists focus on the place they are going. Pessimists focus on the obstacles along the route. To become an optimist simply look ahead. - Author: Simon Sinek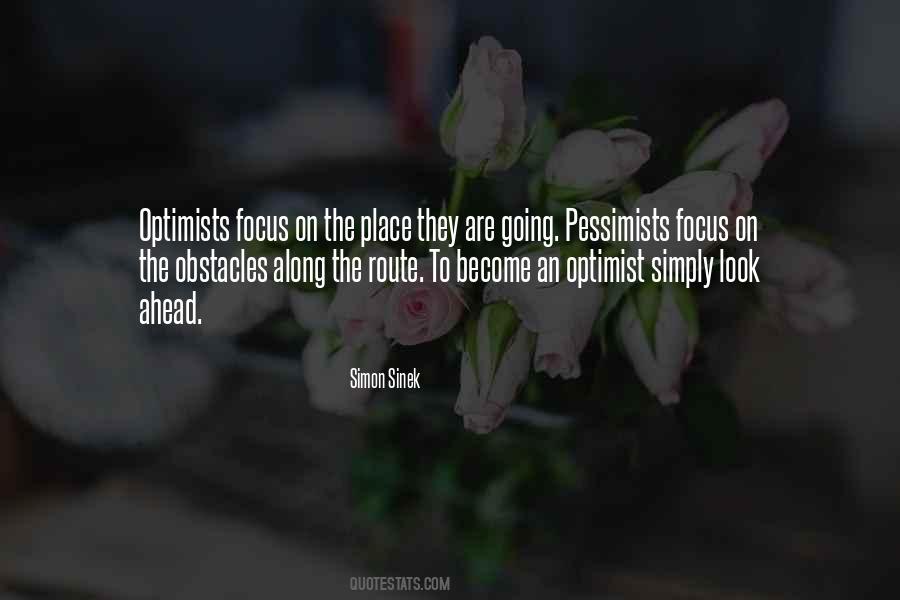 #47. [A] pessimist gets nothing but pleasant surprises, an optimist nothing but unpleasant. - Author: Rex Stout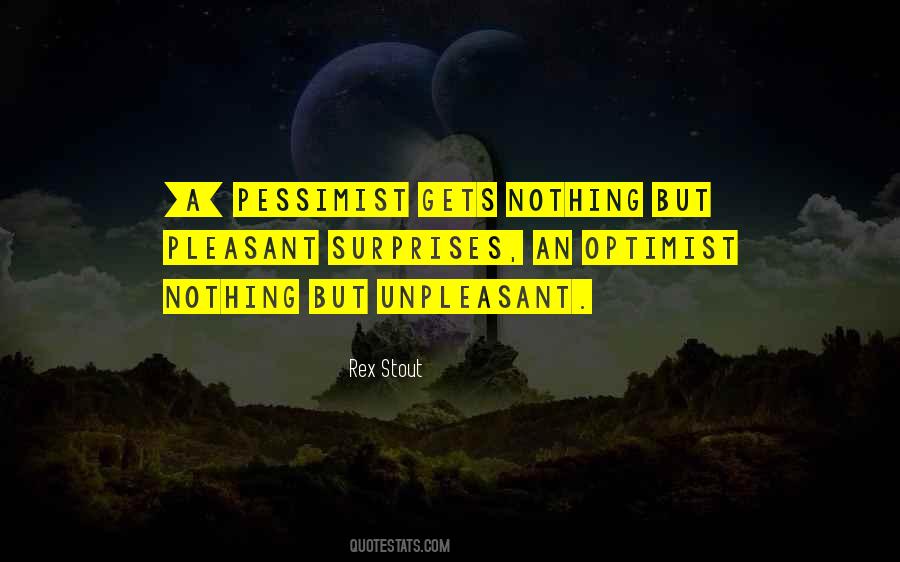 #48. Realism is for pessimists. An optimist creates his own reality. - Author: David Harley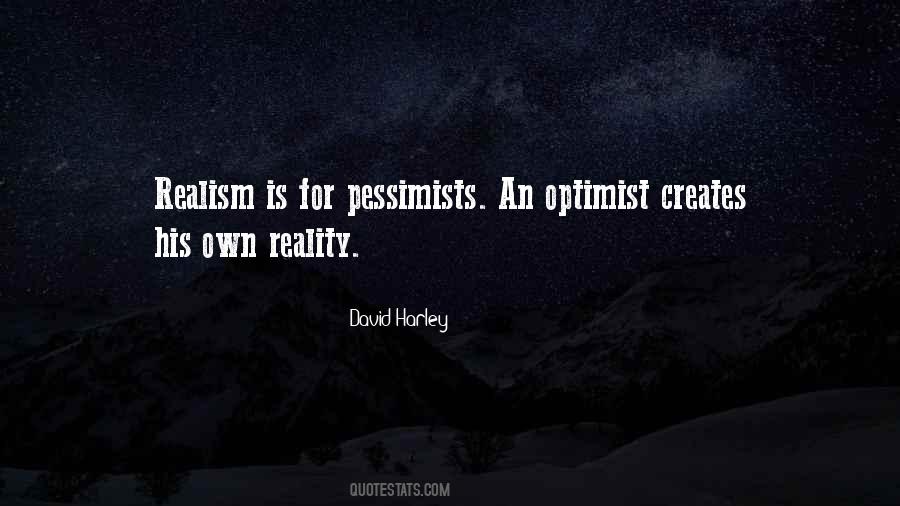 #49. Pessimists are usually kind. The gay, bubbling over, have to time for the pitiful. - Author: Sean O'Faolain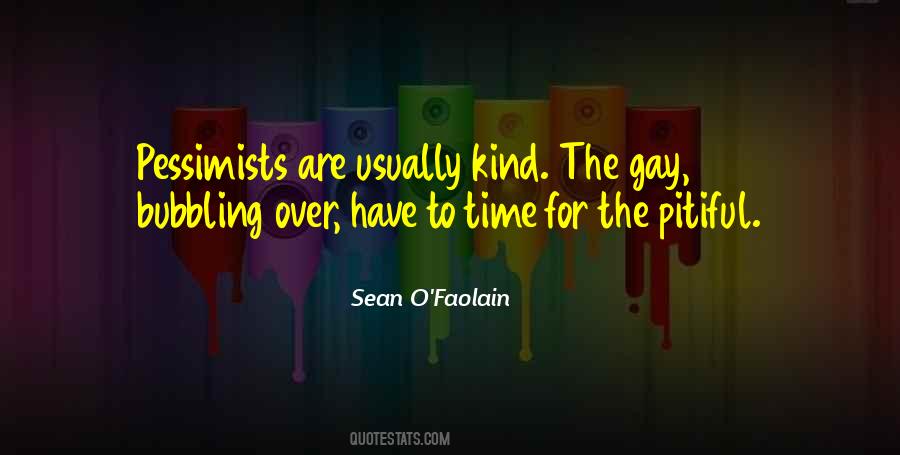 #50. Pessimists have only pleasant surprises. - Author: Nero Wolfe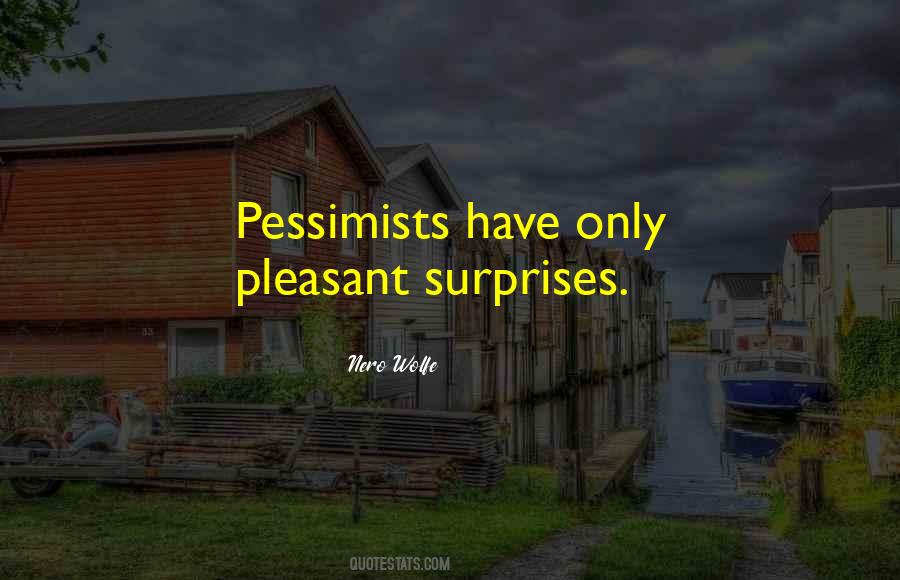 #51. Pessimists are usually right and optimists are usually wrong but all the great changes have been accomplished by optimists. - Author: Thomas L. Friedman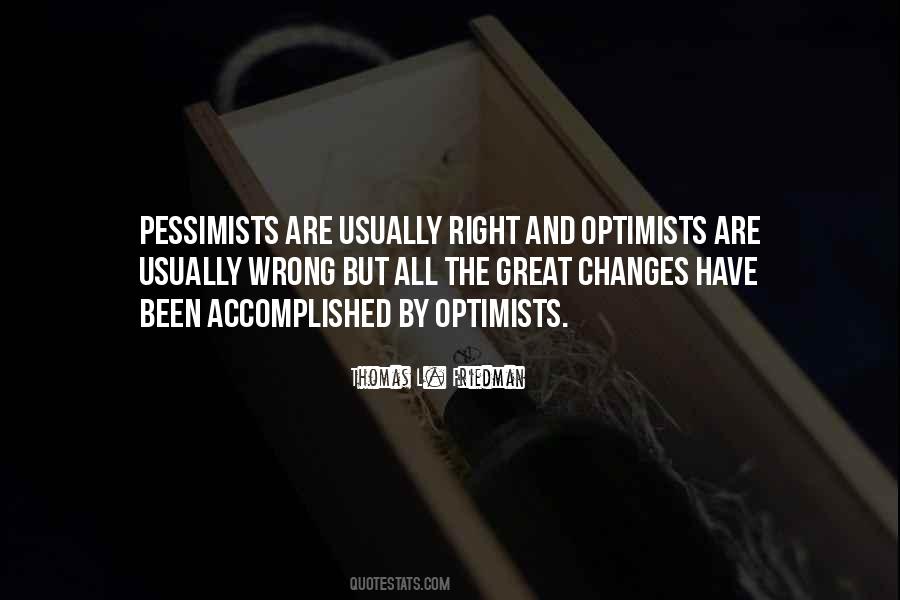 #52. Both optimists and pessimists contribute to society. The optimist invents the aeroplane, the pessimist the parachute. - Author: George Bernard Shaw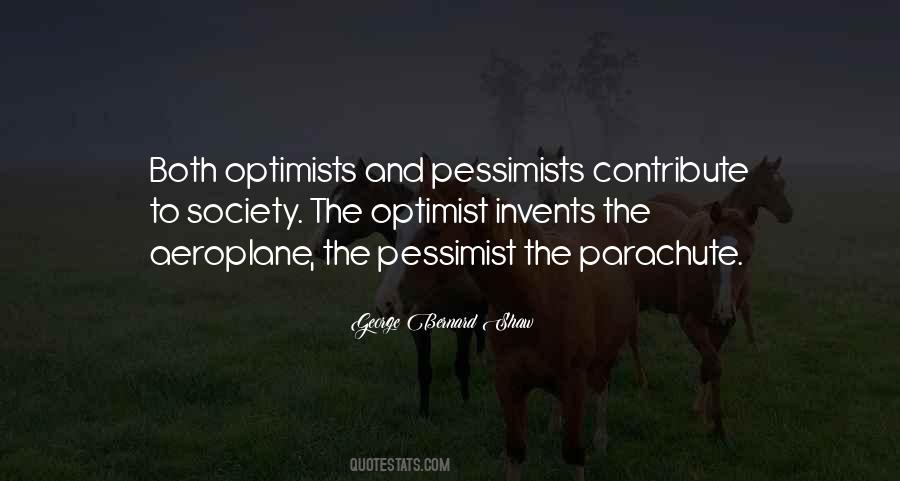 #53. Optimists see the glass as half full.
Pessimists see the glass as half empty.

Experiential trainers see the whole glass and its context. - Author: Bogdan Vaida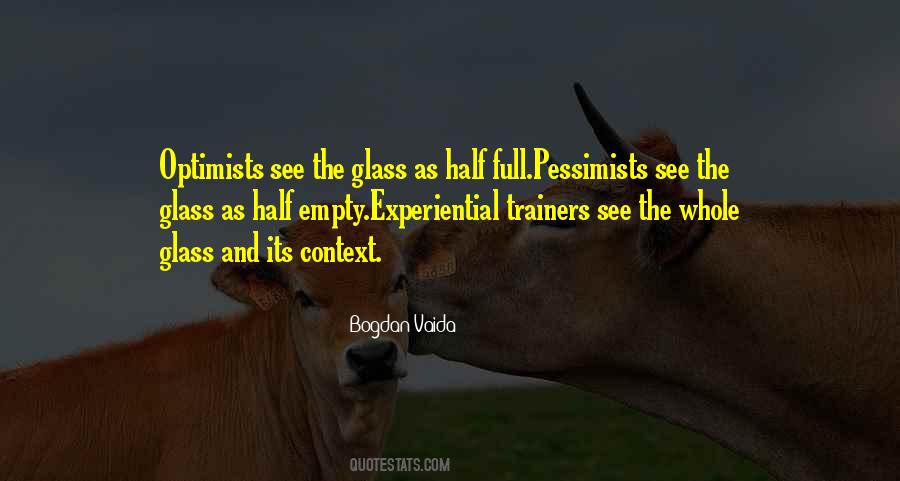 #54. Pessimists beat their heads against walls, while optimists open doors. - Author: Wes Fesler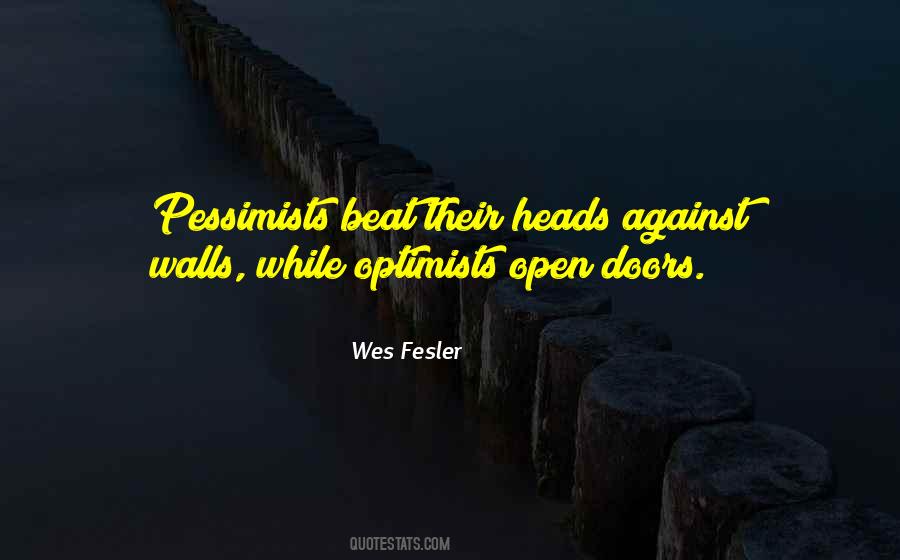 #55. We are optimists by instinct, pessimists by thought. - Author: Marty Rubin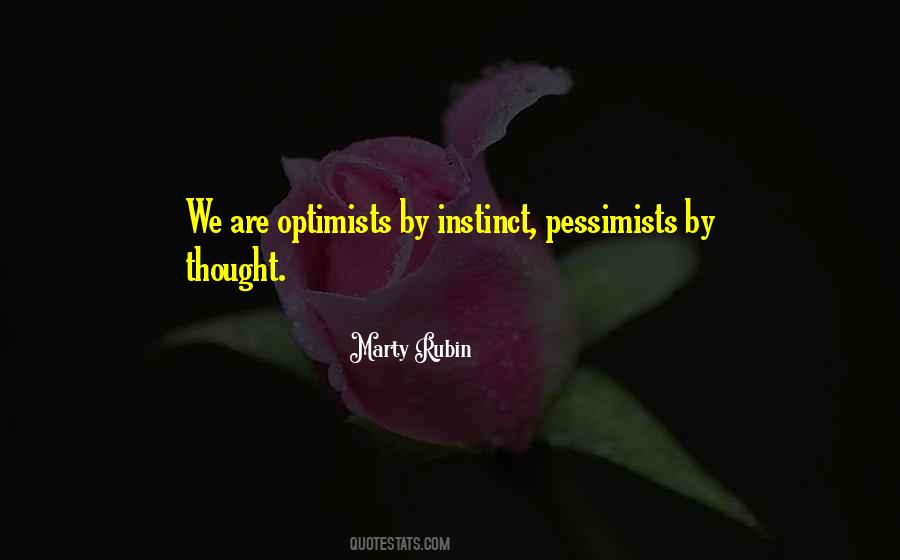 #56. Christians cannot be pessimists! They do not look like someone in constant mourning. If we are truly in love with Christ and if we sense how much he loves us, our hearts will "light up" with a joy that spreads to everyone around us. - Author: Pope Francis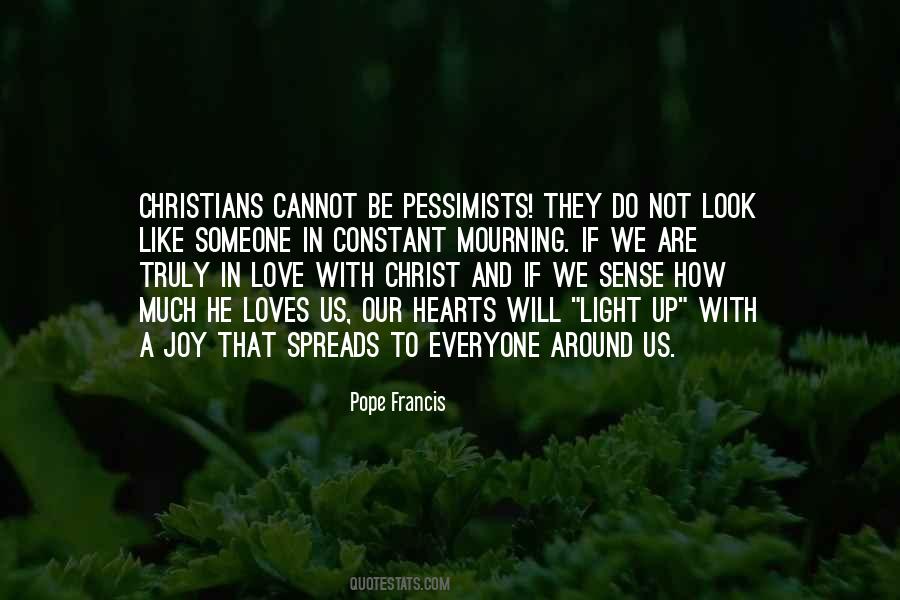 #57. Christians should not be optimists; we know too much about sin. We should also not be pessimists, for we know the living God. - Author: Timothy Keller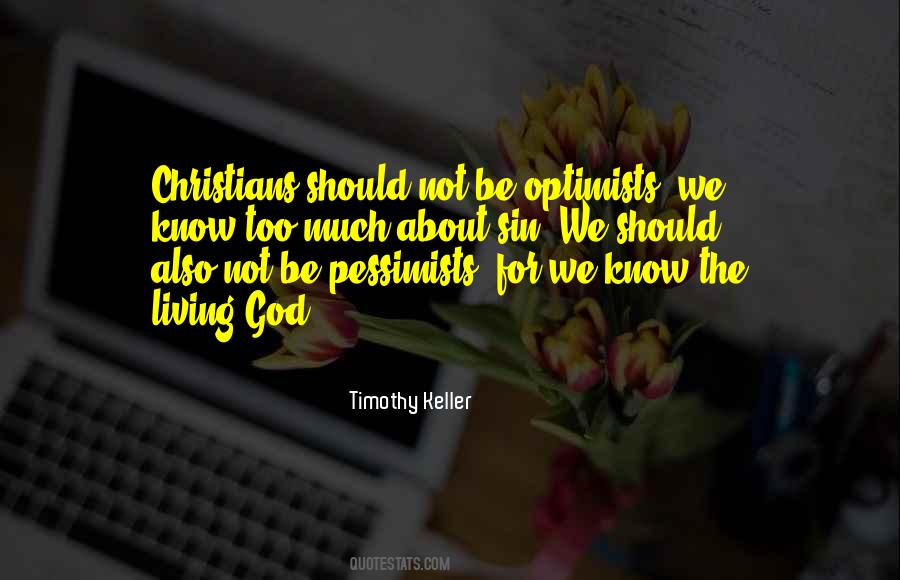 #58. Pessimists fear becoming the dupes of Hope. Optimists enjoy Hope's company, and consider being duped no great matter. - Author: Mason Cooley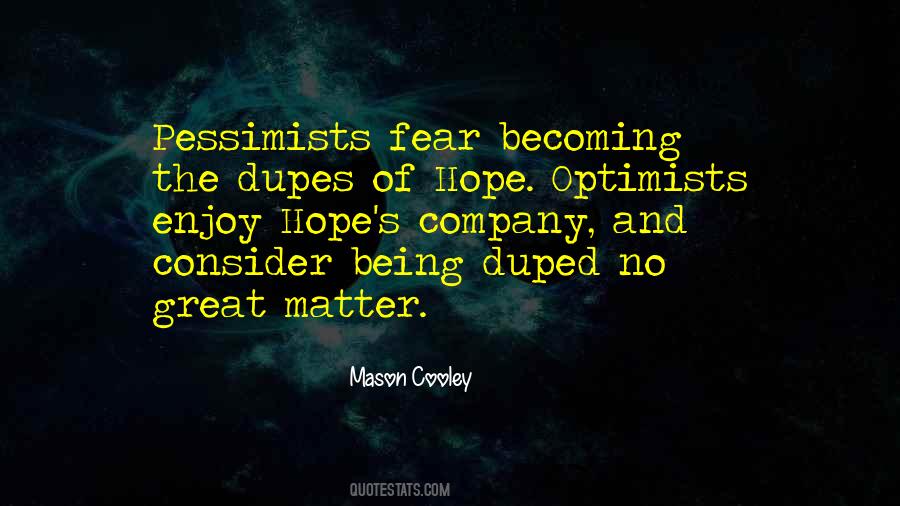 #59. The world belongs to optimists; the pessimists are only spectators. - Author: Francois Guizot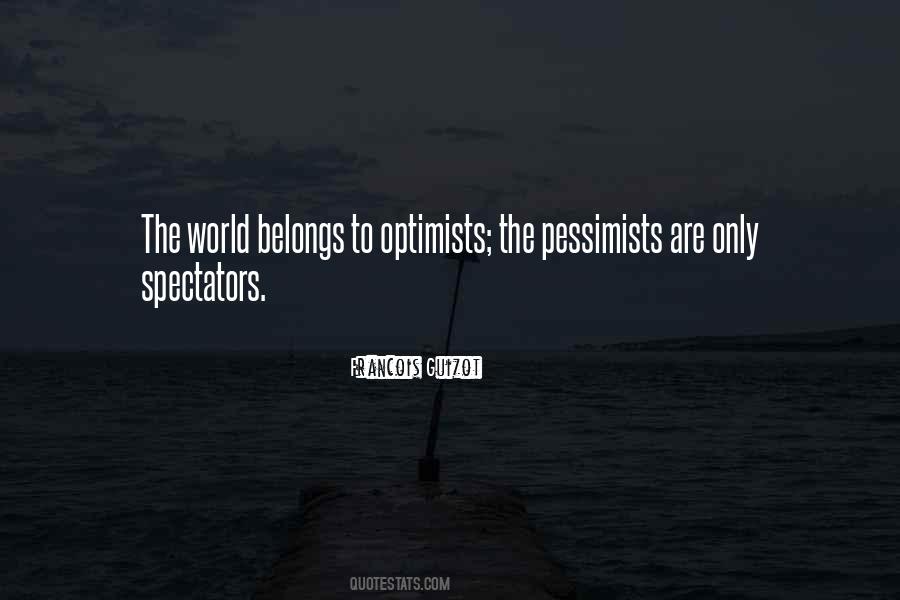 #60. My pessimism extends to the point of even suspecting the sincerity of the pessimists. - Author: Jean Rostand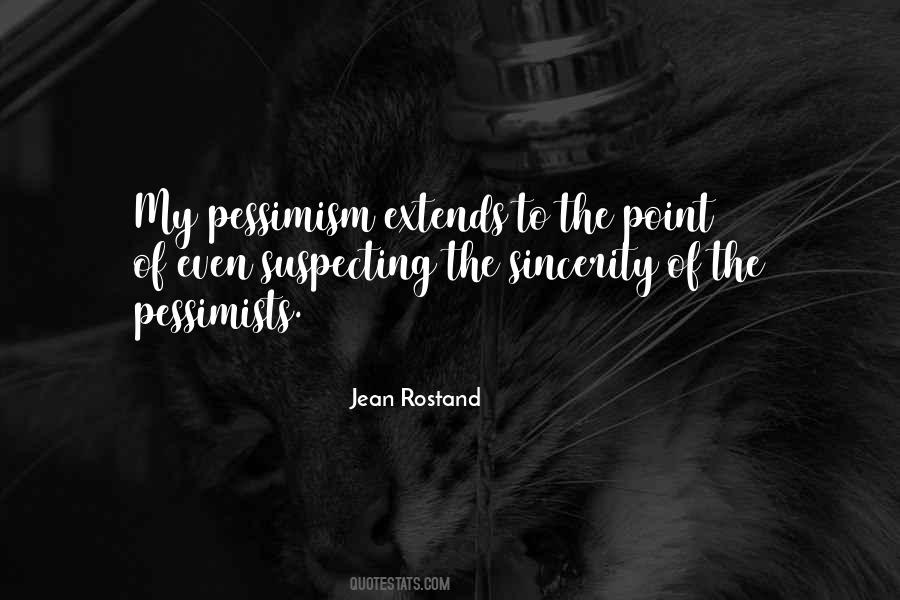 #61. The play-it-safe pessimists of the world never accomplish much of anything, because they don't look clearly and objectively at situations, they don't recognize or believe in their own abilities to overcome even the smallest amount of risk. - Author: Benjamin Hoff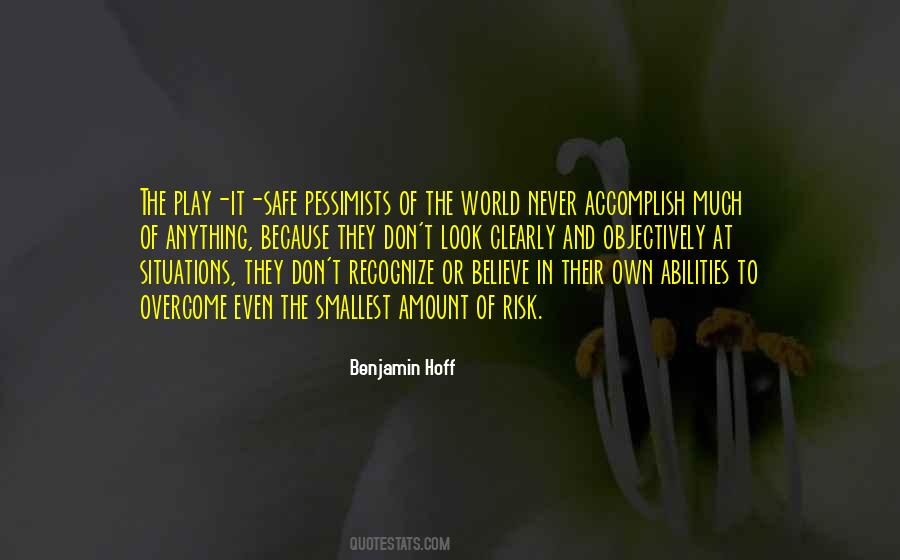 #62. One of the more serious temptations which stifles boldness and zeal is a defeatism, which turns us into querulous and disillusioned pessimists, sourpusses. - Author: Pope Francis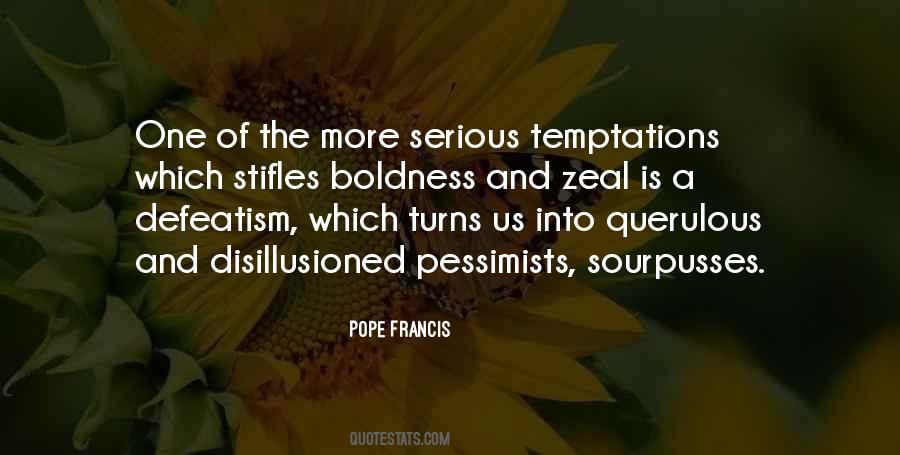 #63. Pessimists are toxic. I love optimists - and by that, I don't mean people who are unable to see challenges. Optimists are solution-oriented. - Author: Ivanka Trump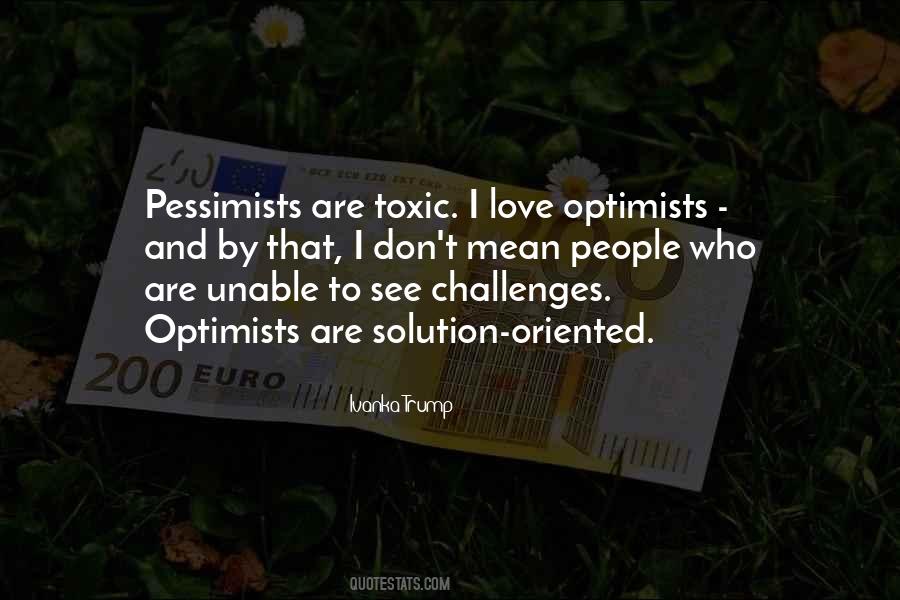 #64. Optimists are right. So are pessimists. It's up to you to choose which you will be. - Author: Harvey MacKay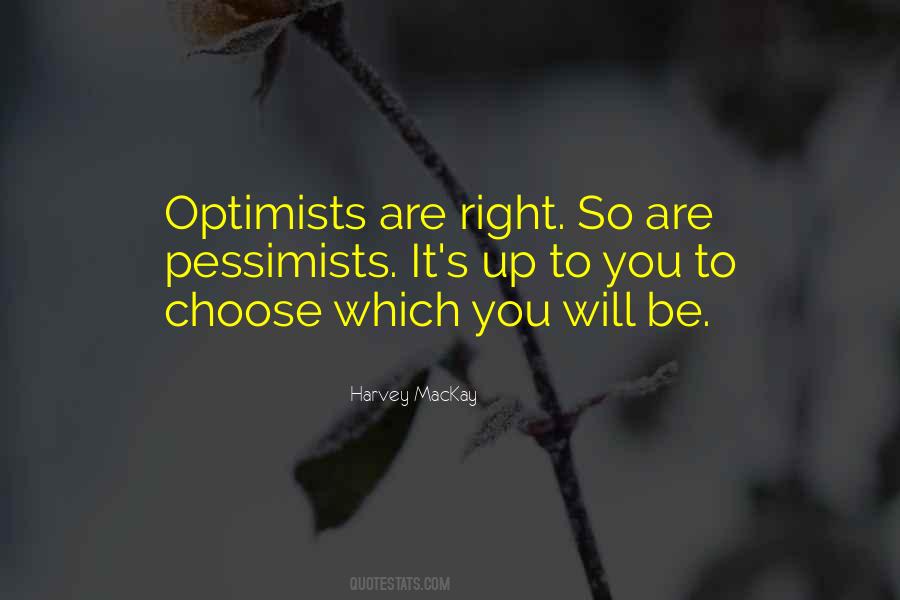 #65. You cannot have people in your organization who are pessimists. They take you to mediocrity. - Author: Carlos Slim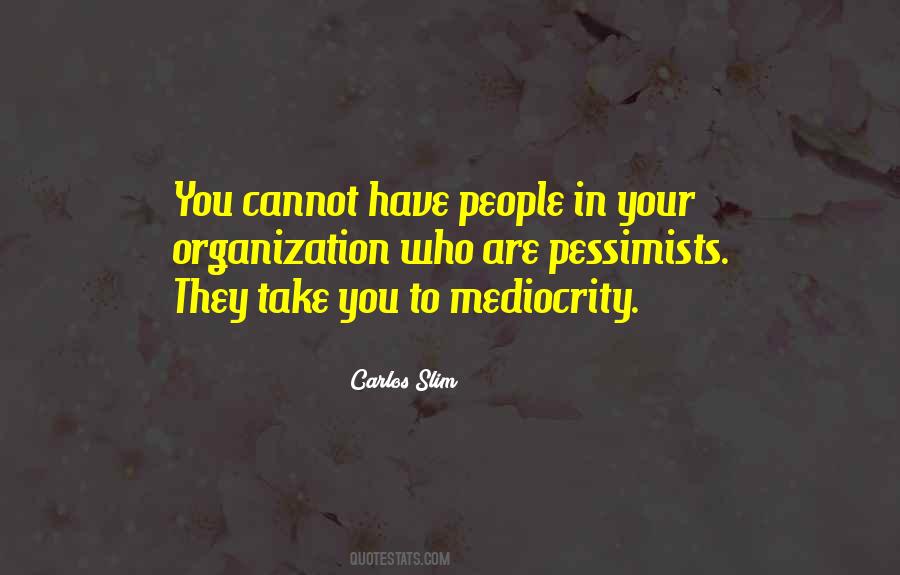 #66. I like pessimists. They're always the ones who bring life jackets for the boat. - Author: Lisa Kleypas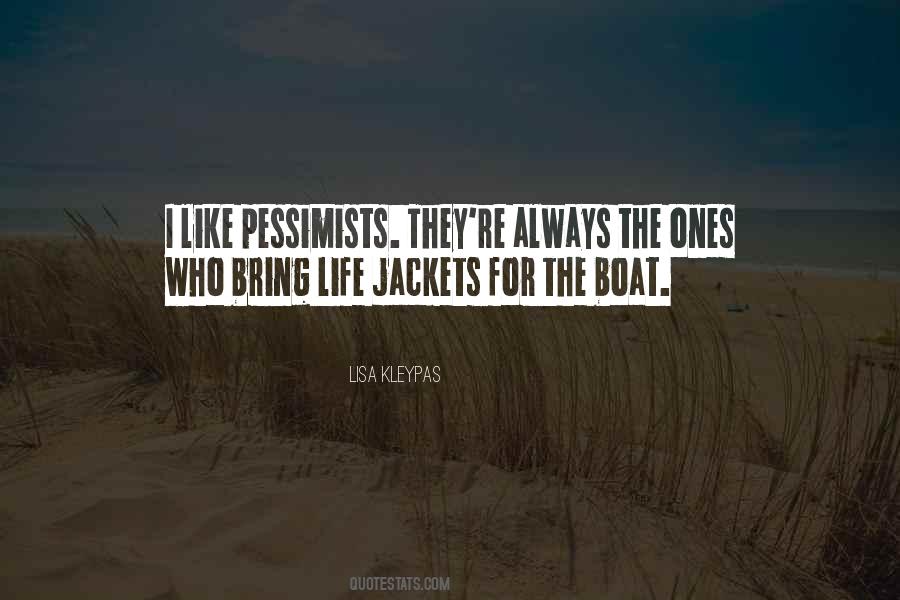 #67. To see all pessimists as pessimists is to be a pessimist. - Author: Mokokoma Mokhonoana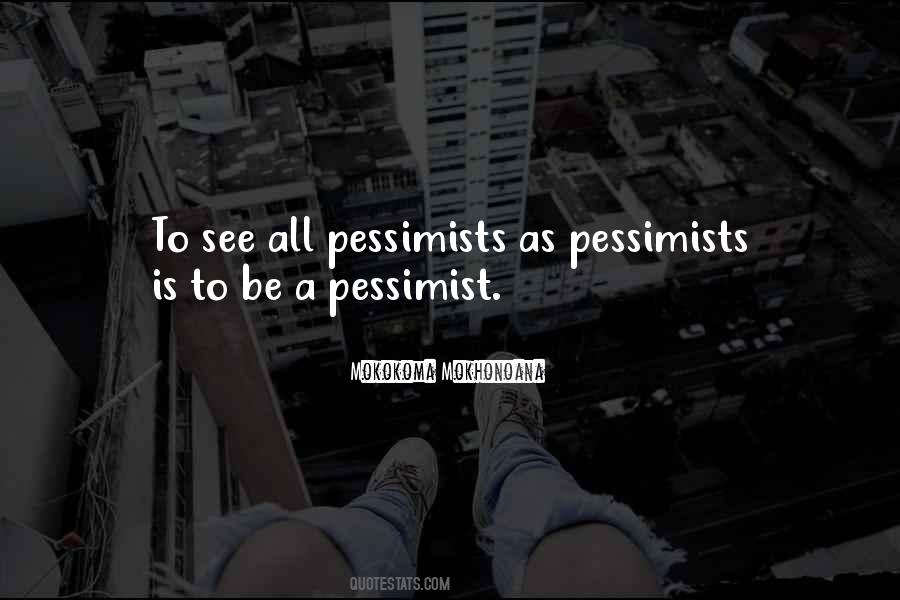 #68. Pessimists see problems as stemming from stable and universal causes, thus making them less susceptible to corrective action. Optimists, in contrast, view problems as temporary and resulting from specific factors that will either change or be changed. - Author: Rosabeth Moss Kanter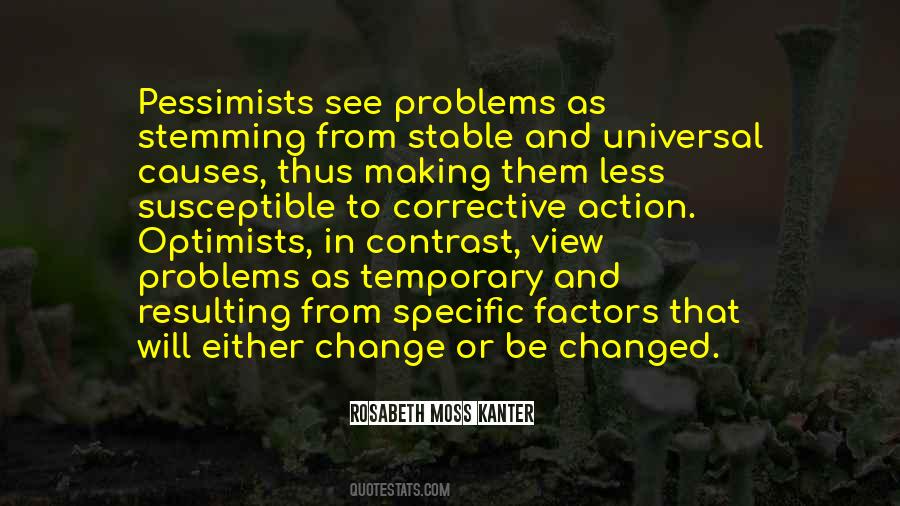 #69. Years, and nobody knows why. It may be that Robert Gordon and the techno-pessimists are - Author: Brink Lindsey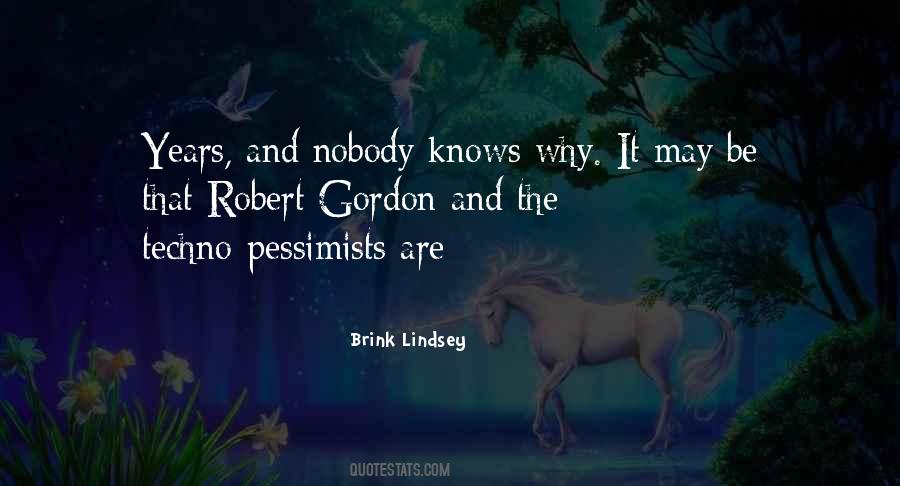 #70. I will be the first to admit that I am a pessimist by nature. It is, after all, the wisest way to be. We pessimists have everything to gain, whereas optimists have a fifty-fifty chance of being disappointed. - Author: Tamar Myers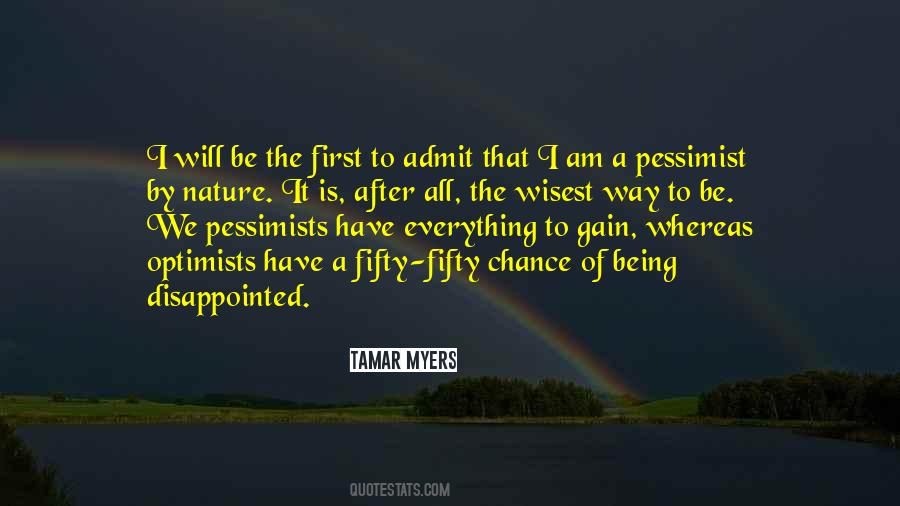 #71. Pessimists are not boring. Pessimists are right. Pessimists are superfluous. - Author: Elias Canetti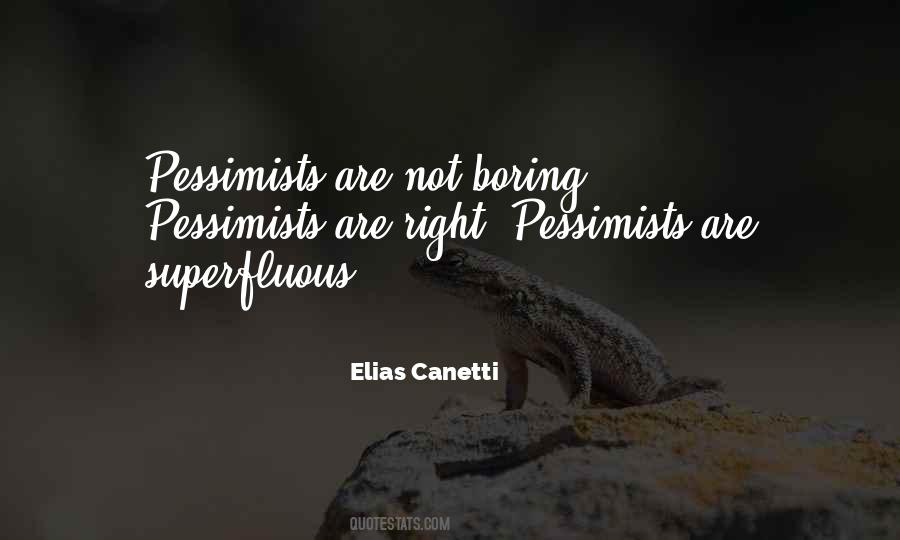 #72. I have noticed that the stoutest pessimists, when fate or men try to take something out of their lives, fight tooth and nail, and cry out as loud as the greatest optimists. - Author: Henryk Sienkiewicz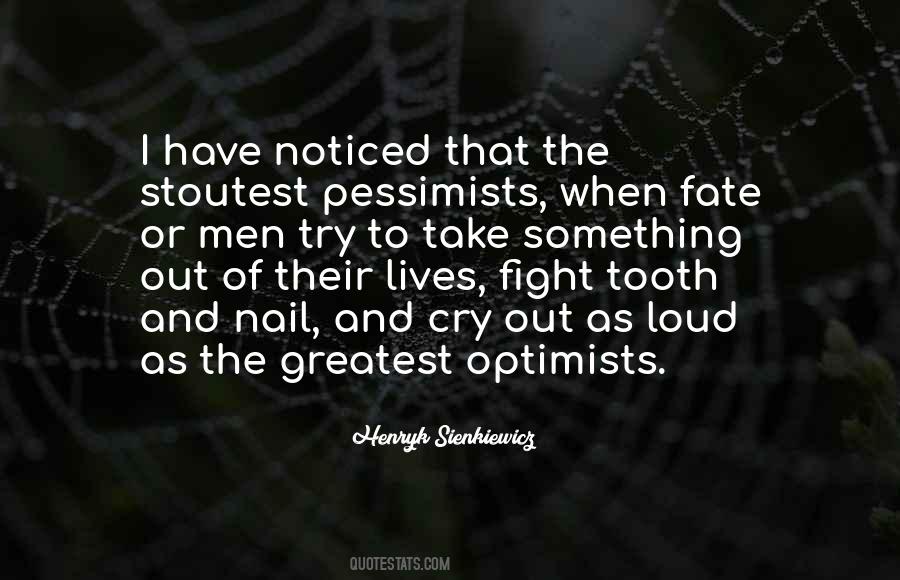 #73. People who are optimistic see a failure as due to something that can be changed so that they can succeed next time around, while pessimists take the blame for the failure, ascribing it to some characteristic they are helpless to change. - Author: Daniel Goleman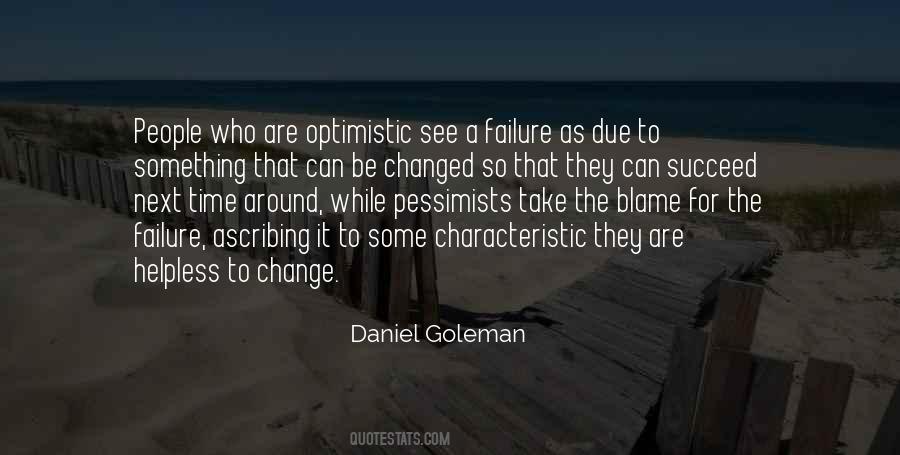 #74. Pessimism doesn't grow your business or even maintain the status quo. The pessimists on your staff make the job harder for everyone around them. They make difficulties out of opportunities. - Author: Harvey MacKay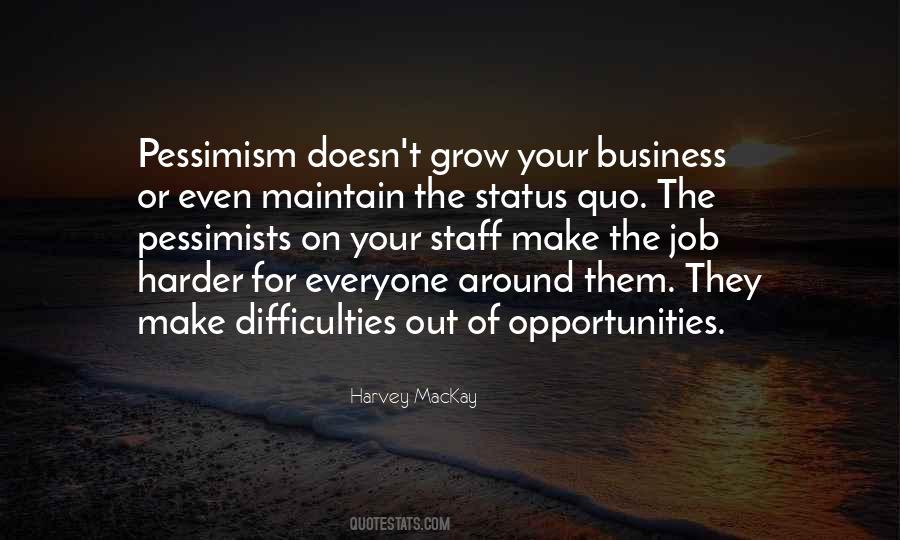 #75. Pessimists are the people who have no hope for themselves or for others. Pessimists are also people who think the human race is beneath their notice, that they're better than other human beings. - Author: James A. Baldwin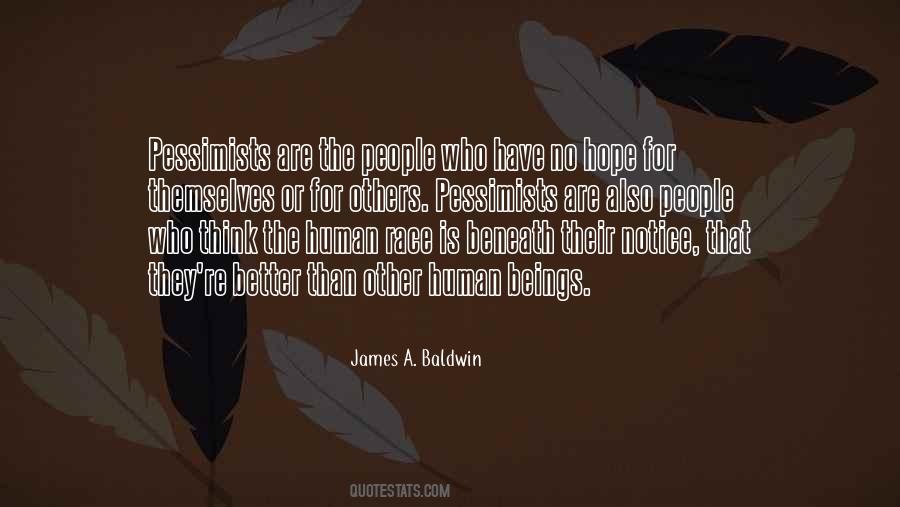 #76. Pessimists calculate the odds. Optimists believe they can overcome them. - Author: Ted Koppel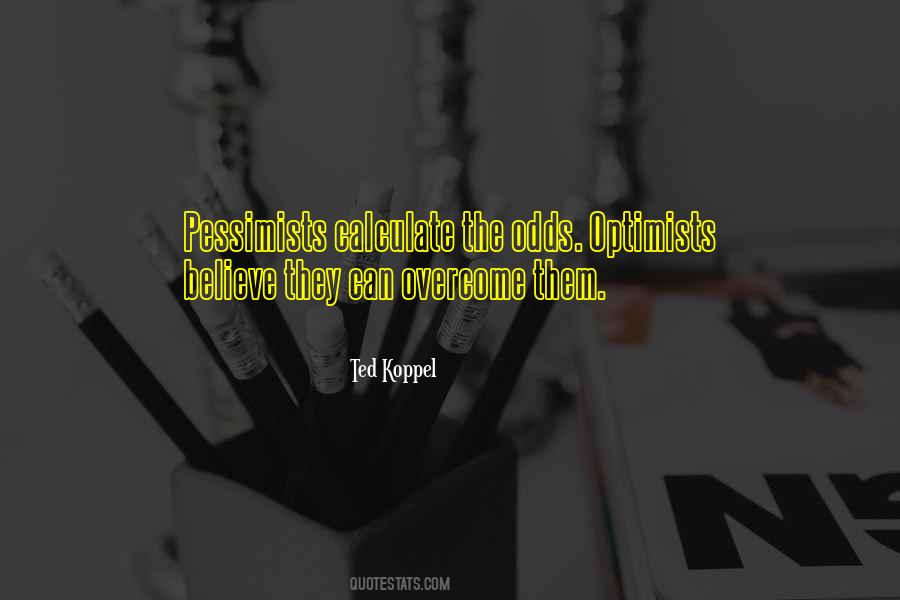 #77. The sixteenth-century schism was really a belated revolt of the thirteenth-century pessimists. It was a back-wash of the old Augustinian Puritanism against the Aristotelian liberality. - Author: G.K. Chesterton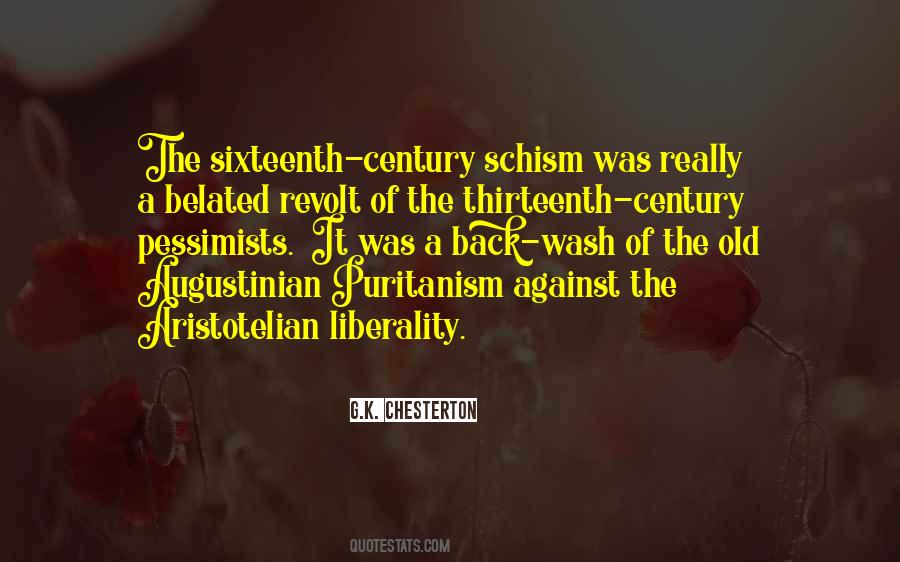 Famous Authors
Popular Topics