Pain And Darkness Famous Quotes & Sayings
List of top 85 famous quotes and sayings about pain and darkness to read and share with friends on your Facebook, Twitter, blogs.
Top 85 Quotes About Pain And Darkness
#1. I can't stop thinking about her. Nothing specific, nothing I can visualize or recall. It's just pain and emptiness. Darkness. The light, the bright light, is gone. - Author: Kim Holden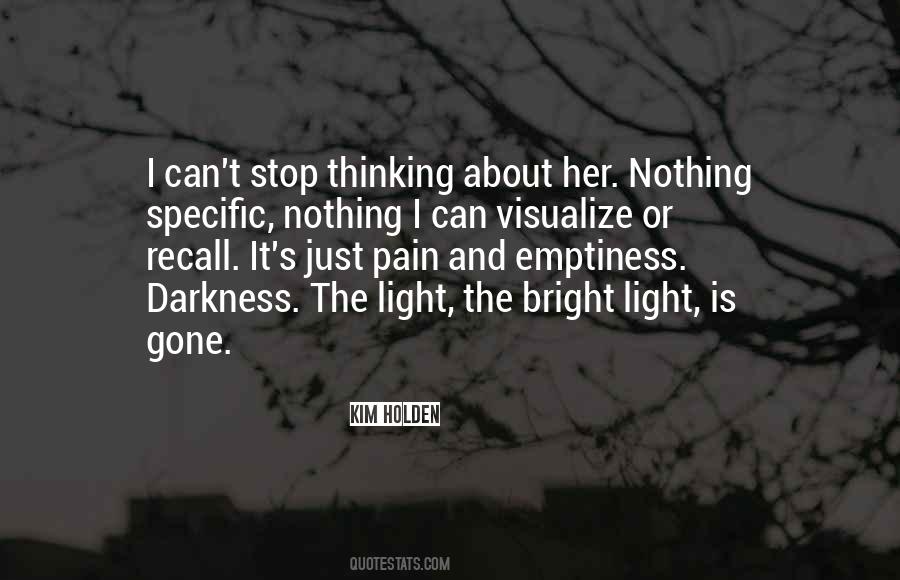 #2. And Tiffany knew that if a witch started thinking of anyone as "just" anything, that would be the first step on a well-worn path that could lead to, oh, to poisoned apples, spinning wheels, and a too-small stove ... and to pain, and terror, and horror and the darkness. - Author: Terry Pratchett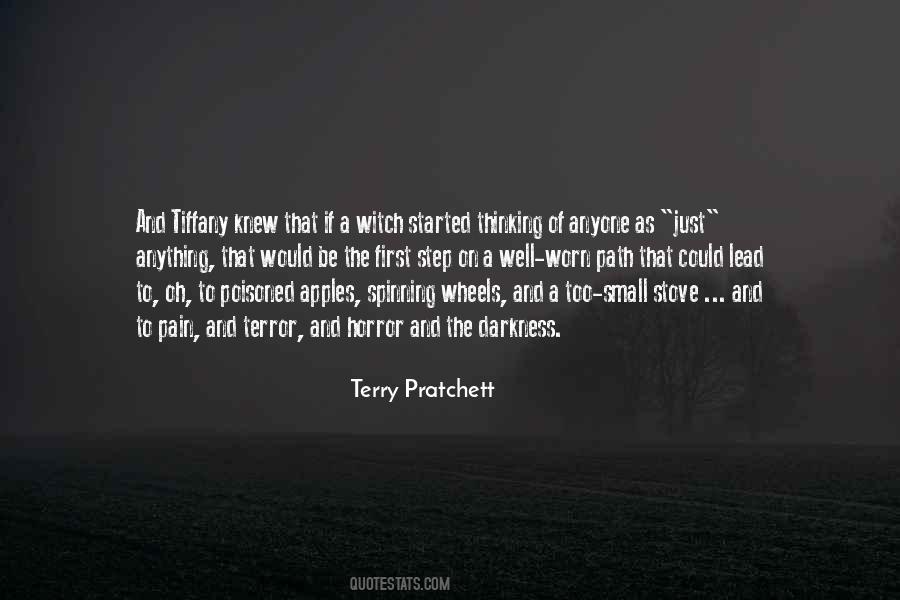 #3. In the gray world above, I hear myself howling with laughter. Far below me, in the psychic abyss that is part of the Darkness, I hear another howling, one full of joy and pain, rage and celebration.
Not just another witch is coming, my foolish Sisters, but Witch. - Author: Anne Bishop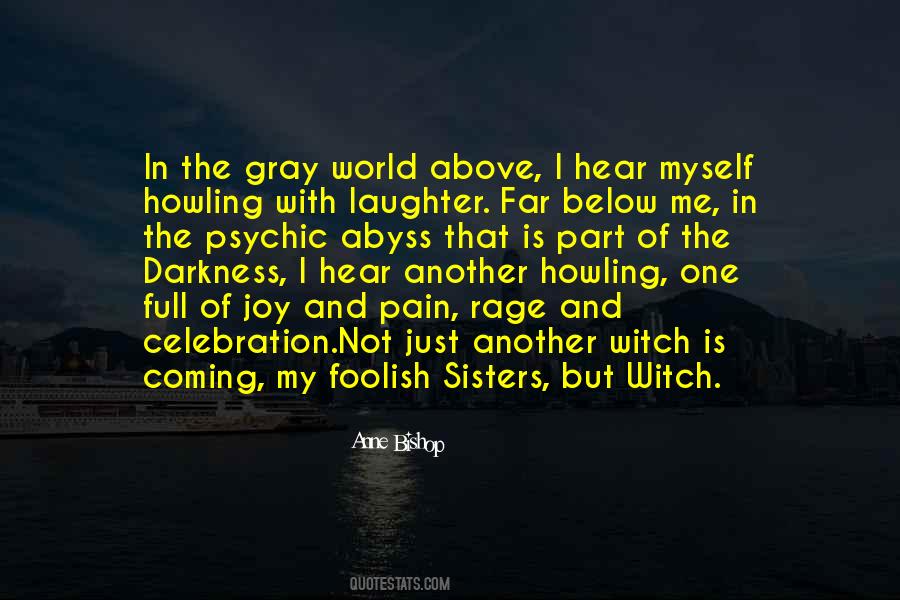 #4. I am an optimist ... I choose to be. There is a lot of darkness in our world, there is a lot of pain and you can choose to see that or you can choose to see the joy. If you try to respond positively to the world, you will spend your time better. - Author: Tom Hiddleston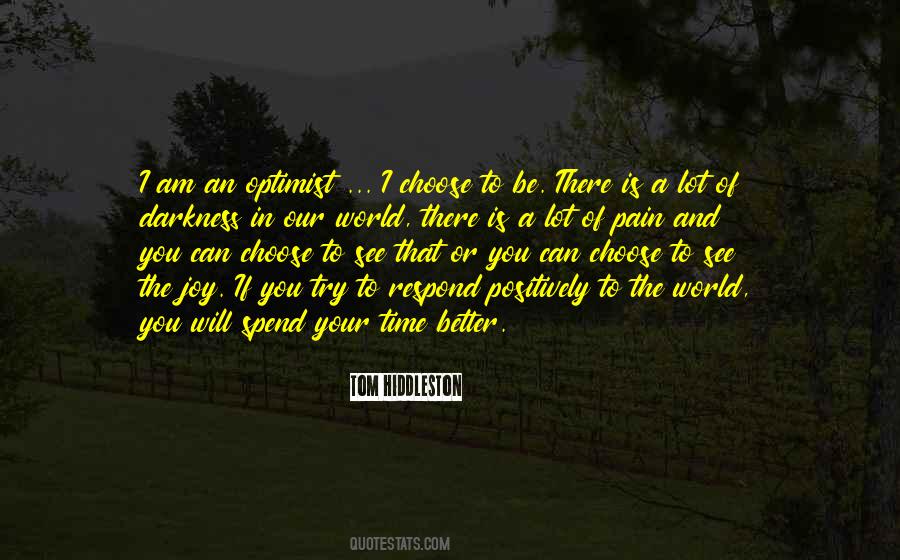 #5. I will rain down silver and gold for you. I will shatter the black night, break it open, and pour out a million stars. Turn away from the darkness, the madness, the pain. Open your eyes and know that I am here. That I remember and hope. Open your eyes and look at the light. - Author: Jennifer Donnelly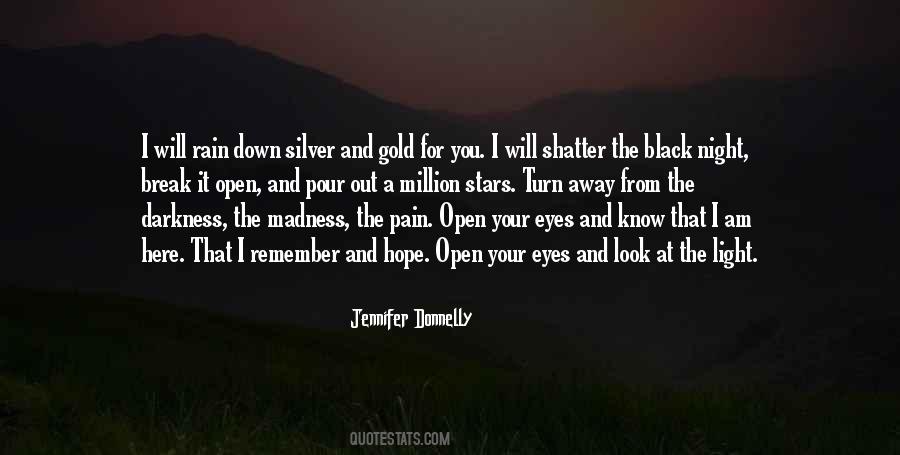 #6. If two people could make each other smile and laugh and forget all the pain and darkness in the world for a moment, why should we feel ashamed of it? - Author: Leah Raeder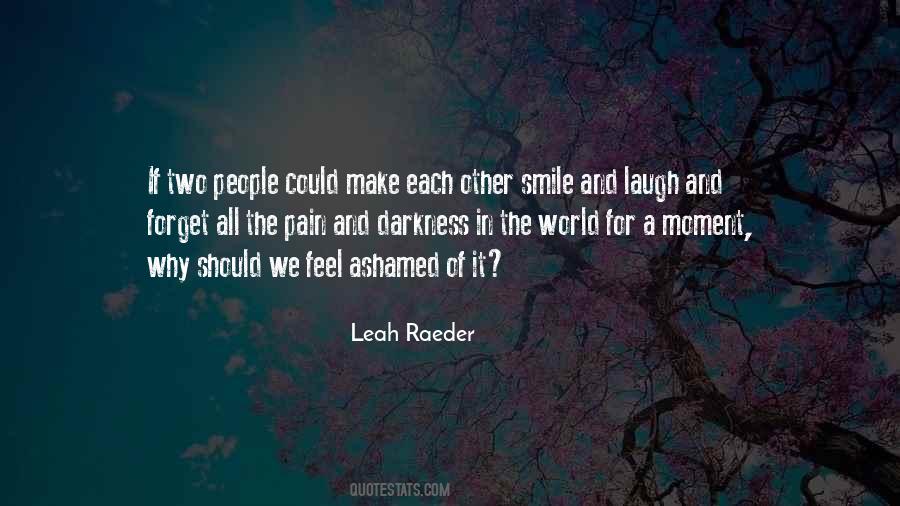 #7. Hell in life indicates a state of suffering, of agony, of torture (by others, by circumstances, or by ourselves), and of insipid colors and little joy. Hell is a heavy vibration that drags us spiraling down from the highest to the lowest, darkest vibrations.. - Author: Jacqueline Ripstein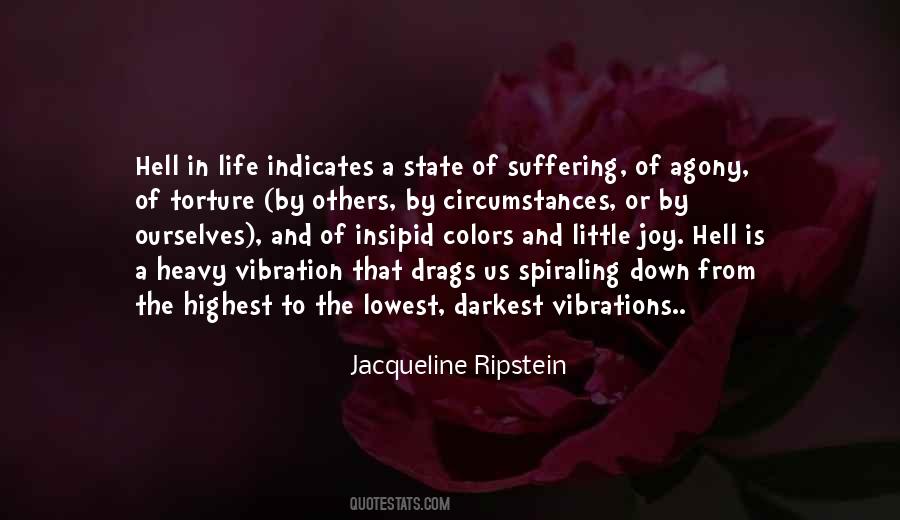 #8. The longer we spent together, the more she discovered about me. The things I didn't want her to know. The darkness and the anger and the pain. - Author: Ashleigh Z.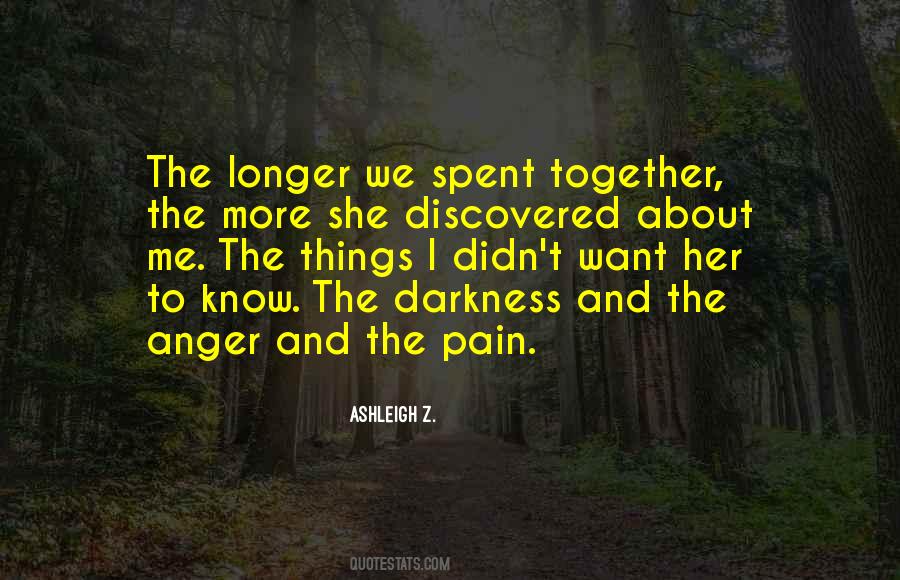 #9. Life is the coexistence of all opposite values. Joy and sorrow, pleasure and pain, up and down, hot and cold, here and there, light and darkness, birth and death. All experience is by contrast, and one would be meaningless without the other. - Author: Deepak Chopra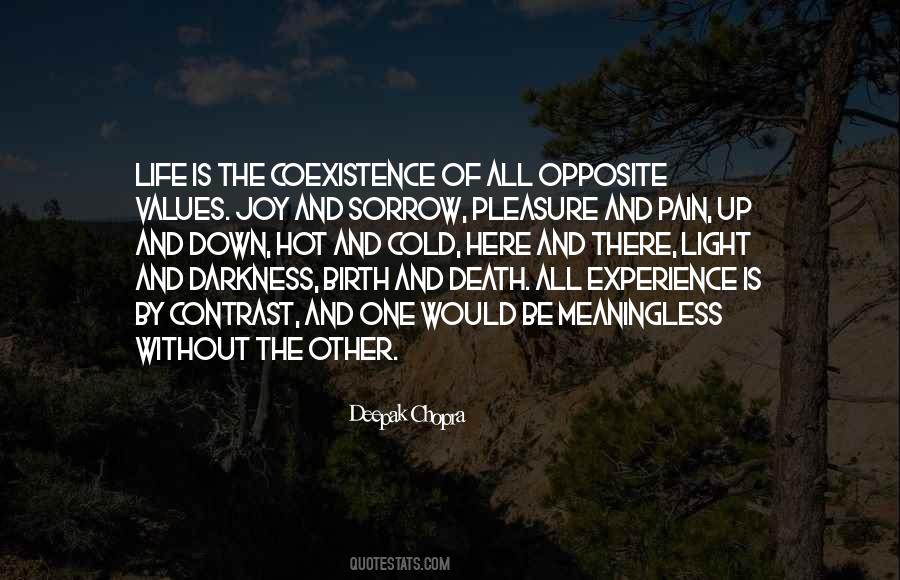 #10. Turn away. From the darkness, the madness, the pain. Open your eyes and look at the light. - Author: Jennifer Donnelly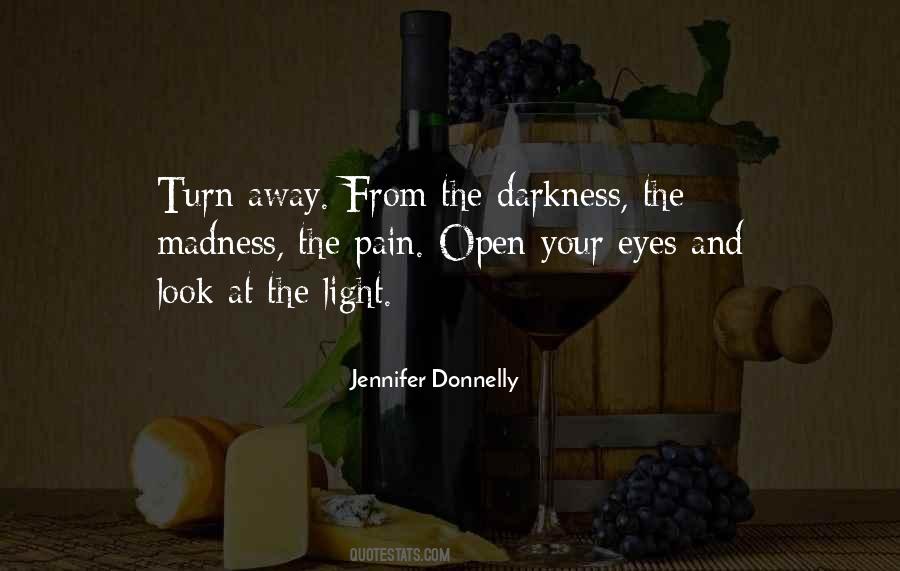 #11. Heaven is blue skies
Hell is darkness and pain
Yet through the darkest hell
Heaven's light shall shine once again - Author: Frank Julius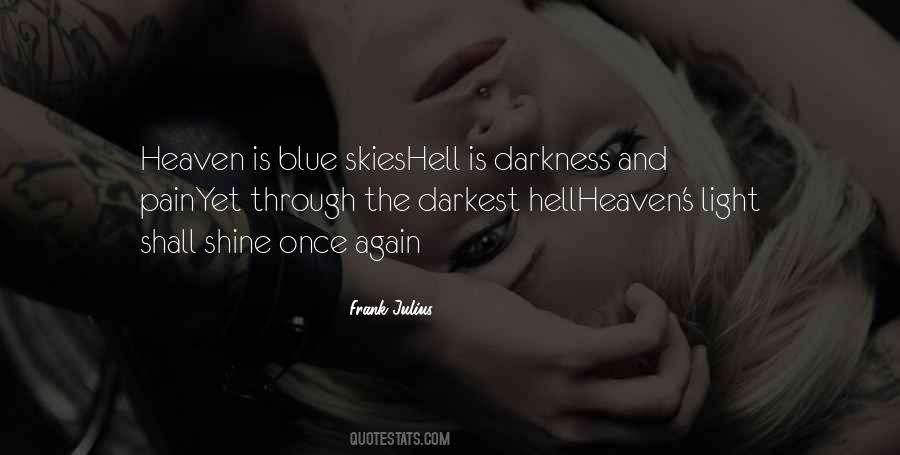 #12. I learned that I was never alone, that there was Someone always very close by and, indeed, within me, giving me strength in times of weakness and desolation, light in times of darkness, joy in times of great sorrow and pain, and the will to struggle on when continuing seemed futile. - Author: Joseph F. Girzone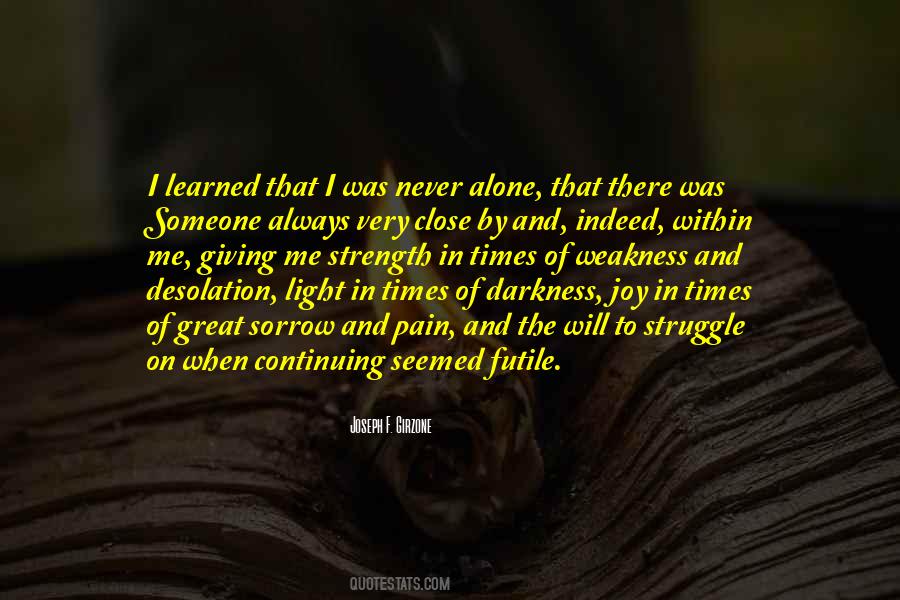 #13. It was like something lurking in the darkness within him ... There is remained in the darkness, the great pain, tearing him at times, and then being silent. - Author: D.H. Lawrence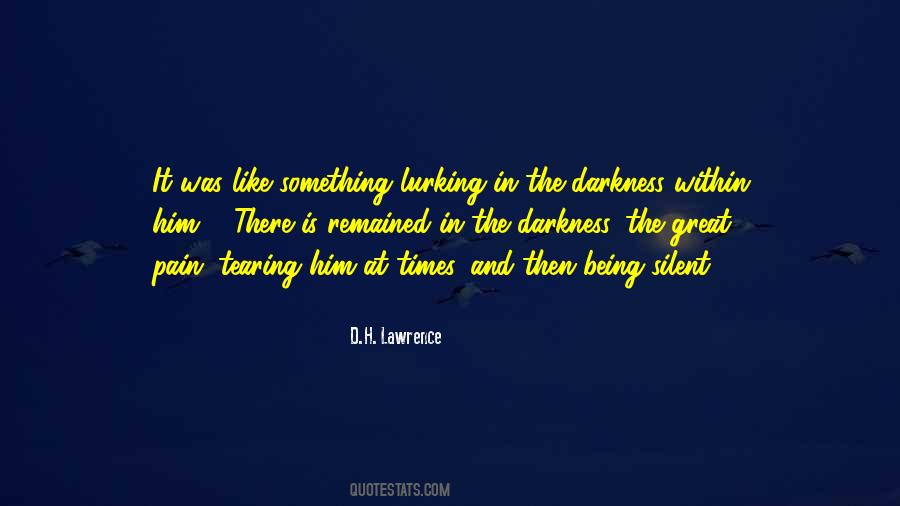 #14. I was dying. I knew it. At least the pain was gone. I wanted to tell him that I loved him. Then darkness overtook me ... - Author: Colleen Houck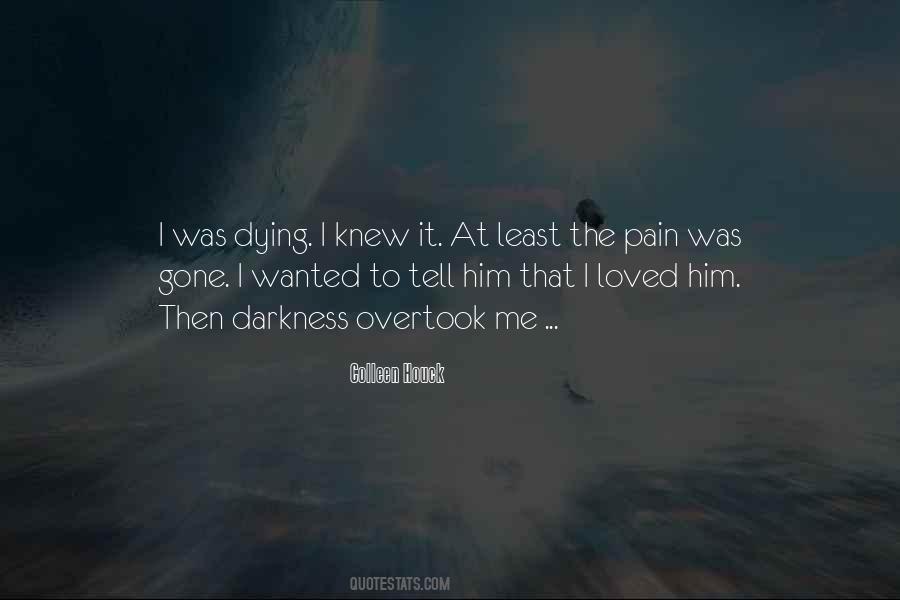 #15. The awareness is not part of the darkness or the pain; it holds the pain, and knows it, so it has to be more fundamental, and closer to what is healthy and strong and golden within you. - Author: Jon Kabat-Zinn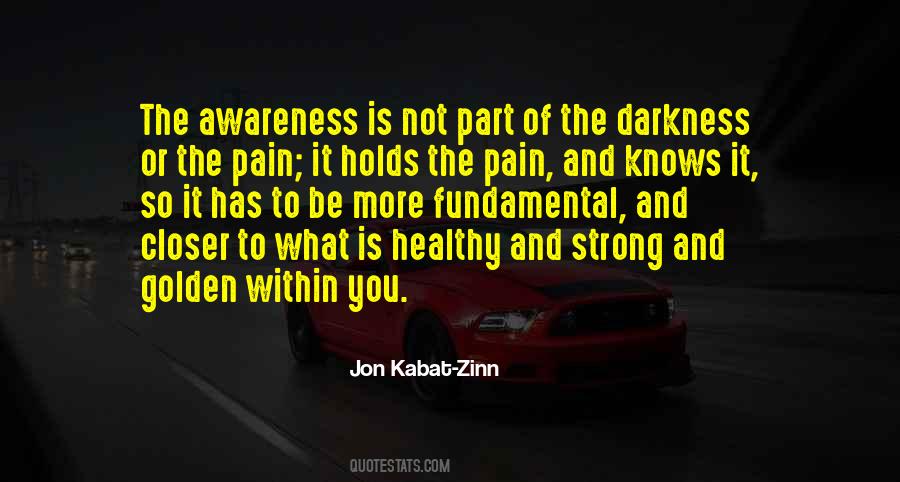 #16. He reminded me of pain and darkness and a double-gauzed finger. I must have reminded him of botched-up vengeance and the monster within, - Author: Leylah Attar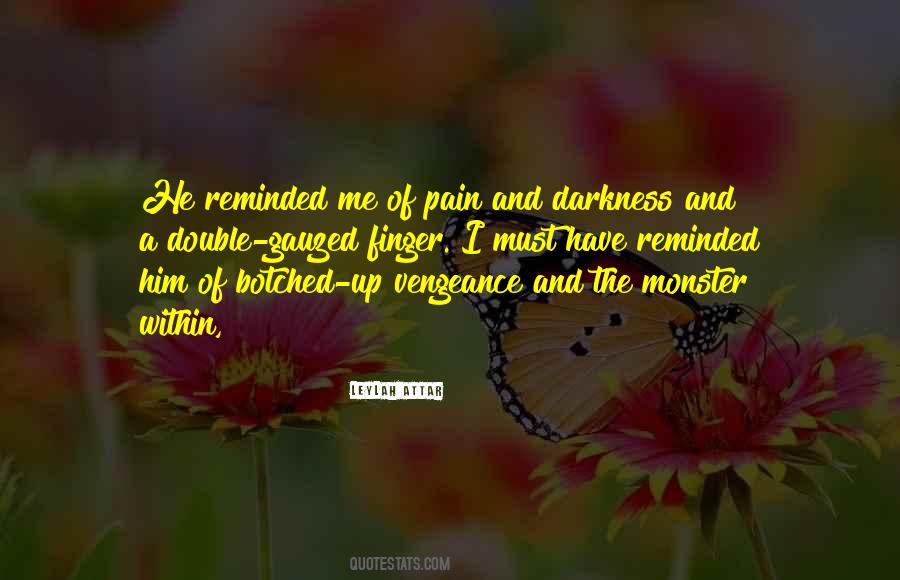 #17. No man has the courage to approach her or initiate questions she herself rise, for all men fear a fascist and she can very well be a fascist's wife. - Author: Mie Hansson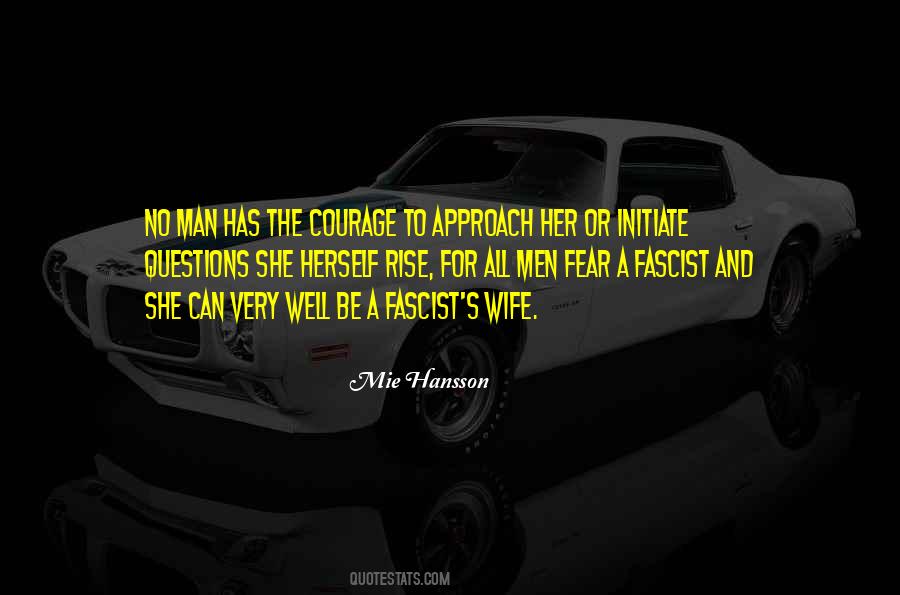 #18. Only in the moments of being alone in the darkness on the raft, will you have the space to speak, listen, and to act from the heart. Only in the moments of pain, do we begin to empathize with humankind. Only when you are lost, you will find new meaning. Float on. - Author: Forrest Curran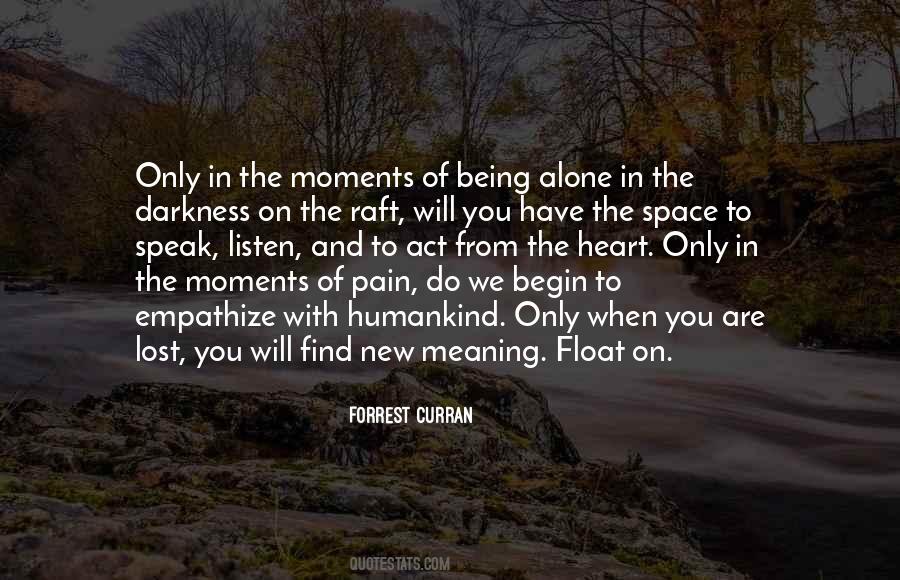 #19. We do not know what love is. We know the symptoms of it, the pleasure, the pain, the fear, the anxiety and so on. We try to solve the symptoms, which becomes a wandering in darkness. We spend our days and nights in this, and it is soon over in death. - Author: Jiddu Krishnamurti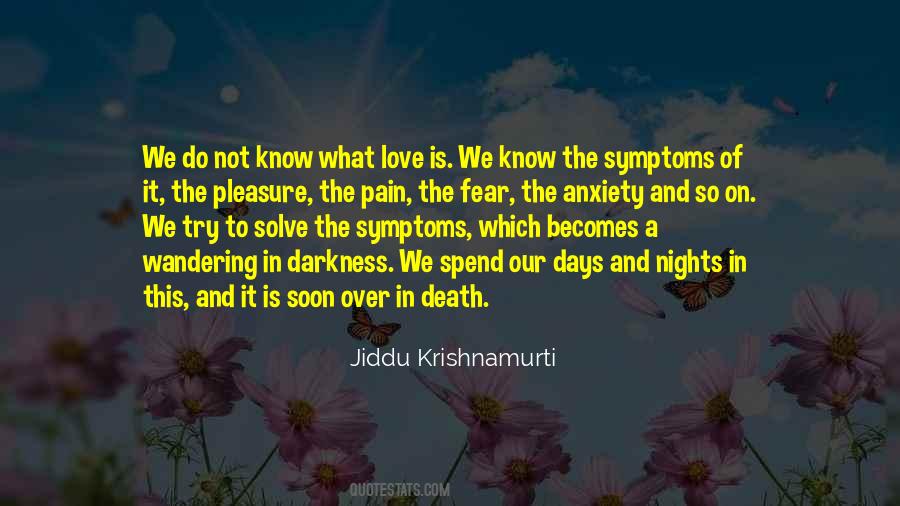 #20. EACH DAY OF HUMAN life contains joy and anger, pain and pleasure, darkness and light, growth and decay. Each moment is etched with nature's grand design-do not try to deny or oppose the cosmic order of things. - Author: Morihei Ueshiba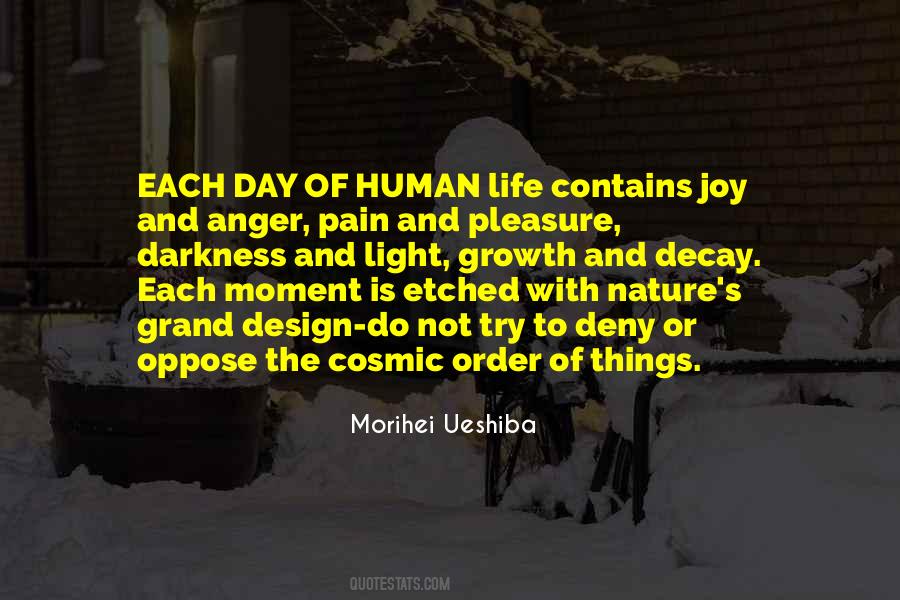 #21. There was nothing normal or typical about our love. We should've been one hot mess of madness for all that we'd suffered, but just as a flower grows from the sky's tears, our love grew from pain. It blossomed in darkness and thrived with time. - Author: Keri Lake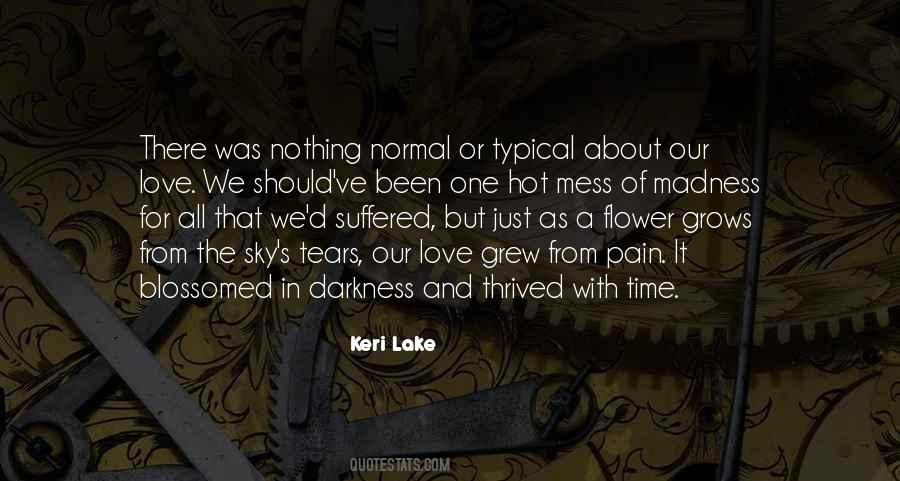 #22. Abandon pride, which is the same as Tamas-guna (darkness), rooted as it is in ignorance and is a source of considerable pain; and adore Lord Shri Rama, the Chief of the Raghus and an ocean of compassion.

(Page 787). - Author: Tulsidas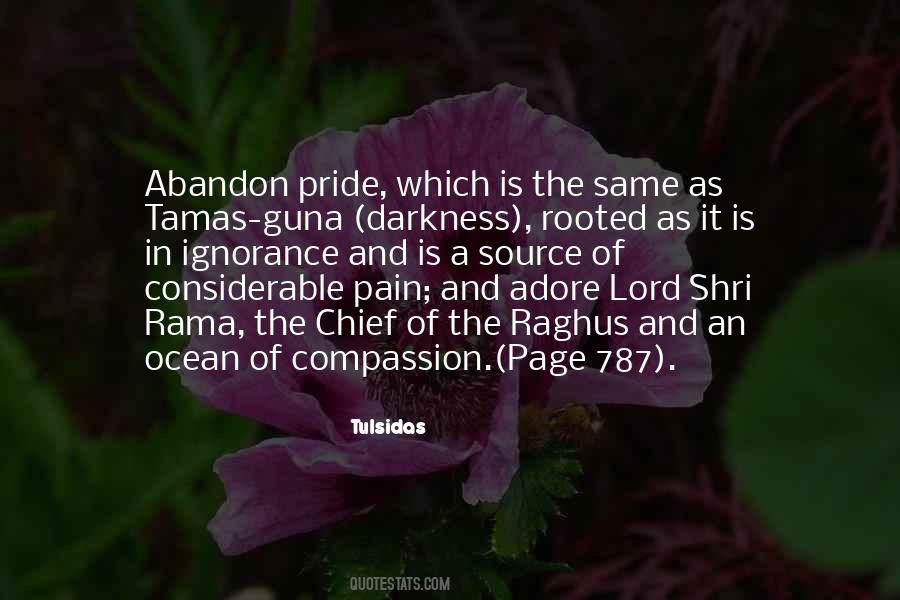 #23. But I know too that if we ever make a world without shadow, if the chemists and scientists and psychologists succeed in abolishing fear, pain, loneliness, death, some of us will find life so intolerable we will probably blow out our brains out of sheer boredom. - Author: MacDonald Harris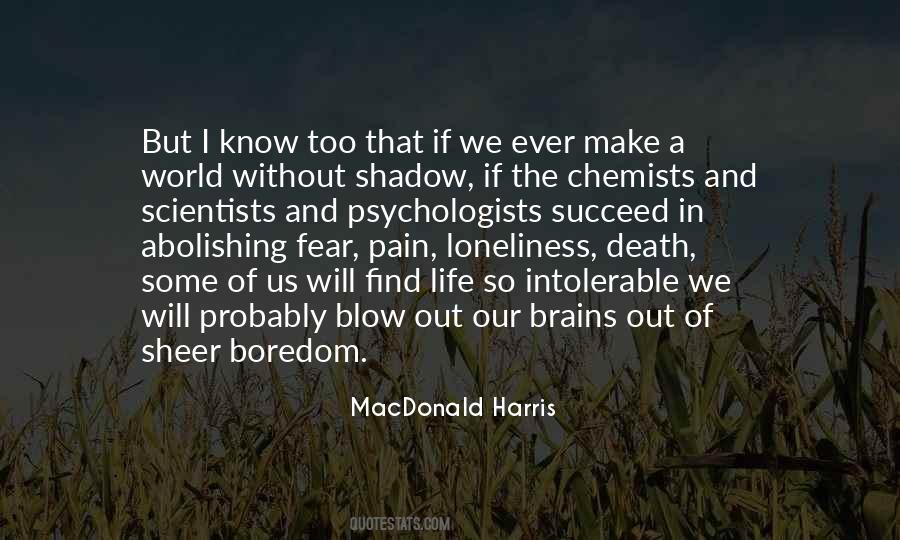 #24. Even if you've never experienced the wonderful things in life, only after something has been contaminated and marred will it become a beautiful thing. Pain can be healed with gentle care, darkness can be removed with sunlight. Don't underestimate the small things. Everything is significant. - Author: Natsuki Takaya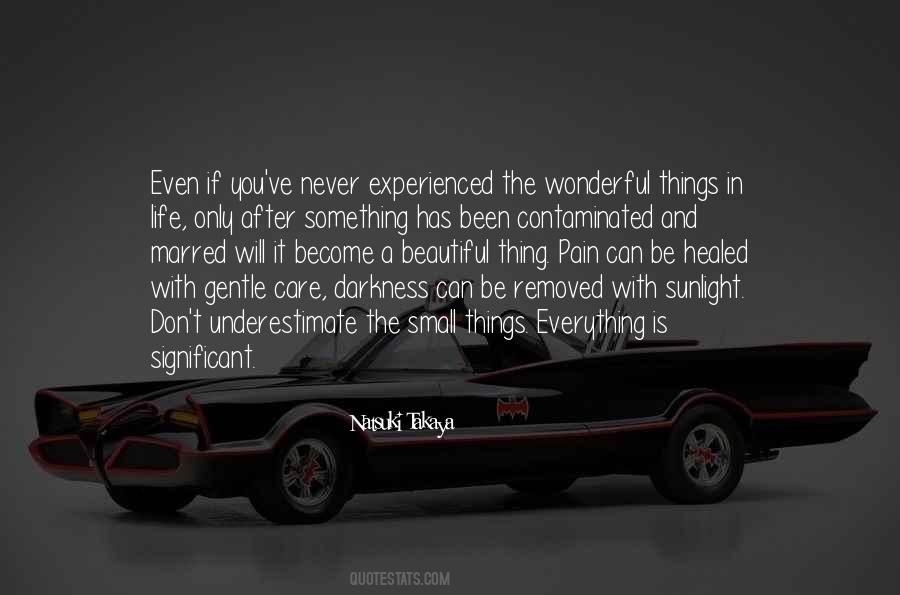 #25. Inner healing involves moving from darkness to the light. "Light" is a word that has different meanings yet is generally understood as love and understanding. Love nurtures the emotional body; understanding fills the voids created by pain. - Author: Deepak Chopra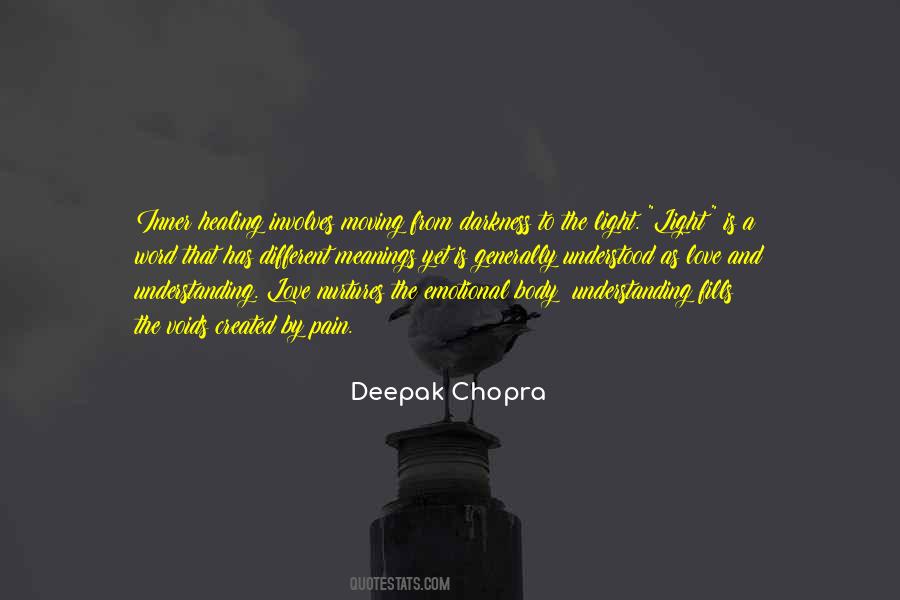 #26. Through darkness comes light, through fear comes love, and through pain comes triumph. - Author: Lilly Atlas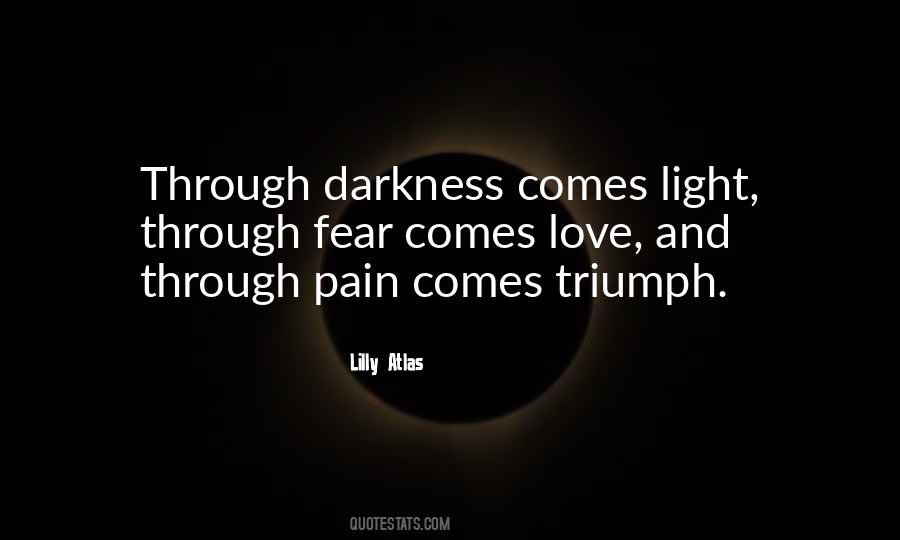 #27. Darkness and no pain, or reality and knowledge. - Author: J.E.J. Fern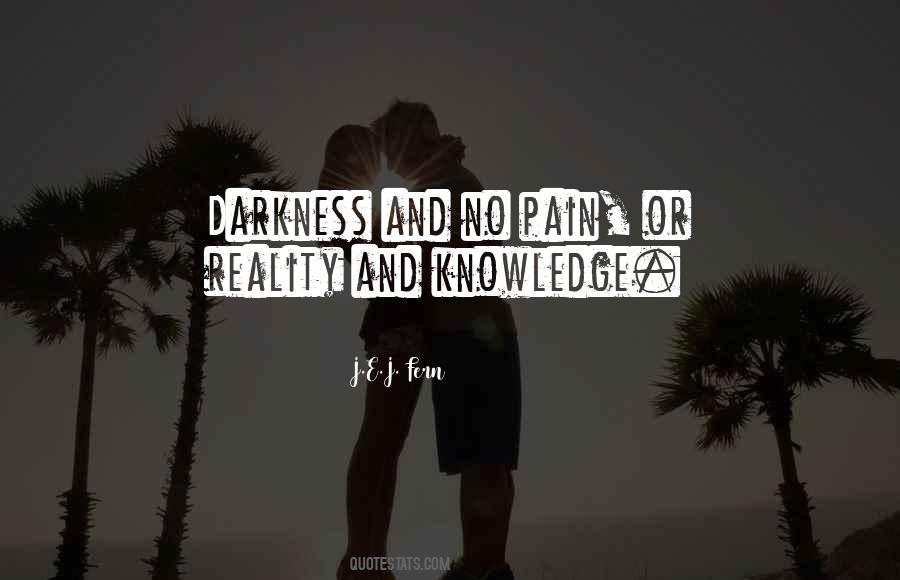 #28. His eyes were closing again, all of their own accord, so that he lay in red, pain-filled darkness. It occured to him that he was dying and he didn't care.
'He's alive!' Blue said again 'He's breathing!'
'I can't see him breathing. - Author: Herbie Brennan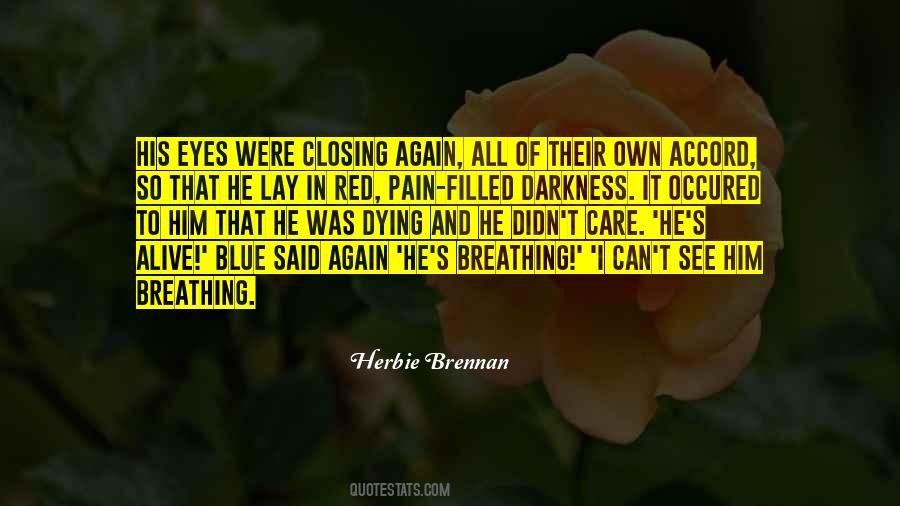 #29. The E designation. We heal the mind and the heart. Sorrow, fear, pain, we help people navigate their way out of darkness. - Author: Nalini Singh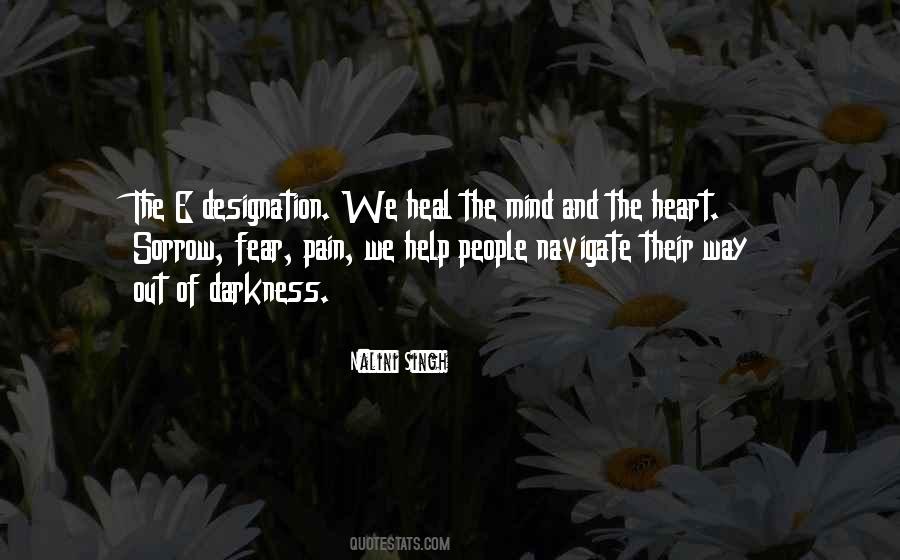 #30. After a while, it all started to fade. No more pain, no more unwanted thoughts and no sound. Just darkness. I welcomed it. I was done. - Author: Ani San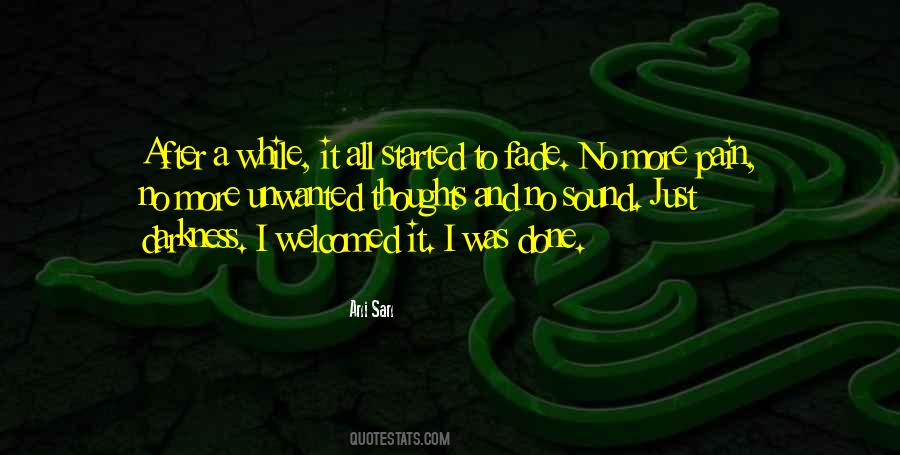 #31. If love were human I would've set them on fire by now - a screaming blaze of smoke and flesh. I'd breathe in the blackness once more just to feel love's destruction, its mortality filling in the hollow of my ribcage without a heart. - Author: Piper Payne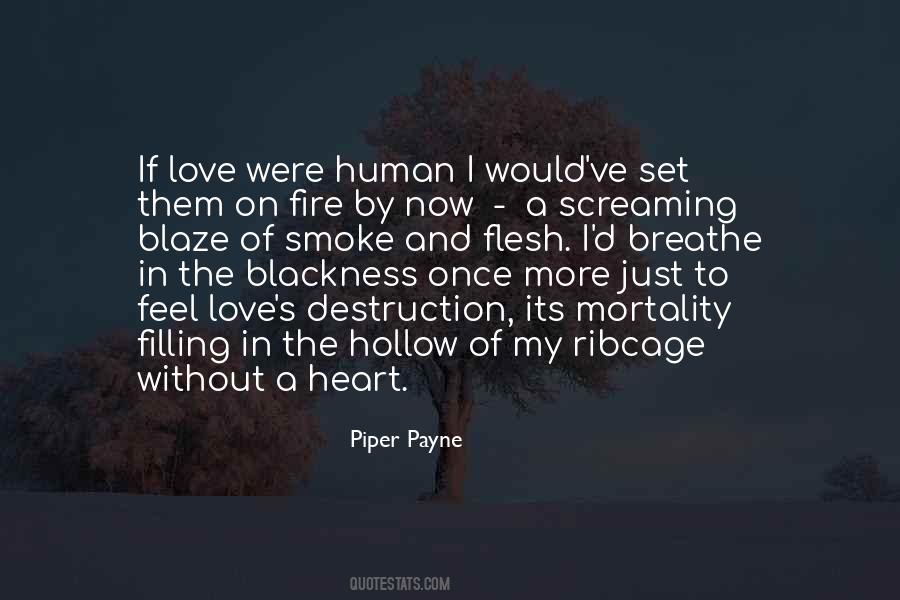 #32. As she lay beneath a pile of rubble, in pain, darkness, and choking dust, trying to find sensation in her limbs, she was at least relieved to be able to think that she hadn't merely been imagining that this was a bad day. So thinking, she passed out. - Author: Douglas Adams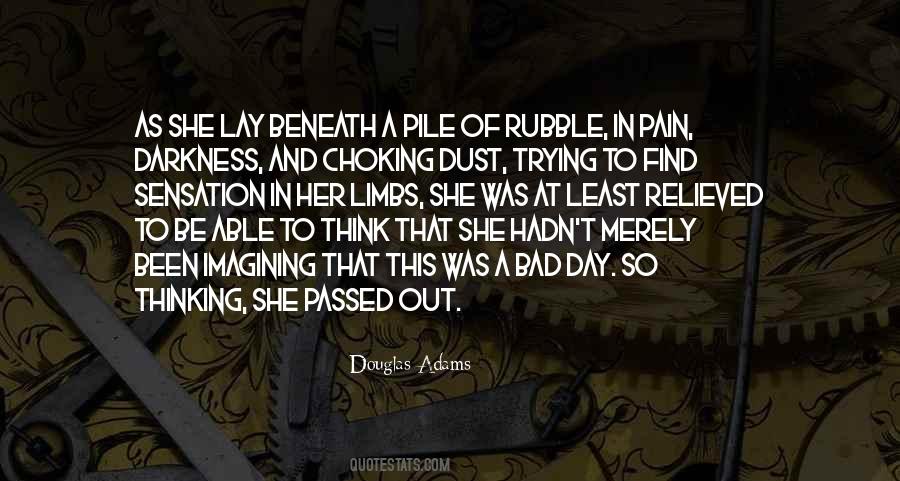 #33. There is the solitude of suffering, when you go through darkness that is lonely, intense, and terrible. Words become powerless to express your pain; what others hear from your words is so distant and different from what you are actually suffering. - Author: John O'Donohue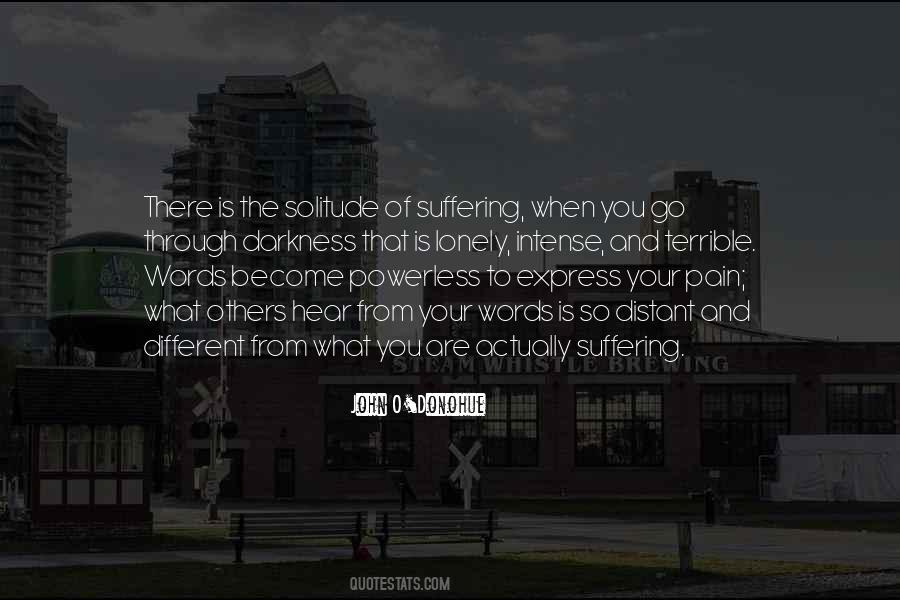 #34. Not grace to bar what is not bliss,
Nor flight from all distress, but this:
The grace that orders our trouble and pain,
And then, in the darkness, is there to sustain. - Author: John Piper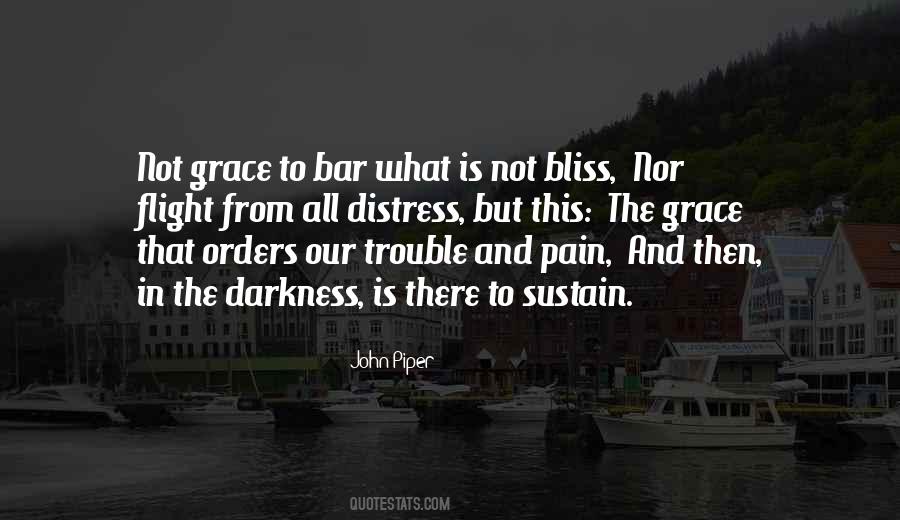 #35. I'm offering you my pain. My blood. My pleasure. I'm offering you the right to whip and fuck. To debase and harm. I'm offering to fight your needs with my own. I'm willing to join you in the darkness and find pleasure in excruciating pain. I'm willing to be your monster, Q. - Author: Pepper Winters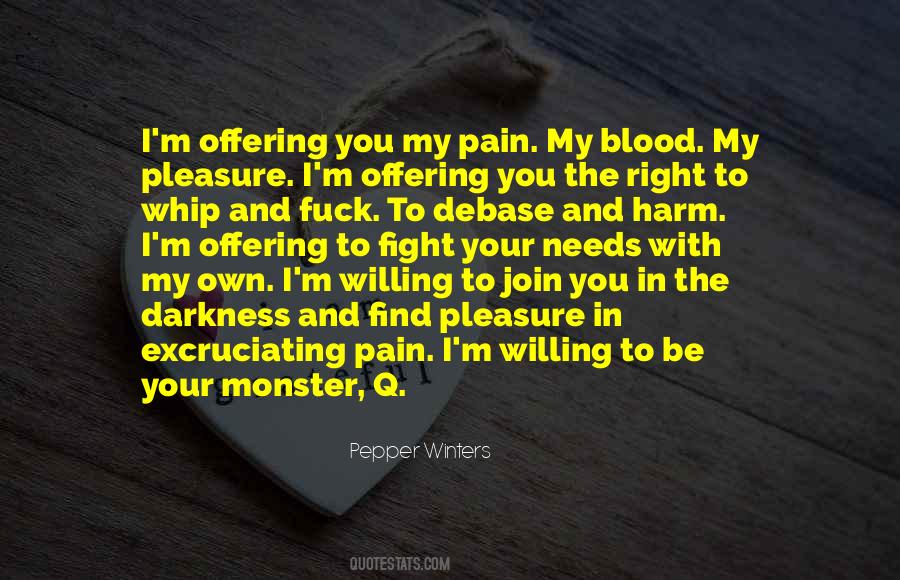 #36. In this week I see such a picture of life, hard and joyful pressed up together and sleeping in the same bed. They come knit together. The lines of pain run through the joy and remind us to go all in, because life is short. The joy edges the pain and gives us a reason to rise. - Author: Anna White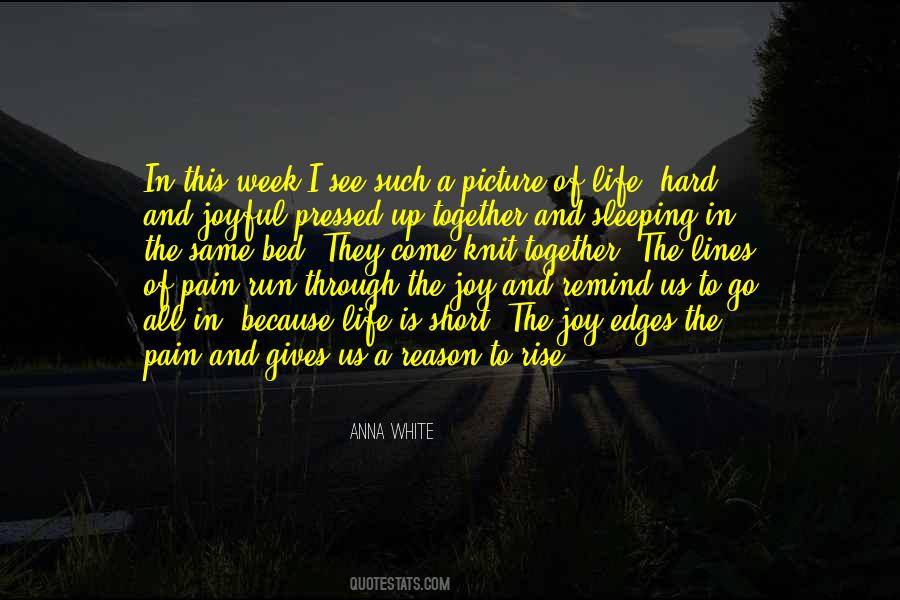 #37. They wanted it because they've got some sort of darkness in them. And maybe because they like pain. Because pain turns them on. Well, maybe it turns me on, too," she said quietly. "In fact, I know it does, because loving you hurts. And yet, I still come back for more. - Author: Larissa Ione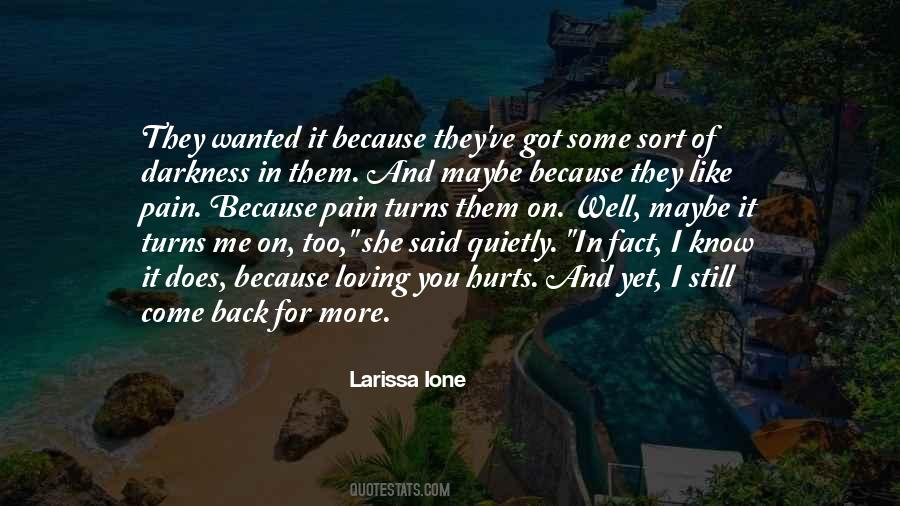 #38. We have come here together so that you might know, through virtue of your own pain, your own hopelessness, your own fear, your own darkness and the lie of powerlessness, the very actual power of your own will, of the will of your soul. - Author: Jennifer DeLucy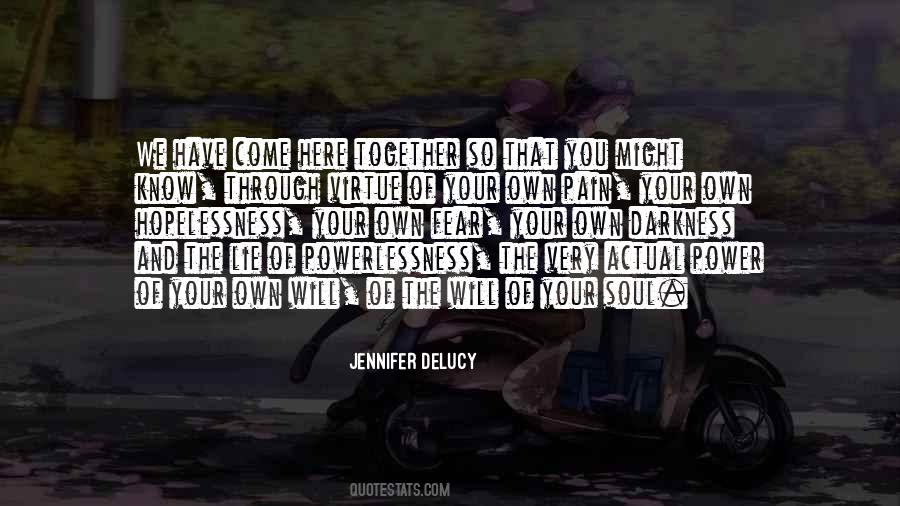 #39. Pain and darkness have been our lot since the Fall of Man. But there must be some hope that we can rise to a higher level ... that consciousness can evolve to a plane more benevolent than its counterpoint of a universe hardwired to indifference. - Author: Dan Simmons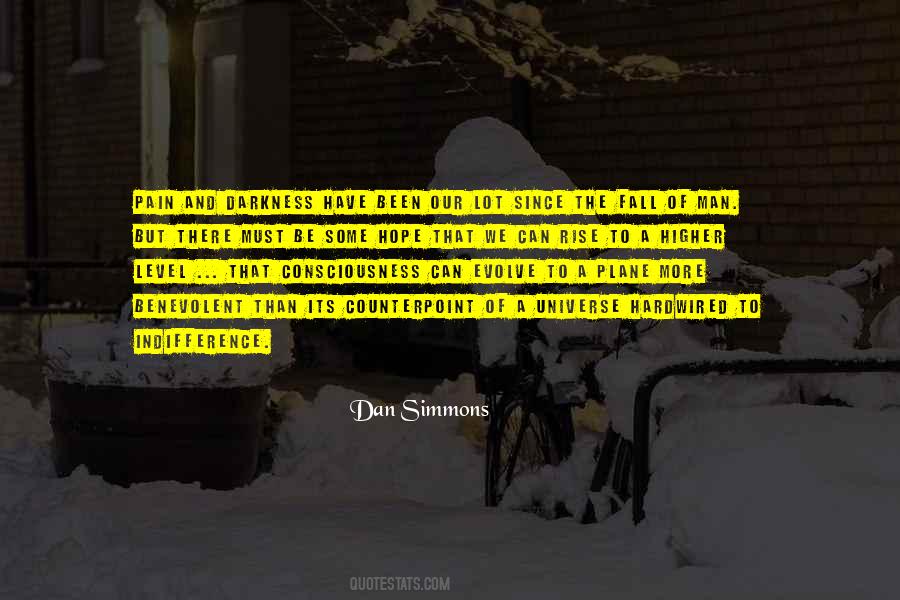 #40. I am a traditionalist, I'm not a conventional person, but I am a traditionalist in the true form of the word, in that your heart is opening, you're absolutely there for everyone, the face of pain has no tradition, by the way, and in my tradition, a guru simply means the removal of darkness. - Author: Maya Tiwari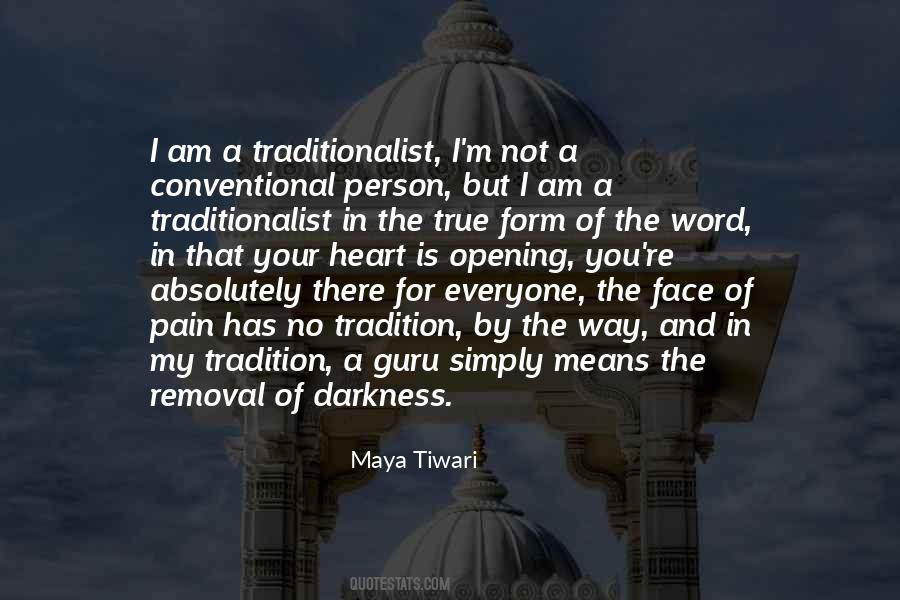 #41. When human pain has struck me fiercely, when anger has corroded me, I rise, I always rise after the crucifixion, and I am in terror of my ascensions. THE FISSURE IN REALITY. The divine departure. I fall. I fall into darkness after the collusion with pain, and after pain the divine departure. - Author: Anais Nin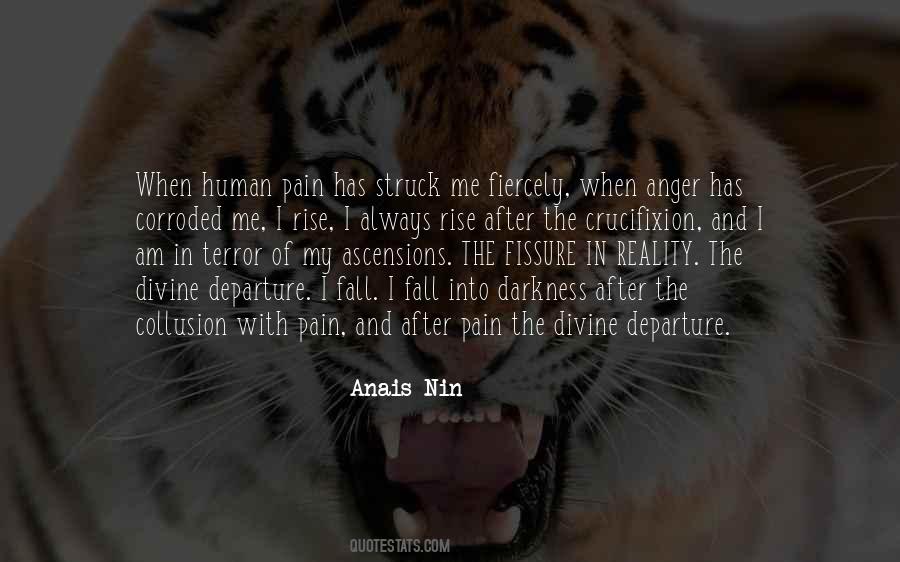 #42. I know I had no right to do this to you, but if you ask me if I regret it, I will answer you no. If you ask me if I'd do it again, I'd say yes. I would do it again and again and again. There is a darkness in me that lives and breathes just like yours, except it's motivated by love, and not by pain. - Author: Angela Richardson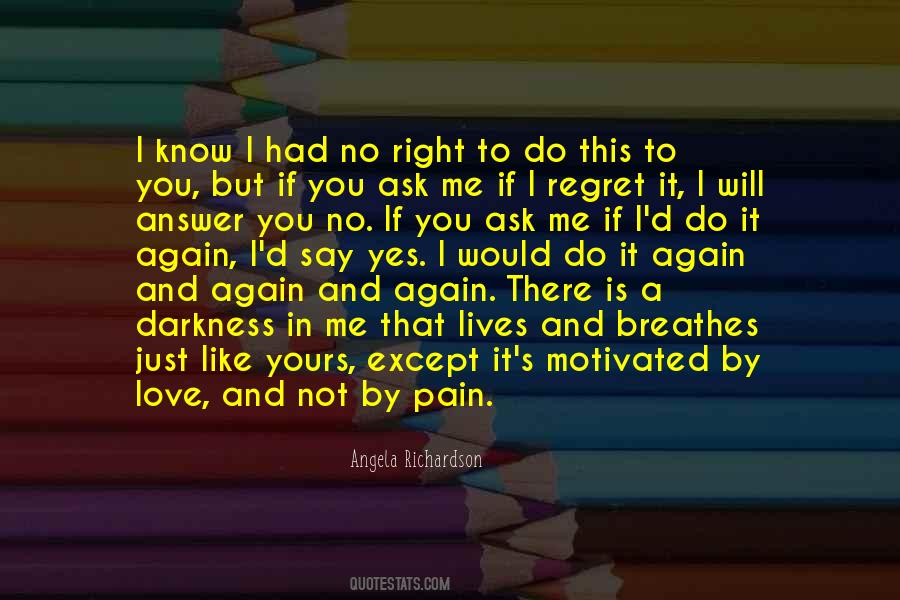 #43. For the first time in this 11 years
I have come to love the darkness
for I believe now that it is a part, a very, very small part of Jesus' dakness and pain on earth. You have taught me to accept it [as] a "spiritual side of 'your work'" ... (Mother Teresa, quoated in Kolodiejchuk, p. 208). - Author: Brian Kolodiejchuk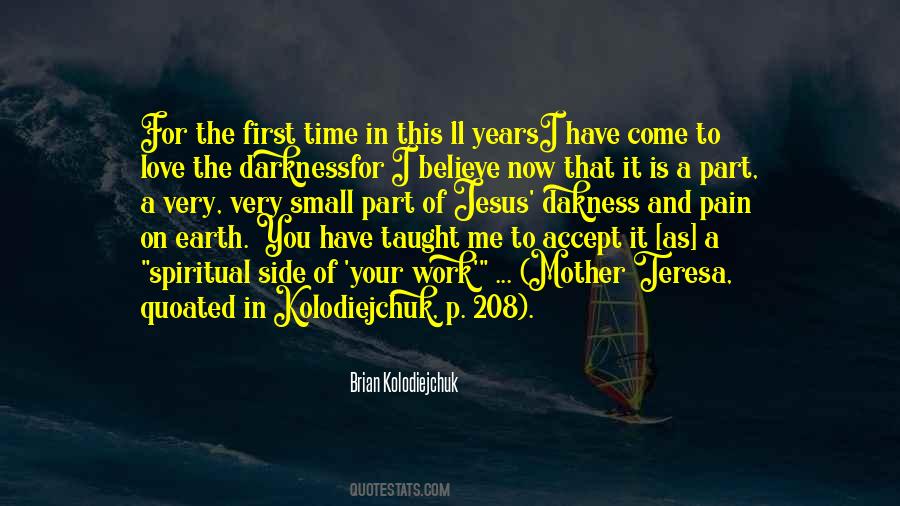 #44. And so we gain hope - not from the darkness of our suffering, not from pat answers in books, but from the God who sees our suffering and shares our pain. - Author: Eugene H. Peterson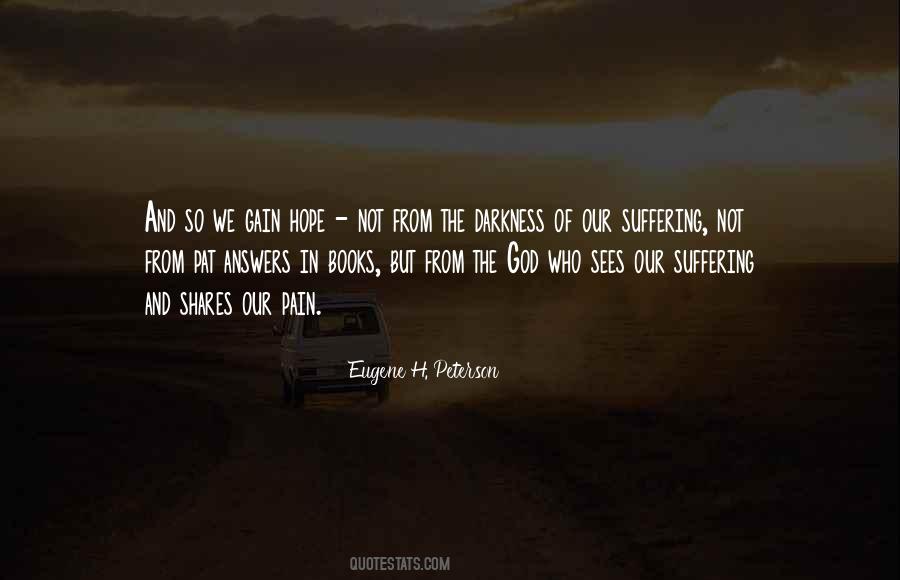 #45. Pain of the past never goes away, you just find a way to deal with it. And in the future ... all the promise it holds ... that's what keeps you moving forward, and out of the darkness. - Author: Samantha Towle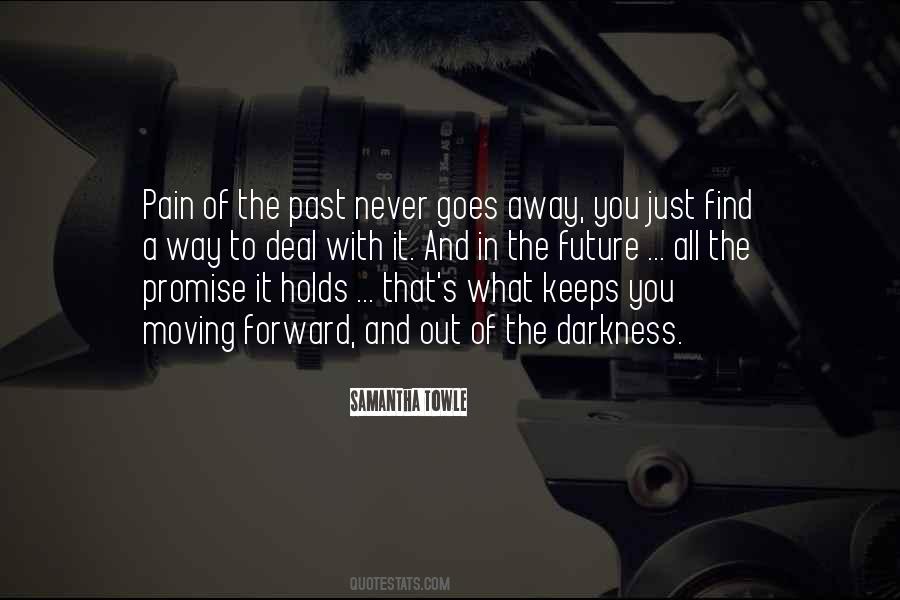 #46. I see at least that all knowledge I wrung from the darkness
that the darkness flung me
is worthless as ignorance: nothing comes from nothing, the darkness from the darkness. Pain comes from the darkness and we call it wisdom. It is pain. - Author: Randall Jarrell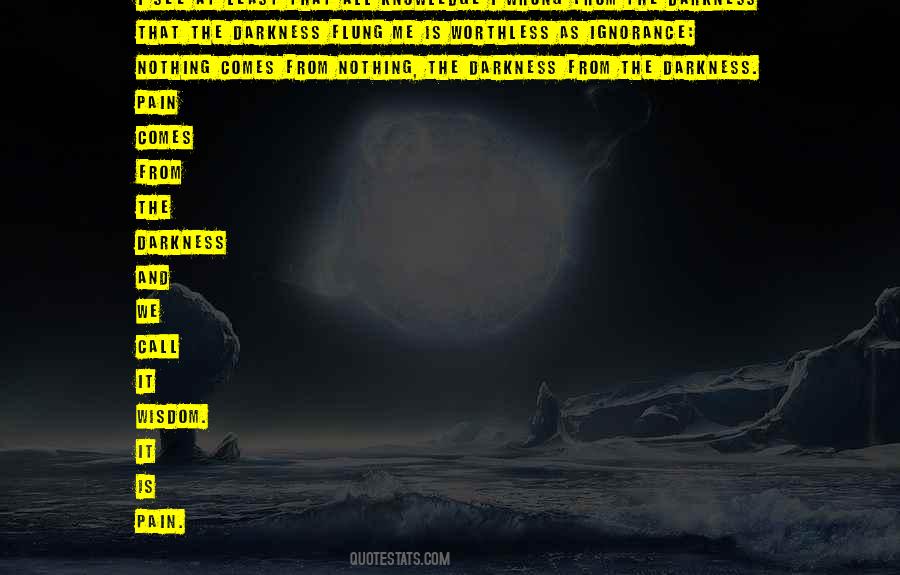 #47. When it is peace, then we may view again With new-won eyes each other's truer form And wonder. Grown more loving-kind and warm We'll grasp firm hands and laugh at the old pain When it is peace. But until peace, the storm The darkness and the thunder and the rain. - Author: Charles Sorley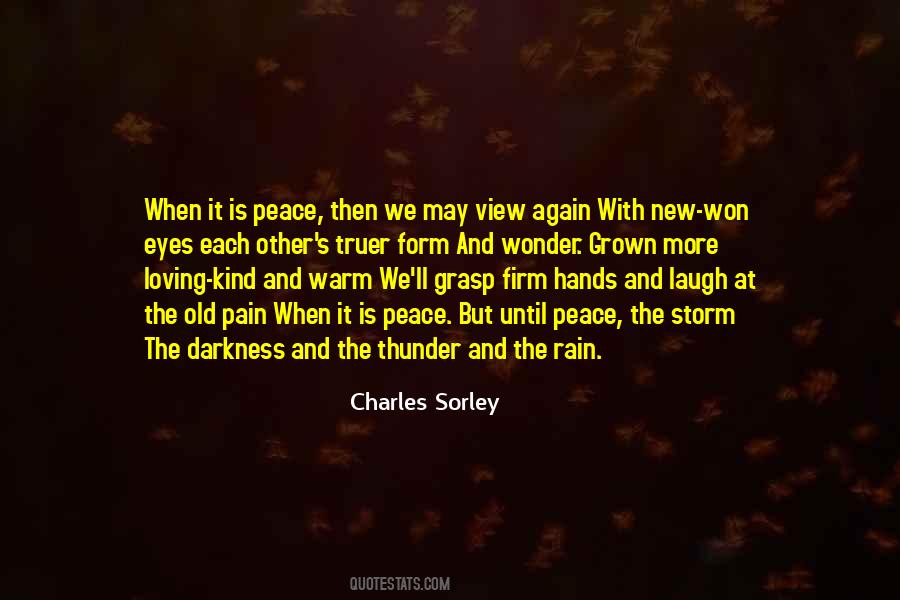 #48. The greatest minds are like film, they take the negatives and develop themselves in darkness ... - Author: Brandi L. Bates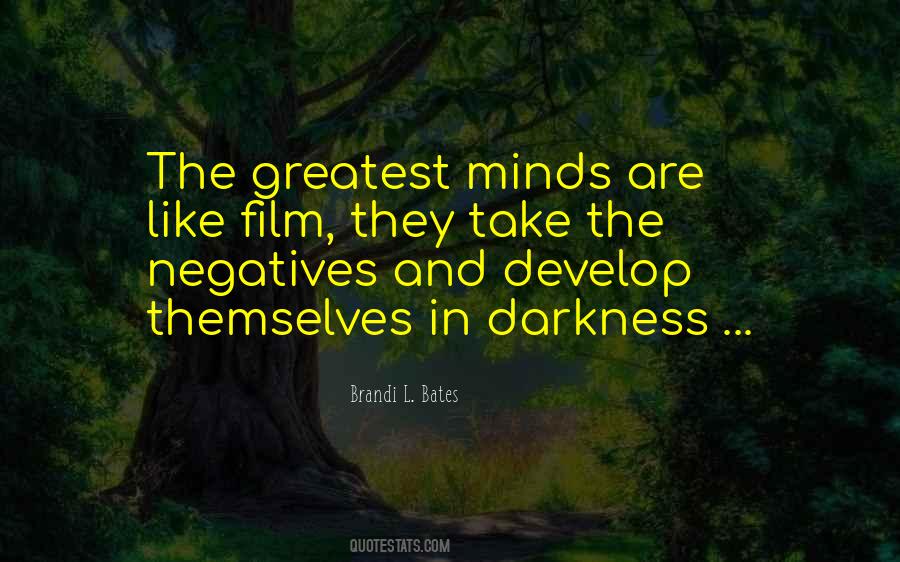 #49. When the souls rise up in glory, yours shall not be shunned nor sunderered, but shall be the prize of the gods' gardens. Even your darkness shall be treasured then, and all your pain made holy. - Author: Lois McMaster Bujold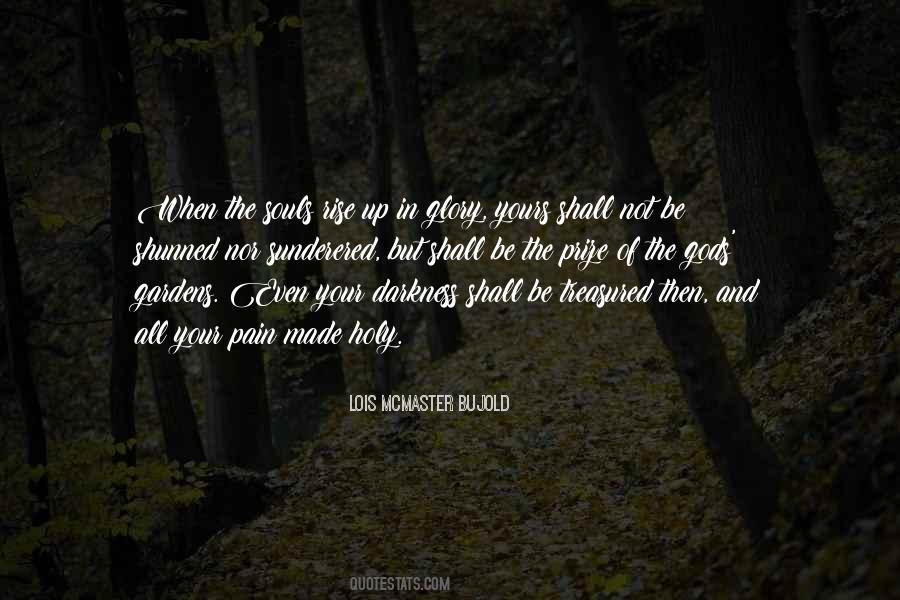 #50. Magnus had come to a horrible realization. One that he knew would cause him nothing but pain and suffering from that day forward.
But there was no changing the truth of it.
He had fallen in love with her. - Author: Morgan Rhodes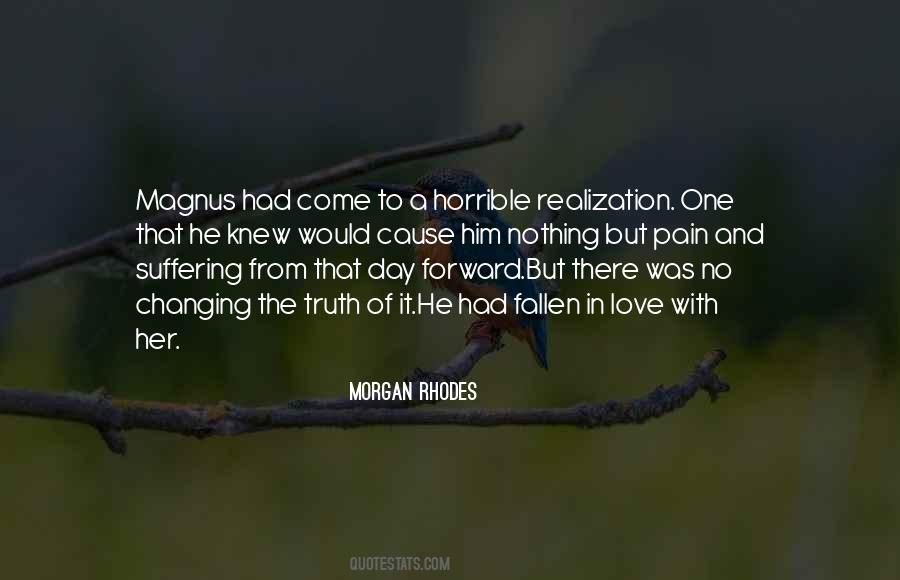 #51. There is darkness in light, there is pain in joy, and there are thorns on the rose. - Author: Cate Tiernan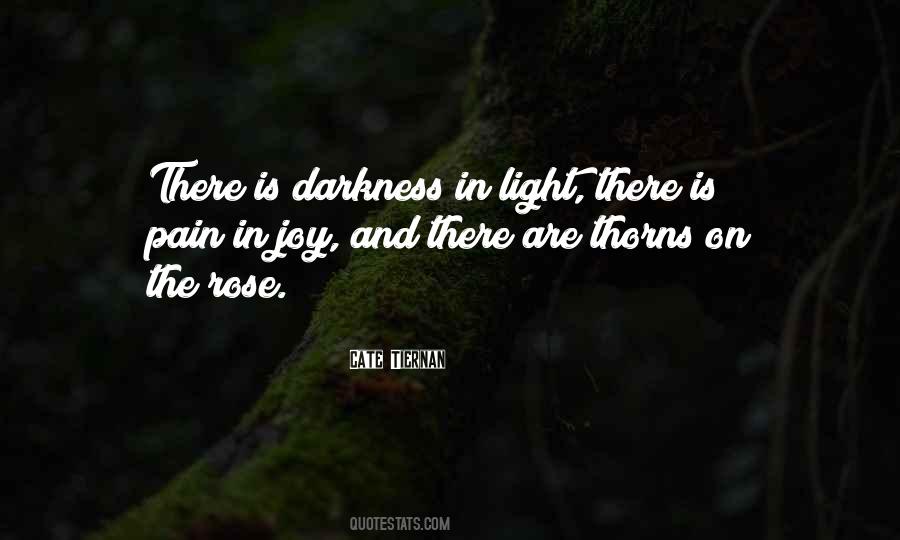 #52. It's easy to slip into darkness when light seems elusive..."
His Pleasures and Pain - Author: Chevelle Allen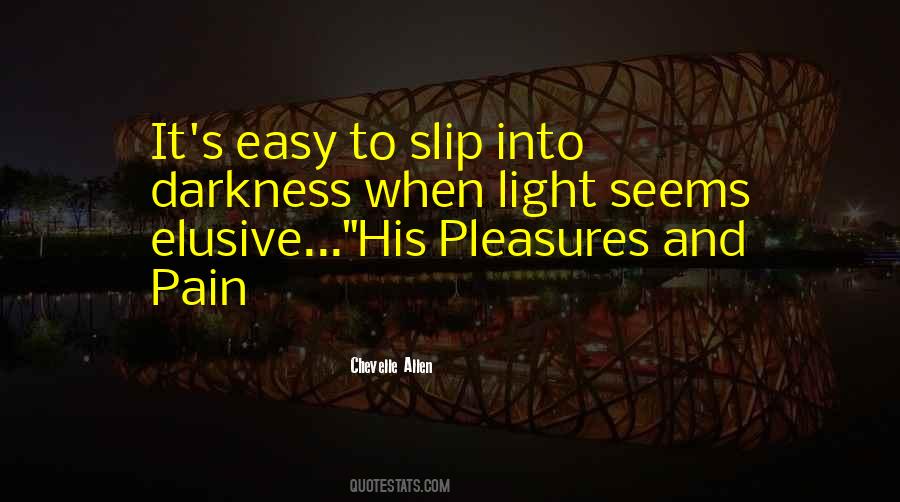 #53. I don't like the darkness but I want to live in it, I don't want to have pains but I always have it, I want to live in good way, happy and very normal life but I just can't. Because it's not that thing which some one gave me and I didn't took from anybody or anything that's just my destiny. - Author: Shayne Azad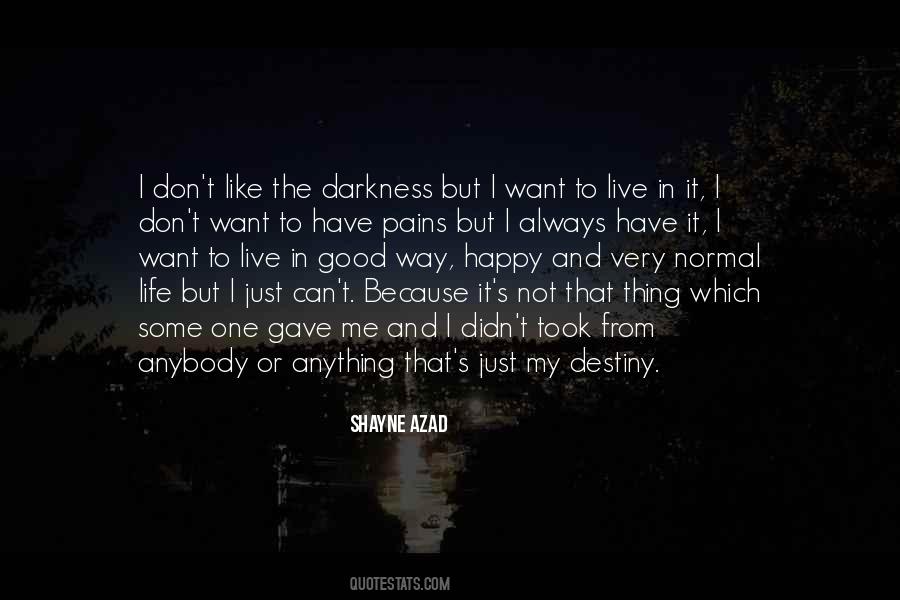 #54. No! let me taste the whole of it, fare like my peers,
The heroes of old,
Bear the brunt, in a minute pay glad life's arrears
Of pain, darkness and cold. - Author: Robert Browning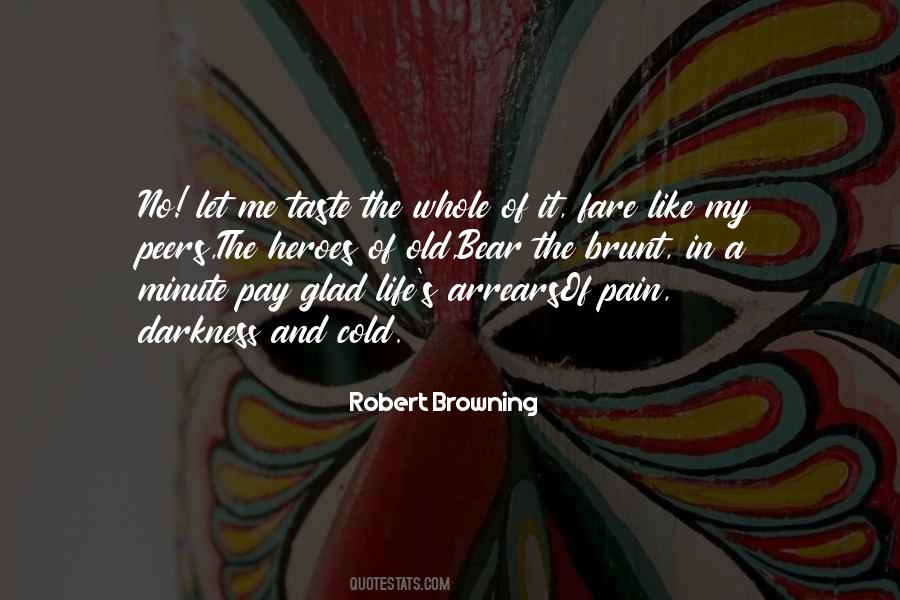 #55. Amidst of all these darkness, soul wrenching pain and disappointments, you have a heart that still believes in love, trust and second chances. And that my dear, is what makes you so beautiful. - Author: Akshay Vasu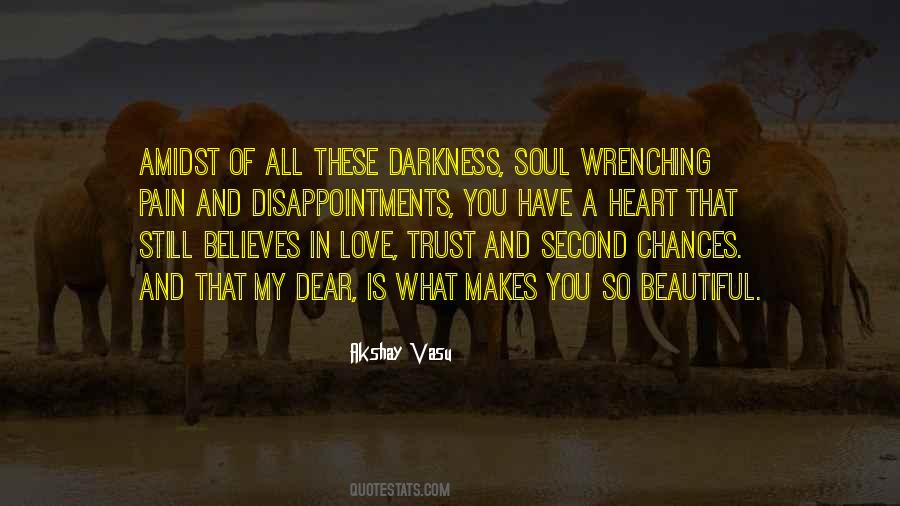 #56. When darkness falls, beauty is lit from within. - Author: Johnathan Jena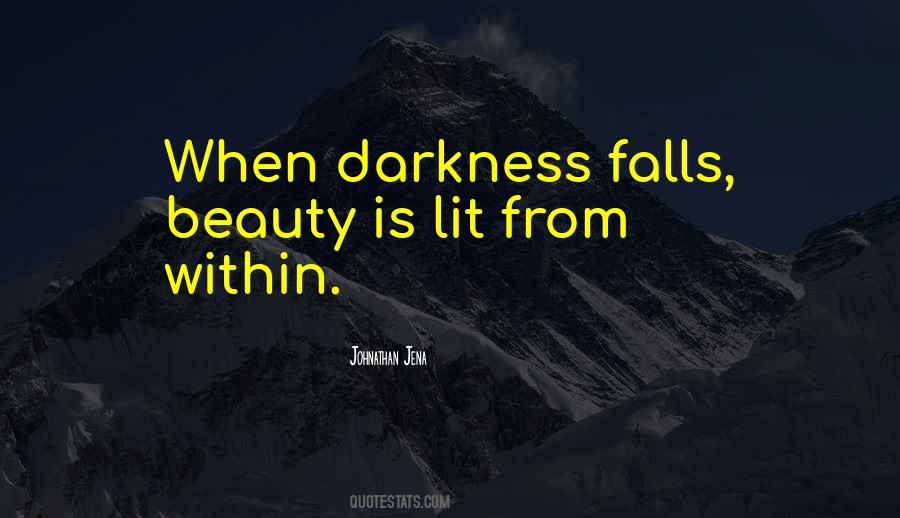 #57. I know my name now. Love Warrior. I came from Love and I am Love and I will return to Love. Love casts out fear. A woman who has recovered her true identity as a Love Warrior is the most powerful force on earth. All the darkness and shame and pain in the world can't defeat her. - Author: Glennon Doyle Melton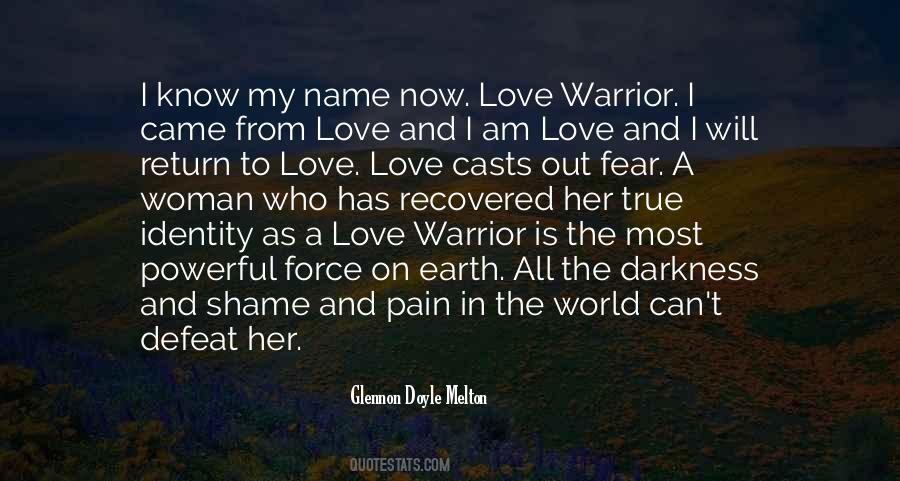 #58. Sometimes the bridges you burn light the way out of your darkness, but the memory of the blaze will be burned into your heart and mind forever. - Author: Shannon L. Alder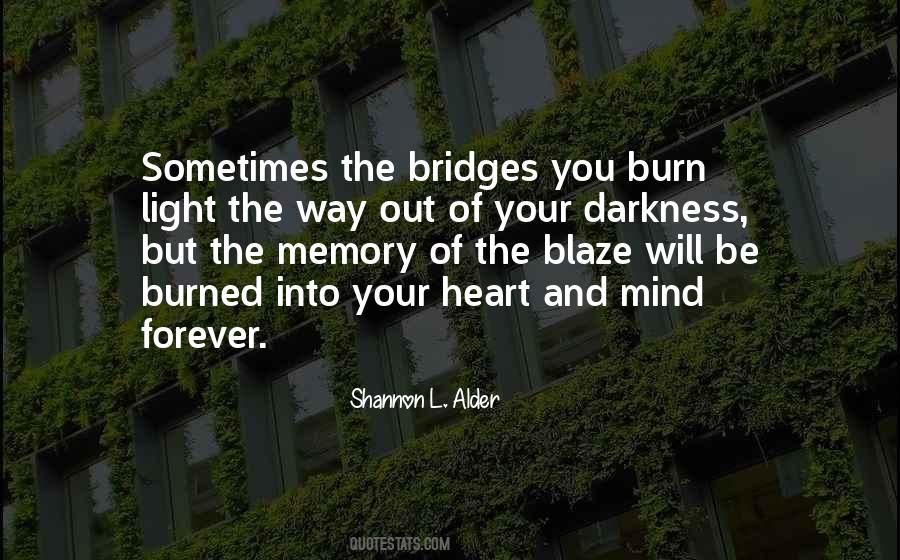 #59. One has to accept pain as a condition of existence. One has to court doubt and darkness as the cost of knowing. One needs a will stubborn in conflict, but apt always to the total acceptance of every consequence of living and dying. - Author: Morris West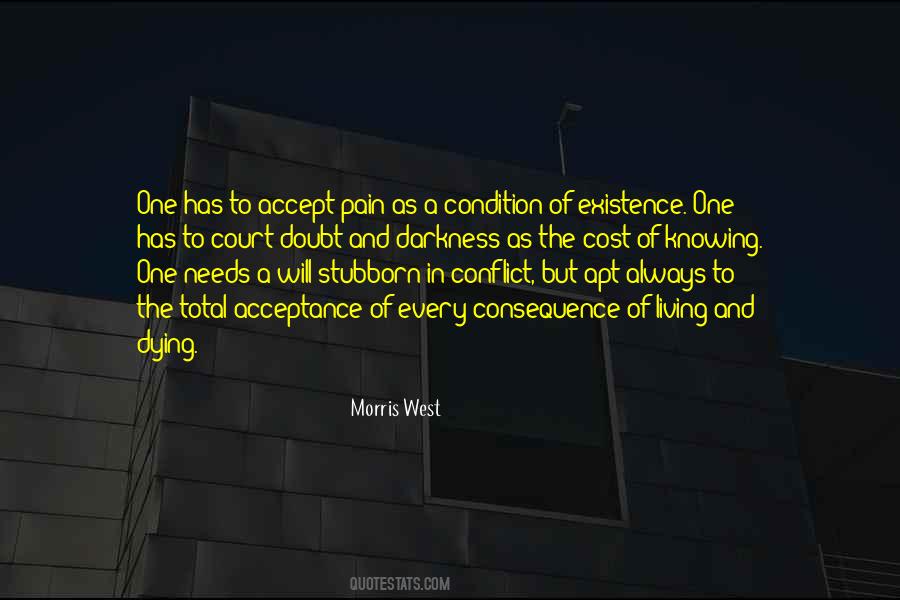 #60. At that moment I remembered something Cal had told me: that there is beauty in darkness in everything. Sorrow in joy, life and death, thorns on the rose. I knew then that I could not escape pain and torment any more than I could give up joy and beauty - Author: Cate Tiernan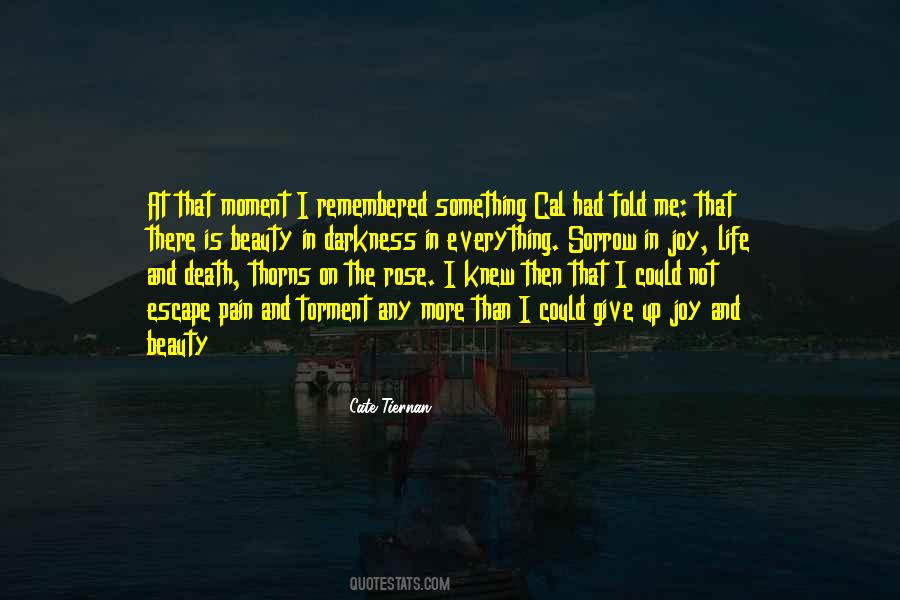 #61. INTO HER DARKNESS, a churning synaesthesia, where her pain was the taste of old iron, scent of melon, wings of a moth brushing her cheek. She was unconscious, and he was barred from her dreams. - Author: William Gibson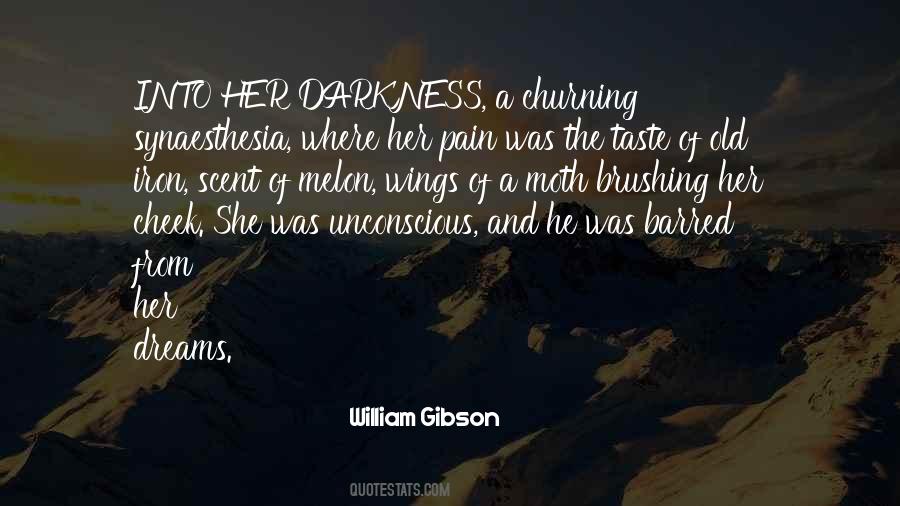 #62. Darkness is only a form of light, one that the foolish consider evil, those that see it as the devil and choose to destroy and or punish the darkness. True evil comes from those who cause such pain, true evil comes from the light, not the dark. - Author: Conner Faller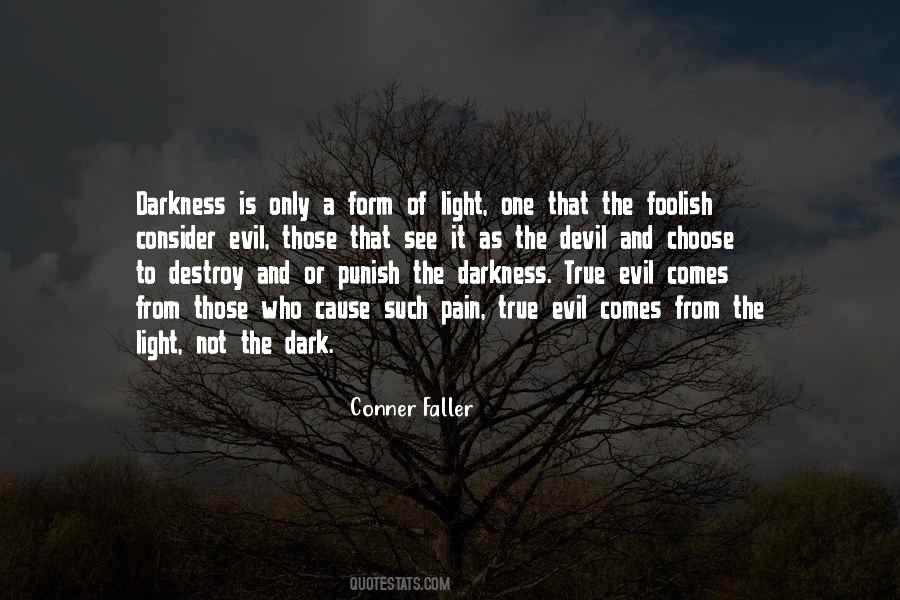 #63. Community is the place where are revealed all the darkness and anger, jealousies and rivalry hidden in our hearts. Community is a place of pain, because it is a place of loss, a place of conflict, and a place of death. But it is also a place of resurrection. - Author: Jean Vanier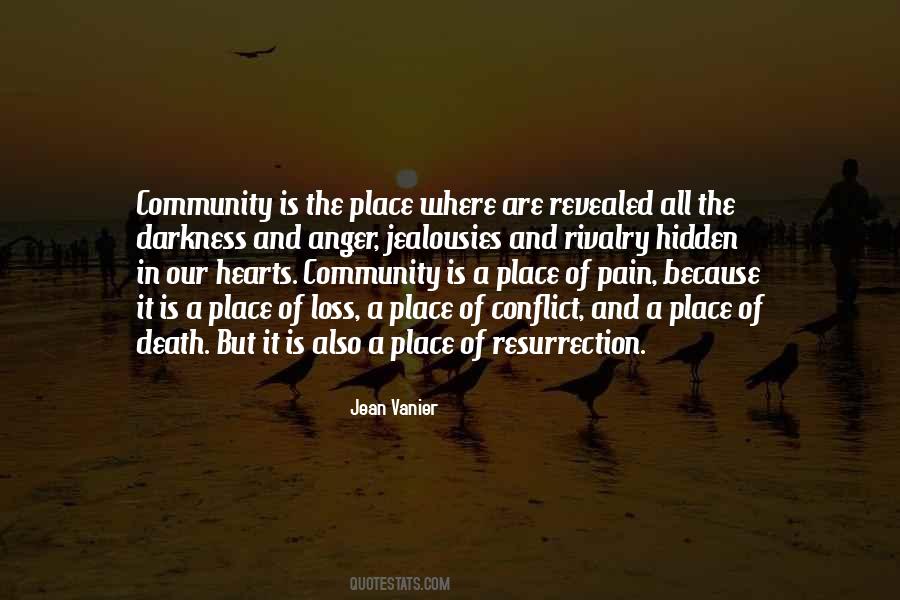 #64. There is nothing dishonorable about abandoning pain. Sometimes peace is most quickly found when a man simply stops avoiding it." He shifted slightly in the dark. "And you never again lay awake all night, staring at darkness and thinking of them. - Author: Robin Hobb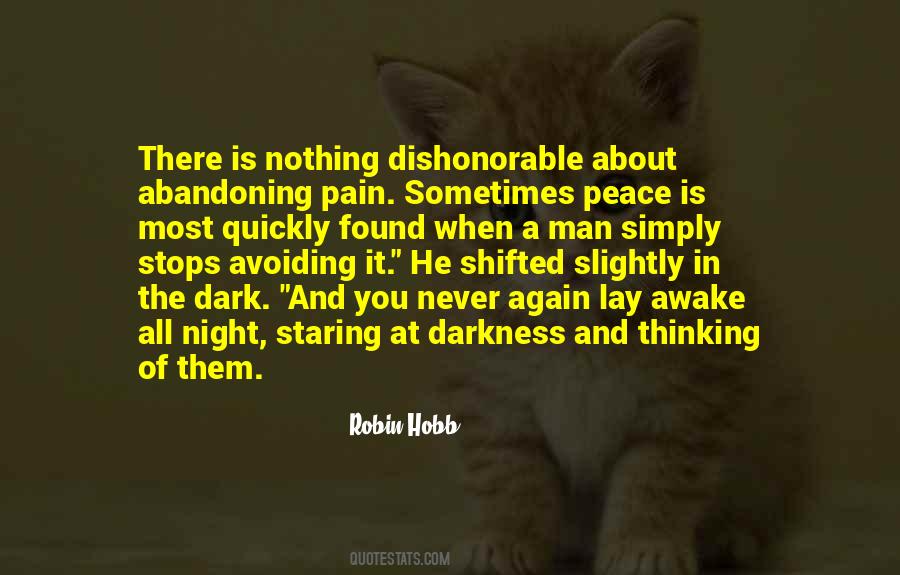 #65. It wasn't a fear associated with physical injury, but the prospect of real pain. A world where love and trust and kindness and intimacy were options. A world that, once she was inevitably forced to leave it again, would only exacerbate the loneliness and darkness of her reality. - Author: Lindsay J. Pryor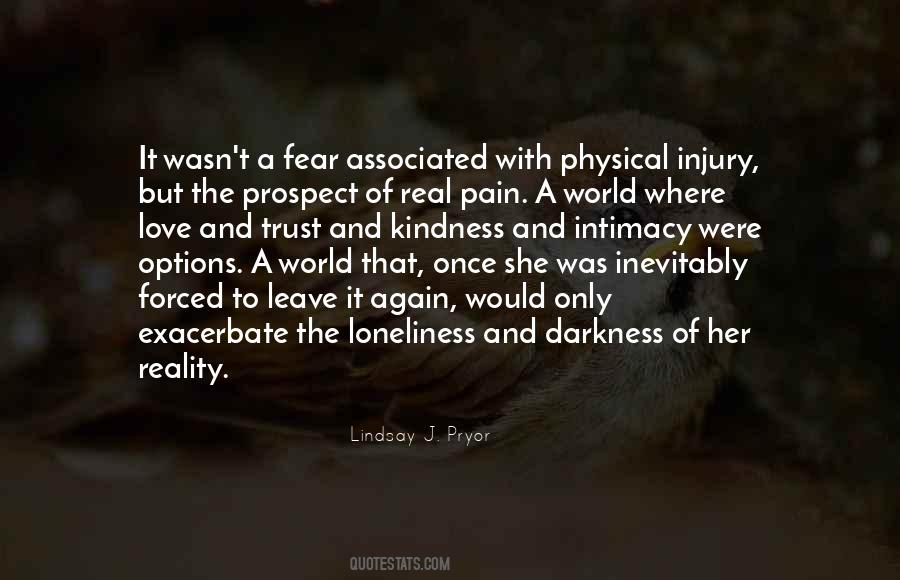 #66. She was half running away from the hall, and she knew that she had done something cataclysmic, and she wanted nothing more than to be swallowed up by the darkness and to disappear forever. - Author: J.K. Rowling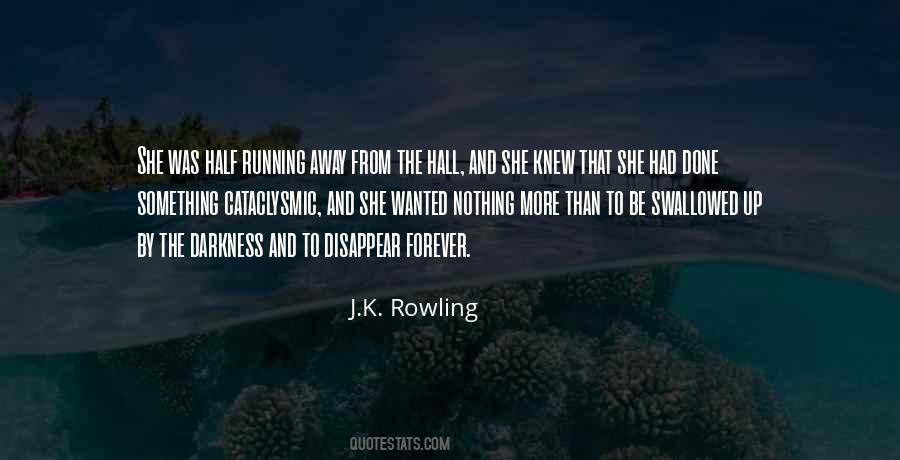 #67. have a dim half remembrance of long, anxious times of waiting and fearing, darkness in which there was not even the pain of hope to make present distress more poignant. - Author: Bram Stoker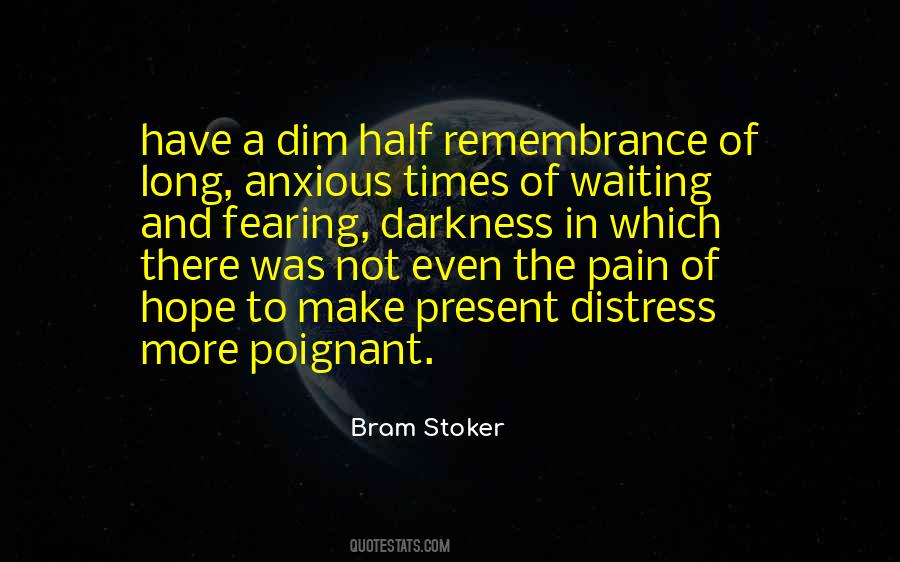 #68. There comes a time when something changes you ... No matter the impact ... Where the world no longer beats in time with you. You no longer feel amongst the fray.. And the feeling of loneliness is a brandished armor you wear the rest of your life. - Author: Solange Nicole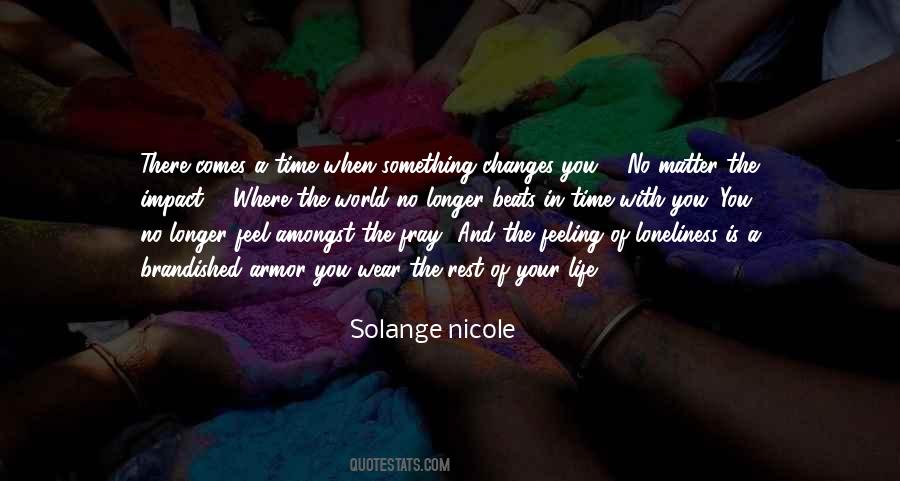 #69. Terry recalled far better days when she'd risen bright and early every morning.... Days before darkness had closed in and refused to leave.... - Author: Dawn M. Turner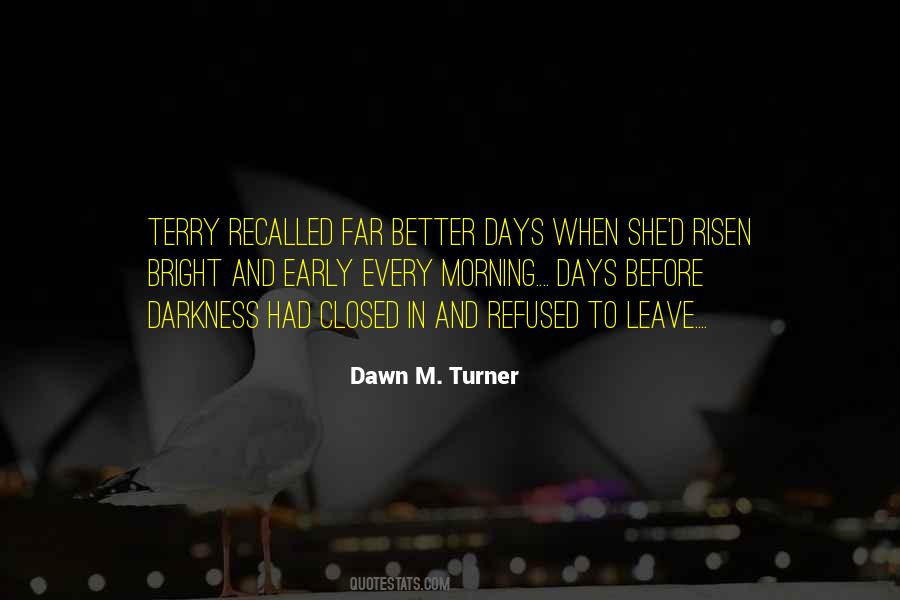 #70. The higher consciousness feel the most pain because they search for the darkness in order to bring it to the light and thus feel the most pleasure. - Author: Matthew Donnelly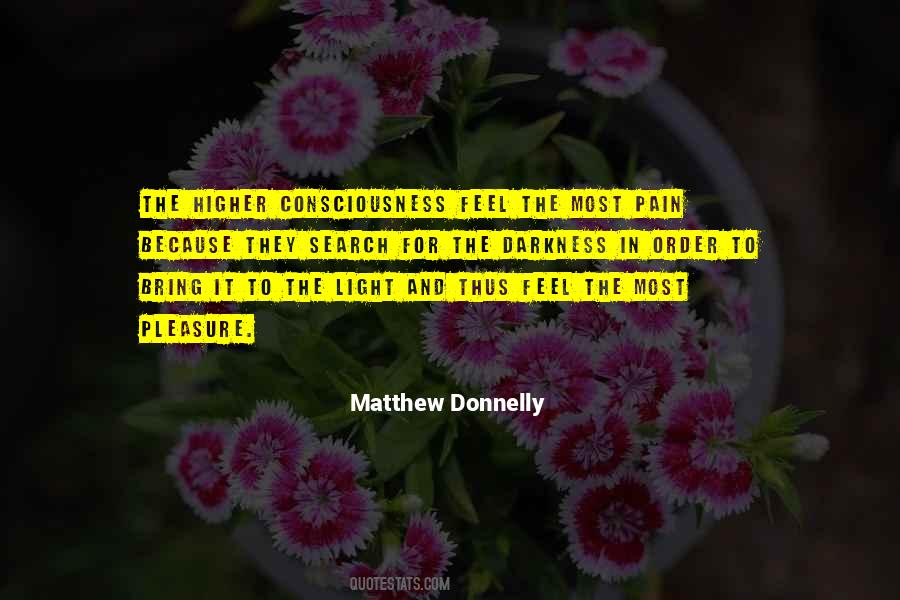 #71. A wise man is detached from the drama of the material world because he focuses instead on the source from which all dualities of light and darkness, good and evil, pleasure and pain actually originate. - Author: Deepak Chopra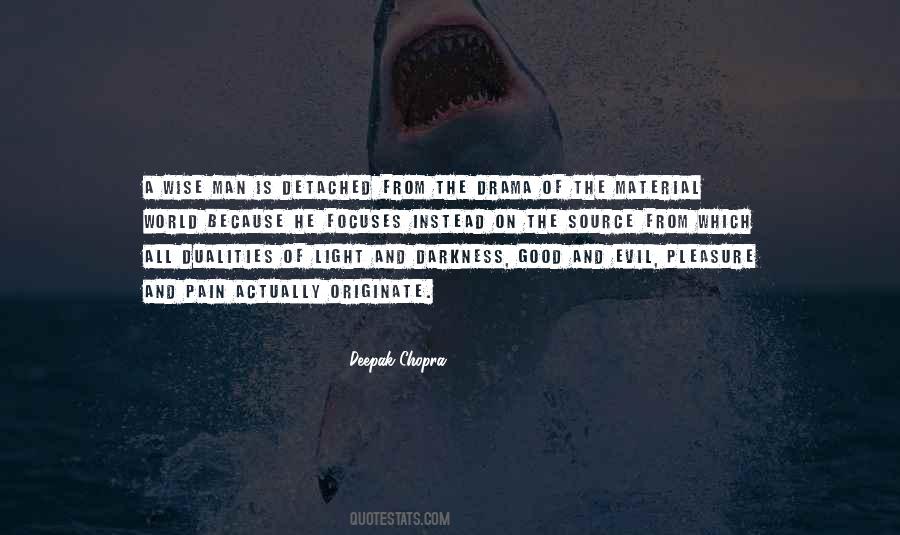 #72. In everything I write, I'm always striving to hit the right mix of light and darkness, humor and pain, fun and seriousness. - Author: Greg Van Eekhout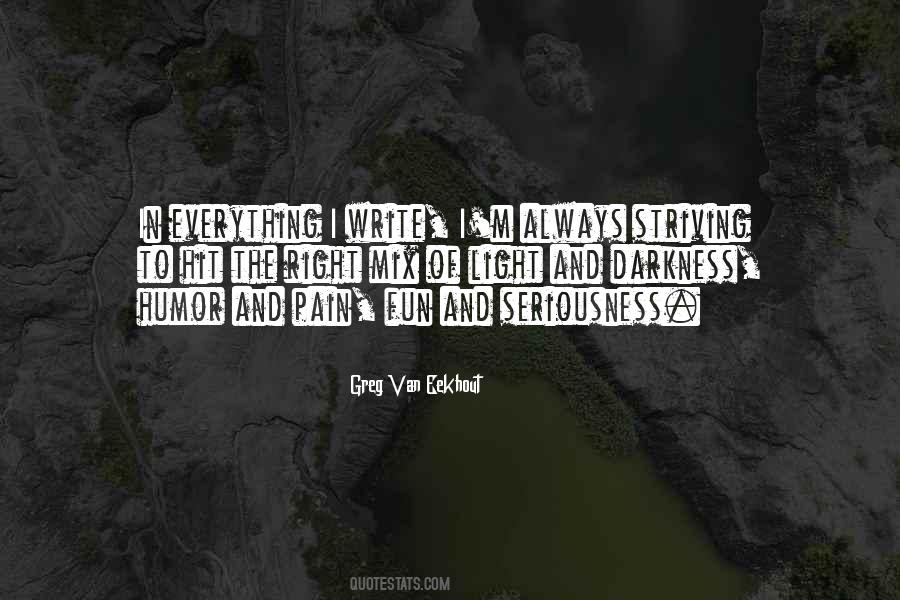 #73. Pain and pleasure, like light and darkness, succeed each other. - Author: Laurence Sterne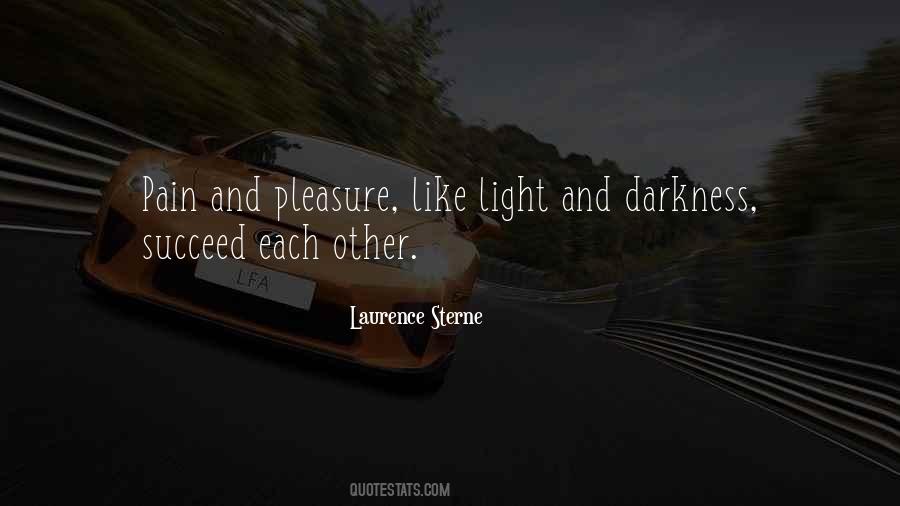 #74. There is a dreadful Hell, And everlasting pains; There sinners must with devils dwell In darkness, fire, and chains. - Author: Isaac Watts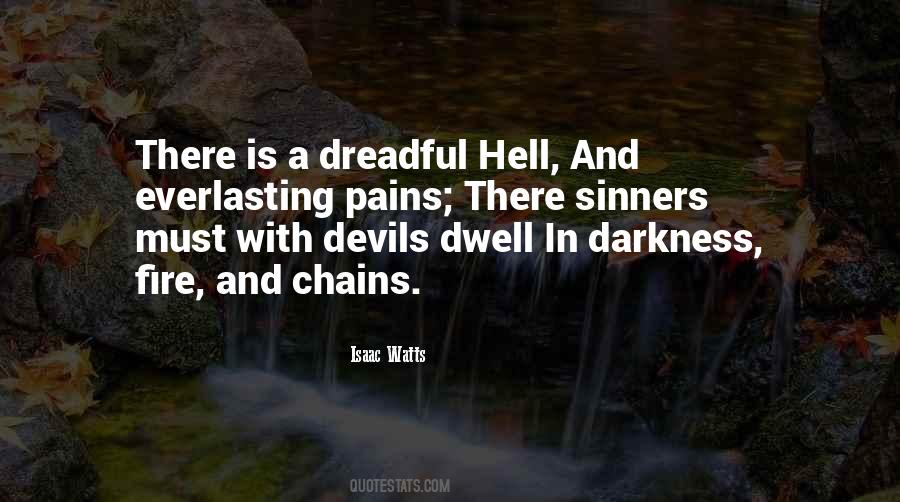 #75. Those that have lost their lives to suicide were good people, who were in deep, deep pain. Keep speaking about mental illness and keep it out of the darkness. - Author: Mariel Hemingway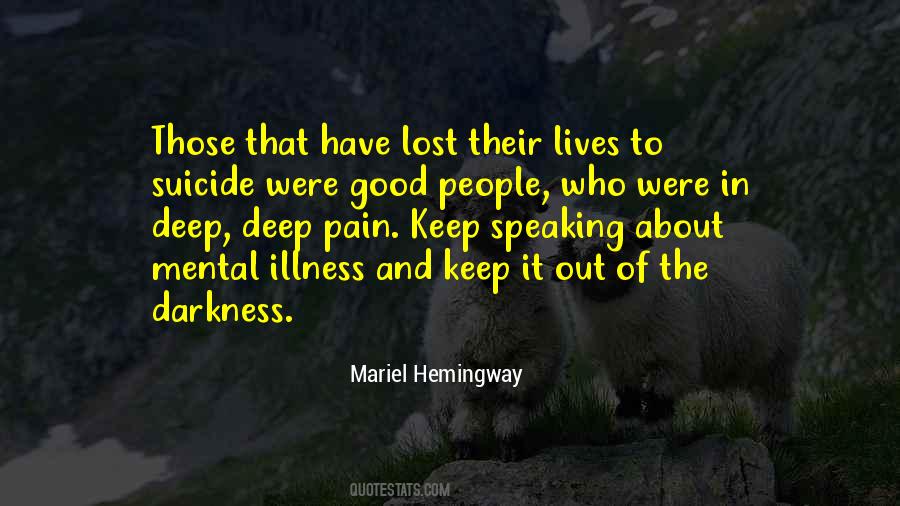 #76. We are alike in many ways, you and I. There is darkness in us. Darkness, pain, death. They radiate from us. If ever you love a woman, Rand, leave her and let her find another. It will be the best gift you can give her. - Author: Robert Jordan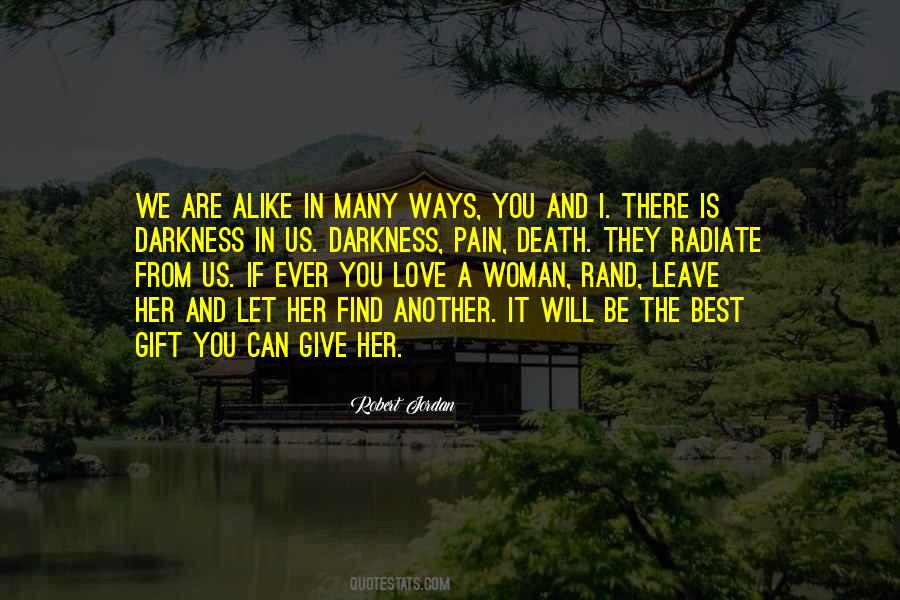 #77. Patience is all we have in a land where time is obsolete. I press on, armored stranger. I am not deceiving you. The willows have always grown silent in my wake. I see and feel your ailing mind and it worries me. The night that follows you grows stronger. You still have time to change. - Author: H.S. Crow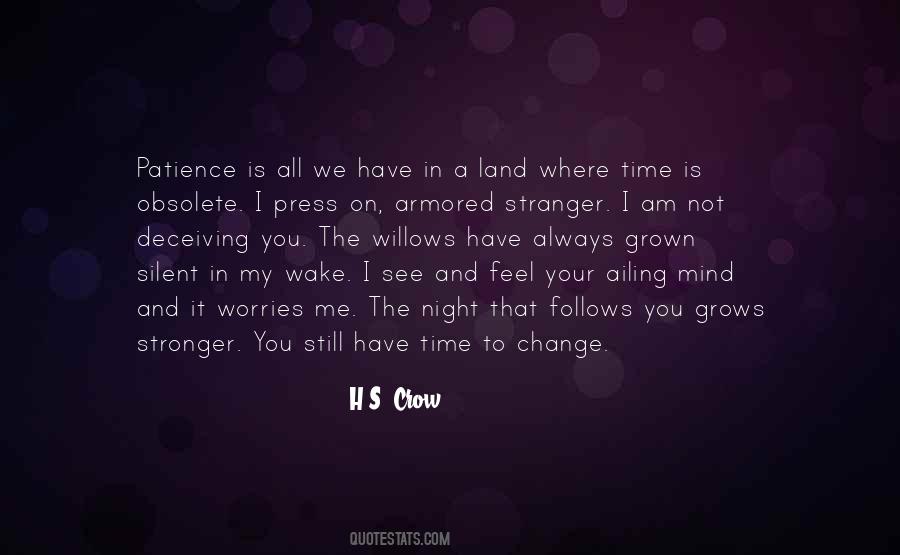 #78. There's beauty and darkness in everything: Sorrow in joy, life in death, throns on the roses. You can't escape pain and torment anymore then you can give up joy and beauty ... - Author: Cate Tiernan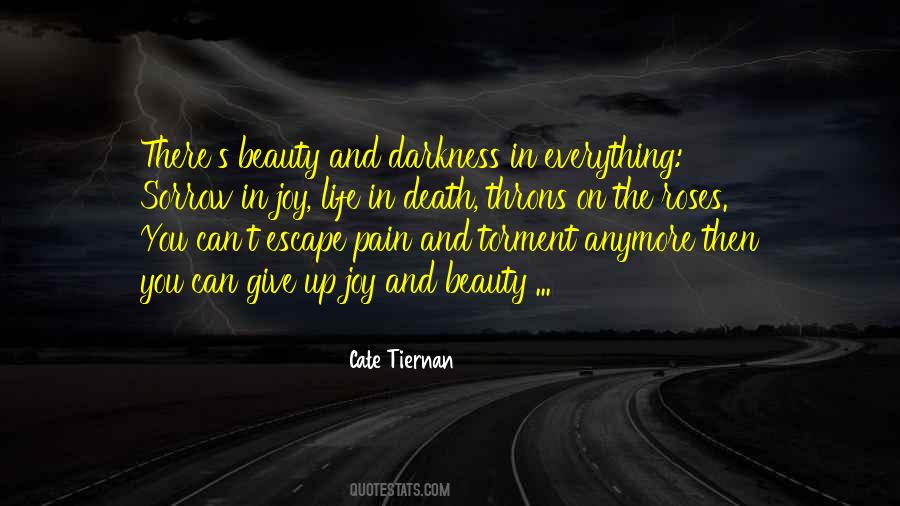 #79. Central depth of purple, Leaves more bright than rose, Who shall tell what brightest thought Out of darkness grows? Who, through what funereal pain, Souls to love and peace attain? - Leigh Hunt (James Henry Leigh Hunt - Author: Leigh Hunt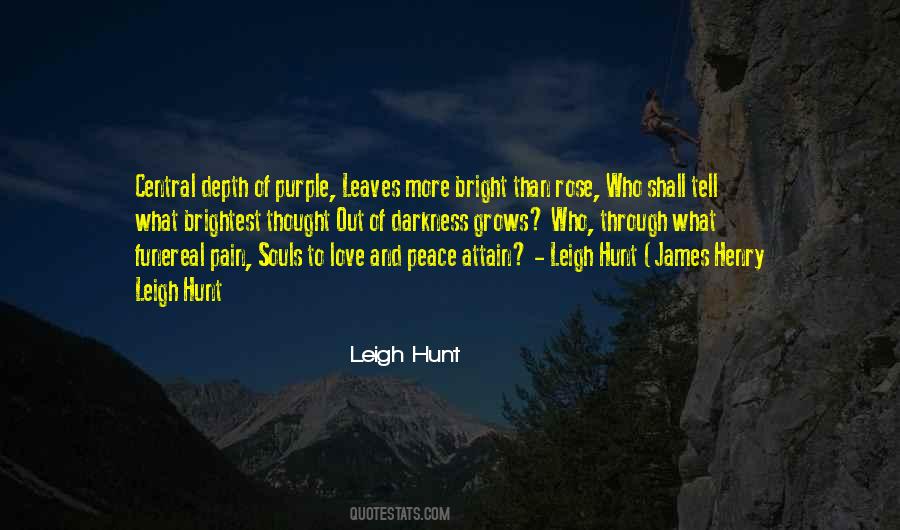 #80. As I walk through This wicked world Searchin' for light in the darkness of insanity, I ask myself Is all hope lost? Is there only pain and hatred, and misery? And each time I feel like this inside, There's one thing I wanna know: What's so funny 'bout Peace, Love, & Understanding? - Author: Elvis Costello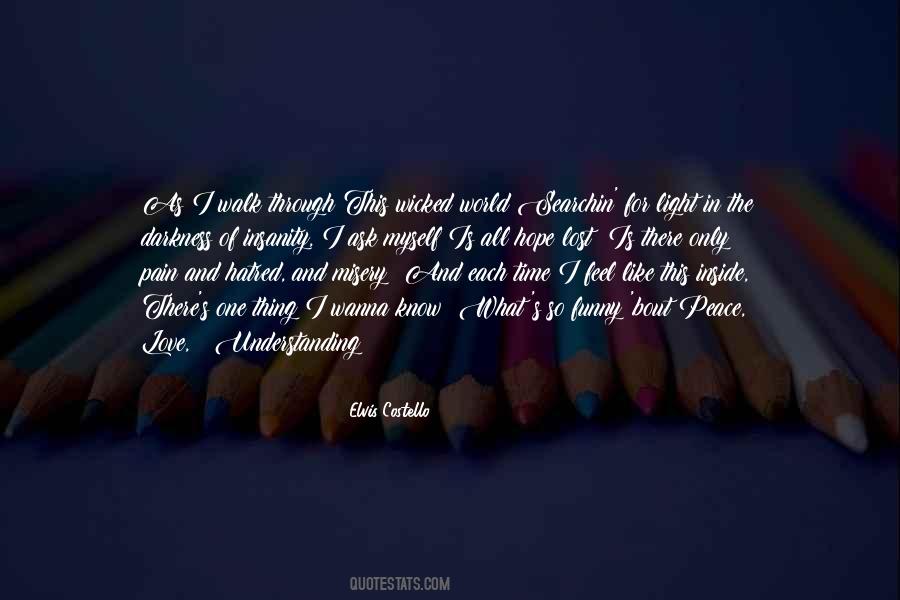 #81. My path, my life, my career has really been a journey from moving from, in a sense, darkness to light. From pain to joy through the experience of yoga and meditation. It's an ongoing adventure that's unfolding every day. - Author: MC Yogi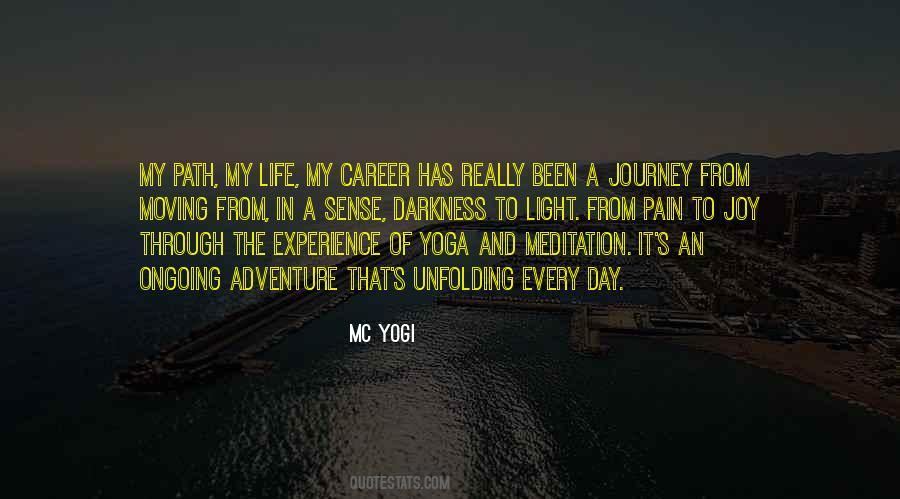 #82. Oh, goddamn," said Minty Fresh (damn on the downbeat, with pain and sustain). "Goddamn, my hood and grille are all fucked up. Goddamn. I will tolerate the rising of darkness to cover the world, but you do not fuck with my ride. - Author: Christopher Moore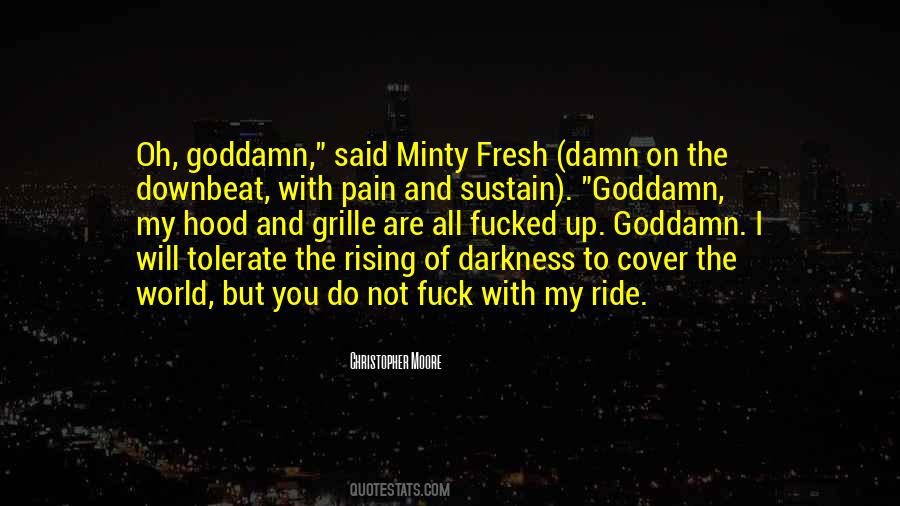 #83. He carries no burden, he feels no pain. What man, like woman, lies down in the darkness and gets up with child? The gentle, smiling ones own the good secret. Oh, what strange wonderful clocks women are. They nest in Time. They make flesh that holds fast and binds eternity. - Author: Ray Bradbury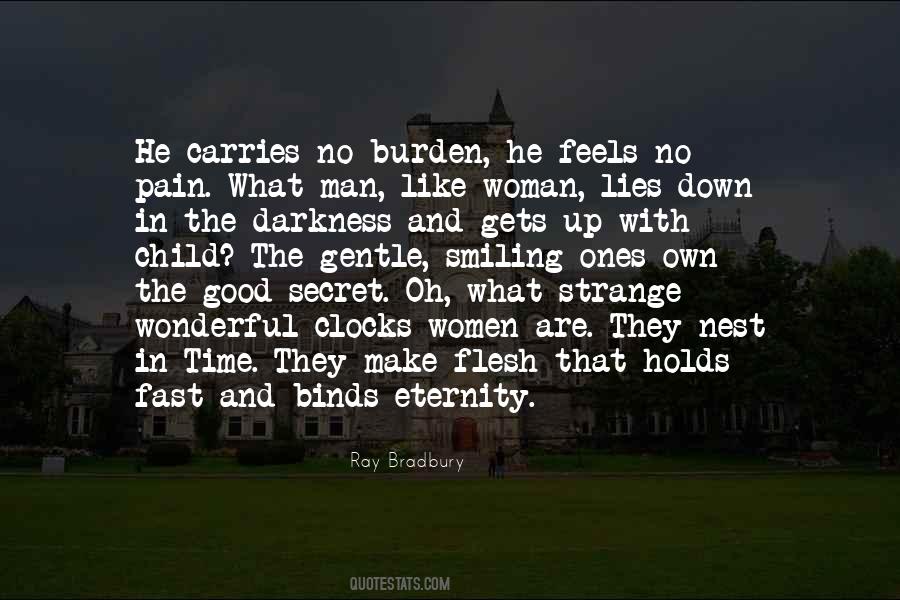 #84. There is a light that can only be found on the other side of darkness, there is a peace that can only be found on the other side of struggle, there is a faith that can only be found on the other side of doubt, and there is a healing that can only be found on the other side of pain. - Author: Sarah Holman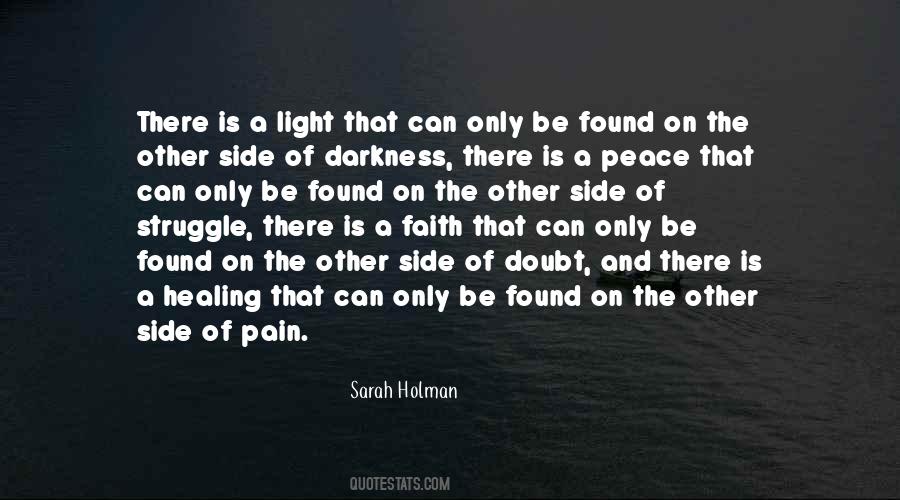 #85. She was a vessel built to hold the pain of her history, but it had cracked her, and radiant darkness leaked out through the crack. When - Author: Michael Chabon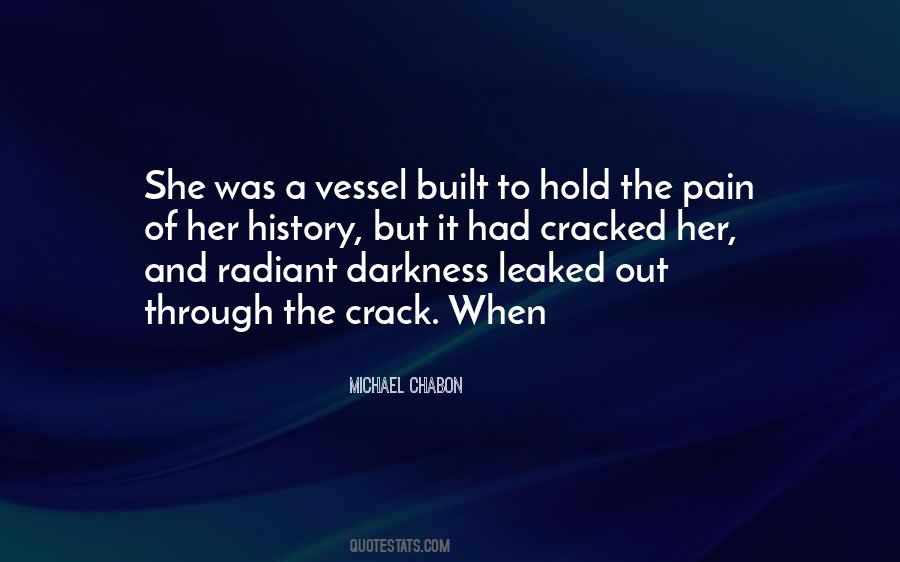 Famous Authors
Popular Topics