Owed Famous Quotes & Sayings
List of top 100 famous quotes and sayings about owed to read and share with friends on your Facebook, Twitter, blogs.
Top 100 Quotes About Owed
#1. Sleep evaded him like an old friend who owed him money. - Author: James Newman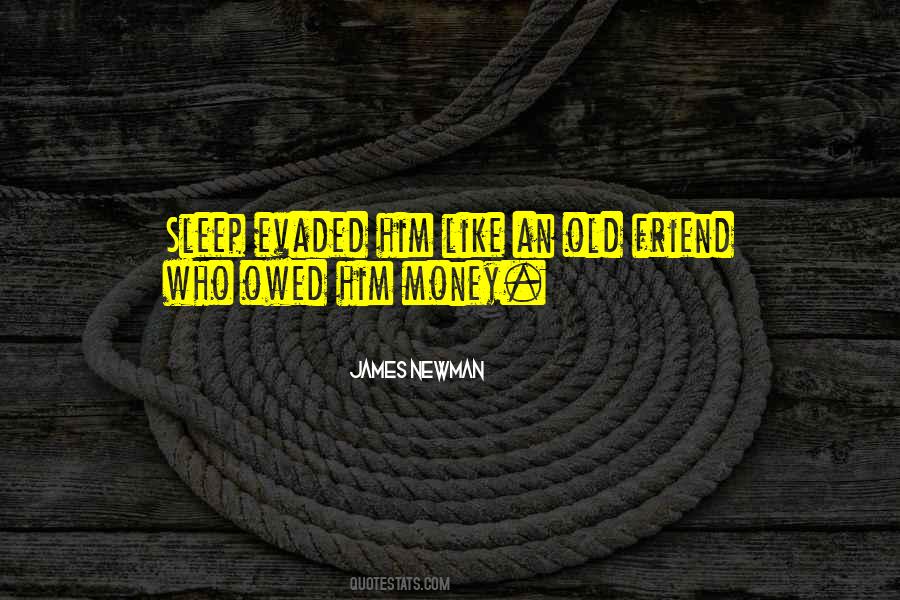 #2. Stothard learned the art of combining colors by closely studying butterflies wings; he would often say that no one knew what he owed to these tiny insects. A burnt stick and a barn door served Wilkie in lieu of pencil and canvas. - Author: Samuel Smiles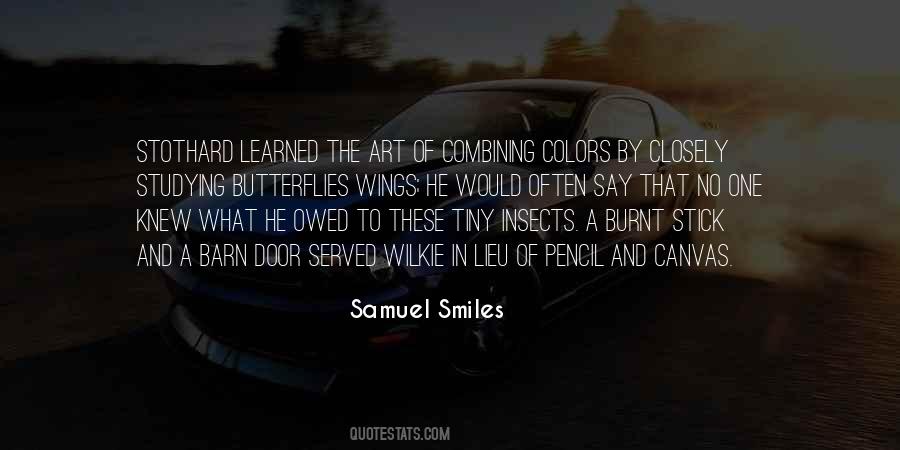 #3. It is because I owe America more than she has ever owed me that I am a candidate for president to the United States. - Author: John McCain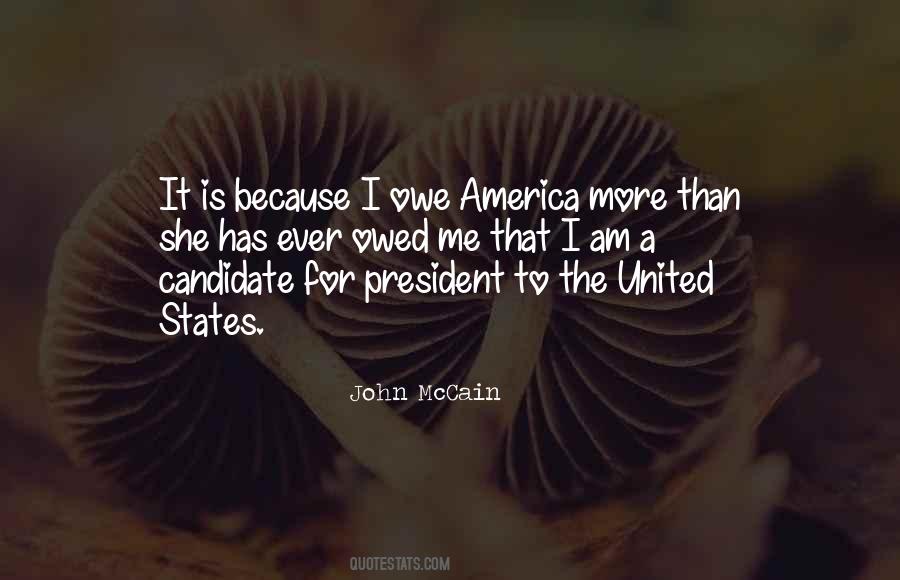 #4. I so owed Arianna, that undead little genius. - Author: Kiersten White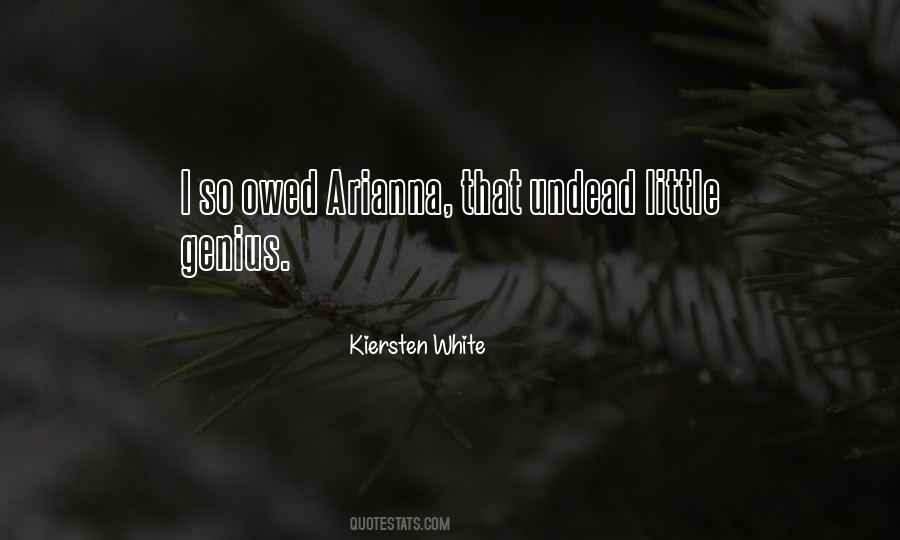 #5. Too long I've owed you this apology
For the apparently unmeaning sorrow
You were afflicted with in those old days.
But it was of the essence of the trial
You shouldn't understand it at the time. - Author: Robert Frost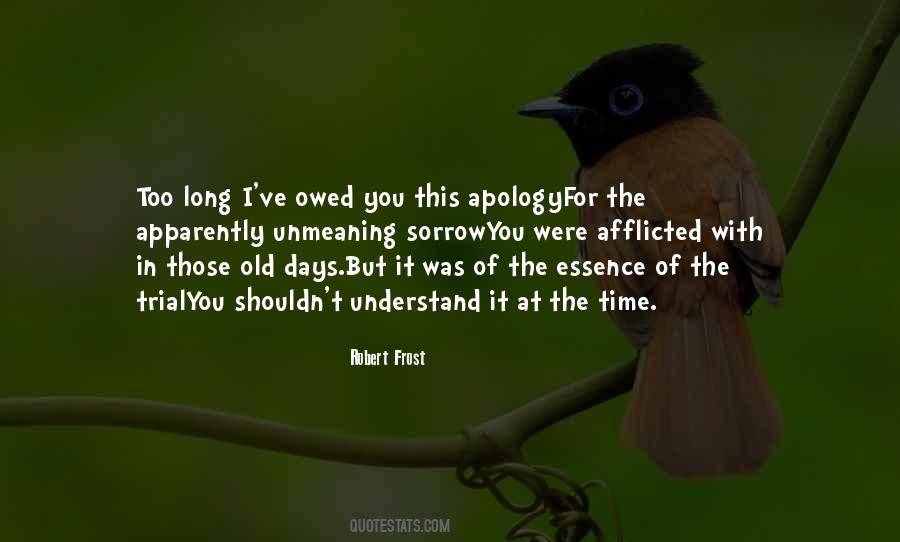 #6. It was better that we never apologized to each other. Then we'd be admitting that we were wrong and we owed each other something. That's where people got into trouble. - Author: Jennifer Echols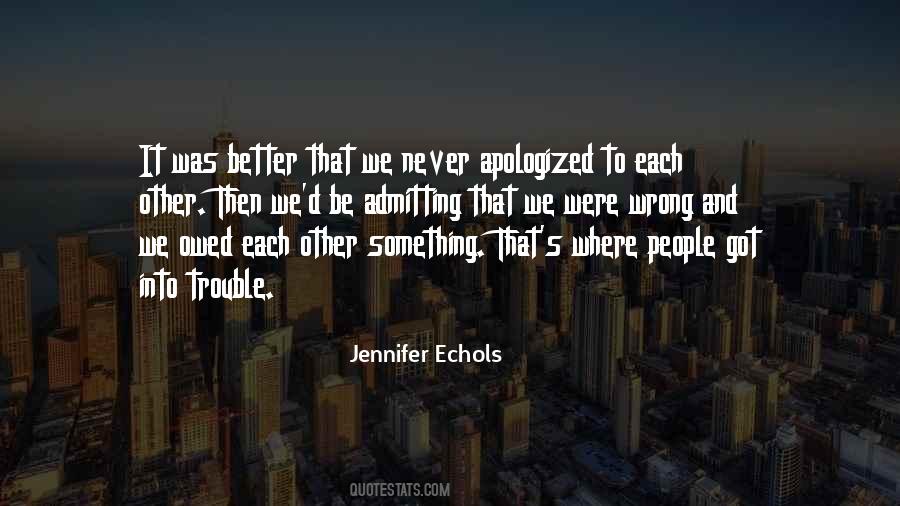 #7. He felt a giant among pygmies, a pike among crappies, as he stood there among the legislators, most of whom owed him for flavors - special bills passed for their law clients, state jobs for constituents, " contributions" for their personal campaign funds, and so on. - Author: A.J. Liebling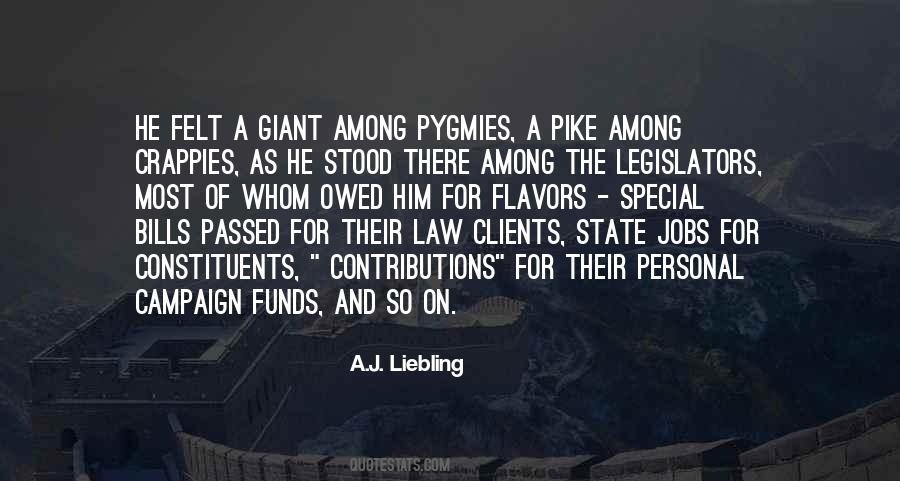 #8. My father had been a copper miner, uncles and grandfathers worked in the mines for the Union Pacific. So to me, sitting at a desk all day was not only a privilege but a duty: something I owed to all those people in my life, living and dead, who'd had so much more to say than anyone ever got to hear. - Author: Barbara Ehrenreich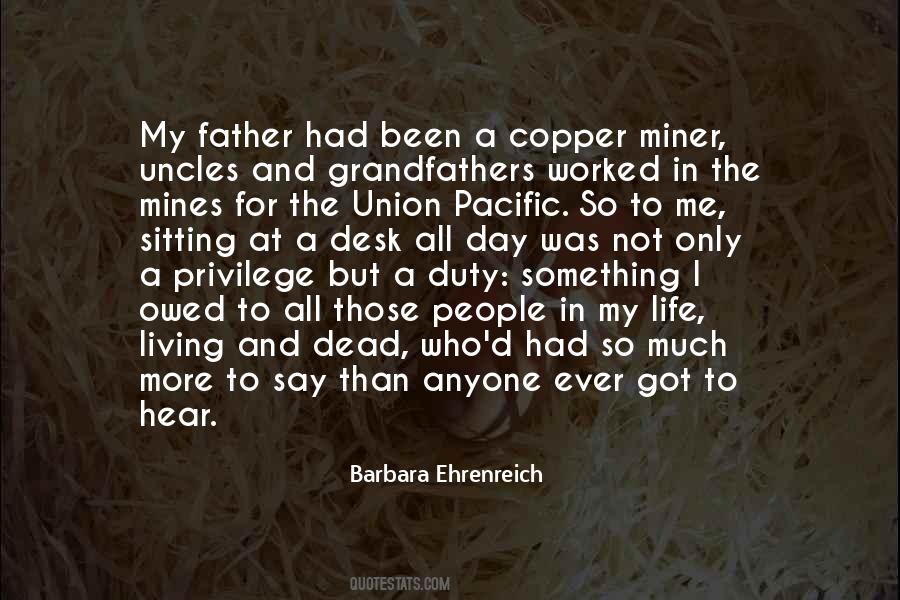 #9. No one asked me to be an actor, so no one owed me. There was no entitlement. - Author: James Earl Jones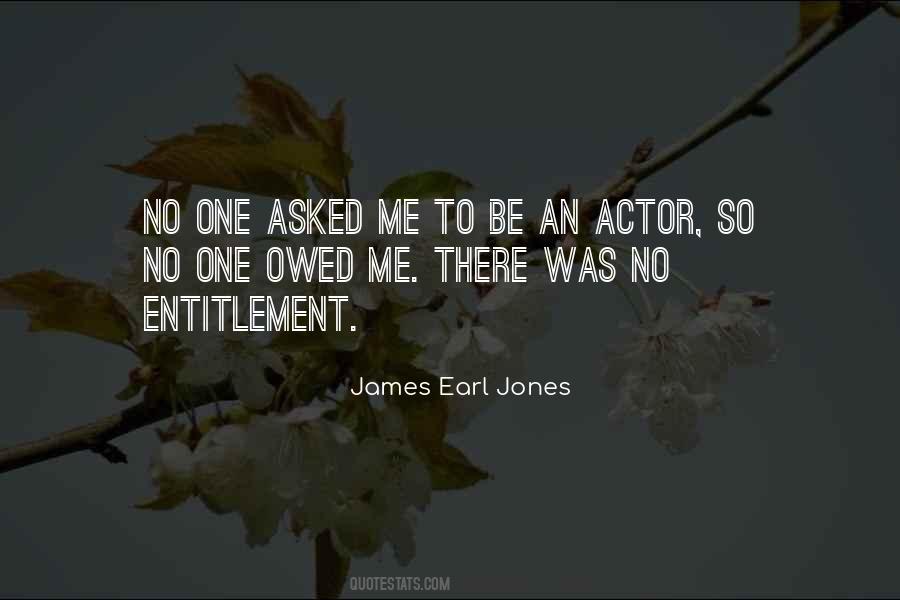 #10. Our national debt after all is an internal debt owed not only by the Nation but to the Nation. If our children have to pay interest on it they will pay that interest to themselves. A reasonable internal debt will not impoverish our children or put the Nation into bankruptcy. - Author: Franklin D. Roosevelt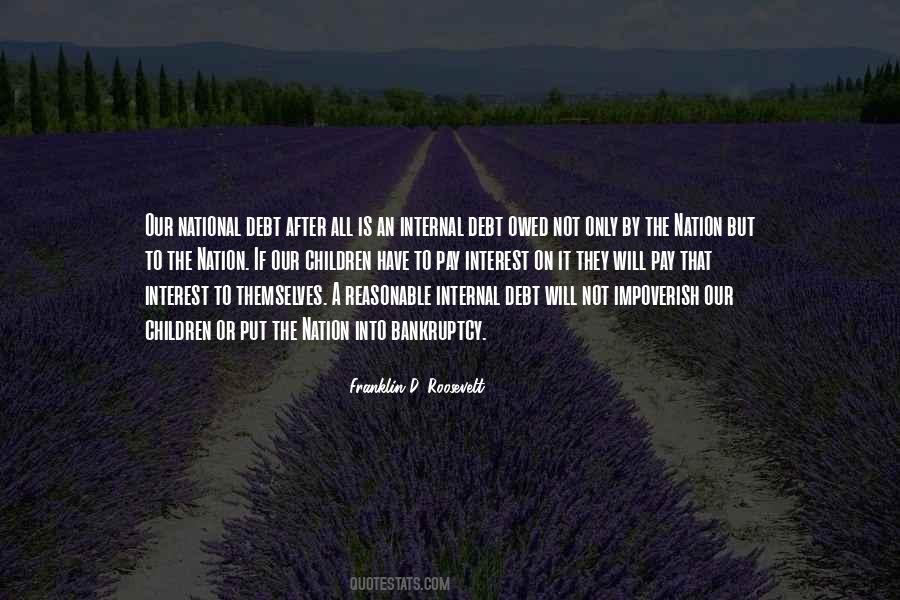 #11. I guess I lost my way, there were so many roads. I was living to run, and running to live, never worried about paying or even how much I owed. - Author: Bob Seger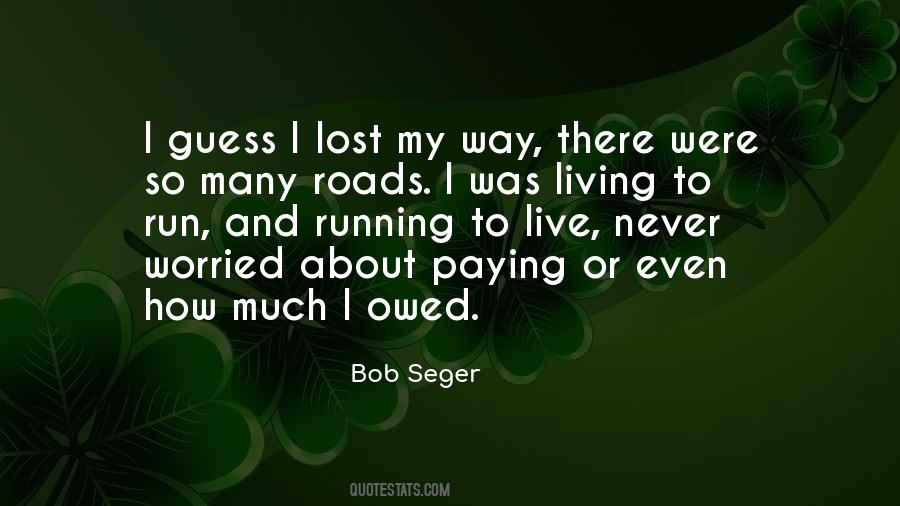 #12. His good looks and his rank had one fair claim on his attachment; since to them he must have owed a wife of very superior character to any thing deserved by his own. - Author: Jane Austen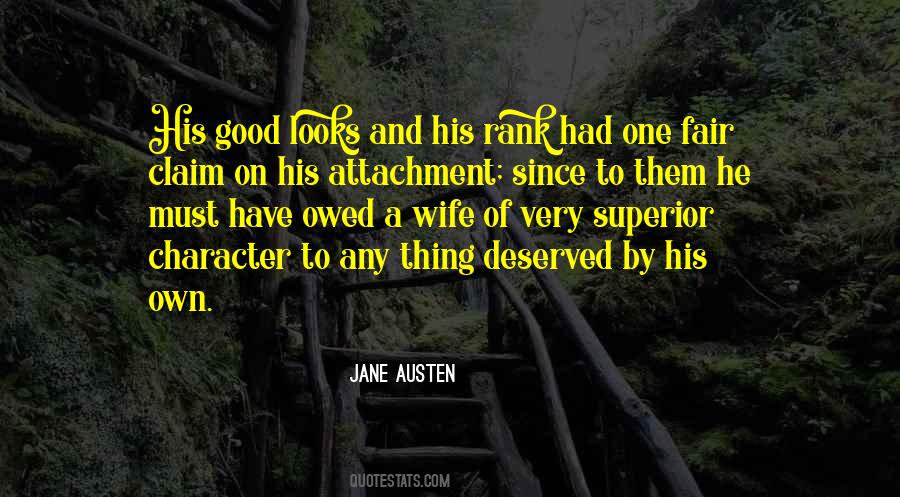 #13. Yes. I owed my life, Angel's life, and my mother's life to a mutant's ability to create industrial-strength snot. - Author: James Patterson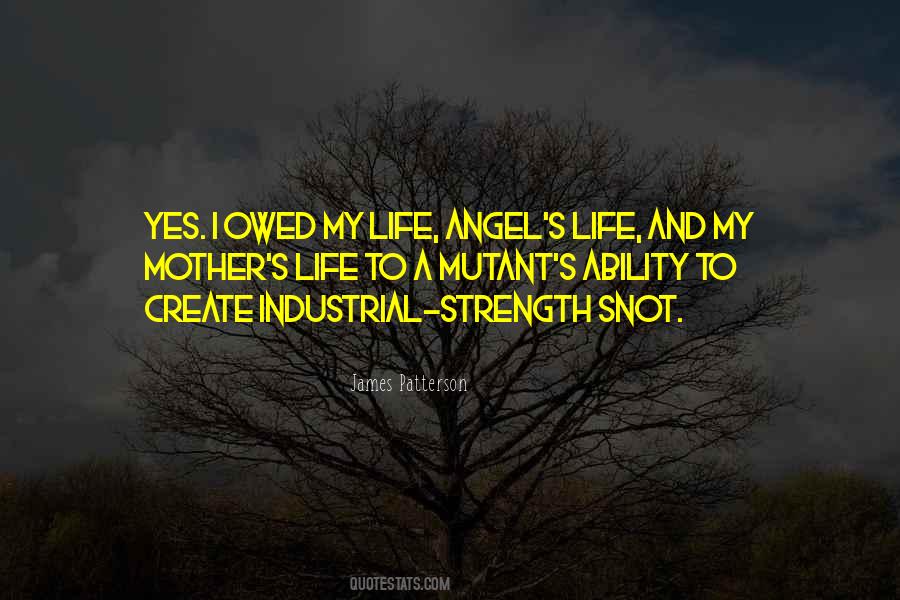 #14. Even if not one migrant turns out to vote, this was a historic debt that Mexico owed its compatriots abroad. This represents a new political space for our migrants, an opportunity to bridge the gap between two societies, those living in Mexico and those living abroad. - Author: Ruben Aguilar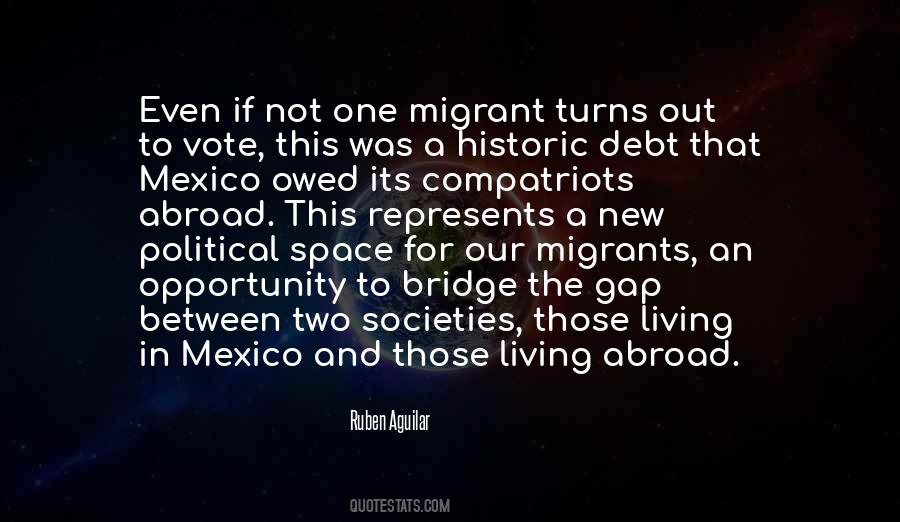 #15. Thus you are just not because you give what is owed, but because you do what is appropriate to you as the highest good. - Author: Anselm Of Canterbury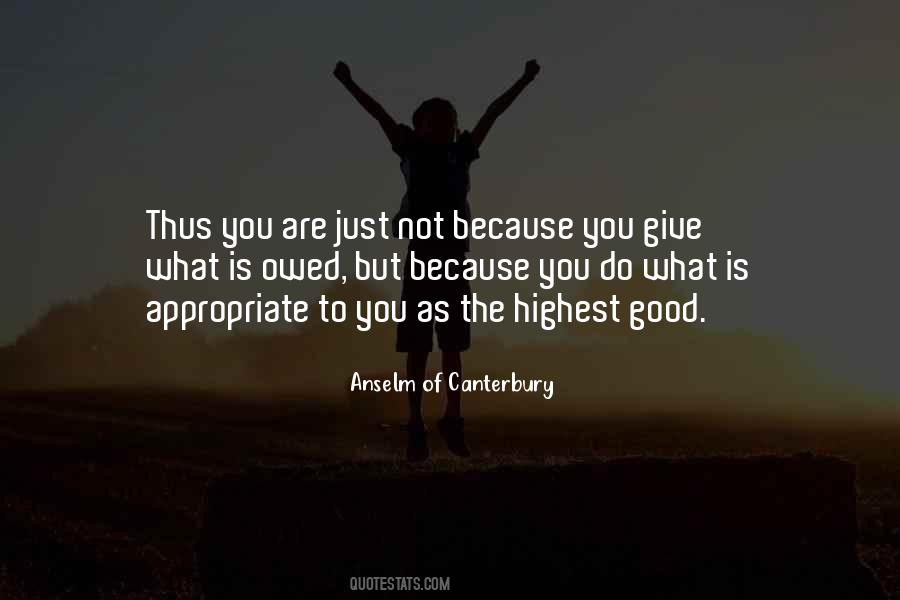 #16. She owed him nothing - less than nothing. - Author: Brynn Kelly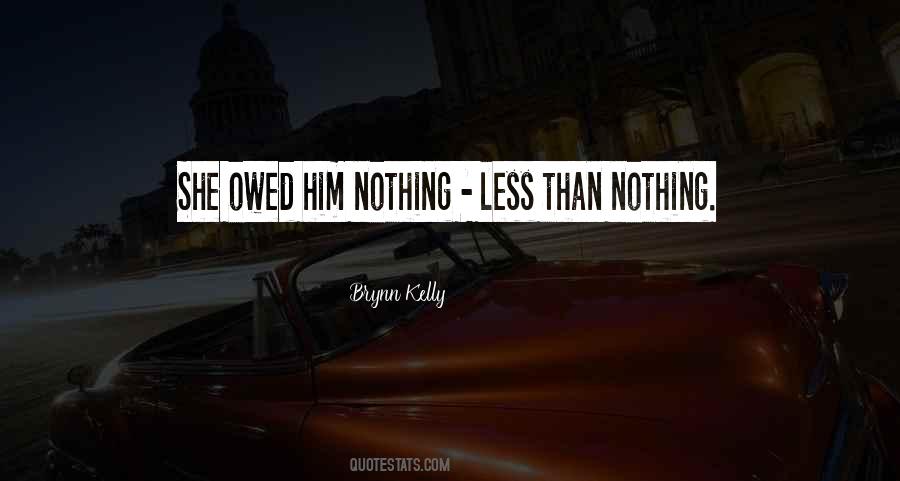 #17. First Memories
Without language we cannot create distinct memories,
that's why the first year-and-a-half of my life is still a blank,
other than a lingering vague premonition I owed
someone something. - Author: Beryl Dov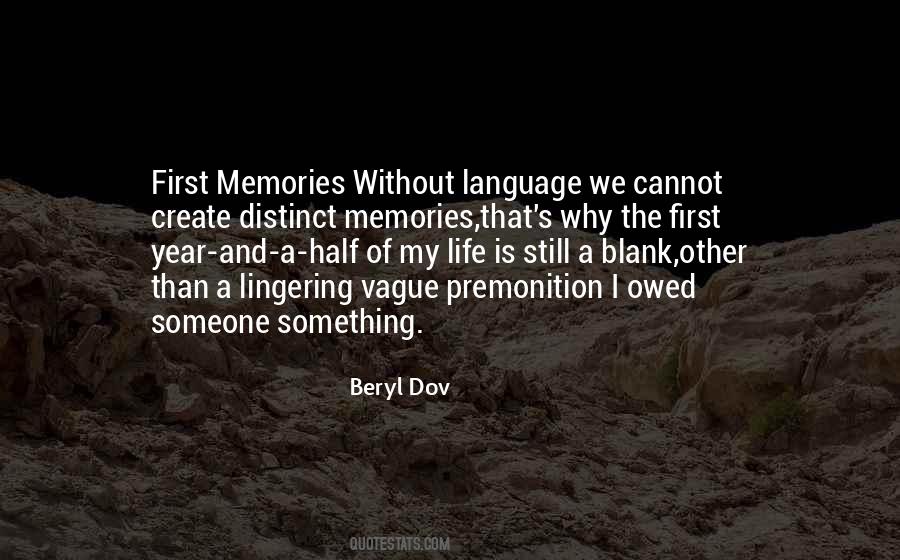 #18. I owed Lewis one thing, at least. Once you had suffered the experience of presenting a case at one of his Monday morning conferences, no other public appearance, whether on radio, TV or the lecture platform, could hold any terrors for you. - Author: Anthony Storr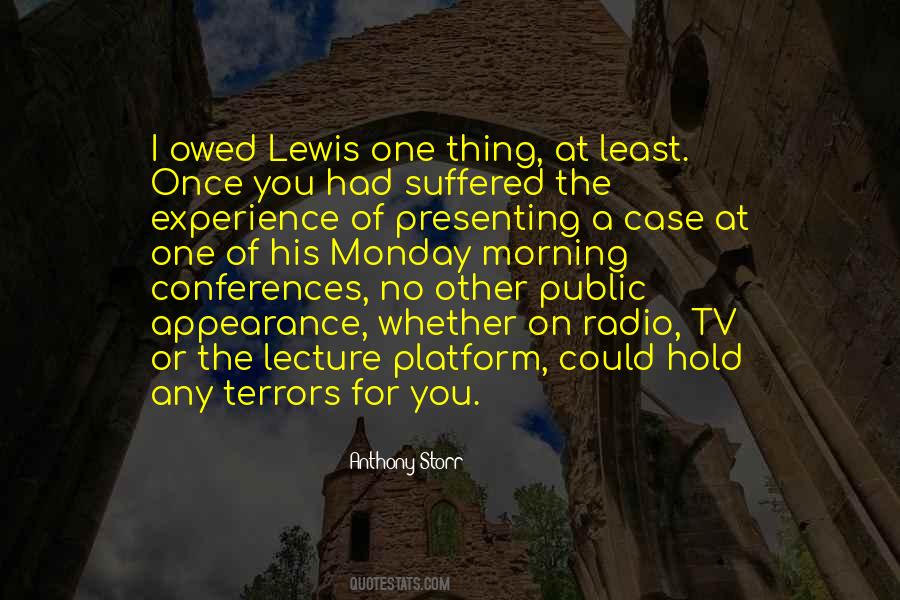 #19. After four hundred years of slave labor, we have some back pay coming, a bill owed to us that must be collected. - Author: Malcolm X
#20. Our country is not the only thing to which we owe our allegiance. It is also owed to justice and to humanity. - Author: James Bryce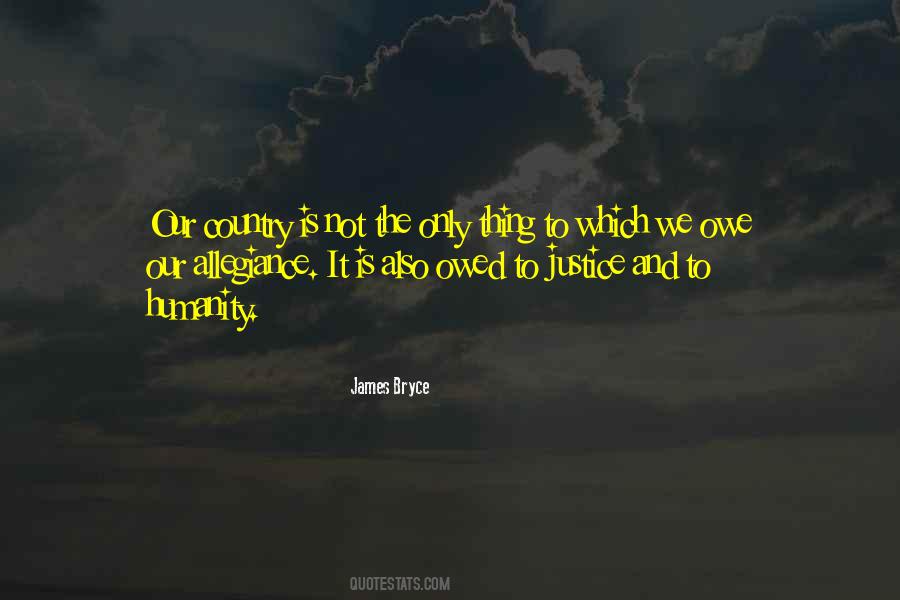 #21. If people work for me over the years, I expect them to be paid what they're owed, but I don't expect them to be paid more than they earn. - Author: Dolly Parton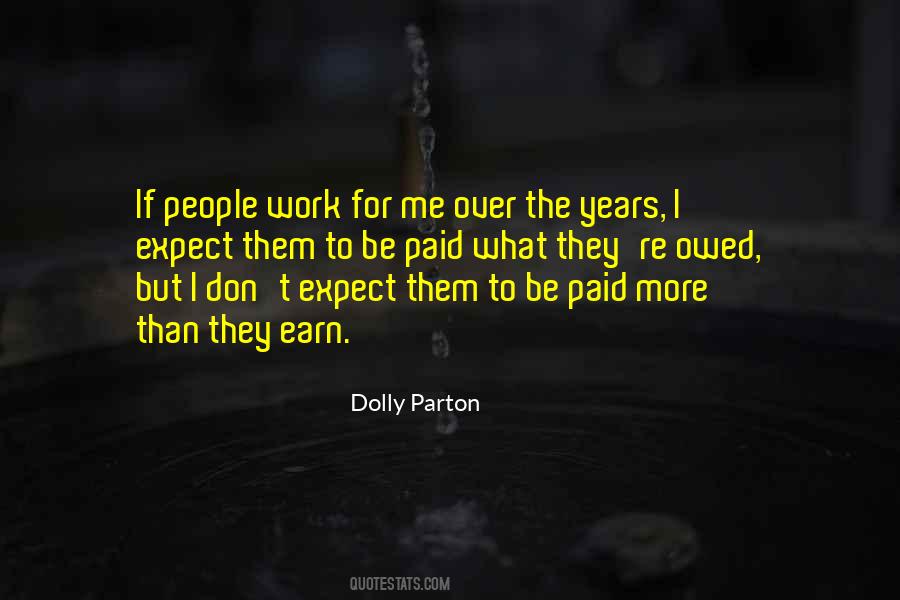 #22. A religion so cheerless, a philosophy so sorrowful, could never have succeeded with the masses of mankind if presented only as a system of metaphysics. Buddhism owed its success to its catholic spirit and its beautiful morality. - Author: William Winwood Reade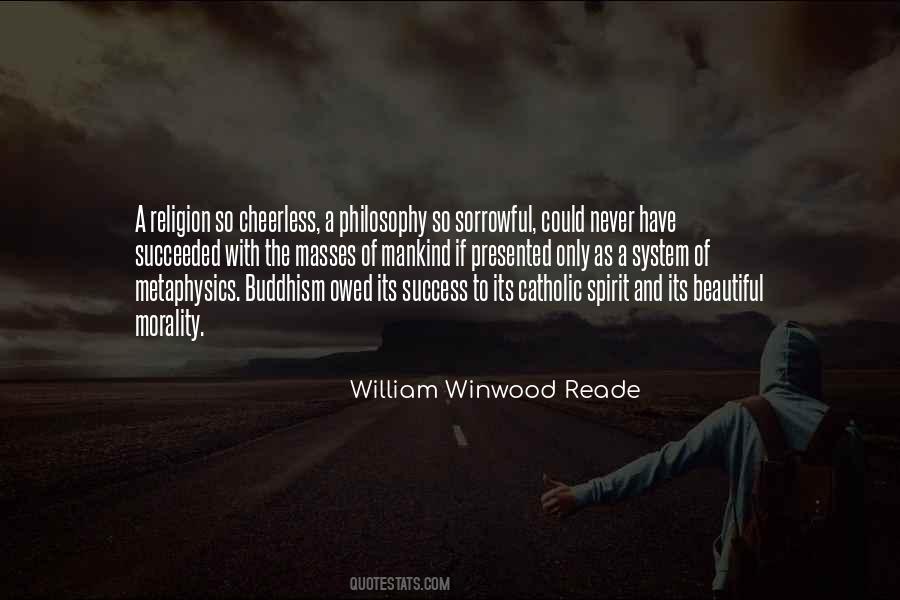 #23. To discover what becomes of men who do not pay debts owed to Ratilla, one must visit the underworld. - Author: A.H. Septimius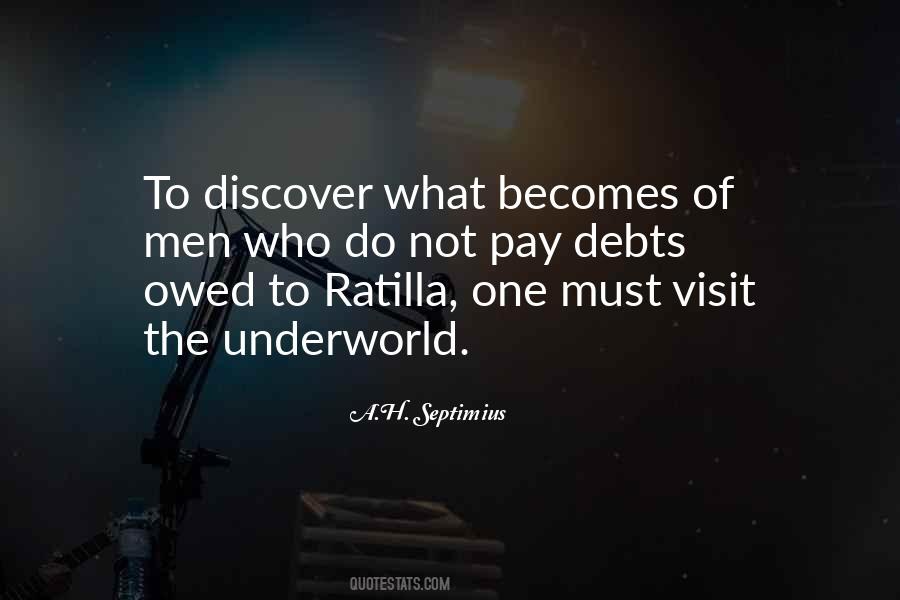 #24. Sergeant Colon owed thirty years of happy marriage to the fact that Mrs. Colon worked all day and Sargent Colon worked all night. They communicated by means of notes. They had three grown-up children, all born, Vimes had assumed, as a result of extremely persuasive handwriting. - Author: Terry Pratchett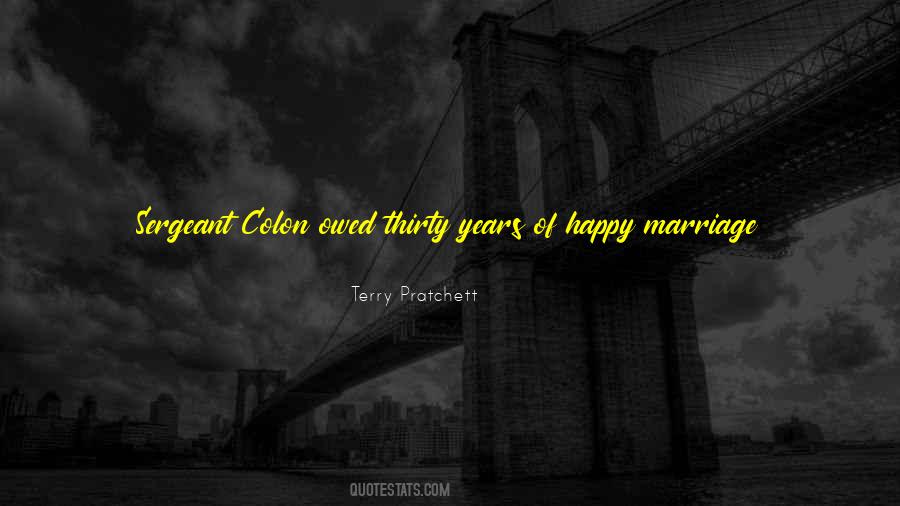 #25. Every American born today owes $43,000 to the federal government the day she or he is born. And we are transferring a tremendous amount of debt to the new generation, much of it owed to overseas creditors who expect to be repaid by our children with interest. - Author: Mark Kirk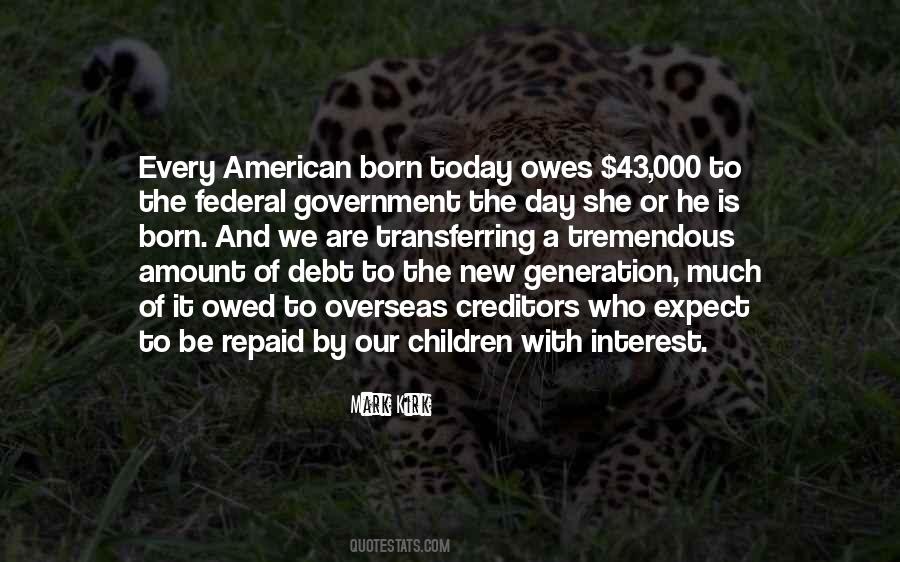 #26. Syn took a deep breath. He was getting ready to step into Furi's sexual stronghold, and he was helpless to resist it. He didn't want to fight it. After the kind of afternoon he'd had hunting Furi down, the man owed him some stress relief. Syn - Author: A.E. Via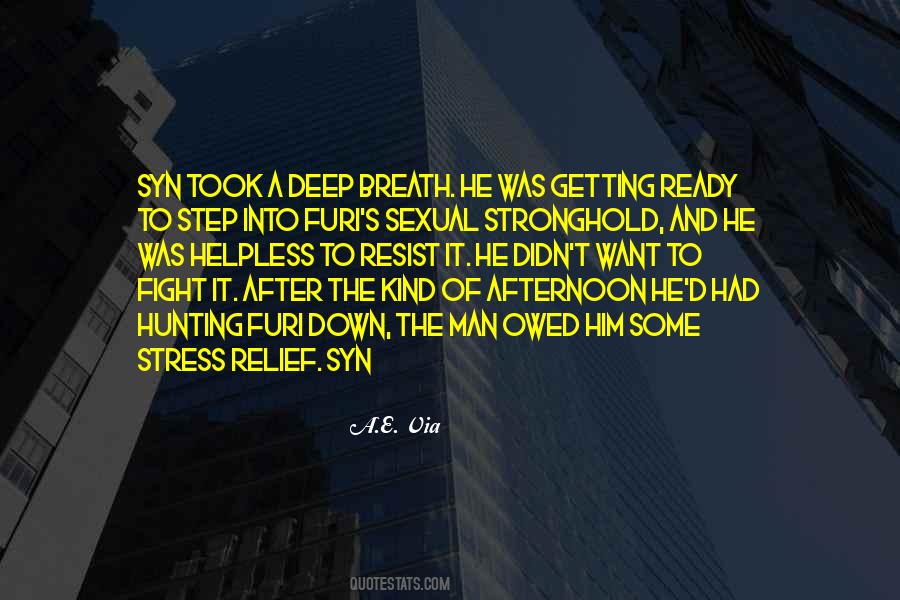 #27. If you couldn't catch up with me before the fame and fortune when you had owed me money and/or took up time with me, why on God's green earth should I take up any more time with you to borrow more money and not see you again until its time to borrow some more. - Author: Cleon T. Day III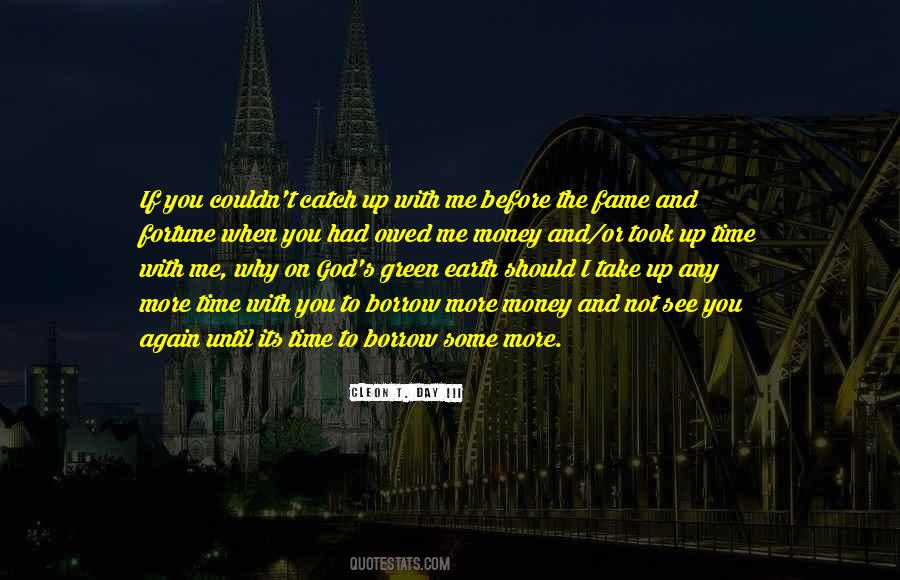 #28. America owed its military renaissance in the 1980s and 1990s to Vietnam. Veterans like Norman Schwartzkopf, Colin Powell, Alfred Grey, Charles Krulak, and Wesley Clark returned home angry and ashamed at their defeat and rebuilt all-volunteer, professional armed forces from the ground up. - Author: Michael Ignatieff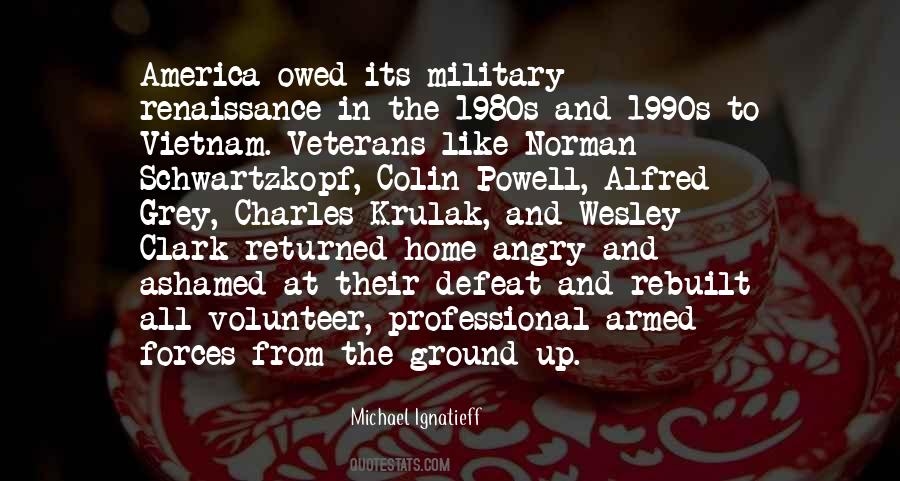 #29. He was hungering for the fight they had never had. The one she owed him, but could never give him. - Author: Sonali Dev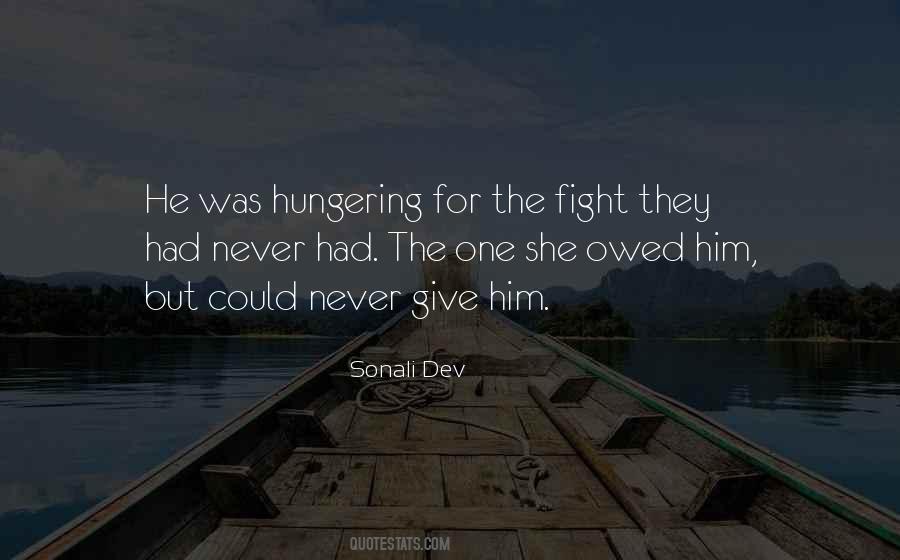 #30. High standards generally
about workmanship and creation of objects, about what is owed in friendship, about the quality of art and much else
far from being snobbish, are required to maintain decency in life. - Author: Joseph Epstein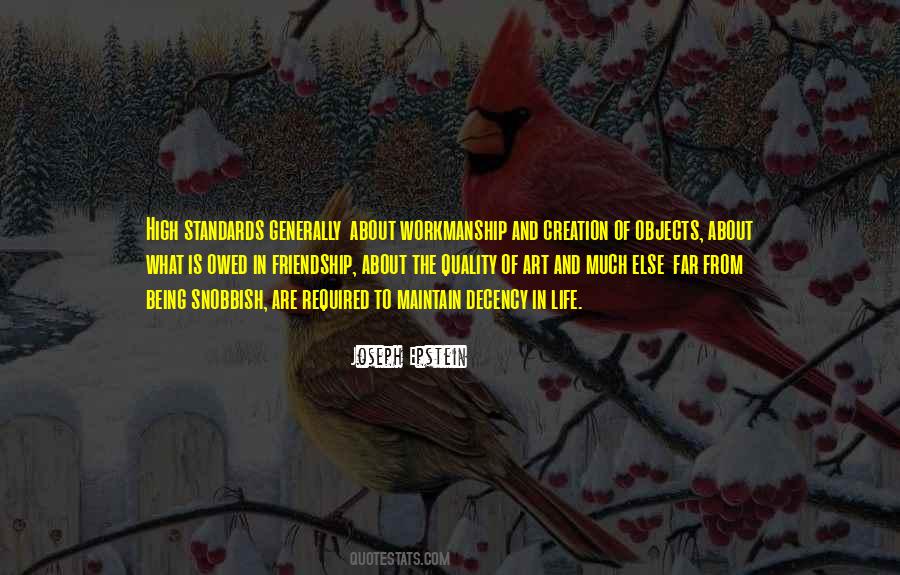 #31. We learn to wring magic from the ordinary. That was how you survived when you weren't chosen, when there was no royal blood in your veins. When the world owed you nothing, you demanded something of it anyway. Inej - Author: Leigh Bardugo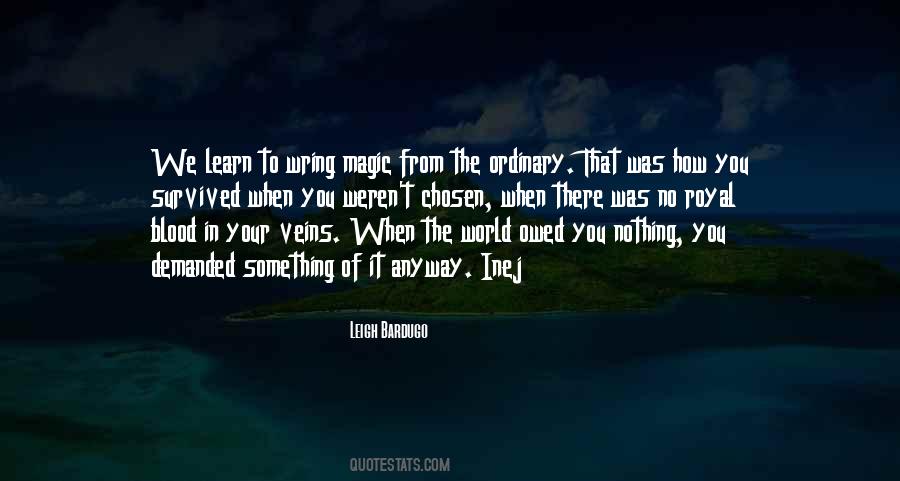 #32. Maybe I should have been frightened of him. This older man who saw that I was alone, who felt like I owed him something, which was the worst thing a man like that could feel. - Author: Emma Cline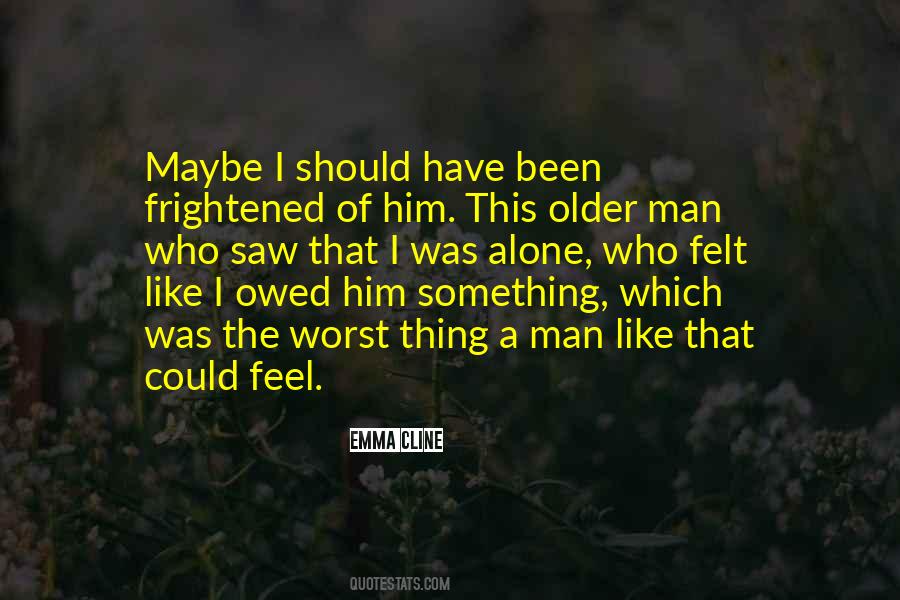 #33. Believing that Sibel was saying these things to me to make me angry, I got angry. But this is not to say that the fury owed nothing to my partial awareness that she was right. - Author: Orhan Pamuk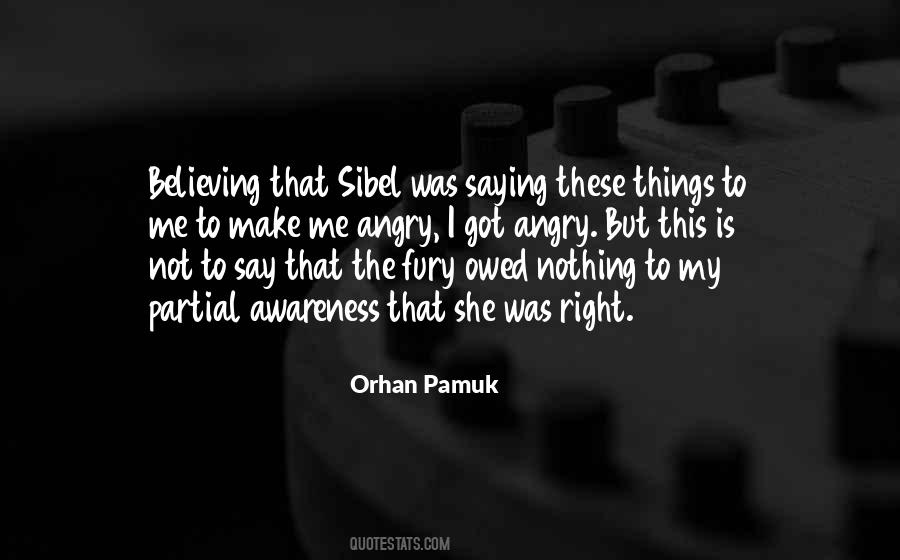 #34. The greatest respect is owed to a child. - Author: Juvenal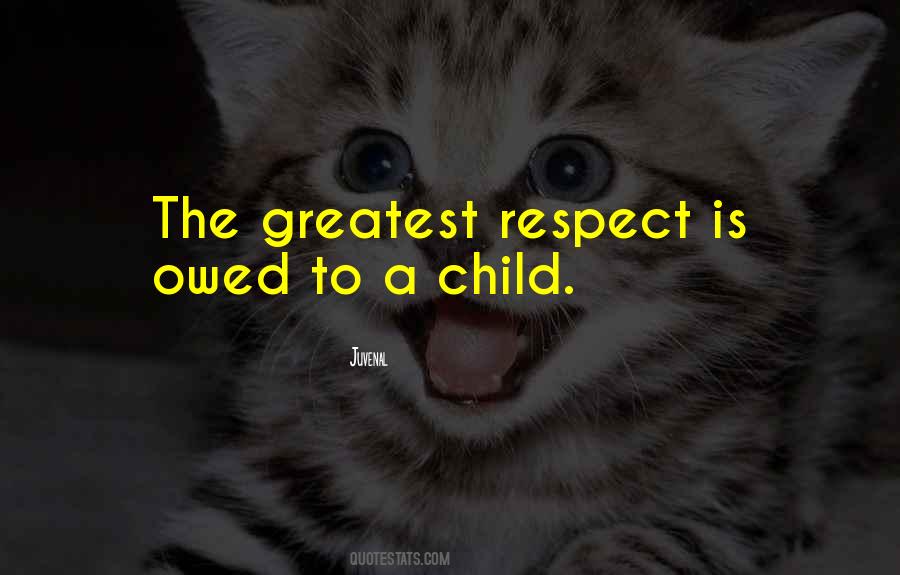 #35. When I was born I owed twelve dollars. - Author: George S. Kaufman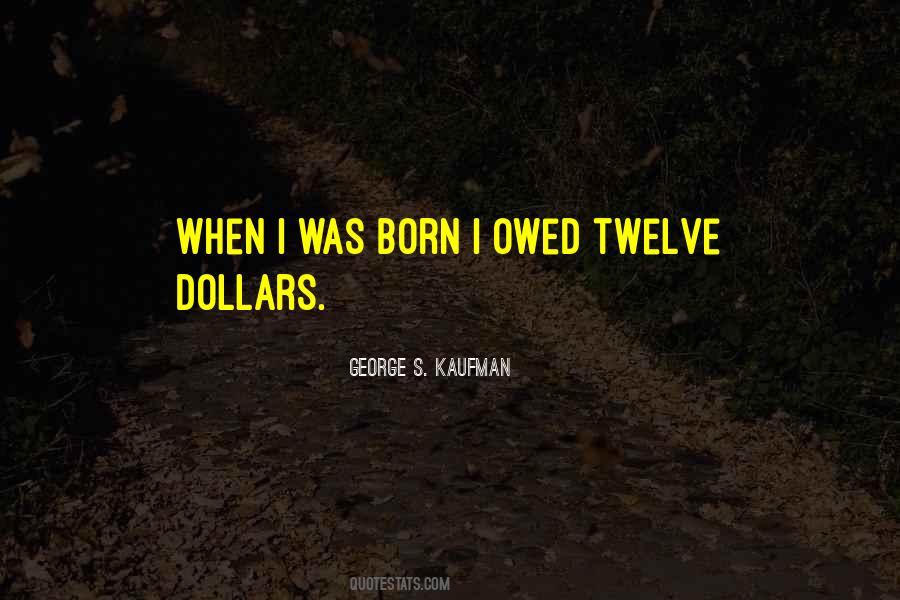 #36. I soon realized that the correct use of propaganda is a true art which has remained practically unknown to the bourgeois parties. Only the Christian- Social movement, especially in Lueger's time achieved a certain virtuosity on this instrument, to which it owed many of its success. - Author: Adolf Hitler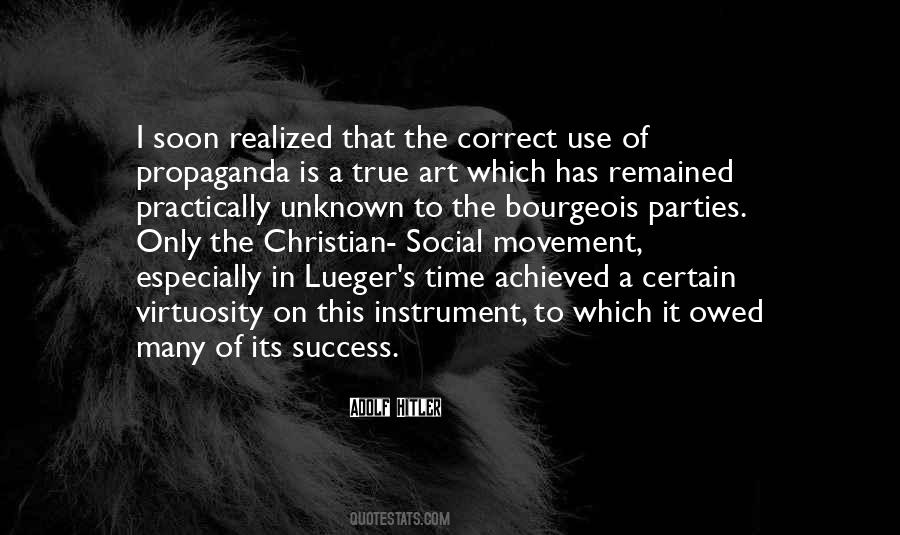 #37. At least this mountain world, to which I owed so much of life and happiness, would stand above the ruin of human hopes, the heritage of a saner generation of men. - Author: Eric Shipton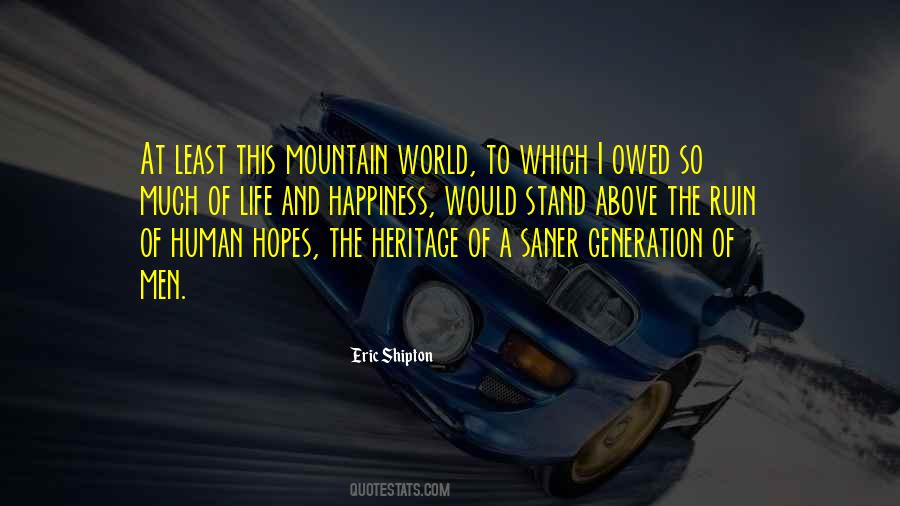 #38. Byron owed the vast influence which he exercised over his contemporaries at least as much to his gloomy egotism as to the real power of his poetry. - Author: Thomas B. Macaulay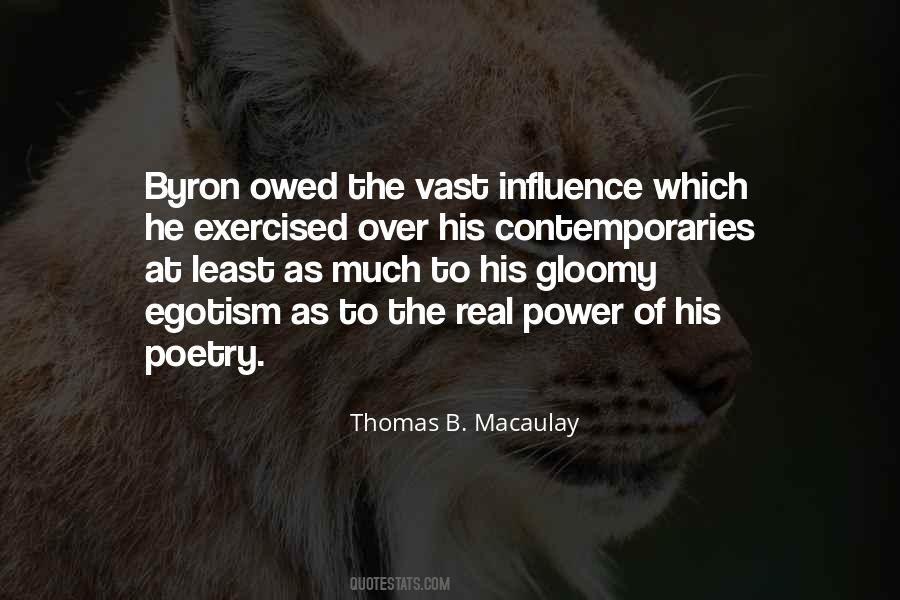 #39. I tended to give a book a chance and another chance and another, sometimes seeing it all the way to the end, still hoping for for it turn out different. Maybe I was confused about what you owed a book. What you owed people, for that matter, real or fictional. - Author: Deb Caletti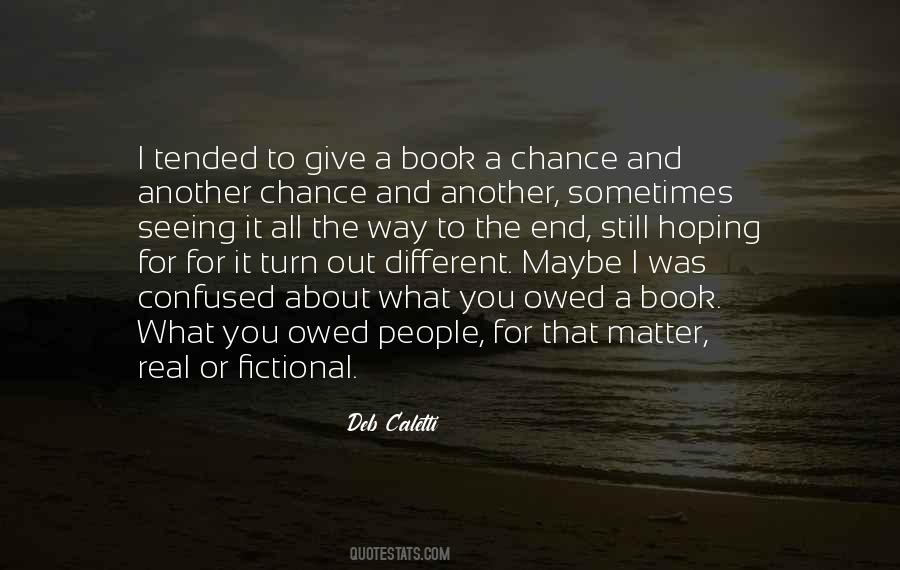 #40. My mother's pregnancy, it seems, was fated; my birth, however, owed a good deal to accident. - Author: Salman Rushdie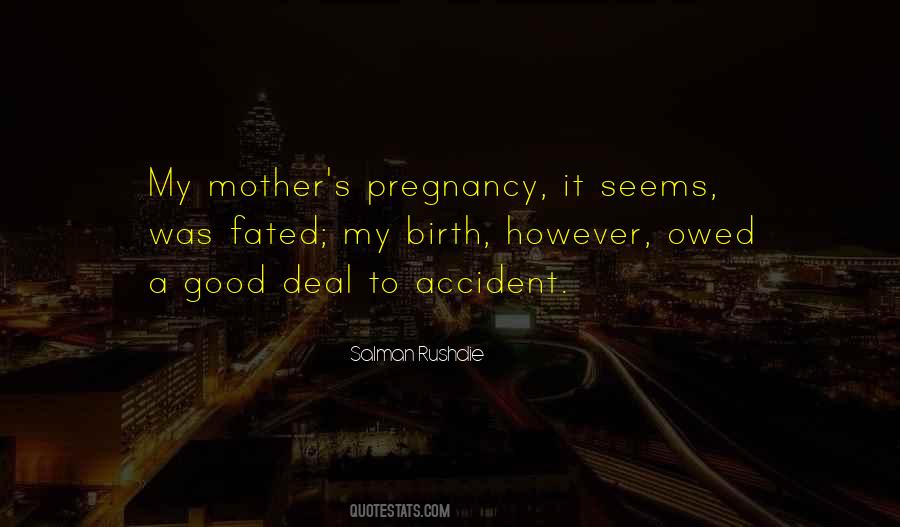 #41. Many of the greatest men have owed their success to industry rather than to cleverness. - Author: John Lubbock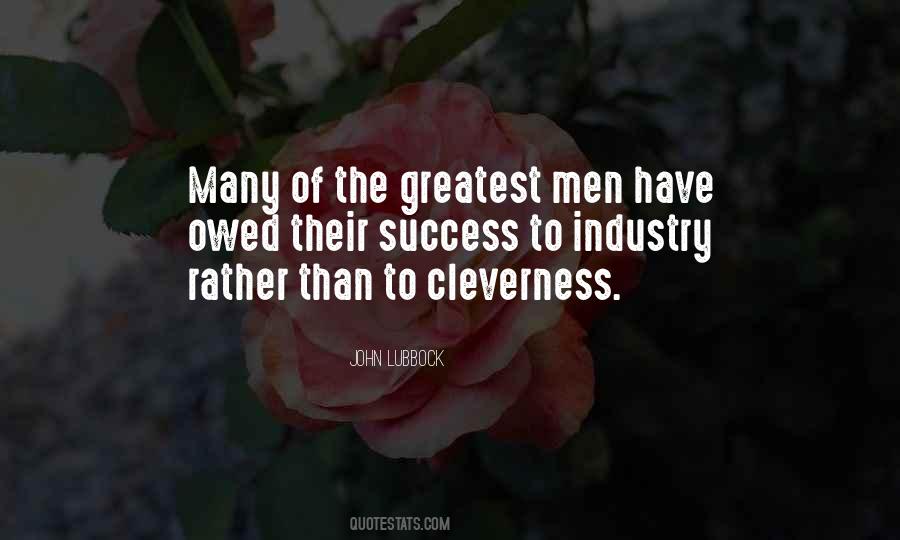 #42. I was a glaring blot on the perfection. But I didn't care: I didn't feel I owed him beauty. - Author: Naomi Novik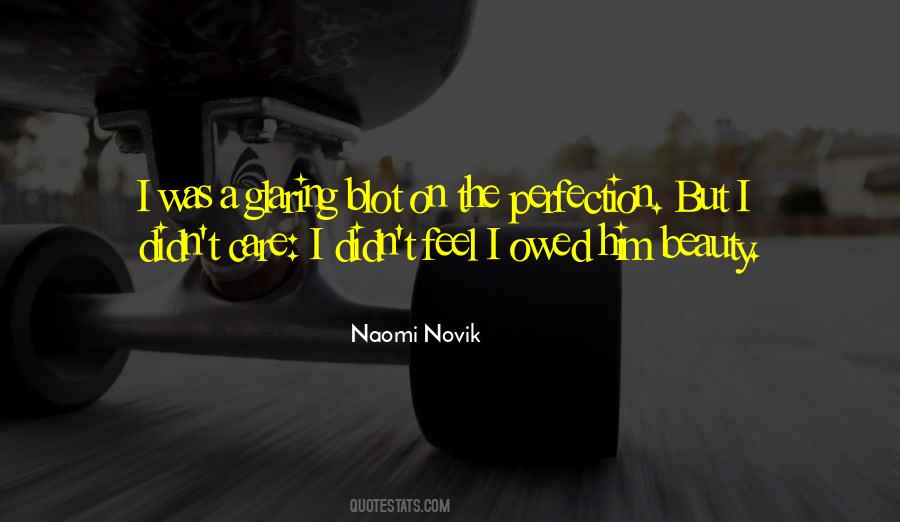 #43. Anger fed him and clothed him and he owed it much. - Author: Stephen Fry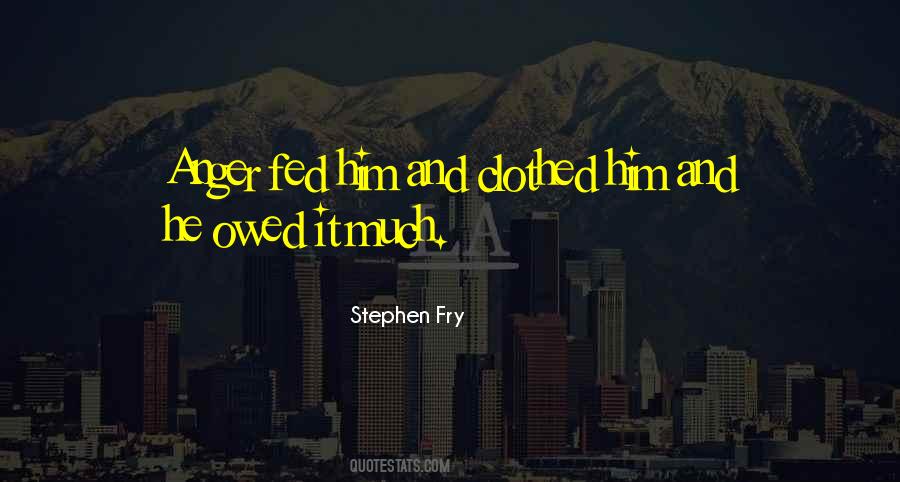 #44. The IRS sent back my tax return saying I owed $800. I said If you'll notice, I sent a paper clip with my return. Given what you've been paying for things lately, that should more than make up the difference. - Author: Emo Philips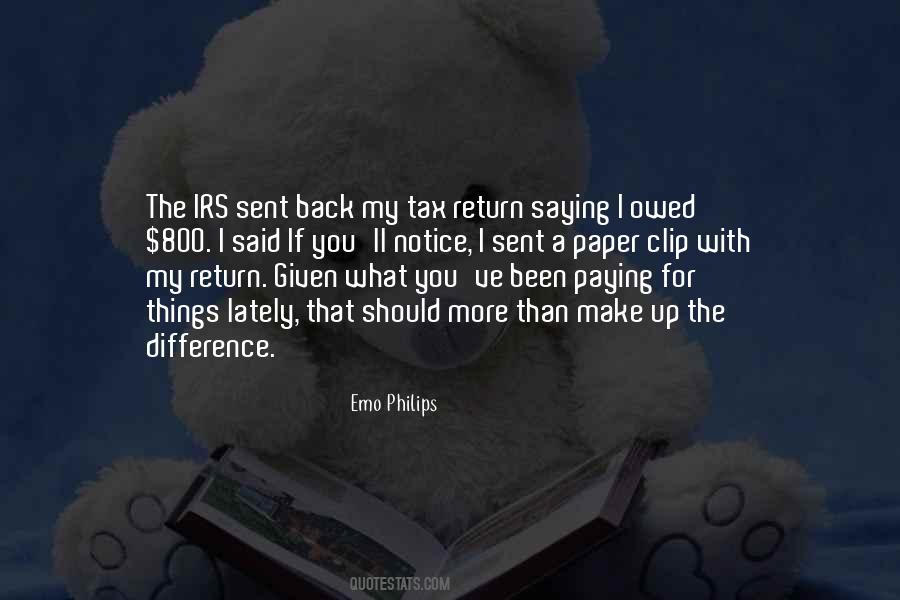 #45. I held her tight all night. Later on when Gabe came in I told him I was keeping her. With a smirk he told me he'd return with some fresh clothes. A year ago I wouldn't have picked him out of a crowd - now it felt like he was my best friend. And I owed it all to the girl sleeping in my arms. - Author: Rachel Van Dyken
#46. I owe America more than she has ever owed me. - Author: John McCain
#47. Alas, how quickly the gratitude owed to the dead flows off, how quick to be proved a deceiver. - Author: Sophocles
#48. I know I had that punch comin' to me. I owed you one. No hard feelings, sugar."
"Speak for yourself." Pia's words were coated in frost. "I've all kinds of hard feelings going on over here. - Author: Thea Harrison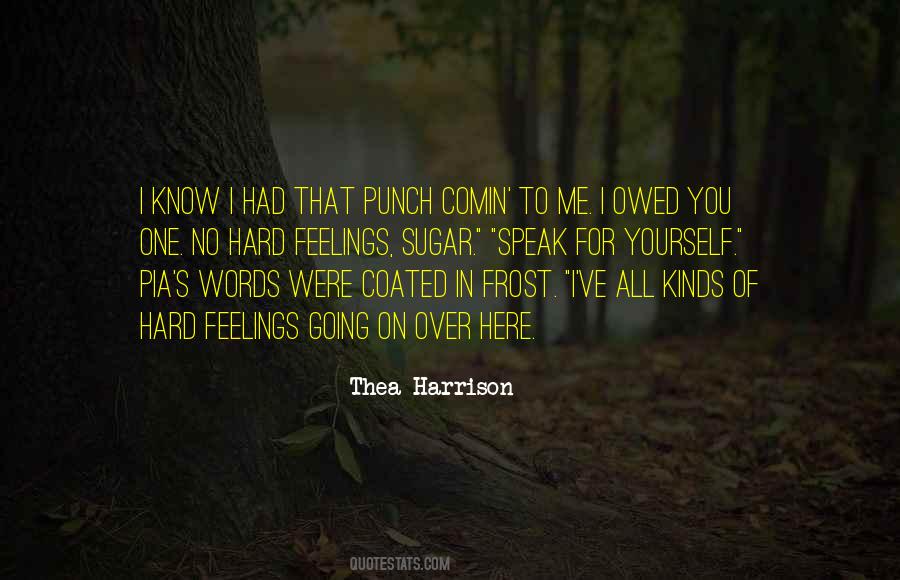 #49. I've never felt that the American Dream was owed to me. I never felt that I was entitled to this Dream. This is why I laid the cobblestone before me for this Dream to be achieved. - Author: John-Talmage Mathis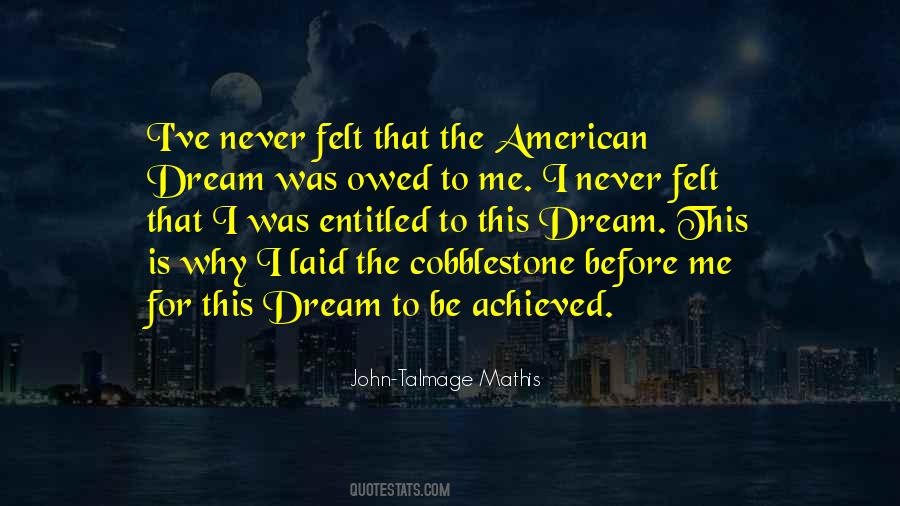 #50. Europe has always owed to oriental genius its divine impulses. What these holy bards said, all sane men found agreeable and true. - Author: Ralph Waldo Emerson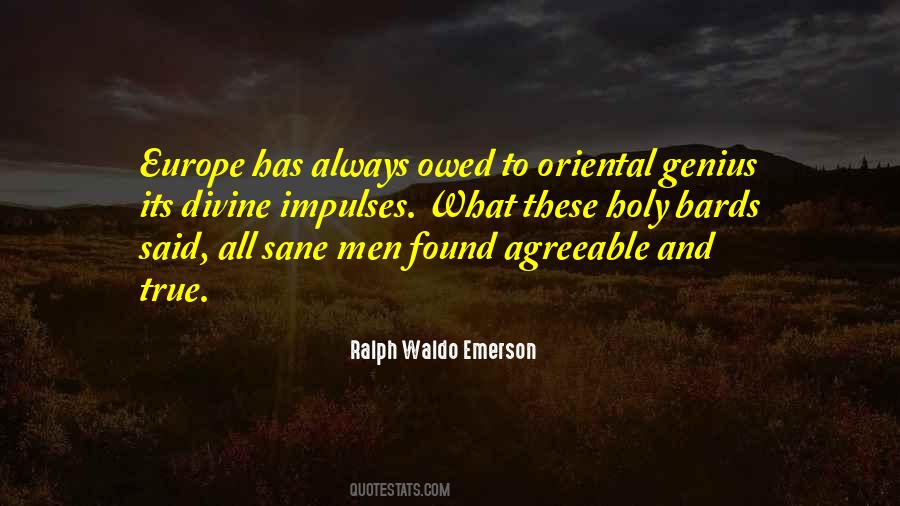 #51. A father of the church said that property was theft, many centuries before Proudhon was born. Bourdaloue reaffirmed it. Montesquieu was the inventor of national workshops and of the theory that the state owed every man a living. Nay, was not the church herself the first organized democracy? - Author: James Russell Lowell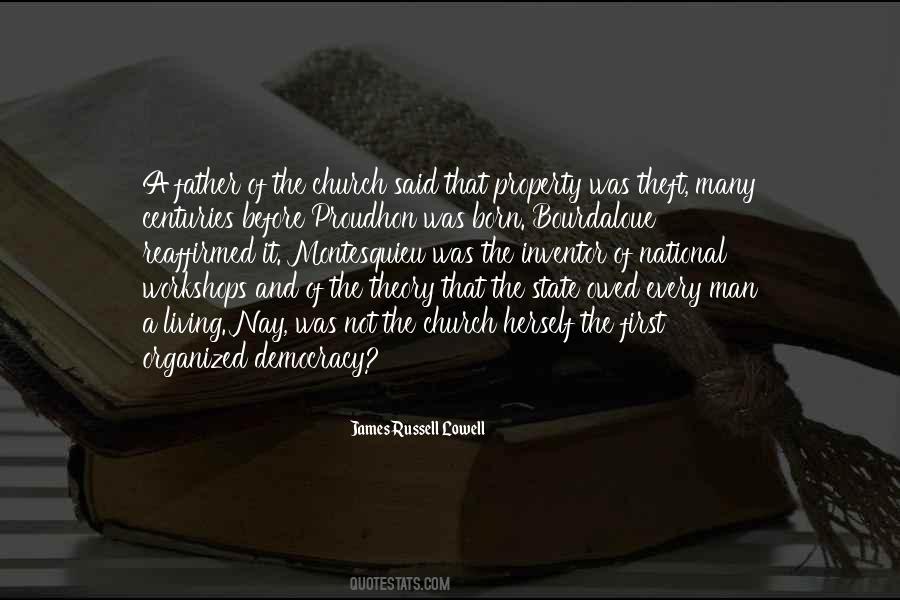 #52. And I agreed, but still, she owed us an explanation. If she was up there, down there, out there, somewhere, maybe she would laugh. - Author: John Green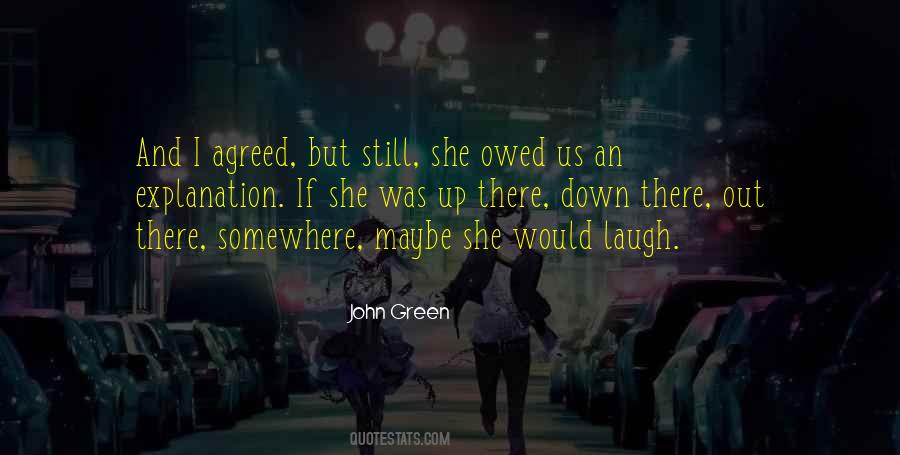 #53. All, the intelligent and stupid, diligent and idle, have been swept along on a current of increased output that, in the usual case, owed nothing whatever to their efforts. - Author: John Kenneth Galbraith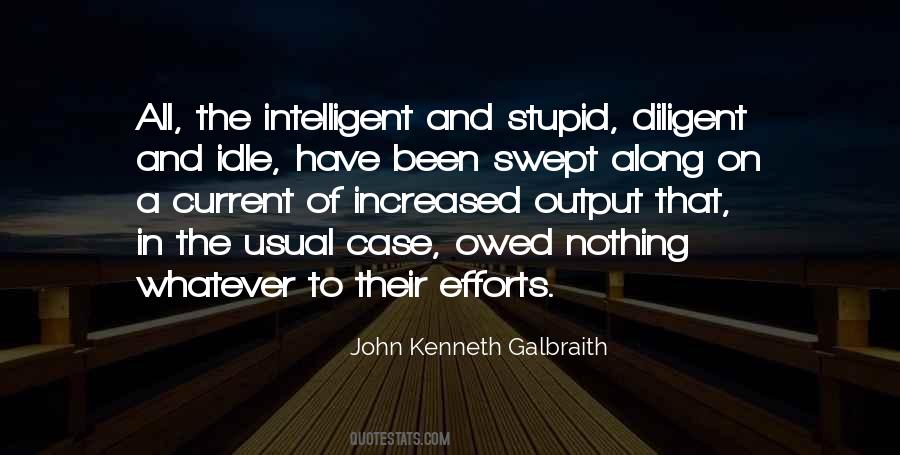 #54. I owed it to my father that I was elected to Parliament in the first place, but I owed it to my mother that I stuck it out once I got there. - Author: Agnes Macphail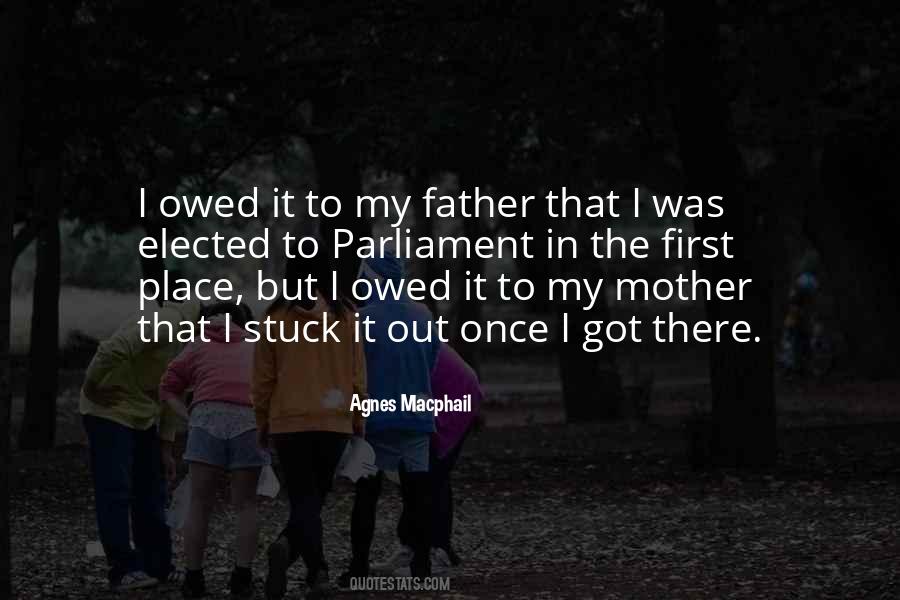 #55. the principal duty which a parent owed to a child was to make him happy. Not - Author: Anthony Trollope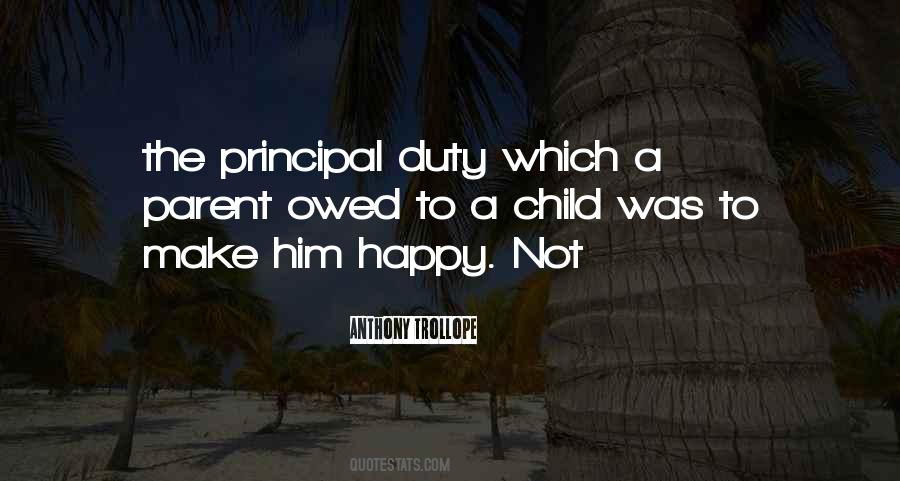 #56. God gave me a talent to draw. I 'owed' it to him to develop the talent. - Author: Annie Dillard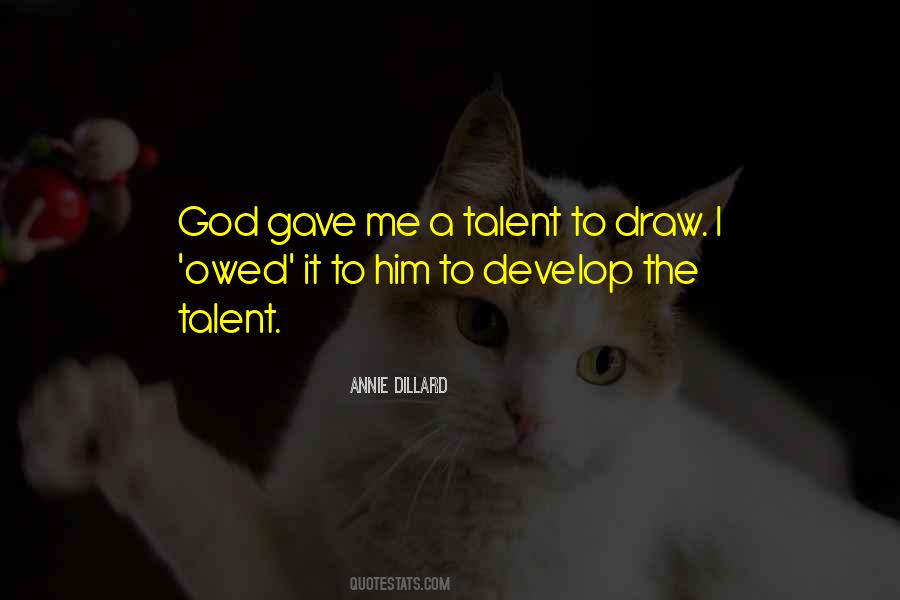 #57. Nobody in Colonial America, to be sure, believed that society owed every child the ultimate in education, but intelligence, industry, and thrift combined with ambition got many a poor man's son into the colonial colleges. - Author: Louis B. Wright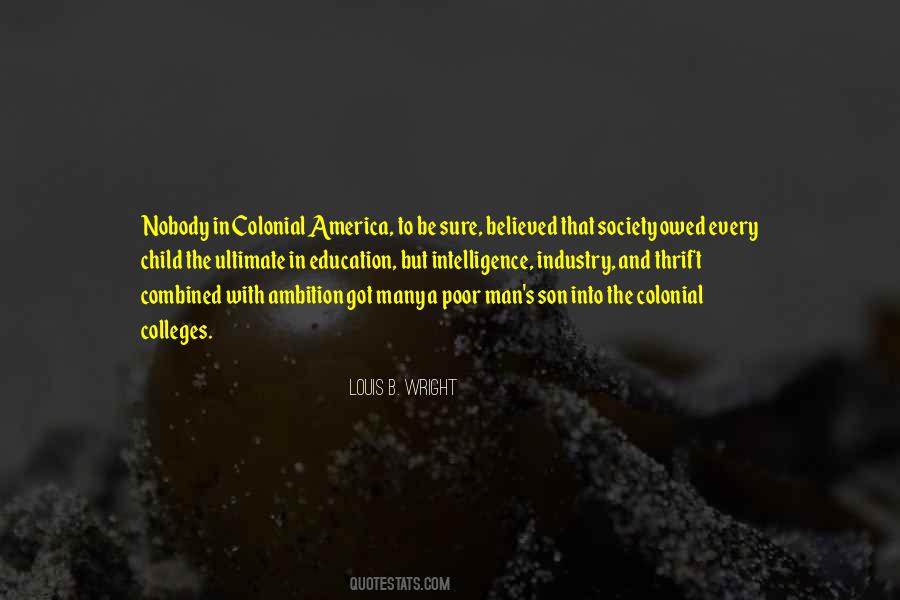 #58. Kathel smoothed out his shirt in an exaggerated manner. "It was the least I could do. I owed her one," he said referring to when Keirah saved Willow. He looked at Keirah and winked. Yeah, so not the thing to do right now, Keirah thought. - Author: Madison Thorne Grey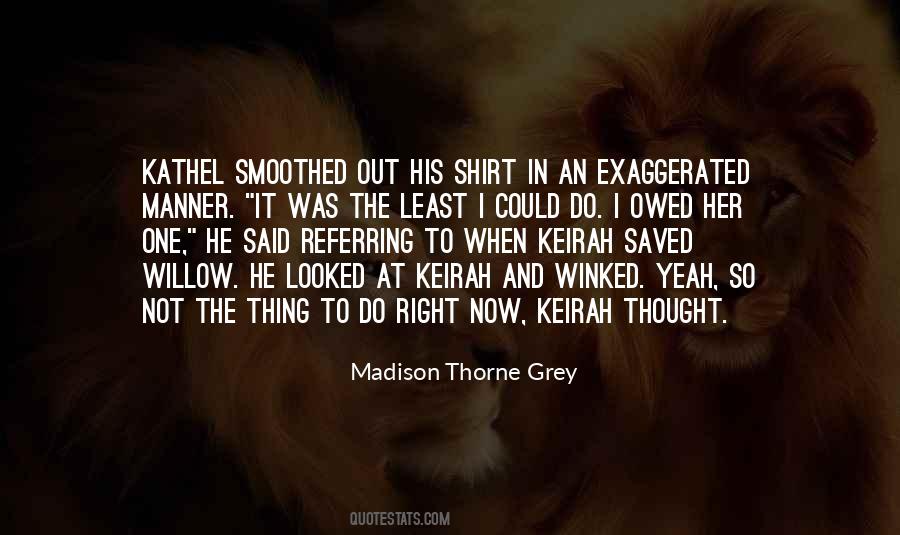 #59. At 18, Kendrick had the business mind and smarts of a 40-year-old man. He was logical, strong, and he showed respect when it was owed. - Author: Shvonne Latrice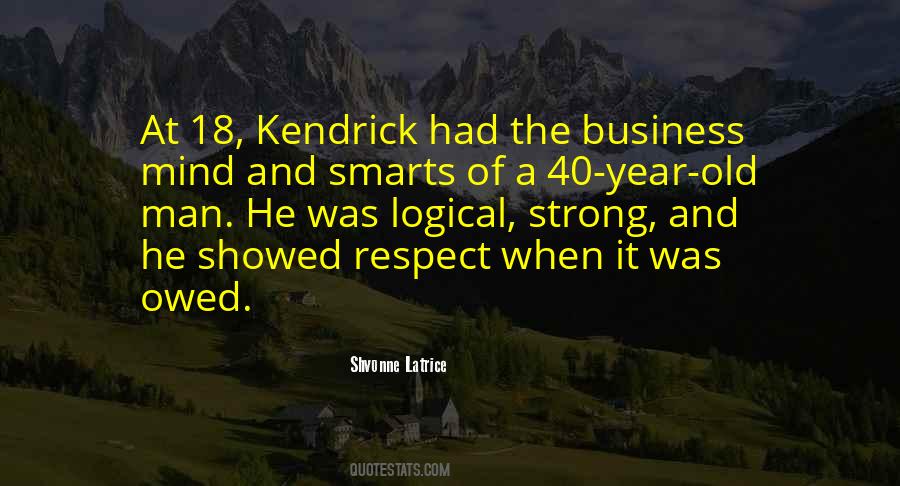 #60. Instead I ought to be grateful to Him who never owed me anything for having been so generous to me, rather than think that He deprived me of those things or has taken away from me whatever He did not give me. - Author: Rene Descartes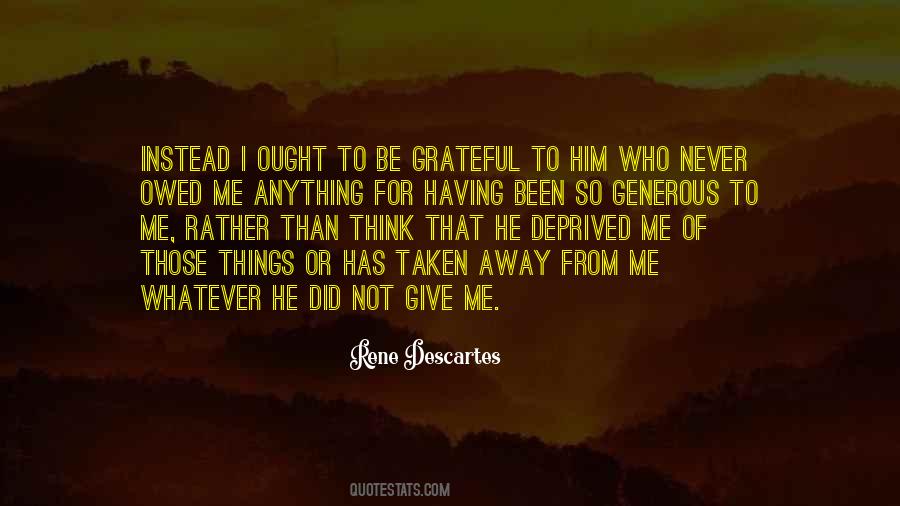 #61. He was a self-made man who owed his lack of success to nobody. - Author: Joseph Heller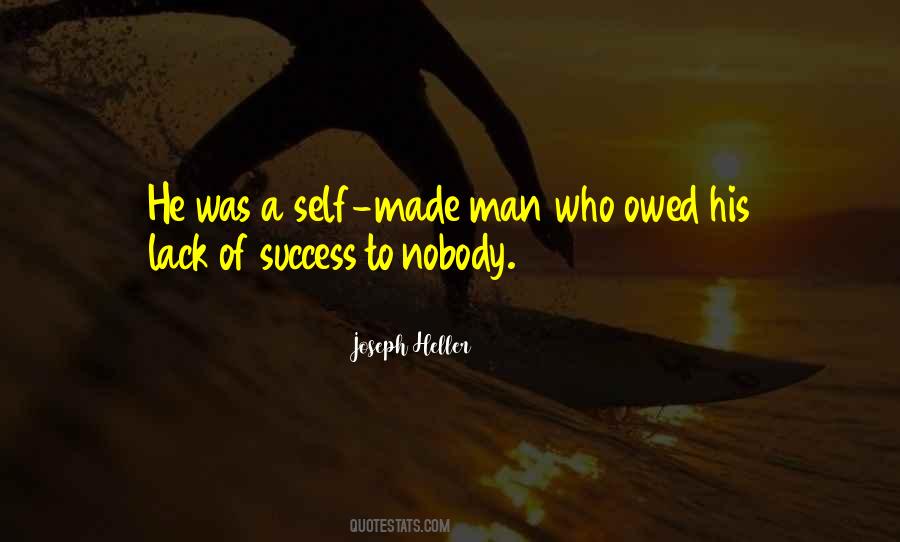 #62. When I was in N.W.A. and didn't get paid all the money I was owed, that's when the business side of showbiz hit me. - Author: Ice Cube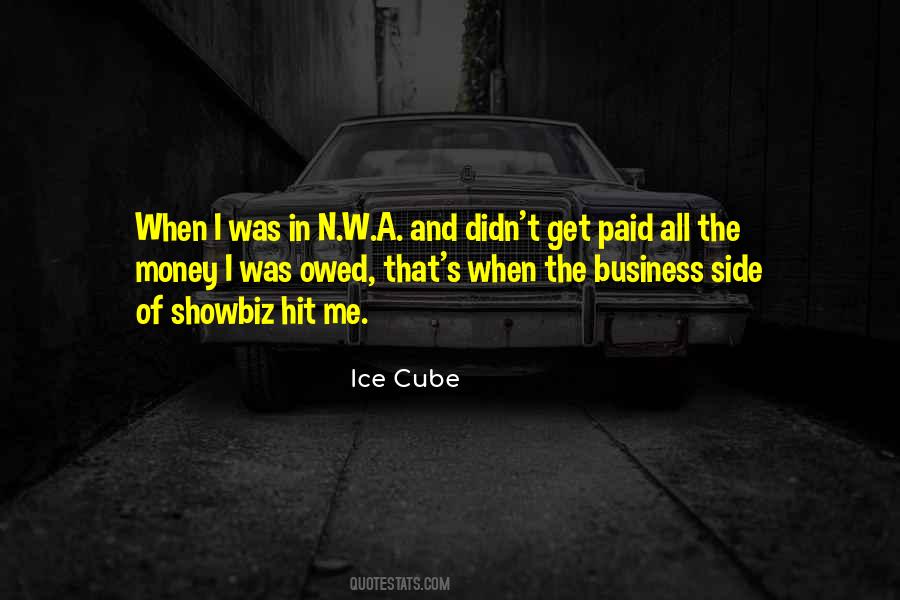 #63. For Robert the experience was another step in education. He was learning in particular that patriotic declarations did not make due process of law superfluous and that he owed a debt to his own inner standards. - Author: Arthur M. Schlesinger Jr.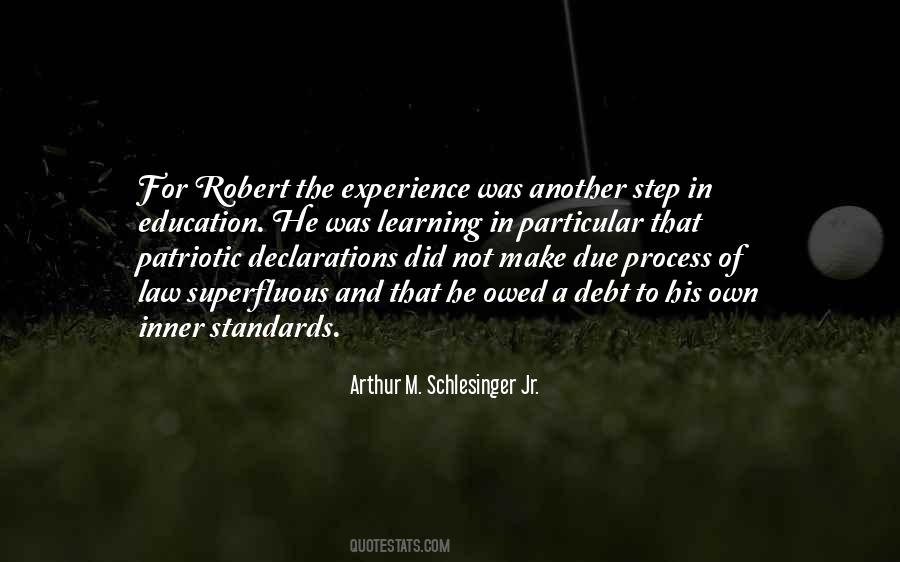 #64. The delirious visions when they came to him may have owed something to opium as well as to a high temperature, since opium was then a normal remedy for ague or malaria. - Author: Oliver Sacks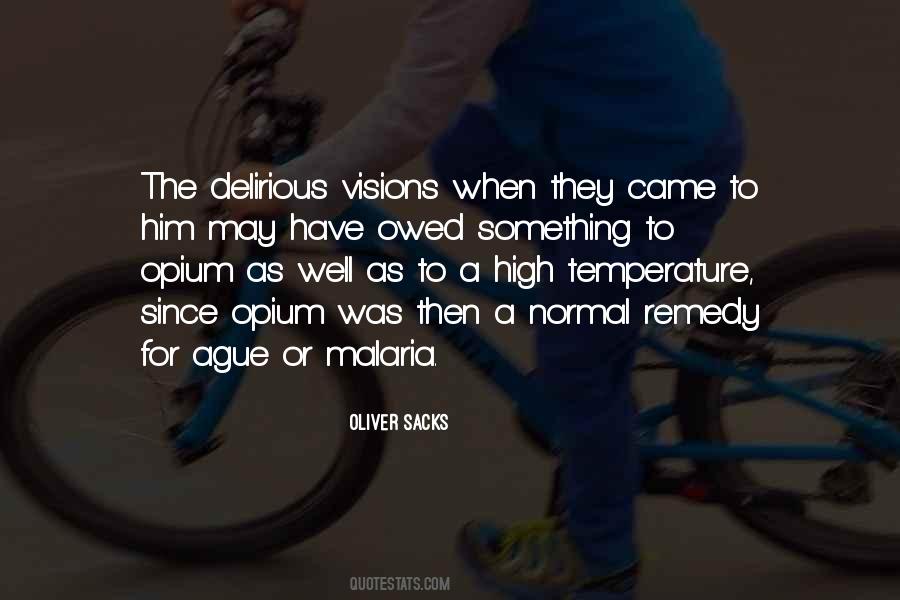 #65. Her boldness, which I'd always thought I'd been borrowing from her, had become mine in ways I didn't realize until she was gone. I didn't flinch around people who didn't like me; I didn't feel anymore like being myself was something for which I owed the world an apology. - Author: Danielle Evans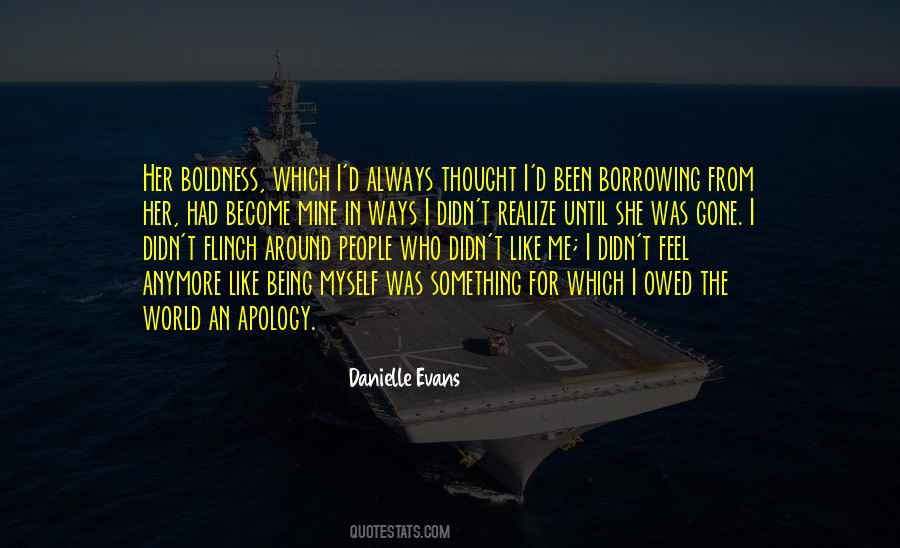 #66. We find that the Romans owed the conquest of the world to no other cause than continual military training, exact observance of discipline in their camps, and unwearied cultivation of the other arts of war. - Author: Publius Flavius Vegetius Renatus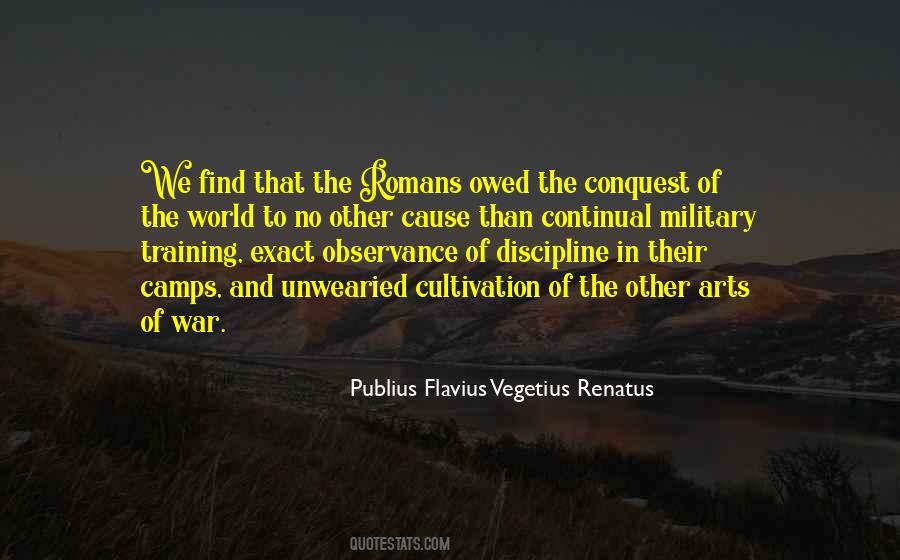 #67. California club pop chirper Dev's debut is as stark as it is sweet. This is owed partly to the casually giddy lightness of her talk-singing - familiar from her slizzered 2010 cameo on Far East Movement's smash 'Like a G6,' and around-the way-girl frisky like 1980s Latin freestyle. - Author: Chuck Eddy
#68. Every great movement in the history of Western civilization from the Carolingian age to the nineteenth century has been an international movement which owed its existence and its development to the cooperation of many different peoples. - Author: Christopher Dawson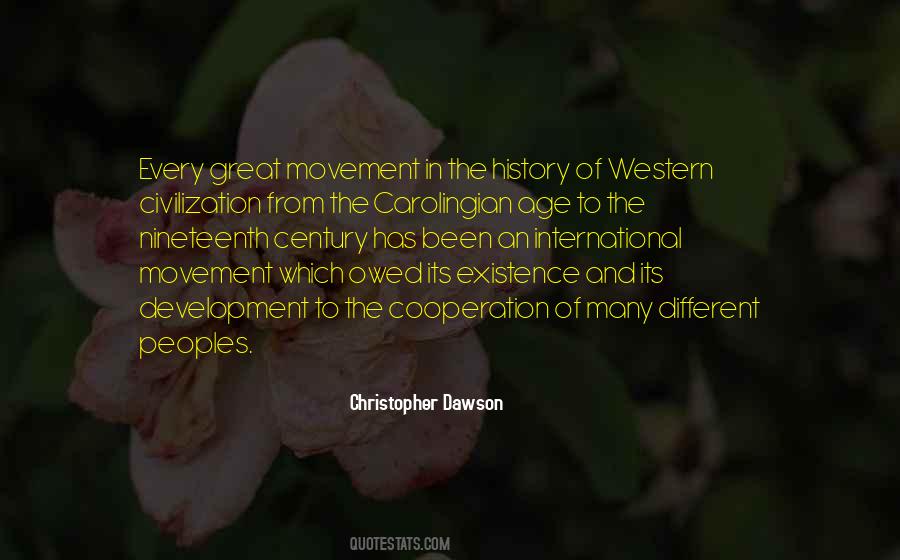 #69. My own ideas on the mechanism of catalytic phenomena were very different from those at one time commonly held, ideas which I no doubt owed to the influence of the illustrious teacher who had guided my first steps in chemistry nearly twenty years before - I refer, of course, to Berthelot. - Author: Paul Sabatier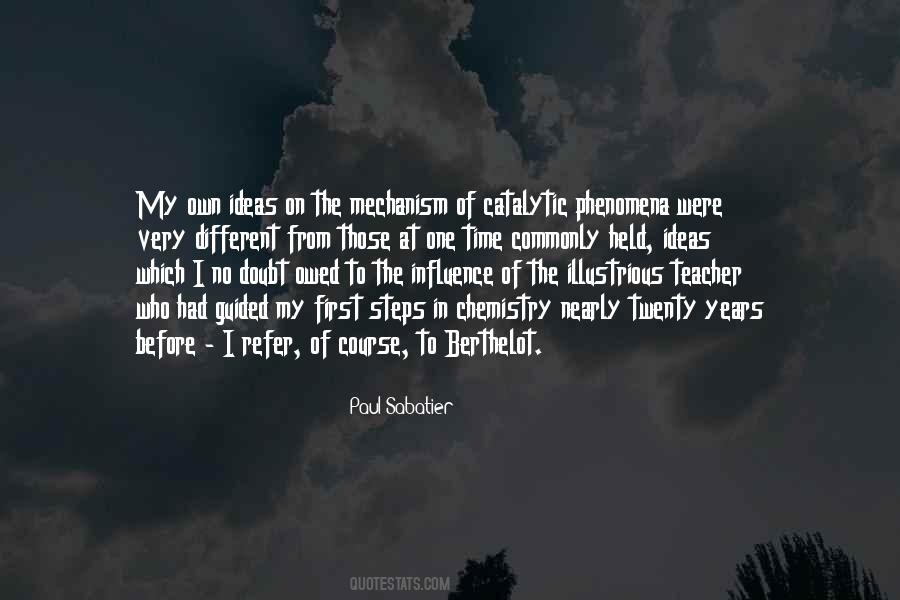 #70. If you had a special knack for finding things, it meant you owed the world to look. - Author: Maggie Stiefvater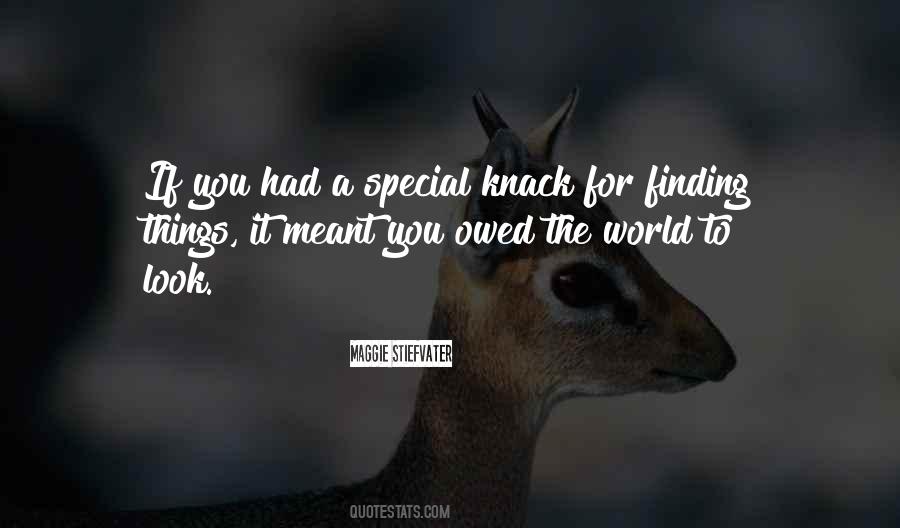 #71. Intellectual adherence is never owed to anything whatsoever, for it is never in any degree a voluntary thing. Attention alone is voluntary. It alone forms the subject of an obligation. - Author: Simone Weil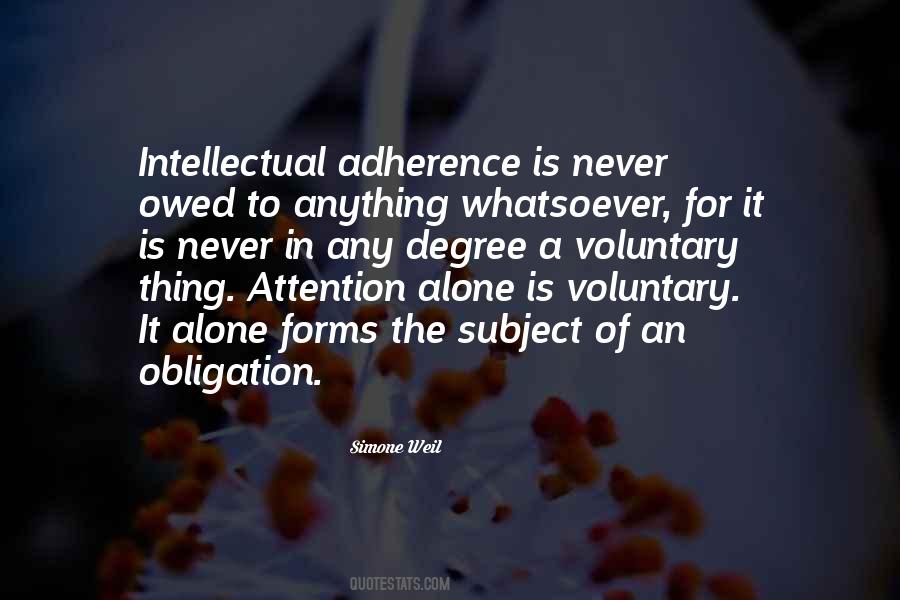 #72. Because reverse mortgages do not require borrowers to make immediate repayments, the interest charges are added to the debt every day, and the total amount owed grows over time. - Author: Charles Duhigg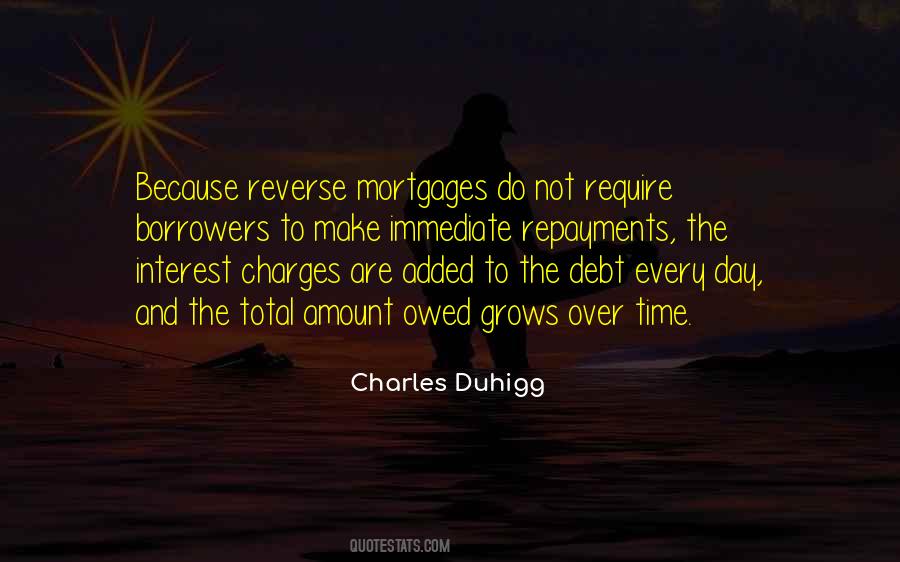 #73. If you are a musician who has released albums, it would perhaps be morbidly interesting to know how much you would be owed if everyone who now has your music had actually bought your record. - Author: Henry Rollins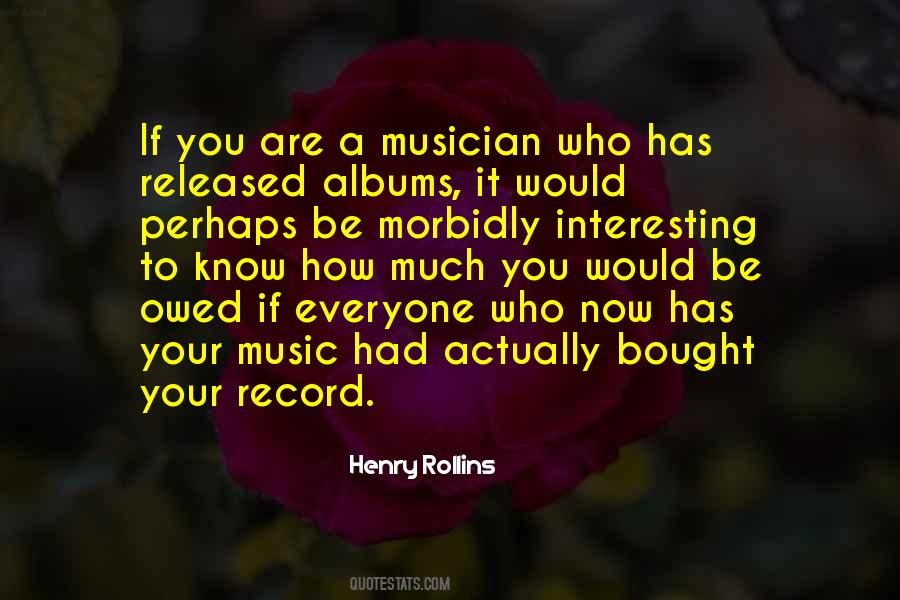 #74. I stabbed a piece of broccoli like it owed me money. - Author: C.J. Roberts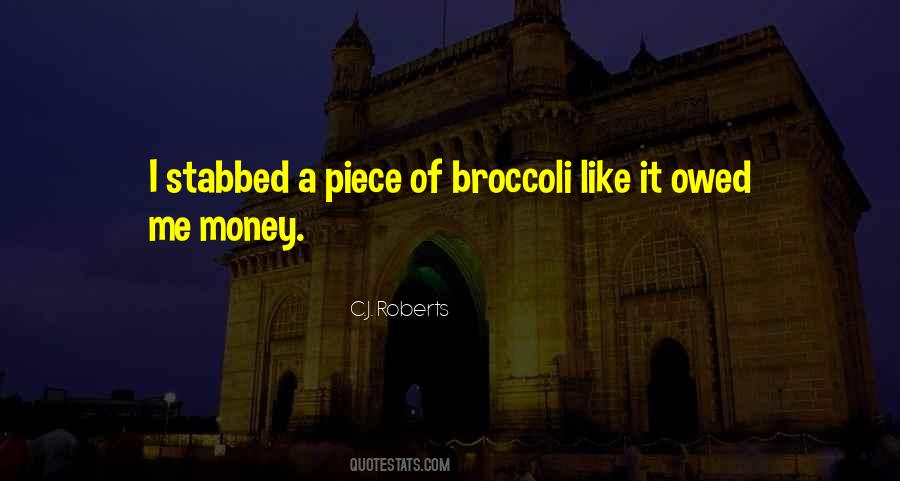 #75. I mean, I really liked those guys and the experience of doing Raiders was really good for me, but I did not really want to be involved - I only did Jedi, as I really owed George a favor. - Author: Lawrence Kasdan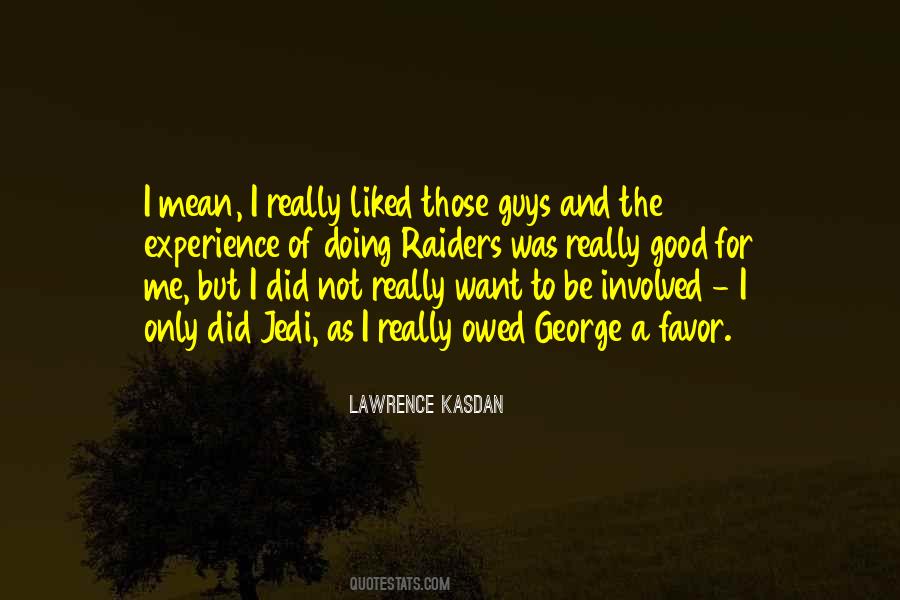 #76. Writers owed their readers a duty of care, of mercy. - Author: Ian McEwan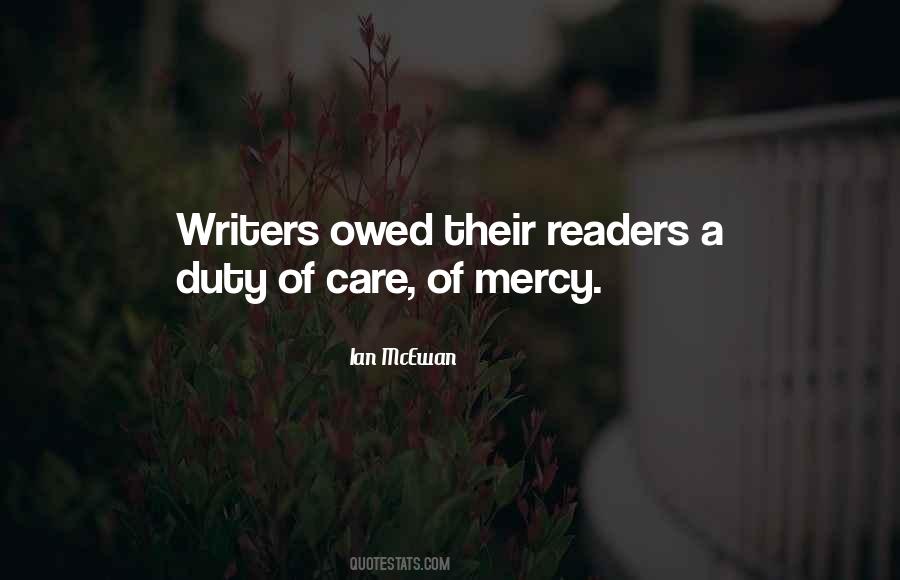 #77. I never got my Pompeii," I said, low and even. "And you know I deserved every bit of it. But I'm not going to erupt all over you like I'm owed. Because I've already won. She's not fucking you tonight. - Author: S. Walden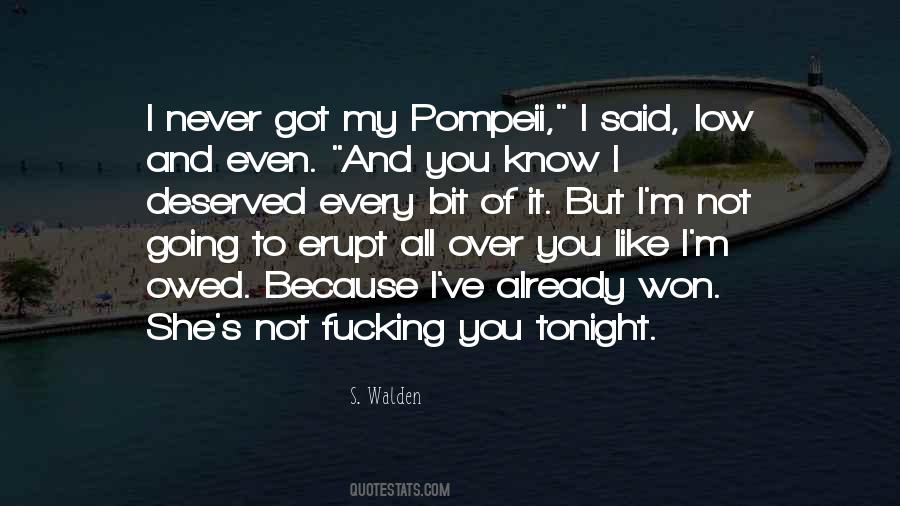 #78. To her [Florence Nightingale] chiefly I owed the awakening to the fact that sanitation is the supreme goal of medicine its foundation and its crown. - Author: Elizabeth Blackwell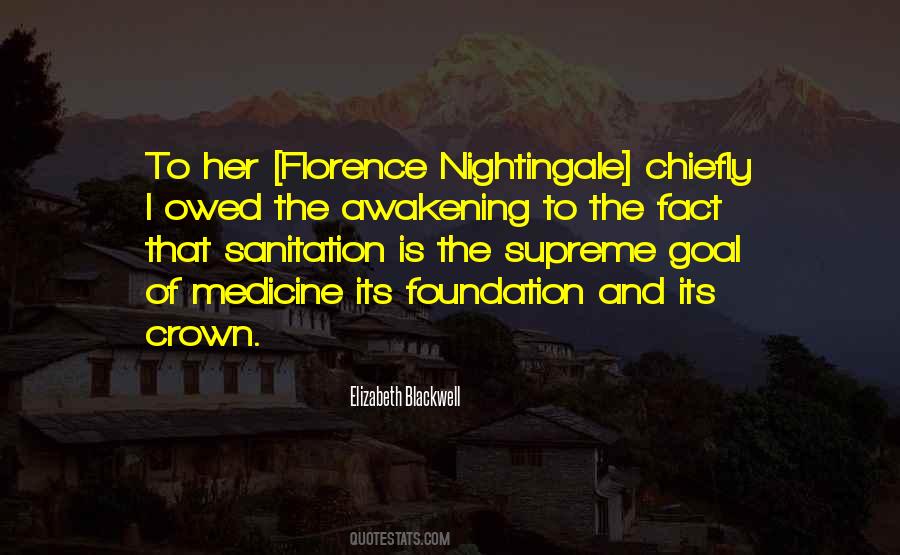 #79. The vast majority of debt that Anglo maintains is owed is strenuously disputed. However, I cannot now pay those loans which are due, following Anglo taking control of the Quinn Group of companies, which I and a loyal team spent a lifetime building. - Author: Sean Quinn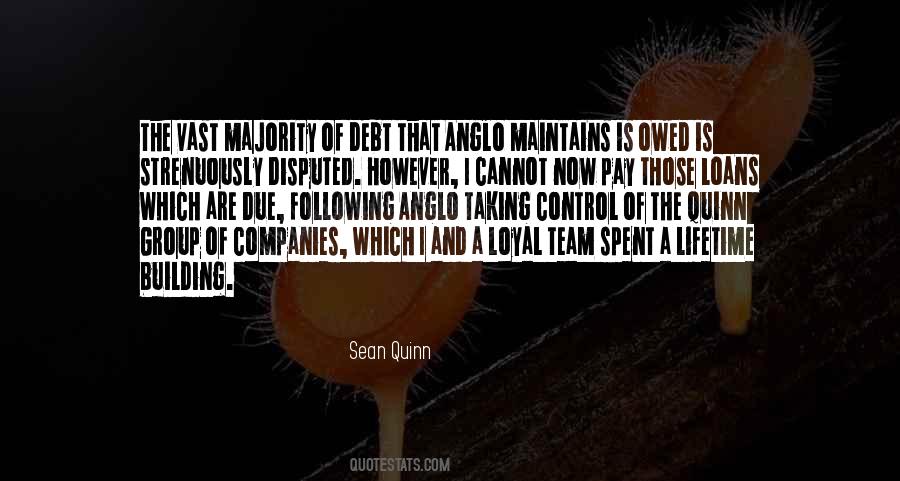 #80. Everything owed is due again. - Author: Linda Robinson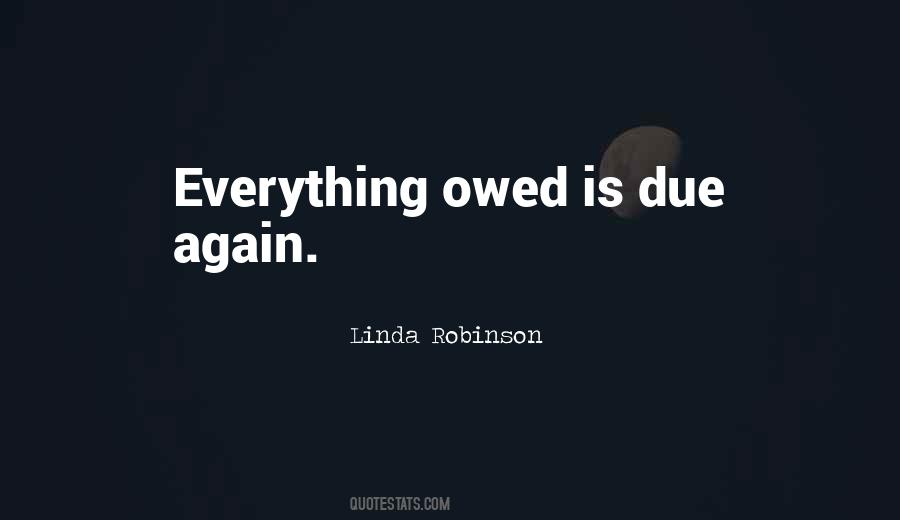 #81. Big Ma didn't need to say any more and she didn't. T.J. was far from her favorite person and it was quite obvious that Stacey and I owed our good fortune entirely to T.J.'s obnoxious personality. - Author: Mildred D. Taylor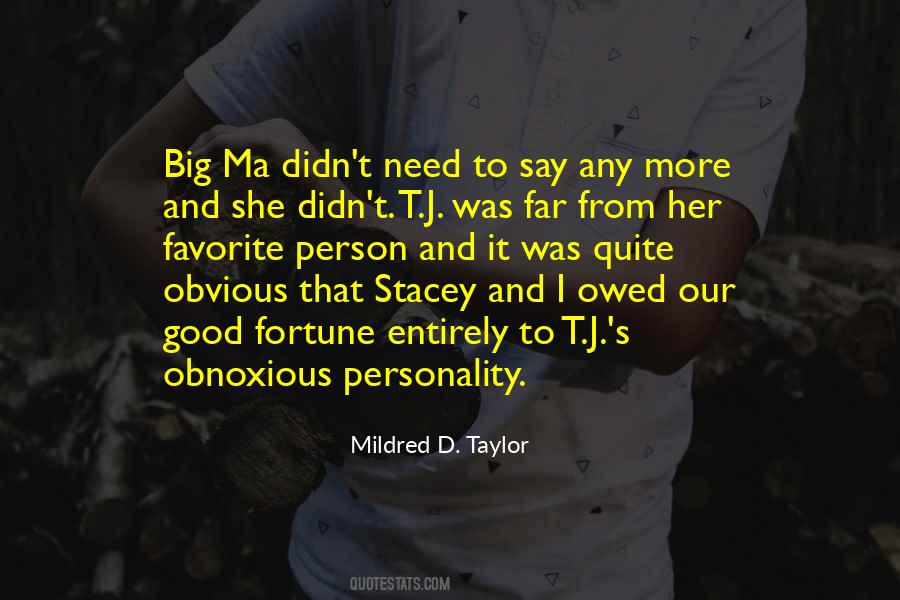 #82. Affection is so much easier to give when it is not owed. - Author: Priya Parmar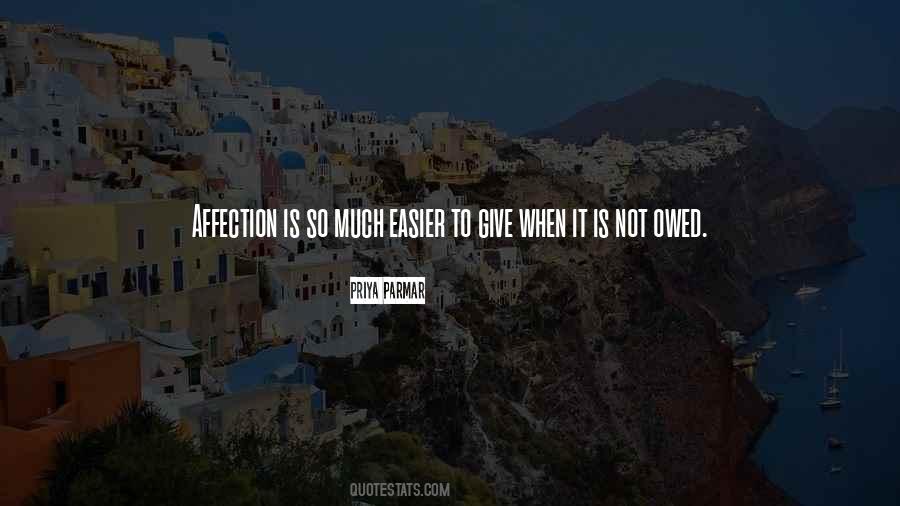 #83. Bitterblue had never seen a man naked, and she was curious. She decided the universe owed her a few minutes, just a few, to satisfy her curiosity. So she went to him and knelt, which shut him up. - Author: Kristin Cashore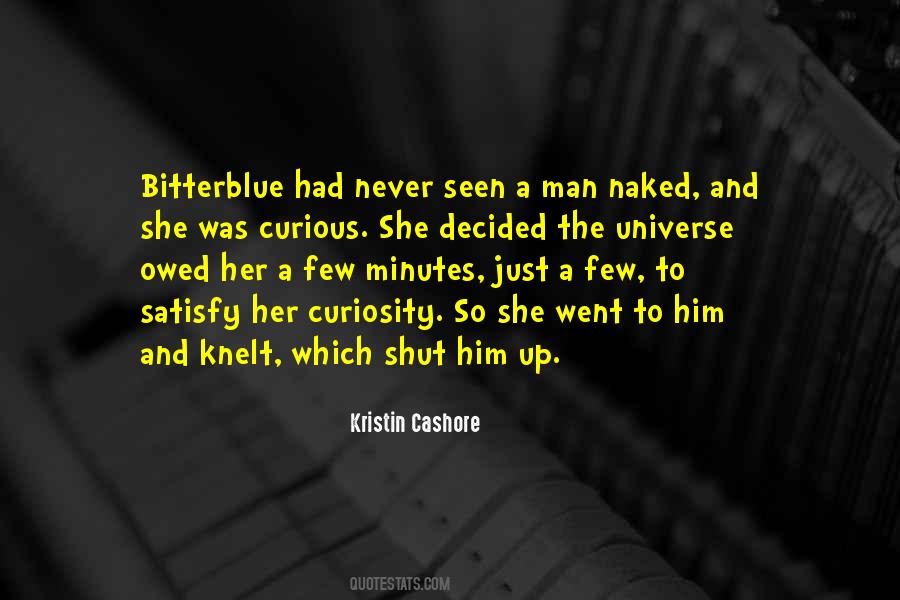 #84. She couldn't help a grin, knowing that she had done this. She had brought this monstrosity back to life. It owed her now and it seemed to know it. - Author: Marissa Meyer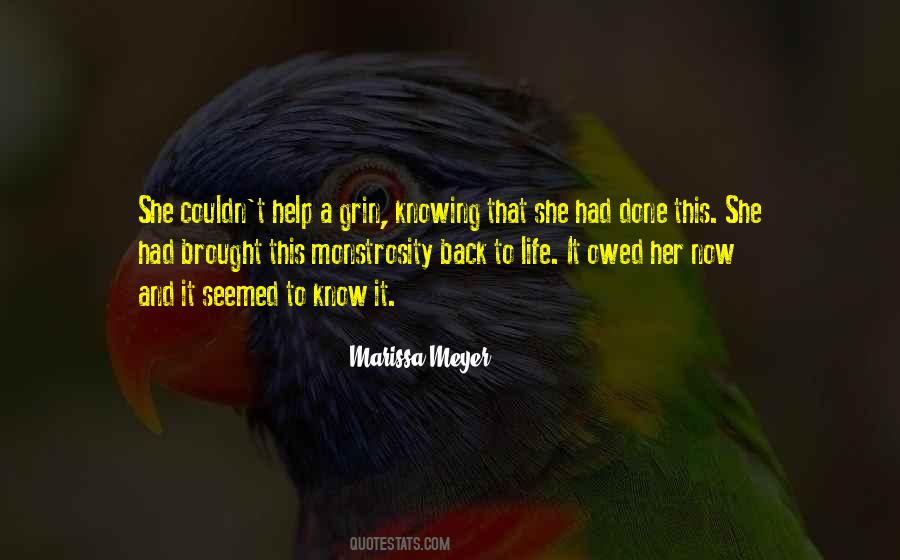 #85. My father once told me that anyone who worked for three dollars an hour owed it to himself to put in four dollars' worth of work. - Author: Bill Russell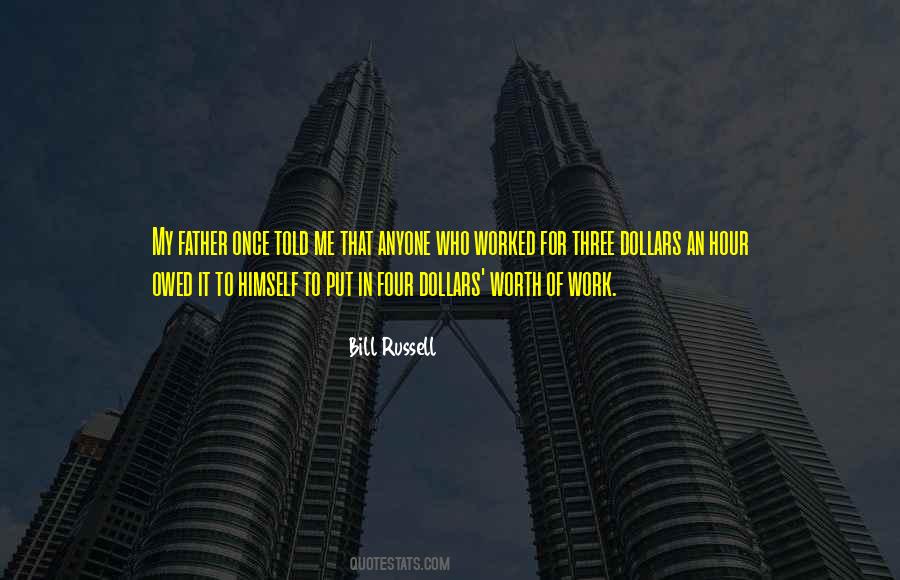 #86. These were bankers we were talking about, and I owed taxes. They'd hunt me to the ends of the earth! - Author: Mark Lawrence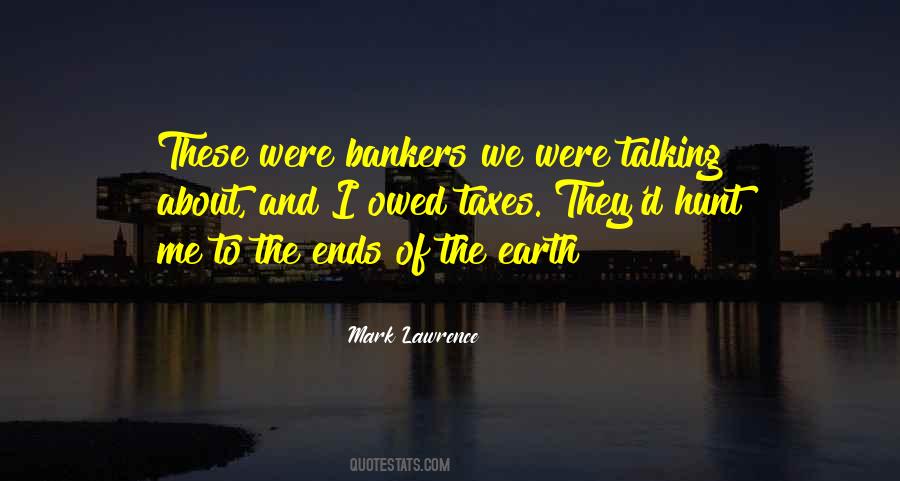 #87. The bum was justified in his actions because he was homeless and poor. He was allowed to beg for money because the circumstances made it acceptable. Society had shunned him and he was owed that much. - Author: Karina Halle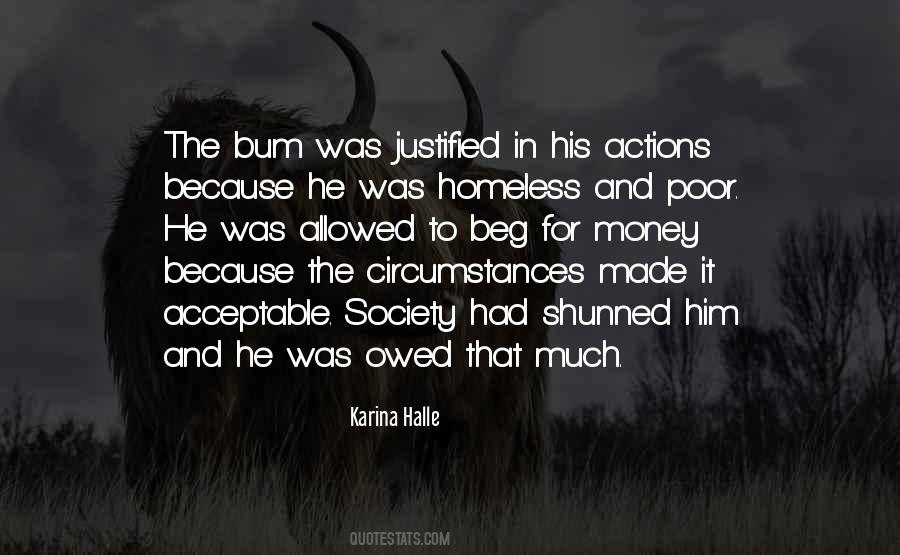 #88. A child is owed the greatest respect; if you have ever have something disgraceful in mind, don't ignore your son's tender years. - Author: Juvenal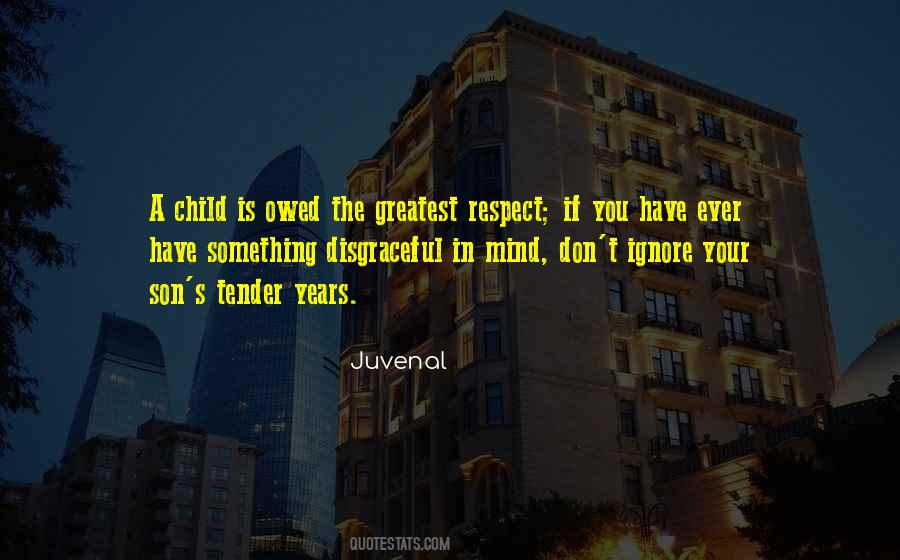 #89. when I ran mortgages, I religiously took people from the back office. At first I did it for moral reasons. But it worked. They appreciated it. They didn't feel like the world owed them a living. They were more loyal. - Author: Michael Lewis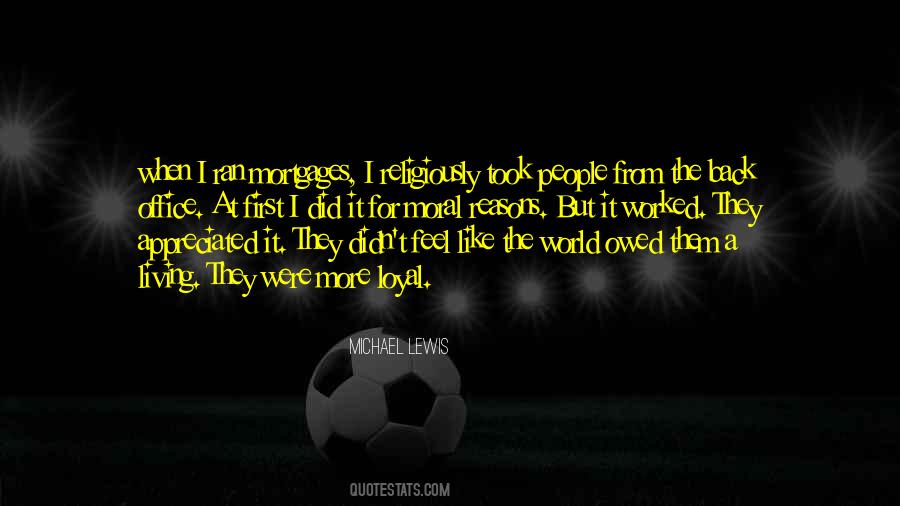 #90. She knew his secret: for all his wandering, his independence and his unorthodox ways, he took his responsibilities very seriously. He even borrowed others' responsibilities, making them his own simply because he thought this sort of service was owed to those whom he loved. - Author: Meredith Duran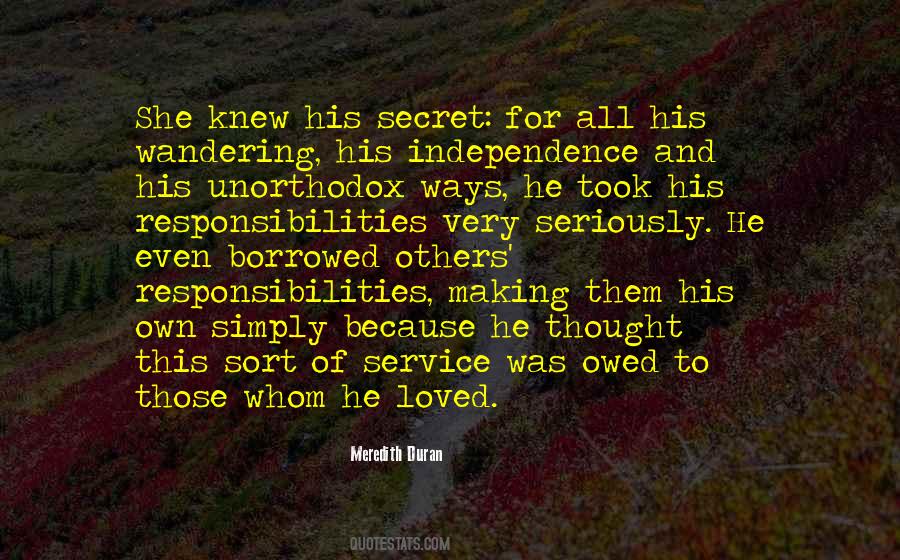 #91. He had been willing to hold on to hope even when it looked like all hope was lost. She owed him no less. - Author: Teresa Medeiros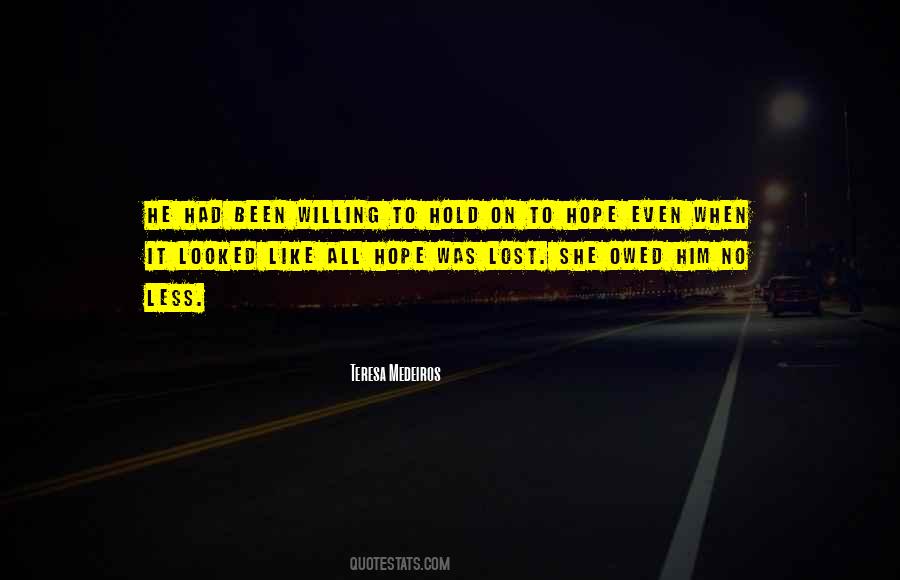 #92. By late 2008, one out of every five mortgage holders owed more than their homes were worth. The banks called in the loans, and the foreclosure notices piled up. - Author: Elizabeth Warren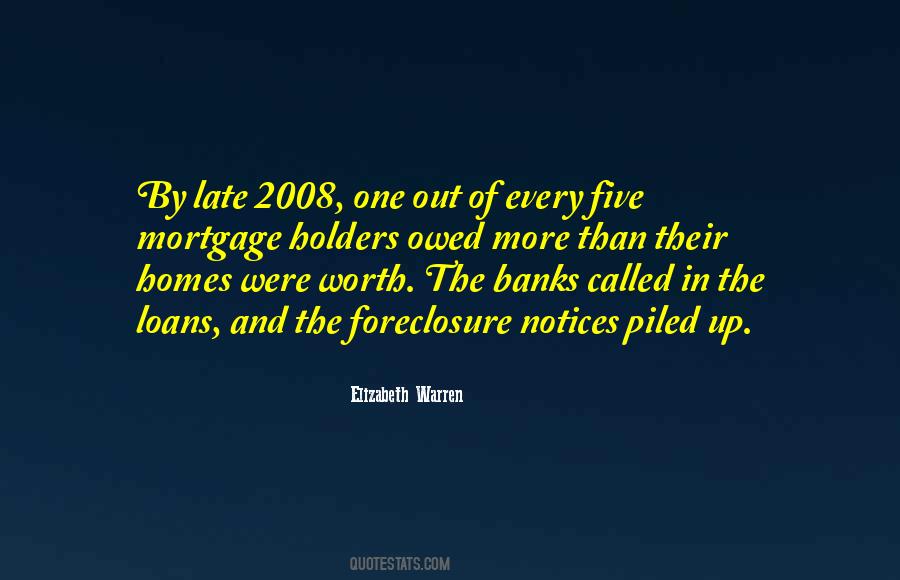 #93. When I was forty, I was getting divorced, living in a low-class, dirty hotel in New York. My mother was dying of cancer. I owed $20,000. That was about the lowest. I came back to show business, and I couldn't get a job. I was turned down by every small-time agent in New York. - Author: Rodney Dangerfield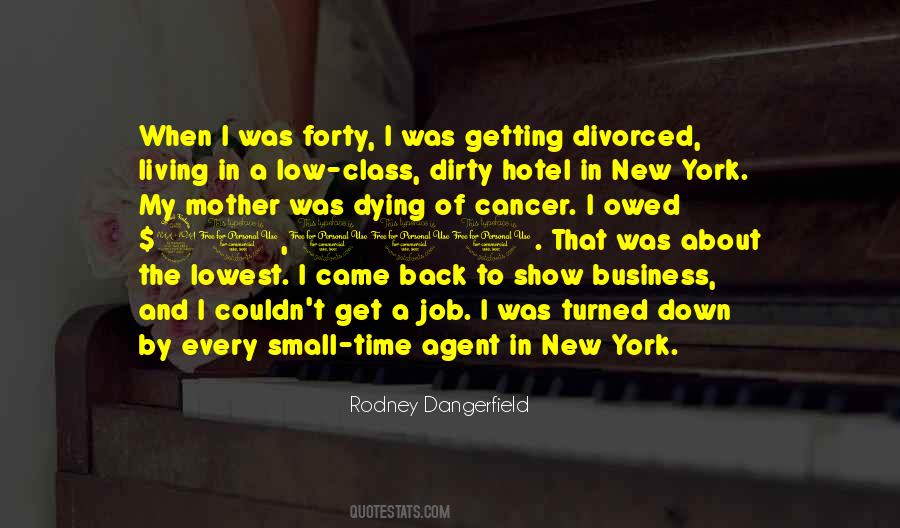 #94. To my great-grandfather I owed the advice to dispense with the education of the schools and have good masters at home instead - and to realize that no expense should be grudged for this purpose. - Author: Marcus Aurelius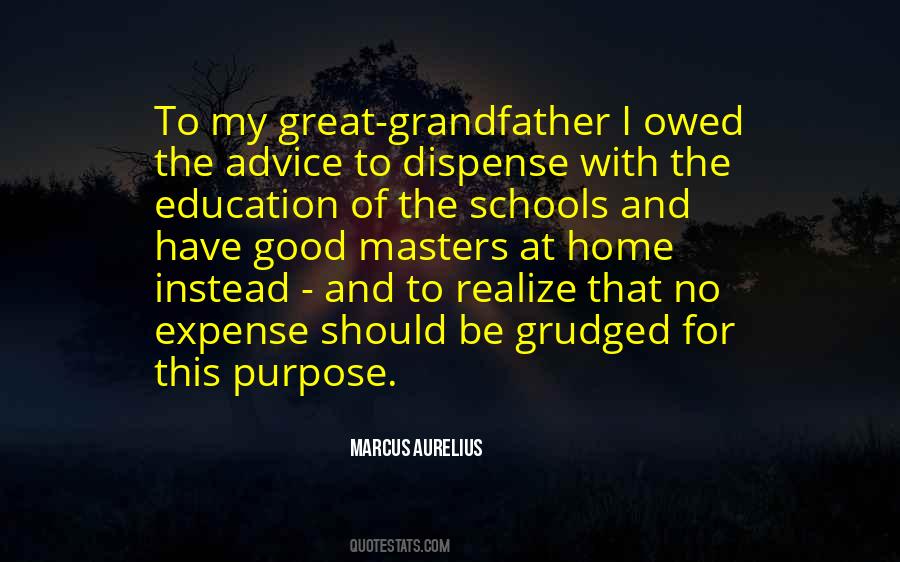 #95. Which reminded me ... I still owed the gods a debt.
"You're a genius," I (Percy) told Annabeth. - Author: Rick Riordan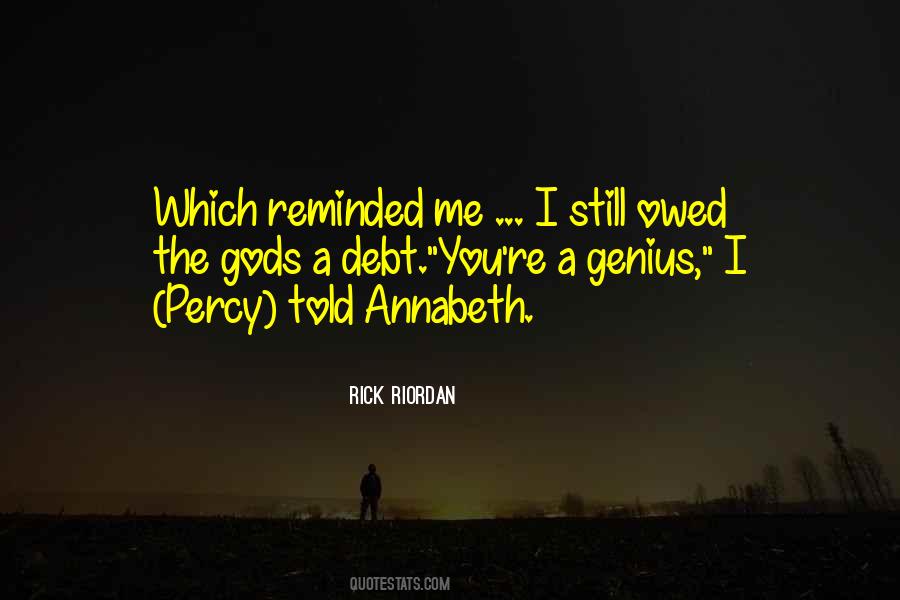 #96. My success was also owed to career women who maybe had big legs or ample thighs, who felt well-protected by my fluid clothing that hid their flaws. - Author: Giorgio Armani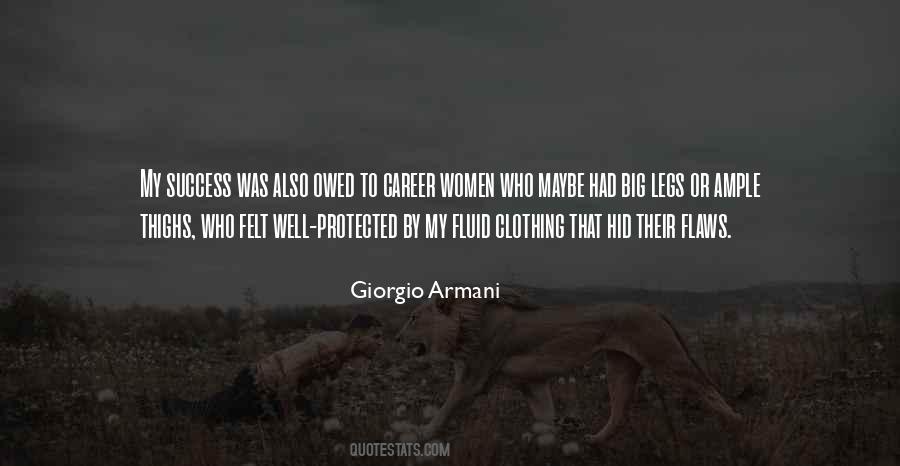 #97. For a moment, I wondered if I should just tell her that she was a selfish, reckless girl who thought the world owed her something simply because she was pretty, and that I didn't want to be around when she discovered it didn't. - Author: Robyn Schneider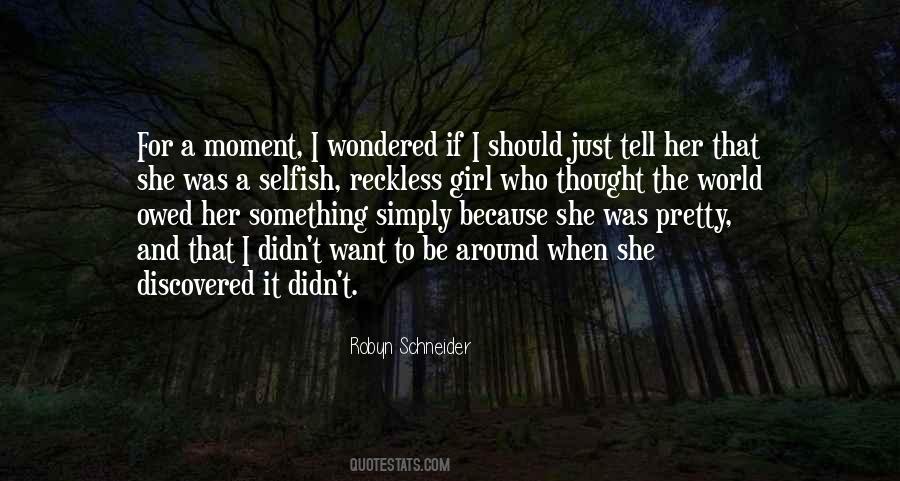 #98. He remembered that right after that, he had stolen a loaf of bread from a delicatessen counter and had taken it home and devoured it, feeling that the world owed a loaf of bread to him, and more. - Author: Patricia Highsmith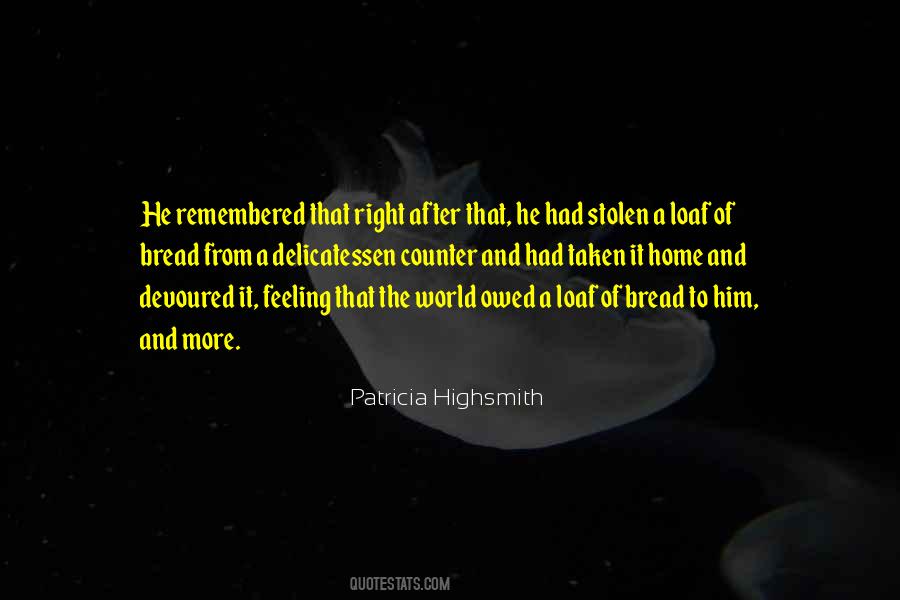 #99. We only borrow the breaths we take in life. Every breath we borrow we give back, including our last. In the end, no matter how we lived, we all die feeling owed. - Author: Craig Stone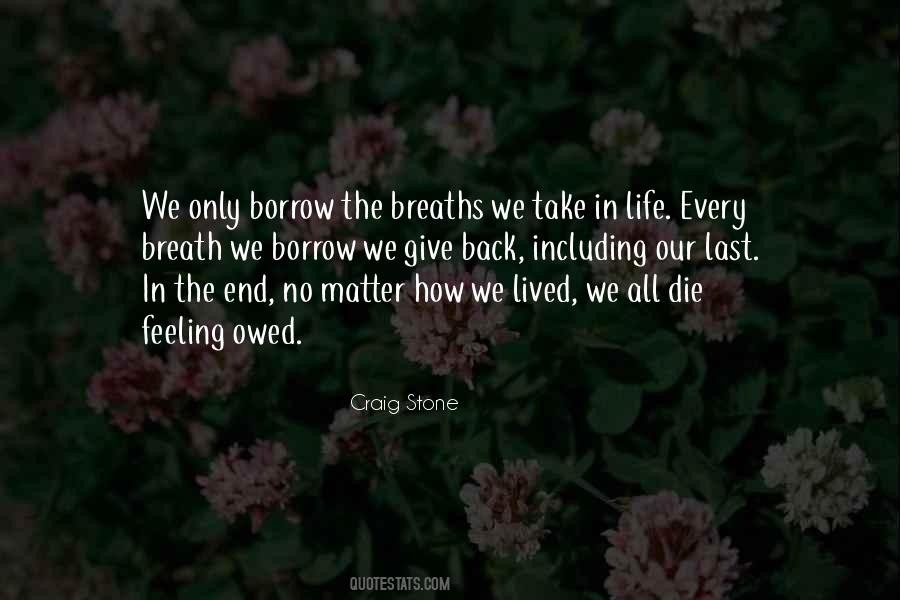 #100. No reader owes me anything - I am owed nothing for my noble efforts, because my writing was always unconditional, always coming out of inner necessity. - Author: Aleksandar Hemon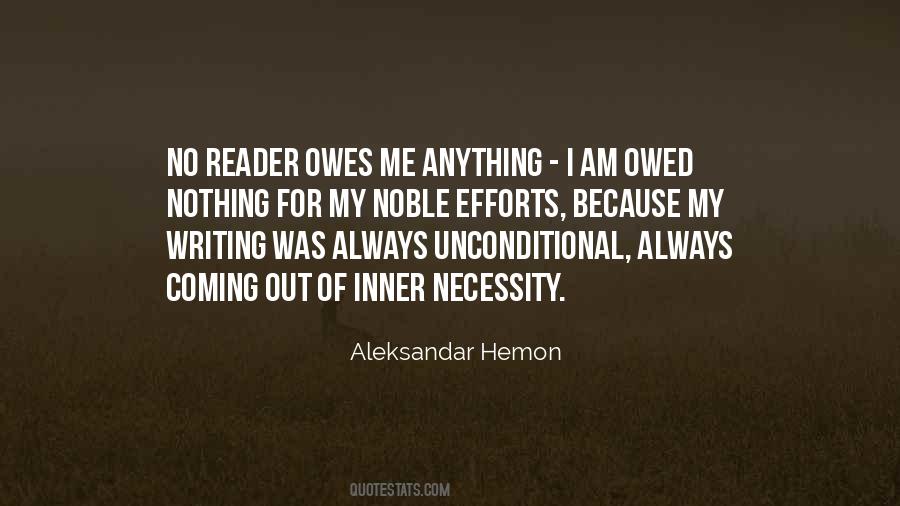 Famous Authors
Popular Topics