Opportunity To Learn Famous Quotes & Sayings
List of top 100 famous quotes and sayings about opportunity to learn to read and share with friends on your Facebook, Twitter, blogs.
Top 100 Quotes About Opportunity To Learn
#1. The military offered the opportunity to see the world, and meet other people and learn new customs. Plus, the Army taught soldiers discipline. The life I experienced in the service was an education I could never have obtained as a cowboy. - Author: Tom Johnson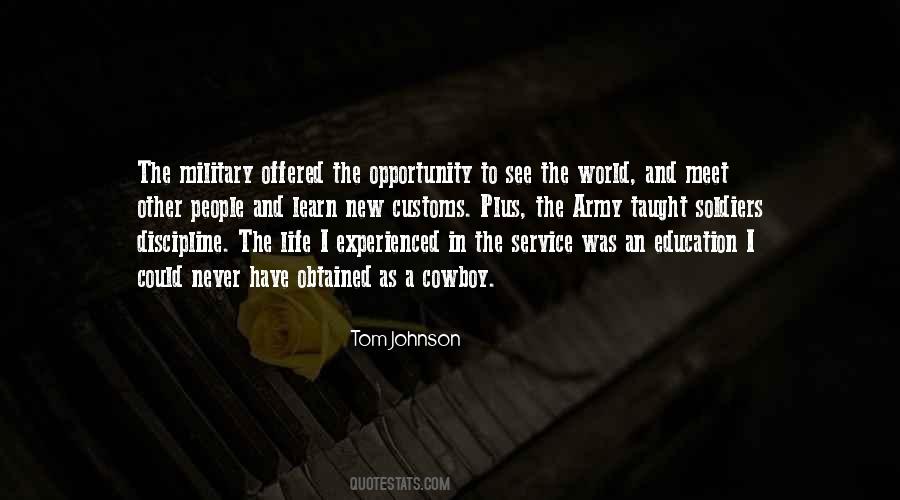 #2. A typical software project can present more opportunities to learn from mistakes than some people get in a lifetime. - Author: Steve McConnell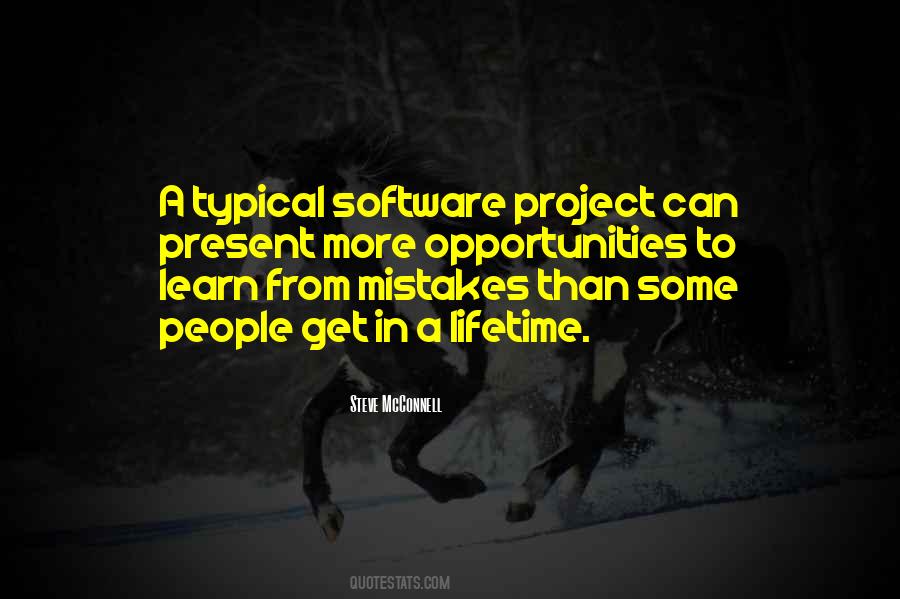 #3. Sadness is an opportunity; a good opportunity to learn the real life! - Author: Mehmet Murat Ildan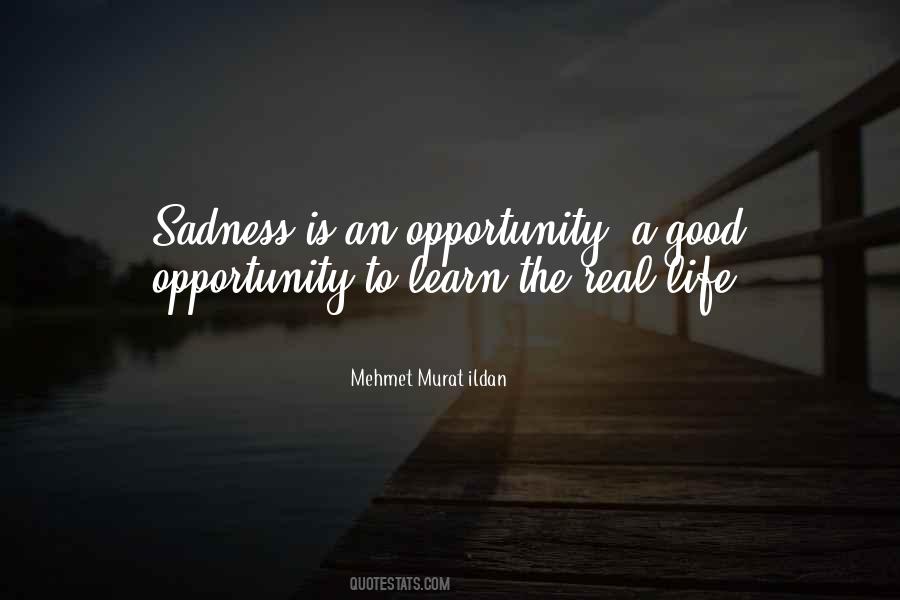 #4. We just kind saw the images and knew the cliches, so to have the opportunity to go there and learn something about Russian music and about Russian people and to see things apart from being a tourist. - Author: Marc Almond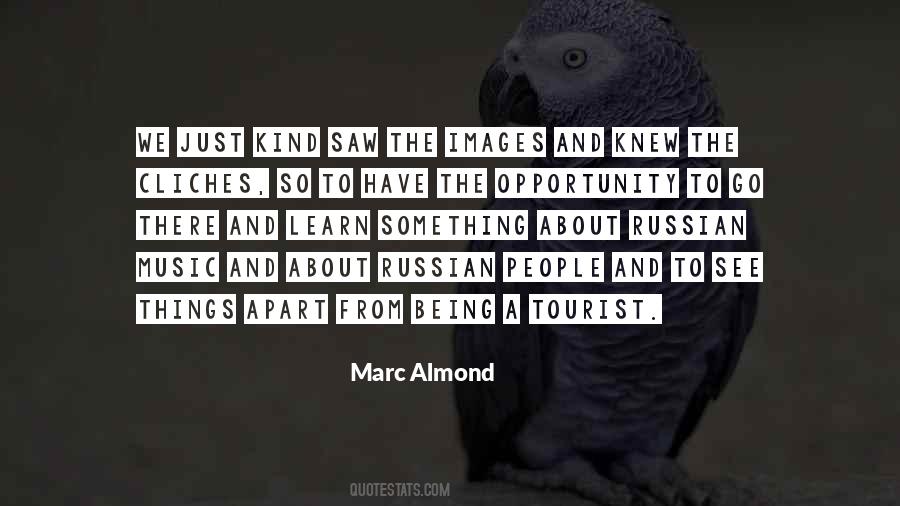 #5. If you tell people everything you take away their opportunity to learn. - Author: Michael Scott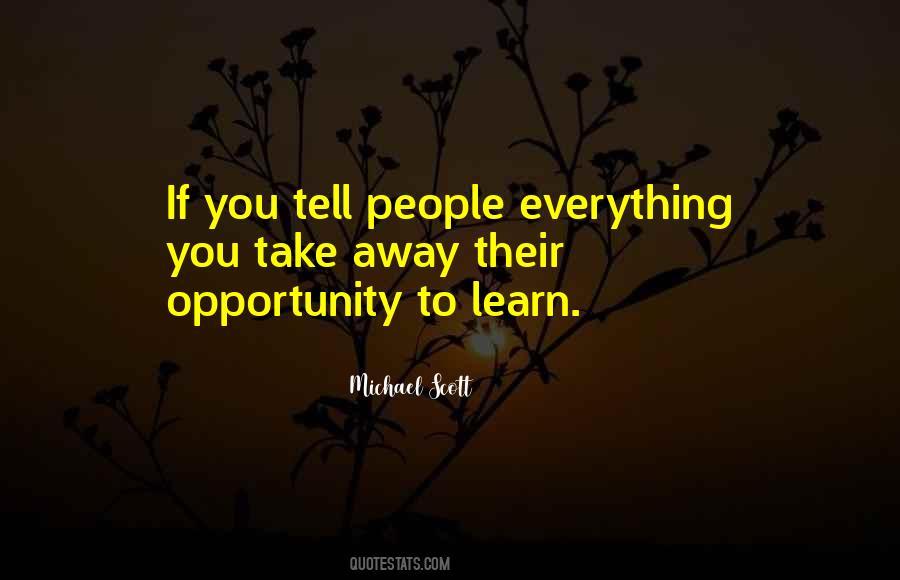 #6. I am not an educated man. I never had an opportunity to learn anything except how to fight. - Author: Pancho Villa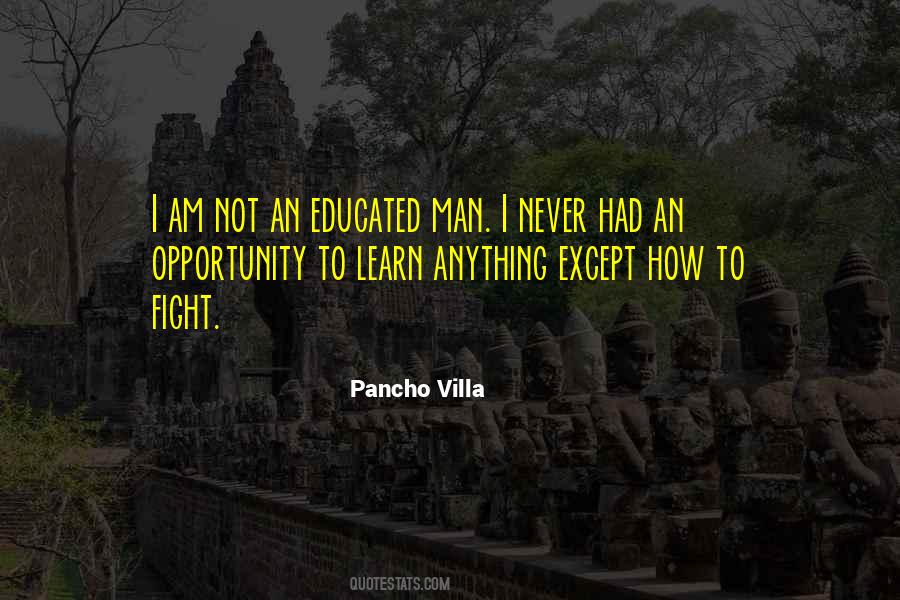 #7. If the regular pay was important to him, the opportunity to learn was of even greater long-range significance. - Author: Mike Royko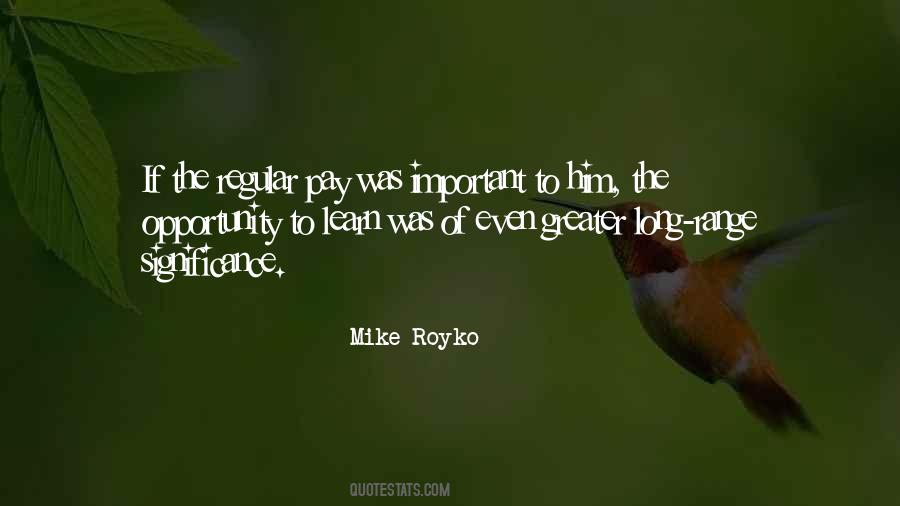 #8. The way it works in our family is, it's the family business. Much like in the Mafia. Every child is given the opportunity to act at a young age and to learn what it's like to be in the business. - Author: Jordan Bridges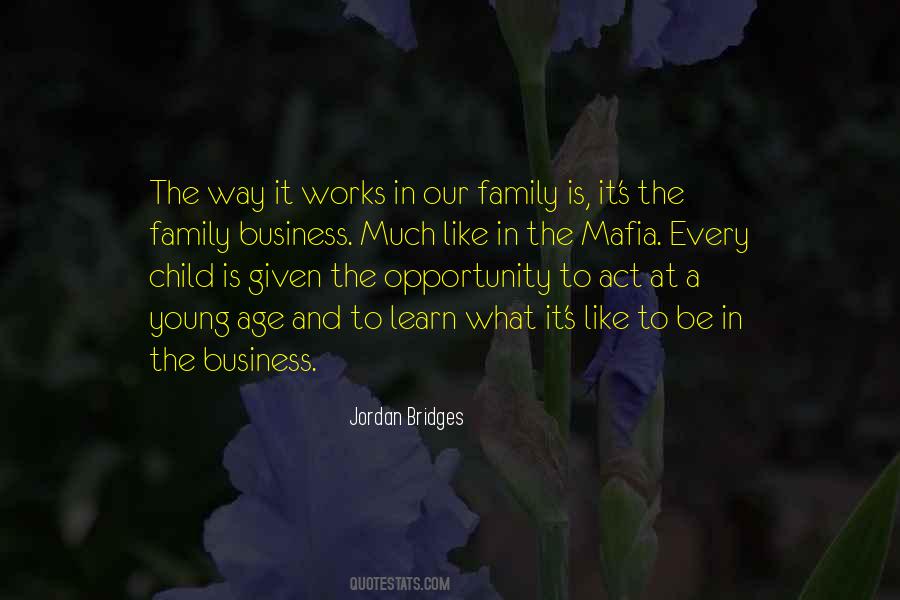 #9. View all problems as challenges. Look upon negativities that arise as opportunities to learn and to grow. Don't run from them, condemn yourself, or bury your burden in saintly silence. You have a problem? Great. More grist for the mill. Rejoice, dive in, and investigate. - Author: Henepola Gunaratana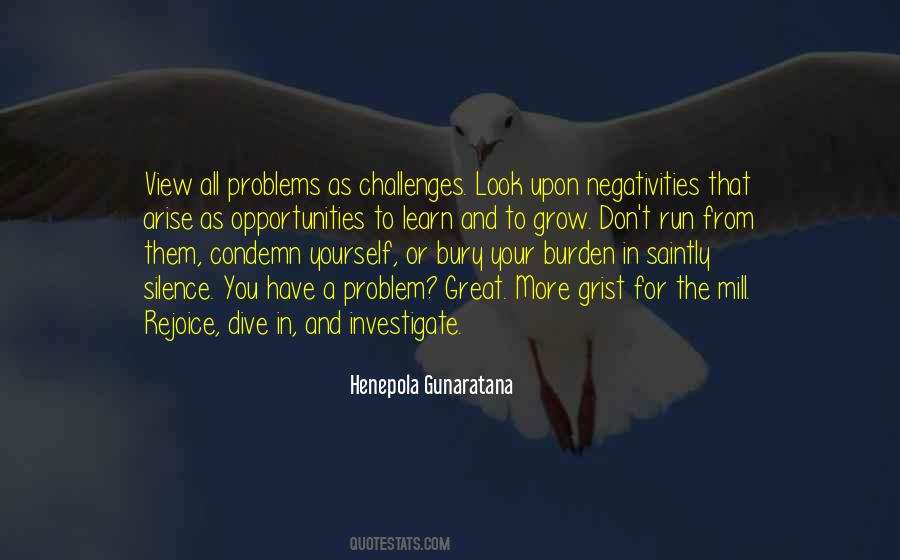 #10. I believe that access to a university education should be based on the ability to learn, not what people can afford. I think there is no more nauseating a sight than politicians pulling up the ladder of opportunity behind them. - Author: Charles Kennedy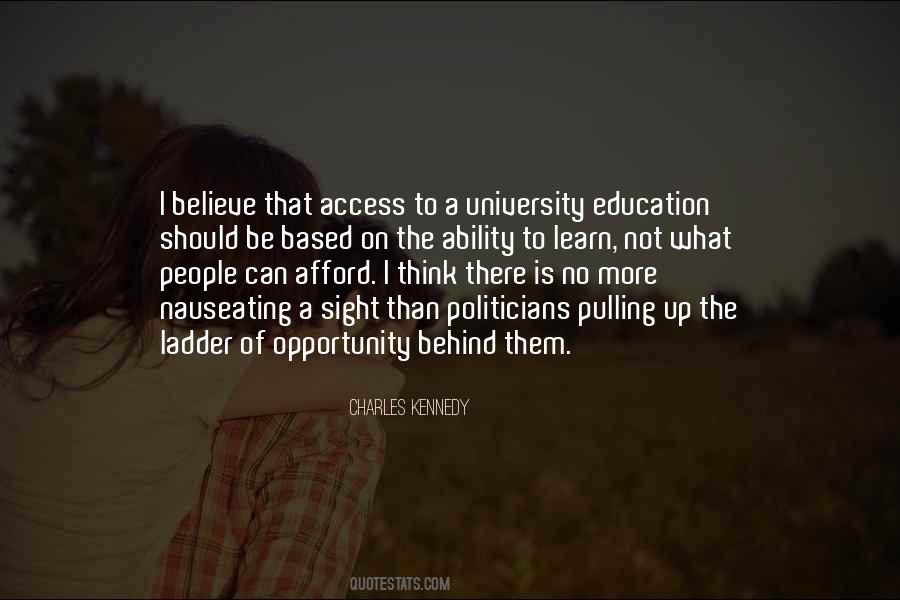 #11. Evelyn looks at me with purpose. "Do you understand what I'm telling you? When you're given an opportunity to change your life, be ready to do whatever it takes to make it happen. The world doesn't give things, you take things. If you learn one thing from me, it should probably be that. - Author: Taylor Jenkins Reid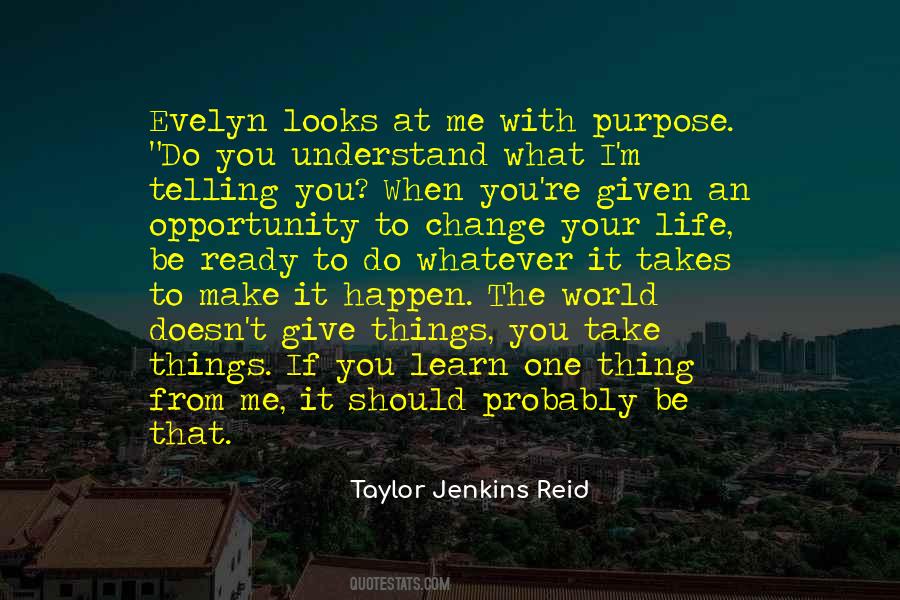 #12. Acting is an opportunity for me to try to explore and examine and expose humanity's weaknesses that are intrinsic to our nature as humans and learn from them; thereby, it's like a sociological expose. - Author: Bokeem Woodbine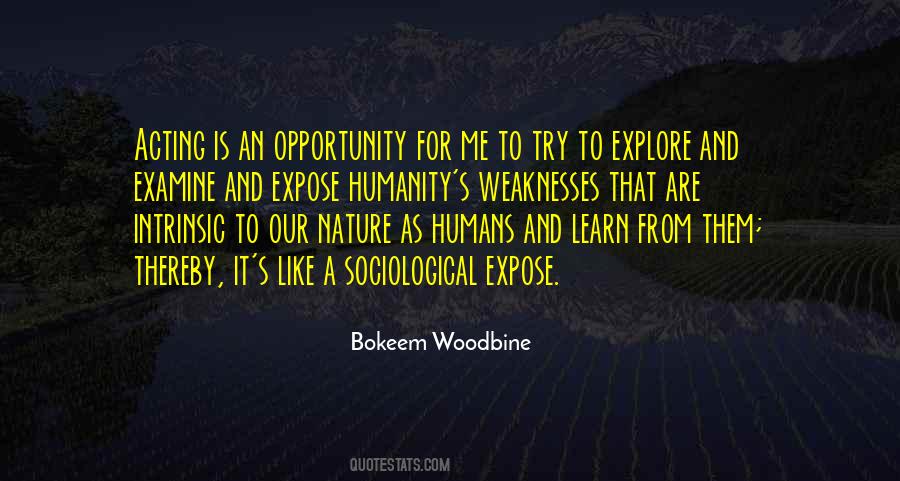 #13. I believe technology should give us superpowers. Everyone should have the opportunity to learn to think, analyze, and create with technology. - Author: Hilary Mason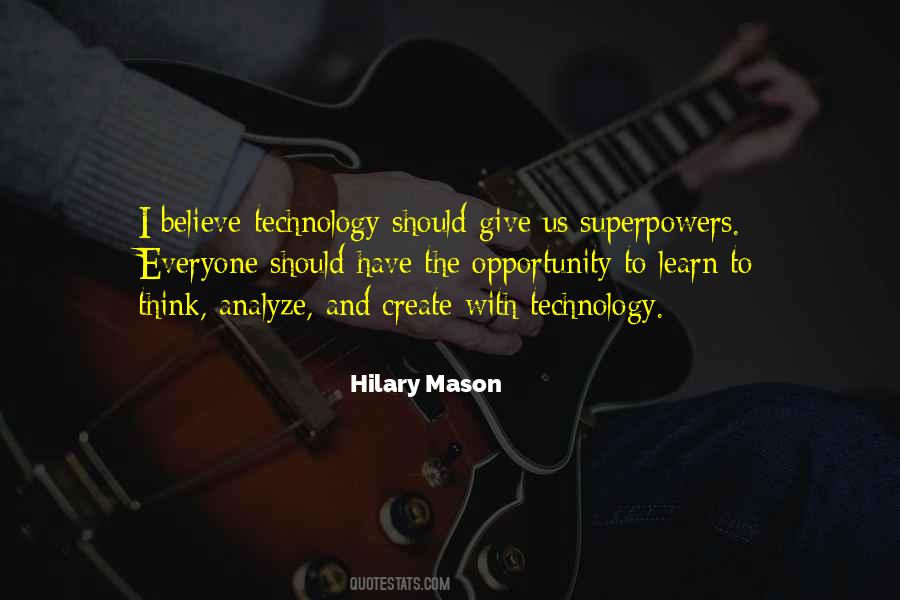 #14. Every person that comes into our life comes for a reason; some come to learn and others come to teach. - Author: Antoine De Saint-Exupery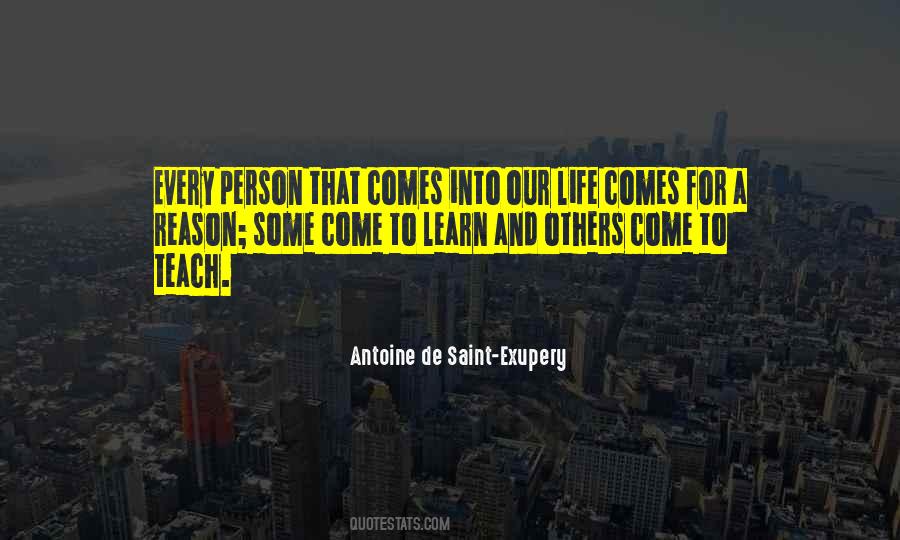 #15. Within each experience of pain or negativity is the opportunity to challenge the perception that lies behind it and to choose to learn with wisdom. - Author: Gary Zukav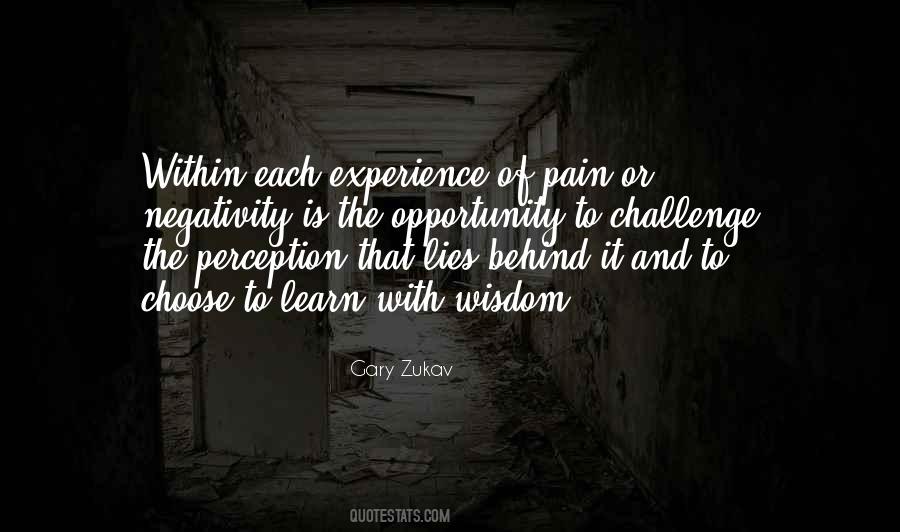 #16. I like historical pieces. History was my favorite subject in school, it was the only subject I excelled in. I love the idea of history and the idea that we may have the opportunity to learn from our past mistakes. - Author: Cary Elwes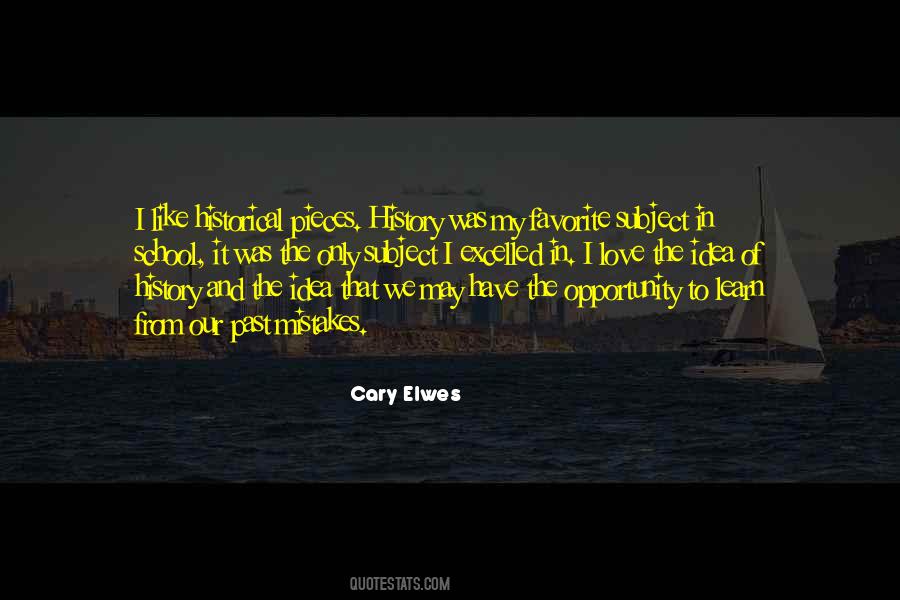 #17. Television is a different challenge; it is not a stage. But each opportunity that I have to learn I learn, and I take the opportunity to work. - Author: Ruben Santiago-Hudson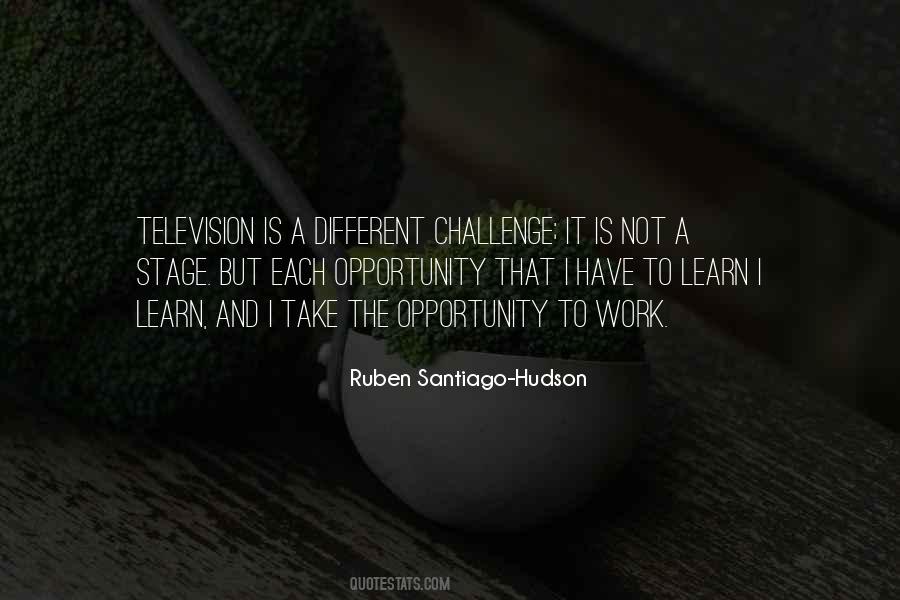 #18. I'm convinced that there is nothing that can happen to me in this life that is not precisely designed by a sovereign Lord to give me the opportunity to learn to know Him. - Author: Elisabeth Elliot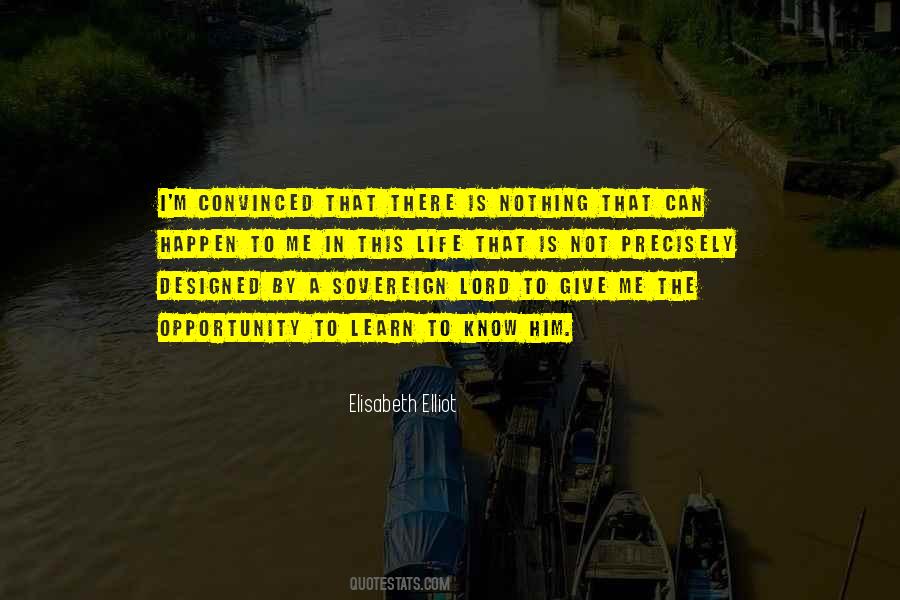 #19. we learn the emotional habits that can undermine our best intentions, as well as what we can do to subdue our more destructive or self-defeating emotional impulses. Most important, the neurological data suggest a window of opportunity for shaping our children's emotional habits. - Author: Daniel Goleman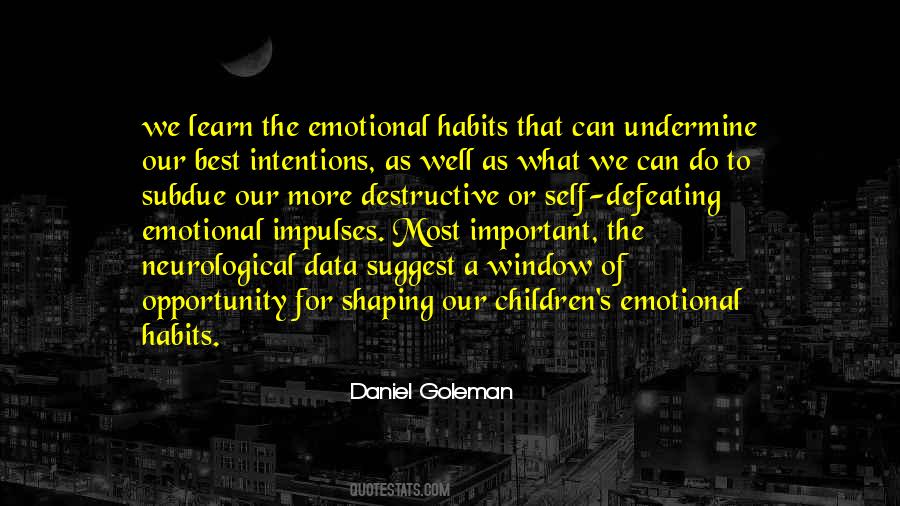 #20. The advice that I can give anyone wanting to be in the biz: do all the work, learn your craft. There are no shortcuts. If you stay with it, you will get an opportunity. - Author: Christopher Judge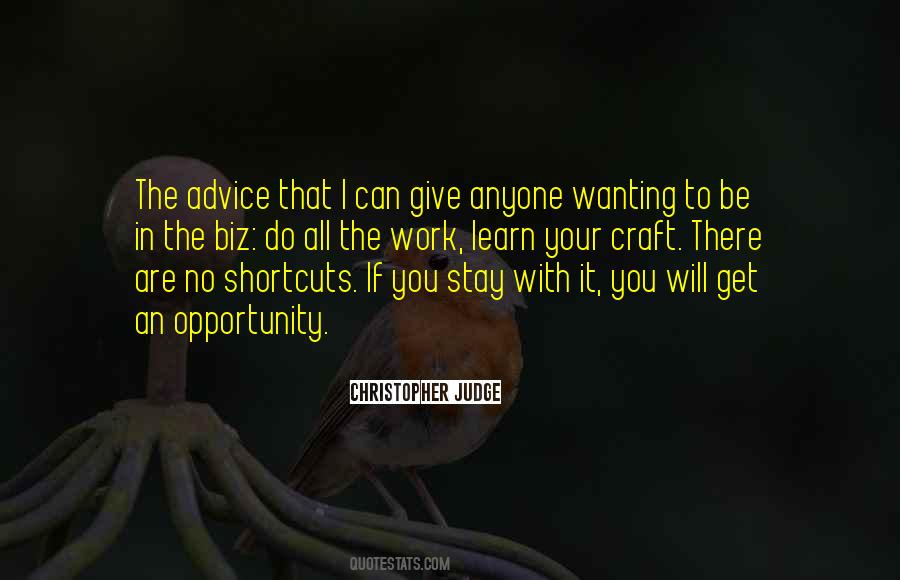 #21. Without failing at one thing, there won't be an opportunity to try again, learn and grow. Life isn't static but dynamic. Learn to embrace whatever situation you may face and strive to overcome. Believe in yourself, knowing your best is yet to come. - Author: Kemi Sogunle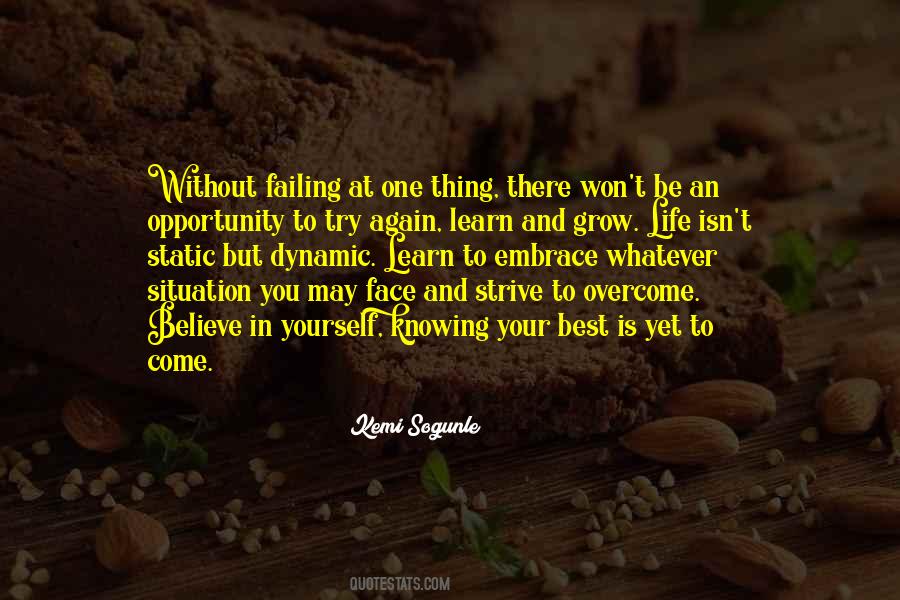 #22. My parents have always been there to really support anything I wanted to do or learn - they provided the opportunity for me. I was very blessed in that sense. - Author: Paula Creamer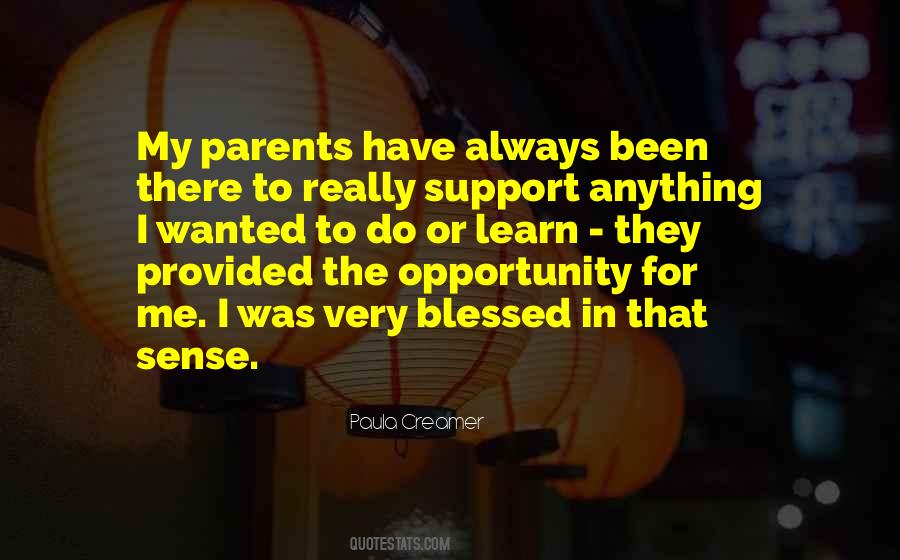 #23. The universe does not judge us; it only provides consequences and lessons and opportunities to balance and learn through the law of cause and effect. Compassion is the recognition that we are each doing the best we can within the limits of our current beliefs and capacities. - Author: Dan Millman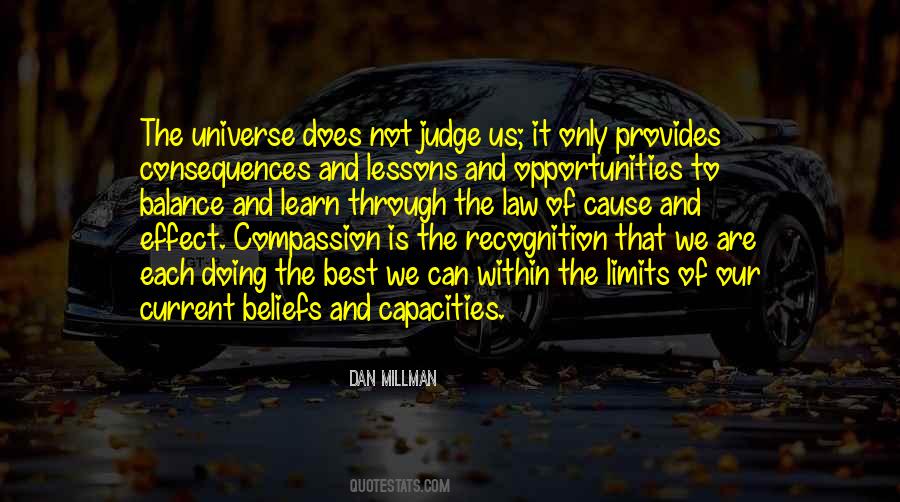 #24. I wanted to throw myself into an experience that was too big for me and learn in a way that cost me something - Author: Jamie Zeppa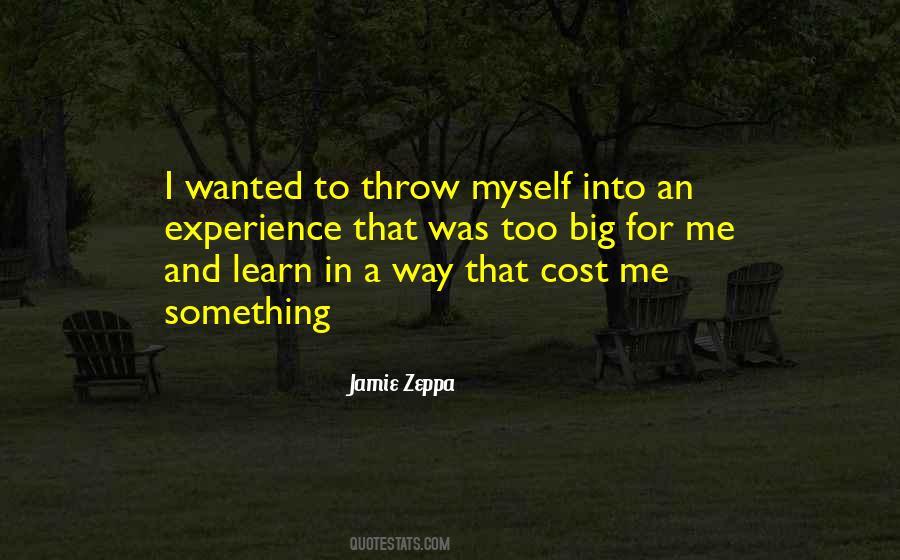 #25. Each time we confront some intense difficulty, we know there is something we haven't learned yet, and the universe is now giving us the opportunity to learn. - Author: Susan Jeffers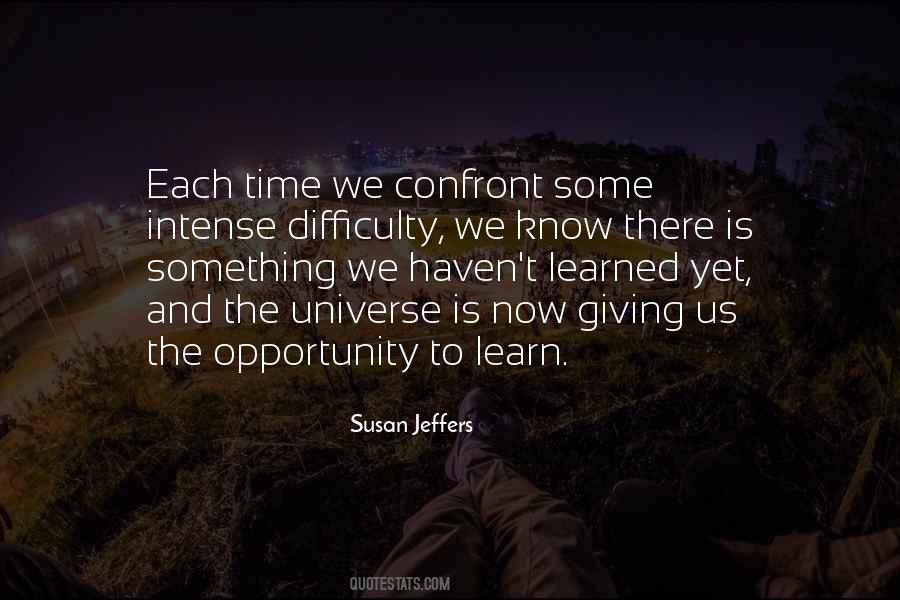 #26. I am not interested in entertaining people. I think being an actor provides an opportunity to give people an experience they can connect to, reflect on, learn from, laugh at. - Author: Cory Michael Smith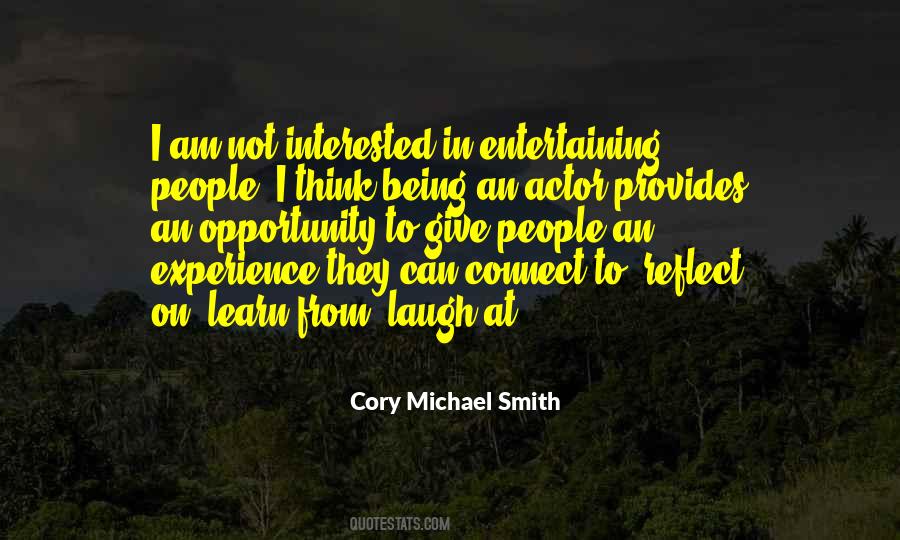 #27. Every Canadian who wants to learn should have the opportunity to do so. - Author: Paul Martin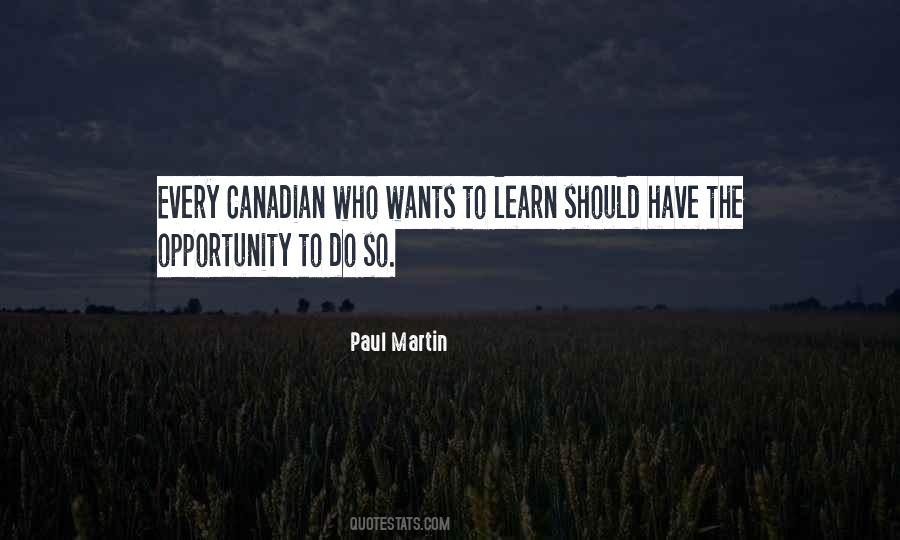 #28. Intermarriage is not a calamity but an opportunity for both a Jewish and non-Jewish partner to learn. - Author: Edgar Bronfman, Sr.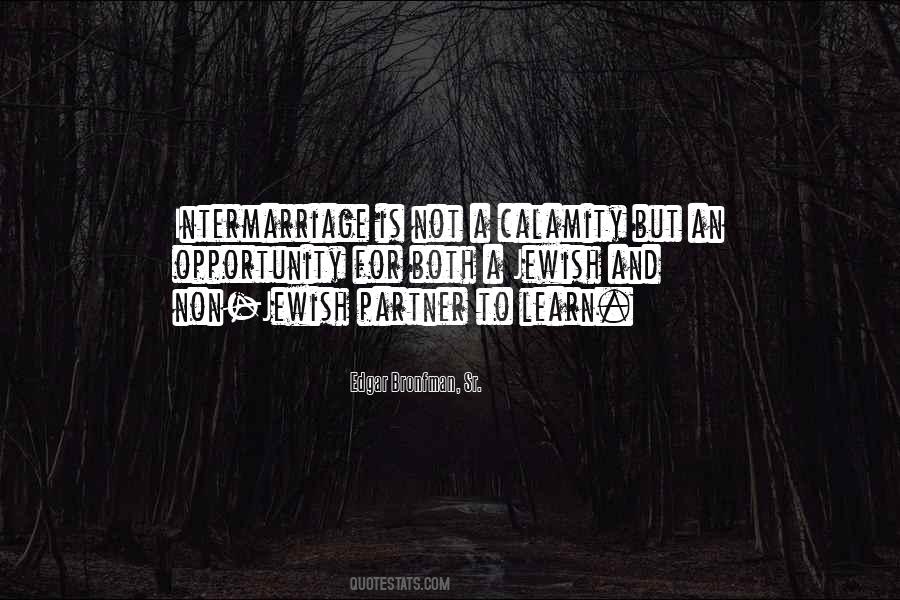 #29. The more I learn, the more doors of information and opportunity are open to me. - Author: Debasish Mridha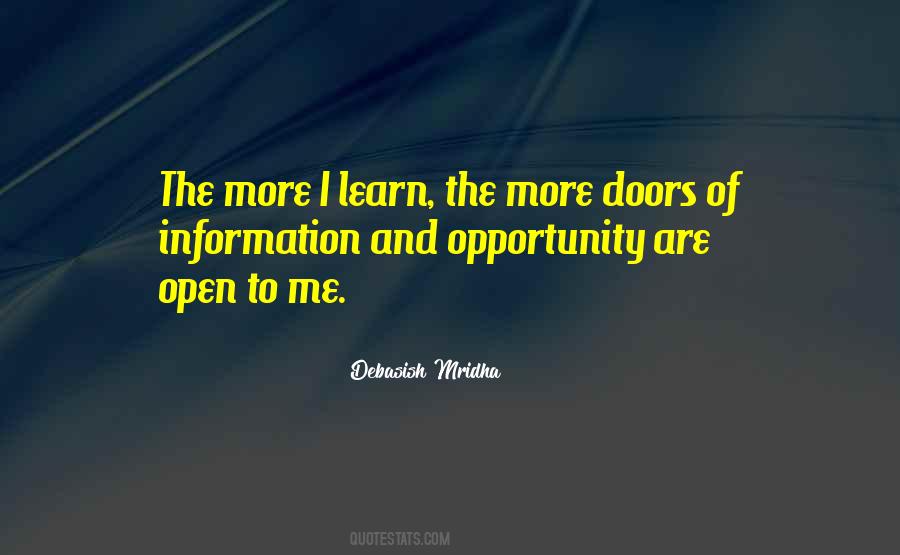 #30. Finished ought to be an F-word for all of us. We are all works in progress. Each day presents an opportunity to learn more, do more, be more, grow more in our lives and careers. - Author: Reid Hoffman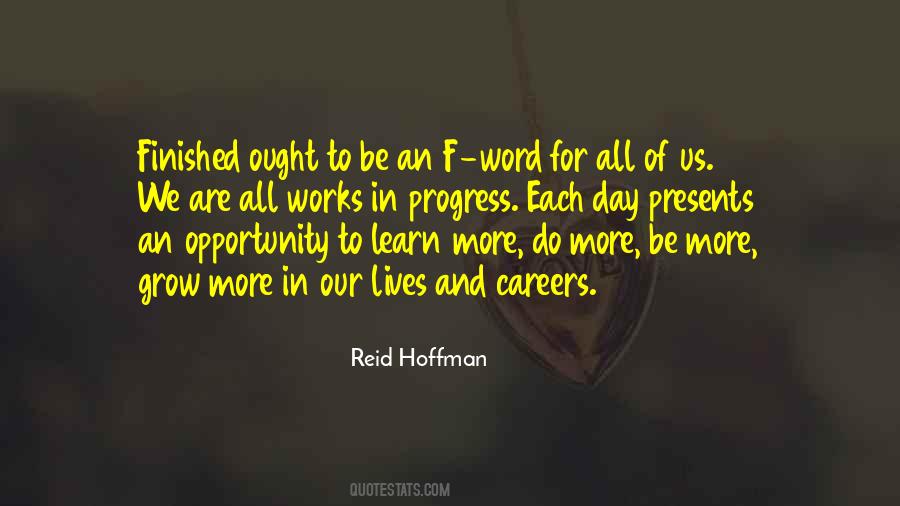 #31. Think. Learn. Act. The more you know, the better and more educated choices you have the opportunity to make. - Author: Mehgan Heaney-Grier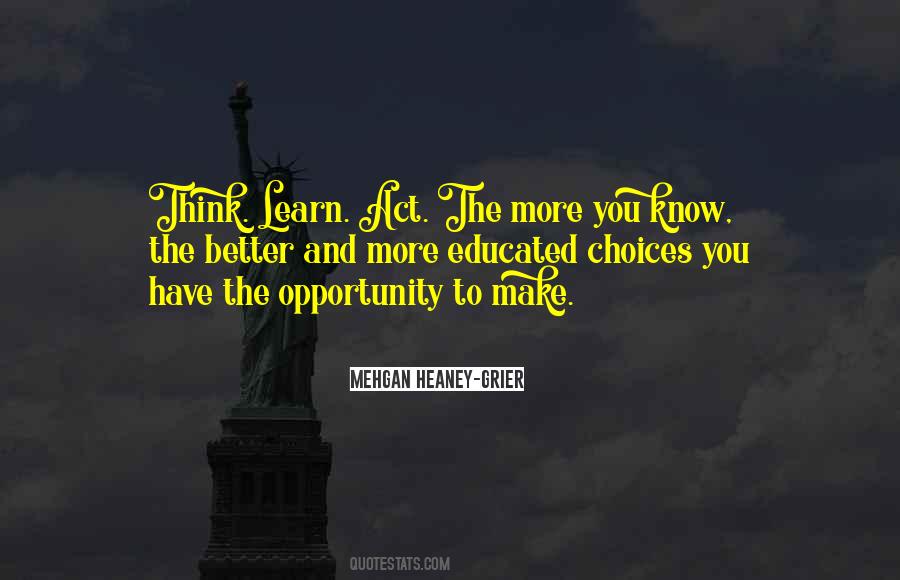 #32. I am inspired by music, travel, great architecture, and good, healthy food. I look for opportunities to learn about history, art, and cooking. When I learn, I grow. - Author: Tim Matheson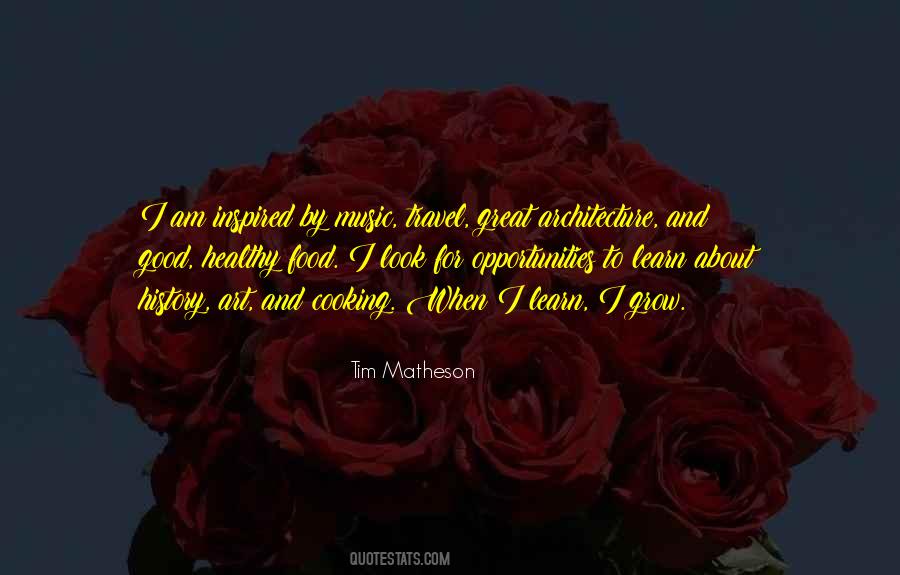 #33. The only time you truly make a mistake is when you commit a "mis-take," that is, you "miss-taking" the opportunity to learn a valuable lesson from your seemingly malfunctional experience. - Author: Dean Frazer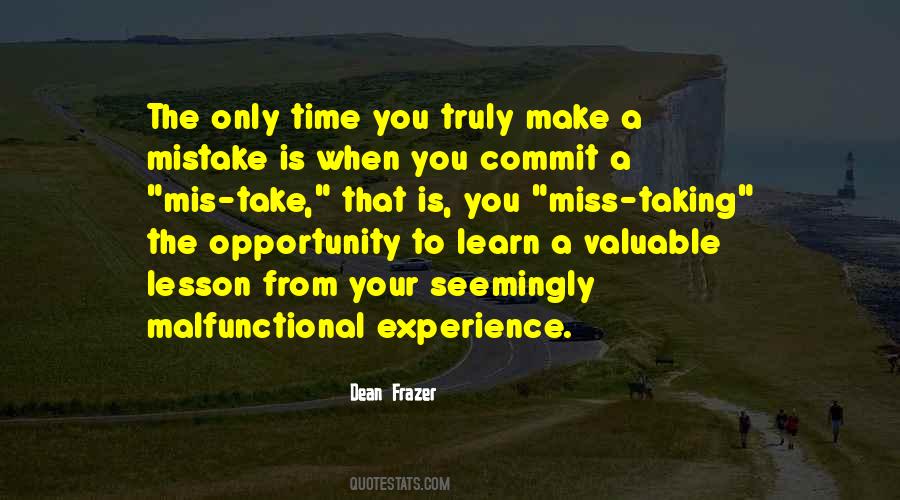 #34. Accept false steps as opportunities to learn. It's one thing to hate failure, it's another to fear it. - Author: Bill Parcells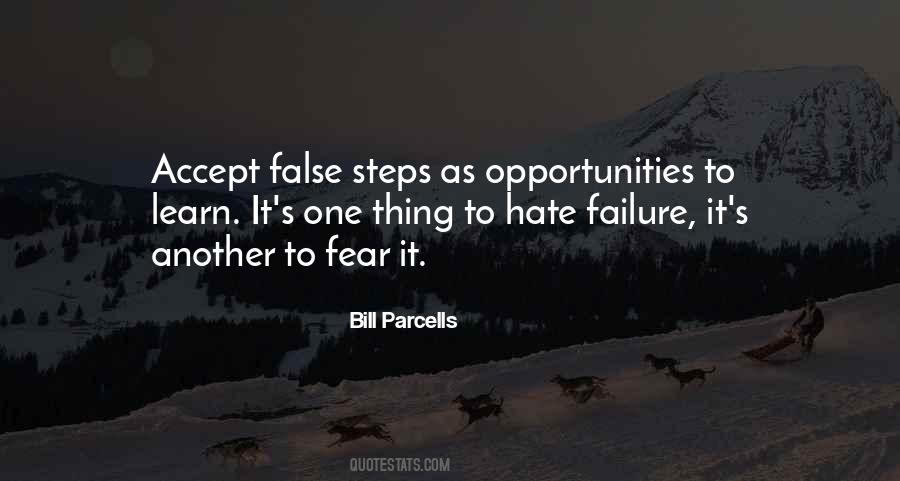 #35. Challenges are opportunities for me to grow. The more I learn, the more equipped I am to handle whatever situations come up. - Author: Louise Hay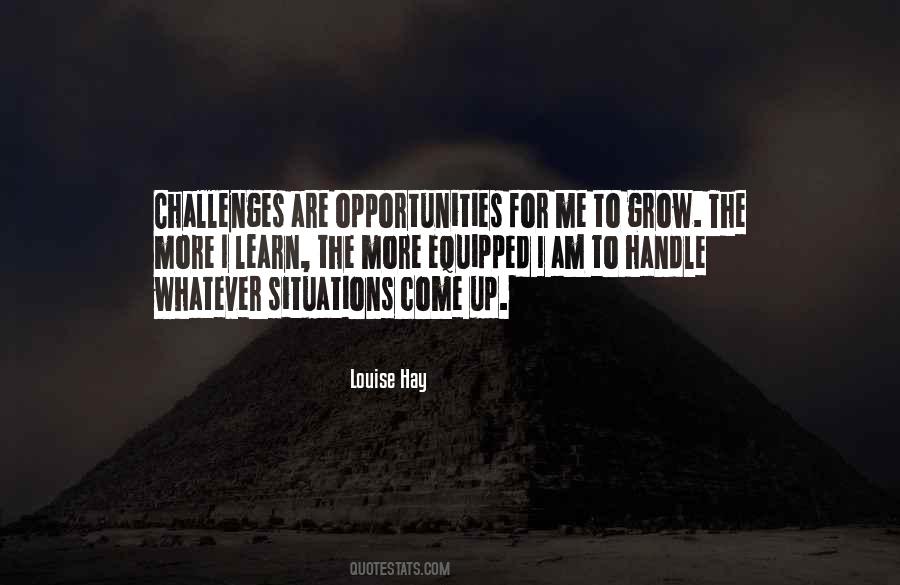 #36. When I was brought up in Sweden, there was a great opportunity for young people to learn how to act in our municipal theaters with their small companies. You would be under contract for eight months and have the summer free to take other opportunities. - Author: Max Von Sydow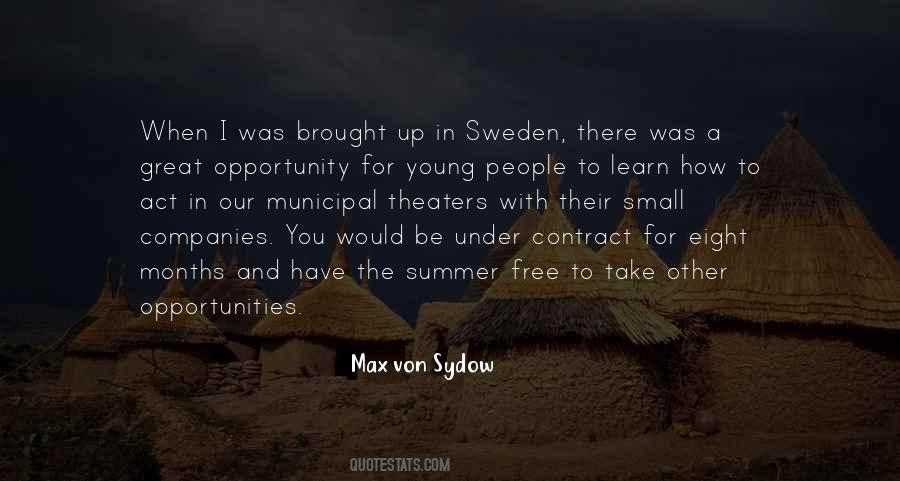 #37. Working with children with autism has provided me with an opportunity to see the world in a different way. I see them strive to overcome obstacles and persevere, and learn to persevere myself. They are my inspiration. - Author: Clay Aiken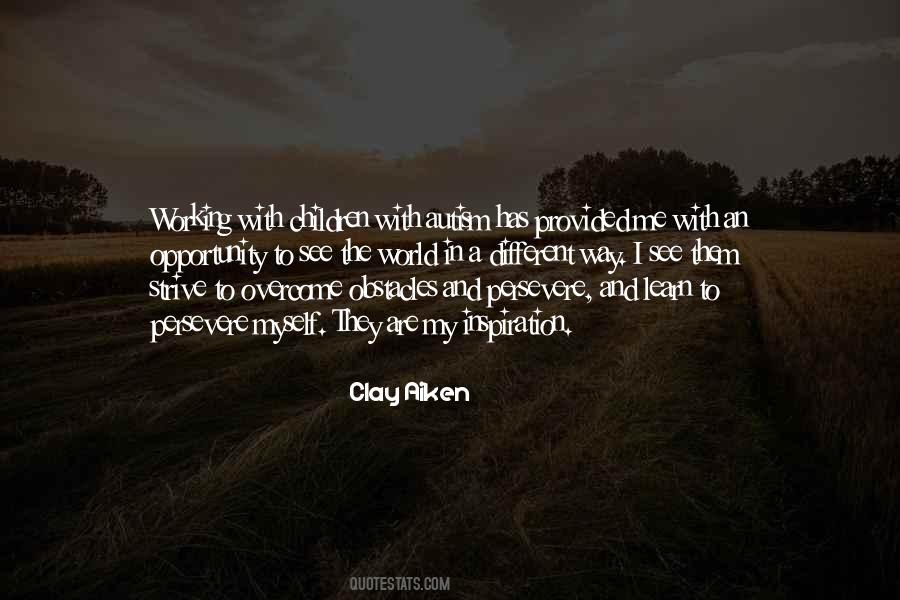 #38. If it is true that strength is the child of effort and pain, then most of us will have the opportunity to learn strength ... Effort is standing up to the storm. Pain comes from enduring the worst the storm can throw at us. But then so does strength. - Author: Joseph M. Marshall III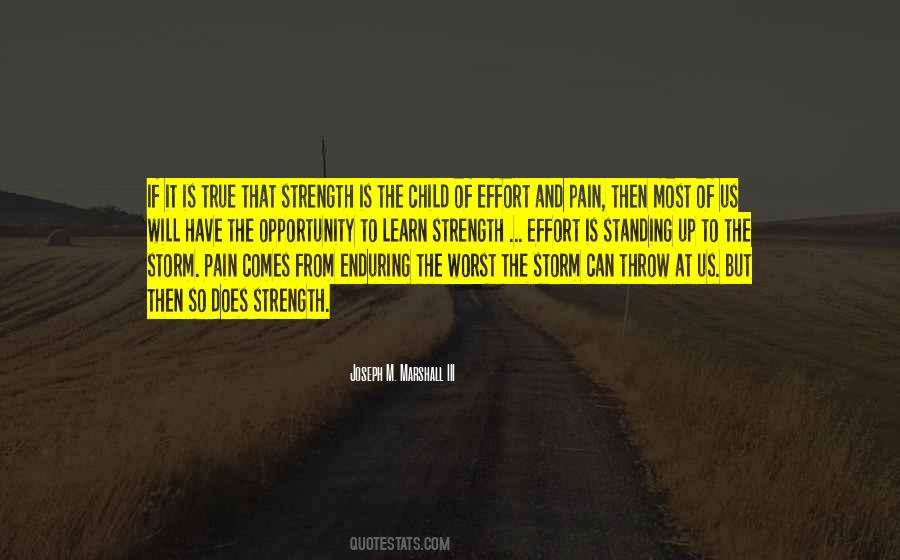 #39. Why worry about doing something you love? Figure out what the opportunity is. Find a thing, get good at it, learn to love it later. - Author: Mike Rowe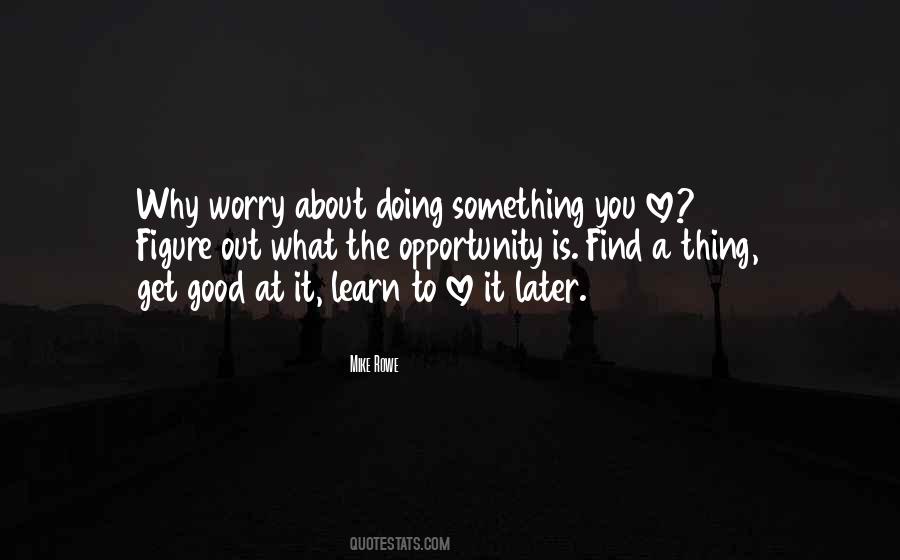 #40. Change is inevitable in life. You can either resist it and potentially get run over by it, or you can choose to cooperate with it, adapt to it, and learn how to benefit from it. When you embrace change you will begin to see it as an opportunity for growth. - Author: Jack Canfield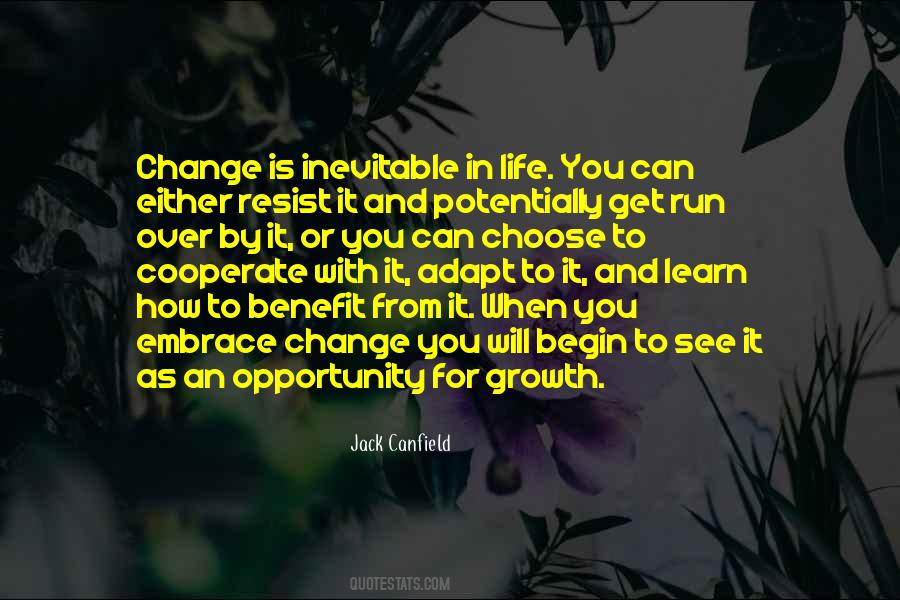 #41. Gender equality cannot be achieved by cutting programs that allow girls to get the same chance to compete, learn, and play. The United States has had a solid history of commitment to its female athletes and expanding opportunity for women, and it is imperative that we continue on this path. - Author: Linda Sanchez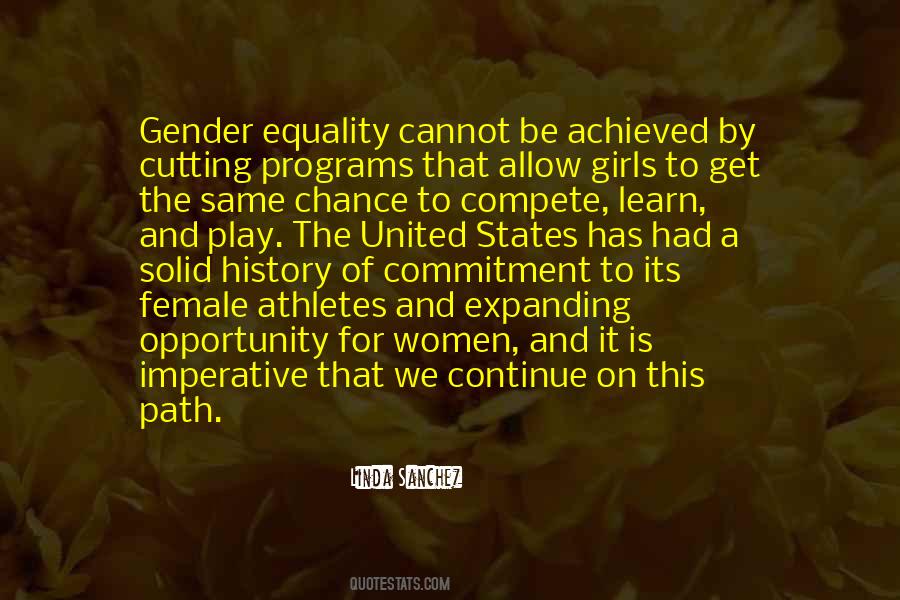 #42. If I can have the opportunity to go into an editing room, it's like the golden ticket for me. All I want is to learn about everything else in the filmmaking process. I just directed a music video which just came out and that'd sort of be the area of the field that I'm going to move into, I hope. - Author: Nikki Reed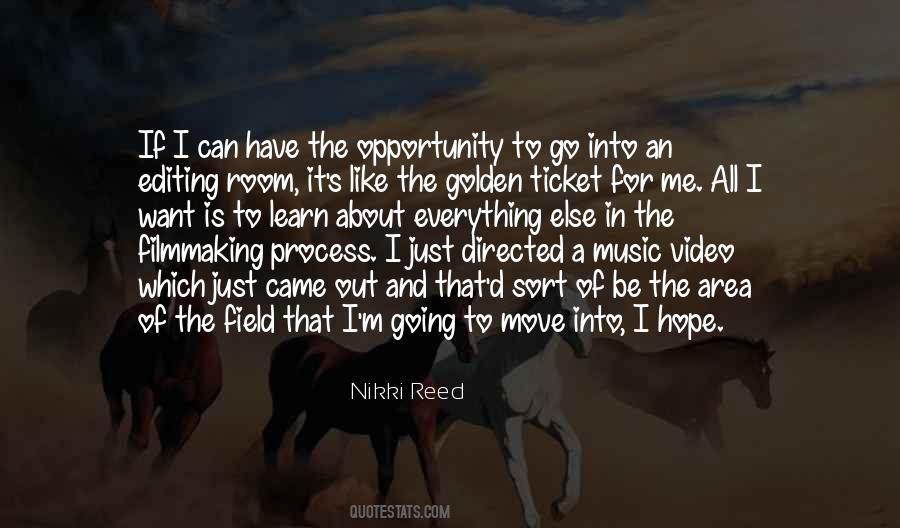 #43. Welcome the challenges. Look for the opportunities in every situation to learn and grow in wisdom. - Author: Brian Tracy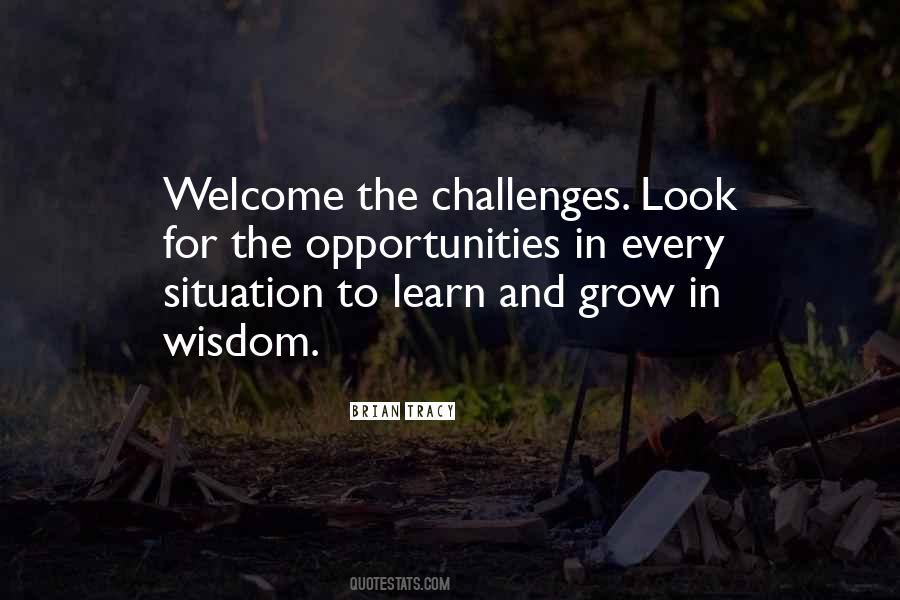 #44. The opportunity here in the U.S. is so unique because we are so diverse, with so many different cultures living together. Christians, Jews, Hindus, Muslims and Buddhists, all with their own connections to the spiritual aspects of food and with lessons that we can learn from each other. - Author: Marcus Samuelsson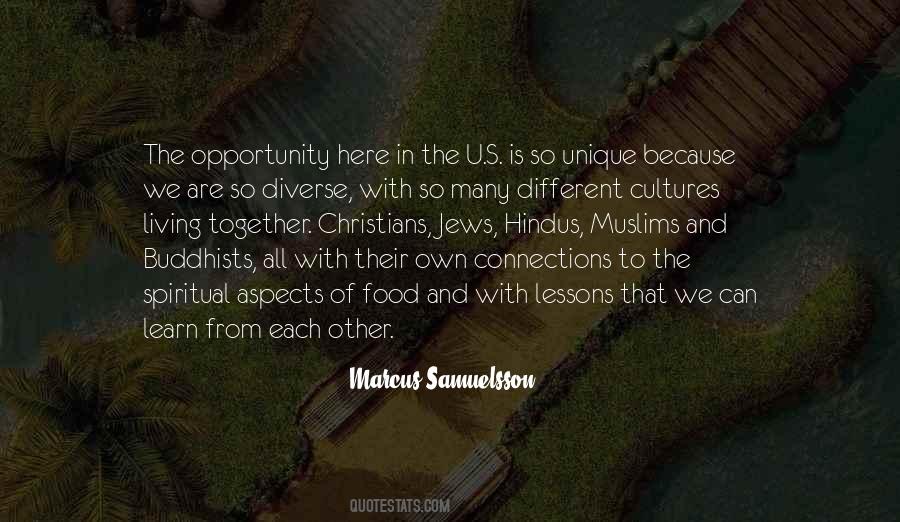 #45. Opportunities are always everywhere, learn to see and create them. - Author: Jacob Gelt Dekker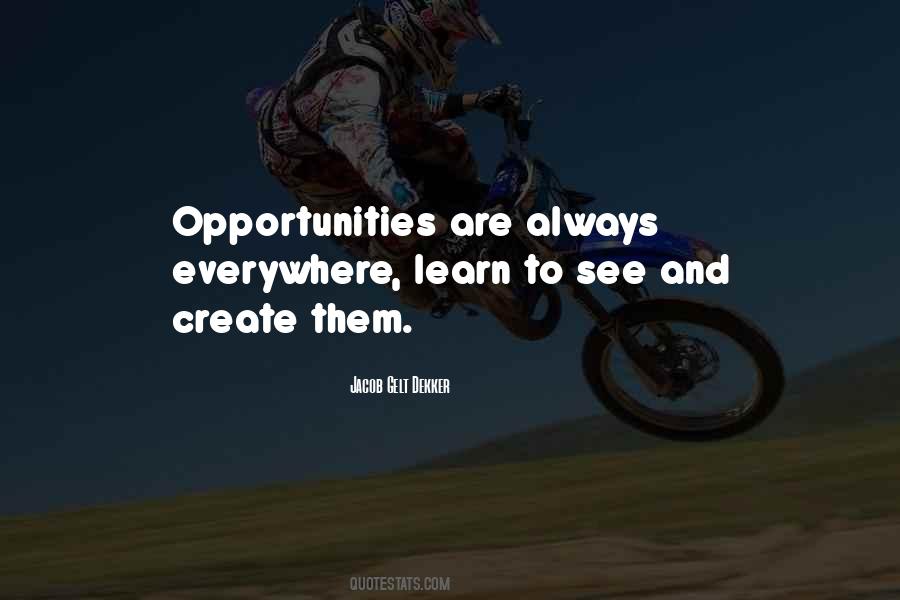 #46. I never learn. Like a waitress will bring my meal. "Hey, enjoy your meal."
"You, too. But you don't have one, do ya? I'm a dufus. If you do eat enjoy it when you eat it if you have a break or something, later. If you get an opportunity." That's all I'm trying to say. - Author: Brian Regan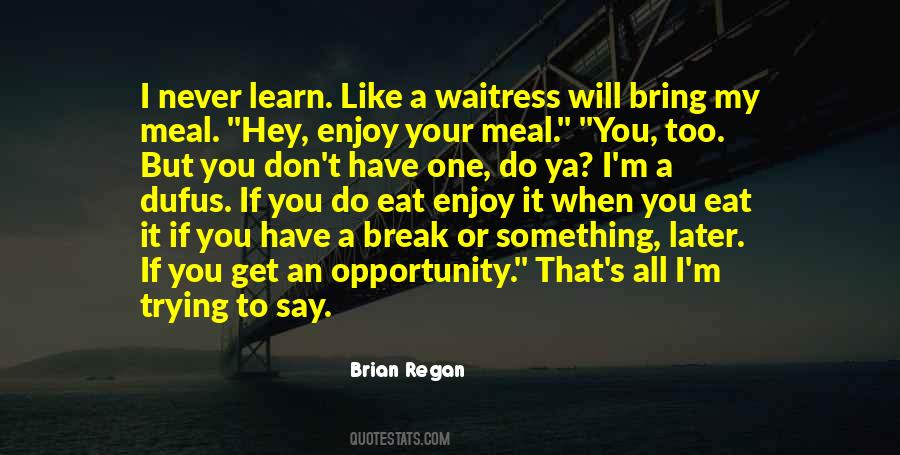 #47. Education provides the fullest opportunities for fulfilling ourselves. It is the access to all that a person has yet to learn. - Author: Lowell Milken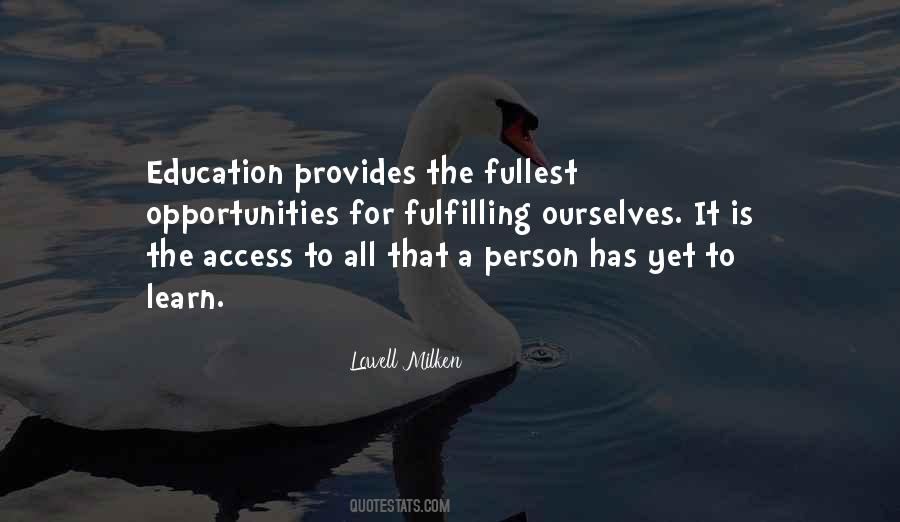 #48. Going to college is an amazing opportunity to not only learn and be book-smart but also to kind of stretch your wings and expand yourself as a human and as an artist, whatever it is you're going for. - Author: Lindsey Stirling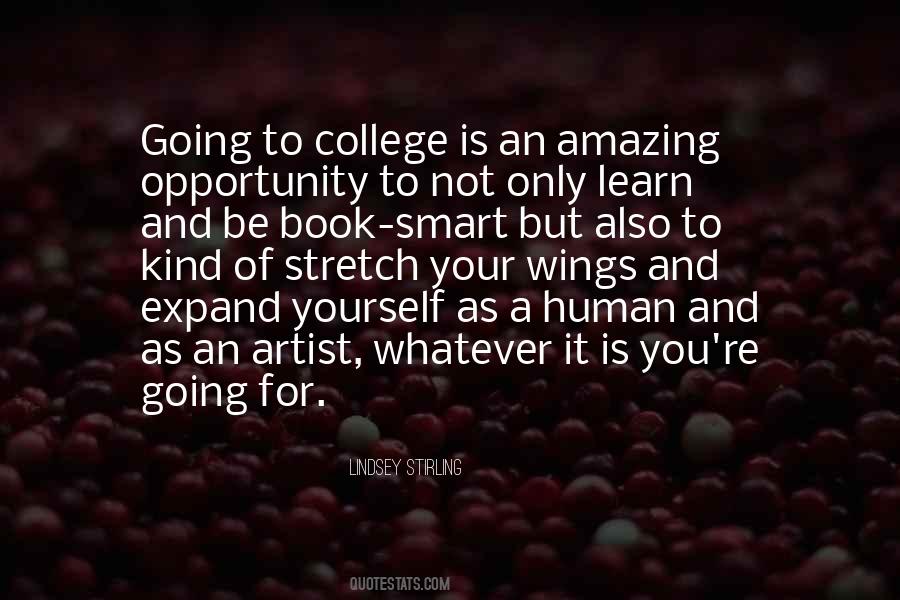 #49. I treat auditions like I treated my first dates. It's an opportunity to get to know a stranger and to learn from each other. - Author: Hugh Jackman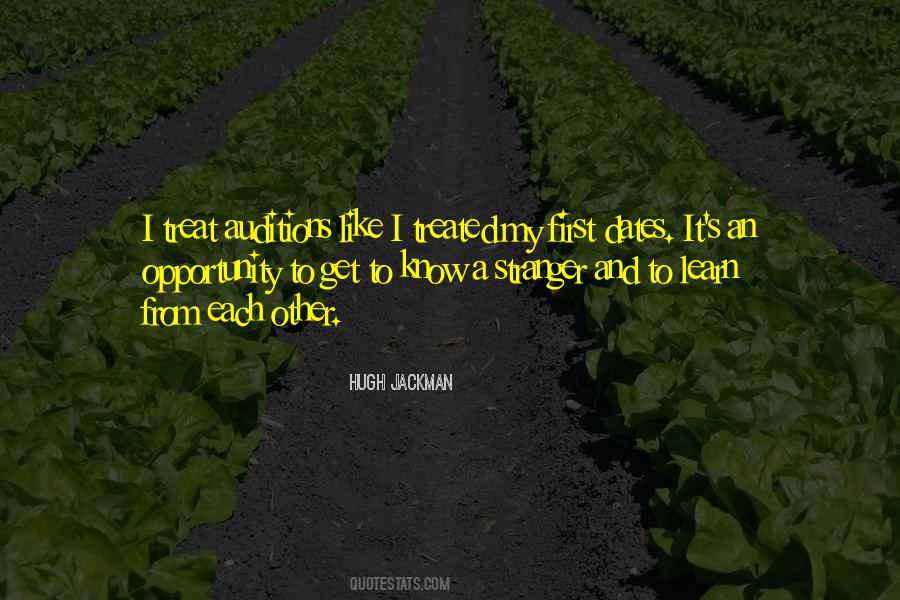 #50. Fear of pain has resulted in many women losing sight of birth as normal and natural, and of themselves as powerful and capable. Labor is an opportunity for women to learn about themselves and discover the strength and wisdom inherent in their bodies. - Author: Deepak Chopra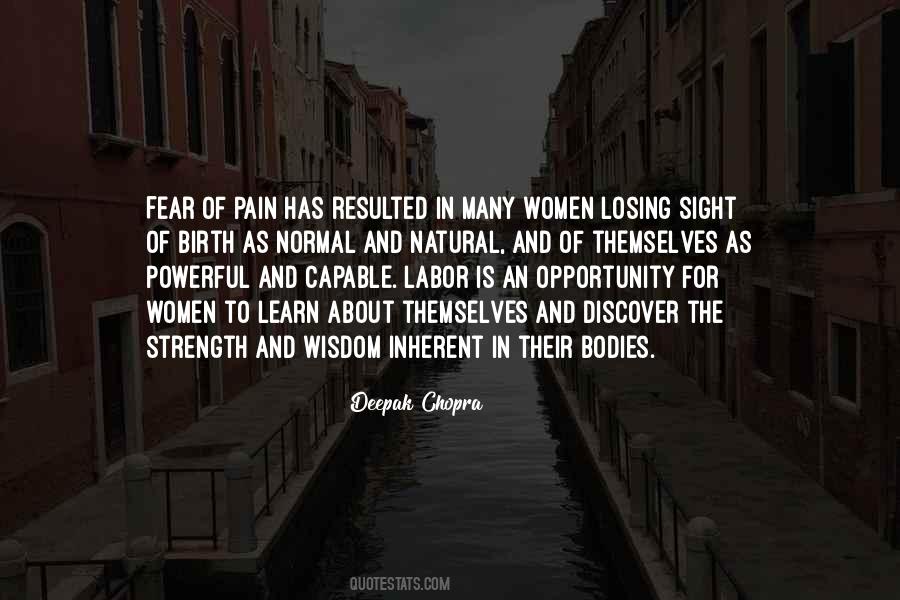 #51. Beloved, have you ever thought that someday you will not have anything to try you, or anyone to vex you again? There will be no opportunity in heaven to learn or to show the spirit of patience, forbearance, and longsuffering. If you are to practice these things, it must be now. - Author: A.B. Simpson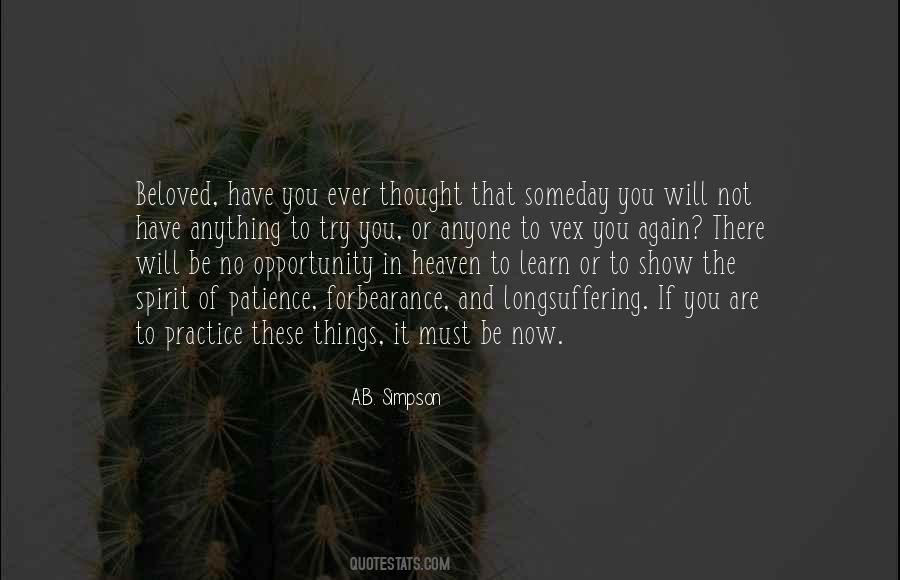 #52. I got to Africa. I got the opportunity to go and learn, not about any animal, but chimpanzees. I was living in my dream world, the forest in Gombe National Park in Tanzania. It was Tanganyika when I began. - Author: Jane Goodall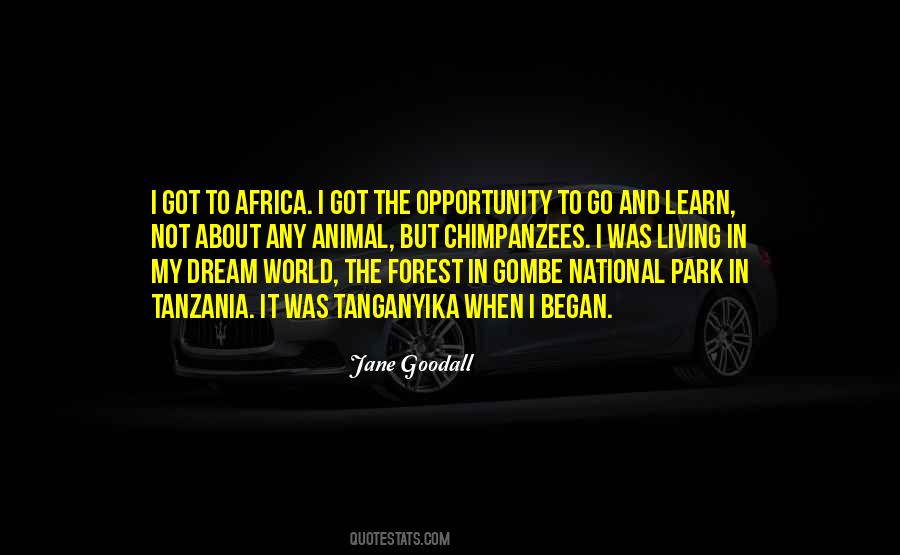 #53. Strength comes from struggle. When you learn to see your struggles as opportunities to become stronger, better, wiser, then your thinking shifts from "I can't do this" to "I must do this. - Author: Toni Sorenson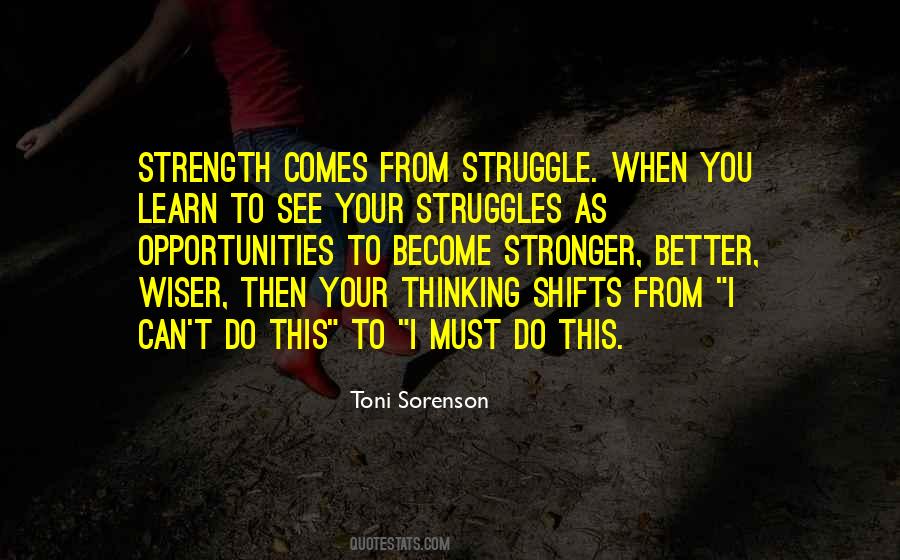 #54. My idea was that if I loved to sing, I would just do it anywhere I could, and always go out and always try to learn and try to perform, and try to find opportunities. Little by little, I sort of built upon that idea. - Author: Lauren Hart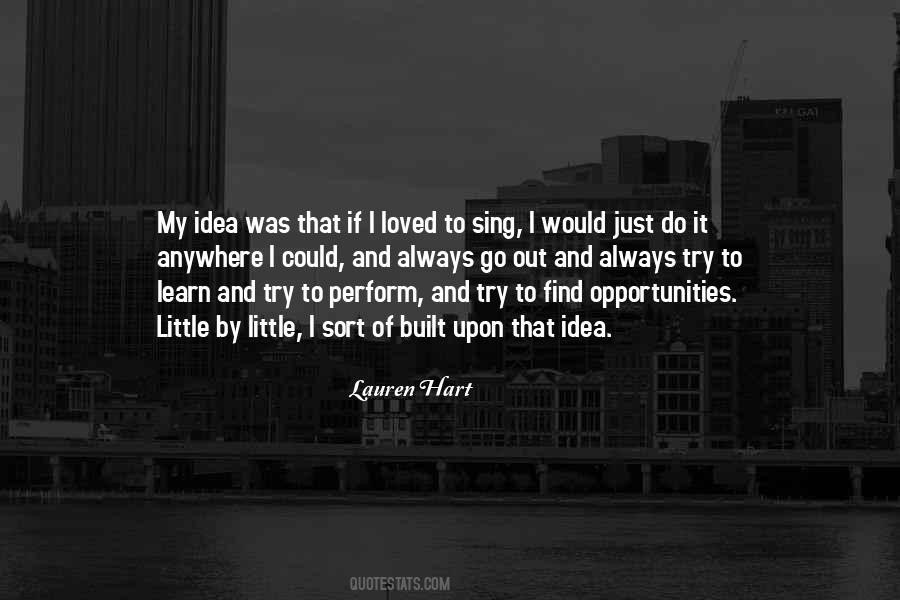 #55. Learning how to interact with customers is something that anyone starting any business must master. It's an amazing opportunity to be able to learn the ropes at an established company and then employ your expertise at your own company. - Author: Marc Benioff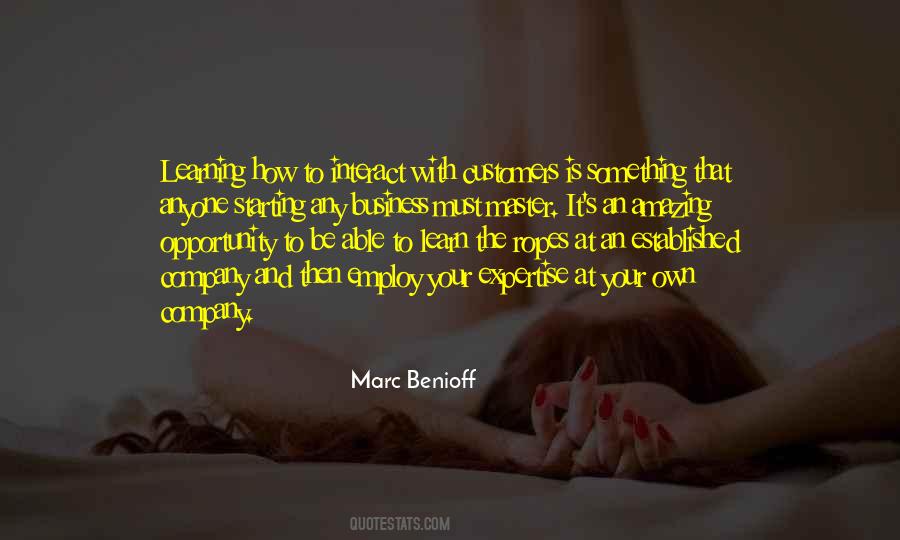 #56. I've made a habit of falling in love with cities I've never been to
And every once in a while I get the opportunity to be reckless
Under the guise that I'm only young once and stupidity is a state
I must learn the hard way - Author: Marie Gibson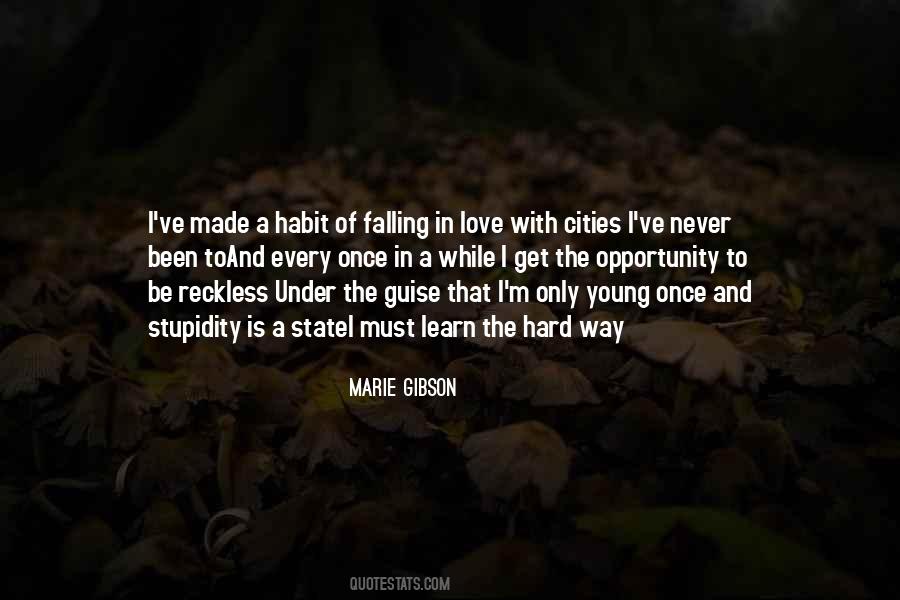 #57. Potter for me is something that's been giving me these amazing opportunities to start a career and learn while I'm doing, which is the best way to learn. - Author: Daniel Radcliffe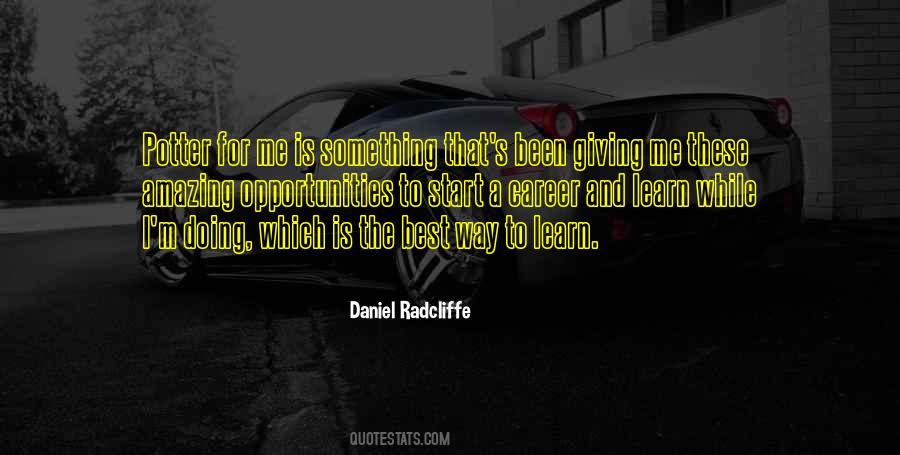 #58. I've come to learn that my initial investment is more about the person versus the product that I am buying into. I've also learned that I really do enjoy giving worthy people an opportunity of a lifetime. - Author: Daymond John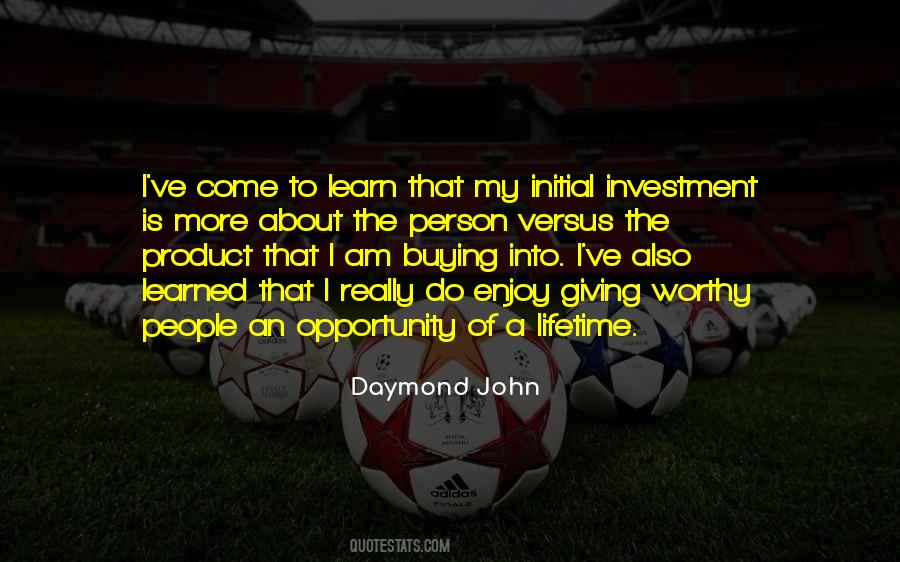 #59. Working on new projects gives you the opportunity to learn and absorb new things. - Author: Michelle Ryan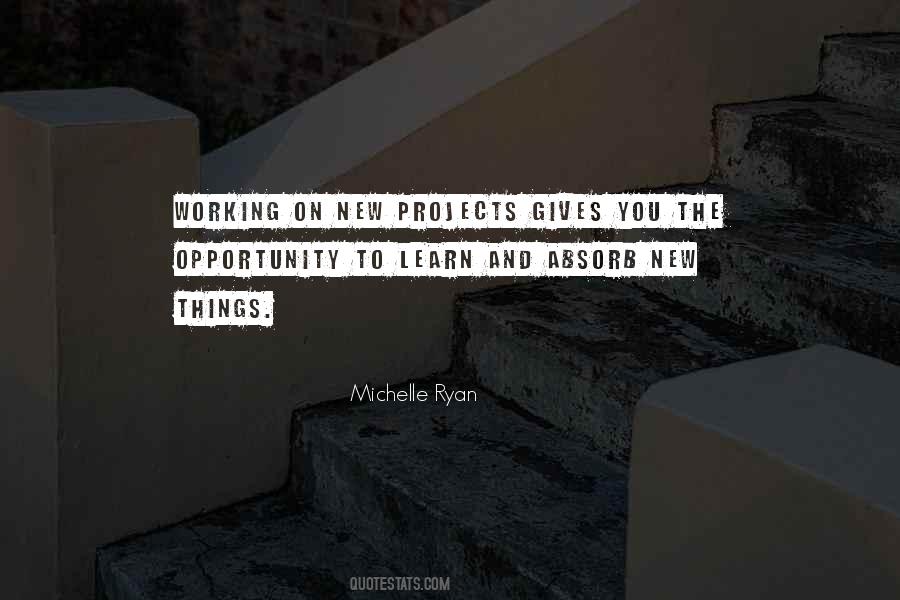 #60. I have the opportunity to learn about the fashion world, and I appreciate it as an art form ... But I never want it to take over my acting. - Author: Lupita Nyong'o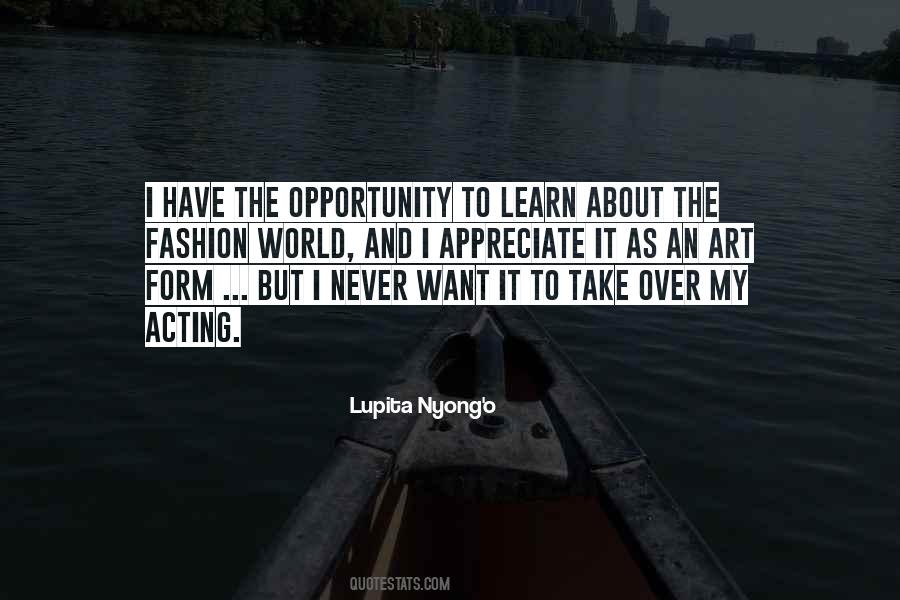 #61. We must learn to love, learn to be kind, and this from the earliest youth; if education or chance give us no opportunity to practice these feelings, our soul becomes dry and unsuited even to understanding the tender inventions of loving people. - Author: Friedrich Nietzsche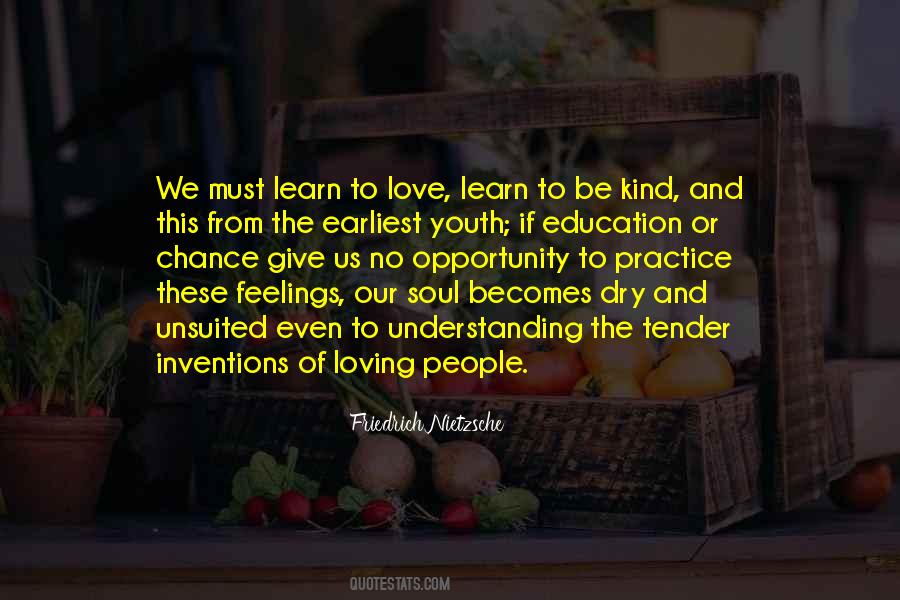 #62. It may be tempting to look back and wring our hands over missed opportunities for change in the preceding decades. But, I'm not interested at looking in the rearview mirror except to learn. - Author: Jennifer Granholm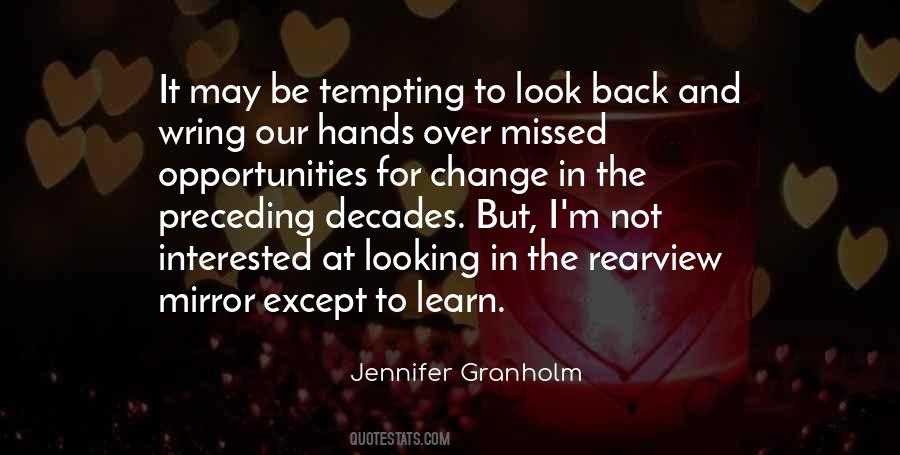 #63. If someone offers you an amazing opportunity and you're not sure you can do it, say yes - then learn how to do it later.
Richard Branson - Author: Richard Branson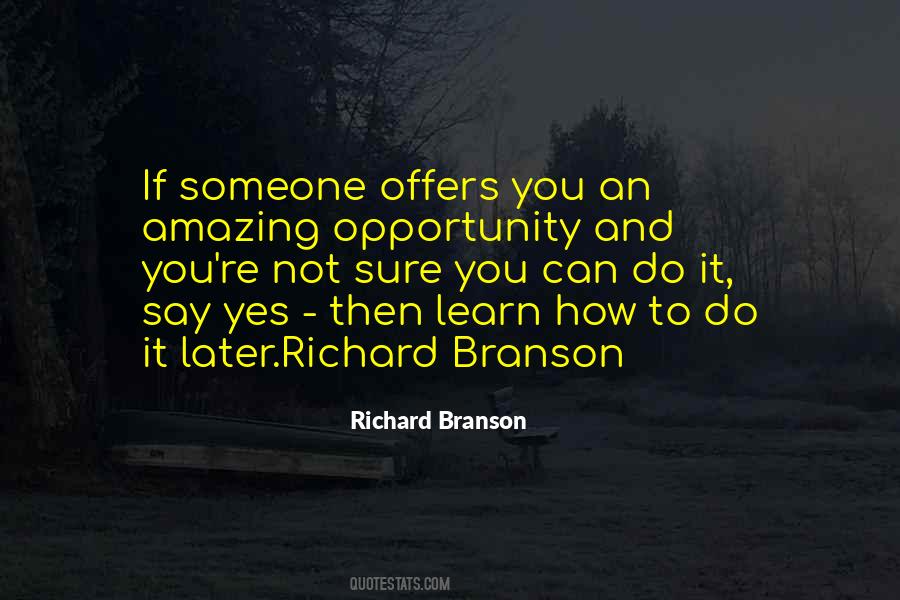 #64. Every new season of you life will be an opportunity for you to learn and grow. Don't celebrate the good without celebrating the bad because they both work together to prepare you for the next season of your life. - Author: Theresa Lewis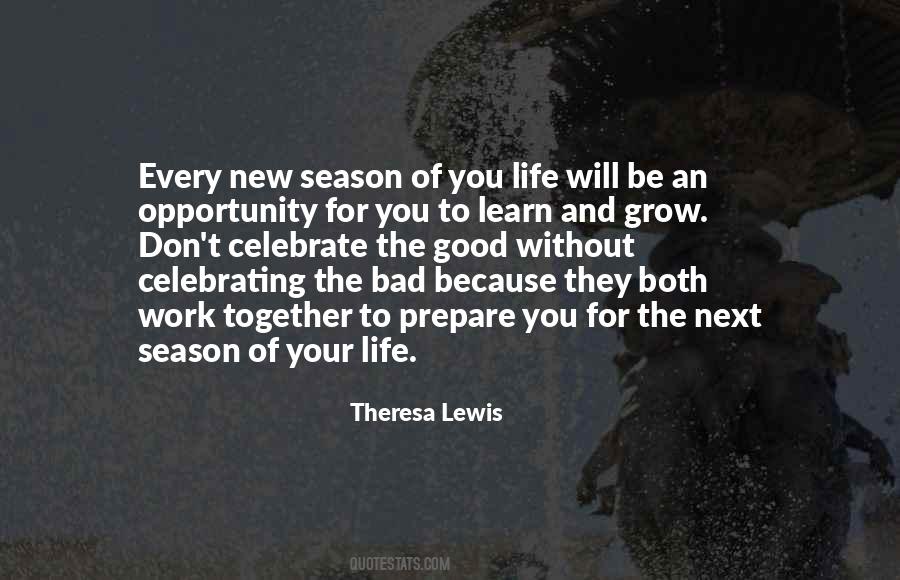 #65. Even if you're not yet an entrepreneur, you can be entrepreneurial in everything you do. If you view each stop as an opportunity to learn something, there is always something you will take away from that experience. - Author: Tory Burch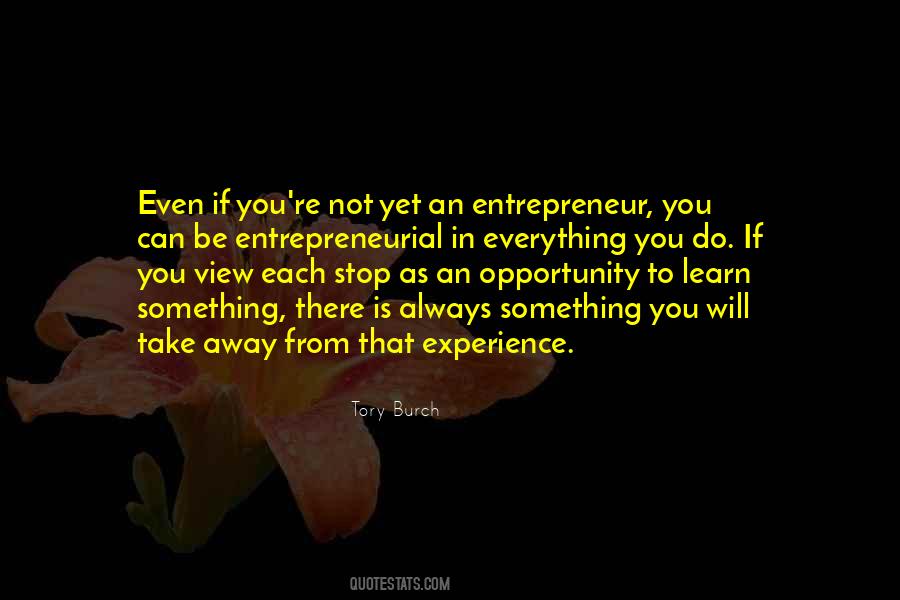 #66. I'll tell you what I did need to learn was tolerance, and I think I've been actually given a daily opportunity to practice that, and it's - it's - and I know that that sounds almost like a backhanded slap, and it is in a way because I haven't been successful at it every day. - Author: Mel Gibson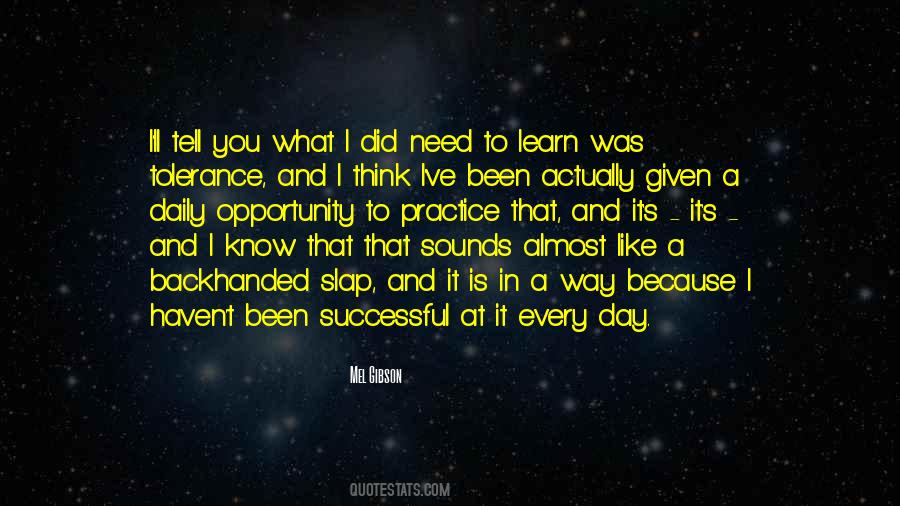 #67. When we make mistakes, say, I'm blessed that I have an opportunity to learn from this. - Author: Holly Near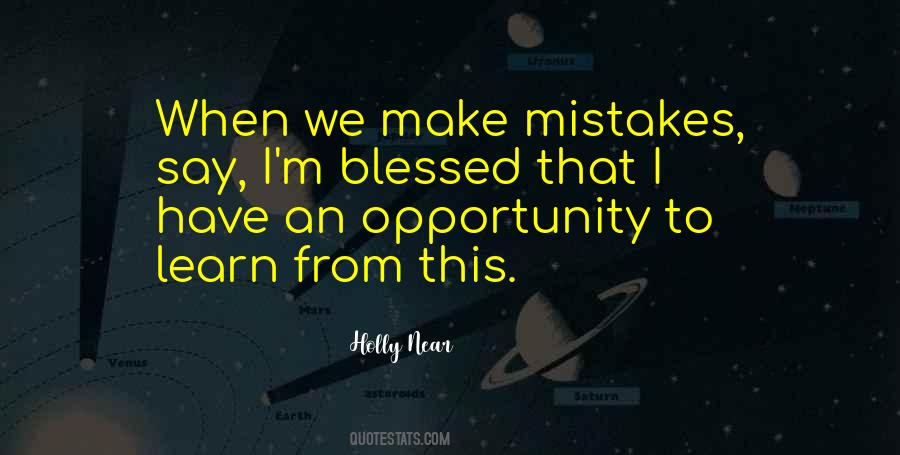 #68. I think making shorts is really about giving yourself the opportunity to learn what your strengths and weaknesses are. That's really important to know before getting to your first feature. In many ways you can't afford to make too many mistakes while on that feature. - Author: Aurora Guerrero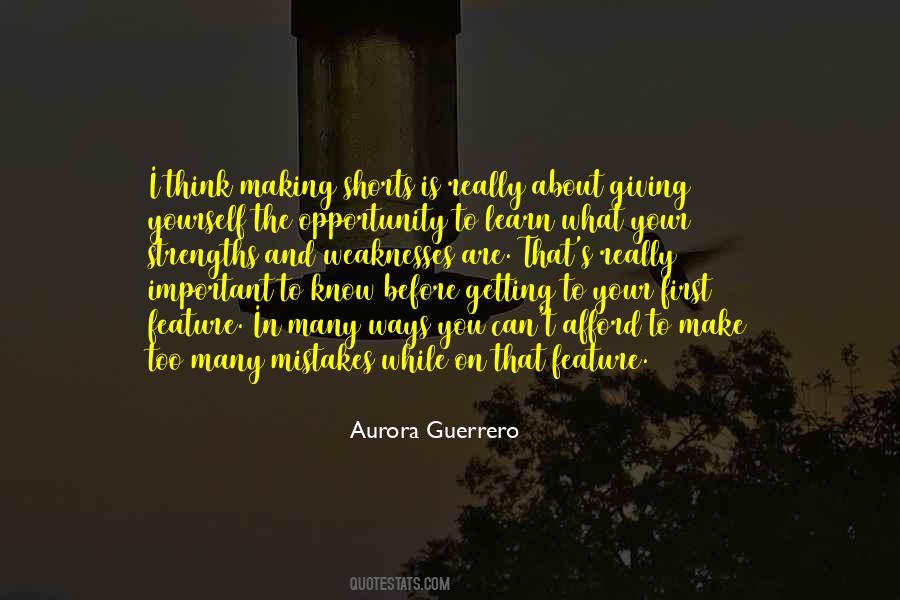 #69. Every day is an opportunity to learn something or discover something or someplace. Be curious, play, go out on a limb, walk a different way to work, try a new food at dinner and keep learning and growing. - Author: Sandra Magsamen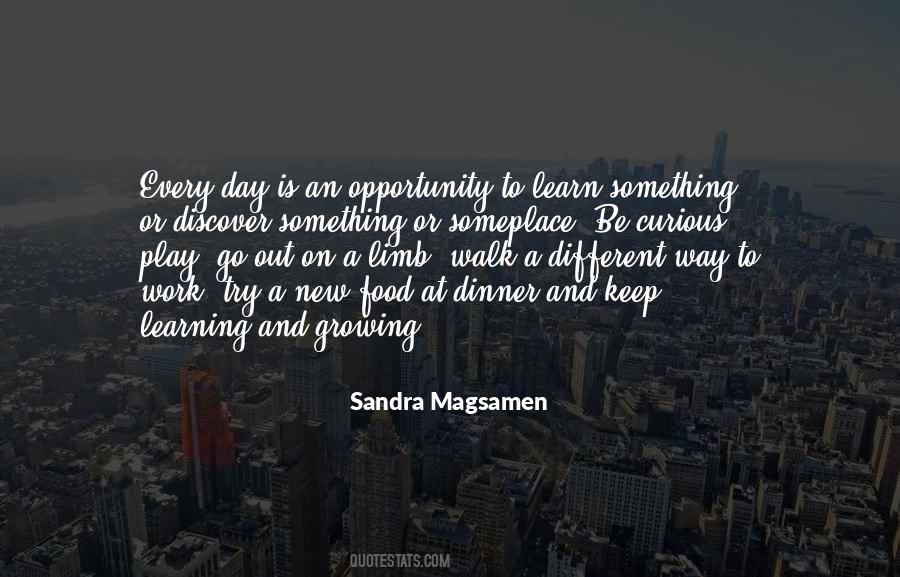 #70. " ... One can learn to focus on 'opportunity' as the gift within every given moment. This attitude towards life always improves the situation. Even in times of sickness, someone who habitually practices grateful living will look for the opportunity that a given moment offers and use it creatively." - Author: David Steindl-Rast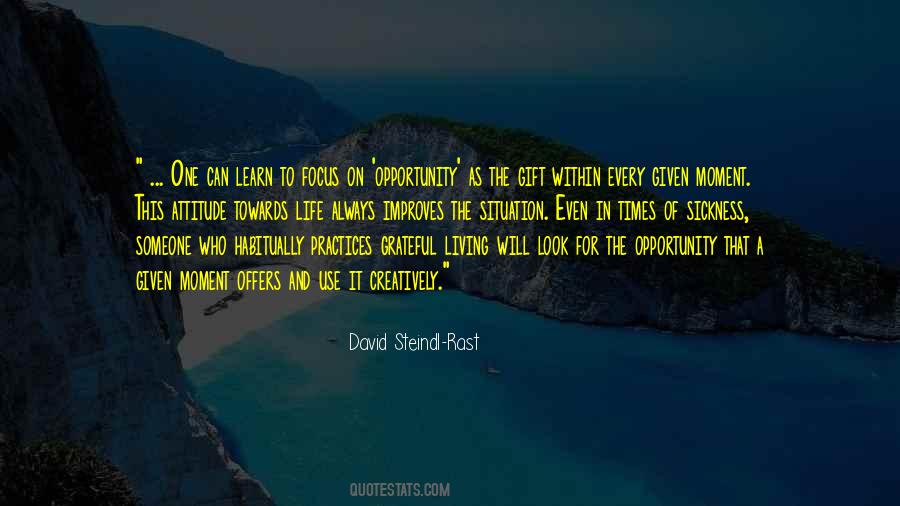 #71. When you make a film it is like asking yourself a question. When it is finished, you know the answer. Ultimately with all of cinema, we are just trying to learn about ourselves. I have always used the opportunity to make a film to learn more about myself, which I am still doing. - Author: Francis Ford Coppola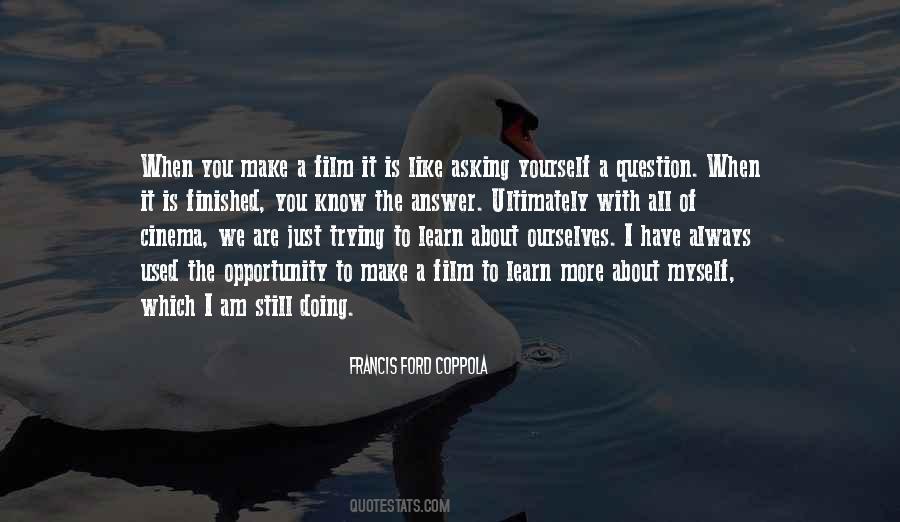 #72. Learn from the past, but don't live there. Build on what you know so that you don't repeat mistakes. Resolve to learn something new every day. Because every 24 hours, you have the opportunity to have the best day of your company's life. - Author: Harvey MacKay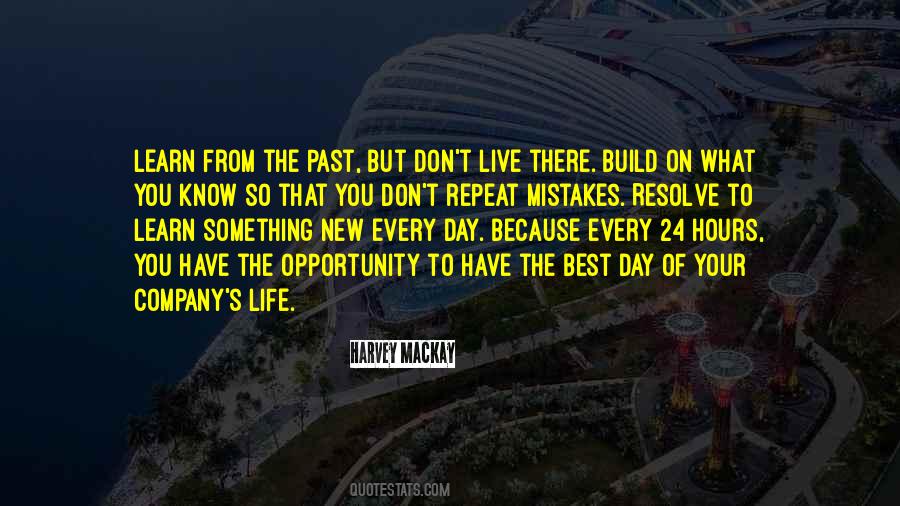 #73. Every time you observe you give yourself the opportunity to learn. - Author: Libby Fischer Hellmann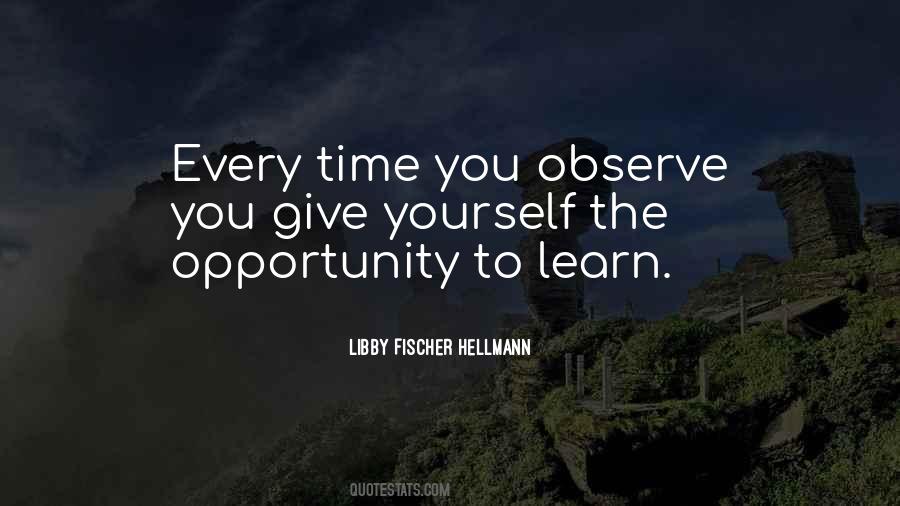 #74. Everything in life serves as a challenge and test to elevate us. Therefore it is right to be grateful for the opportunity to learn and grow through tackling this real life experience. - Author: Moshe Chaim Luzzatto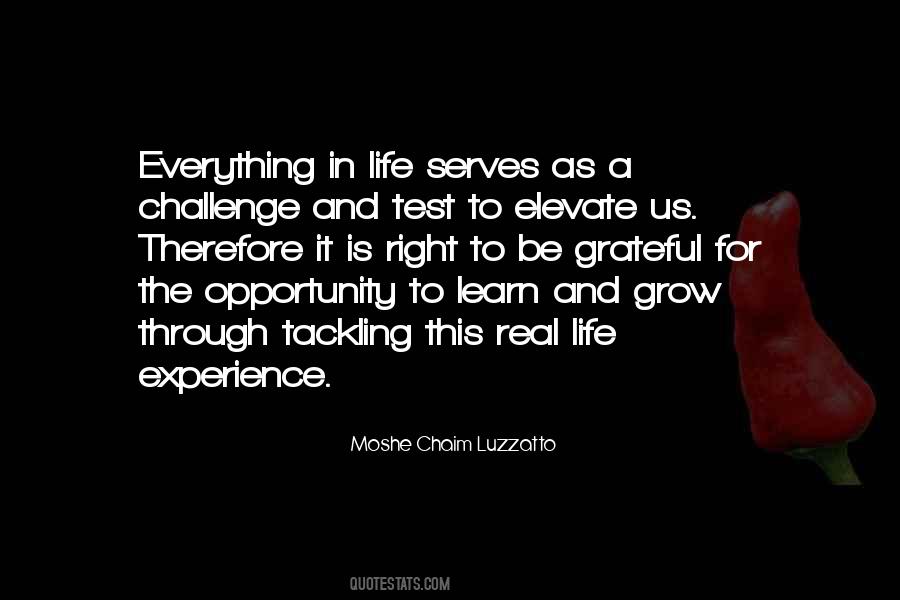 #75. When you learn to trust and believe in yourself - your thoughts, feelings, and intuition - you give others the opportunity to trust you. - Author: Michael Thomas Sunnarborg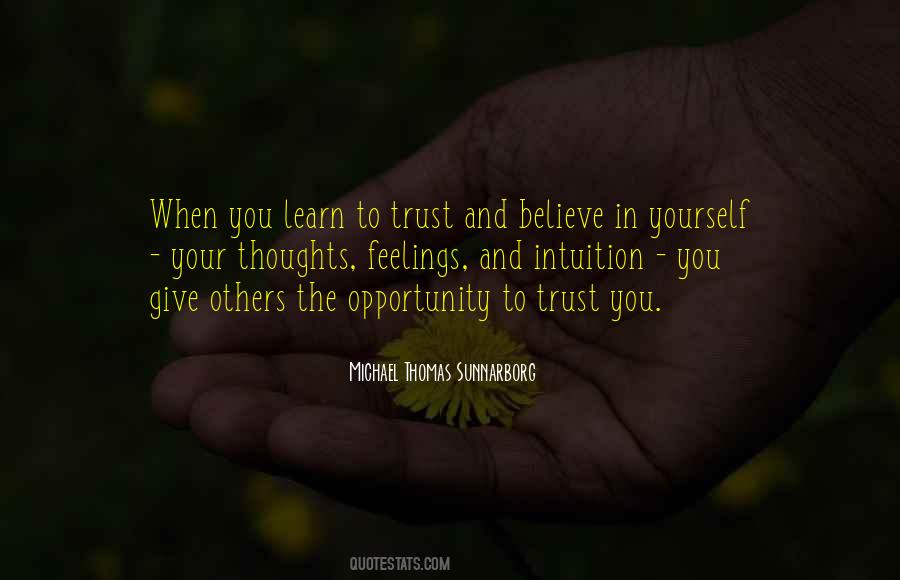 #76. I we are looking for God or an opportunity to learn and enrich our lives in every situation, we will find that, but if we are looking for how am I enjoying or suffering, we are subject to endless frustration - Author: Radhanath Swami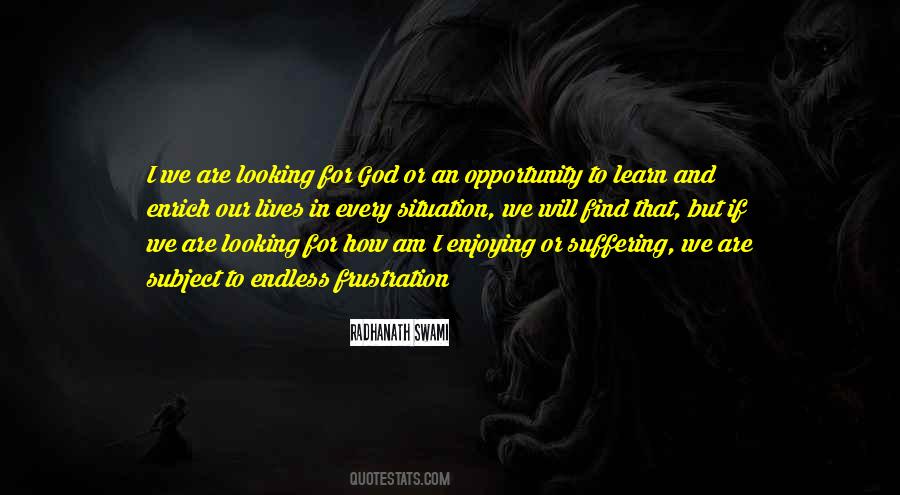 #77. Difference thinking' is more than the ability to connect the dots, though. It's about seeing the truth, recognising the opportunity in that truth and then acting on it. You need to learn how to see the dots and understand the significance of connecting them before you can begin. - Author: Bernadette Jiwa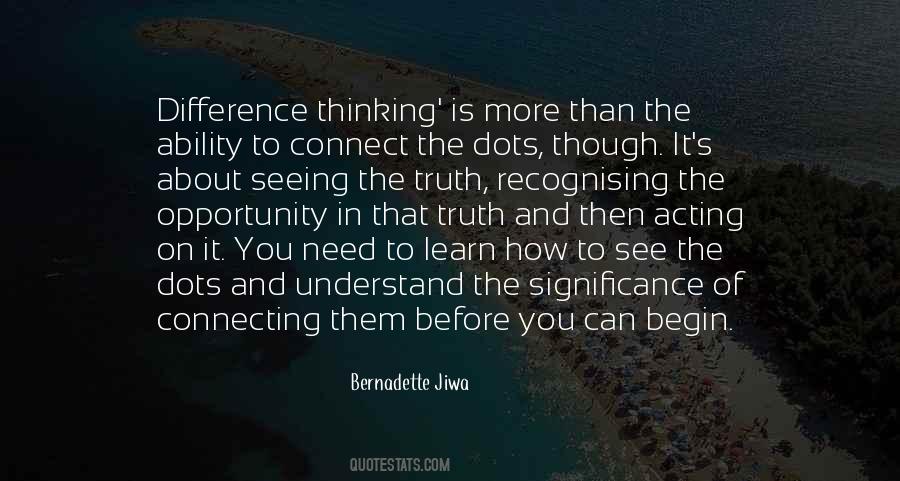 #78. If you are not egotistical, you will welcome the opportunity to learn more. - Author: John Templeton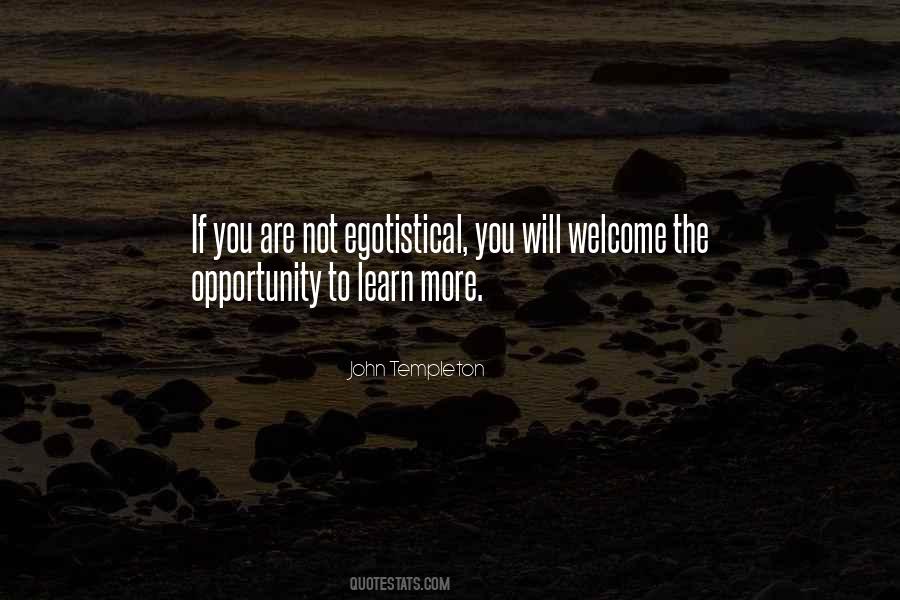 #79. In a free world, if it is to remain free, we must maintain, with our lives if need be, but surely by our lives, the opportunity for a man to learn anything - Author: J. Robert Oppenheimer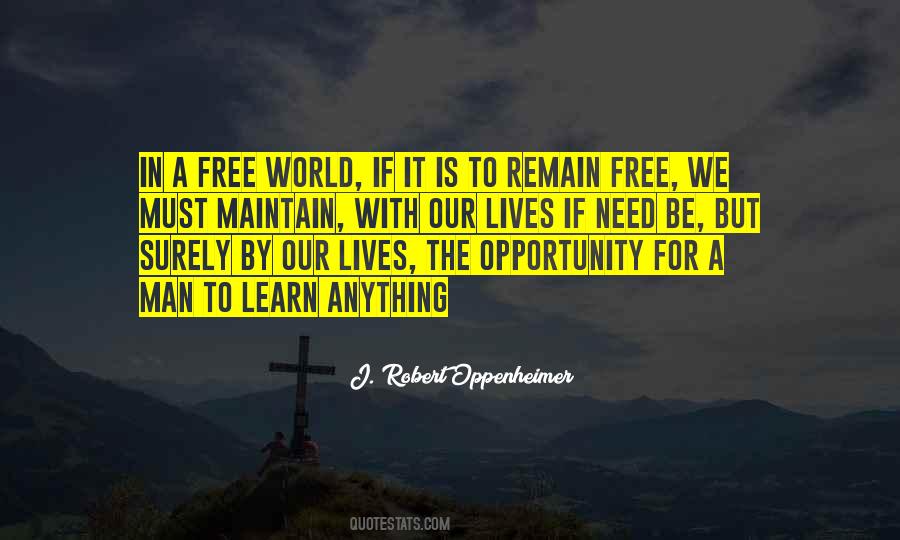 #80. When we love somebody, we show it by doing something nice. So learn to serve: find a need and fulfill a need. Surprise people with a good deed they hadn't planned on. We have that opportunity at home, at school, and at church. - Author: Russell M. Nelson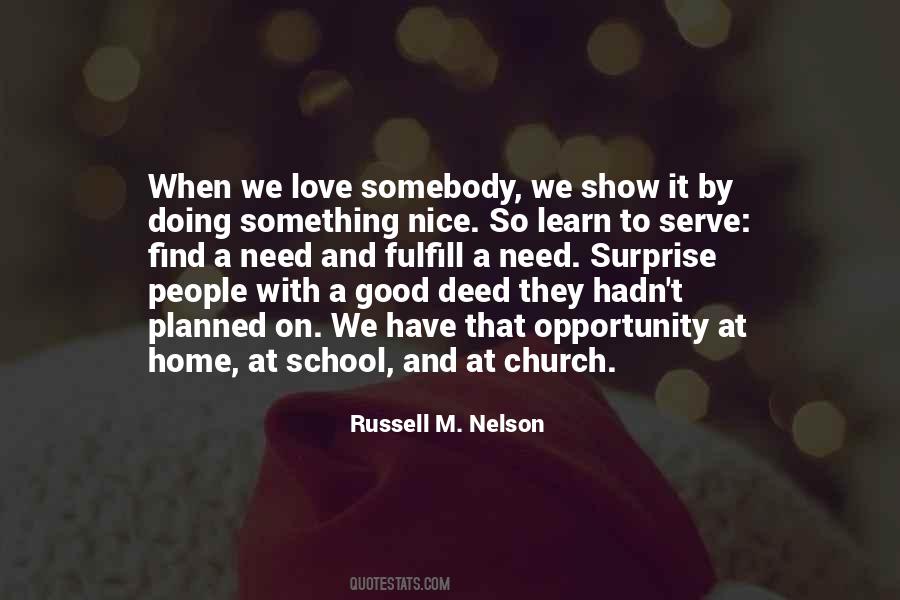 #81. Explaining one's recent loss as more of a continuous journey rather than a dead end, giving one of the invaluable opportunity to gain strength and learn about oneself, and thereby turning this terribly tragic affair into something hugely positive. - Author: Cecelia Ahern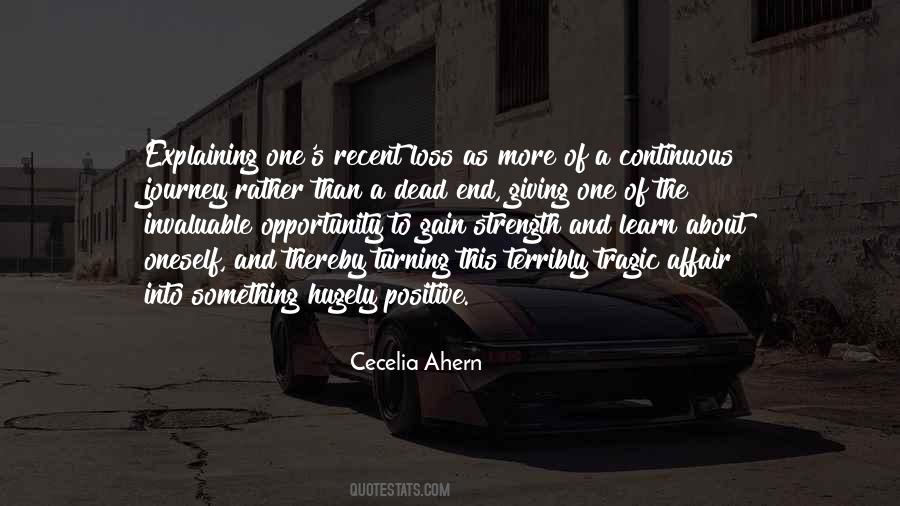 #82. Every day you have the opportunity to learn and experience some-thing and some-one new. Seize the opportunity. Learn and experience everything you can, and use it to change the world. - Author: Rodney Williams Jr.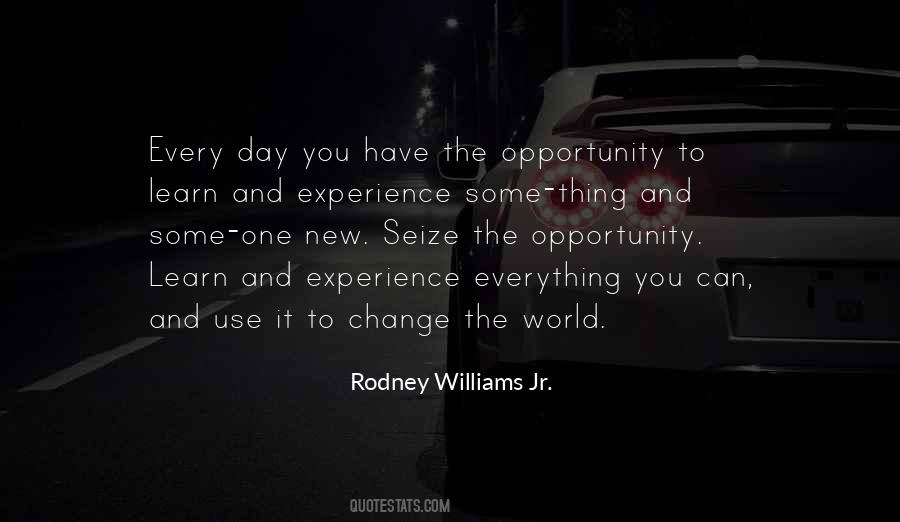 #83. When my brother and me got into performing in the late '40s and early '50s, it was a sensational opportunity to learn from our elders. Every show we played had a dancer, a comic, a juggler, a singer, an acrobat. I came to appreciate virtuosity in all forms of the business. - Author: Gregory Hines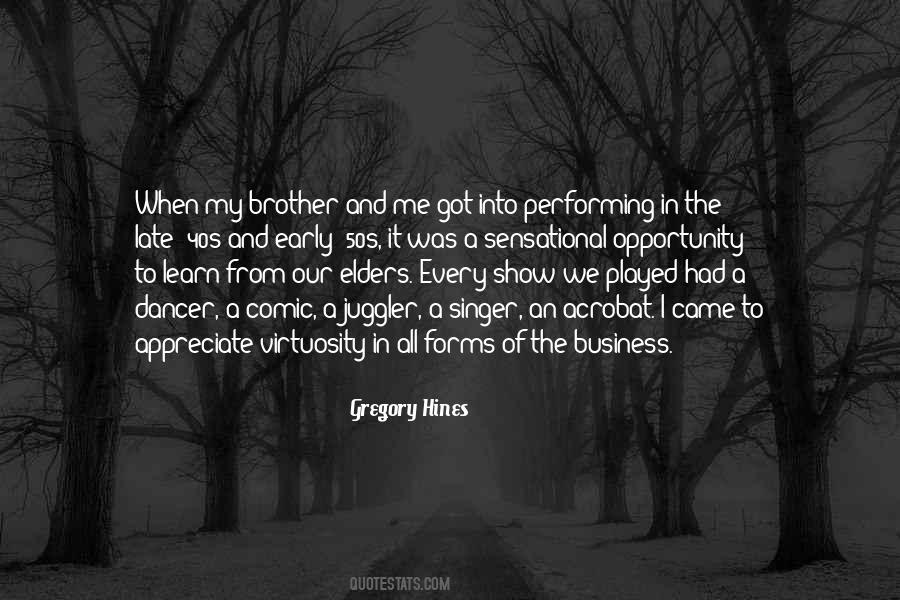 #84. I don't believe in failure. I believe every setback is an opportunity to learn, regroup, get stronger, and try again. - Author: Roselyn Sanchez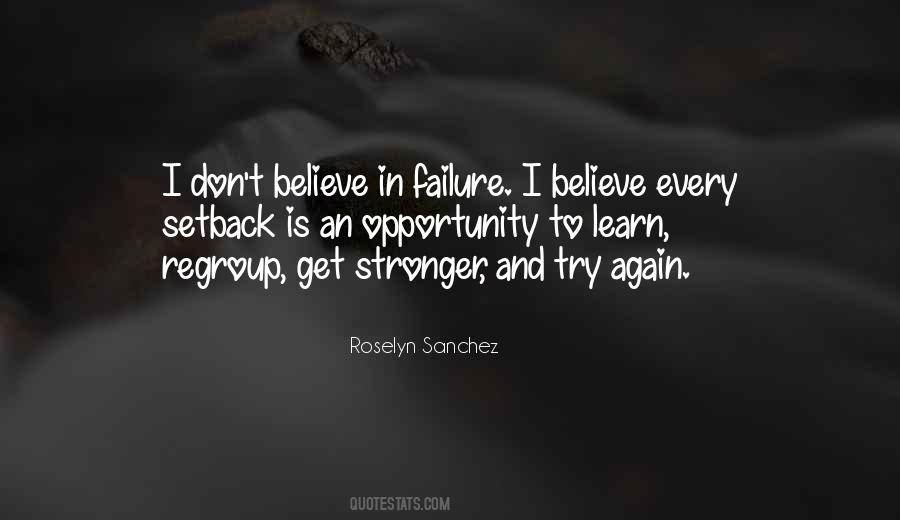 #85. Most Whores are completely unaware of how important they are to society, and subsequently do not have the opportunity to learn how to be all-compassionate, all-loving, all-giving and all-receiving incarnations of the Goddess. - Author: Inga Muscio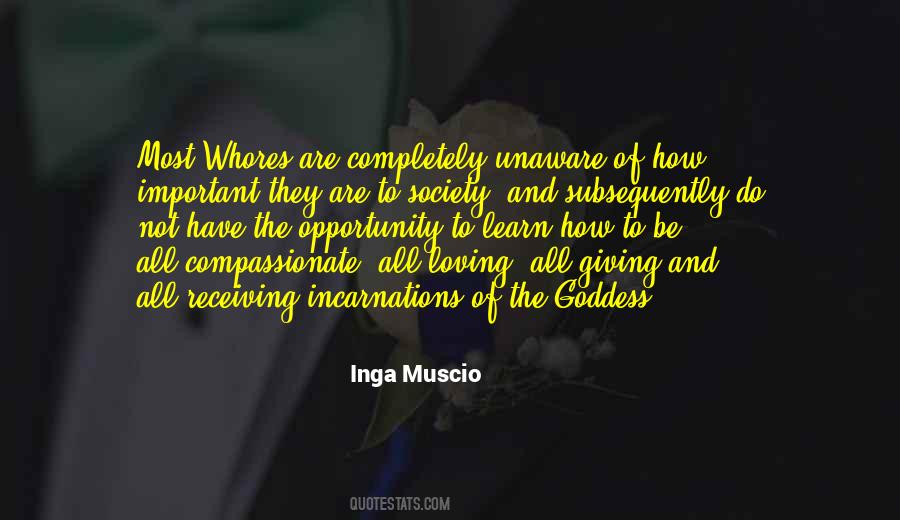 #86. Never regard study as a duty, but as the enviable opportunity to learn - Author: Albert Einstein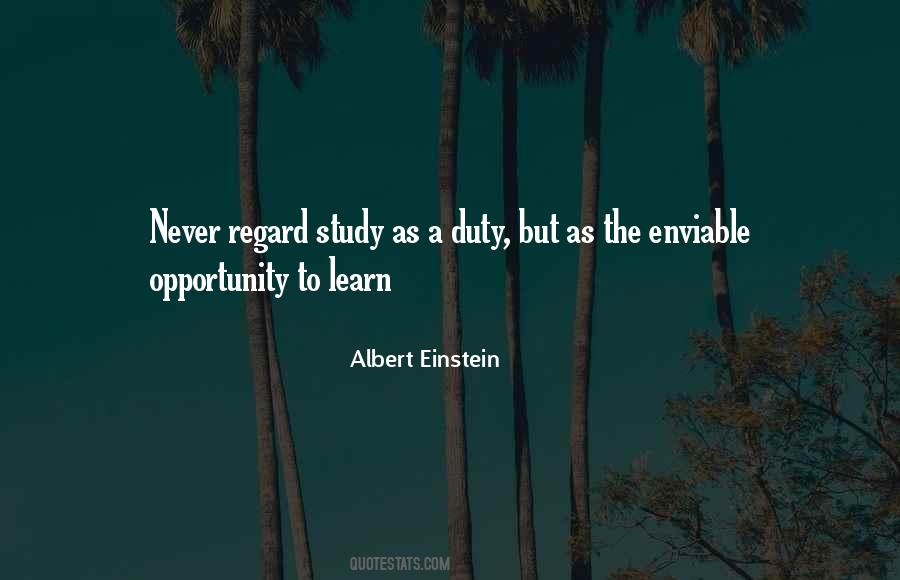 #87. Exploration is a quite legitimate purpose for a journey. You have the opportunity to learn the territories of the Upper and Lower Worlds and their assets, which you can employ as needed in the future. - Author: Sandra Harner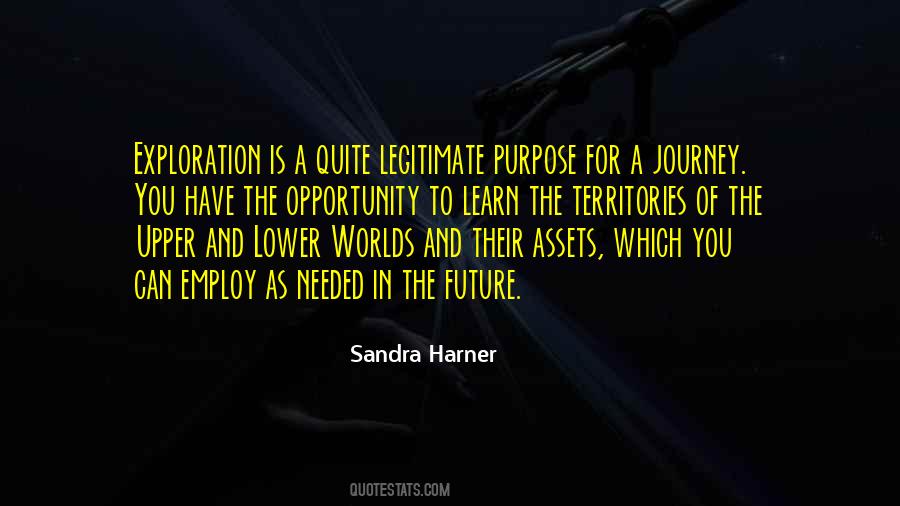 #88. It is not your duty or responsibility to change the minds of other people. The nature of their thinking is advanced or limited by their experience. In your presence, they have an opportunity to learn about you and, perhaps, to grow. - Author: Iyanla Vanzant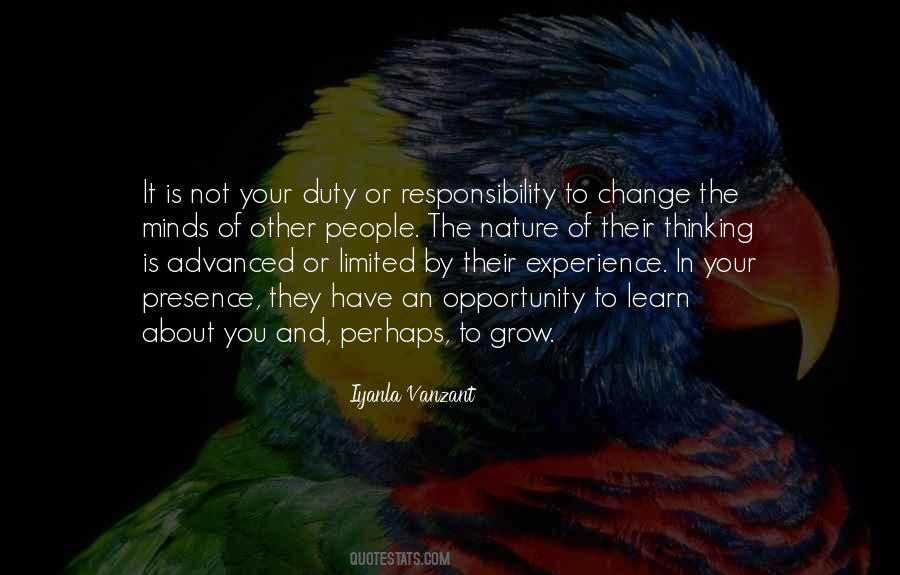 #89. Your pain is an opportunity for you to learn about yourself. - Author: Gary Zukav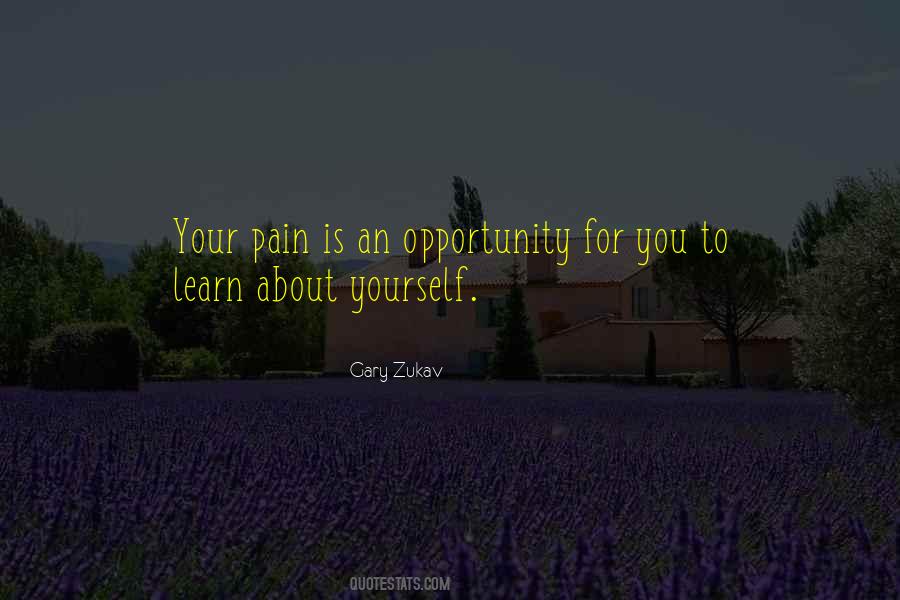 #90. It's not a good idea to cut back indiscriminately on what you read. The reason is that reading can save you time, because it gives you the opportunity to learn from other people's experience. - Author: Kathryn Alesandrini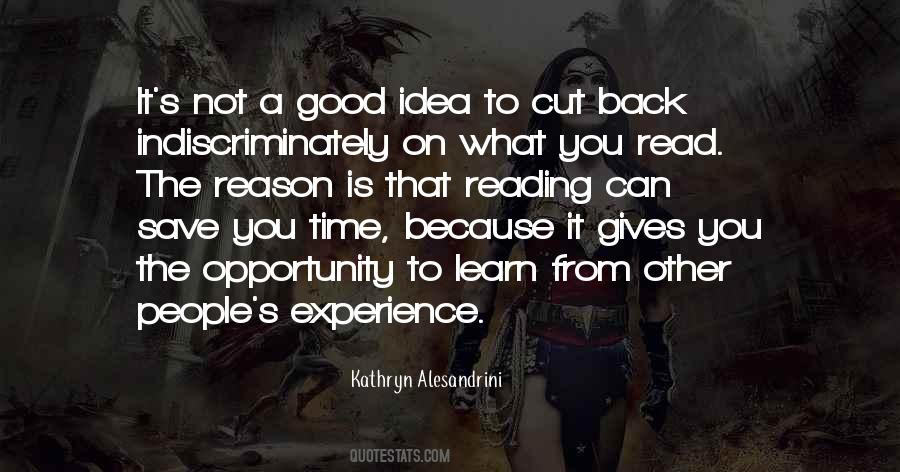 #91. There is no shame in being illiterate. One need only feel ashamed when one denies the opportunity to learn. - Author: Virginia Aird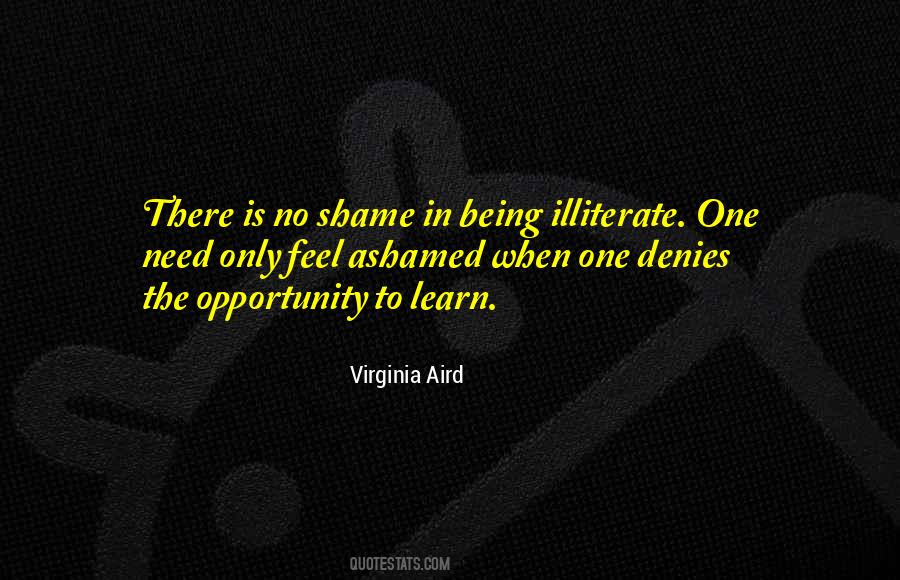 #92. With every adversity and trial comes the opportunity to grow stronger and learn from your circumstance. - Author: O. J. Brigance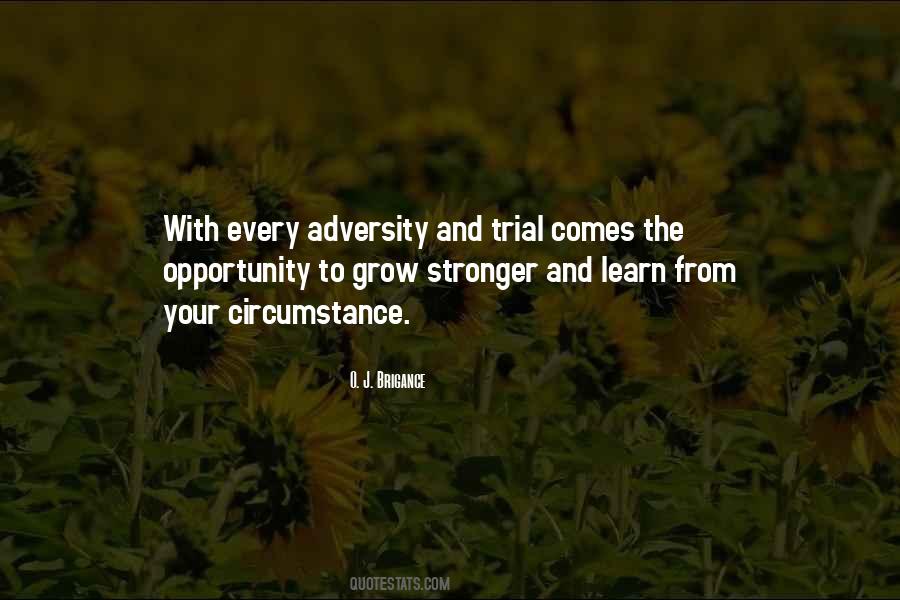 #93. I had to learn, because as an artist myself, an artist owns that right to protect their interest of how they want to roll their project out. It's just important to give them that opportunity to roll it out the way they want to. - Author: Bryce Wilson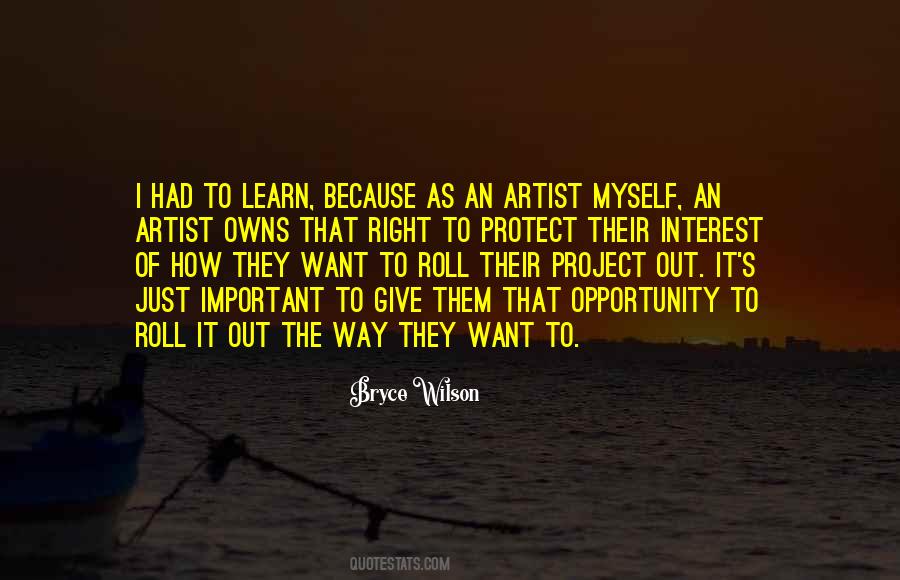 #94. There has to be a balance in life. A balance of business, family, and the opportunity to learn and teach. - Author: Chuck Feeney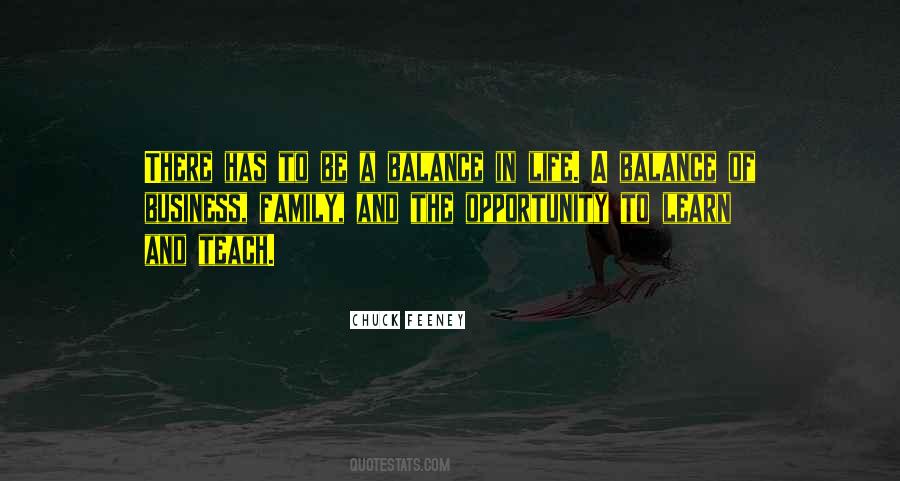 #95. To explain too much is to steal a person's opportunity to learn, and stealing is against the Law. - Author: Thomas Buckley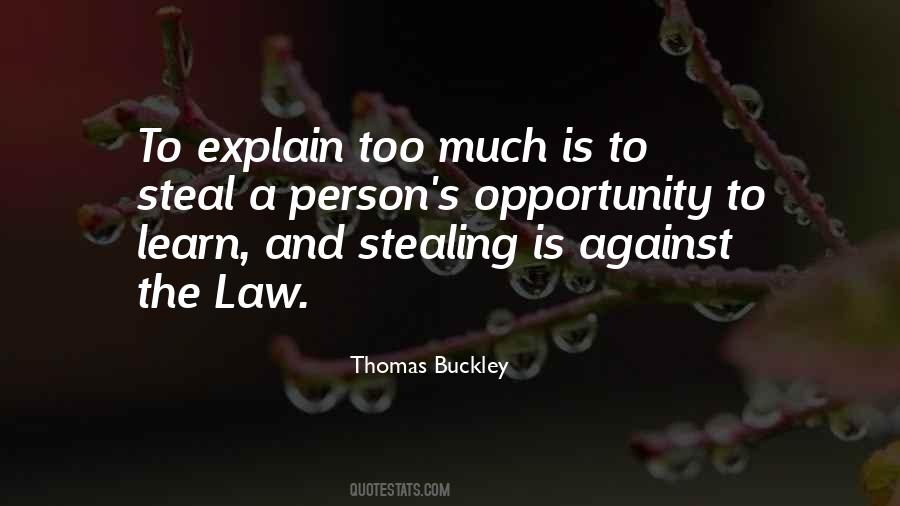 #96. Some of the American whites, moreover, are just as far behind in this respect as are the Negroes who have had less opportunity to learn better. - Author: Carter G. Woodson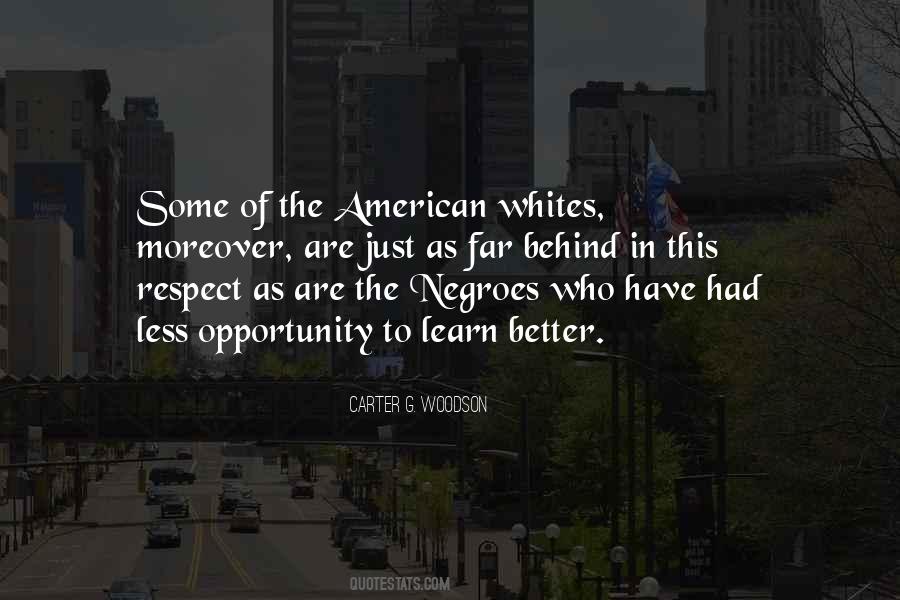 #97. Problems almost always create opportunities - to learn, grow and improve. - Author: John C. Maxwell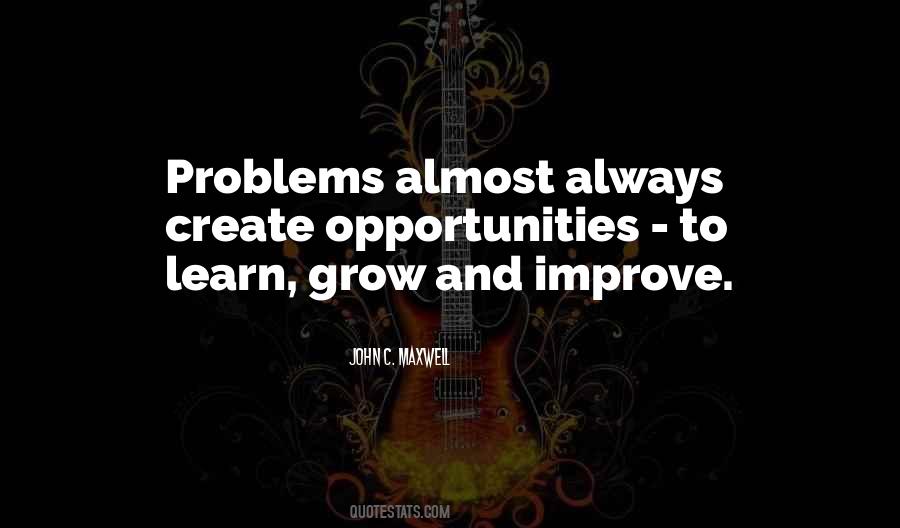 #98. The conversation around policing is painful but I believe it provides us with an opportunity to learn, to change and to grow. - Author: Ed Murray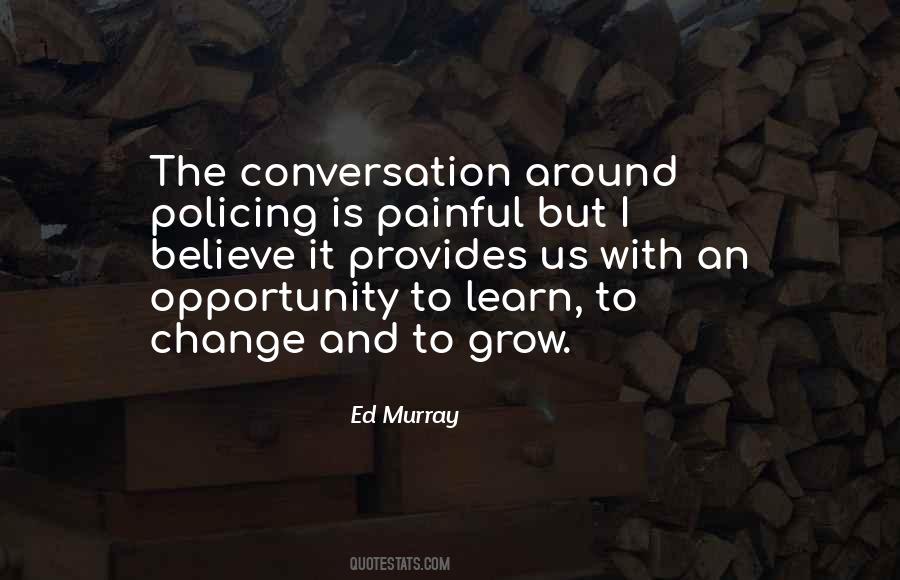 #99. The things that hinder me are opportunities to learn more and develop further. - Author: Robert Anton Wilson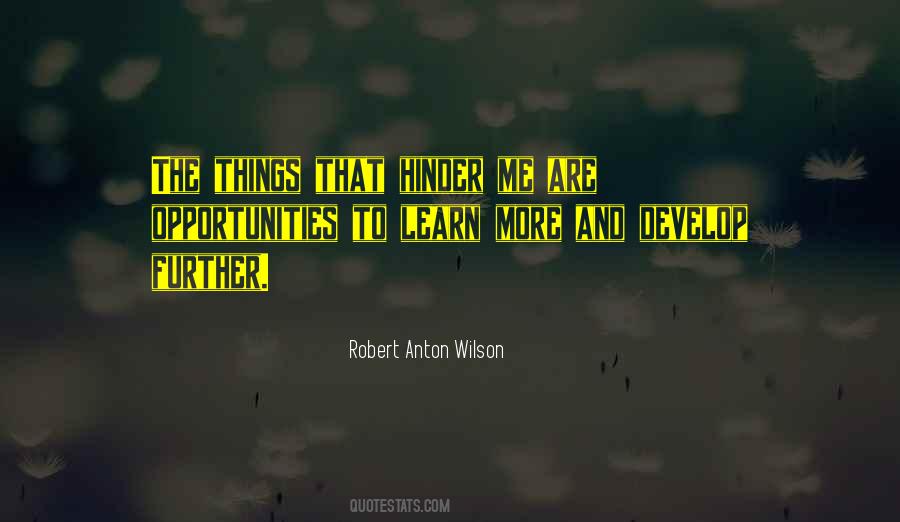 #100. Learning to code at a young age opened my eyes to the incredibly exciting world of technology and entrepreneurship. Our youth deserve the opportunity to learn the skills that will enable them to succeed in our connected world. - Author: Marc Benioff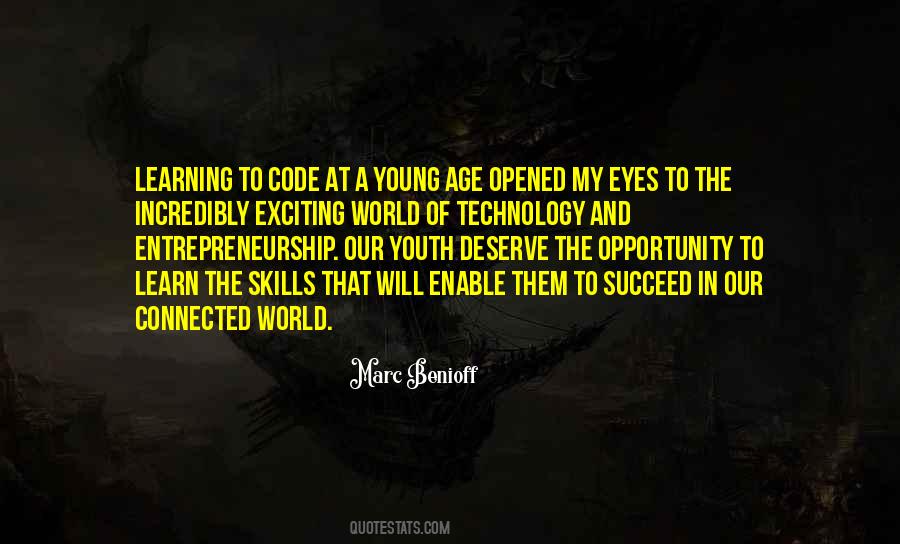 Famous Authors
Popular Topics