Not Meant To Be Famous Quotes & Sayings
List of top 100 famous quotes and sayings about not meant to be to read and share with friends on your Facebook, Twitter, blogs.
Top 100 Quotes About Not Meant To Be
#1. Our Christian hope is that we are going to live with Christ in a new earth, where there is not only no more death, but where life is what it was always meant to be. - Author: Timothy Keller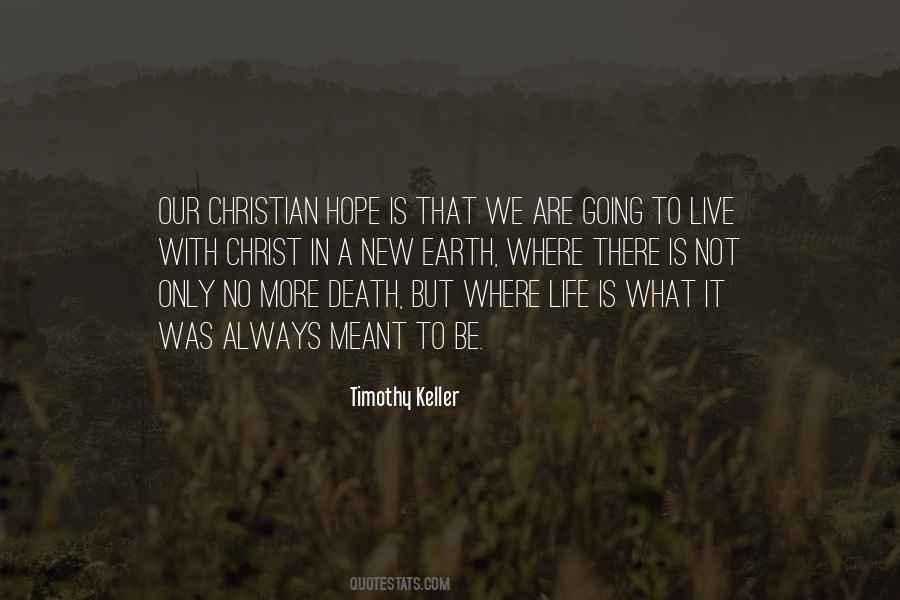 #2. I brought you here to tell you this: sometimes what we are searching for does not exist. We may sacrifice for it, even bleed for it, but it was never meant to be ours. - Author: Esther Dalseno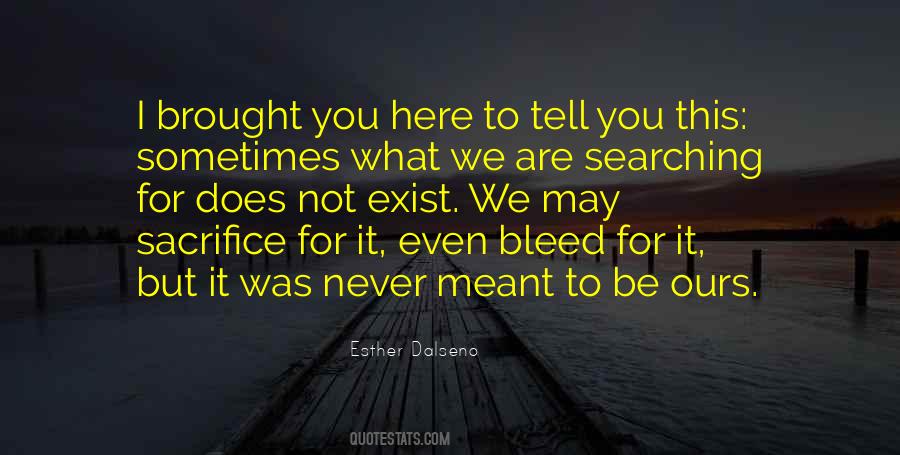 #3. I was under the impression that werewolf packs were not meant to be run by committee."
"Yeah," I said. "But I dont want to be like all those other werewolves, you know?"
"Says the werewolf named Kitty."
"It's too late to change my name now," I grumbled. - Author: Carrie Vaughn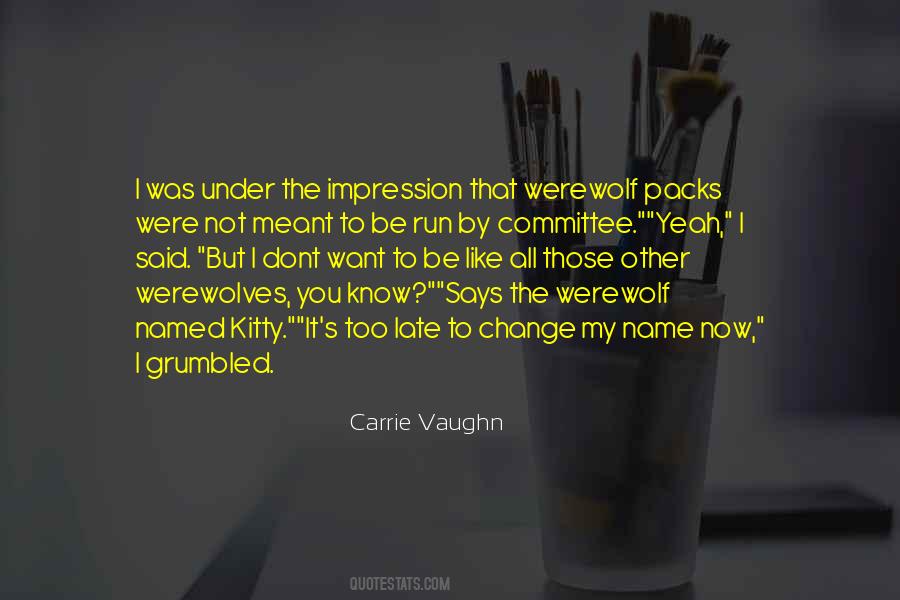 #4. Do you see these hands?" Jo said, holding them up. "These were made for caressing handsome men and meant to be adorned with pretty nails and diamond rings. They're not made for paint rollers and paint splatter and that kind of manual labor. - Author: Nicholas Sparks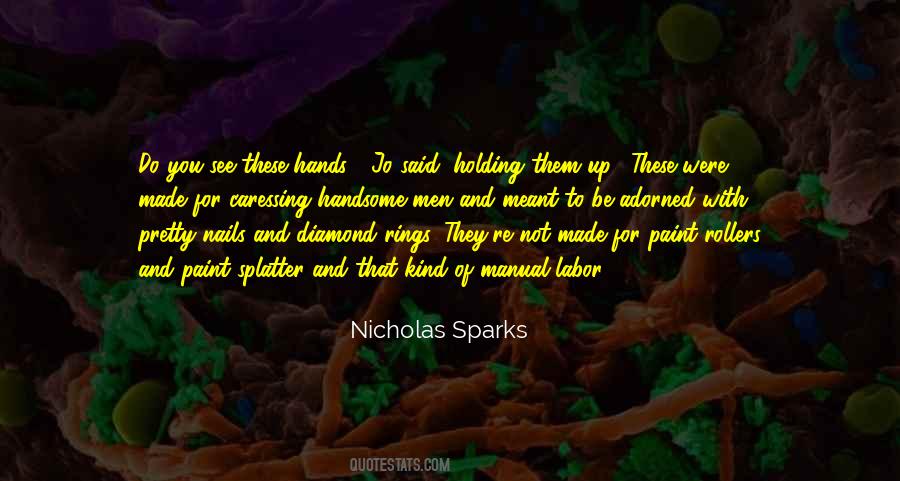 #5. It is not the homeless, mentally ill or extremely cunning people that we have to be afraid of. When someone loses everything that meant something to them is when people should get very afraid. A person that has nothing to lose is the scariest person on earth. - Author: Shannon L. Alder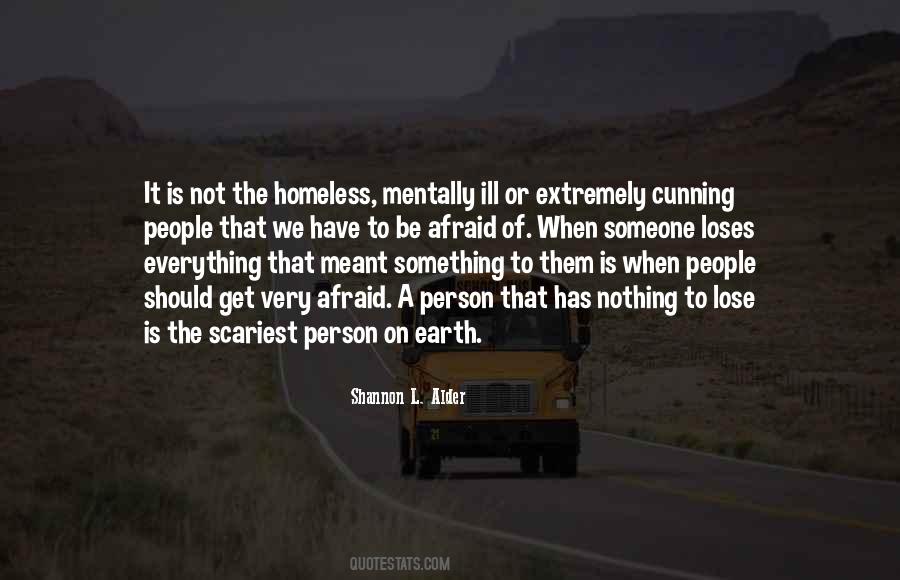 #6. It looks as if I were meant to be alone, and that any hope of happiness is not meant. Am I too old to acquire the knack for happiness? - Author: May Sarton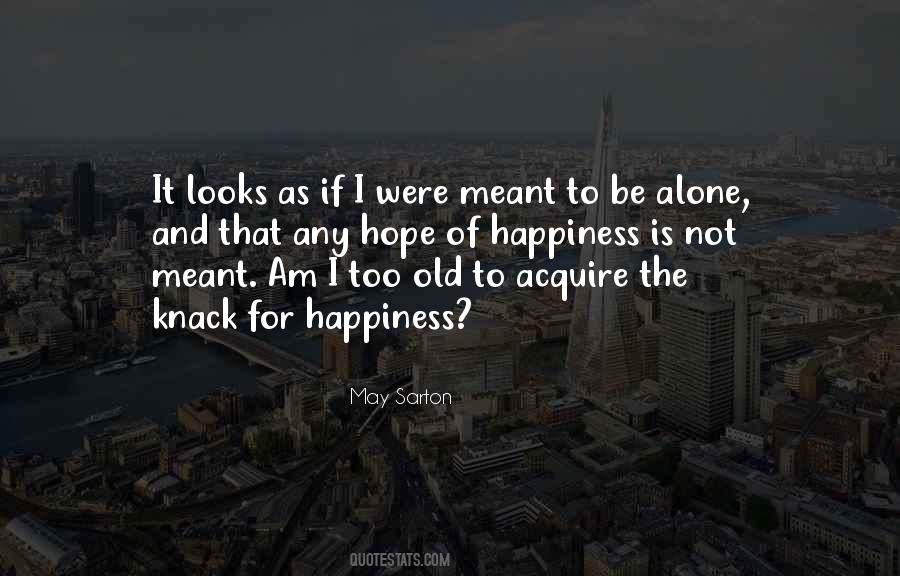 #7. A barracks is meant to be a place where real soldiers were to be fed and equipped for war, not a place to settle down in or as a comfortable snuggery in which to enjoy ourselves. I hope that if ever they, our soldiers, do settle down God will burn their barracks over their heads! - Author: Catherine Booth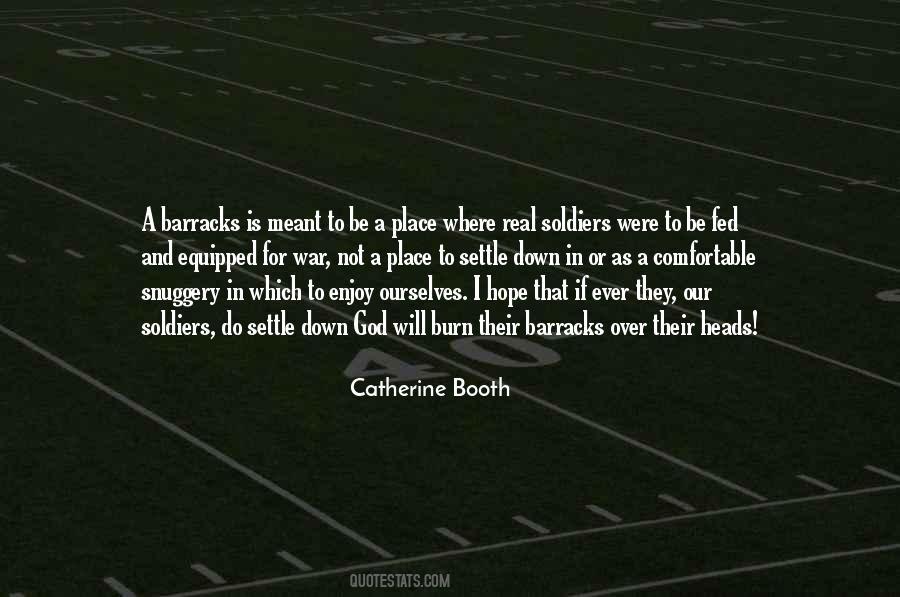 #8. We are apt to think that everything that happens to us is to be turned into useful teaching; it is to be turned into something better than teaching, into character. We shall find that the spheres God brings us into are not meant to teach us something but to make us something. - Author: Oswald Chambers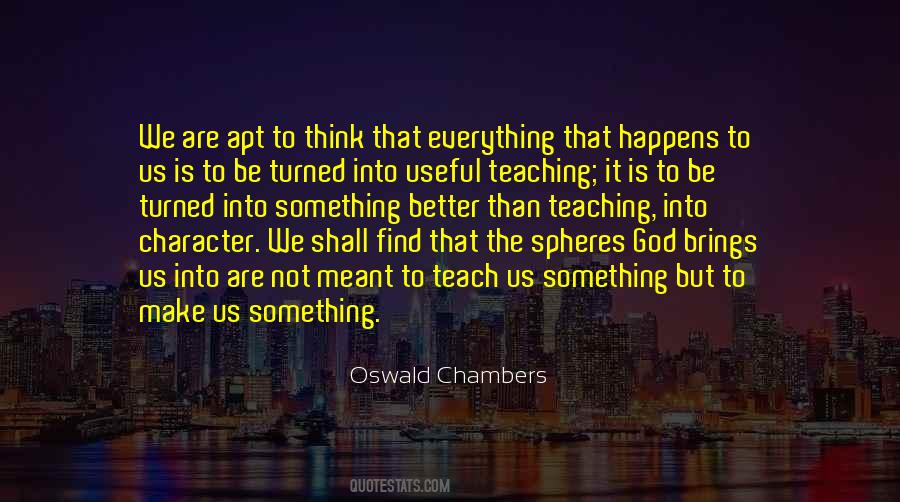 #9. Pandora's Box could not be unopened, no one could return to Eden. - Author: Selena Kitt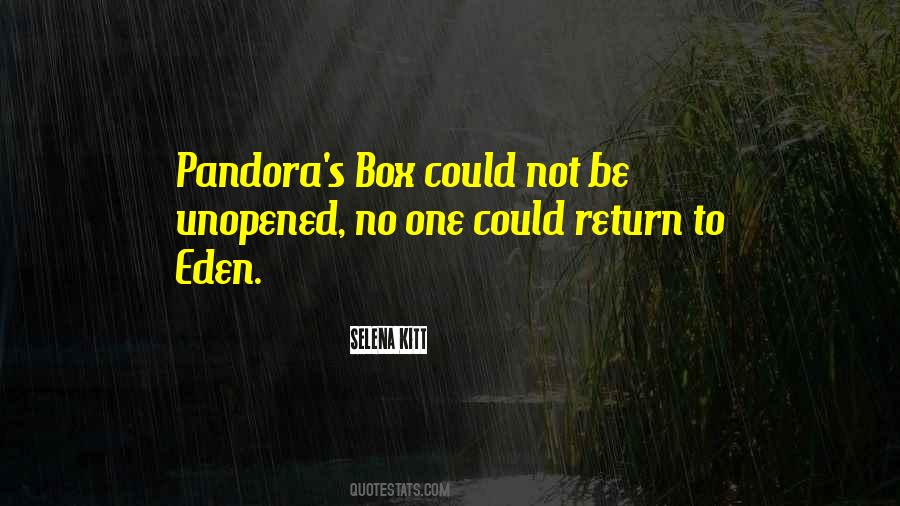 #10. When an answer I did not expect comes to a prayer which I believed I truly meant, I shrink back from it; if the burden my Lord asks me to bear be not the burden of my heart's choice, and I fret inwardly and do not welcome His will, then I know nothing of Calvary love. - Author: Amy Carmichael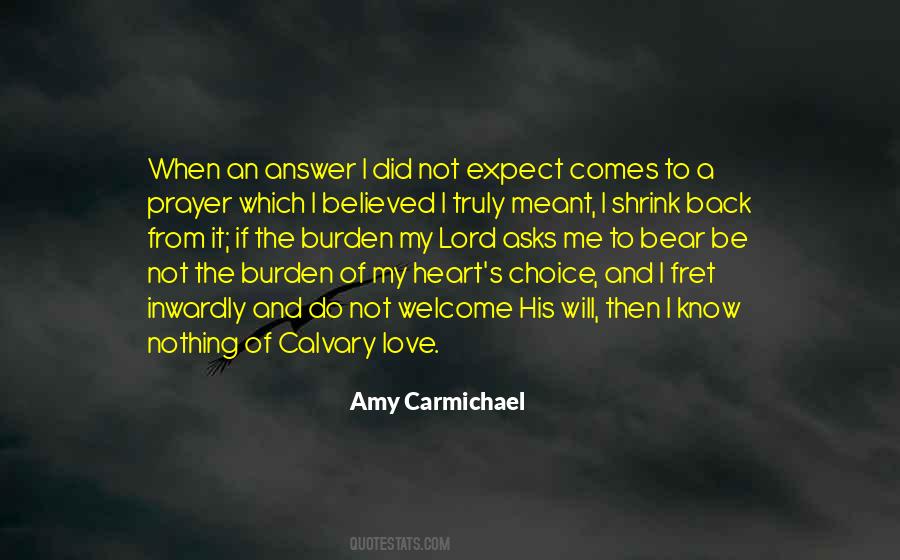 #11. Children are not meant to be studied, but enjoyed. Only by studying to be pleased do we understand them. - Author: Wilfred Owen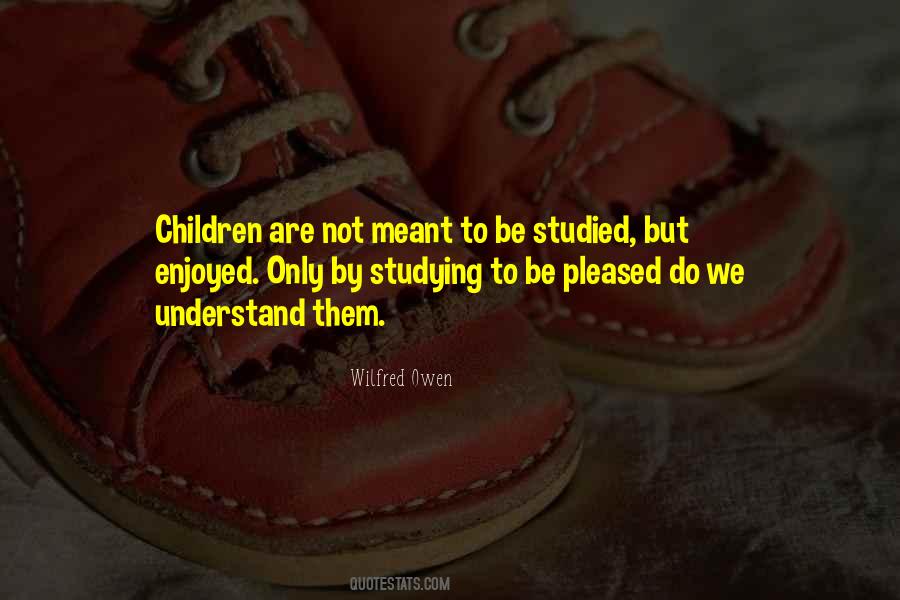 #12. You know, I was a huge fan of comedy and movies and TV growing up, and I was able to memorize and mimic a lot of things, not realizing that that meant I probably wanted to be an actor. - Author: Hank Azaria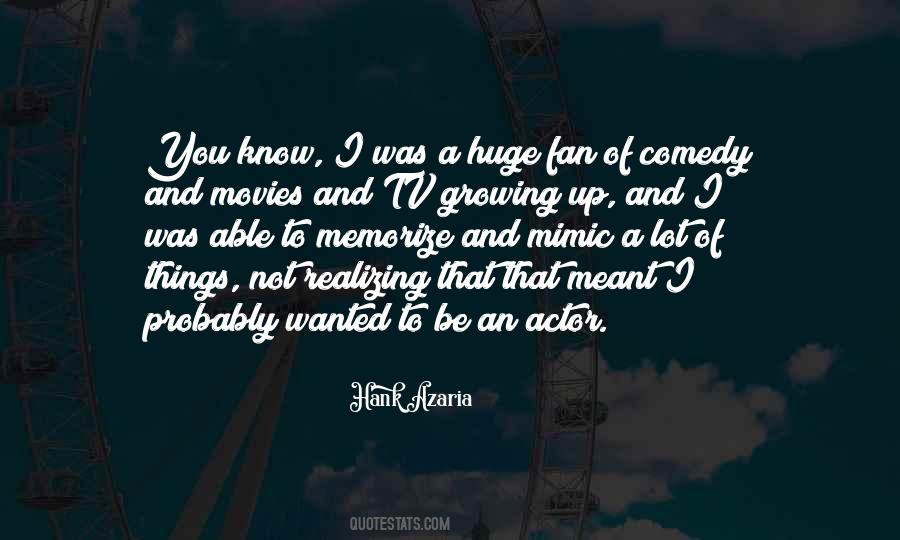 #13. And if we were meant only to labor, why give us minds, why give us desires? Why can we not be as cattle in the field, or chickens in their coops? - Author: Robert Jackson Bennett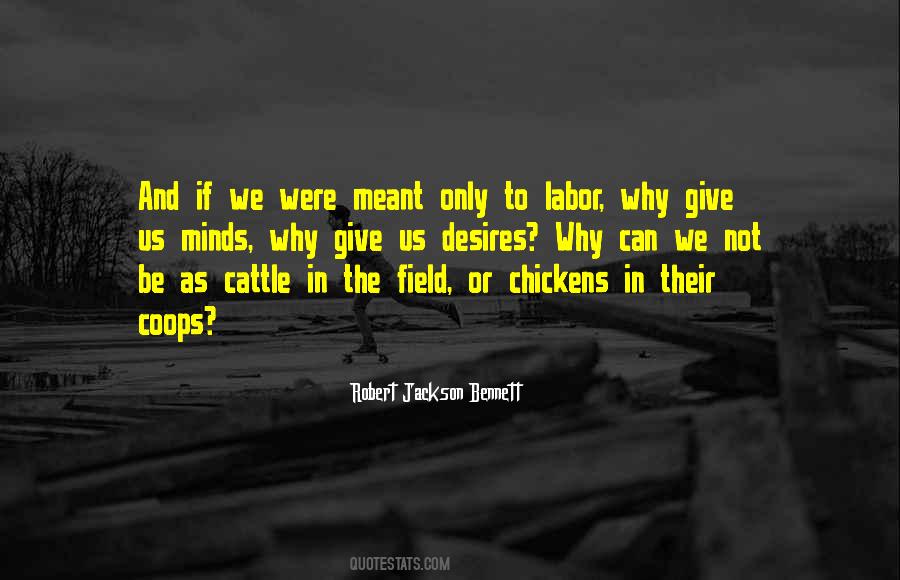 #14. We're not meant to be, Daniel. I'm an undocumented immigrant. I'm being deported. Today is my last day in America. Tomorrow I'll be gone. - Author: Nicola Yoon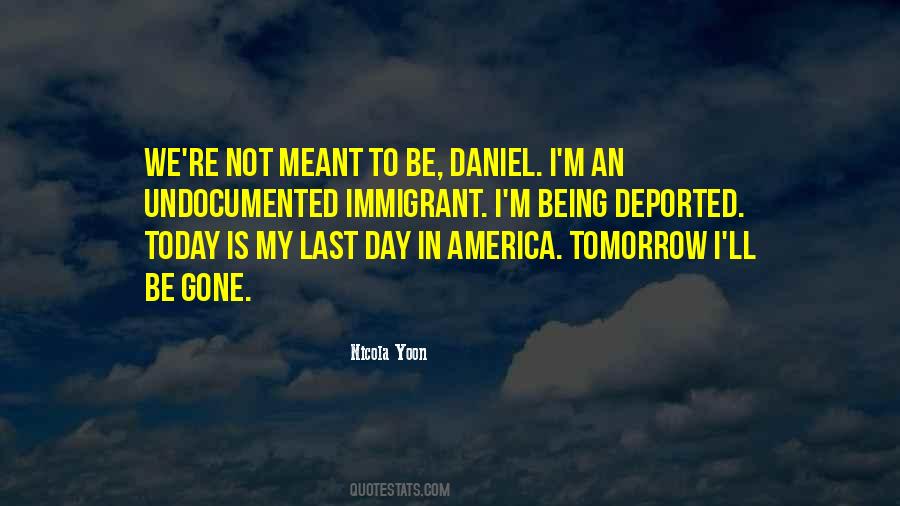 #15. If you re not speaking your own truth, you will never be able to be all you are meant to be. You cannot be pretending to be somebody else. - Author: Oprah Winfrey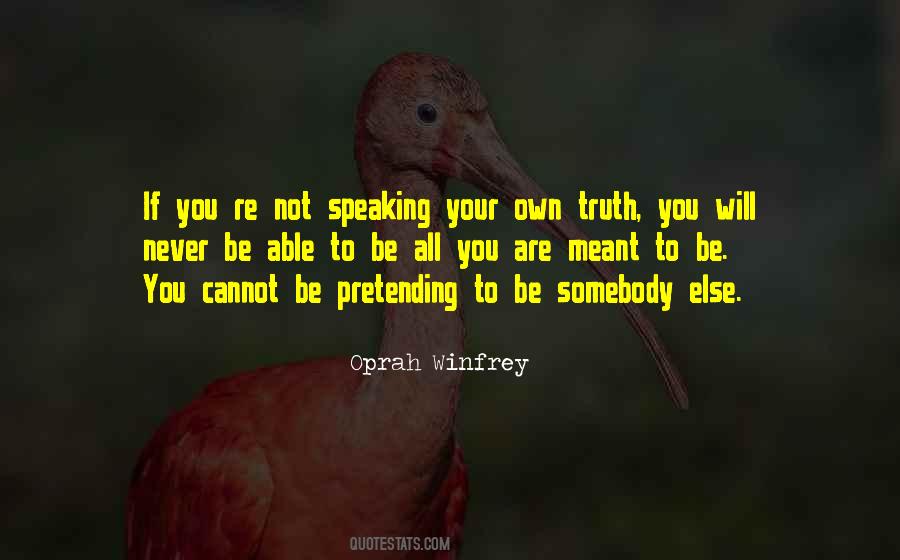 #16. I've never liked what's meant to be cool. I was asked to do Glastonbury the year before last actually, but I couldn't make it. I would have liked to, but I'm not really a festival man. - Author: Tony Blackburn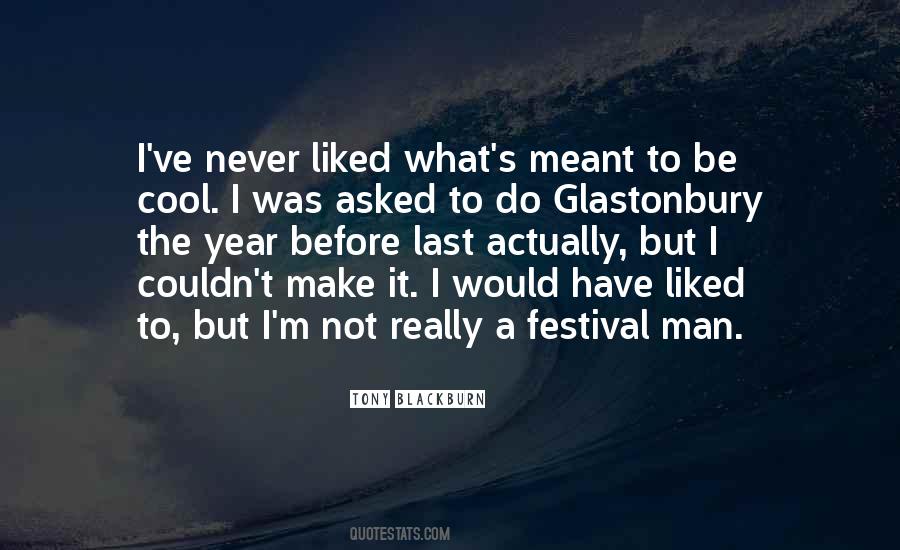 #17. I started to repeat to myself "If I'm not where I want to be, it's because I'm not good enough ... yet." Which meant it was up to me. - Author: Sally Field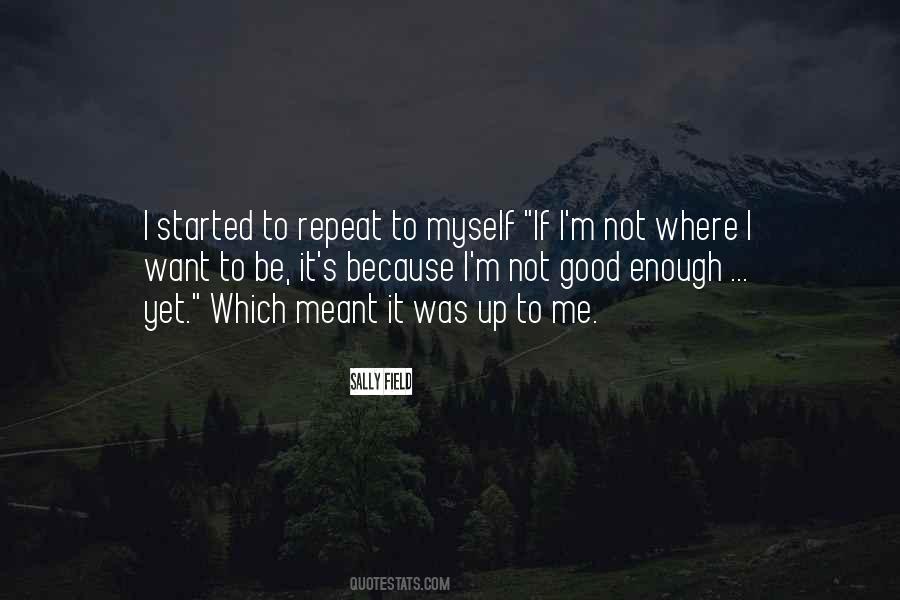 #18. It's really not so good to have time. Rush, scramble, desperation, this missed, that left behind, those others too big to fit into such a small space
that's the way life was meant to be. You're supposed to be too late for some things. Don't worry about it. - Author: Peter S. Beagle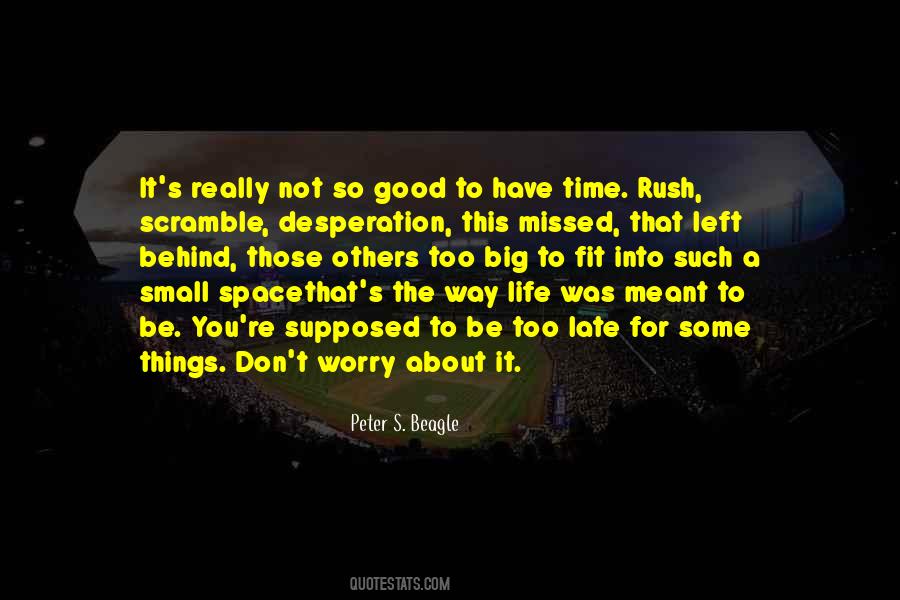 #19. I do not put much stock in "believing in God." The grammar of "belief" invites a far too rationalistic account of what it means to be a Christian. "Belief" implies propositions about which you get to make up your mind before you know the work they are meant to do. - Author: Stanley Hauerwas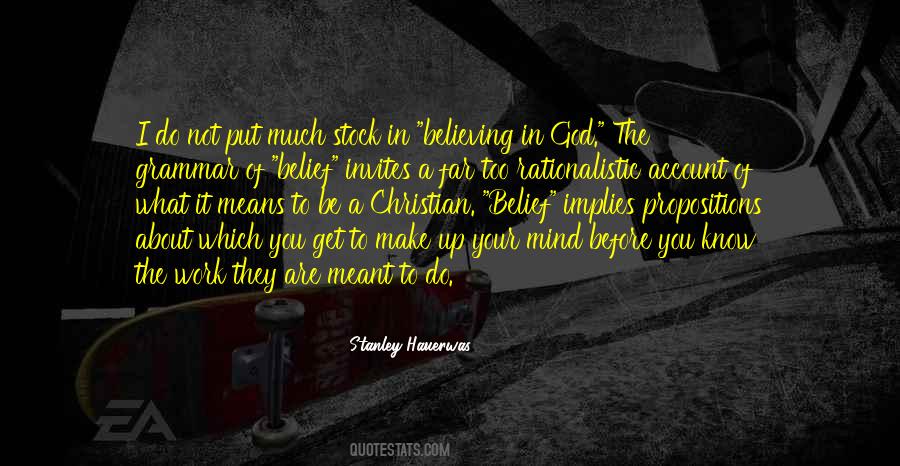 #20. Good. Because I don't need protecting."
"I knew you'd say that.But the thing is, sometimes you do. And sometimes I do. We're meant to protect each other, but not from everything. Not from the truth. That's what it means to love someone but let them be themselves. - Author: Cassandra Clare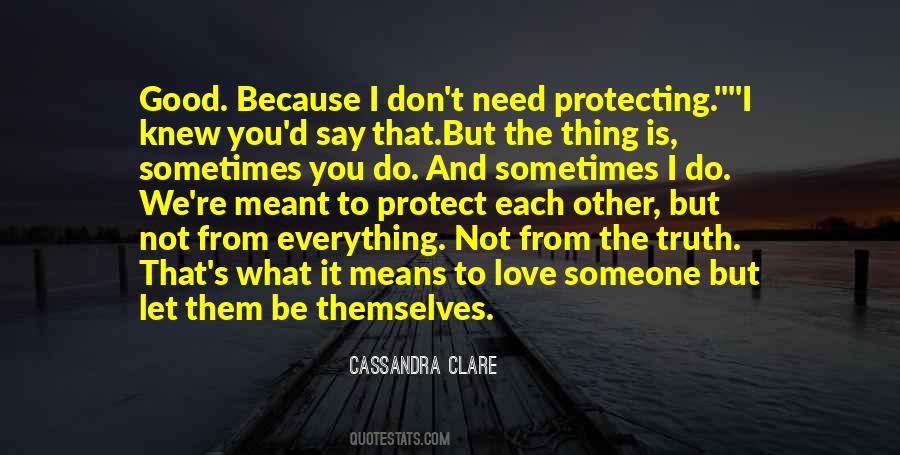 #21. Christianity has aimed to deliver us from a life determined by nature, from the appetites as actuating us, and so has meant that man should not let himself be determined by appetites. - Author: Max Stirner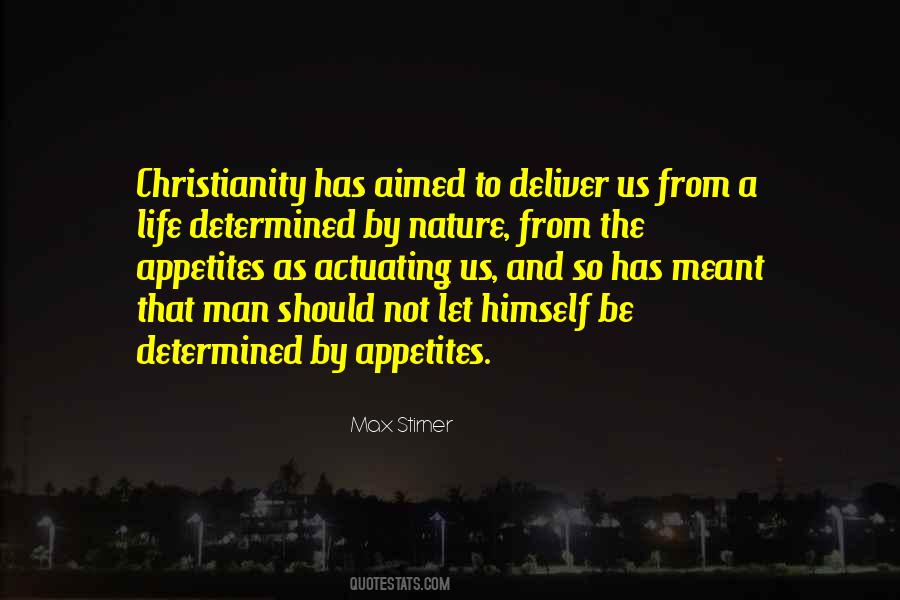 #22. My mam told me not to tell many people about not being christened, as she said I would be a prime target for witches. To this day I don't know what she meant by that. - Author: Karl Pilkington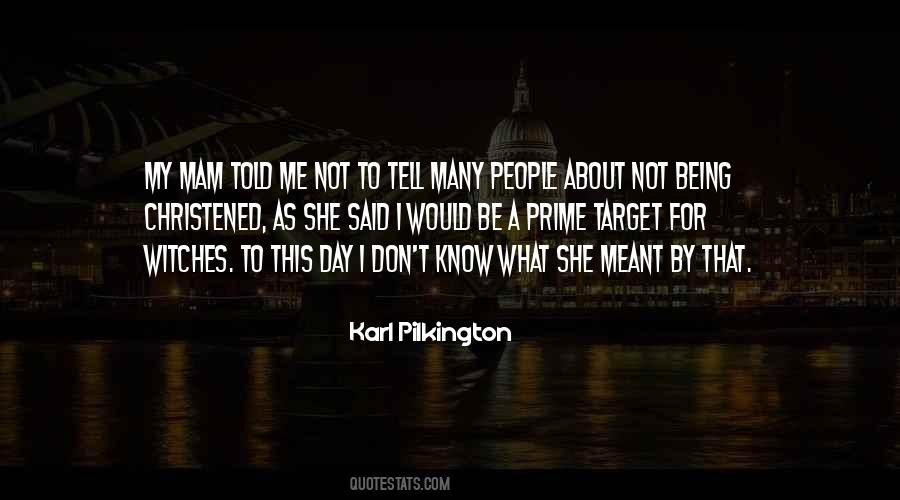 #23. Some things are just simply not meant to be. - Author: Ramona Matta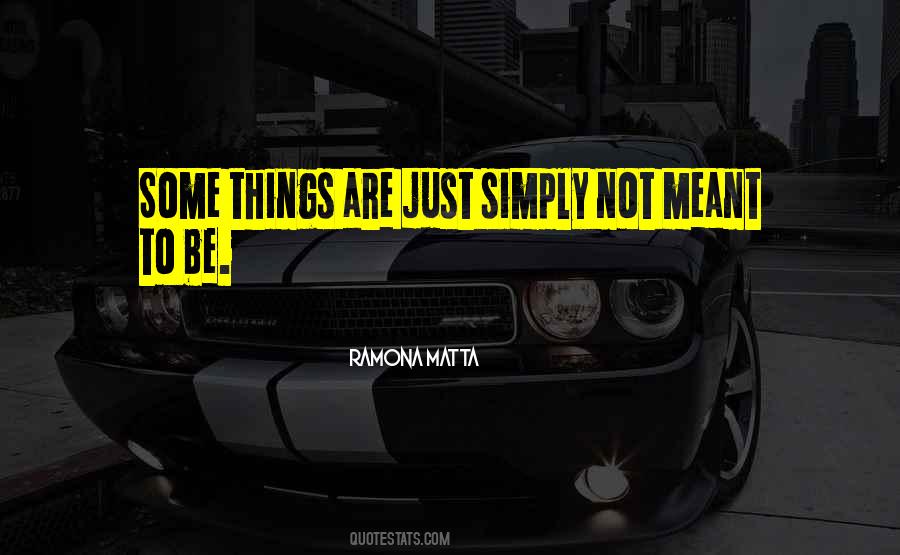 #24. There are questions that are not meant to be answered with words. Some questions take a lifetime to answer. Take action. - Author: J.R. Rim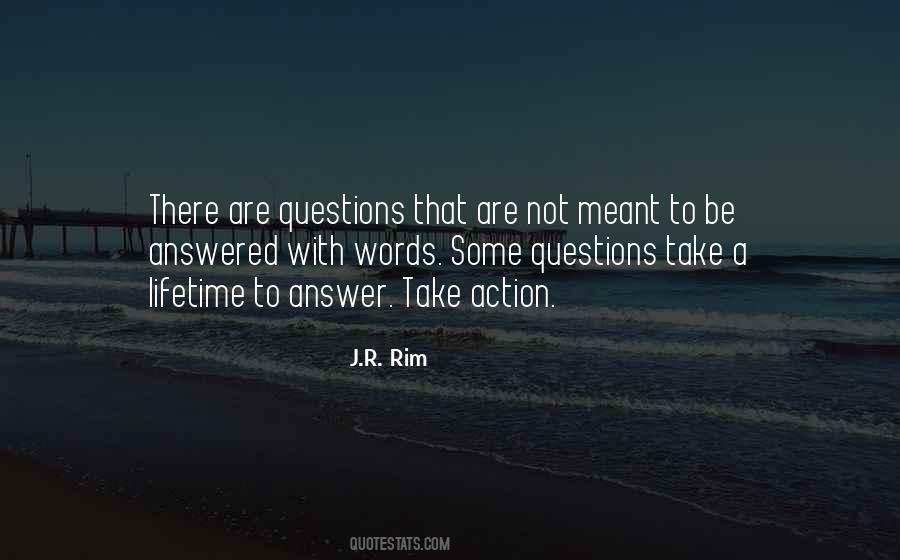 #25. I have a sense that we have not yet arrived, that we are still reaching. For each other. For who we are meant to be. - Author: Ally Condie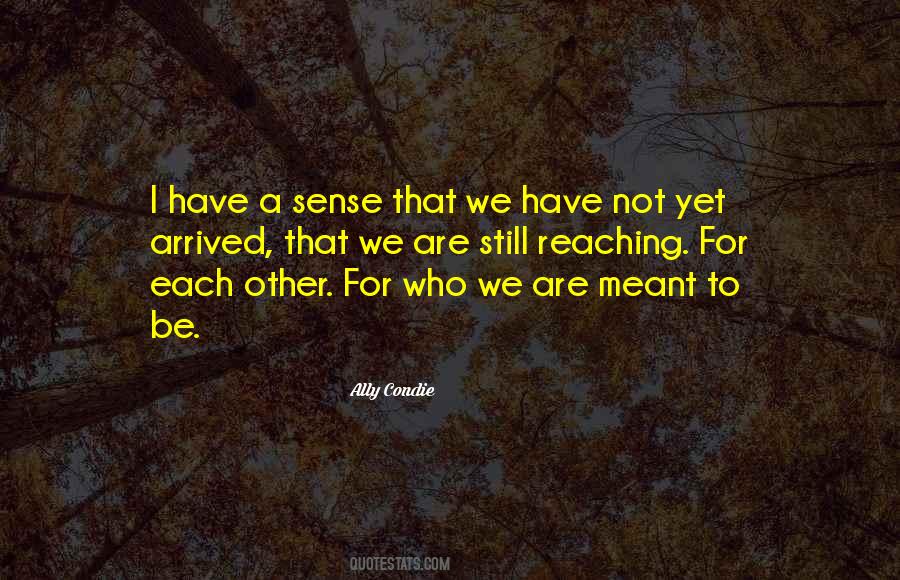 #26. It is well known that lust brings madness and desperation and ruin. But upon my oath, I never meant any harm. All I wanted was to be happy, to love and to be loved in return, and for my life to count for something.
That is not madness, is it? - Author: Fiona Mountain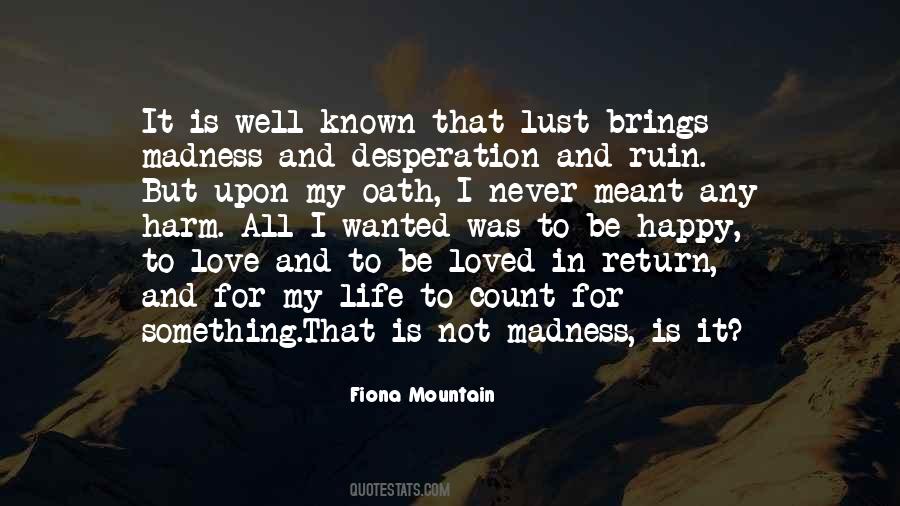 #27. The Almighty gave us our lives, and I suppose He meant us to defend them, at least I have always acted on that, and I hope it will not be brought up against me when my clock strikes. - Author: H. Rider Haggard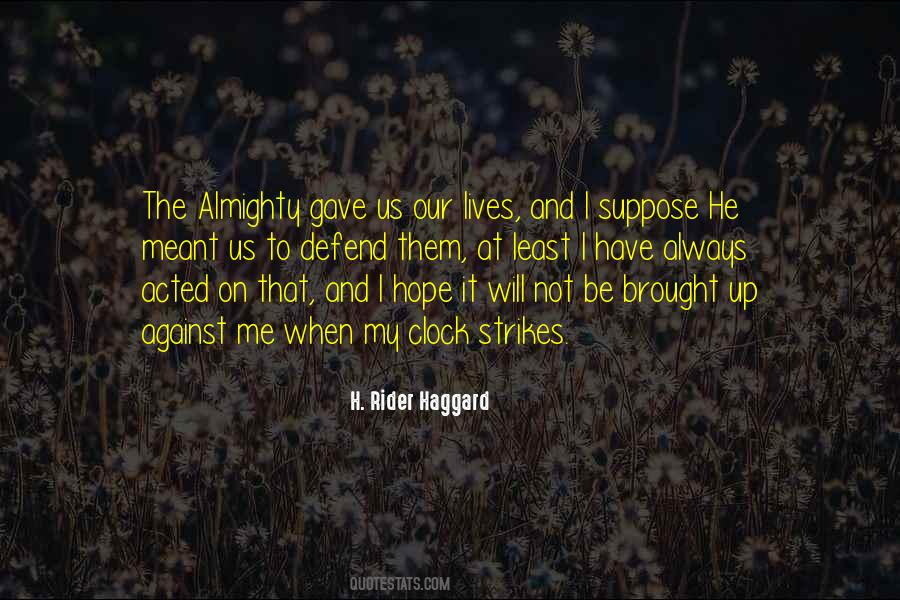 #28. The U.S. Constitution was meant to be universal, not just something that only America would observe. The principle of defending liberty for all people ideally should apply everywhere in the world. - Author: Mark Skousen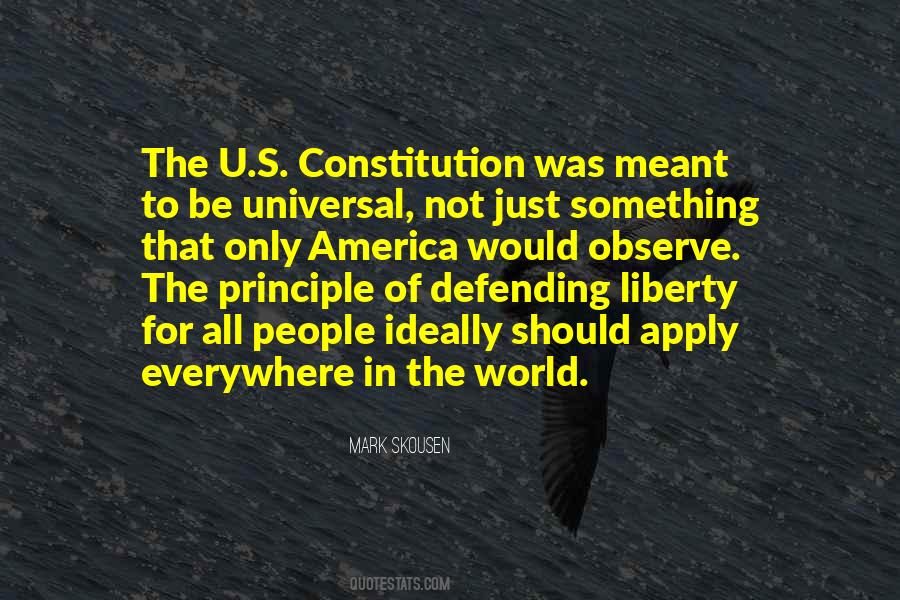 #29. I've always had questions about what it meant to be a protester, to be in the minority. Are the people who are trying to find peace, who are trying to have the Constitution apply to everybody, are they really the radicals? We're not protesting from the outside. We're inside. - Author: Gil Scott-Heron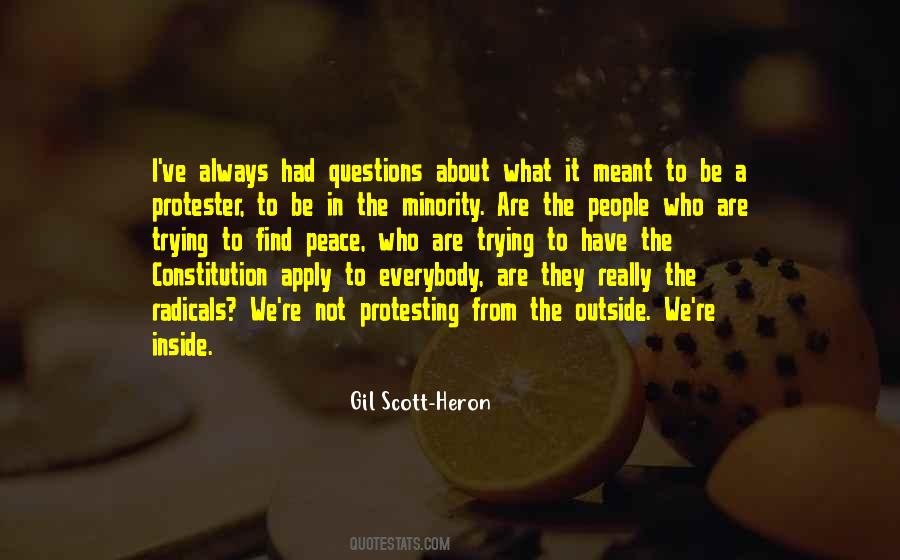 #30. I've never woken to another's body in the same bed, not since I was a child. There is something about it that makes waking up alone seem unnatural. Man is not meant to be alone, yet men like us (or maybe men like me) appear to be lonelier than others. - Author: Aleksandr Voinov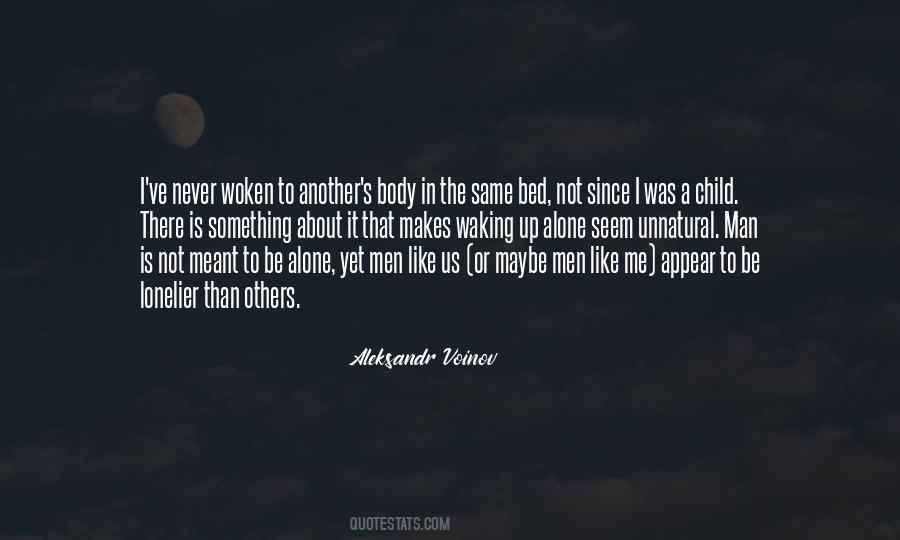 #31. You never meant me to be the guy you'd settle down with. Not the safe guy you'd love, but the dangerous one who makes your pulse race. - Author: Renee Rose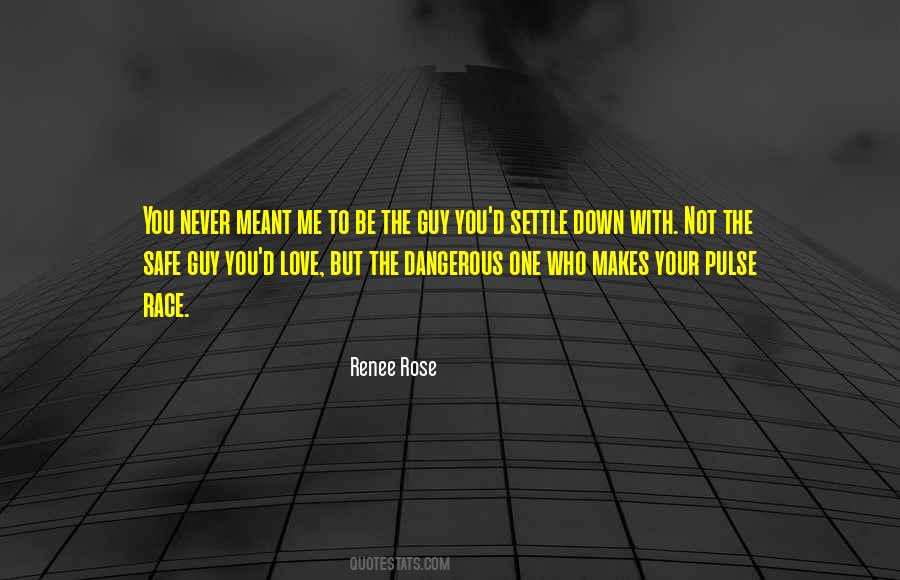 #32. And I went through a lot of detours and I took a lot of roads and things so yes, that's all there, but it's not meant to be shocking or telltale. - Author: Kim Novak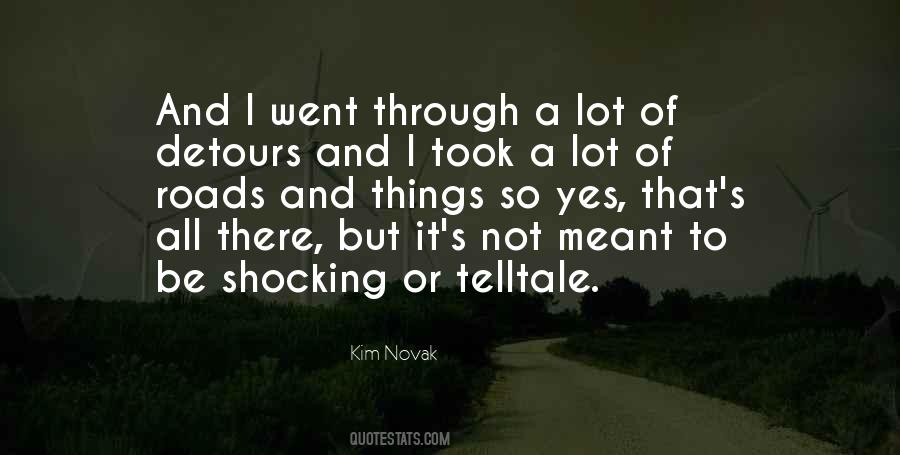 #33. When you truly love someone, his/her weaknesses are not meant to be discussed with other people, they are meant to be understood by you. - Author: Olaotan Fawehinmi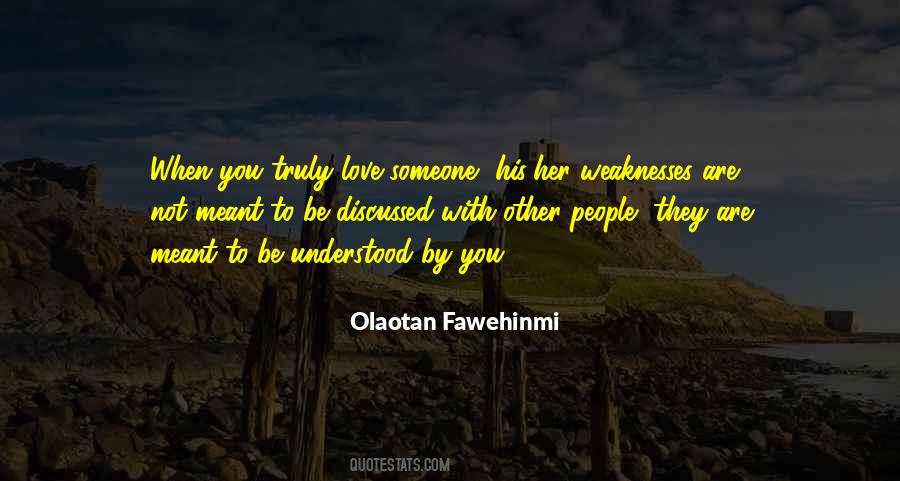 #34. When you are really in love, when it's the right guy, it's not this hard. Things fall into place; they work. If it's meant to be, it'll work itself out. - Author: Karyn Bosnak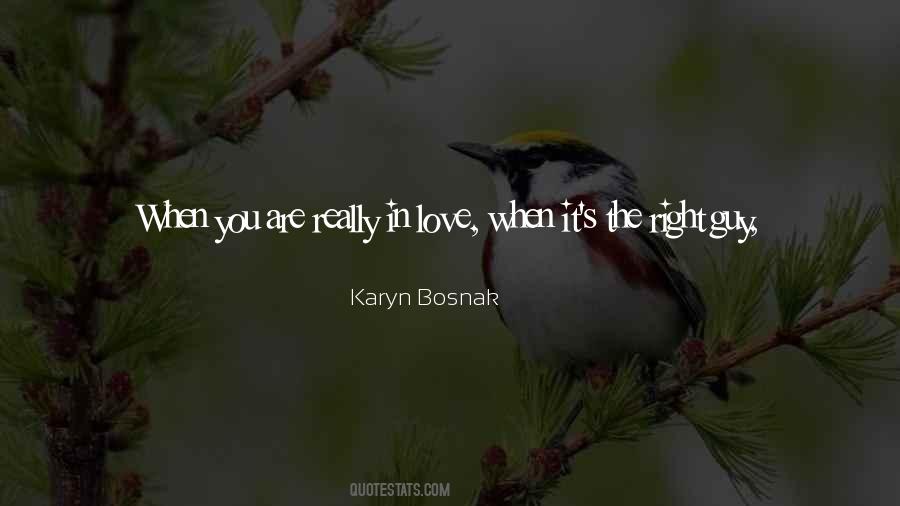 #35. Shakespeare - it's not funny. No matter how they try to make Shakespeare funny, when it's meant to be funny it's not funny. - Author: Julie Walters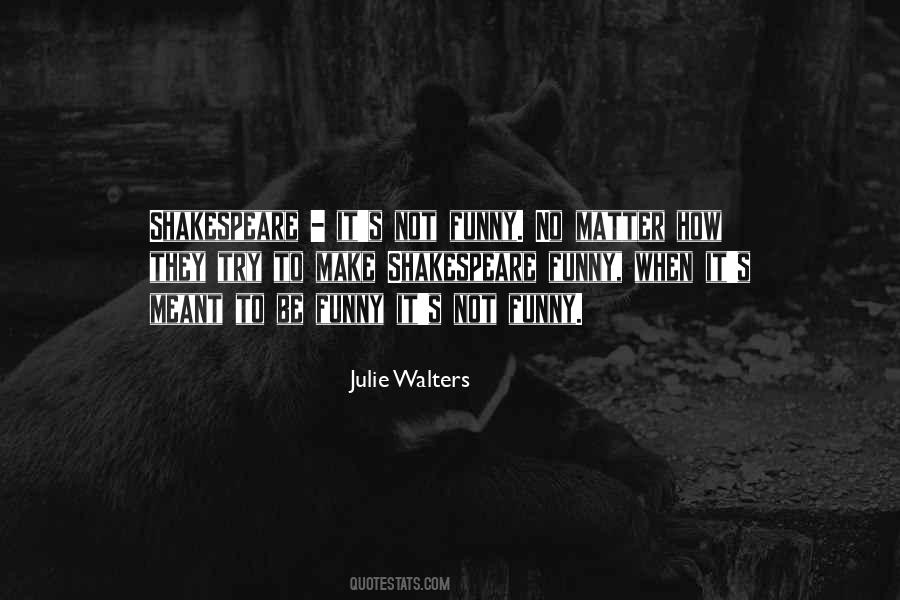 #36. Any Arthurian enthusiast who has watched 'Merlin' has probably concluded that it's not accurate whatsoever - but, it's not meant to be. It's not meant to be a true telling. It's in a fantasy setting, it's really concentrating on the fantasy element. - Author: Colin Morgan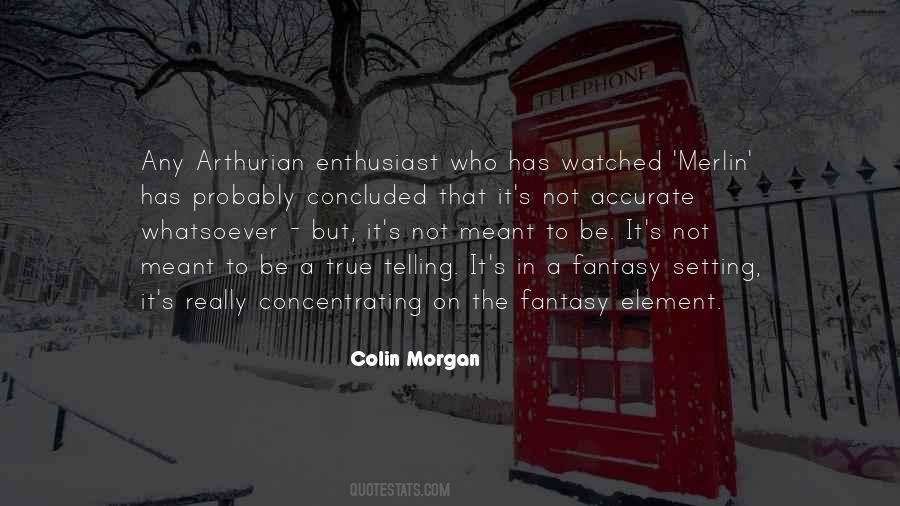 #37. The First Testament gives the baseline meaning to the gospel in the promise of God that will not be thwarted by anyone or anything. The New Testament gives us the fulfillment in the form of a person. These testaments are meant to be read in parallel, allowing each testament to illuminate the other. - Author: Tobin Wilson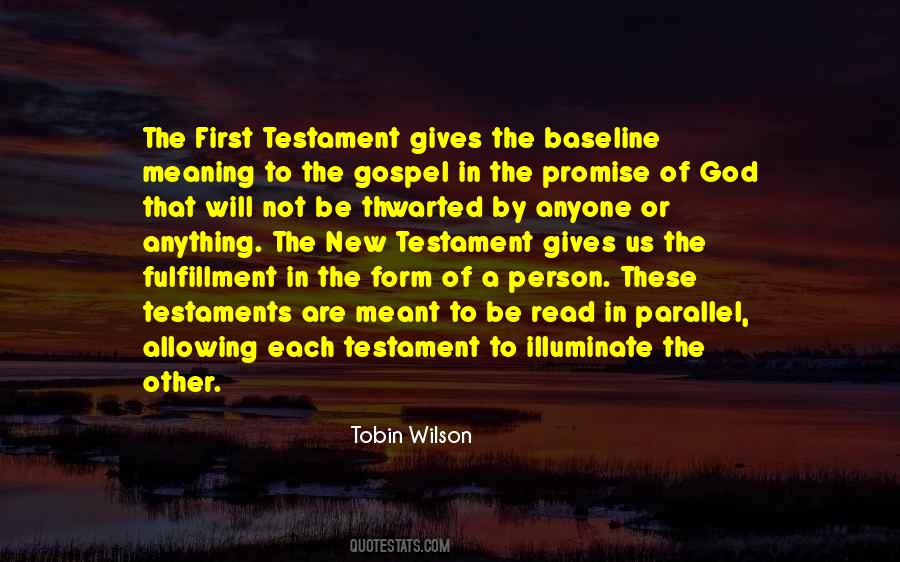 #38. If you do not know you have intrinsic value because of who you are and who you are meant to be, you will feel uncomfortable when you are not looking your best(in other's eyes) or if you are not wearing the latest fashion trend - Author: Sunday Adelaja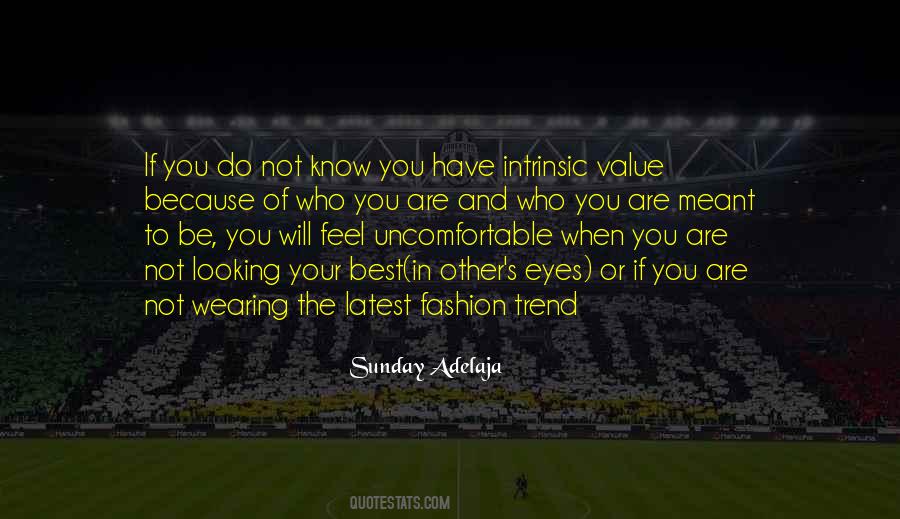 #39. True love involves a willingness to change, to become more like the ones we love. Love is dynamic, not static. God may accept us just as we are - but he isn't going to leave us there. God wants to move us on, to help us become the people we are meant to be. - Author: Alister E. McGrath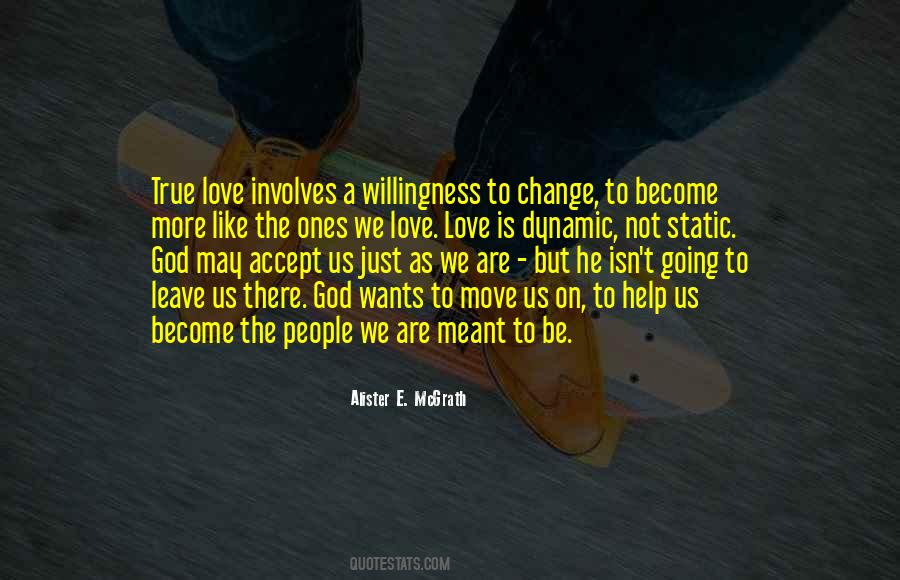 #40. Life is not a straight line. It's a spiderweb that twists and tangles. We crawl along our strands until we touch the people who are meant to be in our lives. The strands can knot, as mine did with Lily's, but they don't break, and the unexpected paths are often the best ones. - Author: Stephanie Knipper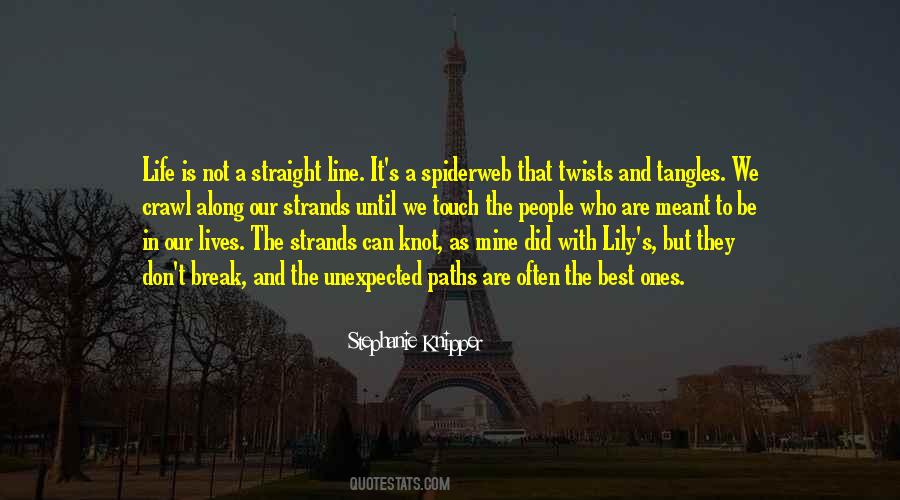 #41. When you're soulmates, it hits you like lightning, and you know that's the one person in the world you were meant to be with. You don't think you're soulmates; you just know it's your destiny whether you like it or not. - Author: L.J.Smith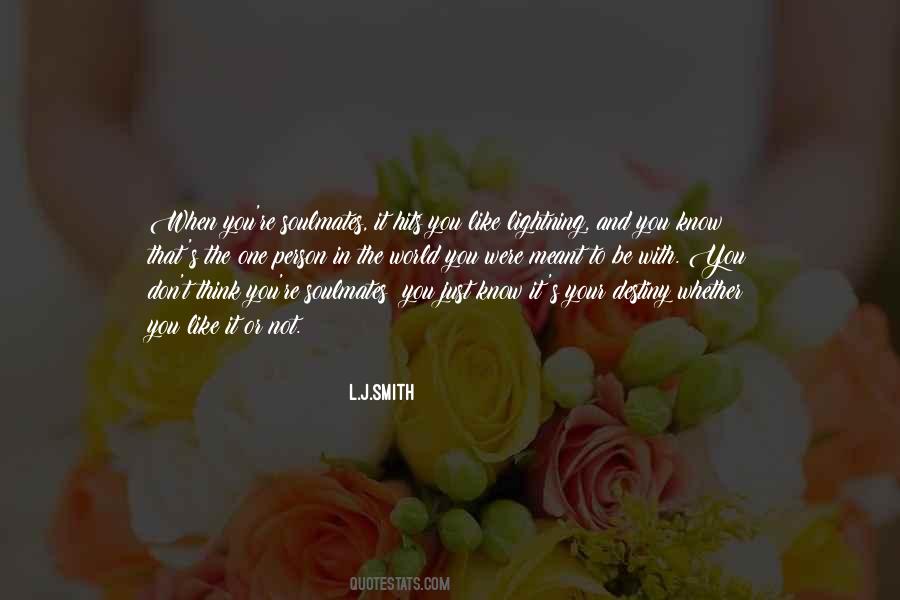 #42. It is not too much to say that the blacks in Georgia and the Carolinas made Sherman's march possible. Their help meant that Sherman's forces would not be traveling through hostile territory without supply lines. Rather, the soldiers were more like a huge guerilla force in friendly territory. - Author: James W. Loewen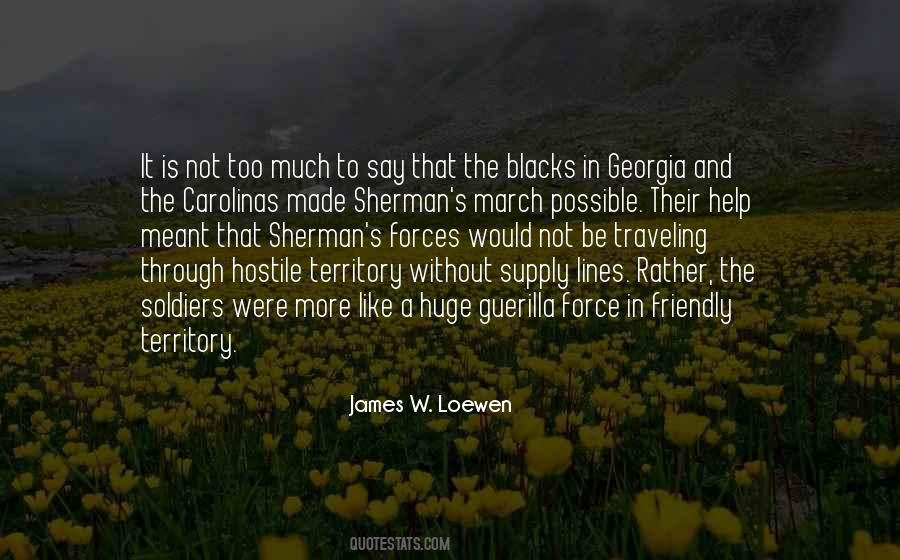 #43. She had not meant to name them, but she could not help herself; and having done so she thought, Let their names be symbols that their lives are worth the keeping. Let them struggle a little the harder, to keep their names. - Author: Robin McKinley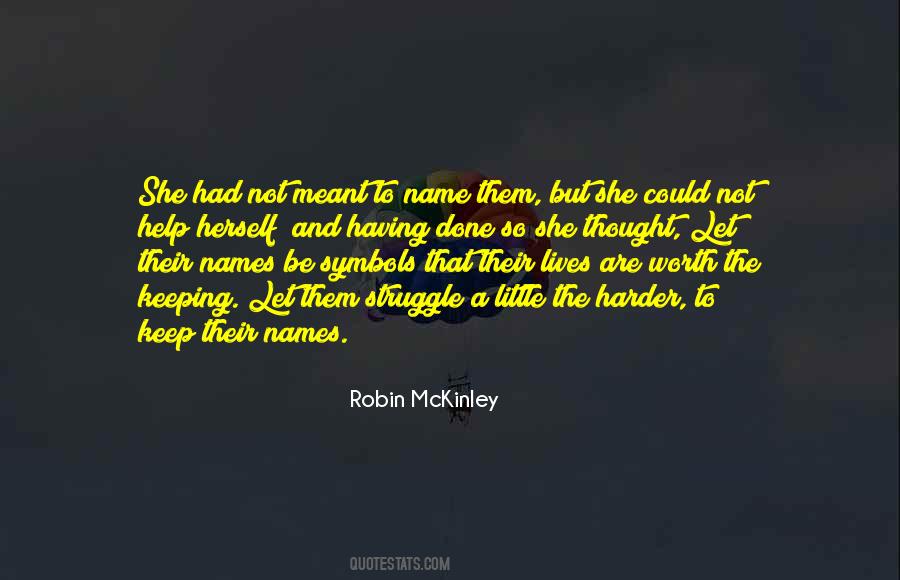 #44. You're not meant to be alone. You're meant to be with me. - Author: Raine Miller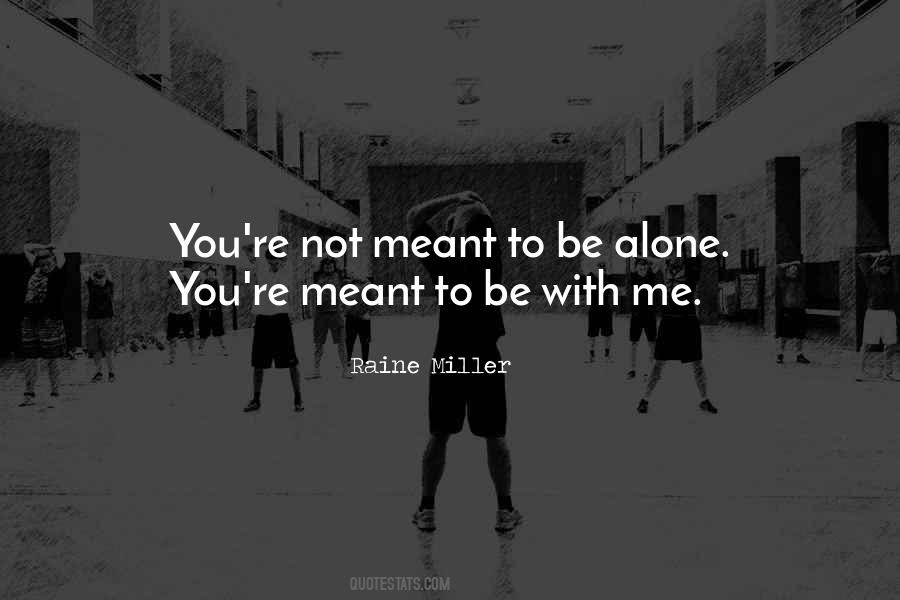 #45. We are not meant to know the time or the nature of our deaths (for all of us secretly hope that we may be immortal). - Author: John Connolly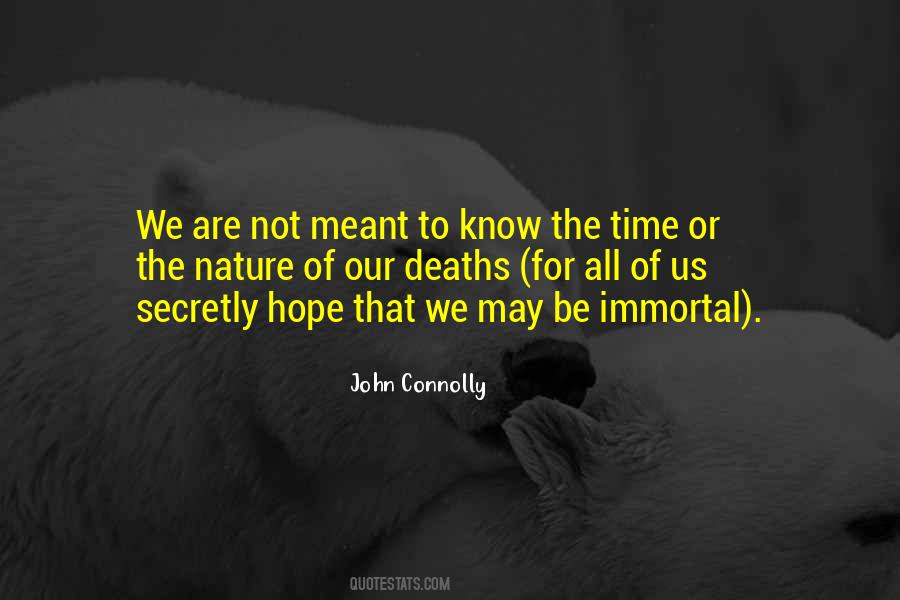 #46. I heard what you told him," he said. "That you thought it would be easy to fall in love with him. You meant it, too." "So?" It was the only thing I could think of to say. "I was jealous - of that. That I'm not ... that sort of person. - Author: Sarah J. Maas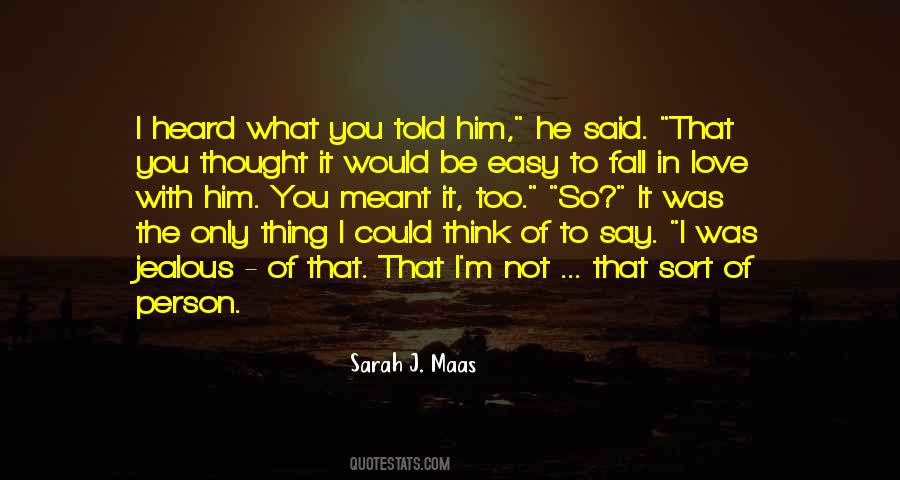 #47. It is not only a matter, I believe, of religious observance and practice. To me, being Jewish means and has always meant being proud to be part of a people that has maintained its distinct identity for more than 2,000 years, with all the pain and torment that has been inflicted upon it - Author: Golda Meir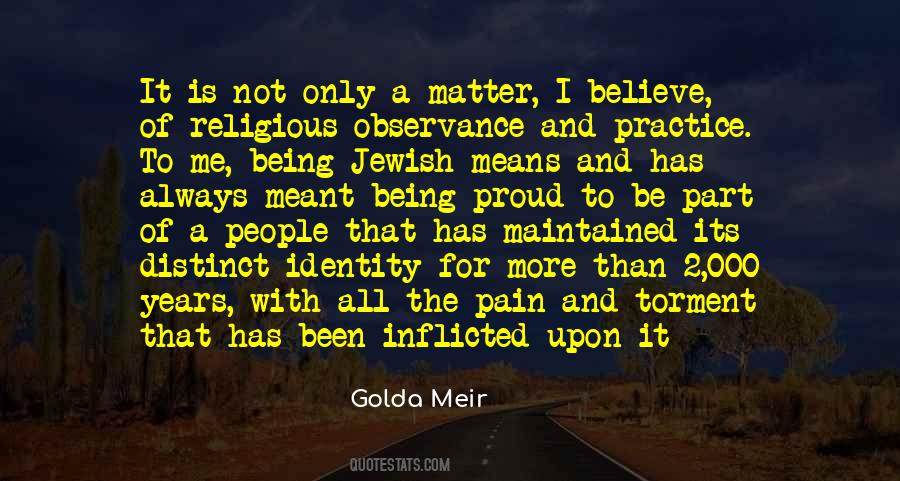 #48. WHY IS MY BATH COLD? Because I, purchaser of sadist shoes, needed to soak after wearing cheese graters on my feet yesterday and then traveling and walking and sitting through meetings and touring facilities and impersonating a pack mule today. 'Twas not meant to be. - Author: Qwen Salsbury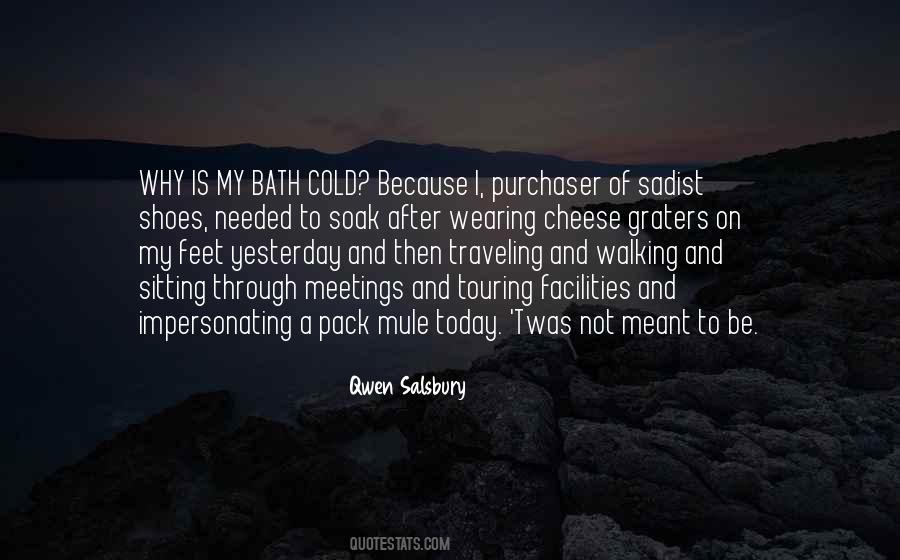 #49. They'd scared me and had me thinking about what it meant to be really strong, on my own terms - not just fit and brown from the sun, not just flexible and accommodating. - Author: Paula McLain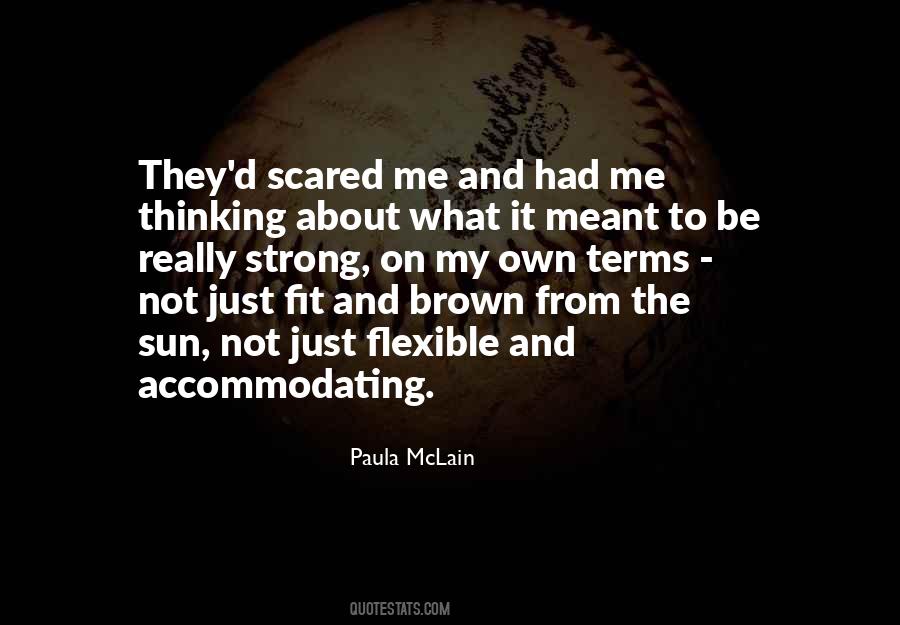 #50. Mistakes focus our minds on specific details. They weed out truths and afford us goals, bringing straight to our attention lessons to be learned. Mistakes are not meant to make us failures; they are meant to make us wise. - Author: Richelle E. Goodrich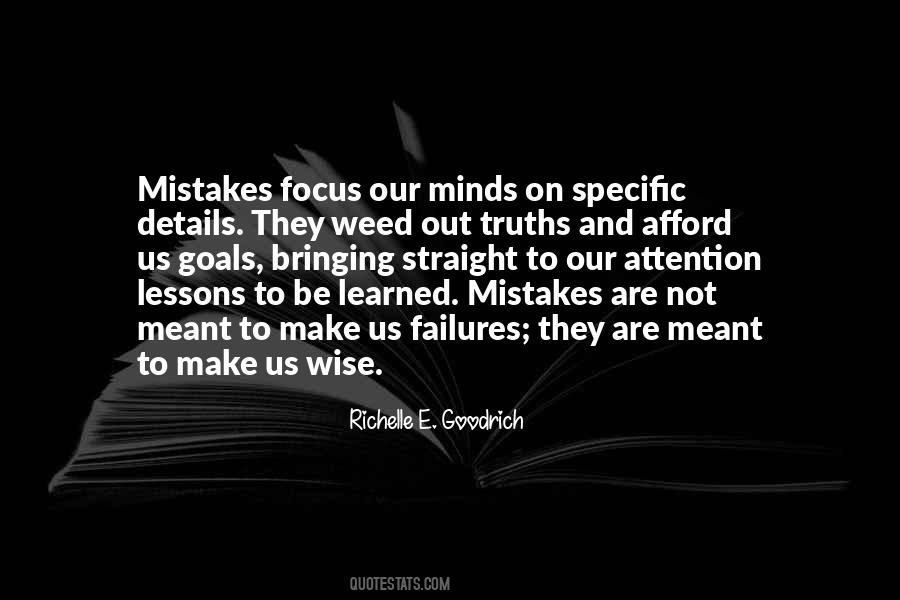 #51. Youth, health, wealth and beauty are meant to be fuel, to be burned in pursuit of pleasure, and not fruit to be pickled in anticipation of some future famine. (Hang on a minute and I'll get my sequins out and give you a quick rendition of 'My Way') - Author: Julie Burchill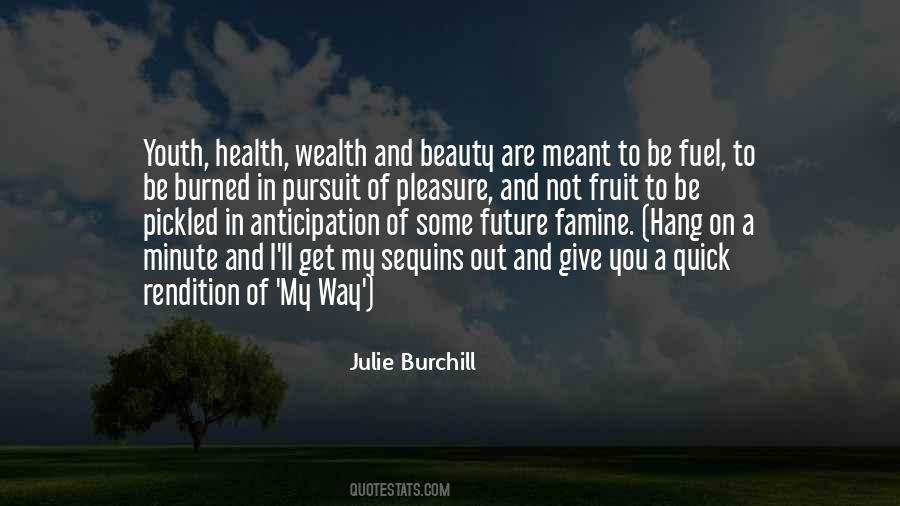 #52. Life is meant to be enjoyed, not just endured. - Author: Gordon B. Hinckley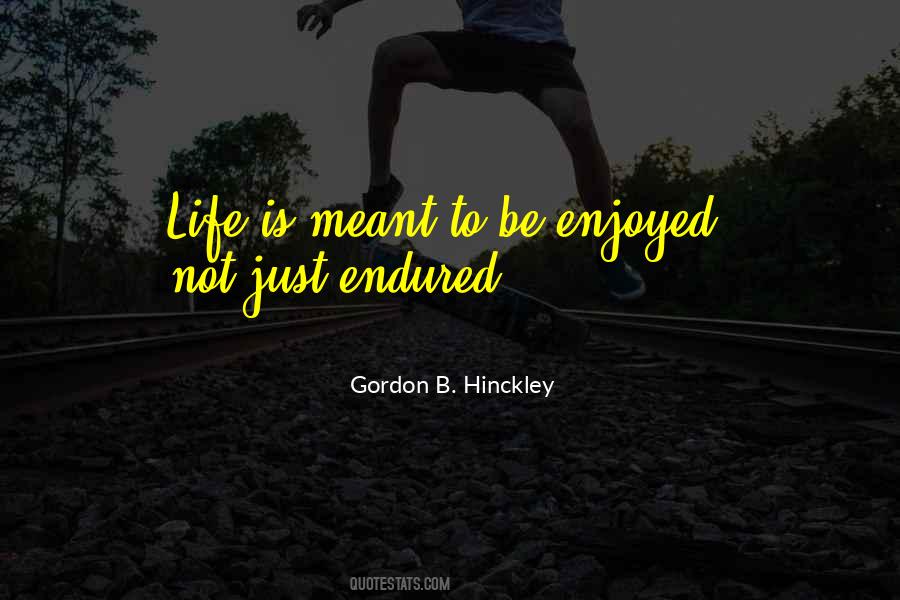 #53. It was a delicious feeling, falling in love. I'd had so many luxuries in my life, and I thought I'd had a taste of this before, but I realized now it was merely a cheap imitation of something not meant to be imitated in the first place. - Author: Kiera Cass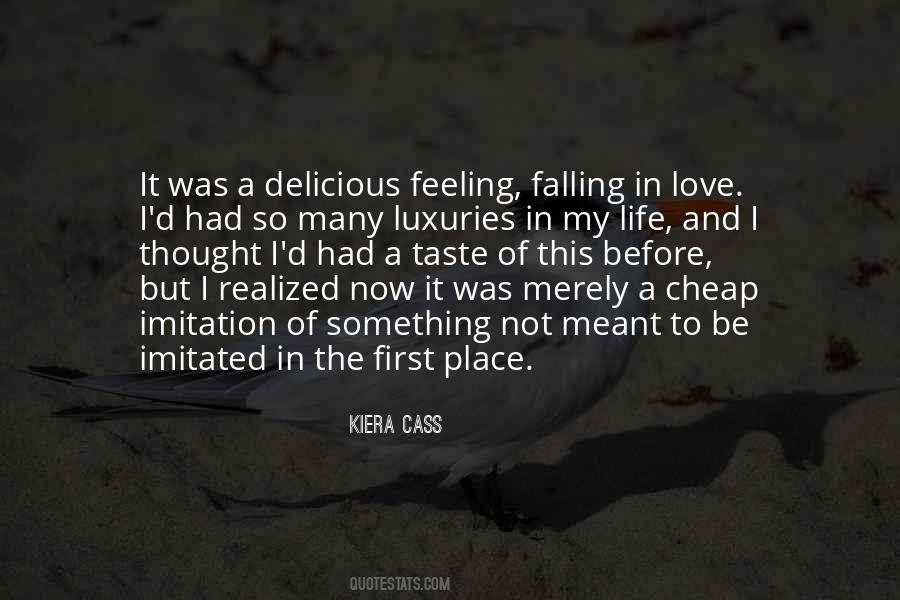 #54. You have neat, tight expectation of what life out to give you, but you won't get it. That isn't what life does. Life does not accommodate you, it shatters you. It is meant to, and it couldn't do it better. EVERY SEED DESTROYS ITS CONTAINER OR ELSE THERE WOULD BE NO FRUITION. - Author: Florida Scott-Maxwell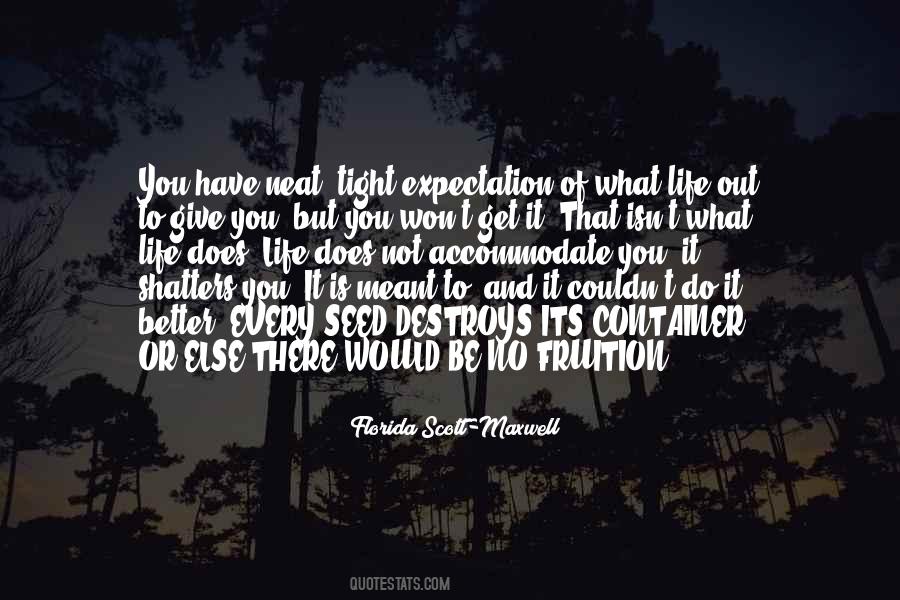 #55. We are inclined to think that everything that happens is to be turned into useful teaching. In actual fact, it is to be turned into something even better than teaching, namely, character. The mountaintop is not meant to teach us anything, it is meant to make us something. - Author: Oswald Chambers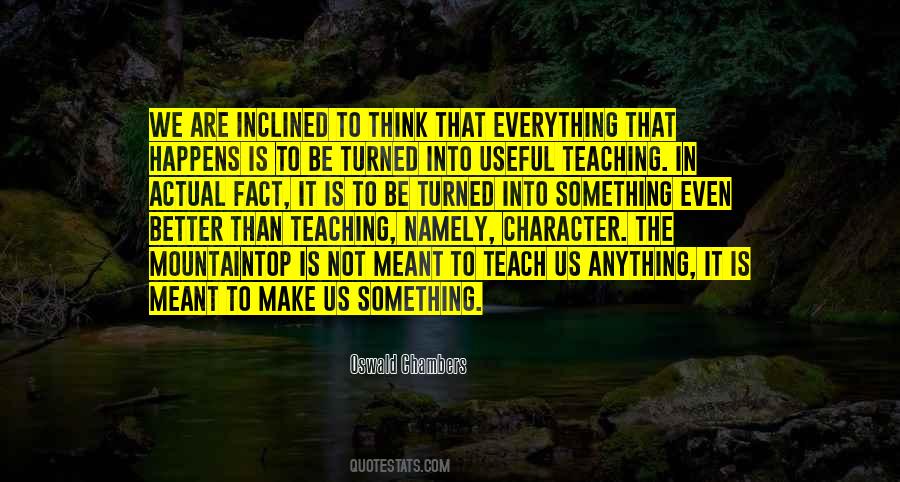 #56. The realization that my daily relationship with God is based on the infinite merit of Christ instead of on my own performance is a very freeing and joyous experience. But it is not meant to be a one-time experience; the truth needs to be reaffirmed daily. - Author: Jerry Bridges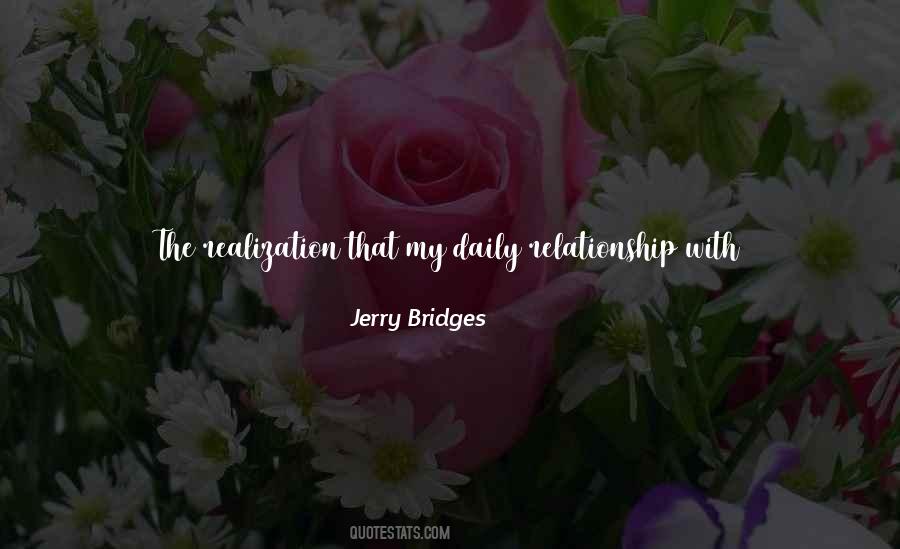 #57. I'm not a "what if." I want to just do it, try it, give it my all, and if it's not meant to be, I can accept that. But I had to do it. - Author: Debbi Fields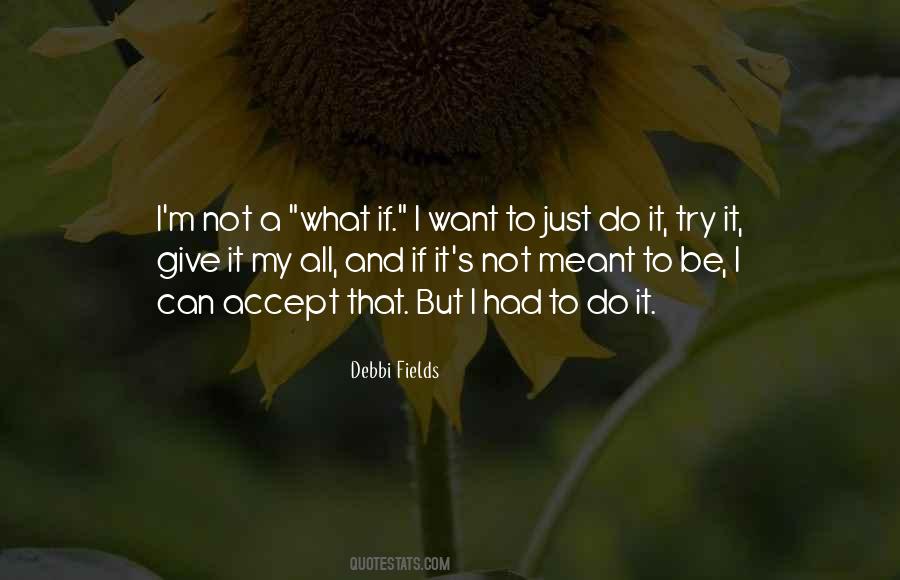 #58. Technology was meant to be a tool, not a crutch. The entire world had become dependent on gadgets for entertainment and personal happiness. - Author: Mary Jane Hathaway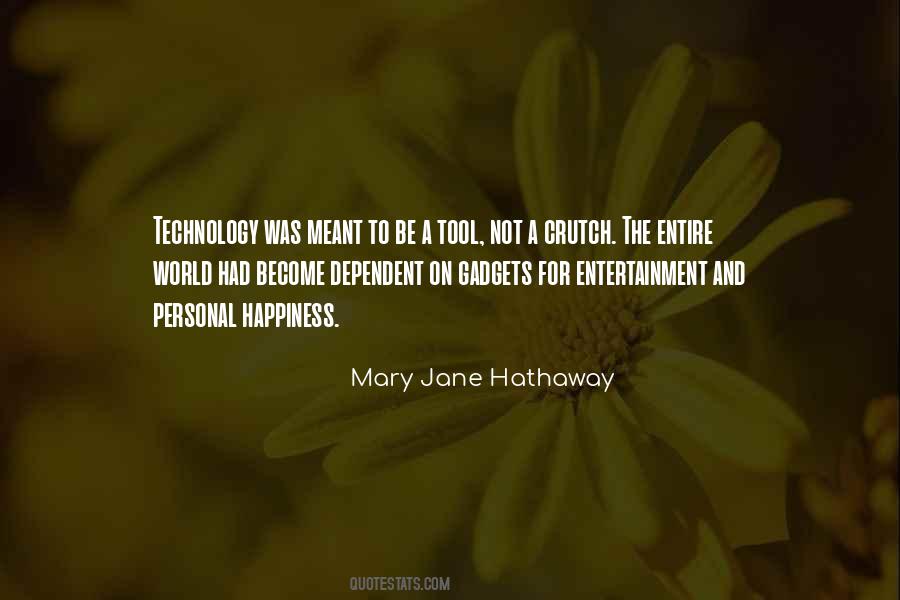 #59. I am not asking whether you know things about Him but do you know God, are you enjoying God, is God the centre of your life, the soul of your being, the source of your greatest joy? He is meant to be. - Author: David Lloyd-Jones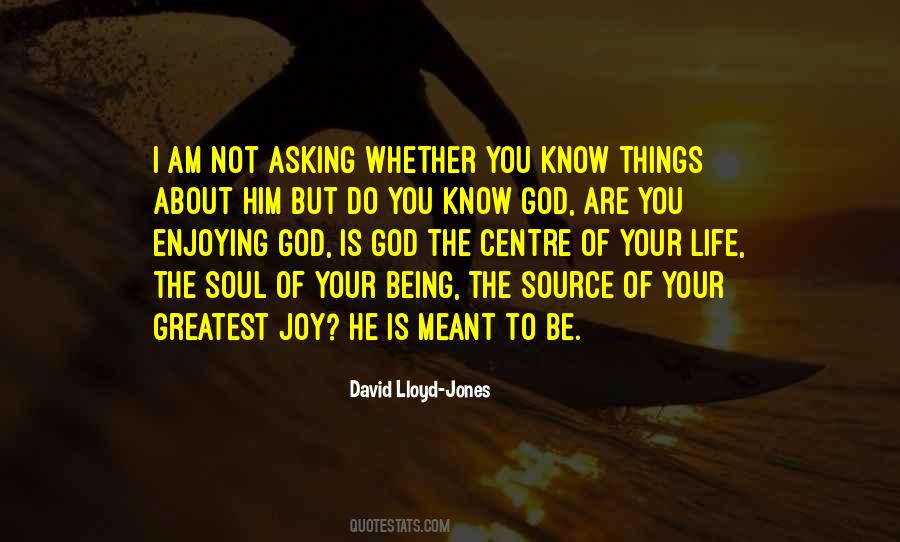 #60. There she stood, frightened, yet brave, not letting go her hold on what she meant to do, even when things seemed to be most against her. - Author: Elizabeth Gaskell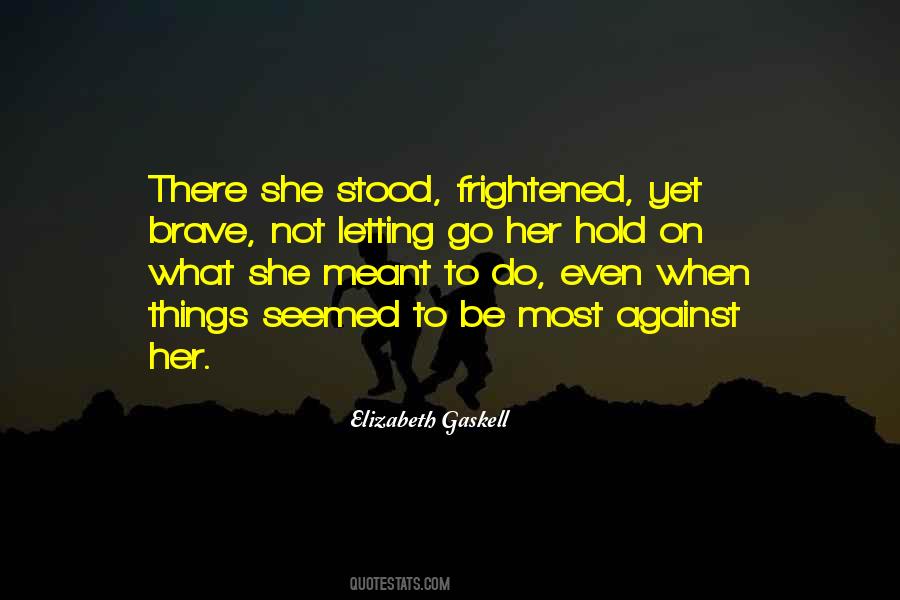 #61. The truth of Scripture is meant not only to be studied-it's meant also to be sung. - Author: R.C. Sproul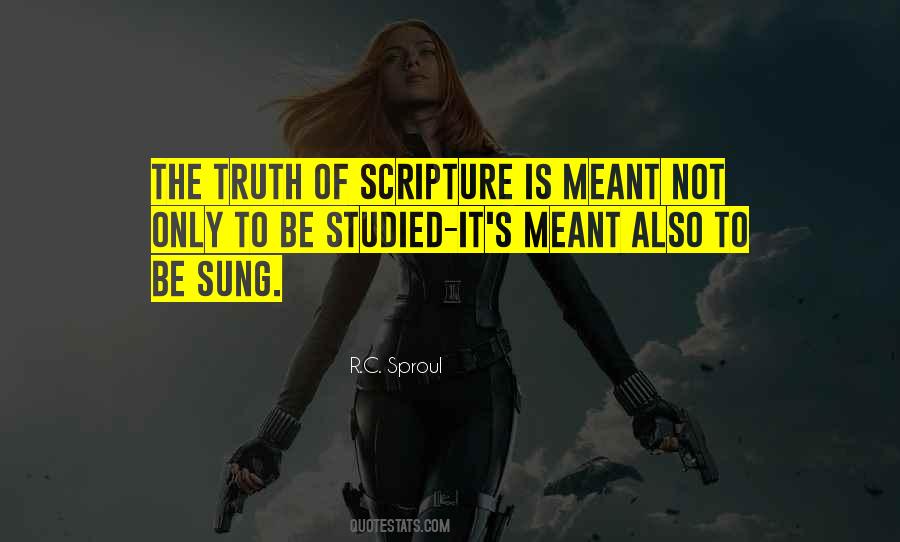 #62. It's okay to be scared, I really think that's how that whatever it is you're meant to be doing matters, but it's not okay to not find that thing you're supposed to be doing because you're afraid of something new. - Author: Jay Crownover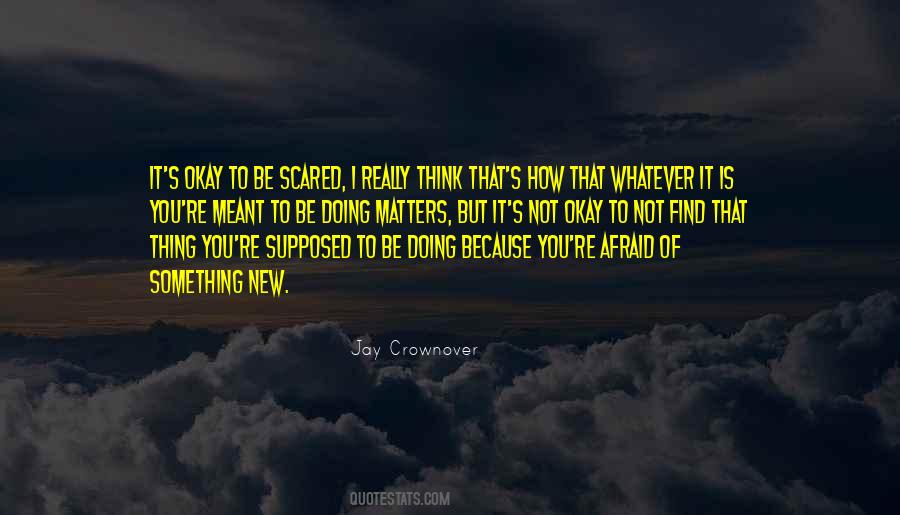 #63. Gabriel, the man she might have tied the knot with except that it was not meant to be. Putting memories to sleep, like putting an animal down. - Author: Edna O'Brien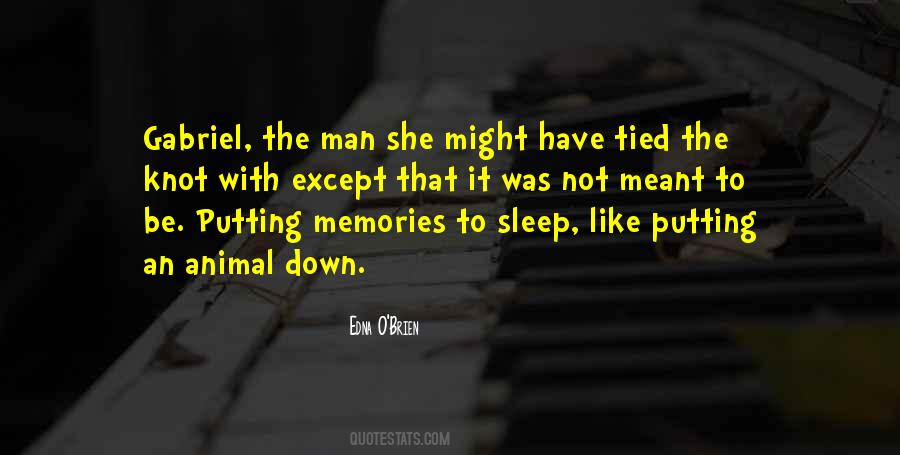 #64. SOFIA: We're not meant to be good and perfect. You know who lives longer? Married couples who enjoy under the sheets time alone. Enjoy the fun, but understand there must be an end goal. - Author: Billy London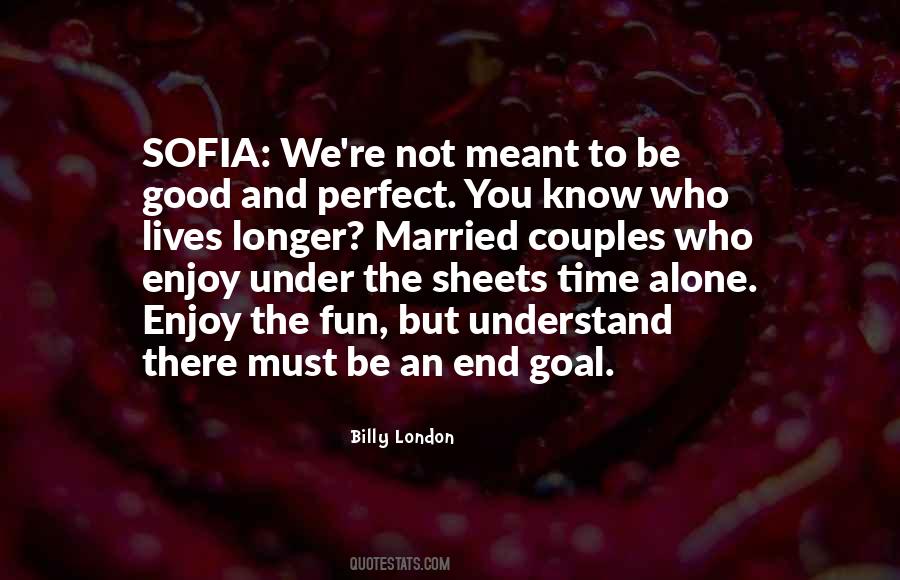 #65. A book is meant not only to be read, but to haunt you, to importune you like a lover or a parent, to be in your teeth like a piece of gristle. - Author: Anatole Broyard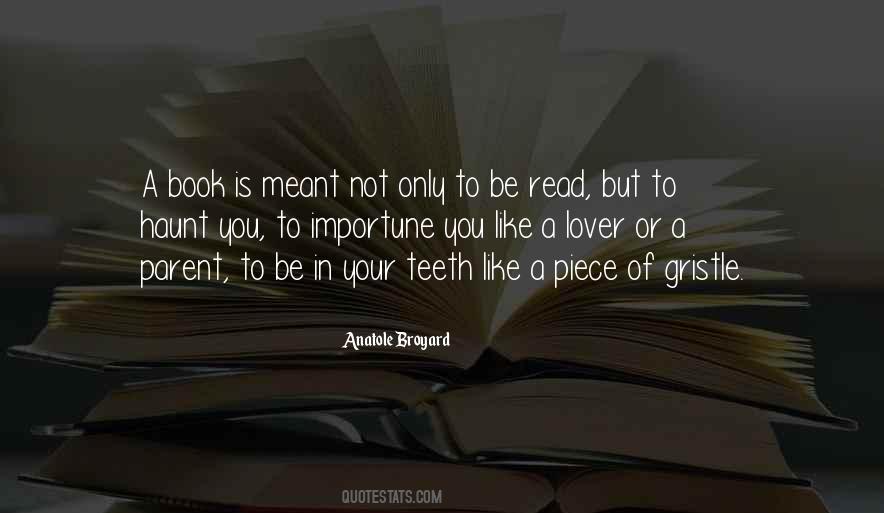 #66. I wouldn't recommend people to go up and ride their road bikes in Kenya. Bikes are not meant to be on the roads. But the mountain biking is fantastic. You can go right up into the tea and coffee plantations up in the highlands. You can descend the great Rift Valley. - Author: Chris Froome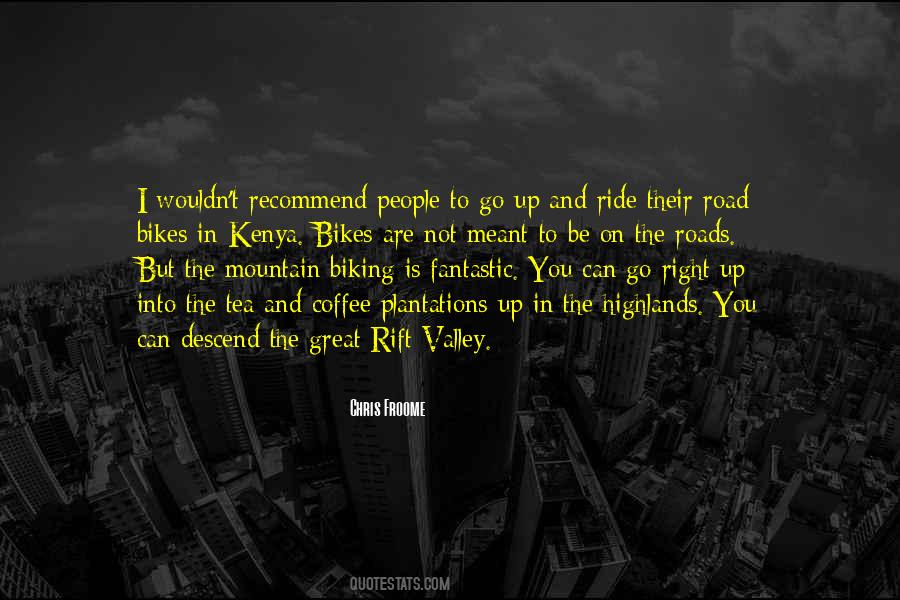 #67. Sad will be the day for any man when he becomes contented with the thoughts he is thinking and the deeds he is doing - where there is not forever beating at the doors of his soul some great desire to do something larger; which he knows he was meant and made to do. - Author: Phillips Brooks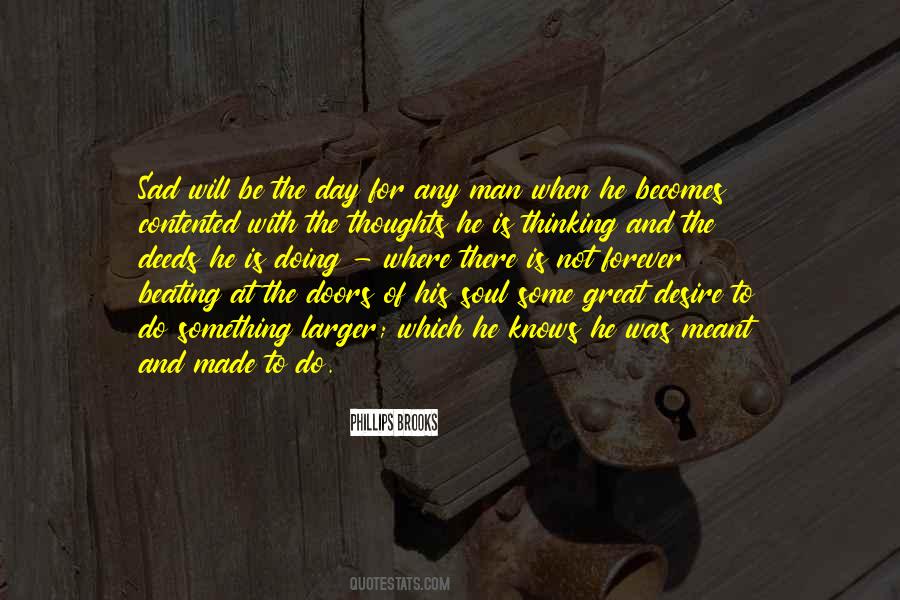 #68. Human beings are not meant to live alone. There is a fundamental biological imperative that propels you and every organism on this planet to be in a community, to be in relationship with other organisms. - Author: Bruce H. Lipton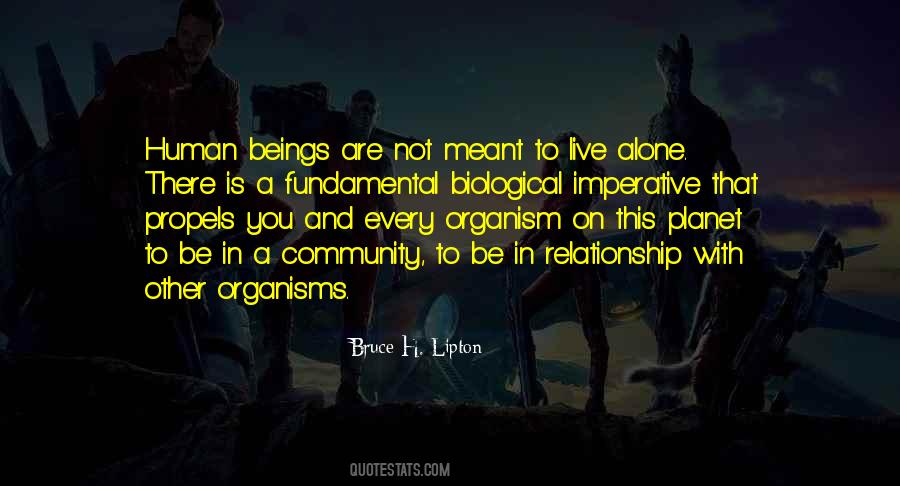 #69. I am never at picnics. The ground was not meant to be sat upon in its raw state, I feel sure, and I prefer my food without either caterpillars or drafts! - Author: Phyllis Bottome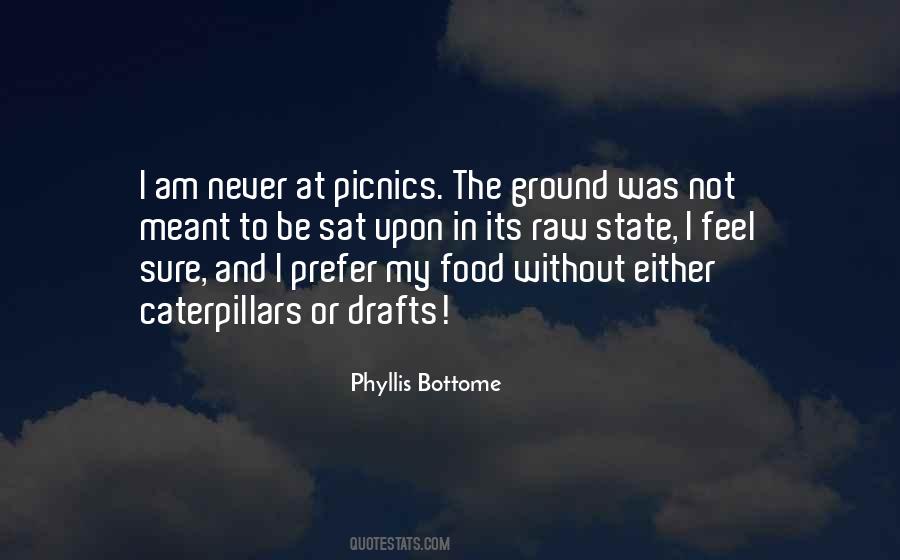 #70. Not everyone is meant to be a writer," Shyla said. "I do believe, however, that everyone has a story within them to be written. - Author: Barbara Casey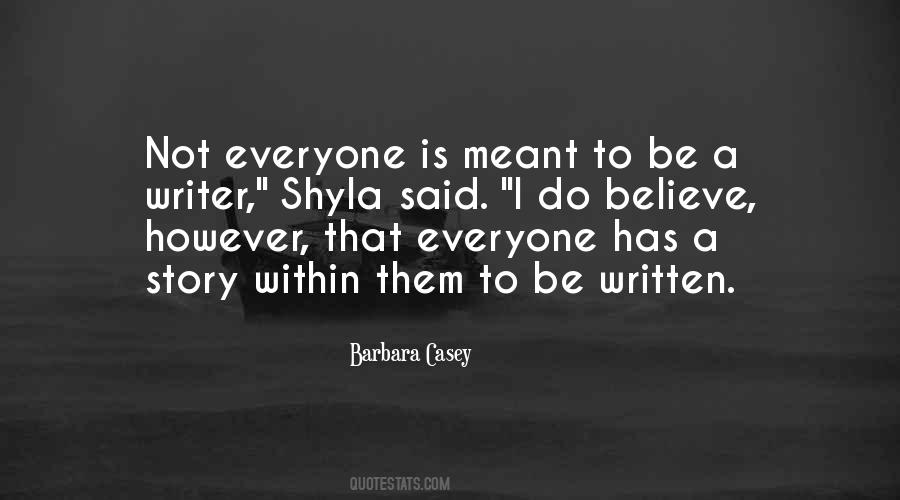 #71. Individualism. Campbell said, "All religions are true in that the metaphor is true." I think this means that religions are meant to be literary maps, not literal doctrines, a signpost to the unknowable, a hymn to the inconceivable. Edward Slingerland is a professor - Author: Russell Brand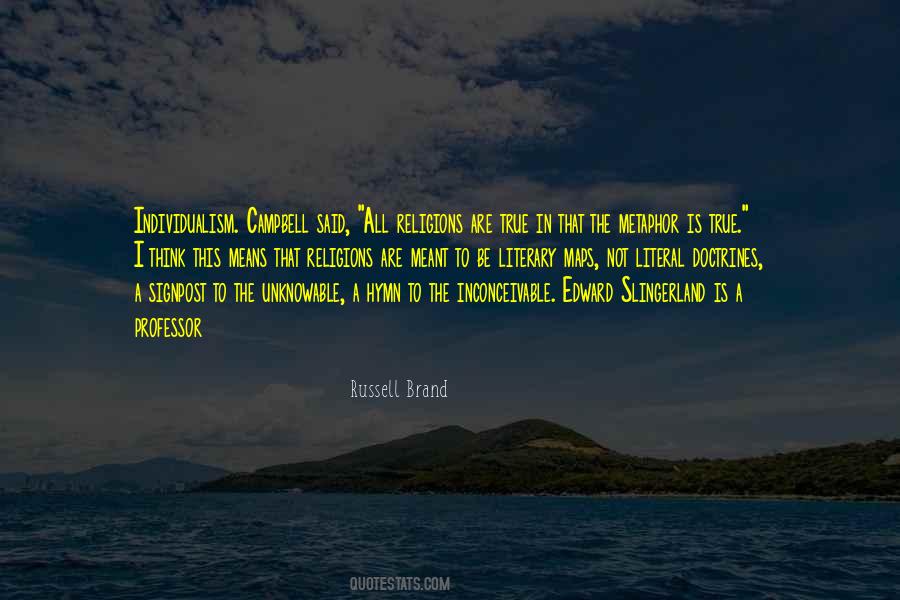 #72. Refusal to participate is a moral choice. Water is a gift for all, not meant to be bought and sold. Don't buy it. When food has been wrenched from the earth, depleting the soil and poisoning our relatives in the name of higher yields, don't buy it. - Author: Robin Wall Kimmerer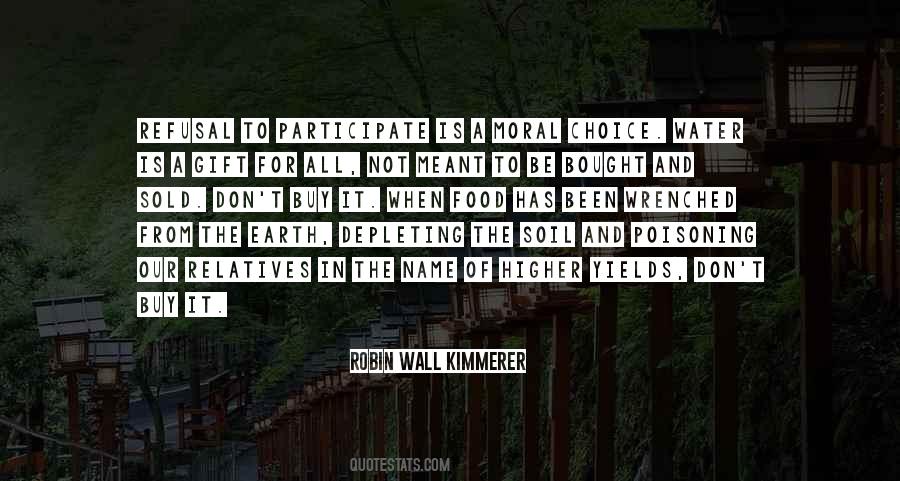 #73. It's very hard to live in an environment where you're reminded, constantly told that your existence just happens to be here ... That you are not meant to be here. - Author: Kangana Ranaut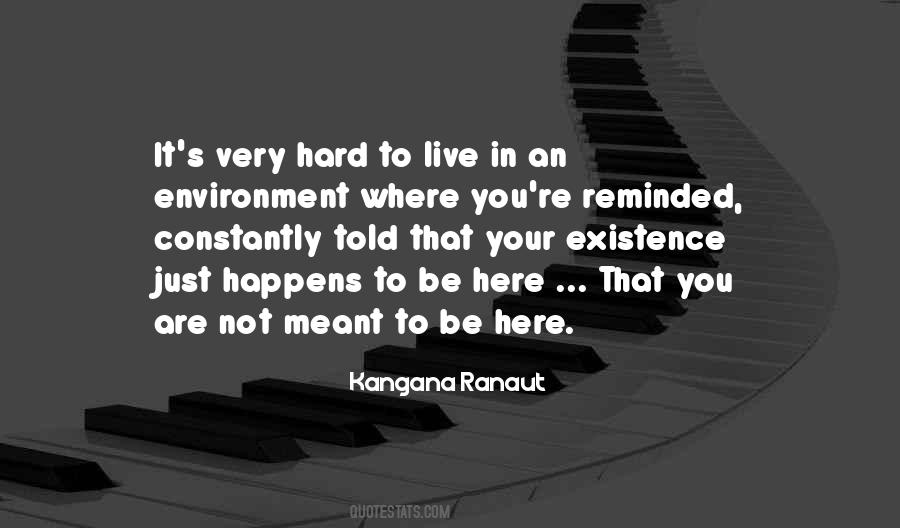 #74. God meant for the Bible to be bread for our daily use, not just cake for special occasions. - Author: Suzanne Woods Fisher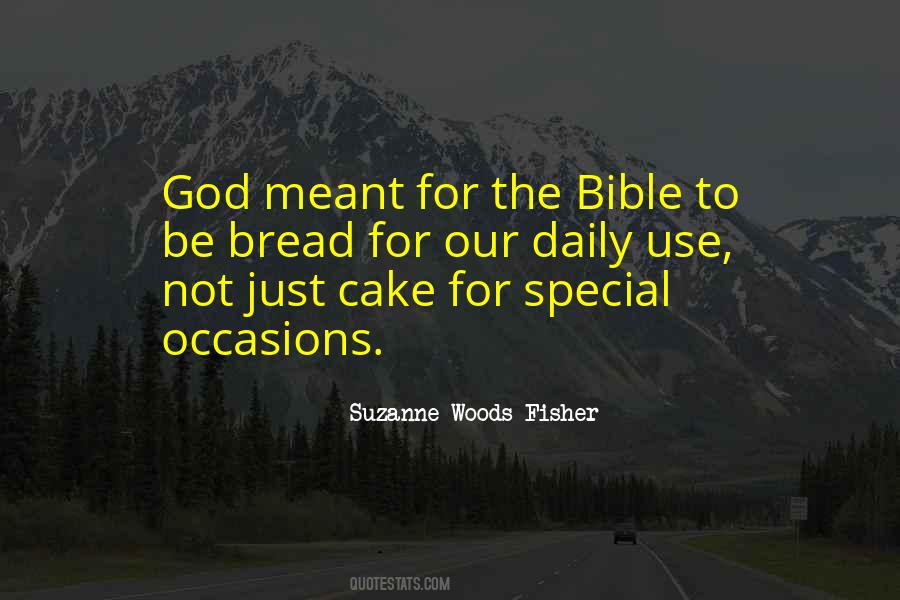 #75. Males and females are unique and different, because their brains are different. There's not a limitation on girls. My grandmother was very strong, and so was my mother. She also knew what it meant to be a woman and wife and was very successful at it. - Author: James Dobson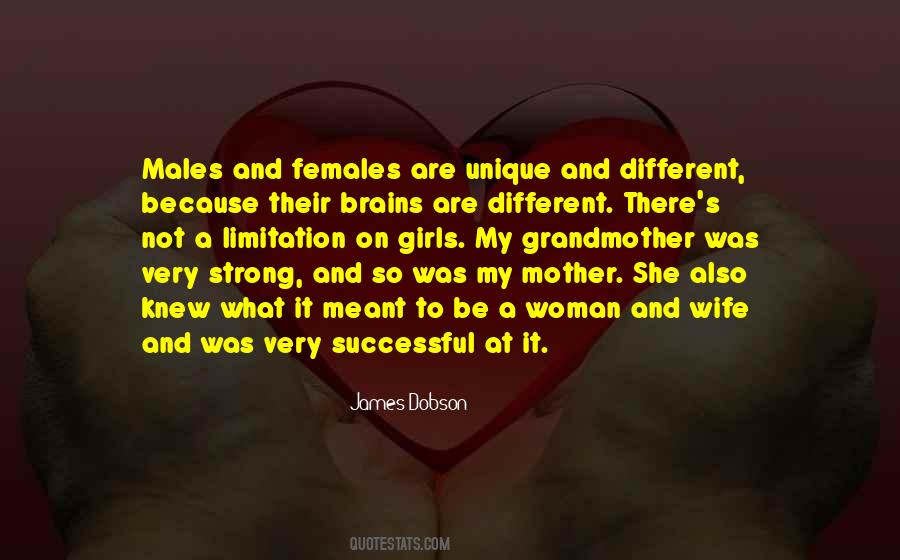 #76. George W. had a plan. He arranged to join the Air National Guard in Texas, which meant he would not be sent to Vietnam. - Author: Peter Jennings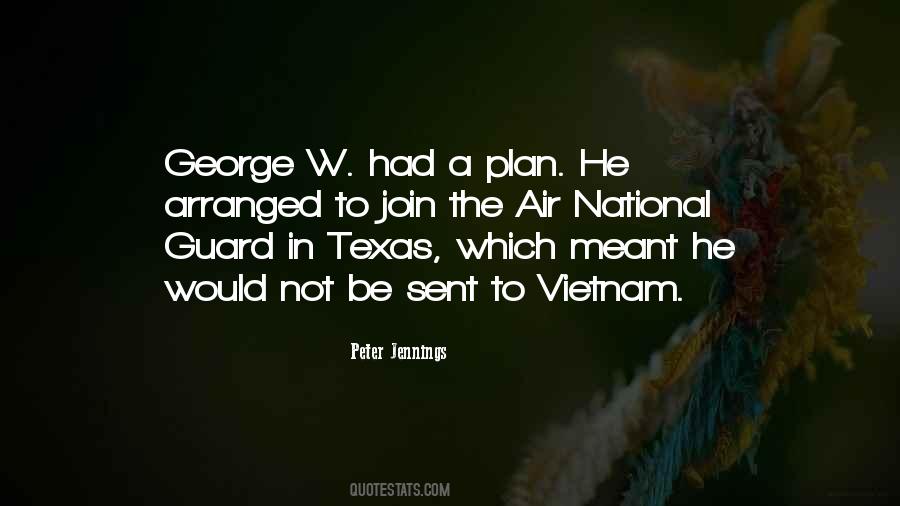 #77. Be honest with who you are, what you want and how you want to be treated. Boundaries only scare off the people that were not meant to be in your life. - Author: Shannon L. Alder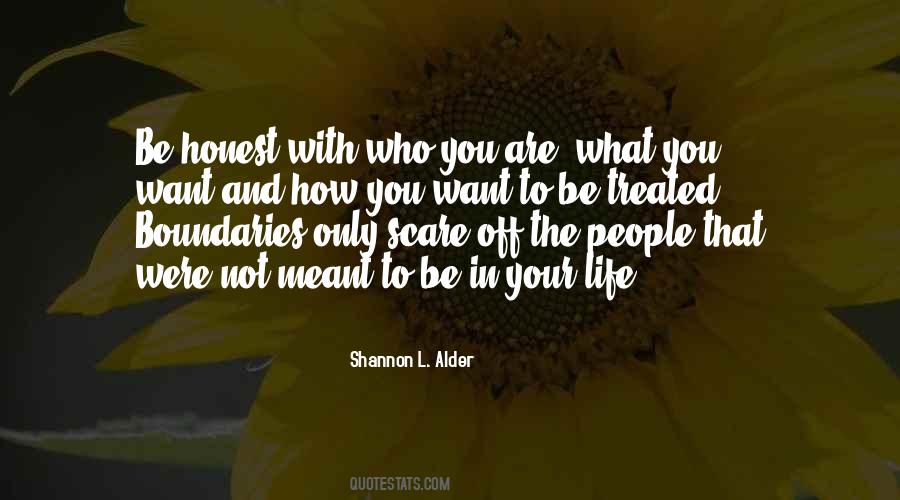 #78. Knowledge was not meant to be locked behind doors. It breathes best in the open air where all men can inhale its essence. - Author: Louis L'Amour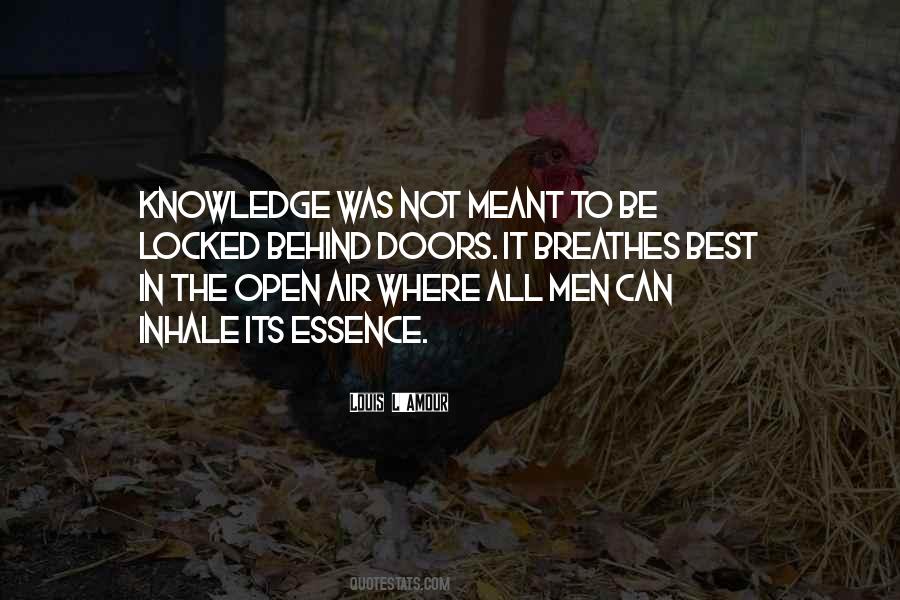 #79. Life is not meant to be easy, child. That is why we pray for God's strength to help us bear it. - Author: Patricia Davids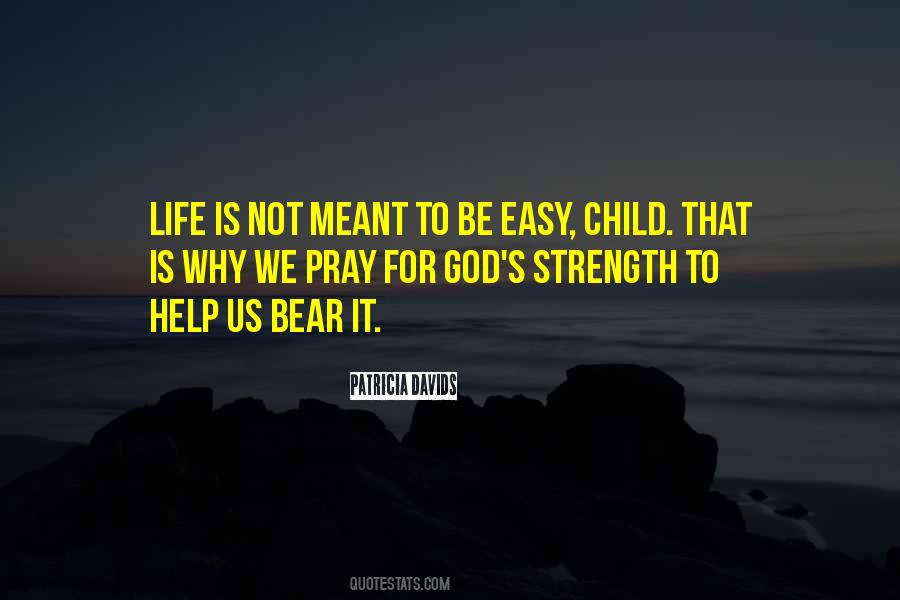 #80. You will be burning alive, when the ones who meant the world to you leaves for no reasons ... In fact, its not their absence which is hurting, but its the memories of their presence which is tearing your heart apart ... - Author: Gayathri Purushothaman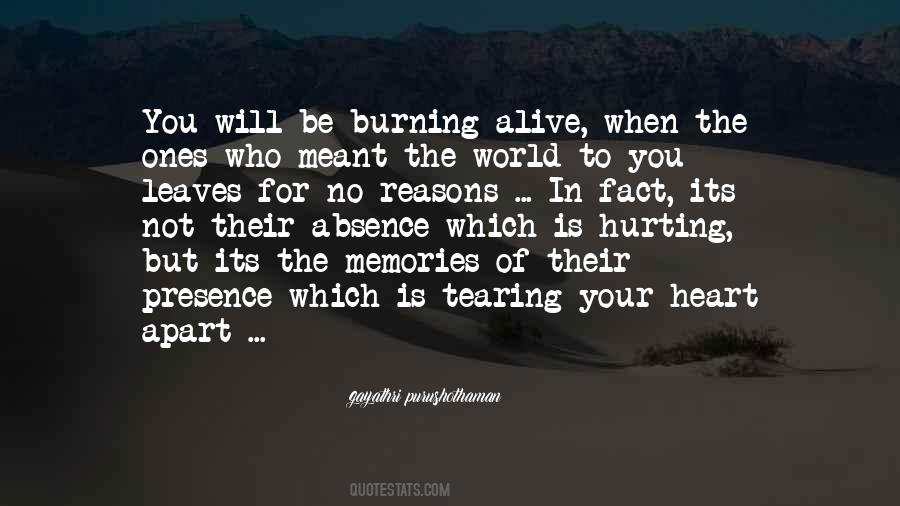 #81. James had given his heart to this girl, Magnus thought, and Magnus knew well enough from Edmund and Will what it meant when a Herondale gave his heart away. It was not a gift that could be returned. - Author: Cassandra Clare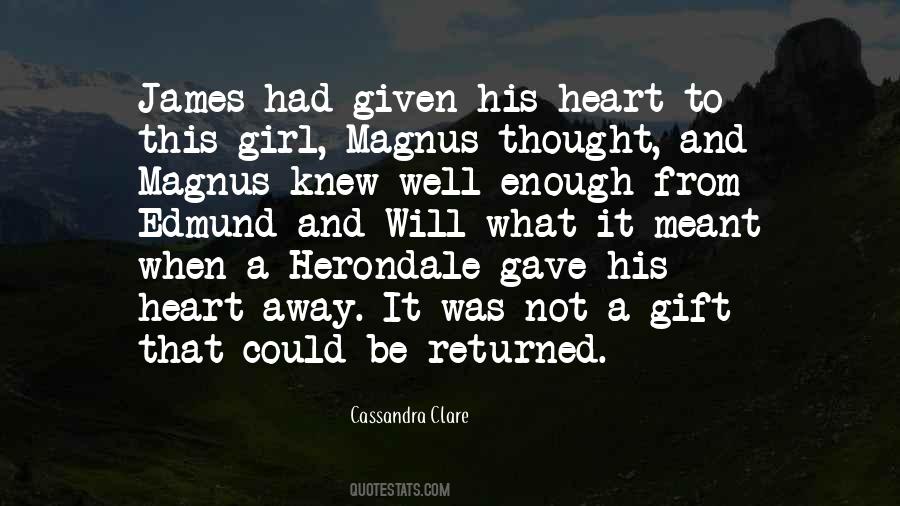 #82. Not everyone is meant to be in your life for the long run. Some are just passing through to lead us to those that should be. - Author: April Mae Monterrosa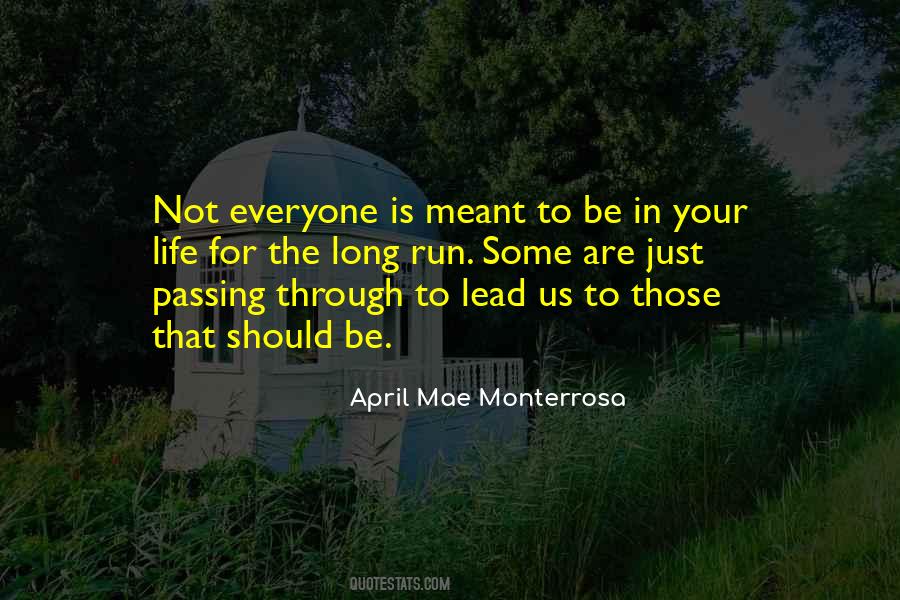 #83. You have to let people go. Everyone who's in your life are meant to be in your journey, but not all of them are meant to stay till the end. - Author: Unknown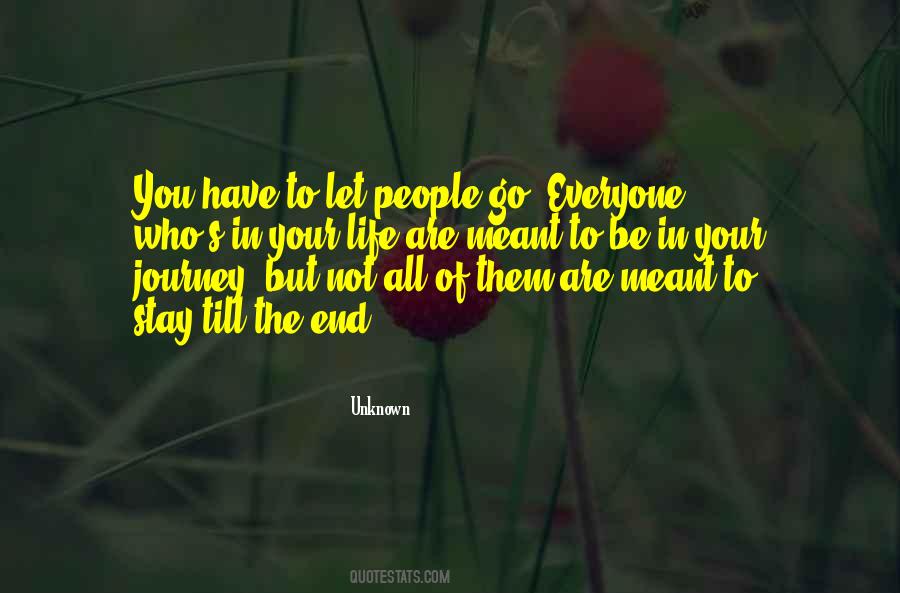 #84. My desire to fight comes from within ... it's a personal journey of accomplishment, not meant to be judges or for me to judge others. - Author: Cat Zingano
#85. I am motivated to write because it is what I am meant to do. It is not a choice - it is what I am. I did not choose writing - it chose me. And I believe it is necessarily that way. Anyone doing this for some other reason should not be. - Author: Elizabeth Wurtzel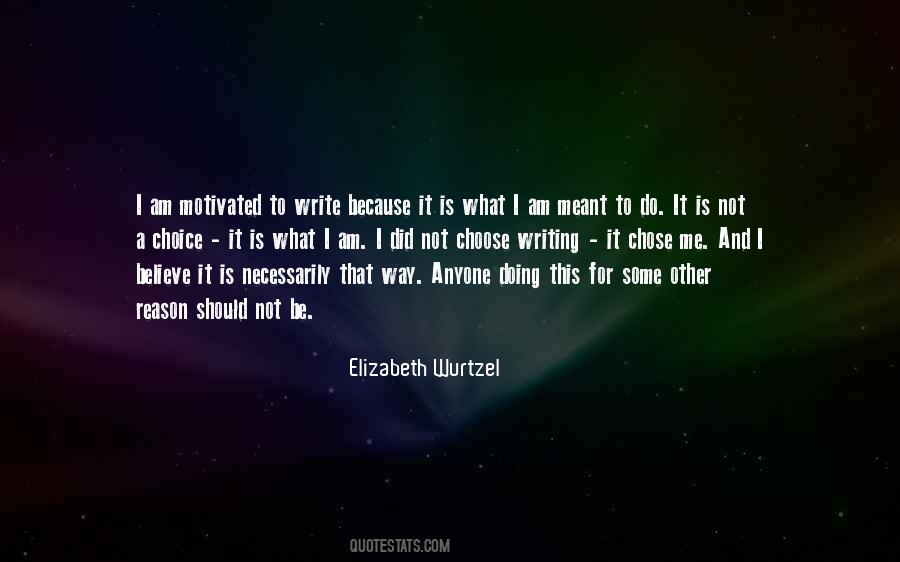 #86. You and I were never meant to be together, but we are. Our pairing is not unlike two electrons ignoring natural laws in order to orbit one another. Life now defies reason - quirky but beautiful. - Author: Richelle E. Goodrich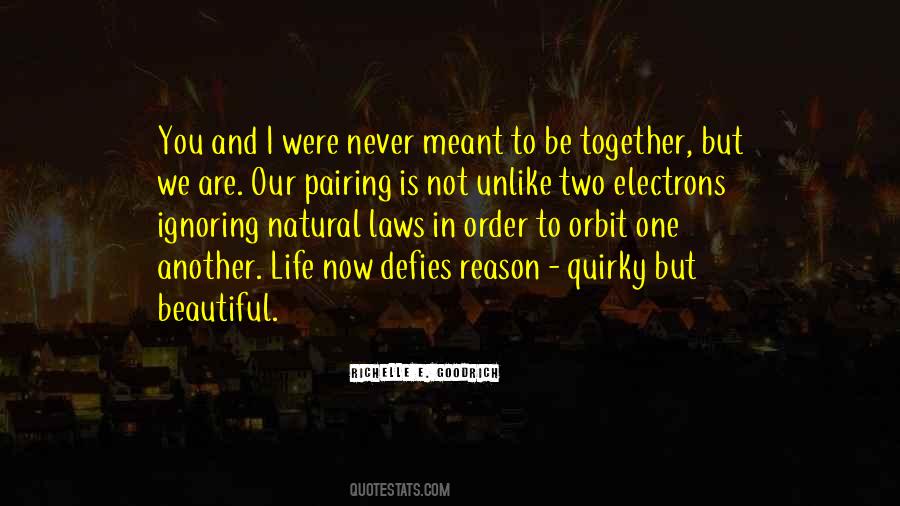 #87. If love and beauty were easy to find, they would not exist.
Chaos and sadness exist in order for you to find the love and beauty in them. So that love and beauty mean something.
It's meant to be hard. - Author: Pleasefindthis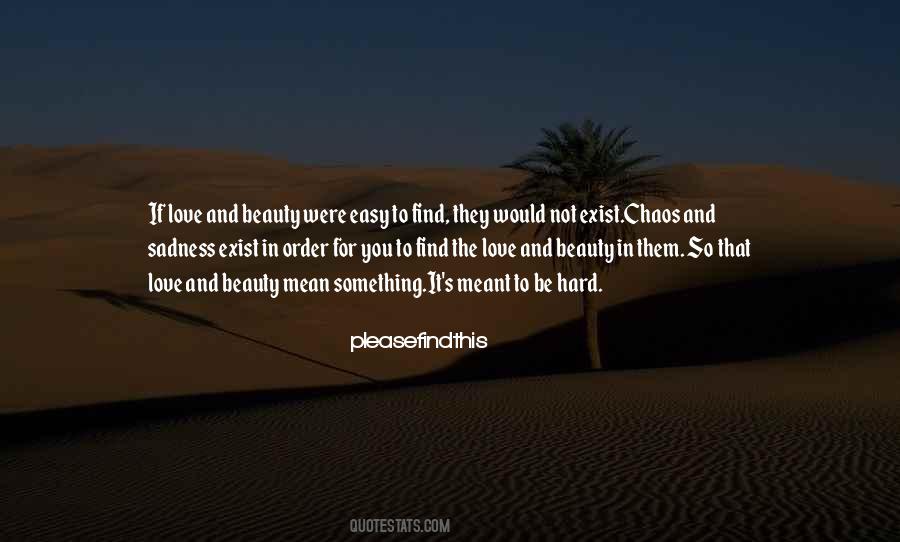 #88. Sometimes I feel like everyone else is carrying a bucket of water but I'm trying to carry an ocean. its very hard. sometimes I would rather not carry my ocean, even if it meant I couldn't be alive. - Author: Heidi Cullinan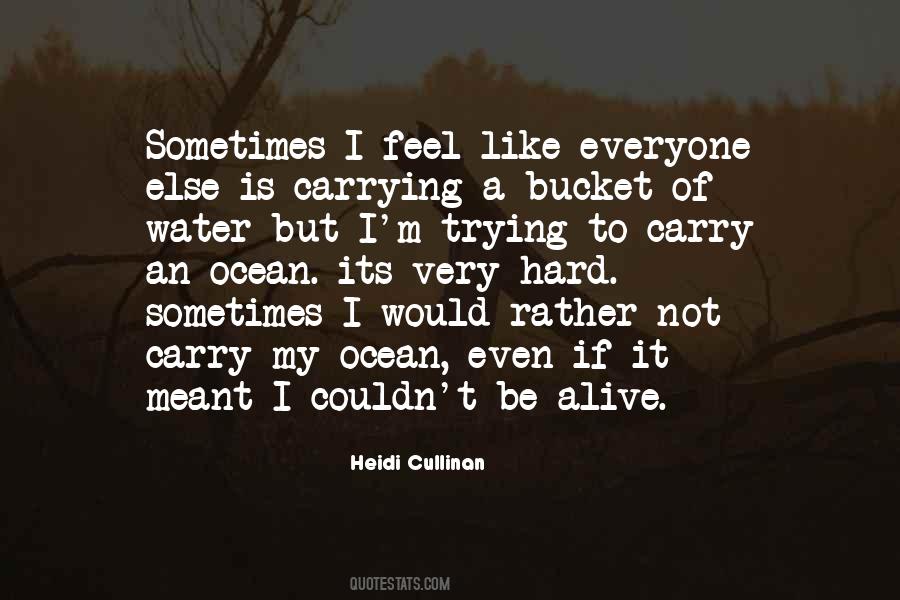 #89. I'm not meant to run around trees. I can't throw my arms in the air and sing, I find that boring and irritating. Sweet romcoms are not my cup of tea. The film has to be a little twisted and quirky. - Author: Emraan Hashmi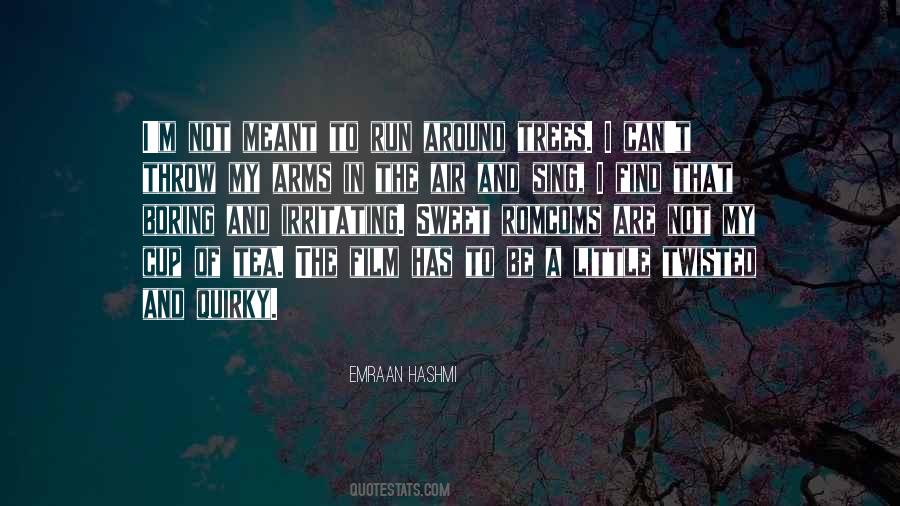 #90. We must not bind our hearts to the things of the world, no matter how beautiful they are or how much pleasure they give us. Our hearts must soar in the heavens for us to be truly the humans we were meant to be. - Author: Aleksandra Layland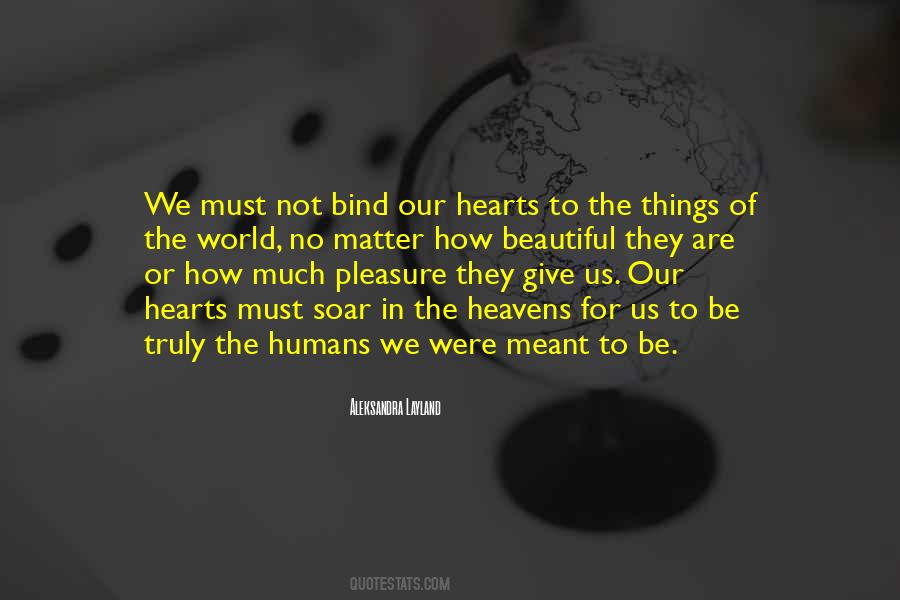 #91. God is the one that's ultimately in control of everything. You can't try to change things when they're not meant to be changed. - Author: Ricky Stenhouse Jr.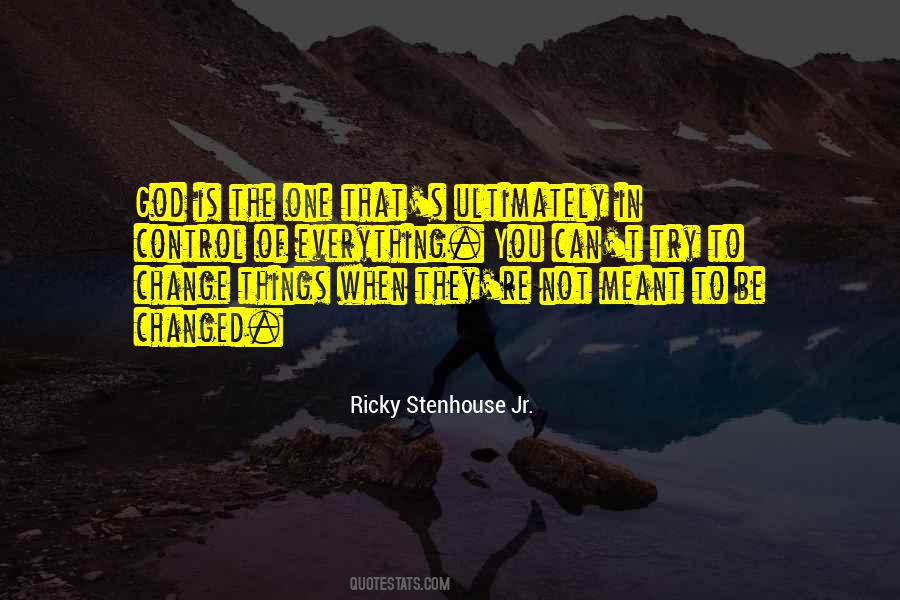 #92. I was a huge fan of comedy and movies and TV growing up, and I was able to memorize and mimic a lot of things, not realizing that that meant I probably wanted to be an actor. I just really, really amused myself and my friends with memorizing entire George Carlin or Steve Martin albums. - Author: Hank Azaria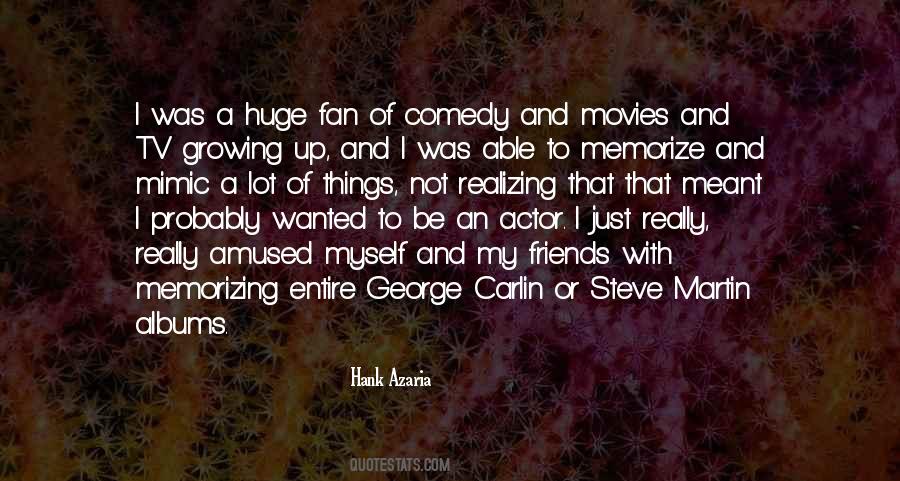 #93. FORGIVING is FOR GIVING to others and if it is meant FOR GETTING to ourselves then should it not be termed as FORGETTING ourselves. - Author: Anuj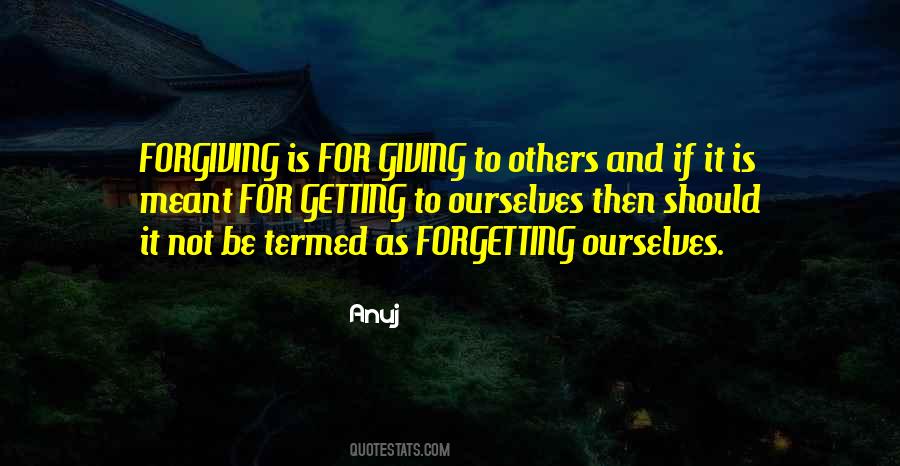 #94. Even if someone thinks there's a mistake I've made on the piano, to me it's not a mistake; it's how it's meant to be. - Author: Benjamin Clementine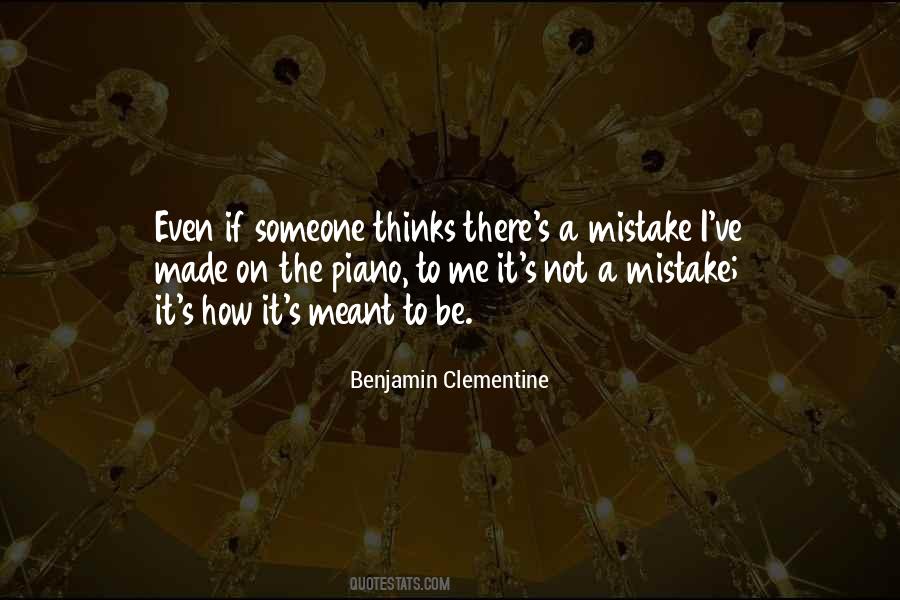 #95. Perhaps our triumphs are not even the point. Perhaps struggle is all we have because the god of history is an atheist, and nothing about his world is meant to be. - Author: Ta-Nehisi Coates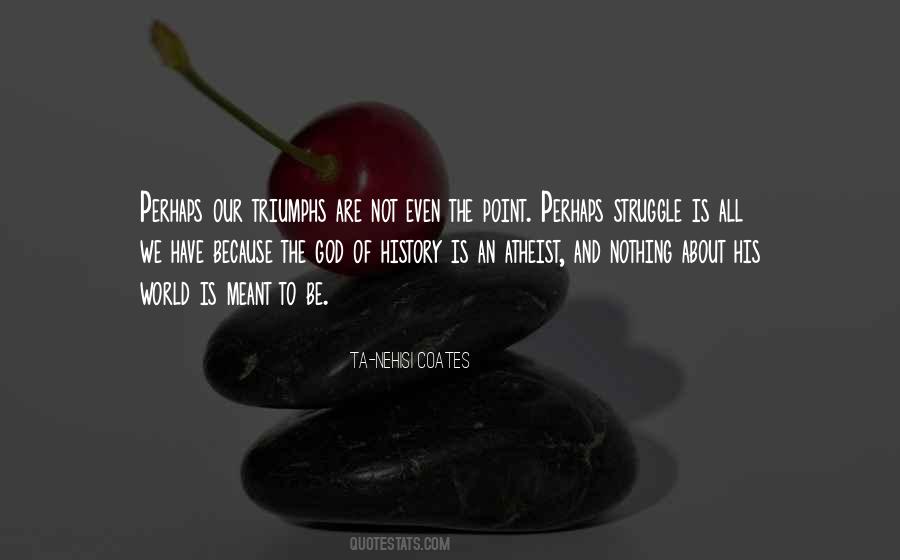 #96. Wilderness is a necessity ... They will see what I meant in time. There must be places for human beings to satisfy their souls. Food and drink is not all. There is the spiritual. In some it is only a germ, of course, but the germ will grow. - Author: John Muir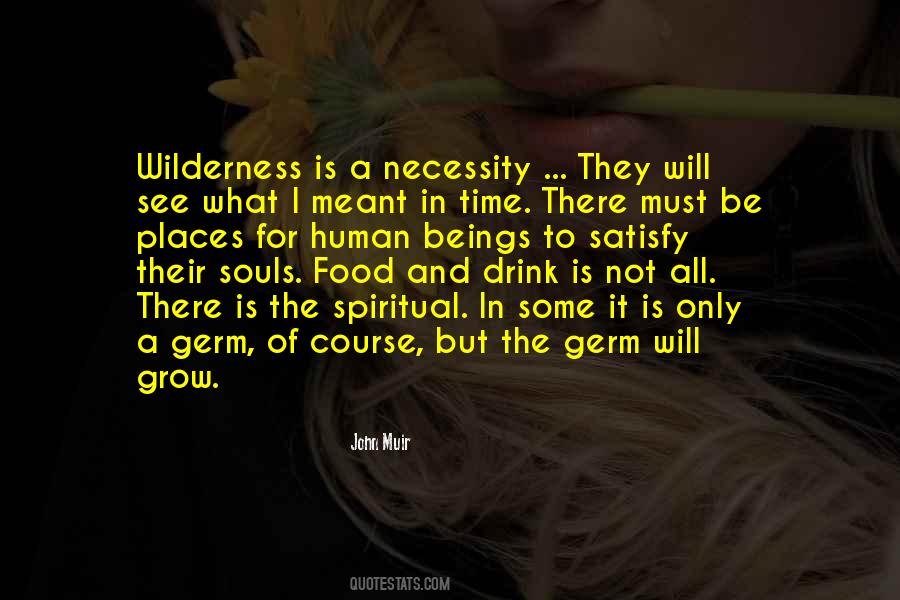 #97. You should not want to know the things in people's minds. If you were meant to hear them, they would be said. - Author: Ivy Compton-Burnett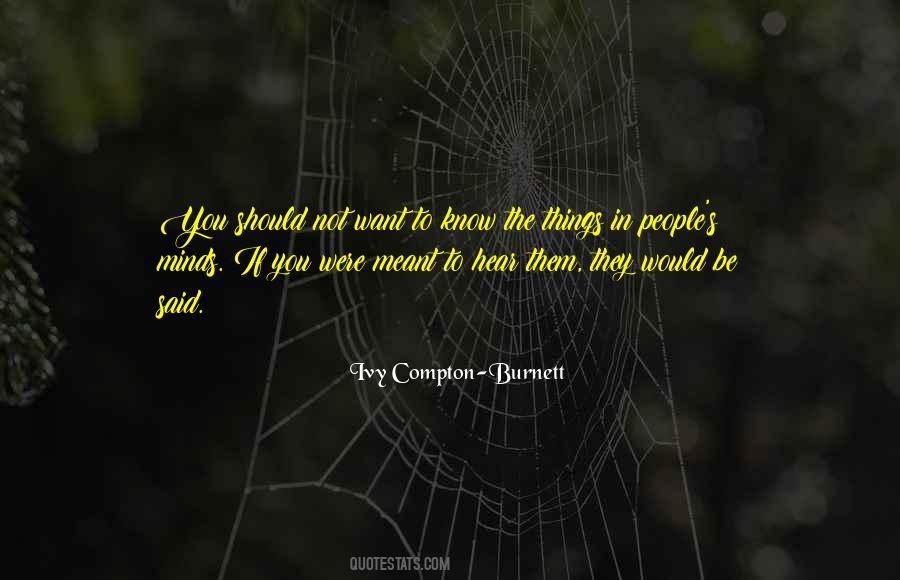 #98. Books like Twilight are not art. They are mass-produced crap that is meant to be consumed by the widest possible audience, for the largest possible profit. - Author: Oliver Gaspirtz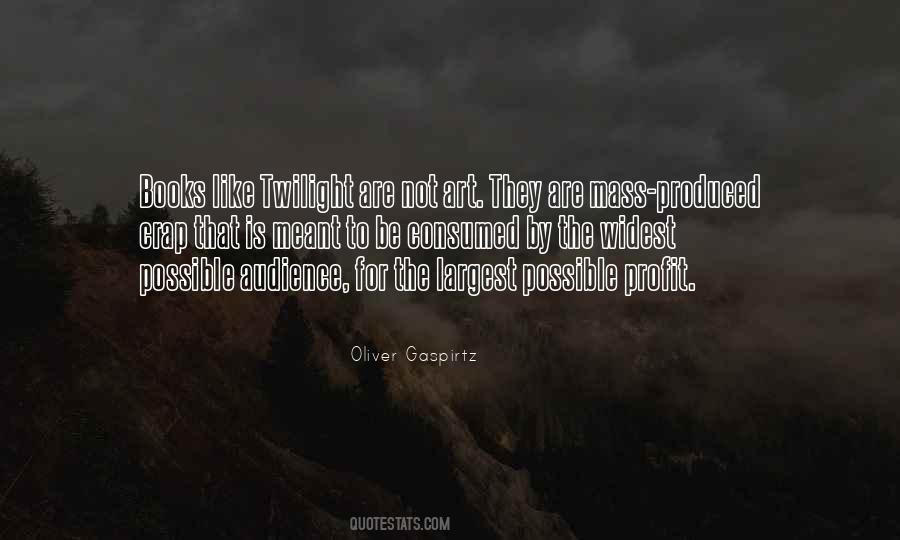 #99. Fears are not meant to be shared; they're meant to be conquered. - Author: Laurell K. Hamilton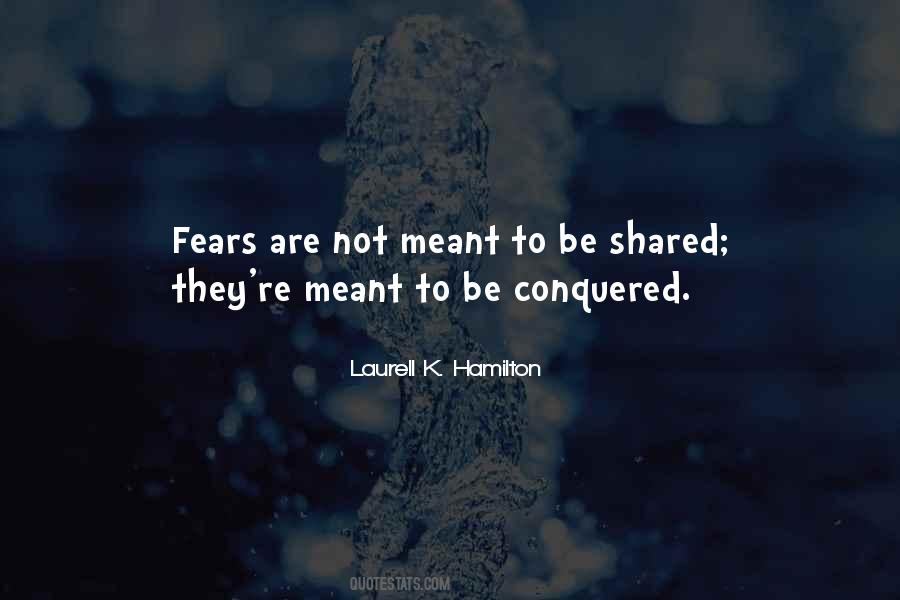 #100. When I was growing up in Terrell, Texas, I felt that it was not where I was supposed to be. I knew that I was meant for a different destination. I think that the minute I was born, there was something inside telling me where I would go, it's like energy - an intangible destiny. - Author: Jamie Foxx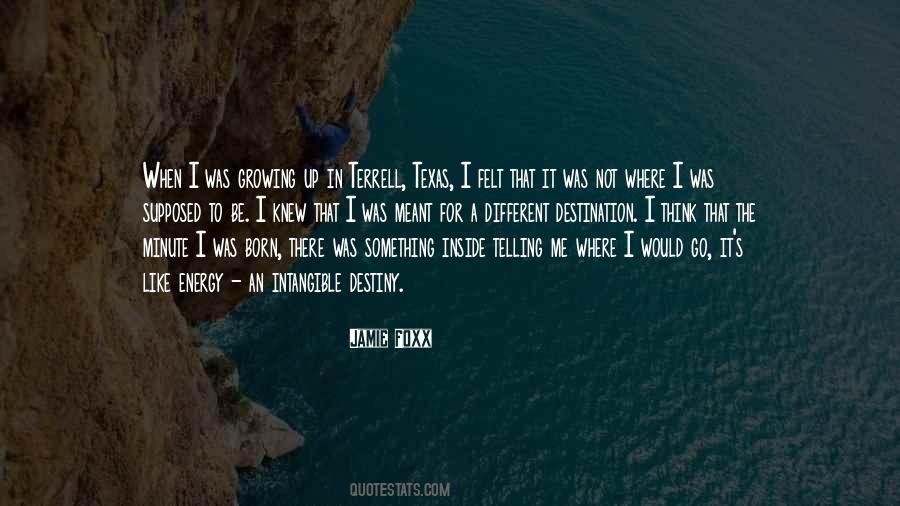 Famous Authors
Popular Topics