Never Being Enough Famous Quotes & Sayings
List of top 77 famous quotes and sayings about never being enough to read and share with friends on your Facebook, Twitter, blogs.
Top 77 Quotes About Never Being Enough
#1. Love was never enough, not without mutual respect and a great deal of drudgery and effort. And even then, it wasn't enough. Wanting each other, being open to change, pushing each other to improve and grow
for the better
working to deserve each other, was the key. - Author: Penny Reid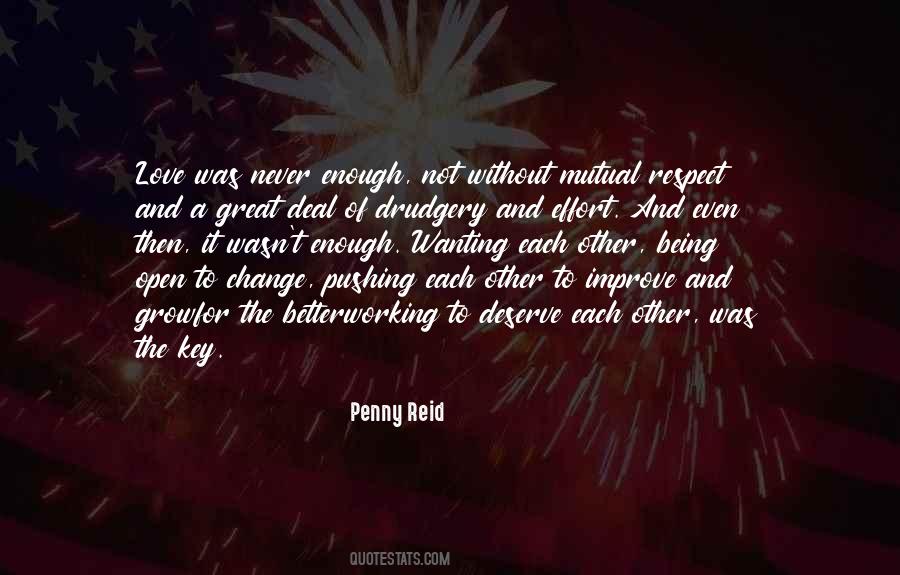 #2. I have enough trouble with useful information, never mind being burdened with what is useless. - Author: Erlend Loe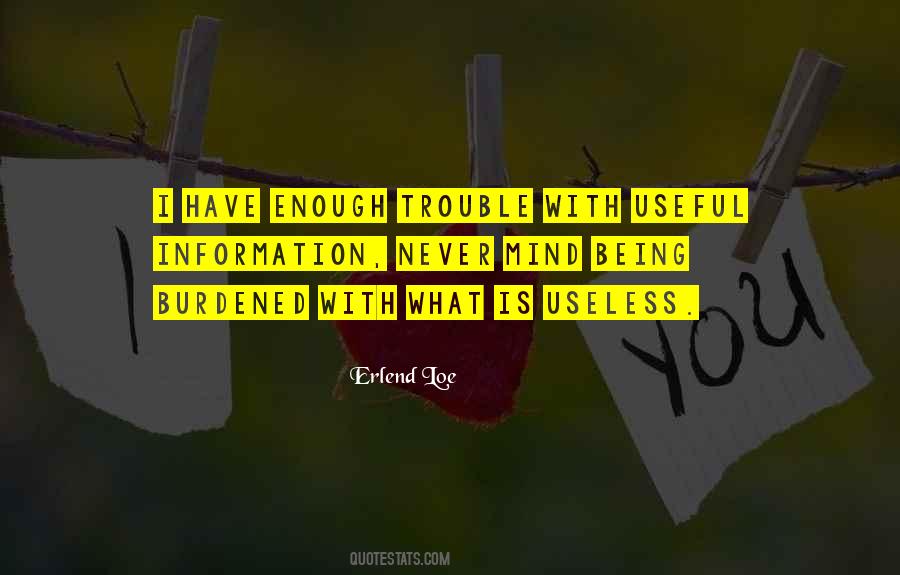 #3. Why did I think back then, that happiness was always just ahead in the future, when I would be an adult, able to make my own decisions, go my own way, be my own person? Why had it seemed that being a child was never enough? - Author: V.C. Andrews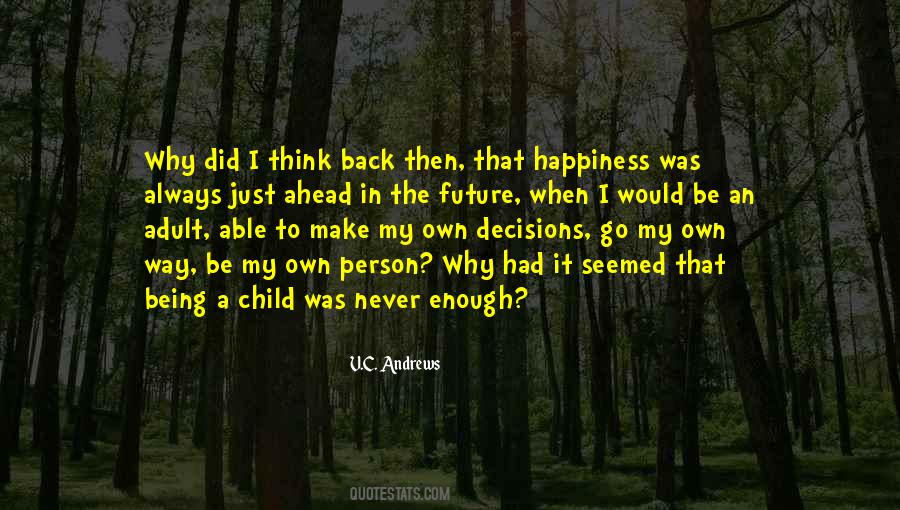 #4. Greatness Can Only Be Achieved With The Realization That Being Good Is Only Good Enough For Those Who Will Never Aspire To Be Great - Author: Jebb A. Rebal
#5. What if you never meet him?
Then I shall die an old maid, was the cheerful response. I daresay it isn't the hardest death by any means.
Oh, I suppose the dying would be easy enough, it's the living an old maid I shouldn't like, said Diana, with no intention of being humorous. - Author: L.M. Montgomery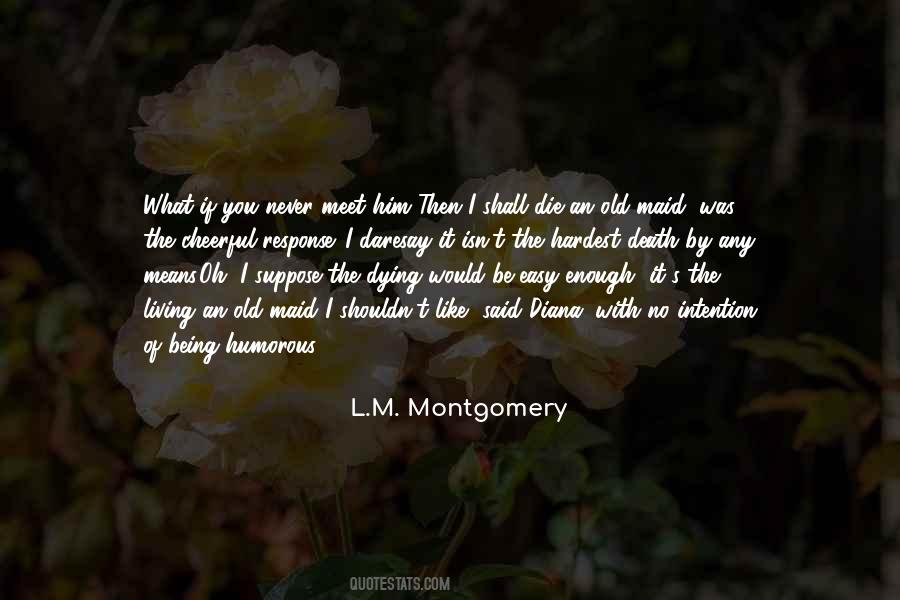 #6. I had always thought that if I just did something extraordinary enough, then people would like me. But that wasn't true. You will drive away everyone by being extraordinary ... . But you, you will never learn your lesson. The world embraces ordinary. The world will never embrace you. - Author: Leila Sales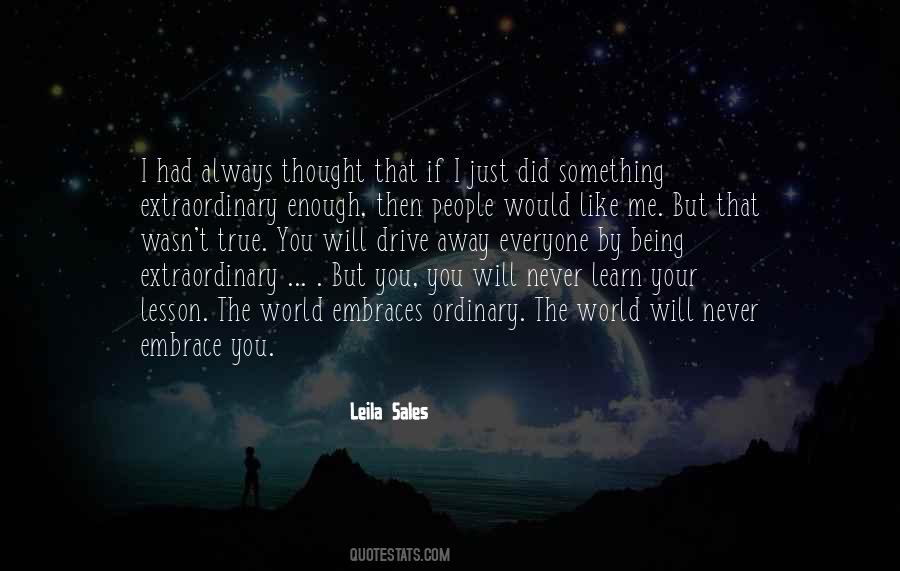 #7. The enemy will do anything to rob my joy of homeschooling and parenting. He wanted me to live in bondage and feel guilty and like I was never doing enough to have me miss the real joy of just being home with my children. - Author: Tamara L. Chilver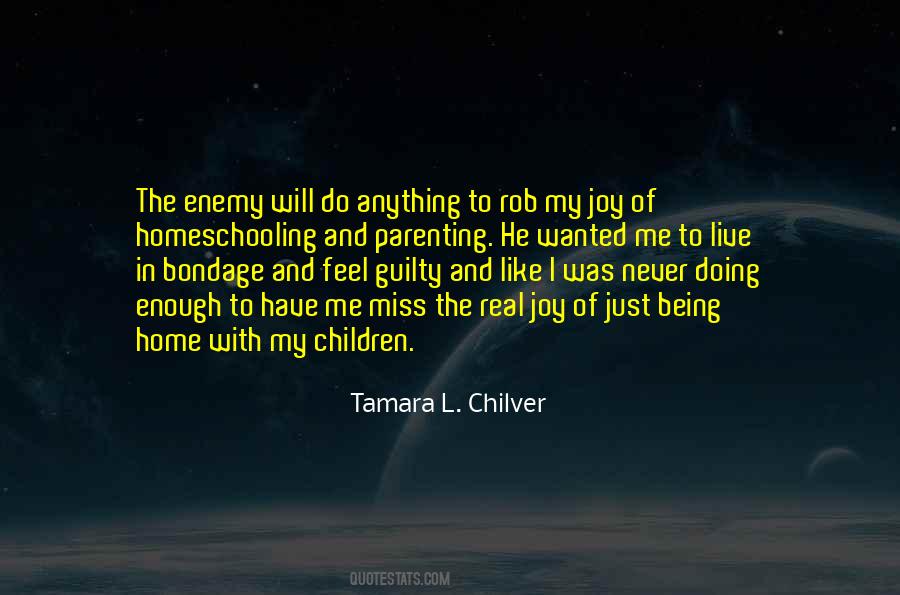 #8. The Jews have never been ashamed of being Jews, whereas homosexuals have been stupid enough to be ashamed of their homosexuality. - Author: Rainer Werner Fassbinder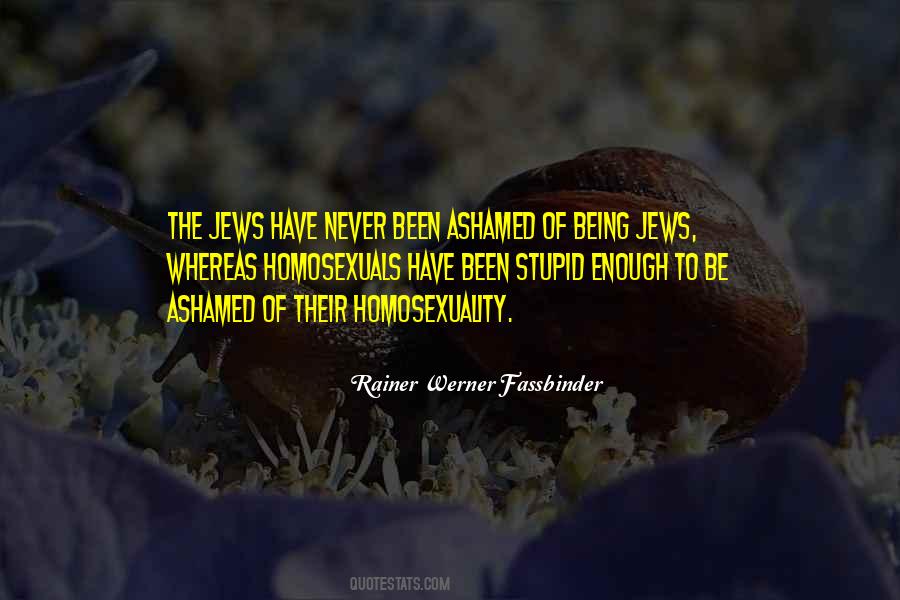 #9. None of it lay fallow and neglected, none of it under another's control; for being an extremely thrifty guardian of his time he never found anything for which it was worth exchanging. So he had enough time; but those into whose lives the public have made great inroads inevitably have too little. - Author: Seneca.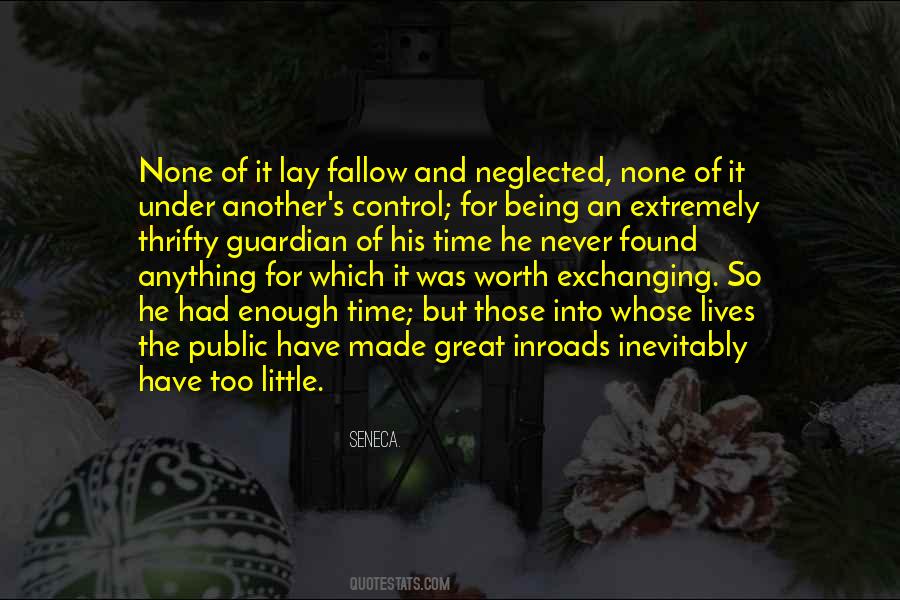 #10. You told me never to be in a hurry to fail. That the end result should be strong enough to carry anything I did forward, not just good enough to hold it together for the time being. - Author: Melissa Foster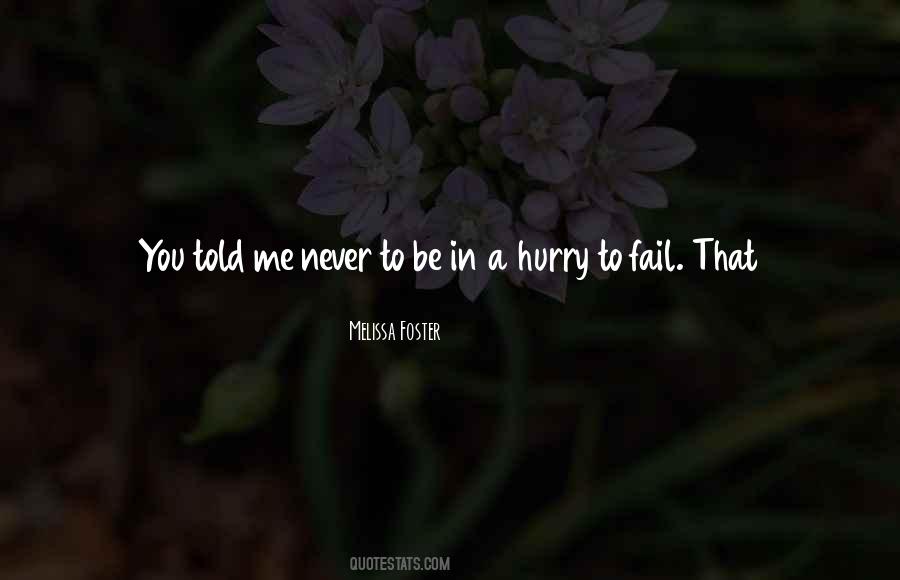 #11. But now I saw the real problem with chasing after a man. It wasn't a matter of being unseemly or socially unacceptable or not playing the game right. It was just this: if I chase him, I'll never really know if he cares enough to chase me. - Author: Laura Jensen Walker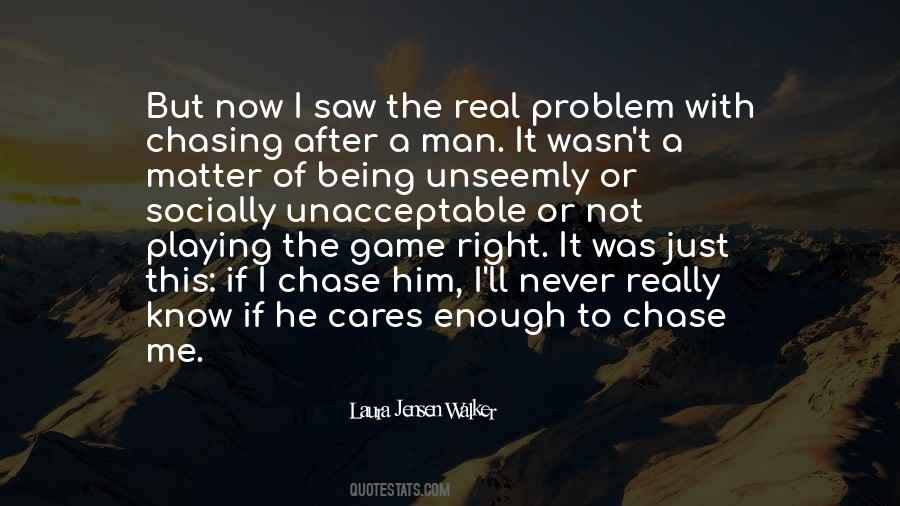 #12. I'm never angry at anybody! No human being can do anything important enough for that. You get angry at people when you feel that their acts are important. I don't feel that way any longer. - Author: Carlos Castaneda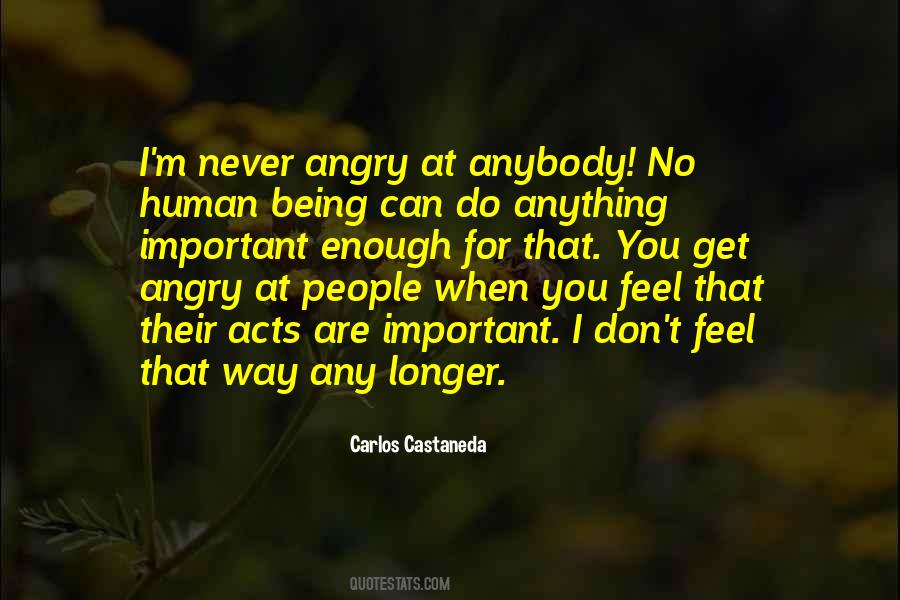 #13. ...for those of us who never do these things at all, there can be a great sense of shame that washes over us for not being a good enough Christian. - Author: Emily P. Freeman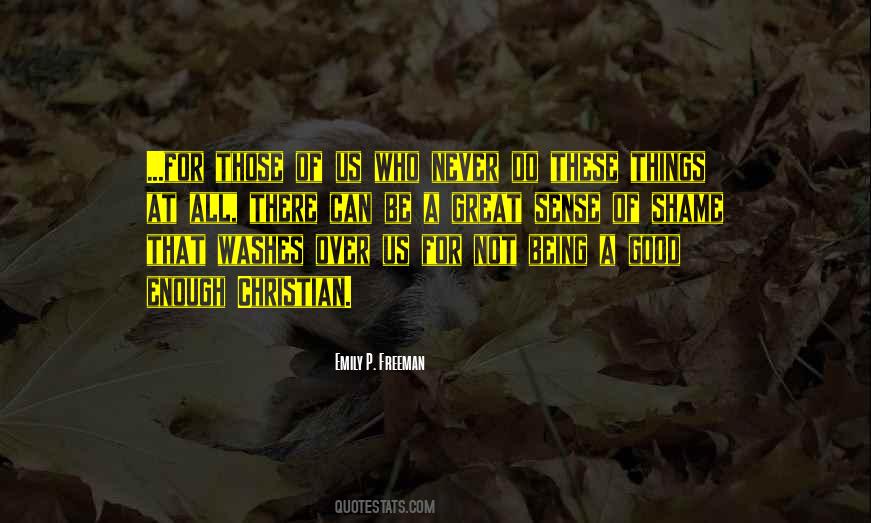 #14. Being rich isn't about money. Being rich is a state of mind. Some of us, no matter how much money we have, will never be free enough to take time to stop and eat the heart of the watermelon. And some of us will be rich without ever being more than a paycheck ahead of the game. - Author: Harvey MacKay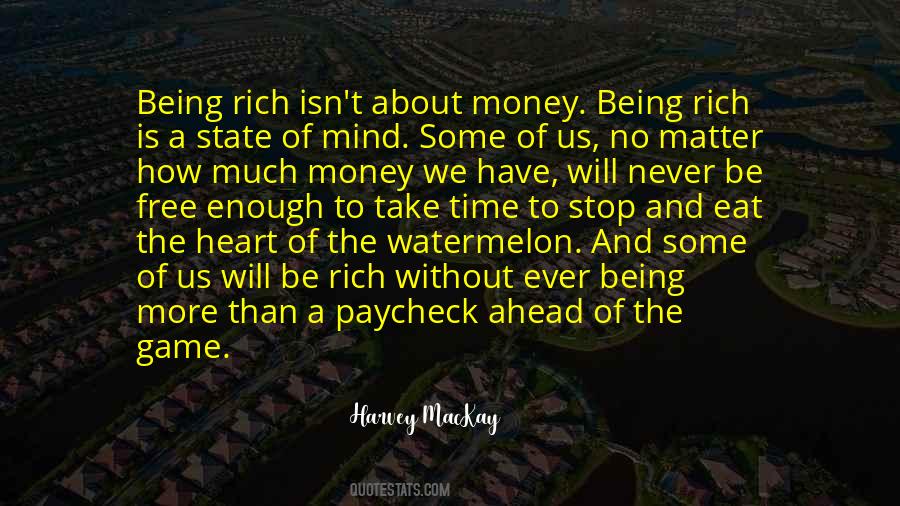 #15. I am perfectly confident that I could never adequately convey to any other human being the precise reasons why I continue to refrain from suicide
the reasons, that is, why I still find existence enough of a compensation to atone for its dominantly burthensome quality. - Author: H.P. Lovecraft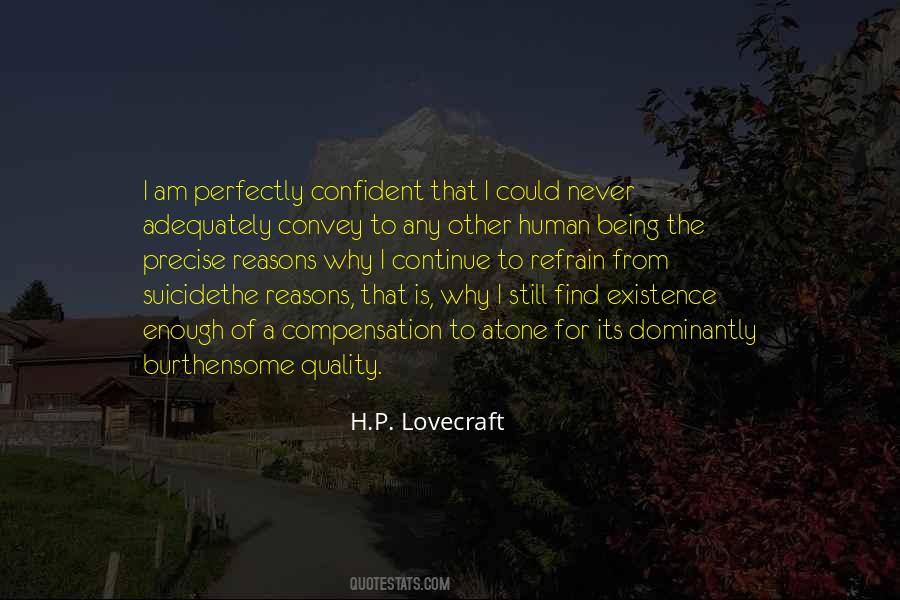 #16. For this, that now was coming, he had very little curiosity. For years it had obseessed him; but now it meant nothing in itself. It was strange how easy being tired enough made it.

Now he would never write the things he had saved to write, until he knew enough to write them well - Author: Ernest Hemingway,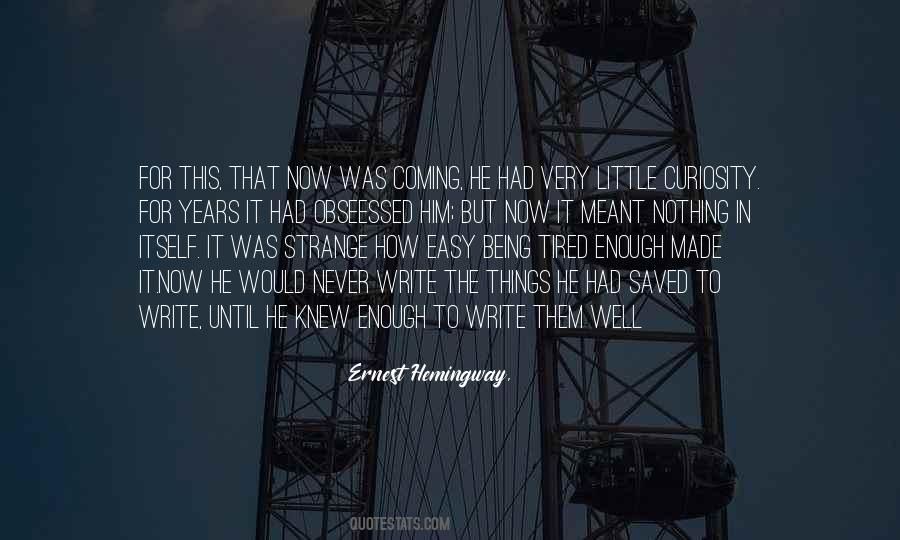 #17. She was different. She liked hearing it, because she wanted to recall just enough of it to remember that she never wanted to go back to being the person she'd been before. - Author: Harriet Evans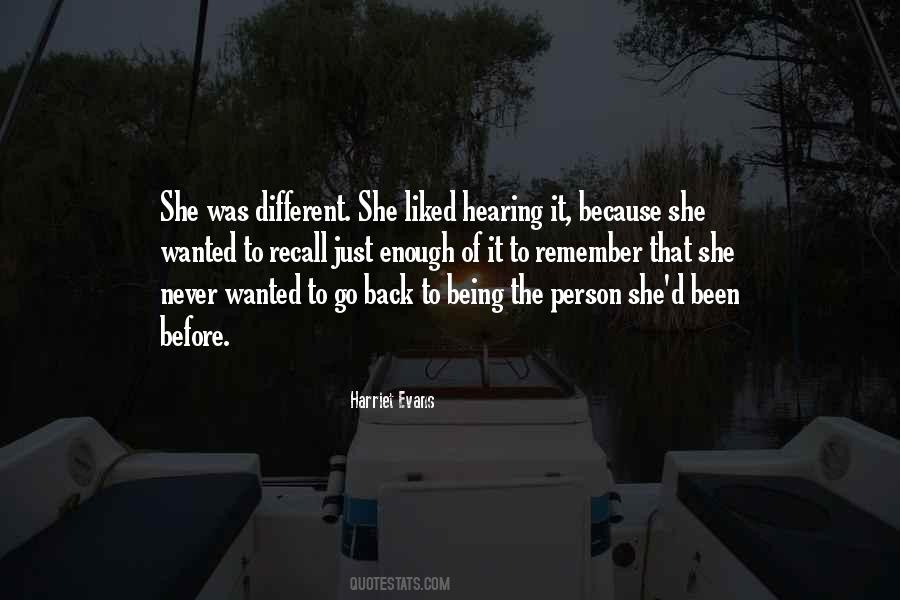 #18. I never pursued voice hard enough. I've done musicals here and there, but I was never dedicated to really being one of these fantastic, operatic kind of singers that you have to be in some of these musicals. - Author: Allison Tolman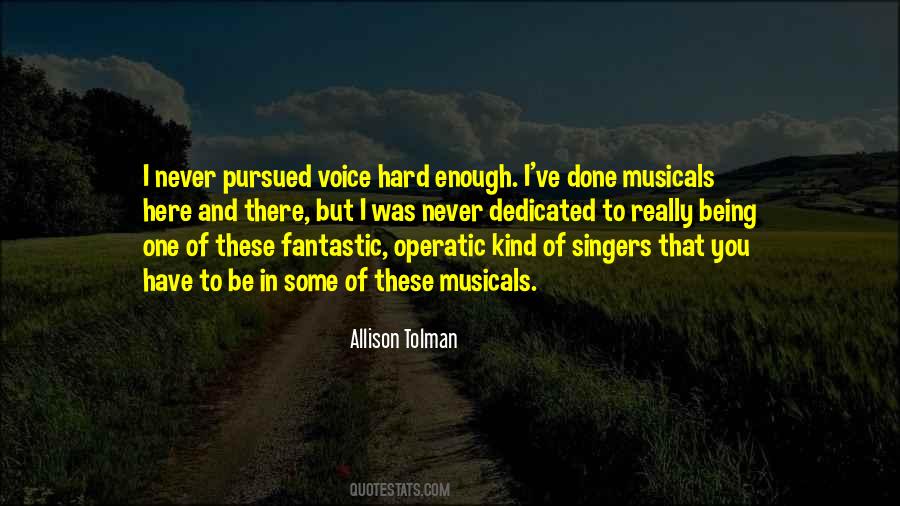 #19. Being good enough never is. - Author: Debbi Fields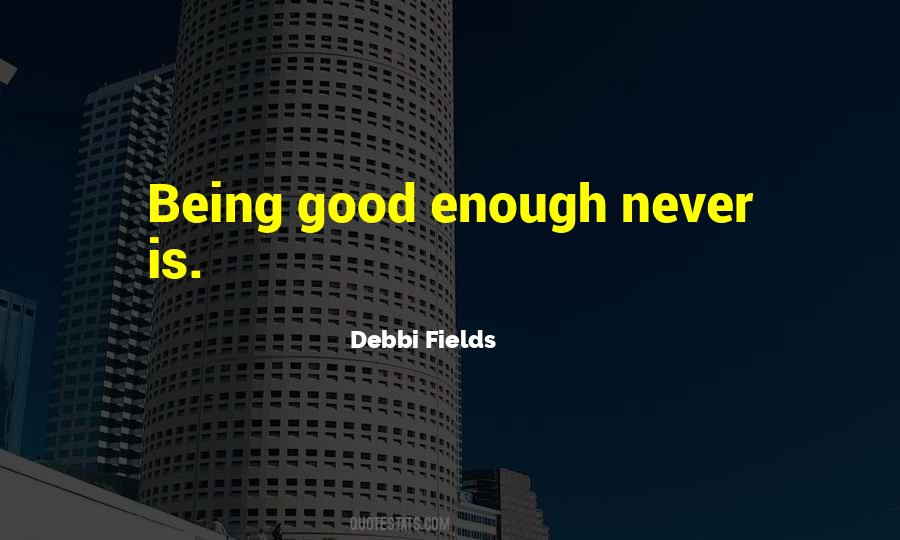 #20. I think the Thompsons had got a sort of fatal illness about three albums ago and it just took this long to find out that enough was enough. And we became increasingly frustrated by ... I don't know, we want to get into the areas that being a pop group never allowed you to get into. - Author: Tom Bailey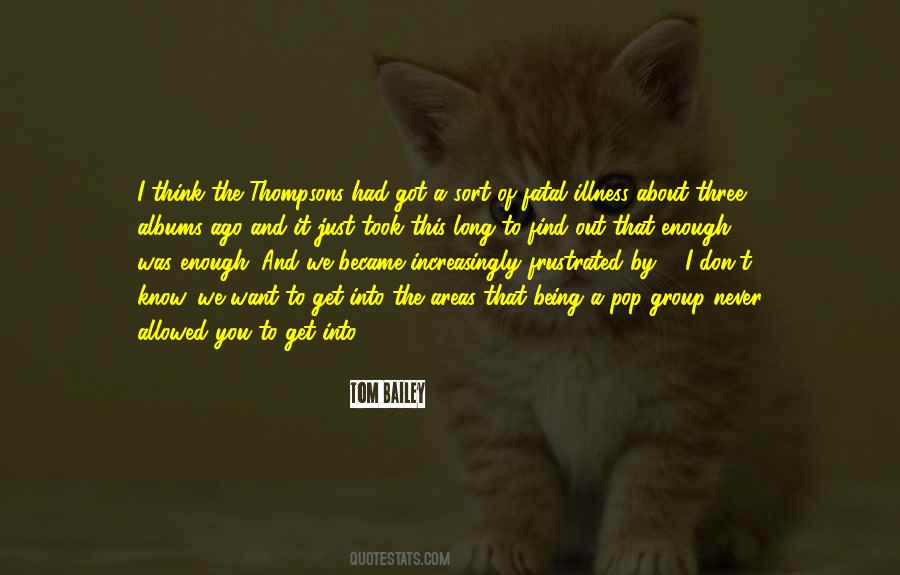 #21. I wonder if the greatest temptation is self-rejection. Could it be that beneath all the lures to greed, lust, and success rests a great fear of never being enough or not being lovable? - Author: Henri J.M. Nouwen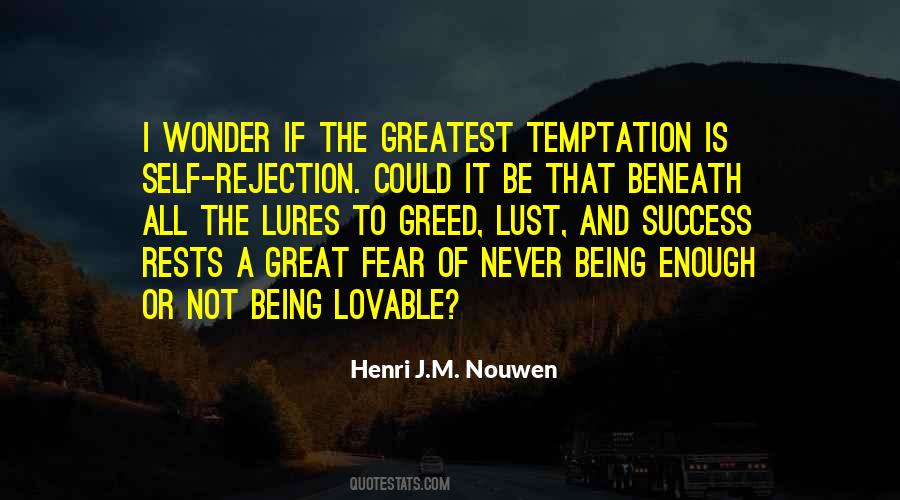 #22. We wake sleeping, and sleep waking. I do not see so clearly in my sleep; but as to my being awake, I never found it clear enough and free from clouds. - Author: Michel De Montaigne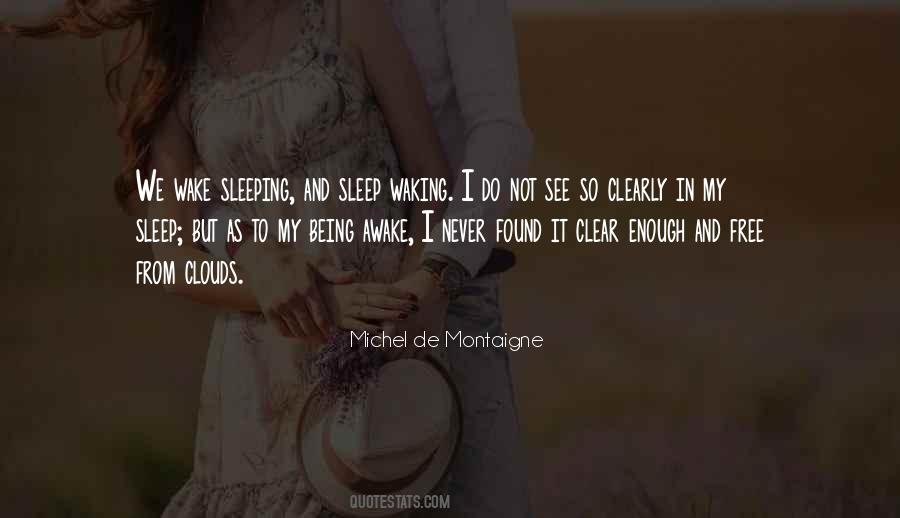 #23. The secret to your purpose is to find what you feel is important, and not pursue what others would think is important. When you think highly of yourself, me thinking highly of you will never be enough! - Author: Shannon L. Alder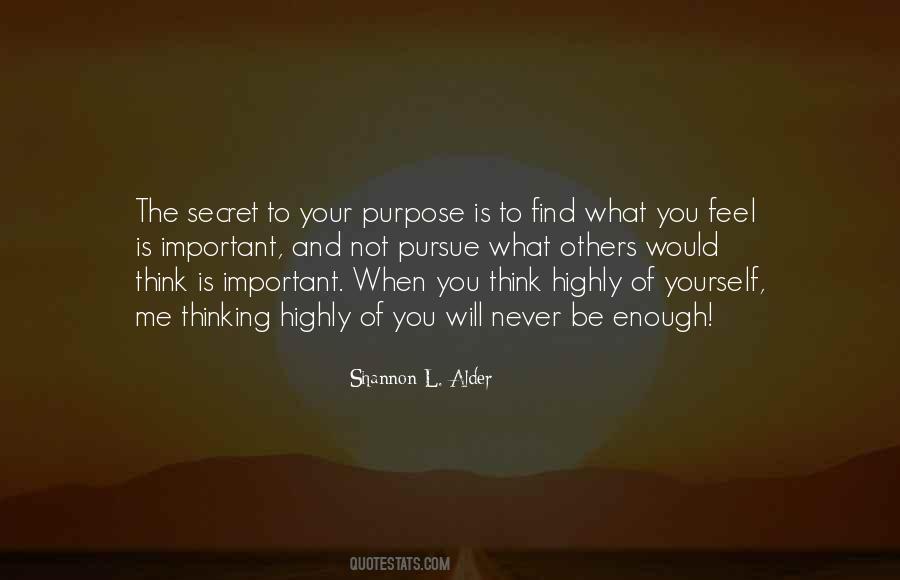 #24. I never thought I'd be a role model this early. It caught me off-guard, but it says a lot about how I was brought up, what my values have been, and how my parents raised me. It's very flattering that being myself is enough to be a role model. - Author: Danica Patrick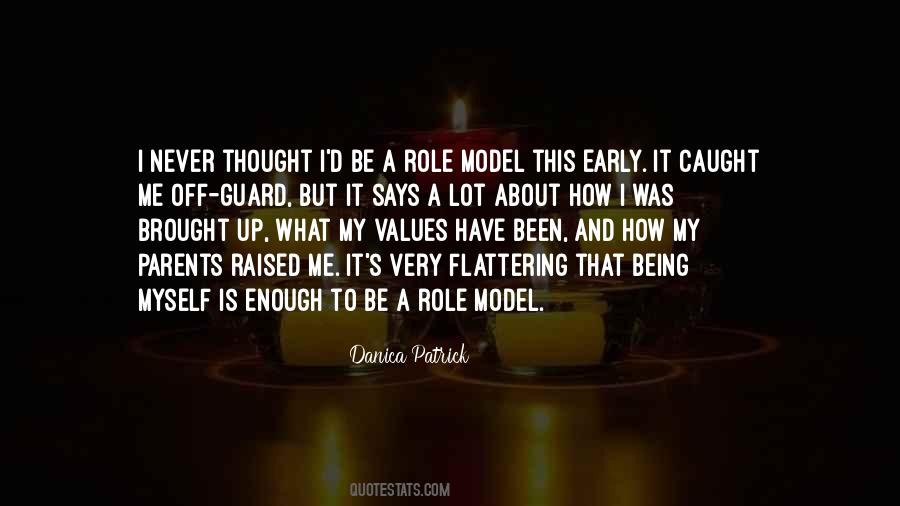 #25. I had gotten so used to being alone, but never entirely used to it. Never used to it enough to stop wanting the alternative. - Author: David Levithan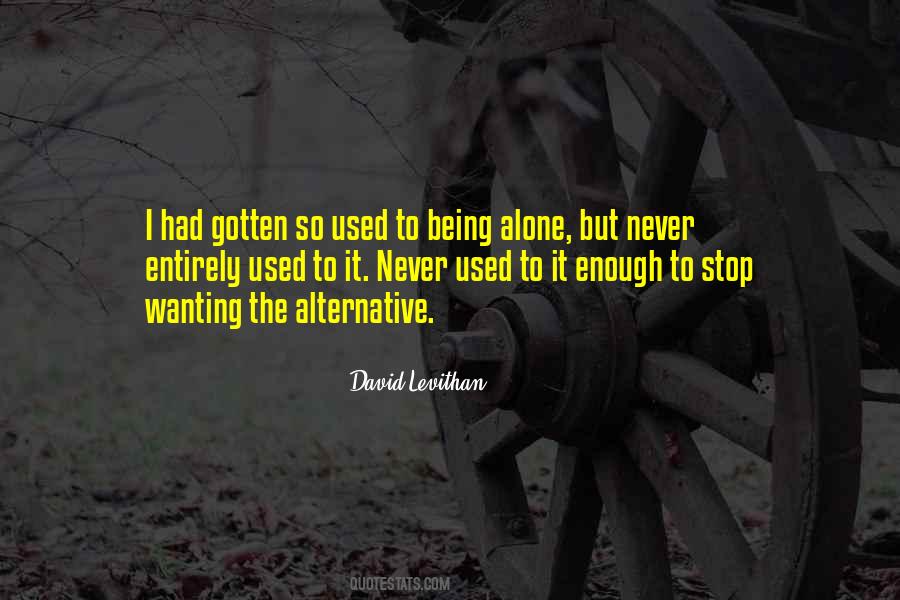 #26. Maybe my time's running out, but at least I'm living. And if that's what it is for you, being here inside where nothing ever happens, where you think you're safe, then stay. Stay right here and you let me know how that works for you.
Bacause I'm gessing it'll never be enough. - Author: John Corey Whaley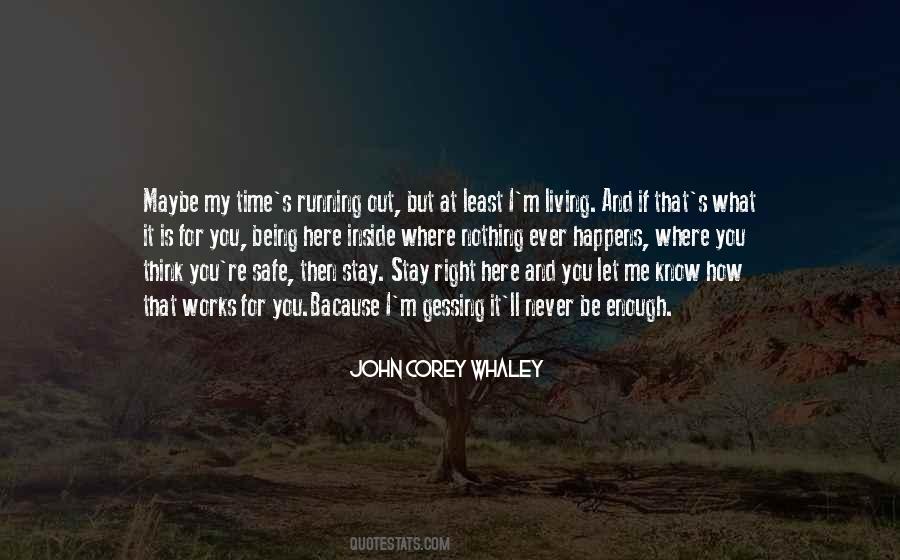 #27. When a writer's whole being is poured into a piece of work, there is never enough. The feeling of finally getting to the end of a piece of work, of making it as good as you can at that moment, is more of a relief than anything else, and then you wait for reviews. - Author: Dani Shapiro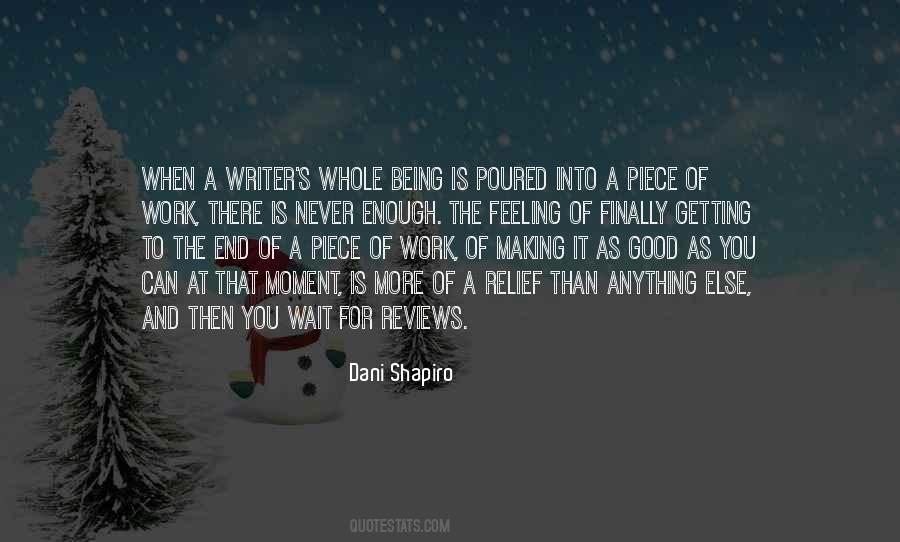 #28. One couple described the effects as being, "dated hard, married quick, and then ignored." They got into church alright, but the church never got into them; they were let in easily enough, but they never felt they were counted on. - Author: Sue Mallory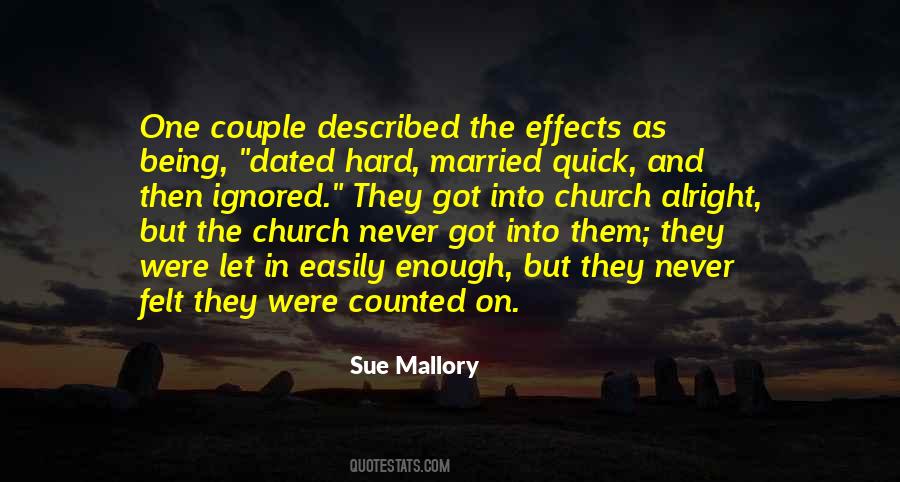 #29. The Fawleys were not made for wedlock: it never seemed to sit well upon us. There's sommat in our blood that won't take kindly to the notion of being bound to do what we do readily enough if not bound ... - Author: Thomas Hardy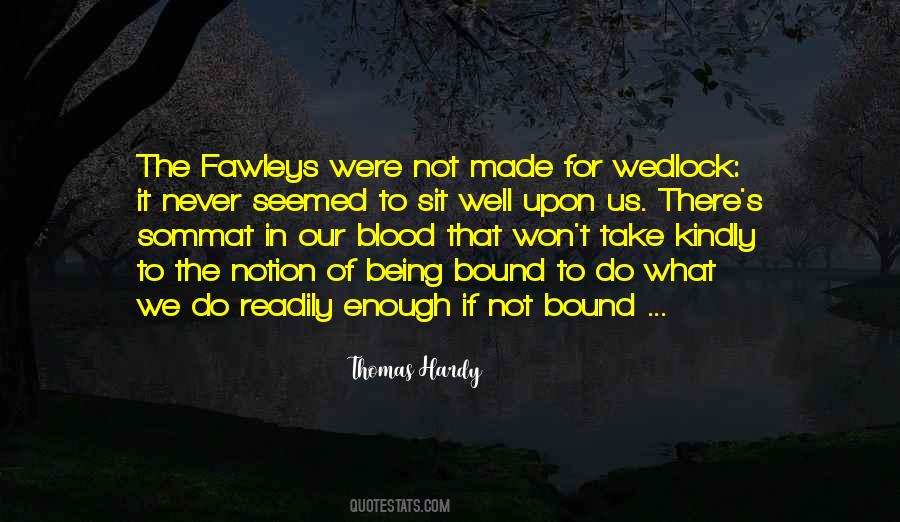 #30. They were bound together by the things they'd done. Things the nobility could never comprehend being desperate enough to do - Author: Lorraine Heath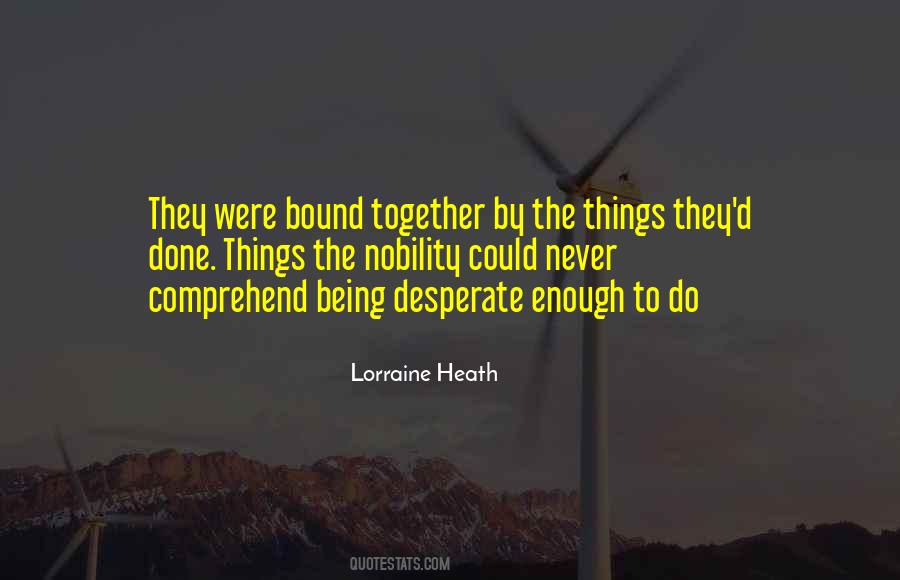 #31. When I look at narcissism through the vulnerability lens, I see the shame-based fear of being ordinary. I see the fear of never feeling extraordinary enough to be noticed, to be lovable, to belong, or to cultivate a sense of purpose. - Author: Brene Brown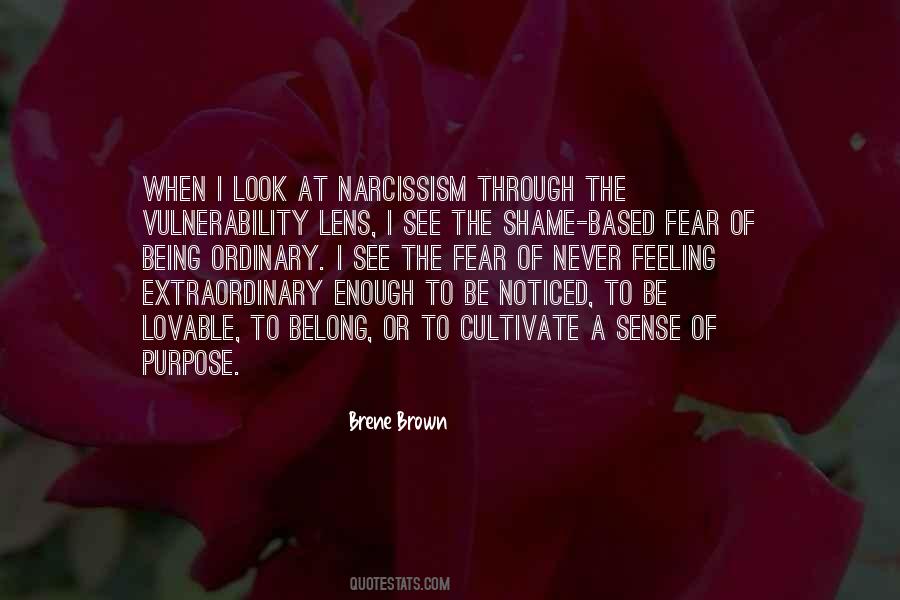 #32. I don't argue things being spiritual vs scientific, because I've never met anyone who knows enough about either to be convincing
including myself. - Author: S. Kelley Harrell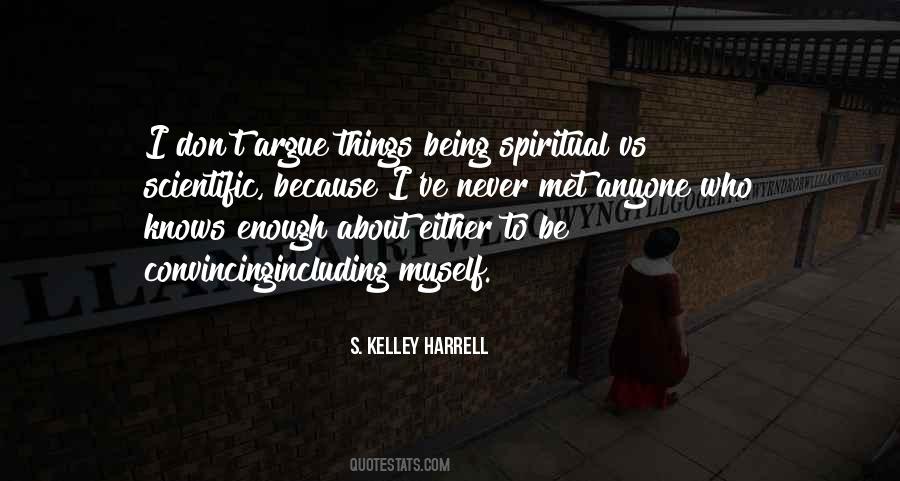 #33. More like a door being opened a tiny crack to let a sliver of light in. It wasn't enough to see clearly by, but from then on, we would never be fully in the dark again. - Author: Sarah Dessen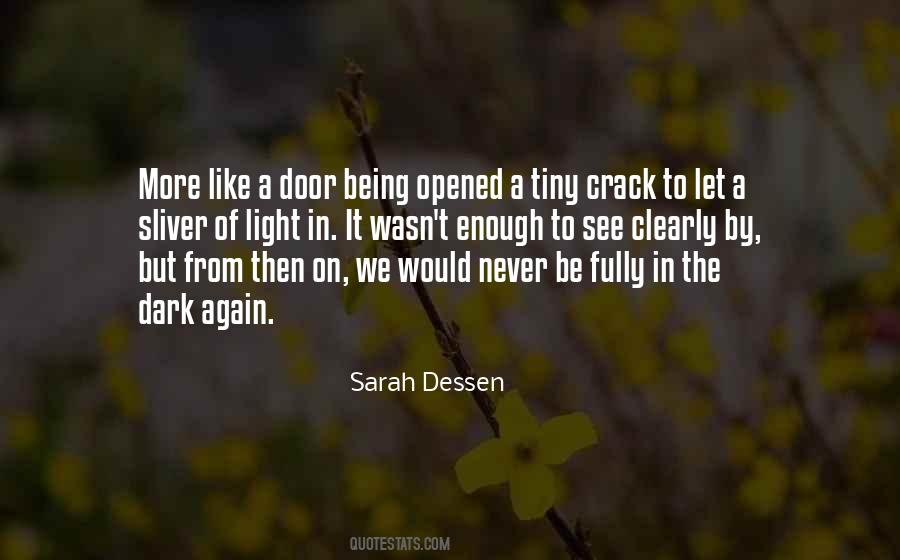 #34. I knew Rita Hayworth only enough to know that she was just a tender, sensitive, beautiful human being. A lovely person. Very gentle. She would never stand up for her rights. - Author: Kim Novak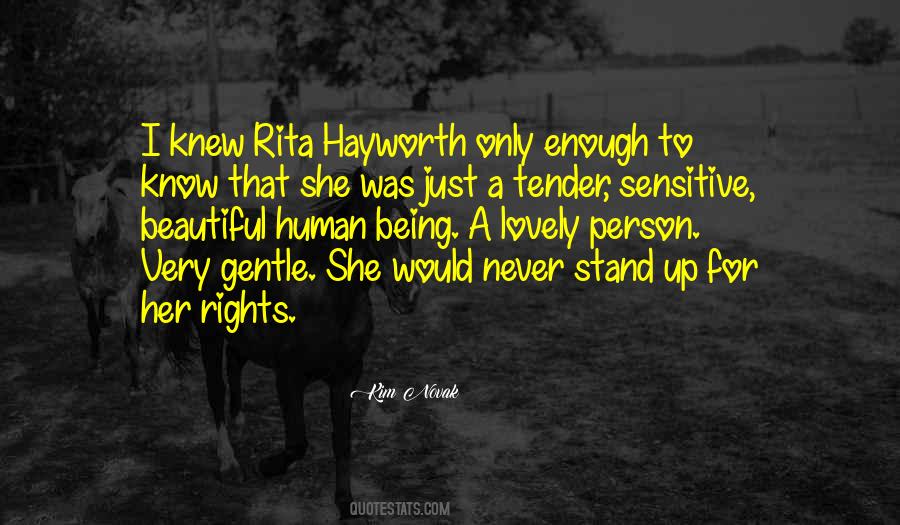 #35. You're always in a rush, or else you're too exhausted to have a proper conversation. Soon enough, the long hours, the traveling, the broken sleep have all crept into your being and become part of you, so everyone can see it, in your posture, your gaze, the way you move and talk. - Author: Kazuo Ishiguro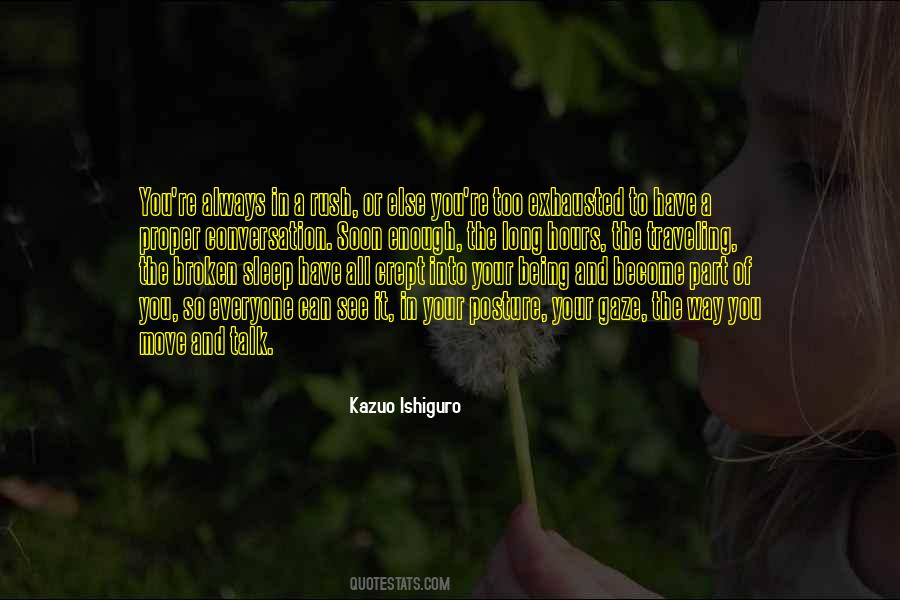 #36. I'm not interested in politics, or being a part of them. I definitely do my homework and make sure that I know what's going on, and I'm responsible enough to be able to vote for people that I respect. But other than that, I've never been a part of the political world. - Author: Kate Mara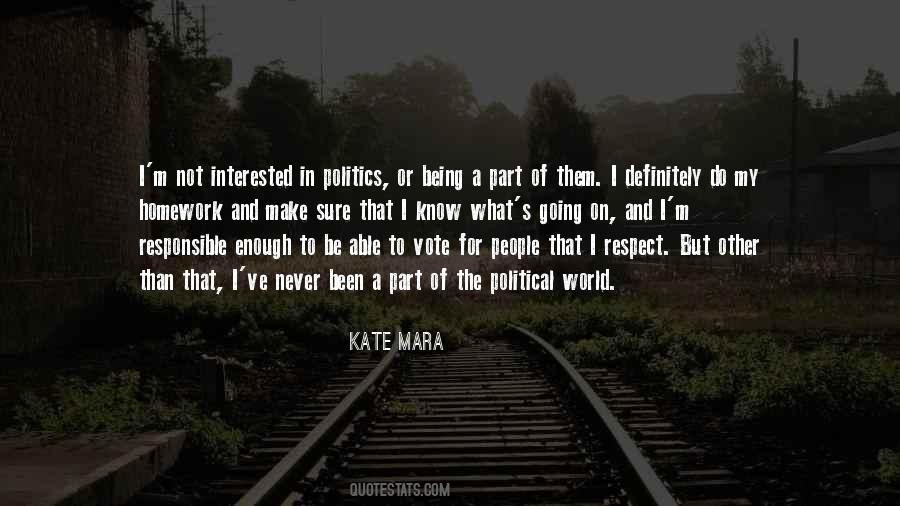 #37. I've once gotten in trouble with certain gay activists because I'm not gay enough! I am a morose homosexual. I'm melancholy. Gay is the last adjective I would use to describe myself. The idea of being gay, like a little sparkler, never occurs to me. So if you ask me if I'm gay, I say no. - Author: Richard Rodriguez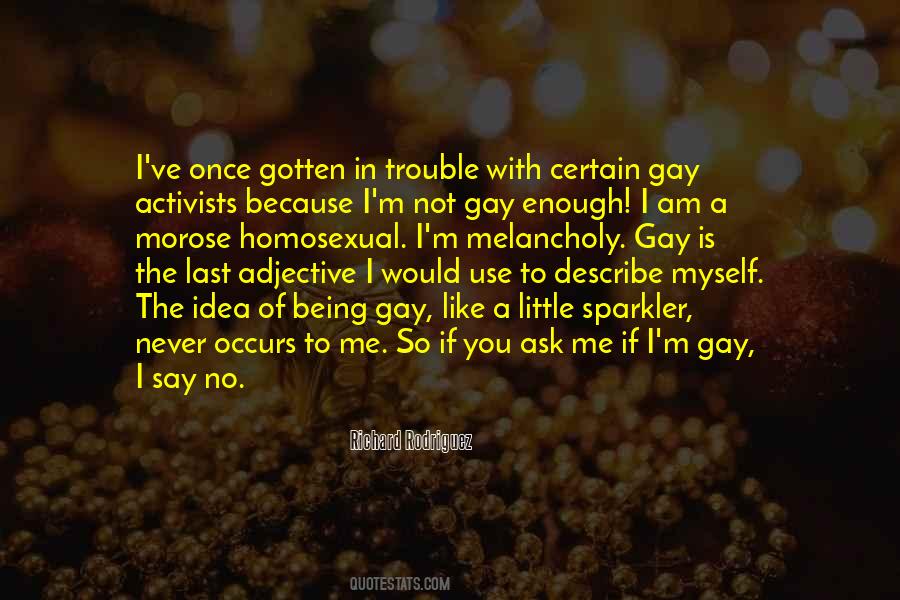 #38. There are some people who will never see you as being good enough. That is their short-coming not yours. Be merciful enough to yourself to cut them out of your life. - Author: Steve Maraboli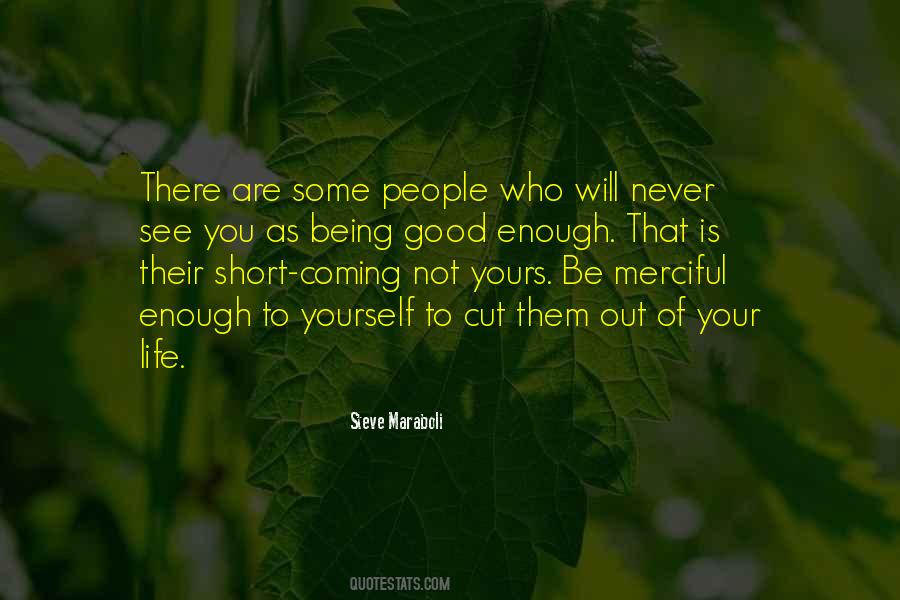 #39. My biggest ambition is never to be bored. I'm not aggressive enough to strongly run after being an actress. - Author: Anjelica Huston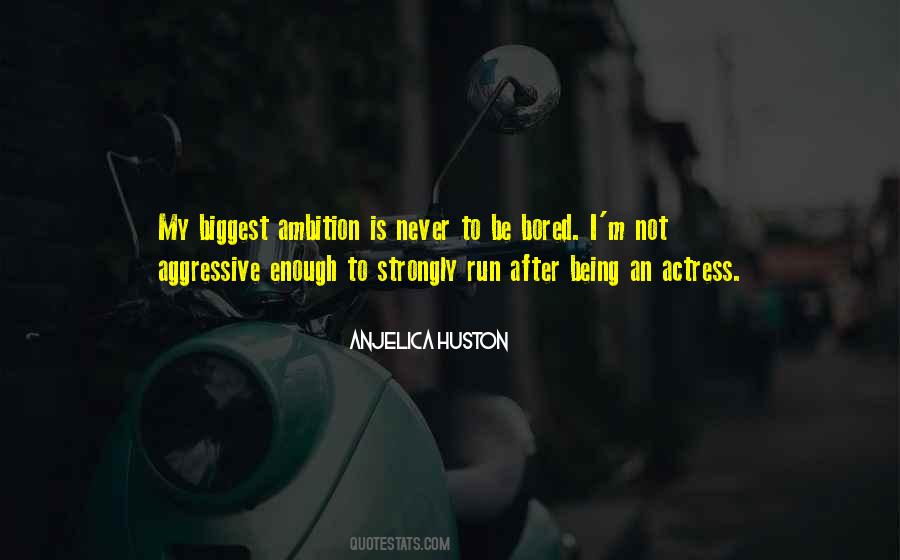 #40. It's never simple." Avery slid an arm around Hope's waist. "It shouldn't be. Because being with someone should matter enough to be at least a little bit complicated. - Author: Nora Roberts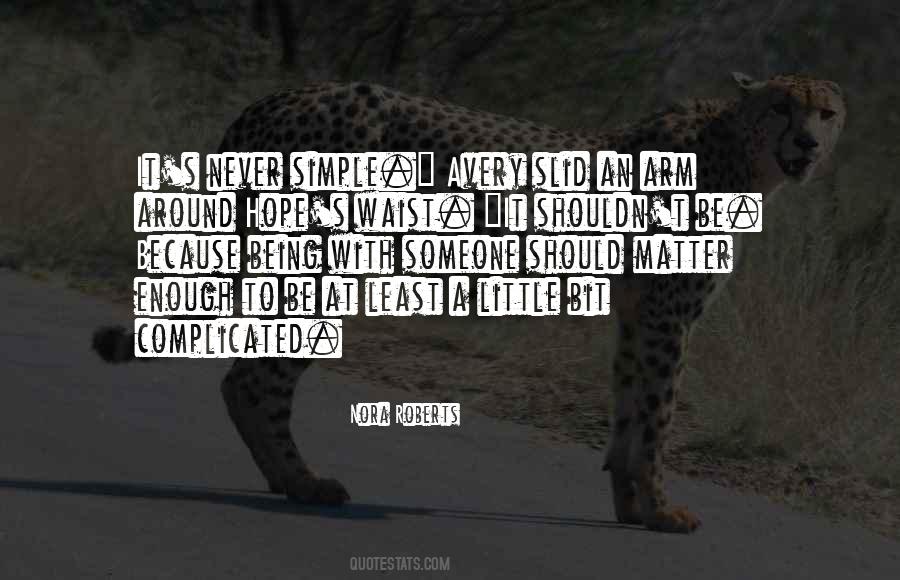 #41. I just love entertaining. I will do anything - stand-up comedy, video games, fencing, internet shorts - I just want to keep being lucky enough to entertain people anyway I can. I try never to limit my art to a medium. - Author: Matthew Gray Gubler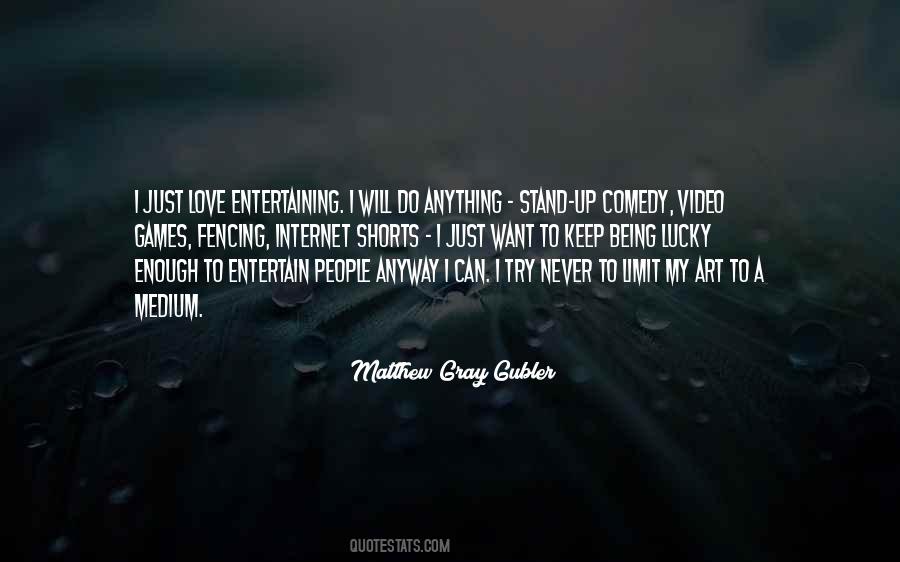 #42. I remember being influenced by great artists when I was a kid - not to call myself a great artist - but people who I thought were great enough that they really made a difference. And so I would never want to be disappointed by them, and I want to make sure I never disappoint audience. - Author: Sarah Jones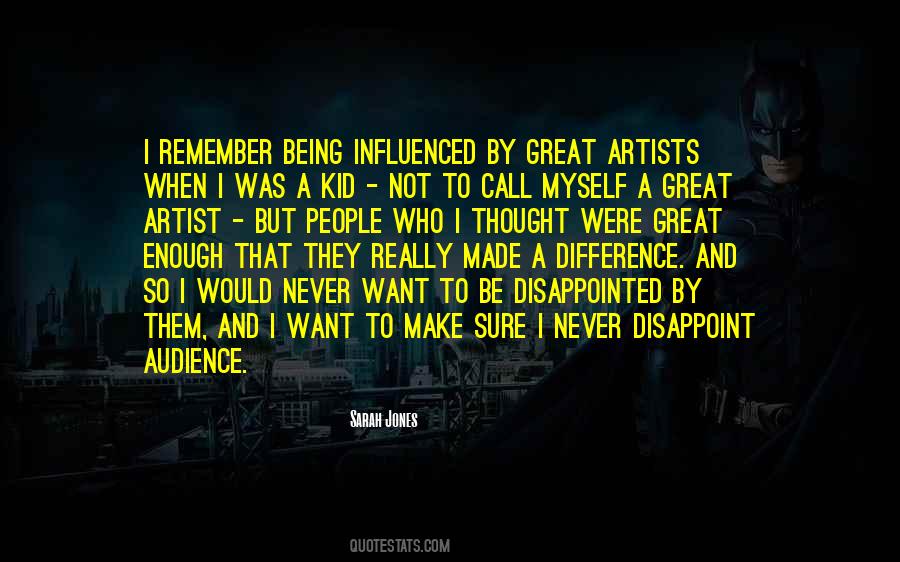 #43. Don't let others discourage you from writing. Your peers will never see your point of view and they don't have to its your story, your journey; but keep writing and become good enough so that they will notice you as the very thing they tried to steer you from. Being a writer. - Author: K.T. Hunter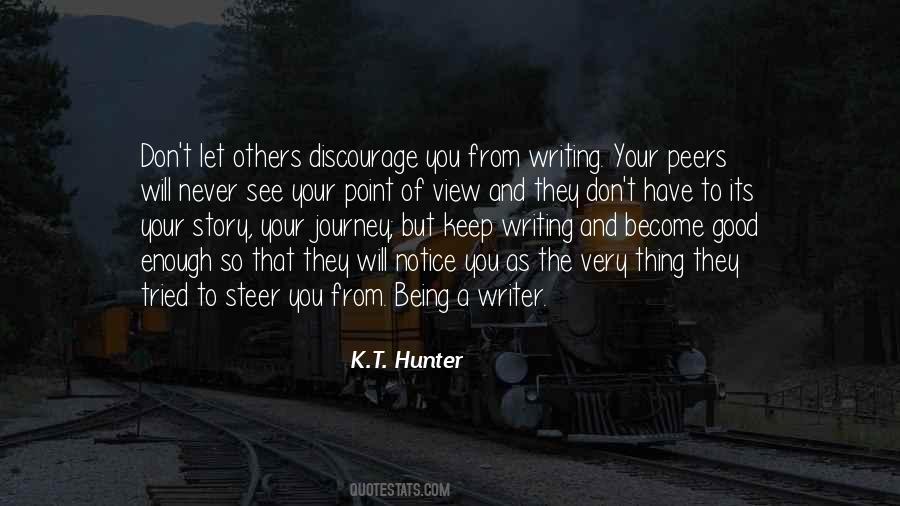 #44. I have never known a novel that was good enough to be good in spite of its being adapted to the author's political views. - Author: Edith Wharton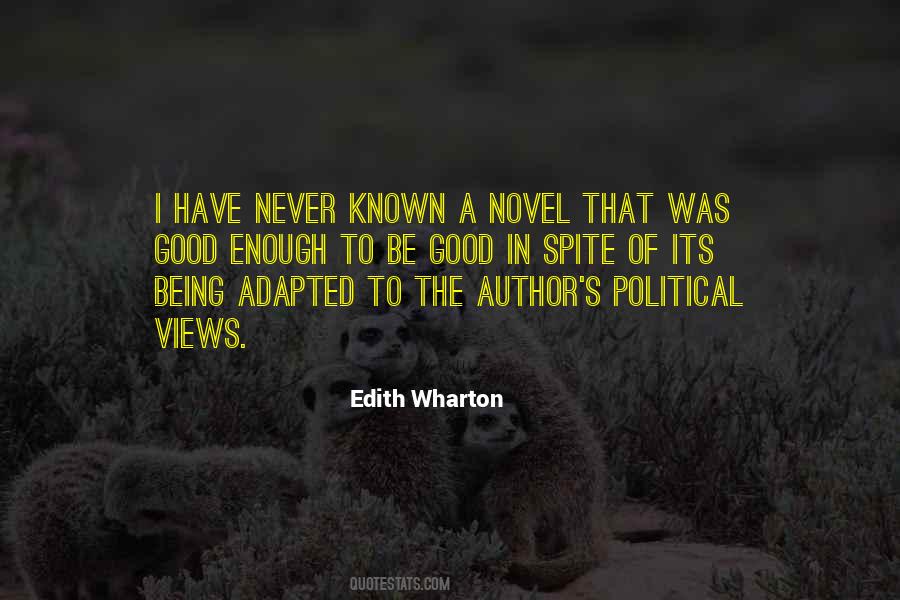 #45. I love being called NTR's grandson. I never moved away from his shadow, maybe because I didn't try enough or maybe because I like it this way. - Author: N. T. Rama Rao Jr.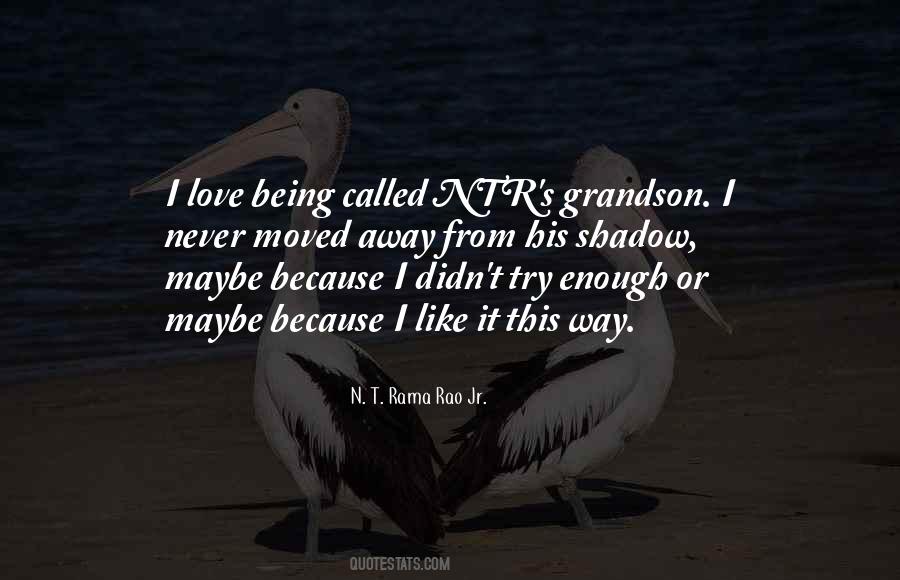 #46. It takes no effort to love. The state has its own innate joy. Questions answer themselves if you are aware enough. Life is safe; flowing with the current of being is the simplest way to live. Resistance never really succeeds. Controlling the flow of life is impossible. - Author: Deepak Chopra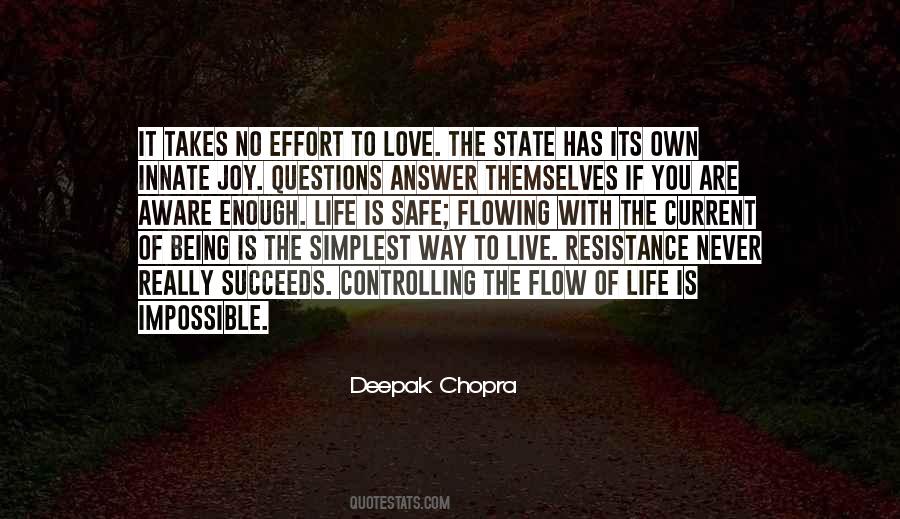 #47. Finny never tells anyone how he is feeling; you just have to know him well enough to understand when he is sad or scared. Today his expression does not tell me how he feels about me being over here. Either he couldn't care less, or he could be annoyed. - Author: Laura Nowlin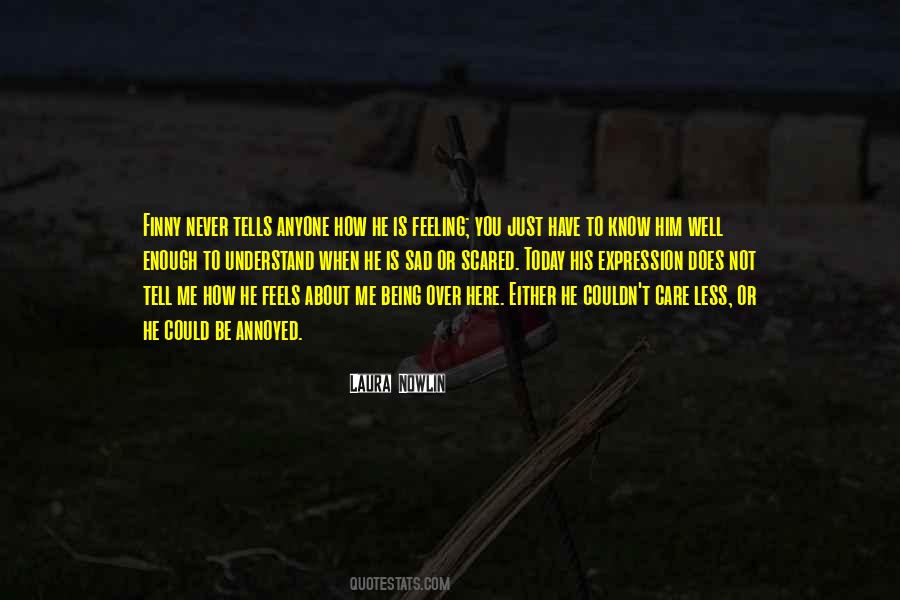 #48. I don't have a burning desire to go out and document anything. It just happens when it happens. It's not a conscious effort, nor is it a struggle. Wouldn't do it if it was. The idea of the suffering artist has never appealed to me. Being here is suffering enough. - Author: William Eggleston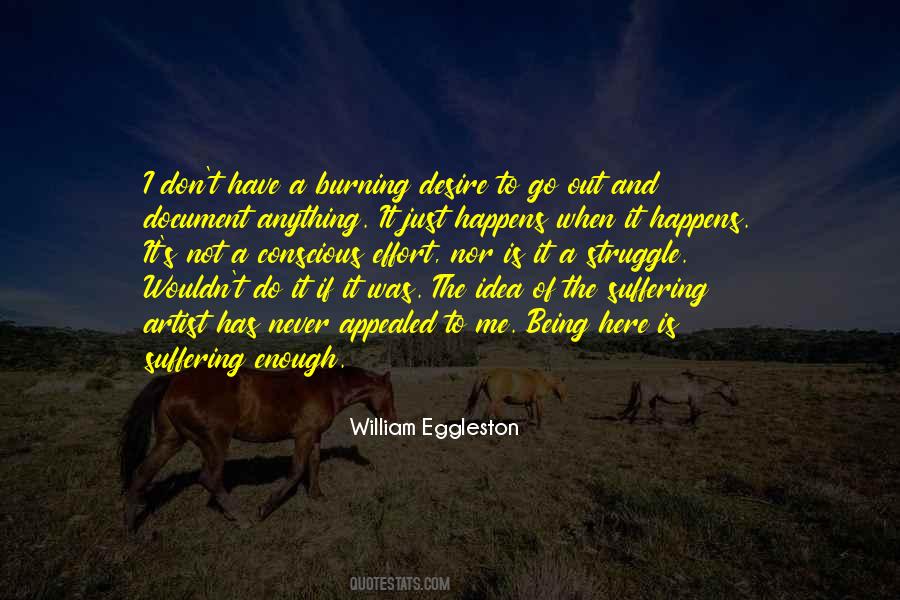 #49. Poverty isn't being broke; poverty is never having enough. - Author: Betty Jane Wylie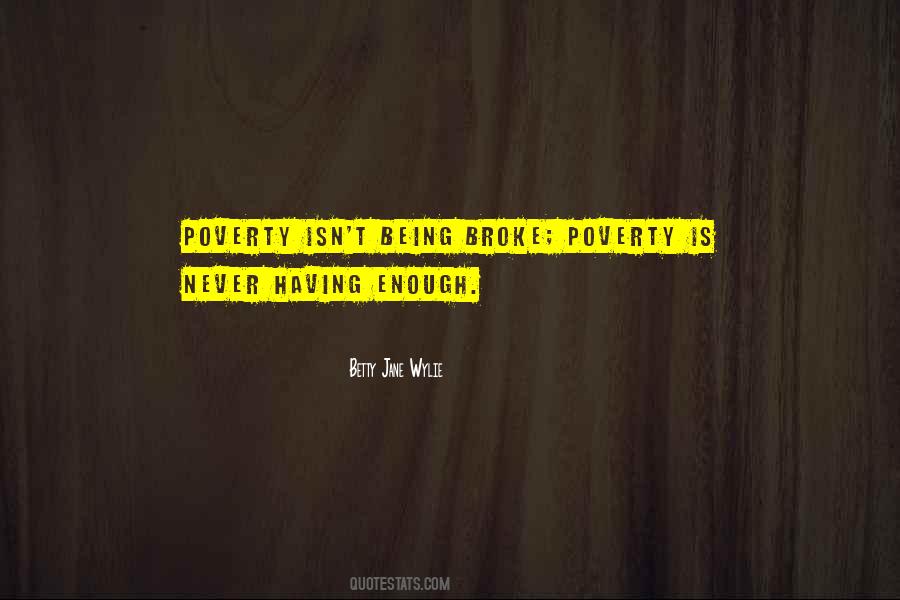 #50. There's not one human being on the planet earth who has never felt, at some point, unaccepted. At some point in our lives, we feel like we're not good enough, but we have to step back and realize that we are. - Author: Jussie Smollett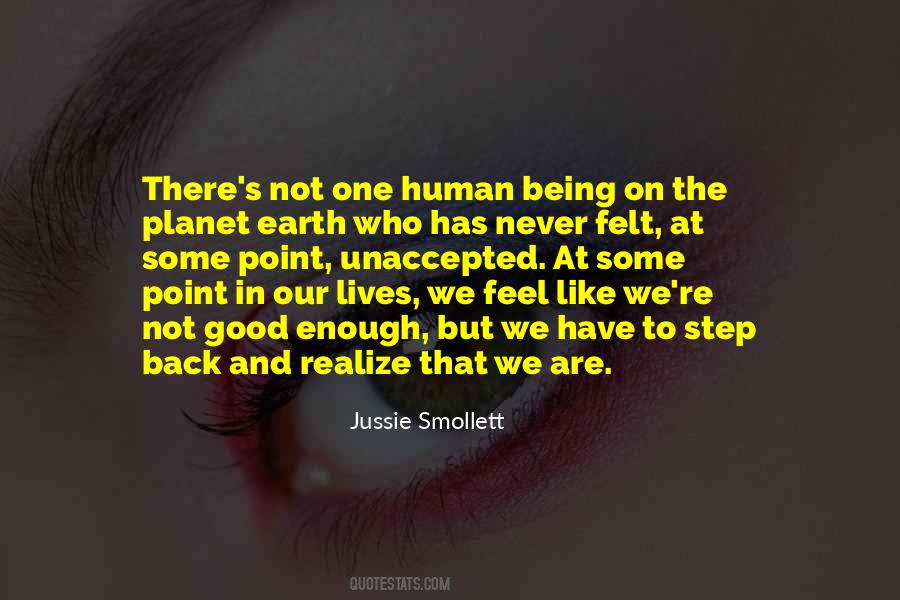 #51. I have done a few roles that I've never watched, and if I happen to be flicking through channels and one pops up, I quickly move on. It's hard enough to sustain some self confidence without being reminded of things we'd rather not revisit but, in the end, it comes with the territory. - Author: Terry O'Quinn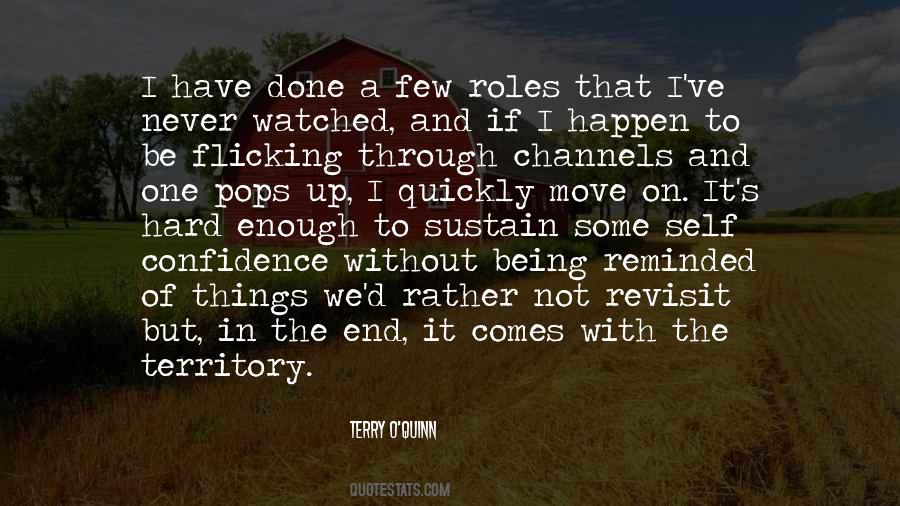 #52. We found ... that being a good parent to one's own child was never and in no way enough; until we were all responsible for all the children of the world, no child would ever be safe, no society could survive. - Author: Eda LeShan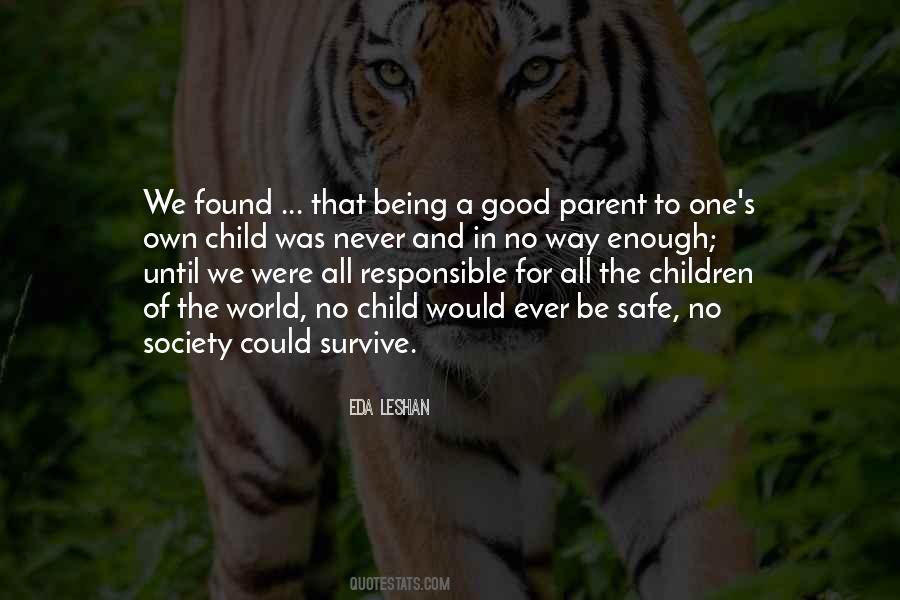 #53. It has taken my whole life thus far to see how being brave enough to hold on to a question, brave enough to never stop looking for answers, and brave enough to take action even when I didn't know the right answer, was as brave as I needed to be to succeed and to succeed with love. - Author: Andrea T. Goeglein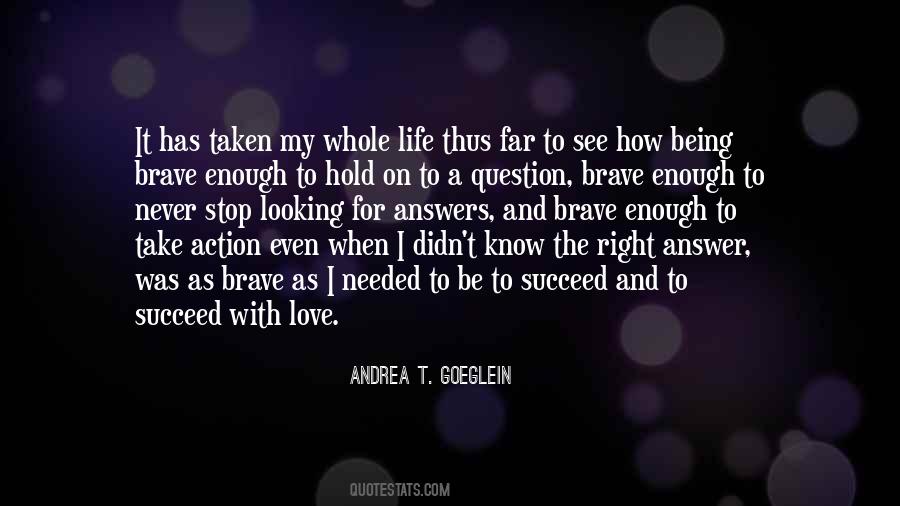 #54. When I found music I thought, that's what I want to do, but the idea of it being a job never crossed my mind. I just wanted to be good enough to pick up a guitar at a party, or if I saw a girl I liked, to work up the courage to play a song. - Author: Caleb Followill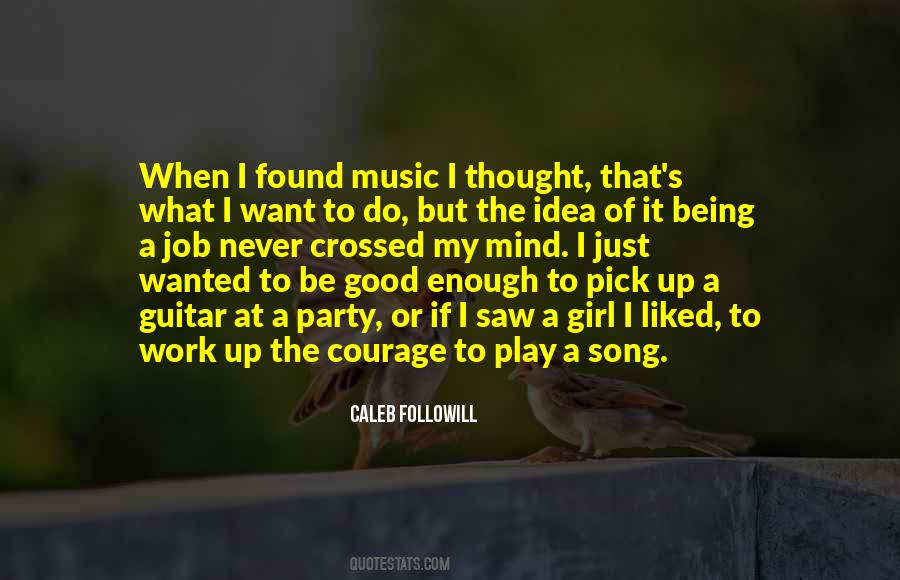 #55. Cupping her face, I brushed her lips with my thumb. "You're medicine for my soul, Bailey. Never forget that."
Her naughty gaze shifted into something softer. "Thank you for being brave enough to love me."
Despite her earnest expression, I laughed. "Like I had a choice. - Author: Bijou Hunter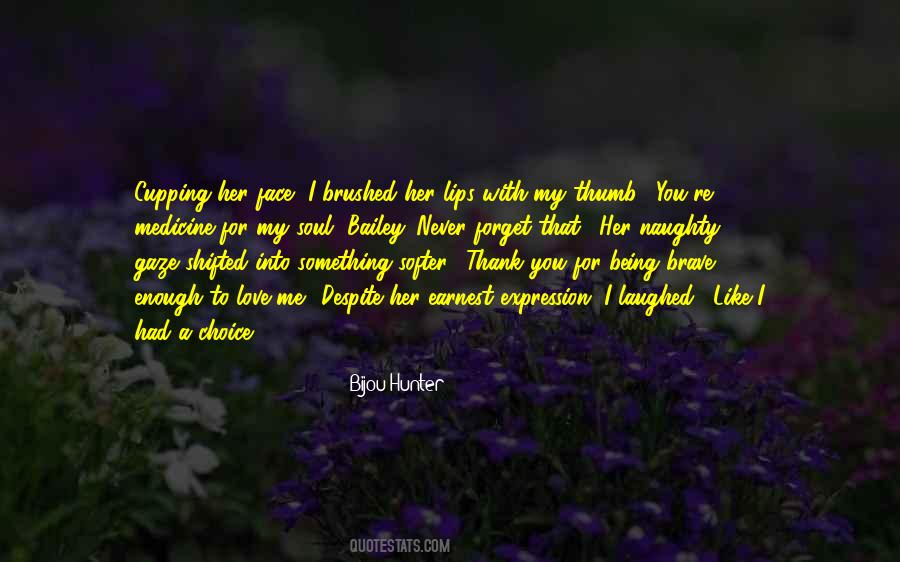 #56. Things always work out if you don't send that e-mail. That's another great life lesson: I've sent enough e-mails of just "f - k you, f - k you, f - k you" and hit send. I've learned a lot from never being able to take back that I sent that e-mail. - Author: John Feldmann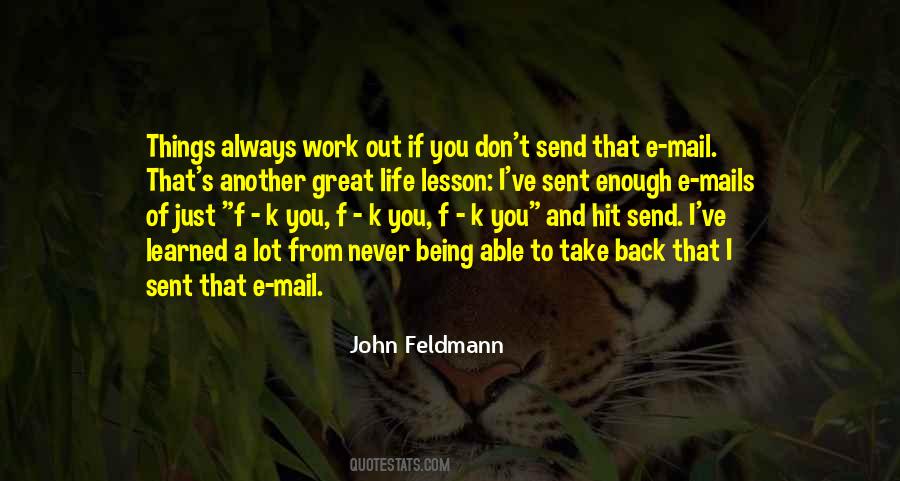 #57. I have never been loved enough to gain the desire of reproducing a being in the image of my lover and I have never been given enough pleasure so that my brain has not had the leisure to seek better ... I have wanted the impossible ... - Author: Rachilde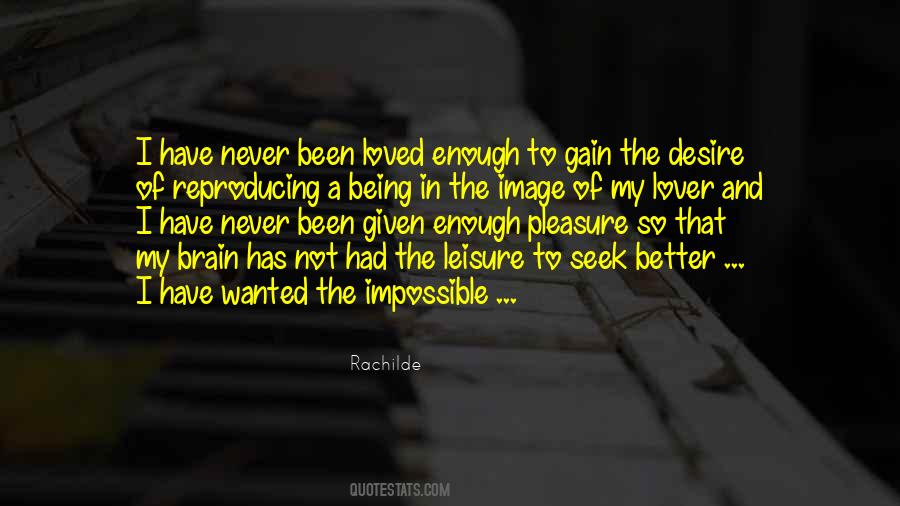 #58. No business can do everything. Even if it has the money, it will never have enough good people. It has to set priorities. The worst thing to do is a little bit of everything. This makes sure that nothing is being accomplished. It is better to pick the wrong priority than none at all. - Author: Peter Drucker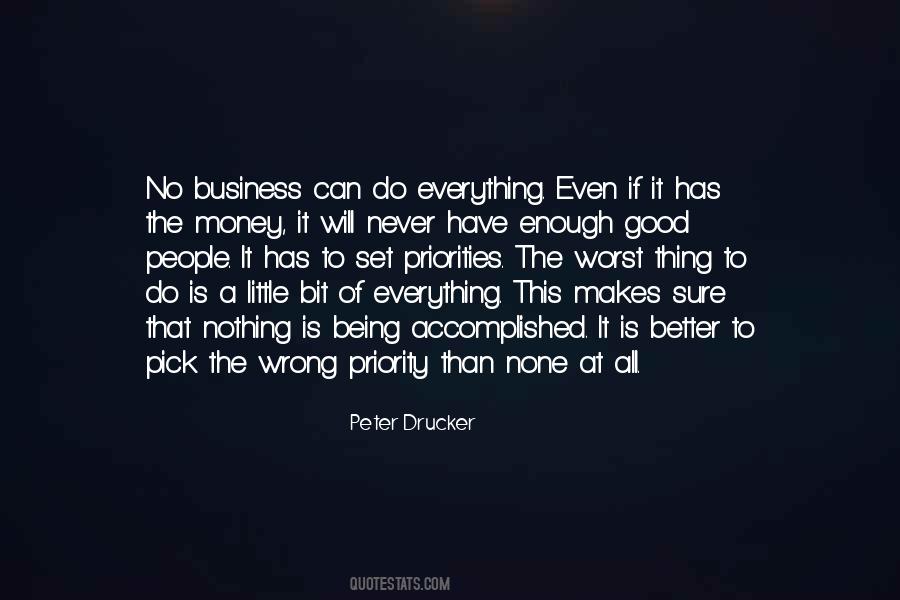 #59. I don't know what this is for anyway. I mean, let me tell you what I'm never going to say to any human being, ever: 'I had hunting season off-suit in the pocket, but I've had kicker trouble with that hand often enough to fold it. - Author: Elle Lothlorien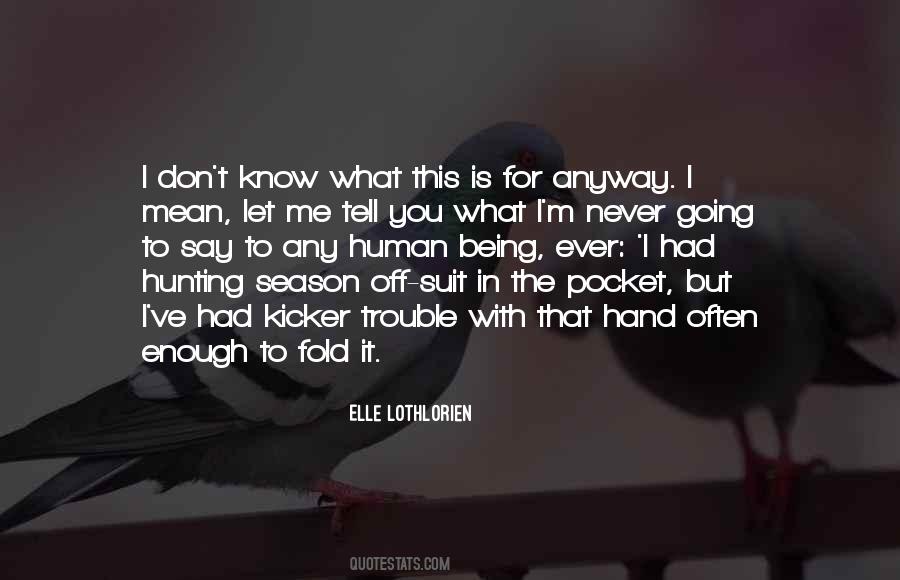 #60. A happiness that is sought for ourselves alone can never be found: for a happiness that is diminished by being shared is not big enough to make us happy. - Author: Thomas Merton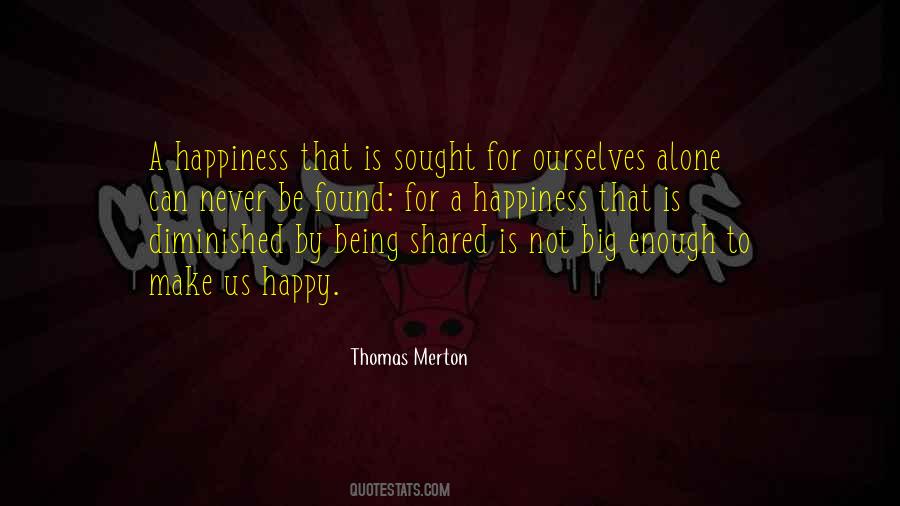 #61. Doing is never enough if you neglect Being. - Author: Eckhart Tolle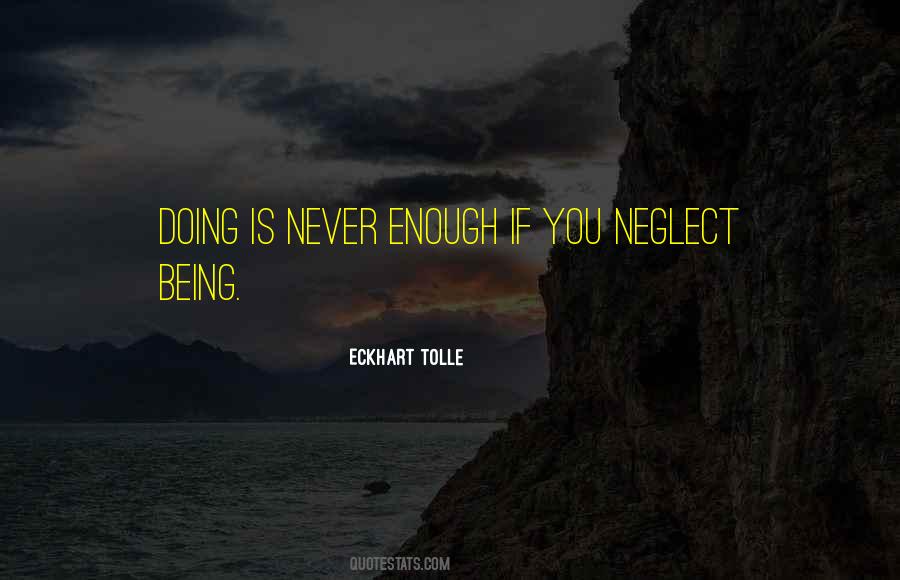 #62. What have paupers to do with soul or spirit? It's quite enough that we let 'em have live bodies. If you had kept the boy on gruel, ma'am, this would never have happened.' 'Dear, dear!' ejaculated Mrs. Sowerberry, piously raising her eyes to the kitchen ceiling: 'this comes of being liberal! - Author: Charles Dickens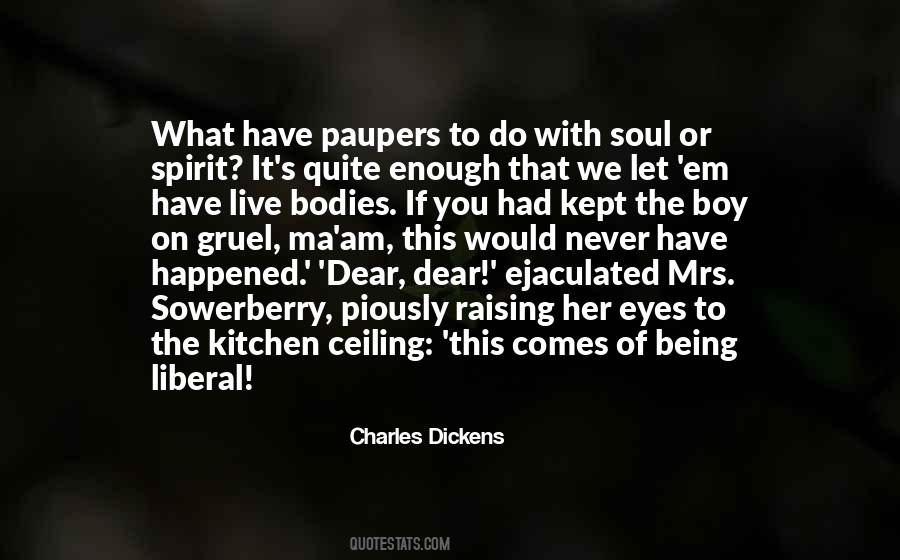 #63. As a child growing up, you never thought about being in a videogame, then to have a game of your own and be lucky enough to set the bar with it in the gaming world, it's a dream come true. - Author: Tiger Woods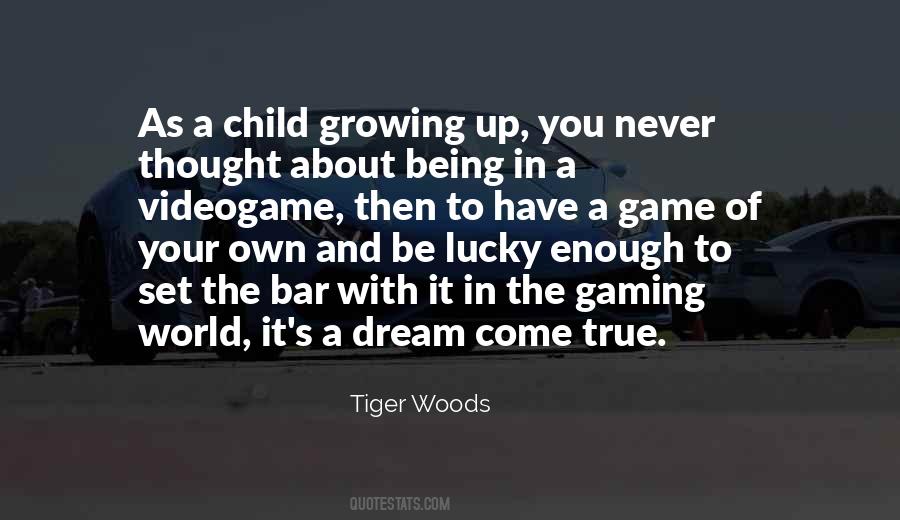 #64. Rita has spent her whole life being chased by boys. Because of that, she never had a chance to stop running long enough to figure out who she was and what kind of guy she should let catch her. - Author: Amy Harmon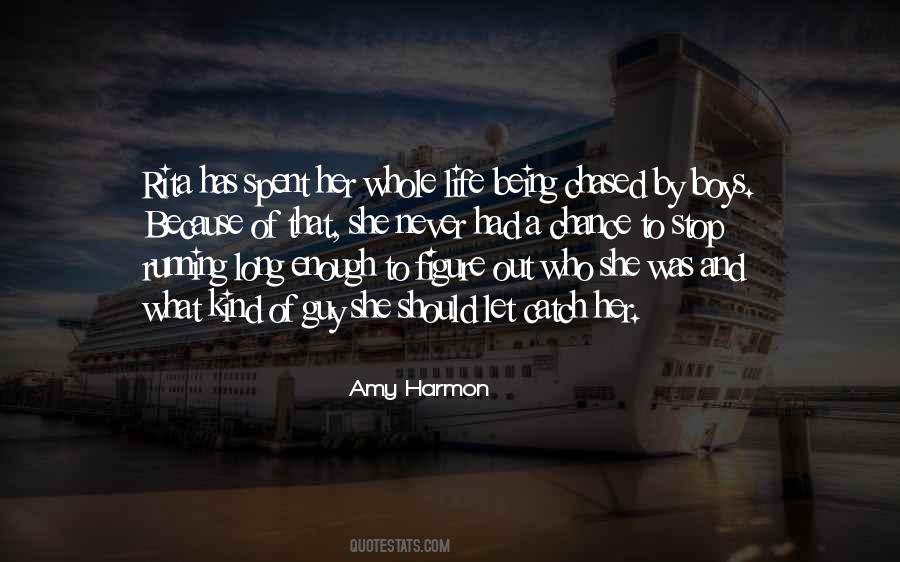 #65. Was he again
I had never forgotten that overheard phrase of Eve's
being kind to be cruel? I only knew I had been given back enough to live on. And dimly, dimly, I began to see a new Last Act to crown my play. - Author: Dodie Smith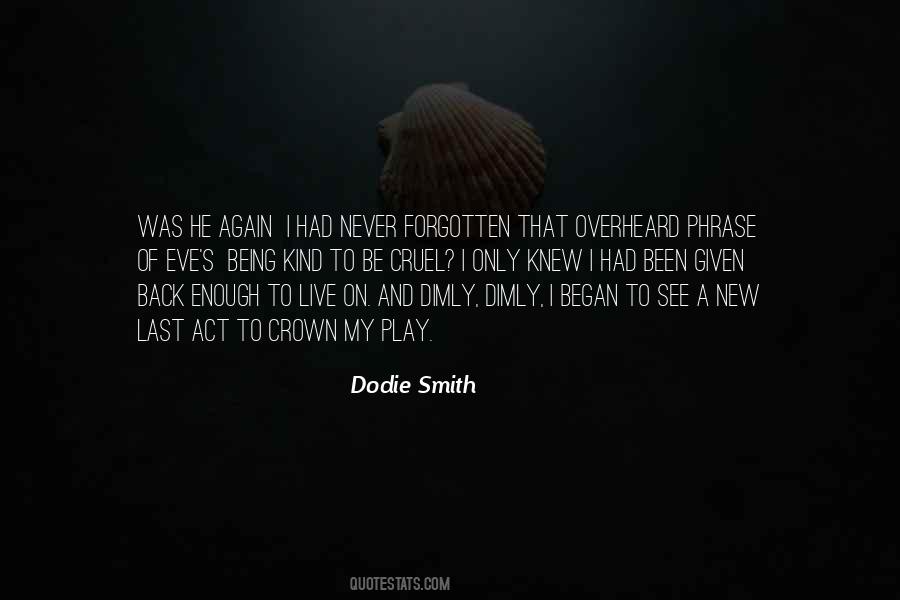 #66. It wasn't that I didn't feel like sharing. Mostly I just figured they couldn't do anything about it, so there was no point in worrying them. I said, 'A wee little bit,' instead, in honor of being in Ireland, where one adjective was never enough if three would do. - Author: C.E. Murphy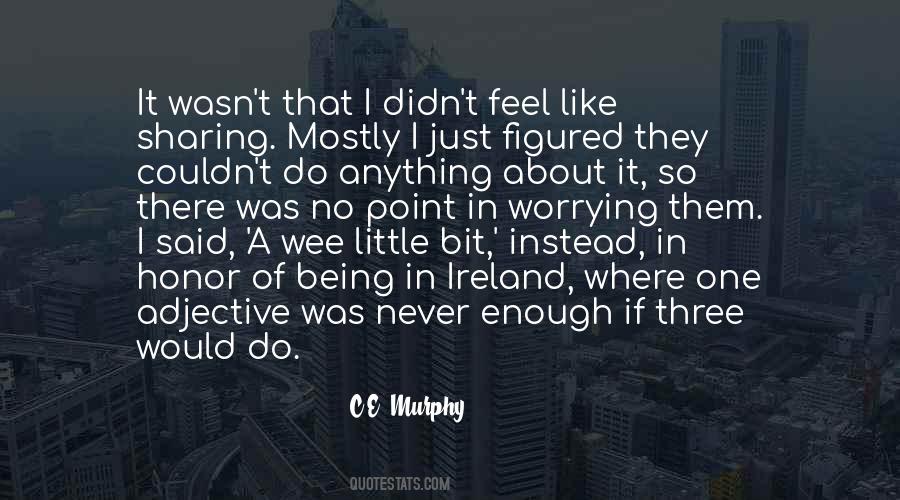 #67. I never felt I had enough personal style to pursue being just a guitarist. - Author: Bruce Springsteen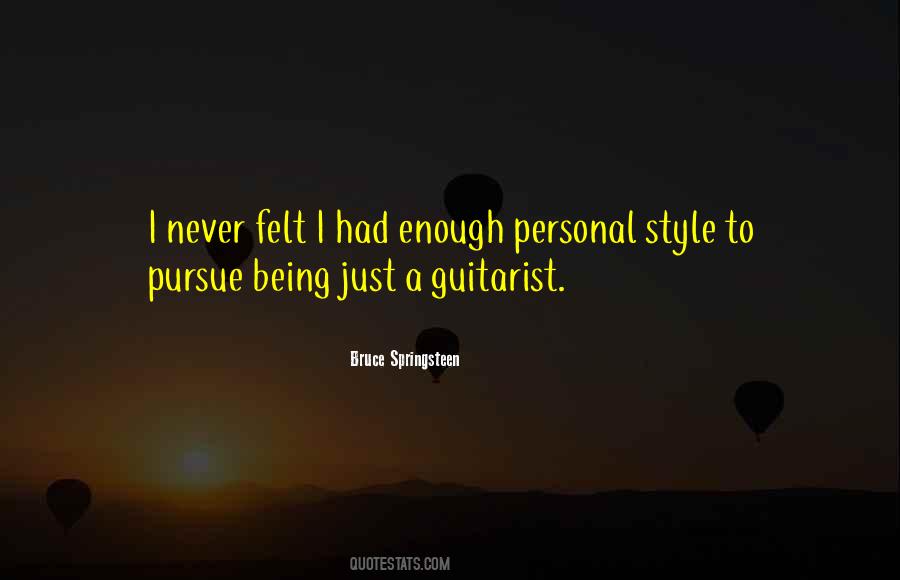 #68. I did not intend to stay; I had no experience in the United States - I may have been here less than 24 hours - but I knew I would never get inside there. And 'there' not being America necessarily, but that harmonious mode of living that some people are lucky enough to have in this country. - Author: Aleksandar Hemon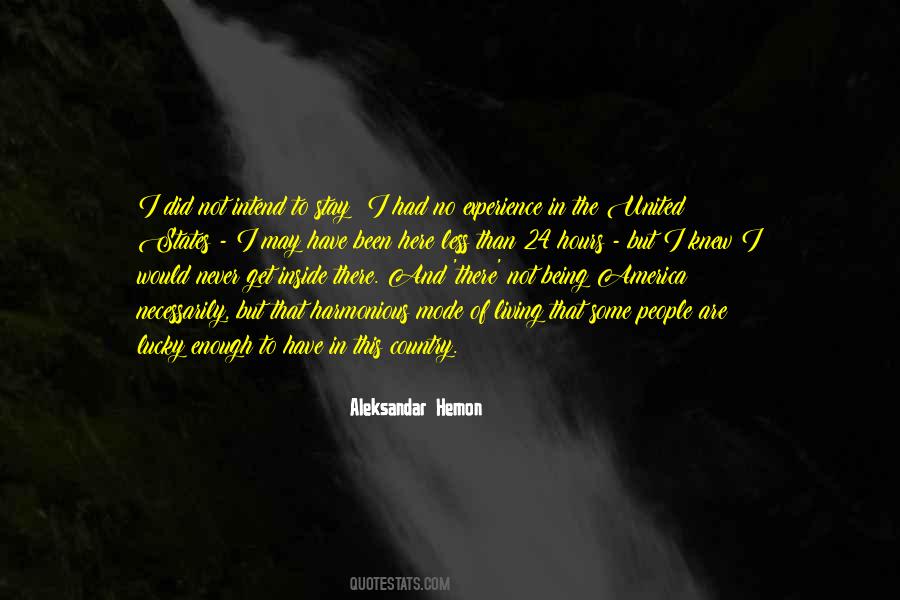 #69. My high school was a private school where you went to an Ivy League. That's just what was expected of you and nothing less. So I grew up never being okay with a 'B' because a 'B' was not good enough. - Author: Troian Bellisario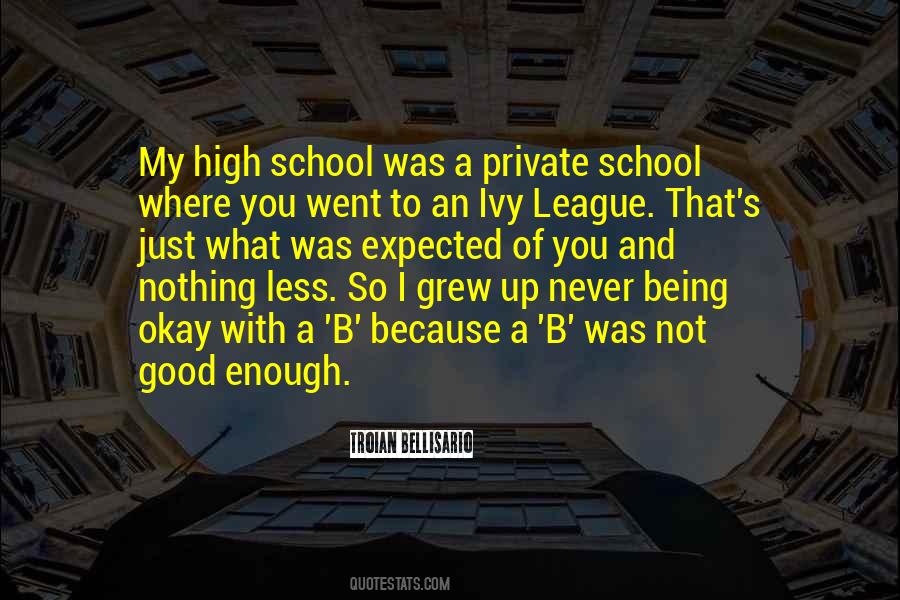 #70. The more I heard that I couldn't make it, the more I was determined to do it. I never liked being told that I'm not good enough to do this or that. - Author: Archie Griffin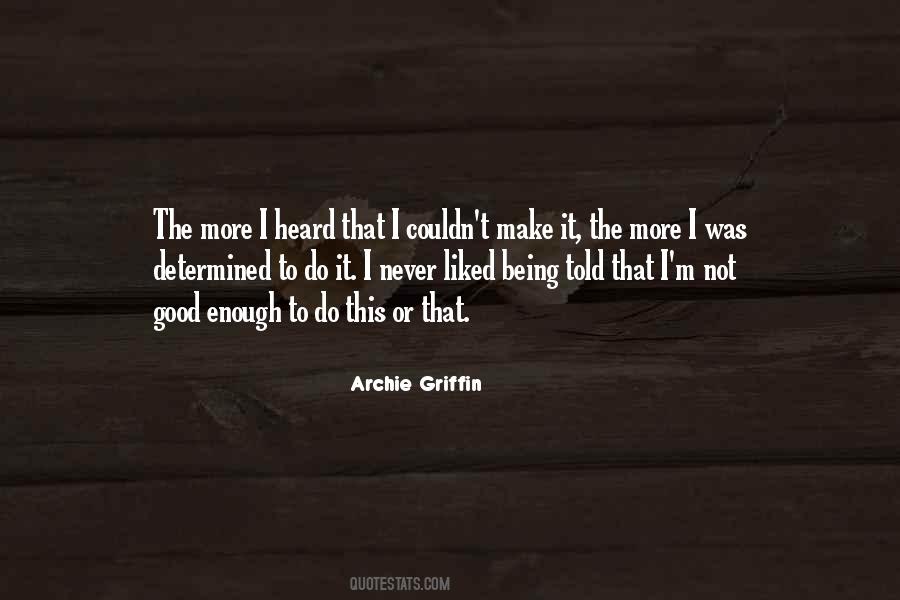 #71. With courage a human being is safe enough. And without it - he is never for one instant safe! - Author: Phyllis Bottome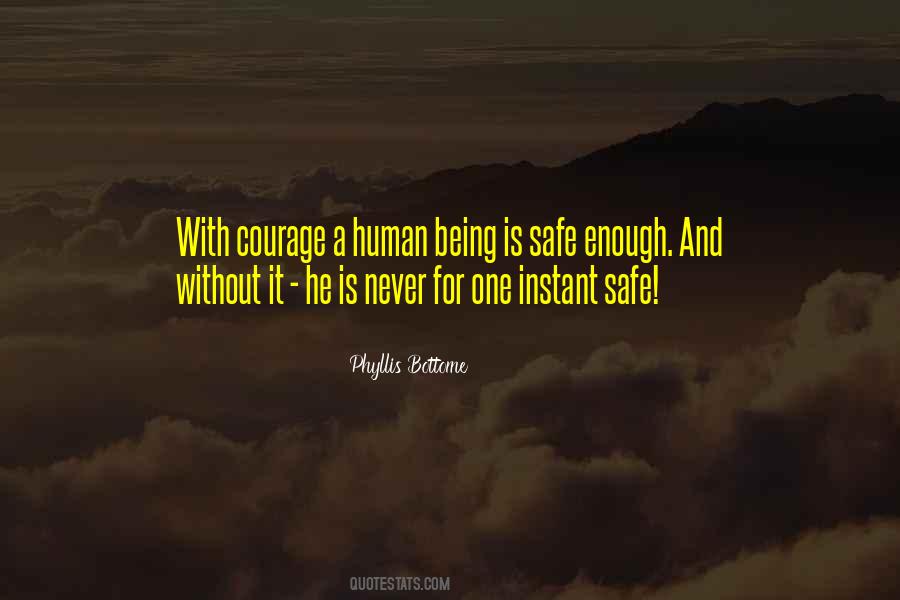 #72. His life had been ripped away from him without his being able to fight against it. That was difficult enough, but to know that the one woman that consumed his thoughts day and night, the one woman who captured his attention with a mere smile would never be his ...
It was beyond cruel. - Author: Donna Grant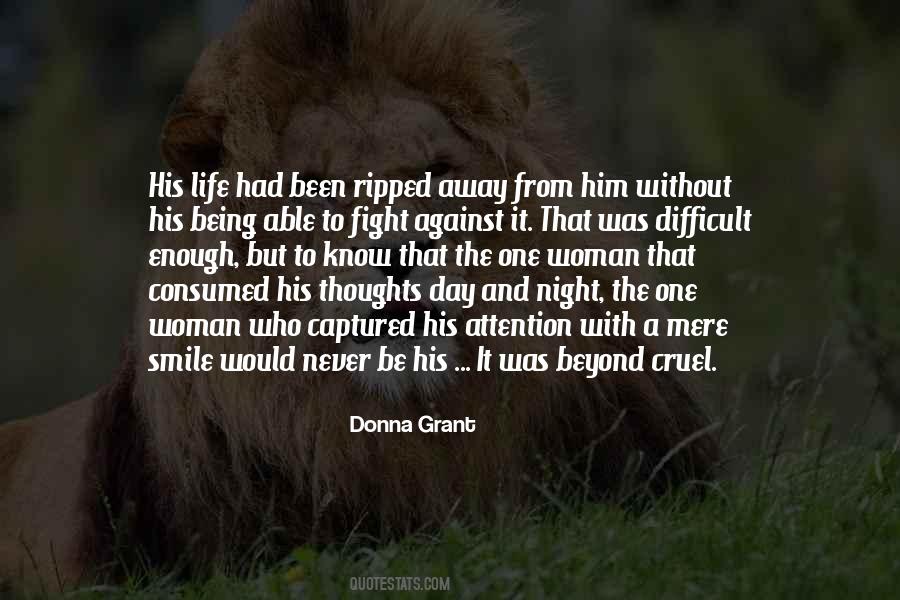 #73. I am never weary of being useful ... In serving others I cannot do enough. No labor is sufficient to tire me. - Author: Leonardo Da Vinci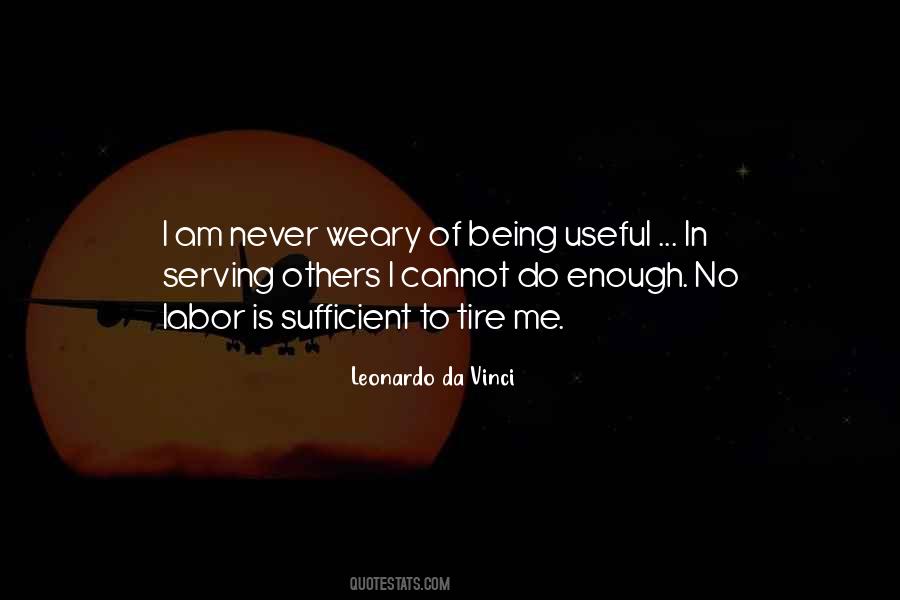 #74. Your lucky enough to be different, never change - Author: Taylor Swift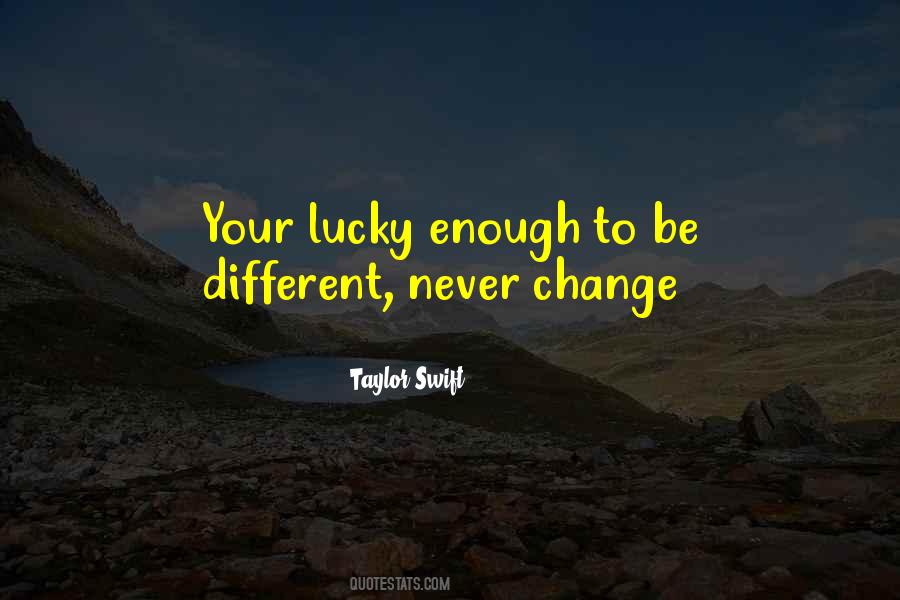 #75. I realized that being an actor was something I never owned up to, in a weird way. I would be a hostess or a waitress or a house restorer before I would consider myself an actor, because I never thought I was good enough. - Author: Sandra Bullock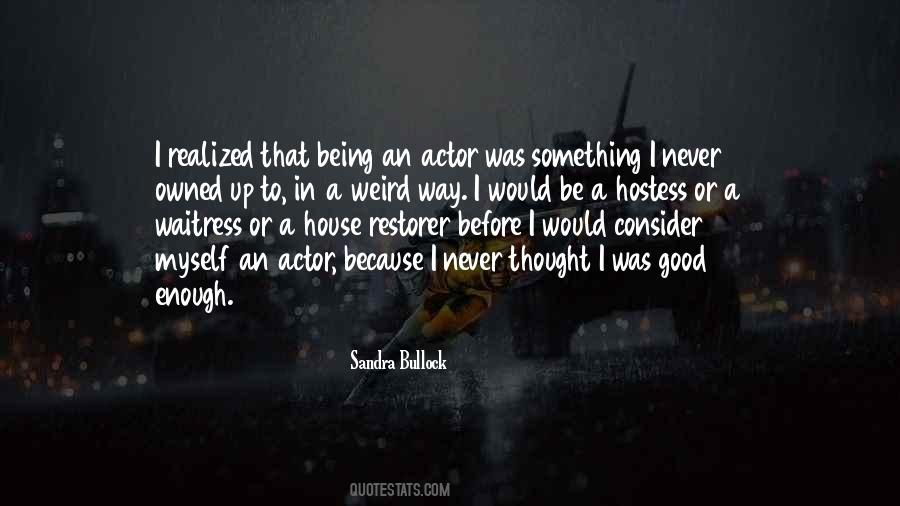 #76. You can never have enough trophies. If there were ten to be won a year I'd want to win them all! That's not being greedy, it's just a natural thing. - Author: Thierry Henry
#77. swear, being in a hospital's like being in a den of vampires. They never get enough of your blood. - Author: Nora Roberts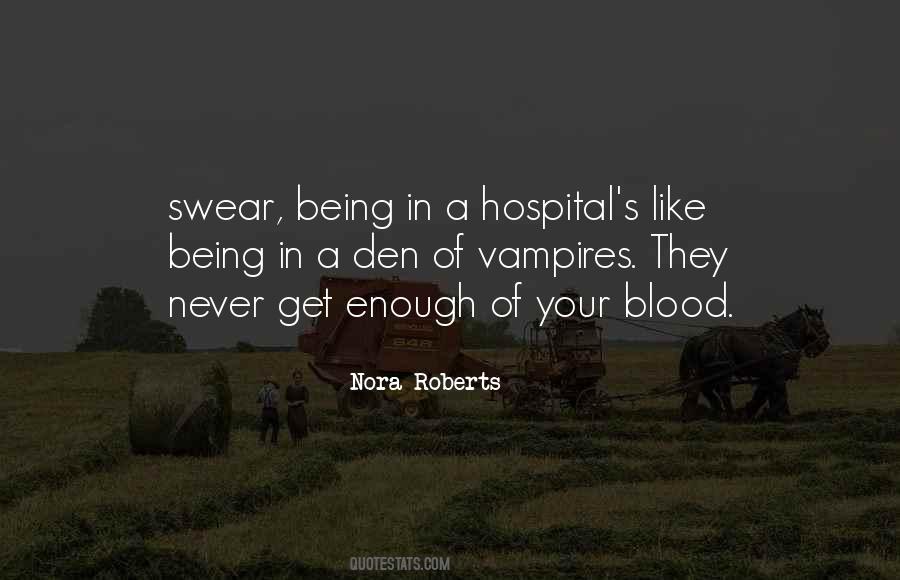 Famous Authors
Popular Topics