Need Love Famous Quotes & Sayings
List of top 100 famous quotes and sayings about need love to read and share with friends on your Facebook, Twitter, blogs.
Top 100 Quotes About Need Love
#1. To see Earth fully we already need to love it - Author: John Burroughs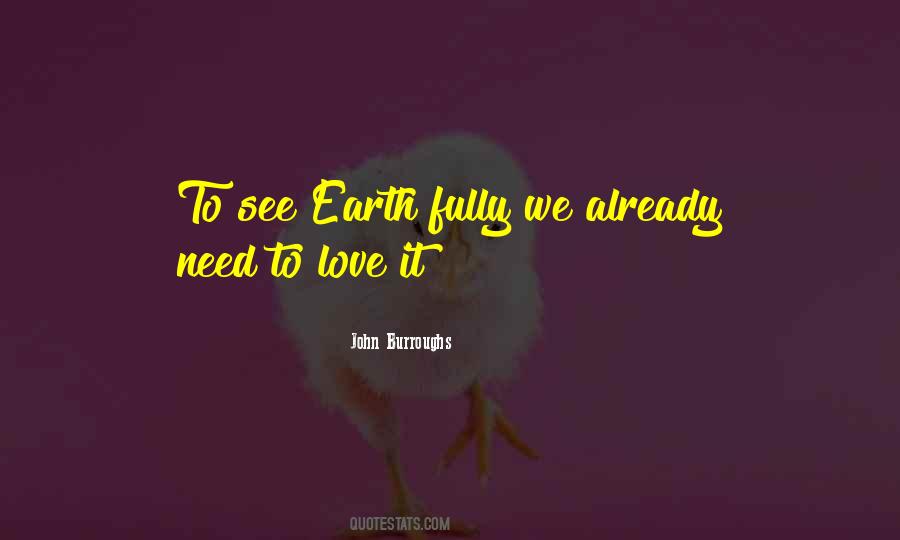 #2. Pale sunlight, pale the wall. Love moves away. The light changes I need more grace than I thought. - Author: Rumi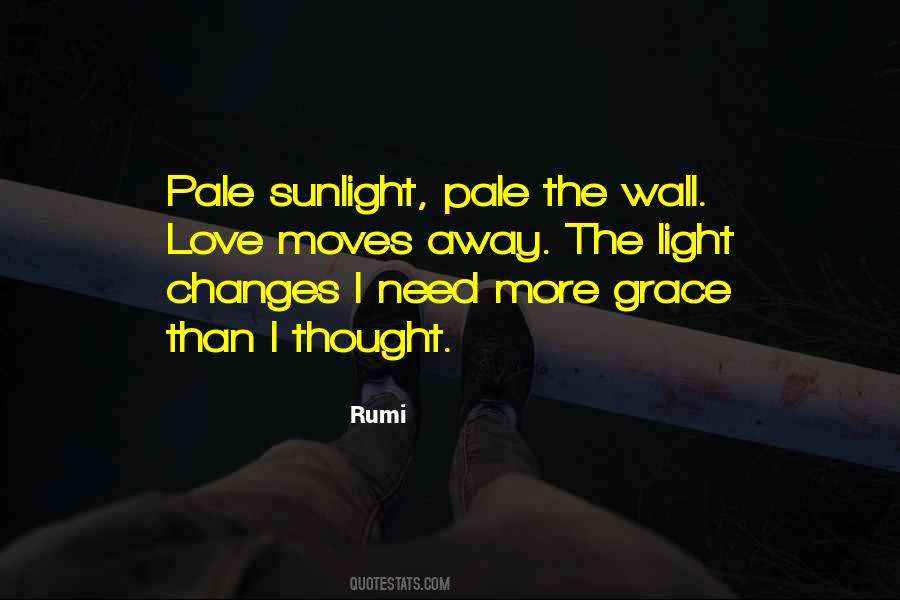 #3. Pigs are not that dirty. And they're smart, strange little creatures. They just need love. - Author: Shelley Duvall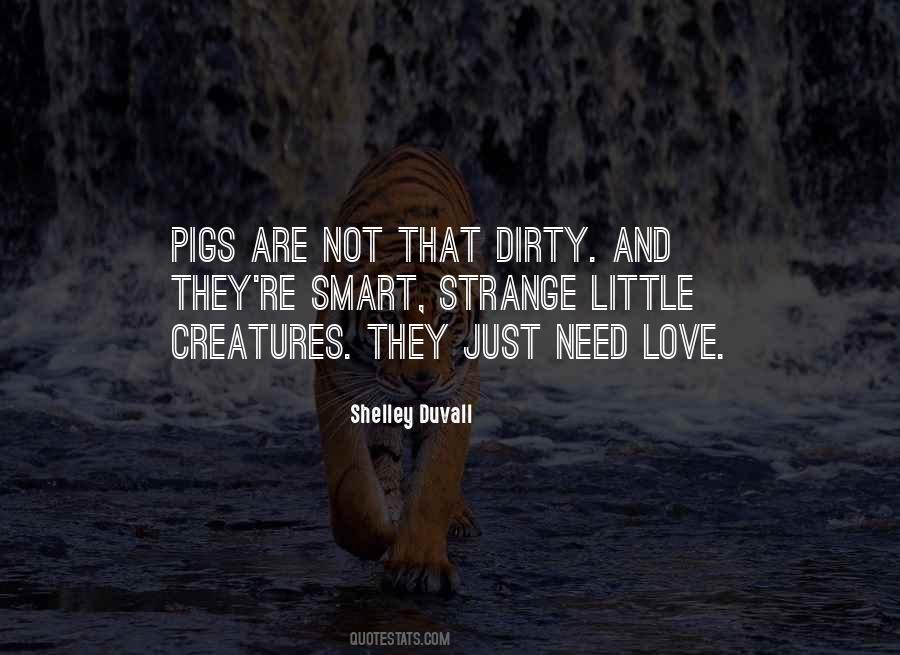 #4. I want a girl with extensions in her hair,
Bamboo earrings, at least two pair,
A Fendi bag and a bad attitude,
That's all I need to get me in a good mood.
She can walk with a switch and talk with street slang,
I love it when a woman ain't scared to do her thing. - Author: LL Cool J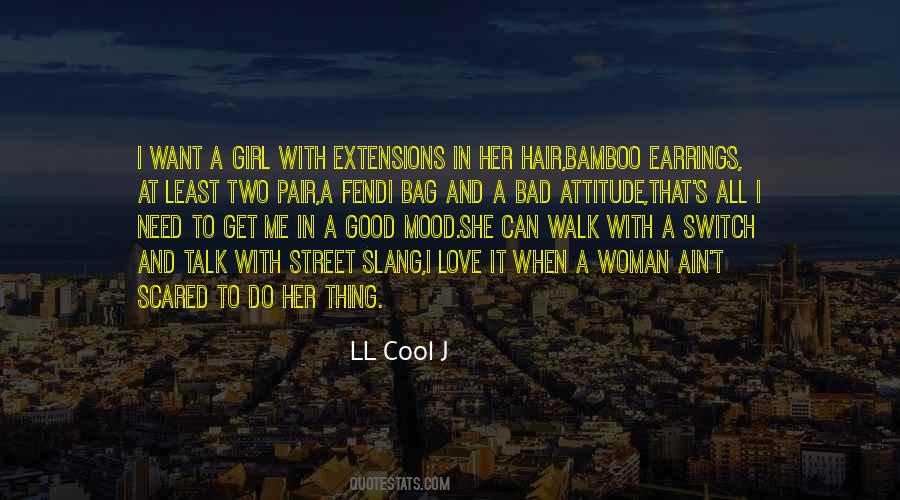 #5. Waking up next to you is what I like the most, knowing that you belong only to me makes me very happy. Being with you is all I need to be happy. - Author: Auliq Ice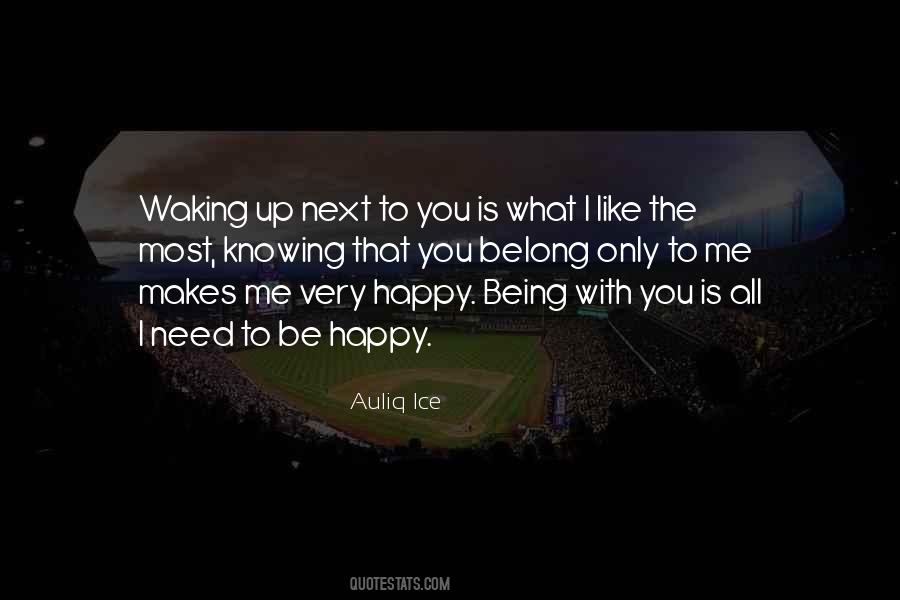 #6. Mature, healthy people need other people; they don't isolate themselves ... Needing love isn't being immature. Rather, it gives us the energy we need to go out and slay our dragons. - Author: Henry Cloud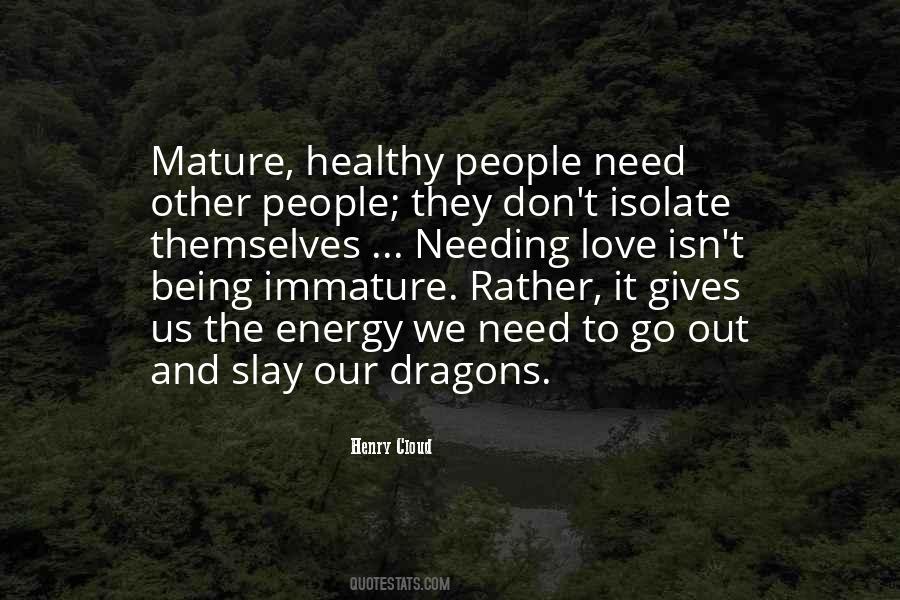 #7. Bipolar depression really got my life off track, but today I'm proud to say I am living proof that someone can live, love, and be well with bipolar disorder when they get the education, support and treatment they need. - Author: Demi Lovato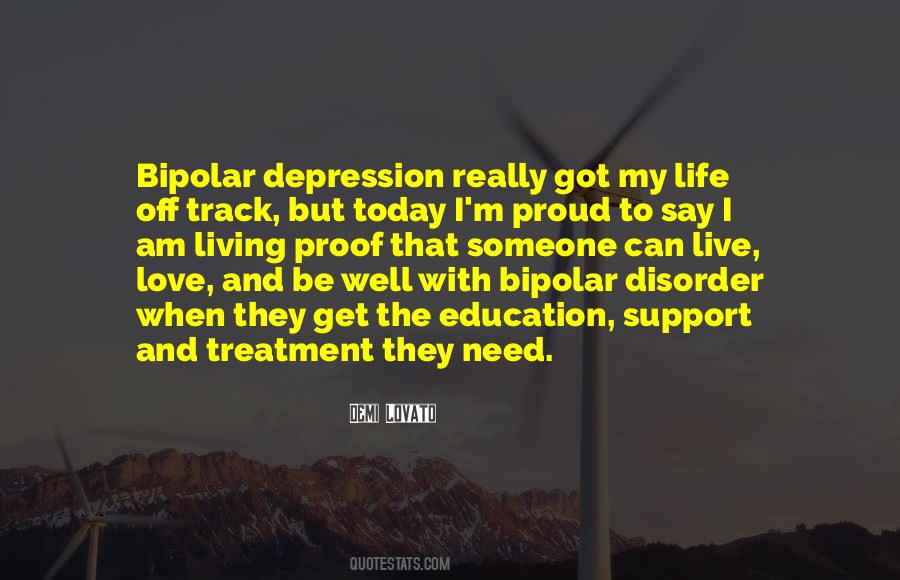 #8. Sometimes all we need is a hug that will make us feel home. The heartbeats that sound like a lullaby and the eyes which assure us that the world is not such a bad a place yet every time we stare into them. - Author: Akshay Vasu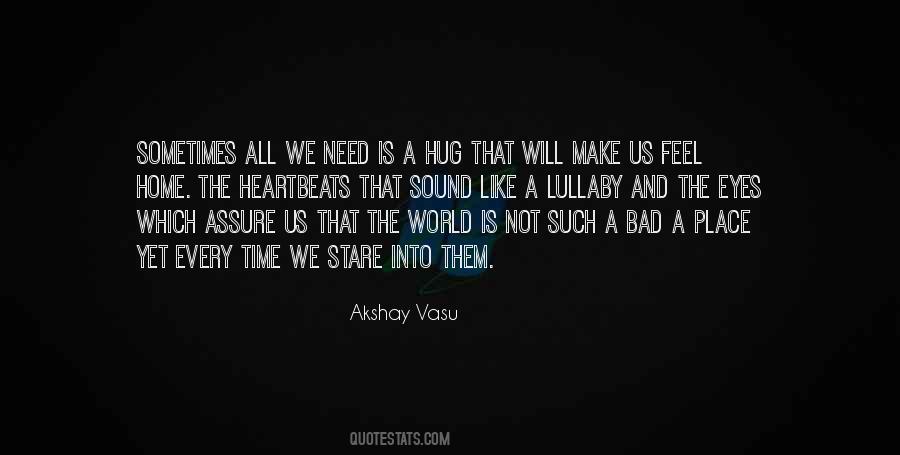 #9. Civilized beings regard the act of intercourse as the highest expression of romantic love. One need only observe the behavior of animals, however, to realize that the act is often a form of violence. - Author: Fiona Paul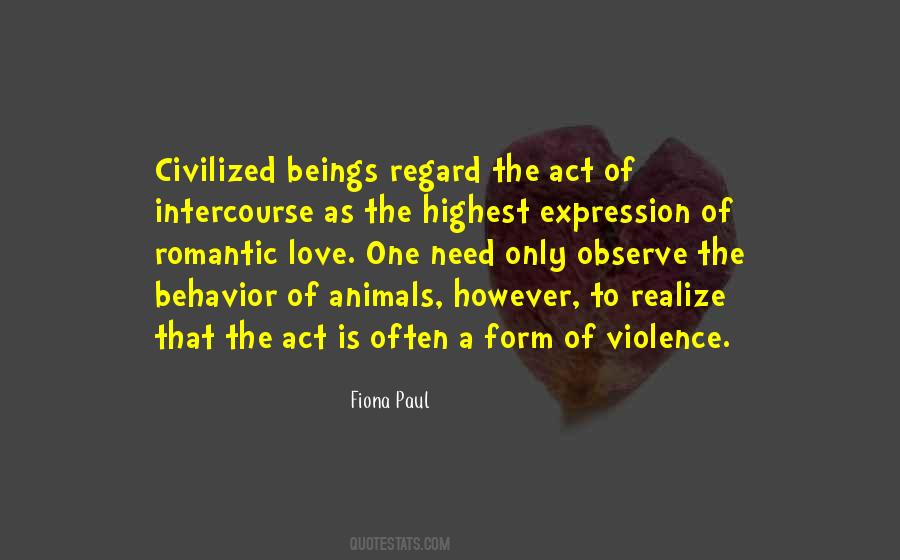 #10. We really need to get over this love affair with the fetus and start worrying about children. - Author: Joycelyn Elders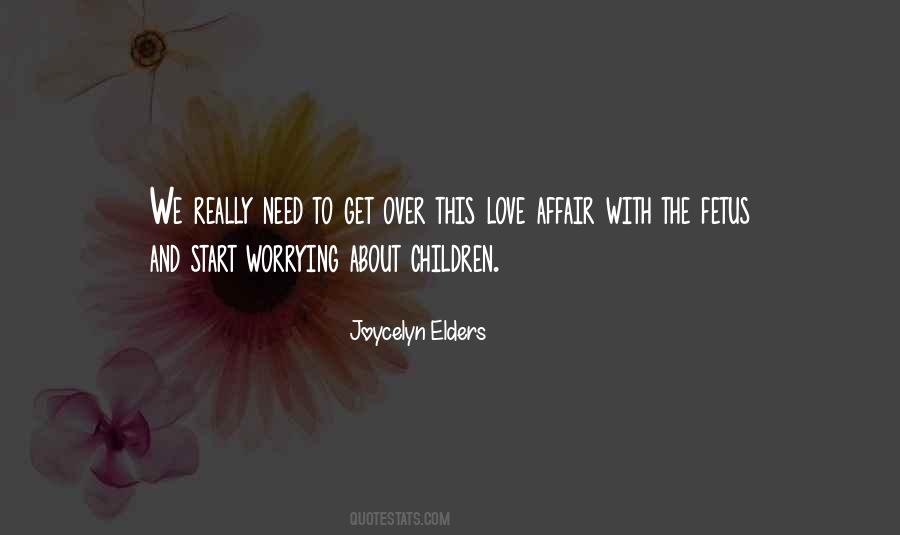 #11. I love running dresses! I need to make working out as enjoyable as possible, and a cute outfit is definitely part of that. - Author: Lindy Booth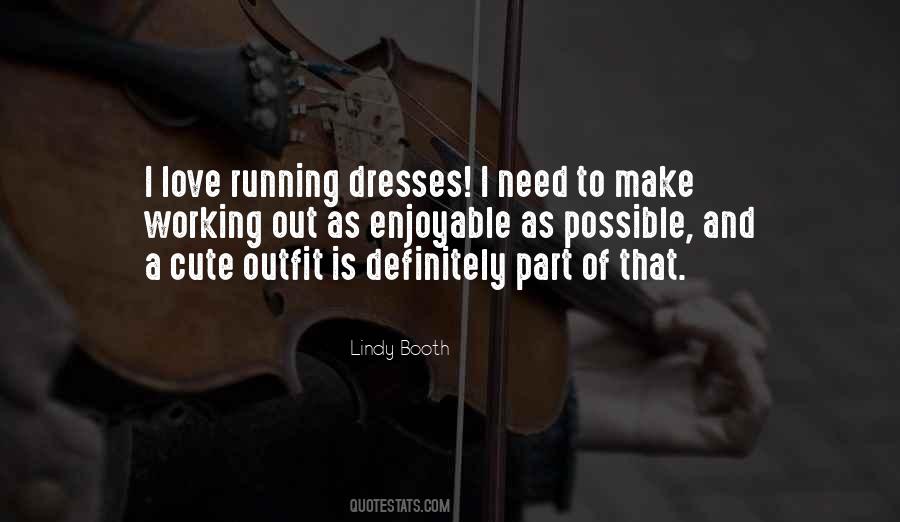 #12. Ultimately the men who choose against violence, against death, do so because they want to live fully and well, because they want to know love. These are the men who are true heroes, the men whose lives we need to know about, honor, and remember. - Author: Bell Hooks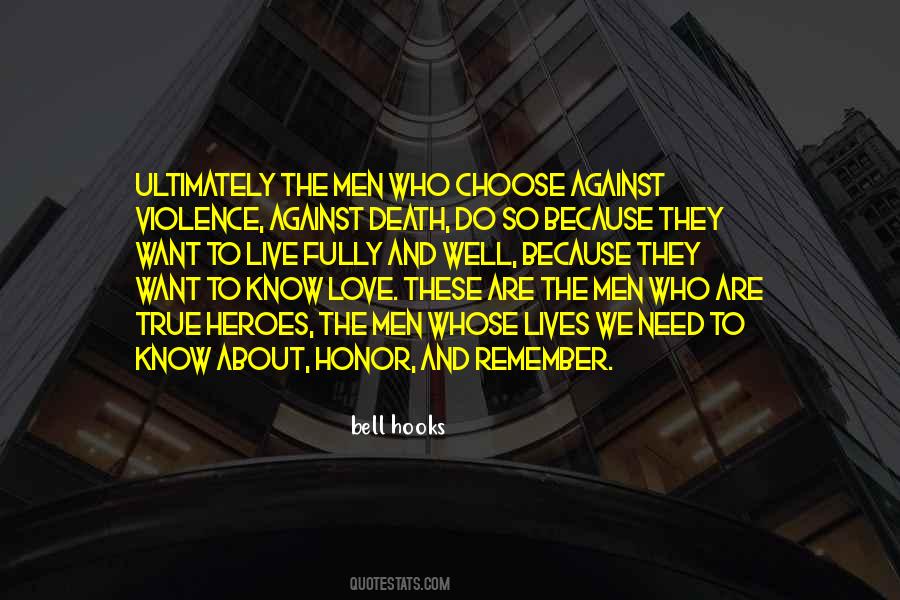 #13. This is hell,
but I planned it. I sawed it,
I nailed it, and I
will live in it until it kills me.
I can nail my left palm
to the left-hand crosspiece but
I can't do everything myself.
I need a hand to nail the right,
a help, a love, a you, a wife. - Author: Alan Dugan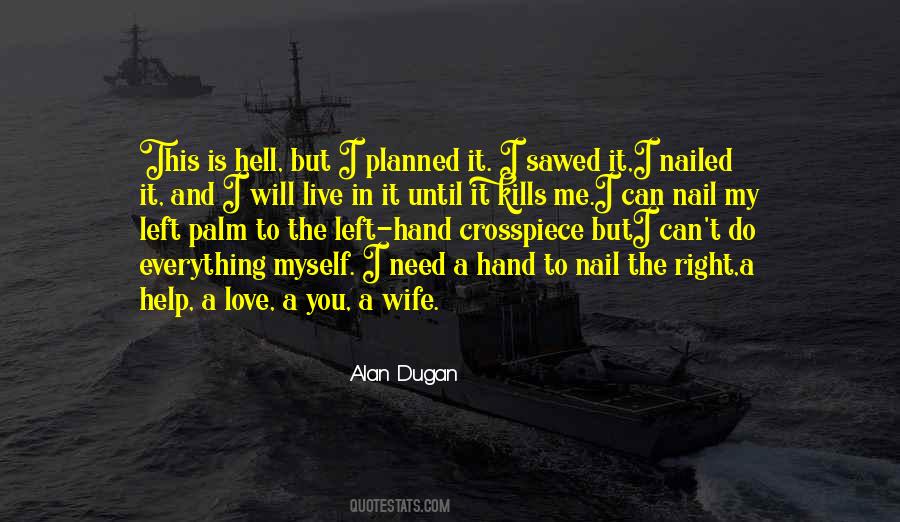 #14. God is love. He didn't need us. But he wanted us. - Author: Rick Warren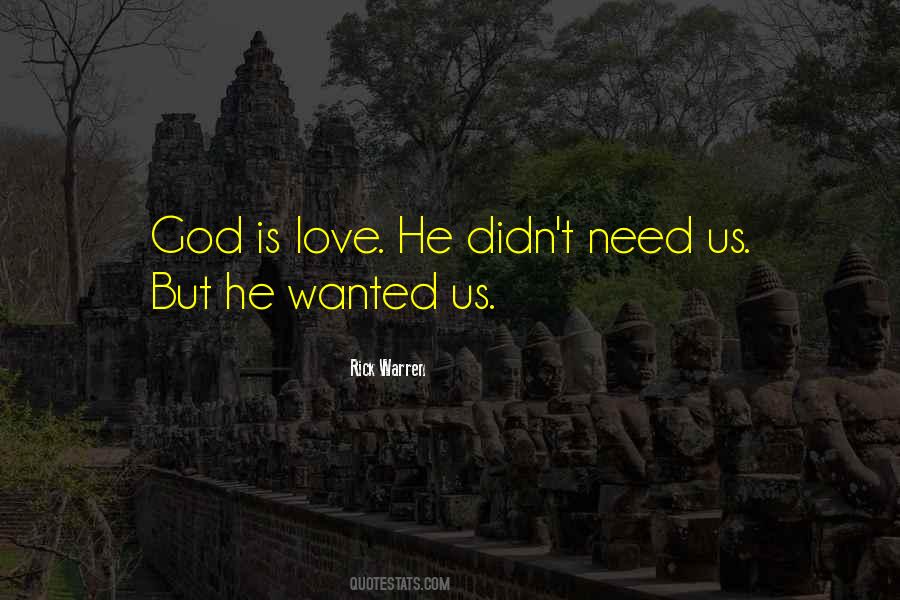 #15. Love doesn't need a reason. Hate needs a reason. - Author: Stephen Dobyns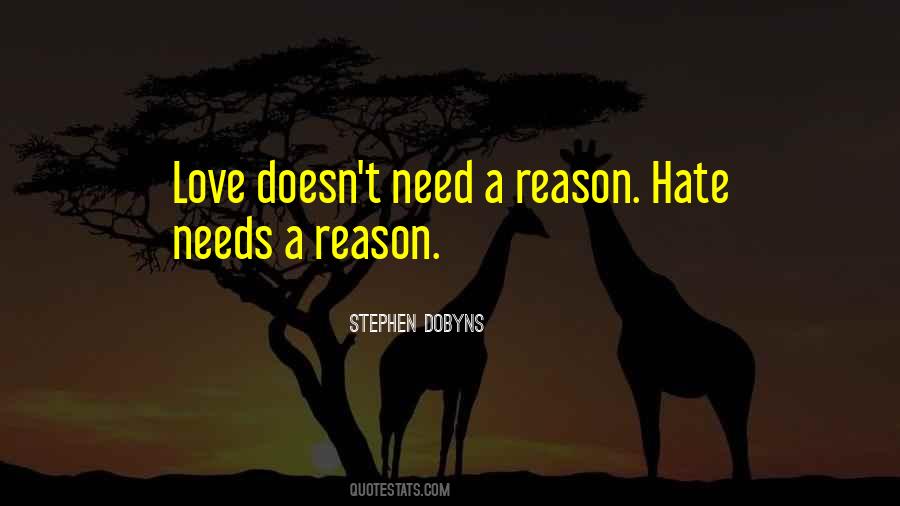 #16. If it's a romantic holiday, the only thing I need is my wife. We love quiet and calm places where we can't be disturbed. Neither of us likes being in busy places; we would much rather stay in our hotel room and enjoy each other's company. - Author: Jean Reno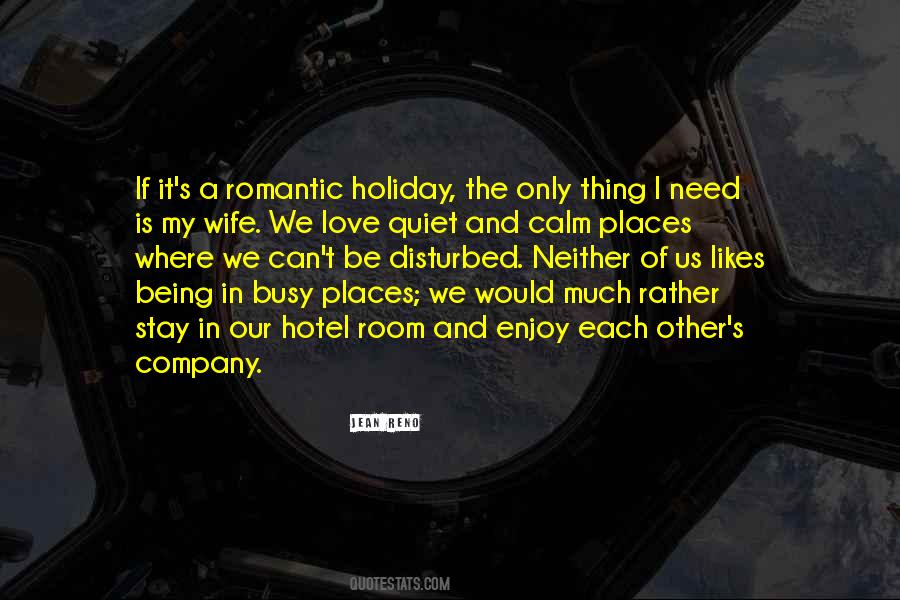 #17. In a relationship there is the information that we need and do not ask for, and the information we have but choose to ignore. - Author: Debra L. Kaplan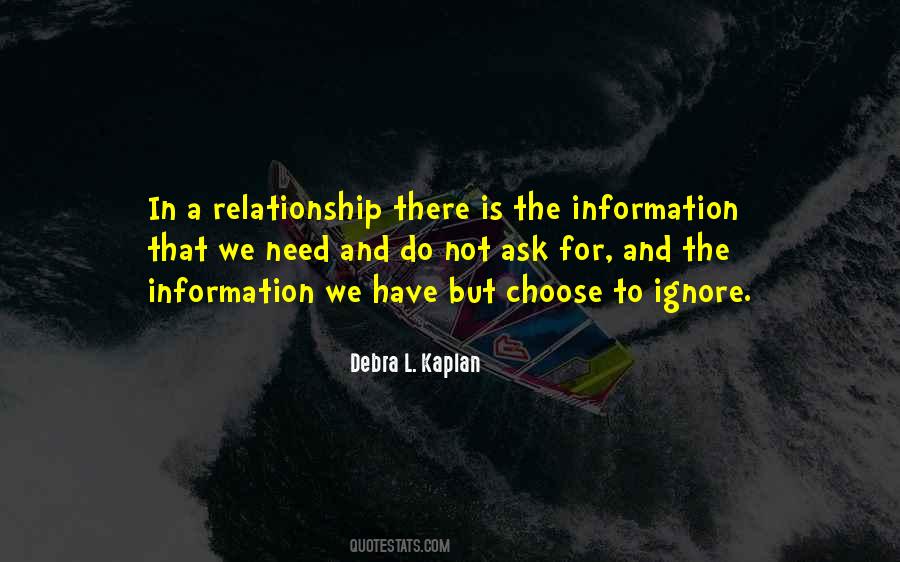 #18. Deep down Kelly, I think you want me here. I think you're too damn scared to admit you need me. And I think I'm the only one who will understand the truth. - Author: LeeAnn Whitaker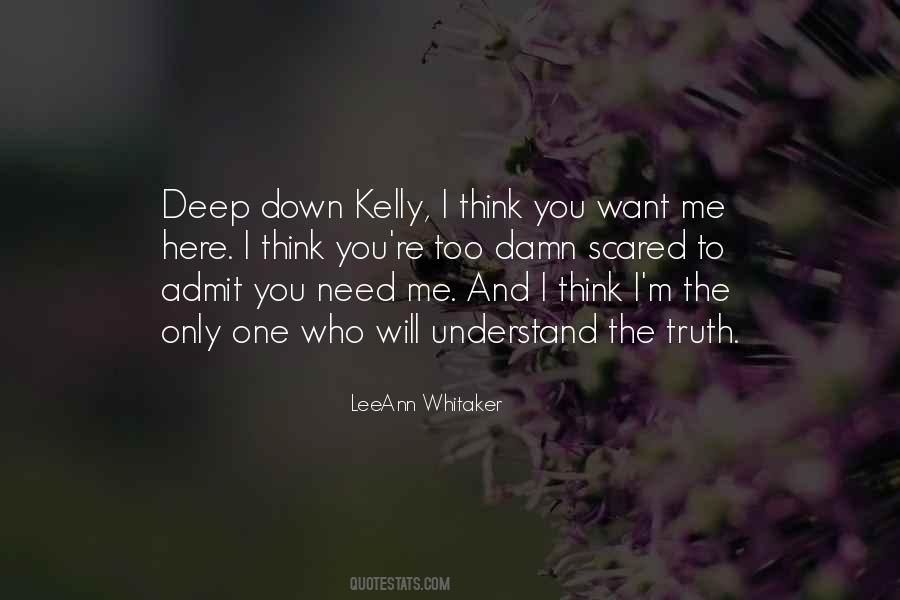 #19. Powerlessness is dangerous. For most of us, the inability to affect change is a desperate feeling. We need resilience and hope and a spirit that can carry us through the doubt and fear. We need to believe that we can effect change if we want to live and love with our whole hearts. - Author: Brene Brown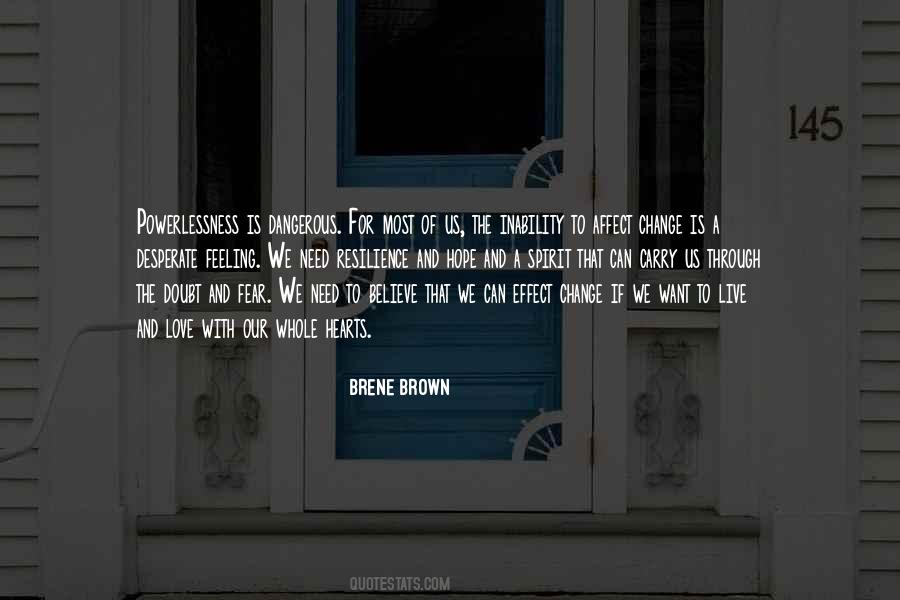 #20. Our life depends on others so much that at the root of our existence is a fundamental need for love. That is why it is good to cultivate an authentic sense of responsibility and concern for the welfare of others. - Author: Dalai Lama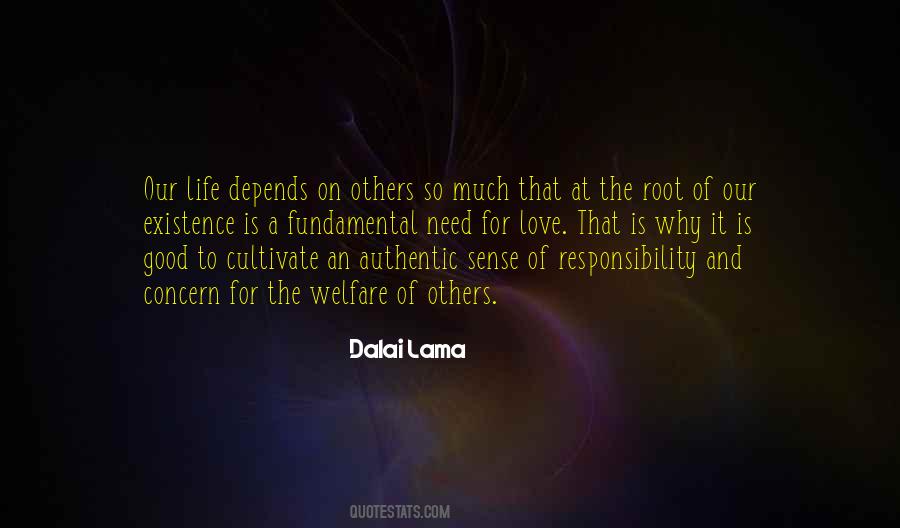 #21. My mom always wanted a bunch of kids, but they stopped after me. I never understood why."
His voice was wistful. Haven closed the distance between them and wrapped her arms around his neck. "Maybe they realized they created perfection when they made you and didnt need anymore. - Author: J.M. Darhower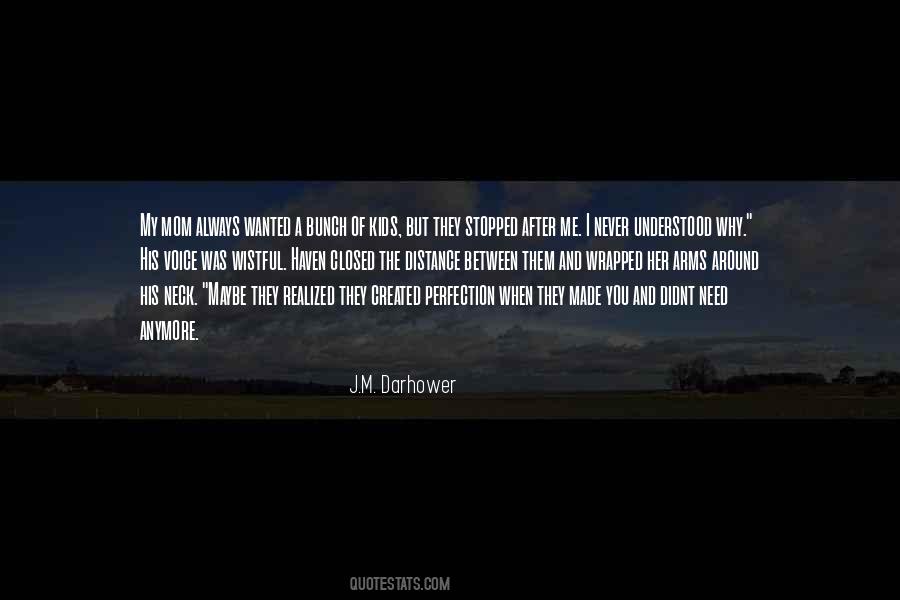 #22. The way to heaven is within. Shake the wings of love-when love's wings have become strong, there is no need to trouble about a ladder. - Author: Rumi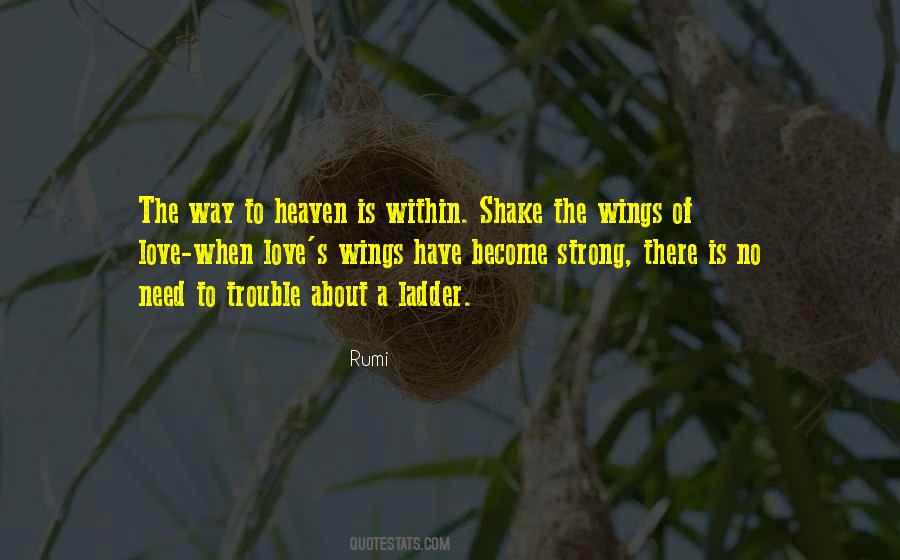 #23. You need to learn how to select your thoughts just the same way you select your clothes every day. This is a power you can cultivate. If you want to control things in your life so bad, work on the mind. That's the only thing you should be trying to control. - Author: Elizabeth Gilbert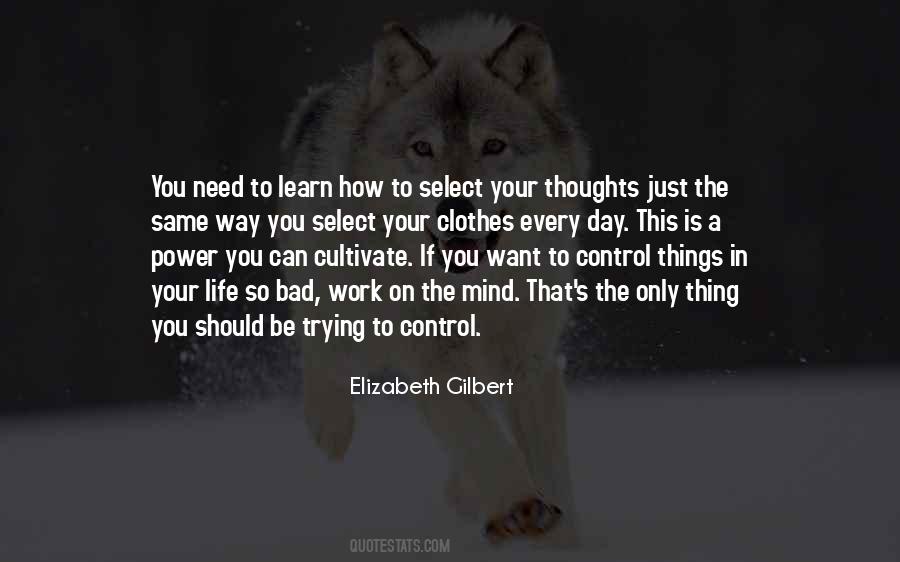 #24. Simply having the courage to say senseless things made me euphoric. I was free, with no need to seek or to give explanations for what I was doing. This freedom lifted me to the heavens - where greater love, one that forgives everything and never allows you to feel abandoned, once again enveloped me. - Author: Paulo Coelho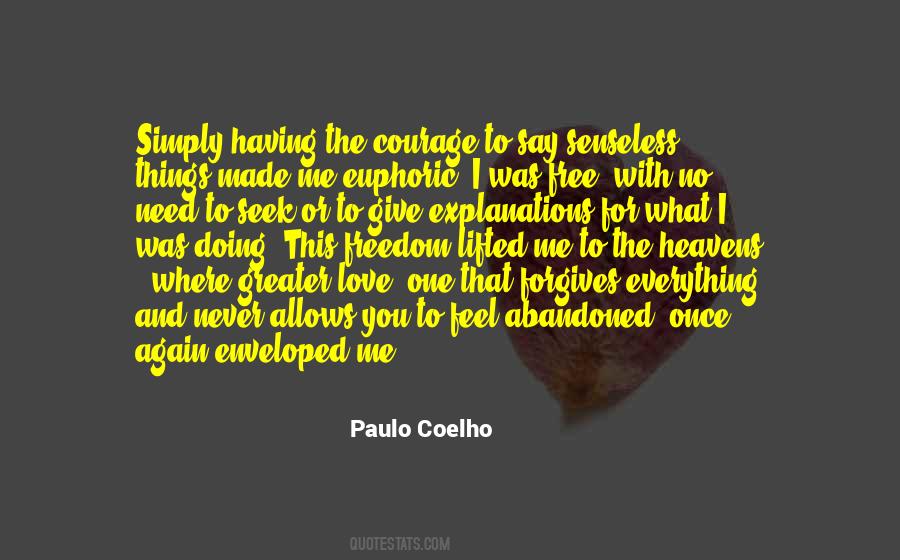 #25. Thats all I need. To find a soul mate to share my life with. To have a love so epic it will never die. - Author: Susane Colasanti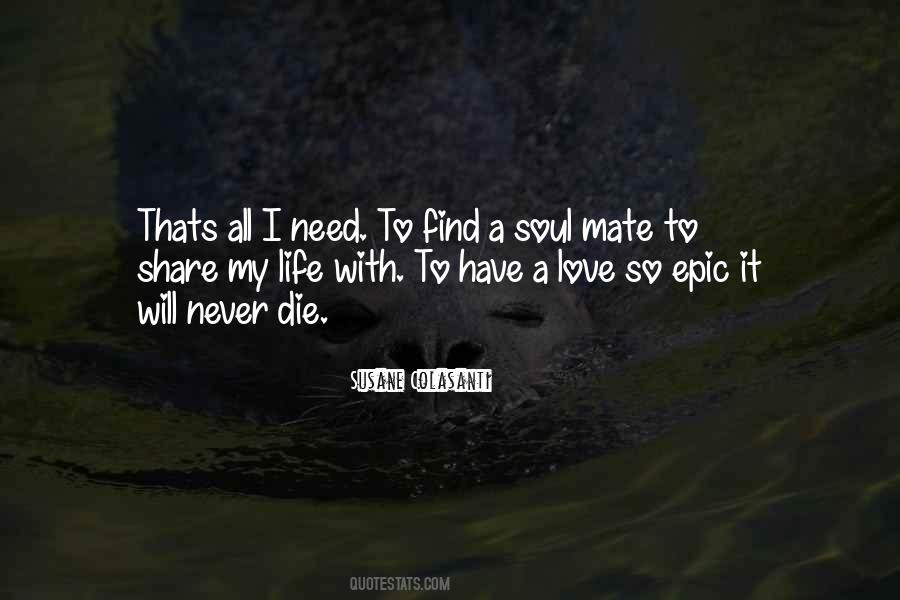 #26. You need to live a little, girl. There's nothing wrong with a little quick love if they're good. I hear he's good. - Author: Melissa Marr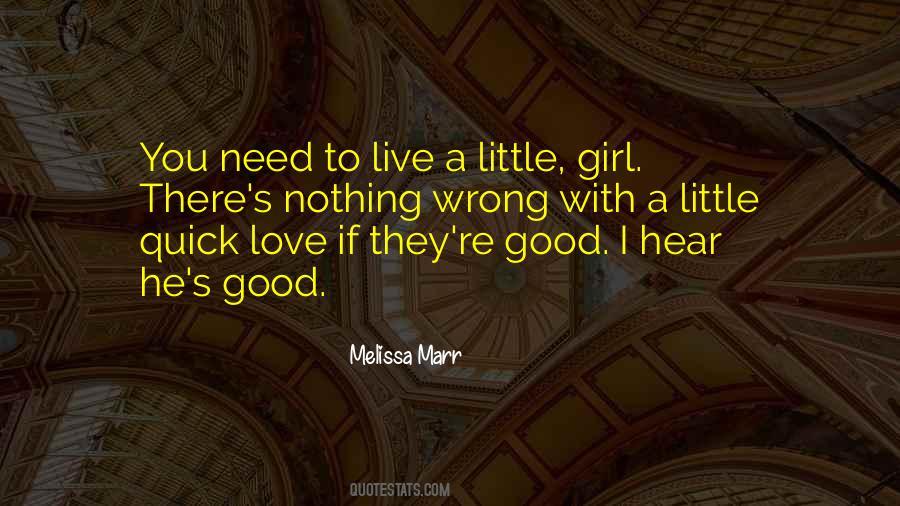 #27. no one needs love from you
more than you need love from you.

love yourself first,
and you will always be in love. - Author: AVA.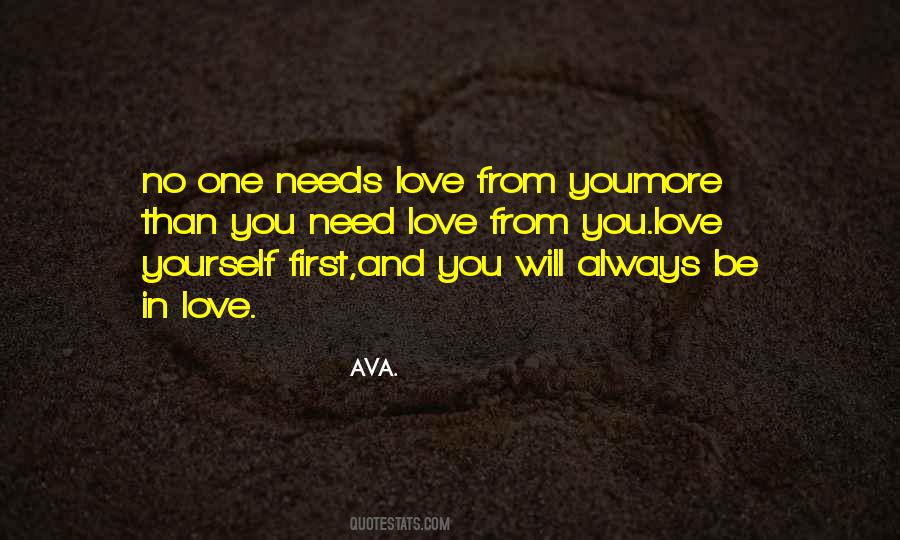 #28. If life didn't end... there would be no need for me to choose love in the face of death is the ultimate act of courage. I am the joy, but you are the meaning. Together, we make humanity more than it otherwise might have been. - Author: Martha Brockenbrough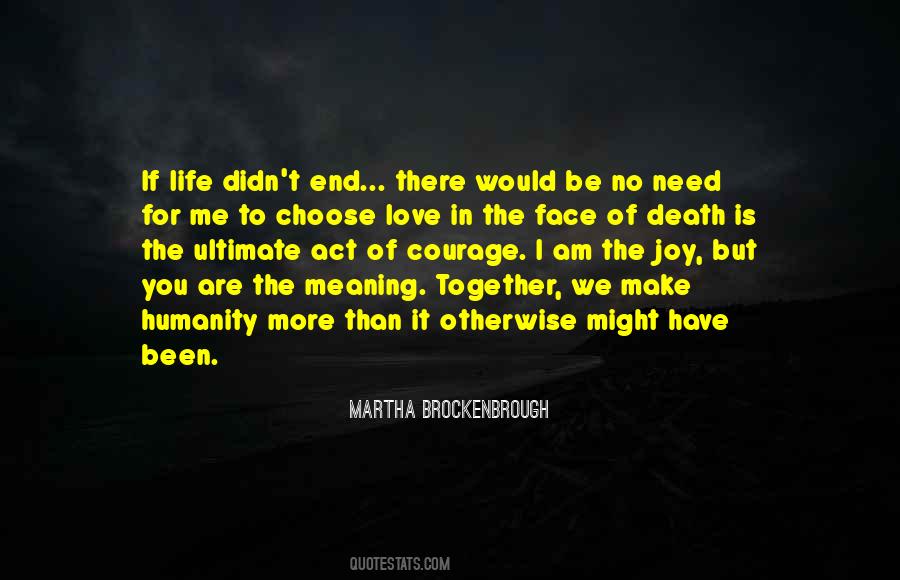 #29. Again, again ... " really means "We must love each other, you and I, if this one story, told and retold, is all we need." Reading again isn't about repeating yourself; it's about offering fresh proof of a love that never tires. - Author: Daniel Pennac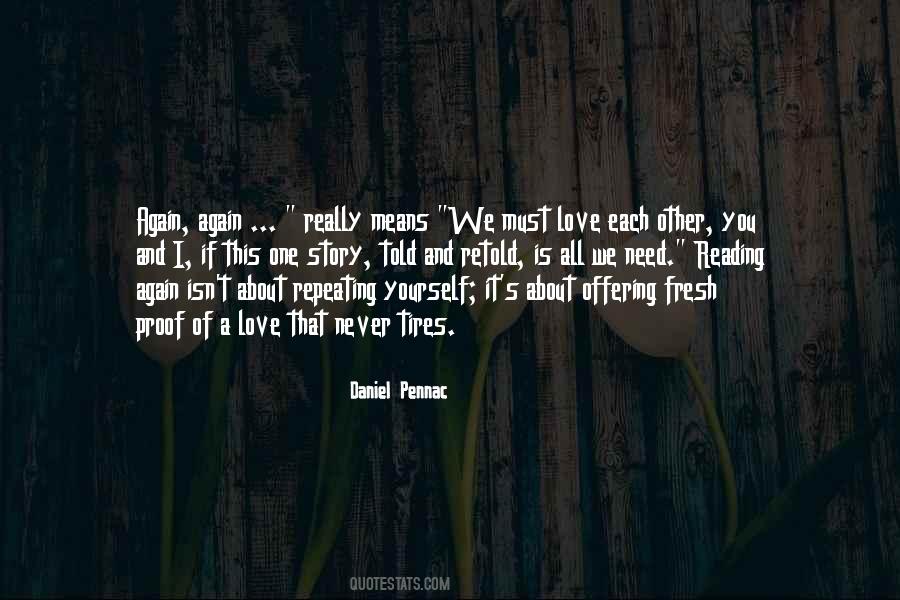 #30. I'm Jewish, I can say it. We're storytellers. We were the moneylenders ... Therefore we tell great tales to get what we need. I love Jewish men. They make the best husbands. - Author: Patti Stanger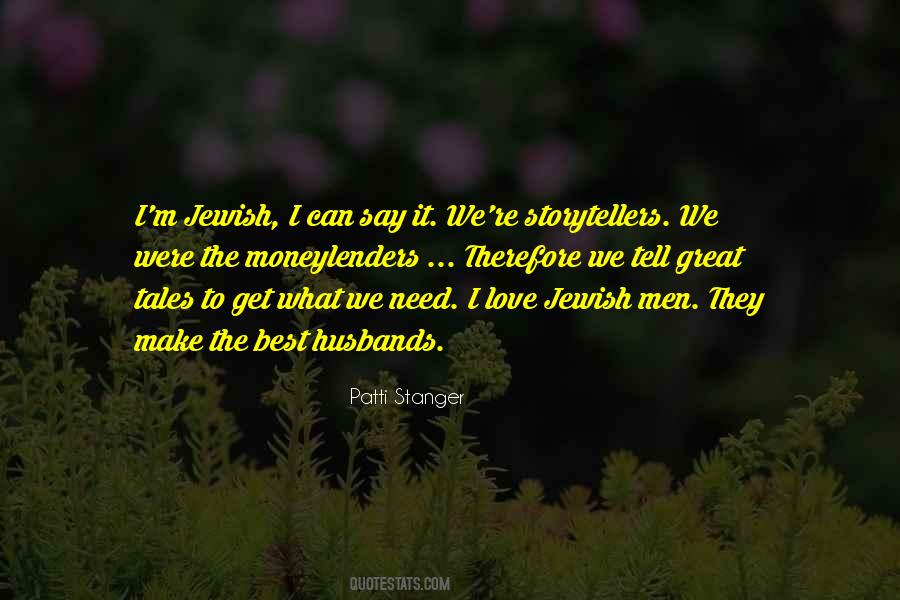 #31. I enjoy receiving love from my wife. I'm ecstatic when Kim loves me and expresses affection toward me. Something in me comes alive when she does that. But I've learned this freeing truth: I don't need that love, because in Jesus, I receive all the love I need. - Author: Tullian Tchividjian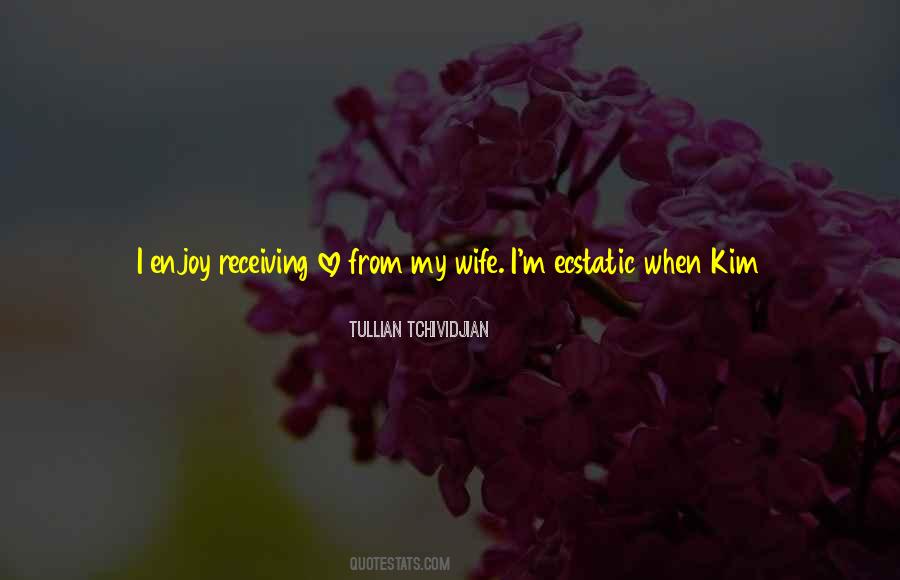 #32. You don't need to beat yourself up in order to make God love you. Jesus already took your beating. - Author: Mark Driscoll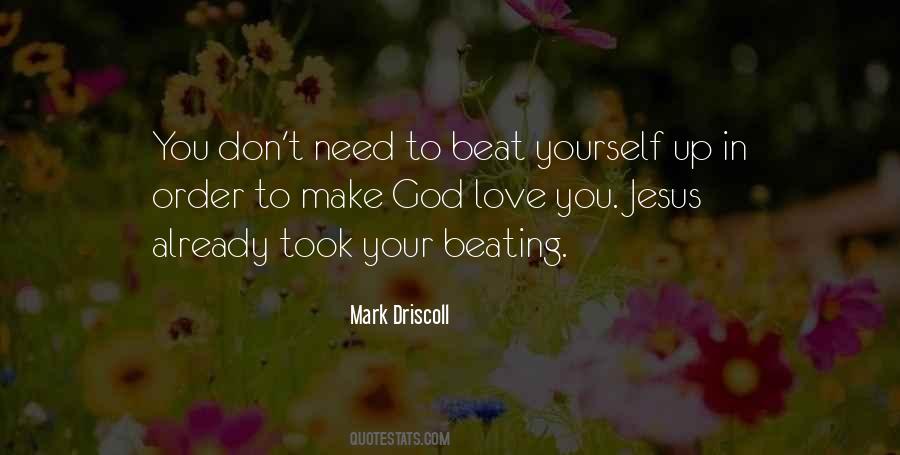 #33. Climate change has been associated so much with a peaceful mentality - obviously peace and love are good, but we need to think about climate as a threat to survival. - Author: Margaret D. Klein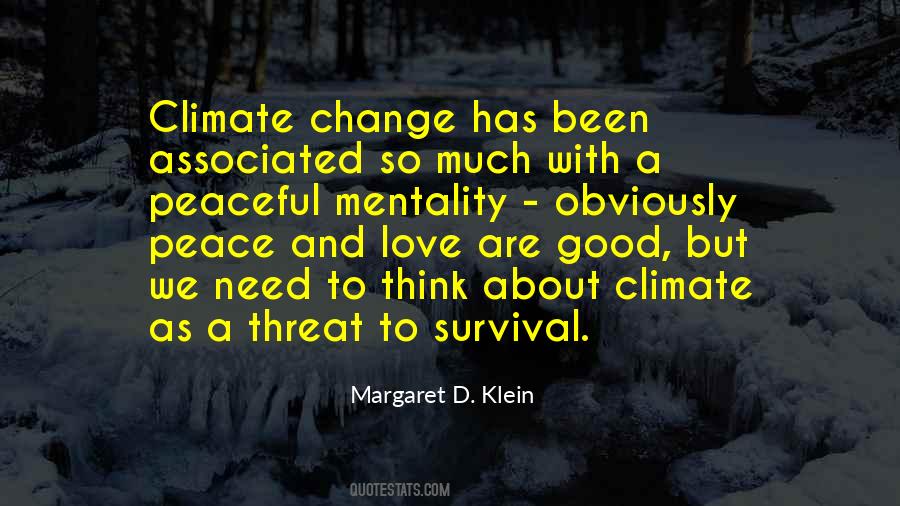 #34. Among all the wonderful things we have, we don't seem to have a time to love. And to me that's the fuel, that's the fuel we need to make the engine go. - Author: Stevie Wonder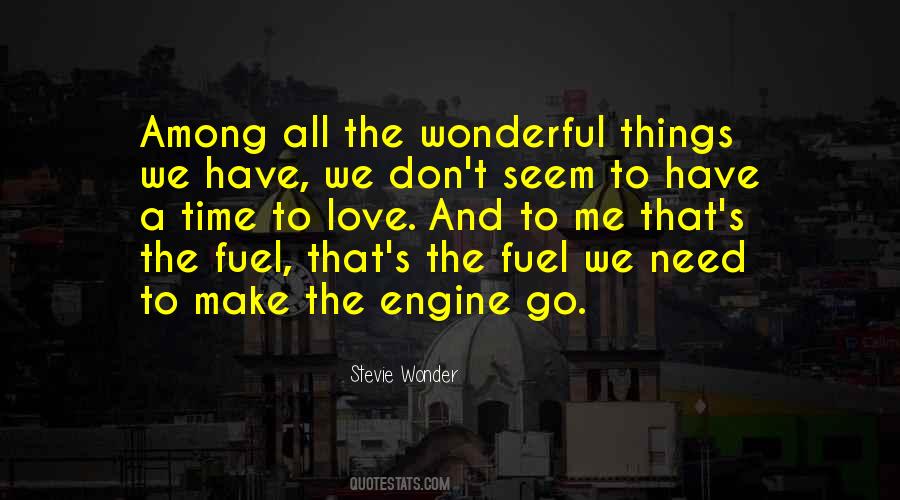 #35. I never yelled at my players much. That would have been artificial stimulation, which doesn't last very long. I think it's like love and passion. Passion won't last as long as love. When you are dependent on passion, you need more and more of it to make it work. It's the same with yelling. - Author: John Wooden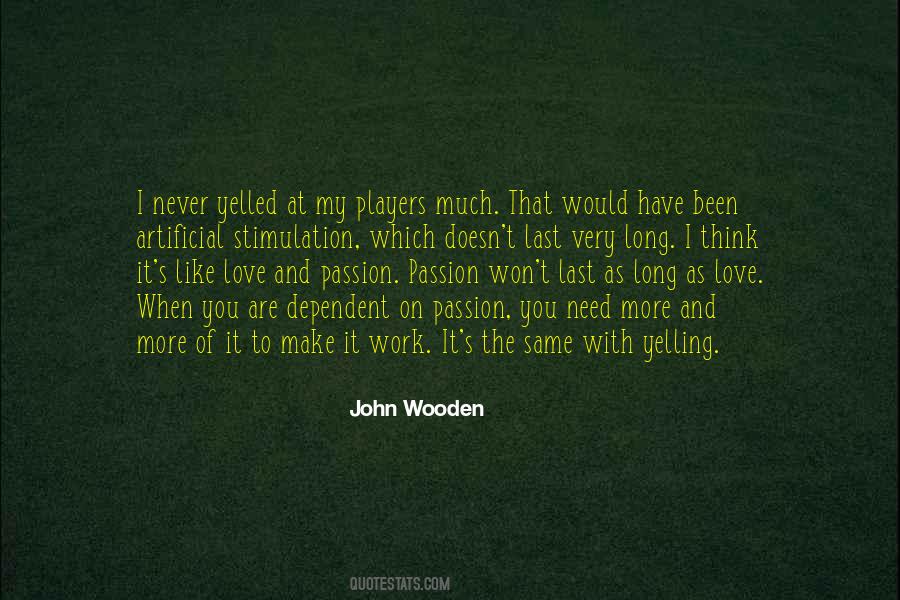 #36. I wish I were worthy of his love. (Any love.)I should tell him to run. But I can't. I need him. - Author: Ellen Hopkins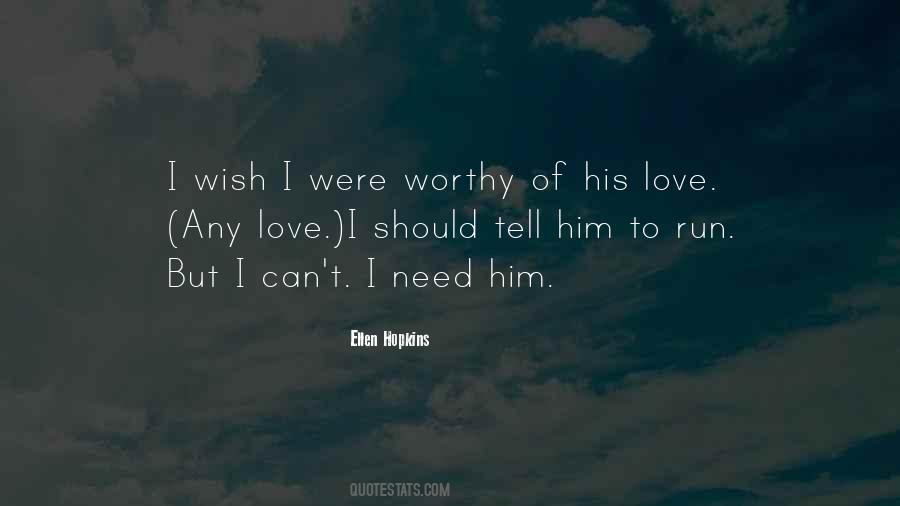 #37. I'm as much of a homophobe as Jesus was. The people who are participating in homosexual behavior, they need to know that I love them. - Author: Phil Robertson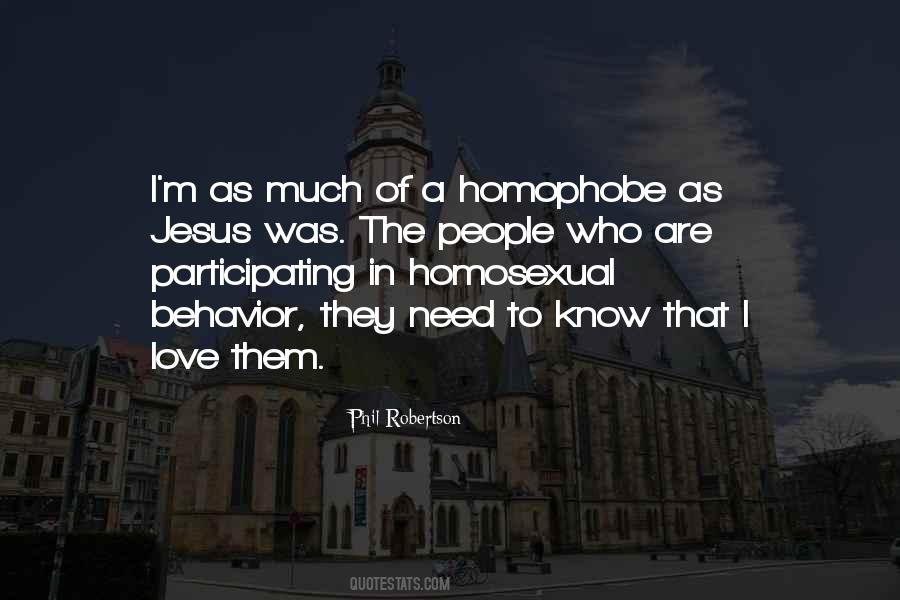 #38. Finally, sweet finally, he was inside her to the hilt.
"I need a second," he ground out, his body pulsing.
"You're really freaking big, Quinn," she panted. "Move. Please, for the love of the goddess, move."
He grinned before kissing her. "You say such sweet things. - Author: Carrie Ann Ryan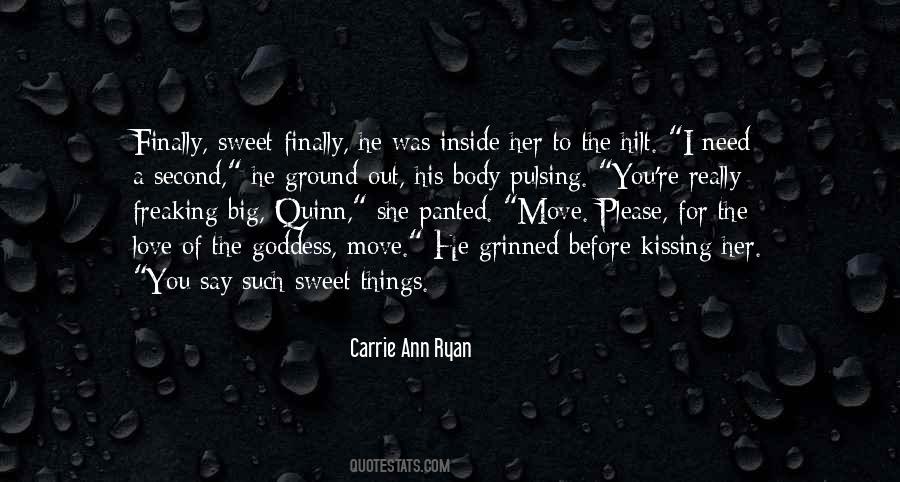 #39. Love is an exchange of gifts,' Saint Ignatius had said. It was in these simple, practical, down-to-earth ways that people could show their love for each other. If the love was not there in the beginning, but only the need, such gifts made love grow. - Author: Dorothy Day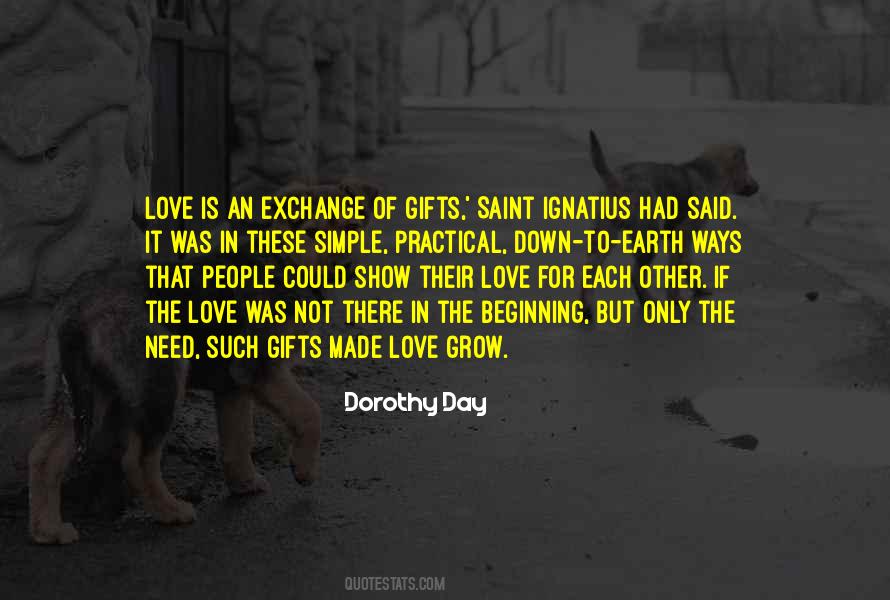 #40. . . . because she knows the secret: that humans need contact to thrive, that a broken heart is only one crack away from a broken spirit, and that both can be mended by smoothing on thin layers of love. - Author: Amy Matayo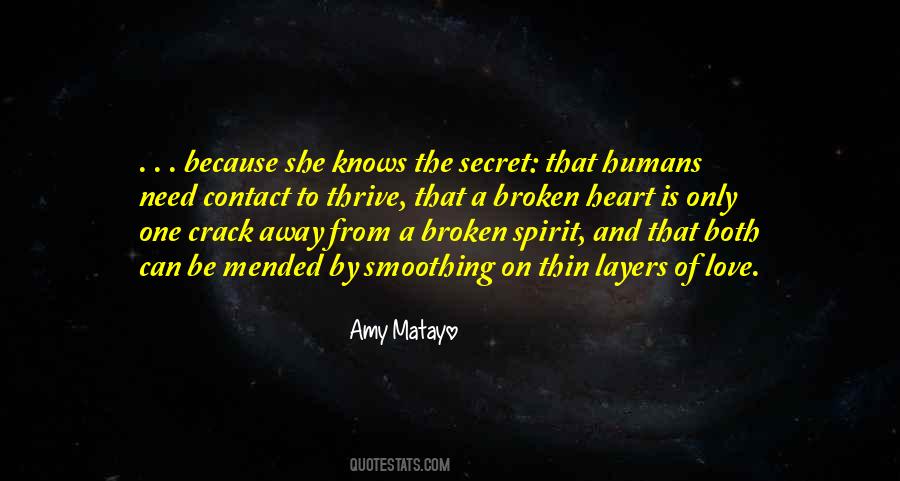 #41. I don't need a guarantee if I have you. - Author: Kristin Cast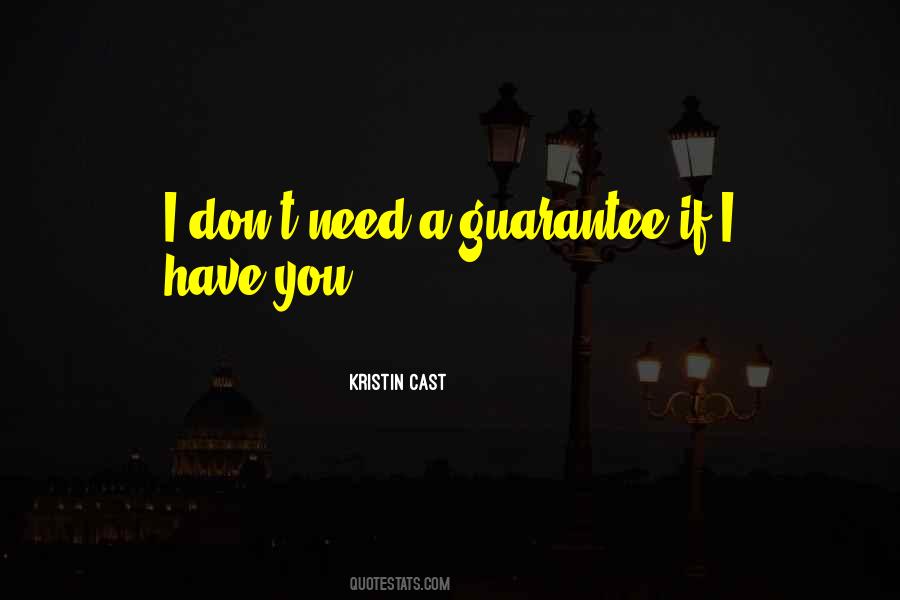 #42. You've got two witnesses here. Happiness is a wholeness issue. If you want to be happy, you need to be whole. If you want to be married, you simply need a mate. If you want to be happily married, you need to be a whole person married to another whole person. - Author: Michelle McKinney Hammond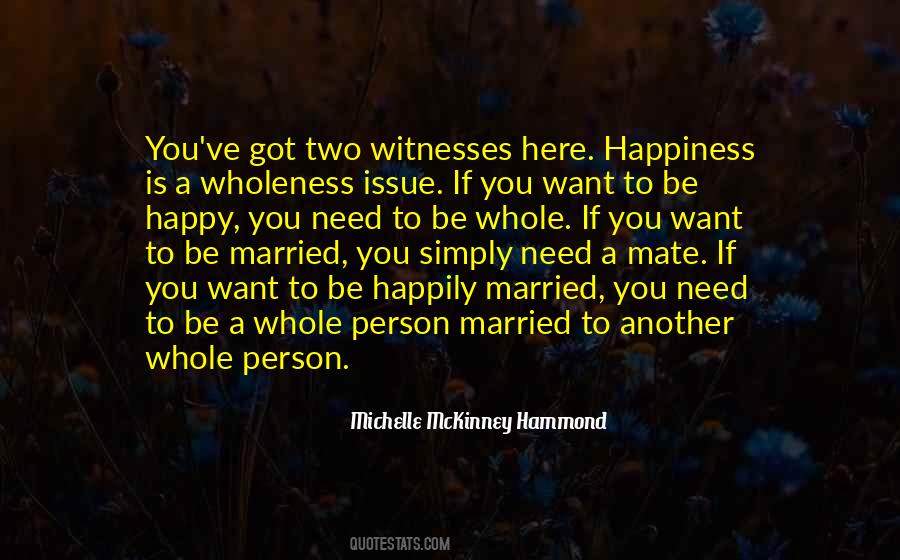 #43. You didn't," she said in a resolute voice. "And you won't in the future, because with each purging of your soul, your anger will subside until the only release you'll need will be in my arms. - Author: Monica Burns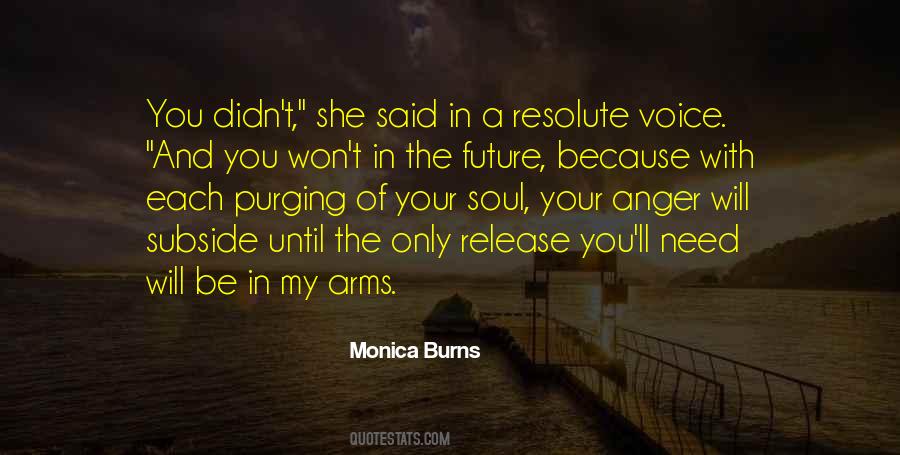 #44. Stewart loves me with a tiger's intensity, his need taking my breath away, his confidence in our relationship strong enough to not be bothered by the presence of another man. He stares into my soul as if he owns it, and shows his love with money, sex, and rare moments of time. - Author: Alessandra Torre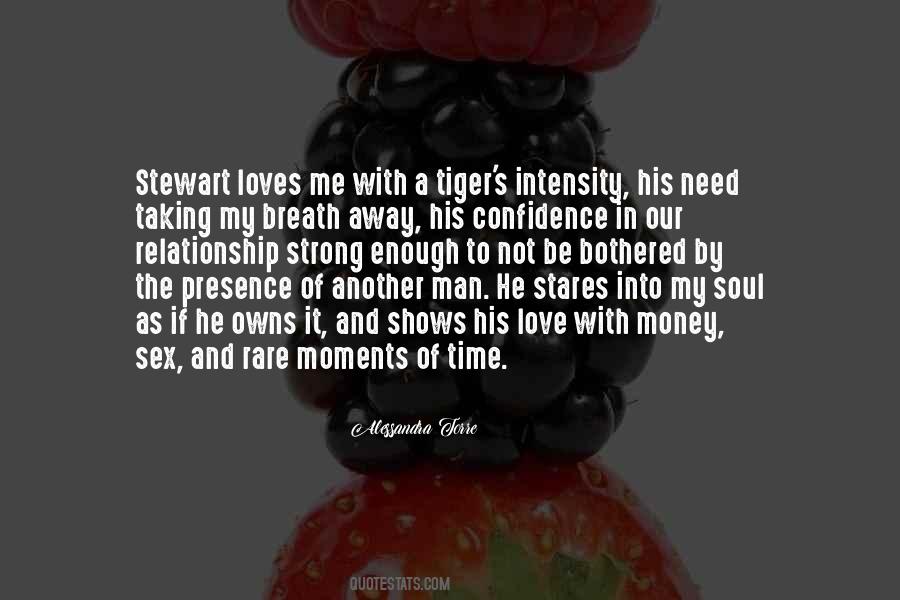 #45. A touch of humanity .. A touch of Love is all that we need to bring that touch of smile on someone's face. - Author: Heena Ahuja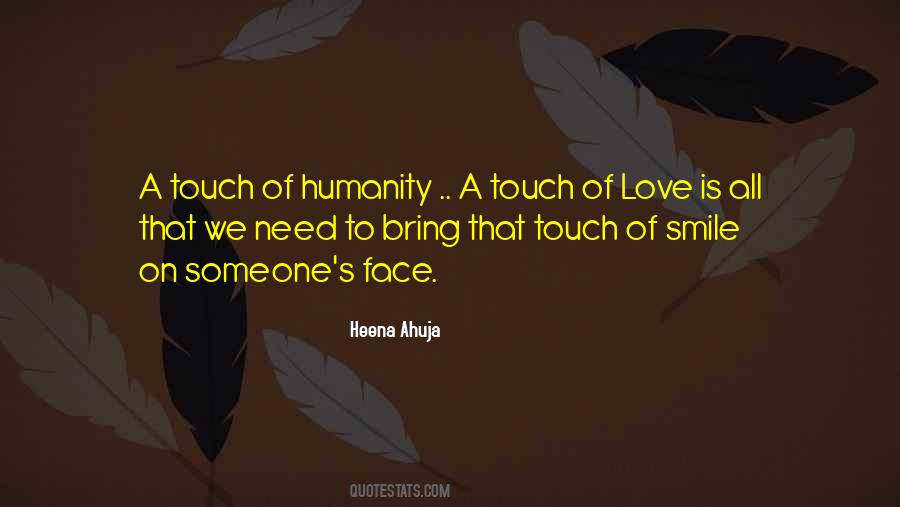 #46. When I die, I need to know that I did everything I've ever wanted to do, and I've seen everything I've ever wanted to see, and I've loved everyone I've ever wanted to love. - Author: Colleen Hoover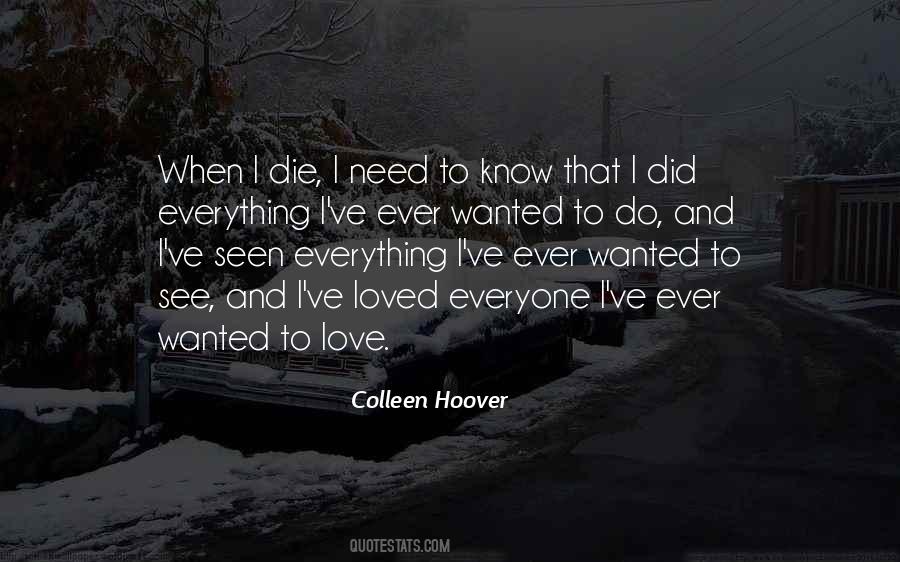 #47. Sometimes things need shaking up. You've got to test the limits. - Author: Lindsey Kelk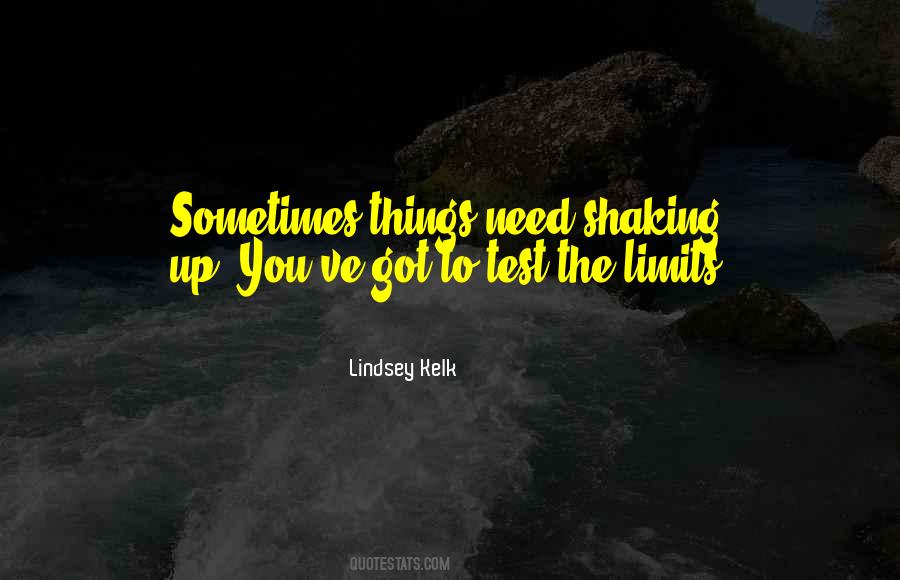 #48. I really love good food occasionally, but I need time to enjoy it, and I need to be hungry. - Author: Clare Balding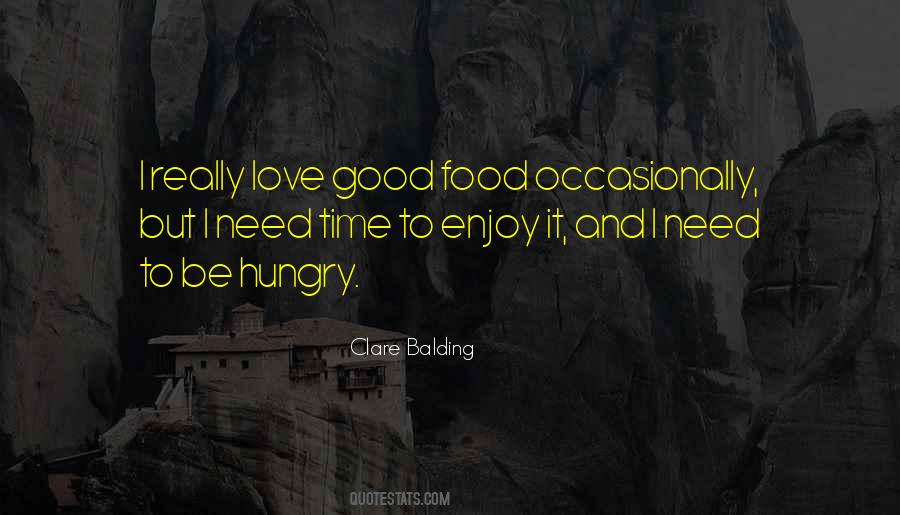 #49. Men need to realize that women take longer to get aroused and satisfied - sometimes 6 -8 times longer. Make the journey pleasurable. - Author: J.F. Kelly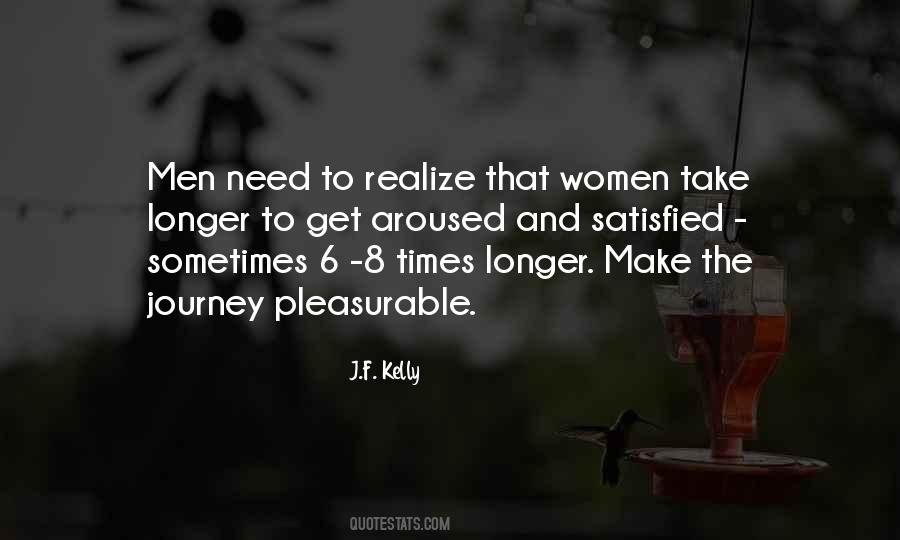 #50. I need to give affection and love, because without that, I wither. I need to give that love to someone. Without that, I'm rudderless. - Author: Les Dawson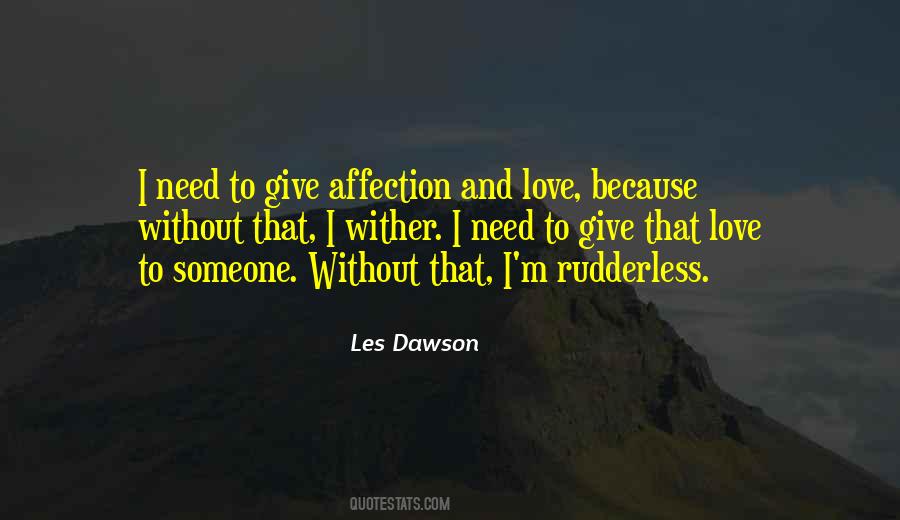 #51. And I really wanted to see you, too," she said. "When I couldn't see you any more, I realized that. It was as clear as if the planets all of a sudden lined up in a row for me. I really need you. You're a part of me; I'm a part of you. - Author: Haruki Murakami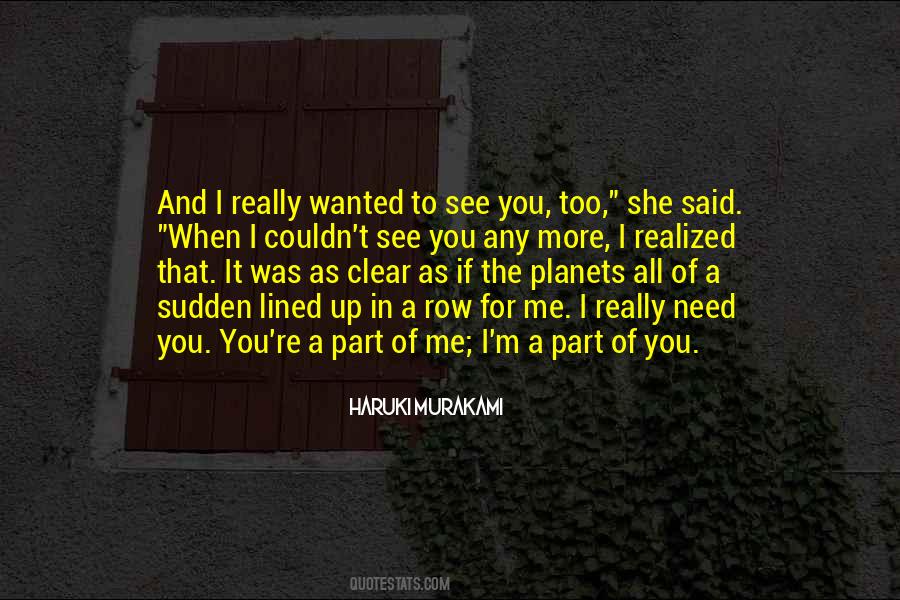 #52. Love matches, so called, have illusion for their father and need for their mother. - Author: Friedrich Nietzsche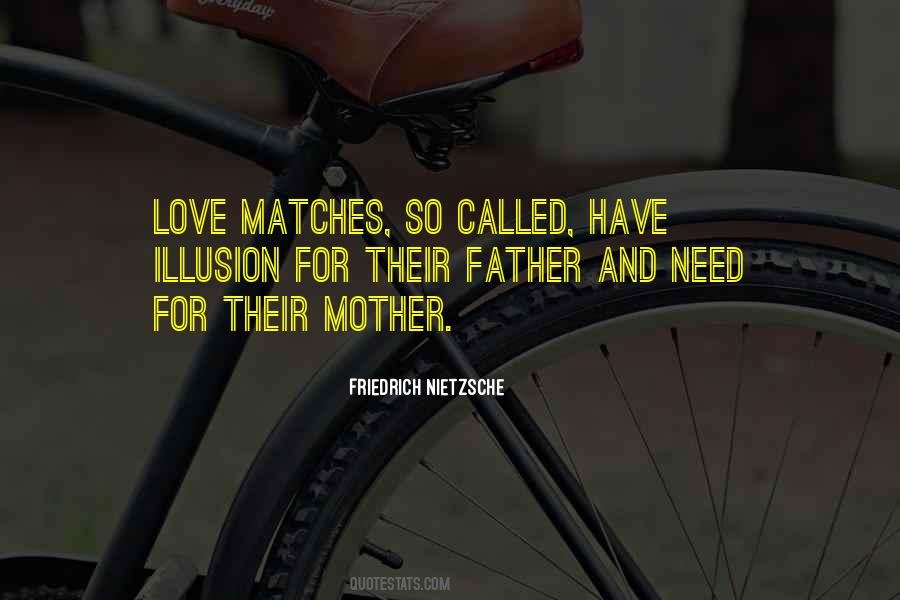 #53. Those men, they're built differently. They love differently, and they need different things. We're the same way. This is the life we know, and while some may not understand it . . . we do. Our love is stronger than most couples, and you and Liam are no different. - Author: Corinne Michaels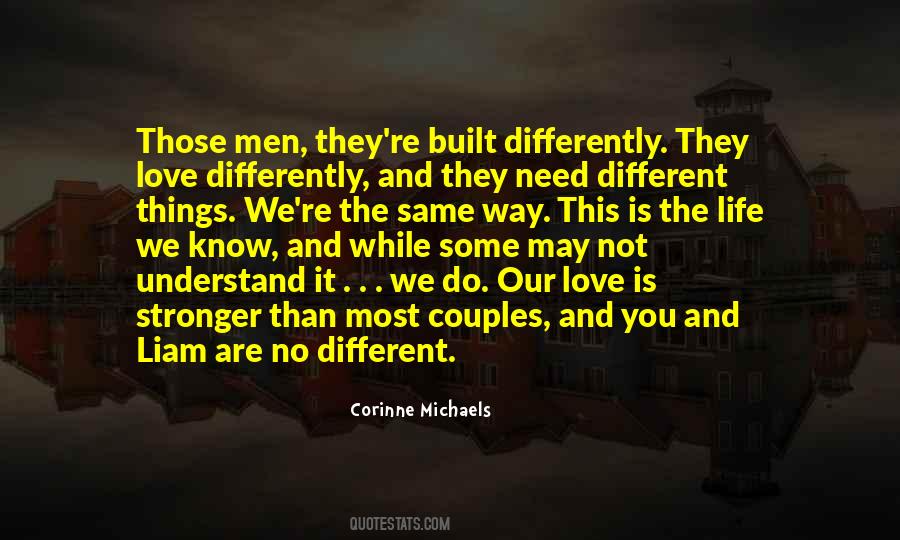 #54. I love to act. I need to act. It's the big itch I need to scratch. - Author: Christopher Meloni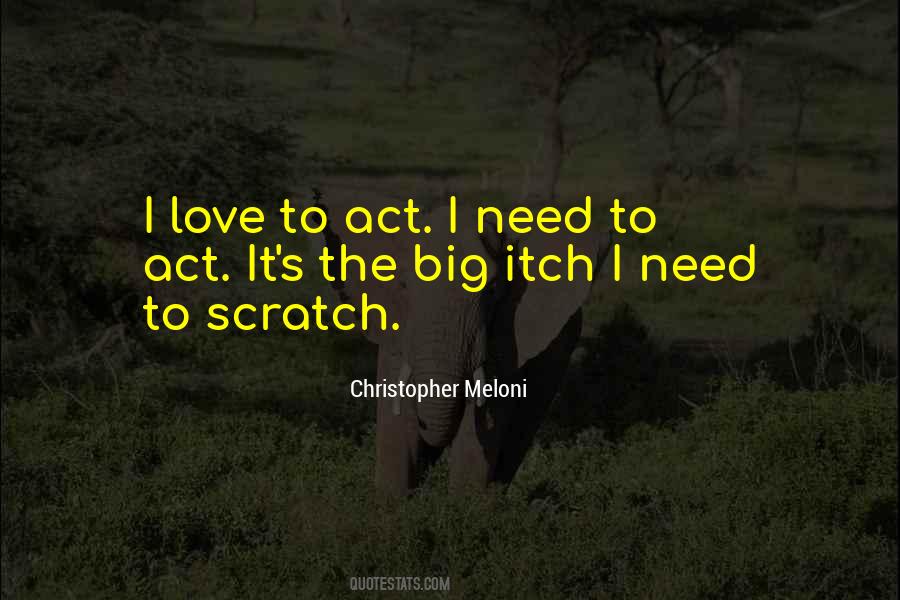 #55. And now the fight continues for all orphans and children who need families who will love and care for them - until they too can all go home. - Author: Kim De Blecourt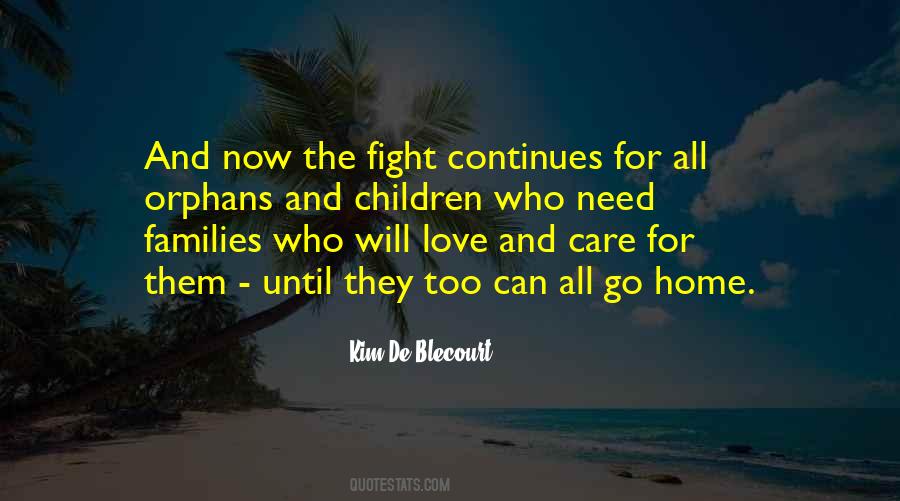 #56. I should probably warn you, my love isn't roses and champagne. I'm obsessive, jealous, and controlling, but I'm faithful and I'll be here when you need someone. - Author: Suzanne Steele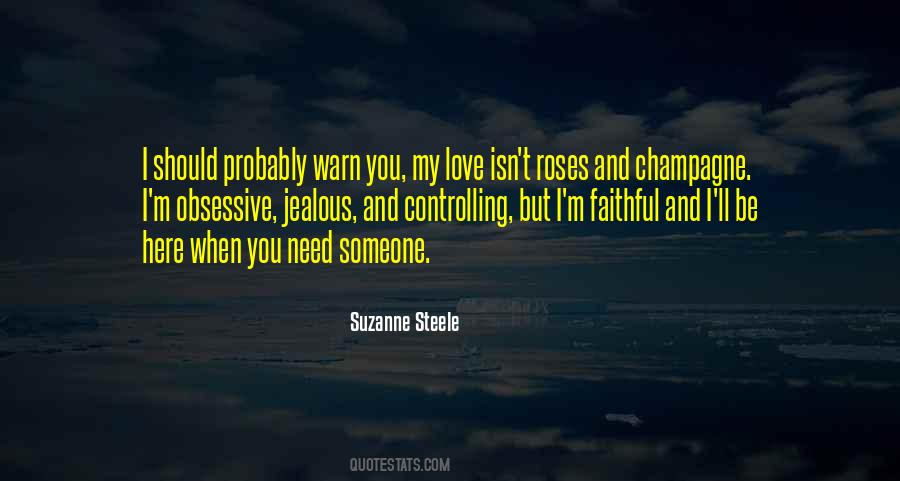 #57. I need you forever, for you are my teddy. - Author: Vikrmn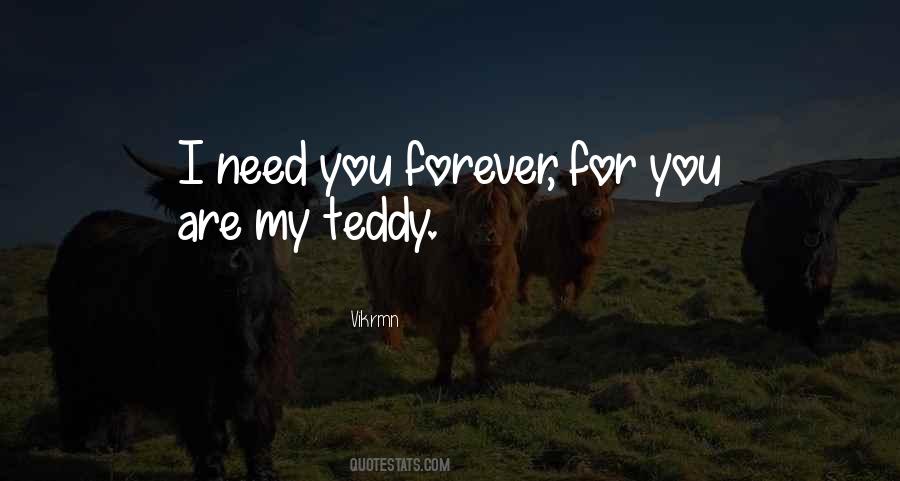 #58. [ ... ] we drank each other up with so much yearning and need that afterward I felt myself drained of all the things the Chairman had taken from me, and yet filled with all that I had taken from him. - Author: Arthur Golden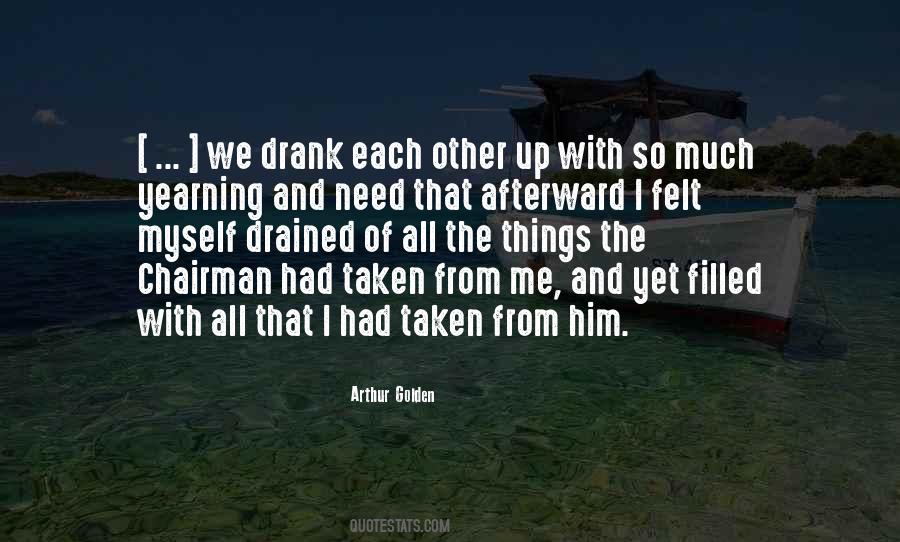 #59. What love it to me ... is his happiness. I'm not like you where I fall in love so I can be happy. All I need is for him to be smiling. - Author: Kim Su-mi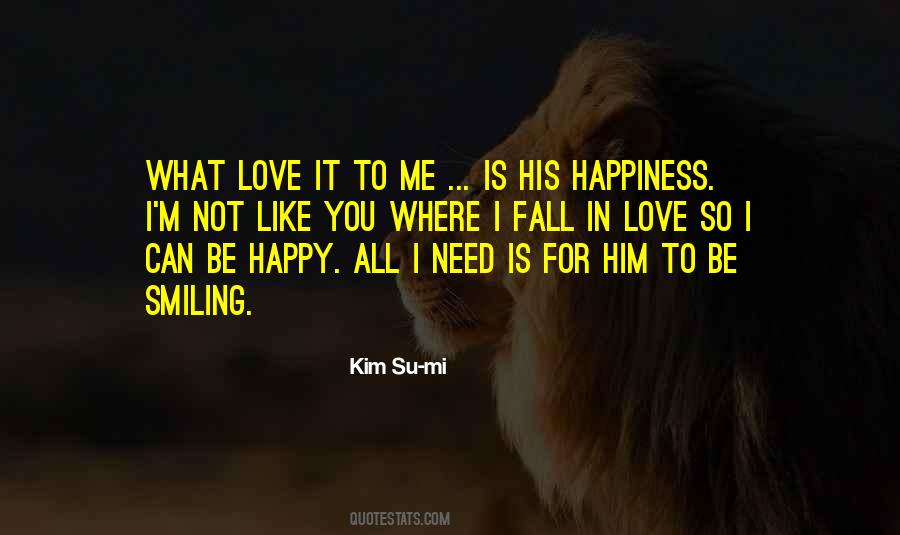 #60. I always knew I wanted to have children. When I met my husband, Rande, I thought, 'This is the guy.' When you are getting ready to become a mom, being in love with someone just isn't enough. You need to think about whether he would be a good parent and raise your children with similar beliefs. - Author: Cindy Crawford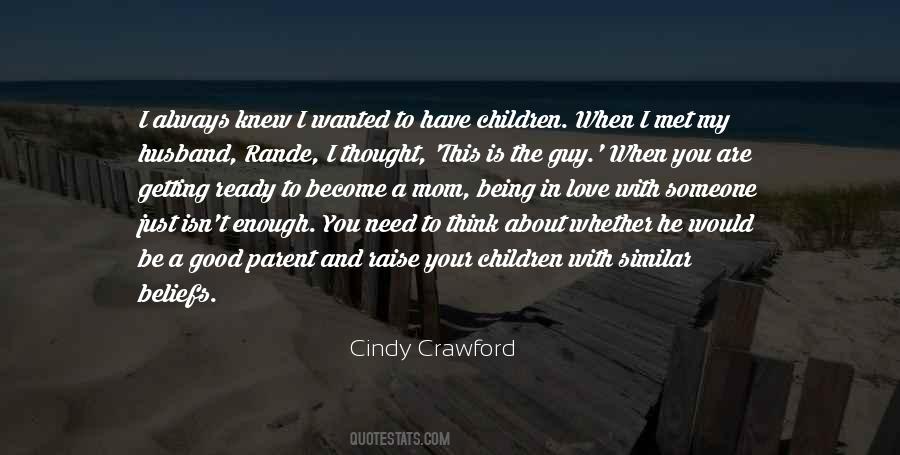 #61. What is love anyway? From my new vantage point, I realize that love is nothing more than a messy conglomeration of need, desperation, fear of death and insecurity about penis size. - Author: Charlie Kaufman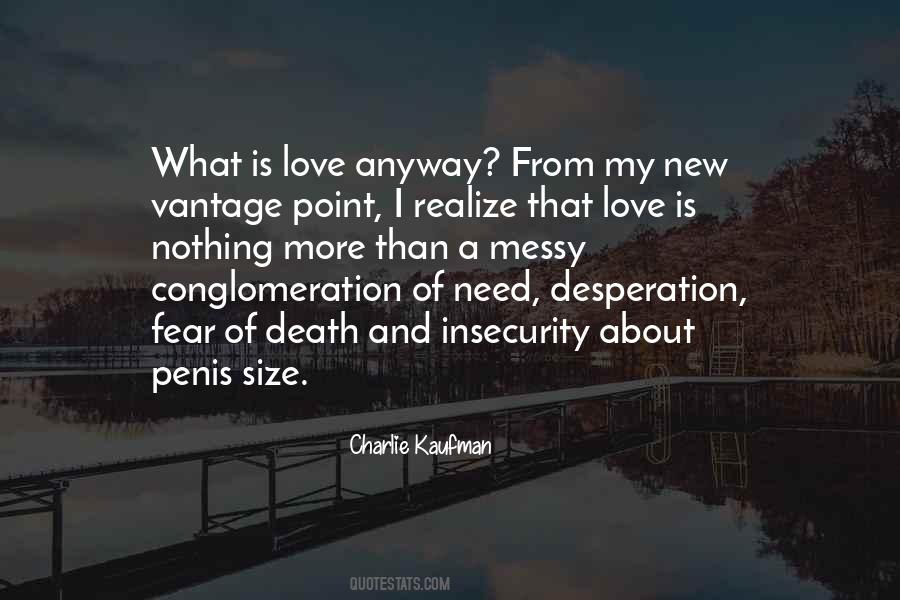 #62. Love is what's left when you let go of everything you don't need. - Author: Erich Schiffmann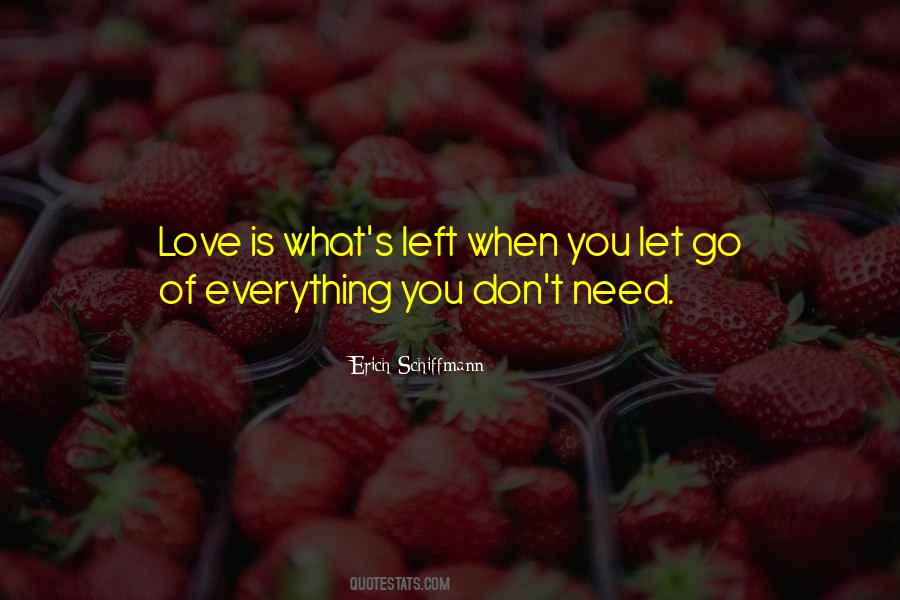 #63. With you, I want it all. If I get a taste of what it could be, I won't ever want to let it go. I fell in love with you when I was sixteen, and that's never changed. But trusting you with my heart again is different. With you, I need to know it's forever. - Author: Abbi Glines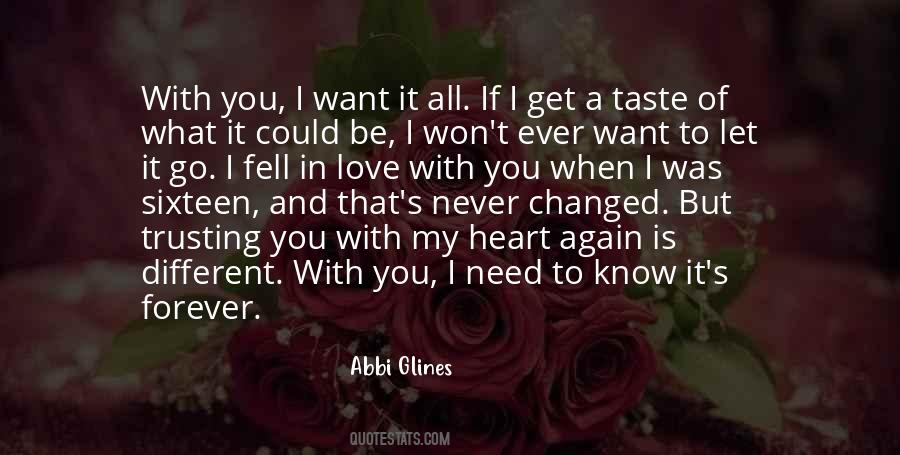 #64. When I get older losing my hair many years from now,
Will you still be sending me a Valentine, birthday greetings, bottle of wine?
If I'd been out till quarter to three would you lock the door?
Will you still need me, will you still feed me,
When I'm sixty-four? - Author: John Lennon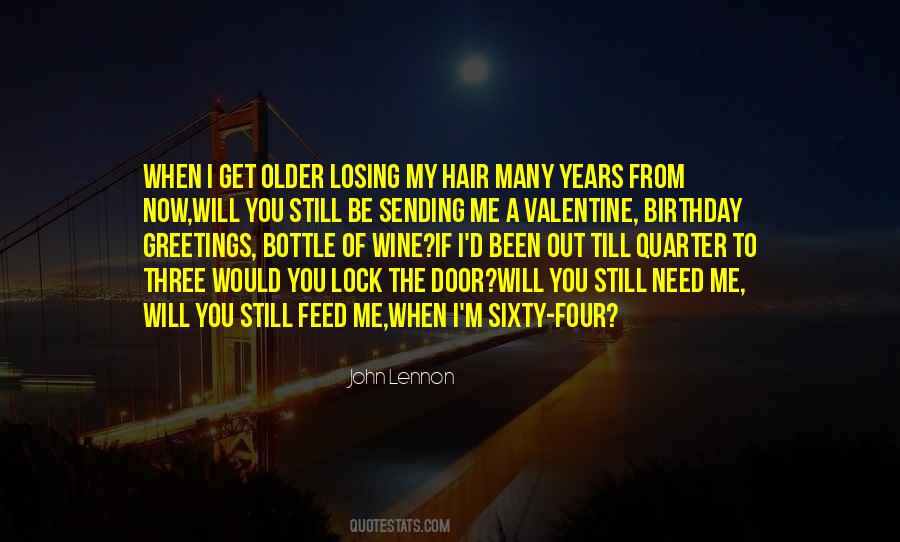 #65. Marriage is what you make of it, and God has many versions of what that looks like based on what different souls need, in order to grow. - Author: Shannon L. Alder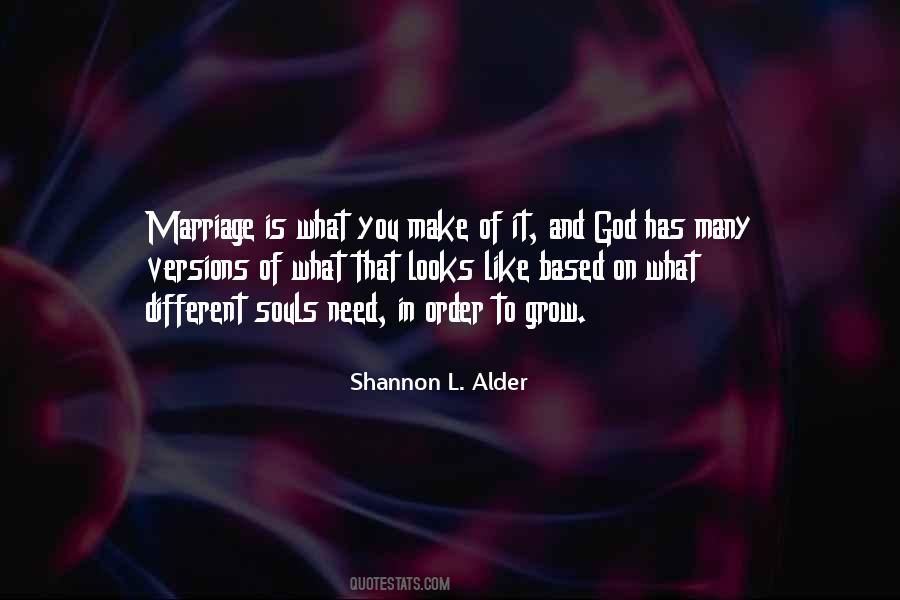 #66. Take your light and take your love into the world as the only weapons that we need to make this world truly glorious, truly beautiful, and astonish all of life. - Author: Hafsat Abiola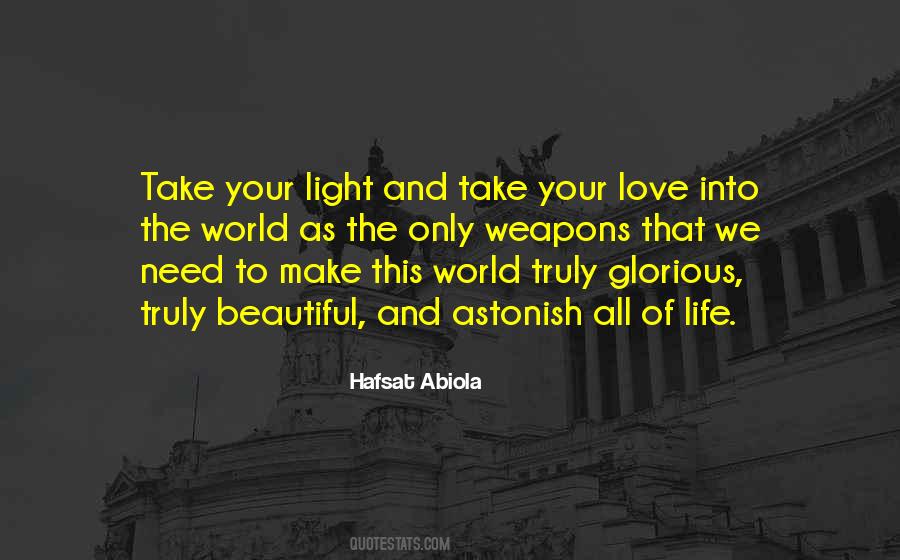 #67. Only a man of inner silences becomes a creator. And we need more and more creative people in the world. Their very creativity, their very silence, their very love, their very peace will be the only way to protect this beautiful planet. - Author: Rajneesh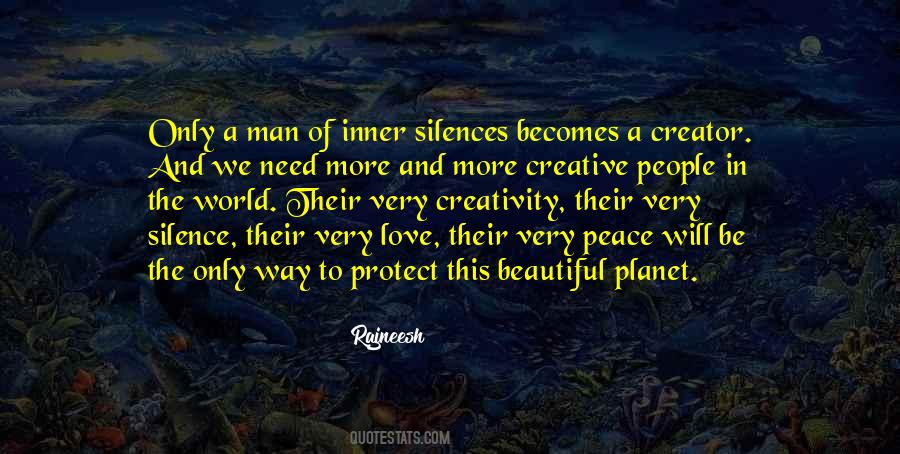 #68. I wanted to do London Boulevard because I saw the potential of a story about two people who need each other desperately, who love at first sight, as one does, and above all a story in which no one is what they appear to be. - Author: William Monahan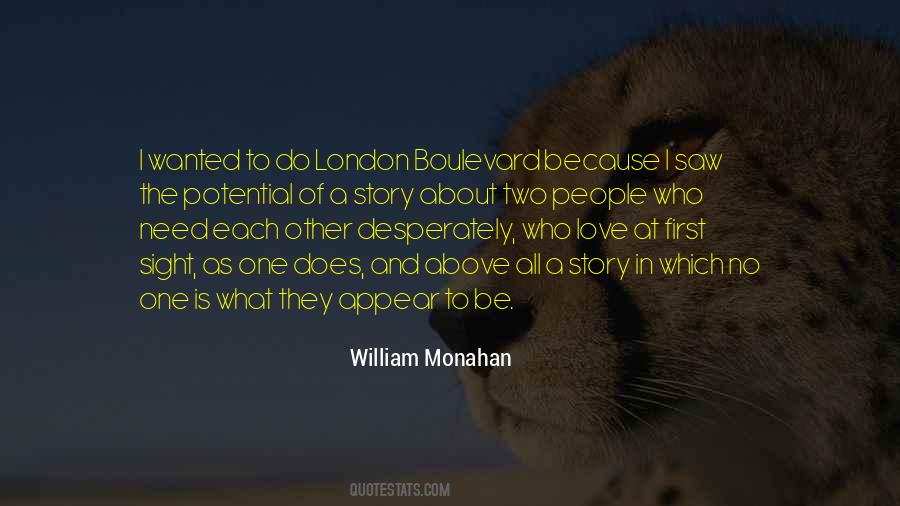 #69. Would it not be well this Christmas to give first to the Lord, directly through obedience, sacrifice, and love, and then to give to him indirectly through gifts to friends and those in need as well as to our own? Should we do this, perhaps many of us would discover a new Christmas joy. - Author: John Andreas Widtsoe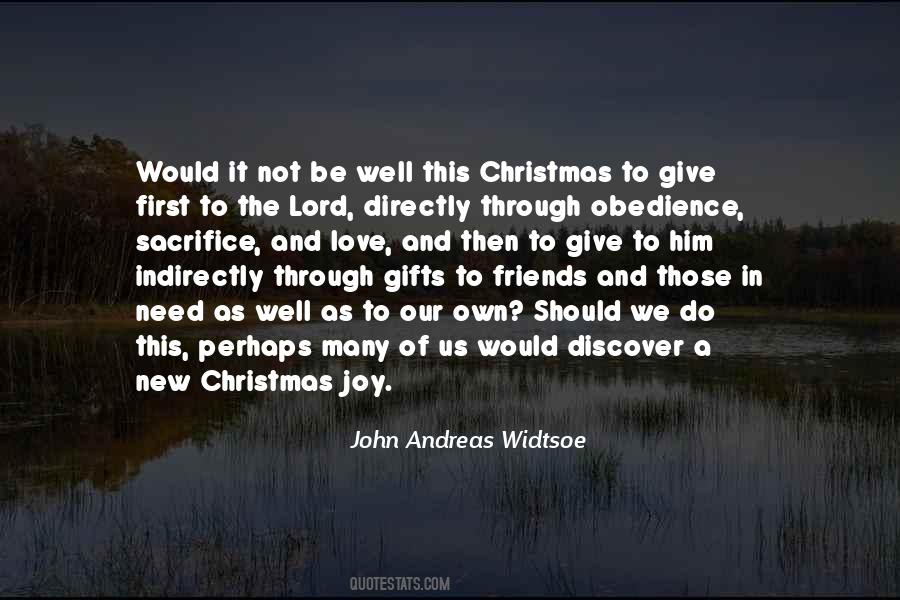 #70. I love and in a way need, a private secret place. It's a kind of deep obsession, but I also love to need and be with friends and the two things often need to be together ... it's a painful conflict that will never be smoothly resolved. - Author: Morris Graves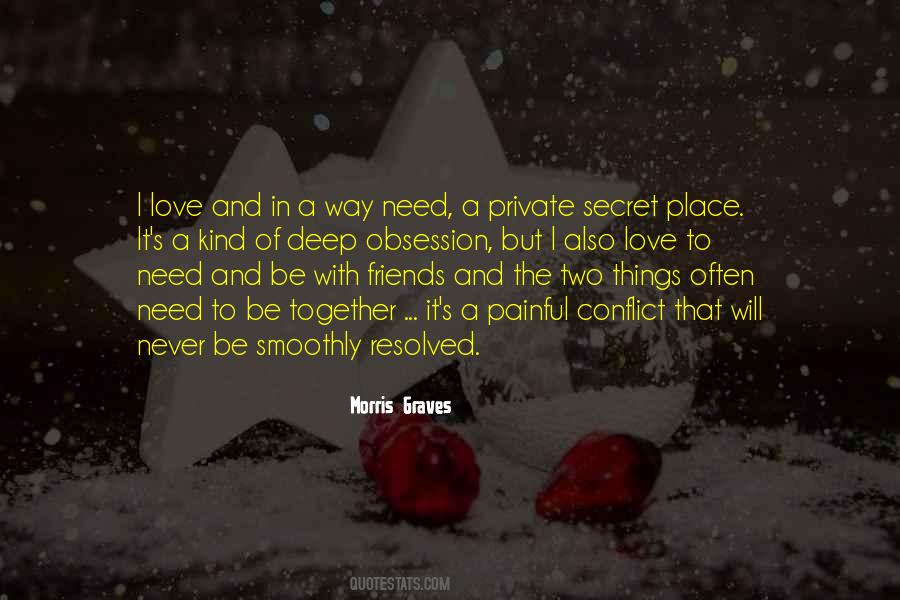 #71. Love ... is also a form of poison, for to fall in love is to want and to need everything necessary for survival from one all-powerful and barely differentiated Other. - Author: Colette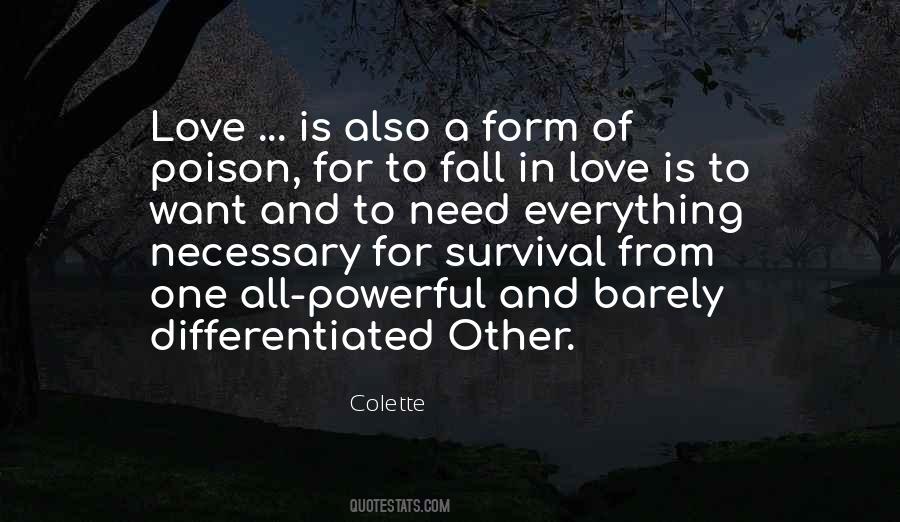 #72. There are times when I love to play all kinds of complicated games in painting. But this is one case when I need to be fairly straightforward. I'll just try to paint the man, his intelligence, his amiability and his stature, maybe paint him fairly close to humor and try to get it just right. - Author: Nelson Shanks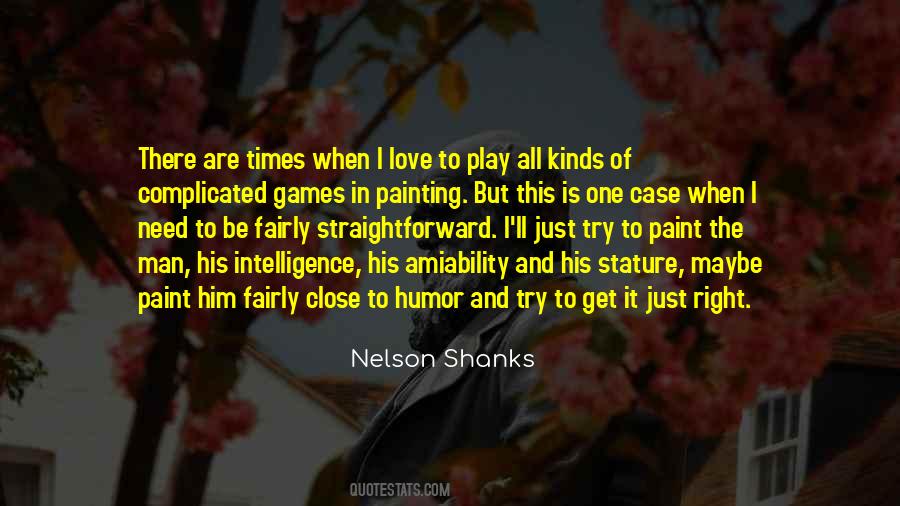 #73. I'm not extravagant, so I won't need to rein it in too much. Me and my friend make each other cards. I love being creative and making things. But a better credit crunch idea is to not even bother sending cards. - Author: Konnie Huq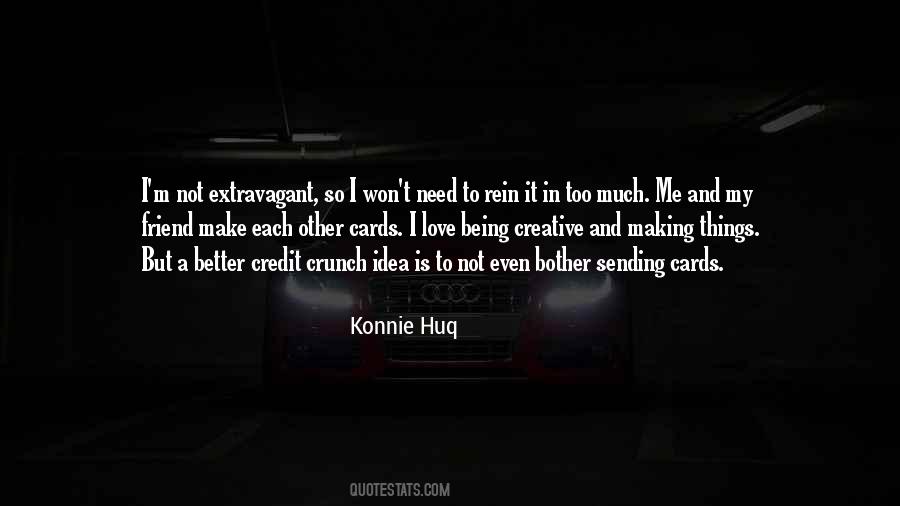 #74. Everything about you fascinates me, Sophie. The smell of your skin. The sound of your voice. Your long legs. Your sense of humor. Your personality. You don't seem to need me, and if you don't need me, it is much more gratifying that you want me. - Author: Elisa Marie Hopkins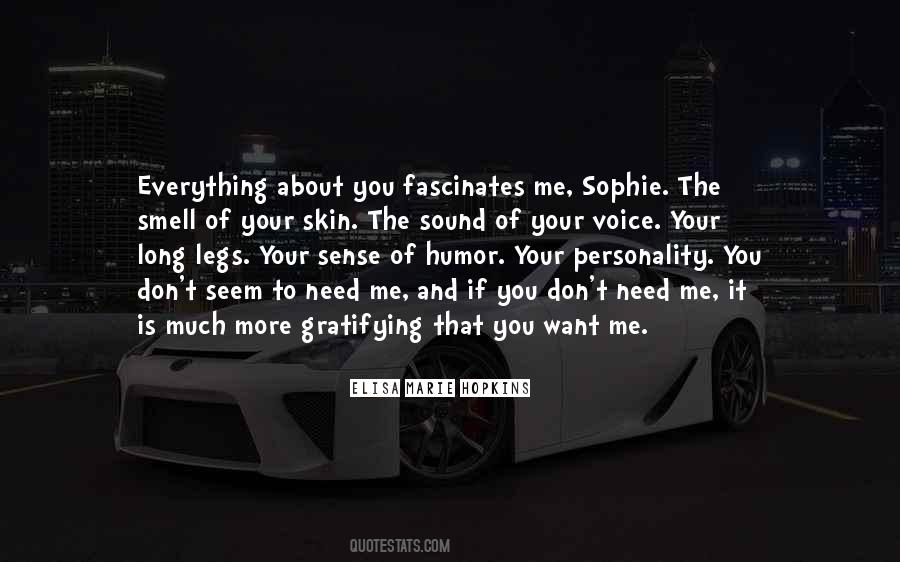 #75. All you need is love,
But a little bit of chocolate now and then doesn't hurt. - Author: Charles M. Schulz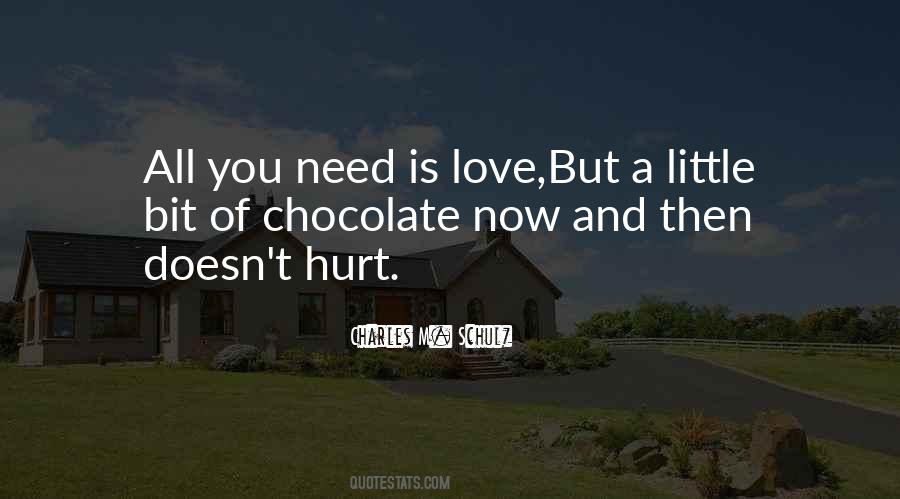 #76. My fate is a prison. It's the only one of us who didn't need to inhabit one. I took your responsibility for those souls for you, even though their deaths are your fault. You should be forced to feel what it's like for someone to be imprisoned. - Author: Martha Brockenbrough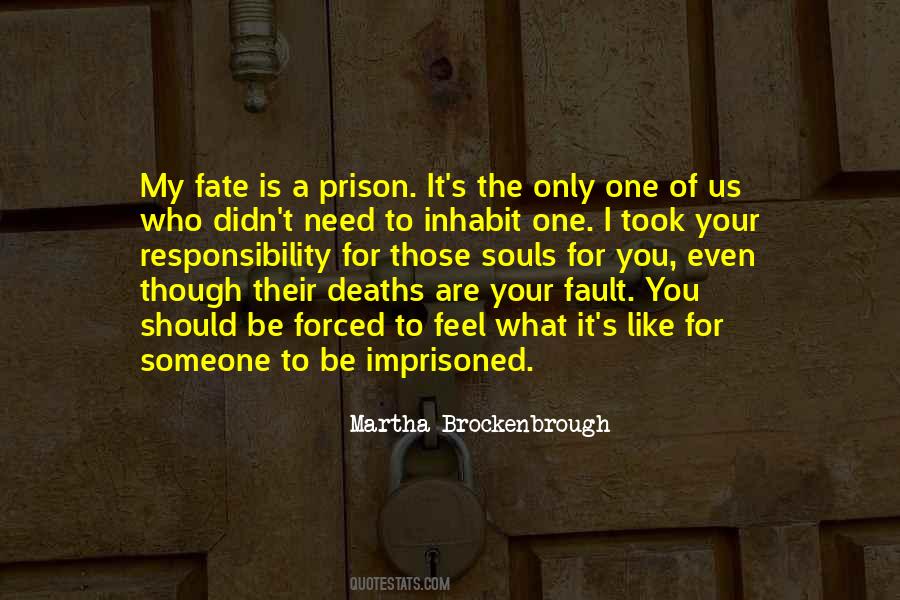 #77. We do need to realize, though, that it is the quality of our love that determines the quality of this life. - Author: Emanuel Swedenborg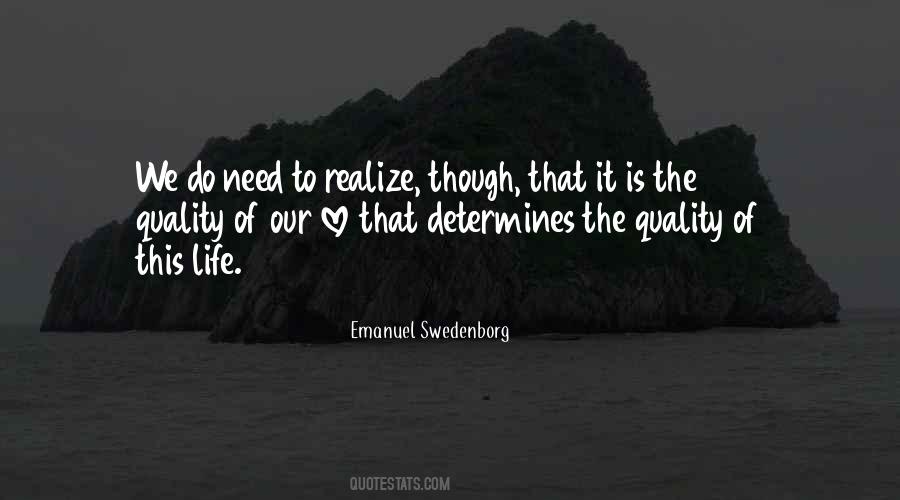 #78. You need power only to do something harmful.otherwise love is enough,compassion is enough. - Author: Osho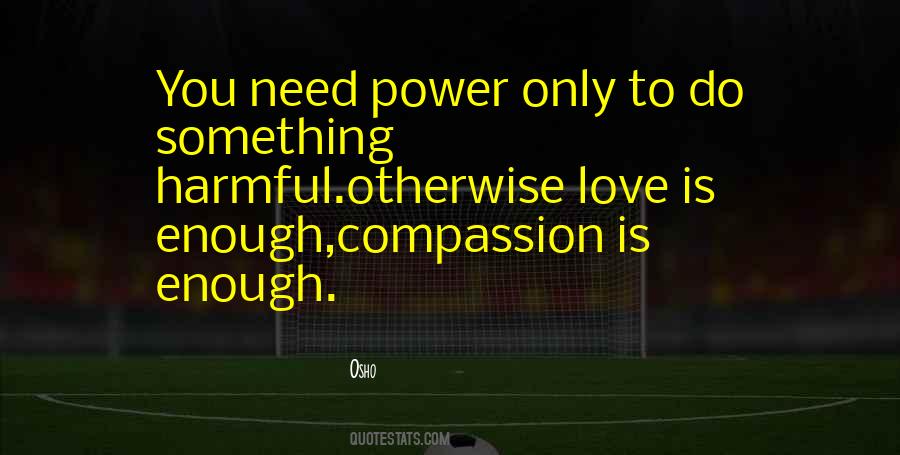 #79. Do I need men? I don't think it's about needing men. It's about love. - Author: Reese Witherspoon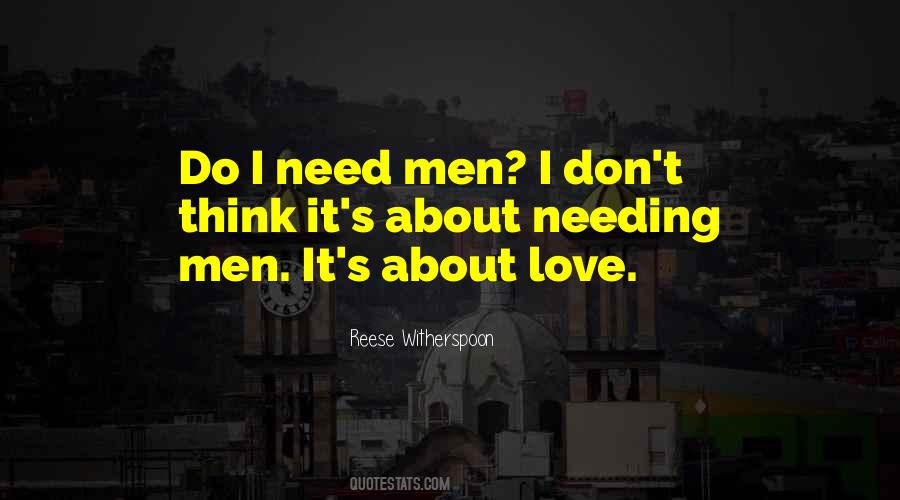 #80. Sometimes the answers you need to hear aren't the answers you want to hear. - Author: Eric Samuel Timm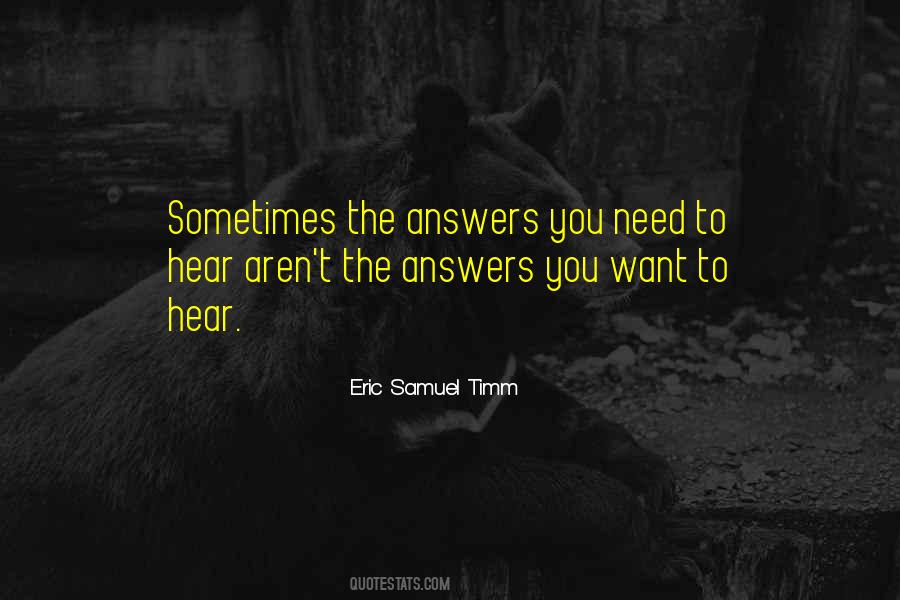 #81. Peace is a new father
Searching for a job
With courage and vigor
With a smile and rigor
But with a great need for money. - Author: Debasish Mridha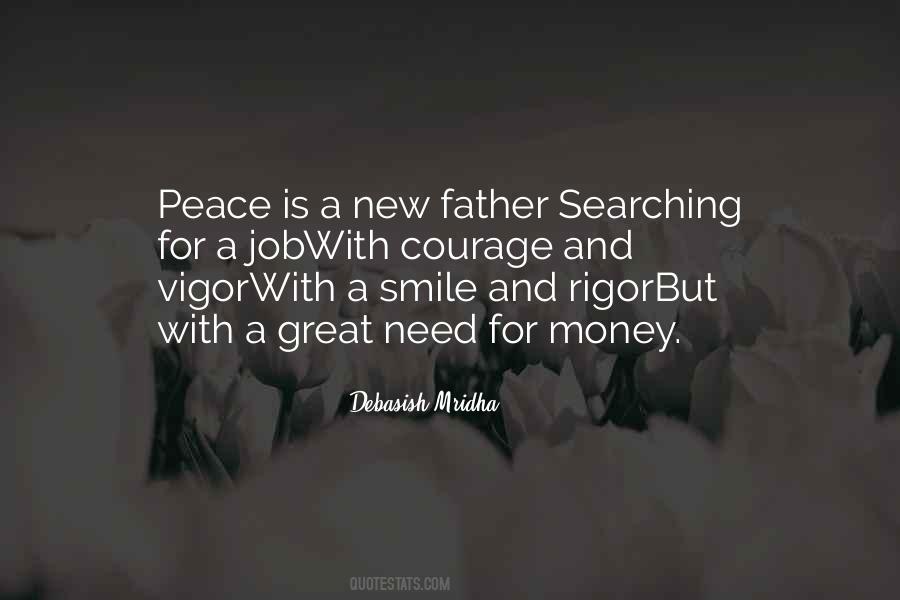 #82. I didn't know for sure whether Miss Sarah's feelings came from love or guilt. I didn't know whether mine came from love or a need to be safe. She loved me and pitied me. And I loved her and used her. It never was a simple thing. - Author: Sue Monk Kidd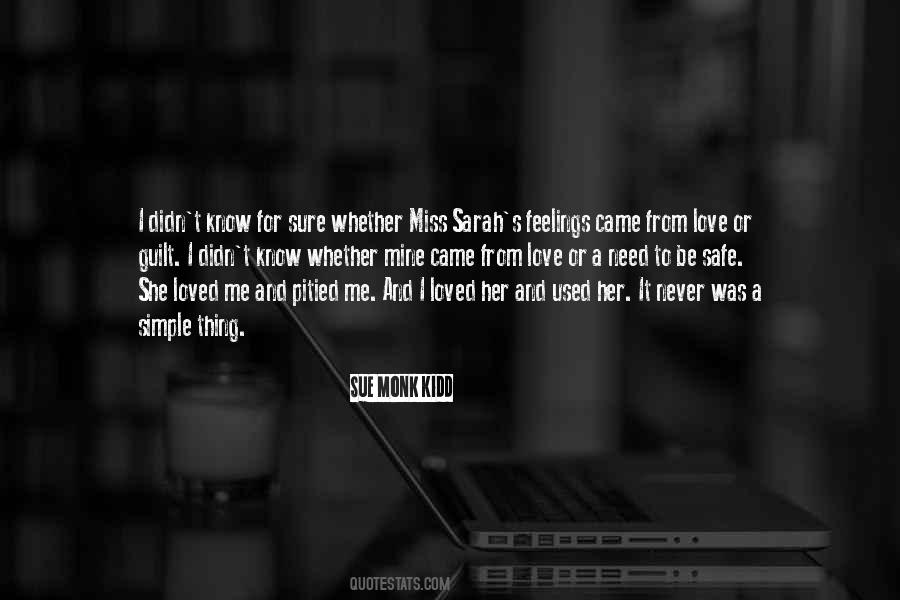 #83. Oh Lord, we thank Thee for this thy gift of lobster Newburg. And grant us also, if it be Thy will, control of the Hudson Ohio Railroad.'
'But we ain't wanting control of the Hudson Ohio, Sean softly objected.
'True,' said Gabriel Love, 'but the Almighty doesn't need to know that yet. - Author: Edward Rutherfurd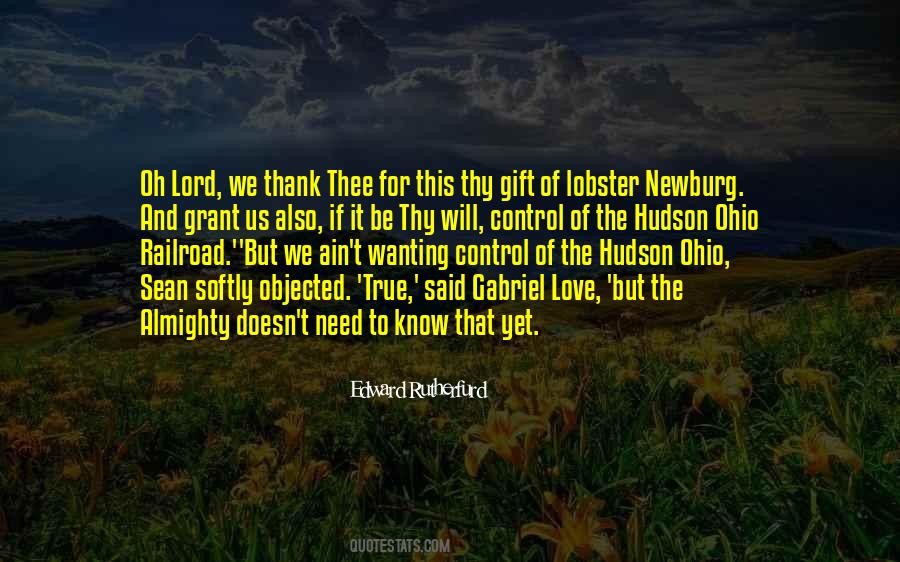 #84. I love myself, I no longer need cupid. - Author: Rapsody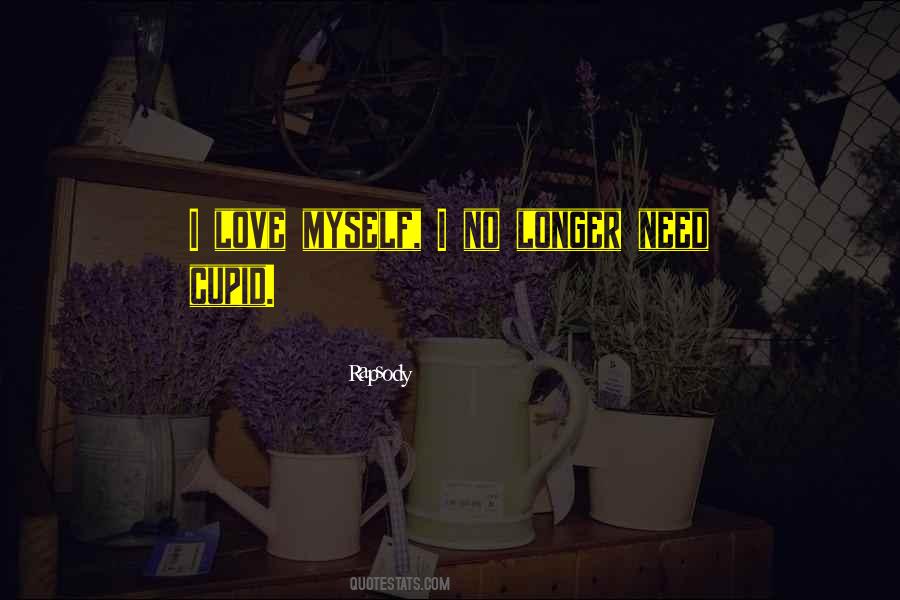 #85. I want you to want me because you want me, not because of grief, not because he is not here. I want you to love me for me. I want you to kiss me first and not because you need me to help you, but because you need to kiss me. - Author: Carrie Jones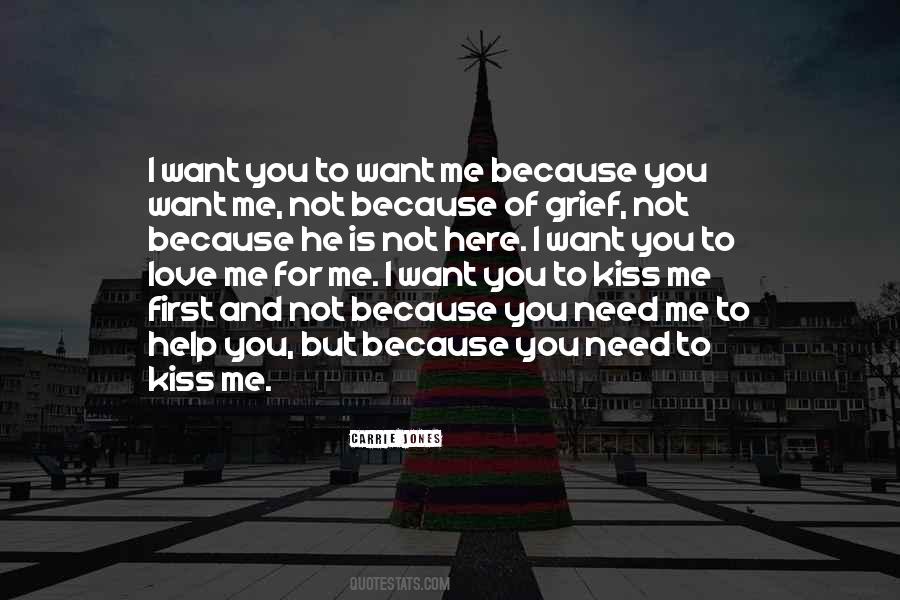 #86. Loving what you do is almost as important as doing what you love, especially if you need to make a living at it. - Author: Seth Godin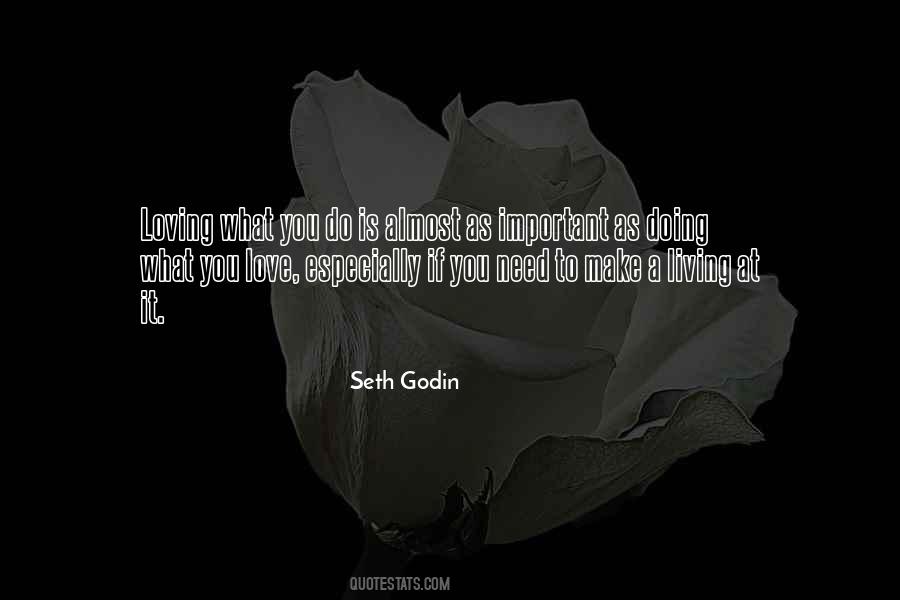 #87. The worst thing you can do if you miss or need someone is let them know it. - Author: Sarah Dessen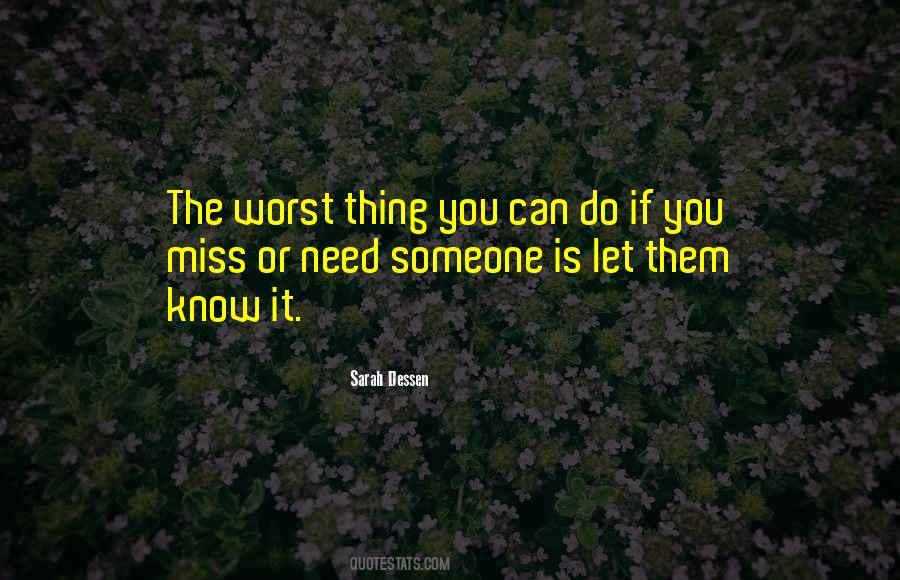 #88. Today I love you more than ever; tomorrow I will love you even more. I need you more than ever; I want you more than ever. - Author: Cecelia Ahern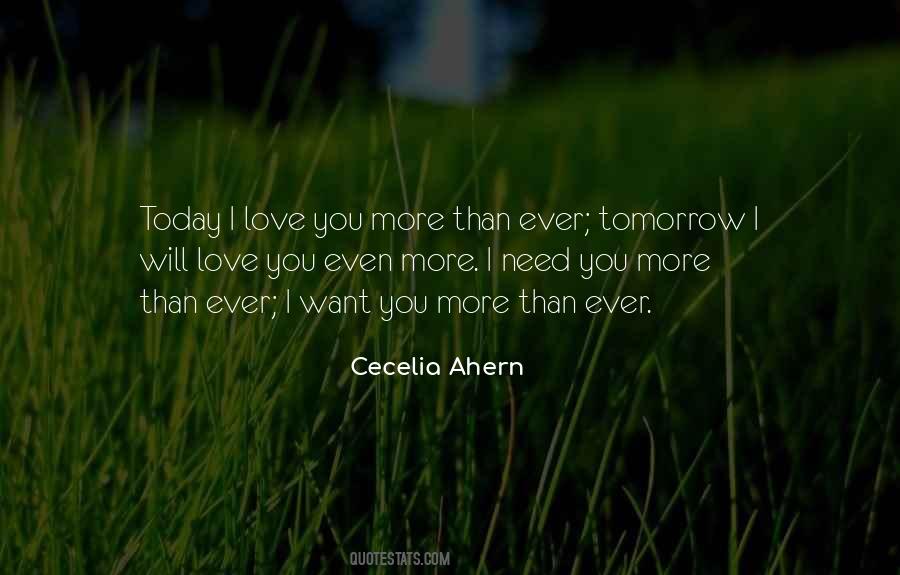 #89. I don't need a boyfriend to be happy. If I meet someone and I want to be with him, then I will be. I'm very confident in being single until I find someone who I'm extremely crazy about and who I want to devote my time and love to. Until then, I will just be on my own and I am totally fine with that, - Author: Nina Dobrev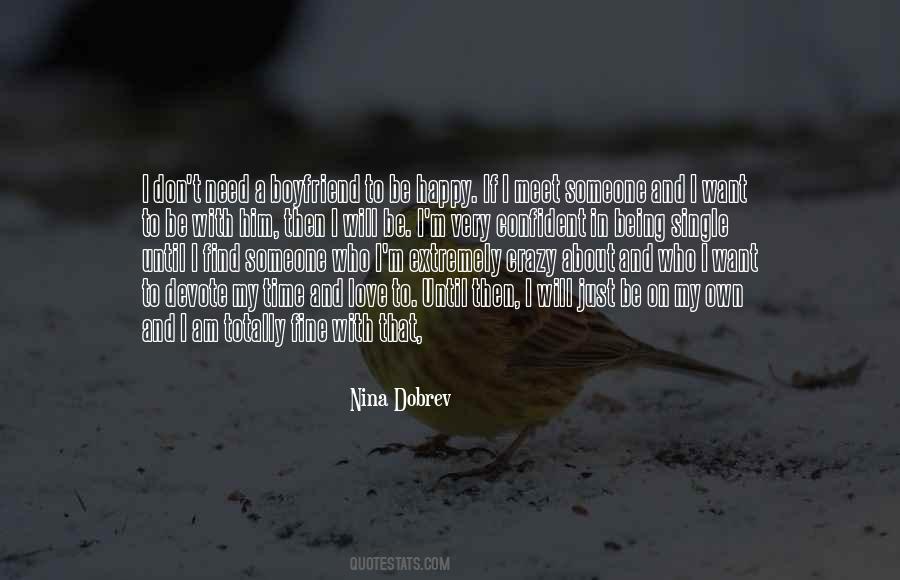 #90. If you love everyone, you will not need to fight with enemy. - Author: Debasish Mridha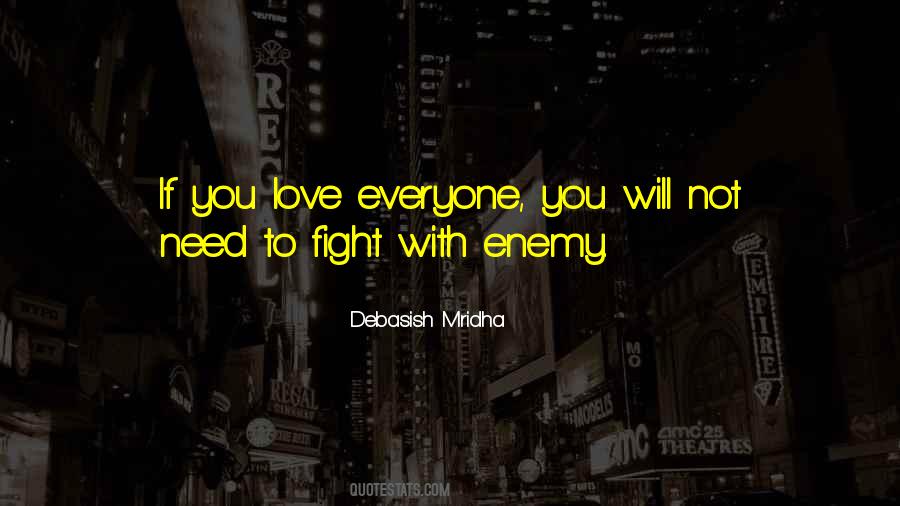 #91. But sometimes it doesn't matter whether someone is right or wrong. Sometimes you just have to love them when they need you. - Author: Laurel Snyder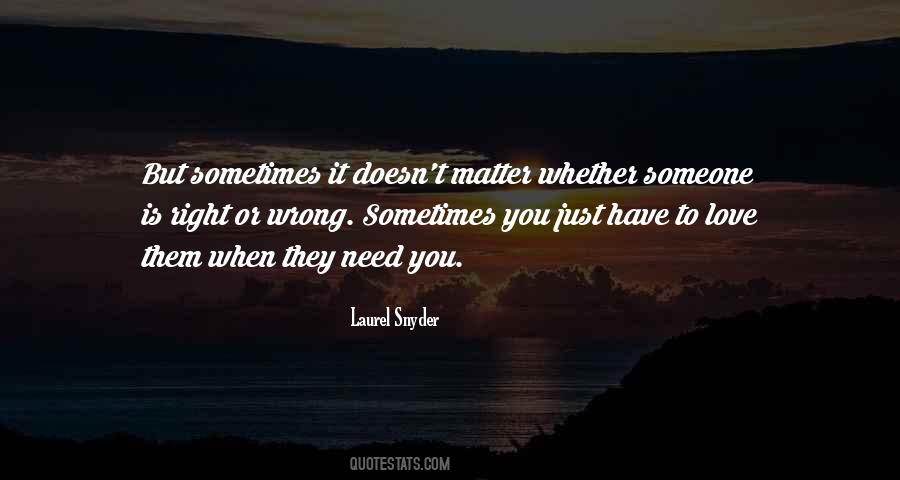 #92. There is nothing more comfortable than a caterpillar and nothing more made for love than a butterfly. We need dresses that crawl and dresses that fly. Fashion is at once a captapillar and a butterfly, caterpillar by day, butterfly by night - Author: Coco Chanel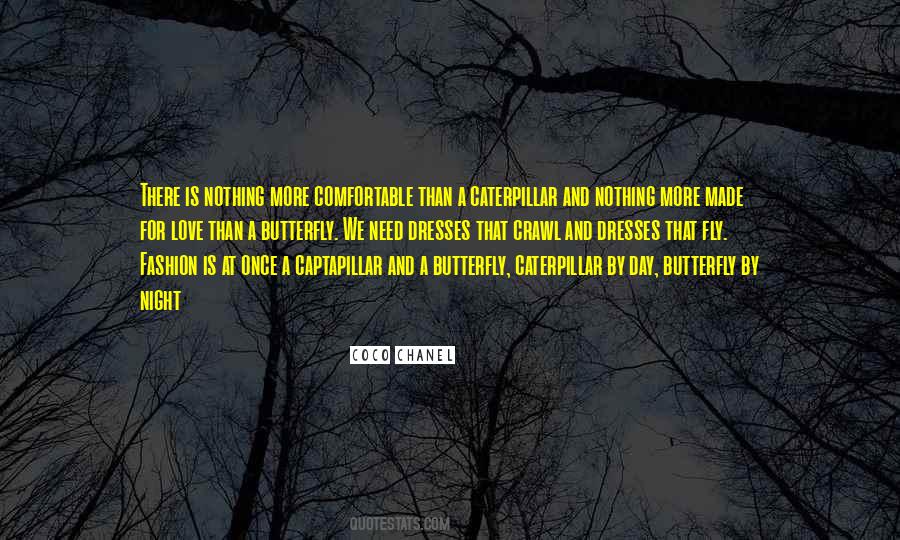 #93. If you need encouragement, give it. If you need love, give it.Whatever you need, give it away. - Author: Adrian Rogers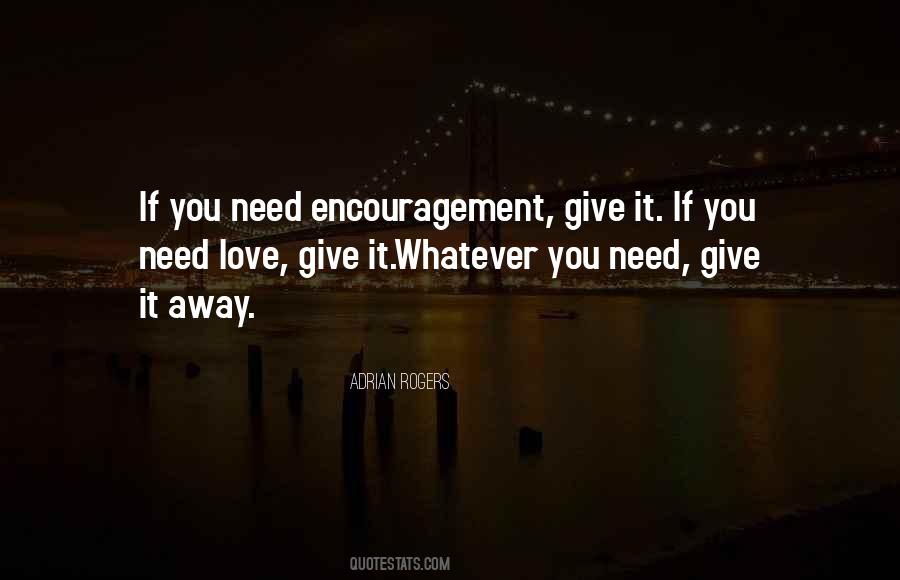 #94. She could not leave him hanging like this. "If you were hurt, I need to know." It was a rule somewhere, in the good-guy handbook. - Author: Tara Janzen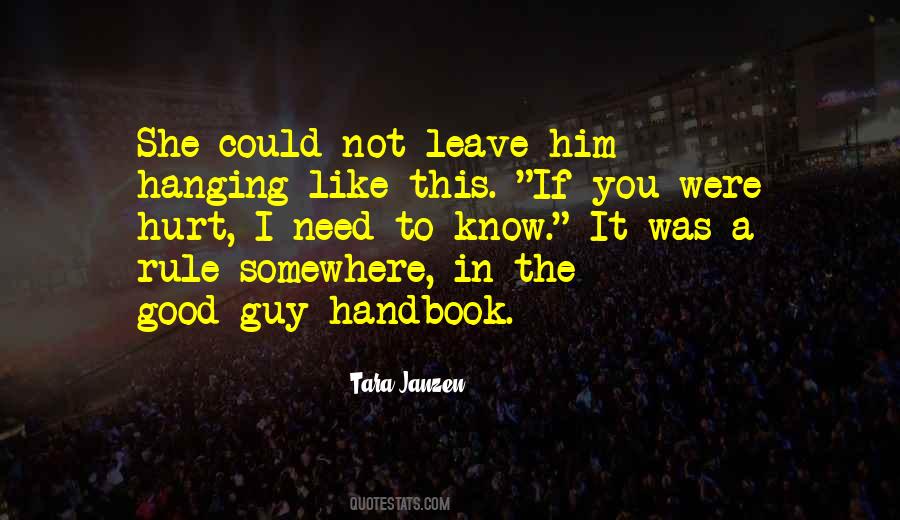 #95. When one looks truly at the good side of everyone, others come to love him very naturally, and he does not need even a speck of flattery. - Author: Abraham Isaac Kook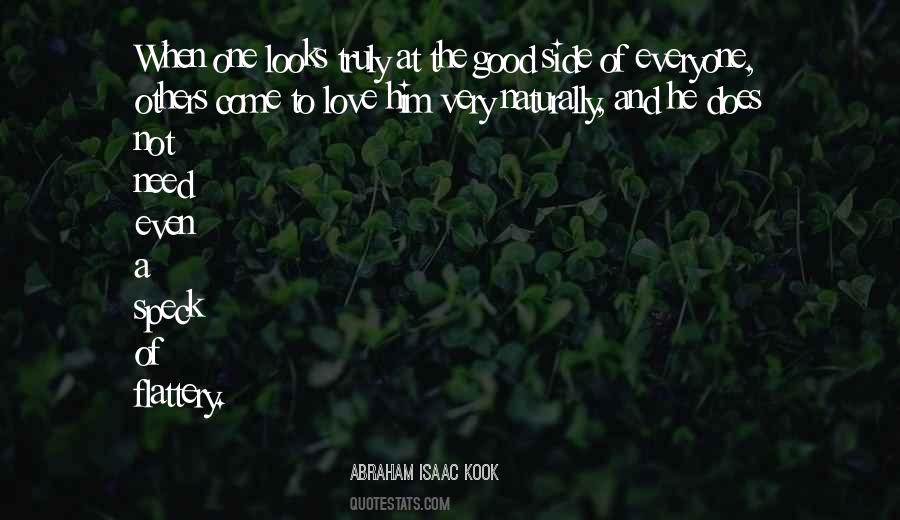 #96. The souls of all are from one and the same source but a soul which is unveiled shines out. Love and light come continually from such souls. We need no proof of it for it is living all else is dead in comparison. - Author: Hazrat Inayat Khan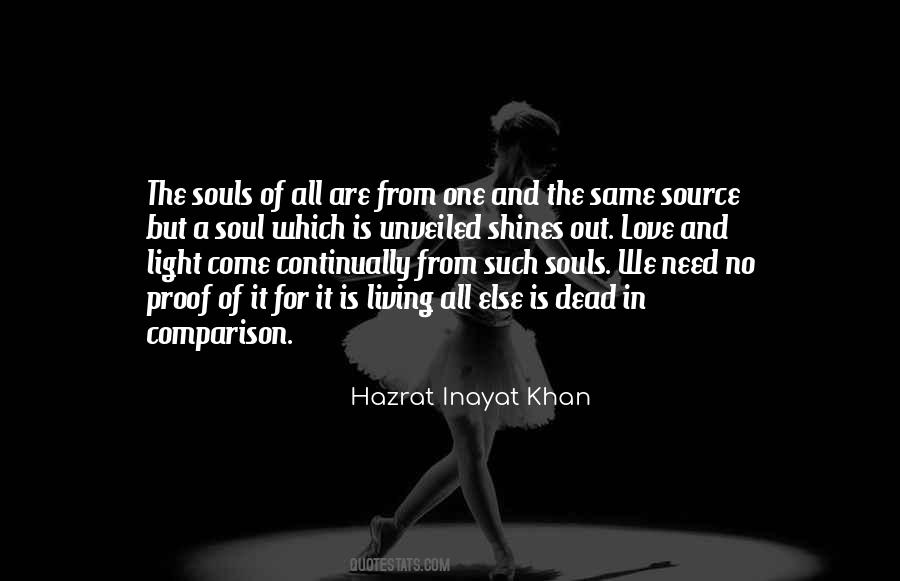 #97. Taking care is one way to show your love. Another way is letting people take good care of you when you need it. - Author: Fred Rogers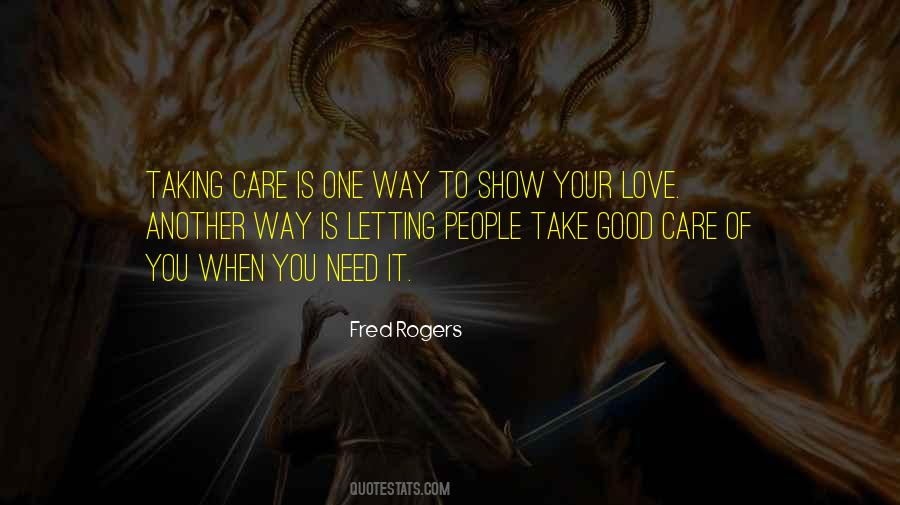 #98. I wished it was raining," he said.
"I don't need the rain," I said. "I need you. - Author: Benjamin Alire Saenz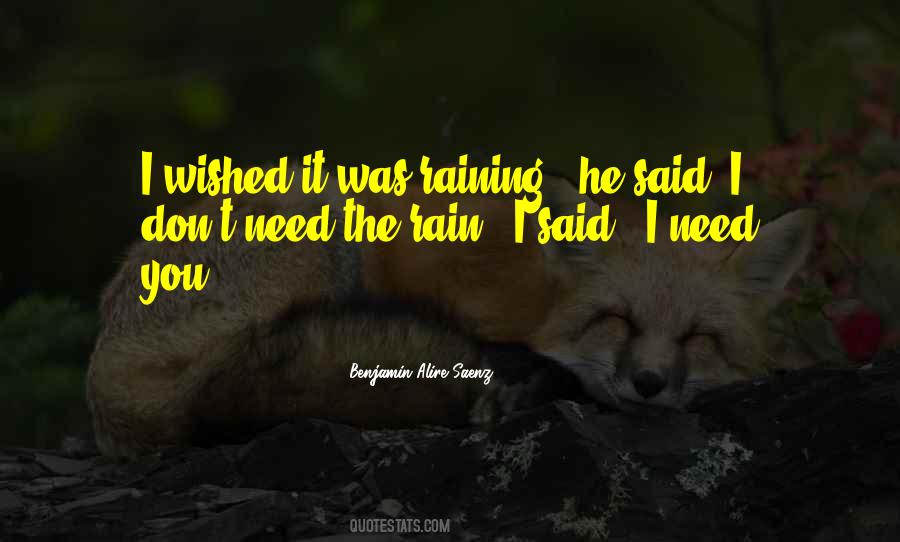 #99. I learned that leadership is about falling in love with the people and the people falling in love with you. It is about serving the people with selflessness, with sacrifice, and with the need to put the common good ahead of personal interests. - Author: Joyce Banda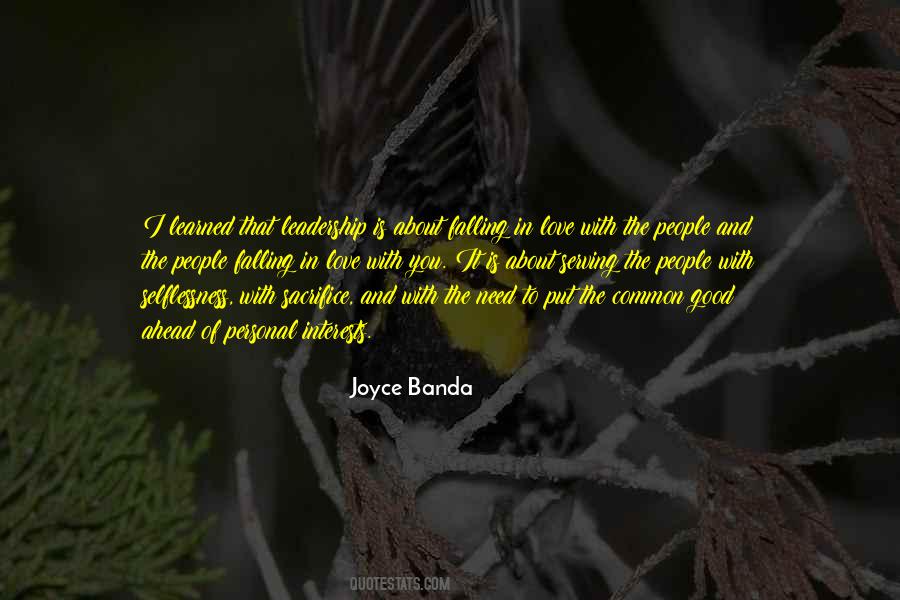 #100. But when I call for a hero, out comes my lazy old self; so I never know who I am, nor how many I am or will be. I'd love to be able to touch a bell and summon the real me, because if I really need myself, I mustn't disappear. - Author: Pablo Neruda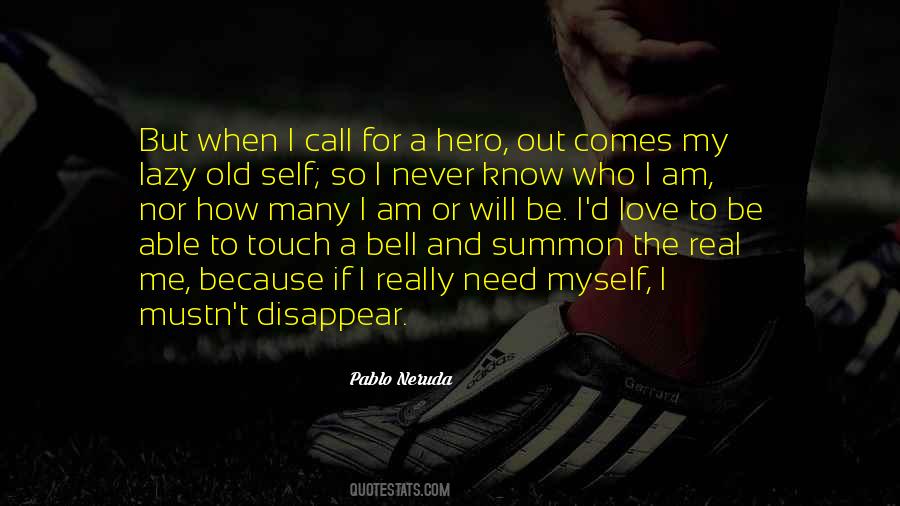 Famous Authors
Popular Topics