Nature And Animals Famous Quotes & Sayings
List of top 100 famous quotes and sayings about nature and animals to read and share with friends on your Facebook, Twitter, blogs.
Top 100 Quotes About Nature And Animals
#1. I was interested in science or, at least, nature from an early age, learning the names of planets, cutting cartoons with facts about animals out of the newspaper and gluing them into a scrapbook, and, with a friend when I was five or six, trying to design a submarine. - Author: Martin Chalfie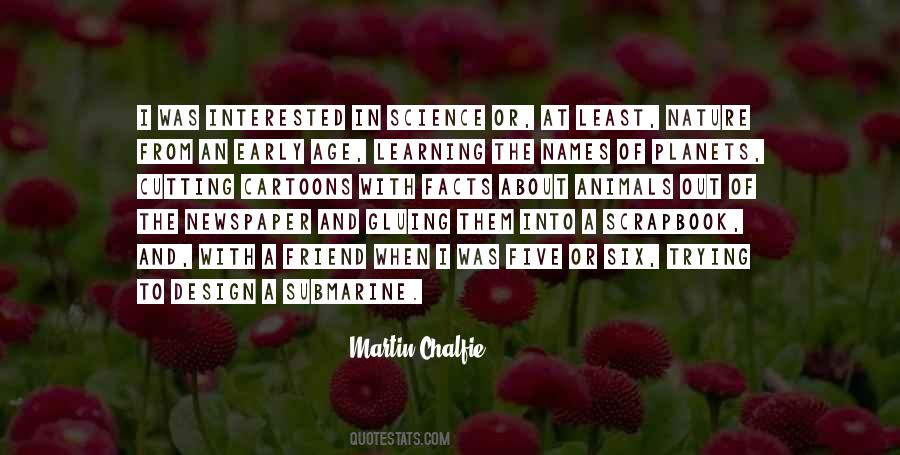 #2. I like to do chill things on dates. I think it would be fun to go to the zoo. I know it's really weird and random, but I love animals. It'd be like a day of doing silly things, while enjoying nature. - Author: Ashlee Simpson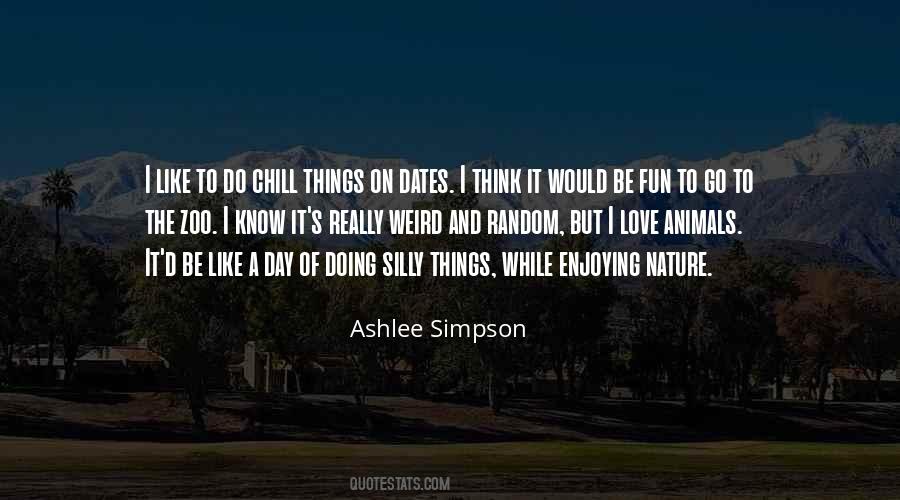 #3. Mythology was not about theology, in the modern sense, but about human experience. People thought that gods, humans, animals and nature were inextricably bound up together, subject to the same laws, and composed of the same divine substance. There - Author: Karen Armstrong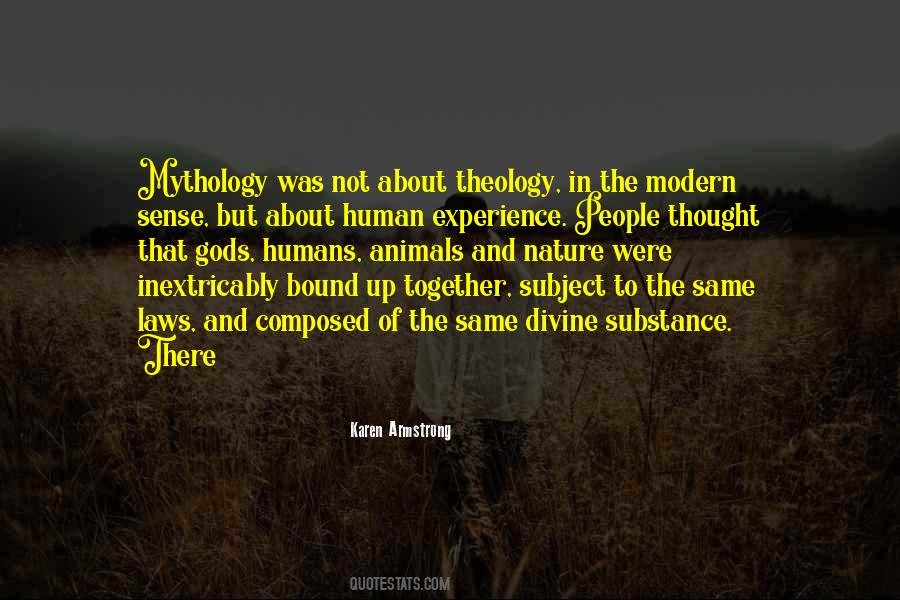 #4. I once believed man was different from other animals, but Yodok showed me that reality doesn't support this opinion. In the camp, there was no difference between man and beast, except maybe that a very hungry human was capable of stealing food from its little ones while an animal, perhaps, was not. - Author: Kang Chol-Hwan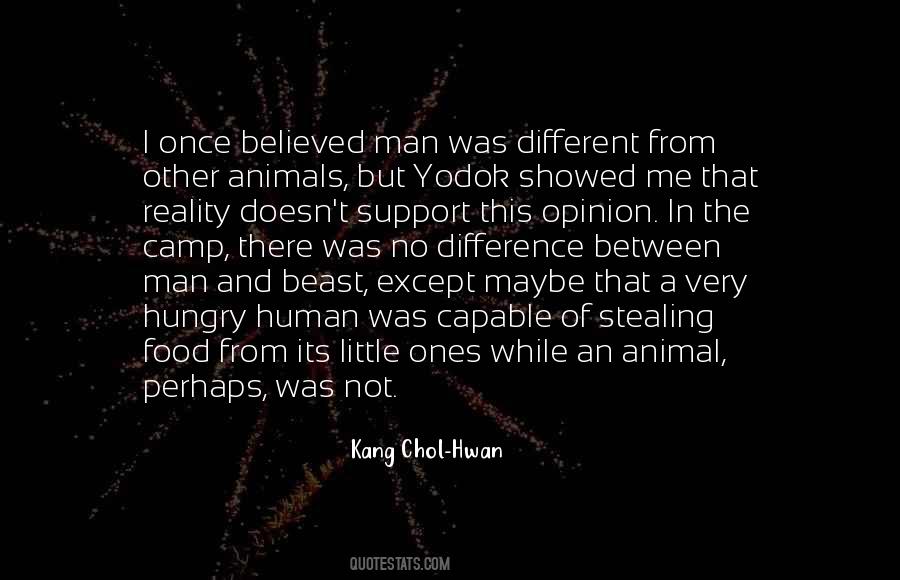 #5. If you can kill animals, the same attitude can kill human beings. The mentality is the same which exploits nature and which creates wars. - Author: Satish Kumar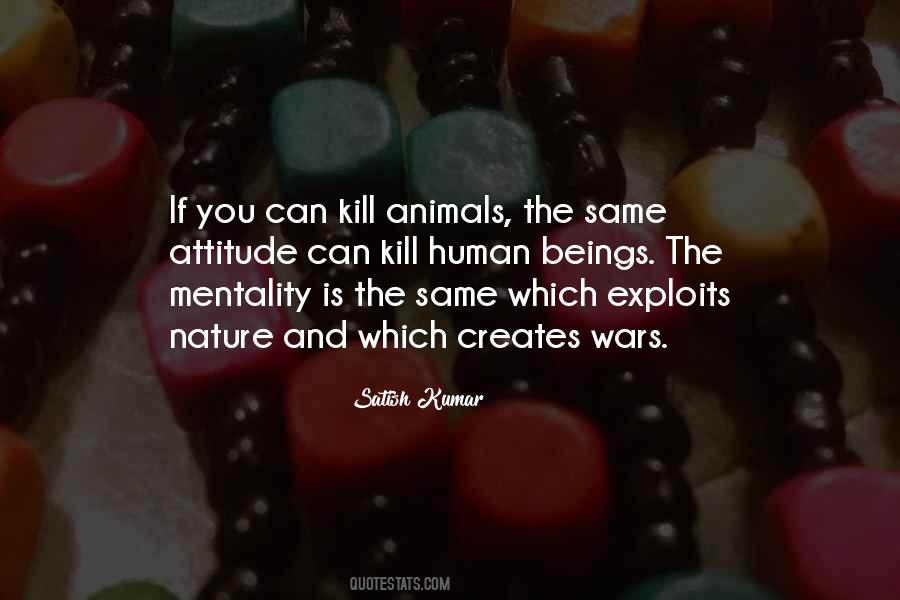 #6. Endurance, after all, is the only reason we even exist. We think of ourselves as nature's deadliest animals, but the truth is, a naked human is the biggest wimp in the wild. We have no fangs, no claws, no strength, and no speed. - Author: Christopher McDougall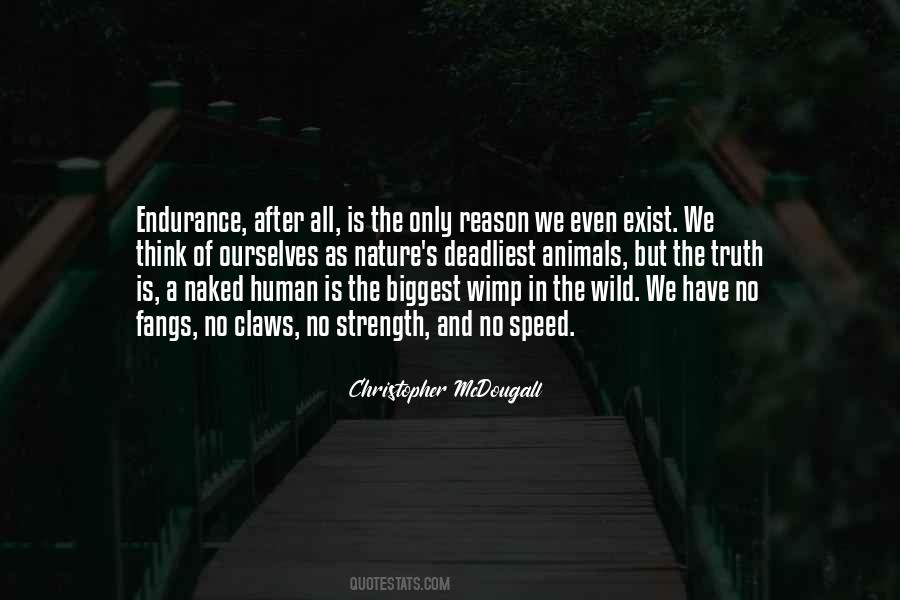 #7. After my return to England it appeared to me that by following the example of Lyell in Geology, and by collecting all facts which bore in any way on the variation of animals and plants under domestication and nature, some light might perhaps be thrown on the whole subject. - Author: Charles Darwin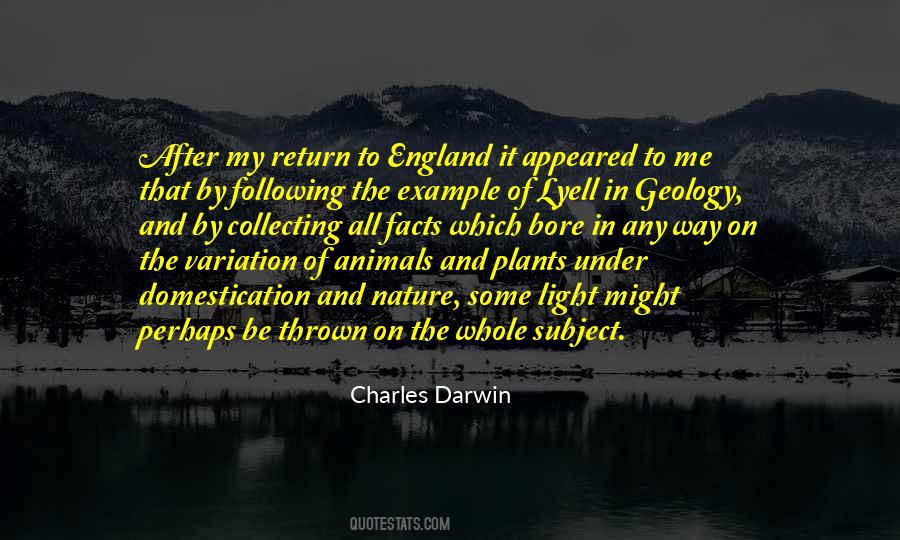 #8. Landing on his feet was nothing new to Caleb. He did not believe in luck, he believed in the law of nature. Animals did not rely on luck. They lived and died by their instincts. - Author: Arlene Hunt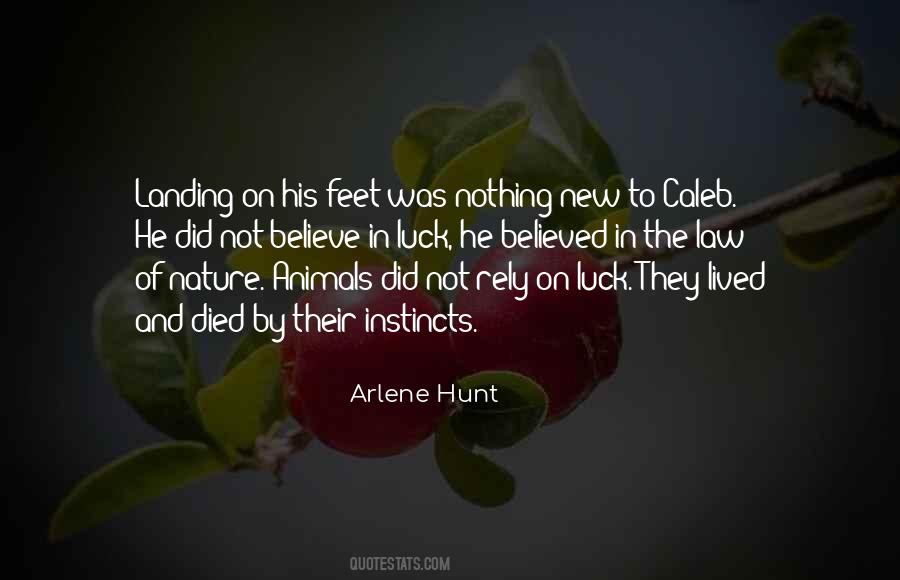 #9. The scents of nature are largely a chemical conversation between plants and animals and humans merely eavesdrop. - Author: Avery Gilbert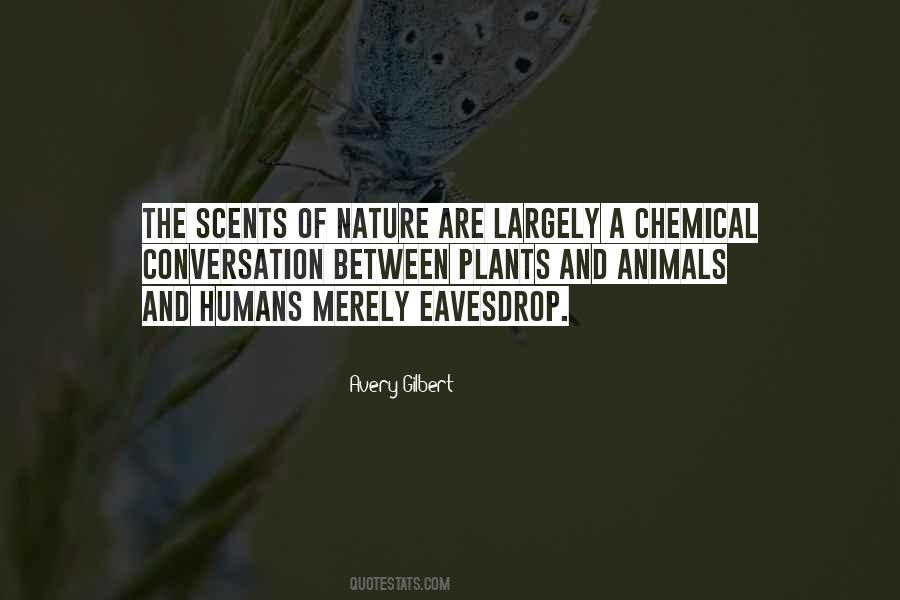 #10. My best source of grounding are animals and nature. Animals live more in the moment and don't worry so much! And nature is proof of a greater power than myself. Both put things in perspective, or at least gently move us forward. - Author: Kristin Bauer Van Straten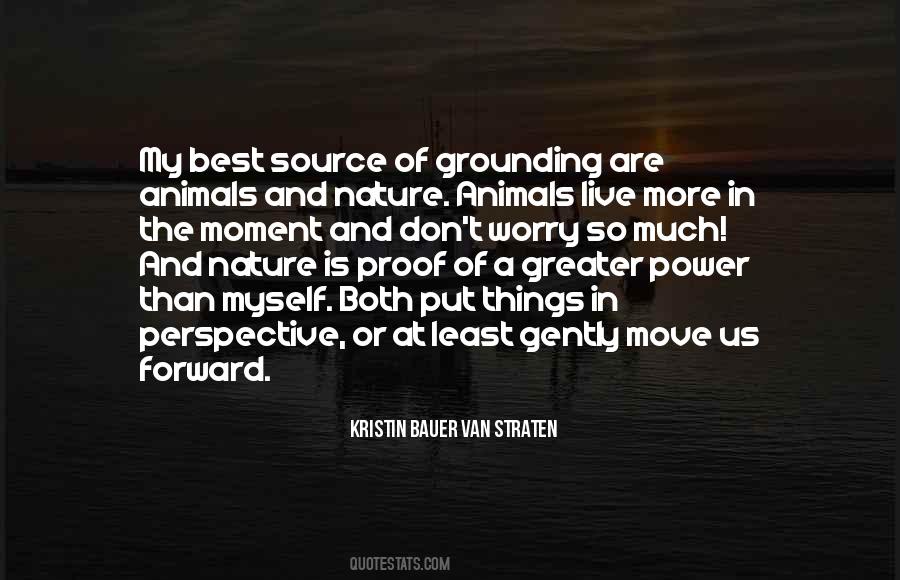 #11. Well, one wearies of the Public Gardens: one wants a vacation
Where trees and clouds and animals pay no notice;
Away from the labeled elms, the tame tea-roses - Author: Sylvia Plath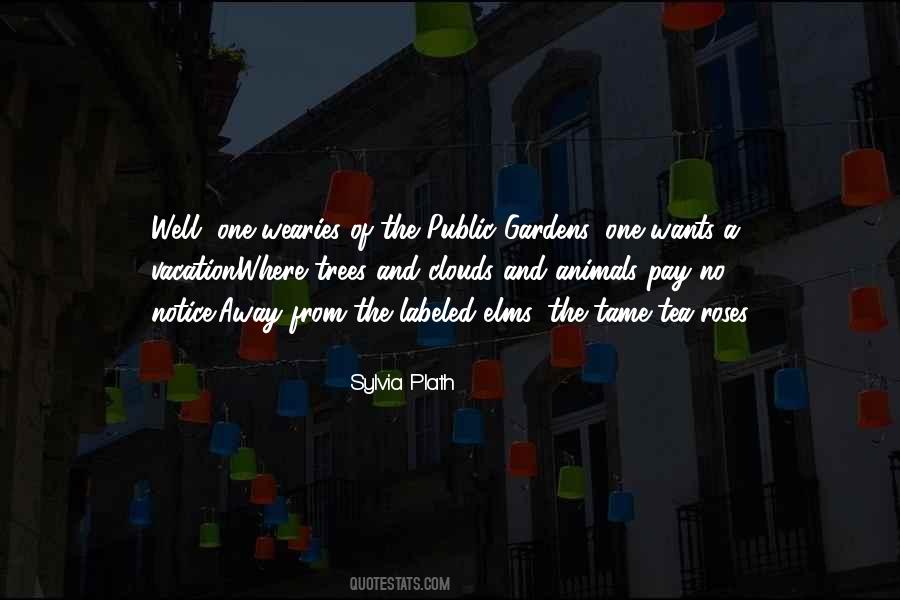 #12. The big corporations and those who must compete with them are not concerned with a sense of harmony among plants, animals, and nature. - Author: Peter Singer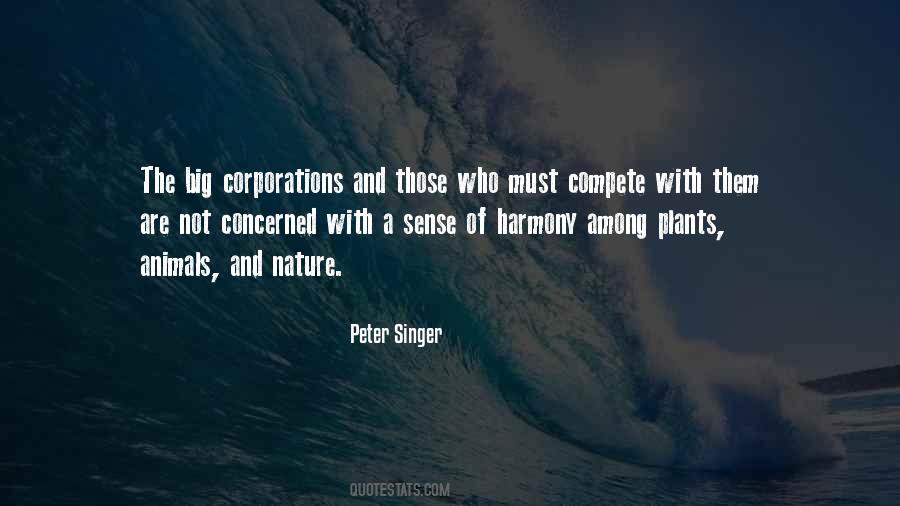 #13. No man stops caring as long as he breathes. As long as he has a mind and memory, he will care. This is what separates us from the animals. We have feelings. - Author: F. Sionil Jose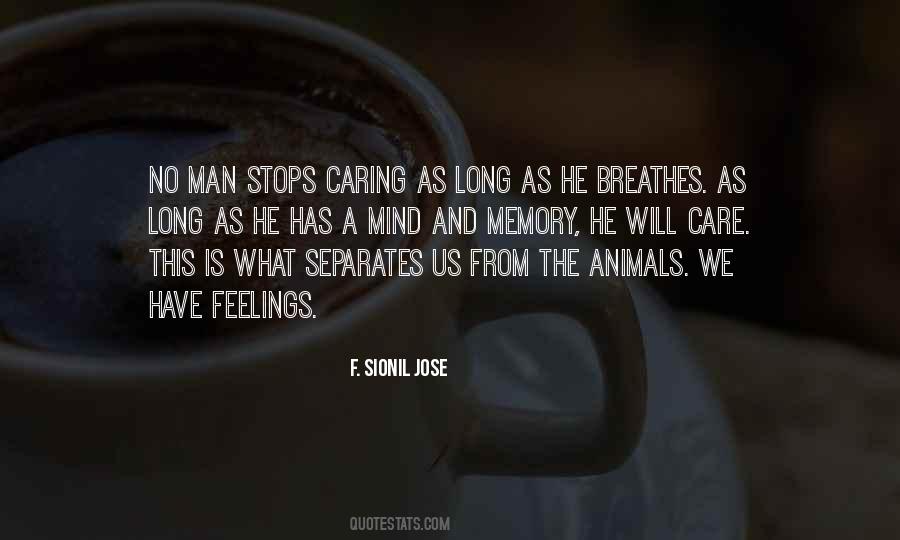 #14. If unconditional love, loyalty, and obedience are the tickets to an eternal life, then my black Labrador, Venus, will surely be there long before me, along with all the dear animals in nature who care for their young at great cost to themselves and have suffered so much at the hands of humans. - Author: Richard Rohr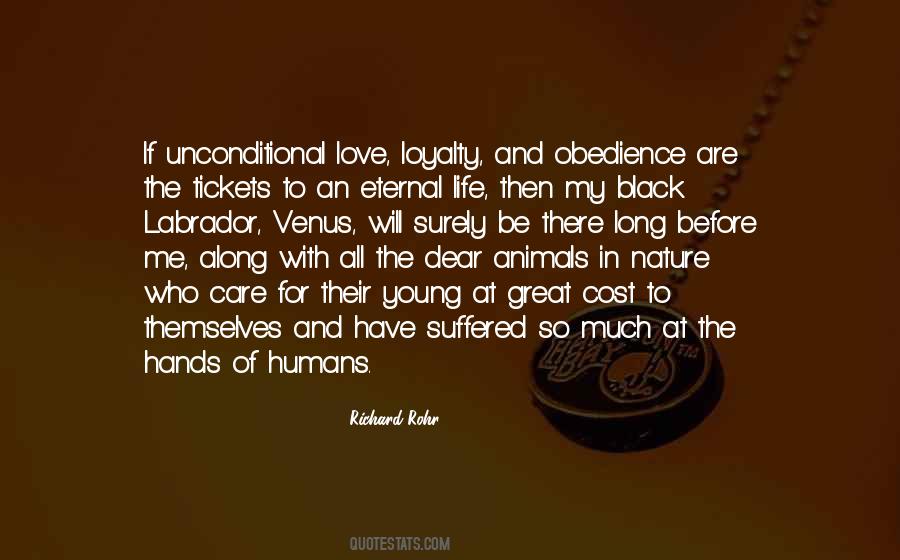 #15. At our base level we are animals. And so, my theory is that women are only considered attractive as long as they look fertile because we, as humans, are made to reproduce and move on. And so we kind of can't ever get away from our animalistic nature, in a way. - Author: Erin Davie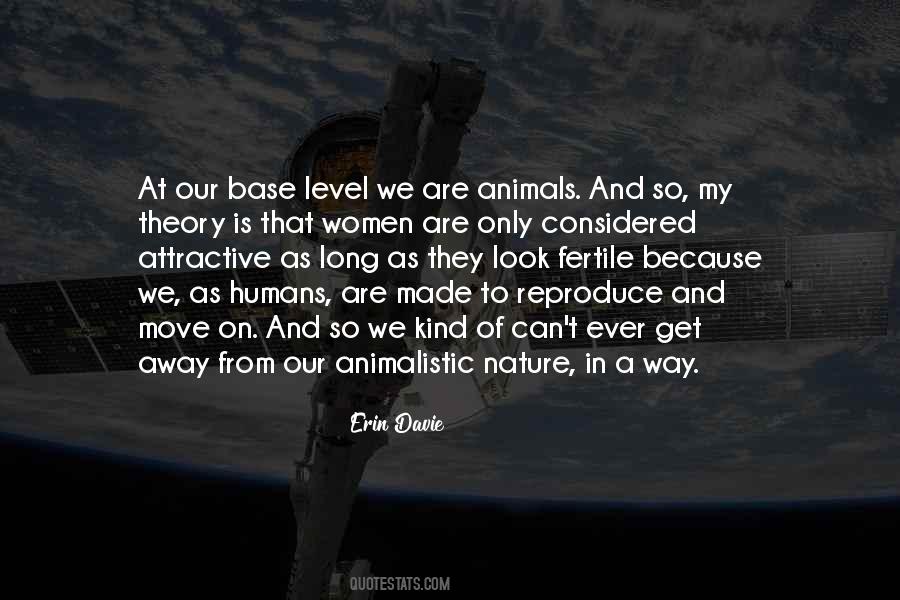 #16. Culture is a symbolic veil with which we hide our animal nature from ourselves ... and other animals. - Author: Mokokoma Mokhonoana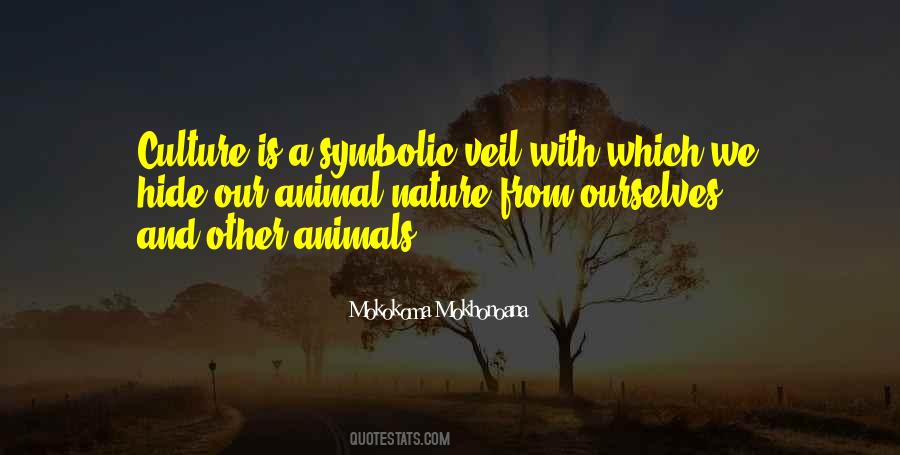 #17. Man lives, not directly or nakedly in nature like the animals, but within a mythological universe, a body of assumptions and beliefs developed from his existential concerns. - Author: Northrop Frye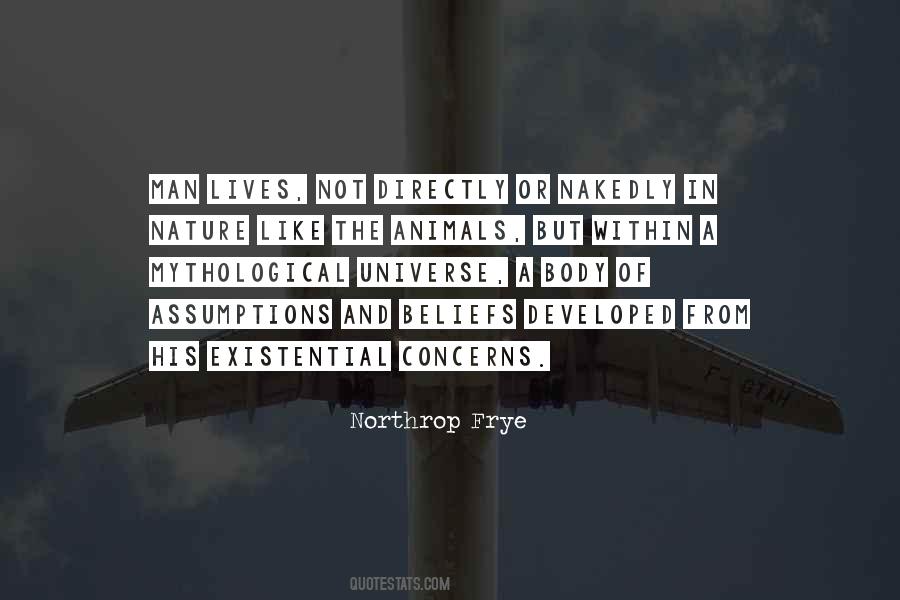 #18. Hinduism comes closest to being a nature religion. Rivers, rocks, trees, plants, animals, and birds all play their part, both in mythology and everyday worship. This harmony is most evident in remote places like this, and I hope it does not loose its unique character in the ruthless urban advance. - Author: Ruskin Bond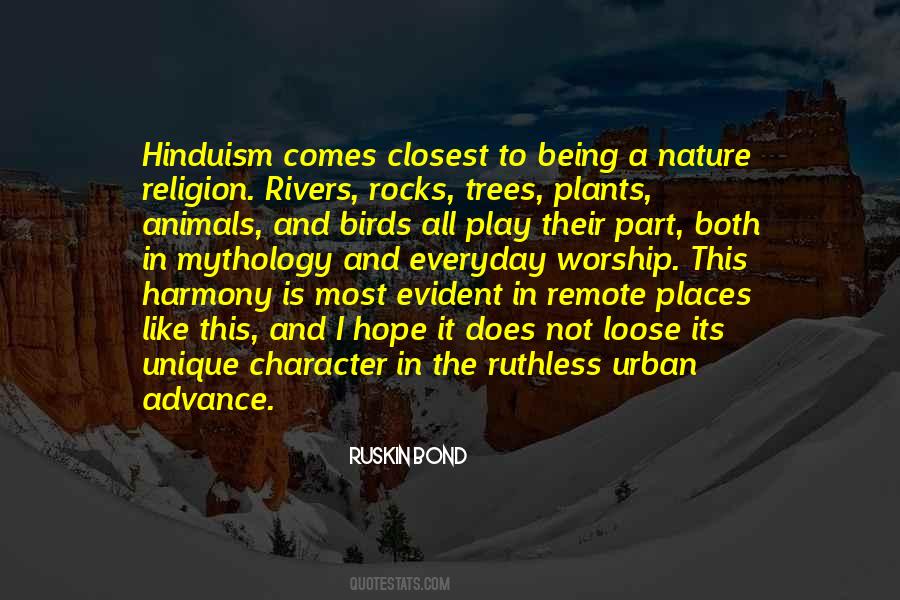 #19. All persons who are enthusiastic that they should transcend the other animals ought to strive with the utmost effort not to pass through a life of silence, like cattle, which nature has fashioned to be prone and obedient to their stomachs. - Author: Sallust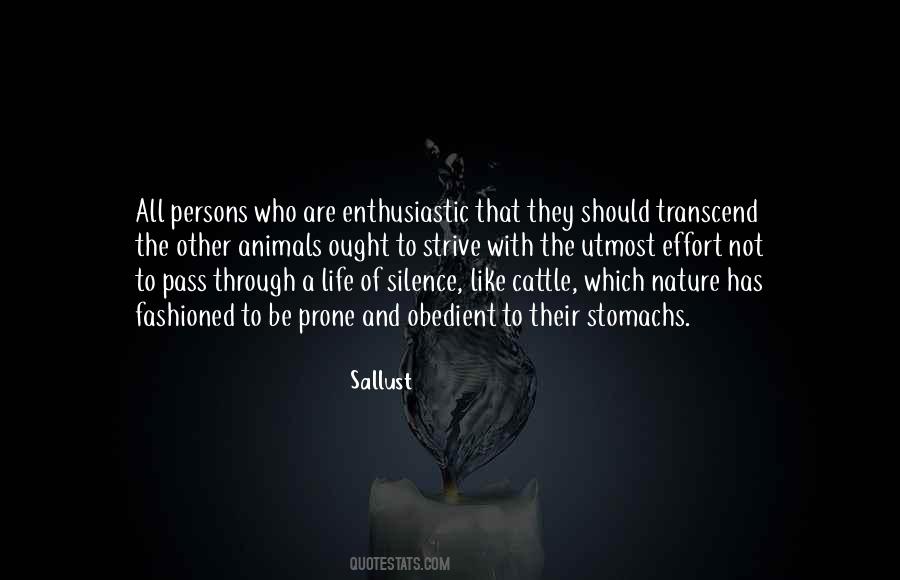 #20. The glory of man is that he is a thinking being. It is the nature of man to think and therein he differs from animals - Author: Swami Vivekananda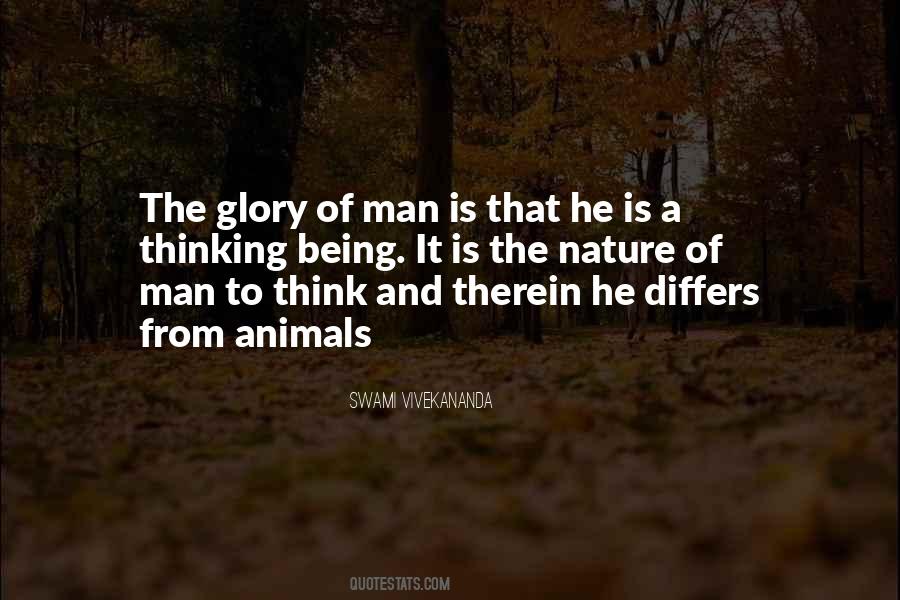 #21. I was blessed to grow up on a farm, and when you're a farm boy, exercise is part of your lifestyle. Like it or not, that environment makes you work out. On the farm, nature is your gym. You walk and run and swim and have to do a lot of work with animals too. - Author: Cesar Millan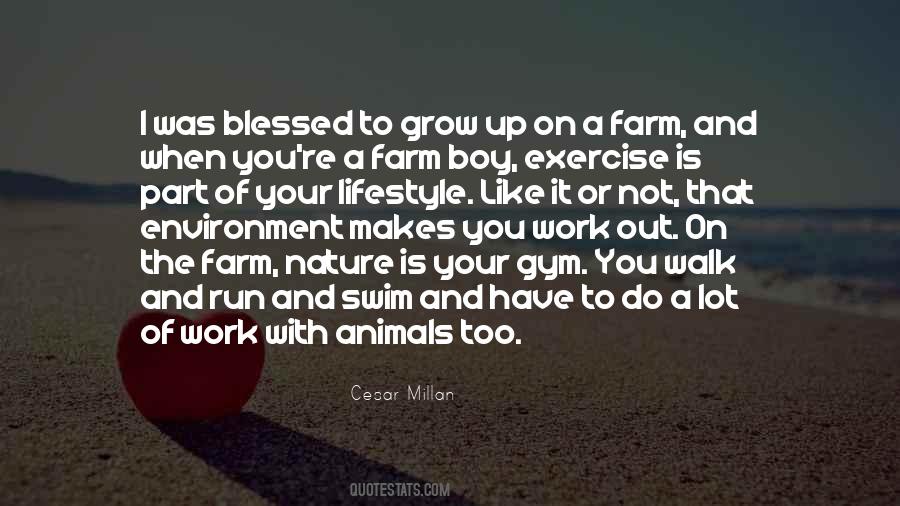 #22. Animals don't even try to look any different from what nature intended. They humbly wear their shells, scales, spines, plumes, pelts, and down ... The conscious impulse to change one's appearance is found only among humans. - Author: Wislawa Szymborska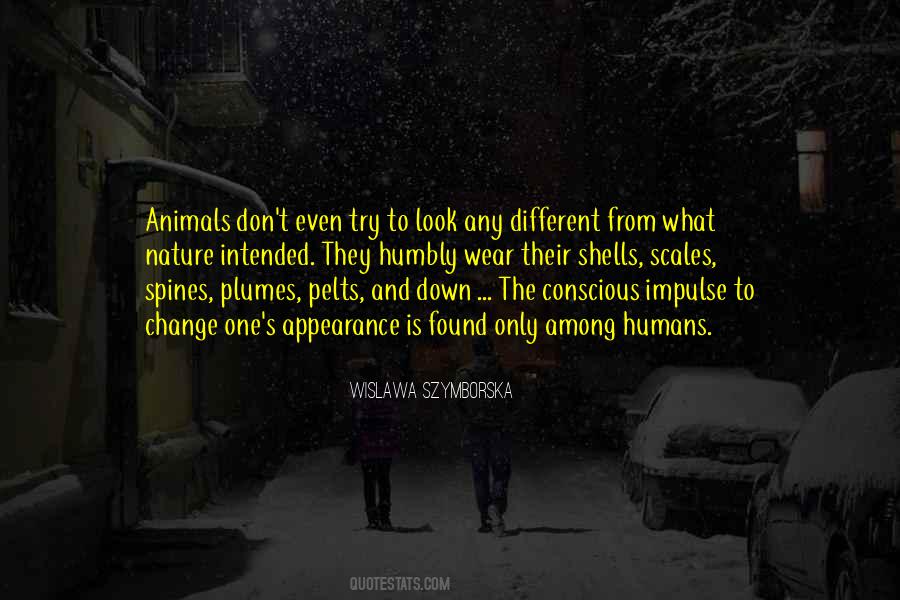 #23. For Nature is accustomed to rehearse with certain large, perhaps baser, and all classes of wild (animals), and to place in the imperfect the rudiments of the perfect animals. - Author: Marcello Malpighi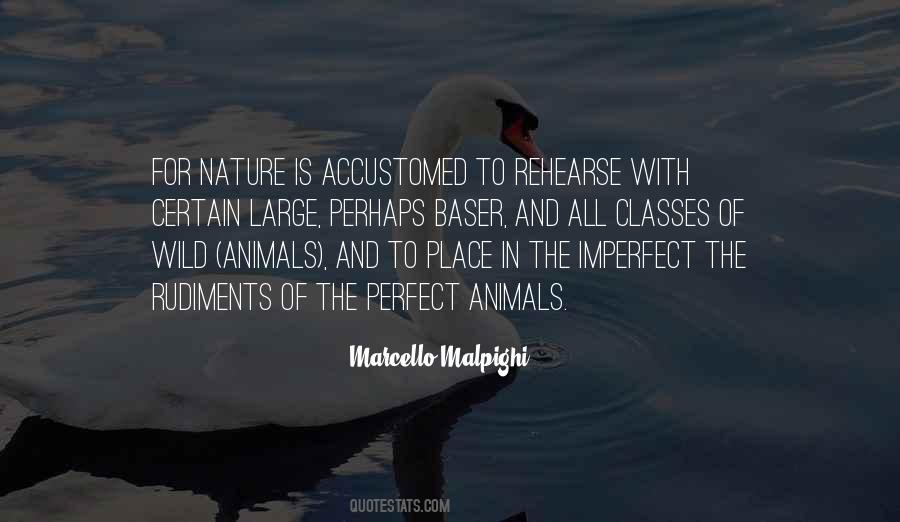 #24. Learn from nature. Stuff lives and stuff dies all the time, you know. Animals and birds and flowers. Trees come and go, and we come and go. That's it. So we should all seize life and make the most of what we have while we can. - Author: Joanna Lumley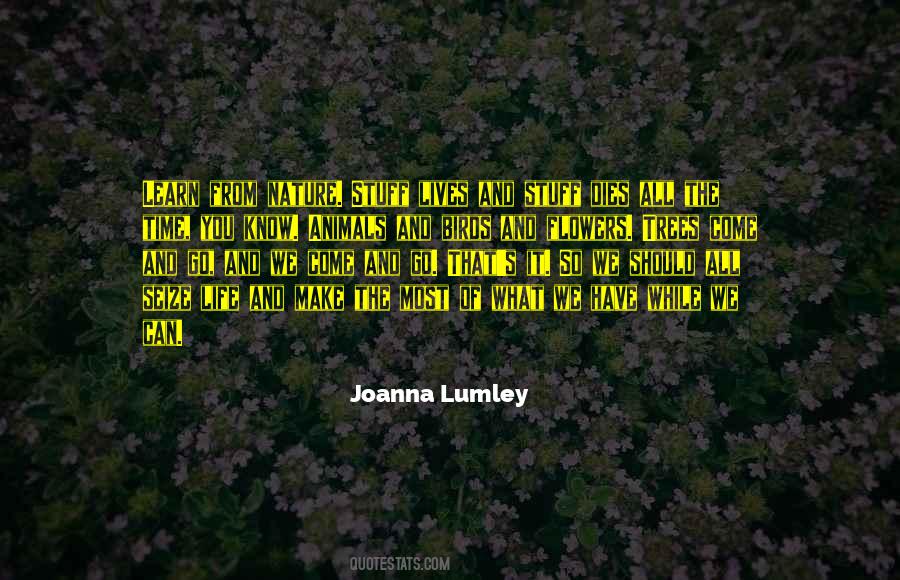 #25. Man ... is a tame or civilized animal; never the less, he requires proper instruction and a fortunate nature, and then of all animals he becomes the most divine and most civilized; but if he be insufficiently or ill- educated he is the most savage of earthly creatures. - Author: Plato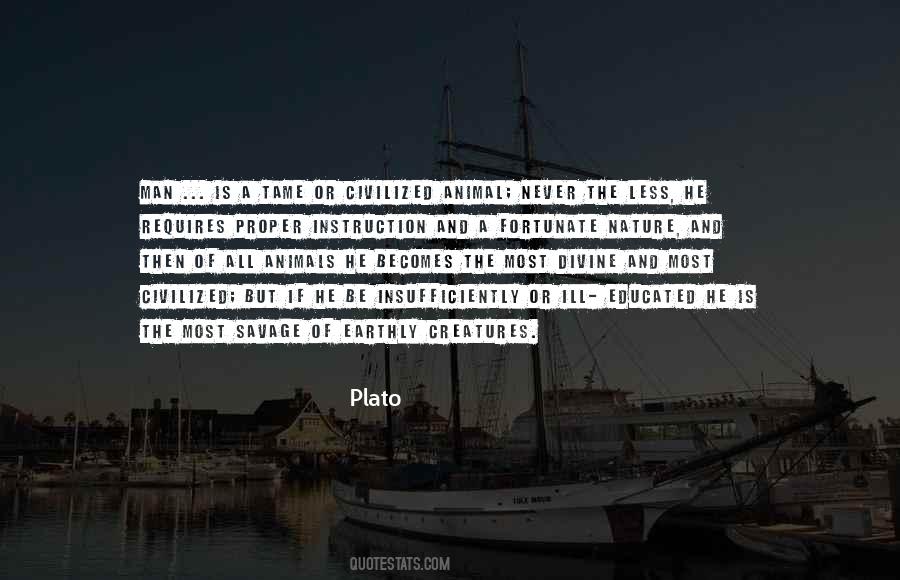 #26. I grew up in beautiful Carmel, California, and I have extremely sweet parents that always loved nature and animals. They instilled such an appreciation for beauty and kindness that it was inherent. - Author: Alison Eastwood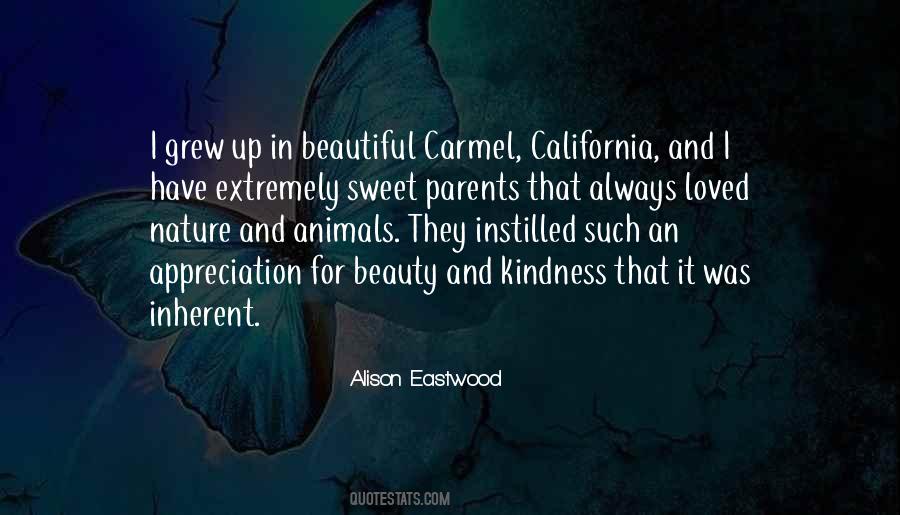 #27. The beliefs I was raised with - to respect animals and to be aware of nature, to understand that we share this planet with other creatures - have had a huge impact on me. - Author: Stella McCartney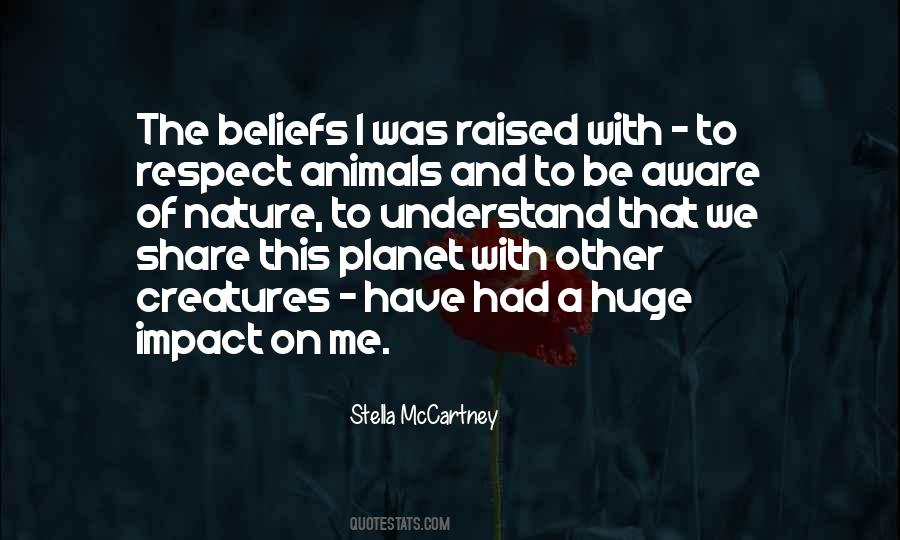 #28. Some readers will say that animals awaken fantasy, if not heresy, in those who attach moral significance to them. Yet often I think it is the more violent among us who are living out the fantasy, some delusion in which everything in nature is nothing and all is permitted. - Author: Matthew Scully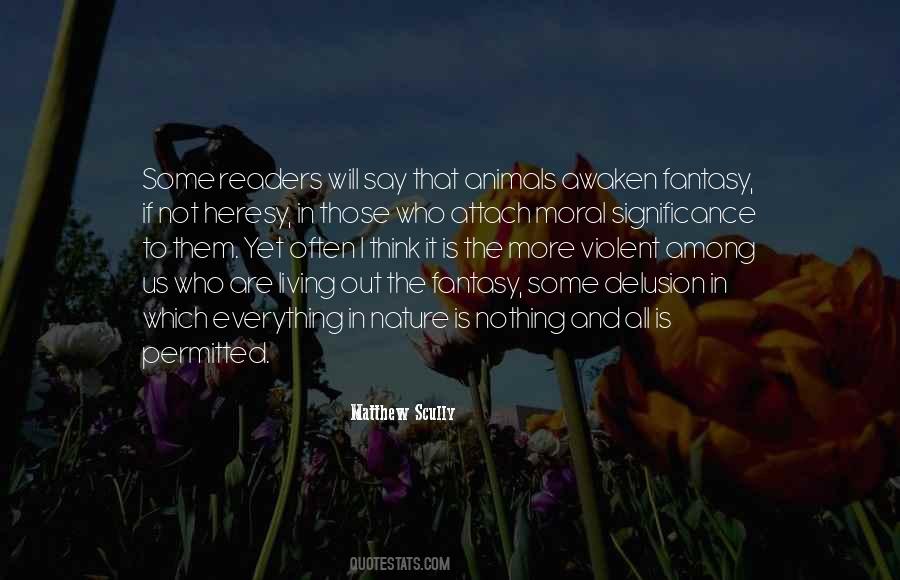 #29. What if I'm so broken I can never do something as basic as feed myself? Do you realize how twisted that is? It amazes me sometimes that humans still exist. We're just animals, after all. And how can an animal get so removed from nature that it loses the instinct to keep itself alive? - Author: Amy Reed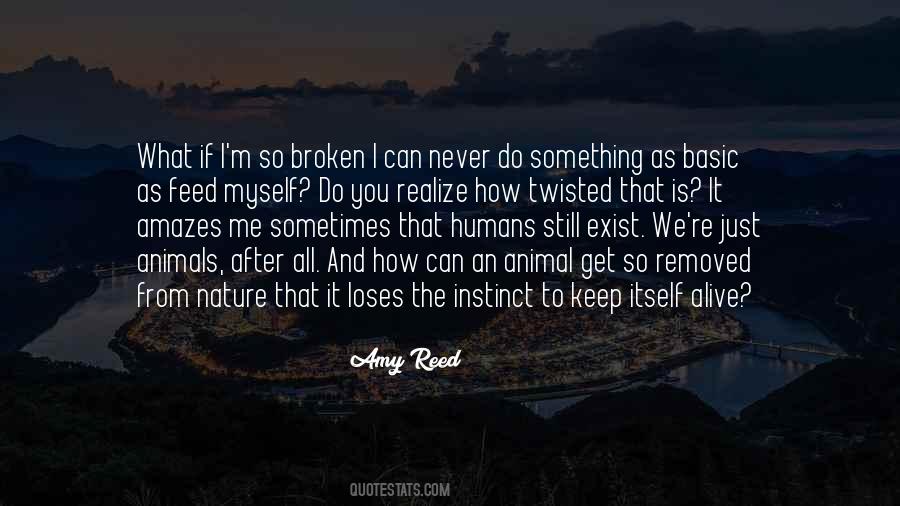 #30. Arrange photographs of nature scenes, animals and expressions of joy and love in your environment and let their energy radiate into your heart and provide you with their higher frequency. - Author: Wayne Dyer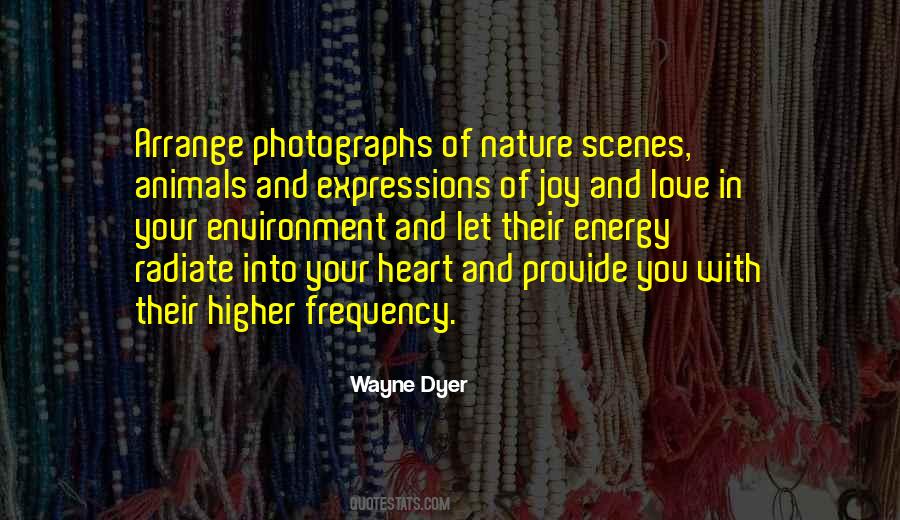 #31. Night is nature's protest against the leprosy of civilization, Gottfried. No decent man can withstand it for long. He begins to notice that he has been turned out of the silent company of the trees, the animals, the stars, and unconscious life. - Author: Erich Maria Remarque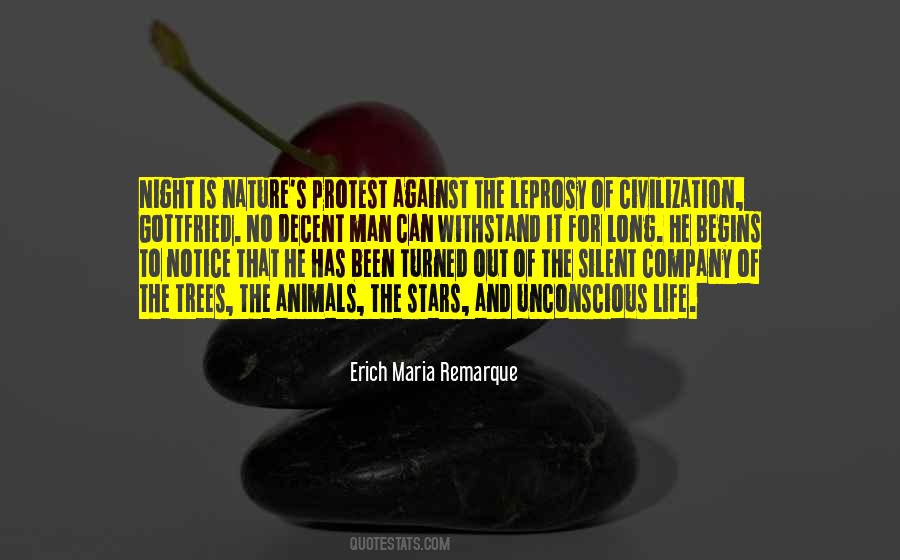 #32. The world is better without
them.
only the plants and the animals are
true comrades.
I drink to them and with
them. - Author: Charles Bukowski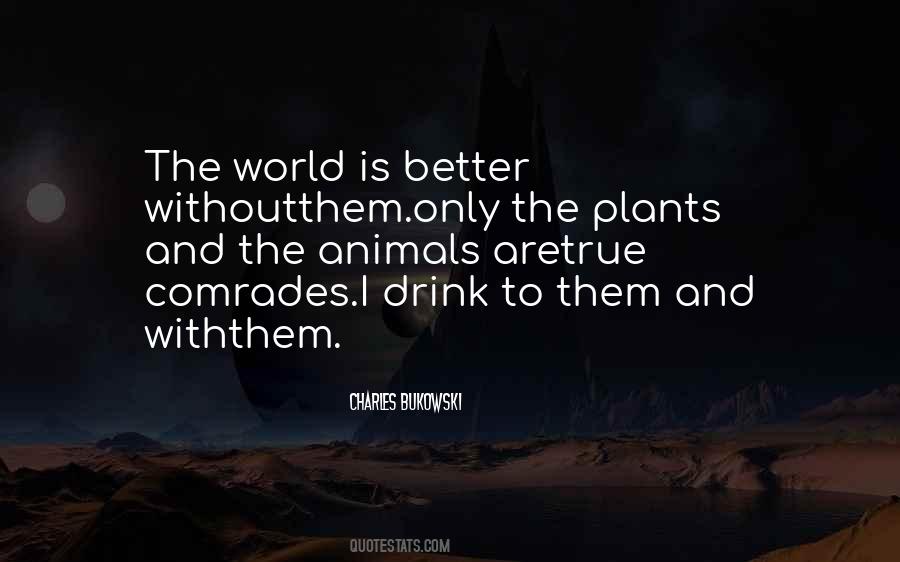 #33. It is simply that in all life on earth as in all good agriculture there are no short-cuts that by-pass Nature and the nature of man himself and animals, trees, rocks and streams. Every attempt at a formula, a short-cut, a panacea, always ends in negation and destruction. - Author: Louis Bromfield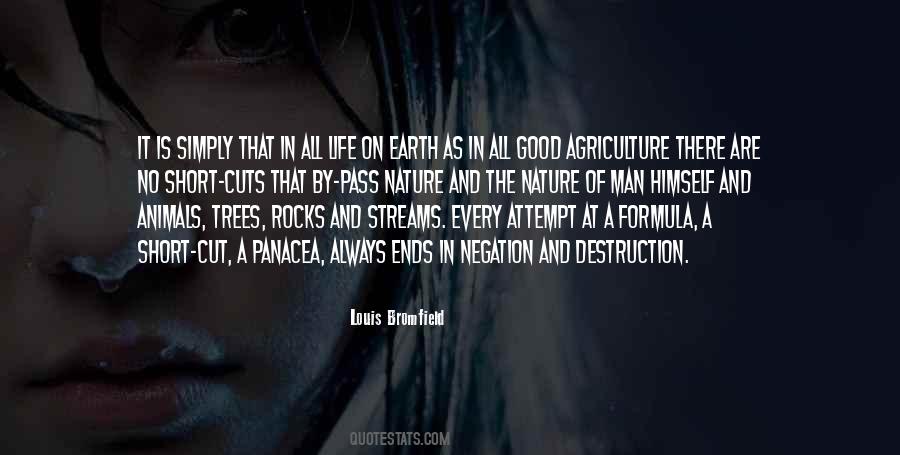 #34. You are the sun and the rain, the water and the plants, the birds and the animals. There is no such thing as 'nature,' apart from you and me. You are nature, I am nature, just as you are me and I am you. - Author: John Lundin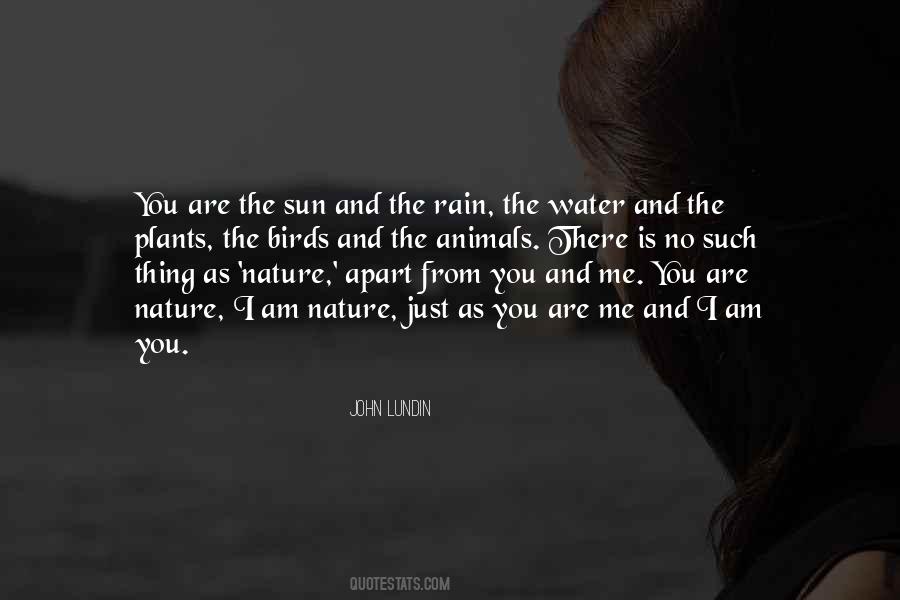 #35. For the time of towns is tolled from the world by funereal chimes, but in nature the universal hours are counted by succeeding tribes of animals and plants, and by growth of joy on joy. - Author: Ralph Waldo Emerson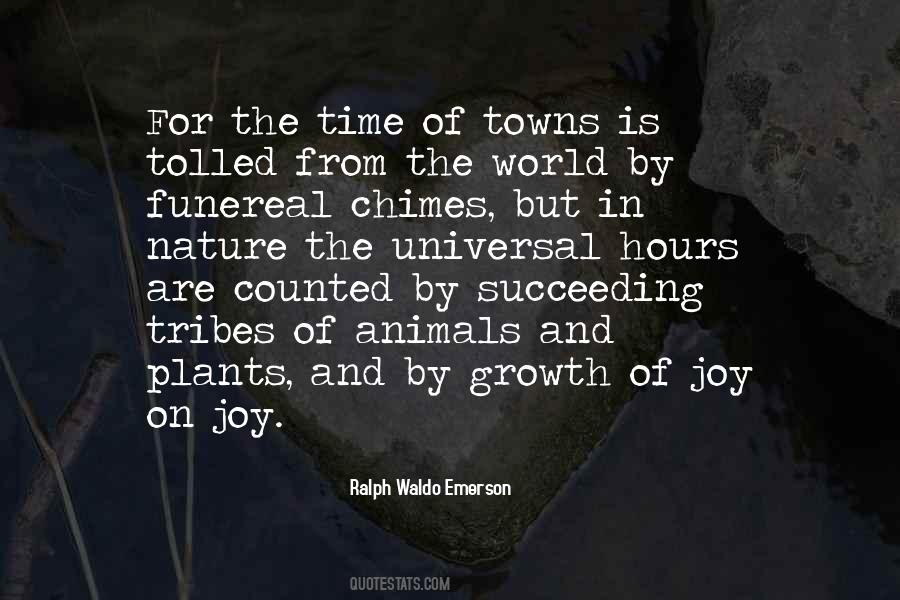 #36. Like all animals, human beings have always taken what they want from nature. But we are the rogue species. We are unique in our ability to use resources on a scale and at a speed that our fellow species can't. - Author: Edward Burtynsky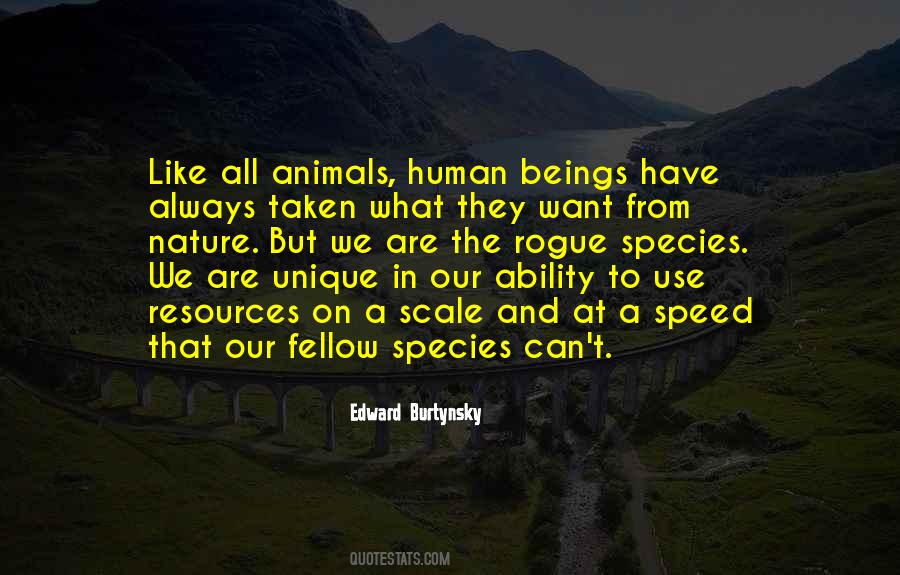 #37. People are like animals. Some are happiest penned in, some need to roam free. You go to recognize what's in her nature and accept it. - Author: Jeannette Walls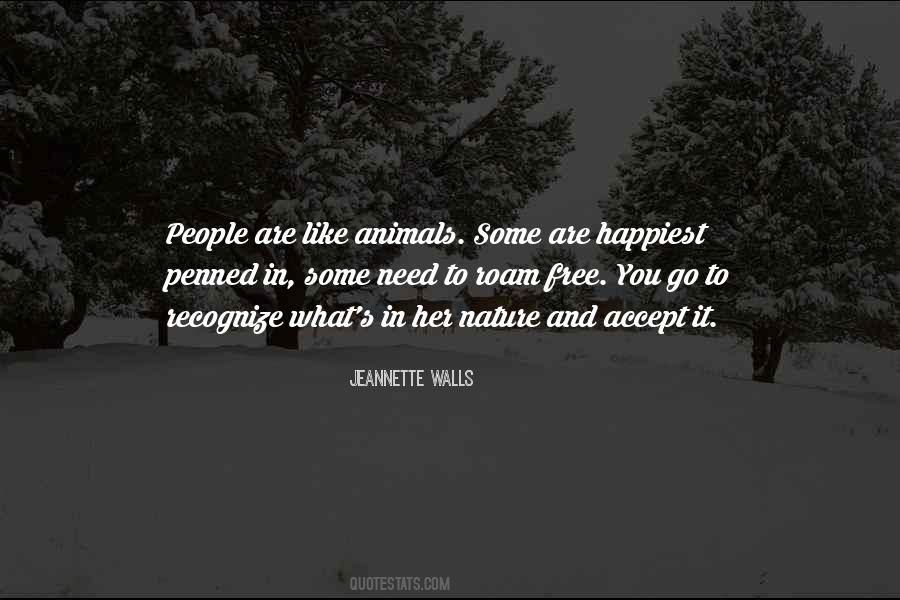 #38. Dogs and other animals we bring into our homes serve as one of our most important links to Mother Nature. We may not think about it consciously, but they are our lifelines to a part of ourselves that we are at the brink of losing altogether. - Author: Cesar Millan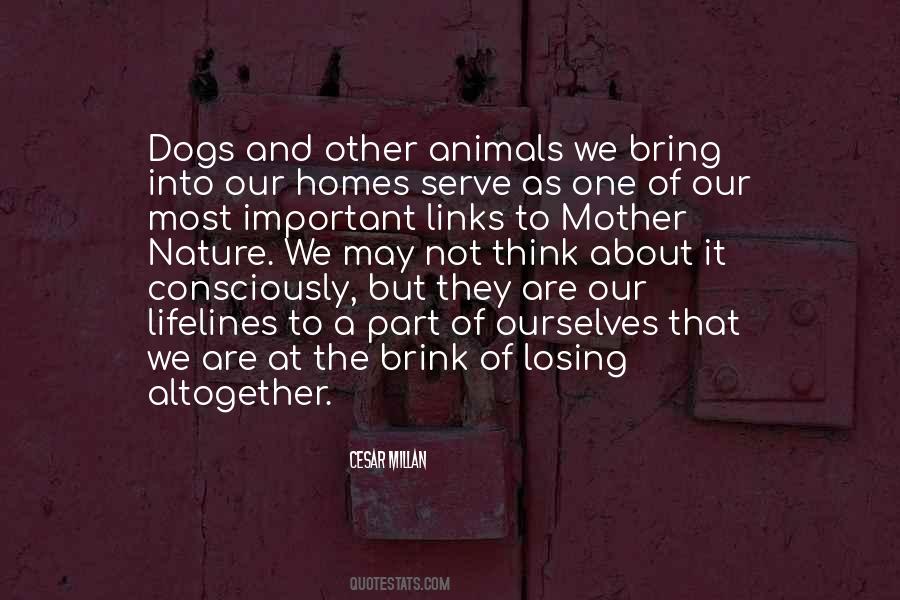 #39. Our knowledge and understanding of nonhuman animals is polluted far more than we acknowledge by our belief in our own superiority, our unrecognized cultural programming, and our separation from nature. - Author: Will Tuttle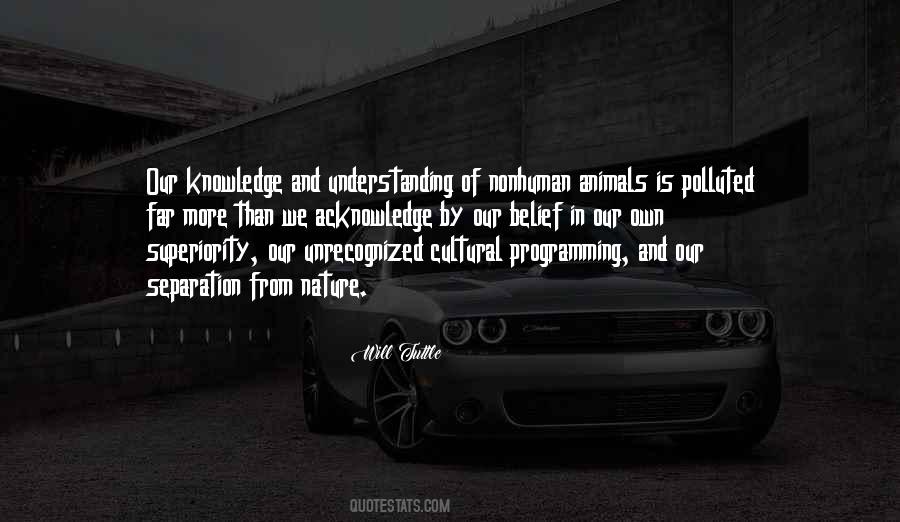 #40. We both loved the birds and animals and plants. We both felt far happier out of doors. I felt a peace in nature that I could never find in the human world, as you know. - Author: Tracy Rees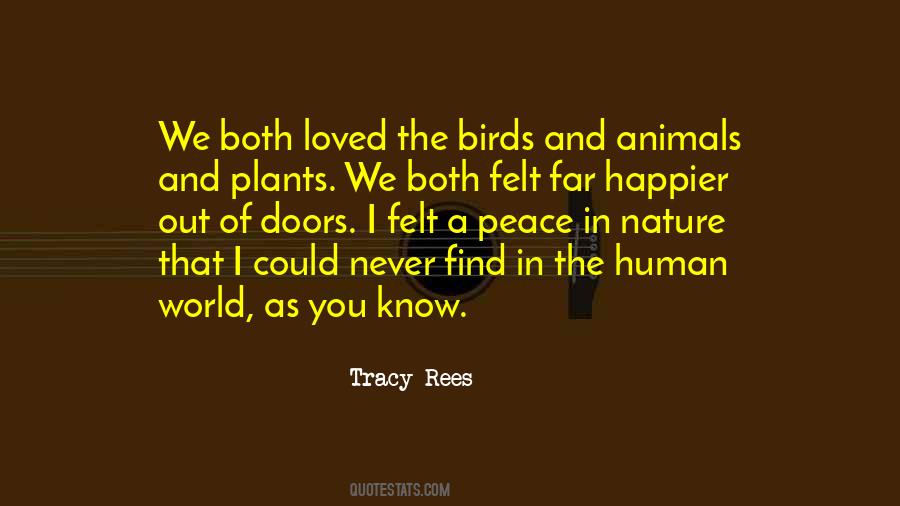 #41. Nature is none other than God in things ... Animals and plants are living effects of Nature; Whence all of God is in all things ... Think thus, of the sun in the crocus, in the narcissus, in the heliotrope, in the rooster, in the lion. - Author: Giordano Bruno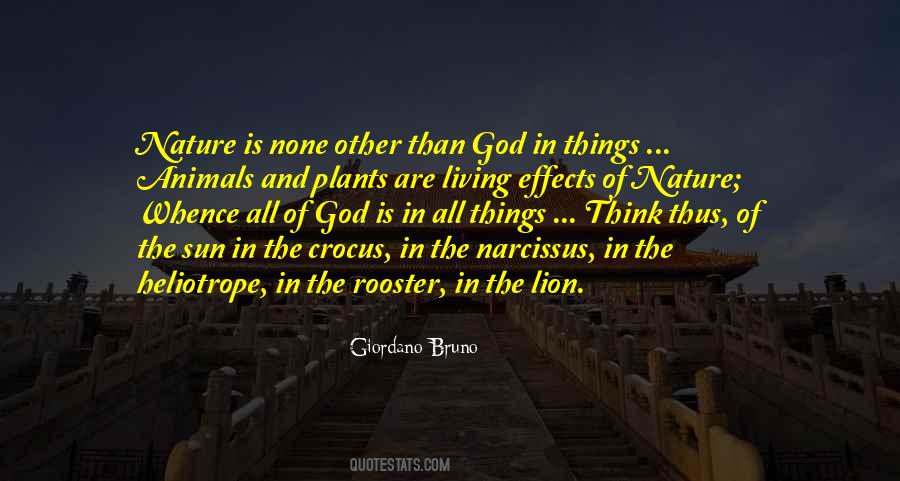 #42. Humans by nature are pack animals. We take comfort in those around us, and value our worth by how many others deem us important. We struggle to fit in, be like the others. - Author: Teresa Mummert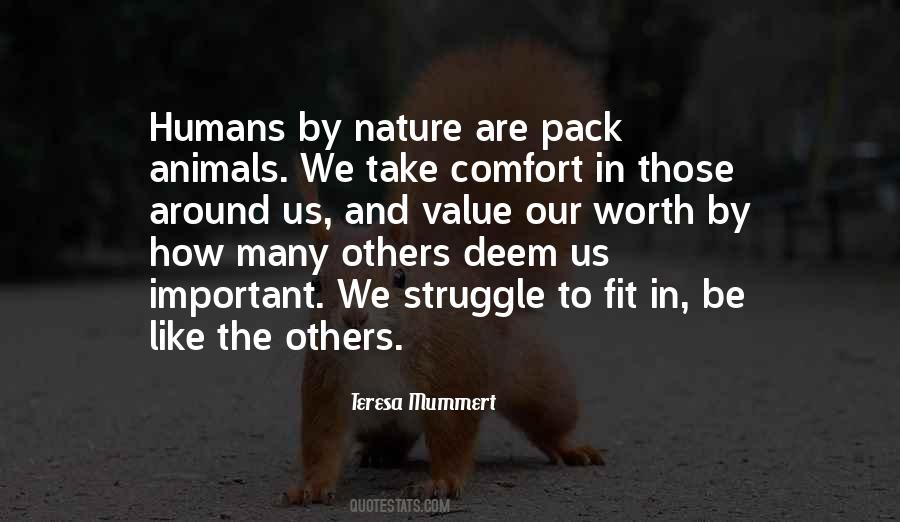 #43. From the war of nature, from famine and death, the most exalted object which we are capable of conceiving, namely, the production of higher animals, directly follows. - Author: Charles Darwin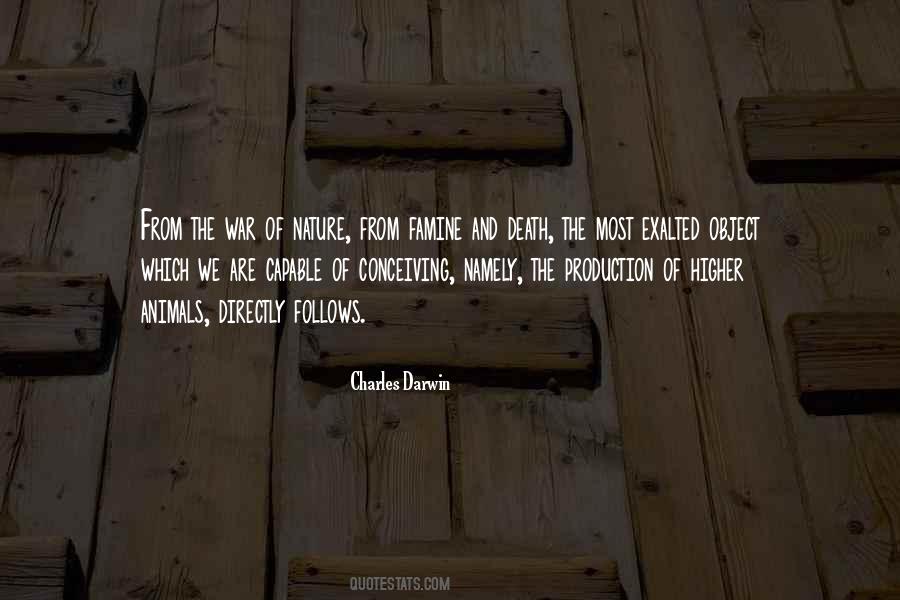 #44. The nature of human beings is to eat meat and fruits and vegetables, and therefore we have to kill animals. I don't have a problem with that. But it's a sacred moment. It's a gift of life. - Author: Eric Ripert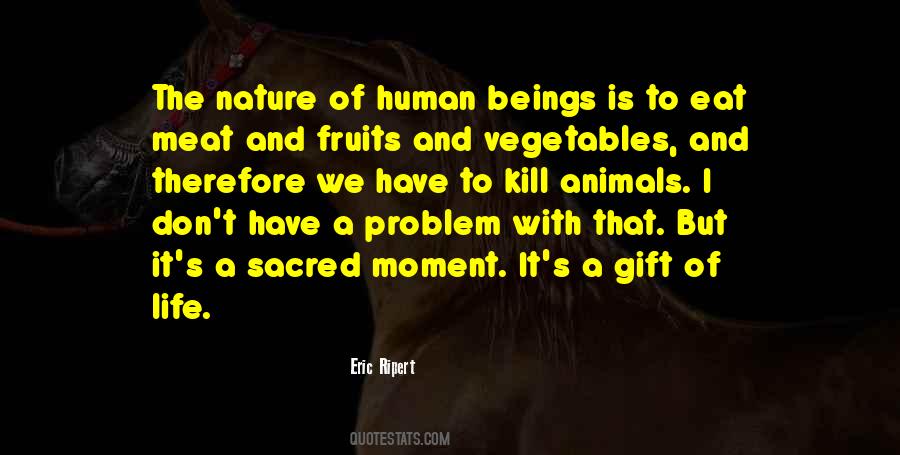 #45. is the God that showed him wondrous stories and lessons. The primary lesson for George was that love is the only important work in this world. Love people, nature, animals, and creation itself - and to show compassion and generosity. - Author: John Graden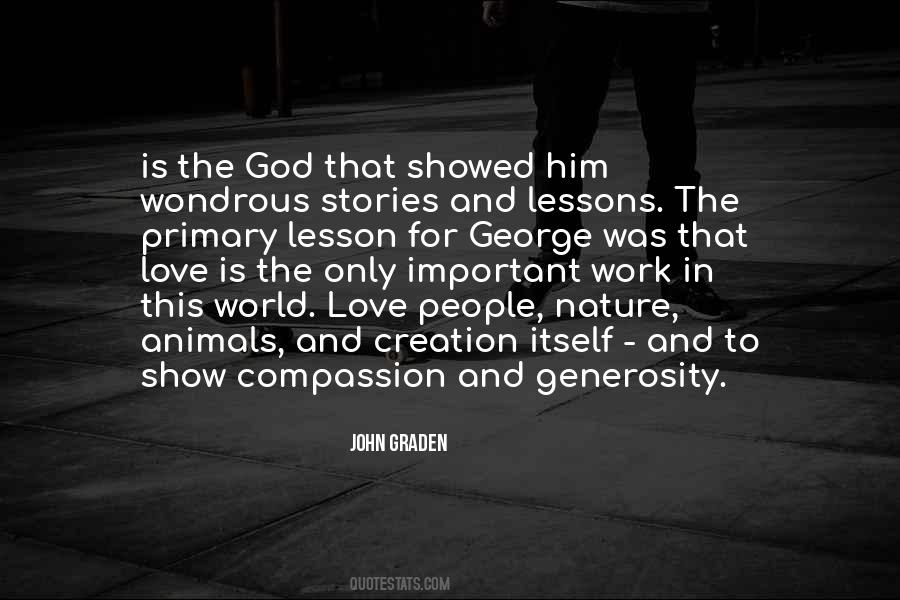 #46. I like people. I like animals, too-whales and quail, dinosaurs and dodos. But I like human beings especially, and I am unhappy that the pool of human germ plasm, which determines the nature of the human race, is deteriorating. - Author: Linus Pauling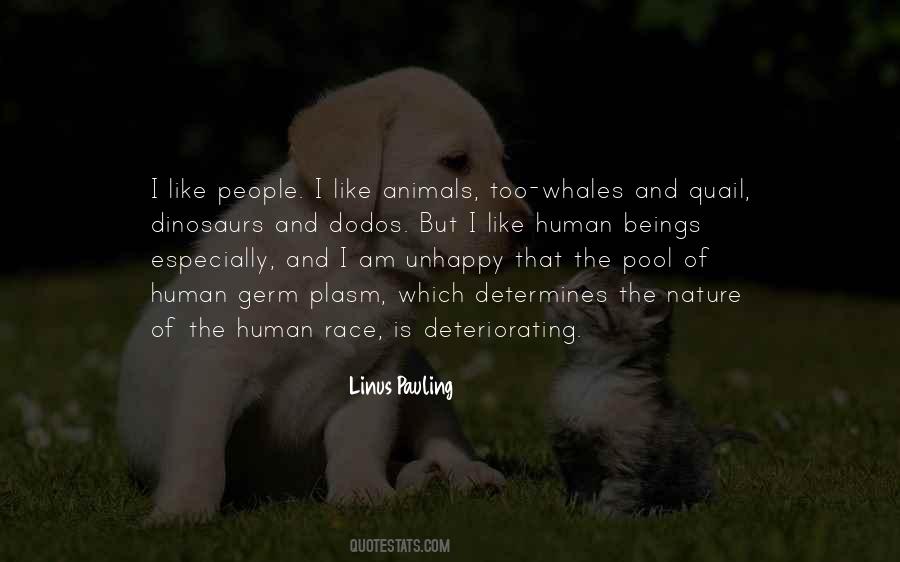 #47. Animals come from nature. They were not designed. All my inspiration comes from nature, whether it's an animal or the layout of bark or of a leaf. Sometimes my patterns are very bold, and you can barely see where they come from, but all the textures and all the prints come out of nature. - Author: Diane Von Furstenberg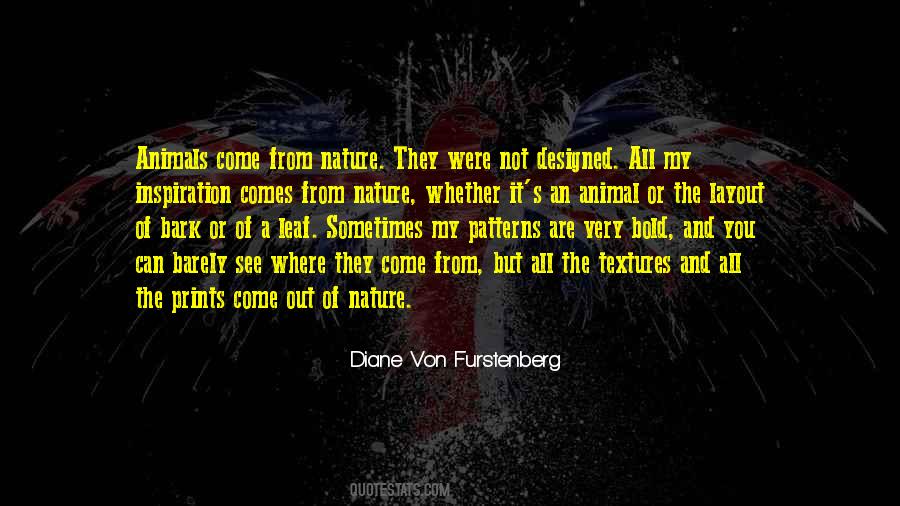 #48. Why is there such a gap between nonspeaking animals and speaking man, when there is no other such gap in nature? - Author: Walker Percy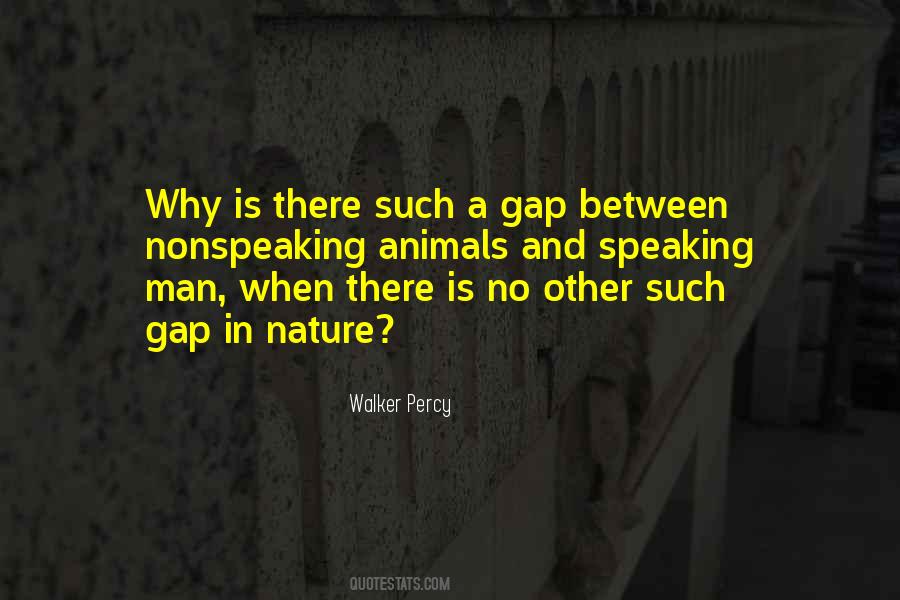 #49. It's a lot like nature. You only have as many animals as the ecosystem can support and you only have as many friends as you can tolerate the bitching of. - Author: Randy Milholland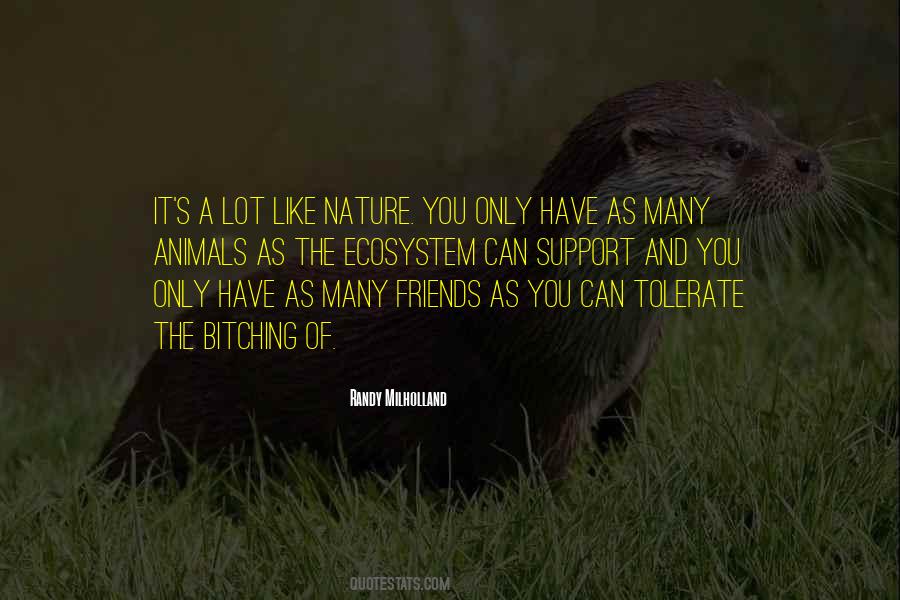 #50. And let the fear and dread of you be upon all of the animals of the earth.45 Clearly, fear and dread were prescribed for the animals, but evidently it was forbidden among humans. By nature a human is superior to a brute animal, but not other humans. - Author: Gregory The Great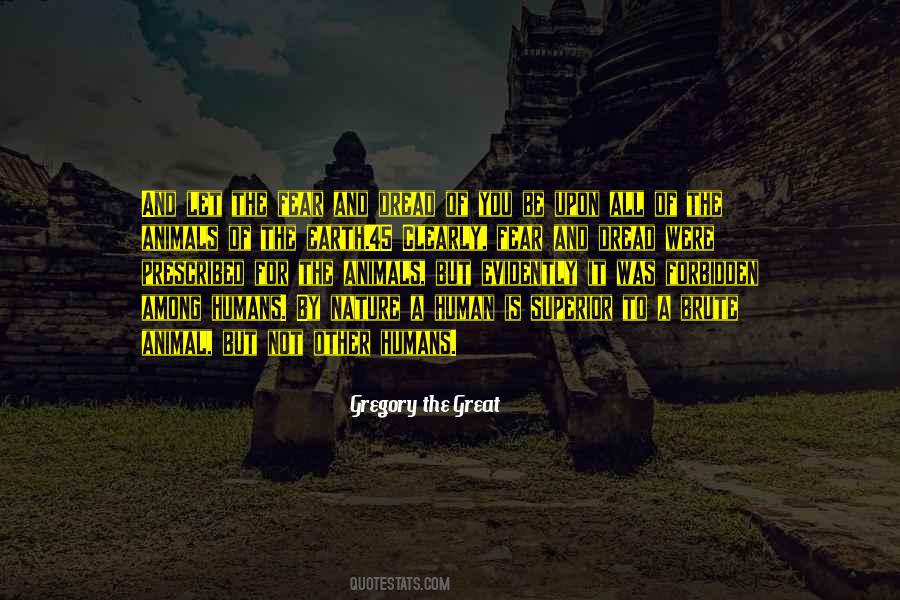 #51. MAMMALIA, n.pl. A family of vertebrate animals whose females in a state of nature suckle their young, but when civilized and enlightened put them out to nurse, or use the bottle. - Author: Ambrose Bierce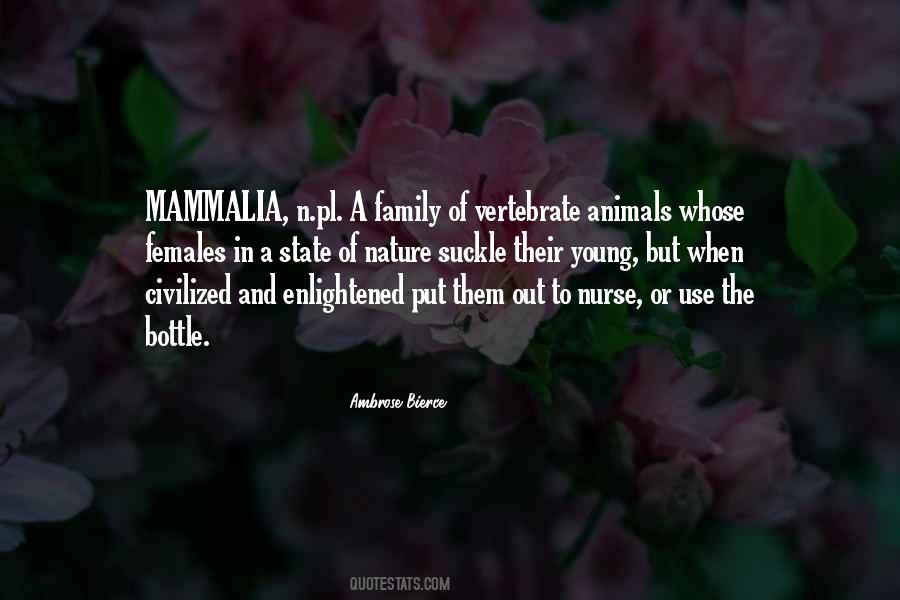 #52. Animals we are, and animals we remain, and the path to our regeneration and happiness, if there be such a path, lies through our animal nature. - Author: Dora Russell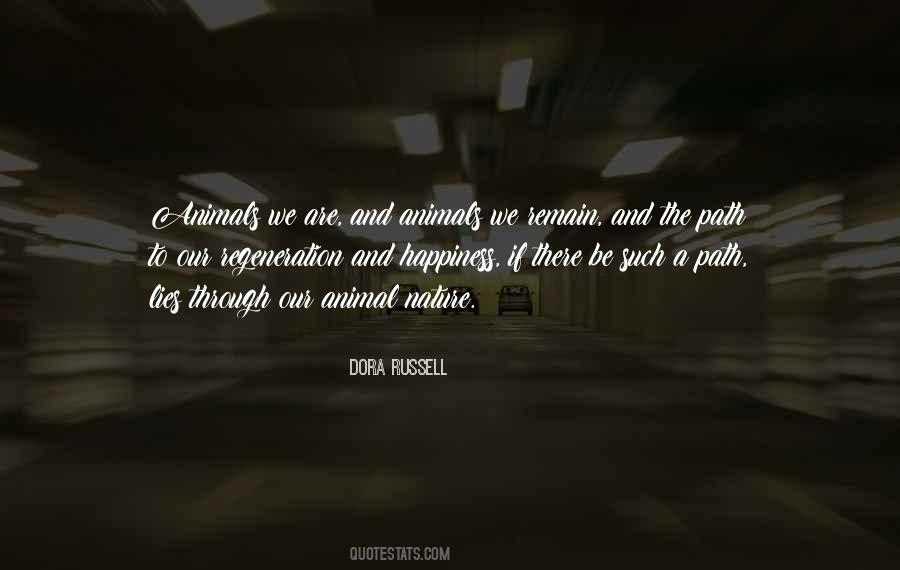 #53. To me nature is ... spiders and bugs, and big fish eating little fish, and plants eating plans, and animals eating ... It's like an enormous restaurant, that's the way I see it. - Author: Woody Allen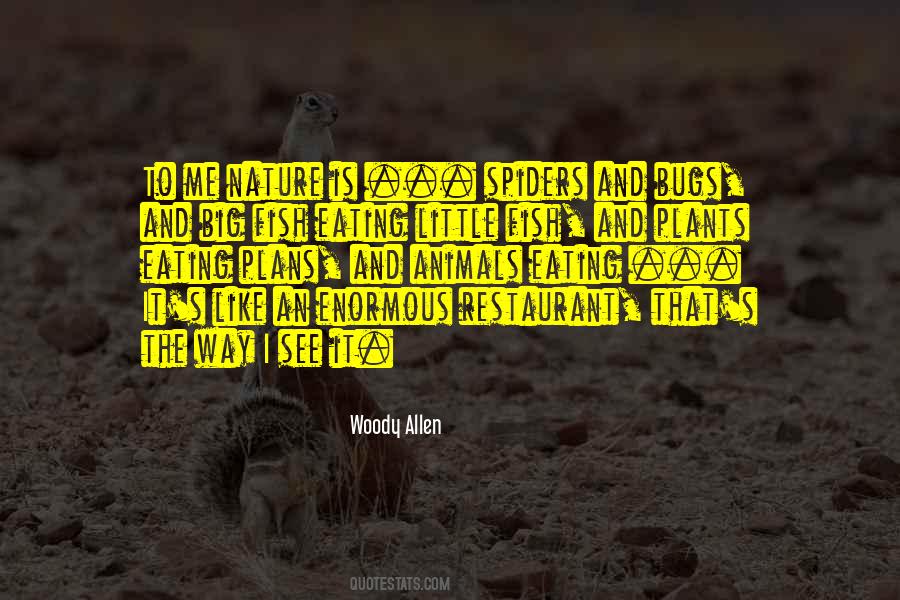 #54. Sculpture is more divine, and more like Nature, That fashions all her works in high relief, And that is Sculpture. This vast ball, the Earth, Was moulded out of clay, and baked in fire; Men, women, and all animals that breathe Are statues, and not paintings. - Author: Henry Wadsworth Longfellow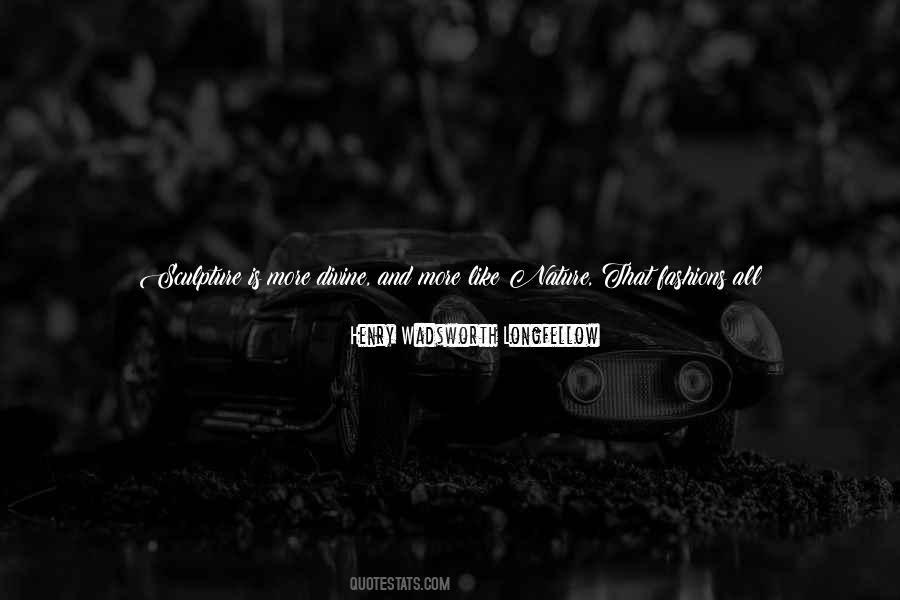 #55. Most Pagans are in agreement, treat yourself, others, animals and nature with respect. Just like many other religions the Pagan belief system often incorporates a desire to be a good person, kind, and understanding. There is no spread of hatred or violence. - Author: Ginger Valentine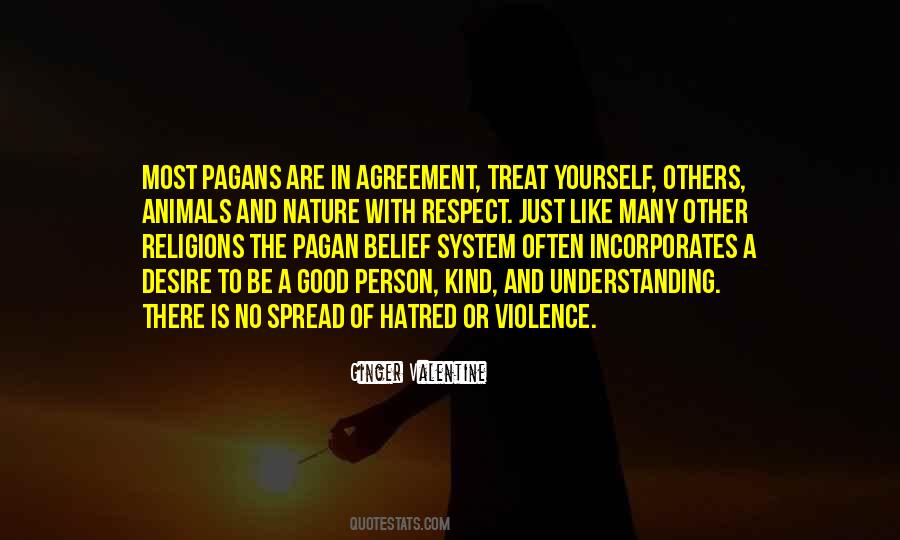 #56. Cambrian animals were not particularly large at first, but they were plentiful and innovative. Jaws appeared. Eyes appeared. Nature began experimenting with weaponry. - Author: Wendy Williams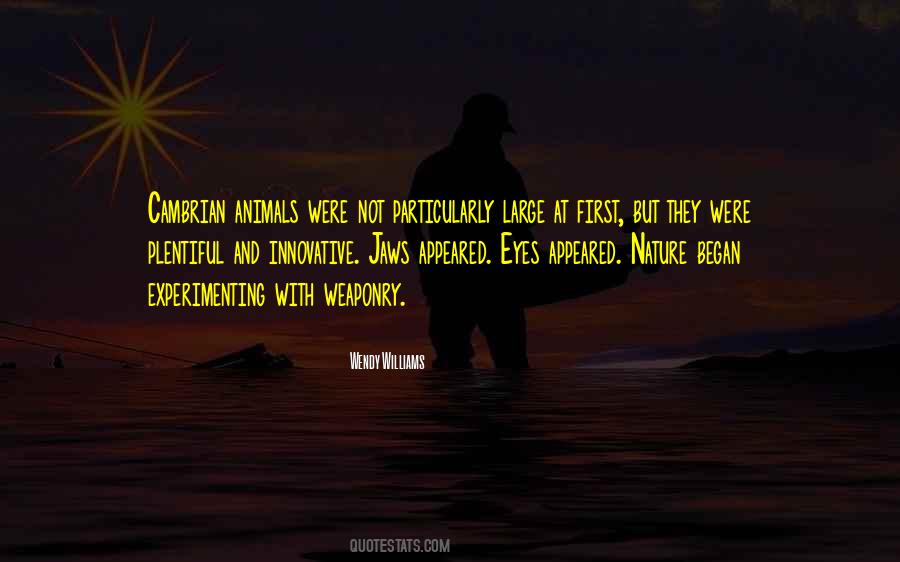 #57. Natural bodies are divided into three kingdomes of nature: viz. the mineral, vegetable, and animal kingdoms. Minerals grow, Plants grow and live, Animals grow, live, and have feeling. - Author: Carl Linnaeus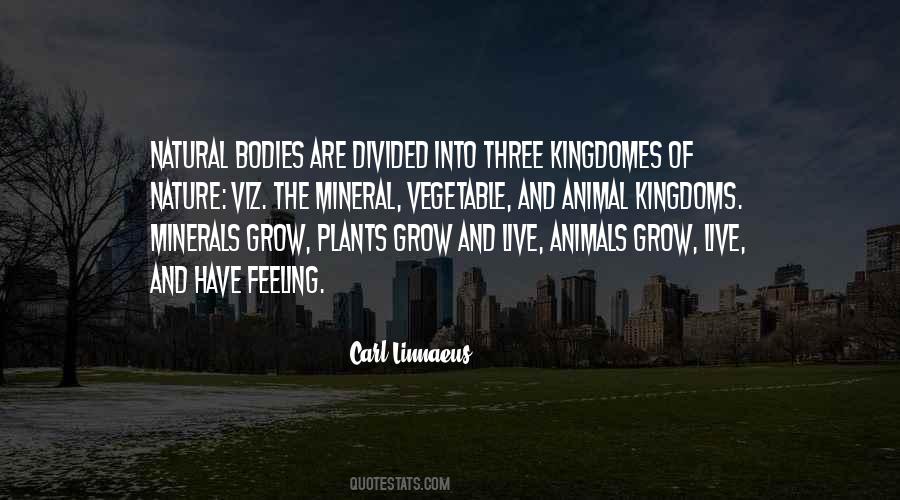 #58. Our sense of community and compassionate intelligence must be extended to all life forms, plants, animals, rocks, rivers, and human beings. This is the story of our past and it will be the story of our future. - Author: Terry Tempest Williams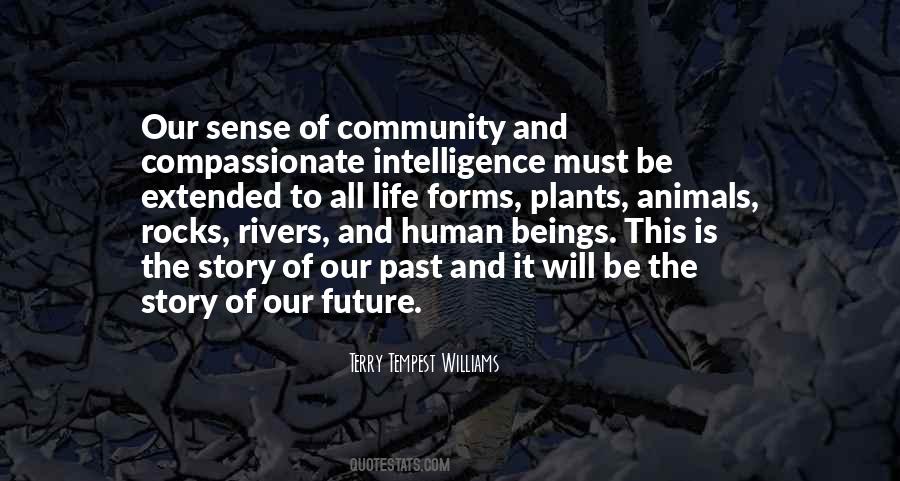 #59. And this sensitivity will create new friendships for you - friendships with trees, with birds, with animals, with mountains, with rivers, with oceans, with stars. Life becomes richer as love grows. - Author: Rajneesh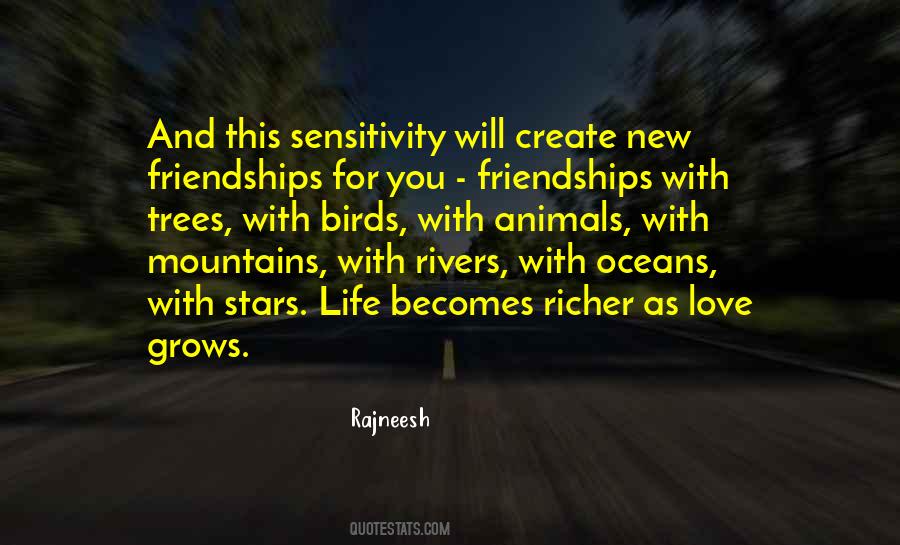 #60. Our treatment of animals and our attitude toward them are crucial not only to any pretensions we have to ethical behavior but the humankind's intellectual and moral evolution. Which is how the human animal is meant to evolve, isn't it? - Author: Joy Williams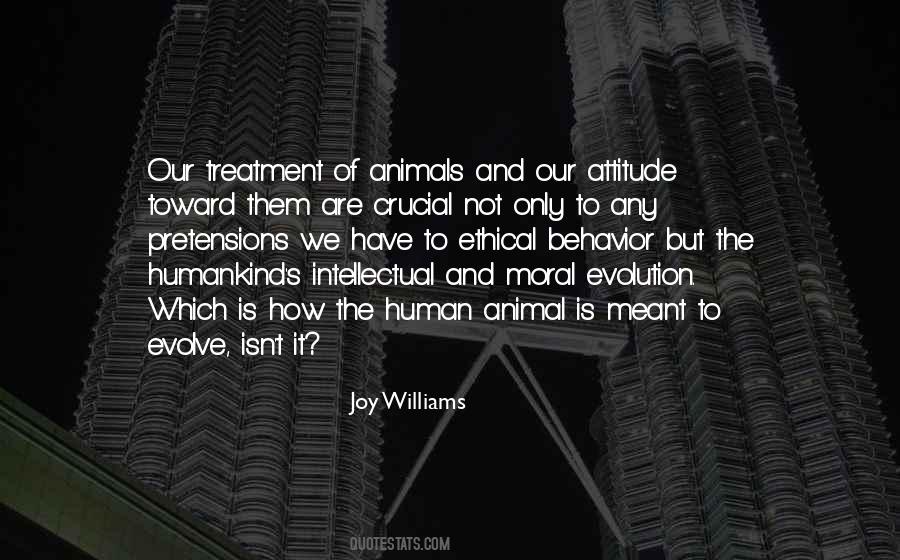 #61. We are animals and as animals we kill to survive. Unfortunately some of us are monsters and kill just because they can. - Author: Richard Myerscough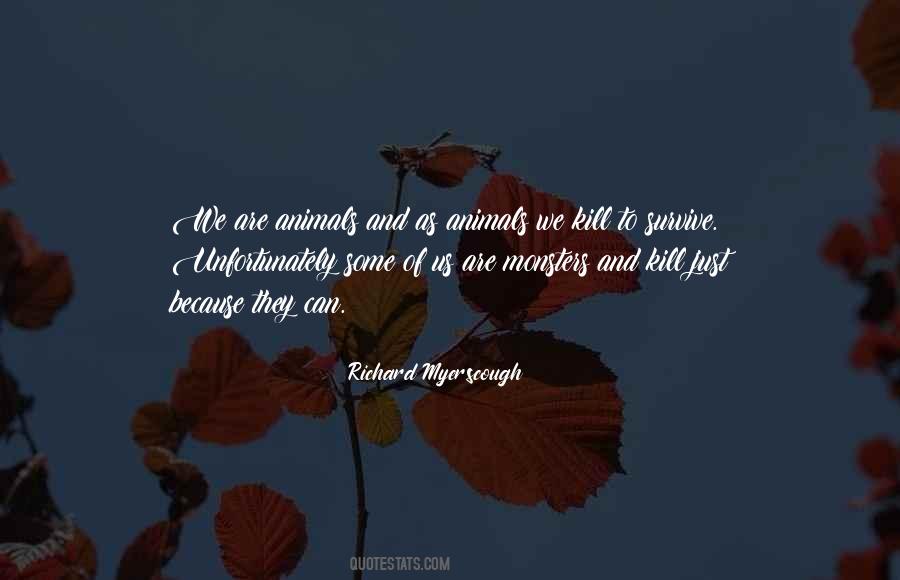 #62. Nature, as we say, does nothing without some purpose; and for thepurpose of making mana political animal she has endowed him alone among the animals with the power of reasoned speech. - Author: Aristotle.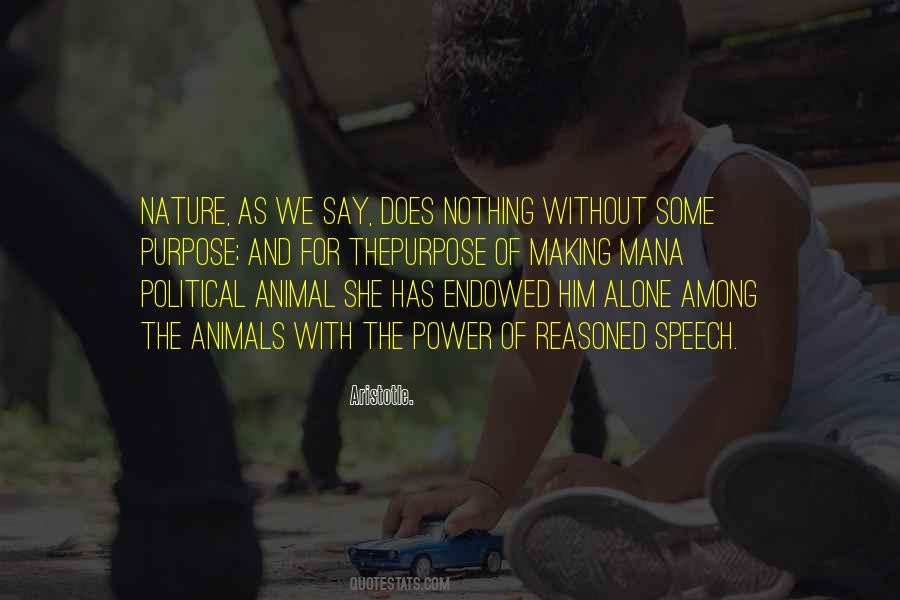 #63. After a lifetime of nature shows and magazine photos, we arrive at the woods conditioned to expect splendor - surprised when the parking lot does not contain a snarl of animals attractively mating and killing each other. - Author: Bill McKibben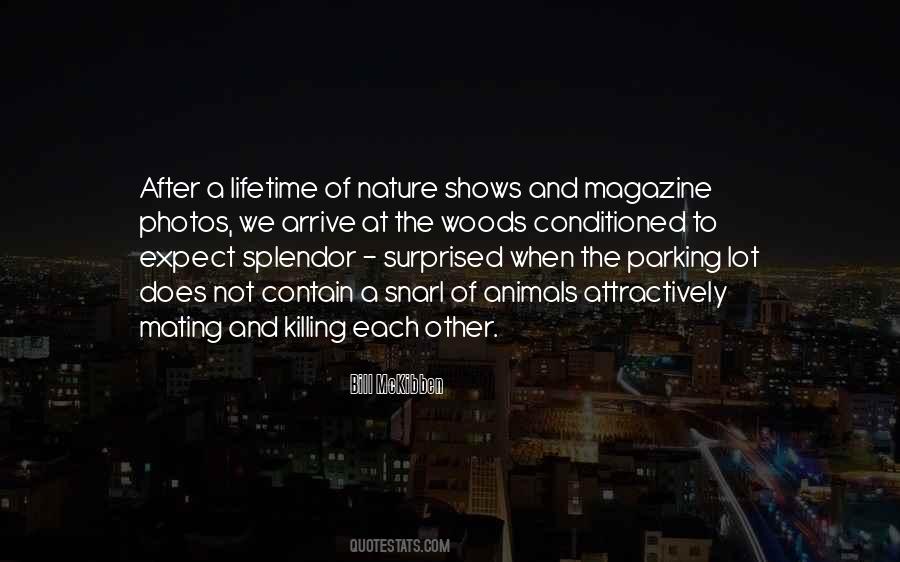 #64. I had always dreamed of being involved in a job where I could do anything related to animals and nature. A vet maybe. But later I came to understand that it was just a temporary interest and that music was more important to me. - Author: Tarkan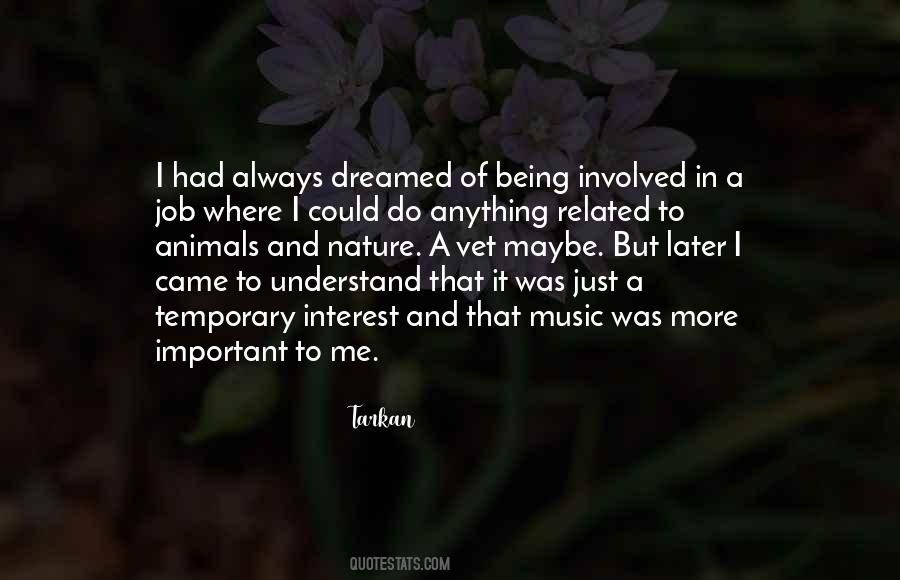 #65. As a so-called "civilized" people, and as members of a society in search of lasting peace in the world, we cannot remain callous to our responsibility toward nature and insensitive to the inherent rights of the animals. - Author: Nathaniel Altman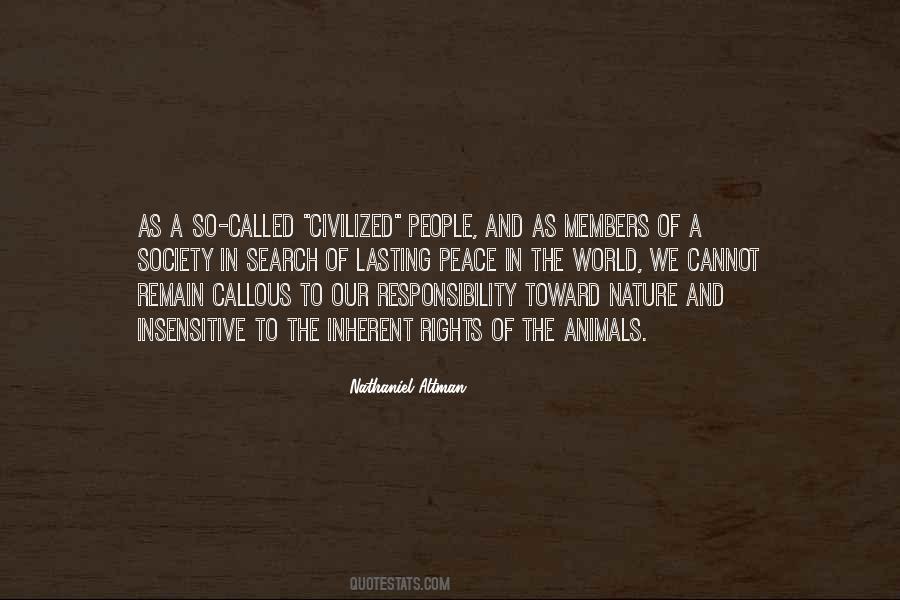 #66. People in general romanticize nature, and they make it out to be something that it isn't because humans are so awful. And yes, we are absolutely screwing up this planet, but that is only because we have the capabilities to do so. Animals are not better than us. They are not nicer than us. - Author: Elise Andrew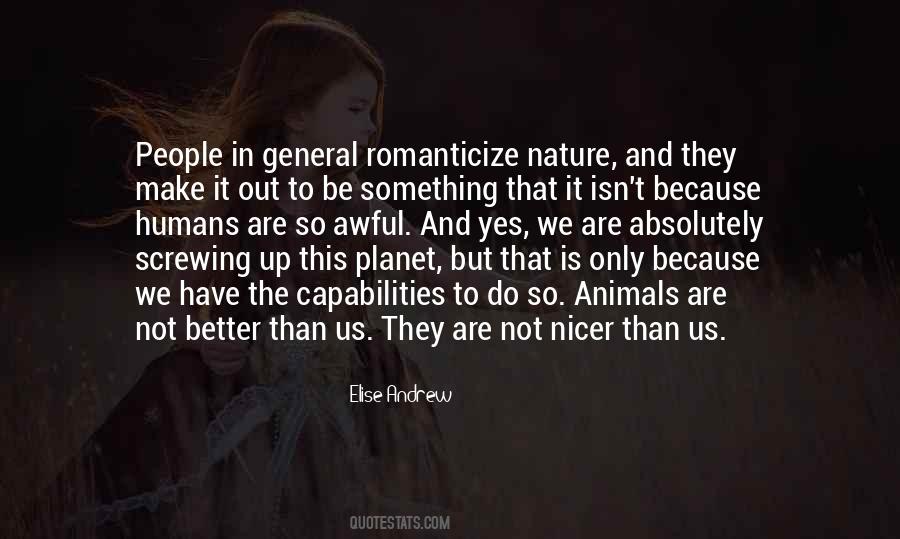 #67. They turn nature into an achievement course, a series of ordeals and obstacles they can conquer. They go into nature to behave unnaturally. In nature animals flee cold and seek warmth and comfort. But Bobo naturalists flee comfort and seek cold and deprivation. - Author: David Brooks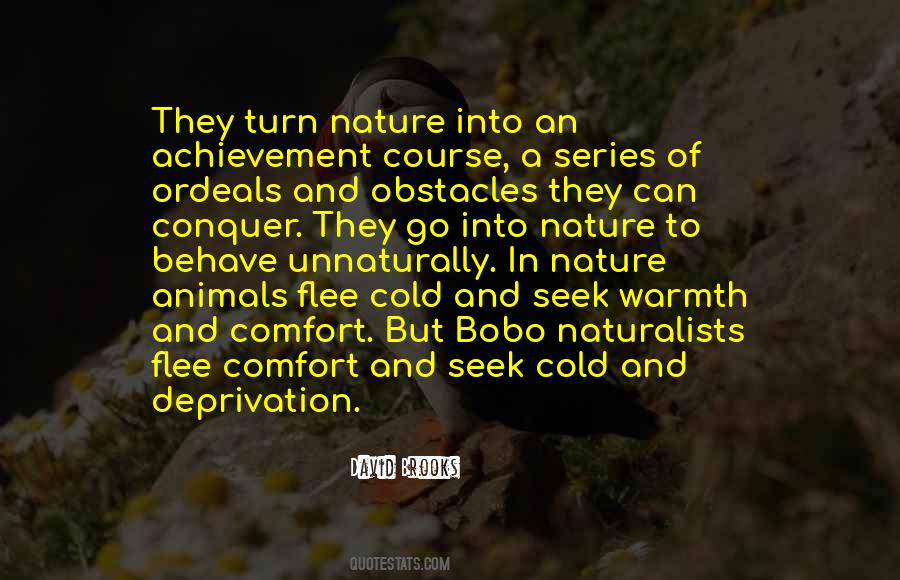 #68. The natural world had gone badly wrong. Everything that mankind is doing on the planet had upset the delicate balance of nature. The pollution, the rampant industrialization, the loss of habitat-when animals were squeezed and cornered, they behave viciously, in a desperate effort to survive. - Author: Michael Crichton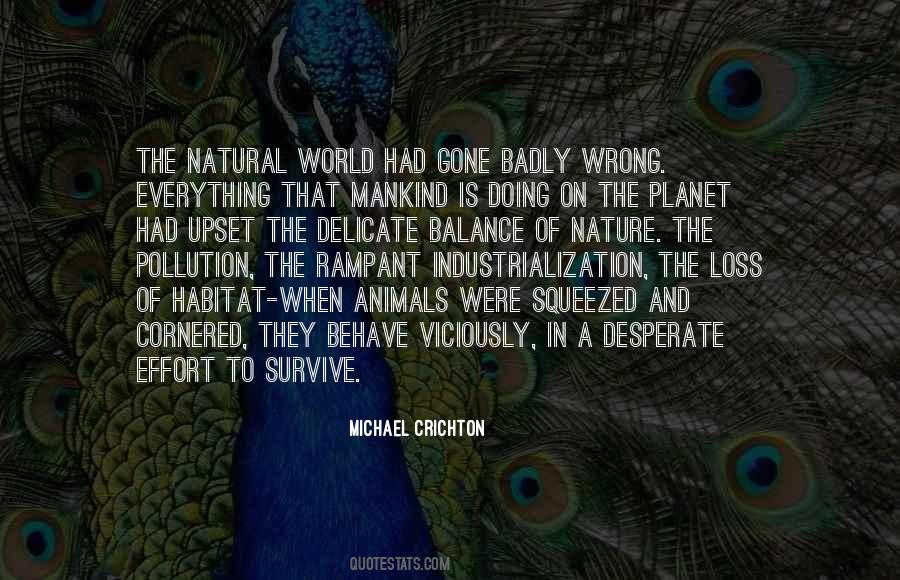 #69. Only one kind of species of animals bites the hand that feeds them - mankind. - Author: Fakeer Ishavardas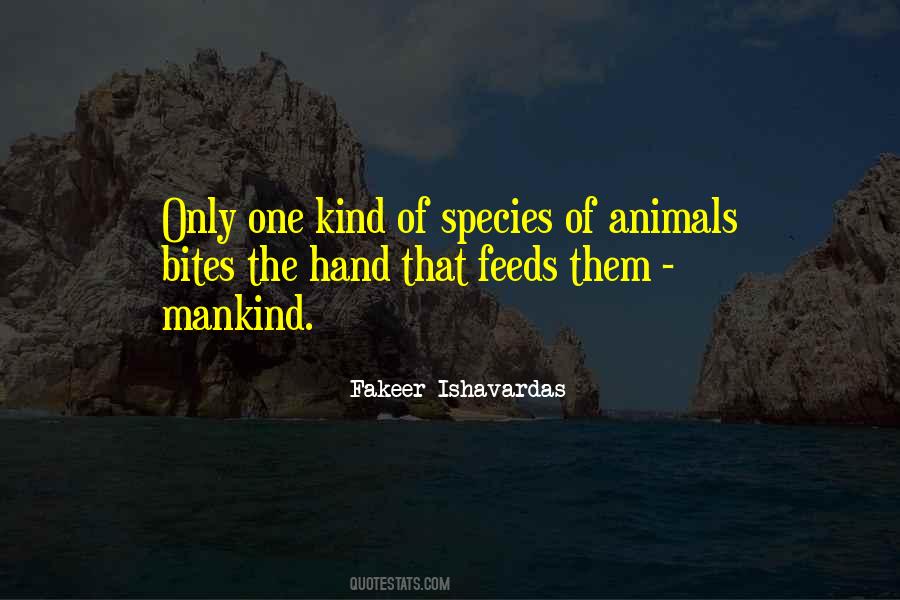 #70. The trees are a thousand times taller than me, and hundreds of years older, and the rocks and leaves and plants and animals never do anything silly like kill each other or fall in love or grow up. - Author: Ben Stephenson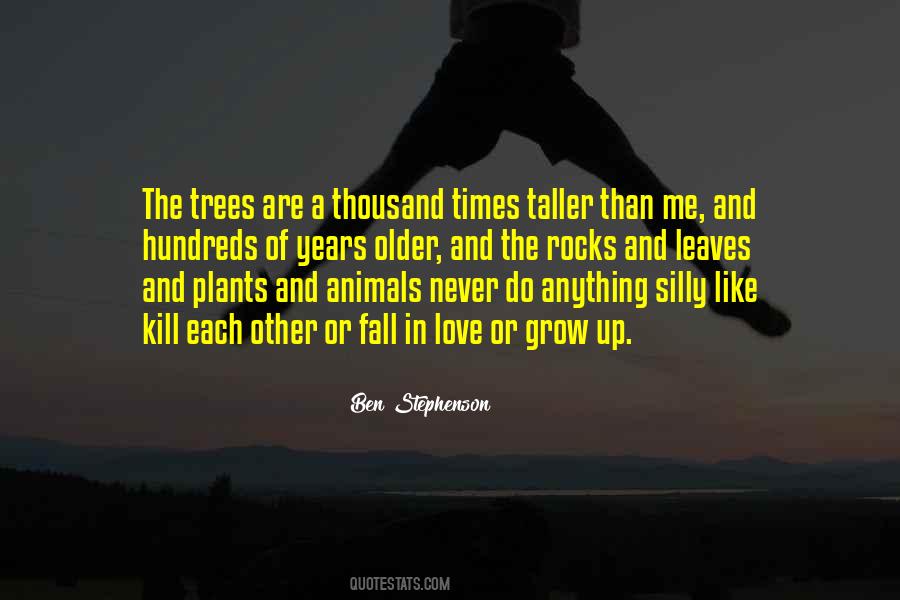 #71. There is no question that Francis was in advance of his age, as he anticipated all that is liberal and sympathetic in modern times: the love of nature, the love of animals, the sense of social compassion, the sense of the spiritual dangers of affluence. - Author: Henryk Skolimowski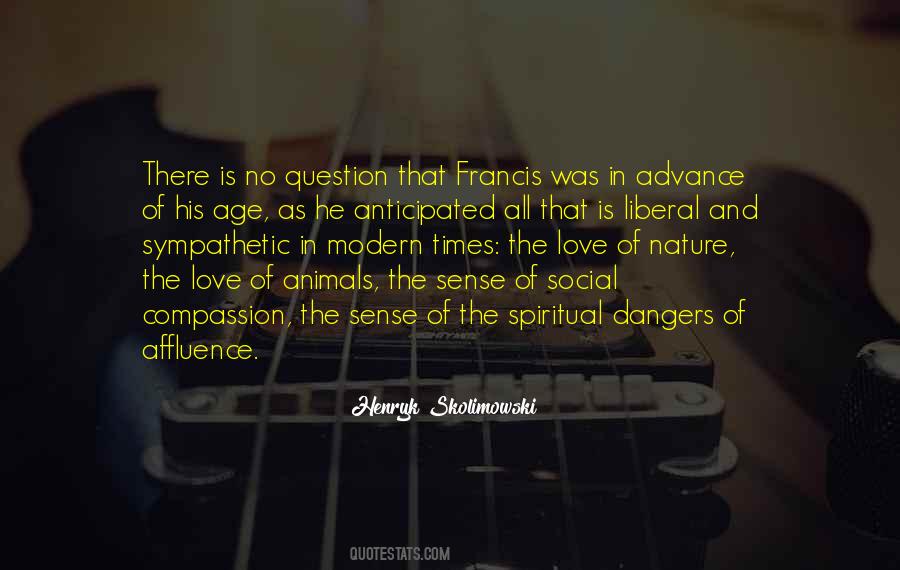 #72. Most creatures run when they sense danger. People grab a six-pack and a folding chair. - Author: Nenia Campbell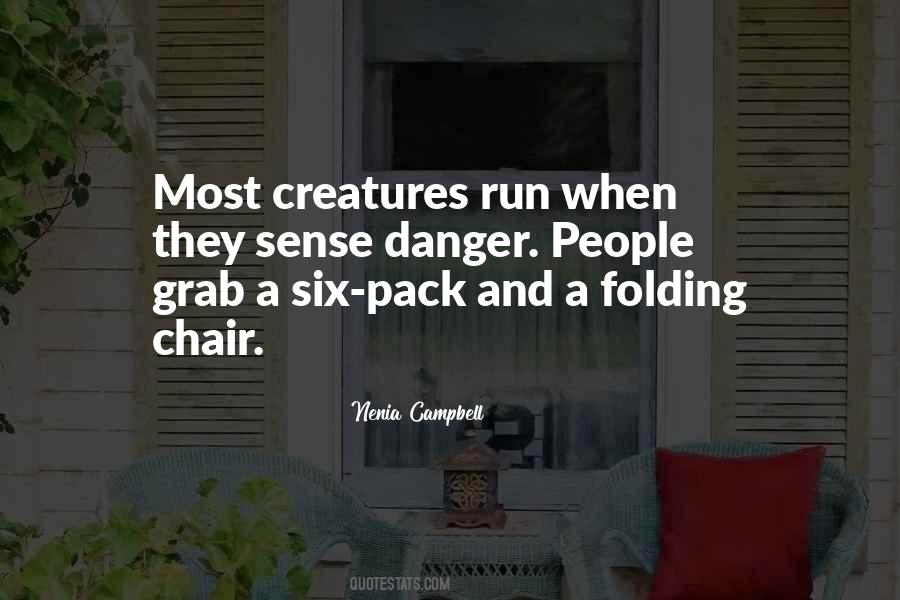 #73. Permaculture is a philosophy of working with, rather than against nature; of protracted and thoughtful observation rather than protracted and thoughtless labor; and of looking at plants and animals in all their functions, rather than treating any area as a single product system - Author: Bill Mollison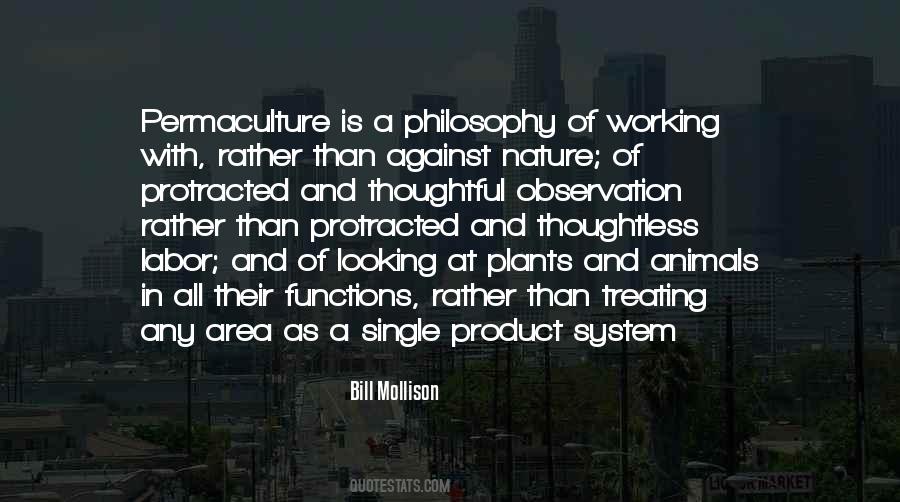 #74. It is a scholar's task to find patterns in nature or cycles in history. Initially, it's no different from finding portraits of animals and heroes in the stars. The question is, Have you discovered a preexisting truth? Or have you imposed an arbitrary meaning on whatever it is you're considering? - Author: Mary Doria Russell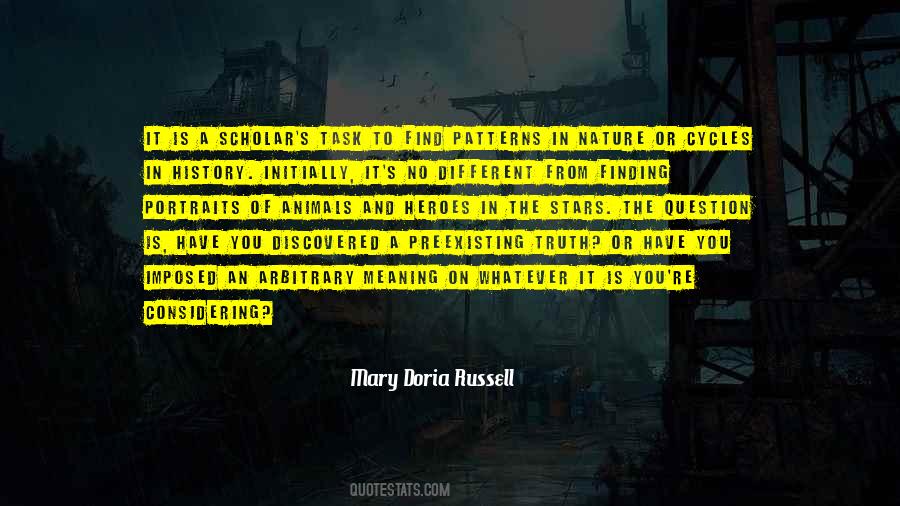 #75. Animals form an inalienable fragment of nature, and if we hasten the disappearance of even one species, we diminish our world and our place in it. - Author: James A. Michener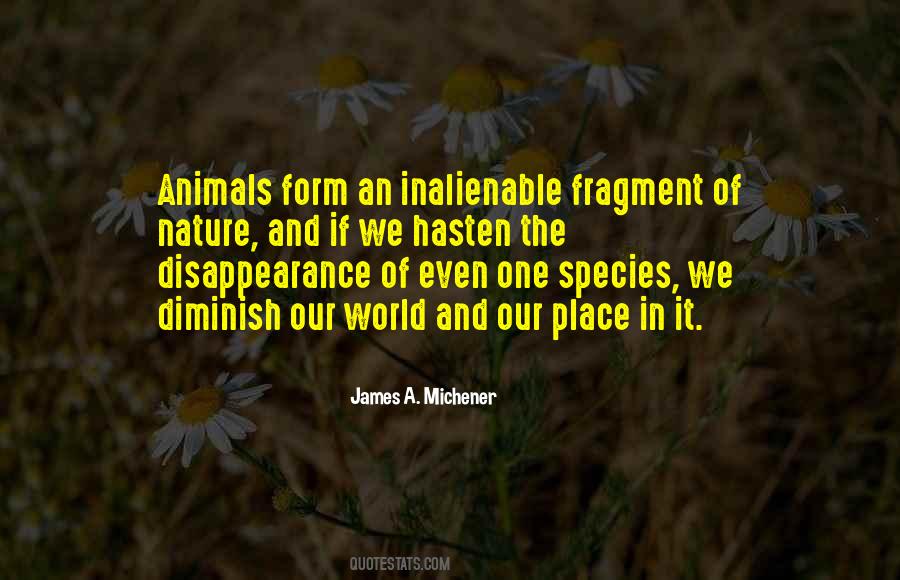 #76. But look around at this world, how perfectly it's made. Flowers can't move, yet the insects come to them and spread their pollen. Trees can't move either, but birds and animals eat their fruit and carry their seeds far and wide. - Author: Nahoko Uehashi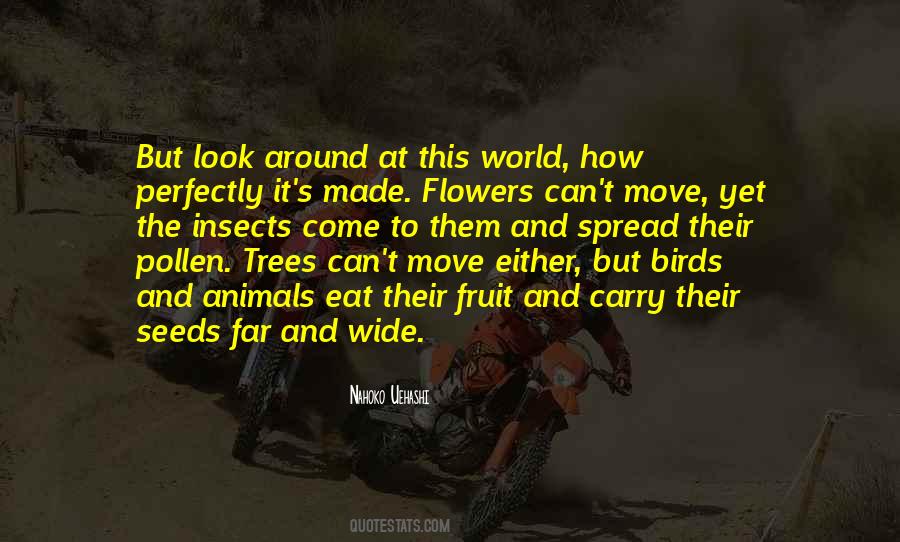 #77. First it was necessary to civilize man in relation to man. Now it is necessary to civilize man in relation to nature and the animals. - Author: Victor Hugo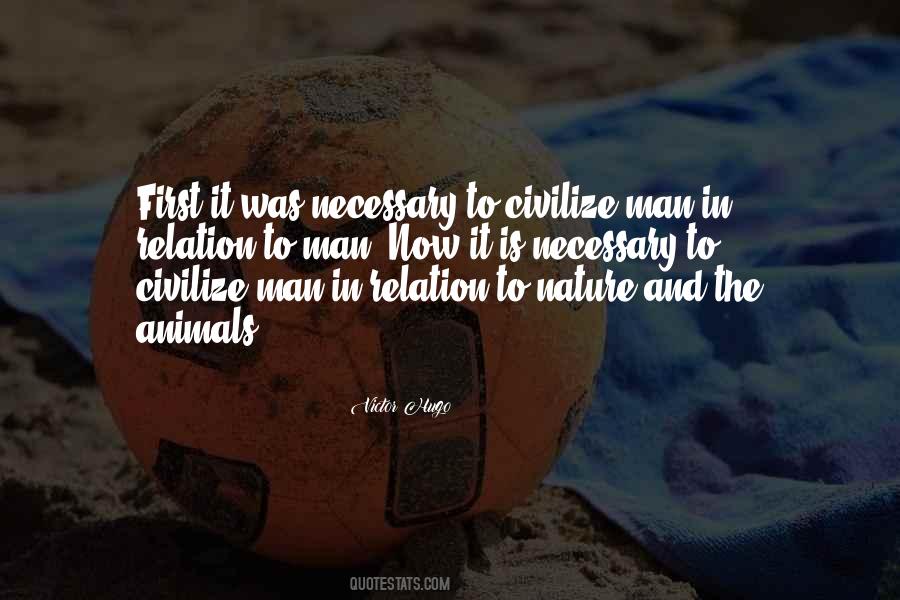 #78. Primates are the only animals on the face of the earth that can taste sweet and see color. We were designed by nature to see, grasp, eat, and enjoy the flavor of colorful, sweet fruits. - Author: Joel Fuhrman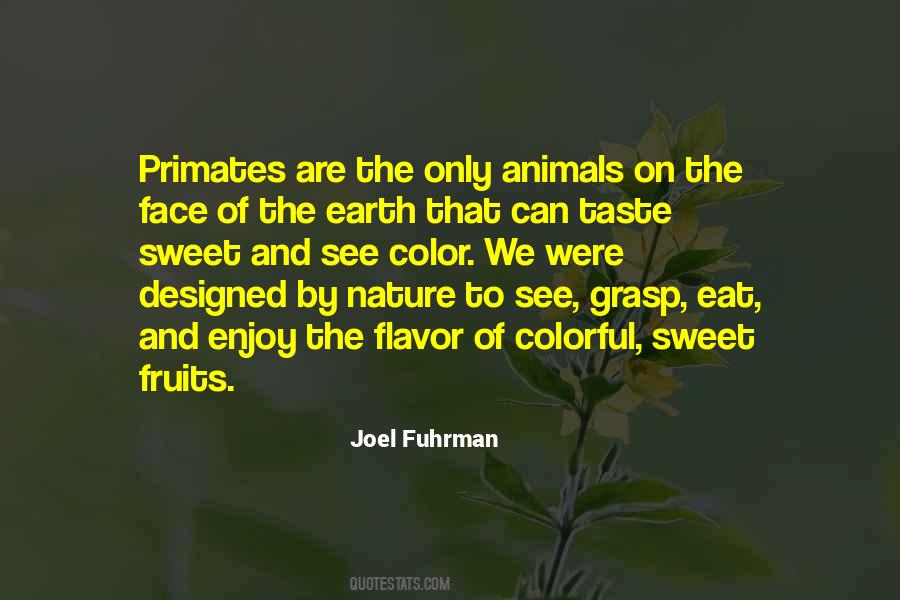 #79. Let us remember with humility the loneliness of being man in a universe we do not understand and the vulnerability of the human condition. The animals could do very well without us, but we cannot do without them. - Author: Gerald Carson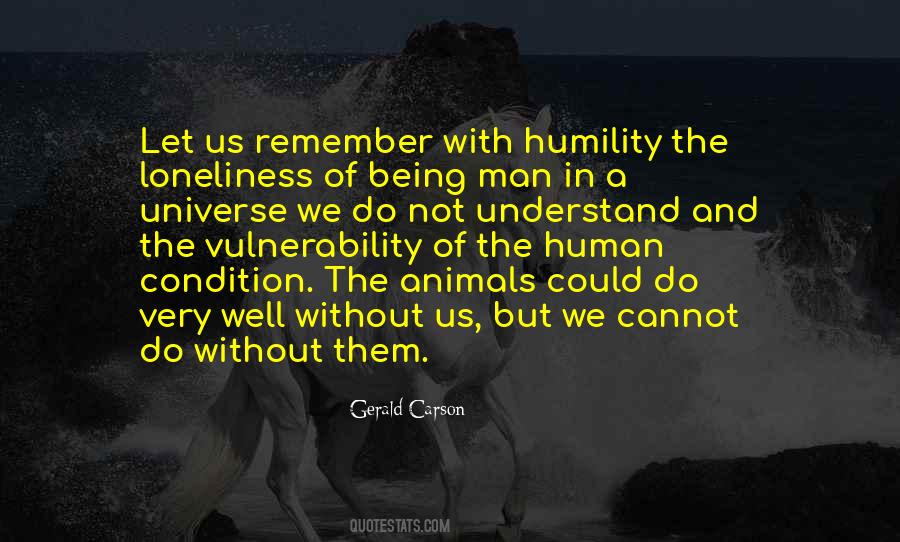 #80. The magic begins in you. Feel your own energy, and realize similar energy exists within the Earth, stones, plants, water, wind, fire, colores, and animals. - Author: Scott Cunningham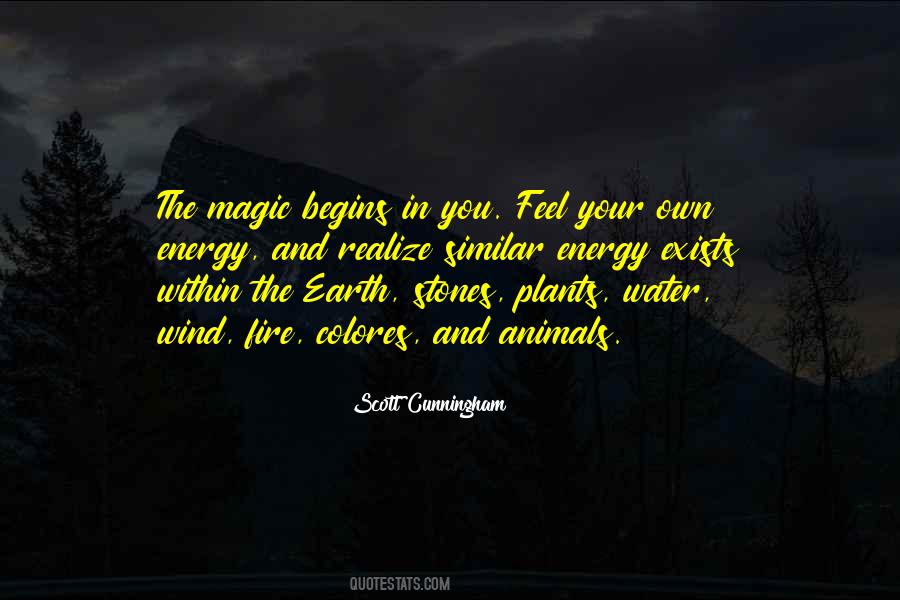 #81. We're allowed to go on living happy, healthy lives because tens of thousands of animals like this chimp sacrifice their lives. But all people do is kill and hate and do whatever they please. I guess they forgot that nature is what keeps us all alive. - Author: M..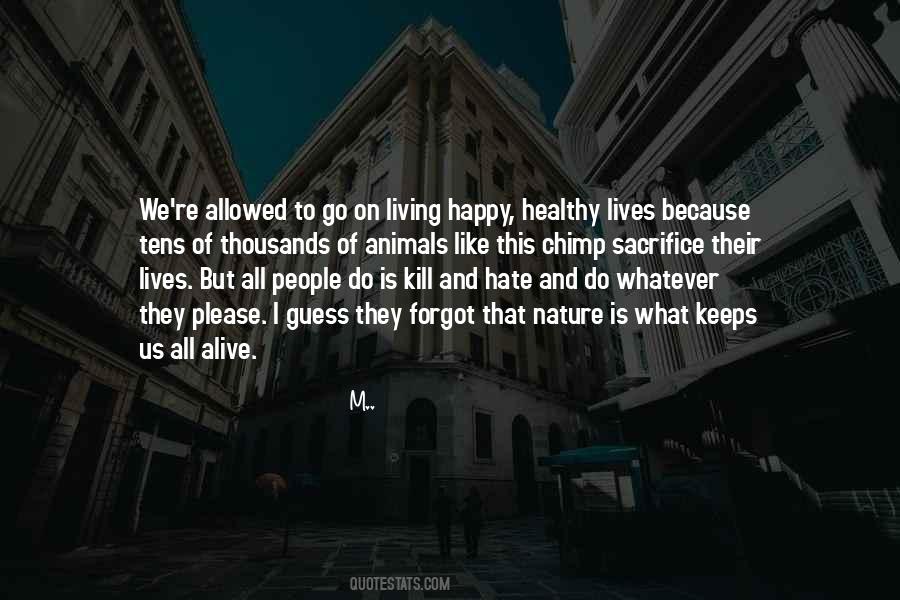 #82. We are developing all sorts of technologies based on what we have learnt from birds, animals and soils. Pollination is worth £billions. But it also highlights how nature is so interconnected. - Author: Tony Juniper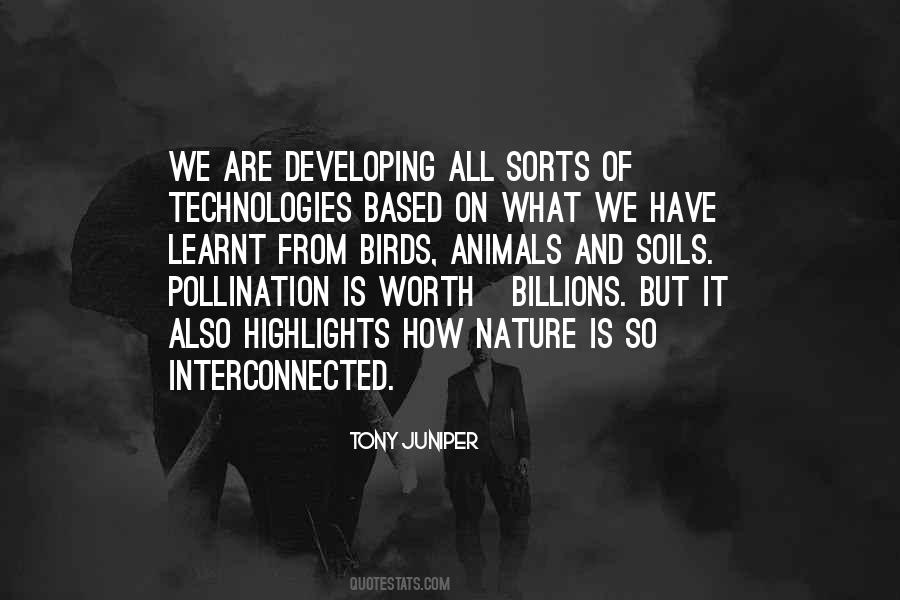 #83. I'm concentrating on staying healthy, having peace, being happy, remembering what is important, taking in nature and animals, spending time reading, trying to understand the universe, where science and the spiritual meet. - Author: Joan Jett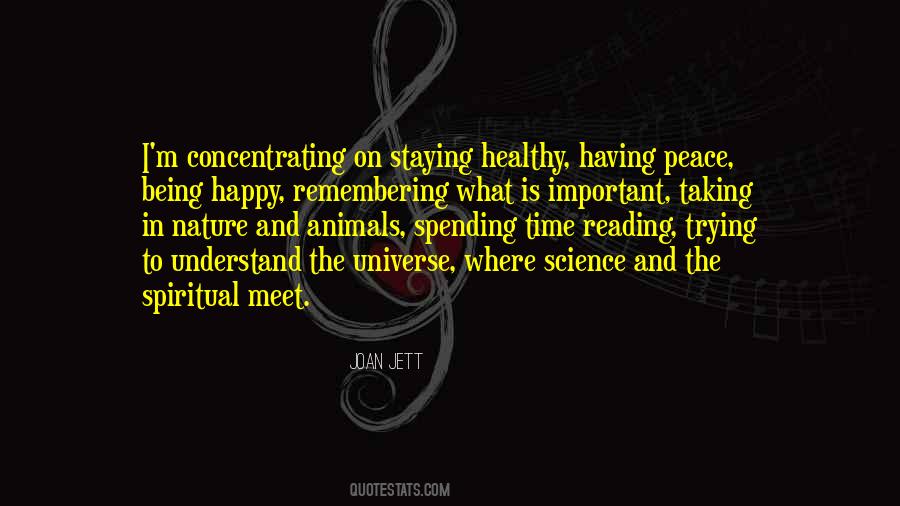 #84. Readers of Darwin's life, for instance, and particularly of the published correspondence of Darwin, are henceforth naturalists in the making. Ever afterwards they are Darwins on a small scale, seeing animals and plants in an entirely different light and with a correspondingly keener interest. - Author: John Steeksma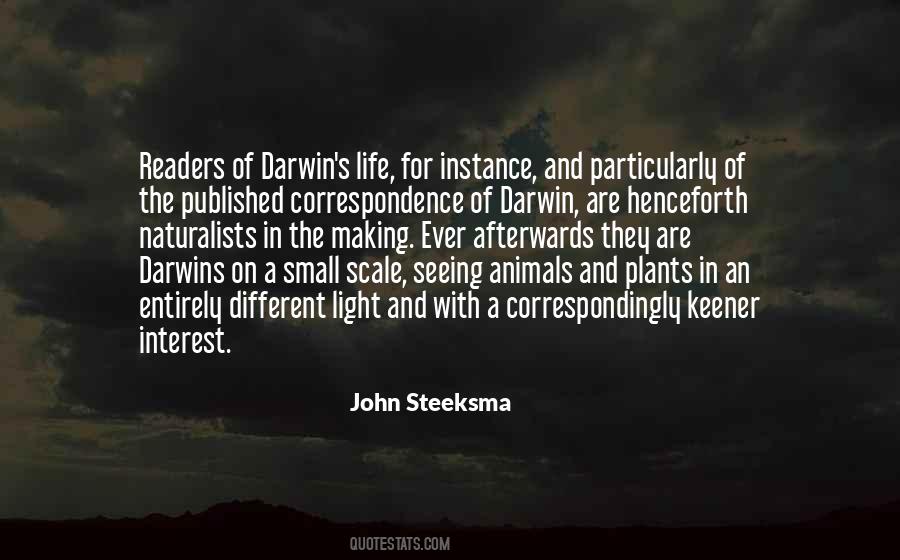 #85. When all the trees have been cut down and all the animals have been hunted to extinction, when all the waters are polluted and the air is unsafe to breathe, only then will you discover you cannot eat money. - Author: Sherrilyn Kenyon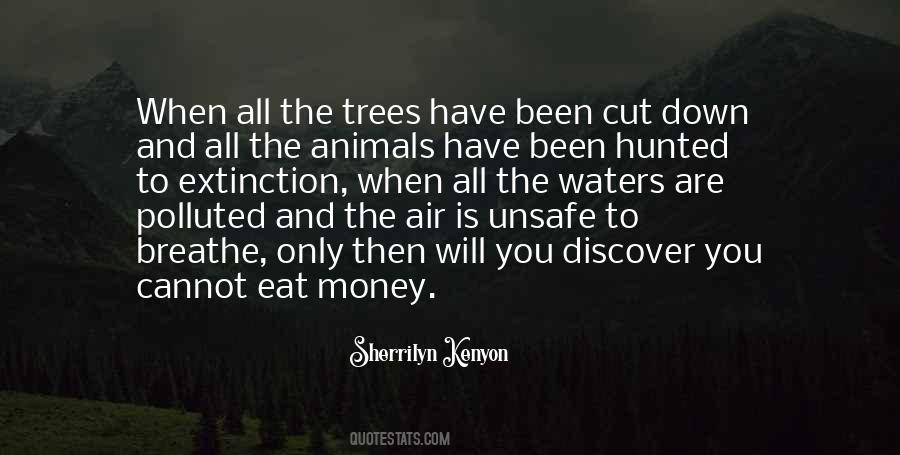 #86. We have seen that the senses and intuitions, the various emotions and faculties, such as love, memory, attention and curiosity, imitation, reason, etc., of which man boasts, may be found in an incipient, or even sometimes in a well-developed condition, in the lower animals. - Author: Charles Darwin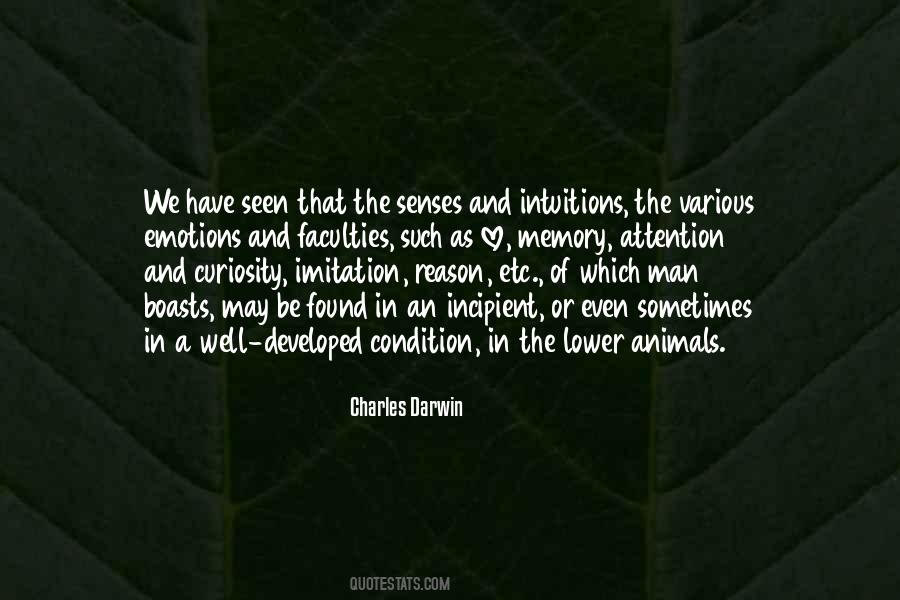 #87. This is my religion - we're all animals, perfect animals created in the infinite image and imagination of nature. It's a life not without pain and competition and suffering, but it can be a life of dignity and mutual respect. - Author: David Duchovny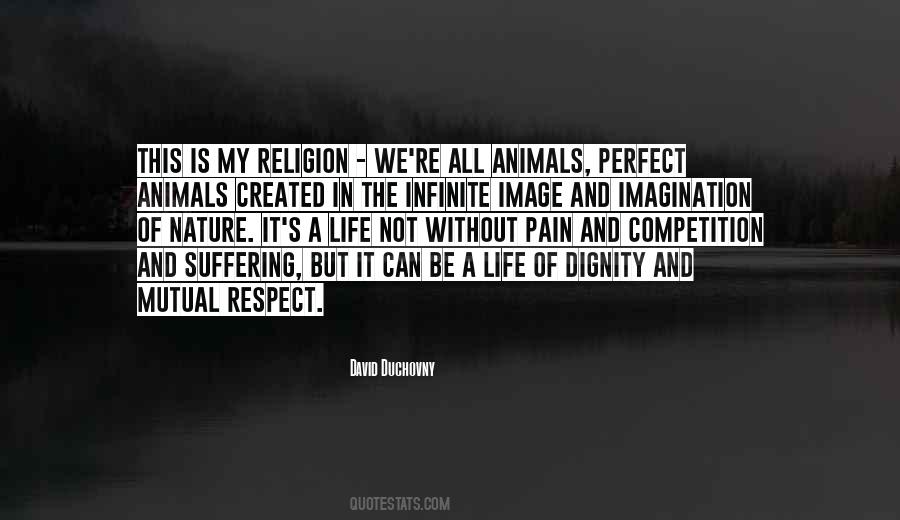 #88. Being surrounded by nature and animals always kept me grounded and happy. - Author: Alison Eastwood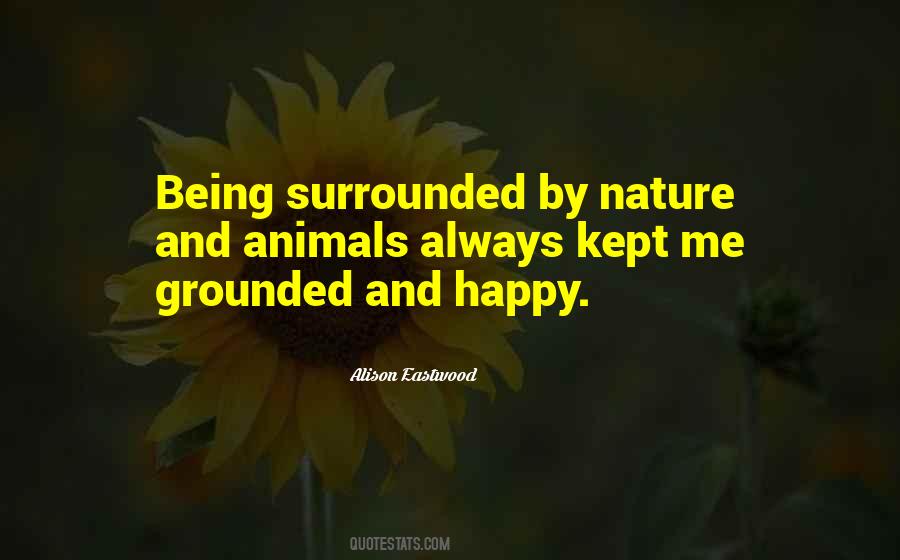 #89. Frost interviewing Noel Coward and Margaret Mead. Sir Noel's view of life is Sir Noel. Mead's mind is large and open, like Buckminster Fuller's. She found thoughts dull that suggest that men are superior to animals or plants. - Author: John Cage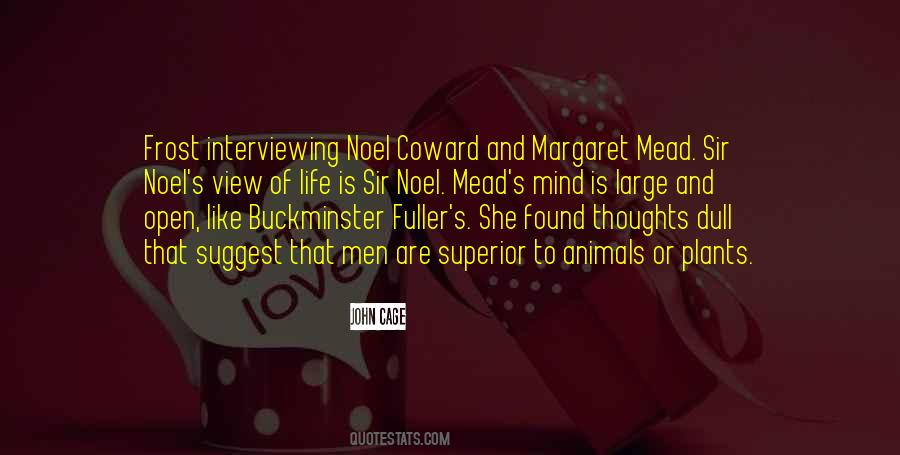 #90. The law of nature instructs most animals to cherish and educate their infant progeny. The law of reason inculcates to the human species the returns of filial piety. - Author: Edward Gibbon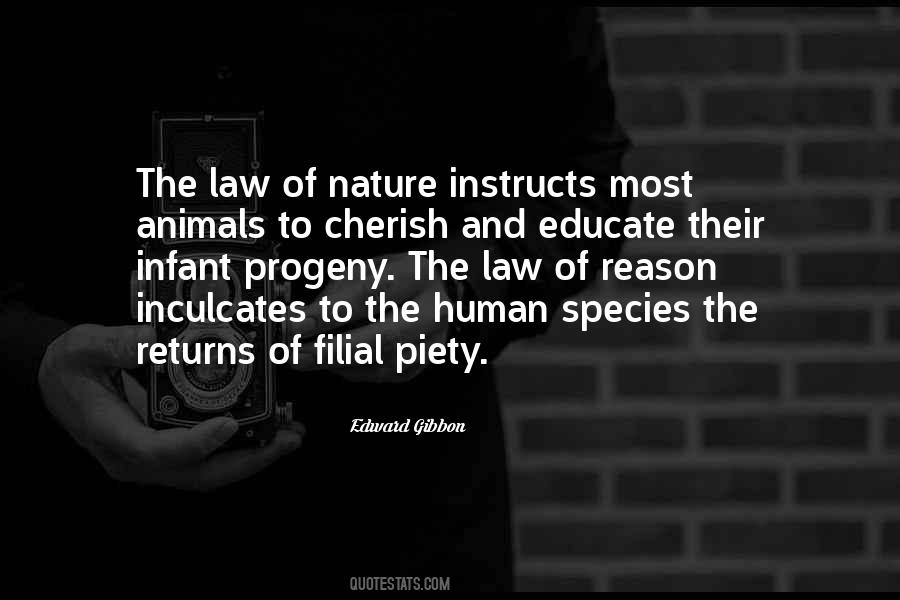 #91. Other animals, in a constant and mostly unmediated relation with their sensory surroundings, think with the whole of their bodies. - Author: David Abram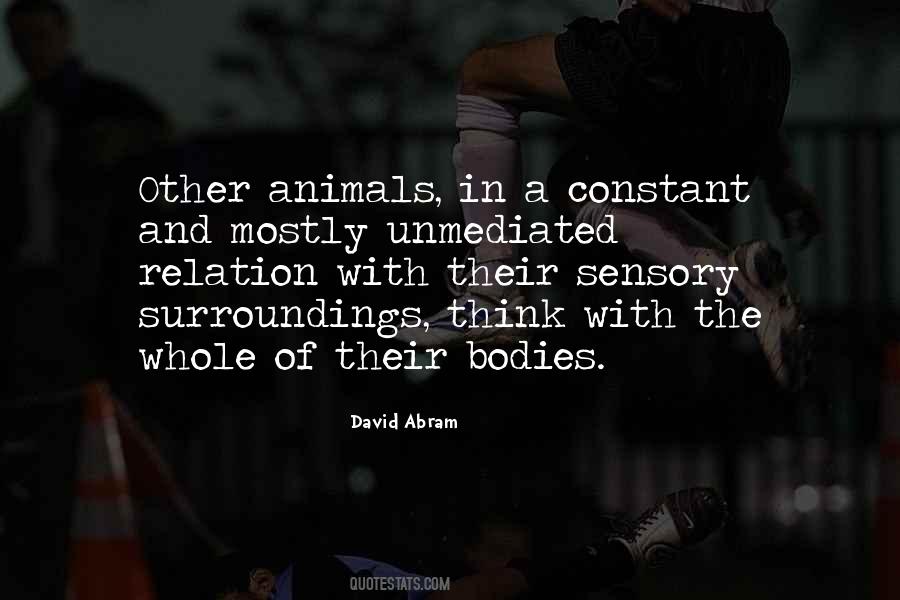 #92. Man, do not pride yourself on your superiority to the animals, for they are without sin, while you, with all your greatness, you defile the earth wherever you appear and leave an ignoble trail behind you
and that is true, alas, for almost every one of us! - Author: Fyodor Dostoyevsky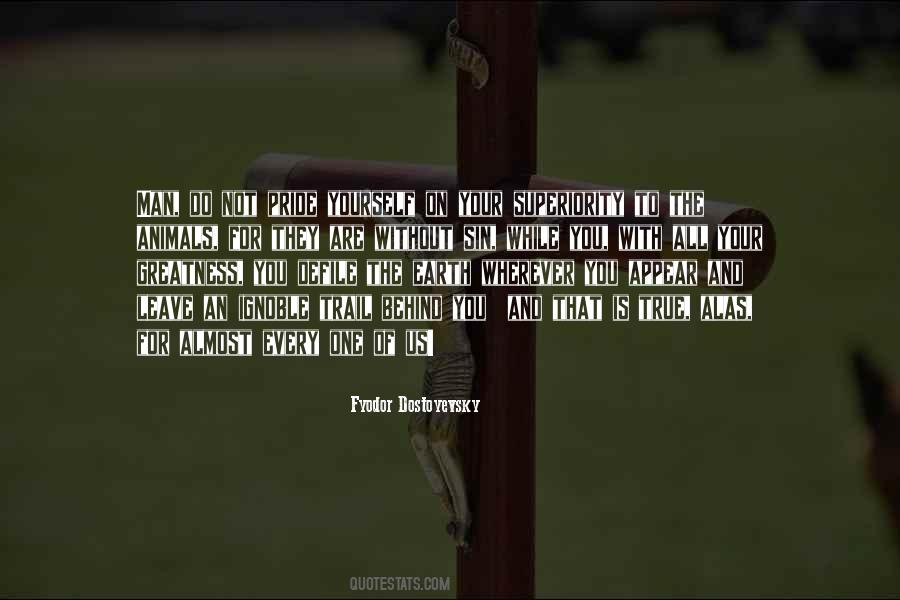 #93. The animals have desire, or appetite. But only humans have the ability not merely to desire things, but also the creative will to take responsibility for that desire and bring about the achievement of it. That creative ability resides in the nature of God, and he has passed it on to us. - Author: Henry Cloud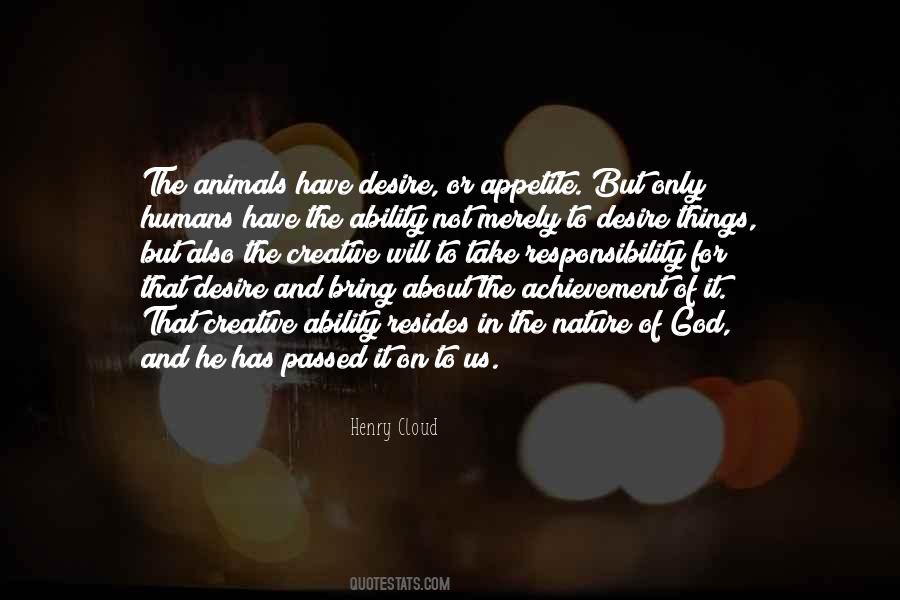 #94. The selfsame procedure which zoology, a branch of the natural sciences, applies to the study of animals, anthropology must apply to the study of man; and by doing so, it enrolls itself as a science in the field of nature. - Author: Maria Montessori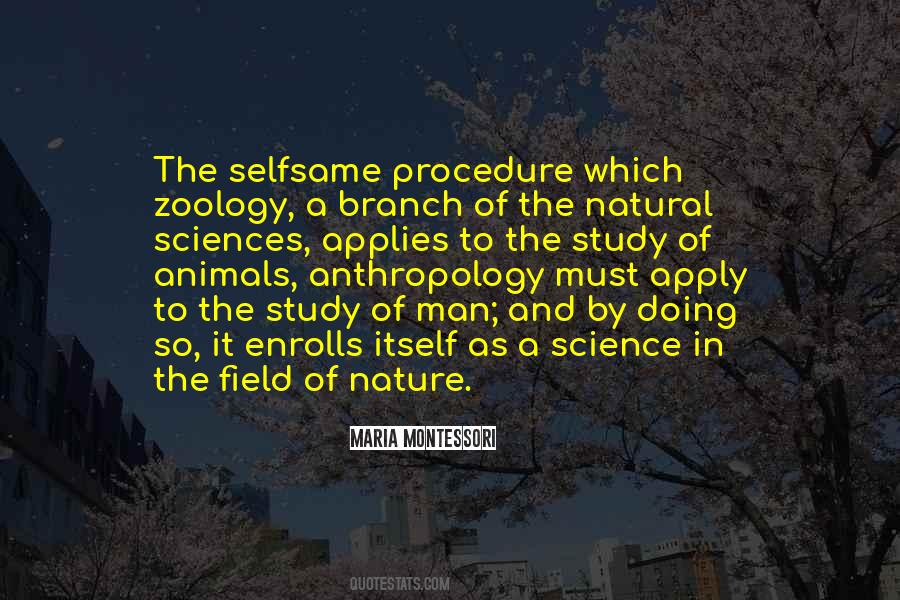 #95. The animals to whom nature has given the faculty we call cunning know always when to use it, and use it wisely; but when man descends to cunning he blunders and betrays. - Author: Thomas Paine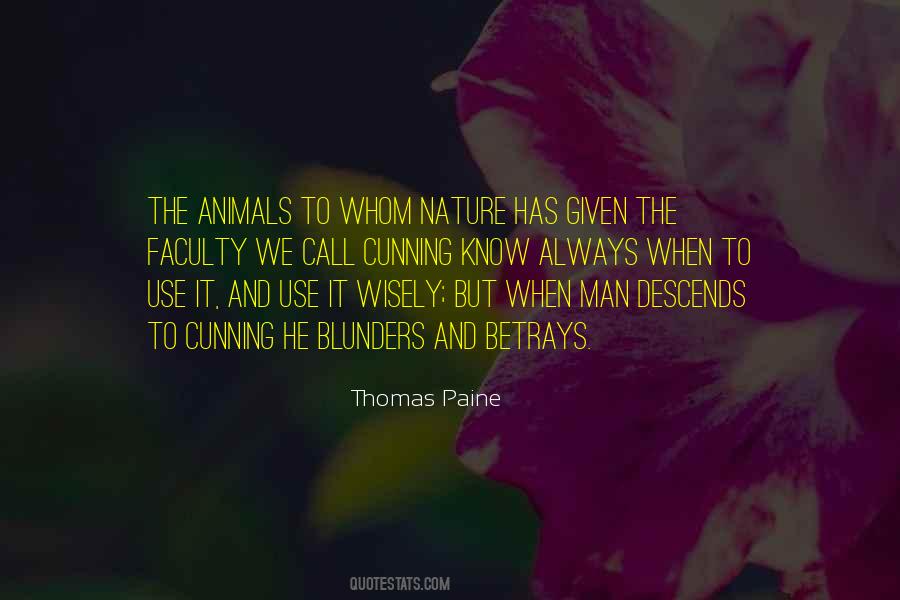 #96. Nature is not silent, and never was a name more derisively inappropriate than when we speak of these non-human creatures who hoot and crow and bray as the dumb animals. - Author: Winifred Holtby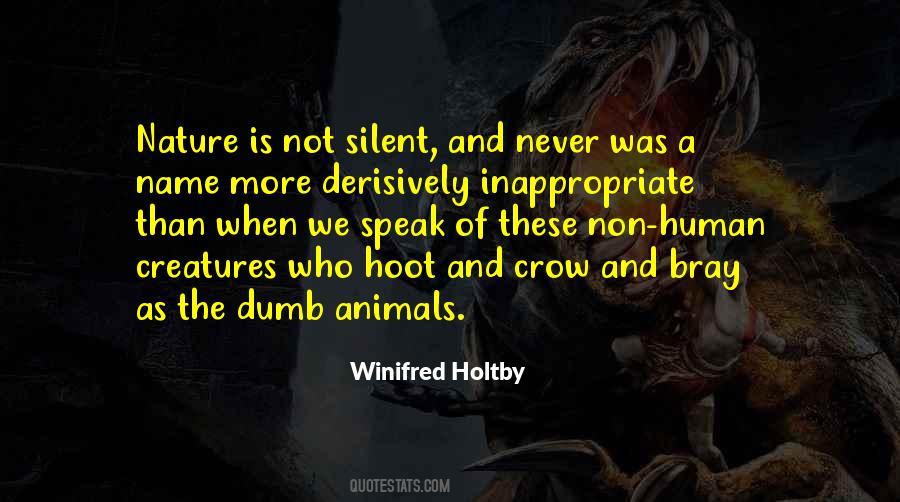 #97. Little Joe was still behind him. Eli could feel it. He wanted to look back, but he couldn't. The tears were too close. If he were Fancy, he'd turn around and kick and buck and moo and do just about anything to keep his calf near. But Eli wasn't Fancy; he was a farmer. - Author: Sandra Neil Wallace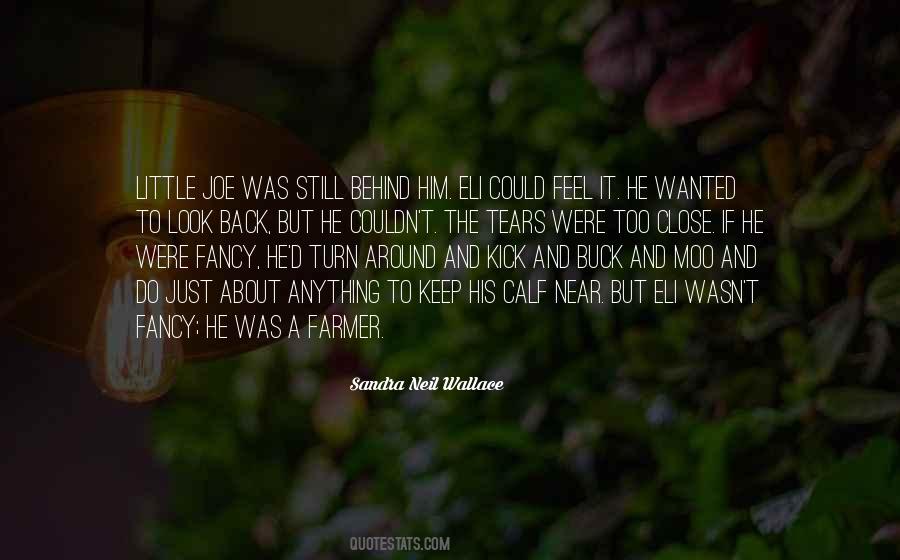 #98. Farmers today keep themselves in ignorance of the needs and true nature of pigs precisely because to know would put their conscience in a terrible bind. Wilful ignorance of this kind is no better than complicity. - Author: Jeffrey Moussaieff Masson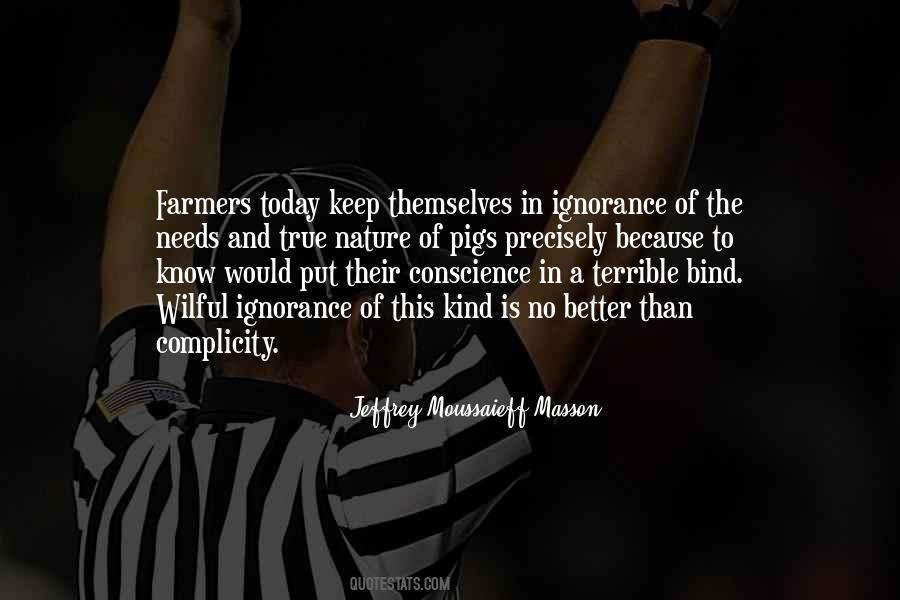 #99. Early humans, bursting with questions about Nature but with limited understanding of its dynamics, explained things in terms of supernatural persons and person-animals who delivered the droughts and floods and plagues ... - Author: Ursula Goodenough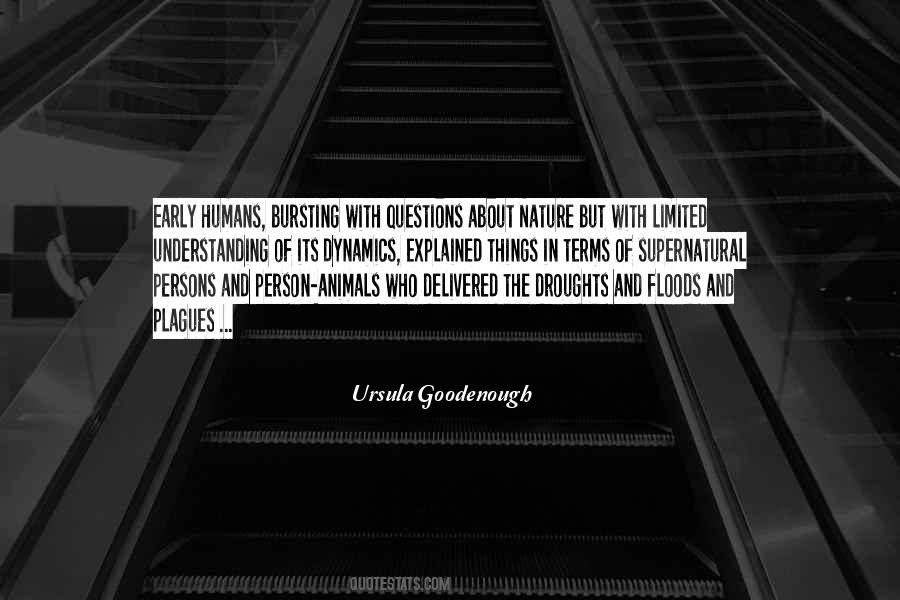 #100. God, that all-powerful Creator of nature and architect of the world, has impressed man with no character so proper to distinguish him from other animals, as by the faculty of speech. - Author: Quintilian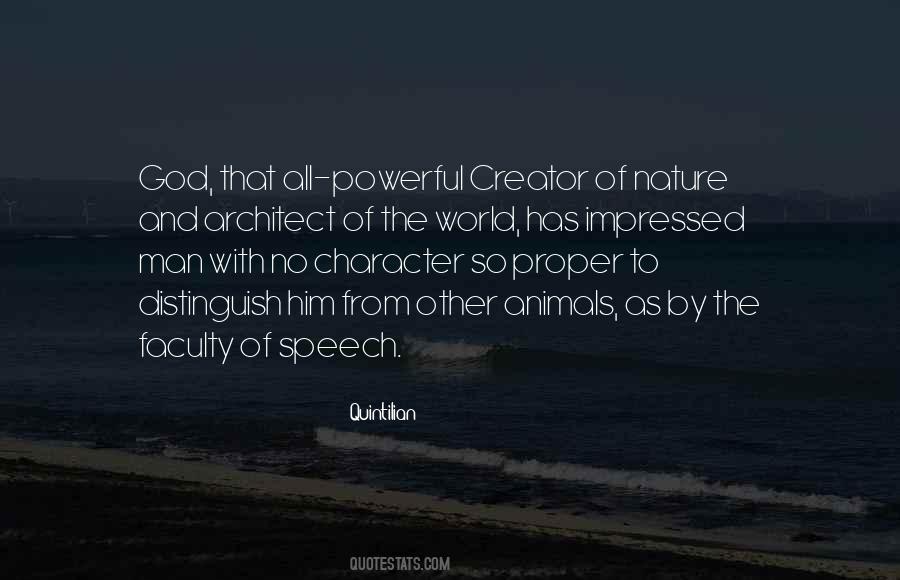 Famous Authors
Popular Topics