Myself Life Famous Quotes & Sayings
List of top 100 famous quotes and sayings about myself life to read and share with friends on your Facebook, Twitter, blogs.
Top 100 Quotes About Myself Life
#1. I read and write for most of the day, but I do let myself be interrupted by real life. I enjoy going out with friends and try not to take myself too seriously. - Author: William T. Vollmann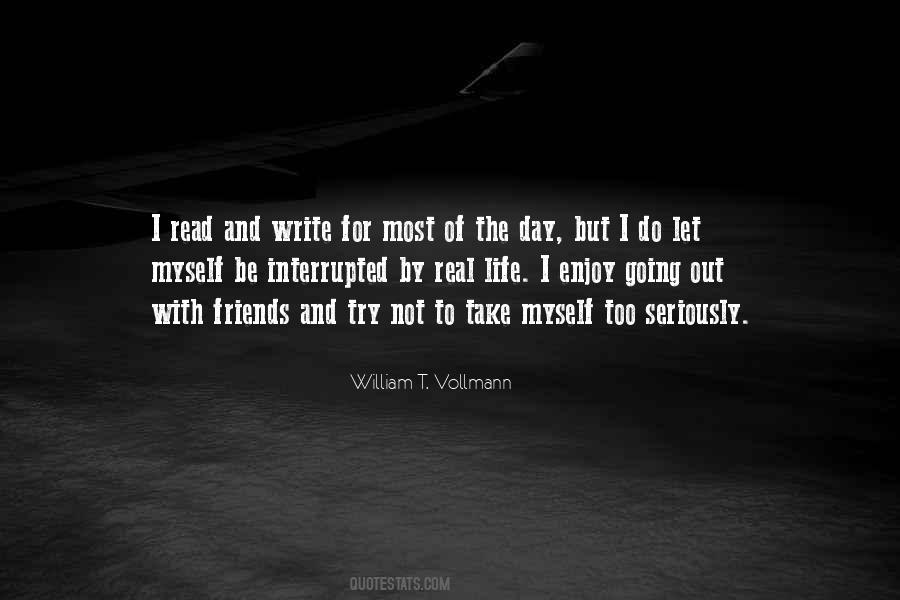 #2. I loved work and I loved pouring myself into the work, you know. It was the real life that I had trouble with. - Author: Roseanne Barr
#3. Well, I myself am a 100% atheist. And I am increasingly worried that the Israeli-Palestinian struggle, which dominates our entire life, is assuming a more and more religious character. - Author: Uri Avnery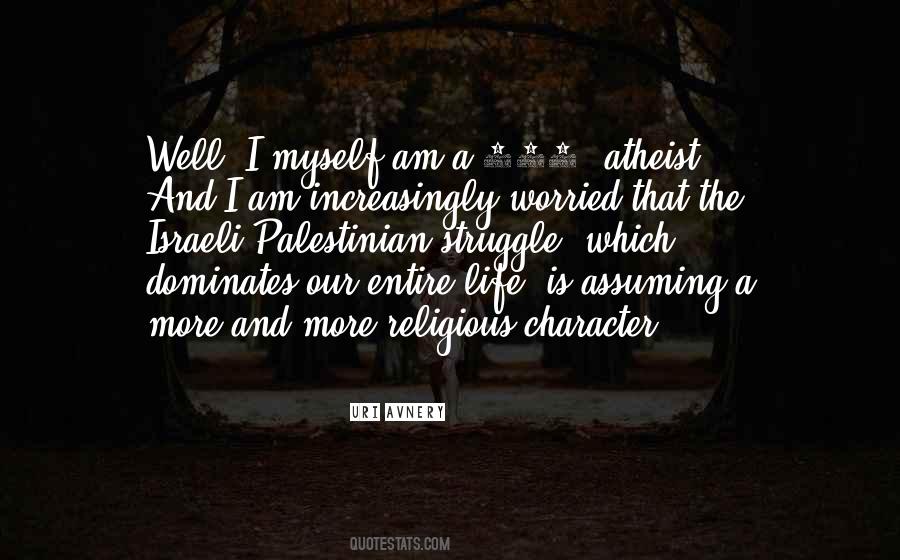 #4. A novel is a great act of passion and intellect, carpentry and largess. From the very beginning, I wrote to explain my own life to myself, and I invited readers who chose to make the journey with me to join me on the high wire. - Author: Pat Conroy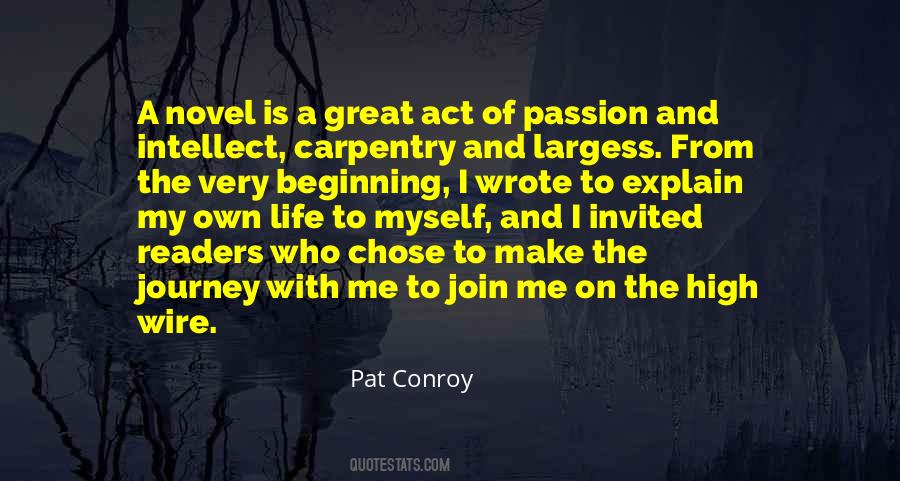 #5. Unfortunately, daily routine is the last thing I have with all three kids, family life, work, foundation, and the amount of travel that I do! So truly, what I try to do to keep myself centered is take breaths in between and before I start a new thing throughout the day. - Author: Camila Alves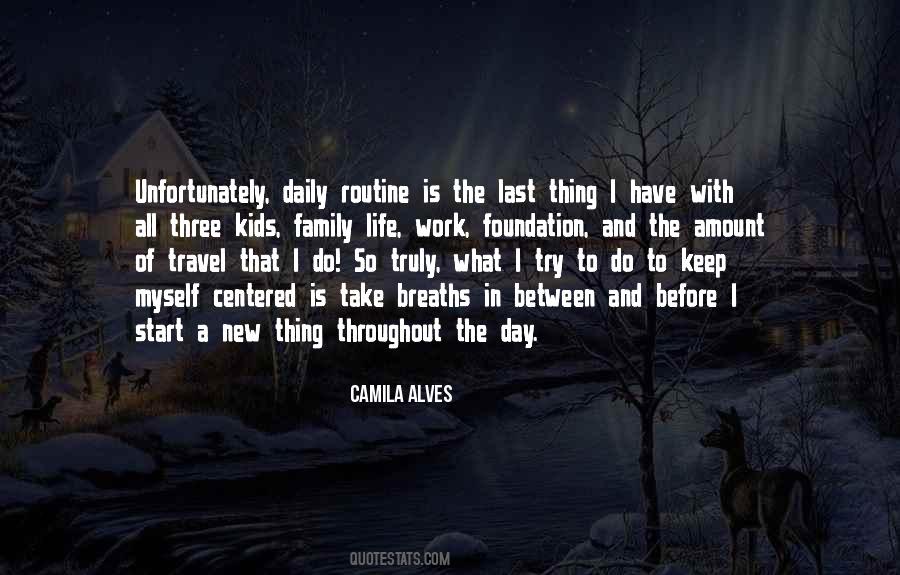 #6. Life is but a journey growing and maturing the soul. - Author: Myself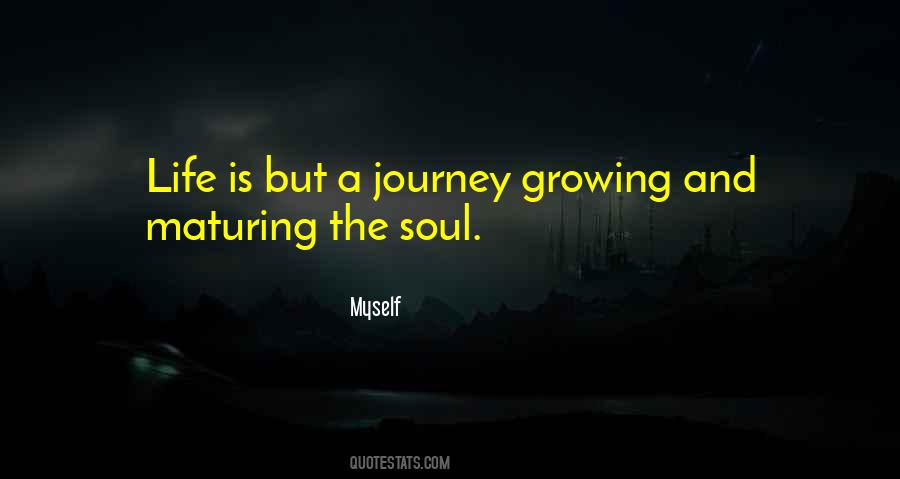 #7. I used to complain to myself that life was so boring, that there was too much laundry to do, too many noses to wipe. Now there are not enough noses to wipe. - Author: Nancy E. Turner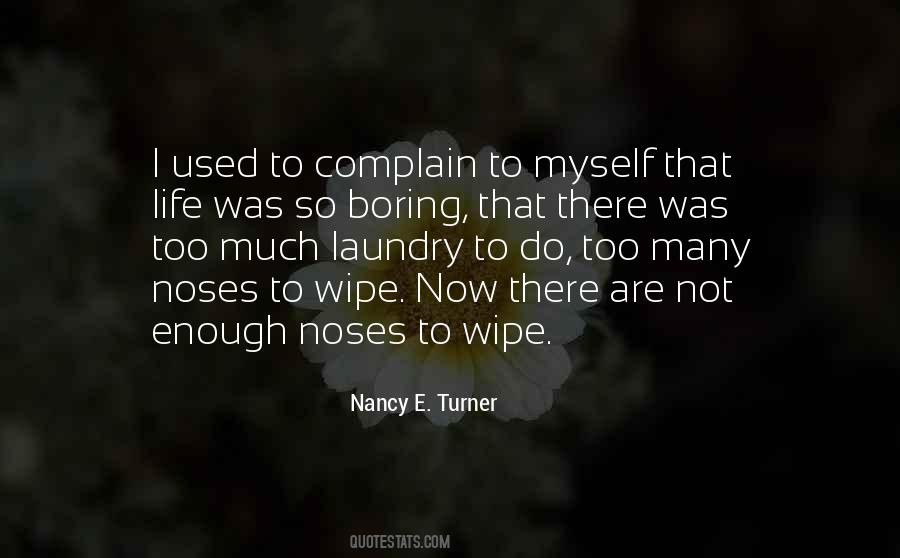 #8. I'm so fucking tired of being alone. I was scared that he'd tell me to fucking leave. Because that means going back to a life I can't see for myself anymore. - Author: Krista Ritchie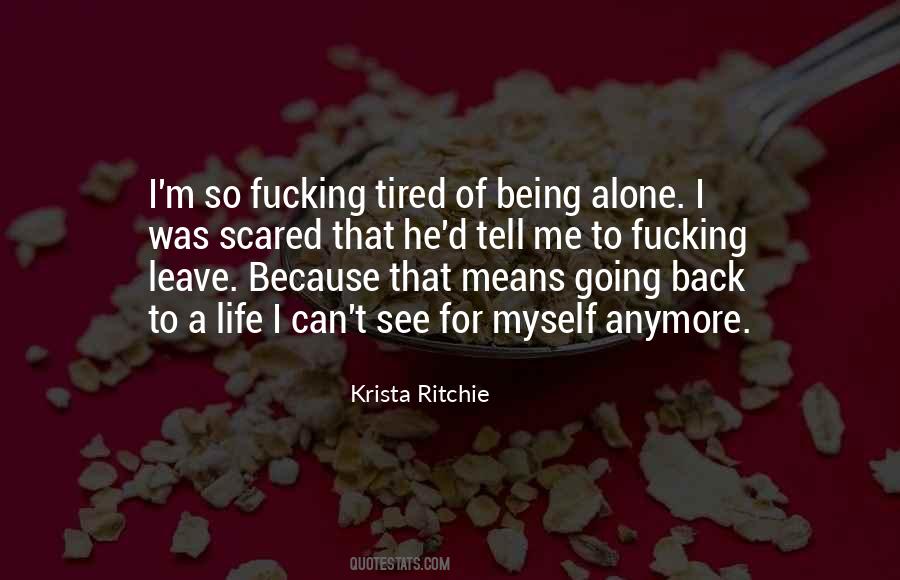 #9. I knew what I took upon myself and I was prepared to lose my life by so doing. - Author: Hans Scholl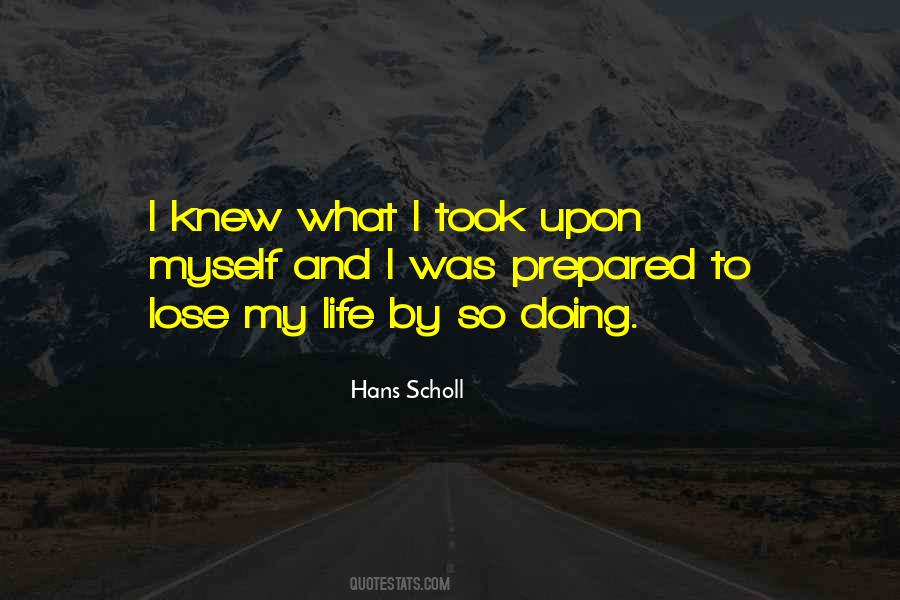 #10. So was I once myself a swinger of birches.
And so I dream of going back to be. - Author: Robert Frost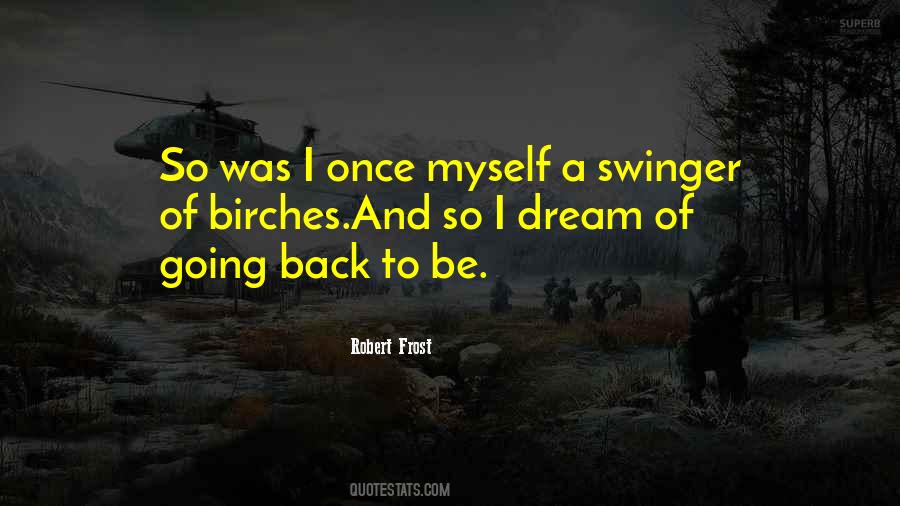 #11. For me now, I feel that climbing is a part of who I am. It's my way of life. It's my way of expressing myself. My way of being in the world. In the past, I questioned it a lot. Now it's obvious. This is who I am. This is what I do. - Author: Chris Sharma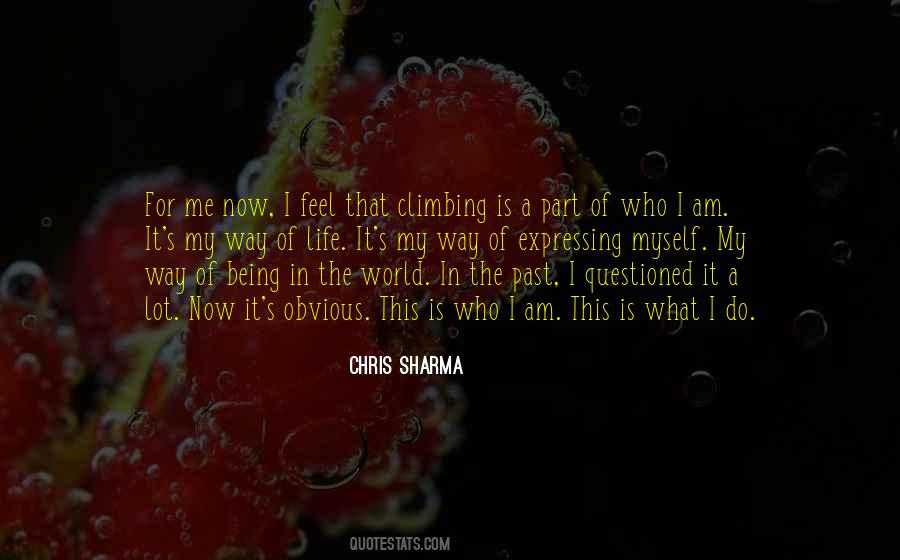 #12. I folded myself against her body, breathing in the smell of my new life and matching my heartbeat to hers Sam, Linger - Author: Maggie Stiefvater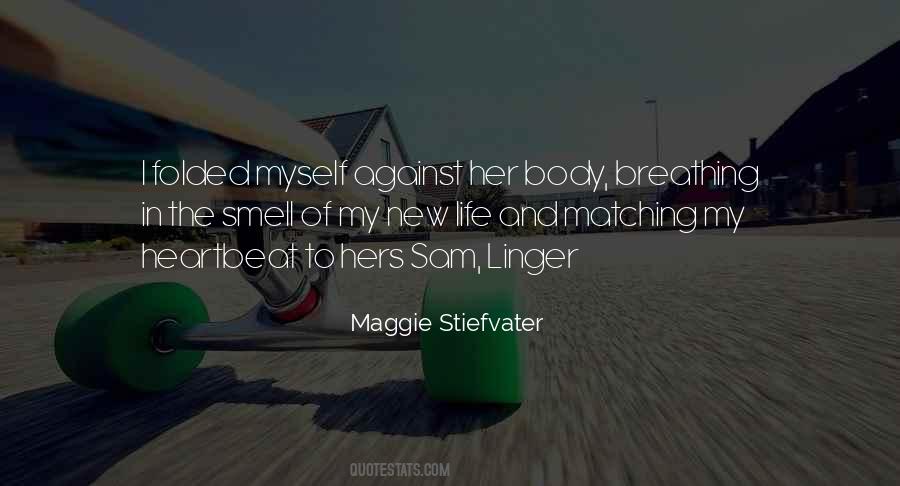 #13. I don't have to kill myself, living my life is just the same. - Author: Aaron Scheerer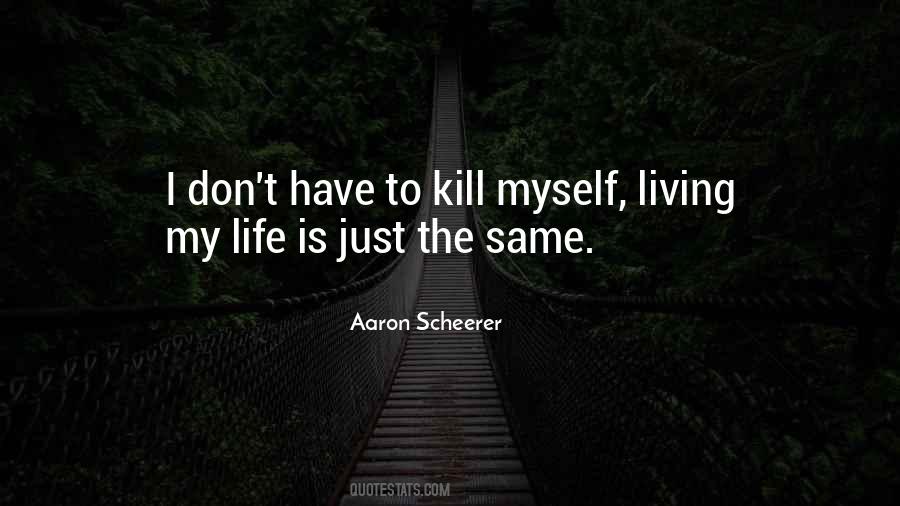 #14. In time, against conscience and even will, my grief for him began to include grief for myself. Sometimes I would get the feeling that I was going to waste. It was my life calling me to itself. It was the light that shines in darkness calling me back into time. - Author: Wendell Berry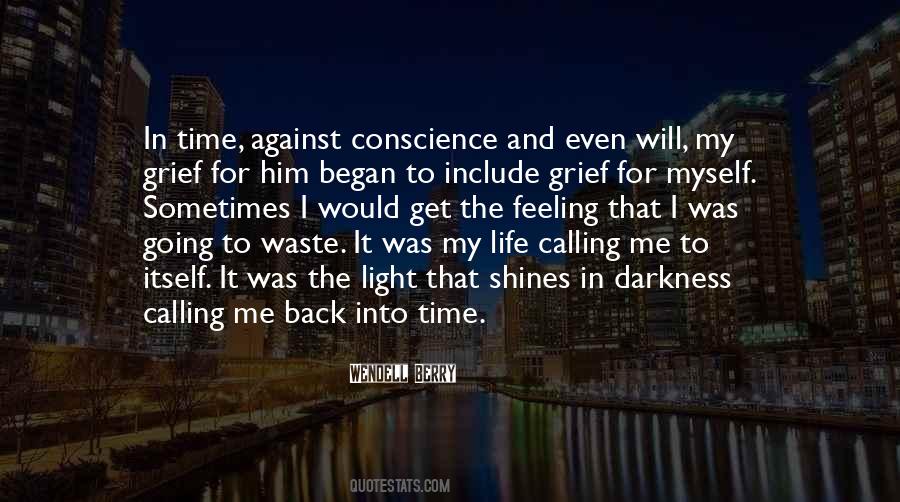 #15. I Intend to Take Time for Myself to Live the Life that I Came Here to Live. - Author: Wayne Dyer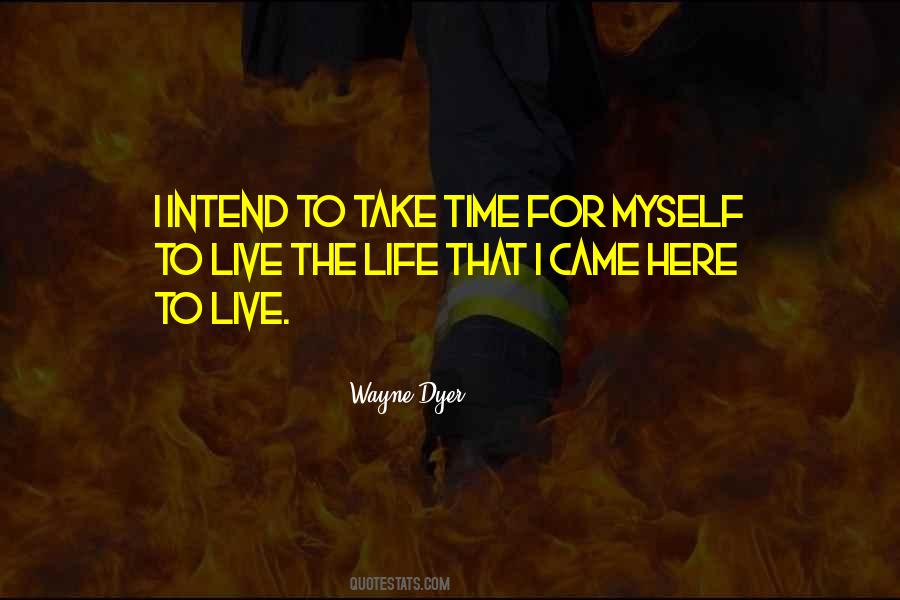 #16. If my life is going to mean something, I've got to live it myself - Author: Rick Riordan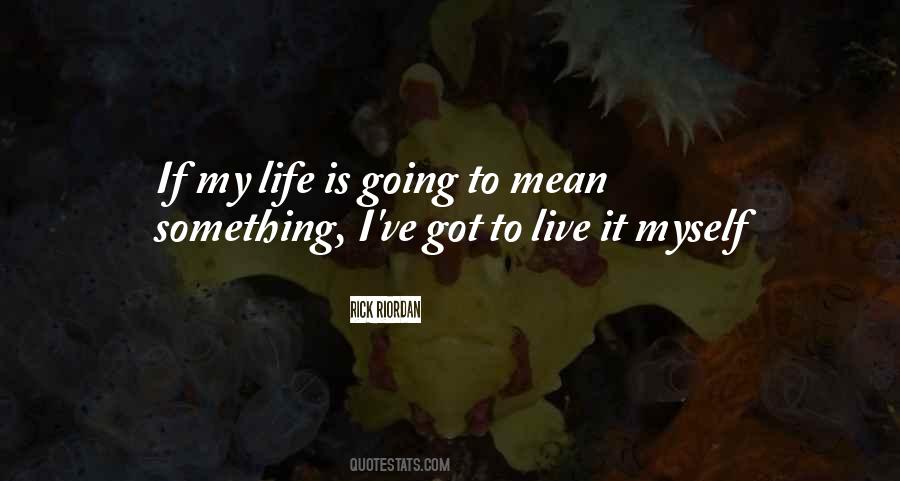 #17. I find the erotic such a kernel within myself. When released from its intense and constrained pellet, it flows through and colors my life with a kind of energy that heightens and sensitizes and strengthens all my experience. - Author: Audre Lorde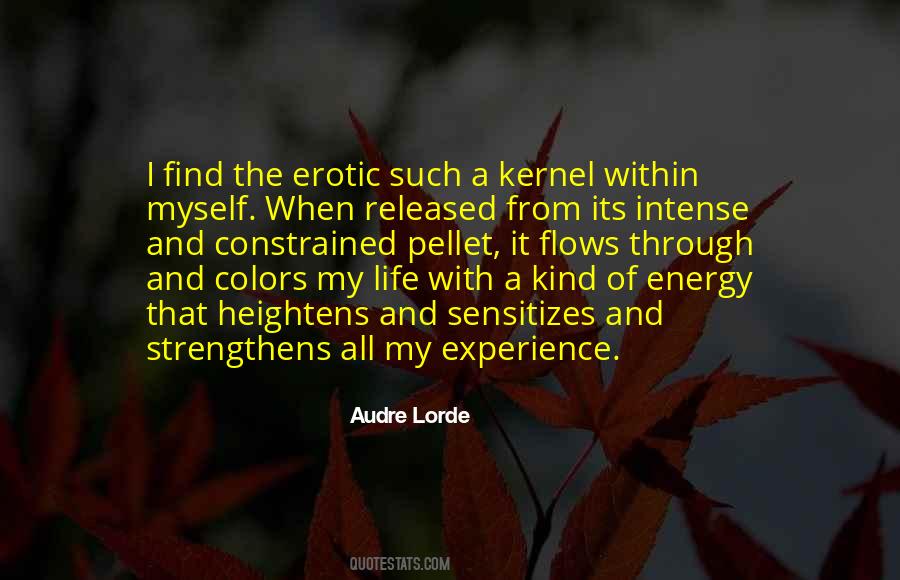 #18. Often I didn't think I was cut out for the way the world is, being born into a common culture and system I would never choose for myself. - Author: Jackie Haze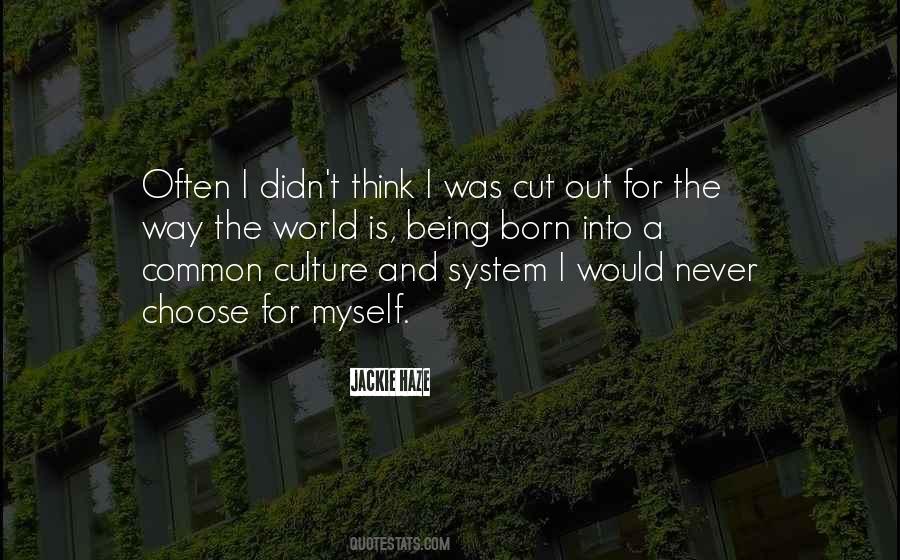 #19. I can't stop myself from reaching for the bottle that's under my seat. I've gone all night without a sip, but it's not about being addicted. It's about being told what to do my whole life and doing it and then losing everything anyway. - Author: A.S. King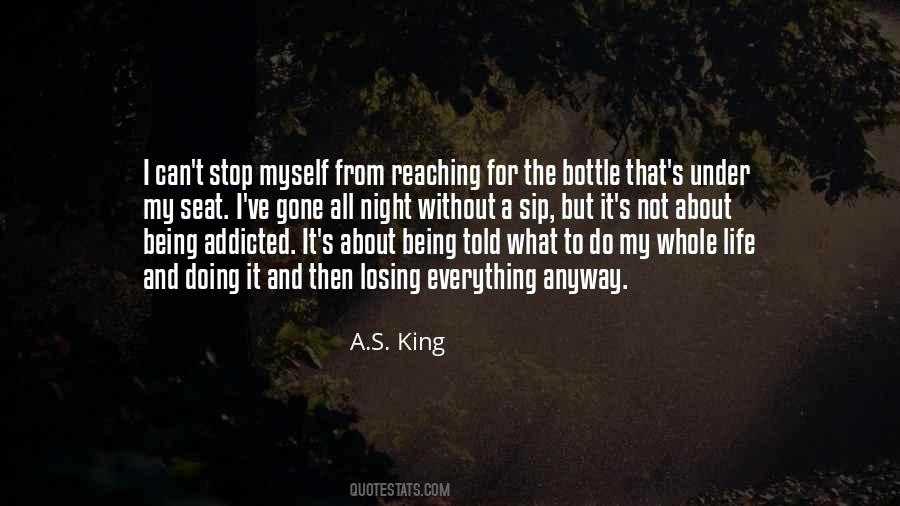 #20. The American writer is a very pampered figure - by foundations, by fellowships, by publishing advances. Even though I am not American, I have been pampered enough myself to know how it can make your life too frictionless. - Author: Pankaj Mishra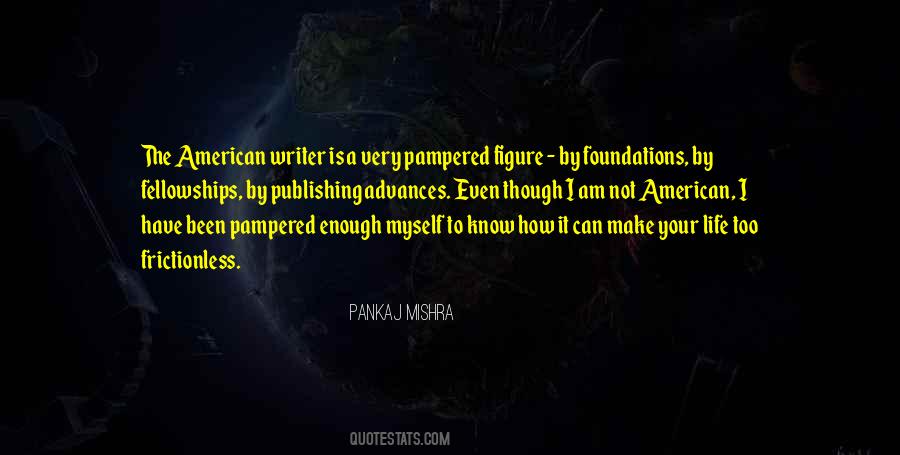 #21. I don't want to compare myself to Picasso, but he had four or five periods in his life. Any good artist grows and changes and matures. - Author: Tucker Max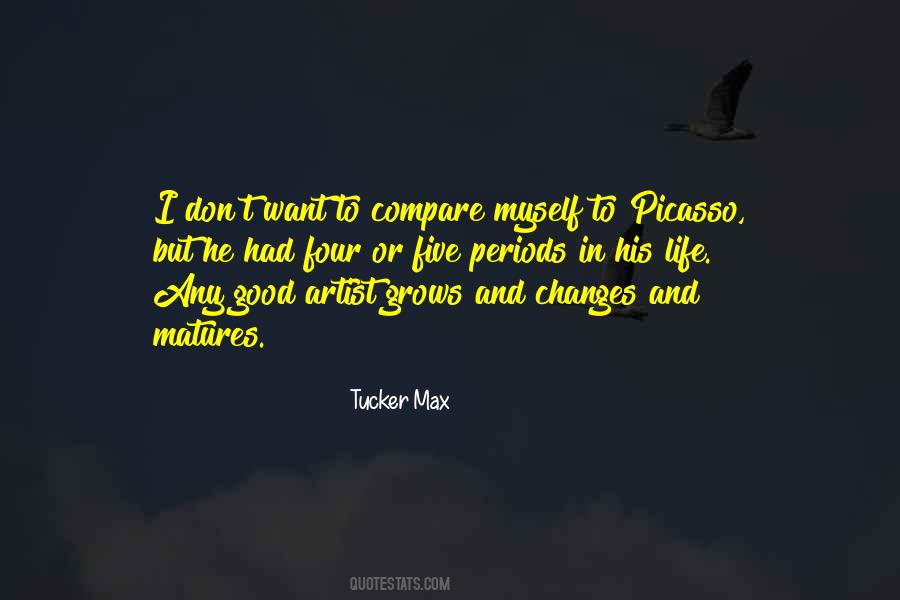 #22. I just made the decision that I was going to try comedy, and if didn't work, then I knew it didn't work. Then I would go back and do whatever. But at least I wouldn't torture myself the rest of my life, wondering whatever would have happened. - Author: Bob Newhart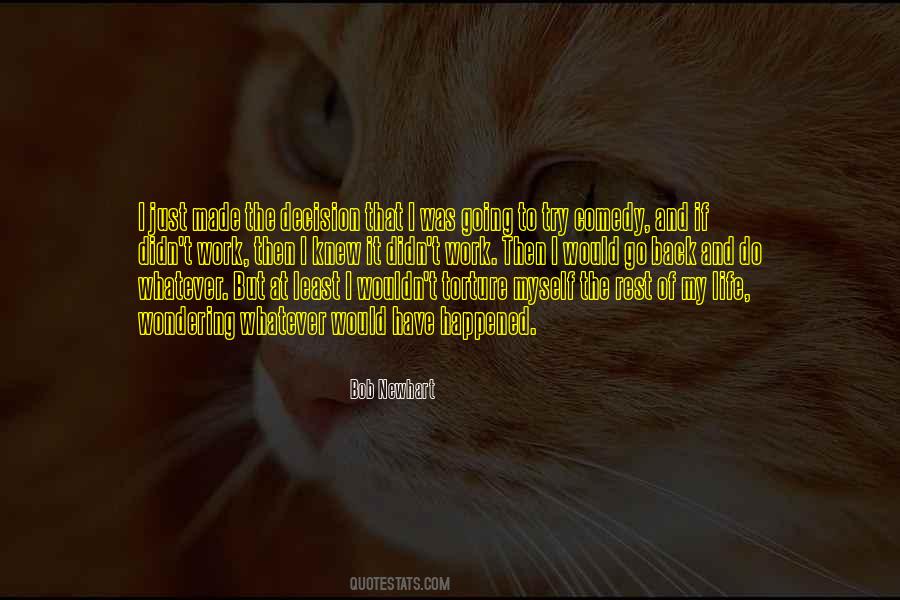 #23. I don't consider myself an action hero, at all. My domestic life is the same as anyone else's. - Author: Chris Vance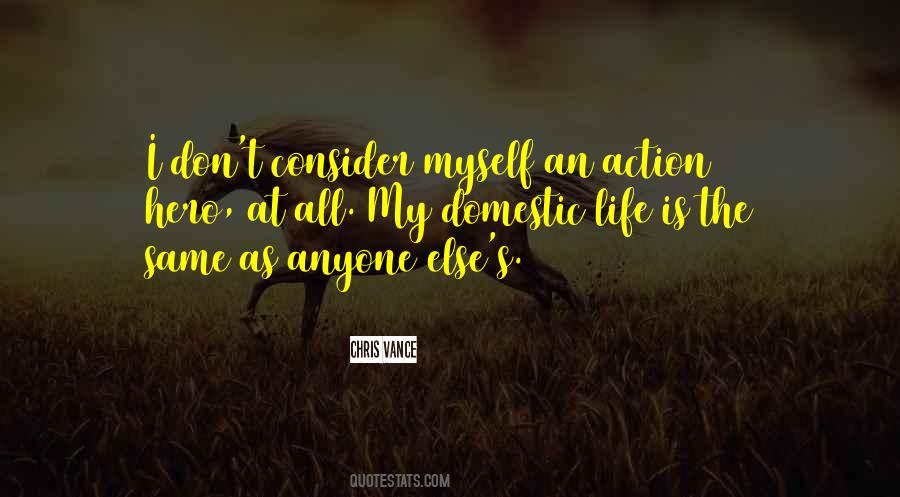 #24. The only person I can count on is myself. It's up to me to create the life I want. I can't blame my parents or Scott or anyone else for the way things are. - Author: Susane Colasanti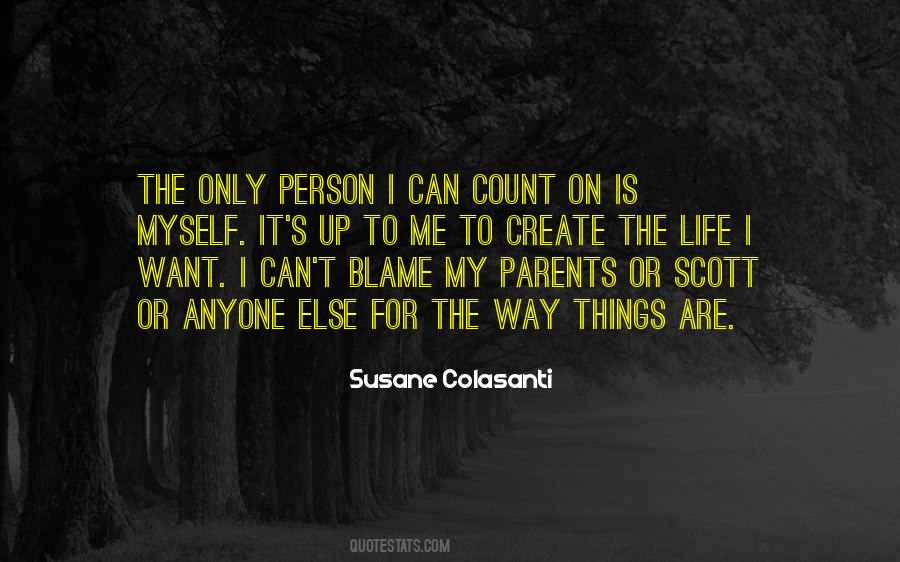 #25. I don't envision a long life for myself. Like, I think my life will run out before my work does, y'know? I've designed it that way. - Author: Townes Van Zandt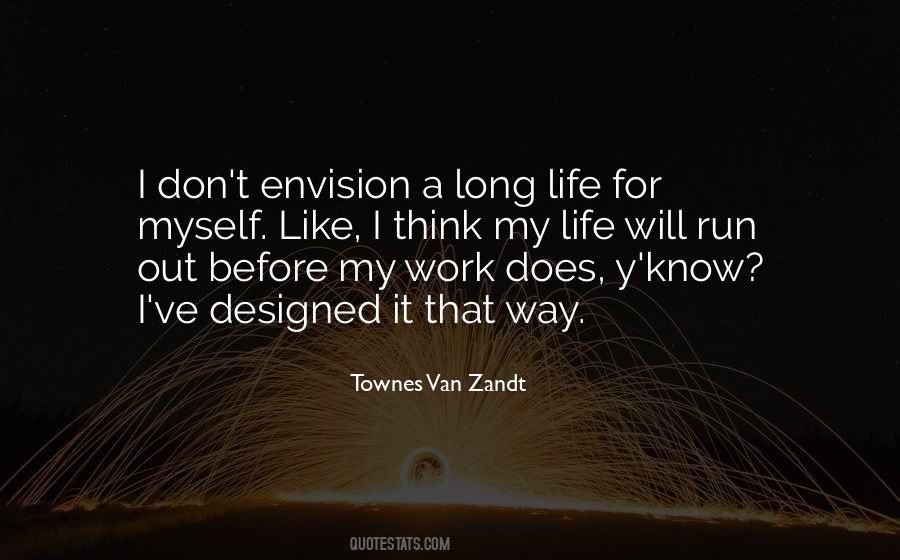 #26. I don't fancy myself as a very sarcastic person in real life. - Author: Reggie Lee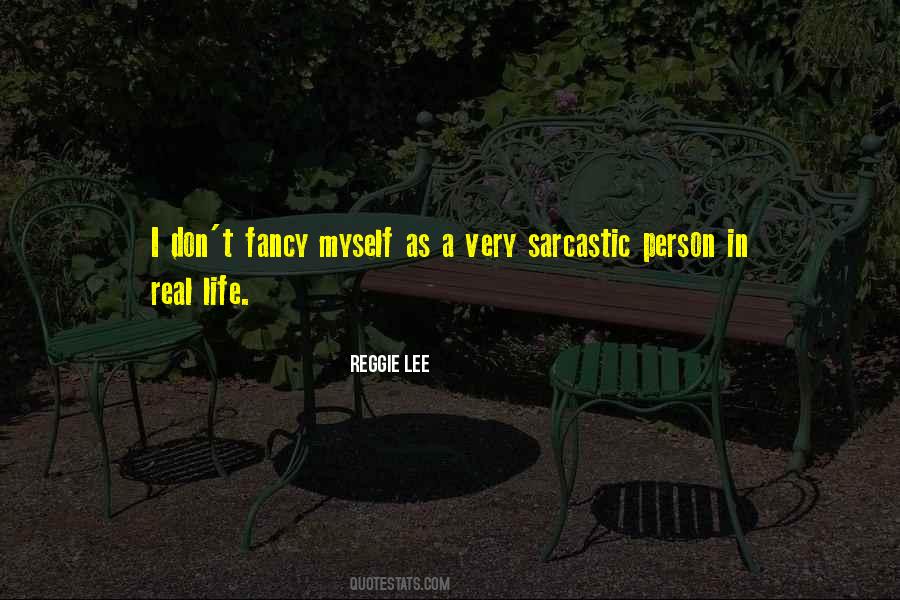 #27. From the moment I held the box of colors in my hands, I knew this was my life. I threw myself into it like a beast that plunges towards the thing it loves. - Author: Henri Matisse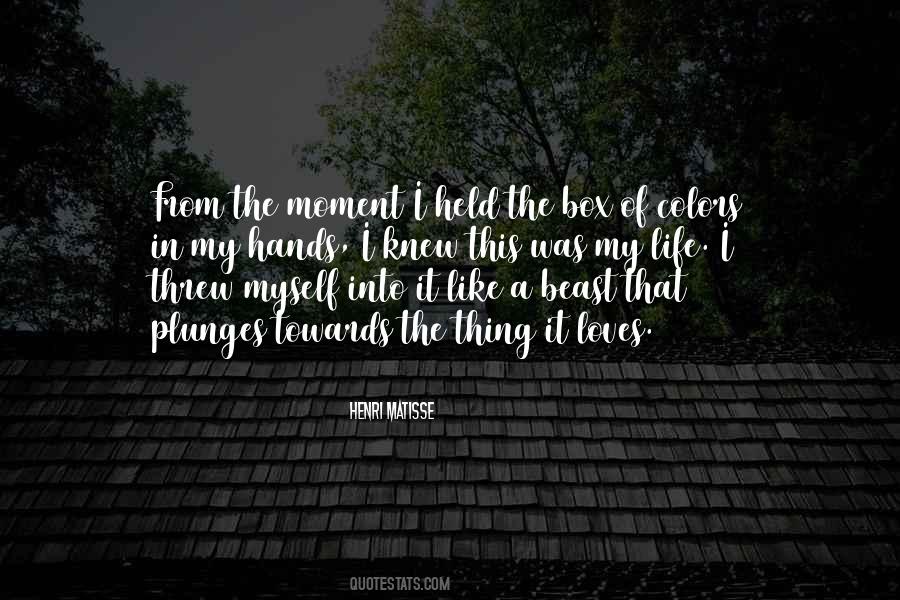 #28. I'm not afraid to take a step and if I fall, I fall. I pick myself up and move on. If we can all learn one thing in life, it's don't be afraid to take on something that you believe you're capable of achieving. - Author: Michael Jordan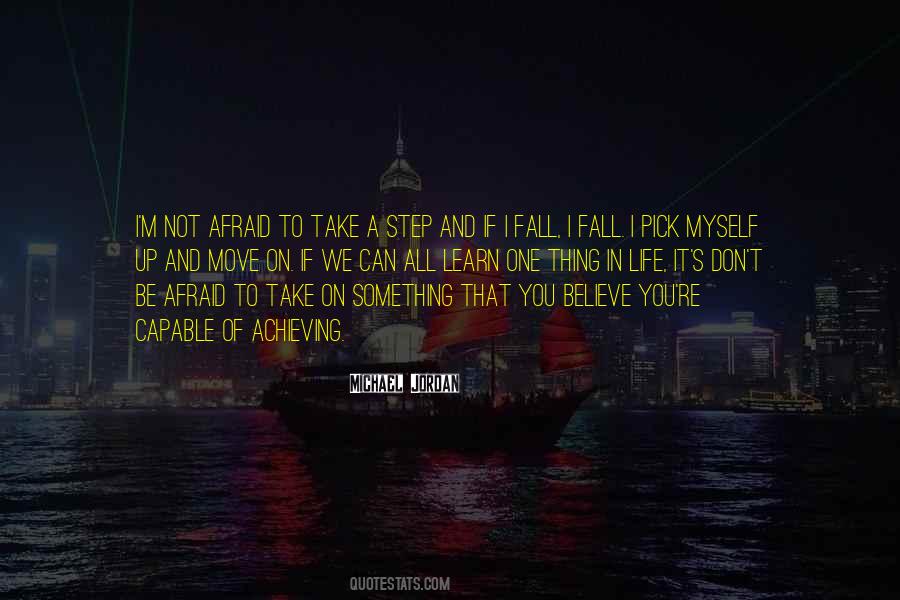 #29. When I'm on stage, I get real happy there. Maybe that's the only time in my adult life I feel like myself. - Author: Dave Chappelle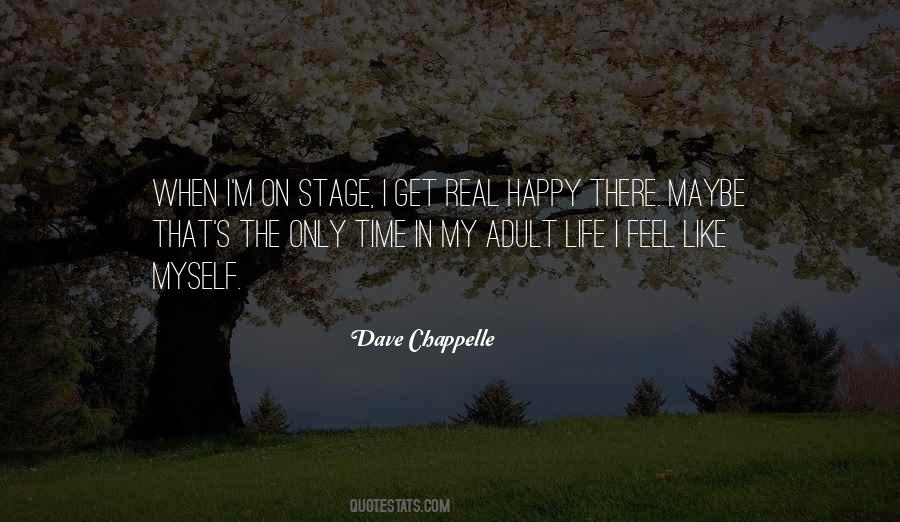 #30. As far back as I can remember I would escape from my humdrum world by burying myself in books
the
one true love of my life when growing up. - Author: Jane Green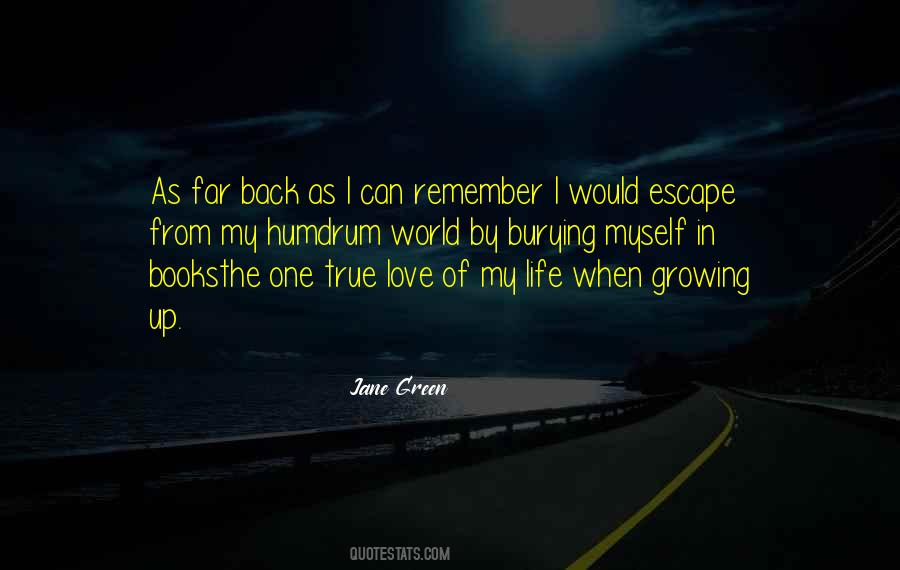 #31. I've always found life quite difficult to explain to people or to myself. - Author: John Cleese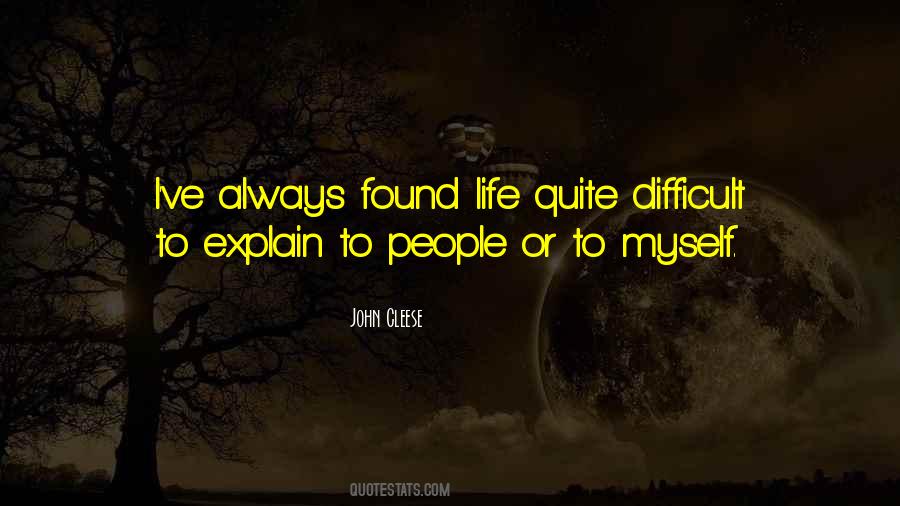 #32. As I love and approve of myself and others, my life gets better and better. - Author: Louise Hay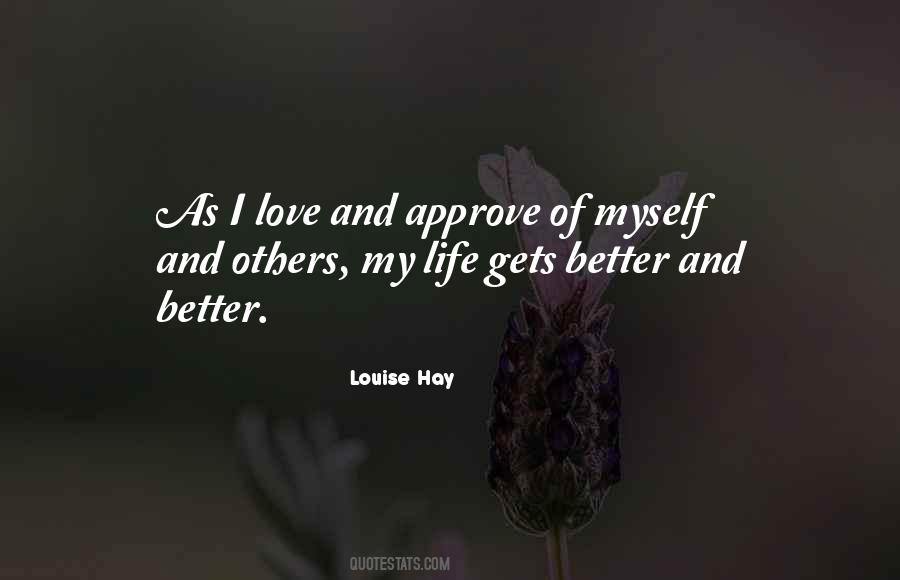 #33. Marriage is always something of a compromise, as I'm sure you're now aware. Any long-term relationship is - and one does have to see it in the long term, Charles. No, I expect your mother and myself will never divorce. It's uneconomic and, at my age, usually unnecessary. - Author: Martin Amis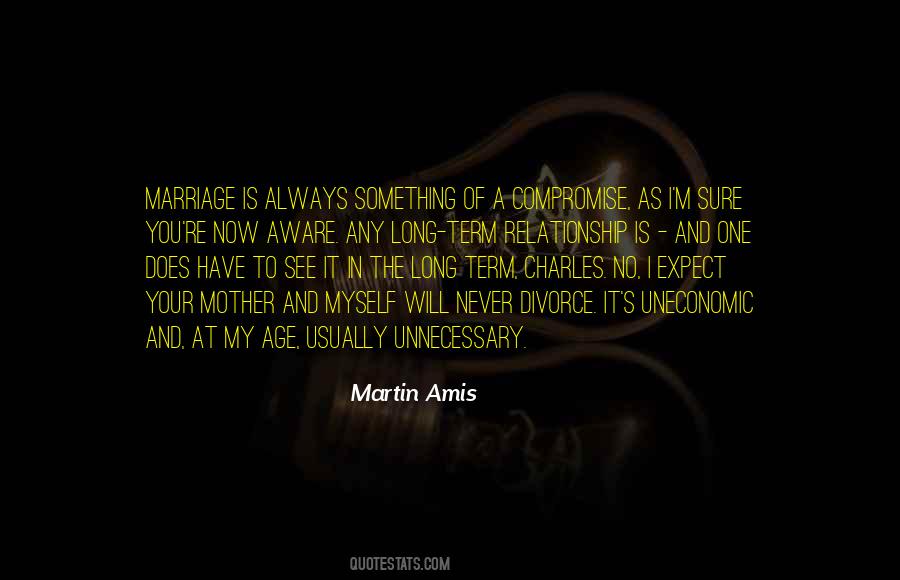 #34. I made a big mistake, and I didn't use it to make my life better. I used it to be okay with a life less lived. I used it to be okay with mediocrity and the mundane. And I didn't make myself any better because of it.
And that's not okay with me. - Author: Dan Pearce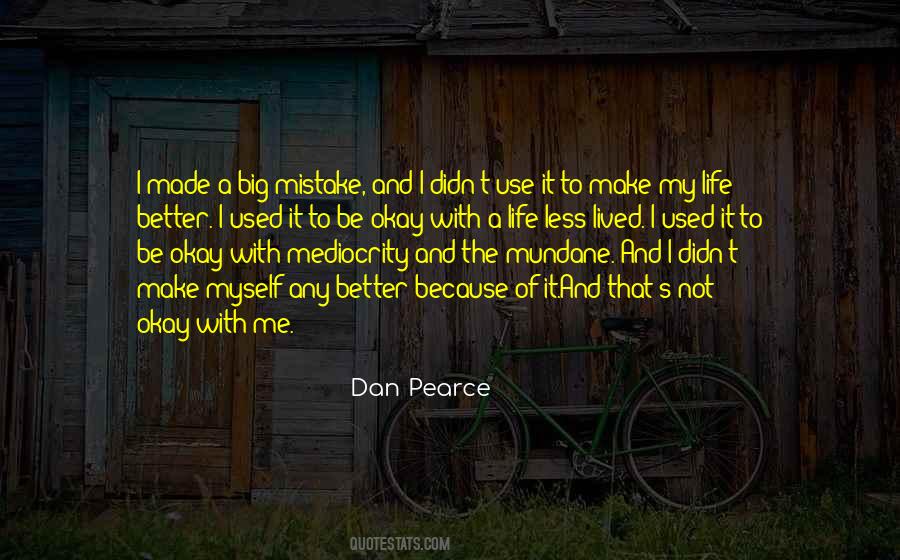 #35. I was learning things in school rather than learning how to teach myself, which is what you have to do in life, so I just abandoned it and did ceramics for a year and a half. - Author: Michael Moschen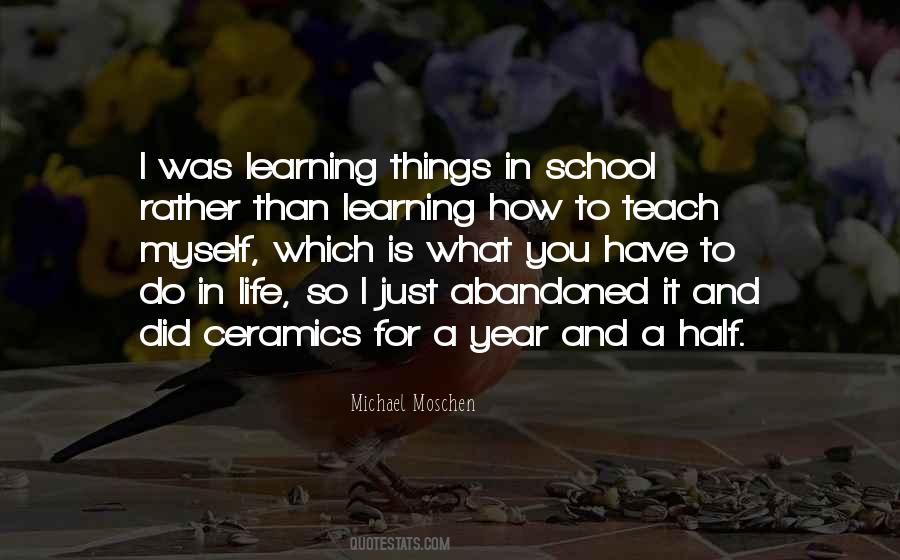 #36. I had always presumed that my first book would be published, but I never dreamt that I would write 15 bestsellers and have this wonderful life in America that I have entirely built for myself. - Author: Jane Green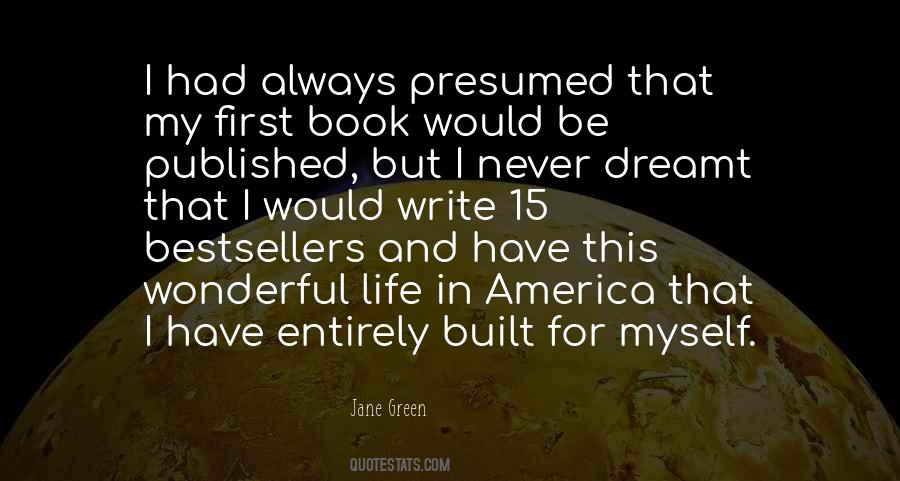 #37. In my own life, I've seen myself ramping up the amount of text I consume digitally. For me, it's the weight and inconvenience issue - I want anything that will spare me having to carry around reams of paper. - Author: Patrick Nielsen Hayden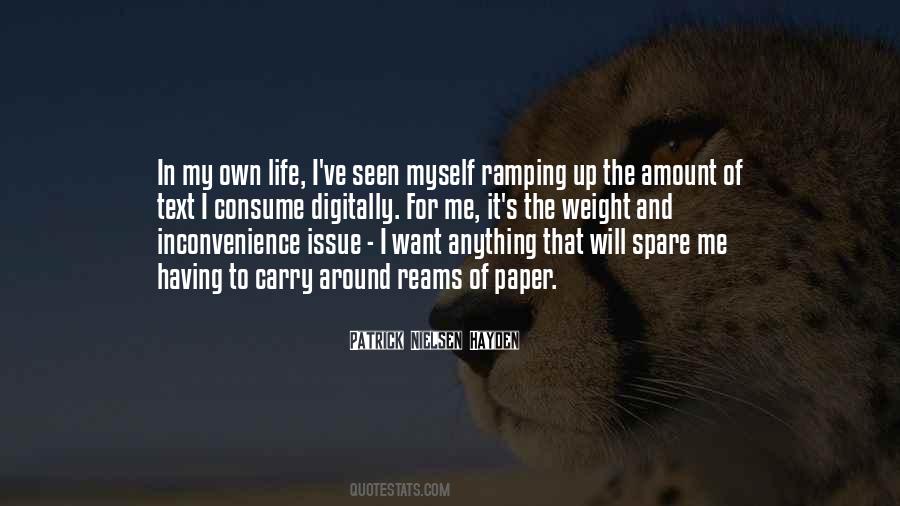 #38. I can't wait to have kids one day. Yeah. Definitely. That's the ultimate goal in life, for myself. I think that's the ultimate blessing. - Author: Eve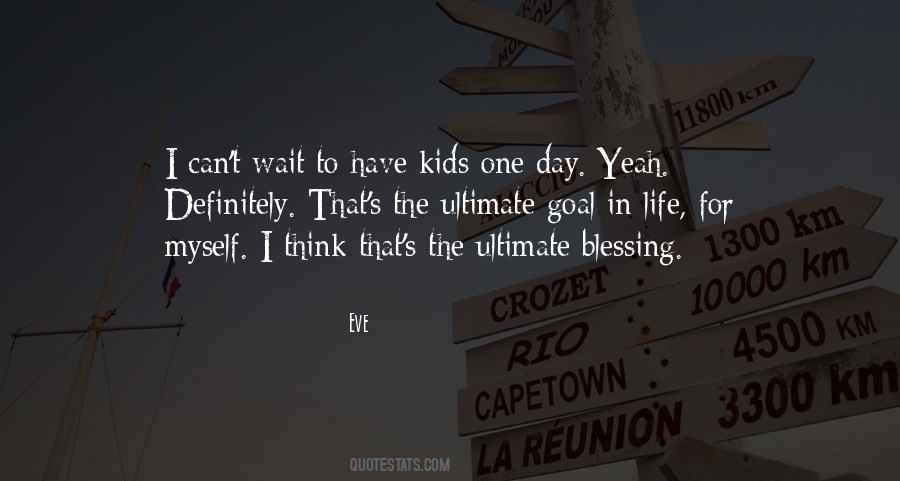 #39. The ideas of directing attention outward, trying to imagine other people complexly, trying not to see myself as the center of the universe - these concepts have become important to me, and I hope they're at work in my life on a minute-by-minute basis. - Author: John Green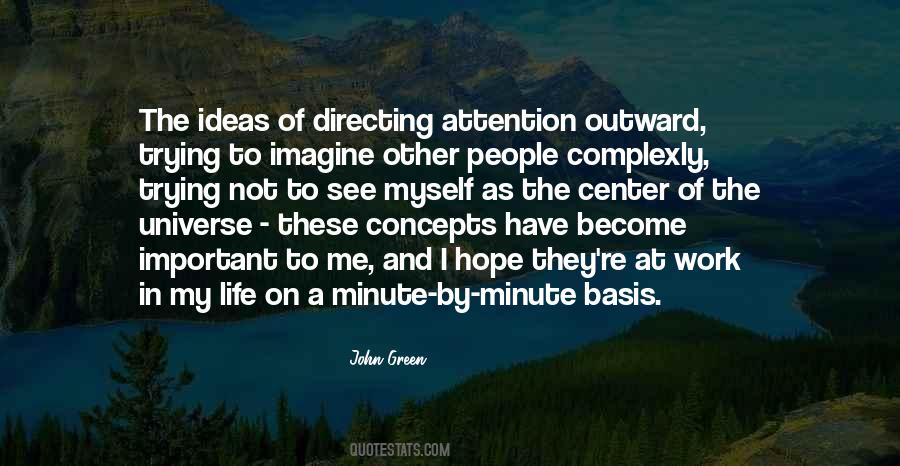 #40. If I wait until I become perfect before I love myself, I will waste my whole life. I am already perfect right here and right now. I am perfect exactly as I am. - Author: Louise Hay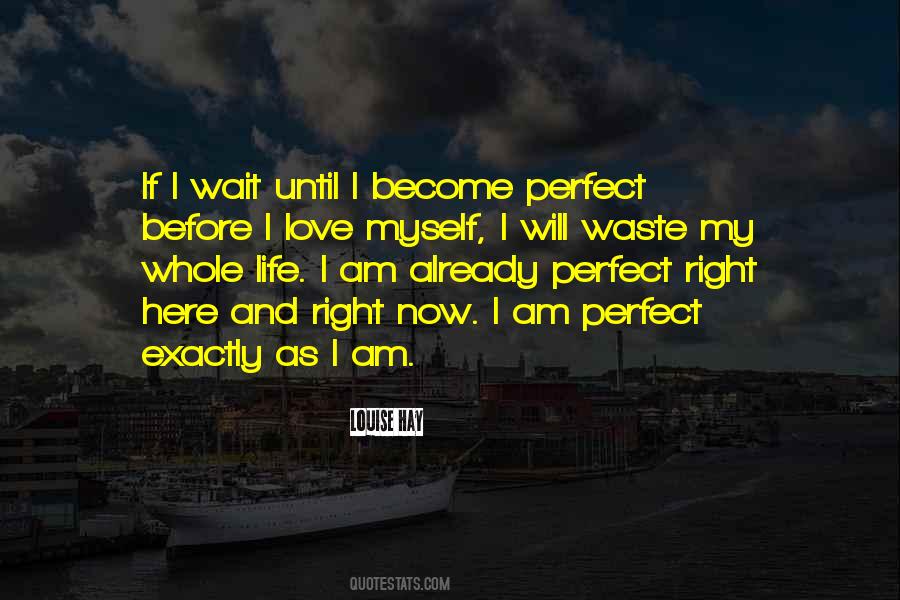 #41. Okay, okay, I can do this, Jane said to herself. Of course I can do this. I should be used to making a fool out of myself by now. This will be the last big one. Just three weeks and then I can leave this part of myself behind and get on with my life. And maybe it'll be fun. It might even be fun. - Author: Shannon Hale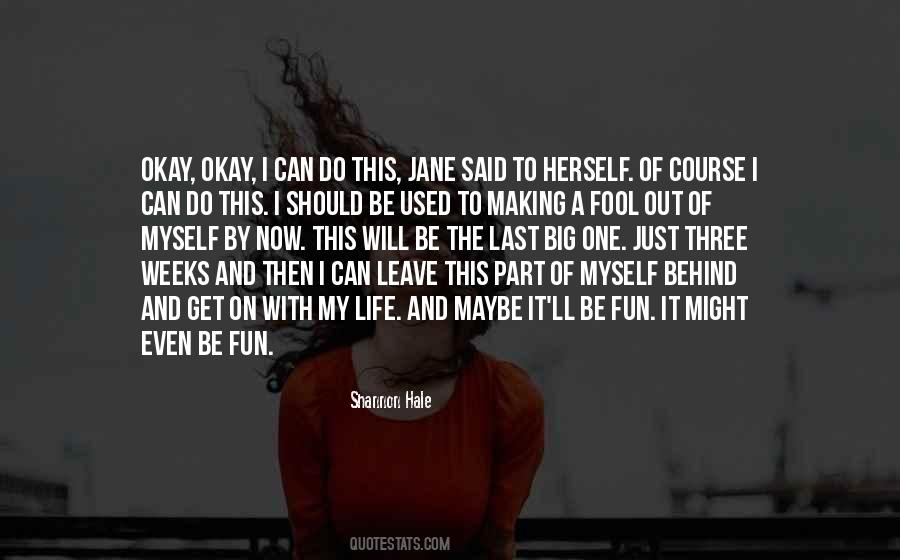 #42. I hadn't hold out much hope for myself; if my counterpart existed, he'd be amazingly talented to make up for my shortcoming, and that would condemn me to a life of living in his shadows; or he'd match my feeble powers and be so weak that we'd barely sense each other. - Author: Joss Stirling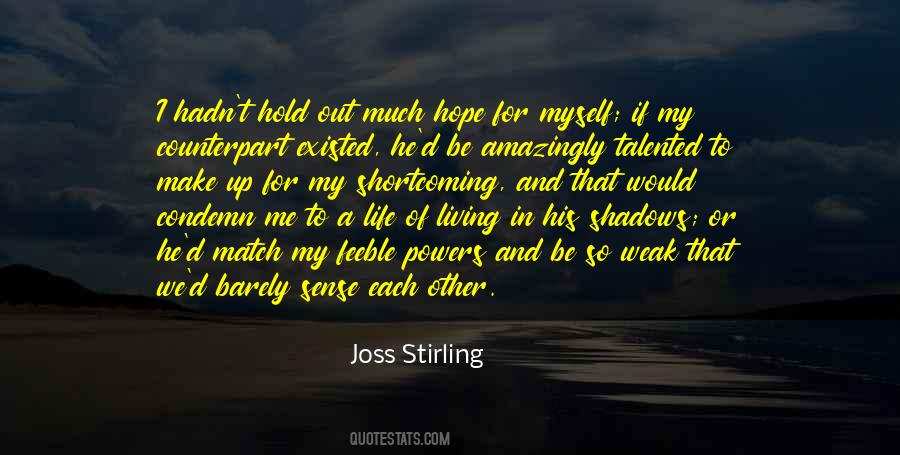 #43. If you can look at somebody and say, 'I never loved you, you were a mistake,' that's one thing. But if you look at him and say, 'You were everything and I poisoned it because I wouldn't stand up for myself,' that's hard. That's too hard ... - Author: Jennifer Crusie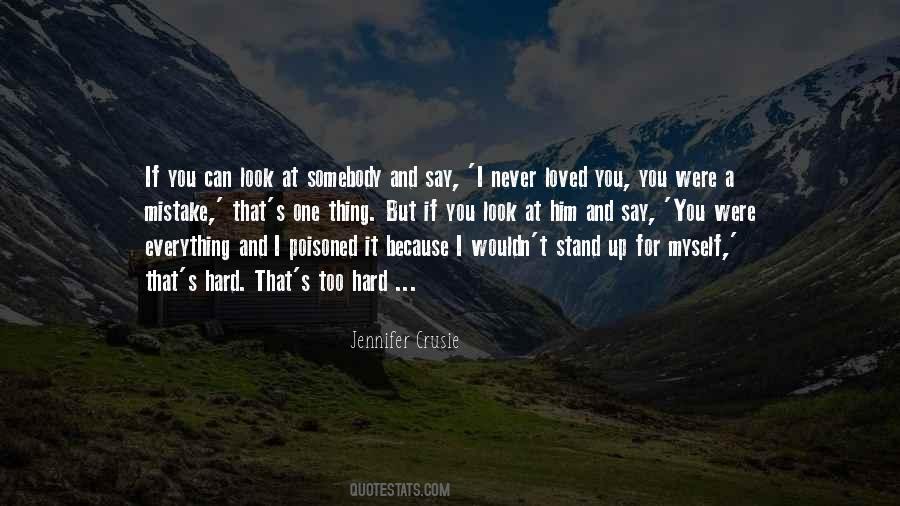 #44. I hope these simple things are what I forever love about life, for then I will be happy no matter where I find myself. - Author: R. YS Perez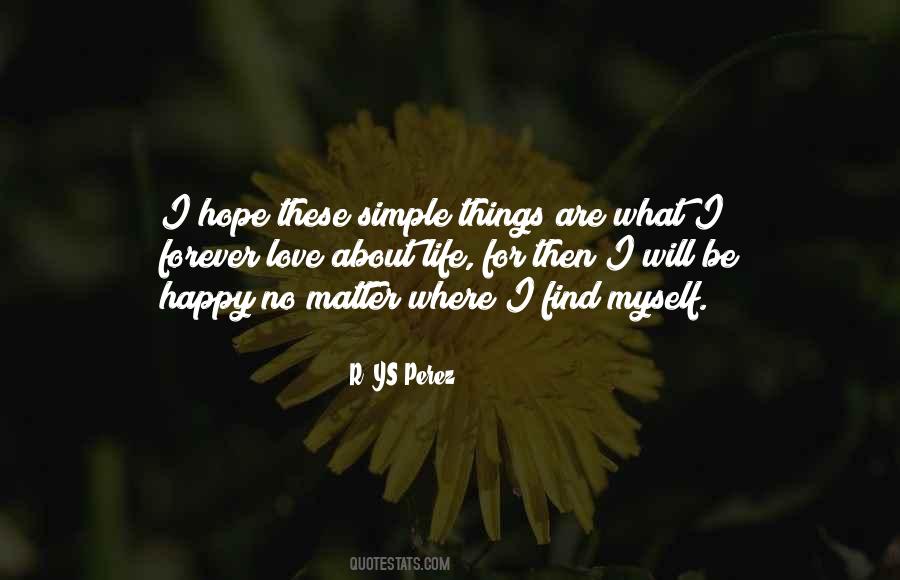 #45. It's my whole life of being the little guy and having a little chip on my shoulder, from year to year trying to prove myself, and at the end of the day to be inducted into the College Football Hall of Fame is a very special honor for me. - Author: Doug Flutie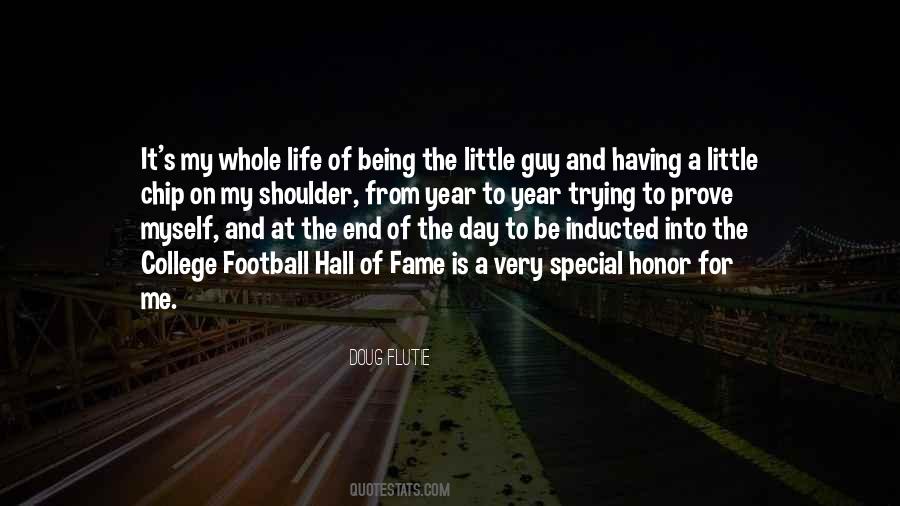 #46. We are like water, aren't we? We can be fluid, flexible when we have to be. But strong and destructive, too. And something else, I think to myself. Like water, we mostly follow the path of least resistance. - Author: Wally Lamb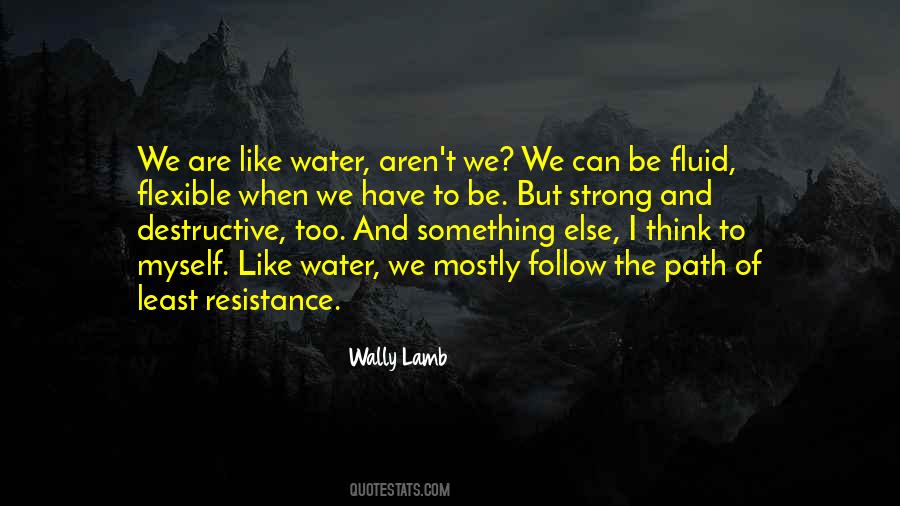 #47. I'm really, really enjoying myself, I seem to have a lot of purpose in my life. I'm enjoying what I'm doing, you know, and people are liking it. So, it's great, you know. - Author: Robbie Williams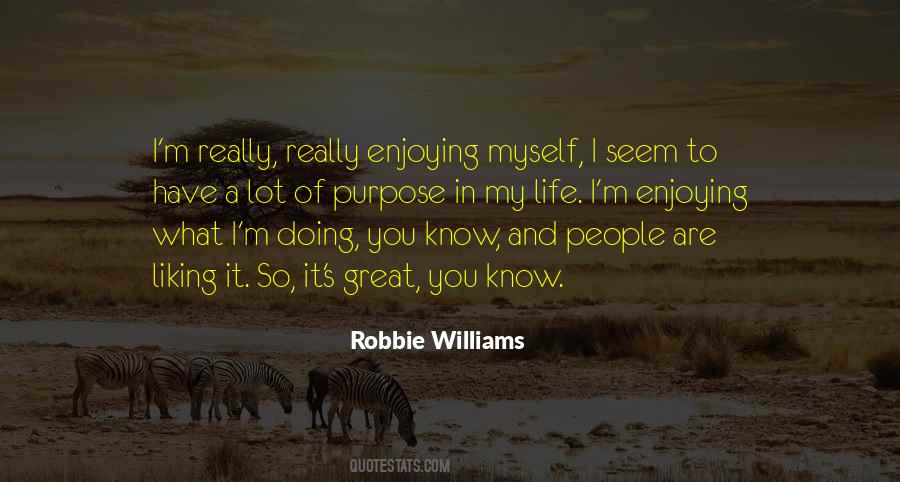 #48. I don't consider myself a moral man. I do not philosophize about life or bother with laws and principles that govern most people. I do not pretend to know the difference between right and wrong. But I do live by a certain kind of code. And somethimes, I think, you have how to shoot first. - Author: Tahereh Mafi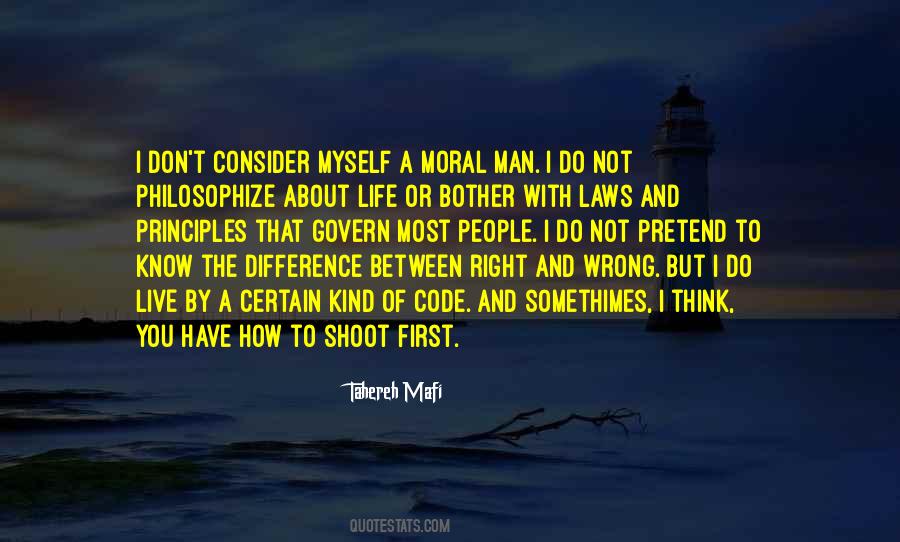 #49. Opening myself to criticism was a big door to go through. You can be afraid about something your whole life, about being out in public where people know your name but not you, and it can cripple your ability to try new things. - Author: Peggy Rathmann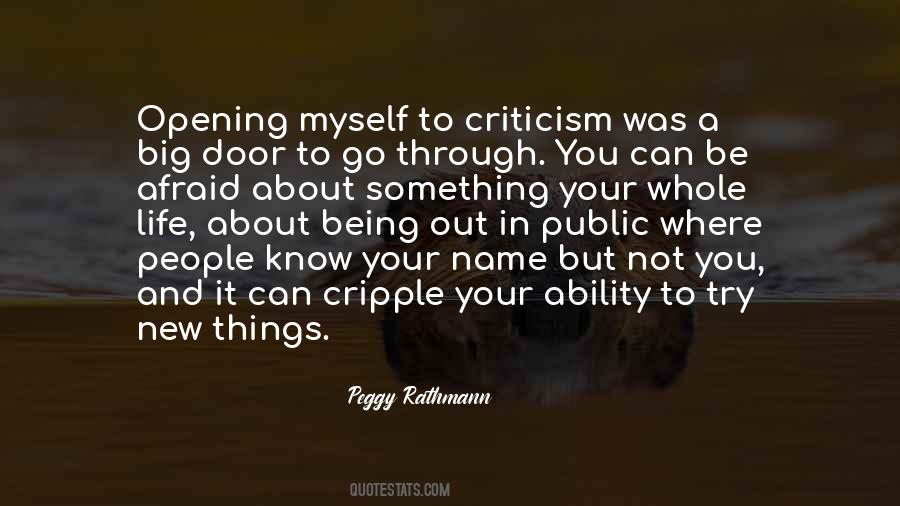 #50. Watson loved them sour kind of jokes, which I enjoyed myself. I mean, ain't life some kind of a sour joke? Might's well laugh, that's the way him and me seen it, whether nice folks seen the joke or not. One time when Watson caught me grinning along with him, he give a wink and lifted up his hat. - Author: Peter Matthiessen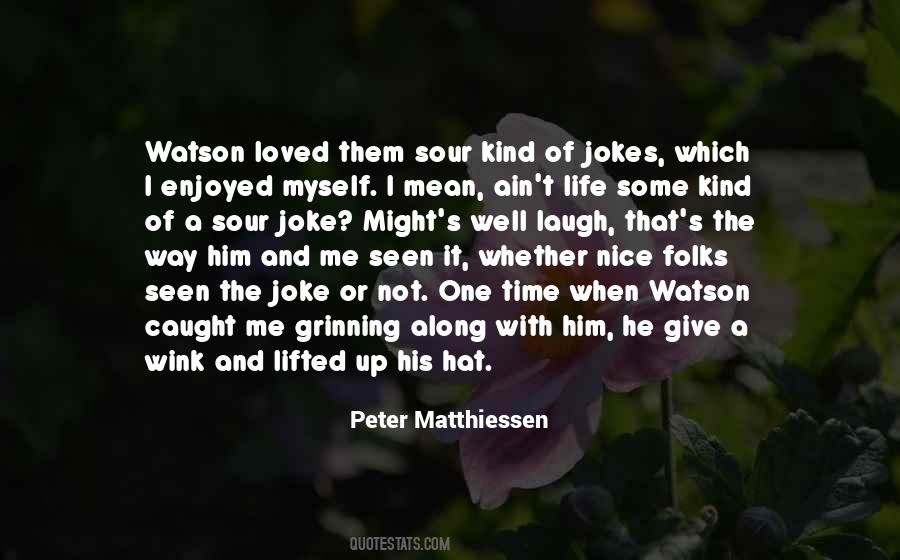 #51. O'Reilly, I've been running from the worst of myself all my life, and now it looks like the best of me just caught up. - Author: Mel Bossa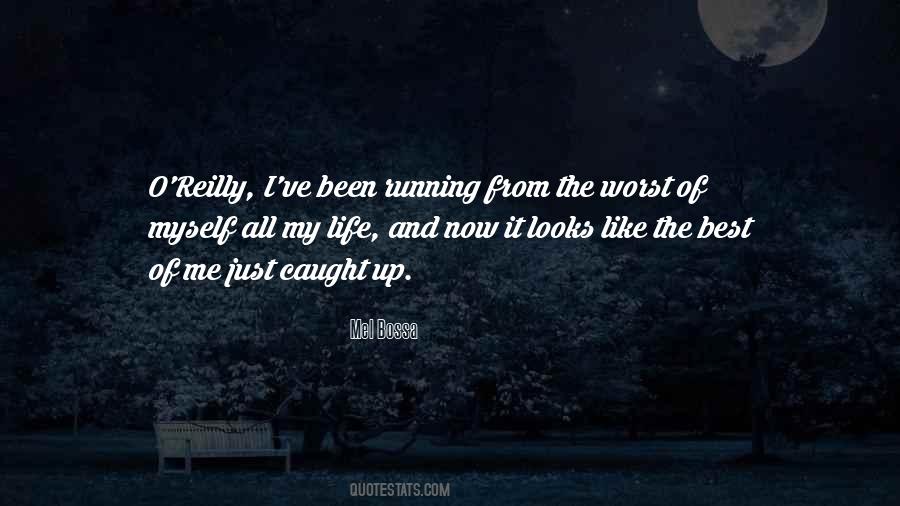 #52. My head phones always allow me to listen to myself - Author: Saahil Prem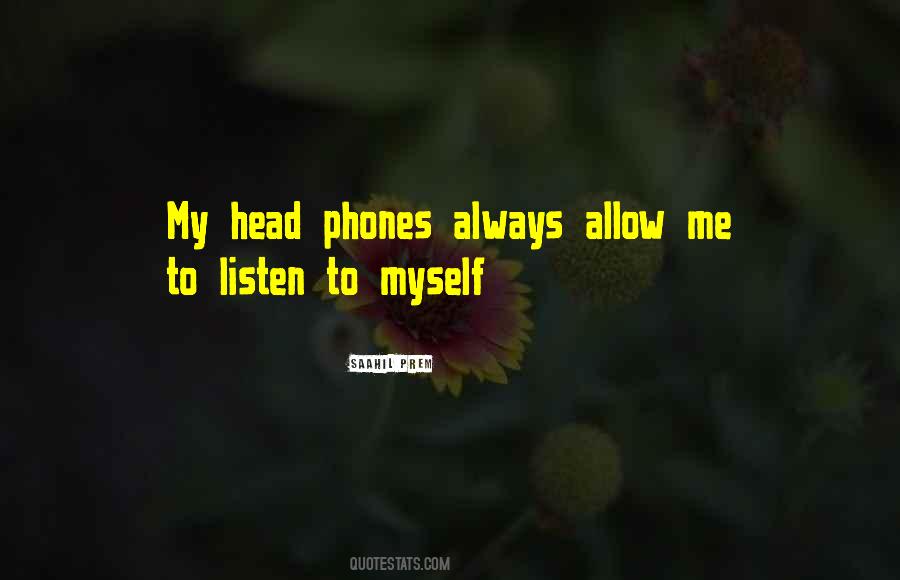 #53. I've diagnosed myself and discovered I have a limited 'life span' you can do this to. Then live life to its fullest in everything you do! - Author: Stanley Victor Paskavich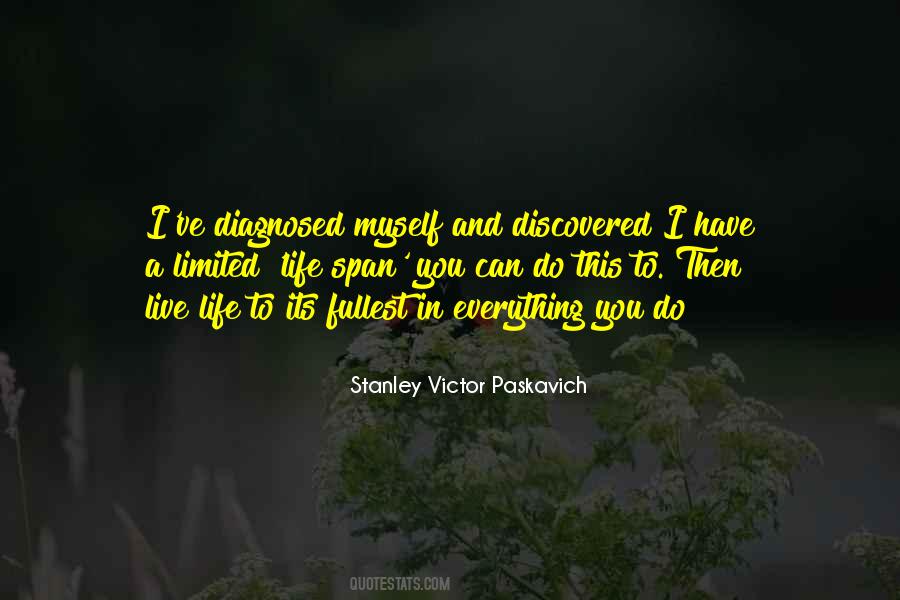 #54. I believe you make your day. You make your life. So much of it is all perception, and this is the form that I built for myself. I have to accept it and work within those compounds, and it's up to me. - Author: Brad Pitt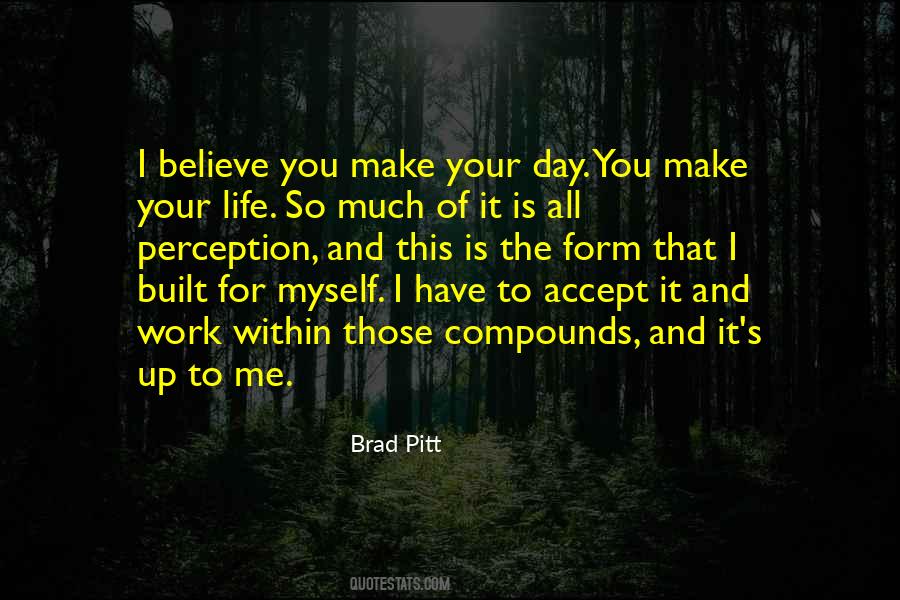 #55. I always take the same perspective with each new adventure. I put myself in the position of being at the end of my life looking back. Then I ask myself if what I am doing is important to me. - Author: Reinhold Messner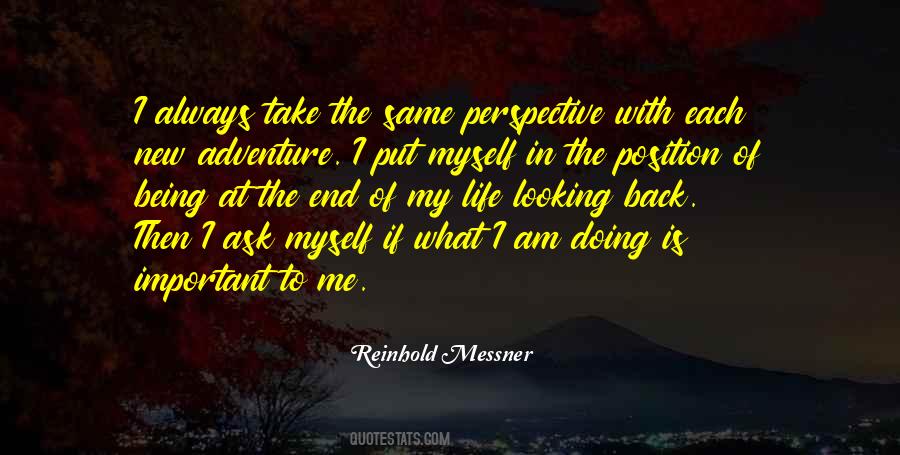 #56. I myself have benefited from many mentors throughout my life. - Author: Richard Branson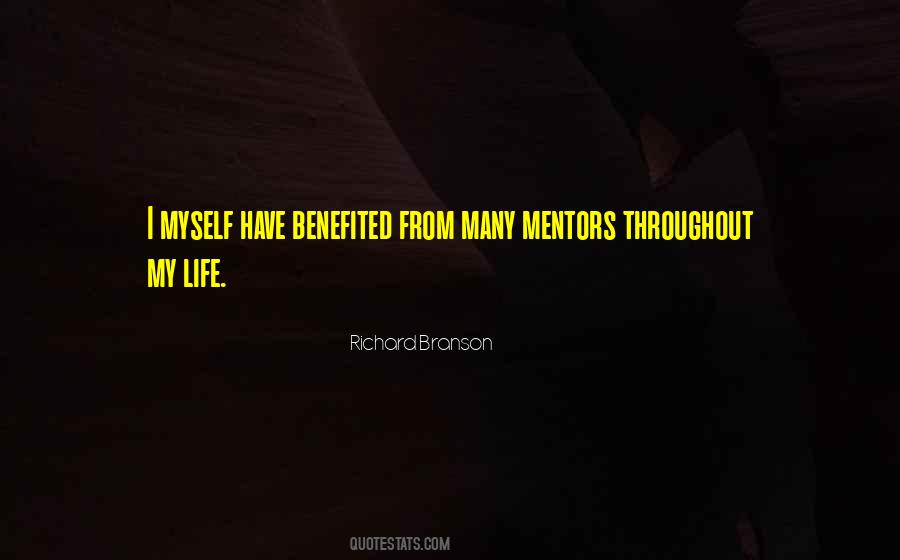 #57. Every success won is a motivation to the next level of success. - Author: Lailah Gifty Akita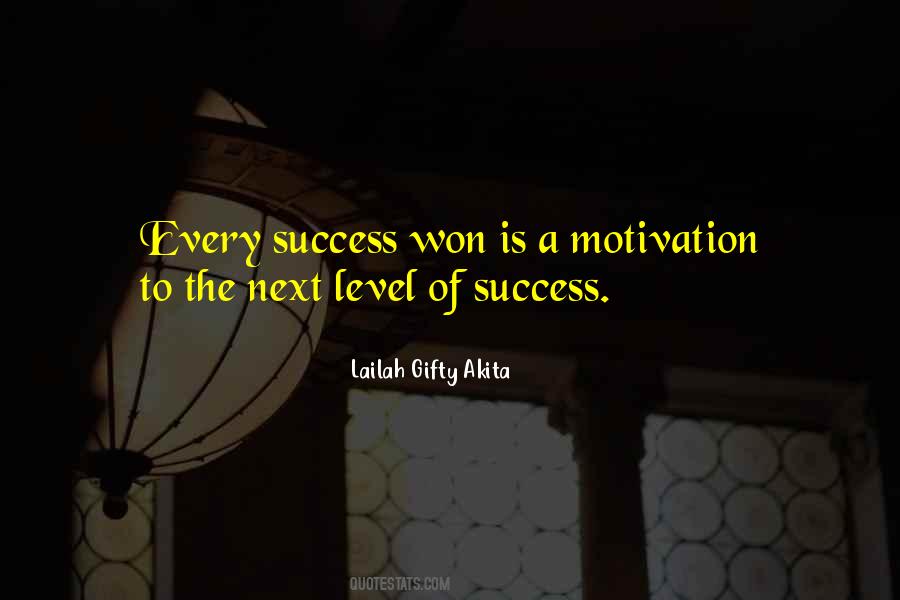 #58. My imagination was a great place to escape from all the anxiety and disapproval of my life ... I had to live in my head ... art was a way of making myself feel better. - Author: Philip Schultz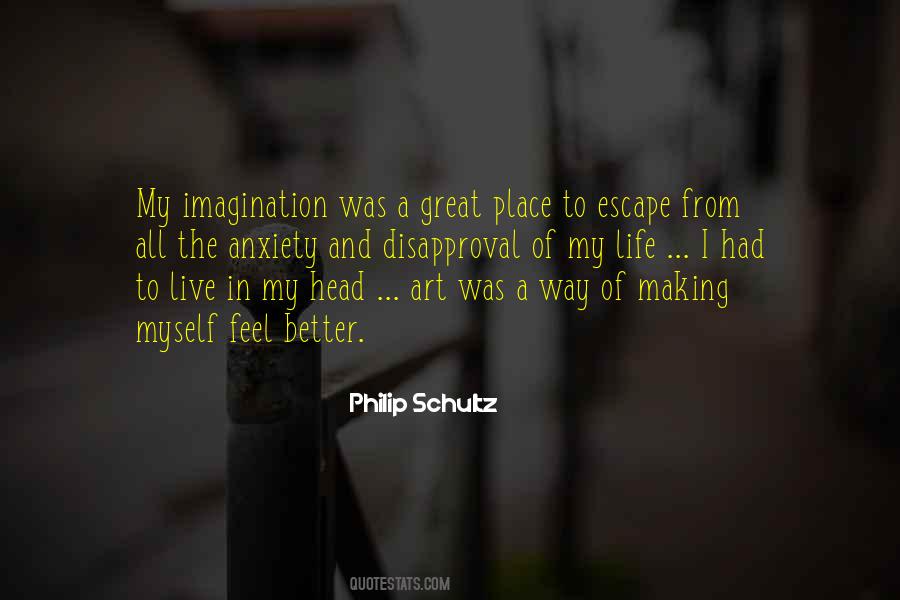 #59. I have survived my first day of chemo and I like this feeling of survival. It's alive and it's right and it's what I will make sure I feel every day for the rest of the life I have left. I make a promise to myself: While I'm dying, I will be completely fucking alive. - Author: Glenn Rockowitz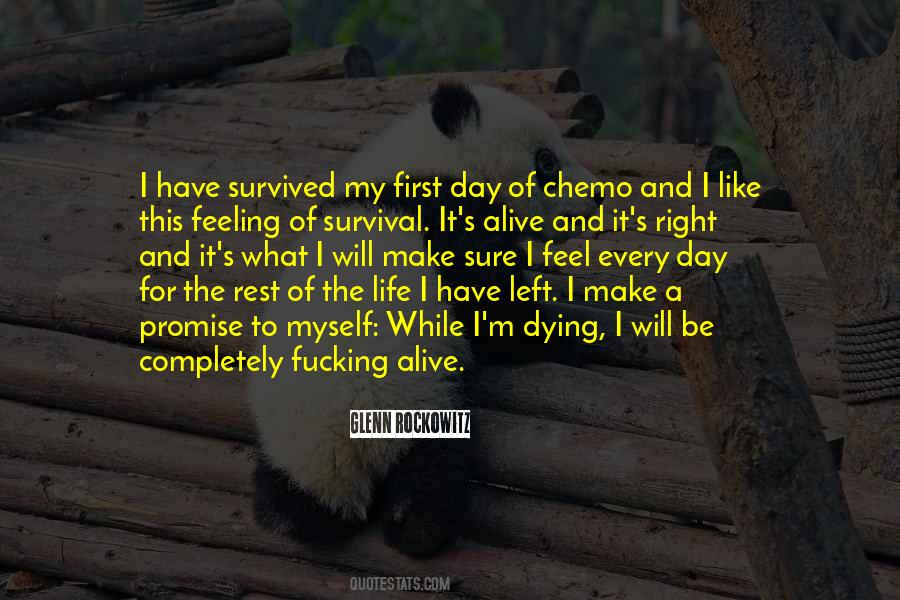 #60. Life's too short to spend all the time in the gym. I just like to have a few beers and enjoy myself too. - Author: Ian Woosnam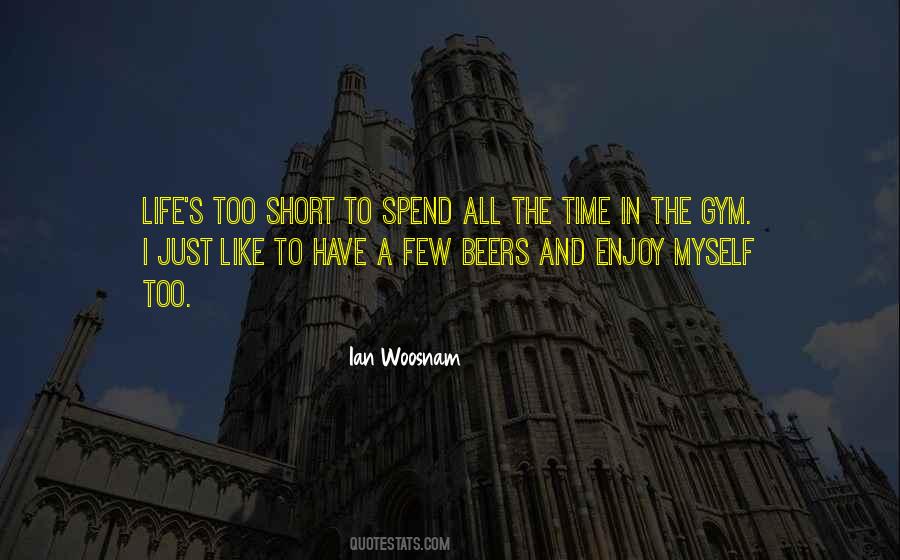 #61. . . . i believe my life had to be annihilated or something in order for me to find myself. - Author: Harriet Showman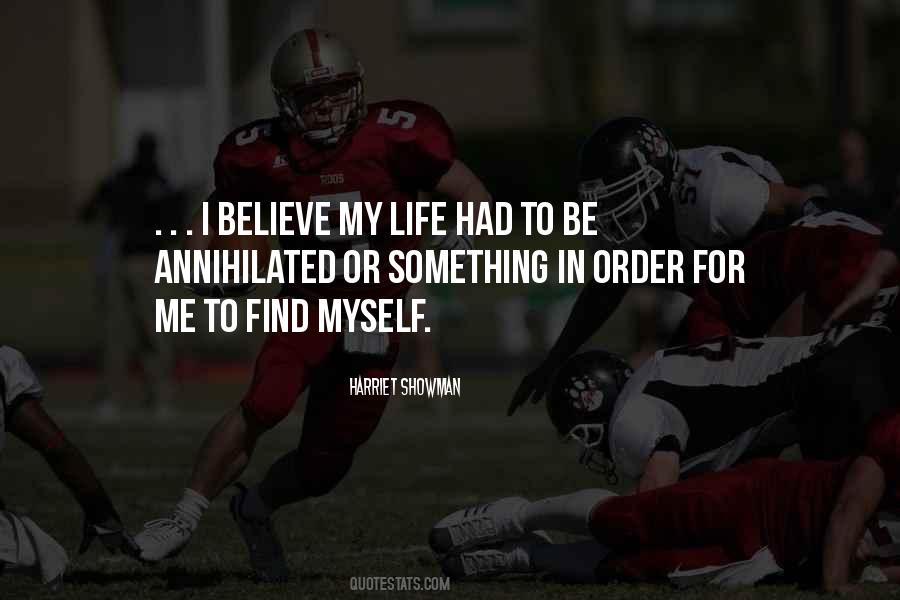 #62. I've been in a hurry all my life. I've been in a hurry to succeed, and in a hurry to prove myself. - Author: Henry Kravis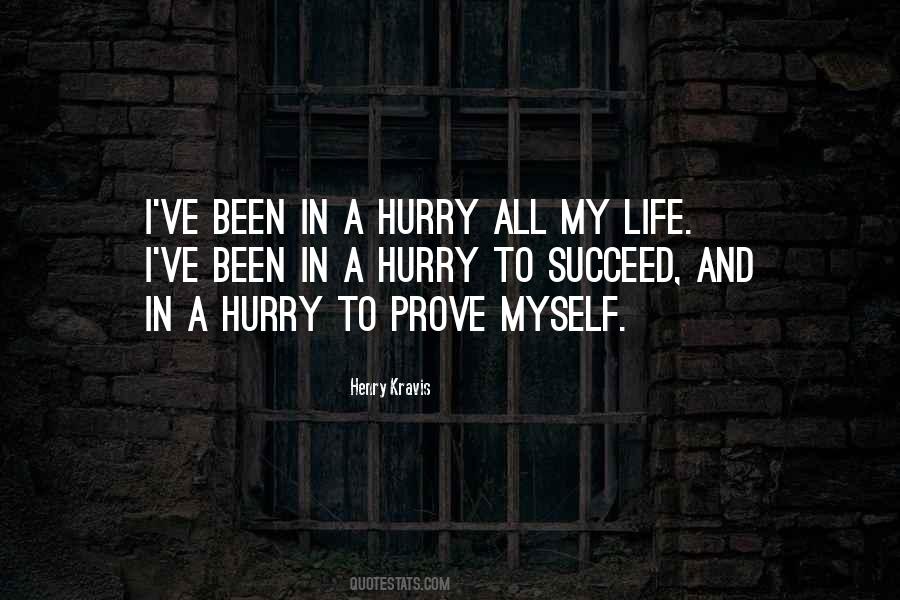 #63. I take care of myself, because I learned early on that I am the only person in life who's responsible for me. - Author: Halle Berry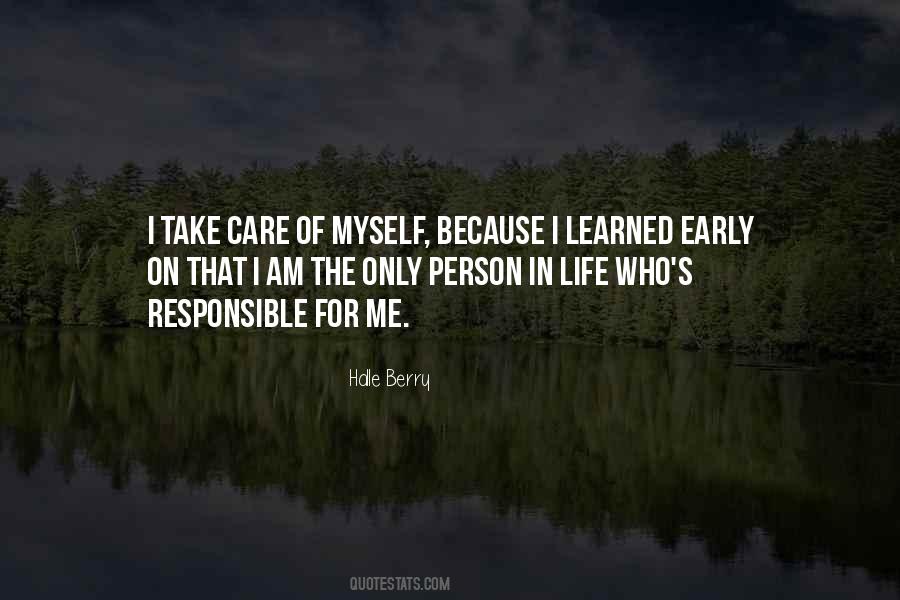 #64. On the other hand, I'm very tolerant as well. I expect that everybody can play what they want. I'm only not tolerant when it comes to myself and what is presented on my album that I have to listen to for the rest of my life. - Author: Eberhard Weber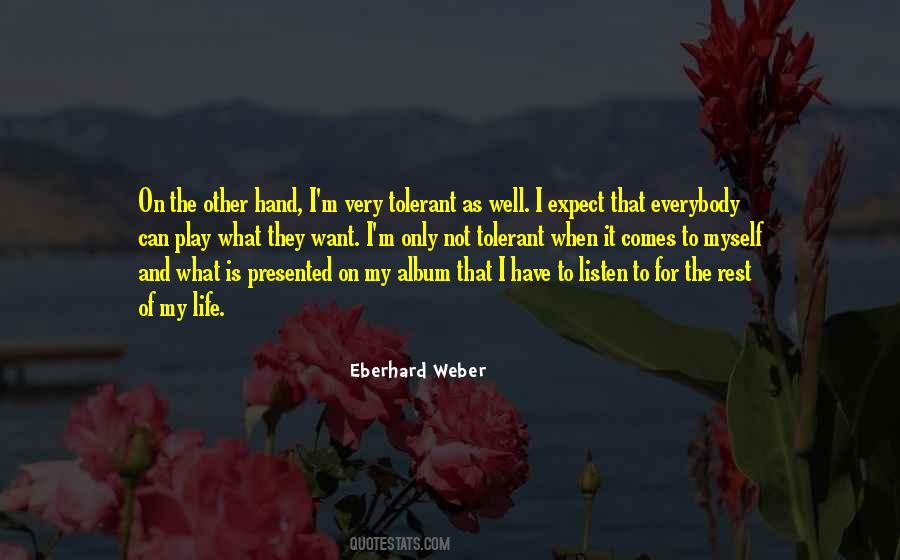 #65. Rainbows is a pretty honest look at my approach to life and love. While I admit to not exactly being an angel, I do try and live life to the fullest and give as much as I can of myself in the process - Author: Beccy Cole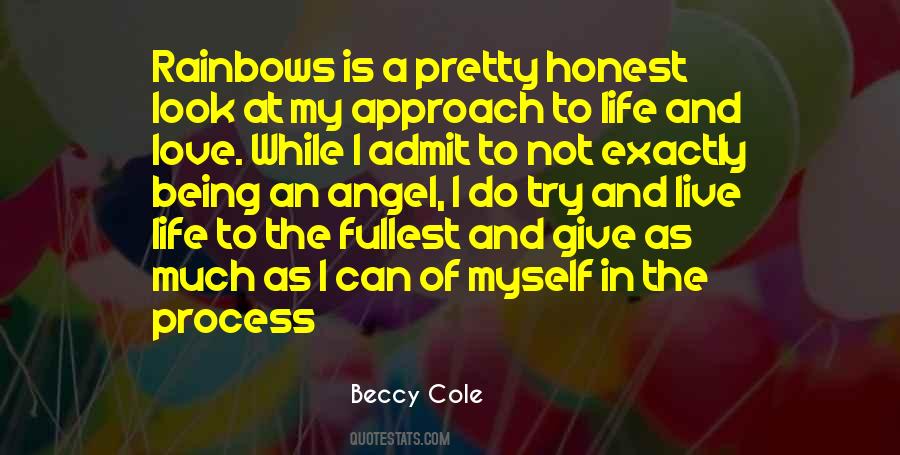 #66. I was given baby doll toys myself, and they proved a stark reminder that my life was expected to revolve around childbearing - just as my mom's had before me, and her mom's had before her. - Author: Beth Ditto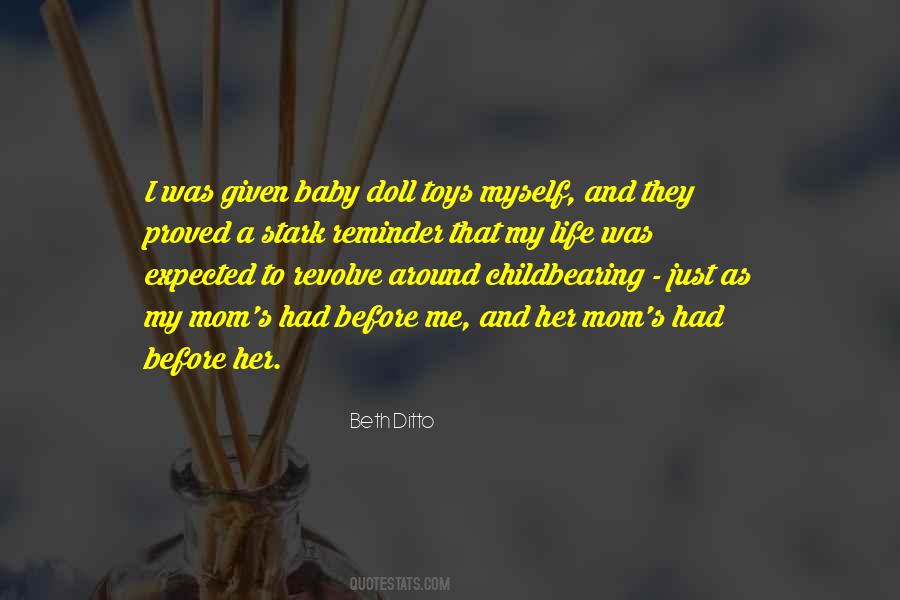 #67. Like other Americans, I've reconciled myself to the idea that an animal's life has been sacrificed to bring me a meal of pork or chicken. However, industrial meat production - which subjects animals to a life of torture - has escalated the karmic costs beyond reconciliation. - Author: Robert F. Kennedy Jr.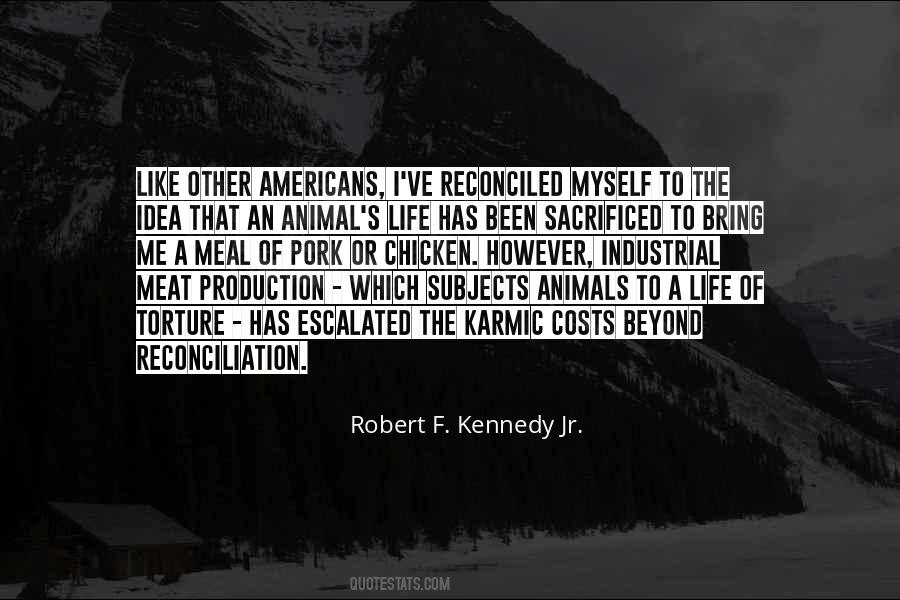 #68. Something within me is waking from long sleep, and I want to live and move again. Some zest is returning to me, some immense gratefulness for those who love me, some strong wish to love them also. I am full of thanks for life. I have not told myself to be thankful. I am just so. - Author: Alan Paton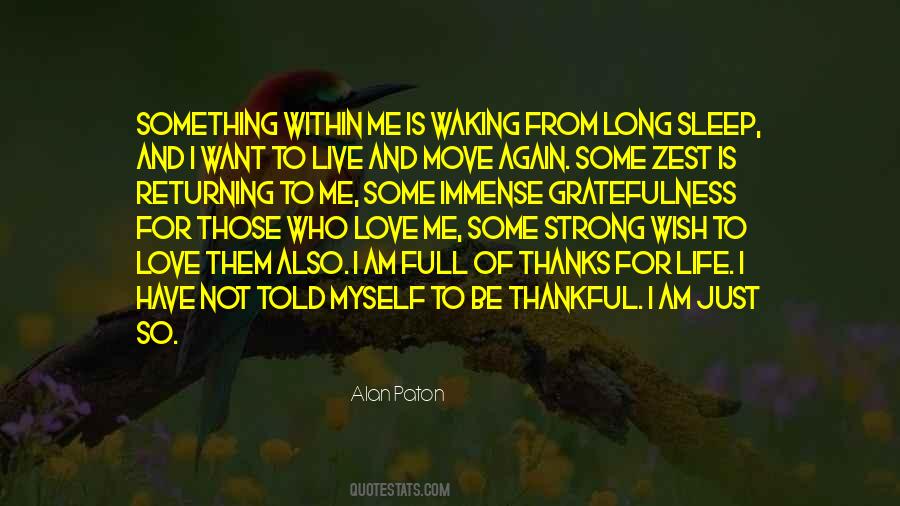 #69. A man thirty years old, I said to myself, should have his field of life all ploughed, and his planting well done; for after that it is summer time. - Author: Lew Wallace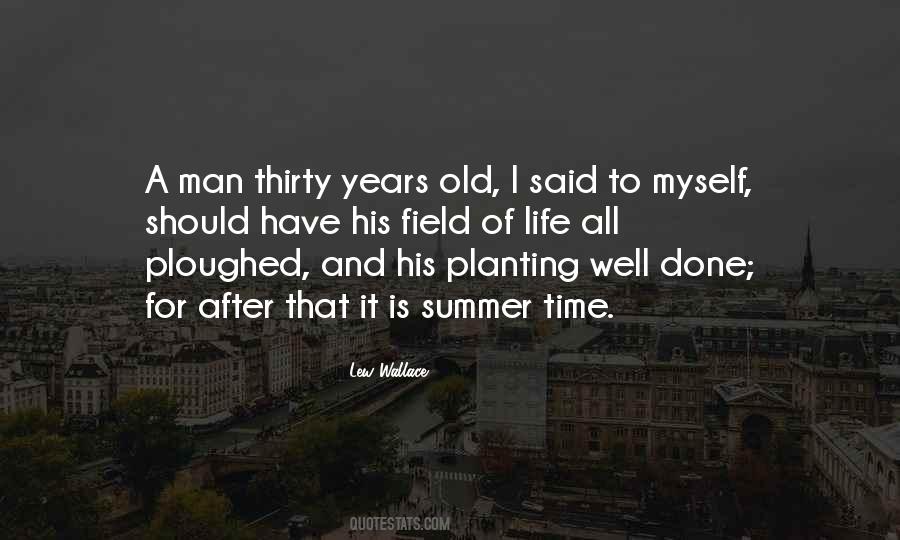 #70. The greatest thing about where my life is right now is it's very relaxed and chill. I'm just hanging out, being myself and doing my work. - Author: Lucas Grabeel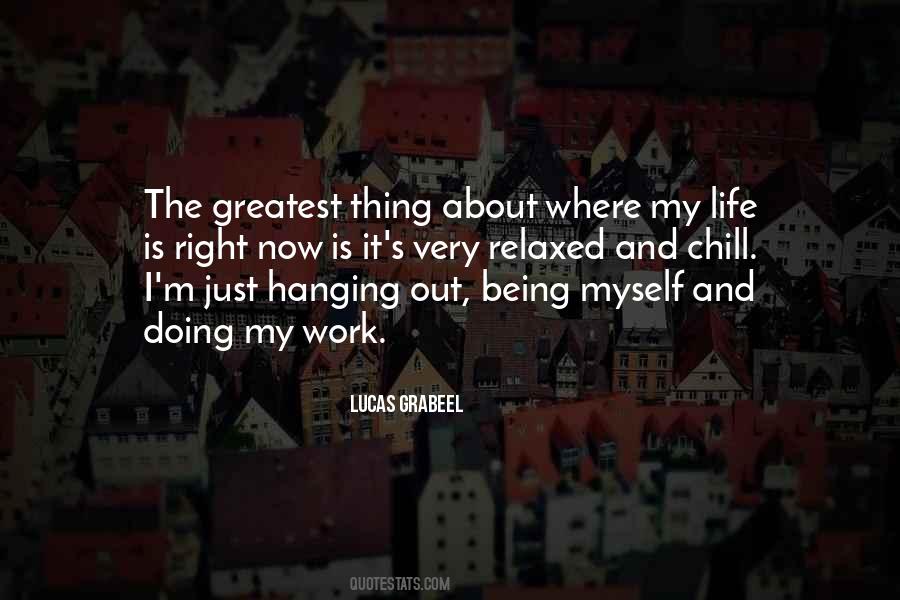 #71. There's no room in my life for feeling sorry for myself. - Author: Wayne Newton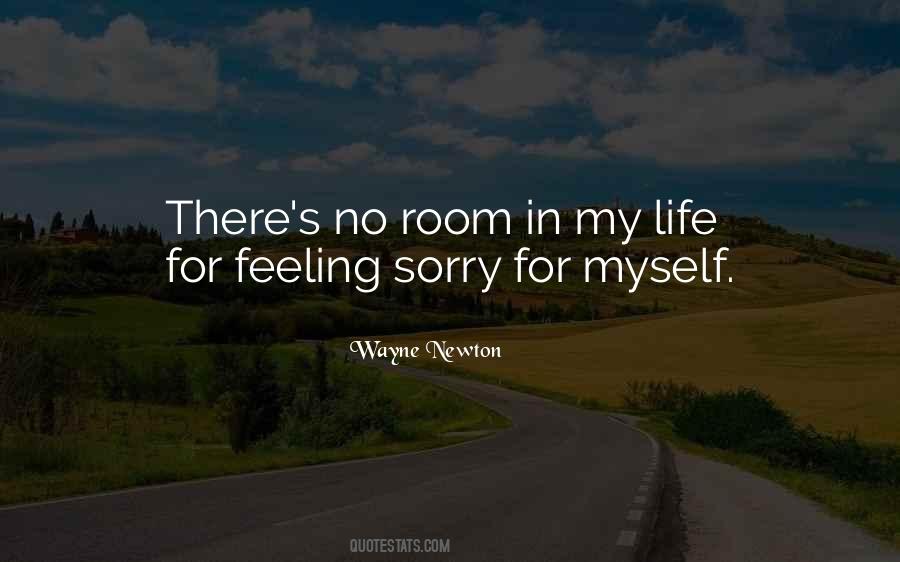 #72. A wave of intense happiness washed over me, and I told myself to carry this moment as a talisman of a time in my life when I was both truly content and lucky enough to realize it. - Author: Heather Cocks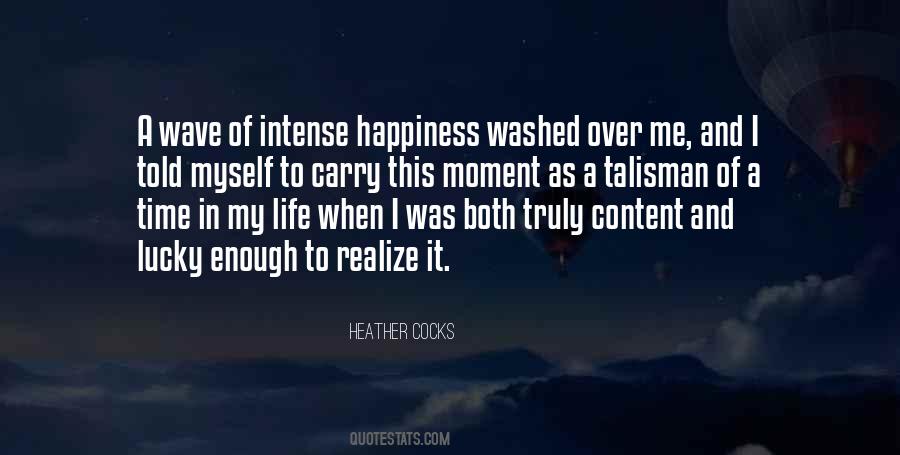 #73. In real life, I'm such a dorky, happy person. I express myself in three ways: I talk a lot, I write songs and I get tattoos. - Author: Christina Perri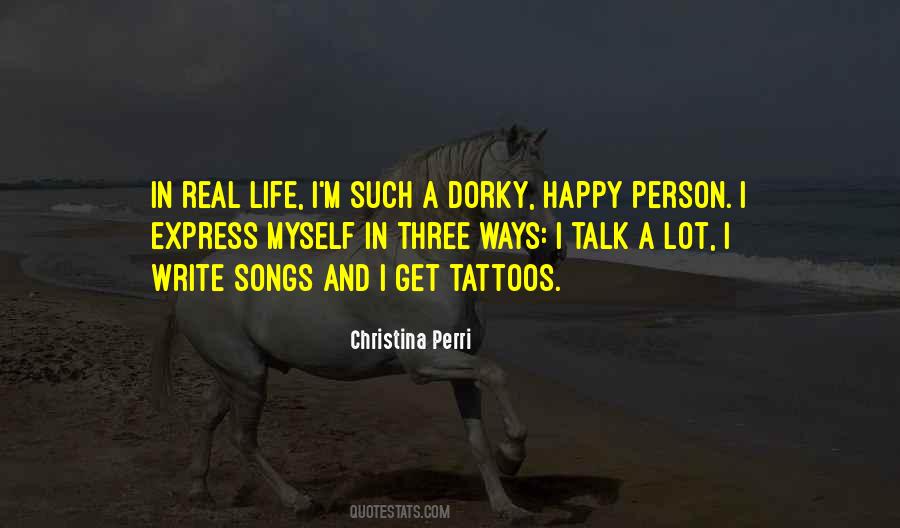 #74. My life transformed by making myself a reader. - Author: Lailah Gifty Akita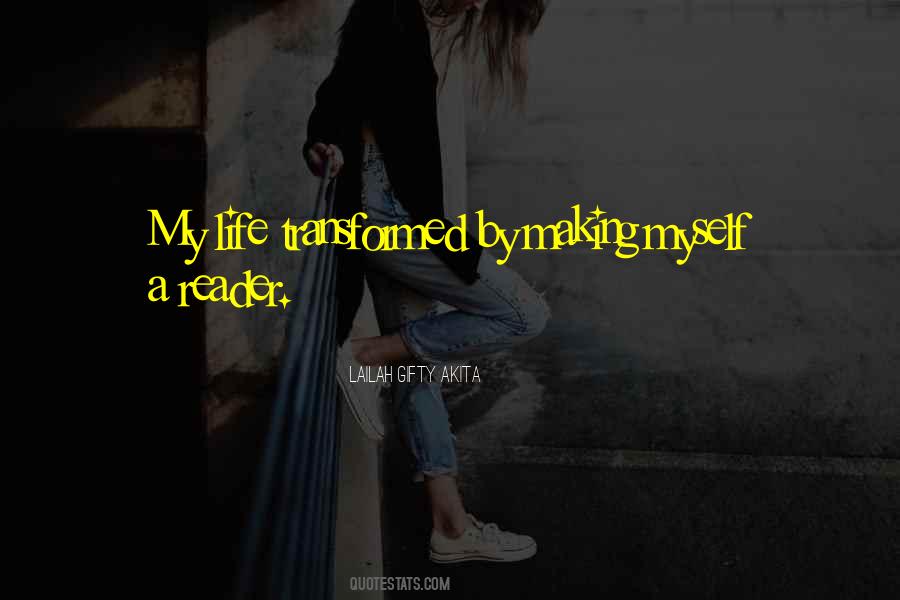 #75. Unfortunately, the simplest things - such as thinking for myself, creating my own reality and being whatever the hell I want to be each day of my life - are a sin. To be a good Christian basically means to give up the reigns of your life and let some unseen force do it for you. - Author: Brandon Boyd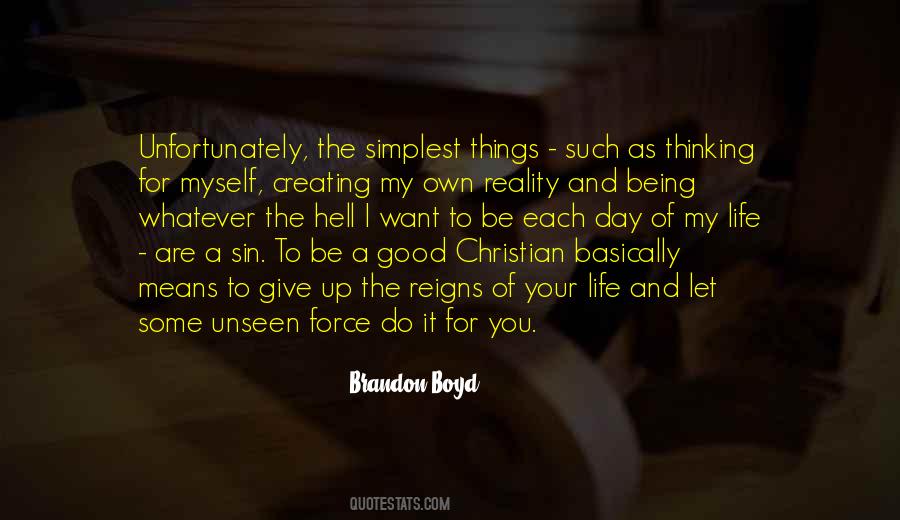 #76. You have to keep your goal in mind and never lose sight of it. I envisioned myself winning the heavyweight title for ten years before I actually captured it. If you're not driven to do your best, you'll never reach the level of excellence in your life. - Author: George Foreman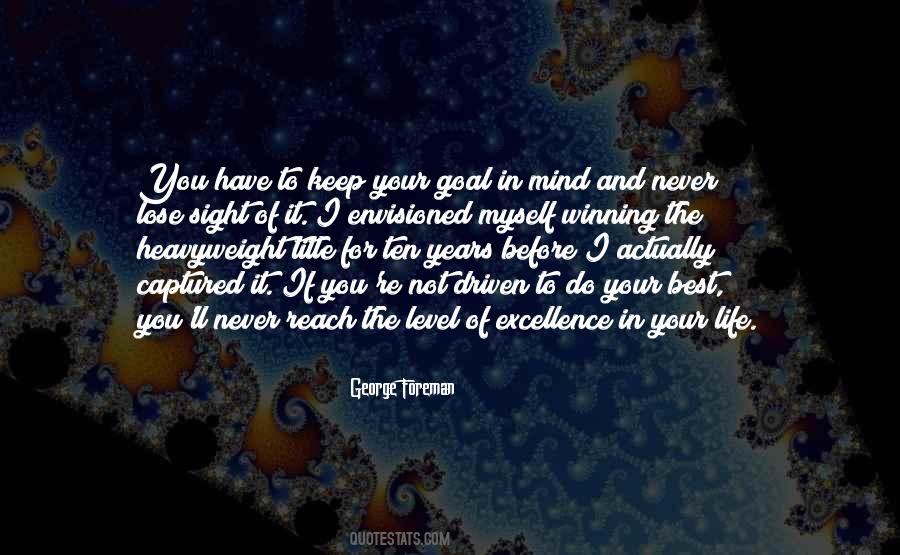 #77. I see myself as a man who is searching for meaning in life. This is rather different from being a staunch believer in something. A believer is someone who senses a consciousness or a direction and believes in it. The one who searches for meaning has not found the direction yet. - Author: Aharon Appelfeld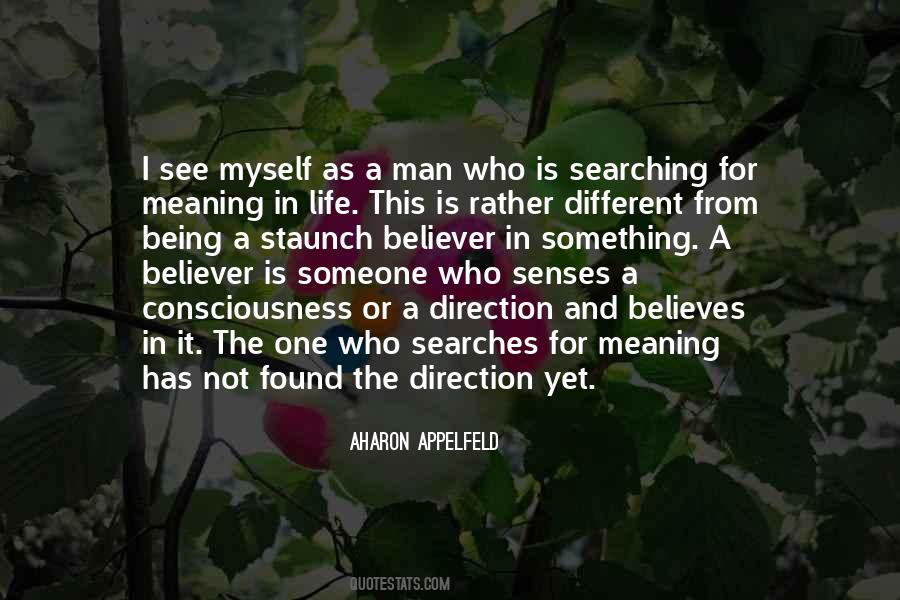 #78. I could go off into the wilderness and write fantasy novels for the rest of my life and probably be happy; but I always want to challenge myself. - Author: Felicia Day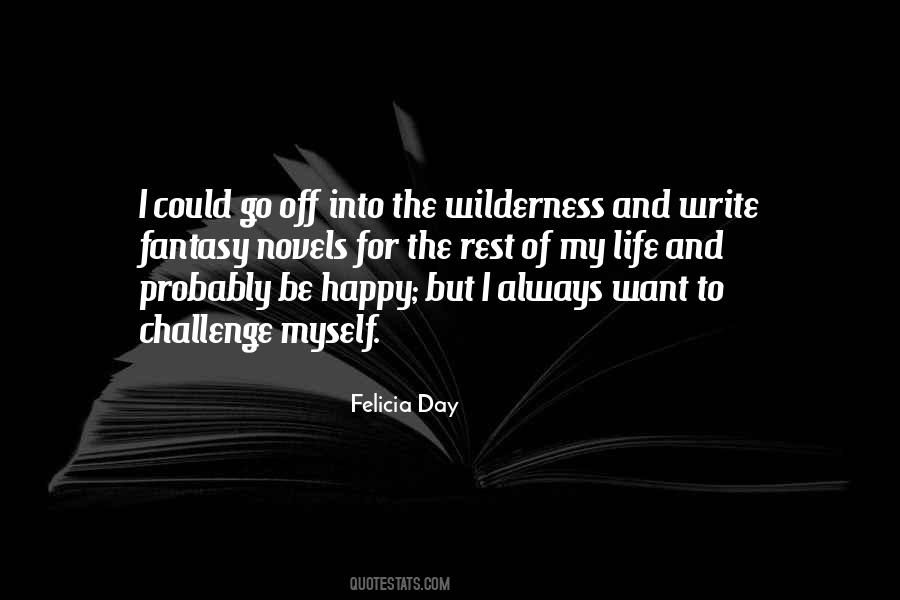 #79. The only person who can pull me down is myself, and I'm not going to let myself pull me down anymore. - Author: C. JoyBell C.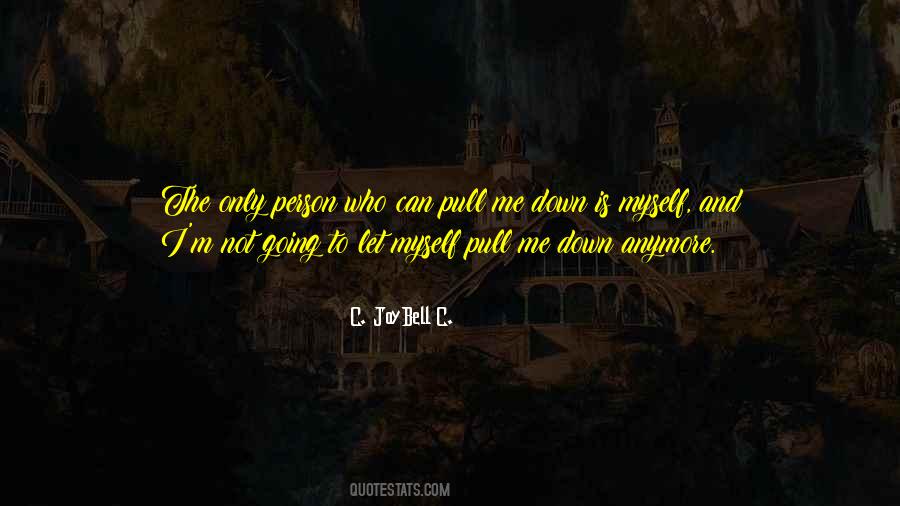 #80. I have no illusions about myself, about my life, about leaving a legacy, or making a mark in people's lives. We are so insignificant. We are only here for a blink. - Author: Miriam Defensor Santiago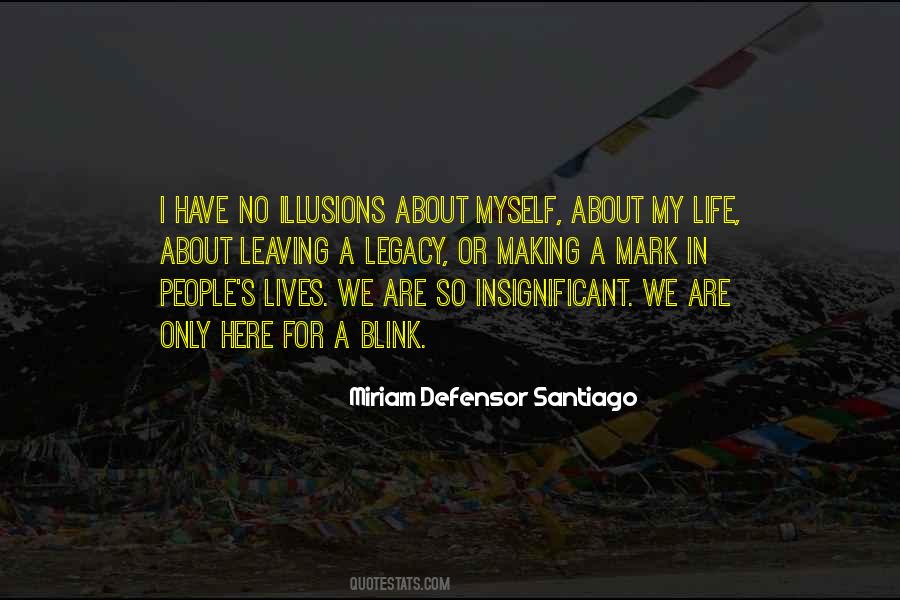 #81. I only found myself when I stopped looking. . . - Author: Erik Christian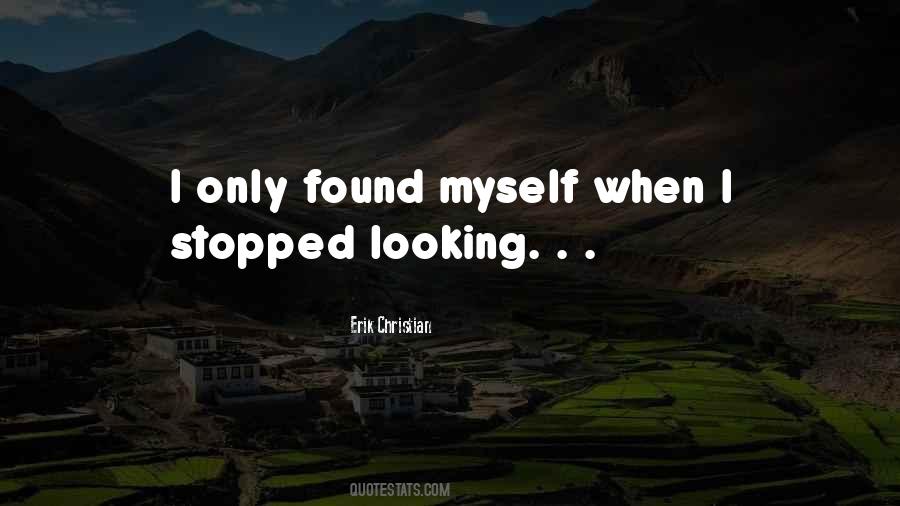 #82. I had prepared myself for the second half of my life [to be] filled with other passions that don't include being in front of the camera. And then all of a sudden I got more work and more work and more work. And I went, "Well maybe things have shifted." And I think they have. - Author: Sandra Bullock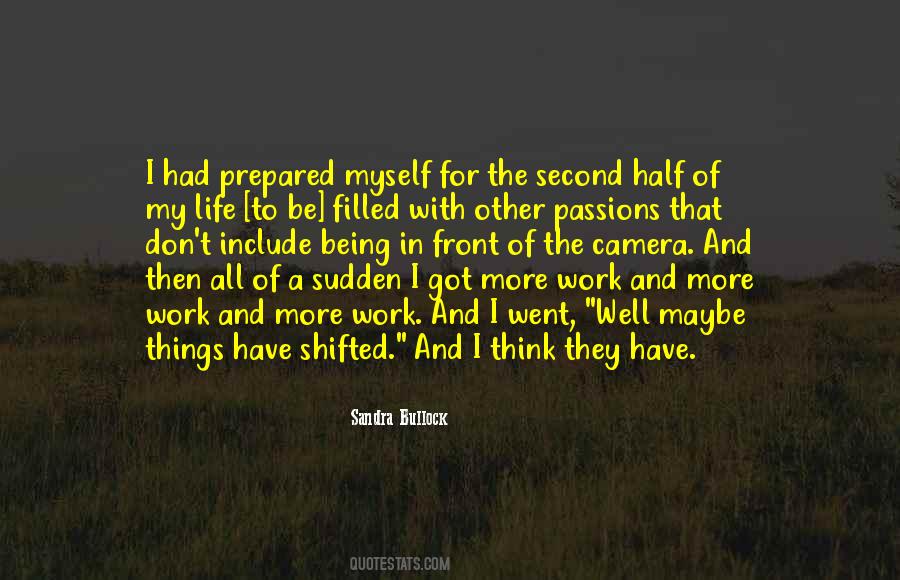 #83. I'm very organized and tidy in my home life and I generally do something myself rather than farm it out to somebody else. I don't have an assistant or anything because I think I can do it myself. - Author: Mark Strong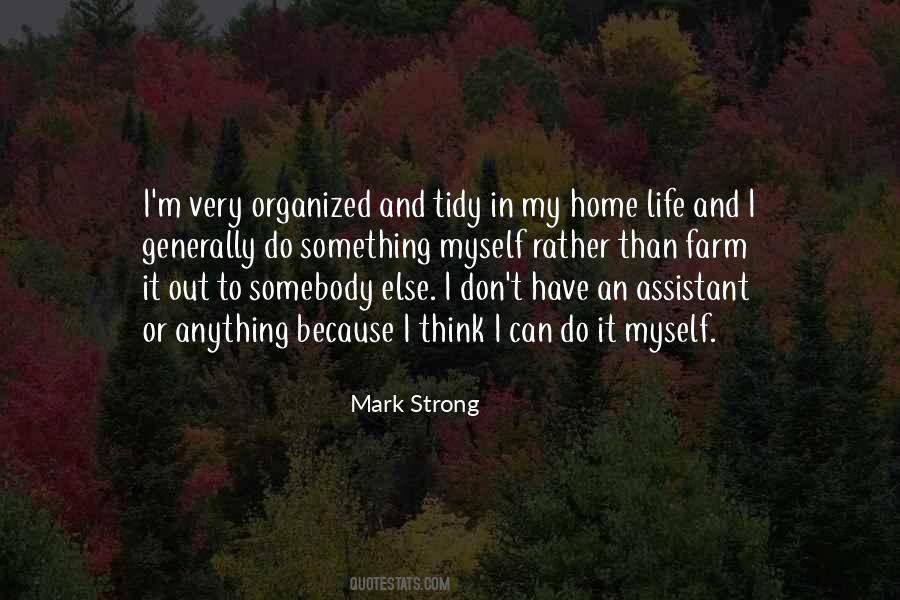 #84. My family life and my ideals, my commitment to the community and to other people - all people - has been improved. I think less about myself and more about my community today. - Author: Andre Braugher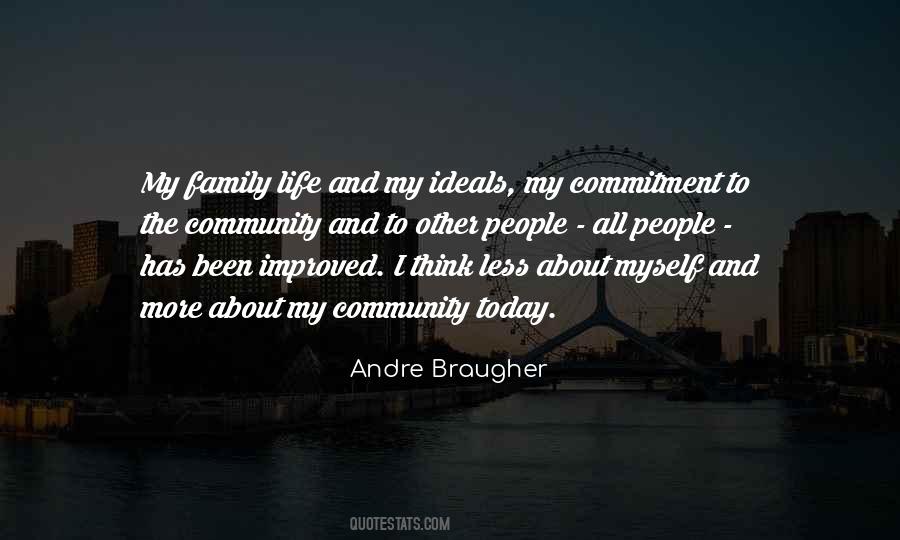 #85. But what does the word insist mean after a whole life of love and understanding? I have never asked anything for myself that I did not also wish for him. - Author: Simone De Beauvoir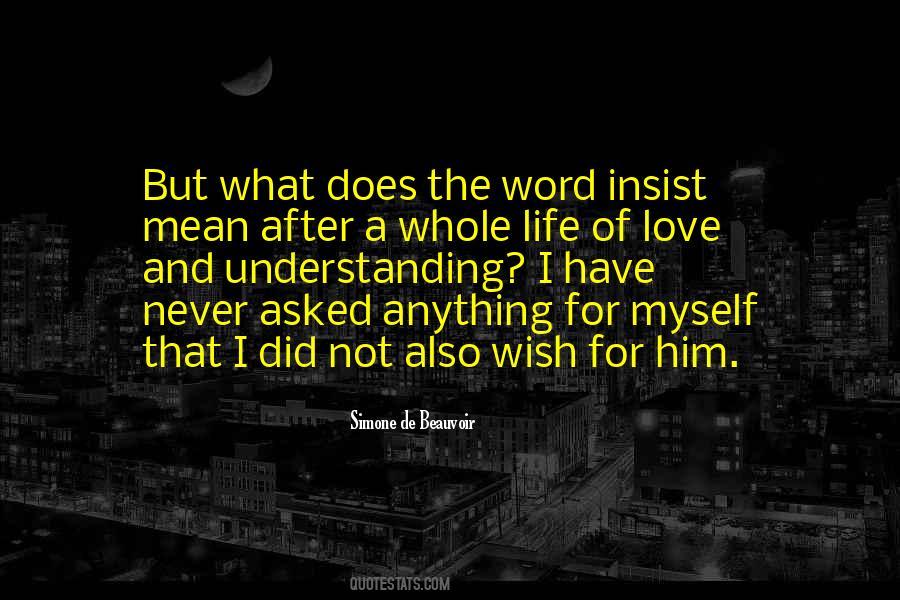 #86. Self-confidence can be defined in two sentences. (1) I trust myself to face life's challenges and (2) I trust myself to follow my dreams and goals. - Author: Gudjon Bergmann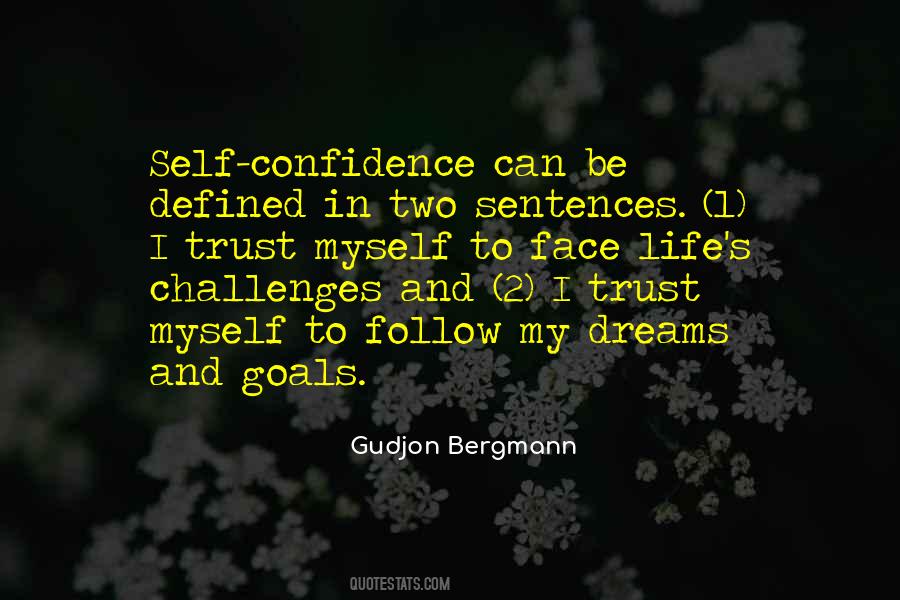 #87. I can only speak for myself. But what I write and how I write is done in order to save my own life. And I mean that literally. For me literature is a way of knowing that I am not hallucinating, that whatever I feel/know is. - Author: Barbara Christian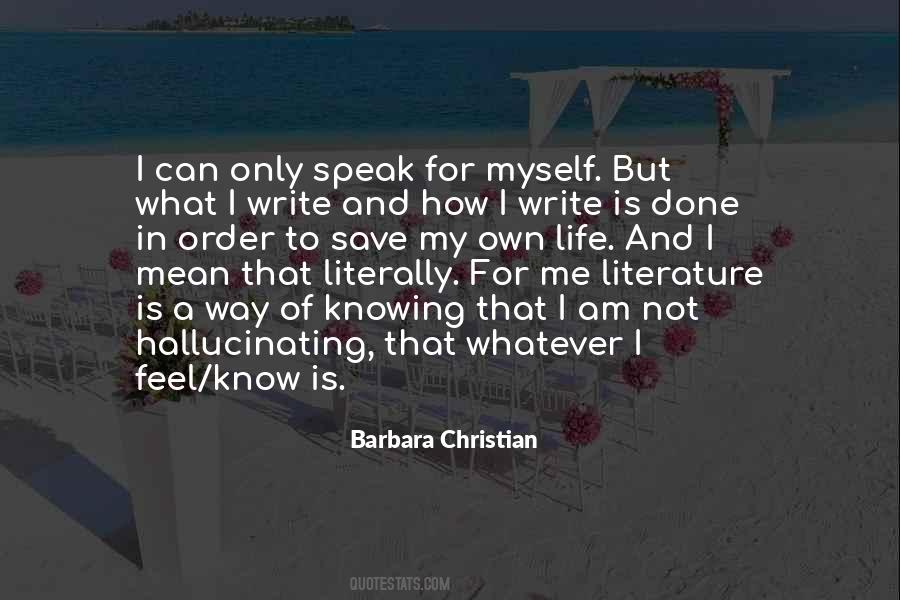 #88. I do give myself a break in my personal life but I think in work, if you don't push yourself you get bored and want to do something else. - Author: Diane Kruger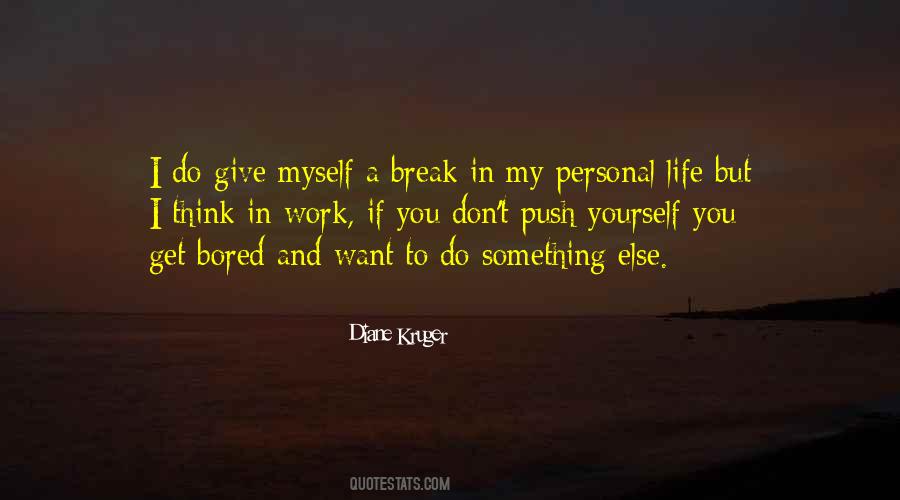 #89. Her pain was so jagged. You couldn't touch her without it slicing through you too. I wanted to fold myself around her and absorb the rest of the blows life would deliver. - Author: Tarryn Fisher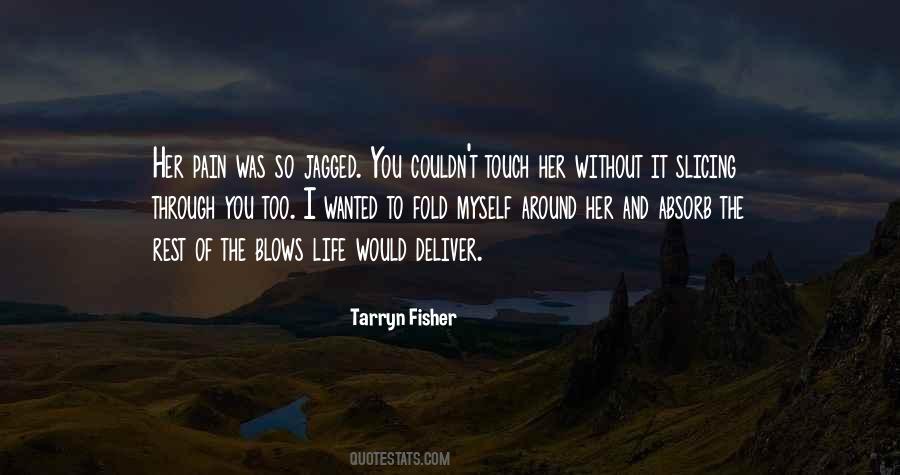 #90. I am a Divine, magnificent expression of life, and deserve the very best. I accept miracles. I accept healing. I accept wholeness. And most of all, I accept myself. I am precious, and I cherish who I am. - Author: Louise Hay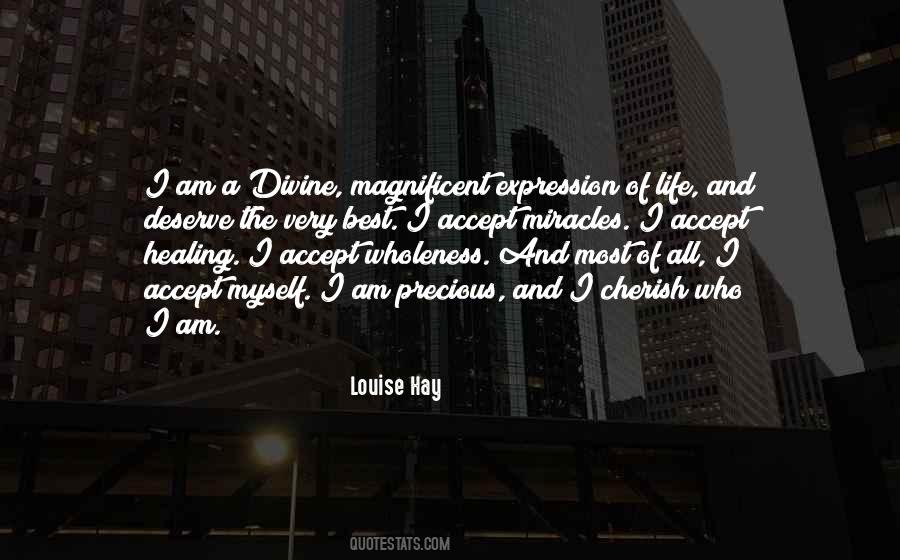 #91. I think new life is the most exciting thing and I absolutely have so much respect for my friends and family that have gone and done it because it seems like the hardest job in the world. So, who knows - maybe one day I might try it myself. But I completely salute anyone who does. - Author: Christine Bottomley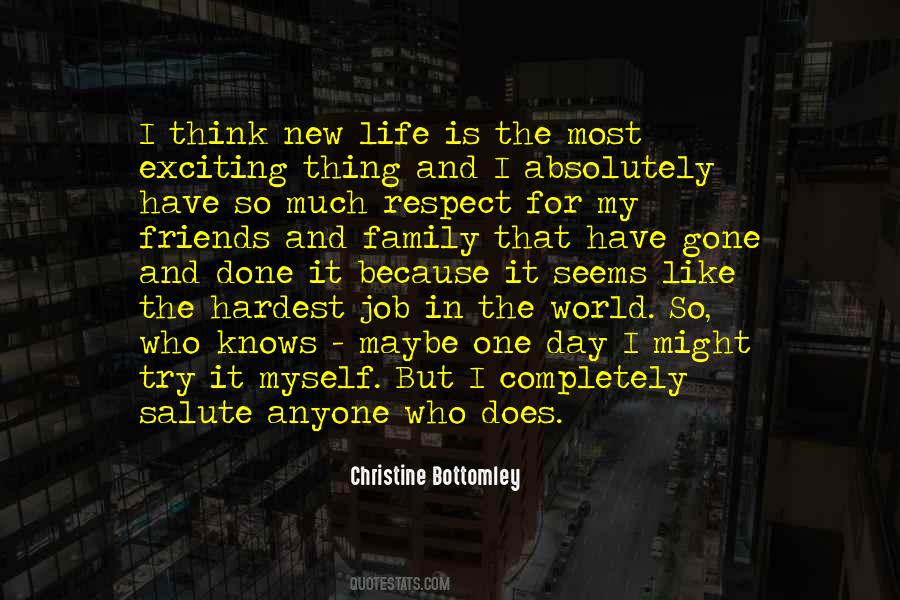 #92. Most of the memorable events I have myself been exercised in; and, for the satisfaction of the public, will briefly relate the circumstances of my adventures, and scenes of life, from my first movement to this country until this day. - Author: Daniel Boone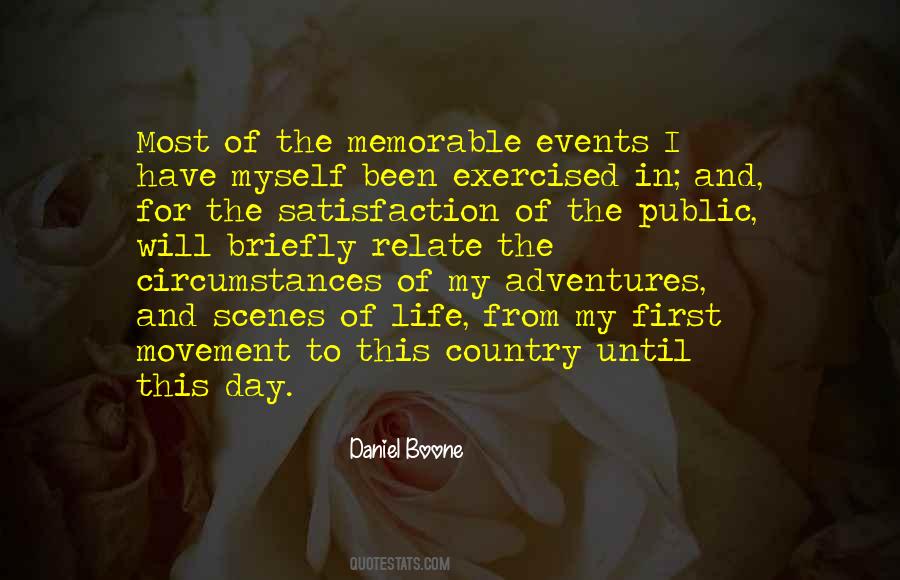 #93. Women call me all the time and tell me, 'You inspired me to get out of a bad situation,' or 'You inspired me to take the reigns for myself and go and do this.' I try to tell people to live their best life, and do what you know you need to do for yourself and your family. You need to be supported. - Author: Kimora Lee Simmons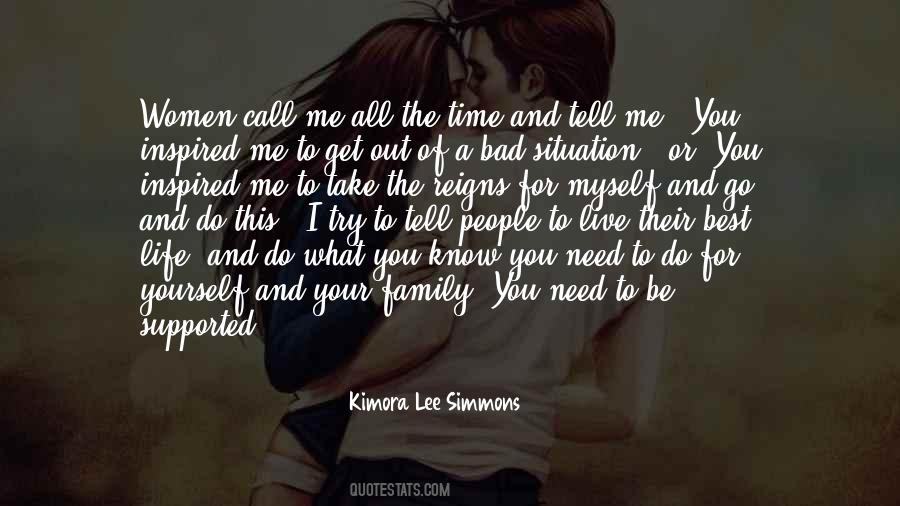 #94. I couldn't not write. Sometimes I ask myself, How do people get through life without writing? I write to calm anxiety, to process pain. Writing to me is reflection. - Author: Andrew Holleran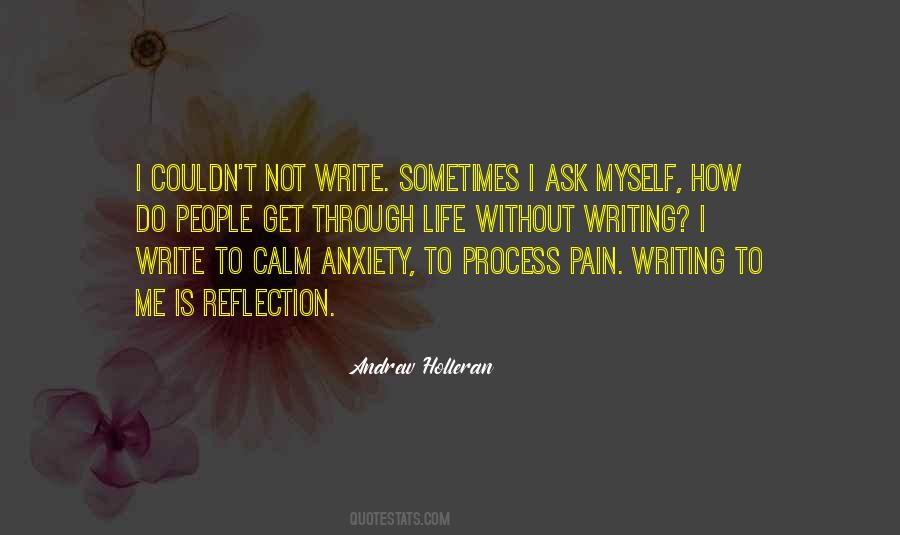 #95. I view myself as someone who is always trying to make life better in practical ways and putting the pieces together to do that. - Author: Marcy Kaptur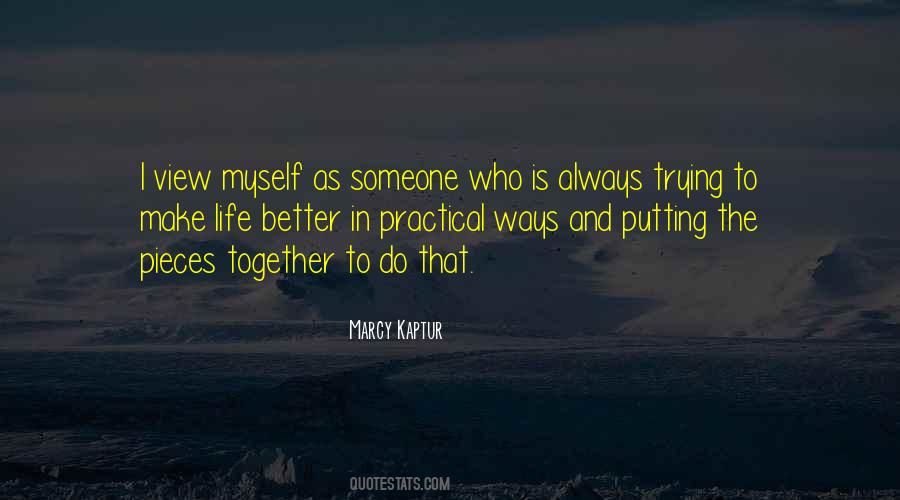 #96. Finally there was a moment when it just hit me. John wouldn't want me to sit on my butt for the rest of my life feeling sorry for myself or sorry for him. As cheesy as it sounds, he would have wanted us to go on. - Author: Kaley Cuoco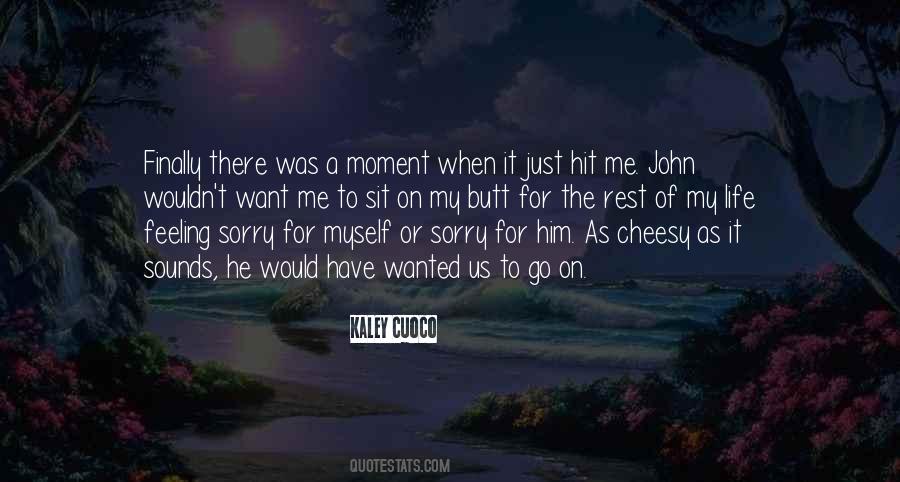 #97. I've gotten very good at scheduling my life, scheduling the scene and preparing myself for knowing, saving the energy, consuming the energy, knowing when to go for it and having the available reserves to be able to do that. You have to think about that, because it's endurance. - Author: Tom Cruise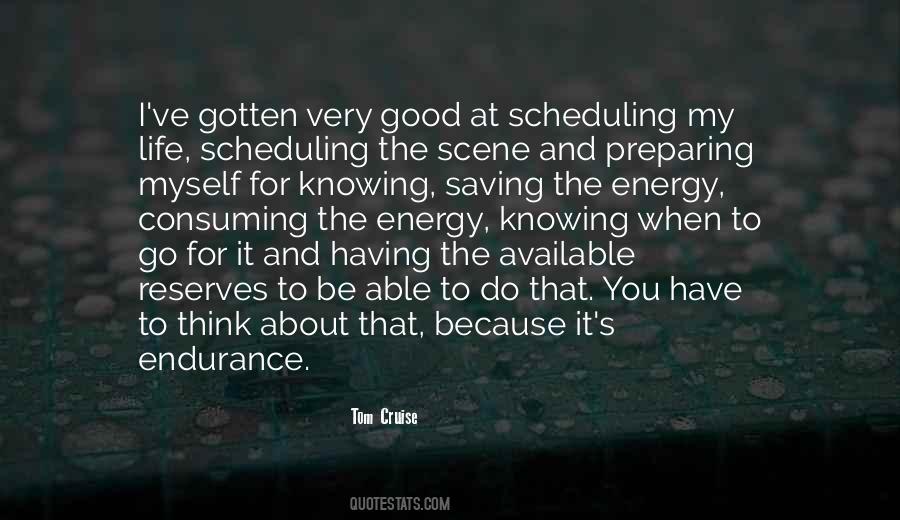 #98. Like everyone else in this world, I have had struggles. There's disappointment and obstacles in everybody's life. I feel like I was writing 'Second Chance' not just for myself, but also for the people who have struggled. - Author: El DeBarge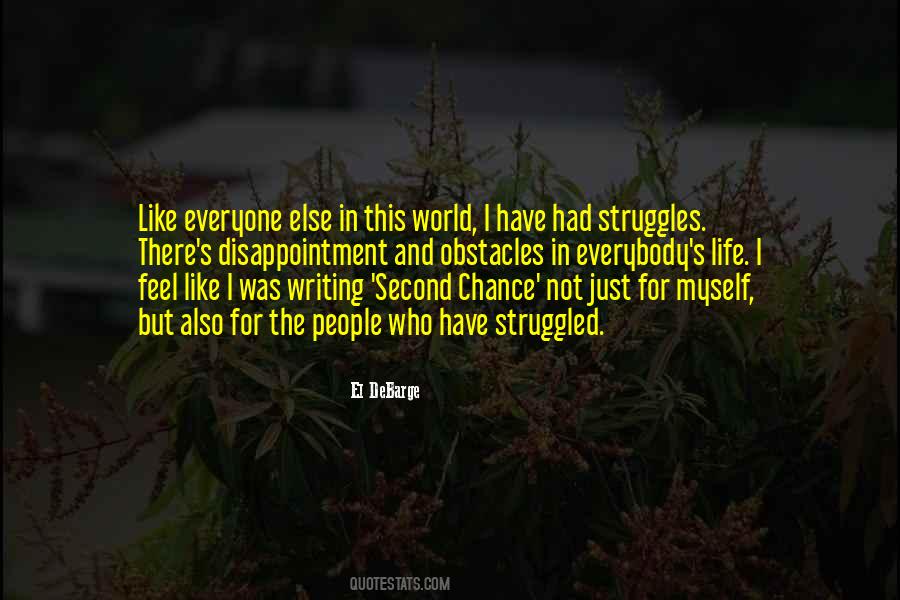 #99. A lot of my songs are about death and the fleetingness of life. It just feels good to remind myself about that a lot. For whatever reason. And it's a beautiful thing, actually. It seems to me like it's a beautiful way to live in the world and to relate to things, with an awareness of temporality. - Author: Phil Elvrum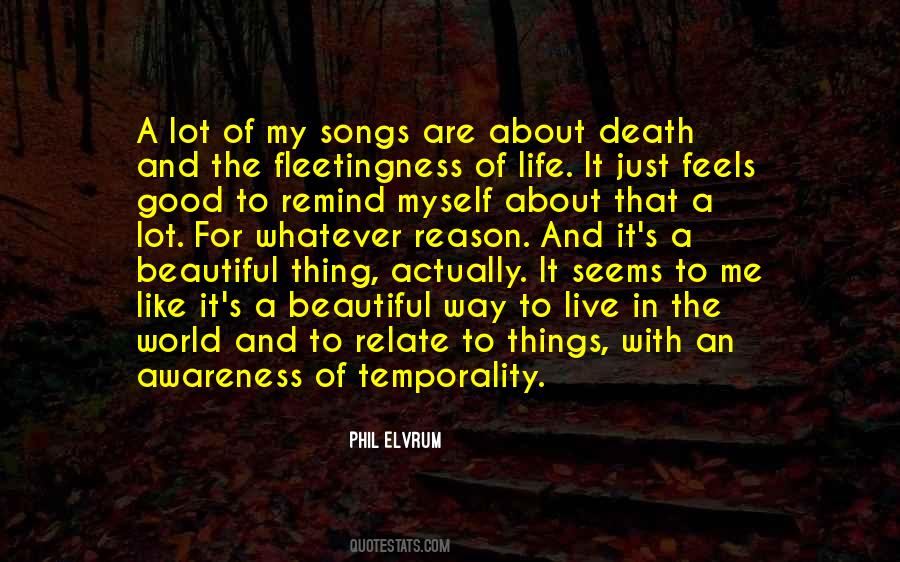 #100. I found myself when I least expected you- at the same old rocking chair in the room with the same flavor of tea. The only difference was the tea had turned cold, just as life had. And I found myself with an option. I could abandon this tea anytime and make a fresh one. You see? - Author: Jasleen Kaur Gumber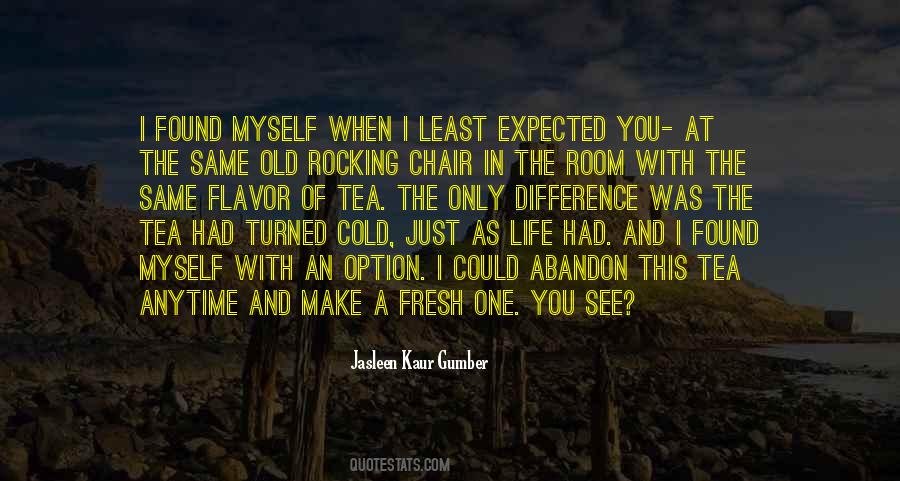 Famous Authors
Popular Topics