My Family And Friends Famous Quotes & Sayings
List of top 100 famous quotes and sayings about my family and friends to read and share with friends on your Facebook, Twitter, blogs.
Top 100 Quotes About My Family And Friends
#1. My priorities are my friends and my family. - Author: Miley Cyrus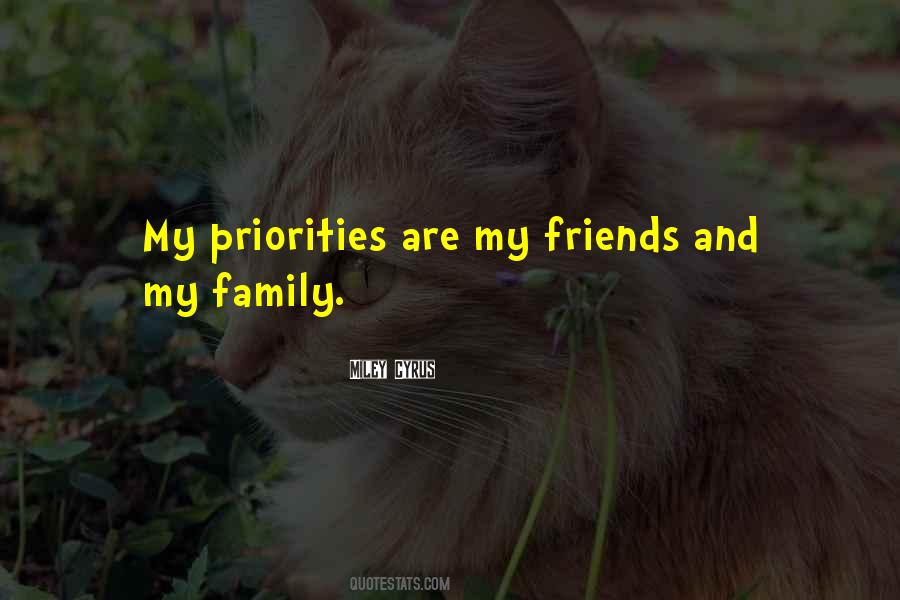 #2. A former congressman on his sexting habit: I have made terrible mistakes. I have not been honest with myself, my family, my constituents, my friends and supporters and the media. - Author: Anthony Weiner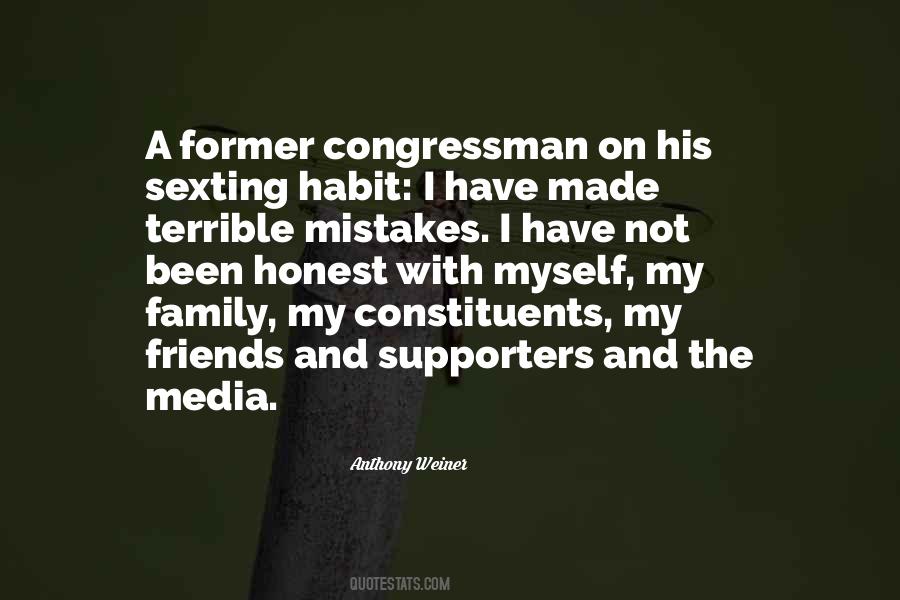 #3. learned that life is as simple or as complicated as you make it. I had chosen to simplify my life to include only the best things: my family, friends, and the mountains. - Author: Jeff Alt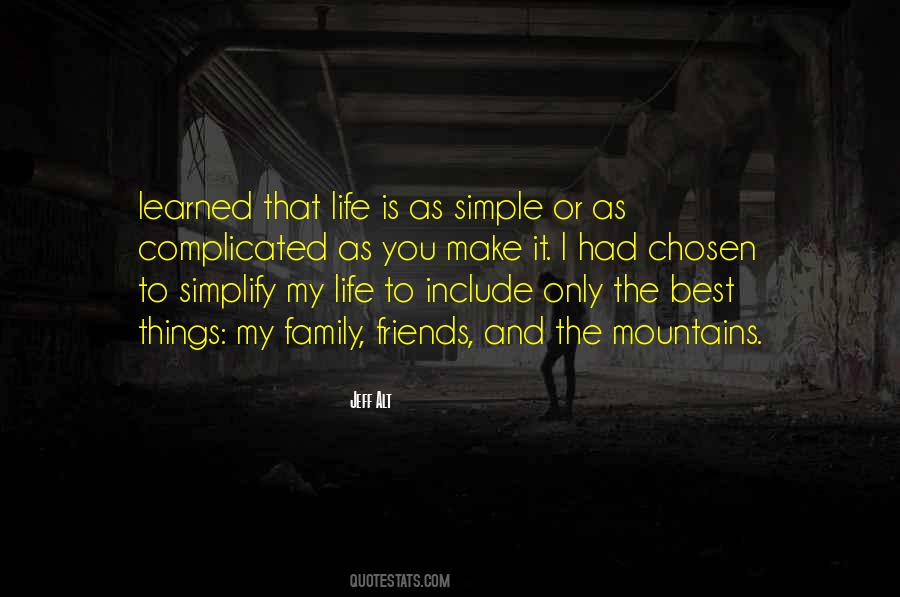 #4. My illness is one often characterized by dramatic overspending - in my case through frenzied shopping sprees, credit card abuse, excessive hoarding of unnecessary material goods and bizarre generosity with family, friends and even strangers. - Author: Andy Behrman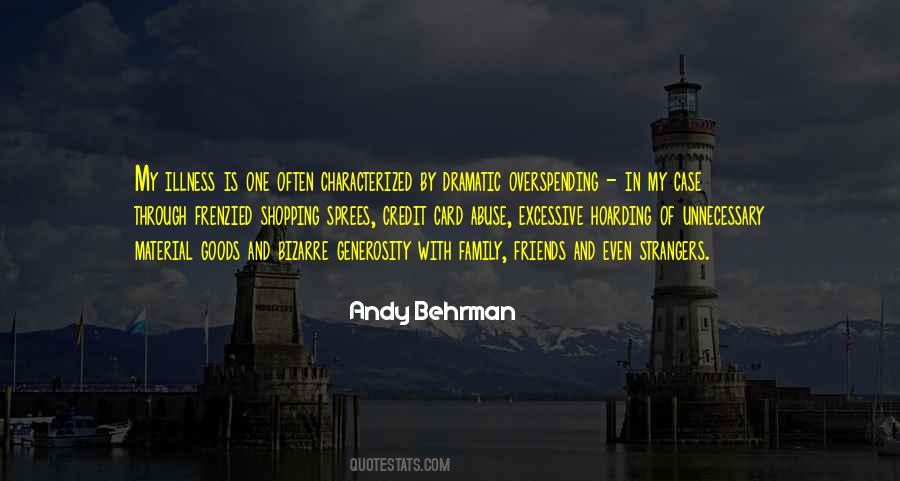 #5. ..i'd like to take my professional life, my career, my writing, my family and my friends seriously, but please, please protect me from ever taking myself too seriously.... Seumas - Author: Seumas Gallacher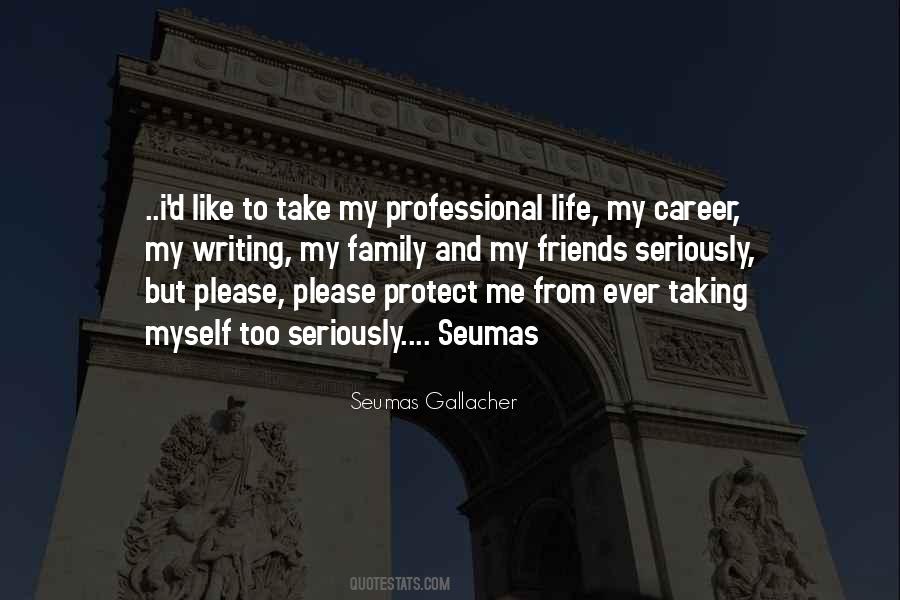 #6. The thing I know for sure is that at the end of my life, what I'm going to remember is the love I felt for my family and my friends, and whatever good I did for other people. - Author: Barack Obama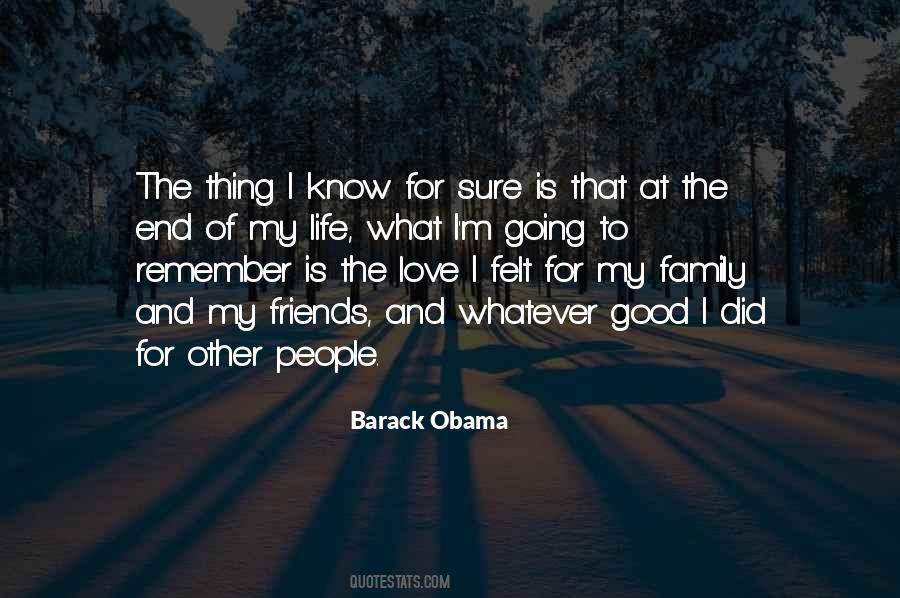 #7. I grew up playing music and enjoying good food, friends and family in my own backyard. - Author: Rodney Atkins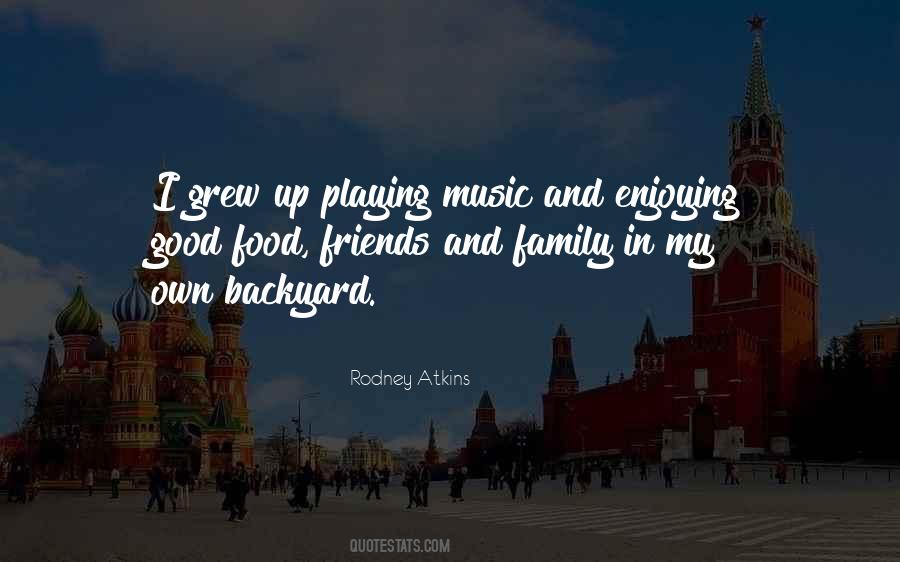 #8. My schedule can be hectic, so I'm always trying to find time to see my friends and family. - Author: Jessica Szohr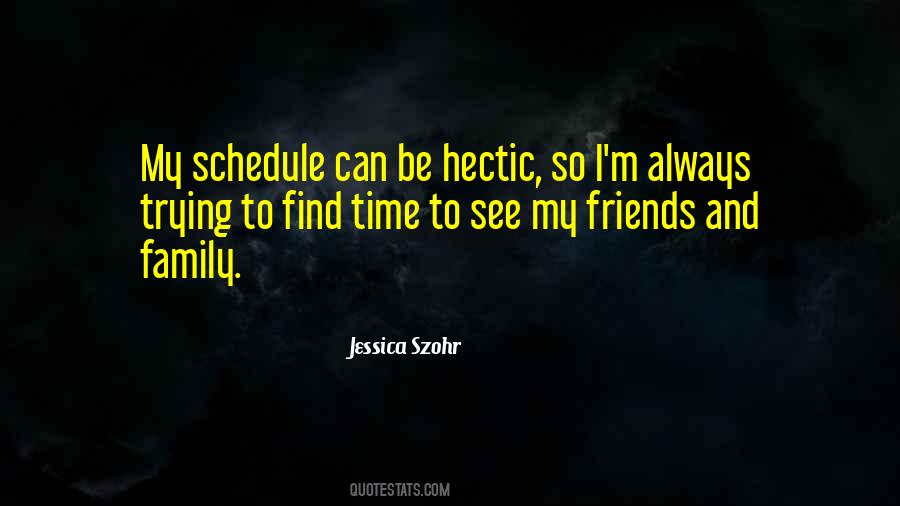 #9. My most treasured possessions are not things; they are only things, my friends, family and animals are what counts. - Author: John The Apostle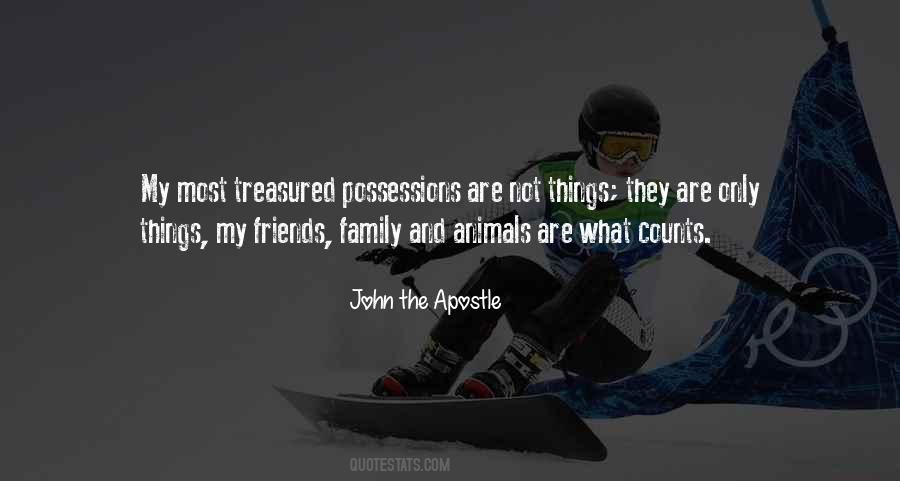 #10. I would be happy living on a massive ranch in Montana and not seeing anyone except my friends and family. - Author: Nick Frost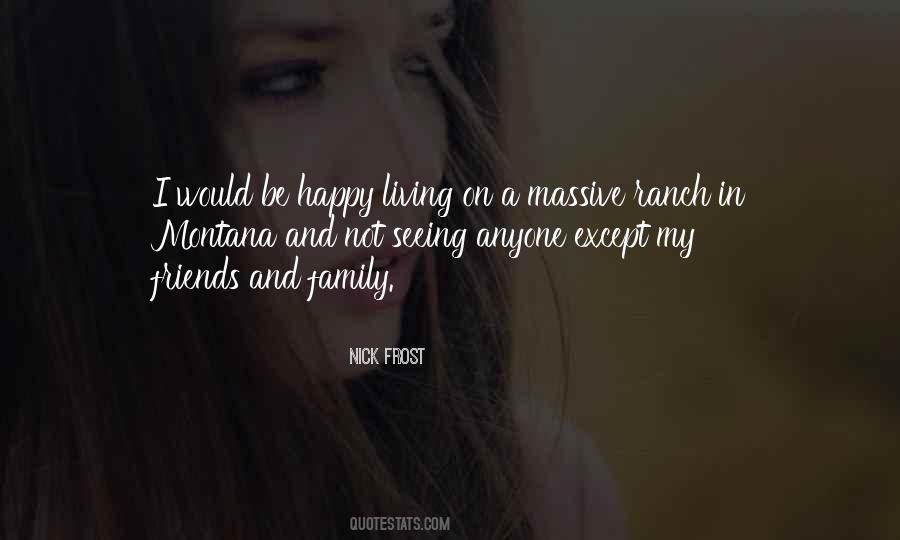 #11. The nicest part of the prize, perhaps, is the effect on my friends and family. Each of them feels proud and happy to have the relationship with me that they do. In a way, it's as though they received an award too, and I like that very much. - Author: Bruce Beutler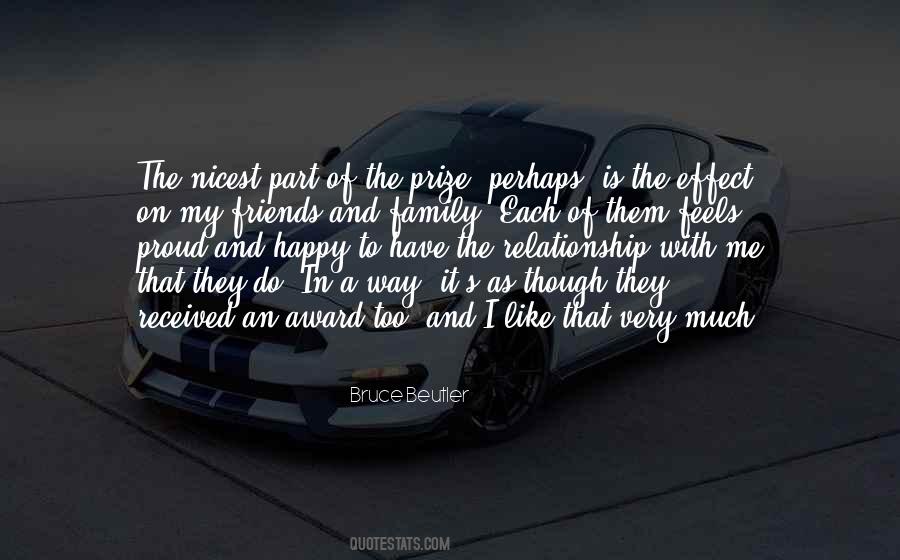 #12. Friends and family were convinced I was functioning just fine because I was efficient, productive and successful - who wouldn't be working twenty hour days? I had everybody fooled with my illness. - Author: Andy Behrman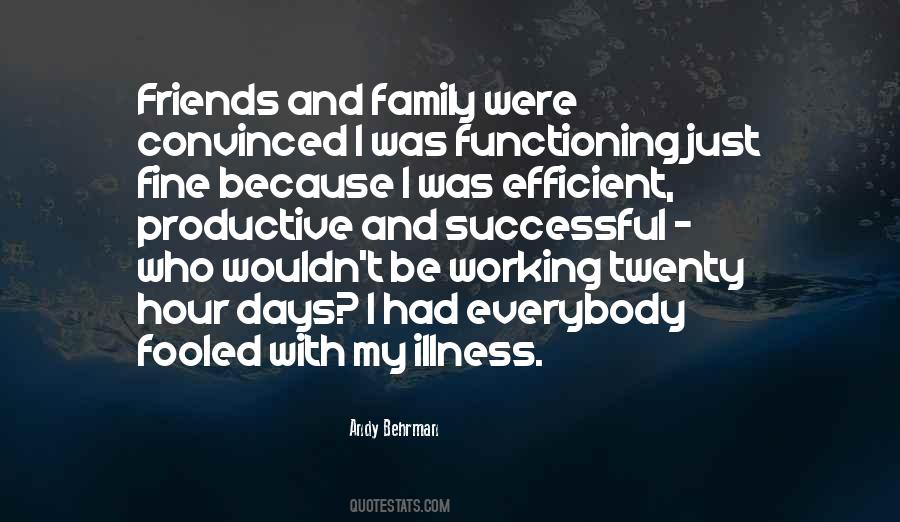 #13. I have heard nothing from my friends at The Family Guy. Yeah, I heard that they got picked up again and all that good stuff, but I haven't heard anything yet. But, you know, I'm very elusive and hard to contact. - Author: Patrick Warburton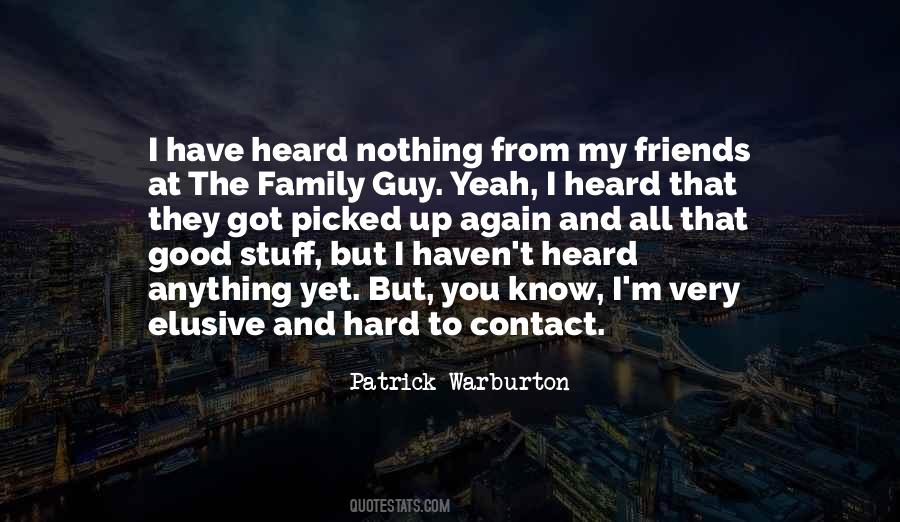 #14. My family loves to take me out, and we do regular things like go to the movies. My friends do that as well. At the same time, I love work and I want to be busy all the time! - Author: Olivia Holt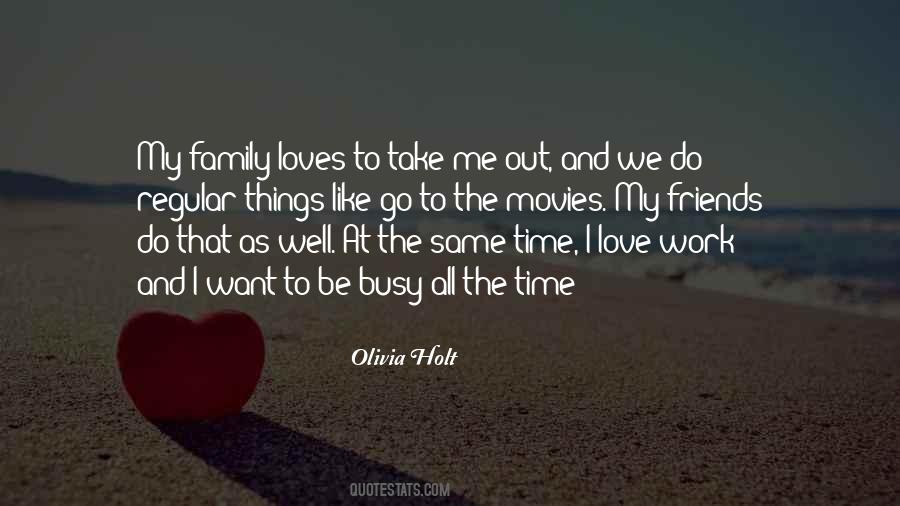 #15. I'm lucky to have a great support system in my friends and some of my family. If you have those people that you trust, go ahead and fall back into them and let them be your hammock and cocoon and let them embrace you. - Author: Jojo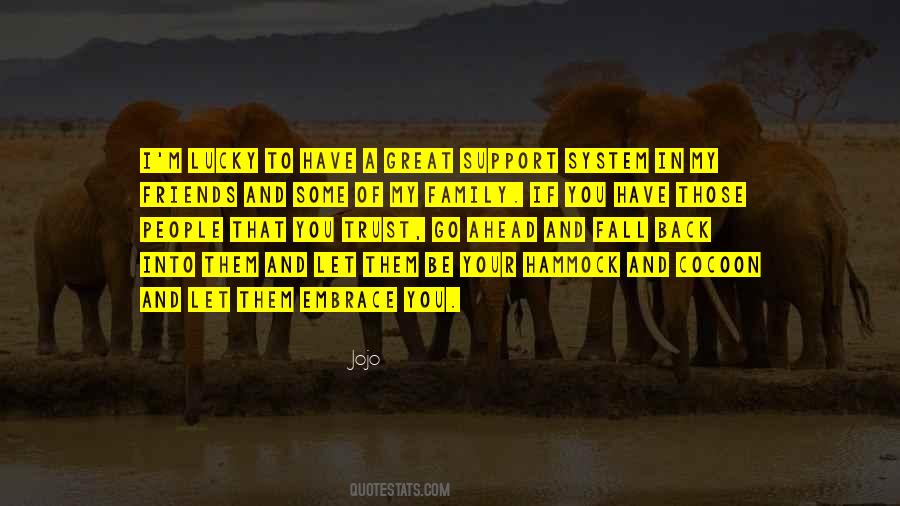 #16. I'd never stop traveling, and I love bringing my family along with me. My children have points of reference everywhere, friends from Milan to Los Angeles. I think it's really fun for them. - Author: Valeria Mazza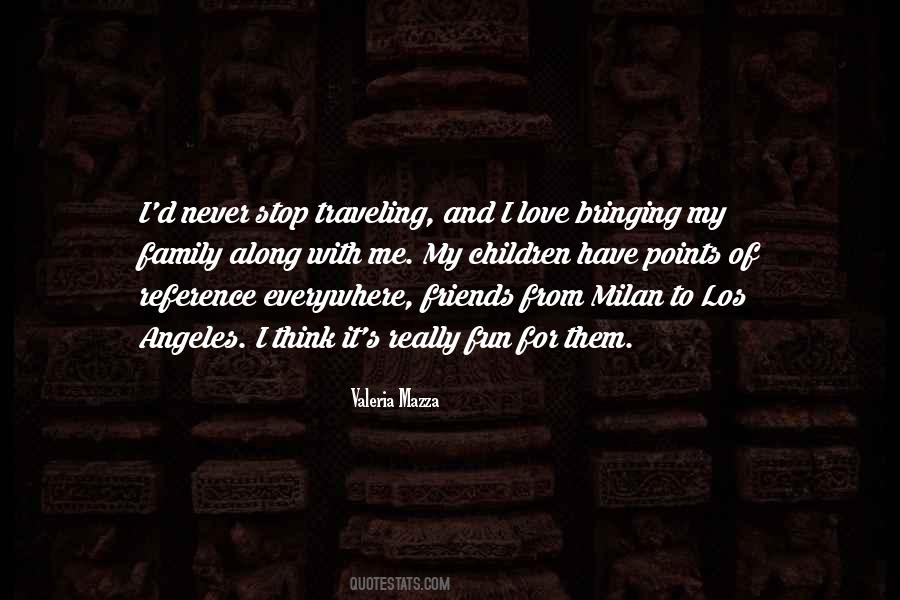 #17. Deep in my heart I know I am a loner. I have tried to blend in with the world and be sociable, but the more people I meet the more disappointed I am, so I've learned to enjoy myself, my family and a few good friends. - Author: Steven Aitchison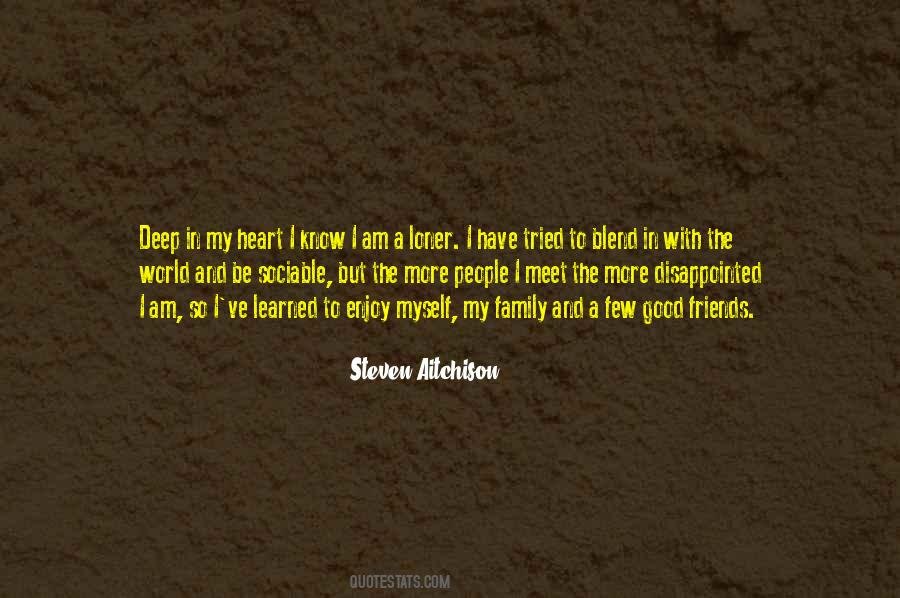 #18. My friends and family always thought I was pretty funny, but I don't know if they thought I was get-my-own-show funny. - Author: Nick Kroll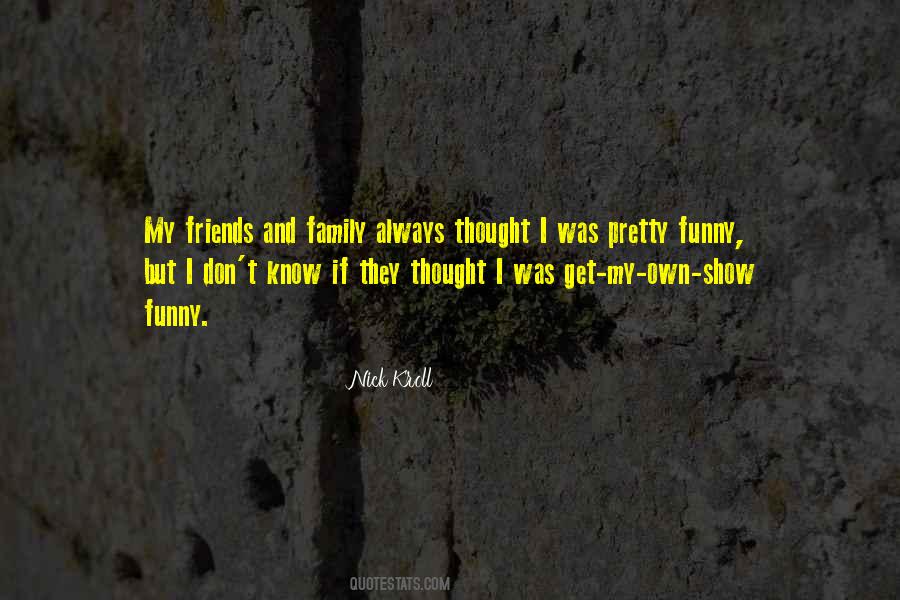 #19. My name is Asher Lev ... I am a traitor, an apostate, a self-hater, an inflicter of shame upon my family, my friends, my people; also, I am a mocker of ideas sacred to Christians, a blasphemous manipulator of modes and forms revered by Gentiles for two thousand years. - Author: Chaim Potok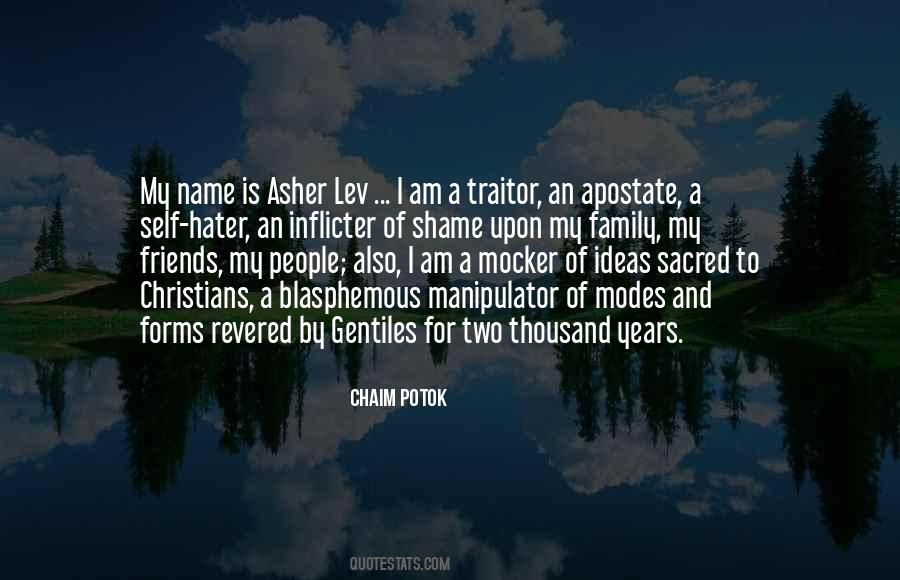 #20. Probably the people around me and the people I care about. They are my motivation. That's probably what drives me to succeed. Family and friends. - Author: Taylor Lautner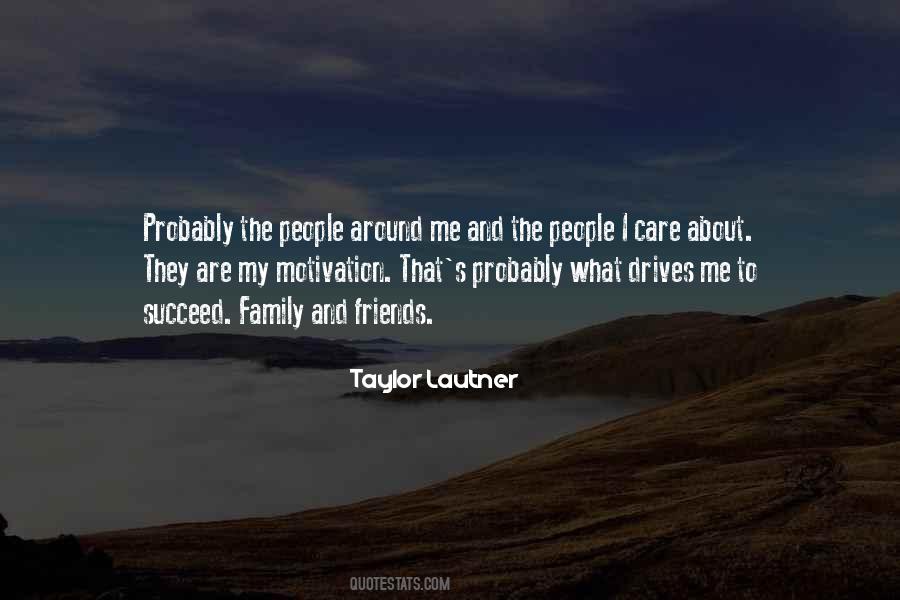 #21. Which has left me with a healthy respect and fondness for higher education that those of my friends and family who attended universities were cured of long ago. - Author: Neil Gaiman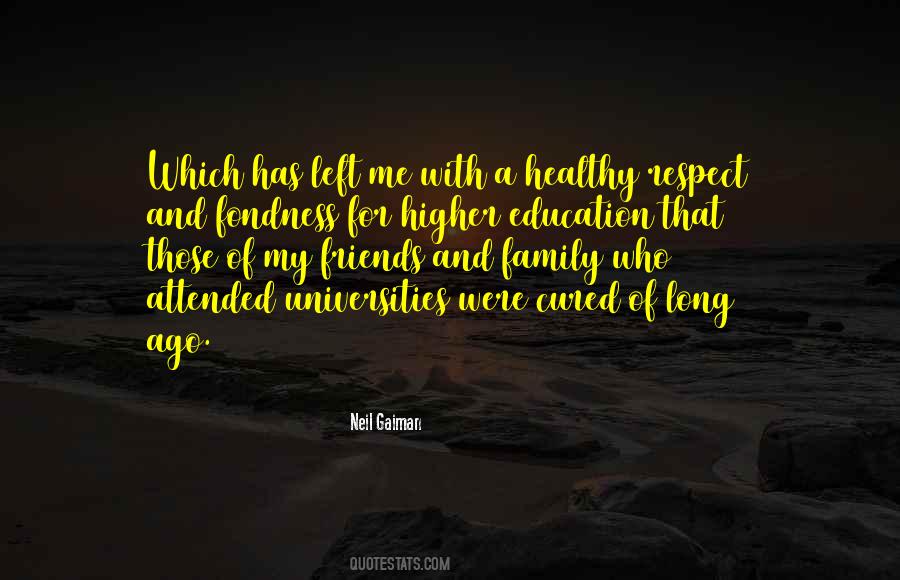 #22. I tend to listen to my friends and family empathetically, and I try to help work through their problems from the inside. I try to adopt their thinking. - Author: Tom Barbash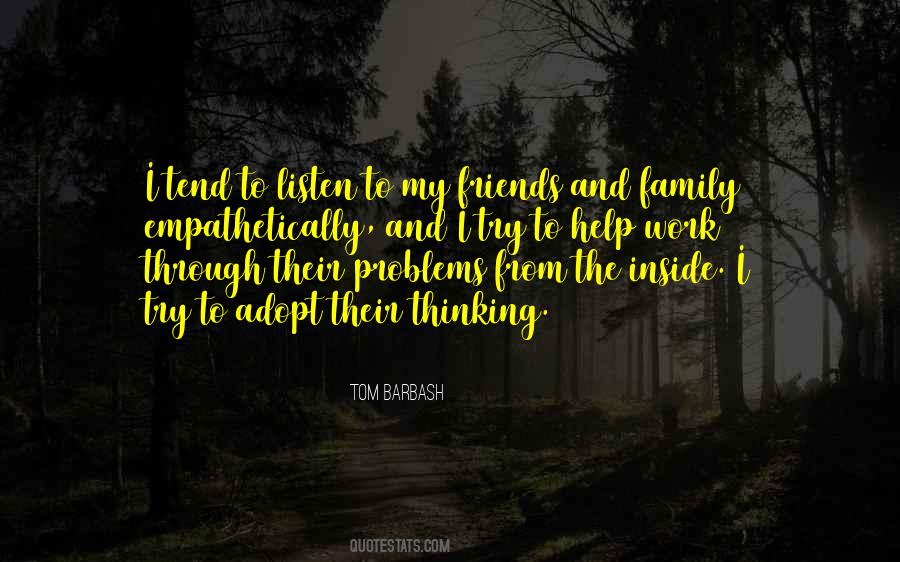 #23. My endorsement of Senator Obama will not be welcome news to my friends and family at the Clinton campaign. - Author: Joe Andrew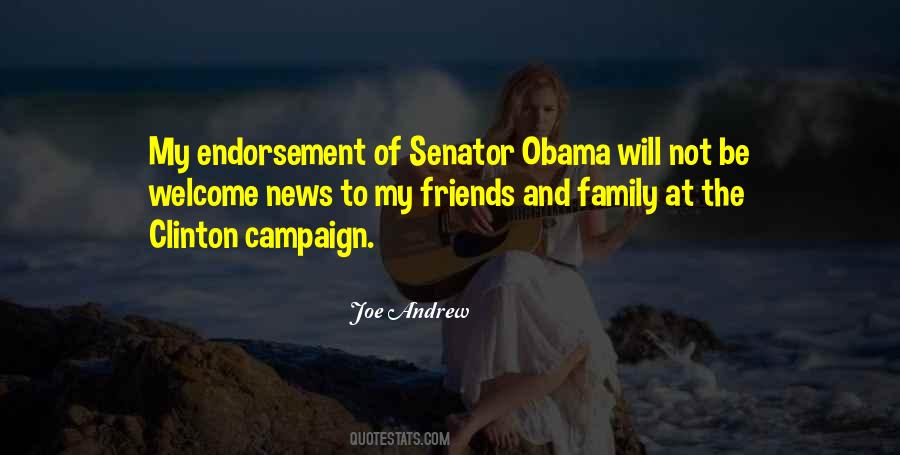 #24. Christmas is far and away my favorite holiday. I love everything about it, from the event that inspired it, hoping for a white one, to wrapping presents. But mostly I love having family and friends gathered, and sharing traditions. - Author: Ellen Hopkins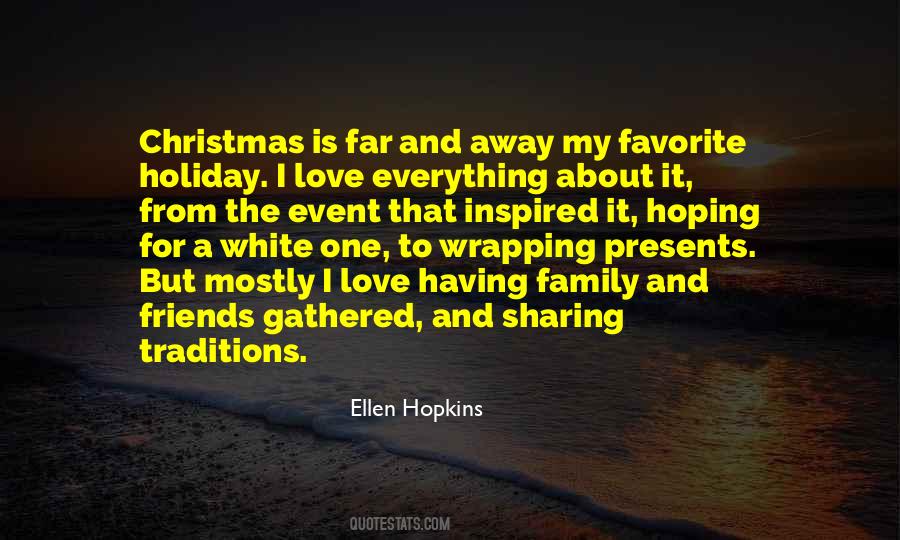 #25. I'm really connected to people, and my relationships with people are paramount, so I write about relationships, particularly strong female ones. In my family, there were six girls born in five years. We were best friends. And my parents raised all of us as first-class citizens. - Author: Alane Ferguson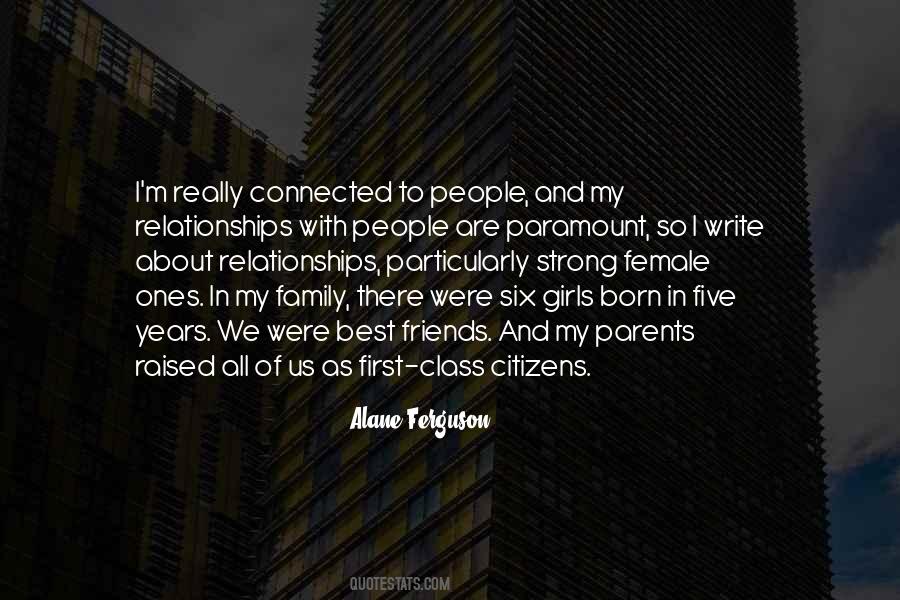 #26. I try to surround myself with a good support system. Whether that's other creators or my family or my friends, or even my viewers, who encourage me just as much as I might encourage them and they're just as much a part of my life as they let me be a part of theirs. - Author: Tyler Oakley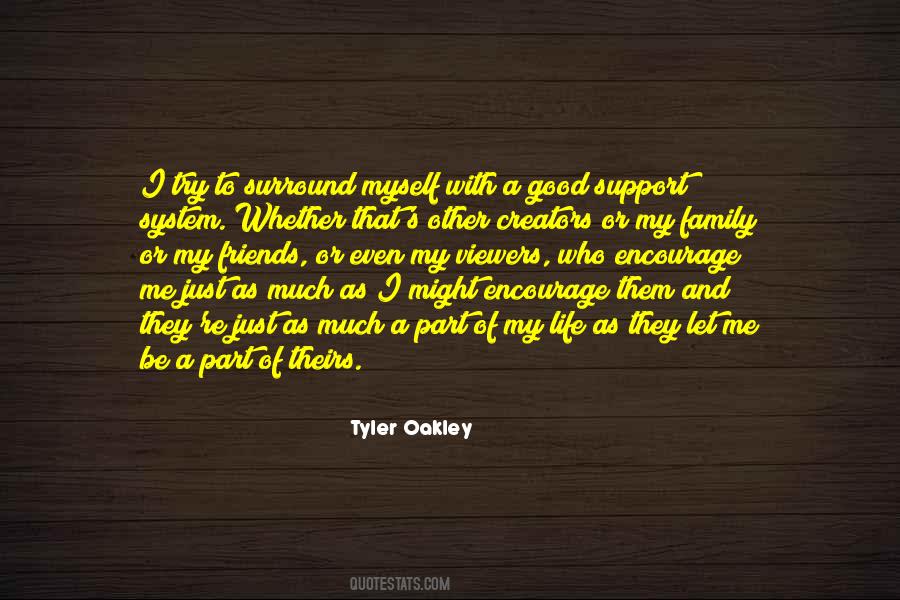 #27. I am my own worst enemy. My friends and family will say, 'You've got everything going for you right now', and I say, 'Oh yes, but!' Which is not a good way to be. - Author: Tamsin Egerton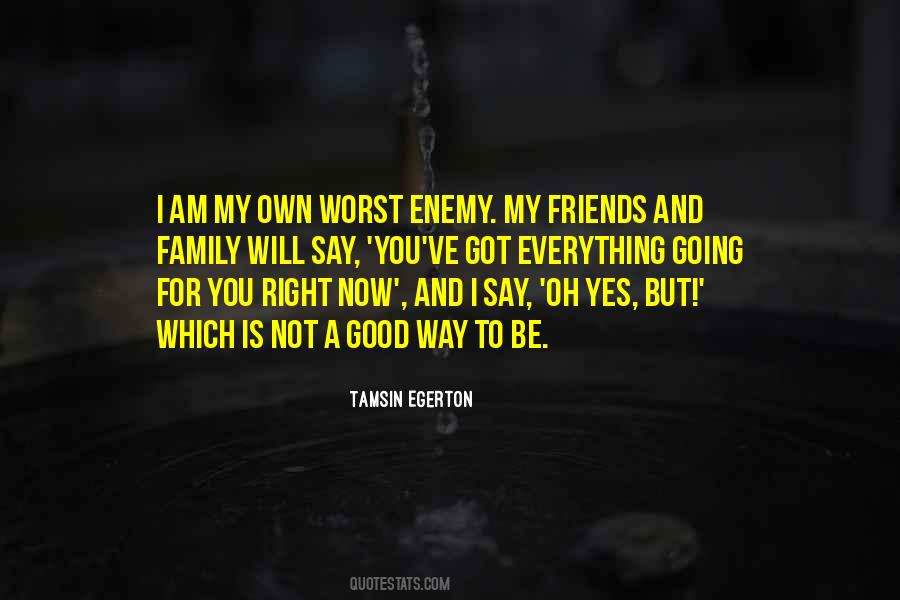 #28. I have tried to live my life so that my family would love me and my friends respect me. The others can do whatever the hell they please. - Author: John Wayne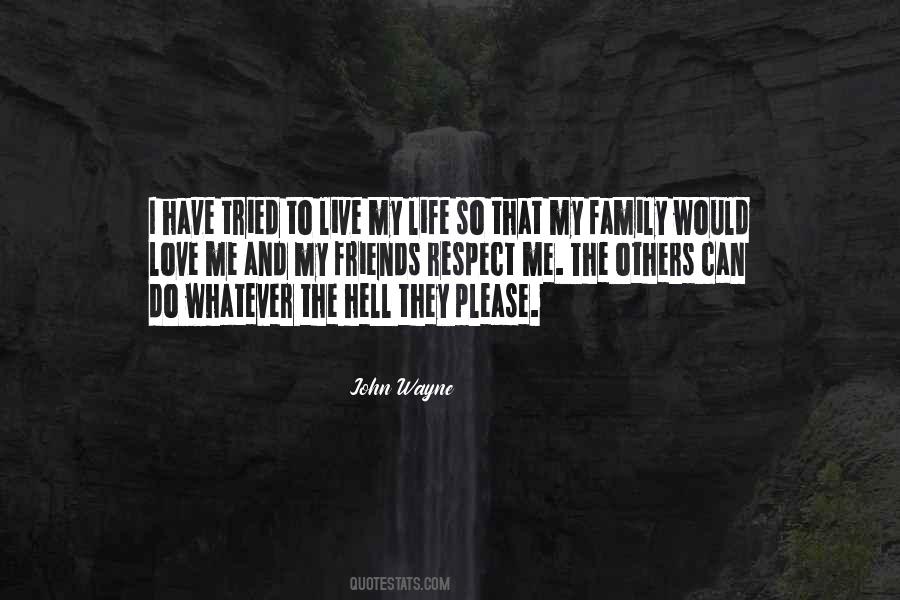 #29. I love time with family and friends, but completely relish time on my own when I have no agenda to follow, no to-do's, just me and time alone. - Author: Jacqueline Winspear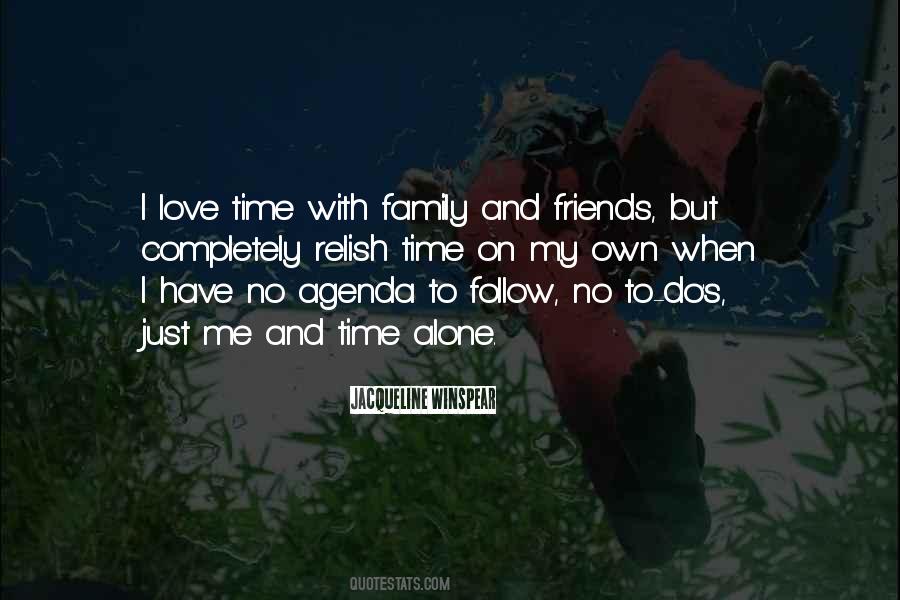 #30. My family and friends were definitely the key to my recovery. One thing that I do suggest is that anyone dealing with a life-threatening illness like cancer choose a point person for people to call to find out how you are doing - a sister, brother, mother, father, daughter, son, or close friend. - Author: Olivia Newton-John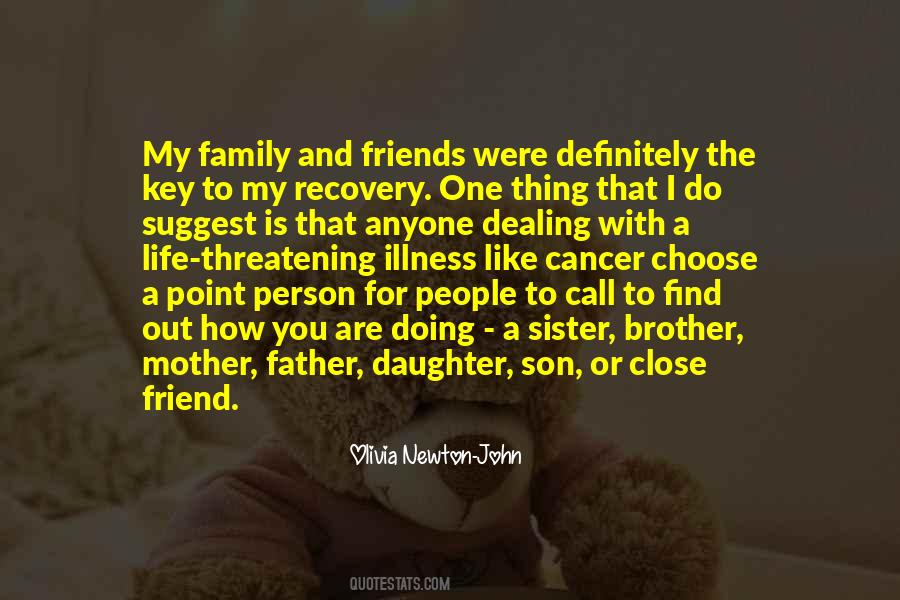 #31. My childhood name that my father gave me, my mother, my grandmother, grandfather, family and friends all call me T.I.P. - Author: T.I.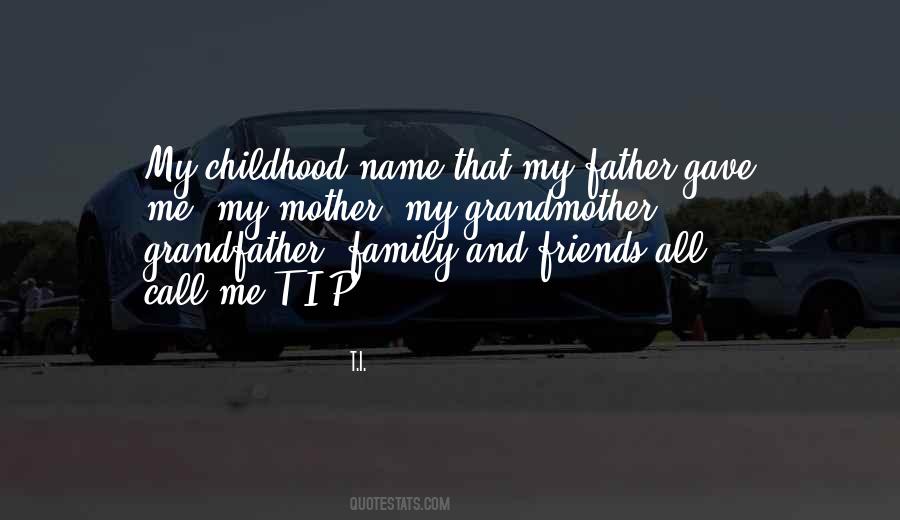 #32. Getting to where Delaware State is today was a challenge my friends - a challenge proudly met by the people of this community and the Delaware State family. - Author: Michael N. Castle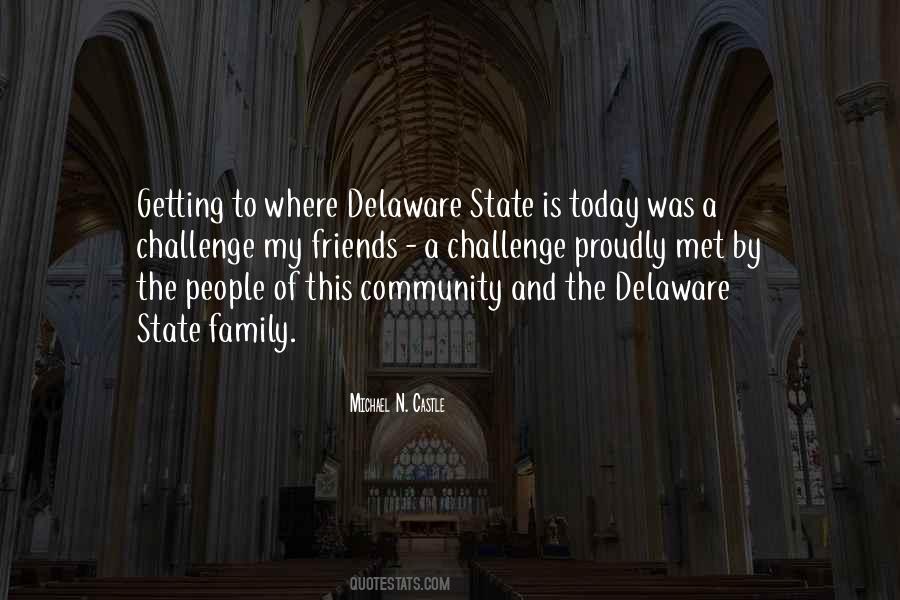 #33. I'm not part of the friends-and-family club; I'm not part of the pay-to-play club; I'm not looking to get re-elected. I'm not looking to go to another office and fill my campaign coffers. I don't need any friends in Albany except the people of the state. - Author: Carl Paladino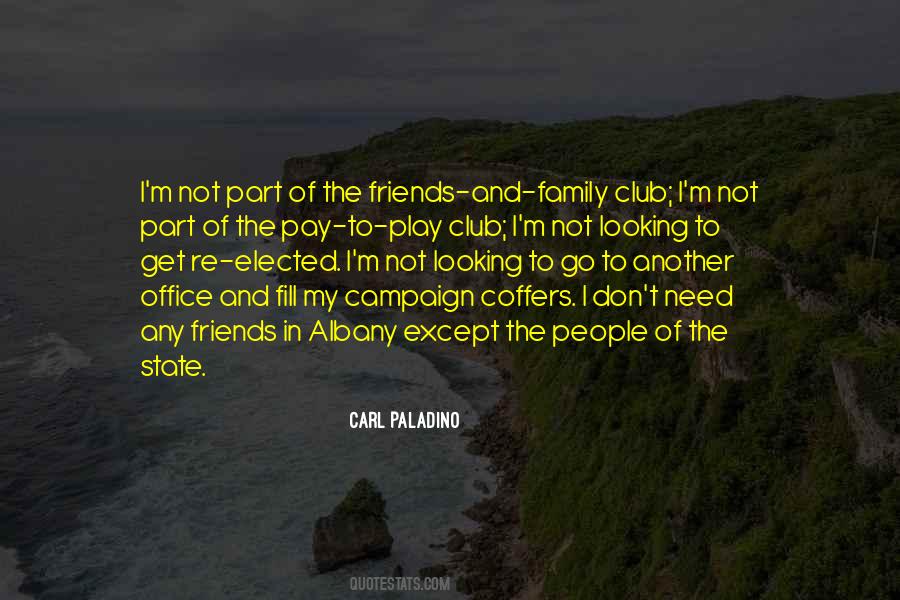 #34. I live life and try and smile as much as possible. Family and friends are everything." - "That was my first real lesson. At the end of the day, you could be a hell of a marketer, but you're only as good as what you're marketing. - Author: Scooter Braun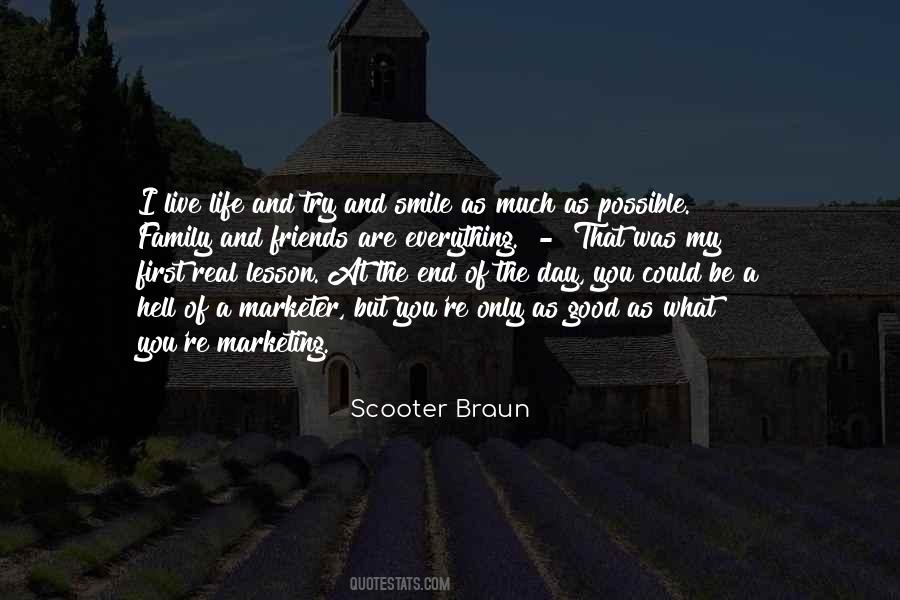 #35. I need the sun, sand and ocean to rejuvenate my spirit, the food to enliven my body and all of the familiar places, friends and family to revitalize my soul. I go for replenishment. For a kind of love that I truly know. For a place of belonging, always. - Author: Grace Gealey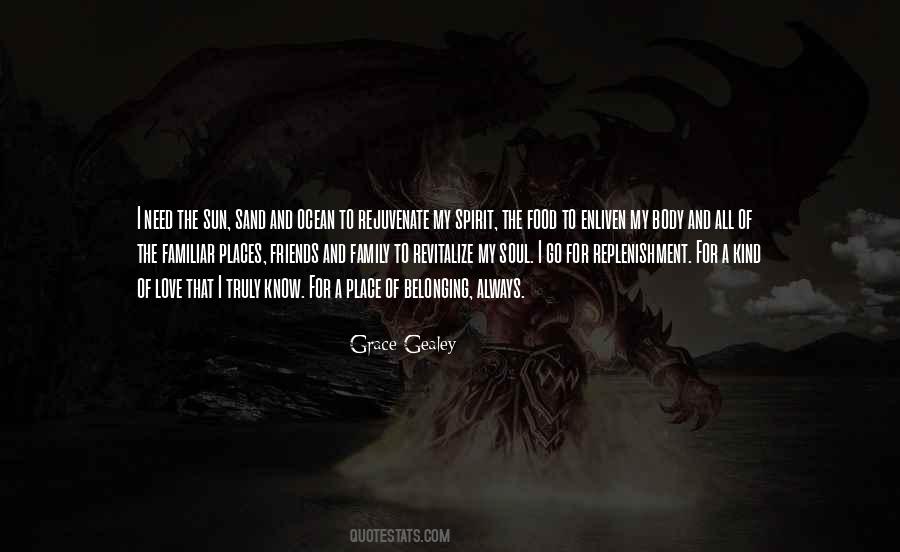 #36. My dad's sense of humor was direct and sometimes surreal - his quick wit is well known amongst our family and friends. He raised me on Spike Jones records and W.C. Fields movies, and his sense of humor fell somewhere in between. - Author: Tony Visconti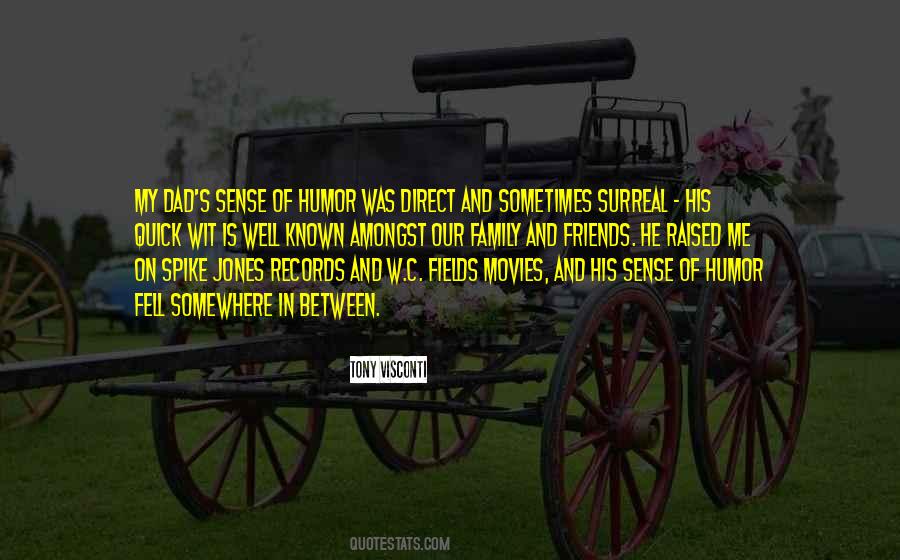 #37. I'm most passionate about anything to do with nature and the simple things. I love taking walks with my family or my friends and seeing nature. And that's why I love living where I live because I live up in the desert area in the mountains. - Author: Atticus Shaffer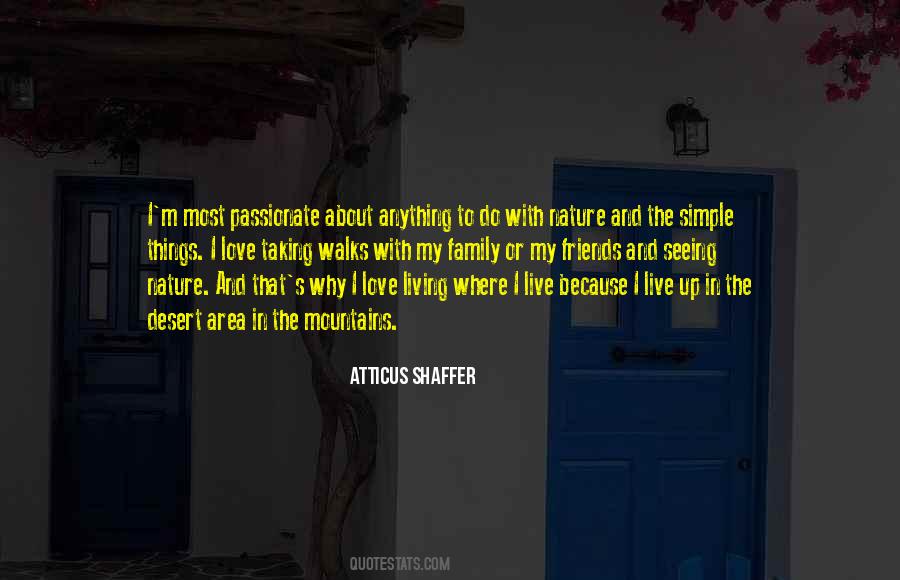 #38. When my son was growing up, I was always guilty, no matter what I did. Make decisions and be happy with the decisions you've made. I tell myself, in the long run, it's the love, the quality of relationships that you have with your family, your friends and giving back to the community that matters. - Author: Padmasree Warrior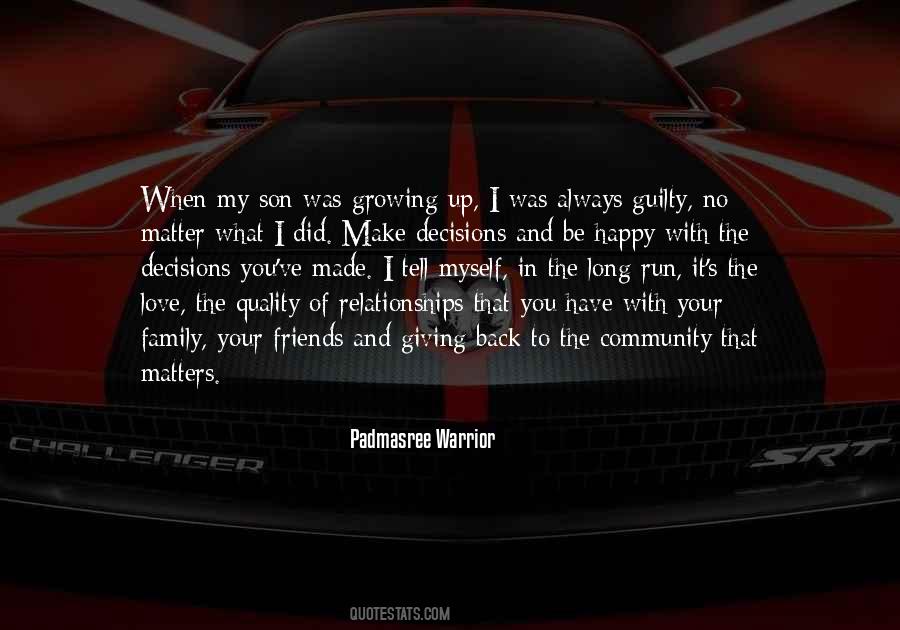 #39. My life, my family and my friends are back in the U.K., so ideally I would love the kind of career that is split between London and New York. - Author: Samuel Barnett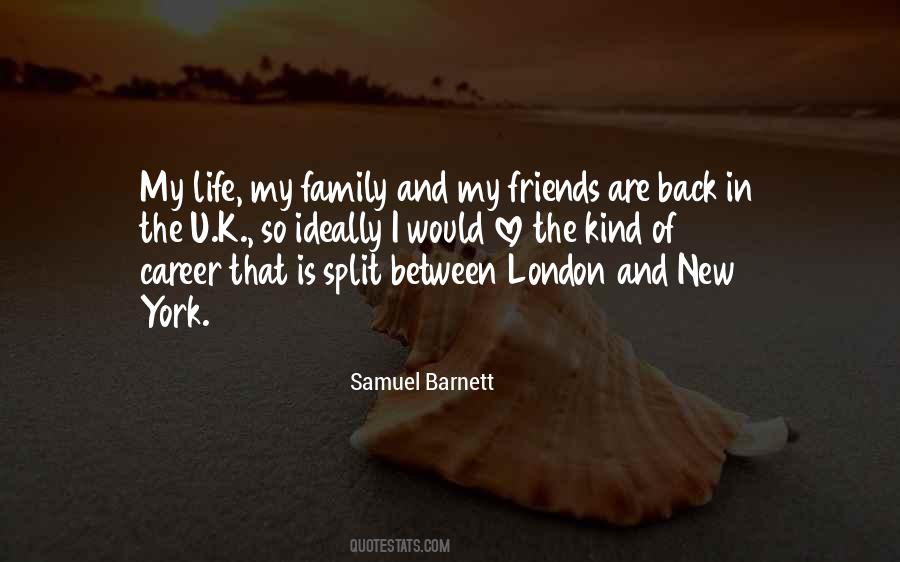 #40. My family and friends treat me as they always have. - Author: Daniel Craig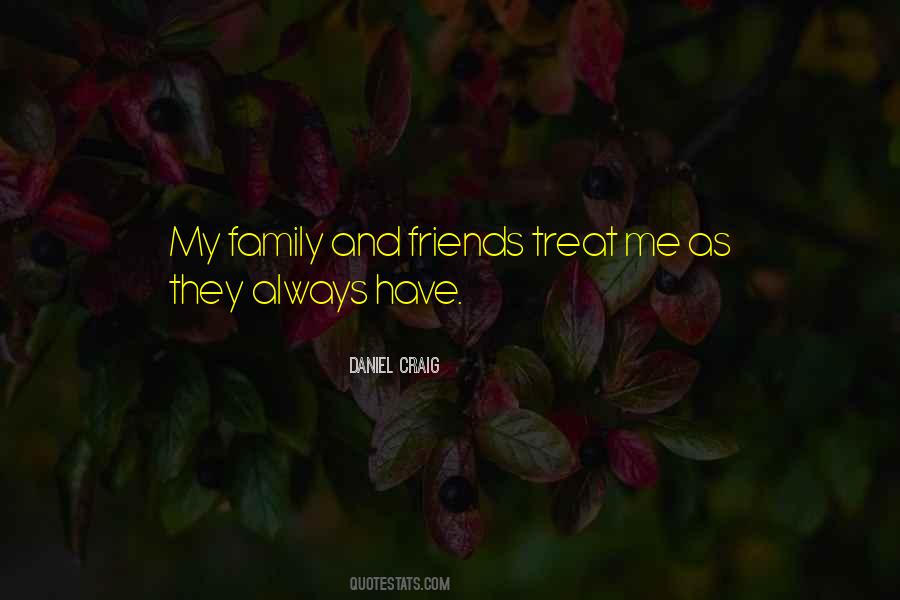 #41. My best career decision was probably not giving up when I wanted to. God as well as my family and friends were there for me during my toughest times. - Author: Jeremy Lin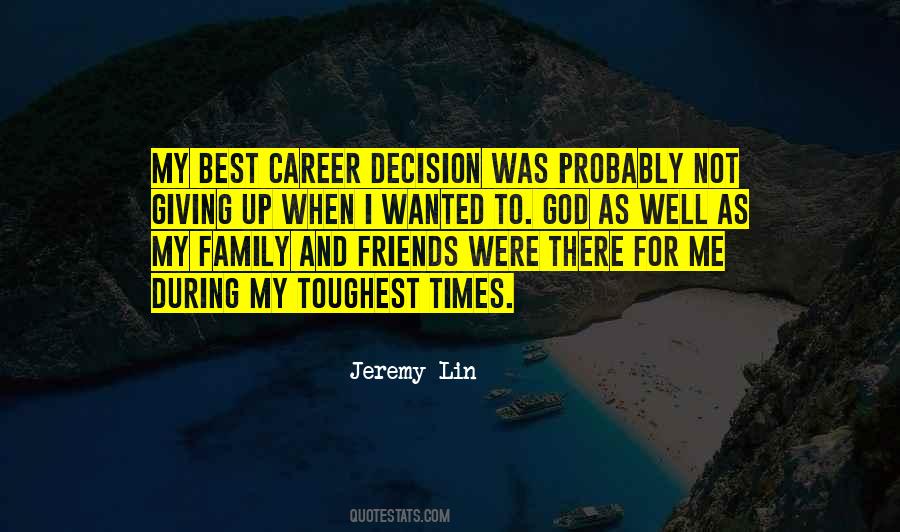 #42. When I'm writing, I separate from everyone. Even my band. I push myself, and I'm alone with my thoughts. Separating from friends and comforts and family lets you think a lot deeper about subject matter. Working alone drives me a little crazy, but it makes the writing as honest as possible. - Author: Vic Fuentes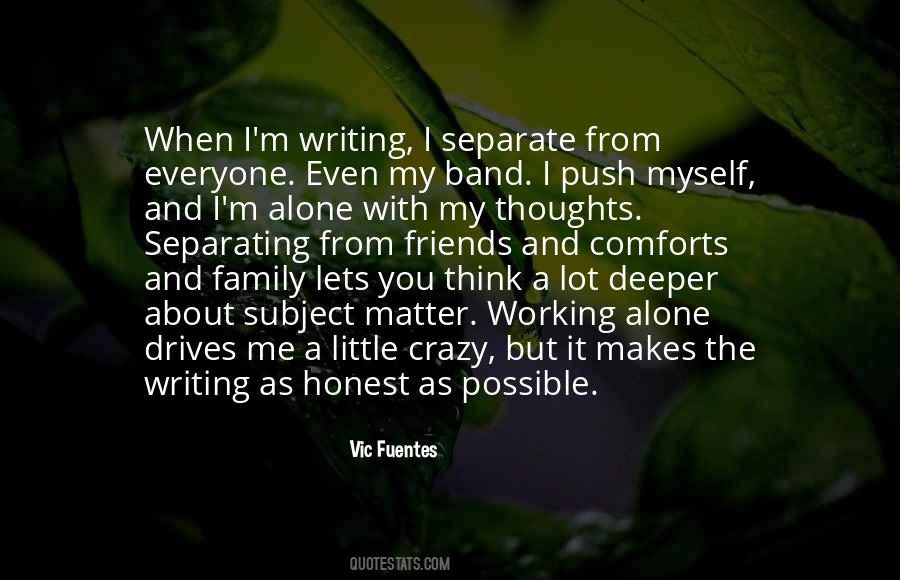 #43. Every year I resolve to be a little less the me I know and leave a little room for the me I could be. Every year I make a note not to feel left behind by my friends and family who have managed to change far more than I. - Author: Wendy Wasserstein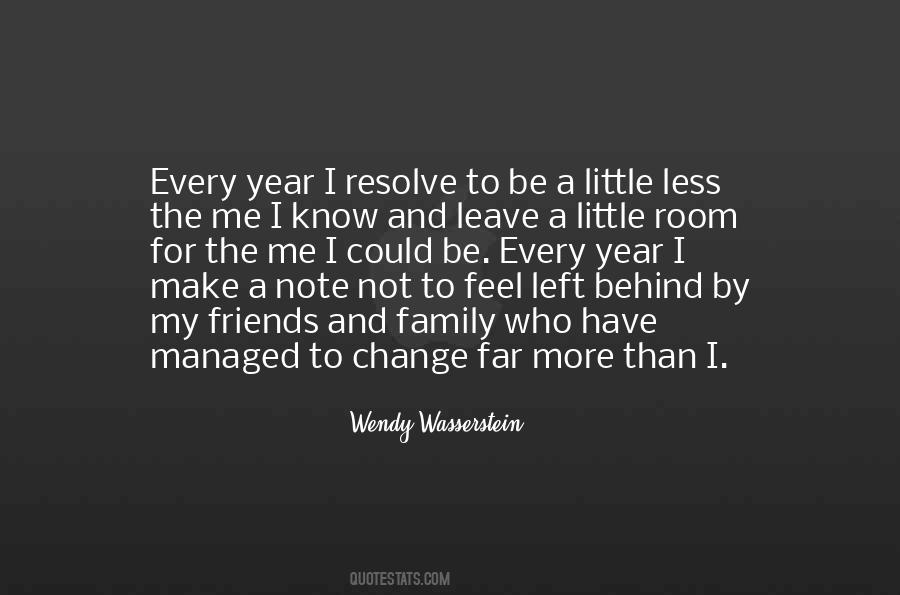 #44. It is important to me that everybody who has been hurt know that the sorrow I feel is genuine: First and most important, my family; also my friends, my staff, my Cabinet, Monica Lewinsky and her family, and the American people. I have asked all for their forgiveness. - Author: William J. Clinton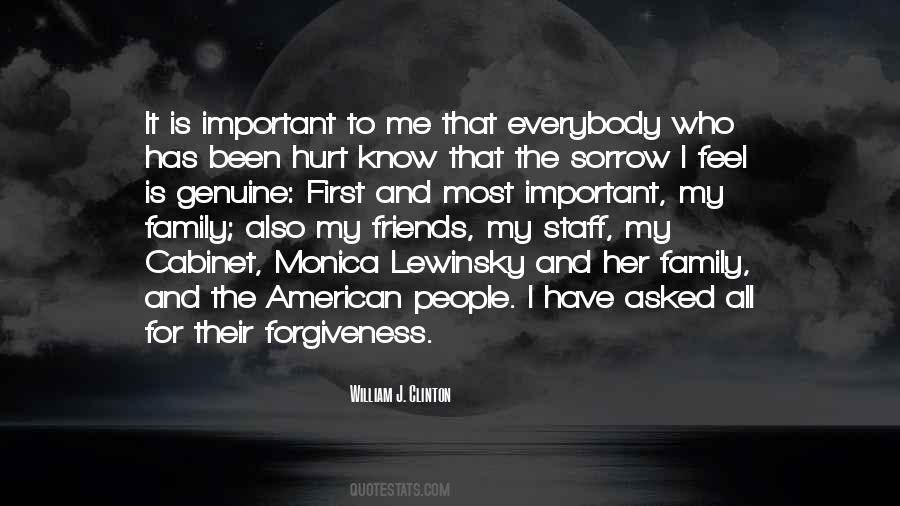 #45. I toured for about 2 1/2 years on twentythree and then I took about a year off. I really just spent some good quality time by myself at my house, cooking, watching movies, hanging with my friends, and family. I just really needed a chance to get away from the music for a minute and decompress. - Author: Tristan Prettyman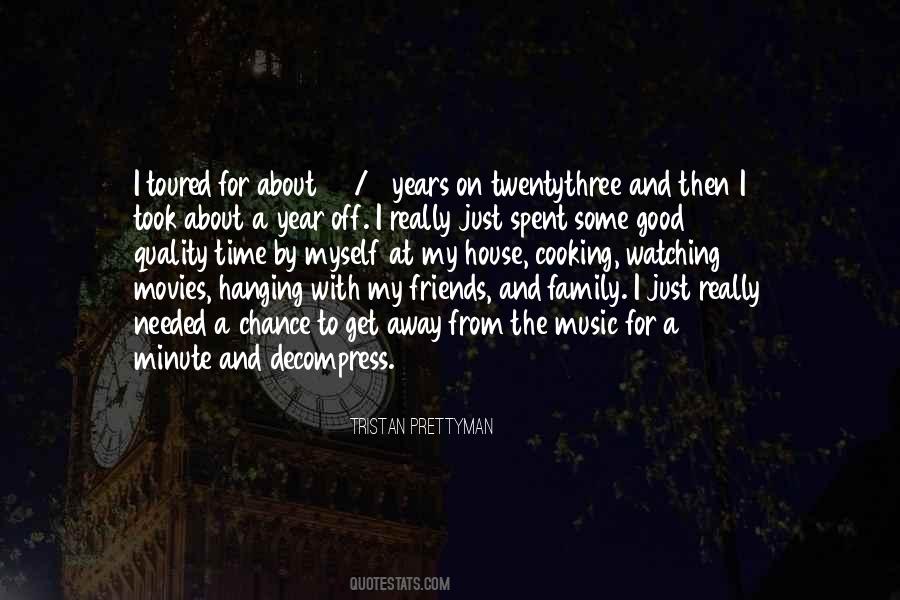 #46. I love my friends and family, but I also love it when they can't find me and I can spend all day reading or walking all alone, in silence, eight thousand miles away from everyone. All alone and unreachable in a foreign country is one my most favorite possible things to be. - Author: Elizabeth Gilbert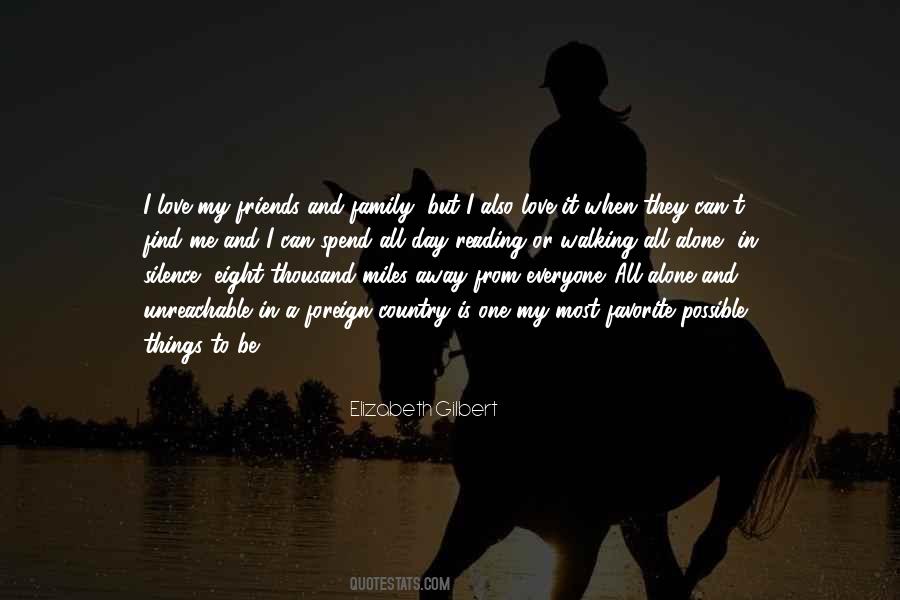 #47. The best advice I get is actually from my family and friends. That has been a huge resource I've come to rely on. - Author: Vanessa Minnillo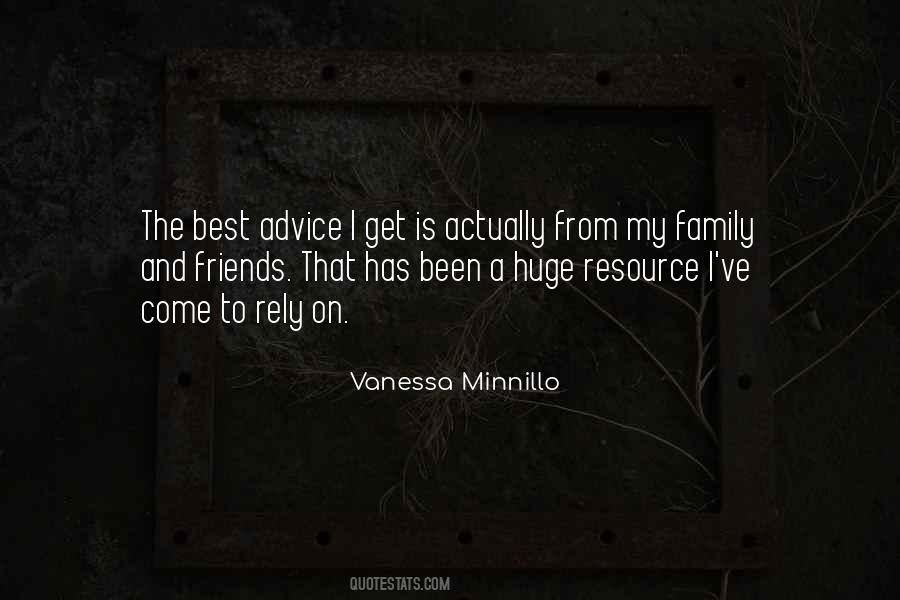 #48. My ideal day would be to get a good work out in, listen to music, talk to my family and friends on the phone, read and go to a good movie. - Author: Steve Nash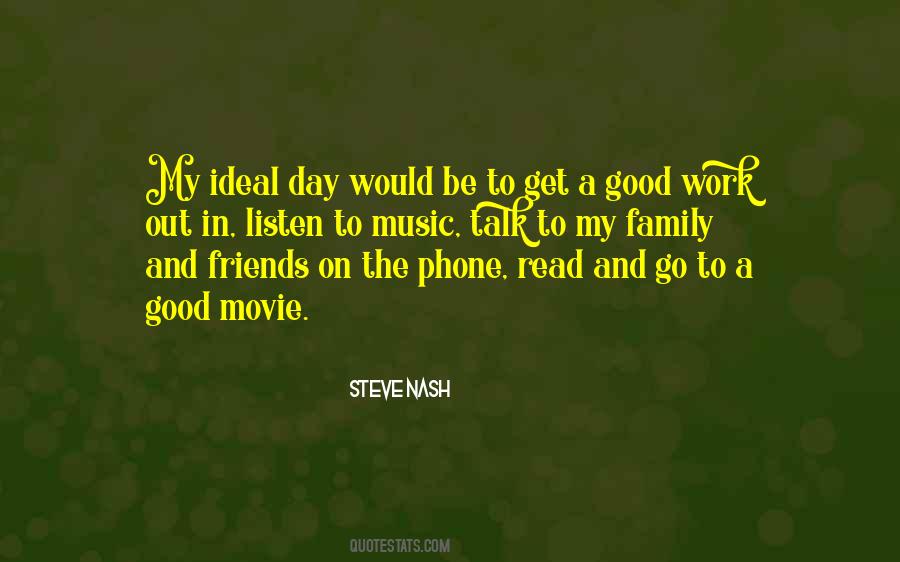 #49. You know, just in terms of having to have a life on the road, you know, having the celebrity aspect be a burden for my family, friends and extended family. - Author: Julius Erving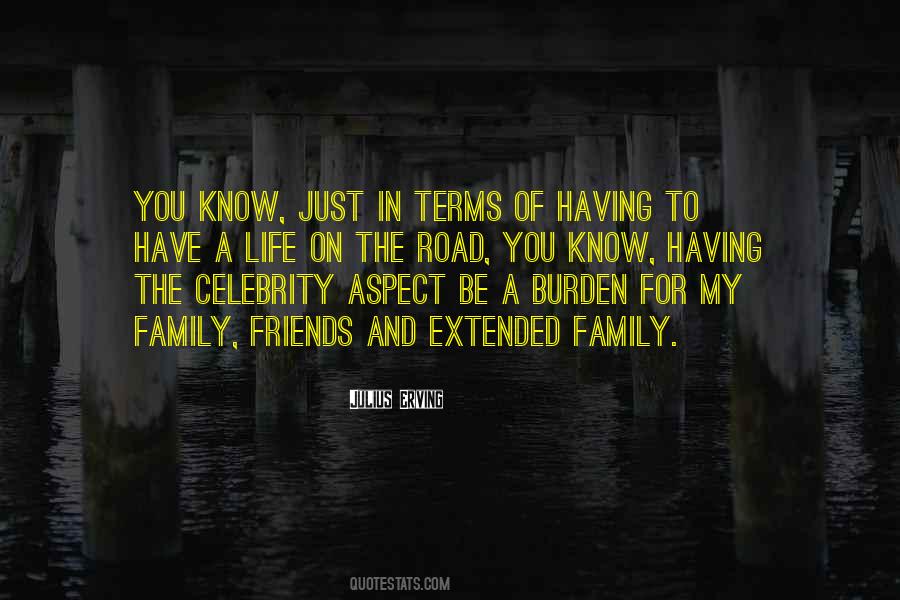 #50. I'm starting to judge success by the time I have for myself, the time I spend with family and friends. My priorities aren't amending; they're shifting. - Author: Brendan Fraser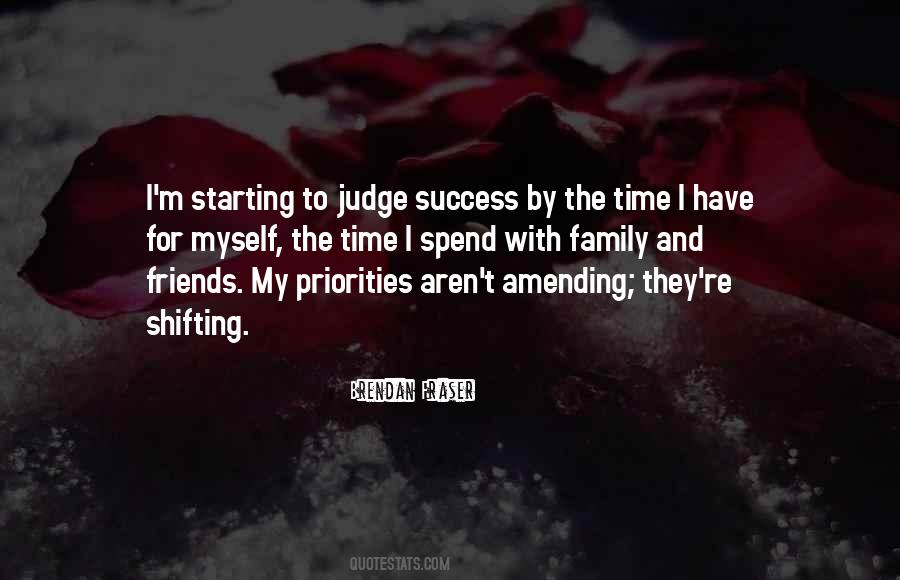 #51. I was born in 1976. I grew up in a traditional Mexican family. As a child, I had a pretty normal life: I would go to school, play with my friends and cousins. But then my father became President of Mexico, and my life changed. - Author: Emiliano Salinas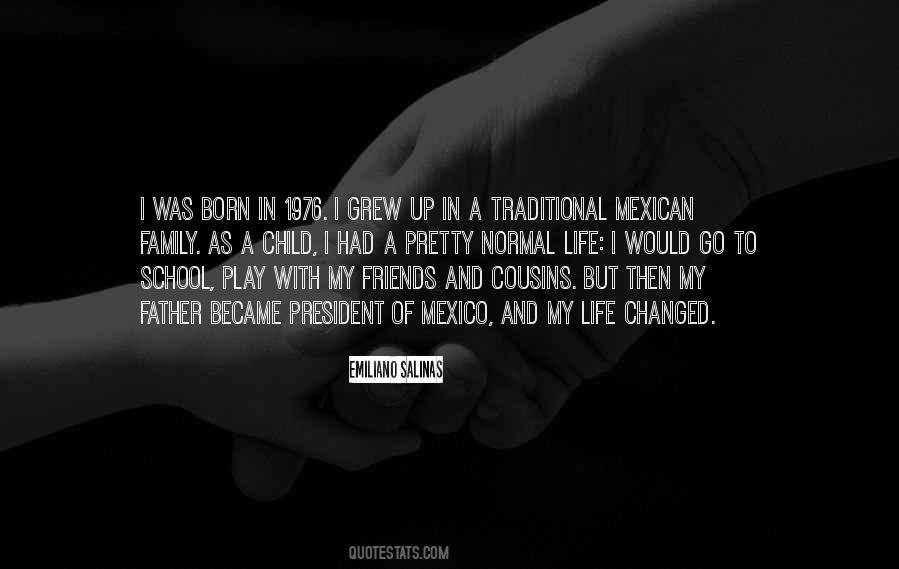 #52. Papa taps on the skylight and I look up. He waves at me and smiles. I smile back. For now, I don't need to know what lies ahead. For now it's enough just to be here, safe aboard the Morning Star with my family and friends. For now, it's enough to be home. - Author: Heather Vogel Frederick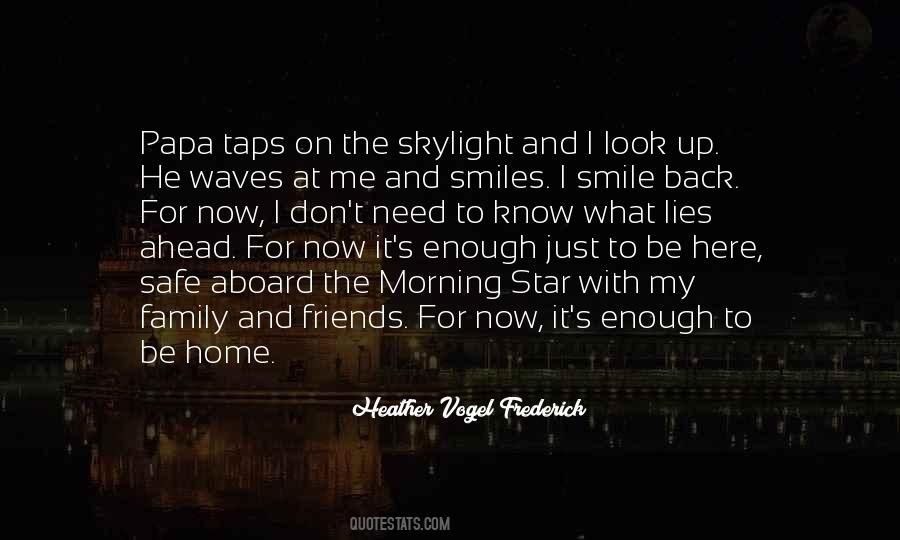 #53. Work is so much fun that it doesn't really seem like downtime when I'm not. But cooking, spending time with my family, friends and dog are what I'm usually doing when I'm not working on something. - Author: Bailee Madison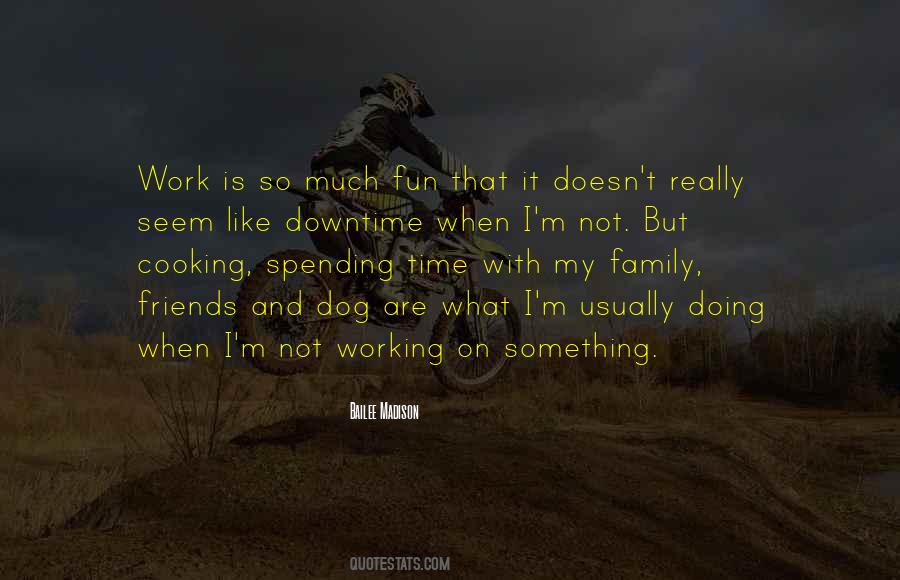 #54. My truest desire is fellowship with good friends, the love of a caring family, and a close relationship with God. - Author: Wanda E. Brunstetter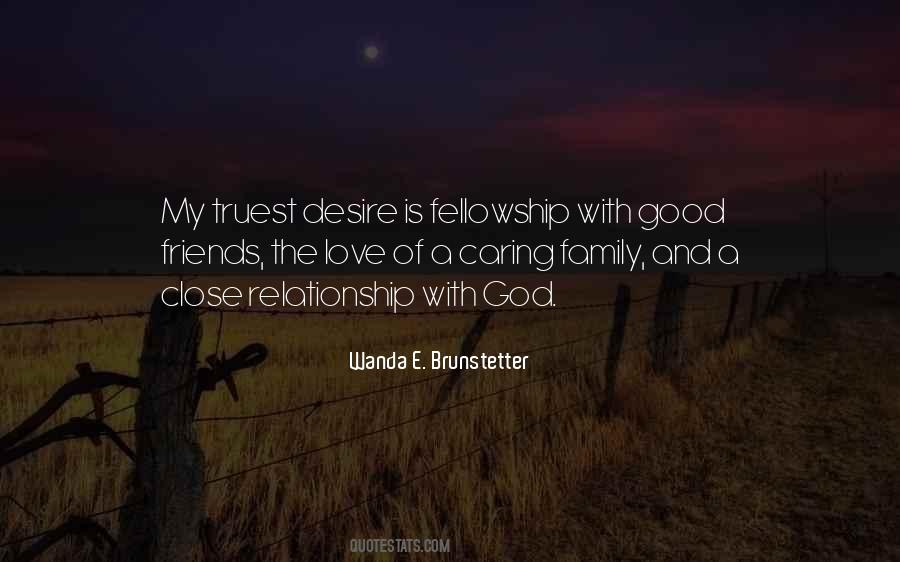 #55. I see my friends, my family, my cousins work all day long for very little money, and if I have this problem of not being able to wall on the streets, it's not a big deal. - Author: Olivier Martinez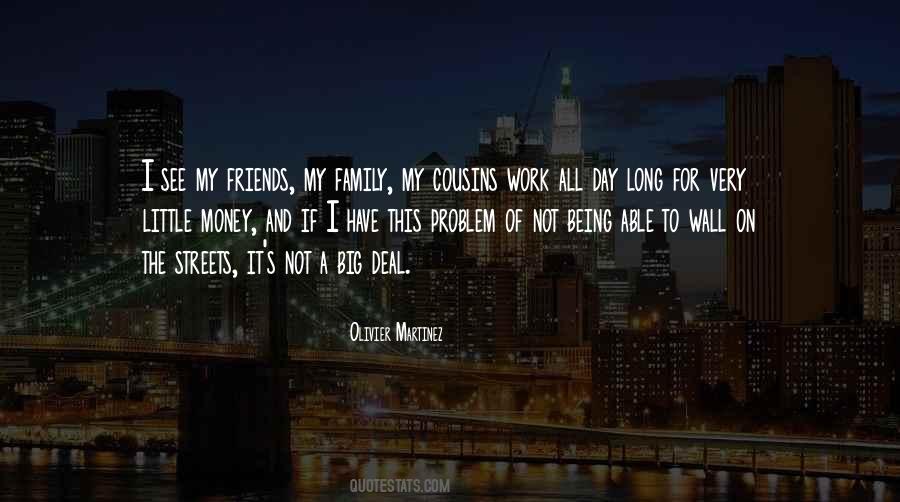 #56. I've made a dozen films in the English language. But then, for love, for my family and friends, I returned to Europe ... I annoyingly - looking back - turned down films like 007, 'For Your Eyes Only,' written specially for me. - Author: Ornella Muti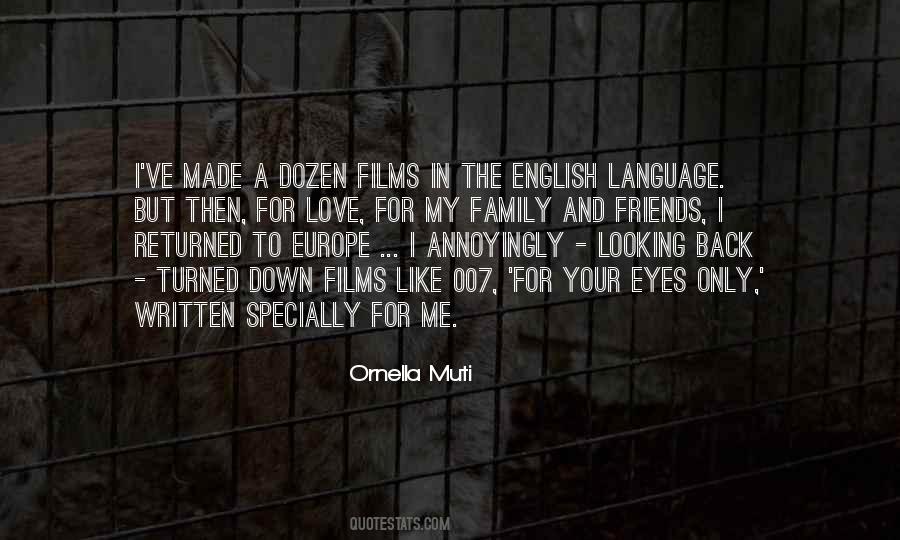 #57. Things like dating, family, and friends are just so valuable to me and I didn't want to put any strain on any of those relationships and you can see how the cameras around people can make people a little bit loopy. I didn't want to bring that into my life. - Author: Whitney Port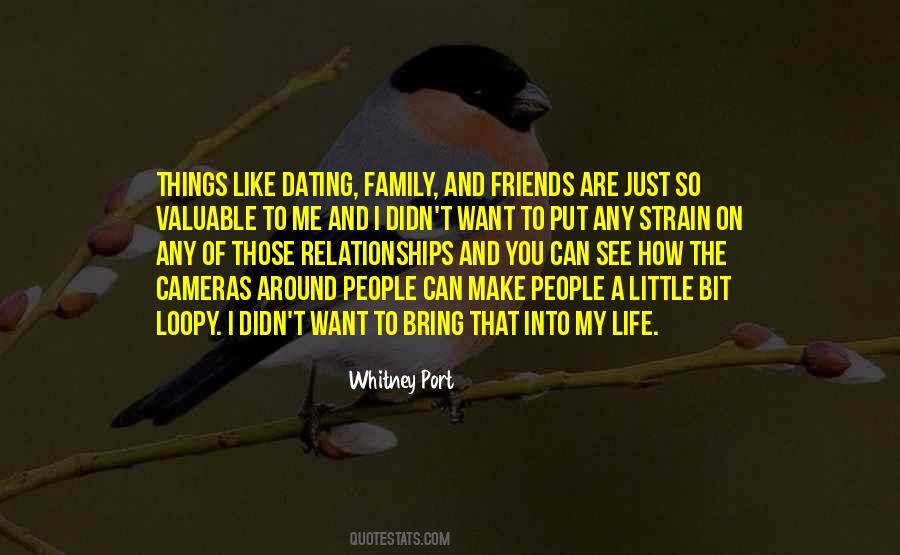 #58. Speaking as somebody with three sisters and a very largely female Muslim family, there is not a single woman I know in my family or in their friends who would have accepted the wearing of a veil. - Author: Salman Rushdie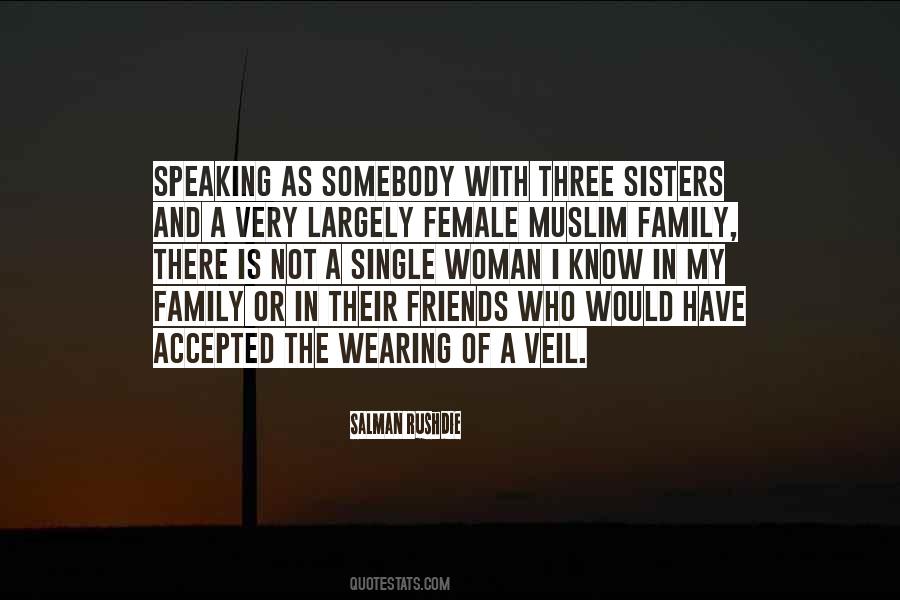 #59. I love how I can see [on Twitter] some of the thoughts and ideas of my favorite cultural figures and still also chatter with my friends and family. It's a cocktail party with a fraction of the awkwardness of an actual cocktail party. - Author: Roxane Gay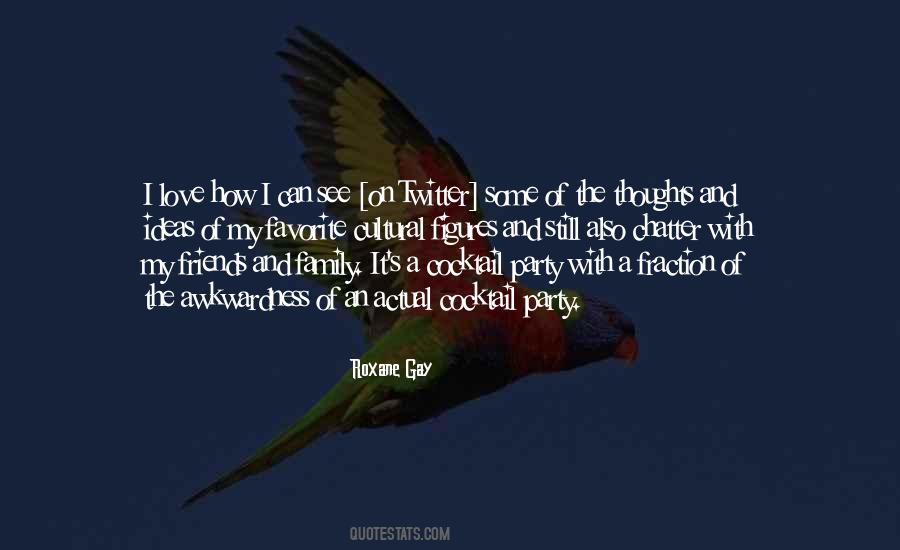 #60. You're going to think I'm being corny, but this is how I really feel: I hope my family and my friends will be able to say that I was an honest, kind and fairly decent man. - Author: John Wayne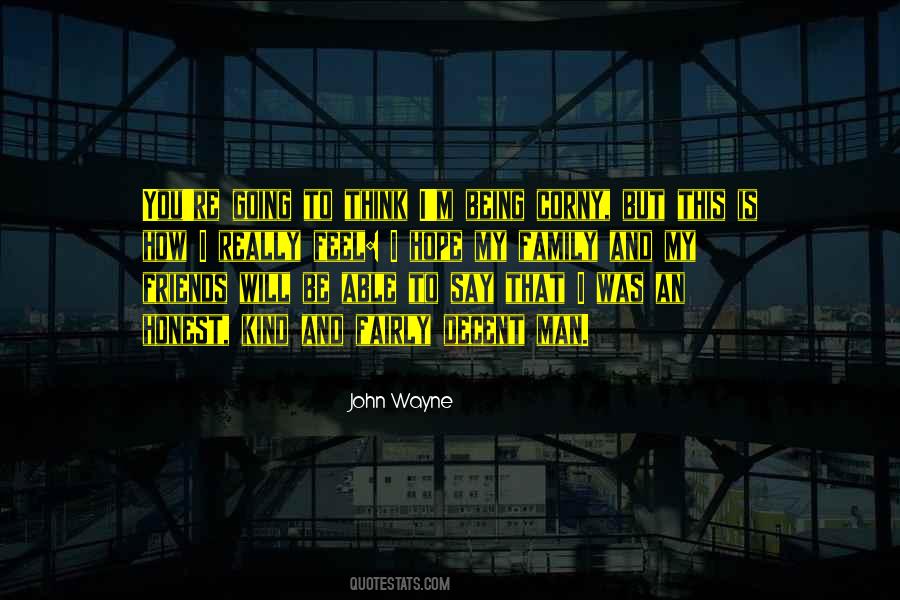 #61. My first signing was at my hometown independent bookstore and everyone in the world came. It was so nice. My family was there, my parents, everybody I worked with, all my friends. So I had this great first reading with a like hundred people there. - Author: Sarah Dessen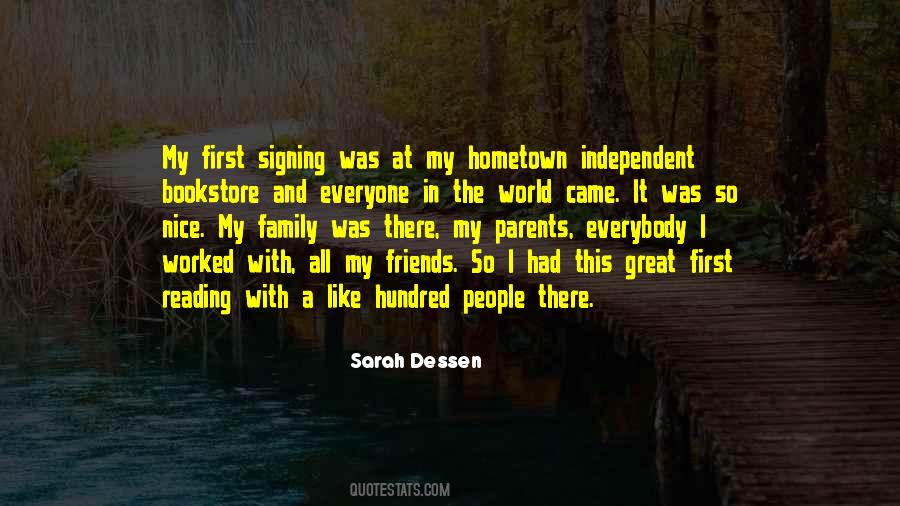 #62. The whole thing means such a great deal for me, and hopefully one day it will be there. But my friends and my family mean a little more. I would rather be helping them, even if it hurts that. - Author: Michael Irvin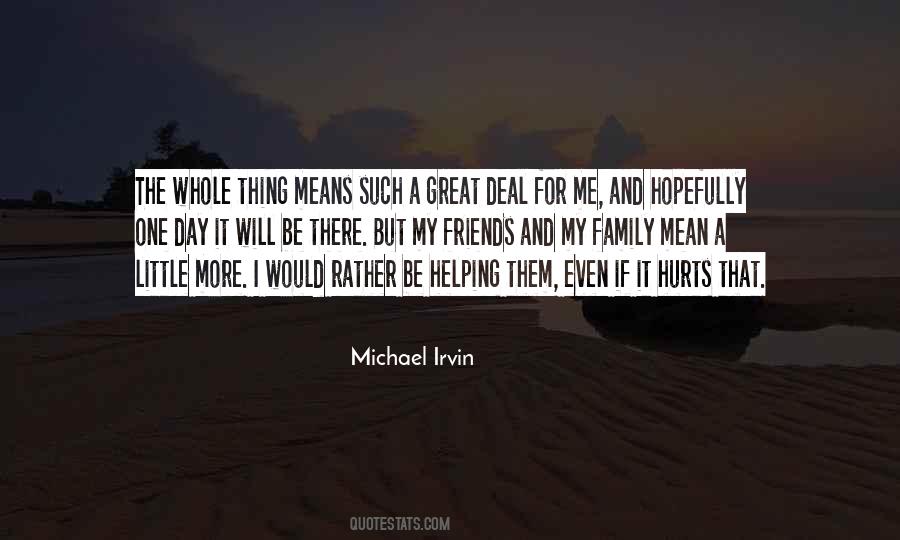 #63. I always wanted to make strangers and friends and family laugh. I was over ten years younger than my brothers. It was hard to get attention without some kind of gimmick, like athletic stardom or being funny. - Author: Gary Gulman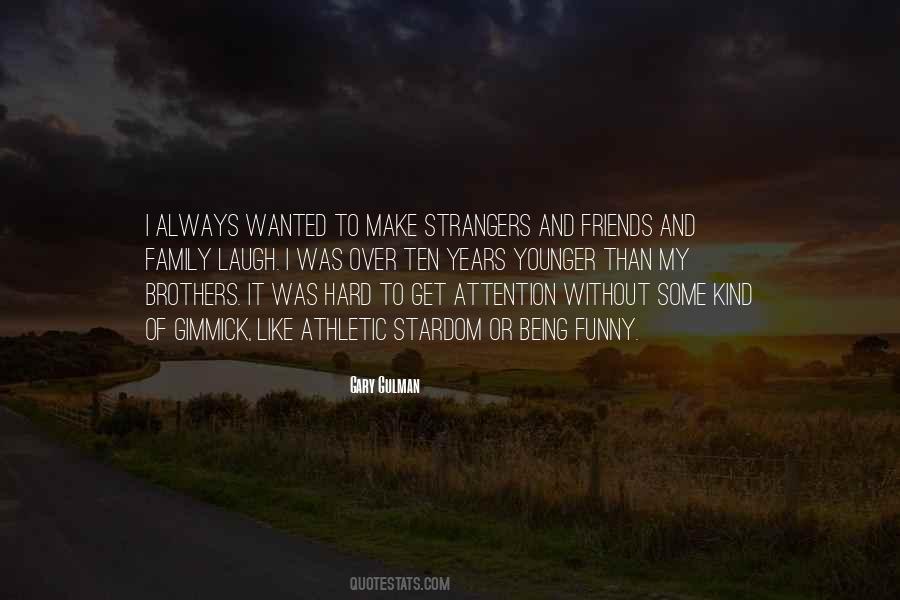 #64. My family, my friends, and skiing ... thats it for me, thats my life. The joy I get from skiing, thats worth dying for. - Author: C. R. Johnson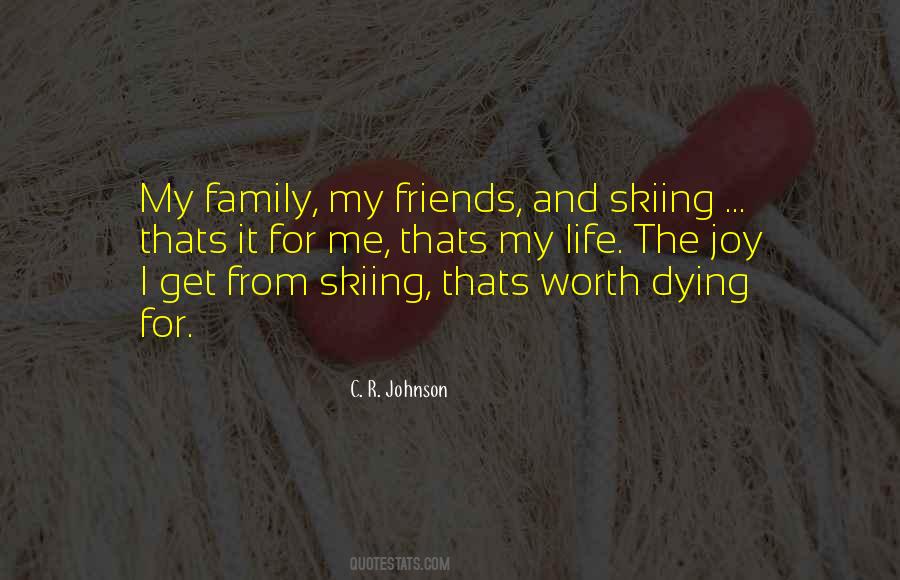 #65. I was lucky. My family is wonderful. And it's funny, because most of my best friends come from very large families. So it always felt as if I had lots of siblings, though in the end I had to leave them and go home. I kind of got the best of both worlds as a kid. - Author: Sophia Bush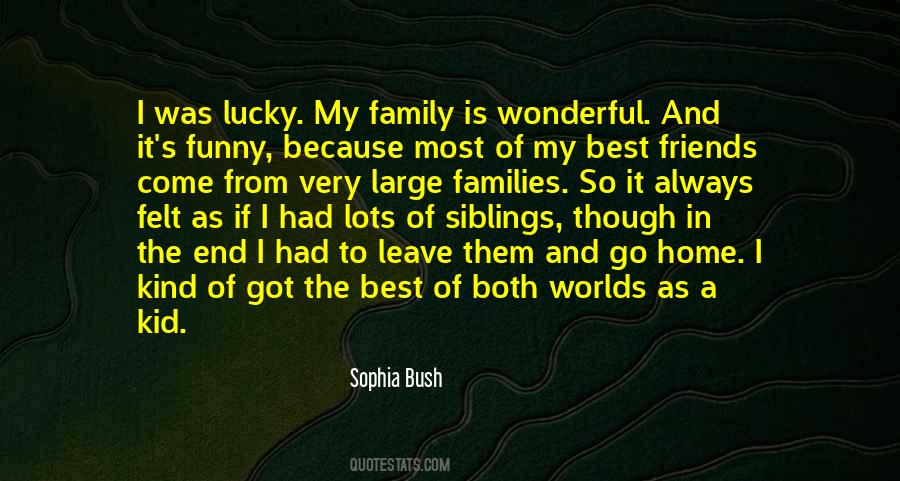 #66. I think new life is the most exciting thing and I absolutely have so much respect for my friends and family that have gone and done it because it seems like the hardest job in the world. So, who knows - maybe one day I might try it myself. But I completely salute anyone who does. - Author: Christine Bottomley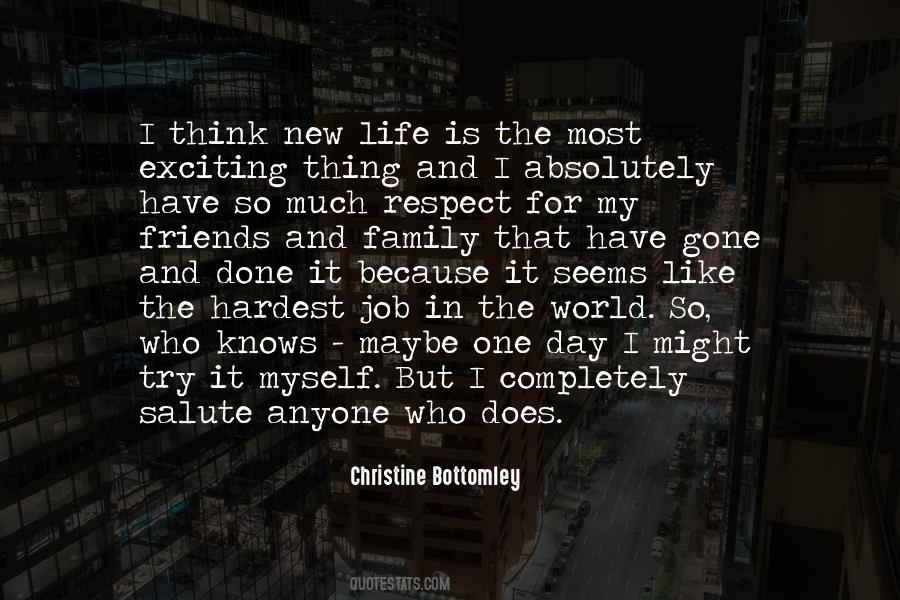 #67. When my mother was diagnosed with cancer, my middle school friends and myself really had no idea the impact of that diagnosis, but my family did. - Author: Jenna Morasca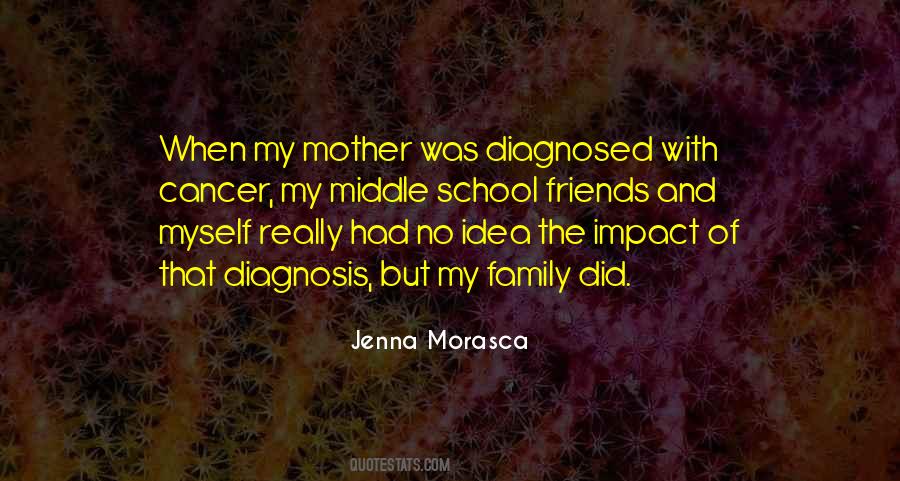 #68. I want to be affirmatively proud of what I have made my way through. And to do that, in the same way I had to tell my father and my family and my friends that I was gay, I need to not hide this anymore. - Author: Christine Quinn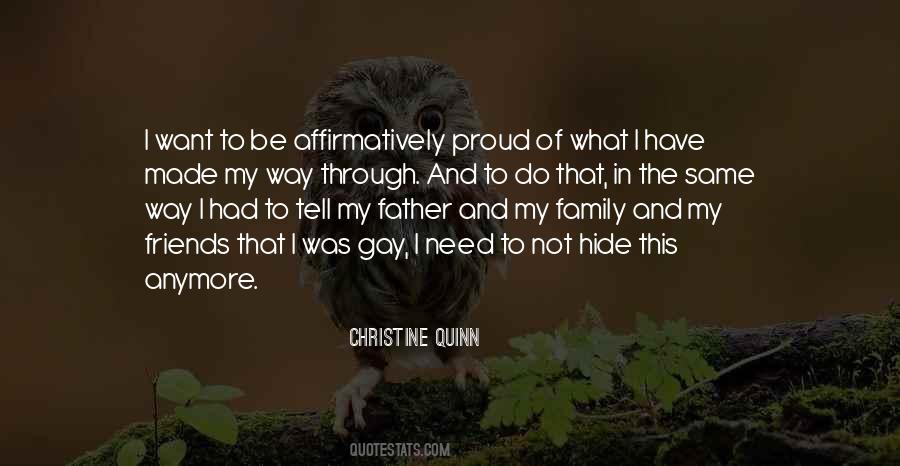 #69. My family, the support of my friends, the amount of people that have written and come up to me on the street and said, 'Thank you for representing us,' and Adam Lambert, and Lady Gaga, that's been amazing. - Author: Johnny Weir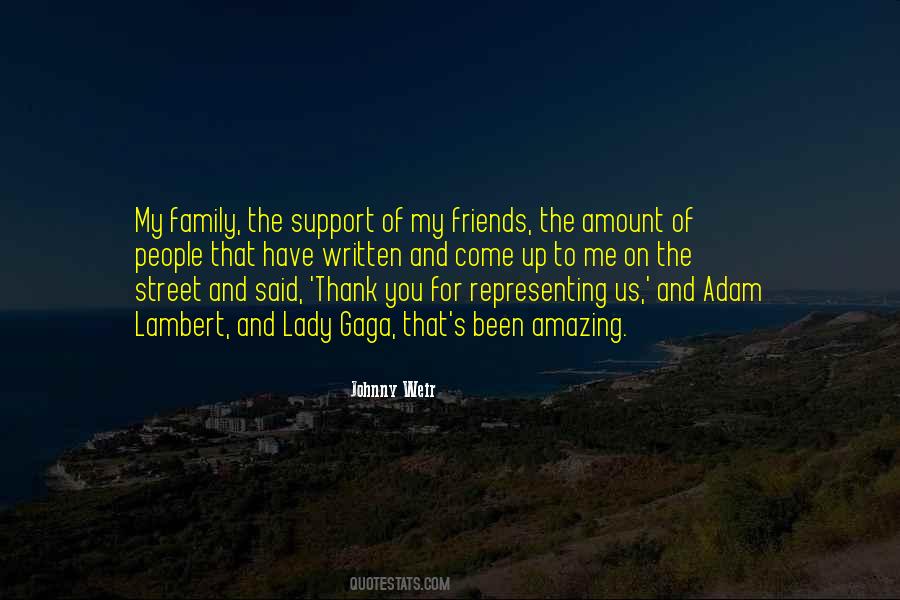 #70. Fame, do I like it? No. It has bought a lot for me in my career, but there are a lot of downsides to it. You give up your privacy. I did it to myself but not to my family and friends. You don't ask for it. You just have to live with it. - Author: Cara Delevingne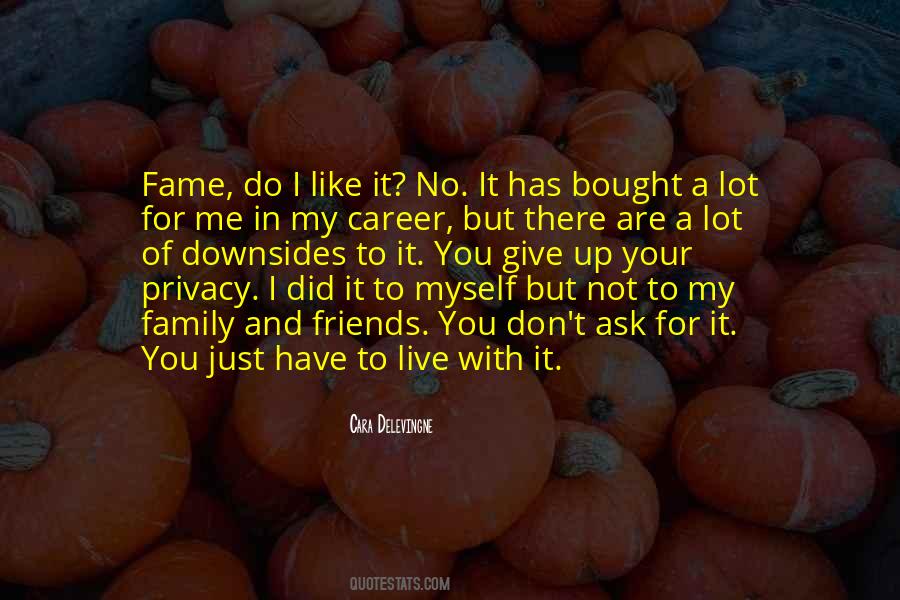 #71. Los Angeles has been my home since the days even before Motley Crue, so I am beyond excited that 'The Side Show' has found a home on 98.7 FM. This is the station I listen to - my friends listen to it, my family listens to it. It's the station I wanted to be on, and I'm psyched to get started. - Author: Nikki Sixx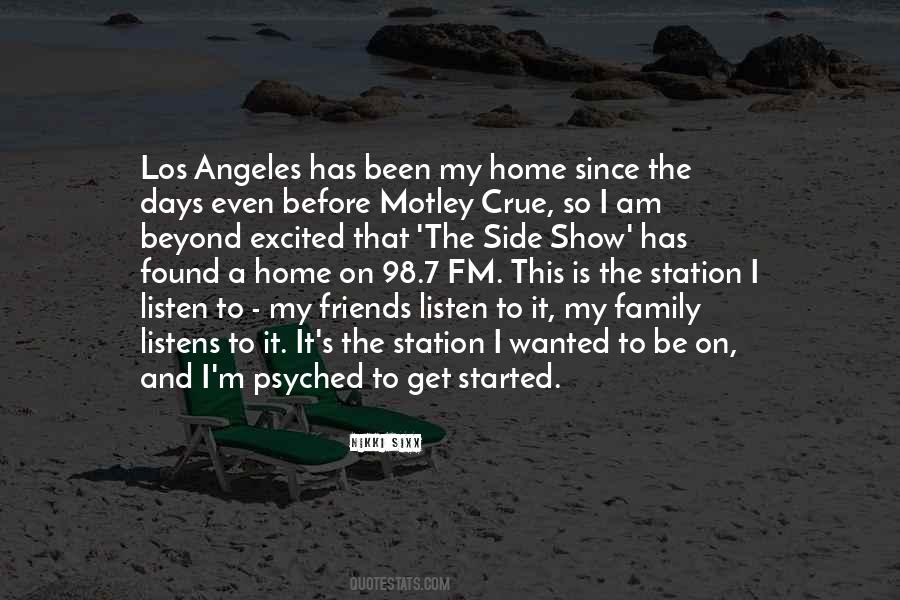 #72. Although I miss my family and friends when I'm away from Amsterdam, I've never had that feeling of missing a city like I have with New Orleans. Especially for the music. - Author: Michiel Huisman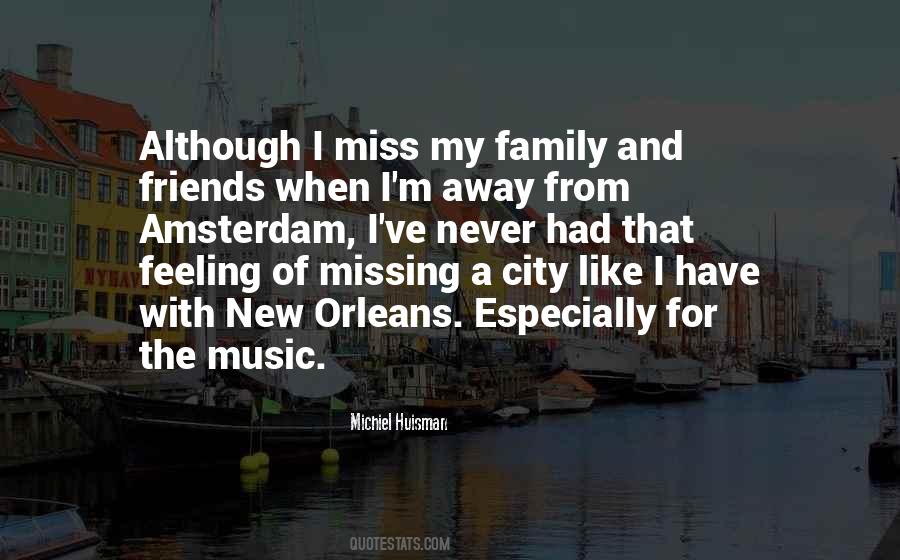 #73. I am always asking myself how I can improve the lives of my customers, my colleagues, my shareholders, my family and my friends. - Author: Martha Stewart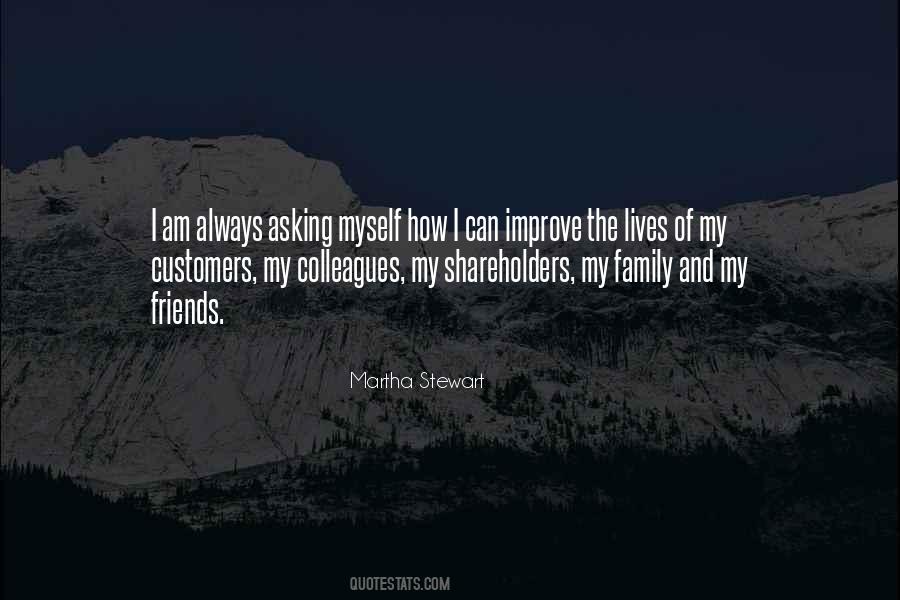 #74. I can see getting married and having a family, because it is the next thing on the agenda. You can only do this for so long. I'm old, and my friends all have kids. And I'm single, still blow drying my hair! - Author: David Spade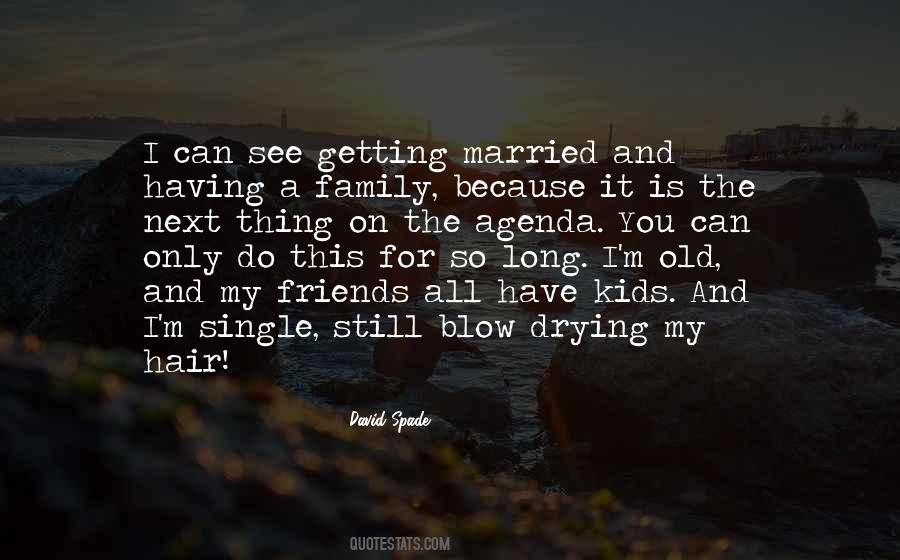 #75. My friends and family have always been extremely supportive, but the support I've received from fans has been so overwhelming. I love hearing all of their 'Fight Song' stories; I have been so inspired by so many of them. - Author: Rachel Platten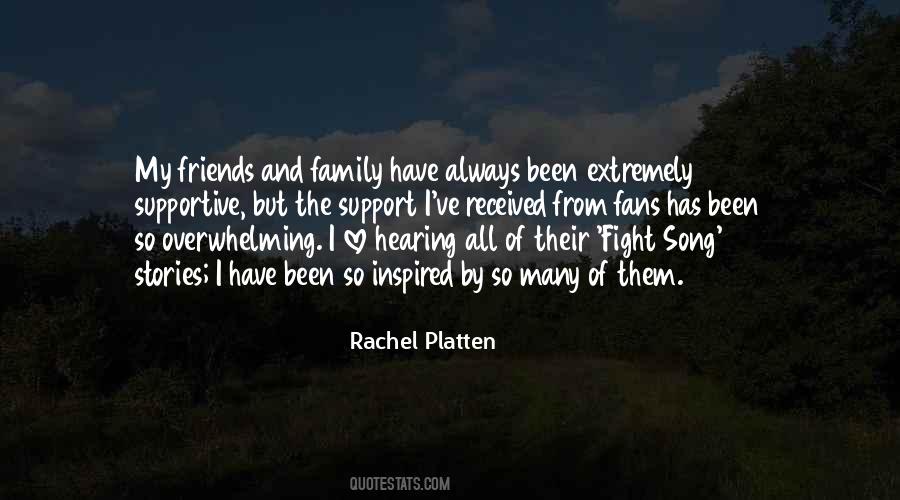 #76. I put my friends and family first. I'm really just a normal thirteen-year-old girl who has a different hobby than most girls my age. Acting is kind of an extracurricular activity. - Author: Natasha Calis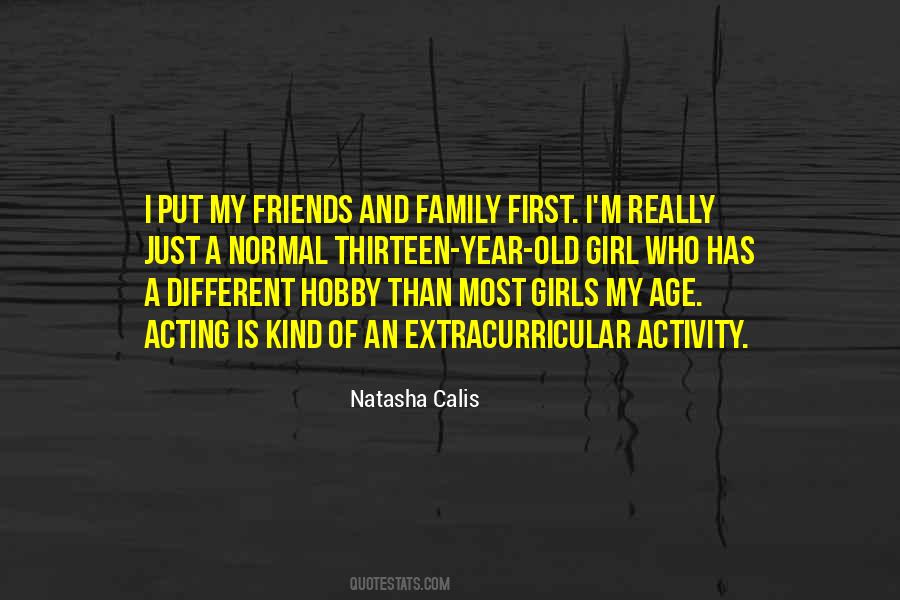 #77. Someday I hope to Love everyone - including my kids, husband, family, and friends - so very, very much more, and with so much depth, that there is no distinguishing Love from itself. - Author: Kelly Corbet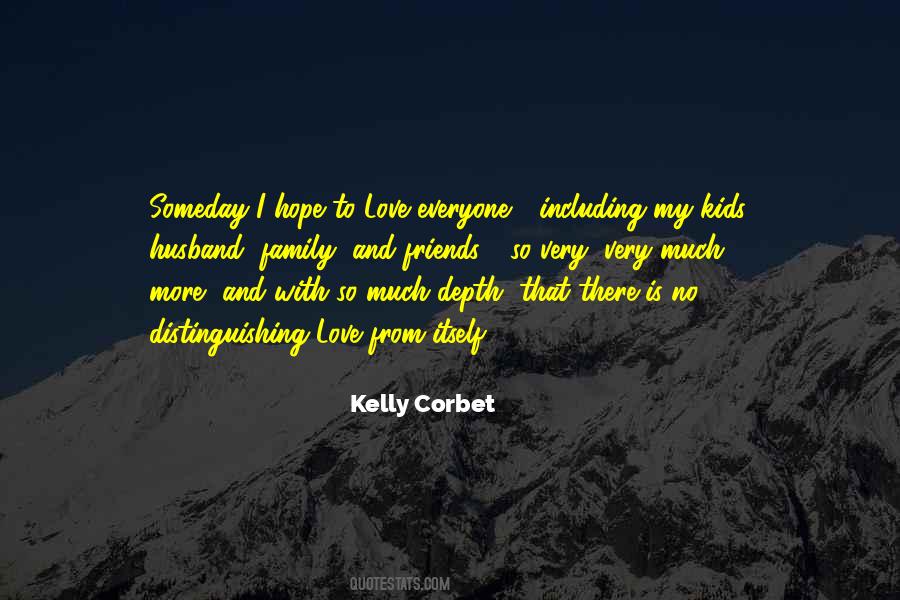 #78. My reputation is different among different groups. You have your fans, your non-fans, your team, your crew, your family, your friends and then you have your peers. I think they're all different and each of them have their separate opinions about you. - Author: Joey Logano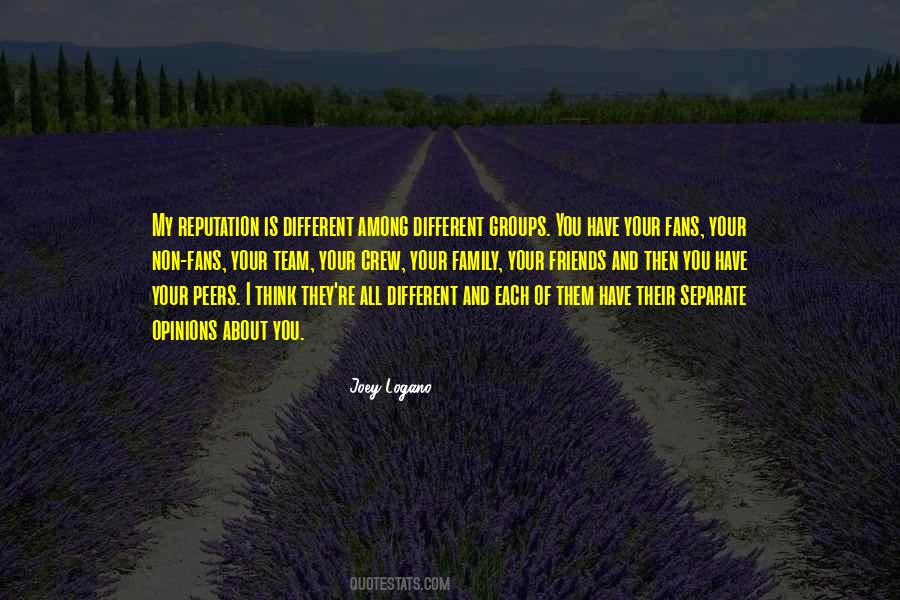 #79. My work has made me tolerant of memory mistakes by family and friends. You don't have to call them lies. I think we could be generous and say maybe this is a false memory. - Author: Elizabeth Loftus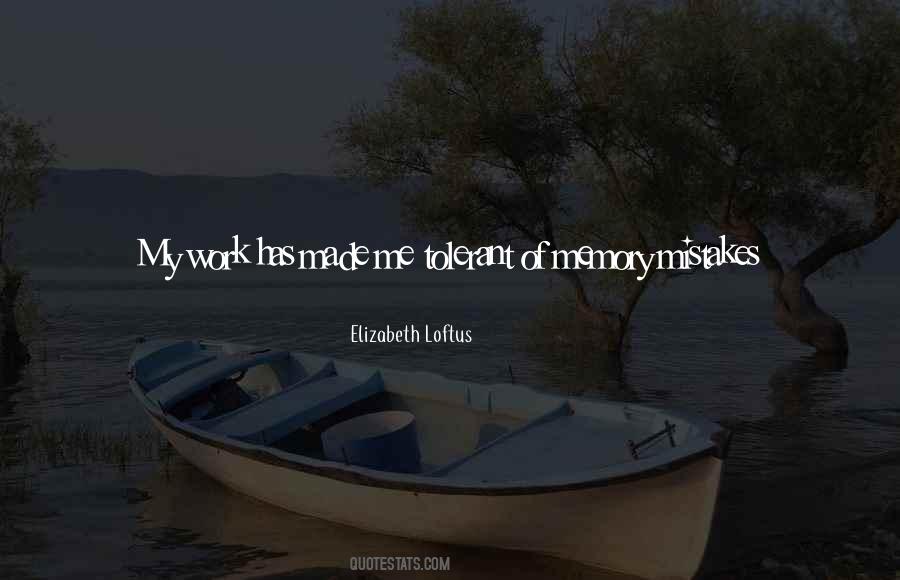 #80. I don't care if the average guy on the street really knows what I'm like, as long as he knows I'm not really a mean, vicious guy. My friends and family know what I'm really like. That's what's important. - Author: Don Rickles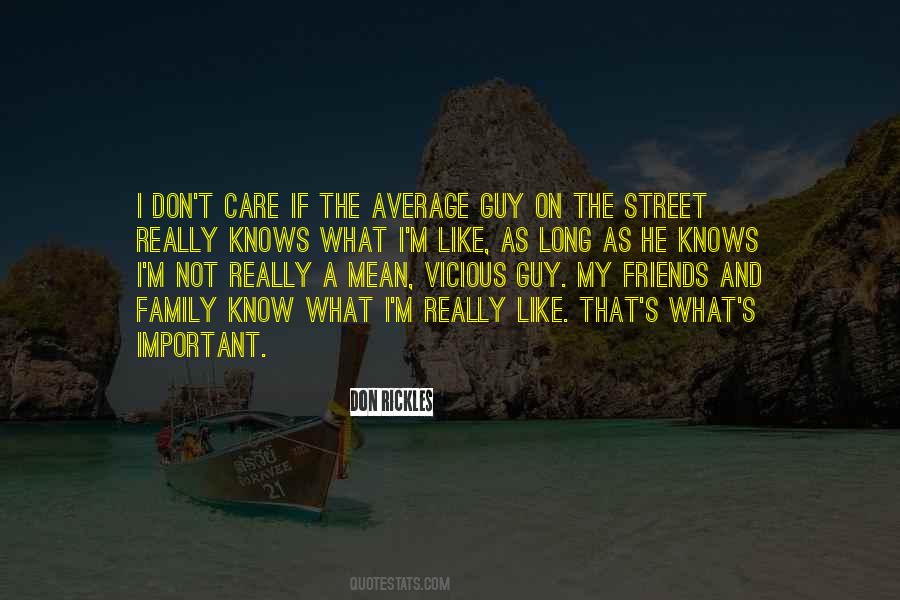 #81. I write songs all the time in my room. I play them for my friends and family. - Author: Miranda Cosgrove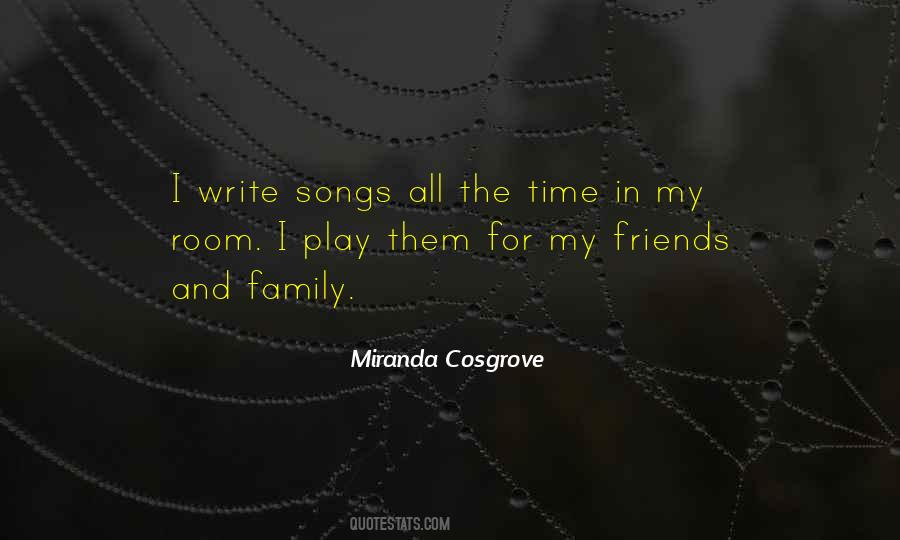 #82. To walk down the aisle and see all my friends and family and to see my handsome man standin' there, and to know that at 61 you can still find love and have a magical day like that ... it was really beautiful, - Author: Tina Knowles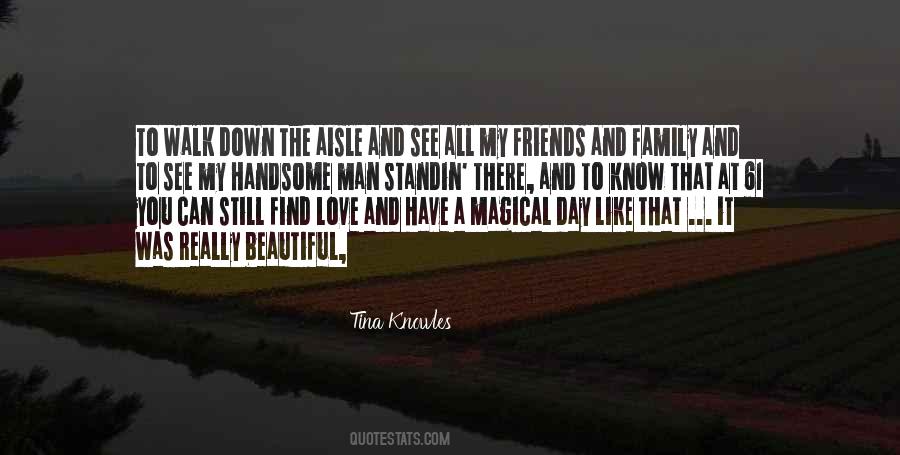 #83. When I'm writing, I am lost in my book. Except family and close friends, I don't care about what critics, publishers or readers might think. - Author: Amish Tripathi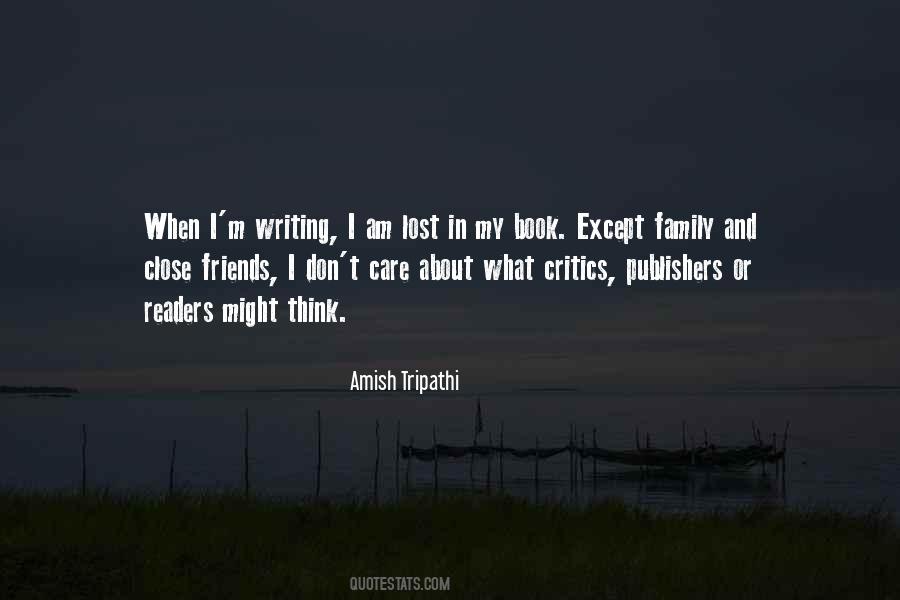 #84. Had I not abruptly (and perhaps deceitfully) taken off and turned my back on them, on all my friends and family, on England itself? - Author: Anonymous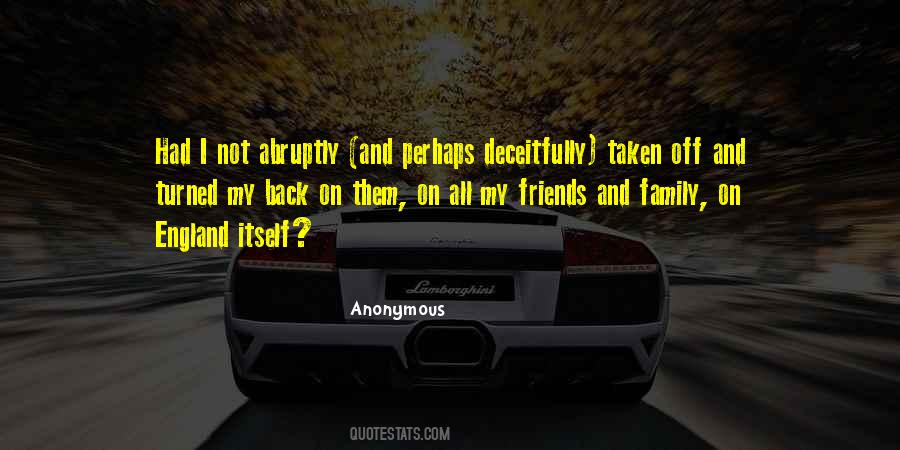 #85. Basketball is my passion, I love it. But my family and friends mean everything to me. That's what's important. I need my phone so I can keep in contact with them at all times. - Author: LeBron James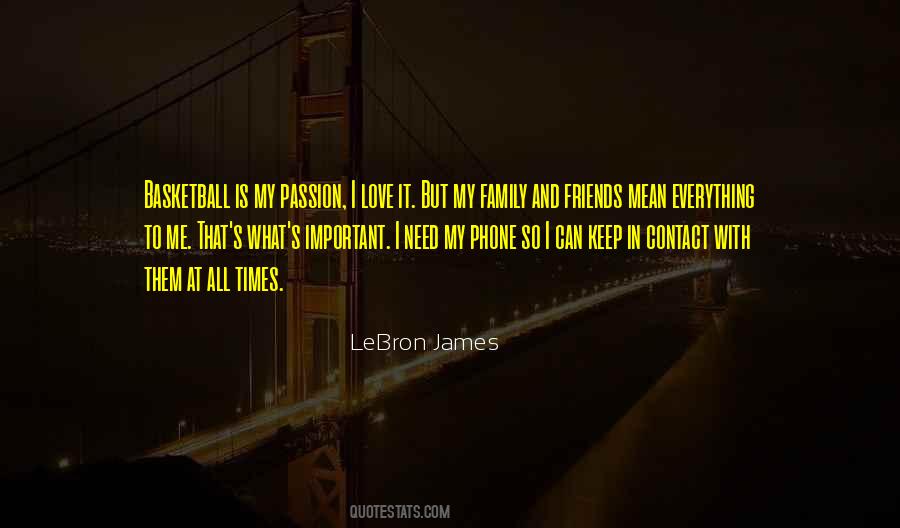 #86. Meanwhile, I find comfort in my faith in God, in the wonderful family and friends He's placed in my path. On my lowest days, something will happen that lets me know He's watching out for me, that He sends just the right person to minister to me and to comfort my heart when I need it most." *** - Author: Lionel Fisher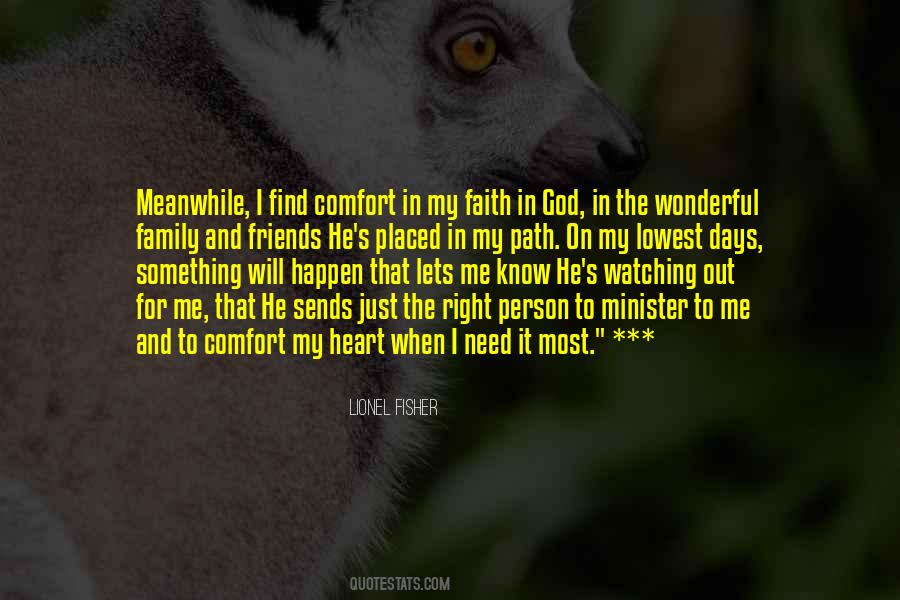 #87. Obviously I ask my family and loved ones for advice here and there, but I kind of have a rule with the people I love that surround me - close family and close friends - that unless I ask for it, I don't really want advice thrown out. - Author: Torrey DeVitto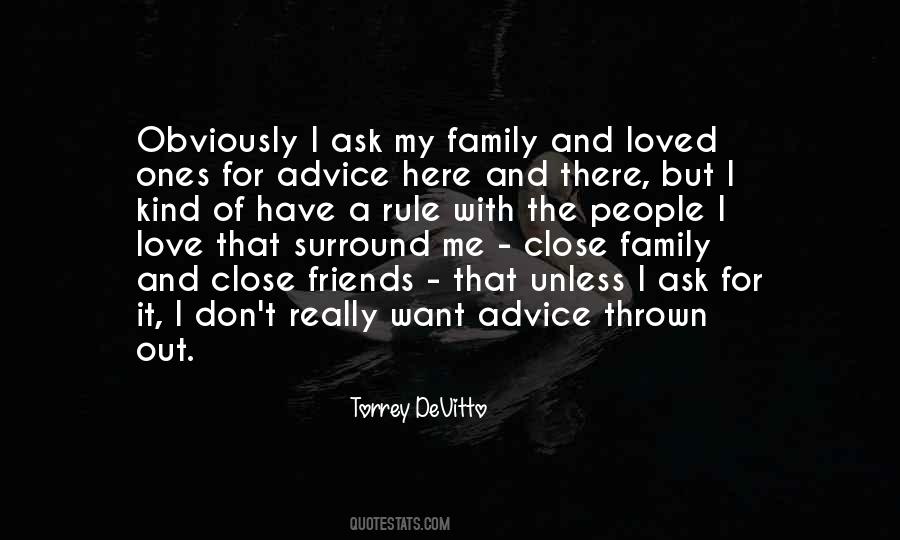 #88. I do Facebook, but I only have my friends and family on it, and they always laugh at me for how little I post. I don't know how to upload photos, so I never add pictures. - Author: Joanne Froggatt
#89. AMELIA: To my friends, and family: You all may be batsh*t crazy, but even if I got to choose, I'd still choose to be with you. Life is fragile, and tomorrow is never a sure thing, so thanks for sharing your lives with me..... - Author: Amelia Hutchins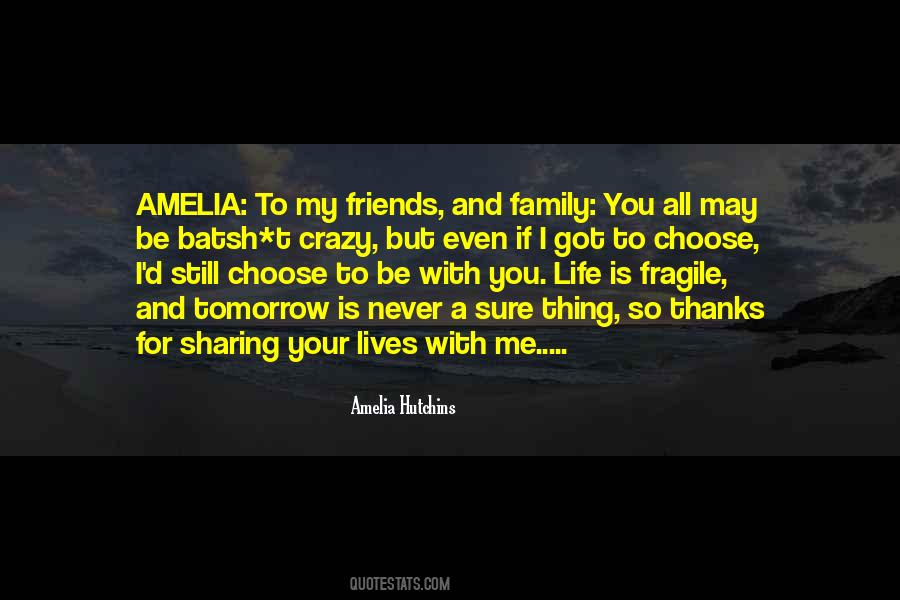 #90. I like to be judged by my family and friends because they know me. - Author: Leighton Meester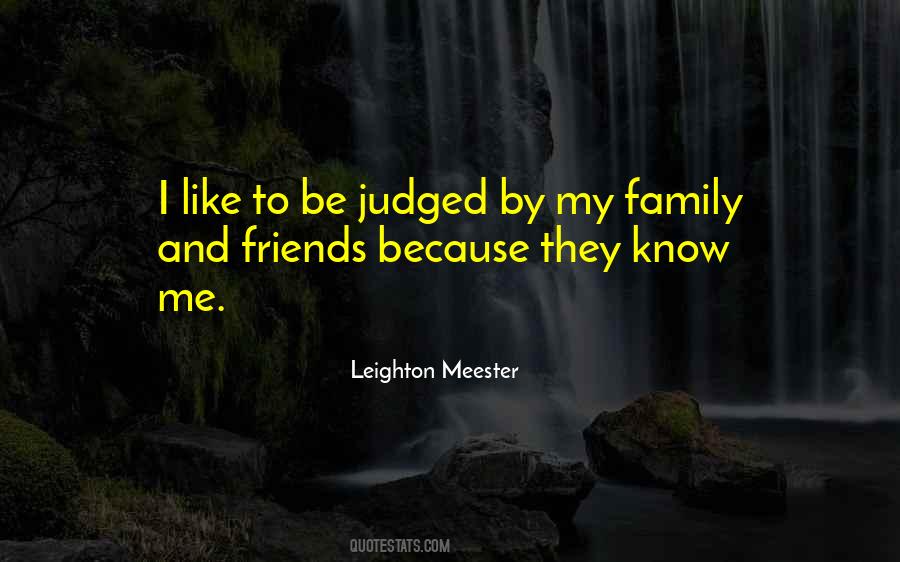 #91. I was ten years old in 1969, and while we lived in Arizona that year, I spent most of the summer staying with family friends in Portland, Oregon while my parents visited Spain. It was an adventure all around. - Author: Patrick Nielsen Hayden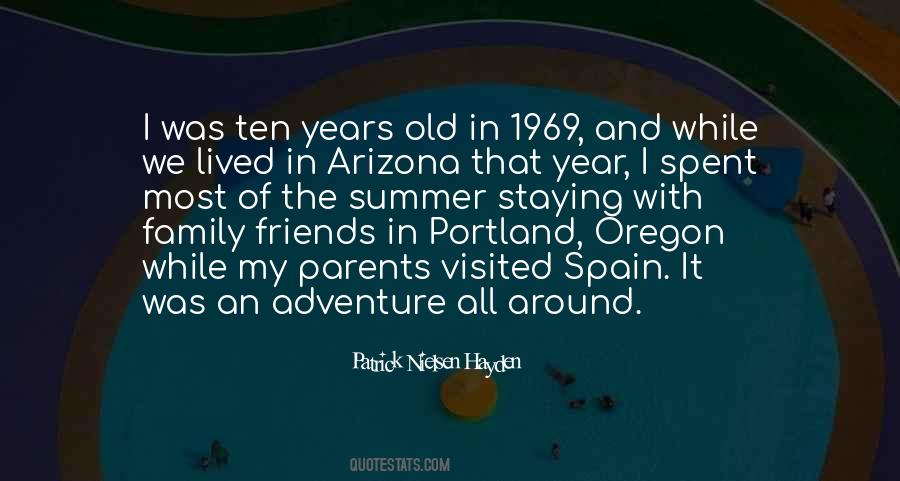 #92. I want to be happy because it is beneficial for me but also because I want to be a messenger of happiness to my friends and family. - Author: Susan Harris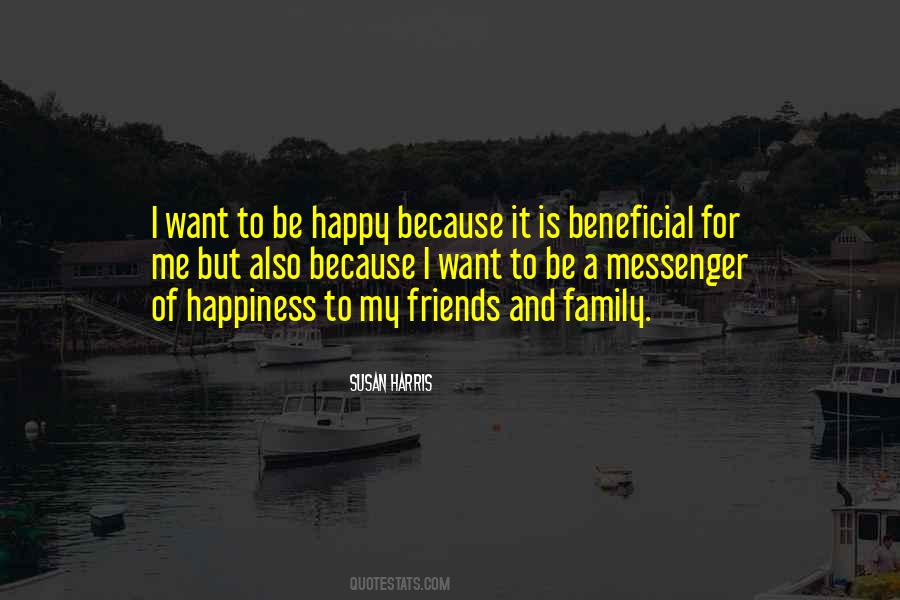 #93. Sometimes I think that I cheated my own family and my closest friends by giving to audiences so much of the love I might have kept for them. But that's the way I was made; I truly don't think I could help it - Author: Mary Martin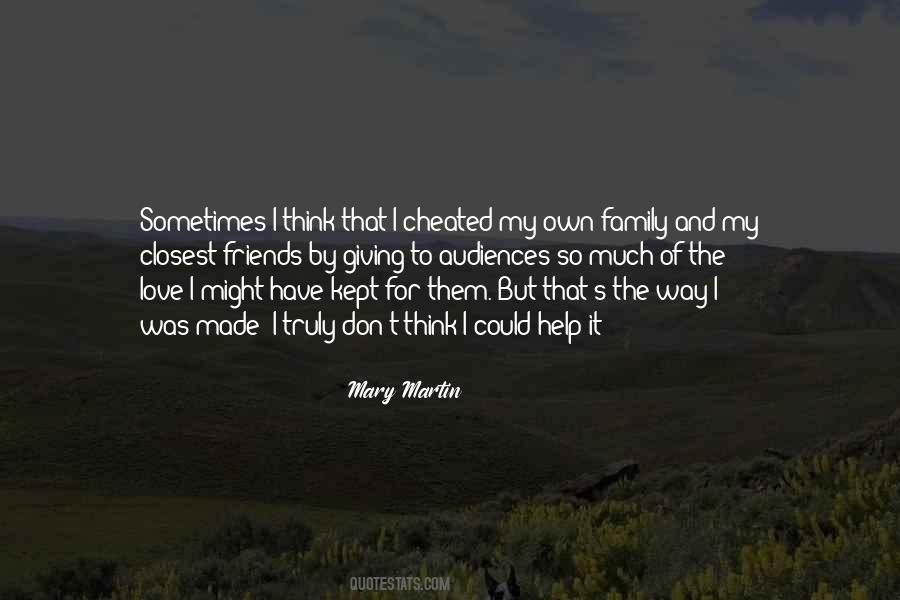 #94. If Facebook gets your entire social graph, you don't necessarily want to share everything with your entire social graph. You might wanna parse that social graph. So there's a company called PASS that is a private social network that I personally use for my friends and my family. - Author: Ashton Kutcher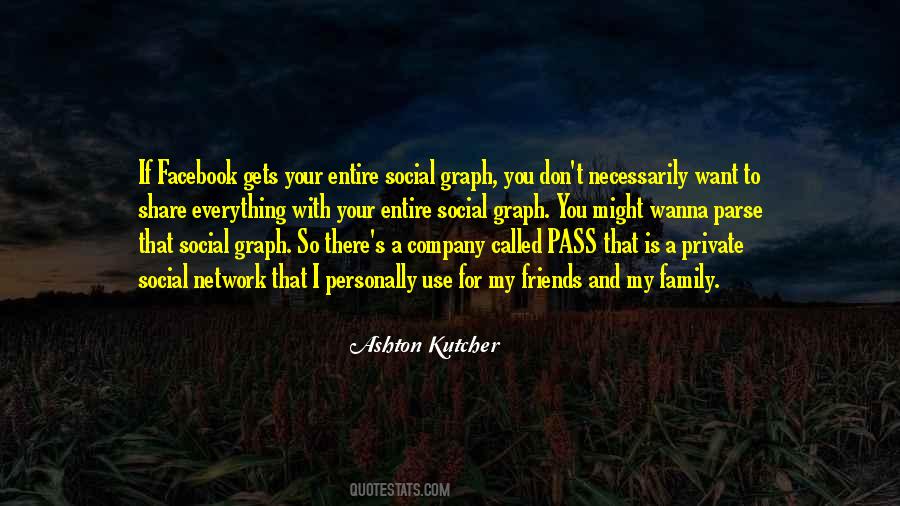 #95. I'm hanging out with my New York friends, my Jersey boys, my family and loving every single second of it. - Author: Zach Braff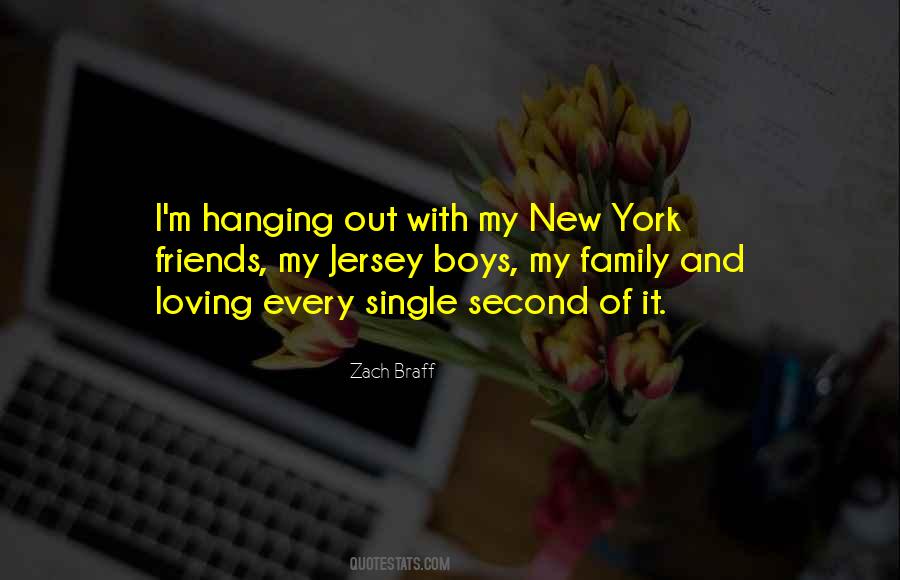 #96. My friends and family and team know who I am, and they have my back. So I don't let someone who doesn't know me affect me. - Author: Joey Logano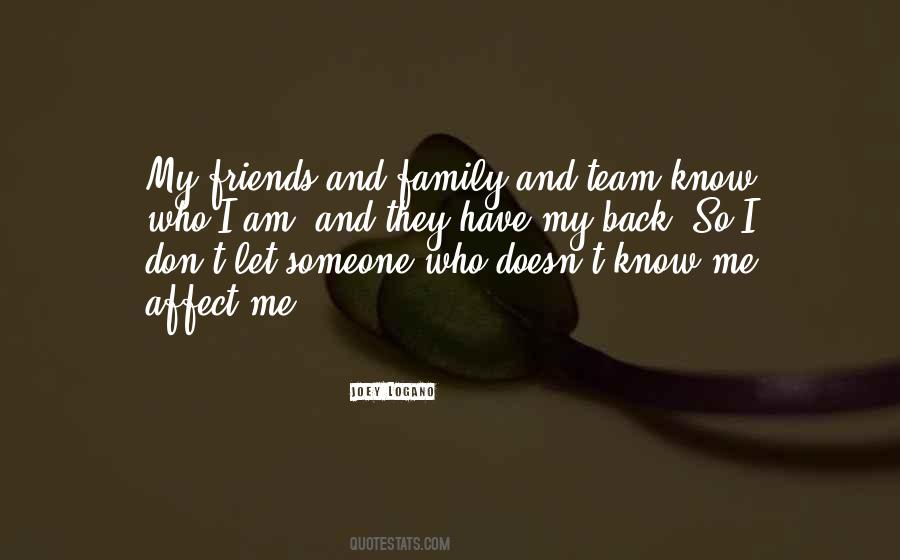 #97. God has blessed me with an amazing family, friends and work colleagues that have been my joy, my support, and my sanity. I don't know what I'd do without them. - Author: Josie Loren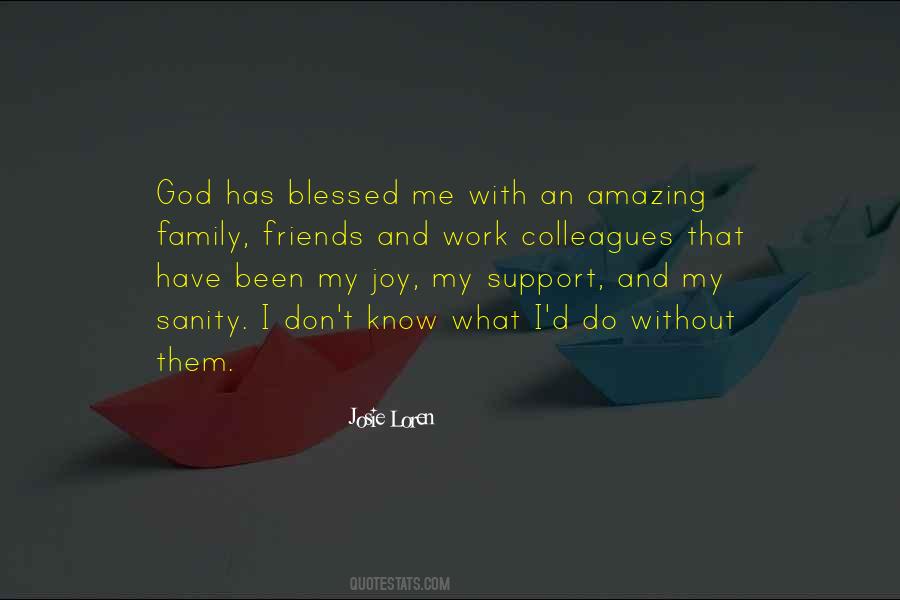 #98. I do have a family, and I do have friends, and so-called friends, and acquaintances, and many other people I see only around Christmas time. Maybe they could vouch for me. Maybe they could testify to my existence and save a part of me that thinks I'm no better than a bag of potato chips. - Author: Macaulay Culkin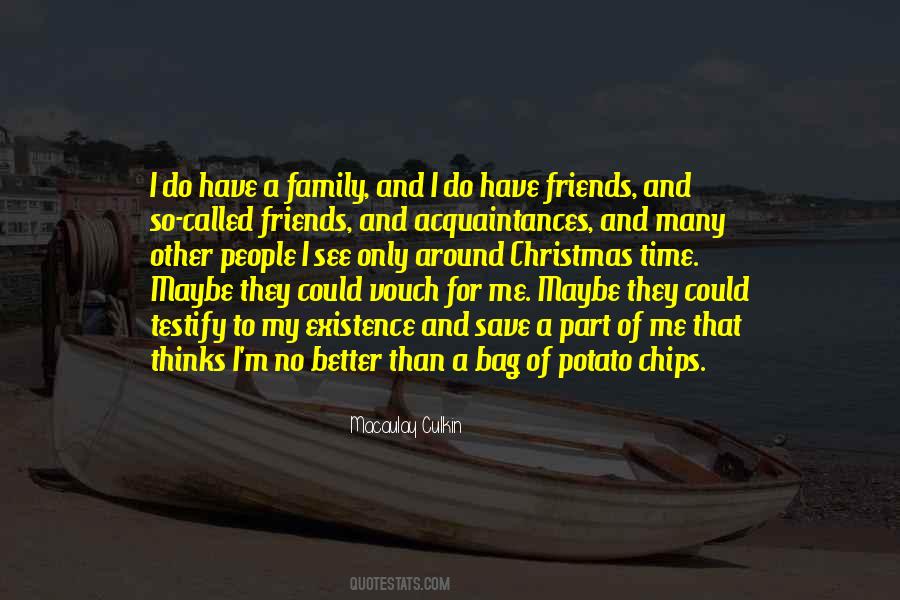 #99. AP promoted me to the White House beat because I knew Clinton, his family, friends, and staff better than anybody in the national press corps. Those contacts helped me break a few stories and get my career in Washington jump-started. - Author: Ron Fournier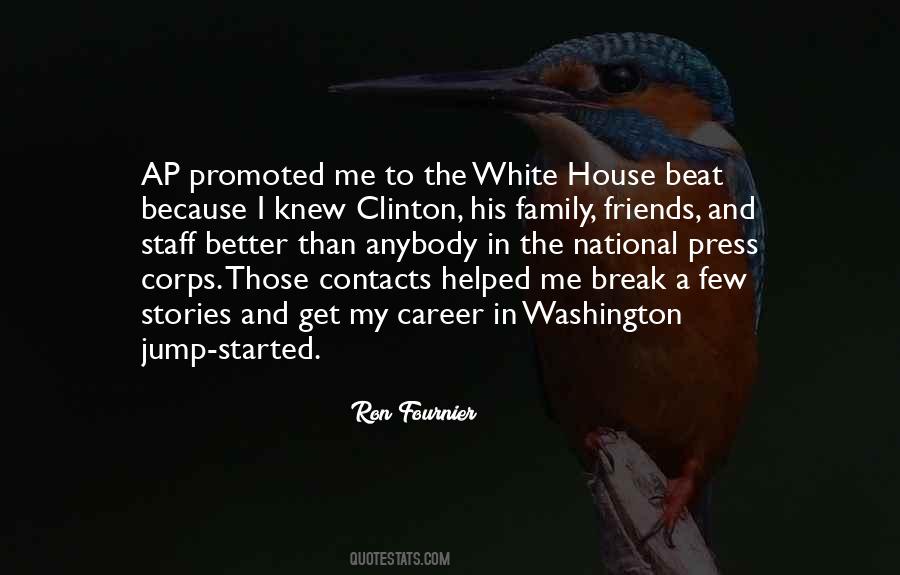 #100. I don't like giving or receiving gifts because I don't like that initial reaction. Although I do enjoy the love and the family aspect of Christmas, and I love eating with my family and friends and reconnecting with them. - Author: The Miz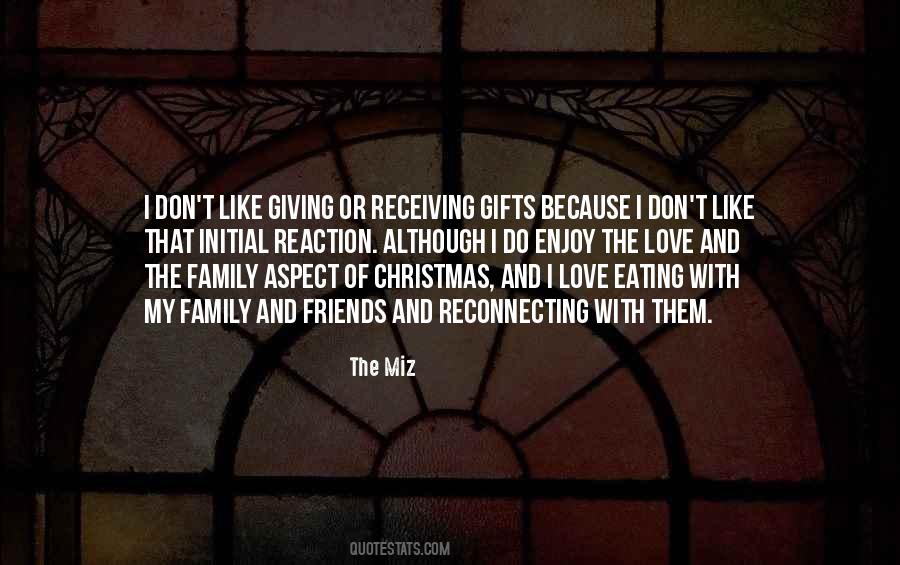 Famous Authors
Popular Topics