Music Videos Famous Quotes & Sayings
List of top 100 famous quotes and sayings about music videos to read and share with friends on your Facebook, Twitter, blogs.
Top 100 Quotes About Music Videos
#1. As a rapper, you sort of act in music videos and in the persona you adopt onstage. You kinda have to put yourself out there and be courageous even to be a rapper. So, to step into acting was not that difficult a transition to make. - Author: Queen Latifah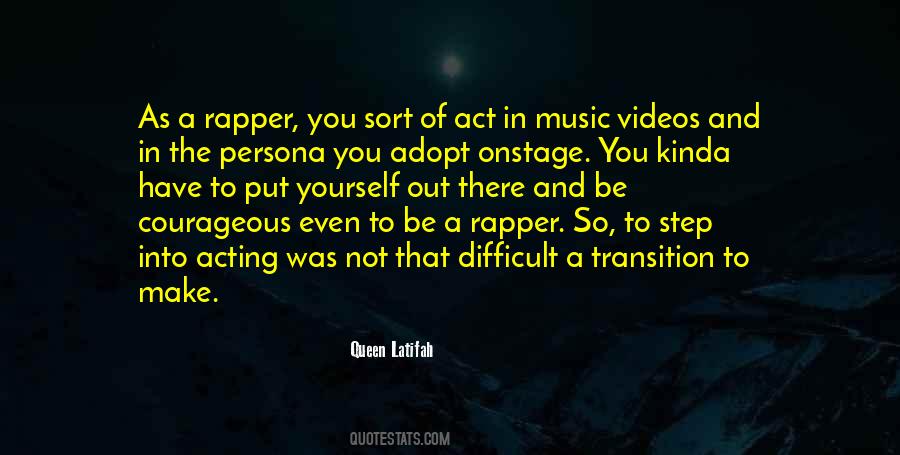 #2. It really is no different in the way that we make records and shoot music videos. I don't think of the movie as being a great leap out of my current profession. - Author: Wayne Coyne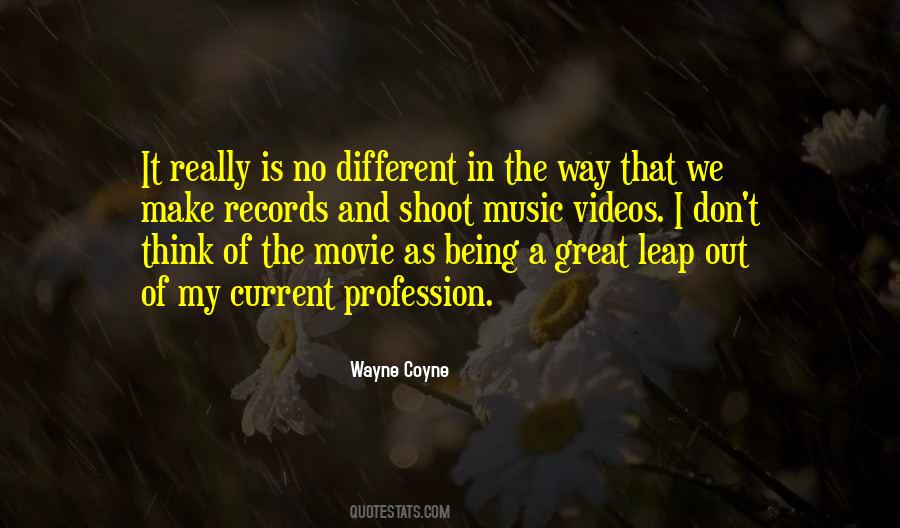 #3. Which even though we do have a very visual aesthetic and identity, we love it when people make their own videos to the music. - Author: Lizzy Plapinger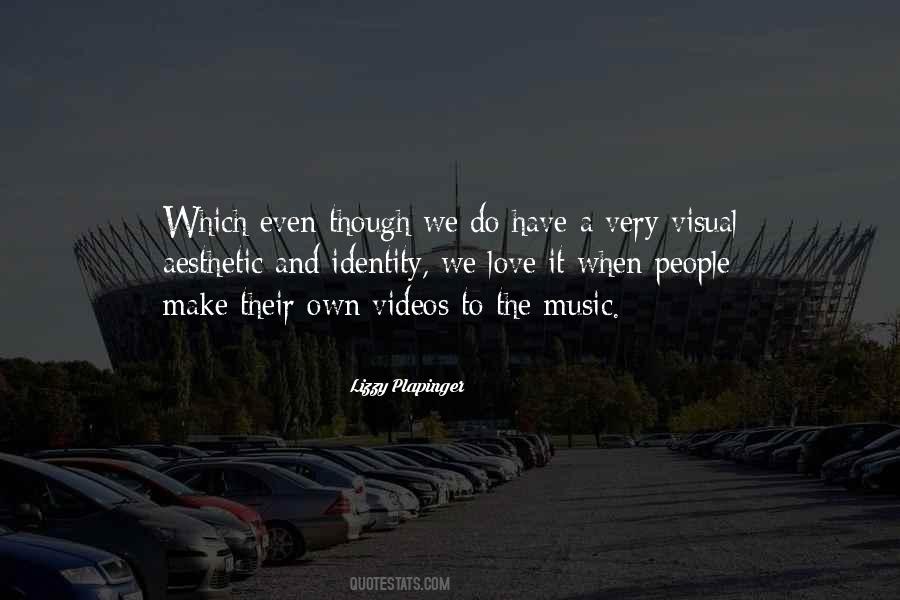 #4. I enjoy the videos with the sound off, where you can look at the belly buttons and everything. Really some pretty girls, but I don't know about the music. - Author: Merle Haggard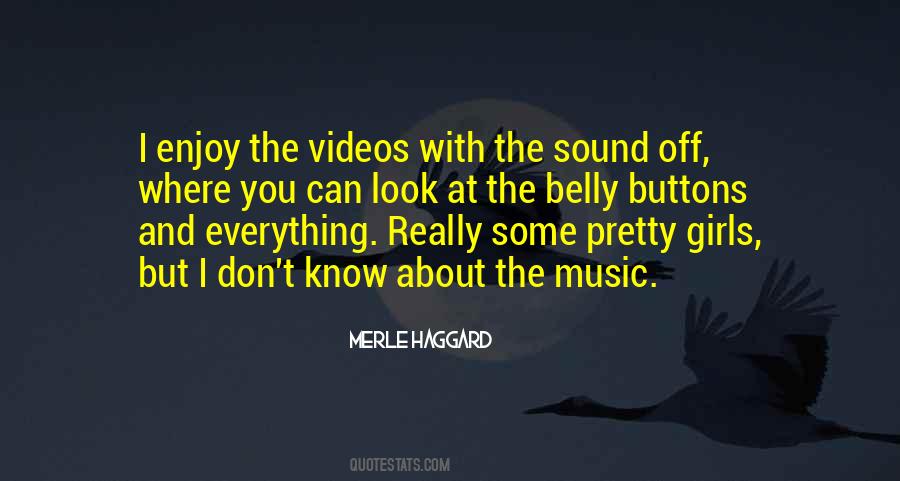 #5. I've been working with music videos and commercials, they are naturally very music driven and visual driven. So that feels like my natural element to be working with that. - Author: Fredrik Bond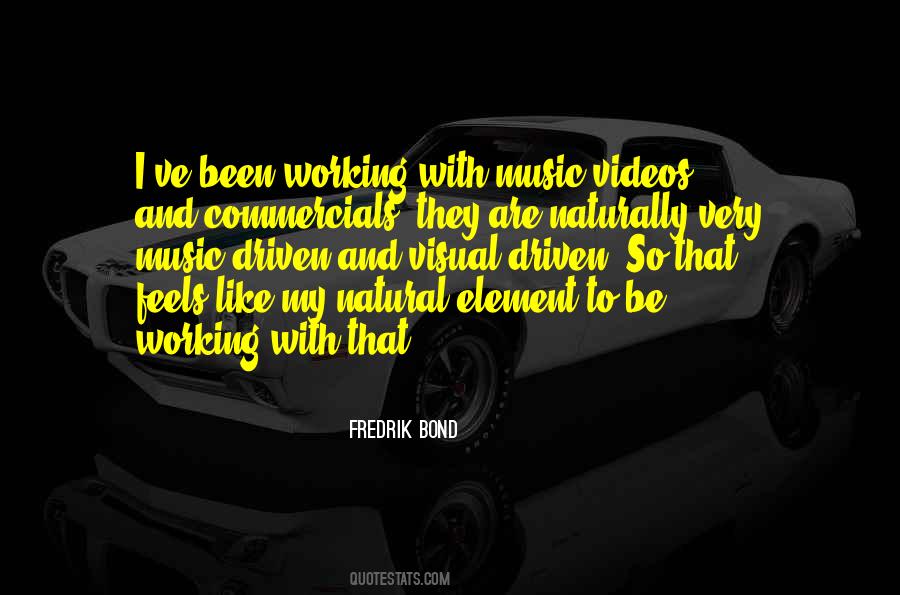 #6. My photography changed from being more documentary-like to arranging things more, and that came into being partly because I started doing music videos, and I incorporated some things from the music videos into my photography again, by arranging things more. - Author: Anton Corbijn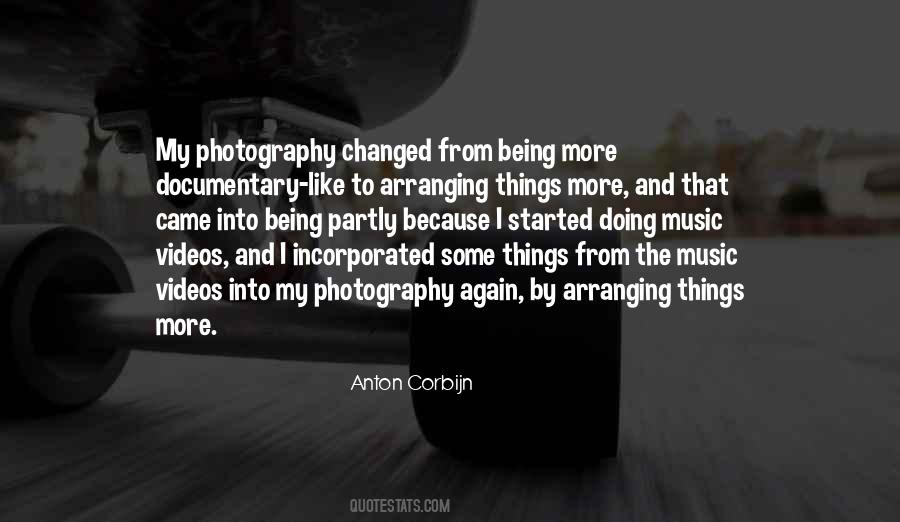 #7. Cry Baby is just a character in this world that I'm trying to create, and the music videos are really important to me, and I've fought to obviously get all of them approved. - Author: Melanie Martinez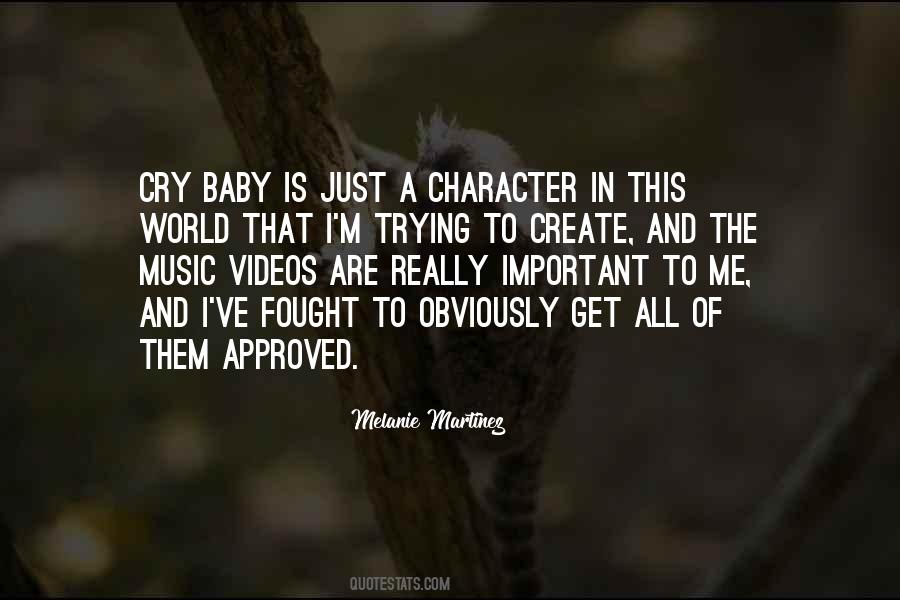 #8. My YouTube videos have literally millions of views ... Yet I'm still airbrushed out of the BBC Stalinist revision of history; the chart shows have been instructed not to play my music! - Author: Jonathan King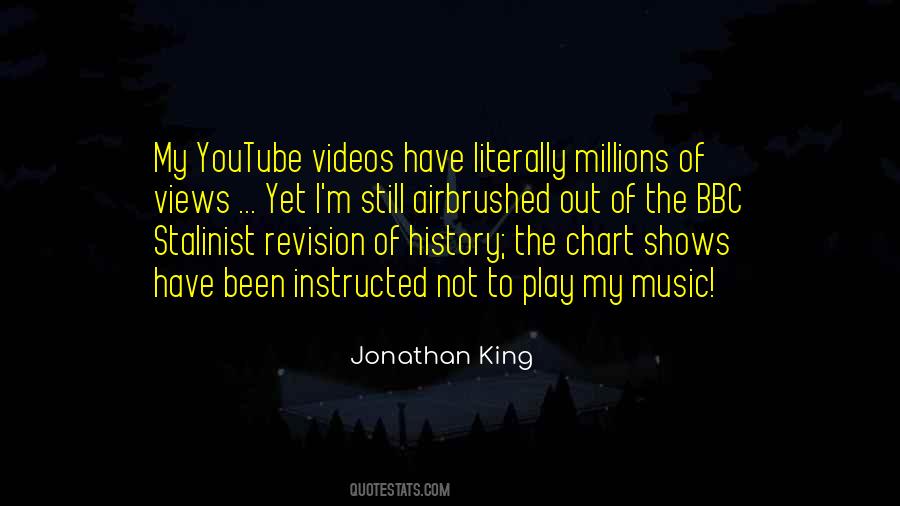 #9. I'm a really visual artist, and I love writing treatments for music videos, photo shoots, fashion, and all the visual parts that go along with making an album. - Author: Bonnie McKee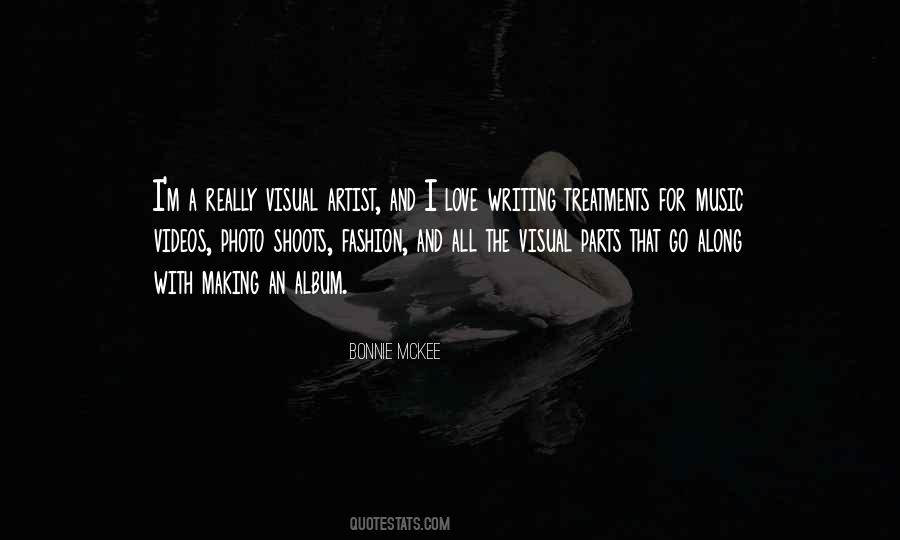 #10. He revolutionized music videos. Before Michael Jackson, MTV refused to play African-American artists. - Author: Spike Lee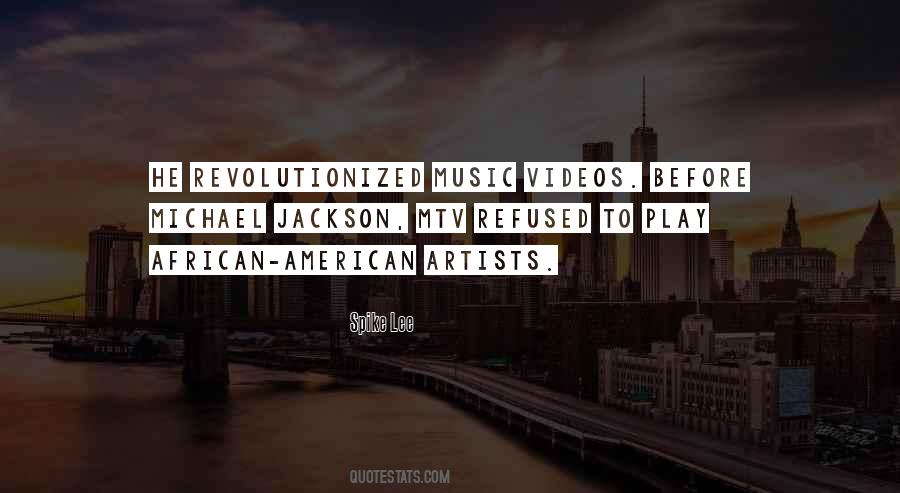 #11. Directing music videos is all about capturing images. - Author: Nia Long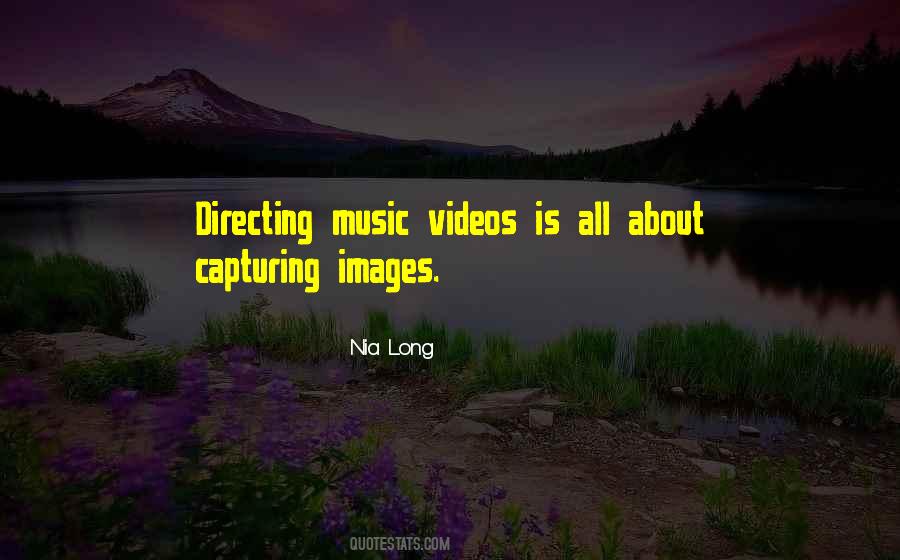 #12. I guess you could say the beginning of my career as an actress was when I started performing in music videos. - Author: Sheri Moon Zombie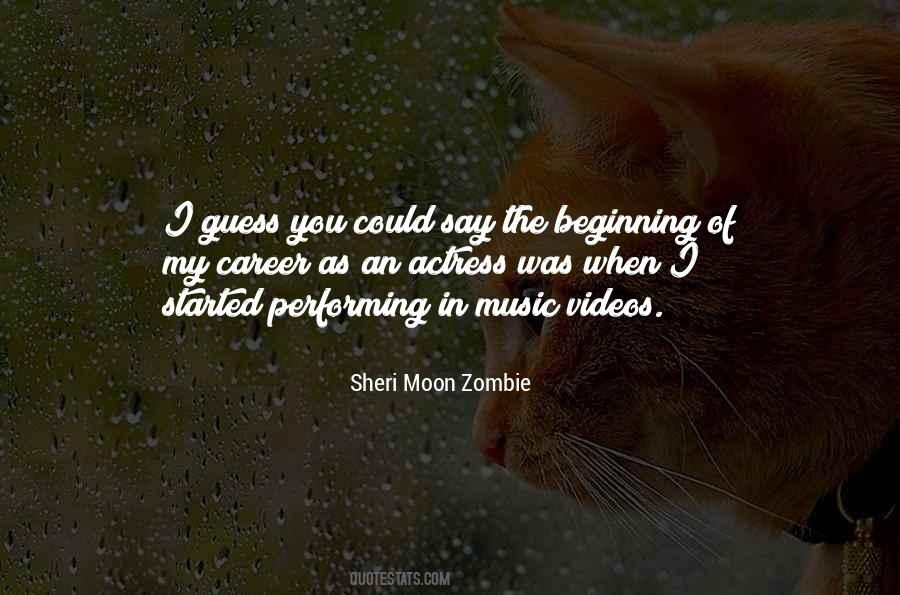 #13. A lot of my writing comes from the themes of my life, and a lot of that stems from my faith. I also strive to be a light through which Christ can shine, whether it's through the way I dress, though my videos, or through my music. - Author: Lindsey Stirling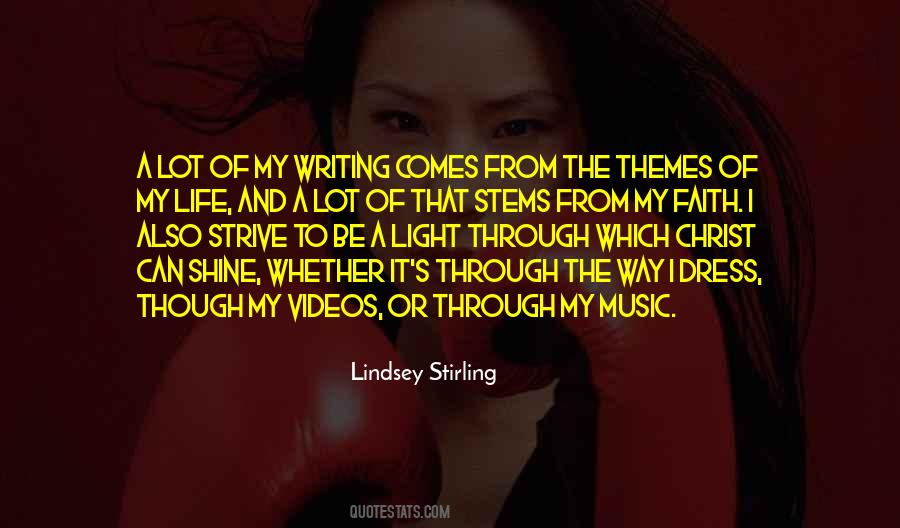 #14. I'm consistently recording and releasing stuff online or YouTube videos or whatever it is. I just don't know if it's going to be a full on, I'm the next Rihanna, or whatever. I'm not going for it to that level. But I love making music and I don't think I could stop if I wanted to. - Author: Drew Seeley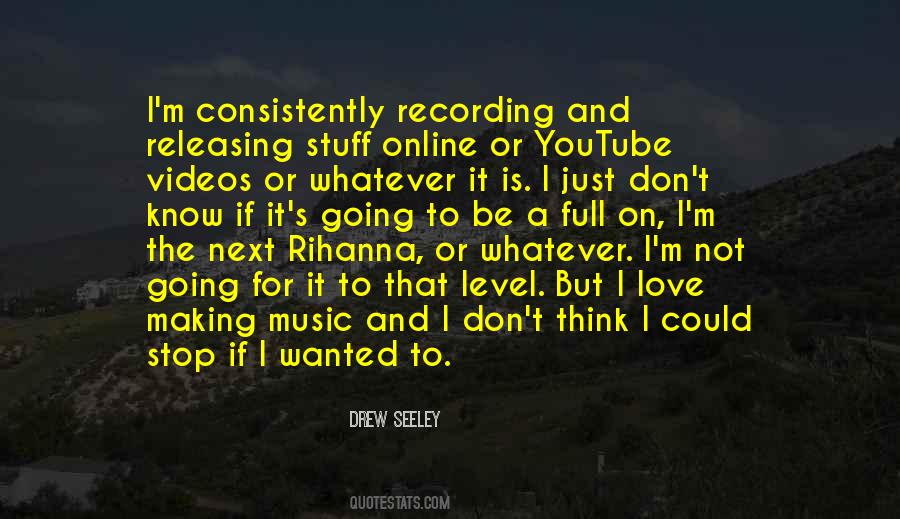 #15. Music videos may seem old hat now, but let me tell you, in the summer of 1981, MTV was indubitably the coolest thing ever invented. And the people who were in the videos ... coolest people ever. No question. - Author: Julia Quinn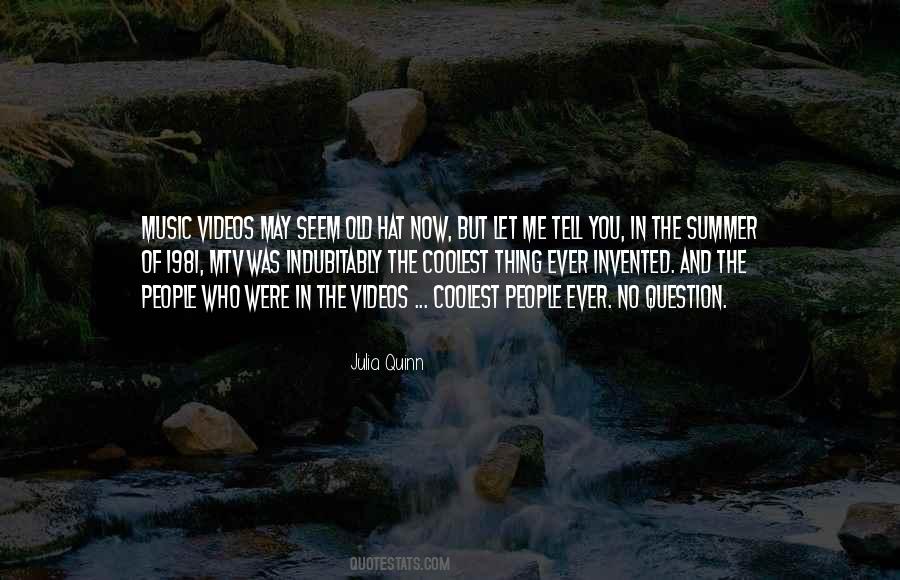 #16. I guess YouTube is the new destination spot for music videos. That's where I go. - Author: Travis Barker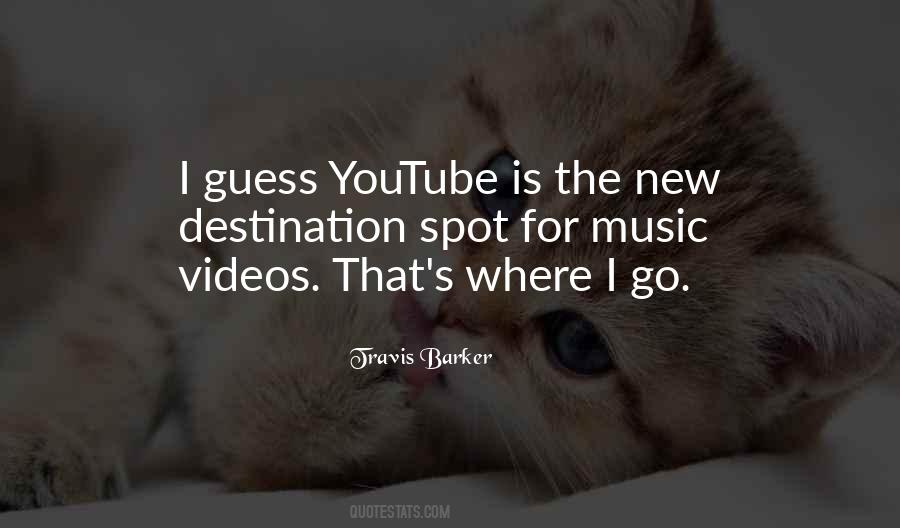 #17. I started out doing music videos and photography, and I always loved writing. - Author: Brendan Fletcher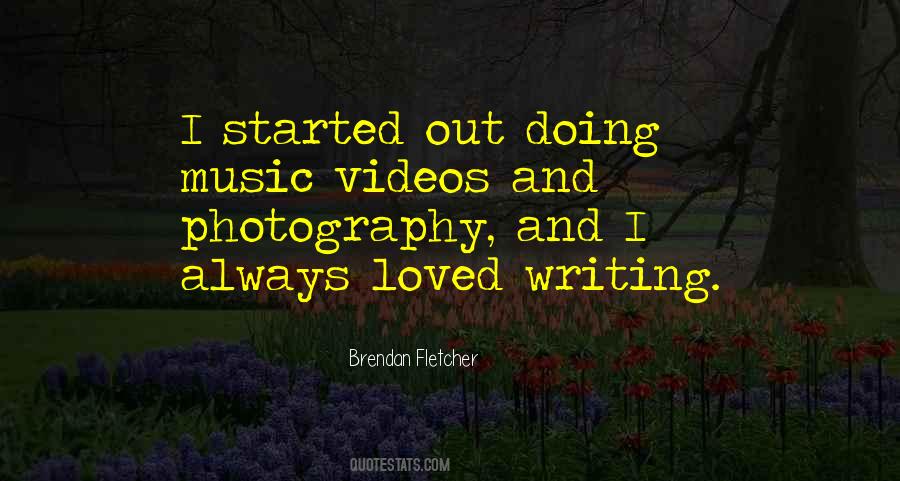 #18. When I get to tell a story through music videos or TV, it's all about finding the story that I want to tell, so I'm definitely open to acting roles, it just depends on the story. - Author: Taylor Swift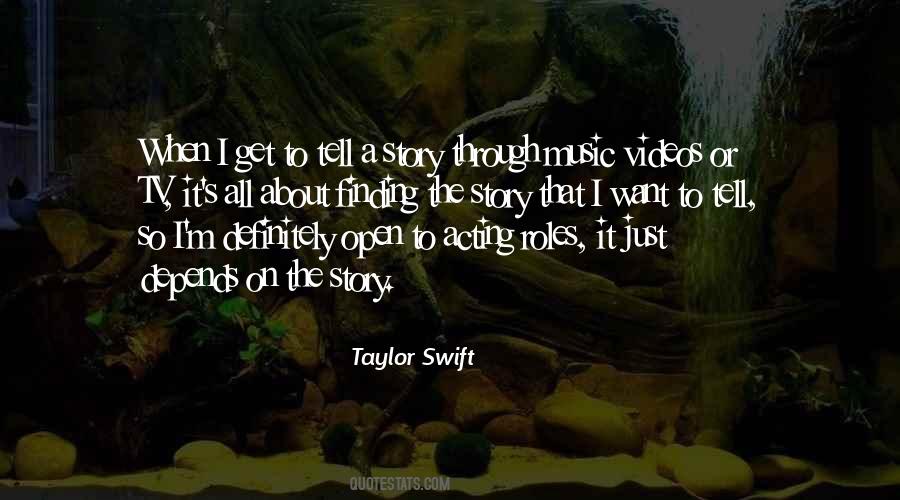 #19. An album is a whole universe, and the recording studio is a three-dimensional kind of art space that I can fill with sound. Just as the album art and videos are ways of adding more dimensions to the words and music. I like to be involved in all of it because it's all of a piece. - Author: Bat For Lashes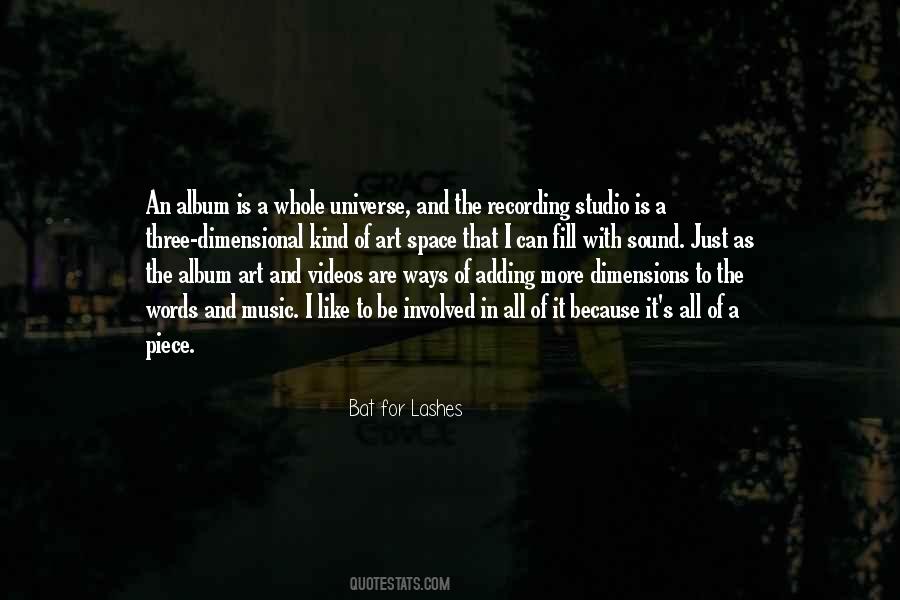 #20. Well, I've been on stage my whole life. Also, when you're doing music videos, a lot of people don't understand. They think you just go up there, do the song, and they film the video. You do it like a jillion times before that though. Same thing in the studio. - Author: Glenn Danzig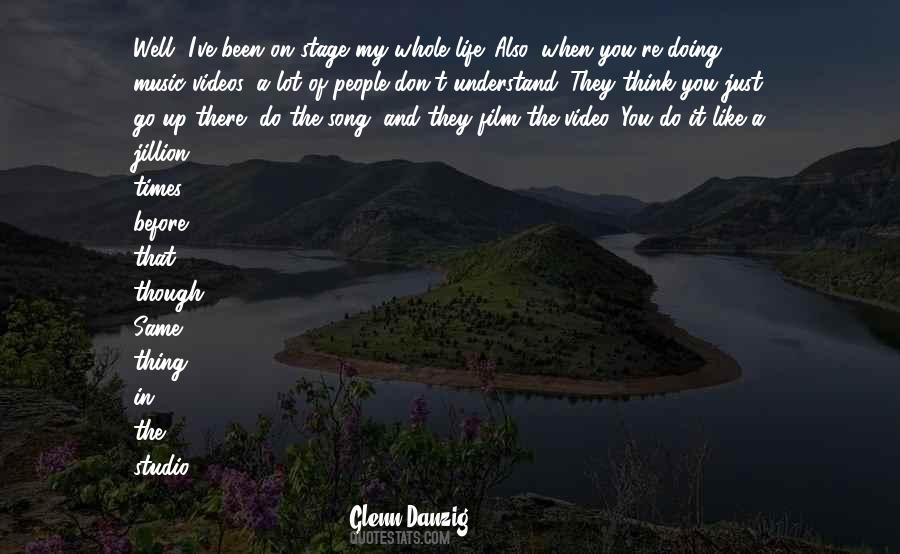 #21. There are so many bad songs that have incredible videos. It's pretty amazing, actually. The power of putting images to music is hypnotizing. It's a real power. That's a realm that I've failed at completely. - Author: Devendra Banhart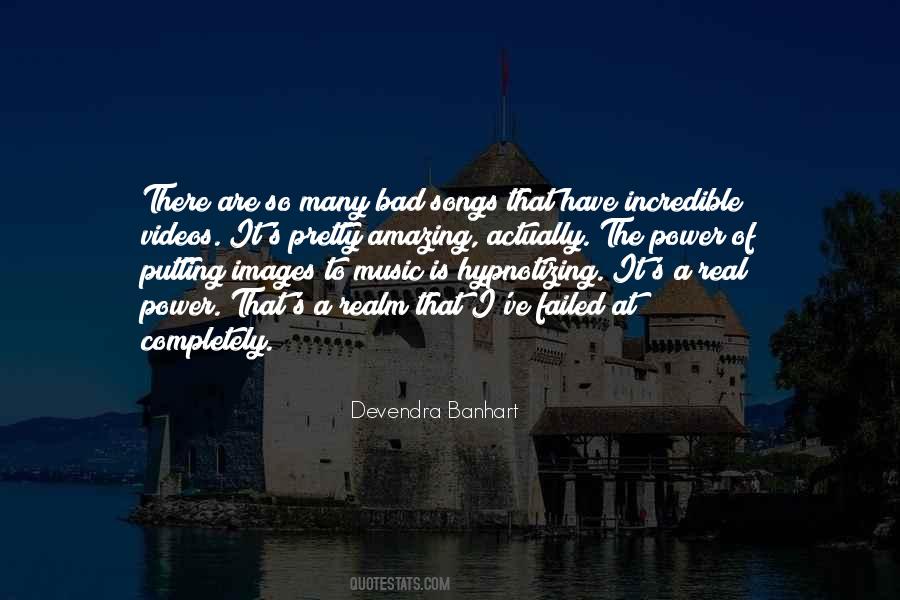 #22. I've always loved music videos - I used to make my own for bands like Pearl Jam. My favorite directors are Michel Gondry, Spike Jonze, and Patrick Daughters. - Author: Akiva Schaffer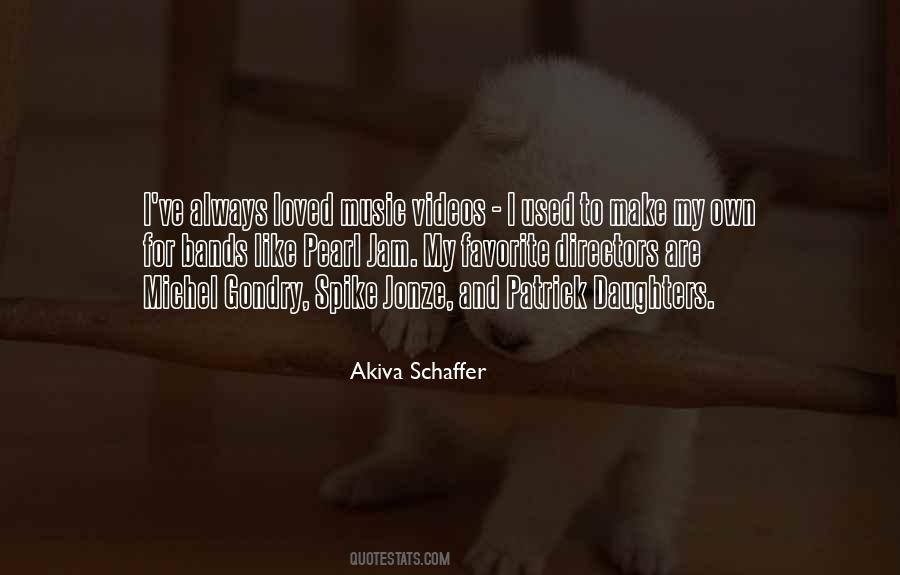 #23. I prefer making videos to making music. - Author: Grimes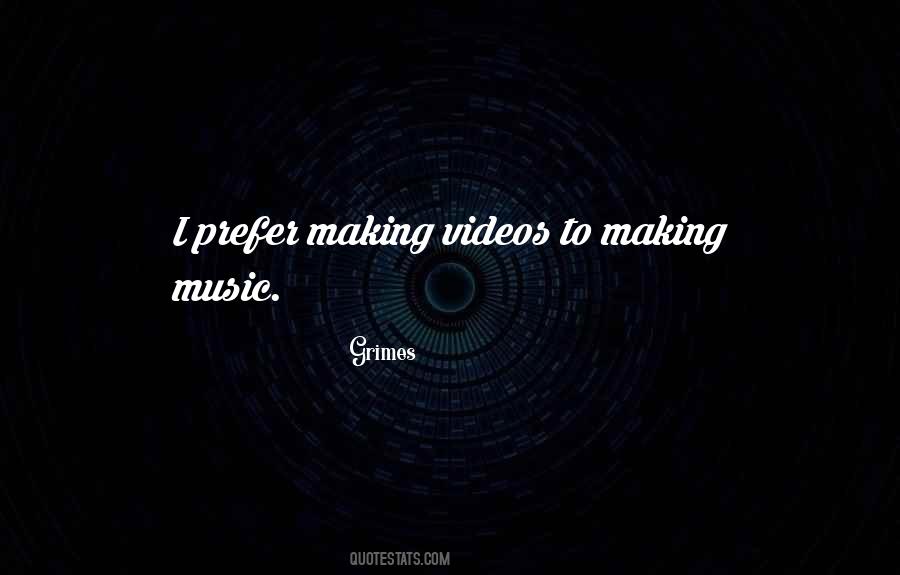 #24. I'm not really big into Twitter and stuff, but I like to post really cool music videos, just sort of spread a positive light on things that interest me. As opposed to, "I hate so-and-so because they were wearing the same hat as me." That's just so pointless. - Author: Tyler Blackburn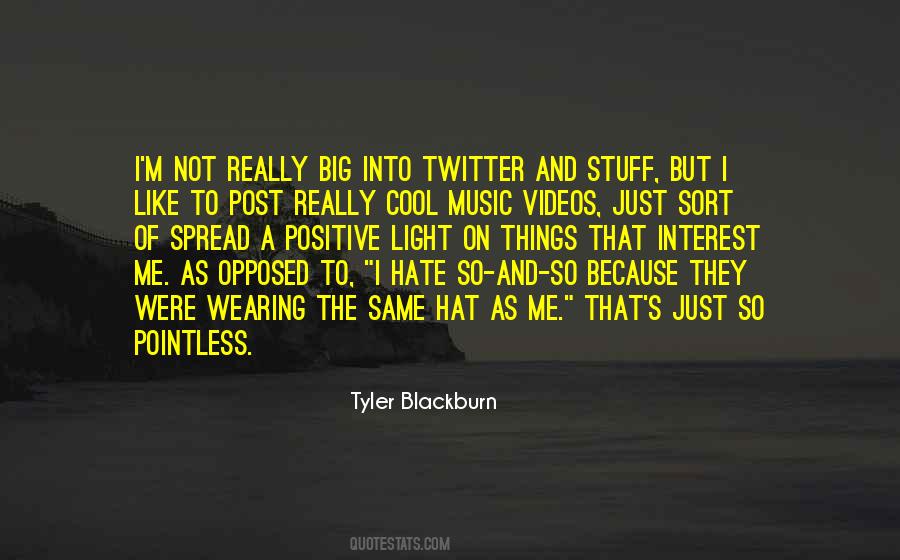 #25. I always have one foot in the street, so I know not everyone wants to dress like the women they see in music videos. - Author: Rachel Roy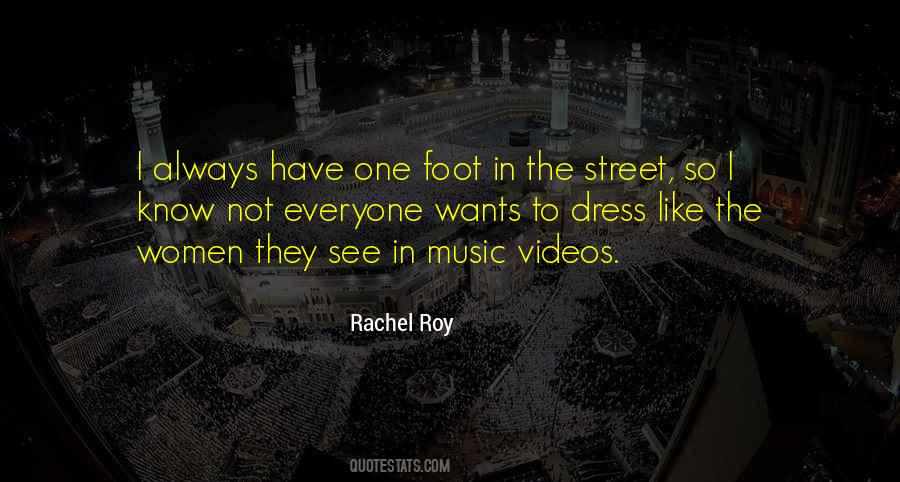 #26. I've loved Michael Jackson, his music, his music videos. - Author: Ashley Tisdale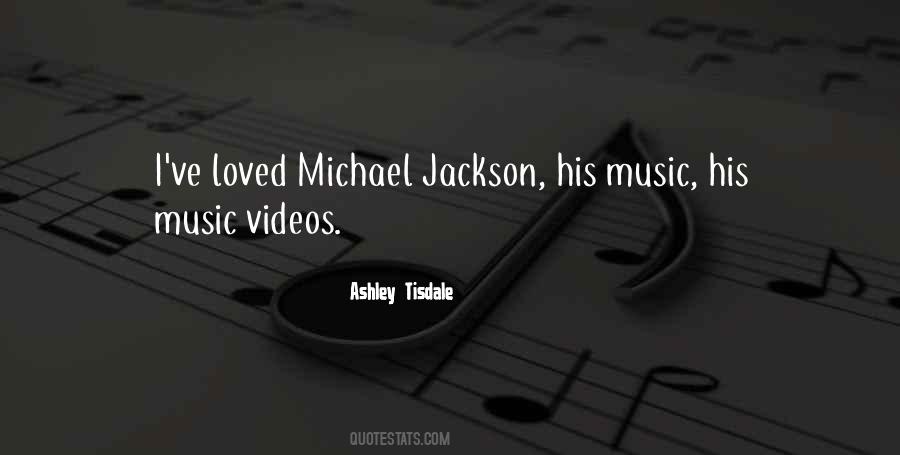 #27. My record company had to beg me to stop filmin' music videos in the projects. No matter what the song was about, I had 'em out there. - Author: Nas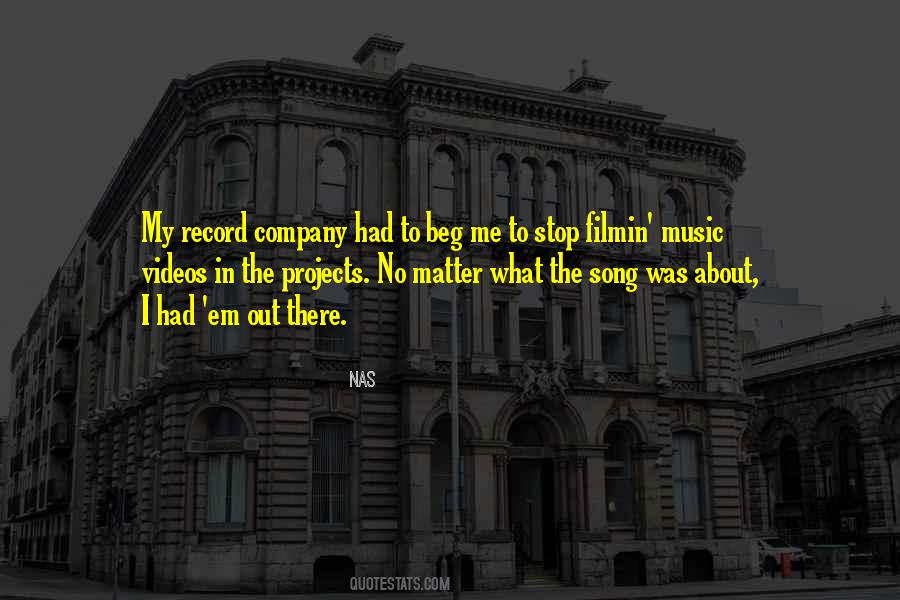 #28. Listen to positive music, watch positive videos or movies, hang out with positive, upbeat people. The last thing a blue mood need is more blues. Don't be volunteer victim; be a fighter. - Author: Les Brown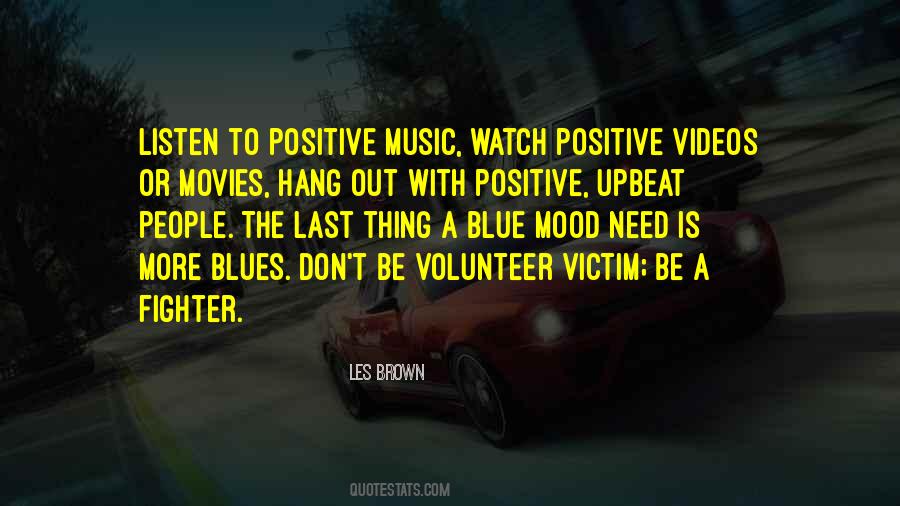 #29. I think the first thing that you need to detach yourself from is numbers, because music has now splintered off into so many different forms of media, MTV doesn't play videos, the radio is now competing with the Internet. - Author: Adam Levine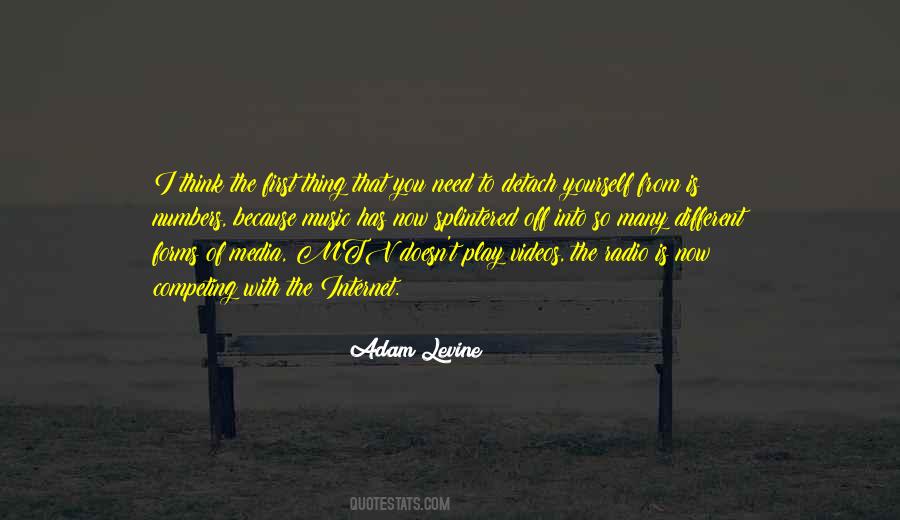 #30. I have produced all my music videos. Love to get behind the camera and get involved in the editing process. - Author: Antoniette Costa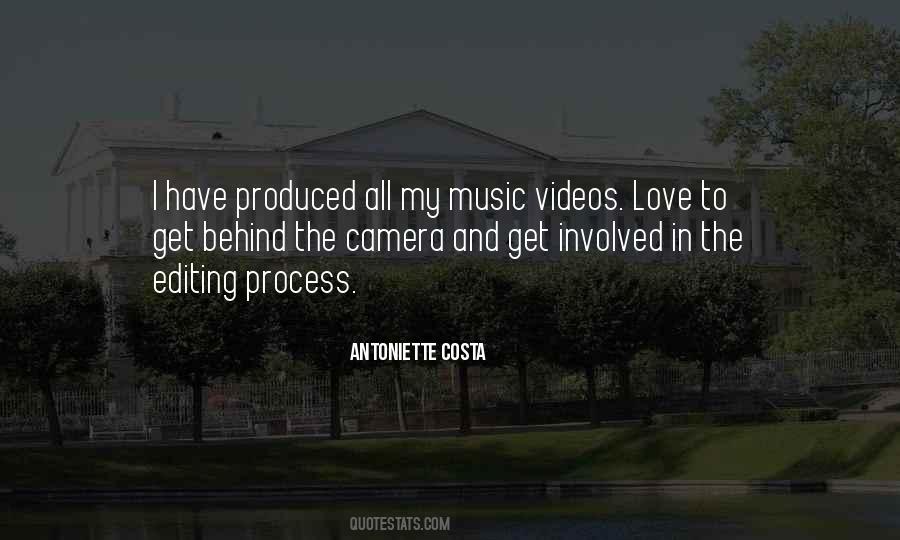 #31. I feel cool about making music and I feel secure pushing boundaries in my music. But things like videos and photos I find really difficult. I don't really like being in front of a camera - even though it is my job and I must act like I do. - Author: Erika M. Anderson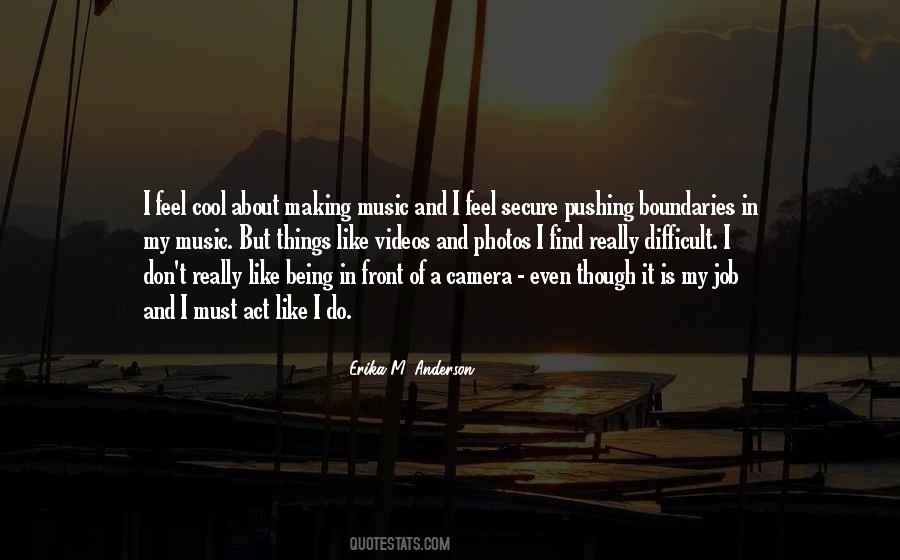 #32. Videos destroyed the vitality of rock and roll. Before that, music said, "Listen to me." Now it says, "Look at me." - Author: Billy Joel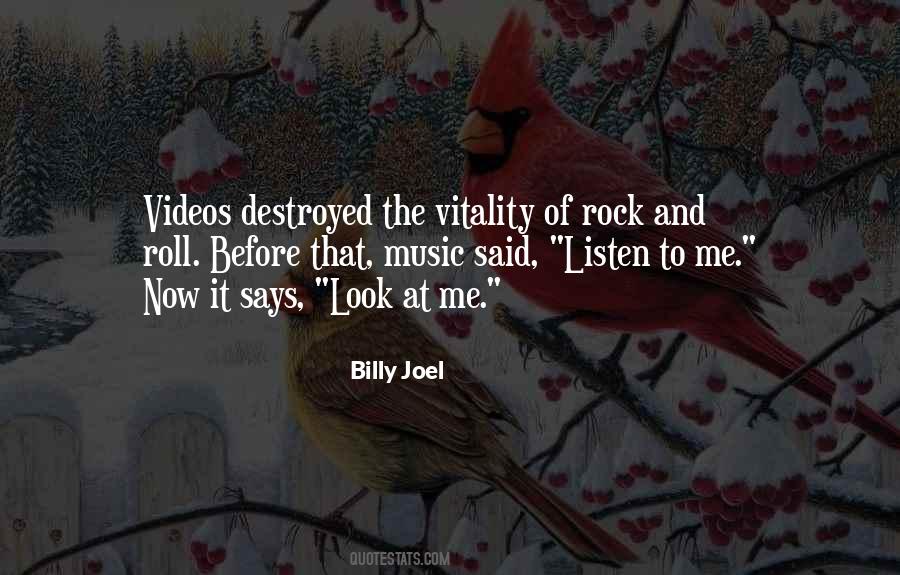 #33. When I started, I was 23 years old directing my own music videos; I'm co-producing on my album; I'm hands-on with everything. I'm more than just a pretty boy: I'm an artist. I'm not saying I'm a hip-hop music artist, I'm an artiste. - Author: ASAP Rocky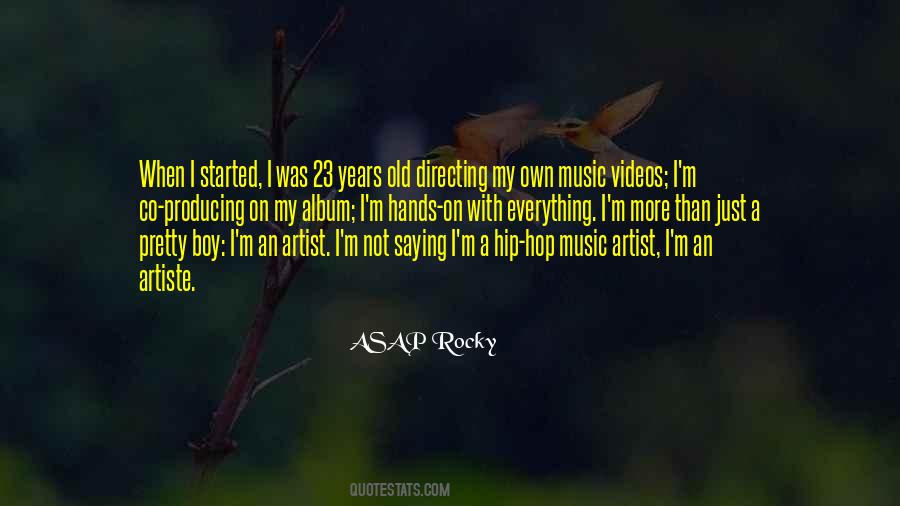 #34. I'm looking to produce more stuff: TV shows, commercials, music videos and short films. I'm building my catalog so I can have some fun in between the times that I get to a movie. - Author: Larenz Tate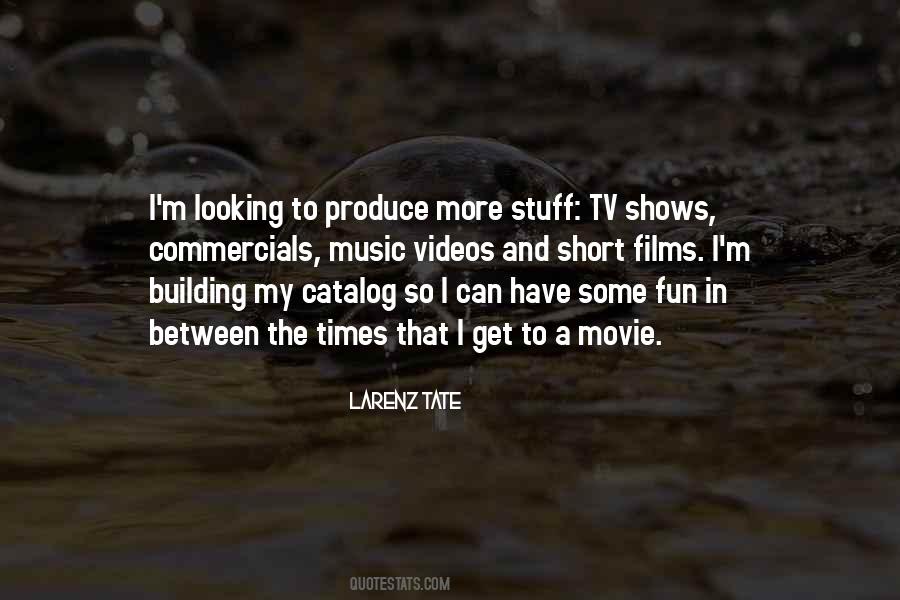 #35. I love music videos, I really do. I think it's kind of sad that it's a dying art form. - Author: Adam Levine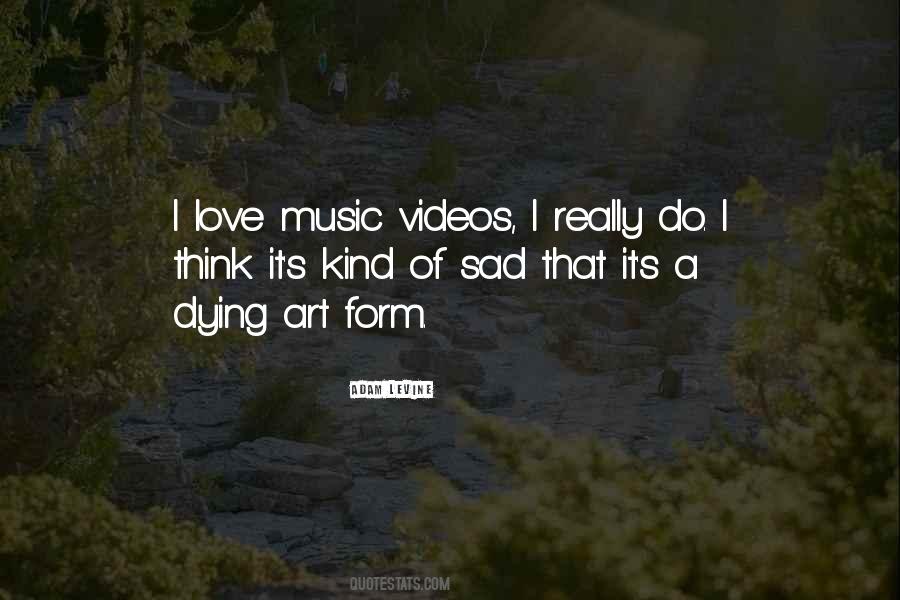 #36. I think it's important to find somebody who you trust, who has the same vision. If I were to do that myself, and not trust anybody to do it for me or with me, I would have to spend as much time as I have learning to make music on making music videos. - Author: Tove Styrke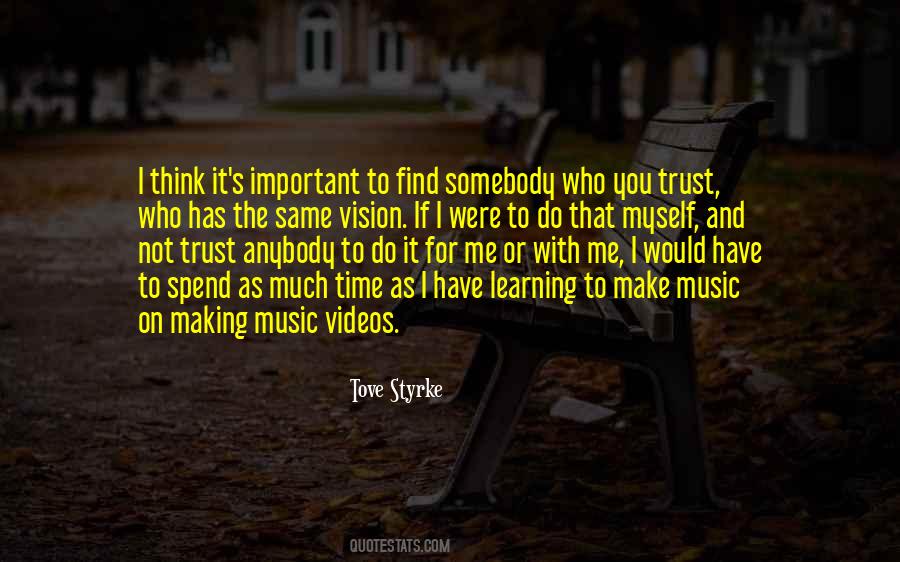 #37. Film was something that I didn't see as a step up from music videos, though obviously, music videos, the fact that you work with a crew and a film camera, are the closest to film I've ever been. That is the only schooling I've ever had. - Author: Anton Corbijn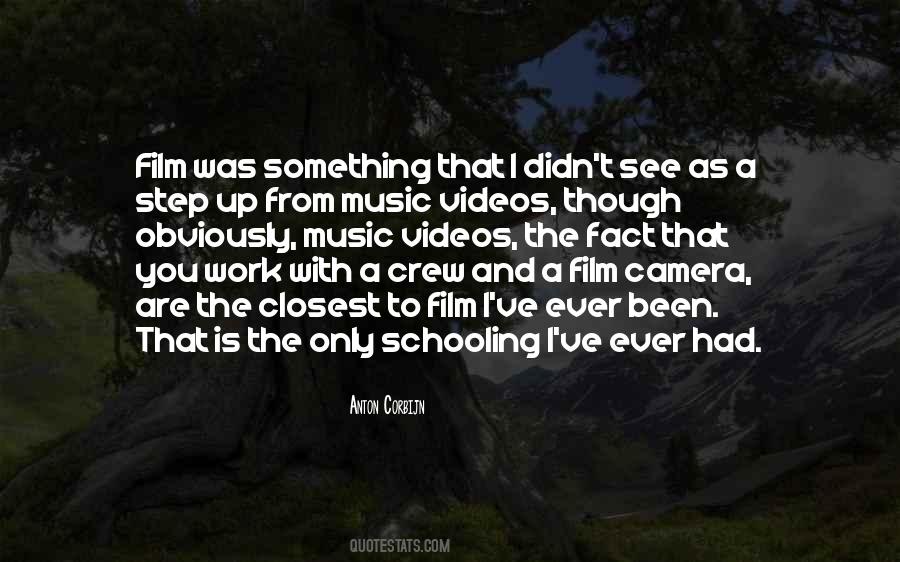 #38. I always did music, but music is an easier thing for me. Making videos and doing comedy things was more of a challenge, so I was more interested in that. Music is a little bit more automatic. - Author: Reggie Watts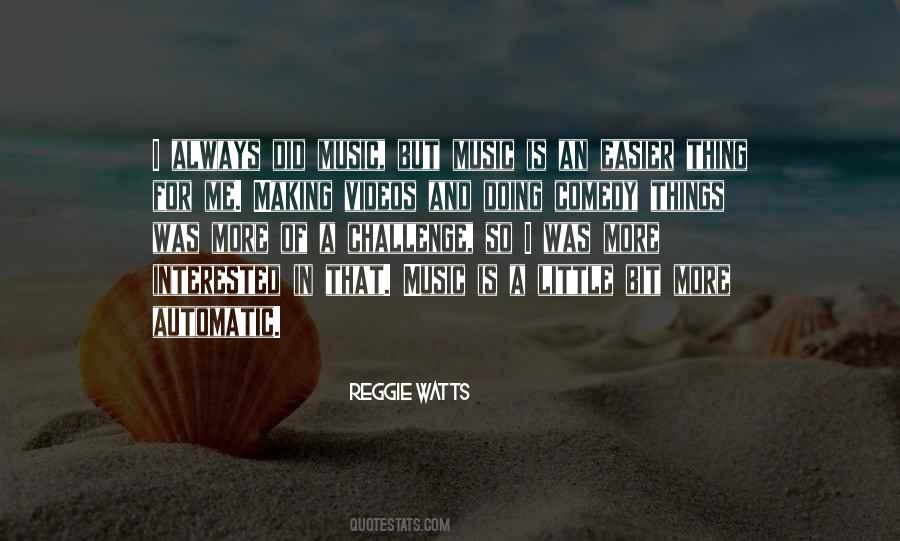 #39. Obviously, movies and music videos are different because they're different lengths, and in a movie, you have more time to explore an idea. But I feel like they're all the same, really. - Author: Spike Jonze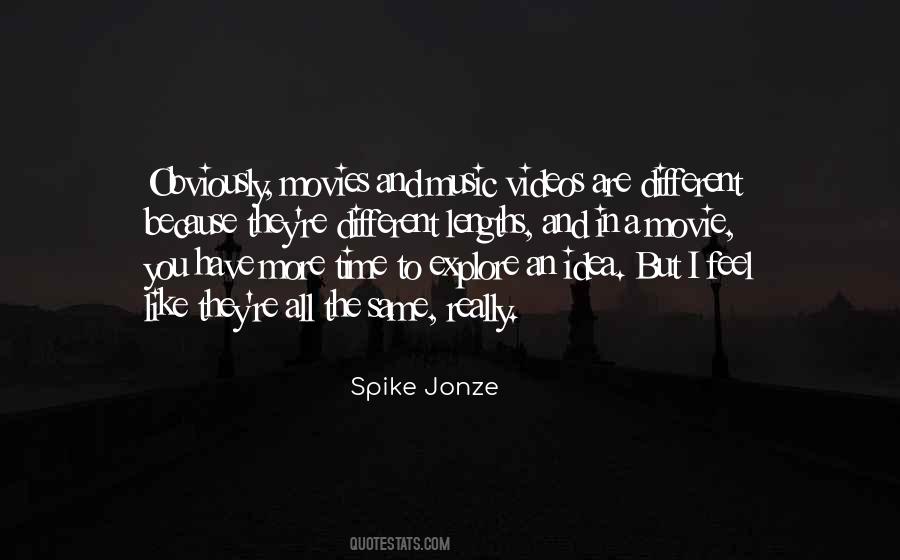 #40. I've got my advanced scuba diving license. I'm playing tennis and exercising. I ride my bike everywhere. I've been finding new things. I've been more creative in music and doing different videos. And just meeting different people and being around and present. I'm wonderful when I'm just on nothing. - Author: Albert Hammond Jr.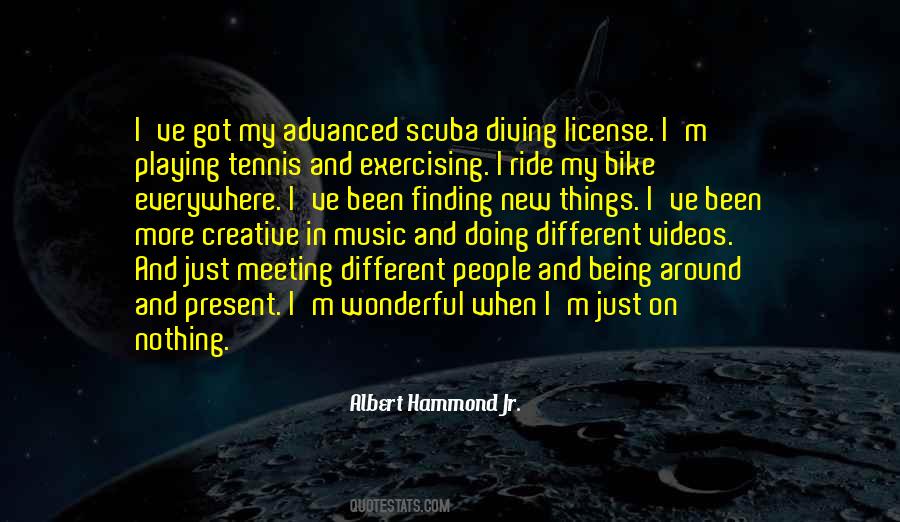 #41. I someday hope to find the time and coin to invest more of my creative energy towards the visual media side of releasing music. I'd love to make short film videos pushing the conventional standards of what a country music video can be. - Author: Sturgill Simpson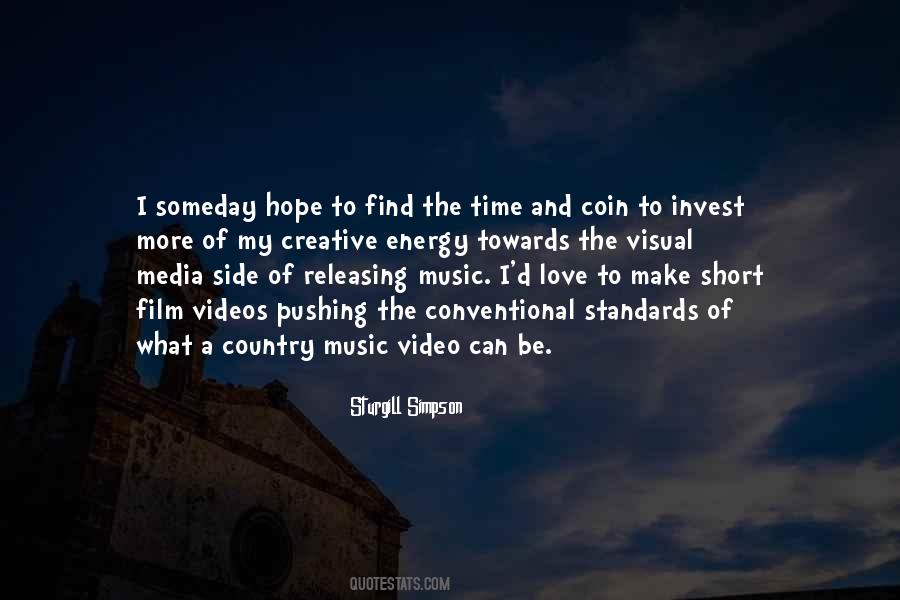 #42. I studied directing prior to acting and I've done music videos and documentaries and things that were sort of well-received. - Author: Matthew Gray Gubler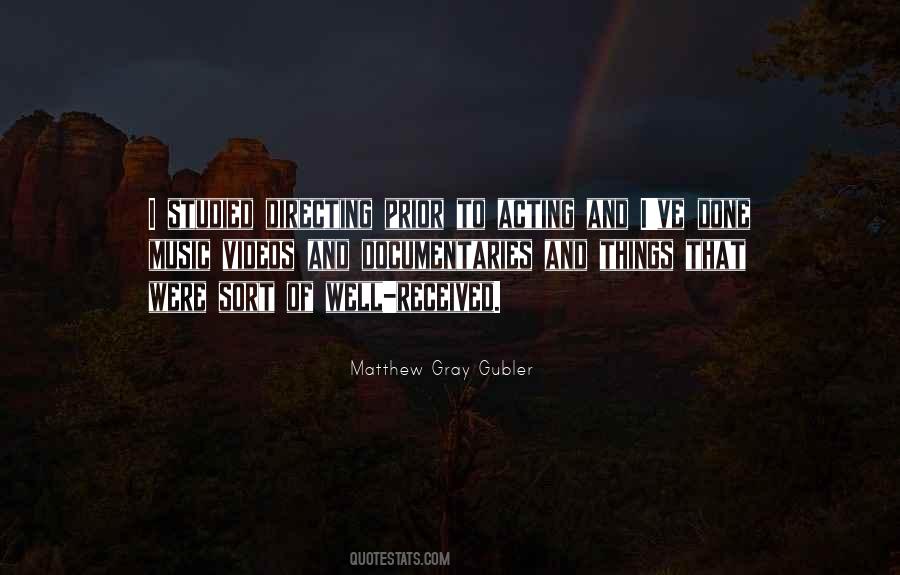 #43. At 3 A.M., I'm still up watching videos of jazz heroes I never saw live. It's so thrilling. And not just the music. The Internet is changing the future of fund-raising. I'm thrilled by the potential. - Author: Bonnie Raitt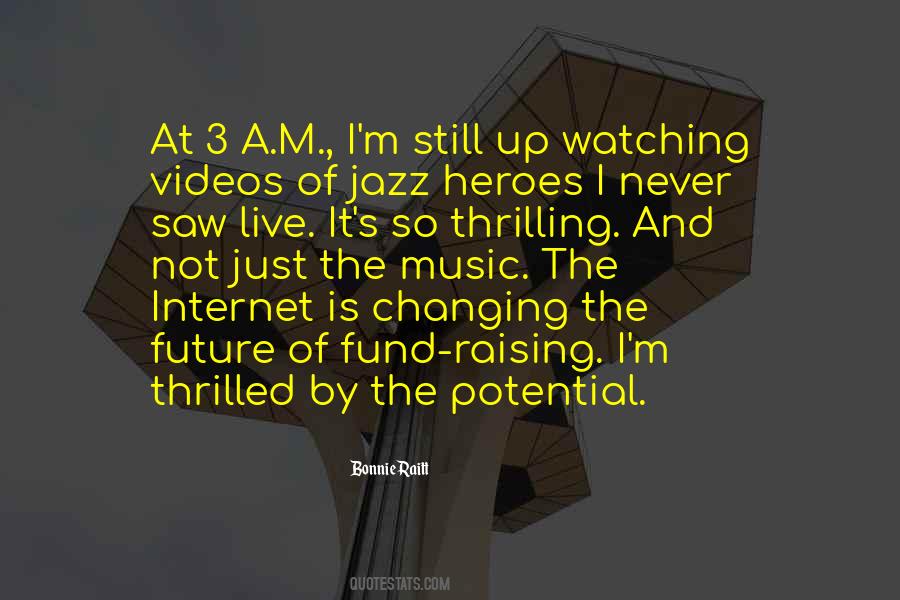 #44. I used to hate, with a capitol H, making videos. It was nothing but a chore. It was something you had to do to have your music accepted in the visual medium. - Author: Sheena Easton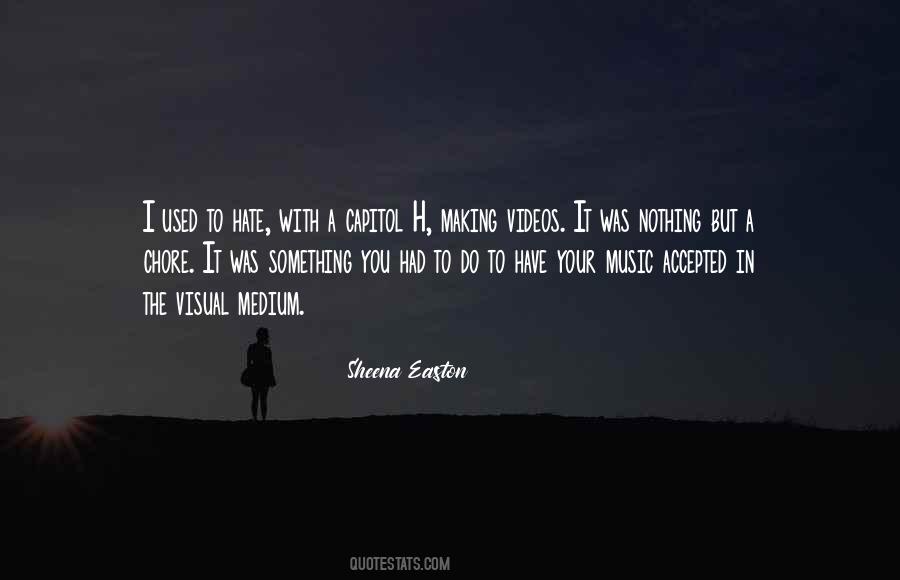 #45. I've also directed, shot, and edited several music videos. - Author: Richard King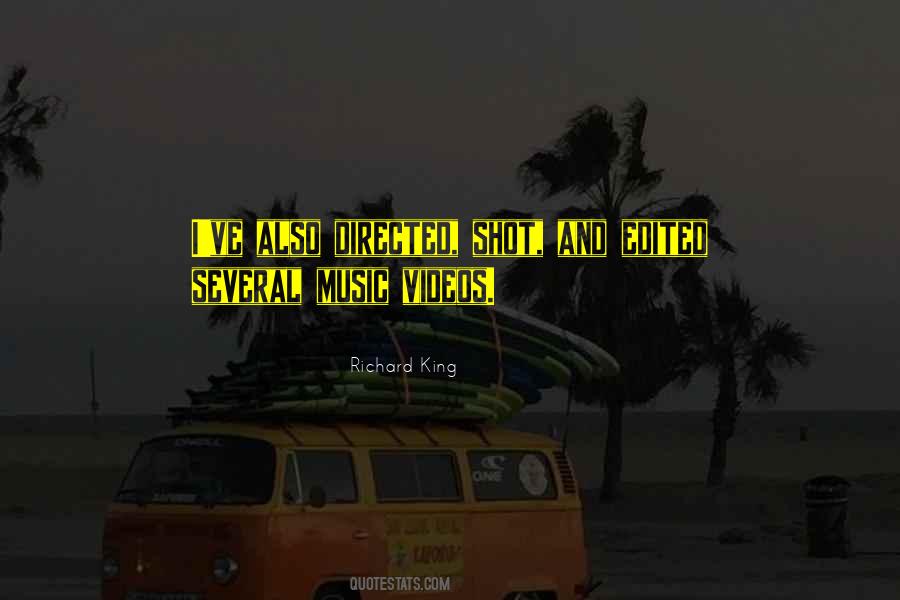 #46. If you don't like my songs, don't hear it. If you don't like my music videos, don't watch it. If you hate me, I don't care. - Author: Miley Cyrus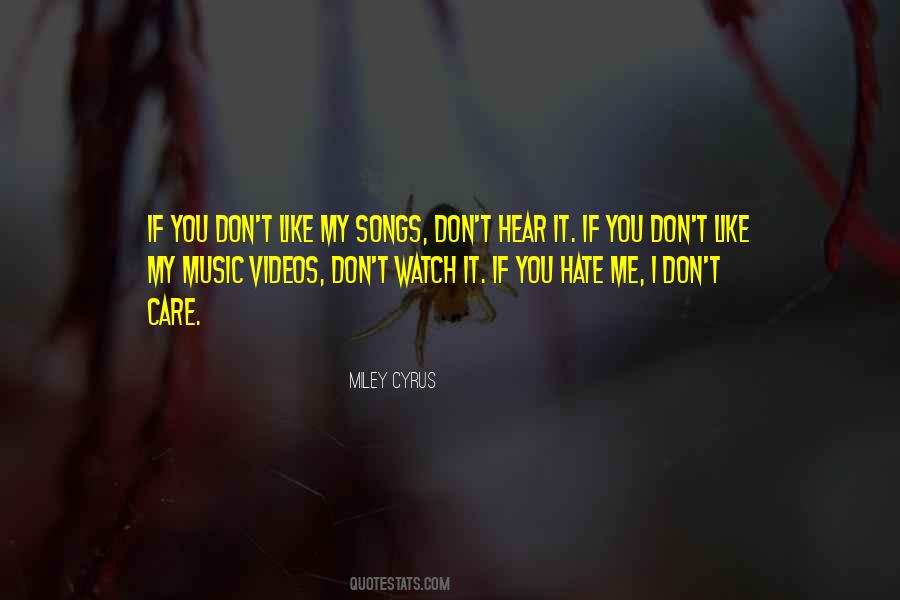 #47. Society, magazines, posters, music videos, investment bankers. A lot of times, in my past anyway, looking within wasn't overly encouraged. Pretty much everybody proclaimed that fame would give me power and fortune. - Author: Alanis Morissette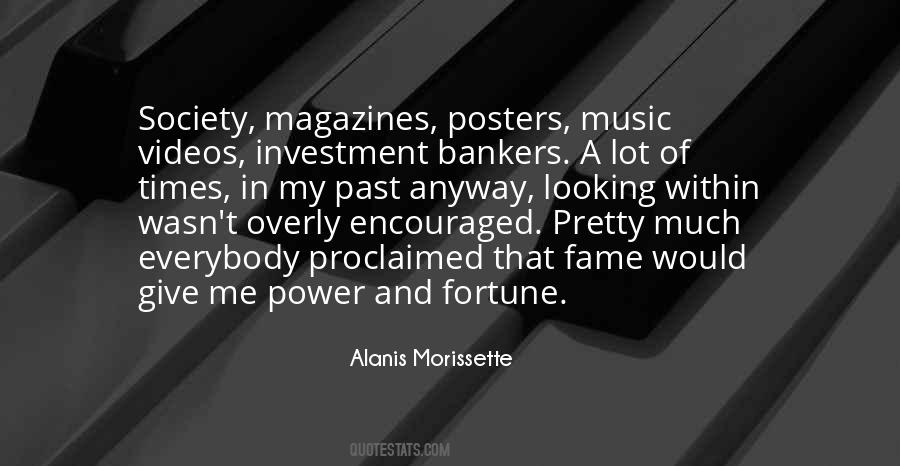 #48. People worry about kids playing with guns, and teenagers watching violent videos; we are scared that some sort of culture of violence will take them over. Nobody worries about kids listening to thousands - literally thousands - of songs about broken hearts and rejection and pain and misery and loss. - Author: Nick Hornby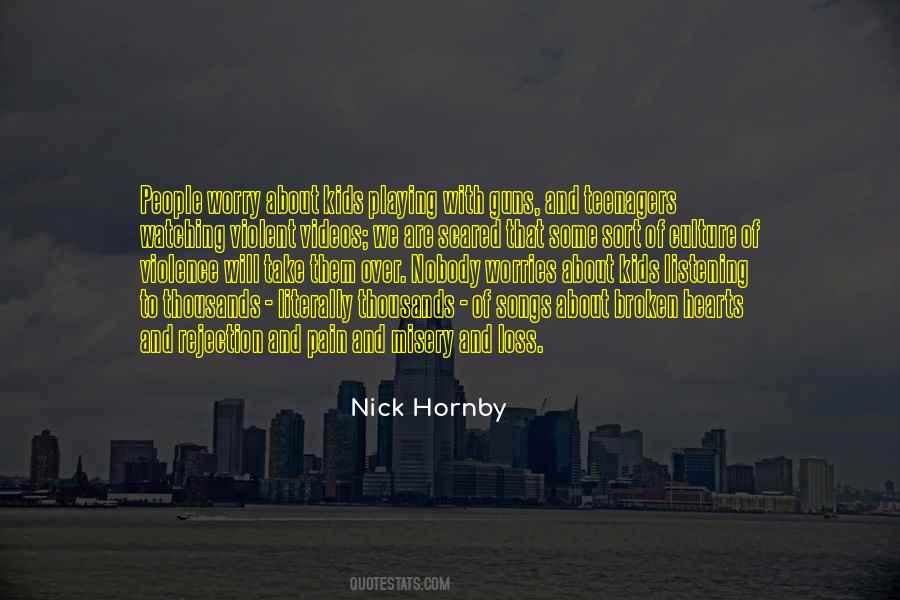 #49. We [musicians] are comfortable in front of the camera doing music videos, and it's almost a form of acting when we're doing music videos. We're acting out our own thoughts and what we've written down on paper. - Author: Ludacris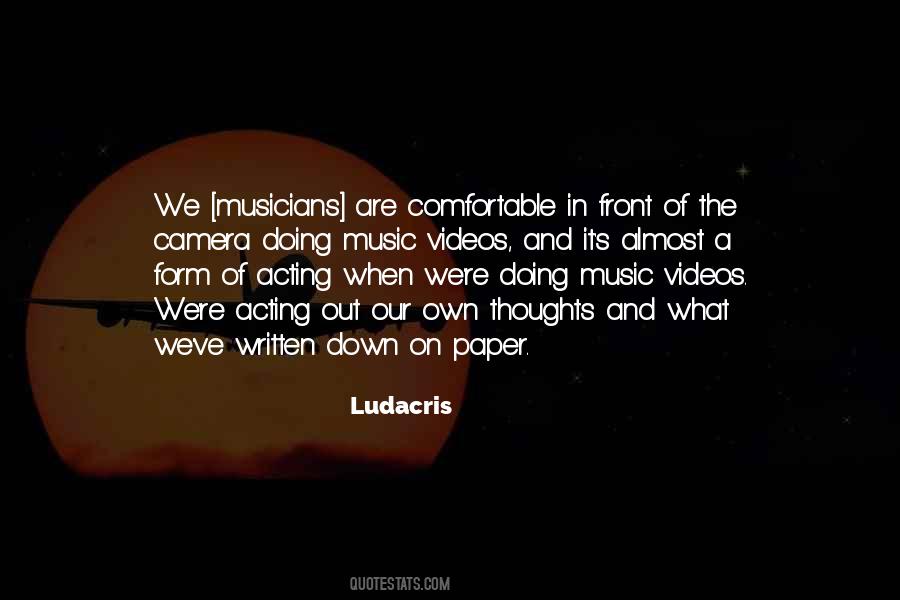 #50. I didn't make music videos in order to make a movie. Music videos were the goal for me, so it was never a step to something else. I approached it seriously. - Author: Anton Corbijn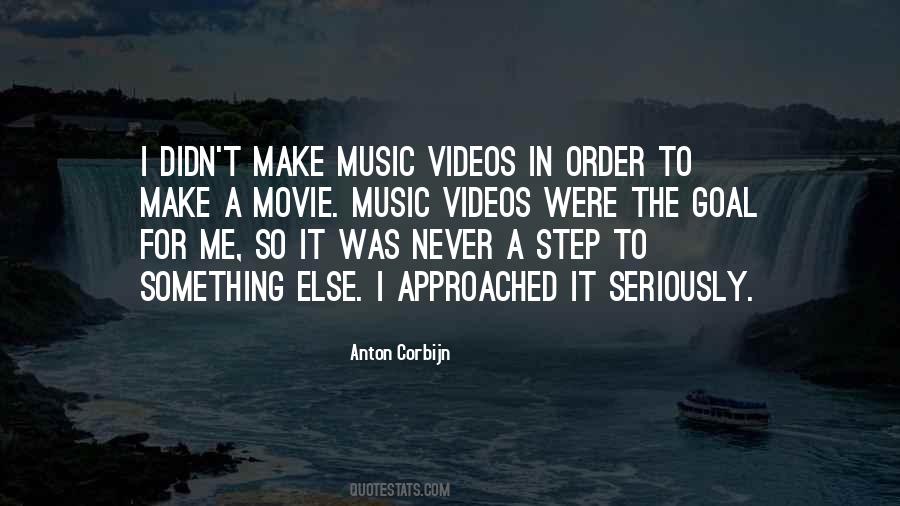 #51. YouTube and other sites will bring together all the diverse media which matters to you, from videos of family and friends to news, music, sports, cooking and much, much more. - Author: Chad Hurley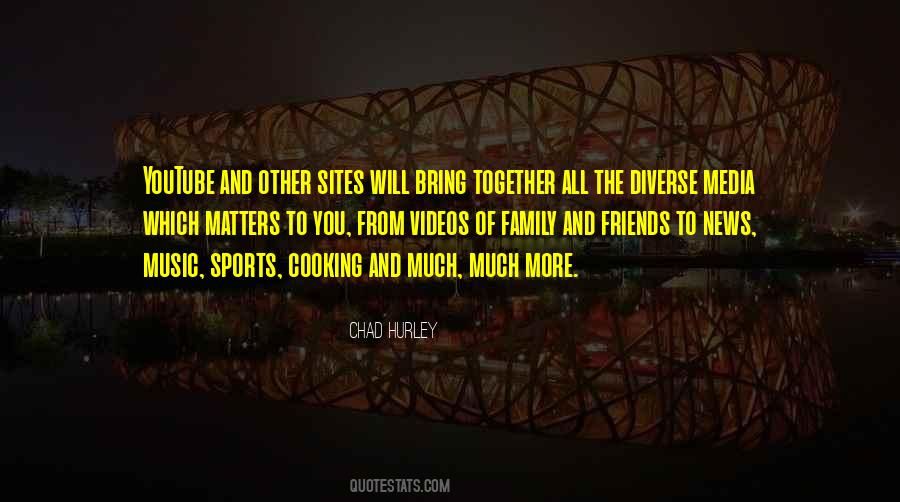 #52. I was doing these music videos online for a couple years, and they'd be doing well to varying degrees. And I released an album, and with the album, I released three new music videos, and one of them was featured on Jezebel. - Author: Rachel Bloom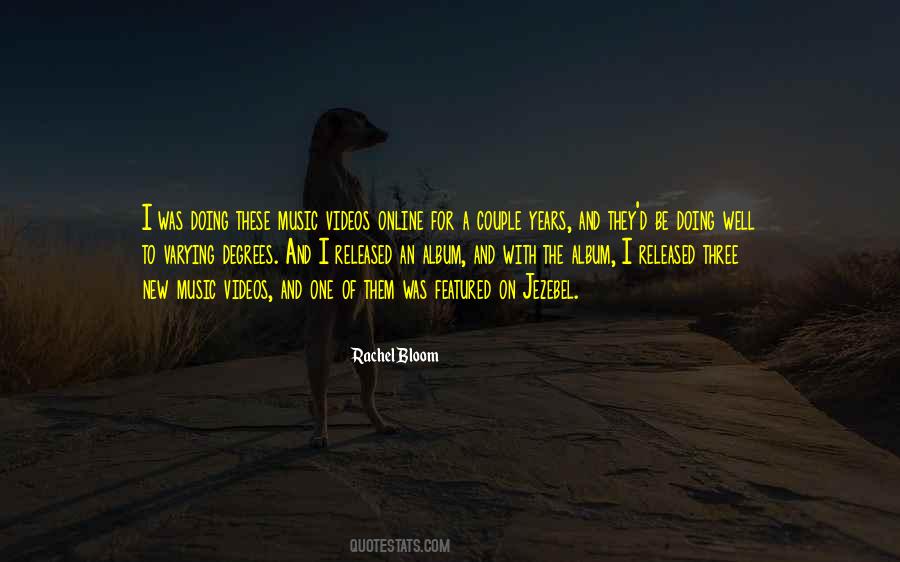 #53. Most of my music videos were made for under $200. - Author: Grimes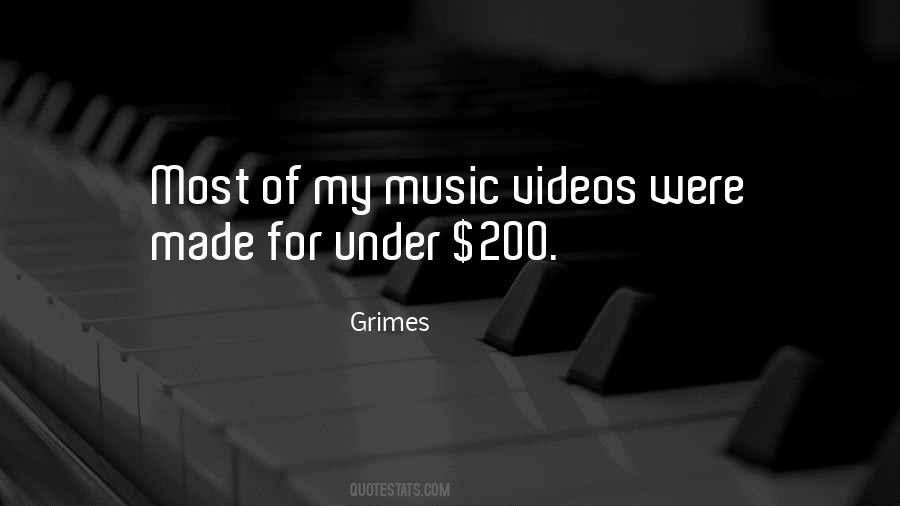 #54. I really wanted to be able to make the music that acknowledged the metaphysical aspect of extreme sports because when I started watching GoPro videos, the thing that struck me the most was that the sound seemed completely detached from the imagery. - Author: Taraka Larson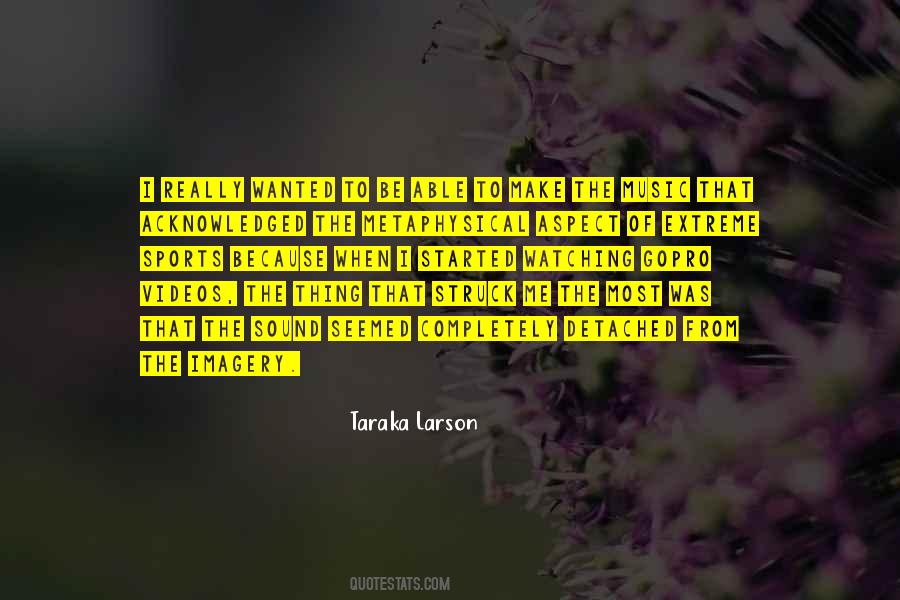 #55. When I was in N.Y. bartending, I was in a billion music videos. I was in Madonna, George Michael, Salt-n-Pepa - it goes on and on. - Author: Pauley Perrette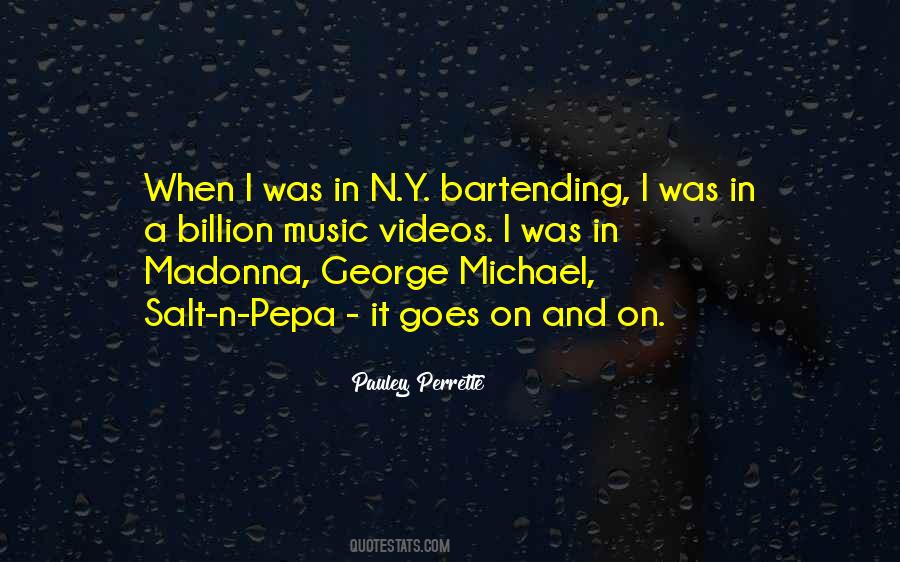 #56. I guess my job has always been to build the music, direct the videos, to do all the things that usually fall behind the scenes. - Author: Ryan Lewis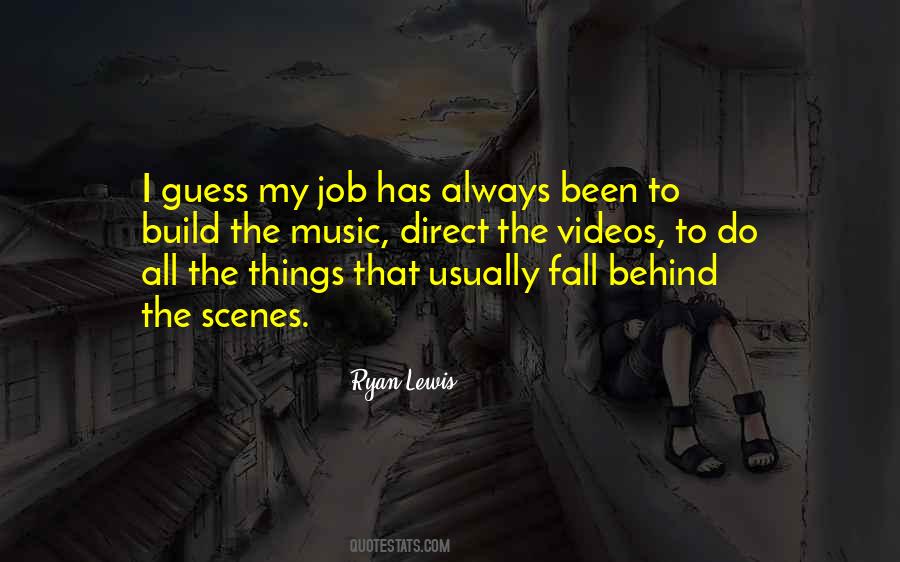 #57. Games have has as much an impact on Hollywood filmmaking as MTV music videos did. - Author: Bruce Feirstein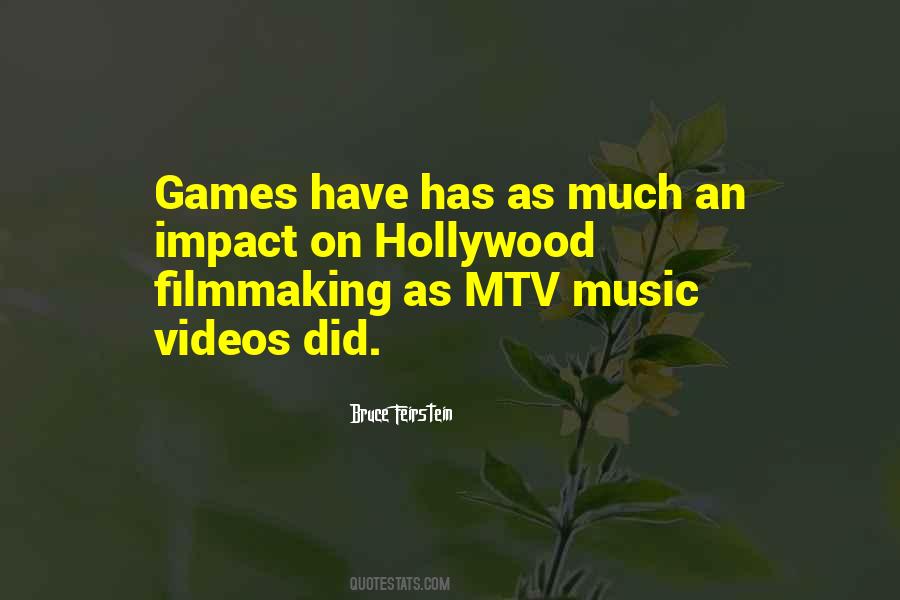 #58. Sometimes magazines will take artist's creative choices too literally; they assume that I actually live the way I do in music videos. For example: the whole "Dirty" thing. Do you think I wear chaps to the grocery store? - Author: Christina Aguilera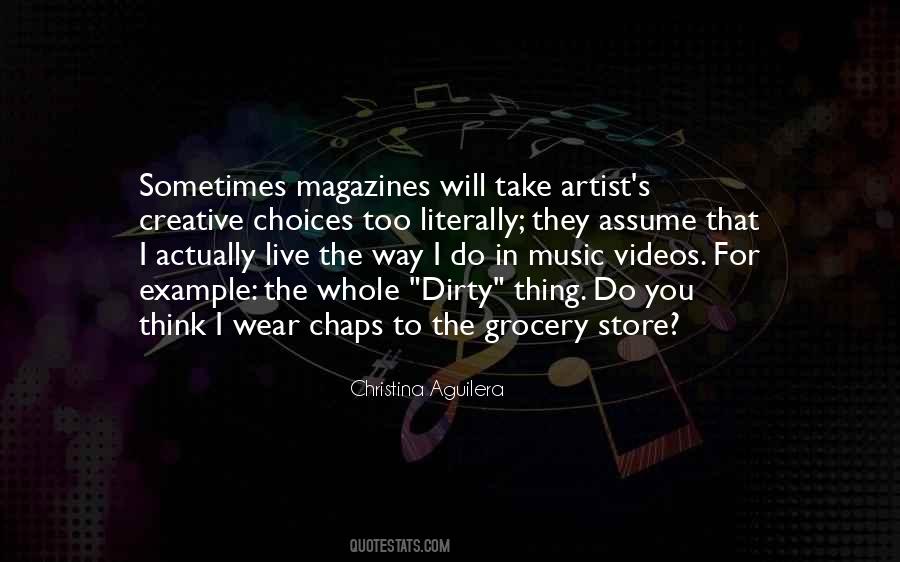 #59. I never knew I wanted to become a ballerina. I was discovered at the age of 13. I had a love for movement even though I had no exposure to dance other than what I saw in music videos, like hip-hop music videos. But I knew that I loved moving. - Author: Misty Copeland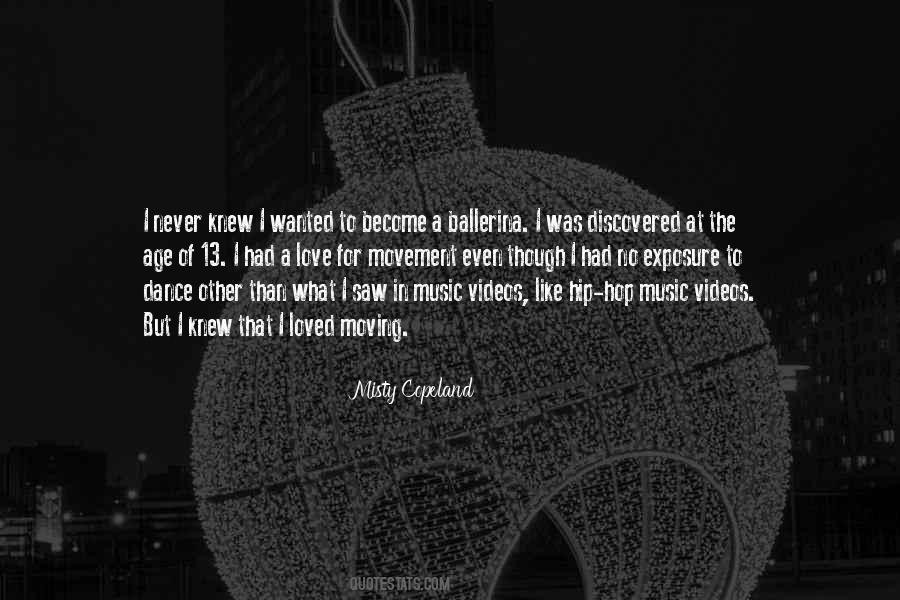 #60. I've just been learning how to direct my own videos, choreography, doing costumes ... every creative opportunity there is with my music I've taken. - Author: Santigold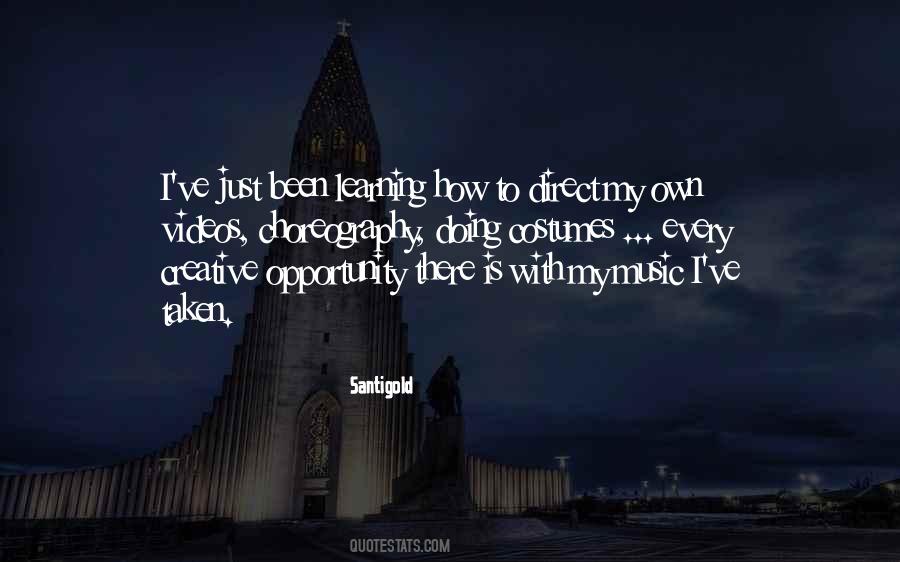 #61. I think the best music videos are the ones that have nothing to do with the song. Those are all my favorites. - Author: Donald Glover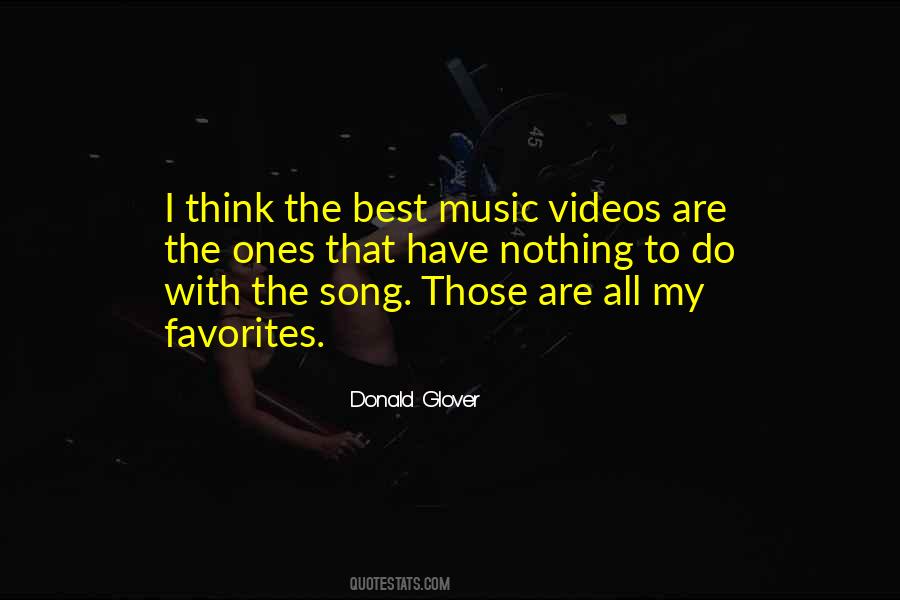 #62. I don't like being the focus of attention. It makes me very uncomfortable. And it's part of the reason I never look at videos of myself, or I very rarely listen to my music or even read things that I might've said. - Author: Cecile McLorin Salvant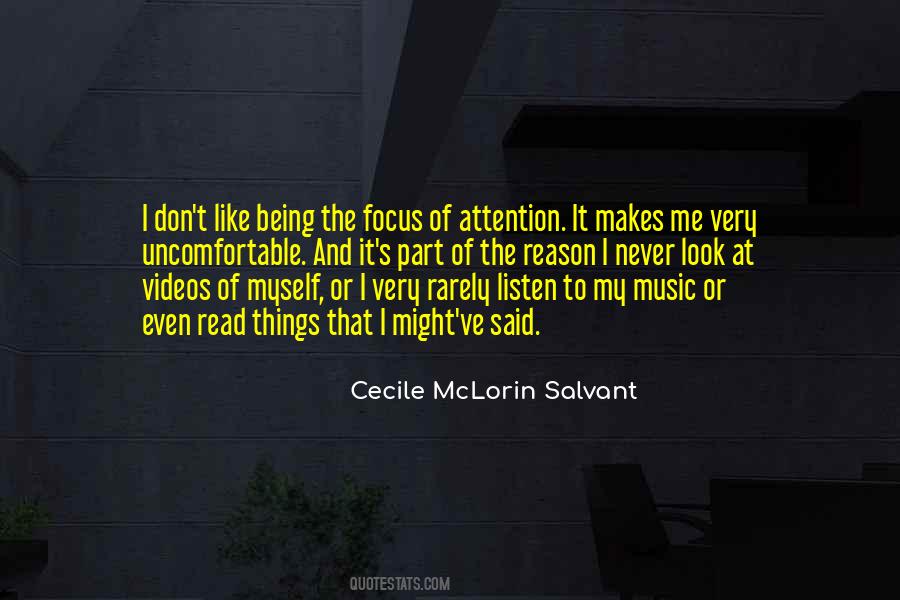 #63. The 'Work Hard, Play Hard' video shows how much a part of music the fans can really be. With the help of SanDisk, we were able to create the first-ever music video to be made using fan videos shot only from their mobile phones. - Author: Tiesto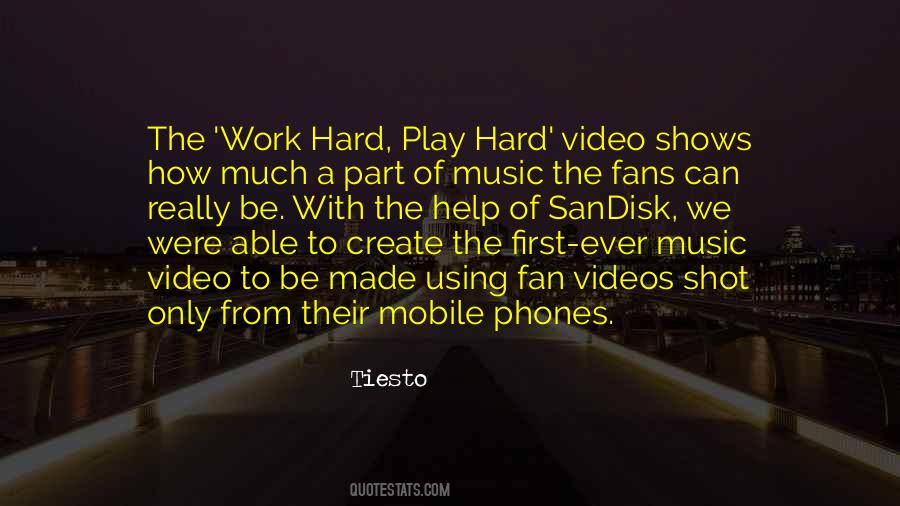 #64. I'm a very sensitive person by nature. Things move me very easily, like music or videos on Facebook, and I feel for people. - Author: Sarah Hay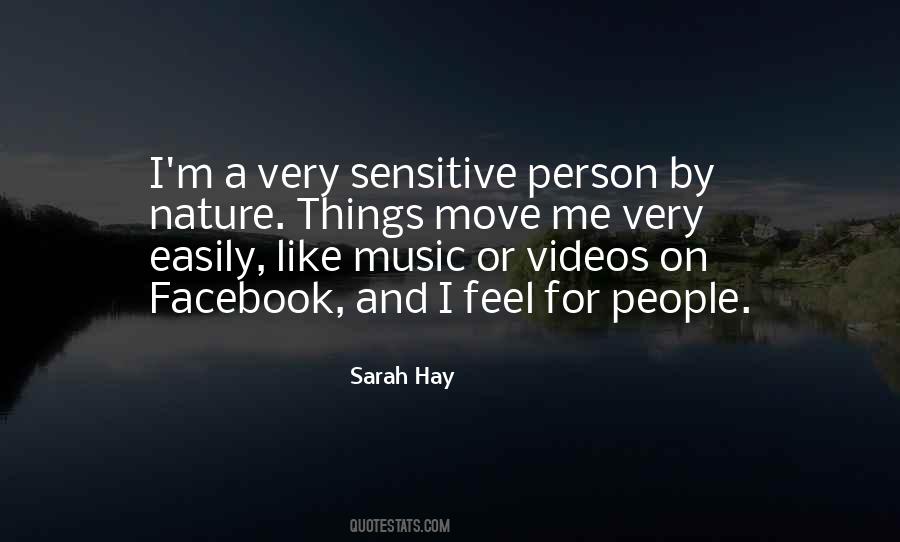 #65. All true artists in the world from all countries and all genres are influenced by Michael Jackson. There were music videos before Michael Jackson, and there were music videos after Michael Jackson. He brought such a huge change in the marketing and positioning of the music video. - Author: Sonu Nigam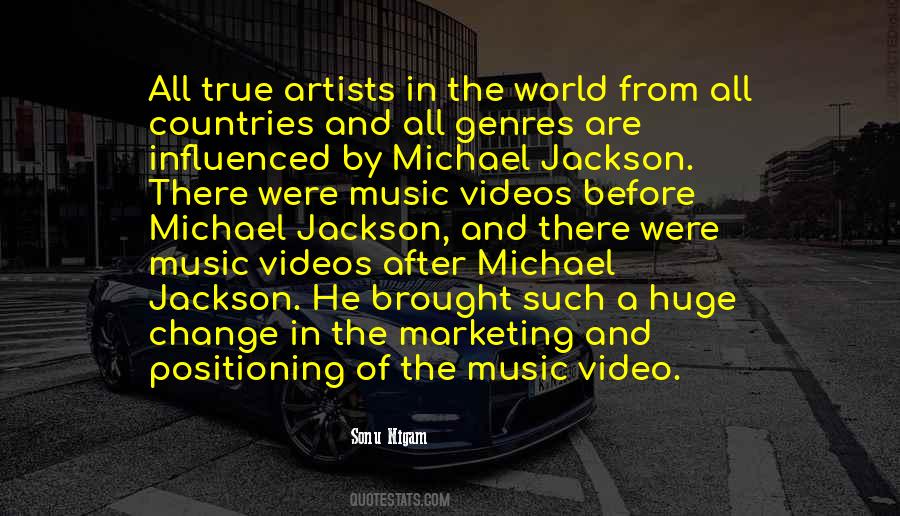 #66. Music videos are like girlfriends. I'm constantly amazed on what other people doing - Author: David Lee Roth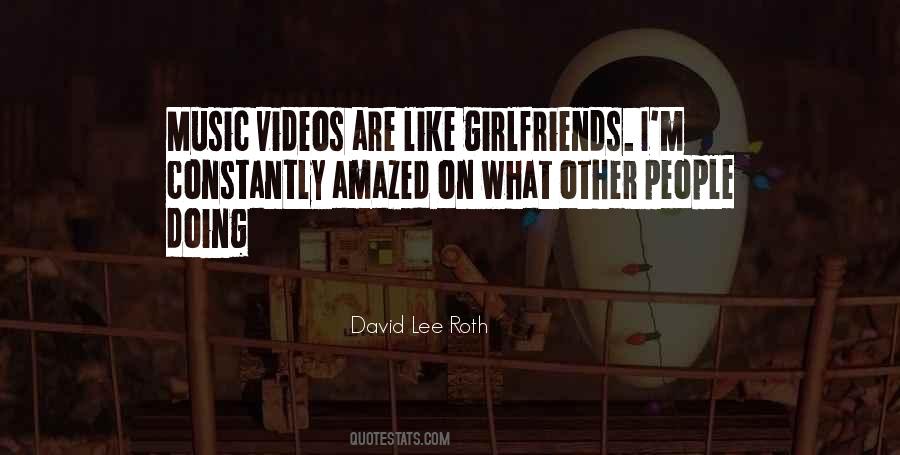 #67. If when you hear a song by OK Go you conjure up thoughts of a gigantic Rube Goldberg device or treadmills or drones or perfectly executed dance routines, then you know that this is a band that is masterful at coming up with amazingly creative music videos. - Author: Rachel Martin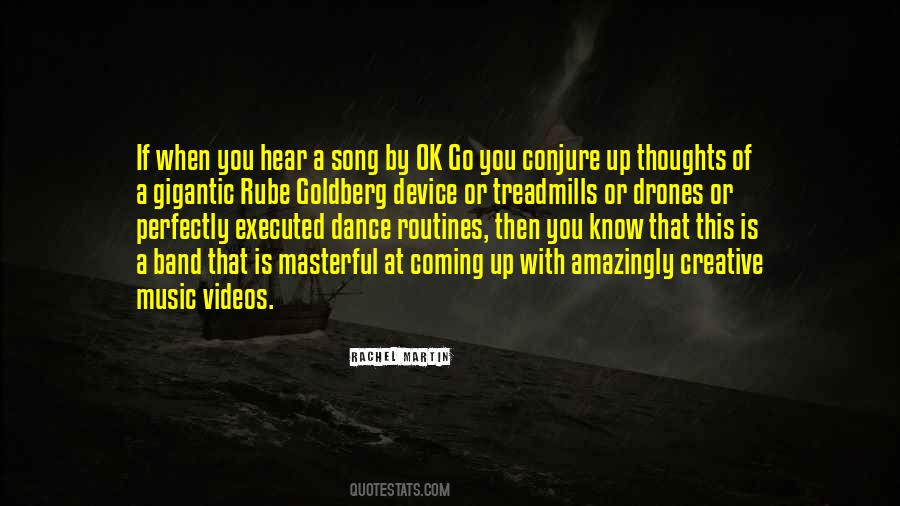 #68. What if instead of reading, you wrote? Instead of watching TV, you made videos? Instead of listening to music, you learned how to play guitar? - Author: Paul Jarvis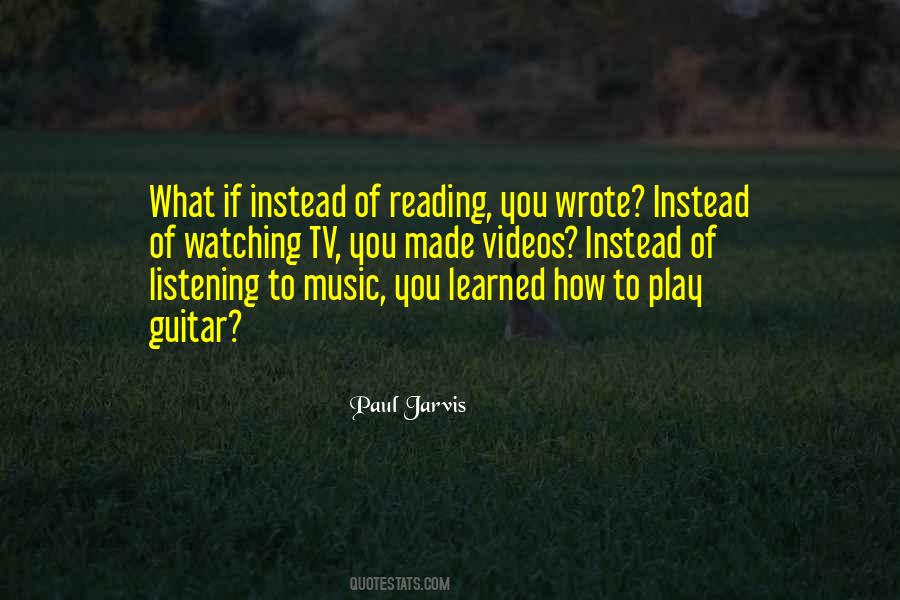 #69. The thing that helped me get into the film business was that I went to school in Athens, Georgia and managed to get on, um, working on music videos for a band called R.E.M. and that kind of opened up a lot of doors for me. - Author: Alton Brown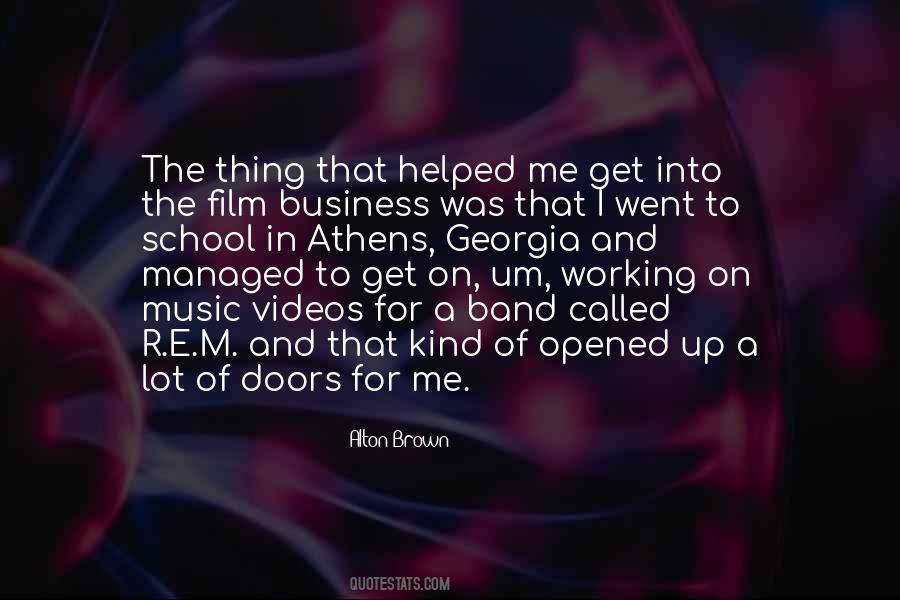 #70. Videos come definitely after the music has been created, but I have always felt, and especially today, that videos are vital in the album process. I think that we live in a very visual era, and if you make a mistake with a video, those images will accompany the song forever. - Author: Shakira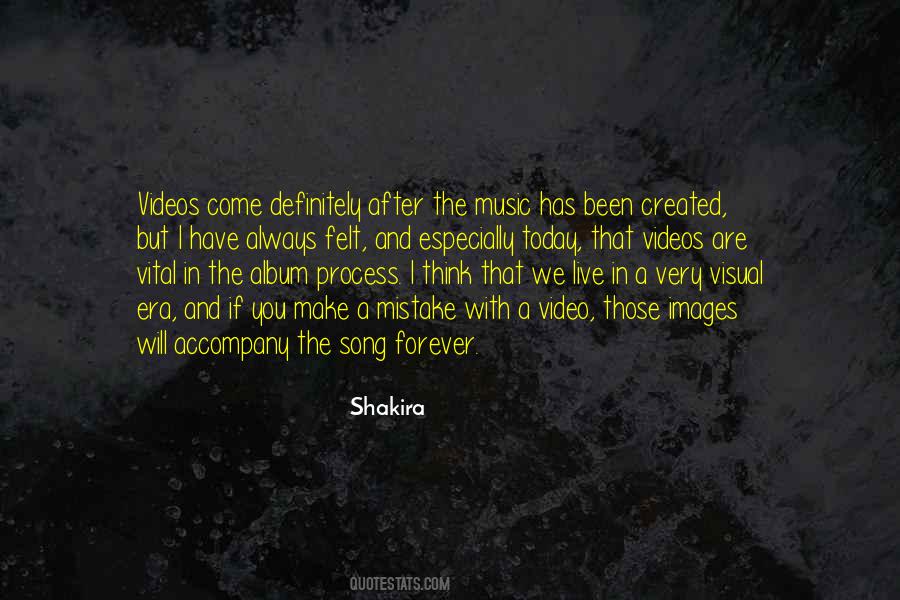 #71. With most of the songs and music that I've composed, irrespective of the myriad videos made, I was always careful not to overly define the experience, leaving room for people to internalize things for themselves, making their experience more integral. - Author: Serj Tankian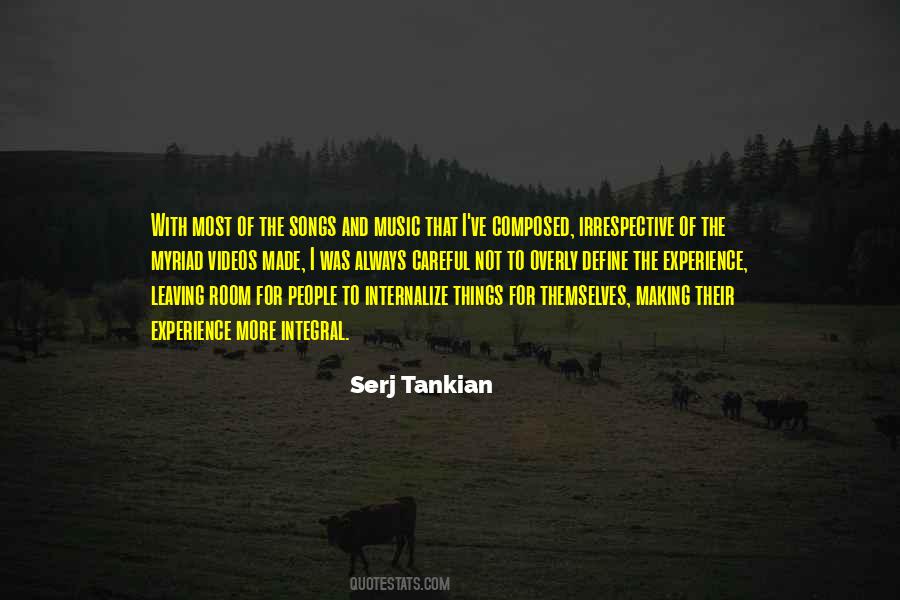 #72. Shania Twain brought a whole other fan base to country music with her sound, the way the videos were produced. - Author: Faith Hill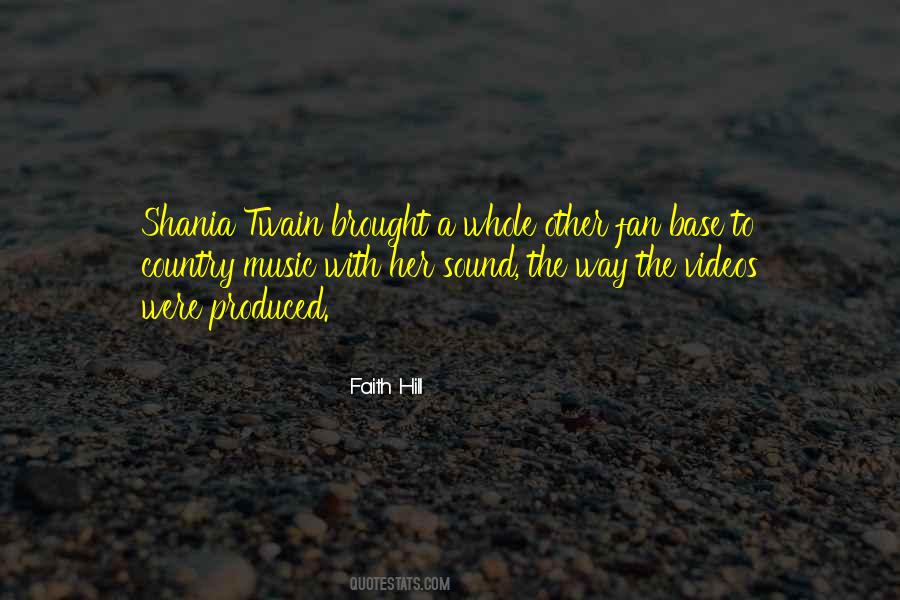 #73. My real motivation came from my quest for music videos to have the equally soul-touching emotional resonance that straight music does. Honestly, I'm not sure they ever can. - Author: Chris Milk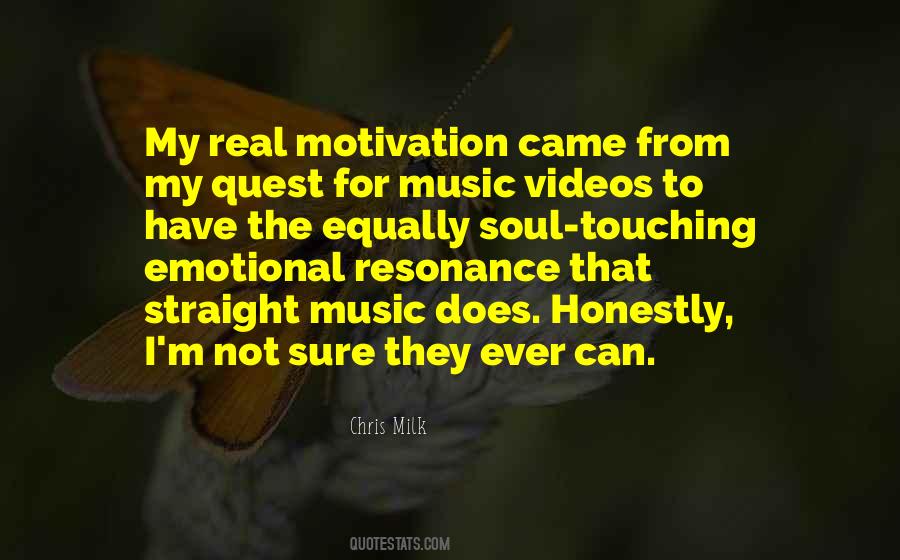 #74. I don't feel as though I've graduated from commercials or music videos. In my mind, they aren't compartmentalised. - Author: Jonathan Glazer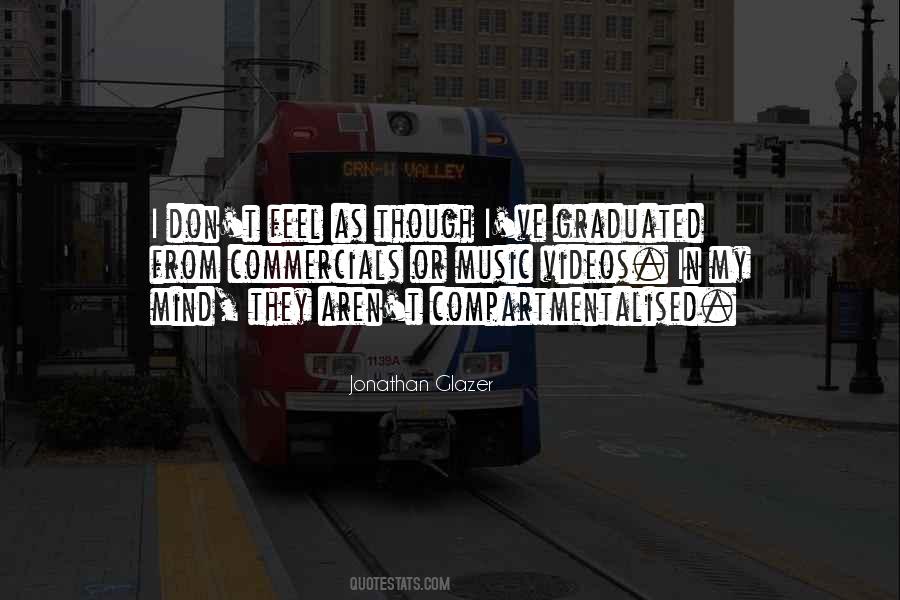 #75. Directing music videos, especially ones that are concept/narrative driven is challenging in itself, but Directing a music video within a digital video environment is even more difficult. - Author: Jon Jon Augustavo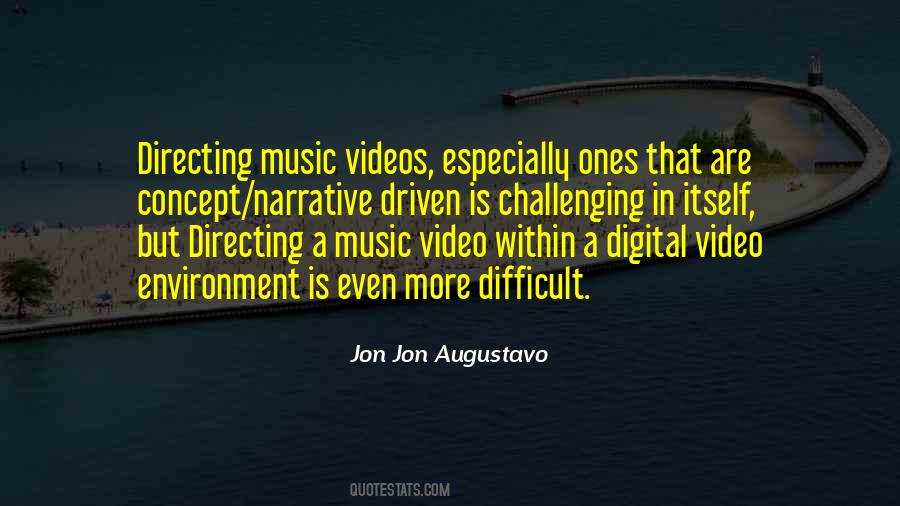 #76. I was a kid watching music videos, which were so cool and made me want to learn how to dance. I wish I could've gone to dance classes and learn, like, hip-hop dancing. - Author: Iggy Azalea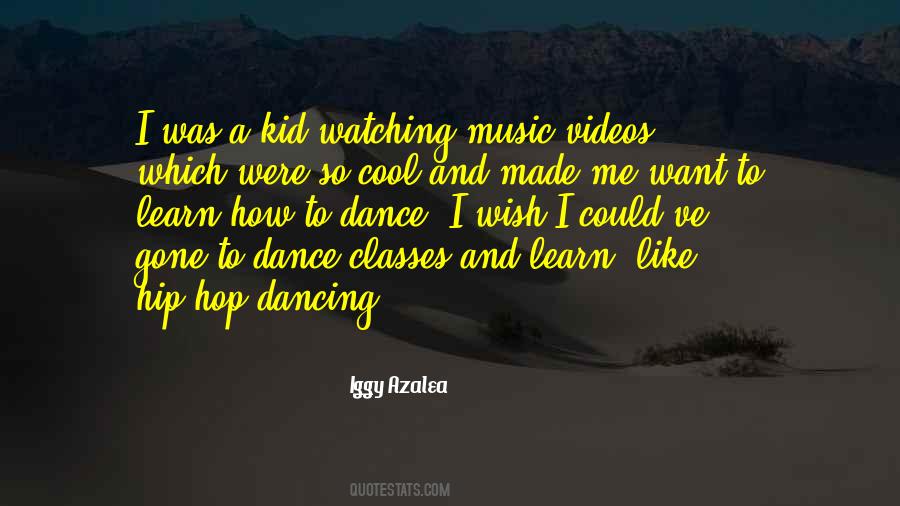 #77. I started casting. I cast music videos, but I kept getting fired from jobs because I was iconoclastic in my ways of casting. - Author: Lee Daniels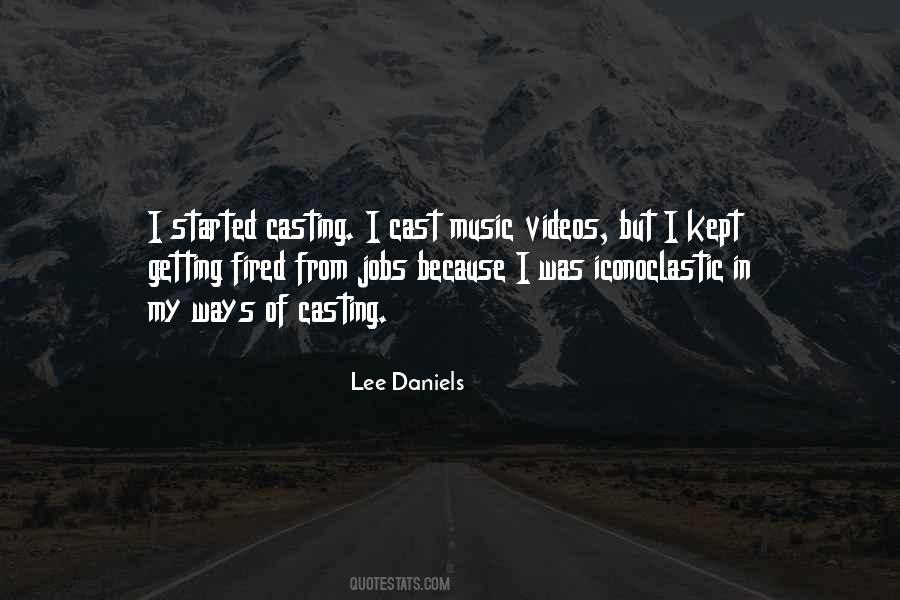 #78. By packaging a full album into a bundle of music with ringtones, videos and other combinations and variations, we found products that consumers demonstrably valued and were willing to purchase at premium prices. And guess what? We've sold tons of them. - Author: Edgar Bronfman Jr.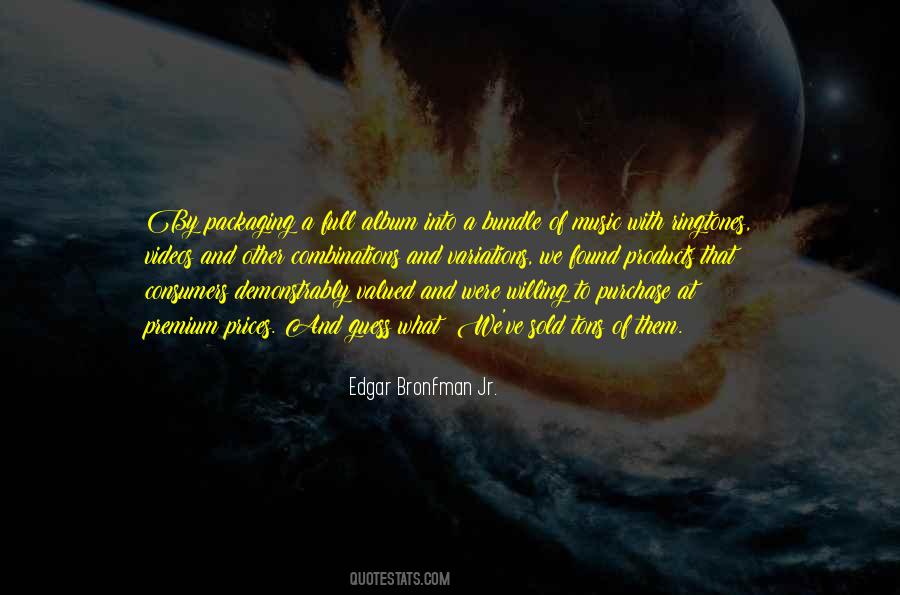 #79. The creative process of making a movie really turned me on. I'd started getting behind the scenes with a camcorder and VHS tape when making music videos. - Author: Ice Cube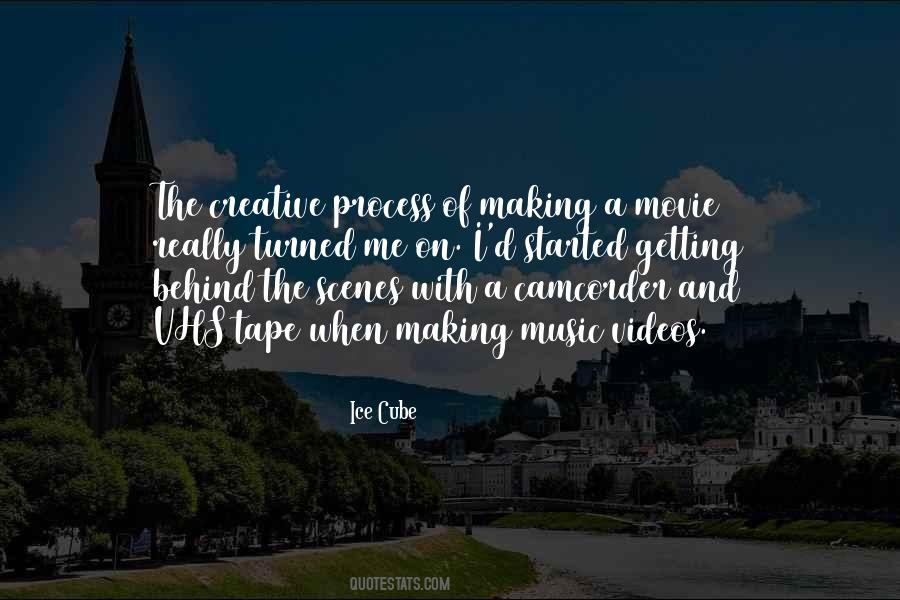 #80. I get offers to do huge-budget music videos with big production companies all the time, but I have no interest. - Author: Grimes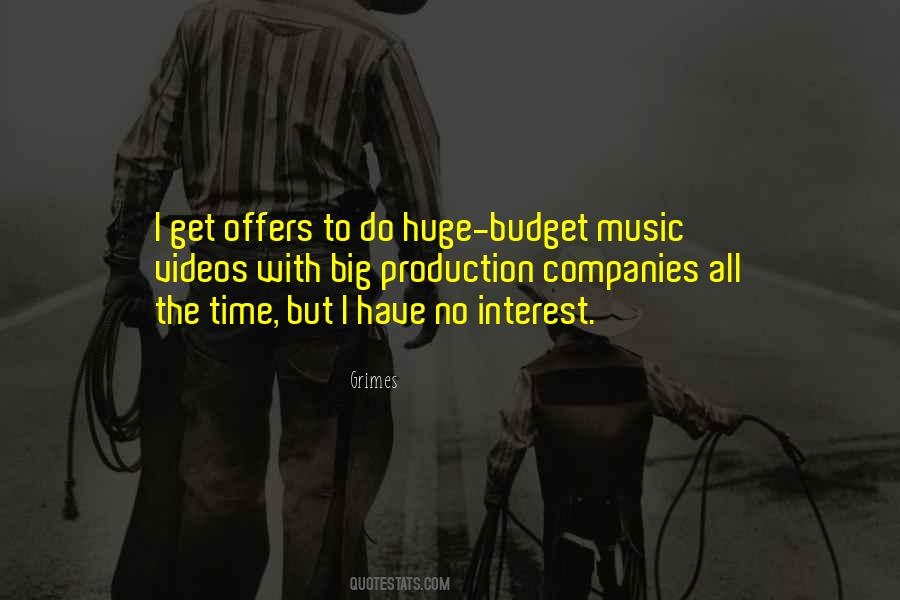 #81. I was very pleased to find that once I had records out music videos were starting to happen, so I directed some of my own music videos and got to experiment in other areas of expression. - Author: Thomas Dolby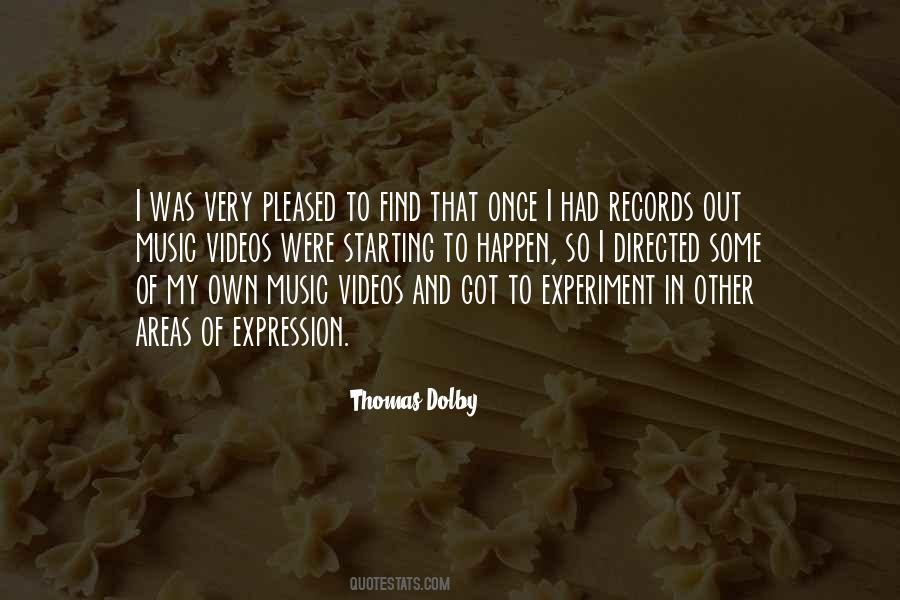 #82. I feel like once the song is done, you put it out there and if people want to do bizarre remixes, if people want to make strange videos, great. You know, like chaos theory applied to the music business. - Author: Moby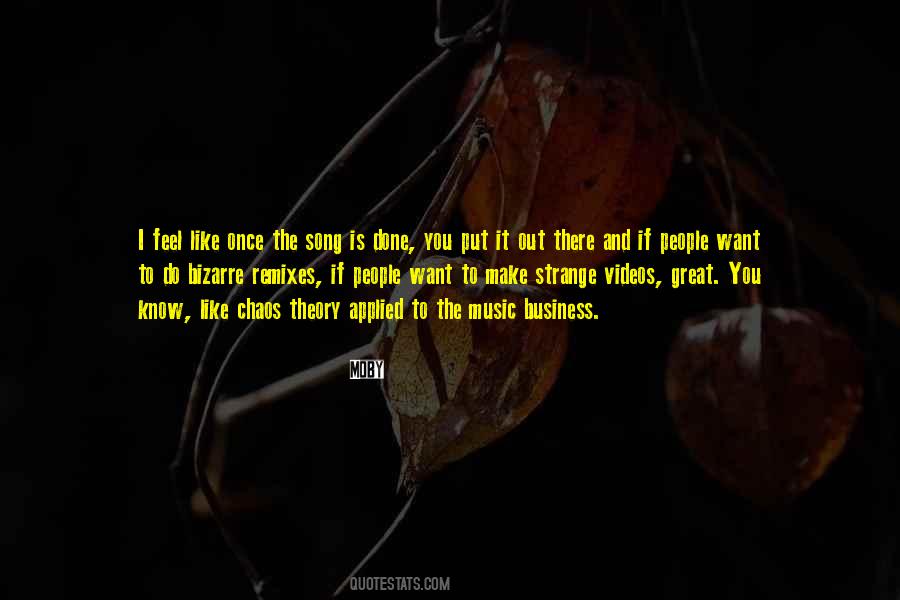 #83. I always would dream of making music videos. Whenever I make music, I always have a visual in my mind. I always see things. - Author: Dan Reynolds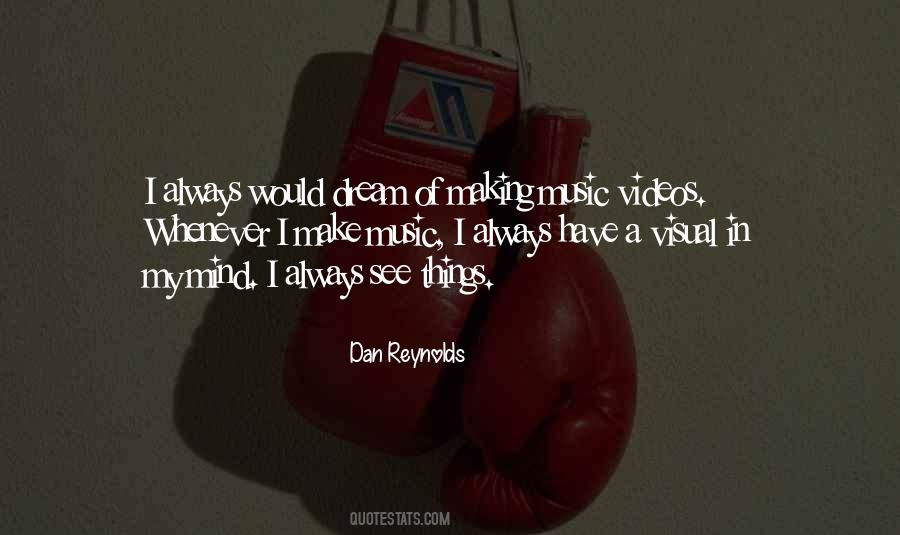 #84. Videos have to go hand in hand with your music, so that's why, ultimately, they should be created by the artist. And if they're not, it doesn't really add up to me. - Author: Marilyn Manson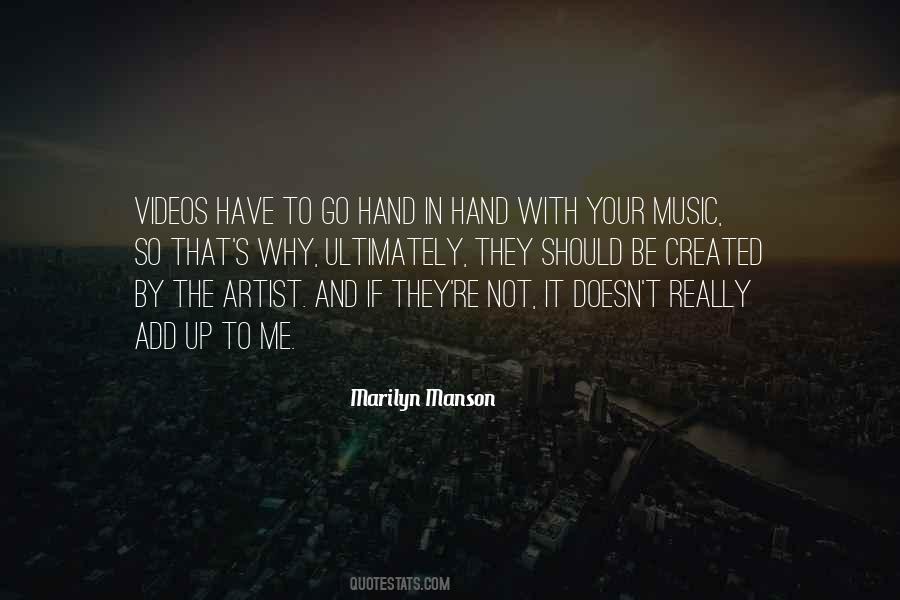 #85. I graduated from UC San Diego, wanted to work in film to get my hands-on real experience, did music videos, TV, feature films, all kinds of stuff. - Author: Ziad Doueiri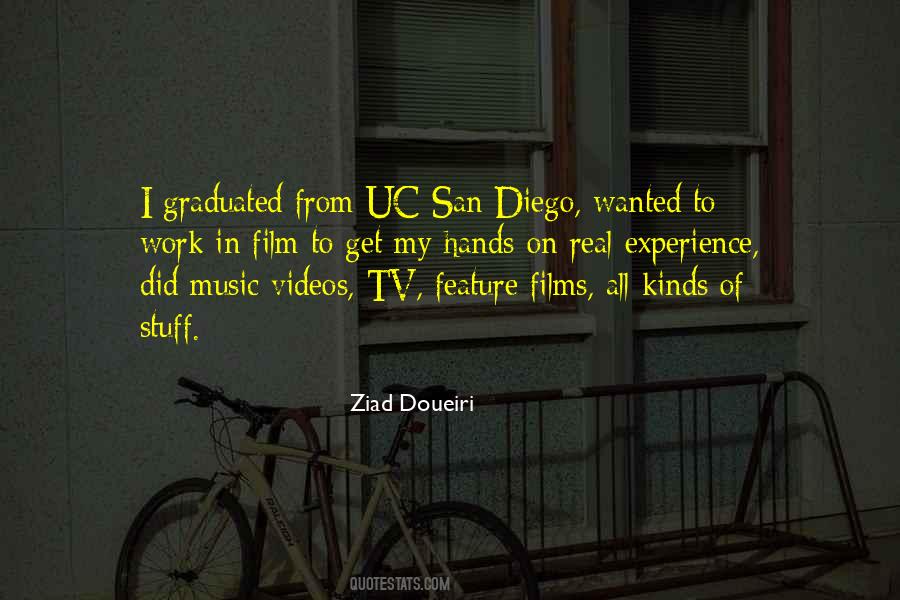 #86. There's no real music on television unless it's music television, and then it's expensive videos, which people like me can't do. - Author: Jamie Lawson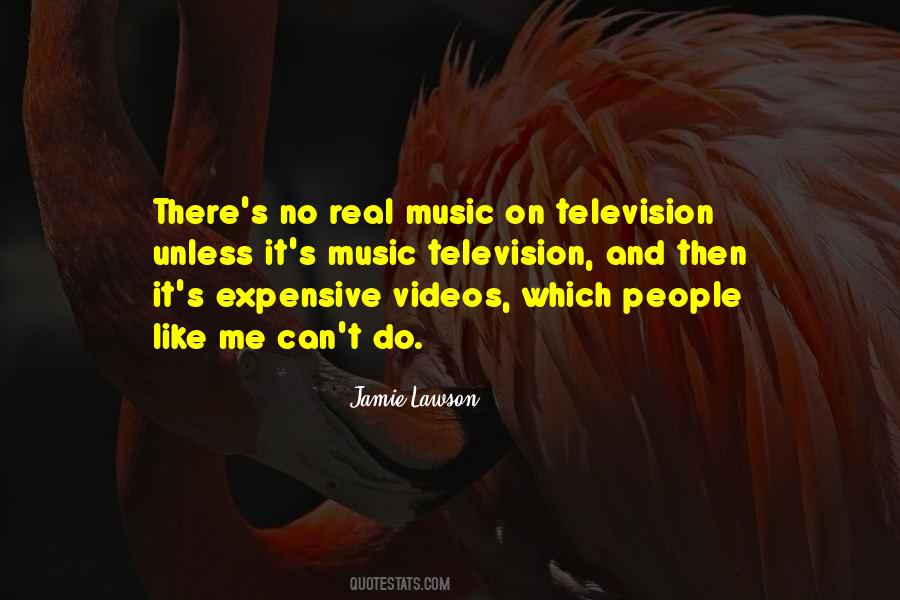 #87. I direct a lot of TV commercials and music videos. - Author: Alex Winter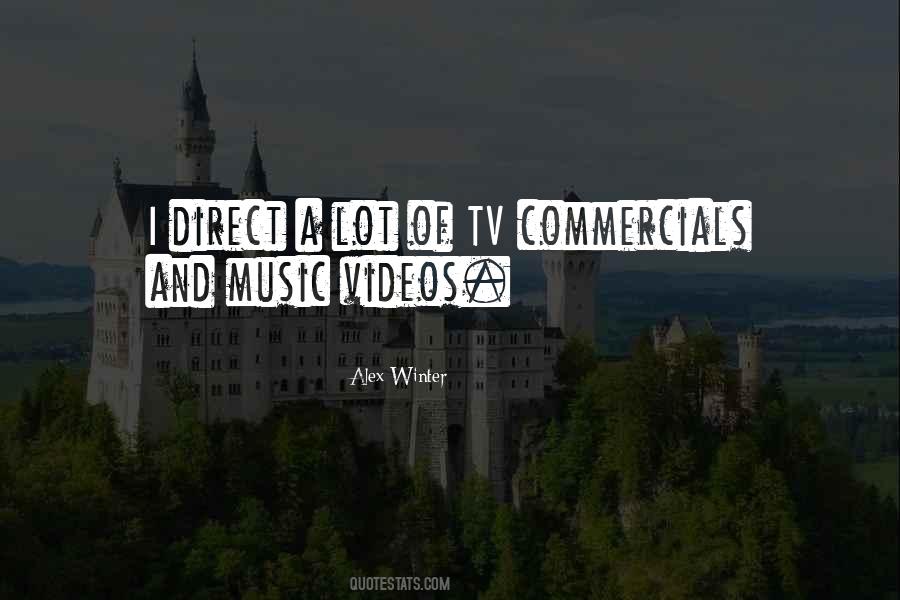 #88. I don't want to direct music videos at all. Any work I do with a camera I'd like to be for a film. - Author: Giuseppe Andrews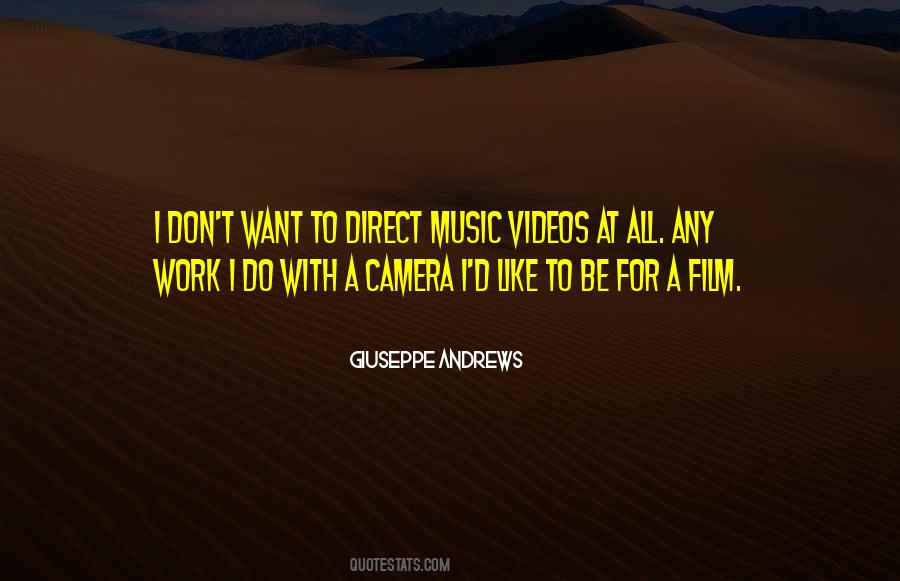 #89. I did my own music videos, my own TV commercials. - Author: Helen Reddy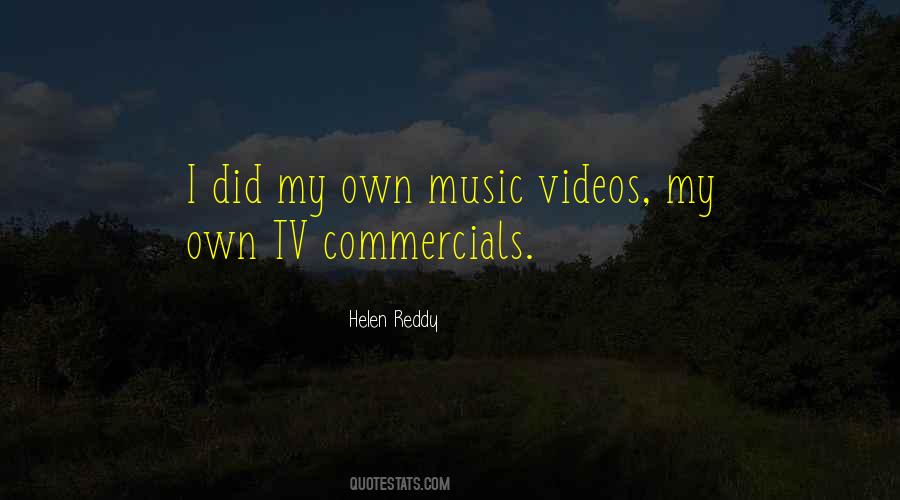 #90. My real motivation came from my desire for music videos to have the same equal soul-touching emotional resonance that straight music does. - Author: Chris Milk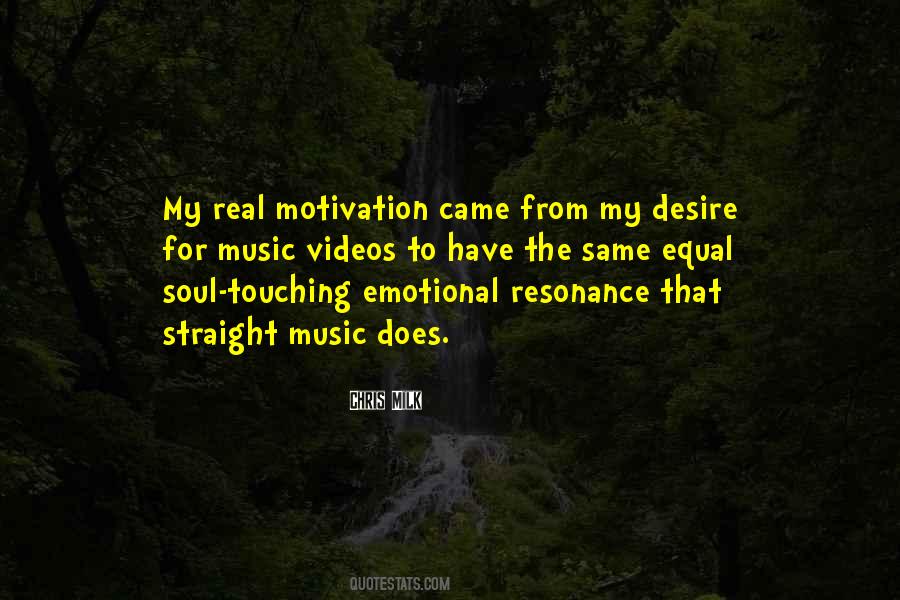 #91. I accept that appearance is a big thing in this business. But being around Hollywood and having actor friends and doing music videos, it does make you more aware of how you look. With music videos they send you rough cuts, and in certain frames of me, I just see a nose advert. - Author: Michael Bolton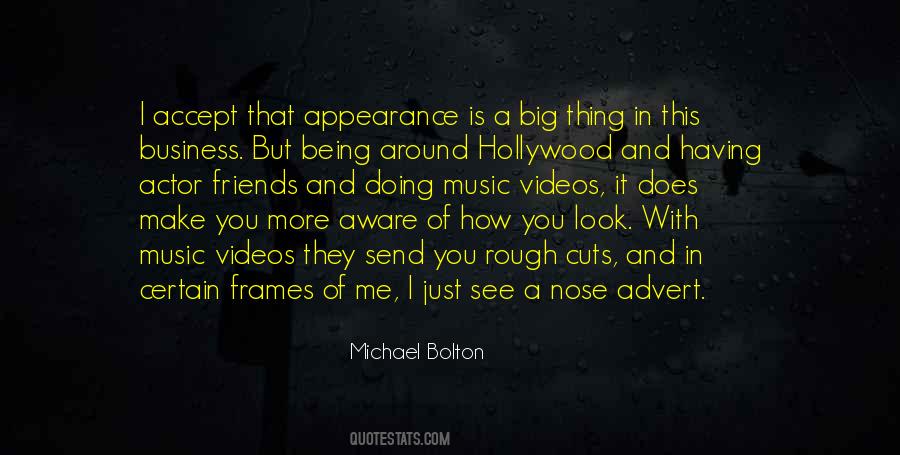 #92. Apart from photography and music videos, I also do graphic design. - Author: Anton Corbijn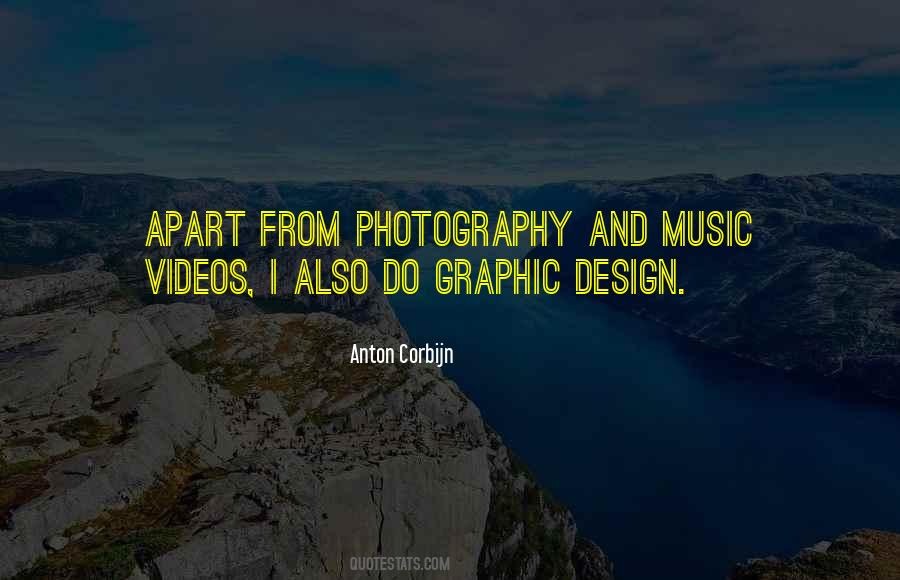 #93. I'd do entire music videos in my bedroom, where I used to stand in front of my television memorizing the moves to Michael Jackson's 'Beat It.' - Author: Jimmy Fallon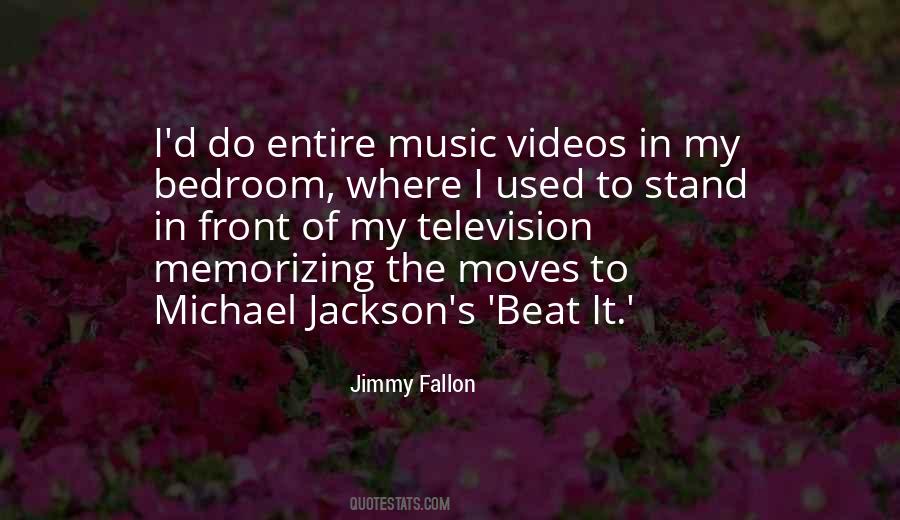 #94. The whole format of entertainment that I did seems to be fading away. The music business of today is completely different when you see the videos and the music. - Author: Bobby Vinton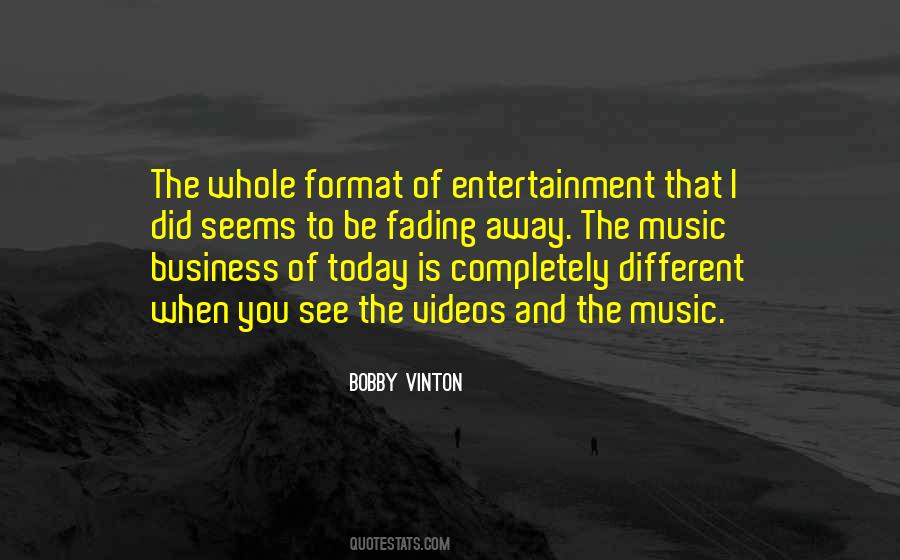 #95. I never thought about acting before I started modeling, but since then I've been in short films and music videos, and I got interested. It felt natural to switch over. - Author: Rila Fukushima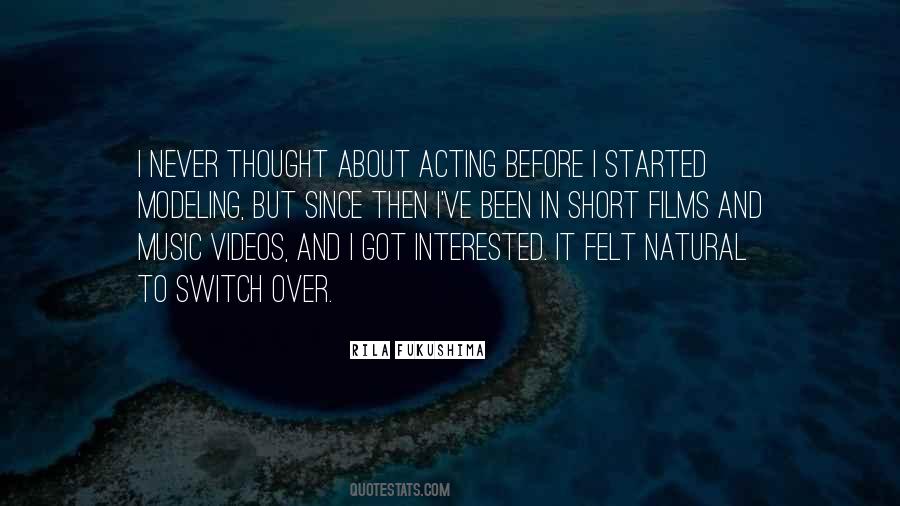 #96. Music videos were this lucky career opportunity. They were assignments. I was providing a service, and they were meant to be punchy and gimmicky and fun. - Author: Mark Romanek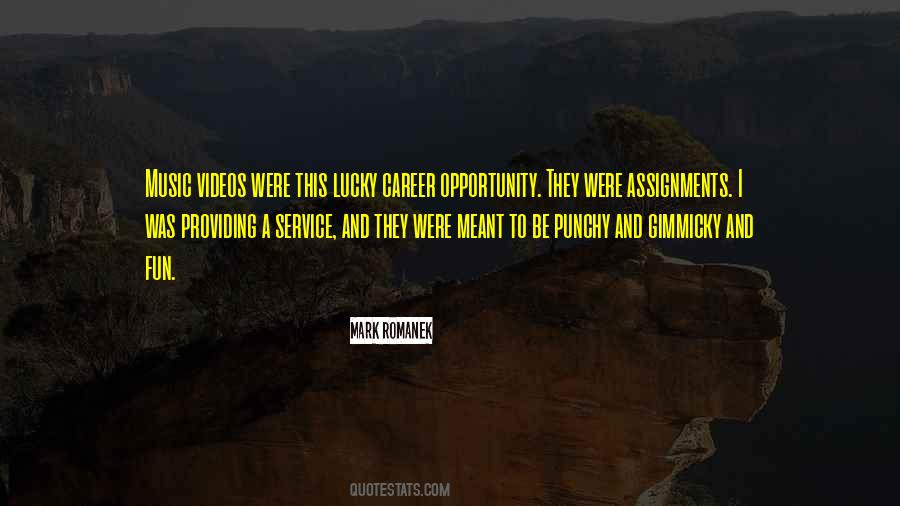 #97. I worked as a production assistant on a couple of films, and finally, I got a job at an animation studio as an editor. After that, work begat work. I got into directing music videos and commercials. - Author: Thomas Schlamme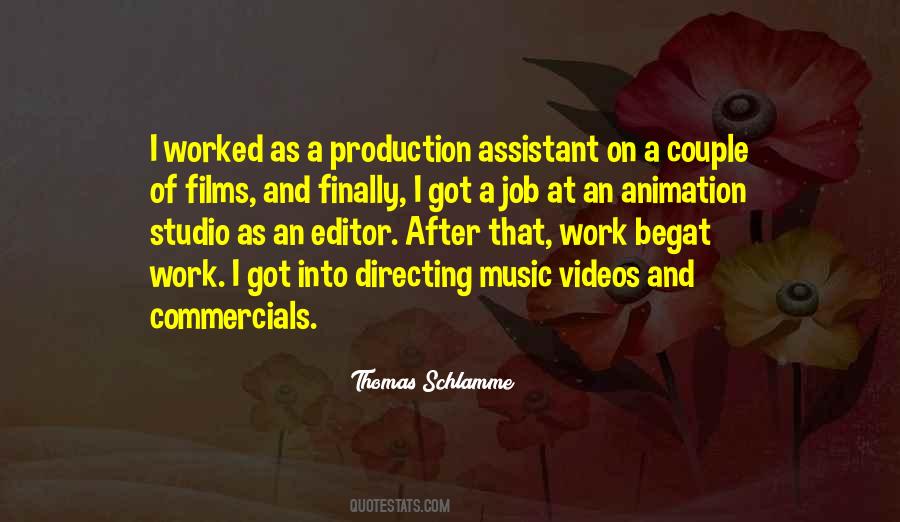 #98. We have tons of live performances that we're putting on there. We have music videos. There's a music video for the song called I Am Jesus what is one of the funniest music videos, like we just could not find a place for it in the movie, but it's like crazy funny. And we have the whole video. - Author: Nicholas Stoller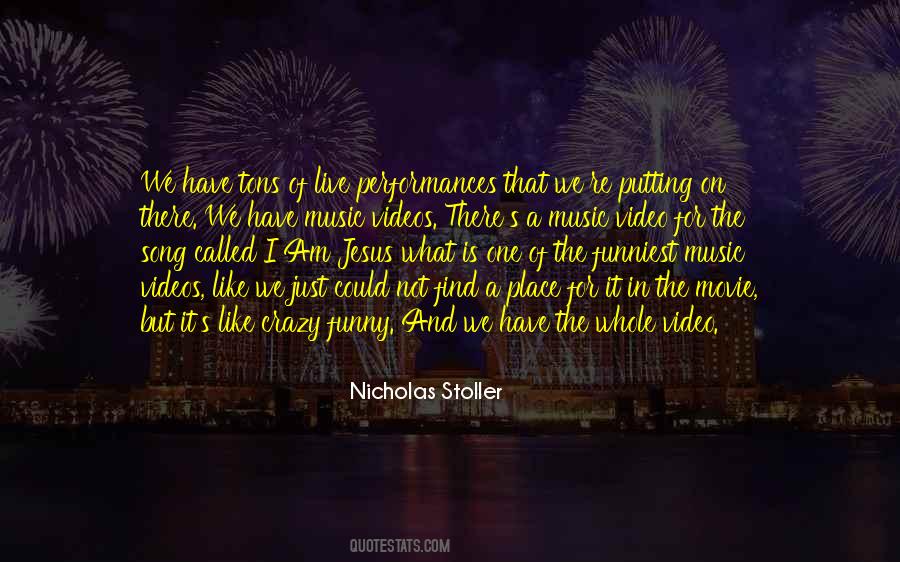 #99. My first acting job - I used to do commercials, and I had done a couple music videos - but my first job job was 'ATL' with T.I. I auditioned for that, like, five times. I didn't have an agent. And then, from there, my life changed. - Author: Lauren London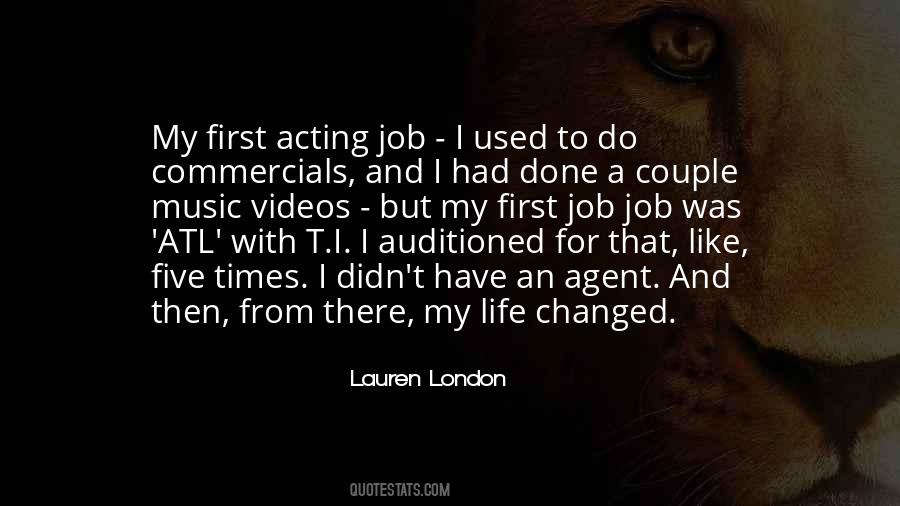 #100. All I ever wanted was to perform, make music, make videos. - Author: Cheryl Cole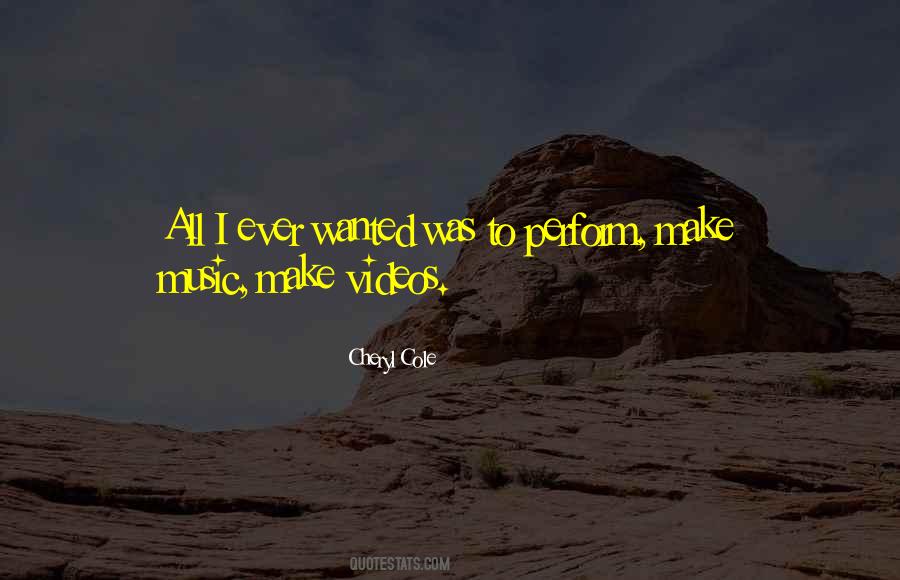 Famous Authors
Popular Topics