Meditation Life Famous Quotes & Sayings
List of top 100 famous quotes and sayings about meditation life to read and share with friends on your Facebook, Twitter, blogs.
Top 100 Quotes About Meditation Life
#1. If I'm confused, I just spend some time looking at the sky and falling into it. It's not a meditation that anyone taught me, it's something I've done my whole life, and liked doing, and it made me feel like nothing. - Author: Laurie Anderson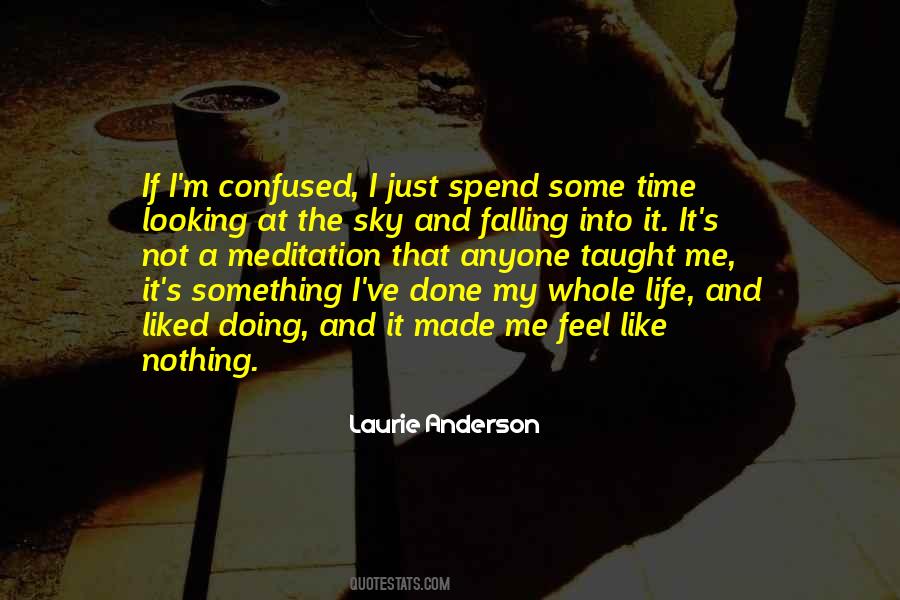 #2. Throughout the course of my life, I have been very fortunate to have had excellent teachers - not just in meditation, but in martial arts, music, scuba diving, and in my academic education. - Author: Frederick Lenz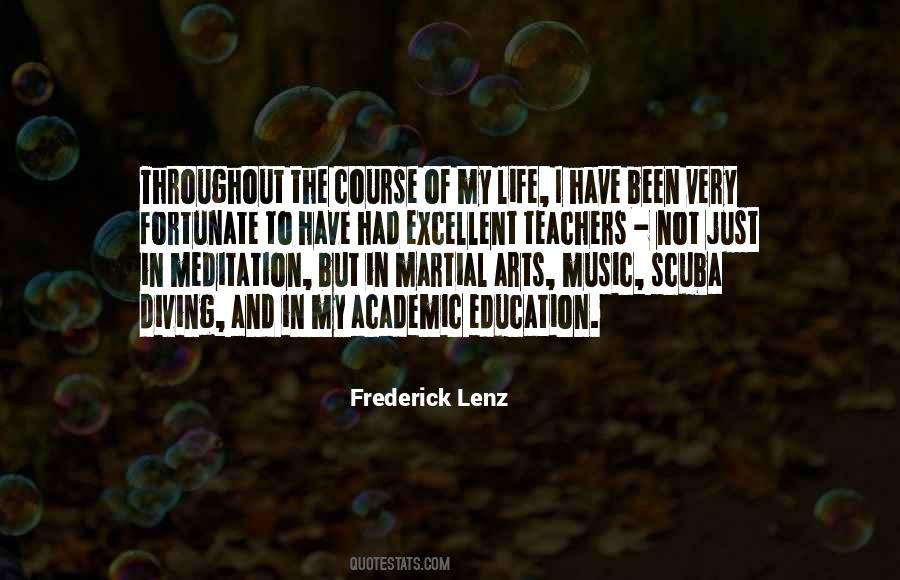 #3. Pray with a pure heart and pray from where you are. He will answer your prayers. There is no need to abandon the world or retreat to a jungle - Author: Radhe Maa
#4. The greatest gift we can give to another person is our love. - Author: Swami Dhyan Giten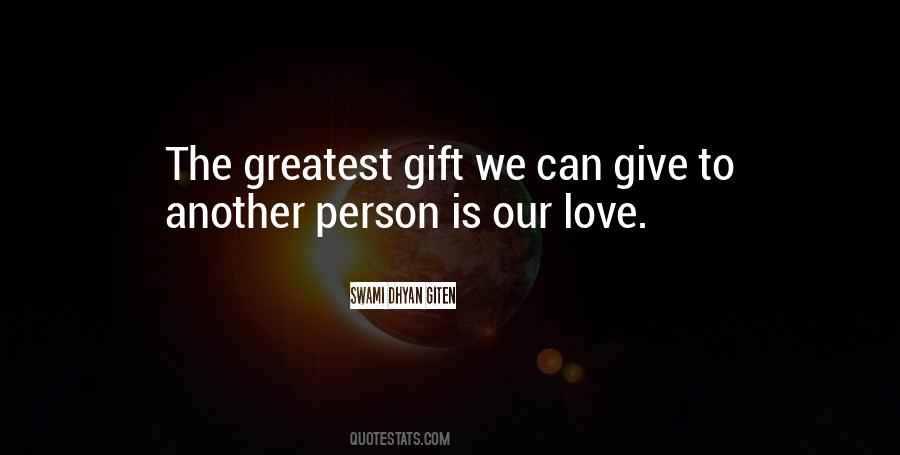 #5. Consider how blessed you are to have the things you do in life. - Author: Radhe Maa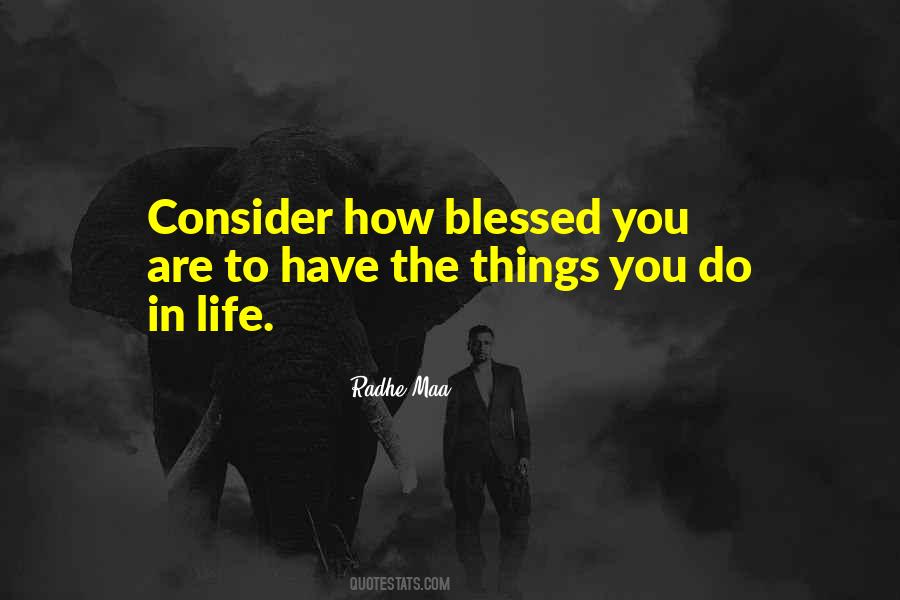 #6. The life of meditation and religious study is absolutely no guarantee of peak moments. Most people involved in religious study and meditation are downright bored, and they're as stuck in what they do as everyone else is. - Author: Frederick Lenz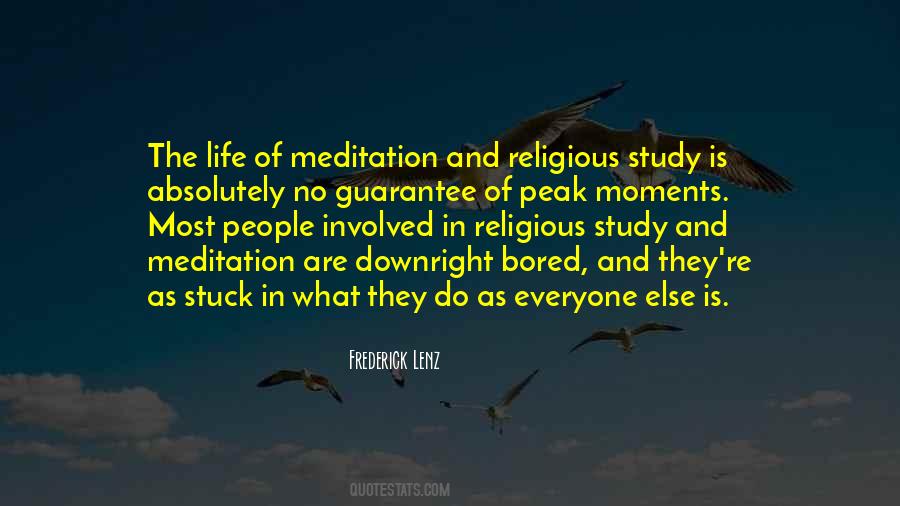 #7. Meditation is the process of quieting one's mind, and letting go of the worries and stress of life. - Author: Tim McCarthy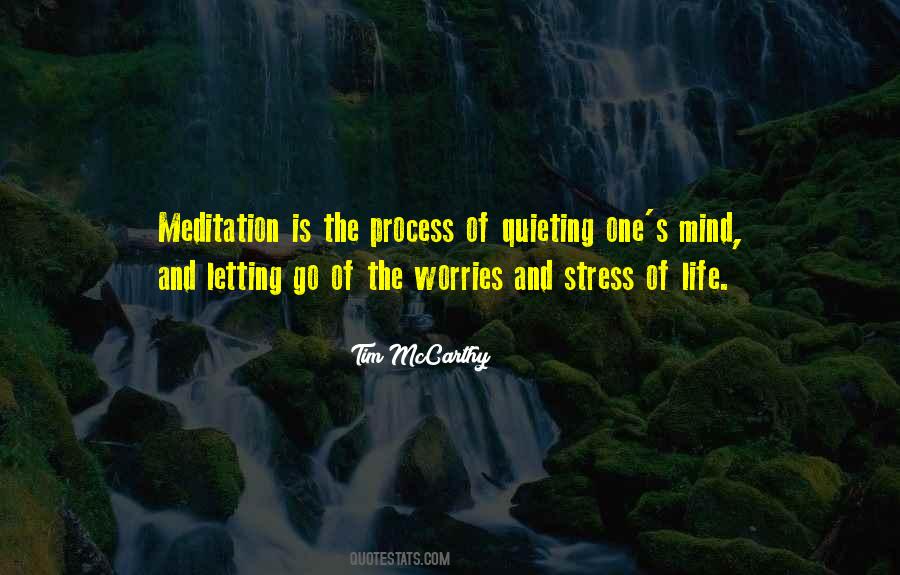 #8. Just your laughter will be enough to prevent the war. Your celebration, your dance, will be enough to prevent the war. Your ecstasy, your meditation, will create a tremendous force which will be far higher because it is life-affirmative. - Author: Rajneesh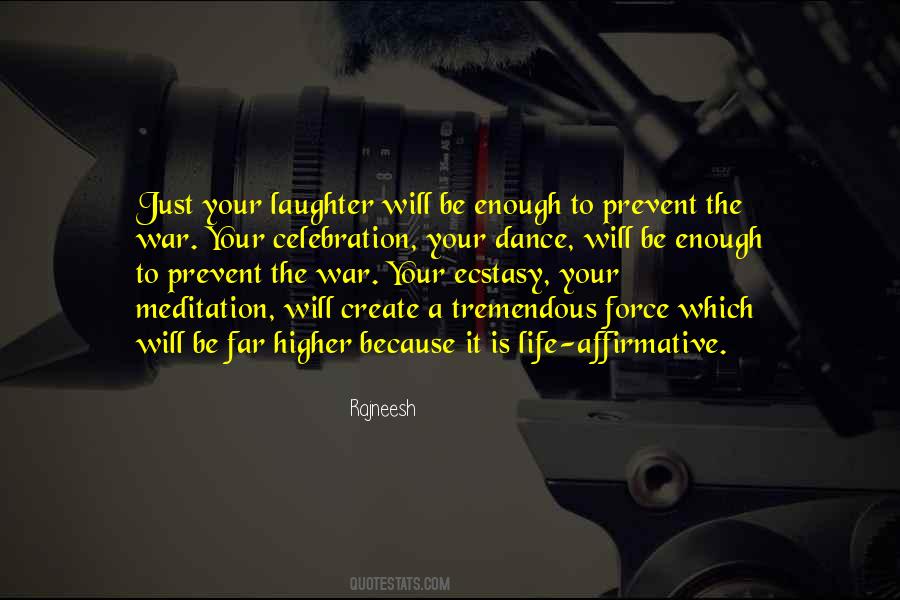 #9. Life is a mystery- mystery of beauty, bliss and divinity. Meditation is the art of unfolding that mystery. - Author: Amit Ray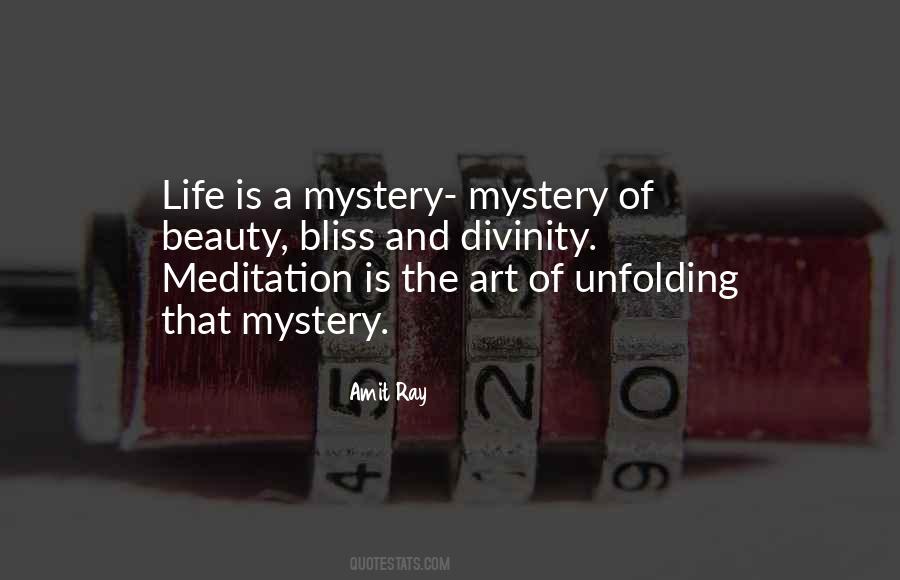 #10. Spirituality is a way of life. it is not just doing meditation. - Author: Choa Kok Sui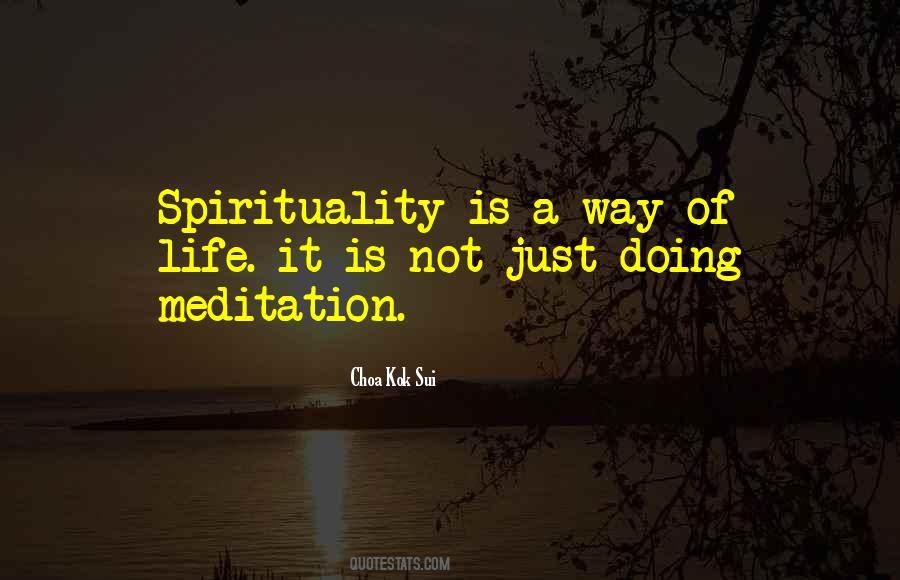 #11. -I have to admit that ever since I started to rip-up the lawns of rich people I have felt a lot calmer! - Author: Andrew James Pritchard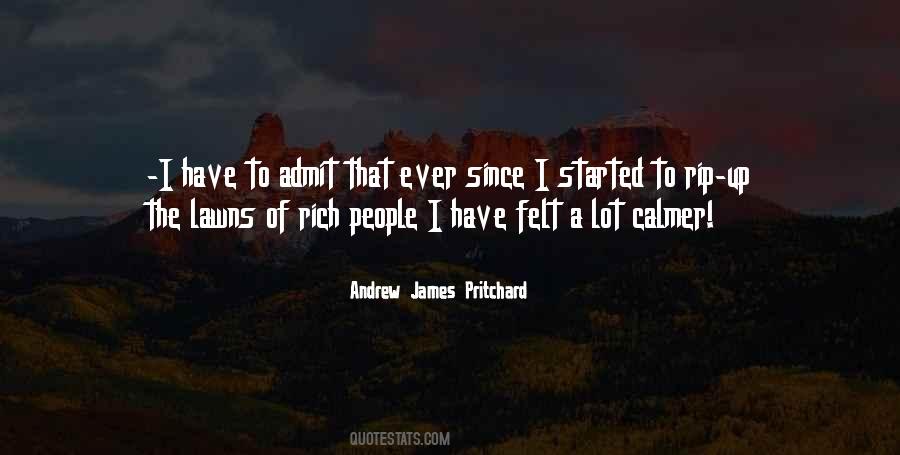 #12. Life without challenge
is life denied any chance
for one to achieve. - Author: J. Benson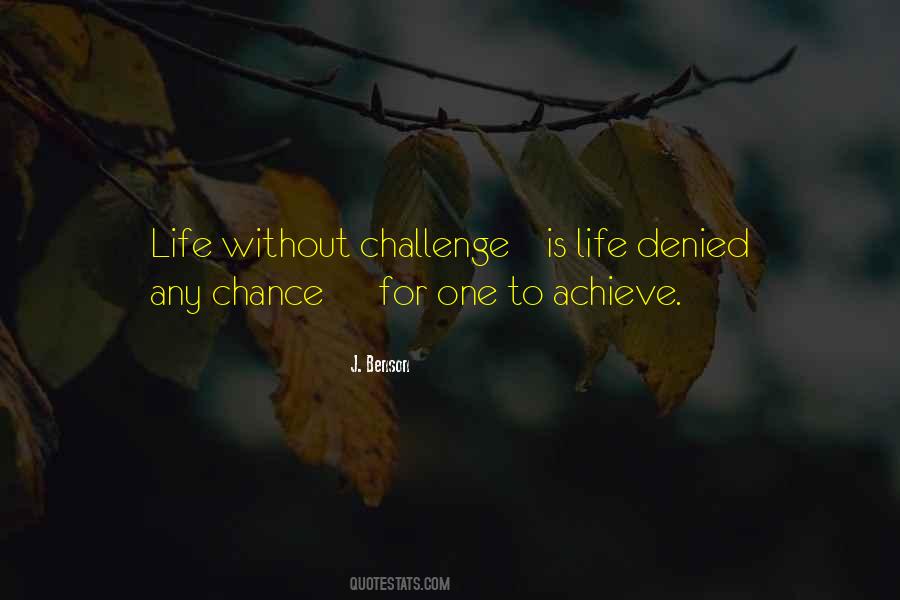 #13. This life is like a roller-coaster; once you are strapped-in and the ride has started, you aren't getting off. - Author: Bryant McGill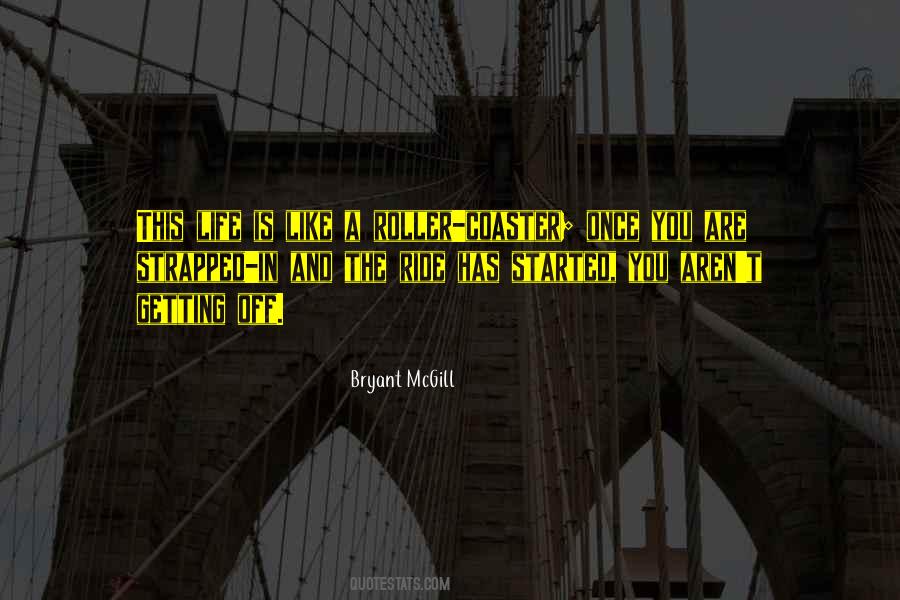 #14. Suffering is normal. Pain is normal, it is part of life ... What is its texture, the weight of our suffering? What is its meaning? Begin by touching it, by coming close to it, accepting it: Hello, suffering, I am here with you. I am beside you, one with you, I am you. I am suffering. - Author: A.M. Homes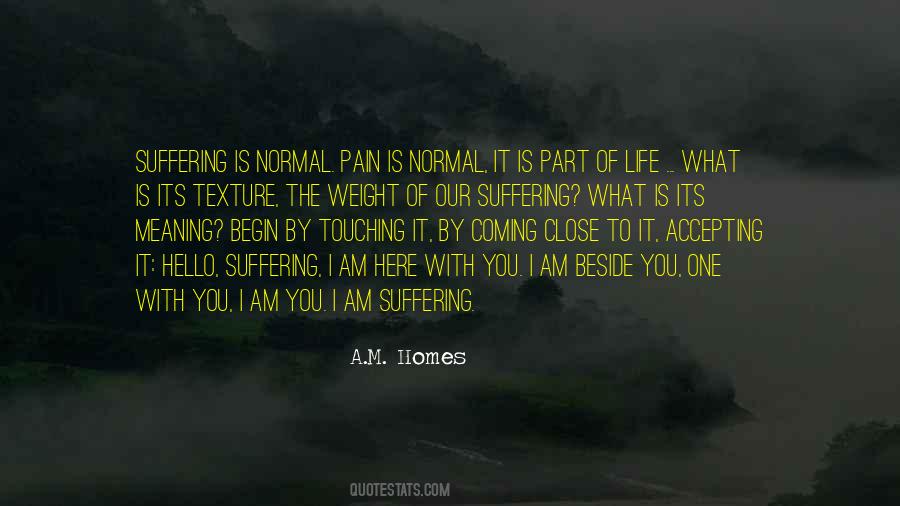 #15. Simple things relieve eyes; simple things ease mind, simple things create meditation, simple things are simply miraculous! - Author: Mehmet Murat Ildan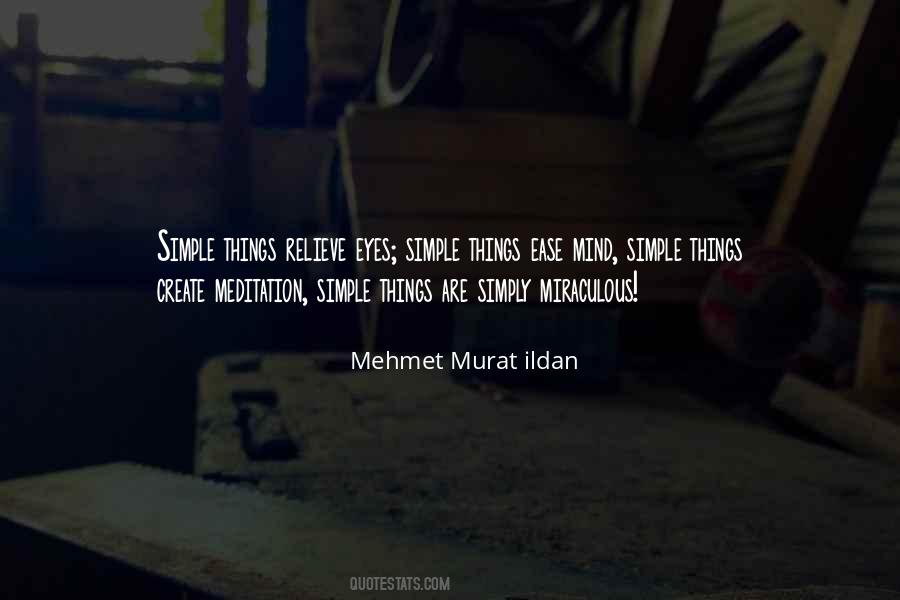 #16. Before I was a Scientist, I was a Monk. And before I was a Monk, I was a naive young mind with ever- flowing streams of questions. And one of those questions, that always used to create intense ripples of curiosity in my psyche, was - Does God exist? And has anyone seen or experienced him? - Author: Abhijit Naskar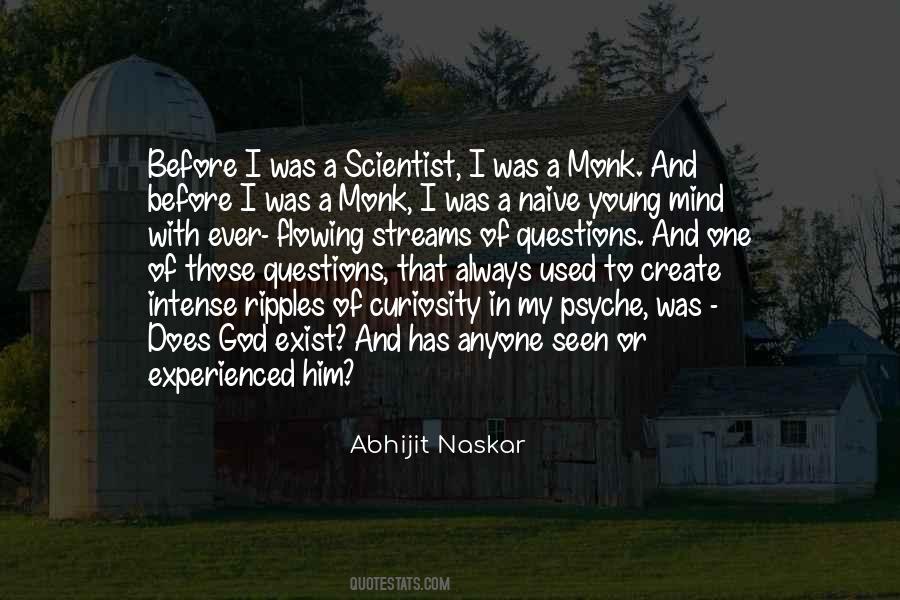 #17. For me, first, it's finding quiet in my life - and I do that through yoga and meditation. It's also been a matter of changing the way I eat, because I think what we eat can inform who we are; food is a chemical and a drug to a certain extent. - Author: Mariel Hemingway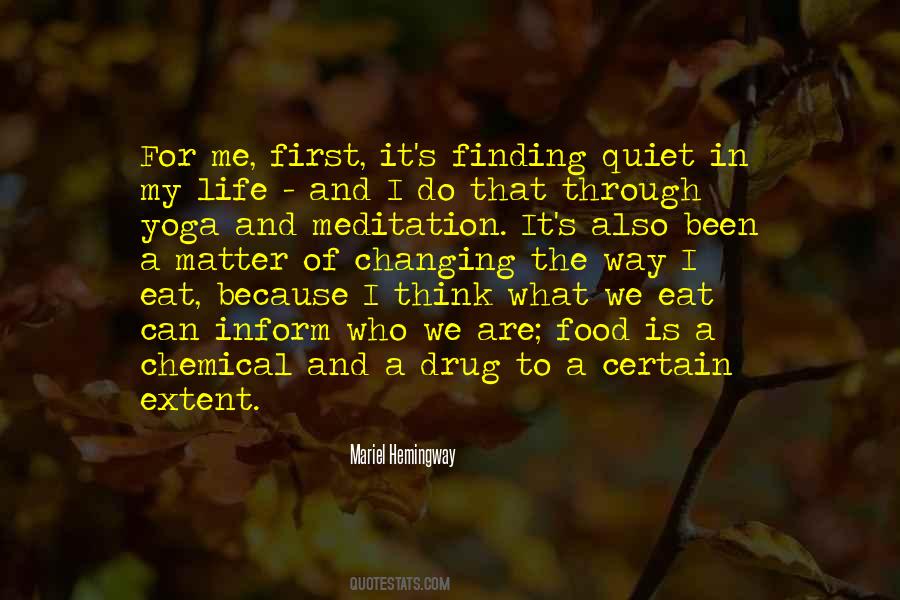 #18. Repose is the secret of all contemplation and meditation, the secret of getting in tune with that aspect of life which is the essence of all things. When one is not accustomed to take repose, one does not know what is behind one's being. - Author: Hazrat Inayat Khan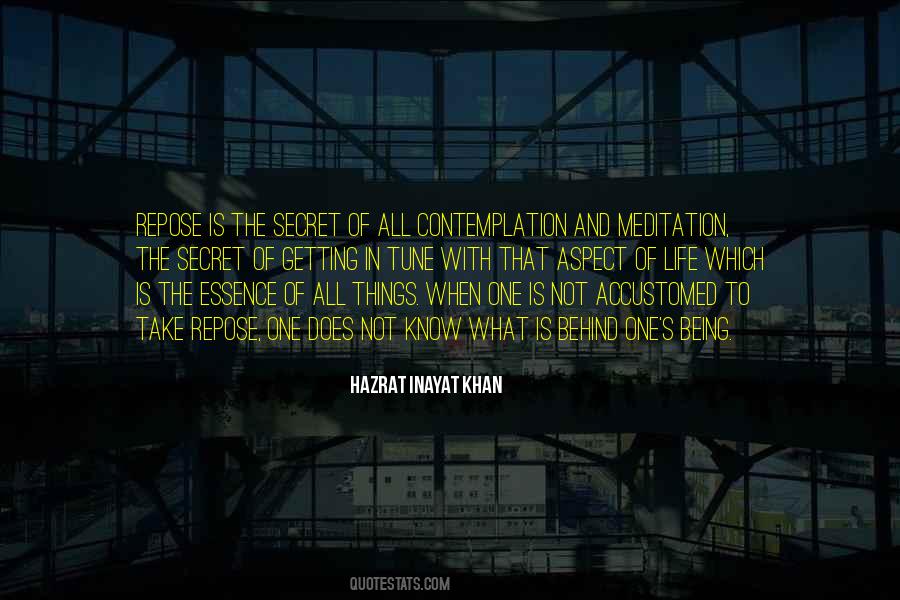 #19. Spiritual growth is the only real growth - Author: Radhe Maa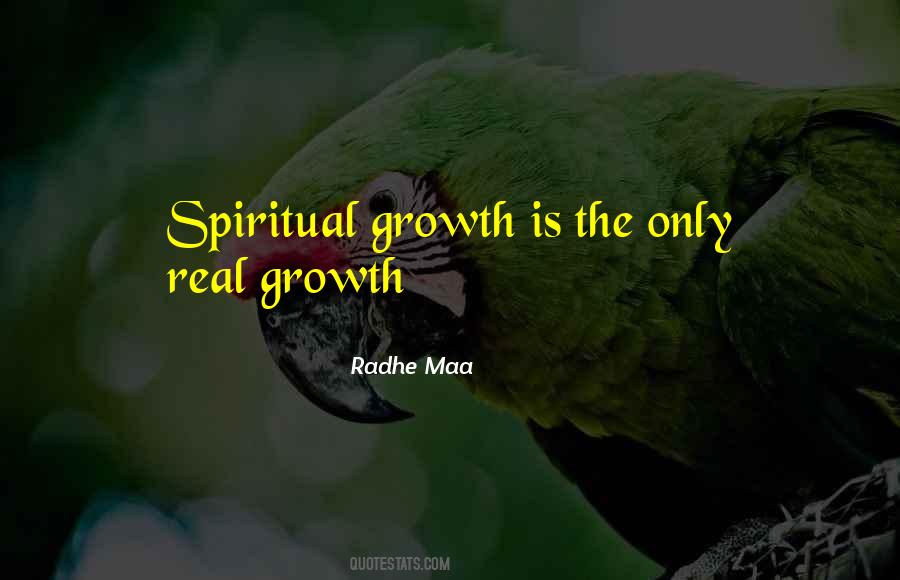 #20. If you do not take the time to be with yourself, in your own space, you miss Plugging In to the Universe and connecting with yourself. Moreover, in that you miss recognizing all your 'angels' or people who will nourish and nurture your life and you theirs. - Author: Malti Bhojwani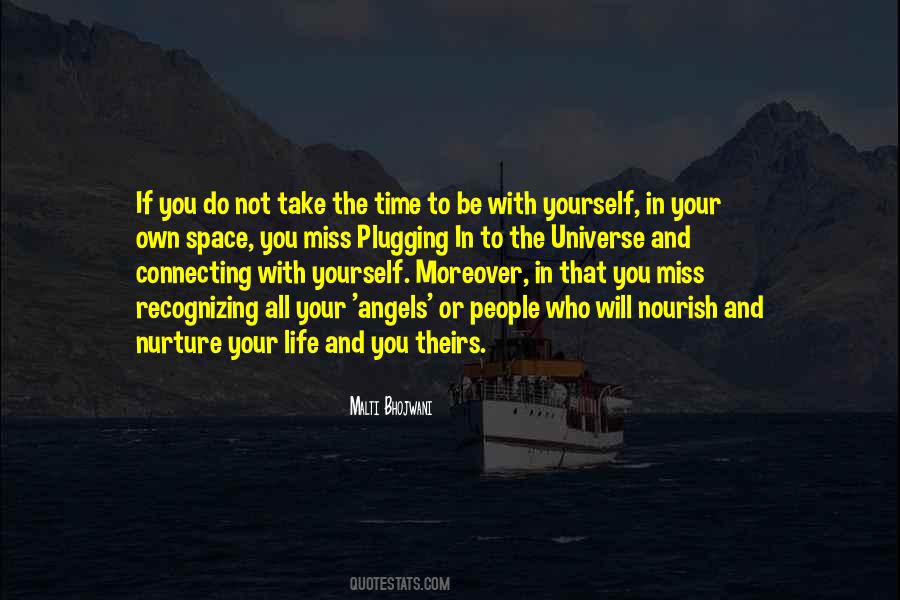 #21. The quality of your practice is ultimately measured by its effect on the quality of your life. In other words, mastery in yoga is mastery of life. - Author: Rod Stryker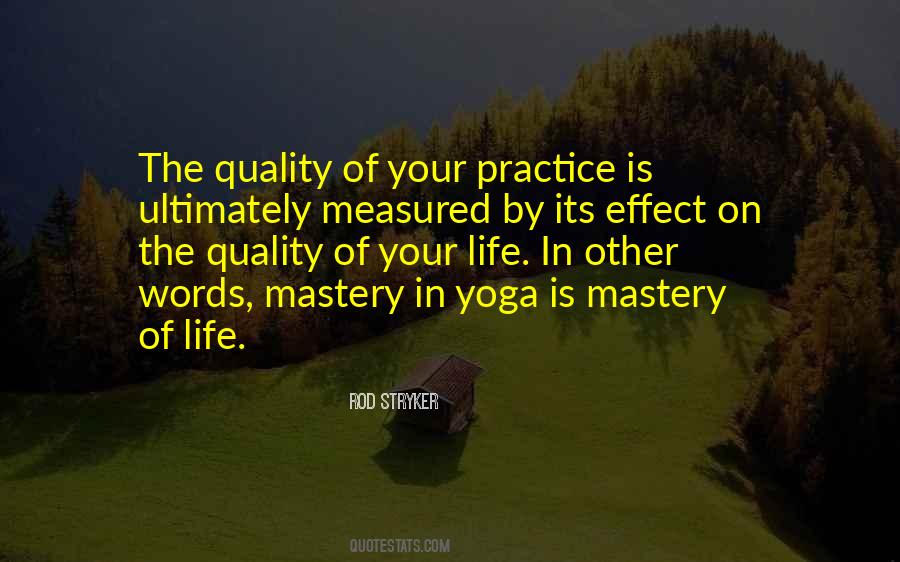 #22. Philosophy gives life to life. - Author: Neel Burton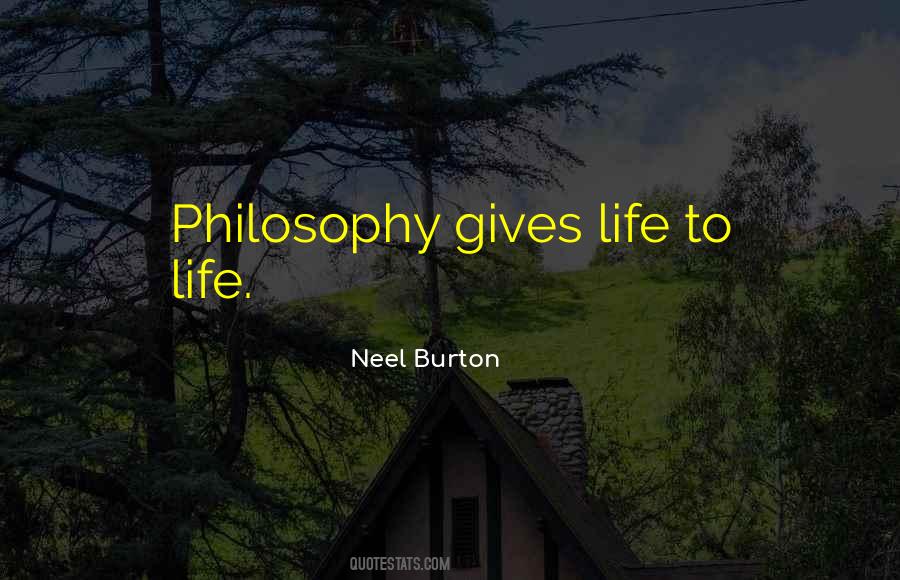 #23. Metta sees truly that our integrity is inviolate, no matter what our life situation may be. We do not need to fear anything. We are whole: our deepest happiness is intrinsic to the nature of our minds, and it is not damaged through uncertainty and change. - Author: Sharon Salzberg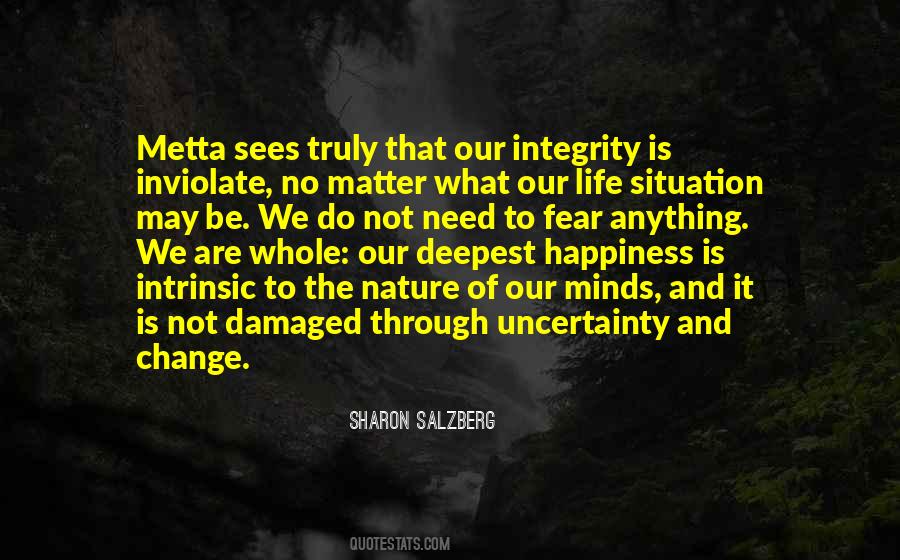 #24. The Stormy life can be braved
Only by the heart's
Sunny meditations. - Author: Sri Chinmoy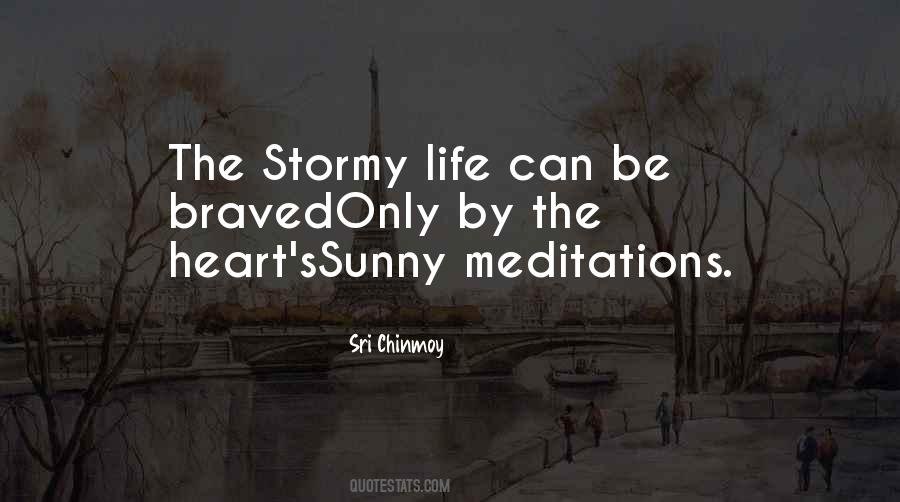 #25. Life and death are like inhalation and exhalation. They always exist together. - Author: Jaggi Vasudev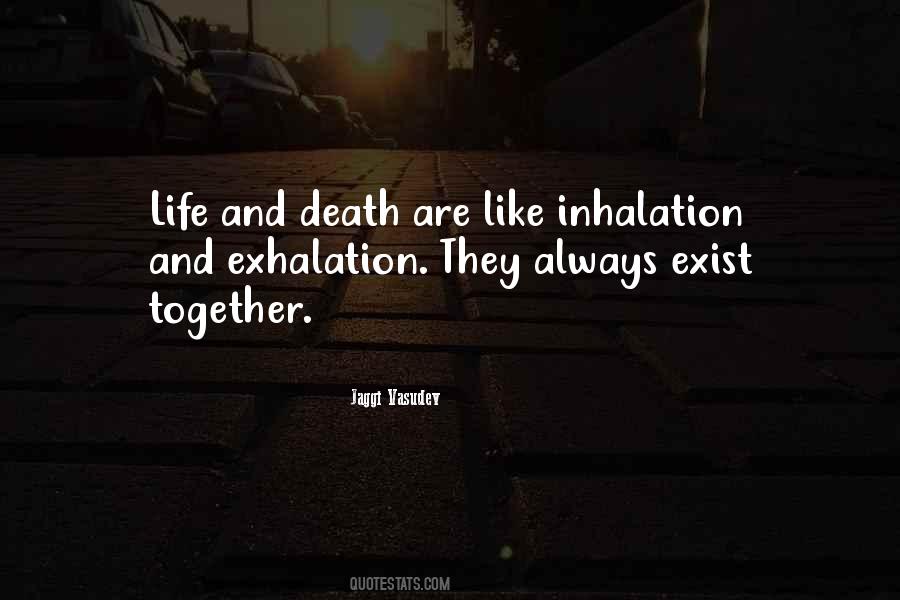 #26. It is belief in the Bible, the fruits of deep meditation, which has served me as the guide of my moral and literary life. I have found capital safely invested and richly productive of interest, although I have sometimes made but a bad use of it. - Author: Johann Wolfgang Von Goethe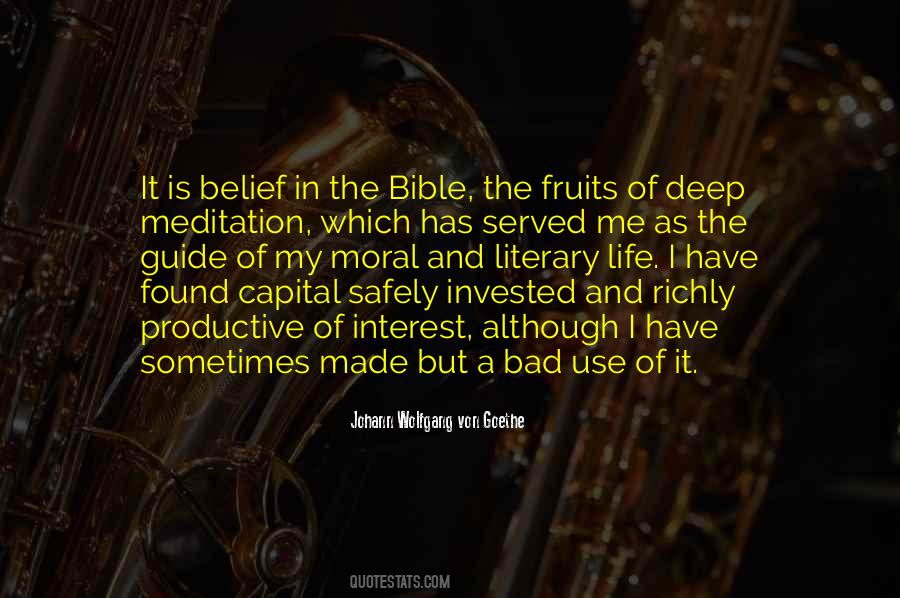 #27. The crack in your heart allows light in. ~ GOOD FORTUNE page 238 - Author: Leslie Bratspis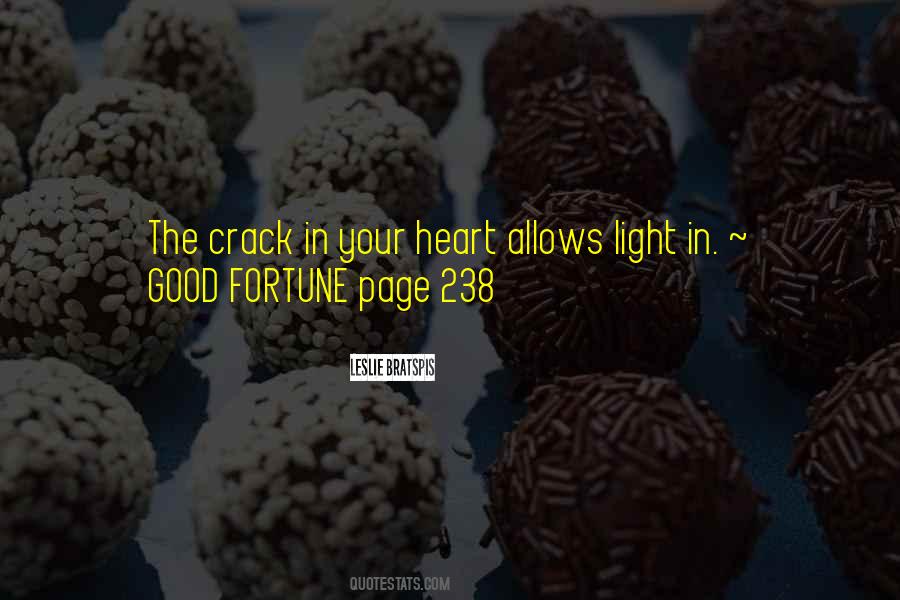 #28. When you meditate deeply, you will see beyond life and death. You will see that you can't die and you can't be reborn. You are existence itself. - Author: Frederick Lenz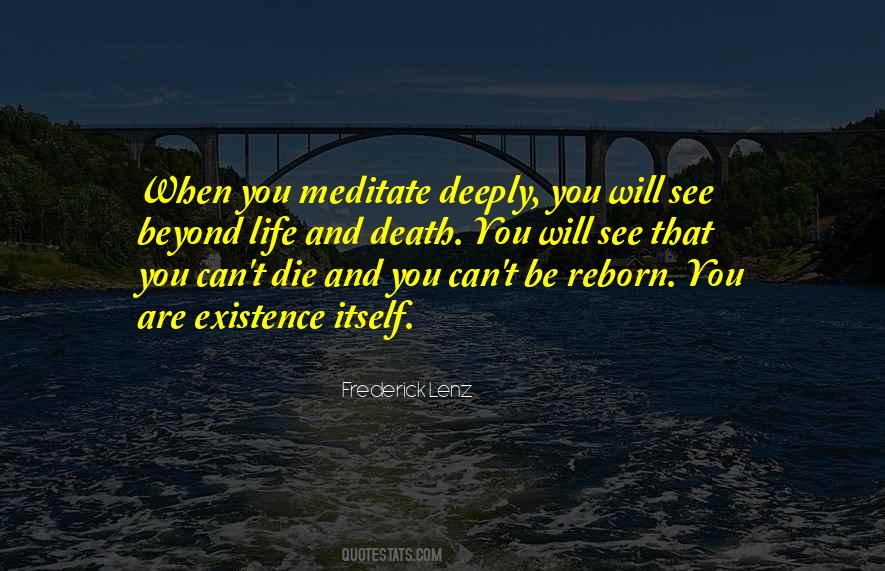 #29. Without meditation, contemplation and skillful action, the anger lurking in your mind can become
the (d)anger within your life."

Leonard Perlmutter (Ram Lev) - Author: Leonard Perlmutter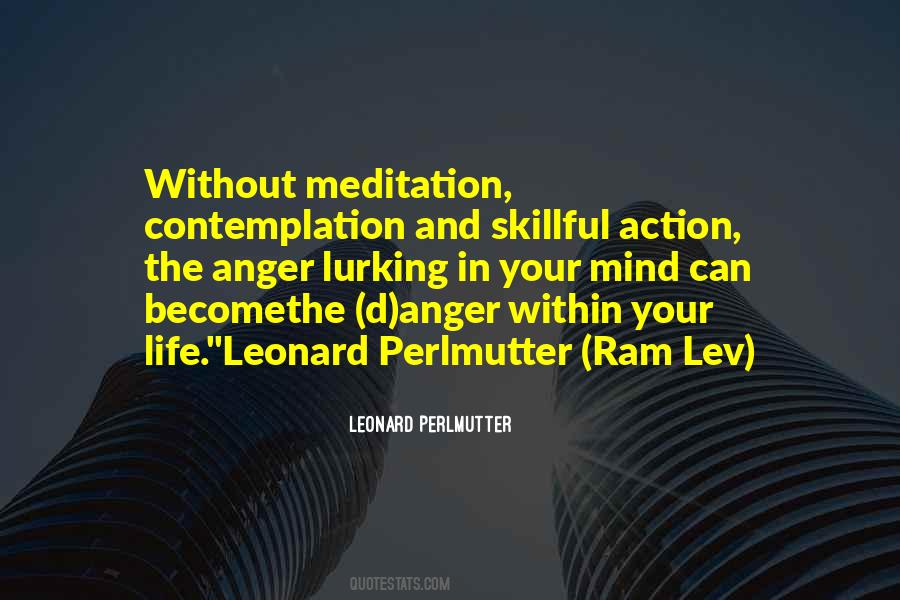 #30. Meditation should not be a thing apart from life; it should be amidst life, it should be a part of life an organic part, nothing 'put separate'. The temple should exist exactly in the middle of the market, and all distinctions between the sacred and the secular should be dissolved. - Author: Rajneesh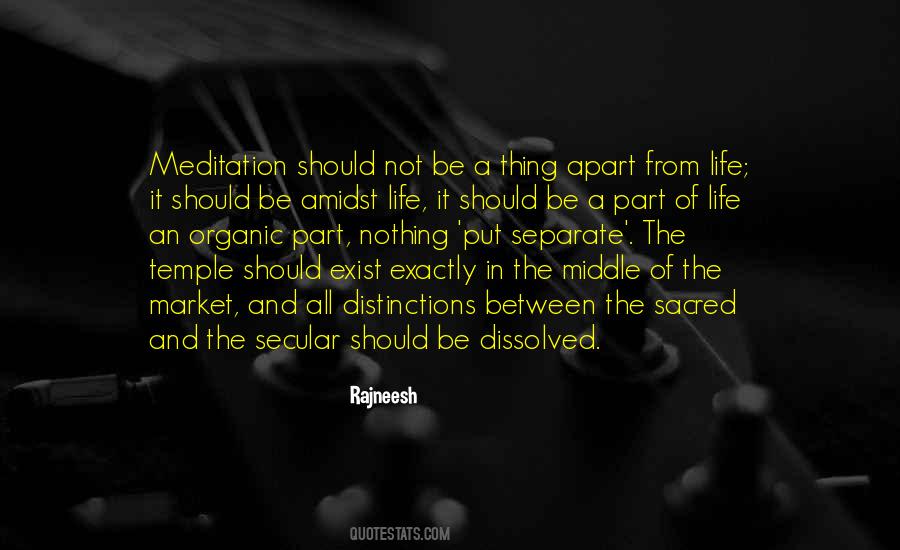 #31. Most of our healing occurs during quiet moments of rest when we are in contact with unconscious feelings and experiences. I can't imagine life without the peaceful, insightful moments I have during meditation. - Author: Janet Gallagher Nestor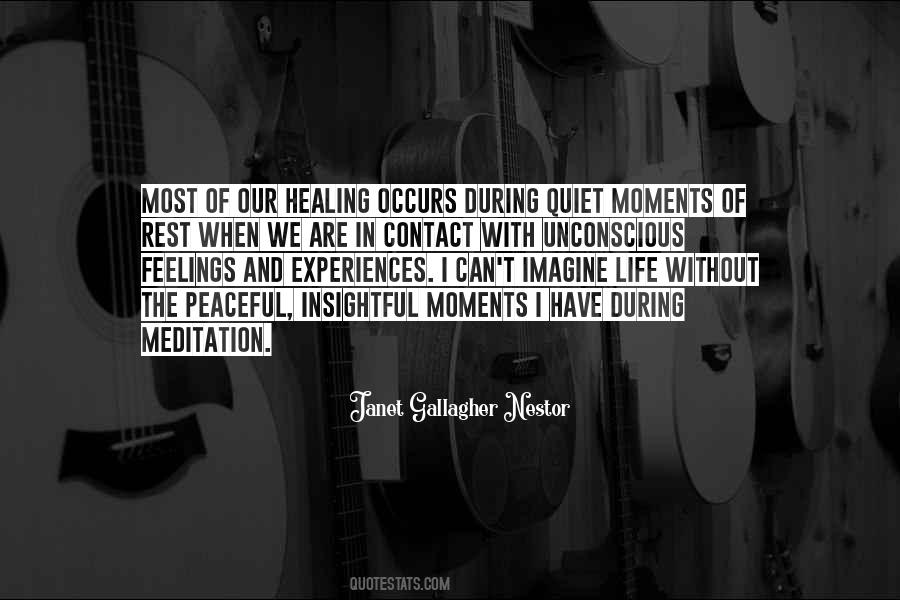 #32. It is the devotee's job to chant God's name. It is God's business to keep count. - Author: Radhe Maa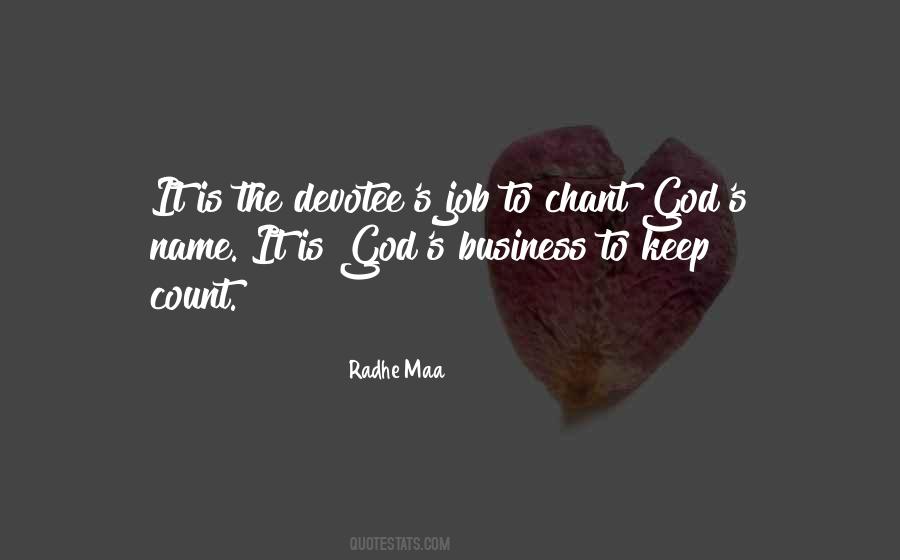 #33. Life is fluid, ever evolving. The more dynamic you are, the more happens in your life, all the time. - Author: Jaggi Vasudev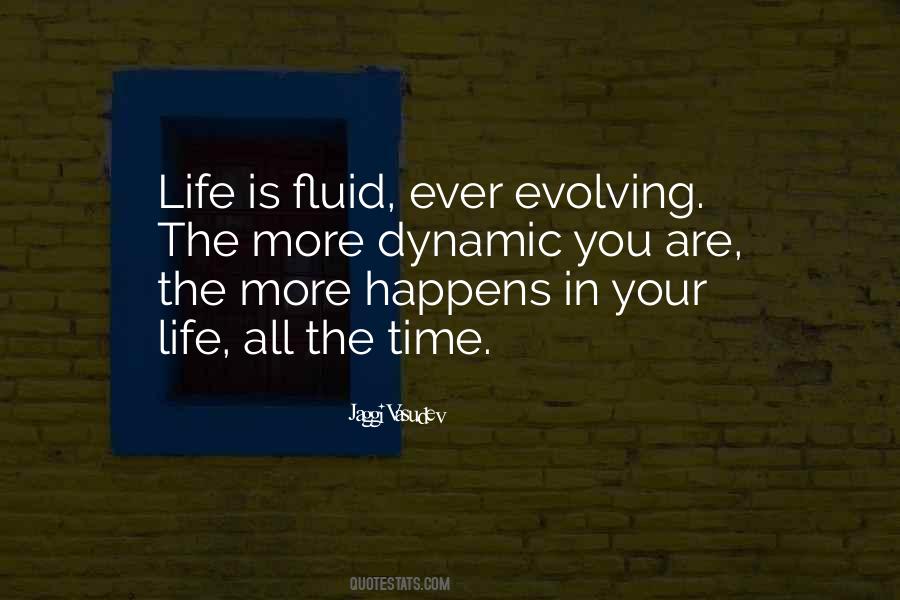 #34. "I do not want to get material life, do not want the sense-life, but something higher." That is renunciation. Then, by the power of meditation, undo the mischief that has been done. - Author: Swami Vivekananda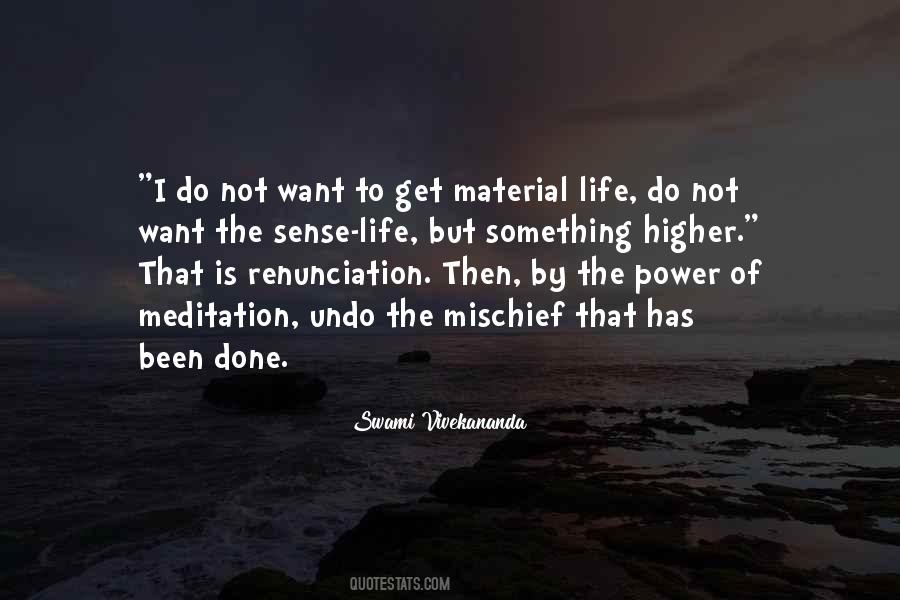 #35. One of the regular intervals of meditation in my life, believe it or not, is in my car. - Author: Ed Begley Jr.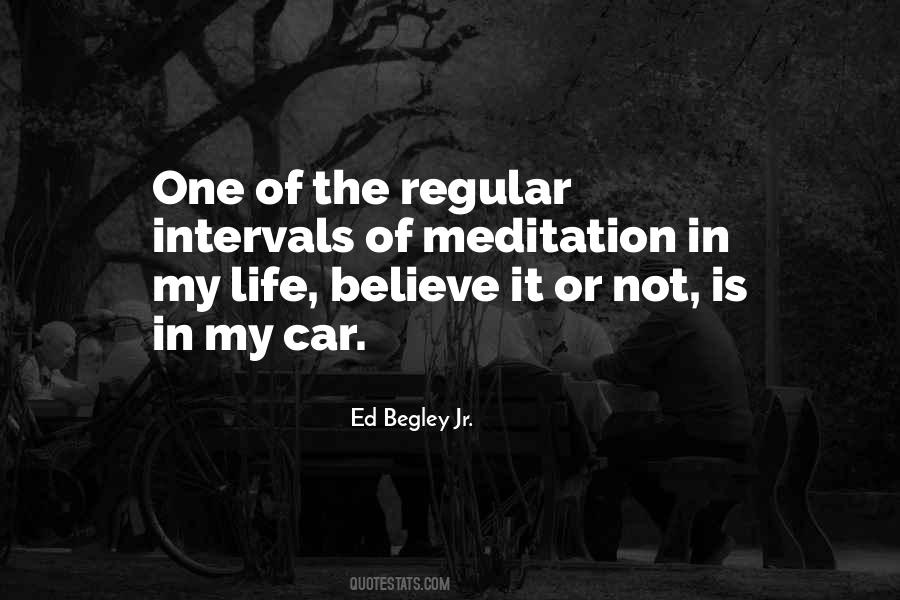 #36. Include and grow. Include and expand. - Author: Osho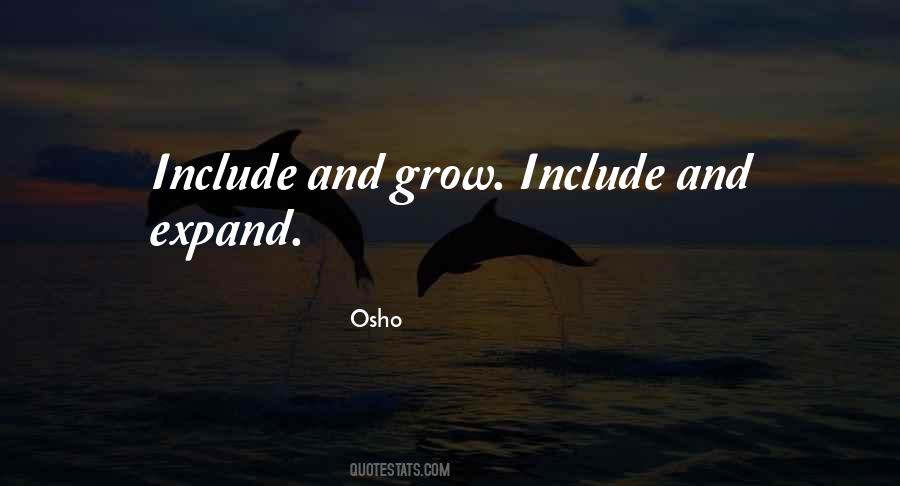 #37. Know the one who wants nothing to be the wealthiest. - Author: Radhe Maa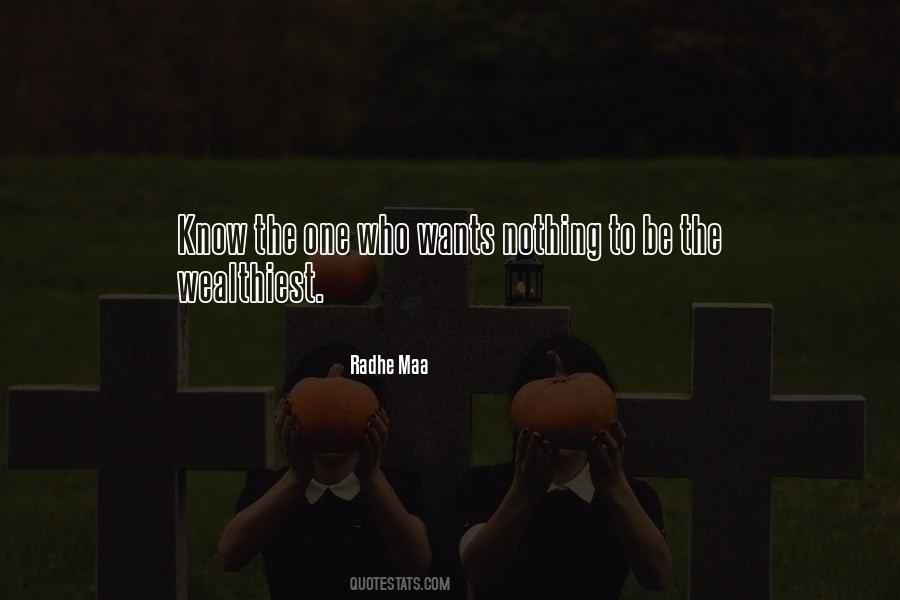 #38. Meditation is existence. When we meditate, all we are simply doing is letting go and allowing ourselves to dissolve back into that which we really are. We are merging with life and light. - Author: Frederick Lenz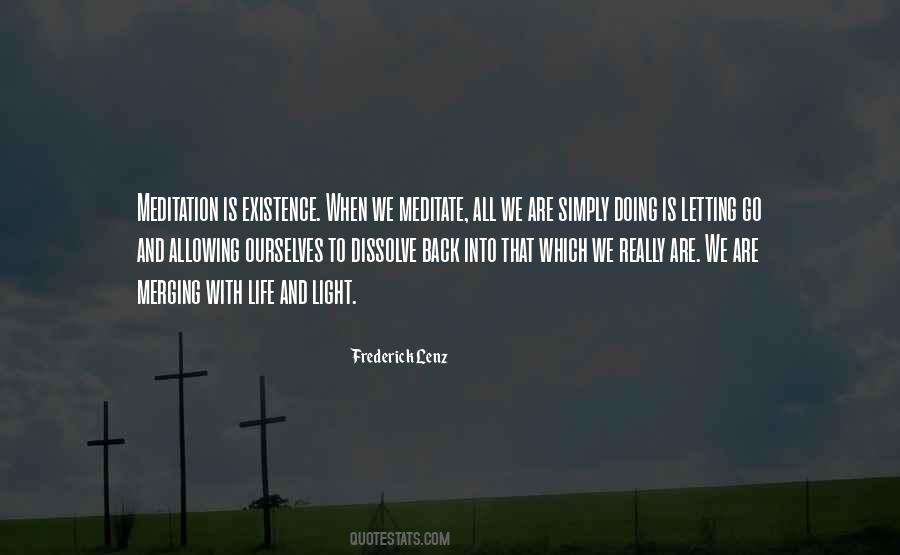 #39. Spiritual Practice involves being constantly aware - Author: Radhe Maa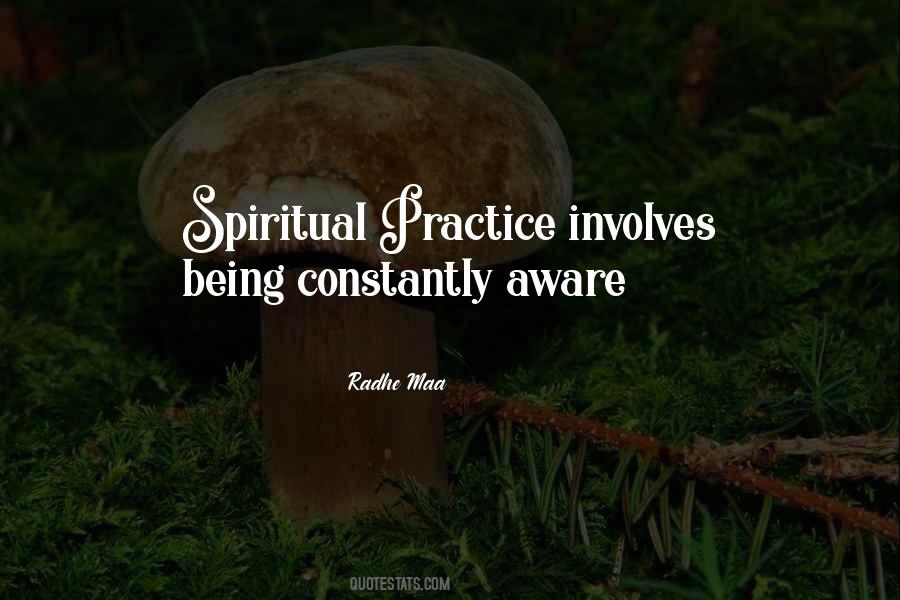 #40. Meditation, then, is not so much a part of this or that particular religion, but rather part of the universal spiritual culture of all humankind
an effort to bring awareness to bear on all aspects of life. It is, in other words, part of what has been called the perennial philosophy. - Author: Ken Wilber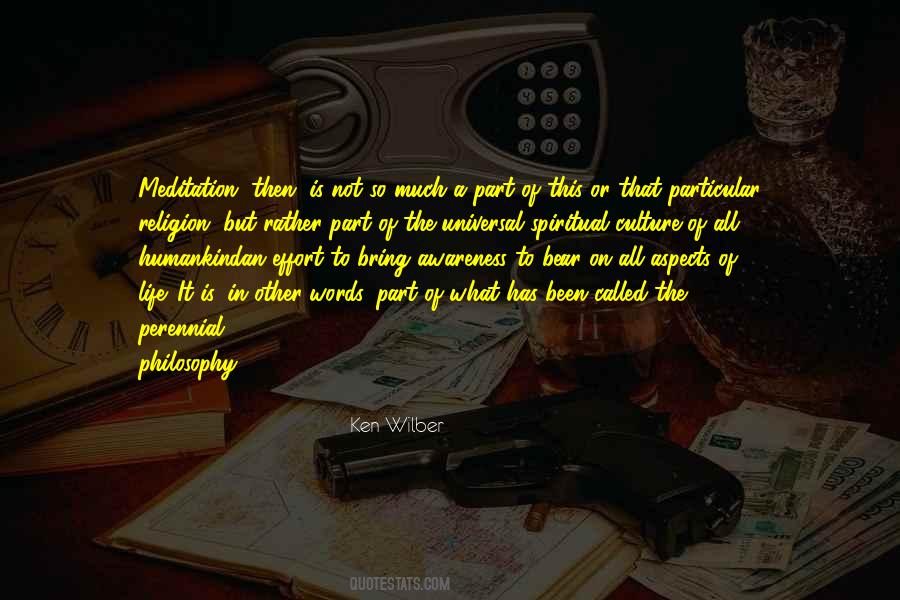 #41. Meditation is the best means of elongating life - Author: Maharishi Mahesh Yogi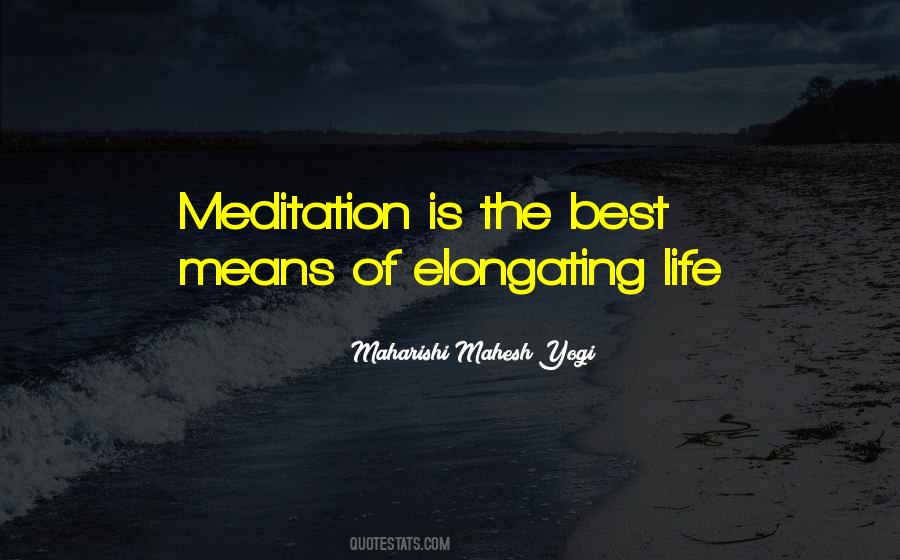 #42. Meditation is that dimension of science which focuses on creating the right kind of interior, so that you can live a peaceful and joyous life. - Author: Jaggi Vasudev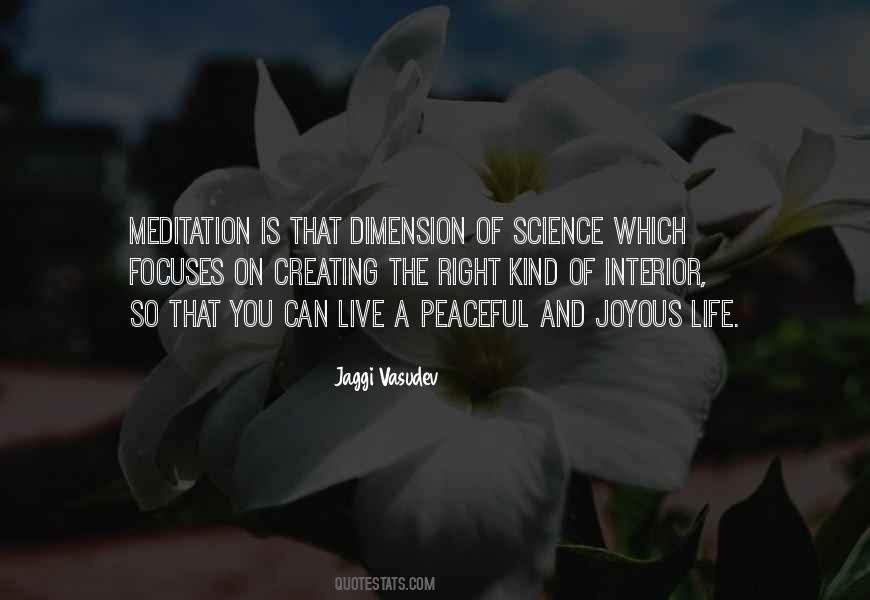 #43. When one is overfed and another one is hungry, I call that a disaster. - Author: Jaggi Vasudev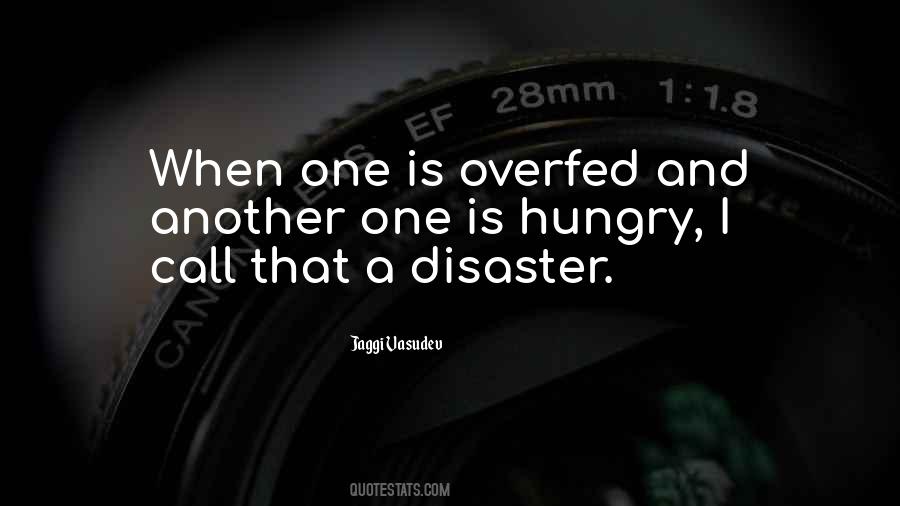 #44. Wear gratitude like a cloak and it will feed every corner of your life. - Author: Rumi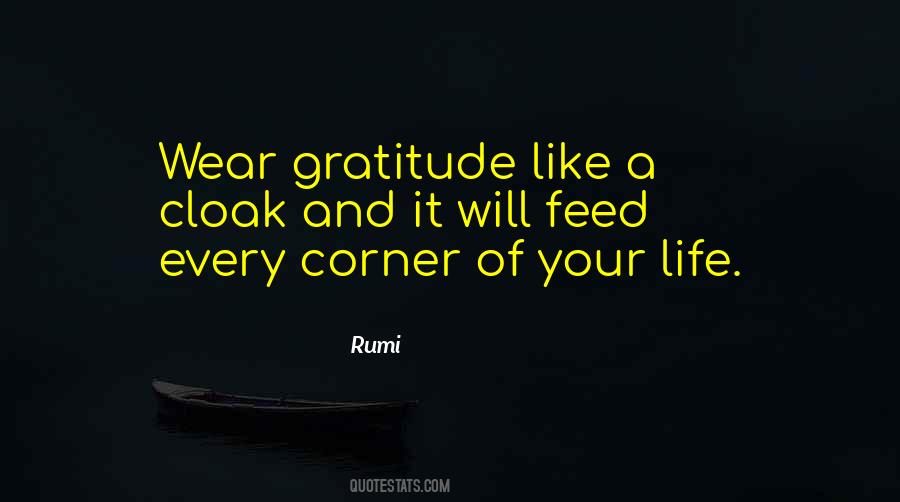 #45. Prayer and meditation are my inner secret and my outer secret. My muscles are next to nothing compared to the muscles of the professional bodybuilders and weightlifters. It is because of the strength of my prayer-life and meditation-life that I am able to accomplish these feats of strength. - Author: Sri Chinmoy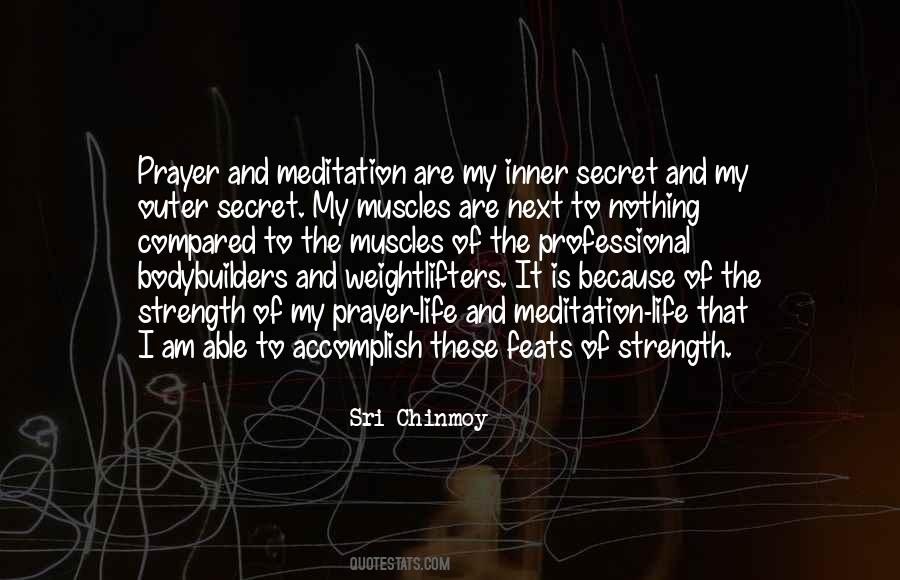 #46. Our task and challenge as human beings is to appreciate, in the same instant, both the infinite significance and absolute insignificance of life. - Author: Eric Micha'el Leventhal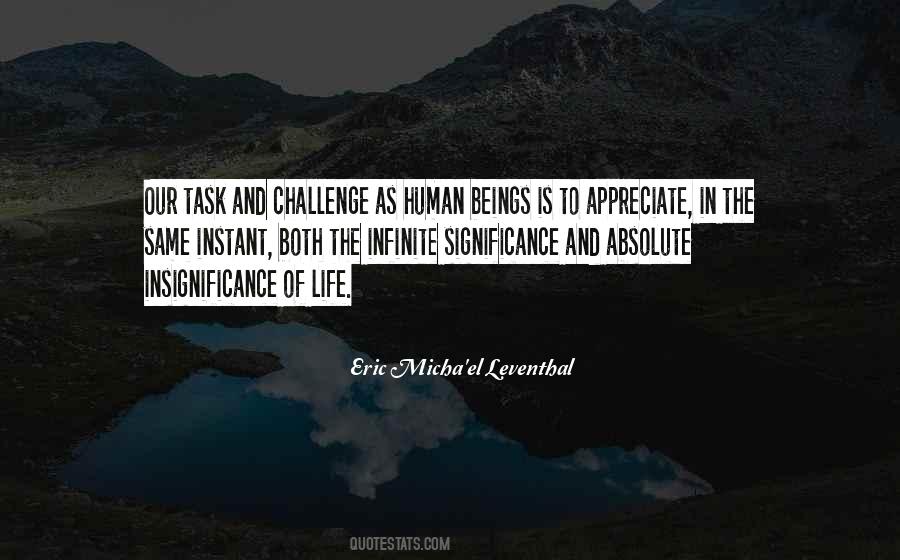 #47. Inner stillness is the key to outer strength. - Author: Jared Brock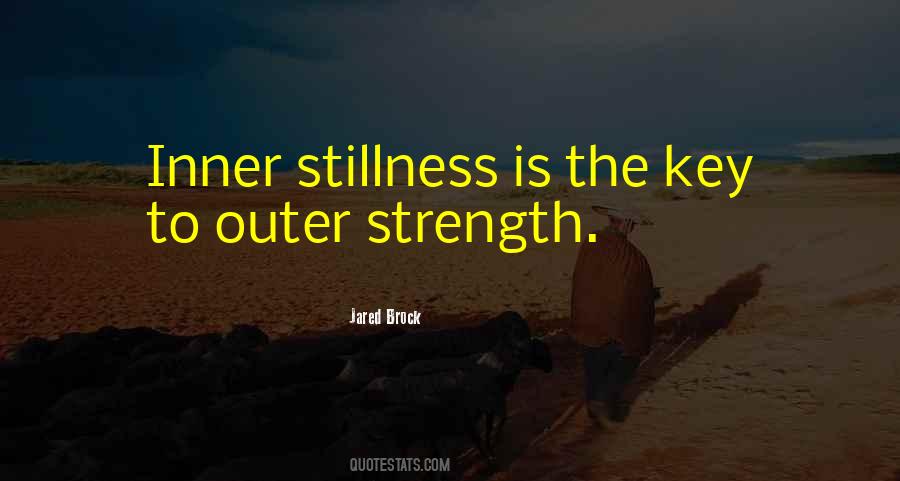 #48. Meditation is nothing but a way to learn how to do a thing totally - once you have learnt, make your whole life a meditation, forget all about meditations, let the life be the only law, let the life be the only meditation. And then time disappears. - Author: Rajneesh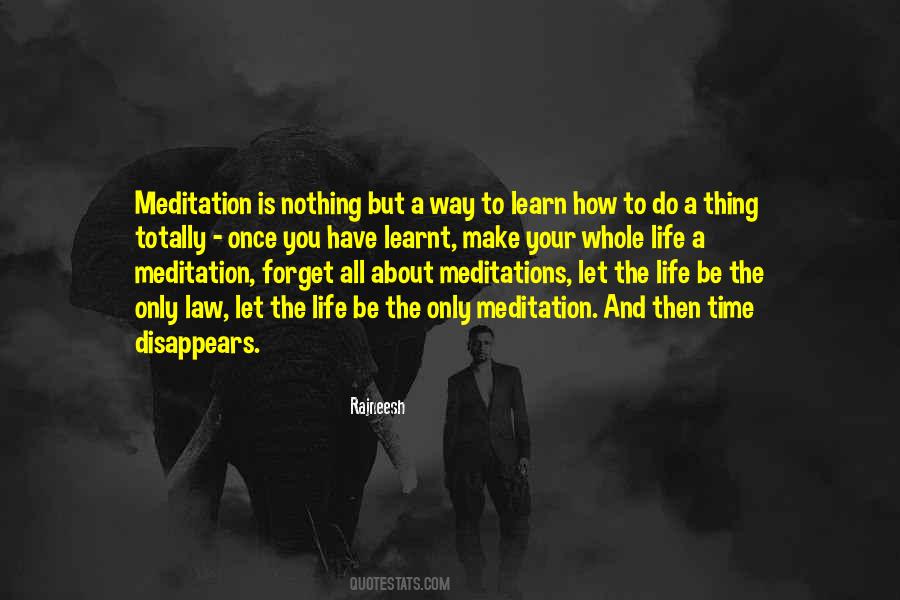 #49. Meditate five minutes each morning and see it wake up your entire life. - Author: Waylon H. Lewis
#50. Hindu is a geographical identity, or at the most a cultural one - not a religion. There is no set of beliefs that everyone has to adhere to. - Author: Jaggi Vasudev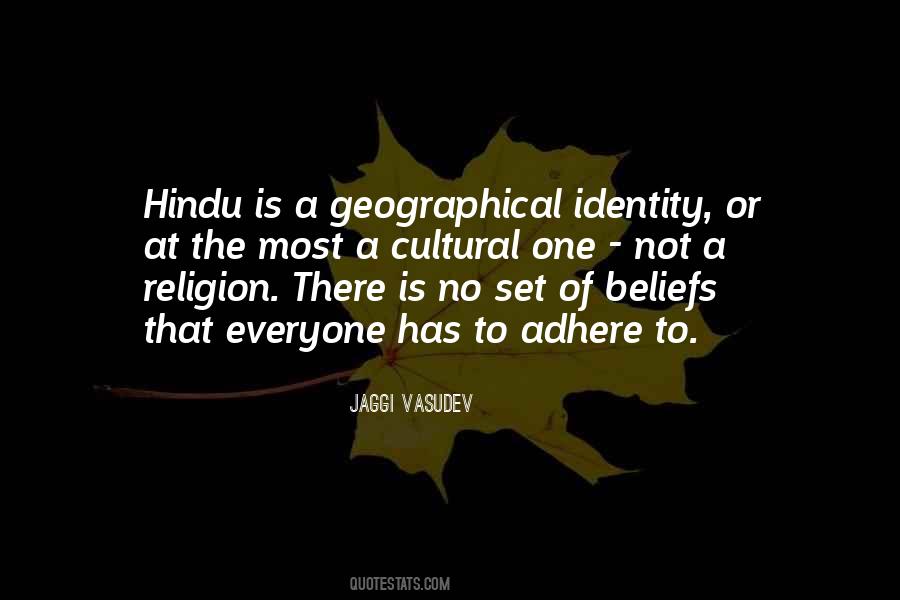 #51. Zen is meditation, the actual experience of life directly, immediately with no buffers. - Author: Frederick Lenz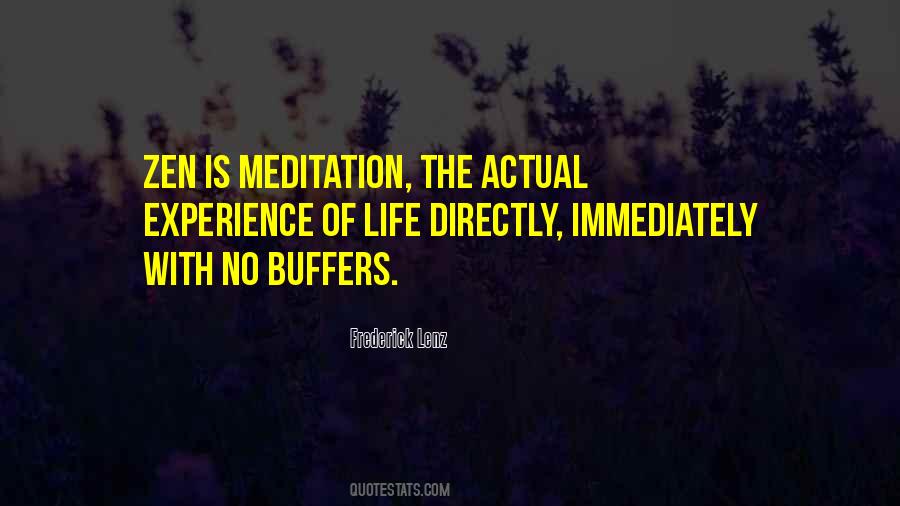 #52. Do not base your life on the likings and dislikings or whims of others. What you are in life - whether you enjoy or suffer - it is your own responsibility. Be regular in your meditation and do not postpone for a later date your striving for God consciousness. - Author: Maharishi Mahesh Yogi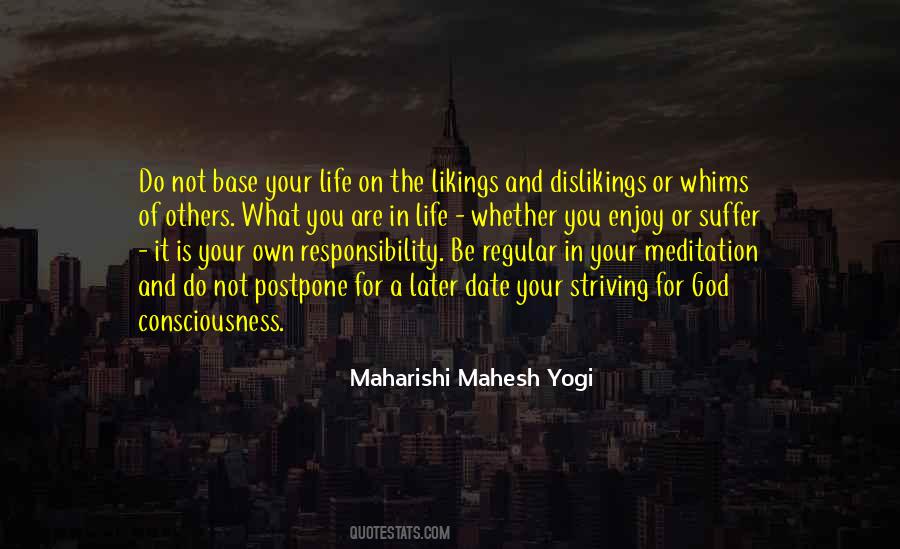 #53. Meditation has only one meaning, and that is going beyond the mind and becoming a witness. In your witnessing is the miracle - the whole mystery of life - Author: Rajneesh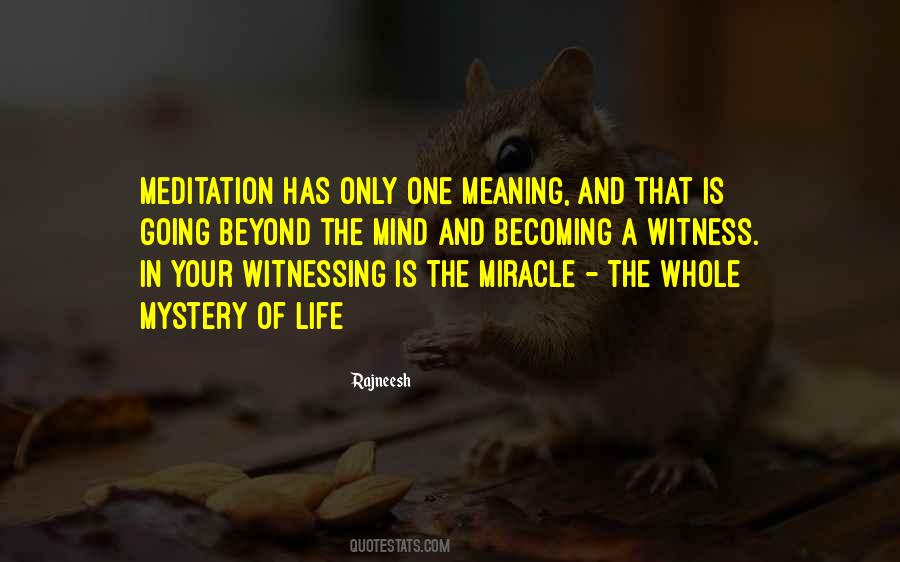 #54. Program your life the way you want it to be: don't waste the unuse energy that lodges in the matrix of your soul. You are transcendent, be a superintendent. - Author: Michael Bassey Johnson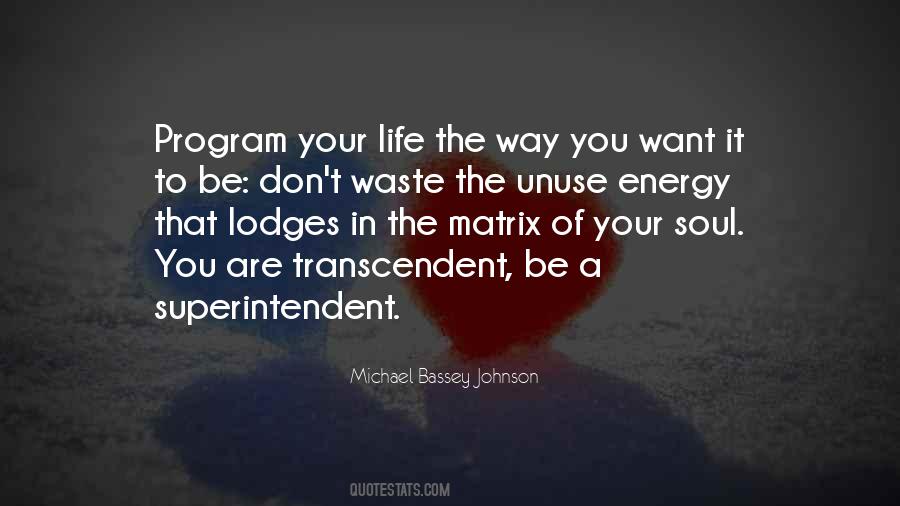 #55. He who is persistent will realize God. So try your best to make meditation a regular experience in your life. - Author: Paramahansa Yogananda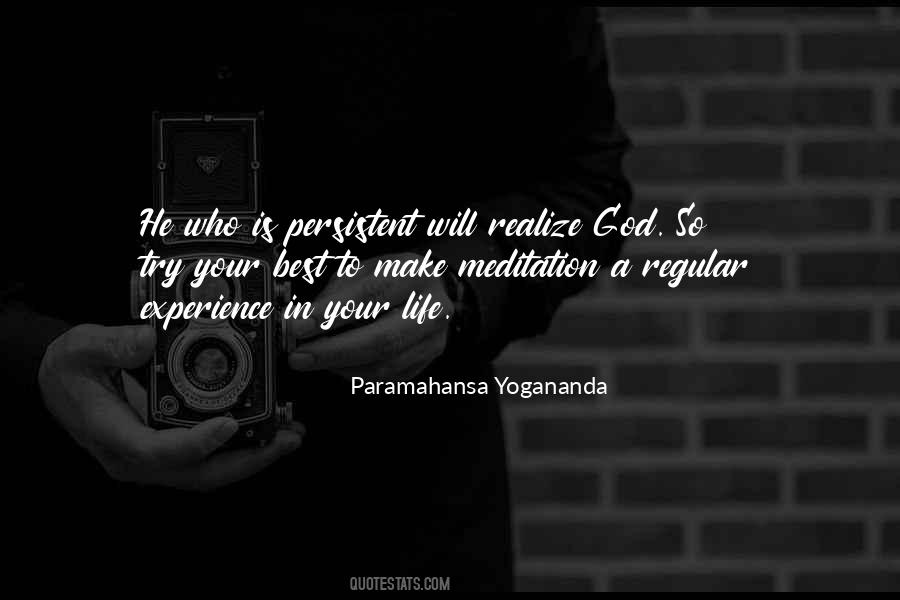 #56. The life of a Christian is wondrously ruled in this world, by the consideration and meditation of the life of another world. - Author: Richard Sibbes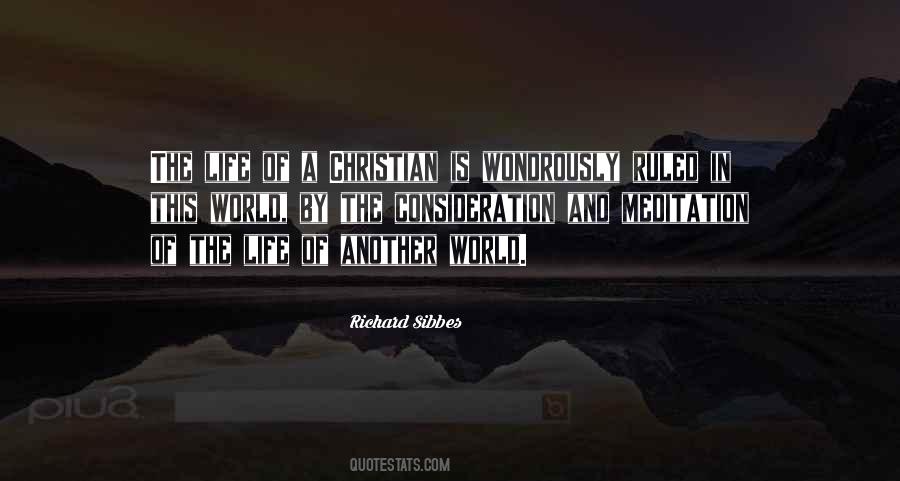 #57. Your life sparks fires from within your innermost temple. No one can reach there but you, it is your inner sanctum. You are your own master there, only you can reach and ignite the fire. - Author: Rajneesh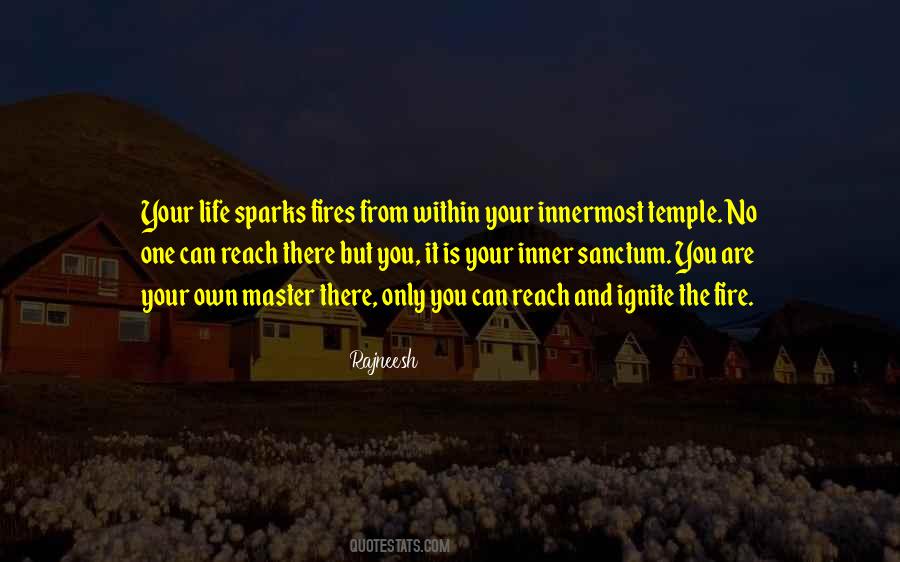 #58. Our basic relationship to sex mirrors our whole relationship to life. - Author: Swami Dhyan Giten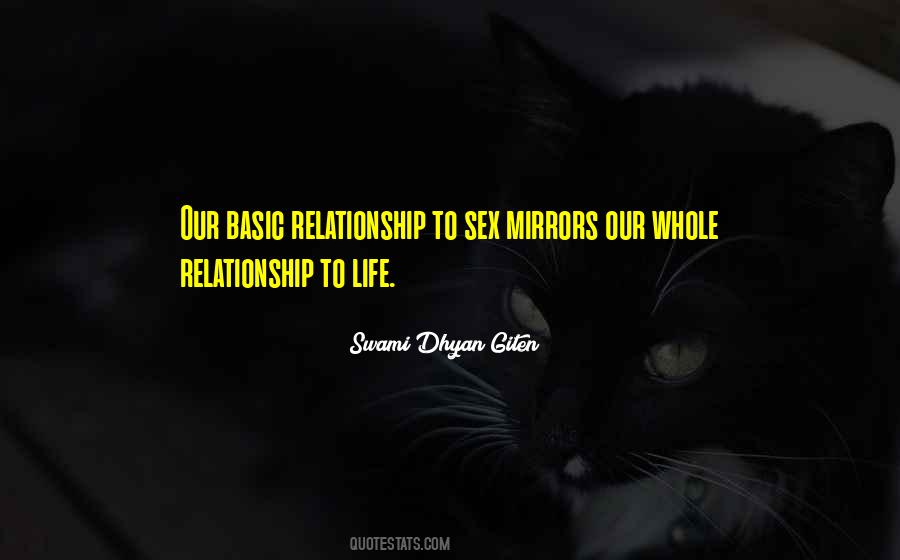 #59. I will never cut it as a Quaker - I cannot find it in me to renounce all violence, not with two daughters under my protection - but I do love their silent hour, which in my case invariably evolved into a self-scouring meditation on the idea that the busy life is not the full life. - Author: Michael Perry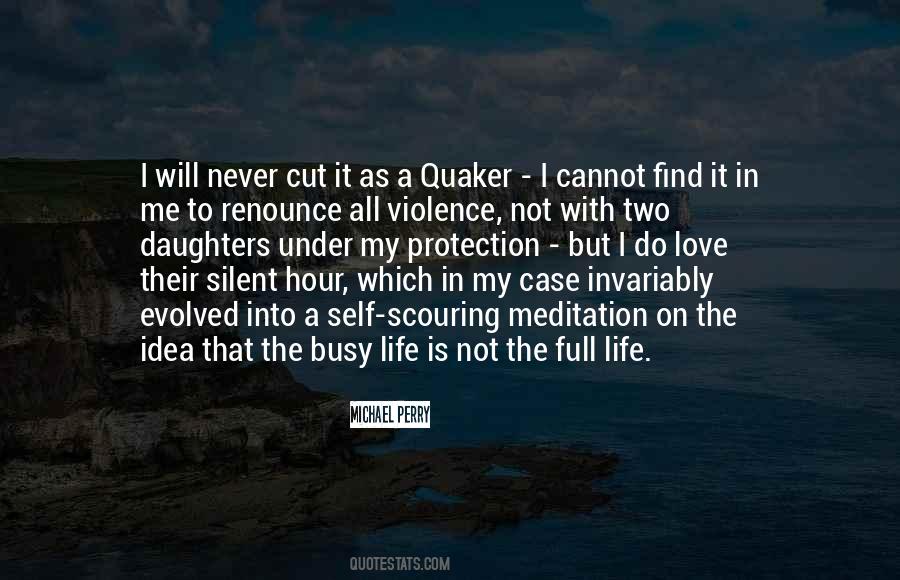 #60. I recommended meditation to every person as a foundation for living healthier, being a more loving person, and leading a less stressful life! - Author: Tim McCarthy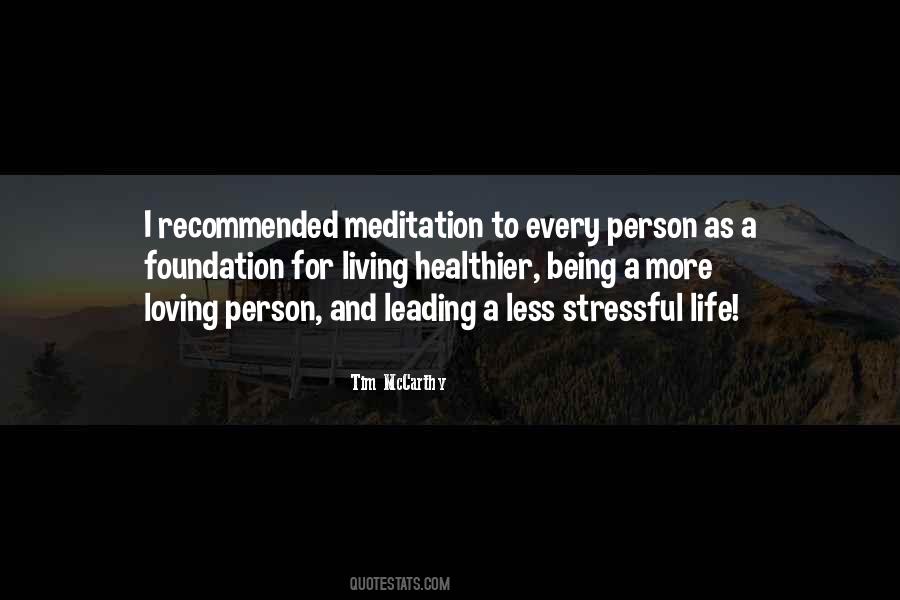 #61. As you meditate, you will be able to look at the beauties and horrors of life and accept them with an equal mind. You will love more and be kinder to those around you. - Author: Frederick Lenz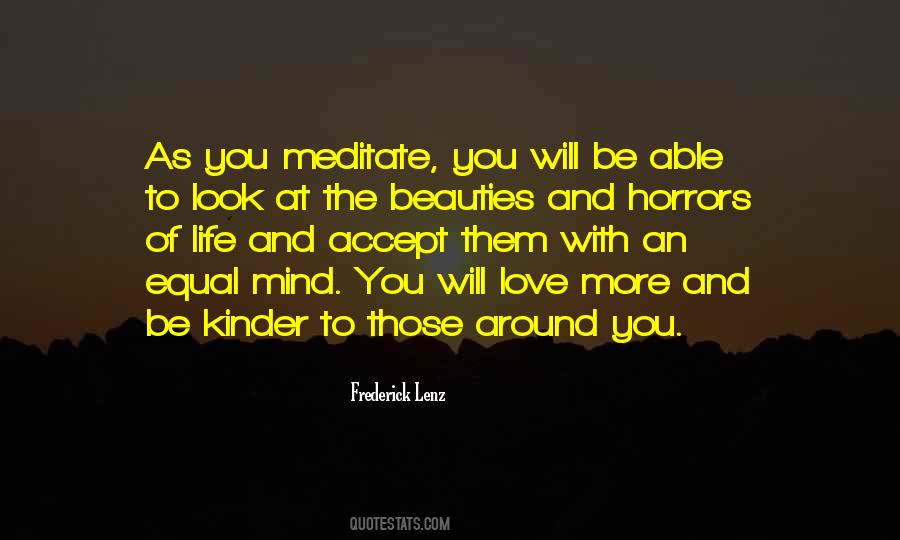 #62. Be contented with the things of the world. Develop greed for God. - Author: Radhe Maa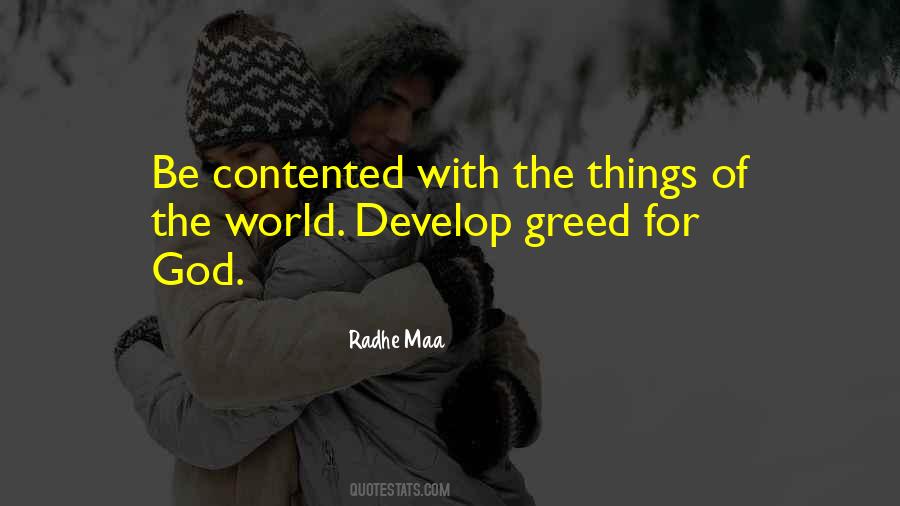 #63. Meditation is a glorious link to connect and harmonize the two ends of life - material and spiritual. - Author: Maharishi Mahesh Yogi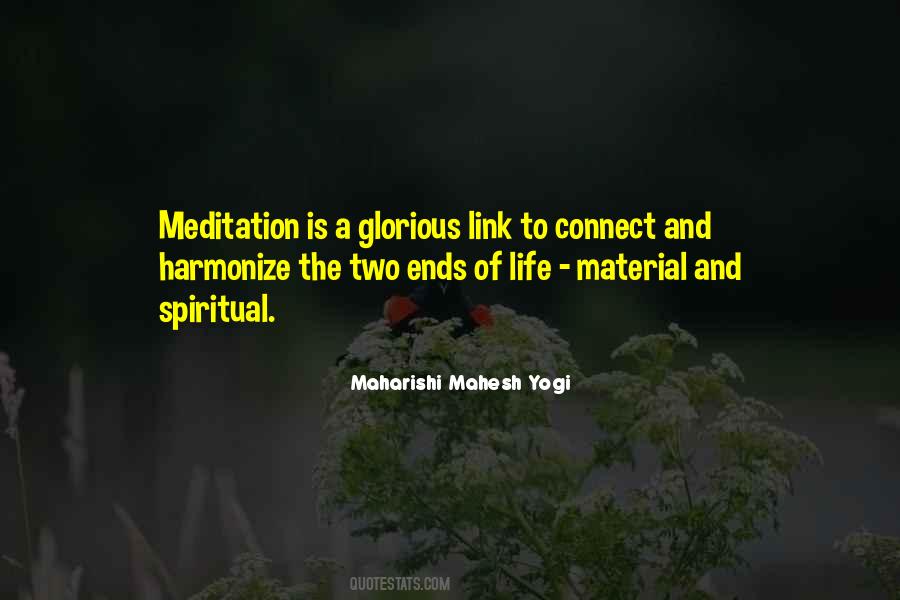 #64. Life can be pleasant or miserable. To lead a fruitful life, and to make it positive, practice analytical meditation. - Author: Dalai Lama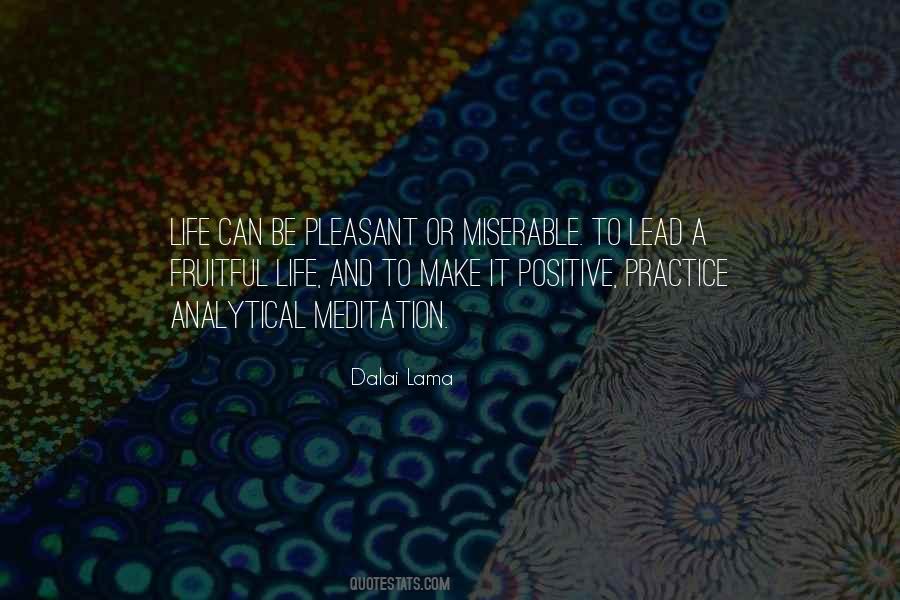 #65. These are the qualities of meditation: a really meditative person is playful; life is fun for him, life is a leela, a play. He enjoys it tremendously. He is not serious. He is relaxed. - Author: Osho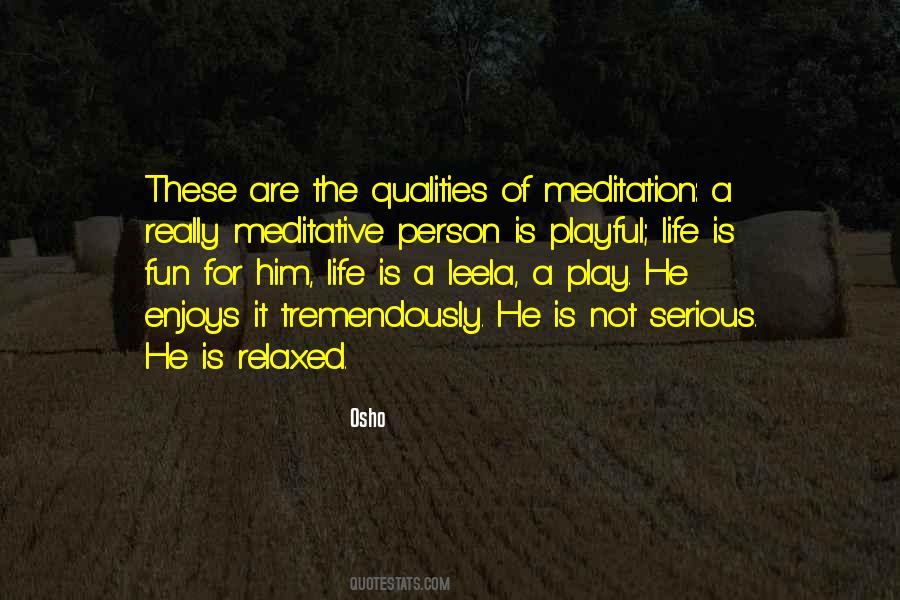 #66. The primary purpose of meditation is to become conscious of, and familiar with, our inner life. The ultimate purpose is to reach the source of life and consciousness. - Author: Sri Nisargadatta Maharaj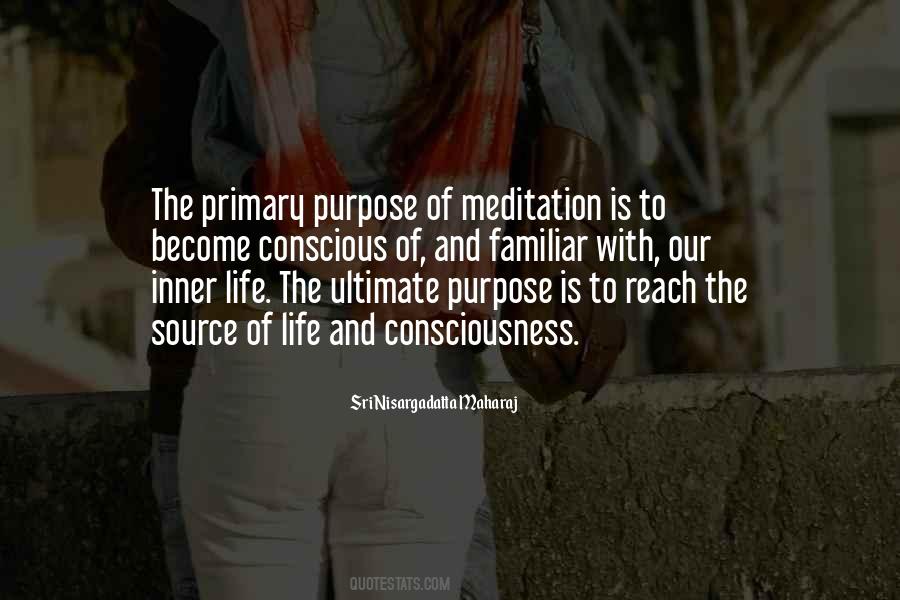 #67. Meditation hasn't separated me from my life and my friends and my work. It's just made my fear go away, so I can just be that much more engaged. - Author: Rivers Cuomo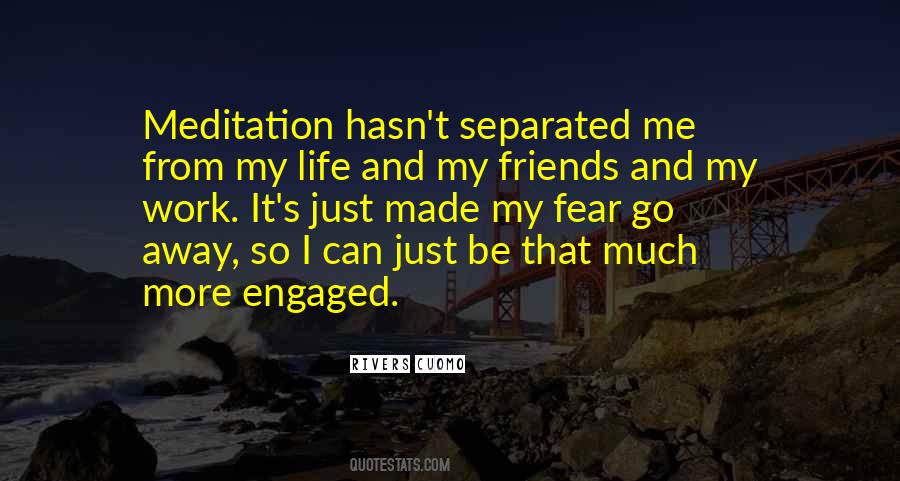 #68. You remember, you are drawn back to the pathway to enlightenment, to meditation, and when you begin to meditate your past life knowledge returns to you. - Author: Frederick Lenz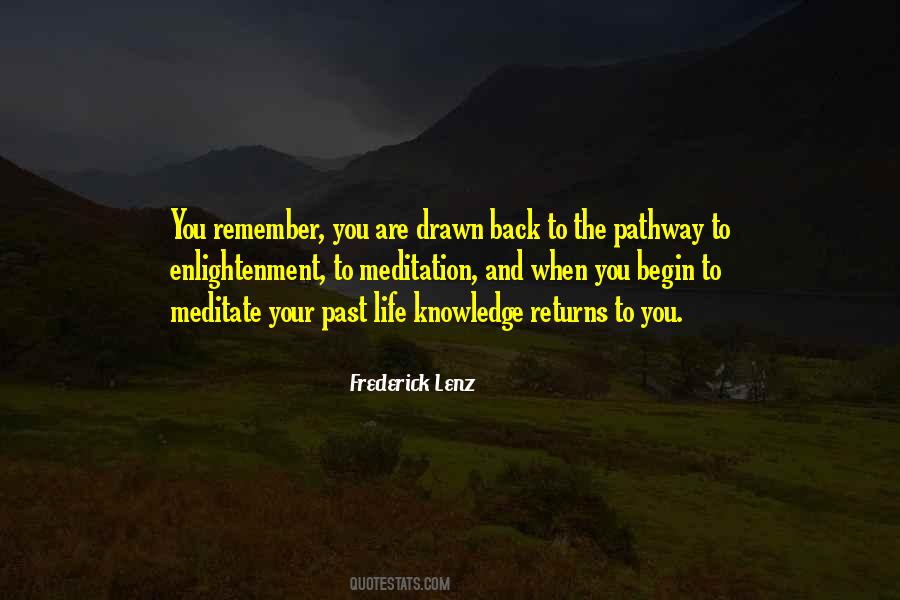 #69. Give and take is business not bhakti - Author: Radhe Maa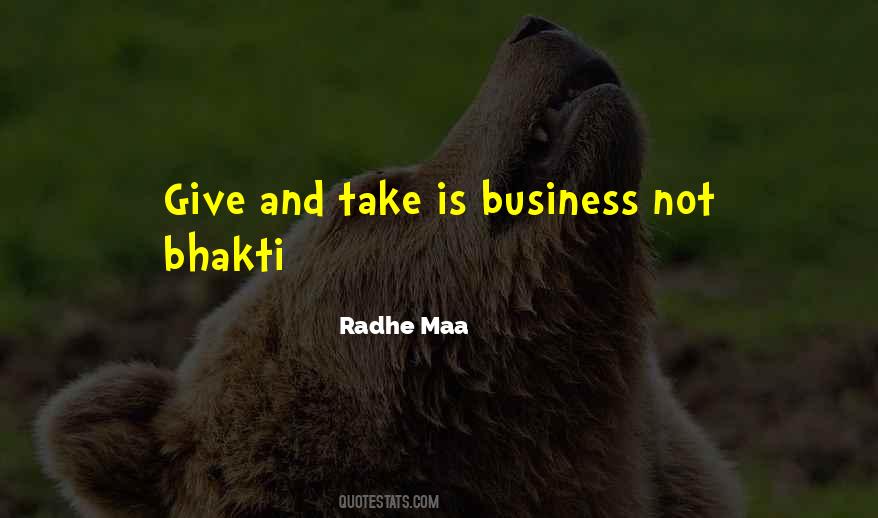 #70. Meditation has been an anchor throughout my life - it helps me feel balance, connected and at peace. - Author: Mallika Chopra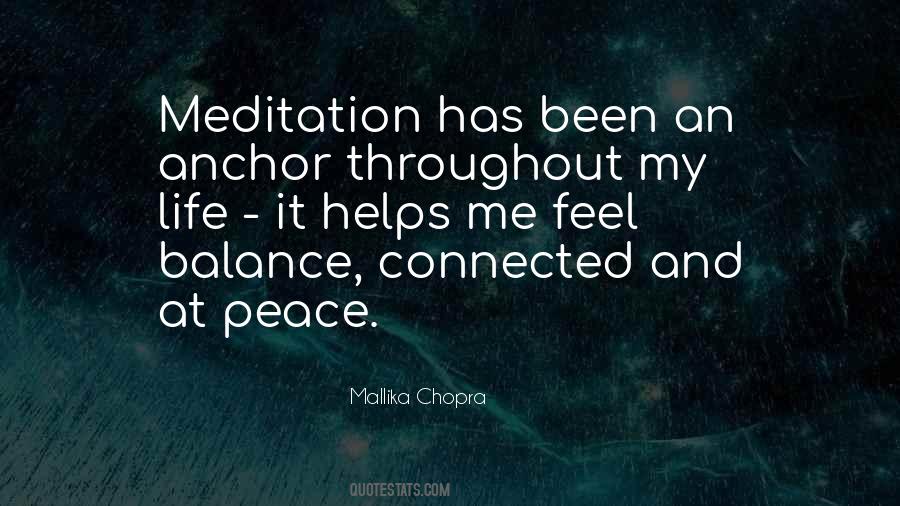 #71. Meditation is a silent heart, a peaceful mind which can make life more lovable, more livable ... - Author: Rajneesh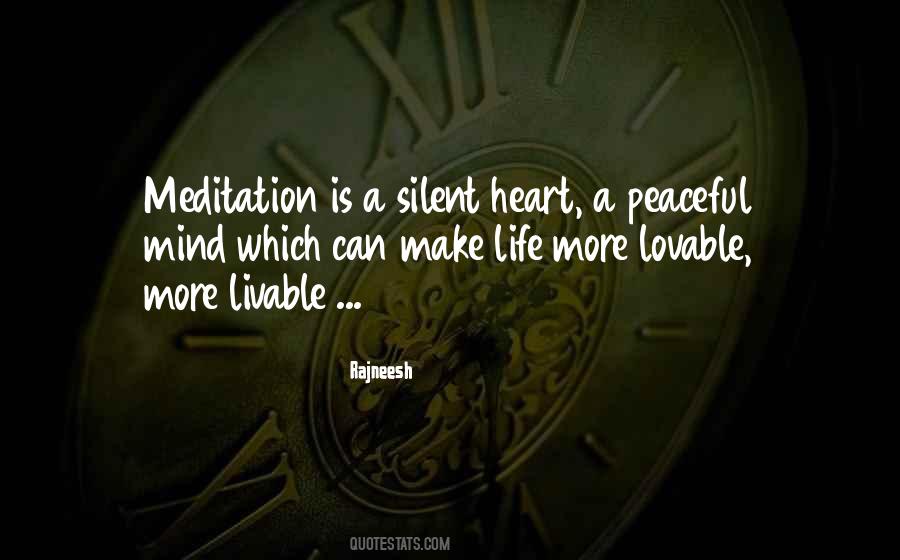 #72. By practicing compassion and forgiveness, one can control hatred. - Author: Radhe Maa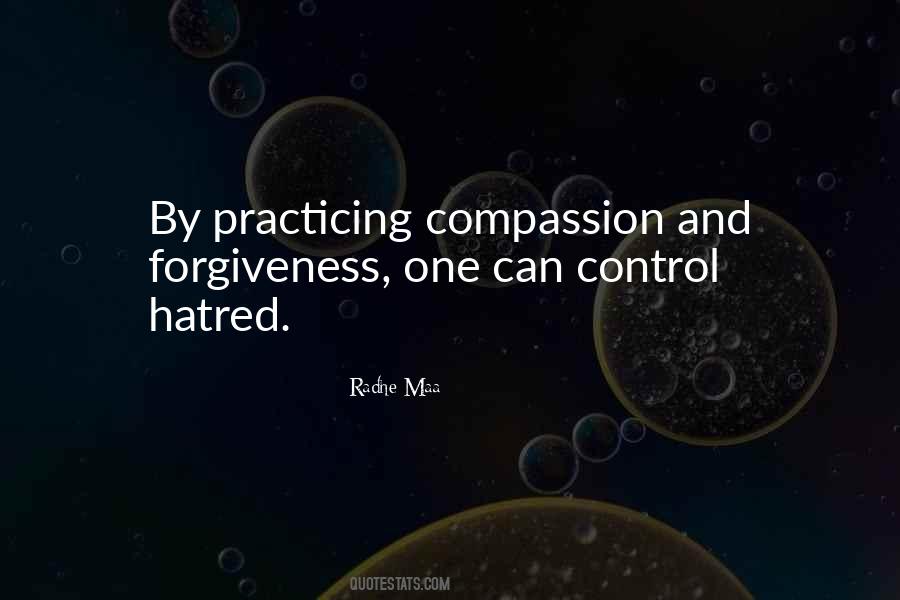 #73. A free man thinks of death least of all things, and his wisdom is a meditation not of death but of life. - Author: Baruch Spinoza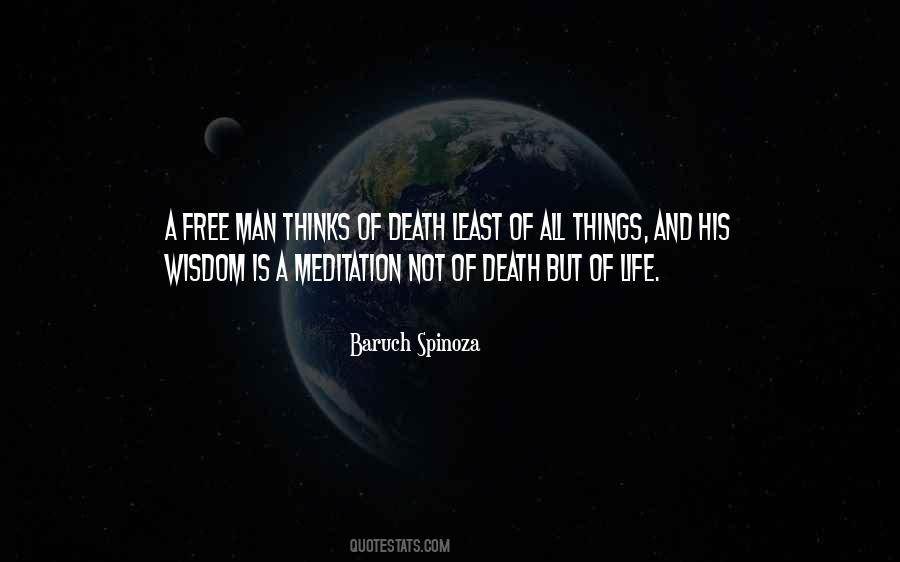 #74. Quiet the mind, and the soul will speak. - Author: Ma Jaya Sati Bhagavati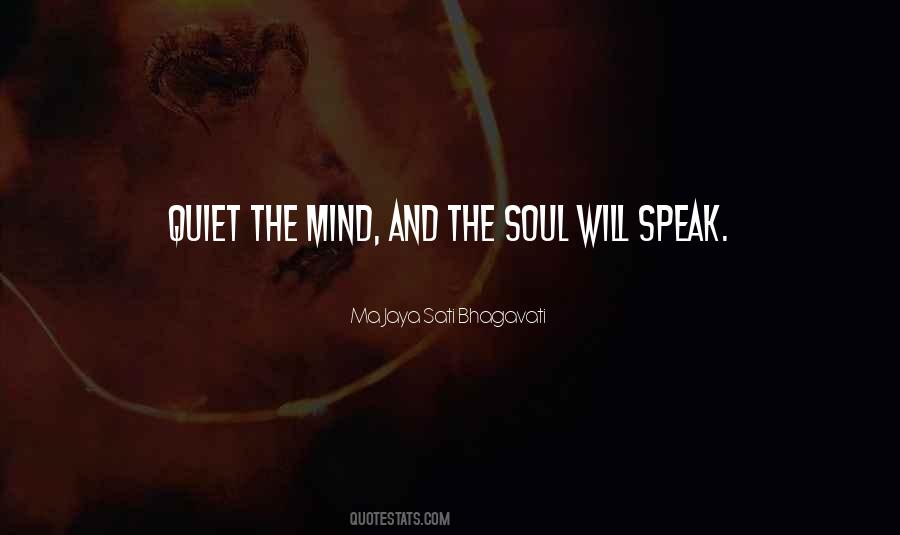 #75. If you want to simplify your life, meditation is the answer. If you want to fulfil your life, meditation is the answer. If you want to have joy and offer joy to the world at large, then meditation is the only answer. - Author: Sri Chinmoy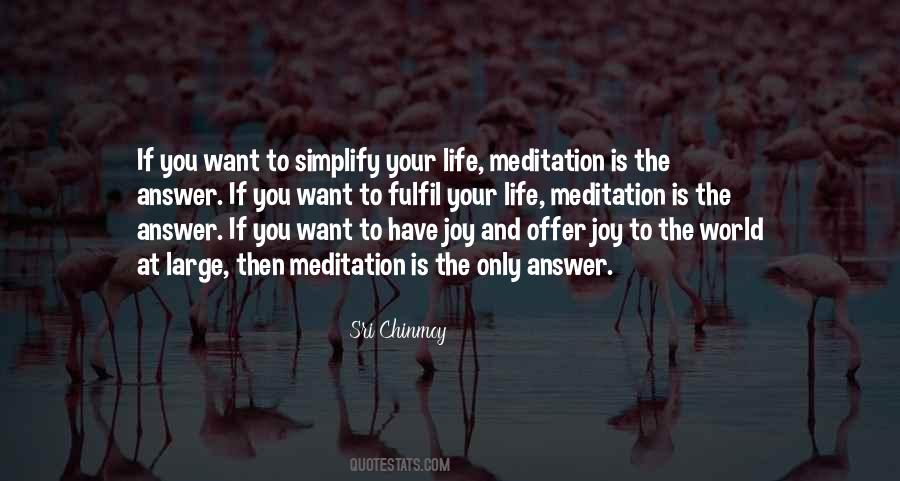 #76. In New York the acoustics are good for laughter, for life is all external, all action, no thought, no meditation, no dreaming, no reflection, only the exuberance of action. - Author: Anais Nin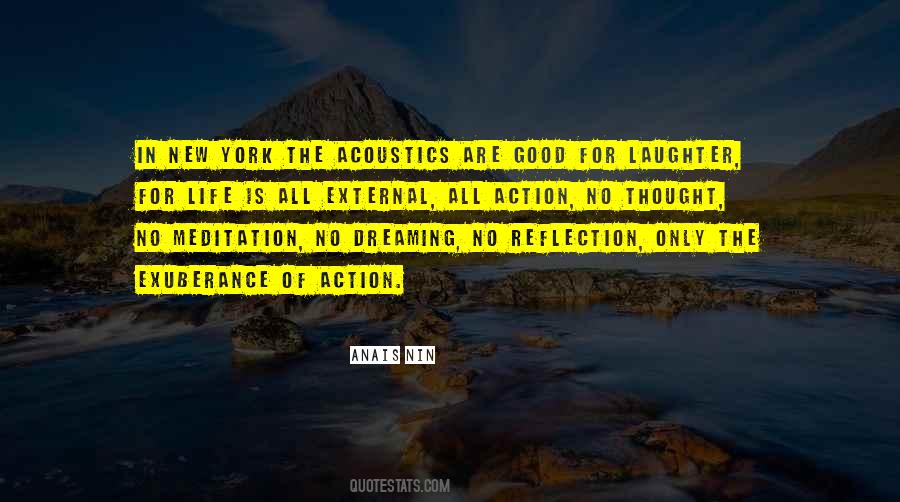 #77. Modern science has its value in terms of utility, but it cannot open up existence to human experience. - Author: Jaggi Vasudev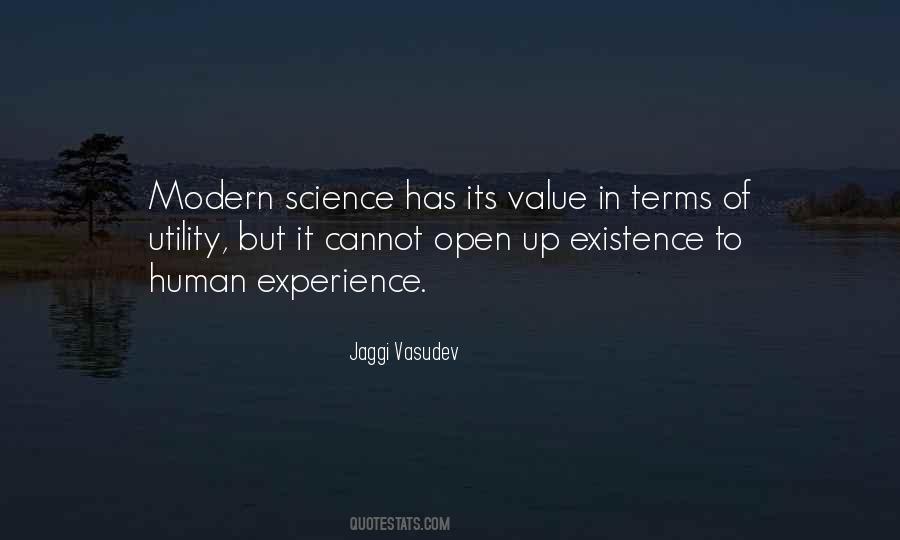 #78. Only when the seeker is lost, the truth is there. Seek, and you will miss. Seek not, and you will find. The very seeking becomes a barrier to truth, to the ultimate experience. - Author: Swami Dhyan Giten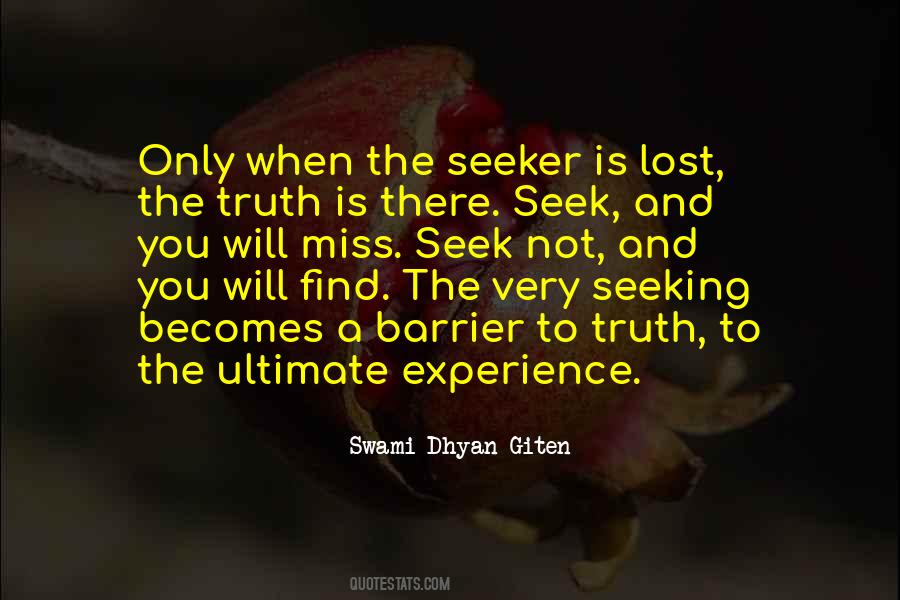 #79. Only if we live consciously, we can die consciously. - Author: Swami Dhyan Giten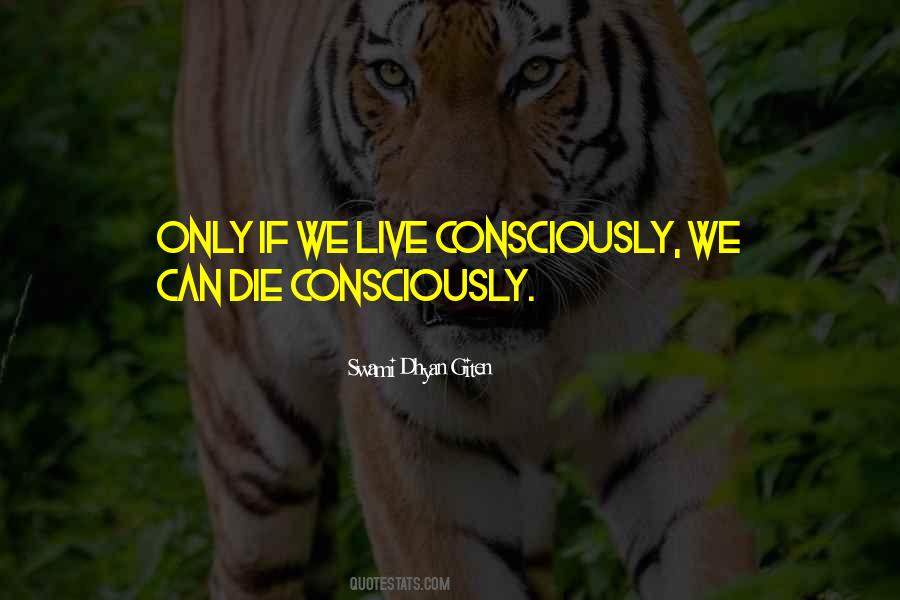 #80. Yoga has expanded beyond asana for me. It's how I live my life and currently I'm throwing myself into a meditation practice. - Author: Kathryn Budig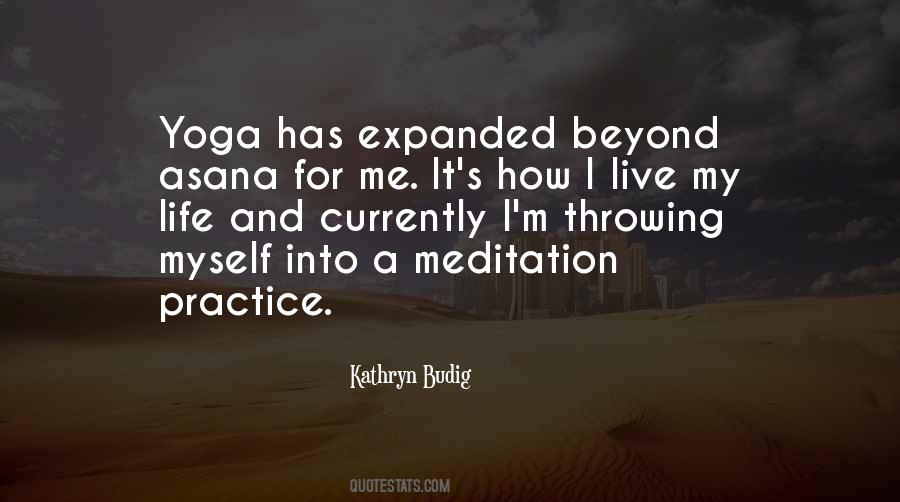 #81. We exist to serve the Lord - Author: Radhe Maa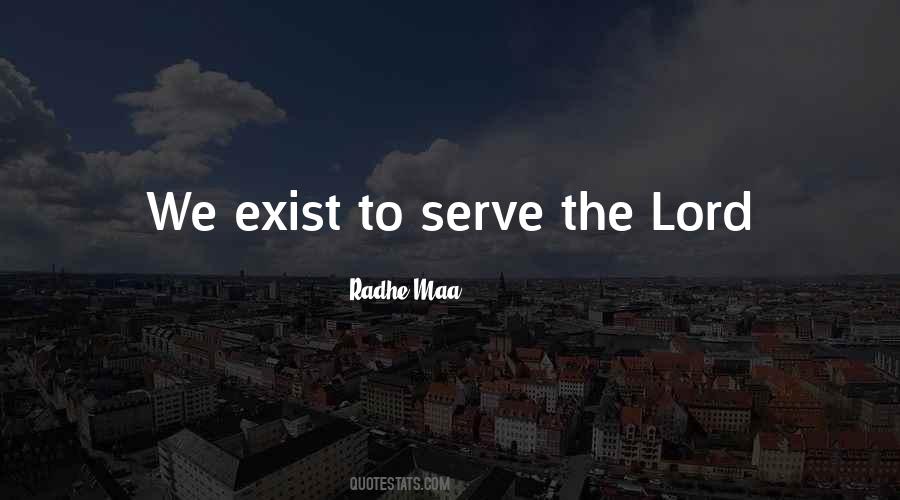 #82. Our life is an endless journey; it is like a broad highway that extends infinitely into the distance. The practice of meditation provides a vehicle to travel on that road. Our journey consists of constant ups and downs ... - Author: Chogyam Trungpa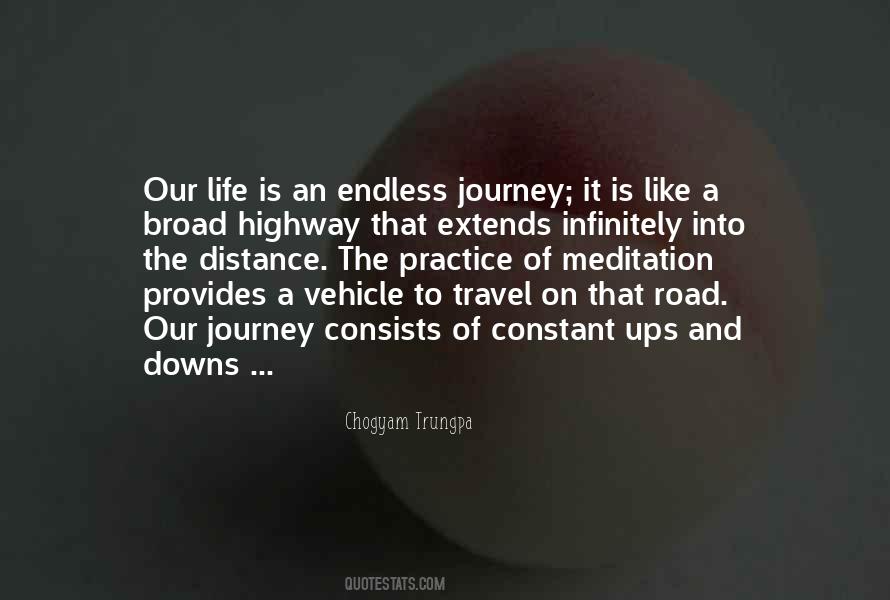 #83. Spiritual process is not for the dead or the dying; it is for the living who want to become fully alive in all dimensions of life. - Author: Jaggi Vasudev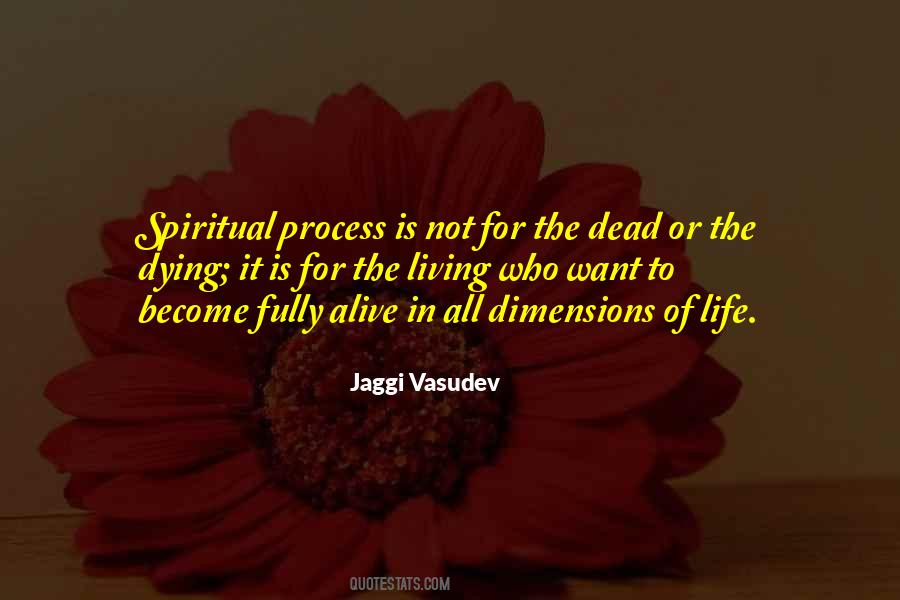 #84. Some people meditate because they want to get the larger picture on life. It could get kind of discouraging if this was all there was. - Author: Frederick Lenz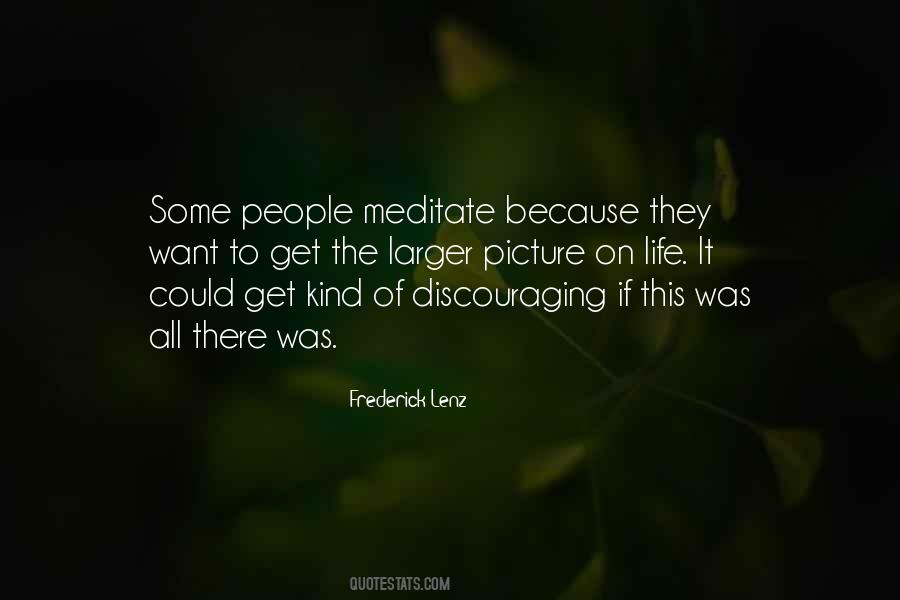 #85. The inner woman is the source of healing. The inner woman is the source of silence. The inner woman is the source of love. The inner woman is the source of belongingness with life. Embracing the inner man and woman is to discover our inner roots and wings. - Author: Swami Dhyan Giten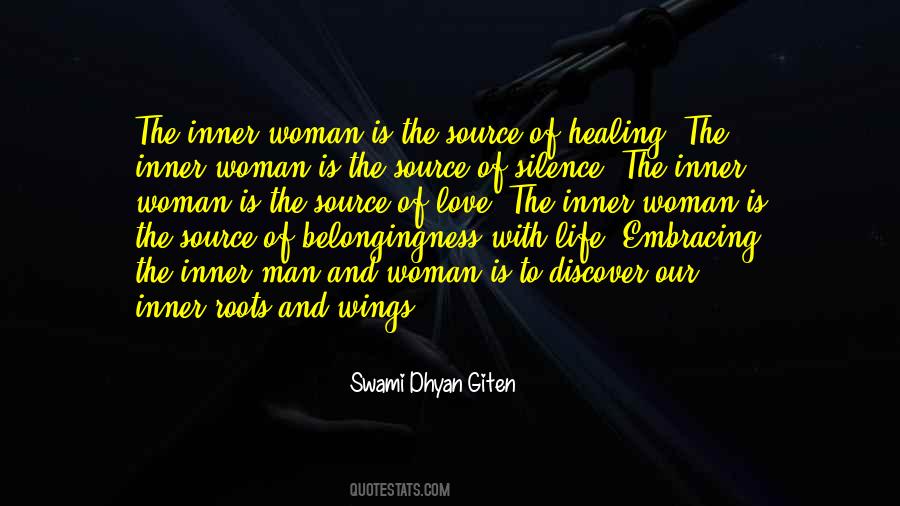 #86. If there is no order in your relationship with your wife, with your husband, with your children, with your neighbour - whether that neighbour is near or very far away - forget about meditation ... - Author: Jiddu Krishnamurti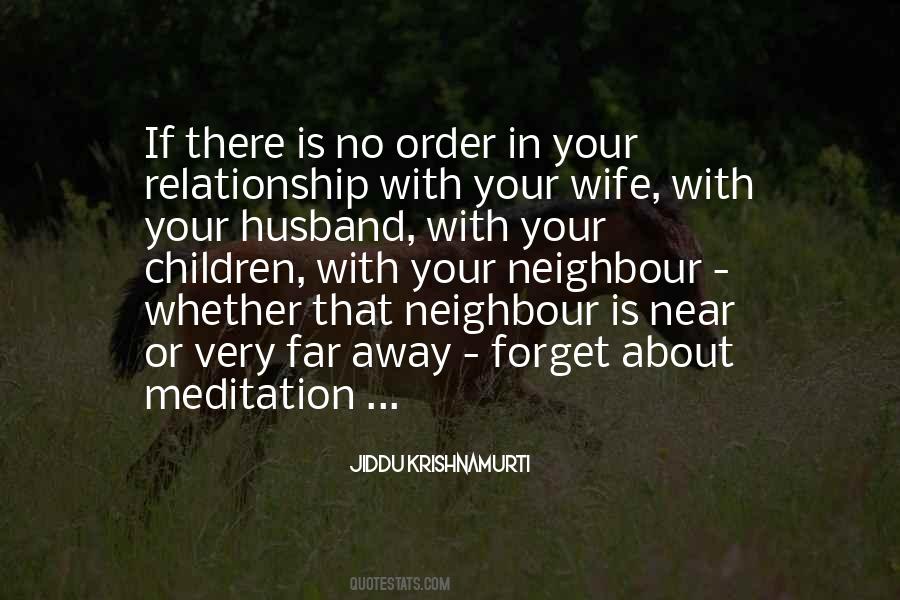 #87. The very purpose of life is to reach the highest possible flowering. - Author: Jaggi Vasudev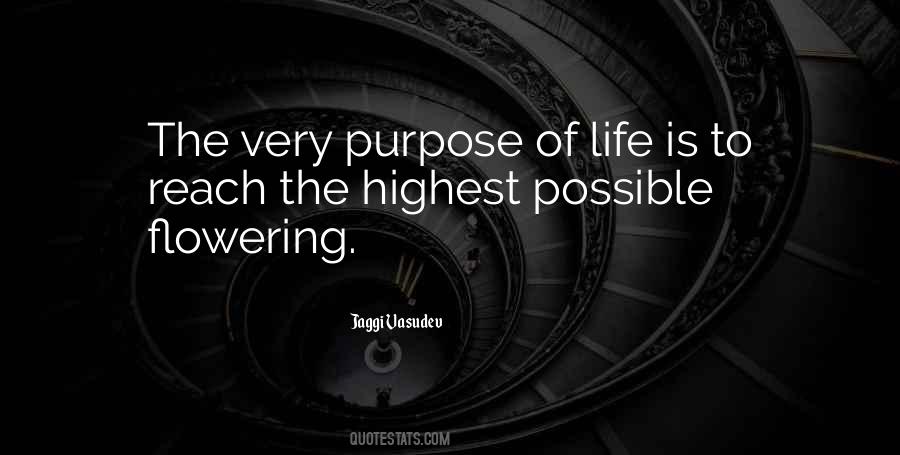 #88. One aristocratic leader's club was known for, an atmosphere of solemn tranquility, in which reading, dozing, and meditation took precedence over conversation. - Author: Barbara W. Tuchman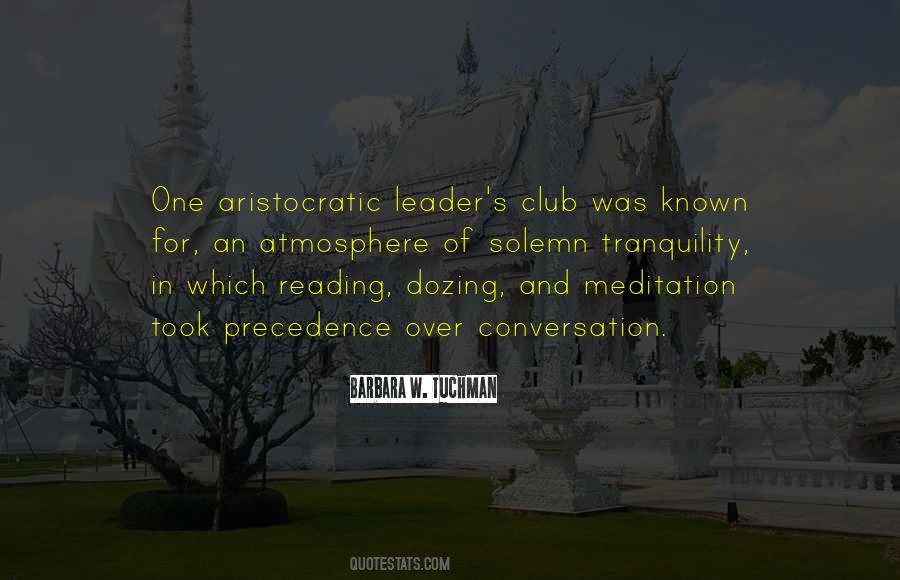 #89. It is important to reignite our compassion for others because without it we will be lost in the sea of suffering - Author: Radhe Maa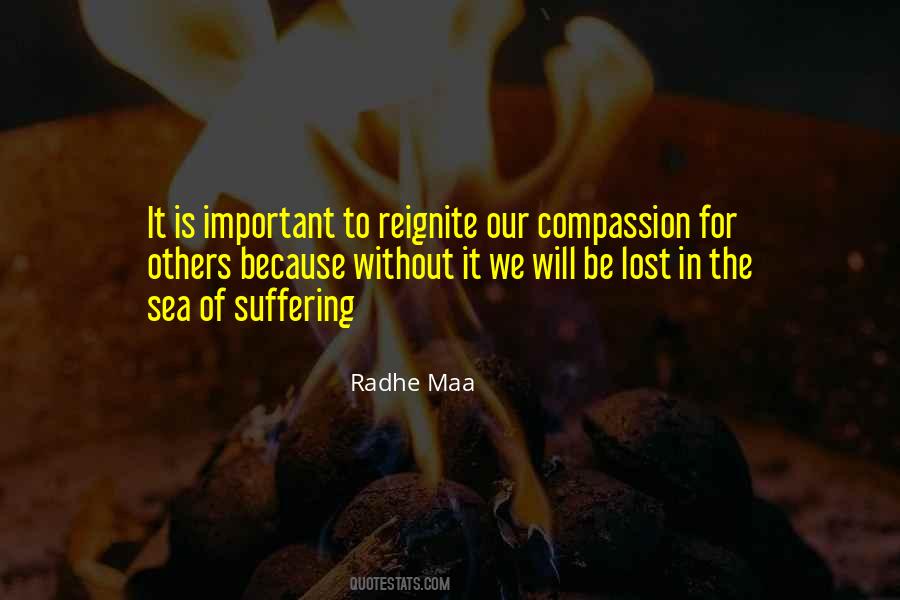 #90. When you look at the sun during your walking meditation, the mindfulness of the body helps you to see that the sun is in you; without the sun there is no life at all and suddenly you get in touch with the sun in a different way. - Author: Thich Nhat Hanh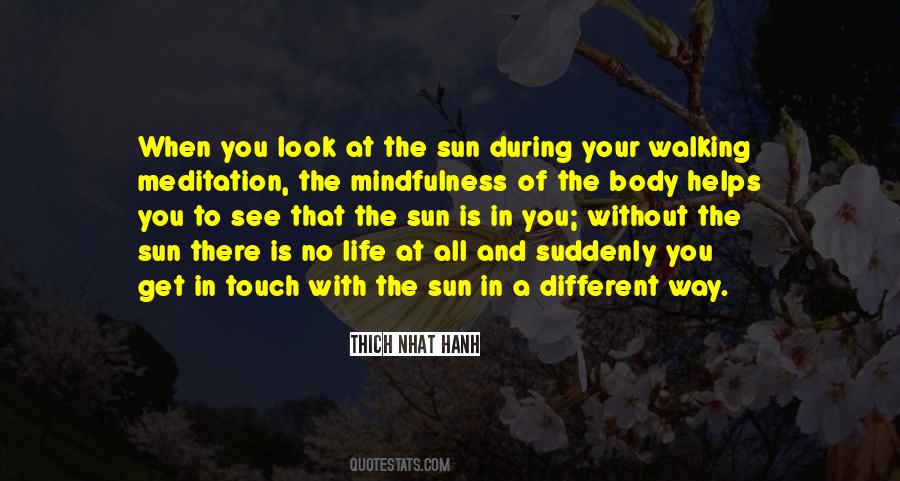 #91. Meditation will change your life for the better, enhance your physical health, improve your sleep, and help you achieve your goals, both material and spiritual. - Author: Deepak Chopra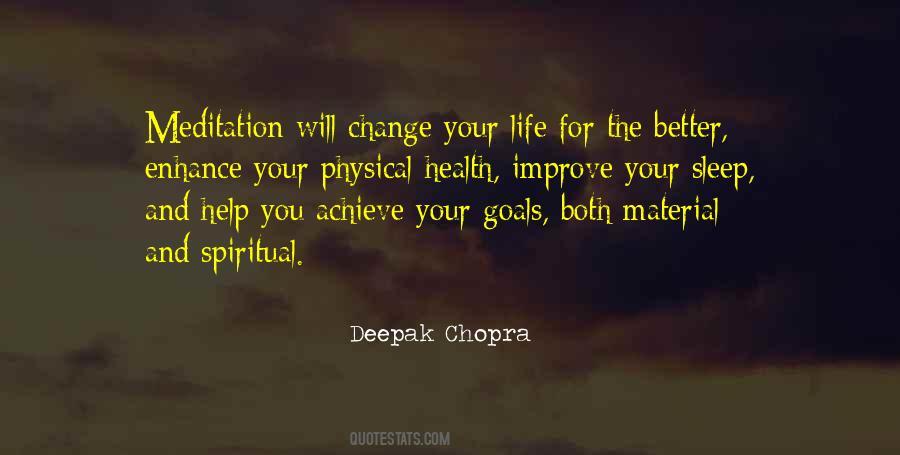 #92. There are many different techniques and forms of meditation. The common element among these techniques is that the person takes time out from the daily pace of life to close their eyes and reflect on thoughts or images that create internal feelings of peace and relaxation. - Author: Tim McCarthy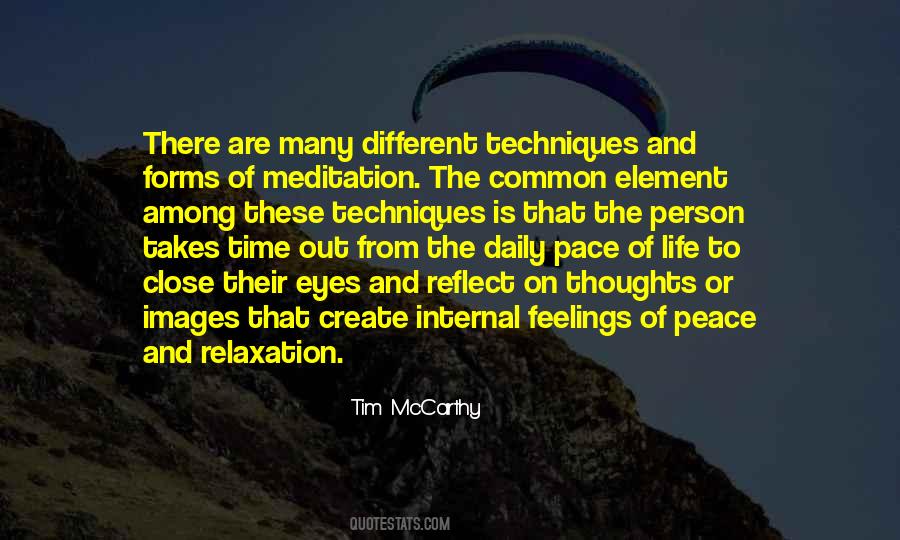 #93. Ganapati, the one with the human body and the head of a Gana, became a tremendous possibility. - Author: Jaggi Vasudev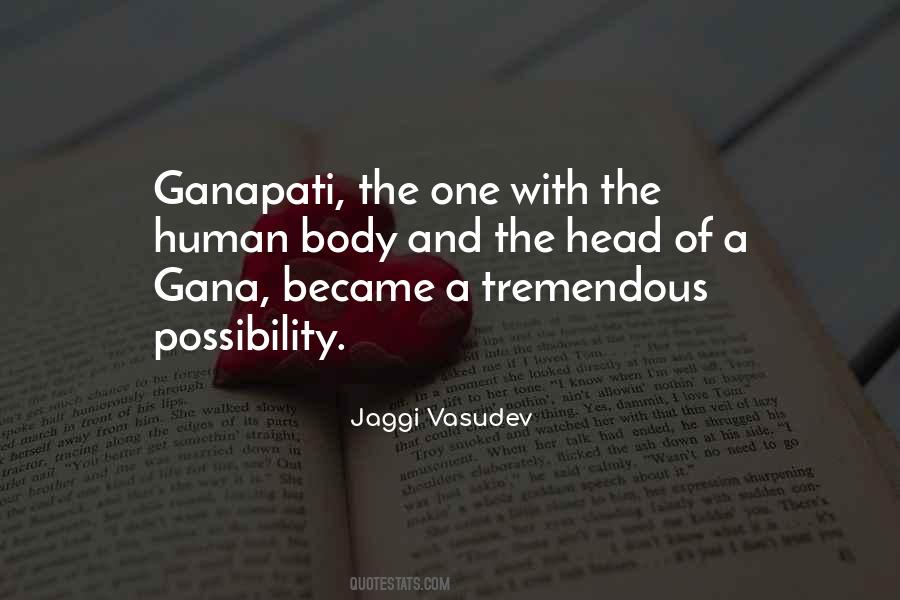 #94. You need energy and life force to see and feel what you need to do. Otherwise you are in a dark room and you can't tell what's going on. You need to practice meditation. - Author: Frederick Lenz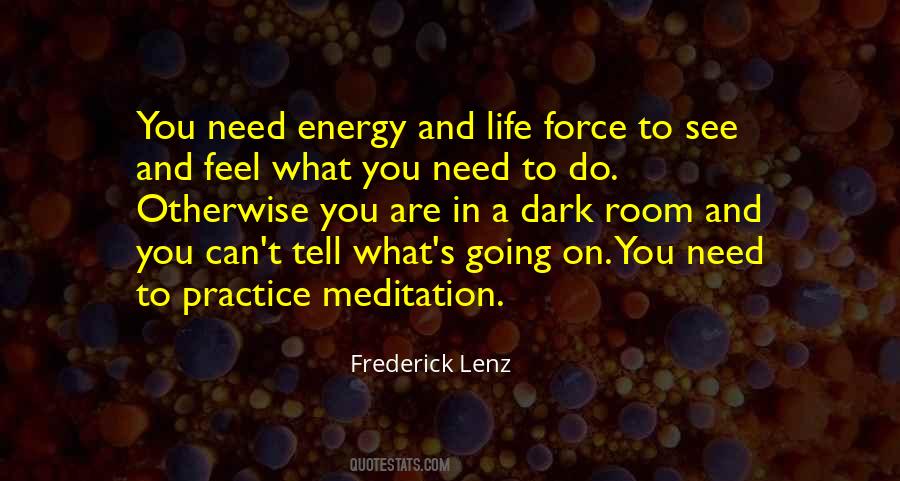 #95. From the point of view of meditation, there is nothing that is not God. When we meditate, we are participating in a spiritual experience. We are seeing life is not perhaps as we thought, but a little bit different, vastly different. - Author: Frederick Lenz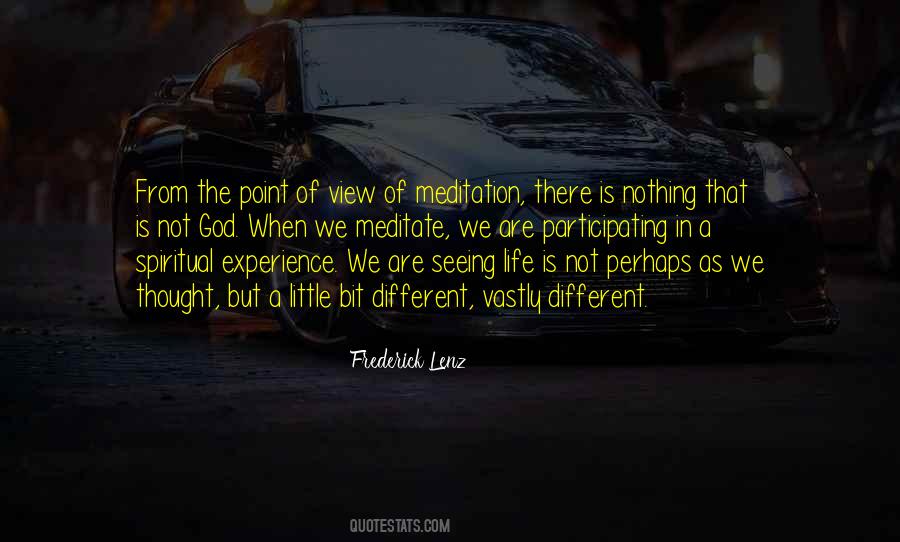 #96. Every hour of your life that ticks by, there are numerous points and moments when you can choose to pause - and be aware of your mental and physical state. At any given point, you can freeze the flow that is your life, and be fully conscious for a moment. - Author: Kevin Michel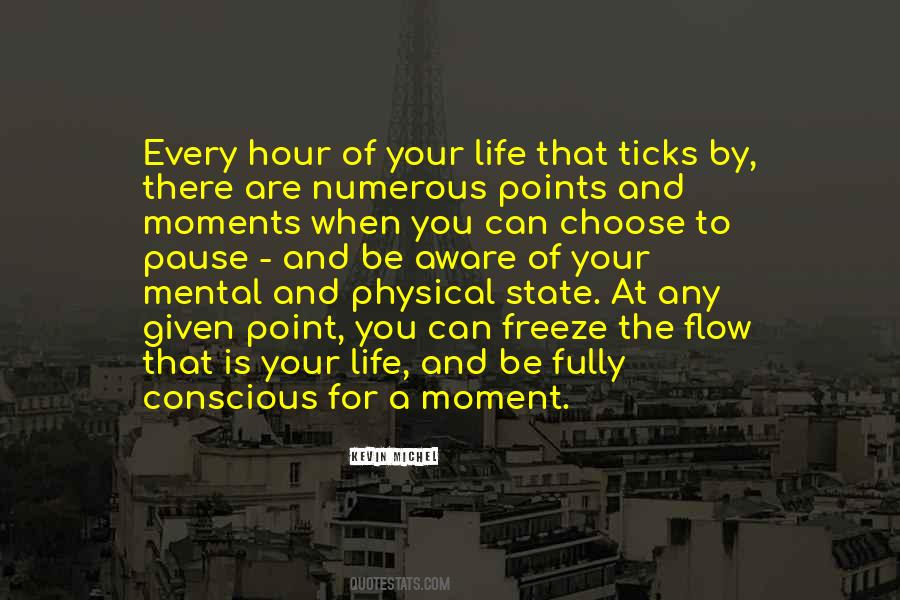 #97. It is necessary to learn how to do a systems analysis of your life, to learn about the effects of places, people, jobs. There are millions of things that go into the study of meditation. - Author: Frederick Lenz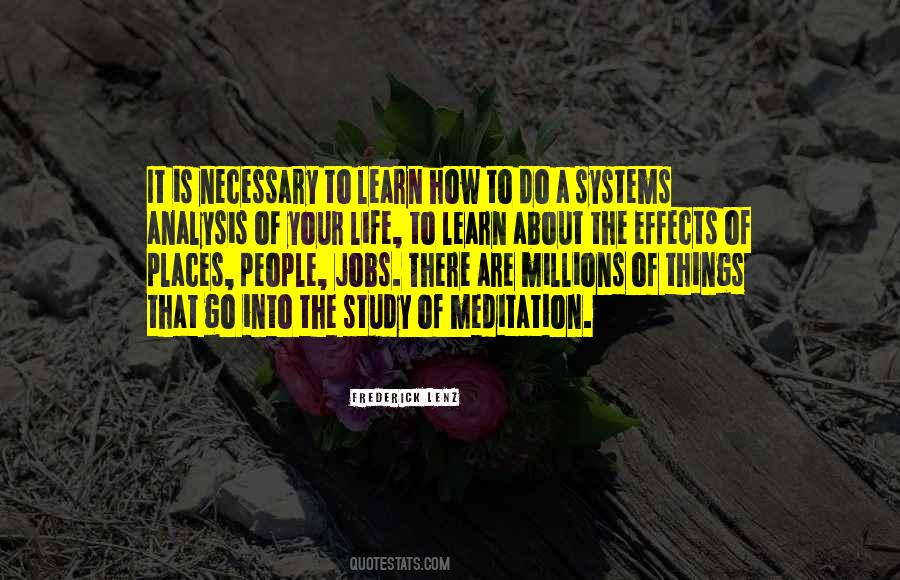 #98. Our whole life is a meditation of our last decision - the only decision that matters. - Author: Thomas Merton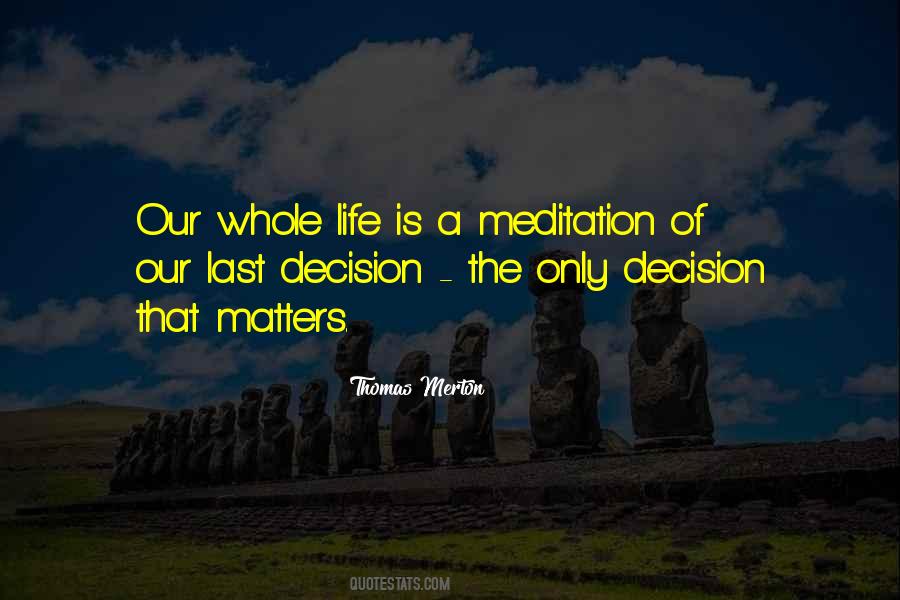 #99. We are simply committing ourselves to paying attention to our life. We use meditation to help us in that attention process. We are not trying to become good meditators. We are trying to wake up. - Author: William Martin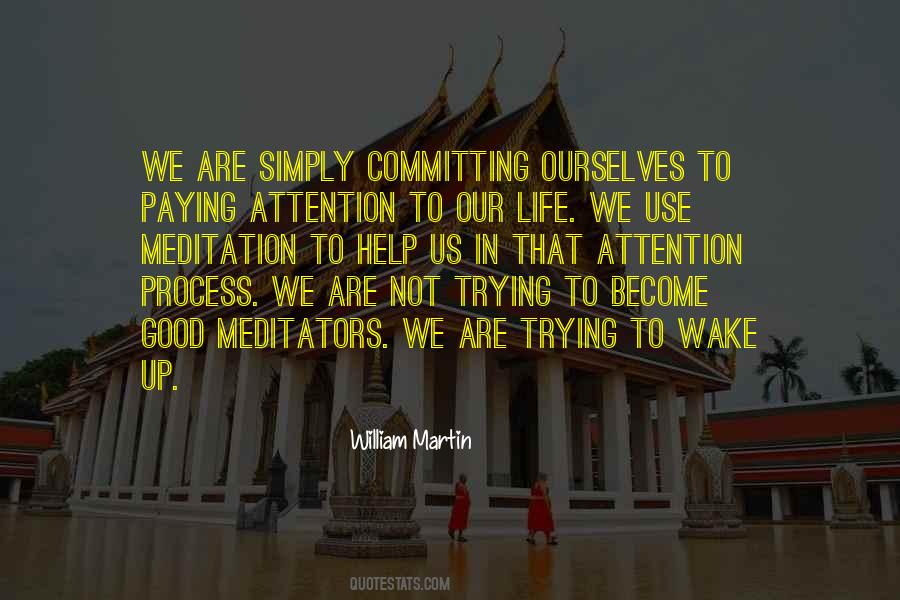 #100. Retaining our capacity for reason
is common sense, but definite conclusions and beliefs keep us from seeing life as it really is at any given moment. - Author: H.E. Davey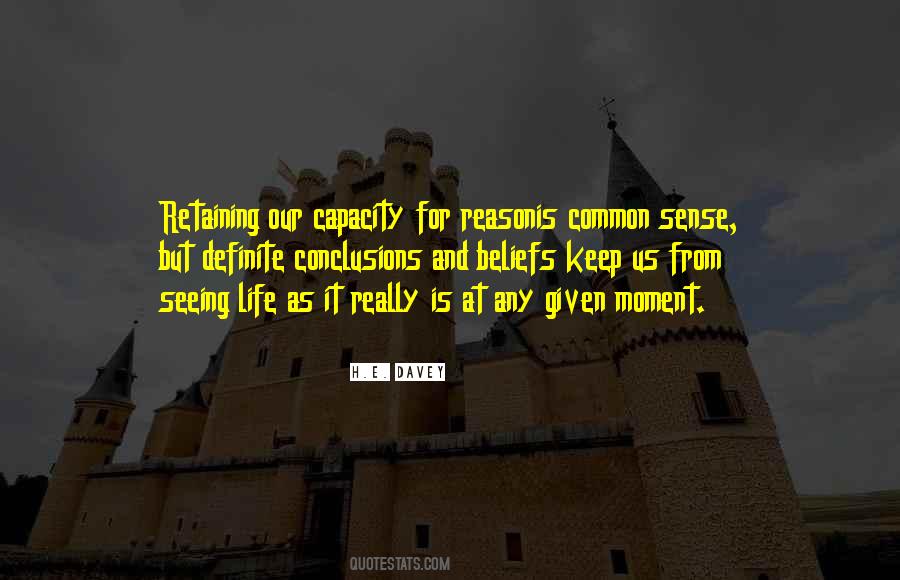 Famous Authors
Popular Topics