Meaning Of Life And Death Famous Quotes & Sayings
List of top 59 famous quotes and sayings about meaning of life and death to read and share with friends on your Facebook, Twitter, blogs.
Top 59 Quotes About Meaning Of Life And Death
#1. I think maybe Gladstone had it right. I think my father did. They understood that the meaning of life is connected, inextricably, to the meaning of death; that mourning is a romance in reverse, and if you love, you grieve and there are no exceptions---only those who do it well and those who don't. - Author: Thomas Lynch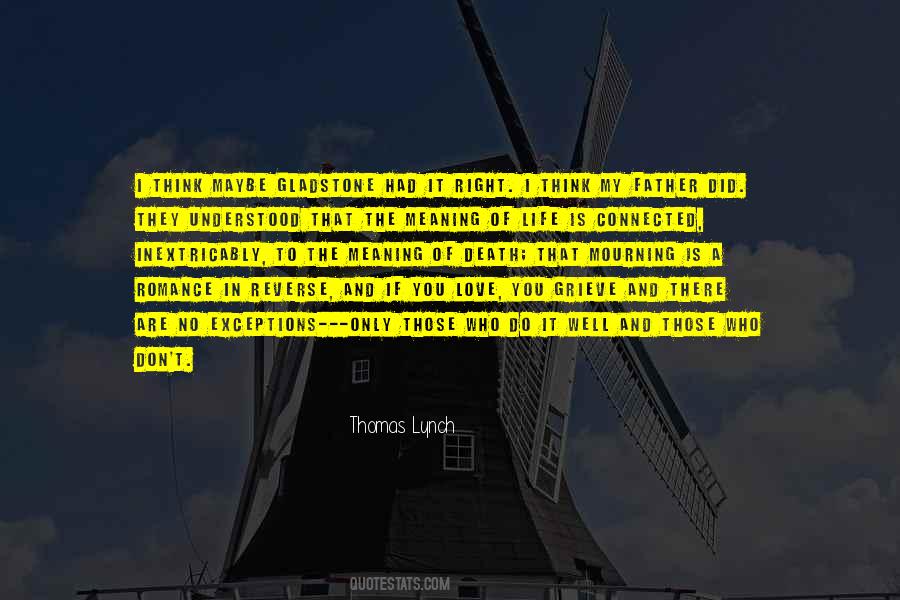 #2. And it is a profound consolation, perhaps the only one, to this haunted animal that wastes most of a long and ghostly life wandering the future and the past on its hind legs, looking for meanings, only to see in the eyes of others of its kind that it must die. - Author: Peter Matthiessen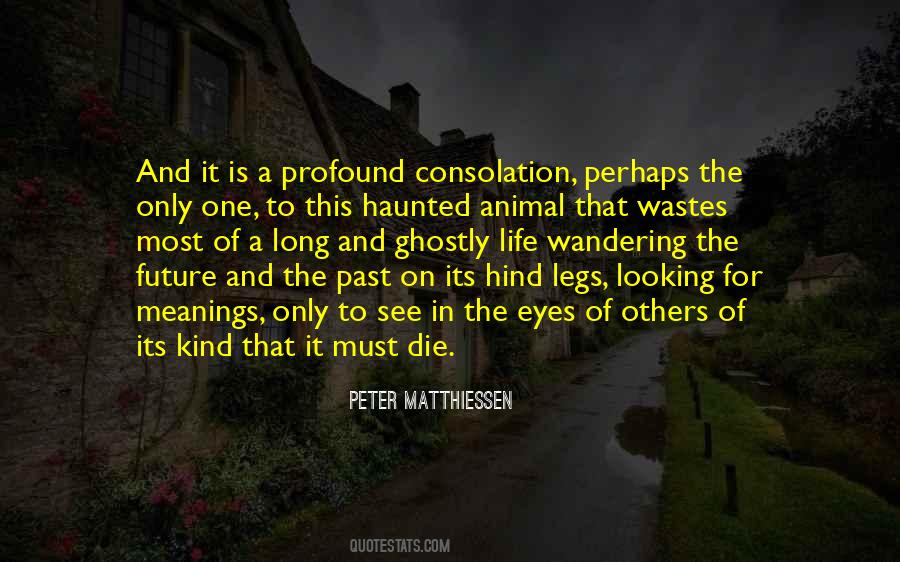 #3. He tried to disguise how tired and ill he was, how depressing the thought of death was to him and how he spent his days and nights thinking up schemes of living beyond what the prognosis said. His hope, if not his heart, would find a way. - Author: Noorilhuda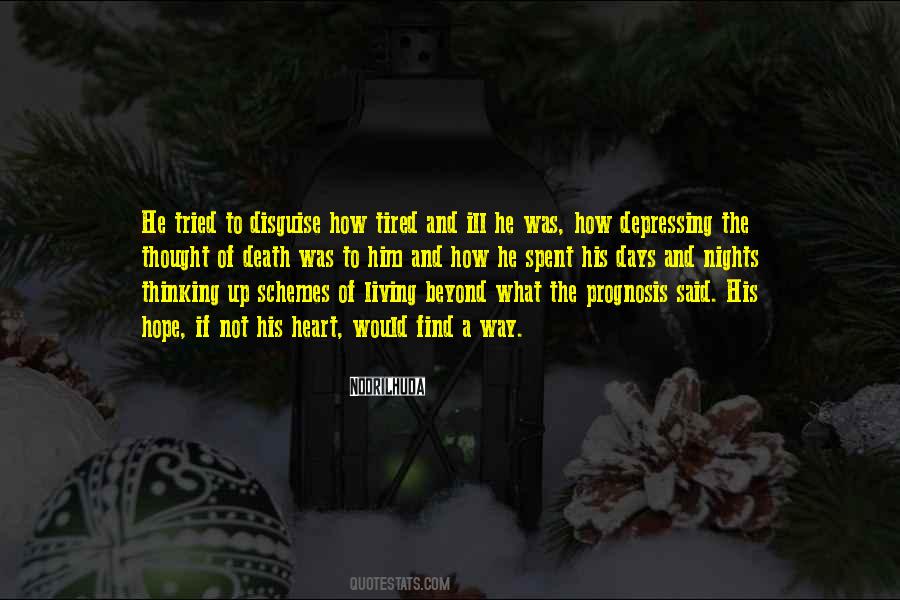 #4. Four major existential concerns - death, meaning in life, isolation, and freedom - play a crucial role in the inner life of every human being and - Author: Irvin D. Yalom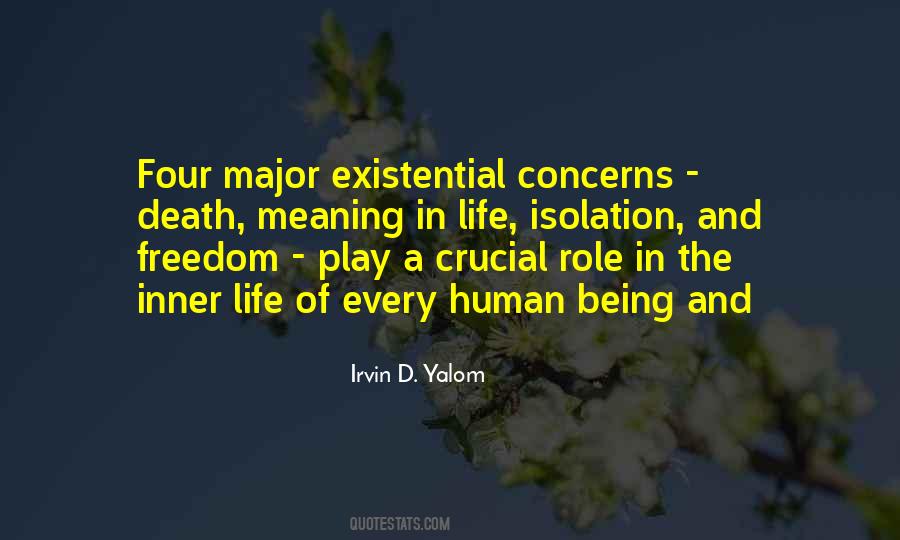 #5. Keep in mind that therapy is a deep and comprehensive exploration into the course and meaning of one's life; given the centrality of death in our existence, given that life and death are interdependent, how can we possibly ignore it? - Author: Irvin D. Yalom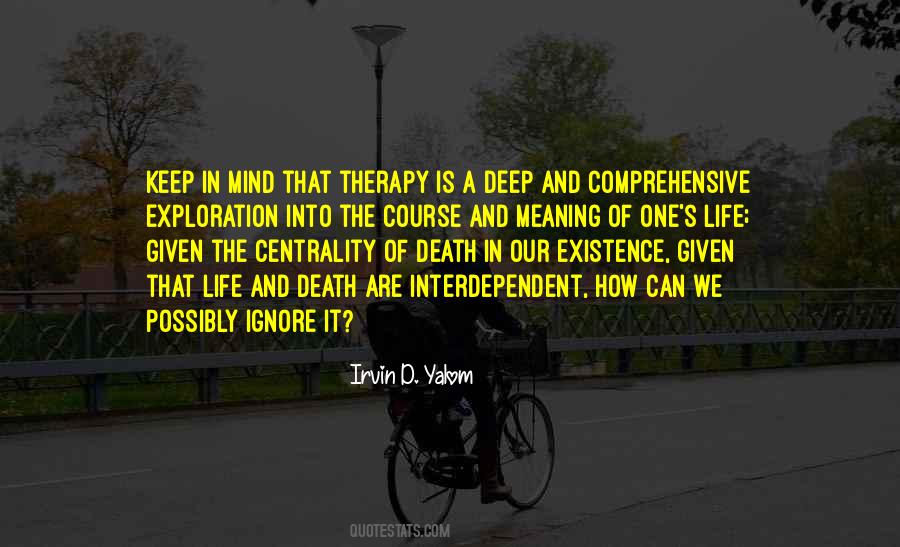 #6. Treasures are hidden and hard to find but if we could find a real treasure, it will shine our lives. In the similar way ultimate reality is hidden and hard to find but if we could find it, it will shine our lives. - Author: Muditha Champika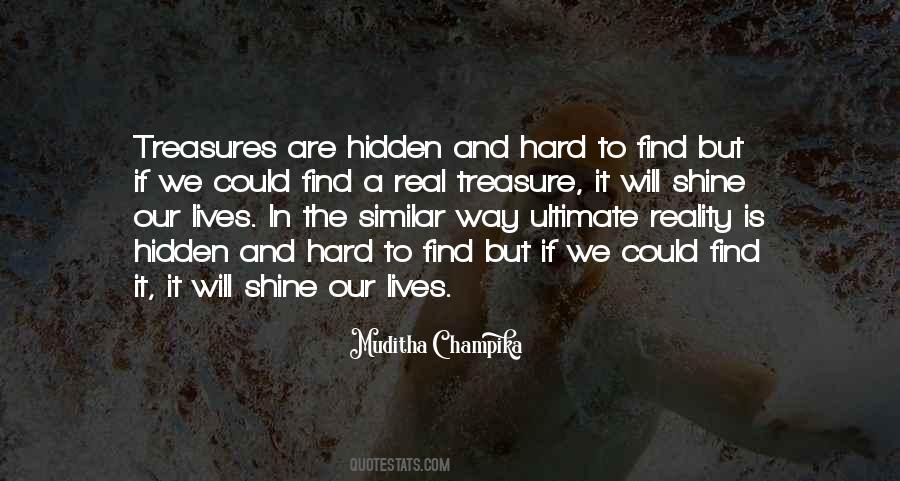 #7. Death might appear to destroy the meaning in our lives, but in fact it is the very source of our creativity. As Kafka said, "The meaning of life is that it ends." Death is the engine that keeps us running, giving us the motivation to achieve, learn, love, and create. - Author: Caitlin Doughty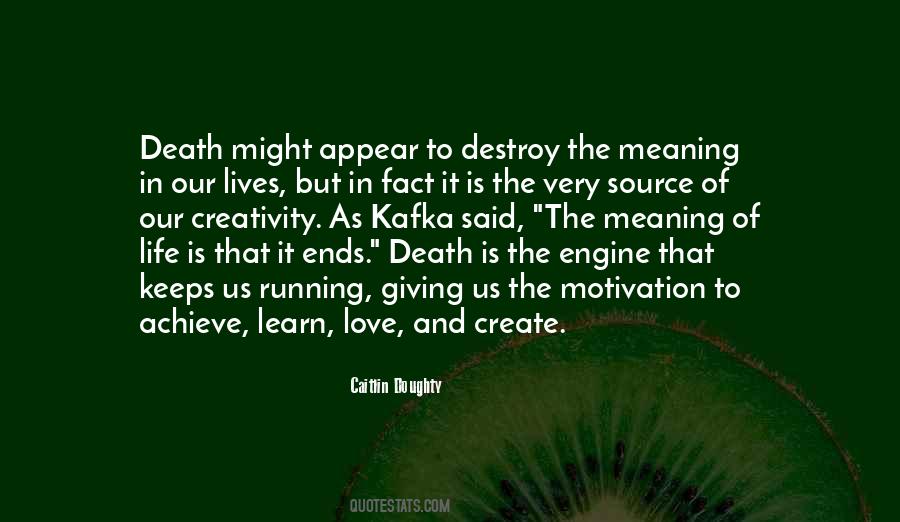 #8. Facing death means facing the ultimate question of the meaning of life. If we really want to live we must have the courage to recognize that life is ultimately very short, and that everything we do counts. - Author: Elisabeth Kubler-Ross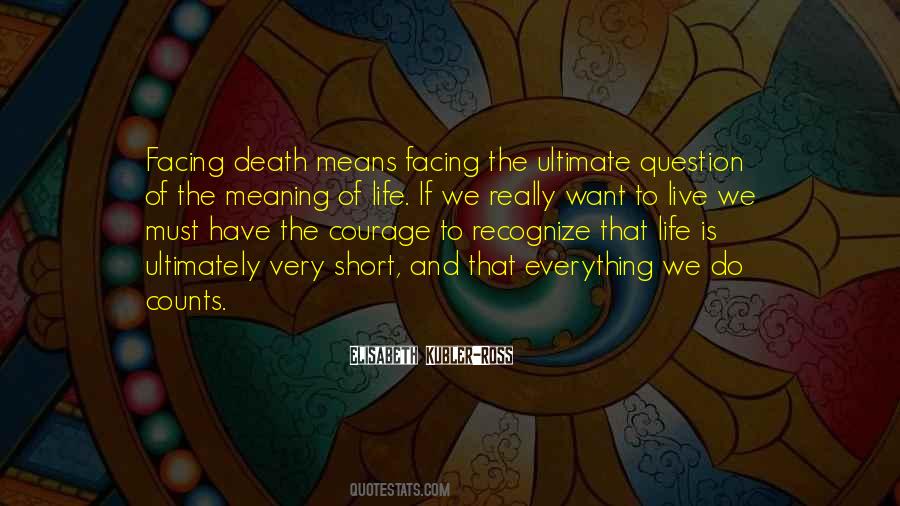 #9. Death is inevitable. But the meaning people attach to death, its causes and aftermath, is culturally given. Without meaning, without culture making sense of things, life would be impossible. - Author: Richard B. Lee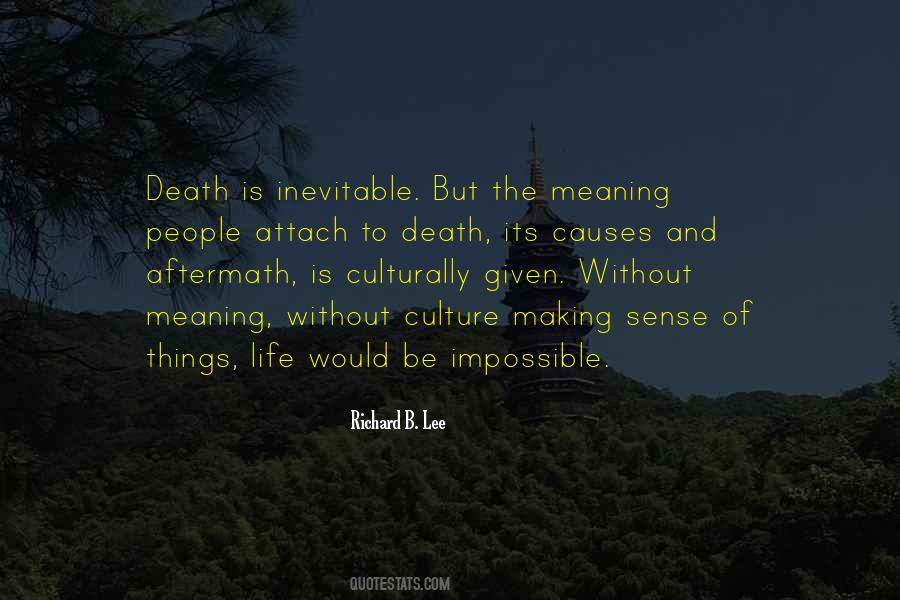 #10. The earthly meaning of eternal life was death, and she refused to die. - Author: Simone De Beauvoir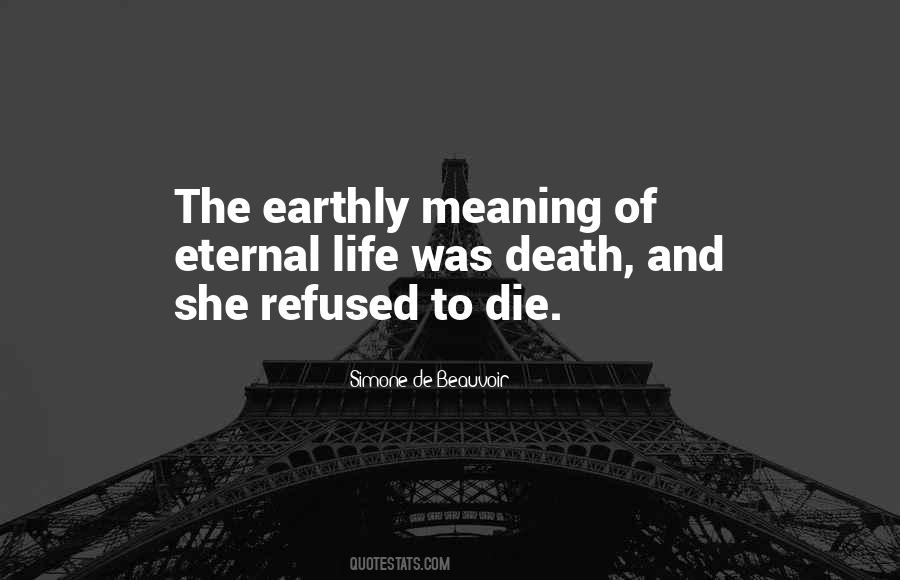 #11. Our concerns sink into insignificance when compared with the eternal value of human personality - a potential child of God which is destined to triumph over lie, pain, and death. No one can take this sublime meaning of life away from us, and this is the one thing that matters. - Author: Igor Sikorsky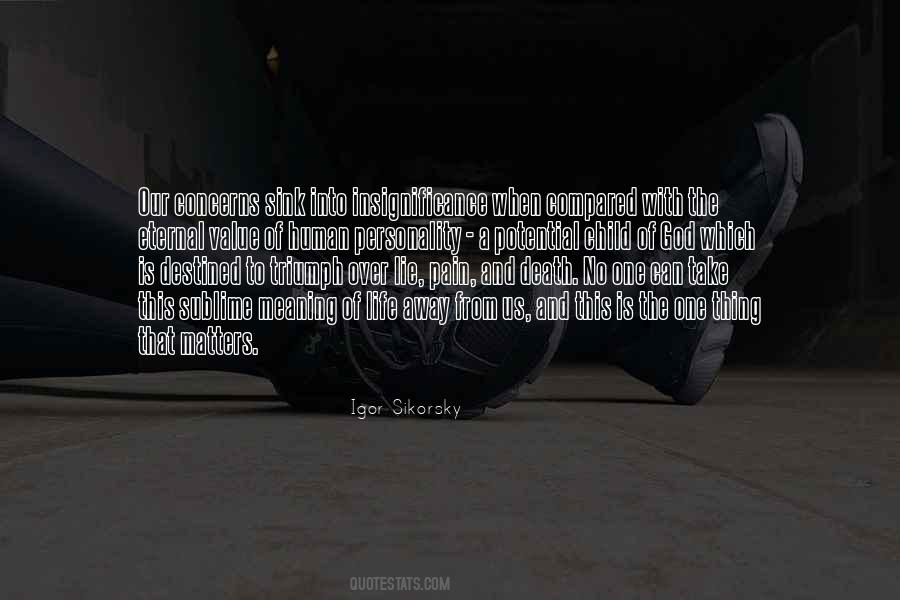 #12. Marion's view allowed her experience with cancer to be full of meaning, to be replete with possibility, and it enabled Death to bring her more deeply into Life. She got the initiation. - Author: Stephen Cope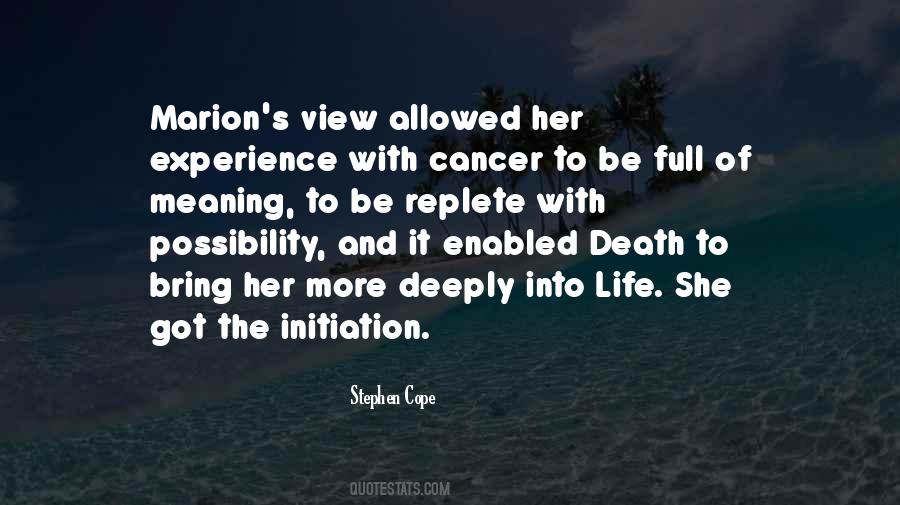 #13. Life may be scary
But it's only temporary.
And this is perhaps the most comforting conclusion to be reached if one discounts the possibility of meaning.

from: Antinatalism A Thought Experiment - Author: Quentin S. Crisp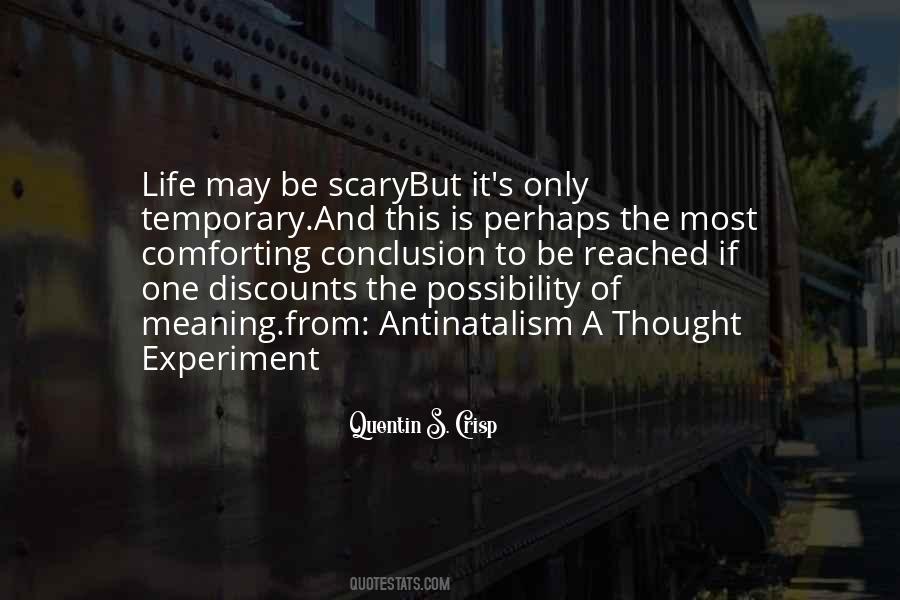 #14. In the moment I faced dying, I finally knew my reason for living. - Author: Brodi Ashton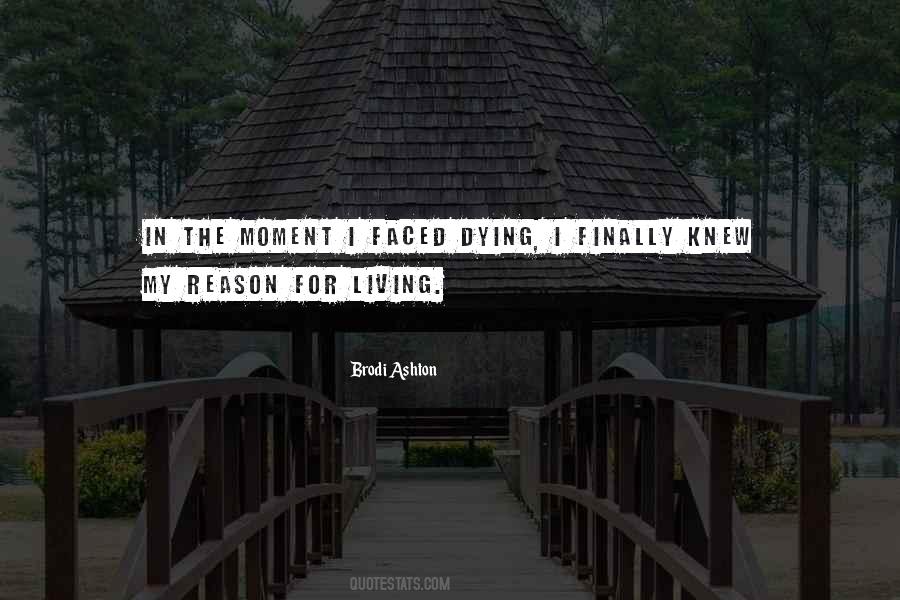 #15. The whole motley confusion of acts, omissions, regrets and hopes which is the life of each one of us finds in death, not meaning or explanation, but an end. - Author: Octavio Paz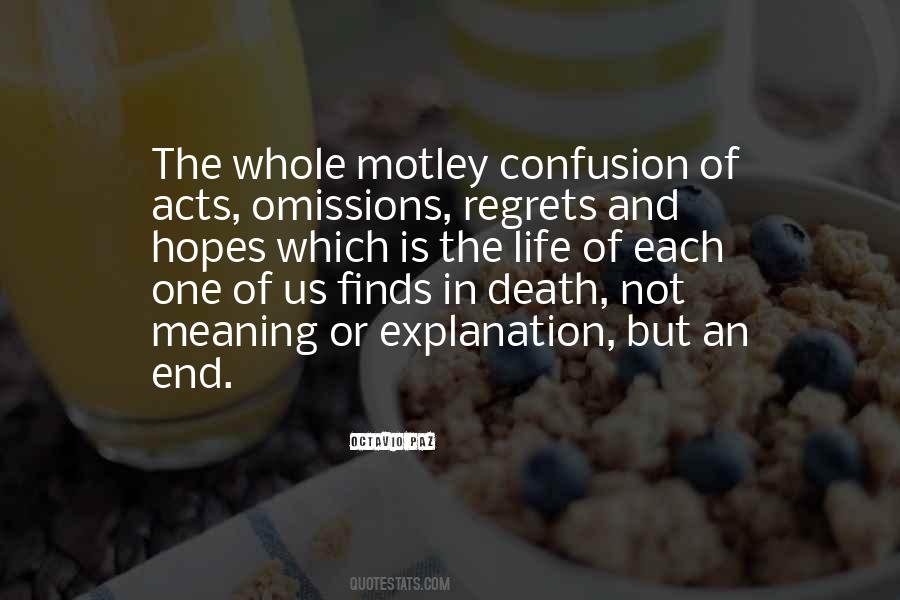 #16. The meaning of life is not to be discovered only after death in some hidden, mysterious realm; on the contrary, it can be found by eating the succulent fruit of the Tree of Life and by living in the here and now as fully and creatively as we can. - Author: Paul Kurtz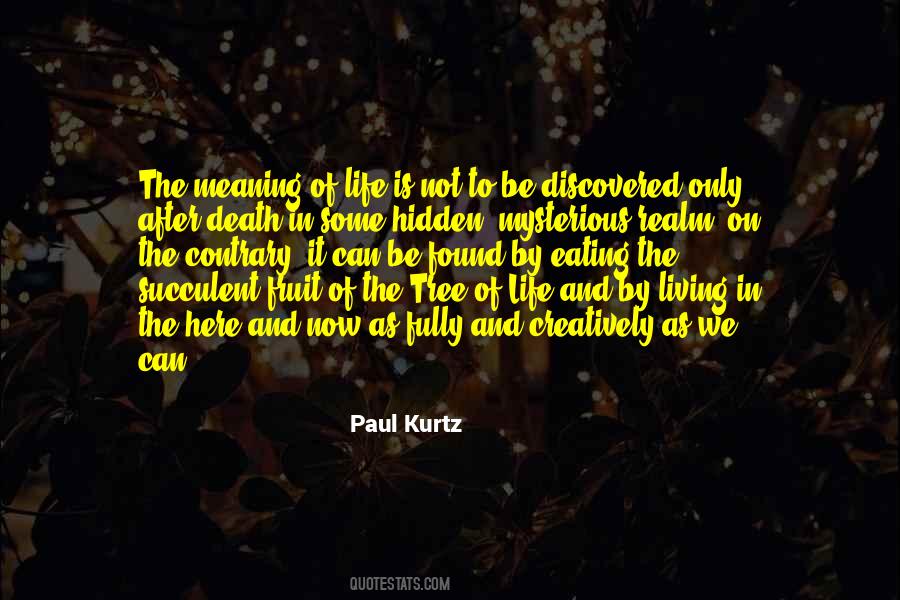 #17. There is no life without death. That is the true meaning of yin and yang - Author: Lisa See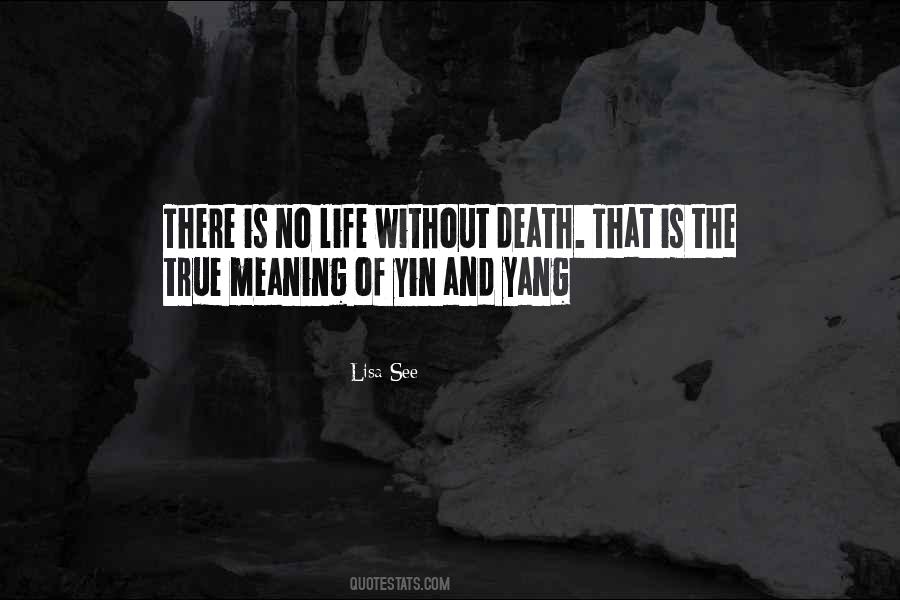 #18. Isn't death the boundary we need? Doesn't it give a precious texture to life, a sense of definition? You have to ask yourself whether anything you do in this life would have beauty and meaning without the knowledge you carry of a final line, a border or limit. - Author: Don DeLillo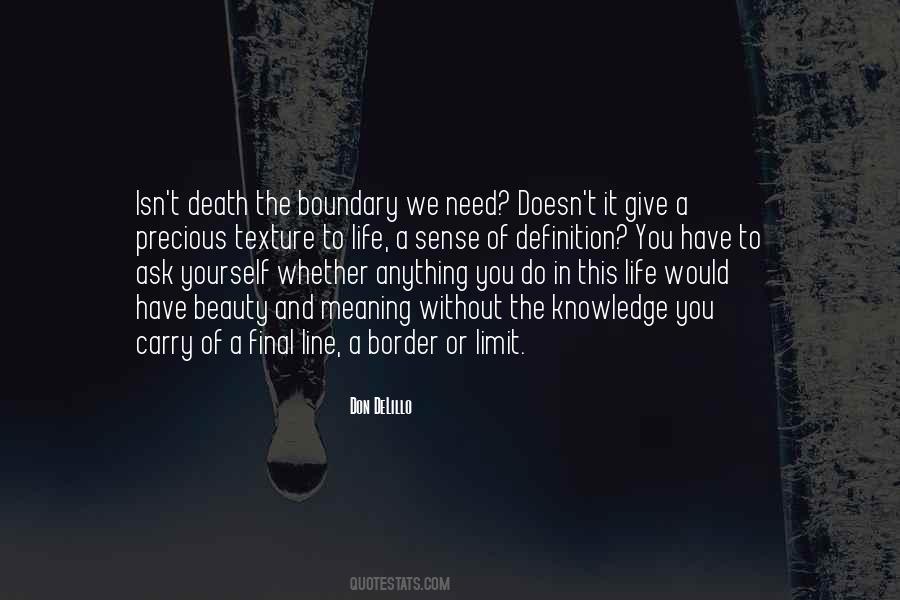 #19. The end
When I die bang on cans
Romp around in leaps and bounds
Let whips crack in the air
Call in clowns and acrobats!
I want my coffin to go on a donkey
Decked out in Andalusian style
You can't refuse anything to a dead man
And I want, by all means, go on a donkey - Author: Mario De Sa-Carneiro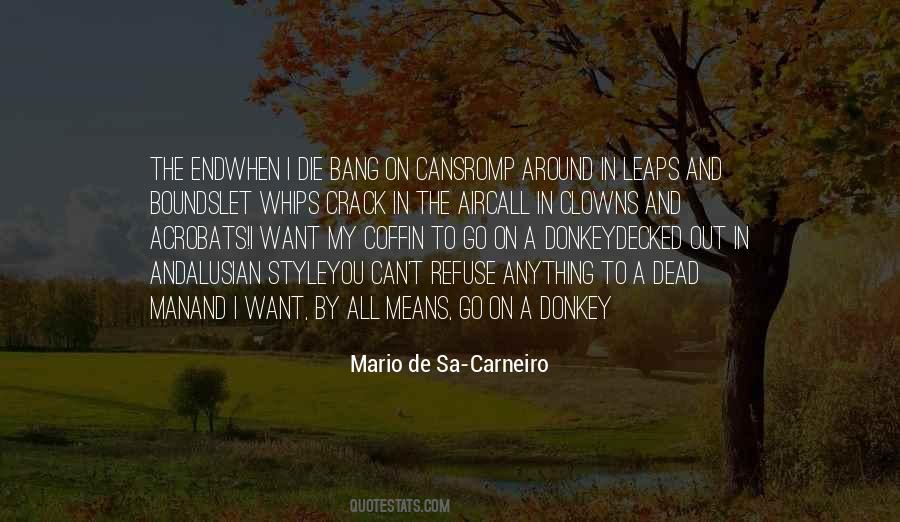 #20. THE ART OF PEACE does not rely on weapons or brute force to succeed; instead, we put ourselves in tune with the universe, maintain peace in our own realms, nurture life, and prevent death and destruction. The true meaning of the term samurai is one who serves and adheres to the power of love. - Author: Morihei Ueshiba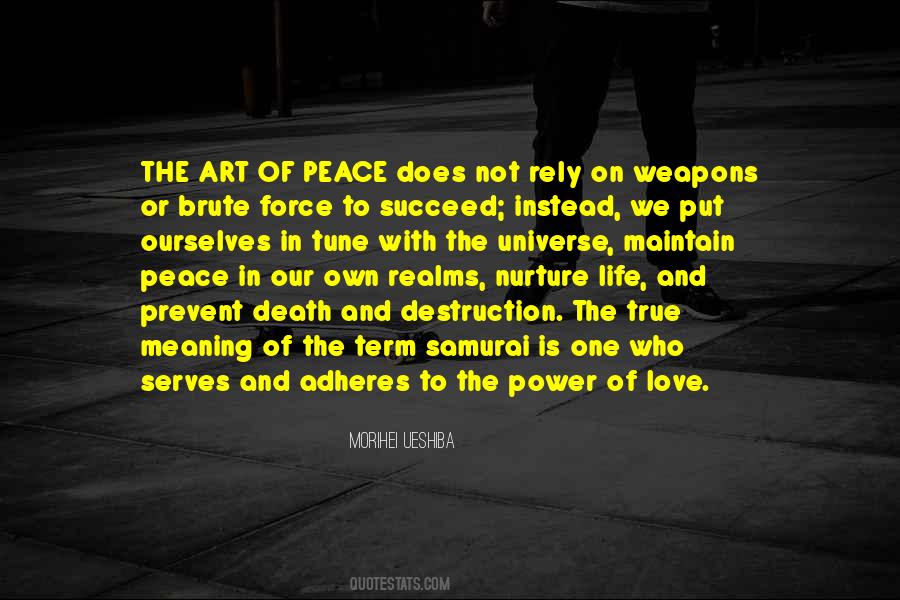 #21. All life is a jest, Imhotep - and it is death who laughs last. Do you not hear it at every feast? Eat, drink and be merry, for tomorrow you die. - Author: Agatha Christie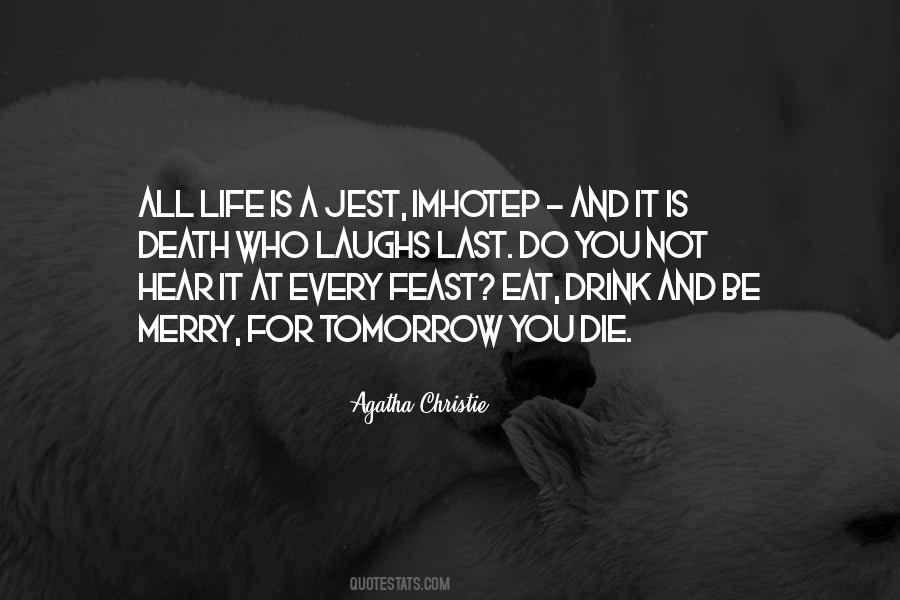 #22. Don't market yourself. Editors and readers don't know what they want until they see it. Scratch what itches. Write what you need to write, feed the hunger for meaning in your life. Play at the serious questions of life and death. - Author: Donald Murray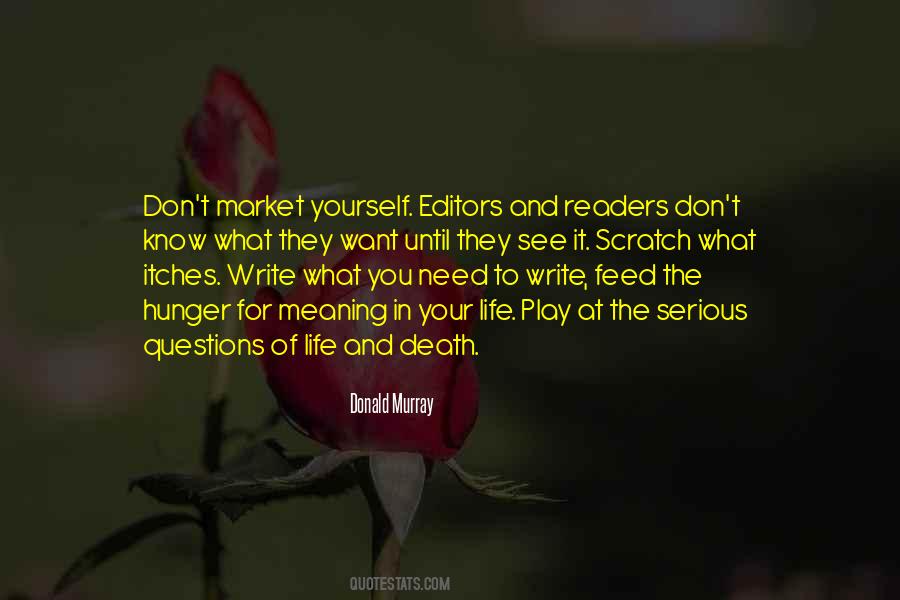 #23. Four givens are particularly relevant for psycho-therapy: the inevitability of death for each of us and for those we love; the freedom to make our lives as we will; our ultimate aloneness; and, finally, the absence of any obvious meaning or sense to life. - Author: Irvin D. Yalom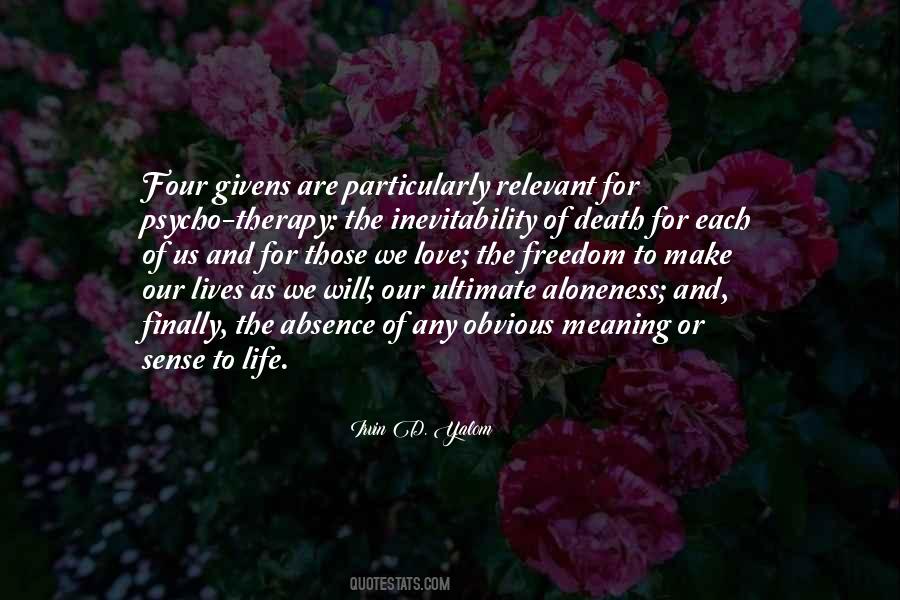 #24. [H]e found poetry more comforting than Scripture - and his ability to forge from his life a cogent, powerful tale of living with death. - Author: Paul Kalanithi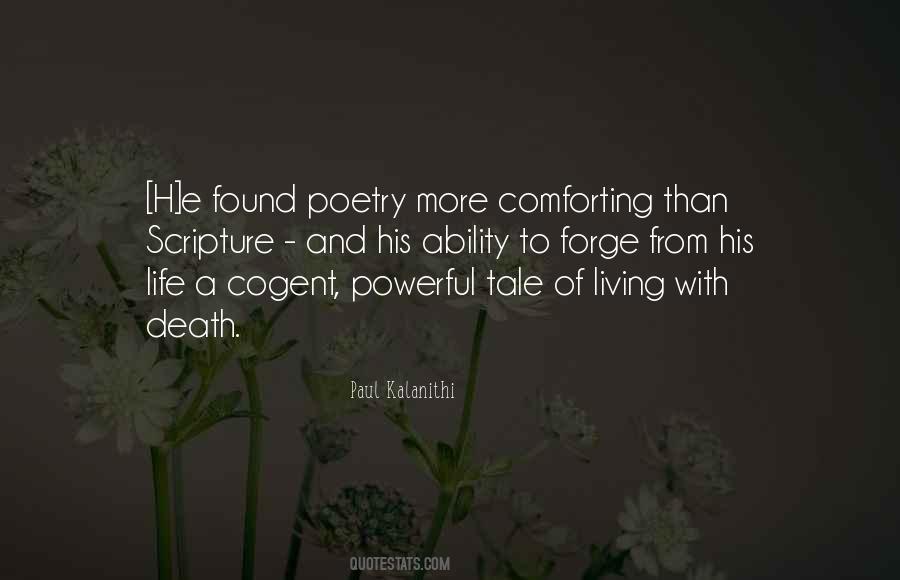 #25. Theologian Paul Tillich. Tillich characterizes anxiety into three categories: "ontic anxiety" is the fear of fate and death. The second is "moral anxiety," from guilt, or condemnation. The third is "spiritual anxiety," prompted by an empty life, without direction or meaning. - Author: Caitlin Moran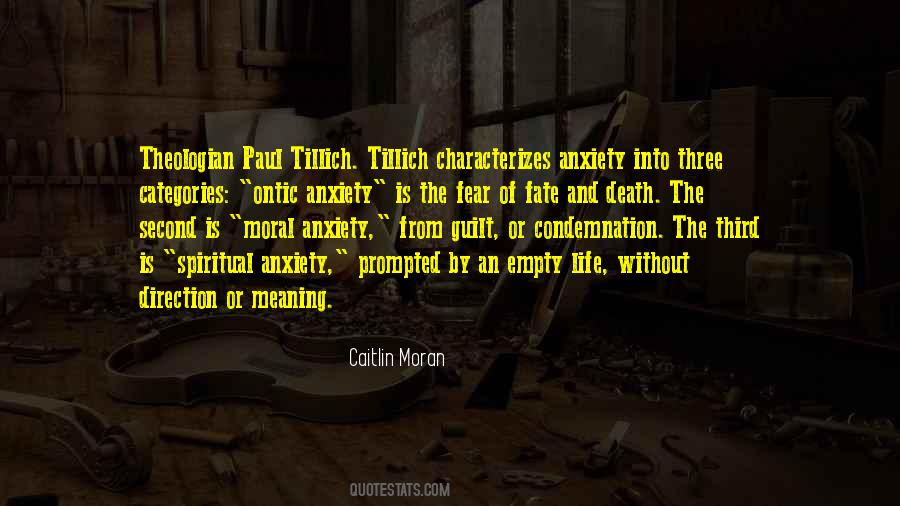 #26. Magic underlies the relationship between us, and the greater immensities of birth and death. Thus the experience of being in the presence of something magical is an empowering, uplifting experience. Magic, understood this way, contributes meaning to life. - Author: Brendan Myers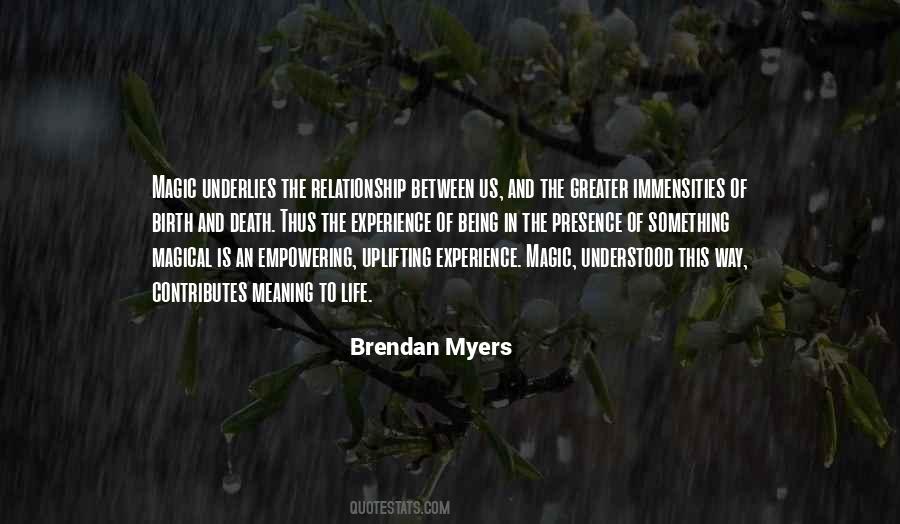 #27. Man alone, it seems, lives all his life in the knowledge of death. And yet there is more to life than merely waiting for death. For life to have meaning, there must be a purpose. A man must pass something on - otherwise he is useless. "For most men that purpose revolves around marriage and children - Author: David Gemmell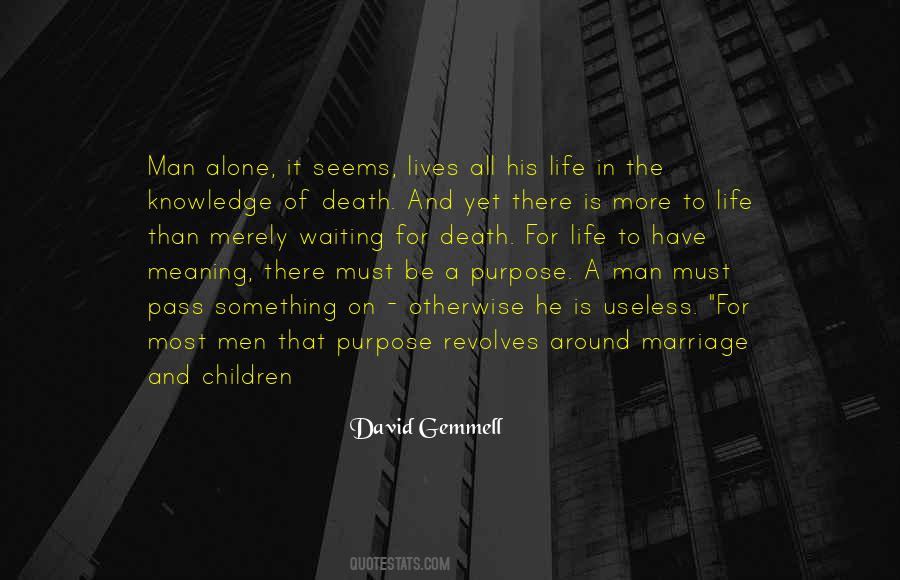 #28. His unlived life worried him, tortured him, turning round and round inside him like an animal in a cage. In Dodo's body, the body of a half-wit, somebody was growing old, although he had not lived; somebody was maturing to a death that had no meaning at all. - Author: Bruno Schulz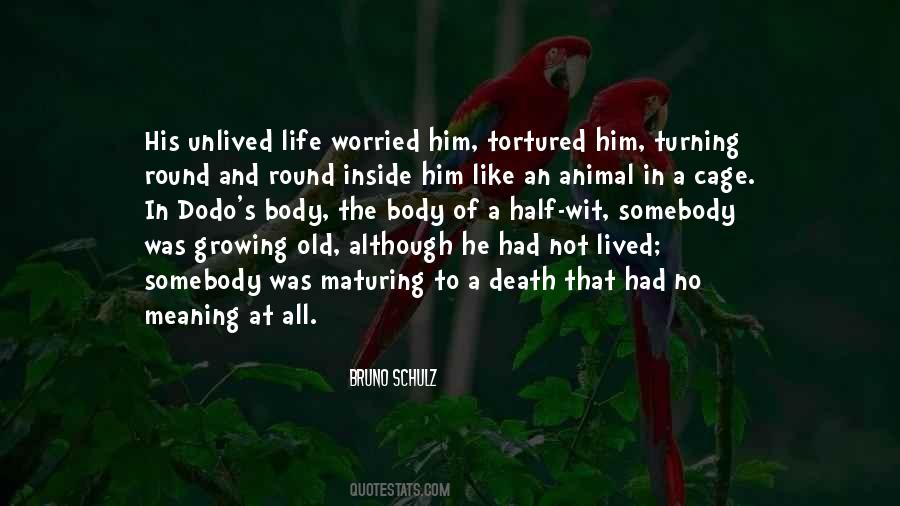 #29. Leaving the familiar for unknown terrain is like a death - and feeling this level of finality should snap one back to life for life has greater meaning in the face of death. - Author: Donna Lynn Hope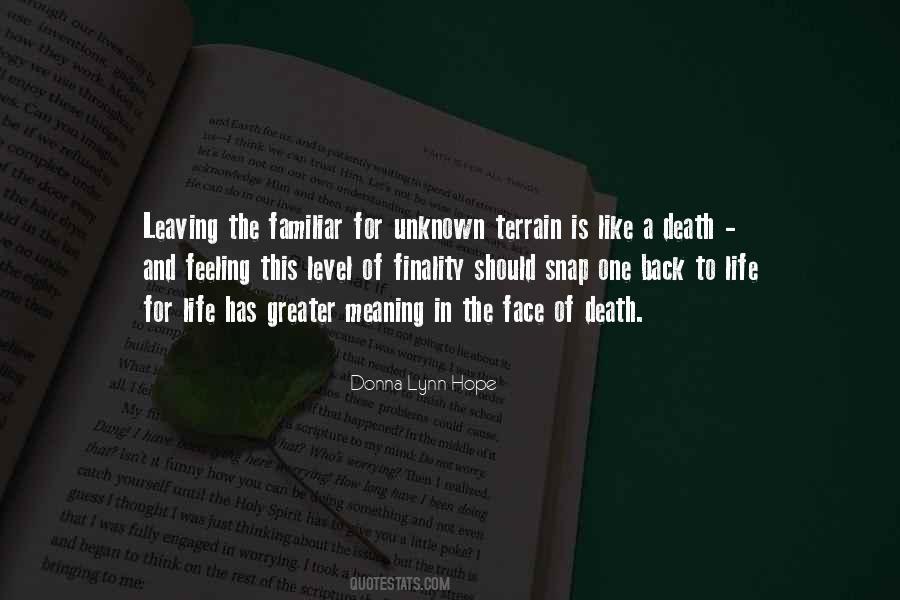 #30. This is my life now. Absurd, but unpredictable. Not absurd because unpredictable but unpredictable because absurd. If I have lost the meaning of my life, I might still find small treasured things among the spilled and pilfered trash. - Author: Joyce Carol Oates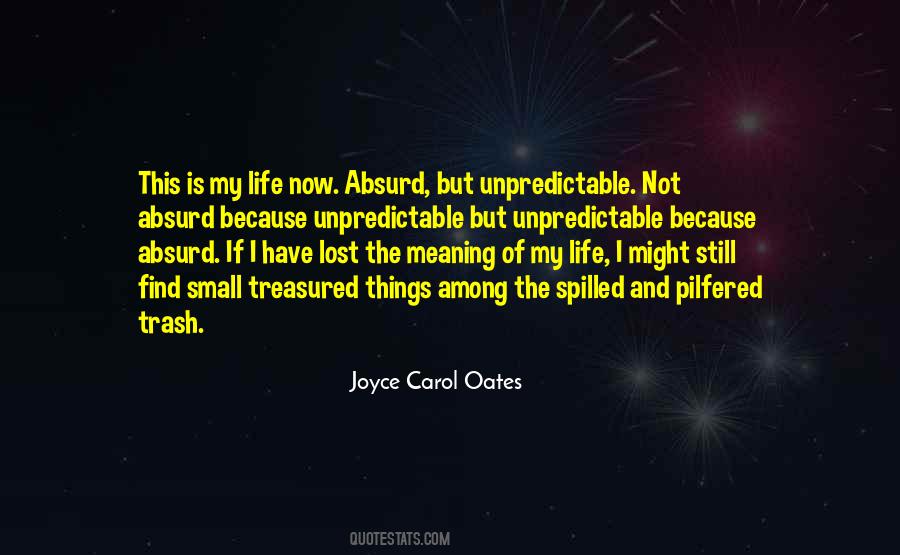 #31. Breathing seemed harder in the cemetery, and selfish, somehow... - Author: Sheri Webber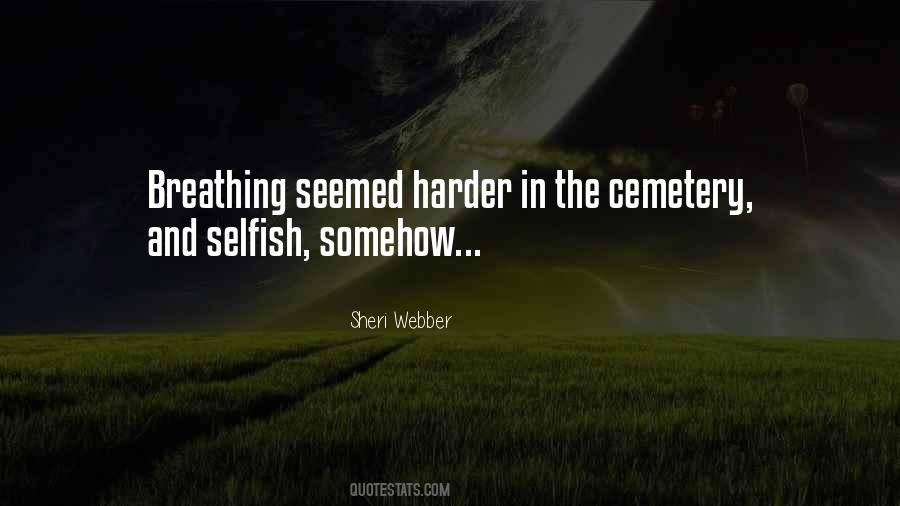 #32. And what shall we know of this life on earth after death? The dissolution of our timebound form in eternity brings no loss of meaning. Rather, does the little finger know itself a member of the hand. - Author: Carl Jung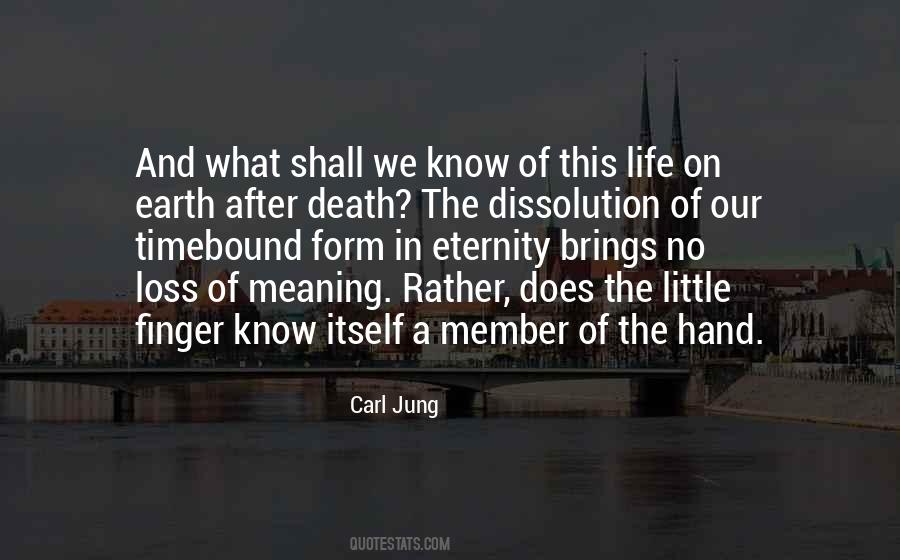 #33. Honoring Christ, magnifying Christ, making much of Christ. That was the meaning of Paul's life. It should be the meaning of ours. And Paul prays it will be the meaning of his death as well. We live and we die to make much of Christ. - Author: John Piper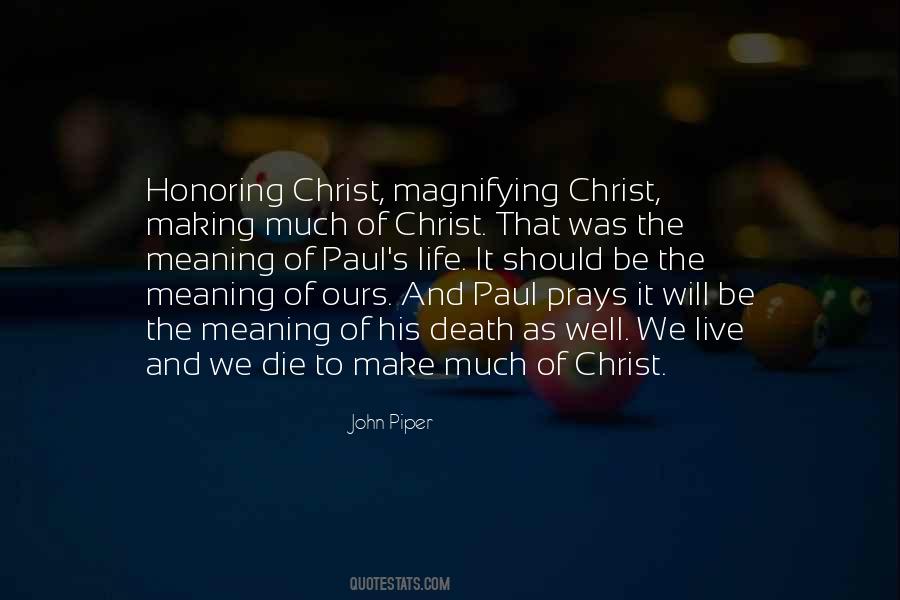 #34. Art is built on the deepest themes of human meaning: good and evil, beauty and ugliness, life and death, love and hate. No other story has incarnated those themes more than the story of Jesus. - Author: John Ortberg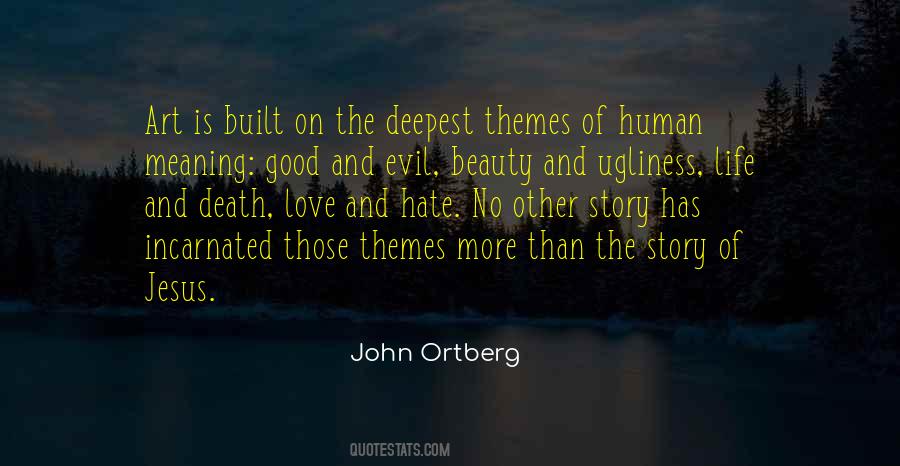 #35. Looking into Napoleon's eyes, Prince Andrei thought about the insignificance of grandeur, about the insignificance of life, the meaning of which no one could understand, and about the still greater insignificance of death, the meaning of which no one among the living could understand or explain. - Author: Leo Tolstoy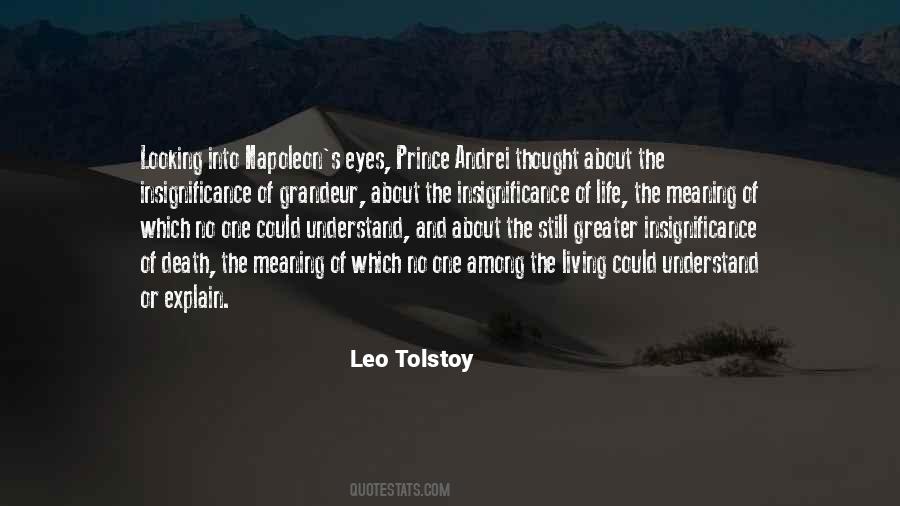 #36. Was there any meaning to life or to war, that two men should sit together and jump within seconds of each other and yet never meet on the ground below? - Author: David Kenyon Webster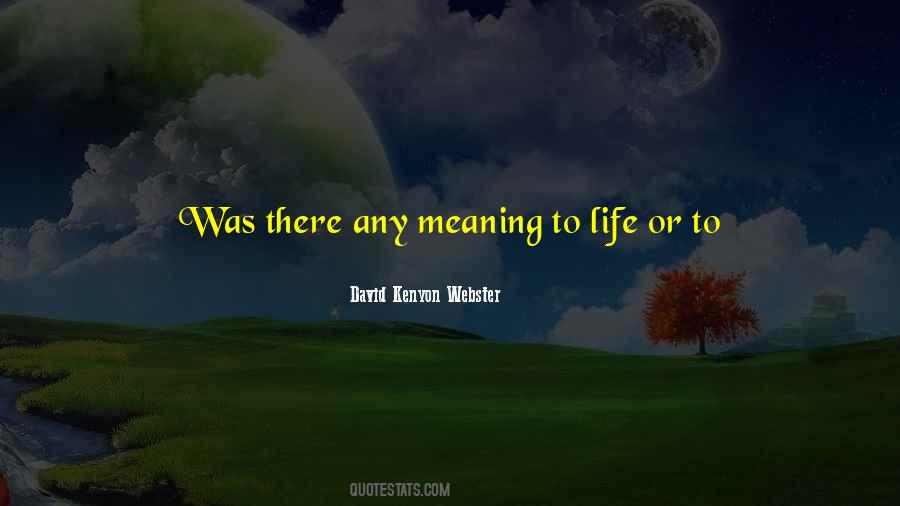 #37. The weal of the race, and the cause of humanity, here and now, are enough To give life meaning and death as well. - Author: Edgar Lee Masters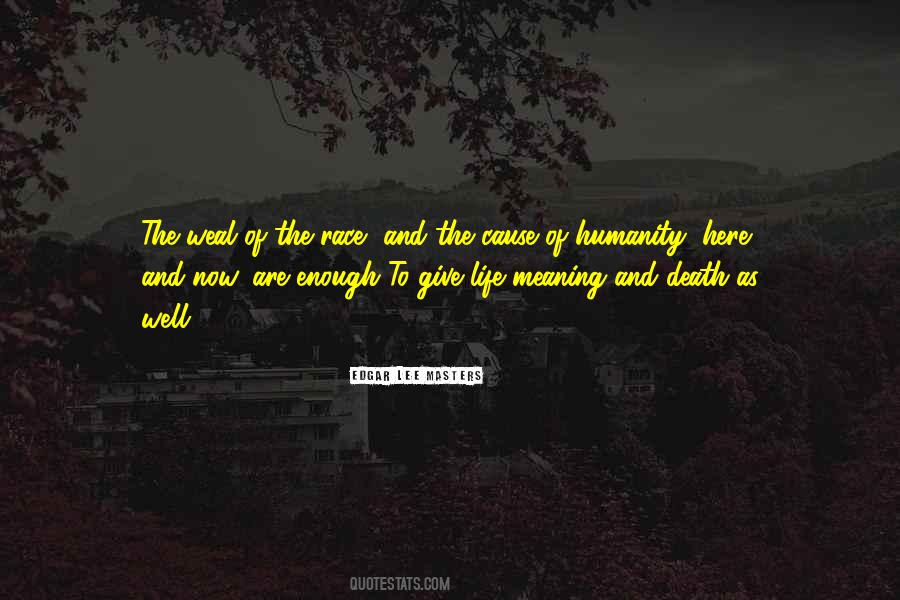 #38. Show me a god that does not demand mortal suffering.
Show me a god that celebrates diversity, a celebration that embraces even non-believers, and is not threatened by them.
Show me a god that understands the meaning of peace. In life, not in death. - Author: Steven Erikson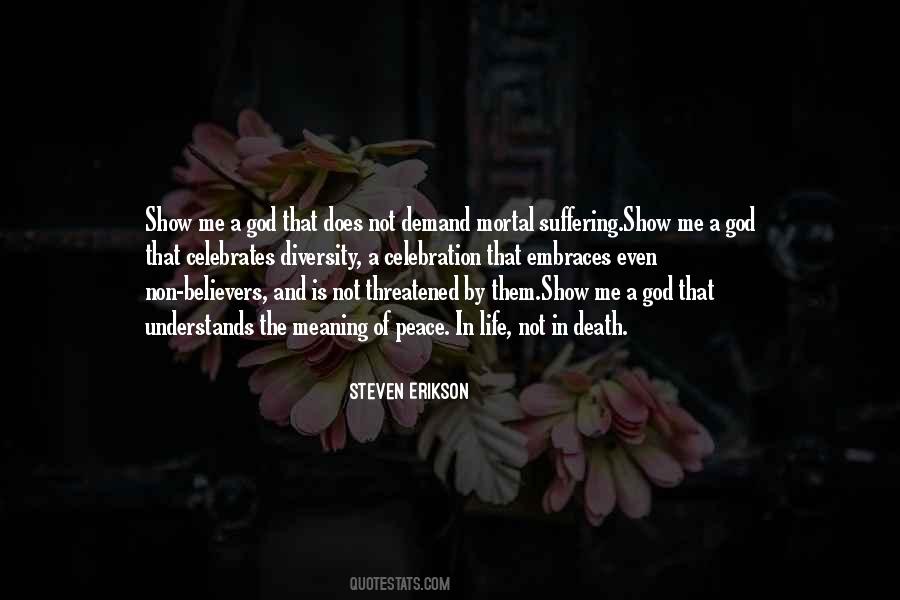 #39. What Alpha offers, and what is attracting thousands of people, is permission, rare in secular culture, to discuss the big questions - life and death and their meaning. - Author: Madeleine Bunting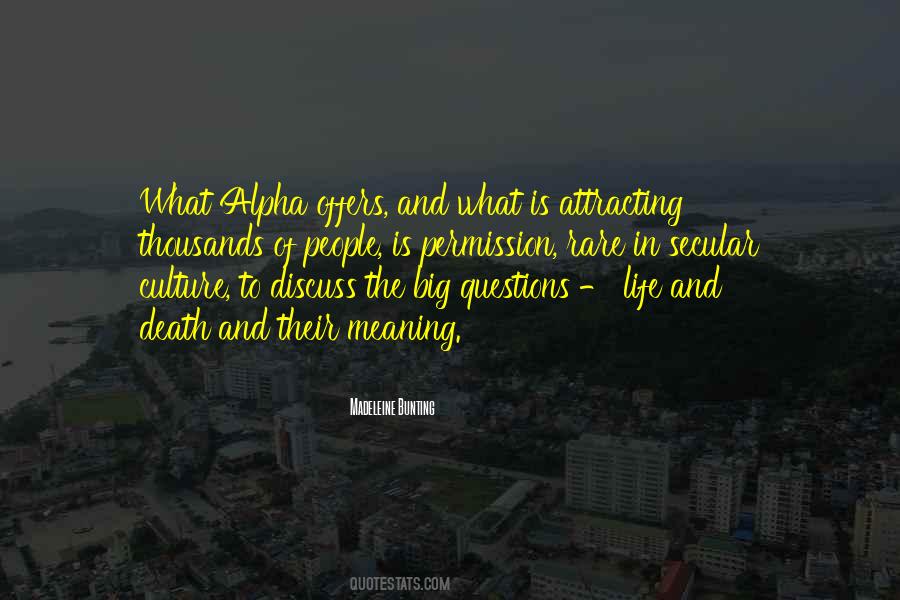 #40. I am afraid of death. I believe nothing, and therefore like many who believe nothing I must make something, and that something is the meaning which I give my life. - Author: Anne Rice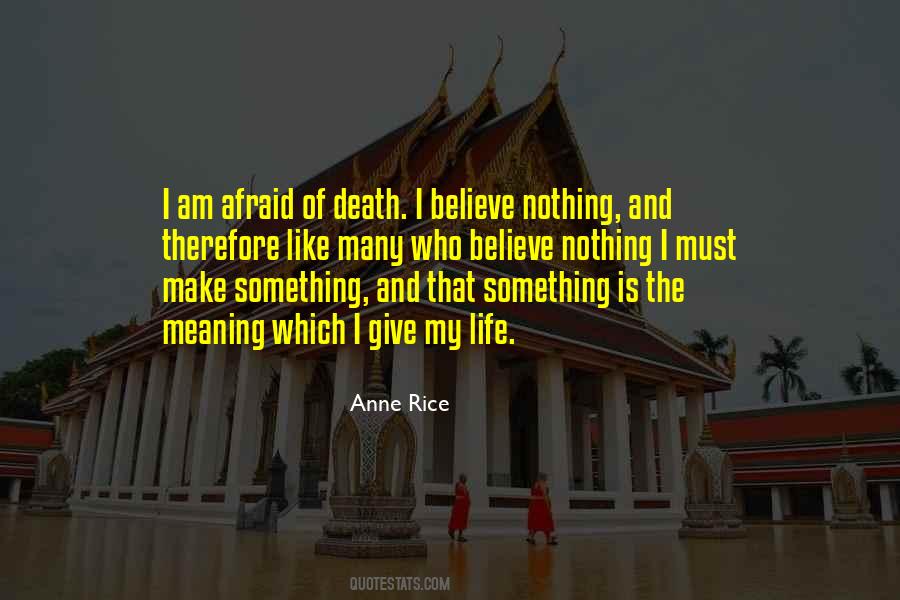 #41. Religion is (a) a pre-scientific system of explanation and technology; (b) a source of meaning, direction and emotional expression in life; (c) a means of social control; (d) a means of coping with uncertainty and death. - Author: Max More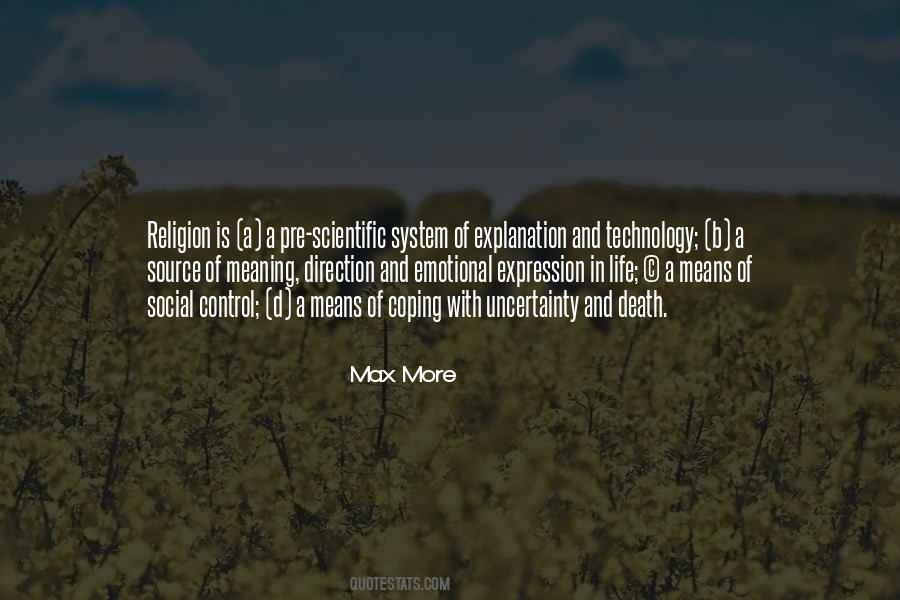 #42. Only when you accept that one day you'll die can you let go, and make the best out of life. And that's the big secret. That's the miracle. - Author: Gabriel Ba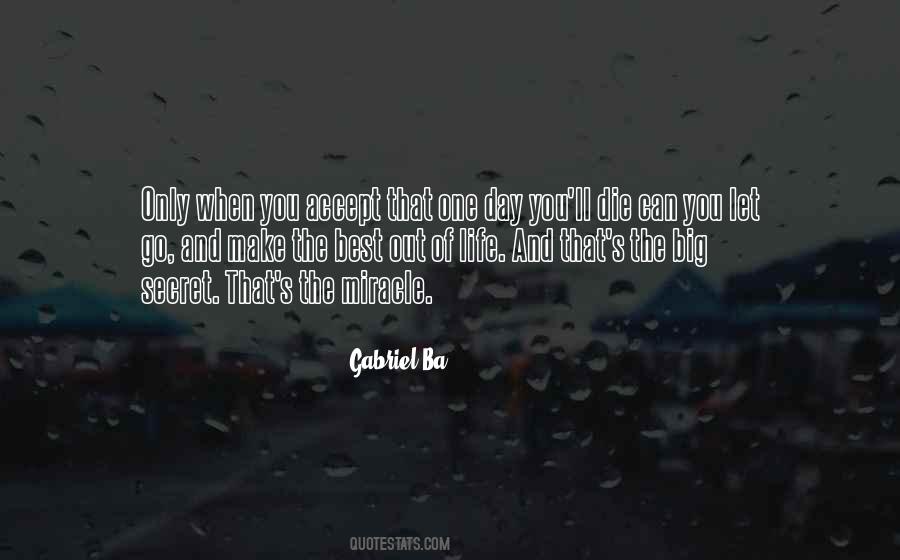 #43. The truth is in Jesus and it leads to the fullness of truth about God, man, creation, history, sin, righteousness, grace, faith, salvation, life, death, purpose, meaning, relationships, heaven, hell, judgement, eternity, and everything else of ultimate consequence. - Author: John F. MacArthur Jr.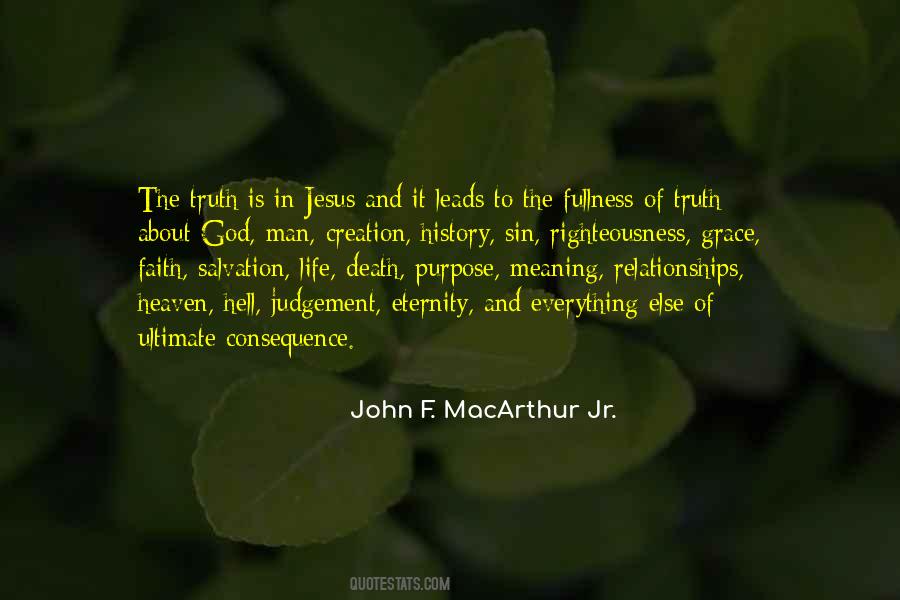 #44. It's not about success and failure. It's not about good days and bad days. It's not about wealth or poverty. It's not about health or sickness. It's not even about life or death. It's about glorifying God in whatever circumstance you find yourself in. - Author: Mark Batterson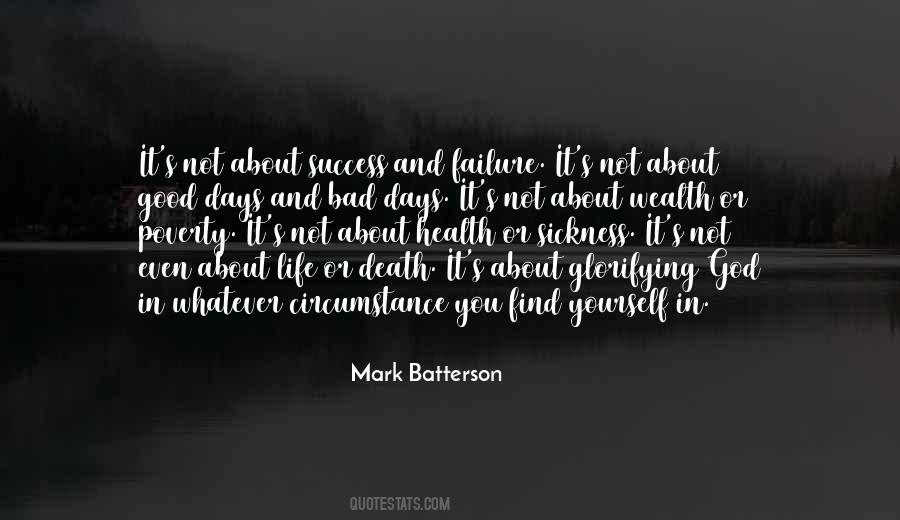 #45. At the moment I'm so exhausted that I feel like cutting my throat, so the next news masy well be that I am across the river and under the trees: what is the meaning and purpose of life? Death. - Author: Delmore Schwartz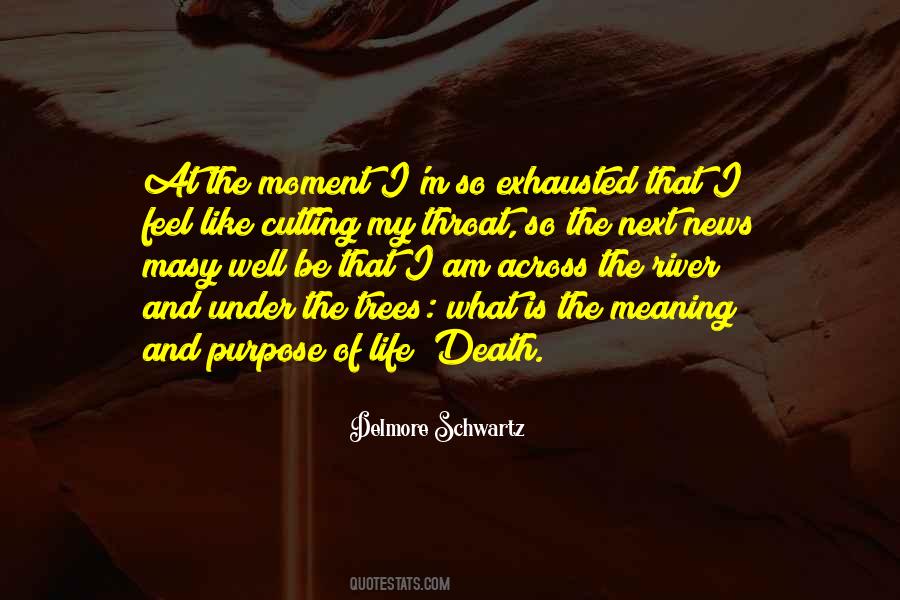 #46. Atheism robs death of meaning. And if death has no meaning, how can life ultimately have meaning? For death is the end of life. Here - Author: Peter Kreeft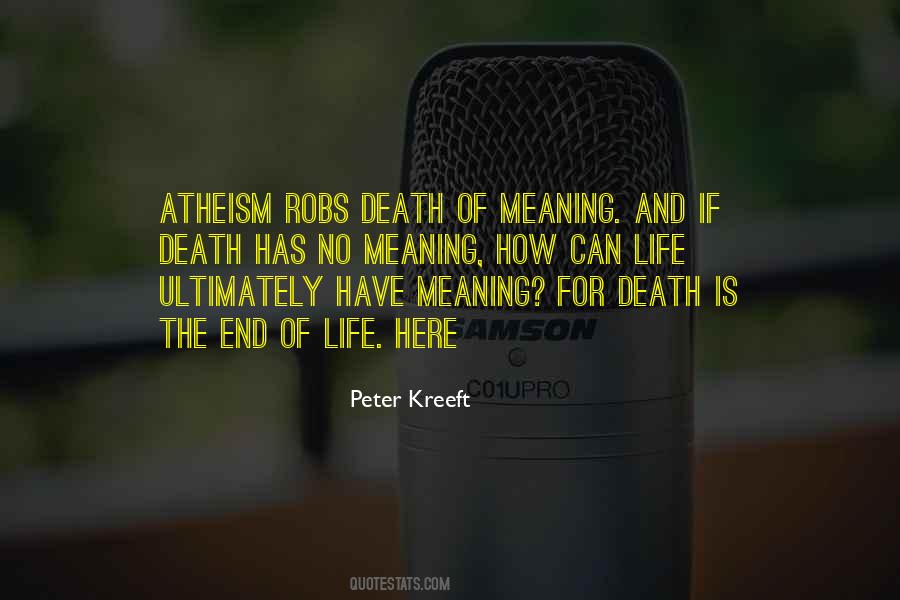 #47. Nothing matters when you are dead, and, you are dead when nothing matters. - Author: Mokokoma Mokhonoana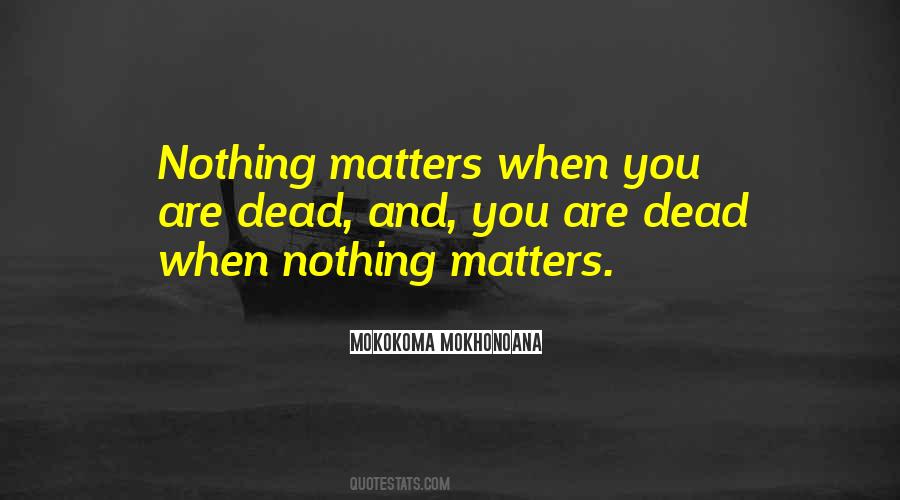 #48. For each of us, time is a thief of flory. What give meaning to our lives and deaths is love and hope, if we are willing to share and accept - Author: Sigmund Brouwer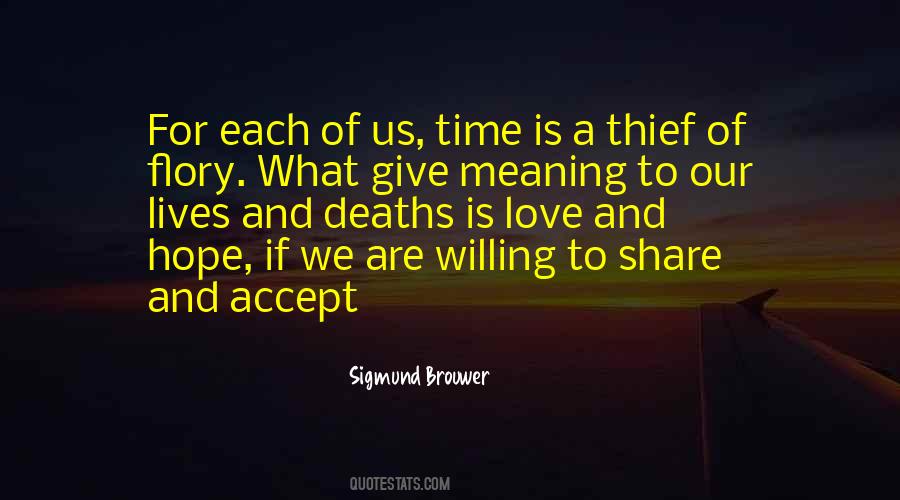 #49. Death as the destruction of all things no longer had meaning when life was revealed to be a fatuous sequence of empty words, the hollow jingle of a jester's cap and bells. - Author: Michel Foucault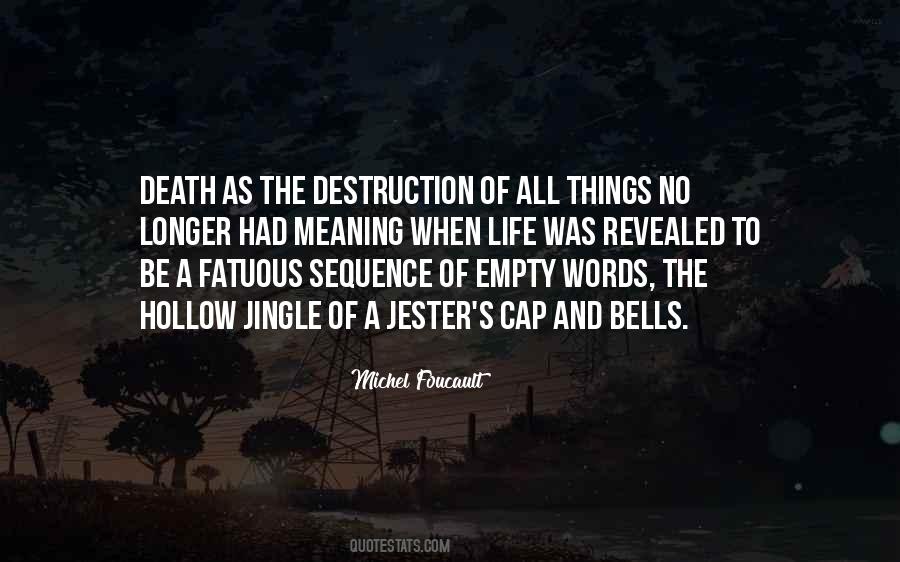 #50. 'Hamlet' is one of the most dangerous things ever set down on paper. All the big, unknowable questions like what it is to be a human being; the difference between sanity and insanity; the meaning of life and death; what's real and not real. All these subjects can literally drive you mad. - Author: Michael Sheen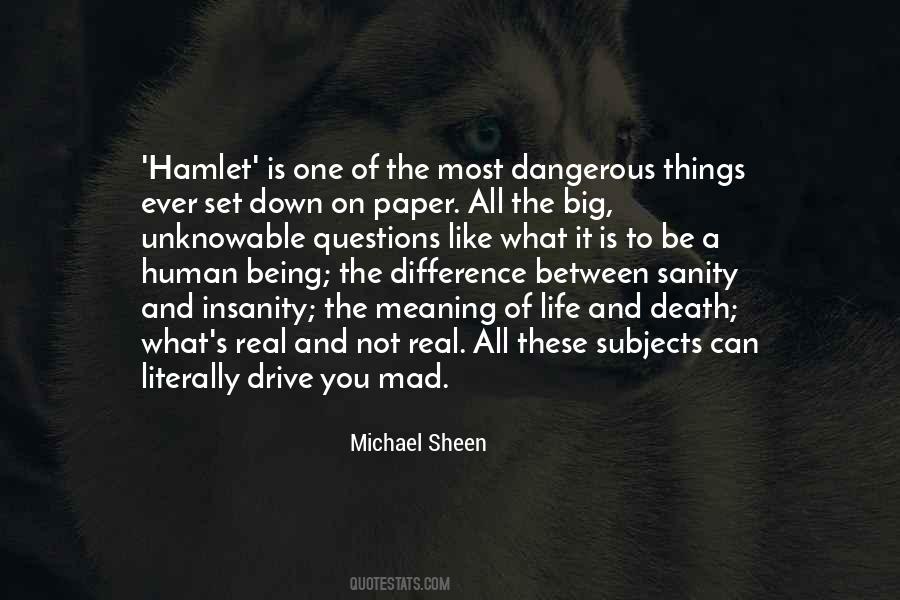 #51. Those who do not care, escape the anguish of mourning but never know the delights of love. The meaning of life forever eludes them. - Author: Wayne Gerard Trotman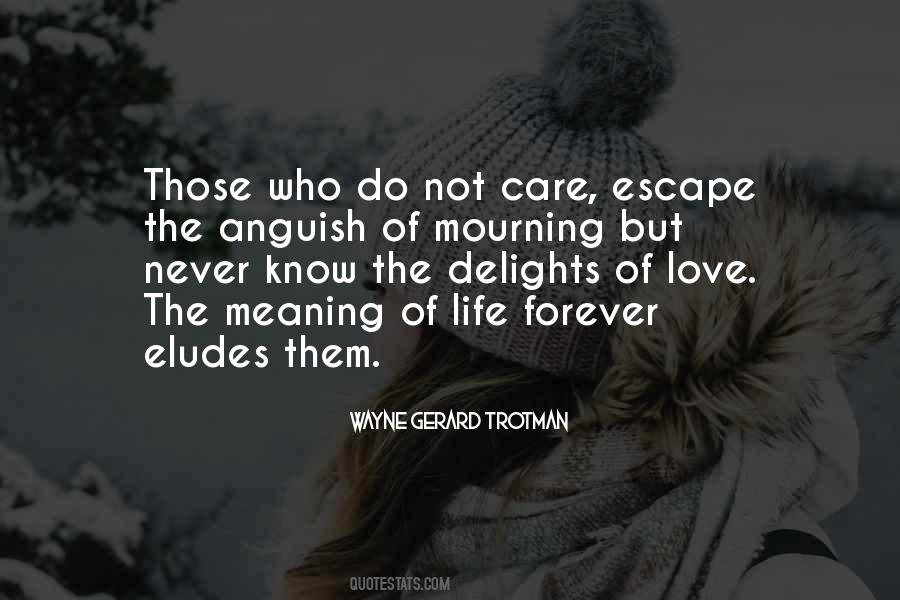 #52. If there is a meaning in life at all, then there must be a meaning in suffering. Suffering is an ineradicable part of life, even as fate and death. Without suffering and death, human life cannot be complete. - Author: Viktor E. Frankl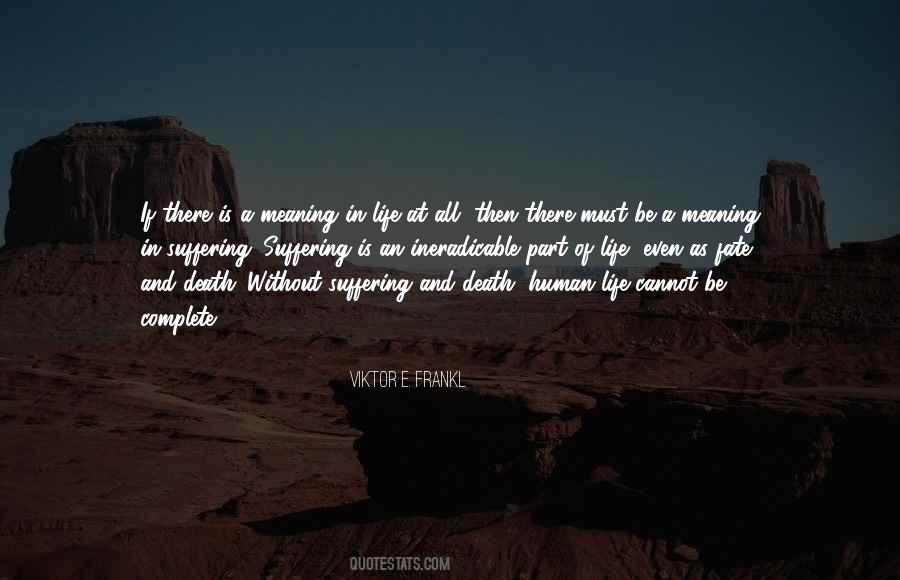 #53. It is in the giving up of self that human beings can find the most ecstatic and lasting, solid, durable joy of life. And it is death that provides life with all its meaning. This "secret" is the central wisdom of religion. The process of giving up the self (which is - Author: M. Scott Peck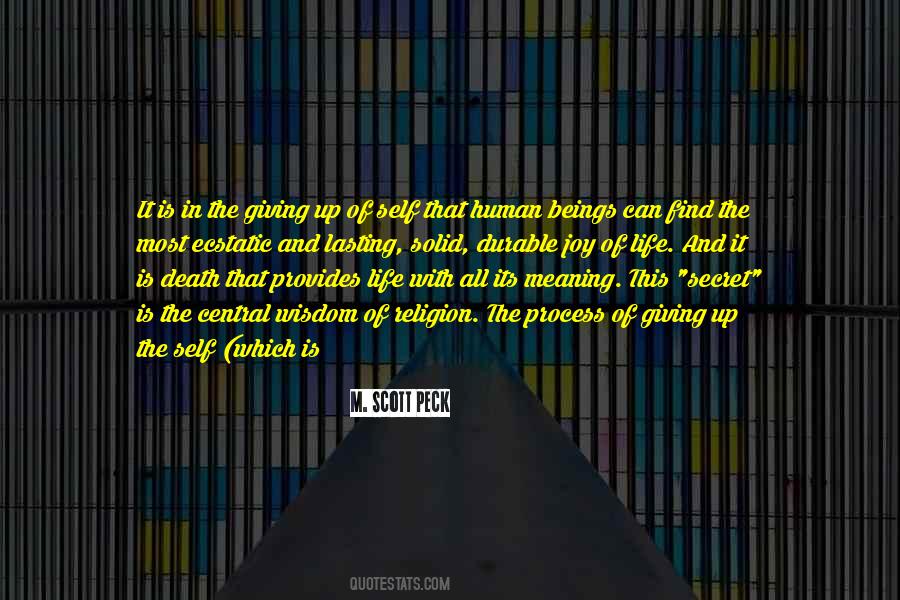 #54. The greatest dignity to be found in death is the dignity of the life that preceded it. This is a form of hope we call all achieve, and it is the most abiding of all. Hope resides in the meaning of what our lives have been. - Author: Sherwin B. Nuland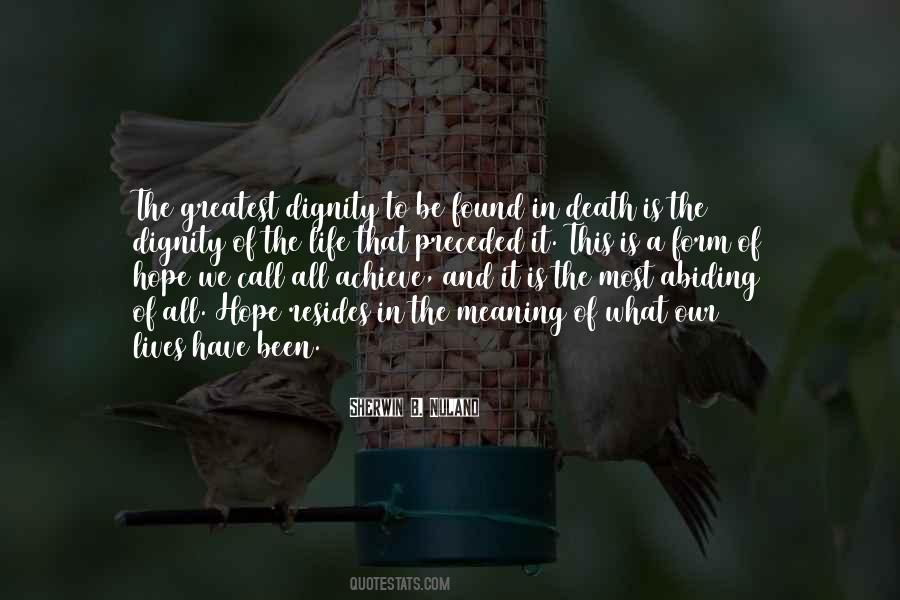 #55. Grief is the natural by-product of love. One cannot selflessly love another person and not grieve at his suffering or eventual death. The only way to avoid the grief would be to not experience the love; and it is love that gives life its richness and meaning. - Author: Lance B. Wickman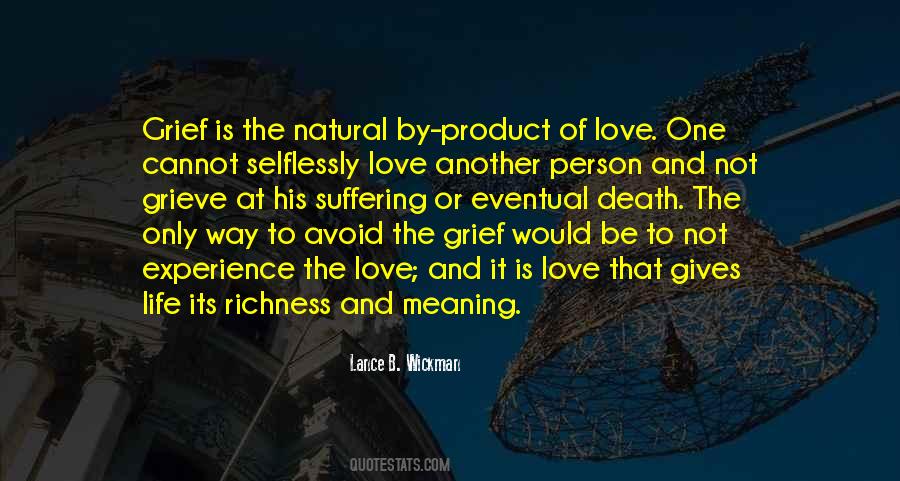 #56. Science is great for us. But for someone who see the human evaluation for more than one million years, science is a just a one instant and younger than a baby. - Author: Muditha Champika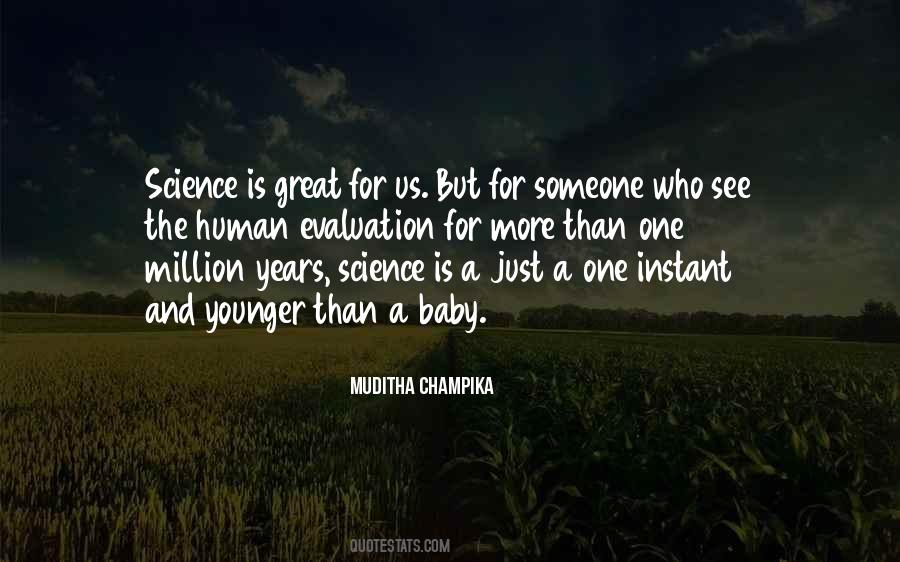 #57. No lifetime is long enough for those who wish to create, Raul. Or for those who simply wish to understand themselves and their lives. It is, perhaps, the curse of being human, but also a blessing. - Author: Dan Simmons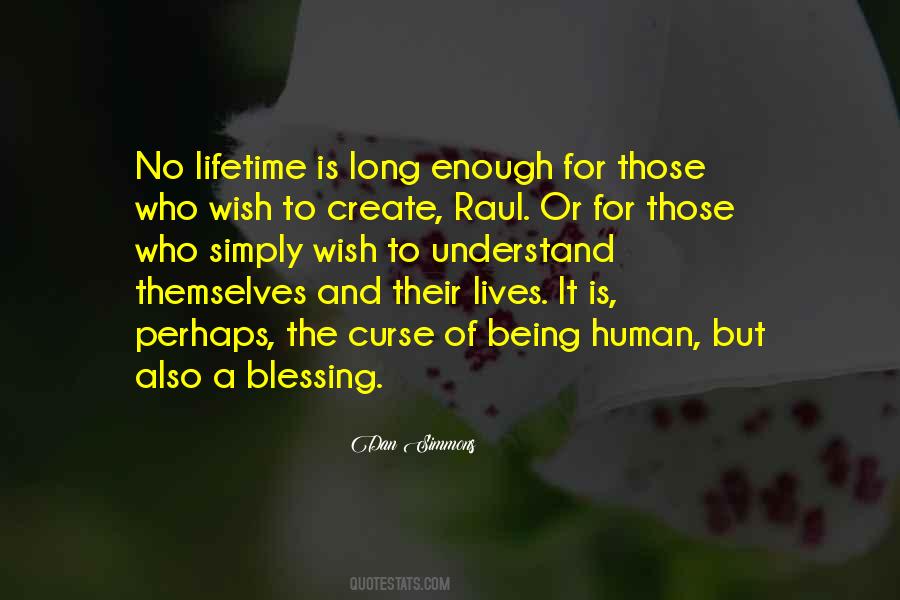 #58. They were herded passively into the gas chambers. Weary of being hunted and persecuted, of living in constant fear, they dumbly awaited the hand of the sure physician, Death. For them life had lost all meaning and purpose. To prolong it would merely have prolonged their suffering. - Author: Miklos Nyiszli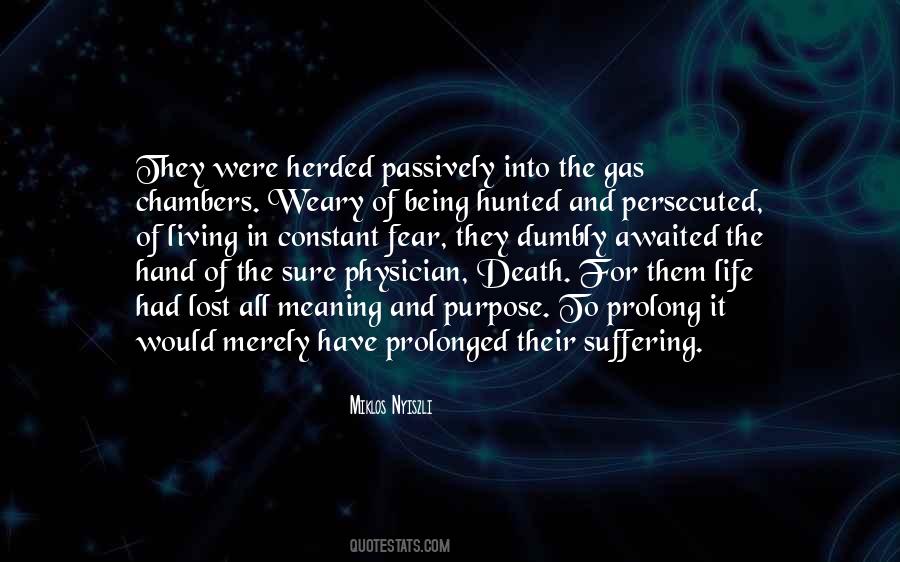 #59. We do not have control
over many things
in life and death
but we do have control
over the meaning we give it. - Author: Nathalie Himmelrich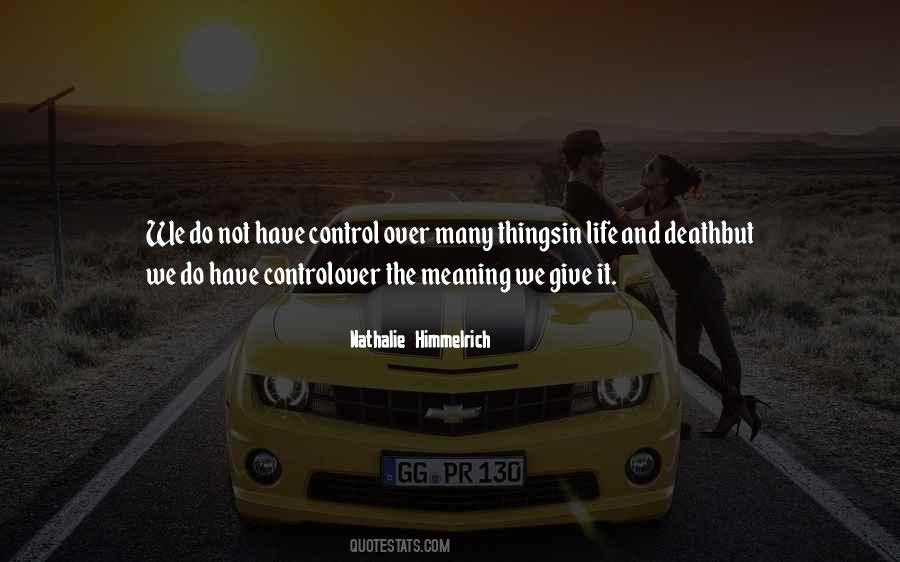 Famous Authors
Popular Topics