Make Others Happy Famous Quotes & Sayings
List of top 100 famous quotes and sayings about make others happy to read and share with friends on your Facebook, Twitter, blogs.
Top 100 Quotes About Make Others Happy
#1. Life is hard and astonishingly complicated ... No one great reform will make it easy. Most of us who work
or want to work
will always have trouble or discontent. So we must learn to be calm, and train all our faculties, and make others happy. - Author: Sinclair Lewis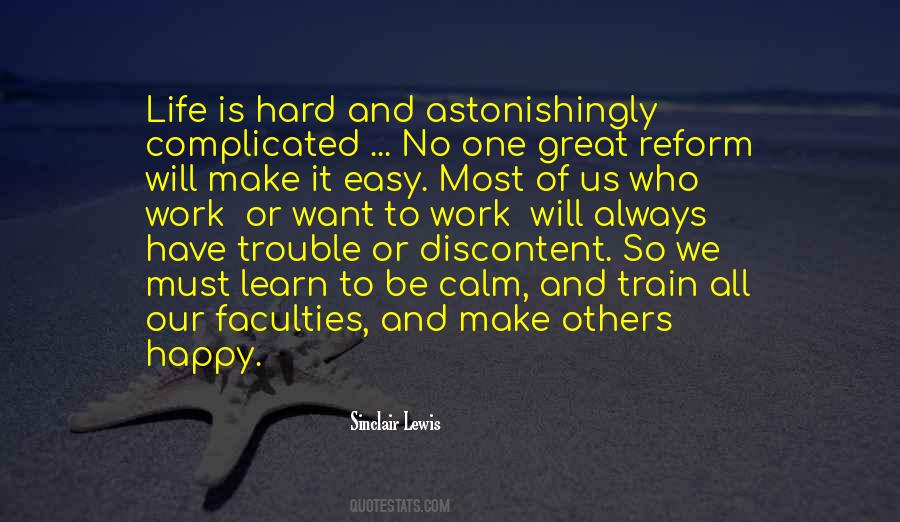 #2. To love oneself is to love life. It is essential to understand that we make ourselves happy in making others happy. - Author: Matthieu Ricard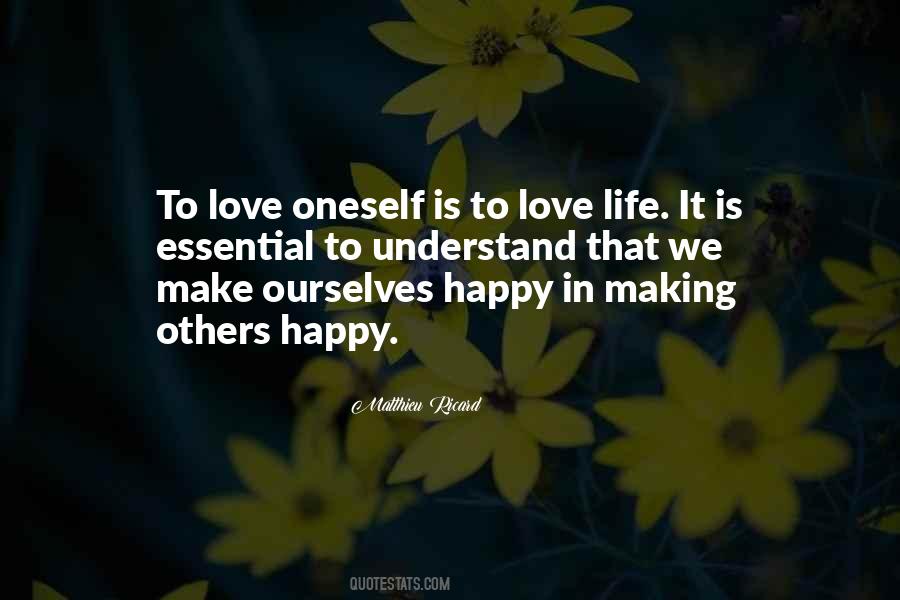 #3. If you have the power to make others happy..
By all means do it..Because the World needs lots of it.. - Author: Abha Maryada Banerjee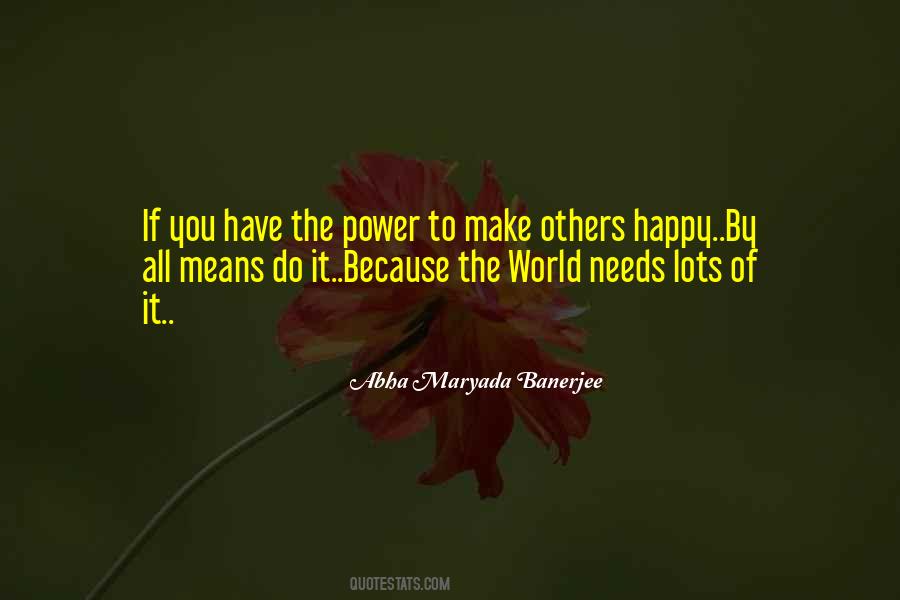 #4. Happiness is a shadow.If you chase it,it moves further away.But if you turn to make others happy,it will follow you.Make other Happy and be Happy.- RVM - Author: R.v.m.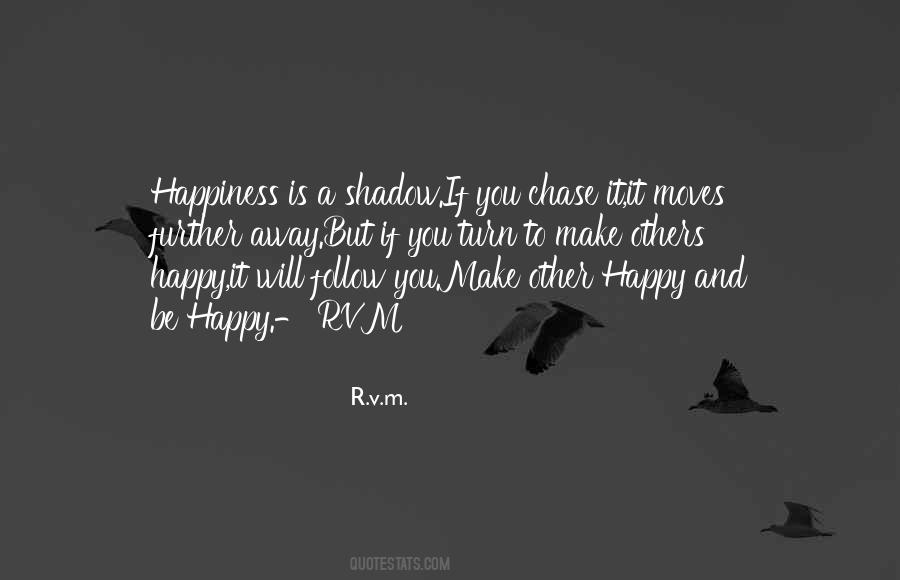 #5. Life laughs at you when you are unhappy; Life smiles at you when you are happy; But life salutes you when you make other happy. - Author: Charlie Chaplin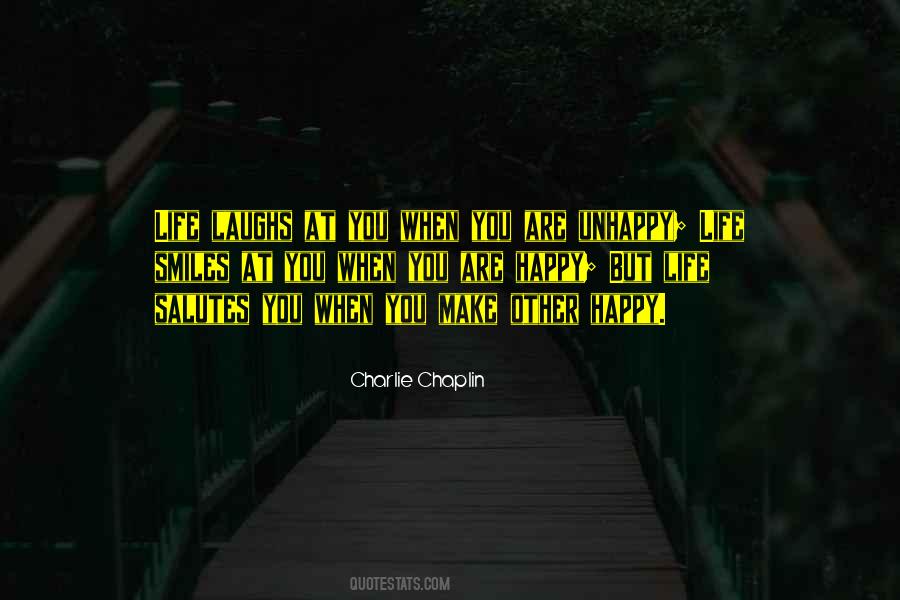 #6. Those who are happy and successful themselves are too apt to make light of the misfortunes of others. - Author: Elizabeth Gaskell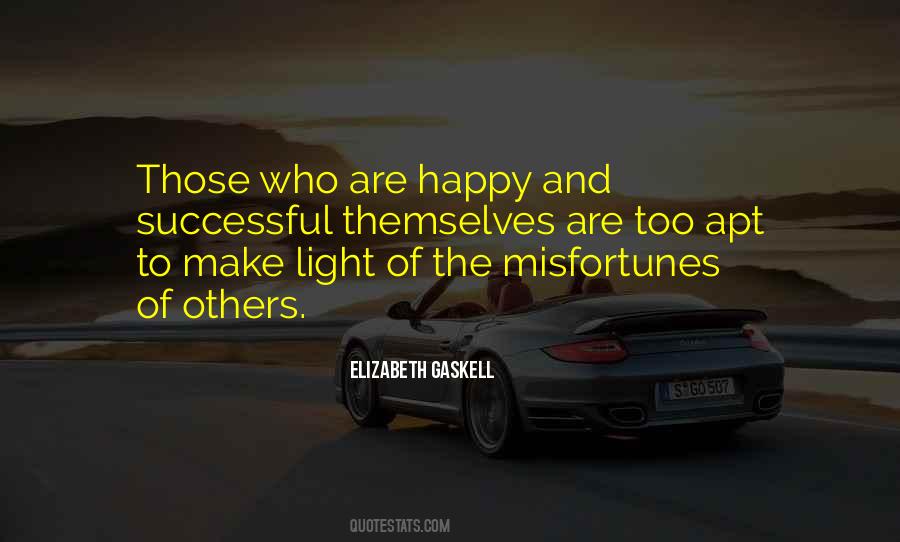 #7. I hope people enjoy what I do. That would make me happy because I'd be bringing others pleasure while doing something I like. - Author: Heather O'Rourke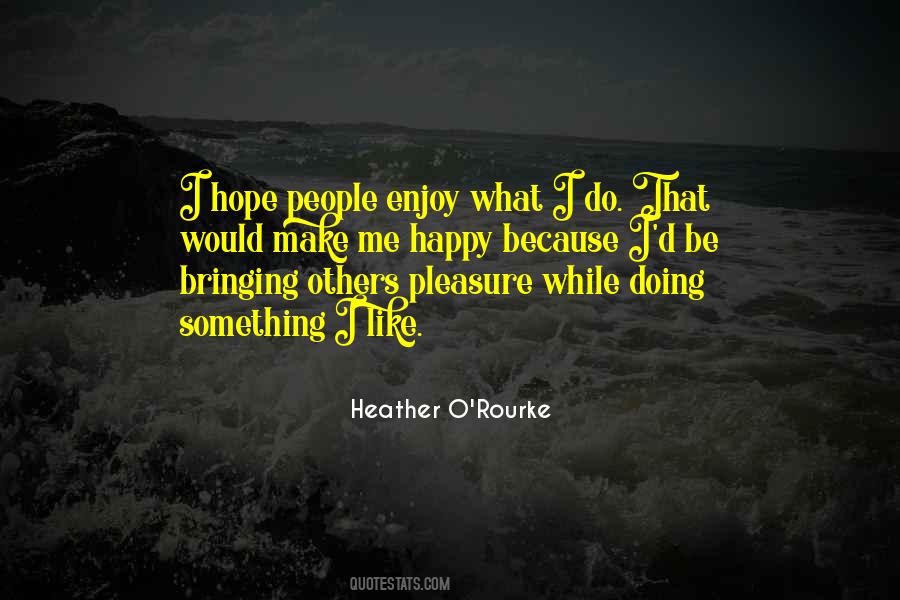 #8. The path to misery is paved by the tears of those trying to make others happy. - Author: Steve Maraboli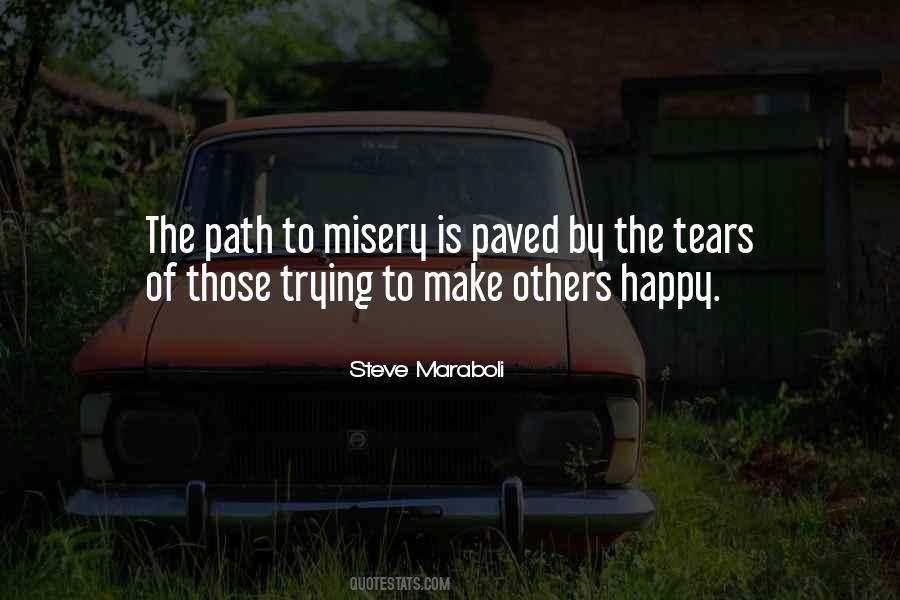 #9. Our job is to make others feel better and to find happiness. It will ultimately make you happy and abundant. - Author: Debasish Mridha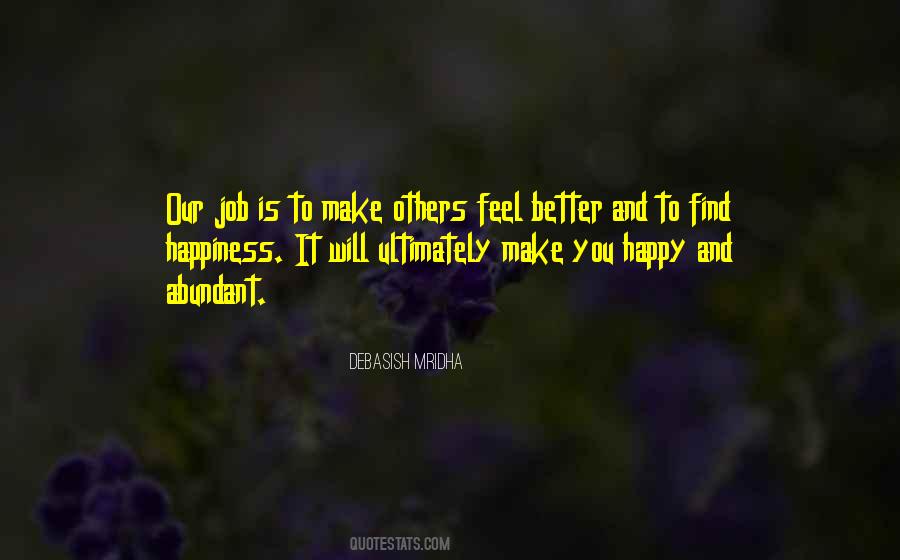 #10. Cat was searching for the company of one who would make her happy. Some of us did not have to look long for that person, some of us found him or her with little difficulty; others had longer to look, and had less luck. - Author: Alexander McCall Smith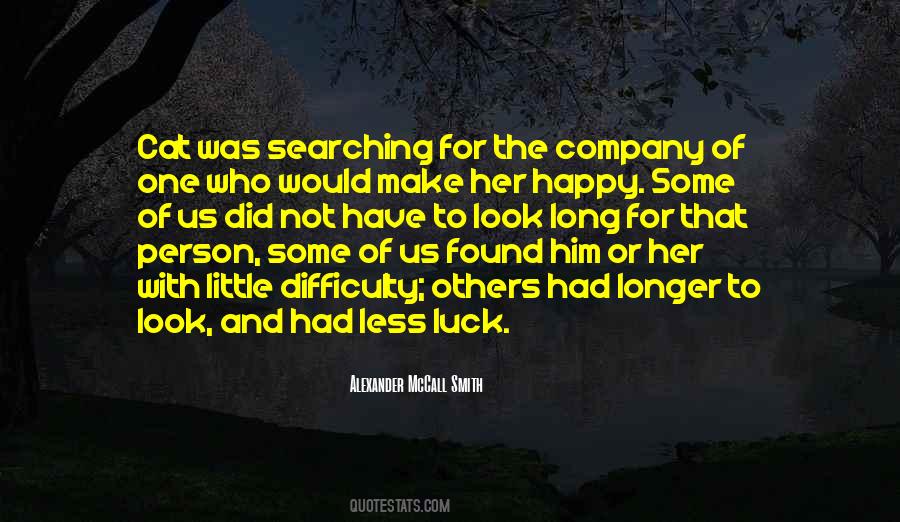 #11. Happiness is the only good. The time to be happy is now. The place to be happy is here. The way to be happy is to make others so. - Author: Robert Green Ingersoll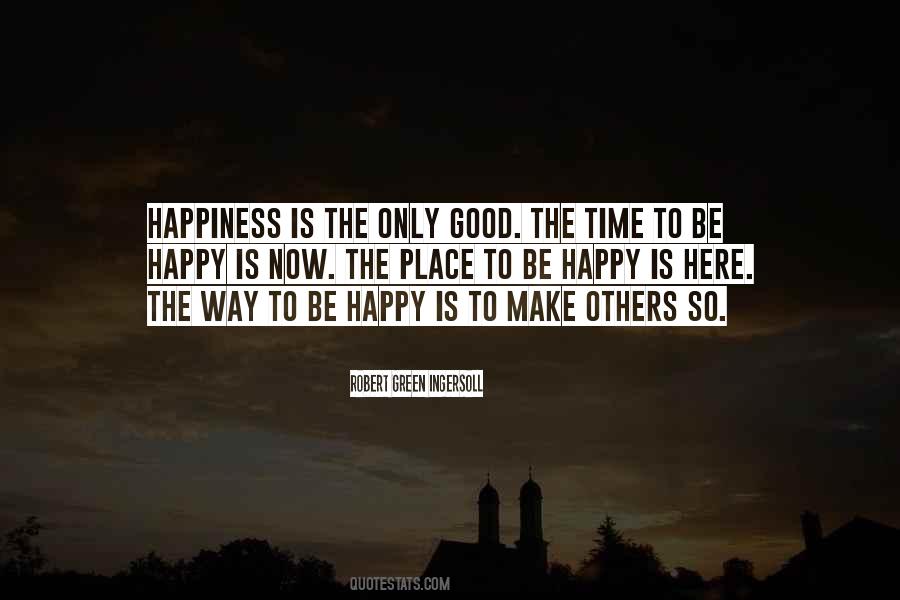 #12. Justice is the only worship.
Love is the only priest.
Ignorance is the only slavery.
Happiness is the only good.
The time to be happy is now,
The place to be happy is here,
The way to be happy is to make others so.
Wisdom is the science of happiness. - Author: Robert G. Ingersoll
#13. Make others happy, and you will be happy yourself. - Author: Lorenzo Snow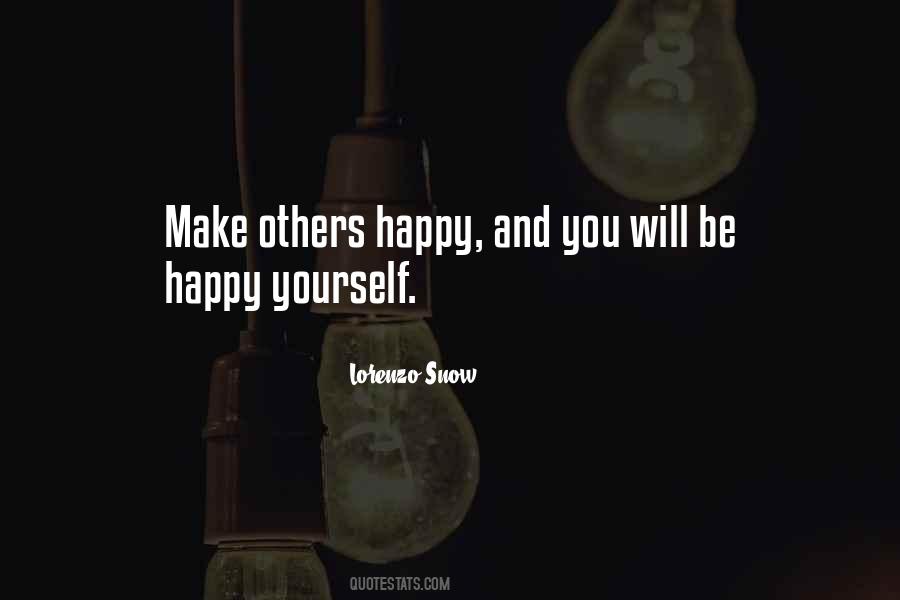 #14. None of us are bad people. We float around and we run across each other and we learn about ourselves, and we make mistakes and we do great things. We hurt others, we hurt ourselves, we make others happy and we please ourselves. We can and should forgive ourselves and each other for that. - Author: Dan Harmon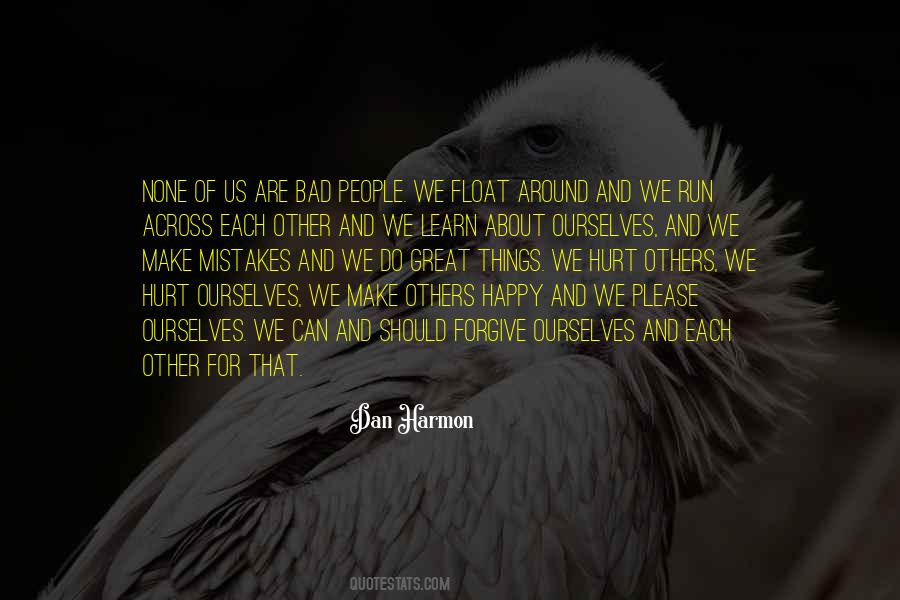 #15. Smile more. Smiling can make you and others happy. - Author: Roy Bennett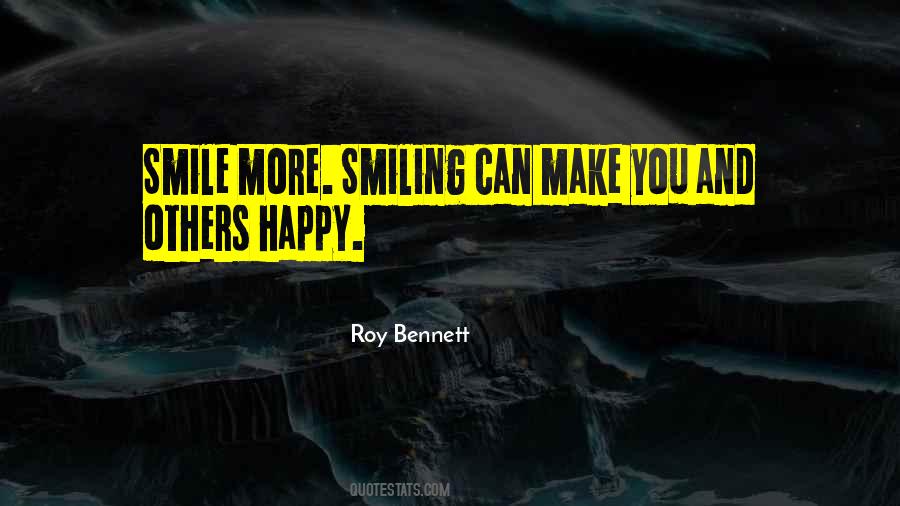 #16. Give what you want to receive. If you want happiness, make others happy. - Author: Russell Simmons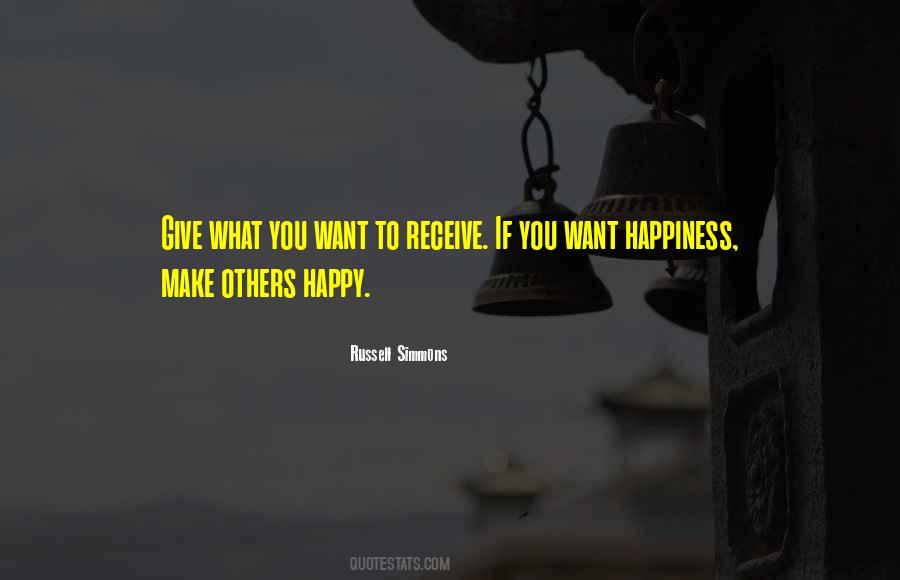 #17. I like joy; I want to be joyous. I want to smile and I want to make people laugh. And that's all I want. I like being happy. I want to make others happy. - Author: Doris Day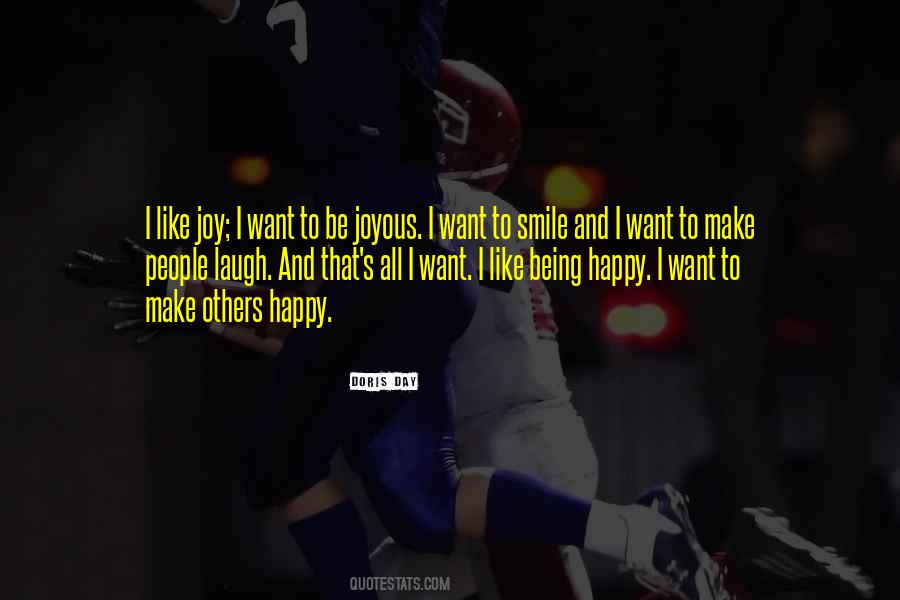 #18. You must love yourself before you love another. By accepting yourself and fully being what you are, your simple presence can make others happy You yourself, as much as anybody in the entire universe, deserve your love & affection. - Author: Gautama Buddha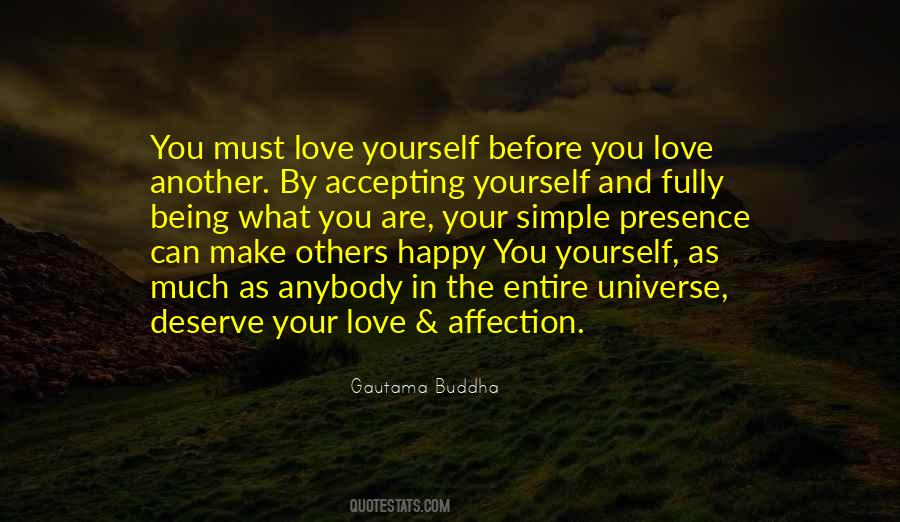 #19. Kindness is a lamp that we should always kindle in our heart. The warmth of it not only make us happy from inside and give light to others. But also makes the world a little more beautiful place everytime it lights the lamps in other hearts. - Author: Akshay Vasu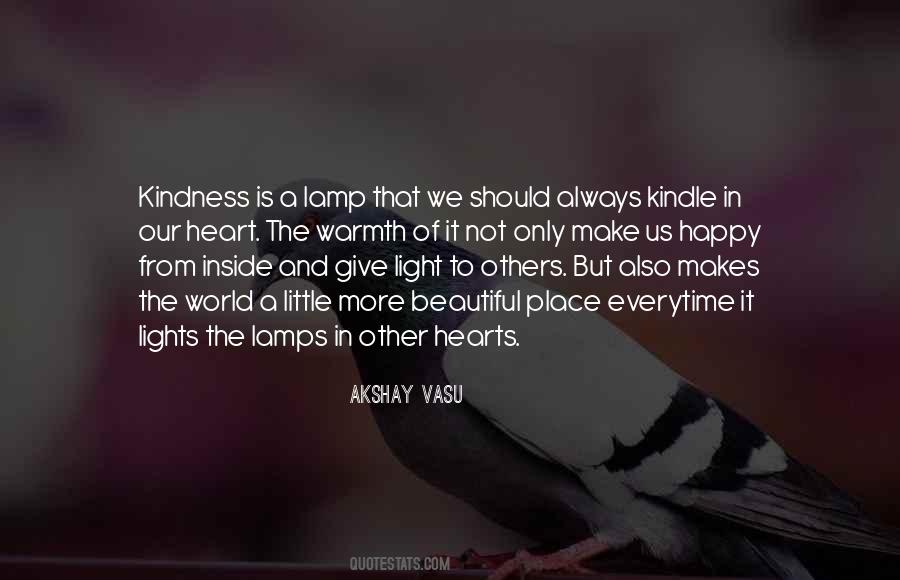 #20. Live a life that you do not need to take a vacation from. Live in a way that makes yearly resolutions unnecessary. Make the kind of choices that leave you Happy and Healthy... where all of your needs are satisfied. Live a life where your only 'wants' are for others to feel as good as you do. - Author: Gary Hopkins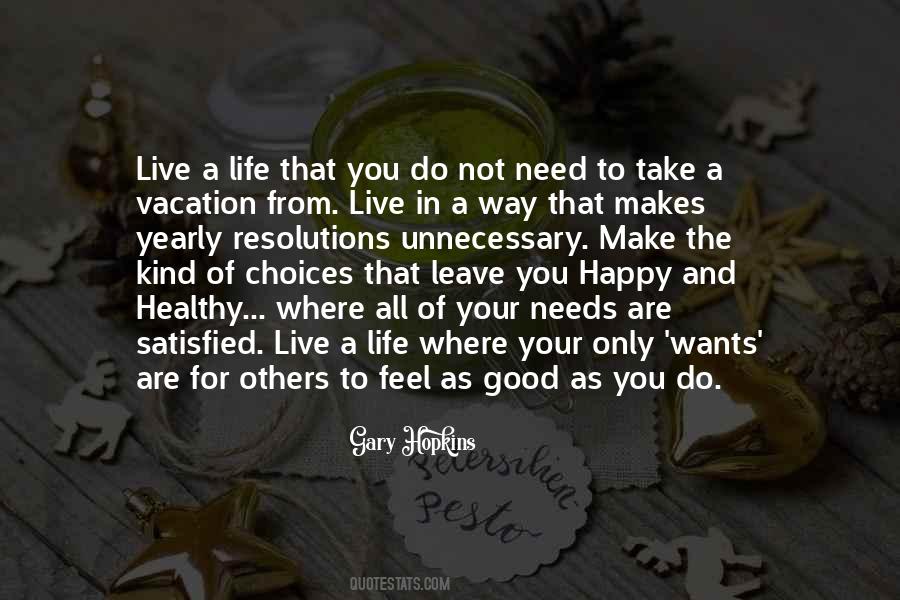 #21. Happiness is a journey that starts with you. If you can't find it within you, it will be logically impossible for you to make others around you happy. - Author: Abdulazeez Henry Musa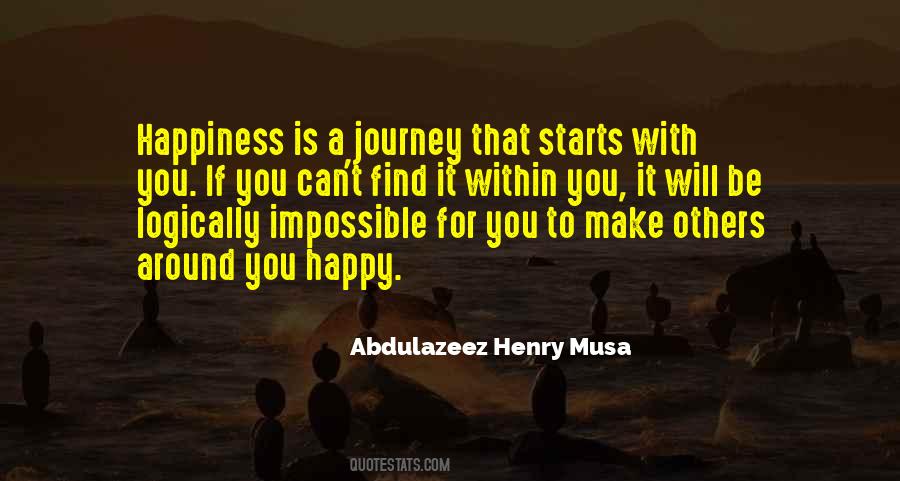 #22. Contemporary research shows that happy people are more altruistic, more productive, more helpful, more likable, more creative, more resilient, more interested in others, friendlier, and healthier. Happy people make better friends, colleagues, and citizens. - Author: Gretchen Rubin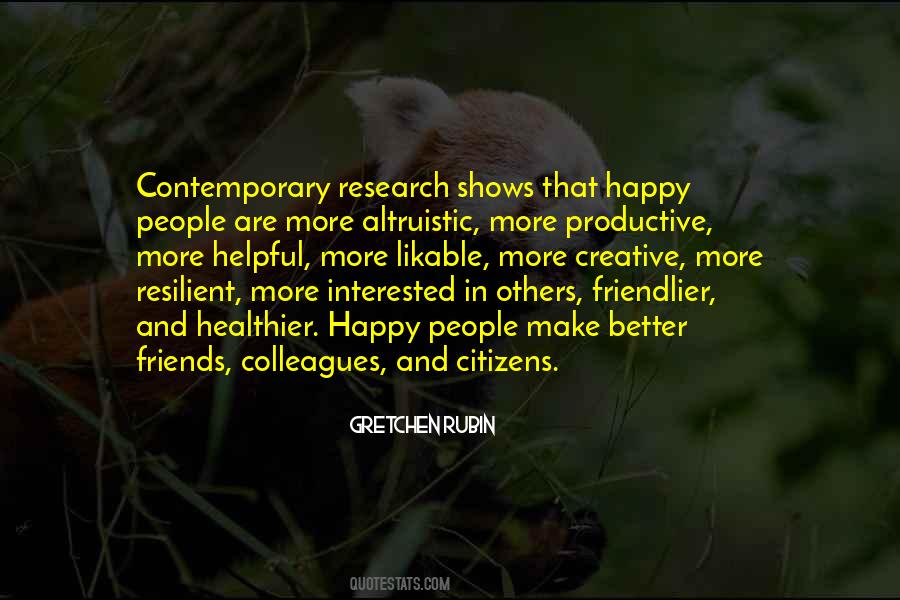 #23. Let's put it this way: One can be happy or unhappy in a building. But some buildings make us more depressed than others. - Author: Rem Koolhaas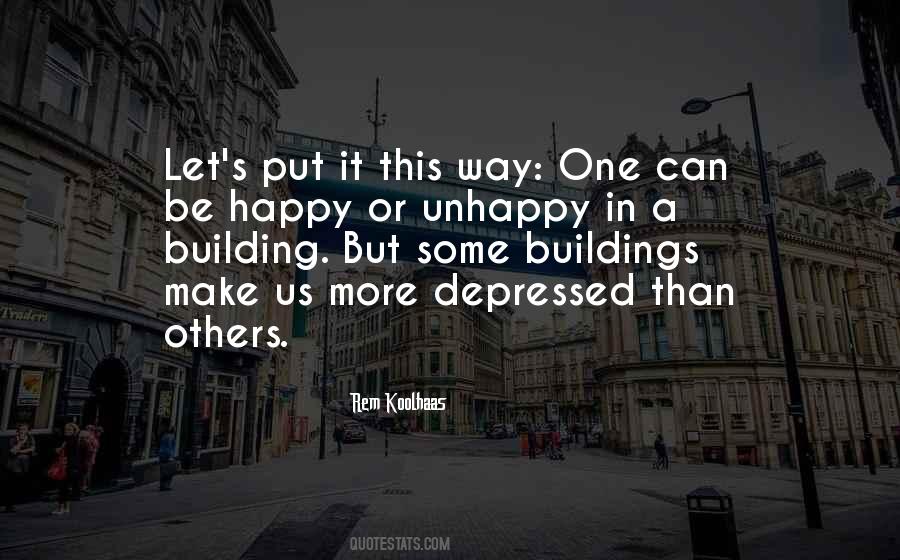 #24. By accepting yourself and being fully what you are, your presence can make others happy. - Author: Jane Roberts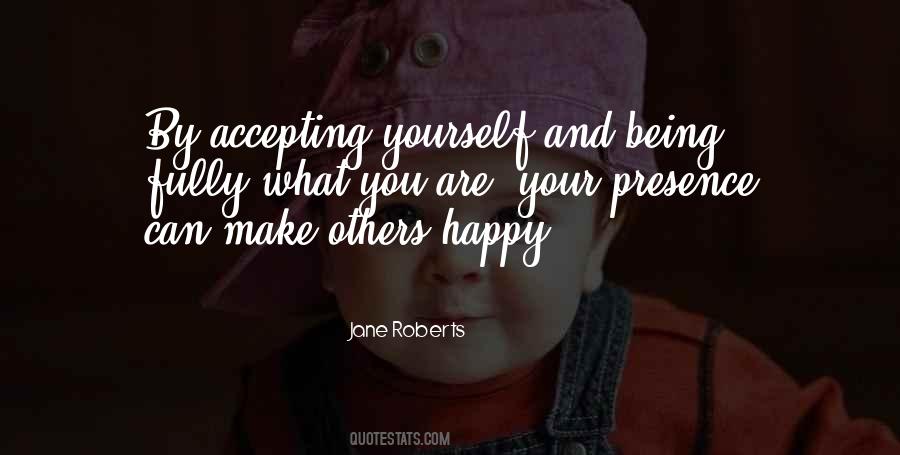 #25. Whoever is happy will make others happy. - Author: Anne Frank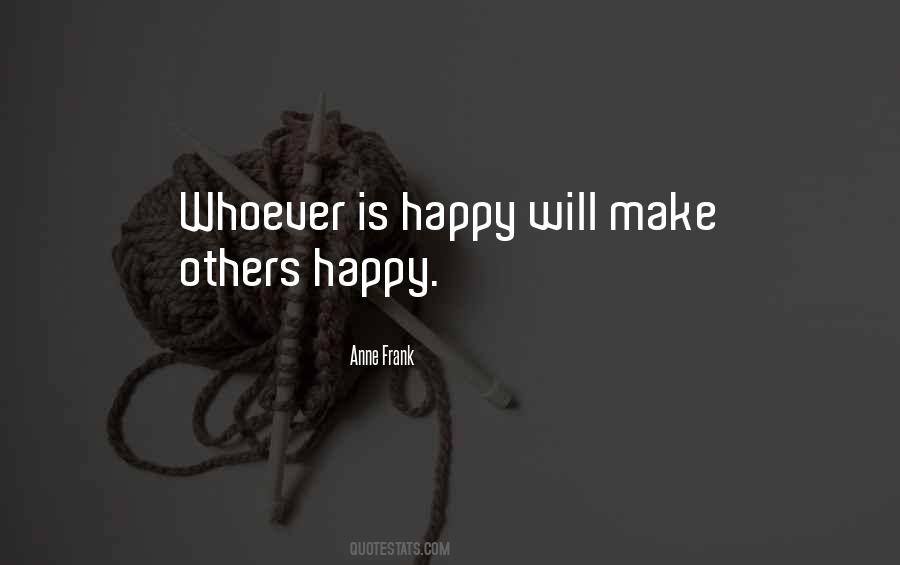 #26. A happy disposition is largely a disposition to make others happy. One life permeates all things, and there is no corner of the cosmos too remote to feel its heart throb. - Author: Henry Wood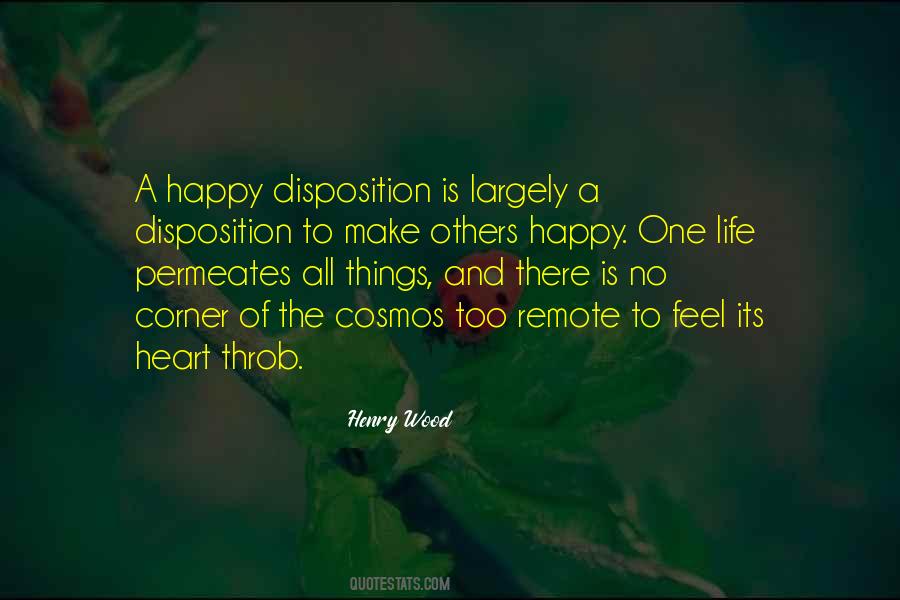 #27. Justice for some people is an evil for others. Good intentions, kindness, and hope will not necessarily make people happy. - Author: Gen Urobuchi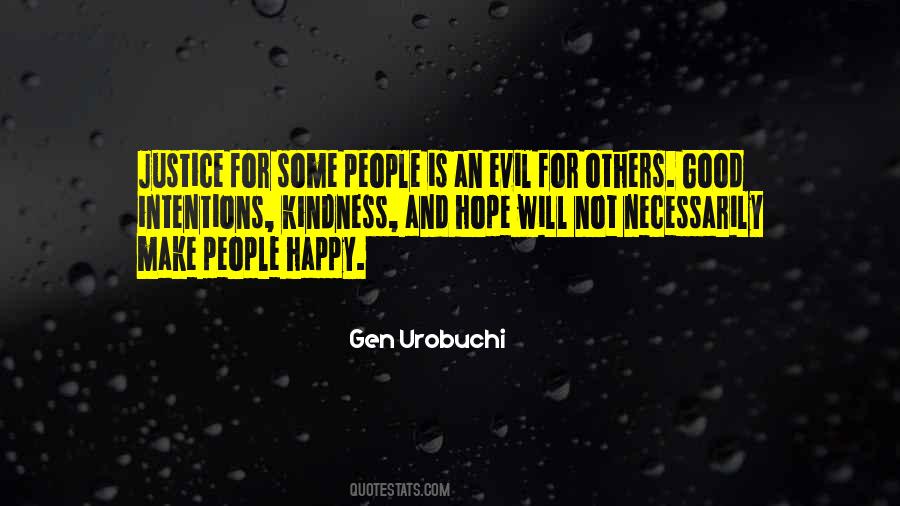 #28. Some of us do so much to make others happy. Sad thing is, some of us dont even know someone that would do the same for us. - Author: Wiz Khalifa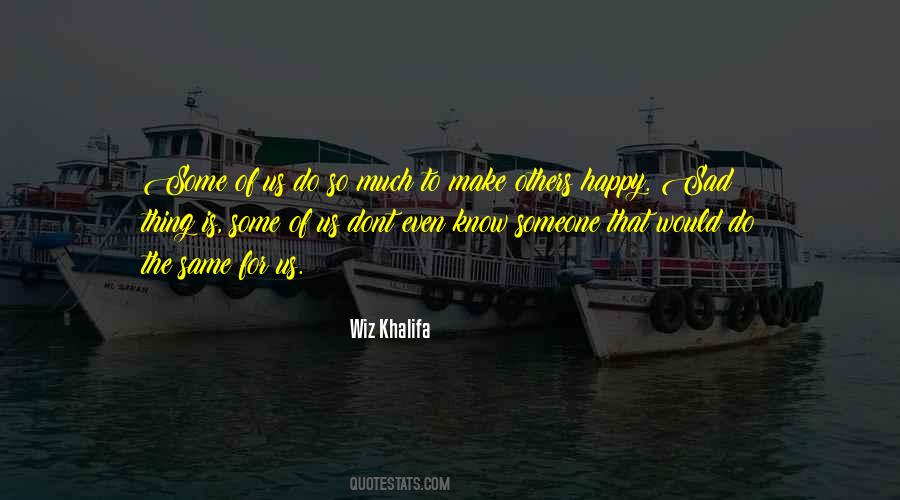 #29. Try to make others happy, and don't despair over all the evil in the world. Instead of cursing the dark, let us each light one small lamp. - Author: Mata Amritanandamayi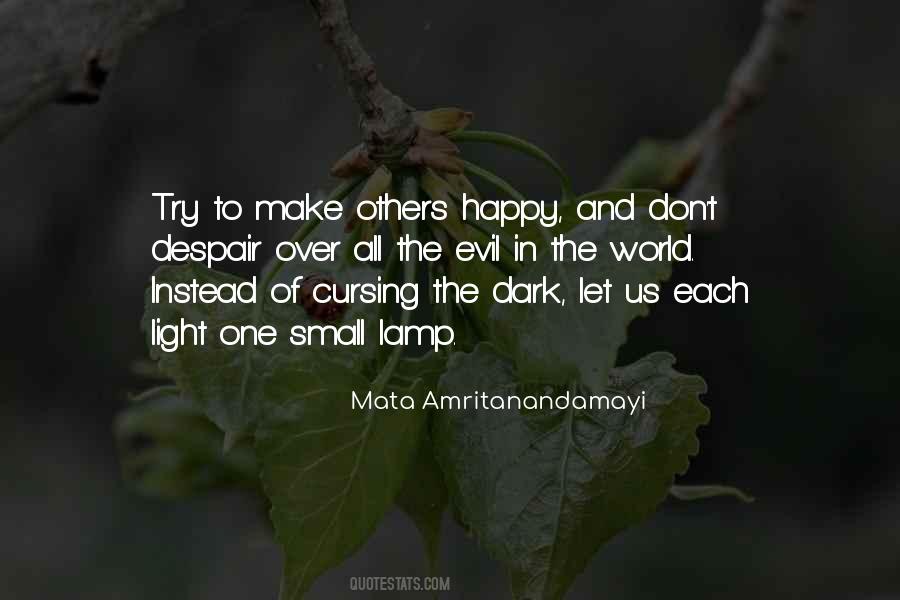 #30. None but those who are happy in themselves can make others so. - Author: William Hazlitt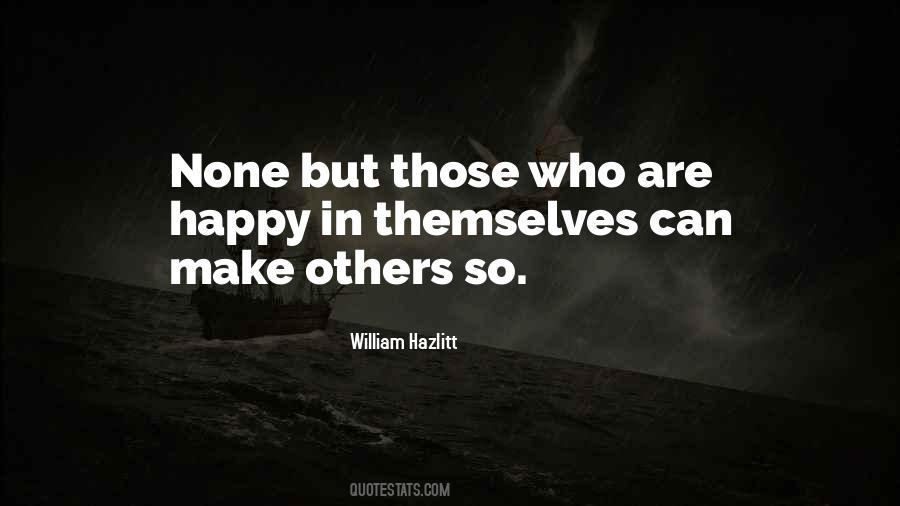 #31. To be happy is easy enough if we give ourselves, forgive others, and live with thanksgiving, No self centered person, no ungrateful soul can ever be happy, much less make anyone else happy. Life is giving, not getting. - Author: Joseph Fort Newton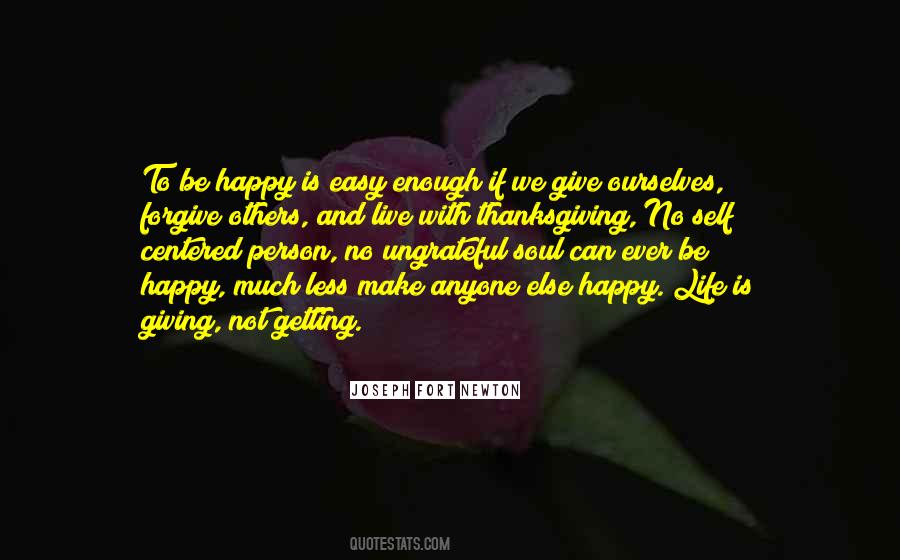 #32. Our faith is watered and we flourish when we reach out to others in love. We think good times and comfort will make us happy. But history shows that the people who are filled with the most joy and contentment are those who reach out to others-despite tough times - Author: Laurie Ostby Kehler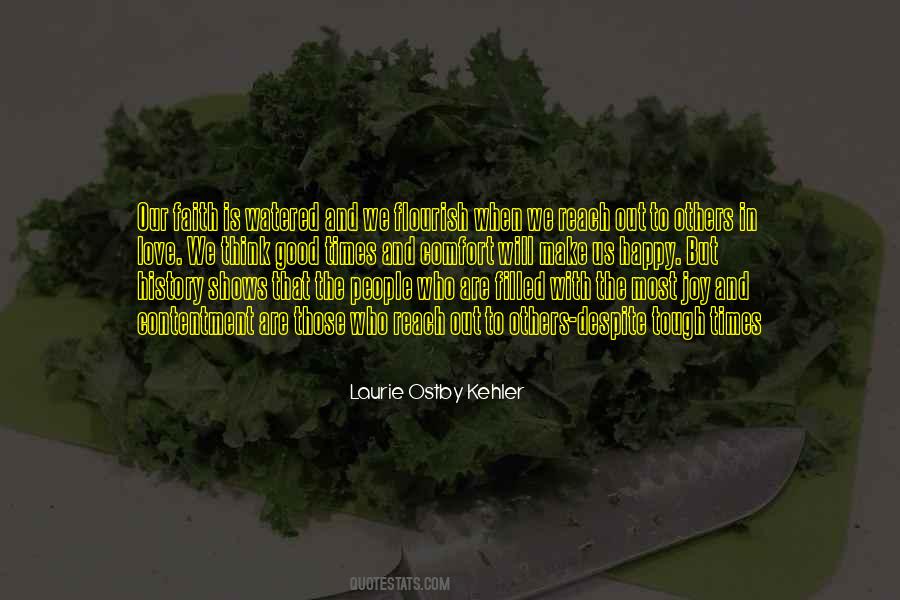 #33. The happiest people are those who have invested their time in others. The unhappiest people are those who wonder how the world is going to make them happy. - Author: John C. Maxwell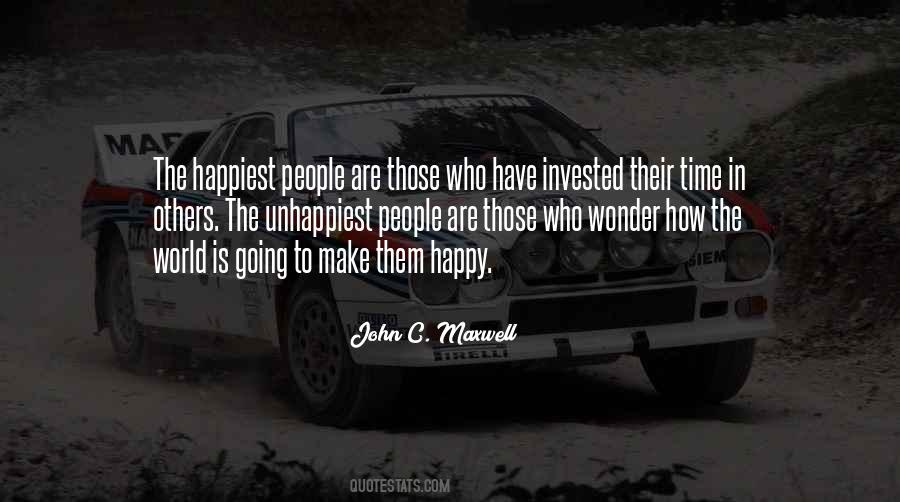 #34. Life is like Bed of Roses... Start giving away the Roses to make others happy and you would know what is left behind in your bed for you... - Author: John Gabriel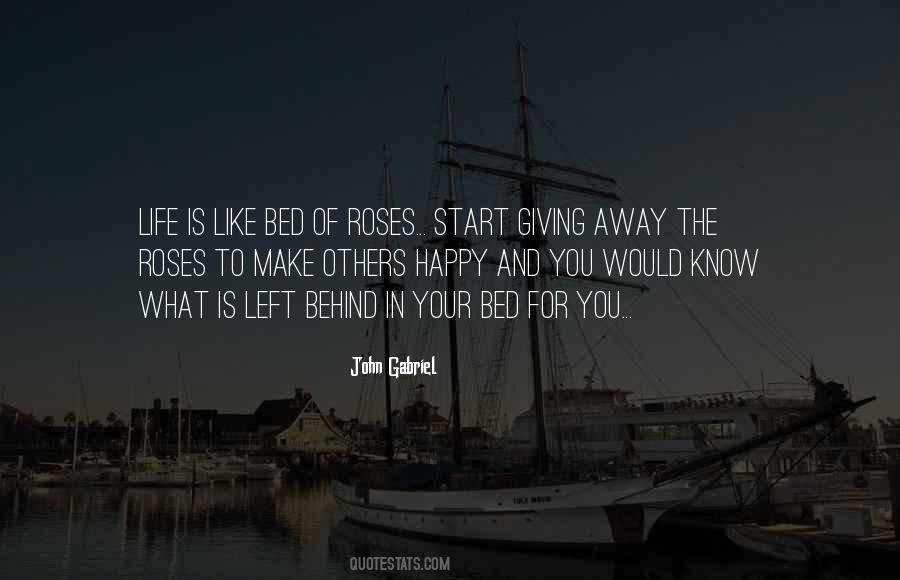 #35. It is not our job to be happy, to be in love. We exist to make happiness and love possible for others. - Author: Lauren Kate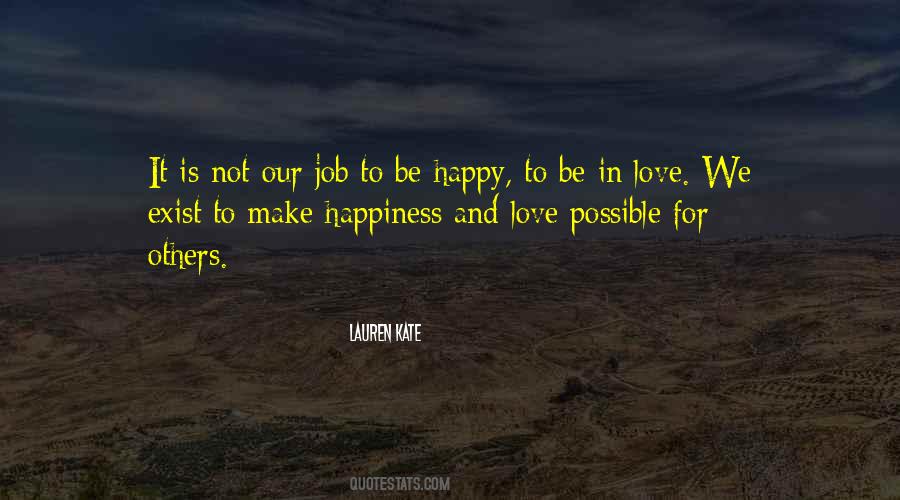 #36. A person who's happy will make others happy; a person who has courage and faith will never die in misery - Author: Anne Frank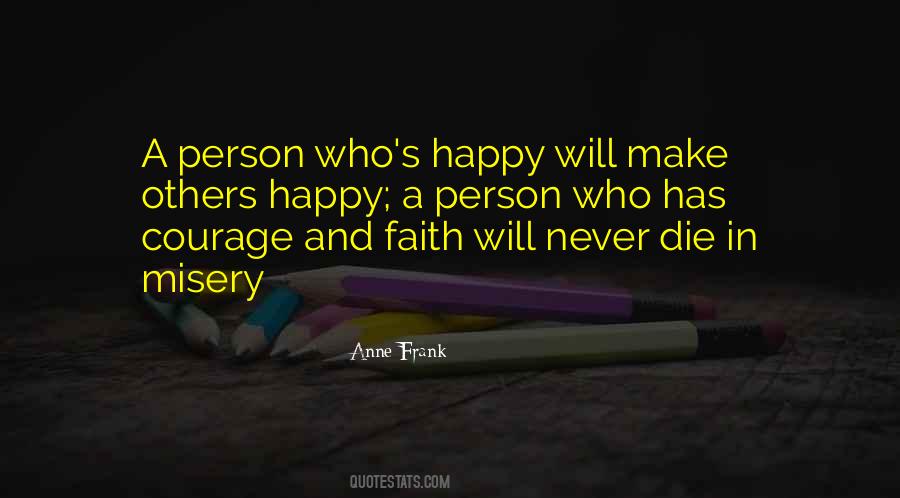 #37. of course play with others life if you are good player
But once you have to think How your reaction if your children meet with same player like you ?
is it make you happy ? then continue - Author: Mohammed Zaki Ansari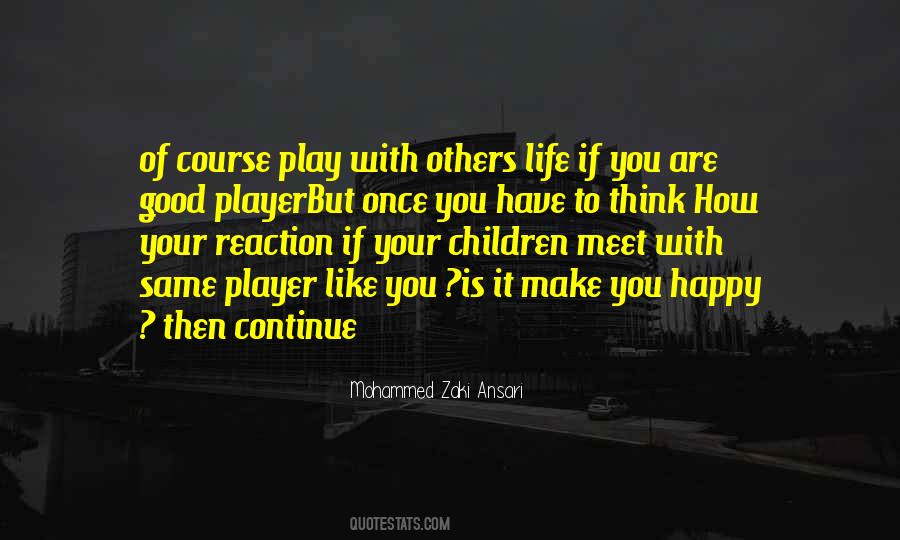 #38. I say that man is entitled to his own happiness and that he must achieve it himself. But that he cannot demand that others give up their lives to make him happy. - Author: Ayn Rand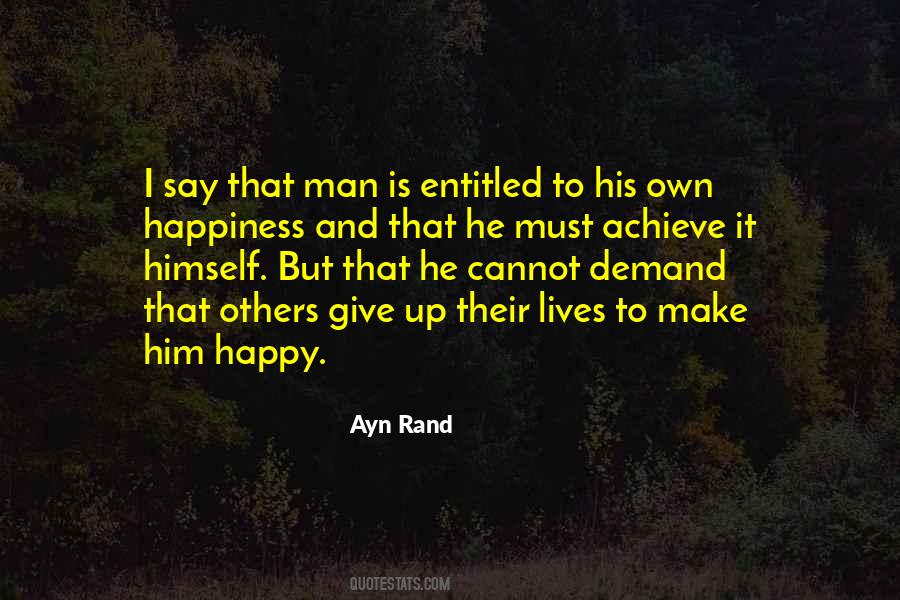 #39. People love others not for who they are but for how they make them feel. - Author: Irwin Federman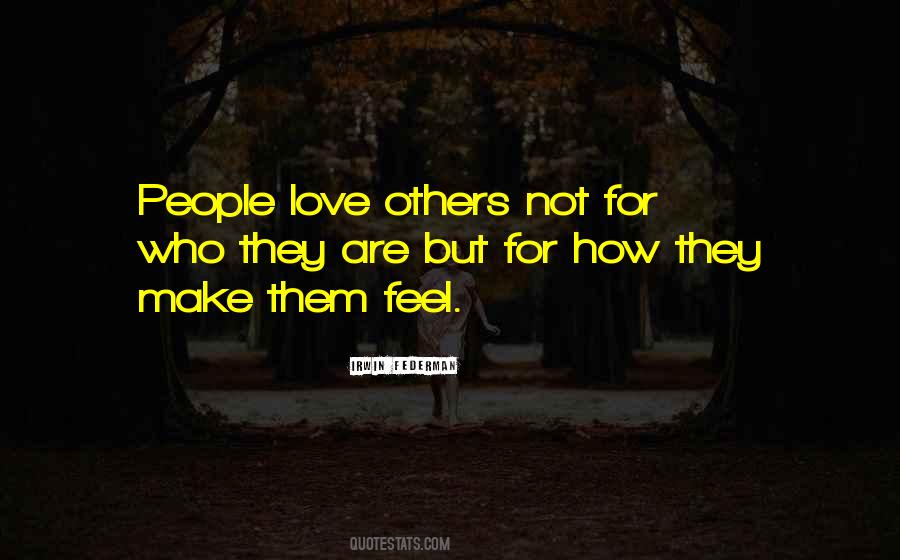 #40. Let him that desires to see others happy, make haste to give while his gift can be enjoyed, and remember that every moment of delay takes away something from the value of his benefaction. - Author: Samuel Johnson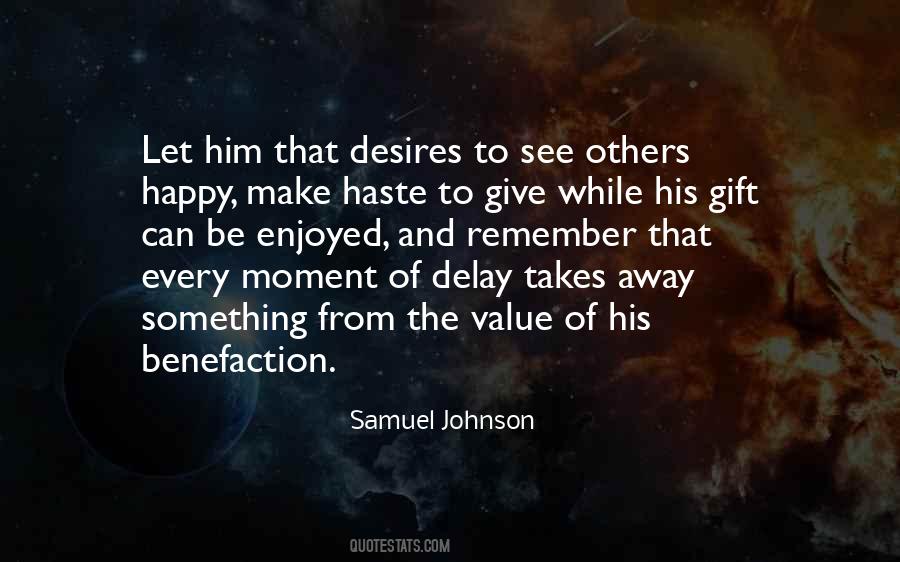 #41. I always put myself second - I like to make others happy. - Author: Zlatan Ibrahimovic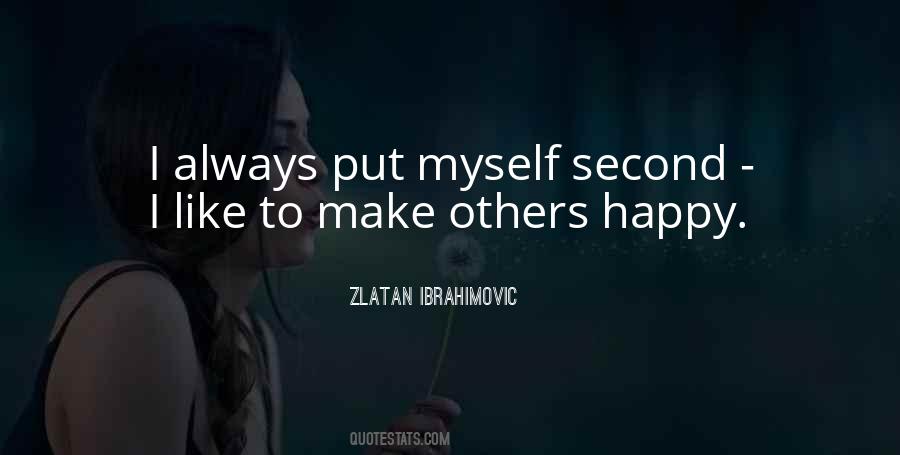 #42. As long as you leave to others the responsibility to make you happy, you are going to always be miserable, because that is actually your job - Author: Linda Alfiori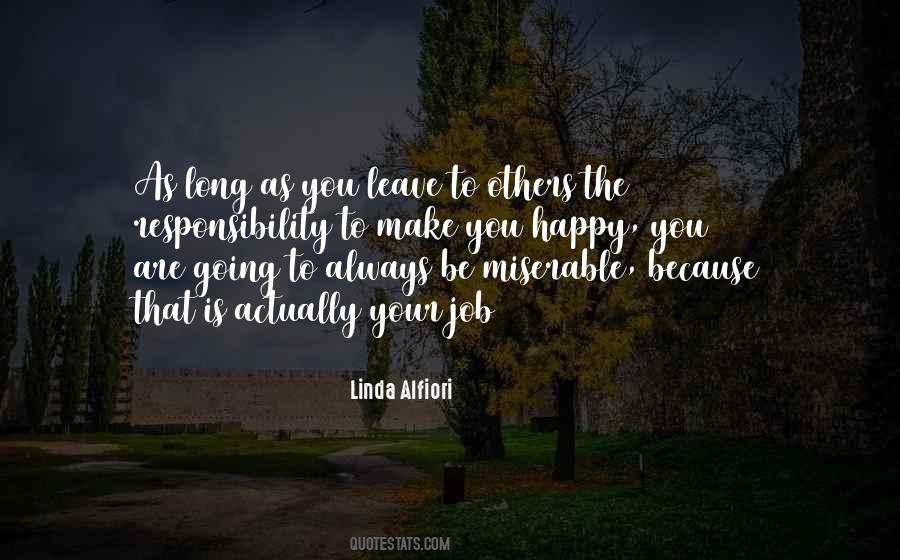 #43. When you try to make others happy, happiness will follow you like your shadow forever. - Author: Debasish Mridha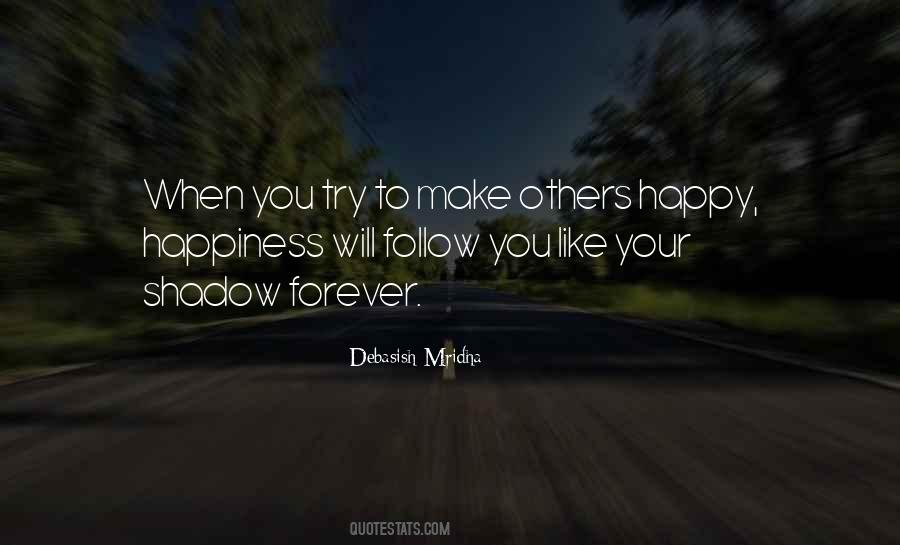 #44. Everyone has their opinion and everyone loves it. Nobody wants to accepts others opinion. So to make them happy be diplomatic and speak unclearly, let them interpret your thoughts by themselves, let them think what they want to think - Author: Jagdish Poudel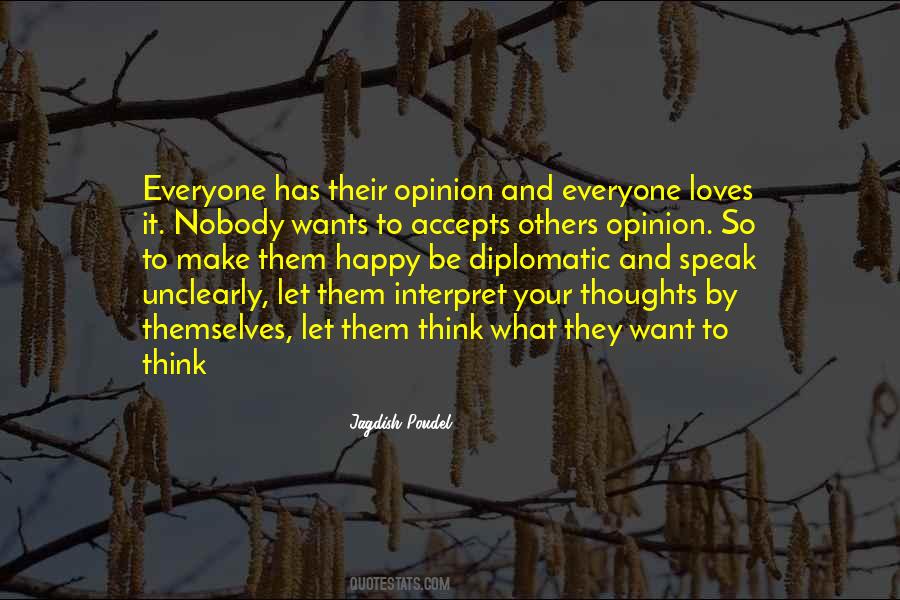 #45. Make yourself useful to others by keeping yourself healthy and happy, and any certificate is no guarantee to that - Author: Hlovate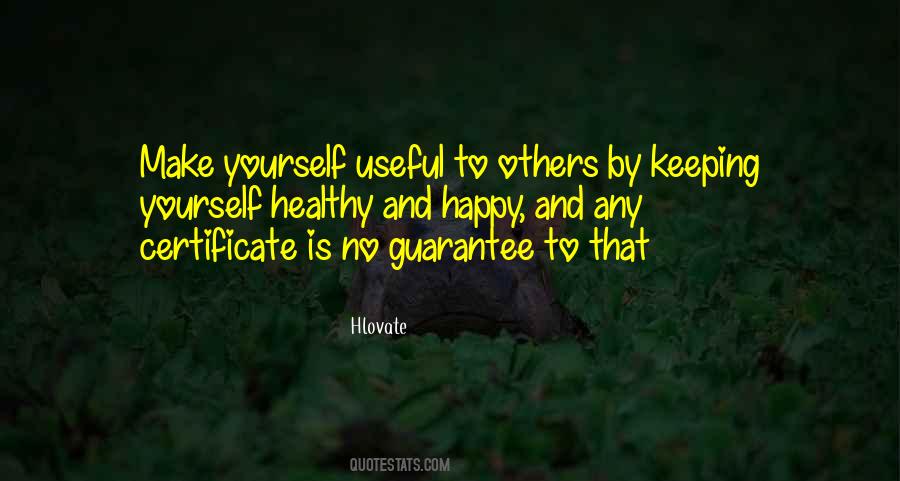 #46. A poet's mission is to make others confound fiction and reality in order to render them, for an hour, mysteriously happy. - Author: Isak Dinesen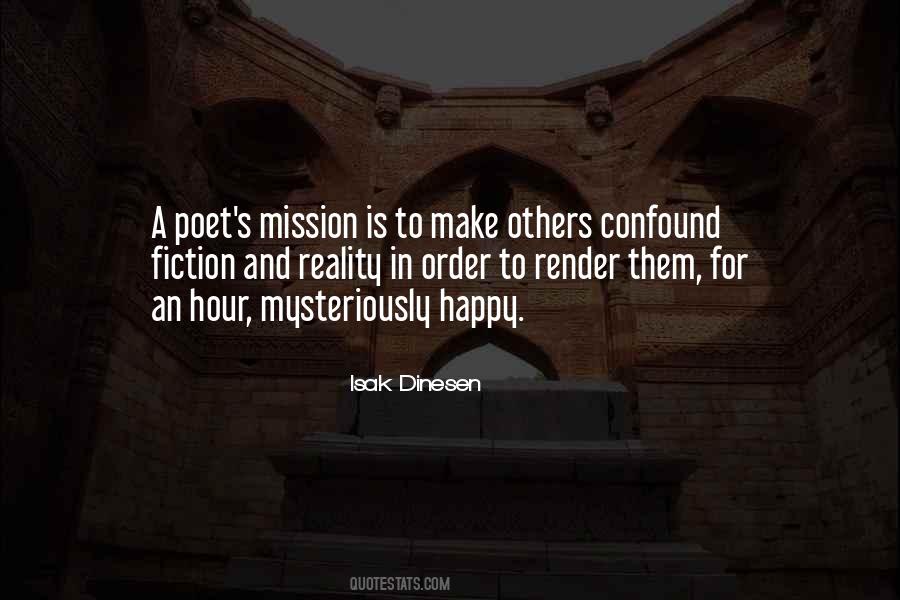 #47. The purpose of money is to trade for things that make you happy. So if you can bypass money and get directly to the happy, you've saved a lot of trouble. And it makes others happier, too, when you organize your business around non-monetary things. - Author: Derek Sivers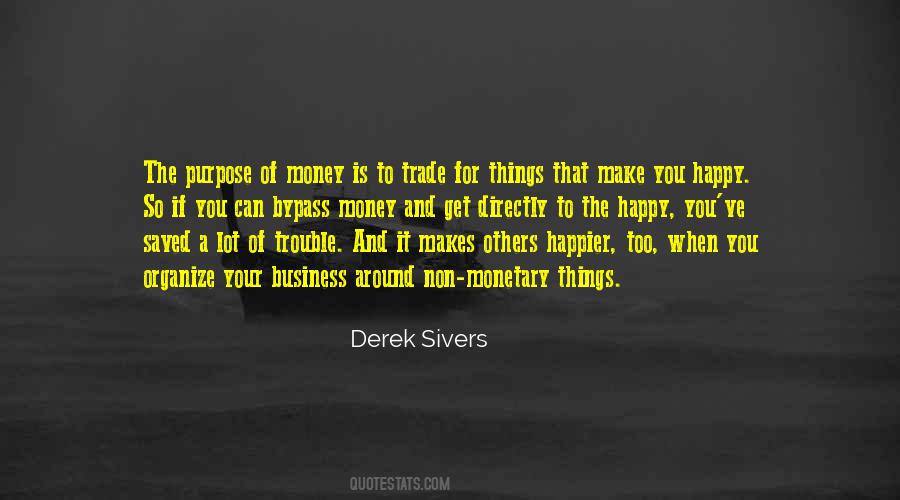 #48. The first obligation of all human beings is to be happy. The second obligation, is to make others happy. - Author: Cantinflas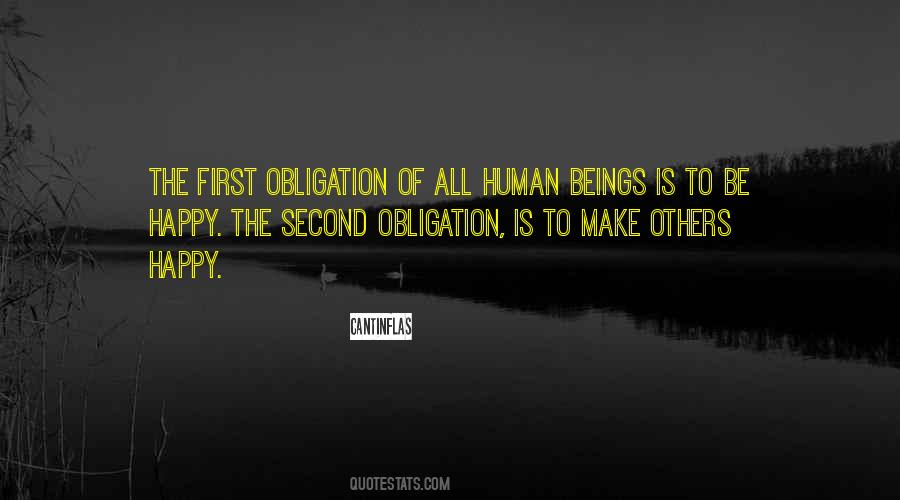 #49. I'm not sure God wants us to be happy. I think he wants us to love, and be loved. But we are like children, thinking our toys will make us happy and the whole world is our nursery. Something must drive us out of that nursery and into the lives of others, and that something is suffering. - Author: C.S. Lewis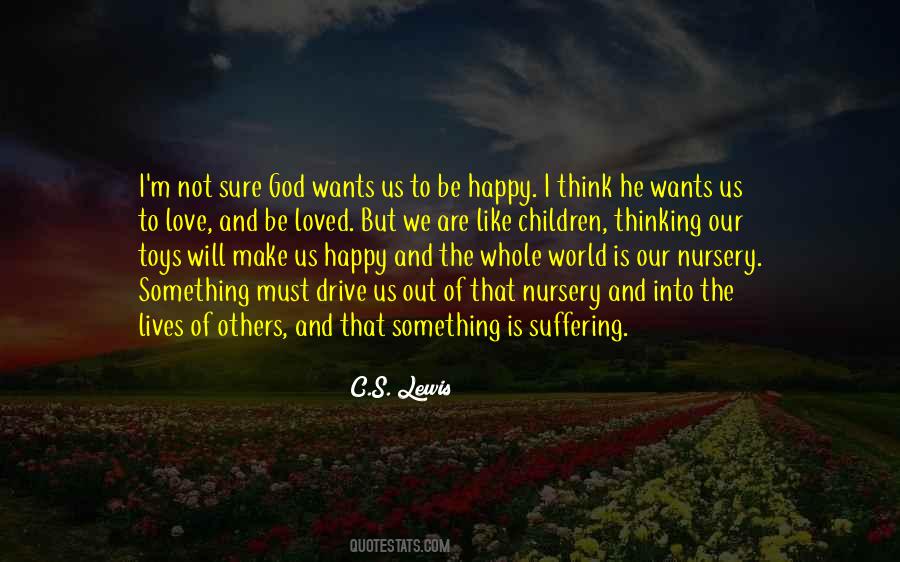 #50. Seems almost as if the very thing we thought would make us happy (stuff) has stolen the thing that among others brings us the most happiness: relationships, real connected time-invested relationships. Relationships - Author: Dave Ramsey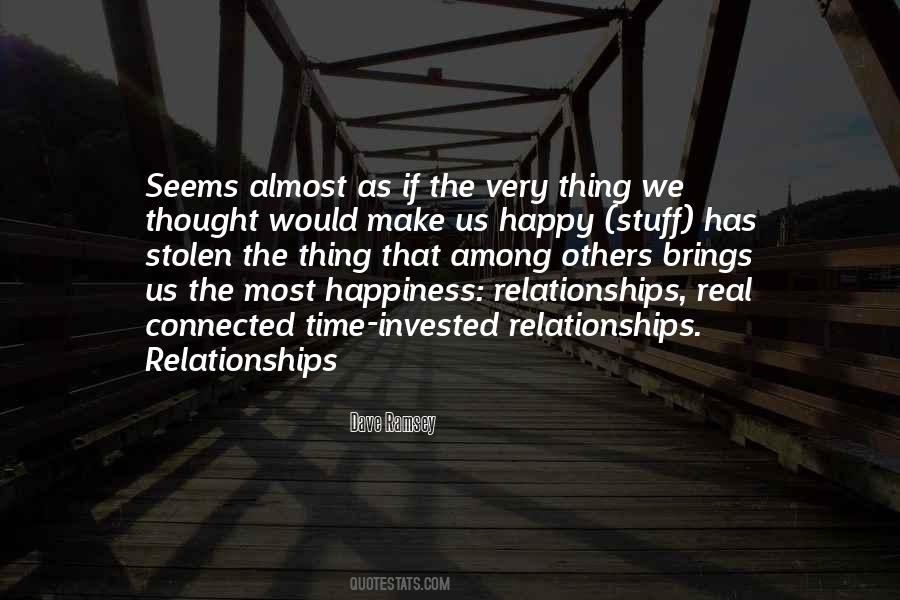 #51. I feel that this is my artistic home, and I'm very happy to be a California artist together with many others who are not from here originally but who decided to make this the center of their activities. There's something about that that I find very inspiring and satisfying. - Author: Esa-Pekka Salonen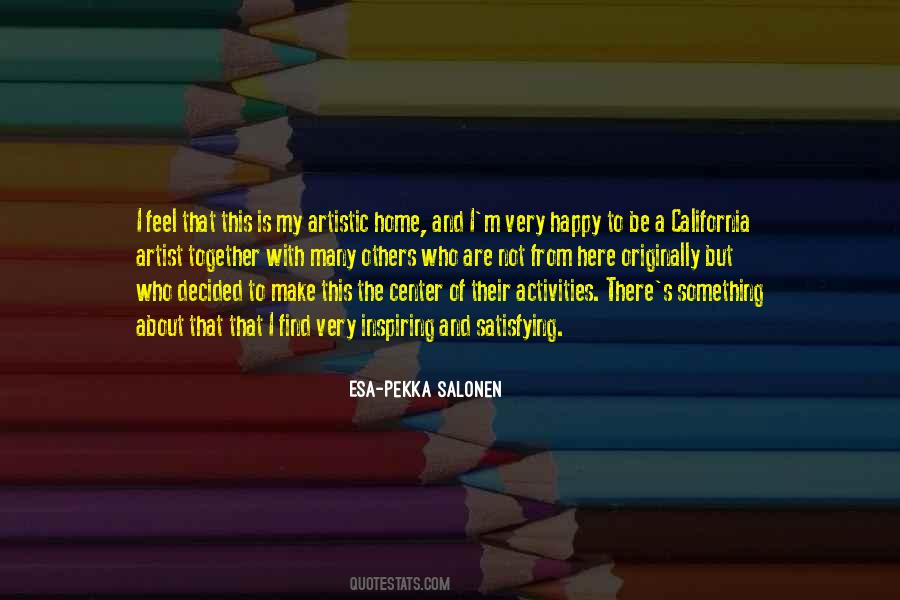 #52. Happiness is not only how to make yourself happy! but it's also how to draw a smile on others face.. - Author: Abdulrahman Danbos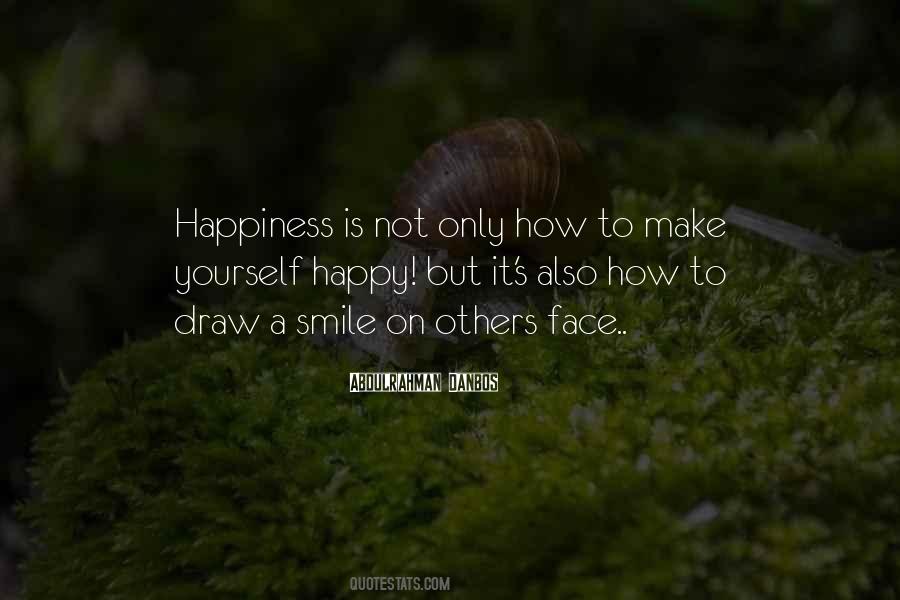 #53. Life salutes u when u make others happy - Author: Charlie Chaplin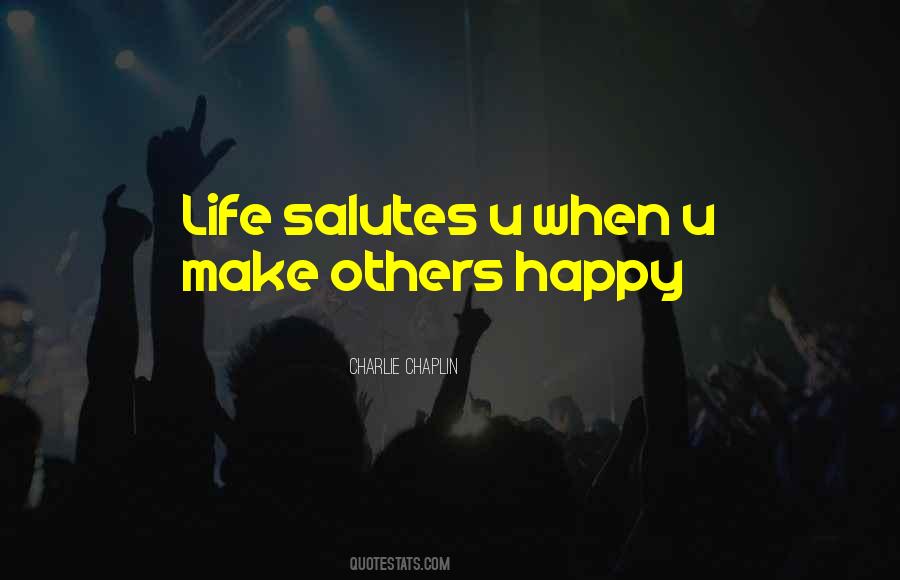 #54. My advice to you, Elsie, is go with your heart, not your head, because your head doesn't know what it wants. It only thinks about the moral high ground. And if your heart isn't happy, when you try to share it, you'll make others unhappy too. - Author: Sarah Alexander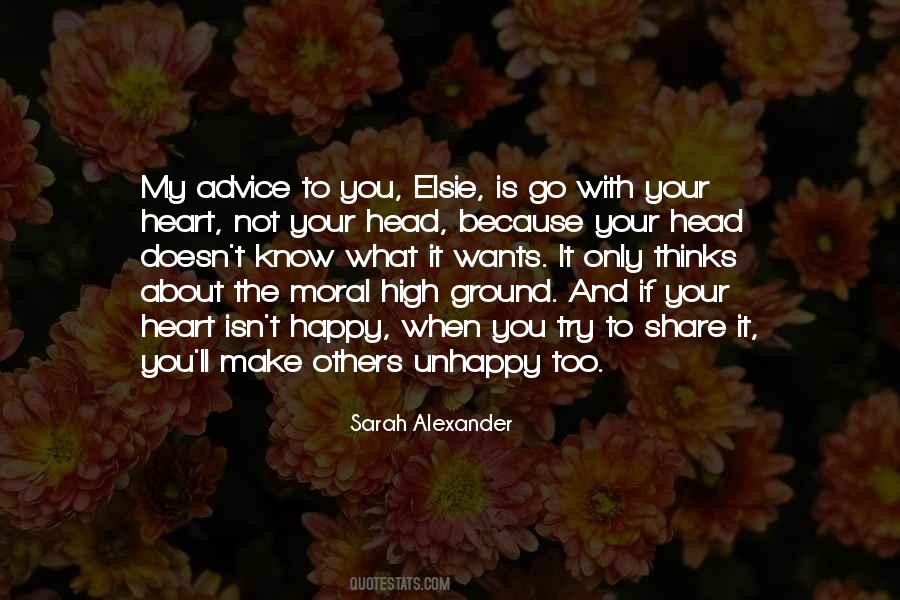 #55. If you are uncertain or in confusion don't take any decisions. If you feel you can do something just feel it and do it.
you cannot justify your actions that you do for others when you are unstable.
People will feel for something all the time and you cannot make them happy anyway... - Author: Giridhar Alwar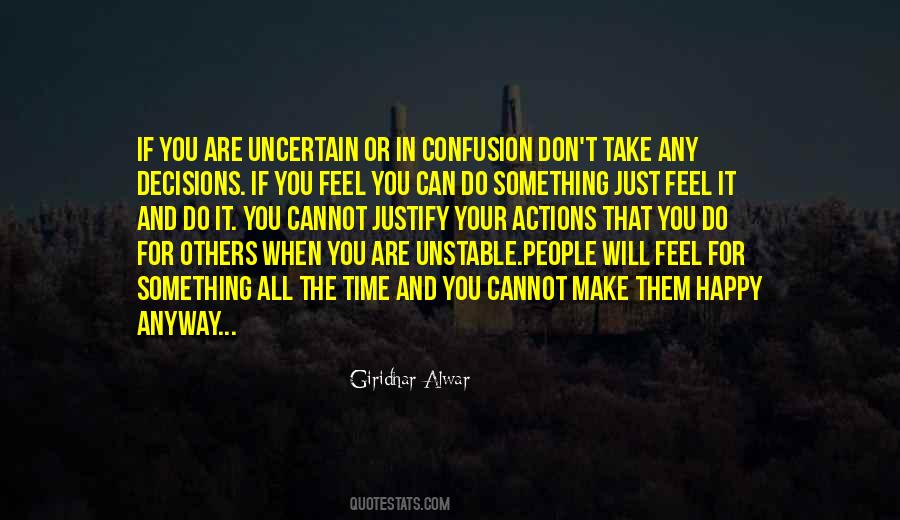 #56. You don't need the White House to please people. You can be 24, earning $22,000 a year, and have people over to your tiny apartment. It's all about sharing and thinking about what will make others happy. - Author: Letitia Baldrige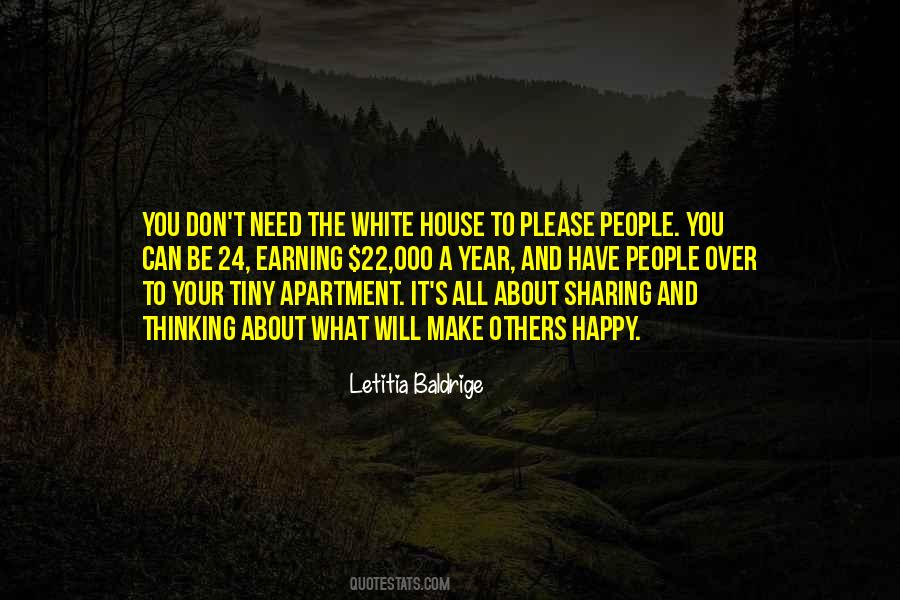 #57. When you feel bad on the inside, you wind up wanting to do things to make others feel bad. In contrast, when you feel happy on the inside, you want to do things to make others feel happy. - Author: Karen Salmansohn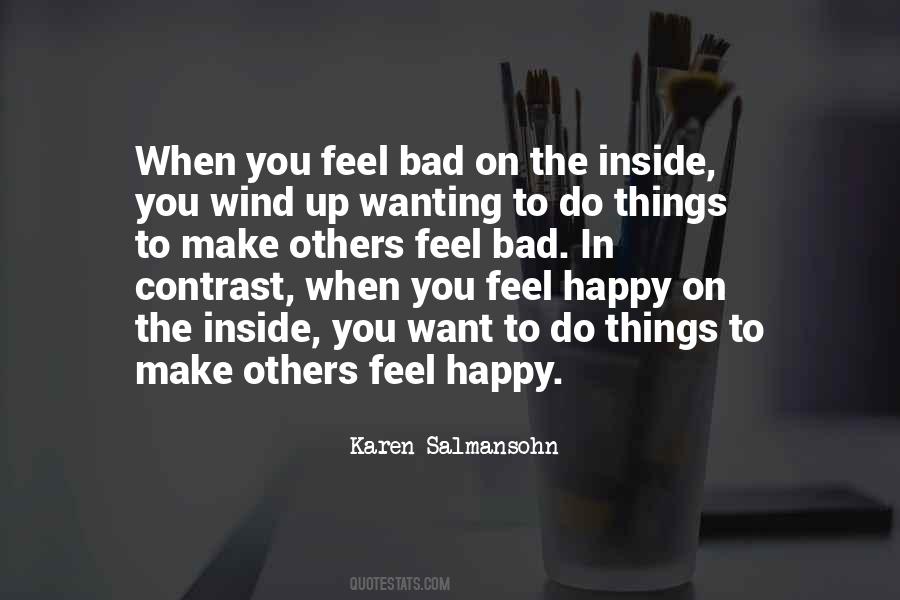 #58. When our Journey of life is like a Train with Some Stops but Always can reach to a destination which can make ourselves and others happy, then we are on the good way. - Author: Jan Jansen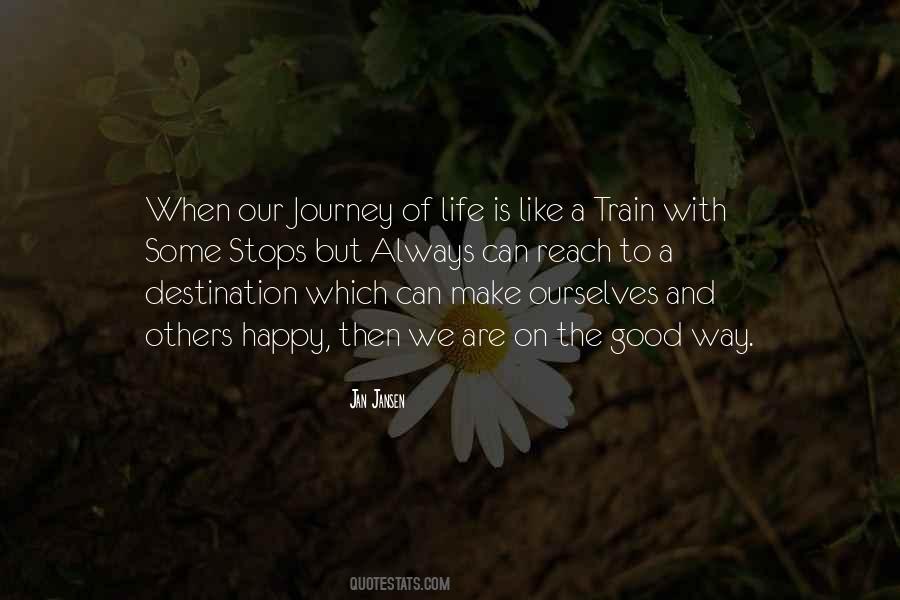 #59. Maybe he'd been mistaken, trying so hard to make his wife and young children happy. Maybe it's always a mistake, trying to assure the happiness of others. - Author: Joyce Carol Oates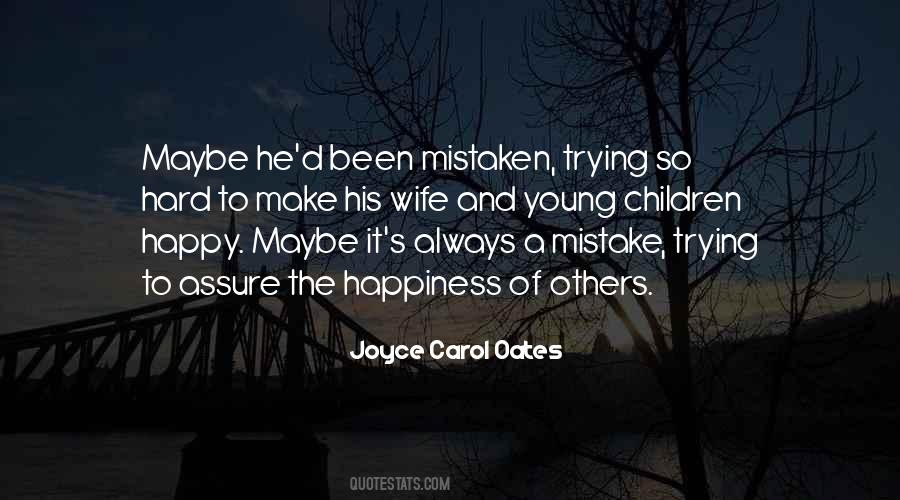 #60. The women I love most are Latina - my sister, mother, and daughter. They're spontaneous but spend a majority of their time trying to make others happy. - Author: William Levy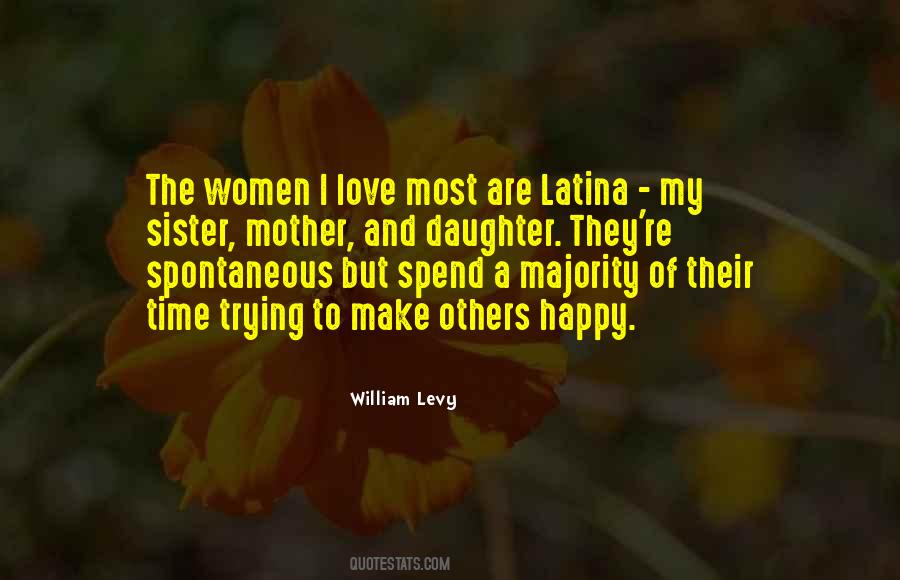 #61. Joy arises only in creating joy for others; there is no other way. The more people you can make happy, the more you will feel happy. This is the real meaning of service. - Author: Rajneesh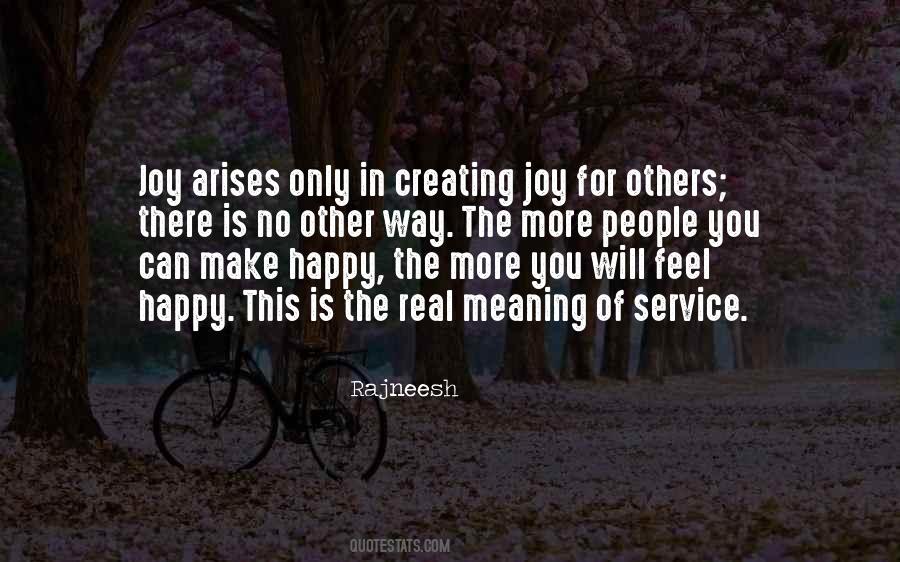 #62. I've been around racing a fairly long time, but when it comes to the important issues, I'm happy to let others make the big decisions. - Author: Mats Sundin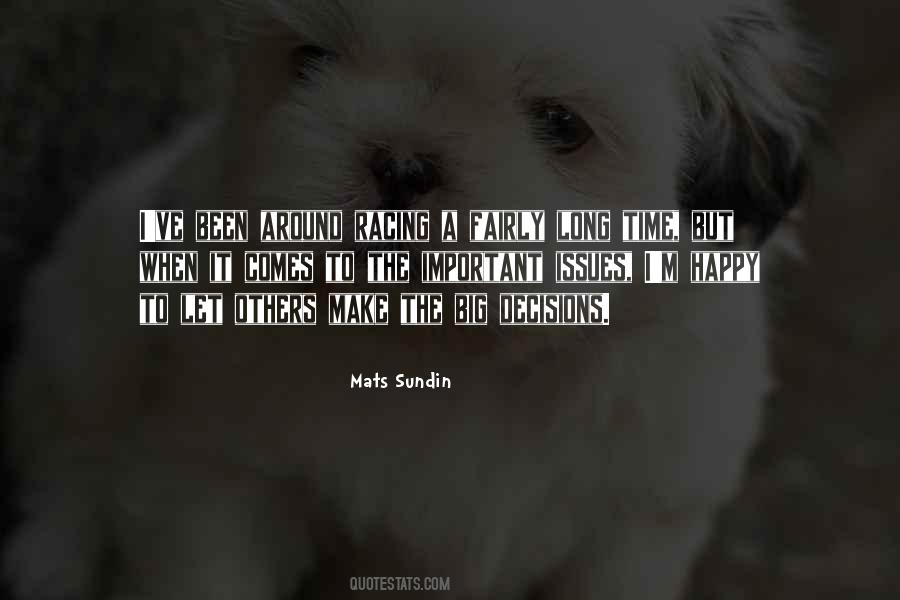 #63. Make others truly happy as you strive to make yourself happy. Speak a helpful word. Give a cheering smile. Do a kind act. Serve a little. Wipe the tears of one who is in distress. Render smooth a rough place in another's path. You will feel great joy. - Author: Sivananda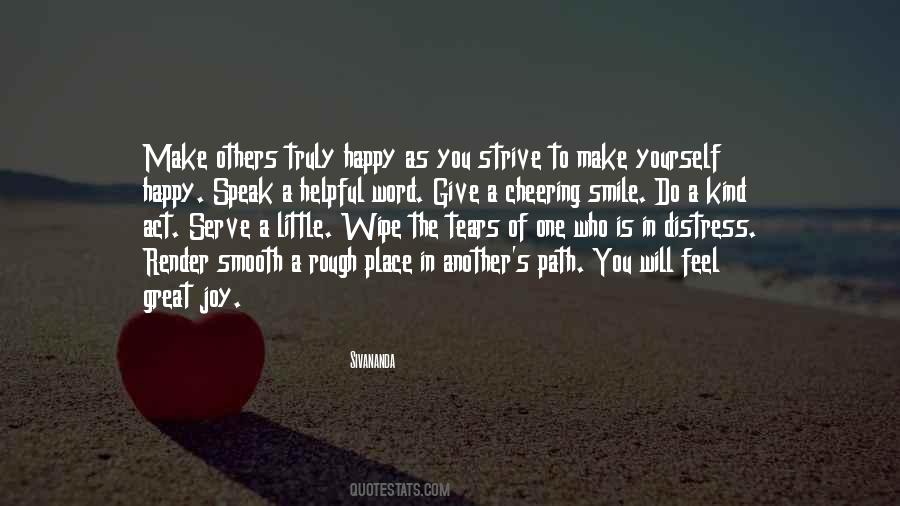 #64. Go out and do something for somebody. Go out and give something to somebody. It will take you away from yourself and make you happy. - Author: Joseph Jefferson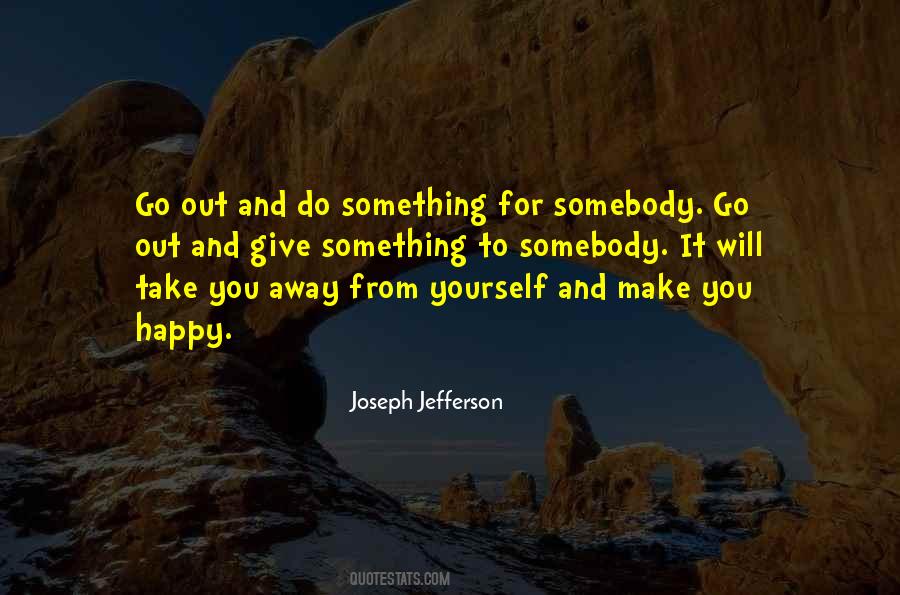 #65. Don't sell out who you really are to make others happy. - Author: Jo Dee Messina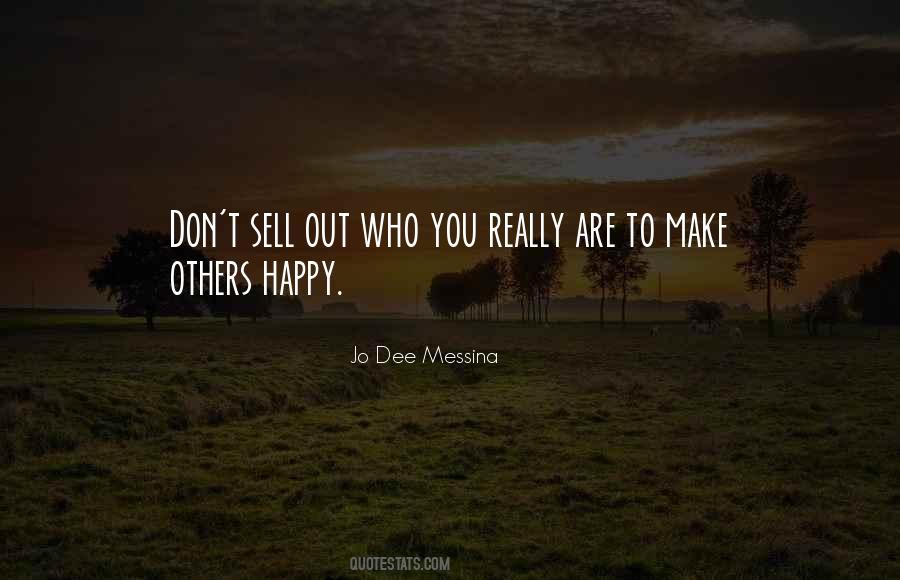 #66. The purpose of life is not to be happy. It is to be useful, to be honorable, to be compassionate, to have it make some difference that you have lived and lived well. - Author: Ralph Waldo Emerson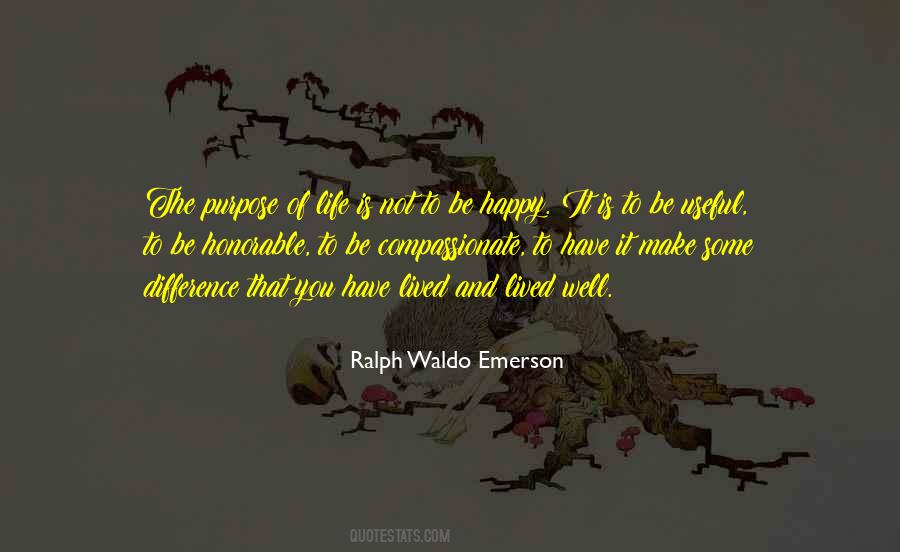 #67. When people see you do alright, then you start winning their hearts. It's not going to come easy, though. It doesn't matter how many people you do right, you're still going to be hated by so many others. You can't live your life trying to make everybody happy. - Author: Cam Newton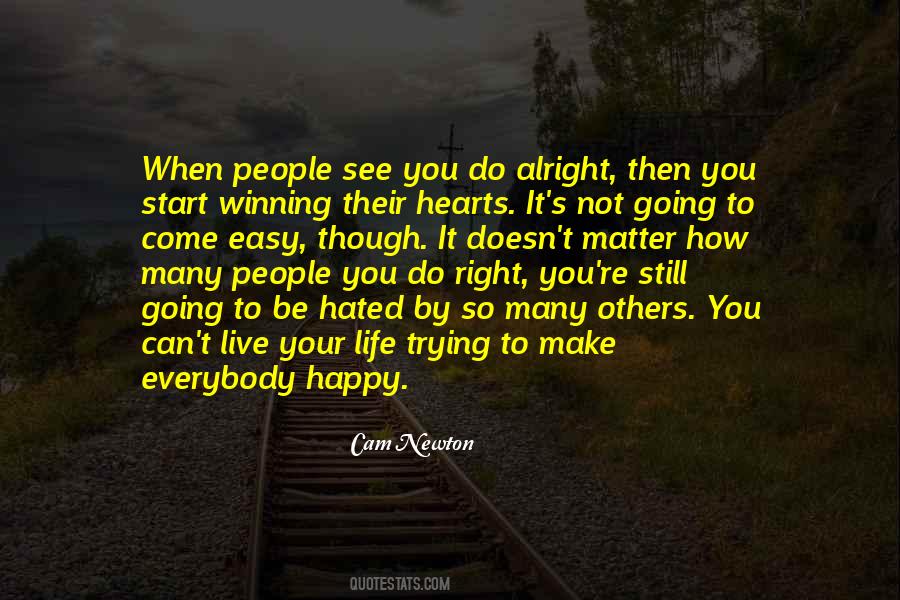 #68. Too often, we decide to follow a path that is not really our own, one that others have set for us. We forget that ... in both cases we will pass through both difficult and happy moments. But when we are living our dream, the difficulties we encounter make sense. - Author: Paulo Coelho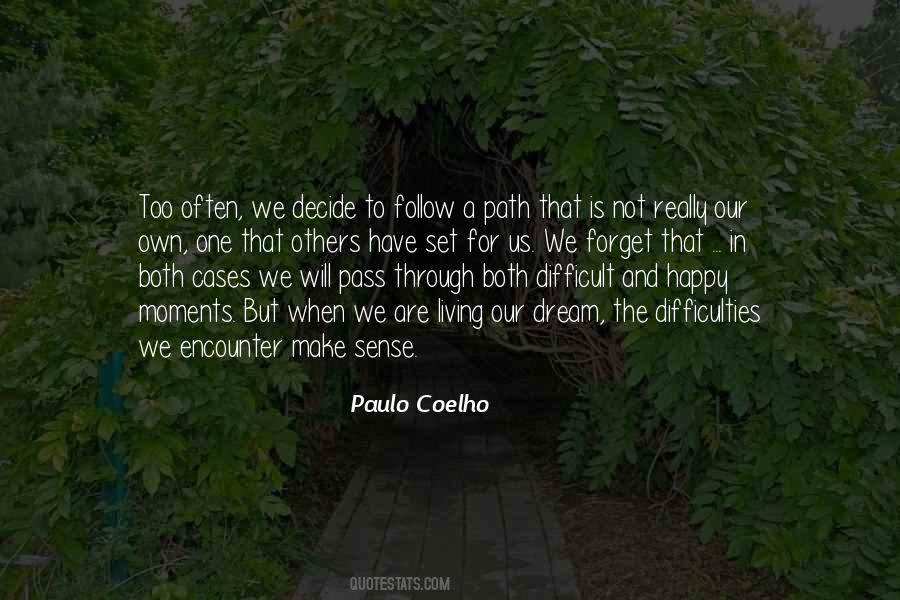 #69. We do things in life to make others happy. We make sacrifices because that feeling - the one I once thought was altruism, but have since learned is just love - it makes us feel good. We give, but it's never selfless. - Author: Ginger Scott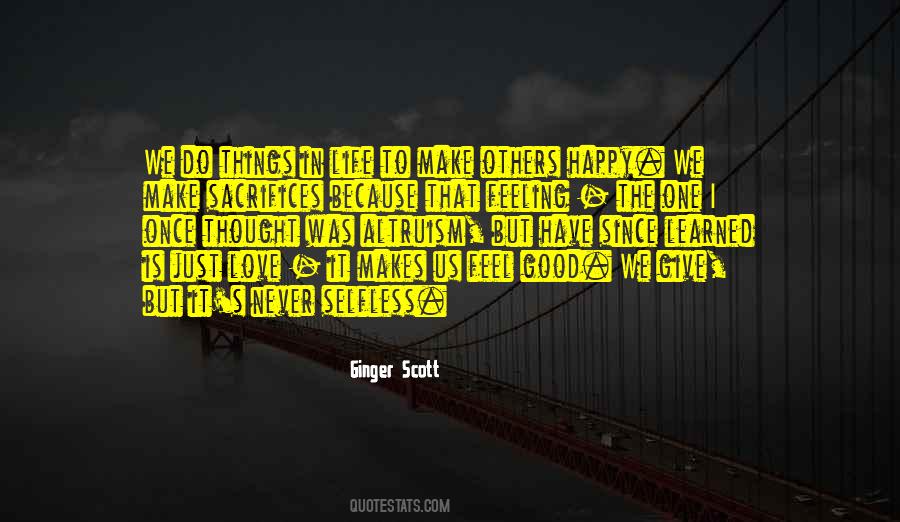 #70. The companies that survive longest are the one's that work out what they uniquely can give to the world not just growth or money but their excellence, their respect for others, or their ability to make people happy. Some call those things a soul. - Author: Charles Handy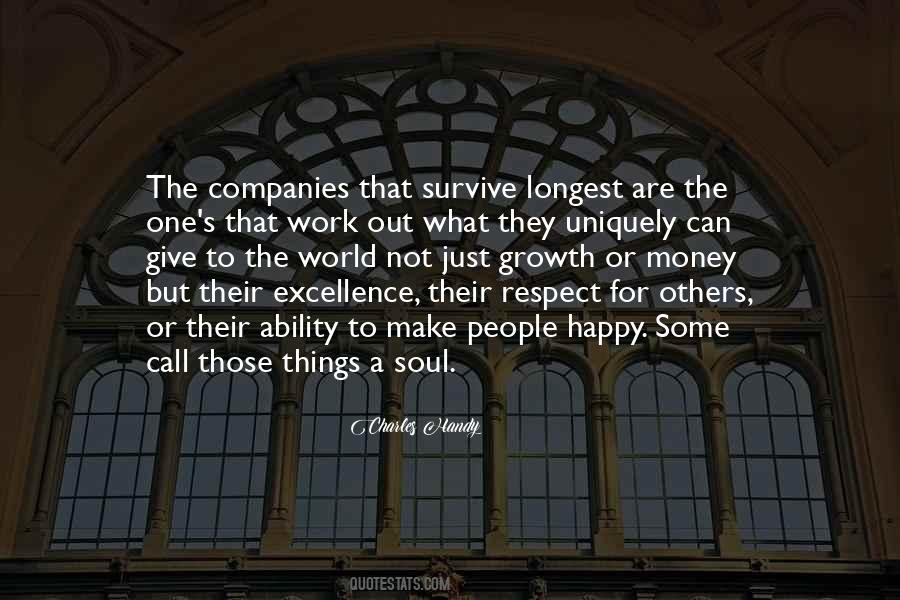 #71. If I can lead a happy life, touch the lives of others in a positive way, win the respect of those that I care about - and make a few million along the way - then I have been successful. - Author: Bill Rancic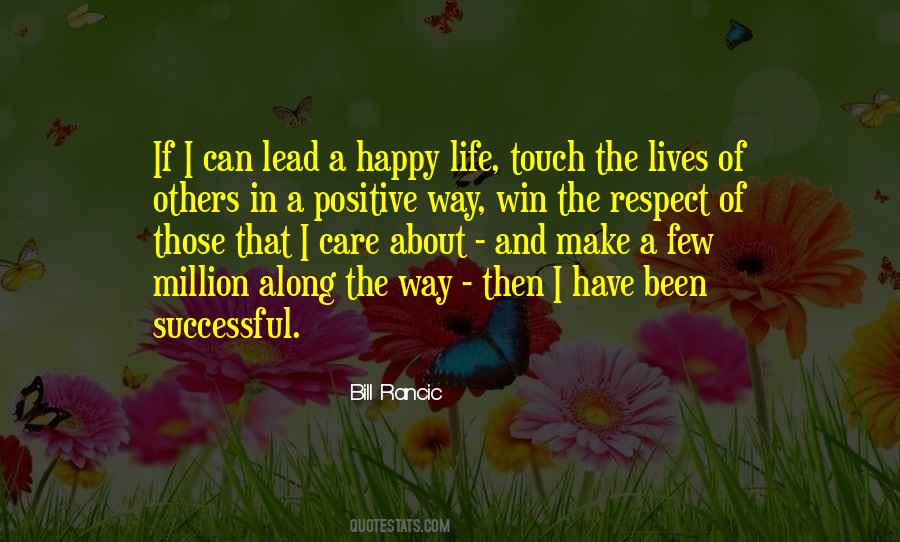 #72. While we are here we should set goals and achieve them, make the best of things, make others feel good about themselves, and be happy with what we are and what we are doing. - Author: Janet Evans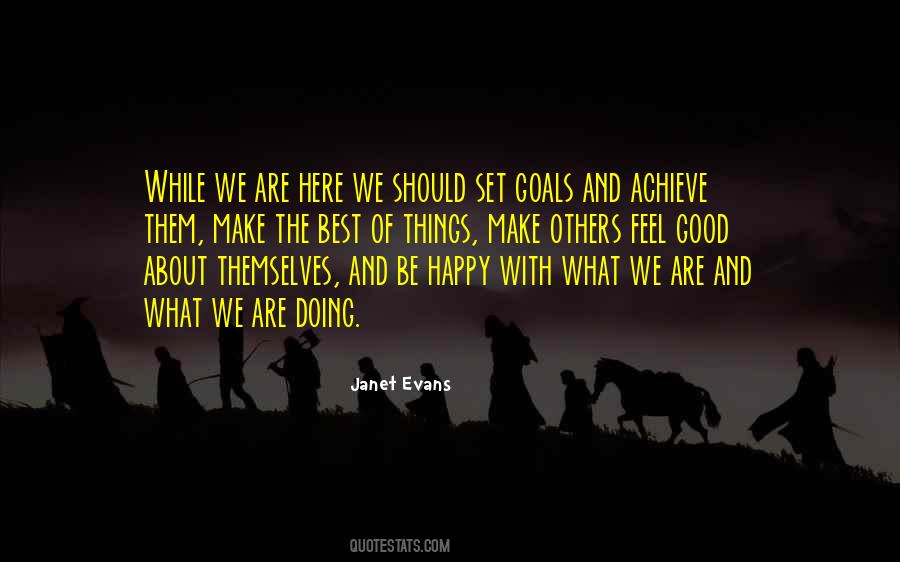 #73. He rolled the other way and watched the digital display of his alarm ticking seconds off he'd never get back. This is the life we're given. One life. One opportunity to be happy, to make others happy, and I'm letting it slip through my fingers because I'm afraid. - Author: Barbara Elsborg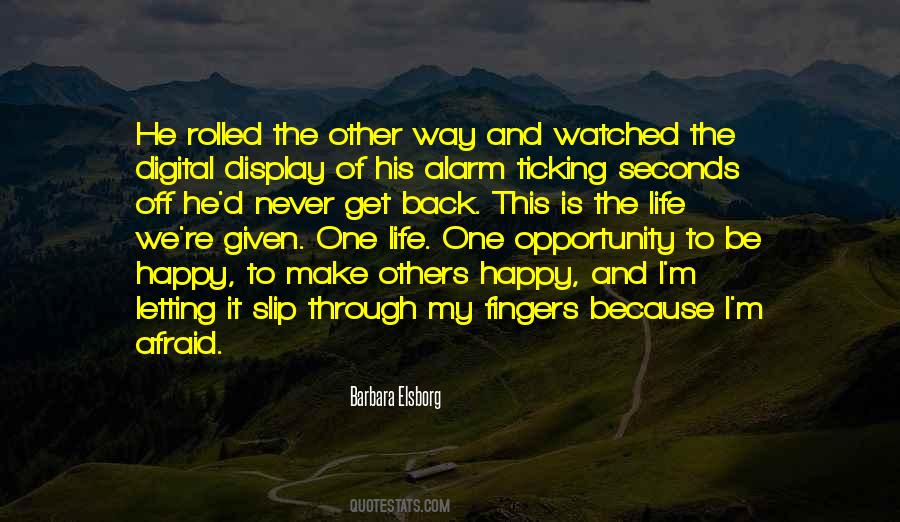 #74. Let others make war, you happy Austria marry, for kingdoms given to others by Mars, Venus will give to you. - Author: Matthias Corvinus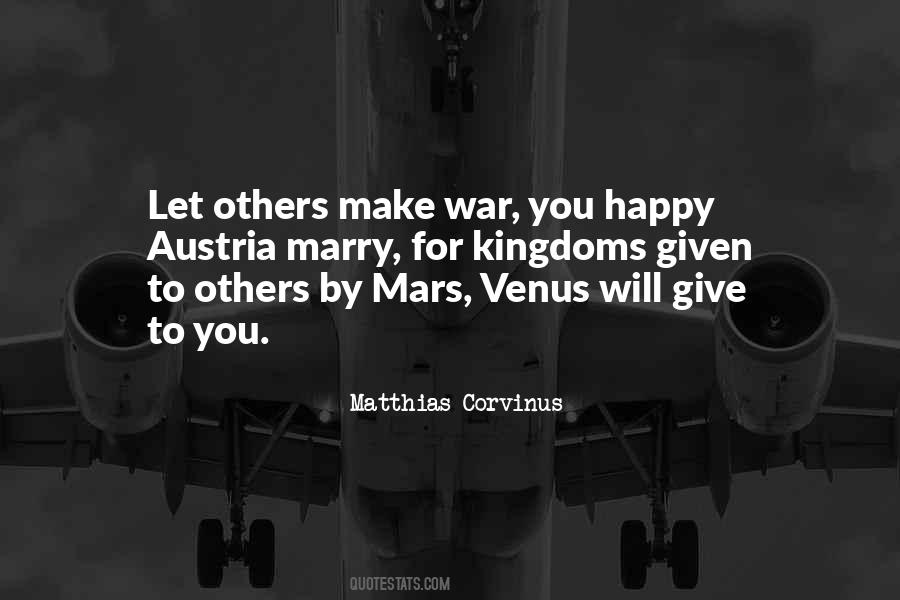 #75. Seek to share joy with others, or to make somebody else happy, and you will find your own soul radiant with the joy you wished for another. - Author: David O. McKay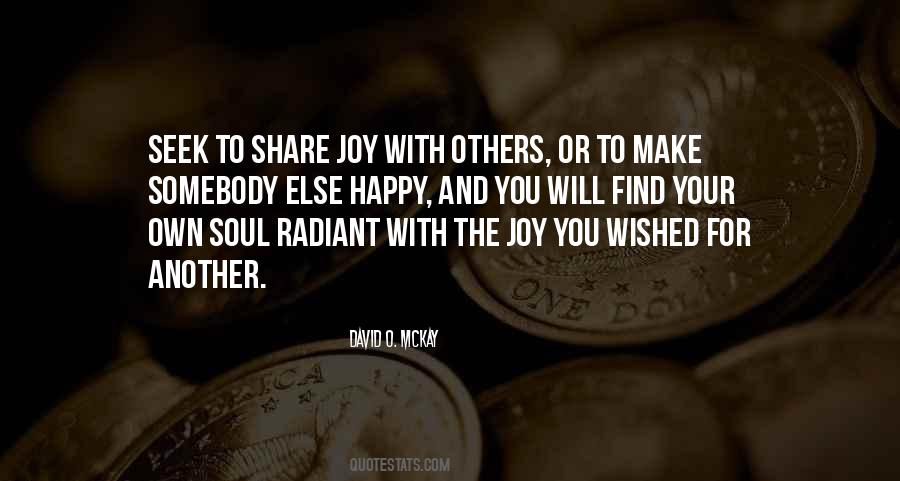 #76. To make others less happy is a crime. To make ourselves unhappy is where all crime starts. We must try to contribute joy to the world. That is true no matter what our problems, our health, our circumstances. We must try. I didn't always know this, and am happy I lived long enough to find it out. - Author: Roger Ebert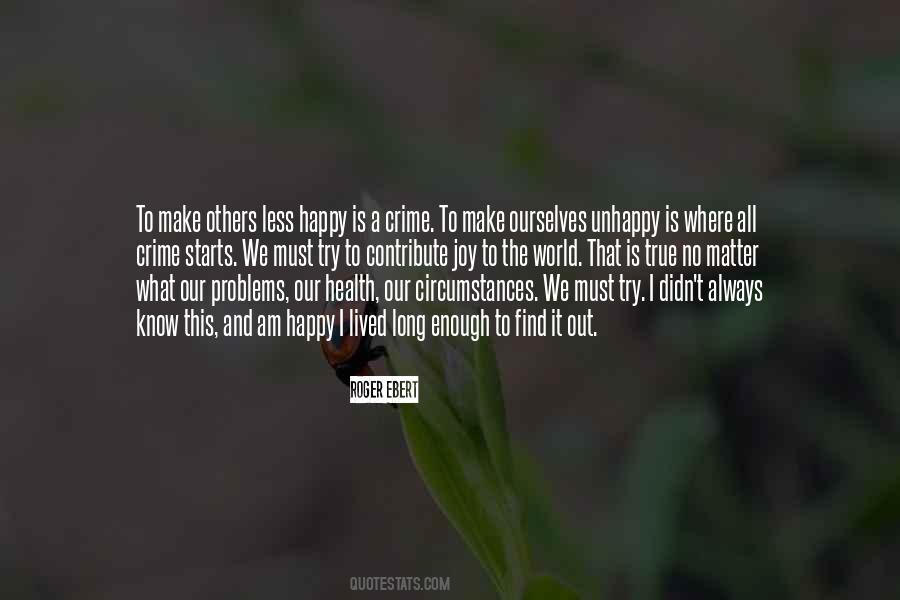 #77. But I like who I became just fine. That's the way life is. We all try to make something out of our lives, and some of us are just luckier than others. - Author: Jimmy Buffett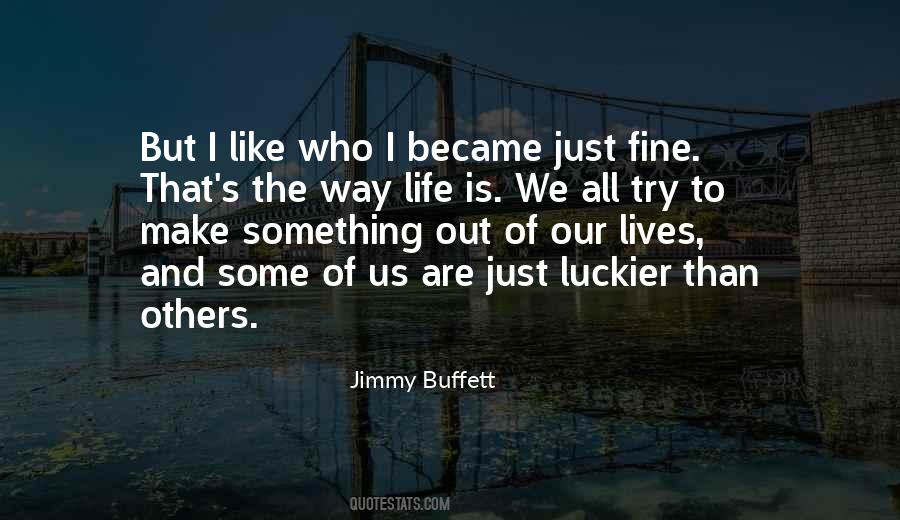 #78. Don't live to be unhappy, live to be happy. If you live to be happy you'll find the things that make you happy. And as you do that you find that sharing with others makes you much happier than taking from them. - Author: Goswami Kriyananda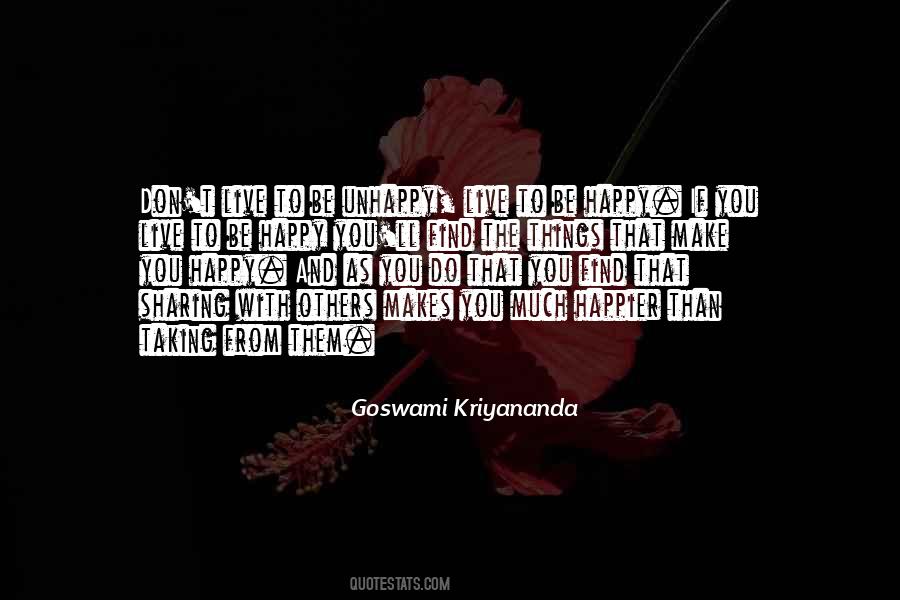 #79. Some birthdays make you happy.
Some birthdays bring you down.
Some birthdays make you jump for joy
While others paint a frown.

Regardless of your feelings
Or if you're far or near,
The earth was blessed this special day
When Heaven placed you here. - Author: Richelle E. Goodrich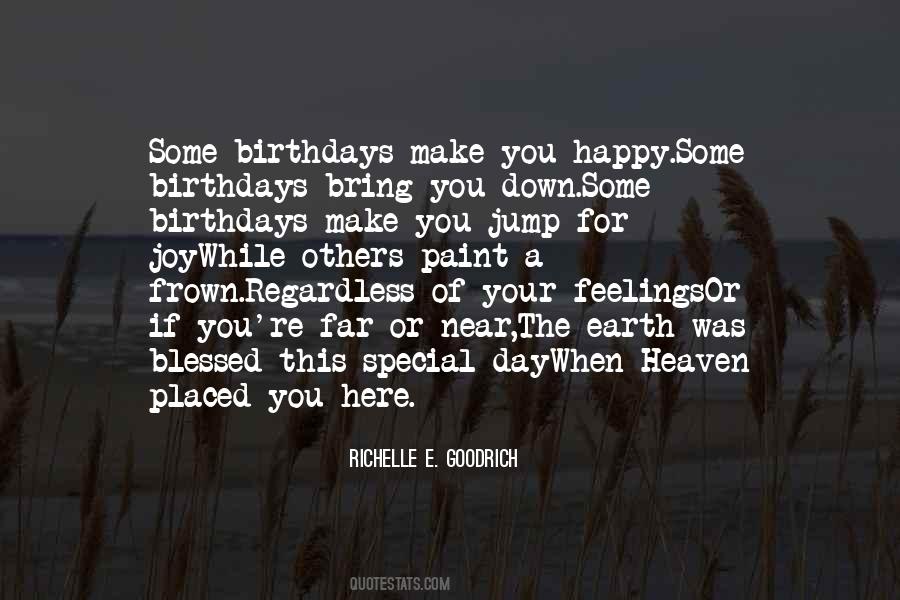 #80. As a comedian you are making yourself vulnerable in order to make others happy. - Author: Margaret Cho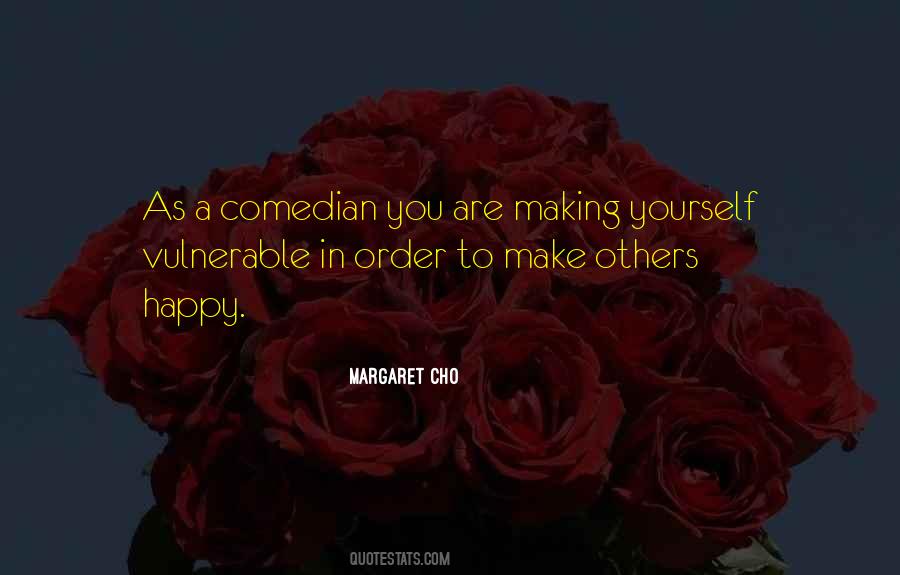 #81. I have a different GOD. I see it in the smile of others. My worship to make people happy. Love is my Religion. - Author: Vikrmn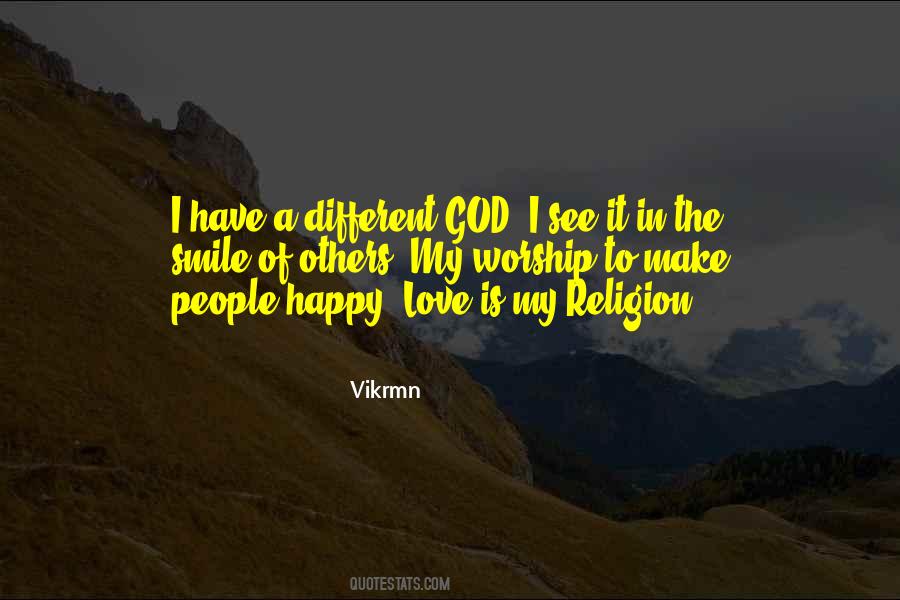 #82. The greatest happiness in the world is to make others happy. - Author: Luther Burbank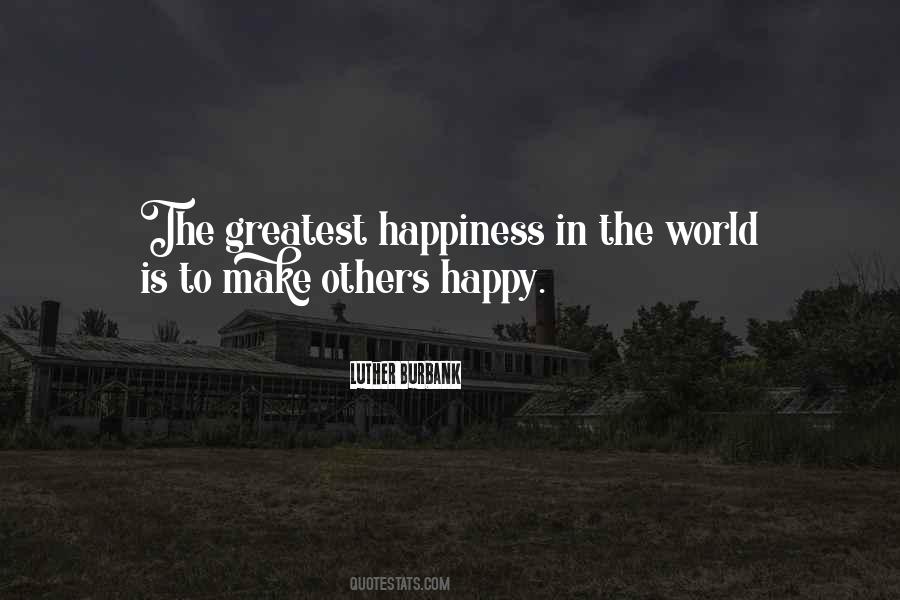 #83. If you want to be happy, make others happy! - Author: Dada Vaswani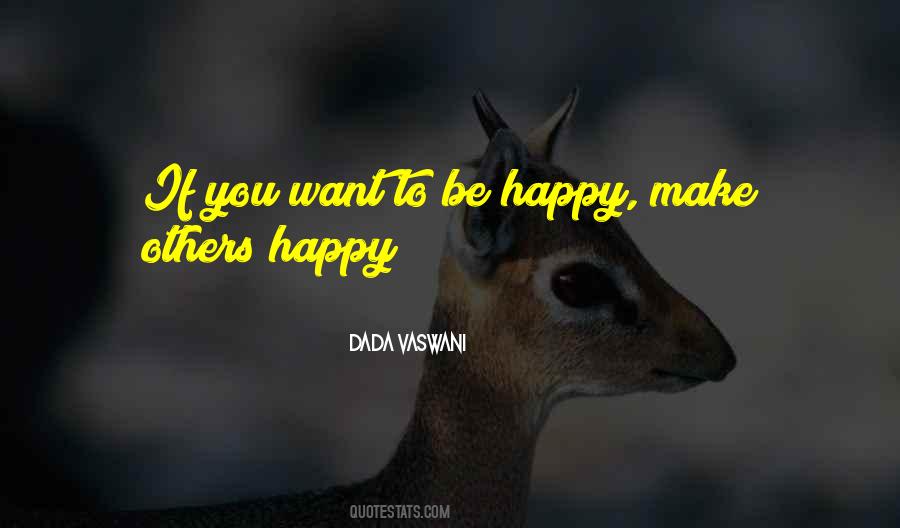 #84. One of the sweet things about pain and sorrow is that they show us how well we are loved, how much kindness there is in the world, and how easily we can make others happy in the same way when they need help and sympathy. - Author: Louisa May Alcott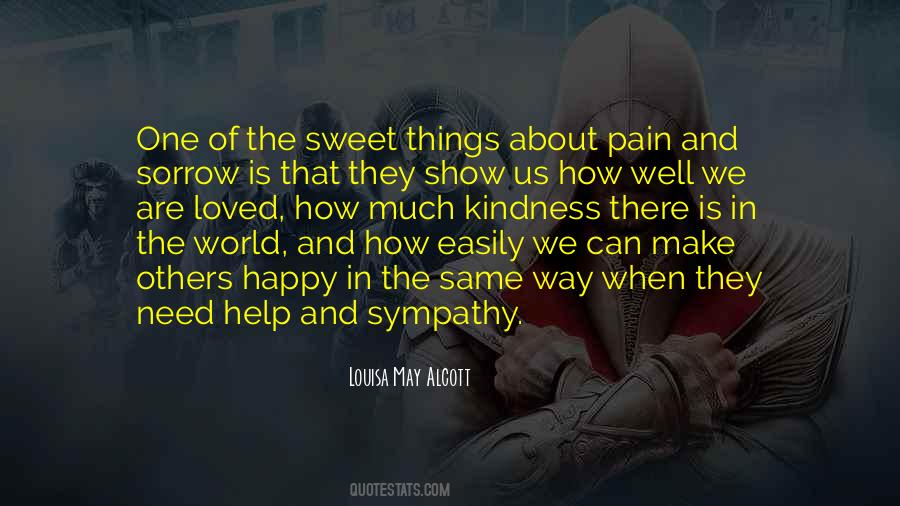 #85. To be happy, make others happy. - Author: Stephen Richards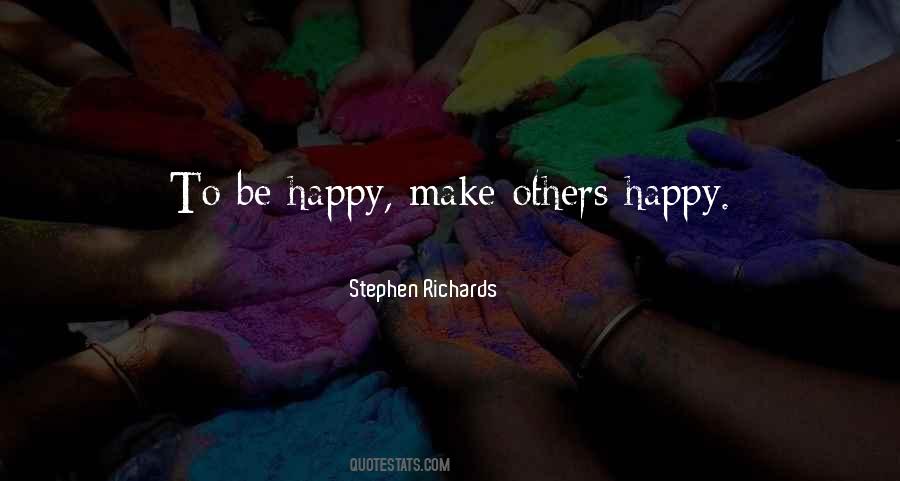 #86. We have two choices in life: One is to fulfill ourselves. The other is to take the time and energy that we would utilize in fulfilling ourselves and use it to make others happy. - Author: Frederick Lenz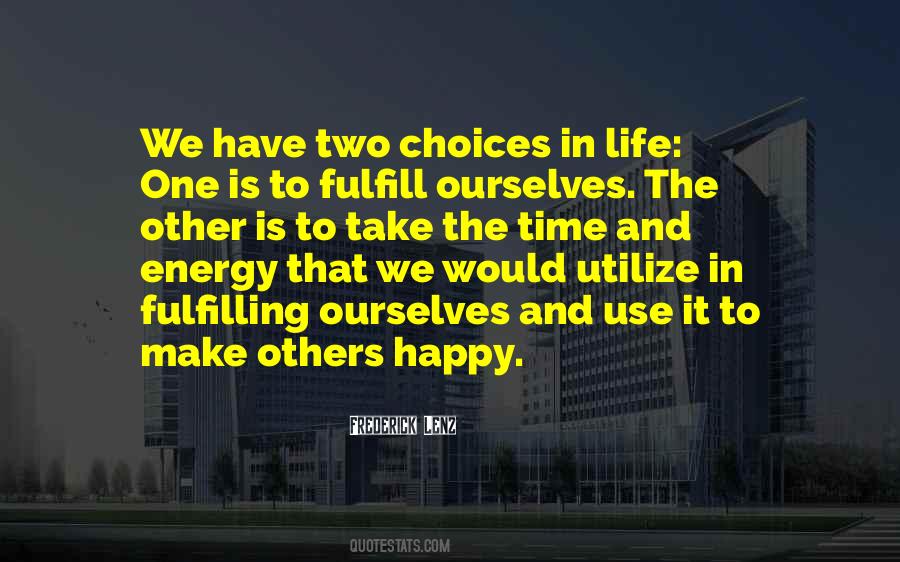 #87. Make yourself so happy so that when others look at you they become happy too - Author: Yogi Bhajan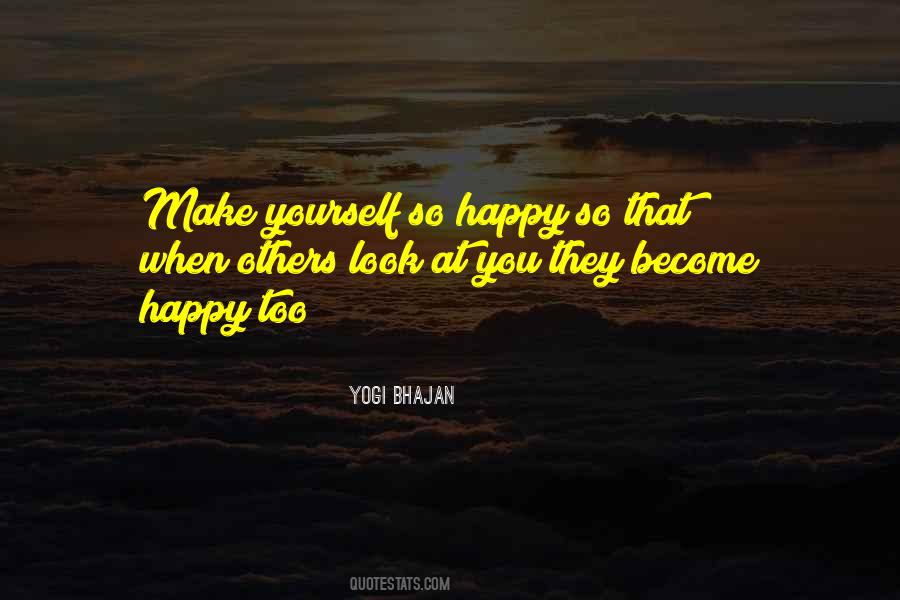 #88. Best advice that I ever got is to do whatever it takes to make myself happy, so that I'll be able to make others happy. If I'm not happy, I can't make other people happy. - Author: Flavor Flav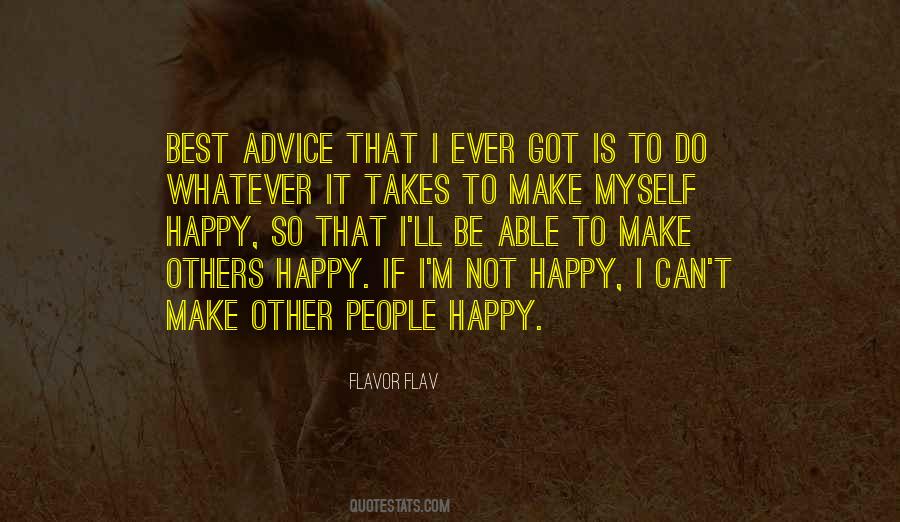 #89. To be happy with myself and always make others happy. To be confident and give others confidence in themselves. To smile, to surf, to laugh and make others laugh. To read more widely. To try to be more tolerant of my weaknesses and of others, and not to be so hard on myself all the time. - Author: Chrissie Wellington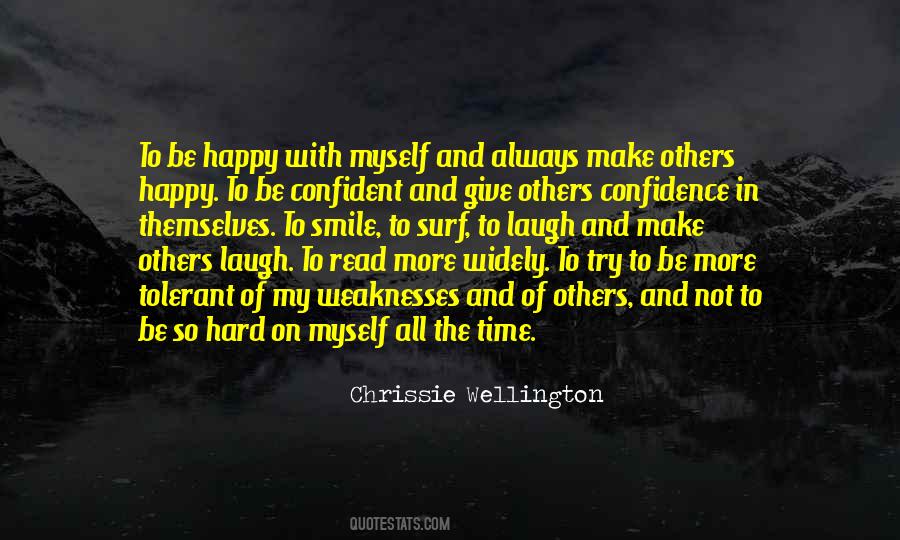 #90. Happiness only comes when you make yourself worthy of happiness by loving others. - Author: Debasish Mridha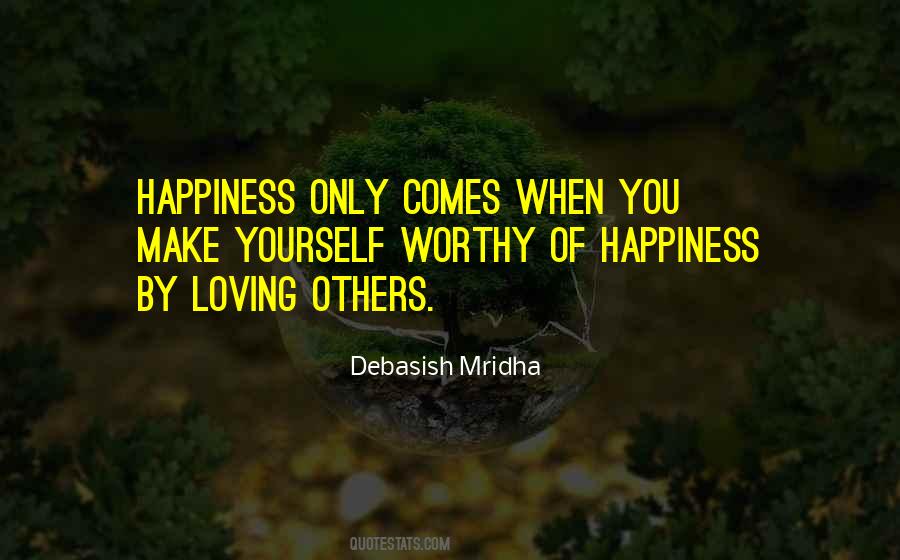 #91. If you want to make others happy, show your gratitude. If you want to be happy, express unconditional love in your attitude. - Author: Debasish Mridha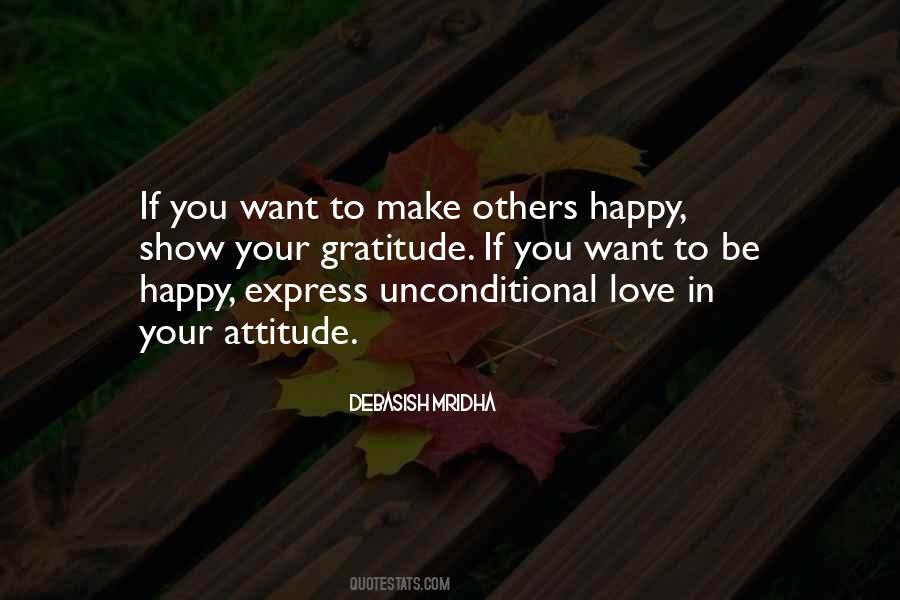 #92. God wants to use you to make other people happy! And the happier you make others, the happier you will be because you reap what you sow. - Author: Joyce Meyer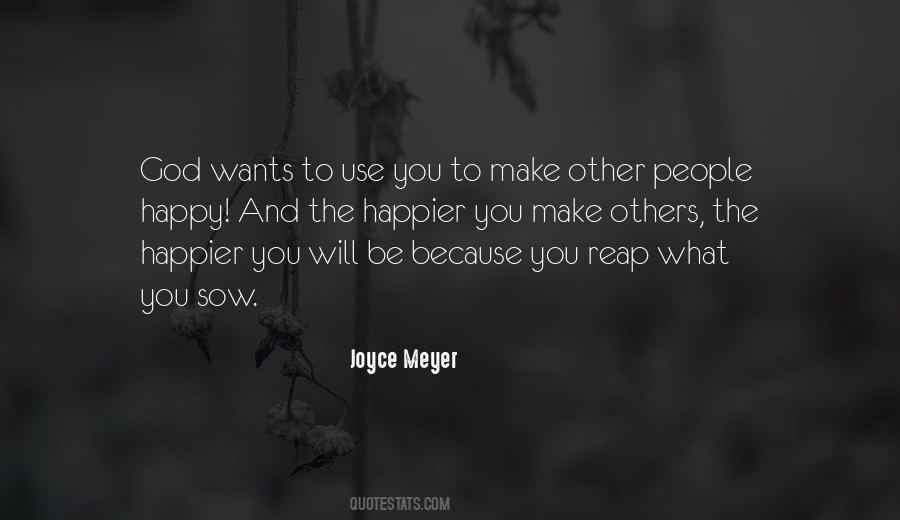 #93. The easiest way to make ourselves happy is to see that others are happy. - Author: Swami Vivekananda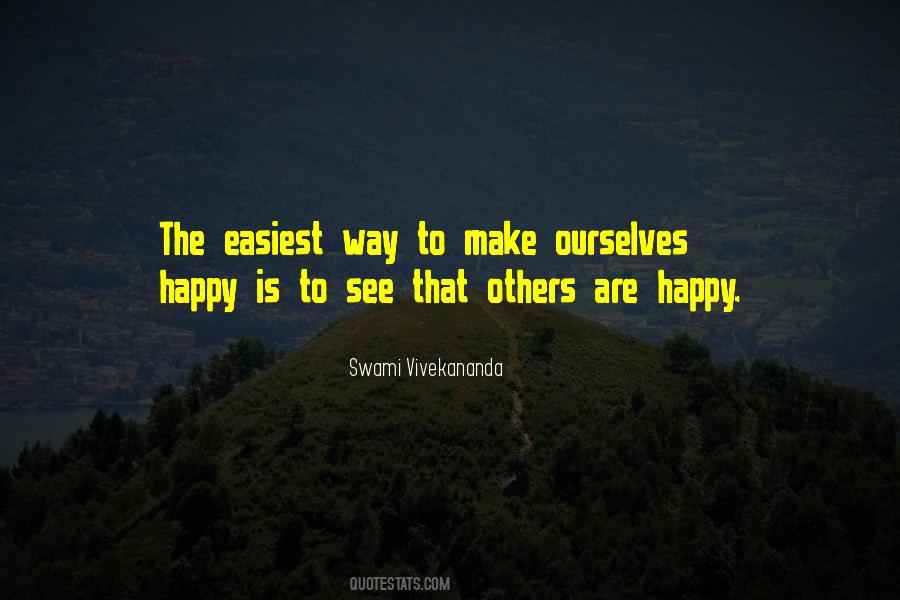 #94. It is said that if our intention is to help others-even if we are unable to follow it through-we will never have any regret. Regret is a result of trying to make "me" happy. - Author: Sakyong Mipham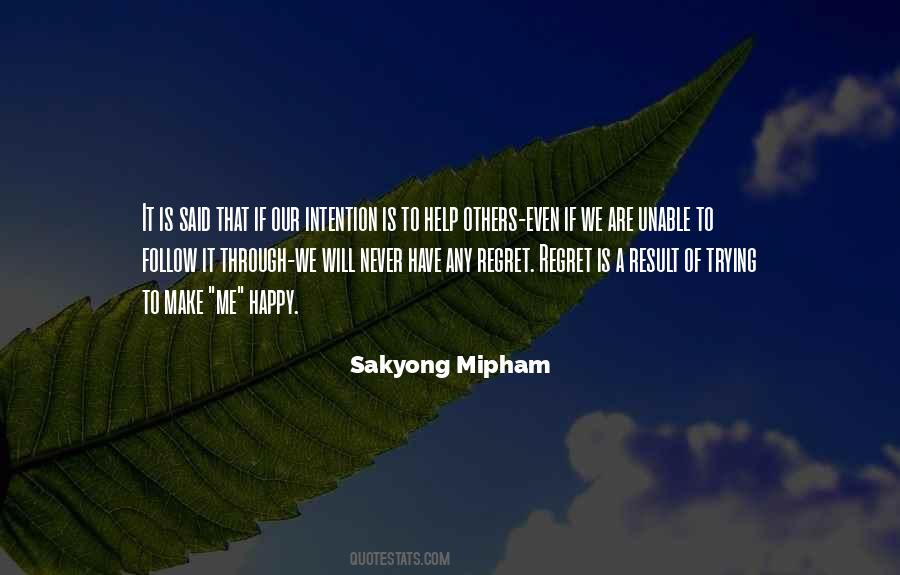 #95. For what pleasure can compare the pleasure of bringing joy and hope to other hearts. The more we make others happy the greater will be our own happiness and the deeper our sense of having served humanity. - Author: Shoghi Effendi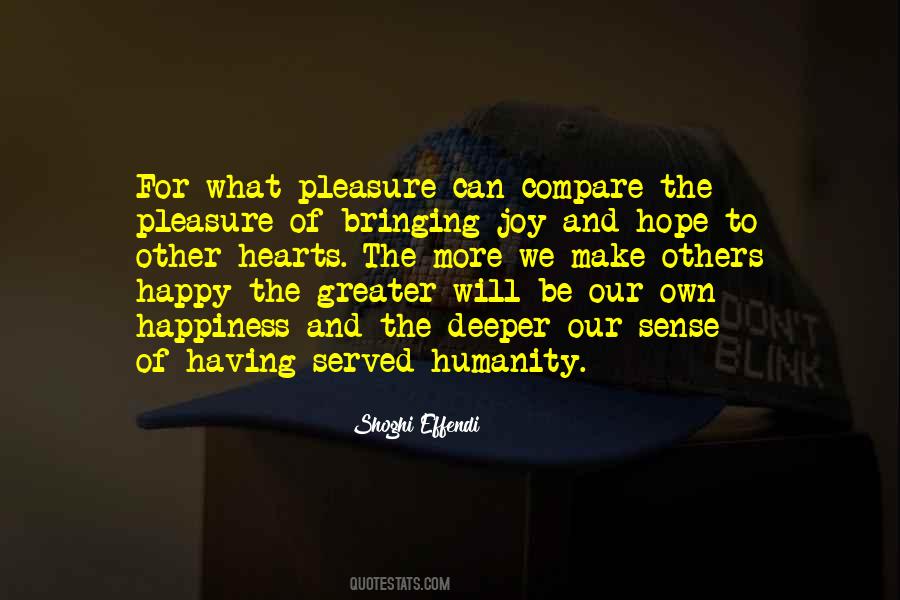 #96. Take sincere joy in the success of others. Being happy for them will make you feel incredible about YOU! - Author: D. Denise Dianaty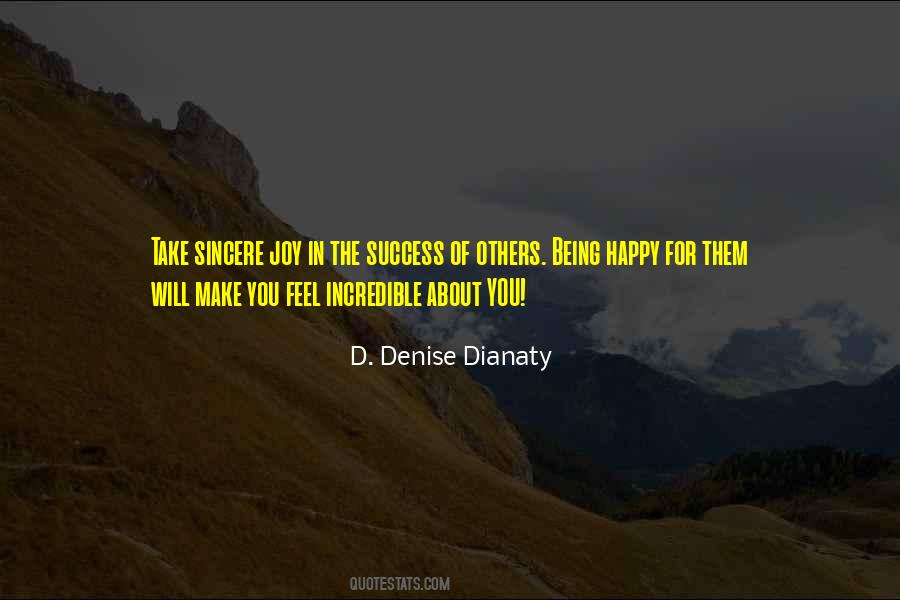 #97. One thing I am convinced more and more is true, and that is this: The only way to be truly happy is to make others happy. When you realize that and take advantage of the fact, everything is made perfect. - Author: William Carlos Williams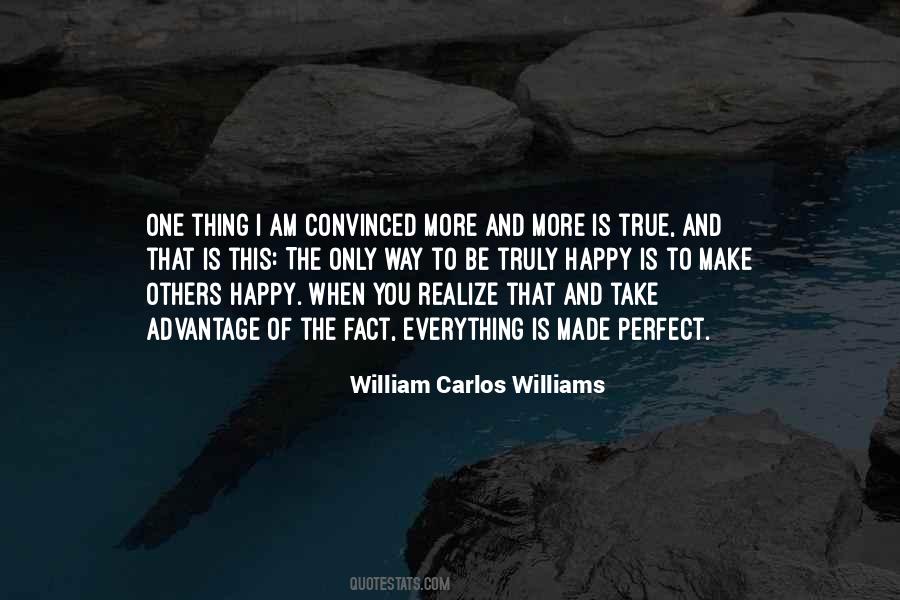 #98. Charlie Brown says that we're put here on earth to make others happy."
"Is that why we're here? I guess I'd better start doing a better job ... I'd hate to be shipped back! - Author: Charles M. Schulz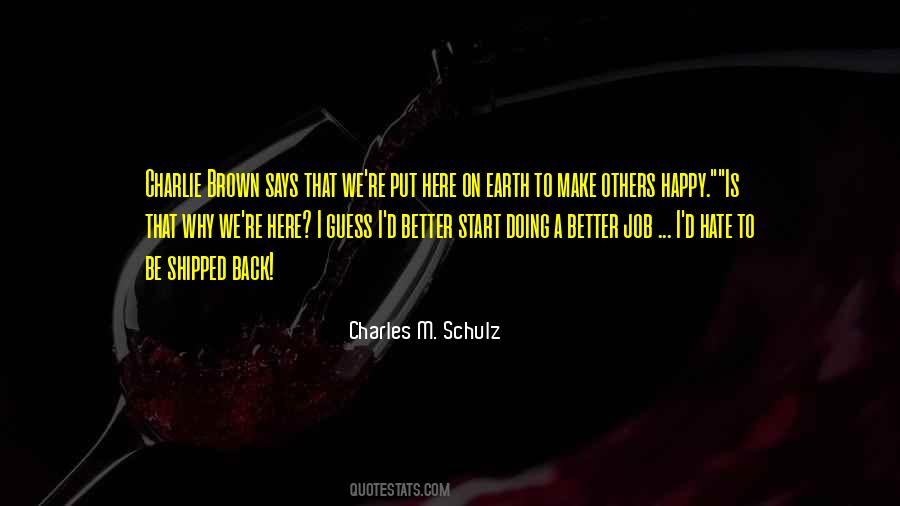 #99. I hope we can be happy where we are, be grateful for our blessings-now-here, accept the challenge that is ours and make the most of it, and don't be envious of others. God help us to be grateful. - Author: Ezra Taft Benson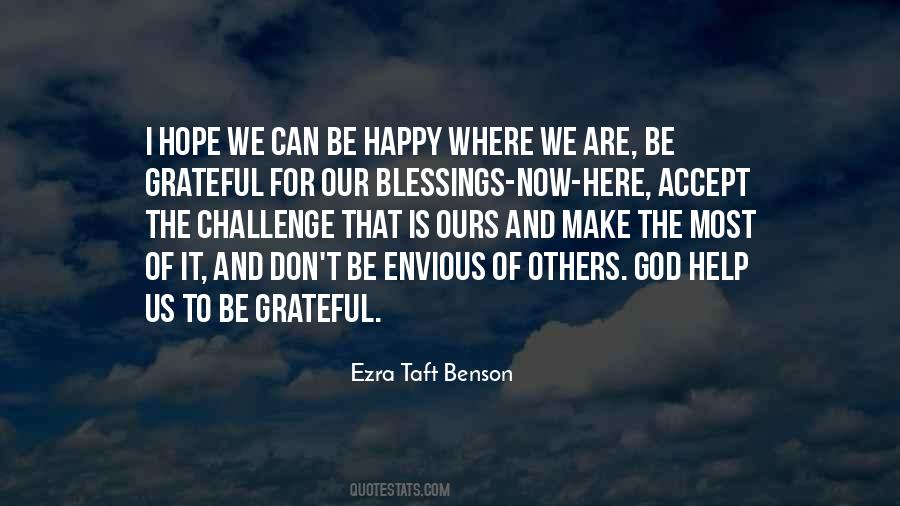 #100. Live, and be happy, and make others so. - Author: Mary Wollstonecraft Shelley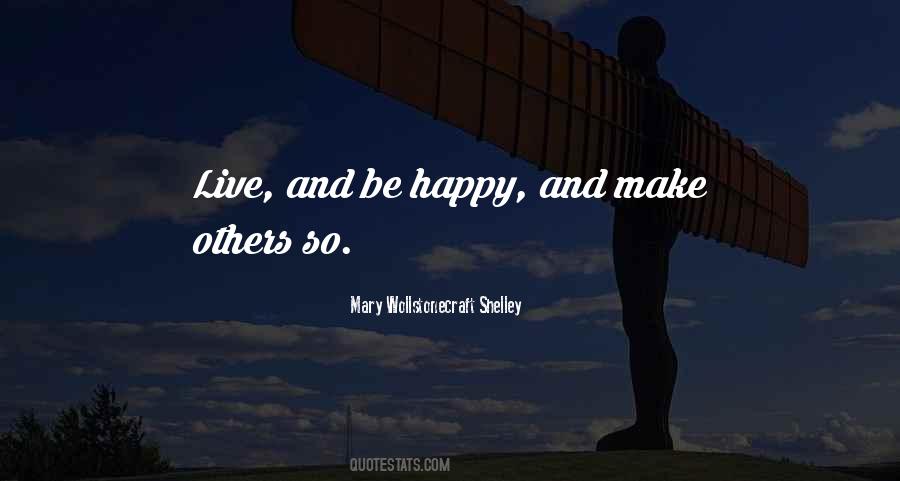 Famous Authors
Popular Topics