Love The Life You Live Famous Quotes & Sayings
List of top 100 famous quotes and sayings about love the life you live to read and share with friends on your Facebook, Twitter, blogs.
Top 100 Quotes About Love The Life You Live
#1. Thank you God for helping me to overcome the bad to live the good. - Author: Jonathan Anthony Burkett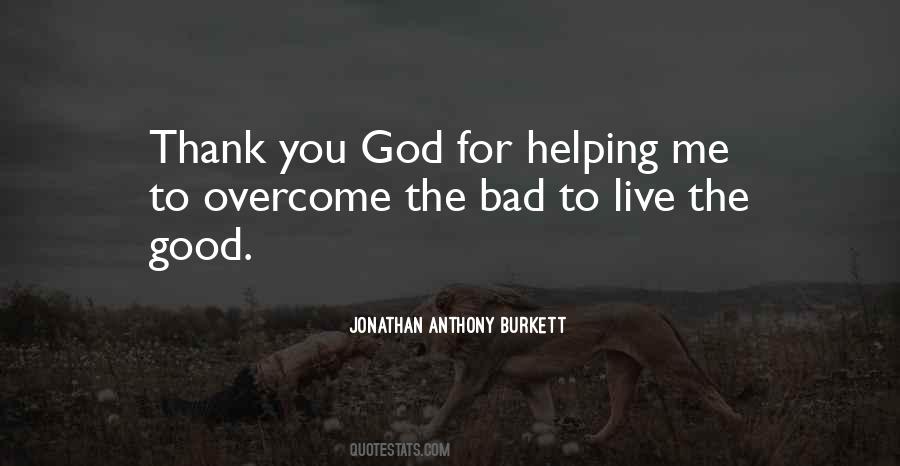 #2. To be in love with the person who want to "Be the one that you can't live without" and is willing to prove it with their love for you, is one of the greatest joys in life. - Author: Ellen J. Barrier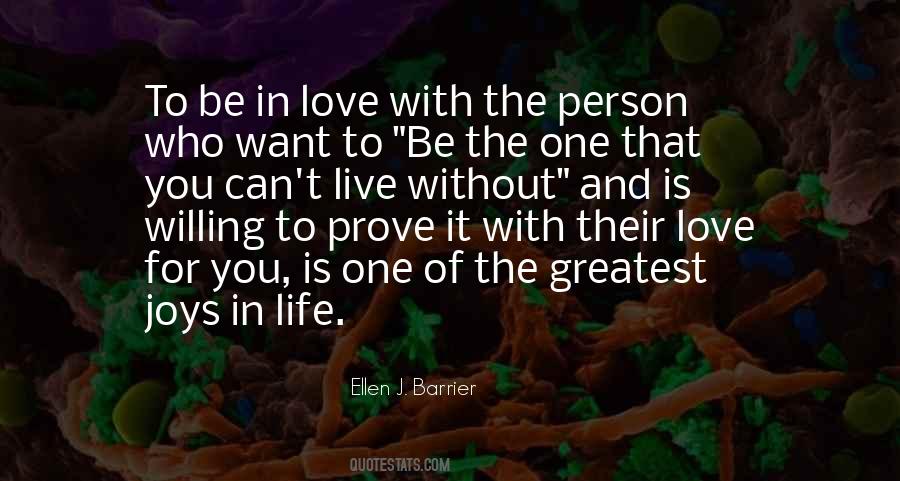 #3. There are two kinds of love. One kind you live with, the other you write poetry about. - Author: Debasish Mridha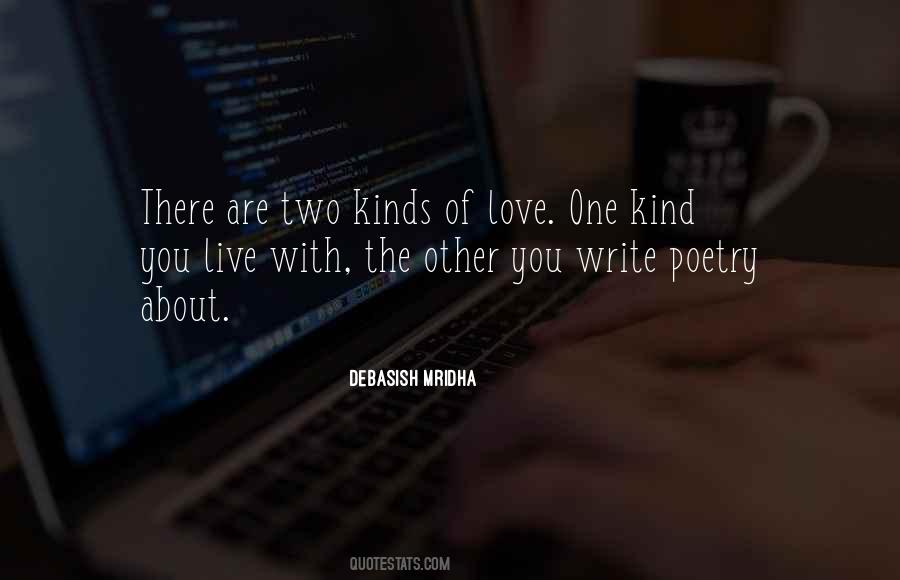 #4. Everything around you will vanish and go away.
Only your expressed love will live forever in the Milky Way. - Author: Debasish Mridha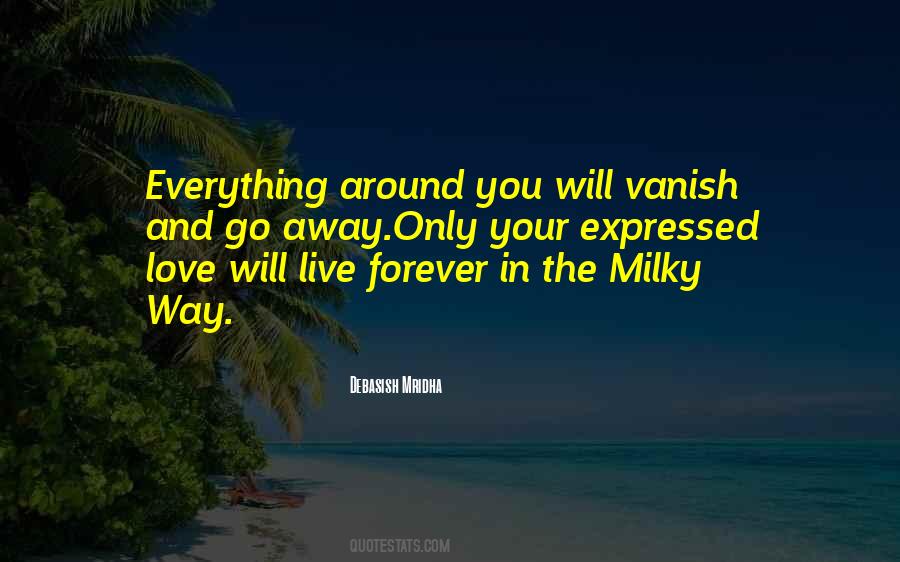 #5. Oh beloved,
I want to live in your love,
to feel the joy of life,
to see the beauty of desires,
to enjoy the song of heart,
to dance with you, my love. - Author: Debasish Mridha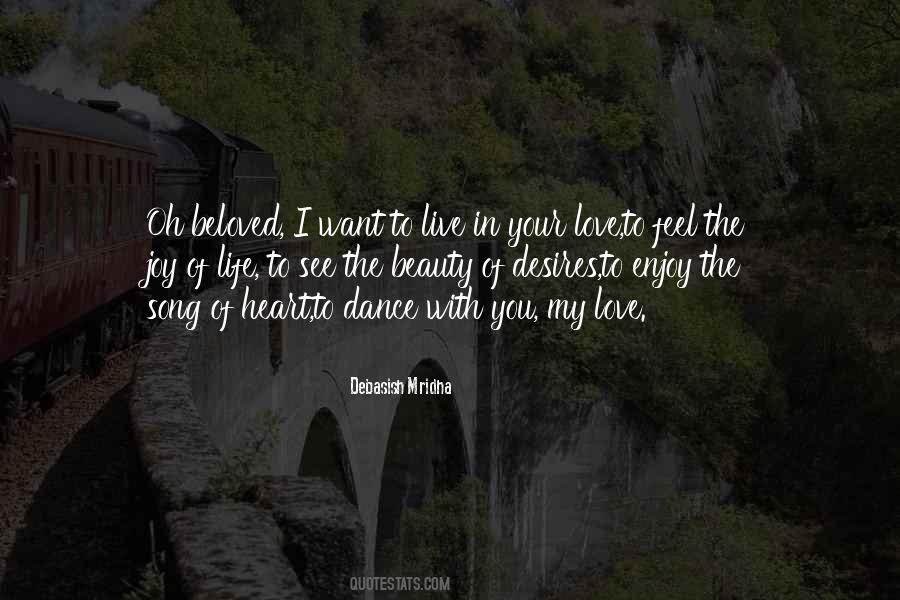 #6. Understand your driving force, whether you're operating out of fear or love. When we operate in fear, we tend to hold back and not get the most from life. When we operate in love, we open new avenues and experience life more abundantly. - Author: Amaka Imani Nkosazana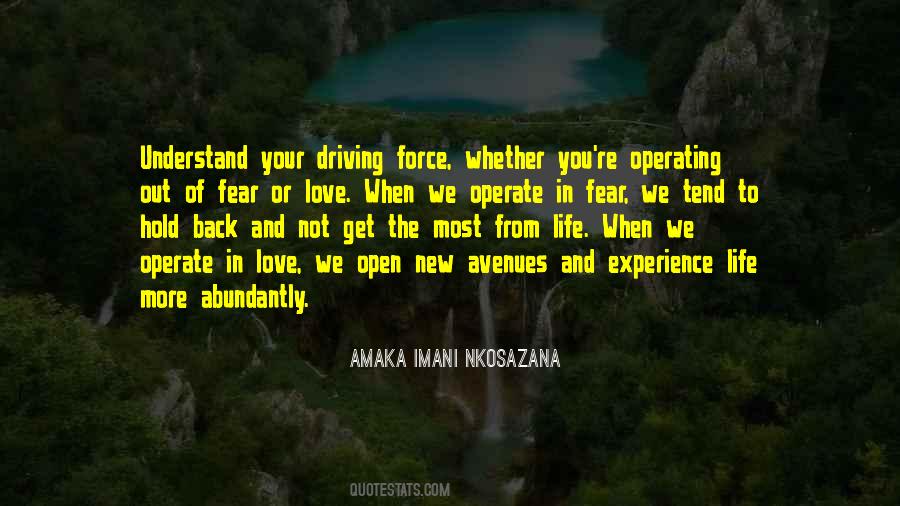 #7. Live life to the fullest, love deeply and laugh a lot. Be proud of what you see in the mirror and you will have no wrinkles! - Author: Barbara Post-Askin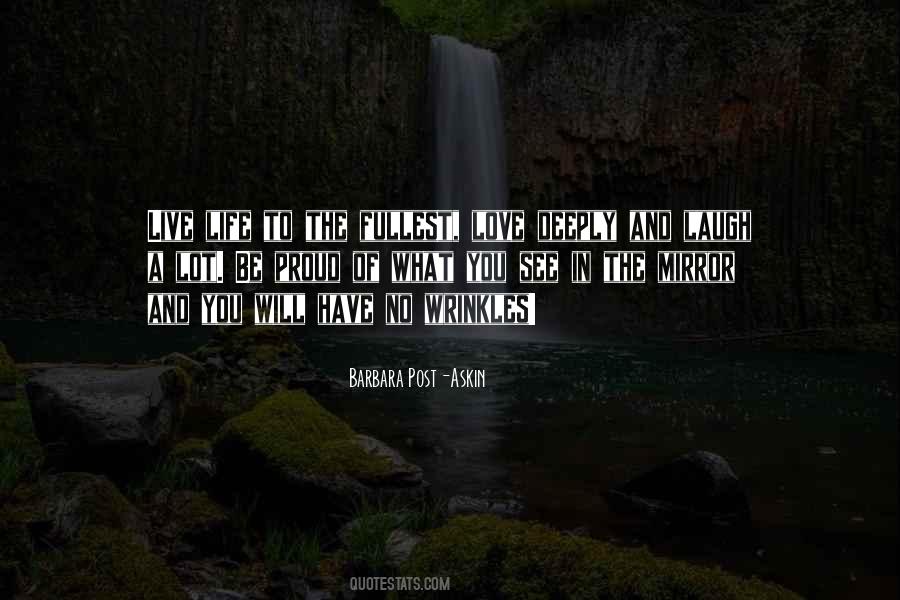 #8. Here is my experience. Stay away from the ones you love too much. Those are the ones who will kill you. What you want to live and be happy in the world is a woman who has her own life and lets you have yours. - Author: Donna Tartt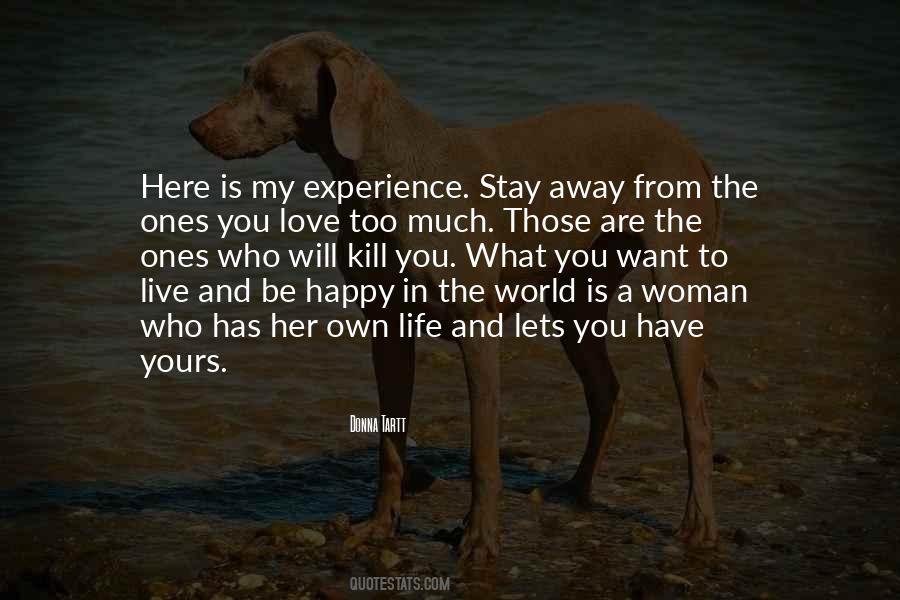 #9. My spiritual high naturally dissipated. At some point you've got to come out of the clouds and live real life. Again, it's just like falling in love. The feeling of euphoria is only temporary. - Author: Pattie Mallette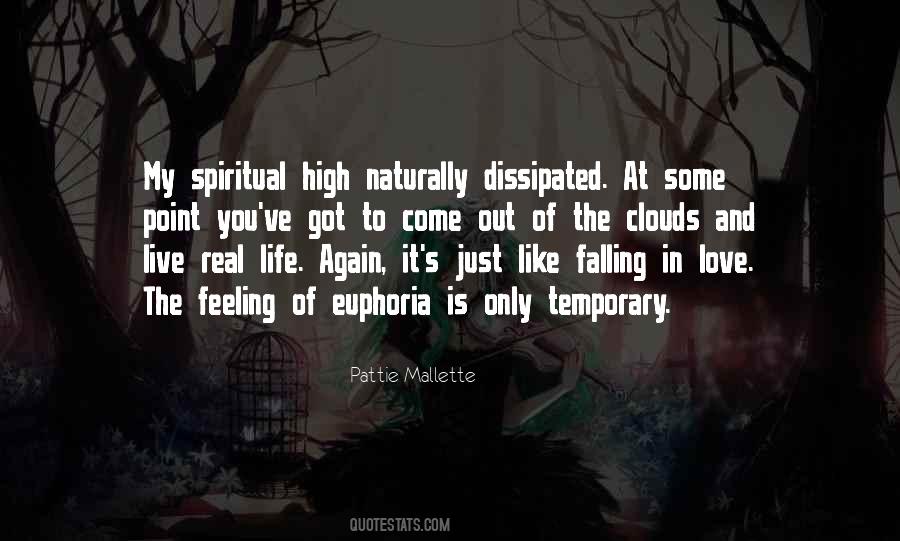 #10. Don't be afraid to live. And hold onto the people you love. - Author: Nyrae Dawn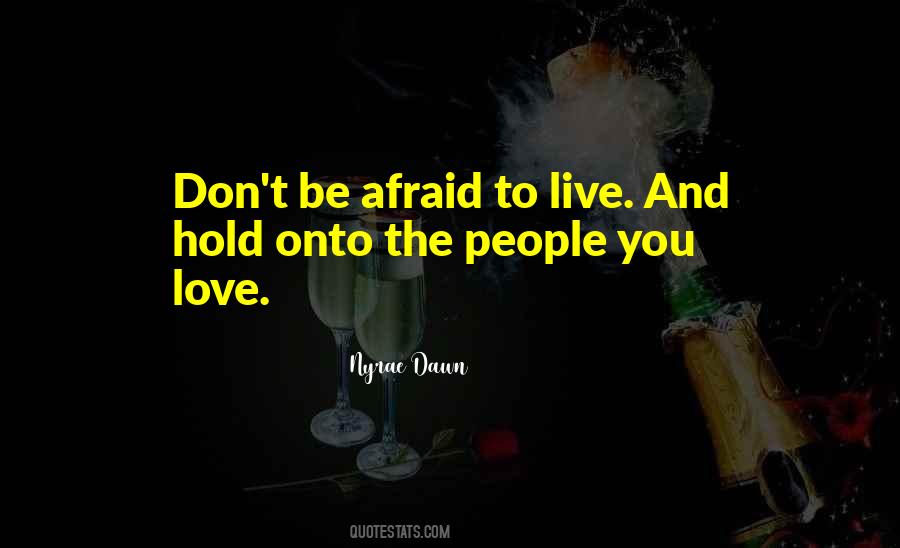 #11. You live only once, so enjoy the life at its best and live it to the fullest. - Author: Debasish Mridha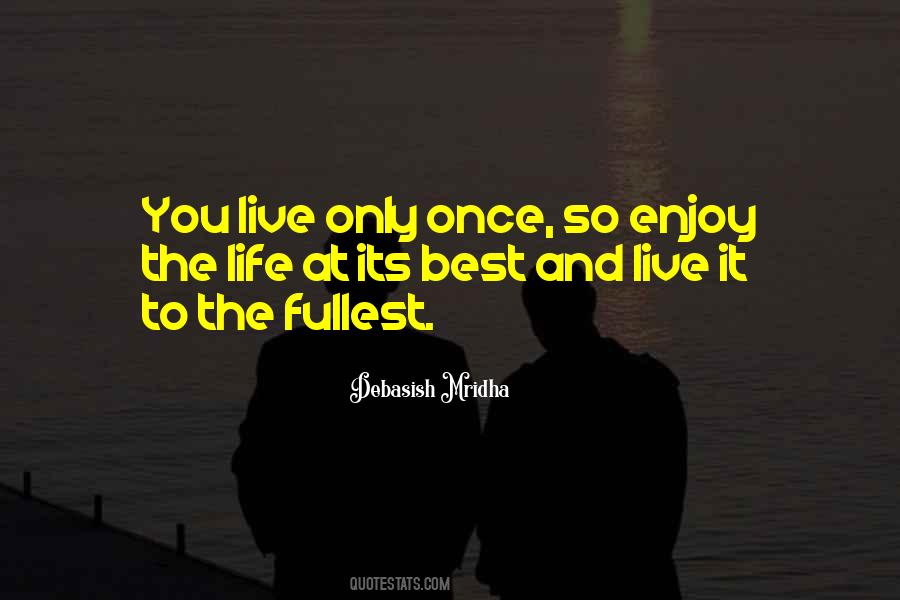 #12. Not fair." Grace put her hand on his shoulder and squeezed lightly. "Learn it, live it, love it. The sooner you make peace with the whole life's not fair thing, the better your life will be. - Author: Katie Graykowski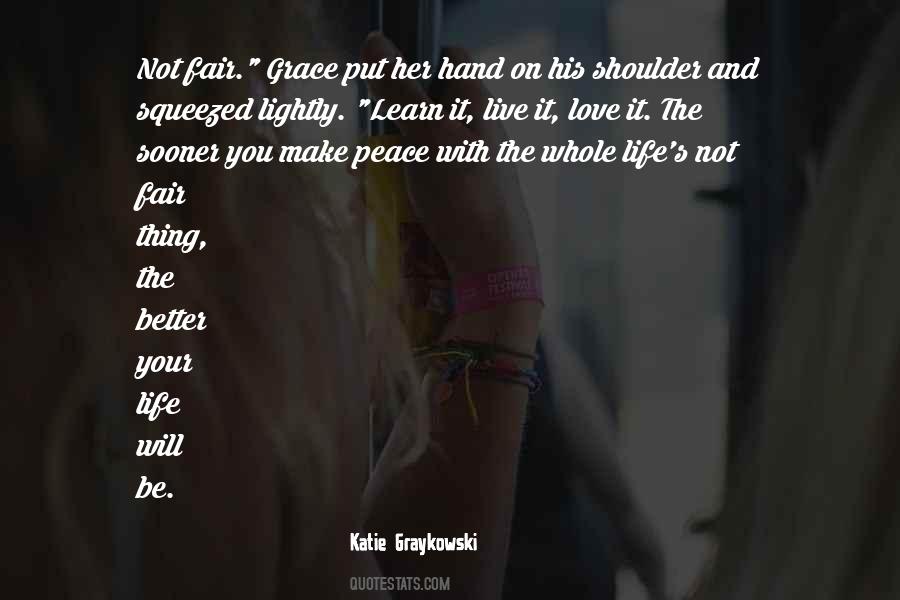 #13. What I do is about living. It's about living the best life you can and enjoying the fullness of the life around you- from what you wear, to the way you live, to the way you love. - Author: Ralph Lauren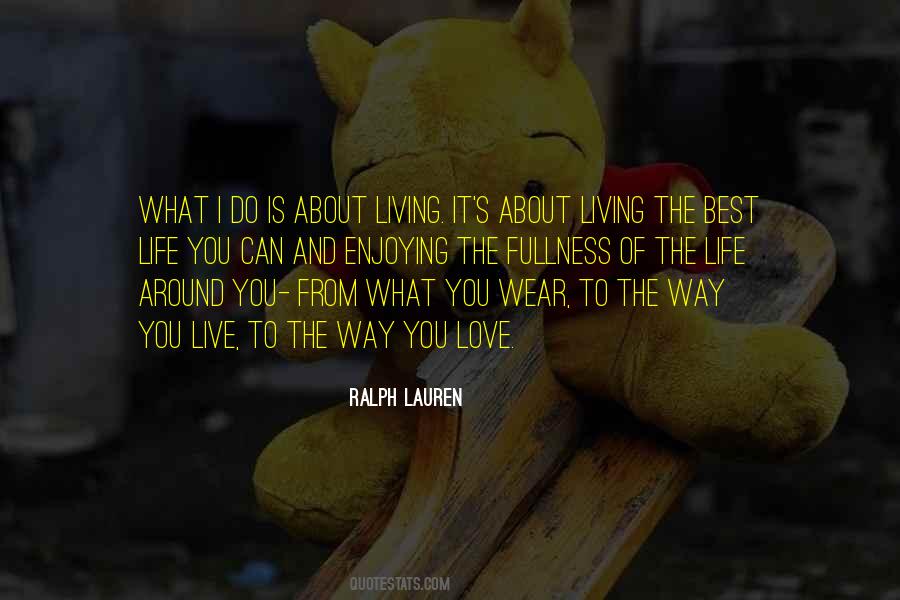 #14. It was a gift. You were a gift. A gift that made my life worthwhile. A gift that made life fun. A gift that filled me with music. A gift that filled me with love. A gift that inspired me to live on the bright side. - Author: Kim Holden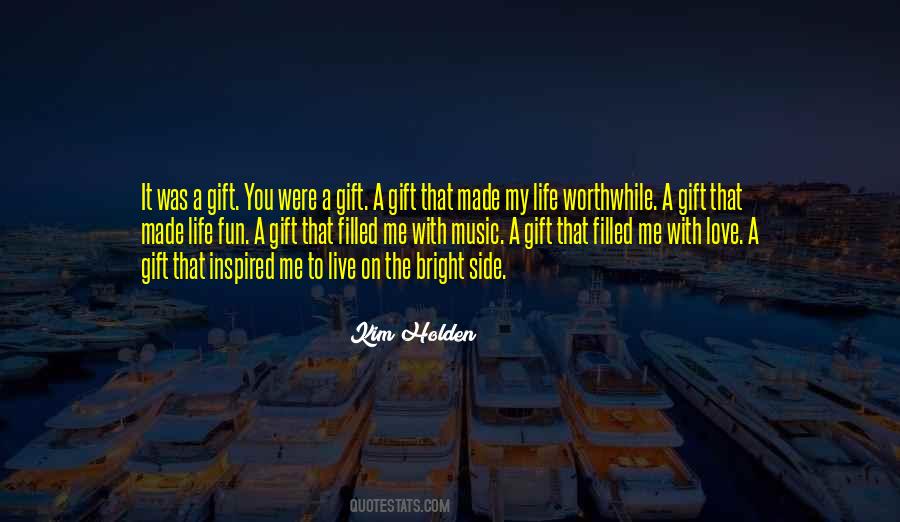 #15. Mel rolled her eyes. "You can't live your life based on 'what-ifs,' Liv. And change is inevitable. It's the one thing you can always count on. Stop worrying about what might or not happen and follow your heart. How can you expect to ever be happy if you don't? - Author: Alicia Kobishop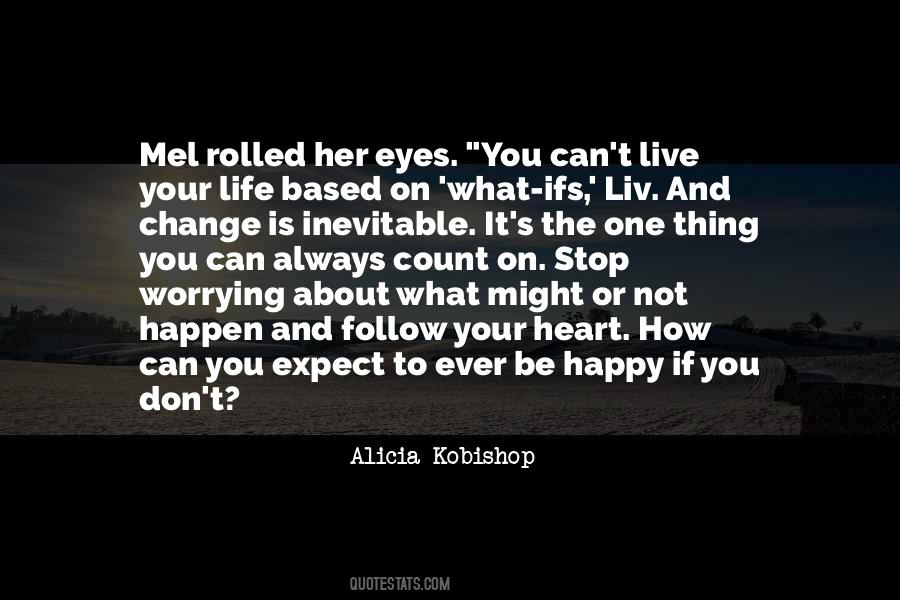 #16. Love isn't jealous. It's kind and patient. It's accepting--it's late night talks and early morning kisses. It's arguing and making up. It's life with the one you can't live without. - Author: Marquita Valentine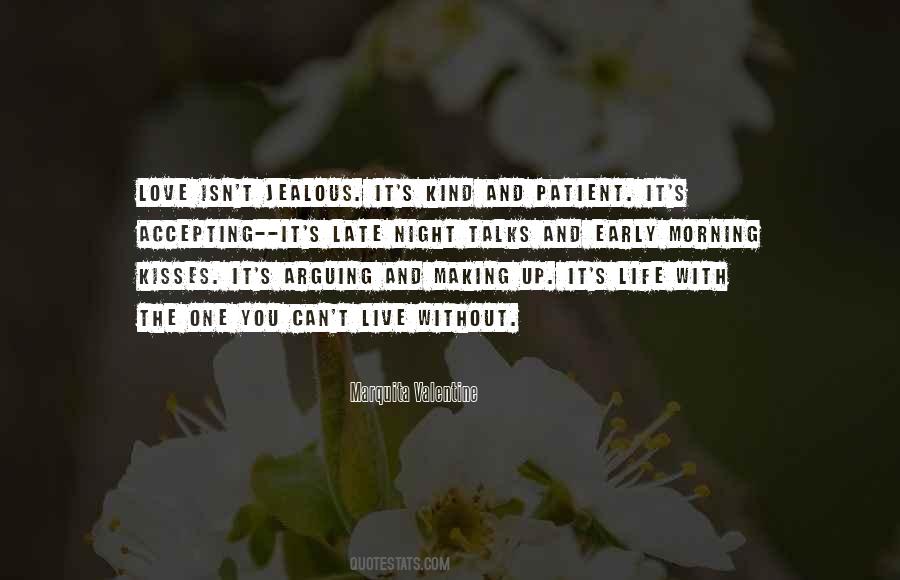 #17. Life is all about dancing freely while the music is still playing, but remaining optimistic about the next song. If you're lucky, someone will expectantly join in and mimic your moves in perfect timing as if the two of you had been dancing together all of your live. - Author: Carl Henegan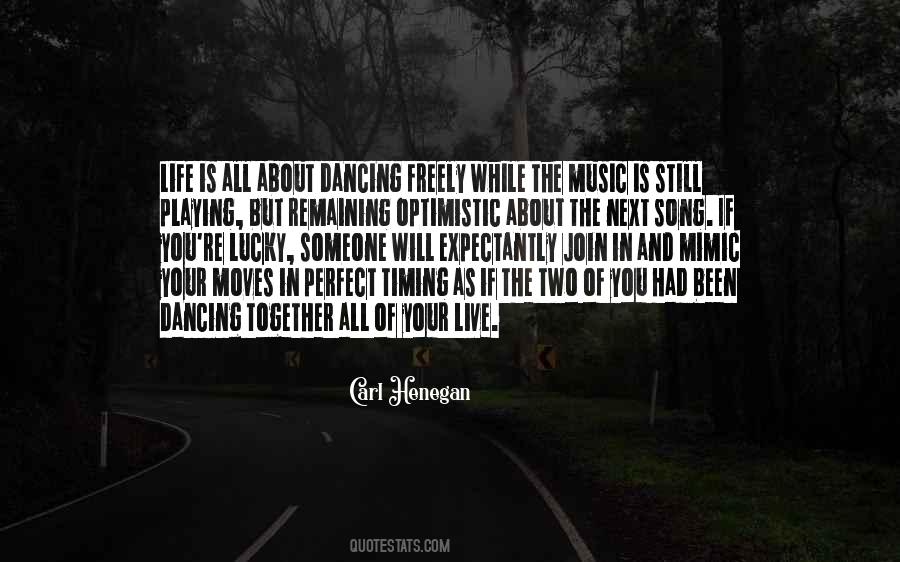 #18. You live on - in the hearts of everyone you have touched and nurtured while you were here ... Death ends life, not a relationship. - Author: Mitch Albom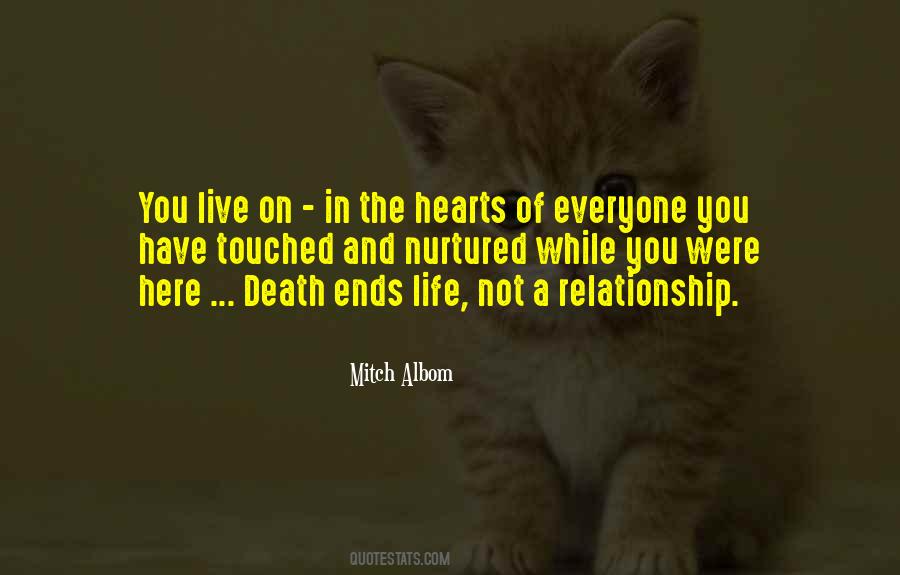 #19. The life of the dead is placed on the memories of the living. The love you gave in life keeps people alive beyond their time. Anyone who was given love will always live on in another's heart. - Author: Marcus Tullius Cicero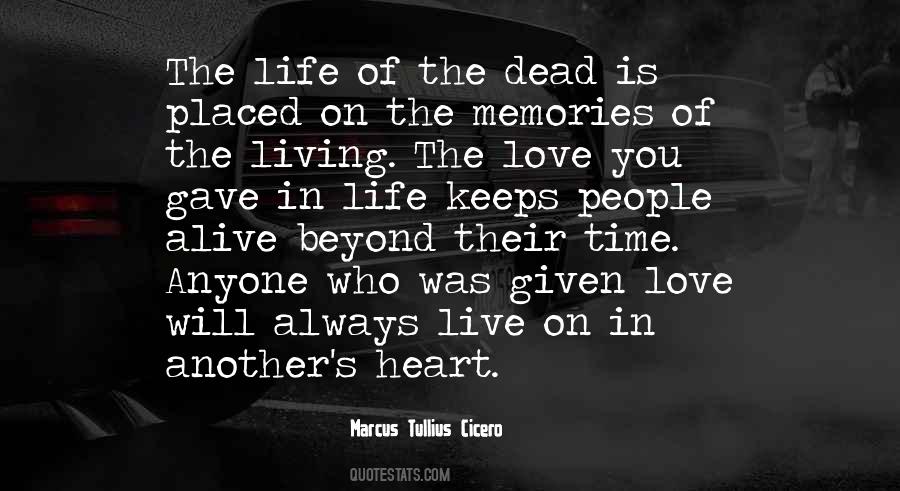 #20. My inner voice told me at that point,
"you shouldn't be caring about her, just move on! You have to improve your life and live apart from her"

But my absurd heart was pleading,
"you love her, you idiot. She is your life sphere, one more try at least for the sake of kindness. - Author: Qalandar Nawaz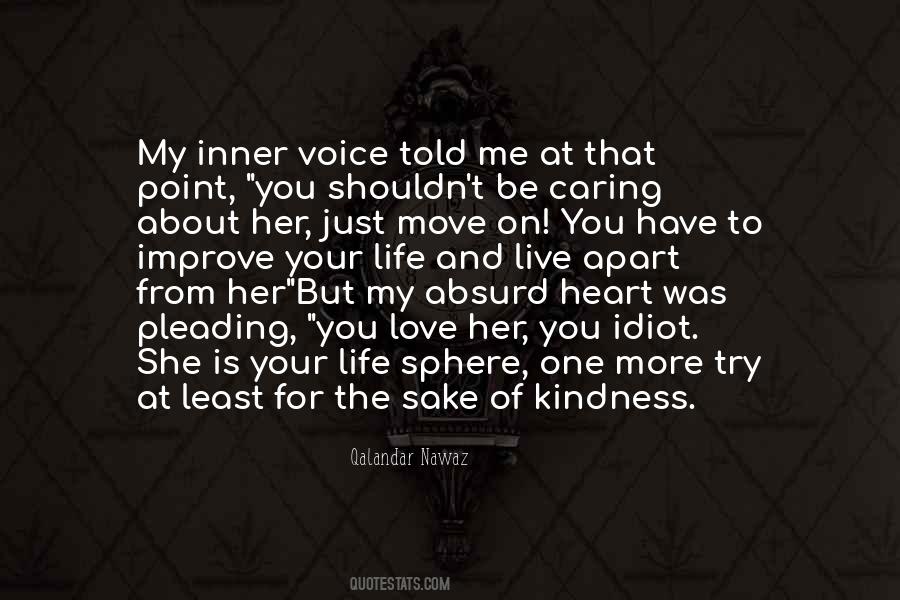 #21. This is the most challenging activity that humans get into, which is love. You know, where we have the sense that we can't live without love. That life has very little meaning without love. - Author: Leonard Cohen
#22. Well, you get out of bed, you eat your grits, say hey to your neighbor, you give extra love to her children, and you live your life. The sun is a pretty stubborn guy, and he'll rise each day just to spite you. But life does go on. - Author: Karen White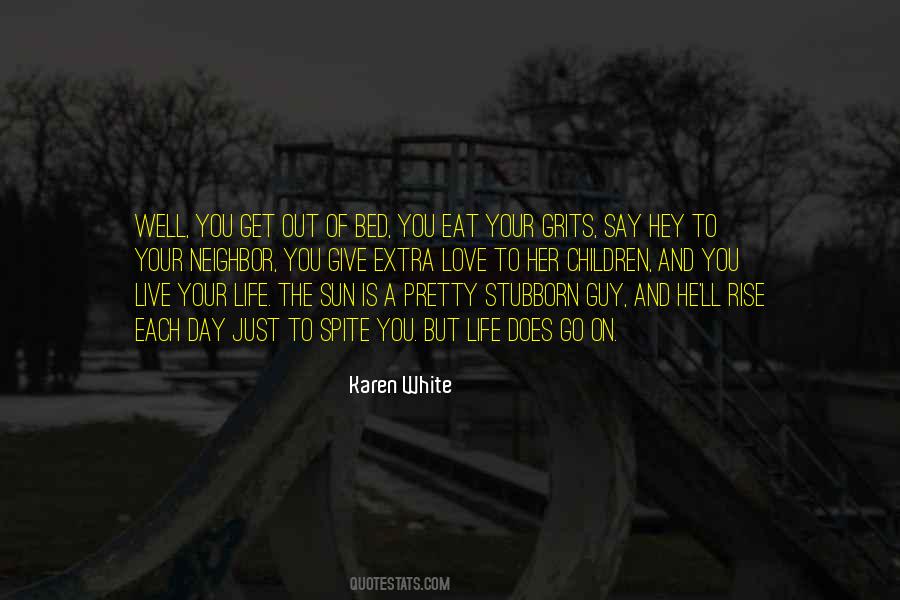 #23. Live what you love and what you love will fill your life. - Author: Jodi Livon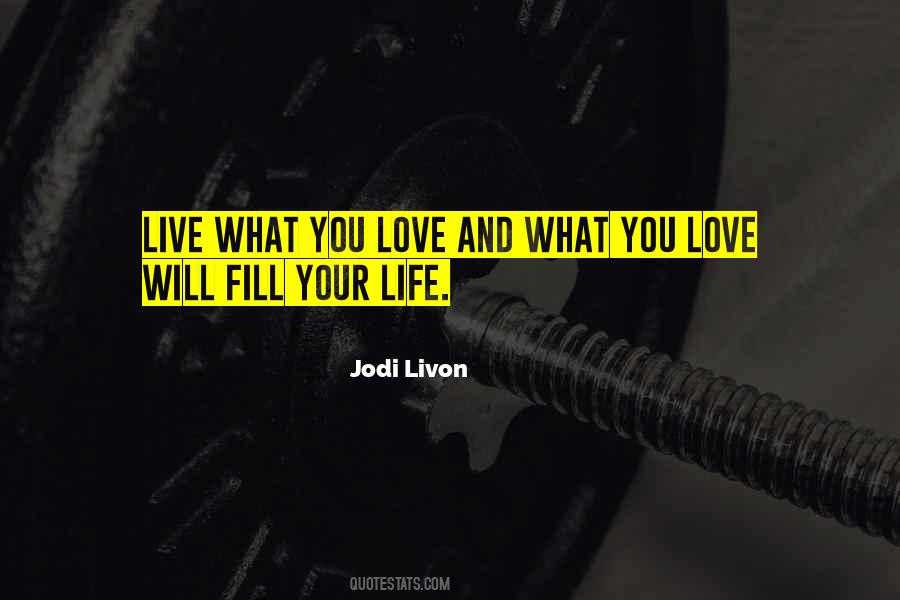 #24. Live your life like the novels that you love to read. Only do the things that when you look back, you are proud of what you accomplished, feel good about how you treated others and didn't regret not doing to trying something. Every day is a new chapter, write something. - Author: Taylor Berke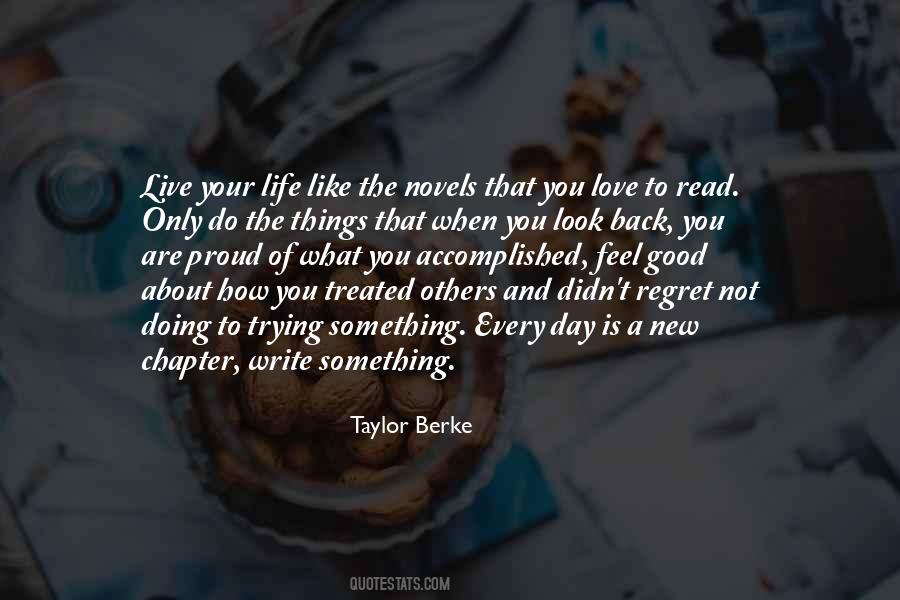 #25. Love and take care of yourself because you are your best friend, and you have to live with yourself rest of the life. - Author: Debasish Mridha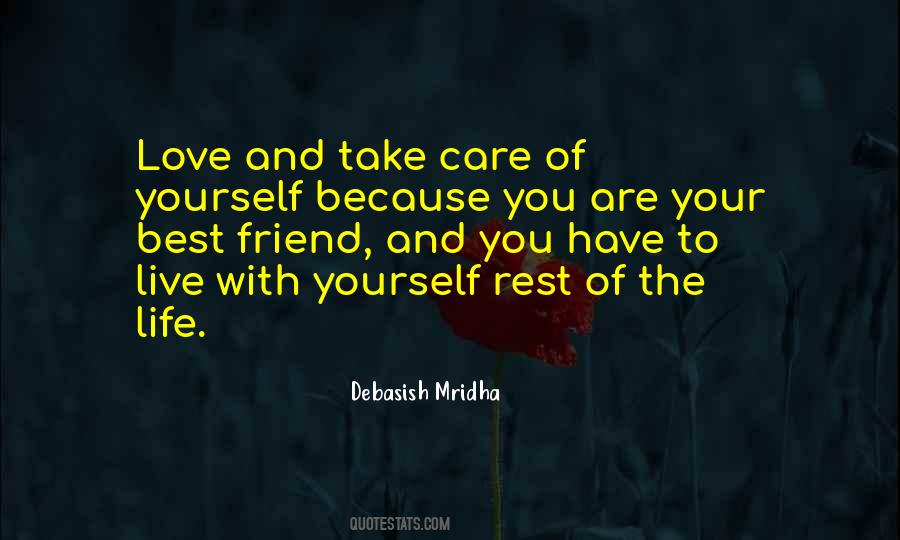 #26. And if the day I die they ask me just how heaven was, I'll be glad I spent it with you. - Author: Brian Logan Dales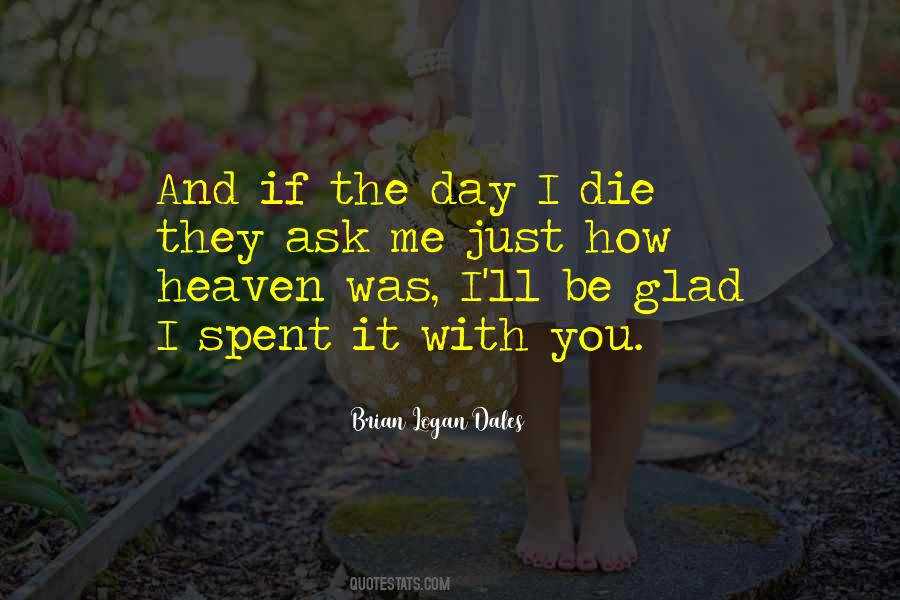 #27. I that have love and no more
Give you but love of you, sweet;
He that hath more, let him give;
He that hath wings, let him soar;
Mine is the heart at your feet
Here, that must love you to live. - Author: Algernon Charles Swinburne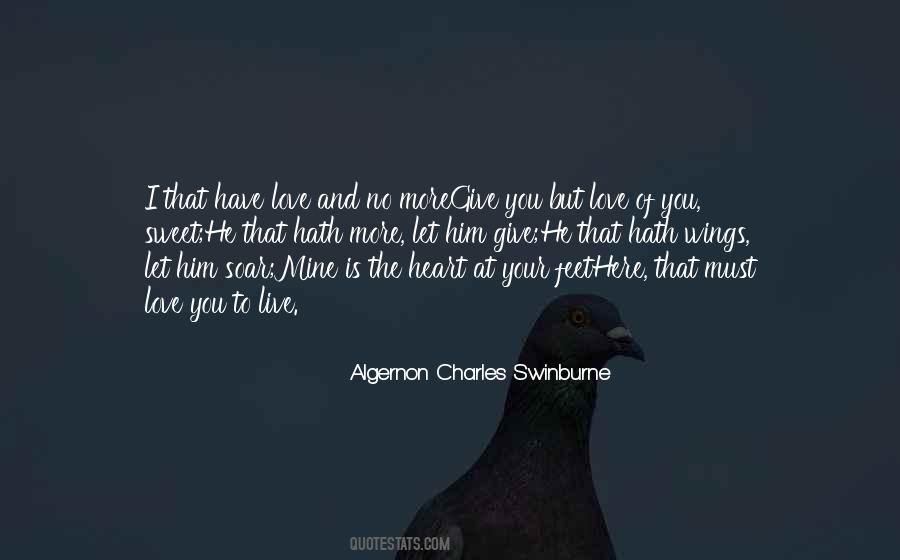 #28. Sometimes when you live with one man for more than half your life, you stop really seeing him. Not stop loving him. That center-of-my-heart kind of love doesn't go away. But really paying attention gets submerged in the stupid details of day to day life. - Author: Kaje Harper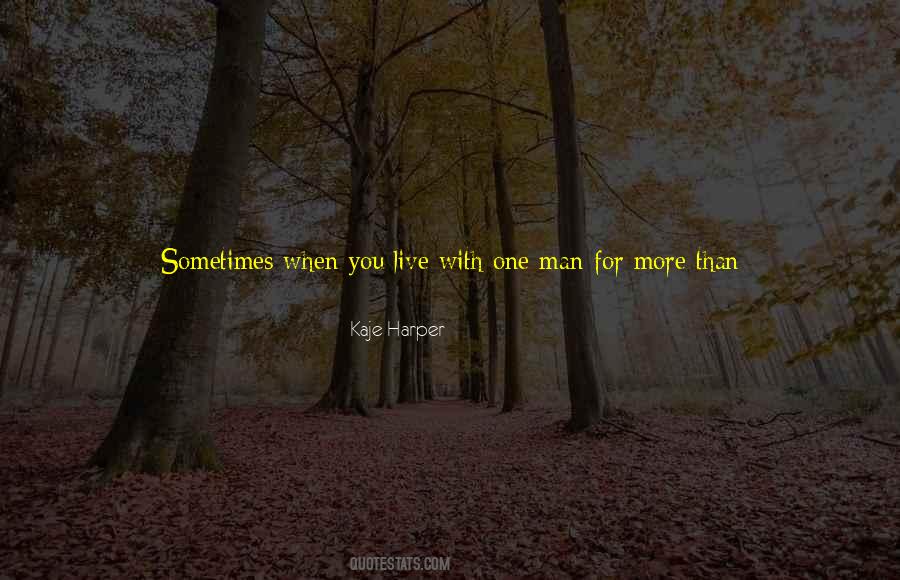 #29. Life is short, and life is beautiful, and everything is lovely. Love it, embrace it, smell the lilacs, play with the dog, and love endlessly and fiercely with everything you've got. Live without regret. - Author: Daisy Whitney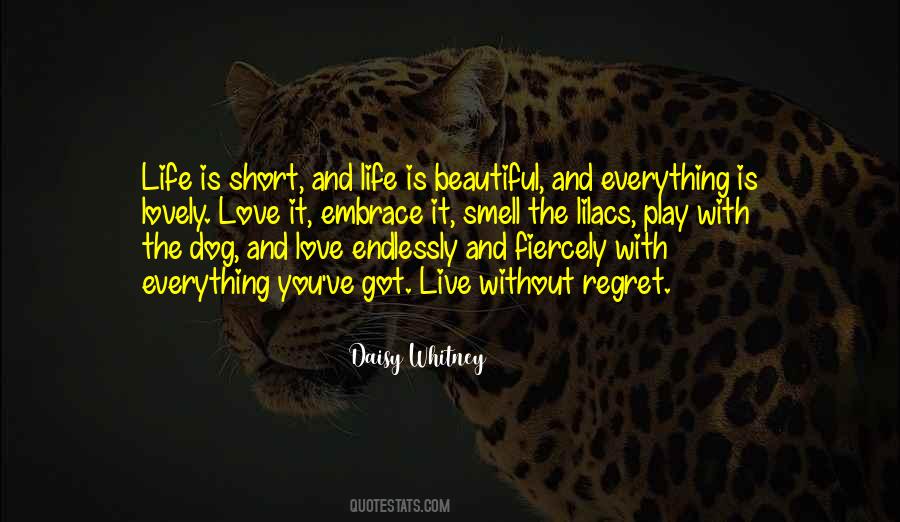 #30. When you love too hard, you can lose the will to live without them. Everywhere you look is a great big sucking absence of what you once had and will never have again. And life gets weirdly flat and too sharp and painful at the same time, and nothing feels right and everything cuts. - Author: Karen Marie Moning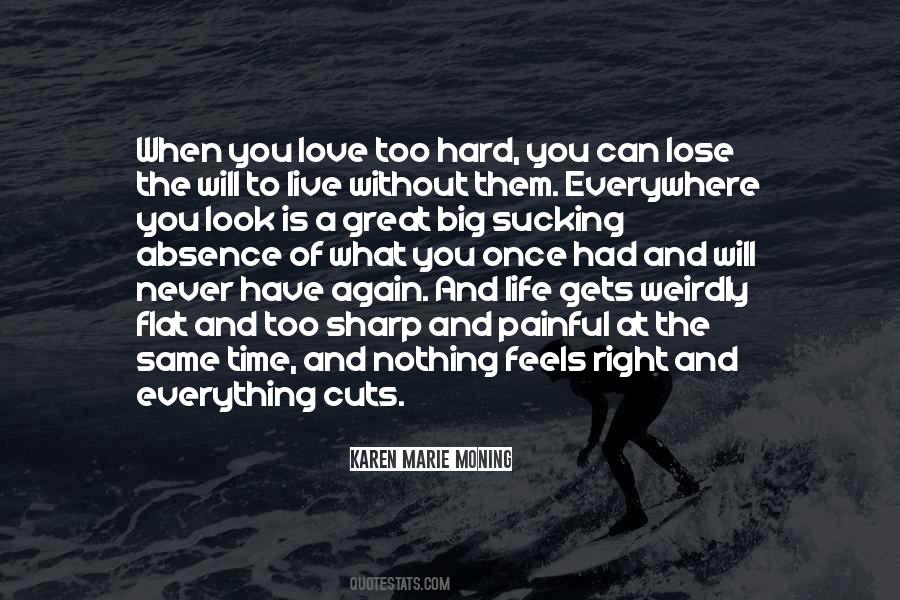 #31. In life we meet people and they come and go. But, only God will remain the same. Despite what others think, God's love is eternal. No matter who abandons you, God will never leave or forsake you. - Author: Amaka Imani Nkosazana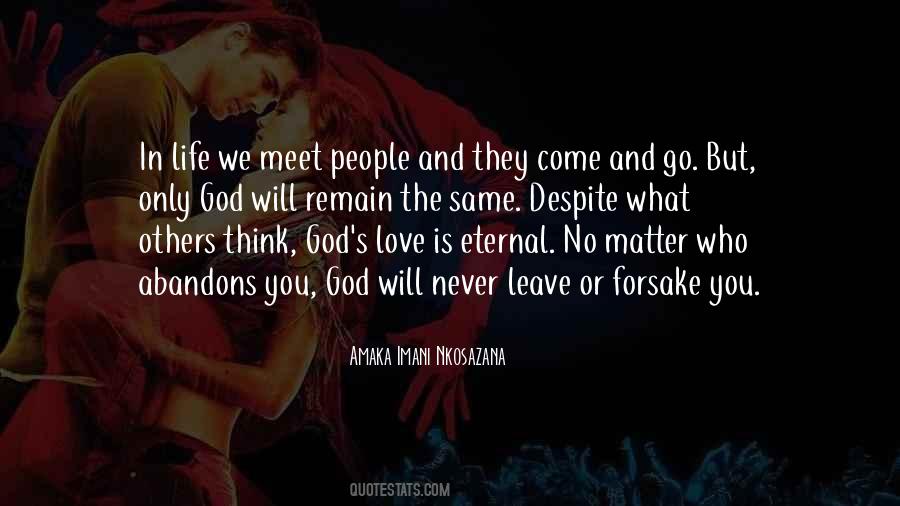 #32. Life loves the liver of it. You must live and life will be good to you. - Author: Maya Angelou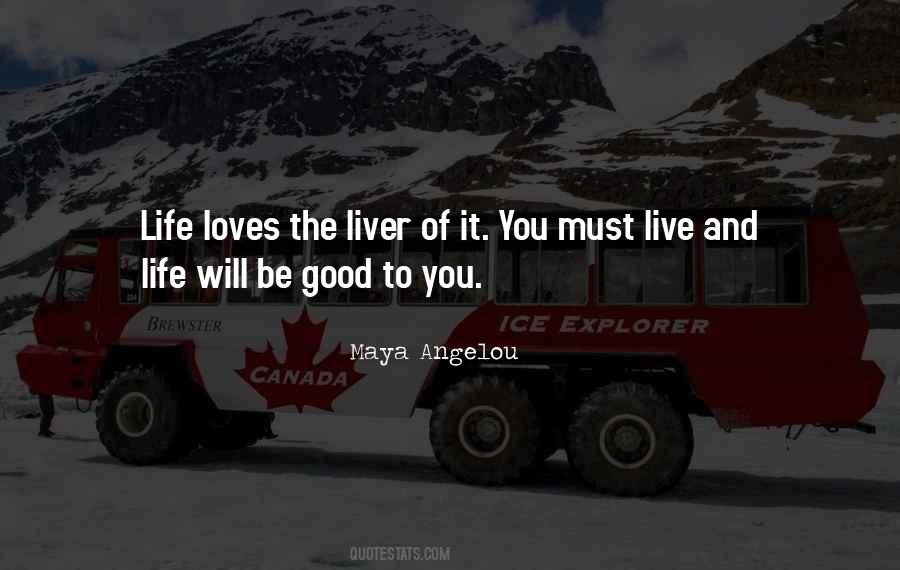 #33. If you don't want love to sweep into your life, the easiest way to block it is to live a fear-based life. - Author: Annette Vaillancourt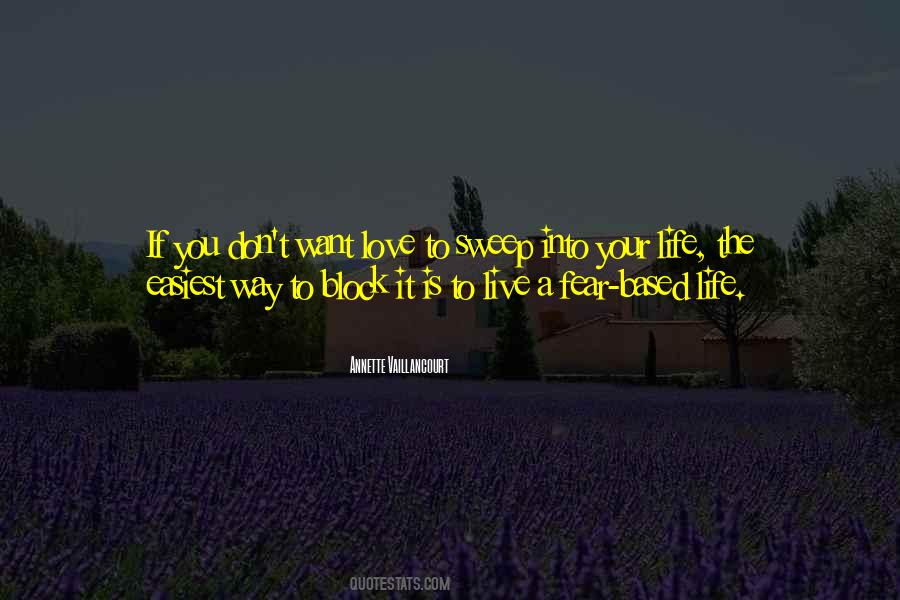 #34. Truth is...
You had a purpose before anyone had an opinion. Finish your life's mission.
Be happy and live your life
Be Somebody Great..Be You - Author: Timothy Pina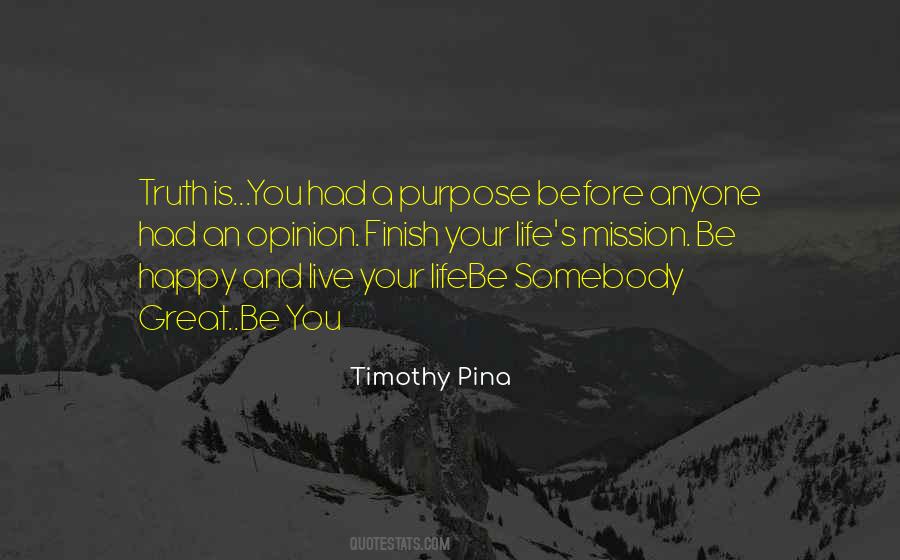 #35. I no longer needed a reason for my existence, just a reason to live. And imagination, free will, love, humor, fun, music, sports, beer, and pizza are all good enough reasons for living. But living an honest life - for that you need the truth. - Author: Ricky Gervais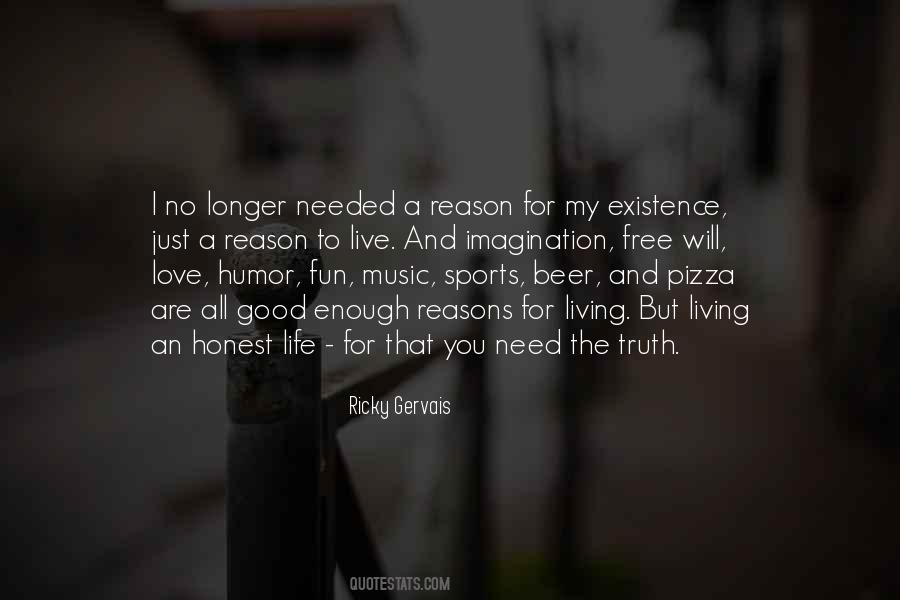 #36. The only love that won't disappoint you is one that can't change, that can't be lost, that is not based on the ups and downs of life or of how well you live. It is something that not even death can take away from you. God's love is the only thing like that. - Author: Timothy Keller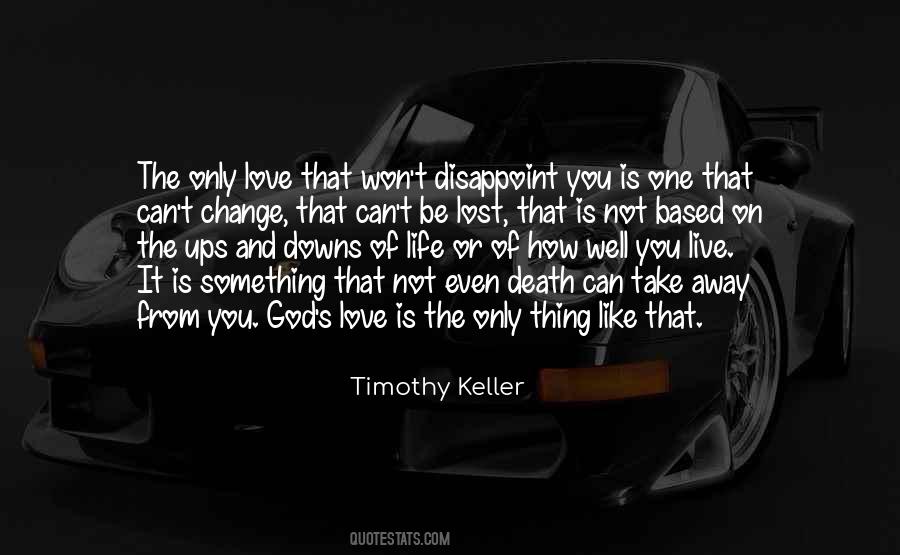 #37. You are worthy of love and you deserve to be happy. You have these beautiful qualities and many more because you are living the gift of a human incarnation. My hope is that you will embrace these truths and your birthright to live a life abundant in love, joy, and celebration. - Author: David Simon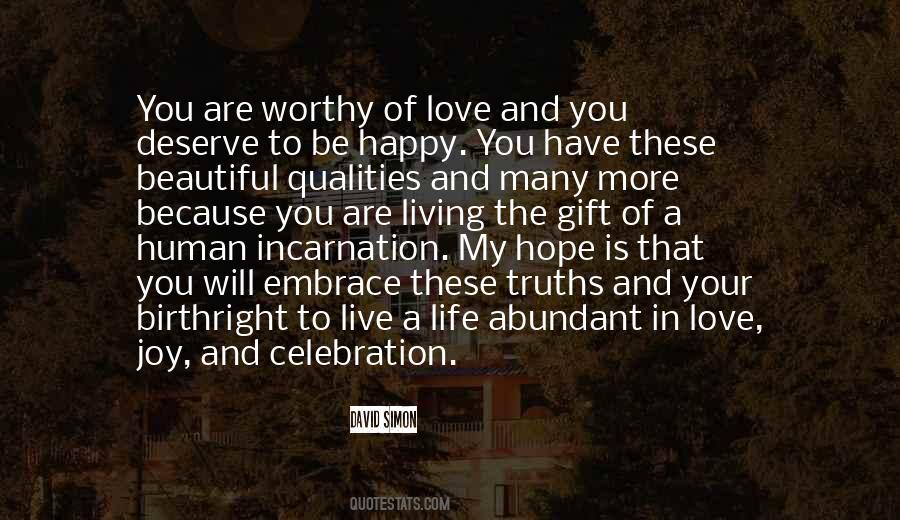 #38. Live as if you are the creator of your universe. Because you are. - Author: Debasish Mridha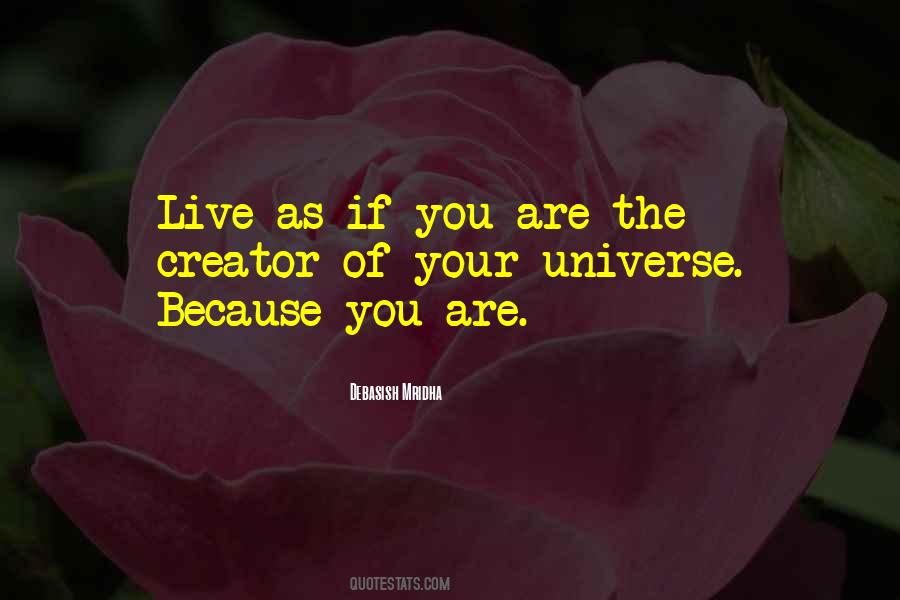 #39. I think that the great trick in life, wherever you are in the journey, is to do what you love and let the universe support it. When we do what we love, every day is a holiday. - Author: Robert Moss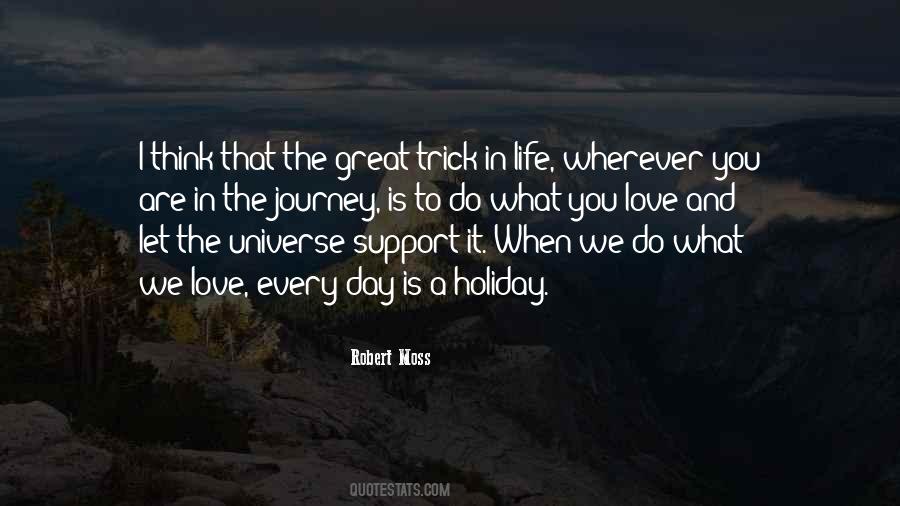 #40. Love as the moon loves the night.
Love as much as you can.
Love as long as you can.
Love as long as you live.
Live only as long as you can love. - Author: Debasish Mridha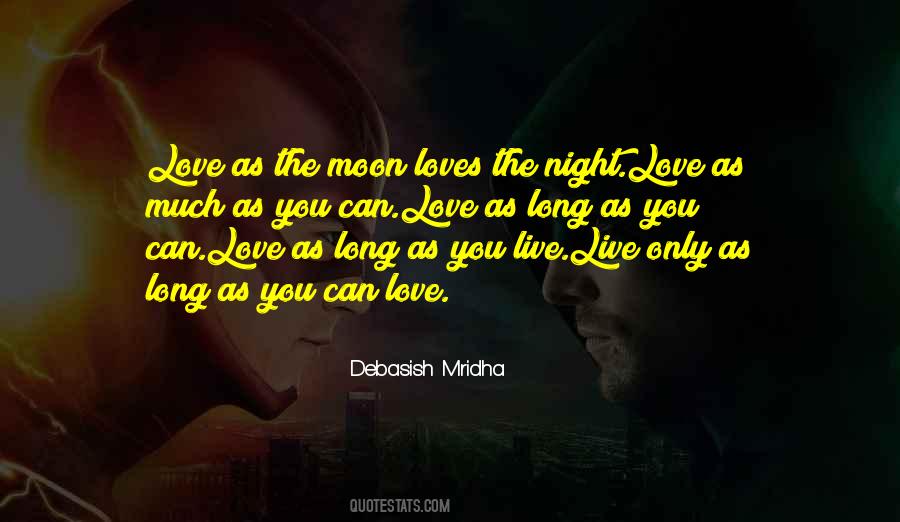 #41. It's great to be self confident, but some people are very egotistical. Once you realize the world doesn't revolve around you and change your attitude, you'll truly walk in your purpose. - Author: Amaka Imani Nkosazana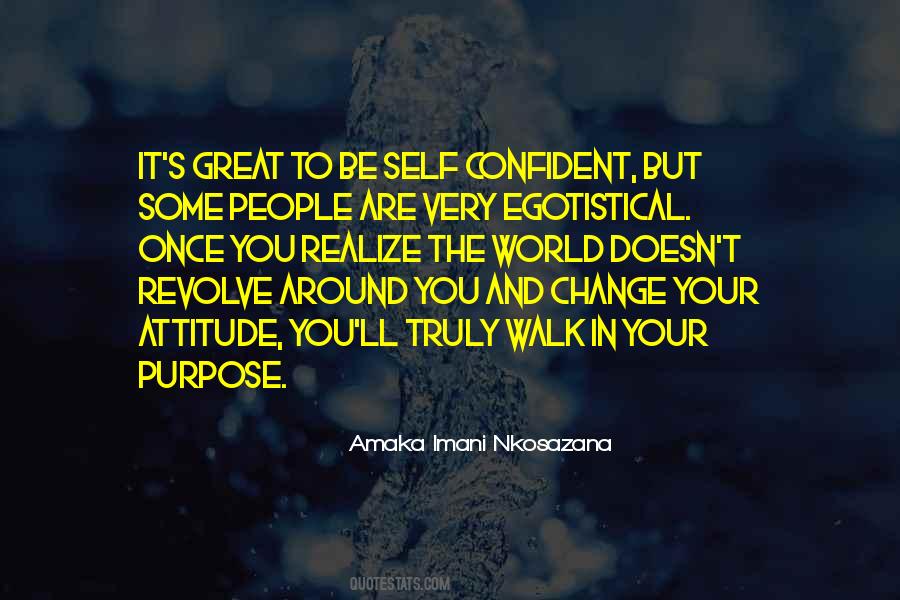 #42. Love your life, live for the day - Author: Jeff Hardy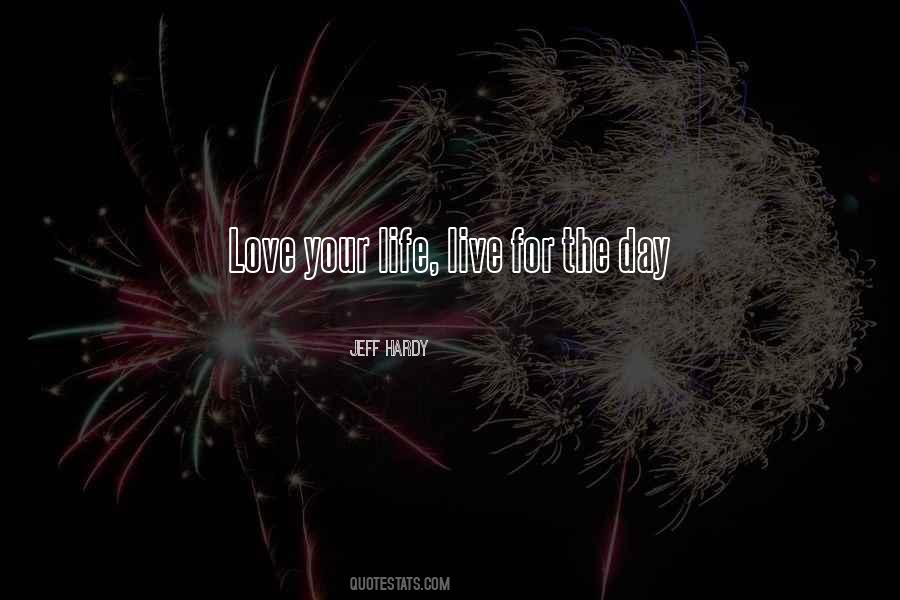 #43. We could do it, you know."
"What?"
"Leave the district. Run off. Live in the woods. You and I, we could make it. - Author: Suzanne Collins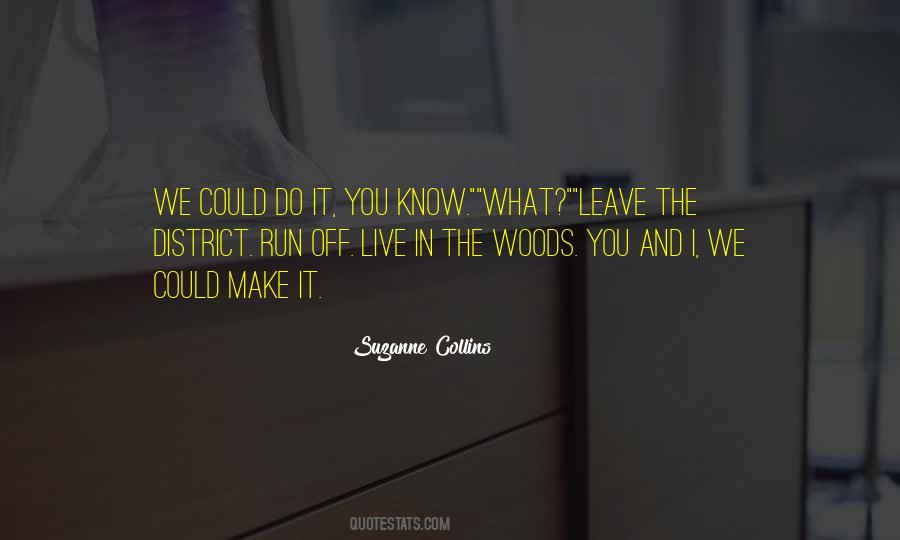 #44. I just want to tell you if that's what You have planned for me, if I am meant to be an obscure flower in the corner of the expansive garden, I will live there and I will love You and I will bloom just for You -- only, always, ever. - Author: Sarah Thebarge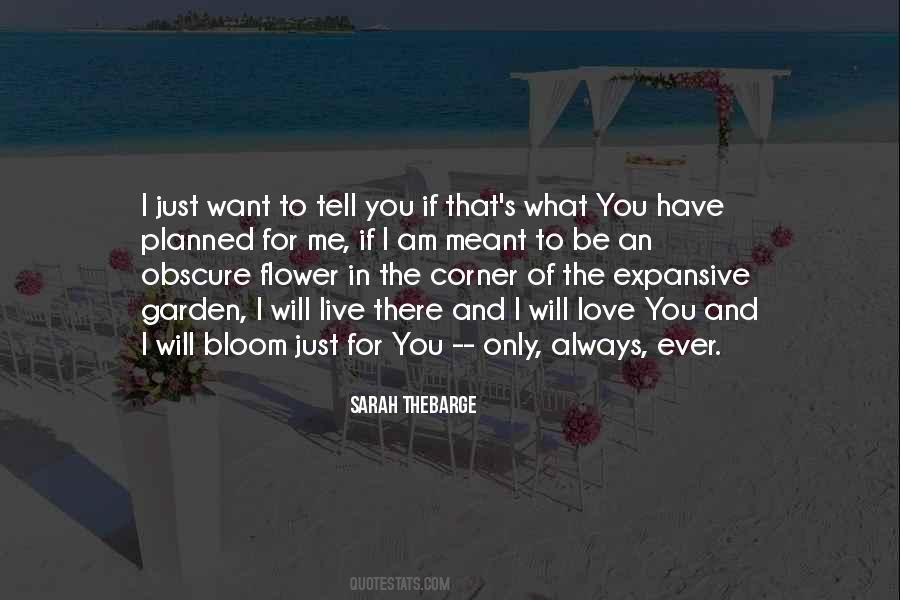 #45. You either live the life that is easy or you live the life that is difficult, but appreciate it more. - Author: Shannon L. Alder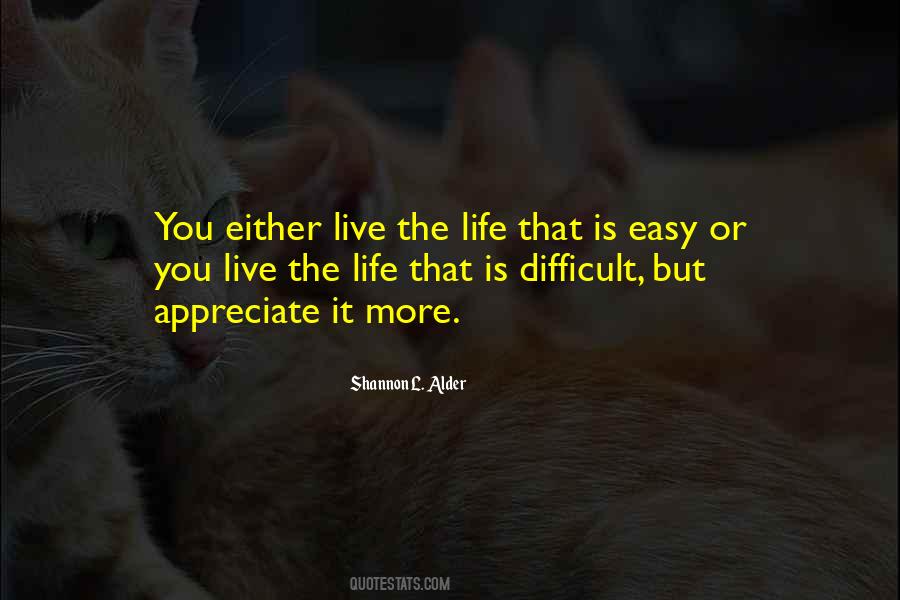 #46. There comes a time in your life where you
have to live without the wo/man of your
dreams and have to live with the one in your reality.
That is called maturity - Author: Nomthandazo Tsembeni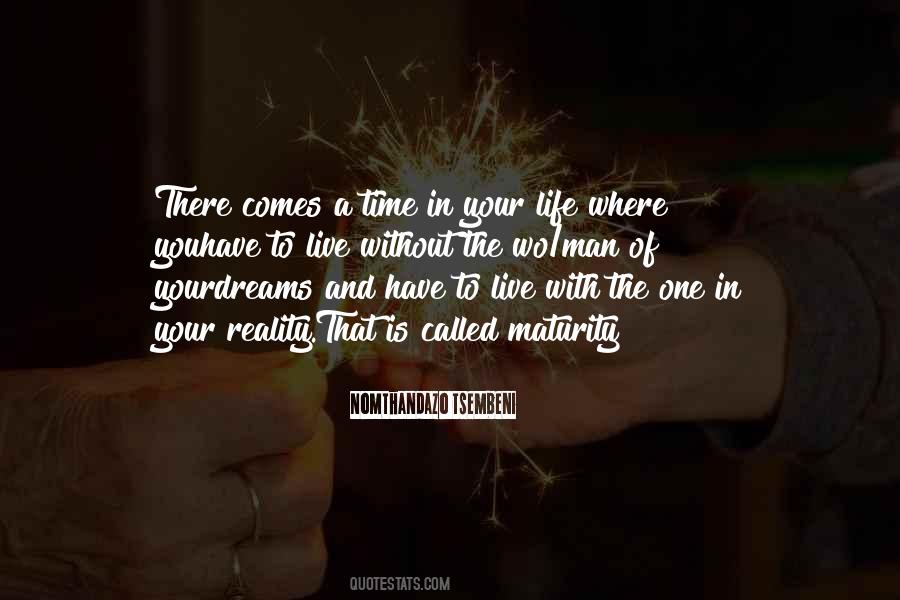 #47. Die before the one whom you love; to live after he dies is to live a worthless life in this world. - Author: Guru Angad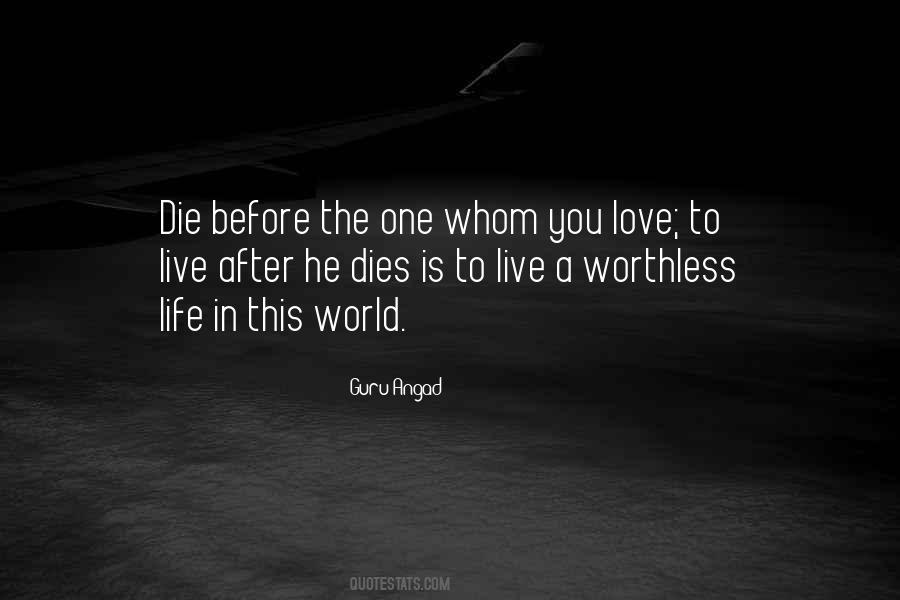 #48. It was hard to live normally when you were constantly pretending you didn't see what was going on in front of your face. - Author: Cassandra Clare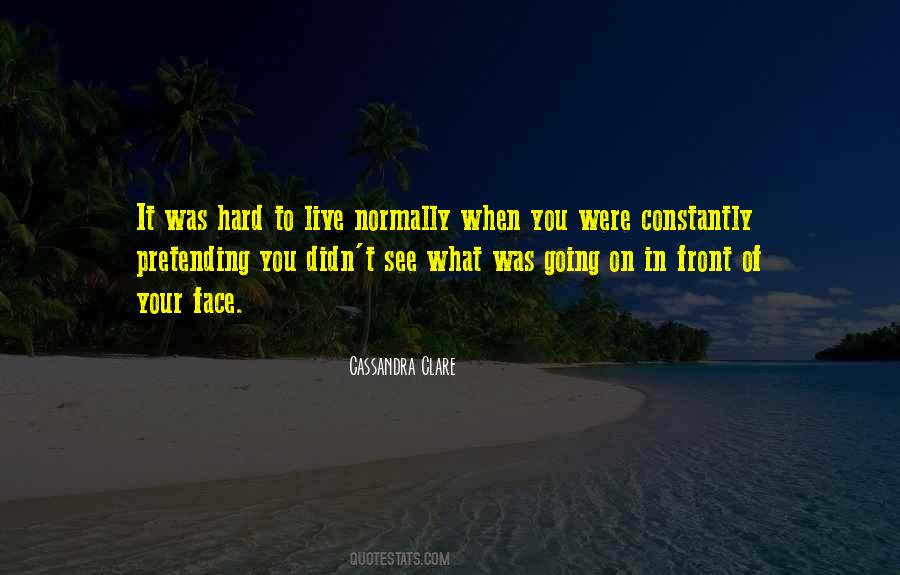 #49. To live your life without oppression, making love the way you wish, loving those you wish to be with - is to live on the right of the spectrum. - Author: Auliq Ice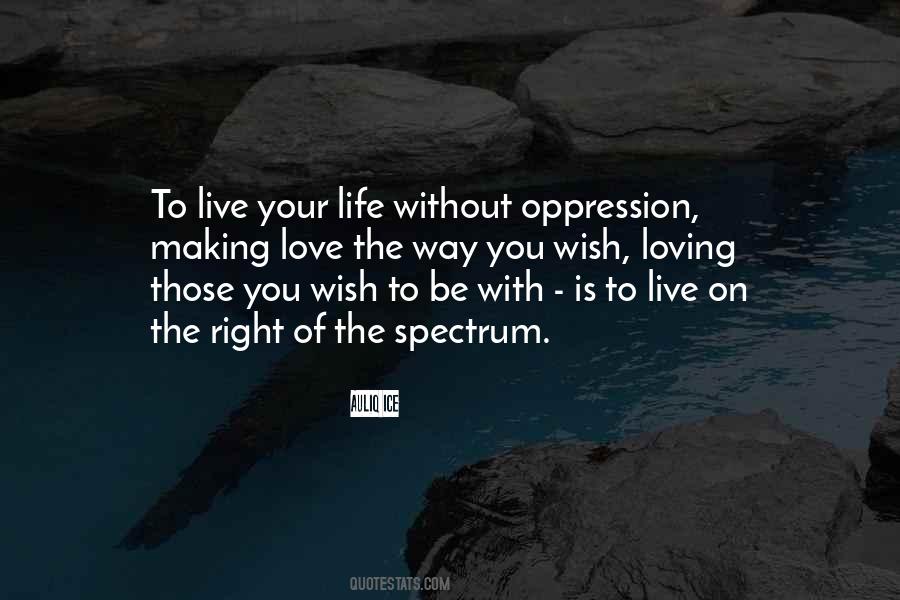 #50. When someone dear to you is lost within the arms of the heaven,they tell you to live without them. But when someone sucks the oxygen out of you, no one can dare to ask you to live without them. - Author: Andy Flynn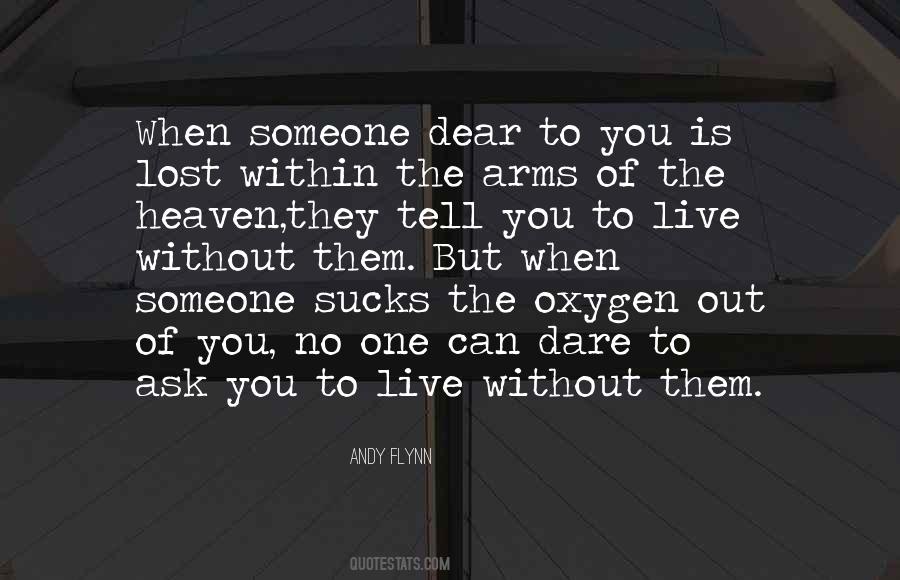 #51. So with imagination, ingenuity and audacity, explore, discover, change the world. And have fun while you're at it. Always take time out to love and to live. You're going to be busy, but never forget family and friends. - Author: Daniel Goldin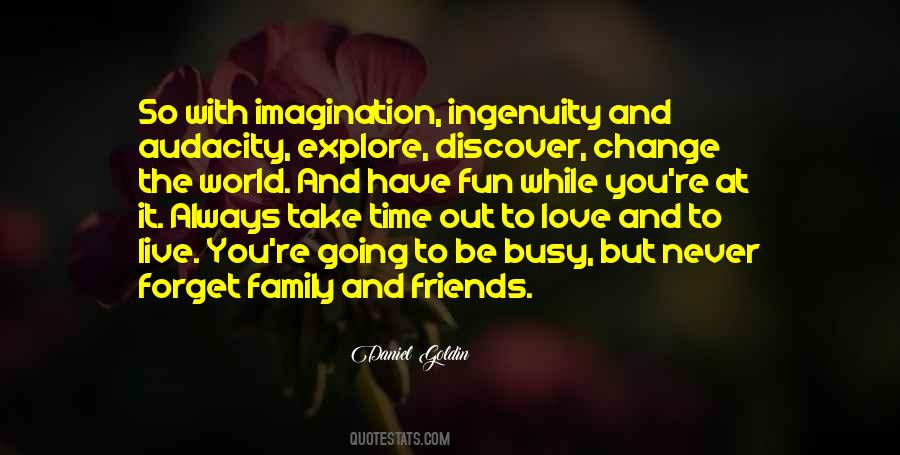 #52. Don't try to understand life. Live it! Don't try to understand love. Move into love. Then you will know - and all that knowing will come out of your experiencing. The more you know, the more you know that much remains to be known. - Author: Osho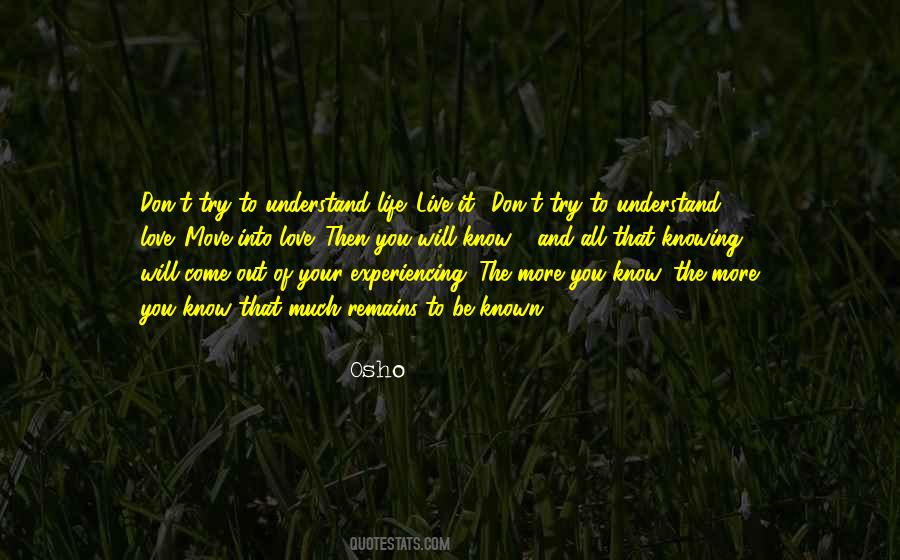 #53. You love them, even though they're gone. In order to love you need to live, if you give up on life you can no longer love. You'd no longer have the capability to love them. - Author: Nicole Sobon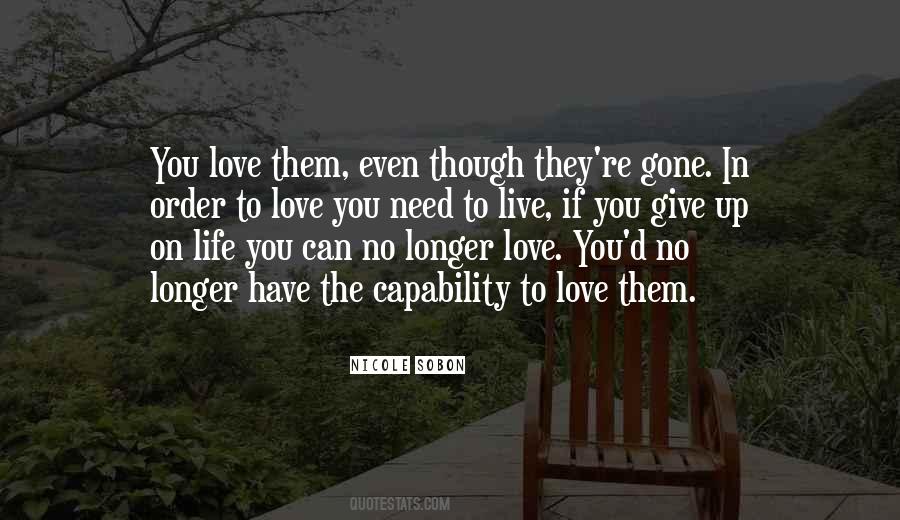 #54. There's no need to wait for the bad things and bullshit to be over. Change now. Love now. Live now. Don't wait for people to give you permission to live, because they won't. - Author: Kris Carr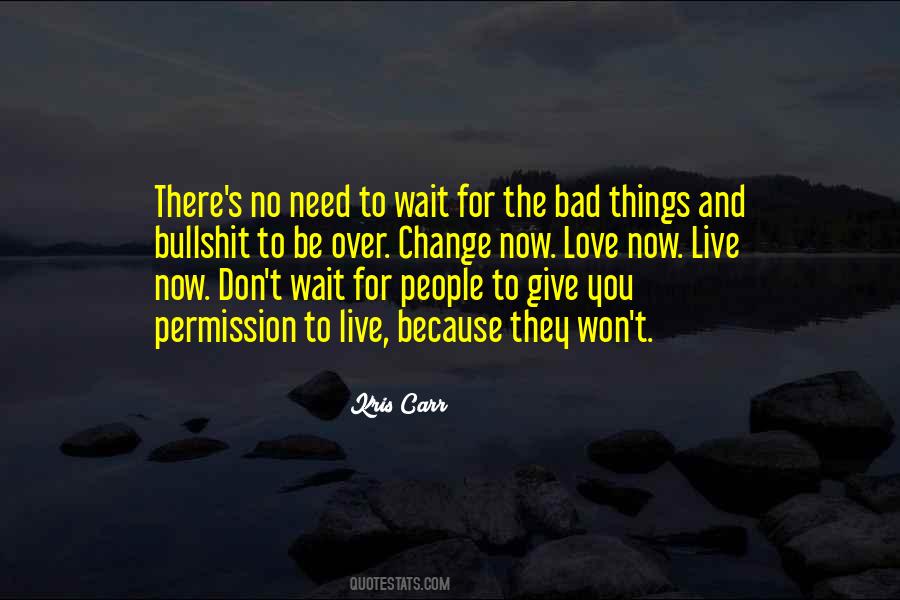 #55. You see, with you, the thing that scares me isn't the thought of losing you. What scares me is not having you in my life in the first place. - Author: Melissa Collins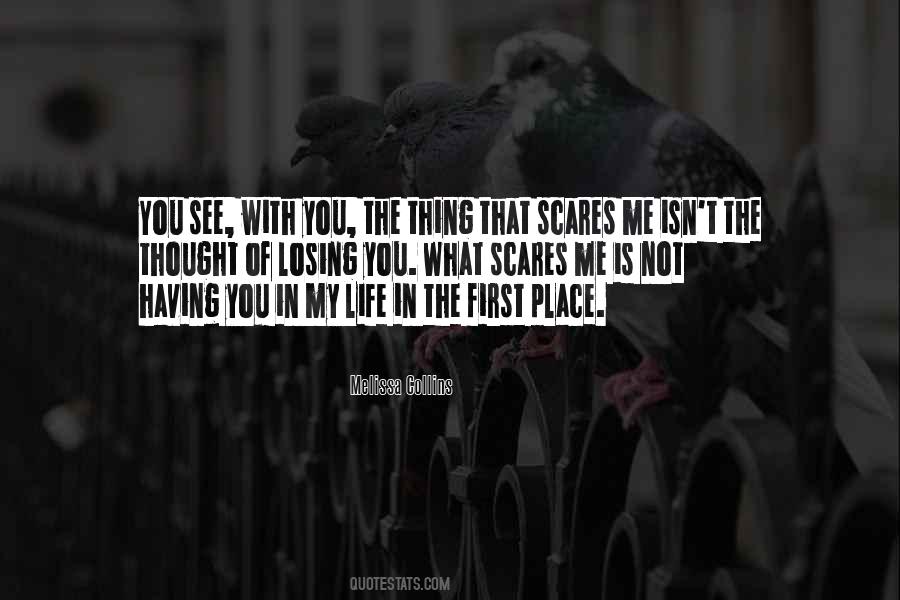 #56. Life is full of beautiful moments. Live your life to the fullest. And do what you
love. - Author: Santonu Kumar Dhar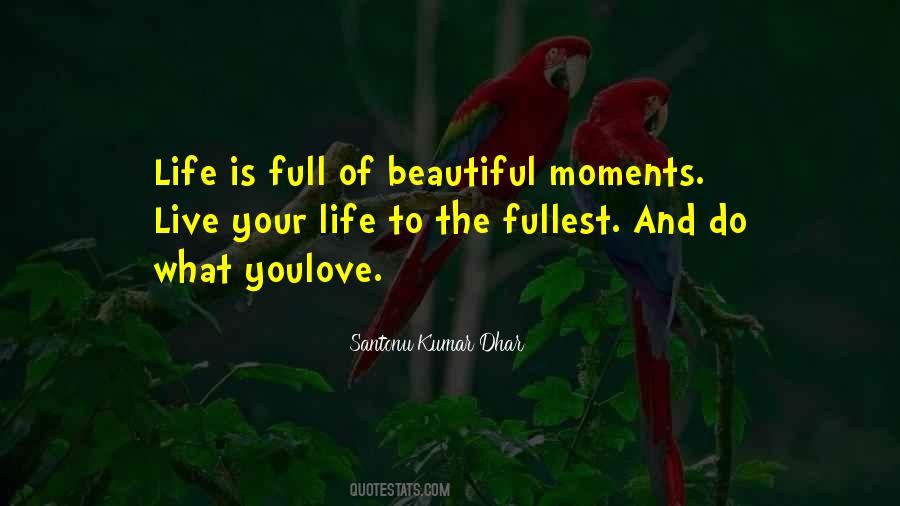 #57. Make the most of the moments with those you love, it's once upon a person to Live and then Die. Give them the most precious gift of all Time! - Author: Otis Teague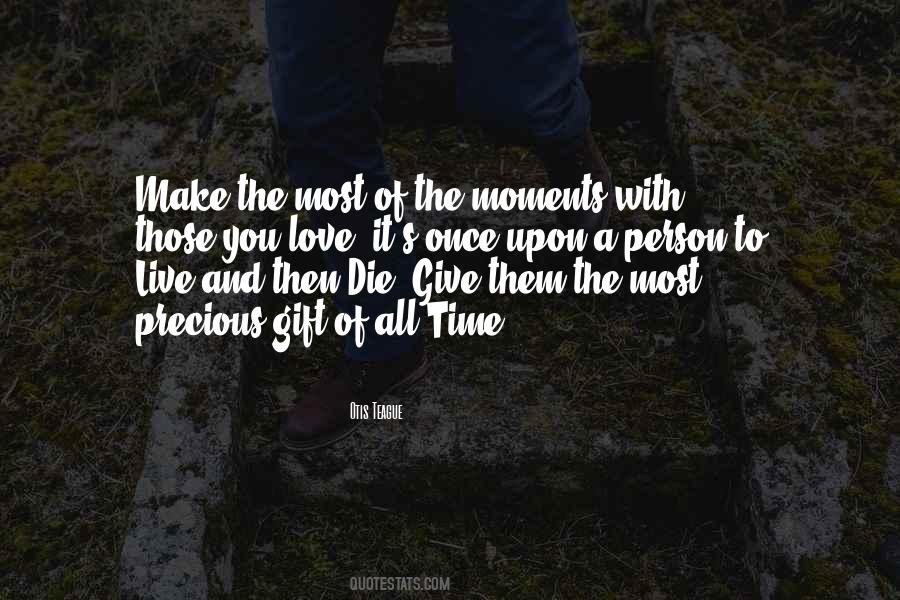 #58. ...life is too short to live without the things you want, to not fight for the things you love... - Author: Natalie Ward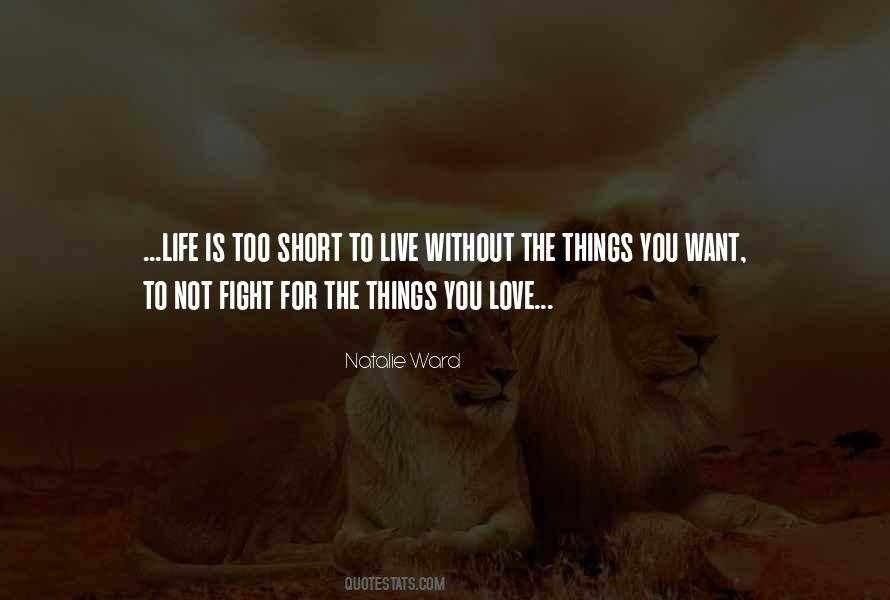 #59. Maybe the potential for agony and loss is what makes love itself that much stronger, knowing that it all can be gone in an instant, so you live life like there may not be a tomorrow. - Author: Melissa A. Hanson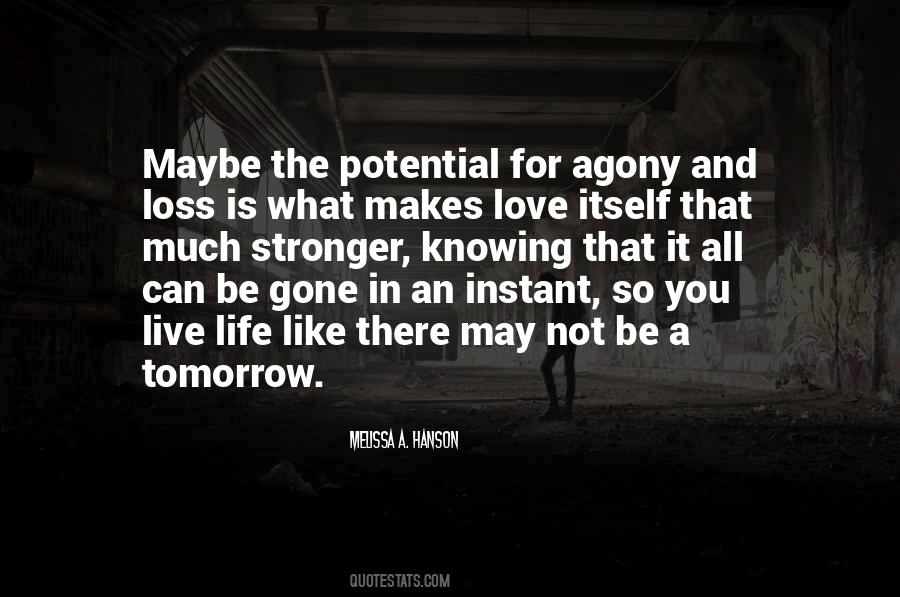 #60. Life is as long as you live it. - Author: Lashauna D. Hinton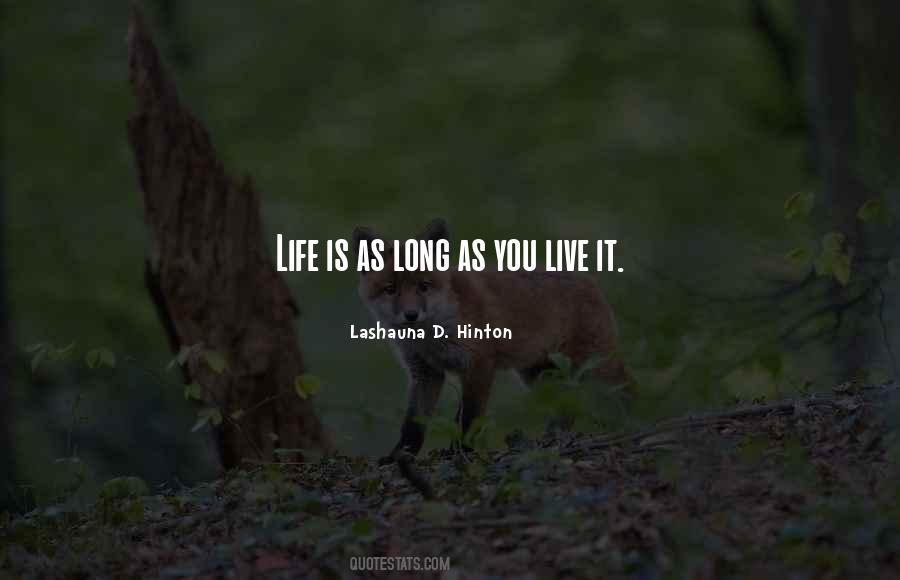 #61. It's all about the find when it comes to love, the moment when you meet the one person in your life you can't possibly live without, that was - Author: Meghan Quinn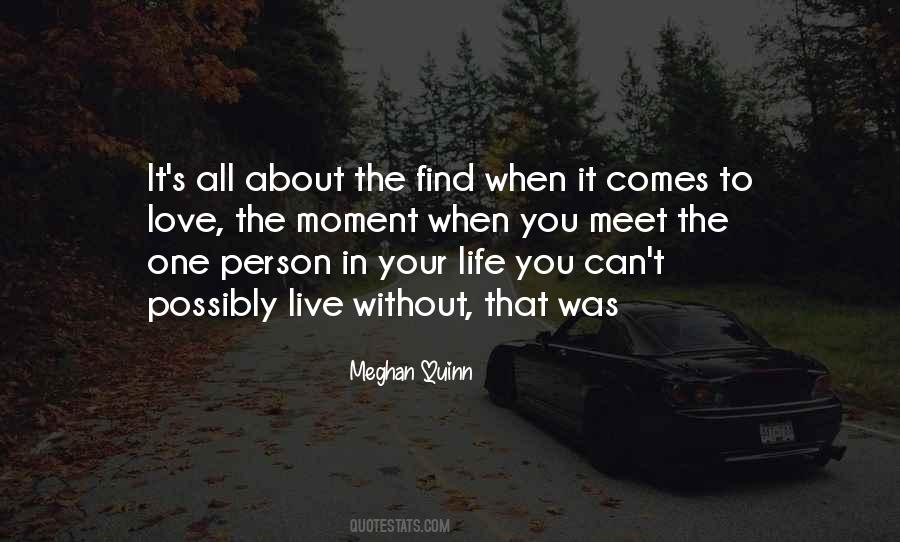 #62. I am amazed at the intensity of your dreams; you rebuke the soul of me - Author: Parul Wadhwa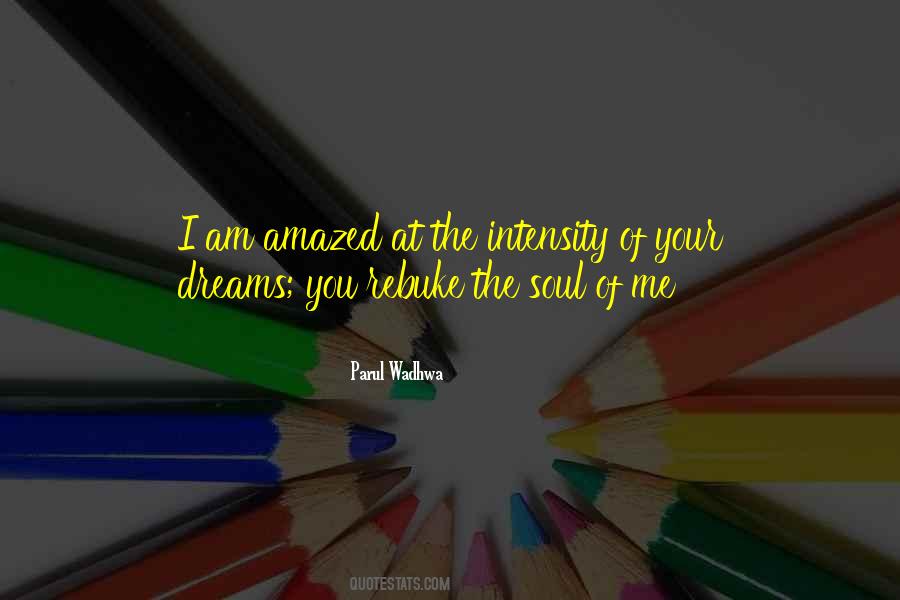 #63. I've never bowed to anyone, but will gladly live the rest of my life on my knees before you, if you'll be mine. - Author: Joya Ryan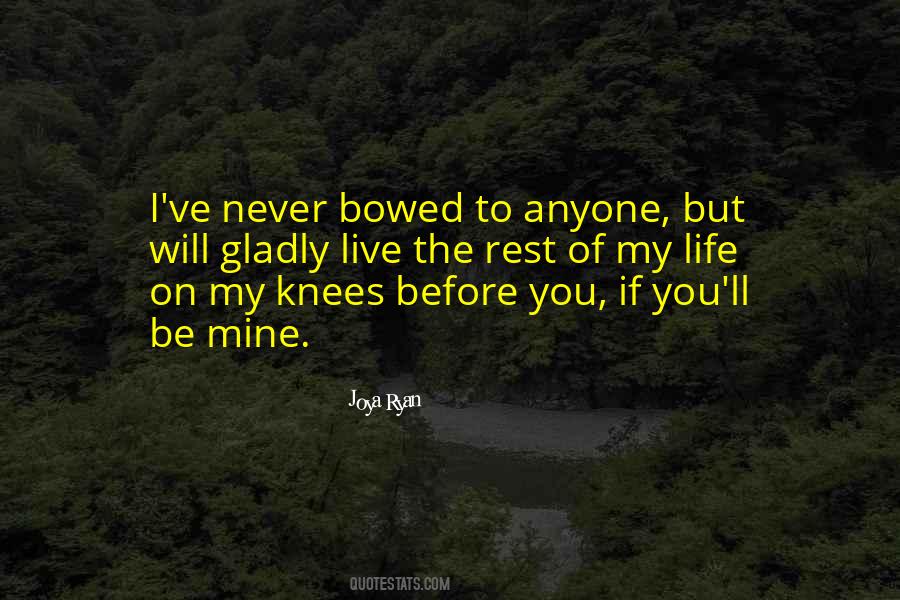 #64. I have no regrets. I feel very grateful for the life that I had - you know, family I live with; and I've been doing work that I love, ever since I came to Nashville. - Author: Kris Kristofferson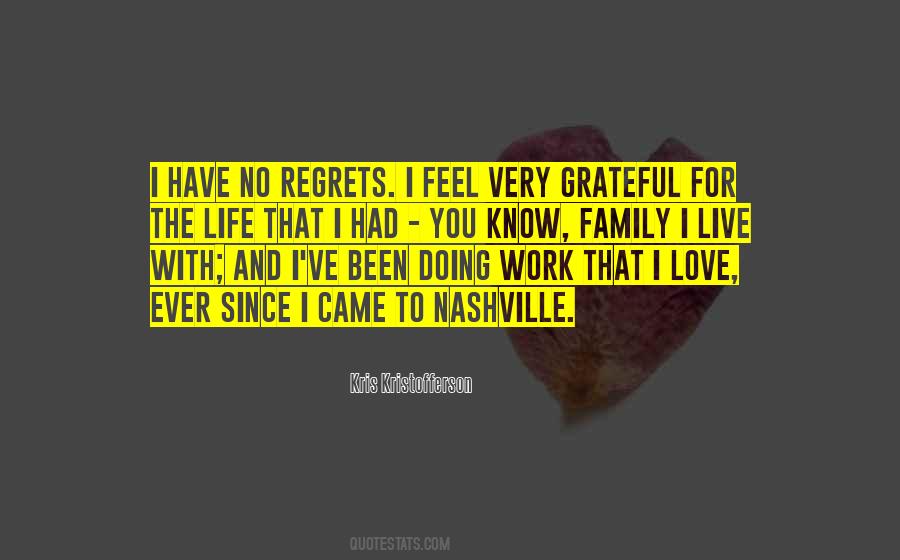 #65. I'm actually tougher on myself as I get older. It's a vicious cycle. The things that are important in life are the things that you can't buy in life: love, health and happiness. I say that, and I believe that, and I try to live that. - Author: Criss Angel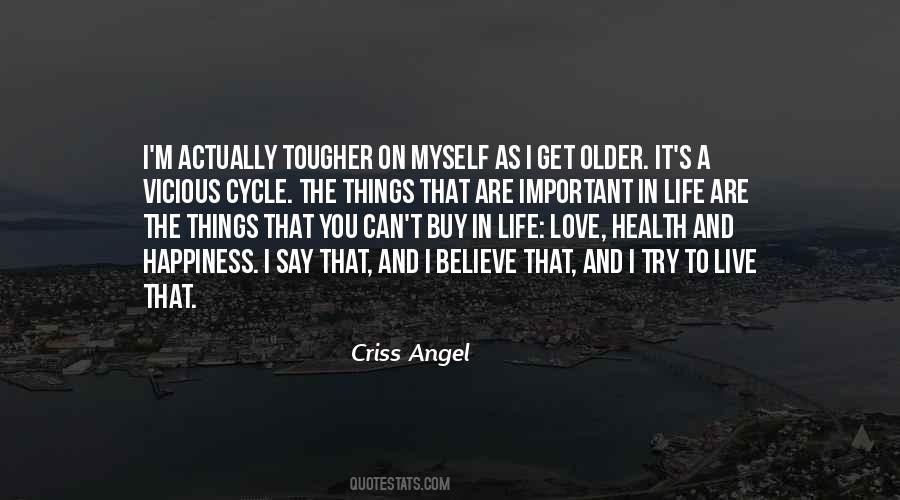 #66. You're still in love with her. She makes you want to live life. Personally, and this is just me, man, if I ever met a woman who saved me that way, I'd devote some temples to her or something. That's how the Taj Mahal got started, I'm sure. - Author: Karina Halle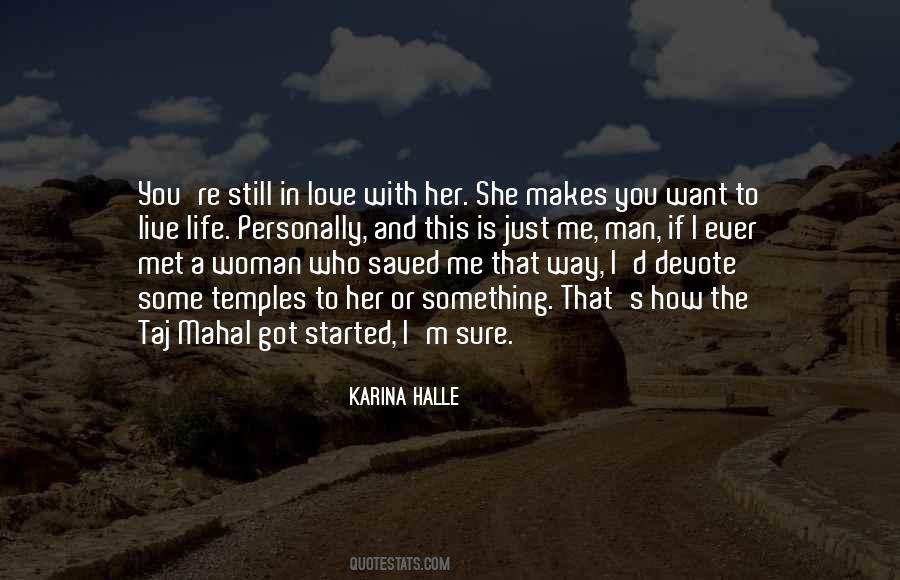 #67. I live by four words and I have it tattooed on my arms as well. It just says, 'Live, learn, love life'. So you live your life to the best way you can. Every situation is a learning one so take those lessons, learn from it and love your life. - Author: Chris Johnson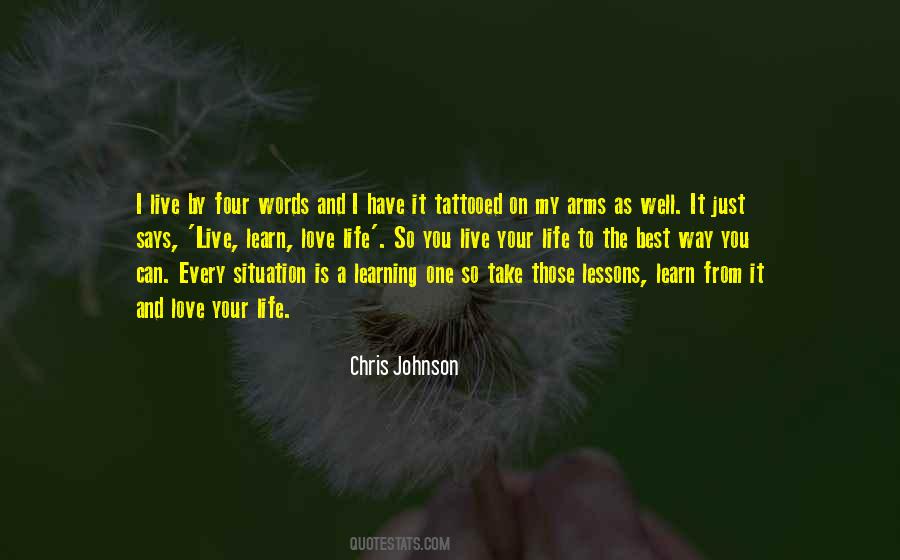 #68. The thoughts that you think define your life that you live. So have good thoughts to have a great life. - Author: Debasish Mridha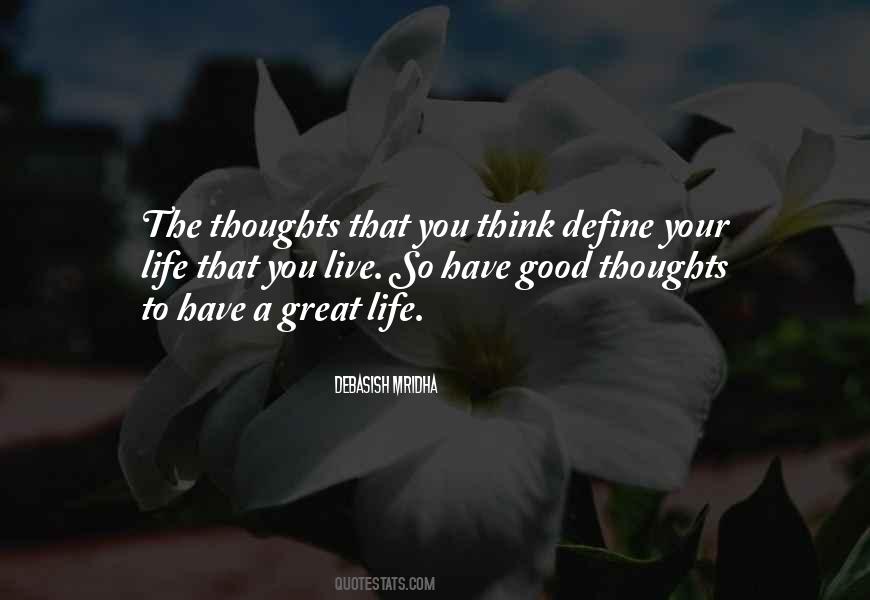 #69. To love your family, love your work, live your purpose and be unconditionally grateful for every moment of your life ... is to succeed at the highest level (in my opinion). - Author: Hal Elrod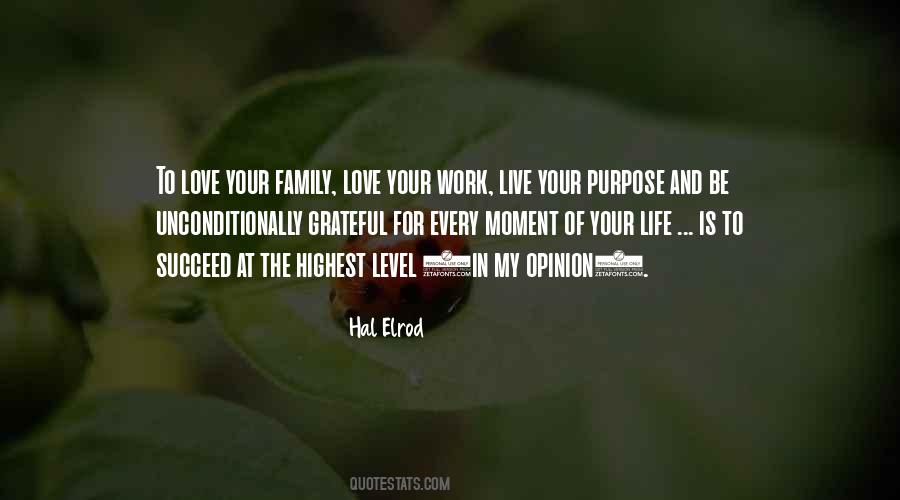 #70. I'm so sorry, Brody. I won't bullshit you and feed you a line about how it will get easier, because I know it won't. You don't get over losing someone you love. You just learn to live through the pain every day as you try to have some kind of normalcy in your life. - Author: Danielle Jamie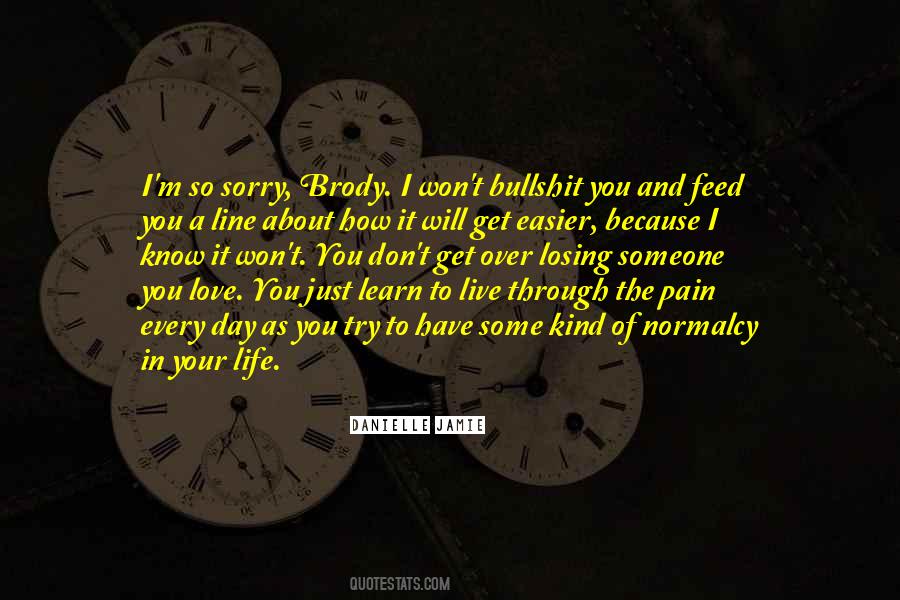 #71. I just think to be a manager you've got to live and breathe and have this incredible enthusiasm for football, the whole thing. And while I love the game, and it's been a large part of my life, it's not the only thing in my life. - Author: Gary Lineker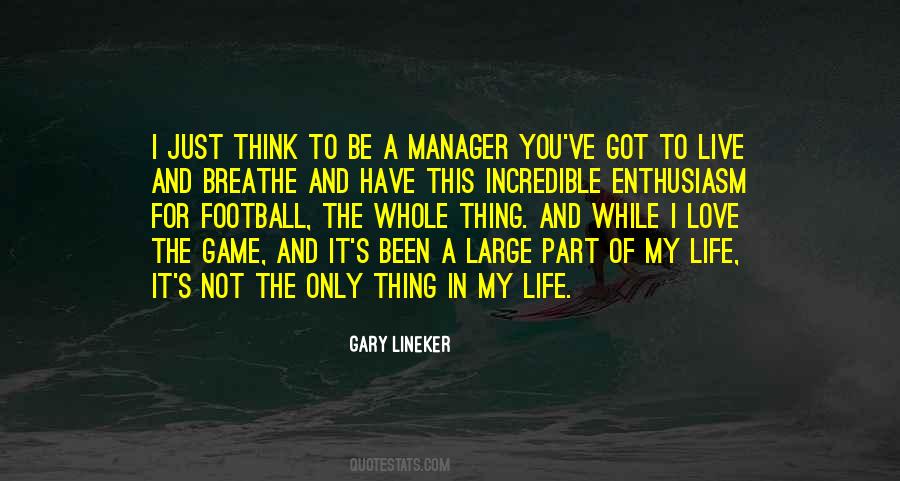 #72. Never live your life on the edge when you have loved ones who love you and who are depending on you. - Author: Paul Nat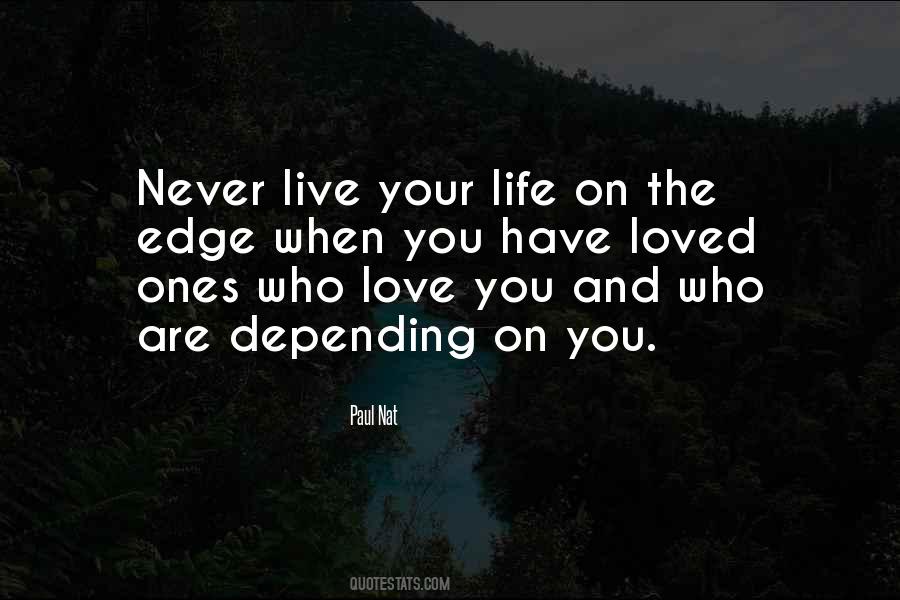 #73. You deserve more in your life. Think big. Love more and share beyond your limits. You will then become limitless. - Author: Steven Cuoco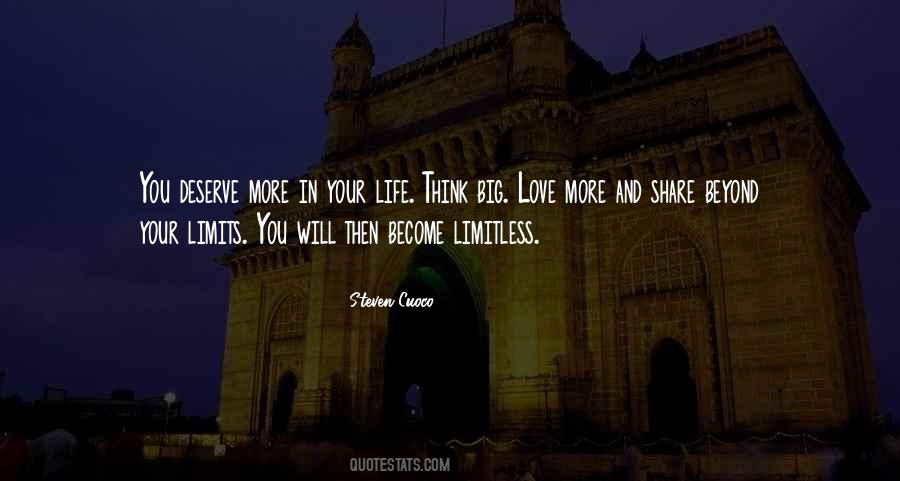 #74. We are reminded how short life really is, and how we are just passing through. So, all the people you haven't told you love lately, tell them, and live your days like you mean it. - Author: Hal Sutton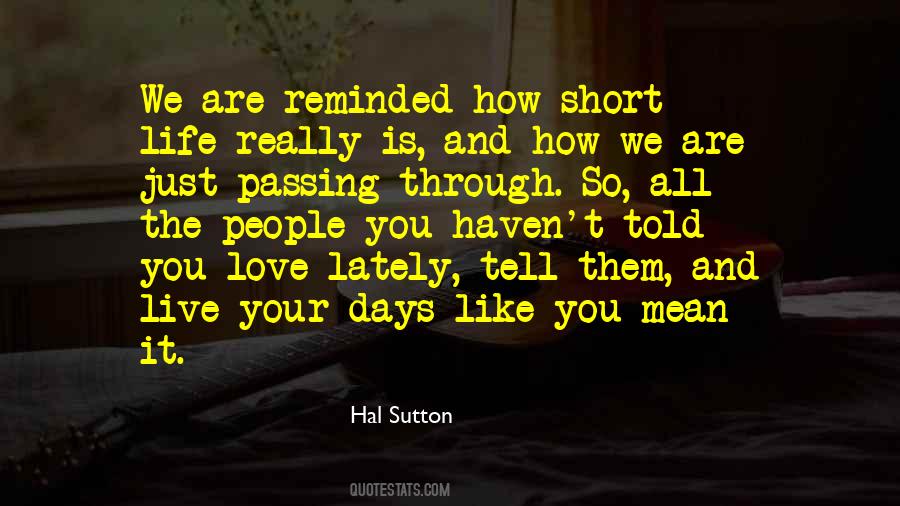 #75. Hate isn't the opposite of love, apathy is. Hating doesn't free you from feeling anything. You have to carry it around, using every scar, every little memory like a building block. Like a stone in a wall, until you've created a new person, a new life that you can live with. - Author: Rasmenia Massoud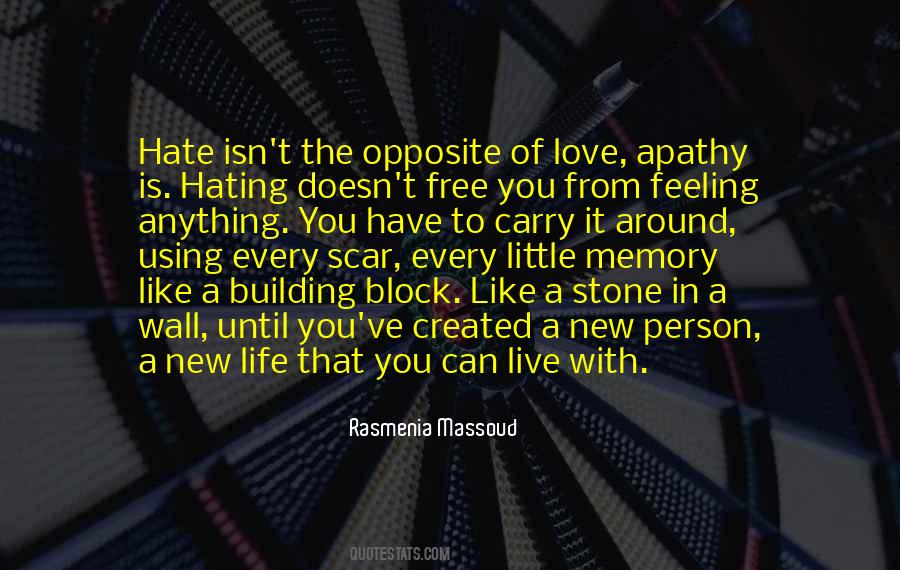 #76. We die so others can be born
We age so others can be young
The point of life is live,
Love if you can
Then pass it on. - Author: Kate Tempest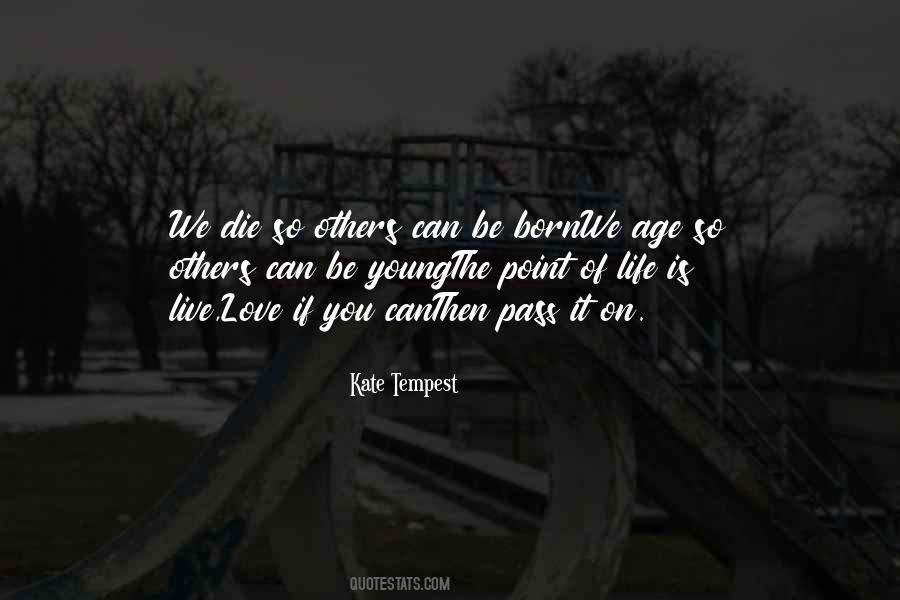 #77. Todd, I can only love you because of my heart. It's my broken heart that lets me love you. It's my broken heart that makes me want to live the best life I can. I only want to live that life with you, only you. If you're willing to teach me I'm ready and willing to learn. - Author: Sheila Bliss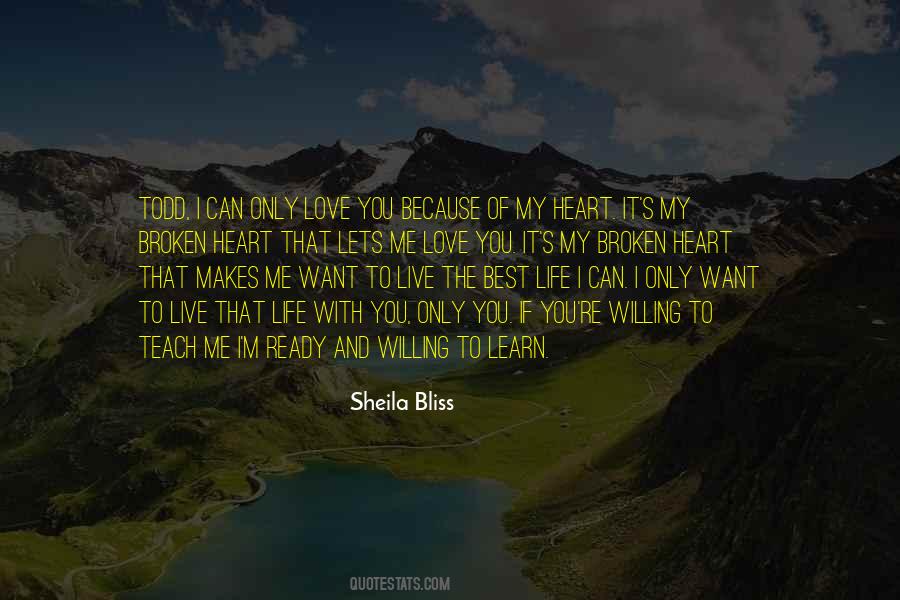 #78. And you left your mark on me ...
With the destruction of us, finally, we became no one. - Author: Nadege Richards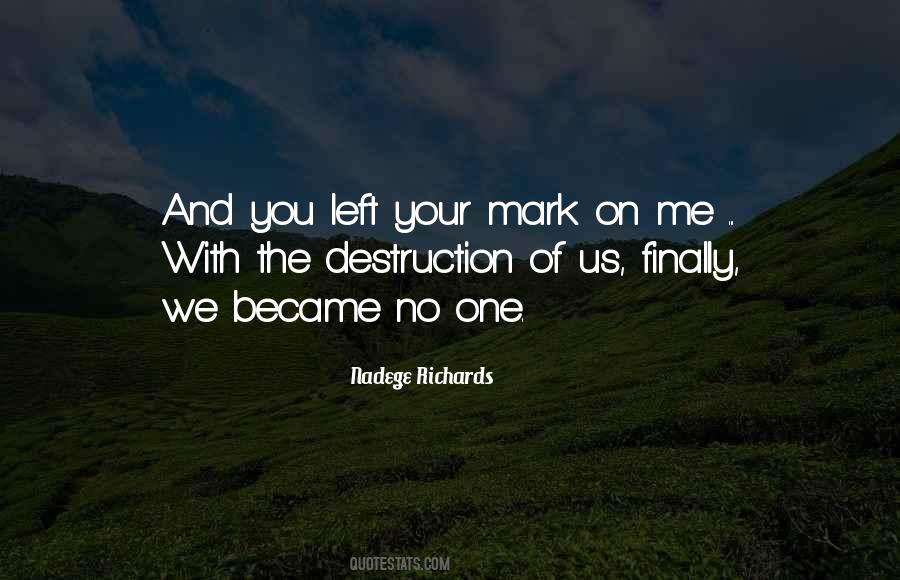 #79. If you're a child of God, you do not just "go around once" on Earth. You don't get just one earthly life. You get another-one far better and without end. You'll inhabit the New Earth! You'll live with the God you cherish and the people you love as an undying person on an undying Earth. - Author: Randy Alcorn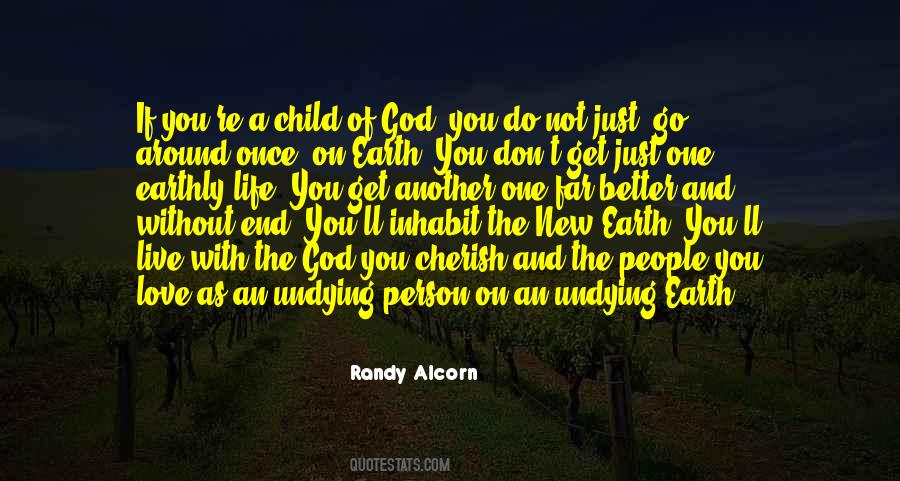 #80. You can't always be by the people you love you have to let them live their own life. - Author: Brynlee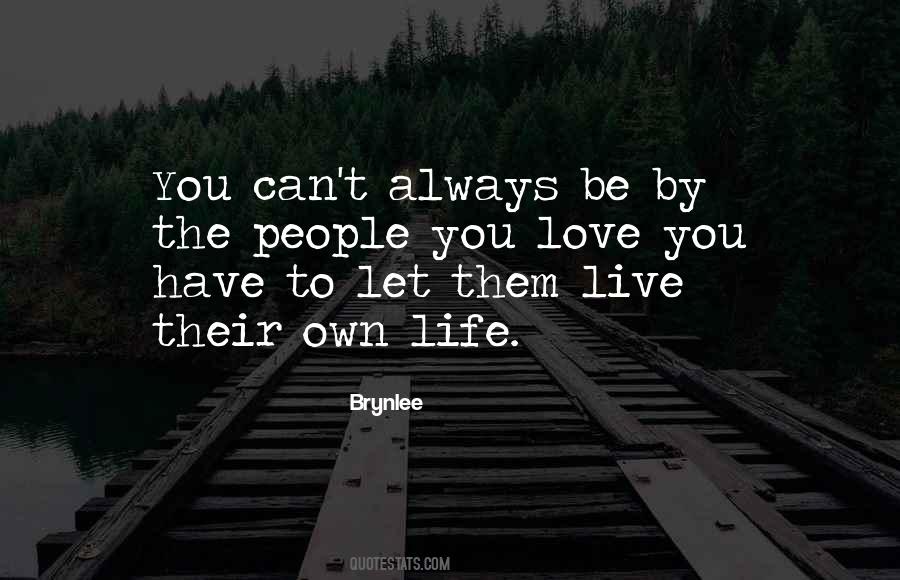 #81. The purpose of this glorious life is not simply to endure it, but to soar, stumble, and flourish as you learn to fall in love with existence. We were born to live, my dear, not to merely exist. - Author: Becca Lee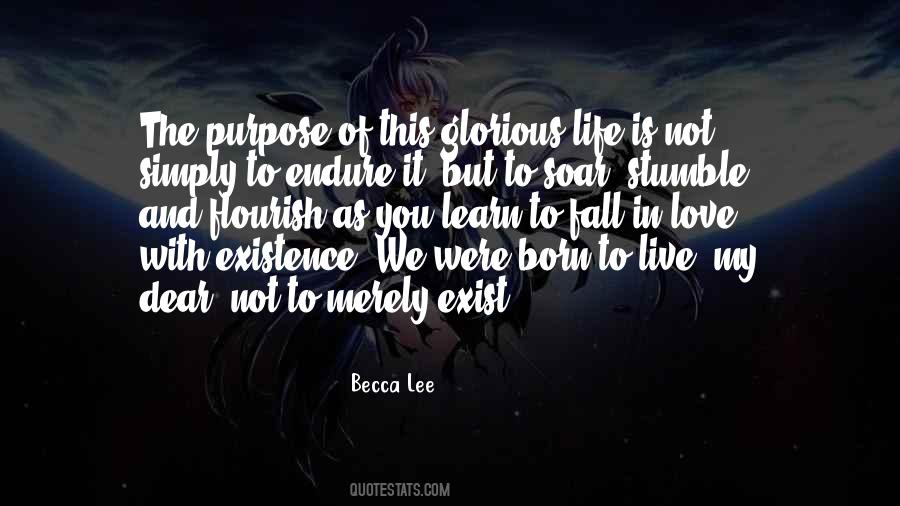 #82. Don't live life hiding behind your past. Live for the moment. When you find someone you want to spend forever with, you don't let them go, whether forever turns out to be a day, a year or fifty years - Author: Nicole Williams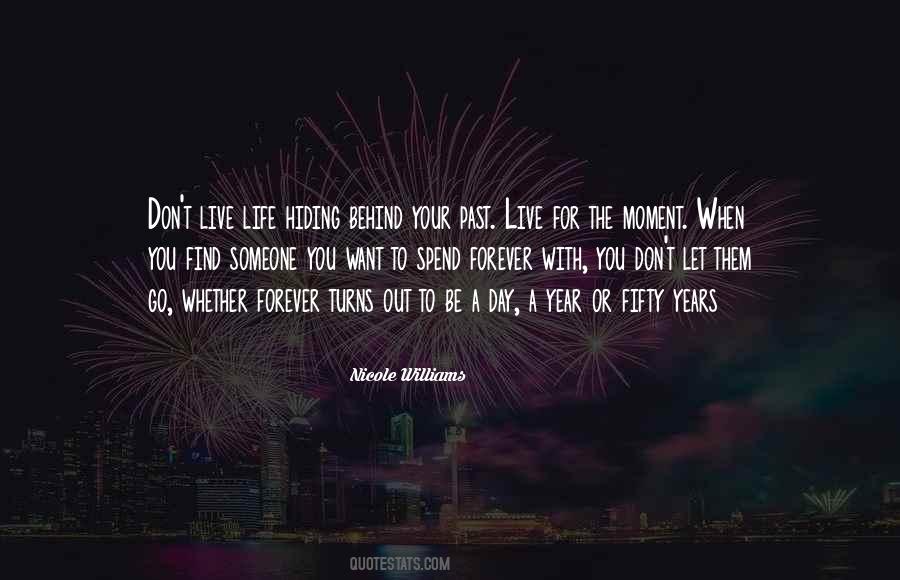 #83. To live in this world, you must be able to do three things: to love what is mortal; to hold it against your bones knowing your own life depends on it; and, when the time comes to let it go, to let it go. - Author: Mary Oliver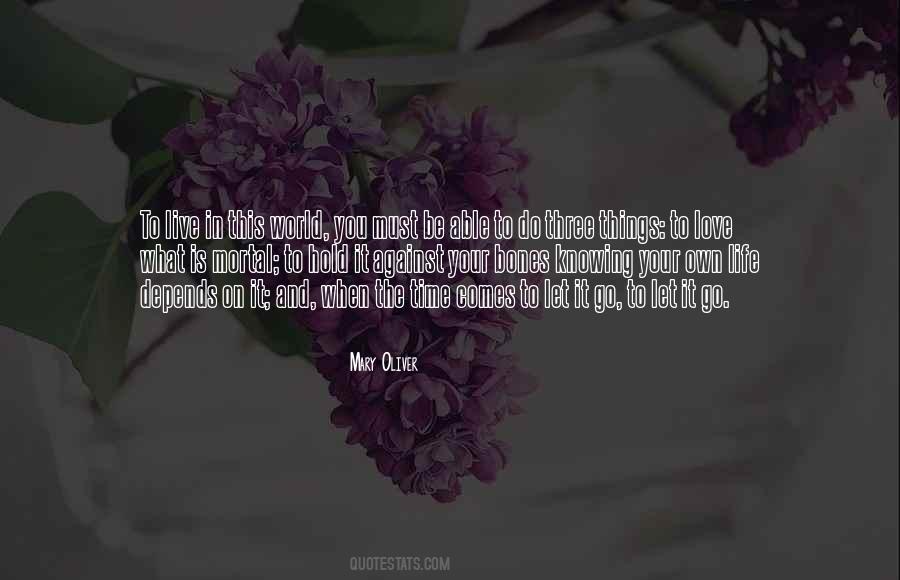 #84. it is your life and you have to live your life as you want but you must have courage to pay by your self for the life which you are living , if someone other is paying by their tears and grief for your enjoyment ,then you are living a shameful life. - Author: Mohammed Zaki Ansari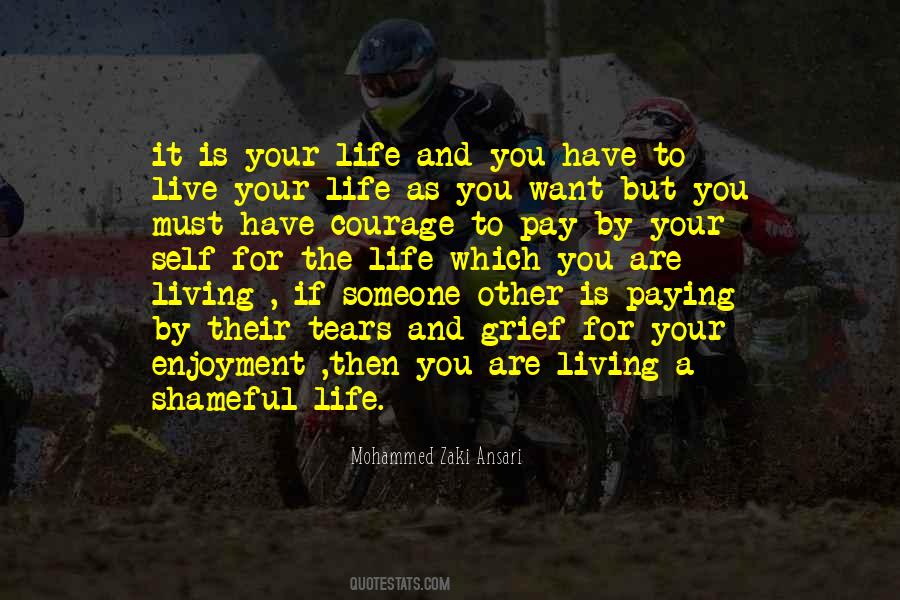 #85. The past is a tricky thing and we let it define us when we should embrace the here and now, and all that's still coming. You need to let yourself live from a place of love, not from a place of fear over the things you can't control. - Author: Jennifer Farwell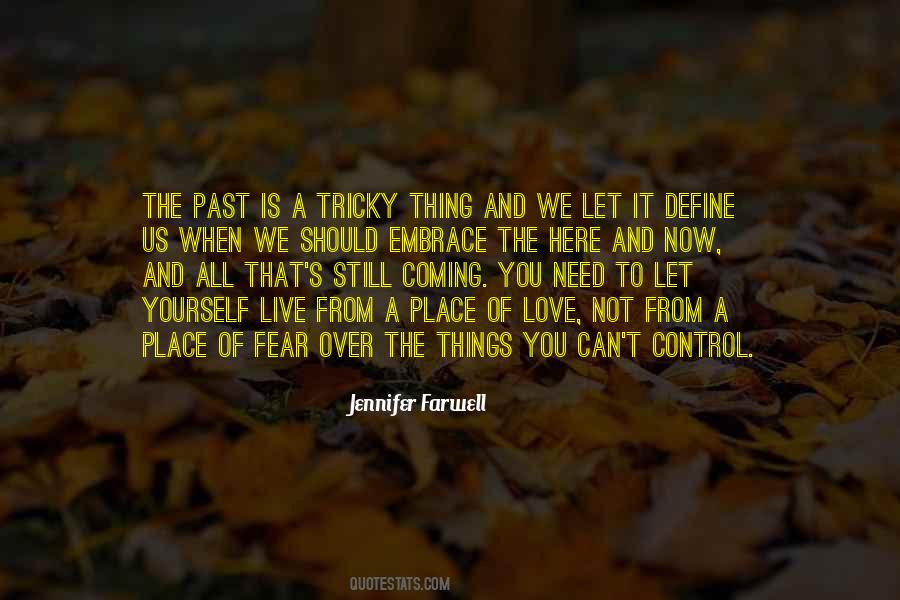 #86. Hard work is painful when life is devoid of purpose. But when you live for something greater than yourself and the gratification of your own ego, then hard work becomes a labor of love. - Author: Steve Pavlina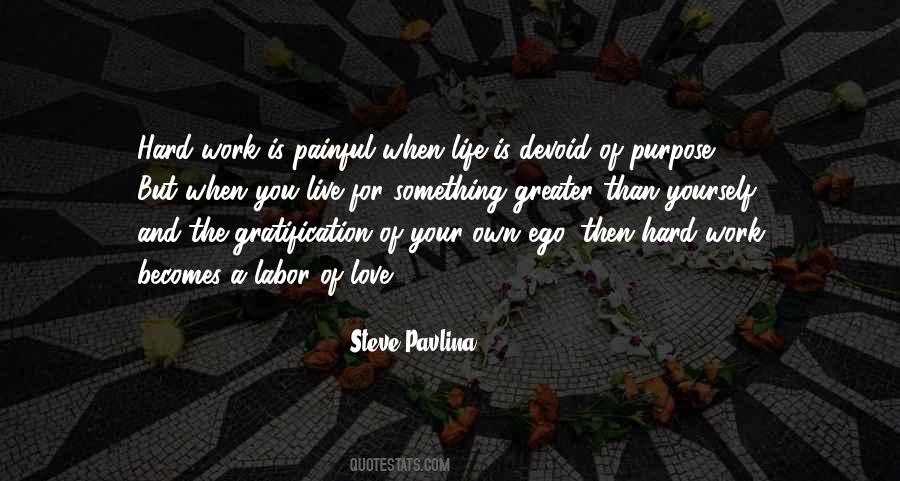 #87. Understand that you own nothing. Everything that surrounds you is temporary. Only the love in your heart will last forever. - Author: Leon Brown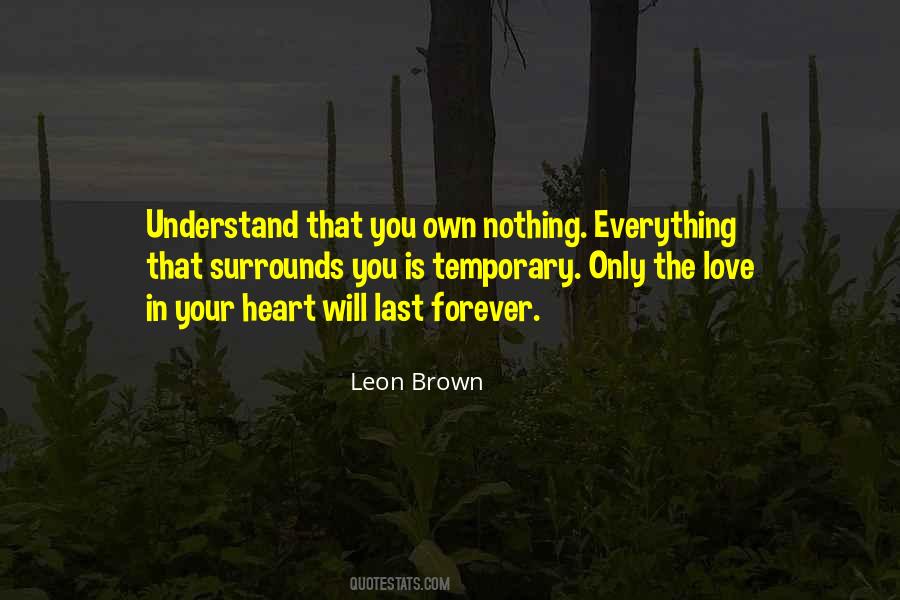 #88. caring about lives is not caring about your own life. it's all about giving your last breath for others to live. The caring man is like the last crab out of a bucket. letting others step on your back to get out, and letting you not step on others back and that is love. - Author: Christian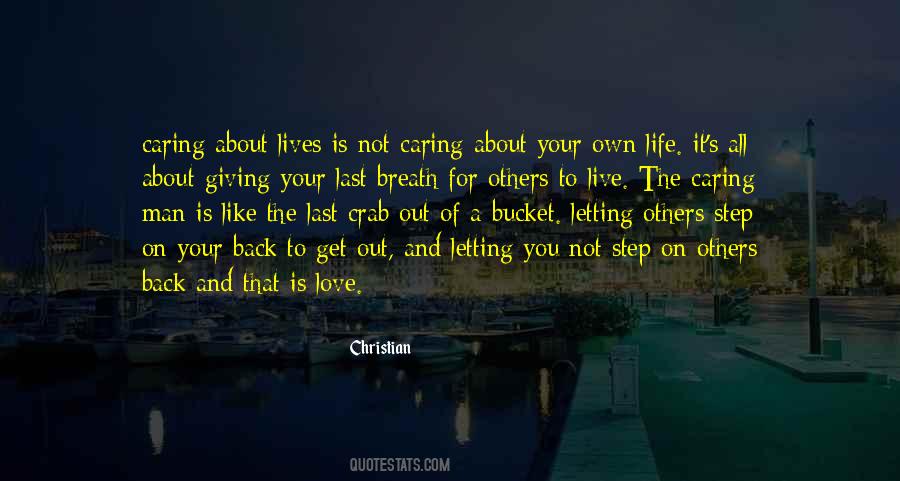 #89. Live the life you love, Love the life you live - Author: Bob Marley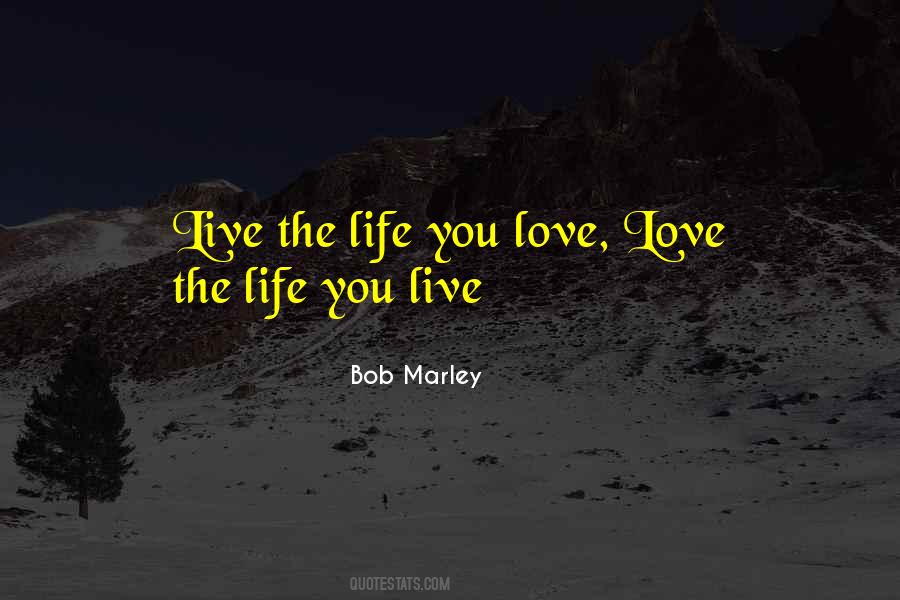 #90. You only have power in your energy field ... so the only way to live the life you want is in your energy field ... and your greatest power is love. - Author: Oprah Winfrey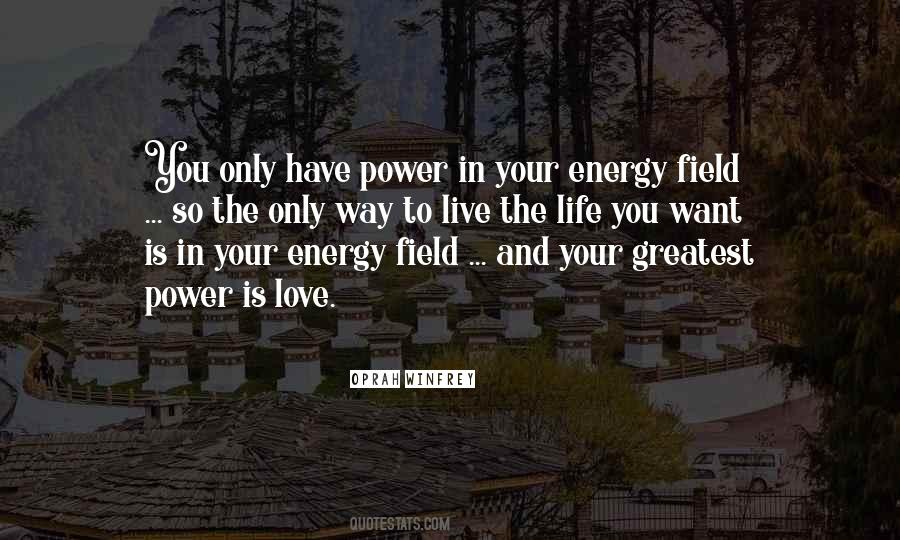 #91. By tuning in to the ocean of loving energy around you, you can have far more security, enjoyable sensations, effectiveness, and love than you would ever need in order to live a continuously beautiful life. - Author: Ken Keyes Jr.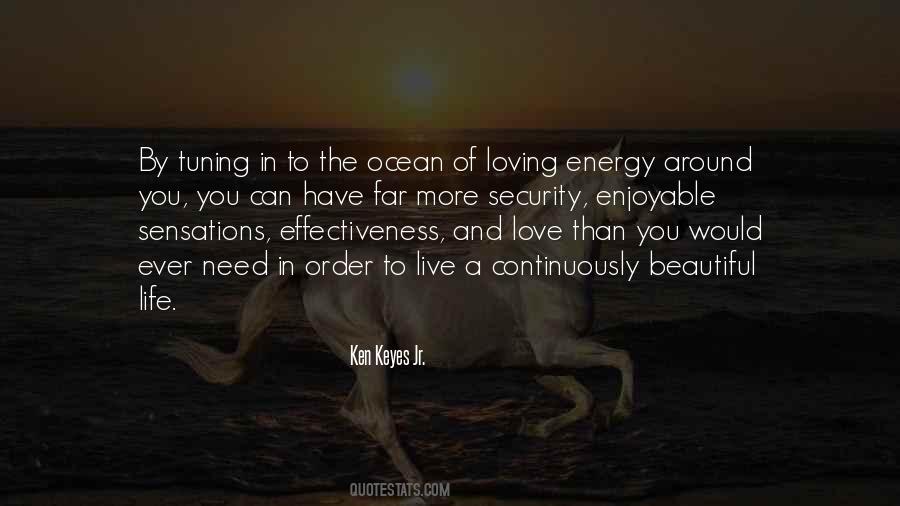 #92. Live in the midst of q crowd, but think like you're in the solitude. - Author: Debasish Mridha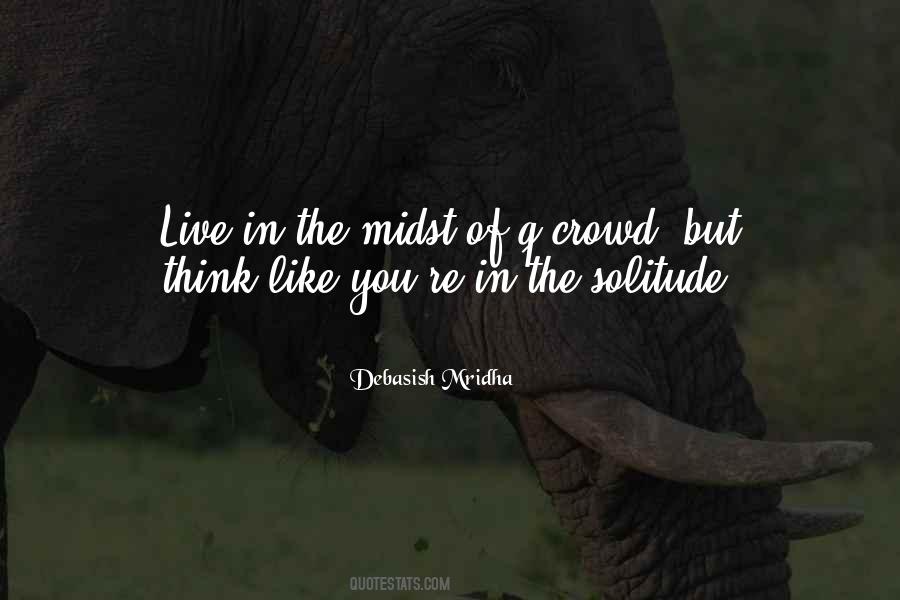 #93. I want you to send a hundred red balloons up into the sky every Fourth of July and make everyone who sees them wonder what the story behind them is all about. Let me live on inside of a made up story, Callum Andrew - Author: Emalynne Wilder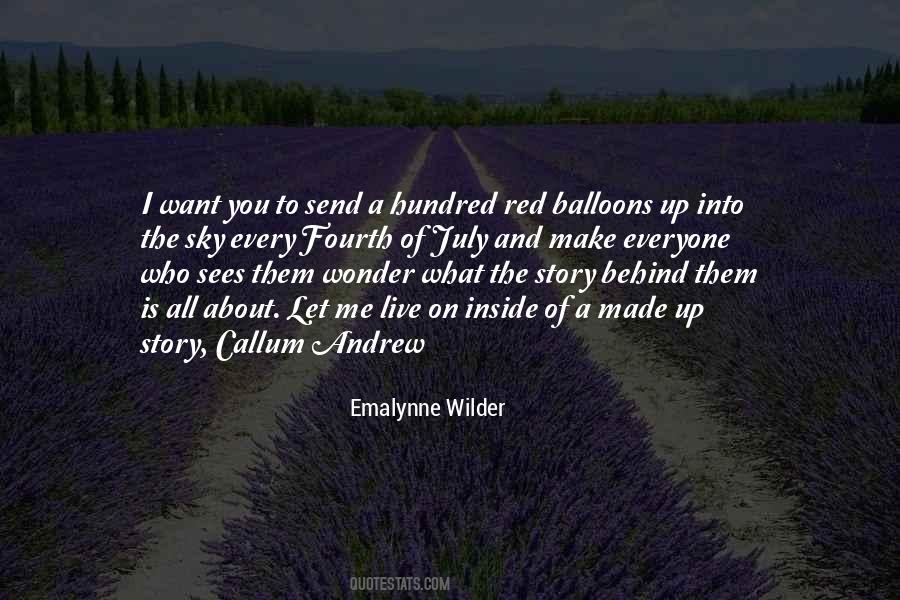 #94. I think people who truly can live a life in music are telling the world, 'You can have my love, you can have my smiles. Forget the bad parts, you don't need them. Just take the music, the goodness, because it's the very best, and it's the part I give most willingly - Author: George Harrison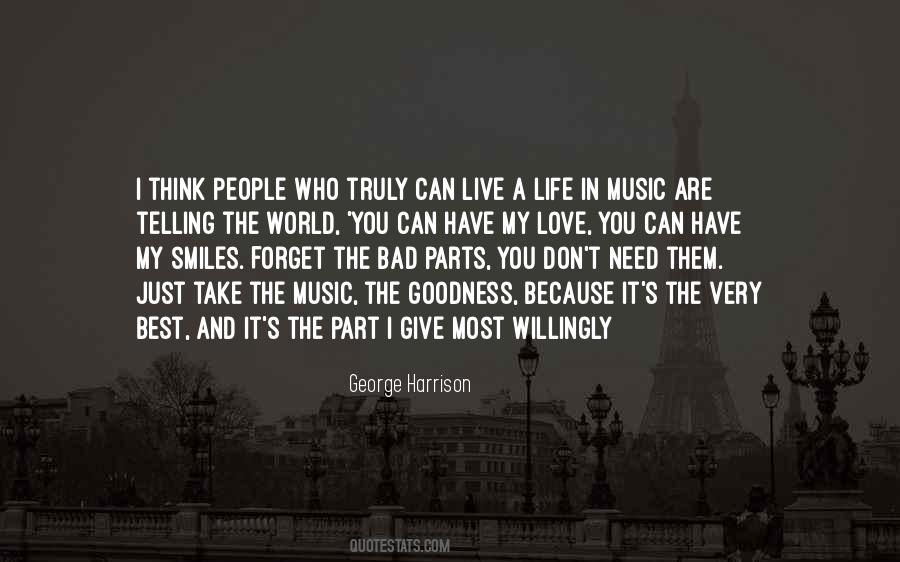 #95. Sometimes we focus too much on the lyrics that we forget to dance to the music. And sometimes we dance to the music and don't listen to the lyrics. Let the rhythm guide you. Let the lyrics inspire you. - Author: Alexa Anderson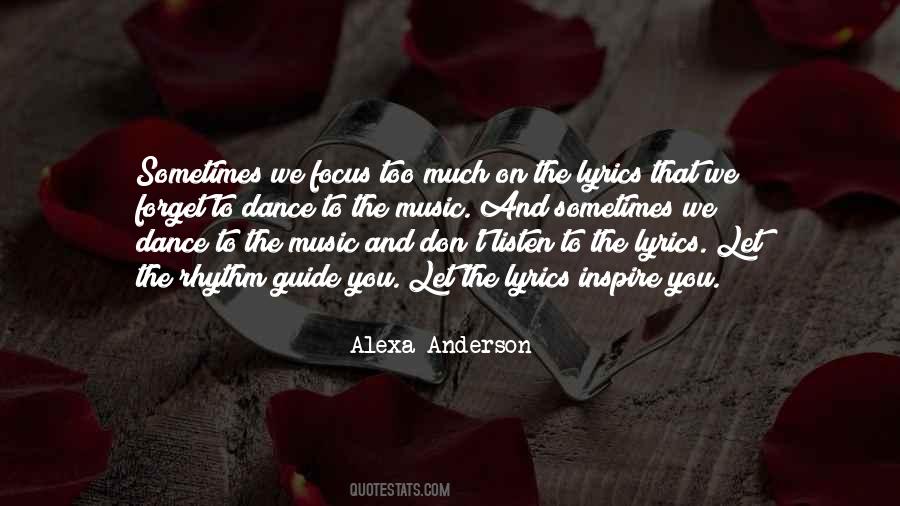 #96. You've got to love people, places, ideas; you've got to live with mind, body, soul; you've got to be committed; there is no life on the side-lines. - Author: Bess Myerson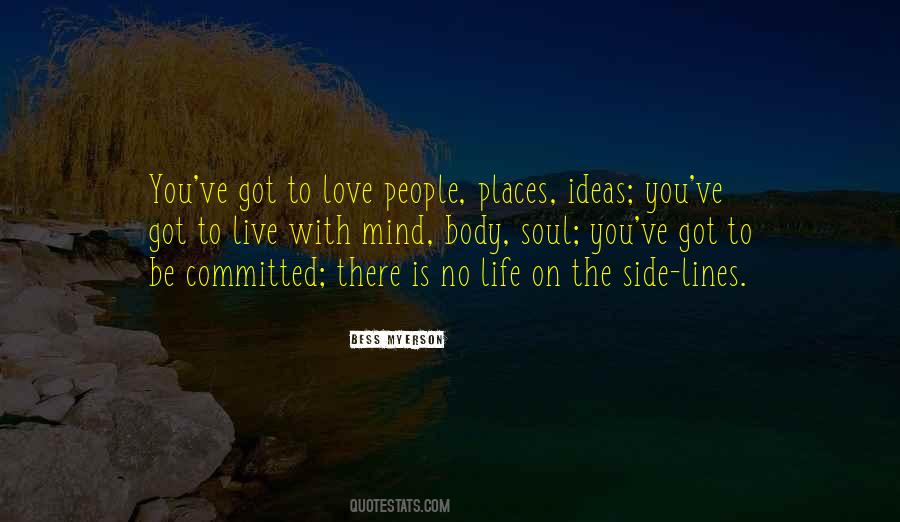 #97. I can tell you that the end of a live is the sun of the love that was lived in it, that whatever you think you have sworn, being here at the end of Jem's life is not what is important.
It was being here for every other moment. Since you met him you have never left him and never not loved him - Author: Cassandra Clare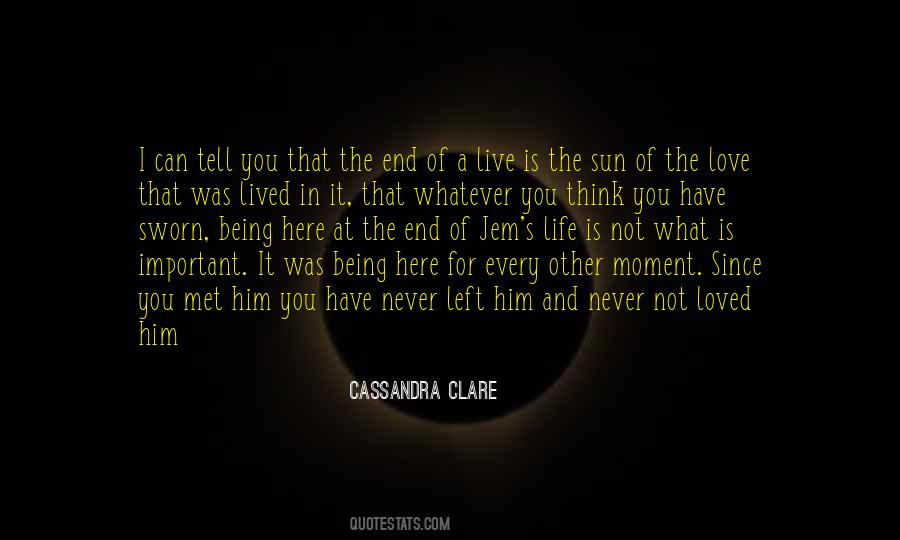 #98. The secret to happiness, at least to peace of mind, is knowing how to separate sex from love. And, if possible, eliminating romantic love from your life, which is the love that makes you suffer. That way, I assure you, you live with greater tranquility and enjoy things more. - Author: Mario Vargas-Llosa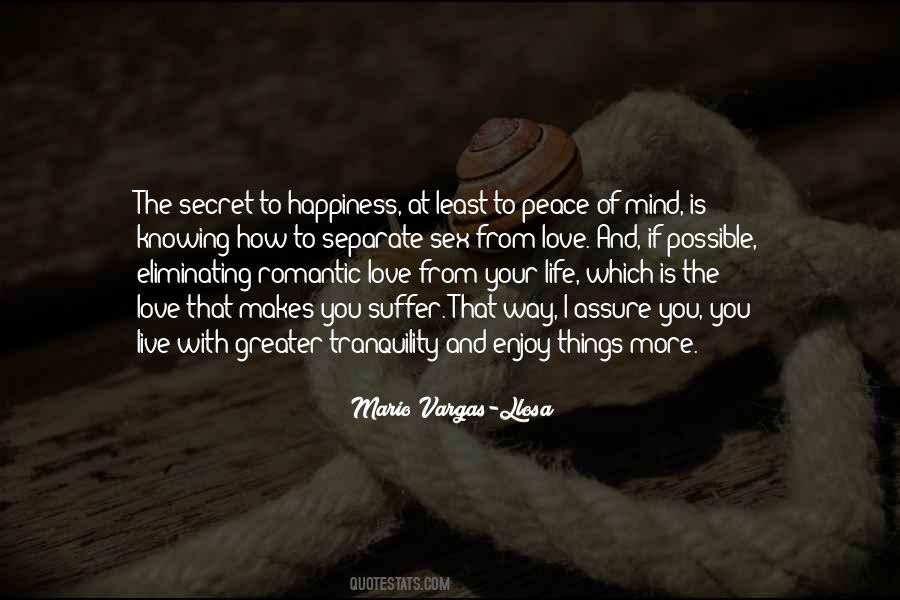 #99. My big mantra is 'food is medicine,' so I really love being able to talk about how you can make food your medicine, how you can make food be the thing that hopefully allows you to live a longer, happier, healthier life. - Author: Travis Lane Stork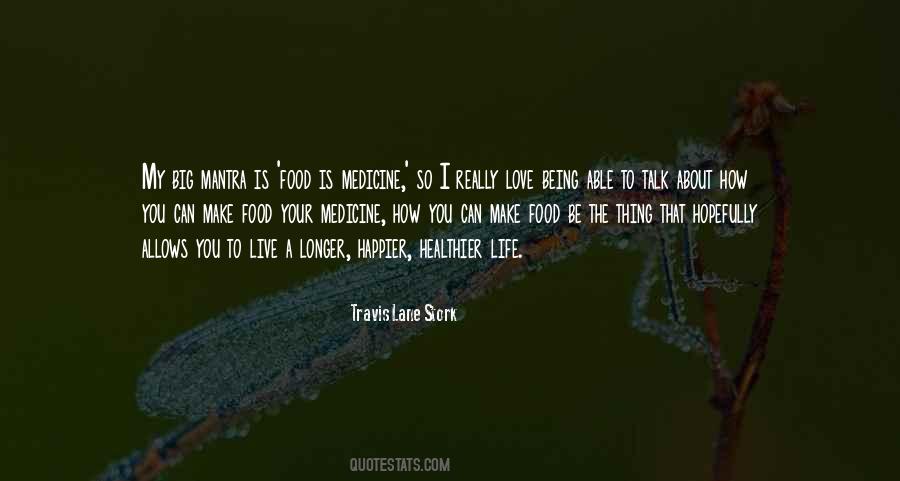 #100. Remember, if you want to love your life and live it to the fullest, don't let the sun go down on your anger. If you don't have a solution to the issue, agree to disagree and focus on the importance of the relationship. - Author: Victoria Osteen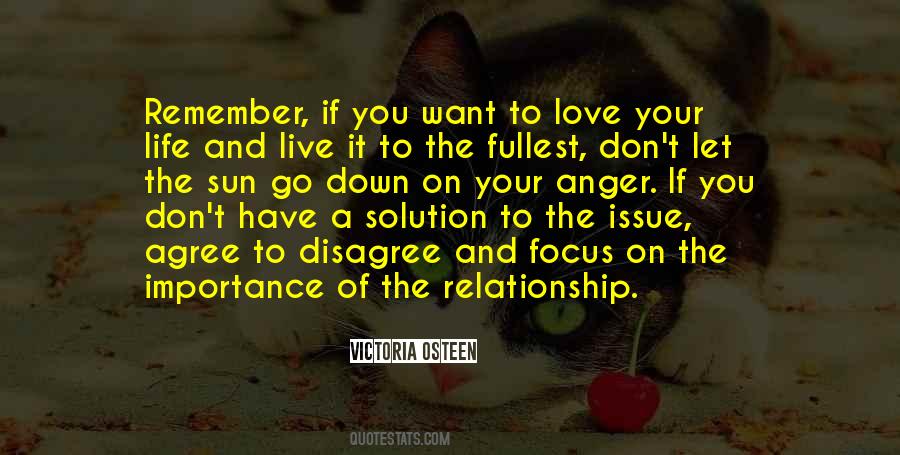 Famous Authors
Popular Topics