Longing For Something Famous Quotes & Sayings
List of top 75 famous quotes and sayings about longing for something to read and share with friends on your Facebook, Twitter, blogs.
Top 75 Quotes About Longing For Something
#1. The human longing for story is so powerful, so primitive, that it seems like something not learned, but locked into our genes. - Author: Helen Dunmore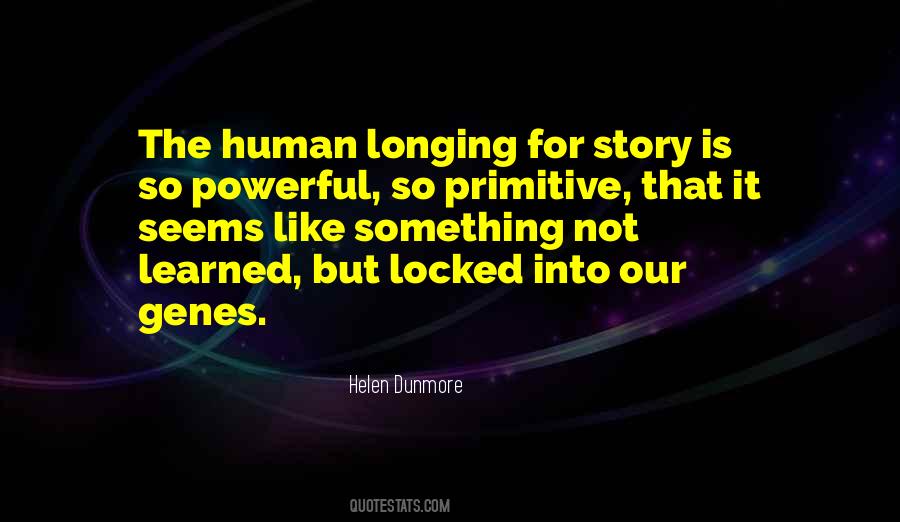 #2. I go fishing in my mind. I put out bait, the bait of my own longing, my desire, and my hunger for connection, for a tug of something alive at the end of a line. Something that I may have to struggle with to pull in, but that will be wild and important to me, whether I keep it or let it go. - Author: Pat Schneider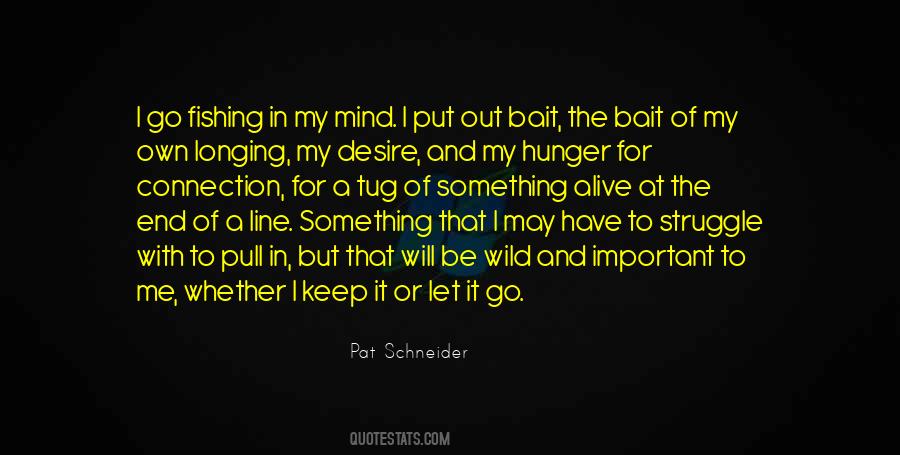 #3. People miss those who they love. It brings tears to my eyes to see the longing for me. But it's my decision to do fewer films and more protagonist-based roles. For me to take up something, it has to make a lot of sense to me. - Author: Rani Mukerji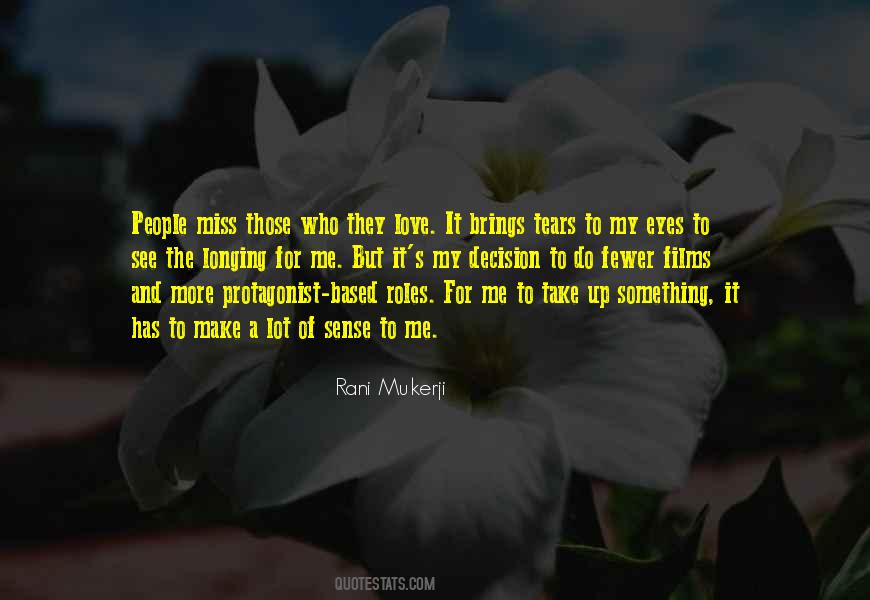 #4. [As a young man] I sought thrills! I found them in Christ. I looked for something that would bring perfect joy! I found it in Christ. I looked for something that would bring pleasure and that would satisfy the deepest longing of my heart! I found it in Christ. And my life has never been the same. - Author: Billy Graham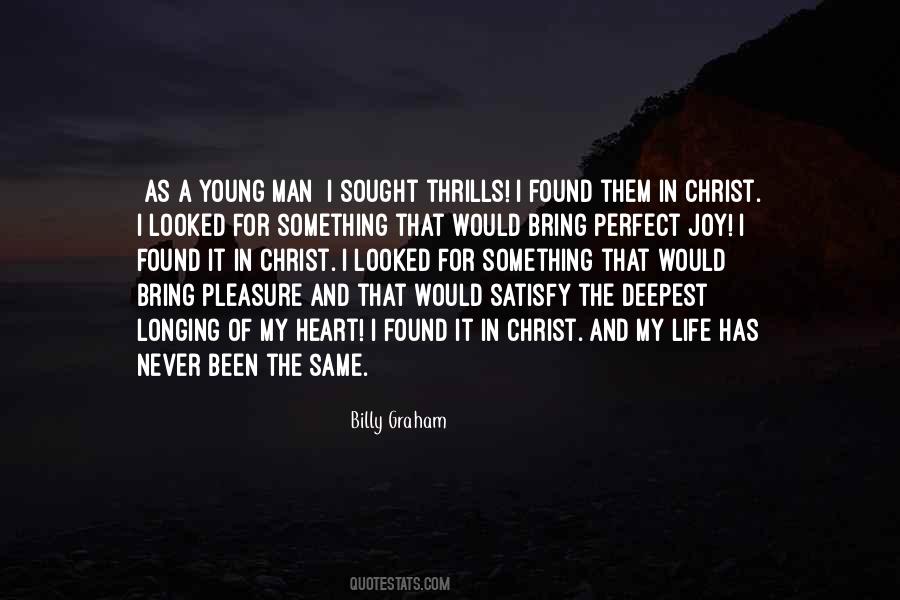 #5. It's not so difficult to acknowledge that we lack wisdom. When we pray and seek God's wisdom with a longing for a deeper fullness of the life of Christ, then we will always find something to pursue. - Author: Esther Smith
#6. We clean our plates, yet we're still famished - starving for something other than food. - Author: Kate Wicker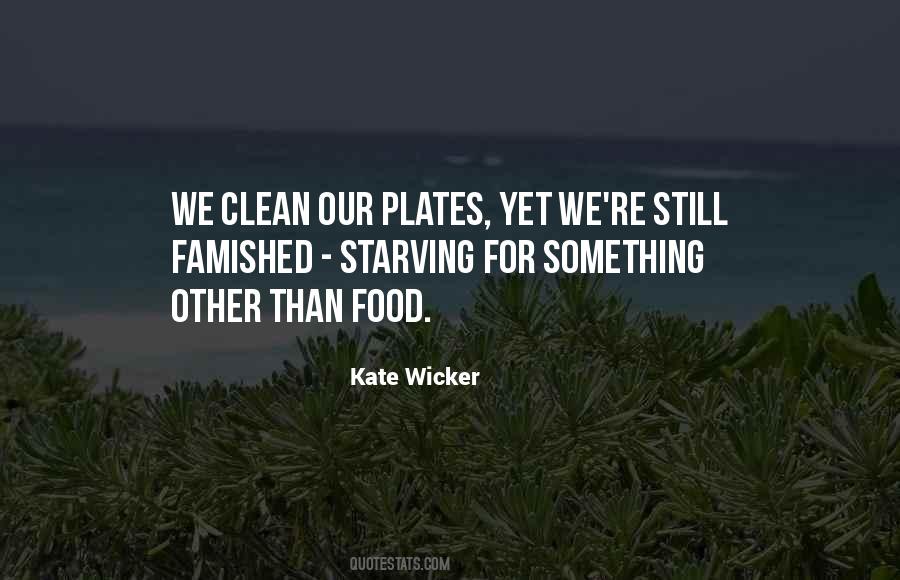 #7. And that was what destroyed you in the end: the longing for something you could never have. - Author: Leigh Bardugo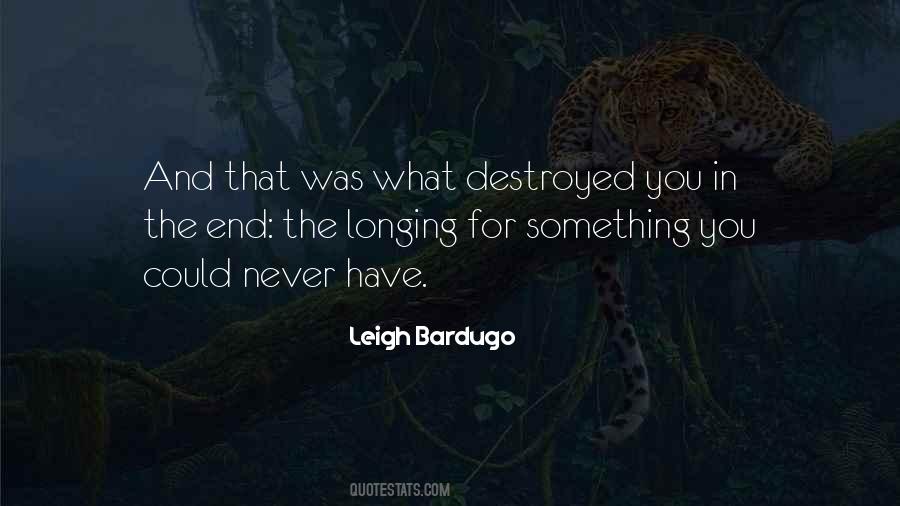 #8. For Tolkien, a myth awakens in its readers a longing for something that lies beyond their grasp. Myths - Author: Alister E. McGrath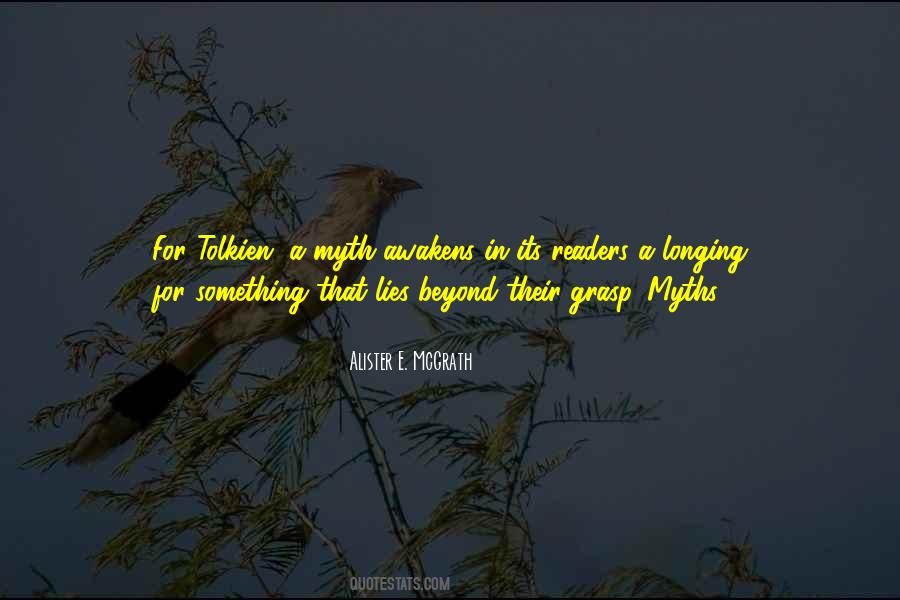 #9. Do you know what the mathematical expression is for longing? ... The negative numbers. The formalization of the feeling that you are missing something. - Author: Peter Hoeg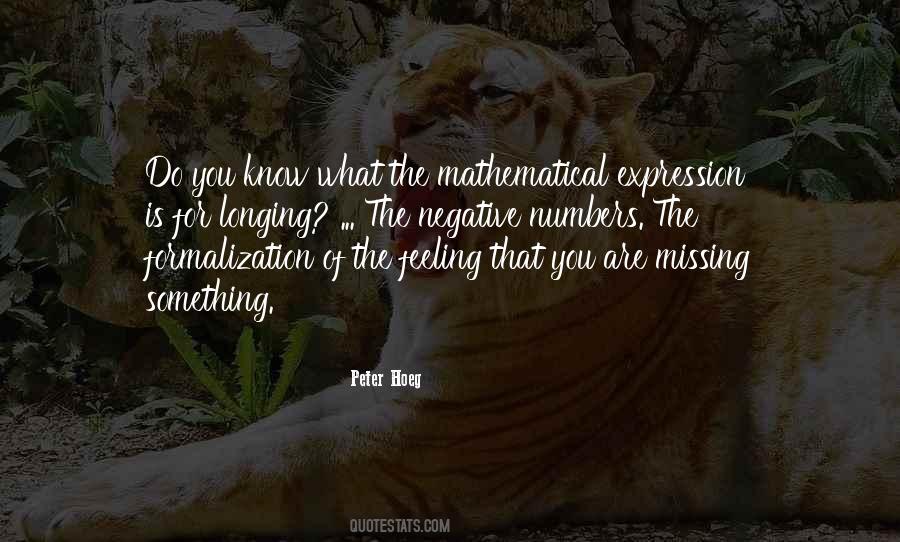 #10. I'd rather do something than read about it."
"That's fine, but if you do it, and then can't think what it means, it's never much of a memory. Life has more to so with memories of the past and longings for the future than it ever does with *right now*."
-pg 138-9 - Author: Dean Hughes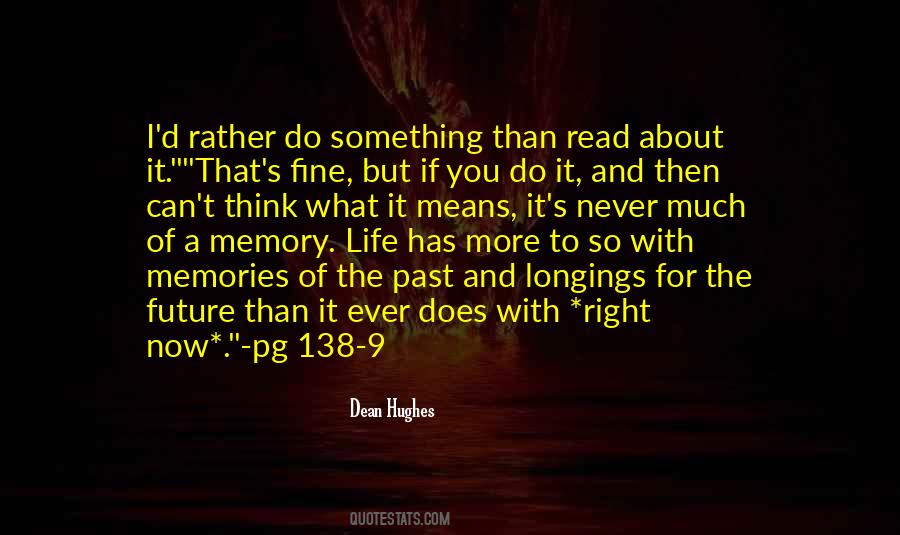 #11. Most of us spend all our working life dreaming of doing nothing, then when we end up doing nothing, we long for something. When we have neither longing, I think that is what they call living for the moment. - Author: Robert Black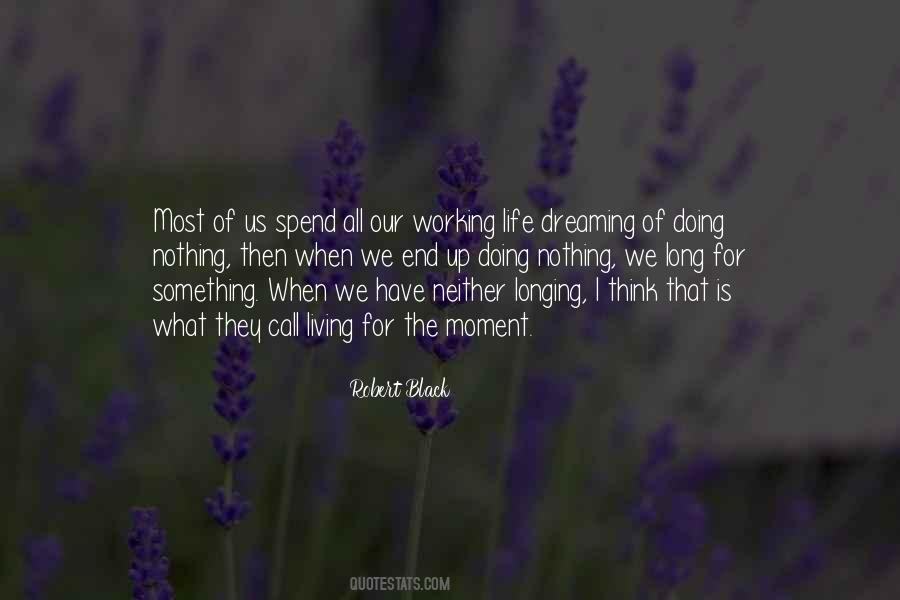 #12. The life around me was not meaningful. I always longed to be away from it, and always had done. So the life I led was not my own. I tried to make it mine, this was my struggle, because of course I wanted it, but I failed, the longing for something else undermined all my efforts. - Author: Karl Ove Knausgard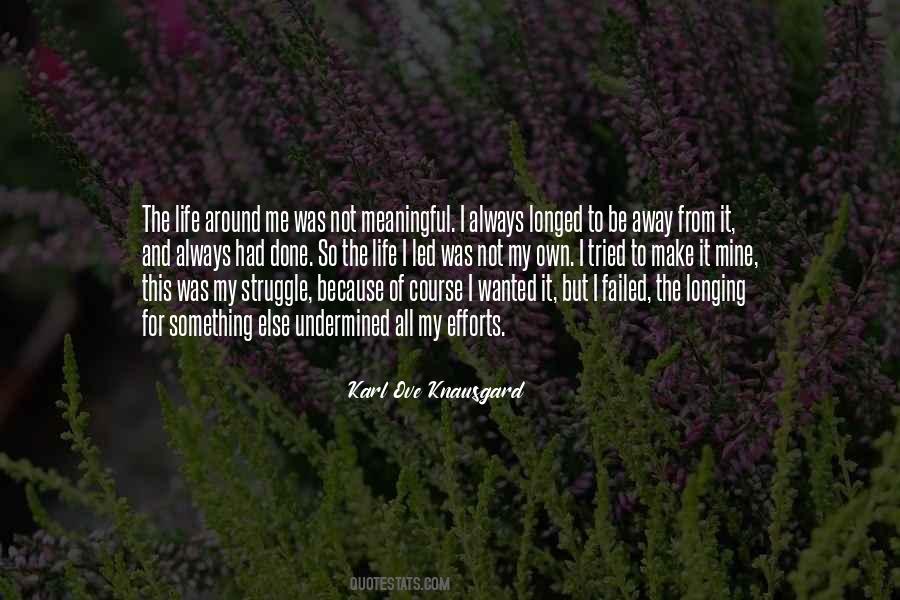 #13. What affirmation and denial are in the case of thinking, pursuit and avoidance are in the case of longing for something. - Author: Aristotle.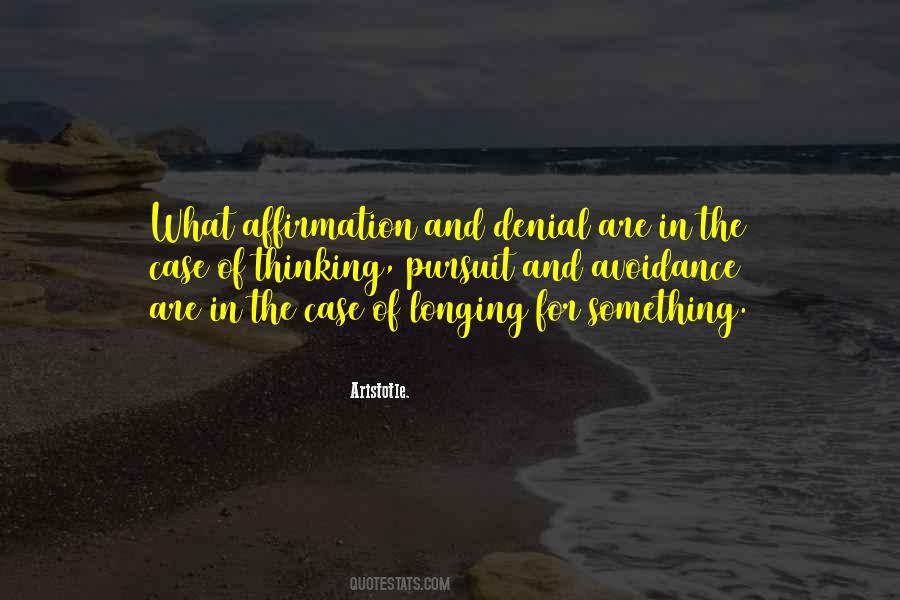 #14. I had a longing for ritual, something I could cling to, a routine to make me feel well and contented. I hoped that reading Bible commentaries and theological critiques would nudge me closer to some kind of absolute that I could hold up as a torch to light my way. - Author: Jack Dee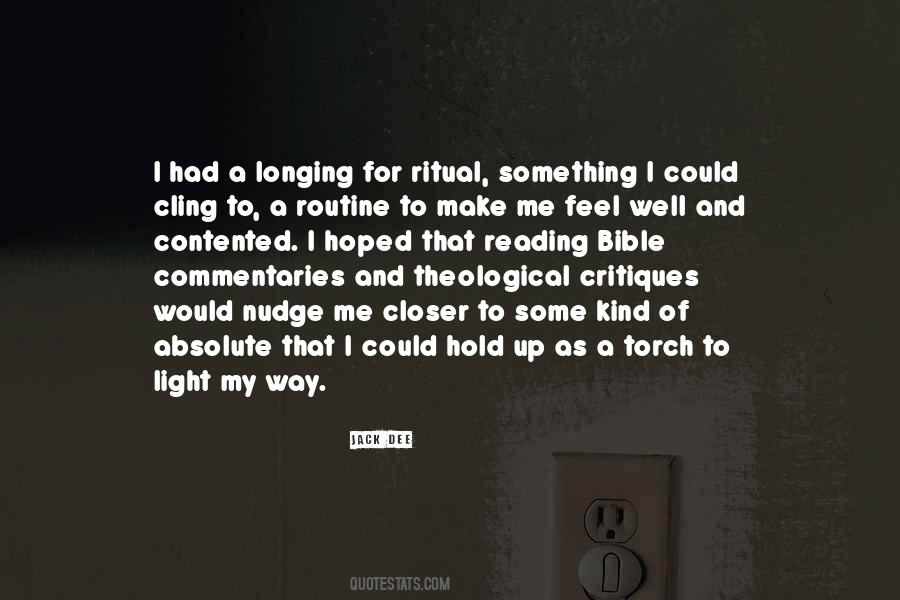 #15. Love unlived is a sin against life, and mourning is one of the ways we love. I felt it then, and I let it happen, the longing for him to return. The power in his eyes, and the pride when I did something he admired, and the love in his laugh. The longing: the longing for the lost. - Author: Gregory David Roberts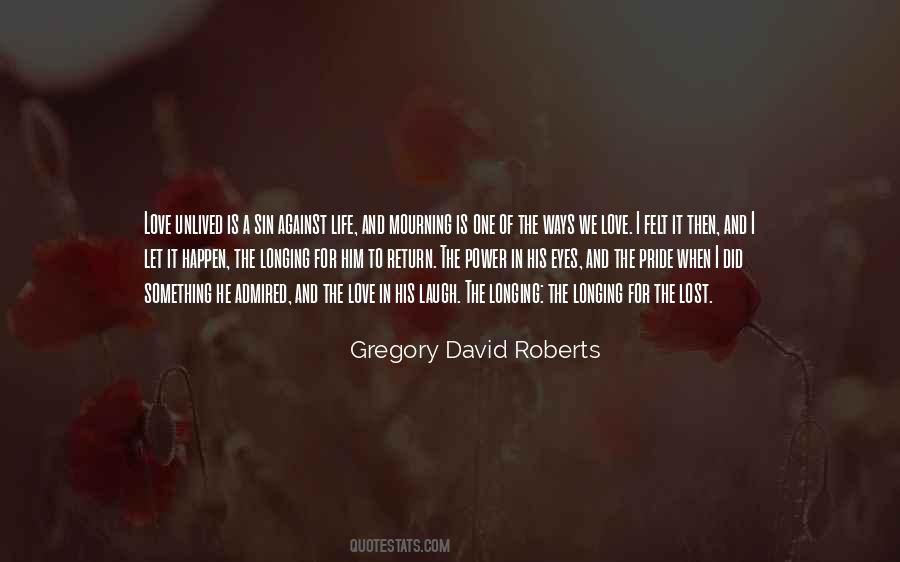 #16. From an evolutionary point of view, most emotions - fear, desire, anger - serve some practical purpose, but nostalgia is a useless, futile thing because it is a longing for something that is permanently lost ... - Author: David Nicholls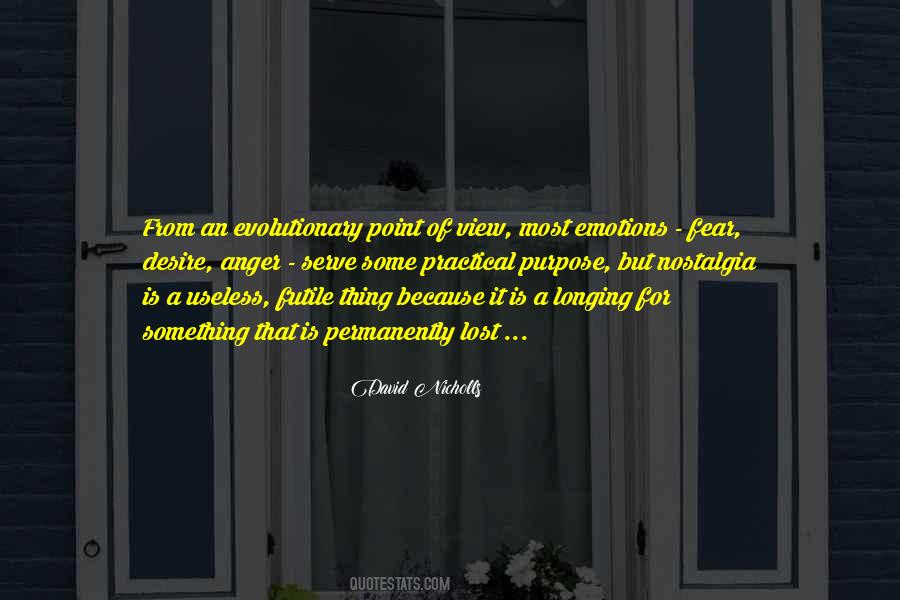 #17. Loneliness is something we [all people] go through. We go through mourning and longing. We make some bad choices sometimes because we're desperate for something, and that's okay. That's part of life. - Author: Jennifer Lee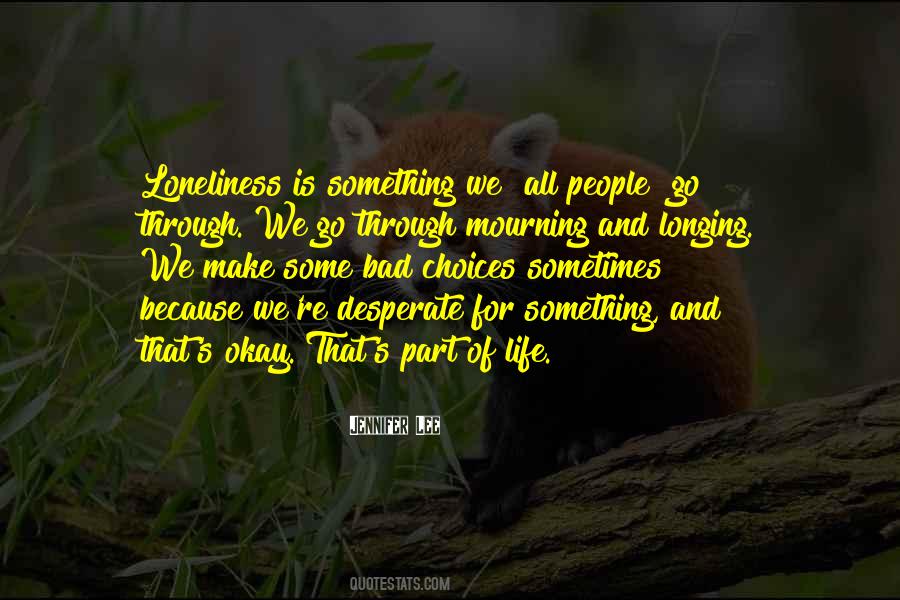 #18. I am far from perfect, but I have something else. I heard that people in the industry are longing for more personality and diversity. Perhaps I am more a 'character' than a model. - Author: Saskia De Brauw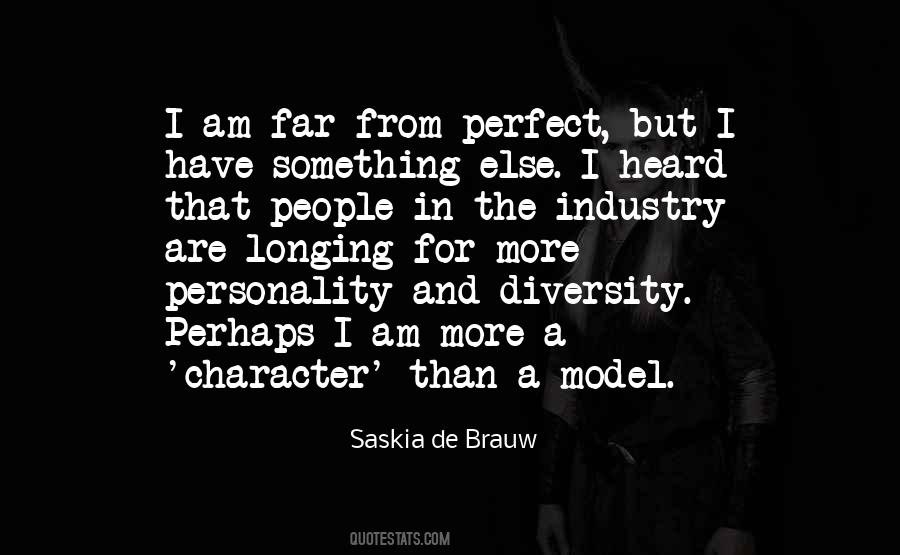 #19. Even the most pragmatic person fell victim at times to a longing for something other. - Author: Kate Morton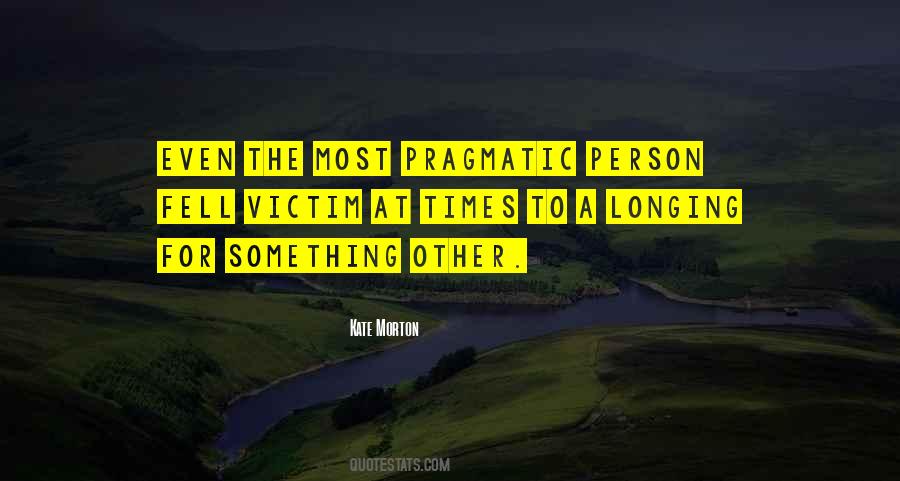 #20. That distant longing and determination, that knowledge that he was born for something greater than his small past or his sleepy present. - Author: Leon Logothetis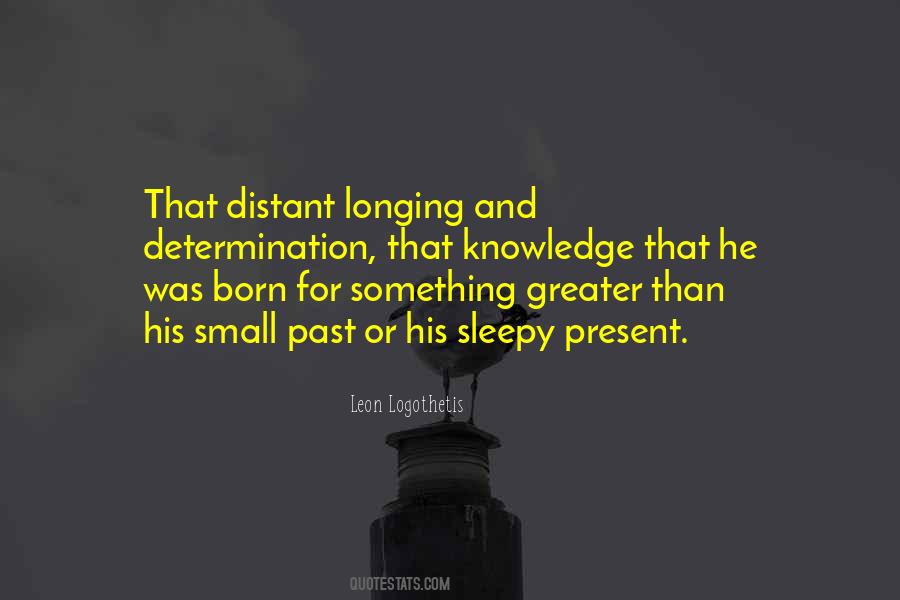 #21. I went on to discover that in its deepest sense, the will is not primarily the faculty of desire for anything known, but rather, the desire for something unknown, animate desire for something that lies beyond ourselves, a longing for something we know is missing in us ... - Author: Bernadette Roberts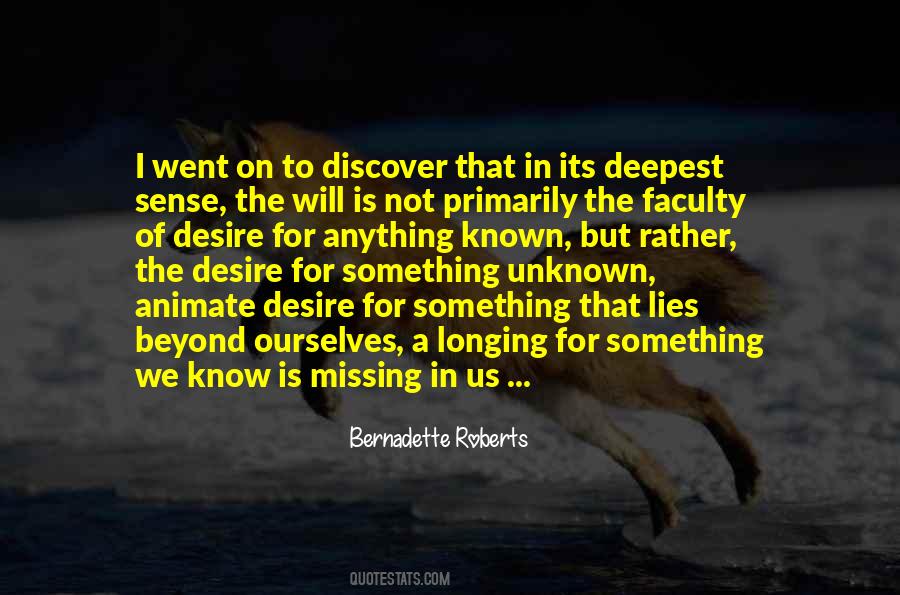 #22. All of everything came into existence simply because it wanted to be. The big bang wasn't so much a big bang as a hasty dash toward an opportunity to trade nothingness for somethingness. The main contributory factor to the entire universe was a momentary effect in need of a cause. - Author: Jasper Fforde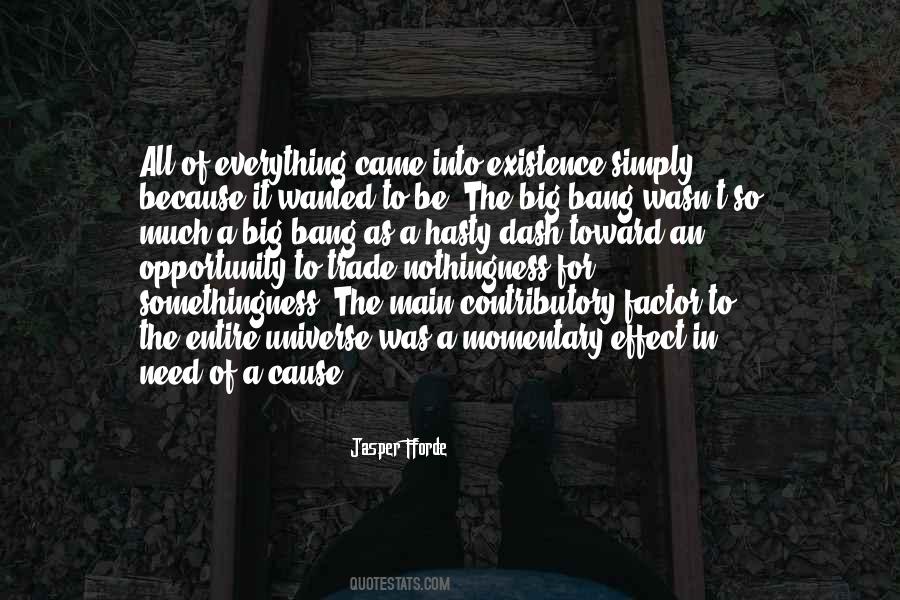 #23. I think, then, that man, after having satisfied his first longing for facts, wanted something fuller - some grouping, some adaptation to his capacity and experience, of the links of this vast chain of events which his sight could not take in. - Author: Alfred De Vigny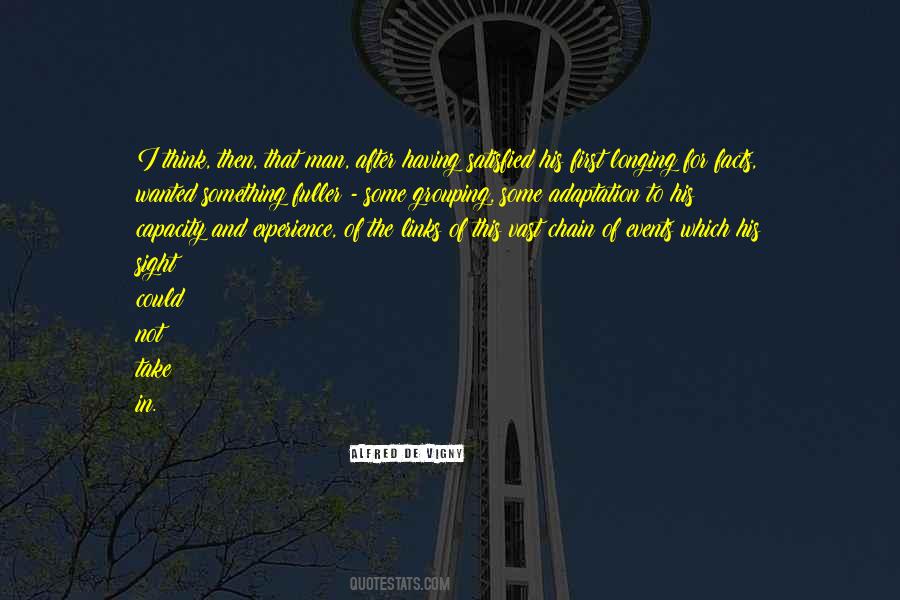 #24. The longing for something beyond yourself, beyond anything you have ever known or dreamed of? - Author: Mary Balogh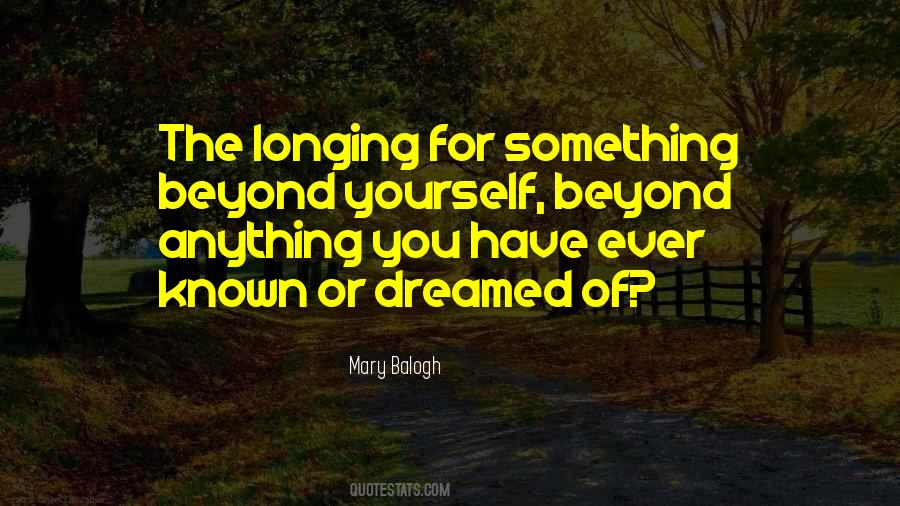 #25. The spirit longs for the world of light from which it came. That longing causes something to happen. It causes the being to grow into light. - Author: Frederick Lenz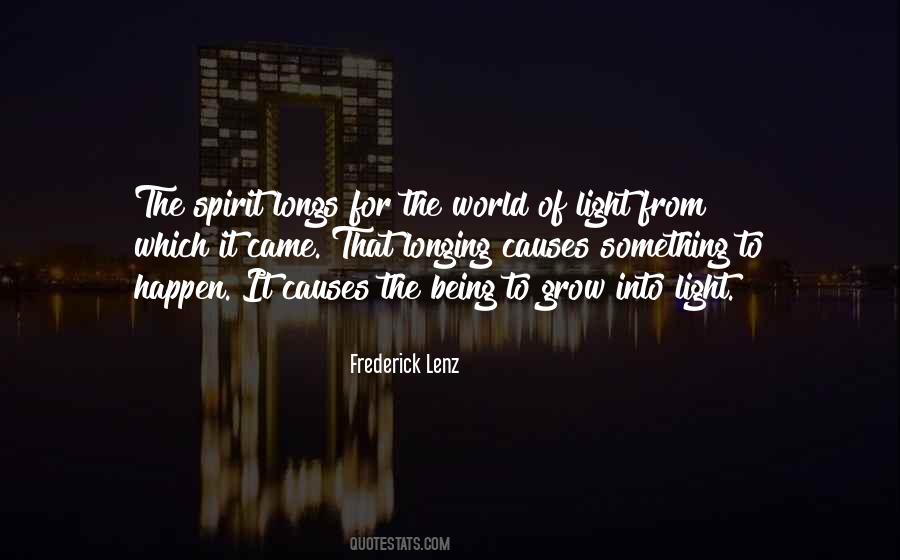 #26. When we slow down, quiet the mind, and allow ourselves to feel hungry for something that we do not understand, we are dipping into the abundant well of spiritual longing. - Author: Elizabeth Lesser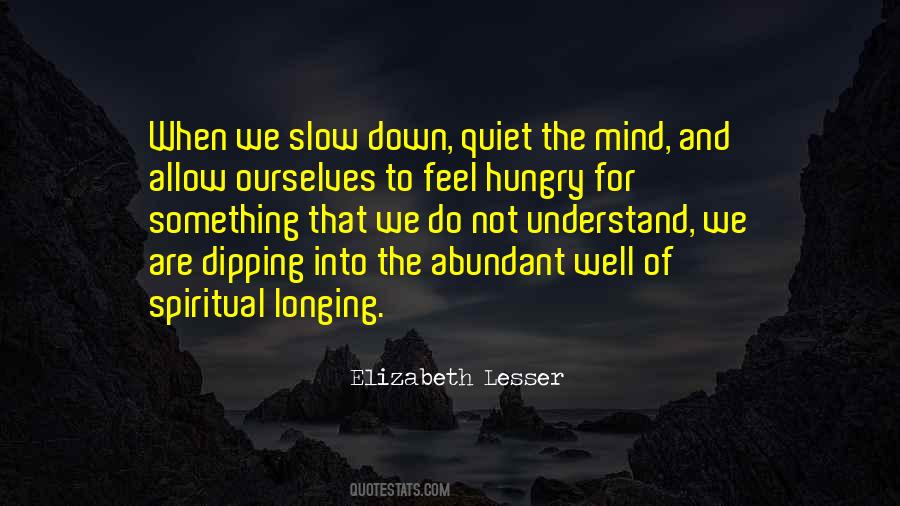 #27. I think spring is inside me. I feel spring awakening, I feel it in my entire body and soul. I have to force myself to act normally. I'm in a state of utter confusion, don't know what to read, what to write, what to do. I only know that I'm longing for something ... - Author: Anne Frank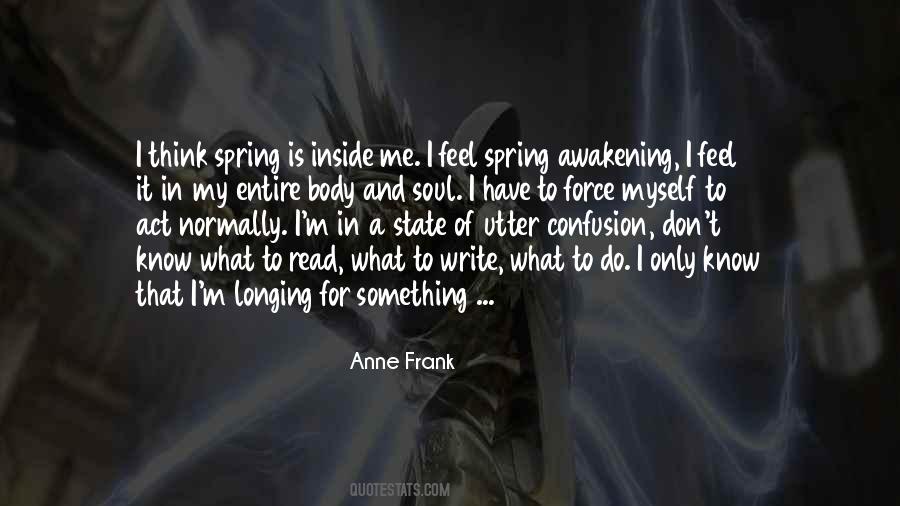 #28. I would be in Italy working on a film, longing for something simple - like, God, I would just kill to be sitting at a barbecue having a beer right now. - Author: Chris O'Donnell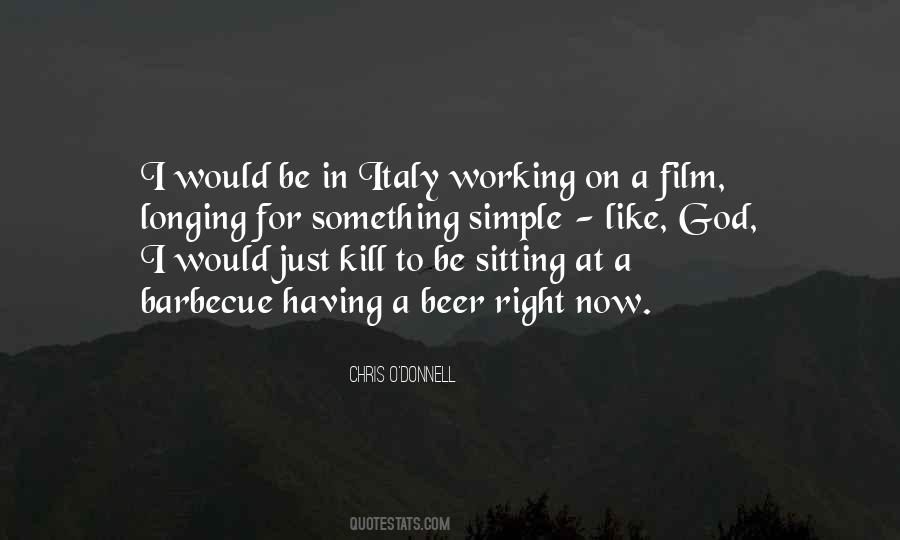 #29. But the longing was the phantom ache of an amputated limb. It was part of her, and most of the time she didn't notice. But certain moments were like reaching for something with a hand that wasn't there. - Author: Carrie Vaughn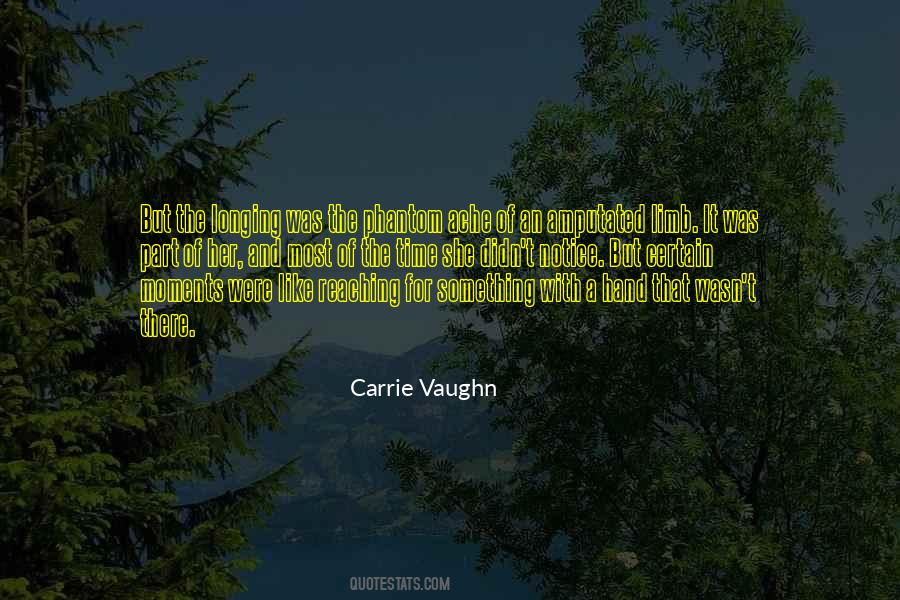 #30. So I perversely circle the late stars, drowsier and drowsier, sleepily longing for something. - Author: Sylvia Plath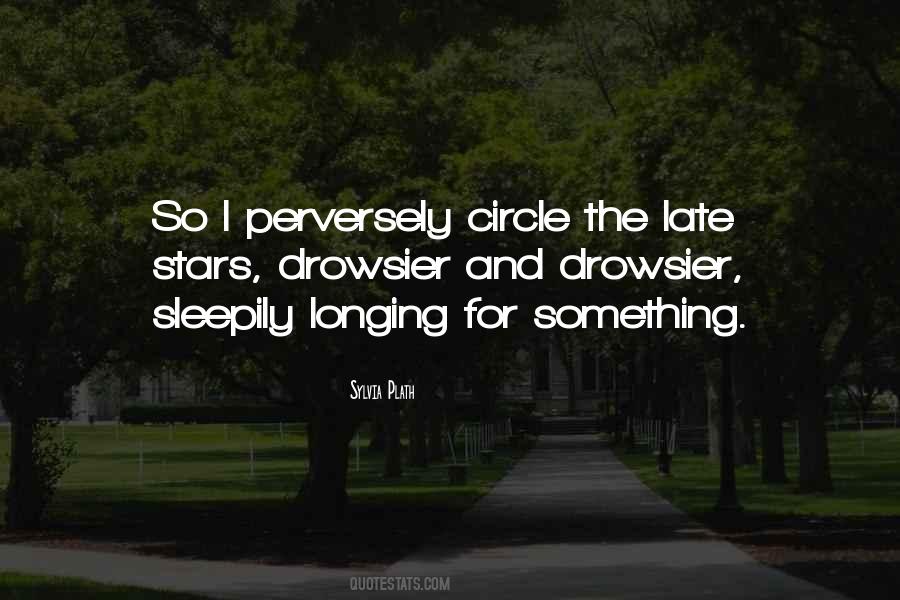 #31. There I was, cold, isolated and desperate for something I knew I couldn't have.
A solution. A remedy. Anything.
... I hated it. Alone and confused was the last place I wanted to be.
Somehow I knew I deserved this. - Author: Brian Krans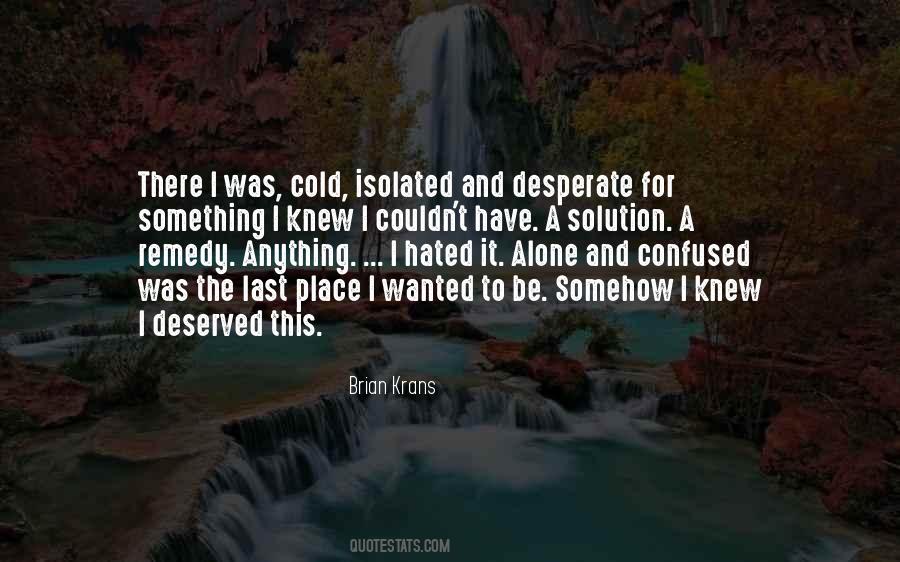 #32. Longing for something that you once had is a mistake because the pictures in your mind are never the same as whatever it is you are longing for. - Author: Jane Urquhart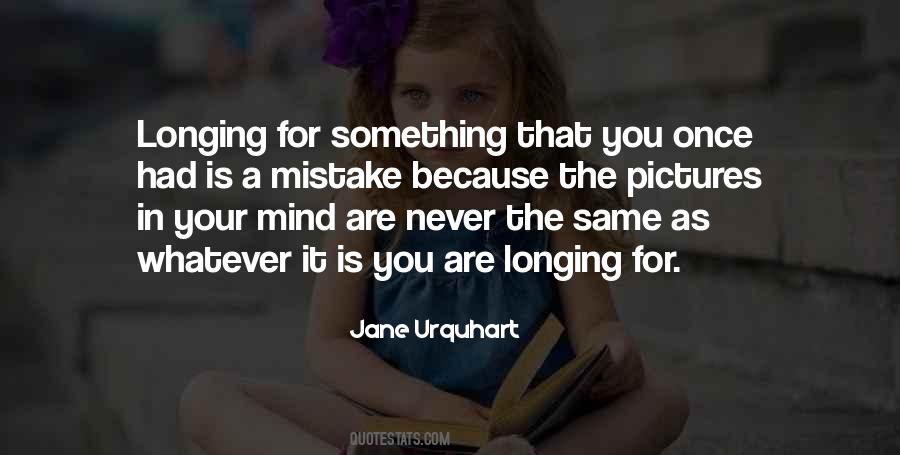 #33. People of this world are deluded. They're always longing for something-always, in a word, seeking. But the wise wake up. They choose reason over custom. They fix their minds on the sublime and let their bodies change with the seasons. All phenomena are empty. They contain nothing worth desiring. - Author: Bodhidharma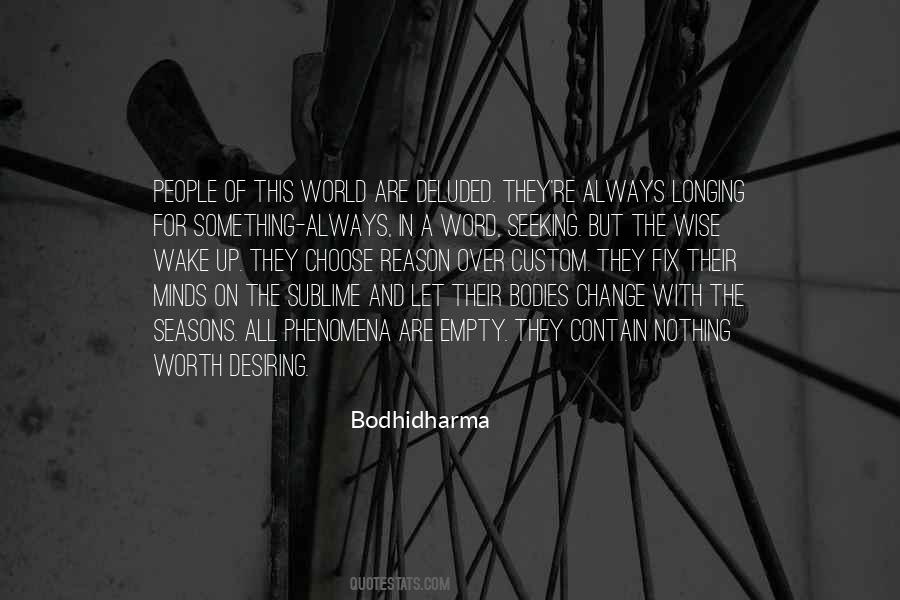 #34. Homesickness is just a state of mind for me. i'm always missing someone or someplace or something, i'm always trying to get back to some imaginary somewhere. my life has been one long longing. - Author: Elizabeth Wurtzel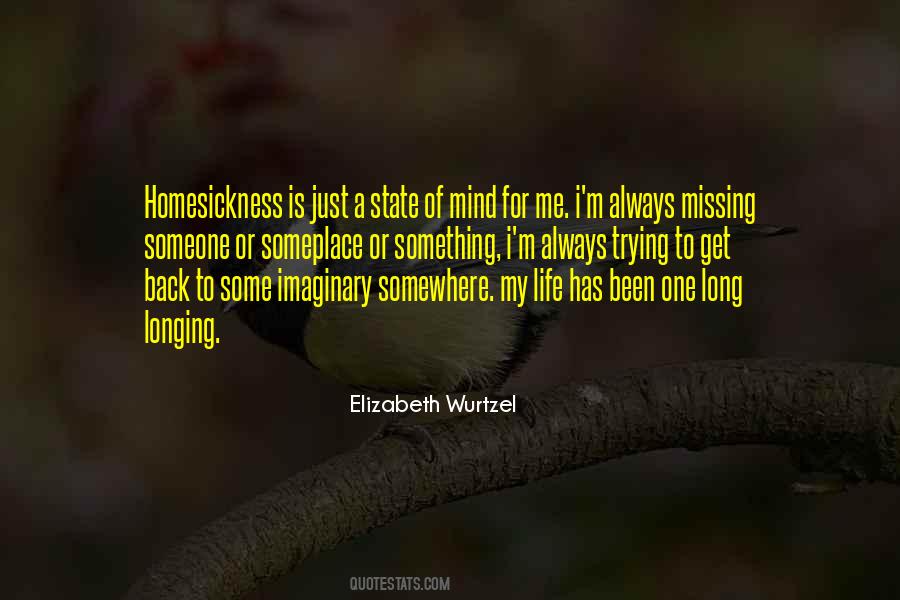 #35. A wave of sadness washed over Sam. It was that feeling again, that sense of longing for something she couldn't remember ever having. - Author: Jennifer Hillier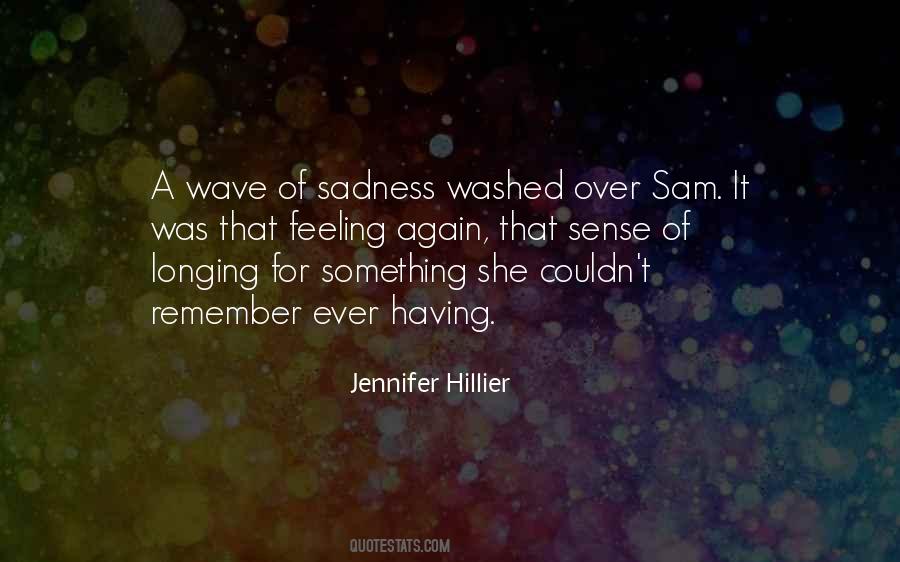 #36. I didn't feel lonely until there was something to yearn for. Loneliness and longing are two sides of the same coin. - Author: Jostein Gaarder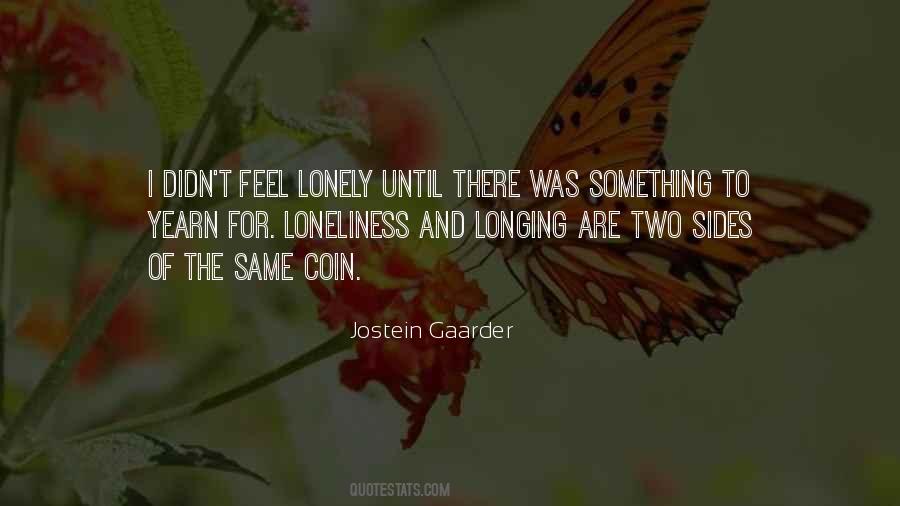 #37. People were evidently looking for something in the mountains that they believed they had lost a long time ago. He never worked out what exactly this was, but over the years he became more and more that the tourists were stumbling not so much after him but after some obscure, insatiable longing. - Author: Robert Seethaler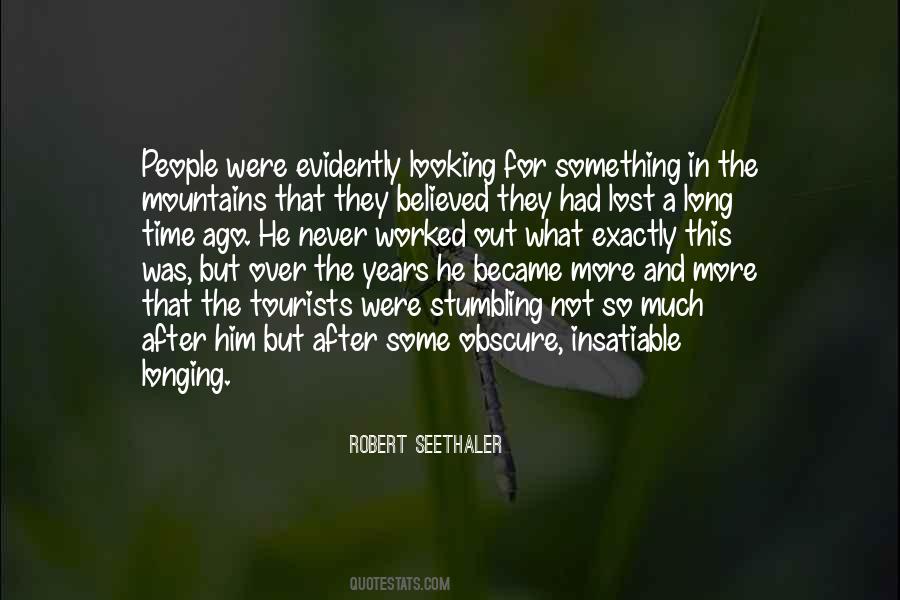 #38. Longing for something fresh, for something no one else has said often leads to bad exegesis. - Author: Matt Chandler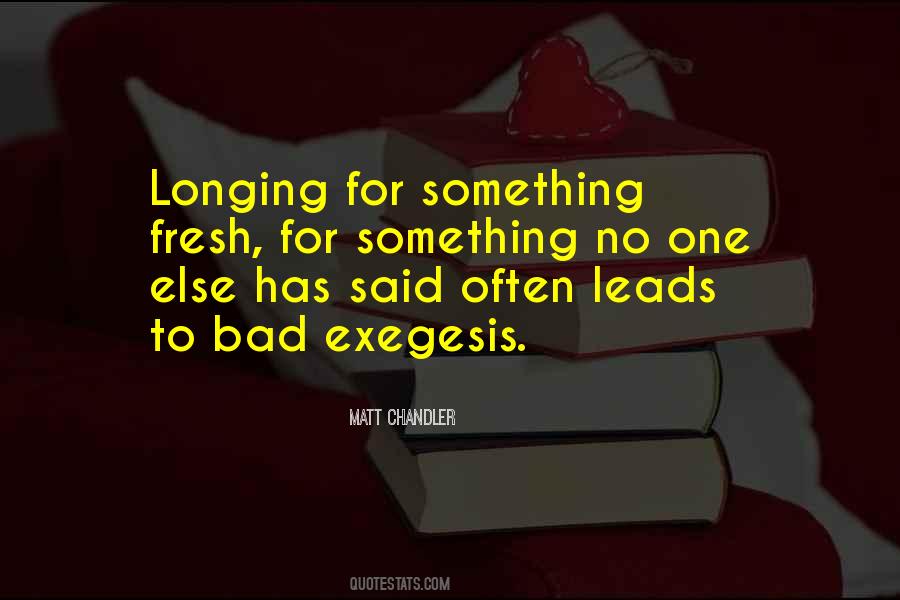 #39. You have to sit with your longing and know that you may not get what you want; you have to encounter the danger of longing for something without the expectation of getting your desire. - Author: Philippa Gregory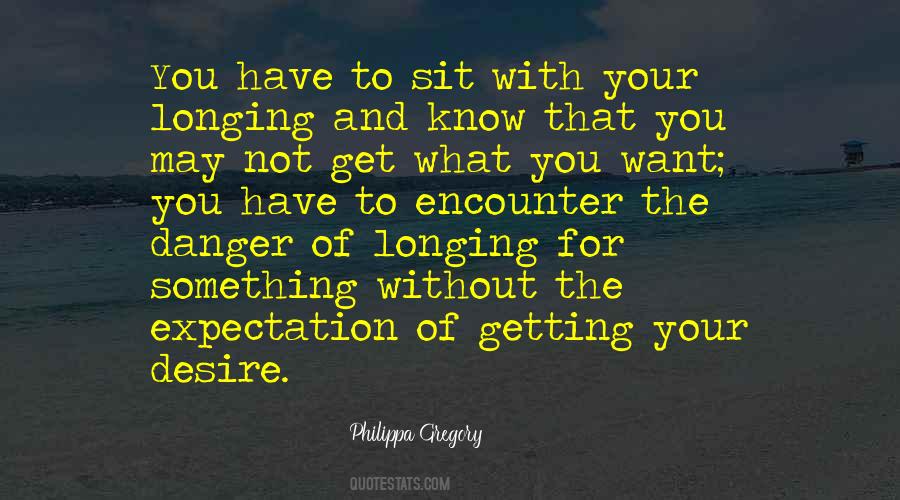 #40. i smile. things taken for granted have a way of catching you offguard when you least expect it, and then you're taken by what the portuguese calls saudade, a sense of longing for something, someone not there anymore. - Author: Yeow Kai Chai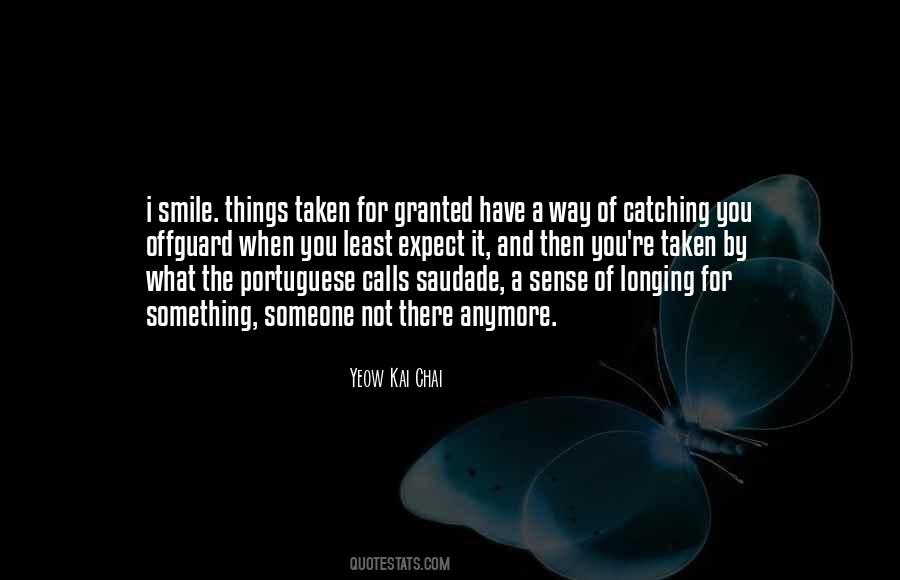 #41. On the other hand, we worked a year on this and some people are going to watch it in a night and go, "We want more!" And there is something I miss about the longing and the anticipation for the next episode. - Author: Jenji Kohan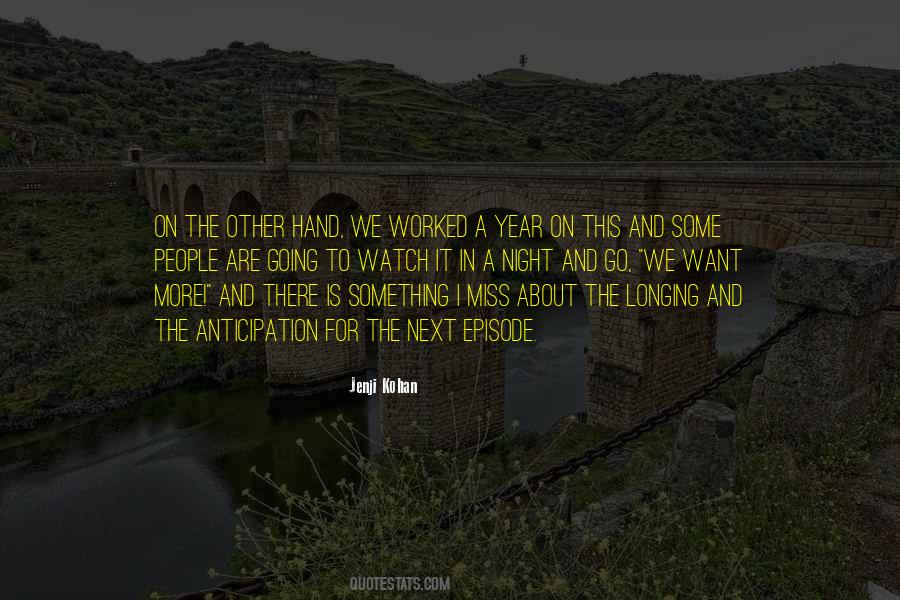 #42. Have you ever felt the longing for someone you could admire? For something, not to look down at, but up to? - Author: Ayn Rand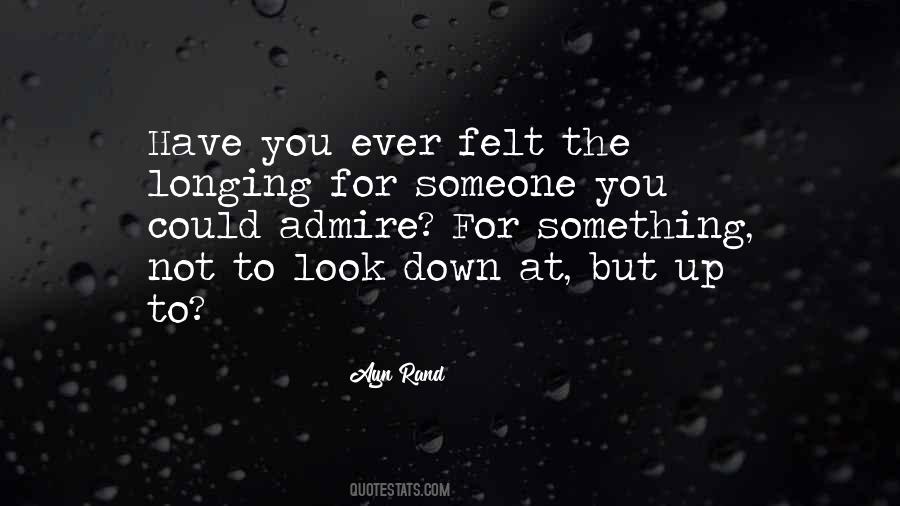 #43. Wealth is not an absolute. It is relative to desire. Every time we yearn for something we cannot afford, we grow poorer, whatever our resources. And every time we feel satisfied with what we have, we can be counted as rich, however little we may actually possess. - Author: Alain De Botton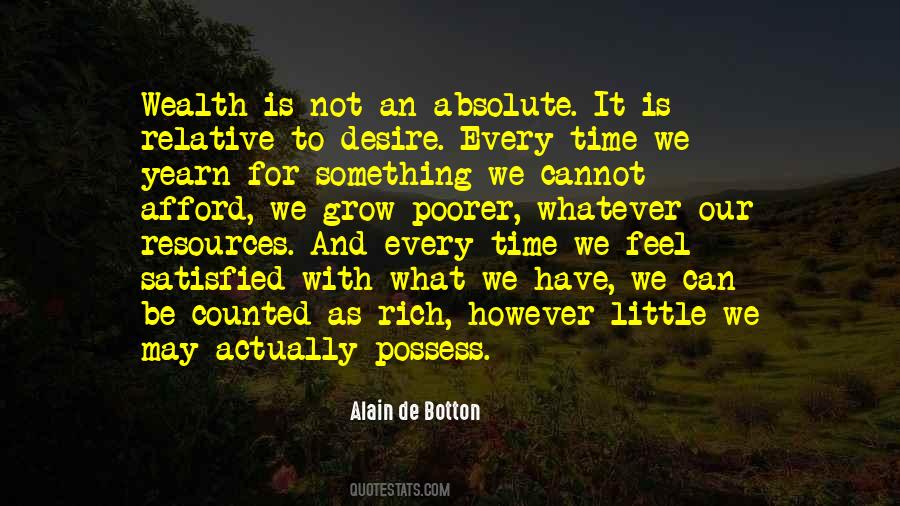 #44. She was not sure if she would want him to have known; we do not always wish for those for whom we long to know that we long for them, especially if the longing is impossible, or inappropriate ... to be loved by the unlovable was not something that most people could cope with. - Author: Alexander McCall Smith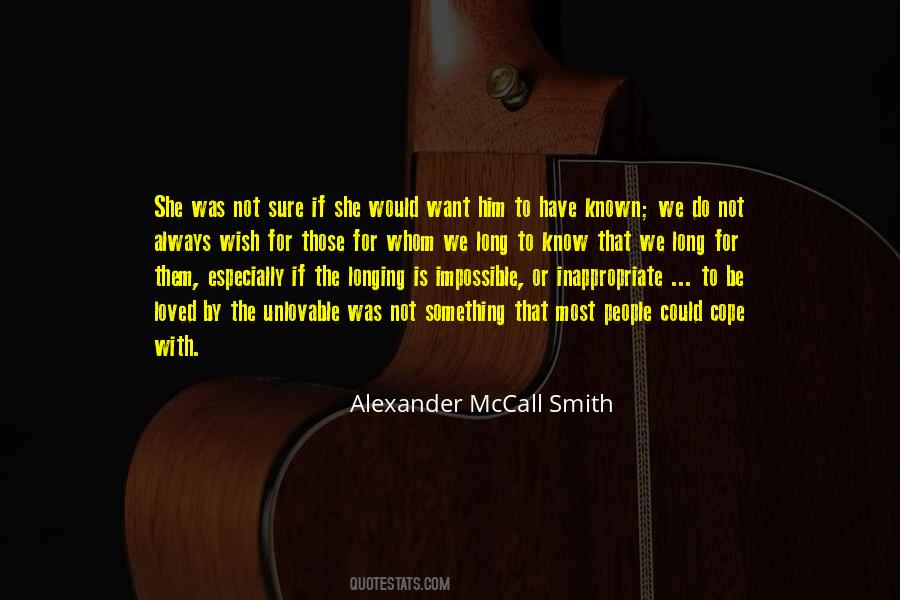 #45. There is not a heart but has its moments of longing, yearning for something better; nobler; holier than it knows now. - Author: Henry Ward Beecher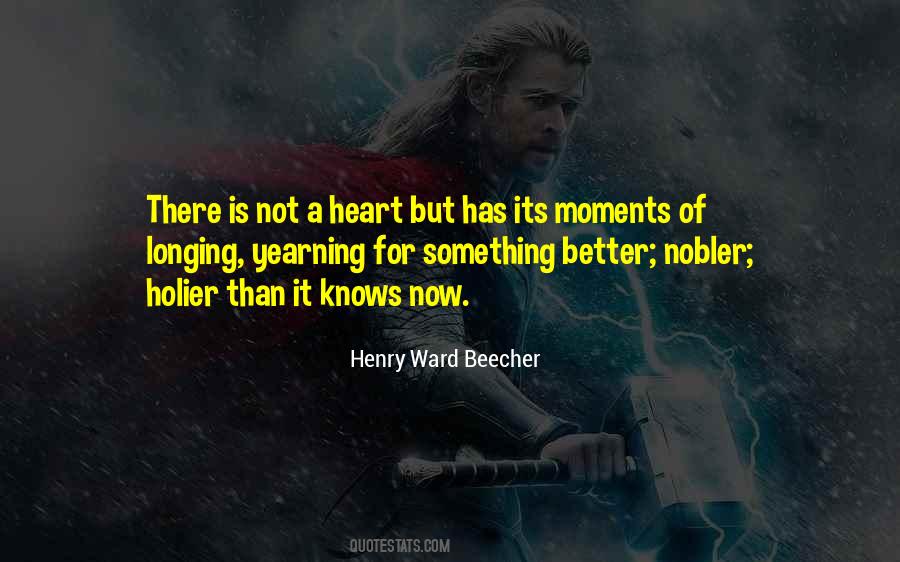 #46. Besides the pleasure derived from acquired knowledge, there lurks in the mind of man, and tinged with a shade of sadness, an unsatisfactory longing for something beyond the present, a striving towards regions yet unknown and unopened. - Author: Wilhelm Von Humboldt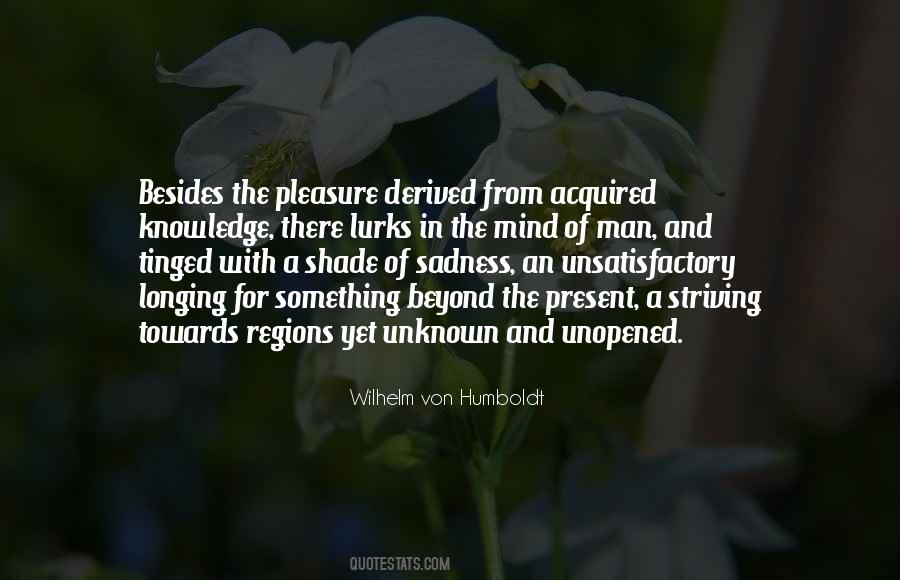 #47. Toska." He leaned forward, too. "It's a Russian word. It has no translation into any other language, but the closest I've heard is the ache. A longing. The sense that something is missing, and even if you're not sure what it is, you ache for it. Down to your bones. - Author: Maggie Hall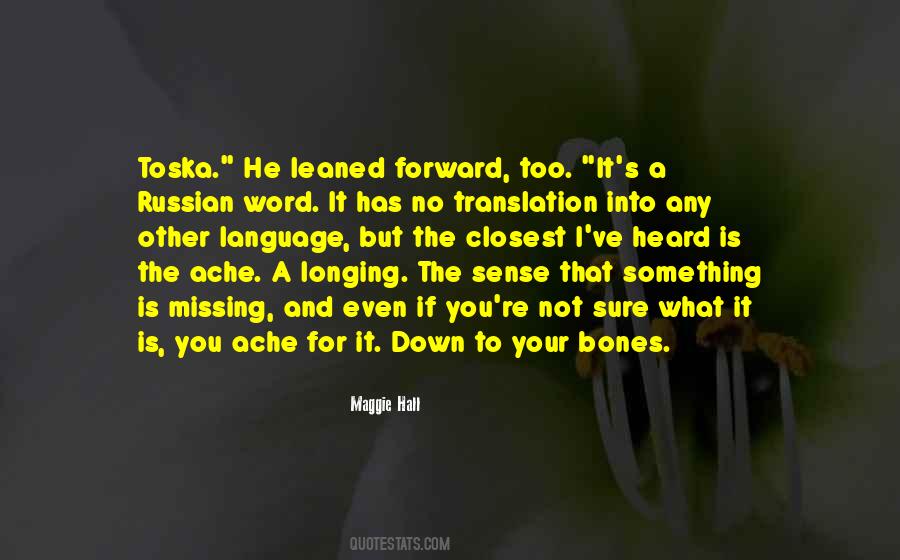 #48. Erotic longing is really a longing to merge with something greater than oneself. For every kind of love is a force that holds the promise of taking us beyond the limitations of our individual lives. - Author: Julianne Davidow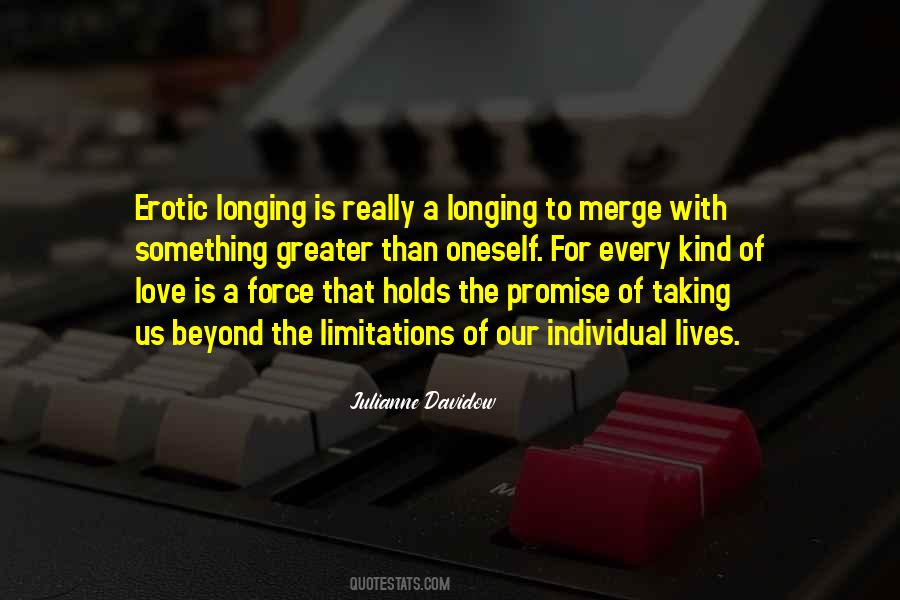 #49. You just know something is amiss, when you look at someone and long for something that is not yours or you cannot have. It's an absence
a loss of a heartbeat. - Author: Nadege Richards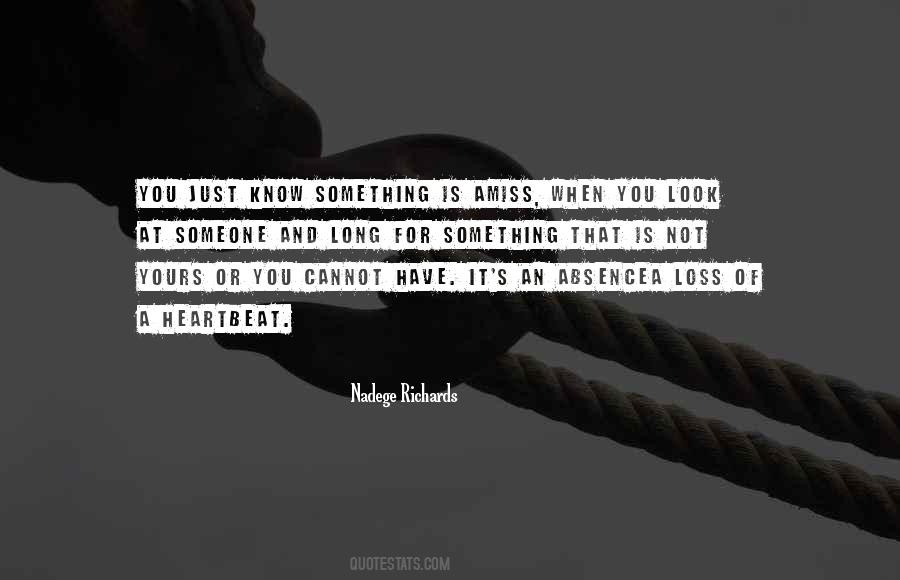 #50. He who is too well off is always longing for something new. - Author: Jacob Grimm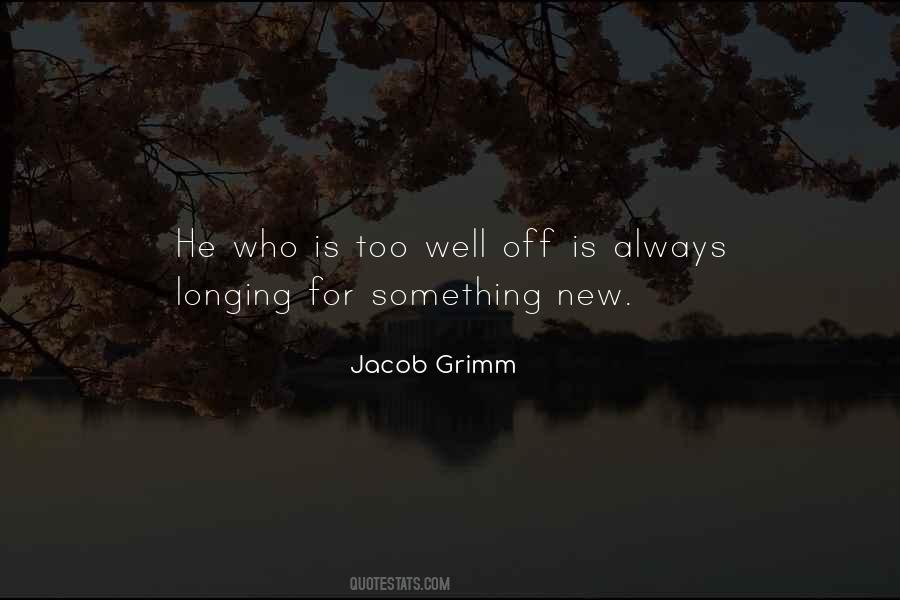 #51. There is no past we can bring back by longing for it. There is only an eternal now that builds and creates out of the past something new and better. - Author: Johann Wolfgang Von Goethe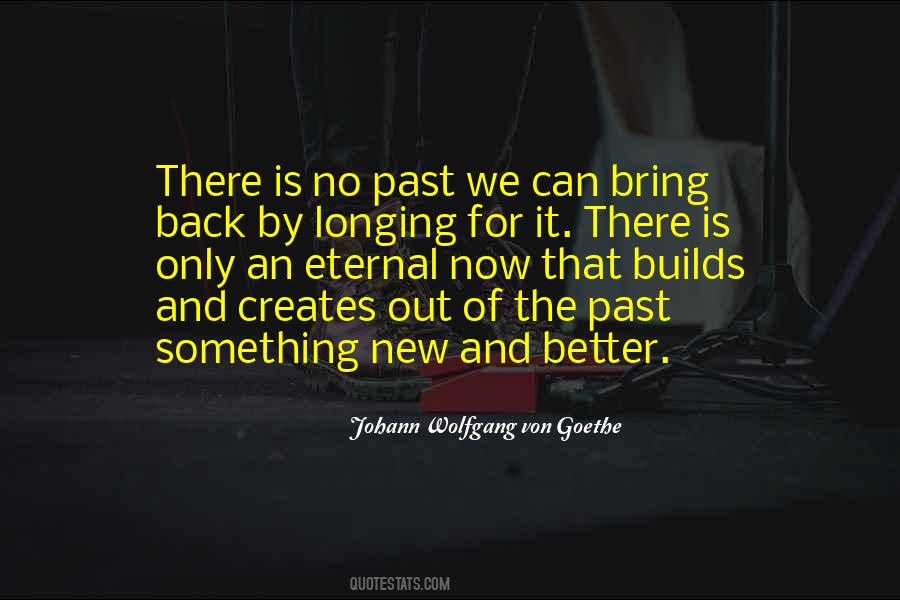 #52. We were both smiling, in that bittersweet way one does when imagining something the heart longs for and the head would dread. - Author: Robin Hobb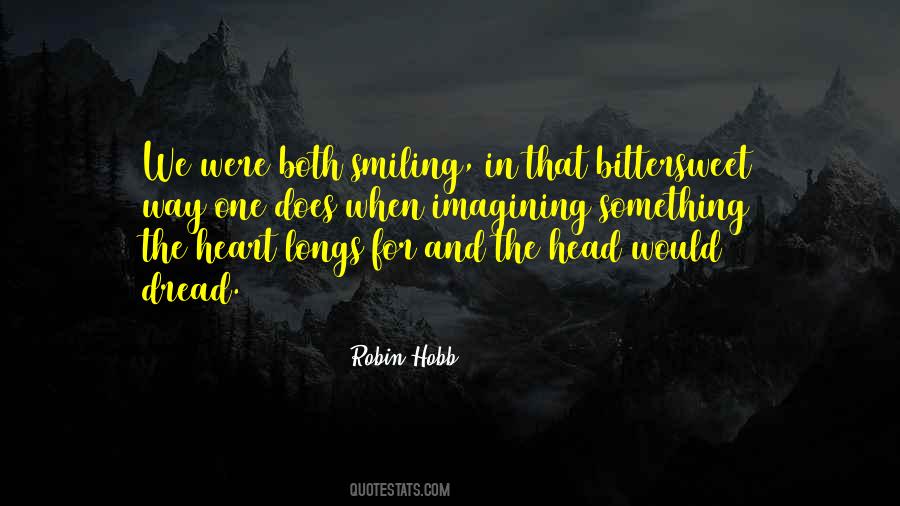 #53. Possibly a man who hates the land should dwell on shore forever. Alienation and the long voyages at sea will compel him once again to dream of it, torment him with the absurdity of longing for something that he loathes. - Author: Yukio Mishima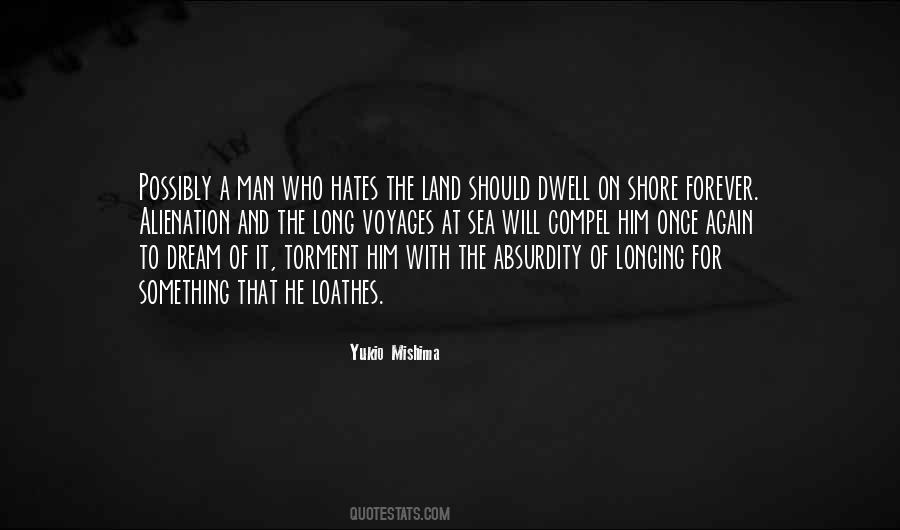 #54. A wild longing for strong emotions and sensations seethes in me, a rage against this toneless, flat, normal and sterile life. I have a mad impulse to smash something, a warehouse perhaps, or a cathedral, or myself, to committ outrages ... - Author: Hermann Hesse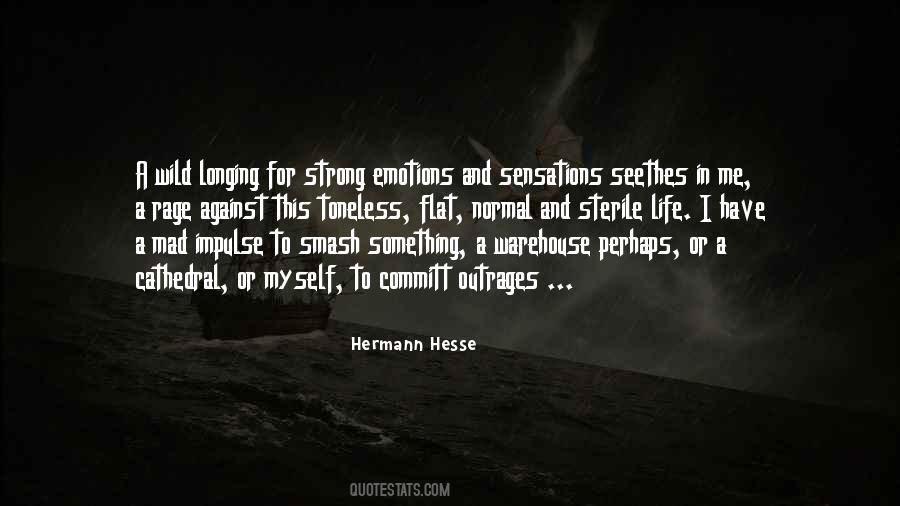 #55. The act of longing for something will always be more intense than the requiting of it. - Author: Gail Godwin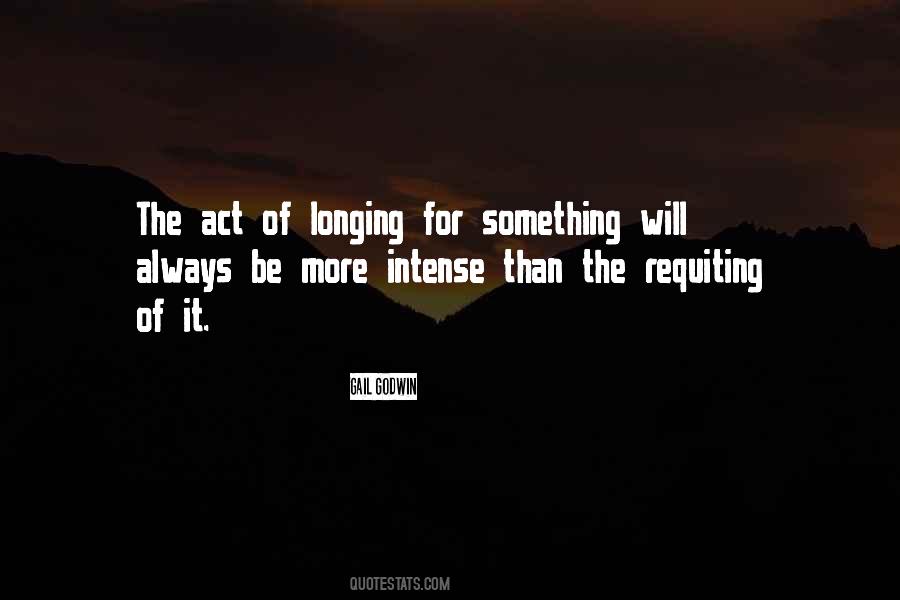 #56. My heart was saying, "Lord, take away this longing, or give me that for which I long." The Lord was answering, "I must teach you to long for something better. - Author: Elisabeth Elliot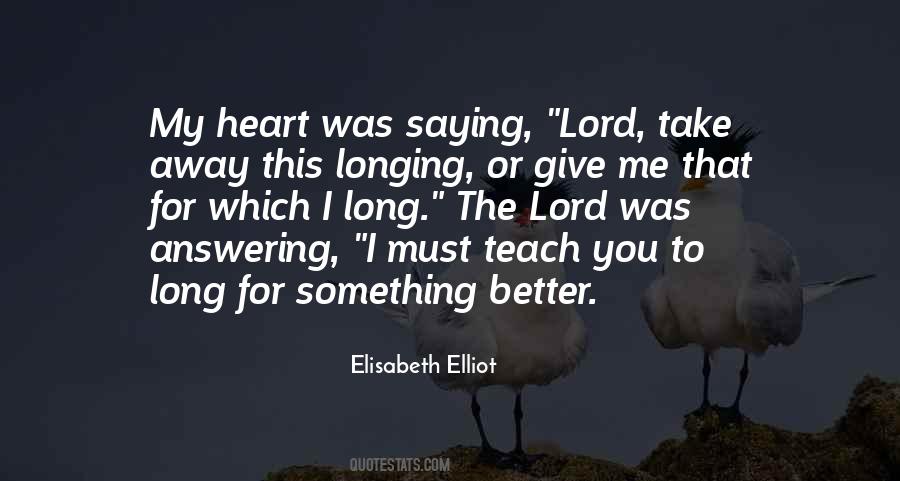 #57. The waltz held the feeling you get when you finish a well-loved book. It left me longing for something I couldn't name. - Author: Louise Miller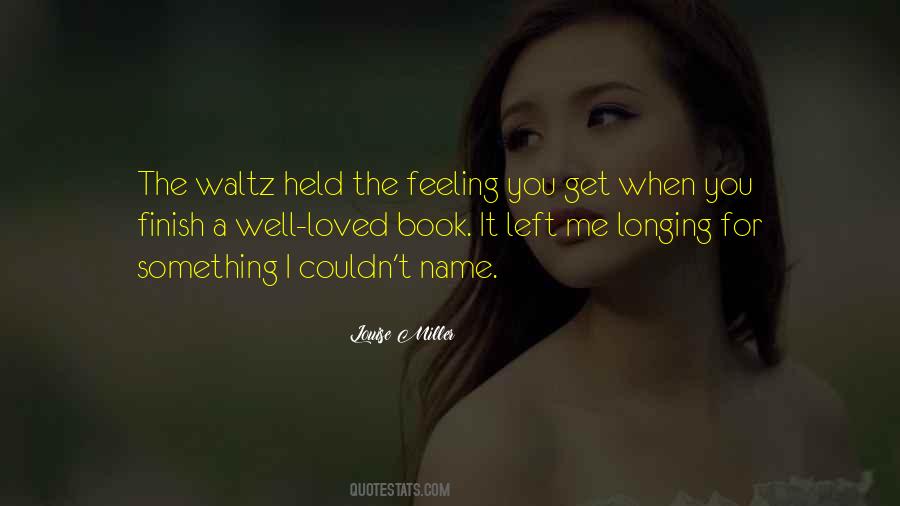 #58. In the end, maybe love just meant longing for something impossibly bright and forever out of reach. - Author: Leigh Bardugo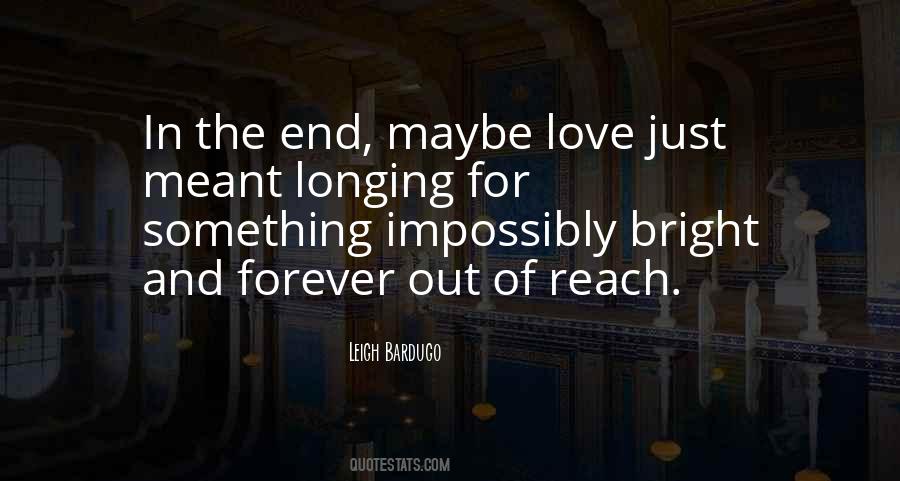 #59. Loneliness does not arise so much from something lost as from a longing for something well remembered. Isolation cares nothing for memory. - Author: Marguerite Poland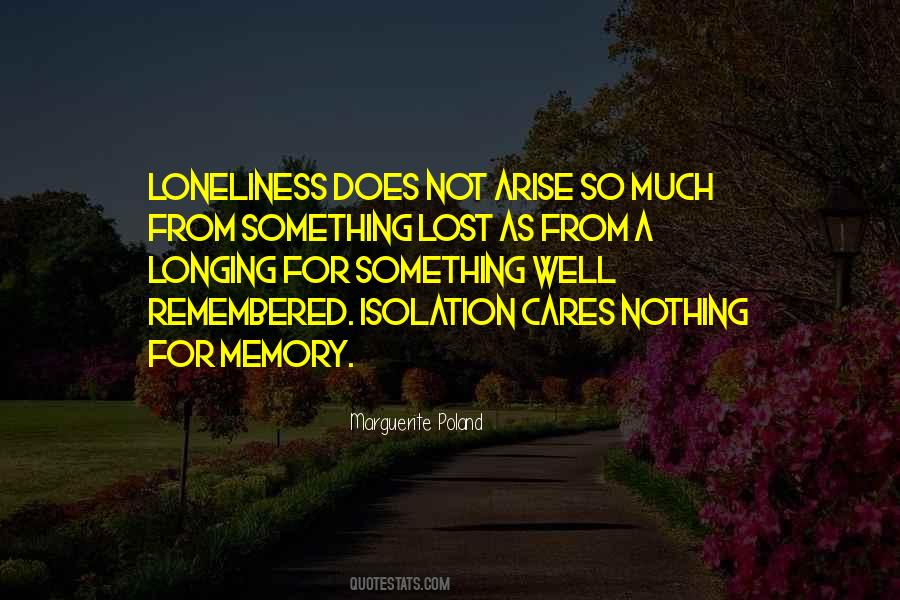 #60. Because you know something won't ever happen, it doesn't stop you longing for it.
I know I'll never be able to speak or sing with my own voice.
I don't know why.
I wish I did. - Author: Kevin Crossley-Holland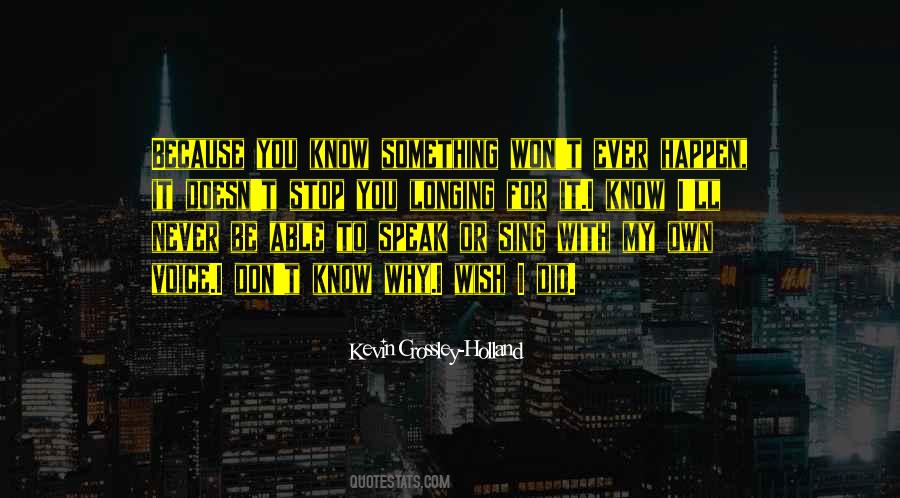 #61. We treat desire as a problem to be solved, address what desire is for and focus on that something and how to acquire it rather than on the nature and the sensation of desire, though often it is the desire between us and the object of desire that fills the space in between with the blue of longing. - Author: Rebecca Solnit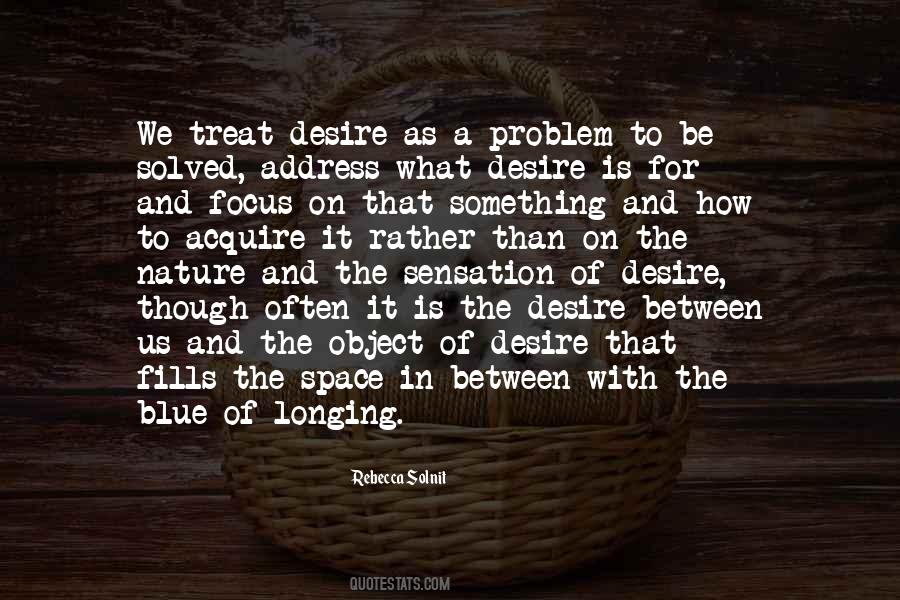 #62. The Portuguese call it saudade: a longing for something so indefinite as to be indefinable. Love affairs, miseries of life, the way things were, people already dead, those who left and the ocean that tossed them on the shores of a different land - all things born of the soul that can only be felt. - Author: Anthony De Sa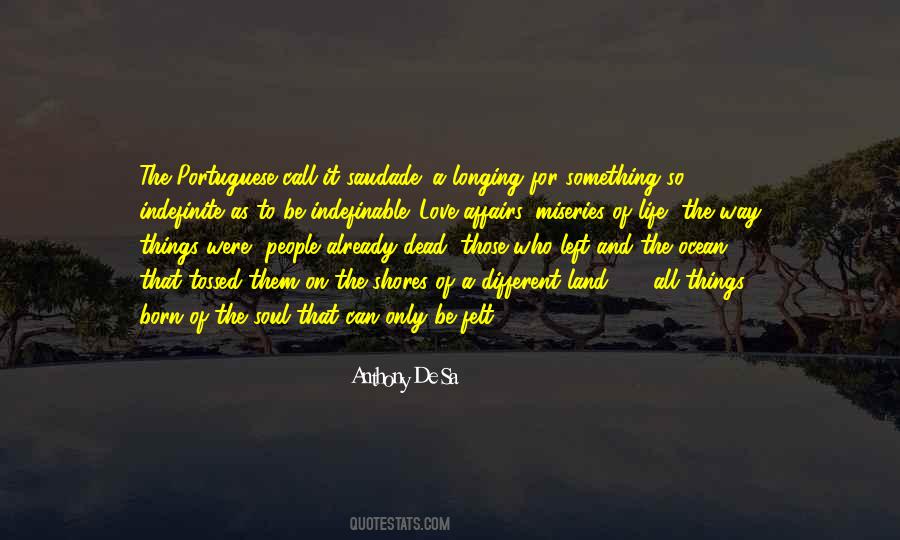 #63. It isnt for want
of something to say
something to tell you
something you should know
but to detain you
keep you from going
feeling myself here
as long as you are
as long as you are - Author: Cid Corman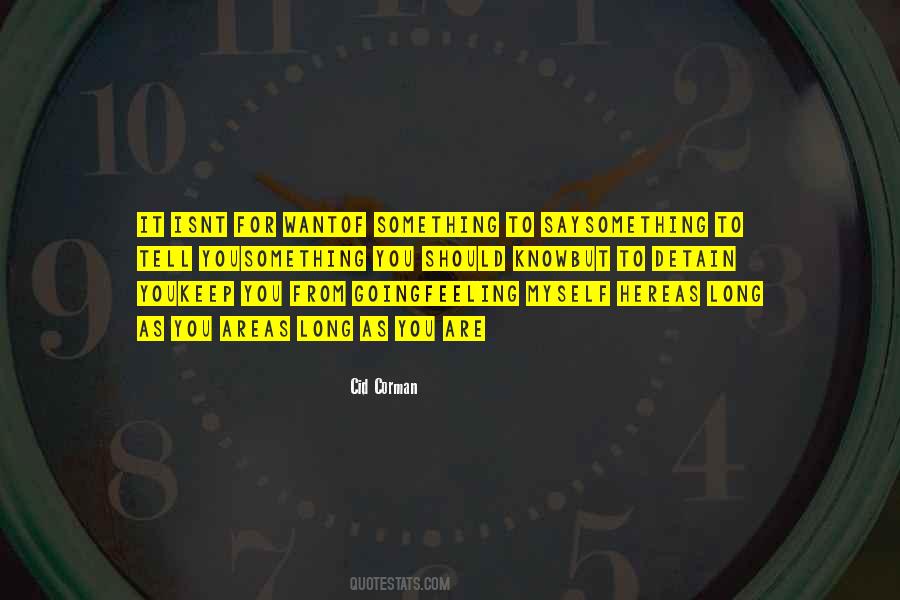 #64. Sometimes the happiest ending isn't the one you keep longing for, but something you absolutely cannot see from where you are. - Author: Shauna Niequist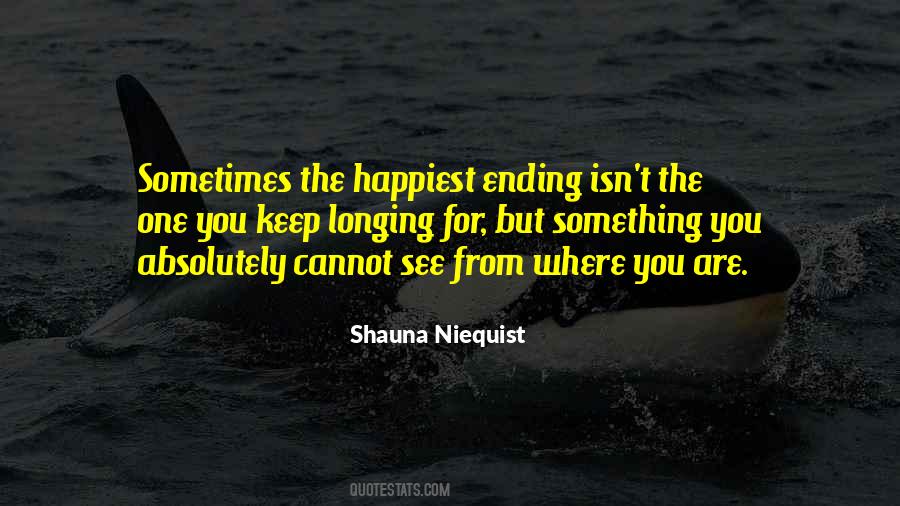 #65. 'Free' is more of that 'familiarity breeds contempt' kind of thing. It's about saying 'Wait, I'm longing for something more than I have and I don't know what it is that I want, but I know I want it.' It has nothing to do with what I'm going through, personally. - Author: Jon Crosby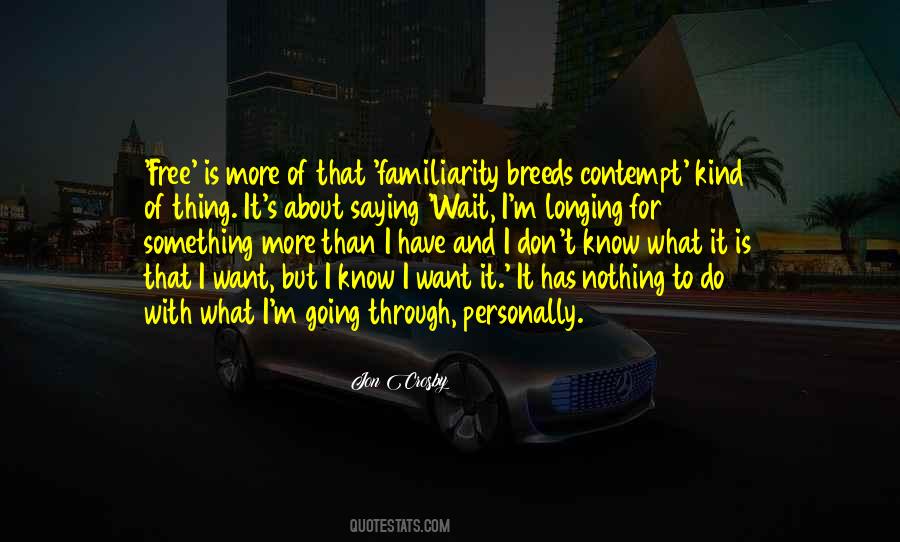 #66. You know that feeling deep in your tummy where you just don't feel comfy and you feel sad and sort of want to cry but not about anything specific. It's like your entire body is just upset and unnerved all the way to the core almost like your just longing for something but don't know what. - Author: Unklnown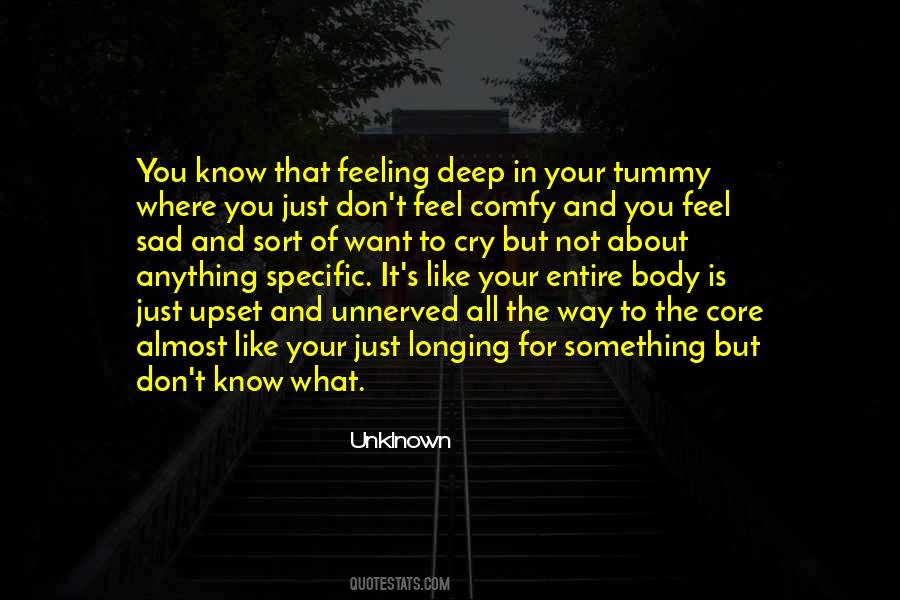 #67. But in spite of my great desire for intimacy, I've always been a loner. Perhaps when the longing for connection is as strong as it is in me, when the desire is for something so deep and true, one knows better than to try. One sees that this is not the place for that. - Author: Elizabeth Berg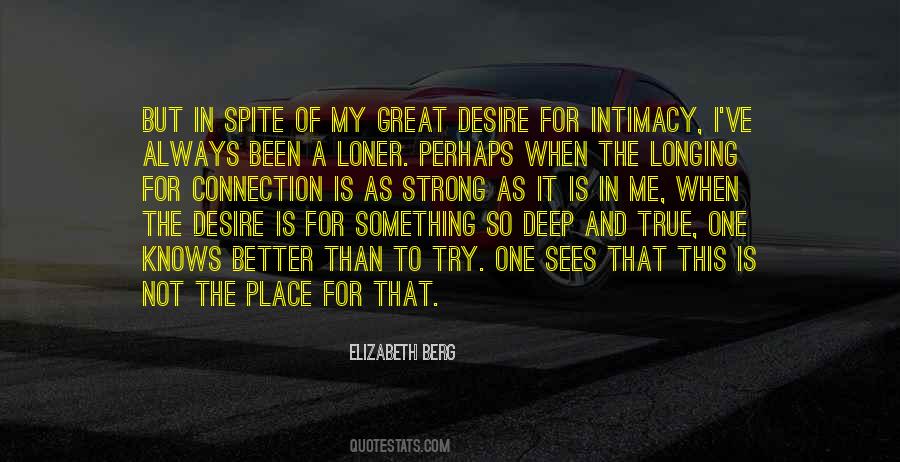 #68. When Beth struggles for words it means she's on the verge of saying something worth hearing. Her emotions confuse her. Maybe tonight, she'll finally find the courage to say the words I'm longing to hear. - Author: Katie McGarry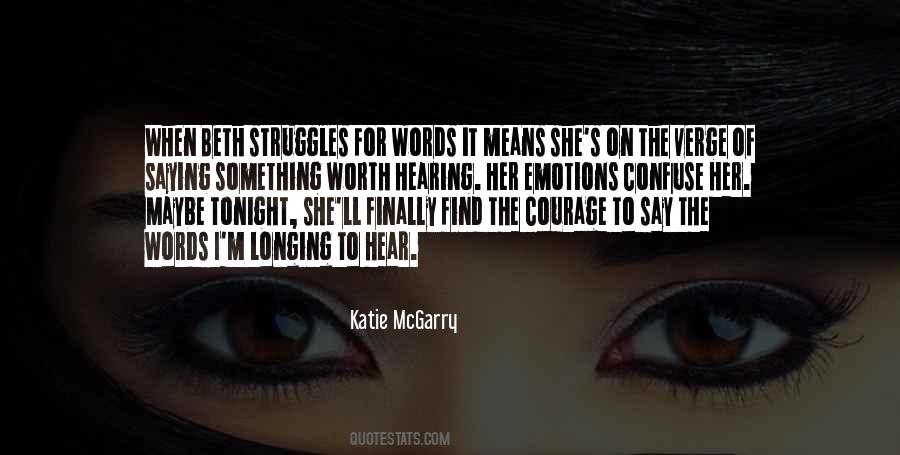 #69. In the cocoon, there is no idea of light at all, until we experience some longing for openness, some longing for something other than the smell of our own sweat. When we examine that comfortable darkness - look at it, smell it, feel it - we find it is claustrophobic. - Author: Chogyam Trungpa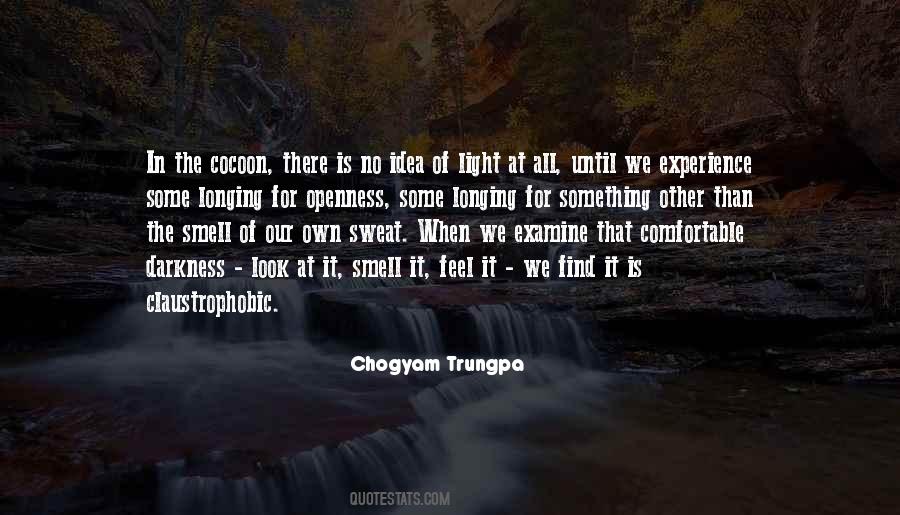 #70. Is there anything better than to be longing for something, when you know it is within reach? - Author: Greta Garbo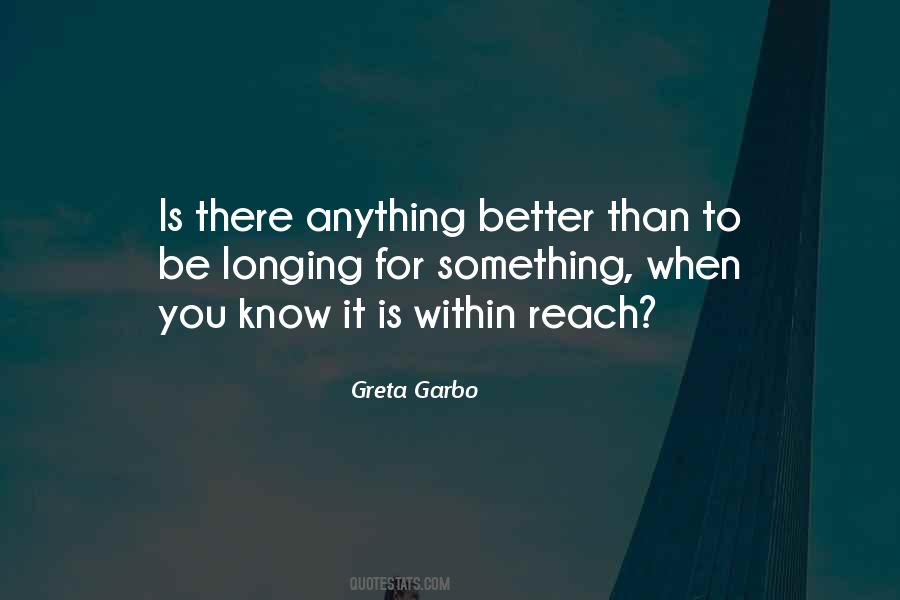 #71. When you are not missing something, longing for something, you don't really think about it that much. It's like that girlfriend you don't want to have anymore. You don't think about her anymore. Or ex-husband. You just don't. - Author: Danica Patrick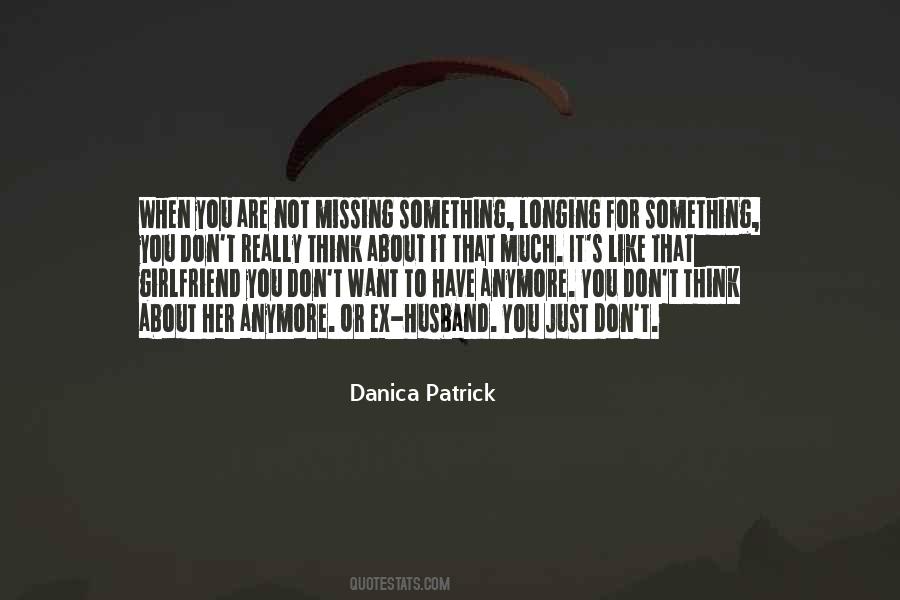 #72. My parents and their world represented a return to sanity and predictability, something I was longing for after all this madness. - Author: Ransom Riggs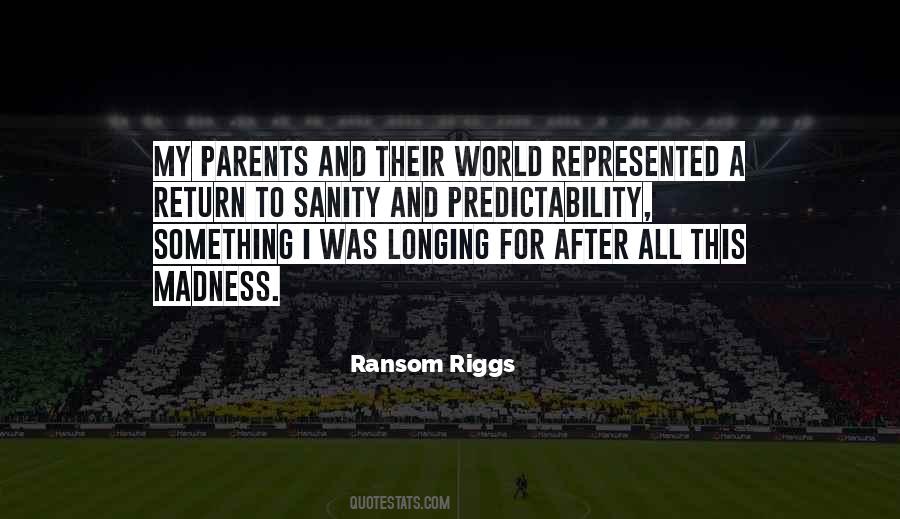 #73. I am inhabited by a cry.
Nightly it flaps out
Looking, with its hooks, for something to love. - Author: Sylvia Plath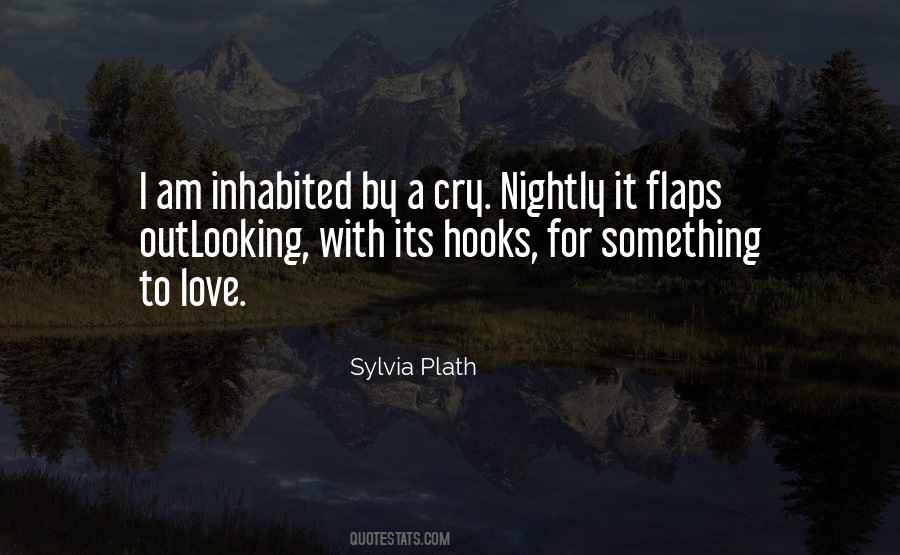 #74. We'd had small lives, populated by a longing for something more substantial than dirt roads and small dreams. - Author: Kevin Powers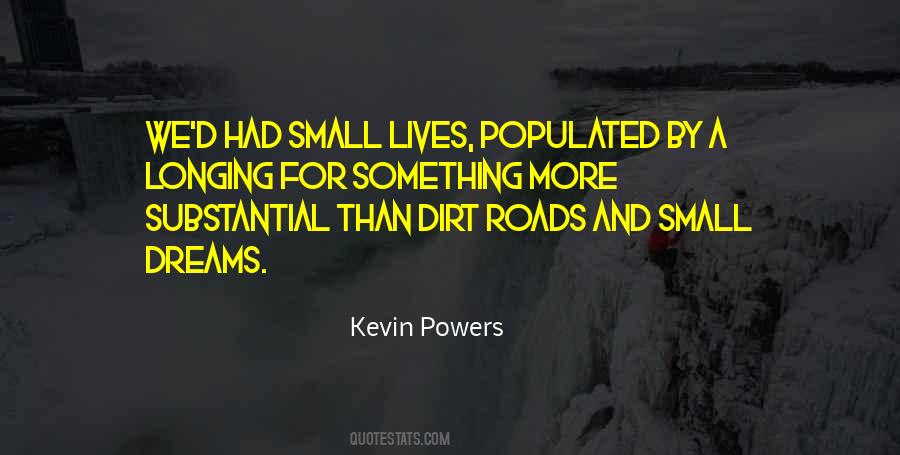 #75. In the case of 'News Radio,' I loved that show. I loved the actors and the producers, but I was longing very much for something more to sink my teeth into me. I think it was an incredibly smart show, but I found myself on the peripheral of a lot of it. - Author: Khandi Alexander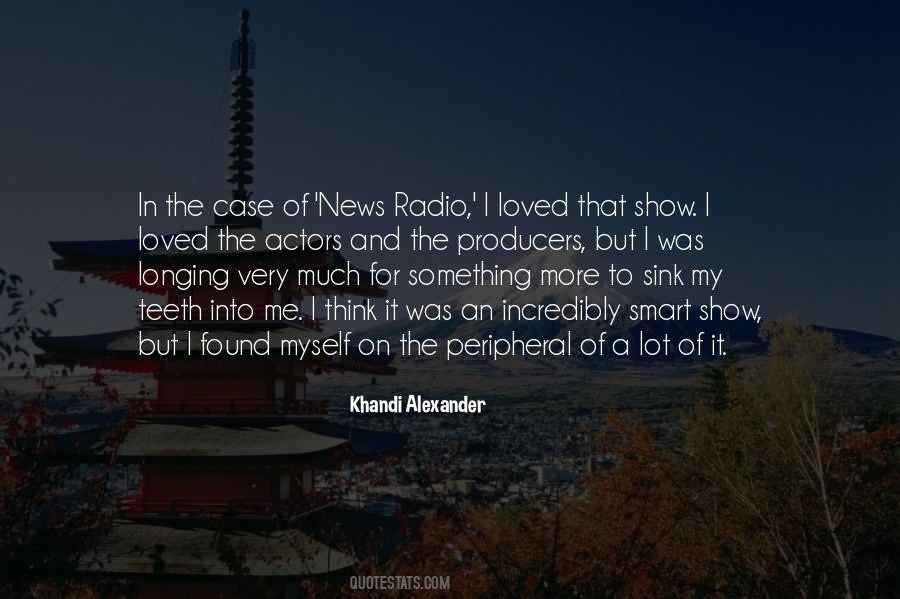 Famous Authors
Popular Topics