Living The Present Famous Quotes & Sayings
List of top 100 famous quotes and sayings about living the present to read and share with friends on your Facebook, Twitter, blogs.
Top 100 Quotes About Living The Present
#1. Live in the mysterious. Accepting and being fully at peace with not knowing what's going to happen in the future will allow us to be fully present and more peaceful in the present. - Author: Matthew Donnelly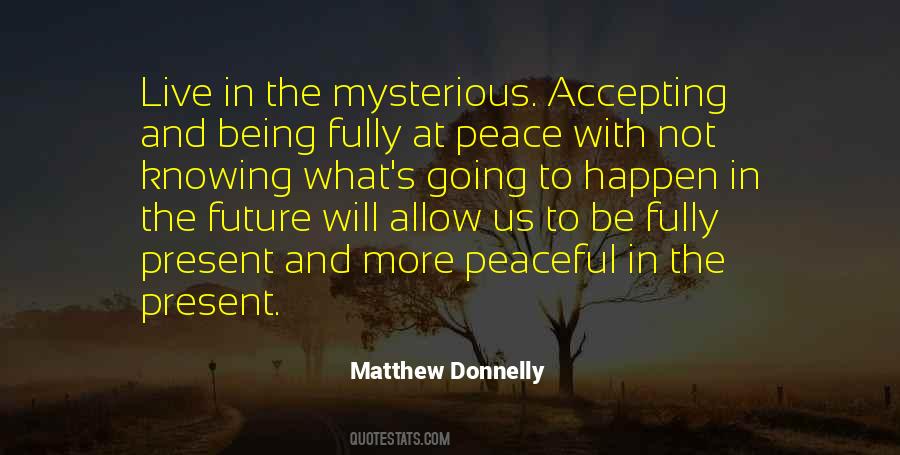 #2. By letting go of the past with love and gratitude, I am creating beautiful memories, which are living in me, but I am living at present not in memories. - Author: Debasish Mridha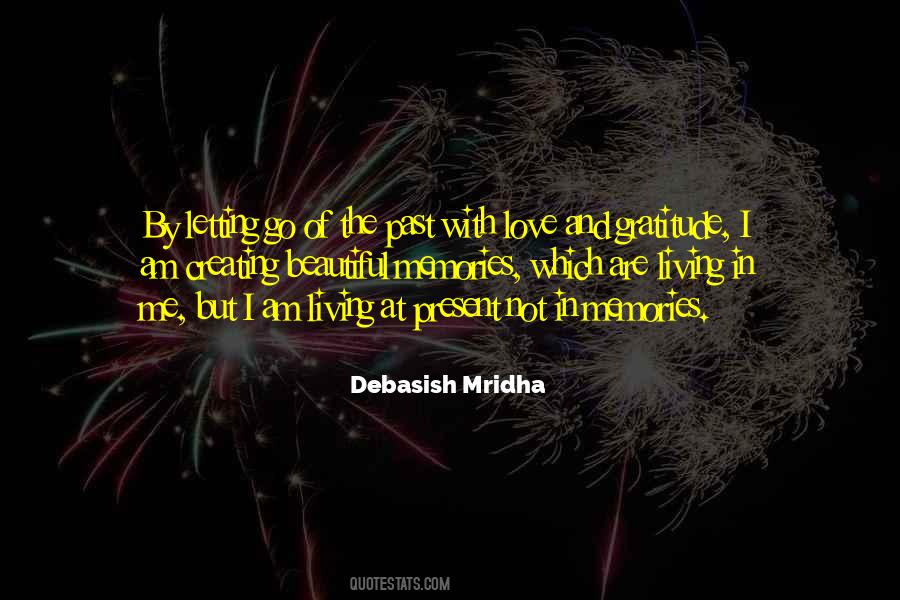 #3. It is not so much the grand dramas of our lives that transform us as it is
the tiny one-acts we produce in between. - Author: Gina Greenlee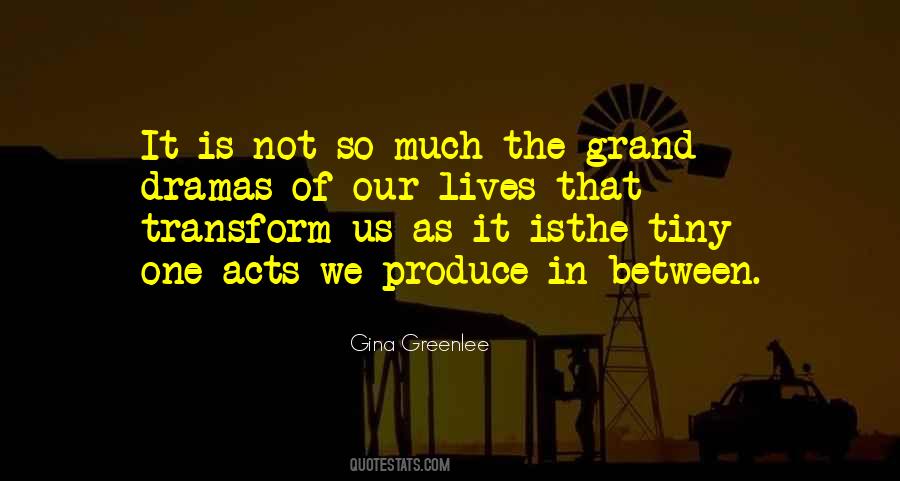 #4. For it is only by forgetting that we ever really drop the thread of time and approach the experience of living in the present moment, so elusive in ordinary hours. - Author: Michael Pollan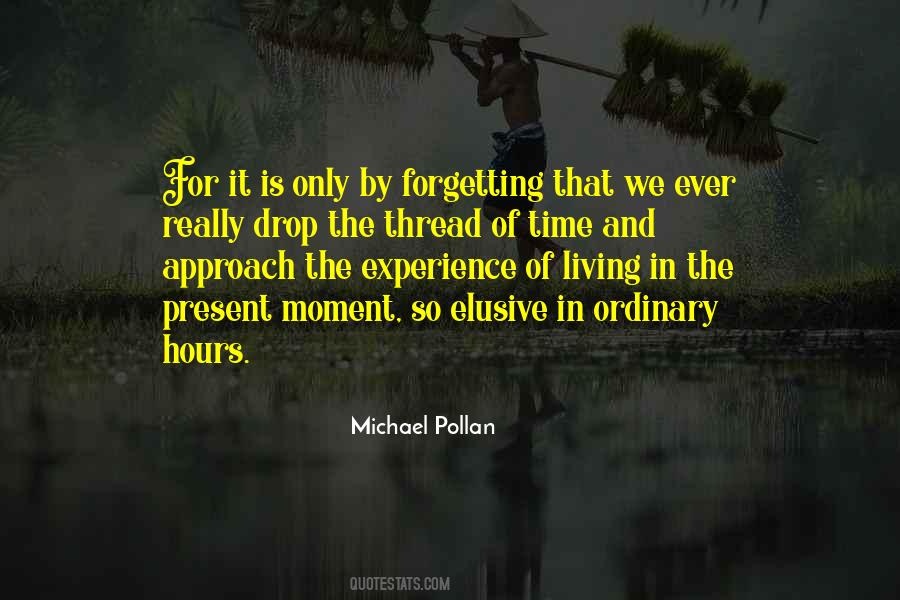 #5. When I think of what I already lived through it seems to me I was shedding my bodies along the paths. - Author: Clarice Lispector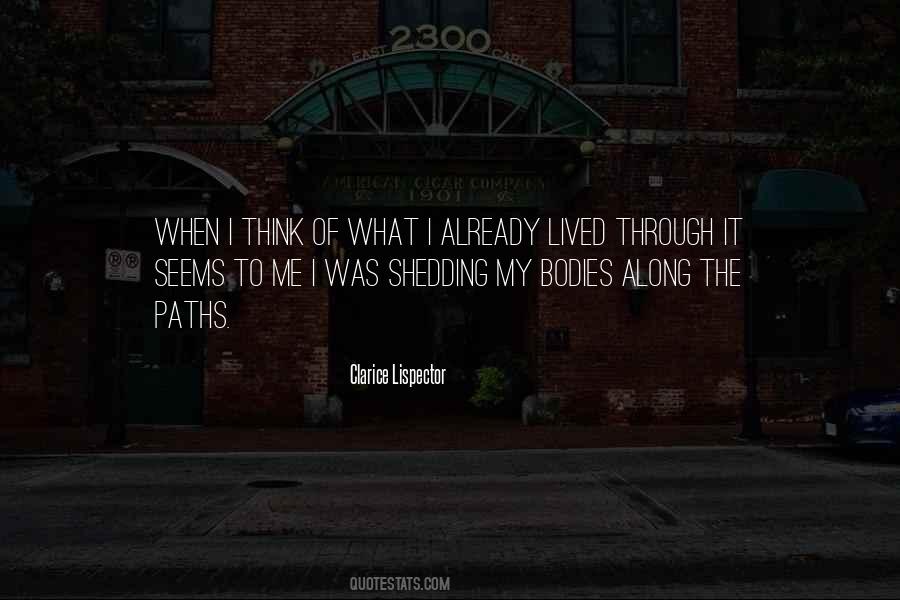 #6. All we have is
the present. The present's perfect, young
grasshopper, because we're breathing,
moving, laughing, crying, and are
surprised when we finally meet someone
we connect with. Stop living in the past
and wasting your present. You need to
tell Noah how you feel. - Author: Alison G. Bailey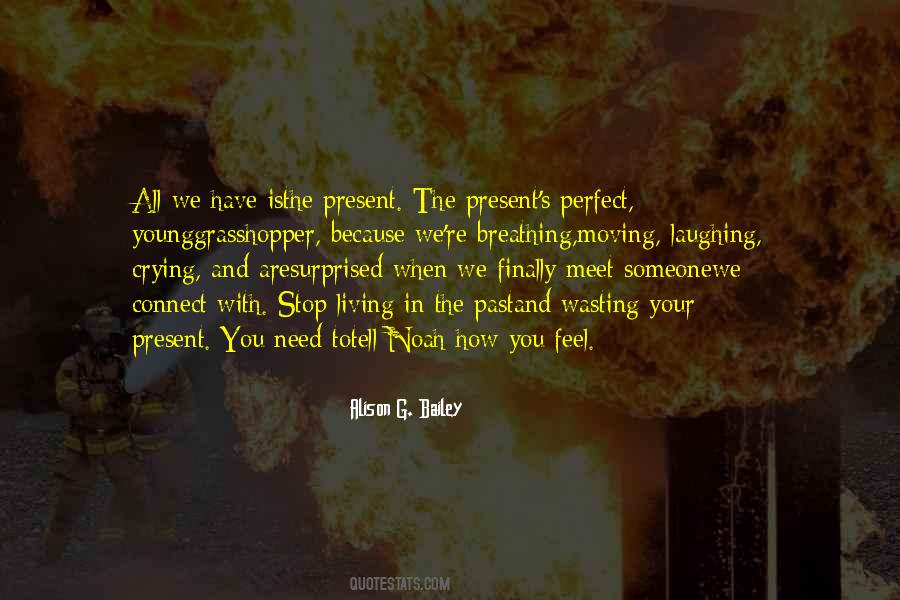 #7. It is difficult to live in and enjoy the moment when you are thinking about the past or worrying about the future. - Author: Roy Bennett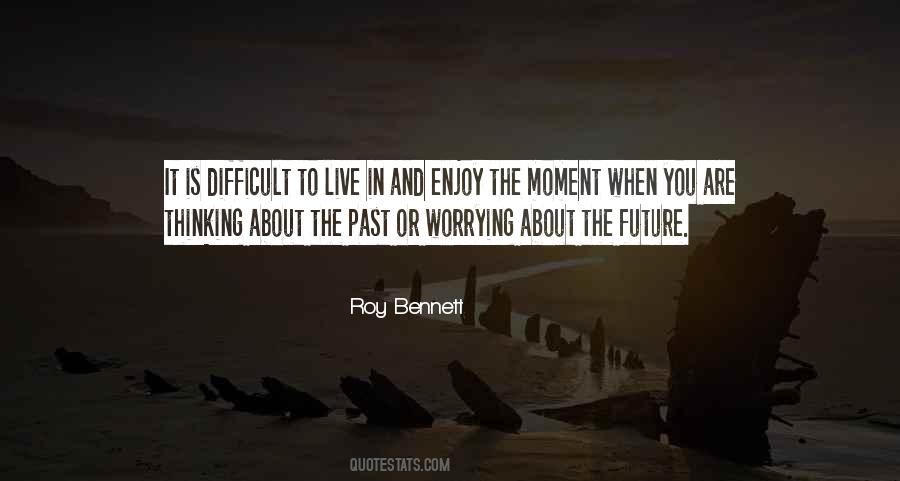 #8. Seeking answers to questions is what draws us forward. When you have no more questions you live in the satisfaction of the present moment. You have no more questions when you finally learn that love is the answer. Love is always the answer. - Author: Kate McGahan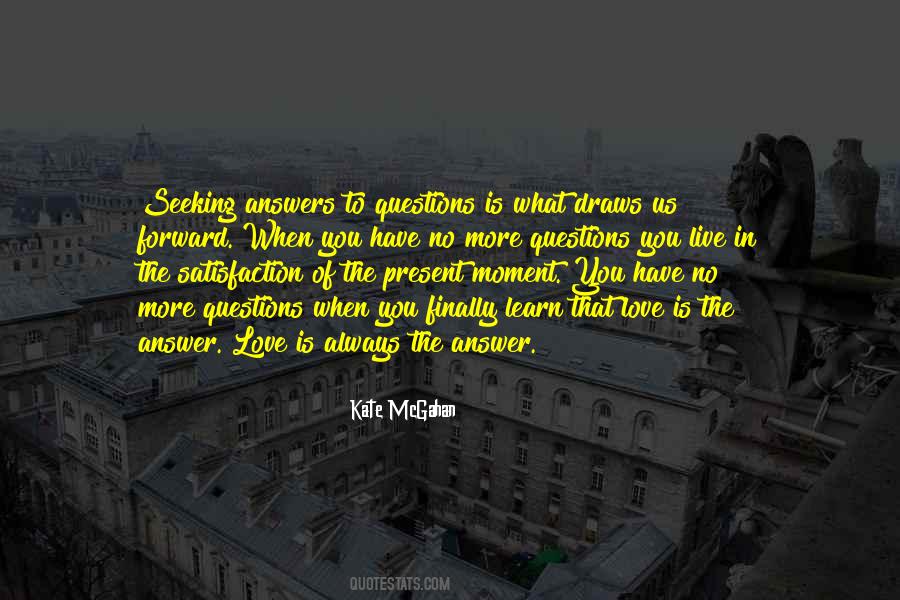 #9. Life is a fragile and awesome gift. - Author: Steve Goodier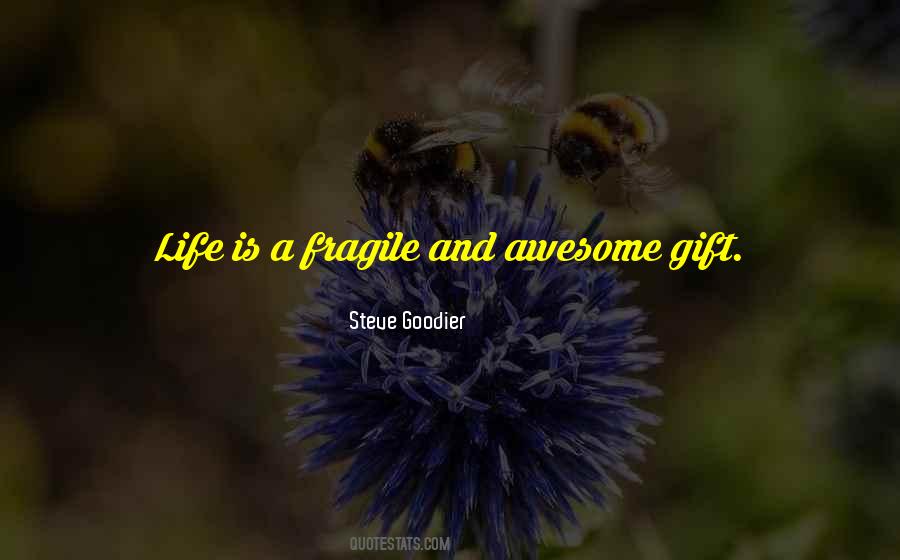 #10. Because we believe that one moment is more or less like the next, we lose touch with the essential urgency of the present, the fact that each passing moment is the one moment for the practice of freedom. - Author: Robert Grudin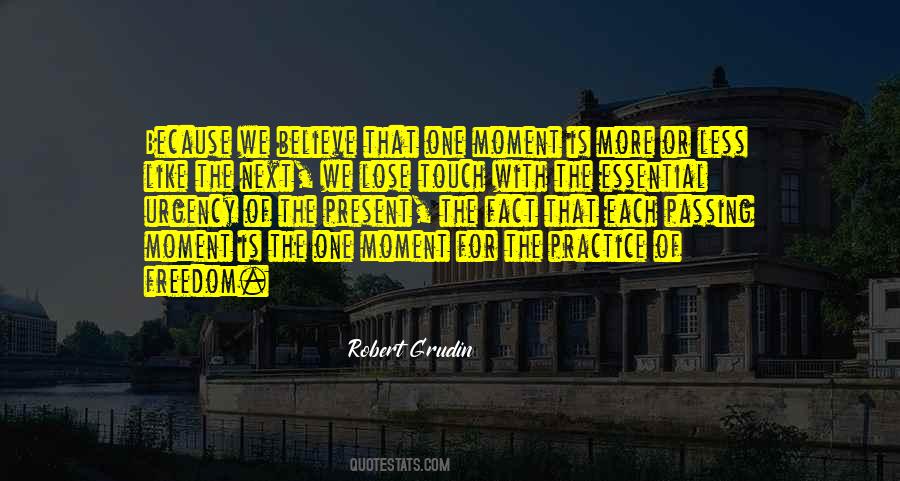 #11. Practice living every moment of your daily life deeply and in freedom. If that's what you really want, then what you need to do is let go of pursuing the past, the future, and all your worries, and come back to the present moment. - Author: Thich Nhat Hanh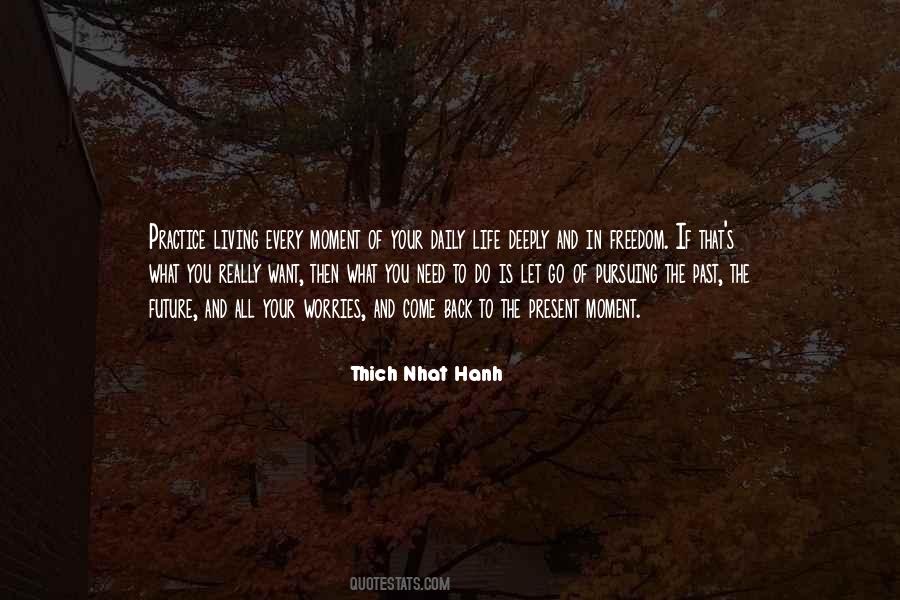 #12. Living is something most of us postpone, isn't it? We sell the present for a chance at a future where we may do our living when we're old and we've lost the talent for it. - Author: Brian Garfield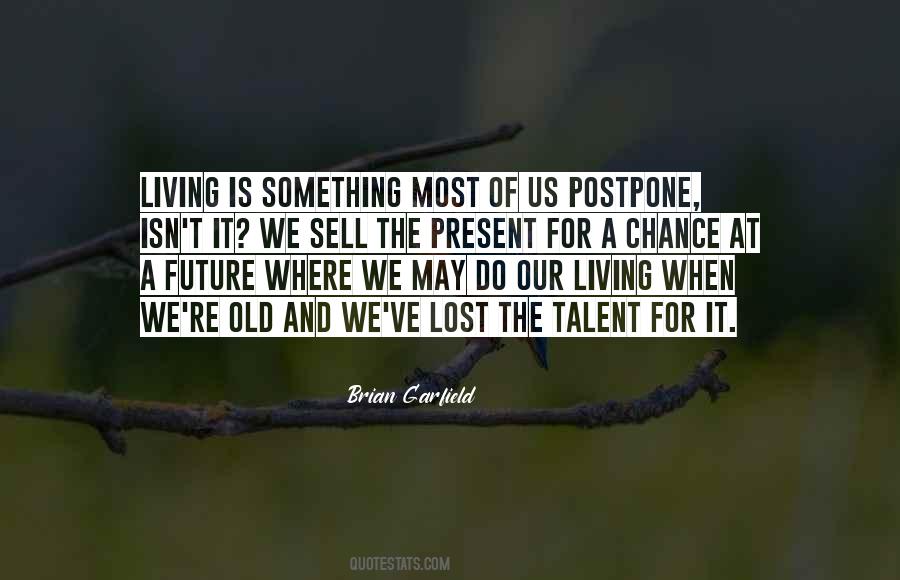 #13. Because of the past, so many people are living in the past! No one is free from the past, but we are free to choose to move from the past into the present or stay in the past, though we live in the present! - Author: Ernest Agyemang Yeboah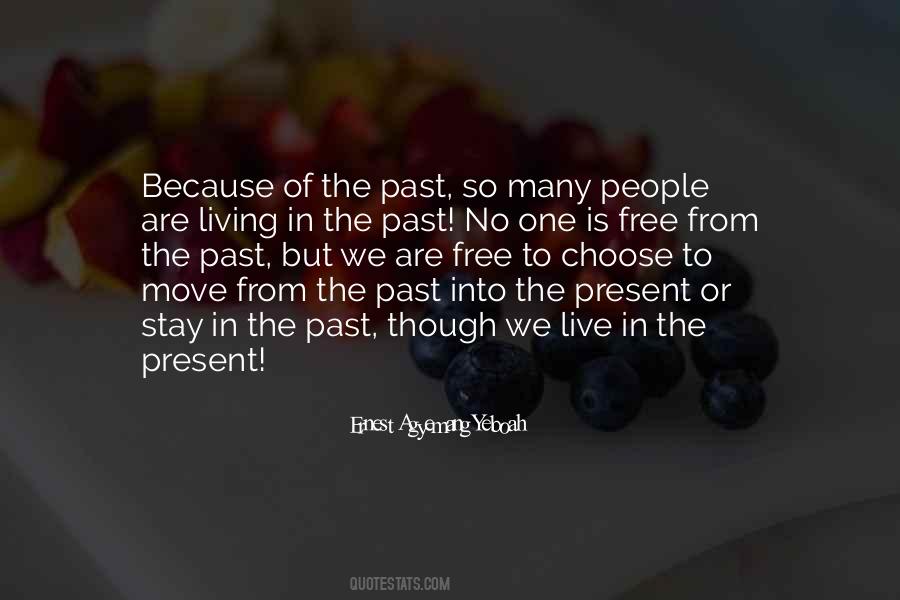 #14. I am living here and now. The blessing of my life is that I am totally concentrating on the present moment. And I want to be because there is nothing but the present moment. - Author: Paulo Coelho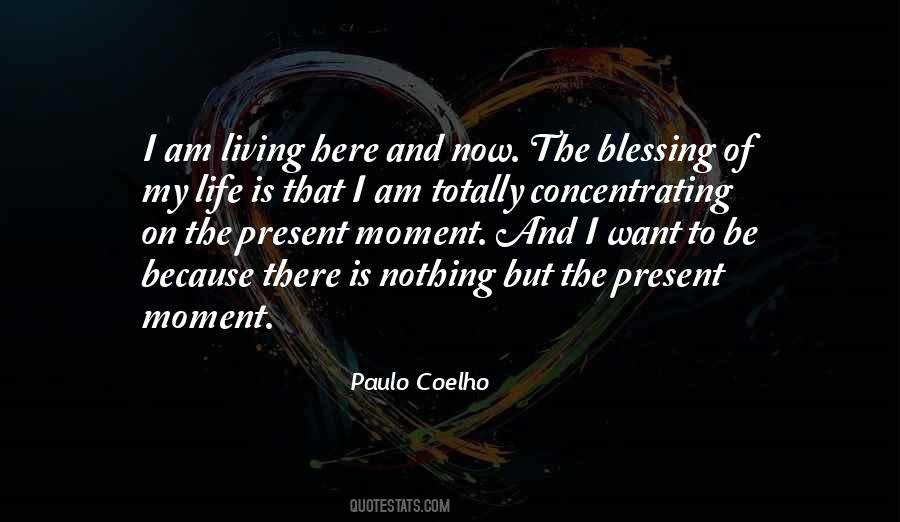 #15. While we are living in the present, we must celebrate life every day, knowing that we are becoming history with every work, every action, every deed. - Author: Mattie J.T. Stepanek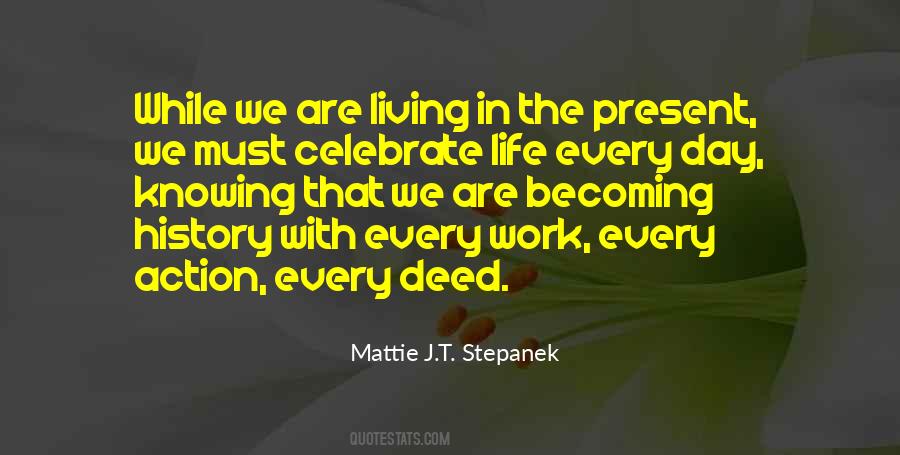 #16. I found focusing on the positives was really beneficial. I wrote down thoughts about how much better I would feel and look and how much calmer and more present I would be when I could get through the initial phase of wanting sugar and pop out the other side - Author: Damon Gameau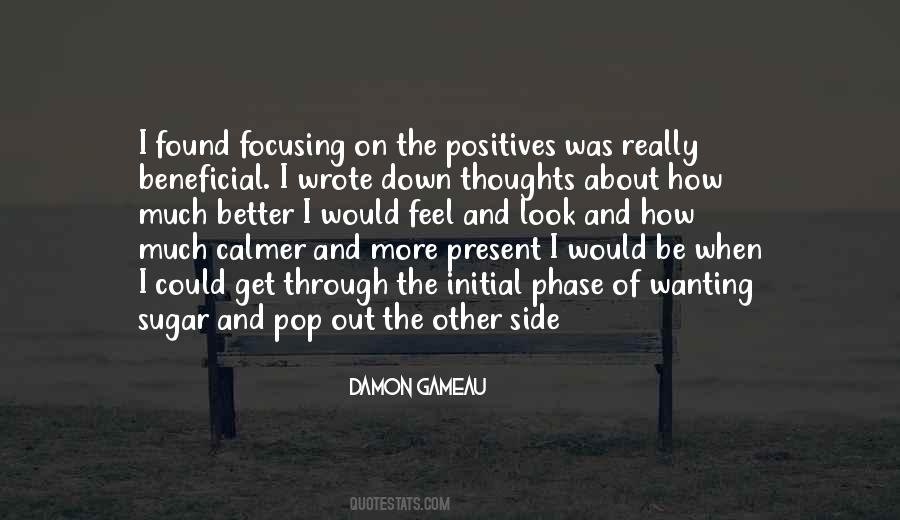 #17. I hate the present modes of living and getting a living. Farming and shopkeeping and working at a trade or profession are all odious to me. I should relish getting my living in a simple, primitive fashion. - Author: Henry David Thoreau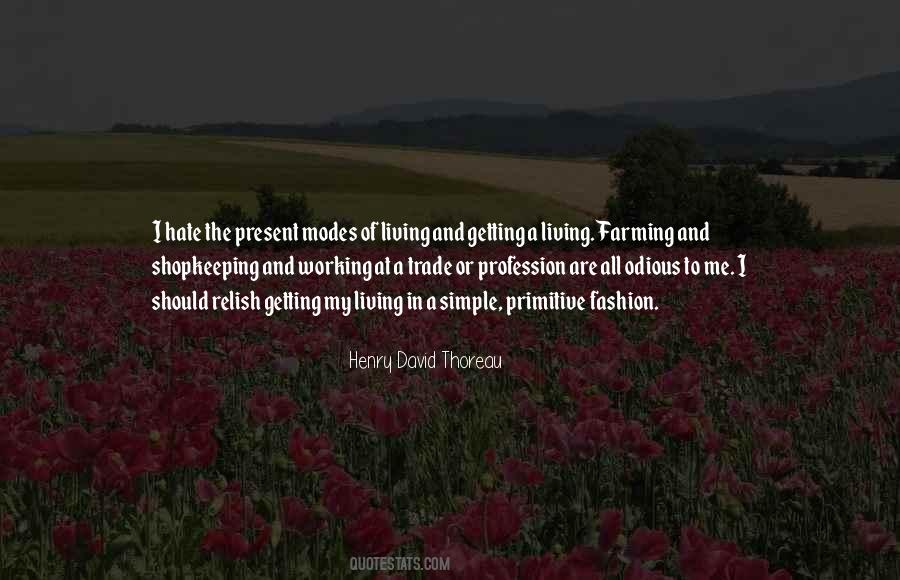 #18. No one should let yesterday use up too much of today. Easy to say, hard to live. - Author: Andrea Hairston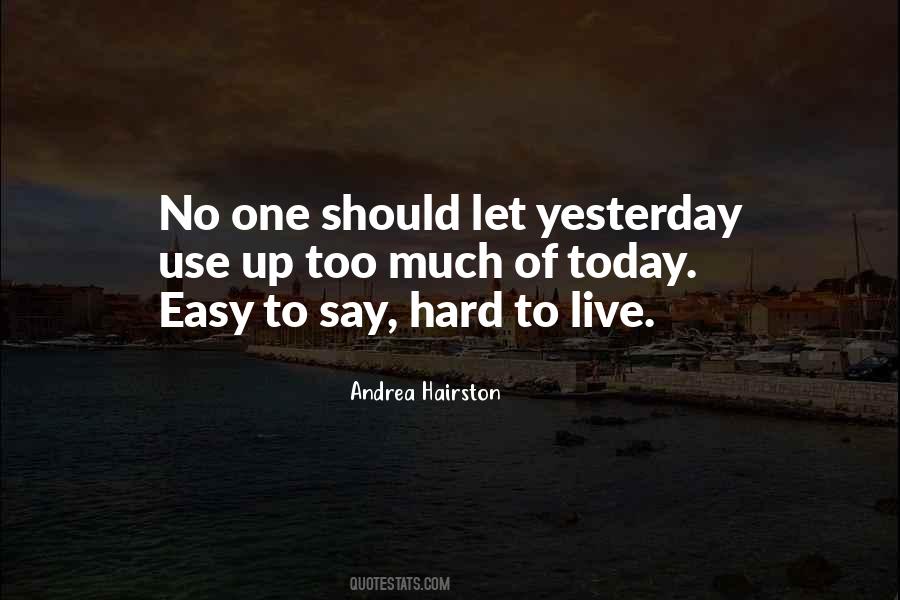 #19. That's what the future is for: to build the present, with real plans, made by living people. - The Elegance of the Hedgehog - Author: Muriel Barbery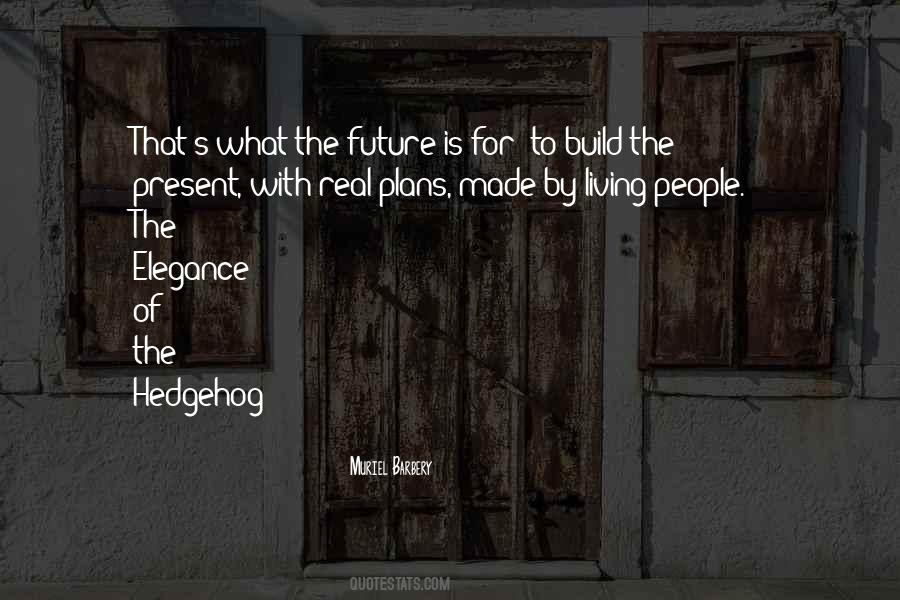 #20. Enjoy today, the time you have now, for time cannot be found only lost. - Author: Marty Rubin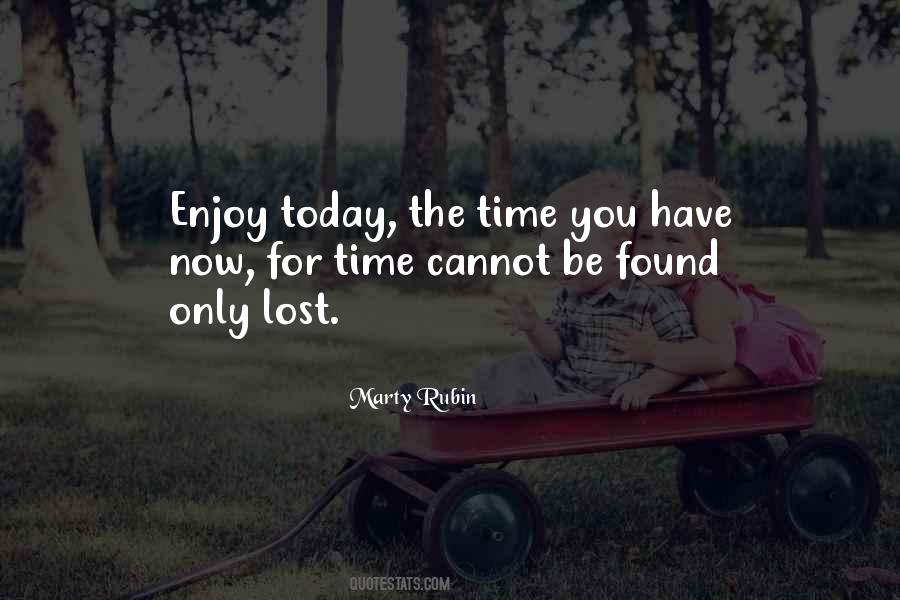 #21. The Expulsion from Paradise is eternal in its principal aspect: this makes it irrevocable, and our living in this world inevitable, but the eternal nature of the process has the effect that not only could we remain forever in Paradise, but that we are currently there, whether we know it or not. - Author: Franz Kafka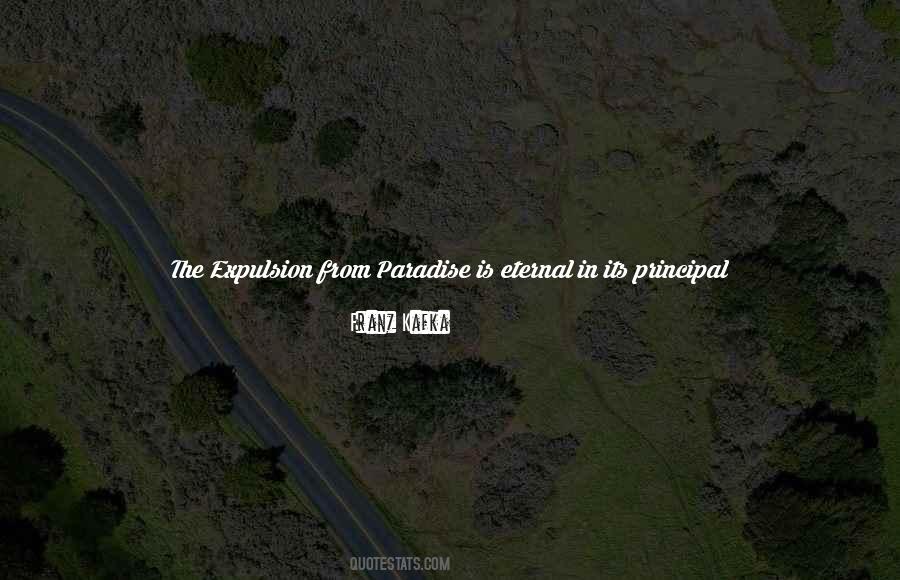 #22. It stands to reason that anyone who learns to live well will die well. The skills are the same: being present in the moment, and humble, and brave, and keeping a sense of humor. (361) - Author: Victoria Moran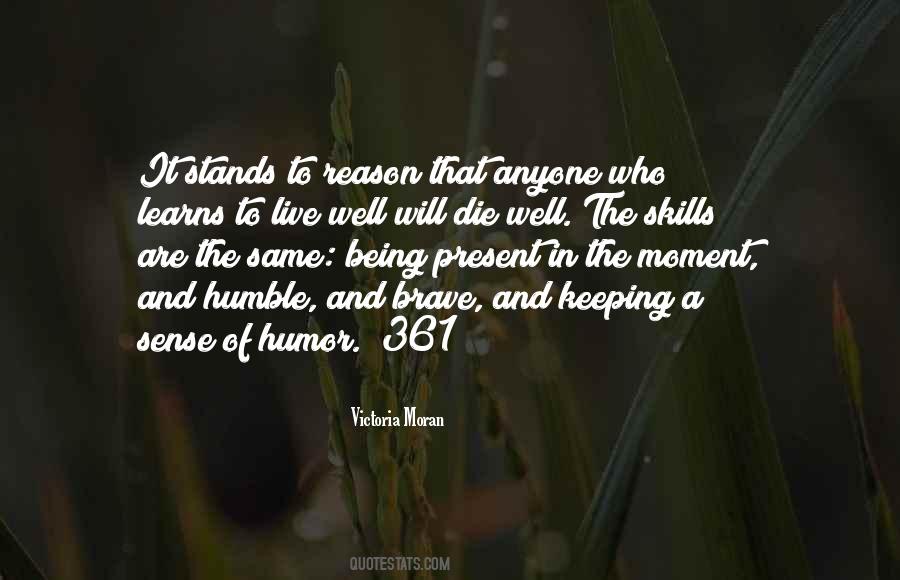 #23. They would no longer be time-bound, that they were free to live in the future, the past, in fantasy.
She had been a woman preparing to live, not living. - Author: Kiana Davenport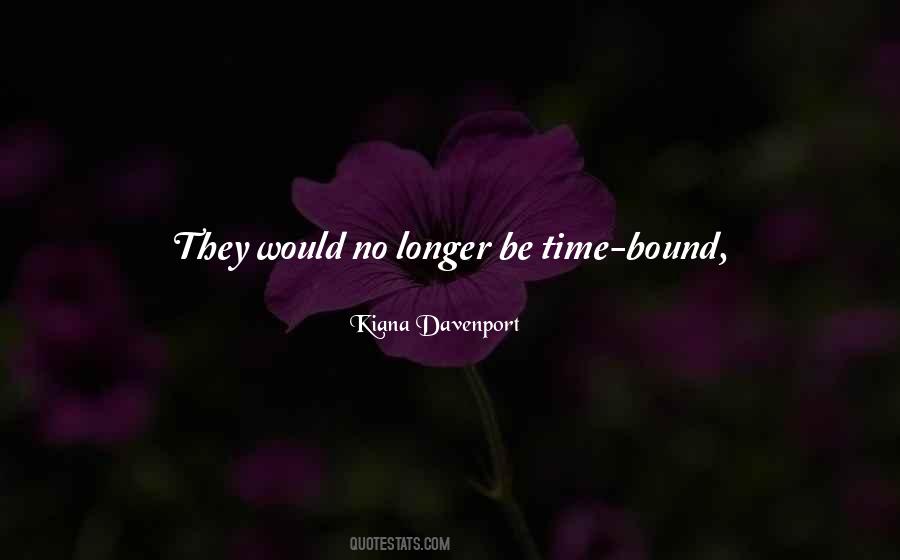 #24. If you are expressing gratitude then you are in the present moment. If you are in the present moment then you are expressing gratitude. - Author: Matthew Donnelly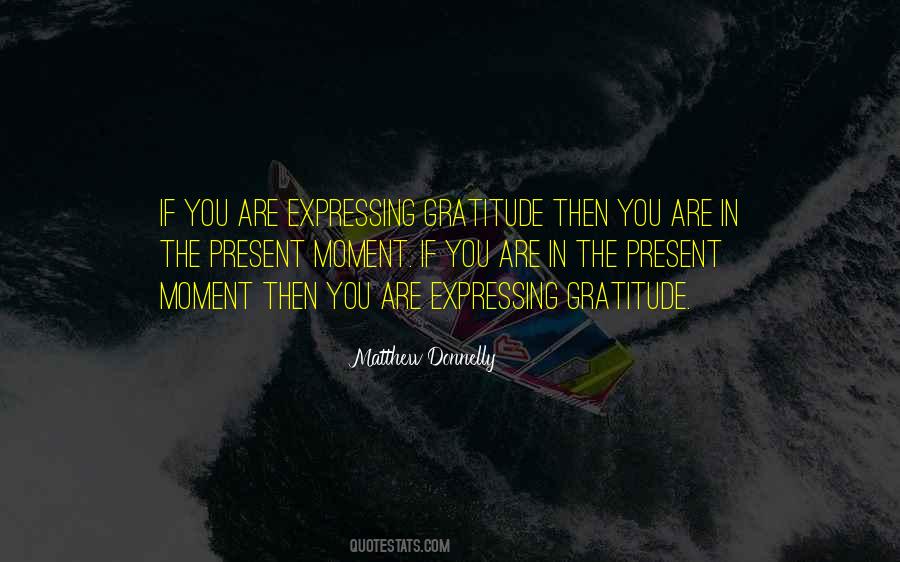 #25. I bless you, all living things, I bless you in the endless past, I bless you in the endless present, I bless you in the endless future, amen. - Author: Jack Kerouac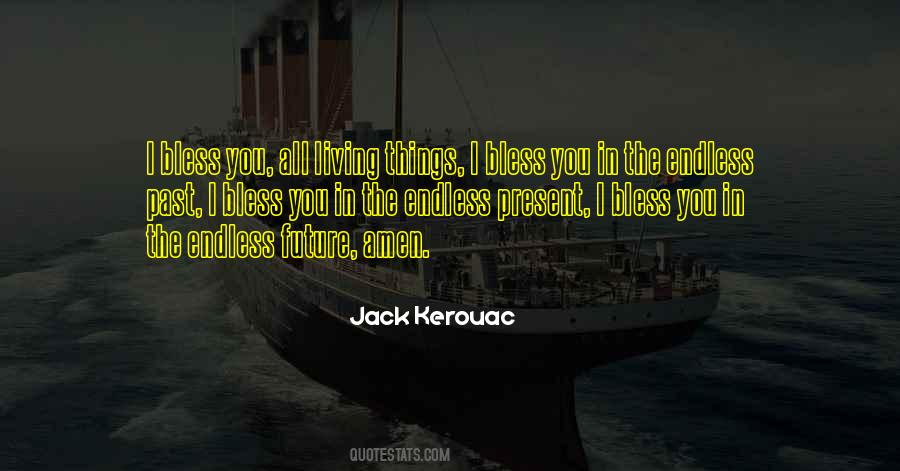 #26. And so you have a life that you are living only now, now and now and now, gone before you can speak of it, and you must be thankful for living day by day, moment by moment a life in the breath and pulse and living light of the present - Author: Wendell Berry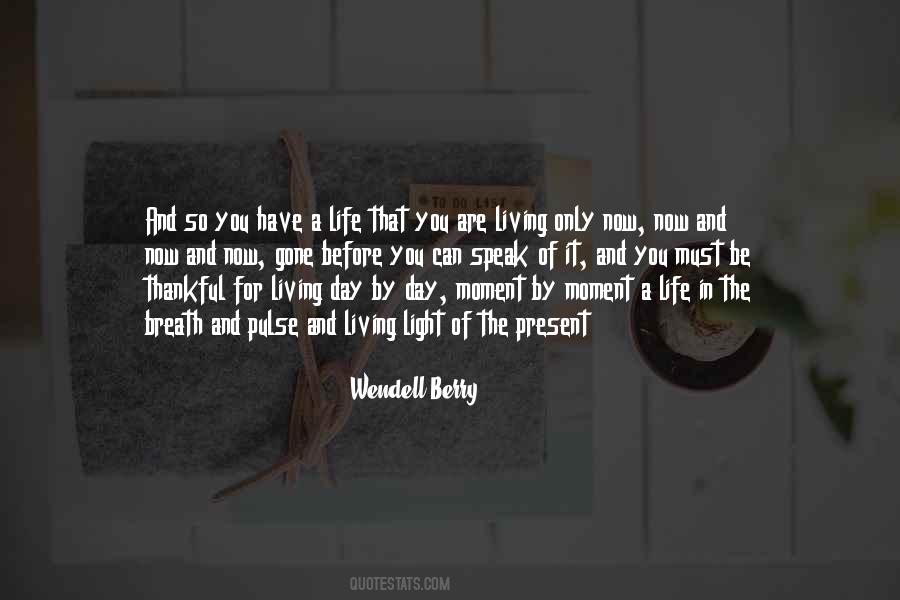 #27. Live in the present, or die in your past; it's your choice. - Author: Bryant McGill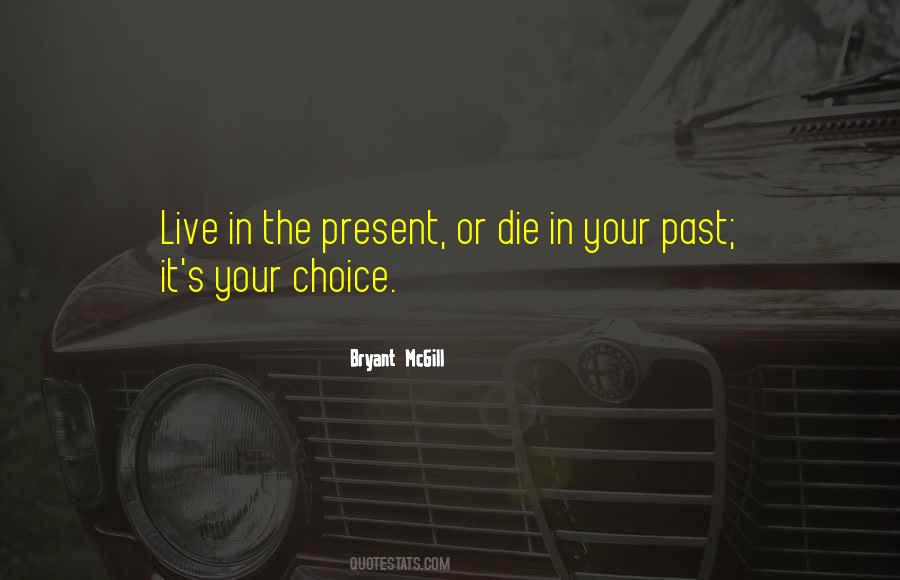 #28. One of the things that Jon Kabat-Zinnn talks about is that everyone wants to figure out how to live longer. But this actually is a very easy way for you to live longer, maybe you're not extending your life, but you are present and living more of the moments of your life. - Author: Anderson Cooper
#29. Suddenly I'm happy there in the fuzziness of sleep, and maybe this is what happiness is - not a dream or a promise - just living for the moment. - Author: Delphine De Vigan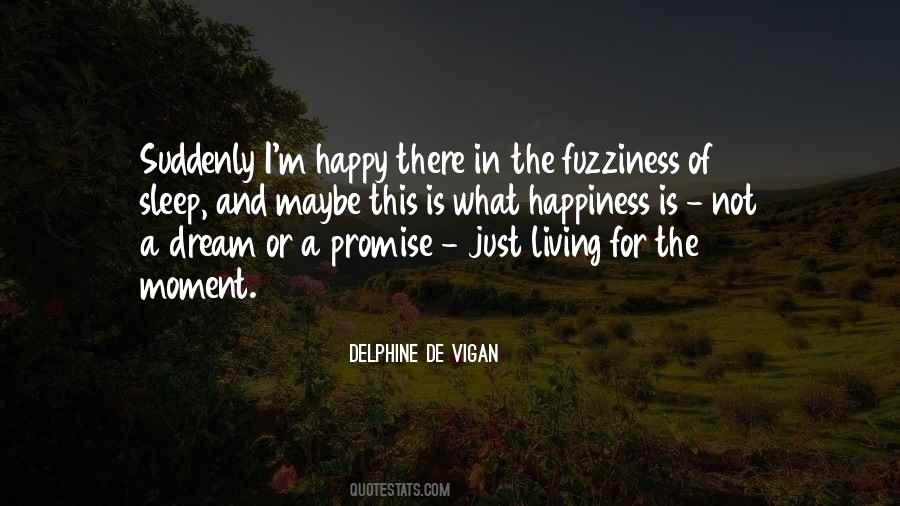 #30. The past is consumed in the present and the present is living only because it brings forth the future. - Author: James Joyce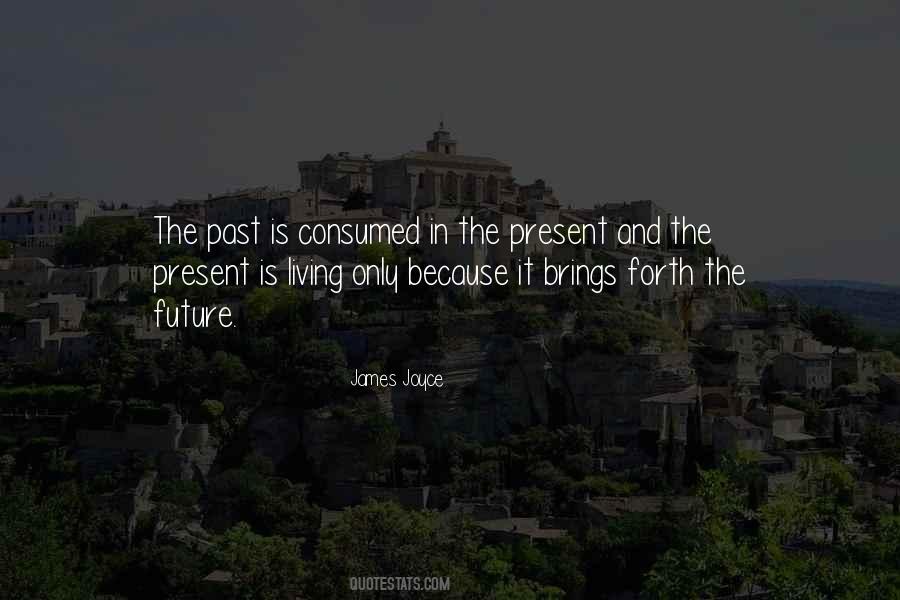 #31. Part of getting other people to focus on the future rather than being myopically focused on the present is about living that way yourself and showing that you can make choices today that are about future outcomes and still be having a great time into the present and enjoying your life. - Author: Hill Harper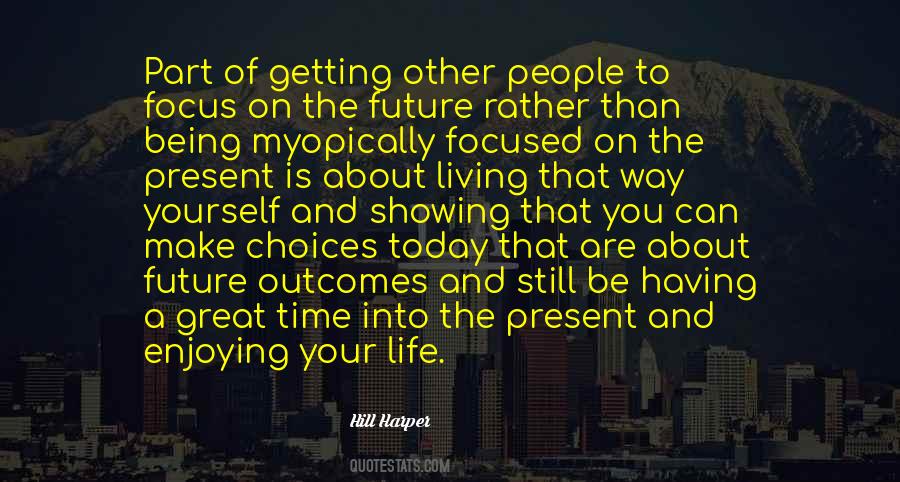 #32. Letting yesterday affect today will only destroy the excitement of tomorrow. - Author: Michelle Cruz-Rosado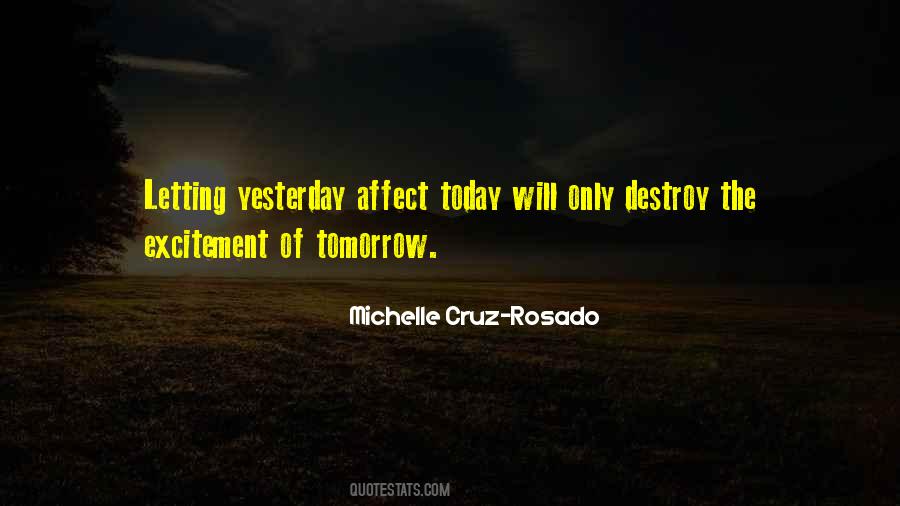 #33. You can learn as much about the history from reading about the present as you can vice versa, that is learning about the present through history, which is what I do for a living. - Author: Ken Burns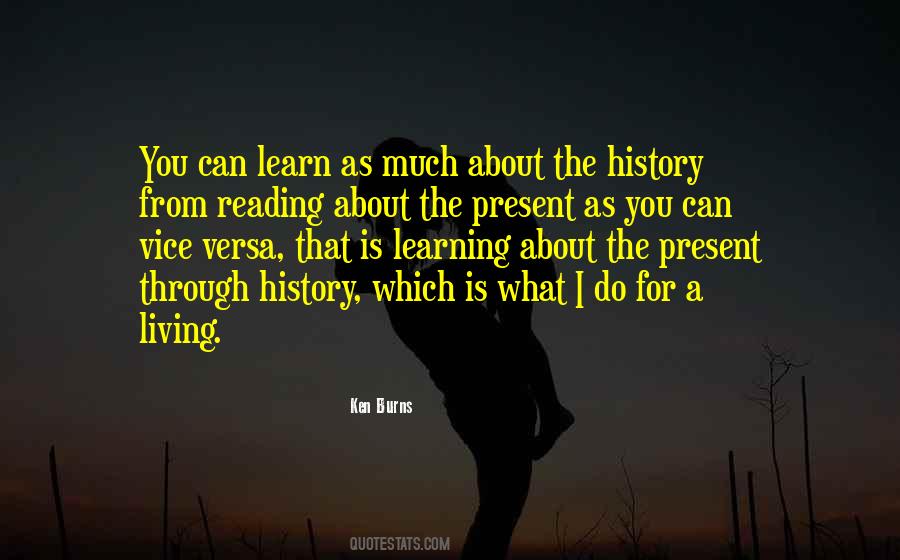 #34. The attitude of the God-conscious man of the Upanishad towards the universe is one of a deep feeling of adoration. His object of worship is present everywhere. It is the one living truth that makes all realities true. This truth is not only of knowledge but of devotion. - Author: Rabindranath Tagore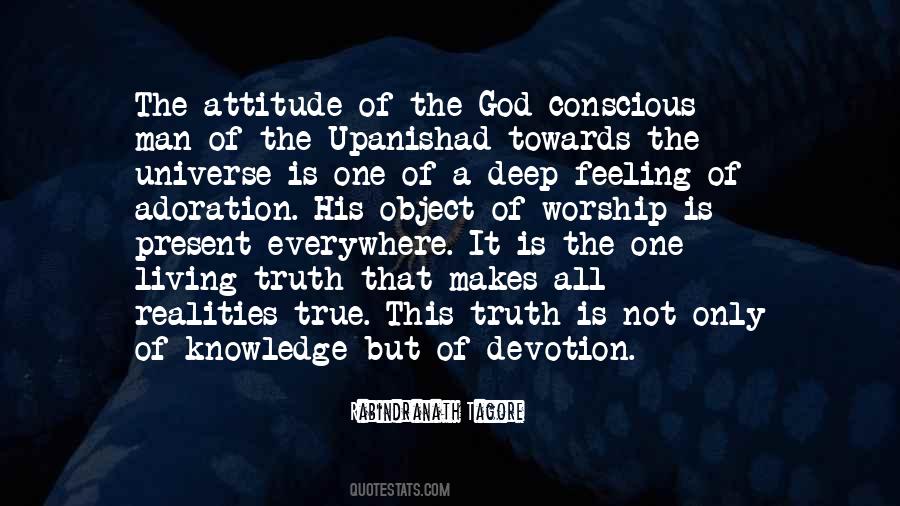 #35. As you will see, mindfulness practice does not need to be another "add-on." Its beauty lies in the fact that it can be fully and easily integrated into every act of our daily living, reminding us to live the present moment fully. - Author: Thich Nhat Hanh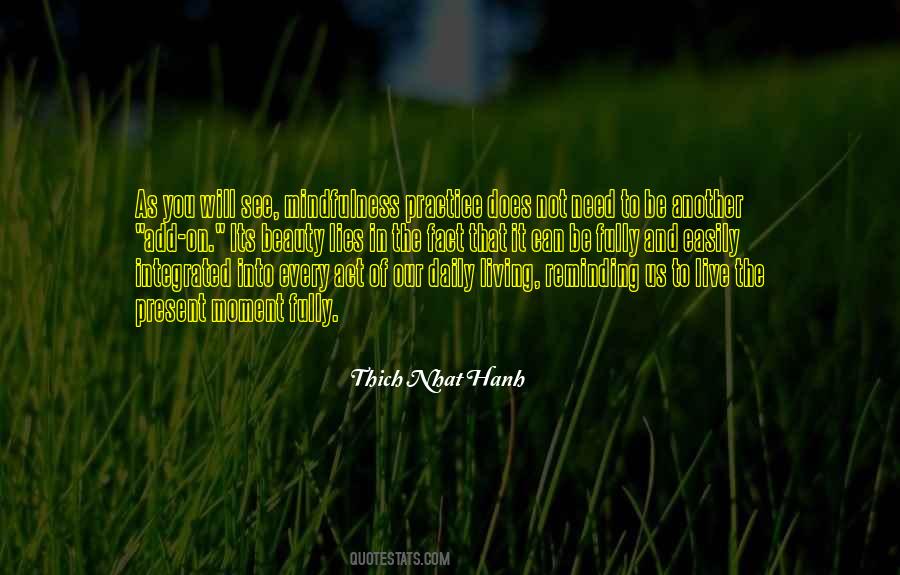 #36. The past is always with us. It echoes through every living moment, giving it depth and meaning beyond itself. Sometimes the past is so powerful, those echoes threaten to overwhelm the present. - Author: Trish Feehan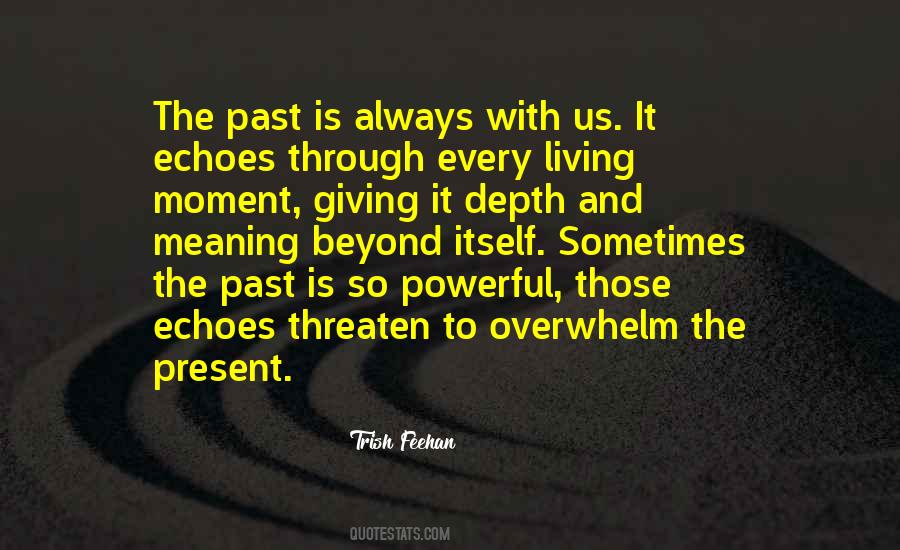 #37. Every instant of our lives is essentially irreplaceable: you must know this in order to concentrate on life. - Author: Andre Gide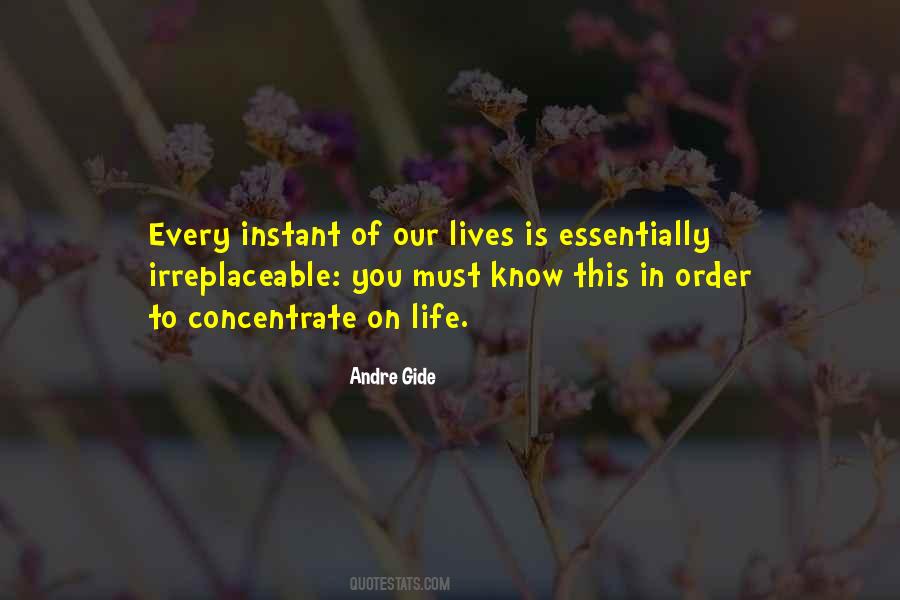 #38. The more you are grateful for what you have, the more you can live fully in the present. - Author: Dana Arcuri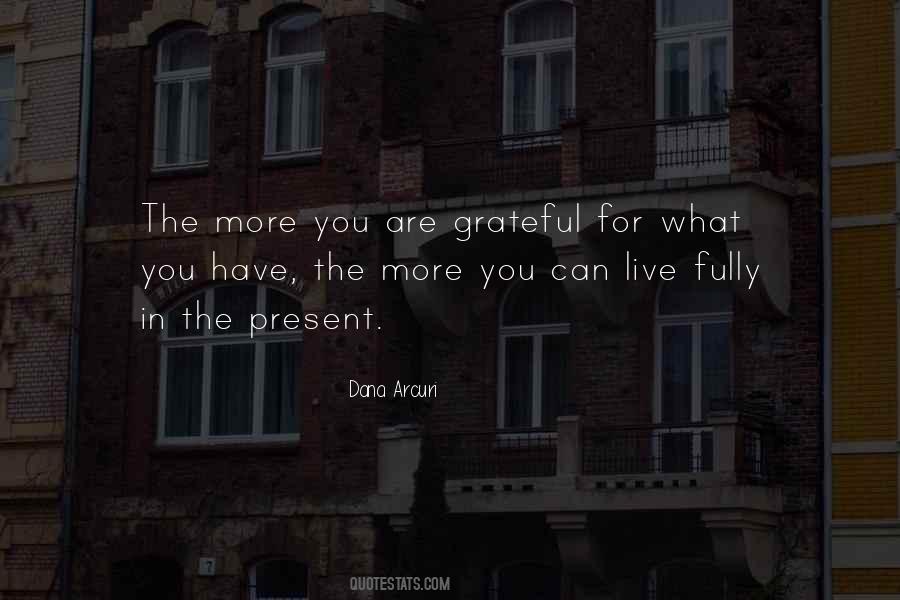 #39. Releasing yourself from yesterday's and tomorrow's thoughts brings you to the power of the present moment. Now that's truly living for today! - Author: Denis John George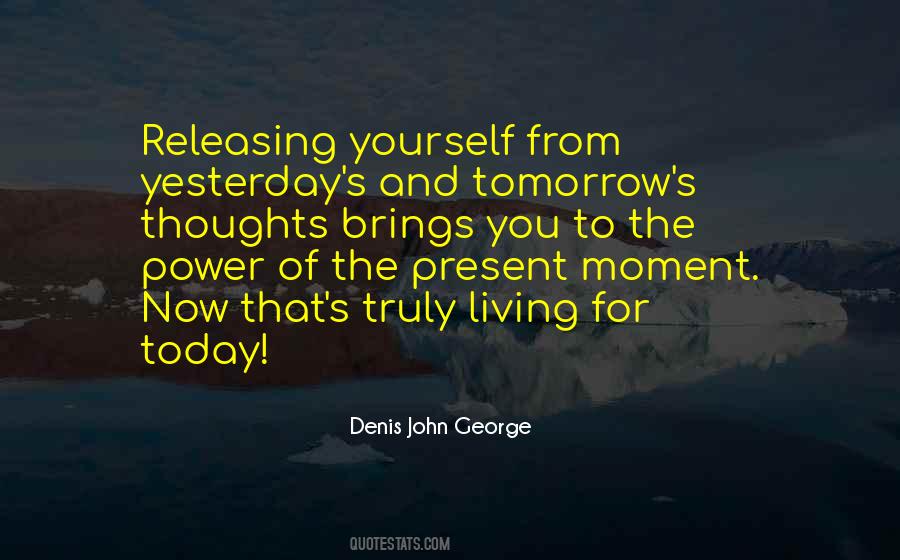 #40. When you come across someone colorful and vibrant maybe in the present it isn't so interesting, but, in the past, it sheds a wonderful light onto living life. - Author: Garrett Hedlund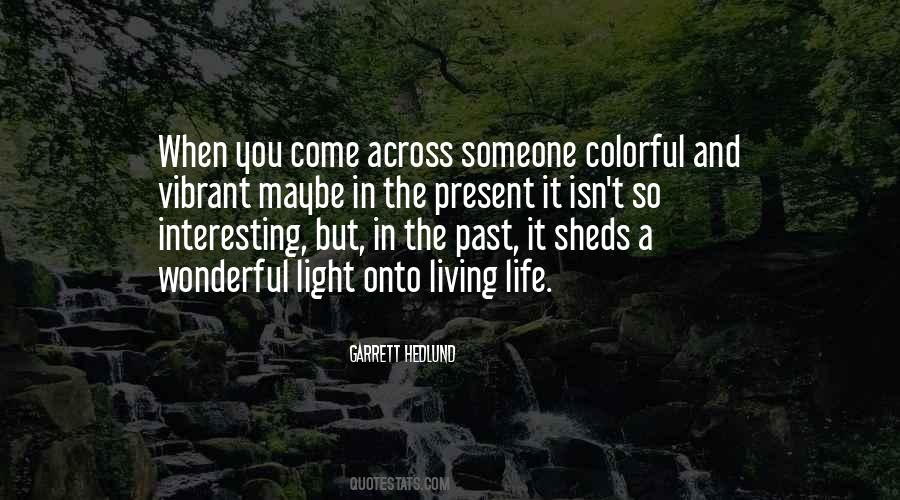 #41. I believe in living in the present and making each day count. I don't pay much attention to the past or the future. - Author: Matthew McConaughey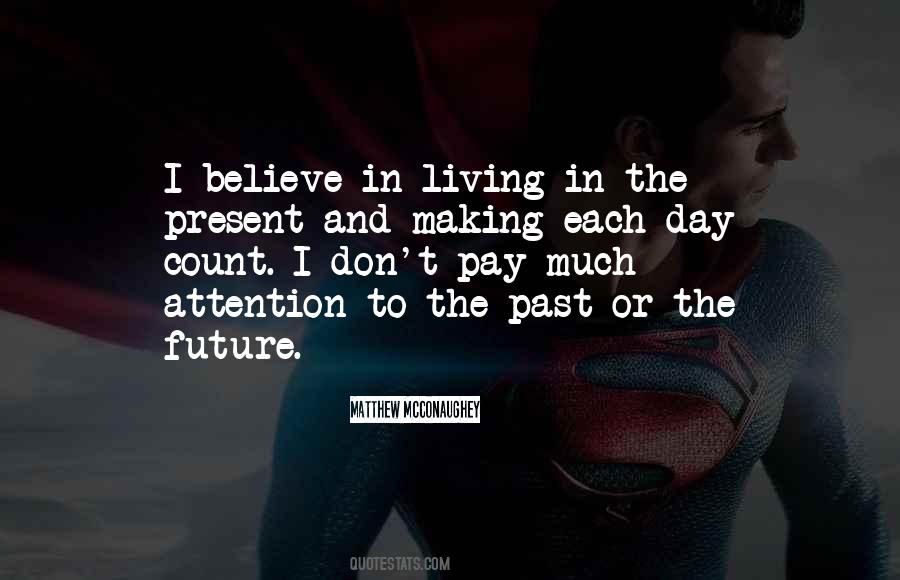 #42. Present-moment living, getting in touch with your now, is at the heart of effective living. When you think about it, there really is no other moment you can live. Now is all there is, and the future is just another present moment to live when it arrives. - Author: Wayne W. Dyer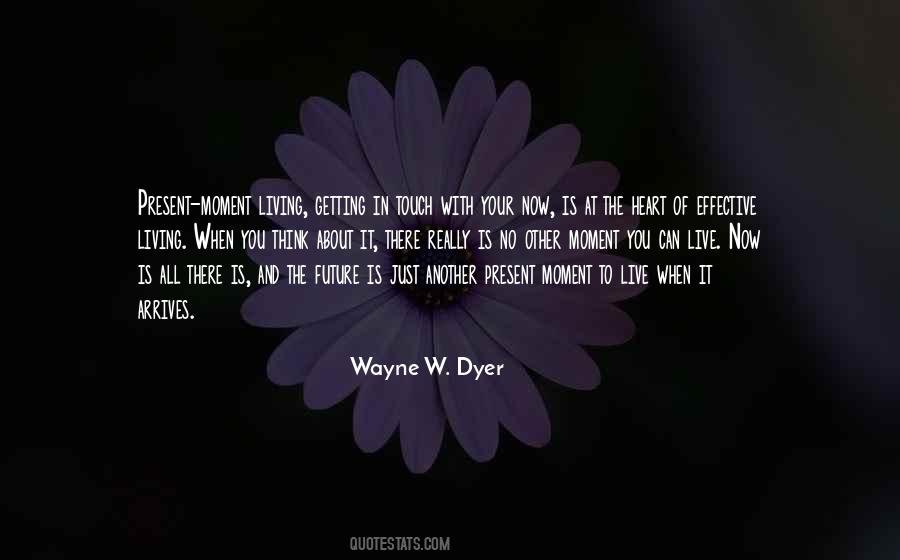 #43. Harness the power of today. Seize the blessings of today! Make something happen, enhance your life, make someone laugh, help a friend, love, love, love! - Author: Steve Maraboli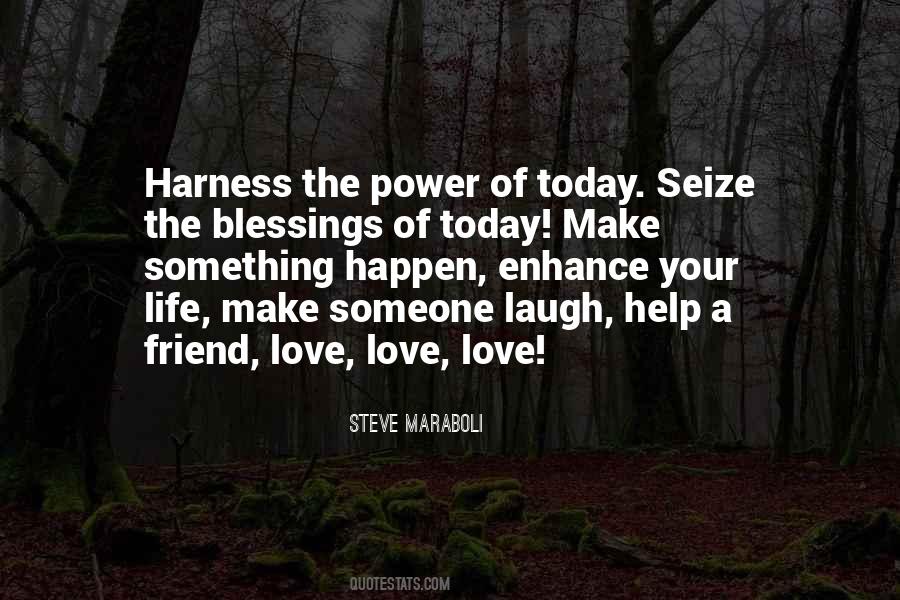 #44. To live in the present, you need to act or accept but never stay stuck. - Author: John Kuypers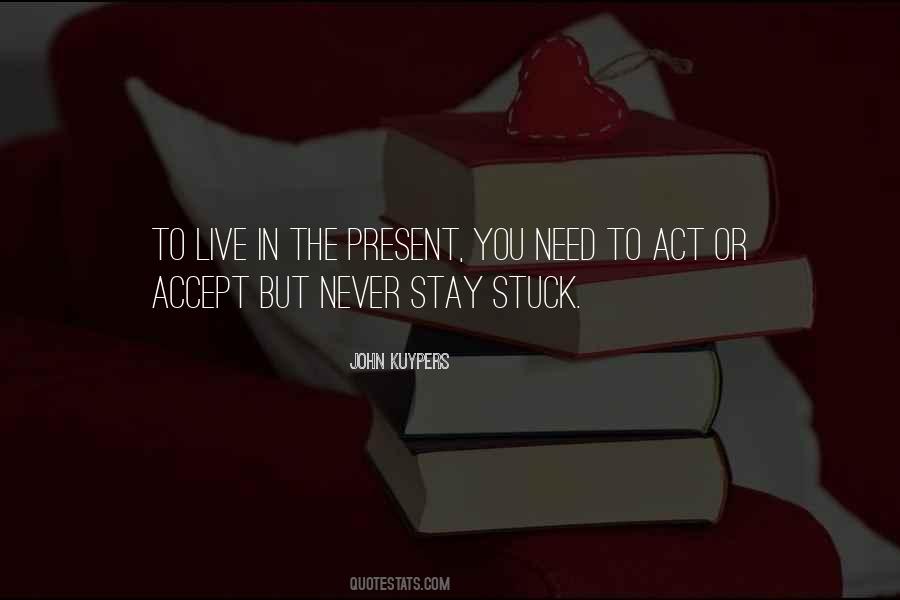 #45. He who has gone, so we but cherish his memory, abides with us, more potent, nay, more present than the living man - Author: Antoine De Saint-Exupery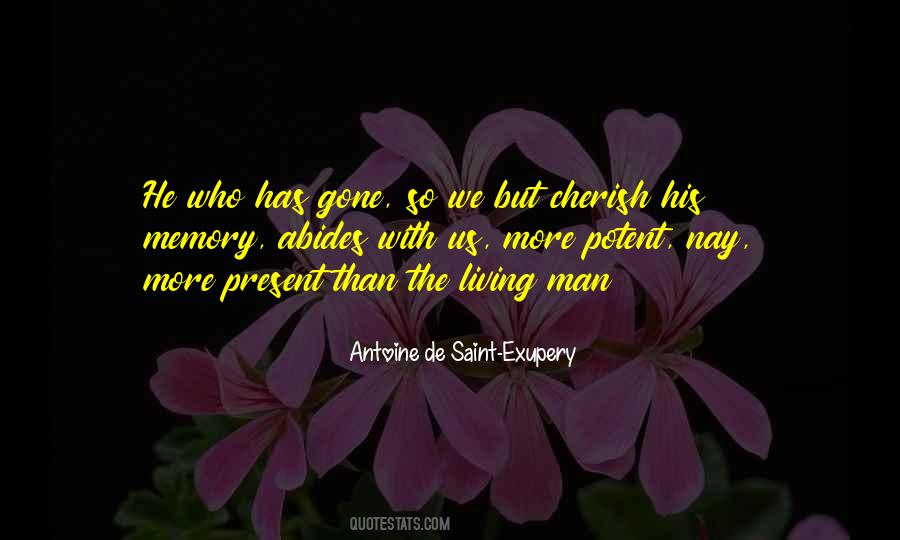 #46. guess I just wish that I'd lived more in the present, with the person who loved me and was there, instead of living in the past with the ghost of someone I once loved but could never have. - Author: Karpov Kinrade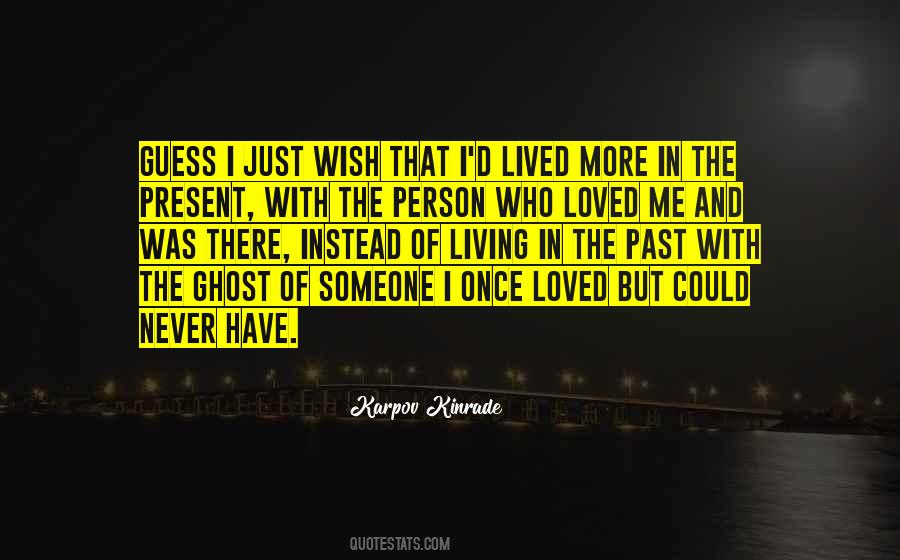 #47. When you are living in the present moment, you will experience a deep sense of inner joy, peace and awareness. - Author: Christopher Dines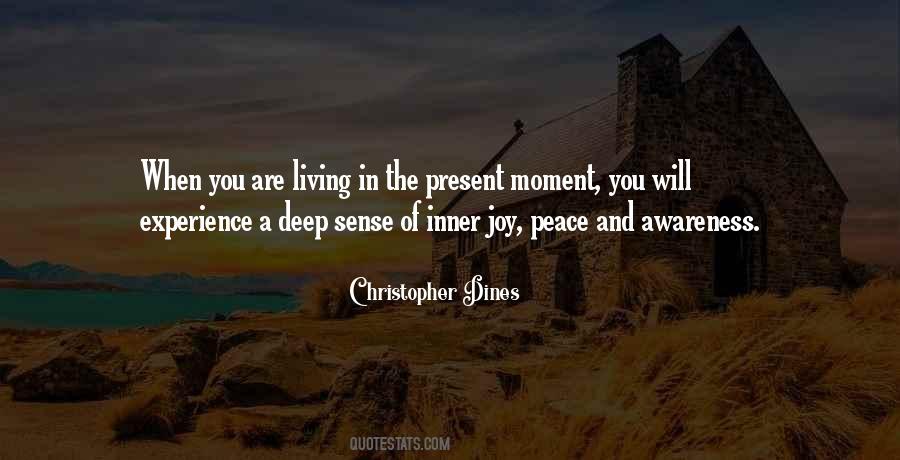 #48. We are never aware of the present; each instant of living becomes perceptible only when it is past, so that in a sense we do not live at all, but only remember living. - Author: Rose Wilder Lane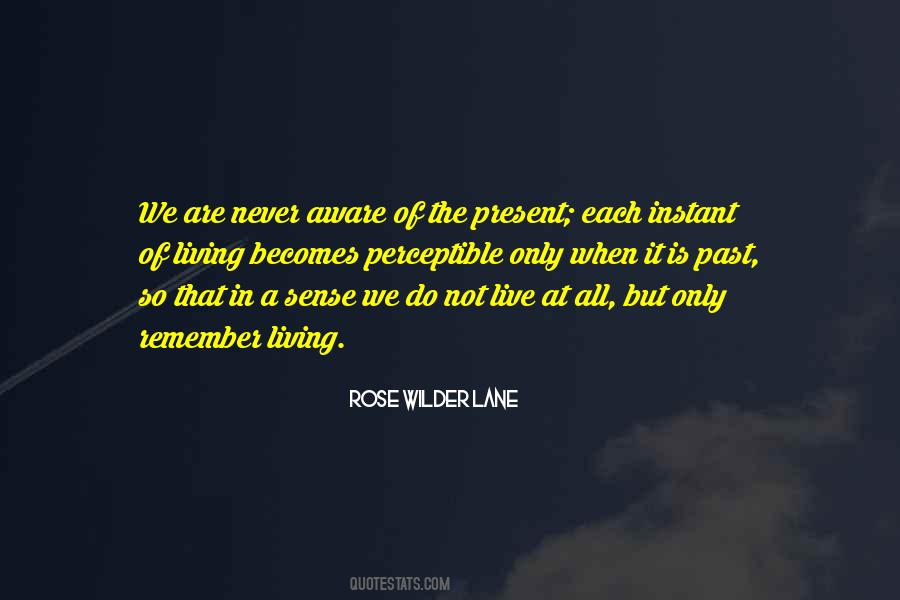 #49. Procrastination is a way of living in the past instead of the present moment. - Author: Debasish Mridha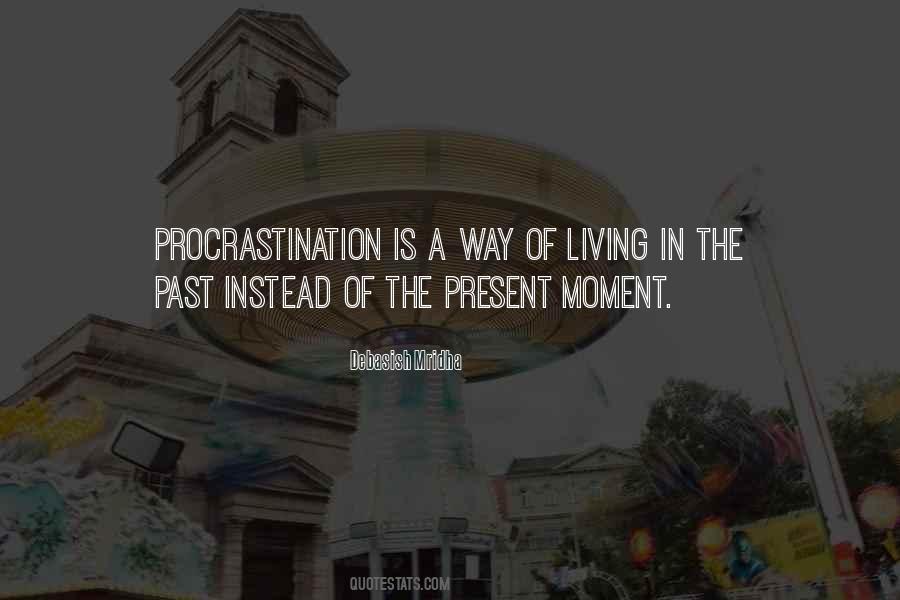 #50. Because obstacles will always present themselves, the hardest obstacle of all is developing a way of living, a way of practicing your approach to life that allows you to keep a healthy perspective on things. - Author: Adam Rodriguez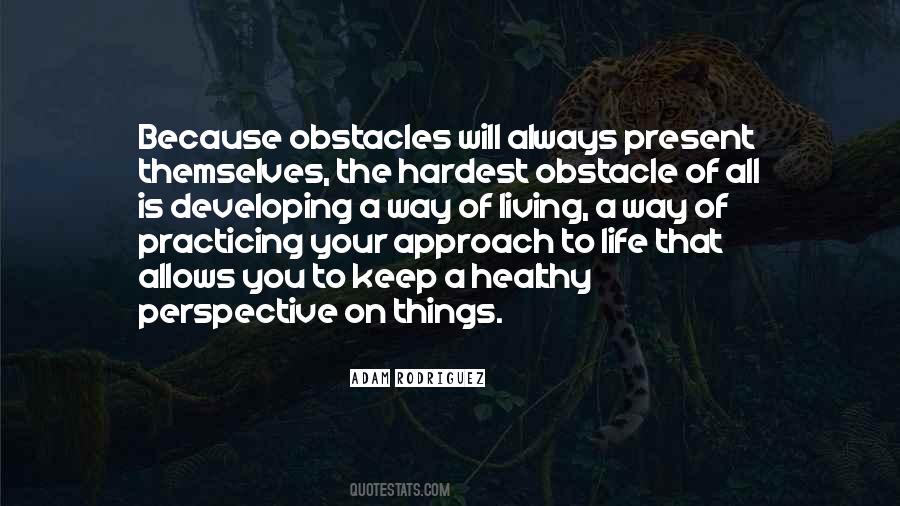 #51. Don't search for the moment, let it be revealed. - Author: Matthew Donnelly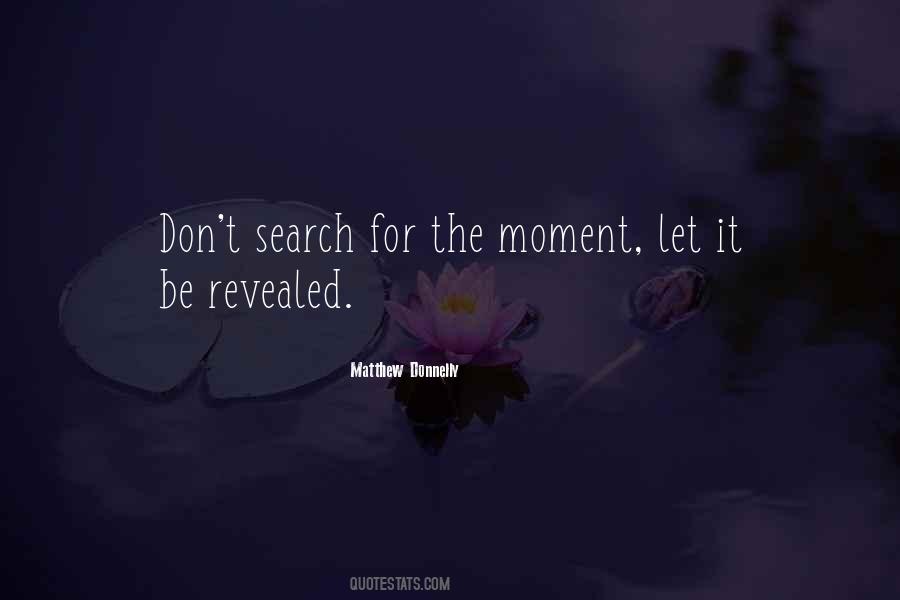 #52. One lives in the very present moment; lives intently. There is no urge to be doing: being is the highest good. - Author: Patrick O'Brian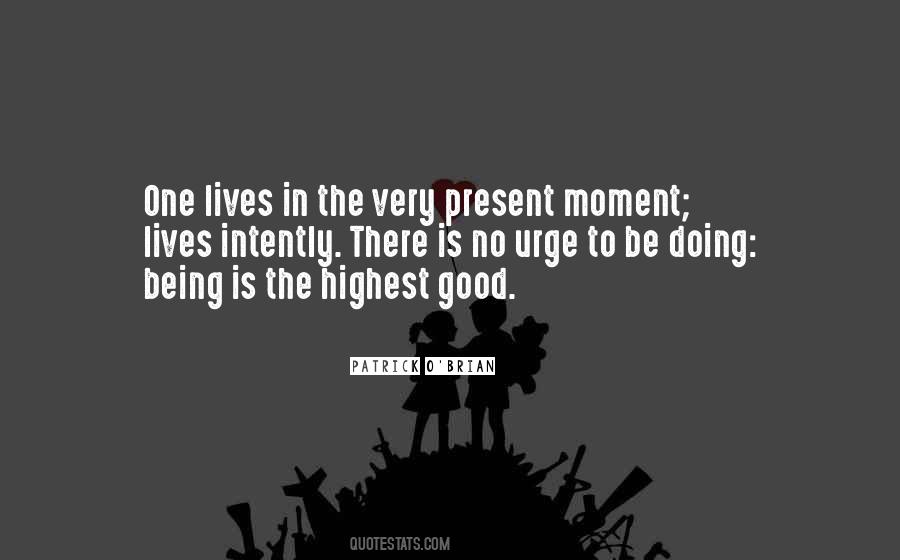 #53. For every moment that is past, the angel of death keeps taking the part that is dead and we keeping living in the present. The parasite wants us to carry the past with us and that makes it so heavy to be alive. - Author: Miguel Ruiz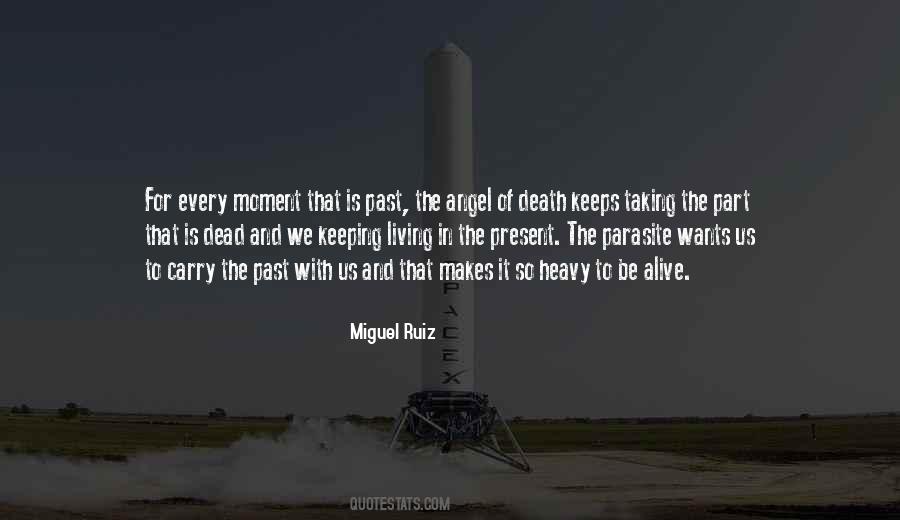 #54. My existence shrank from an arrow of light pointing into the future forever to a speck of light that was the present moment. I got better at living in that point of light, making the world into that point. I paid close attention to it. I loved it very much. - Author: Sarah Manguso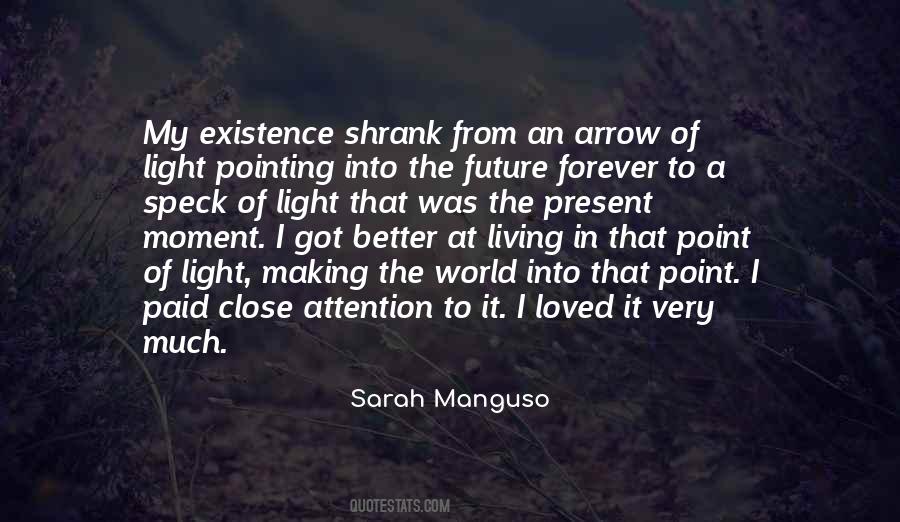 #55. I have always enjoyed cemeteries. Altars for the living as well as resting places for the dead, they are entryways, I think, to any town or city, the best places to become acquainted with the tastes of the inhabitants, both present and gone. - Author: Edwidge Danticat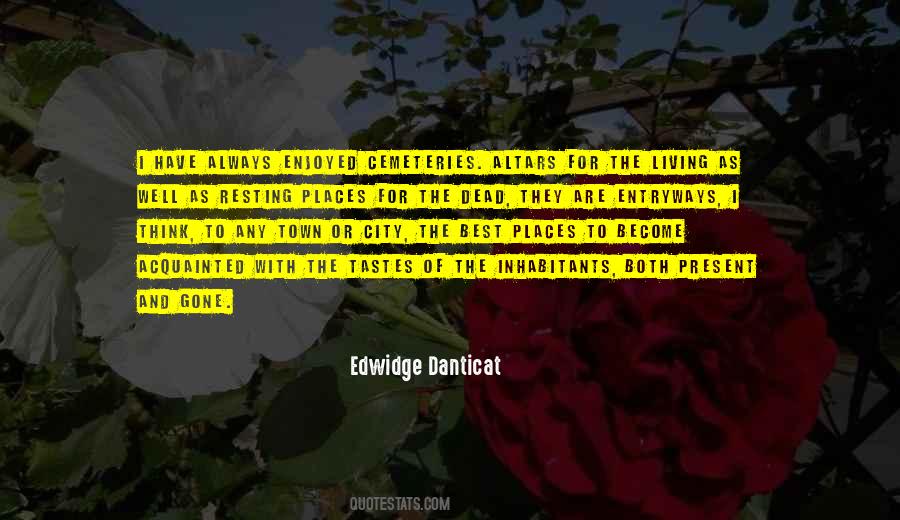 #56. i am not oxytocin but i will try to become, because I am Live In oxytocin Society - Author: Sushil Singh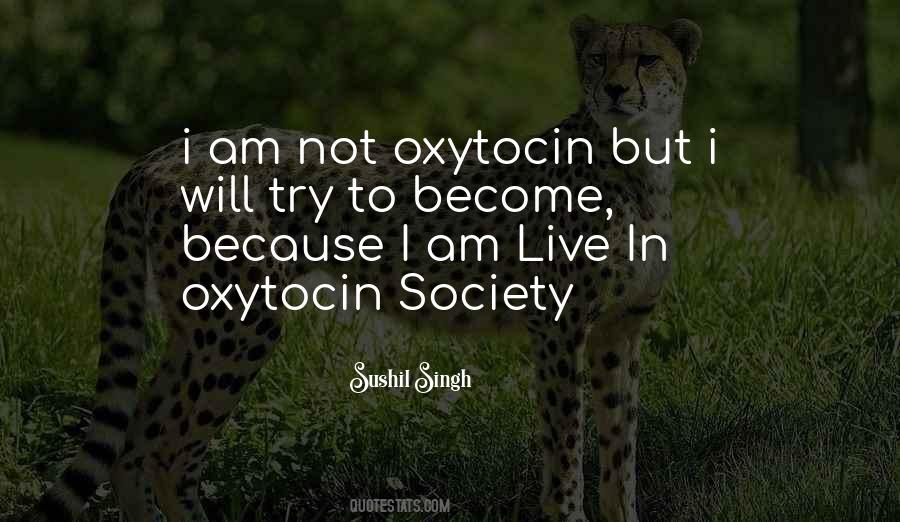 #57. I'm living in the present. I have no ambition. It's true. But I want to live. - Author: Gerard Depardieu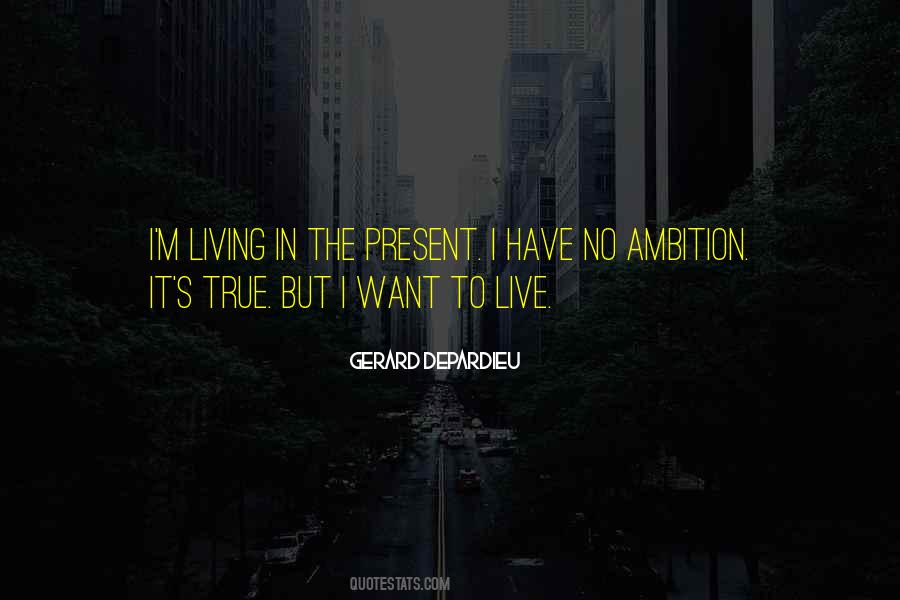 #58. Of present fame think little, and of future less; the praises that we receive after we are buried, like the flowers that are strewed over our grave, may be gratifying to the living, but they are nothing to the dead. - Author: Charles Caleb Colton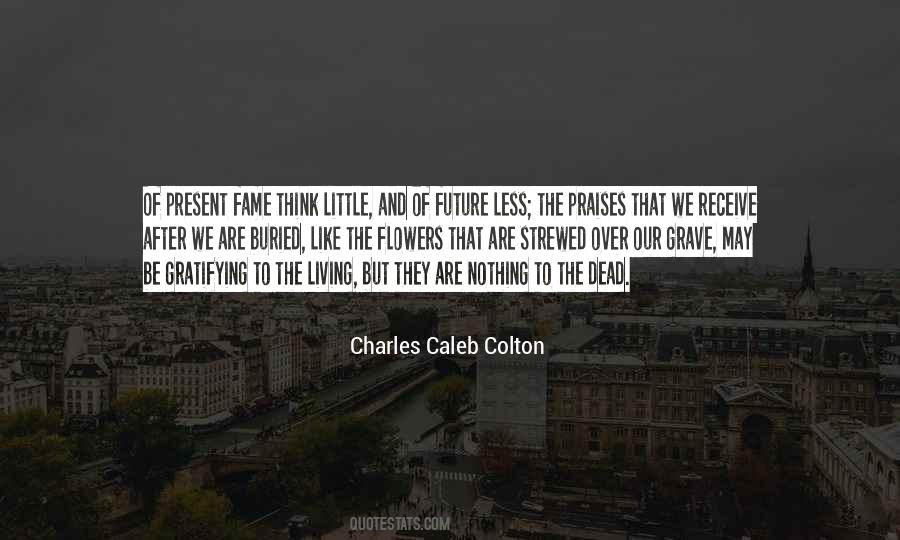 #59. Learn to appreciate the things you have in the life you're living. It is your present. - Author: Adem Spahic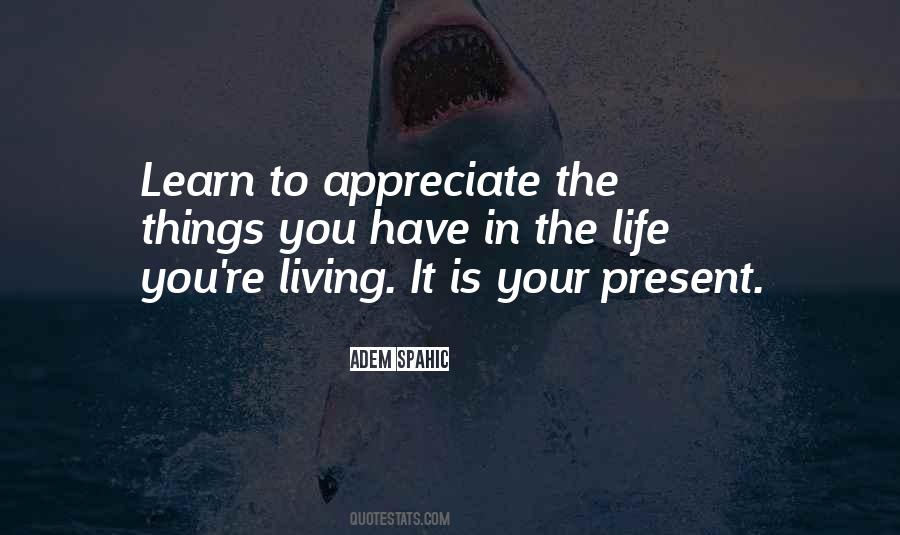 #60. Boredom is a sign that you're detached from your own bodily experience and aren't living in the present moment. - Author: Georg Feuerstein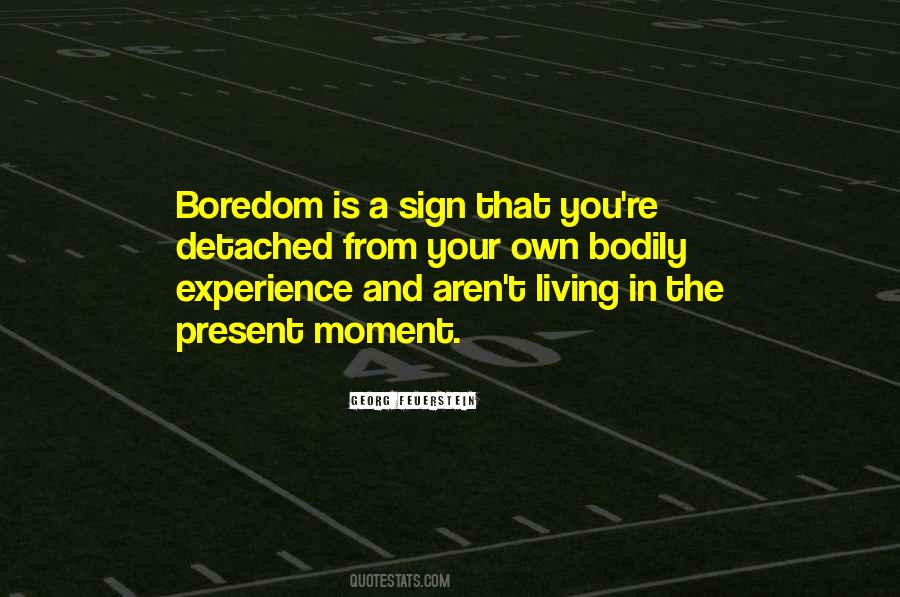 #61. I become more and more inclined to sink the minister in the man, and abandon my present calling in toto as a profession ... to create a living religion in landscape painting. - Author: Christopher Pearse Cranch
#62. One must simply take the days of their lives as they happen. If you spend time worrying over what is to come, which may or may not happen, then you will only be wasting precious days you will wish in the future you could have cherished a bit longer. - Author: R.J. Gonzales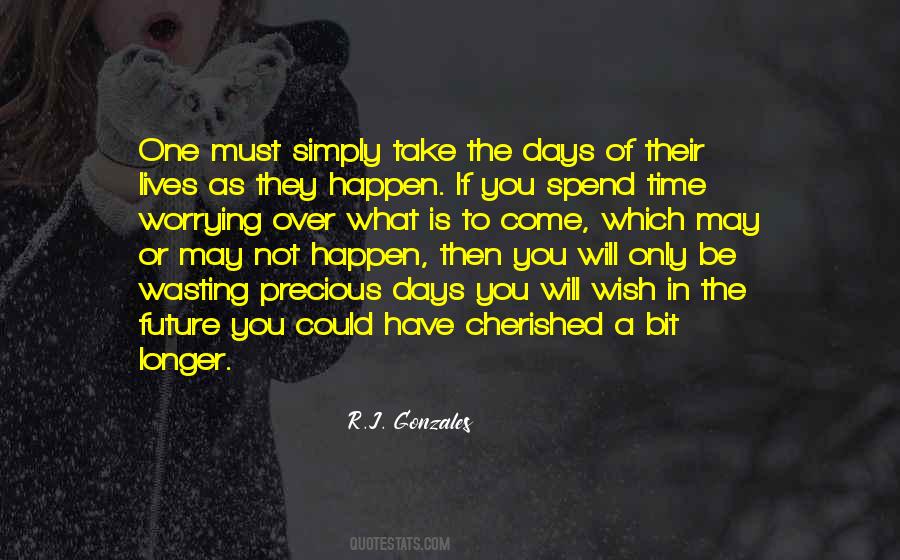 #63. Trust no future, however pleasant! Let the dead past bury its dead! Act
act in the living Present! Heart within and God overhead. - Author: Henry Wadsworth Longfellow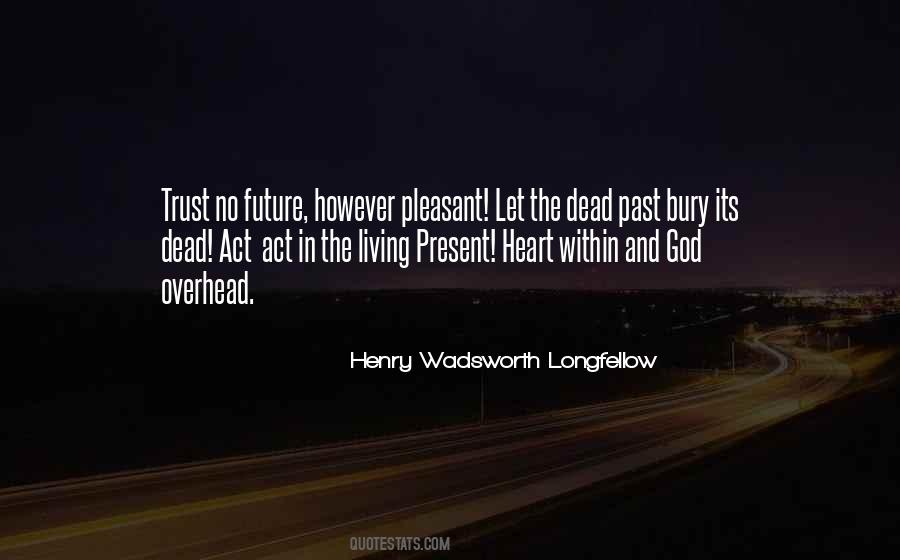 #64. Most people are prisoners, thinking only about the future or living in the past. They are not in the present, and the present is where everything begins. - Author: Carlos Santana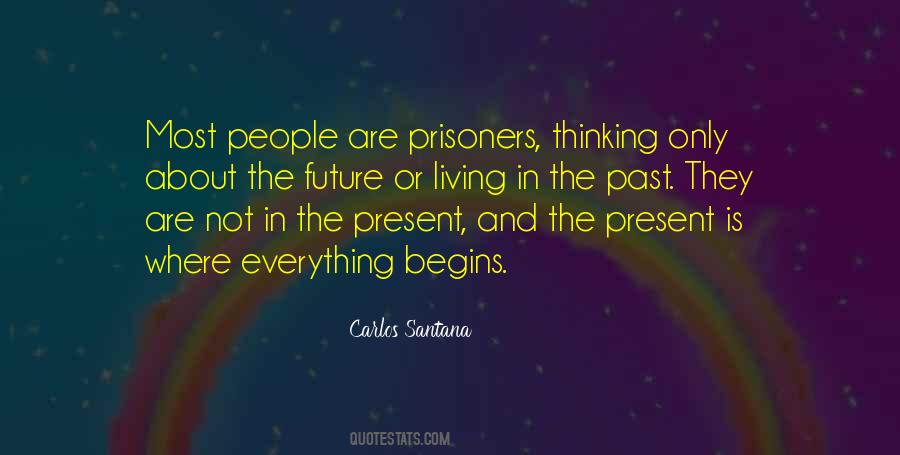 #65. Live in the present moment, you can't go back to yesterday, you can't leap into tomorrow, Today is your second, minute, hour! Embrace It! - Author: Amaka Imani Nkosazana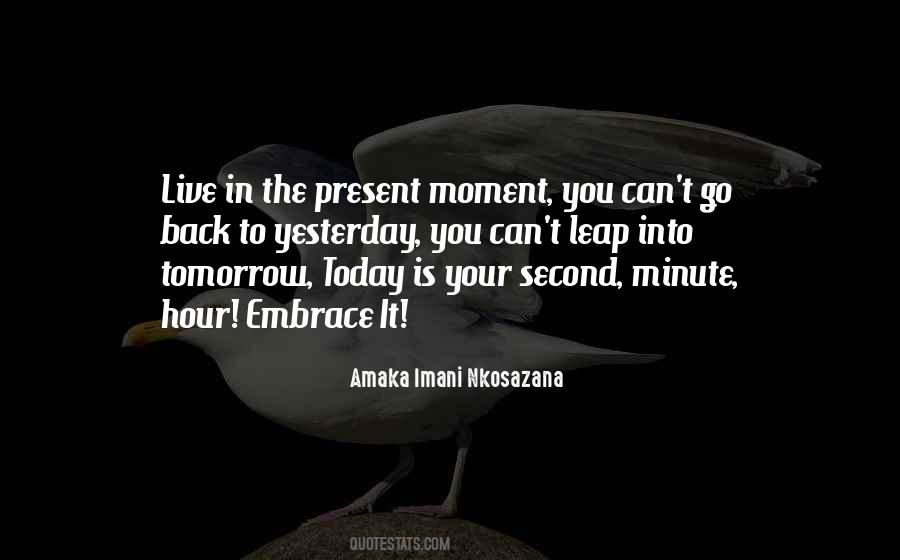 #66. The clock is impotent; mechanical time does not affect those living in an eternal present. - Author: Paul Schrader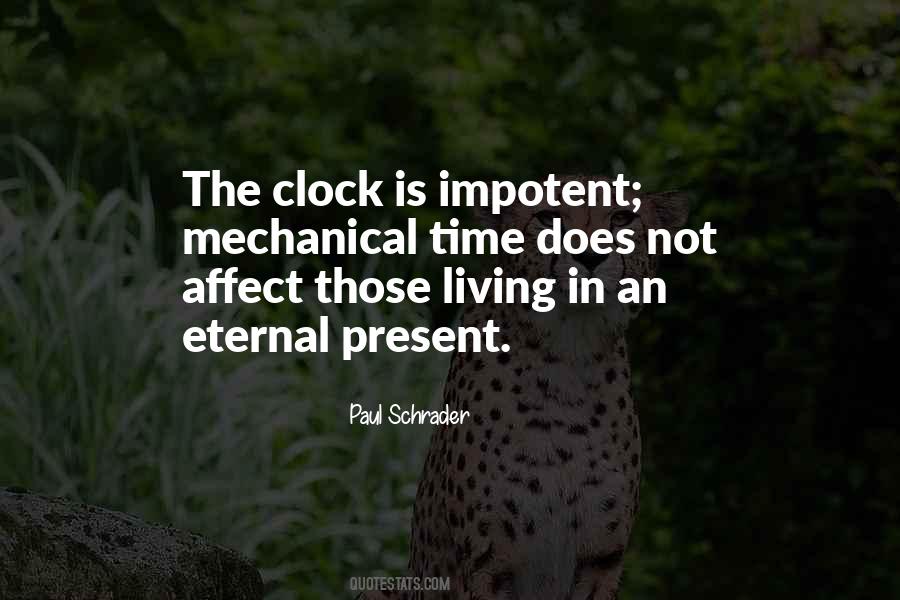 #67. Mindfulness is continuous undisturbed awareness of the present moment. Fully aware of here, and now, we pay attention to what is happening right in front of us, we set aside our mental and emotional baggage. To be mindful we have to re-train our mind. - Author: Natasa Nuit Pantovic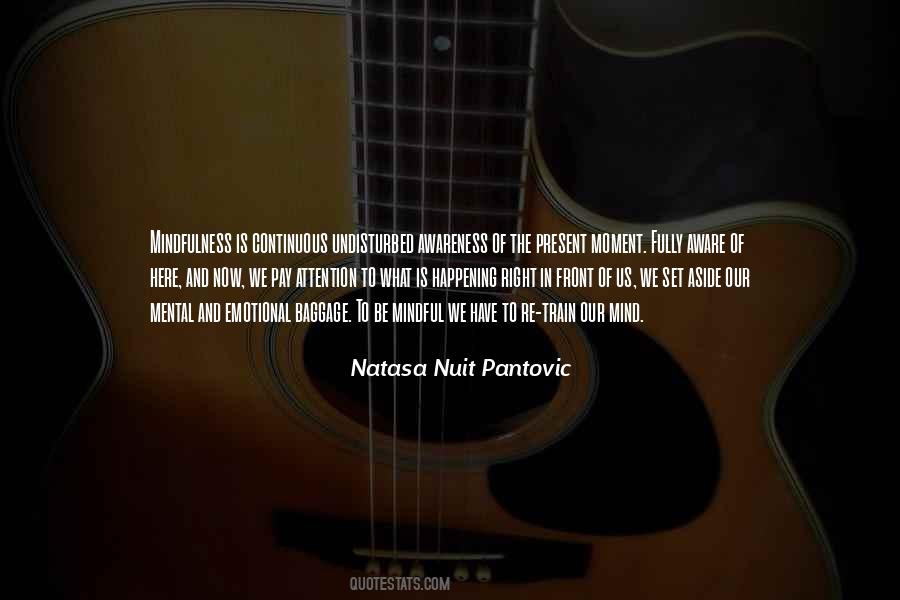 #68. Security in a relationship lies neither in looking back to what it was in nostalgia, nor forward to what it might be in dread or anticipation, but living in the present relationship and accepting it as it is now. - Author: Anne Morrow Lindbergh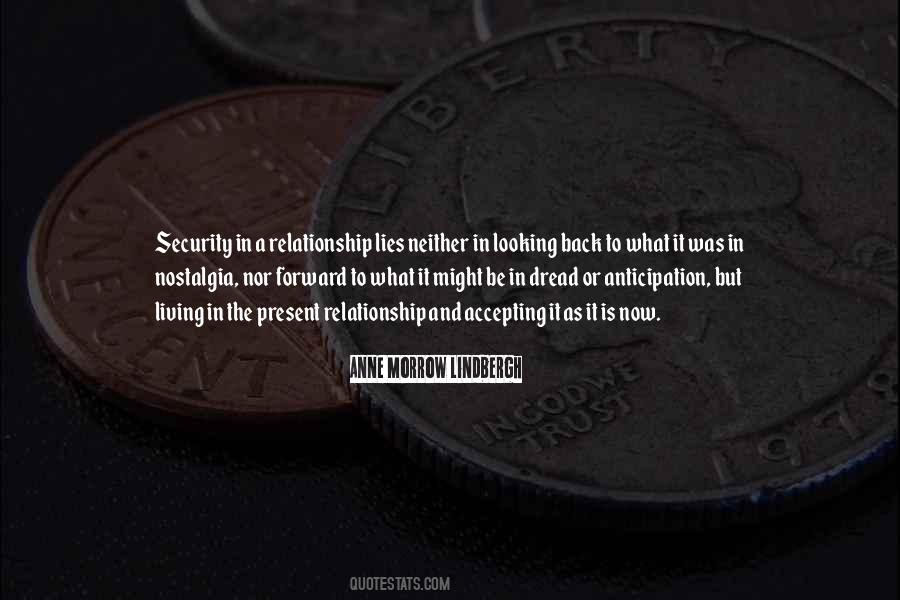 #69. Well, I started conducting kind of by accident. I wanted to give myself a special birthday present for my fortieth birthday, and I was living in San Francisco at the time and I started attending some of the concerts and then simply dropping hints. - Author: Bobby McFerrin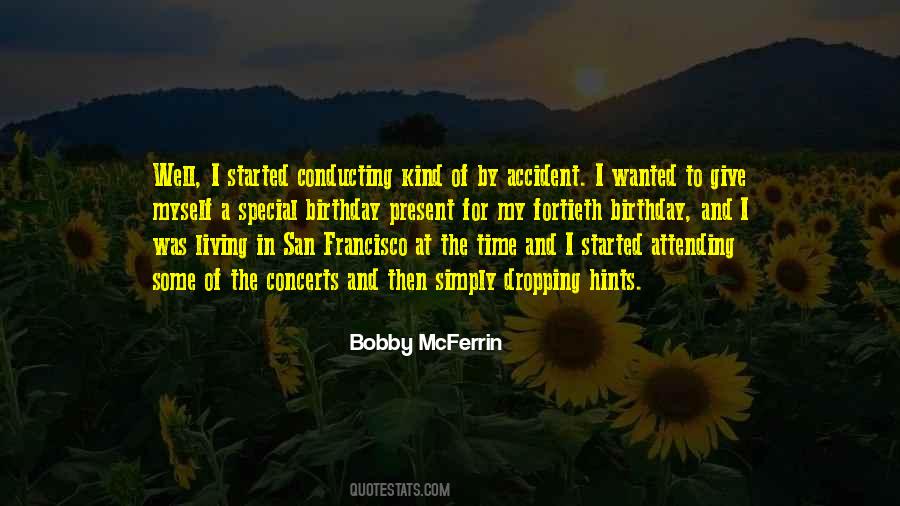 #70. Live for the present, as the past has gone and the future as yet to arrive. - Author: LadyTiara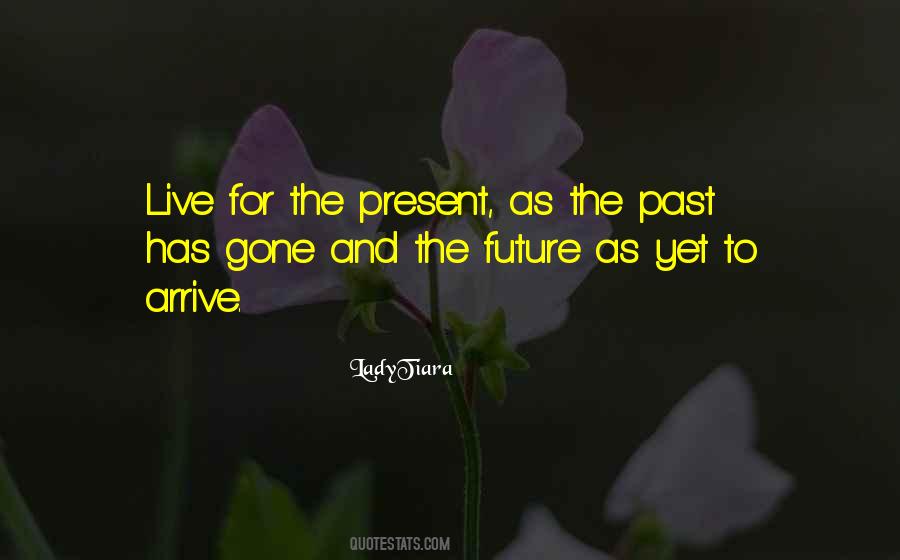 #71. The ability to be present with every single person and engage was a great model for me of the work that a writer needs to do. Writers, living or dead, still guide me in many ways. - Author: Sandra Cisneros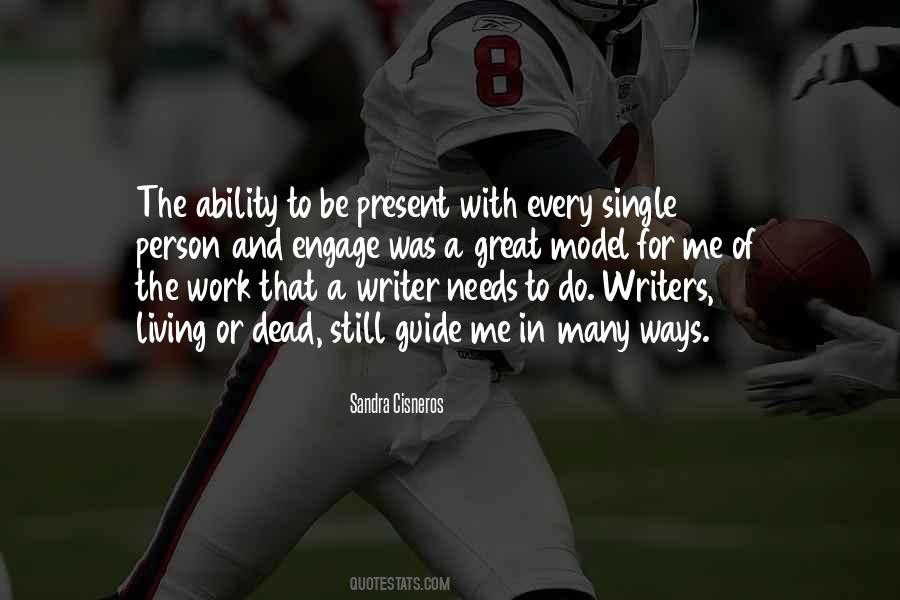 #72. What is the biggest thing that stops people from living their lives in the present moment? Fear - and we must learn how to overcome fear. - Author: Brian Weiss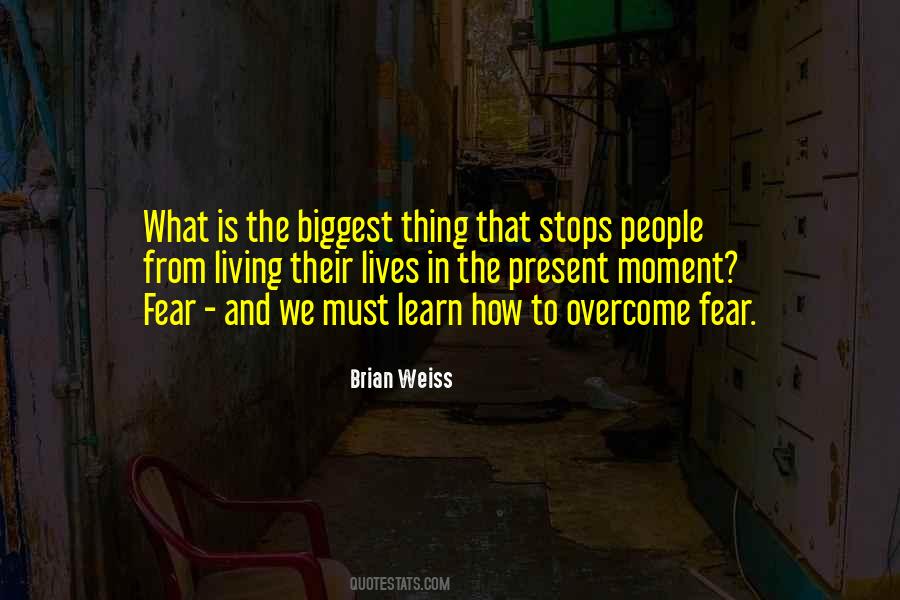 #73. If you believe in resurrection, you believe that the living God will put his world to rights and that if God wants to do that in the future, it is right to try to anticipate that by whatever means in the present. - Author: N. T. Wright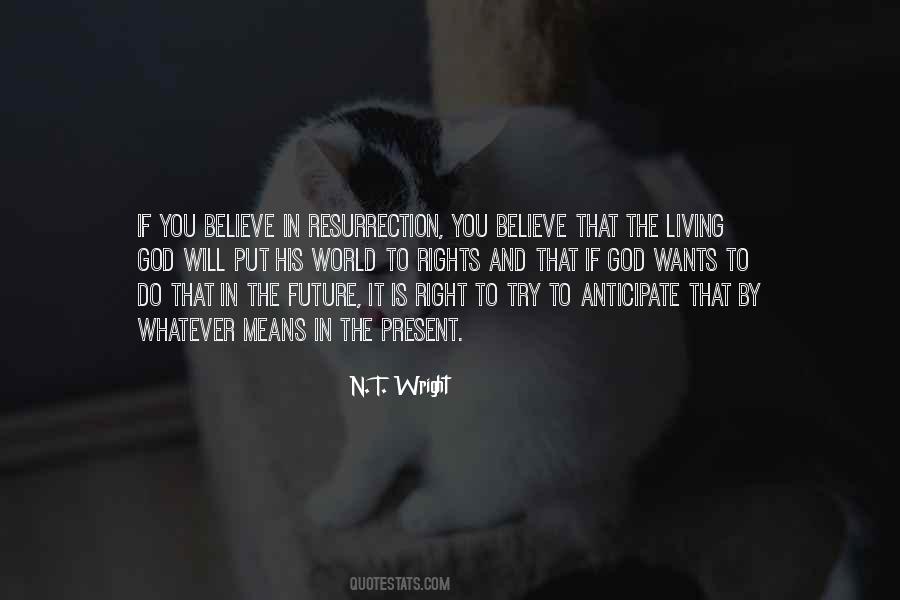 #74. That's the thing about death that makes it useful. Death was always a reminder to the living to live - to live in the present and to look forward to the future. - Author: Jennifer L. Armentrout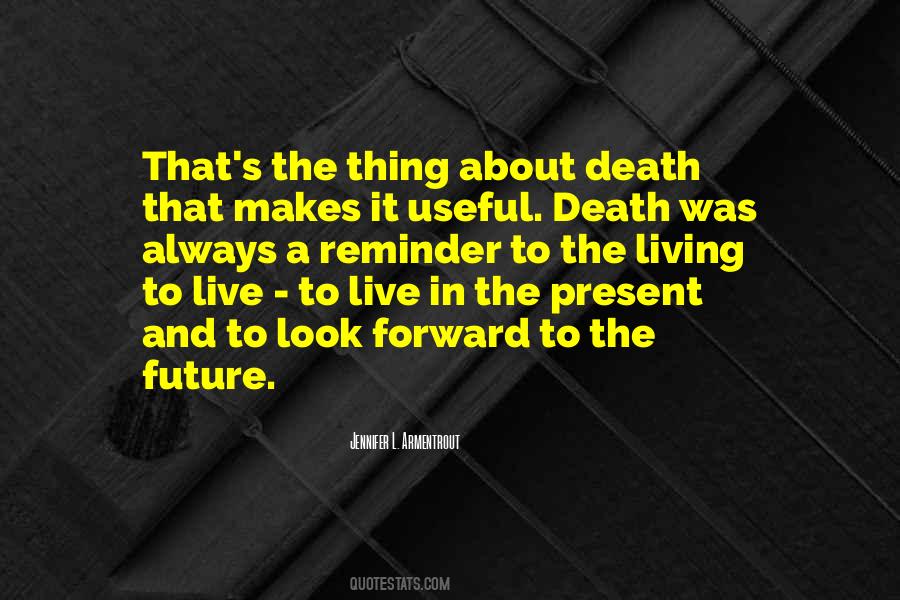 #75. Feeling the movement of movements is wandering to the past or future. Living in the movements of movement is being in the present. - Author: B.K.S. Iyengar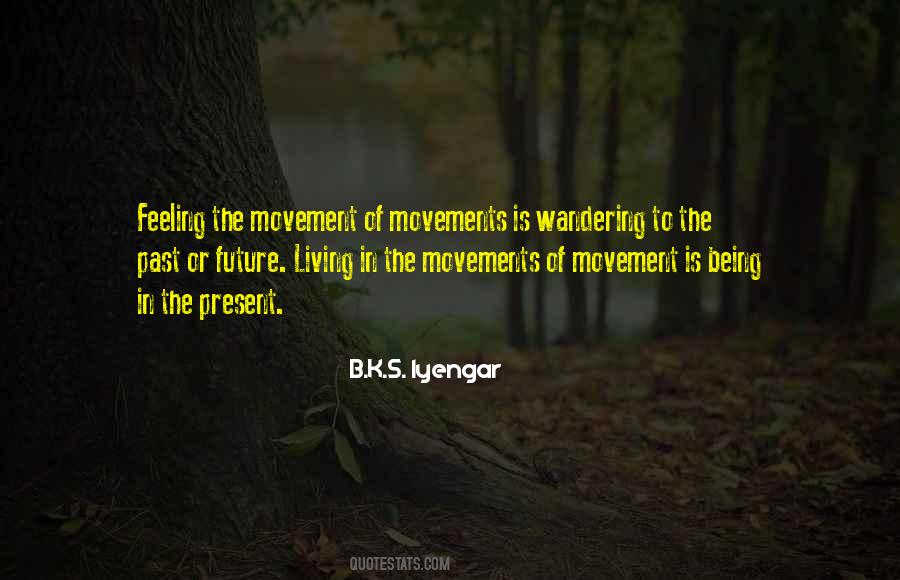 #76. Like butterflies, we evolve; but as Beings of Light we continuously evolve when we are fully present. - Author: Michelle Cruz-Rosado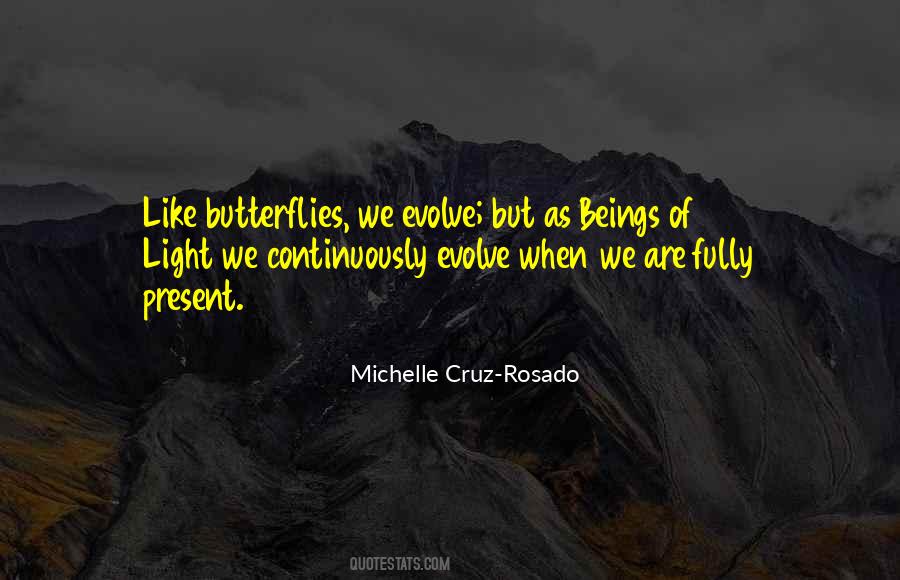 #77. Now is everything
Now is the essence
Now is the focus
Focus on the now
For that is the key - Author: Karen Hackel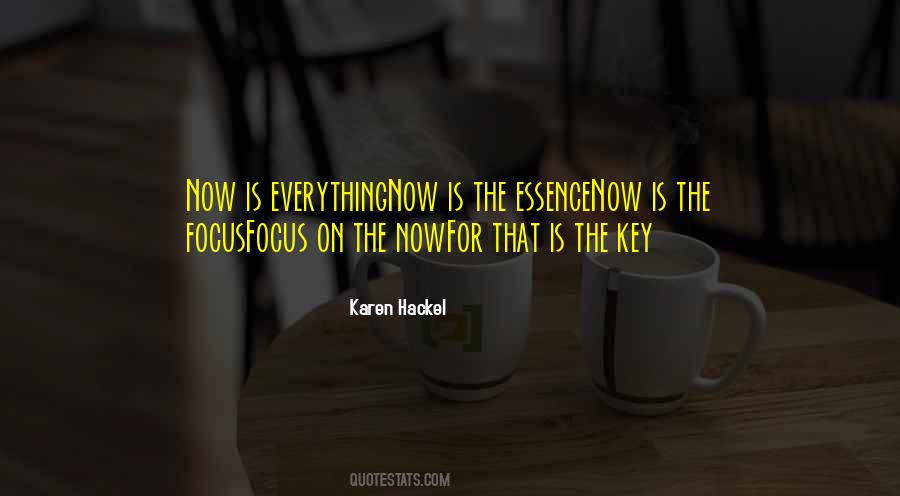 #78. Time ...
Once it's gone, it belongs to the past.
We do not hold on to the now, and
We do not treasure the future ...
We keep receiving this present, but we never open and cherish it until it is too late.
Until it comes no more. - Author: Michelle Horst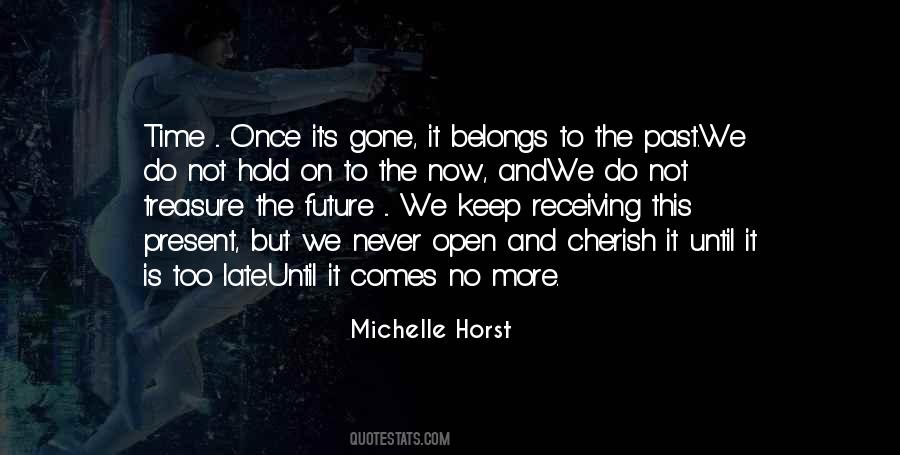 #79. Don't get caught in "Waiting". When I 'Get This' then I will be able to fully 'Live'. Escape the time dominant mind by fully being here 'NOW'. - Author: Matthew Donnelly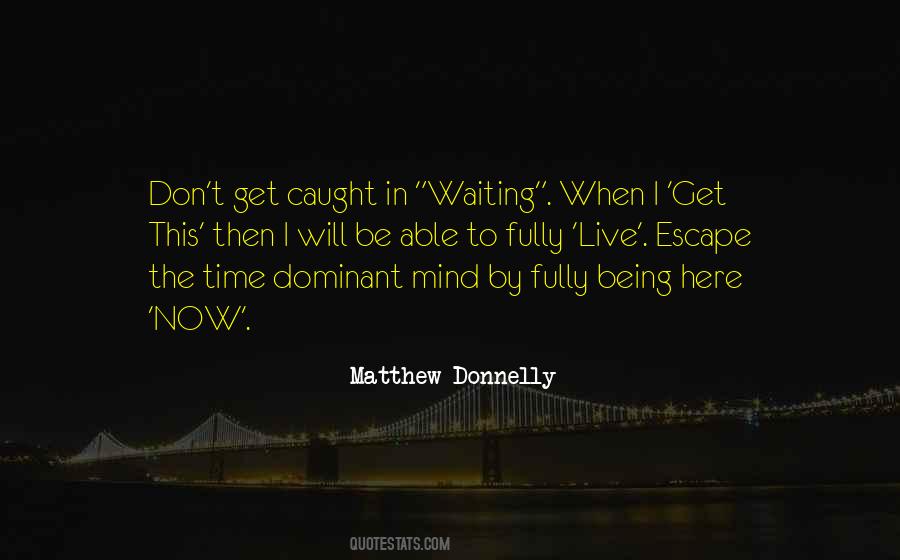 #80. All the communions of a life-time are one communion.All the communions of all men now living are one communion.All the communions of all men, present, past and future, are one communion. - Author: Pierre Teilhard De Chardin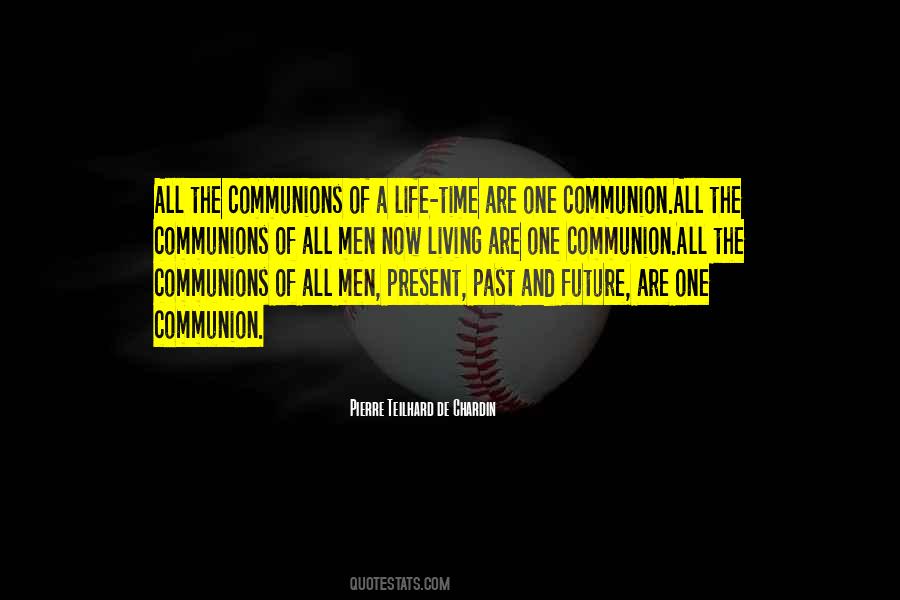 #81. Let today be the day you stop being haunted by the ghost of yesterday. Holding a grudge & harboring anger/resentment is poison to the soul. Get even with people ... but not those who have hurt us, forget them, instead get even with those who have helped us. - Author: Steve Maraboli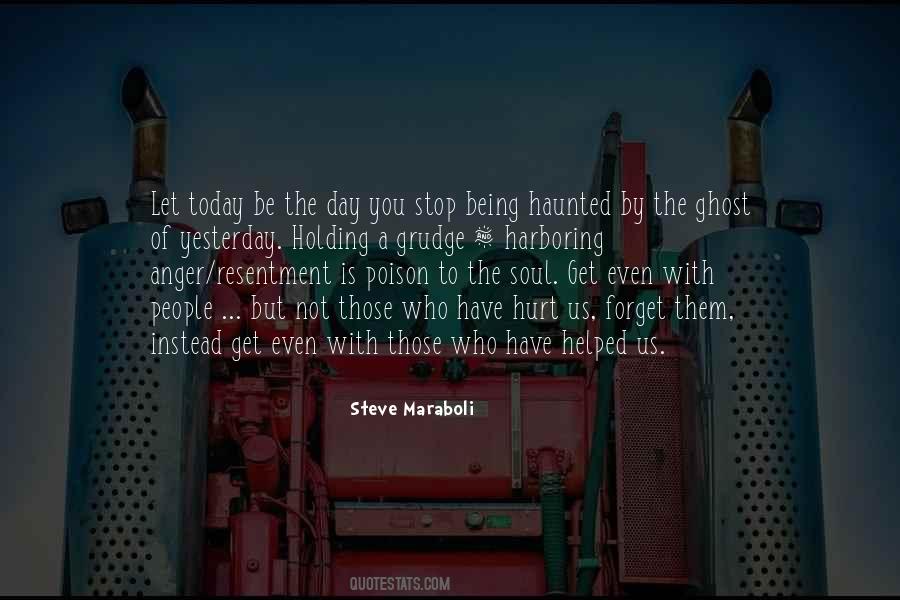 #82. To understand the living present, and the promise of the future, it is necessary to remember the past. - Author: Rachel Carson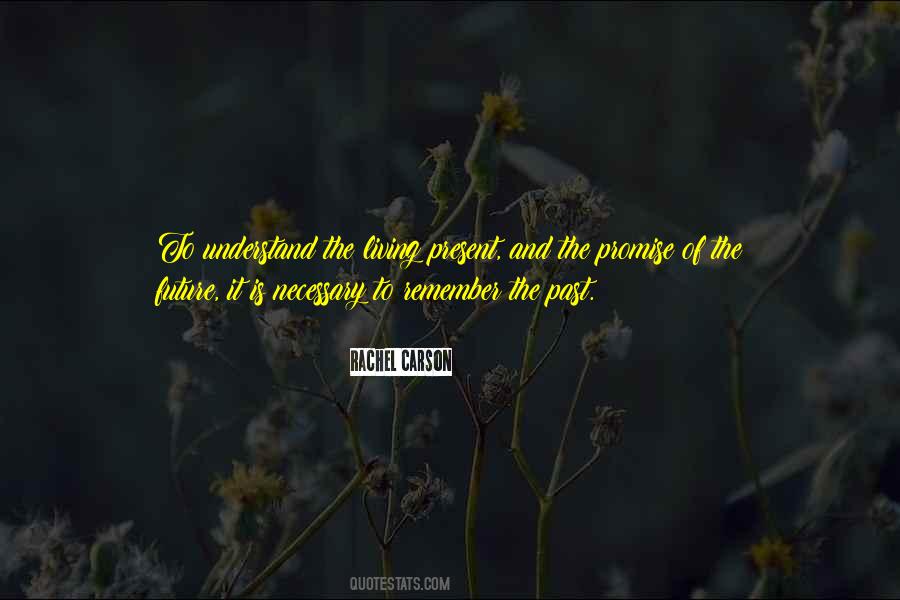 #83. If, then, my awareness of the past and future makes me less aware of the present, I must begin to wonder whether I am actually living in the real world. - Author: Alan W. Watts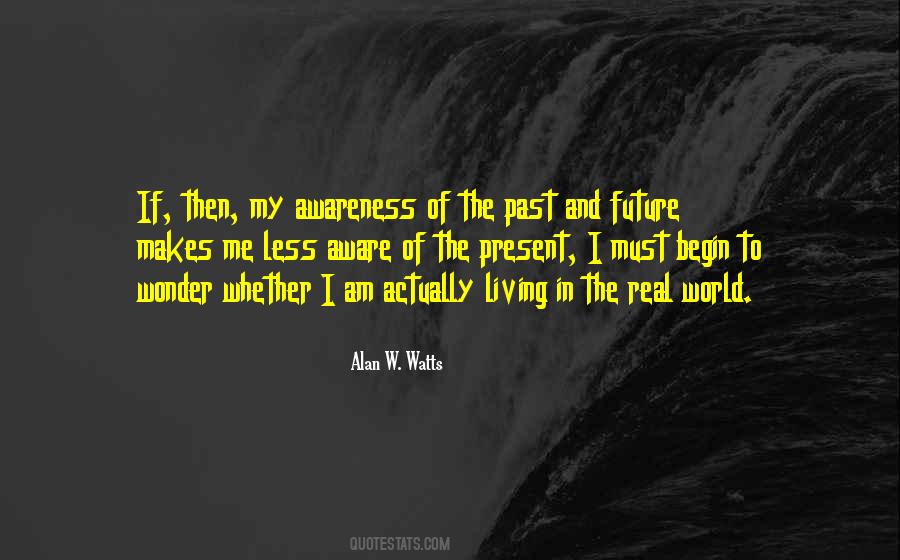 #84. To have as one's ever-present friend, and to be conscious that one has as his ever-present friend, the Holy Spirit and to surrender one's life in all it's departments entirely to His control - this is true Christian living. - Author: R.A. Torrey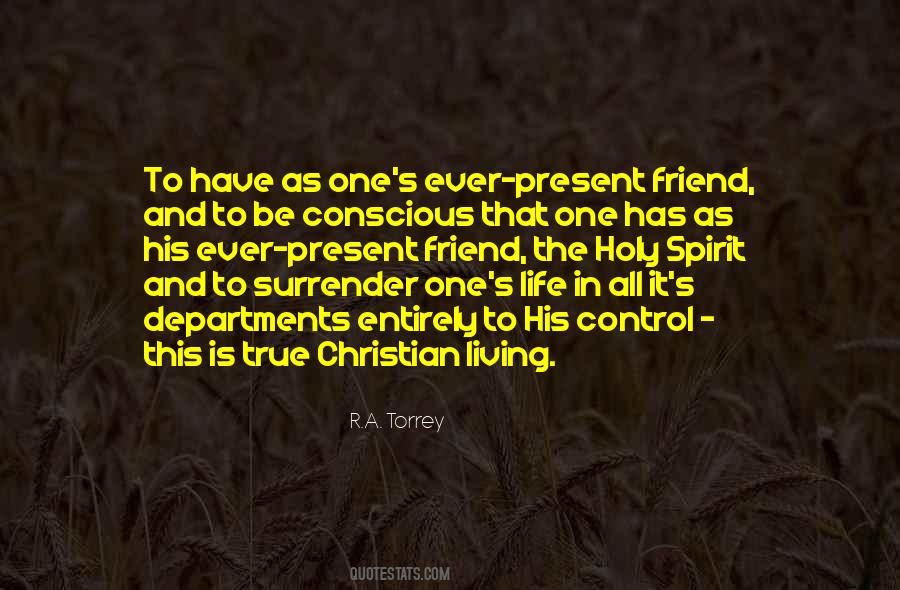 #85. You're living in the present. It's a reminder that you can see the future if you just point the glass in the right direction. - Author: Maria V. Snyder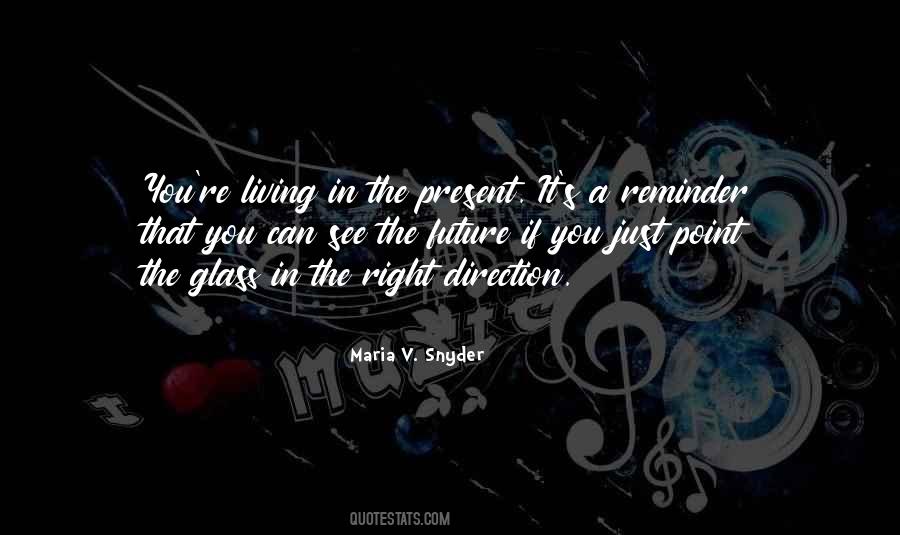 #86. All that exists is the present moment - Author: Alaric Hutchinson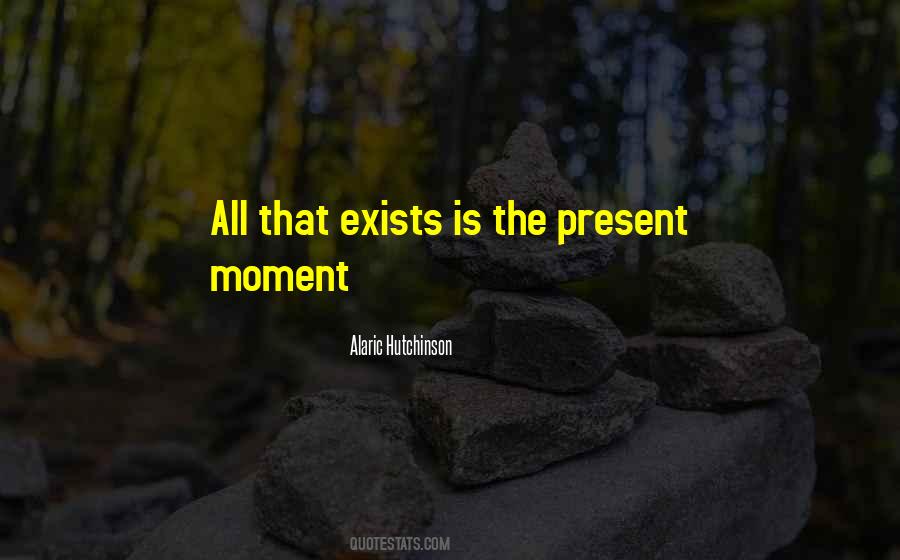 #87. If you feel stuck in your present life, if you feel no enthusiasm for anything, if you think you have no purpose or that you lost that purpose somewhere along the way, I guarantee you are living in a dungeon made of stories. And that none of those limiting stories are true. - Author: Martha Beck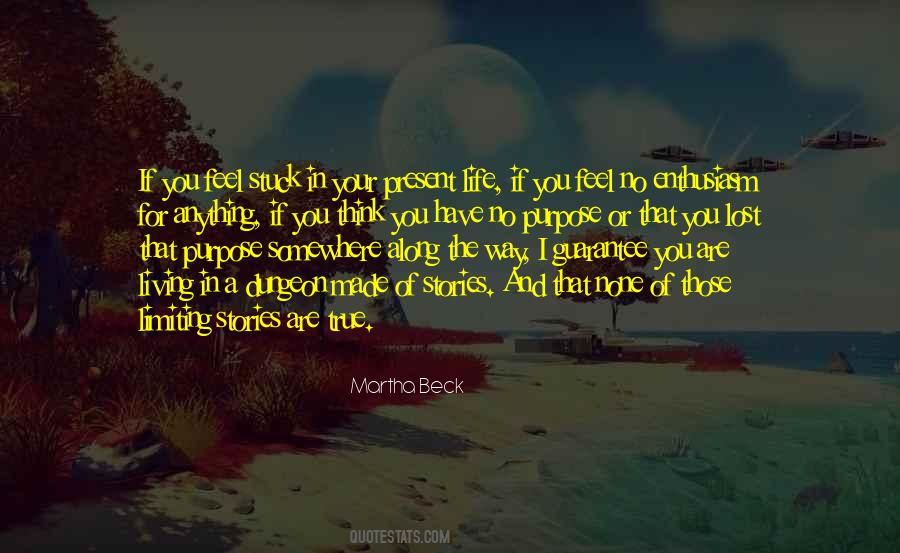 #88. Enjoy the present, bid defiance to the future, laugh at all those reasonable beings who exercise their reason to avoid the misfortunes which they fear, destroying at the same time the pleasure that they might enjoy. - Author: Giacomo Casanova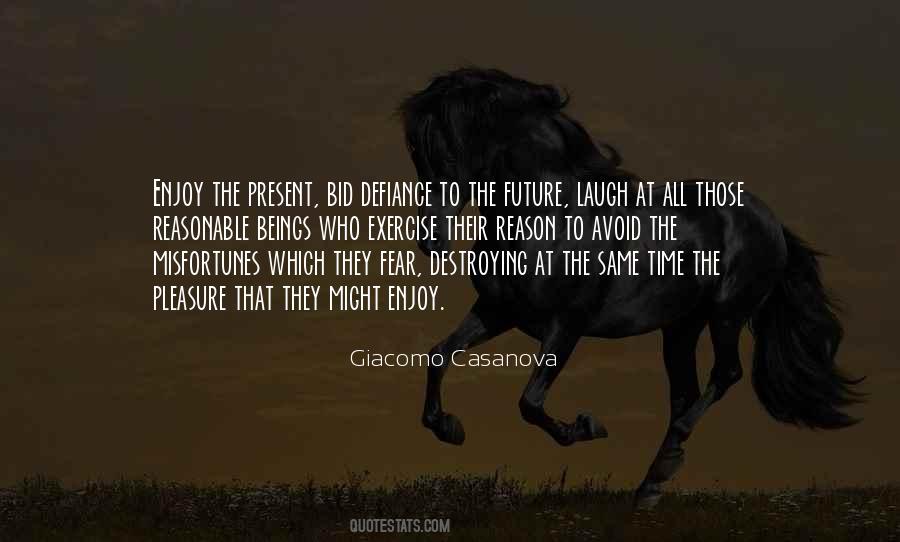 #89. Not truly living in the present moment and later regretting is like closing your eyes when a peacock is dancing, only to want to see it dance once it is gone.-RVM - Author: R.v.m.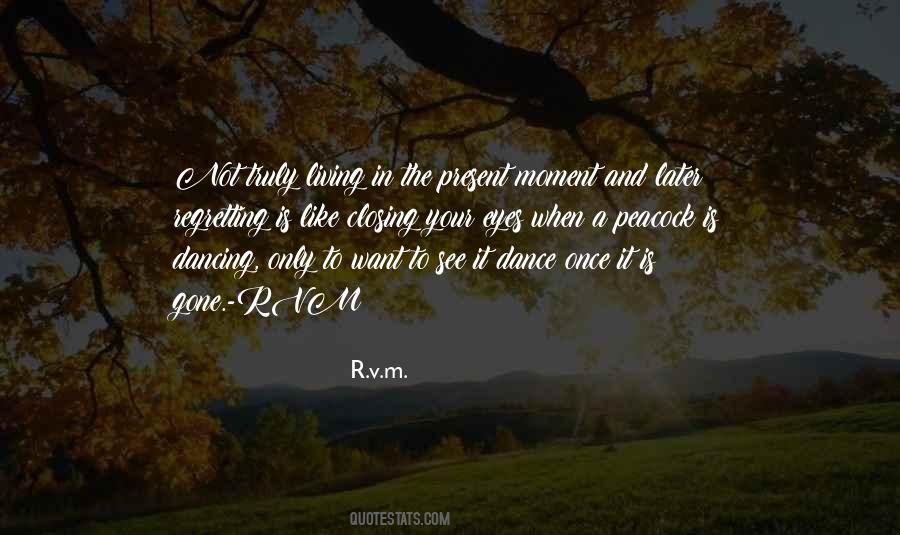 #90. By letting go of what is known, you are free to encounter the living present, in all its perplexity and revelation. Just as silence is the possibility of sound, self-confessed ignorance is the possibility of encounter. - Author: Philip Shepherd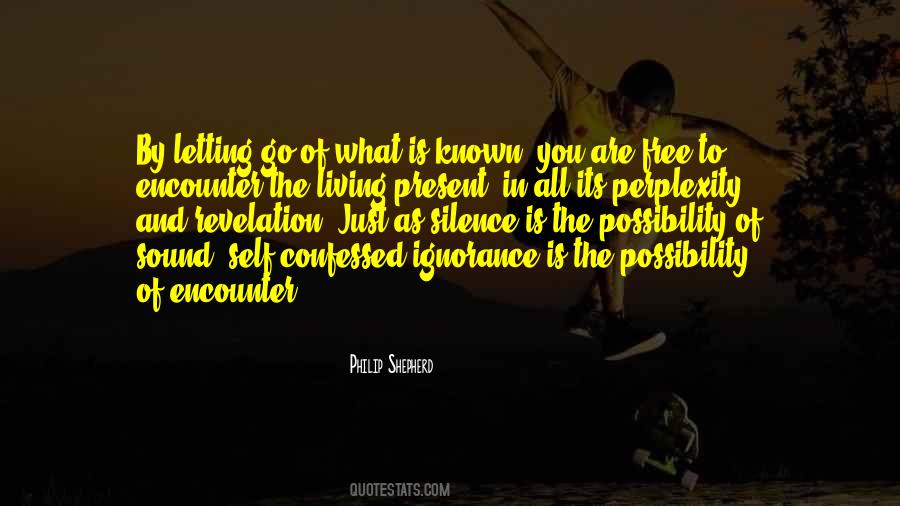 #91. Creative power flourishes only when I am living in the present. - Author: Brenda Ueland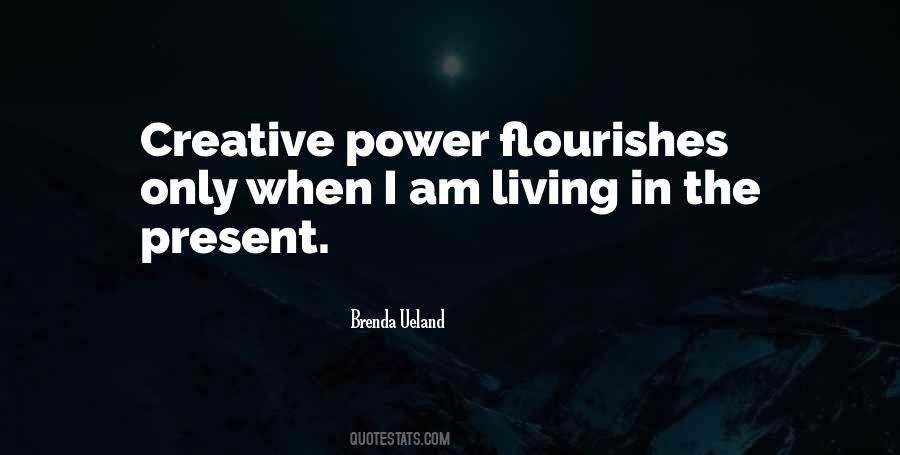 #92. Be present, from moment to moment, right in the middle of the real stream of time. That gives you spiritual security. That is why in Buddhism we don't try to escape from impermanence; we face time itself in our daily living. - Author: Dainin Katagiri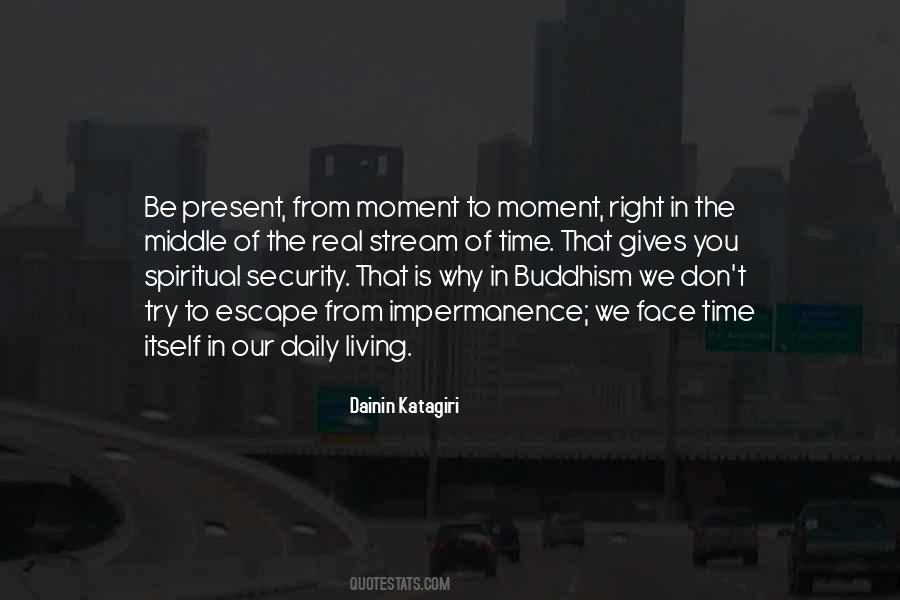 #93. When people grow gradually rich their requirements and standard of living expand in proportion, while their present-giving instincts often remain in the undeveloped condition of their earlier days. Something showy and not-too-expensive in a shop is their only conception of the ideal gift. - Author: Hector Hugh Munro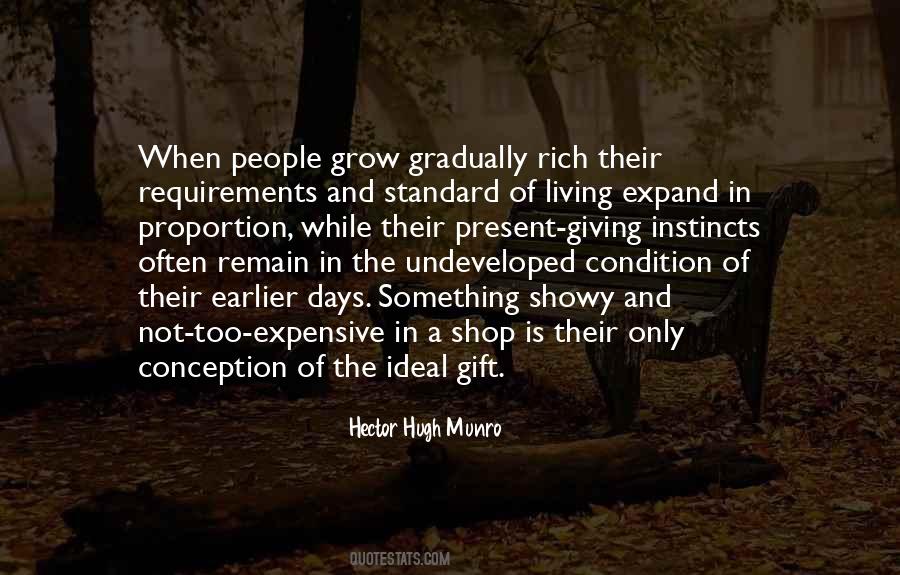 #94. Time that is spent dwelling on the past will surely continue in your present moment - and the future. - Author: Michelle Cruz-Rosado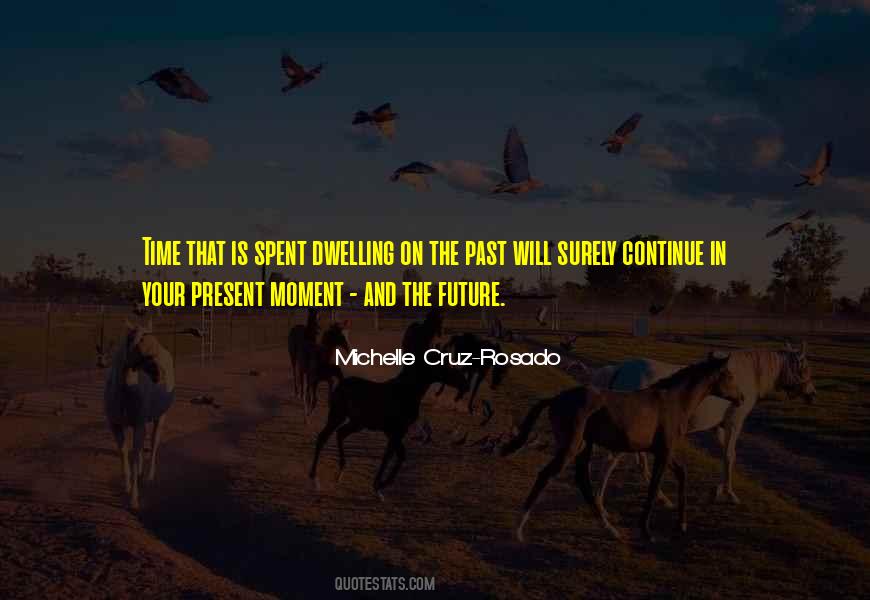 #95. We do not heal the past by dwelling there; we heal the past by living fully in the present. - Author: Marianne Williamson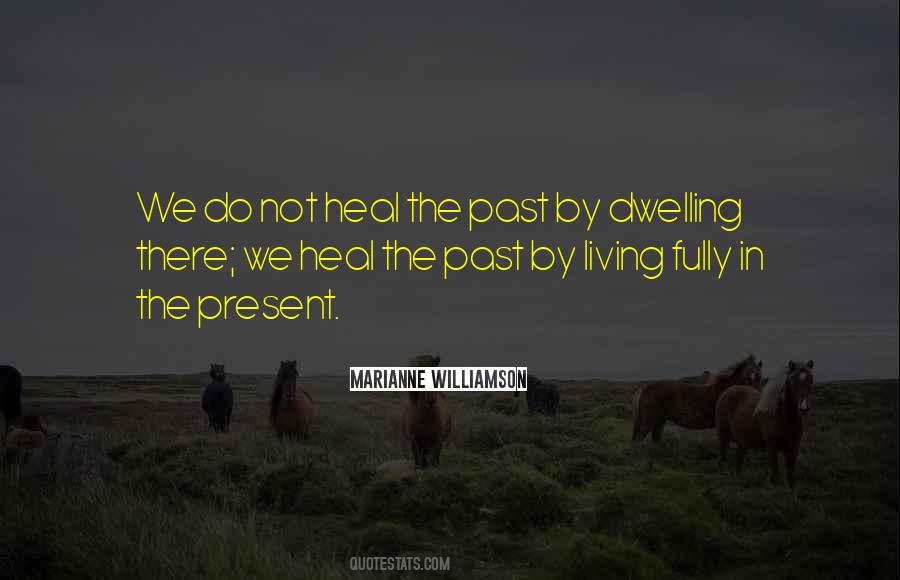 #96. By living exclusively for the present, we let ourselves be hemmed in by an ocean of death. Conversely, by reviving the past, we enlarge our living space. - Author: Amin Maalouf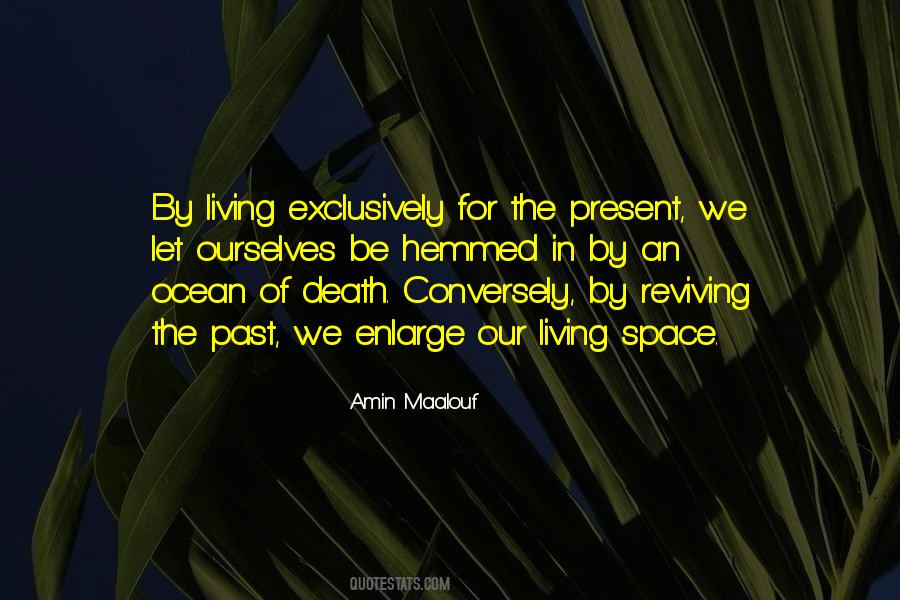 #97. You can miss an experience by obsessing over how to contain it. - Author: Gina Greenlee
#98. Work accomplished means little. It is in the past. What we all want is the glorious and living present. - Author: Sherwood Anderson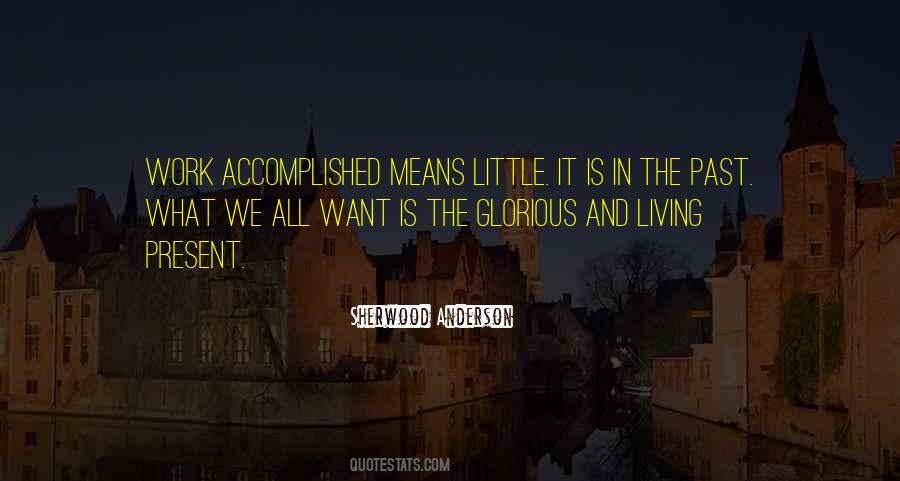 #99. I guess I'm living in the present more than the past. - Author: Clint Eastwood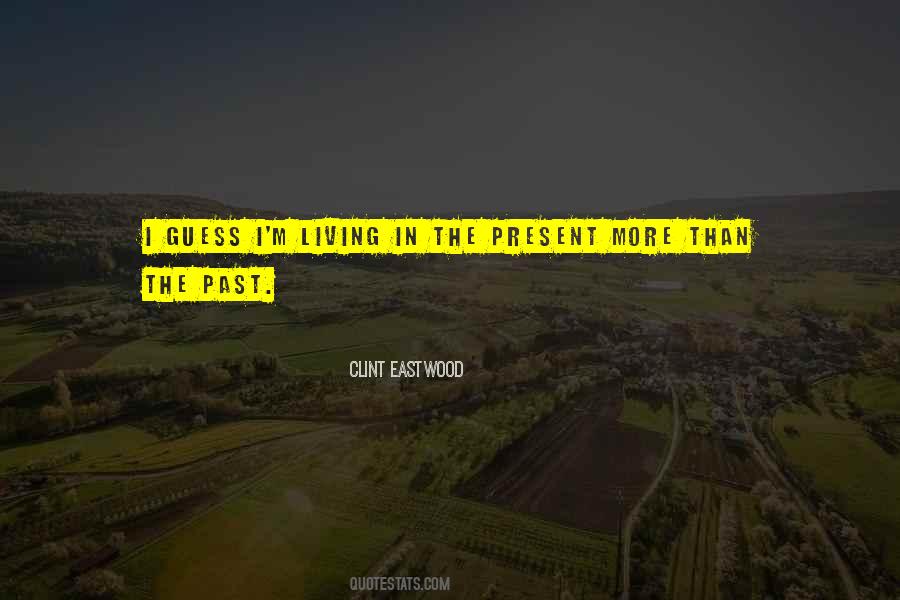 #100. It is when you are really living in the present-working, thinking, lost, absorbed in something you care about very much, that you are living spiritually. - Author: Brenda Ueland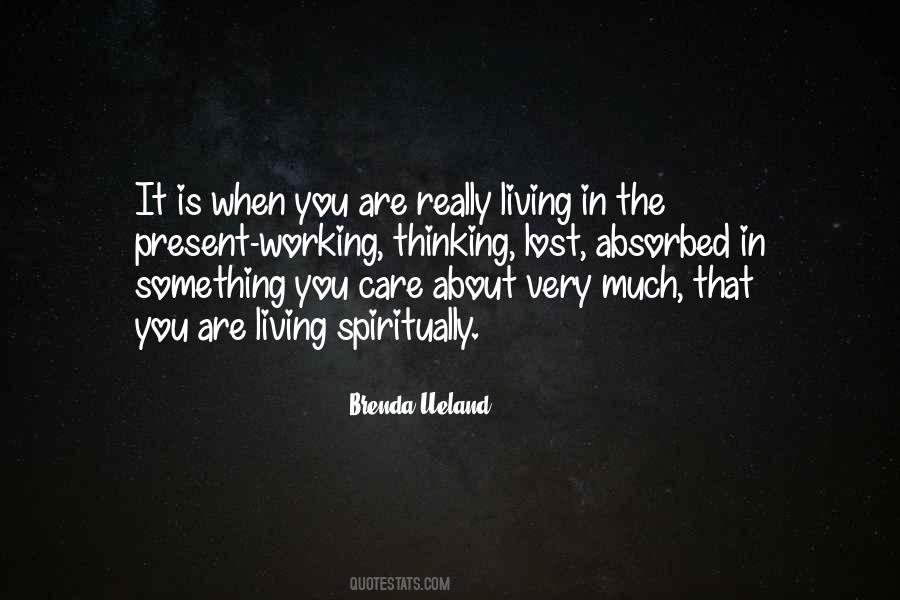 Famous Authors
Popular Topics