Life Things Famous Quotes & Sayings
List of top 100 famous quotes and sayings about life things to read and share with friends on your Facebook, Twitter, blogs.
Top 100 Quotes About Life Things
#1. The big relationships you make in your life are with those that you love and if things do go wrong then it's a source of great pain and that lasts. - Author: Michael Morpurgo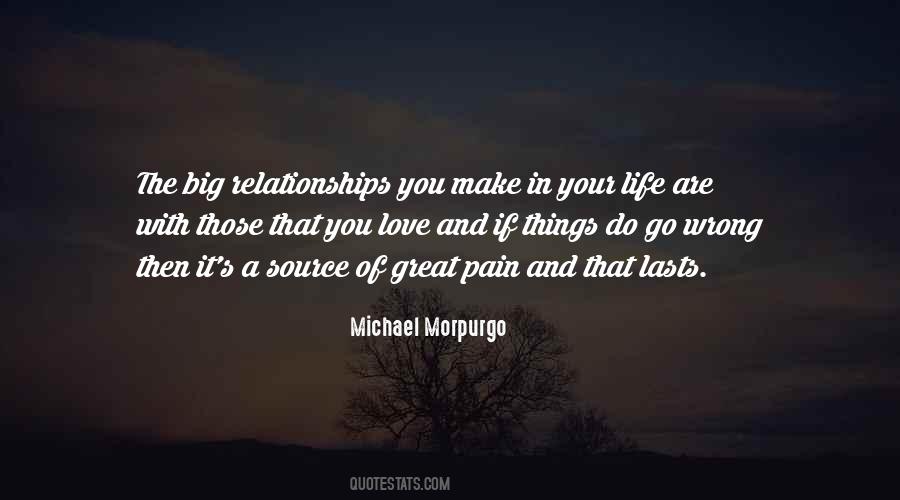 #2. The real truths of life are never entirely new to you or to anybody because there is a level deep down within you where you already know all the things, all those spiritual truths that you read or hear, and then recognize them. I say 'recognize' because you're not ... it's not new. - Author: Eckhart Tolle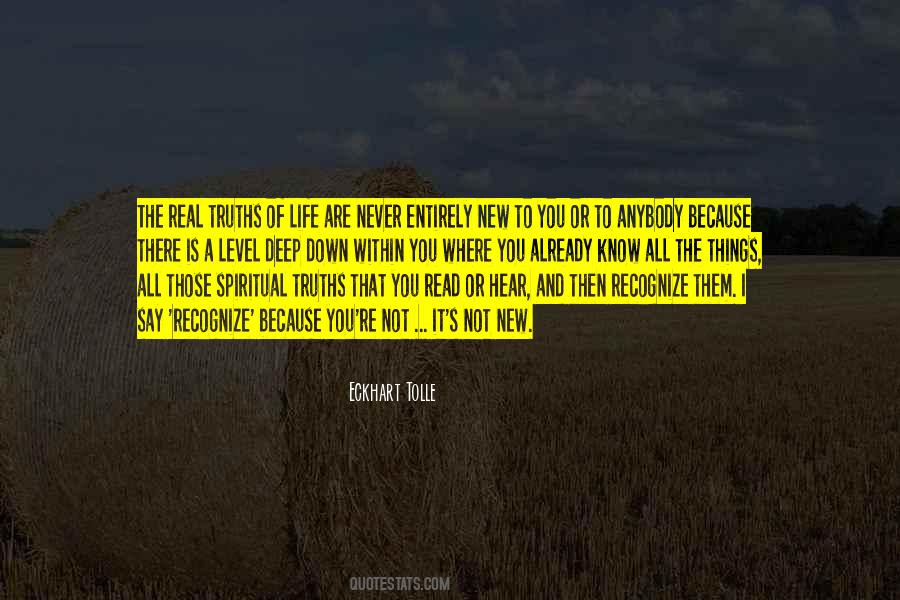 #3. So it is said, for him who understands Heavenly joy, life is the working of Heaven; death is the transformation of things. In stillness, he and the yin share a single Virtue; in motion, he and the yang share a single flow. - Author: Zhuangzi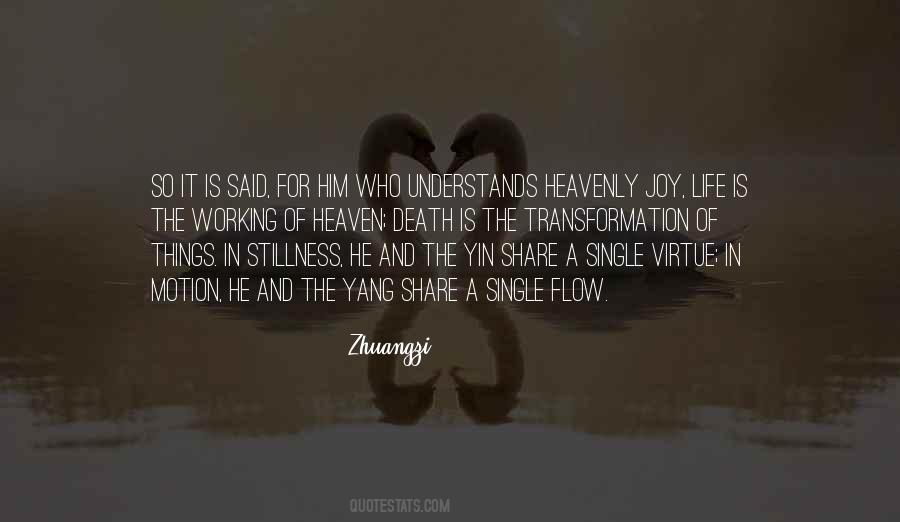 #4. Believe something and the Universe is on its way to being changed. Because you've changed, by believing. Once you've changed, other things start to follow. Isn't that the way it works? - Author: Diane Duane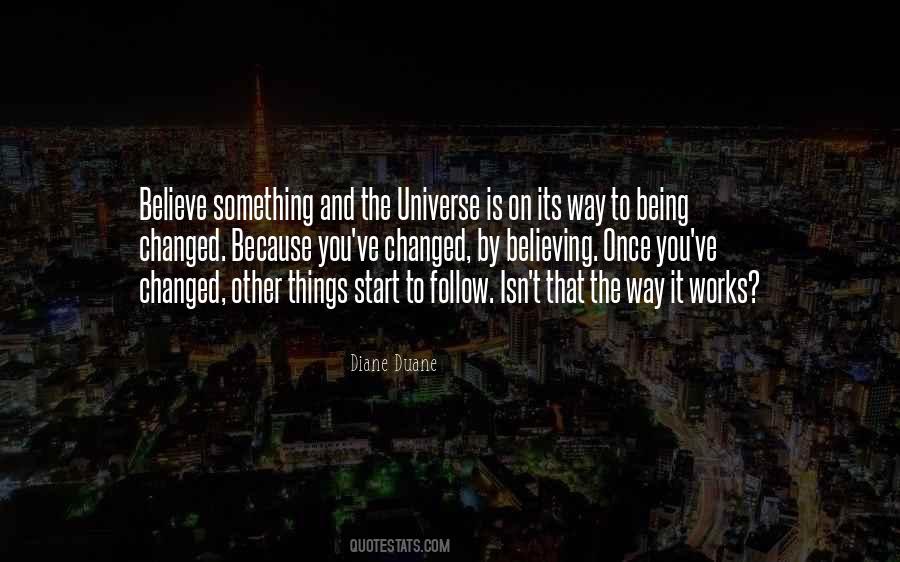 #5. Life is a journey. When we stop, things don't go right. - Author: Pope Francis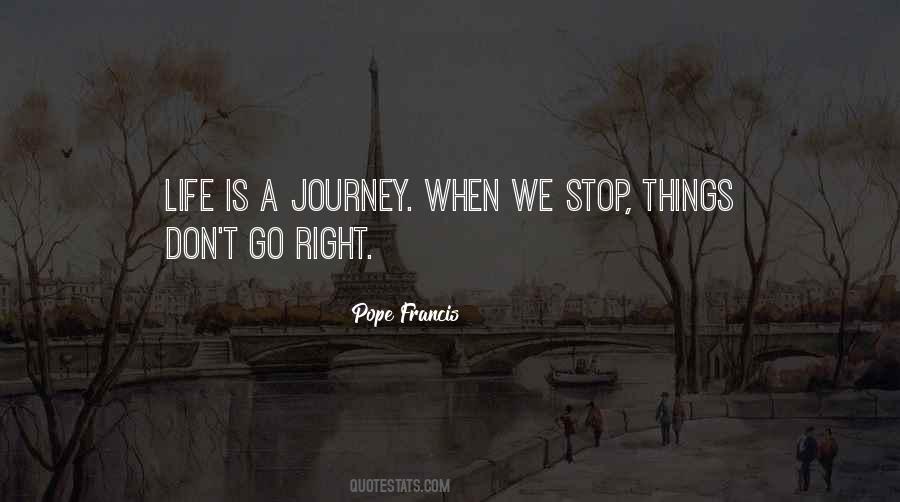 #6. A free man thinks of death least of all things, and his wisdom is a meditation not of death but of life. - Author: Baruch Spinoza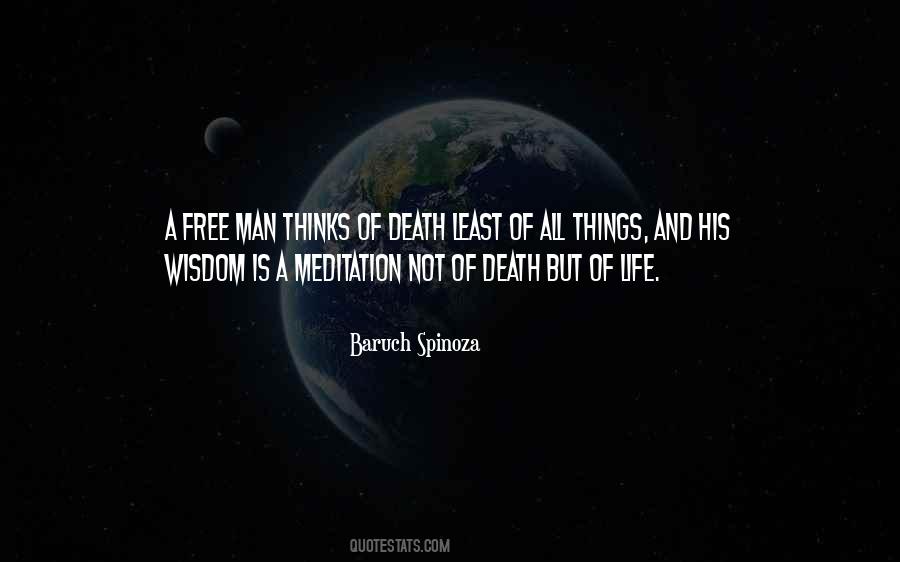 #7. Sometimes I felt like I was waiting for my life to begin and more than anything, in that moment, I wanted to force some kind of beginning. I wanted things to be different than usual. I wanted to bend reality. - Author: Holly Black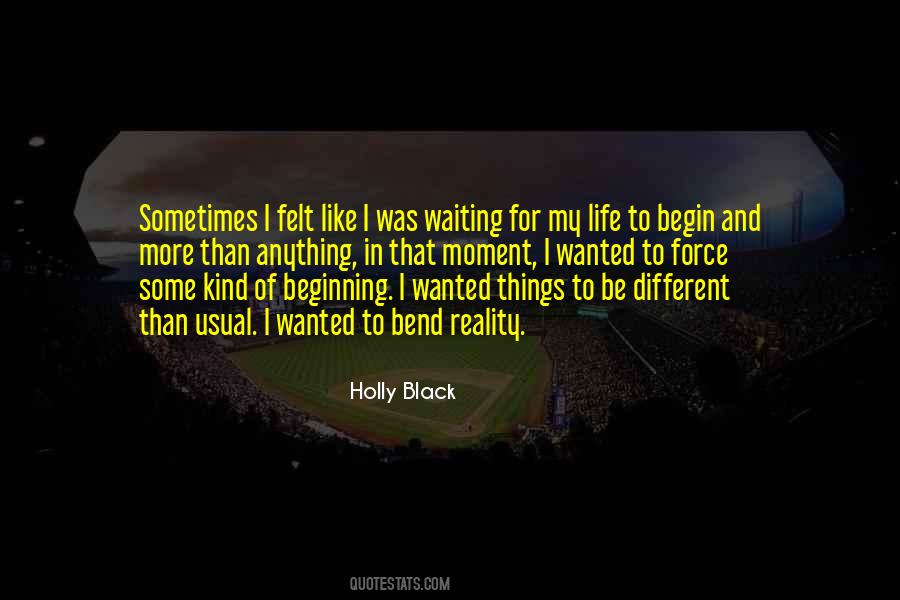 #8. Wanderlove is about forgetting the bad things and focusing on the good. Out with the old and in with the new ... The only way to escape the past is to keep moving forward. - Author: Kirsten Hubbard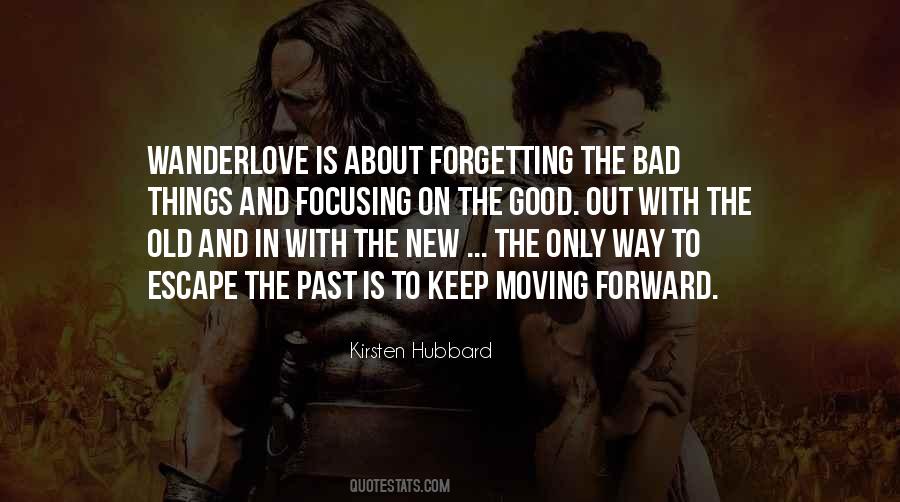 #9. Lesson learned: bad things happen to good people. - Author: Amy Zhang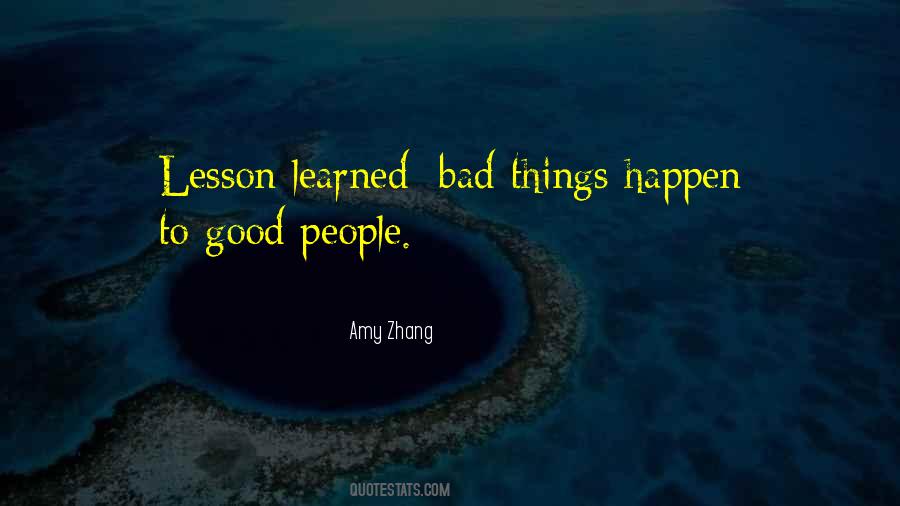 #10. Like the marathon, life can sometimes be difficult, challenging and present obstacles, however if you believe in your dreams and never ever give up, things will turn out for the best. - Author: Meb Keflezighi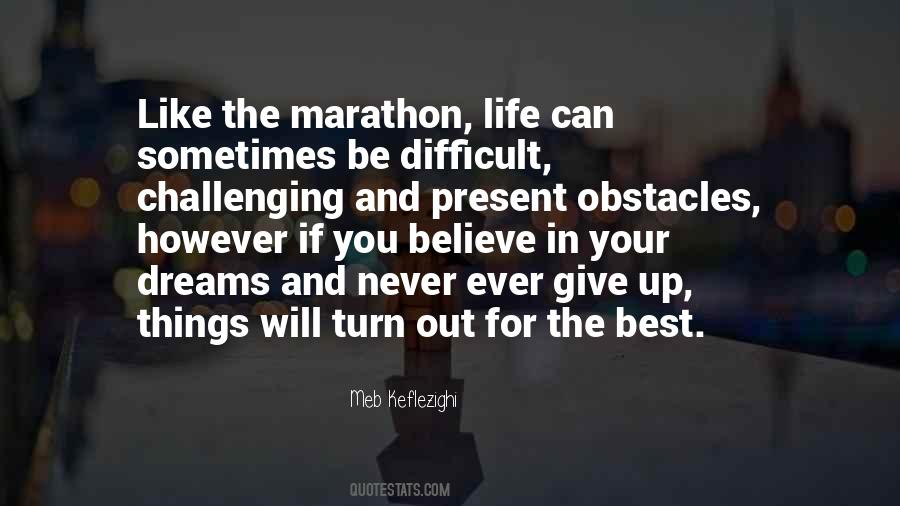 #11. Doubt gets a bad rap. Doubting doesn't mean you've stopped believing, but that you've started thinking. Sheep doubt nothing. Chances are you'll get further in life by questioning things than by living like something that ends up as dinner and a sweater. - Author: Amy Alkon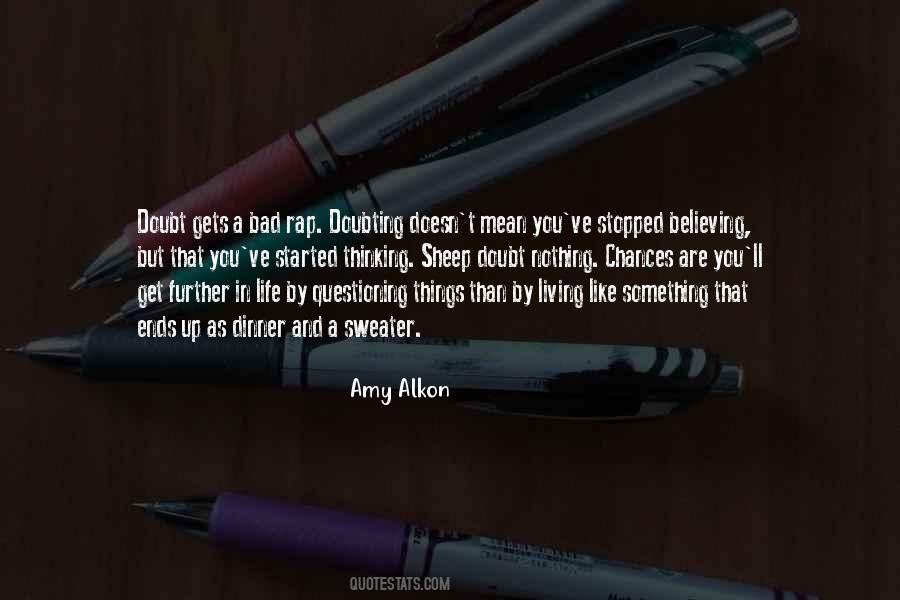 #12. The thing you love right away, don't do it, because that's the very thing that's going to be your addiction for the rest of your life. - Author: Fran Lebowitz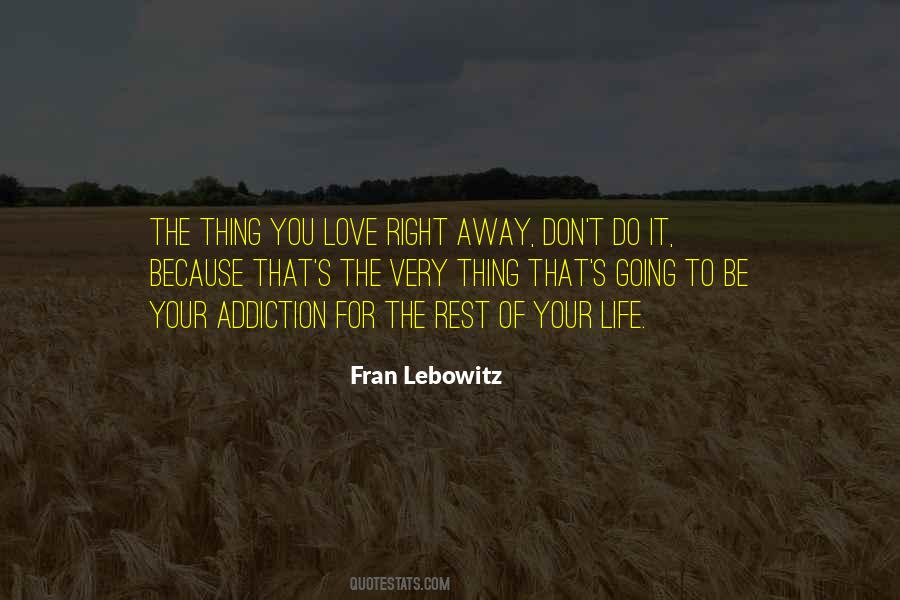 #13. Those three chords were part of my life - G, F, Bb - yeh, it is, it is, and I can't help noticing it. But there have been other things nearly as close to it which people haven't noticed, other things we have done. - Author: Ray Davies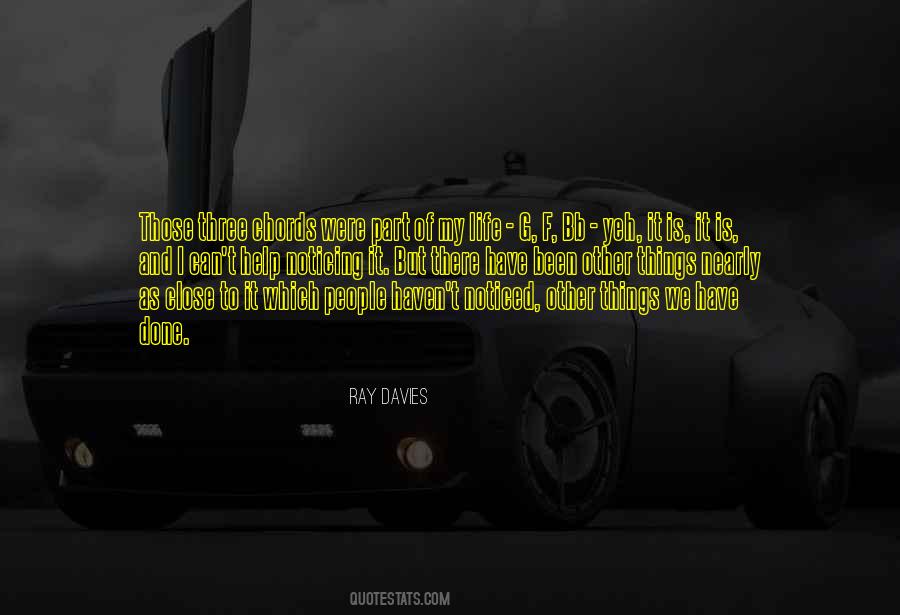 #14. We may talk a good game and write even better ones, but we never outgrow those small wounded things we were when we were five and six and seven. - Author: Chris Bohjalian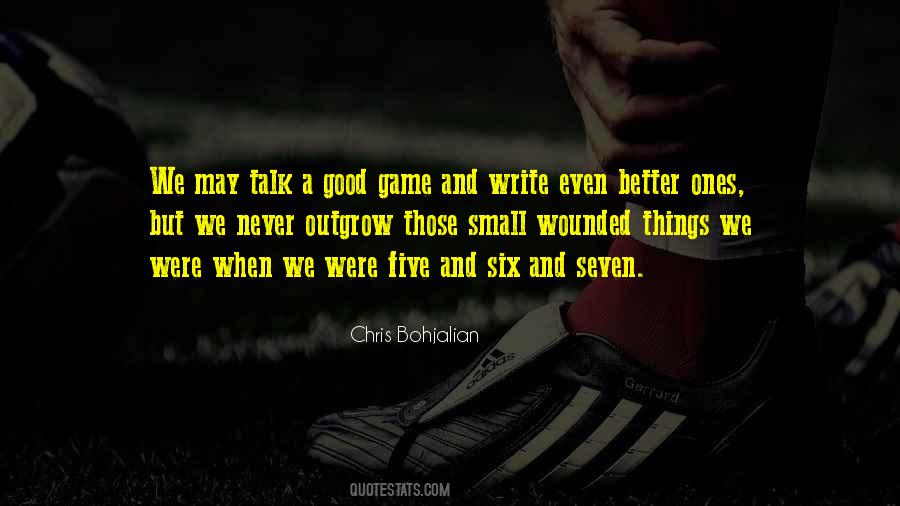 #15. Those men, they're built differently. They love differently, and they need different things. We're the same way. This is the life we know, and while some may not understand it . . . we do. Our love is stronger than most couples, and you and Liam are no different. - Author: Corinne Michaels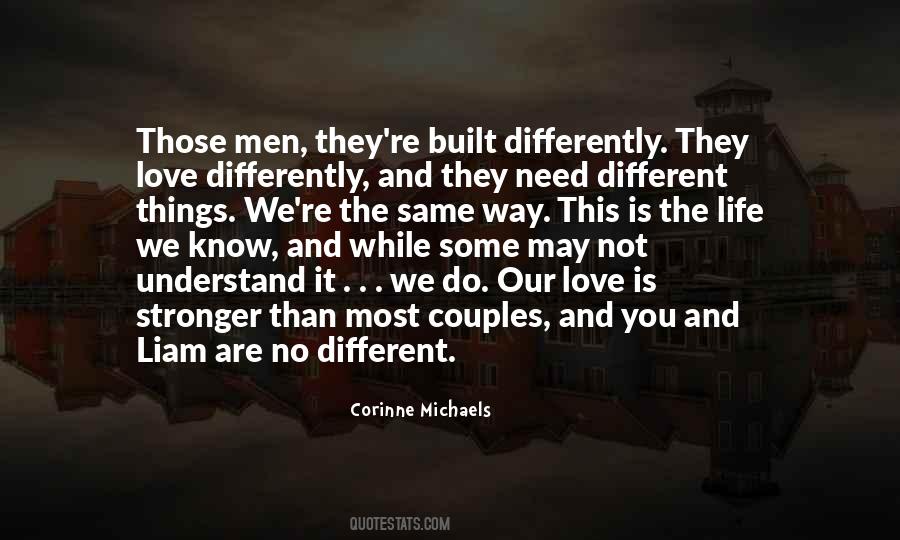 #16. Life isn't perfect. You take things one day at a time. - Author: Christine Brae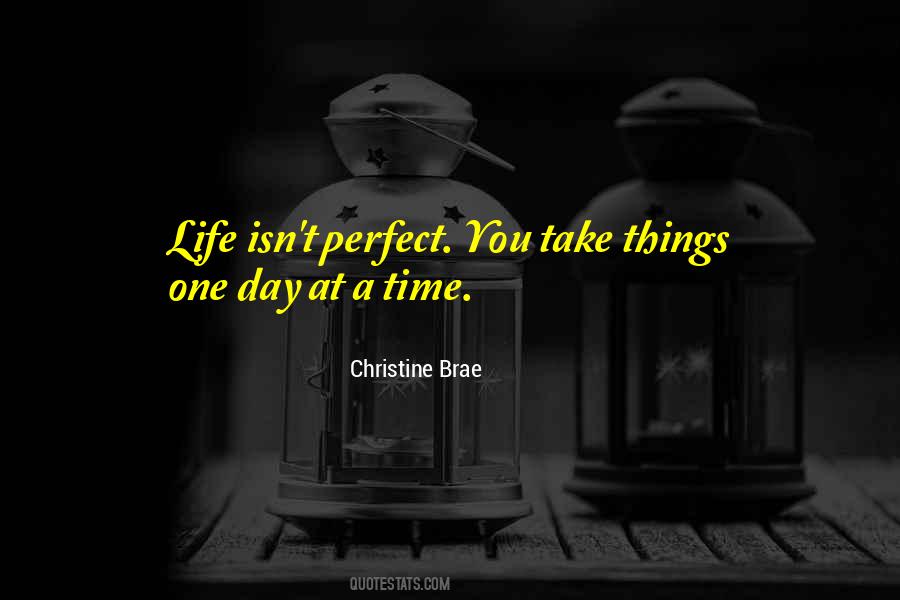 #17. I personally believe that I was ... a previous life or something ... a previous reincarnation, a bard of some sort, because most of the things I write about are descriptions of places I've never been to. - Author: Marc Bolan
#18. Many things in life are like good coffee, they need time to percolate. - Author: H.M.C.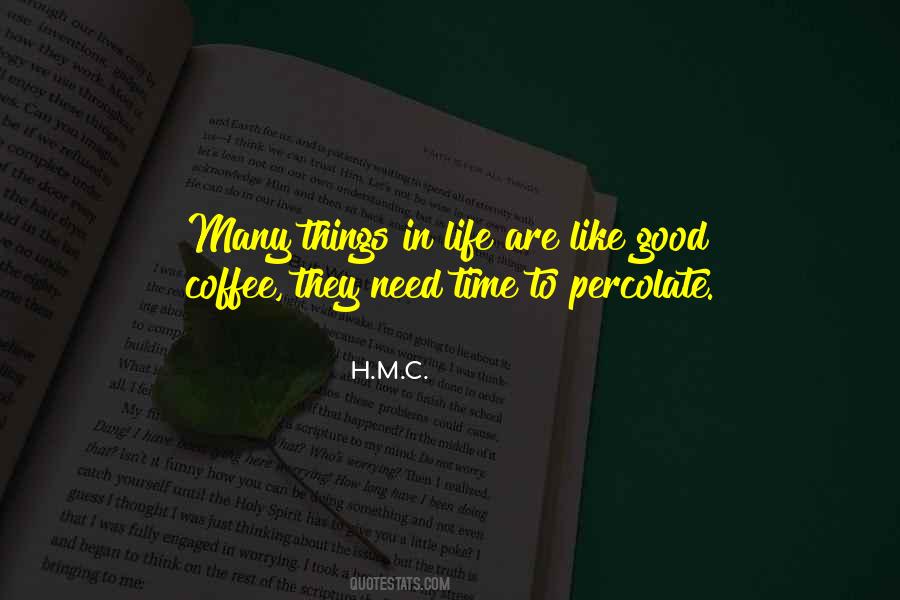 #19. It's odd, how those things happen to actors. A thing where you think, "I have no idea how to do this," something will happen in your life comes up and you just get it. I don't know how you get it, but actors are pretty extraordinary, in that regard. I think it's fear that happens. - Author: Michael Keaton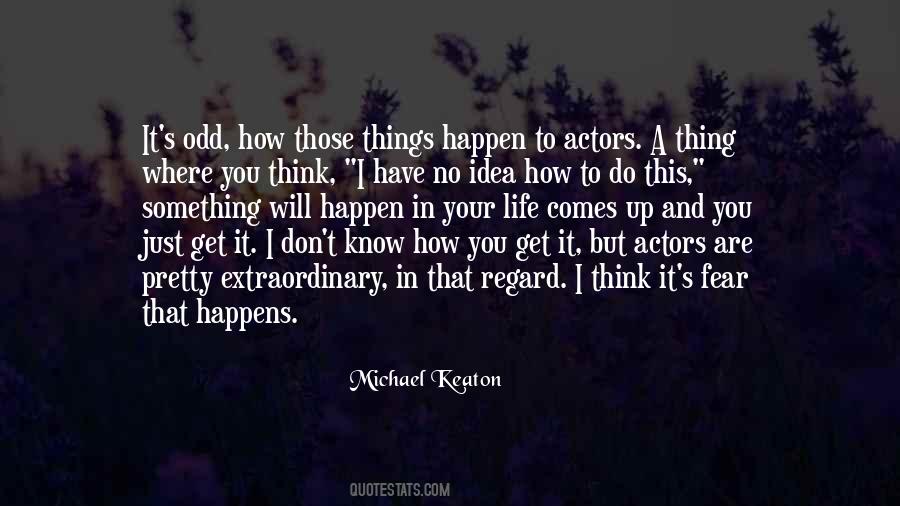 #20. Young people, I want to beg of you always keep your eyes open to what Mother Nature has to teach you. By so doing you will learn many valuable things every day of your life. - Author: George Washington Carver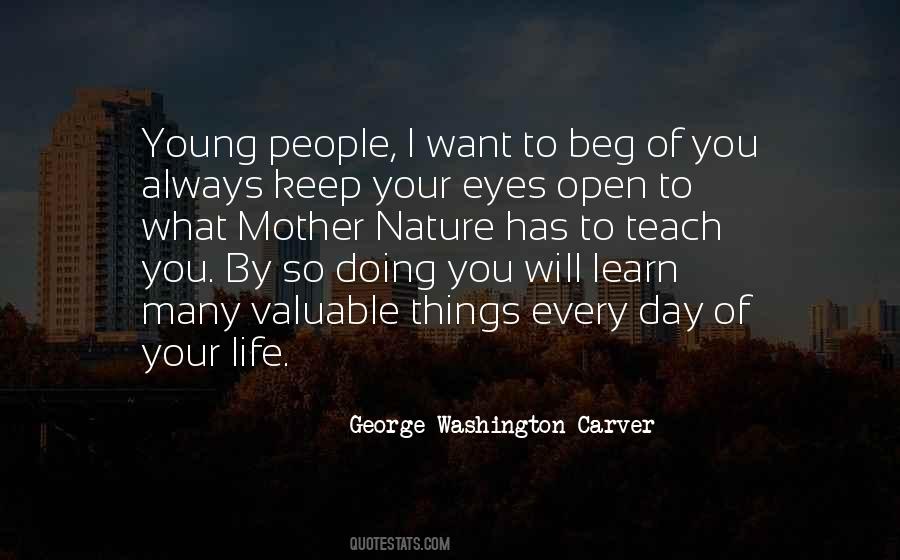 #21. Besides the noble art of getting things done, there is the noble art of leaving things undone. The wisdom of life consists in the elimination of non-essentials. - Author: Lin Yutang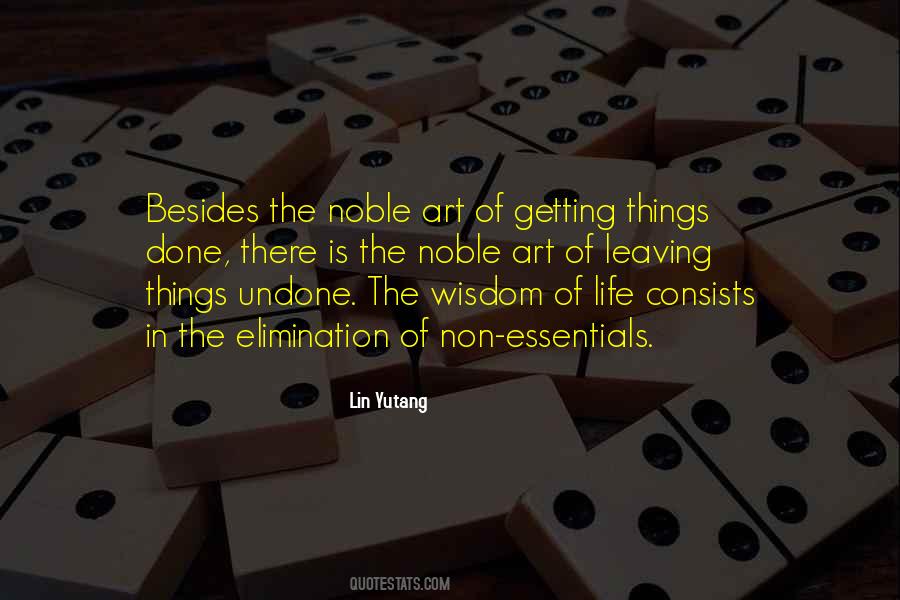 #22. I went through a period when I felt my film characters were having more fun than I was. It might partly explain why I ended up tattooed or doing certain extreme things in my life. - Author: Angelina Jolie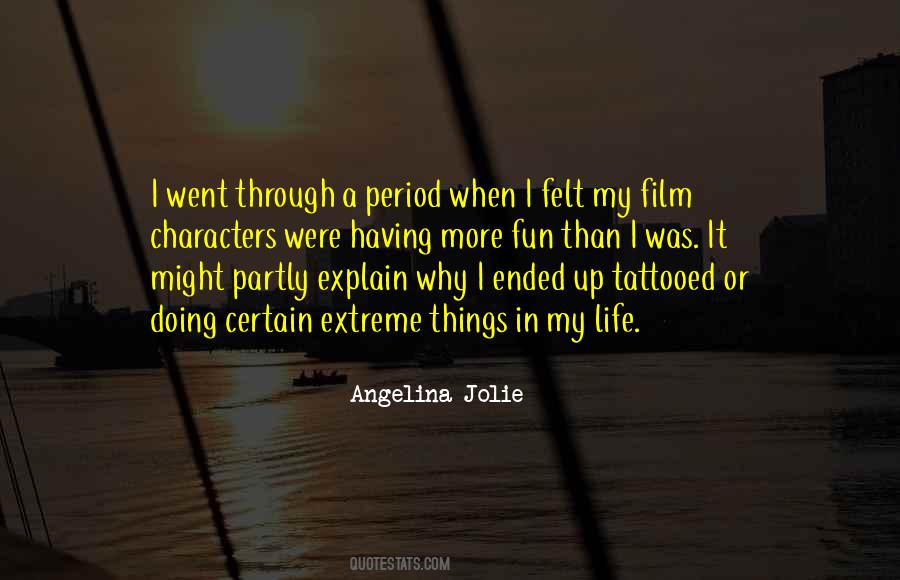 #23. There are things to be learned, there are things to be felt and occasionally the two overlap; and that's where the trouble begins. - Author: Lara Williams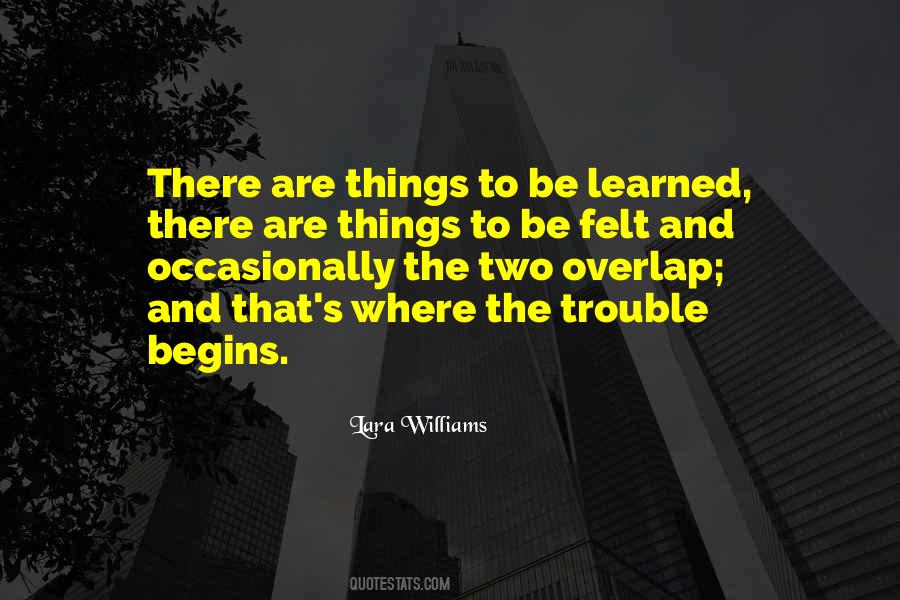 #24. There are oceans of things to discover, to explore, to learn, to invent, to create in this world; especially with its modern possibilities offered. So, I don't understand when people complain they're bored and have nothing to do. - Author: Sahara Sanders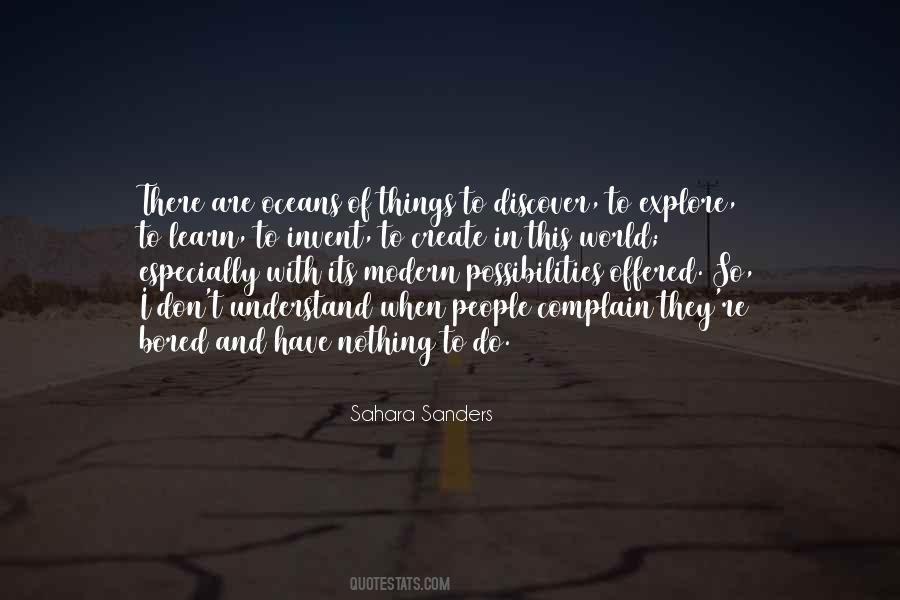 #25. Because you know how to enjoy things. Because you don't deny yourself. Because you let yourself feel pleasure and want. And that's the kind of person who likes gifts. The kind of person who knows how to enjoy life. - Author: Lauren Blakely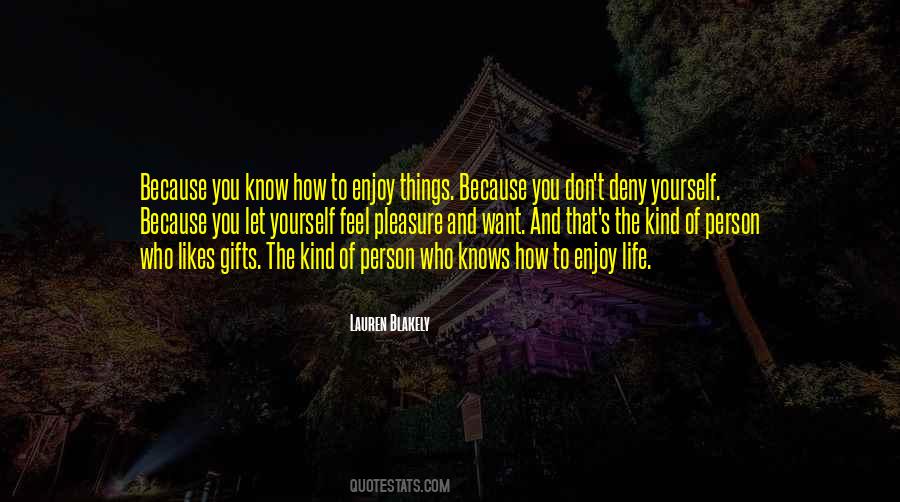 #26. The idea that certain things in life - and in the universe - don't yield up their secrets is something that requires a slightly more mature reader to accept. - Author: Samuel R. Delany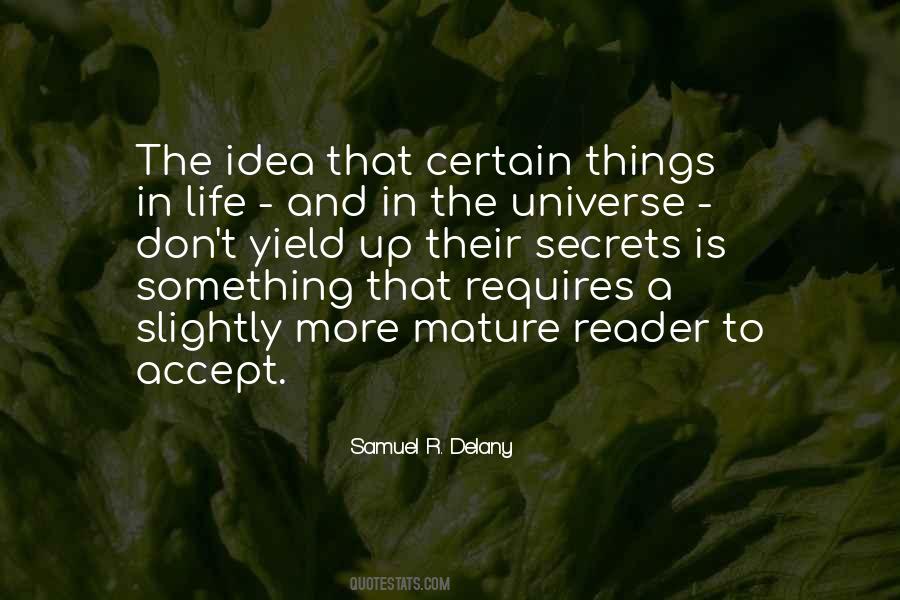 #27. Romance takes place in the middle distance. Romance is looking in at yourself through a window clouded with dew. Romance means leaving things out: where life grunts and shuffles, romance only sighs. - Author: Margaret Atwood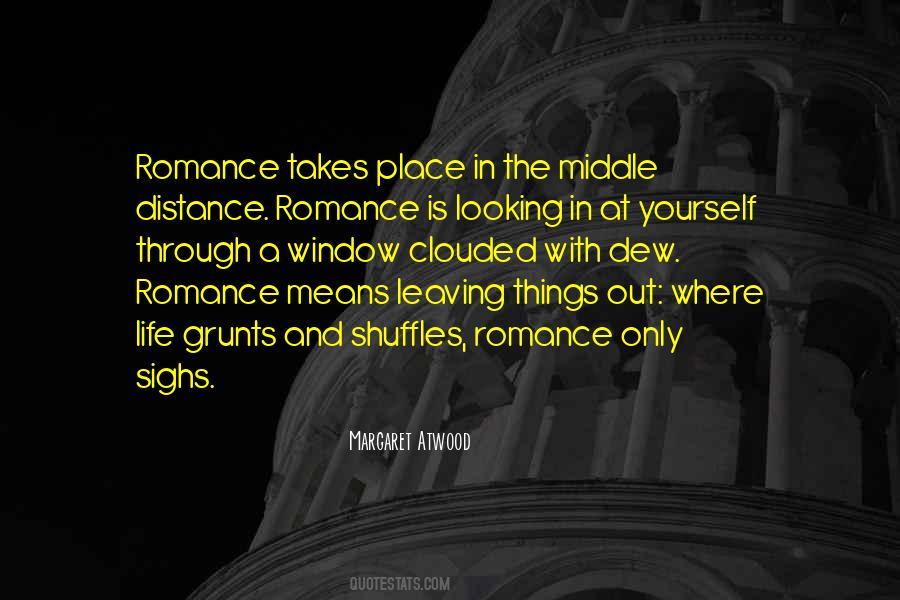 #28. All the important things in life lie beyond reason ... and that's just the way things are. - Author: Alister E. McGrath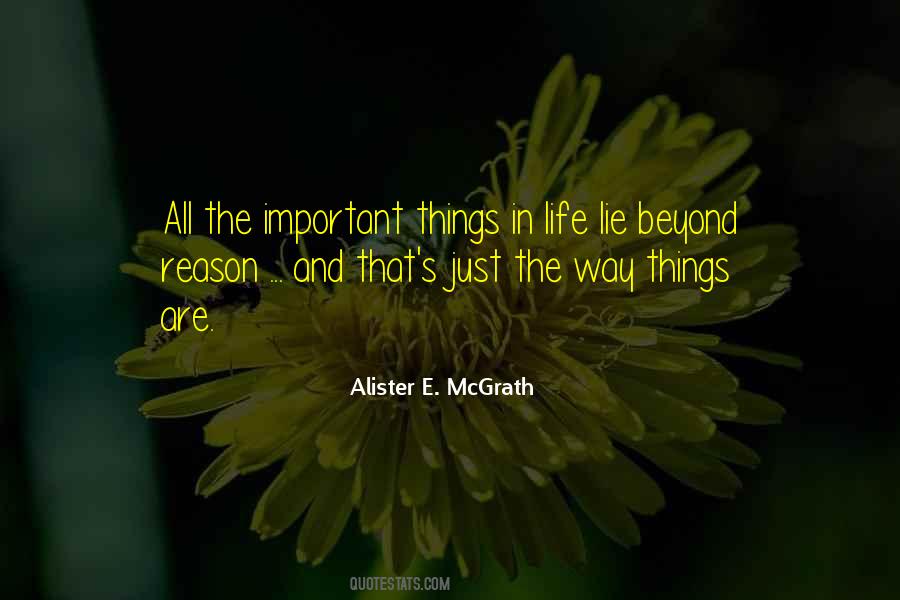 #29. The most perfect things in life are created by our imperfections, - Author: Mia Clark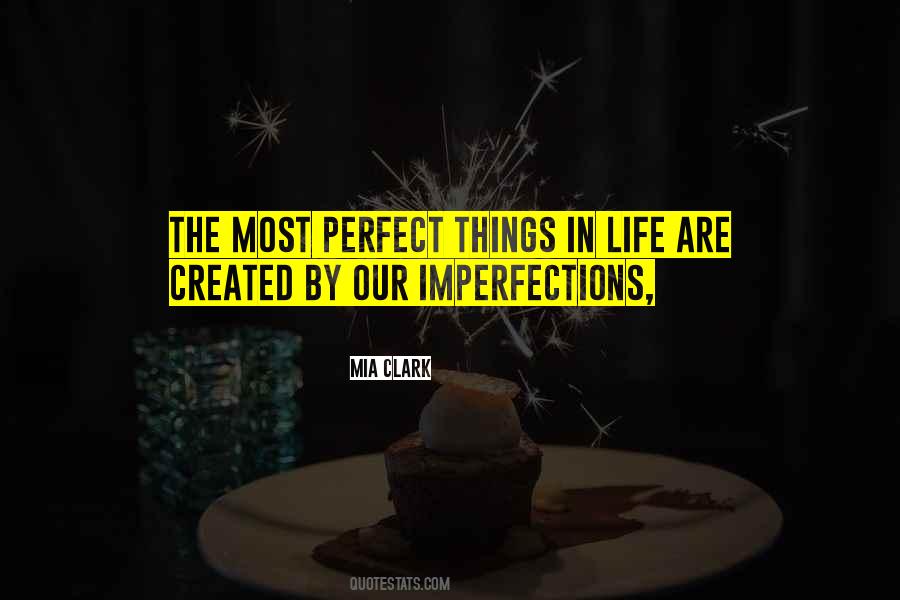 #30. How much better if life were more like books, if life lied a little more, and gave up its stubborn and boring adherence to the way things can be, and thought a little more imaginatively about the way things might be. - Author: Catherynne M Valente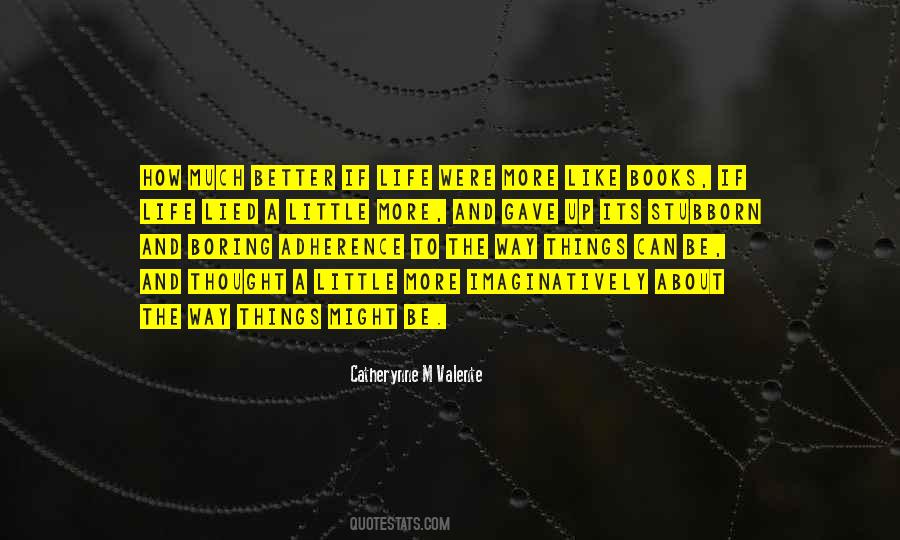 #31. We have laid the foundation for a better life. Things that were unimaginable a few years ago have become everyday reality. I belong to the generation of leaders for whom the achievement of democracy was the defining challenge. - Author: Nelson Mandela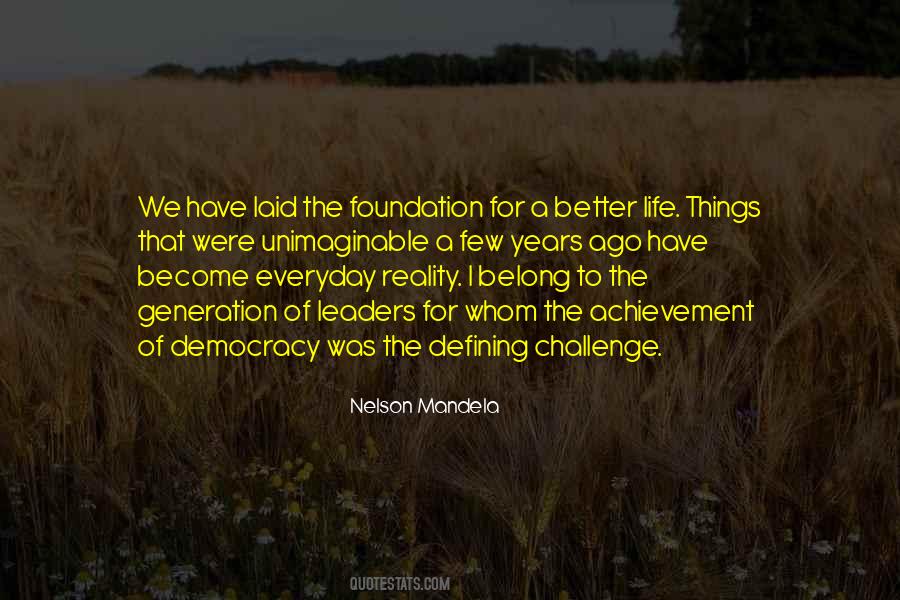 #32. It's just that ... I just think that some things are meant to be broken. Imperfect. Chaotic. It's the universe's way of providing contrast, you know? There have to be a few holes in the road. It's how life is. - Author: Sarah Dessen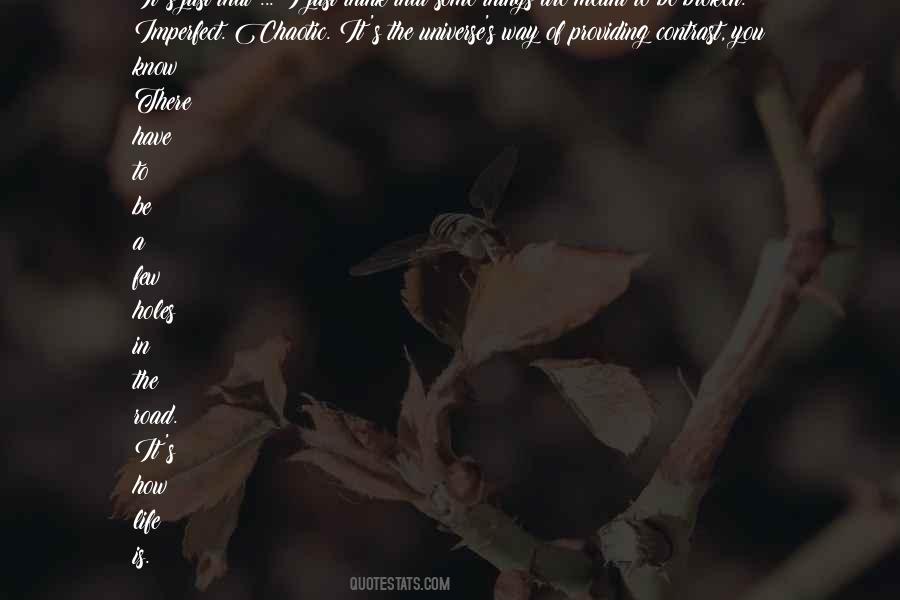 #33. In his play "Long Day's Journey into Night, " Eugene O'Neill has one of his characters utter a powerful statement toward the end of her life: "None of us can help the things life has done to us. They are done before you realize it and once they are done, they make you do other things, until at - Author: Ravi Zacharias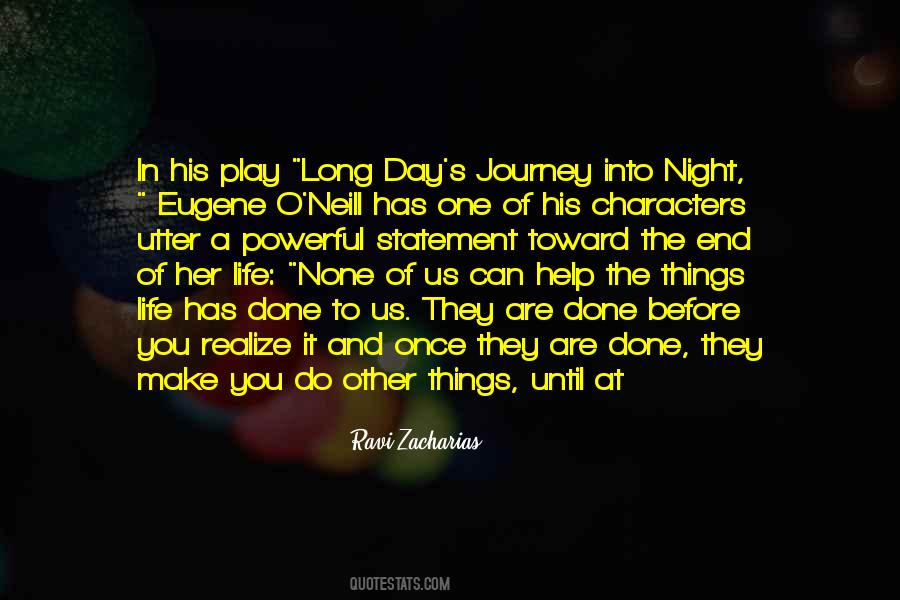 #34. Life is this great big blackboard, and on it you write all the things that you do. - Author: Elizabeth Edwards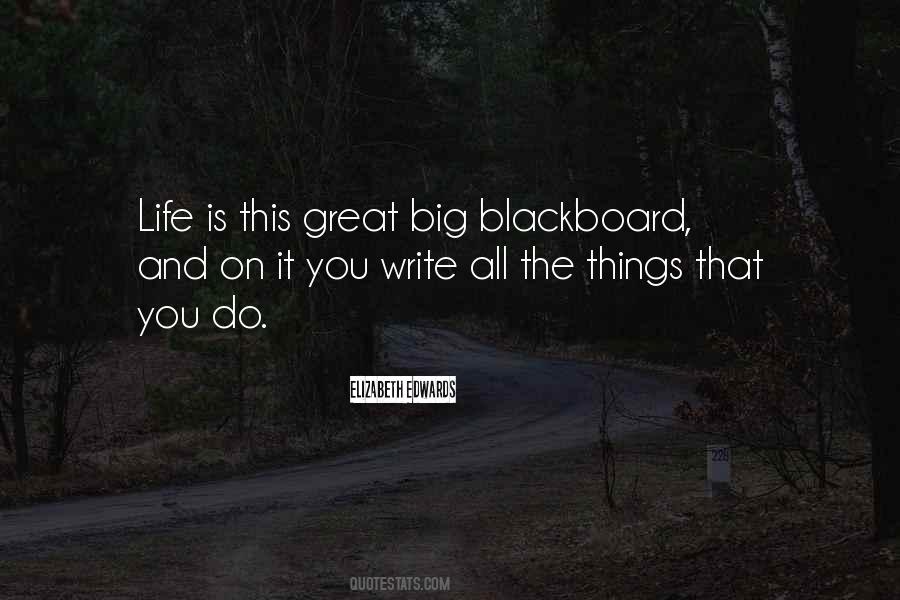 #35. To describe the animate life of particular things is simply the most precise and parsimonious way to articulate the things as we spontaneously experience them, prior to all our conceptualizations and definitions. - Author: David Abram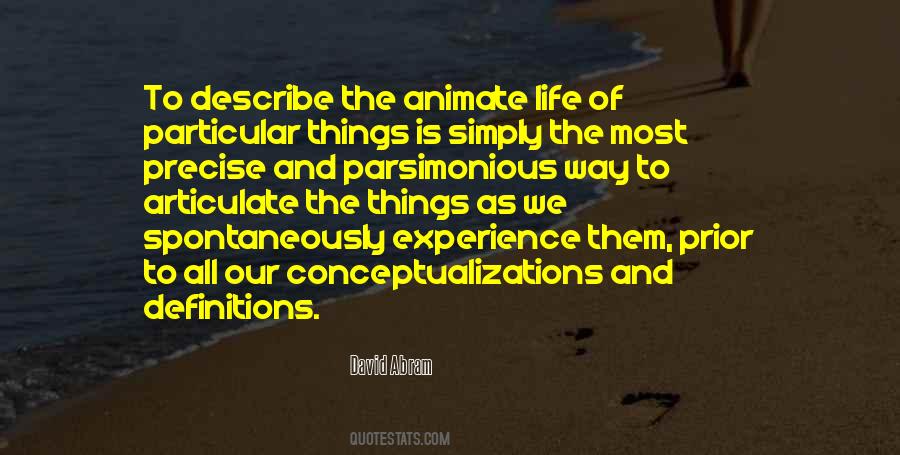 #36. The sincerity with which you do things, that's what shapes your life. - Author: Blake Griffin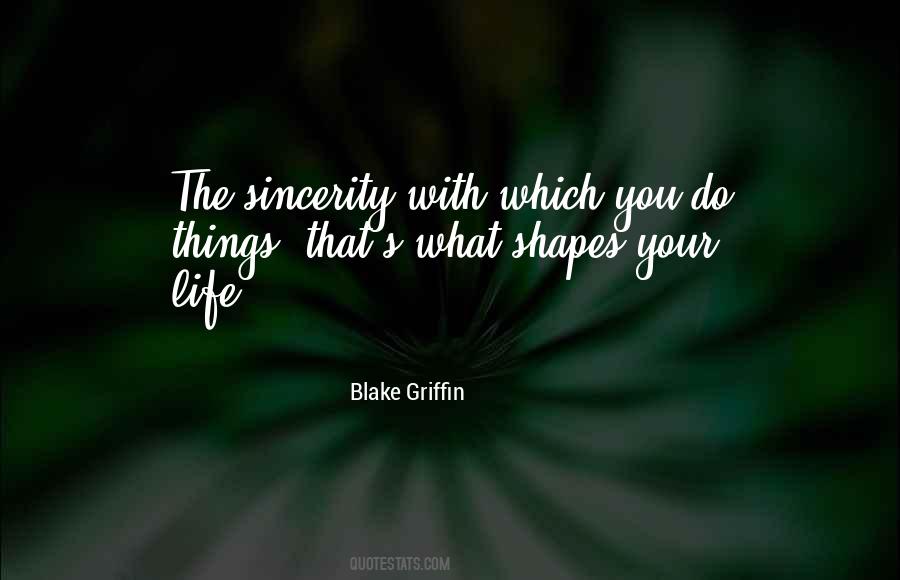 #37. The things of Catholic life are never boring because we have such a rich tradition and so many stories to tell. - Author: Donald Wuerl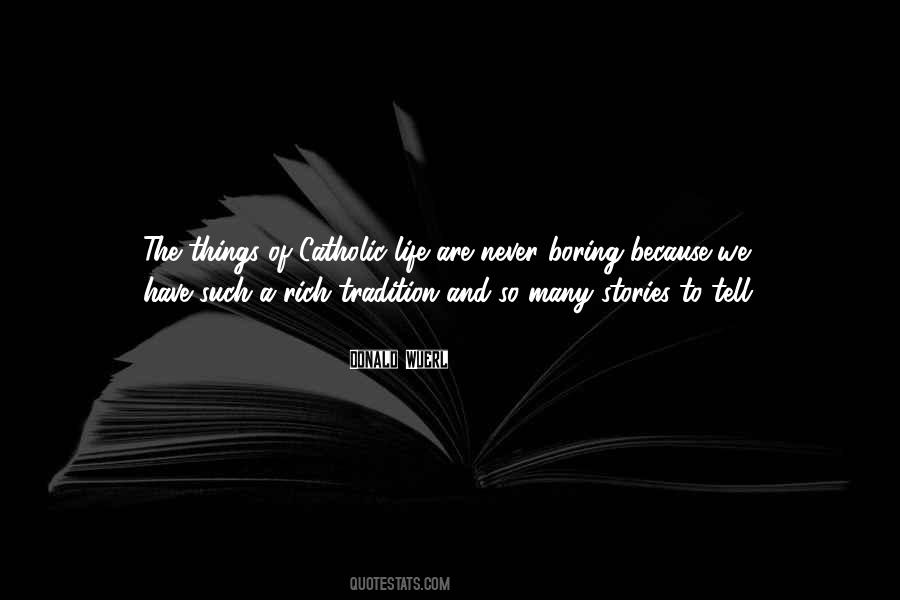 #38. I am deeply spiritual; I revel in those things that make for good - the things that we can do to shed a little light, to help place an oft-dissonant universe back in tune with itself ... Long live art, long live friendship, long live the joy of life! - Author: Jessye Norman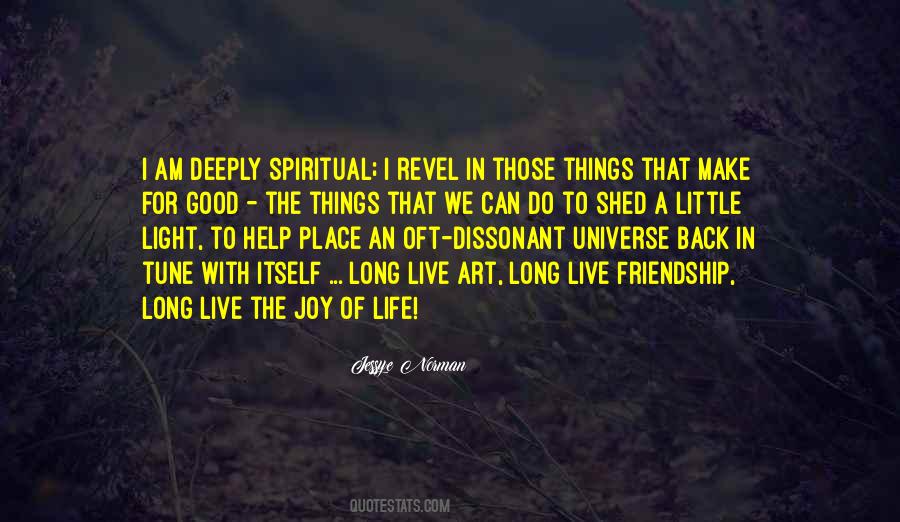 #39. Life is not about things we do or do not have to do; it's about doing what we should do, about doing the right thing. - Author: Quinn Loftis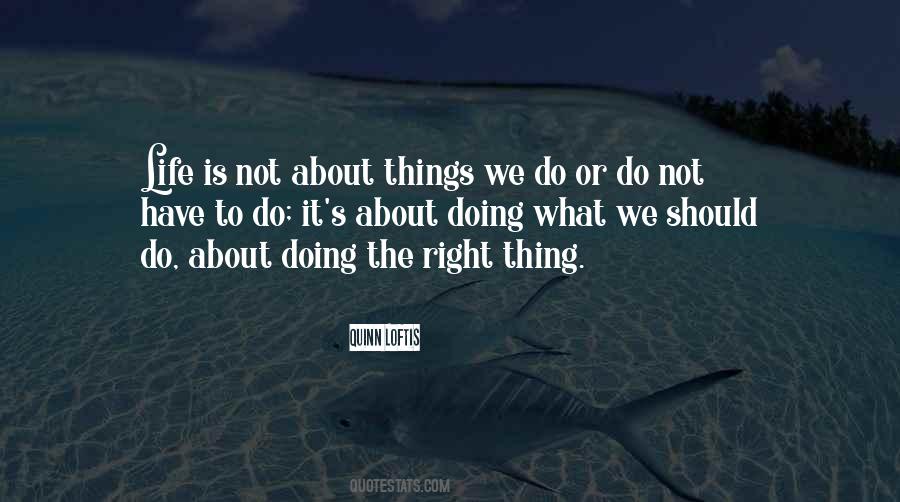 #40. When things in your life do not make sense, keep on praying. Ask God what He wants you to do, and let Him heal you on the inside. He understands that you and I are not perfect. We are works in progress, but we should let Him work within us. - Author: Nick Vujicic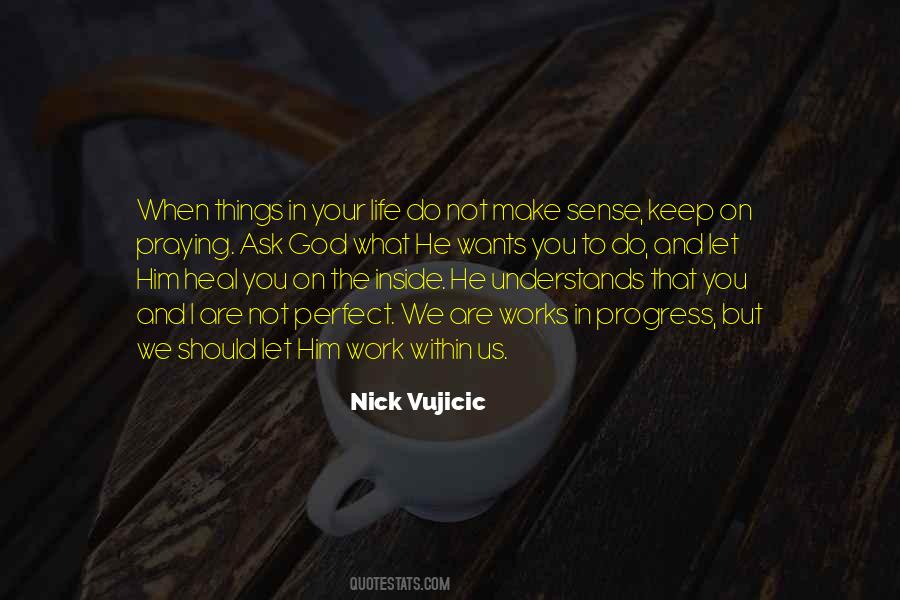 #41. My parents taught me many of the things that people need in life to feel confident: practical things, such as managing finances, mucking out the goat barn, cleaning a house, doing repairs, mending a broken roof or a toilet. - Author: Bryce Dallas Howard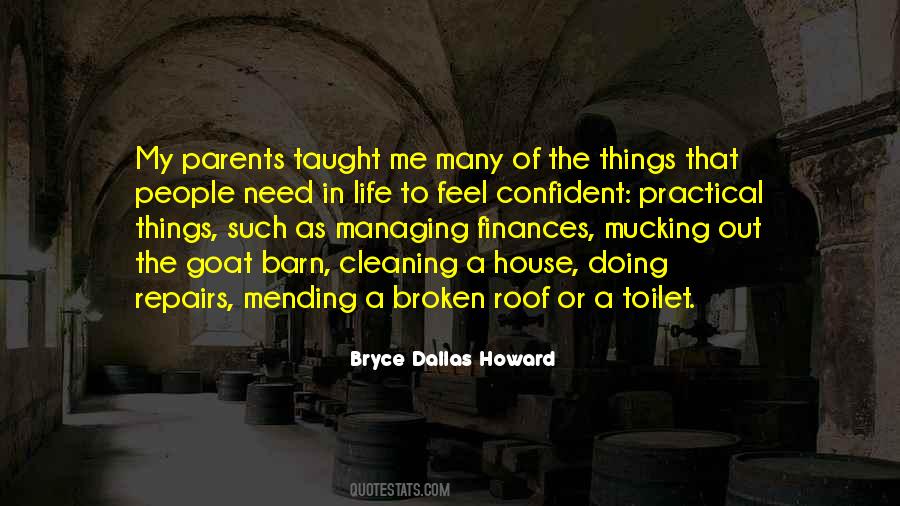 #42. Goodbyes are on of the hardest things about life. One way or another people were always leaving ... Always moving on. - Author: Karen Kingsbury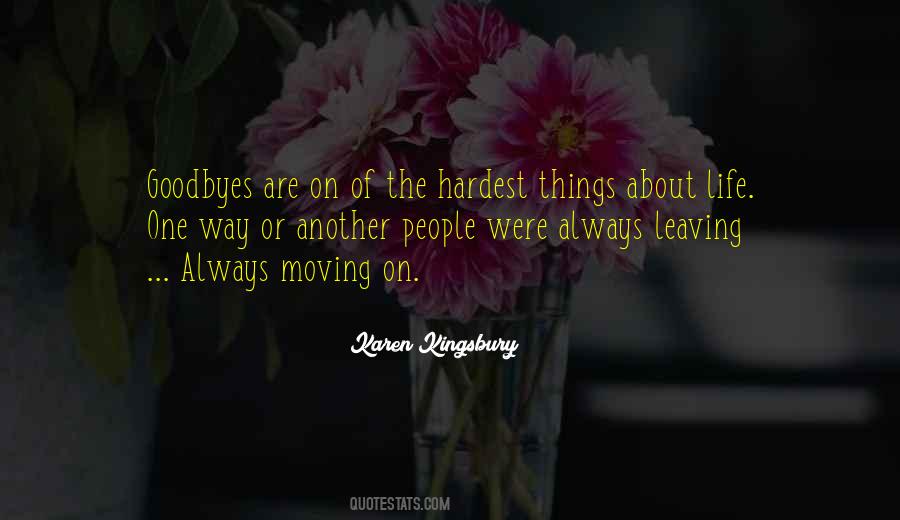 #43. Life is populated with scarecrows - all those people and things that seem so scary and trouble our sleep. Isn't it nice to know that most of them turn out to be made of nothing but straw? - Author: Jerry Spinelli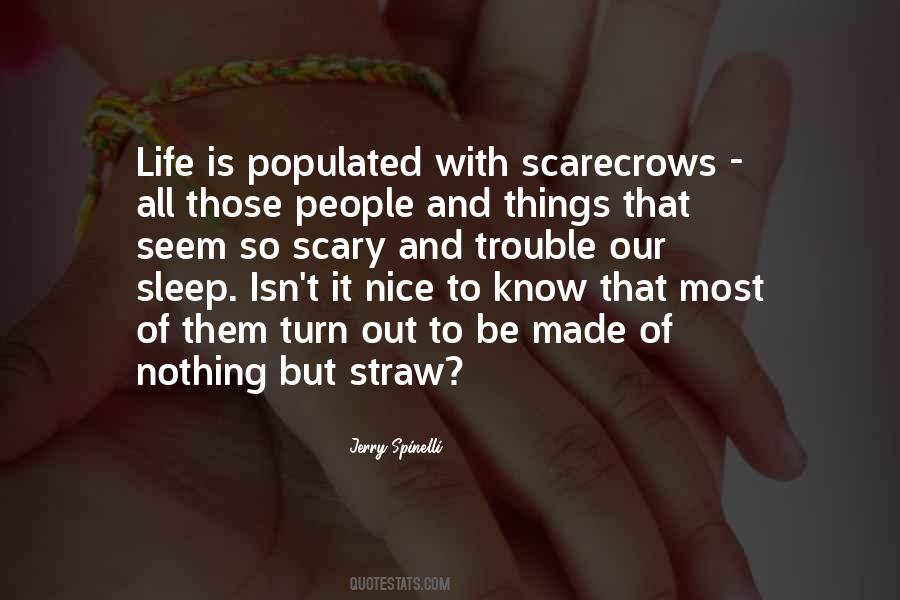 #44. In general, things that were endowed with life did not, like the Golden Temple, have the rigid quality of existing once and for all. Human beings were merely allotted one part of nature's various attributes and, by an effective method of substitution, they diffused that part and made it multiply. - Author: Yukio Mishima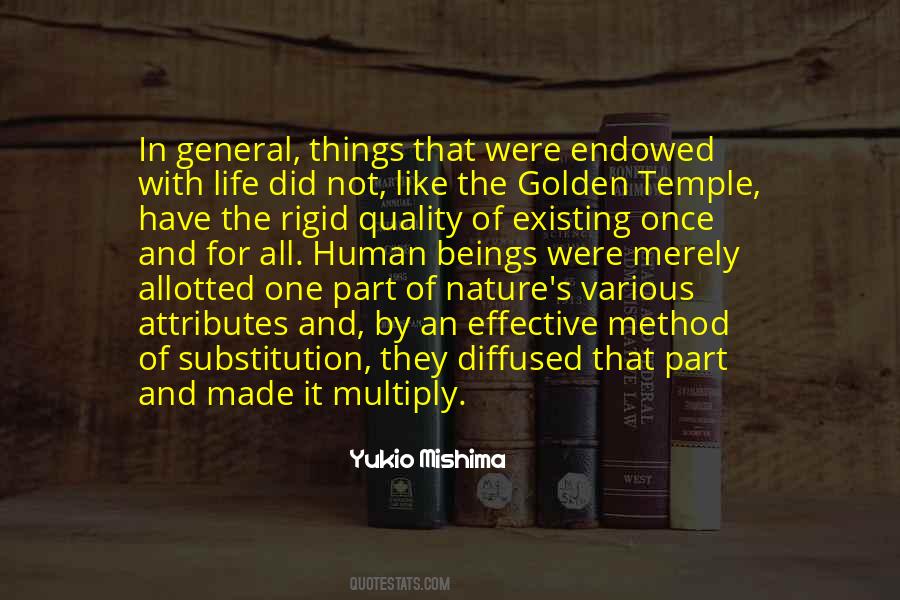 #45. That is my problem with life, I rush through it, like I'm being chased. Even things whose whole point is slowness, like drinking relaxing tea. When I drink relaxing tea I suck it down as if I'm in a contest for who can drink relaxing tea the quickest. - Author: Miranda July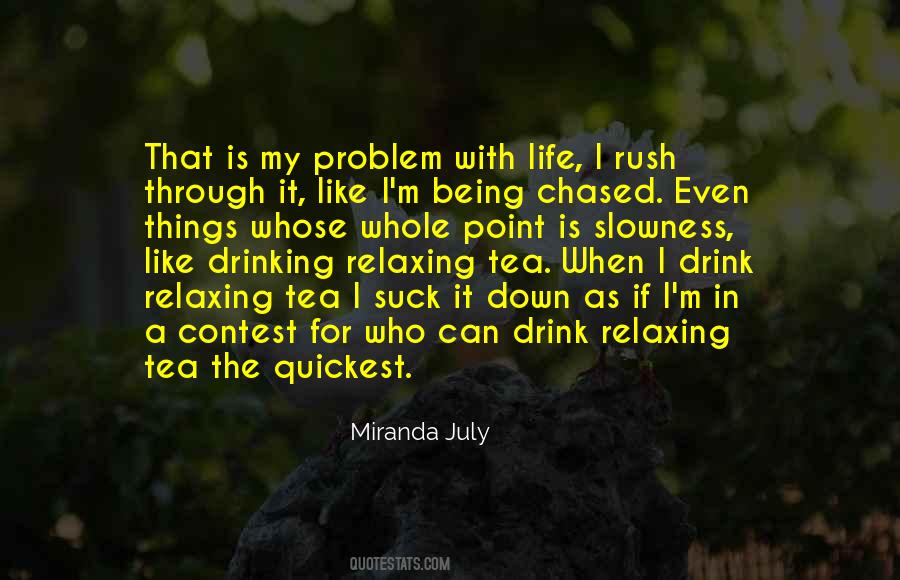 #46. In life, there are many hills and valleys to pass and you cannot avoid them! The most important thing you need is to know this: You must pass them! - Author: Mehmet Murat Ildan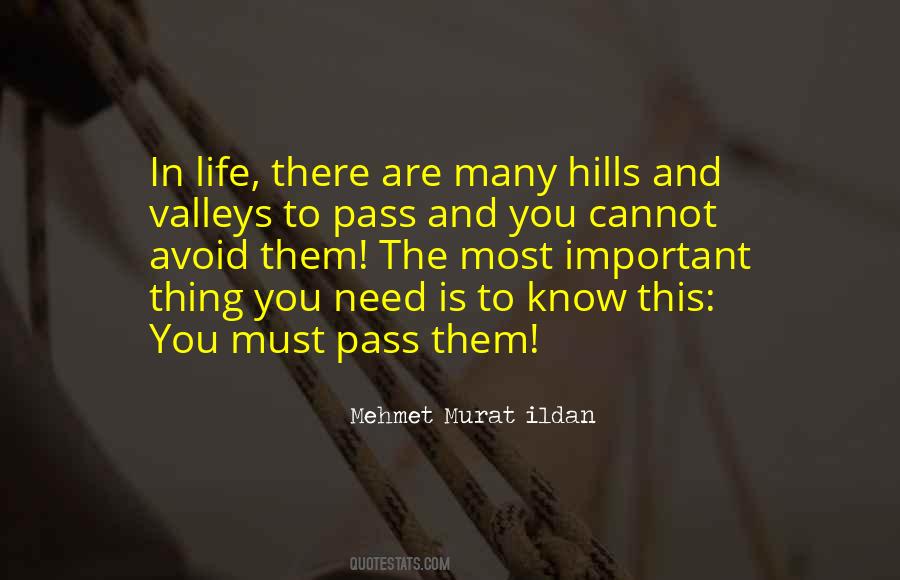 #47. I grew up very poor in a fractured family that was dysfunctional on both sides, but I sort of put up these reflectors to most of the negative things that have occurred in my life. I don't carry around much baggage. - Author: Keith Stanfield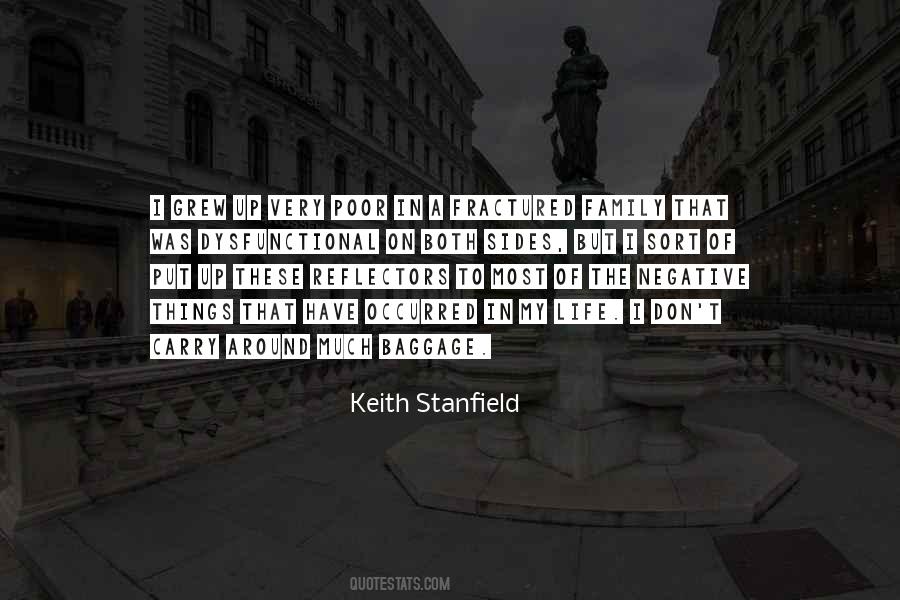 #48. The things that let you down are the things that let you see how far you have rose. - Author: Amani Abbas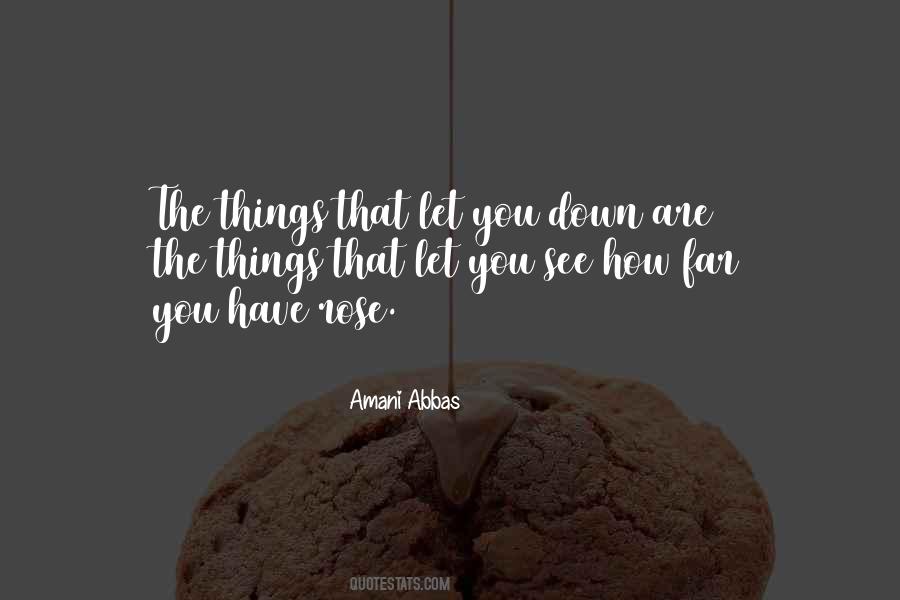 #49. Prayer is the soul's sincere desire. Your desire is your prayer. It comes out of your deepest needs and it reveals the things you want in life. - Author: Joseph Murphy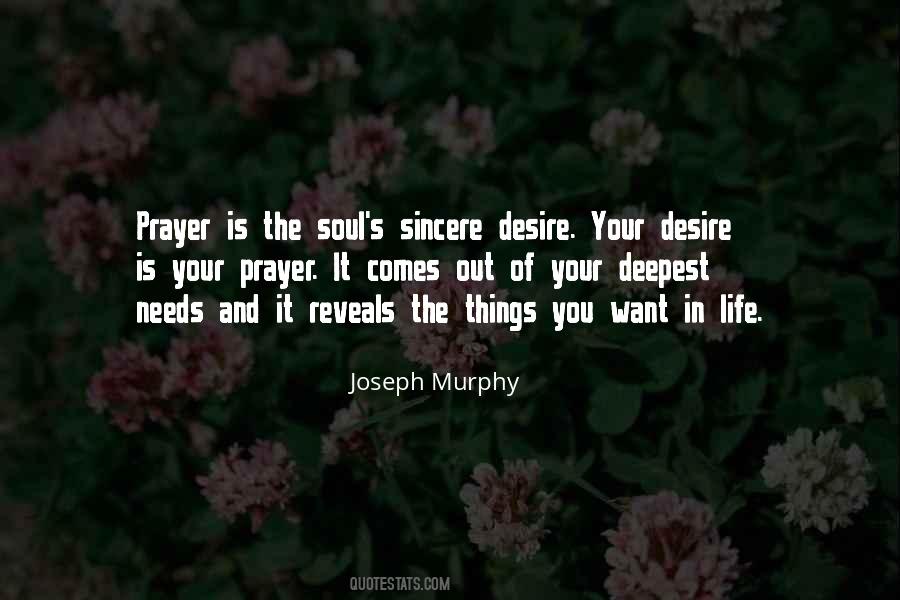 #50. Life wants you to know that people are more important than things. - Author: Bryant McGill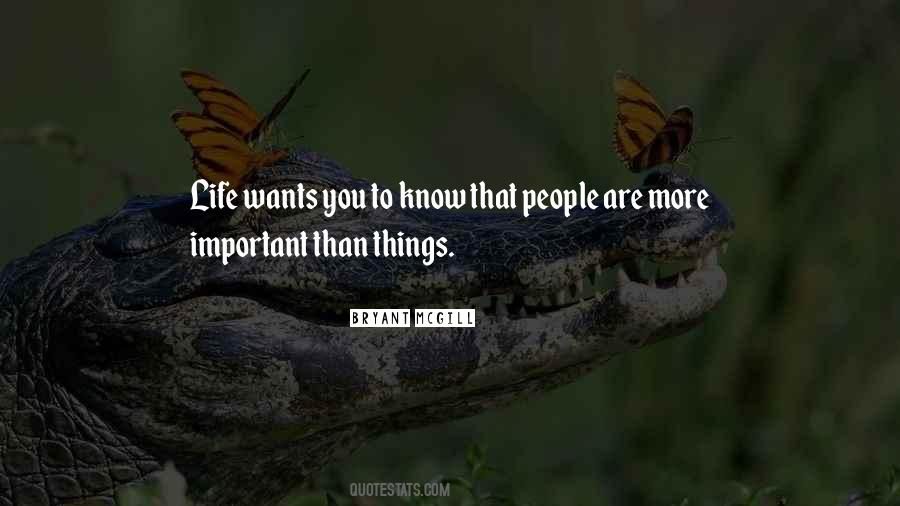 #51. What I've found - and the older I get, the more I understand this and stand behind it - is, my whole life has been an exploration of telling the truth. It's scary to be truthful, and it's scary to reveal yourself, and I'm very attracted to doing things that scare me. - Author: Jane Wiedlin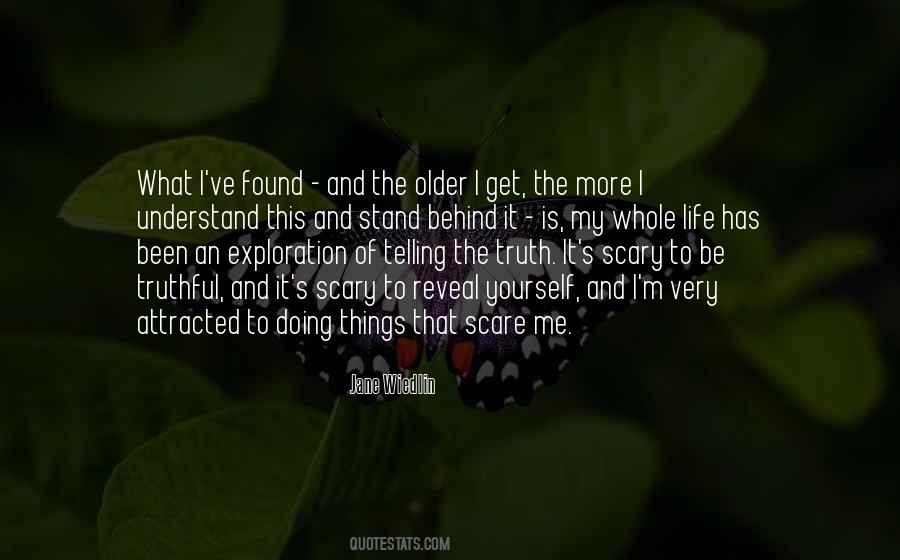 #52. We try to stick pretty close to what our goals are and what we believe and what we enjoy doing in life - just simple things. - Author: Priscilla Chan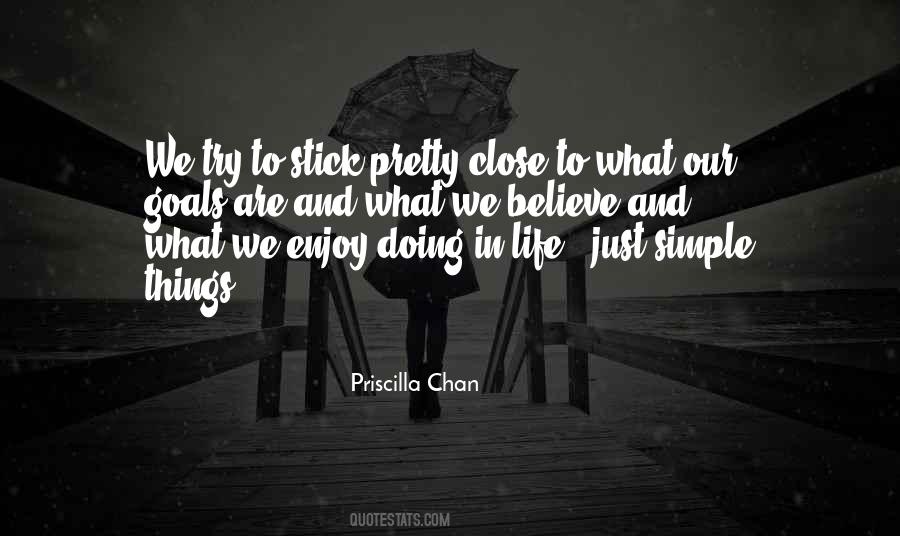 #53. Embarrassing ourselves in front of strangers is literally one of the worst things that can happen to us. It's in the slot where polio used to be. Awkwardness, rejection, missing out. We've conquered everything else and these constants of human life are all that remain to bedevil us. - Author: Alexandra Petri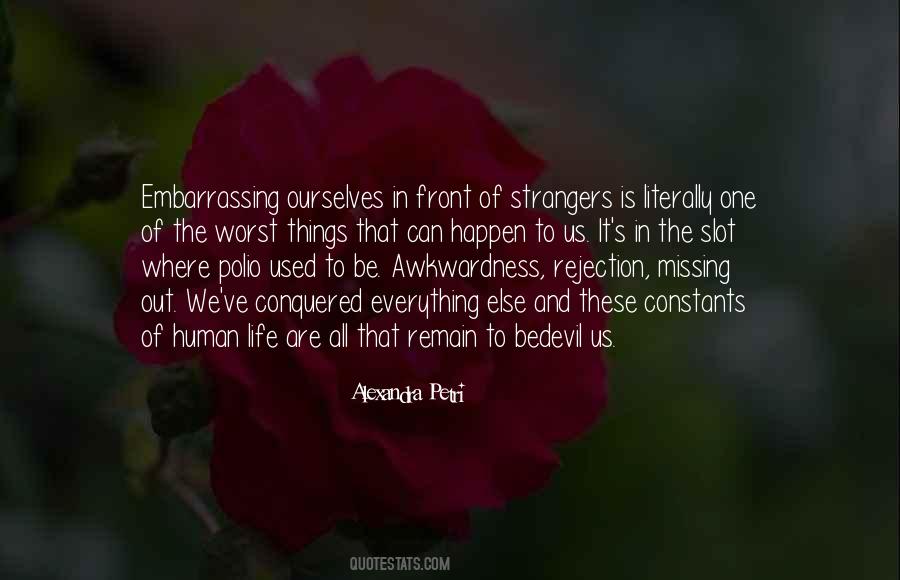 #54. It is true that I have had heartache and tragedy in my life. These are things none of us avoids. Suffering is the price of being alive. - Author: Judy Collins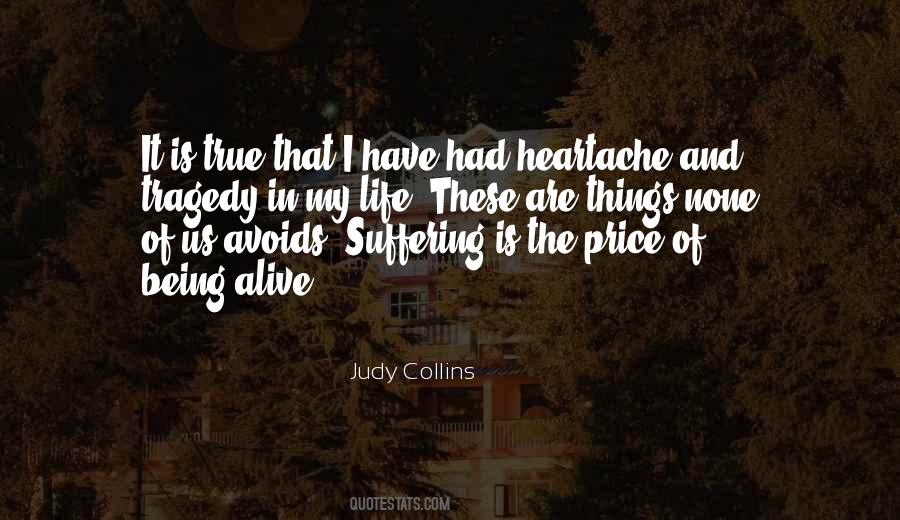 #55. I've written things about that, about how life's really big decisions aren't right or wrong, it's just that one lives different lives. No, I don't think your life went wrong. - Author: Bernhard Schlink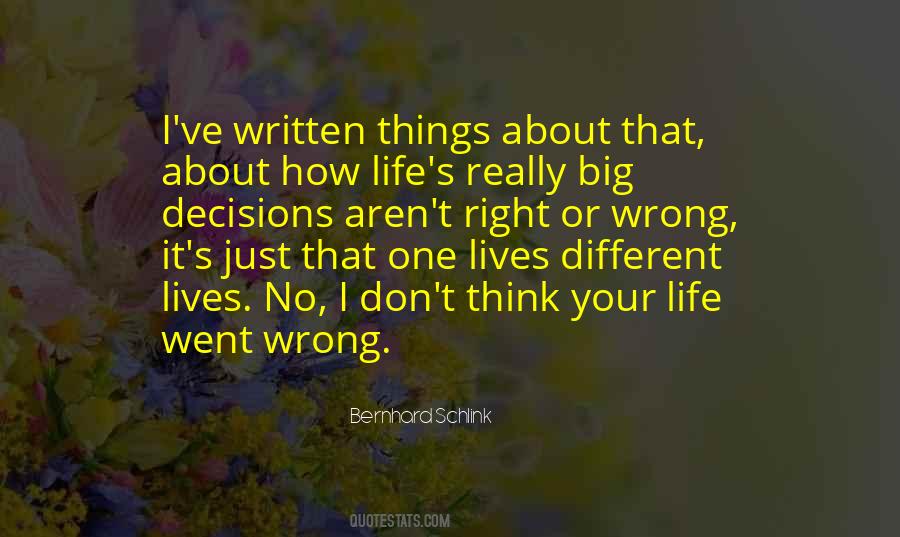 #56. When Marvel approached me about possibly bringing back a She-Hulk solo series, a few touchstones for a take immediately popped into my head - make her an attorney. Make her charming and fun, not weighed down by the various things life will throw at her. Give her a vibrant social life. - Author: Charles Soule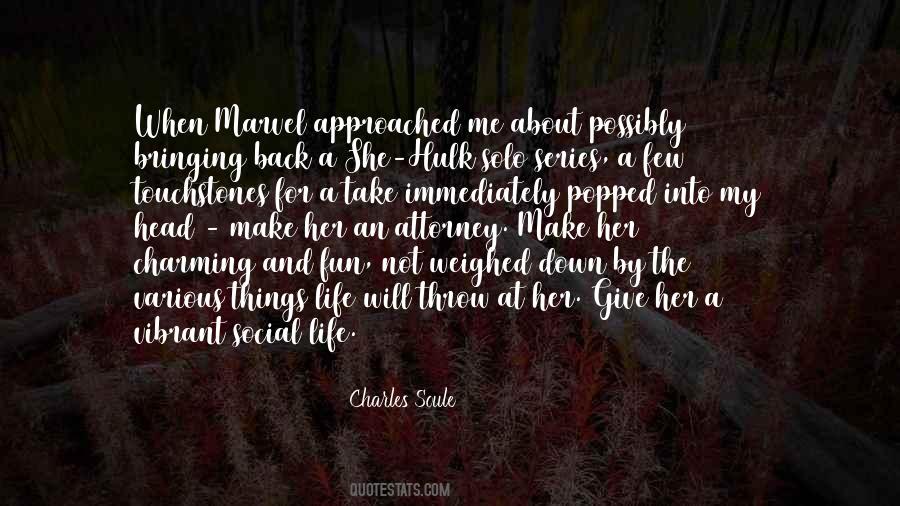 #57. In life we all go through things, but its how you come out of it that matters - Author: Tonya Wilson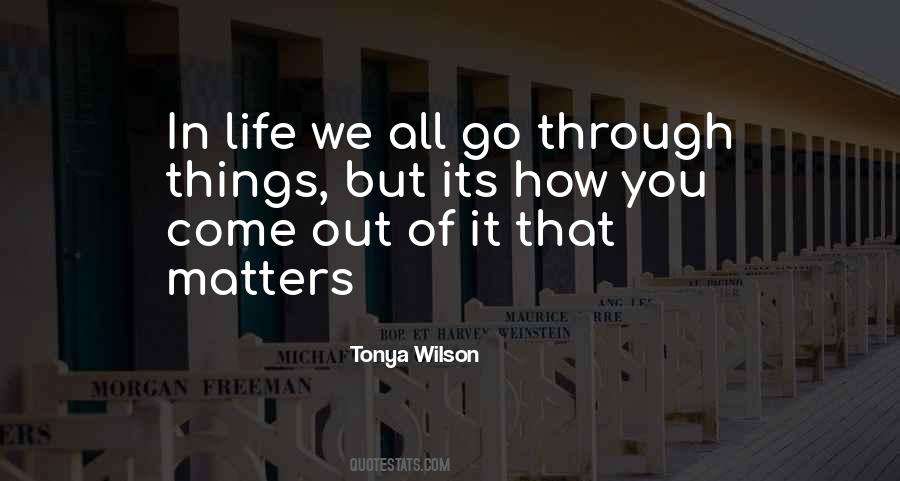 #58. There are two sides to being pigeonholed. There's, 'Oh, no, I'm going to be Chandler for the rest of my life,' but there's also the fact that getting to play Chandler opened up doors to me. It's now my job to find things that shake it up a little bit. - Author: Matthew Perry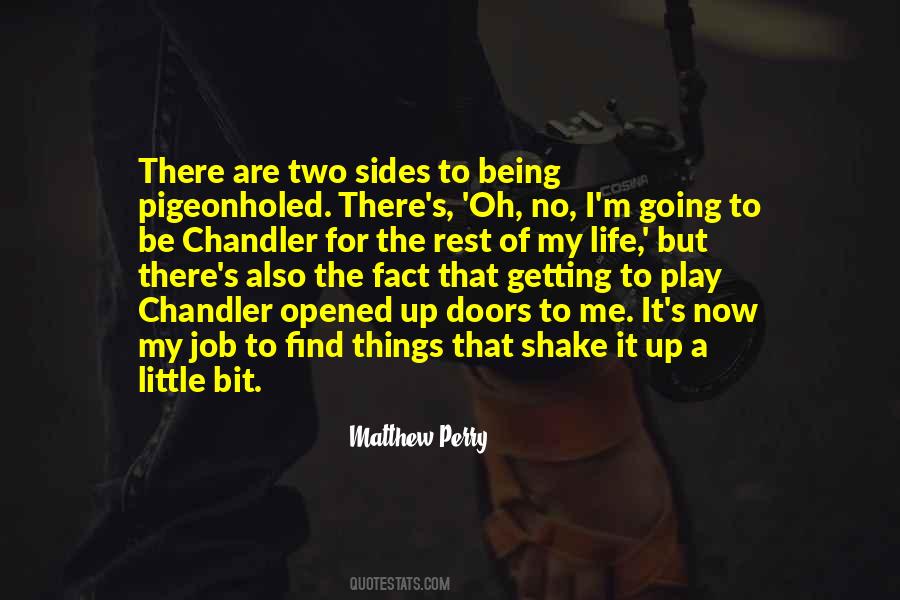 #59. Sometimes the things that destroy you, become the architectural blueprints which make your mind royal. - Author: Curtis Tyrone Jones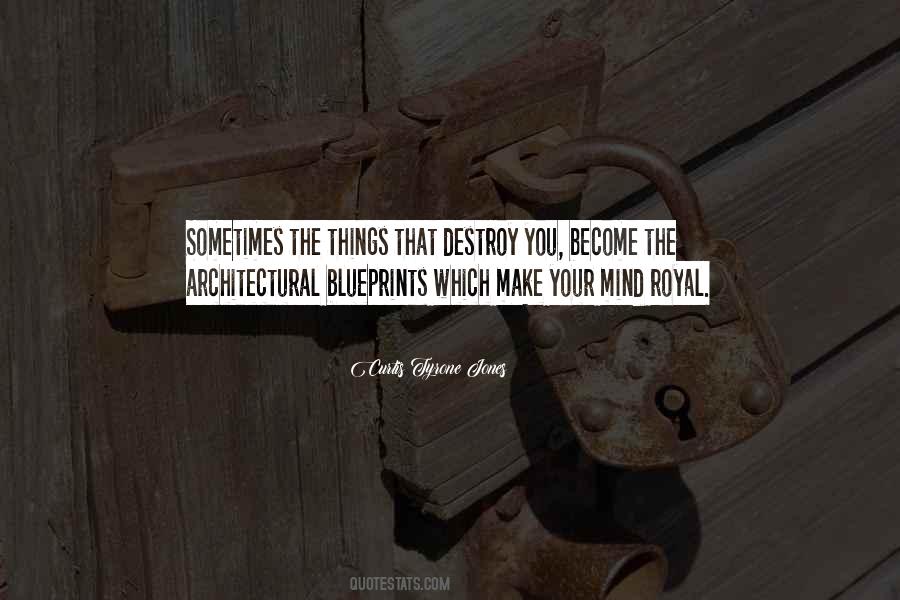 #60. Things were a little untidy, but what did that matter? It was possible to become the slave of things; possible to miss life in preparation for living. - Author: Elizabeth Von Arnim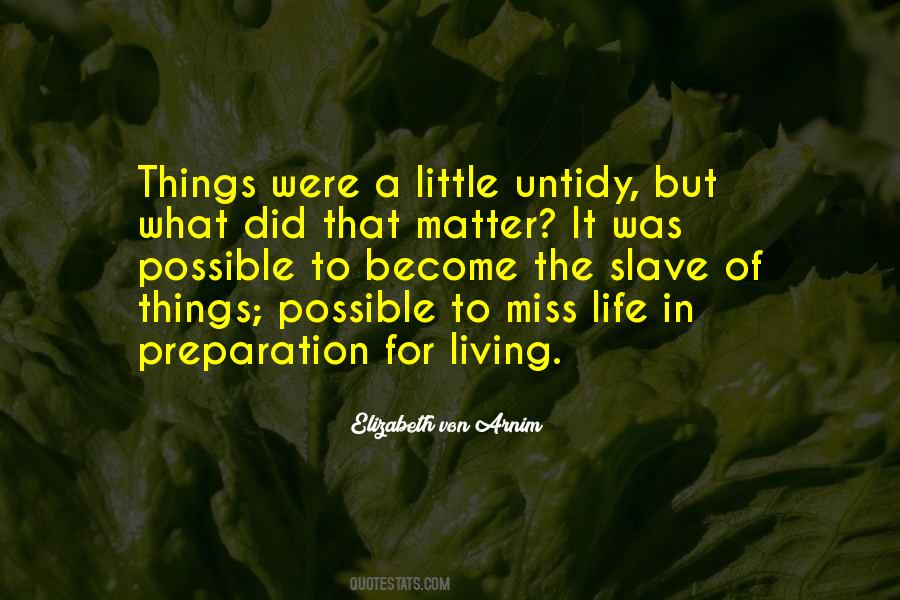 #61. And one of the things I learned is that one should live in spite of. Although, one should eat. Although, one should love. Although, it must die. Even it is often the same even though it pushes us forward. It was despite the fact that it gave me an unhappy anguish that was the creator of my own life. - Author: Clarice Lispector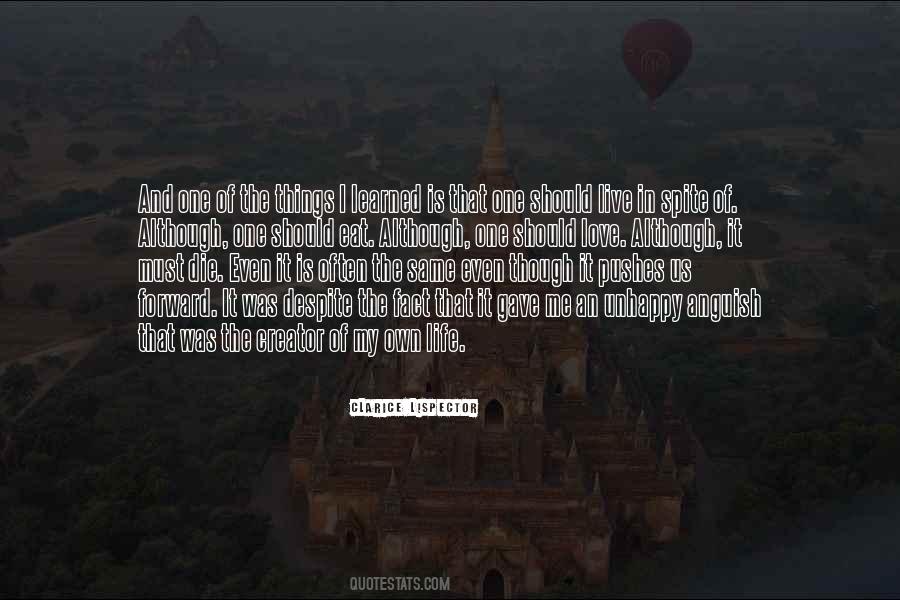 #62. It was a large room, heavily outfitted with the usual badly ventilated furnaces, rows of bubbling crucibles, and one stuffed alligator. Things floated in jars. The air smelled of a limited life expectancy. - Author: Terry Pratchett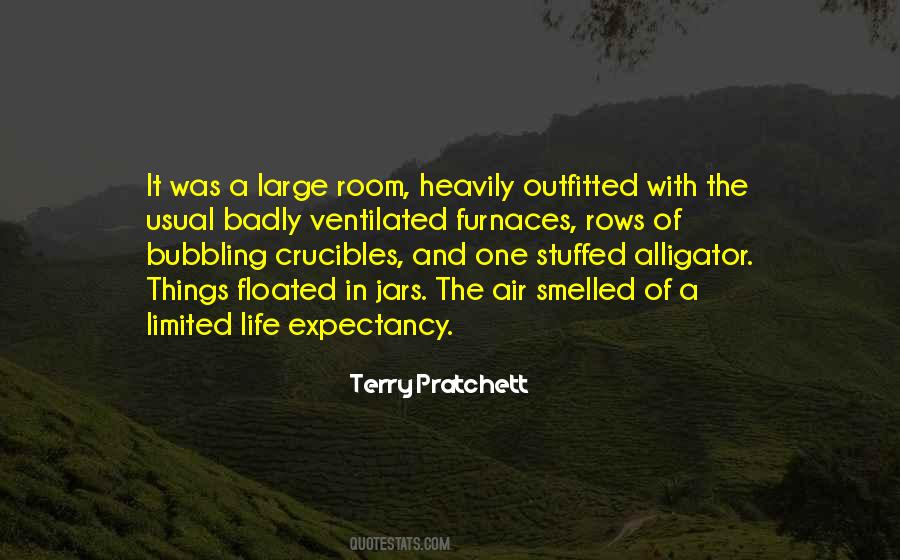 #63. I'm going to live my life. It's nobody else's decision, but mine. I think there are a lot worse things I could be doing with my life than what I choose to do ... - Author: Tony Stewart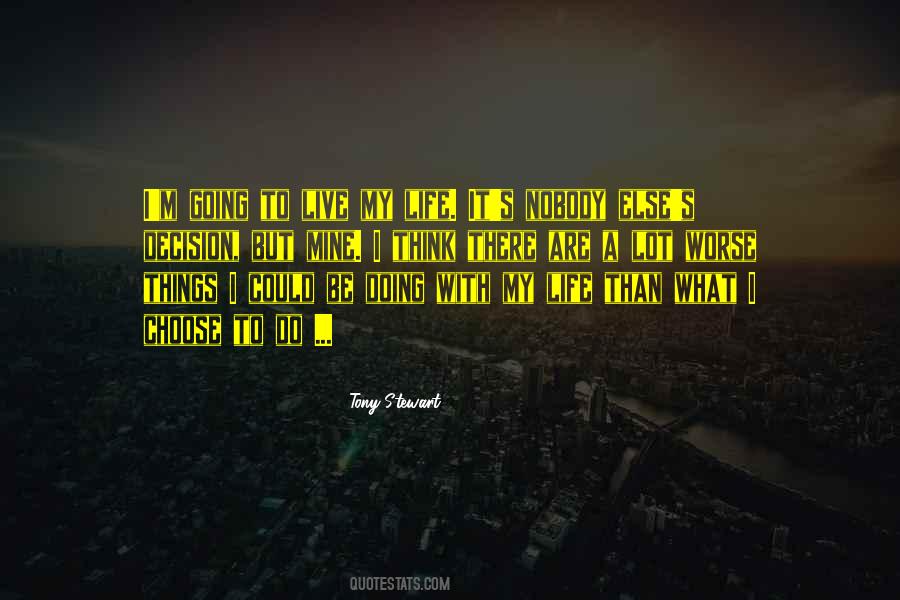 #64. Not that pain is the worst thing in the universe. Interesting things happen when you adapt pain for your own. This thing you were prepared to spend your life flinching from is suddenly just another piece of information. - Author: Shelley Jackson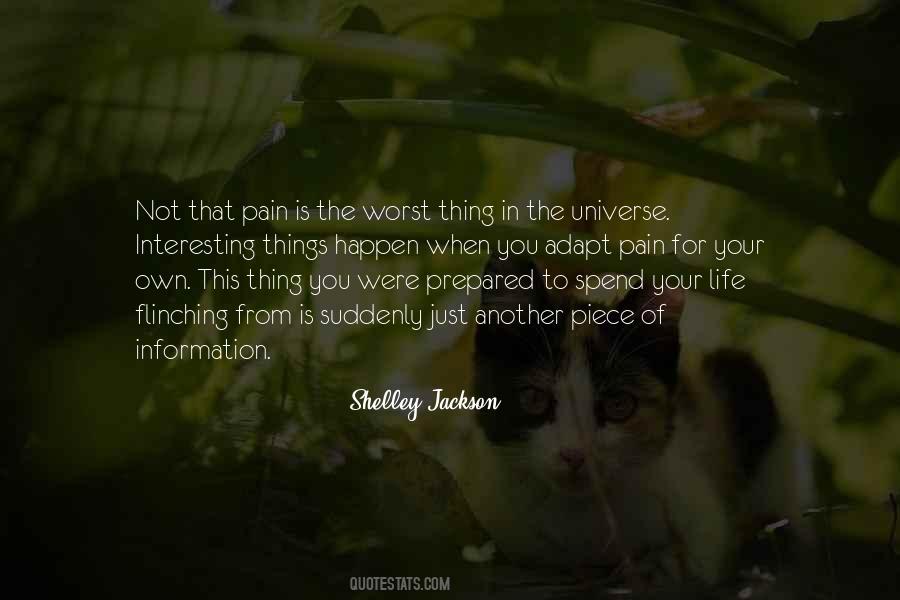 #65. It's life, that's all. There are no happy endings, just happy days, happy moments. The only real ending is death, and trust me, no one dies happy. And the price of not dying is that things change all the time, and the only thing you can count on is that there's not a thing you can do about it. - Author: Jonathan Tropper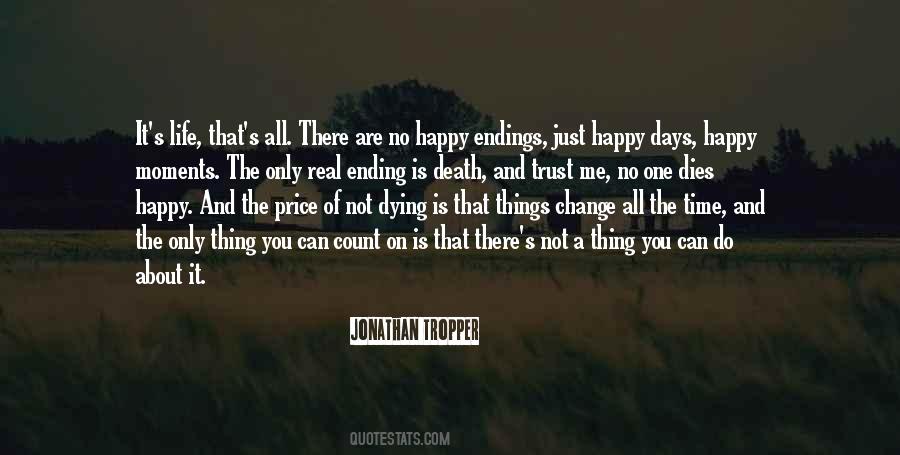 #66. Kindness is an inner desire that makes us want to do good things even if we do not get anything in return. It is the joy of our life to do them. When we do good things from this inner desire, there is kindness in everything we think, say, want, and do. - Author: Emanuel Swedenborg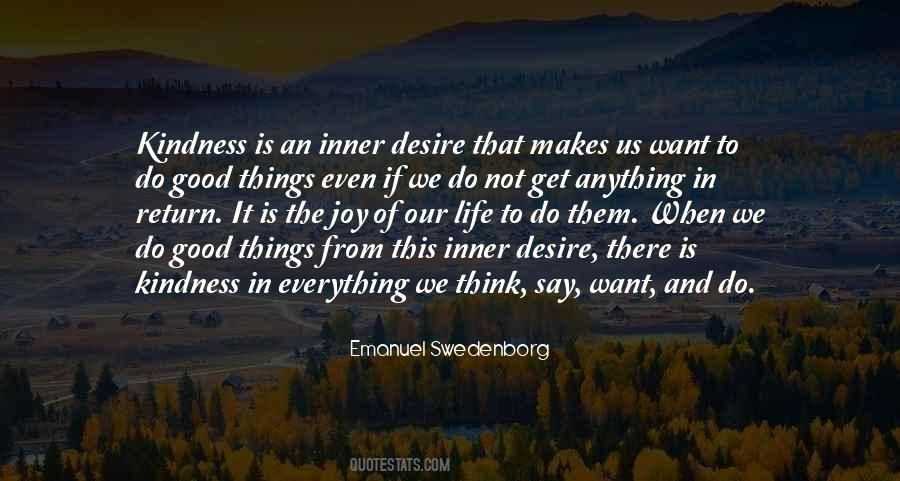 #67. Unfortunately, the simplest things - such as thinking for myself, creating my own reality and being whatever the hell I want to be each day of my life - are a sin. To be a good Christian basically means to give up the reigns of your life and let some unseen force do it for you. - Author: Brandon Boyd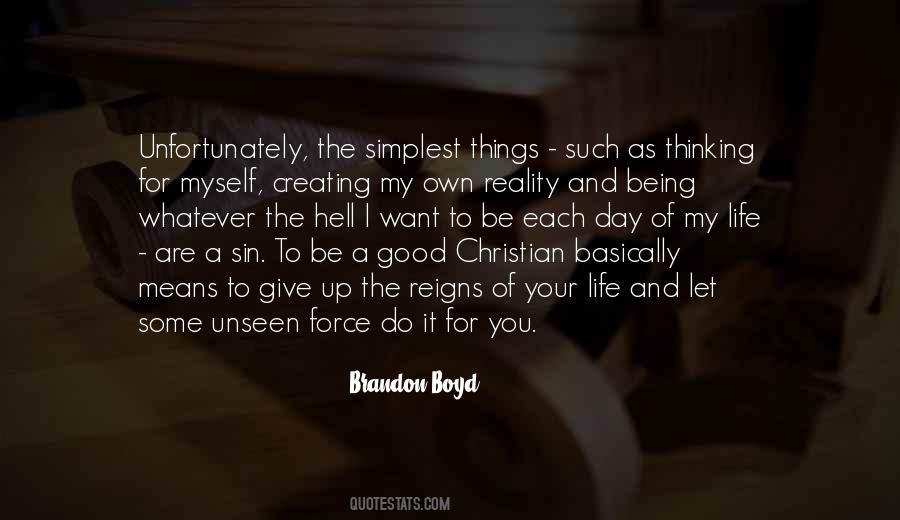 #68. And there I suddenly found my articulate self in a dazzling land of smiling, jostling people wearing and not wearing all sorts of costumes and doing all sorts of clever things. And that's when I knew! What other life could there be but that of an actor? - Author: Cary Grant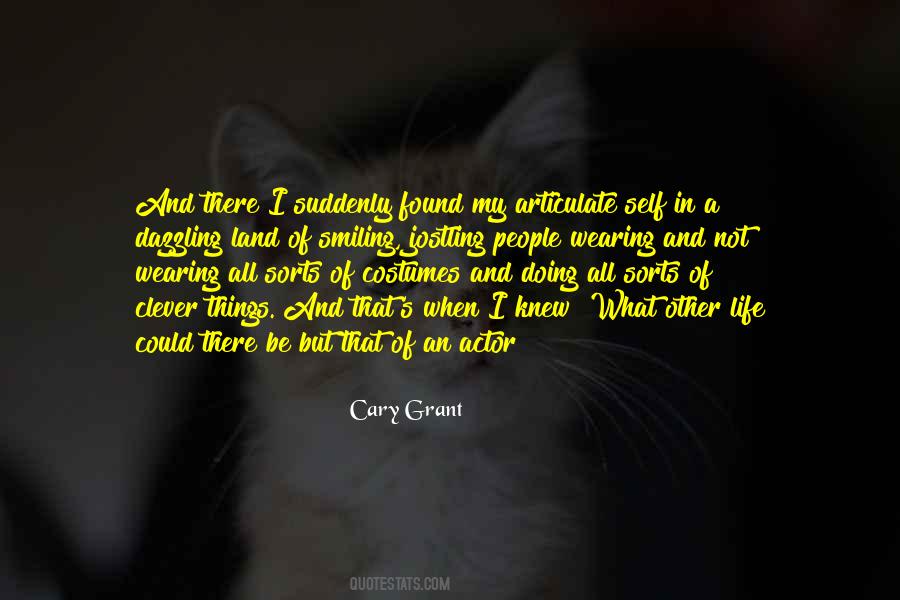 #69. Whenever you get an appetite, you feed yourself. Therefore, fill your belly on wisdom of things old and new. Only swallow the truth, less you choke on the lies. - Author: Amaka Imani Nkosazana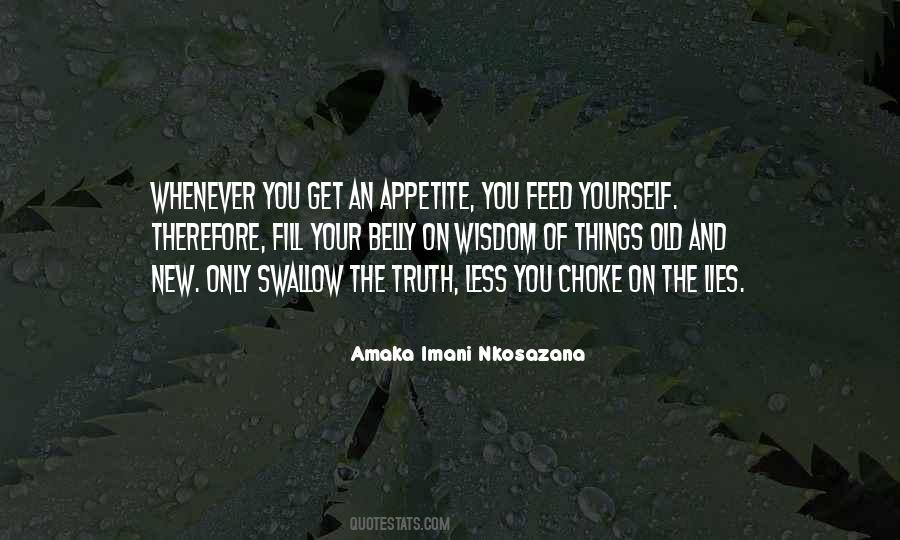 #70. Why should we think upon things that are lovely? Because thinking determines life. It is a common habit to blame life upon the environment. Environment modifies life but does not govern life. The soul is stronger than its surroundings. - Author: William James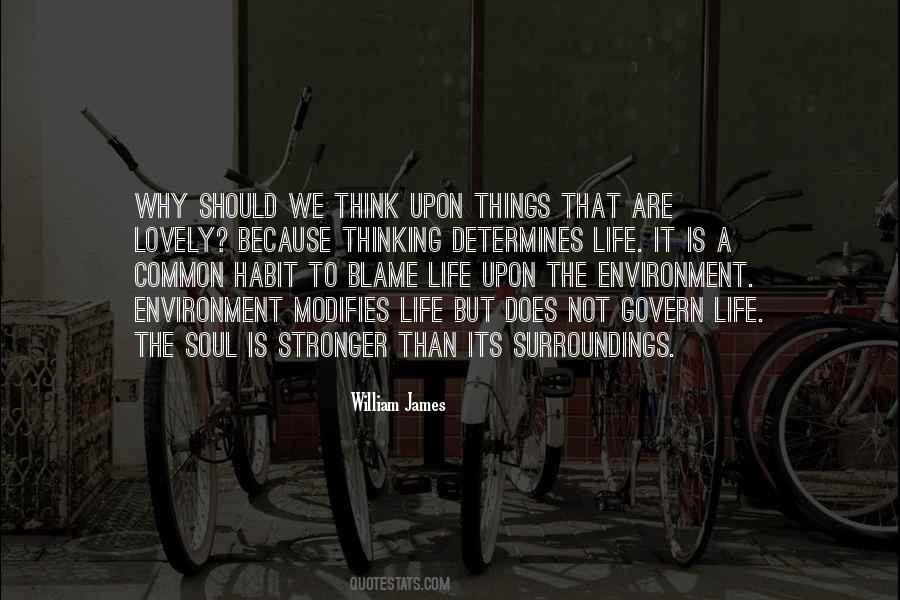 #71. She wondered if literature might lose some of its interest when she reached an age or state of mind where her life was set on such a sure course that the things she read might stop seeming so powerfully like alternate directions for her being. - Author: Charles Frazier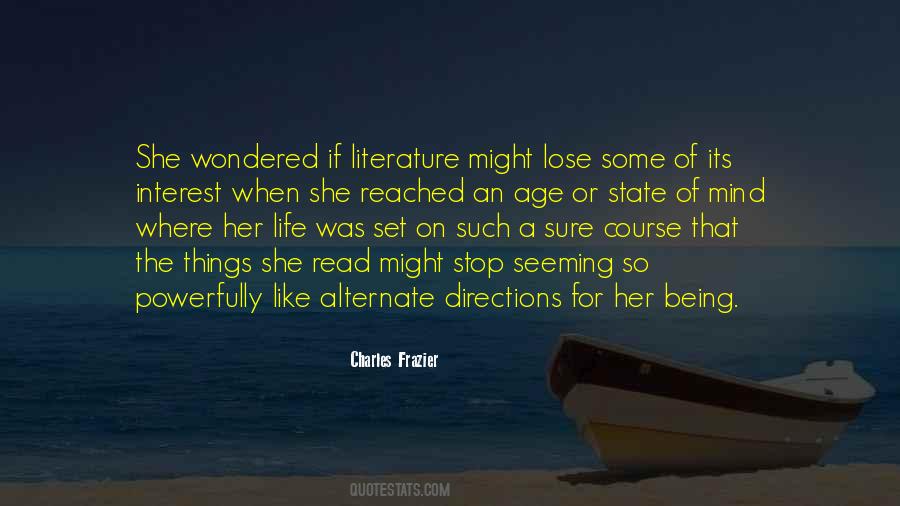 #72. [A]ll her life she [Chantal] had been carefully, heroically watching over mediocre beings who were hardly real, over things of no value. - Author: Georges Bernanos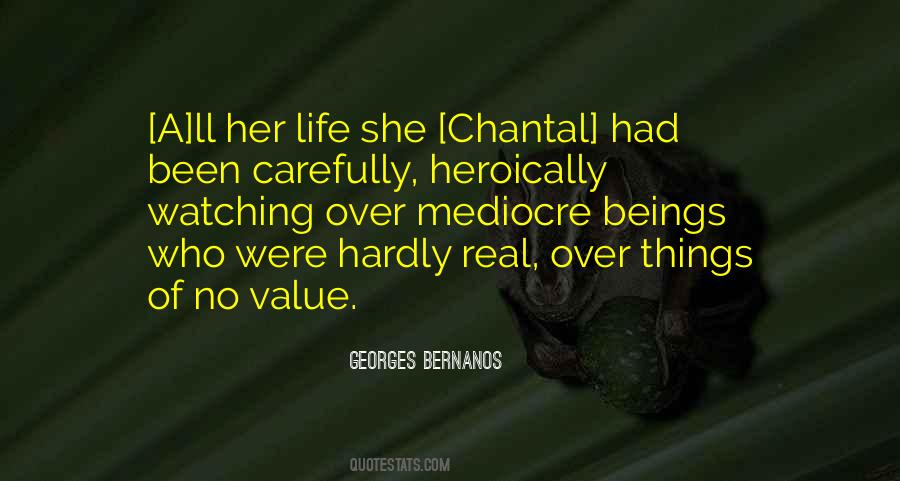 #73. I prefer simple things - monotone melodies repeating the same things all the time. Because I think life is like that. - Author: Rokia Traore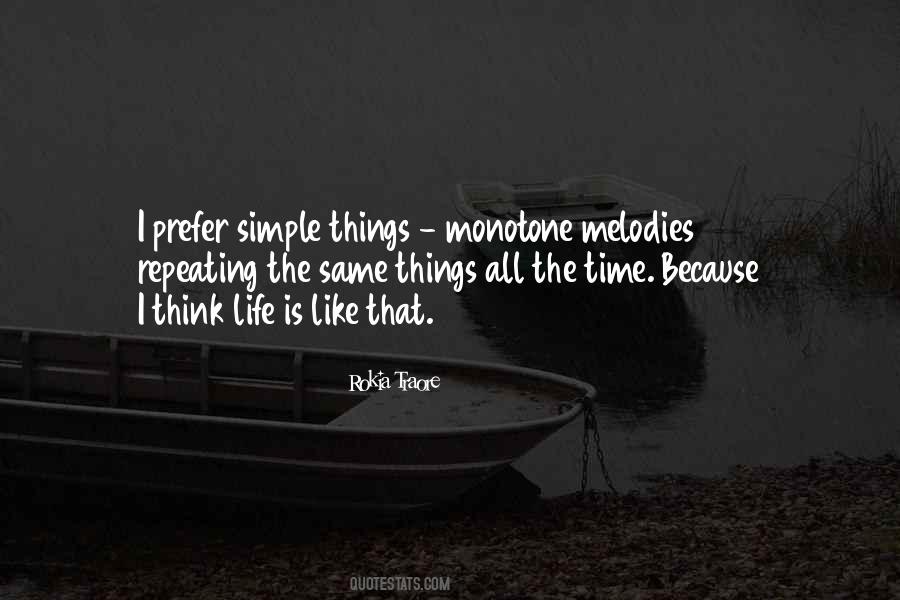 #74. I don't think you should do things in your personal life differently because you're a role model. - Author: Shannen Doherty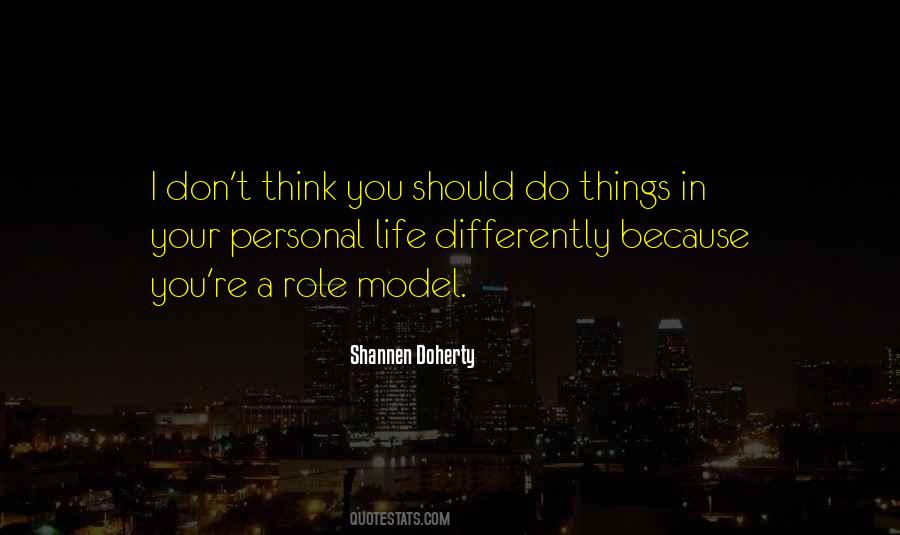 #75. You'll see, you'll come to understand. These big things, these terrible things, are not the important ones. If they were, how could one go on living? No, it is the small, little things that make up a day, that bring fullness and happiness to a life. - Author: Benedict Freedman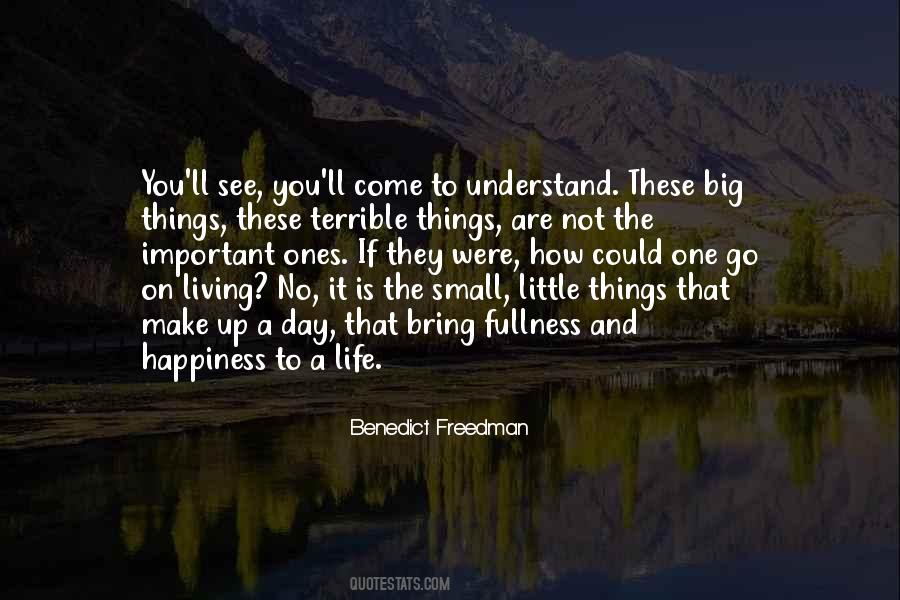 #76. We Are All Capable of Great Things - Author: Angie-Marie Delsante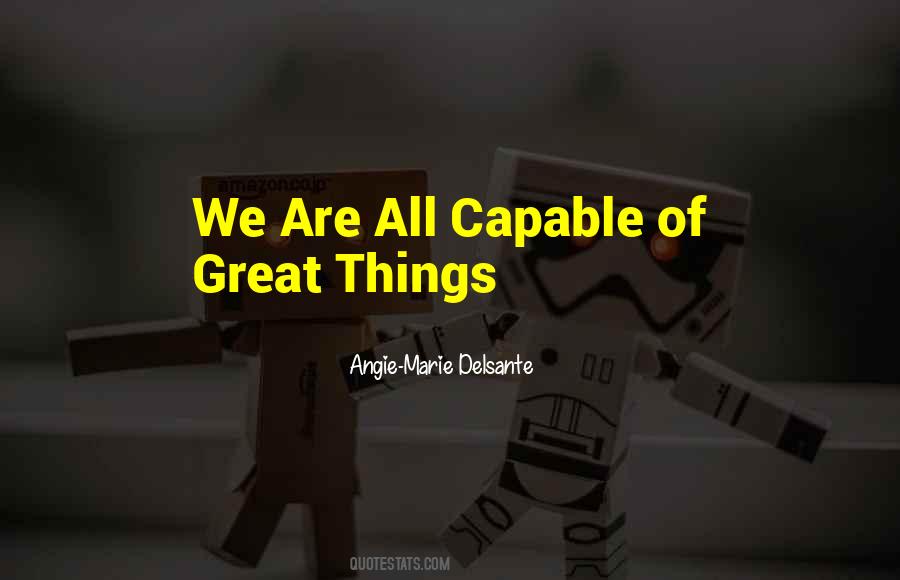 #77. Writers spend too much time among dead things. I thought that was profound and actually true, that you're trying to pump life into something that is inanimate. You see what a sort of audacious thing it is to move these sort of imaginary people around in a very stylized and patterned world. - Author: Martin Amis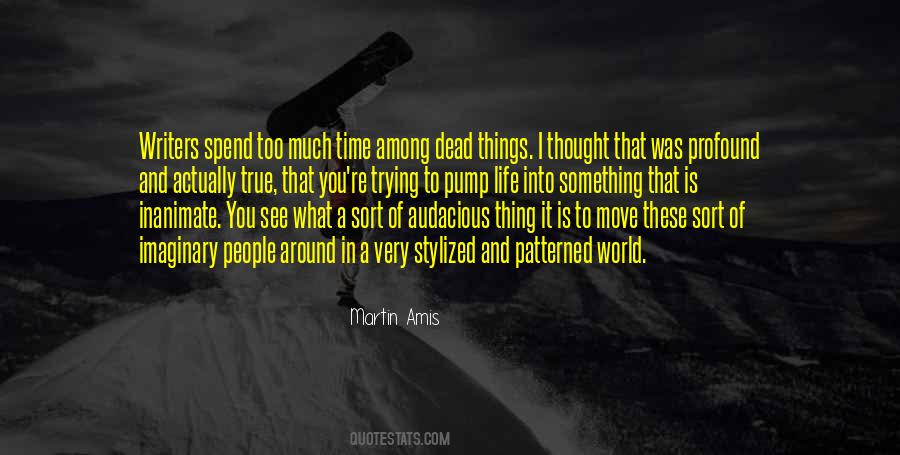 #78. Some things better left unspoken - Author: Karla M. Nashar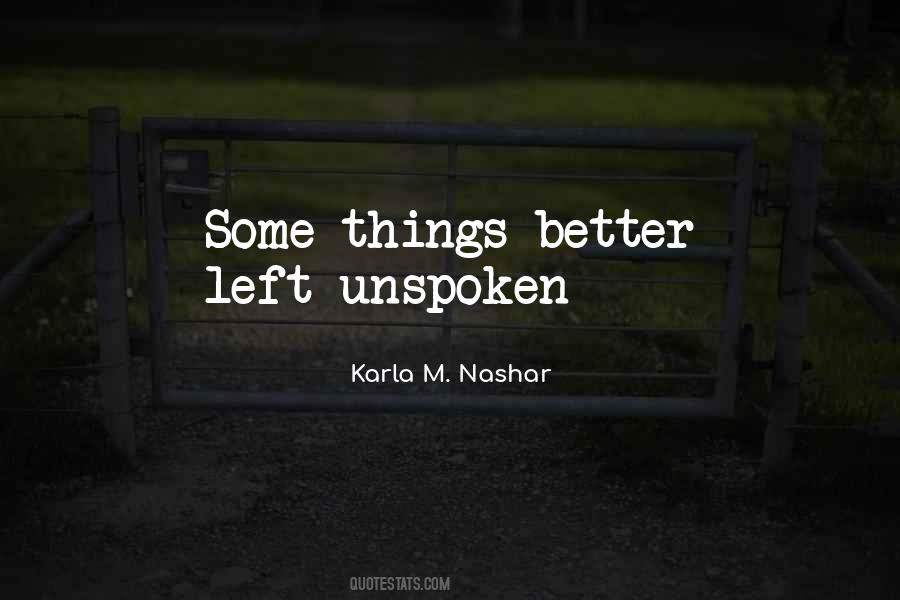 #79. Love required sacrifice and making hard choices and doing things that were bigger than just you. It wasn't something you asked for, or could control or change. It was something you accepted. Love was a force of nature. - Author: Kimberly Derting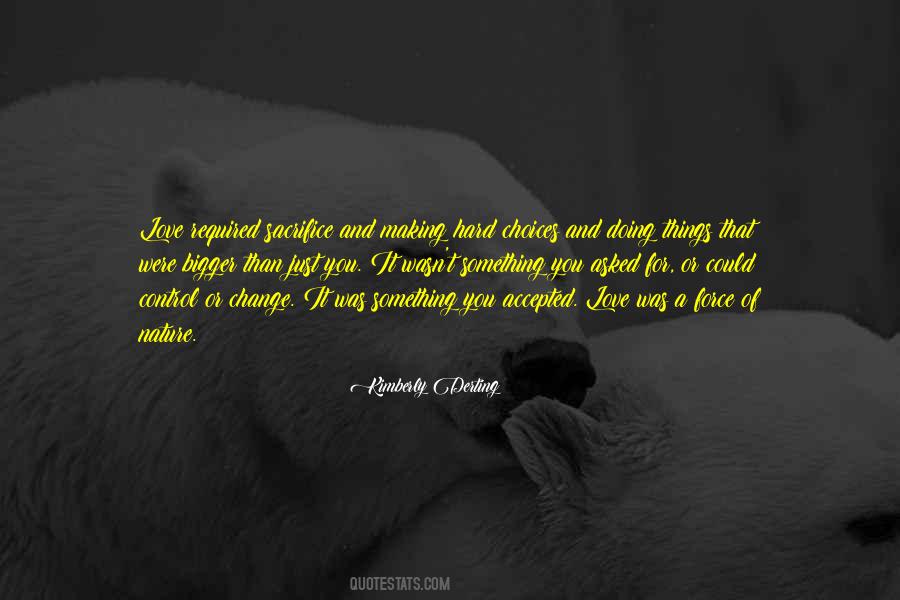 #80. I think you can make good things happen if you look for them. Life is a very positive thing. - Author: Chris Gethard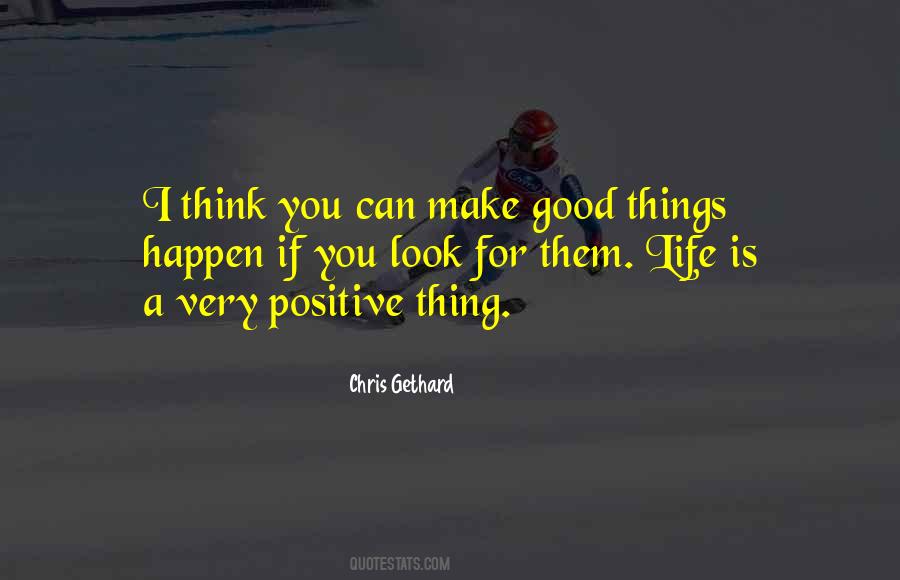 #81. You just realize at the end of the day, everyone is going to have their opinion on your life, more and more so as you go along. As long as you're getting to work and be a part of it - still having fun, learn to just not sweat it so much and keep doing the things you love. - Author: Dianna Agron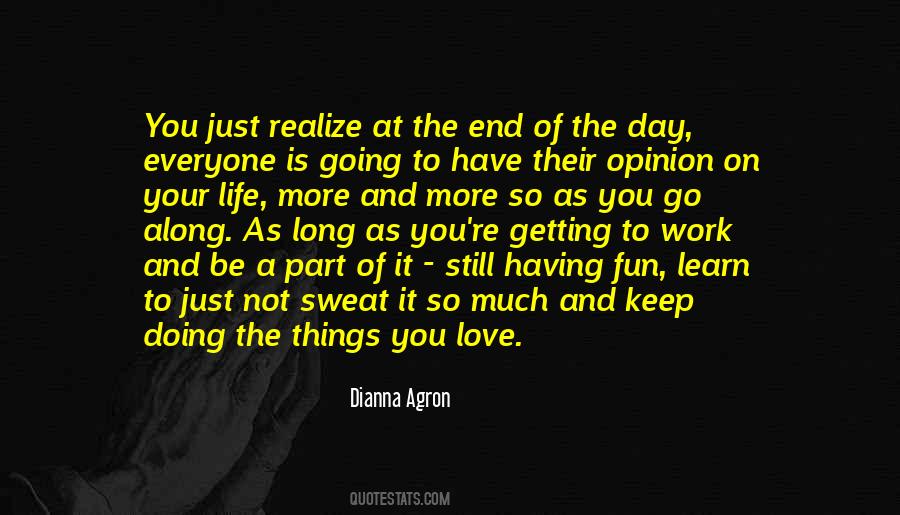 #82. Anticlimax is, of course, the warp and way of things. Real life seldom structures a decent denouement. - Author: Anonymous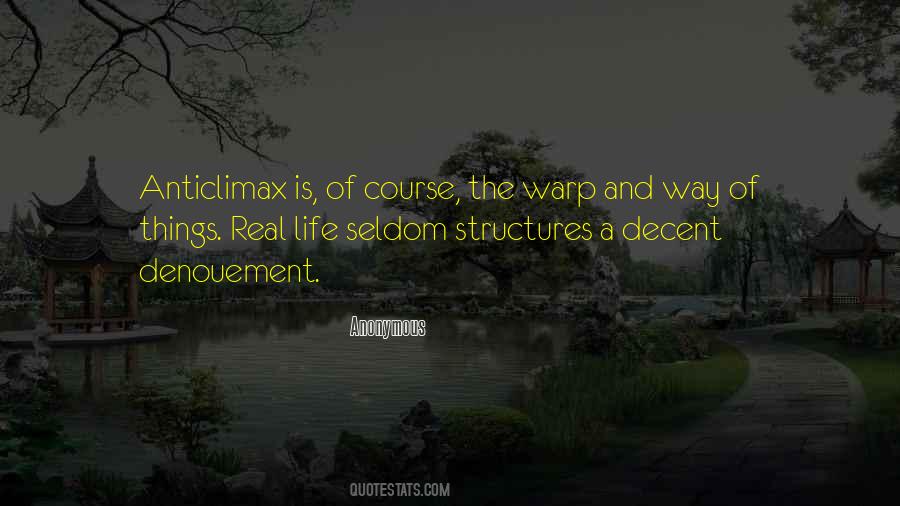 #83. The good things in life are free, except for health care, and electricity. - Author: Dov Davidoff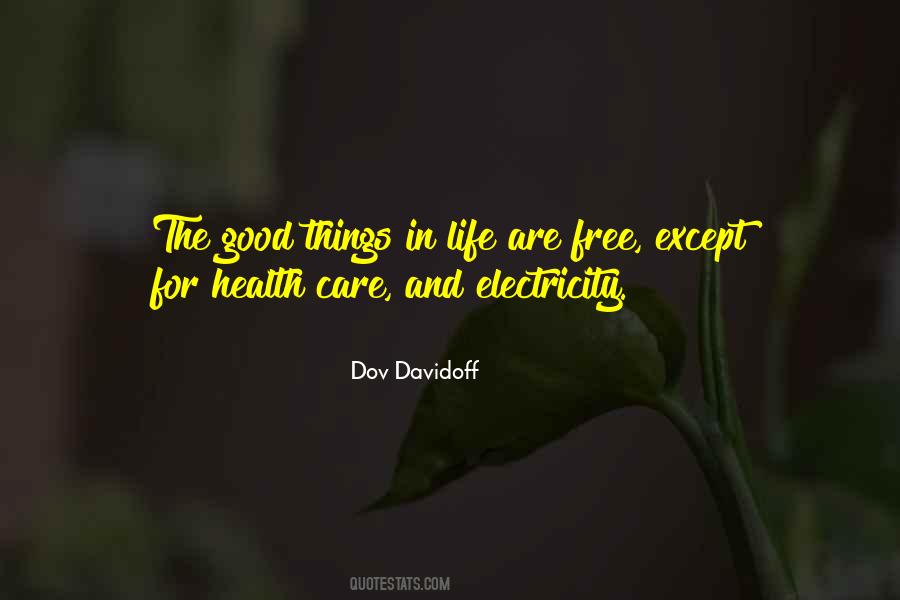 #84. One of life's fundamental truths states, 'Ask and you shall receive.' As kids we get used to asking for things, but somehow we lose this ability in adulthood. We come up with all sorts of excuses and reasons to avoid any possibility of criticism or rejection. - Author: Jack Canfield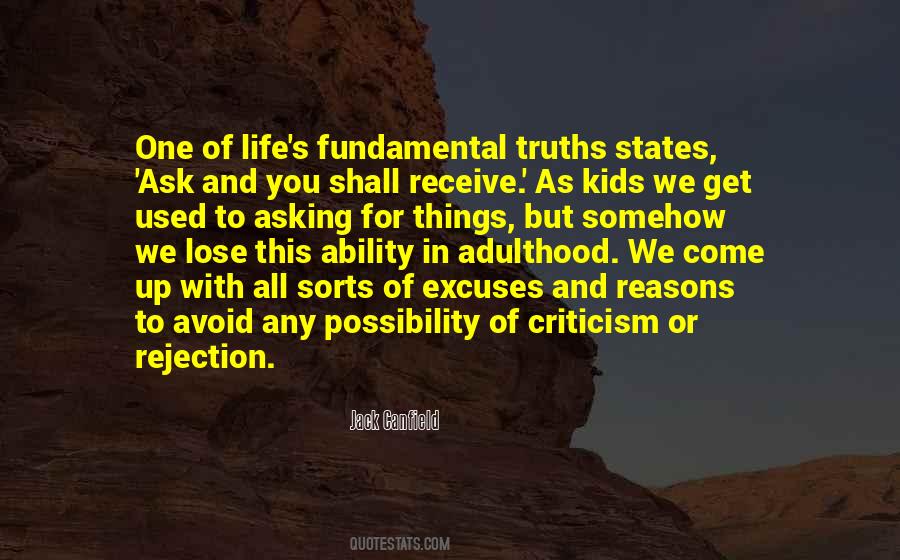 #85. Don't do things to not die, do things to enjoy living. The by-product may be not dying. - Author: Bernie Siegel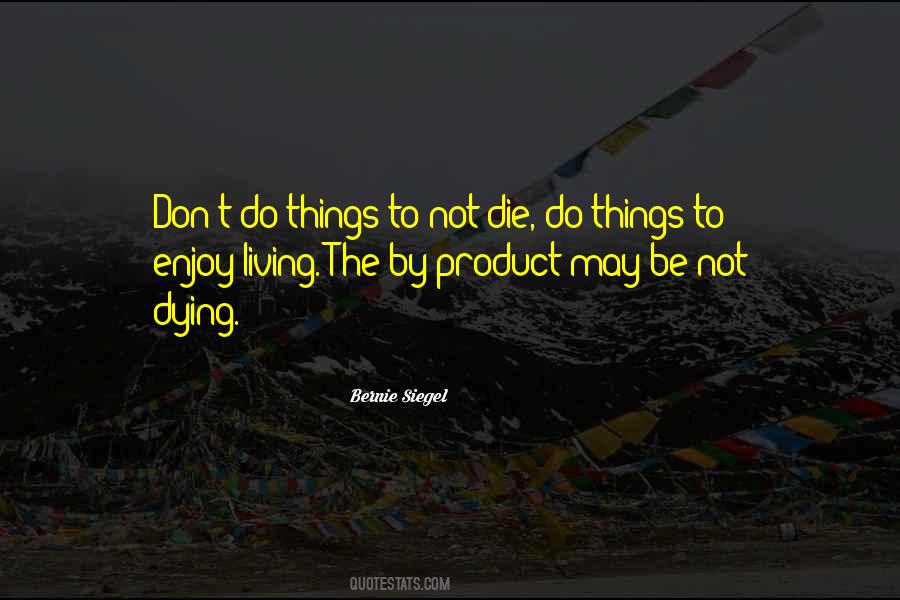 #86. Does it matter that people and things
Have words,
Have names?
If not,
Why read any book?
A litany of useless letters
Detached from bone, muscle.
Or are words the only things that make the muscle, bone, memory, movement,
Person
Real? - Author: Stasia Ward Kehoe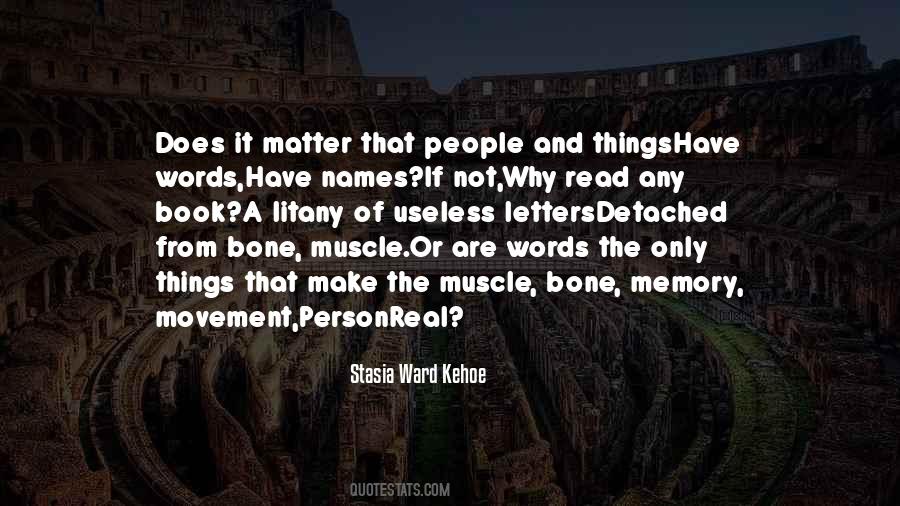 #87. My plan was to never get married. I was going to be an art monster instead. Women almost never become art monsters because art monsters only concern themselves with art, never mundane things. Nabokov didn't even fold his own umbrella. Vera licked his stamps for him. - Author: Jenny Offill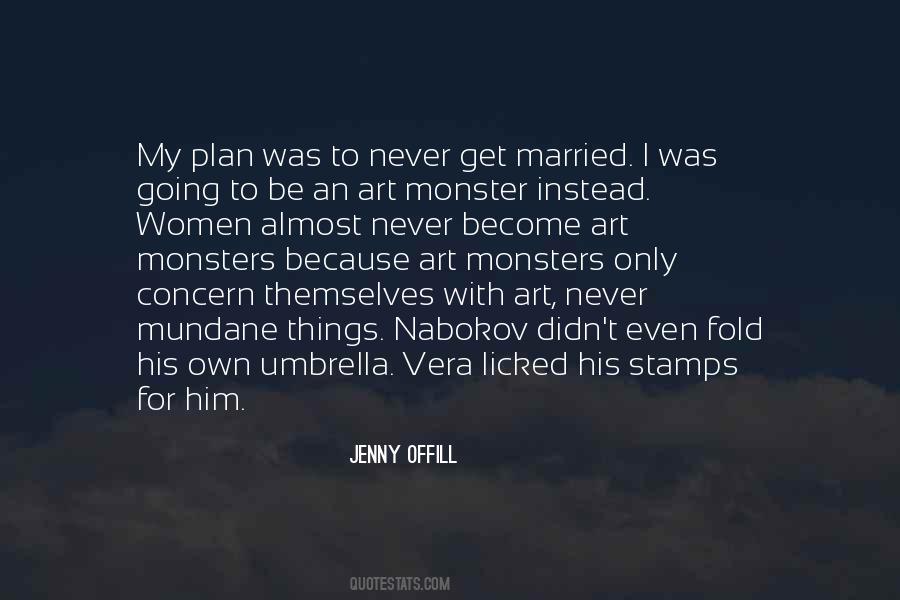 #88. Mastery is not measured by the number of terrible things you eliminate from your life, but by the number of times you eliminate calling them terrible. - Author: Neale Donald Walsch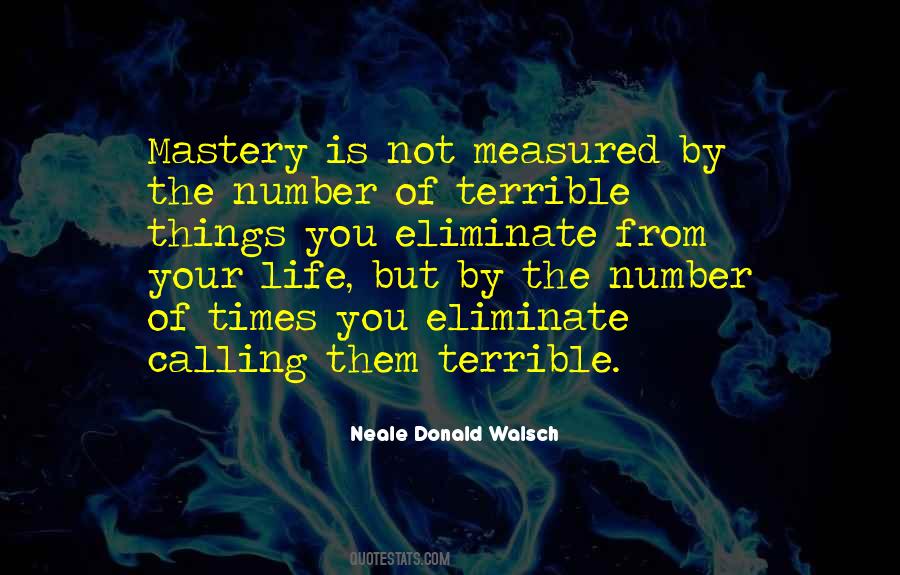 #89. We all have to start with ourselves. It is time to walk the talk. Take the journey of making very difficult decisions. Start removing things from your life that are not filling your cup and adding things that bring joy in to your life. - Author: Lisa Hammond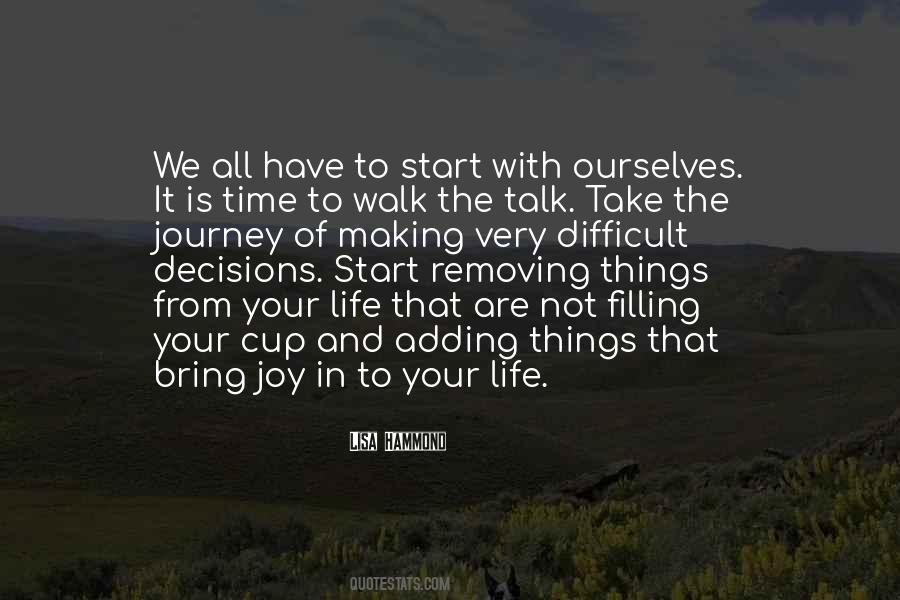 #90. Forced relations between two things that superficially appear foreign create a new, instantaneous state. Authentic poetry asks nothing more. A kinship completely nonexistent moments ago was created by the poet's authority, just as it might have been created in life by the authority of chance. - Author: Odysseus Elytis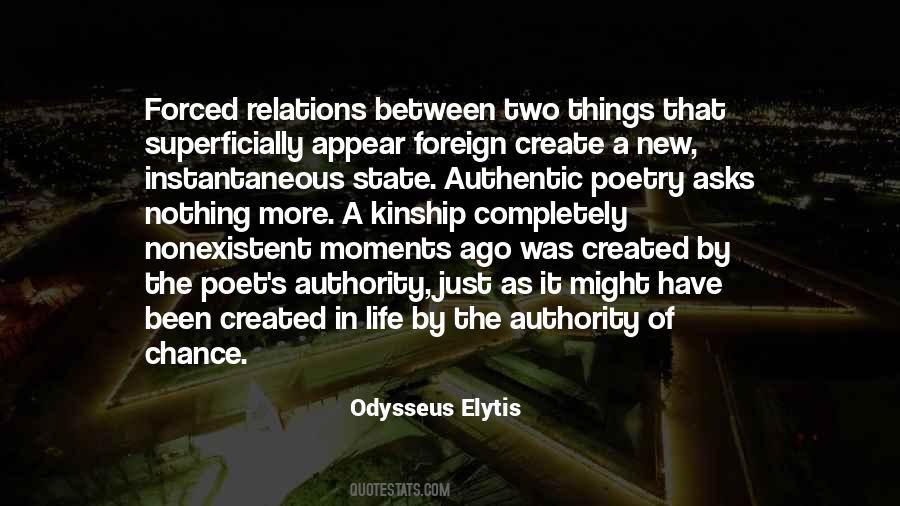 #91. Men spend their life down here in the worship of petty (or mean) interests and the search of perishable things, and with that ("et avec cela", Fr.) they pretend to perpetuate for all eternity their self ("moi", Fr.) so hardly worthy ("digne", Fr.) of it. - Author: African Spir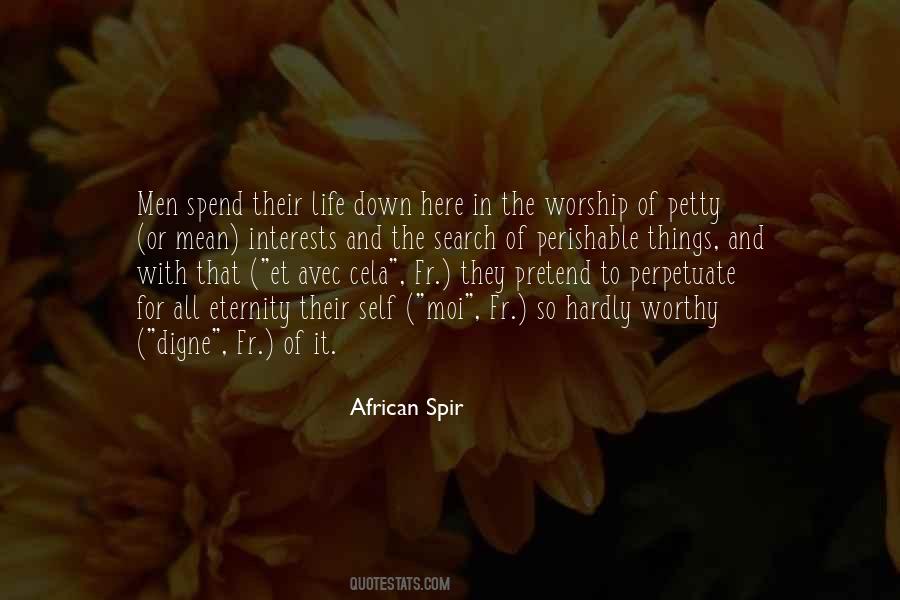 #92. It occurred to her then that there was a reason age drained the pleasure out of life, slowly stripping away all the things you enjoyed or took for granted. It was so you wouldn't need convincing when the time came. You'd be ready, because everything good in life was gone. - Author: Laura McHugh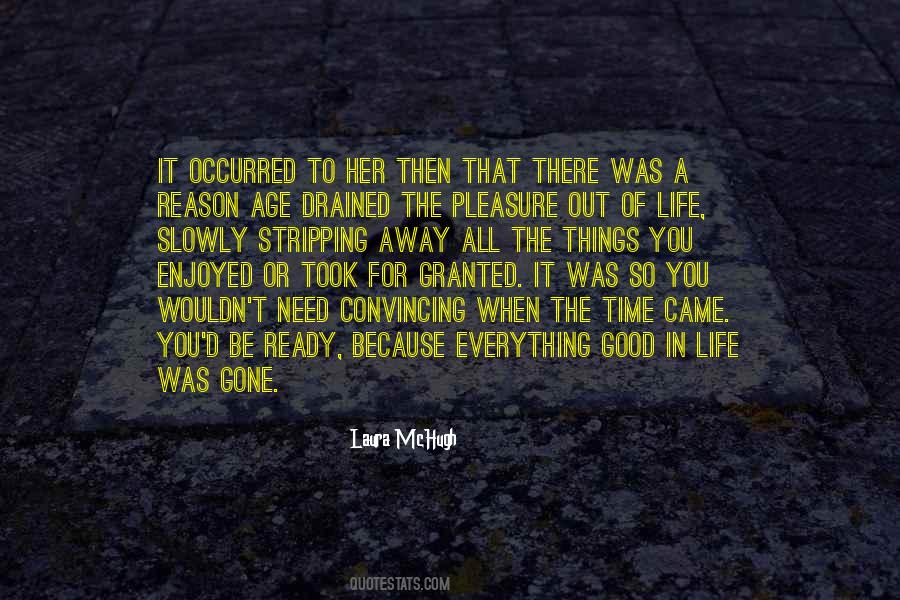 #93. Cherish every relationship in your life. There are certain things in life that can't be fixed if broken! - Author: Avijeet Das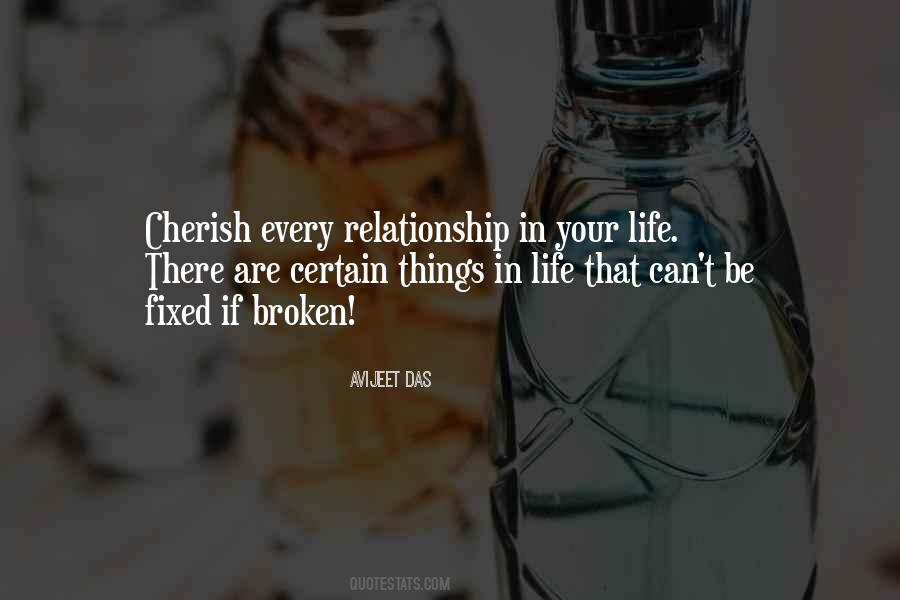 #94. If you can go through life being brave enough to run toward the things you deserve, and the people and the things that you love, then you will be rewarded with so much love and so much joy in return. - Author: Elle Botz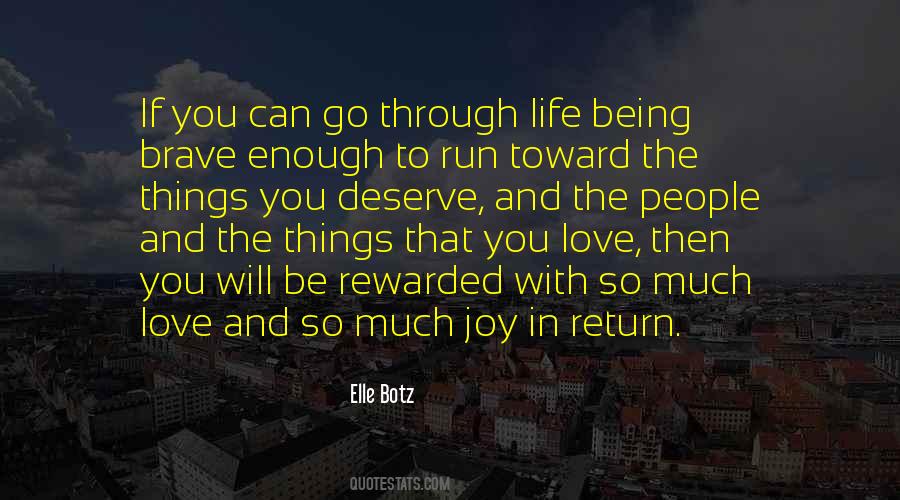 #95. Wisdom is having things right in your life
and knowing why. - Author: William Stafford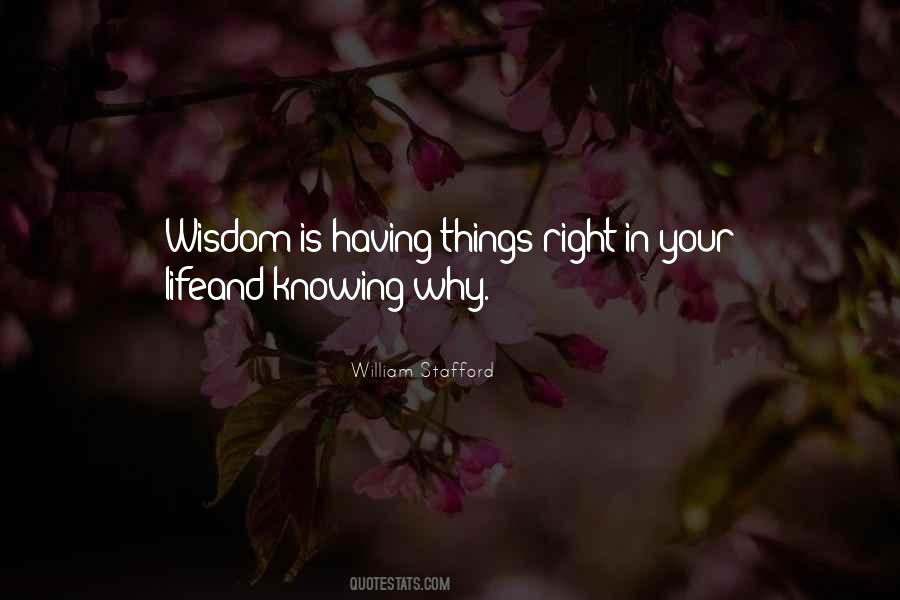 #96. As confusing, unpredictable and stressful as life may be, always remember, it is never incorrect to be kind. When lost, just do nice things. - Author: Sean Plott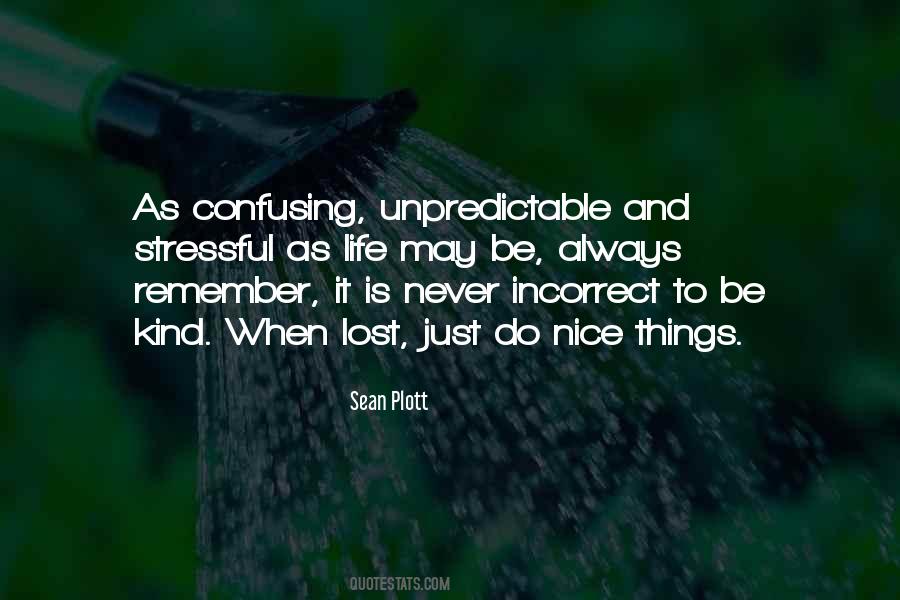 #97. There is always something through which things get into our minds. There is always something in mind which does not only control the mind, but also the life we live in totality! - Author: Ernest Agyemang Yeboah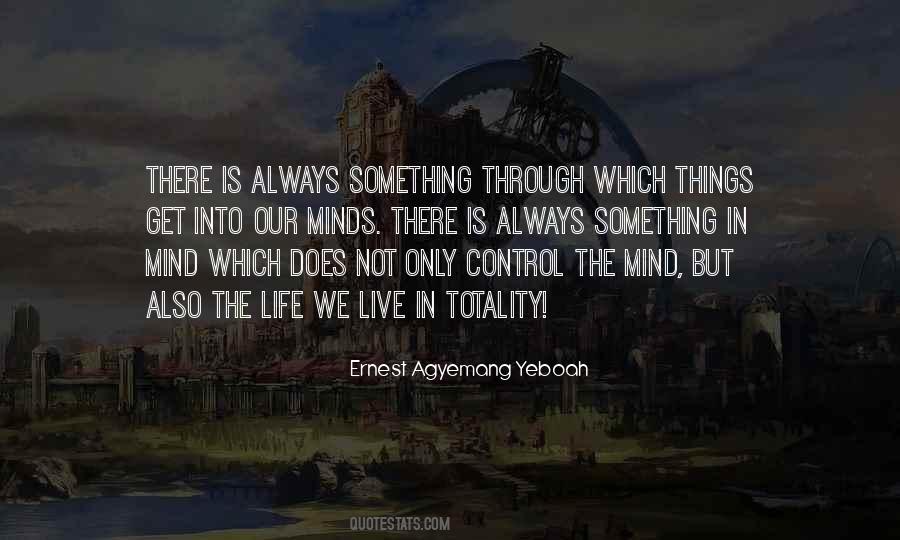 #98. Three things ruin a man," Harry would tell a reporter long afterward. "Power, money, and women. "I never wanted power," he said. "I never had any money, and the only woman in my life is up at the house right now." On - Author: David McCullough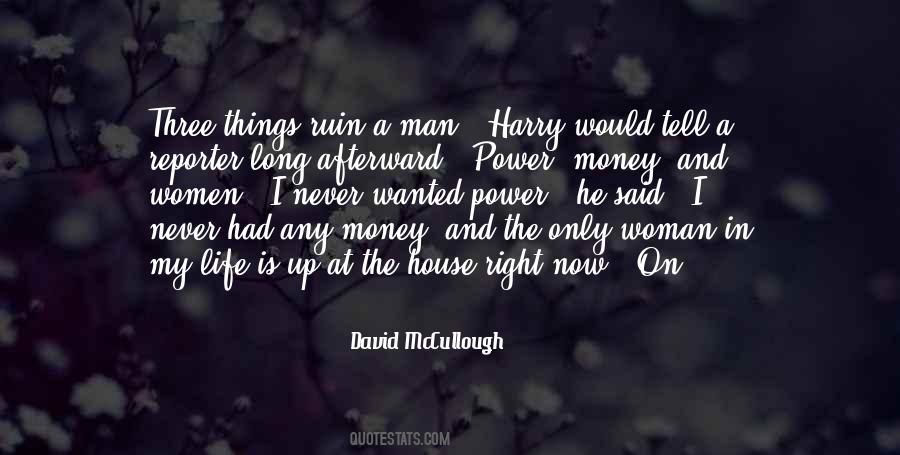 #99. I swear on my life that I do not do these things on purpose, - Author: Rachel Vincent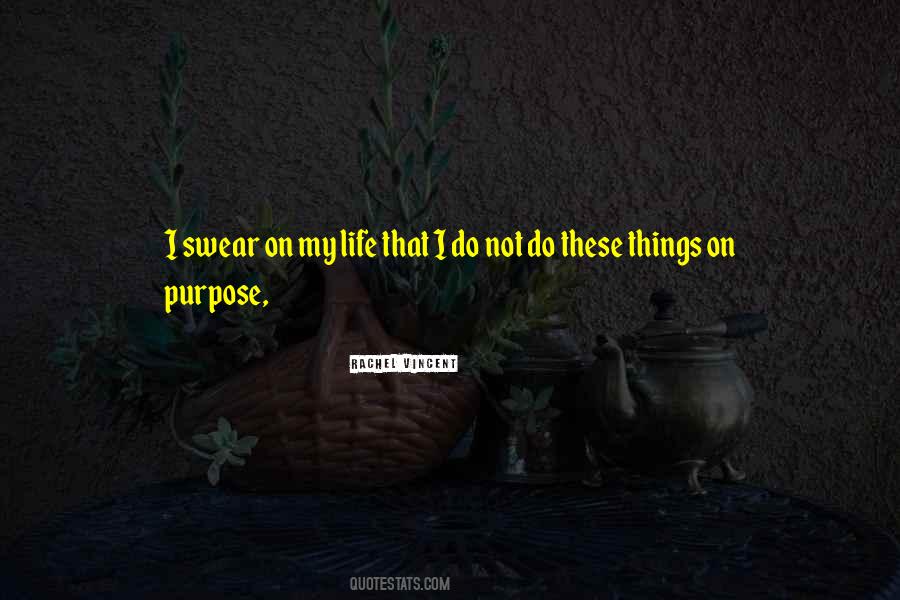 #100. In a sense,' Foucault concluded with a flourish, 'all the rest of my life I've been trying to do intellectual things that would attract beautiful boys. - Author: James Miller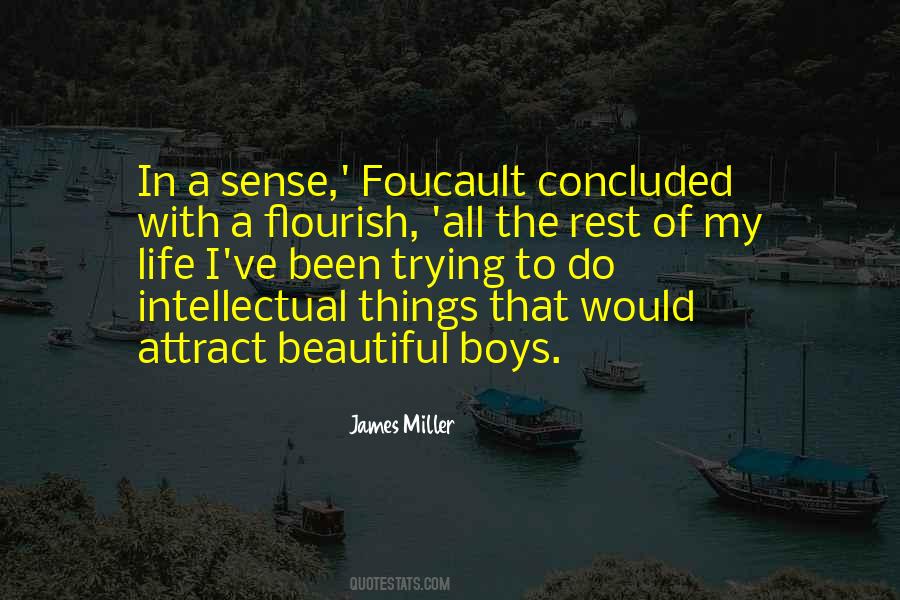 Famous Authors
Popular Topics