Life They Say Famous Quotes & Sayings
List of top 100 famous quotes and sayings about life they say to read and share with friends on your Facebook, Twitter, blogs.
Top 100 Quotes About Life They Say
#1. I know there was nothing anyone could do. But they were taking away an 86-year-old grandmother to a horrible death, and the village where she had lived all her life, where everybody loved her, had just looked on. The only thing that anyone had had to say was, 'Mrs. Bloch, don't be afraid ... - Author: Heda Margolius Kovaly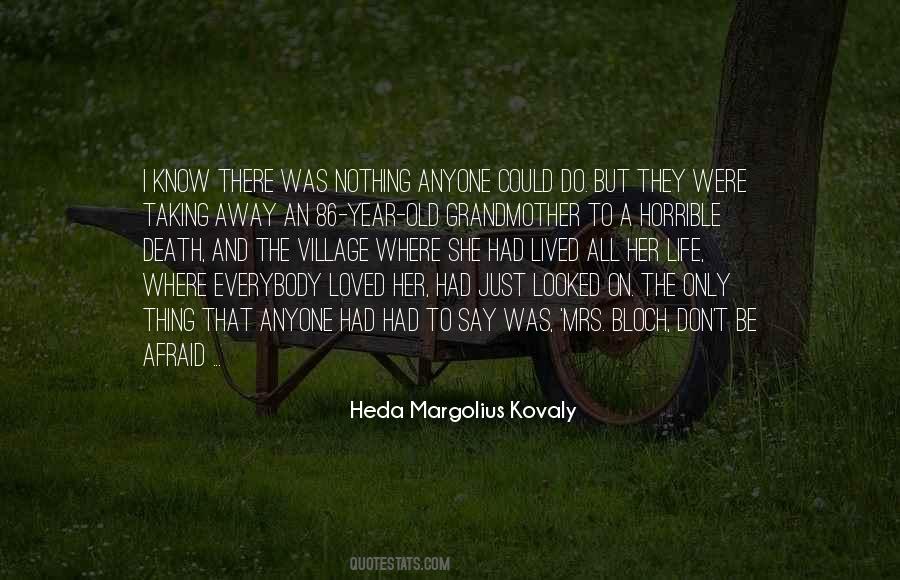 #2. My own inclination is to skew towards humor. They say that some people view life as a comedy, others as a tragedy. Me? Comedy all the way. - Author: Lauren Willig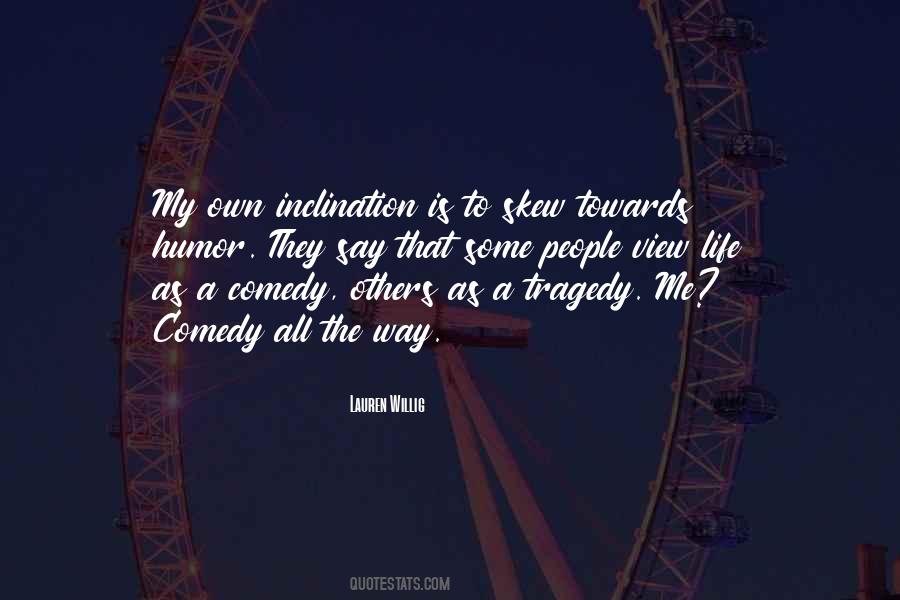 #3. What are the things that you can't see that are important? I would say justice, truth, humility, service, compassion, love ... They're the guiding lights of a life. - Author: Jimmy Carter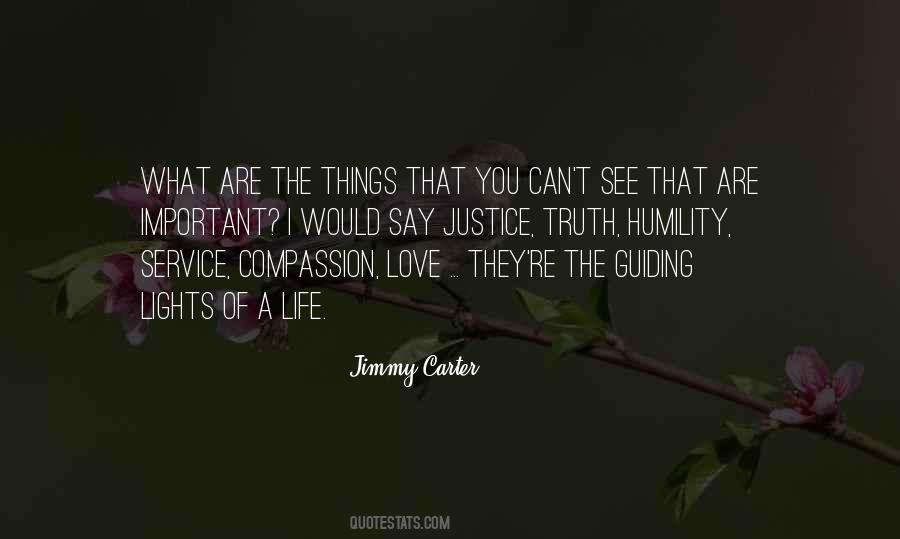 #4. They say everything that can be written has been written. I say we are just getting started. - Author: Andrew Barger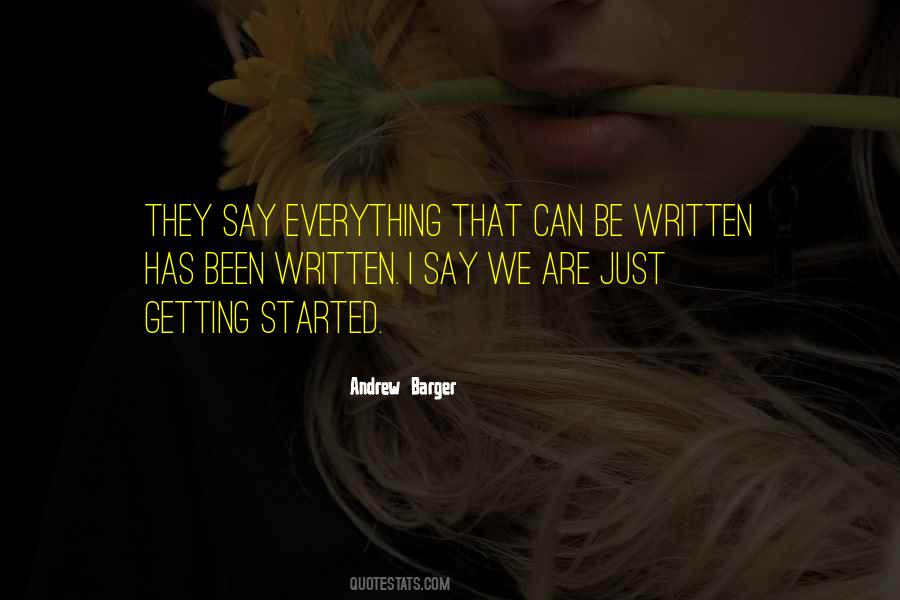 #5. Everything in my life that I value has been gained at the cost of not saying what I really think and saying what they want me to say. - Author: Elizabeth Moon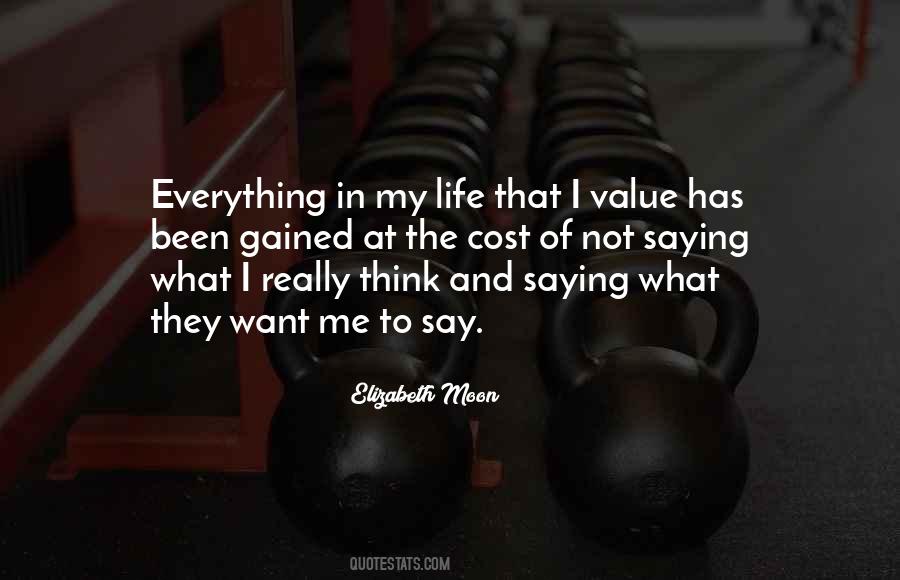 #6. Men are what they are because of what they do, not what they say. - Author: Fredrik Backman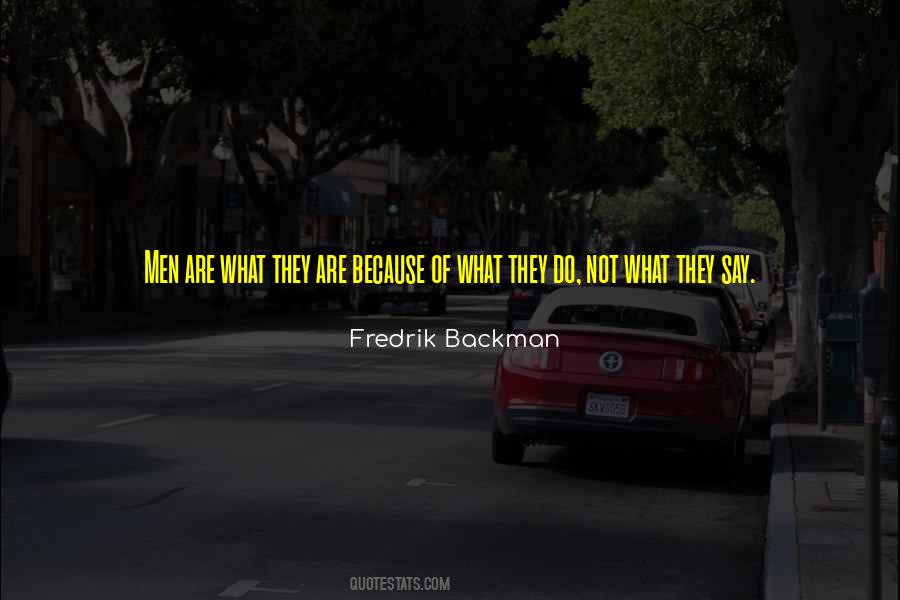 #7. It was pretty miserable wretches that minded at all whether they were wet or dry. He could not understand why such people had been born. "It's nothing but damned eccentricity to want to be dry" he would say. "I've been wet more than half my life and never been a whit the worse for it. - Author: Halldor Laxness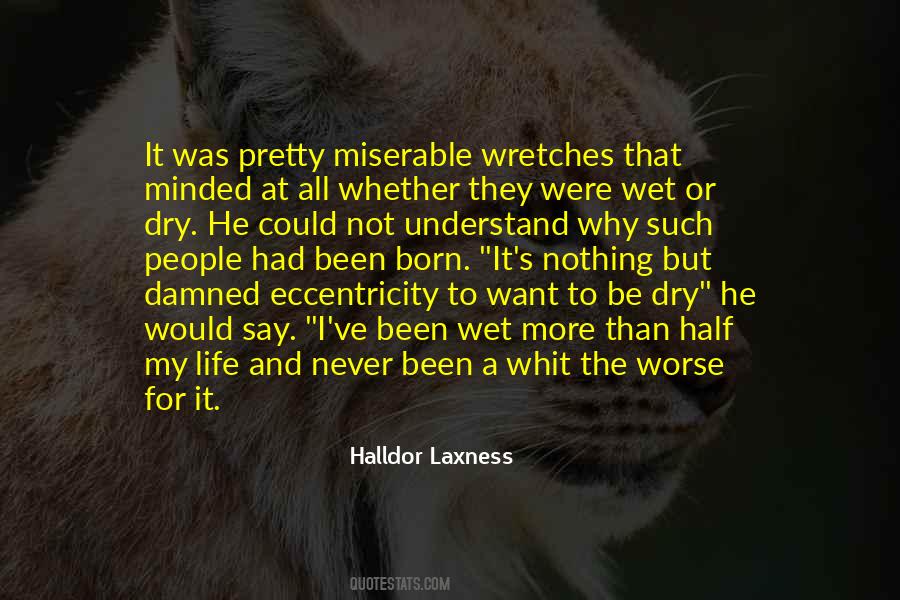 #8. They say the best things in life are free, and they are if you can afford them. - Author: Chloe Thurlow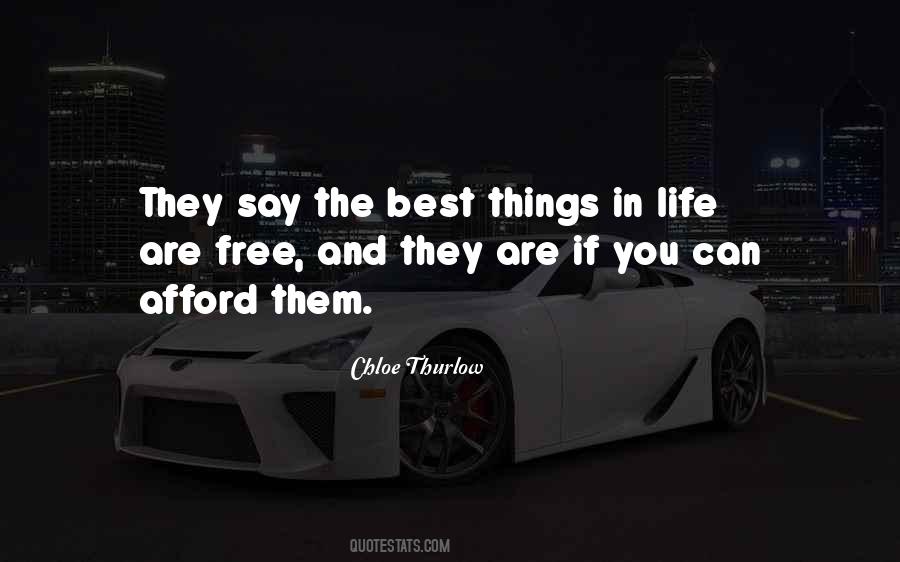 #9. In the East they say that luck favors the prepared mind. I believe that life favors the prepared mind. - Author: Robin S. Sharma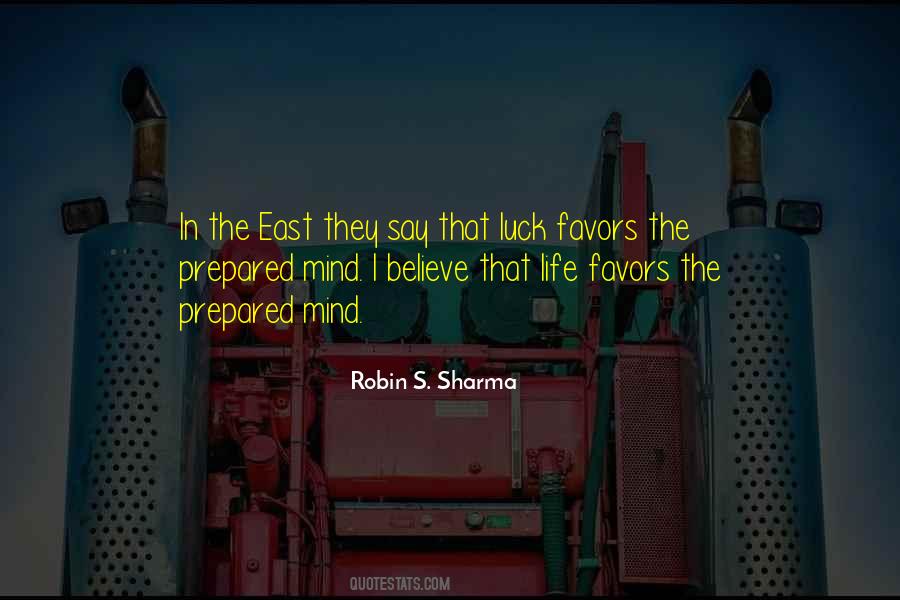 #10. When I've met people that work in any walk of life they say, "If it wasn't for punk I wouldn't be doing it this way." I think spiritually, it did change the world a lot. - Author: Steve Diggle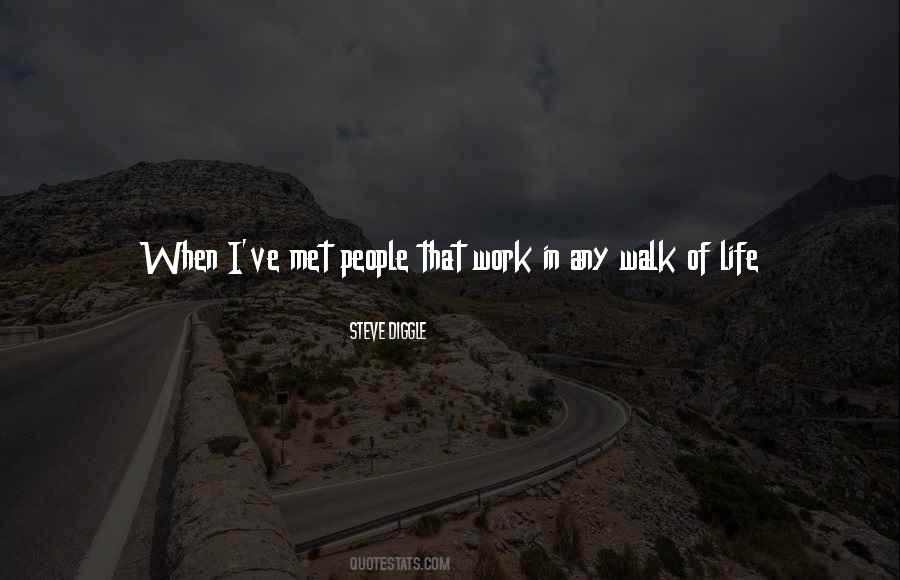 #11. If one of my boys was asking me if they should go into politics, I'd say there's only one reason to go into public life and that's to help people. - Author: Evan Bayh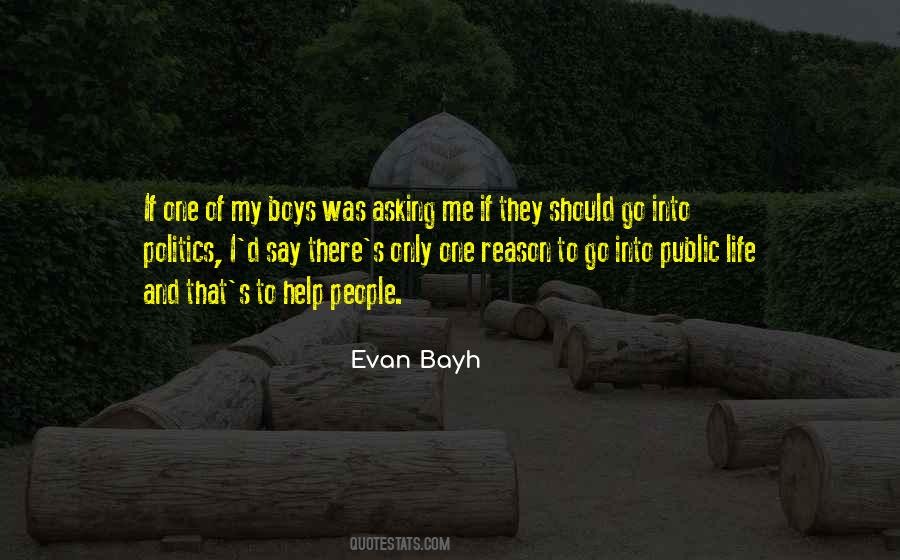 #12. why do people always say they could get hit by a bus? Like life is just one big game of Frogger and people are getting struck left and right by dangerous city transport. - Author: Colleen Oakley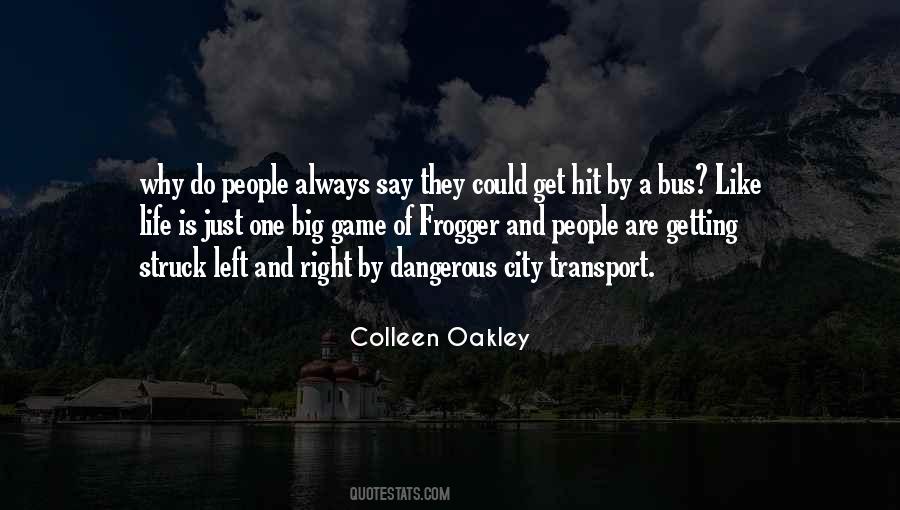 #13. Men do not long continue to think what they have forgotten how to say. - Author: C.S. Lewis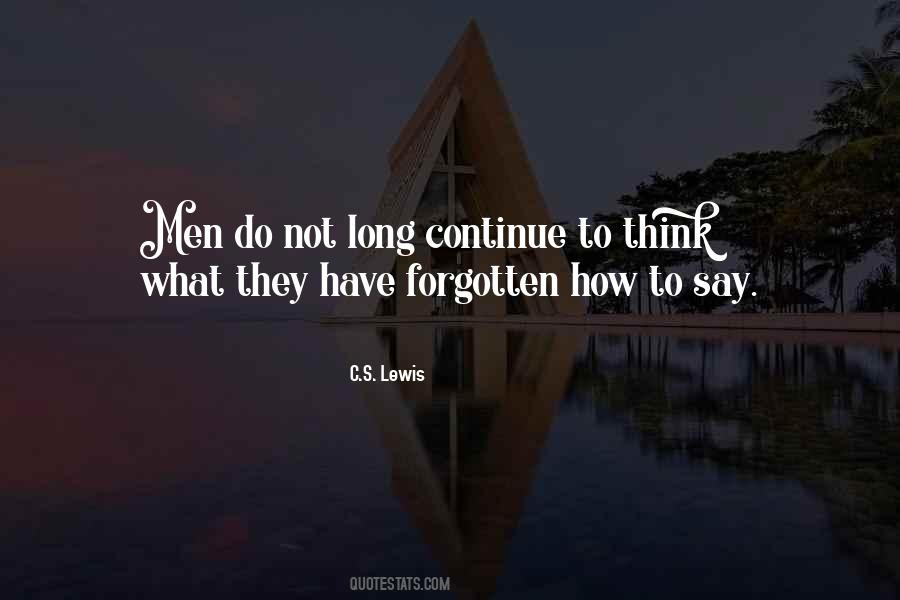 #14. When it gets to the part in life where you're more afraid of what your wife is going to do to you than if you box, say, Mike Tyson, you've got to get a new profession. You don't get to be a family. I know why boxers never quit, some of them. They don't have wives. - Author: George Foreman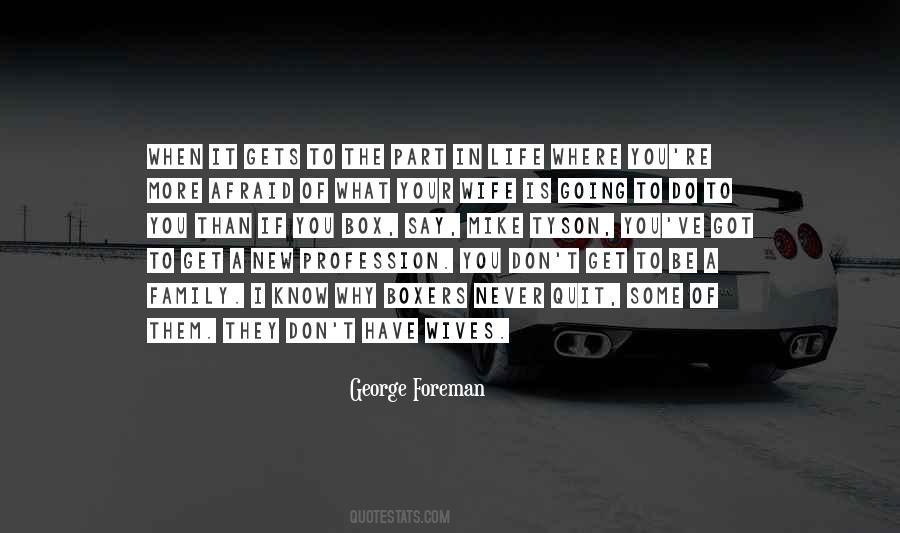 #15. Some say, 'time will tell' when they don't know how things'll work out. But I know how things in my life'll work out 'cause my faith is sure. Even if it gets rattled now and again, God's put those - Author: Holli Rebecca Burnfield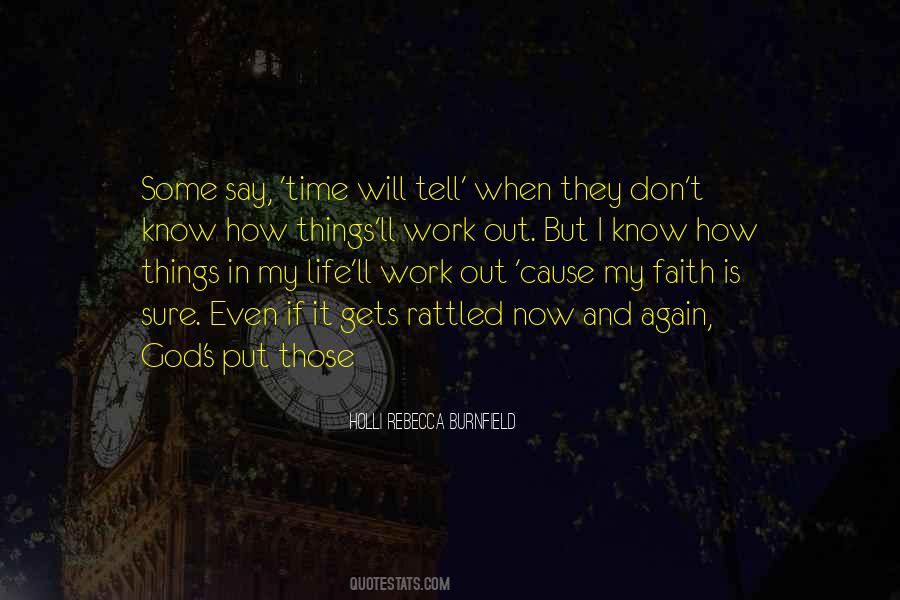 #16. I am only doing this because I was asked. They tell me that, sometime in the future, I will thank them for pushing me this way. They say that one day, when all this is over, I will come to terms with who I am and where I came from. Not gonna happen. - Author: Leigh Hershkovich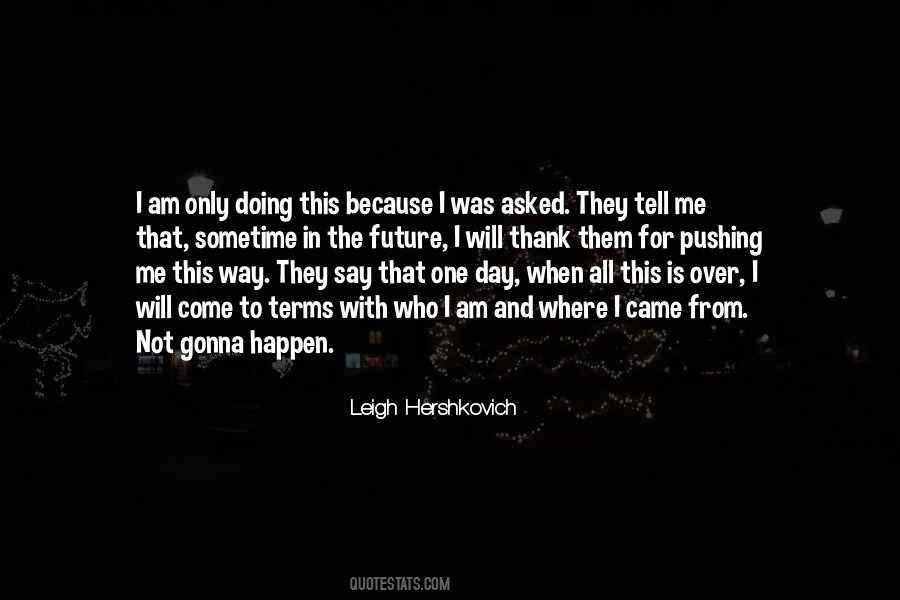 #17. I was always cutting dialogue out when we were rehearsing, and when I produced movies, too. I felt that people don't say things in life - they act, they do things. I always wanted my characters doing, rather than saying what they were doing - which was redundant. - Author: Donna Mills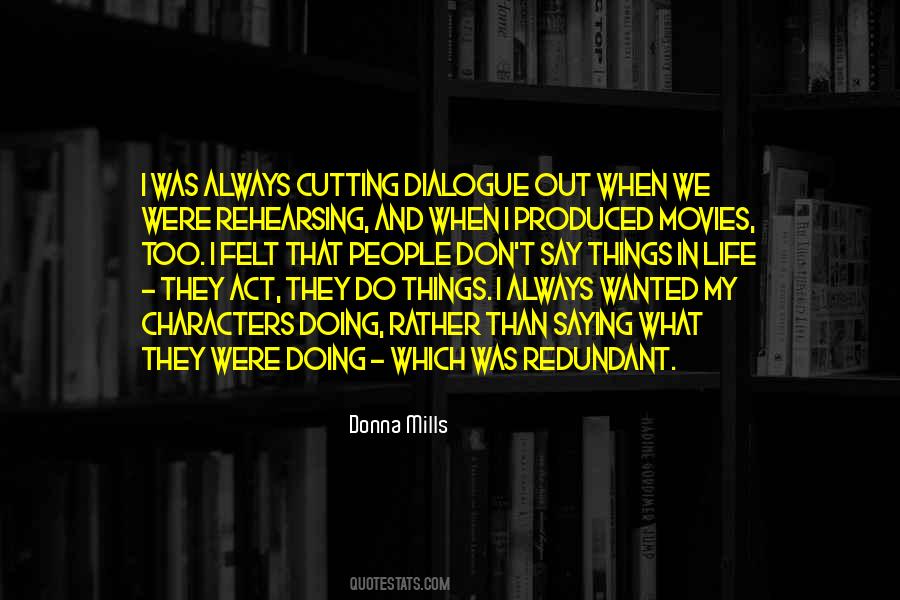 #18. Even though friends say they are interested in your life, they never really want to talk about you as much as you want them to. (68) - Author: Charise Mericle Harper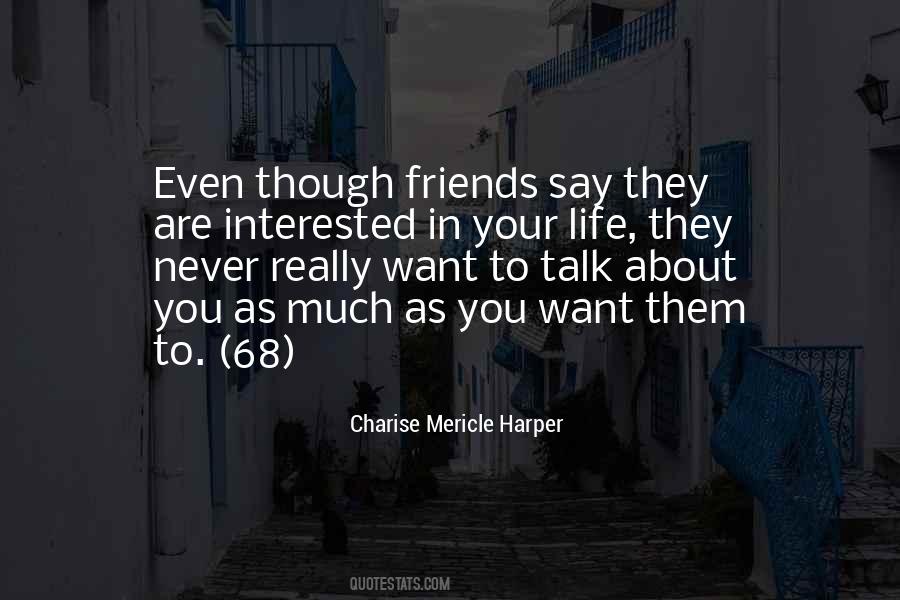 #19. I knelt in front of life, folded my hands and prayed for some more time; there couldn't be any. My heart bled and so did my tearful eyes.
Time, they say, flies, but I saw it slowly passing by taking each of my tardy breaths with it as it walked out of my life ... - Author: Sanhita Baruah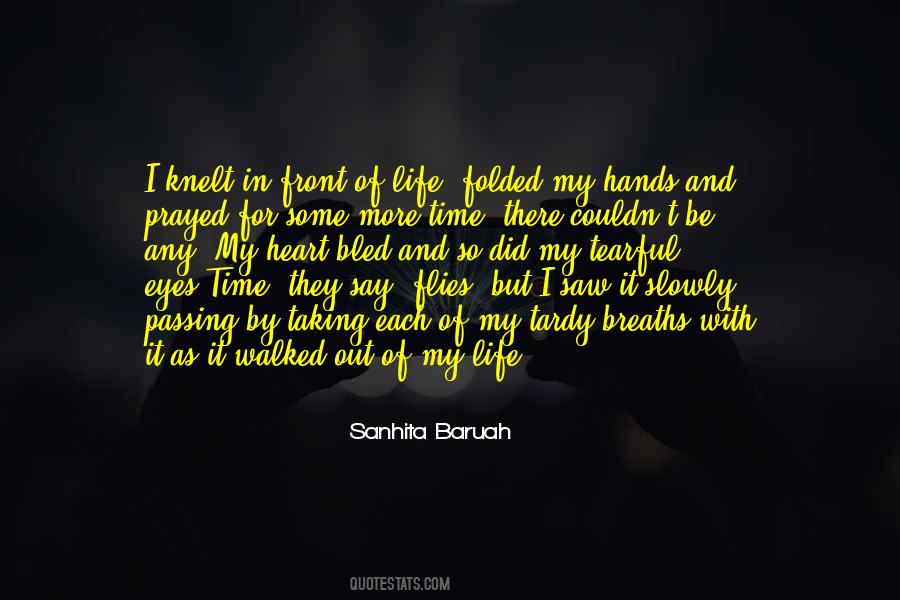 #20. I've learnt that through life you just get on with it. You're going to meet a lot of dishonest people along the line and you say good luck to them. I hope they live in comfort. Then I start sticking more pins in their effigies. - Author: Roger Moore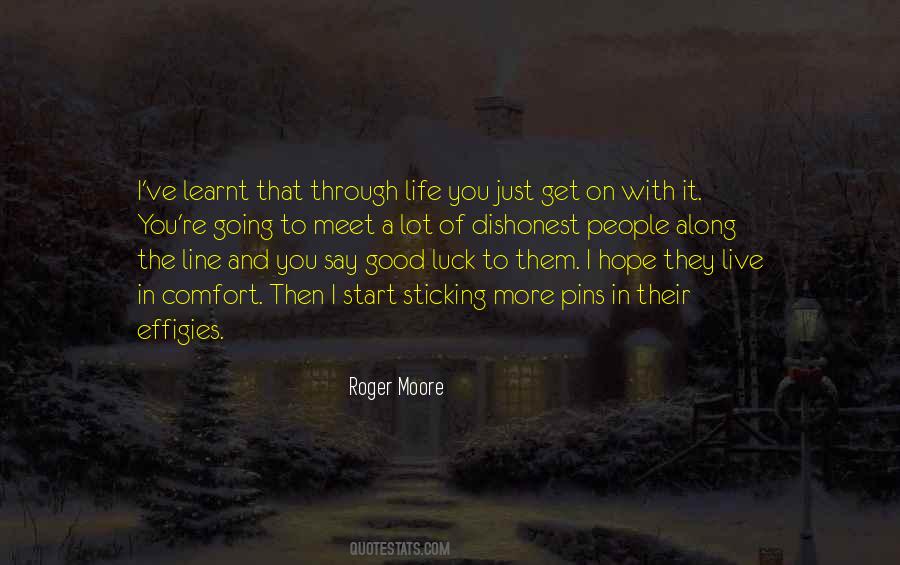 #21. We don't need as much as we have. Hardly any of us need as much money as we have. It's true what they say about the best things in life being free. - Author: Donald Miller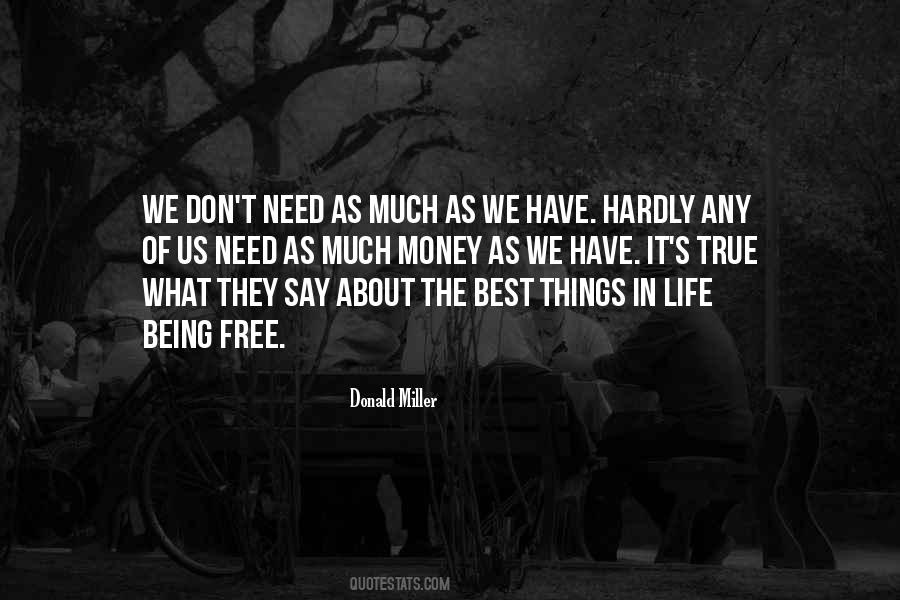 #22. They say a good man is worth fighting for. But a man who's good for YOU shouldn't make you fight just for the right to be in his life. - Author: Kyra Davis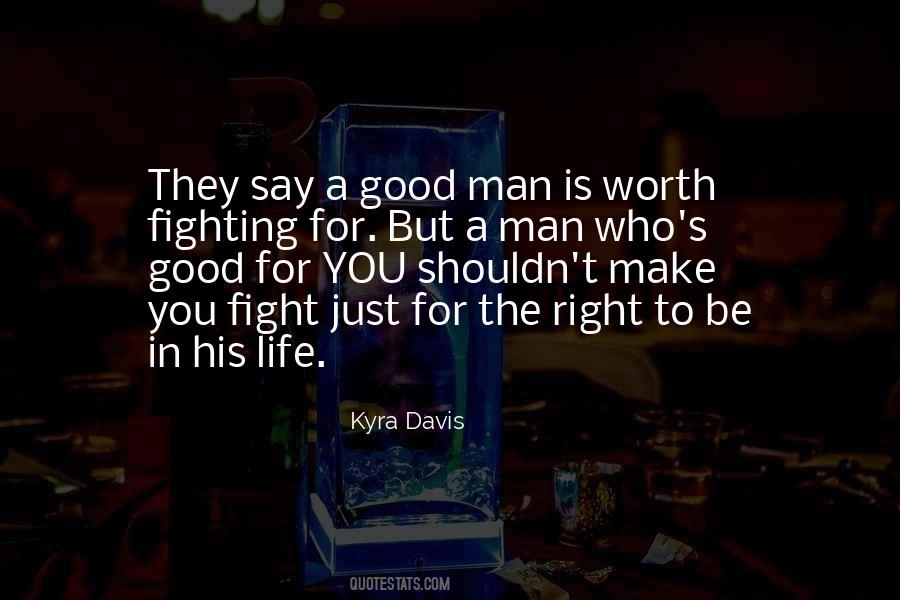 #23. No longer in print ... There are sentences, and phrases that, in all their simplicity, say much more than they seem to at first: two months to live, never heard of it, dead on arrival ... For a writer, no longer in print must fall somewhere in that category. - Author: Herman Koch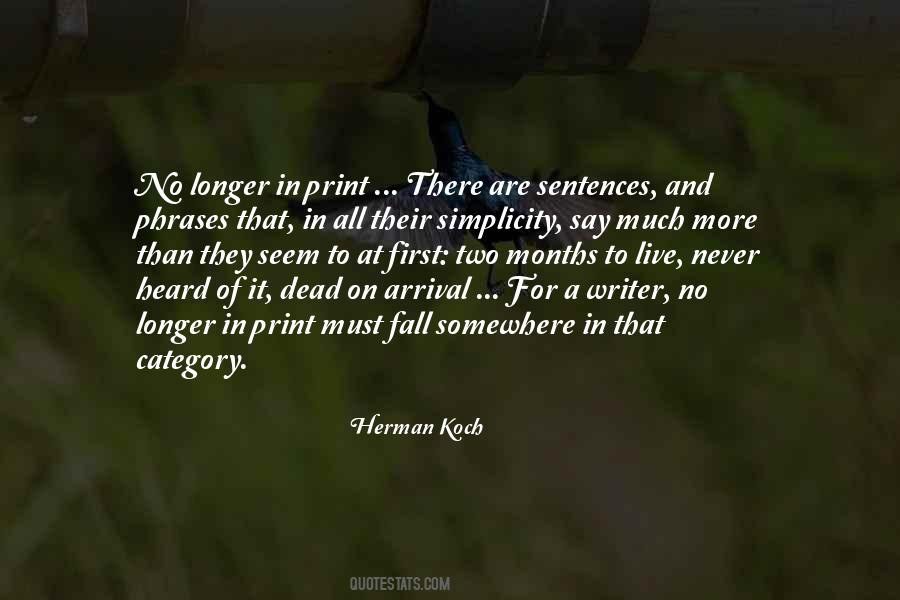 #24. What do others see when they look at your life? What do those who know you best say about you - your spouse, your children, your friends, your coworkers? Do they see inconsistencies in any area of your life - money, relationships, speech, possessions? - Author: Billy Graham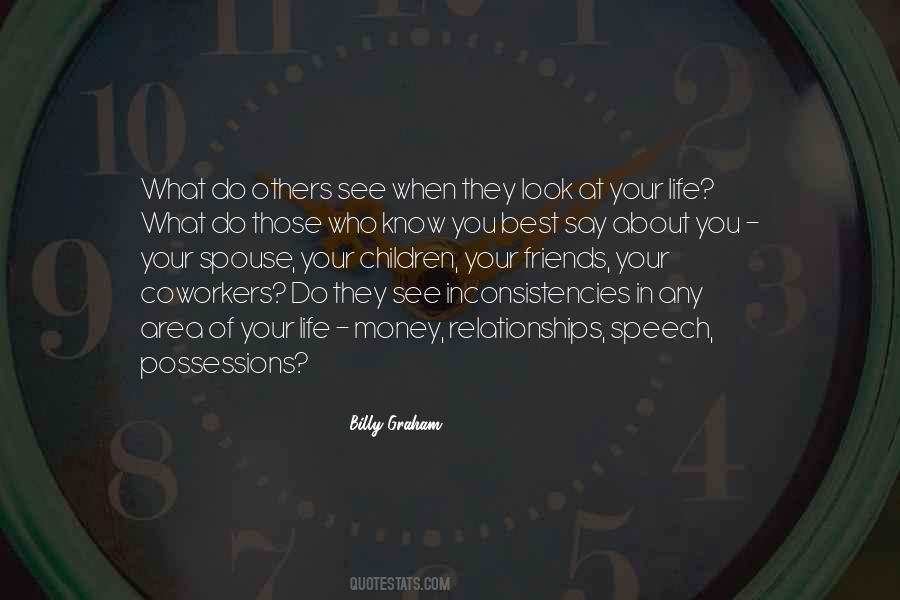 #25. They say that when you're about to die, your life flashes before your eyes. They never tell you that when you watch someone you once loved dying, hovering between this life and the next, it's twice as painful, because you're reliving two lives that traveled one road together. - Author: Becca Fitzpatrick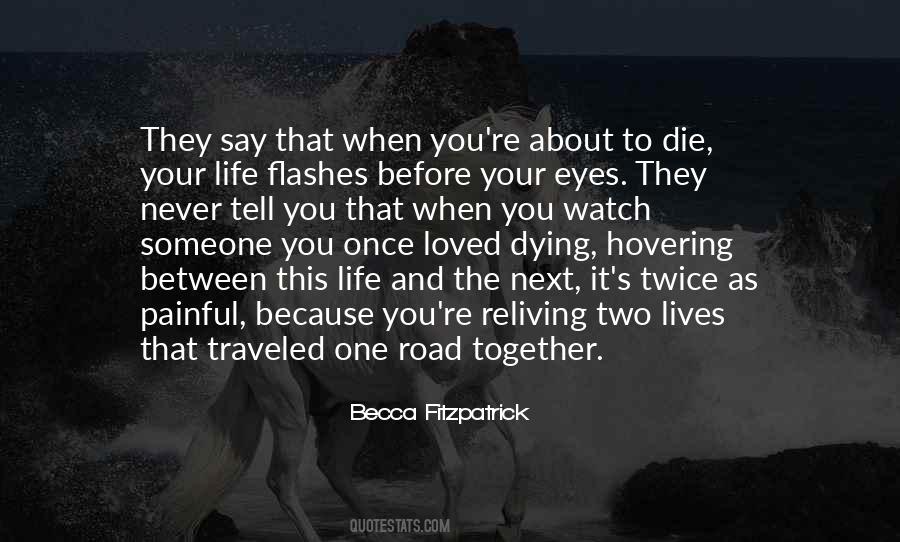 #26. The warrior knows that the most important words in all languages are the small words. Yes. Love. God. They are words that are easy enough to say and which fill vast empty spaces. - Author: Paulo Coelho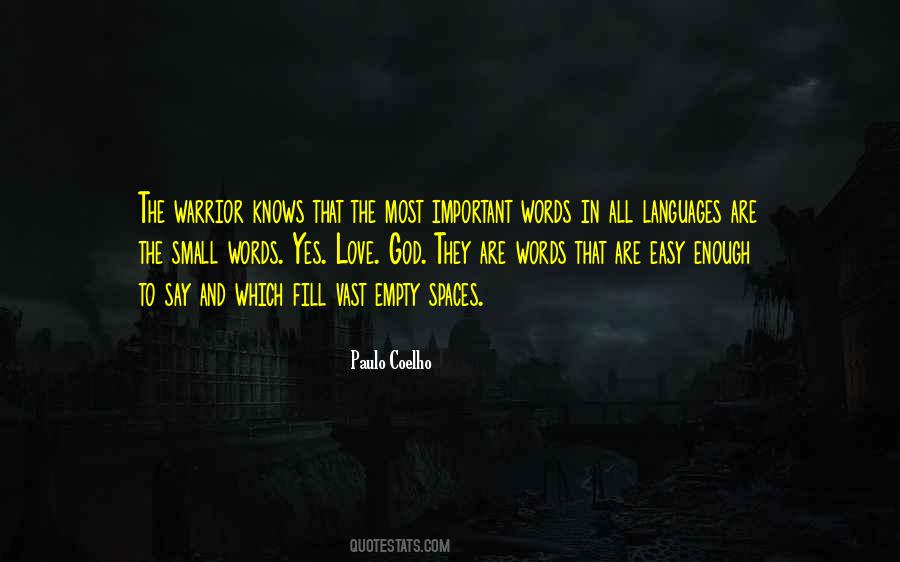 #27. I don't care what they say about me when I'm through with sports. I don't want to be known as anything else in life but a great father. - Author: Deion Sanders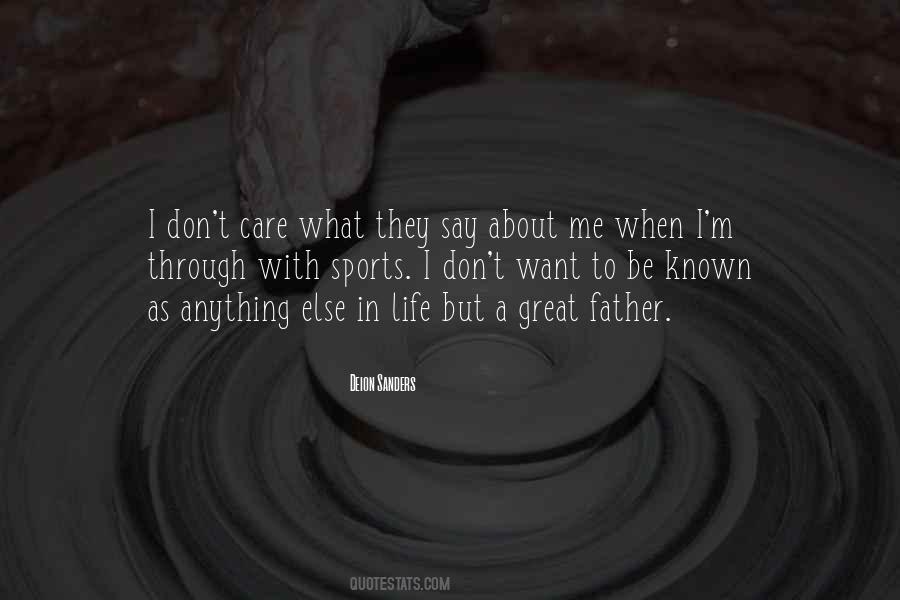 #28. CUSTOMER: If I were to, say ... meet the love of my life in this bookshop, what section do you think they would be standing in? - Author: Jen Campbell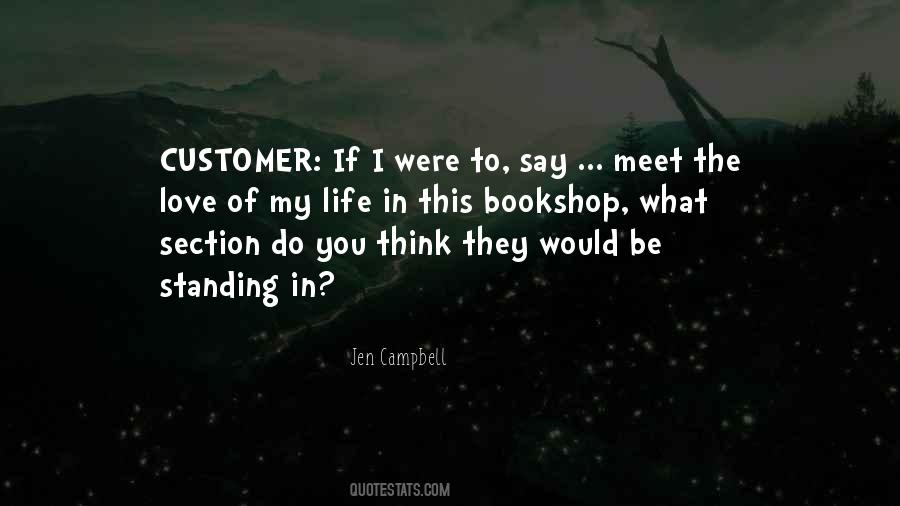 #29. They're fooling themselves," I say. "It's better to deal with your shit head on. Life doesn't get better if you look away. - Author: Ann Aguirre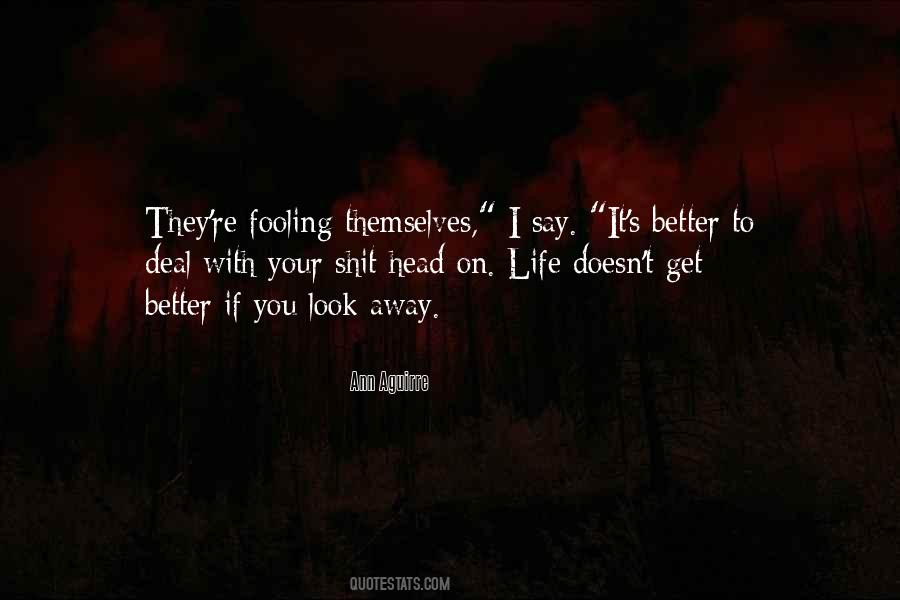 #30. I'd say most of my songs I write from personal experience. When I feel like I don't have any inspiration in my personal life, I think about others that are close to me and maybe what they're going through or even just people I've come across, acquaintances. - Author: Tess Henley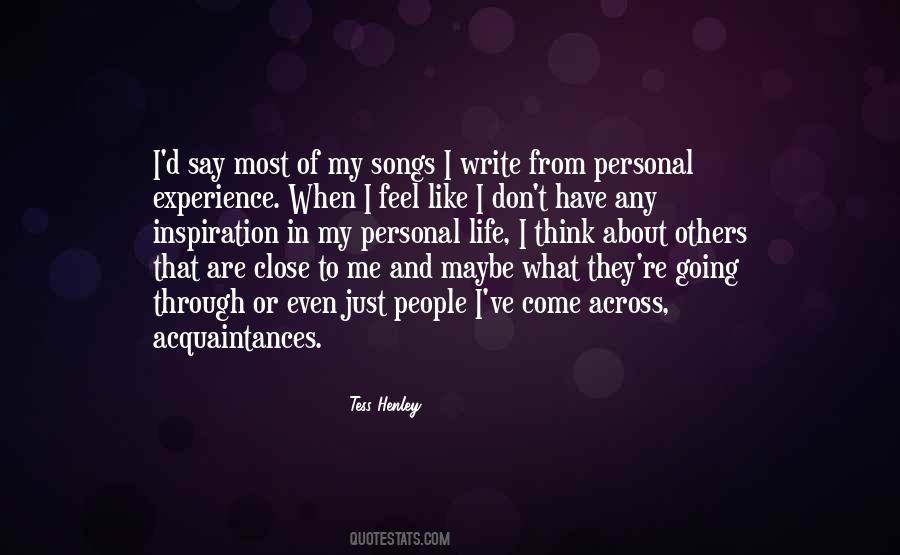 #31. They say compassion is the only voice; a gift which can help mend the broken, lift the fallen and soften the hardened. - Author: Aisha Mirza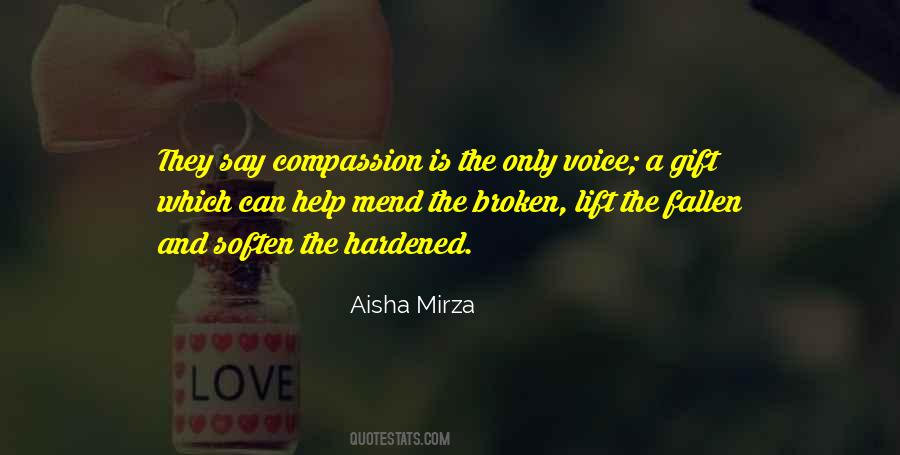 #32. And even if you cared what they had to say, would you act upon their opinions and create your life from it? No. Than stop replaying their toxic words in your head, it's no good for your being and start doing the things that once made you, you. - Author: Nikki Rowe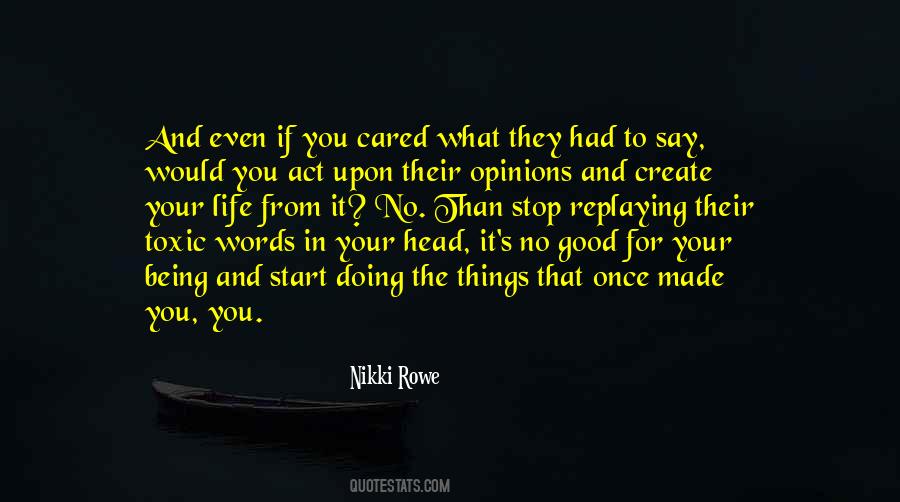 #33. No-one is finally dead until the ripples they cause in the world die away ... The span of someone's life, they say, is only the core of their actual existence. - Author: Terry Pratchett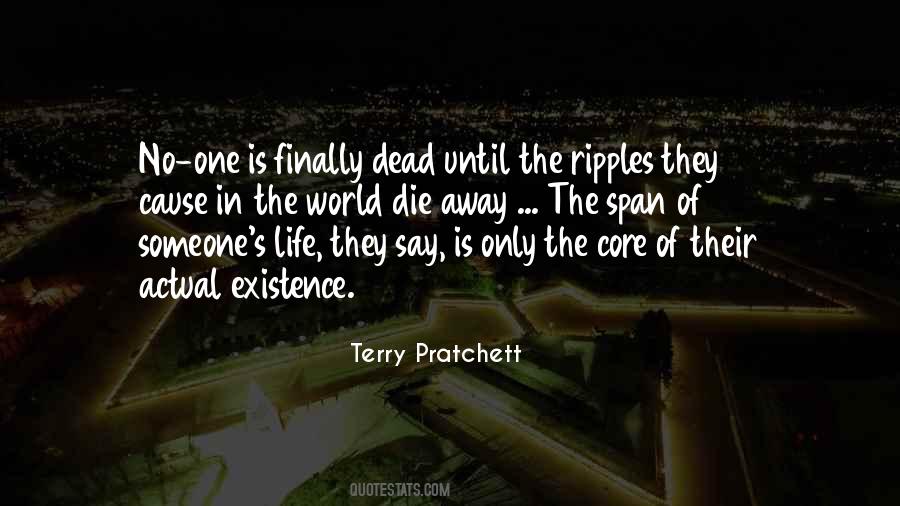 #34. They say the two most important days in a persons life were the day you were born and the day you discover why you were born. - Author: Viola Davis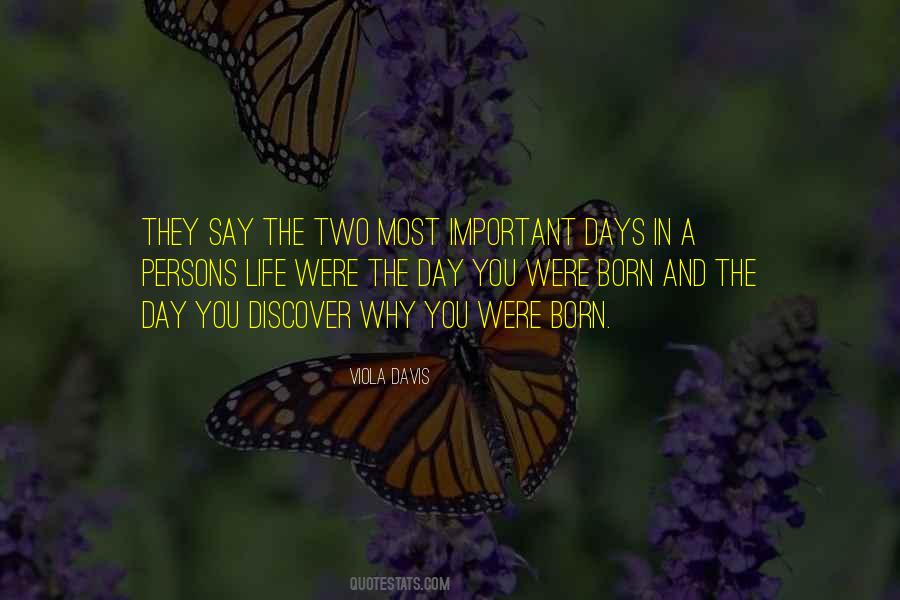 #35. It is this - that everyone in the world is Christ and they are all crucified. That's what I want to say. Don't you forget that. Whatever happens, don't you dare let yourself forget. - Author: Sherwood Anderson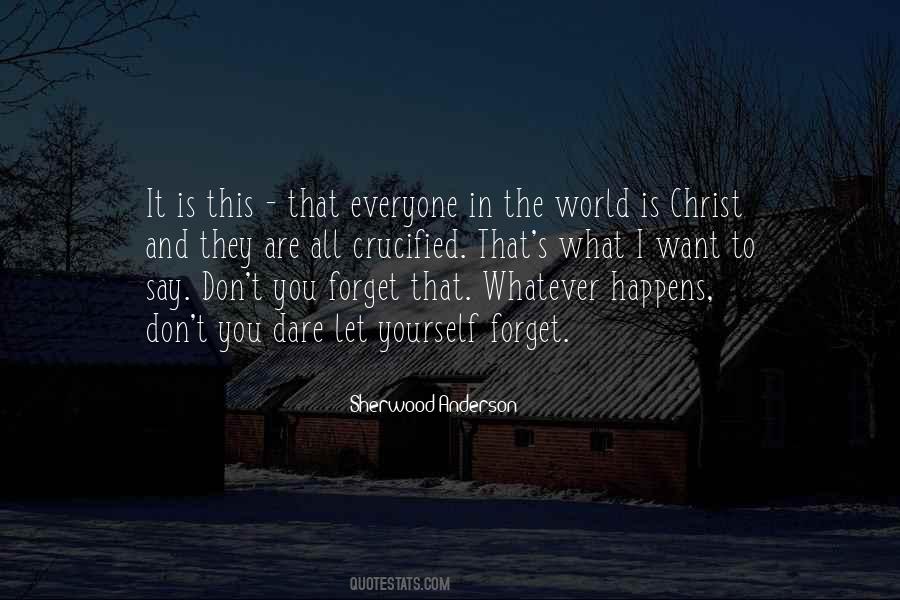 #36. They say life isn't about waiting for the storm to end, it's about learning to dance in the rain. You have dancing in the rain down to an art. - Author: Jaclyn M. Hawkes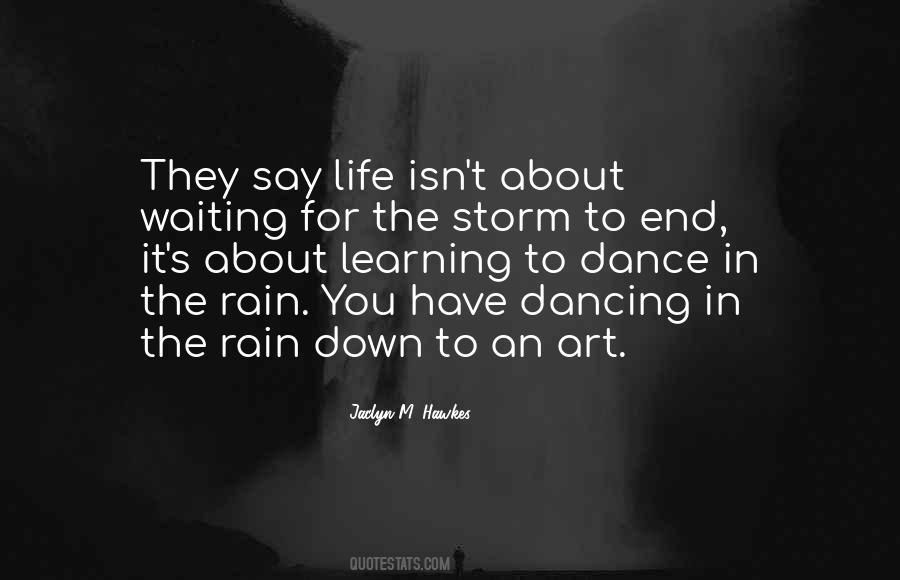 #37. Life is not a recipe. Recipes are just descriptions of one person's take on one moment in time. They're not rules. People think they are. They look as if they are. They say, "Do this, not this. Add this, not that." But, really, recipes are just suggestions that got written down. - Author: Mario Batali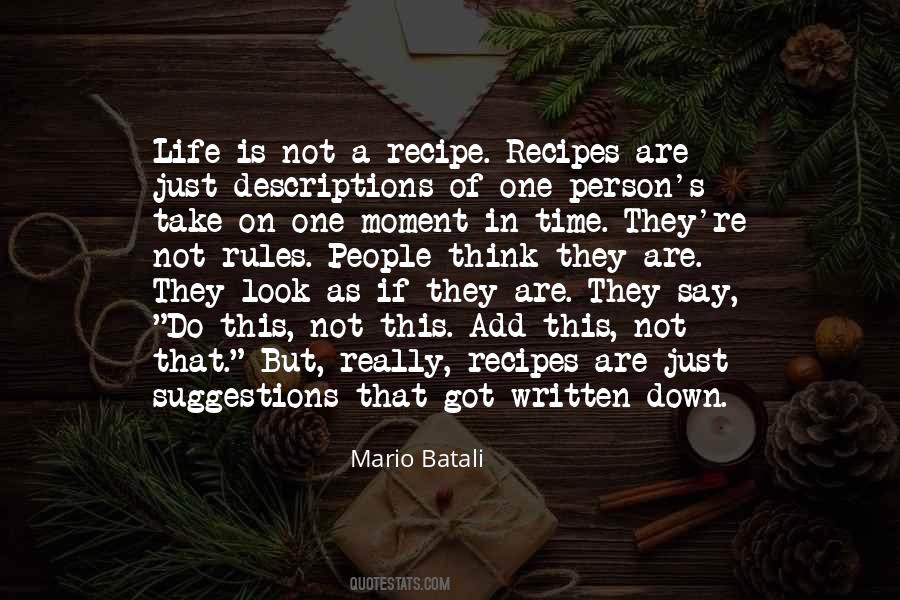 #38. You figure they cheat at the ballpark, they'll cheat on the golf course, they'll cheat in business, and anything else in life. Players may laugh about it and say it's funny, but right down in their heart, they don't think it's funny at all, and they have no respect for a person who cheats. - Author: Bob Feller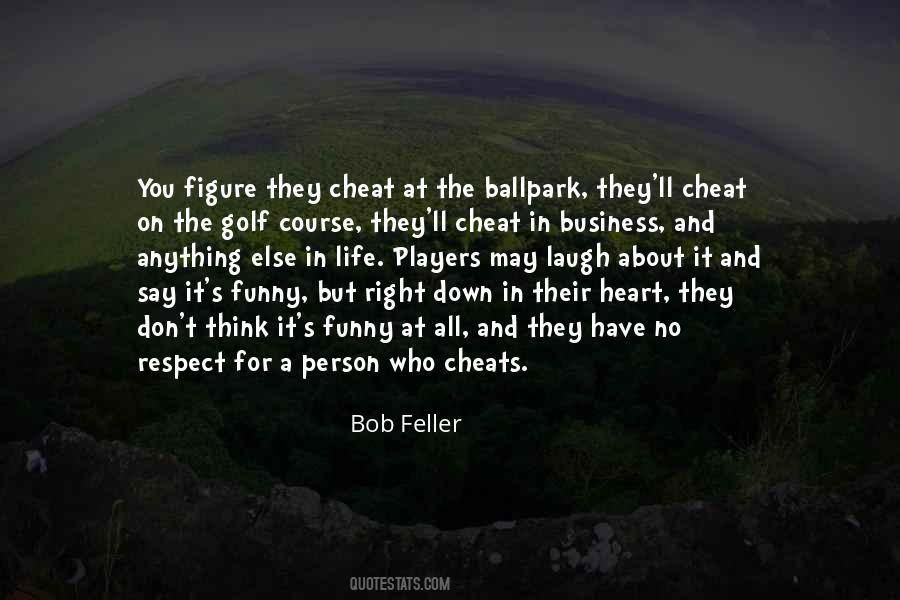 #39. A great pleasure in life is to do what they say you can't. - Author: Paulo Coelho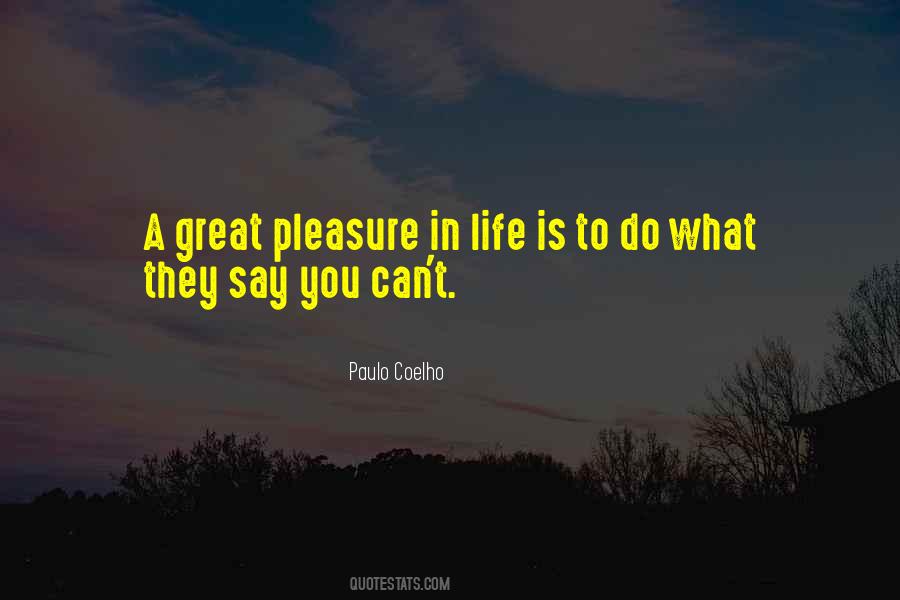 #40. People say that time is a great healer. Which people? What are they talking about? I think some feelings you experience in your life are written in indelible ink and the best you can hope for is that they fade a little over the years. - Author: Allison Pearson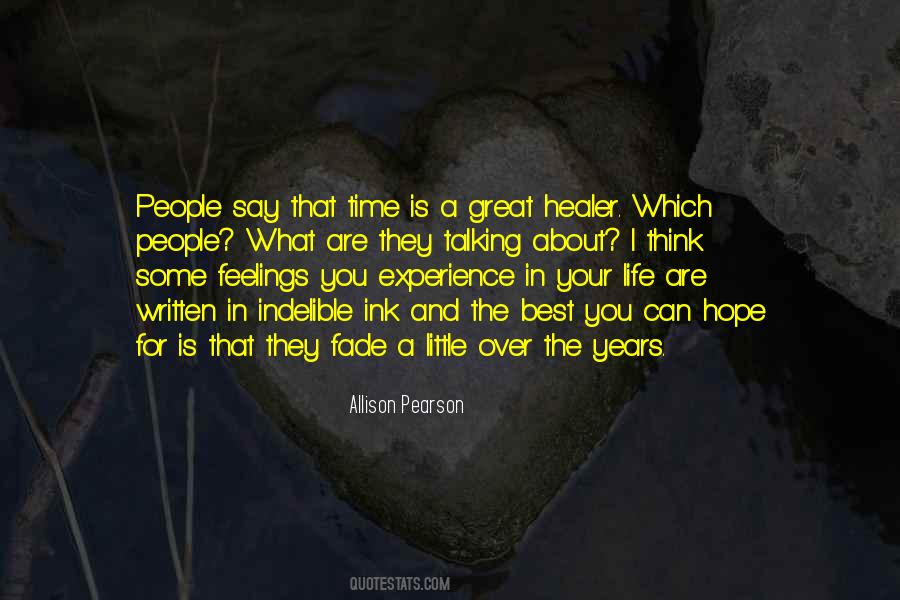 #41. You know, they say that Bill Wilson asked for whiskey as his dying wish. The man was dying, at the end of the line, and he wanted the one vice he'd been fighting all his life. Even the co-founder of Alcoholics Anonymous wanted whiskey on his deathbed. - Author: Kandi Steiner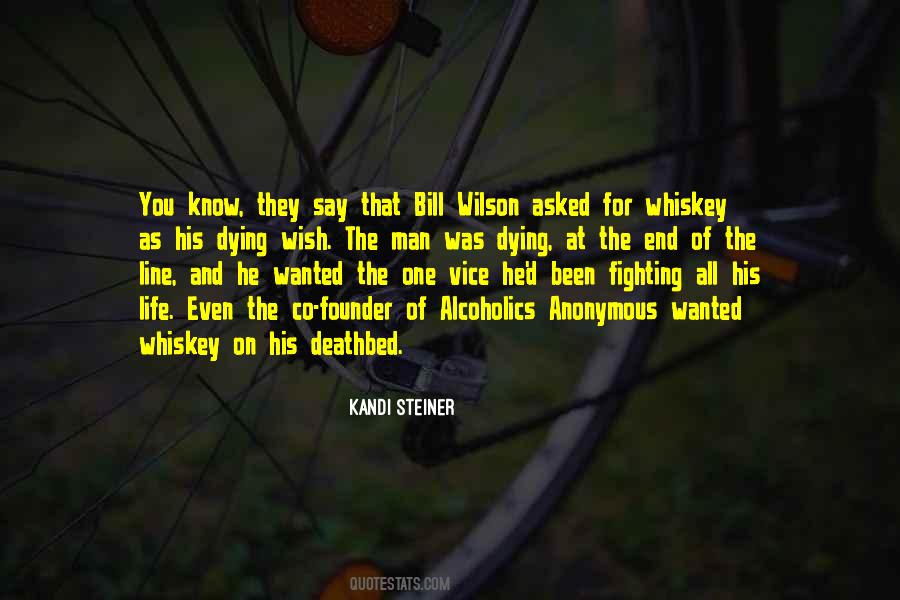 #42. When I came into your life your life was over. It had a beginning, a middle, and an end. This is the end. You can say that things could have turned out differently. That they could have been some other way. But what does that mean? They are not some other way. They are this way. - Author: Cormac McCarthy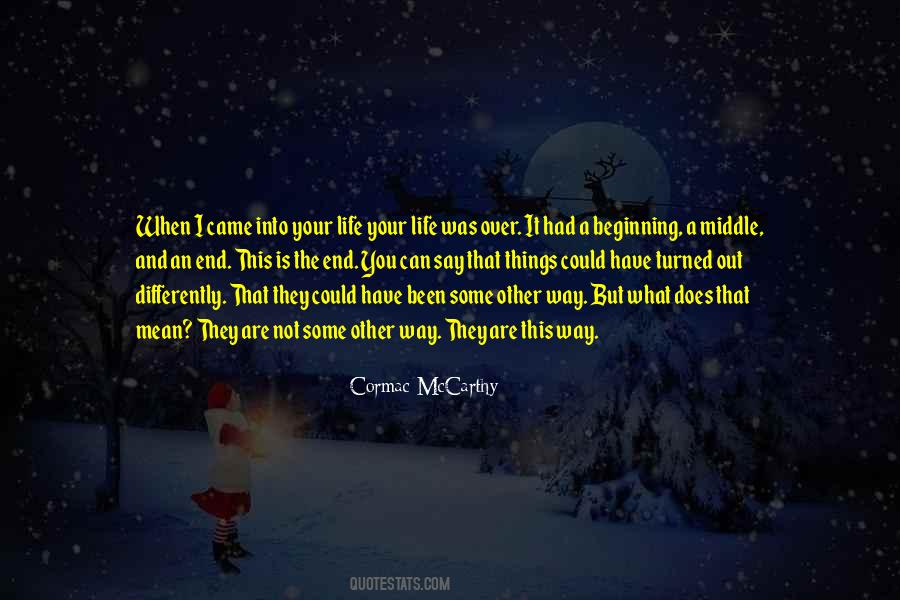 #43. They love indeed who quake to say they love. - Author: Philip Sidney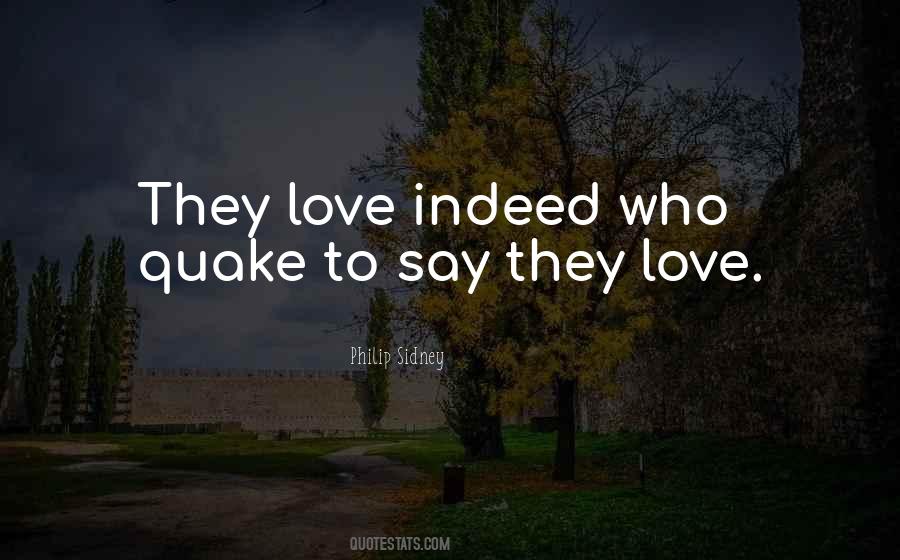 #44. The average family spends 30 hours in front of a television, and they say they don't have the time to have a balanced, integrated life. - Author: Stephen Covey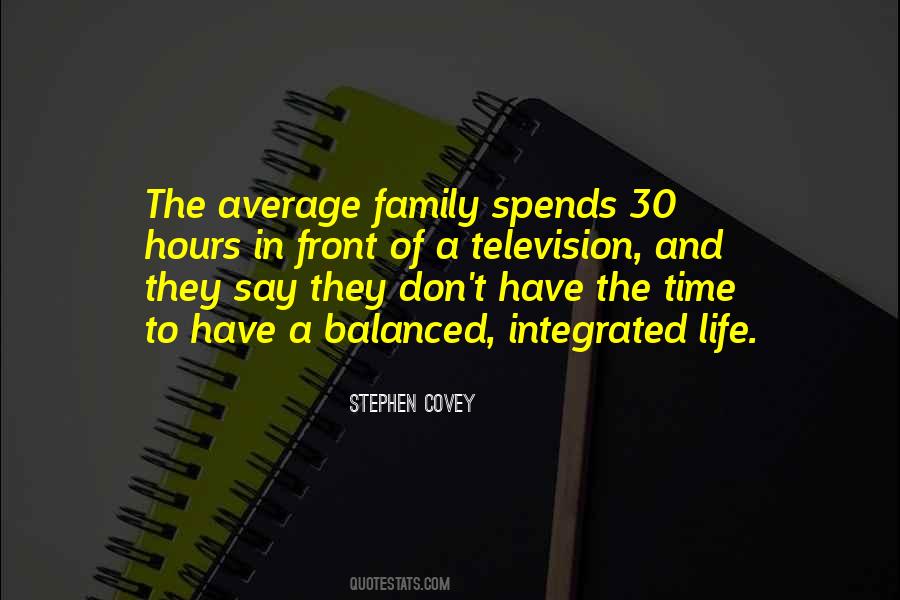 #45. If you can't participate in someone else's good fortune and show them love. How can you get offended when they don't partake in yours. Good fortunes are made to be enjoyed. Like a old wise pimp will say "Don't hate, participate. - Author: J. Wrice Sr.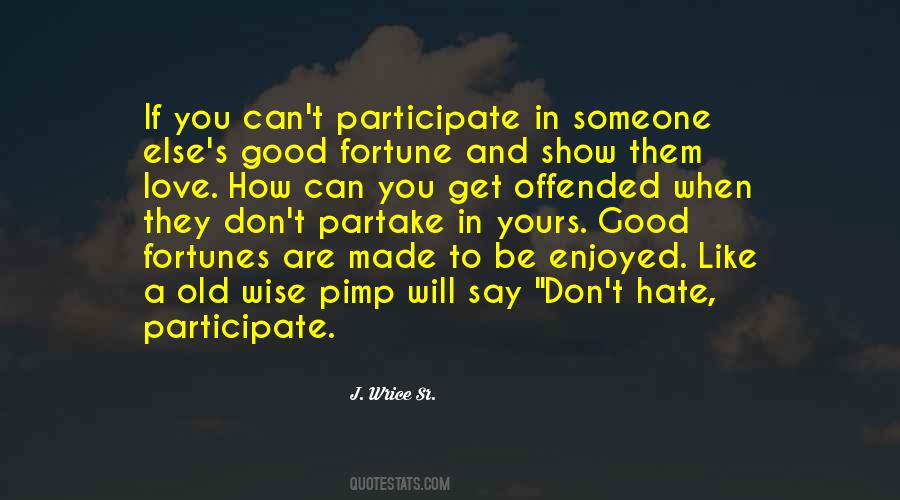 #46. They say time heals all, But time is our only enemy; breathe deep and find strength to smile tonight, for the morning may never come - Author: Michael Biondi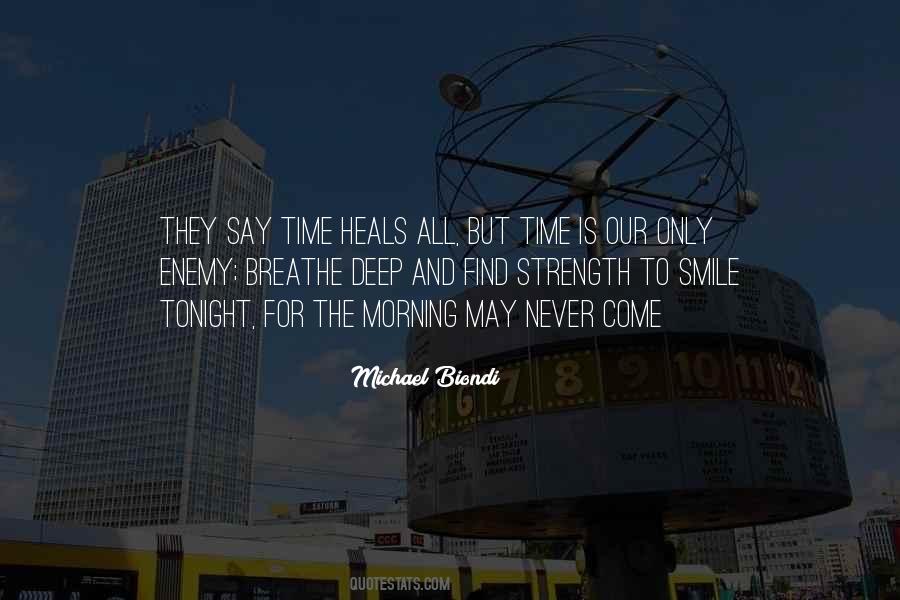 #47. I say people who feel they must have a faith or religion in order to face life are showing a kind of cowardice, which in any other sphere would be considered contemptible. But when it is in the religious sphere it is thought admirable, and I cannot admire cowardice whatever sphere it is in. - Author: Bertrand Russell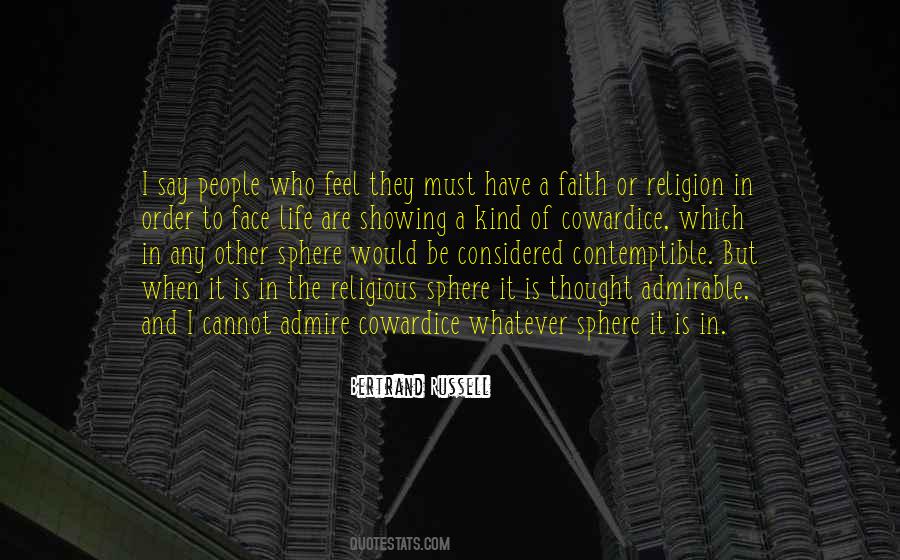 #48. I've learned how to adapt to different cultures and understand all different walks of life. I've also learned that confidence is key, even if you have to fake it at times. Fake it till you make it, as they say. - Author: Martha Hunt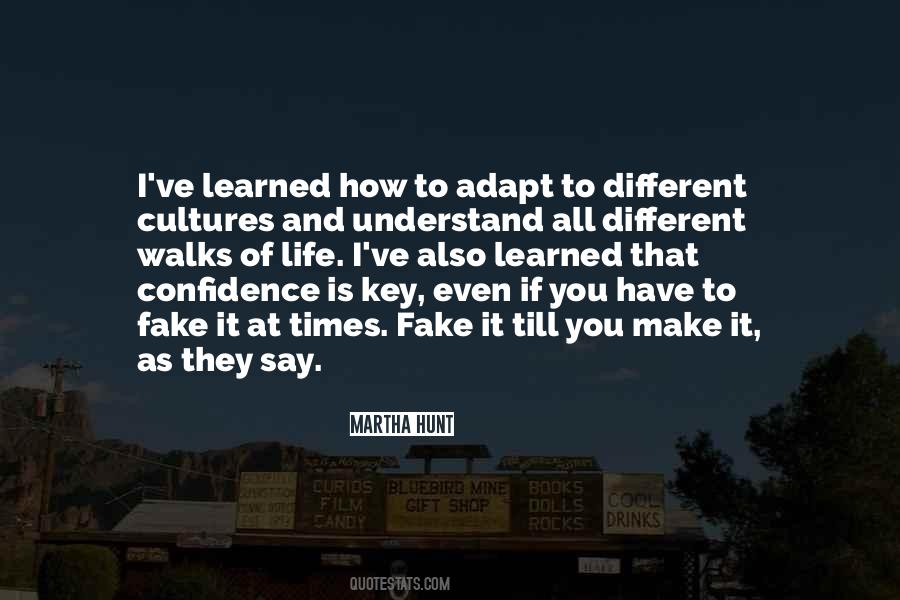 #49. They say when you're about to die, you see your entire life flash before your eyes.
They lied.
The only thing Nick Gautier could see flashing was Kyrian Hunter's vampire fangs. - Author: Sherrilyn Kenyon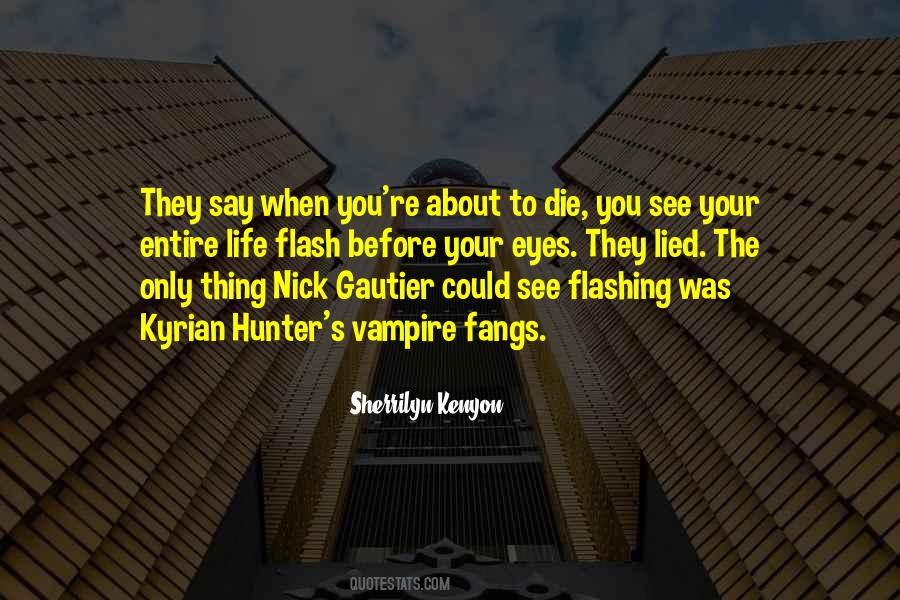 #50. It's shitty I guess. They're my friends. But ... everything I want to talk about I can't say to them. It feels so separate, like I've touched something that's taken the color out of me. - Author: Kendare Blake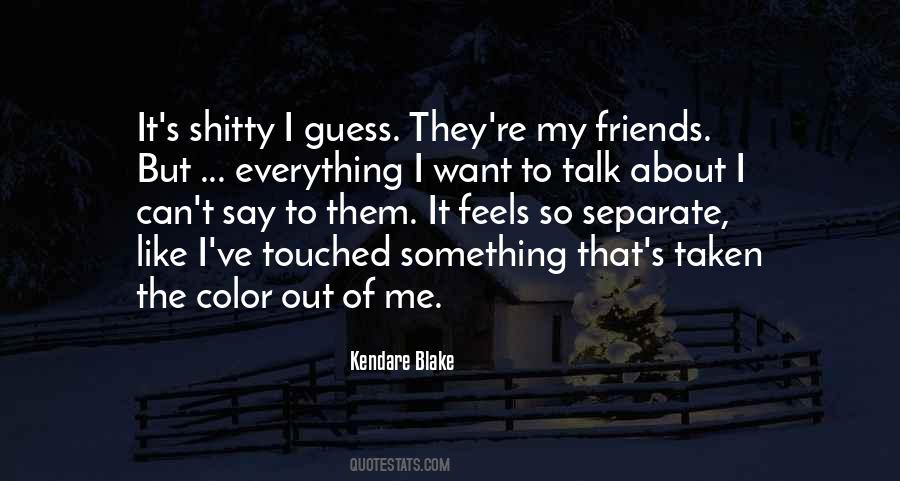 #51. You don't say to a university professor who is immersed in a particular subject that they should get a life. They are encouraged to enjoy their subject and to pass it on. - Author: Magnus Magnusson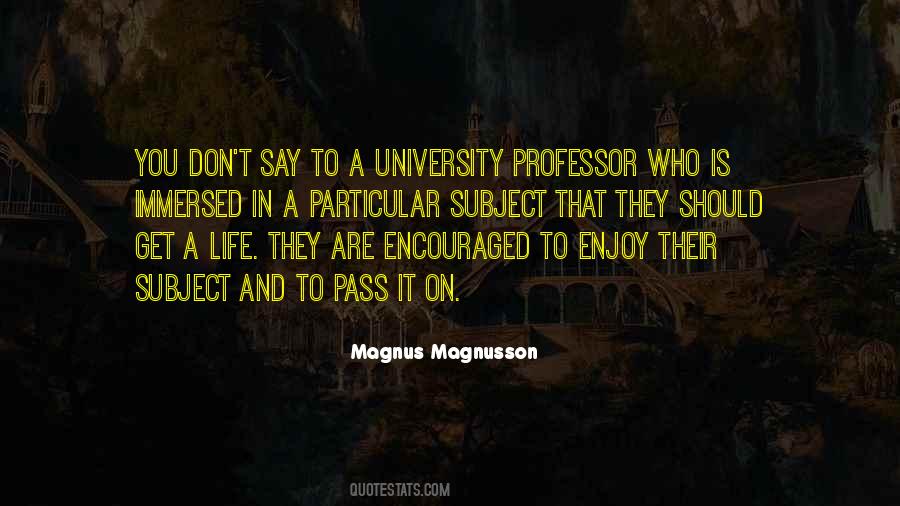 #52. And so I've written everything down, too afraid of my demons and what they may say, the doubt that eats at me from the inside. Too afraid that I'll forget and it'll all be a madwoman's dream. - Author: Nadege Richards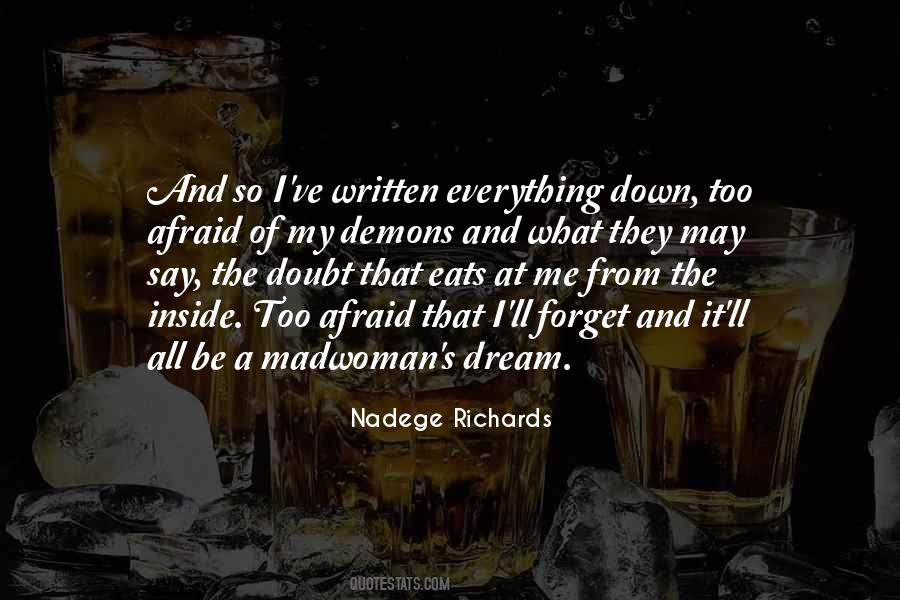 #53. I like Dancing of Indian girls more than my parents' prayers . Because they dance with love and passion . But my parents just say their prayers because they got used to it . - Author: Ali Shariati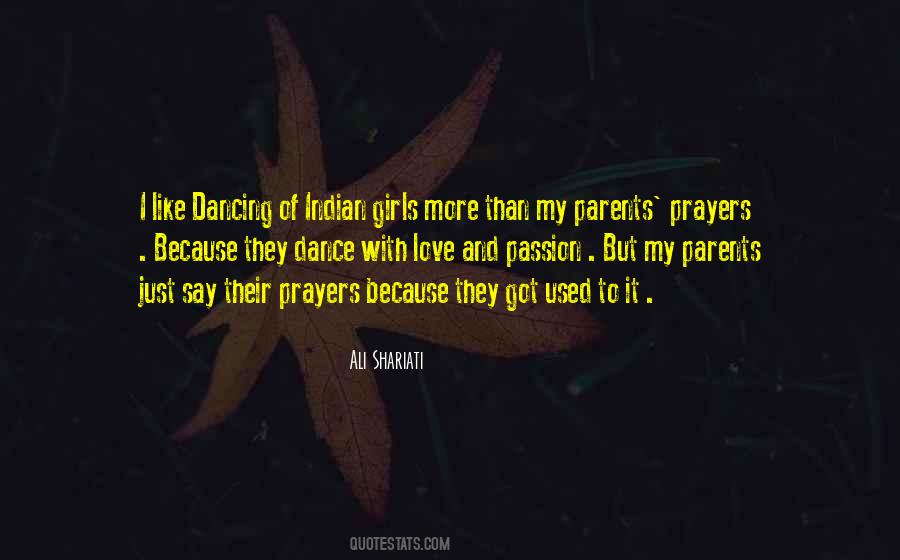 #54. No one on this earth ever says anything 'once and for all.' If they did, life would come to a stop and succeeding generations would have nothing to say. - Author: Aleksandr Solzhenitsyn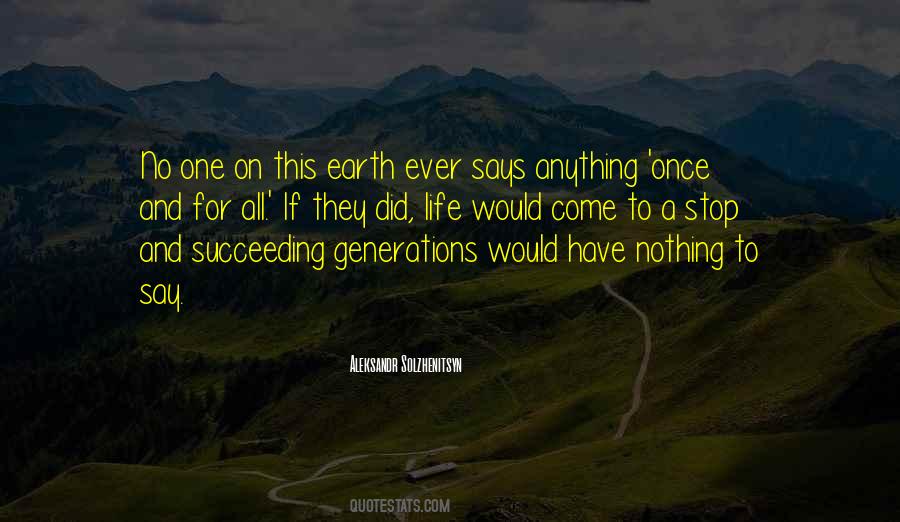 #55. When people go through something rough in life, they say, 'I'm taking it one day at a time.' Yes, so is everybody. Because that's how time works. - Author: Hannibal Buress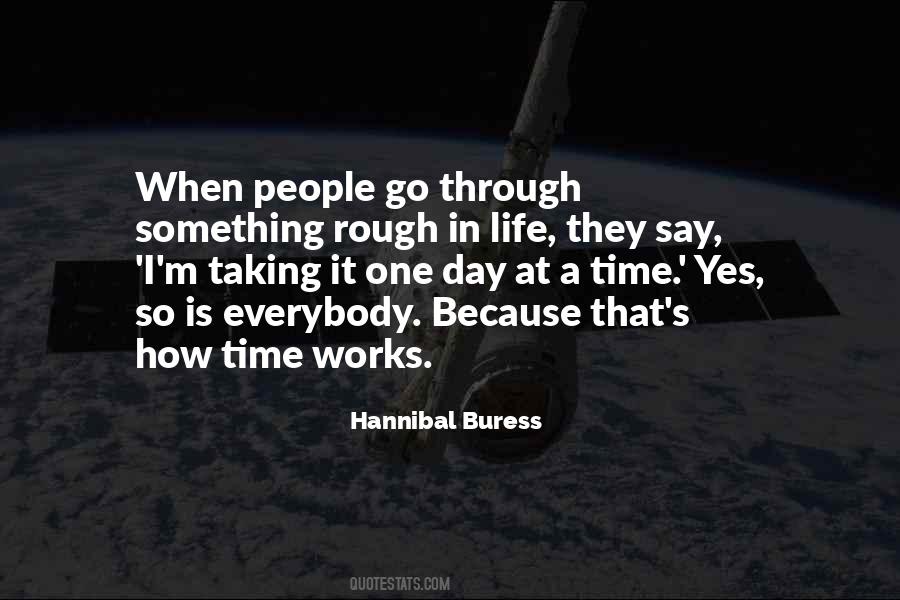 #56. I love it when you ask actors, 'What are you Doing now?' and they say 'I'm between roles'. To be living 'life between roles' that's my favorite - Author: Andy Warhol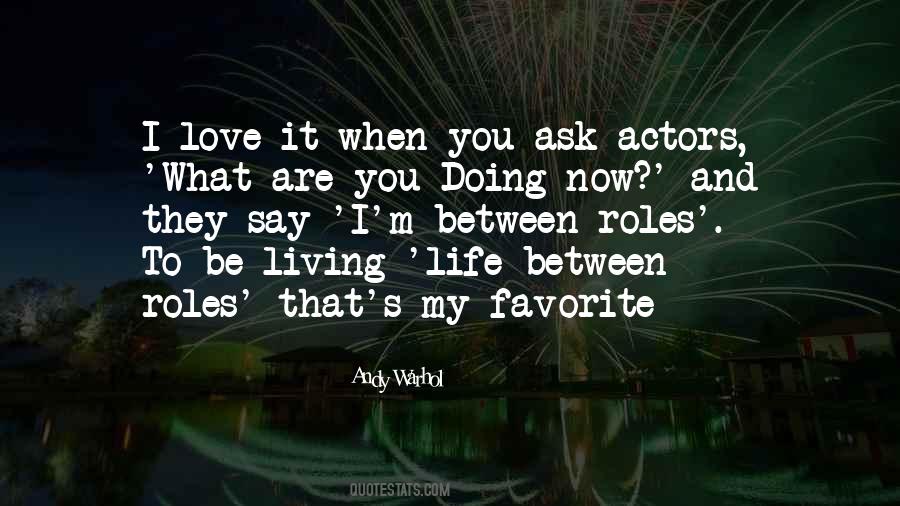 #57. People mess up, you know? But you can't see past it. It's like you choose one thing about them - the worst thing - and say, 'That's who they are,' and ignore the rest of it. Why not choose the best thing about them instead? Or the thing they do the most? - Author: Sarah Skilton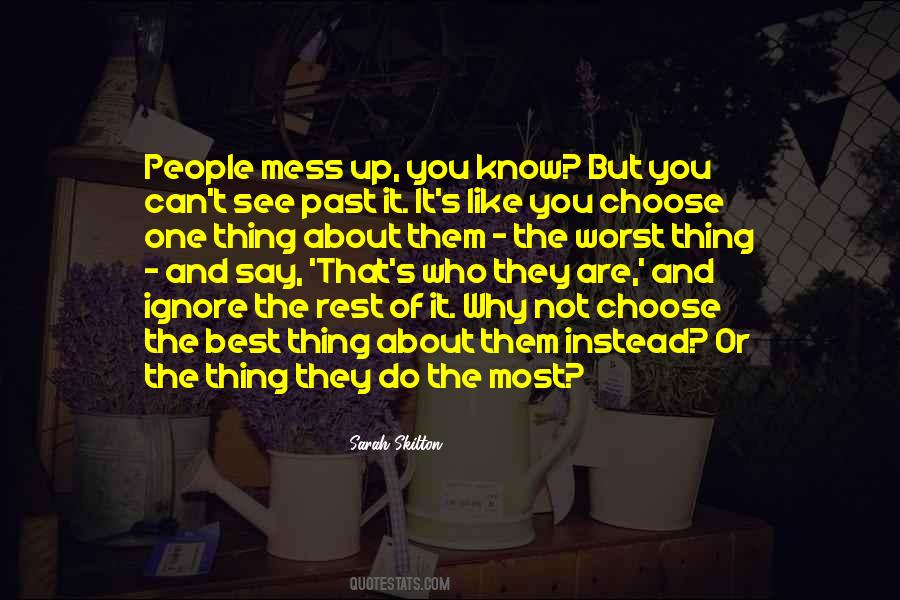 #58. I feel sorry for people who say they cannot read big books. - Author: Anonymous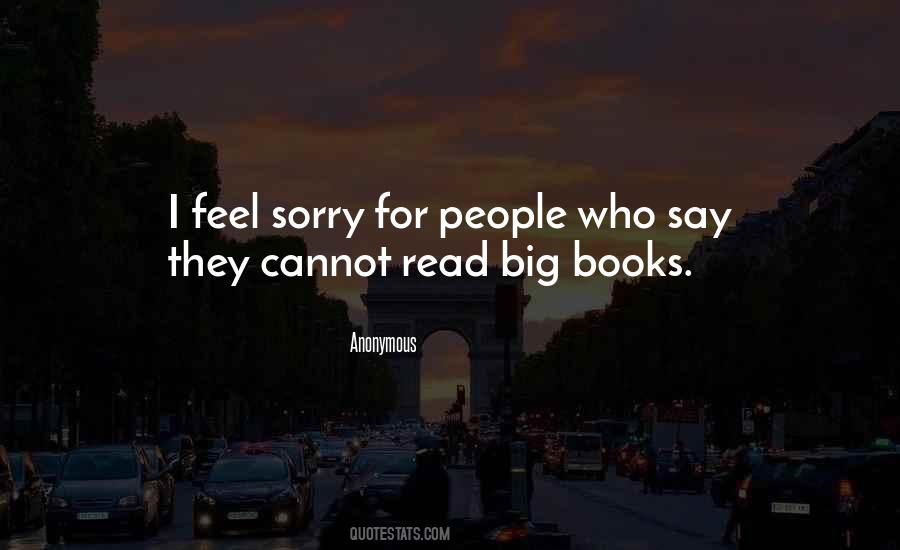 #59. 'The Secret Life of Bees' was my first novel, so I had no process. I was flying by the seat of my pants, as they say, trying to understand how I, as a novelist, would work with story. - Author: Sue Monk Kidd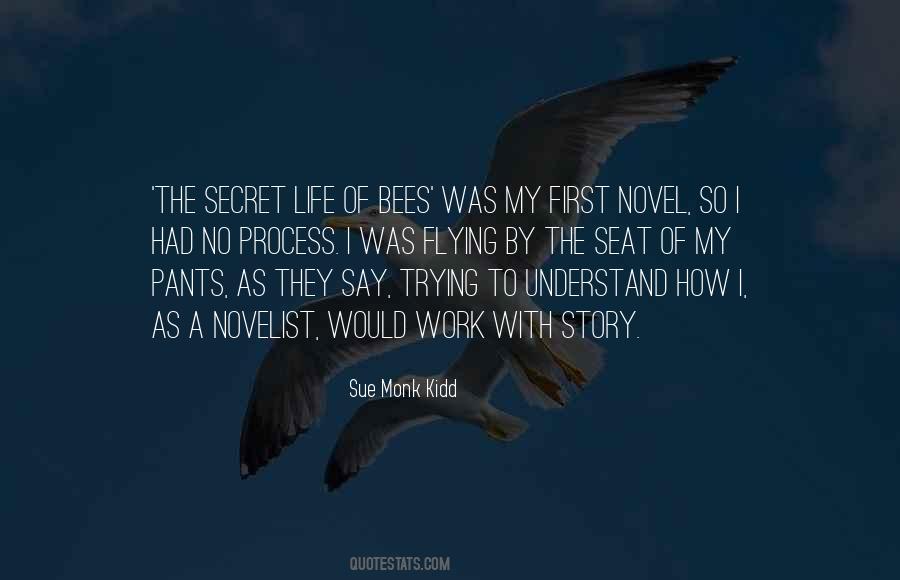 #60. I am amazed about how everyone wants to know about my love life. They whisper to me, 'Tell me the truth? Is it true?' Who cares? Because we have this job, we are to say to everybody what we do, or with whom we sleep? It's a bit absurd, but that's why everybody lies so much. - Author: Penelope Cruz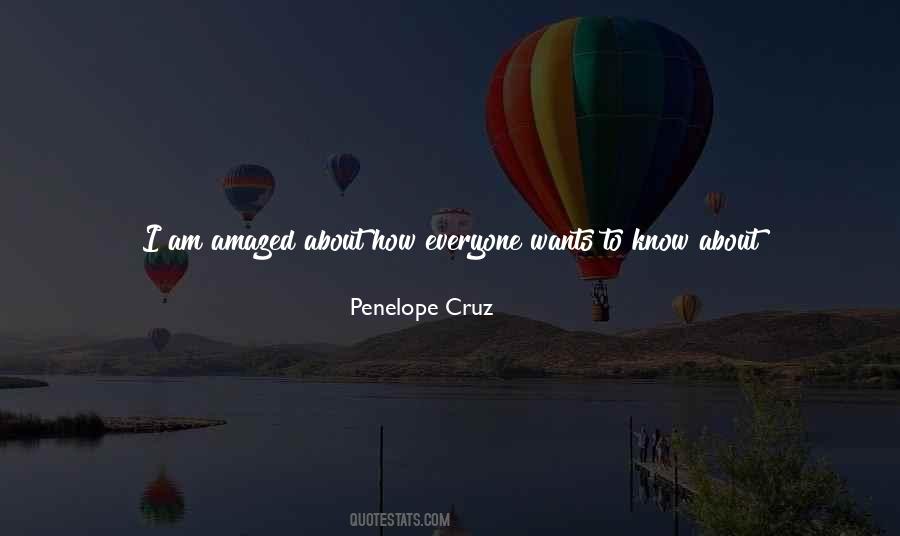 #61. It is perfectly true, as philosophers say, that life must be understood backwards. But they forget the other proposition, that it must be lived forwards. - Author: Soren Kierkegaard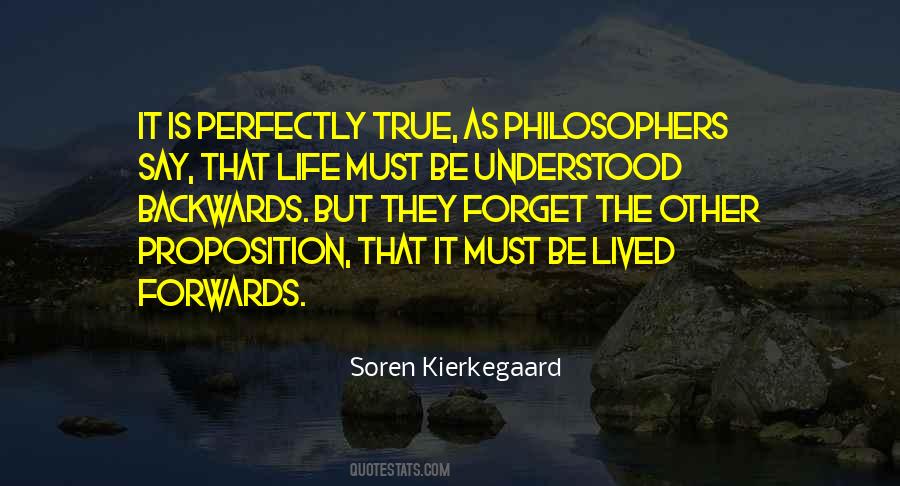 #62. I didn't introduce thug life to America. Thug life is America. I don't get why the whole world is fearing me. I am scared, but so are they. It's like I am having a panic attack cause I have 15,000 people wanting to do what I want, listing to everything I say. - Author: Tupac Shakur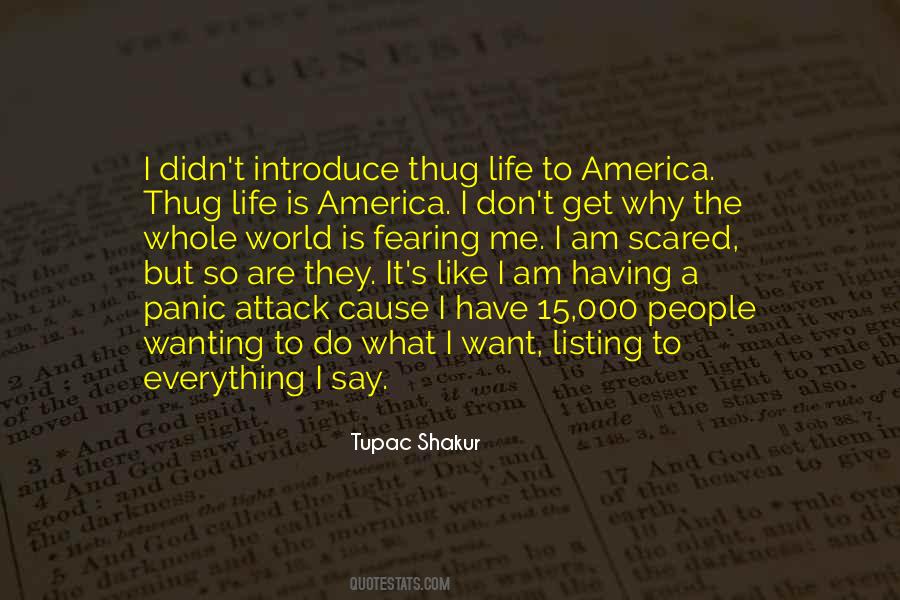 #63. Bipolar depression really got my life off track, but today I'm proud to say I am living proof that someone can live, love, and be well with bipolar disorder when they get the education, support and treatment they need. - Author: Demi Lovato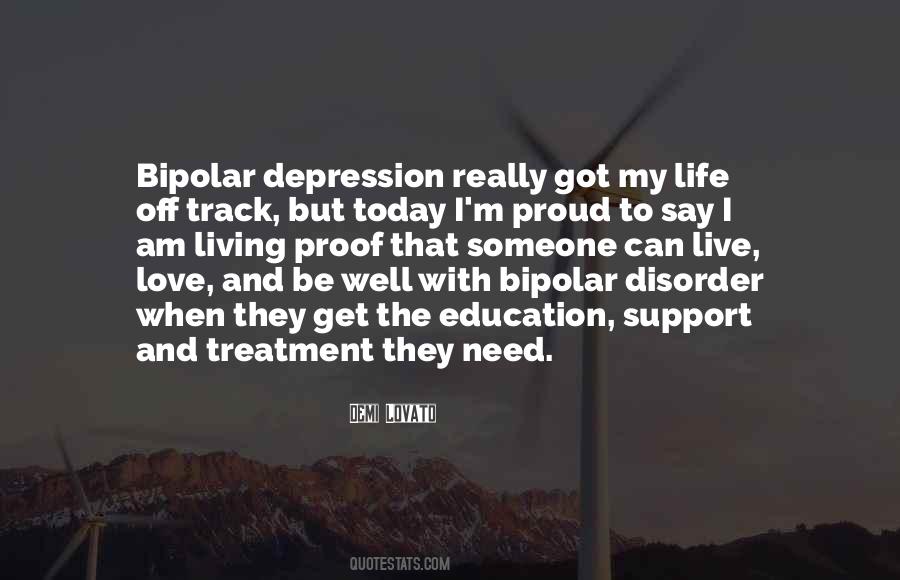 #64. They say you always remember the big firsts in your life. I will never forget the morning I was outwitted by an almost-four-year-old for the first time. - Author: E.L. Phillips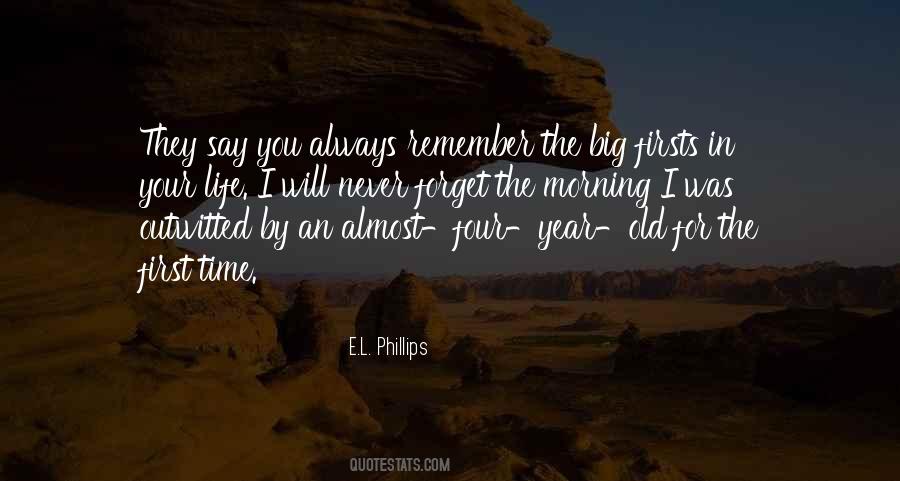 #65. It is one of the peculiar truths of life that people often say things that they know full well are ridiculous. - Author: Lemony Snicket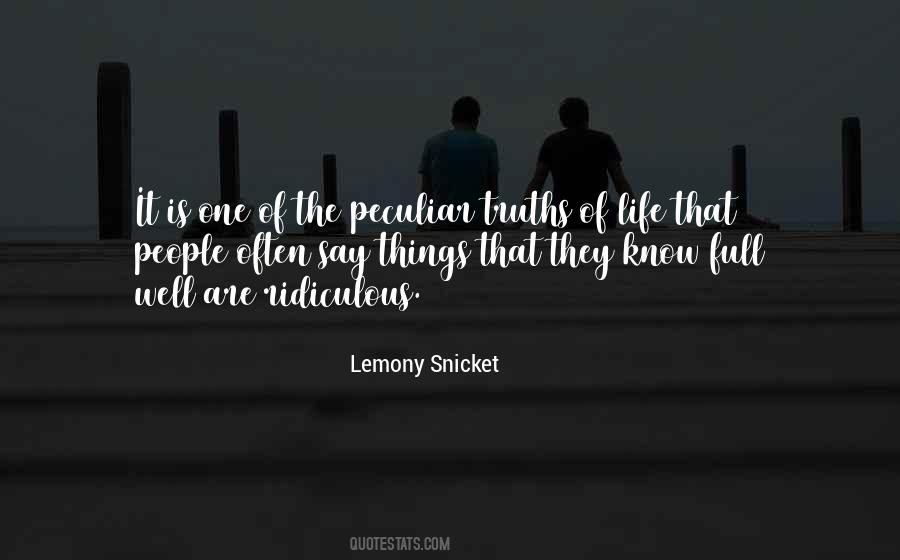 #66. I never bring a role home with me. The moment they say, 'It's a wrap,' it's gone completely. I'm a totally ruthless professional, and life is my family, not my work. - Author: Michael Caine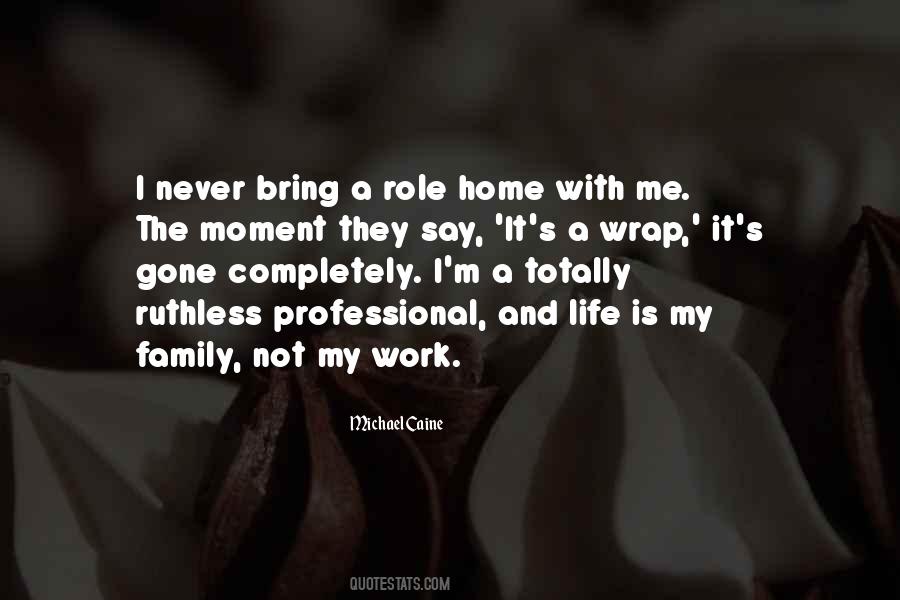 #67. They say win it.. I say win it.. Life is NOT only about winning but sometimes its also about pausing and feeling it - Author: Mehul Darooka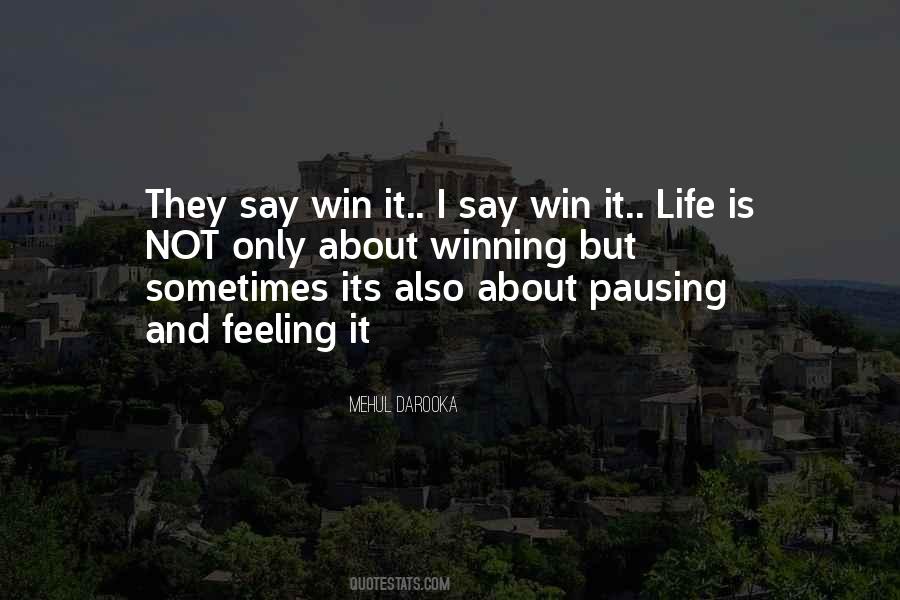 #68. Being a pastor, of course, obviously people would say it (shouldn't) have done much but, boy, it sure gave me a peace I never had before. I think we struggle in life. Even people of faith struggle when things don't work out quite the way we think they should. - Author: Todd Burpo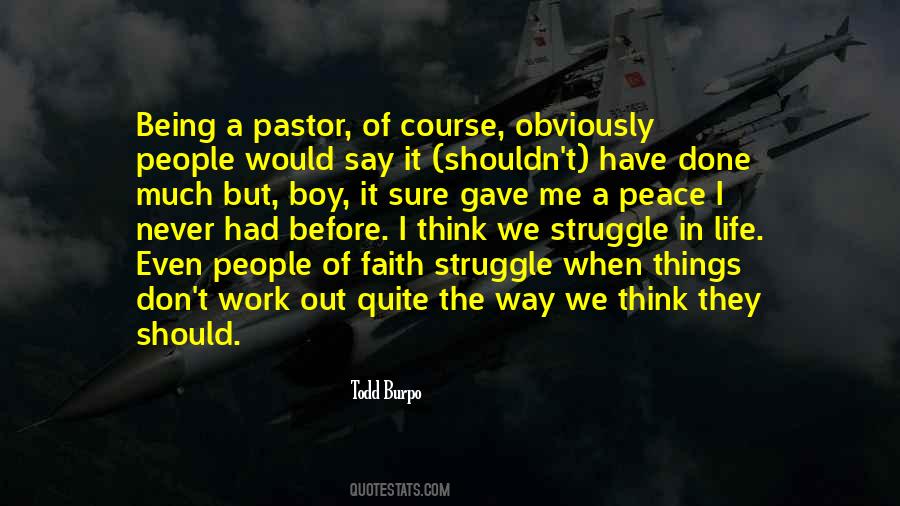 #69. I enjoy people who aren't afraid to say what they mean. It makes life so much easier! - Author: Alex Flinn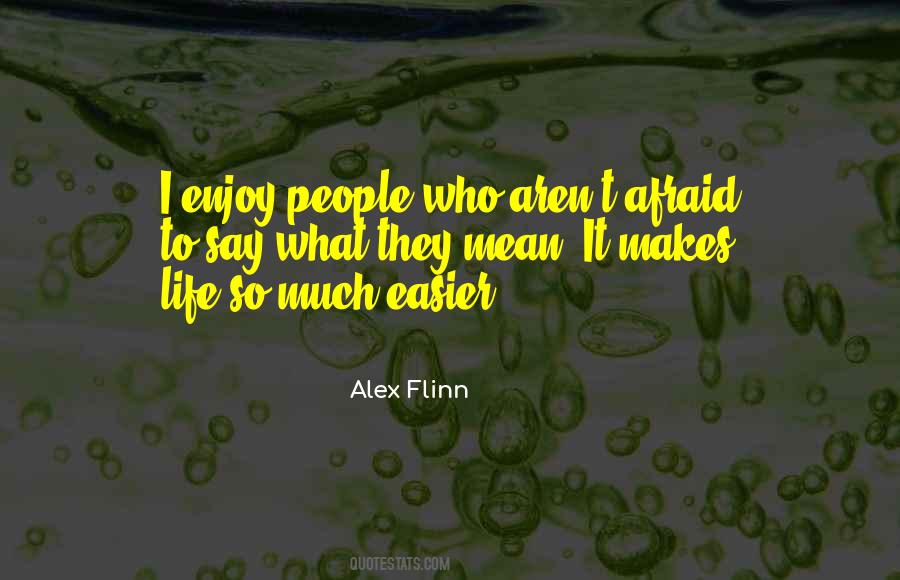 #70. Here am I shedding one of my life-skins and all they will say is, 'Bernard is spending ten days in Rome'. - Author: Virginia Woolf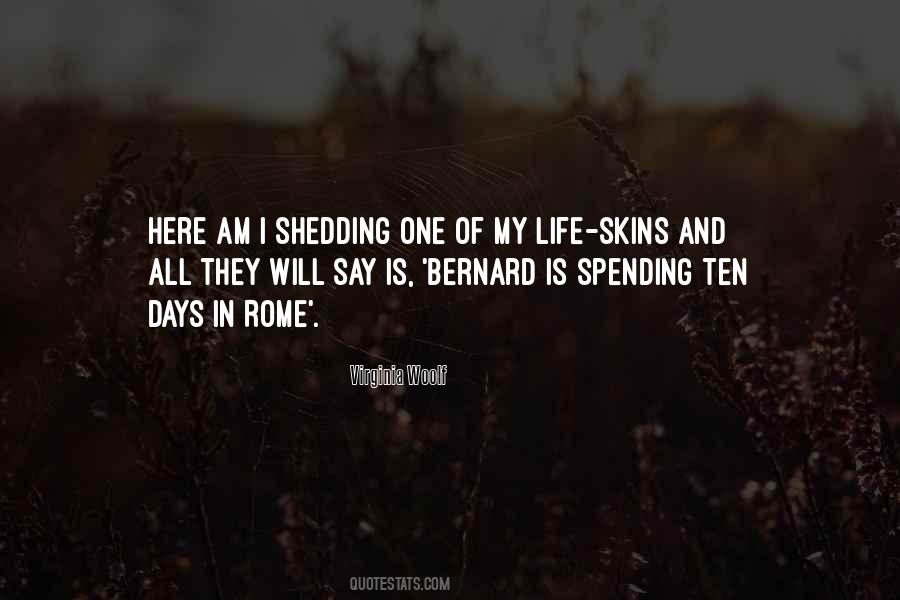 #71. Really, we're just a microcosm of the human condition. Whether we're here a day, a month, a year, fifty years - our time on this earth is finite." This time he turned to Brendan. "Life isn't a dress rehearsal, as they say. This is our chance to discover things we might have only dreamed of before. - Author: Claire Thompson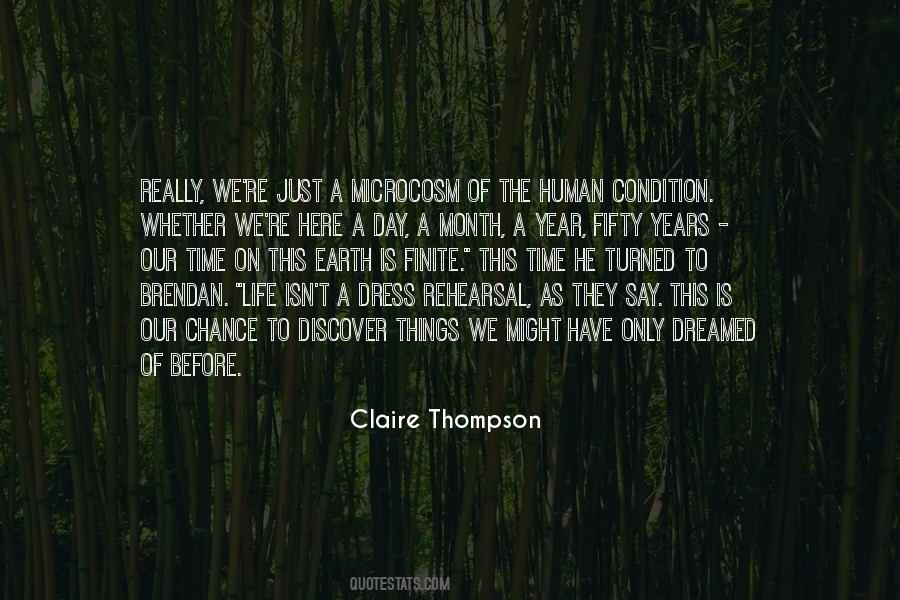 #72. When people meet me, I hope that they say this: 'This is a guy who, number one, loves the Lord, but he also loves people, and he wants to make a difference in people's life. And he wants to help everyone he comes in contact with, and he is genuine, he is real, and he cares about people.' - Author: Tim Tebow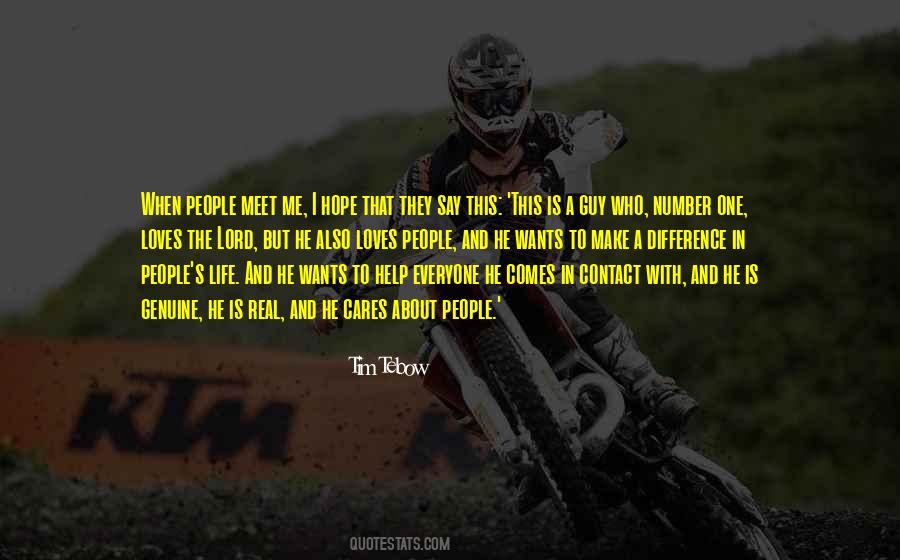 #73. Prayer is such a basic foundation of a Christian's relationship with God. It's how we communicate and fellowship with Him. But a surprising number of people, young and old, new and even long-time Christians, say they're not satisfied with their prayer life. - Author: Joyce Meyer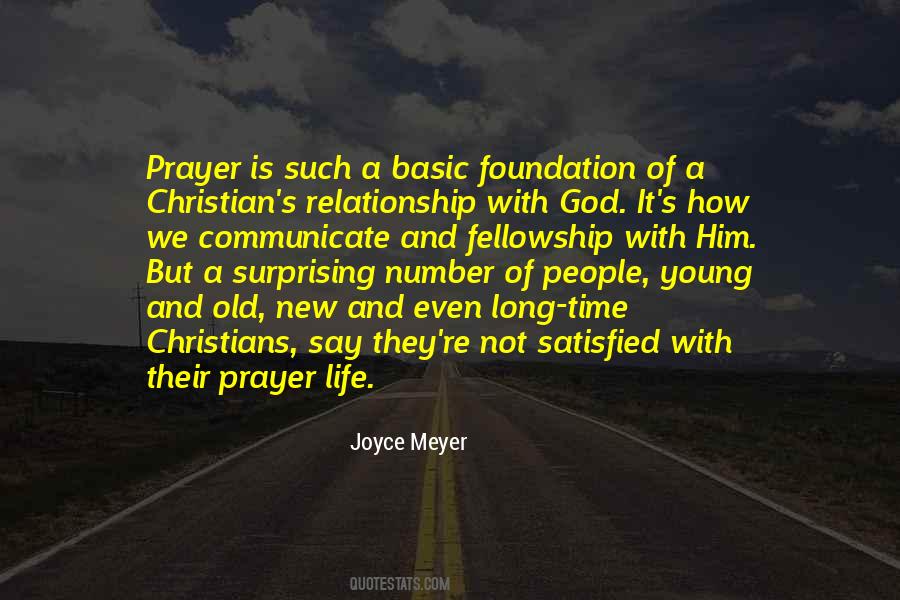 #74. The complications of life do not end at the altar; some might say that this is where they begin. - Author: Julian Barnes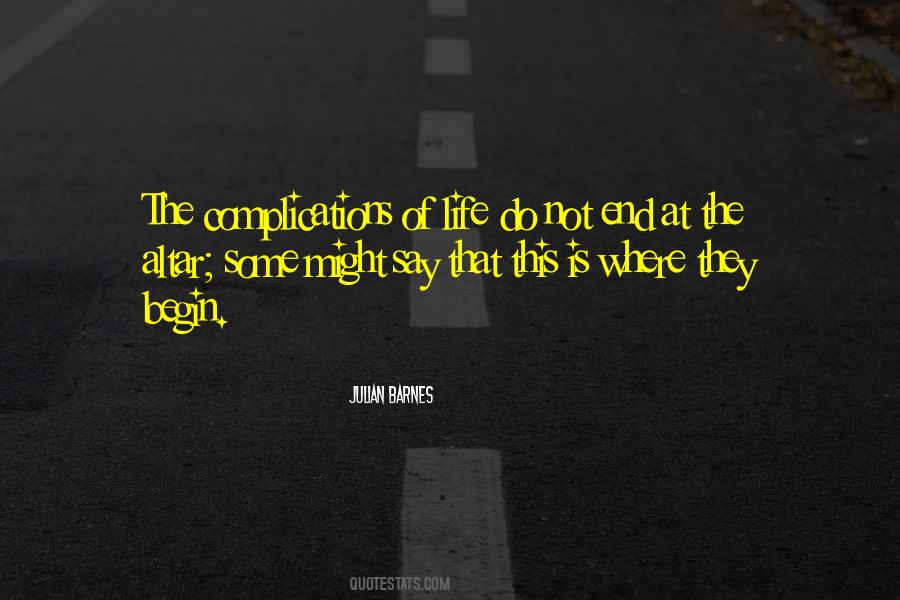 #75. Did I express my personality? I think that's quite unimportant because it's not people's selves but what they have to say about life that's important. - Author: Paul Strand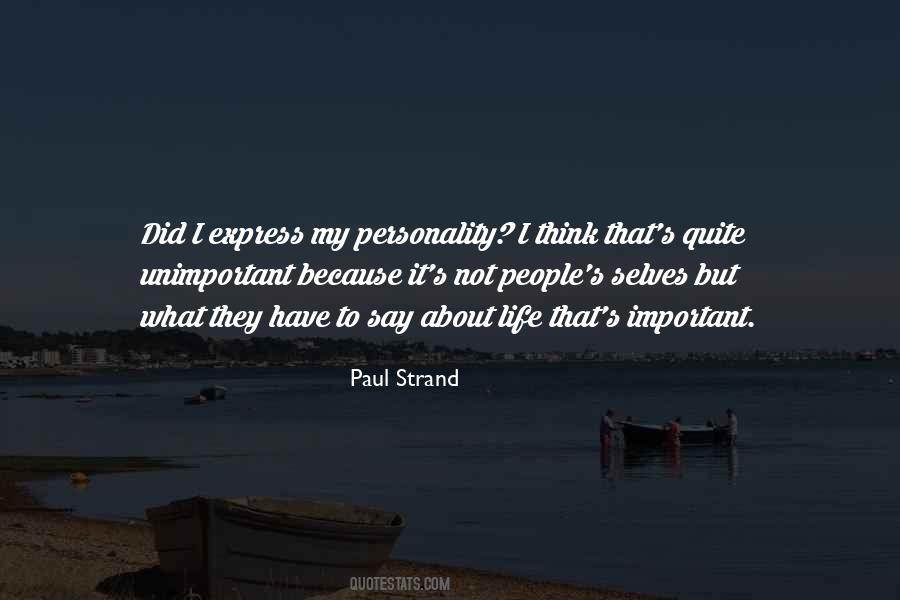 #76. Like they say, the game is chess, it damn sure ain't checkers. Every move I make is so that I can conquer and destroy. - Author: Wahida Clark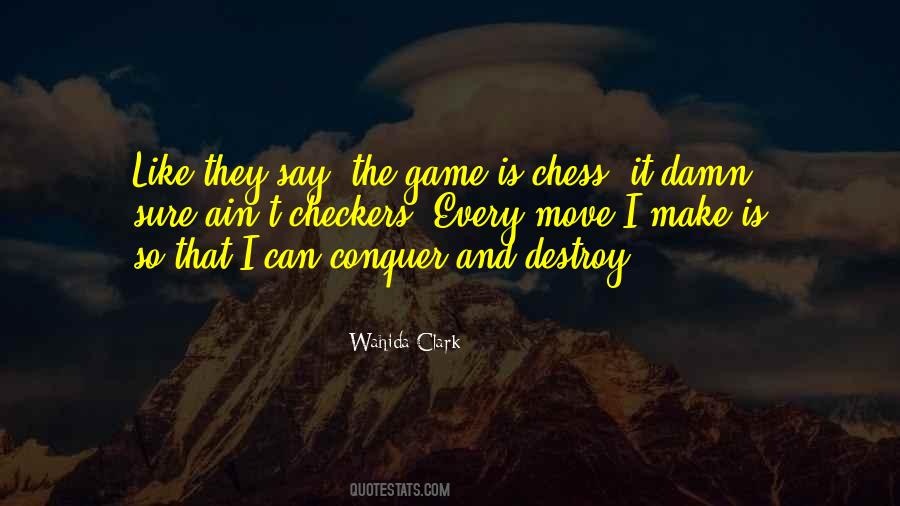 #77. If women lose the right to say where and how they birth their children, then they will have lost something that's as dear to life as breathing. - Author: Ami McKay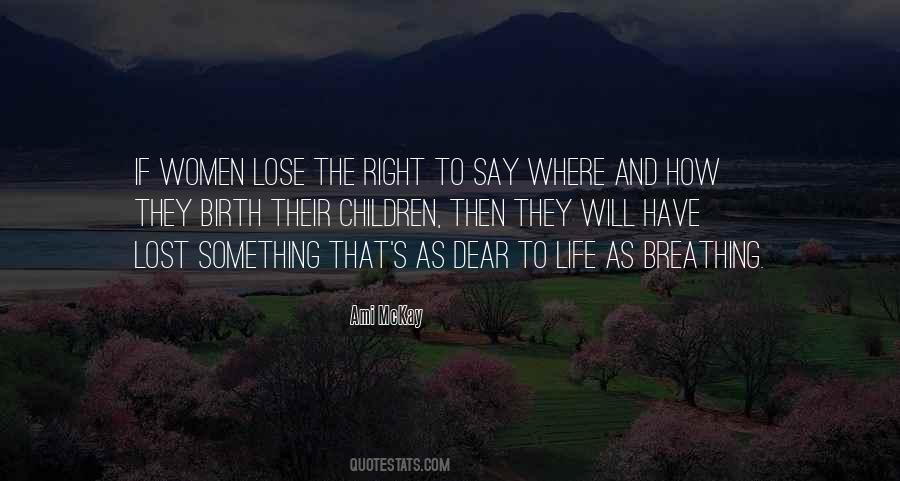 #78. No," he heard a voice on the wind say. "If I had told you, you wouldn't have seen the Pyramids. They're beautiful, aren't they? - Author: Paulo Coelho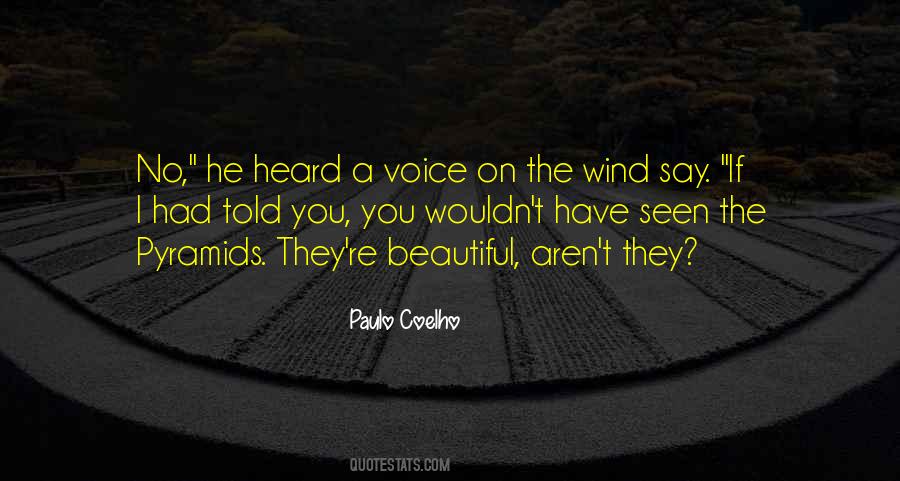 #79. Beware of those who speak ill of others in your presence; don't be surprised of what they say about you in your absence. - Author: A.J. Garces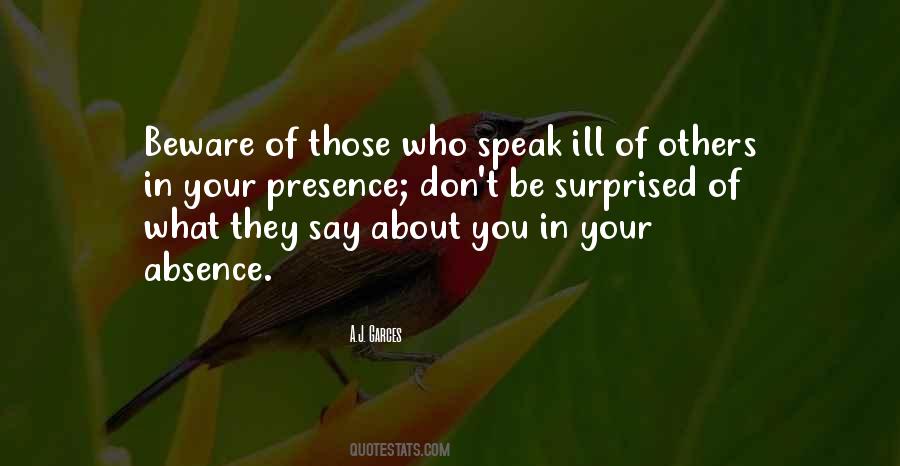 #80. I try to go throughout my daily life just as if nothing has changed, but you don't have much anonymity anymore, which feels really good. People come up, and say hi and they enjoy your work. - Author: Adam Lambert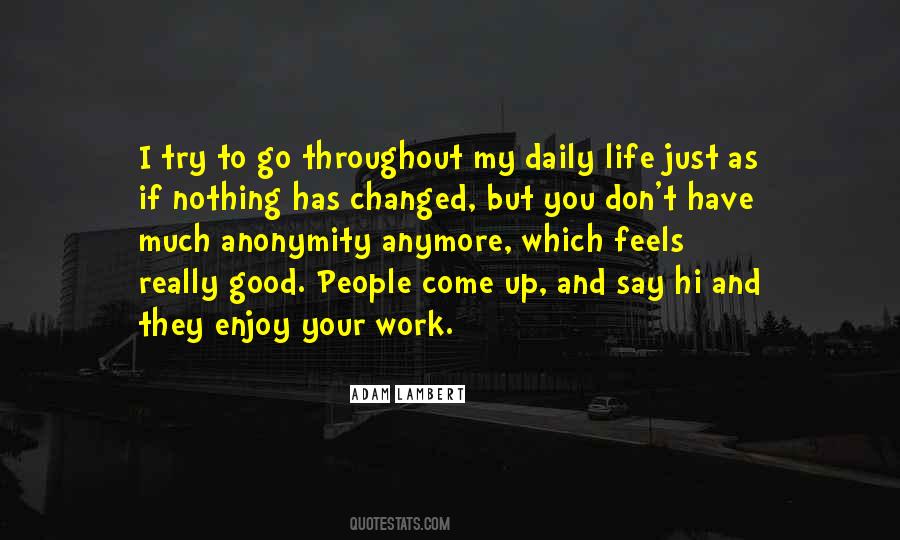 #81. We usually say of ancient persons, that they have already one foot in the grave, and the rest of their life is nothing else but the bringing of these feet together. - Author: John Pearson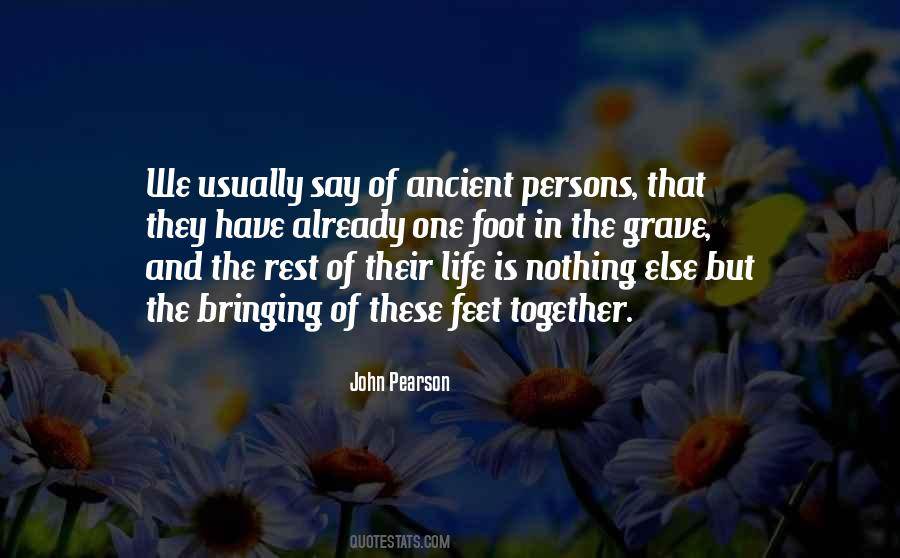 #82. They say that the moment your life appears before your eyes will be your last, but I'm here to say that it's not so very different when you kiss a woman like Kate, whoever your Kate may be. - Author: Justin Cronin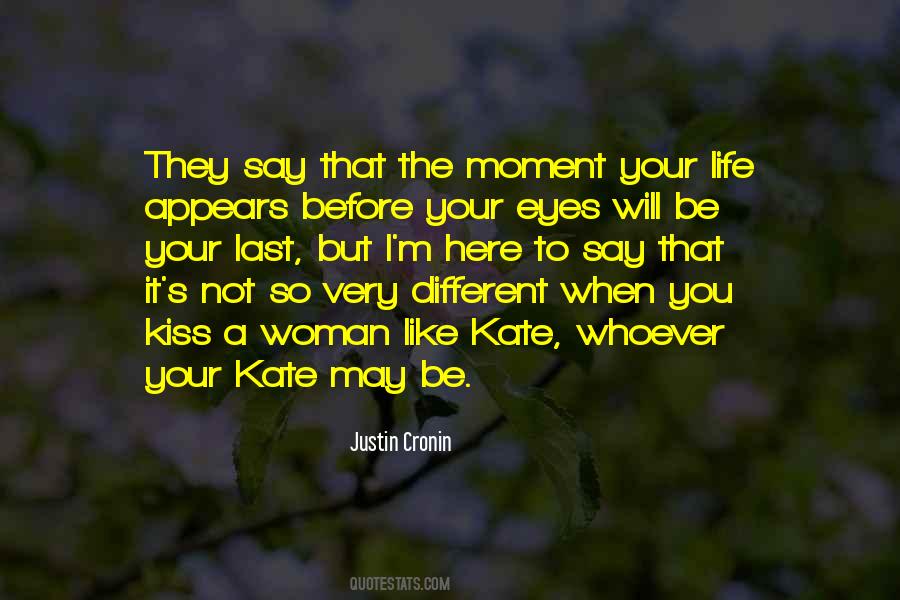 #83. I want to keep audiences off balance, so they don't know who I am or how to take me. If I duck and weave, as Frank Bruno might say, I'll have a longer shelf life. - Author: Robert Carlyle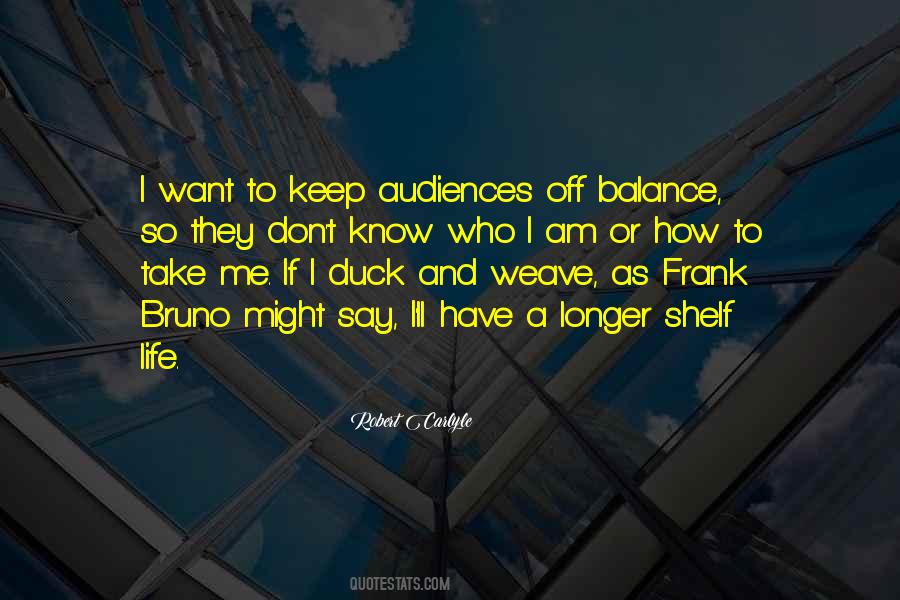 #84. Would that my hands were meant to build. I would know what to say. What to do. Maybe in another life I would have been that man. In this one, my words, like my hands, are clumsy. All they can do is cut. All they can do is break. - Author: Pierce Brown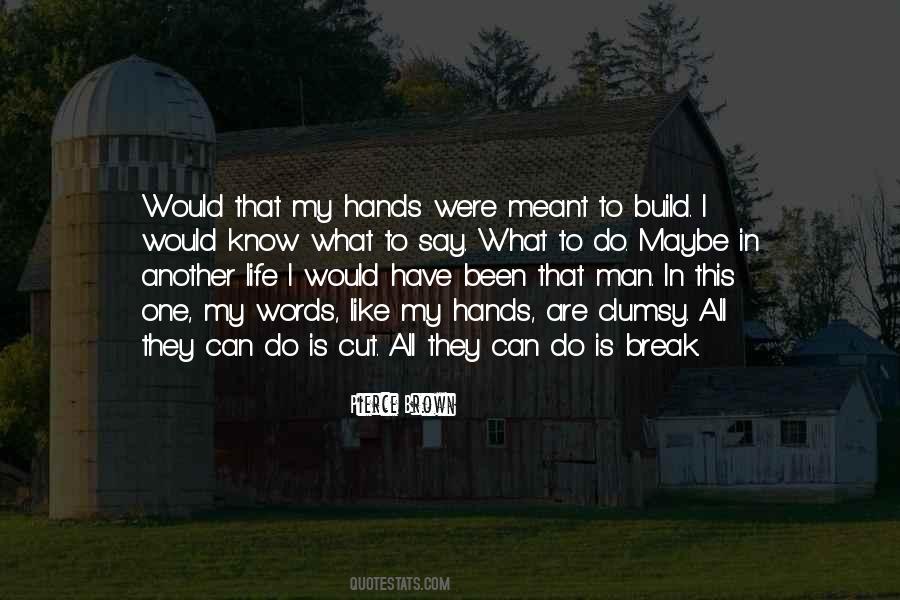 #85. When I was a kid people always asked why I didn't act like the rest of my family, and parents would say, "Well, she needs a childhood! We would never allow her to do that even if she wanted to". They were as involved in my life as any parents are in any person's life. - Author: Blake Lively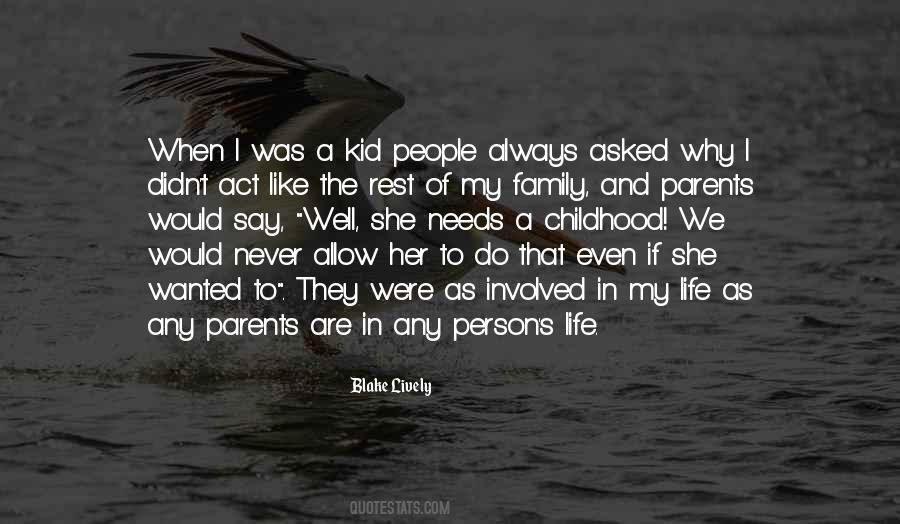 #86. I say that I suffer from what Rosalind Krauss was calling the post-medium condition, where an artist essentially employs several mediums in order to bring to life whatever specific ideas that they have. For me it's always been that way. - Author: Rashid Johnson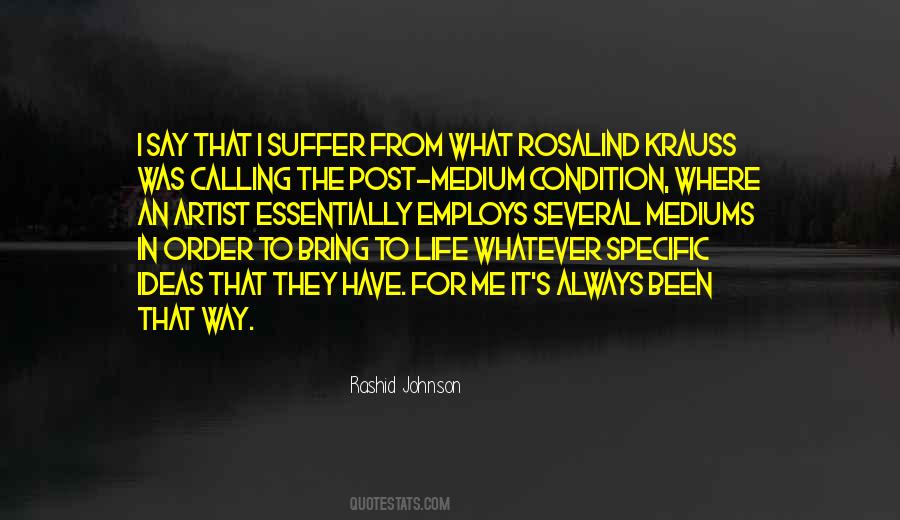 #87. Time softens all griefs, they say, and it is useless to dwell on lives that might have been. We are granted only one life, and one is enough. Whom do such regrets profit? What do they achieve, except to bring us unhappiness? - Author: Peter Hobbs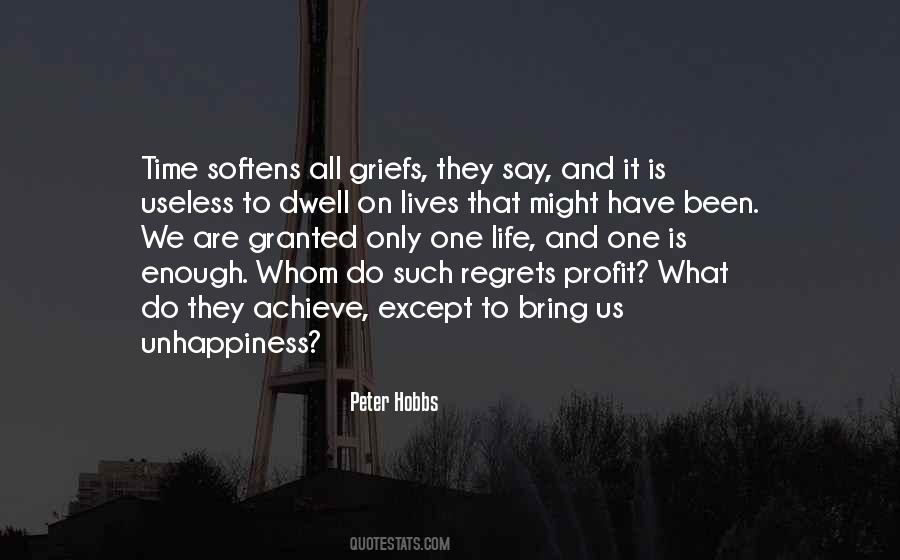 #88. I can say that paintings are prayers, they have to do with anything that makes you wish for more that what everyday life provides. - Author: Susan Rothenberg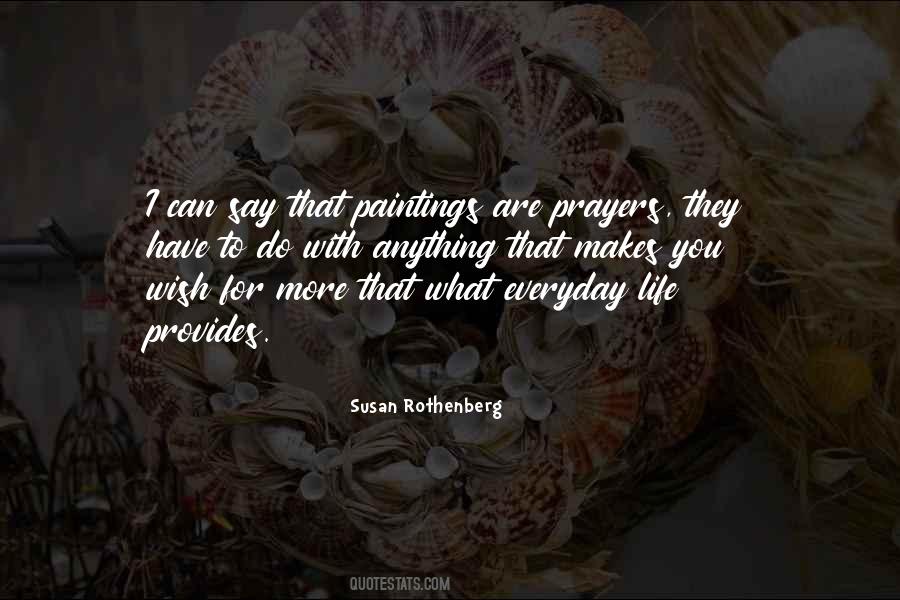 #89. Keep in mind what choices you make because one day your going to have to face you loved ones and hear what they have to say. - Author: Keydia Marie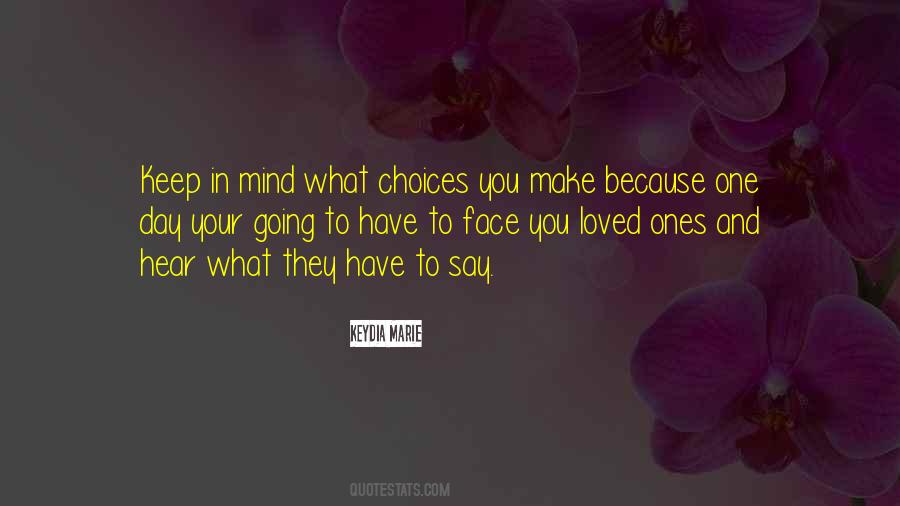 #90. As a wicked man I am a complete failure. Why, there are lots of people who say I have never really done anything wrong in the whole course of my life. Of course they only say it behind my back. - Author: Oscar Wilde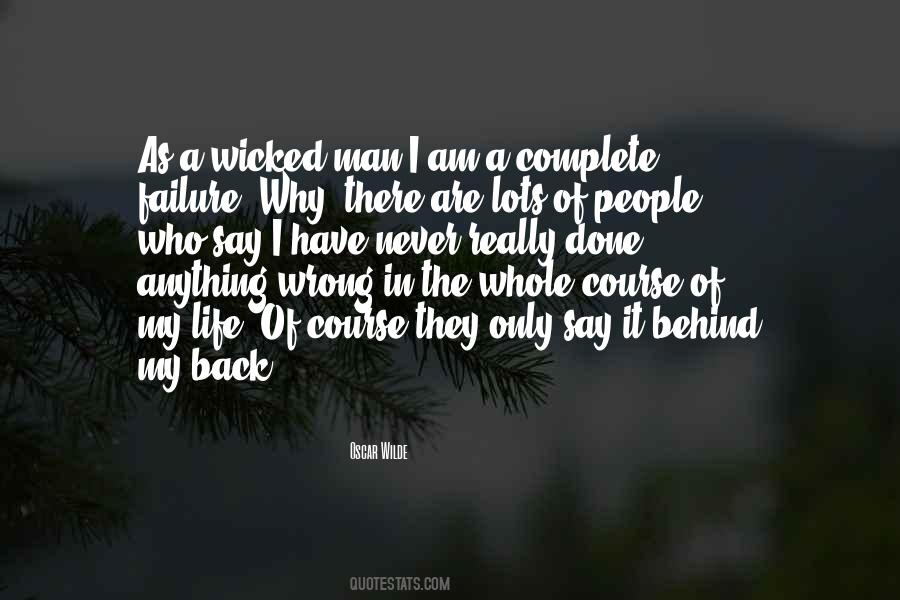 #91. I have two homes, like someone who leaves their hometown and/or parents and then establishes a life elsewhere. They might say that they're going home when they return to see old friends or parents, but then they go home as well when they go to where they live now. Sarajevo is home, Chicago is home. - Author: Aleksandar Hemon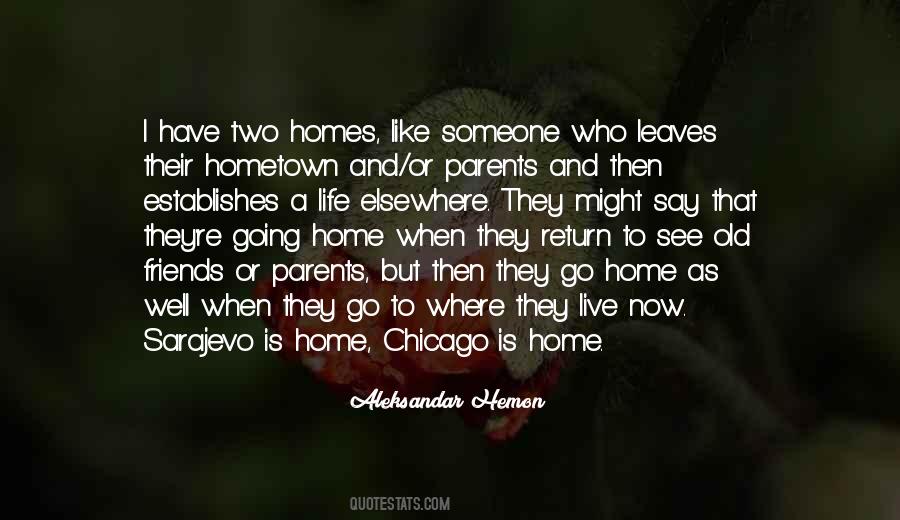 #92. By the time I was done with the car it looked worse than any typical Indian car that has been driven all its life on reservation roads, which they always say are like government promises - full of holes. - Author: Louise Erdrich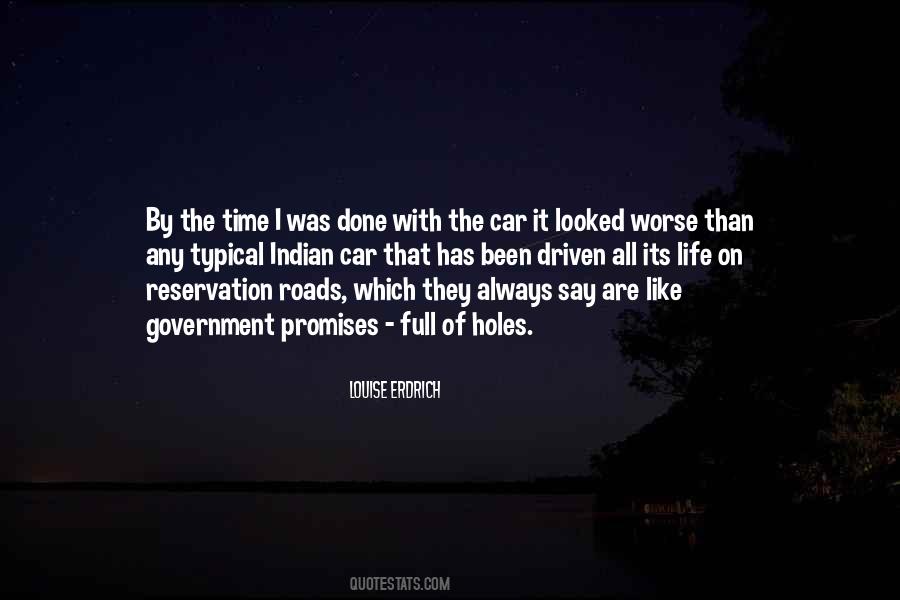 #93. Dreams are real while they last. Can we say more of life? - Author: Havelock Ellis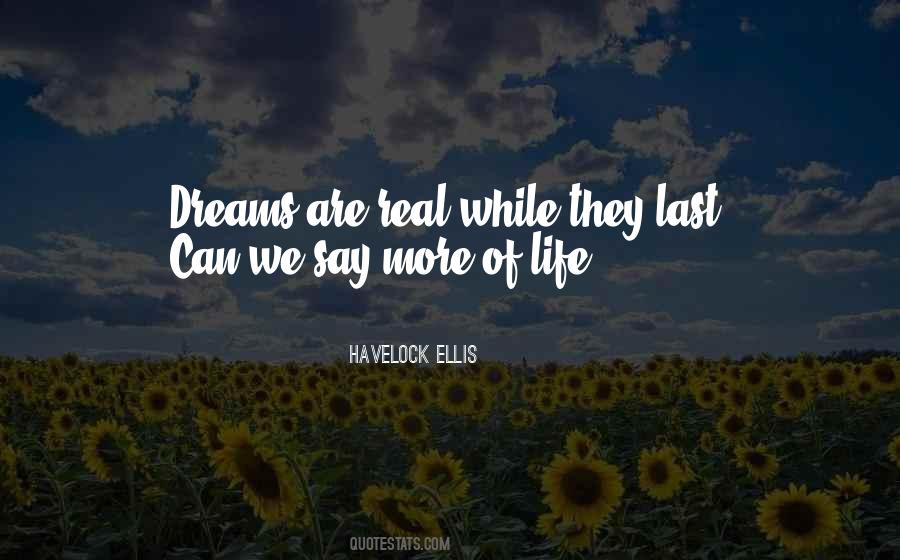 #94. Some say men continually war against circumstances, but I say they perpetually flee. What are the works of men if not a momentary respite, a hiding place soon to be discovered by catastrophe? Life is endless flight before the hunter we call the world. - EKYANNUS VIII, 111 APHORISMS Spring, - Author: R. Scott Bakker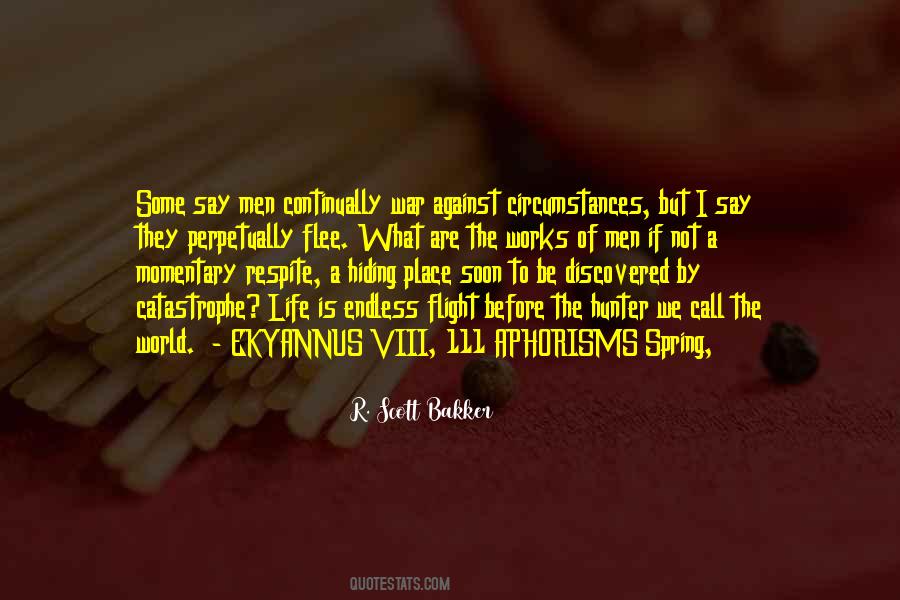 #95. They used to say that knowledge is power. I used to think so, but I know now they mean money. - Author: Lord Byron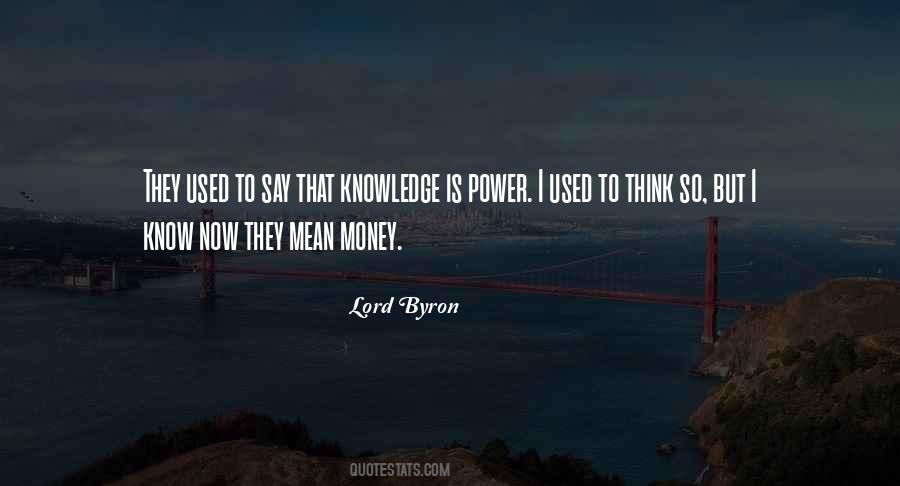 #96. You know, people ask me. They say 'Dan, three years later do you really want to be drawing cat whiskers on your face?' but they don't understand. The cat whiskers, they come from within. - Author: Dan Howell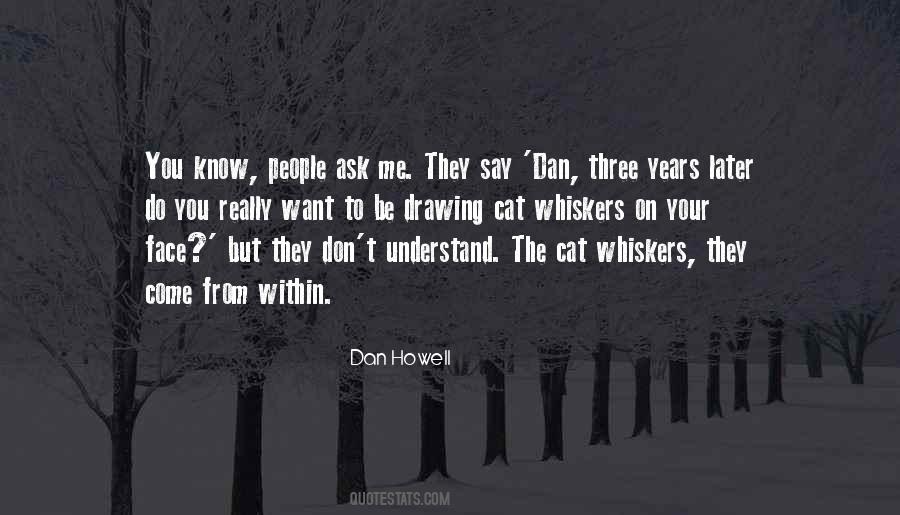 #97. I hear that I'm funny, and I think I'm funny, but I go in all the time for multicam, and they say that I'm not big enough, or I'm too big. I'm so confused. Okay, well, I'm funny in real life. - Author: Kirby Bliss Blanton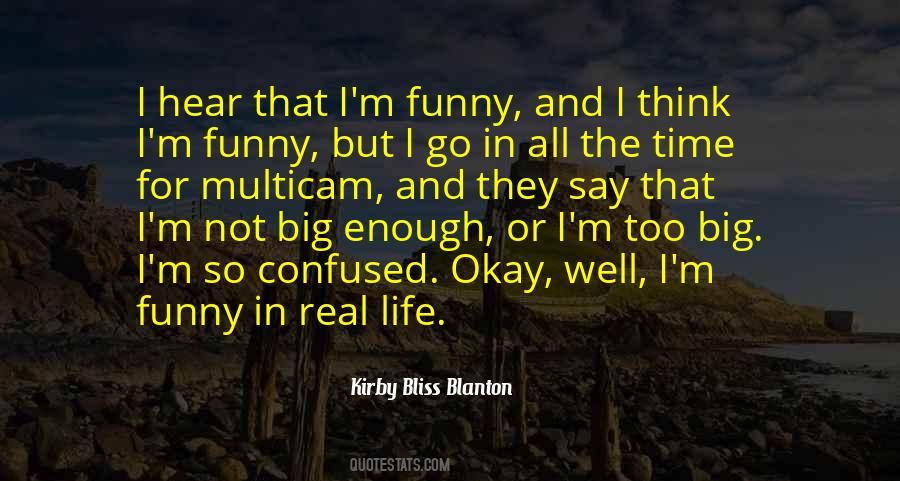 #98. People are going to say what they want to say and think what they want to think, and I can't change their minds. - Author: Hilary Duff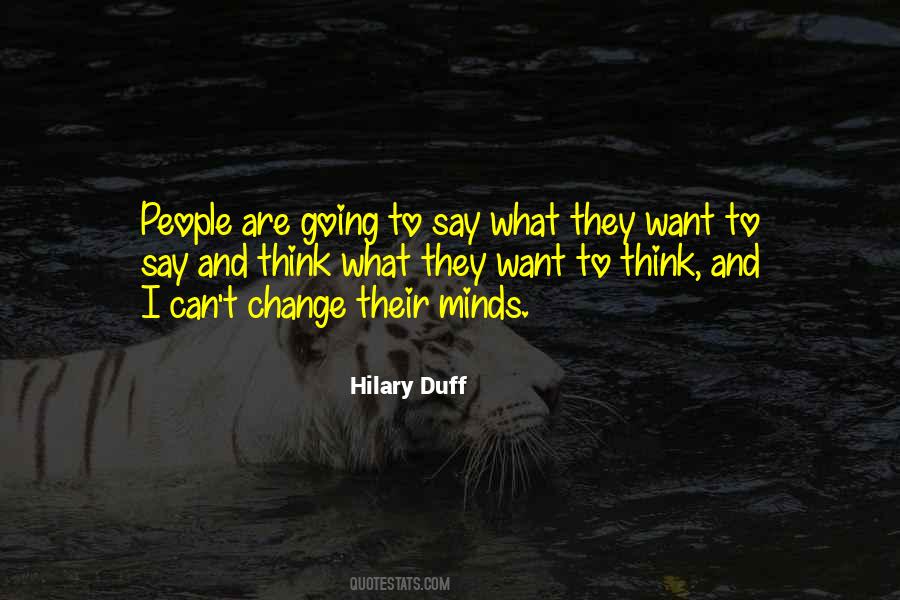 #99. Anyway, as they say, where there's life, there's hope. So let us eat. - Author: Catherine Cookson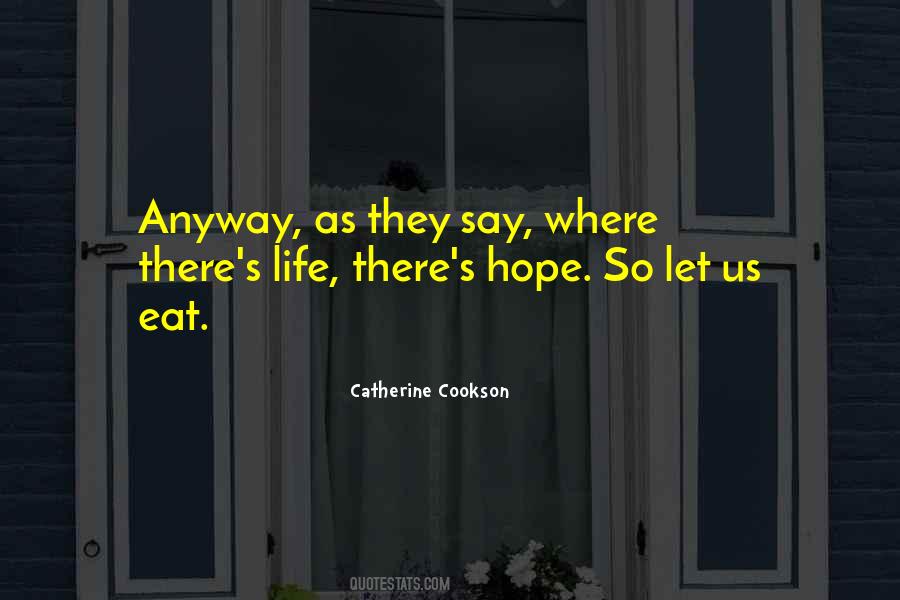 #100. If it weren't for Jesus, I would not be where I am today and my life would be without purpose. I've heard kids say they want to be just like me when they grow up. They should know I want to be just like Jesus. - Author: Albert Pujols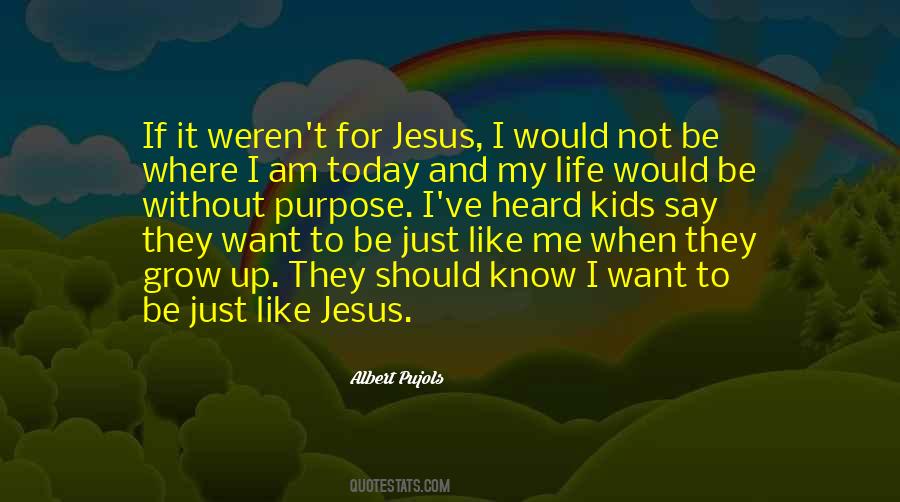 Famous Authors
Popular Topics