Life By God Famous Quotes & Sayings
List of top 100 famous quotes and sayings about life by god to read and share with friends on your Facebook, Twitter, blogs.
Top 100 Quotes About Life By God
#1. By praying in Jesus' name, we petition God to make our life shine for Christ's glory and eternity's purposes. - Author: Bryan Chapell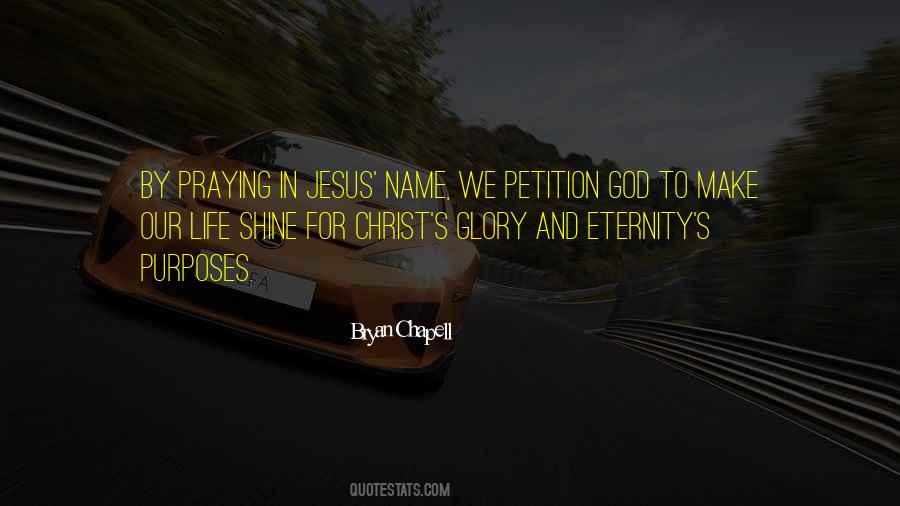 #2. Show me a god that does not demand mortal suffering.
Show me a god that celebrates diversity, a celebration that embraces even non-believers, and is not threatened by them.
Show me a god that understands the meaning of peace. In life, not in death. - Author: Steven Erikson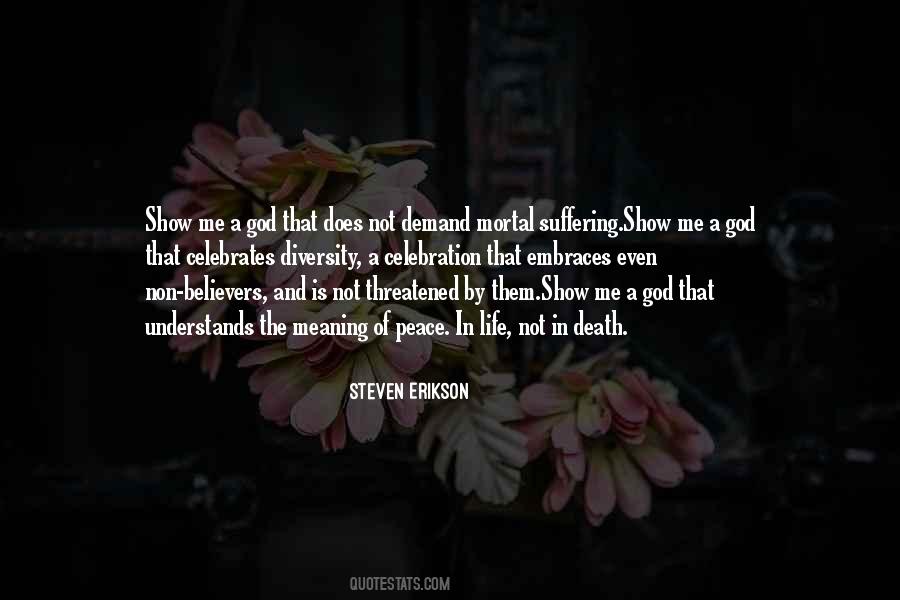 #3. Maybe I've got to be sufficiently broken by life's many broken promises to be sufficiently compelled to seek out God's unbreakable promises. - Author: Craig D. Lounsbrough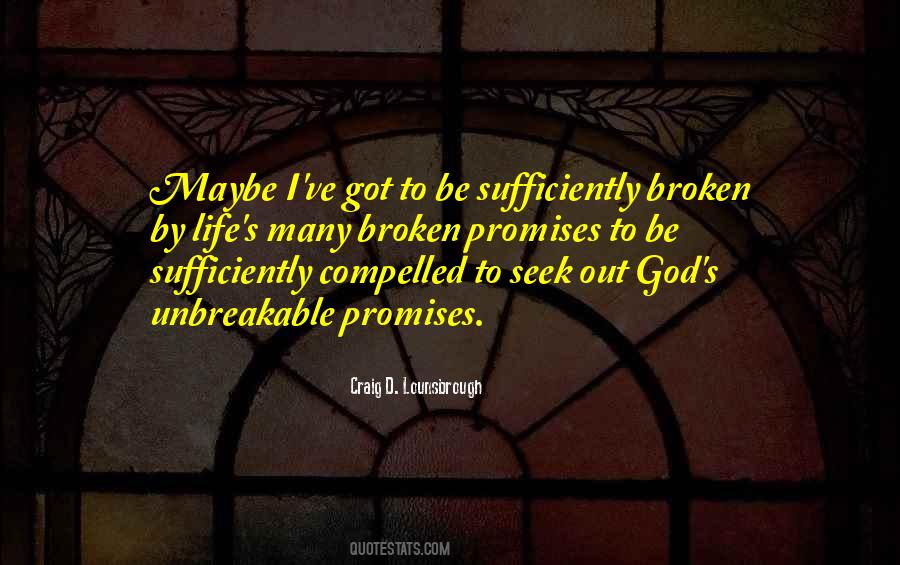 #4. To repent means to realize that the kind of life we are living is wrong and that we must adopt a completely new set of values. To that end, it involves two things. It involves sorrow for what we have been and it involves the resolve that by the grace of God we will be changed. - Author: William Barclay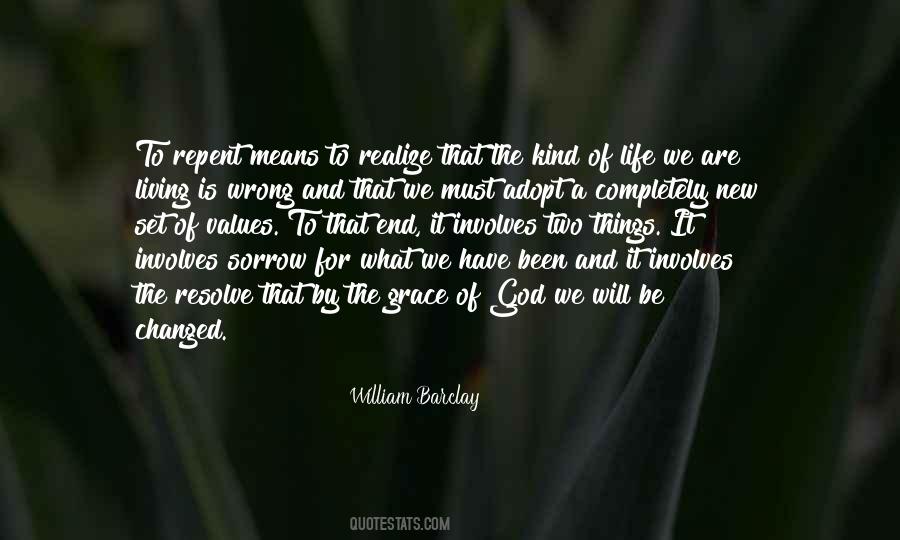 #5. All life is a breath exhaled by God. All dying is a breath inhaled by God. - Author: Hermann Hesse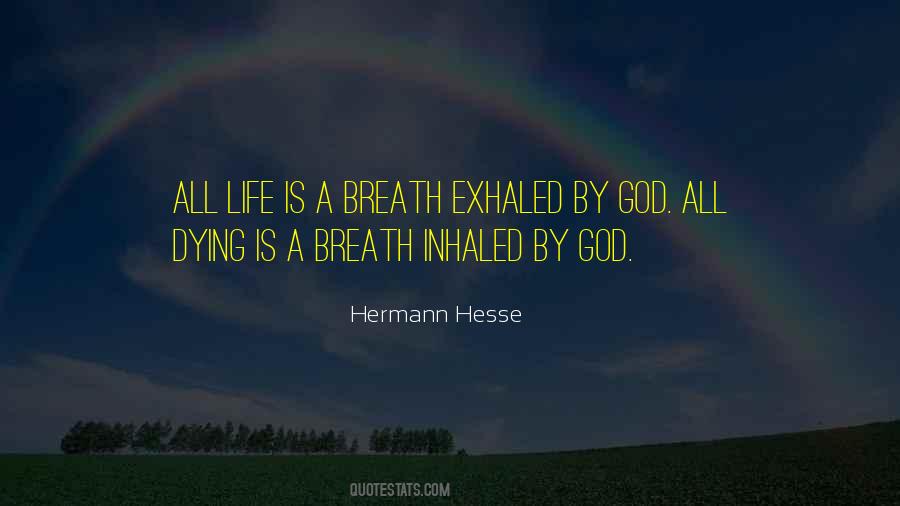 #6. My tag line for 'Silver Linings' is this: It's about a man who thinks his life is a movie produced by God. - Author: Matthew Quick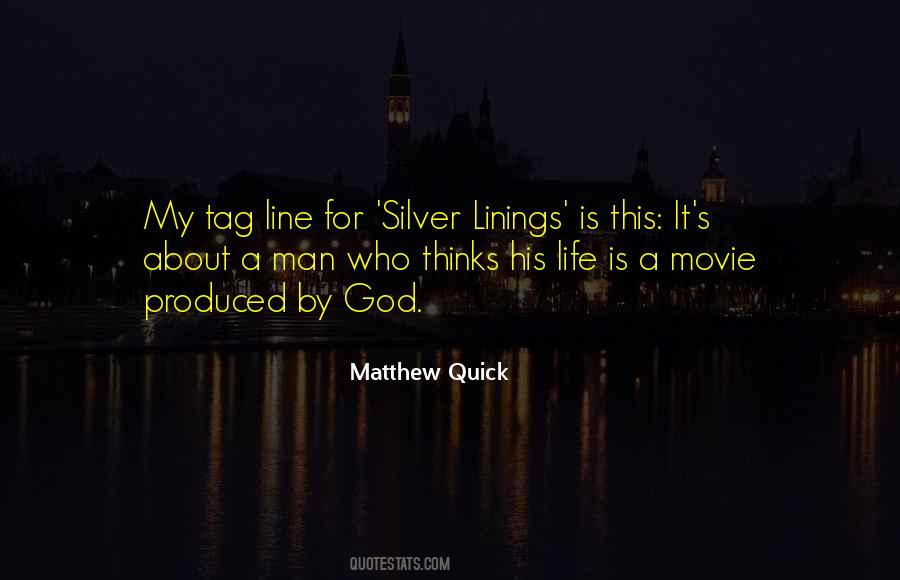 #7. For God has not only created us from nothing, but also granted us by the grace of the Word to live a life according to God. - Author: Athanasius Of Alexandria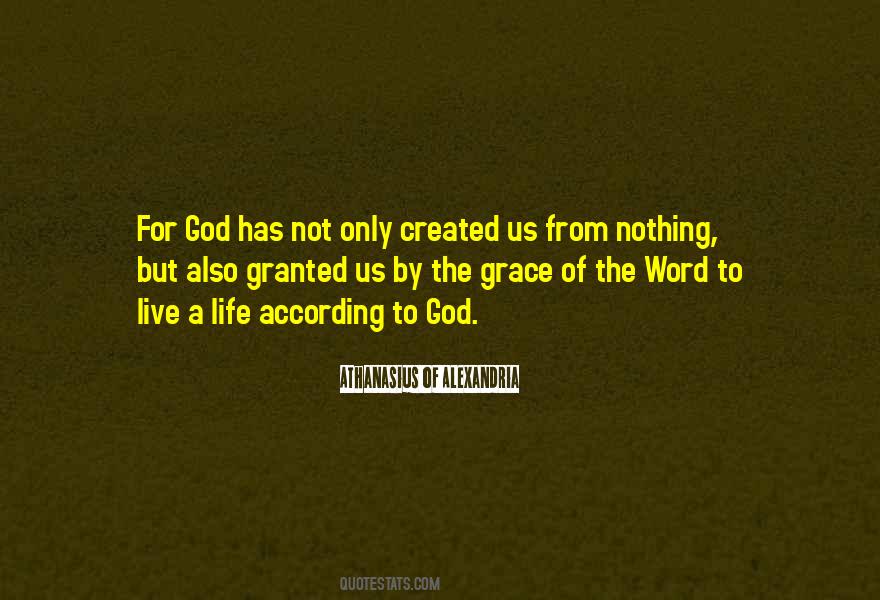 #8. It would do me well to realize that the path that has led me to where I am was mapped by those who taught me and paved by what they taught me. Therefore, if God is not my teacher and His truth is not my topic I will find myself where I don't want to be, having trod a path I didn't want to take. - Author: Craig D. Lounsbrough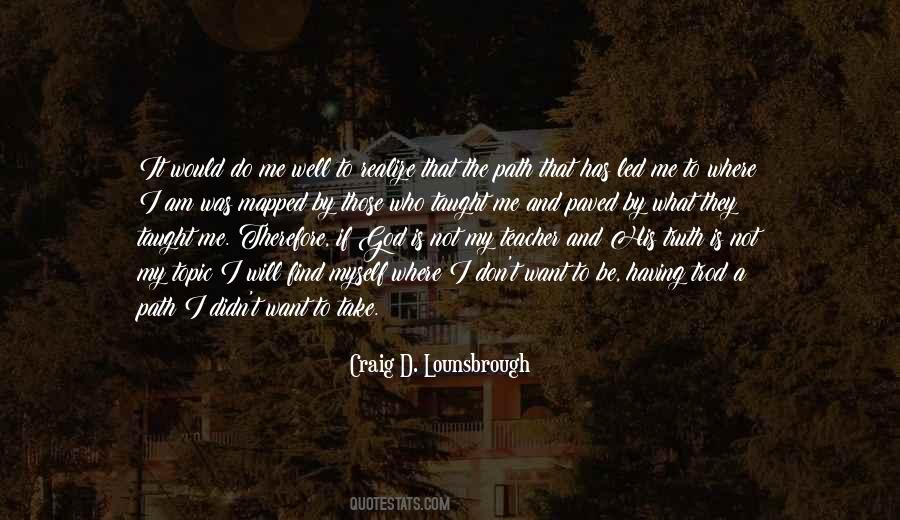 #9. I am overwhelmed by the goodness of God. - Author: Lailah Gifty Akita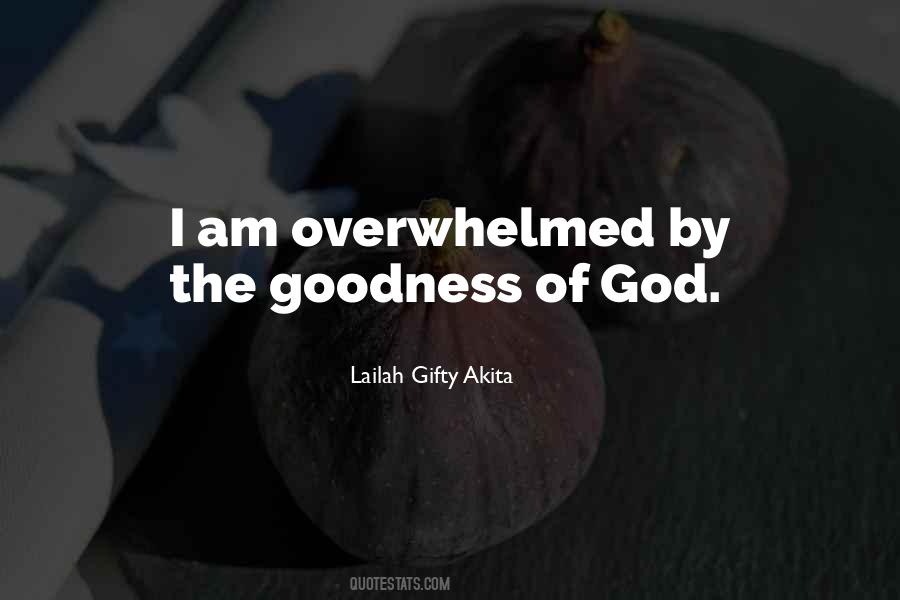 #10. You learn to run by running. - Author: Sheeja Jose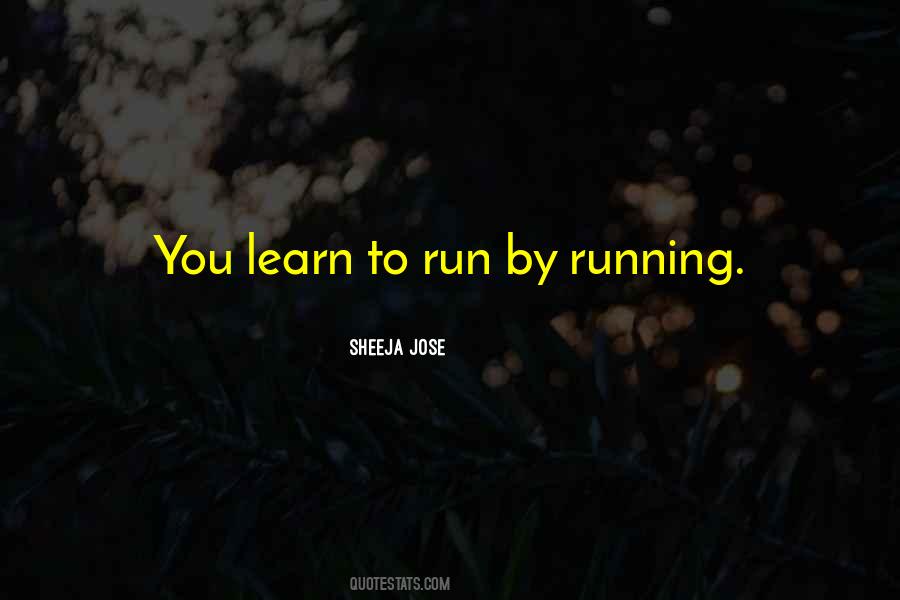 #11. I implicitly believe in the truth of the saying that not a blade of grass moves but by His will. He will save it (my life) if He needs it for further service in this body. None can save it against His will. - Author: Mahatma Gandhi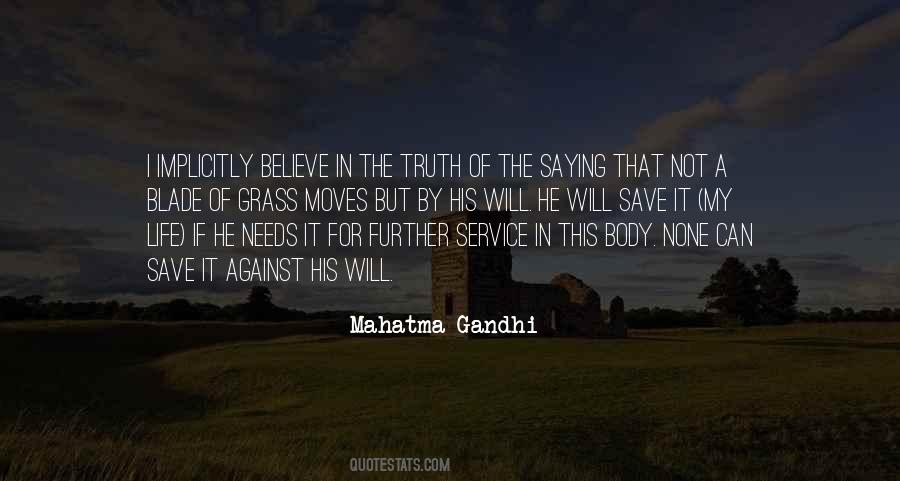 #12. Ah, lady! it is hardly what you thought it, This life of luxury and social power; You gave yourself as principal, and bought it, But God extracts the interest hour by hour. - Author: Ella Wheeler Wilcox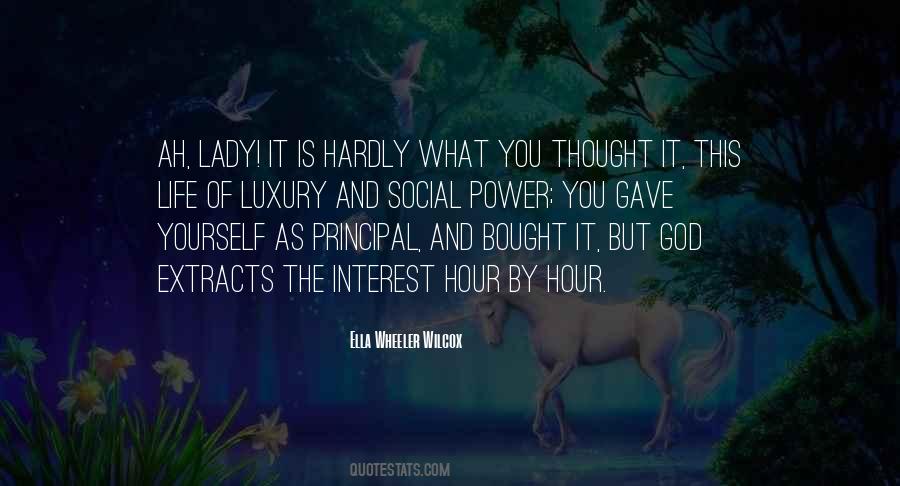 #13. A life in which people know that our accomplishments could not have been attained by our own power. A life that brings glory to God in heaven.4 - Author: Francis Chan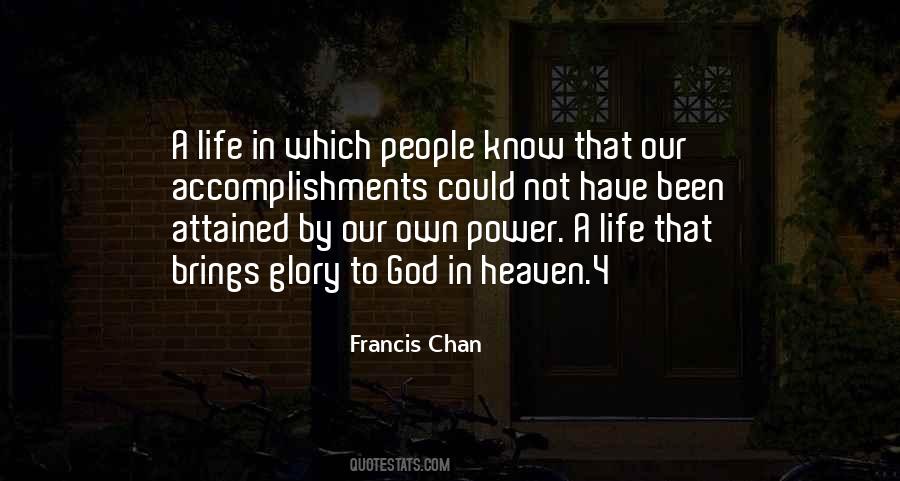 #14. In life we meet people and they come and go. But, only God will remain the same. Despite what others think, God's love is eternal. No matter who abandons you, God will never leave or forsake you. - Author: Amaka Imani Nkosazana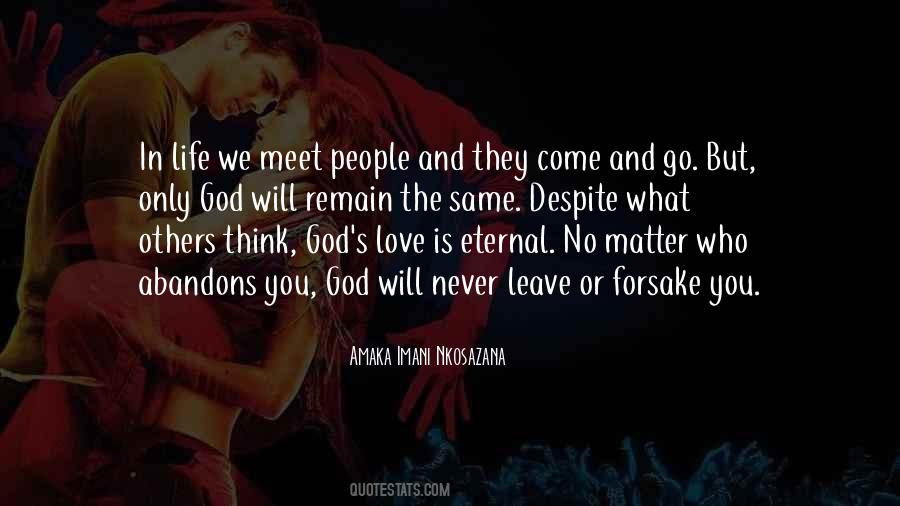 #15. Young friends, do not hesitate to follow the example of Pedro, who 'pleased God and was loved by him' and who, having come to perfection in so short a time, lived a full life. - Author: Pope John Paul II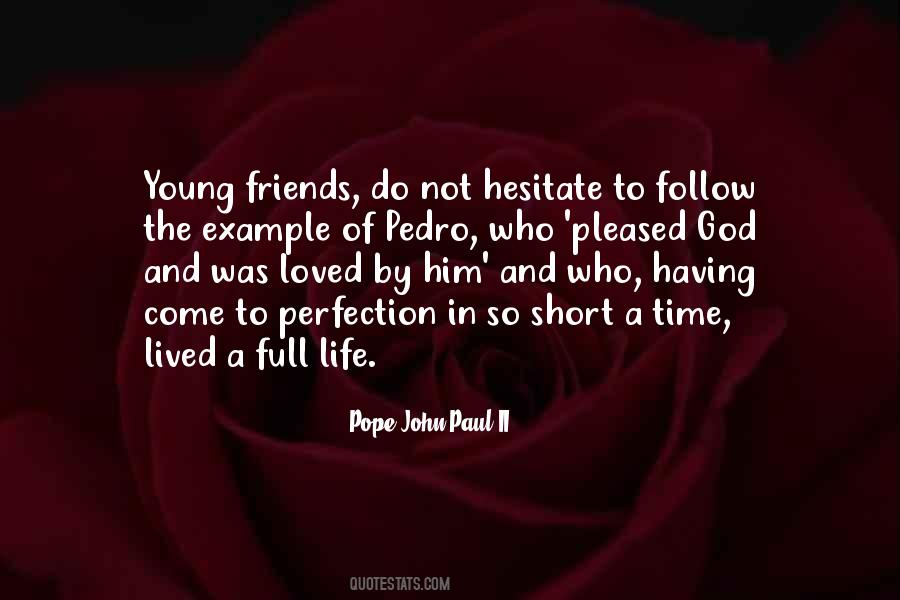 #16. You cannot change things by worrying over them.But you will find miracles happen when you hand over your problems to God
and then forget about ... - Author: Tanu Reshma B Singh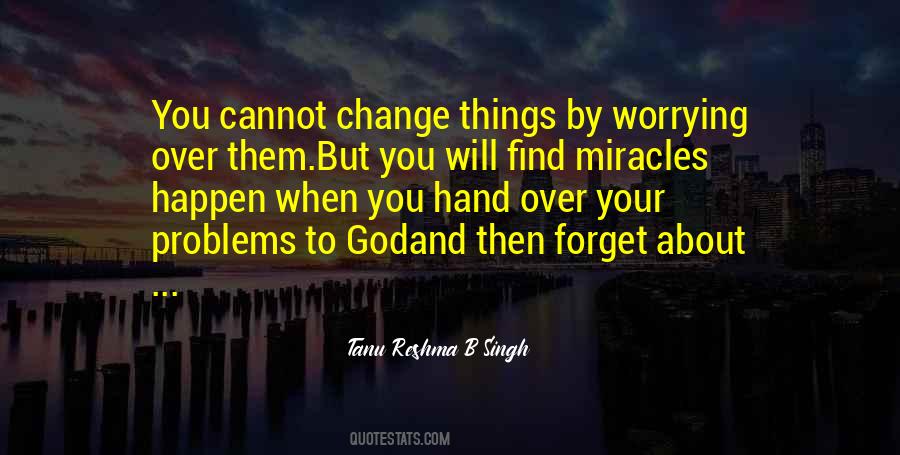 #17. It is only by grace and hope in great God of wonders, we receive strength and vitality for everyday life. - Author: Lailah Gifty Akita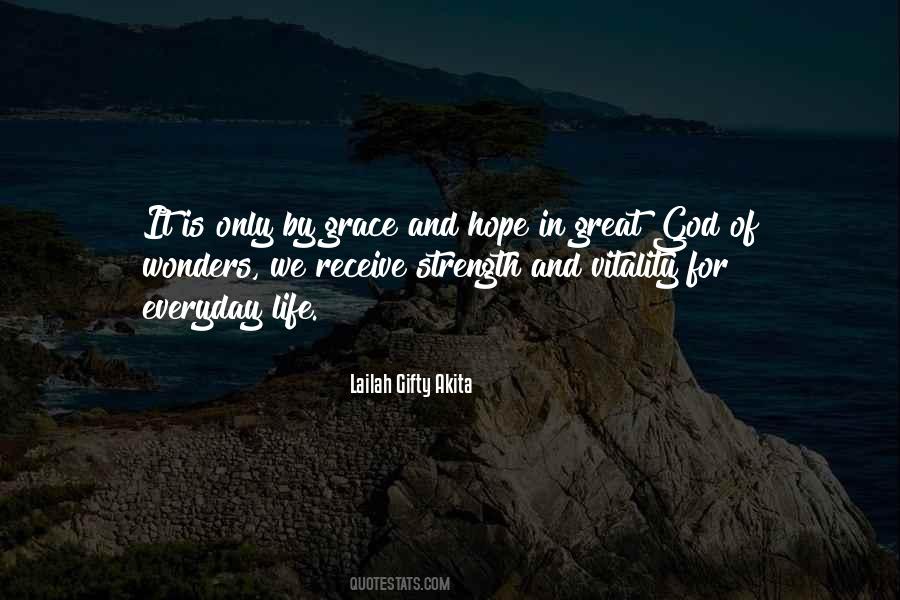 #18. Each of us is accountable to God for our personal holiness. Humbling yourself by letting others into your life and allowing them to help you and hold you accountable will release the sanctifying, transforming grace of God in your life. - Author: Nancy Leigh DeMoss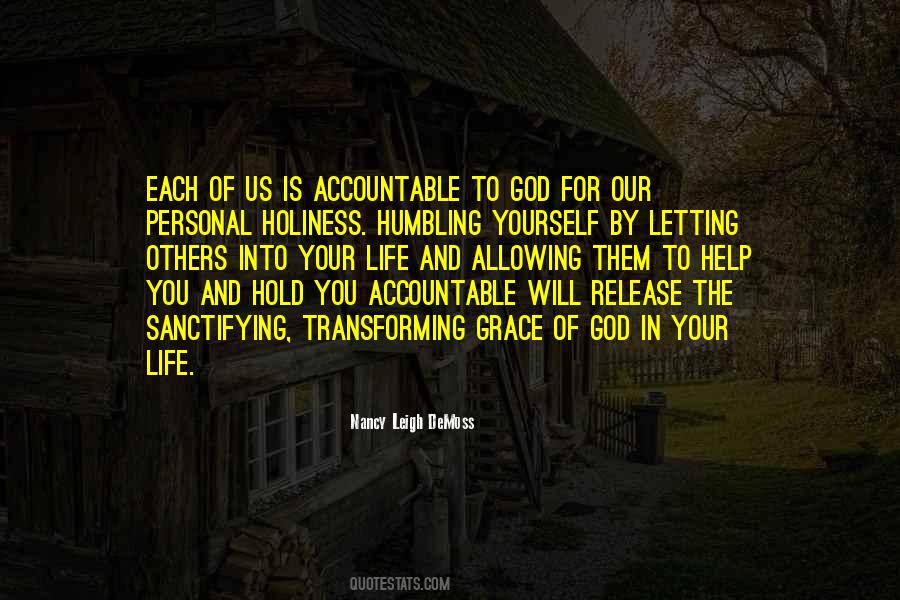 #19. This universe, which is the same for all, has not been made by any god or man, but it always has been, is, and will be an ever-living fire, kindling itself by regular measures and going out by regular measures. - Author: Heraclitus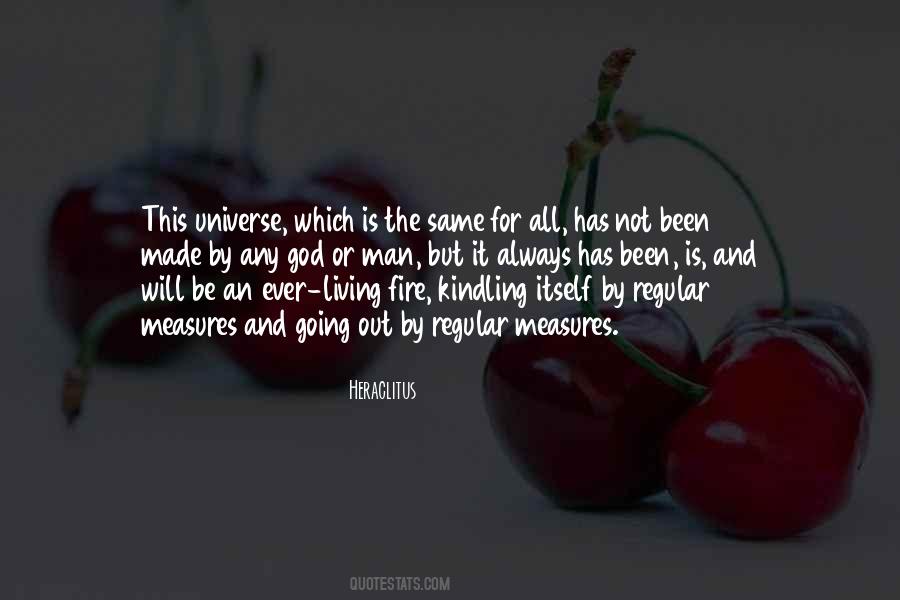 #20. We can make these three dynamic words - "reverence for life" - a part of our lives by becoming aware that God is the source of all life and that we are one with life. "The good person," said Schweitzer, "is the friend of all living things." - Author: Wilferd Peterson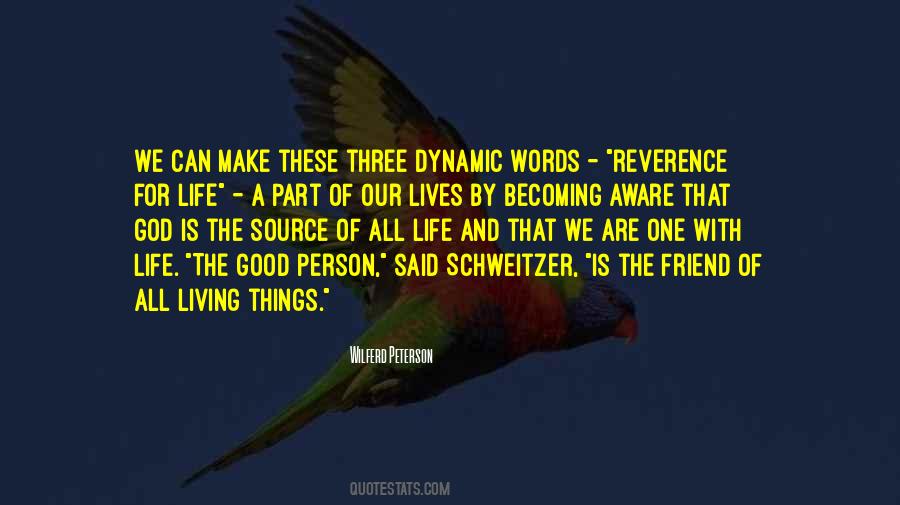 #21. The common sense has kind of kept me completely out of trouble. This is a life where it could have went a different way. I feel like I'm definitely being watched and I'm so thankful for that to feel this protected and loved and embraced by God. - Author: Gabrielle Dennis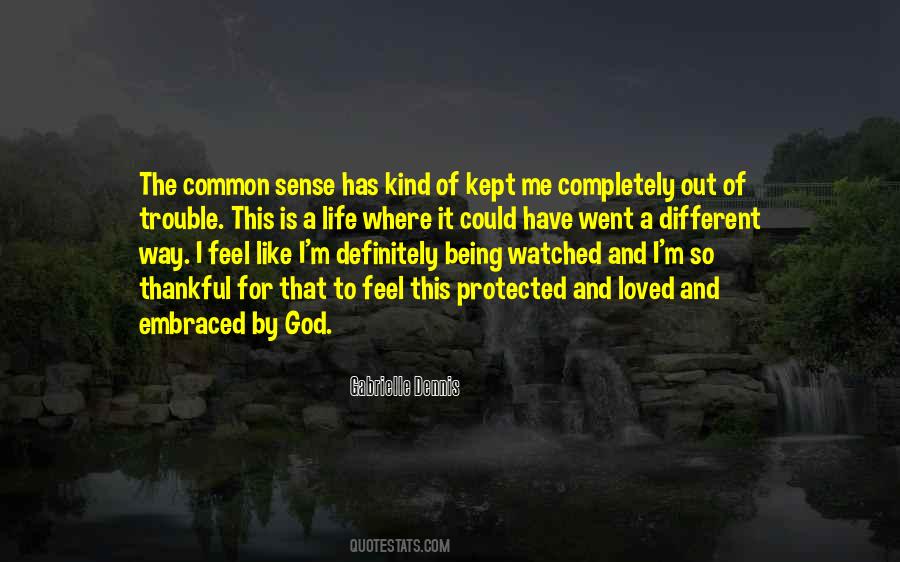 #22. I knelt in front of life, folded my hands and prayed for some more time; there couldn't be any. My heart bled and so did my tearful eyes.
Time, they say, flies, but I saw it slowly passing by taking each of my tardy breaths with it as it walked out of my life ... - Author: Sanhita Baruah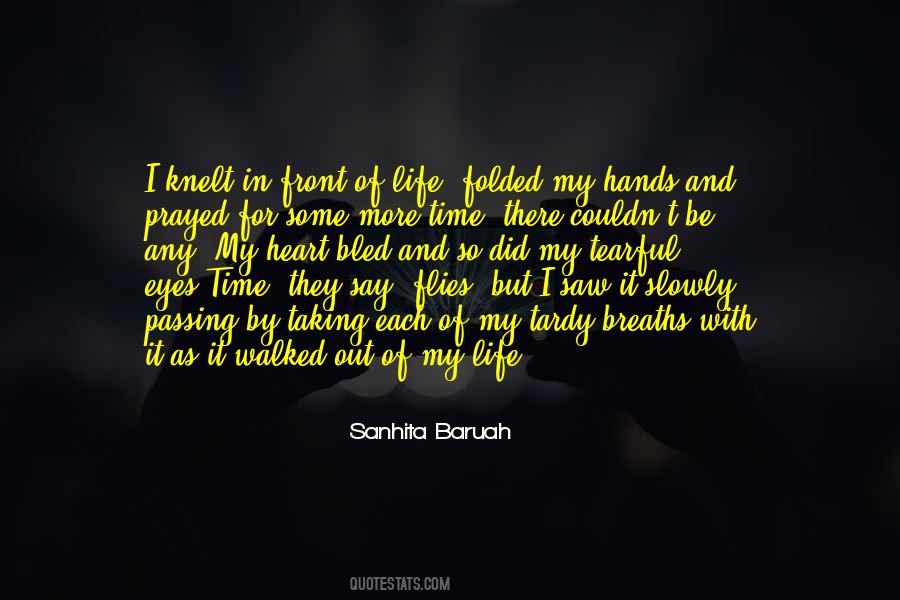 #23. He who, while unacquainted with these writings, nevertheless knows by the natural light that there is a God having the attributes we have recounted, and who also pursues a true way of life, is altogether blessed. - Author: Baruch Spinoza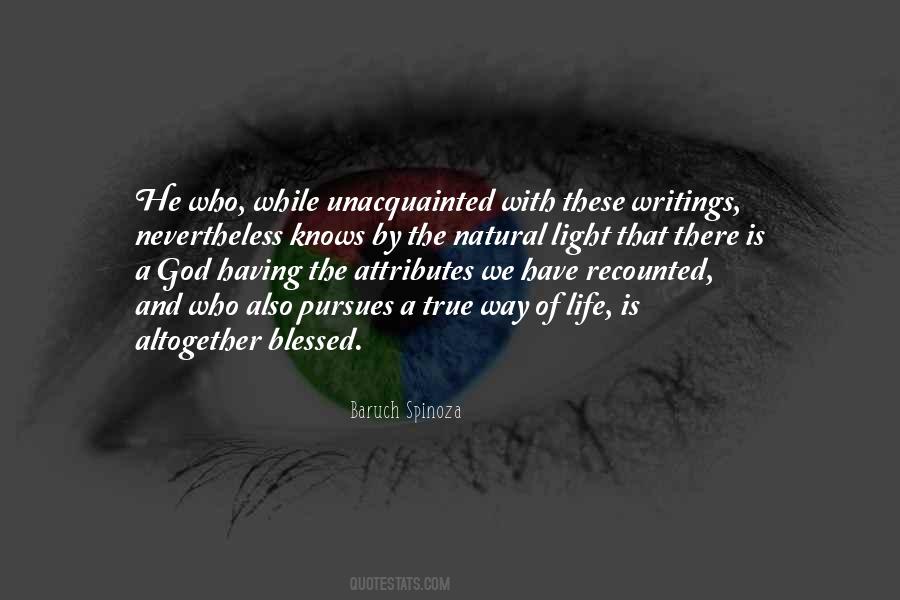 #24. You won't get eternal life by just feeling the presence of God in flowers or music. - Author: C.S. Lewis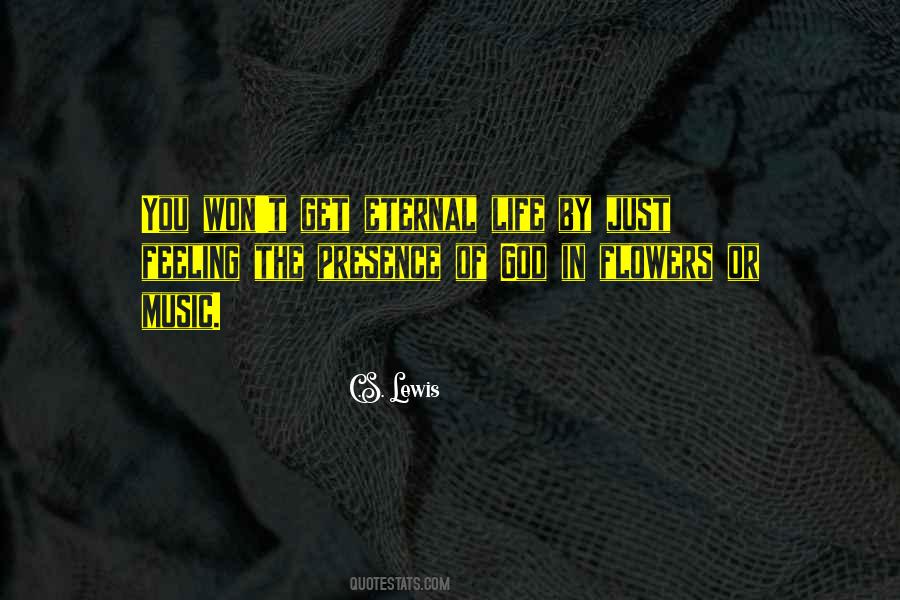 #25. Through the higher love the whole life of man is to be elevated from temporal selfishness to the spring of all love, to God: man will again be master over nature by abiding in God and lifting her up to God. - Author: Meister Eckhart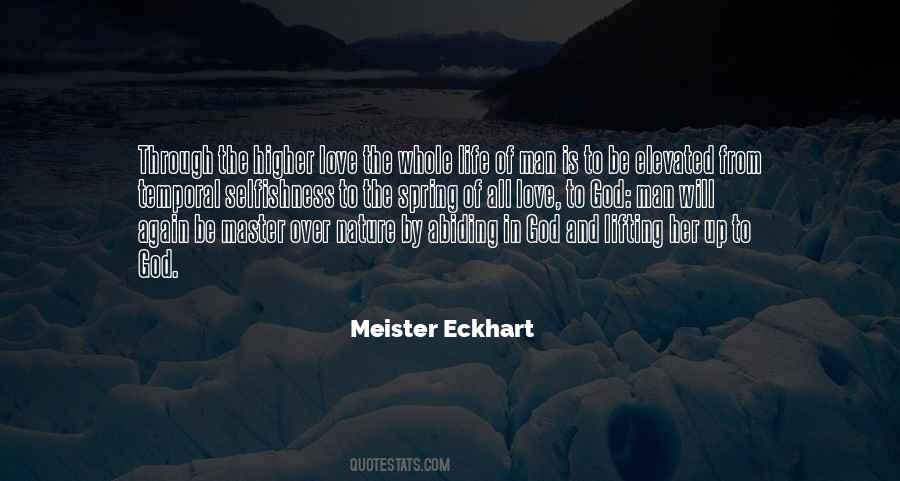 #26. By the way, I'm not usually attracted to danger," I said. "Up until now I've led a pretty boring life."

"Boredom is good!" Dr. Rasman looked pleased. "Boredom is why God invented books. Are you still in your book club? - Author: Julie Schumacher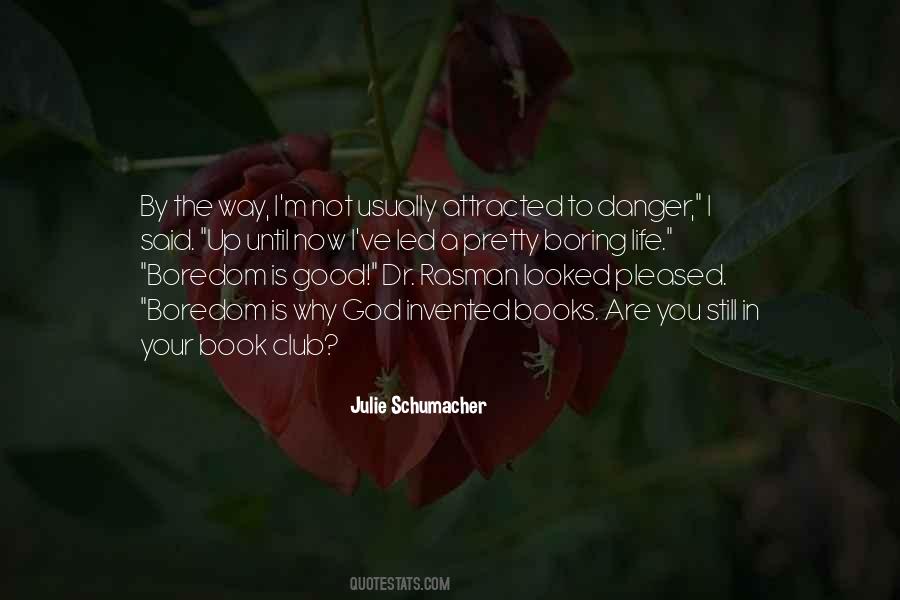 #27. The value of a life can only be estimated by its spiritual relationship to God. - Author: Oswald Chambers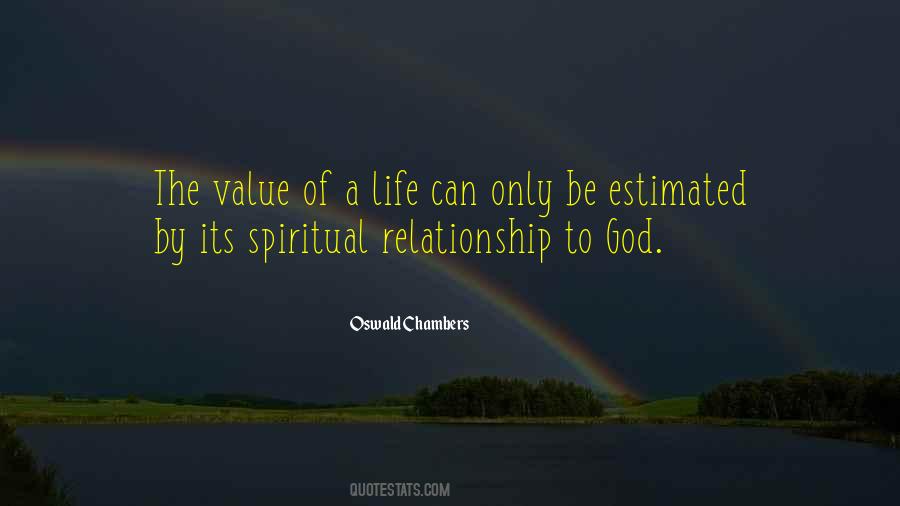 #28. The gospel is the announcement that God has reconciled us to Himself by sending His Son Jesus to die as a substitute for our sins, and that all who repent and believe have eternal life in Him. - Author: J.D. Greear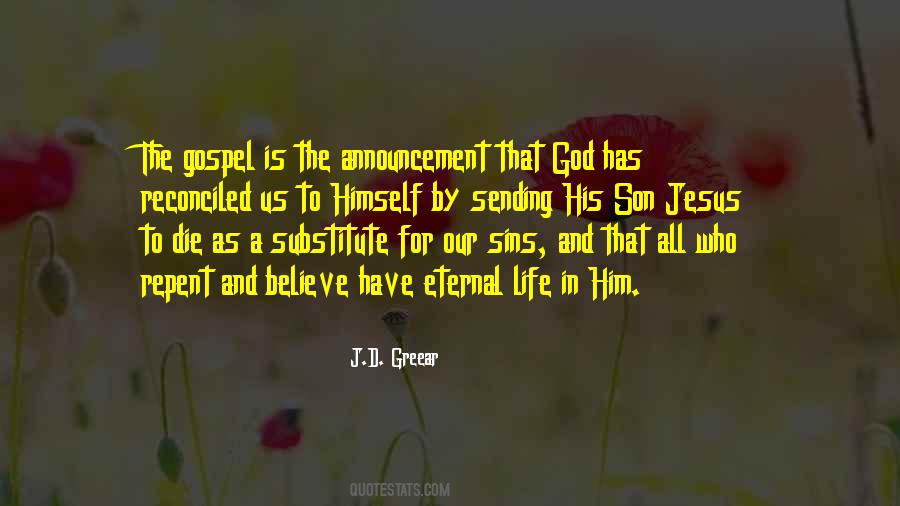 #29. It appears that when life is broken by tragedy God shines through the breach. - Author: George Arthur Buttrick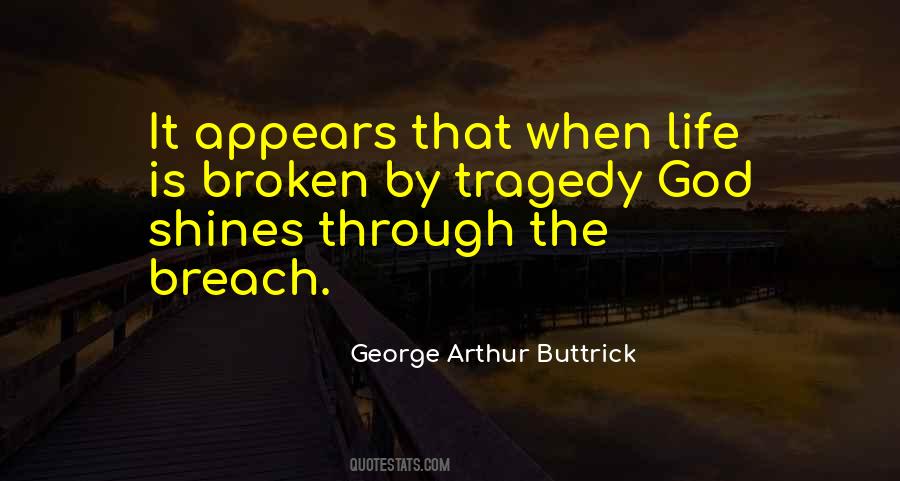 #30. Baptism is the sacrament of allegiance of them that are to be received into the Kingdom of God, that is to say, into Eternal life, that is to say, to Remission of Sin. For as Eternal life was lost by the committing, so it is recovered by the remitting of men's sins. - Author: Thomas Hobbes
#31. God has hewn out a hidden path more glorious, tantalizing and adventuresome than the path trod by most, and it is a path seen only through the eyes of our wounds, felt solely through the heart of our losses, and singularly traversed by those with a limp in their step. - Author: Craig D. Lounsbrough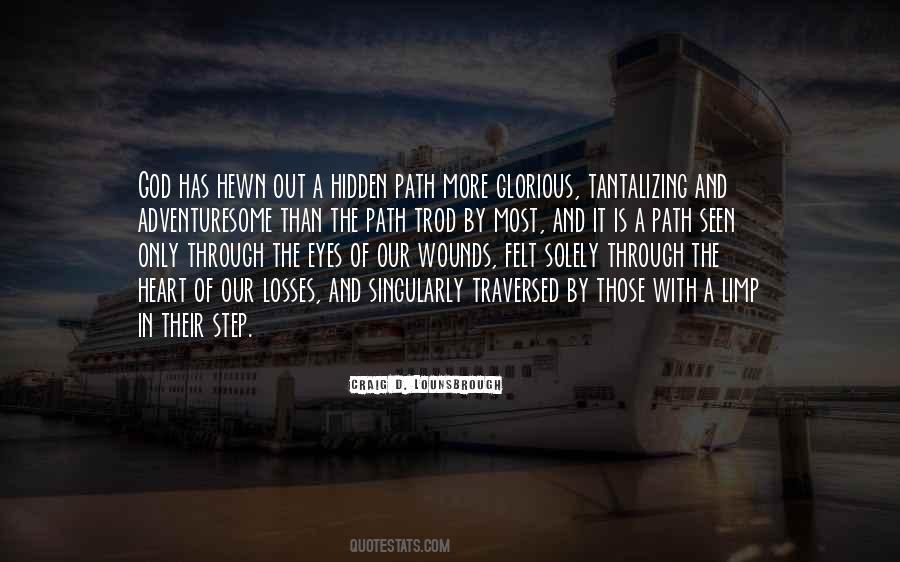 #32. Whenever we show others the goodness of God, whenever we follow our Teacher by imitating His posture of humble and ready service, our actions are sacred and ministerial. To be called into the priesthood, as all of us are, is to be called to a life of presence, of kindness. - Author: Rachel Held Evans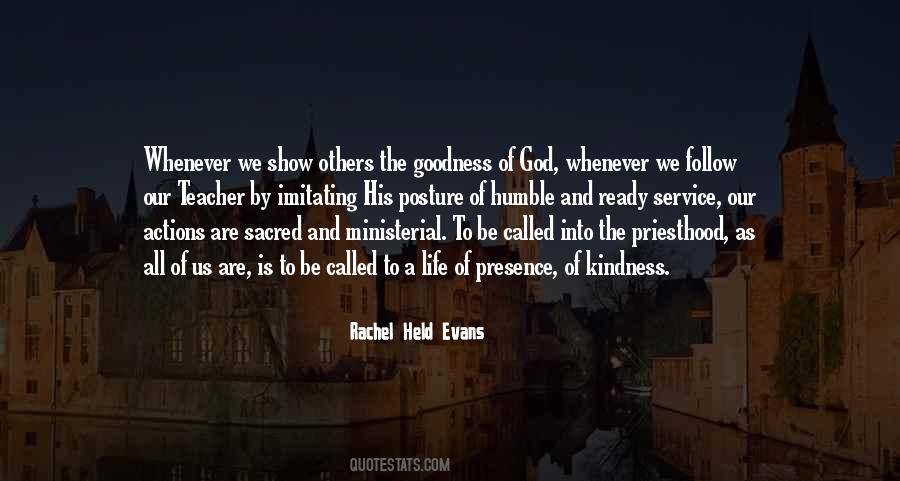 #33. May your footsteps be ordered by the Lord Almighty. - Author: Lailah Gifty Akita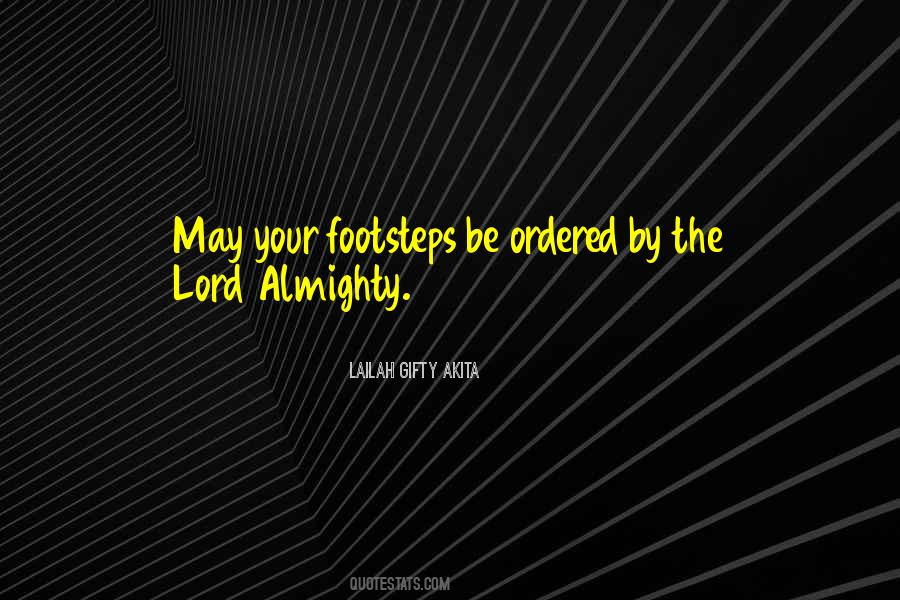 #34. By his own account he must have lived his life among some of the wickedest men that God ever allowed upon the sea, and the language in which he told these stories shocked our plain country people almost as much as the crimes that he described. - Author: Robert Louis Stevenson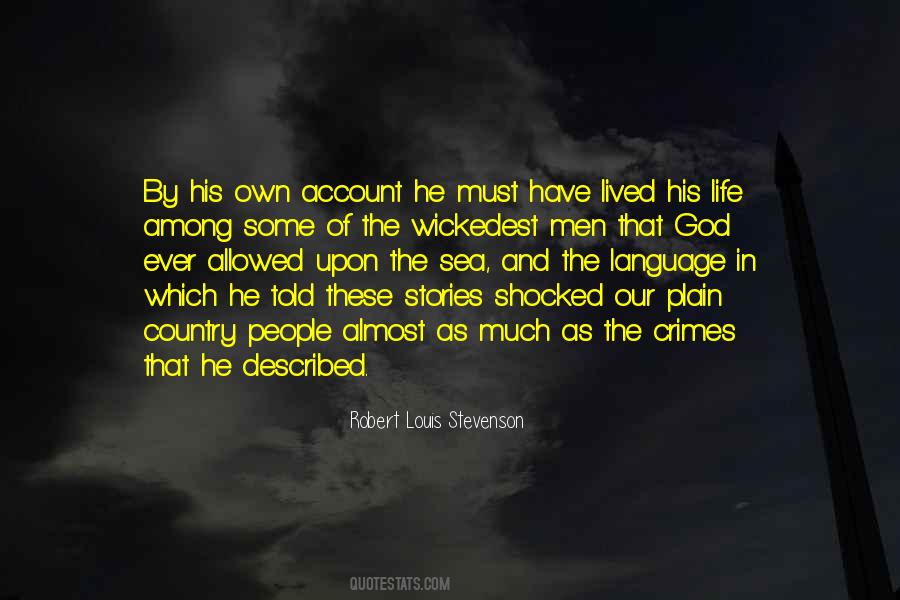 #35. Whatever Happens To You Is Planned By Me Cause, I'm The MASTERMIND ... - Author: Muhammad Imran Hasan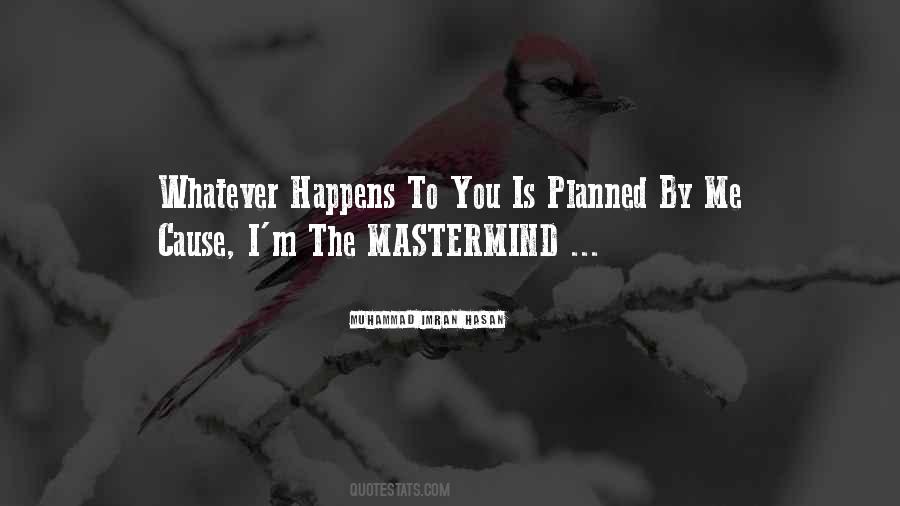 #36. God will not permit any troubles to come upon us, unless He has a specific plan by which great blessing can come out of the difficulty. - Author: Peter Marshall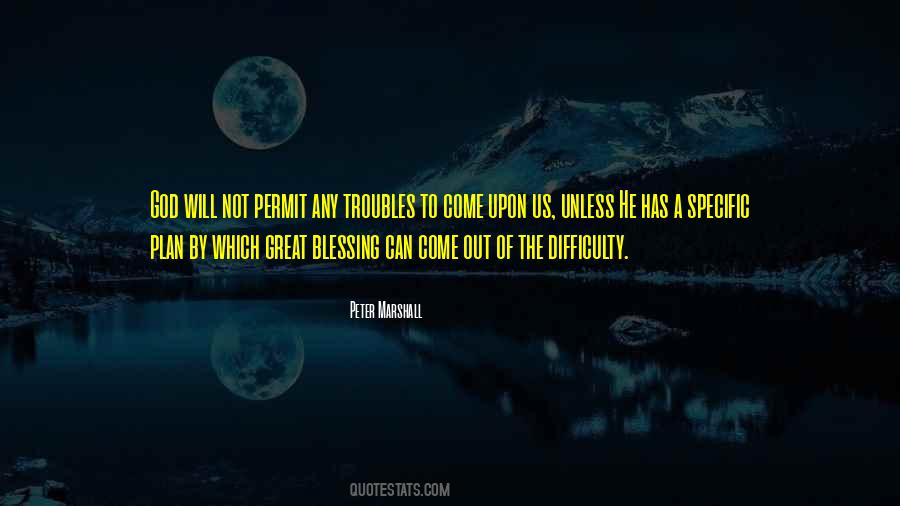 #37. I have decided on my destiny; accepted by calling as writing for God. - Author: Lailah Gifty Akita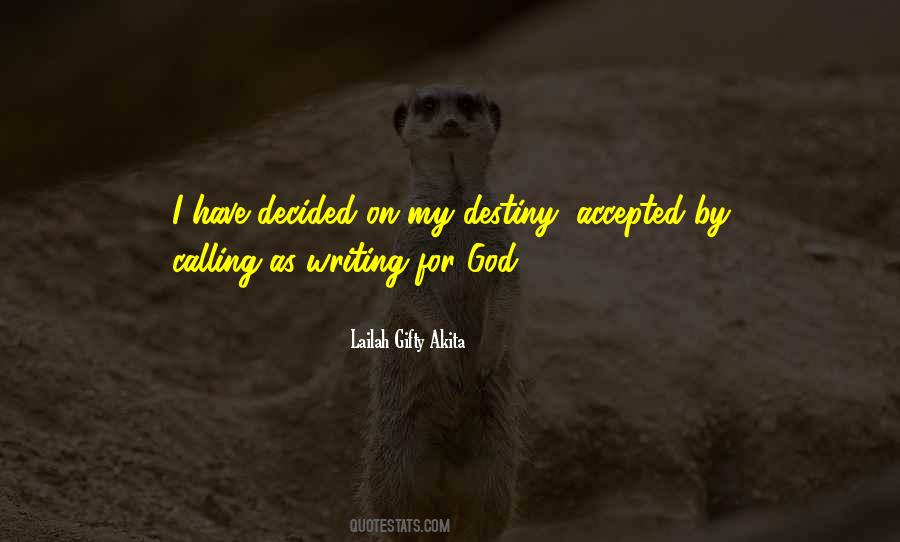 #38. Pastoring effects conversion of heart and mind and soul. A pastor is given by Christ to call people to conversion, to change, for the sake of life with God here and in eternity. - Author: Francis George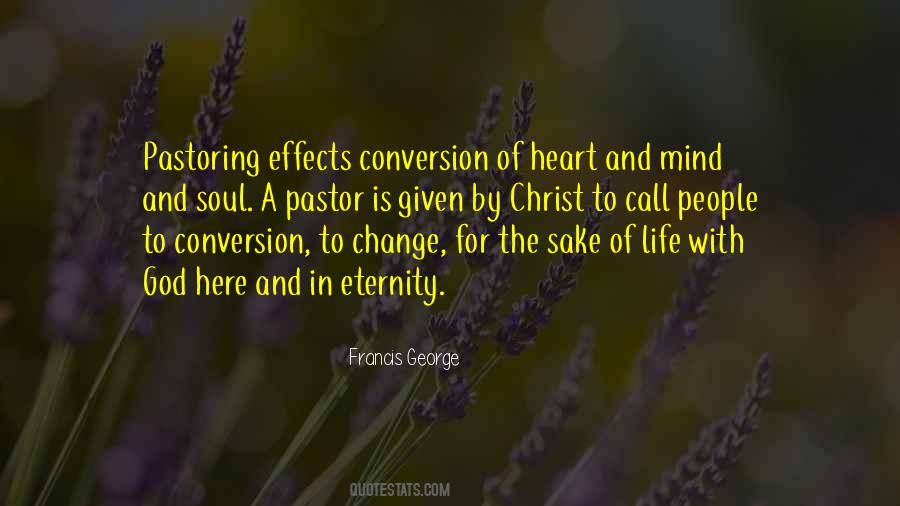 #39. Some people only go to church for the social life. They like having all the friends in church or getting the praises of men by doing certain things, but they don't go there to actually worship God. They go there so others can worship THEM instead. - Author: Lisa Bedrick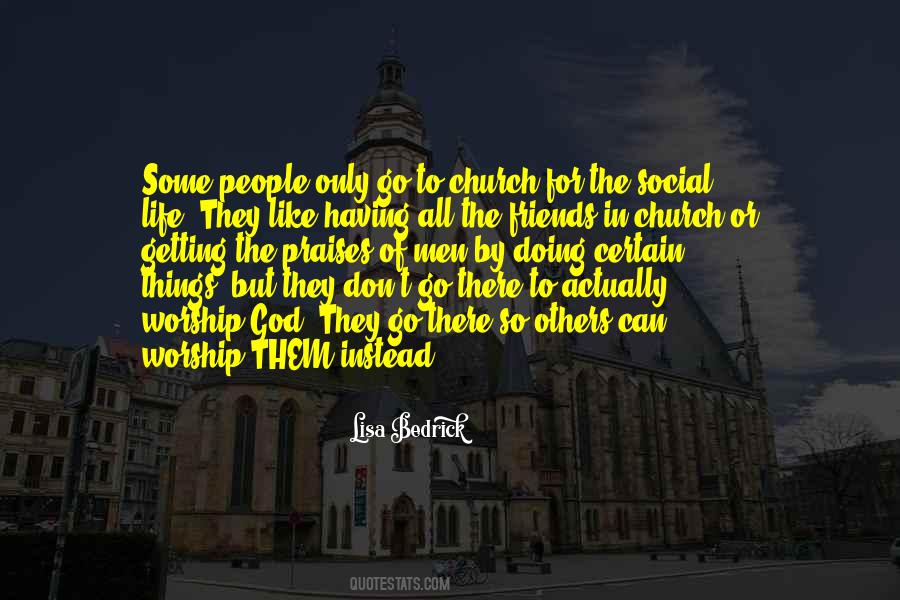 #40. If you want to be of use to God, maintain the proper relationship with Jesus Christ by staying focused on Him & He will make use of you every minute you live- yet you will be unaware, on the conscious level of your life, that you are being used of Him. - Author: Oswald Chambers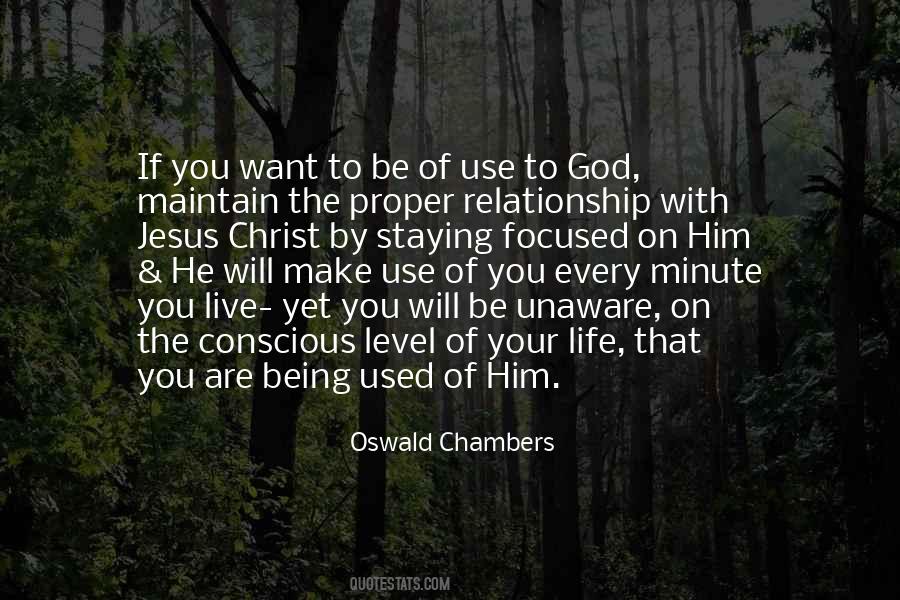 #41. The good news of Jesus Christ is that, although the law comes and destroys us, the Son of God comes and resurrects us. Our death is overturned by Christ's death. Our life is created by Christ's life. - Author: Tullian Tchividjian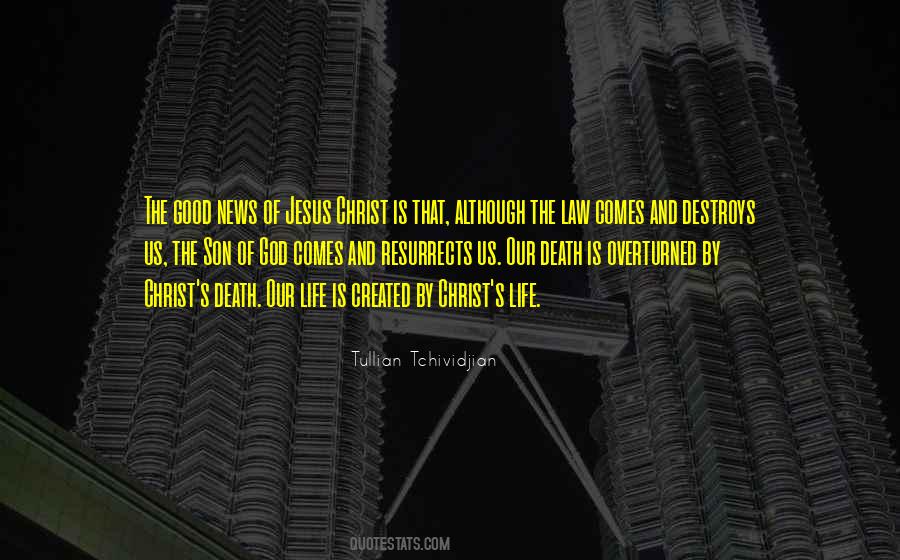 #42. The sole meaning of life is to serve humanity by contributing to the establishment of the kingdom of God, which can only be done by the recognition and profession of the truth by every man. - Author: Leo Tolstoy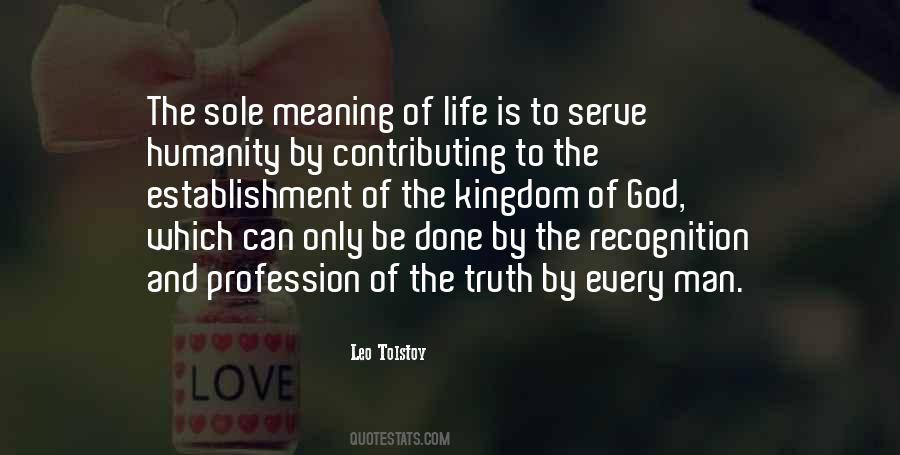 #43. Some people are so foolish that they think they can go through life without the help of the Blessed Mother. Love the Madonna and pray the rosary, for her Rosary is the weapon against the evils of the world today. All graces given by God pass through the Blessed Mother. - Author: Pio Of Pietrelcina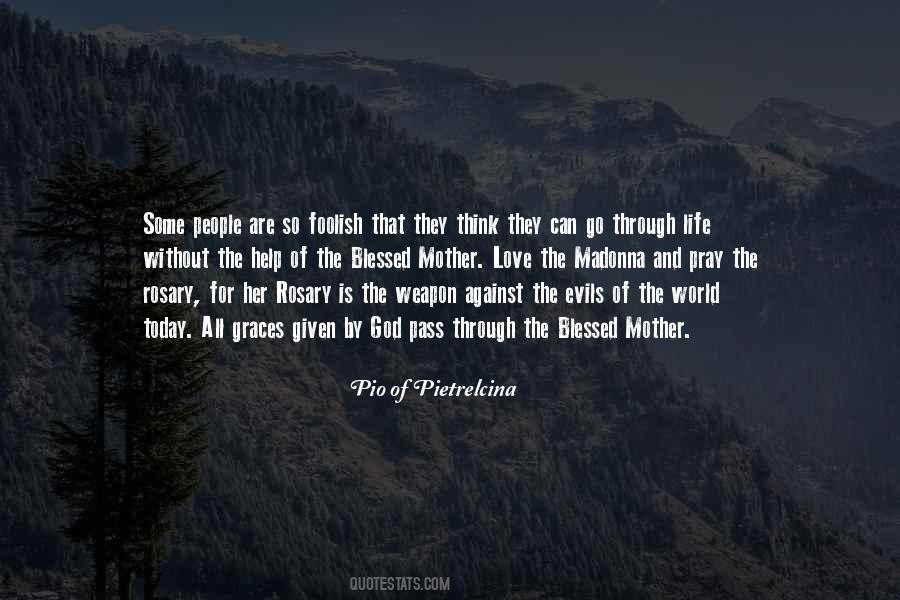 #44. The cycle of God, the good, is broken by a single act of negativity. The cycle of negativity is stopped by choosing the good
not just once, but again and again until it is goodness that prevails in your life and in our world altogether. - Author: John Morton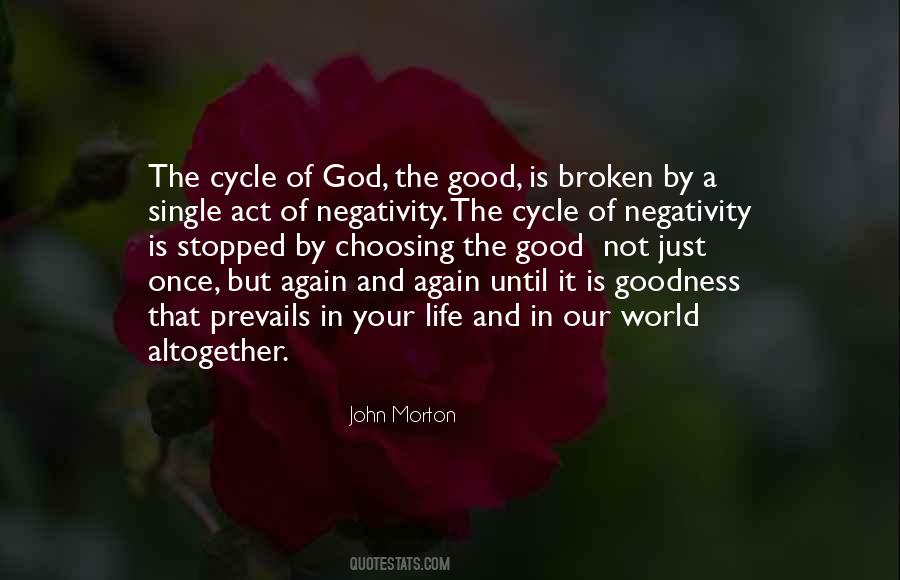 #45. If you want the perfect plan that God has for your life, you will have to go by way of Calvary to get it. - Author: Billy Graham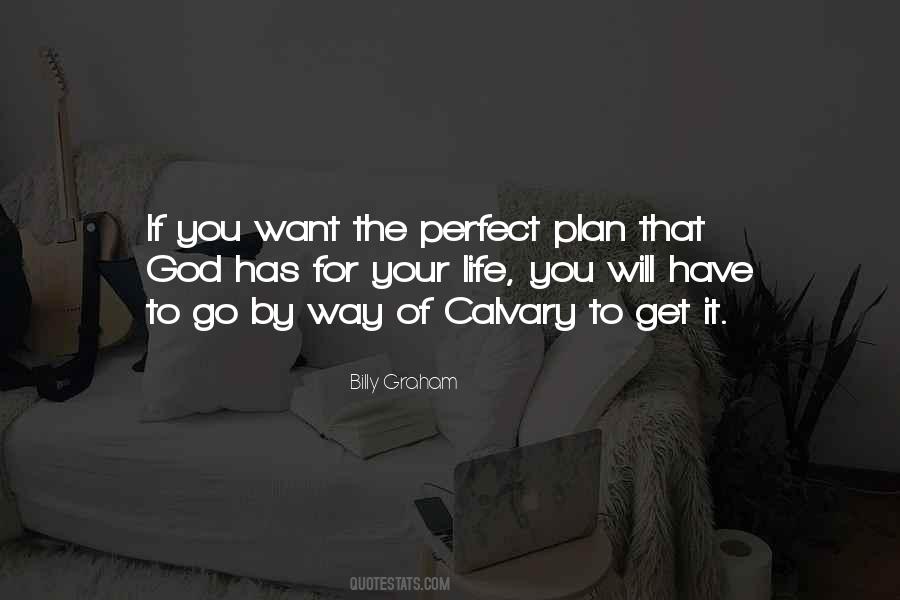 #46. God never loses any part of our past for his future when we surrender ourselves to him. Every mistake, sin, and detour we take in the journey of life is taken by God and becomes his gift for a future of blessing. - Author: Peter Scazzero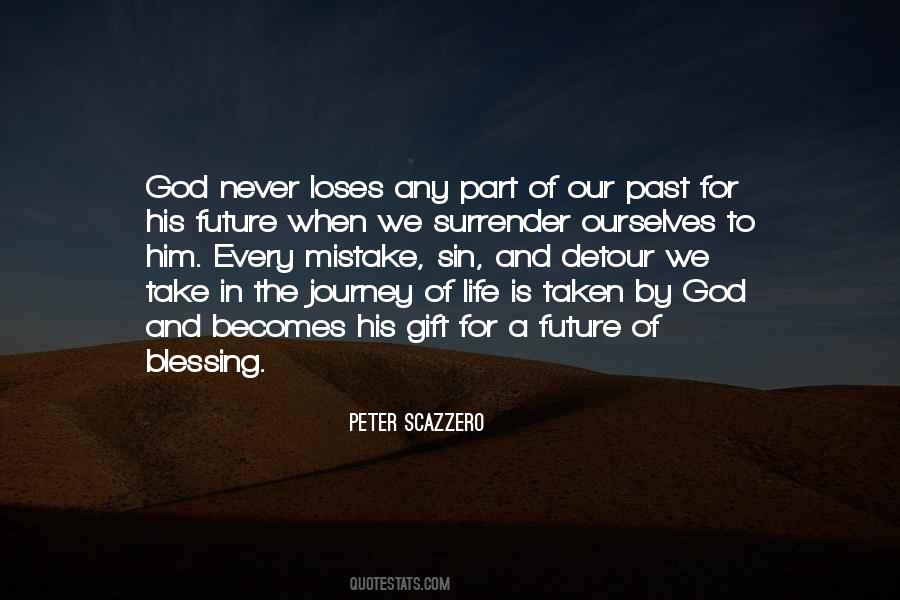 #47. How wonderful it is to be surprised by God's call, to embrace his word, and to walk in the footsteps of Jesus ... Your life will become richer and more joyful each day! - Author: Pope Francis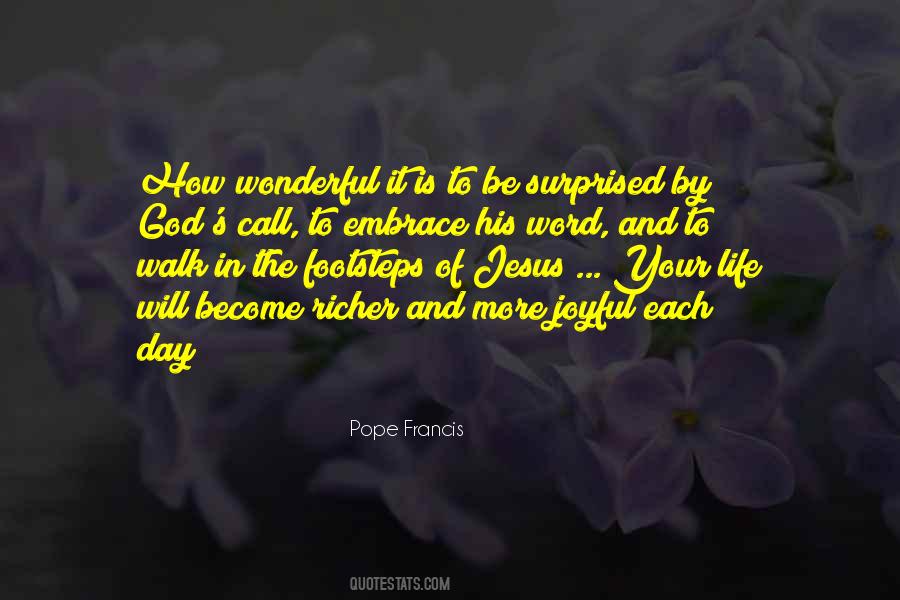 #48. When we live life centered around what others like, feel, and say, we lose touch with our own identity. I am an eternal being, created by God. I am an individual with purpose. It's not what I get from life, but who I am, that makes the difference. - Author: Neva Coyle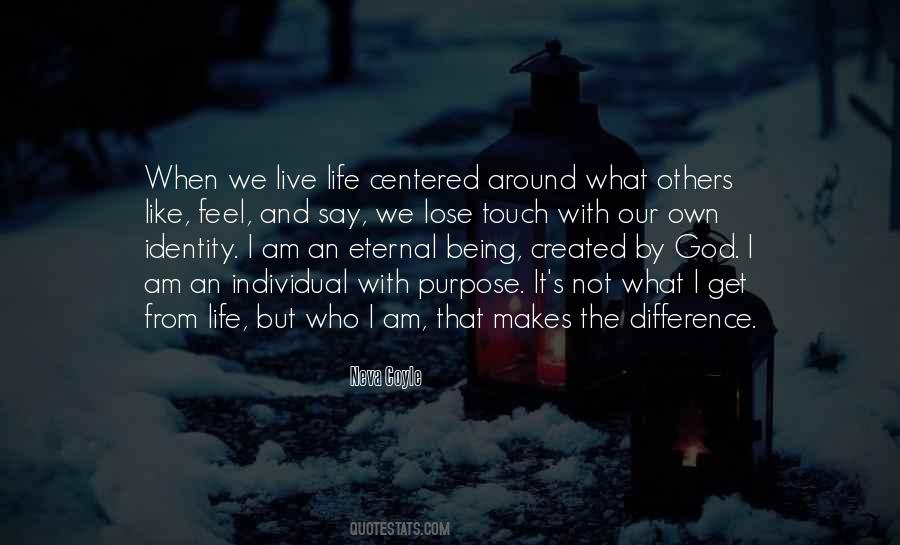 #49. The plan of God for your life is that you should be held captive by His power, doing that which you in the natural world would never do, but that which you are forced to do by the power of the Holy Ghost moving through you. - Author: Smith Wigglesworth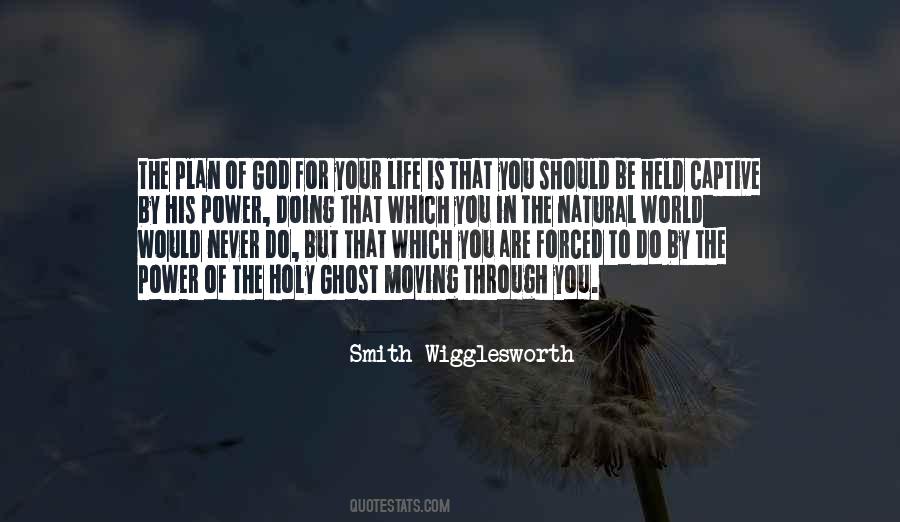 #50. For when it pleased the Lord in Aug. 1829, to bring me really to the Scriptures, my life and walk became very different. And though even since that I have very much fallen short of what I might and ought to be, yet, by the grace of God, I have been enabled to live much nearer to Him than before. "If - Author: George Muller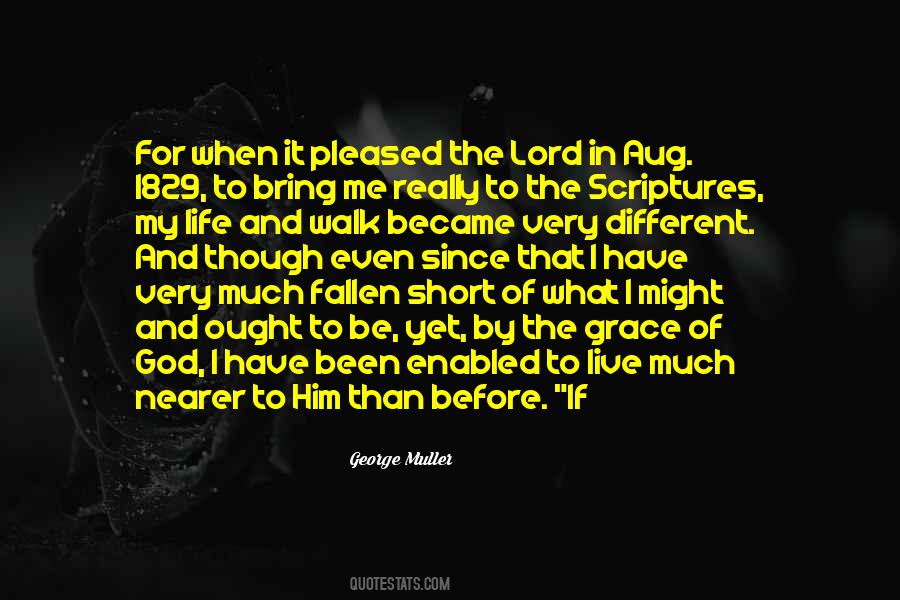 #51. Life is like a friendship, eventually it will end, by conflict or God's hand"
-Sons In The Clouds - Author: Randy Mitchell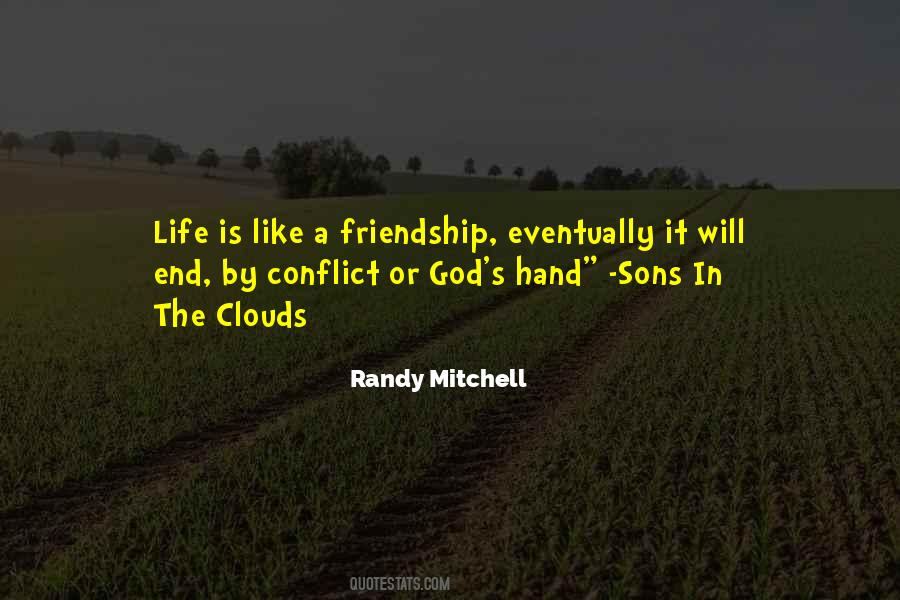 #52. You didn't choose God. He chose you. When you stop feeling hurt by everyone and plotting your comeback, he has some very important things he wants you to accomplish with your life. - Author: Shannon L. Alder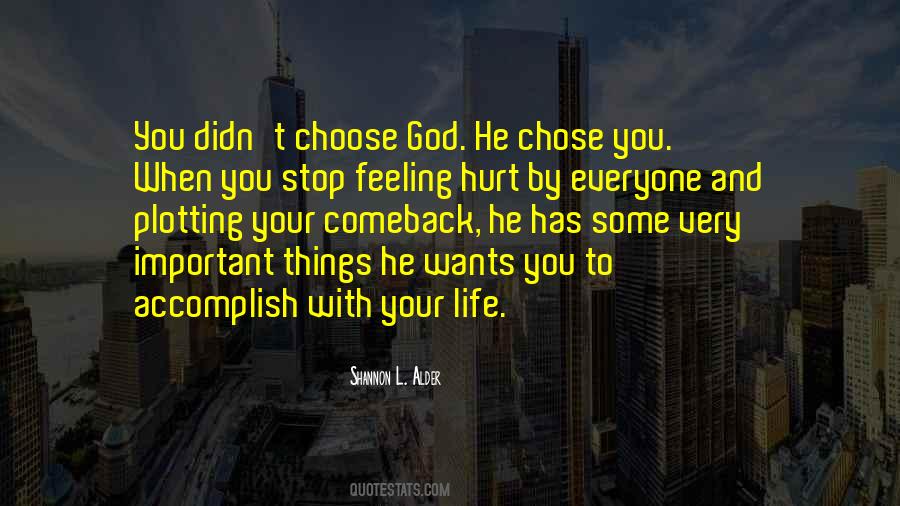 #53. You will remember how, as a schoolboy, I had destroyed my religious life by a vicious subjectivism which made 'realizations' the aim of prayer; turning away from God to seek states of mind, and trying to produce those states of mind by 'maistry'. - Author: C.S. Lewis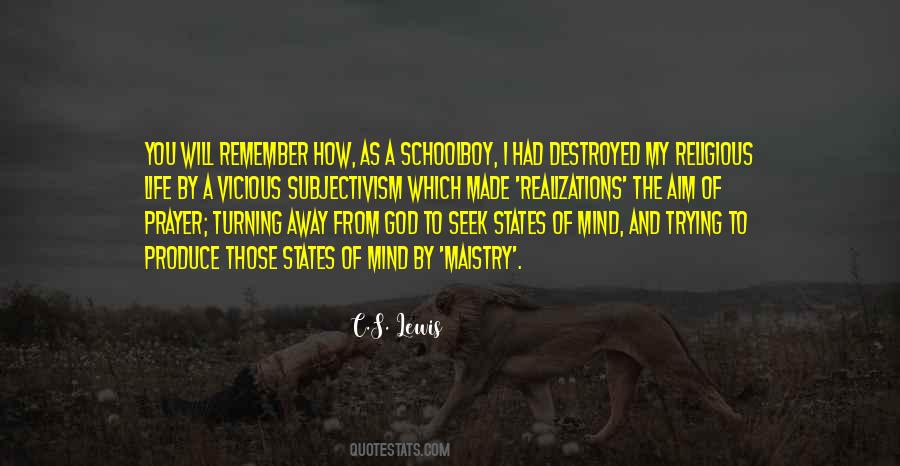 #54. Don't compare your story to a movie or a book because it is written by a script writer and yours by God - Author: Anonymous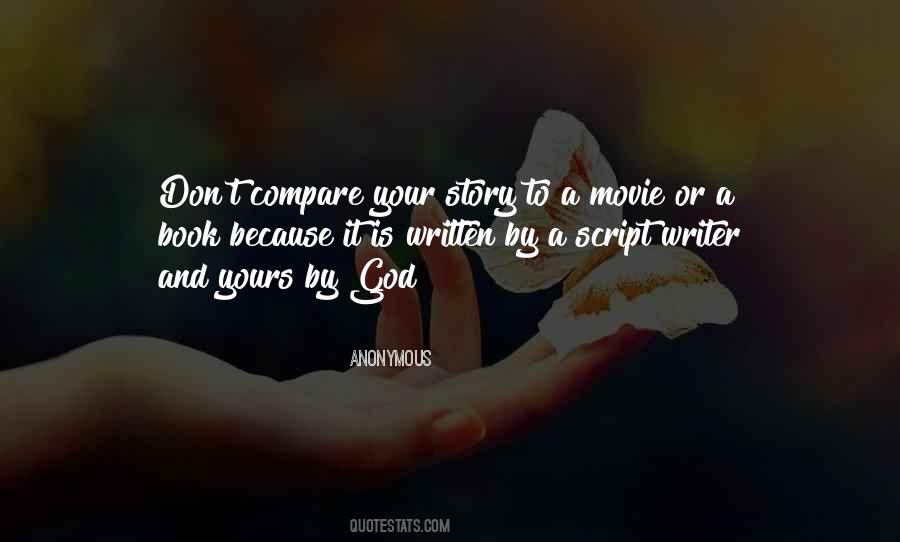 #55. We are a new creation by God's grace. - Author: Lailah Gifty Akita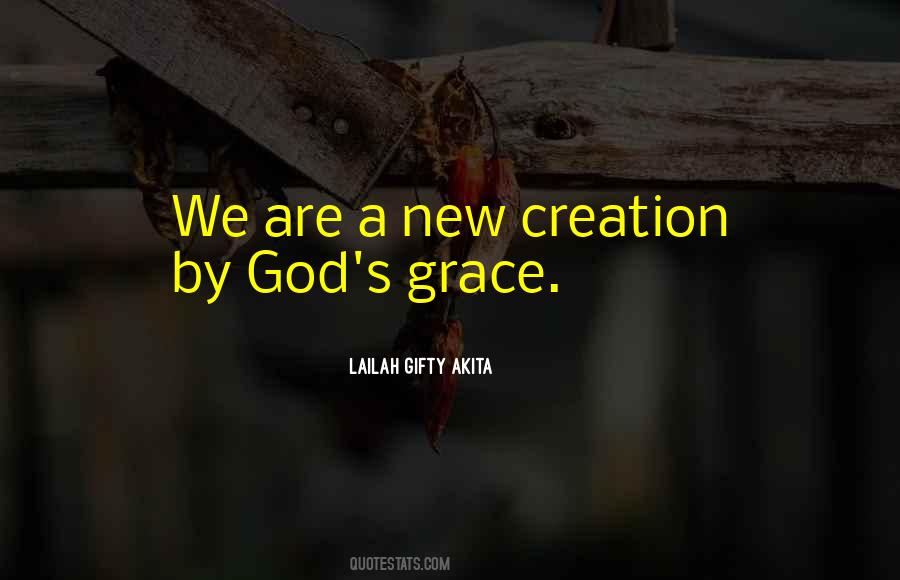 #56. A man is never so truly and intensely himself as when he is most possessed by God. It is impossible to say where, in the spiritual life, the human will leaves off and divine grace begins. - Author: William Ralph Inge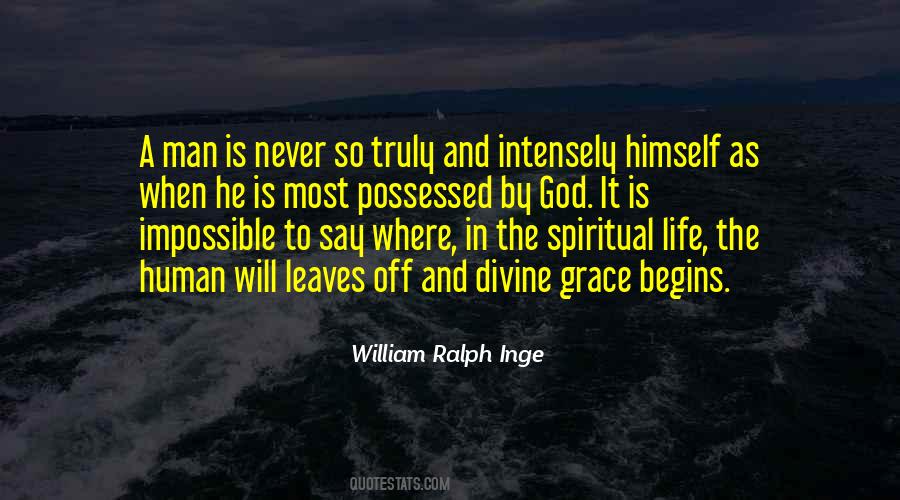 #57. I'm like Albert Schweitzer and Bertrand Russell and Albert Einstein in that I have a respect for life - in any form. I believe in nature, in the birds, the sea, the sky, in everything I can see or that there is real evidence for. If these things are what you mean by God, then I believe in God. - Author: Frank Sinatra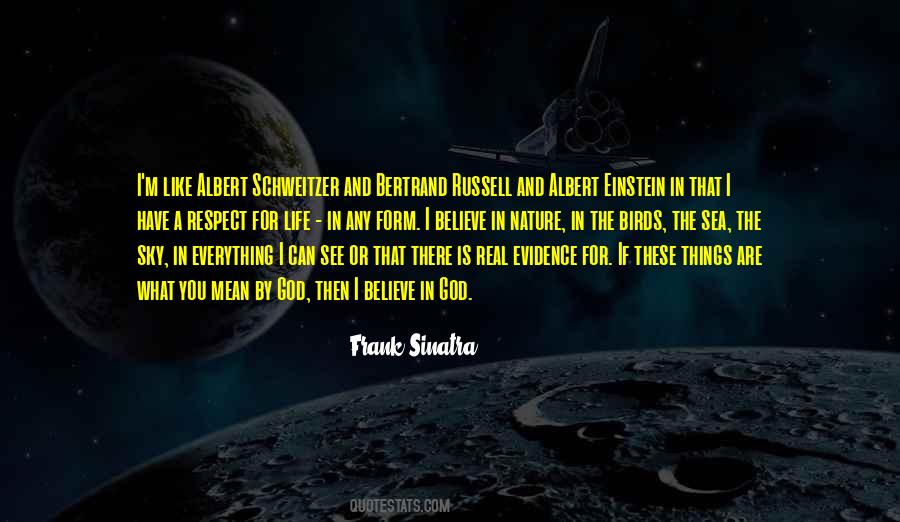 #58. The quiet life is by no means the greatest life. Some characters can only reach the highest standard of spirituality by the disturbings or displacings in the order of God's providence. - Author: F.B. Meyer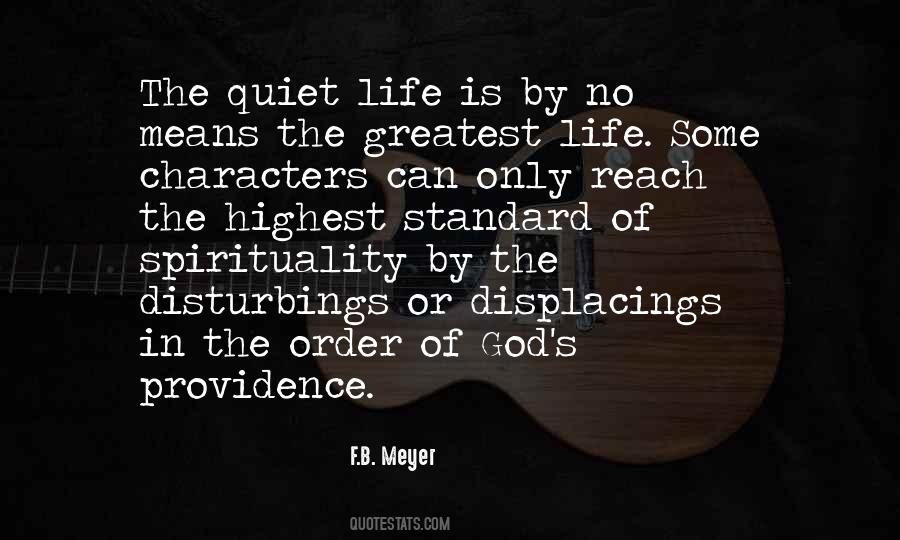 #59. Every perfect life is a parable invented by God. - Author: Simone Weil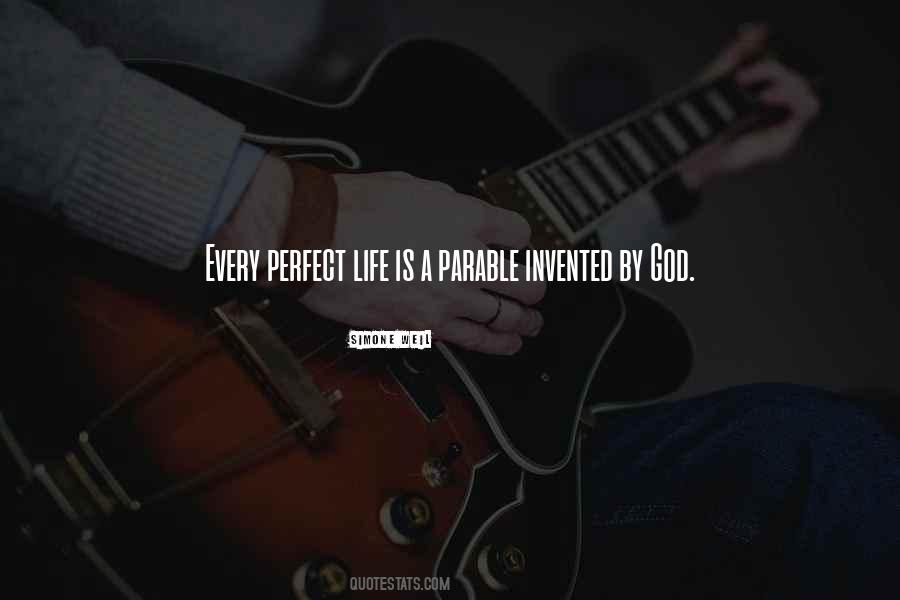 #60. By the law of averages, there has to be life elsewhere. The universe is so huge, and I don't think God would have created this whole big huge cosmos and just say there's only going to be life on Earth, and that's it. - Author: Gary Wright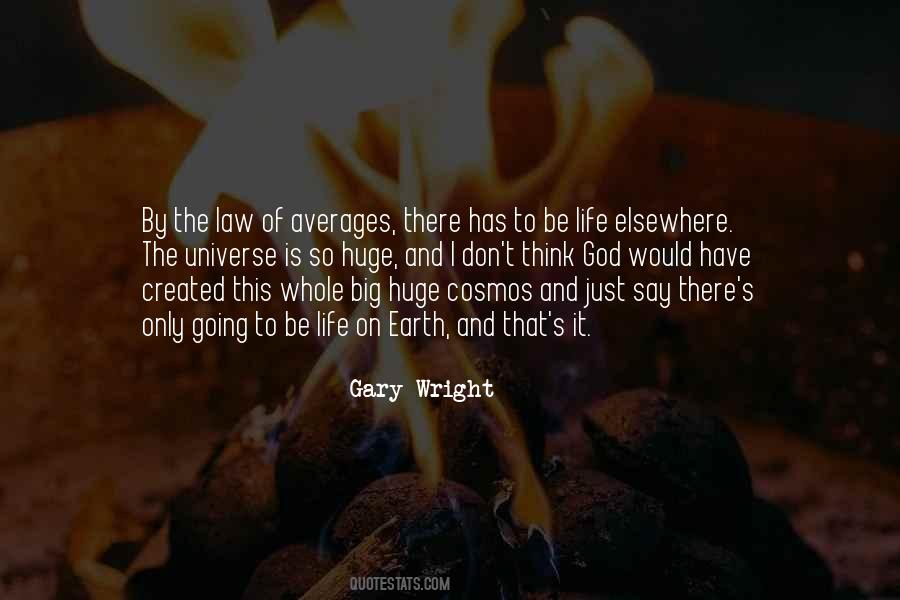 #61. I (God) will leave man to make the fateful guess, Will leave him torn between the no and yes, Leave him unresting till he rests in me, Drawn upward by the choice that makes him free, Leave him in tragic loneliness to choose, With all in life to win or all to lose. - Author: Edwin Markham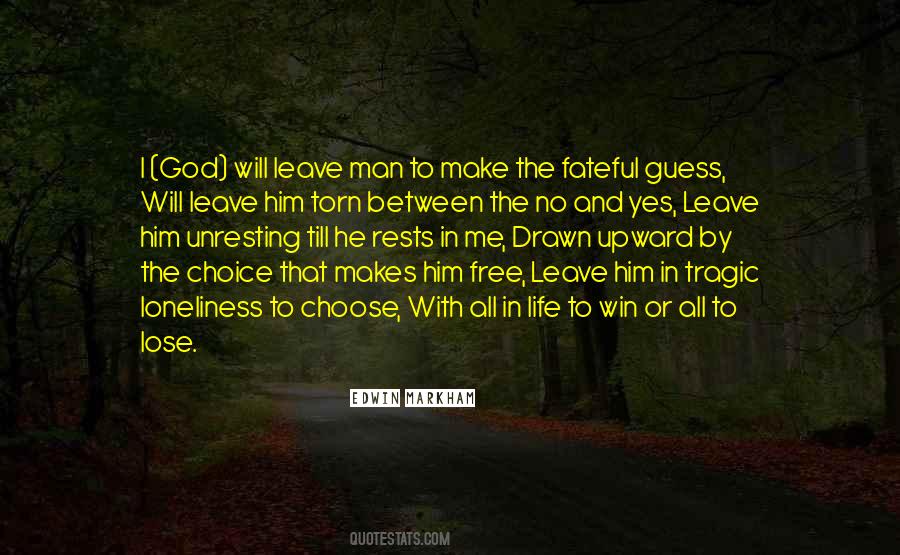 #62. The accidents of life separate us from our dearest friends, but let us not despair. God is like a looking glass in which souls see each other. The more we are united to Him by love, the nearer we are to those who belong to Him. - Author: Elizabeth Ann Seton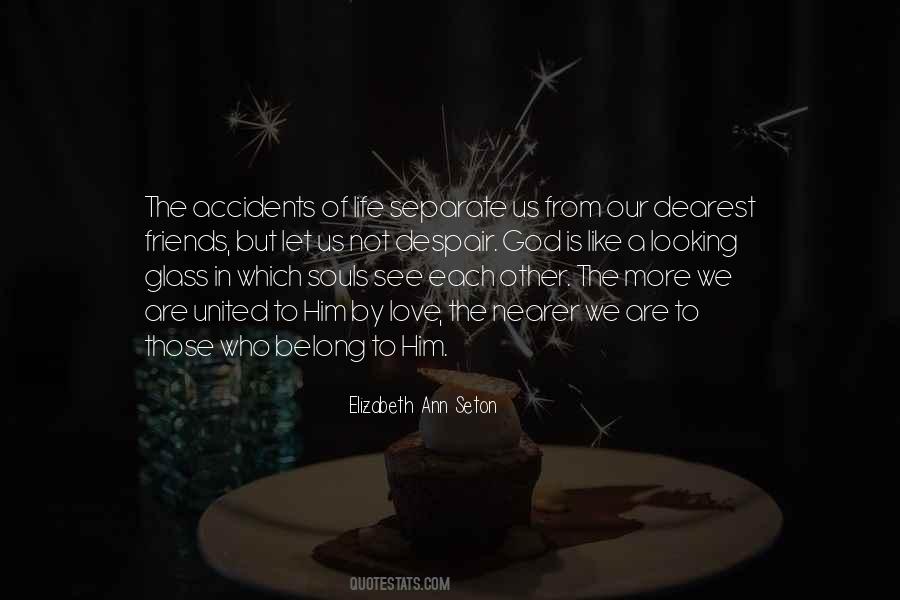 #63. I used to fear living a life untouched by God, but now, for some reason I've gone back to being afraid of cement mixers. - Author: Dana Gould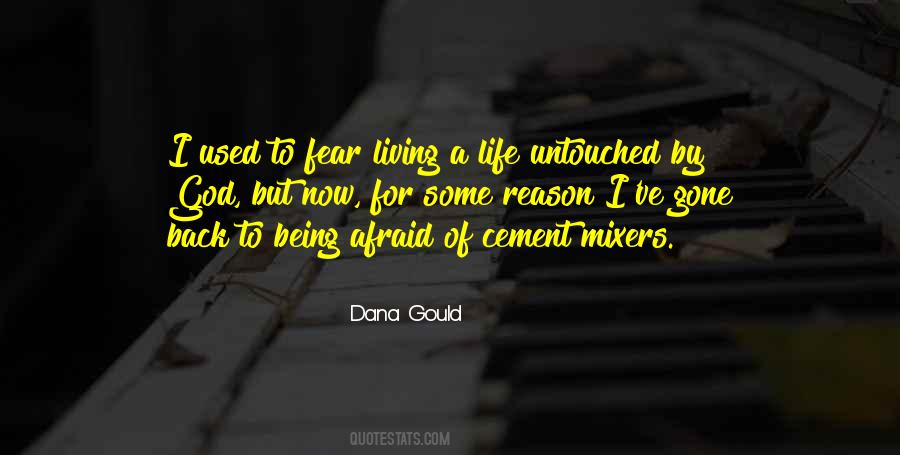 #64. You know, Monsieur, that, although the contemplative life is more perfect than the active life, it is not, however, more so than one which embraces at the same time contemplation and action, as does yours, by God's grace. - Author: Vincent De Paul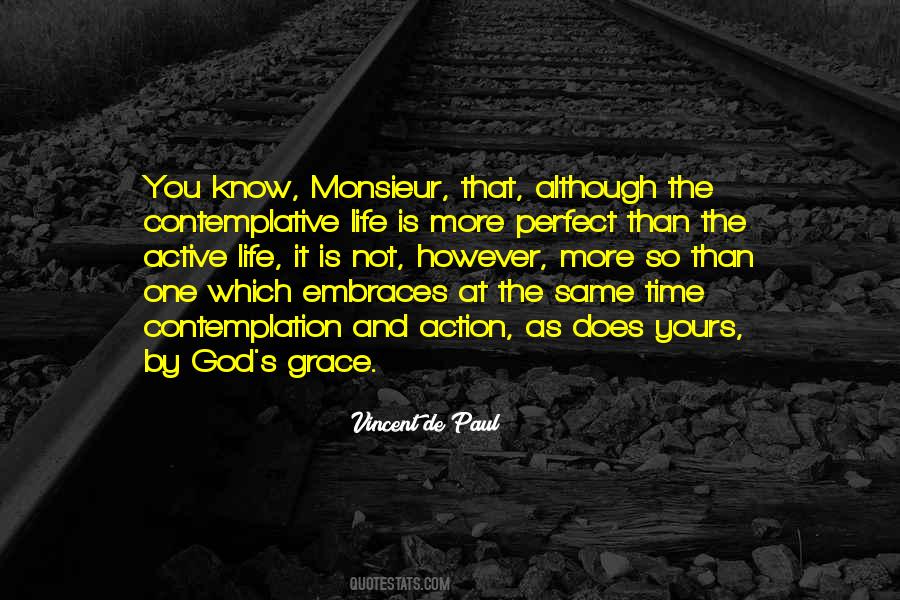 #65. Hold tight the gift seeds in thy palms. Sow them all when the time is right. By God's wisdom they'll grow, not by thy might. And you shall reap them all before it's night! Live life so well! - Author: Israelmore Ayivor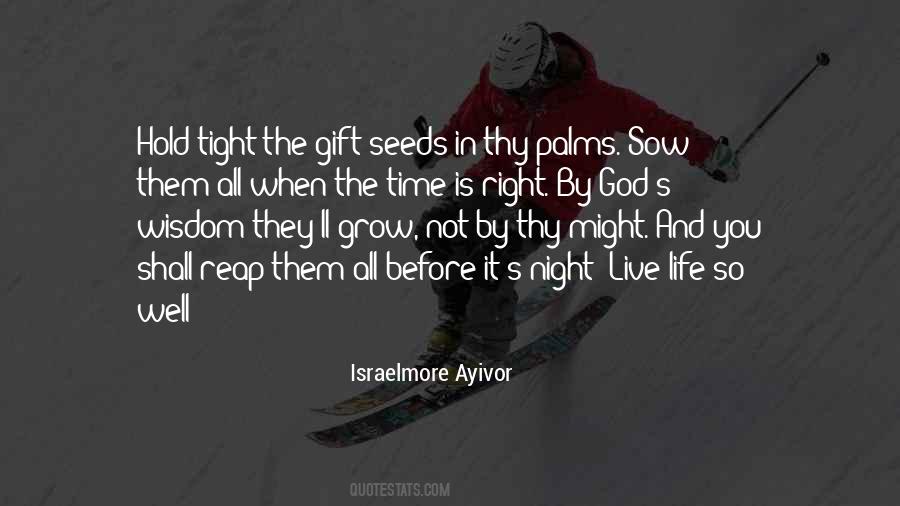 #66. Read the Scripture to renew your mind.
Mediate on the Scripture to nourish your soul.
Affirm the Scripture to revive your spirit - Author: Lailah Gifty Akita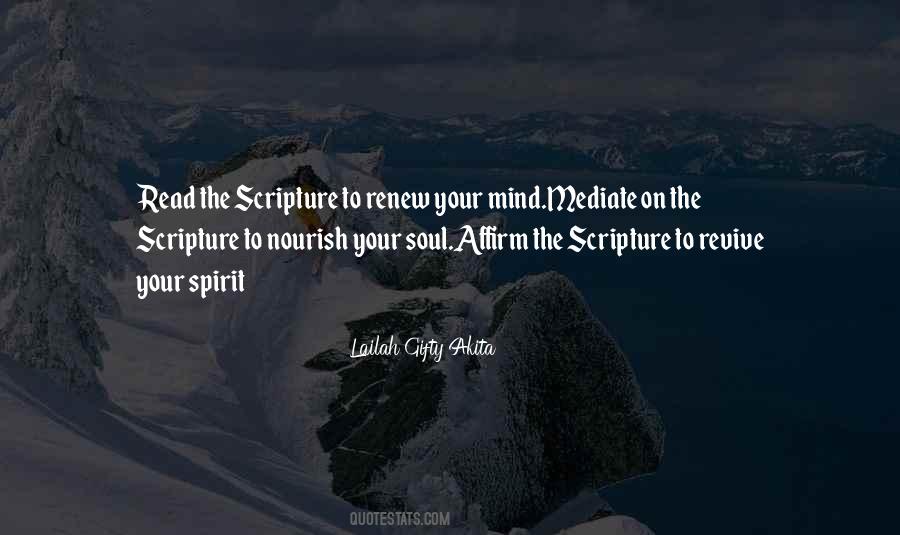 #67. A Galileo could no more be elected president of the United States than he could be elected Pope of Rome. Both high posts are reserved for men favored by God with an extraordinary genius for swathing the bitter facts of life in bandages of self-illusion. - Author: H.L. Mencken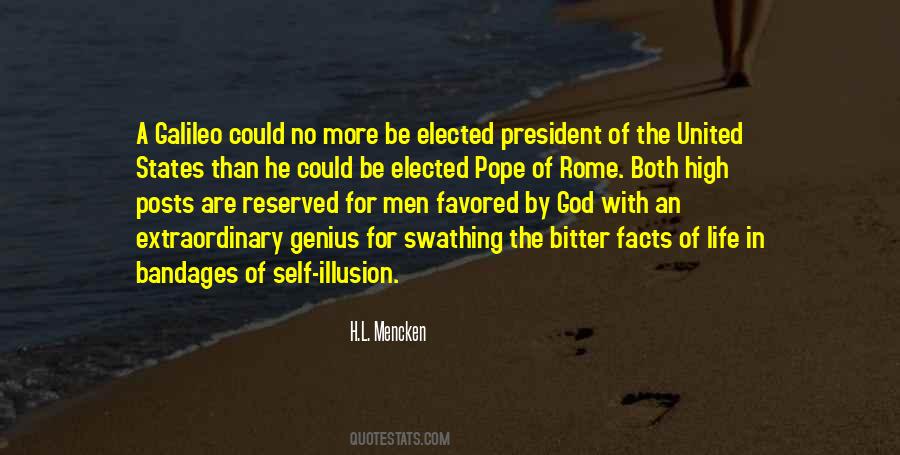 #68. Every Christian must be fully Christian by bringing God into his whole life, not merely into some spiritual realm. - Author: Dietrich Bonhoeffer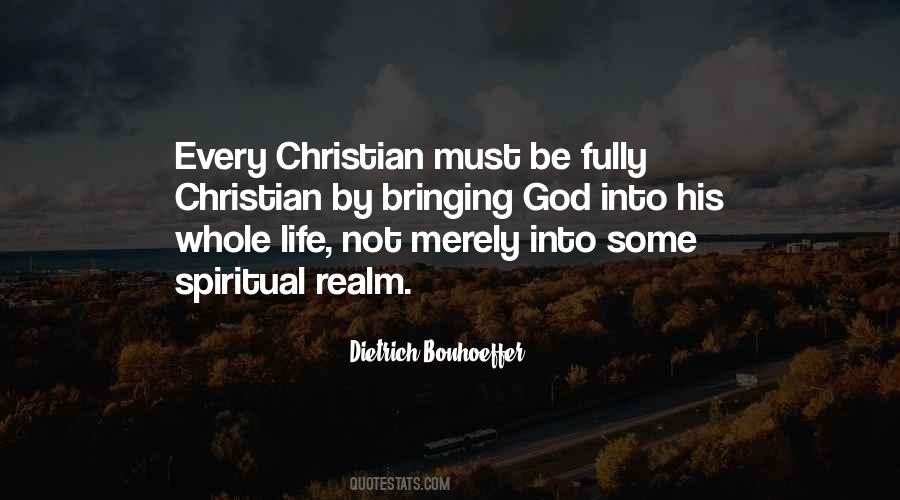 #69. Intercessory prayer for one who is sinning prevails. God says so! The will of the man prayed for does not come into question at all, he is connected with God by prayer, and prayer on the basis of the Redemption sets the connection working and God gives life. - Author: Oswald Chambers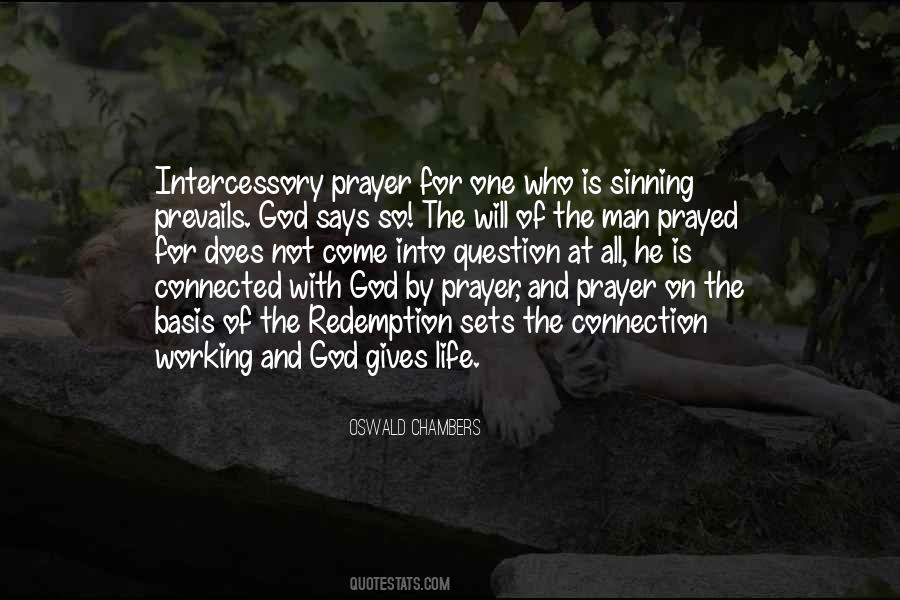 #70. You become a candidate for God's love when you are rejected by people - Author: Sunday Adelaja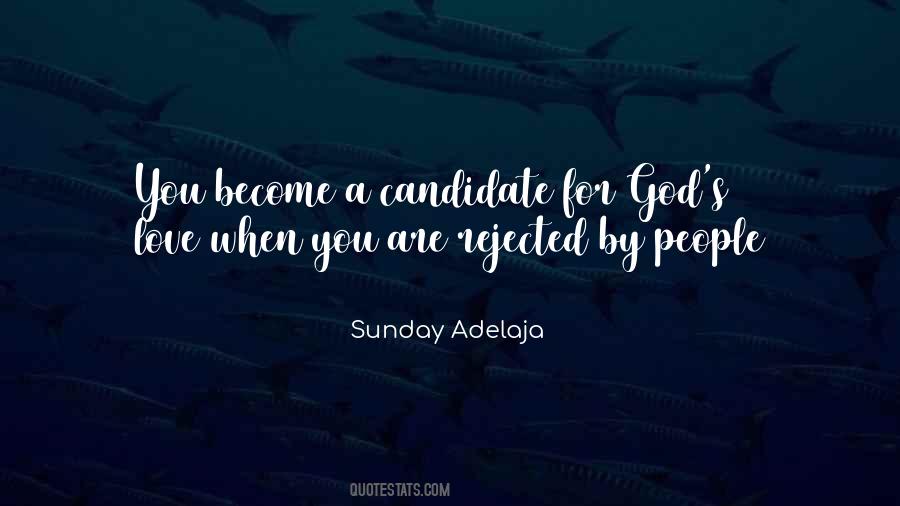 #71. We cannot keep to ourselves the words of eternal life given to us in our encounter with Jesus Christ: they are meant for everyone, for every man and woman ... It is our responsibility to pass on what, by God's grace, we ourselves have received. - Author: Pope Benedict XVI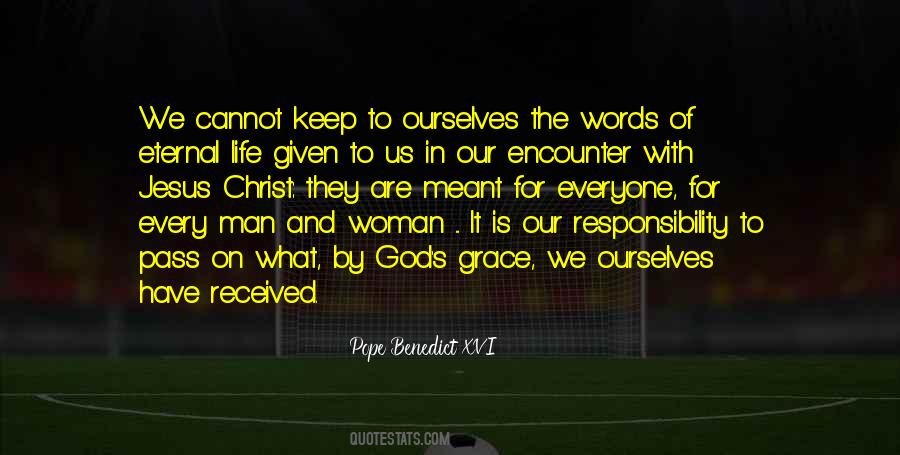 #72. If there is so much blessing and joy even in a single encounter of brother with brother, how inexhaustible are the riches that open up for those who by God's will are privileged to live in the daily fellowship of life with other Christians! - Author: Dietrich Bonhoeffer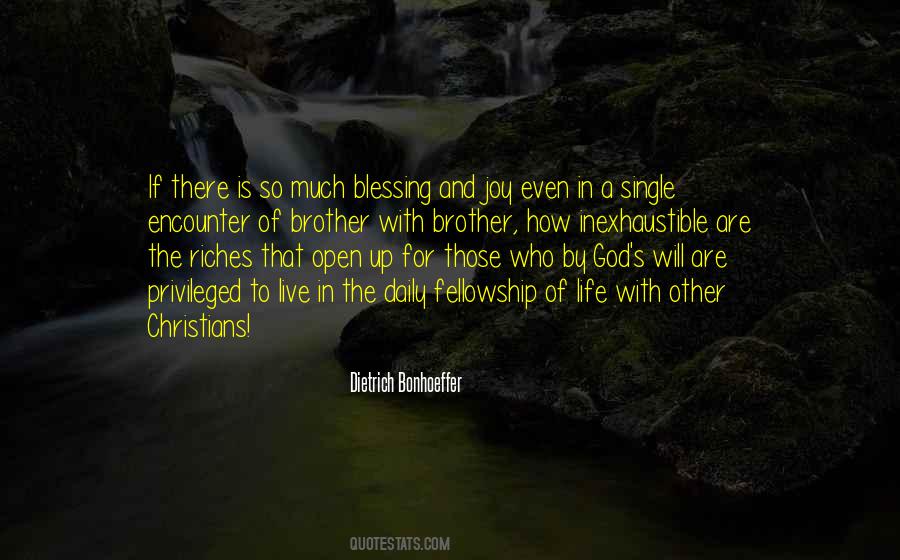 #73. It's amazing what we lose in life by listening to fear, instead of listening to God. - Author: Joyce Meyer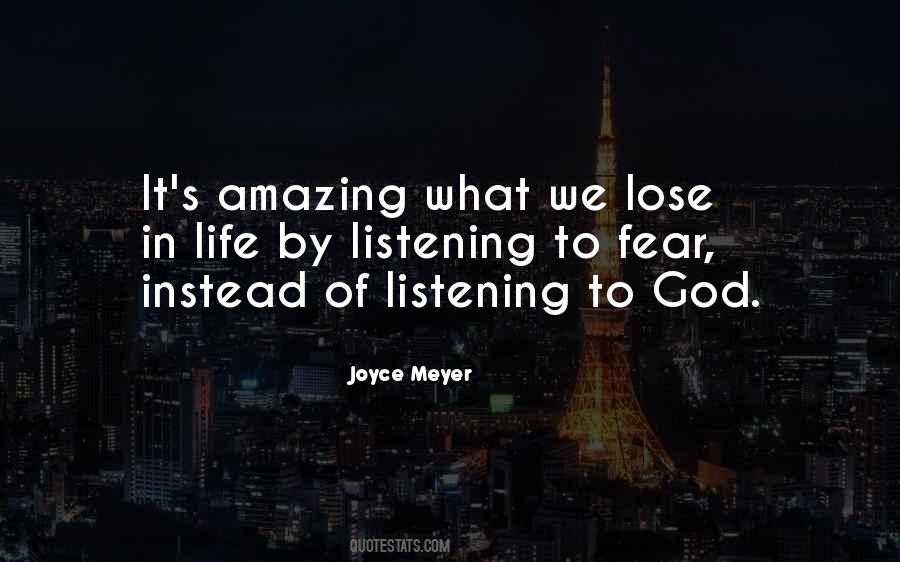 #74. The maxims of Christian life, which should draw upon the truths of the Gospel, are always partially symbolic of the mind and temperament of those who teach them to us. The former, by their natural sweetness, show us the quality of God's mercy; the latter, by their harshness, show us God's justice. - Author: Madeleine De Souvre, Marquise De ...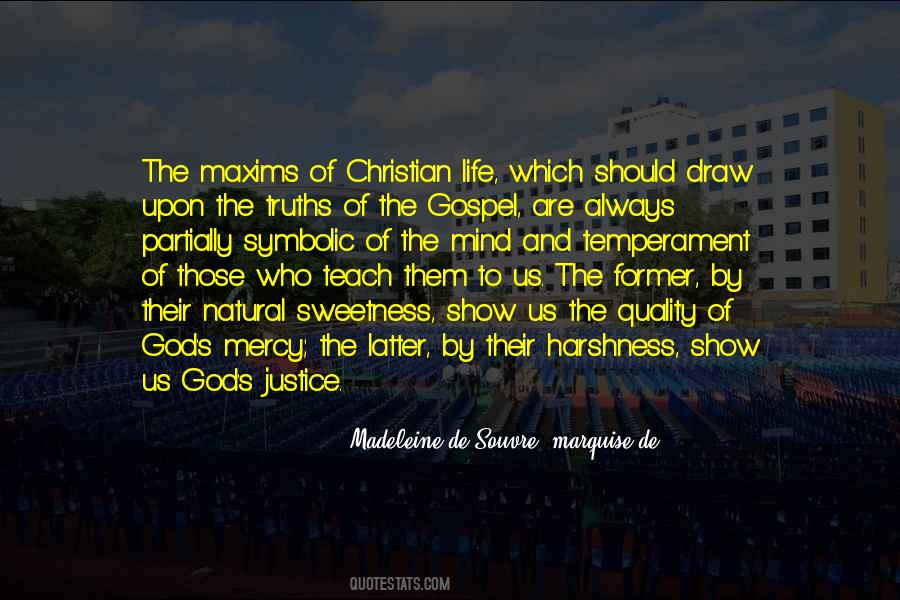 #75. We believe that this human life is a great gift, that every part of it is designed by God and therefore means something, that every part of it is blessed by God and therefore to be enjoyed, that every part is accompanied by God and therefore workable. - Author: Eugene H. Peterson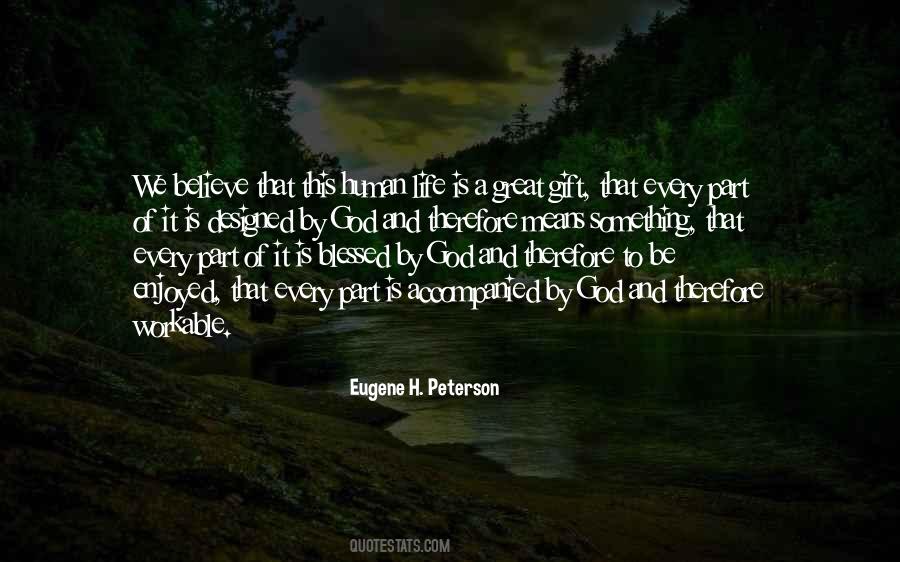 #76. Some claim that depression can be "prayed away" or is caused when you don't have enough God in your life. I tried God once but it didn't work well so I cut the dose by a third - Author: Jenny Lawson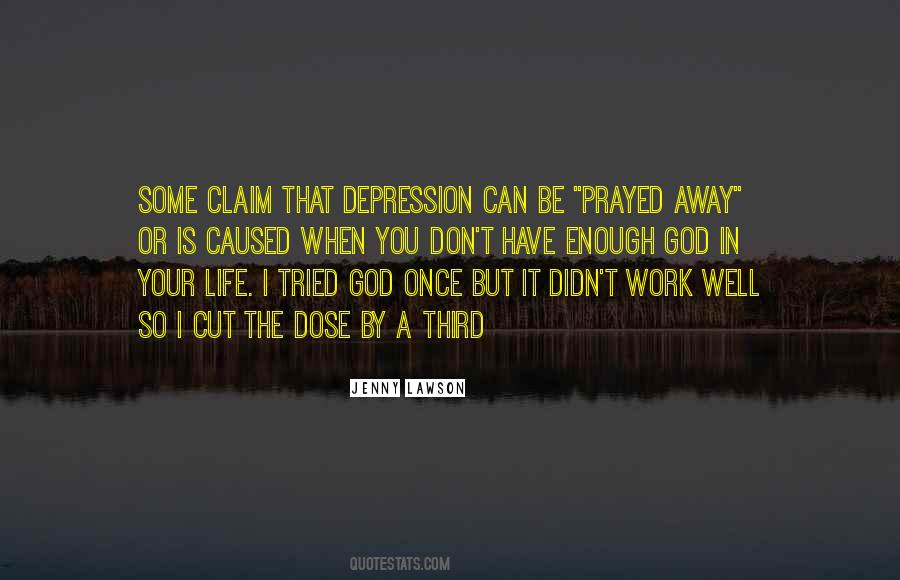 #77. The Catholic writer, in so far as he has the mind of the Church, will feel life from the standpoint of the central Christian mystery: that it has for all its horror, been found by God to be worth dying for. - Author: Flannery O'Connor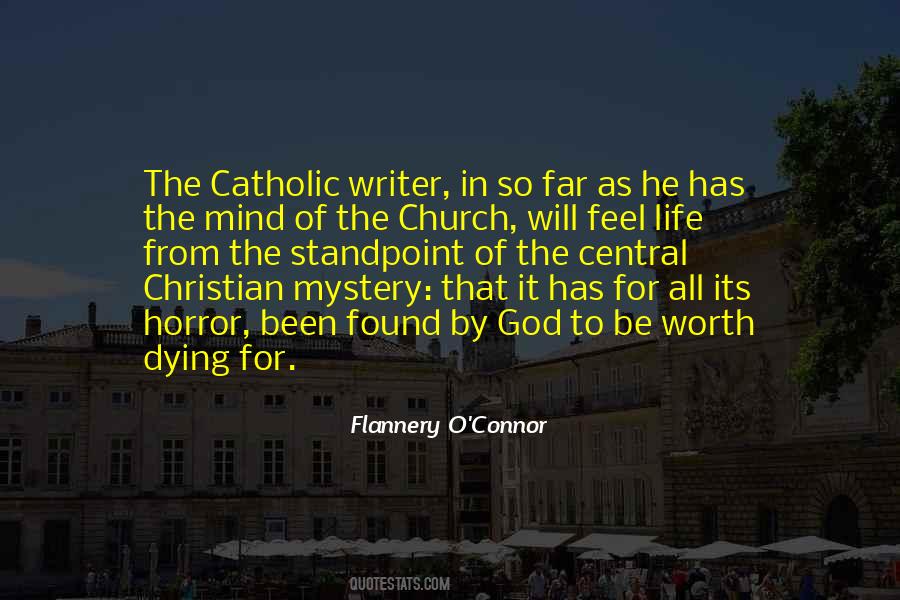 #78. How long will you carry this burden - the fame you earned by frivolous alms? Give it to him who owns the whole, the Lord of earth and the skies above. - Author: Preeth Nambiar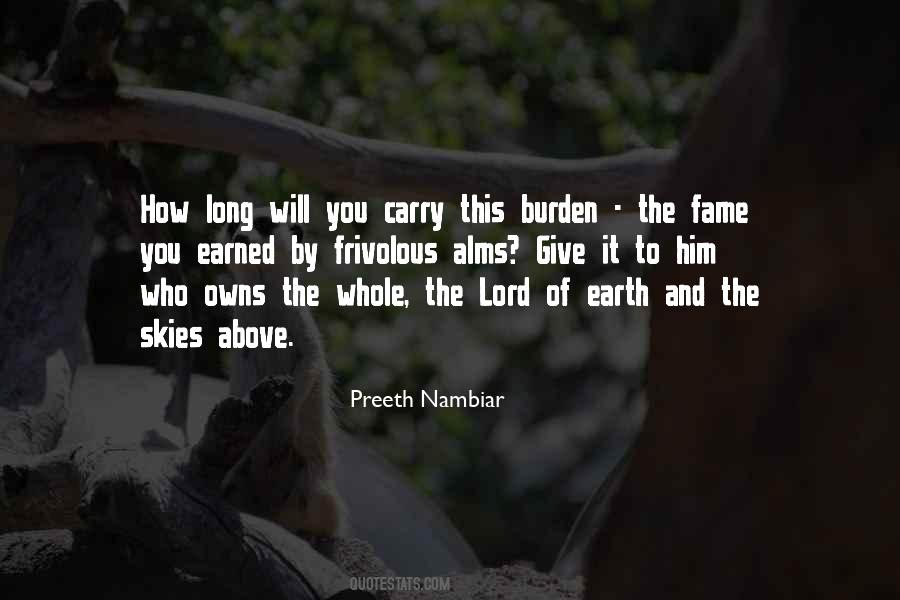 #79. Dear God, I don't ask that my life be perfect but that you allow the myriad of emotions in my life to end each day with calmness. May I sleep peacefully to do your work again by morning light. I ask for these things in Jesus's name, amen. - Author: Ron Baratono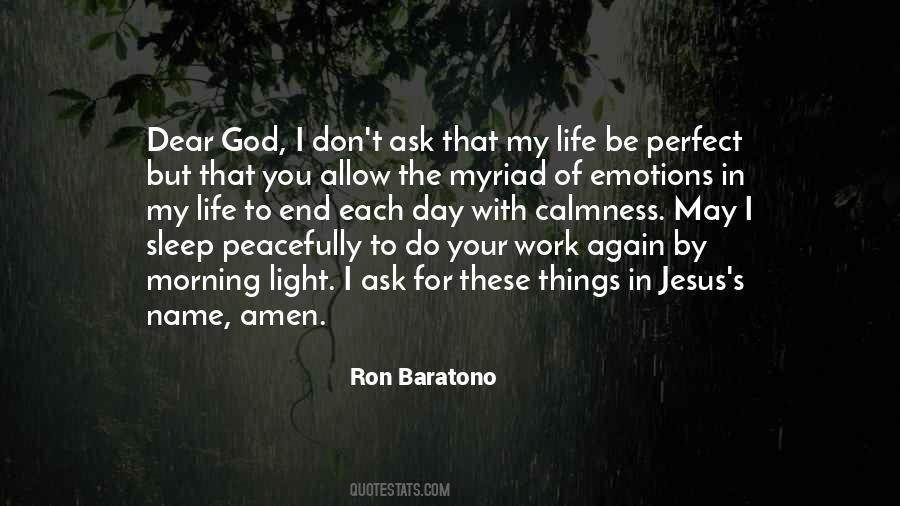 #80. The truth is of course that what one calls the interruptions are precisely one's real life - the life God is sending one day by day; what one calls one's "real life" is a phantom of one's own imagination. - Author: Tim Challies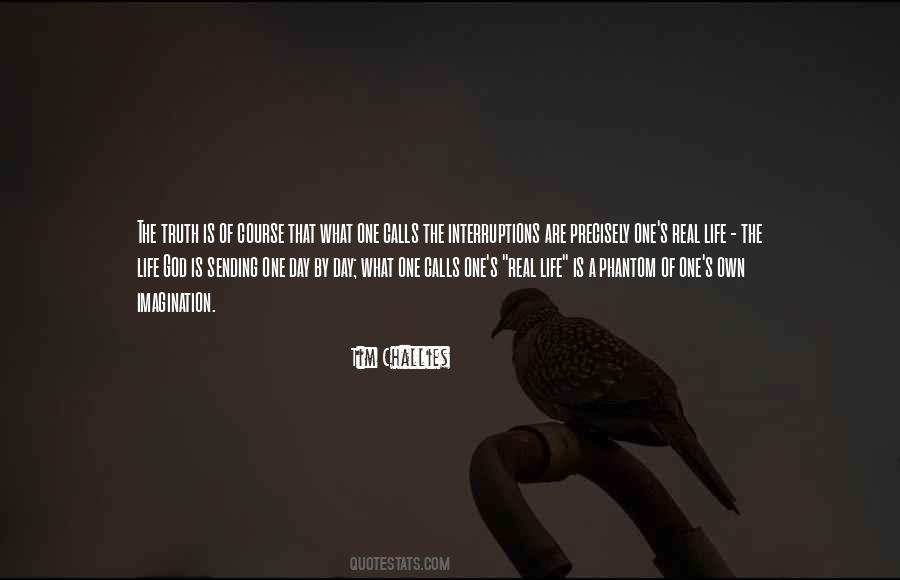 #81. God has a plan for the conquest of all things by His covenant people. That plan is His law. It leaves no area of life and activity untouched, and it predestines victory. To deny the law is to deny God and His plan for victory. - Author: Rousas John Rushdoony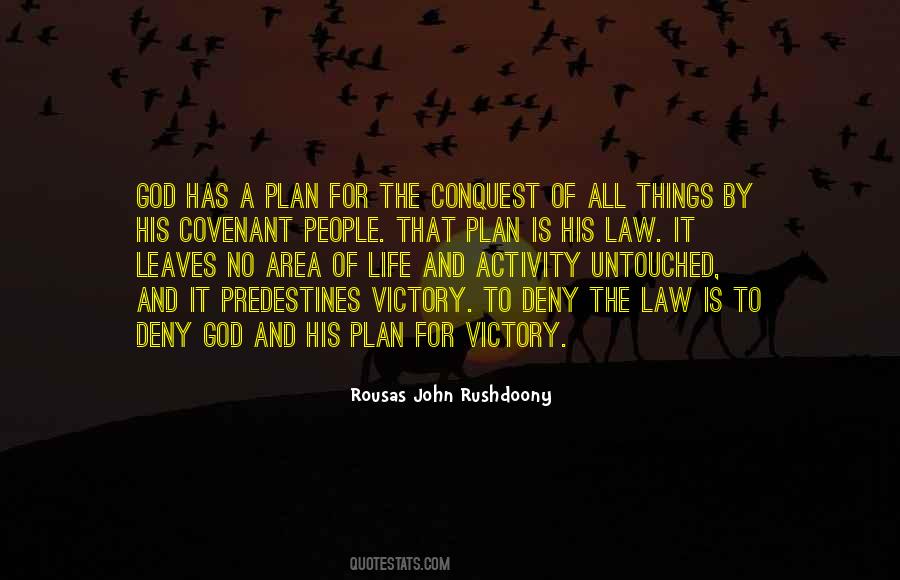 #82. It is only by remembering that 'Another lives in me' that we can die daily to that old, false, usurping self, and that we can continue to be drawn further in and higher up into the life of God. To 'practice the presence' is to continually call to mind this great reality. - Author: Leanne Payne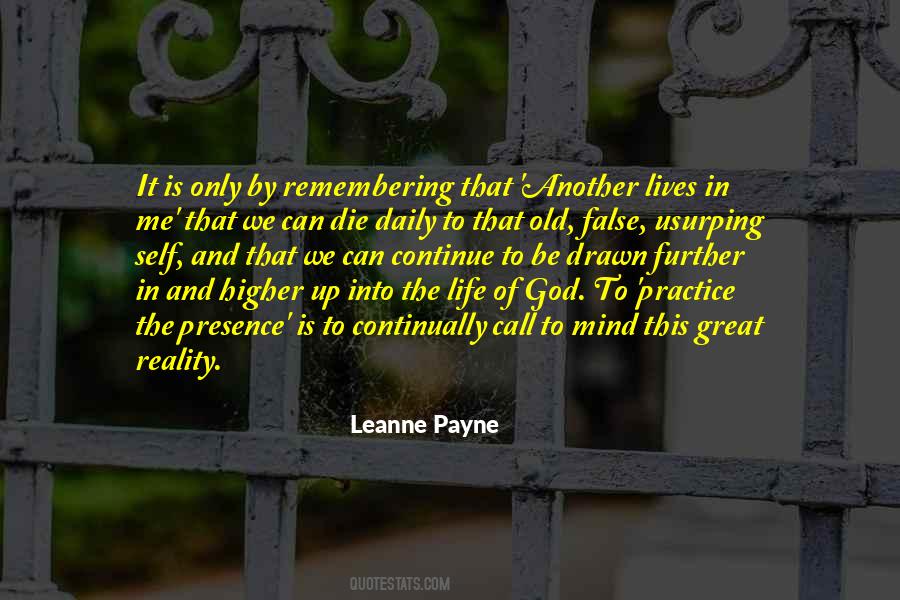 #83. When we receive God's gift of life by relying on Christ, we find that God comes to act with us as we rely on him in our actions. - Author: Dallas Willard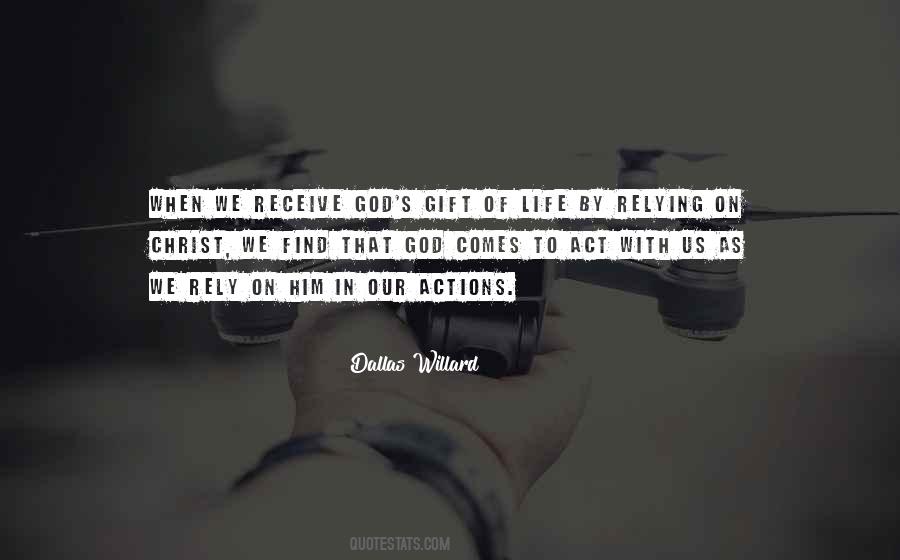 #84. Every day is predetermined by God. - Author: Lailah Gifty Akita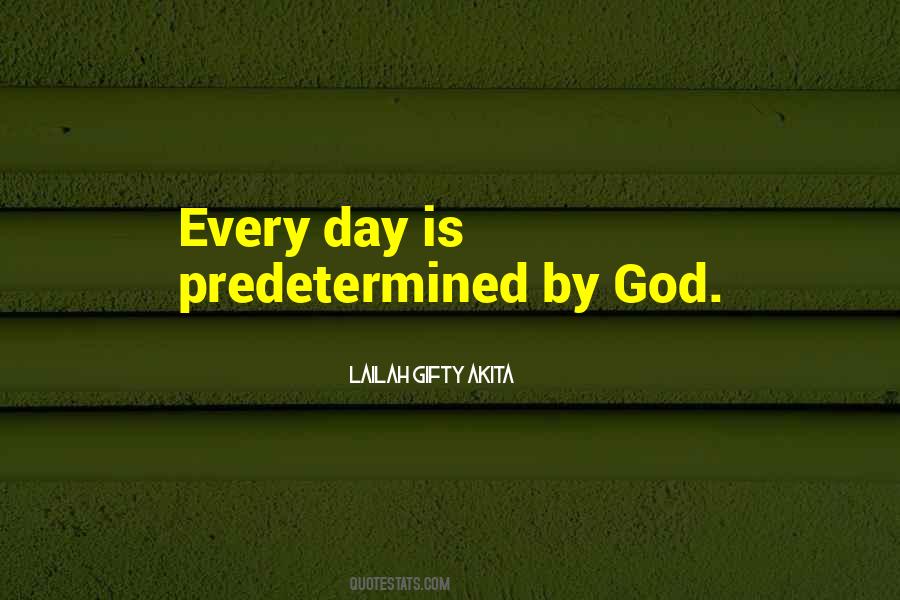 #85. God saw your entire life from beginning to end, birth to hearse, and in spite of what he saw, he still dreams of having you by his side. Even with your faults and failures. Despite your muddles and missteps. He still stands near, arms open wide, ready to embrace you with a Father's love. - Author: Max Lucado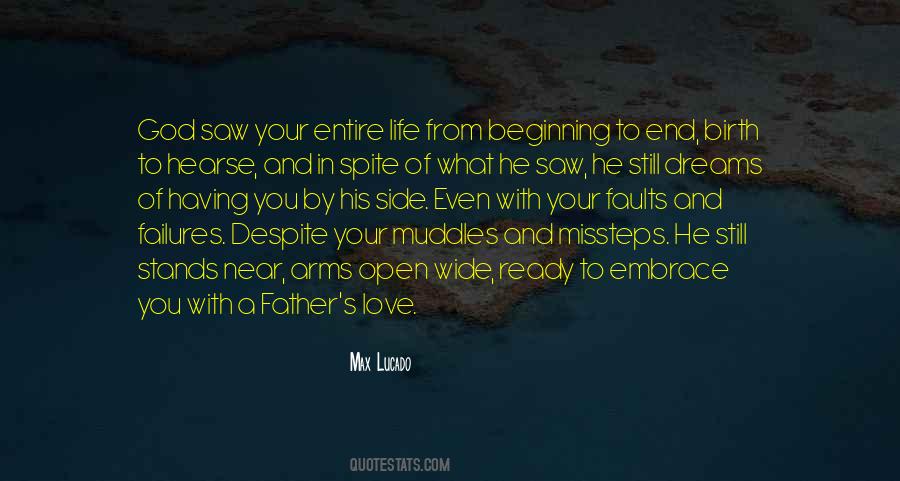 #86. What his uncle does not understand is that in walking backwards, his back to the world, his back to God, he is not grieving. He is objecting. Because when everything cherished by you in life has been taken away, what else is there to do but object? - Author: Yann Martel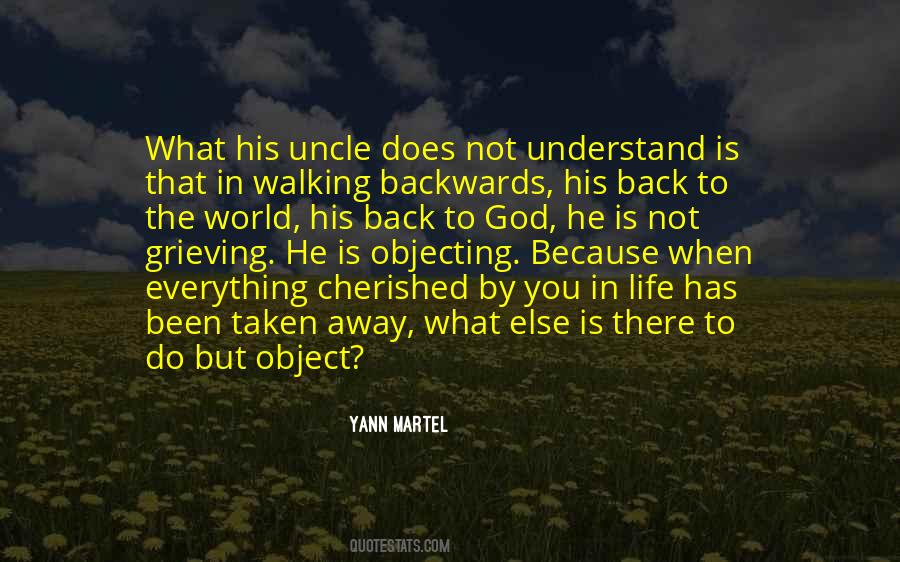 #87. The mature and well-balanced man, standing firmly with both feet on the earth, who has never been lamed and broken an half-blinded by the scandal of life, is as such the existentially godless man. - Author: Karl Barth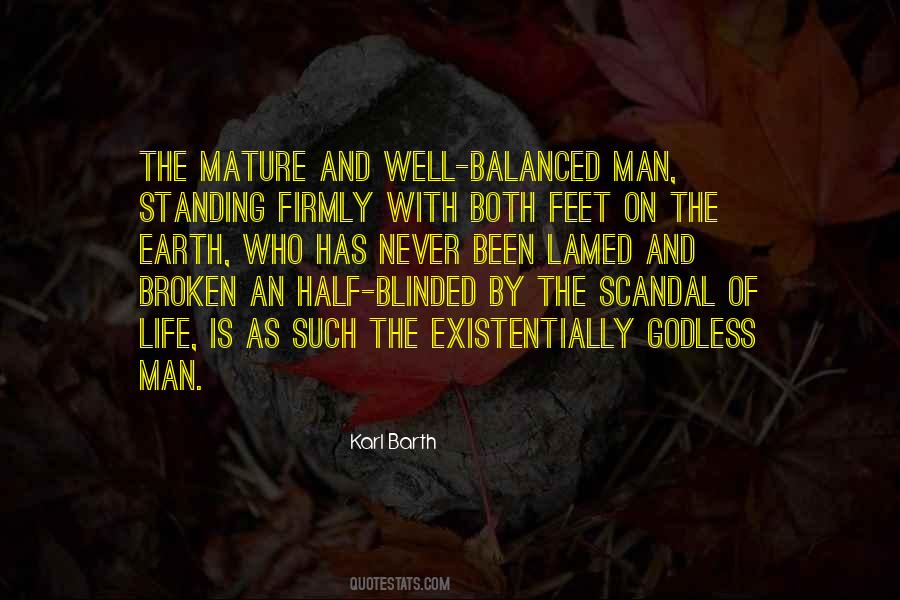 #88. Be strong, believe in freedom and in God, love yourself, understand your sexuality, have a sense of humor, masturbate, don't judge people by their religion, color or sexual habits, love life and your family. - Author: Madonna Ciccone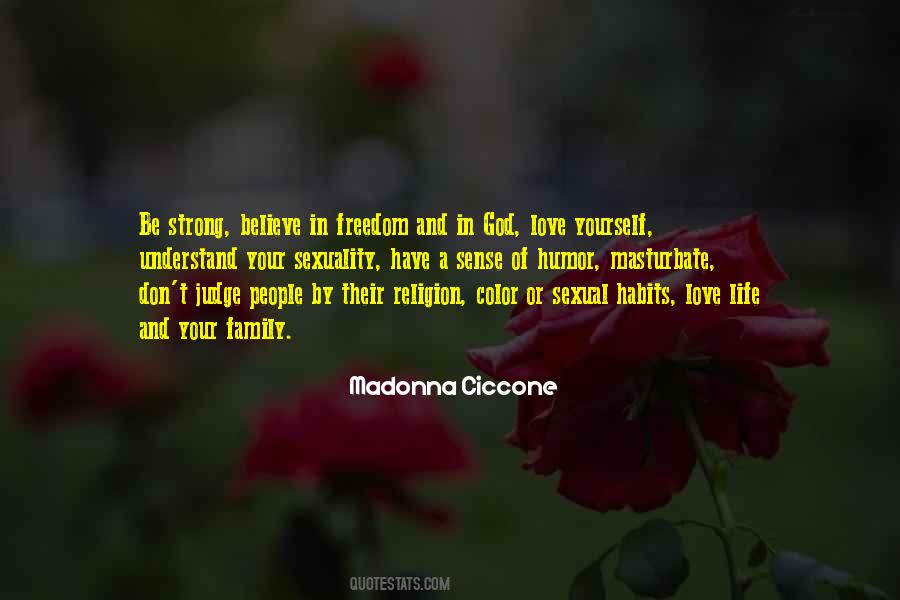 #89. God makes the life fertile by disappointments, as he makes the ground fertile by frosts. - Author: Henry Ward Beecher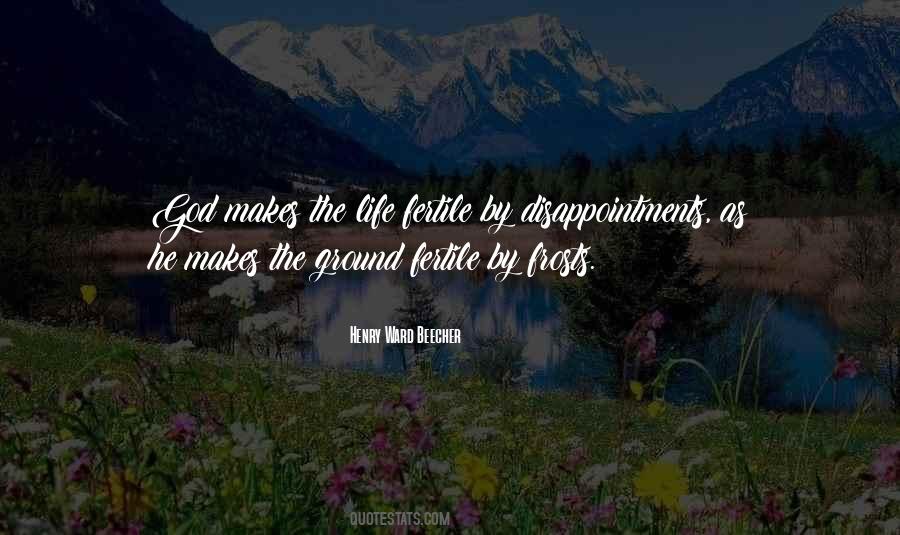 #90. God may reduce you on Judgment Day to tears of shame, reciting by heart the poems you would have written, had your life been good. - Author: W. H. Auden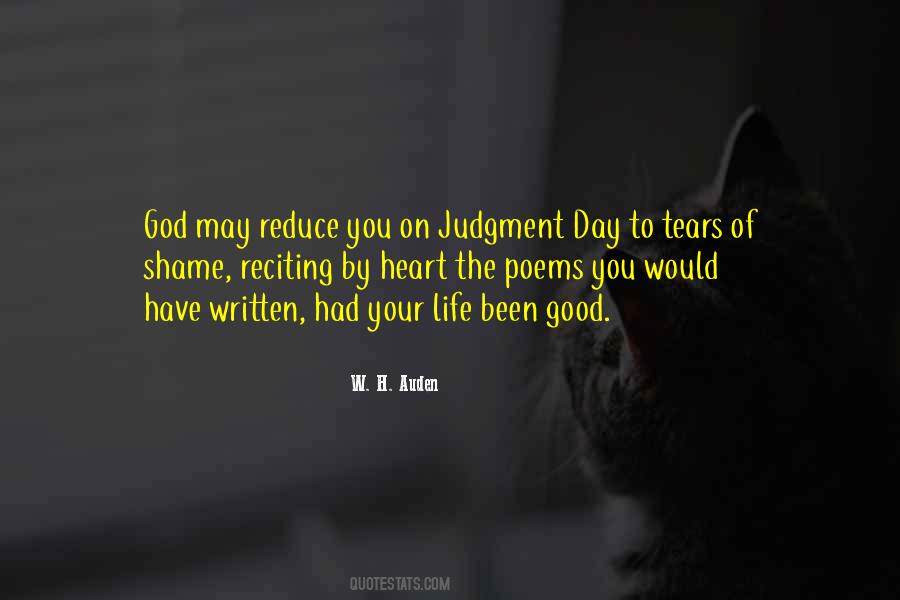 #91. There are two ways of extending life : firstly by moving the two points "born" and "died" farther away from one another ... The other method is to go more slowly and leave the two points wherever God wills they should be, and this method is for the philosophers. - Author: Georg C. Lichtenberg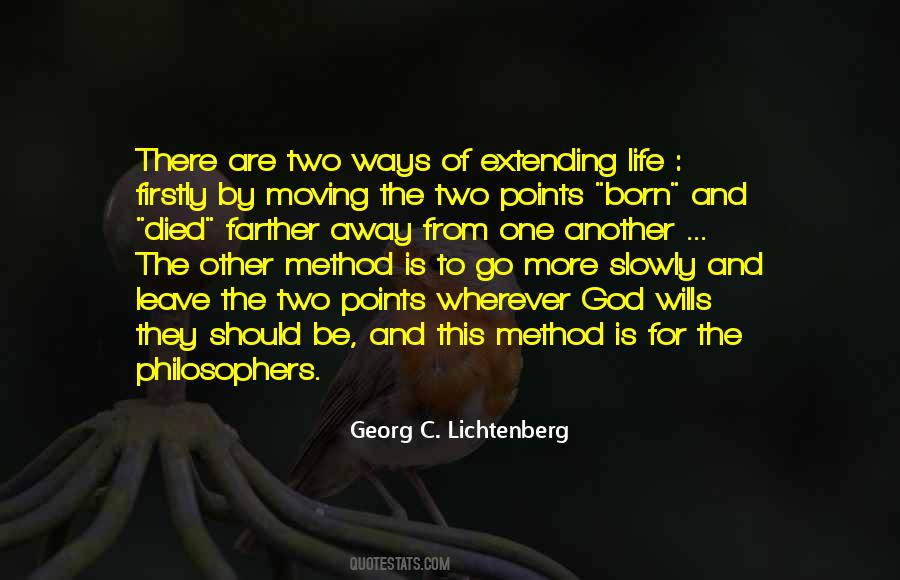 #92. How do they manage to go on living? ... By loving life. And-in spite of everything-by loving God. By having enough faith to start over again and again; enough faith to risk having our hearts break all over again. That's the true meaning of faith. It's the deepest kind of heroism. - Author: Naomi Ragen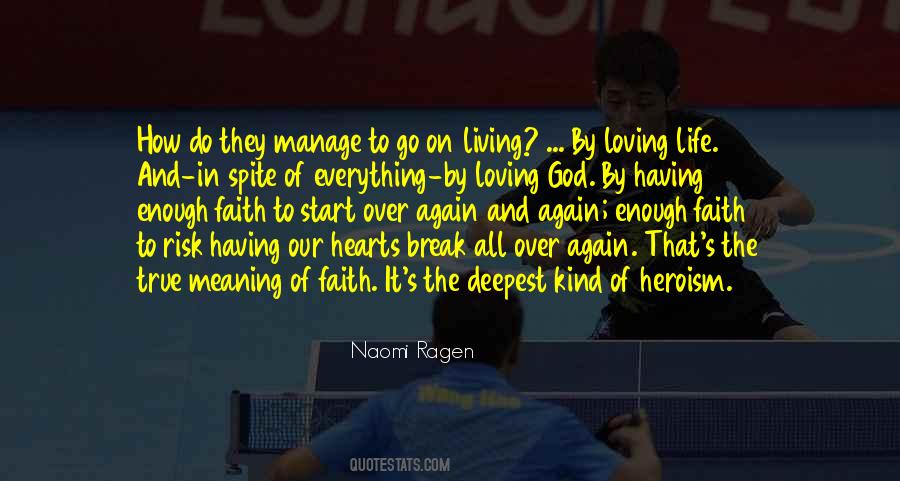 #93. Life on the farm had fed his soul since he was a child. he was ever grateful to Gott for giving him a chance to work the land and live by the seasons. It was a good life...but a lonely one for a man his age, a man too old to be living with his family. - Author: Rosalind Lauer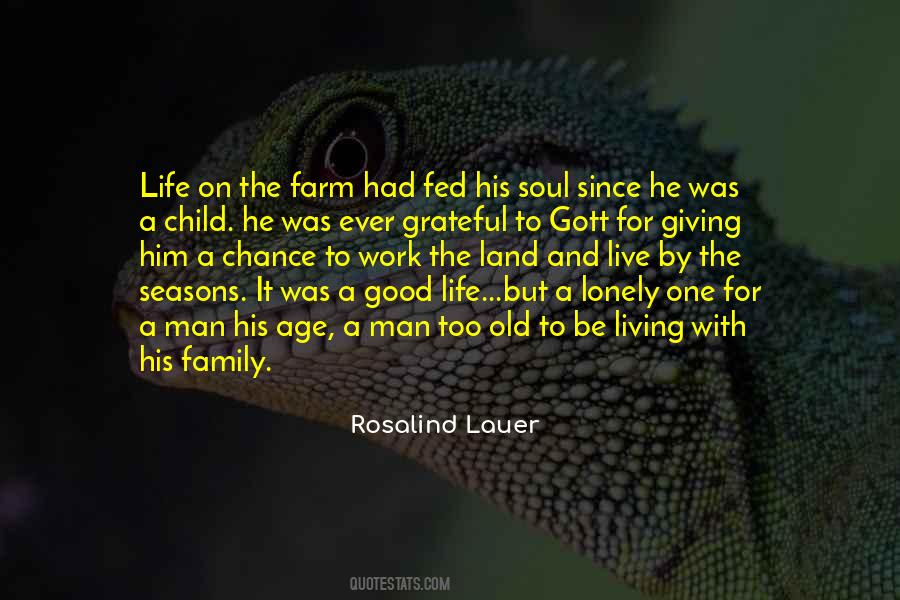 #94. My hopes of a future life are all founded upon the Gospel of Christ and I cannot cavil or quibble away ... the whole tenor of His conduct by which He sometimes positively asserted and at others countenances His disciples in asserting that He was God. - Author: John Quincy Adams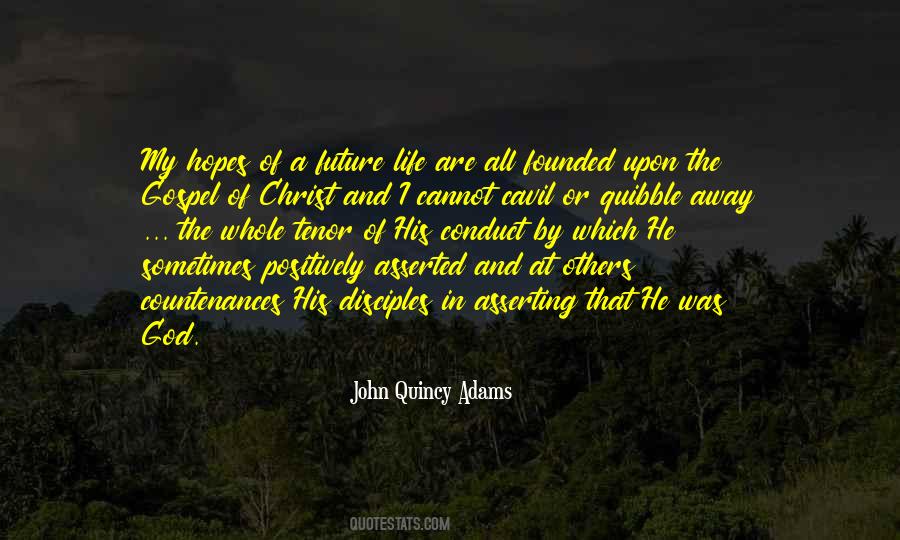 #95. Grim care, moroseness, anxiety-all this rust of life ought to be scoured off by the oil of mirth. Mirth is God's medicine. - Author: Henry Ward Beecher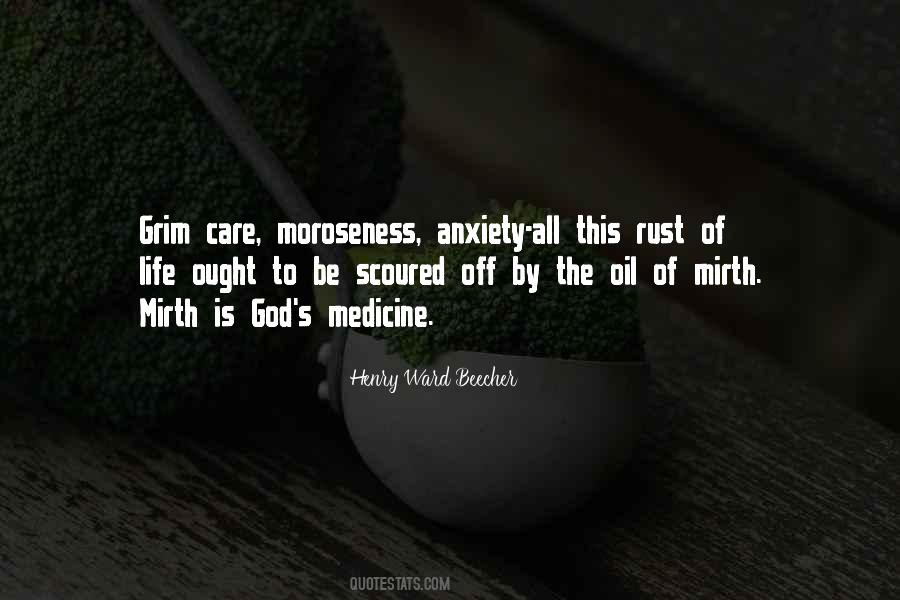 #96. In all that ever mattered, you are unchanged. Old? Yes, we must all grow old. Age is nothing but the sum of life. And you are alive, and back with me here. By the great God of heaven, I have you back with me. What should I fear now? - Author: Mary Stewart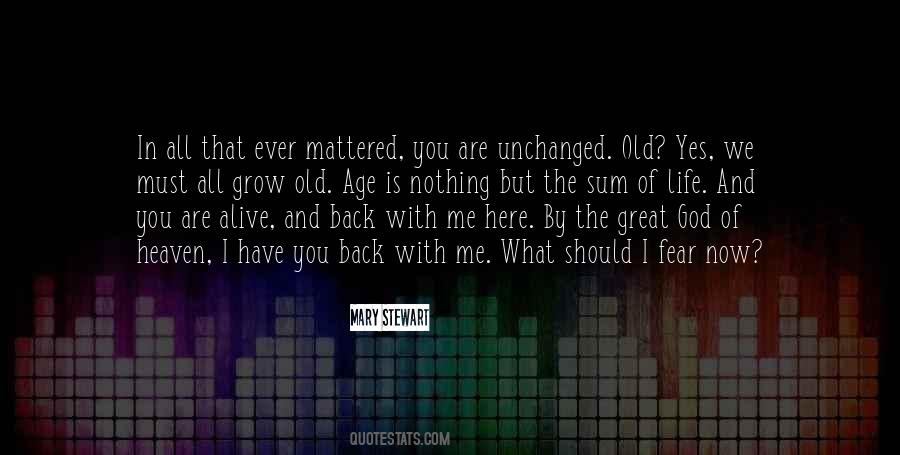 #97. We need God's great-grace in all spheres of life. - Author: Lailah Gifty Akita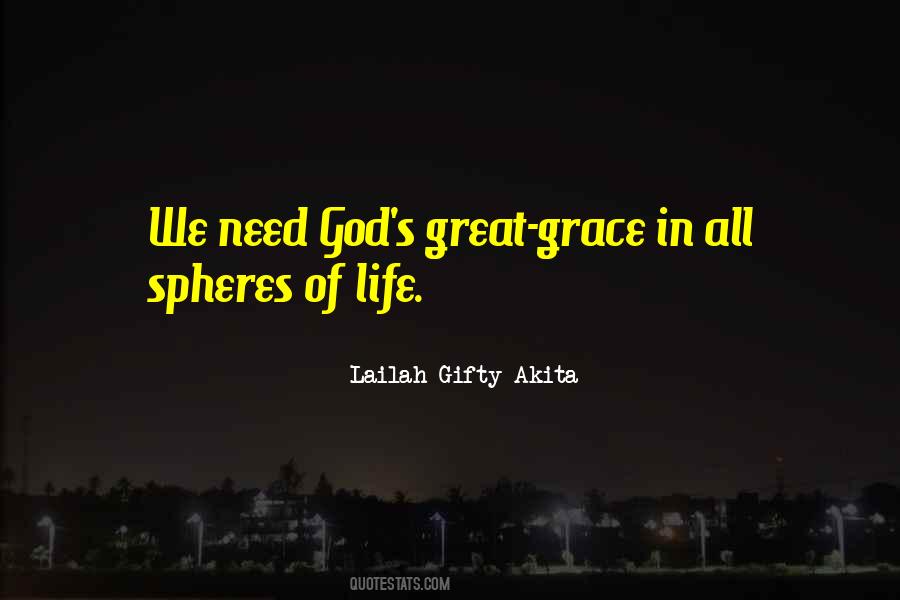 #98. Whenever we find that our religious life is making us feel that we are good - above all, that we are better than someone else - I think we may be sure that we are being acted on, not by God, but by the devil. - Author: C.S. Lewis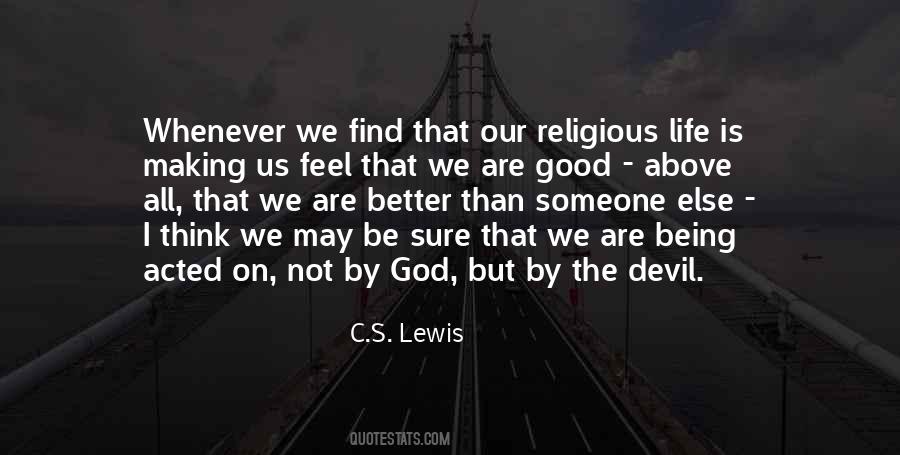 #99. I was putting too much stress on my body and not living a healthy life style, I wasn't taking care of myself. I was able to turn that around by having a belief in myself and trusting God and then doing what it took to get healthy again. - Author: John Assaraf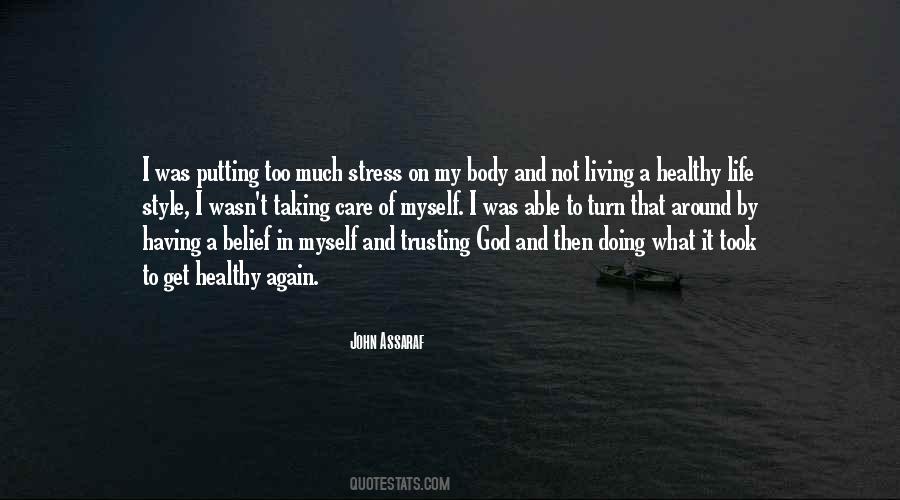 #100. I know a little of why there is blood in my body, pumping life into my limbs and thought into my brain. I am wanted by God. - Author: Donald Miller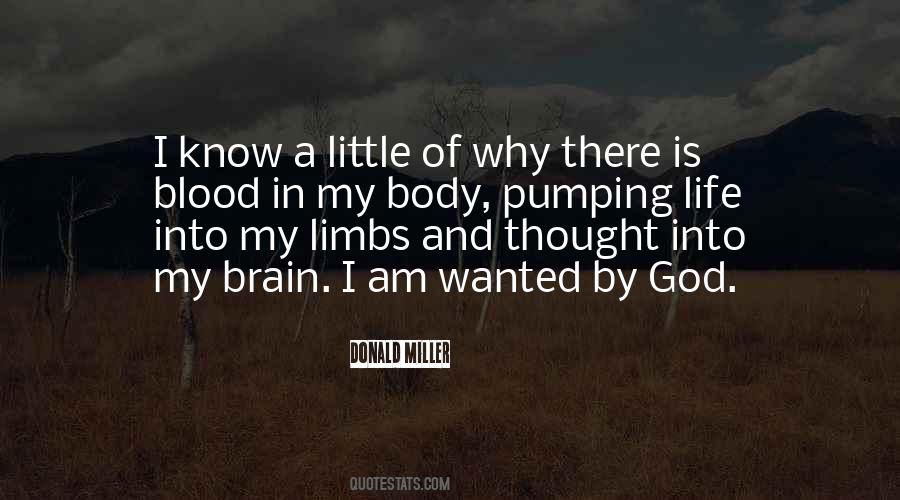 Famous Authors
Popular Topics