Letter T Famous Quotes & Sayings
List of top 100 famous quotes and sayings about letter t to read and share with friends on your Facebook, Twitter, blogs.
Top 100 Quotes About Letter T
#1. Most of us do not like to look inside ourselves for the same reason we don't like to open a letter that has bad news. - Author: Fulton J. Sheen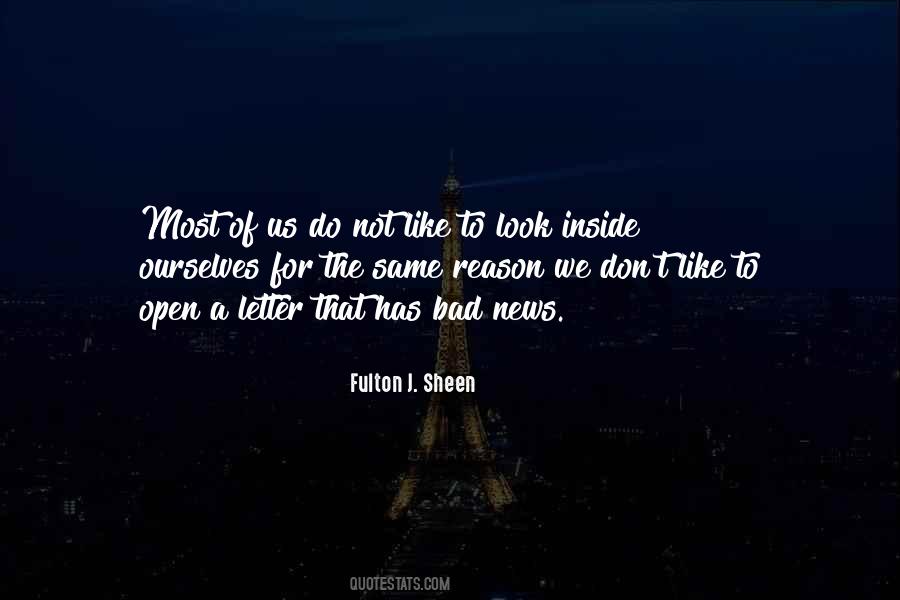 #2. I took the one letter he had for us. It was from the Switchblade Gas & Electric Company. I didn't know I had admirers there too, but I wasn't that surprised. I threw it in the trash with the IRS's love letters and closed the door without reply. - Author: The Harvard Lampoon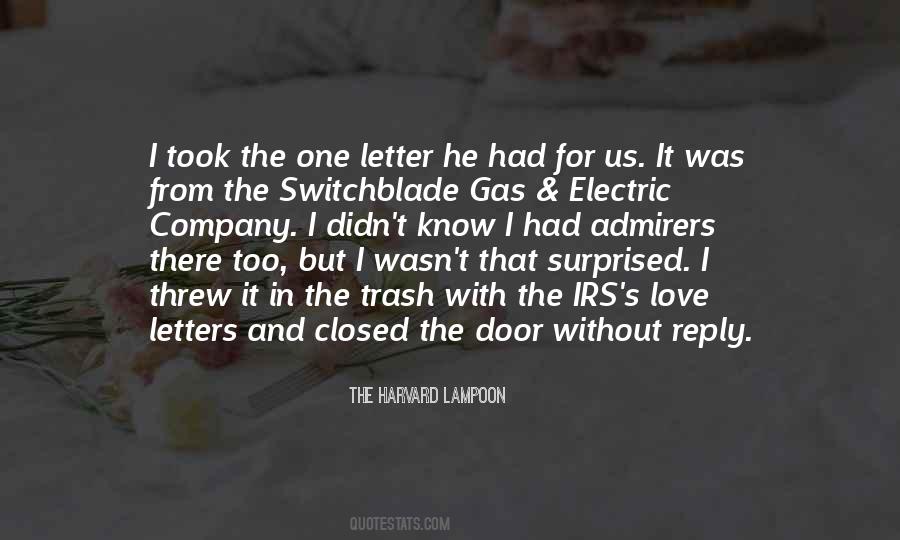 #3. Ever since I got your letter . . . I haven't been able to stop thinking about you. - Author: Jenny Han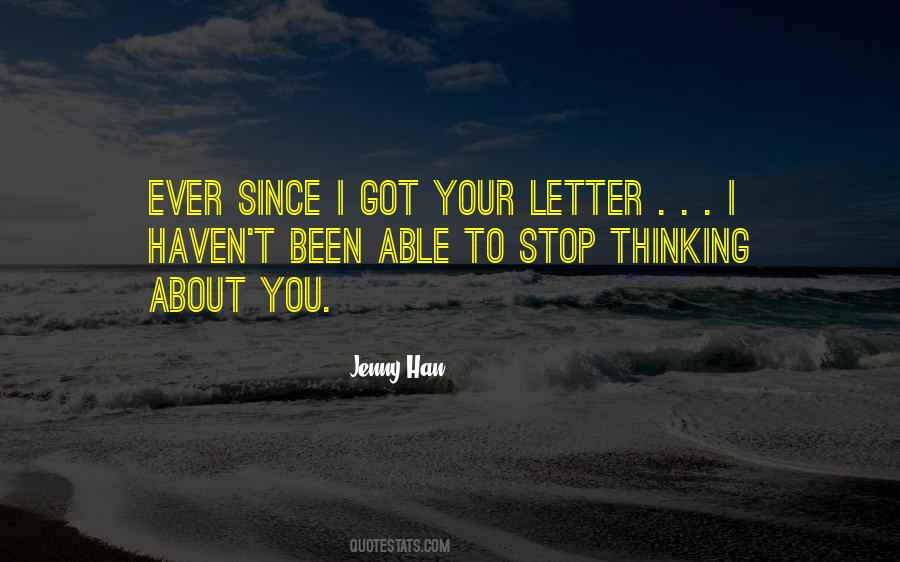 #4. Faith cannot be about absolute certainty in the letters of the Bible and wrath against those who don't comply (Ephesians 2:15). It has to be about overwhelming trust in God's love,6 which as the apostle Paul confirms, is beyond the letter of law and narrow legalistic interpretations. - Author: Amos Smith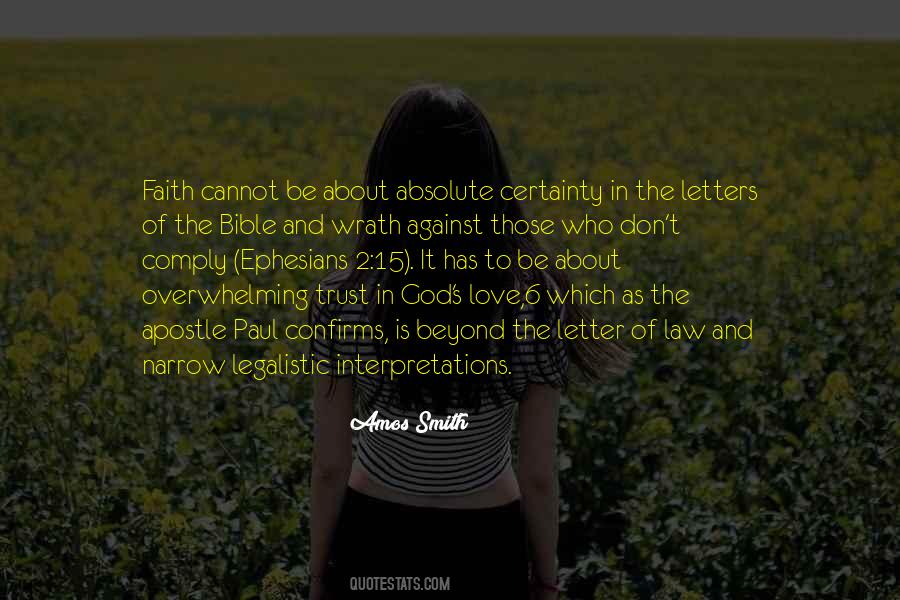 #5. I know that I'll move on, I tell myself I'll find me something better
I'll let go and just forget her
She was no good for me
Deep down I know that's the way it has to be so
How come I still can't open this letter
I can't forget her... - Author: James Morrison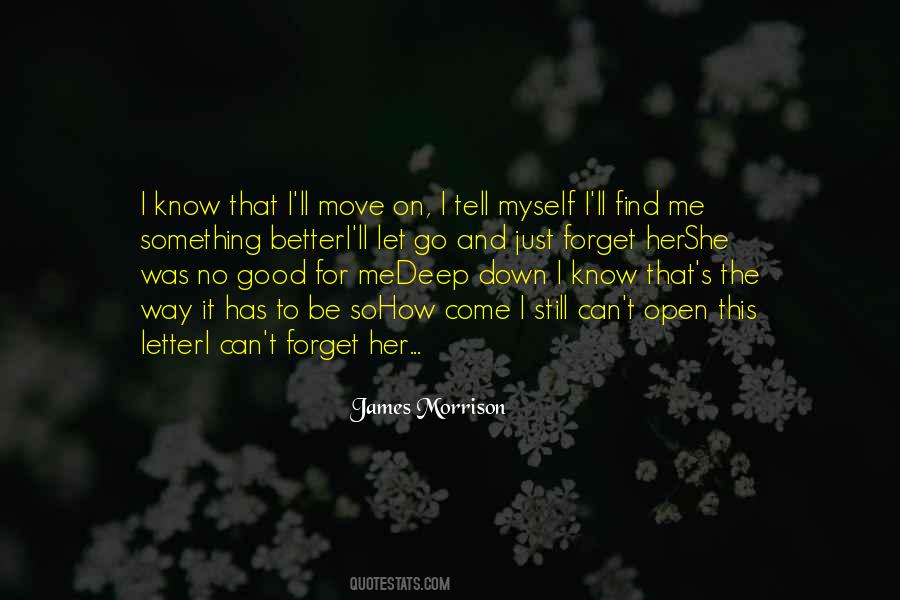 #6. There are lots of ways of answering a letter - and writing doesn't happen to be mine. - Author: Edith Wharton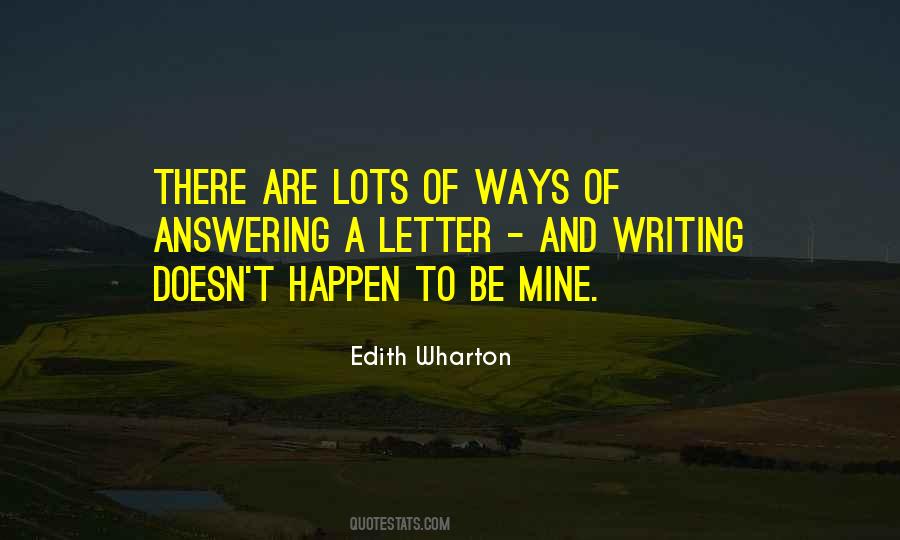 #7. If there's something that I really need to say that I can't say by speaking to someone, I usually write it in a song or a letter to someone. - Author: Joshua Radin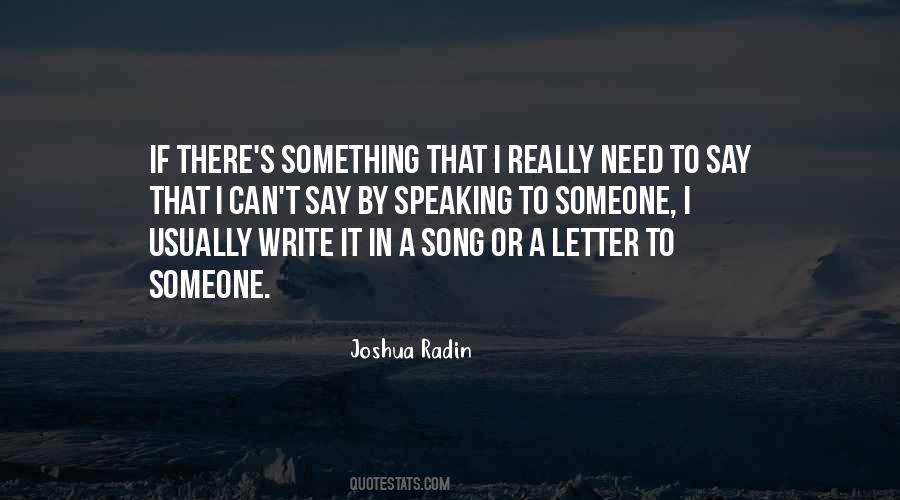 #8. Ultimately, when he held your treasonous letter in his hand and saw how you had lied to him, the choice between me and you was the choice between someone who loves him and someone who didn't. - Author: Marie Rutkoski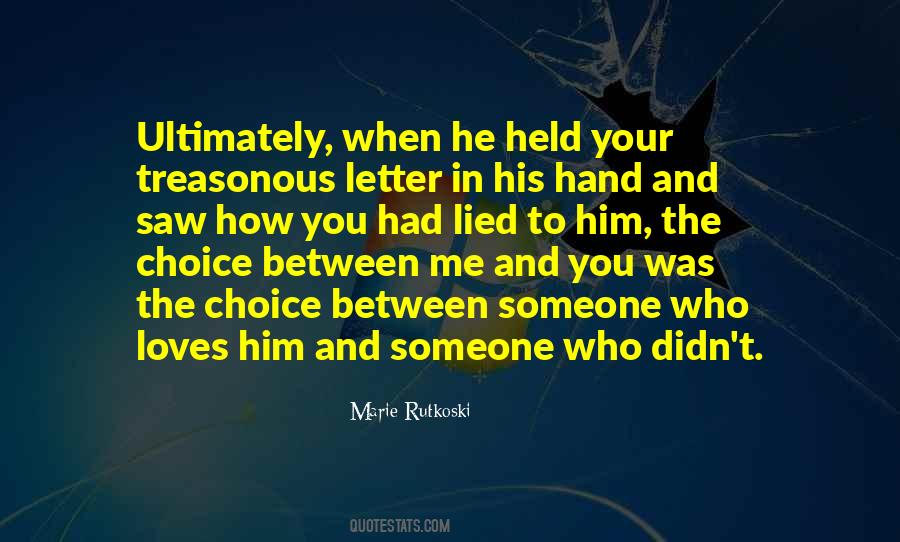 #9. In a scene [where the improvisers must interact] without the letter S, the audience is waiting for you to lose - so they can laugh at you. Don't try to win. - Author: Keith Johnstone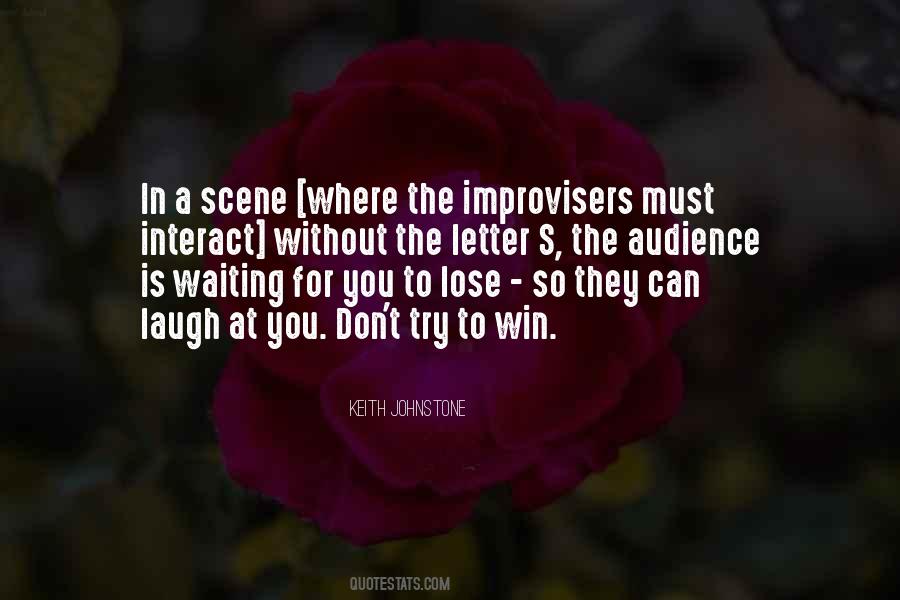 #10. I'm sorry this letter is so long. I didn't have time to make it shorter. - Author: Fyodor Dostoyevsky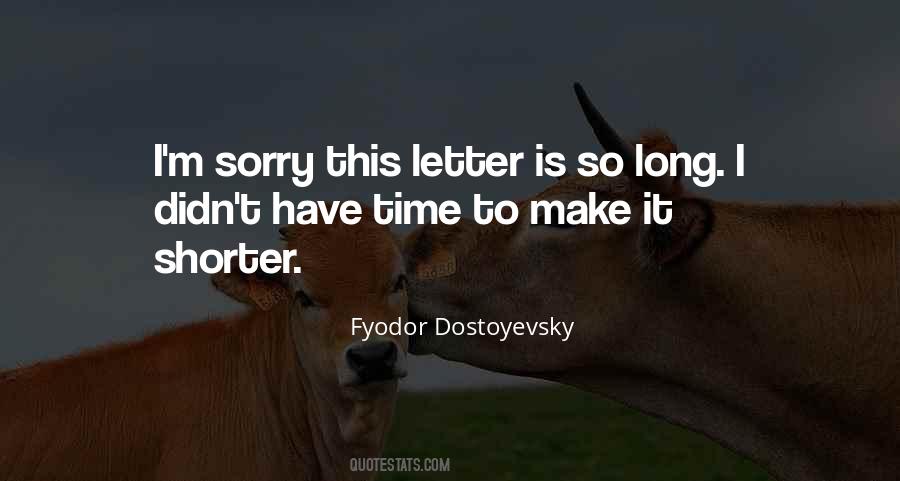 #11. When I wake, a piece of sharp green glass on the floor is cutting into my hand and I know it's a sign. I etch a letter on my hand; put it on top so I can see the jagged edges bleeding out; S. S is for sorrow, for all I don't say. S is for sick now, my punishing ways. - Author: Ibi Kaslik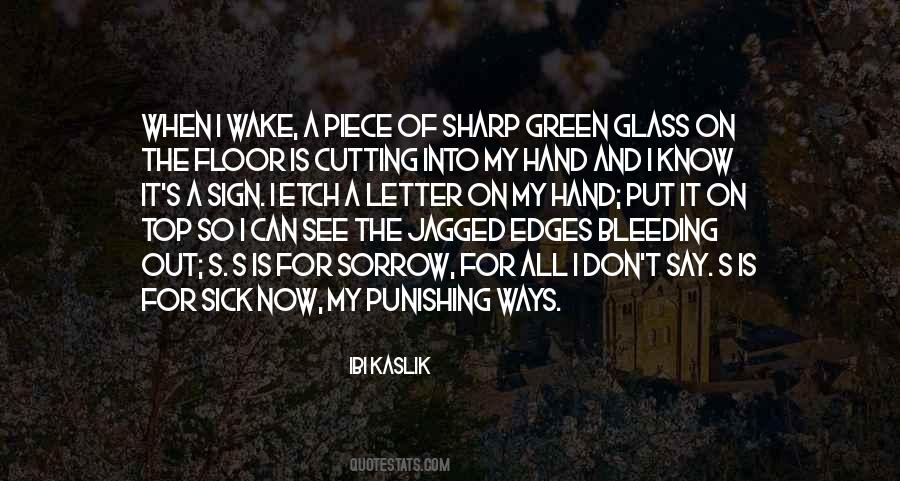 #12. No one in the whole movie ever asks anyone, Did you write this letter' Part of the reason is that no one wants to hear that it isn't for them. As soon as they read it, they want it to be theirs. - Author: Kate Capshaw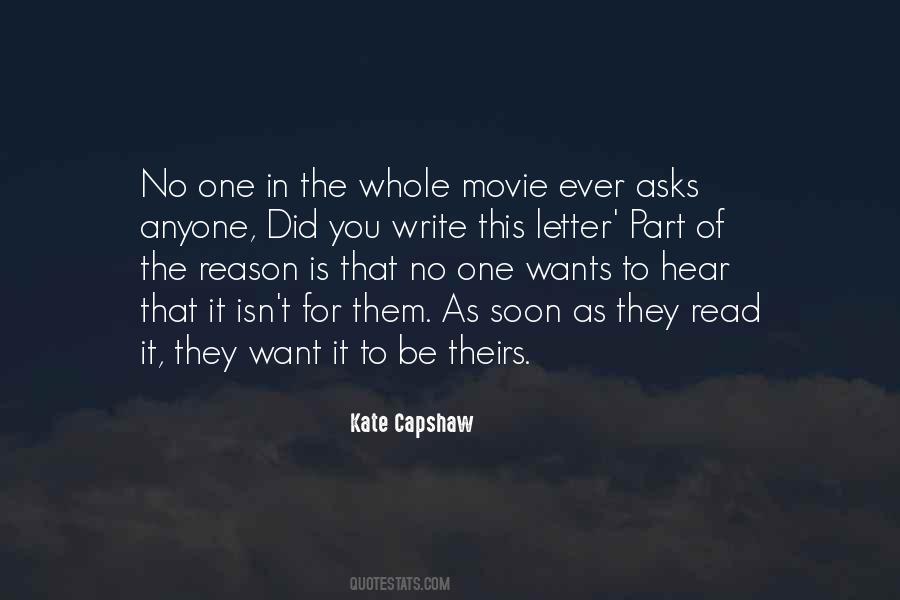 #13. One professor in college told me flat out I wasn't good enough to enter the creative writing program. I saved that letter and promised myself I would send it back to her when my first book came out. - Author: Ellen Potter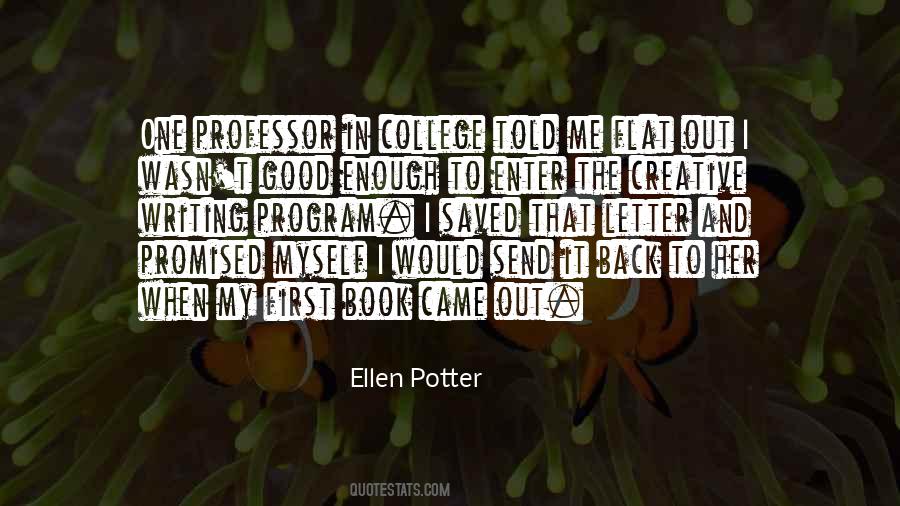 #14. A letter to Dear Abby: I am a twenty-three-year-old liberated woman who has been on the pill for two years. It's getting pretty expensive and I think my boyfriend should share half the cost, but I don't know him well enough to discuss money with him.* (f) - Author: Walker Percy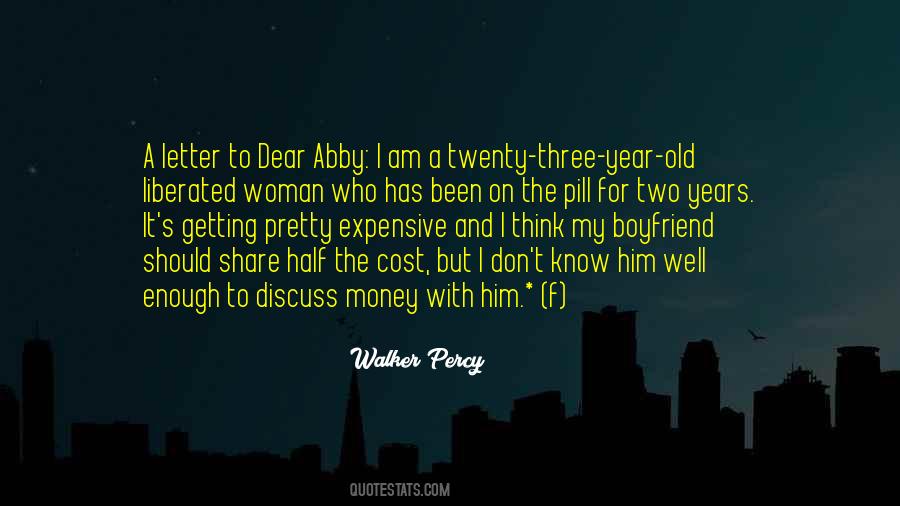 #15. I guess it was only fitting that to them PUNK was a four letter word. However, to people like Dylan and I-punk was our hearts-our souls. We grew up with a lot of uncertainties. To be a teenager isn't always pretty, and our music reflected that. - Author: Brian Joyce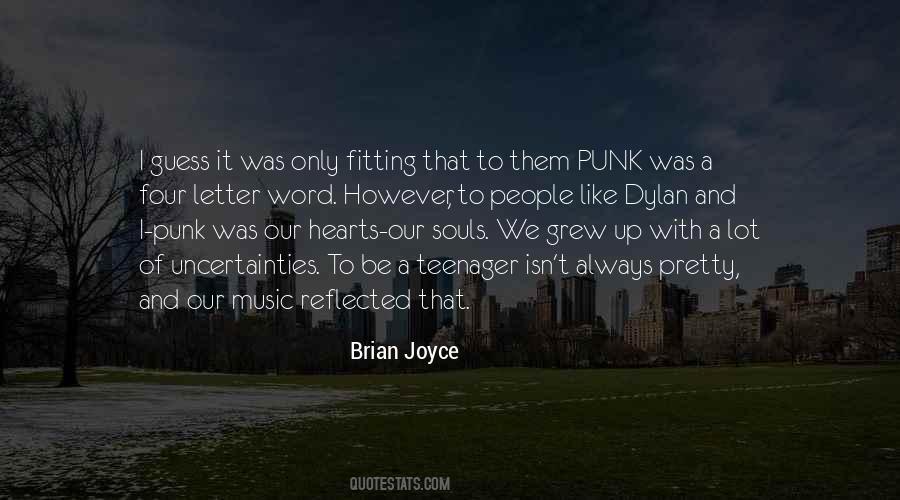 #16. The shelves of books we haven't written, like those of books we haven't read, stretches out into the darkness of the universal library's farthest space. We are always at the beginning of the beginning of the letter A. - Author: Alberto Manguel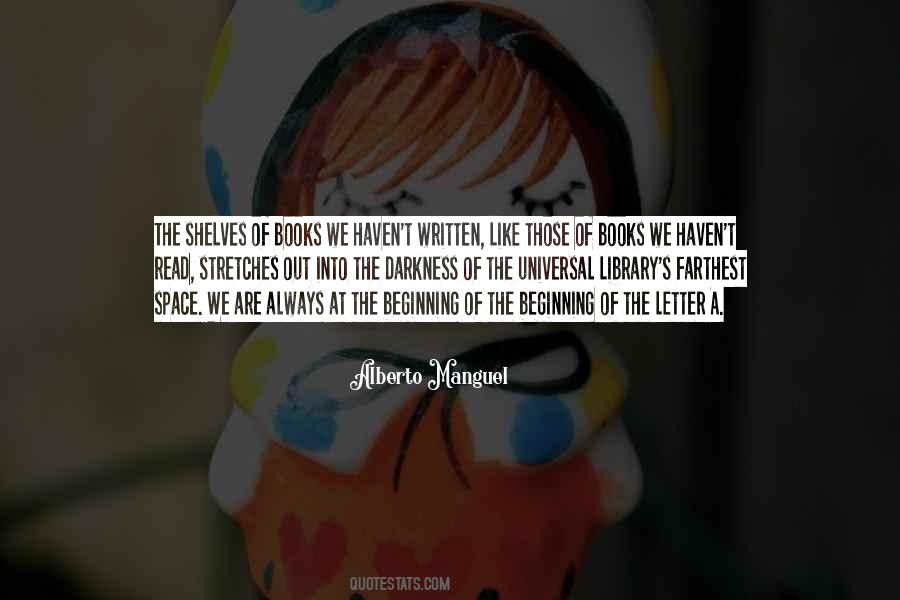 #17. Eloquence which does not startle I don't consider eloquence. CICERO, LETTER TO BRUTUS, 48 B.C. - Author: Robert Harris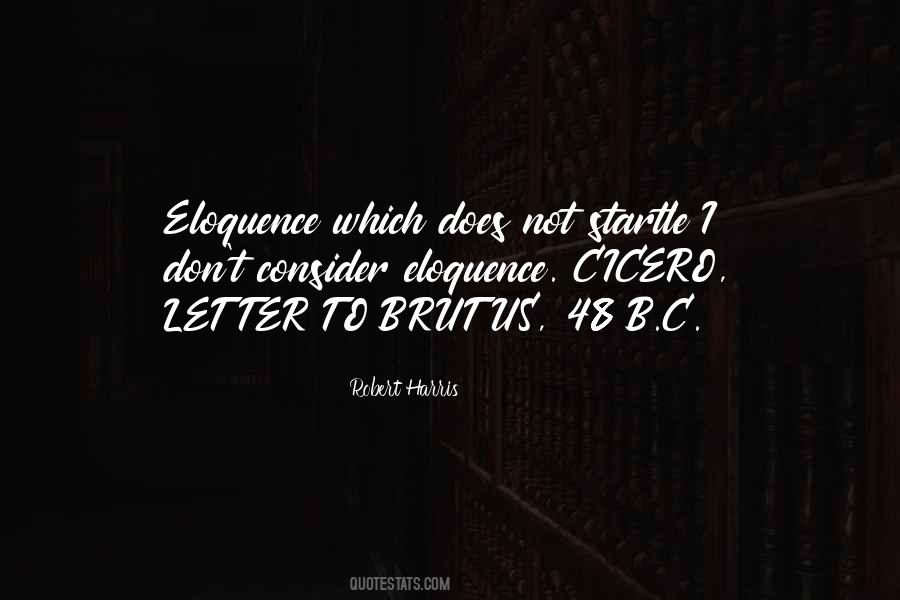 #18. Live your life. Be happy as you can be, let go of the things that don't matter, and fight. - Author: Kiera Cass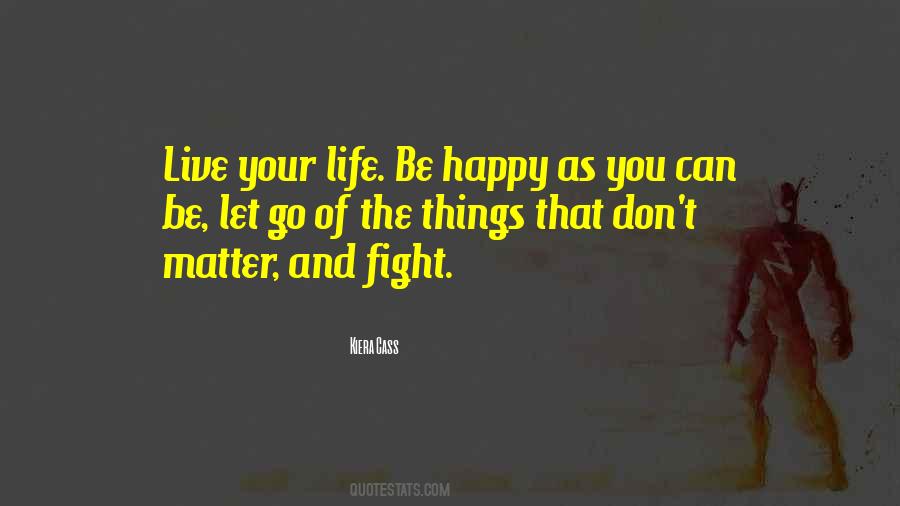 #19. I'll get a three-page letter and the last paragraph says 'I know you'll never read this, but here's my number.' I love to call those people because the first thing they say is, 'Governor, I didn't mean everything I said in the letter about you.' - Author: Dave Heineman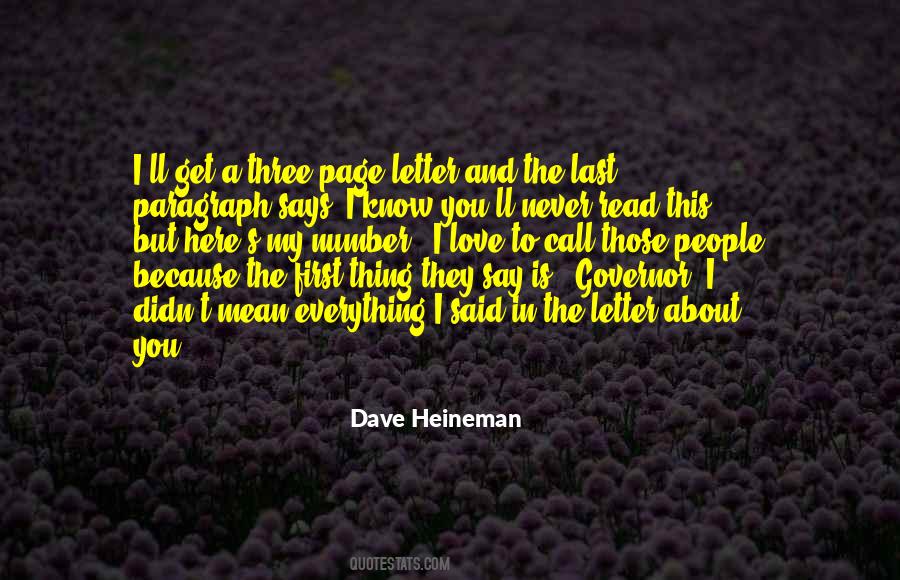 #20. Just remember to always be yourself and don't be afraid to speak your mind or to dream out loud - Author: J.A. Redmerski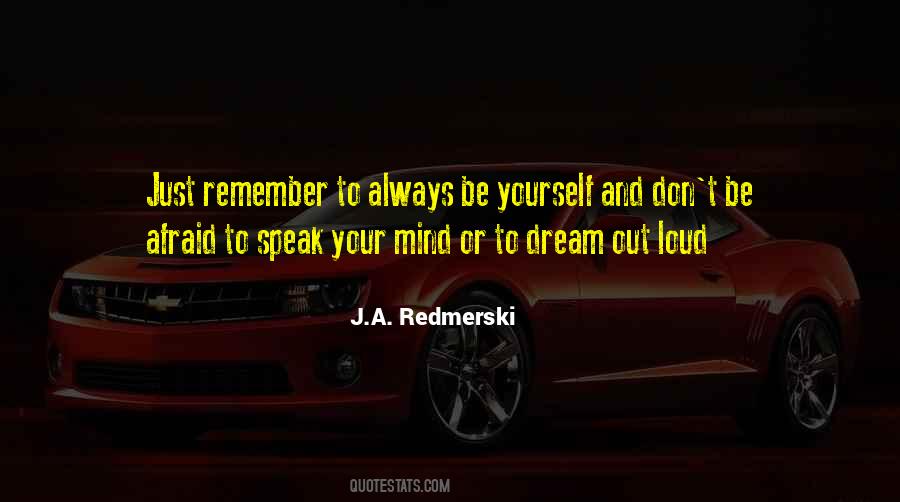 #21. Harry, I've left a letter telling your aunt and uncle not to worry
"
"They won't," said Harry.
"That you're safe
"
"That'll just depress them."
"
and you'll see them next summer."
"Do I have to? - Author: J.K. Rowling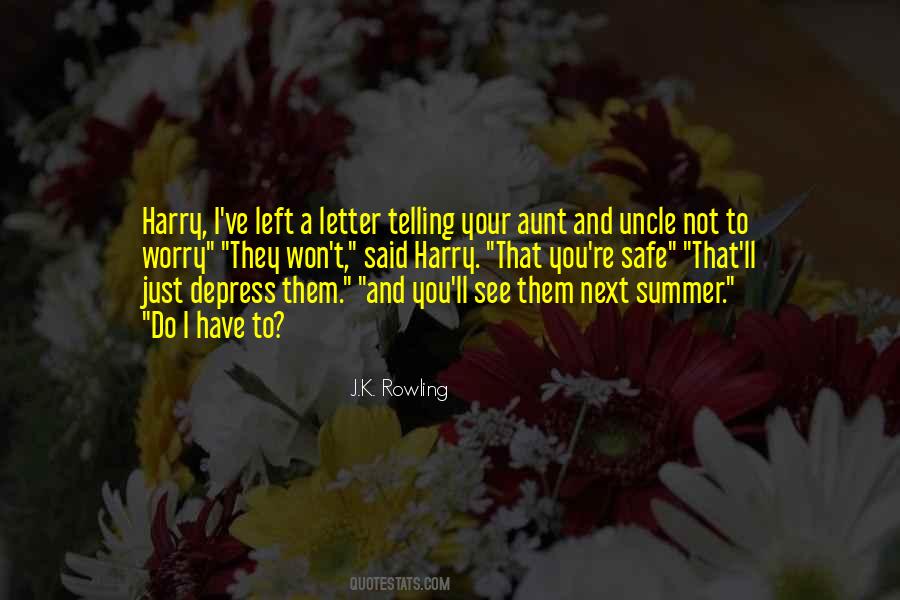 #22. I don't write this letter to put bitterness into your heart, but to pluck it out of mine. For my own sake I must forgive you. - Author: Oscar Wilde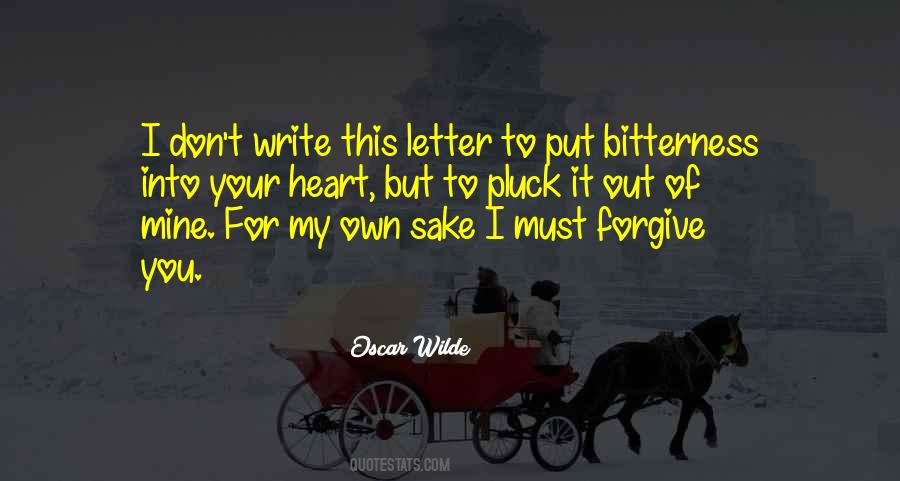 #23. I write a letter to my mother every day, because in that letter, I write down my day. And if I don't write it down, then tomorrow I will forget it and it's gone. - Author: Isabel Allende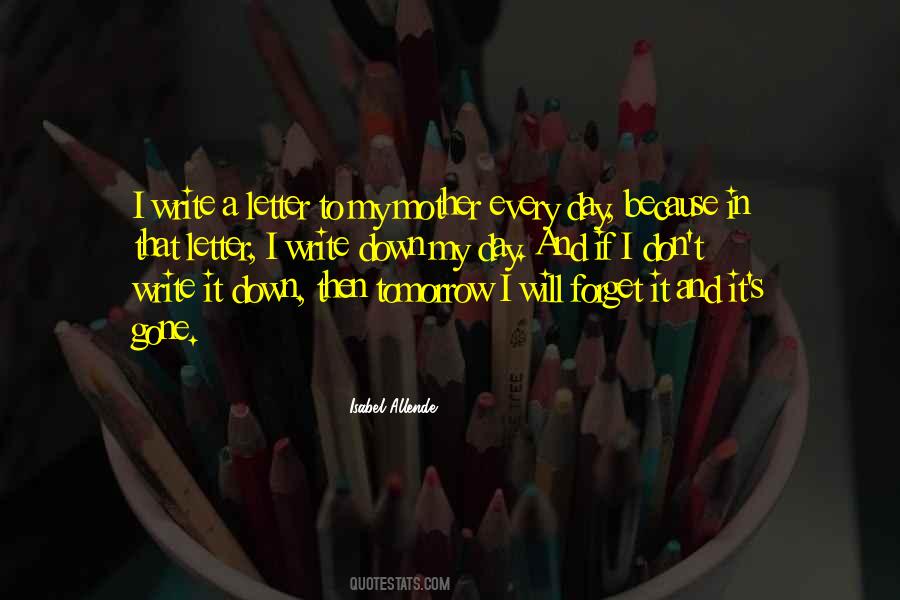 #24. Whenever someone asks me craft questions like that I feel like I can give one of two answers. I can give the academy answer and say that it was very deliberate and I had a plan in mind and I executed that plan exactly to the letter. But this isn't the case. - Author: Ron Currie Jr.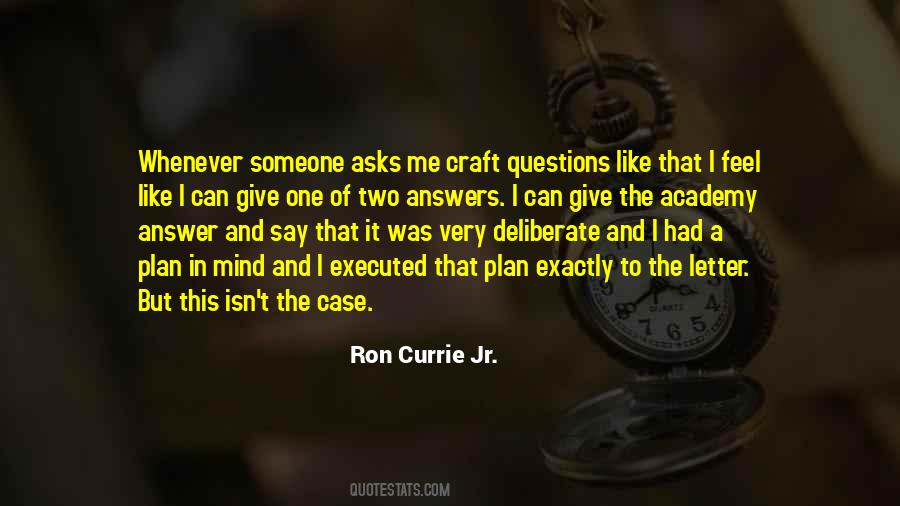 #25. Write someone a love letter, not because you want them to love you...., do it because you love them. Don't want anything from anyone.

circa. 2013 - Author: Vincent Lynch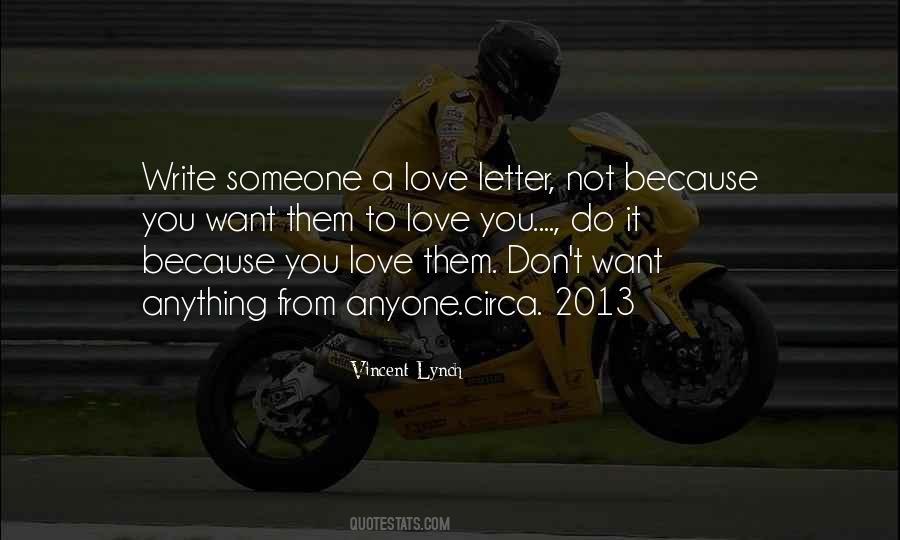 #26. As usual, it struck me that letters were the only really satisfactory form of literature. They give one the facts so amazingly, don't they? I felt when I got to the end that I'd lived for years in that set. But oh dearie me I am glad that I'm not in it! - Author: Lytton Strachey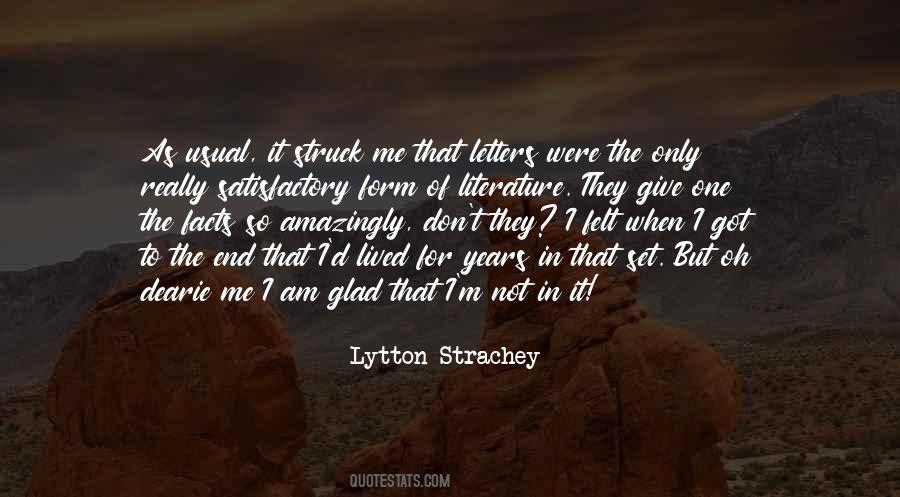 #27. I think labeling someone's intelligence with a letter grade isn't a sign of their ability. - Author: Katie Kacvinsky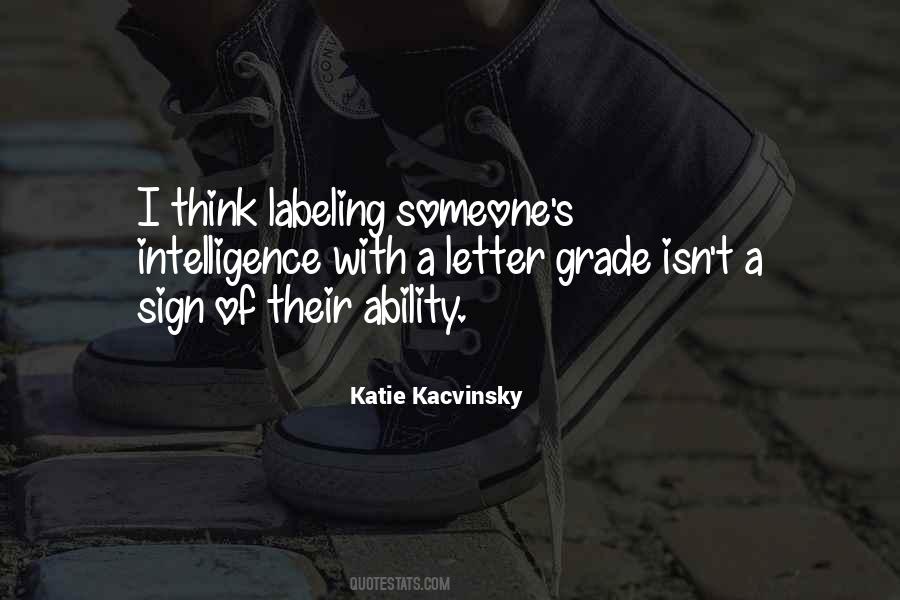 #28. I wanted to write a short letter but I only had time to write a long one....

This is not my quote but I can't remember who said it...anyone know? - Author: Kaye Linden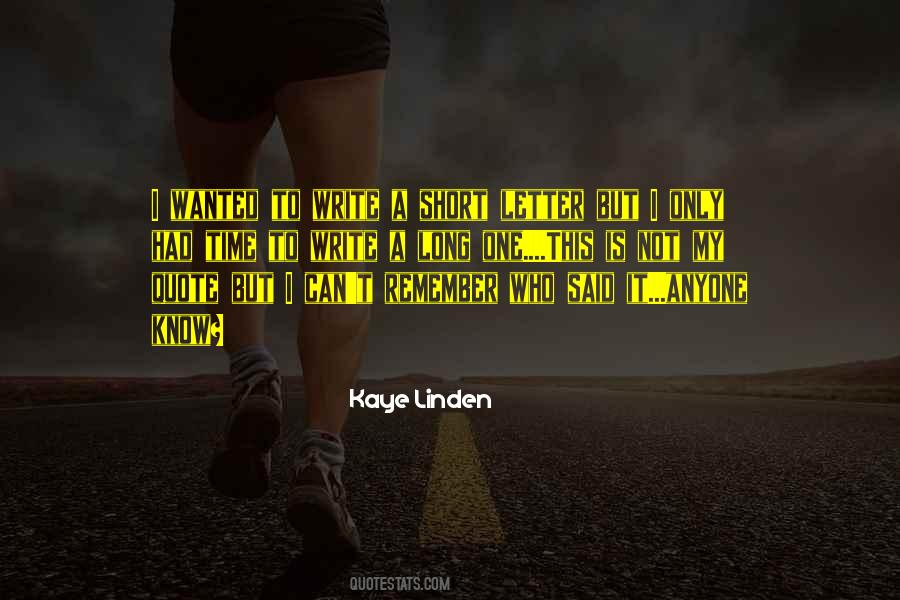 #29. I'm a poet. I distrust anything that starts with a capital letter and ends with a full stop because people don't think in full, clear sentences. - Author: Antjie Krog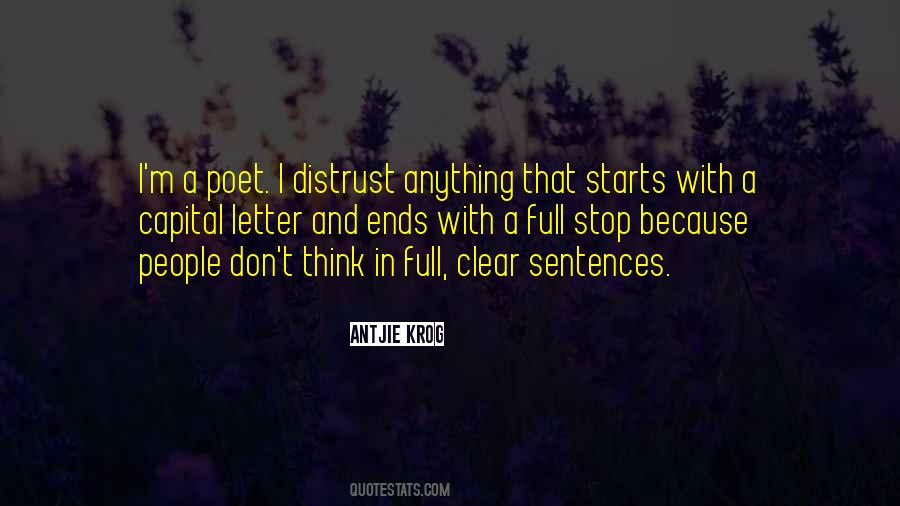 #30. She knew all sorts of four letter words now; they just weren't the ones that most people considered foul language.
Love.
Help.
Rape.
Stop.
Then. - Author: Jodi Picoult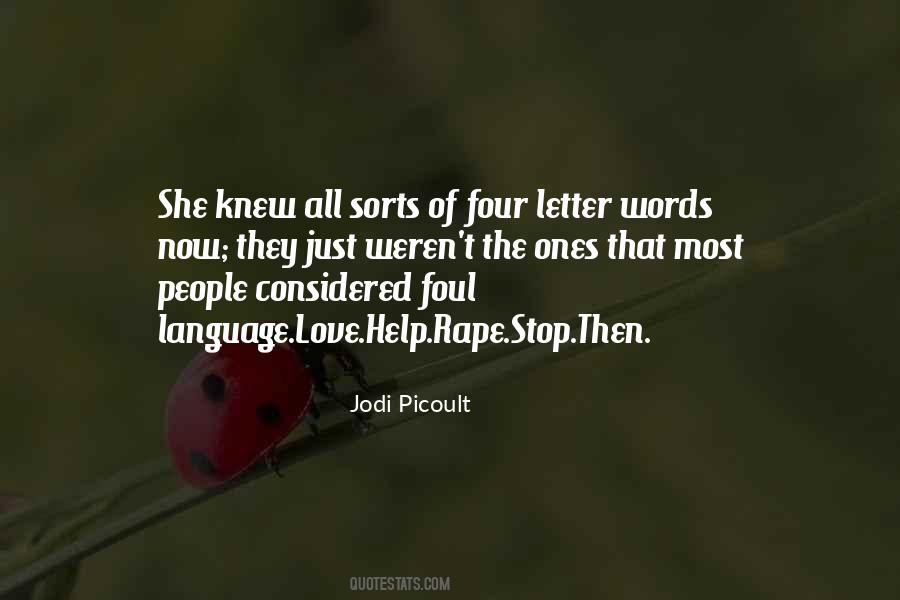 #31. Benson just stares at me. "Could you do anything ... I don't know, supernatural when you were little?"
"Yeah, I made the glass on a snake's cage disappear right before my acceptance letter from Hogwarts arrived."
Benson just raises an eyebrow at me. - Author: Aprilynne Pike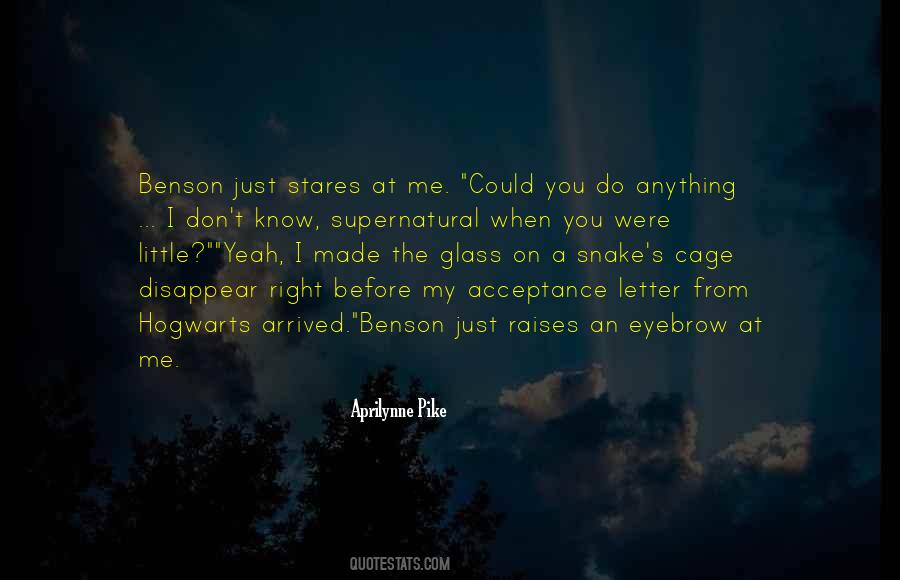 #32. I wouldn't give ten gallons of my own piss for clear sentence that gives the sense of a tree as a tree, when I revel in the nonsense of its being my own Grandfather, a letter from yesterday, or a masturbating fist. - Author: David Joseph Cribbin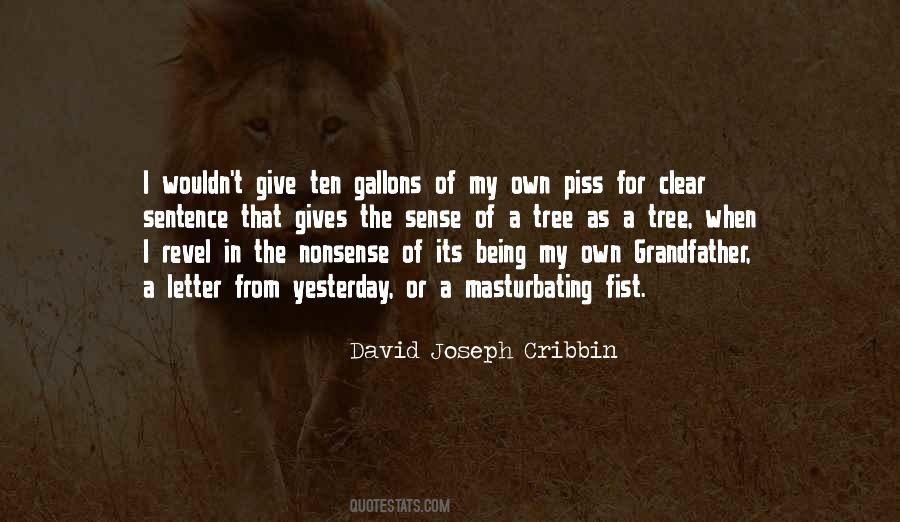 #33. This has to be a joke. After all, an owl hadn't dropped a letter down my fireplace to let me know I'd been accepted into a special school, and I certainly hadn't taken an enchanted train to get to Kinsley High. - Author: Michelle Madow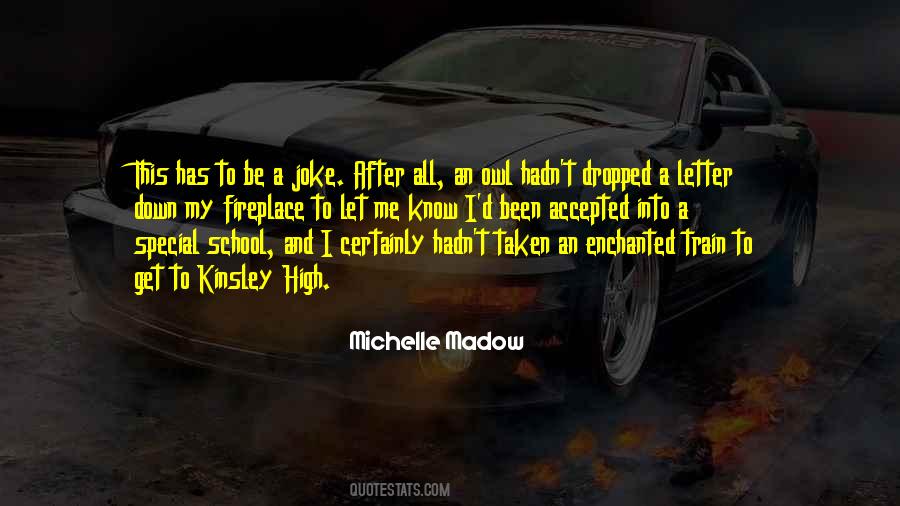 #34. Look," he said. "We'd like you to return the salary." "Oh, is that all?" I said. "Heck. That's easy. The answer is no." "What?" "No." "No?" "What part of that two-letter word don't you understand, Brad?" I asked. "Was it the vowel that threw you, or the consonant ? - Author: John Scalzi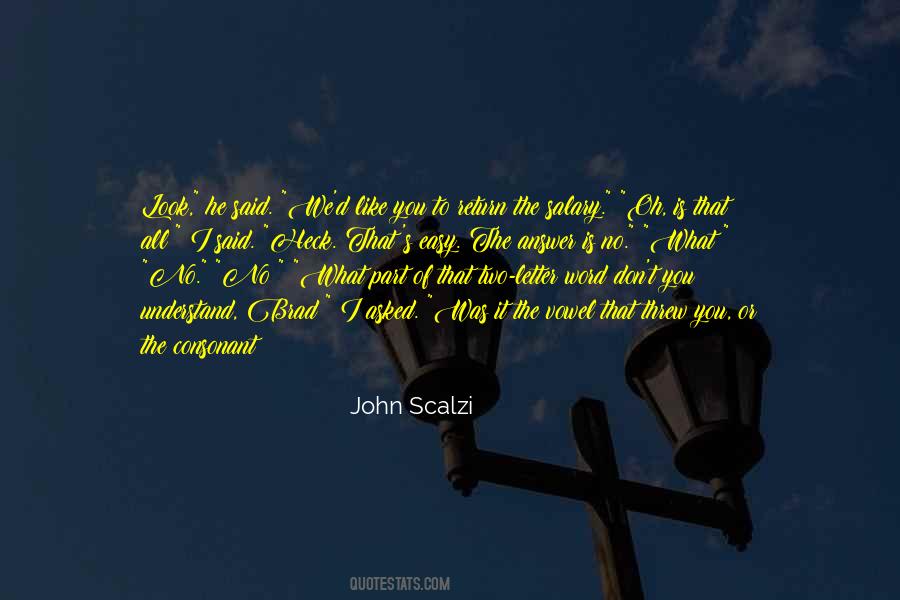 #35. She can't believe she is going to compose her first love letter. She can hardly bear the exposure as if her body is a photographic film spooling into sunlight and everything is too bright, too vulnerable, the moments in the film now lost for ever. - Author: Tor Udall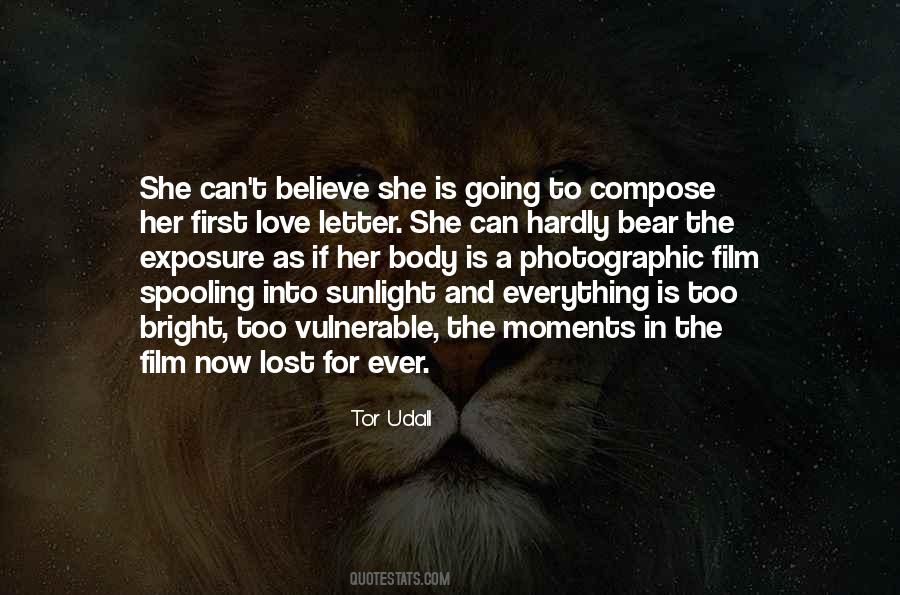 #36. I believe that people who do not vote in this country have no right to complain about the government that we are now living under. By the same token, if you don't really vote in television, you're never going to have your way. Write a letter to the president of the network. - Author: Bill Bixby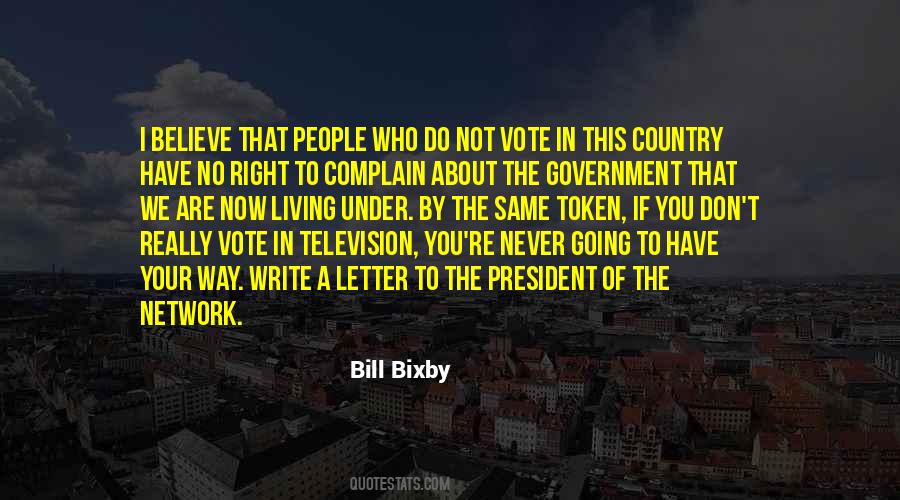 #37. In a moment, when I'm ready, I will turn off this computer and that will be it. This letter will be finished. A part of me doesn't want to stop writing to you, but I need to. For both of us. - Author: Lucy Christopher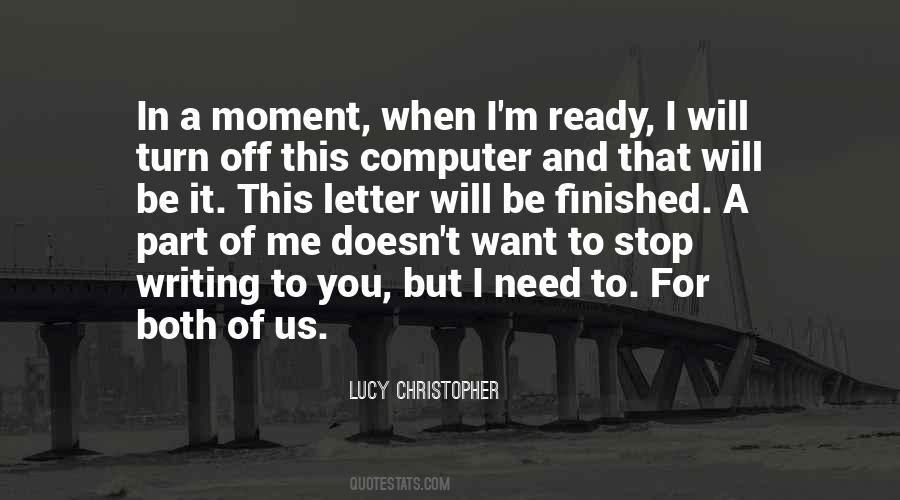 #38. M,
I love you like Deadpool loves Batman. He doesn't. But even if he did, they're from completely different universes. --R - Author: Emily Trunko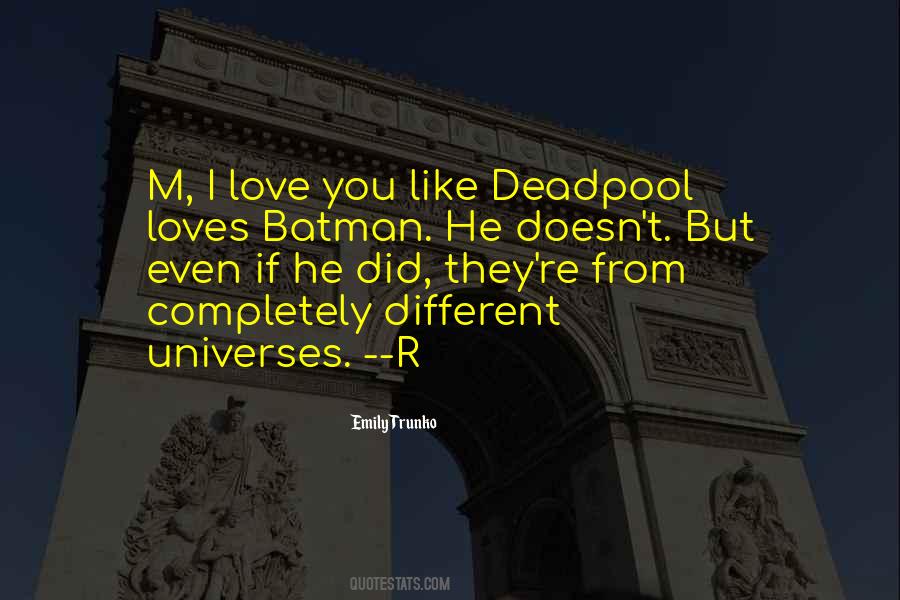 #39. Would Emma think him too bold for sharing something so intimate with her? She carefully folded the letter and then held up the cross as if admiring it. "This is too special a gift. I couldn't possibly accept - " "Please. I want you - Author: Jody Hedlund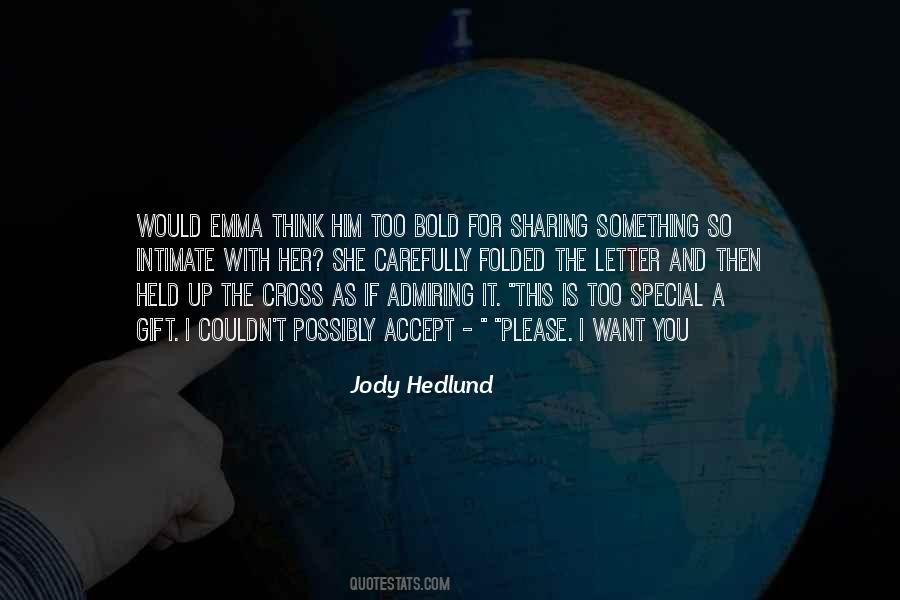 #40. Personally I've never put much store by honesty- I mean how can you trust a word whose first letter you don't even pronounce - Author: Lorrie Moore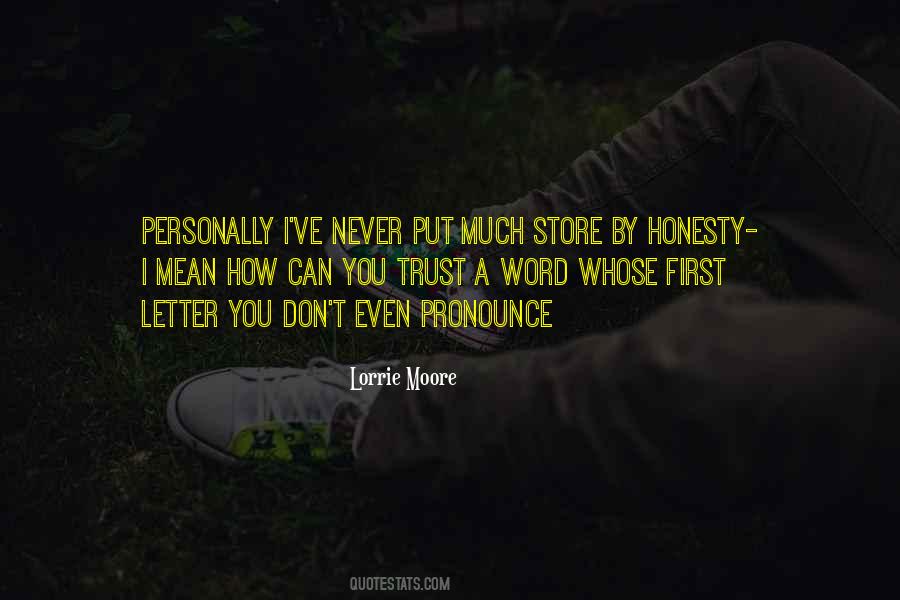 #41. Don't send me no letter, cause I can't read. - Author: Fats Domino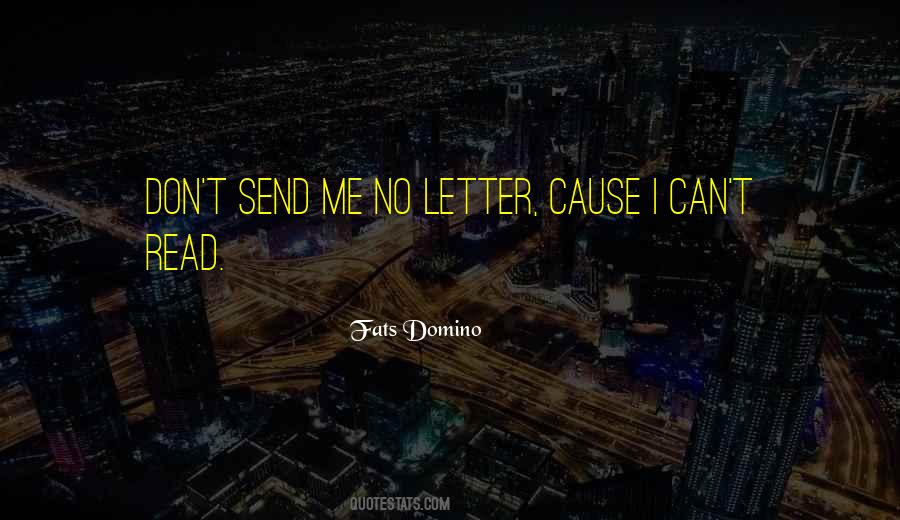 #42. For her, the message from Romme, the love letter's message, was: Cut off your left breast, that rustling bag of insects, because if you don't, those insects will spread their insect religion to your entire body. - Author: David Cronenberg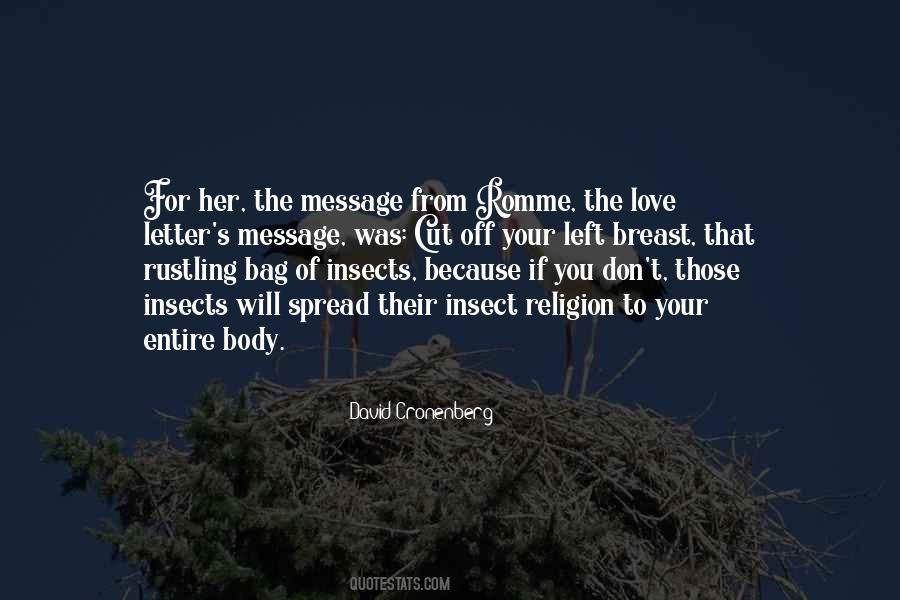 #43. I don't have time to write you a short letter, so I'm writing you a long one instead. - Author: Mark Twain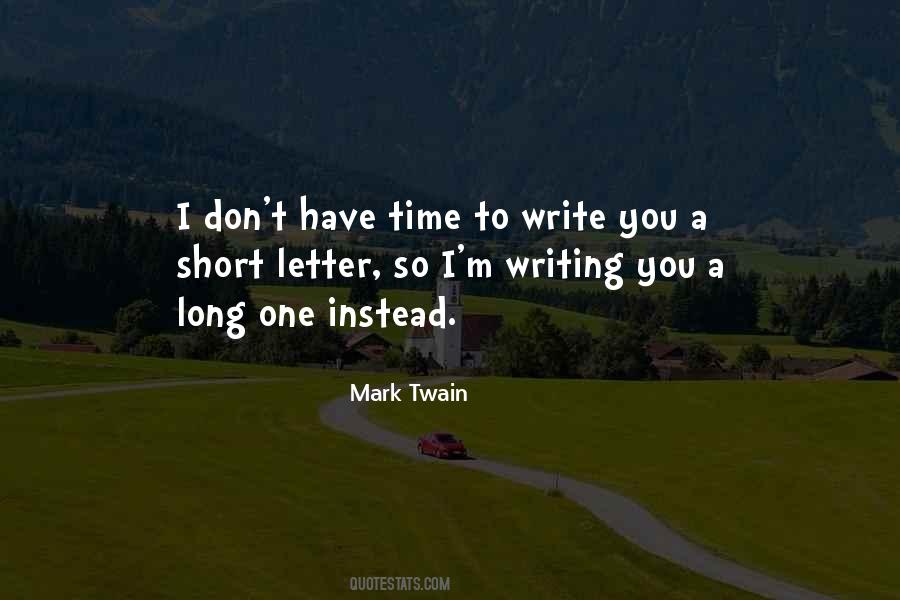 #44. Eleanor hadn't written him a letter, it was a postcard.
Just three words long. pg. 325 - Author: Rainbow Rowell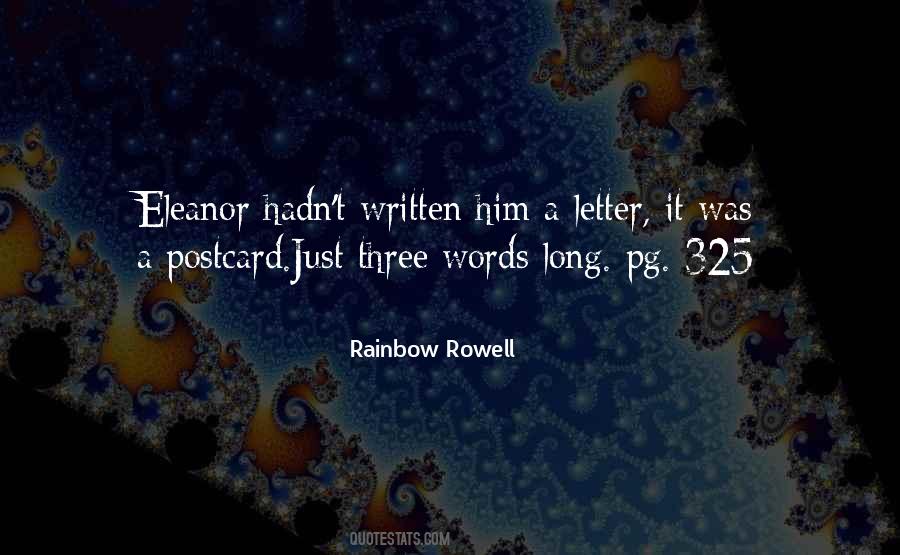 #45. Copying is slavery. The letter must never be followed, only the spirit is to be grasped. Higher affirmations live in the spirit. And where is the spirit? Seek it in your everyday experience, and therein lies abundance of proof for all you need. - Author: D.T. Suzuki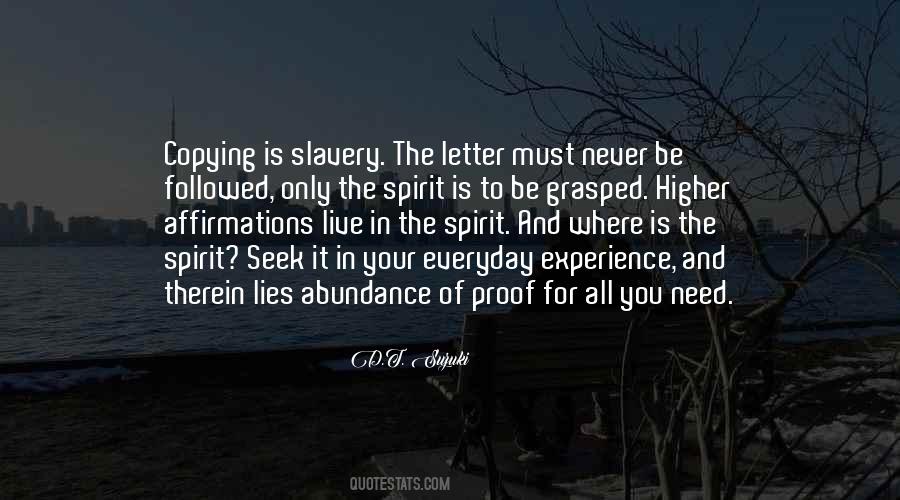 #46. In every letter, in every line, she saw him. He hadn't changed - he'd only grown into the man he'd meant to be. - Author: Diana Peterfreund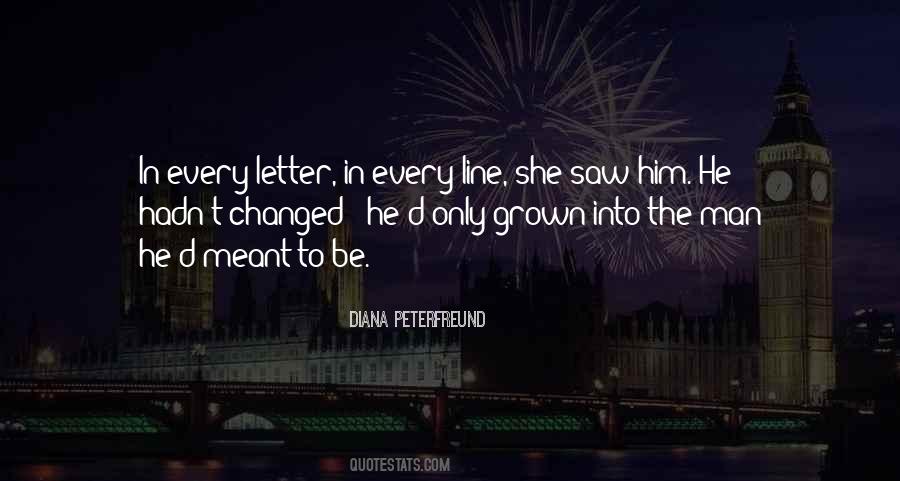 #47. I wasn't writing home. I wasn't writing a death letter, either. I was writing a death journal, a piece of fiction meant for my family and my fiancee, Sara. - Author: Clint Van Winkle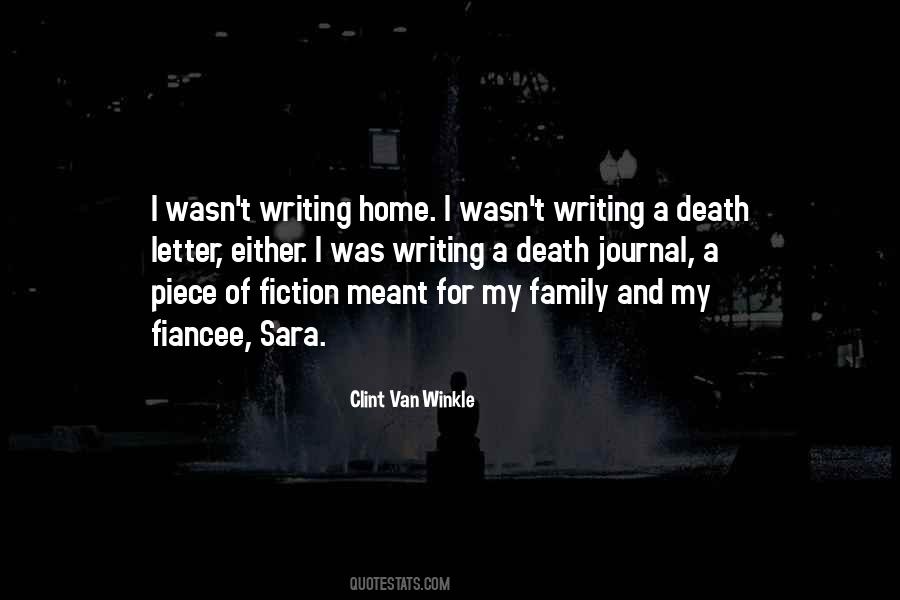 #48. ... that a letter isn't always just a letter. Words on page can drench the soul. - Author: Jessica Brockmole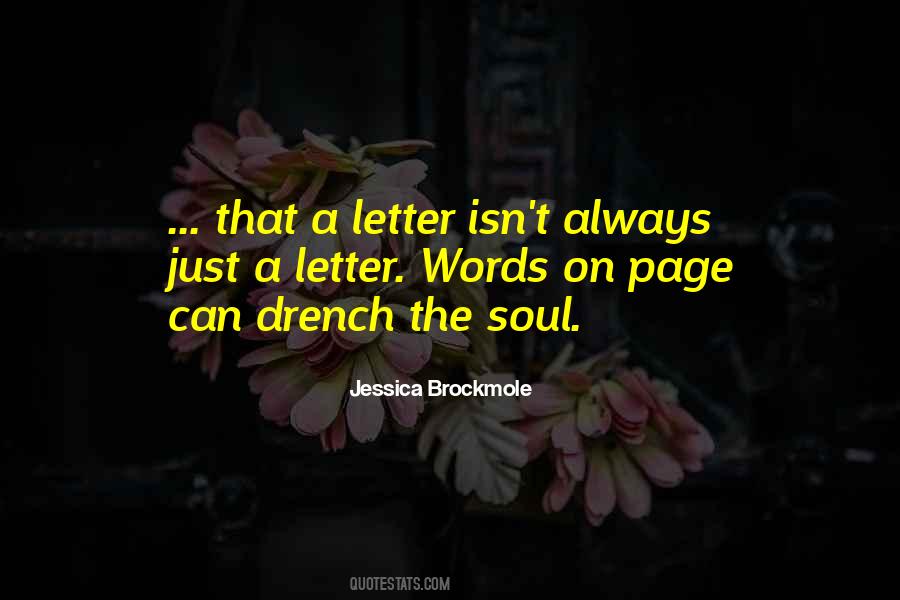 #49. Please forgive the long letter; I didn't have time to write a short one. - Author: Blaise Pascal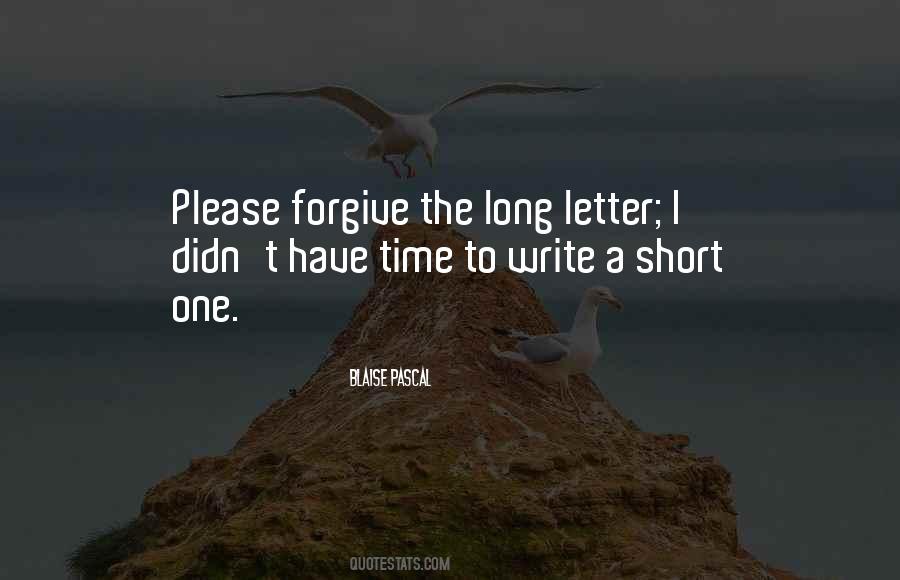 #50. All motives can be explained under the letter L: lust, lucre, loathing and love. They'll tell you the most dangerous is loathing but don't you believe it, boy; the most dangerous is love. - Author: P.D. James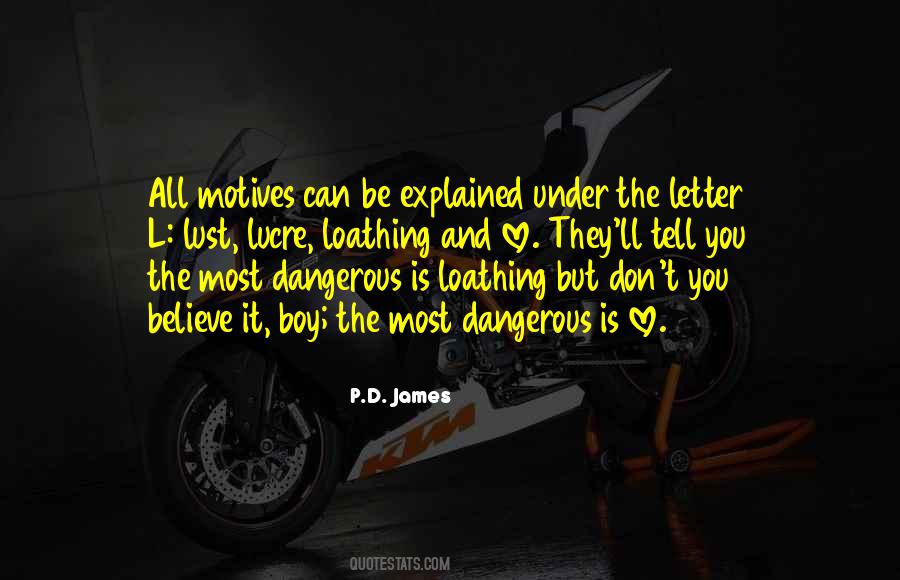 #51. I understood that I was clearly insane. But he apparently hadn't picked up on how many times in one short letter I asserted that I was not. This acceptance of my questionable mental health made me feel confident that we would be compatible, possibly for life. I - Author: Augusten Burroughs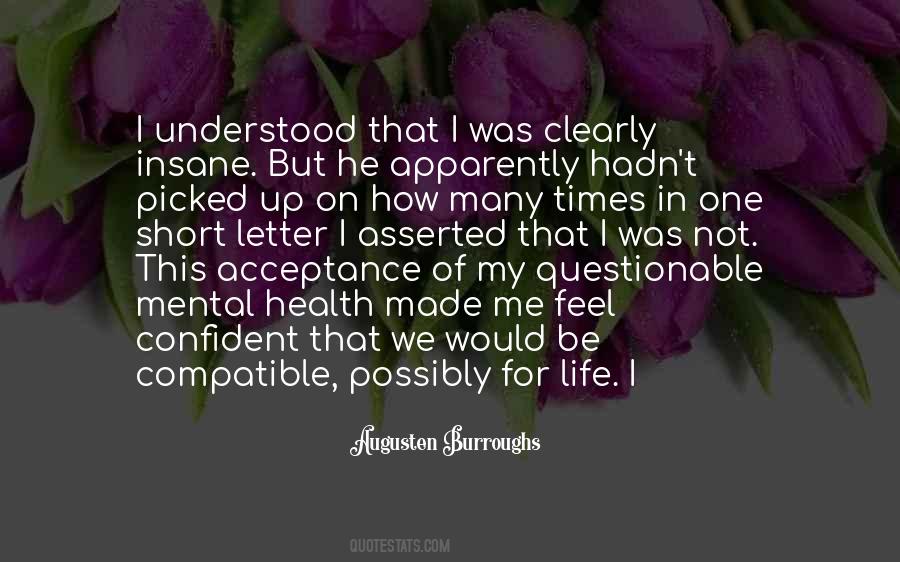 #52. She wouldn't let go of the letter. She took it into the tub with her and squeezed it up in a wet ball, and only let me leave it in the soap dish when she saw that it was coming to pieces like snow. - Author: F Scott Fitzgerald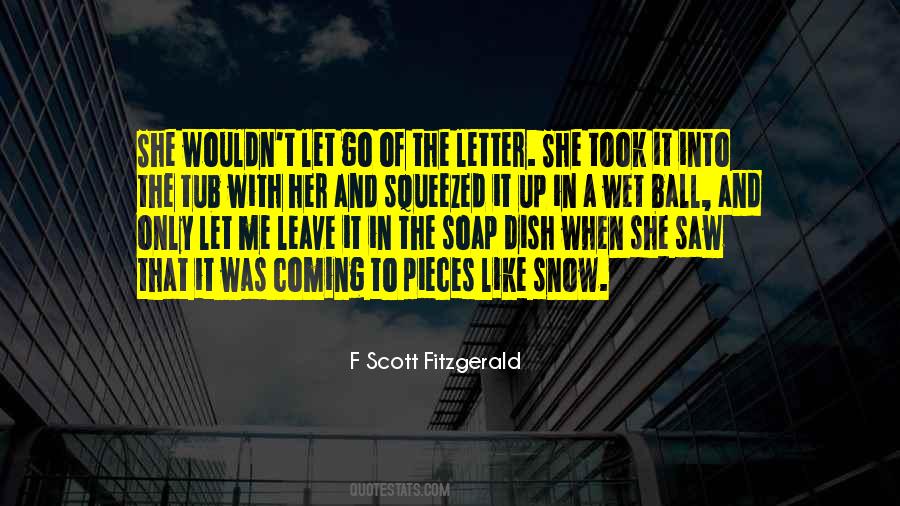 #53. I'm a scientist. We don't talk about the spirit. Soul is a four letter word in our tradition. - Author: Candace Pert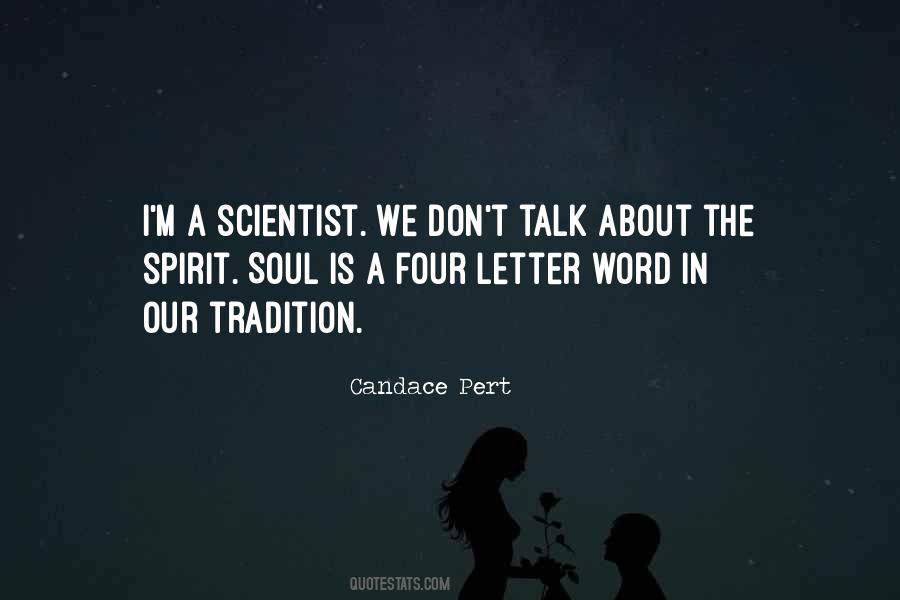 #54. We belong to each other now really and truly, no make-believe. Doesn't it seem queer for me to belong to someone at last? It seems very, very sweet. And I shall never let you be sorry for a single instant.

Yours, for ever and ever,

Judy - Author: Jean Webster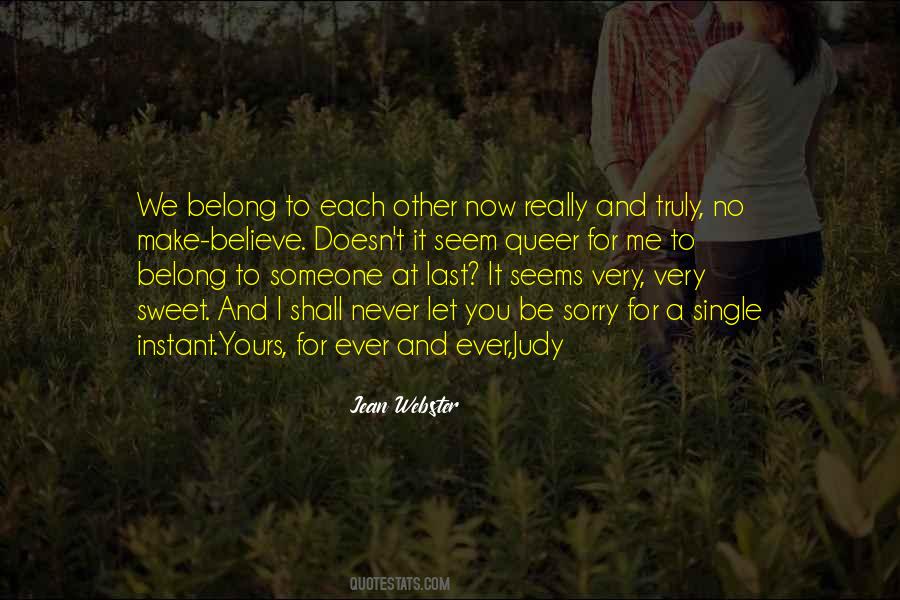 #55. I don't make political statements; let's all have a laugh. Let's all live and be free. I try and live to the letter of the law, but right on the edge of it. - Author: Mark Roberts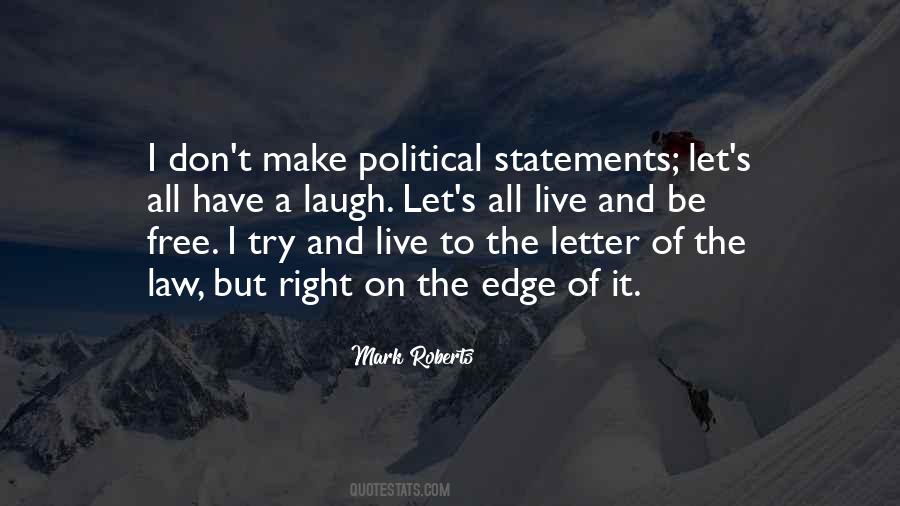 #56. I met Gerald Ford. I met Richard Nixon. I met Jimmy Carter. I met Dwight Eisenhower when he was a general. George Bush senior. I haven't met Bill Clinton or George W. Bush, although I got a letter from him. - Author: Pete Rose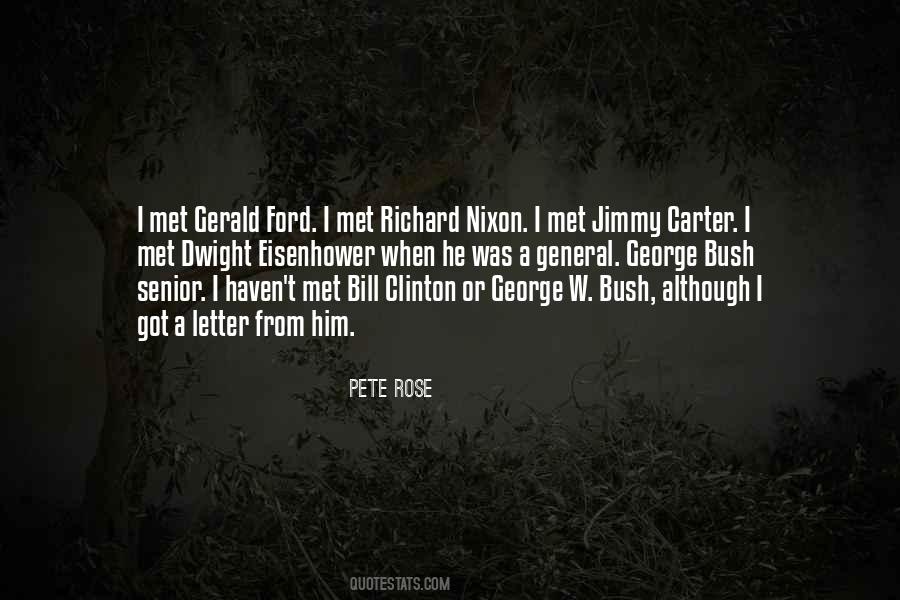 #57. Destiny doesn't always come when it's convenient or when you think it should. It comes when you're ready, whether you know it or not. - Author: Kelly Thompson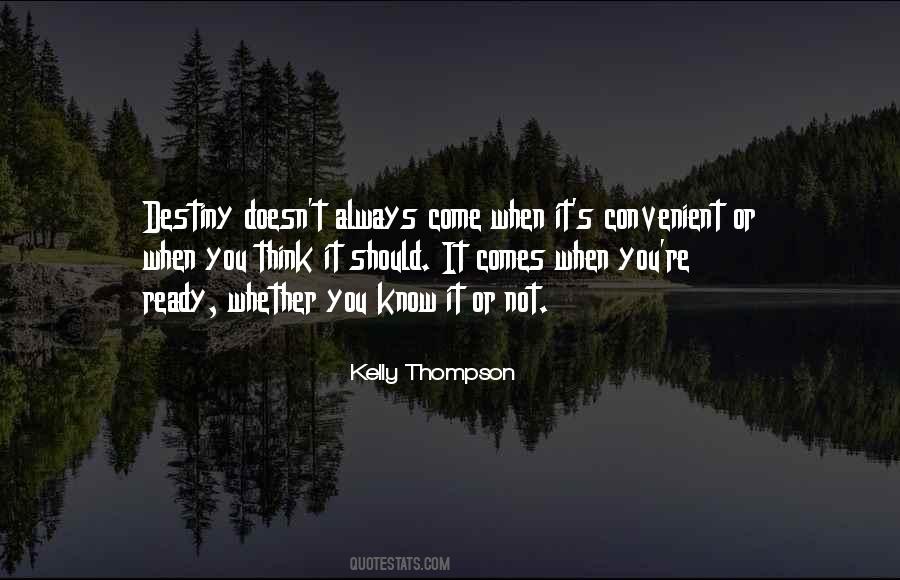 #58. You are my work of art," Wilbur Larch told Homer Wells. "Everything else has just been a job. I don't know if you've got a work of art in you," Larch concluded in his letter to Homer, "but I know what your job is,and you know what it is, too. - Author: John Irving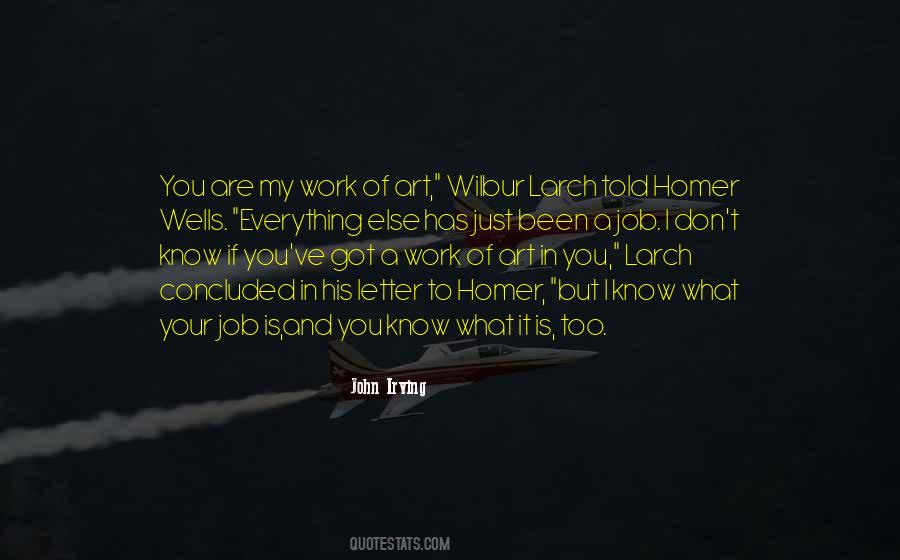 #59. I didn't attend the funeral, but I sent a nice letter saying I approved of it." - Mark Twain - Author: Michael J. McManus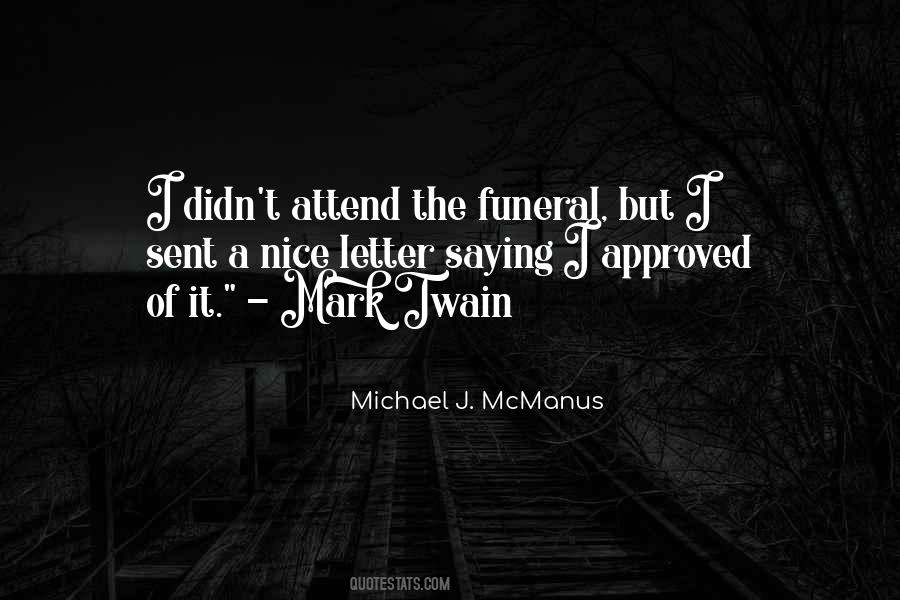 #60. I didn't have time to write a short letter, so I wrote a long one instead. - Author: Mark Twain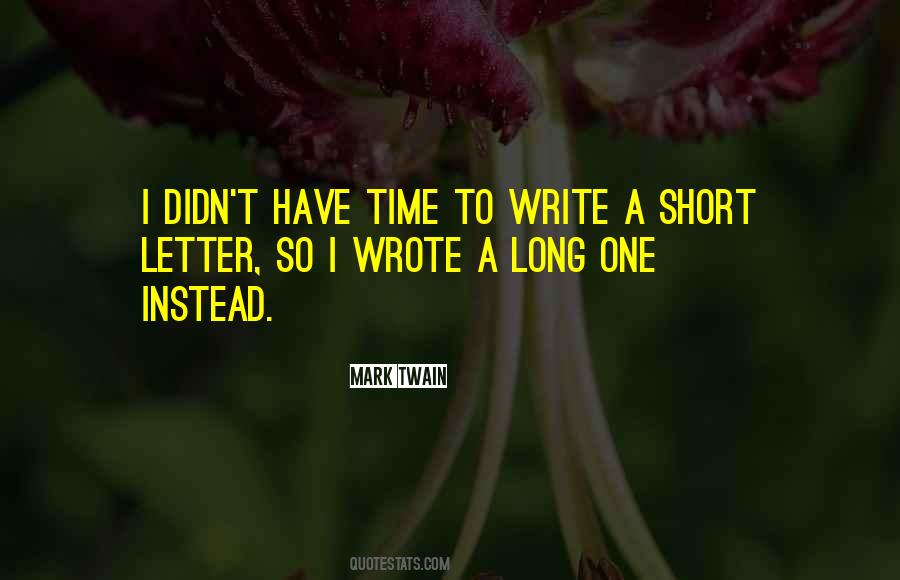 #61. I turn to my mom as she sets her purse down on the table near the front door. I think about telling her. She deserves to know about the letter, I know that, but she was so proud of the fact that I was going to attend her alma mater and be a teacher just like her... I can't do it, not yet. "Oh... - Author: Emma Keene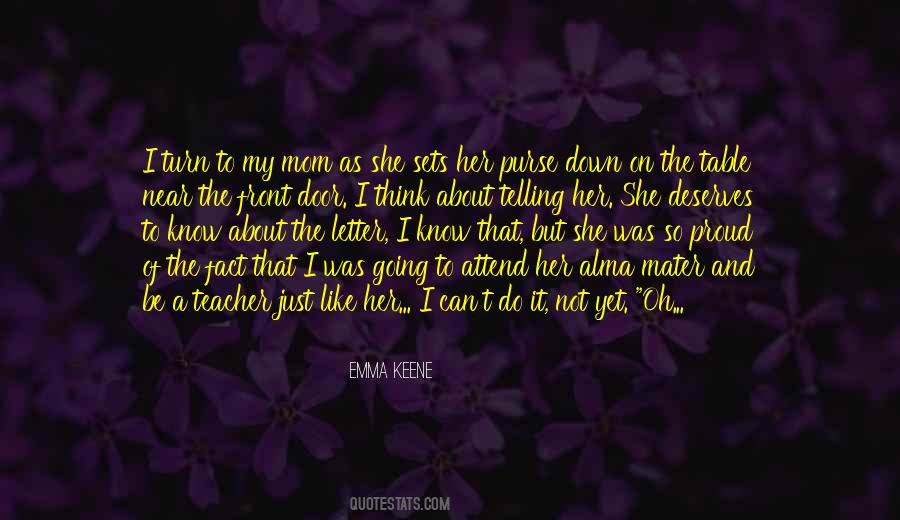 #62. She told him to write a letter about what he felt for her.
He said that's impossible not because he was lazy to write but that letter would never end as he couldn't stop thinking about her even for a moment.
However, he could sum everything in three words
I LOVE YOU - Author: Subhasis Das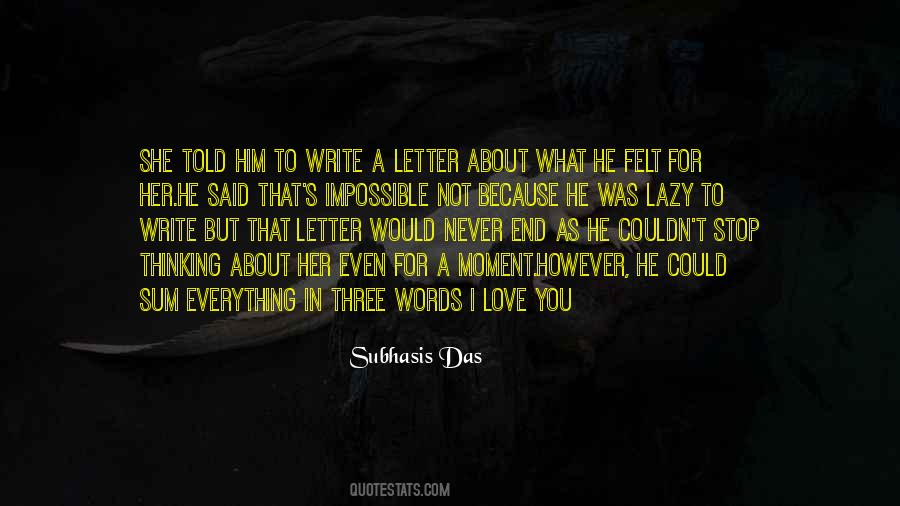 #63. My letters are for when I don't want to be in love anymore. They're for good-bye. Because after I write in my letter, I'm not longer consumed by my all-consuming love ... My letters set me free. Or at least they're supposed to. - Author: Jenny Han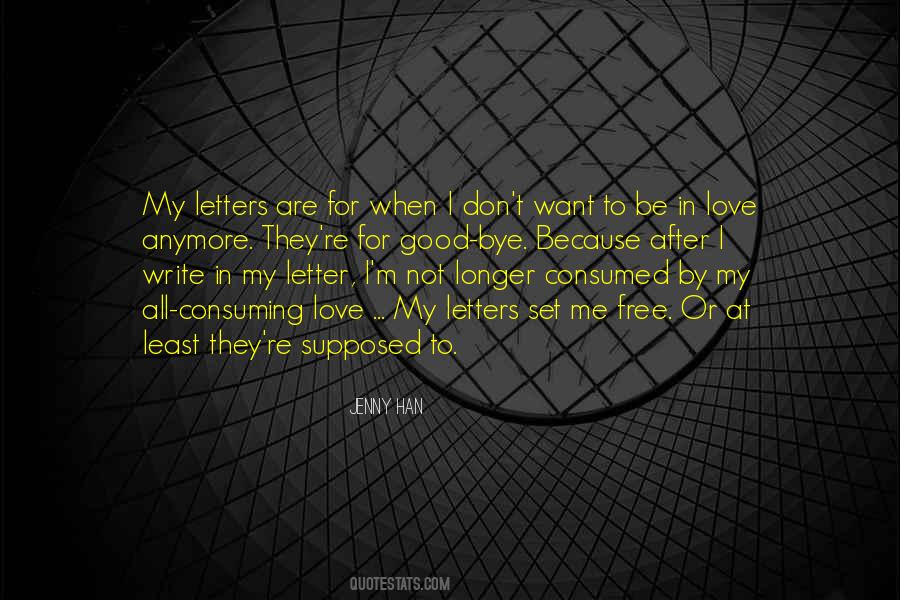 #64. Any woman who can't say a four-letter word sometimes is deceitful. - Author: Fanny Brice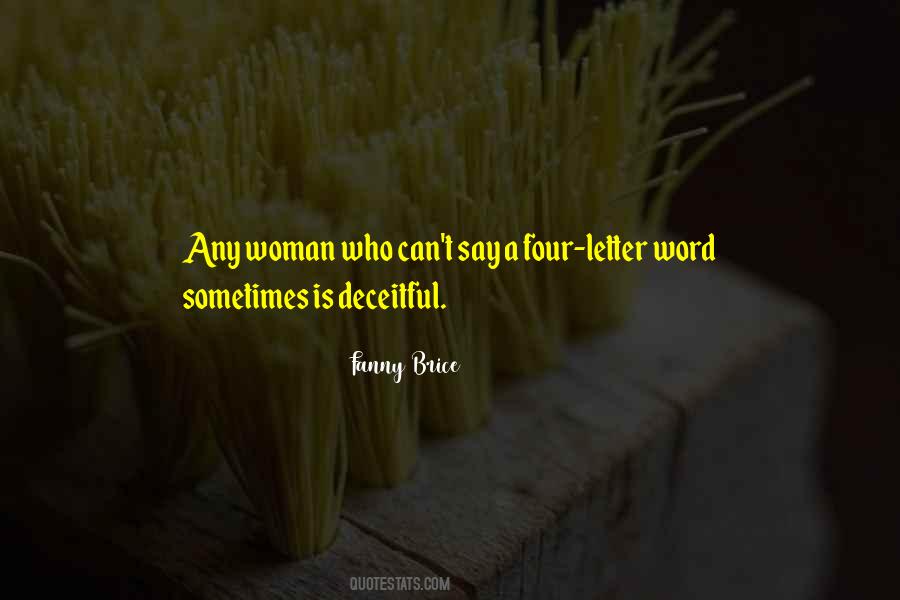 #65. Such a sweet letter from Lady Conway ... You remember my telling you about her? Her memory's bad. Can't recognize her relations always and tells them to go away."
"That might be shrewdness really," said Miss Marple, "rather than a loss of memory. - Author: Agatha Christie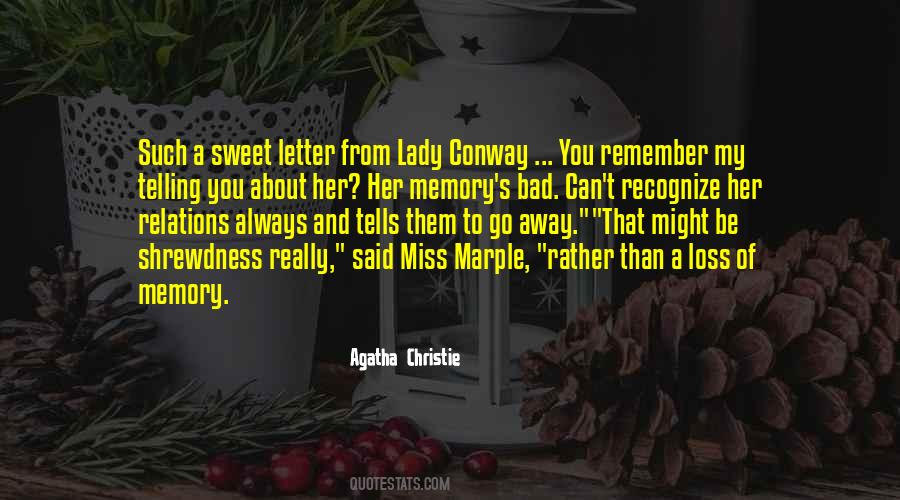 #66. I have never received a telephone call that justified the excitement and fuss of the electronics involved. If I can't see somebody I love, for instance, such as a daughter, or a son, I would rather receive a letter. - Author: William, Saroyan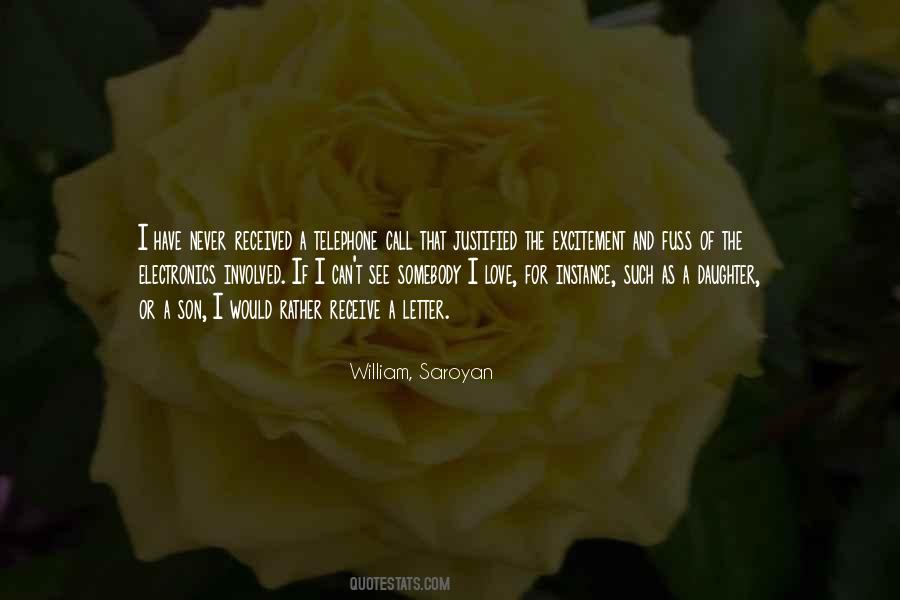 #67. If a man doesn't give his beloved the letter he writes, his love is true. - Author: Jandy Nelson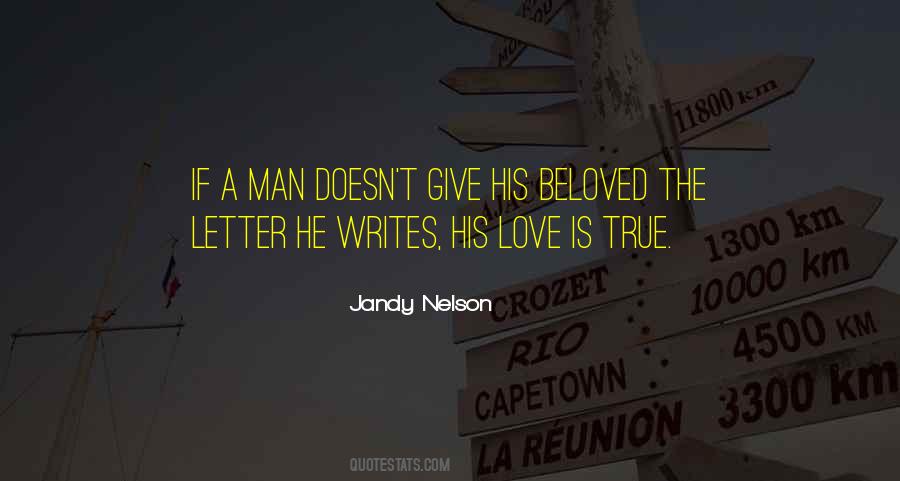 #68. Take control of the situation. Be an alpha guy. Instead of - Hell, I don't know which letter of the Greek alphabet you're now, but it's not a good one.
(Neal,"A Veil of Glass and Rain") - Author: Petra F. Bagnardi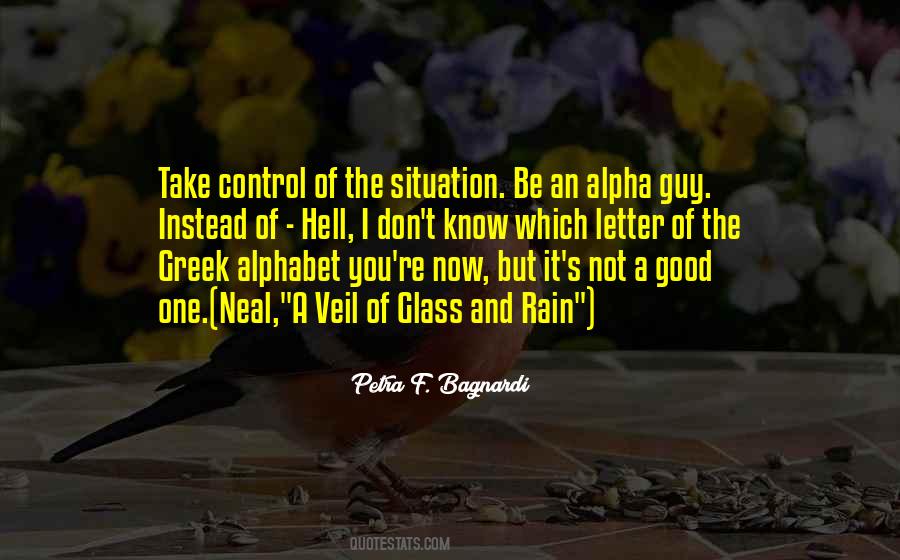 #69. We have so many different options now and ways to communicate digitally. But I don't think anything is more meaningful or powerful than a hand-written letter. - Author: Debra Messing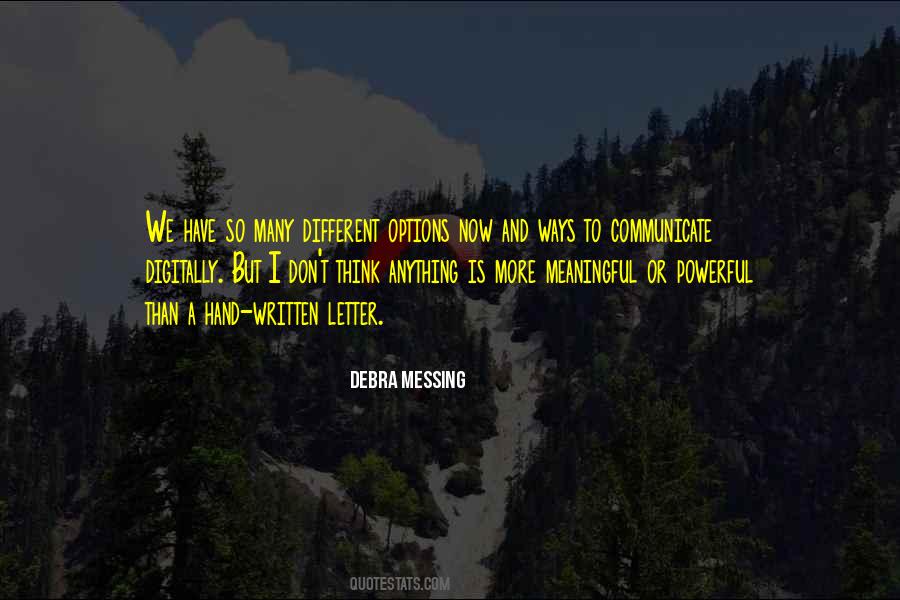 #70. You don't really know a woman until she writes you a letter. - Author: Ada Leverson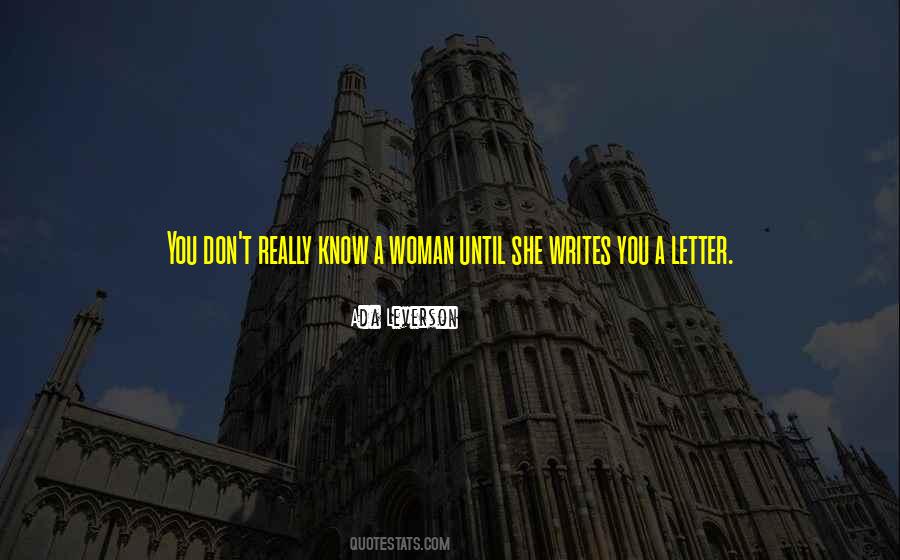 #71. The digital native doesn't send a letter to the editor anymore. She goes online and starts a blog. - Author: Rupert Murdoch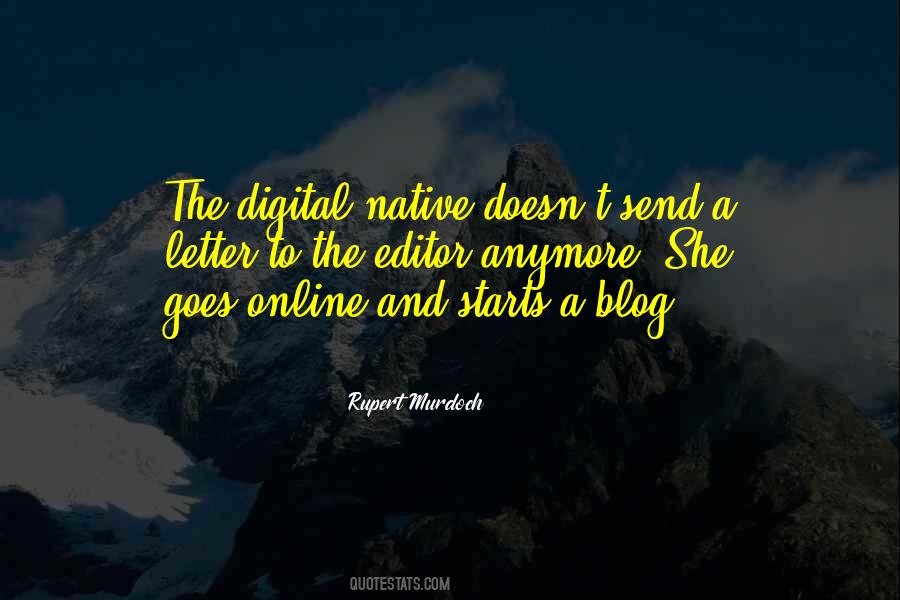 #72. Surprisingly enough, I haven't had a letter from Amateur Boxing Scotland bosses offering their congratulations for my Melbourne medal win. - Author: Kenny Anderson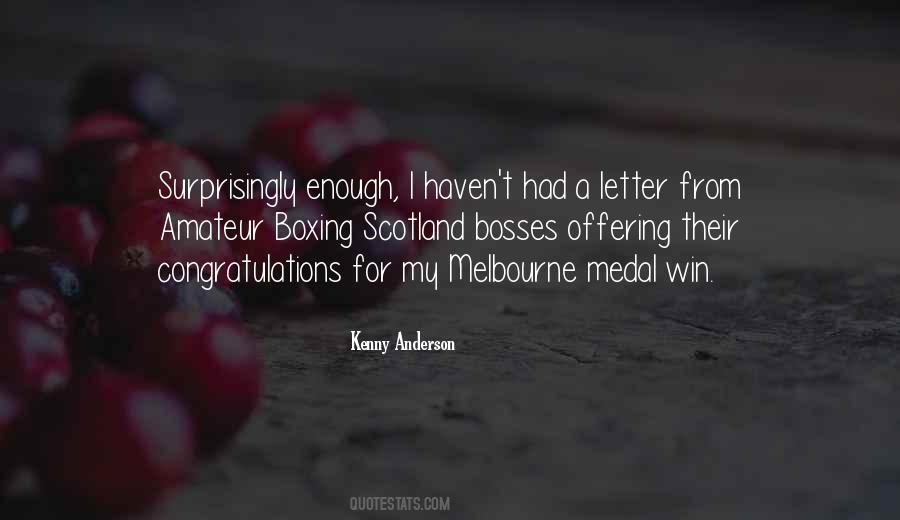 #73. When people ask for time, it's always for time to say no. Yes has one more letter in it, but it doesn't take half as long to say. - Author: Edith Wharton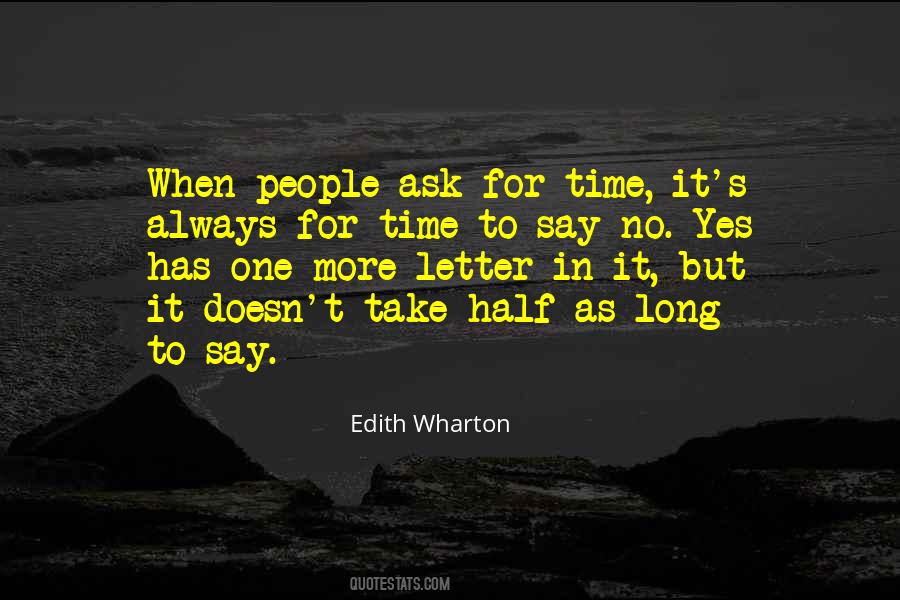 #74. 'Y' is about the weakest letter of all. 'Y' can't make up its mind if it's a vowel or a consonant, can it? - Author: David Mitchell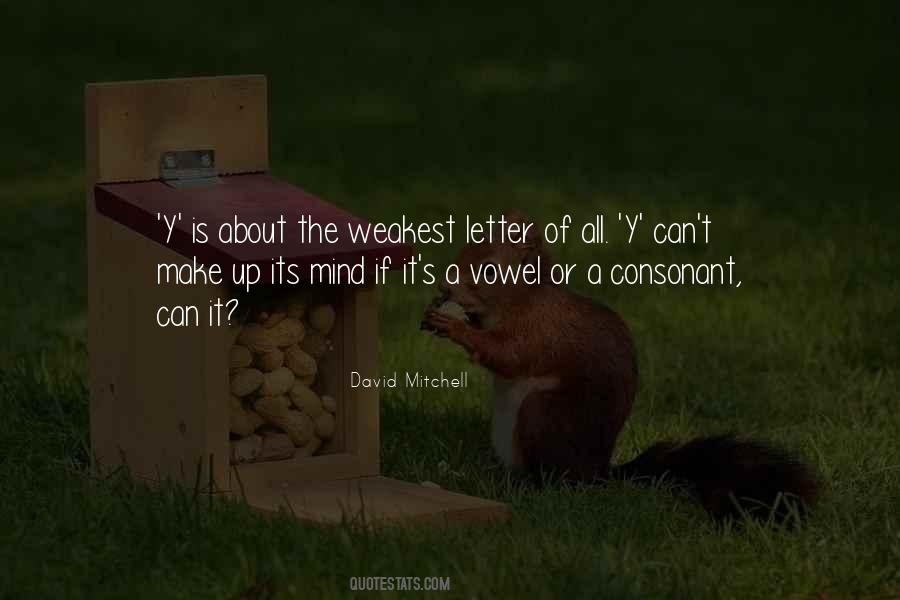 #75. I don't like to leave anything unfinished. I have an absolute need to see that every phone call is returned, every letter answered. - Author: Alan W. Livingston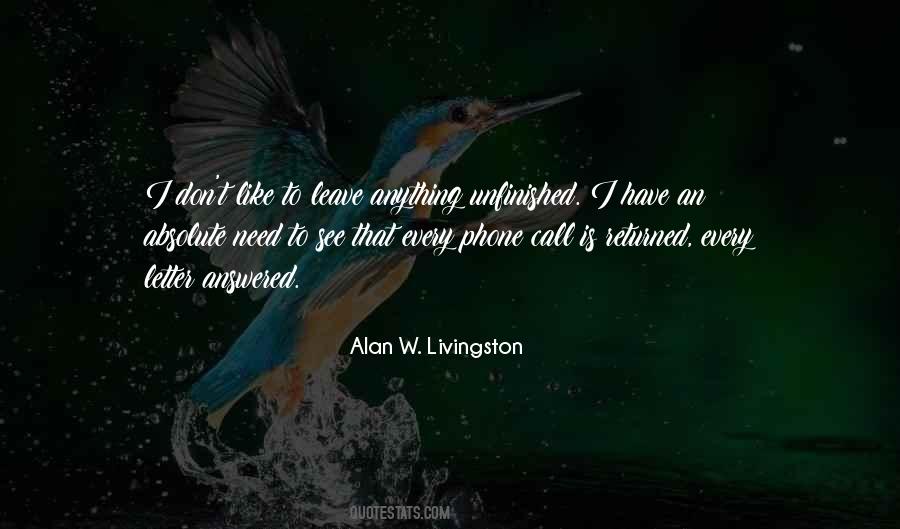 #76. I just don't know how to write a love letter. What can you say to a girl that shows you really like her?"
"How about, enclosed please find a cookie? - Author: Charles M. Schulz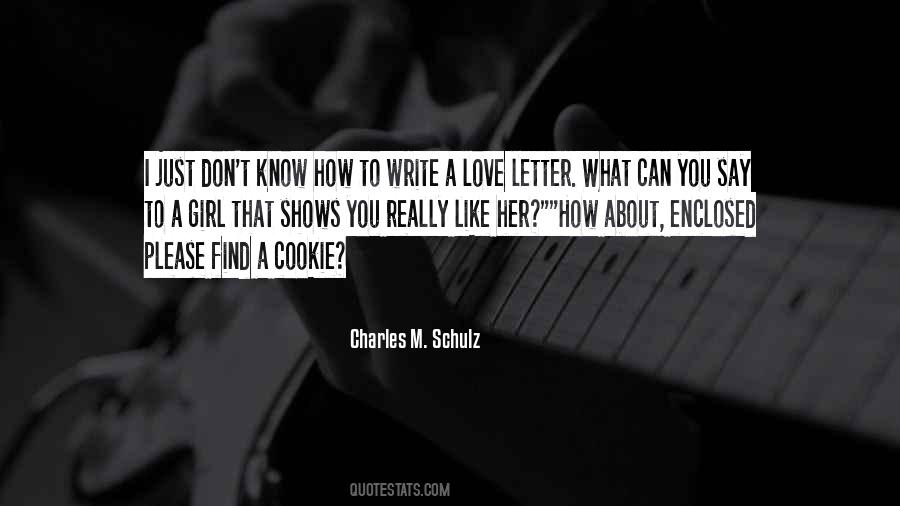 #77. All crosses had their tops cut and became T's. There was also a thing called God. - Author: Aldous Huxley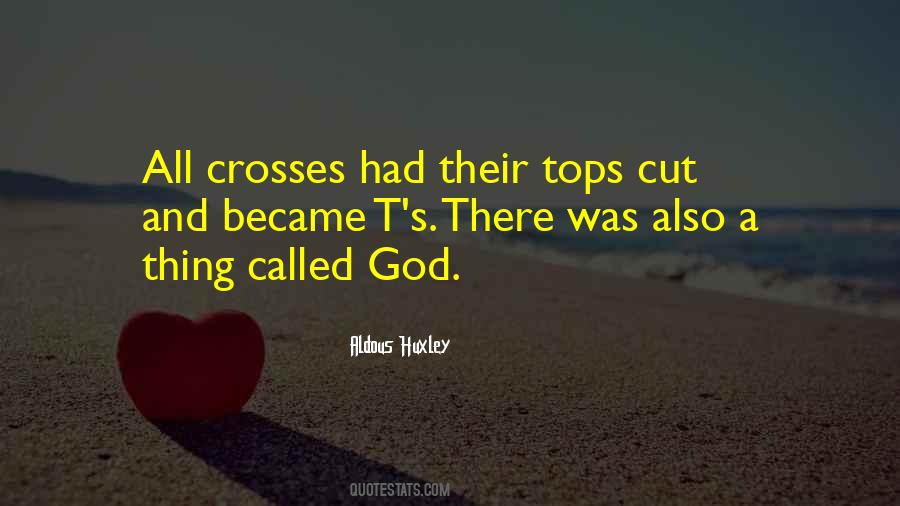 #78. I think, if you're going to kill a man, do it. Don't write him a letter about it. Don't bluster and threaten and put him on his guard. - Author: Hilary Mantel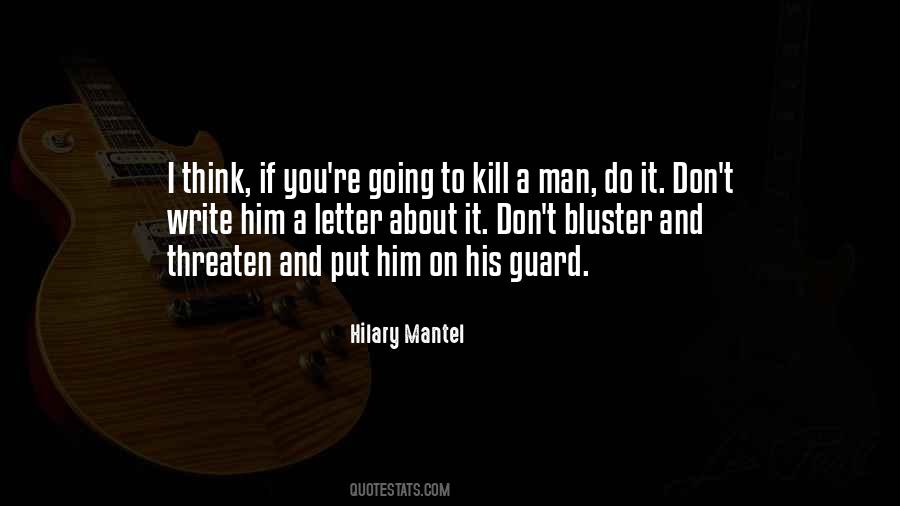 #79. I don't have a Facebook or a Twitter account, and I don't know how I feel about this idea of, "Now, I'm eating dinner, and I want everyone to know that I'm having dinner at this time." or "I just mailed a letter and dropped off my kids." That, to me, is a very strange phenomenon. - Author: Scarlett Johansson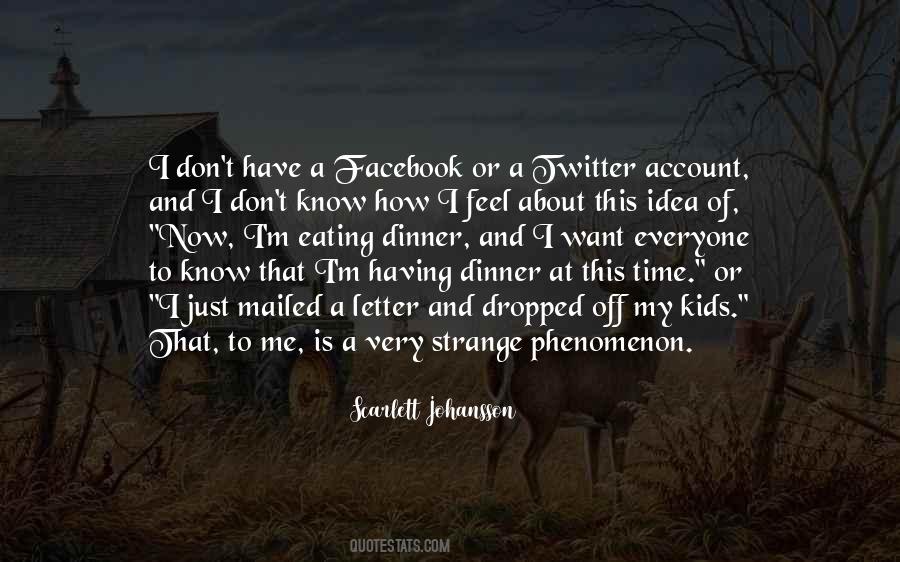 #80. What do we do with a president who can basically change what Congress passed by attaching a letter saying I don't agree with this part or that part? - Author: Trey Gowdy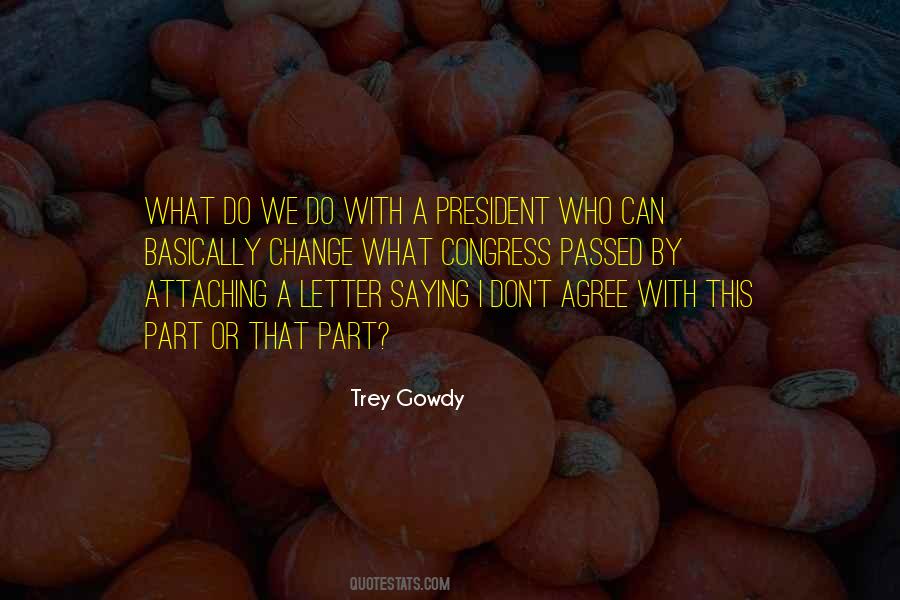 #81. I wrote short stories for seven years and used to mail them out. You couldn't send them by e-mail. I called them manila boomerangs. I'd seal the self-addressed stamped envelope inside an envelope and I'd mail it off, and it would come back six weeks later with a rejection letter in it. - Author: Jess Walter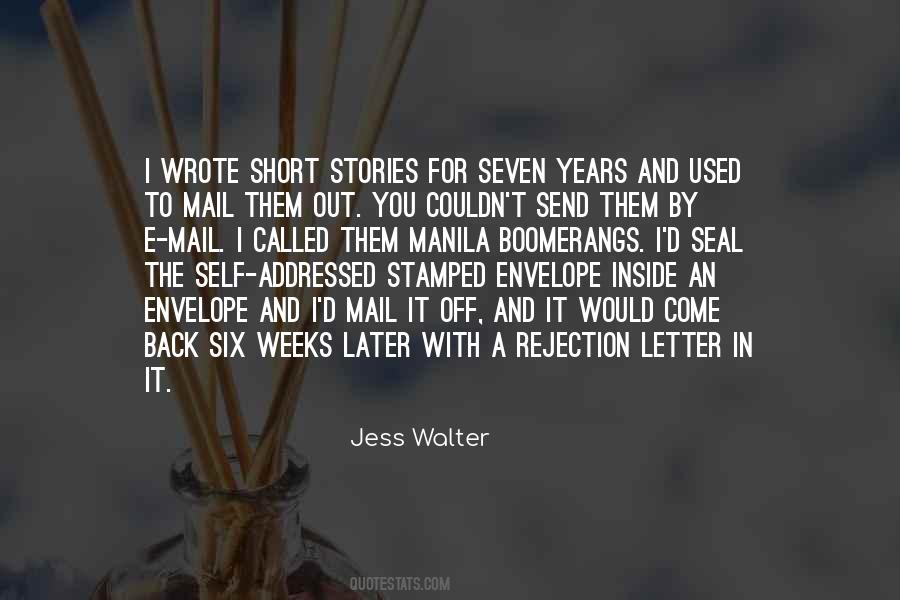 #82. If we wanted to hear from someone, we wrote a letter and got a response in three months. That was considered fast. Now, everyone is all about now, now, now. - Author: T.J. Klune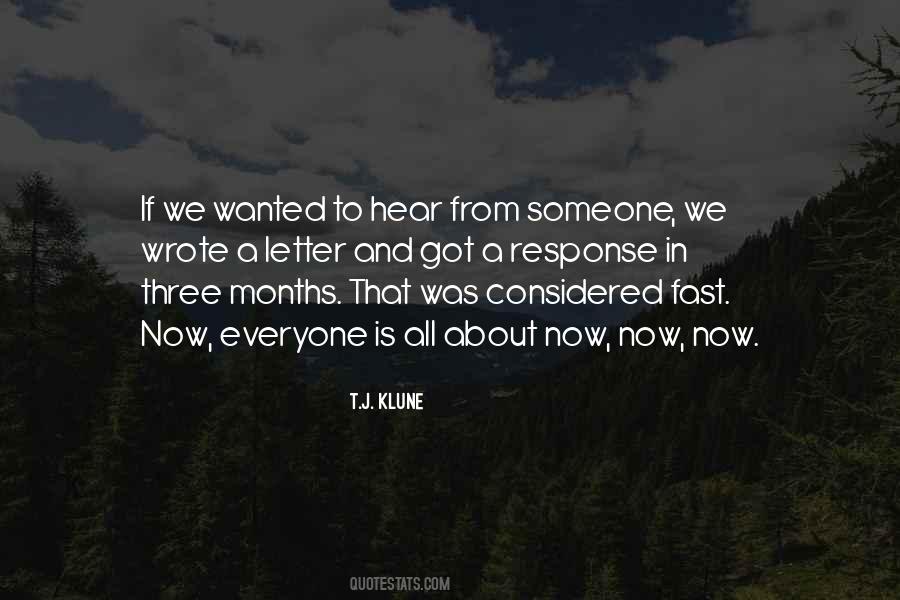 #83. Never listen to a phone call that isn't meant for you. Never read a letter that isn't meant for you. Never pay attention to a comment that isn't meant for you. Never violate people's privacy. You will save yourself a lot of anguish. - Author: Edward Kennedy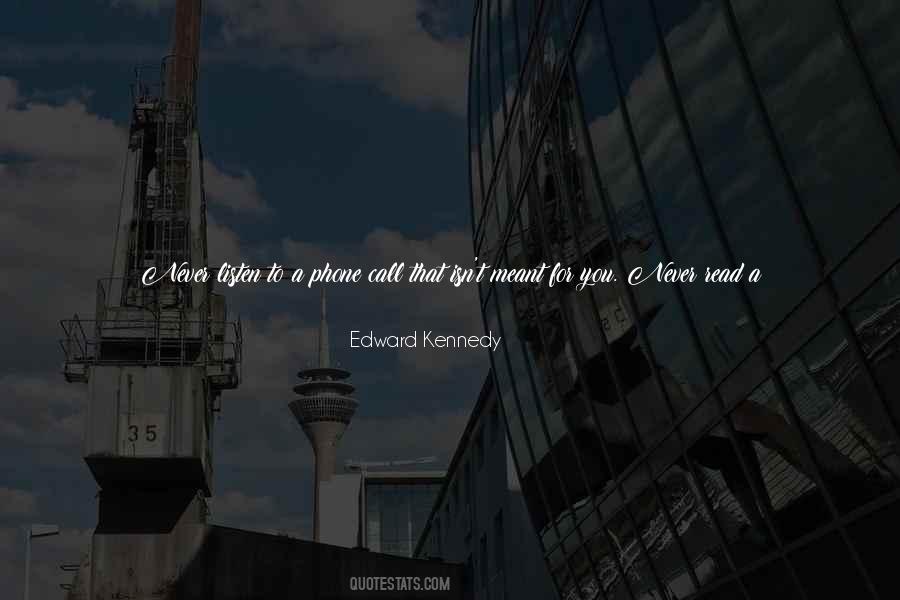 #84. You haven't got a letter on yours," George observed. "I suppose she thinks you don't forget your name. But we're not stupid-we know we're called Gred and Forge. - Author: J.K. Rowling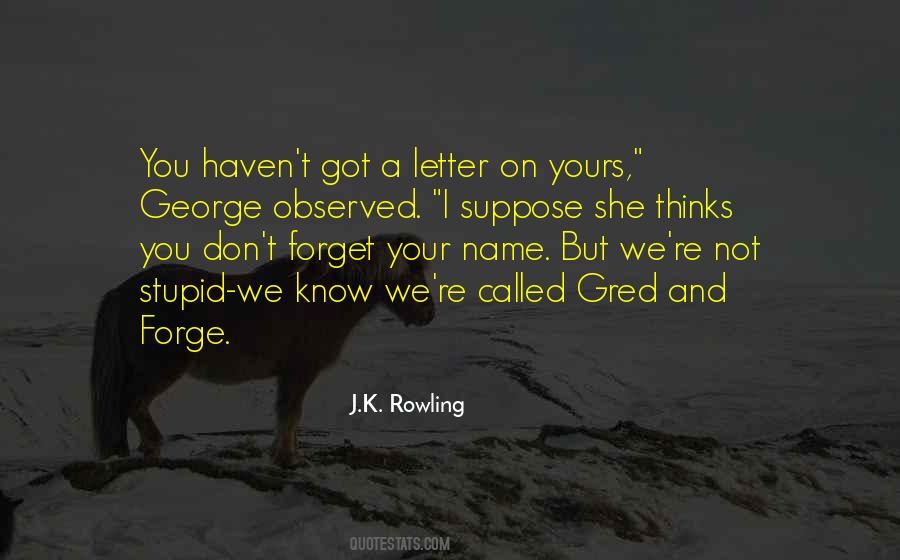 #85. The joy I get from winning a major championship doesn't even compare to the feeling I get when a kid writes a letter saying: 'Thank you so much. You have changed my life.' - Author: Tiger Woods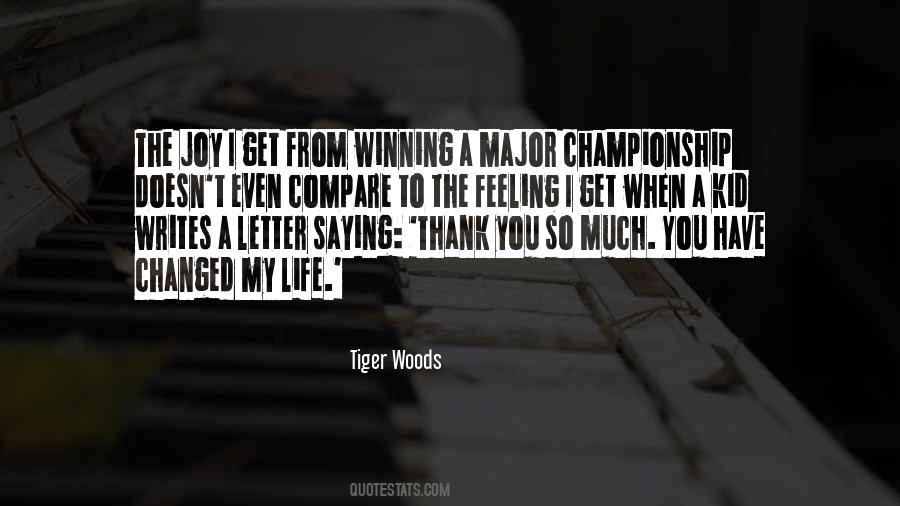 #86. People enjoy sitting back knowing they won't hear a lot of four-letter words. - Author: Tim Conway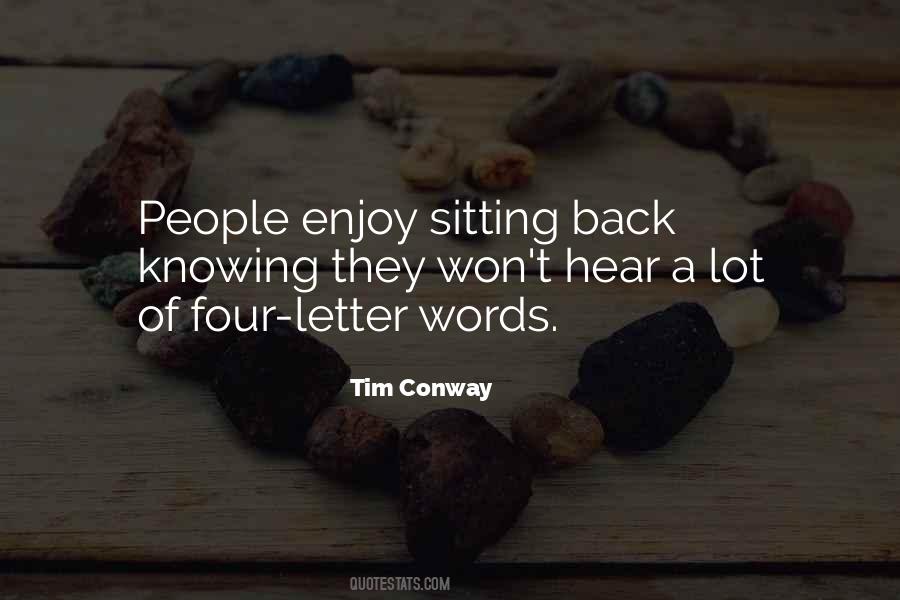 #87. This is a stamina game, so don't despair if you run down a blind alley and have to start over, or if you get another rejection letter. Every successful writer has gone through that, but they kept writing and didn't quit until they made it happen. - Author: Tim Maleeny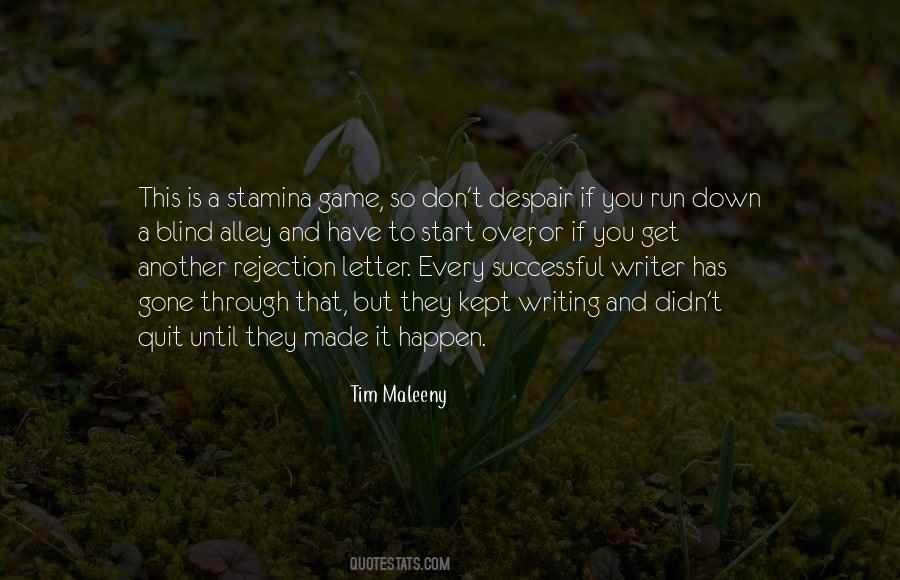 #88. ...but for the Girl Writing A Letter these things don't matter, she's got a beer in her free hand, she's on the road, she's real and she's in love. - Author: William Carpenter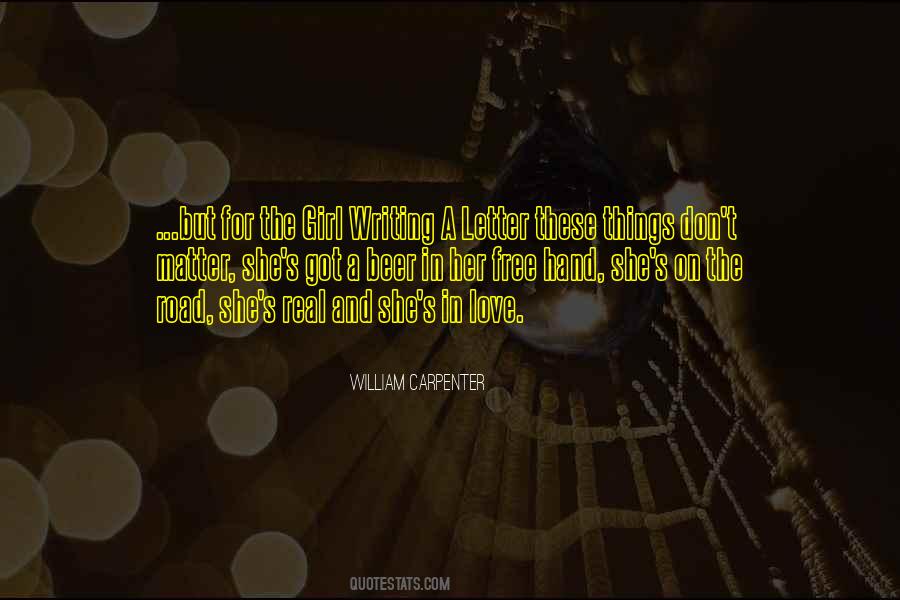 #89. When i was 9 I didn't go to Narnia, when i grew 11 my Hogwarts letter didn't come, again when i was twelve my satyr didn't come and now I'll wait till I'm fifty maybe the hunger games will come - Author: Javeria My Own Quote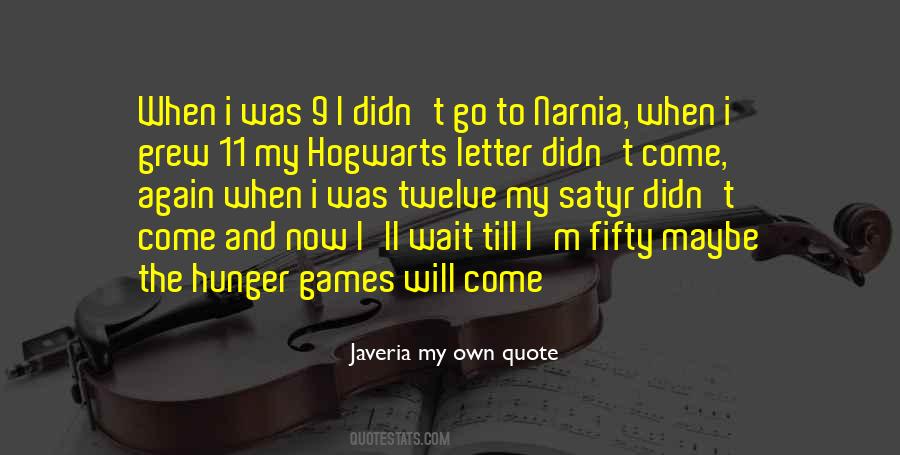 #90. In the first debate the bulges create the impression of a letter T with a small feature which appears similar to a wire under the jacket running upward from the right. - Author: Robert Nelson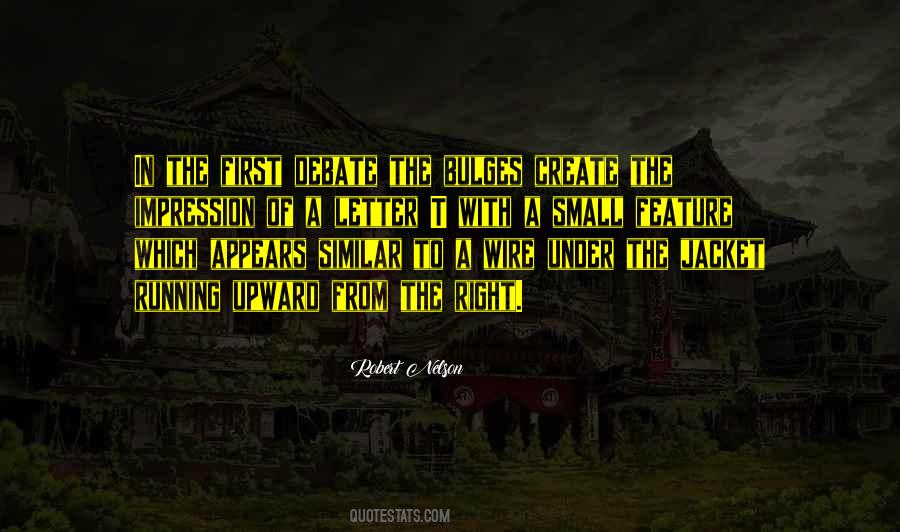 #91. My mother won't tolerate any four-letter words. - Author: Dixie Carter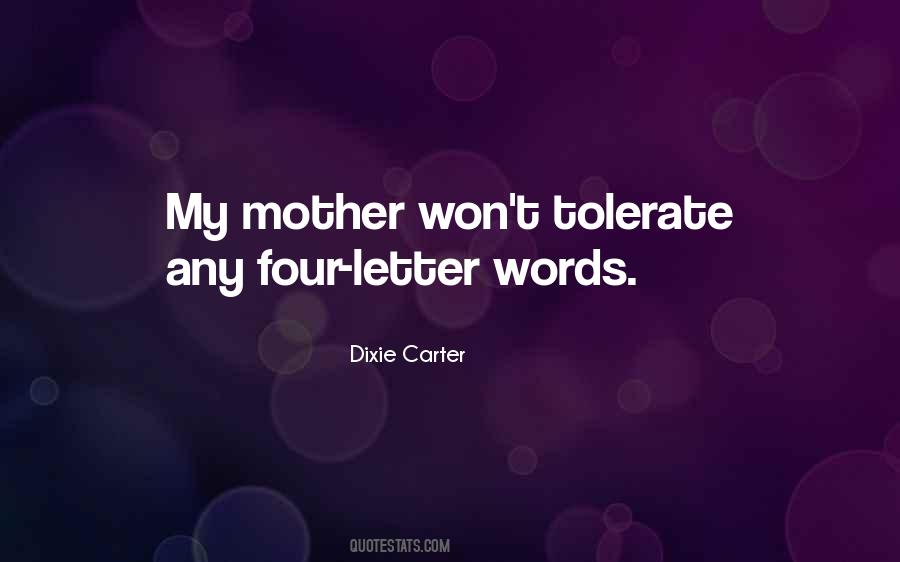 #92. Your last letter made me laugh so much, Em, but you should still get out of there because while it's good for gags it's definitely bad for your soul. You can't throw years of your life away because it makes a funny anecdote. - Author: David Nicholls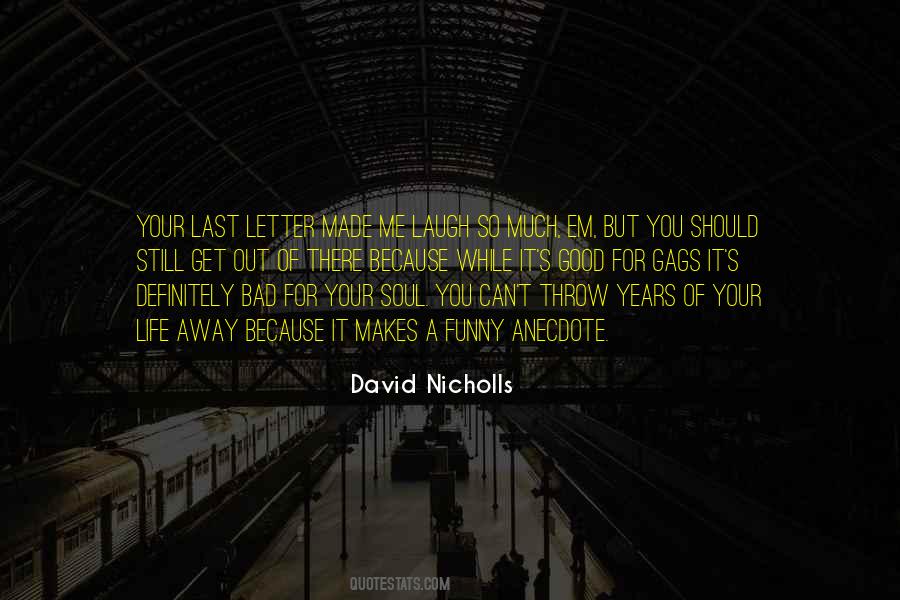 #93. Second letter from Mom:
So! What if you colored the world? This still does not seem a great thing. In fact it seems very natural that you eventually got to paint the entire world. Those colors of yours were always strange; they didn't go away since you were born. - Author: Elena D. Calin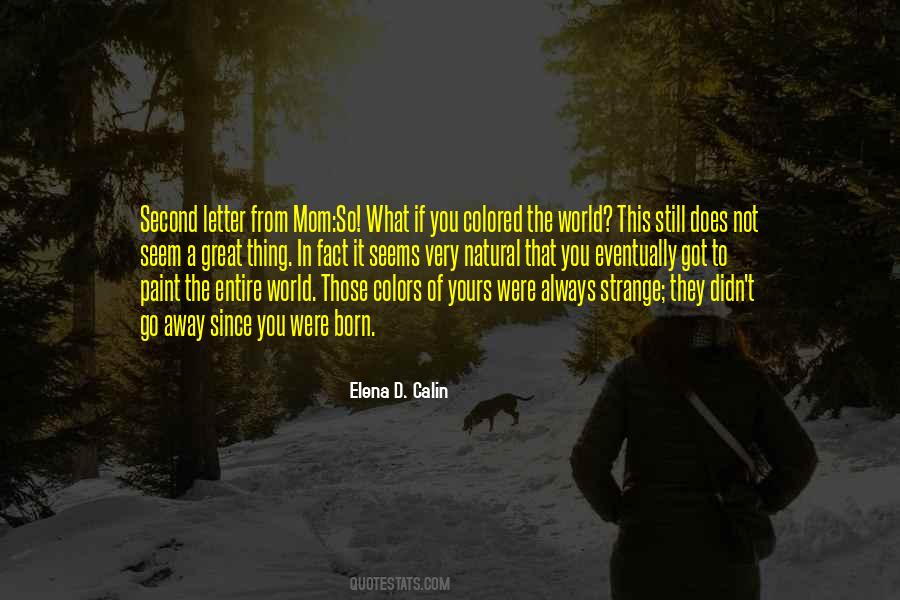 #94. The starkest rejection letter might be followed by a million-dollar advance. Don't let rejection start to look the same as failure. - Author: Darin Strauss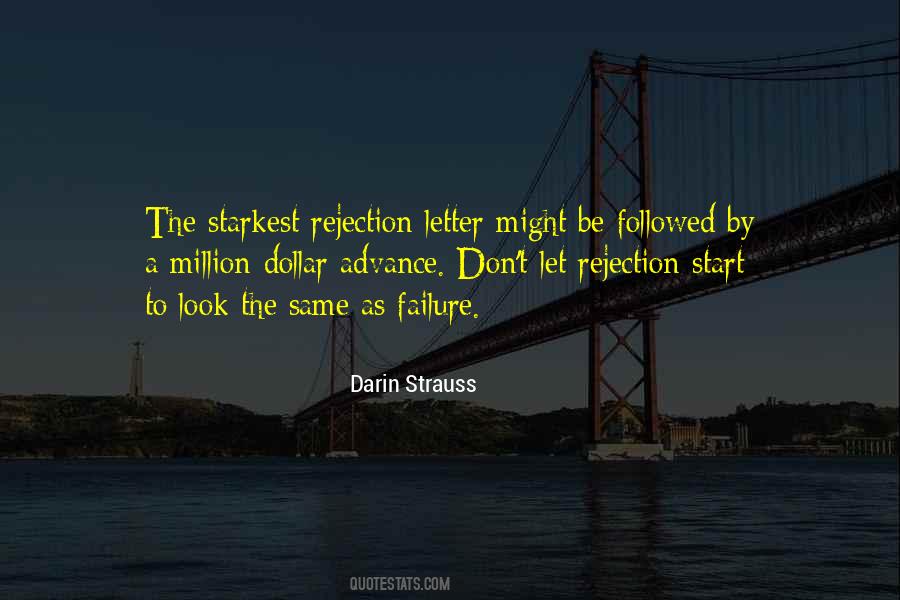 #95. I learned more in the rehearsals for 'The Letter' than I have ever dreamed of know in the theater as a critic. If it doesn't make me a better critic, I'm an idiot. - Author: Terry Teachout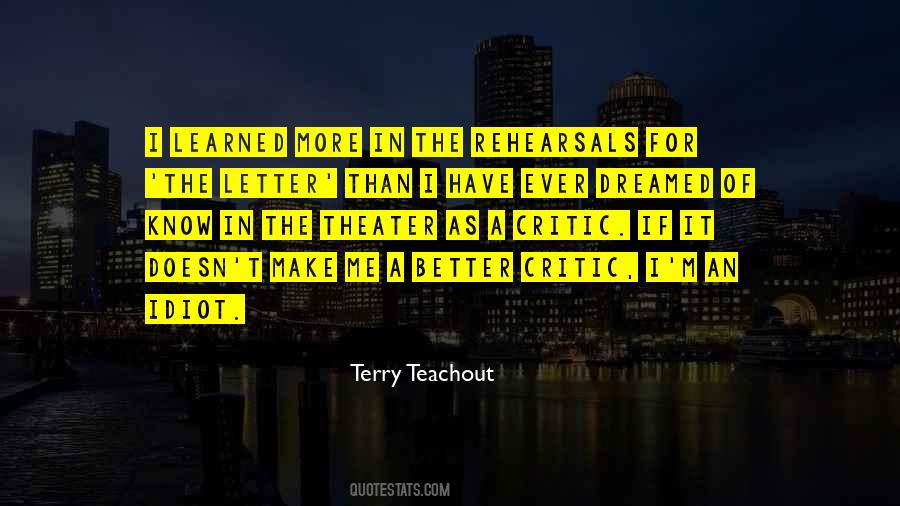 #96. You told him, huh? Through your secret wizarding network that you still haven't told me about."
"It's called a letter in the mail," he said. - Author: T.J. Klune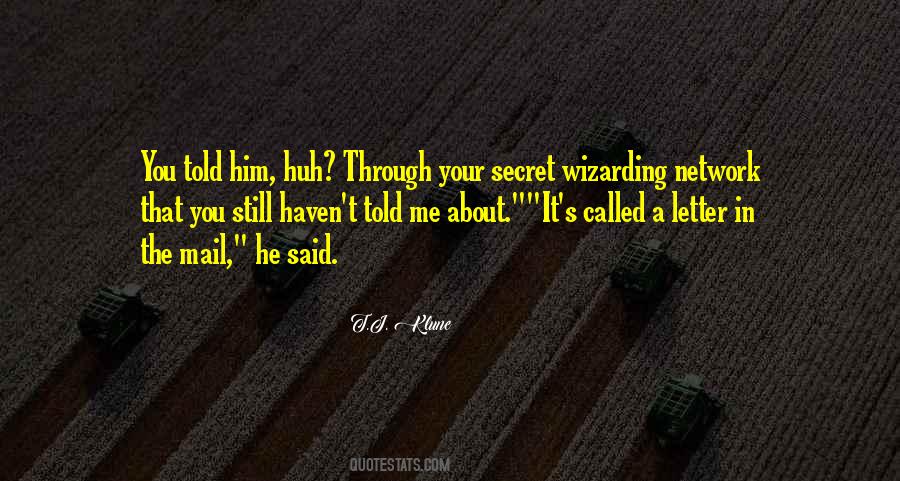 #97. That is - you are not to thank him for the money; he doesn't care to have that mentioned, but you are to write a letter telling of the progress in your studies and the details of your daily life. - Author: Jean Webster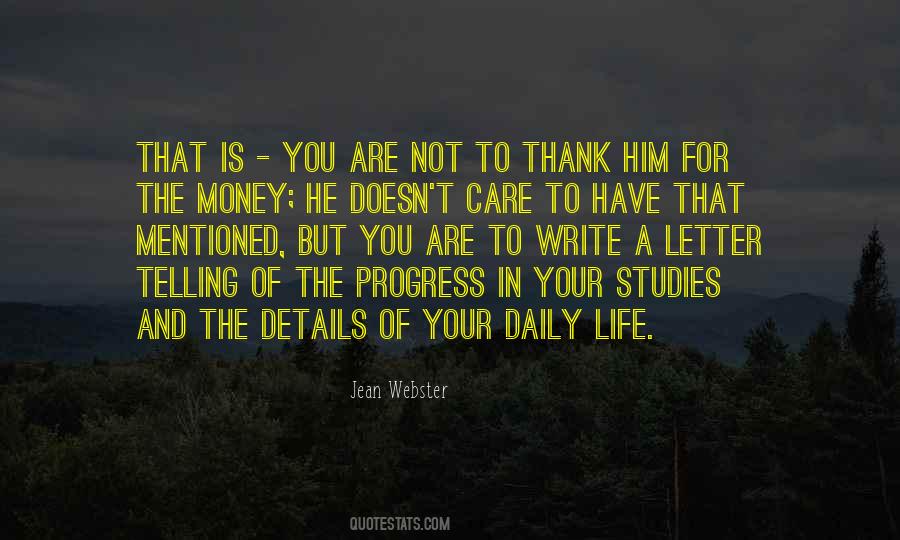 #98. If you can't make a girl come why even bother? That always seemed to me to be like writing questions in a letter. - Author: Bret Easton Ellis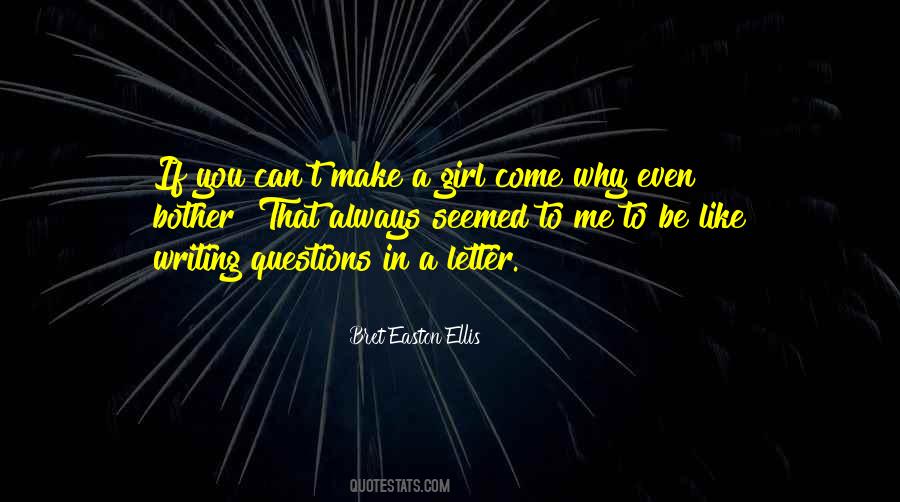 #99. Because this isn't the movies, Doc. In the real world, when a seventeen-year-old guy gets a love letter from his best friend, he doesn't suddenly decide to love her back. He runs screaming. - Author: Aimee L. Salter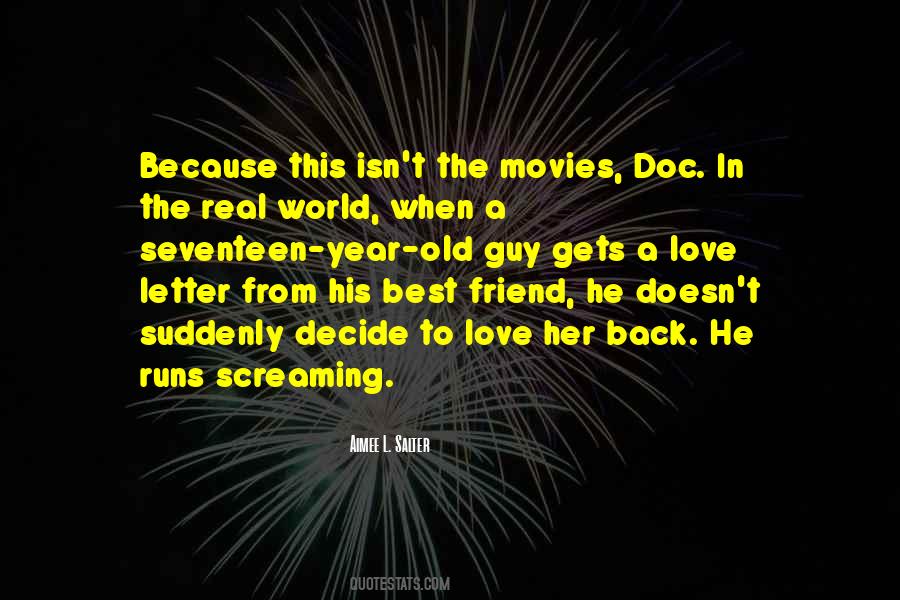 #100. I tend to discourage people from calling me 'Sir Ian,' because I don't like being separated out from the rest of the population. Of course, it can be useful if you're writing an official letter, like trying to get a visa or something passed through Parliament. They're impressed by these things. - Author: Ian McKellen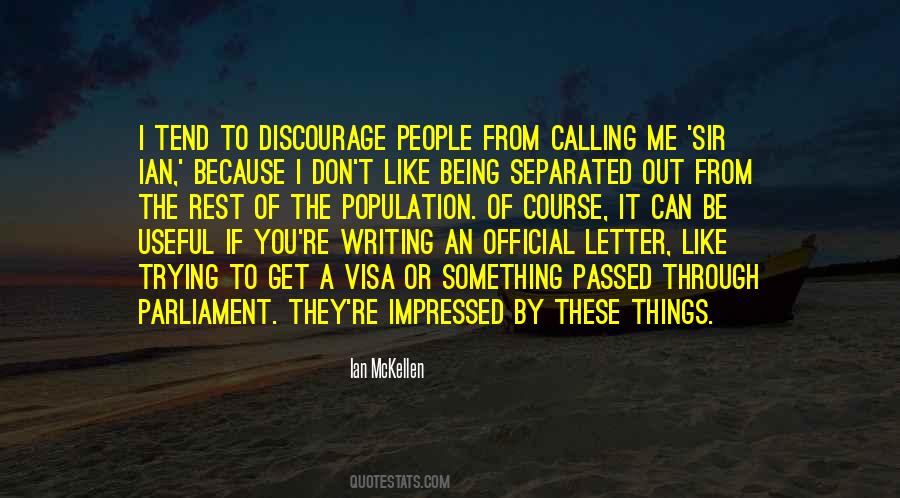 Famous Authors
Popular Topics