Kid Growing Up Famous Quotes & Sayings
List of top 100 famous quotes and sayings about kid growing up to read and share with friends on your Facebook, Twitter, blogs.
Top 100 Quotes About Kid Growing Up
#1. Growing up, my mom made us this amazing thing called The Mack Theatrical Wardrobe. It was a massive trunk filled with everything that you'd want as a kid if you were into imagination and play. - Author: Allison Mack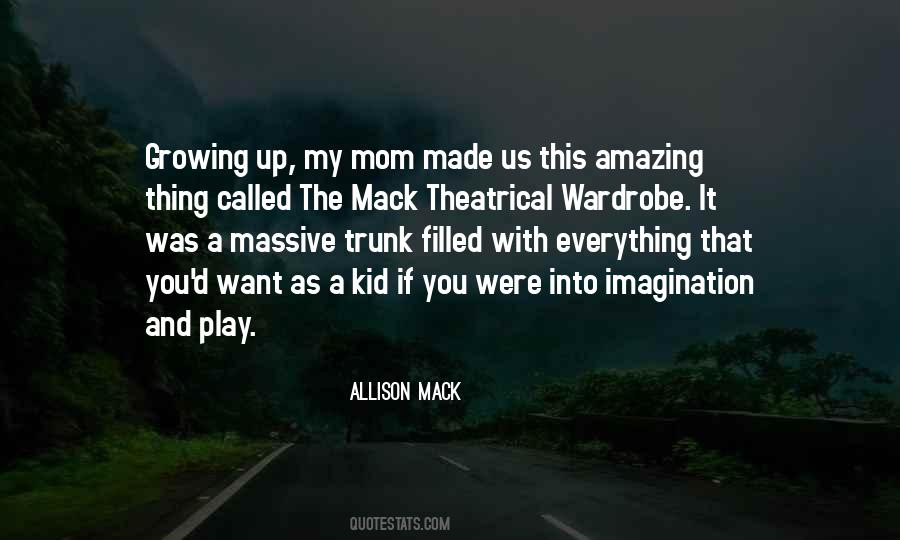 #2. It's funny because when I was growing up, I was really into science fiction and fantasy as a kid. And, when I first became a screenwriter, I ended up really just doing historical drama and non-fiction based stuff, like Band of Brothers and stuff that didn't get made, but was also non-fiction. - Author: John Orloff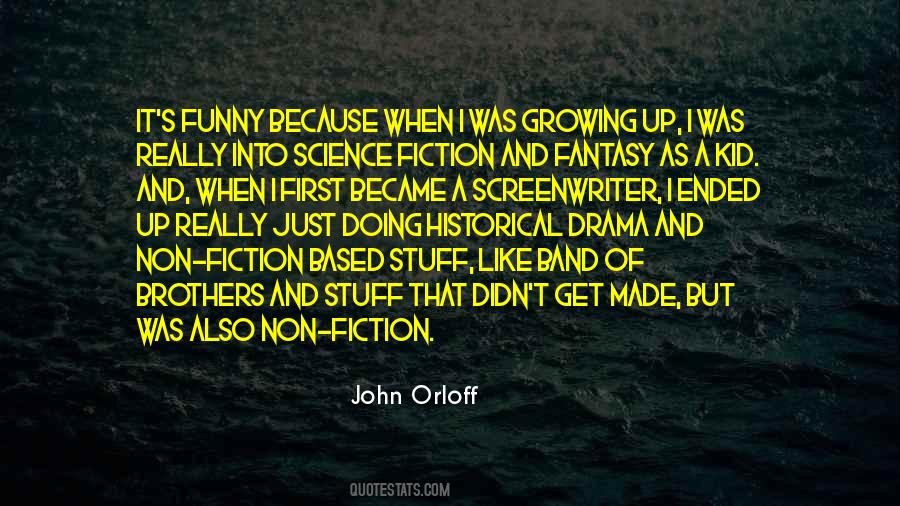 #3. I always liked doing all sorts of different things. As a kid growing up, I was always drawing and painting - always doing art. But I also loved movies and music, so as I started doing everything, I liked every aspect. It's not really that I am a control freak; it's just that is what I love. - Author: Rob Zombie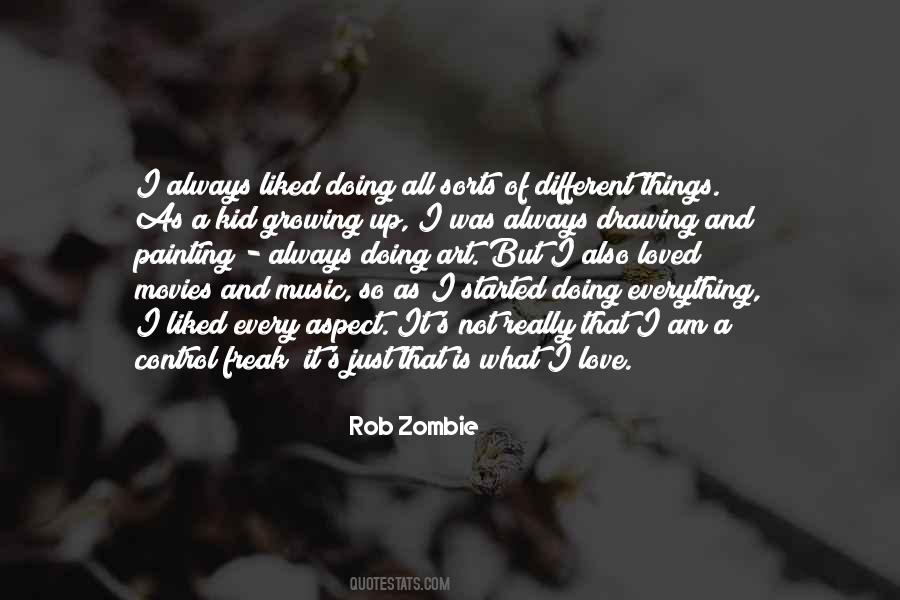 #4. Growing up in Kentucky, I used to hang out with four running buddies as a kid - 6, 10, and 11 years old. Two of them would later come out, and so 50 percent of my friends as a kid were gay. - Author: Hal Sparks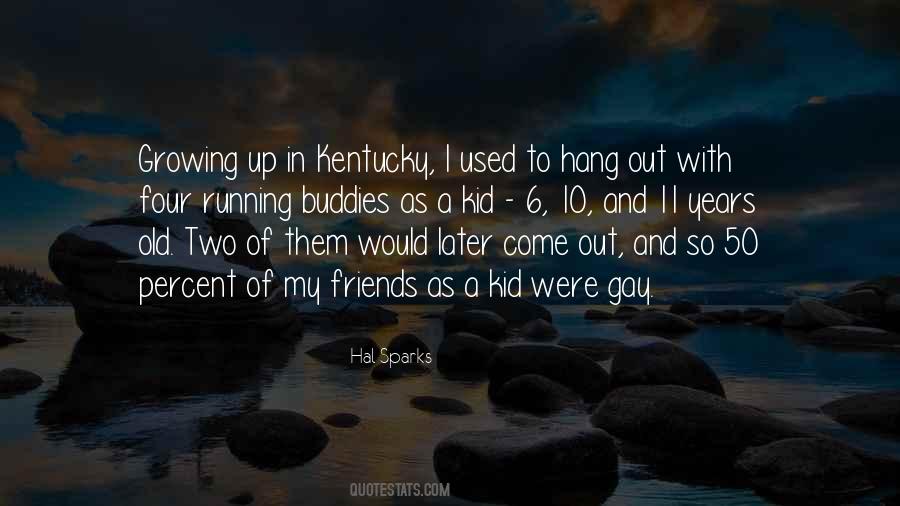 #5. He's completely blown through his younger years like his childhood was one big cigarette to smoke carelessly. - Author: Rebecca McNutt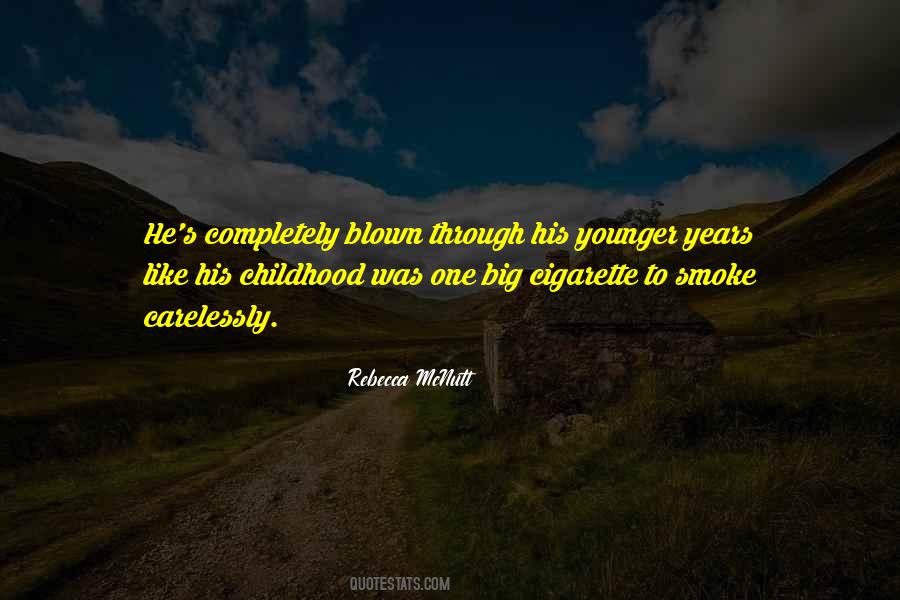 #6. I feel like I was the whole color wheel as a kid. And growing up means losing some of that. - Author: Katie Kennedy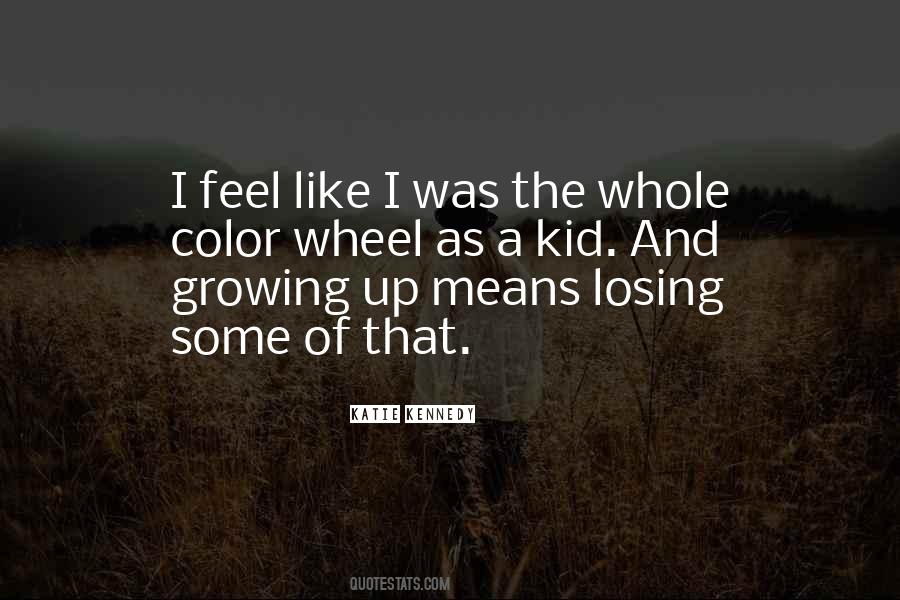 #7. To a young kid growing up in Canada, America seemed to be crazy about the future; dazzled by it. - Author: Graydon Carter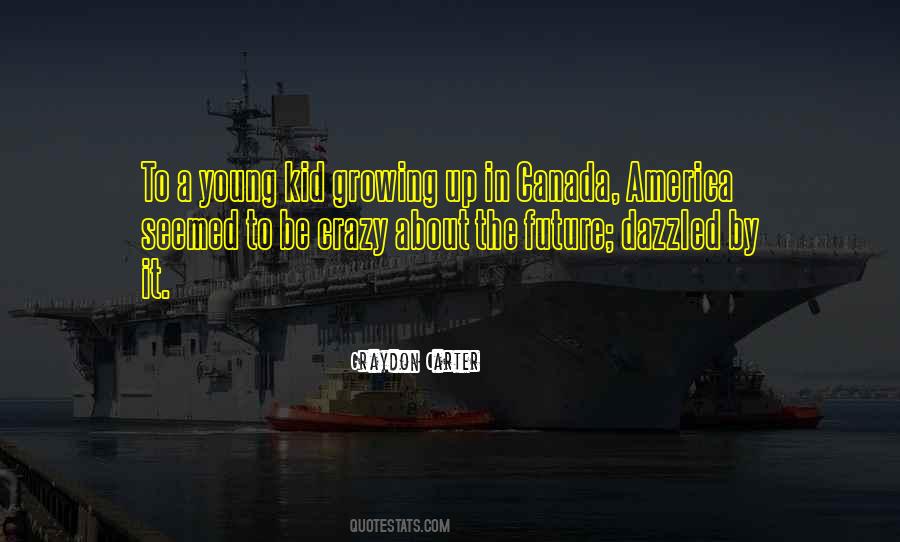 #8. When we were visiting New York City, I took my kids to the same playground where I went growing up. It was fun to feel that connection of having gone there as a kid and being there as a parent. - Author: Ben Stiller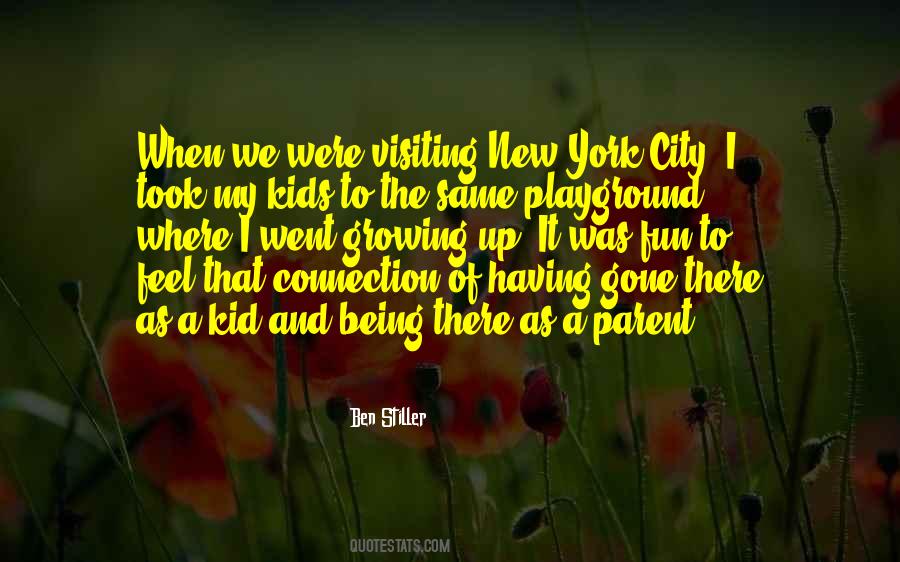 #9. Growing up, I was your classic Catholic Irish kid. I went to mass every Sunday. Then in secondary school I went to boarding school, and there was mass seven days a week before breakfast - it may have put me off! - Author: Deirdre O'Kane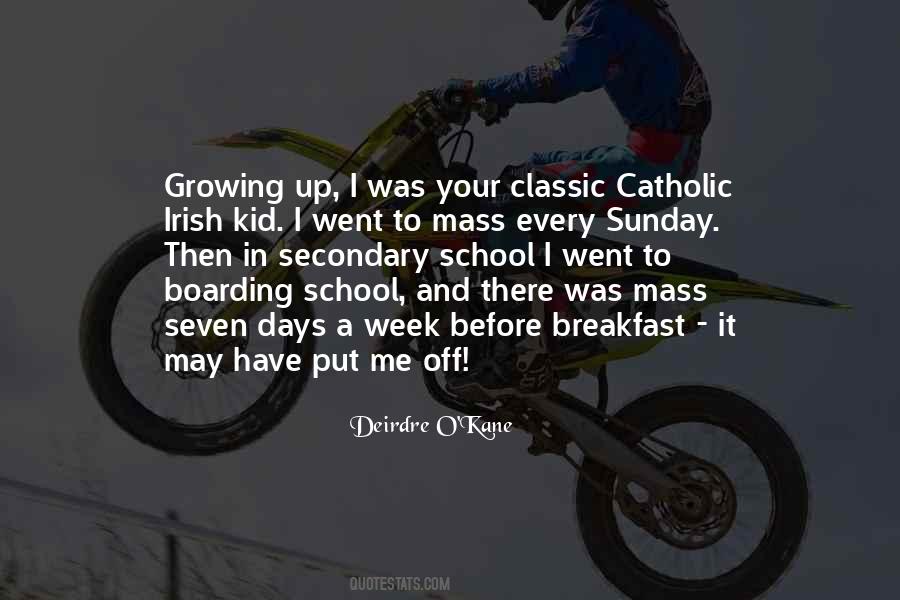 #10. My dad was my swim coach growing up, and I tried to get kicked out of practice every day. I was a little devil kid. - Author: Ryan Lochte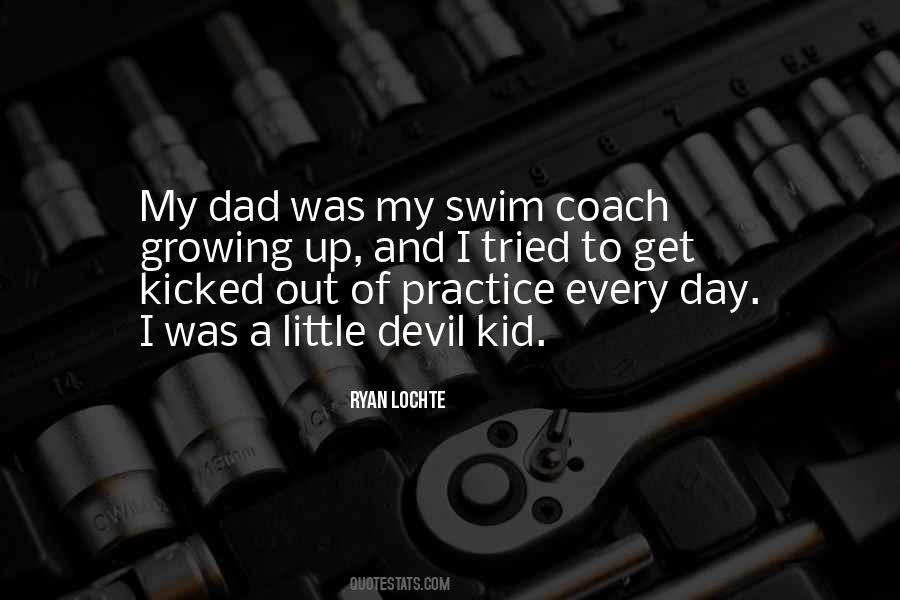 #11. It's an ironic thing about being an immigrant kid, growing up - 'cause I grew up in the UK and went to a British boarding school and we would go to chapel every Sunday morning. And we'd actually have religious studies and religious studies means Christian studies where you study the Bible. - Author: Aasif Mandvi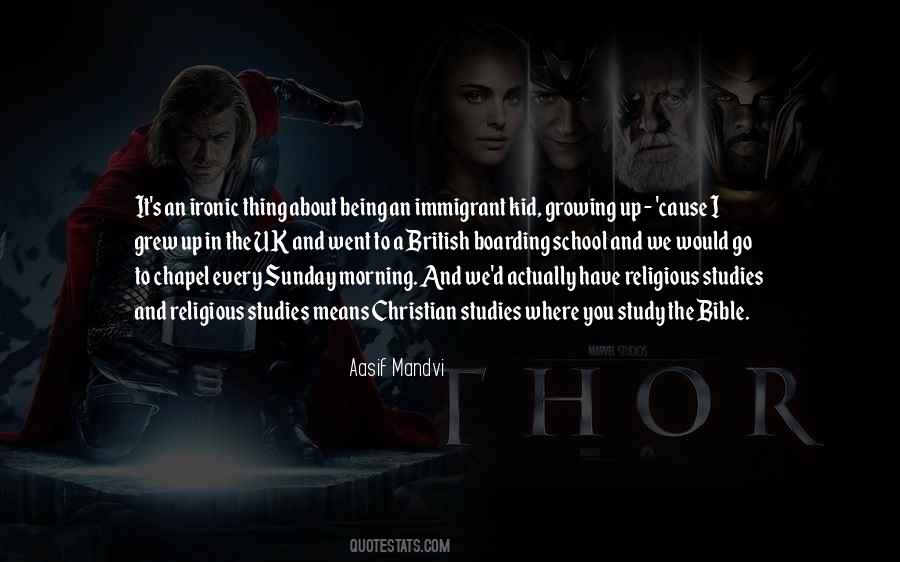 #12. Baseball is a tongue-tied kid from Georgia growing up to be an announcer and praising the Lord for showing him the way to Cooperstown. This is a game for America. Still a game for America, this baseball! - Author: Ernie Harwell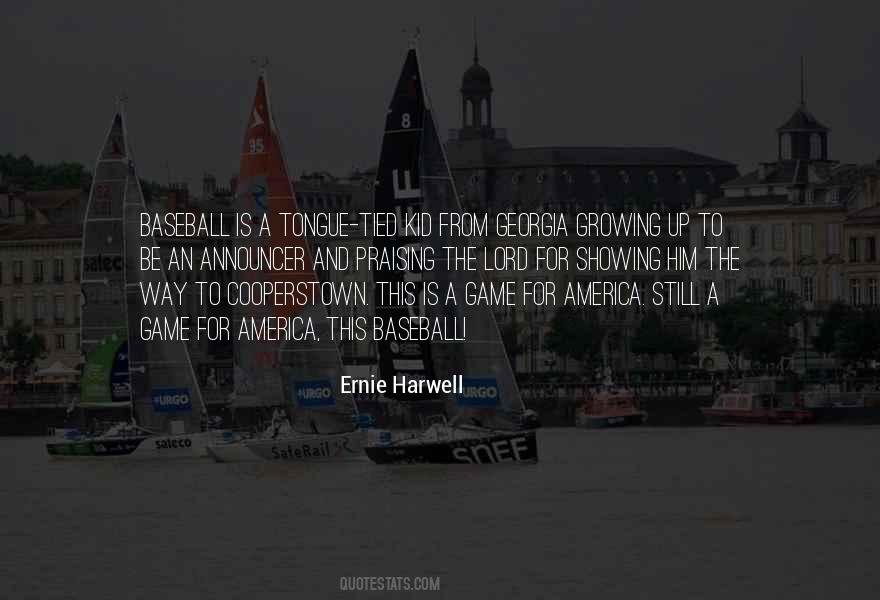 #13. Growing up in Seattle, I was always that kid who didn't subscribe to what everyone else was wearing. - Author: Chris Benz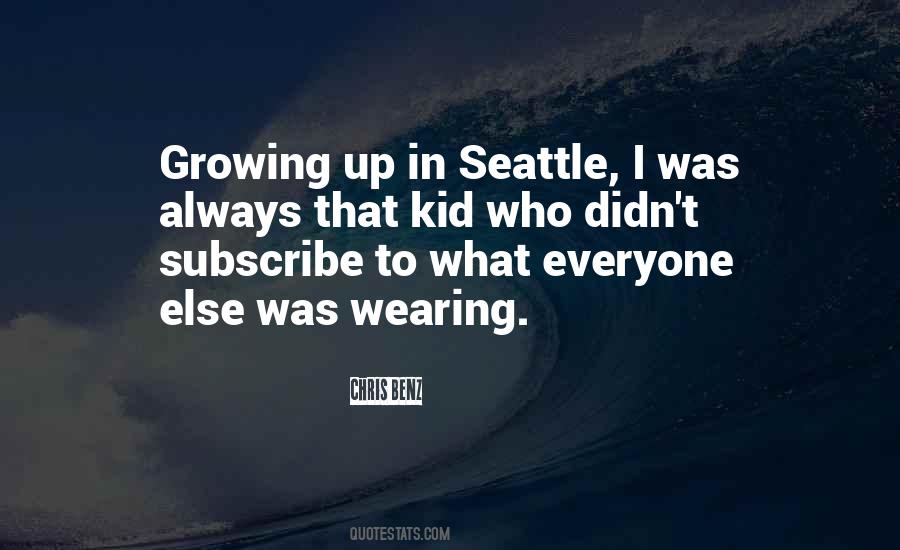 #14. As a kid growing up, this was sometimes a little bit intimidating to have a mom who was always, like, speaking up and always saying something that might be kind of controversial ... The thing I think that we got out of that that was really good was, like, we weren't afraid to make waves. - Author: Susan Wojcicki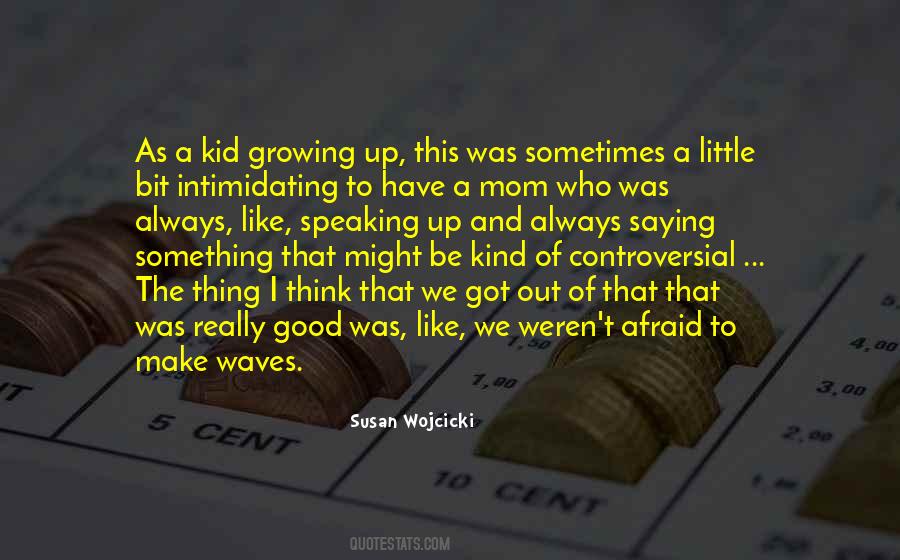 #15. I never really fit in growing up. I got made fun of a lot of the time in high school. People never liked me, and I was always the new kid. - Author: Magda Apanowicz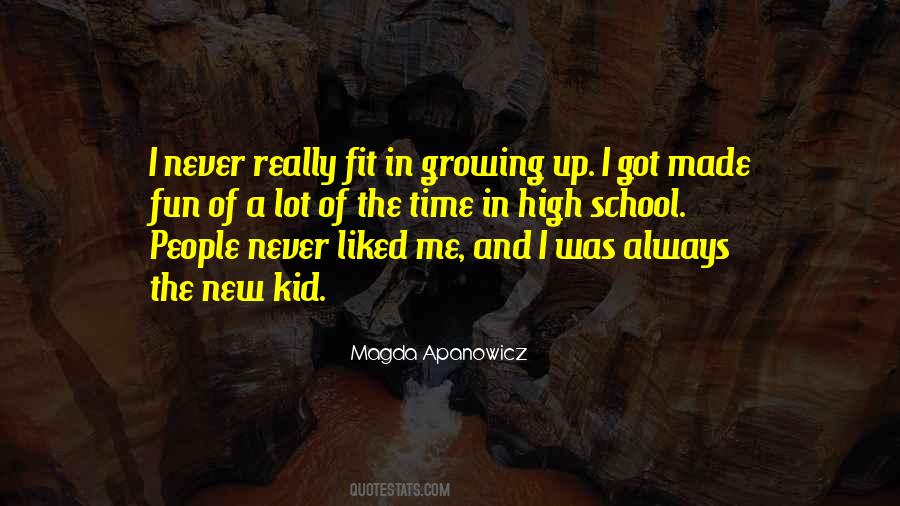 #16. I always loved the idea of a spy movie and part of it came from my personal love of spy movies. It started when I was growing up as a little kid in the 60s. - Author: John Lasseter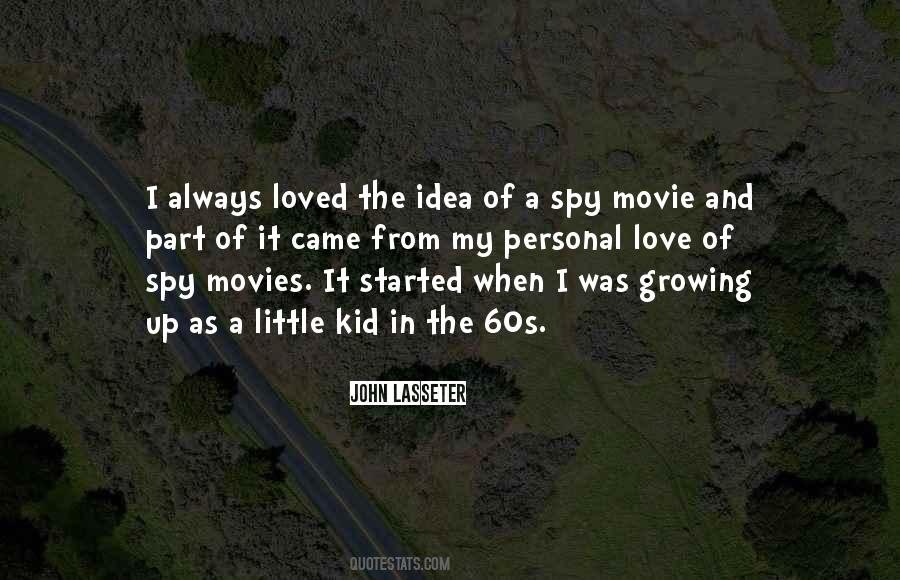 #17. When you're a kid, you think, "Well, I will grow up and I will get a wife and we will have kids and then we will have grandkids." My life has a different shape. That is weird, but there are things about it that are exciting. - Author: Guy Branum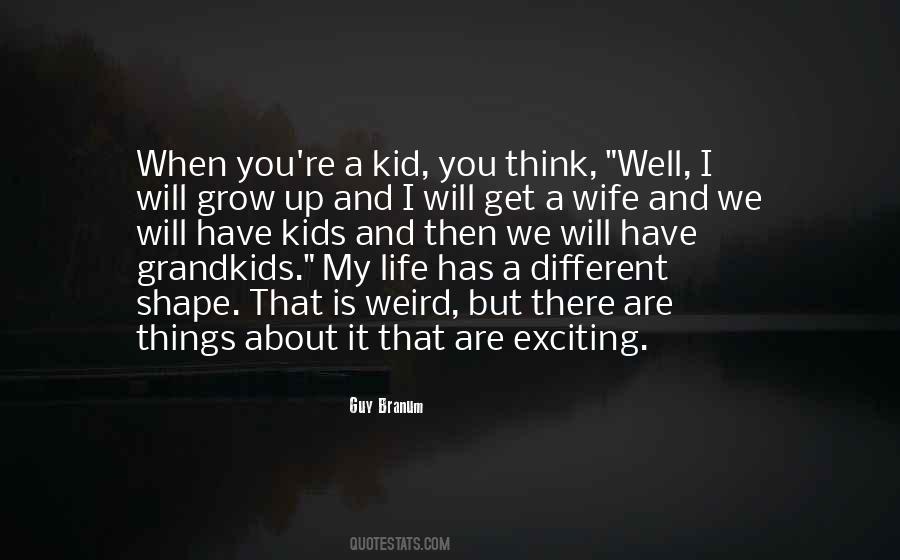 #18. I lived to play basketball. Growing up as a kid, Bill Russell and the Boston Celtics were my favorite team. The way they played, the teamwork, the sacrifice, the commitment, the joy, the camaraderie, the relationship with the fans. - Author: Bill Walton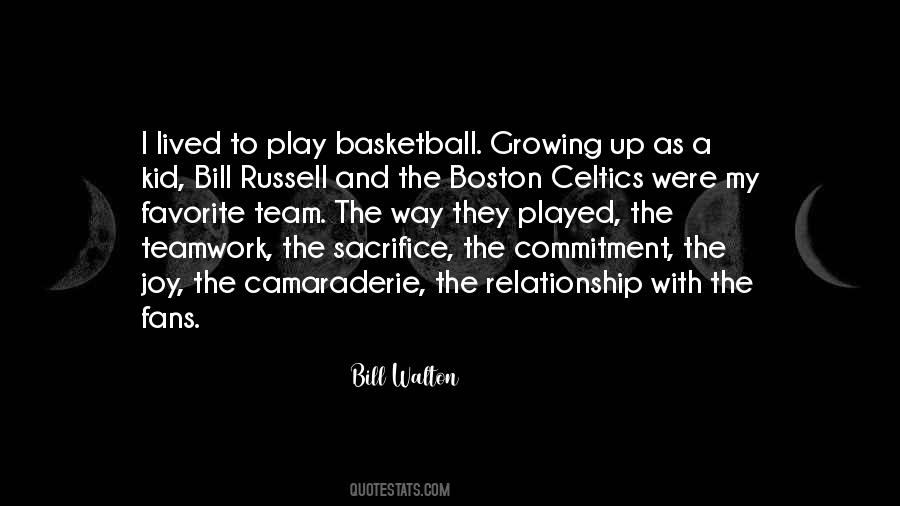 #19. When I was a kid growing up, my dad being a football coach, he asked the same question of all the assistants that he ever hired: 'Is your goal to be a head football coach?' - Author: Chuck Pagano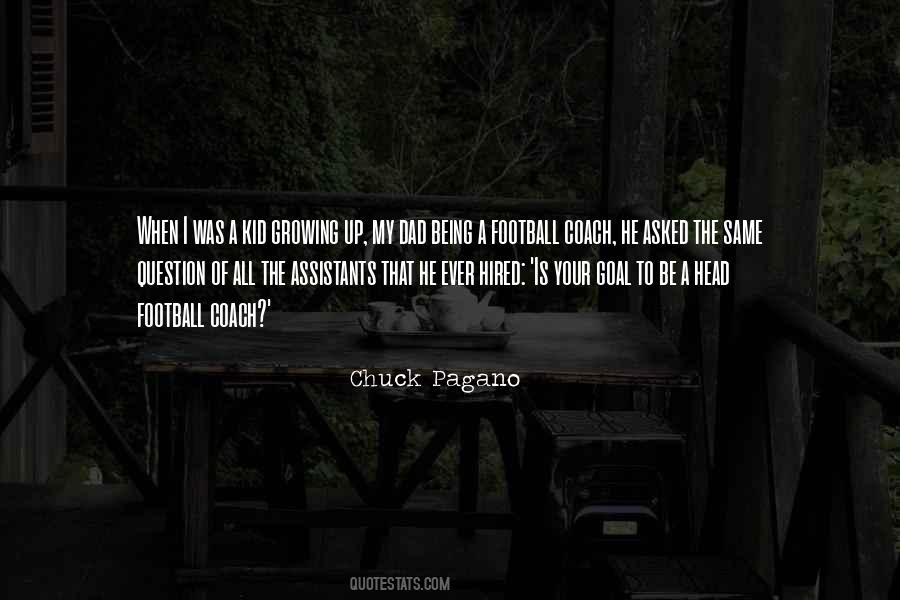 #20. Growing up as a kid, the back of my house faced a little community airport about four or five miles from my house. - Author: Bo Jackson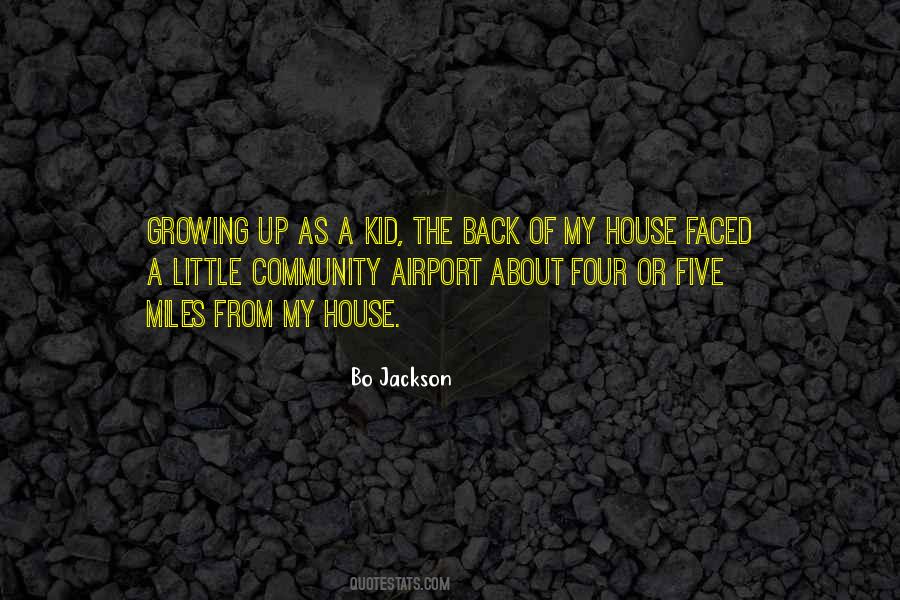 #21. When others kid me about being bald, I simply tell them that the way I figure it, the good Lord only gave men so many hormones, and if others want to waste theirs on growing hair, that's up to them. - Author: John Glenn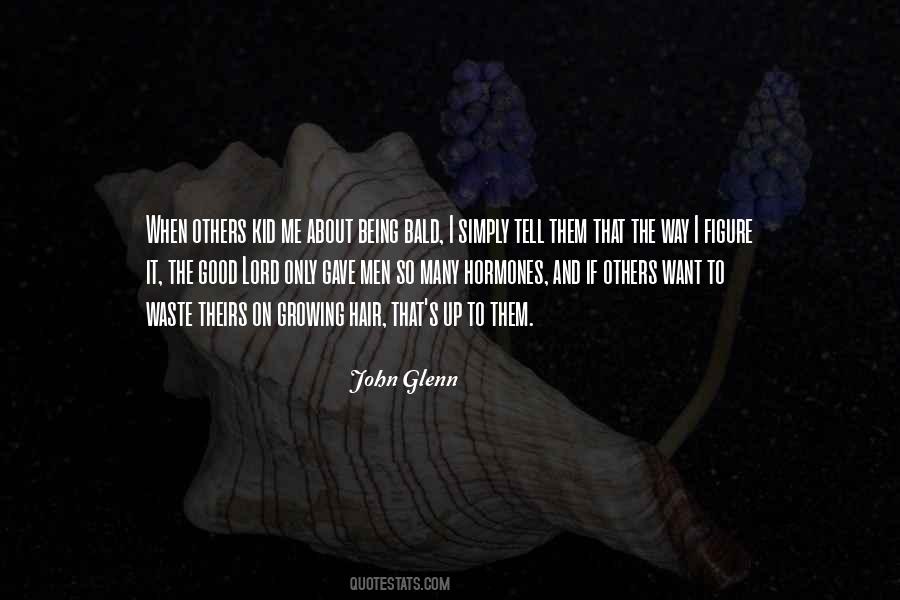 #22. I certainly wasn't able to get it when I was a kid growing up on the Lower East Side; it was very hard at that time for me to balance what I really believed was the right way to live with the violence I saw all around me - I saw too much of it among the people I knew. - Author: Martin Scorsese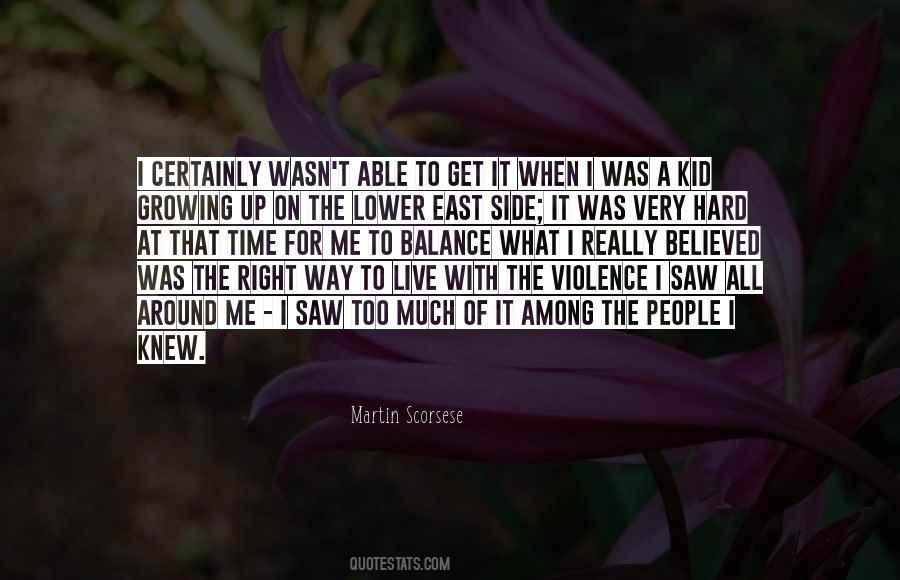 #23. When I was a kid, they'd say, "What do you want to be when you grow up?" kids would go Wonder Woman, an astronaut. Do you know what I always said? World domination - so we're on our way. - Author: Terri Irwin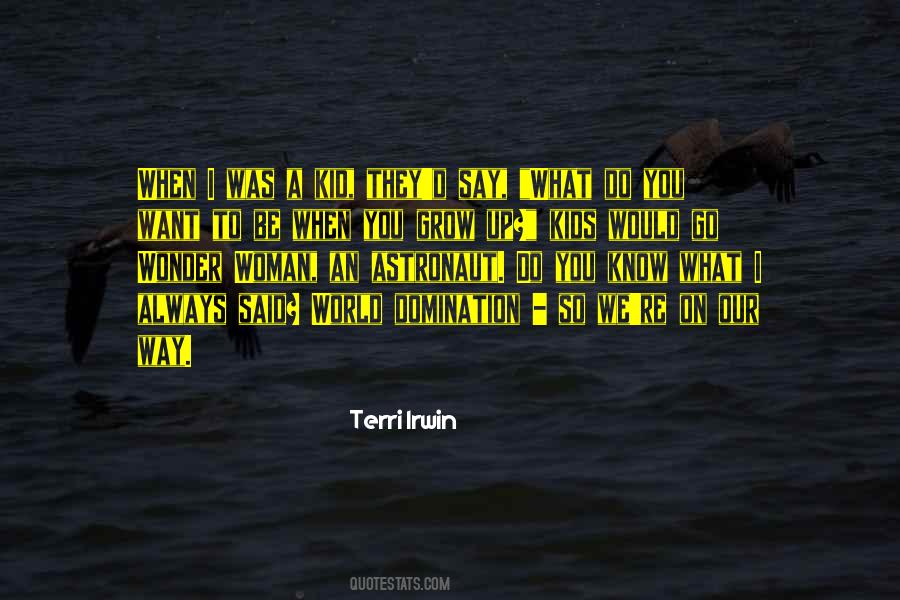 #24. I wasn't always this confident. Growing up as the awkward gay kid in a small town in Pennsylvania, you're constantly told, 'Don't be yourself, don't be proud of who you are.' - Author: Carson Kressley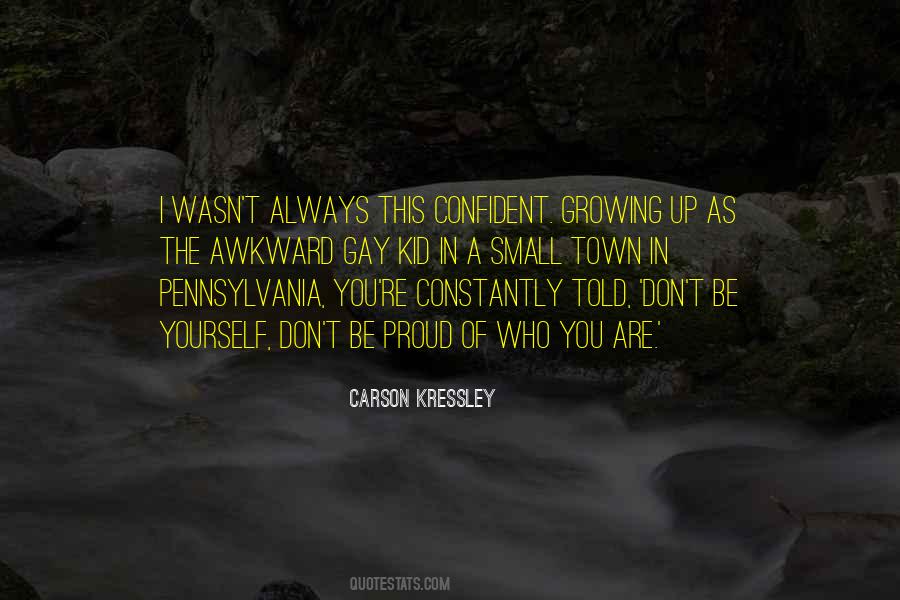 #25. Don't you find it odd," she continued, "that when you're a kid, everyone, all the world, encourages you to follow your dreams. But when you're older, somehow they act offended if you even try. - Author: Ethan Hawke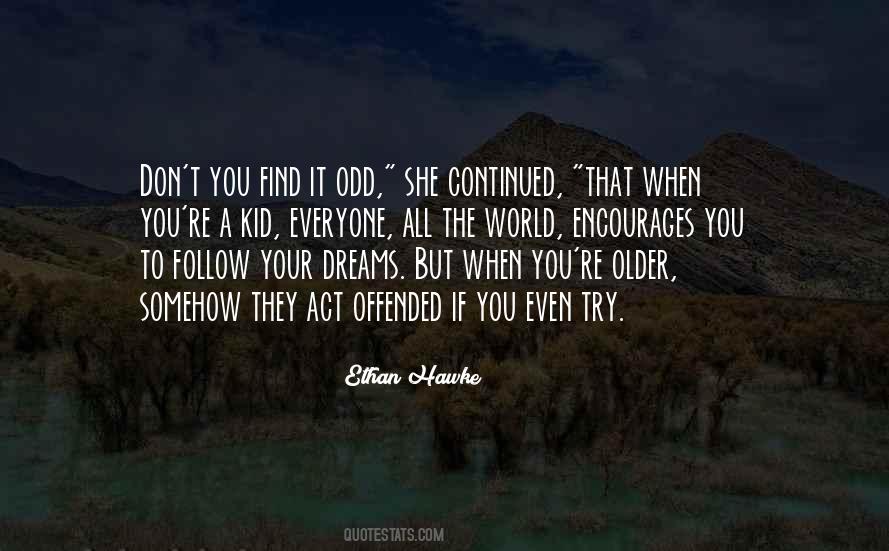 #26. You dream that you want to be a monster maker when you grow up, and that's what happened. I refused to take no for an answer. I just was a very driven kid, who's now a very driven semi-adult. - Author: Howard Berger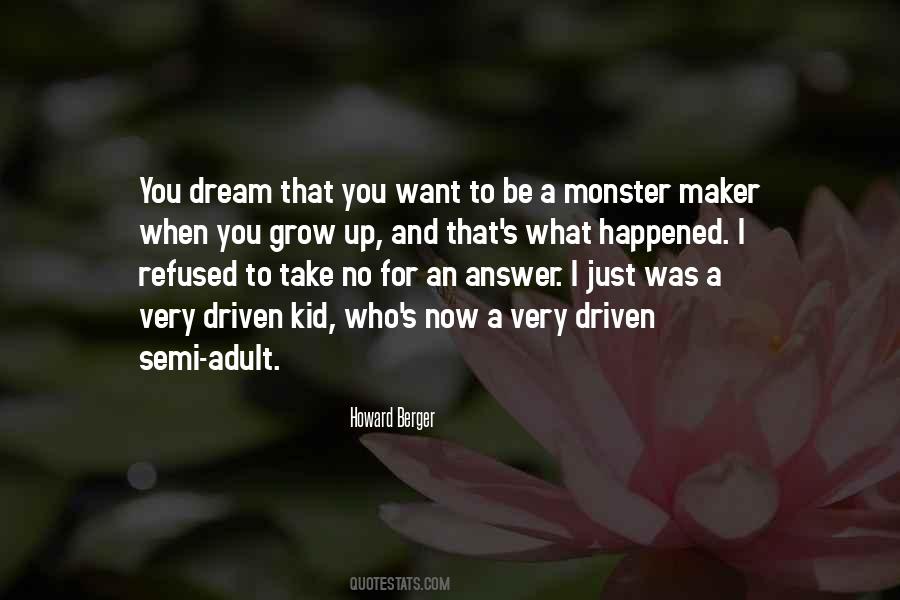 #27. I was an athlete growing up. I was a wrestler, I played football, so I can take a fall. I actually wanted to be a stuntman when I was kid, so I would practice falling down the stairs. It's just something I like to do. - Author: Chris Pratt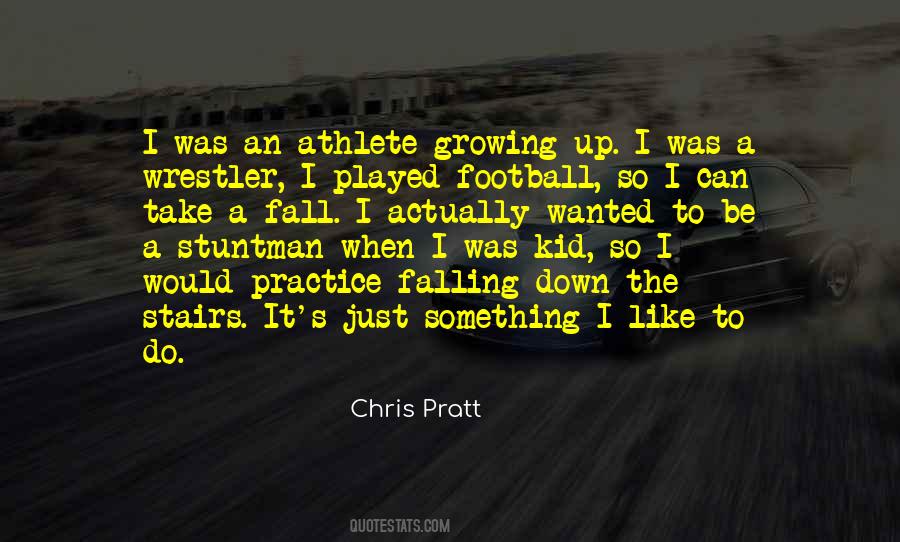 #28. I used to have acne when I was a kid growing up. You can imagine how serious that was in making you feel bad. And I had skinny bow legs. I mean, as a kid growing up, I was an insecure fella. - Author: Mike Wallace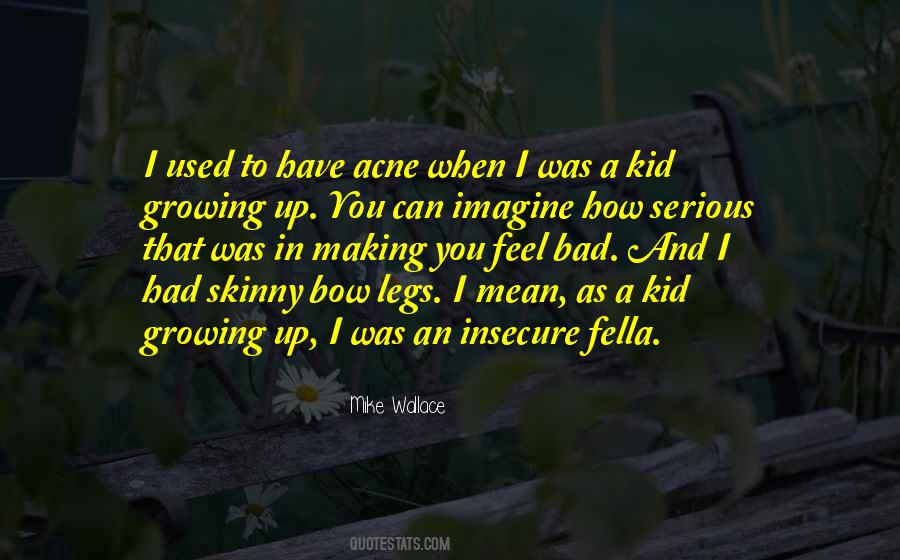 #29. Growing up, I was picked on a bit; I was pretty heavy-set, and then I was a theater kid. I just felt unpopular and uncool, so I think in my mind I had this idea of fame and being popular and how nice that would be. The reality of it is sometimes it's not nice. - Author: Jack Falahee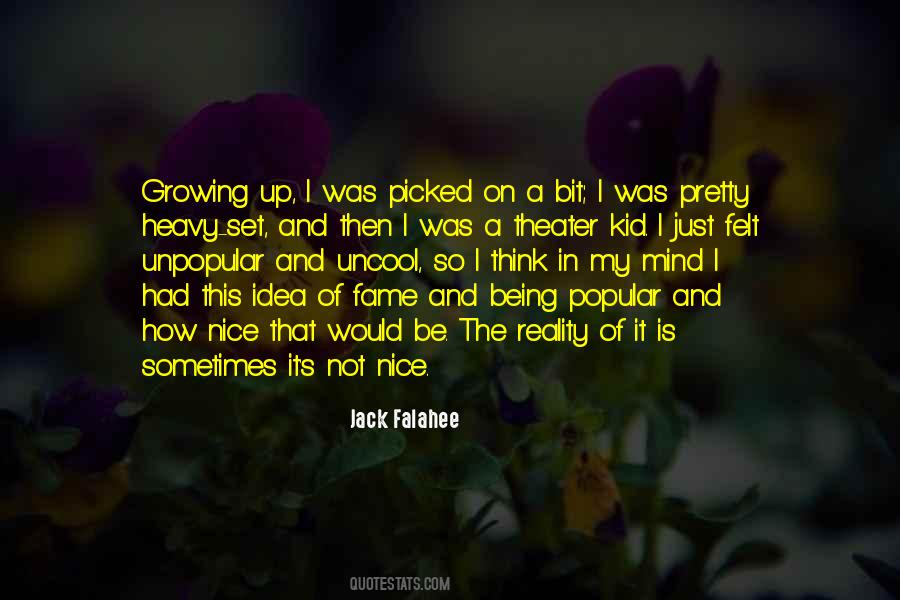 #30. Growing up as a kid in Detroit, way back, there was a movie station that would show old kinescope reproductions of old movies, and I remember seeing Bela Lugosi for the first time and being duly frightened out of my wits. - Author: Edward Herrmann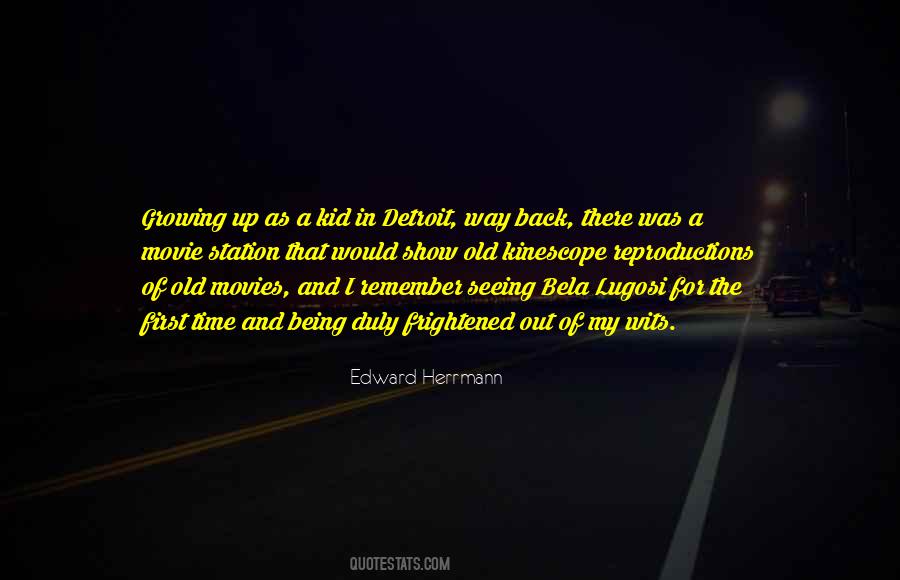 #31. I was a skinny guy growing up, and I still feel like that same skinny kid. - Author: Jamie Dornan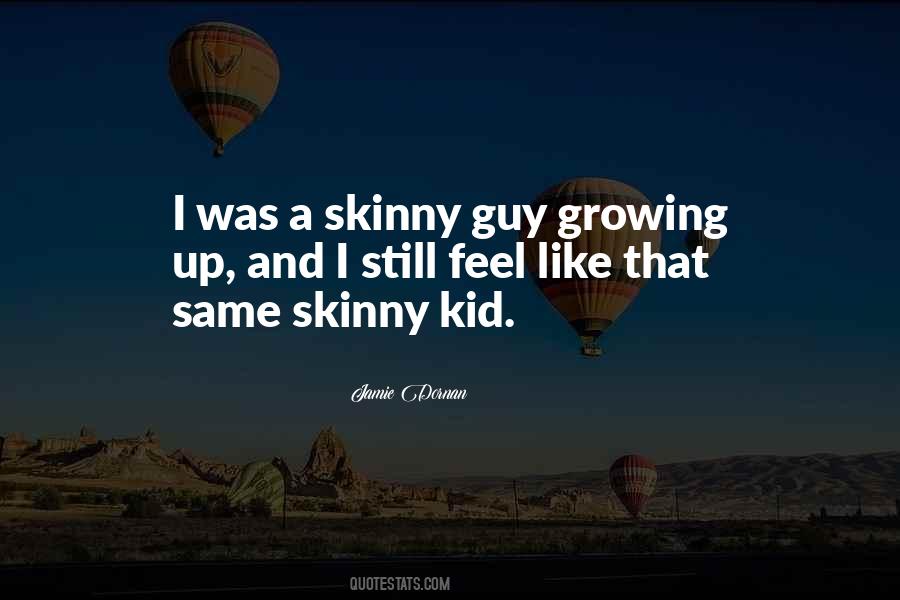 #32. When I was a kid growing up in the States in the late '70s and early '80s, as soon as 'Dallas' came on on a Friday night on CBS at 9 P.M., we stopped everything from that moment on as a family. - Author: John Barrowman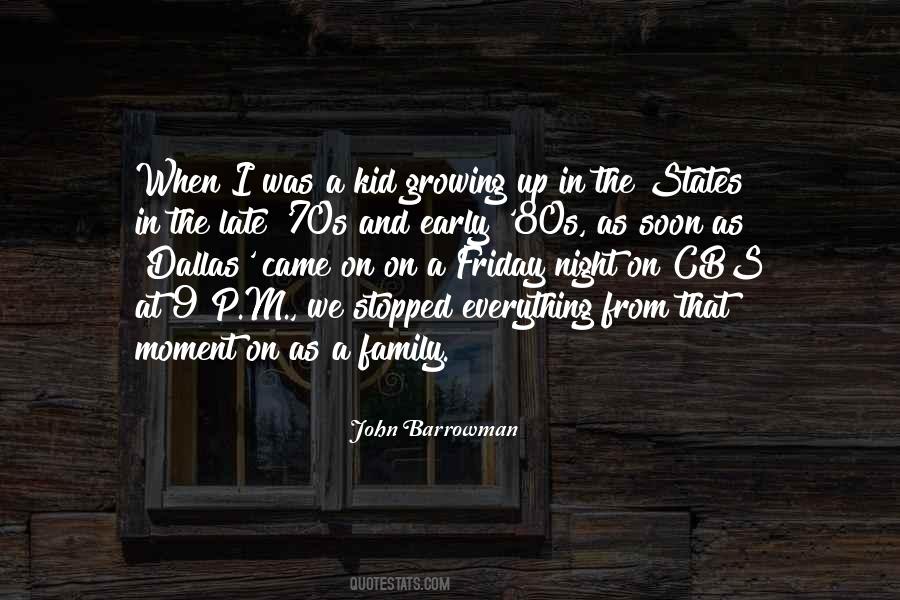 #33. There weren't too many books featuring other cultures and countries when I was growing up as an immigrant kid here in the States. - Author: Mitali Perkins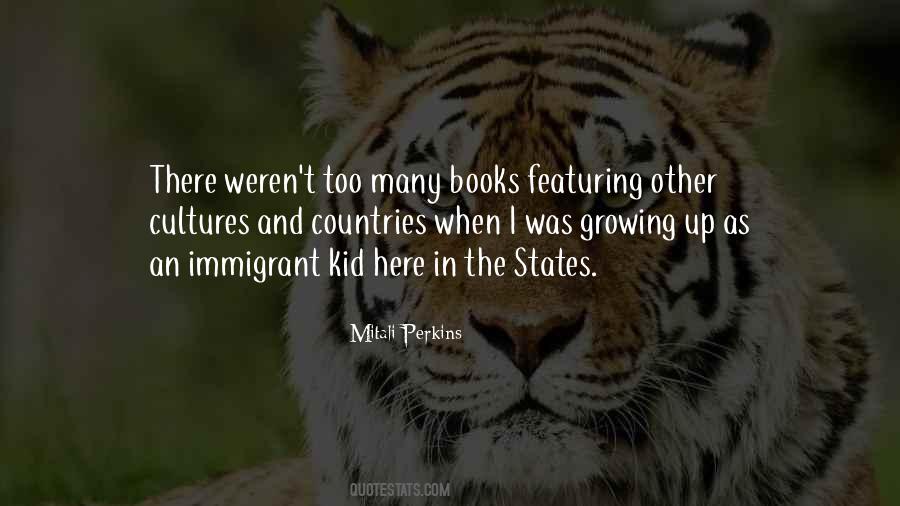 #34. Growing up, I was the plain one. I had no style. I was the tough kid with the comb in the back pocket and the feathered hair. - Author: Cameron Diaz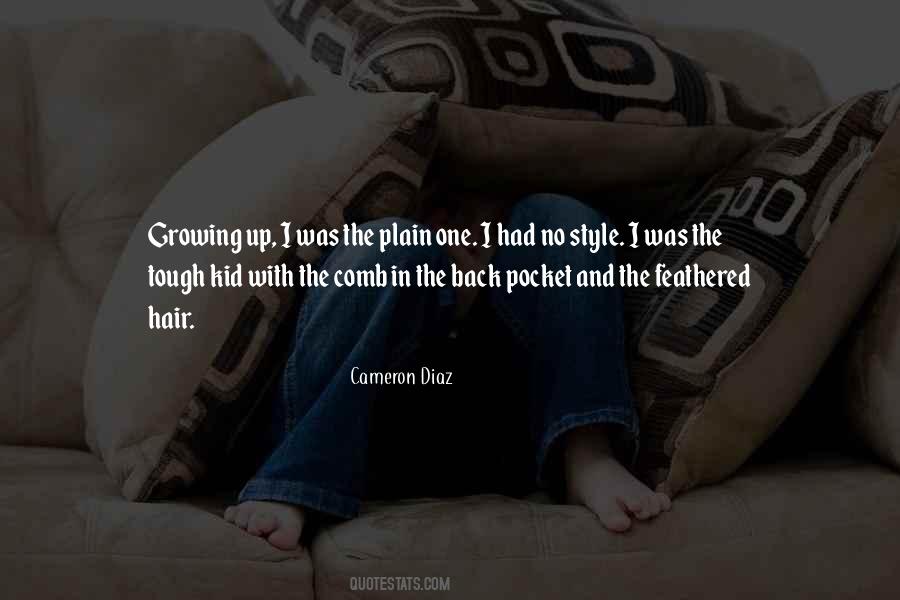 #35. Yeah I loved, as a kid growing up, I loved science-fiction. - Author: Jeff Bridges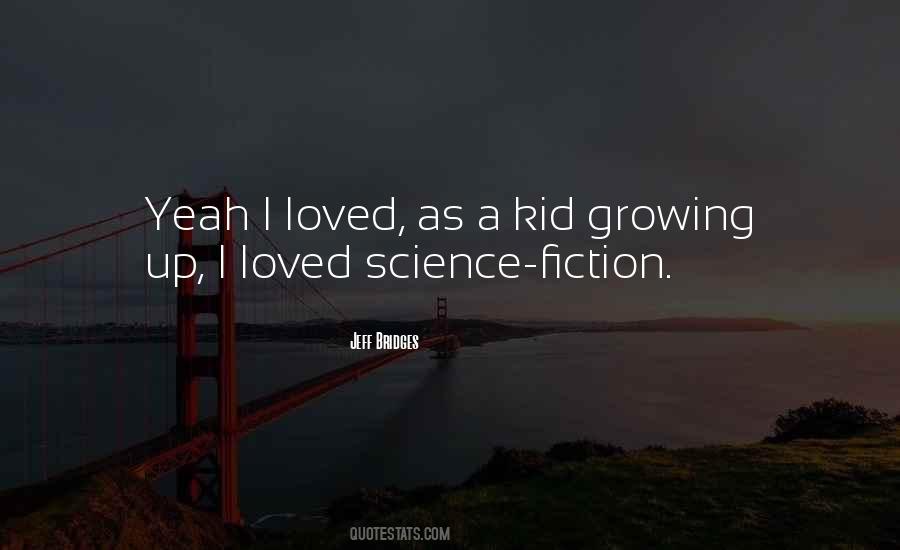 #36. As a kid growing up in a small town in Washington State, my only exposure to New York City was through movies. The town with its towering skyscrapers, fascinating people and teeming energy absolutely captivated me. - Author: Robert Osborne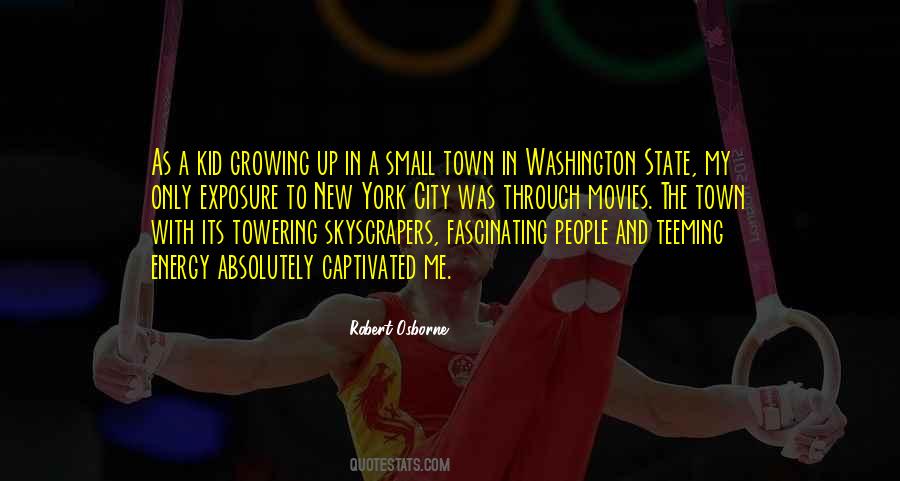 #37. I always appreciated that connection between a parent and a kid because I yearned for it so much. Growing up, I wanted a father, and because I've had this idea of what a father should be, it's exciting to finally have the opportunity to try and be that guy, to see if I can actually do it. - Author: Freddie Prinze Jr.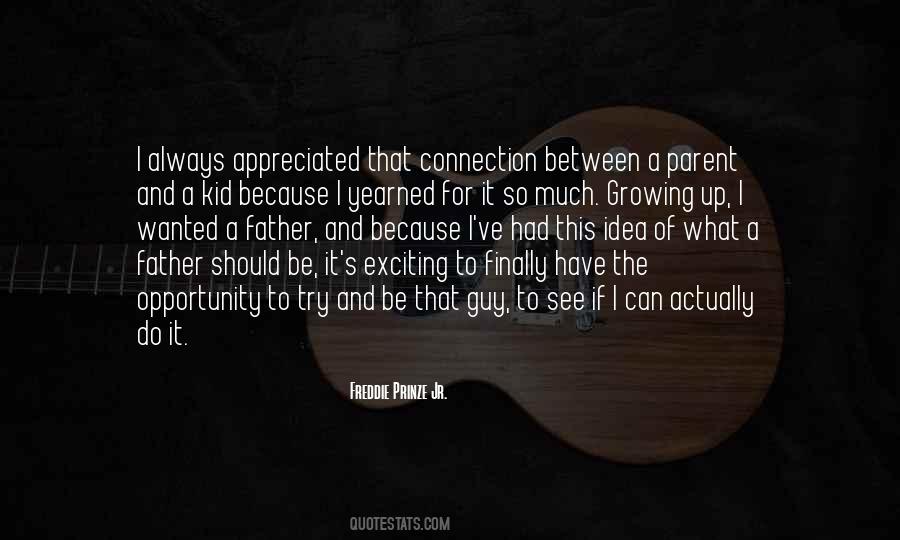 #38. My kid wants to be a prison warden when he grows up so he can put thumb tacks on the electric chairs. - Author: Rodney Dangerfield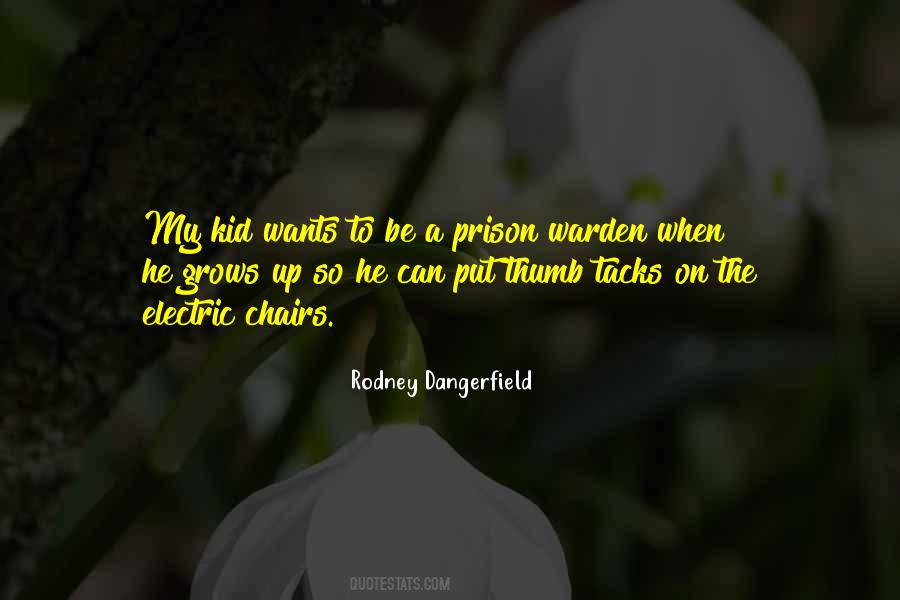 #39. I was a bit of a troubled kid growing up, let's put it that way. I didn't take pleasure in hard work. - Author: Matt Taibbi
#40. When I was growing up, I wasn't an extrovert. If anything, I was an introverted kid and a very average pupil at school. I was very quiet. - Author: Clint Eastwood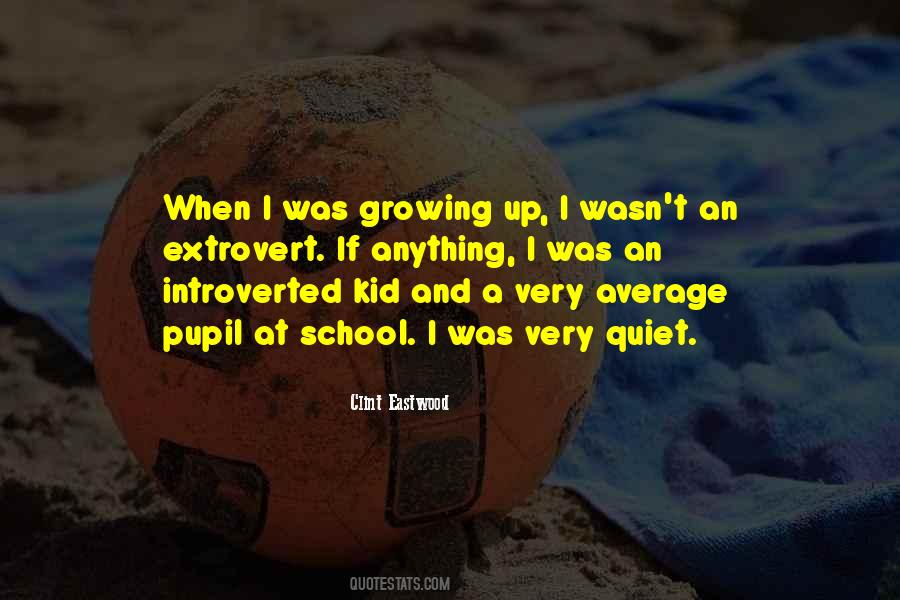 #41. I began to speak well at a very advanced age - 15, 16, 17 years old. It was psychological: the trauma of war, my family and growing up on my own. I was more or less a street kid. - Author: Roberto Cavalli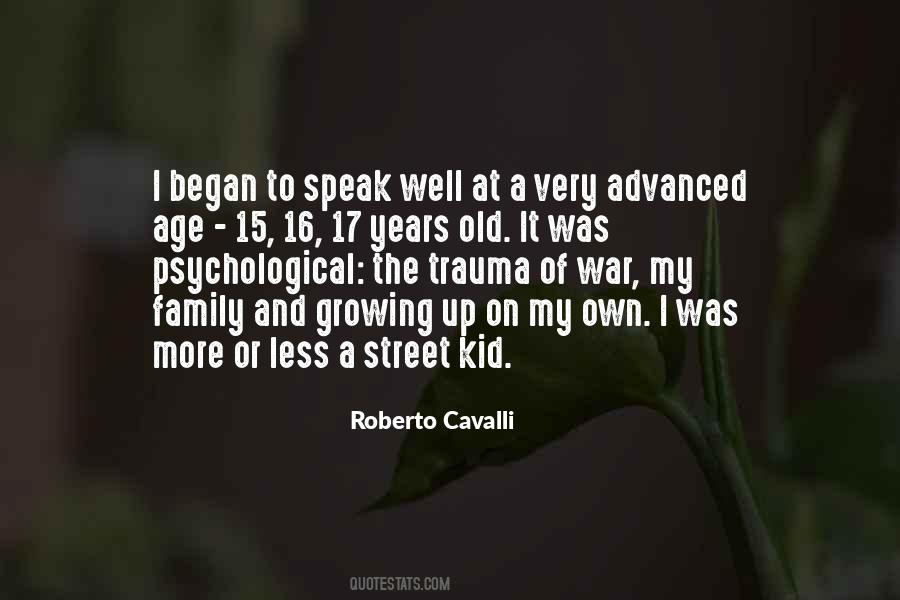 #42. I was brought up in black neighborhoods in South Baltimore. And we really felt like we were very black. We acted black and we spoke black. When I was a kid growing up, where I came from, it was hip to be black. To be white was kind of square. - Author: Jerry Leiber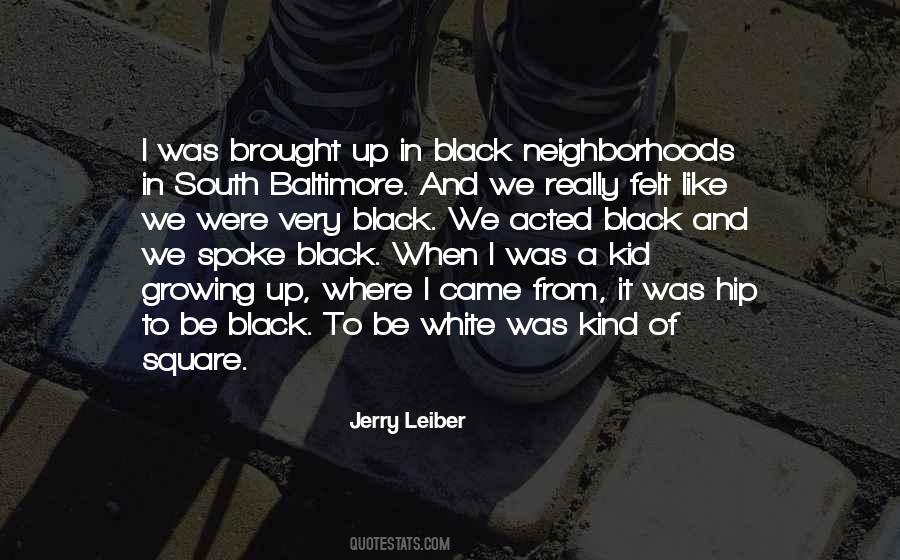 #43. I was just a kid growing up in Jamaica with dreams, and I want people to know that it's possible to dream bigger and accomplish those dreams. - Author: Kamilah Taylor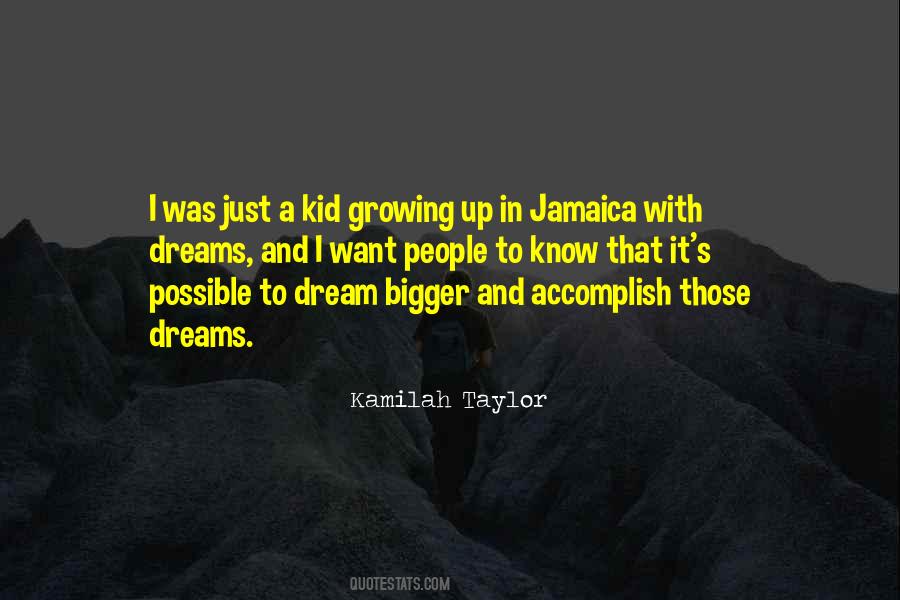 #44. I was looking for a last name that was a first name. Growing up, I knew a kid who was the most obnoxious kid I ever knew, and his last name was Herman. - Author: Paul Reubens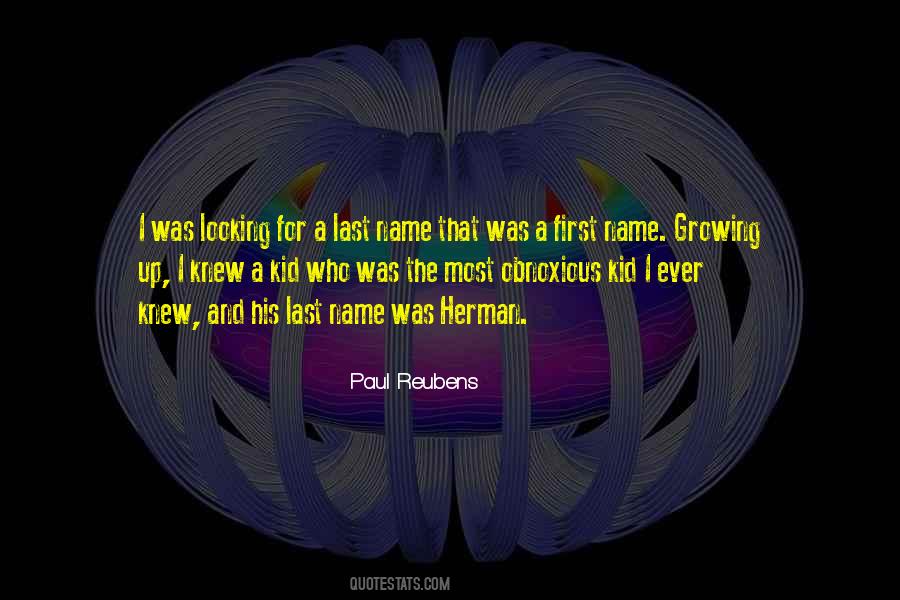 #45. I was always the frugal kid growing up because I was saving for college. Or I was always that kid that was like, 'I'm going to save my babysitting money so I can eat an expensive dinner when I go to Europe.' - Author: Shailene Woodley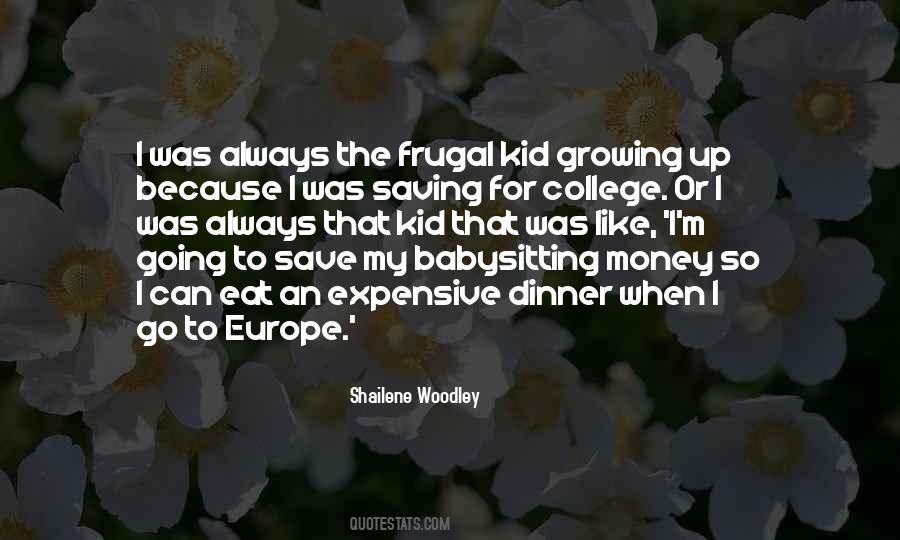 #46. 'Rugrats' was my favorite cartoon growing up as a kid. - Author: Michael Angarano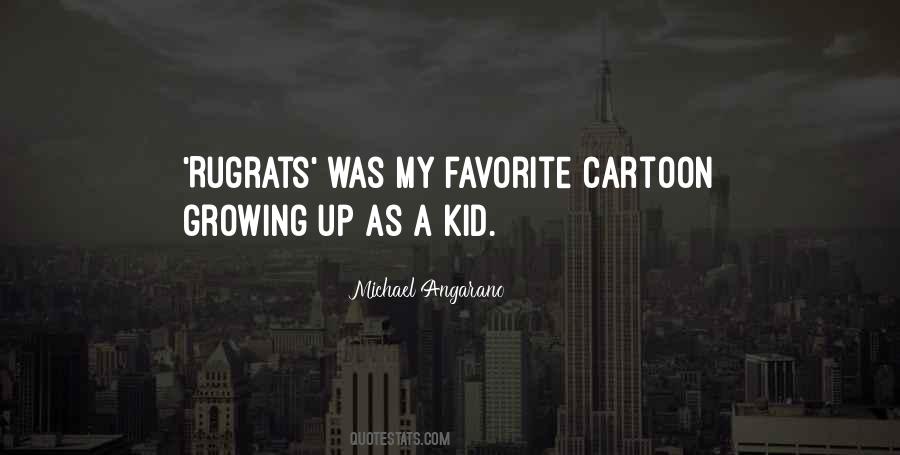 #47. When I was a kid growing up, there might be 10 shows on the air that had been on for ten seasons or eleven seasons. 'Gunsmoke' ran for over twenty years. - Author: Rocky Carroll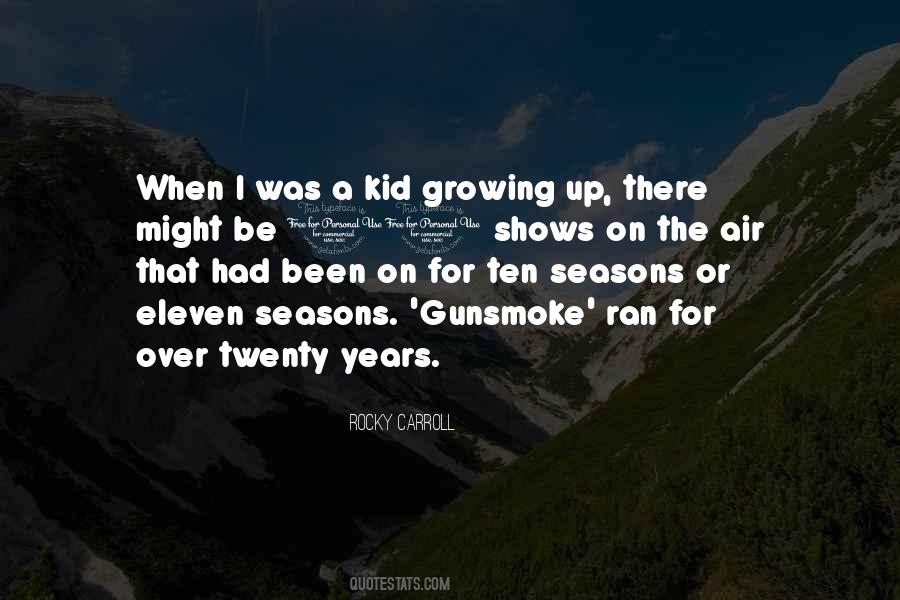 #48. I slept fourteen feet from a polka tavern as a kid growing up. I heard polkas all night long, people singing and drinking beers and having a great time. I know more polkas than Frankie Yancovic! - Author: Al Jarreau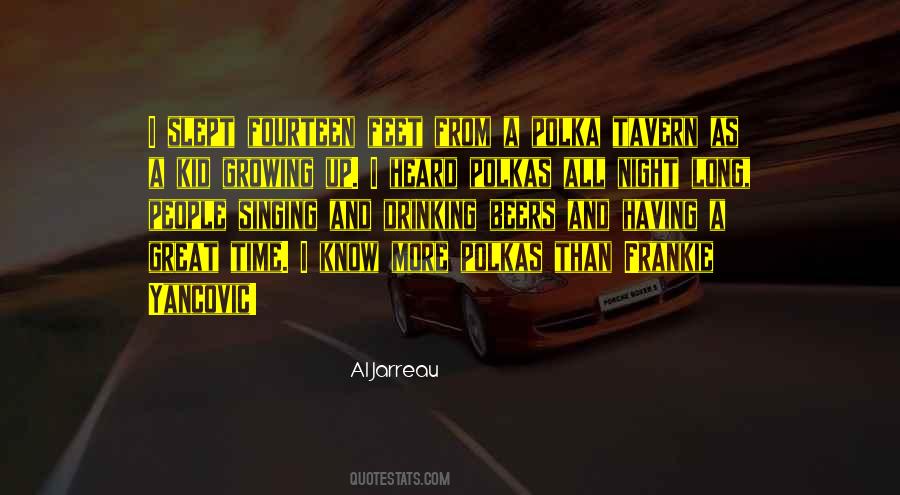 #49. Being a kid growing up with Kurosawa films and watching Sergio Leone movies just made me love what it could do to you, and how it could influence you - make you dream. - Author: Antoine Fuqua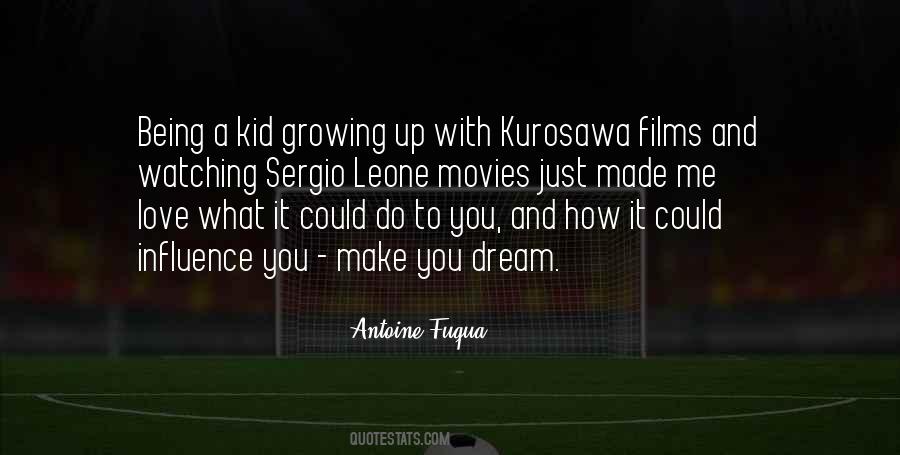 #50. Growing up, I was a kid pretending to be an adult. - Author: Guy Pearce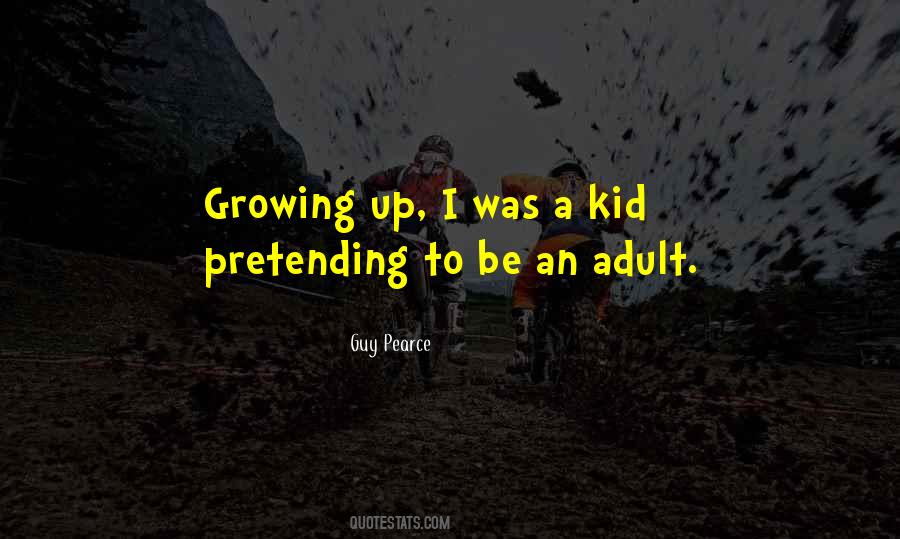 #51. When I was a kid growing up in Cleveland, I believed - completely, wholeheartedly, without reservation or pause - that the Cleveland Indians were named to honor a Native American ballplayer named Louis Sockalexis, who played for Cleveland in the late 19th Century. - Author: Joe Posnanski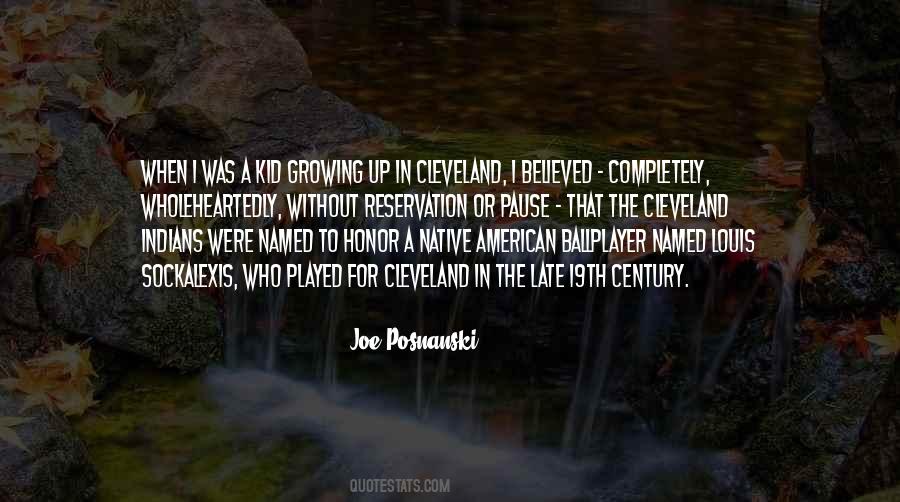 #52. Being a kid has always been about being watched. - Author: Lauren McLaughlin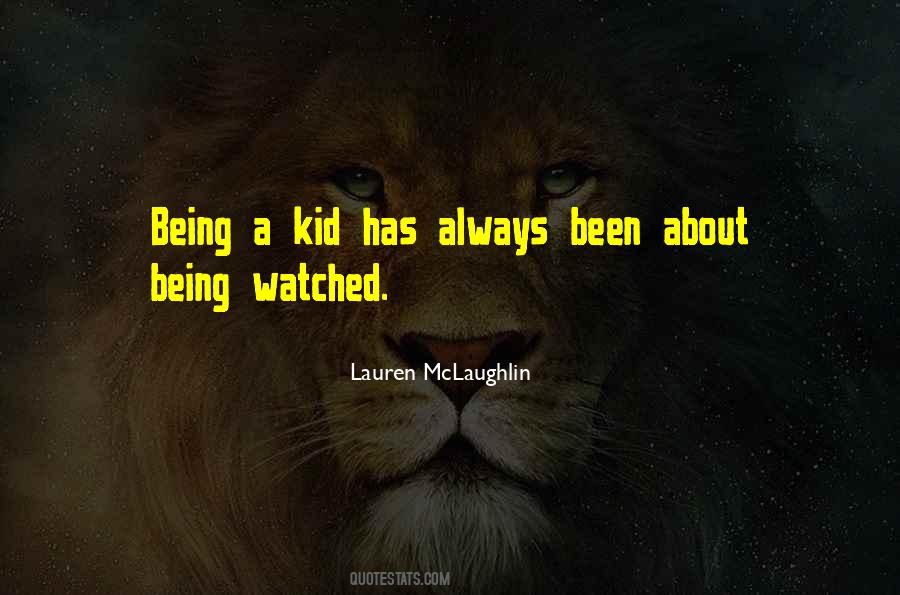 #53. I've always felt this, from when I was growing up to now with my son Riley. We don't let them be little. I was not a normal kid, but I had a sense of innocence far longer than we let kids. - Author: Melissa Peterman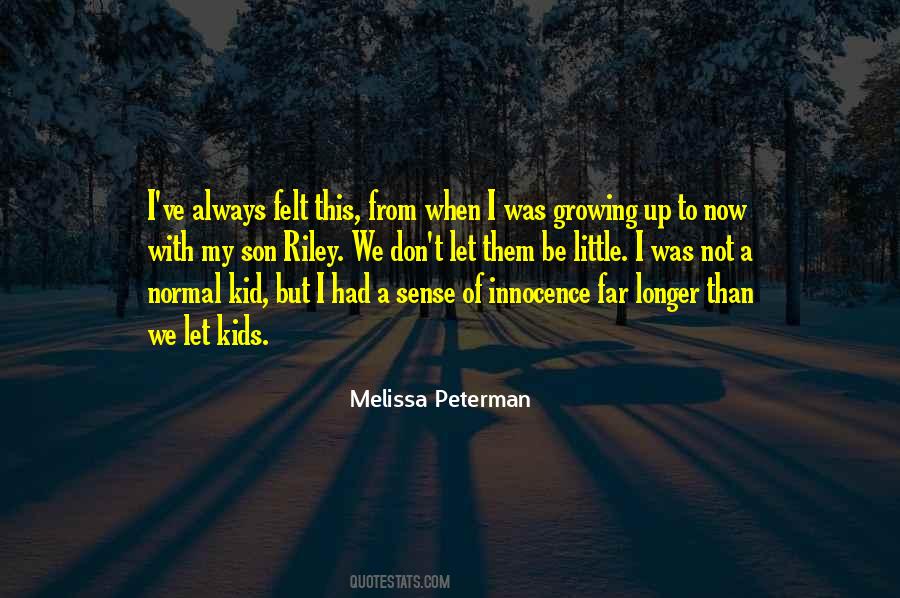 #54. When I was a little kid growing up in Iceland, I always dreamed about creating something that could have an impact on the whole world, and even as a young boy I was passionate about fitness and sports. - Author: Magnus Scheving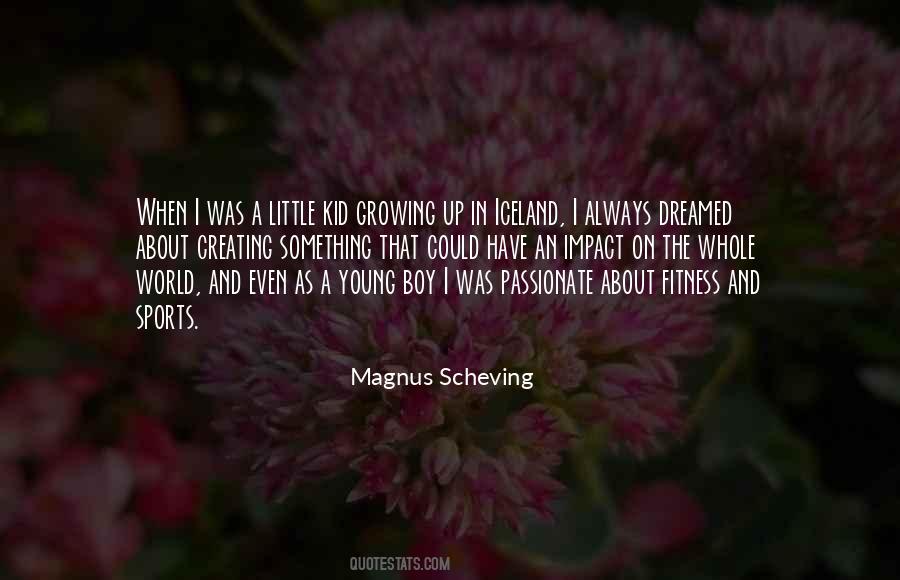 #55. I was always a big kid and I'm okay with that, but I know that it would have been better growing up if I had seen role models who had figures like me, beauty comes in all different packages. - Author: Mia Tyler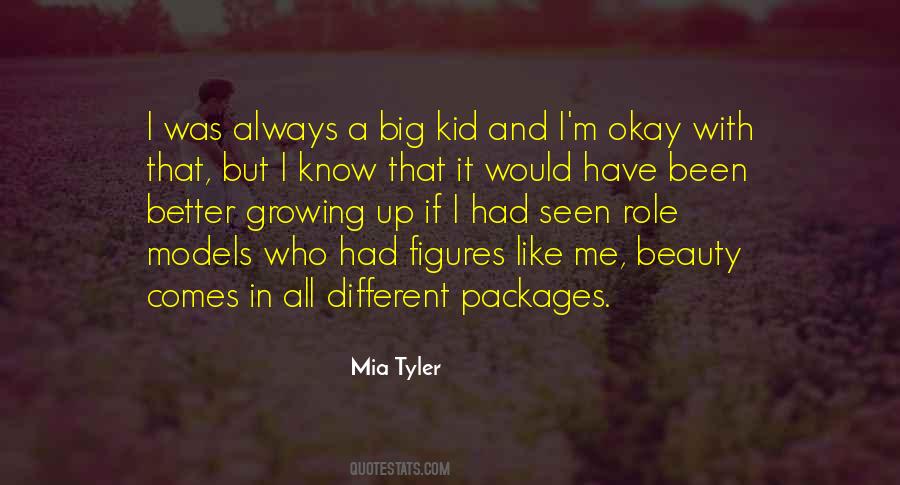 #56. I was the kid growing up who would play with G.I. Joes in a pink dress and then run off to play with my Barbies. It doesn't mean that I'm less girly, it just means that I have this other side of me. It's kinda cool to be a little bit of both, I think. - Author: Adrianne Palicki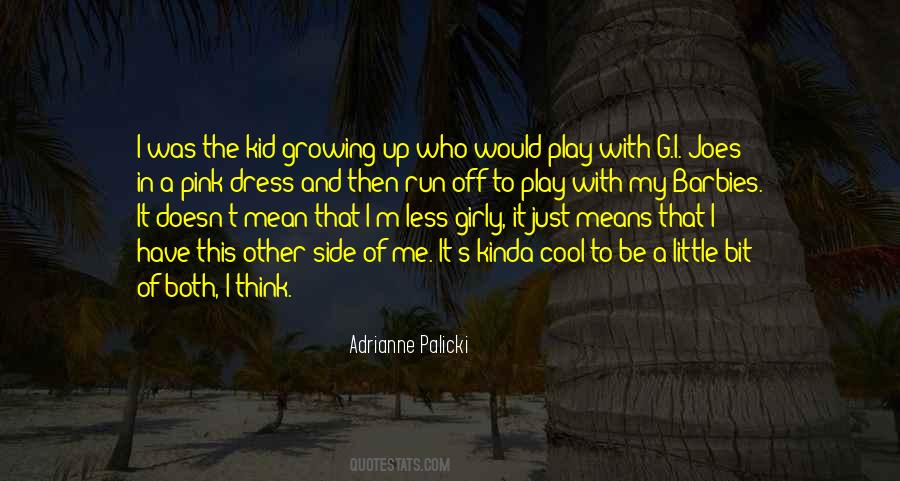 #57. I grew up in a semi-attached row house in Queens in New York. And my family and my grandparents and my father's from Brooklyn, and so you're essentially an outer boroughs kid, you're growing up. - Author: James Gray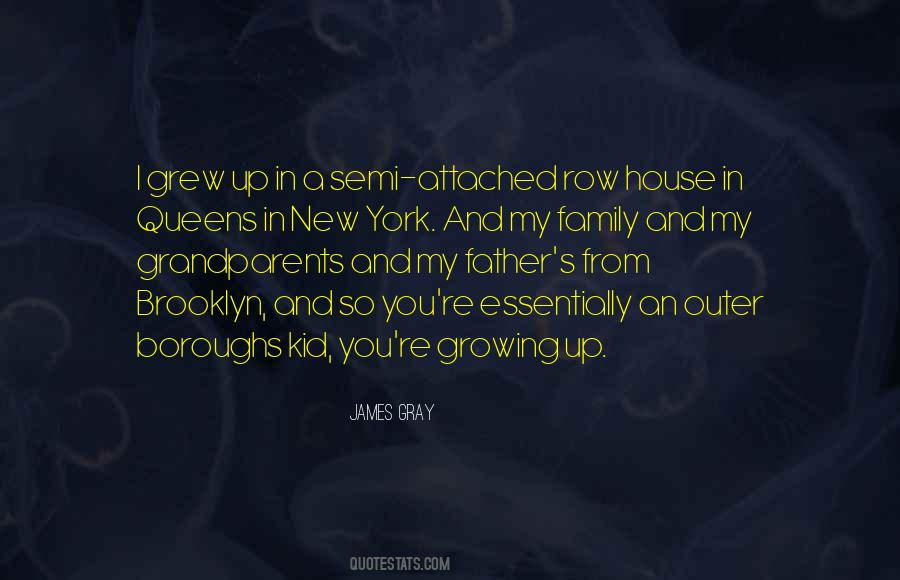 #58. I love 'The Stand;' I read it when I was a kid - it was one of my favorite books when I was growing up. I love Stephen King; I think he's a remarkable writer. - Author: David Yates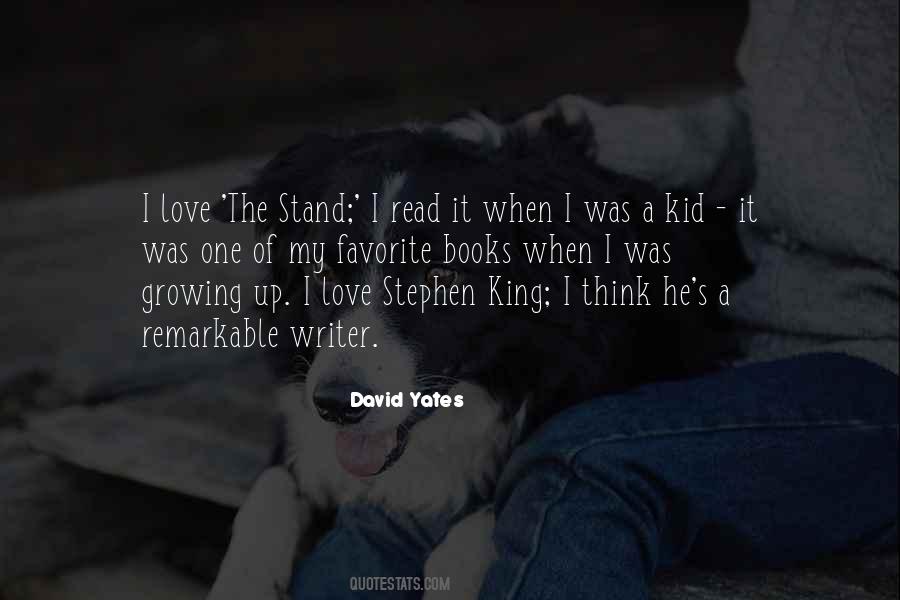 #59. I'm not really big on video games at all, I played a lot at the arcade as a kid. I didn't have a system growing up at my house. - Author: Kyp Malone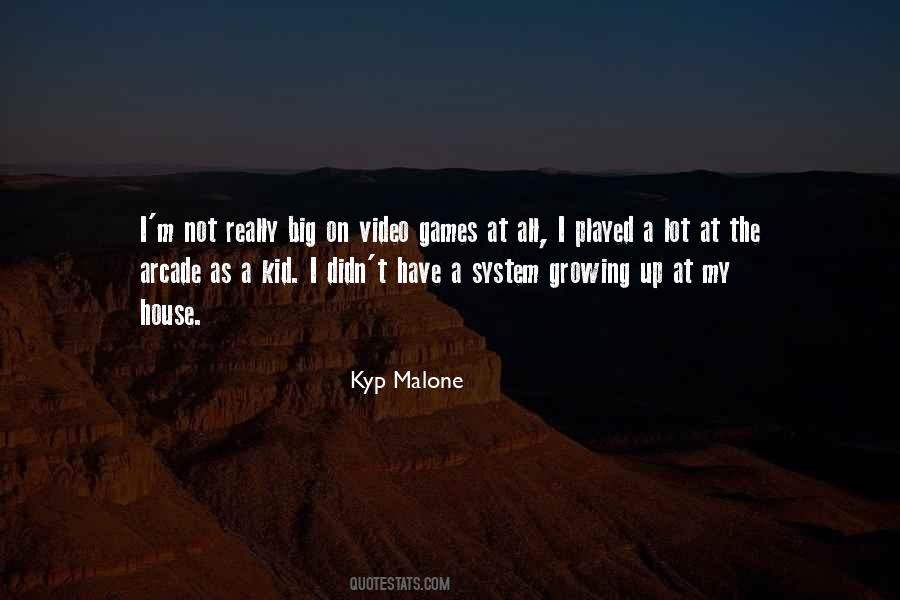 #60. When I was a kid a growing up in Ontario, Canada, Lake Erie was so polluted, I never thought it would ever, EVER be turned around where they could start cleaning it out in my lifetime! - Author: Rick Danko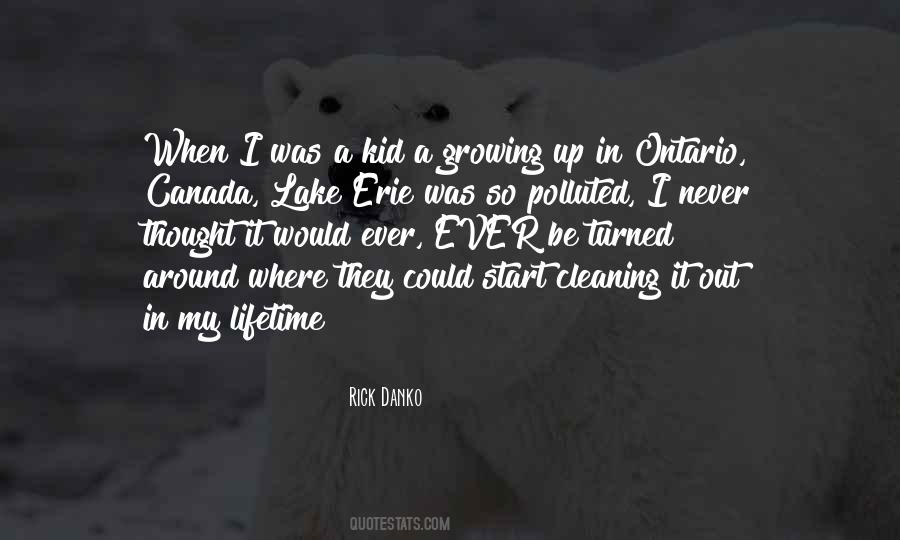 #61. I do agree to a certain extent that it is unfortunate that I have to be a little more aware of being a kid and growing up and figuring out who I am, but at the same time, it's part of what I love. - Author: Selena Gomez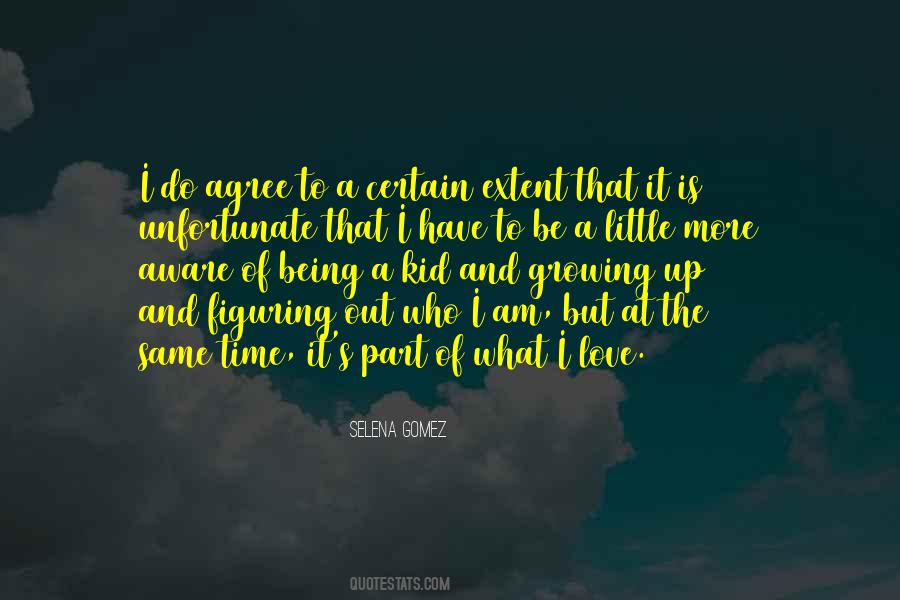 #62. Growing up in Australia, you never feel like you're going to live beyond that place. You wake up and you go to the beach, and you do your homework. You're just a kid. - Author: Heath Ledger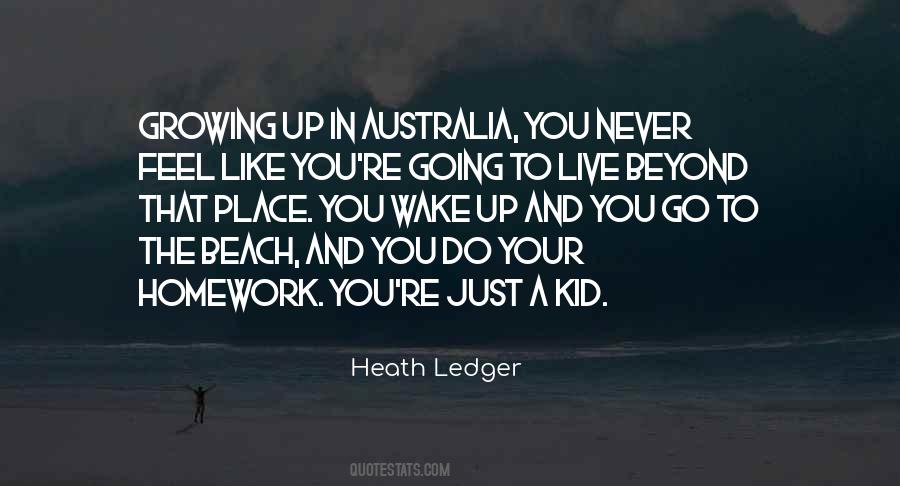 #63. I knew what the Dodgers uniform represented as a kid growing up in Brooklyn. - Author: Joe Torre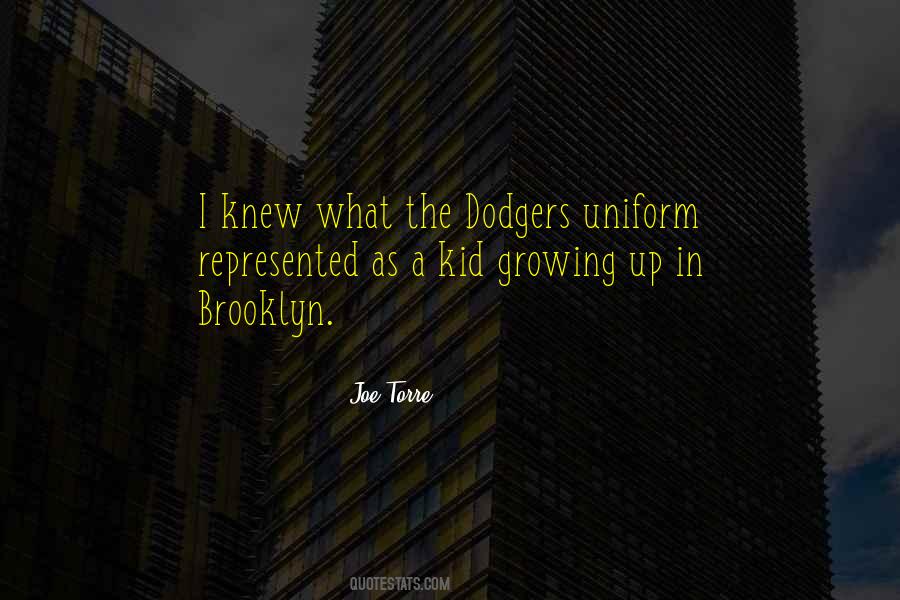 #64. I learned English at school, or at least that's how it started. Also, in Holland - as opposed to some other European countries - we don't dub anything, so as a kid growing up, always watching English and American movies in their original language really helped. - Author: Michiel Huisman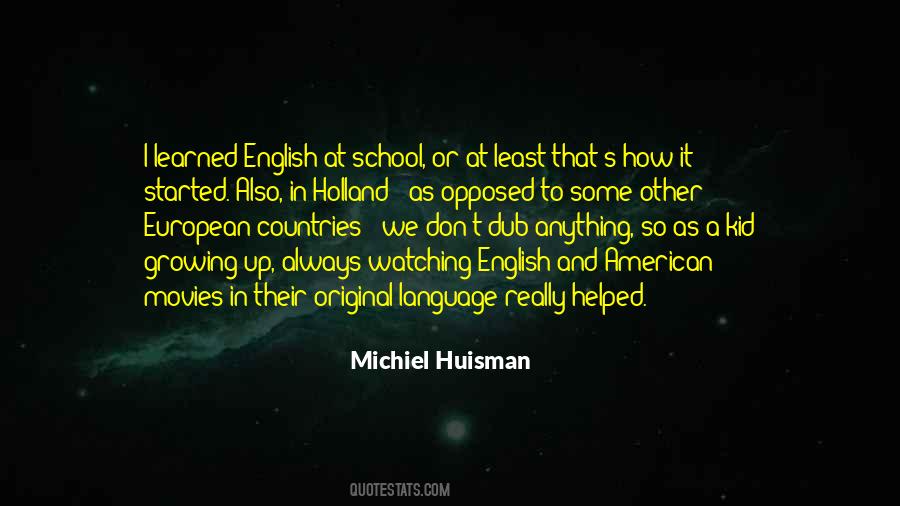 #65. I watched a ton of cartoons growing up, but I don't remember specifically what networks they were on, I'll be honest. But I did like cartoons as a kid. - Author: Maulik Pancholy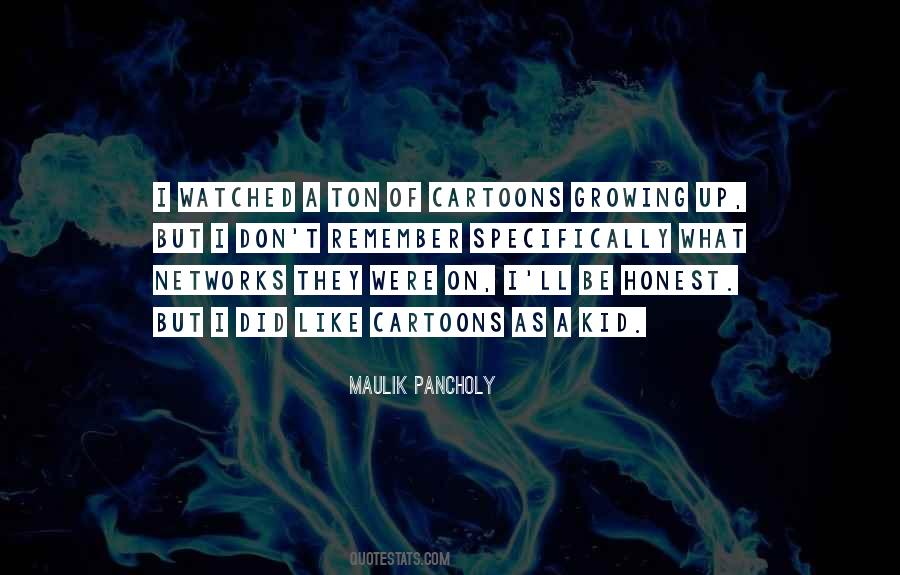 #66. Vancouver is home. I spent a huge amount of time here as a kid growing up with my mom, with my grandparents who lived here. - Author: Justin Trudeau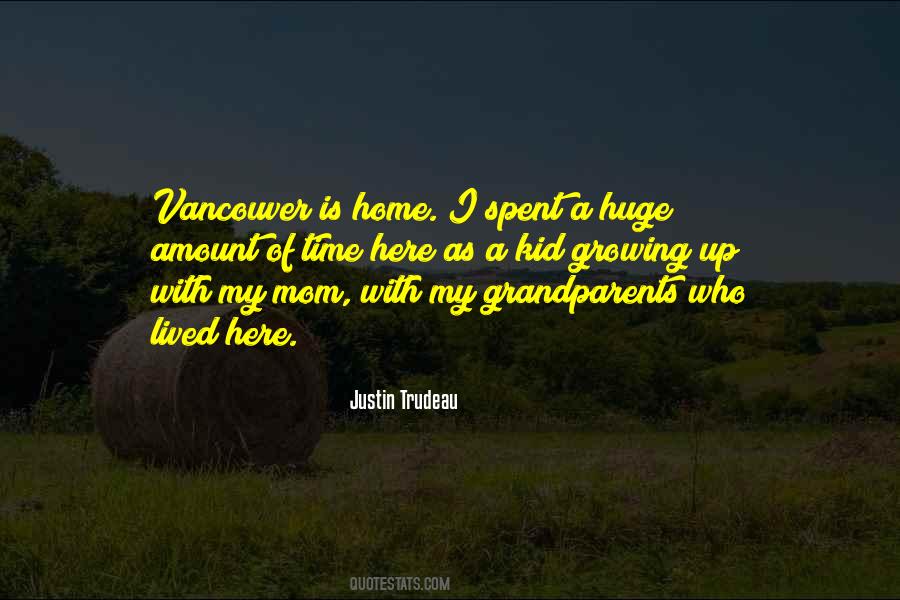 #67. I think I felt like a regular kid. Growing up in New York, I never felt I was a big deal. - Author: Katharine Weymouth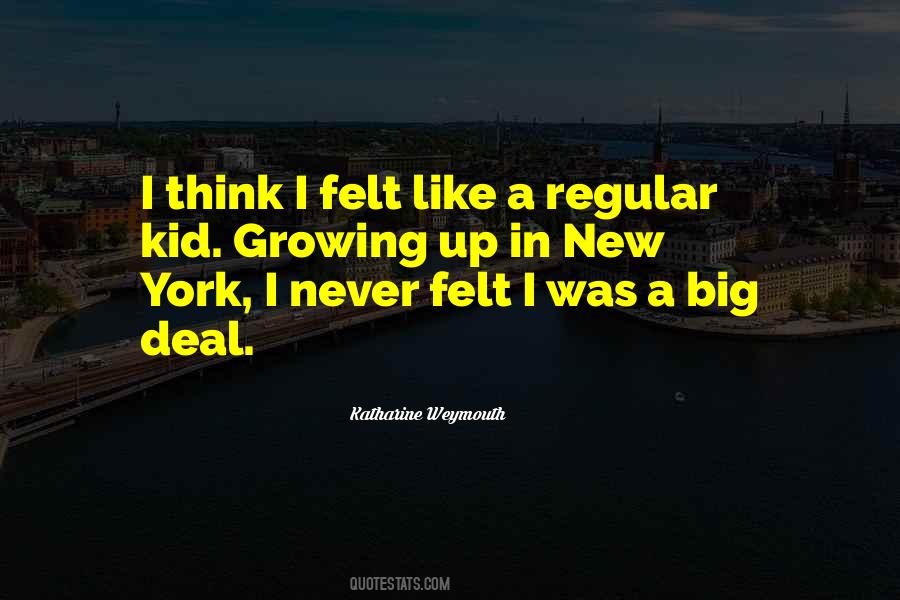 #68. No one ever asks a kid for her opinion, but it seems to me that growing up means you stop hoping for the best, and start expecting the worst. - Author: Jodi Picoult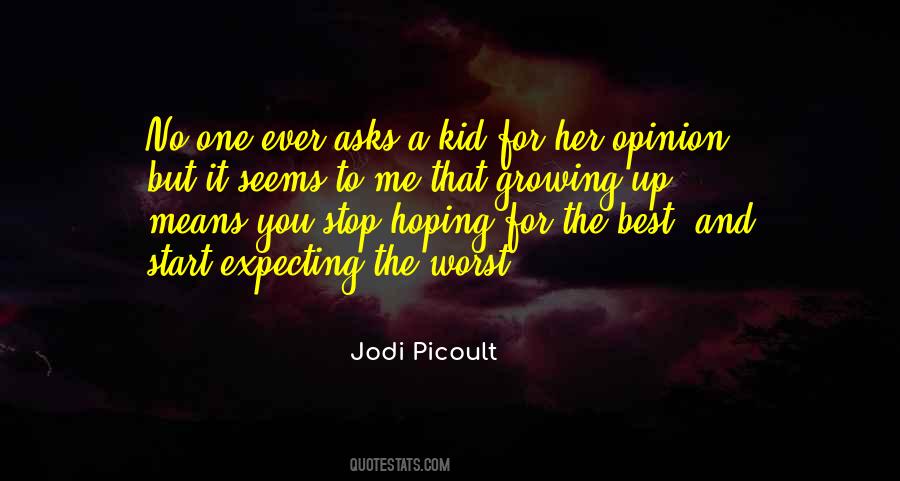 #69. I don't understand anyone thinking I'm sexy at all. I don't get it because, growing up as a kid, I wasn't. I was like a dork, fat, so for me it's really weird. I became famous in Australia when I was 18, and I was still a little bit chubby. - Author: Sophie Monk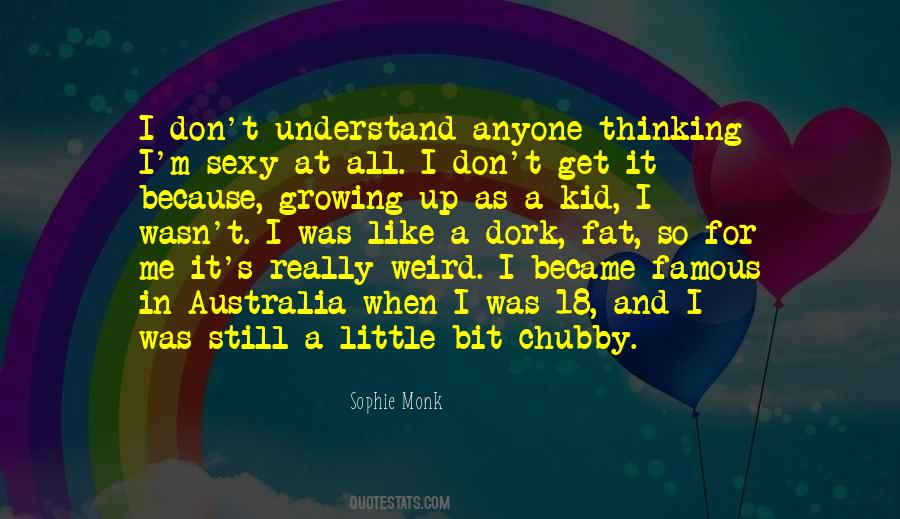 #70. The thing that I loved about growing up Mormon is that I had morals and standards instilled in me as a kid - like, you need to be a nice person, and a thoughtful person, and if anybody is trying to dog that, then I think that's rude. - Author: Julianne Hough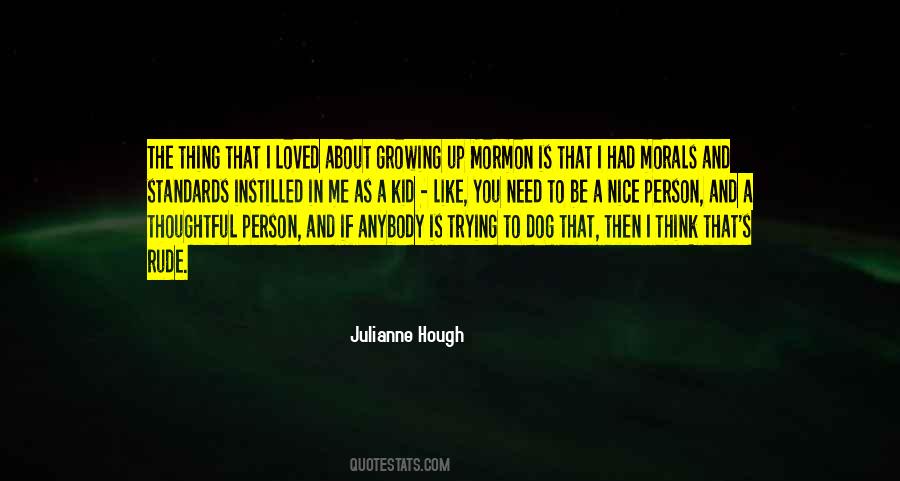 #71. I have a complicated relationship with the horror genre. I love it; I loved it as a kid growing up, and I watched Chiller Theater in New York. So I loved it, but then you do feel if you do it too much, you're stuck there. - Author: Zach Galligan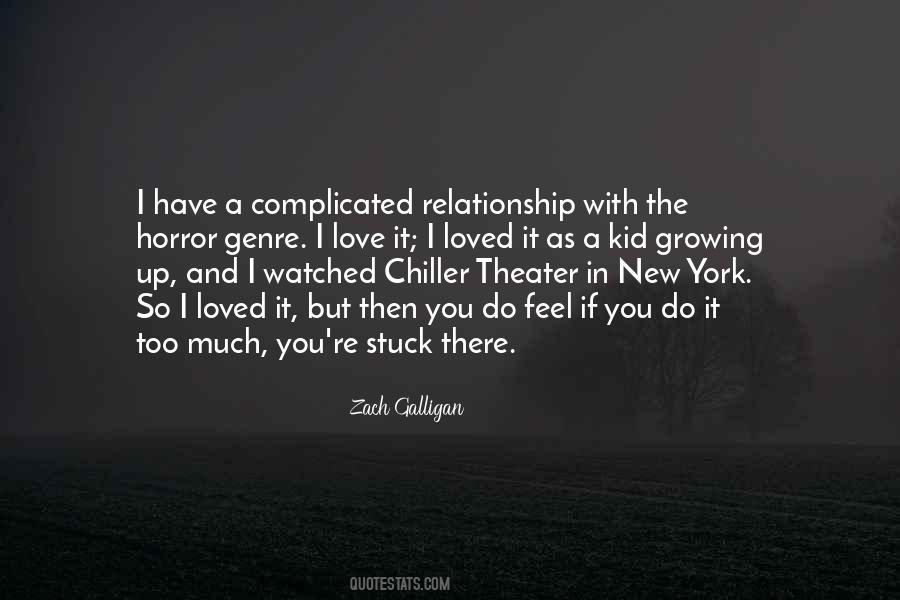 #72. Being a kid and growing up is such a cool part of life. - Author: Devon Werkheiser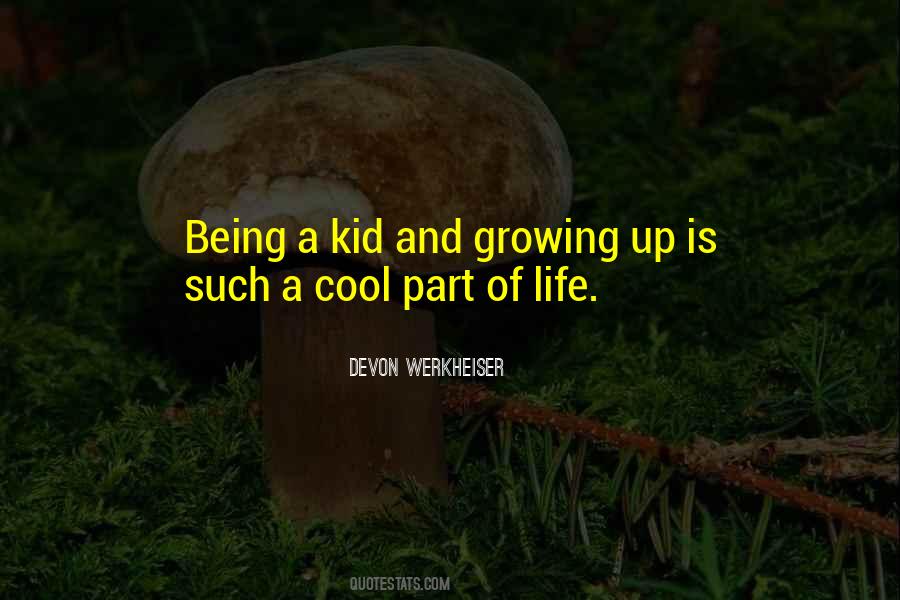 #73. Every little kid wants to grow up to be a cowboy, and I did. - Author: Lee Iacocca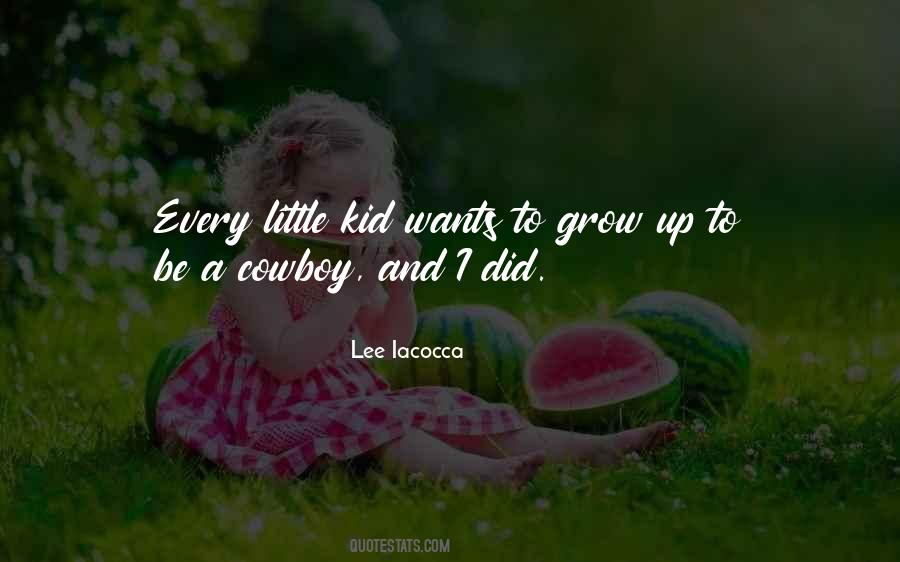 #74. You learn, finally, that you'll die, and so you try to hang on to your own life, that gentle, naive kid you used to be, but then after a while the sentiment takes over, and the sadness, because you know for a fact that you can't ever bring any of it back again. You just can't. - Author: Tim O'Brien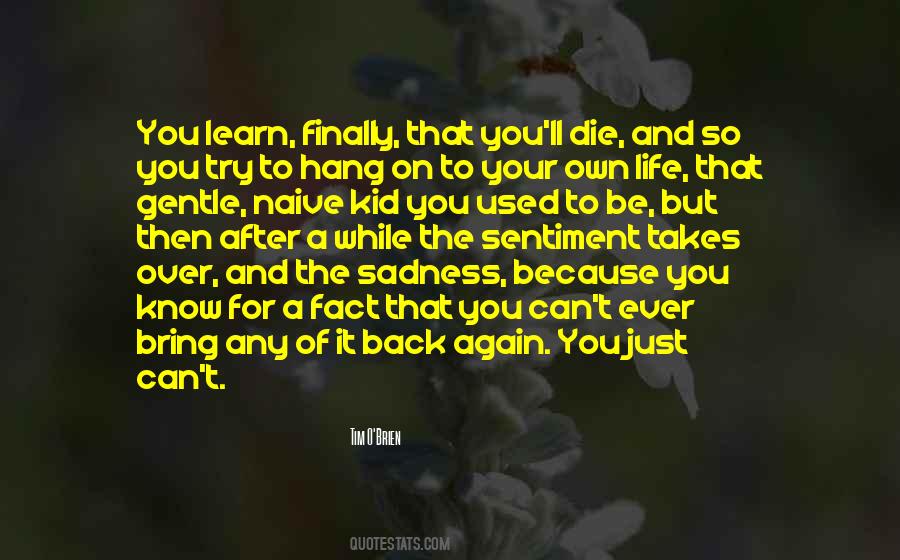 #75. Look, we ought to do this for our kids ... We ought to have a high school so that every kid who grows up here - they're all our kids - gets a good high school education. - Author: Robert D. Putnam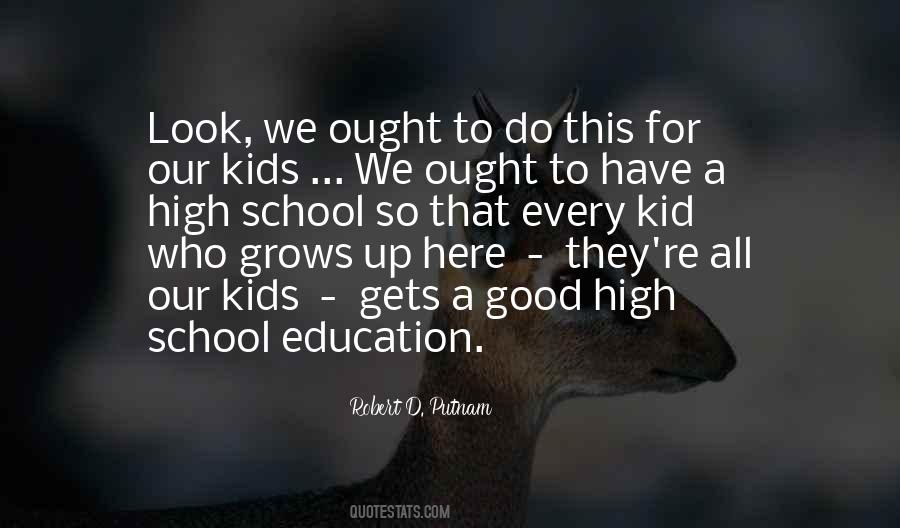 #76. I was never a kind of superhero fan much growing up, I'm not a kind of comic book kid. - Author: Joe Wright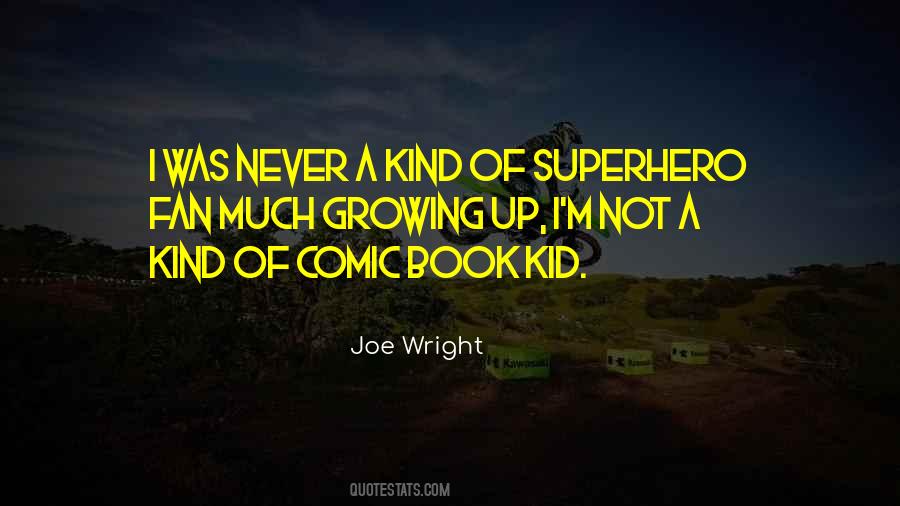 #77. When I was growing up, I didn't do plays in downtown Boston, and my parents weren't putting me in auditions. They never thought, Oh, she has a gift! They never thought of me as an entertainer when I was a young kid. - Author: Mindy Kaling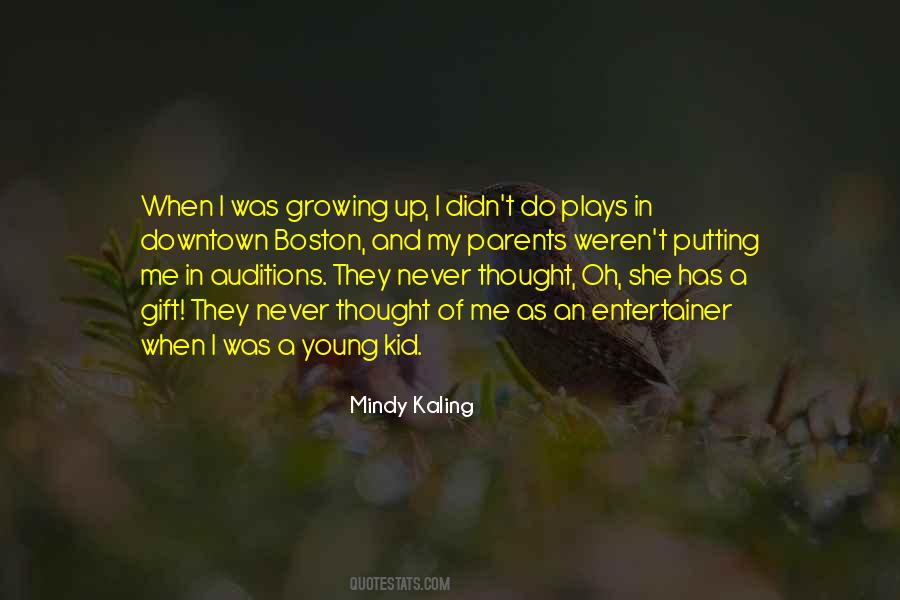 #78. I was a Depression kid, growing up in Oklahoma. - Author: James Garner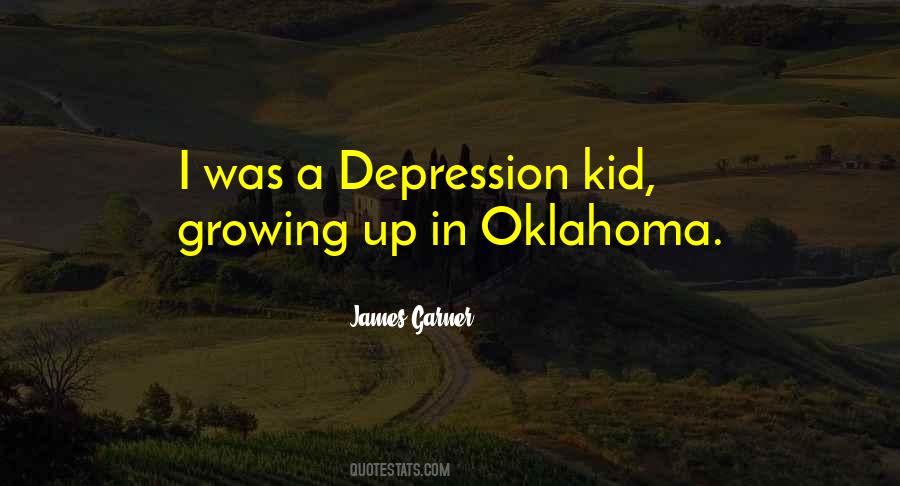 #79. I've always been an outsider kid. But I had always wanted to be in a group - growing up, I loved bands like the Cranberries and K's Choice. - Author: Dawn Angelique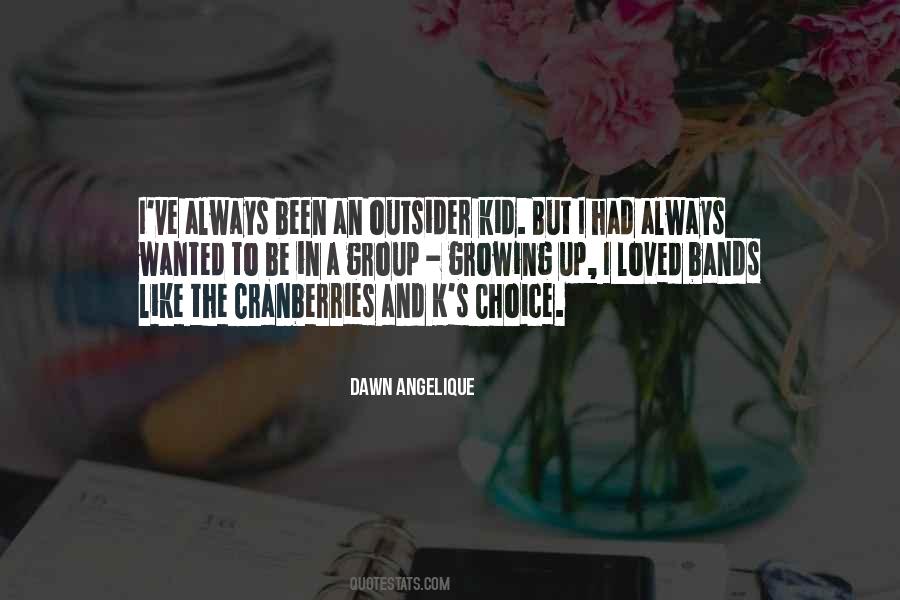 #80. Growing up, my parents did everything they knew how to do to support me. My dad was always kinda my roadie; he drove me from gig to gig. But I got my own gigs. I was this 12-year-old kid, shuffling business cards, calling people, telling them I wanted to play. - Author: Crystal Bowersox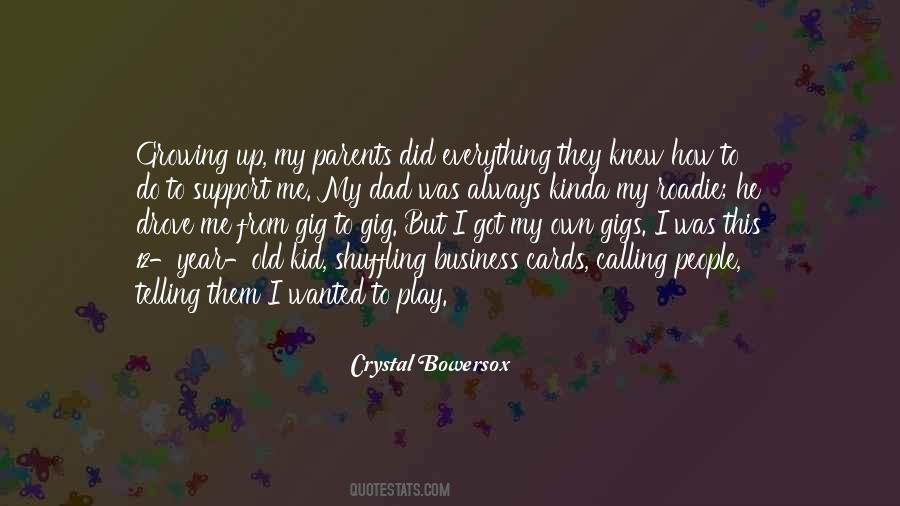 #81. In the '50s, listening to Elvis and others on the radio in Bombay - it didn't feel alien. Noises made by a truck driver from Tupelo, Mississippi, seemed relevant to a middle-class kid growing up on the other side of the world. That has always fascinated me. - Author: Salman Rushdie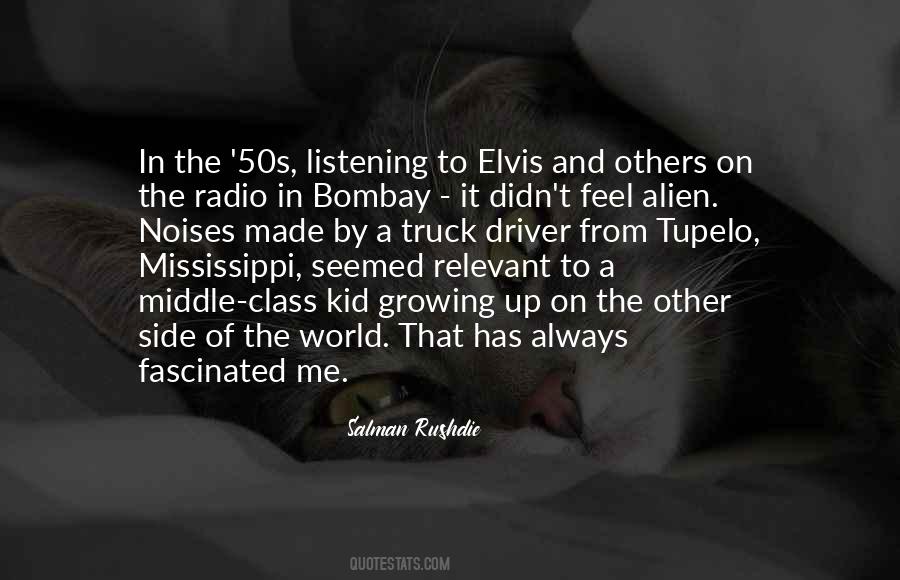 #82. I have an unusual hobby: I collect pictures of people I don't know. It started when I was a kid growing up in South Florida, the land of junk stores, garage sales, and flea markets, as a kind of coping mechanism. - Author: Ransom Riggs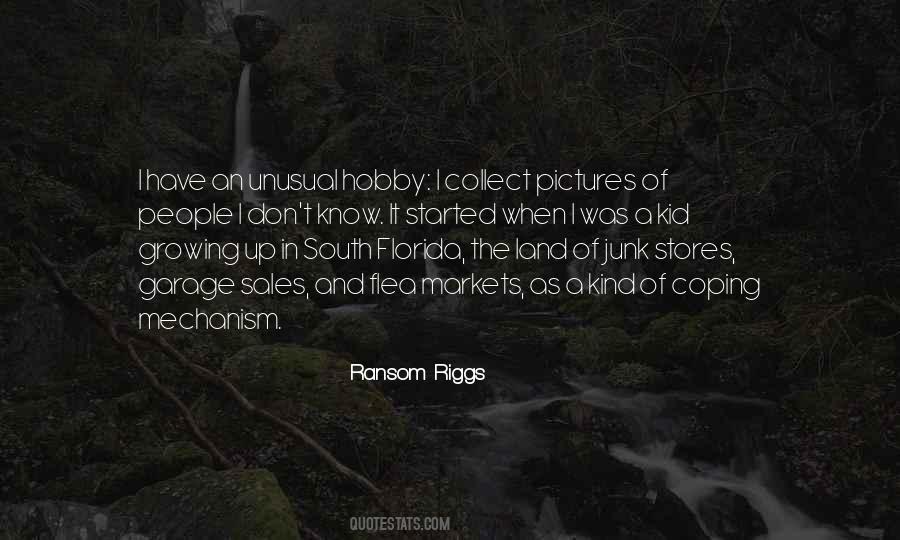 #83. I played soccer all my life and I used to think growing up that they put the fat kid in goal or they put the kid that wasn't good with the ball at their feet in goal and I never wanted to do goalkeeper, I was always the goal scorer. - Author: Hope Solo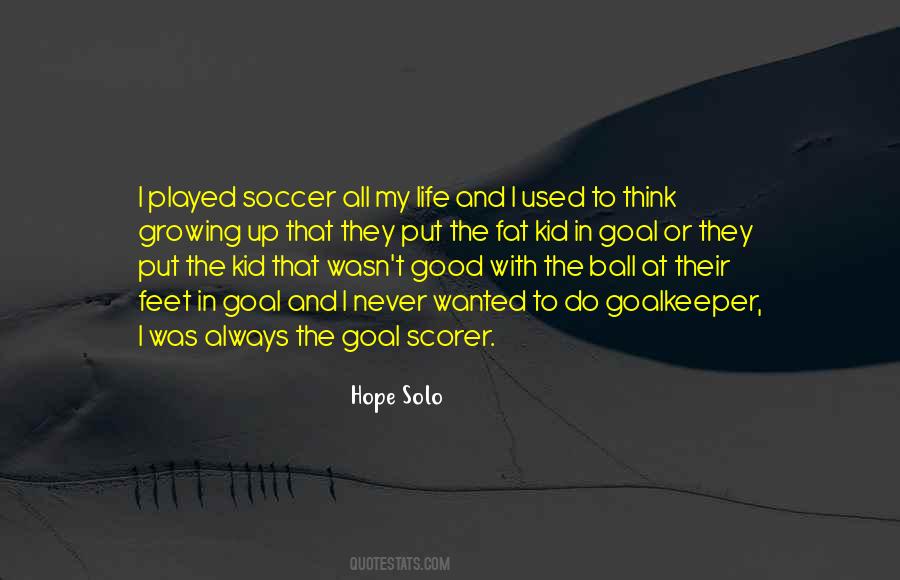 #84. When you're a kid growing up, you say you want to make it to the Major Leagues, and when you reach that dream, that's what it's all about. - Author: Joe Morgan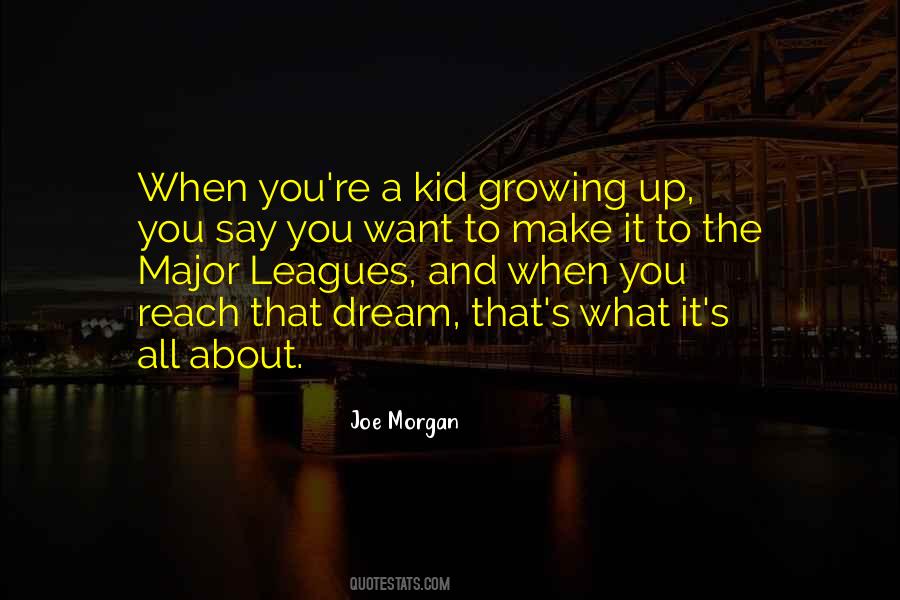 #85. Basically, growing up, and being a teenage kid, I've always been interested in charity. And one of the benefits of being on a TV show and having a fan base, you kind of have the power to spread news around. - Author: Gregg Sulkin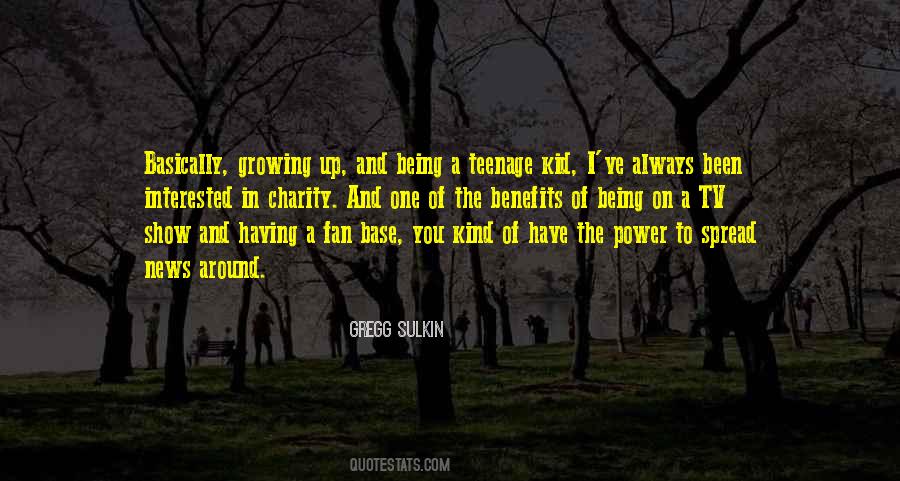 #86. I wasn't a kid growing up thinking, 'One day I'll get an Oscar and make a speech.' That wasn't on my mind. - Author: Adam Sandler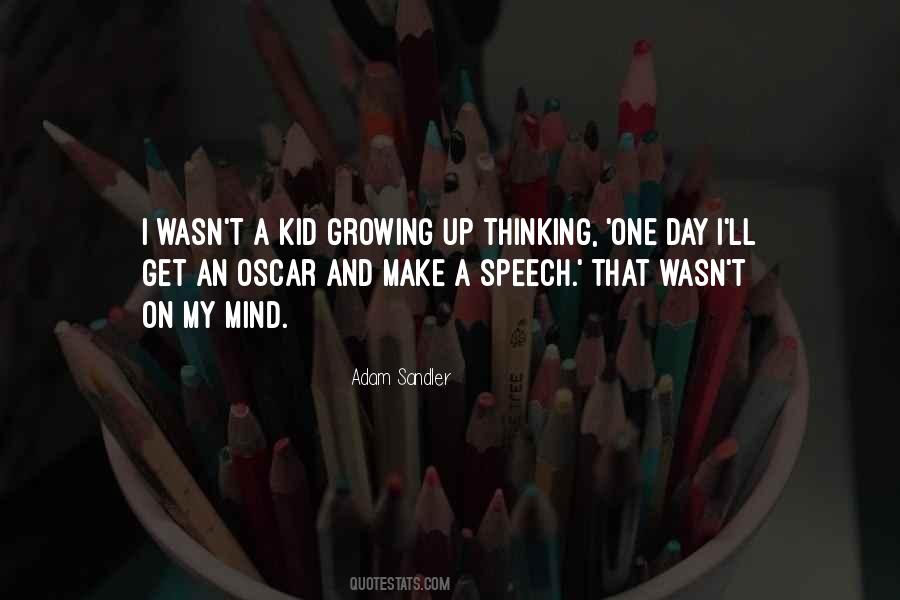 #87. I probably felt most out of place as a young kid growing up in Sri Lanka. My mental world was somewhere else, partly because of reading and daydreaming. - Author: Romesh Gunesekera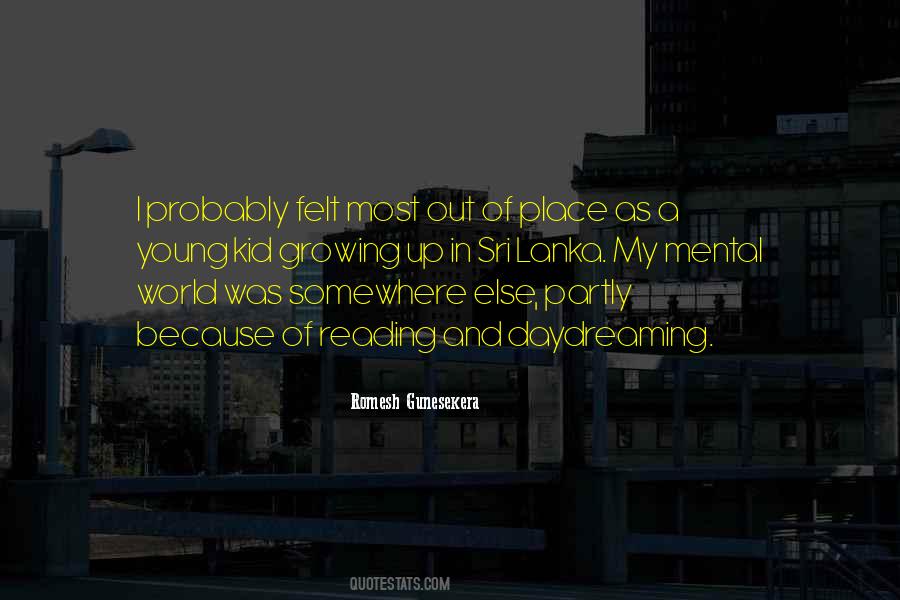 #88. I have such fond memories of watching 'Doctor Who' when I was a kid and growing up, that if I've left anybody anywhere with memories as fond, then I feel like I've done my job. - Author: David Tennant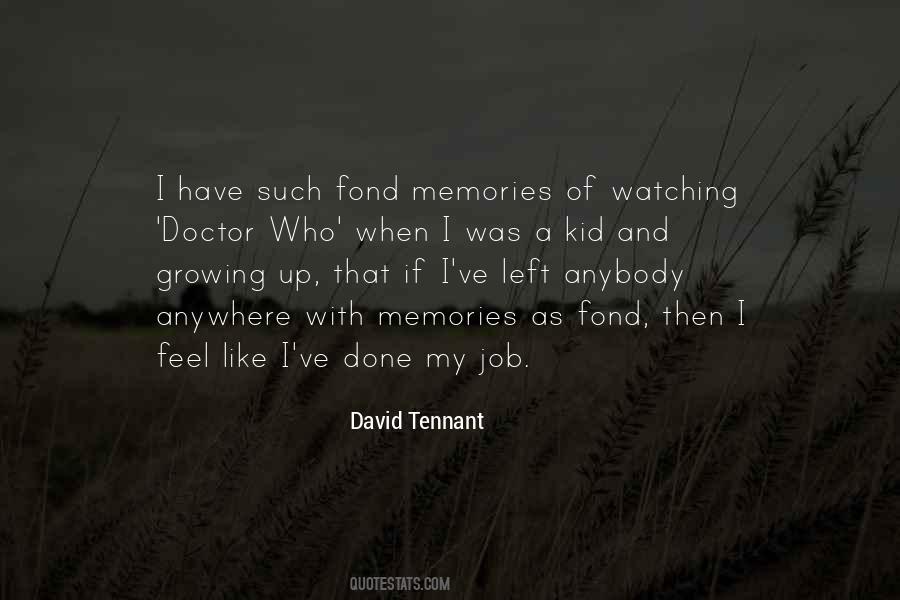 #89. Oh I love horror movies, yeah. I think my favorite movie growing up was 'The Omen.' I actually wanted to be that little kid. - Author: Norman Reedus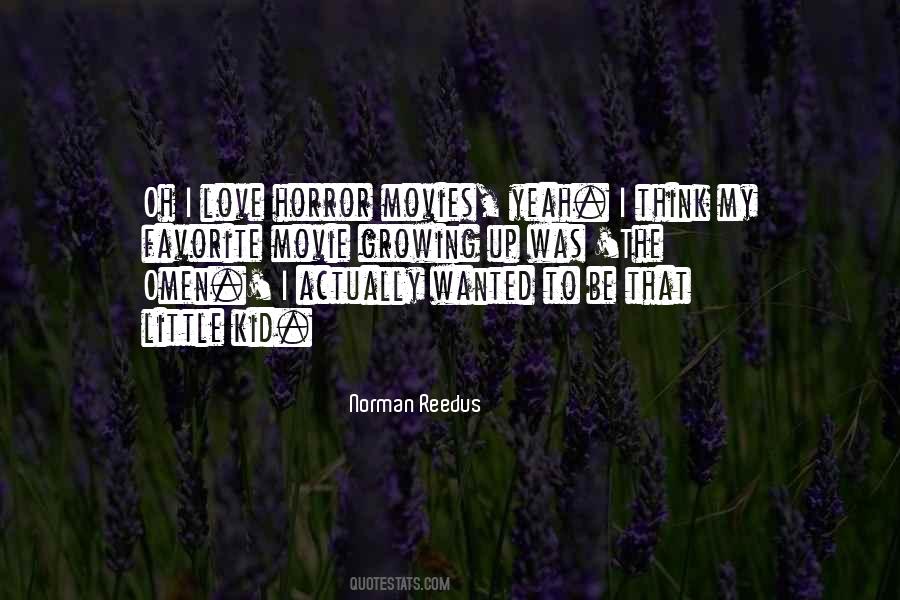 #90. Growing up in Hollywood it seemed like every kid was the child of some star. - Author: Liza Minnelli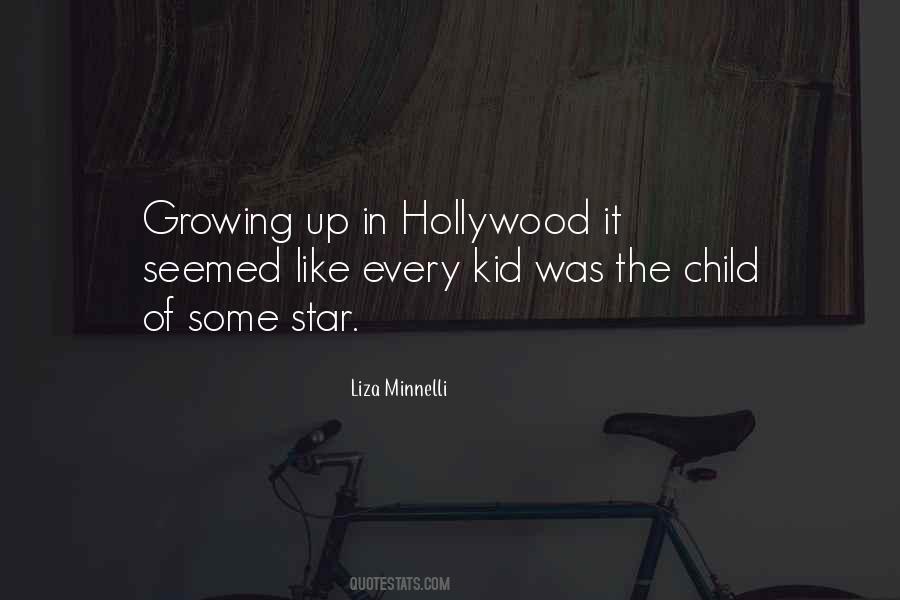 #91. My one complaint with my father as a parent is that, not only was he not a golfer, but also he was sort of opposed to golf. I was a country club kid growing up. I should have played golf, but my father thought golf was a sport for old men. - Author: Mike Greenberg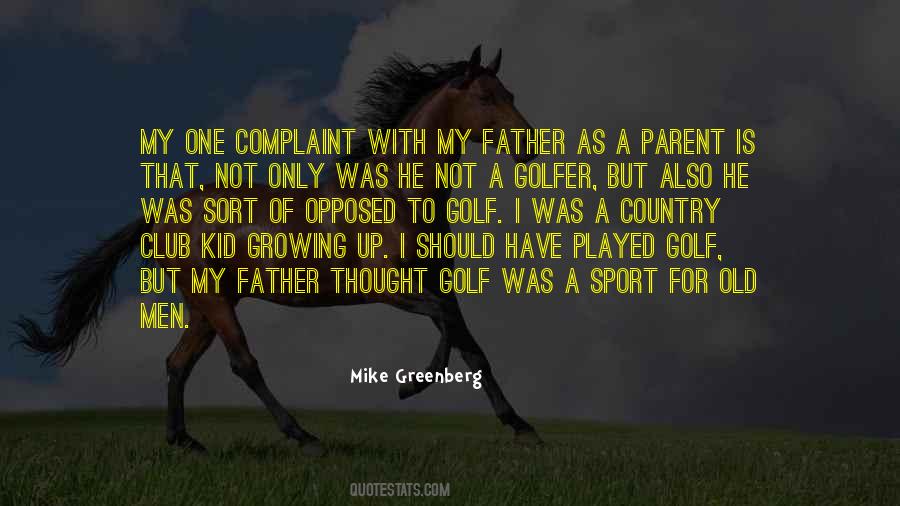 #92. I don't think I ever set my goals that high. As a kid growing up I just wanted an opportunity to race and to be able to make a living doing it. It just came together. - Author: Larry Dixon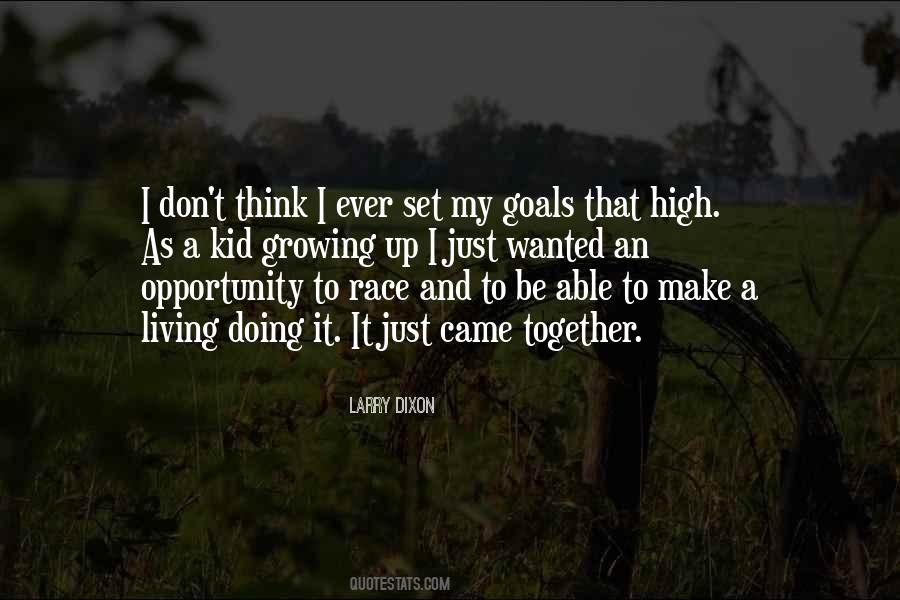 #93. I was born with more power inside myself than I ever dreamed. But along with it there came no more sense than any other idiotic kid. Somewhere along in here I need to grow up into a man I can stand to live with. A man who doesn't just survive, but deserves to. - Author: Orson Scott Card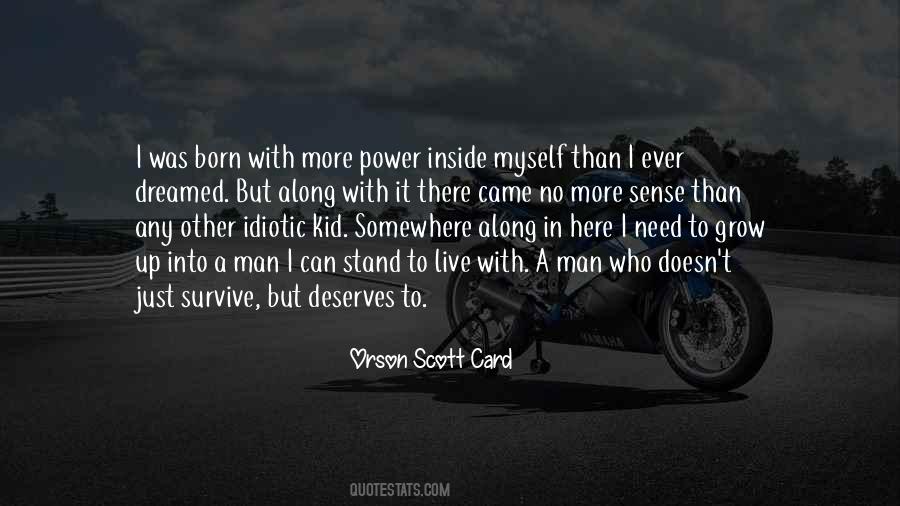 #94. I wasn't aware of Green Arrow as a kid. My thing growing up was wrestling. - Author: Stephen Amell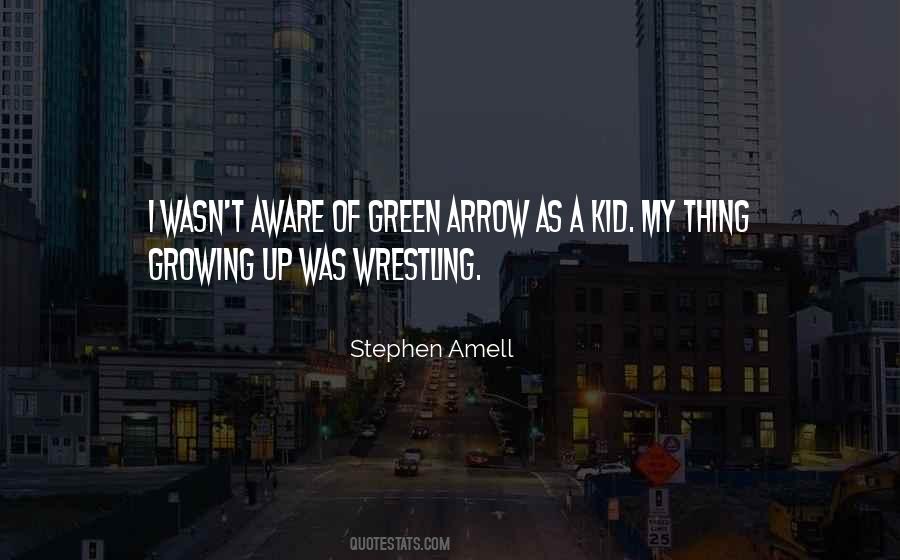 #95. The older I get, the younger I feel. Growing up, I was always the kid, but I spoke like an adult and was in adult roles. I didn't feel like a kid. The older I get, I actually feel younger! Which is good. I always thought when you get older, you'll want to slow down, but I want to do even more. - Author: Brooke Shields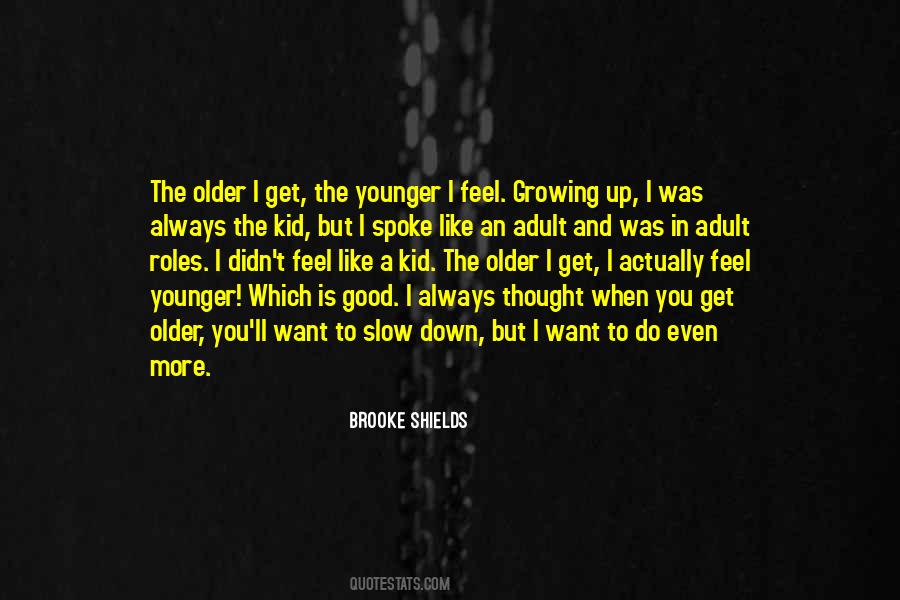 #96. Well I had my kids so young that I kind of feel that I'm a kid too and am growing up with them. The things they're interested in tend to really influence me. - Author: Reese Witherspoon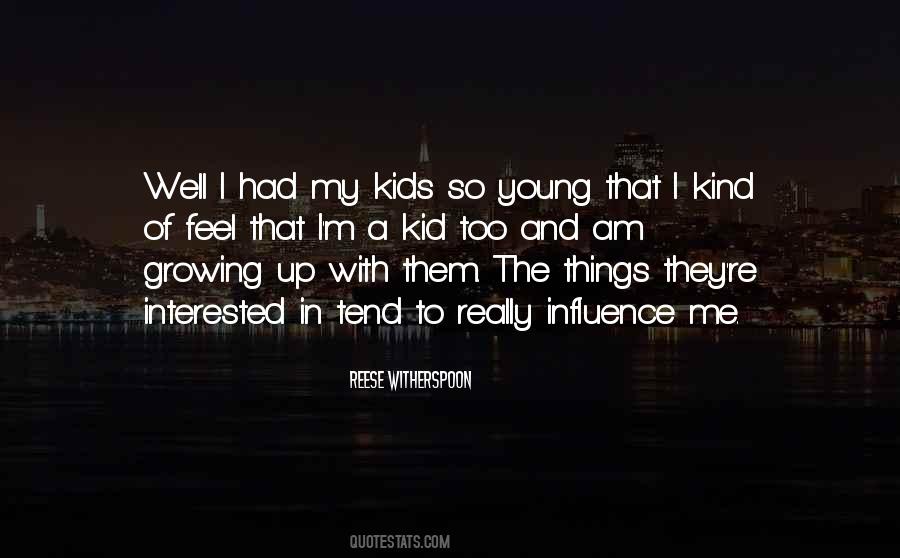 #97. It was a dangerous profession I had chosen ... because no one likes a funny kid. In fact, adults are scared silly of them and tend to warn children who act out that they are going to wind up in prison or worse. It is only when you grow up that they pay you vast sums of money to make them laugh. - Author: Art Buchwald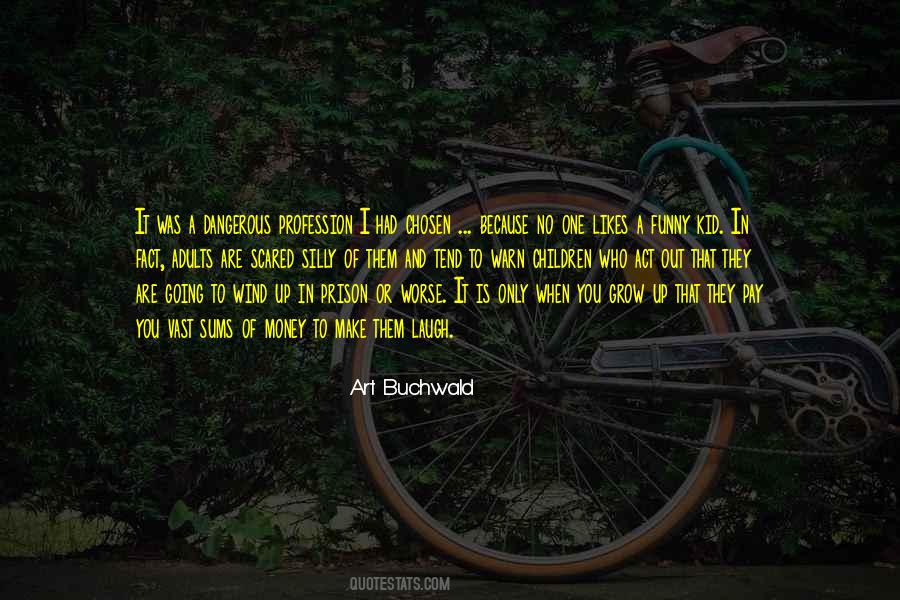 #98. As a kid growing up, I put a lot of pressure on myself. - Author: Jack Reynor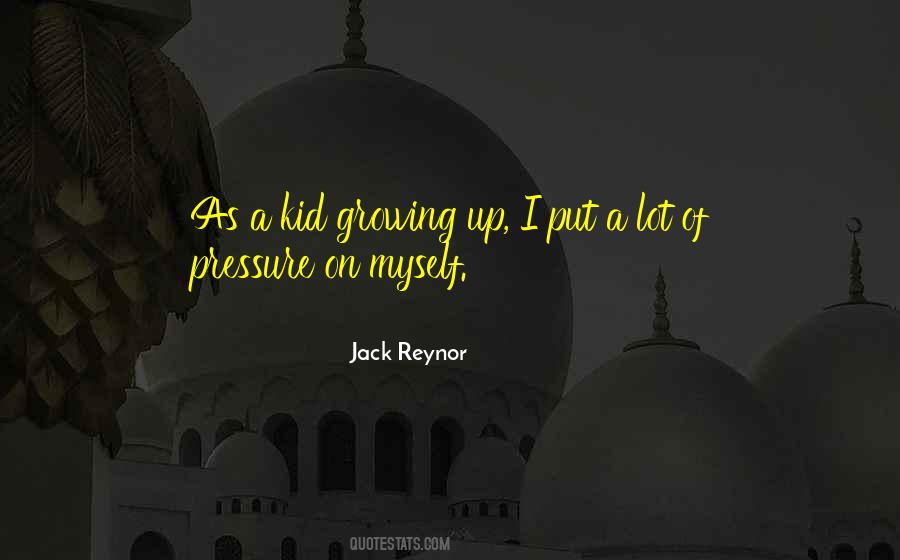 #99. Growing up and being a kid, I knew that creativity was at the heart of what I wanted to do. I always had this feeling of wanting to be a comedian and wanting to be an actor. - Author: Chris Gethard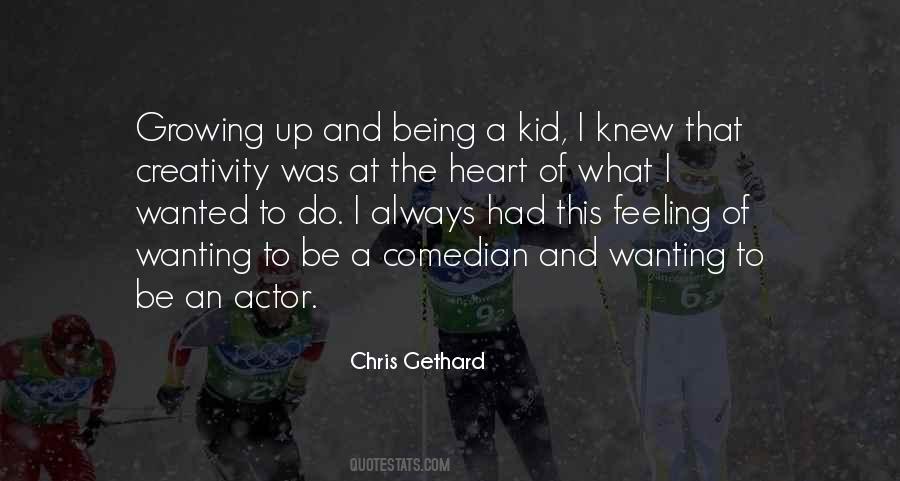 #100. In every language, the first word after "Mama!" that every kid learns to say is "Mine!" A system that doesn't allow ownership, that doesn't allow you to say "Mine!" when you grow up, has - Author: Frank Zappa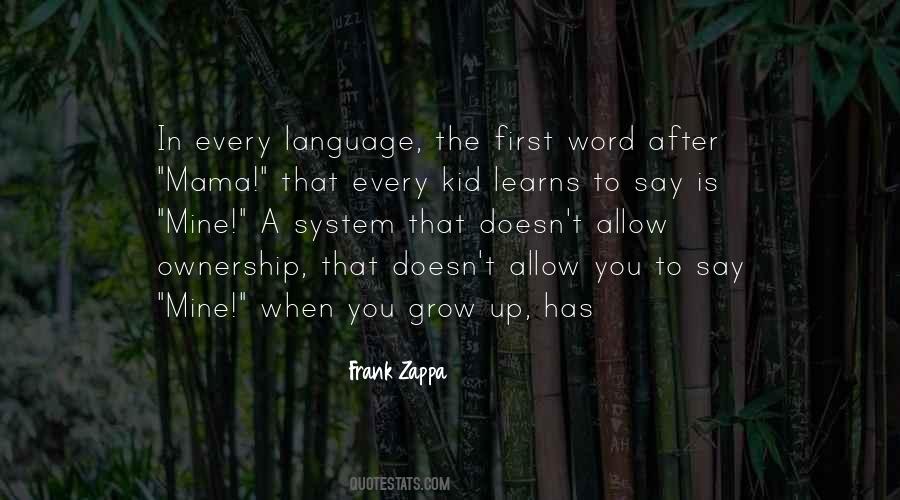 Famous Authors
Popular Topics