Just Being Famous Quotes & Sayings
List of top 100 famous quotes and sayings about just being to read and share with friends on your Facebook, Twitter, blogs.
Top 100 Quotes About Just Being
#1. When I'm feeling sad, or lonely, and I don't know what I'm doing and I don't know where I'm going, I imagine the Cool Awesome Future Version of Myself just telling my present self, "It's okay. You just gotta grab that giraffe by the ears and ride it on out." - Author: Jenna Marbles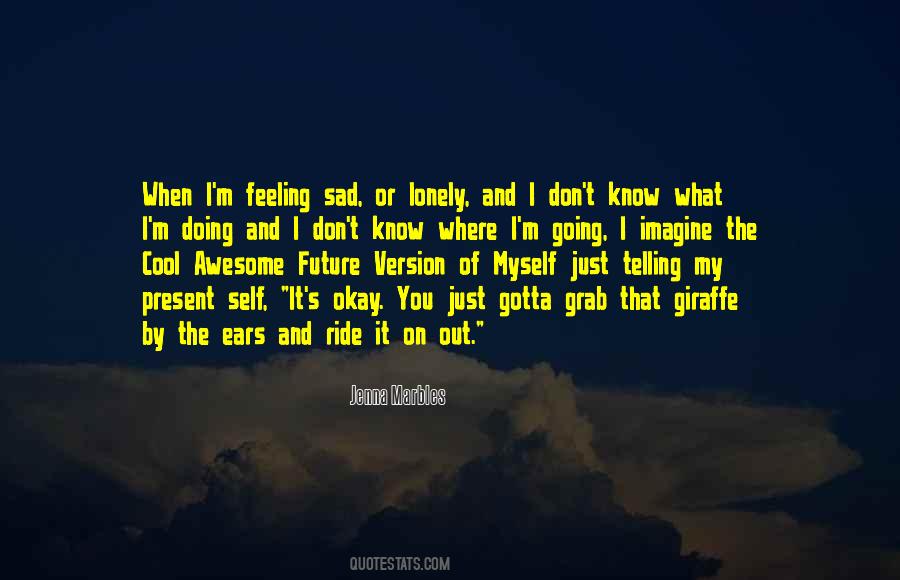 #2. Americans should know that Iranians are just as decent, human and rational as other human beings. Sadly, the mainstream media in the U.S. regularly fails to recognize and reflect this. - Author: Mohammad Marandi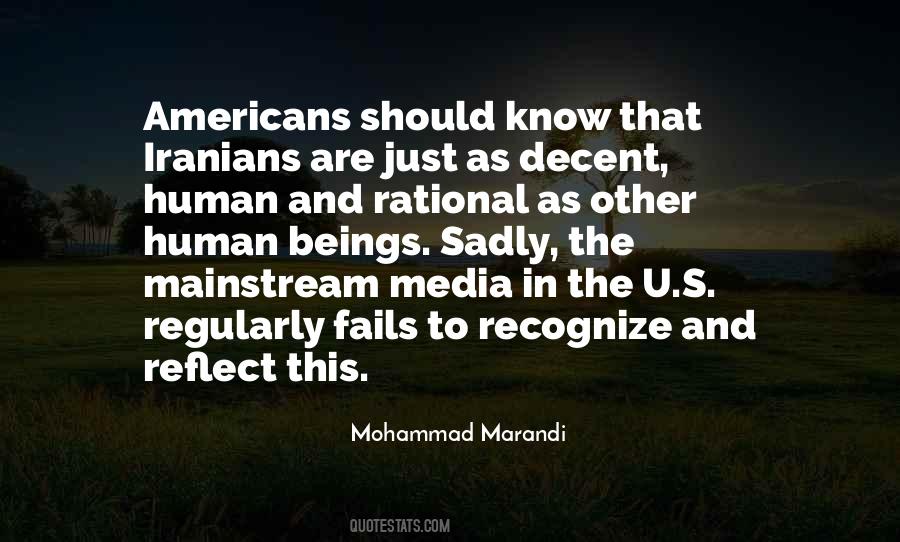 #3. My story of success and failure is not just about music and being famous. It's about living and loving and trying to find purpose in this crazy world. - Author: Wynonna Judd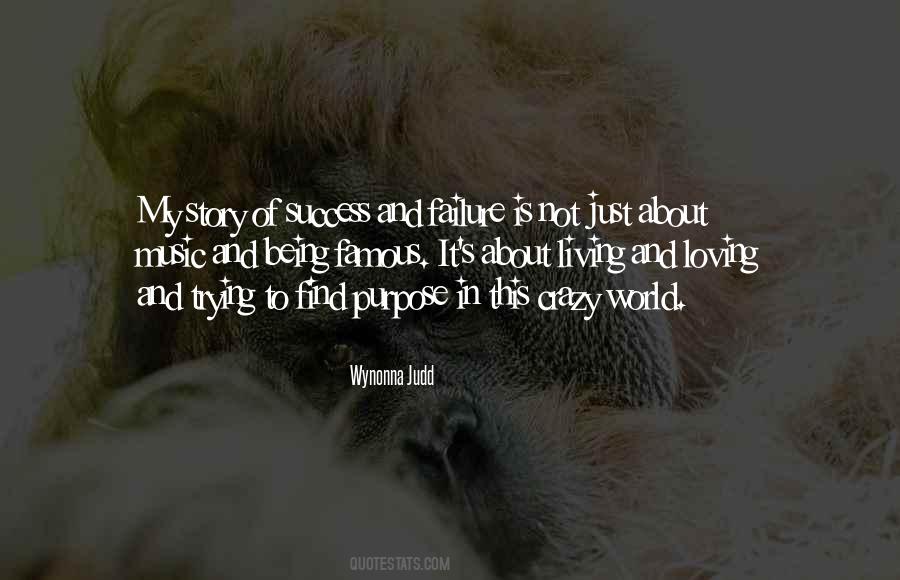 #4. In the Western world there isn't much value given to the necessity for just being quiet. And just resting, and just being, without a focus or a goal. At least a certain amount in our lives - we don't need to do half and half; it's okay if we're doing a lot of doing, we just need some being mixed in. - Author: Shakti Gawain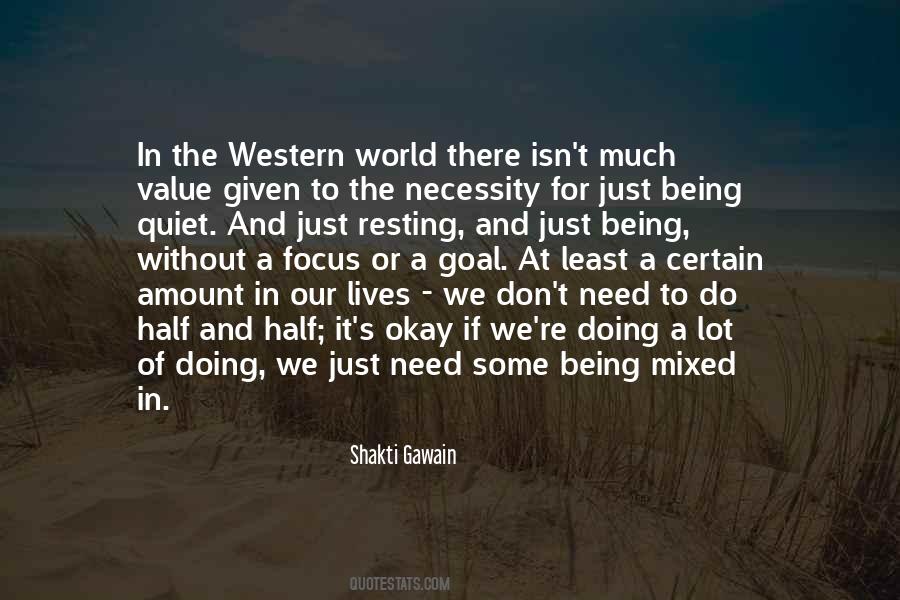 #5. The though revives in him the oldest memory of his life. A child sees a door closing: without knowing who it is that has just left, he senses it is someone he loves with all his tiny, still mute being. - Author: Andrei Makine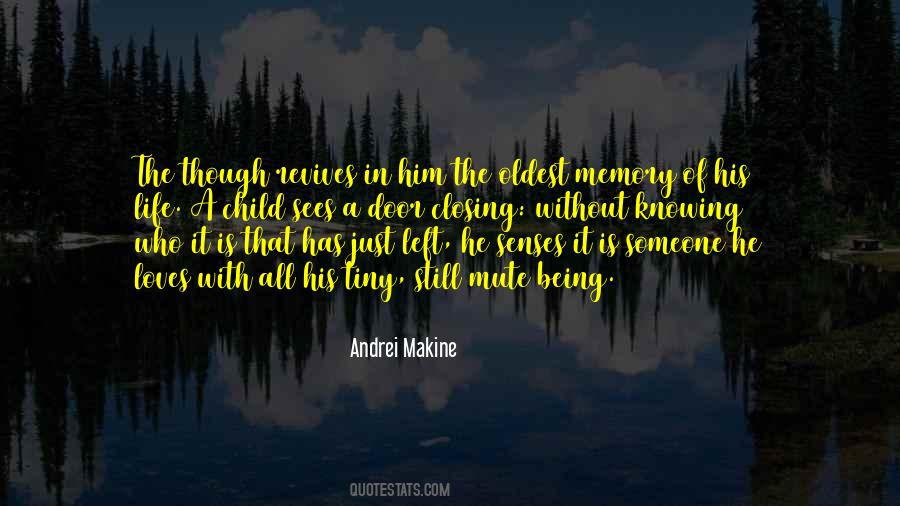 #6. I fervently believe that people shouldn't stay in bad relationships just because of some artificial rom-com notion of true love being "forever." In fact, I think that the pressure of conforming to that framework ruins-literally RUINS-a lot of people's lives. - Author: Lindy West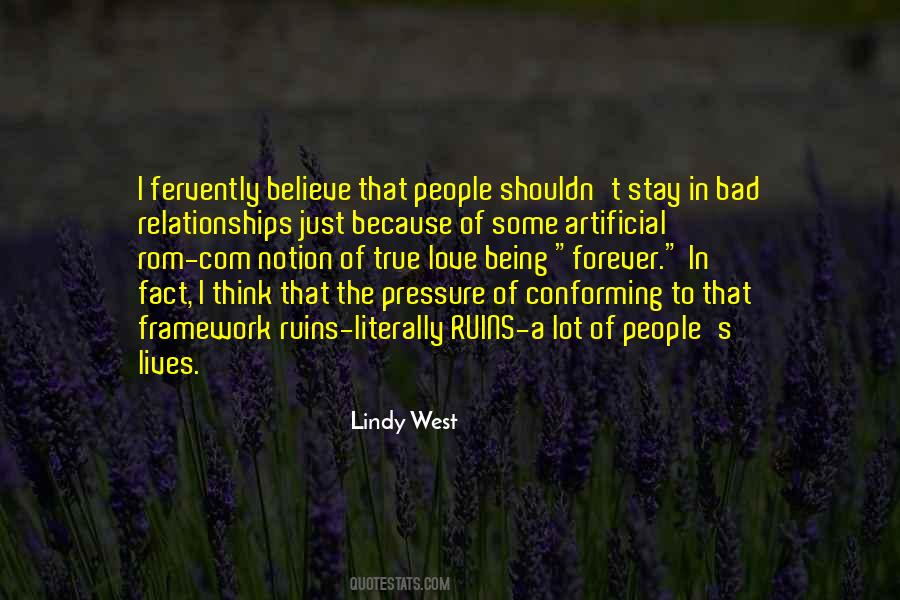 #7. Be yourself, chase your dreams, and just never say never. That's the best advice I could ever give someone. - Author: Taylor Swift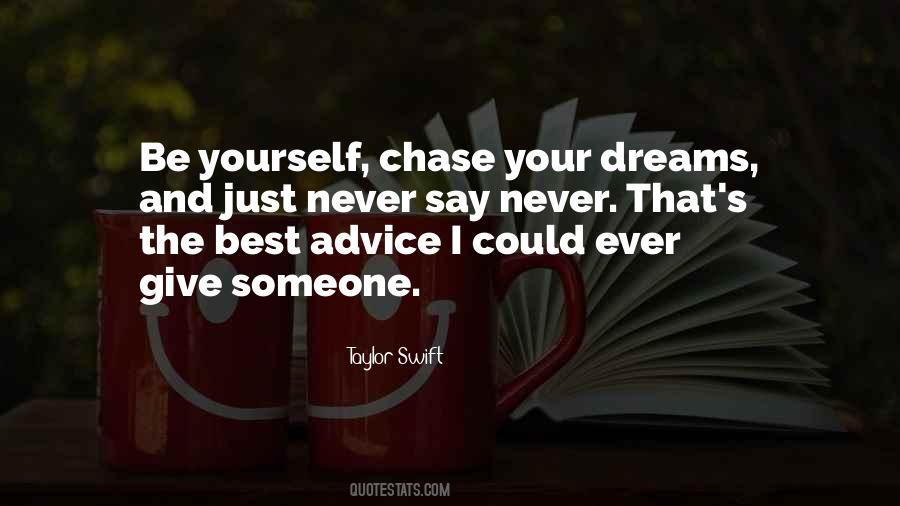 #8. So I think hip-hop is moving and is going to continue to move in the direction of rappers just being honest with themselves, whether you're talking about Common and Mos Def or Nas and 50 cent. - Author: Talib Kweli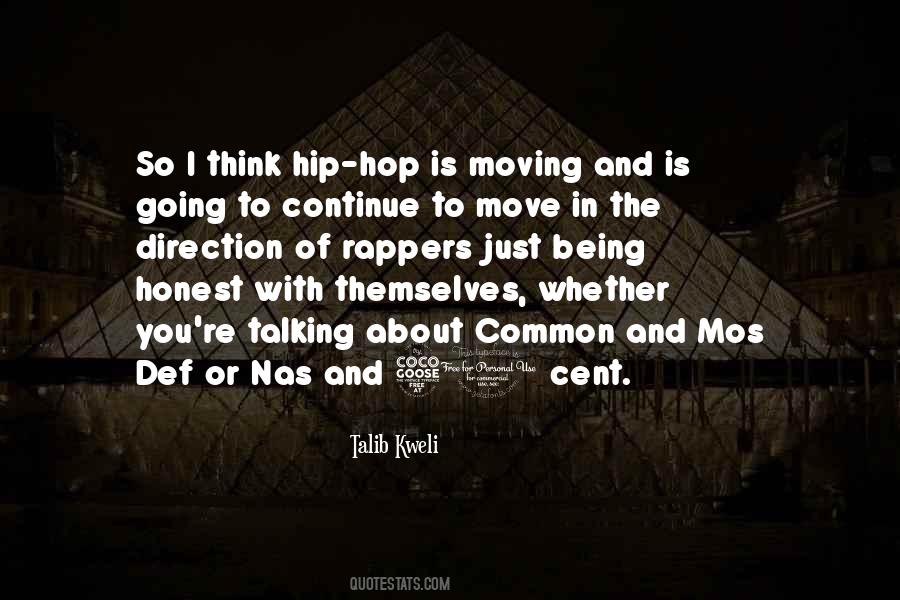 #9. I just like being around you while you're still breathing." She glanced my way. "I'm pretty selfish like that. - Author: Lisa Kessler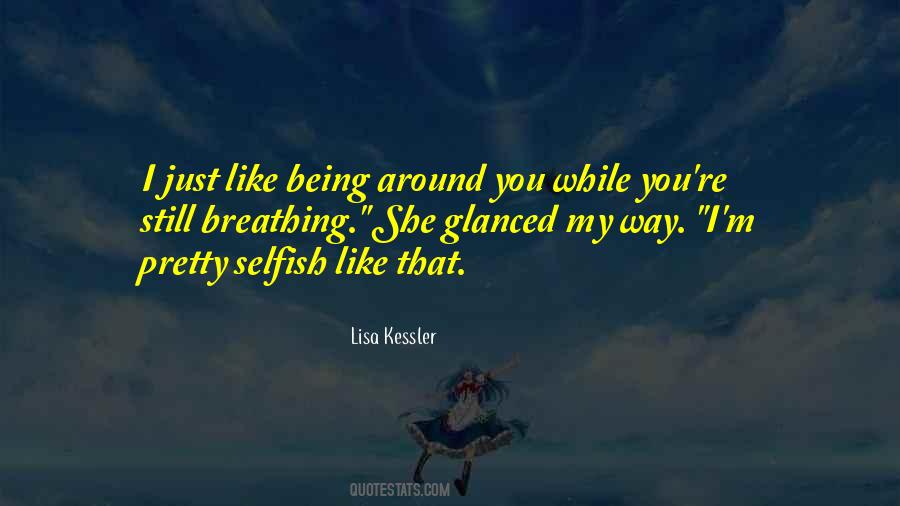 #10. Being outspoken about my faith isn't just something that I do; it's who I am because my faith isn't just a little piece of my life. It is my life. It's not a question of whether I'm outspoken about it or not. I'm definitely not ashamed of it. - Author: Tim Tebow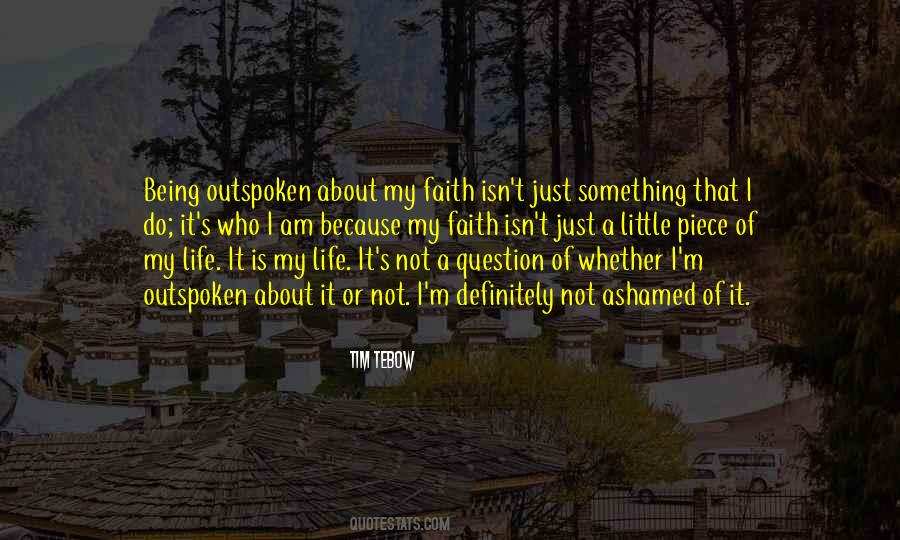 #11. She'd felt like being nice cost her something, even if it was just feeling a little bit lesser, every time she smiled without meaning to. - Author: Sarah Rees Brennan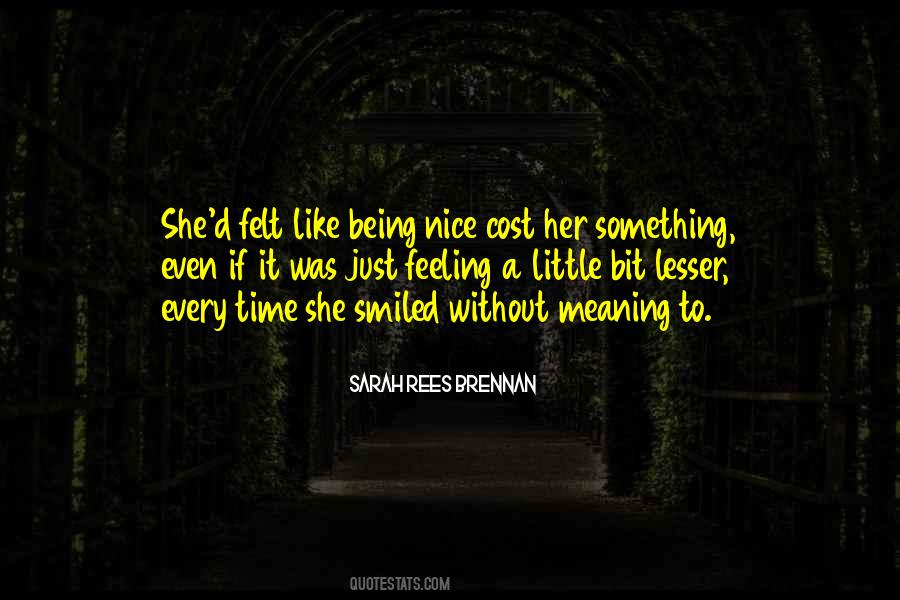 #12. Motherhood isn't just a series of contractions; it's a state of mind. From the moment we know life is inside us, we feel a responsibility to protect and defend that human being. - Author: Erma Bombeck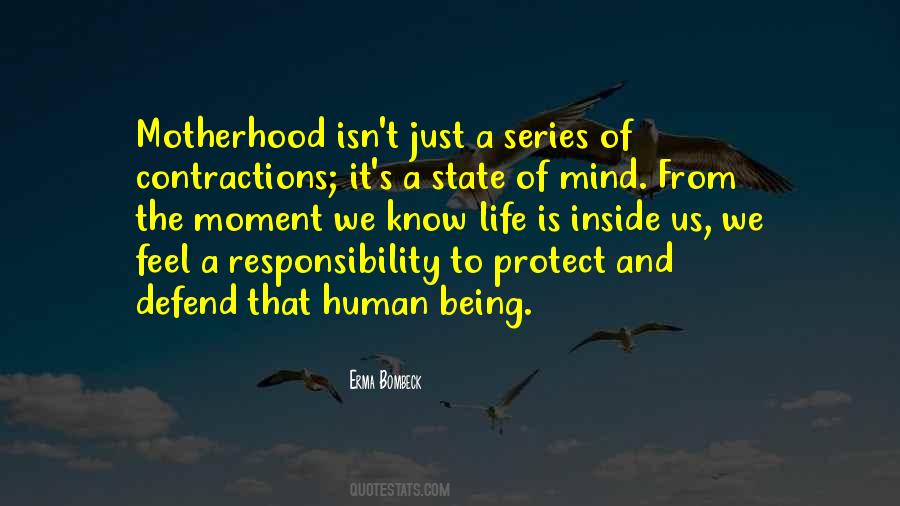 #13. You showed me what love truly is just by giving yours so selflessly. I wasn't made for love. It wasn't [woven]into the fabric of my being. I didn't know what it was, what I was looking for, what I needed. I had no point of reference, no examples, nothing. Until you. - Author: Sylvia Day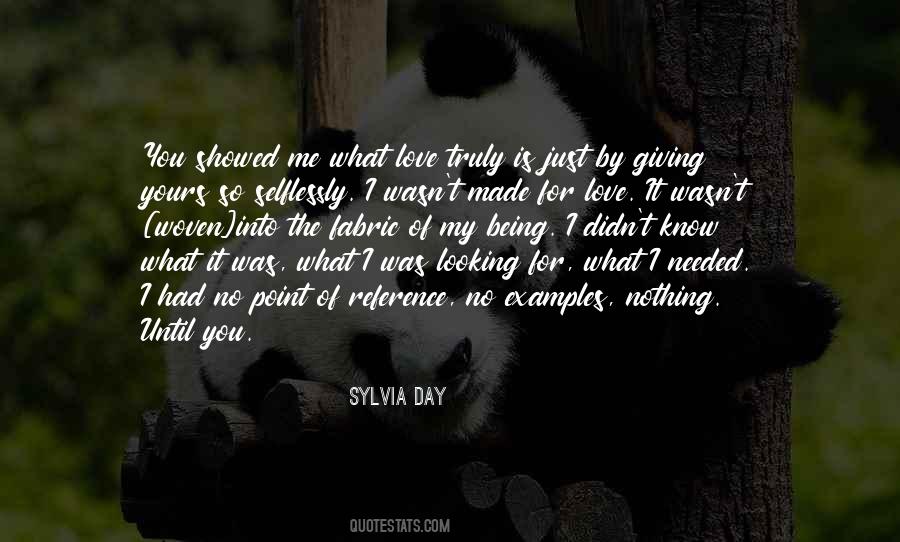 #14. Women are just beginning to see that; there's something about being a woman that's innately different from being a man. I love what I'm seeing take place and I know Julia has so much to offer. - Author: Kenny Loggins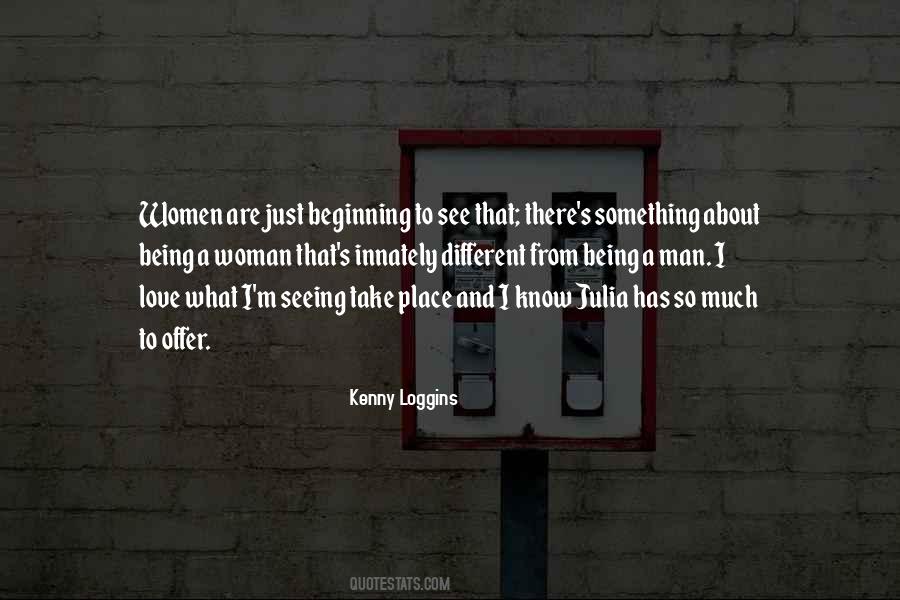 #15. When you first start out as an actor, you're just looking for a good part. As time goes on, if you're being held responsible for the movies themselves, you're looking for a good script all around. - Author: George Clooney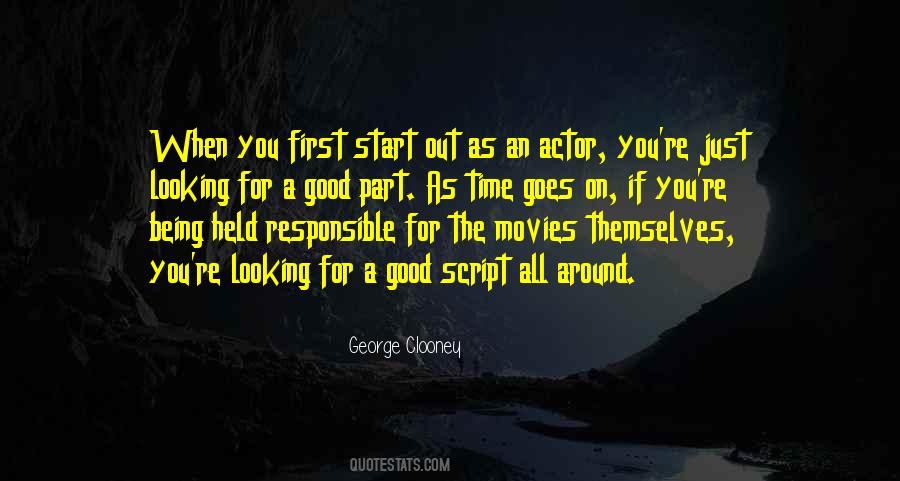 #16. Ever since I was twelve, I dreamed of being an author. I just never had the fortitude to see any of my stories through to completion. I would start a book, get a few chapters in, and grow bored or get distracted by something else. - Author: Hugh Howey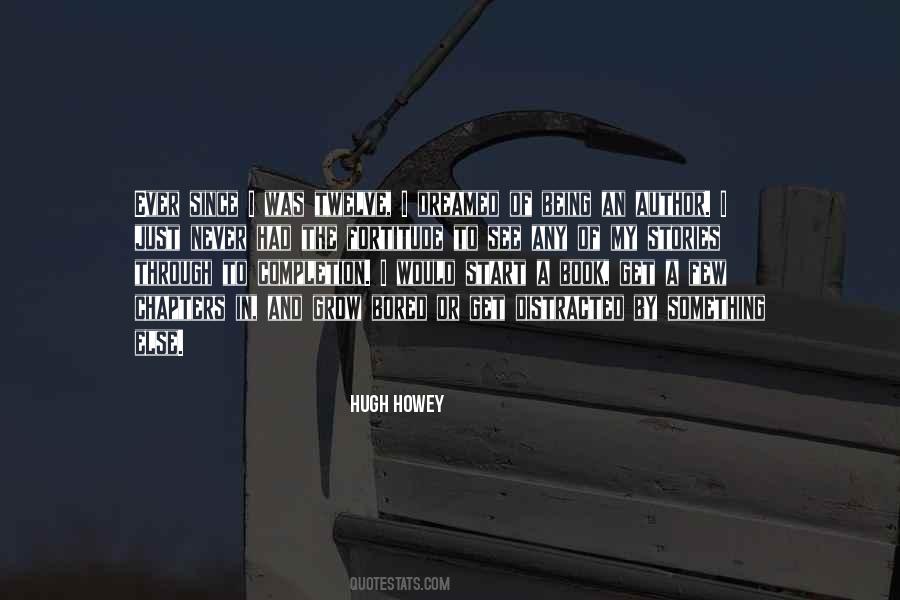 #17. You have to protect it too, you can't let just any stupid person take it and do something demoralizing with it. At the same time, I don't believe in being so rigid about controlling what happens either. - Author: Paul Auster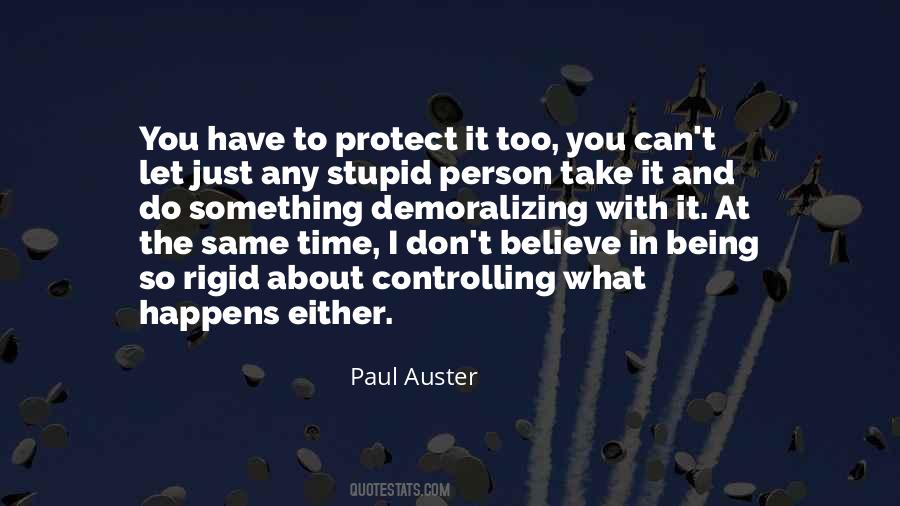 #18. For me, even just being English was a whole sort of experience in as much as I'm Australian. - Author: Radha Mitchell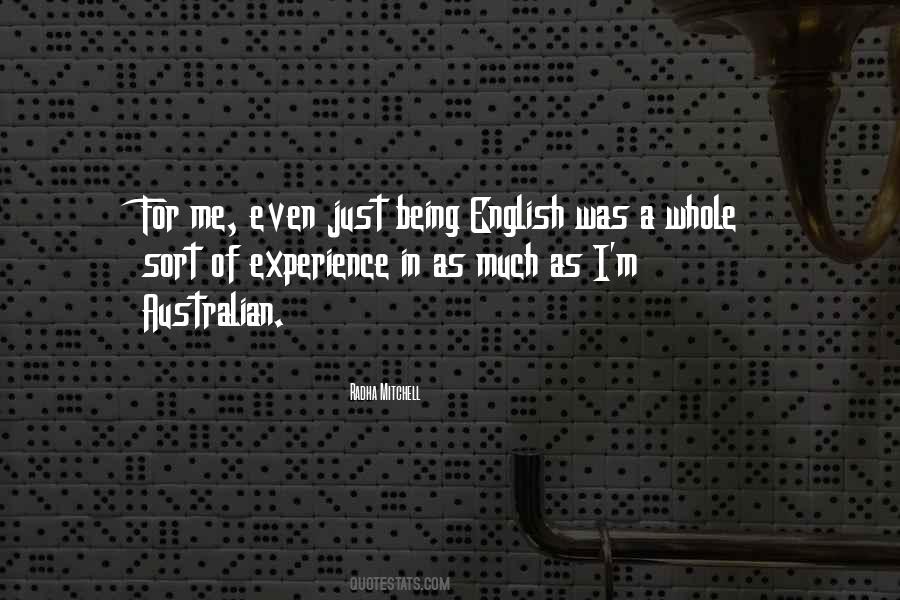 #19. Don't you dare hide behind your illness!"
"You were the one who just said I couldn't help it!"
"You can't help being ill, but you can help what you do about it," Eithne says sharply. - Author: Tess Stimson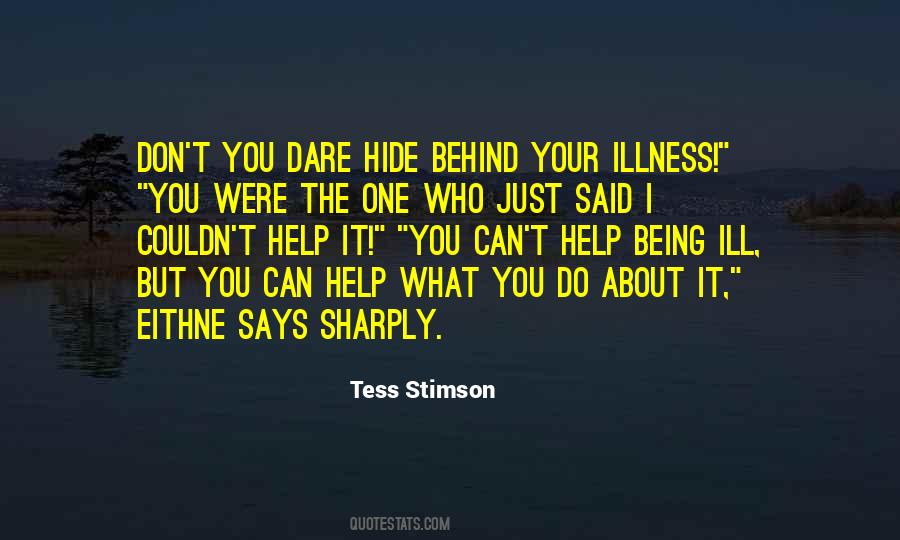 #20. If life is a game, then the people who play in center with their own style only make the real name; but for others the aim is just the same for they do anything from comment, copy, criticize, cover or cheer by being anywhere. - Author: Anuj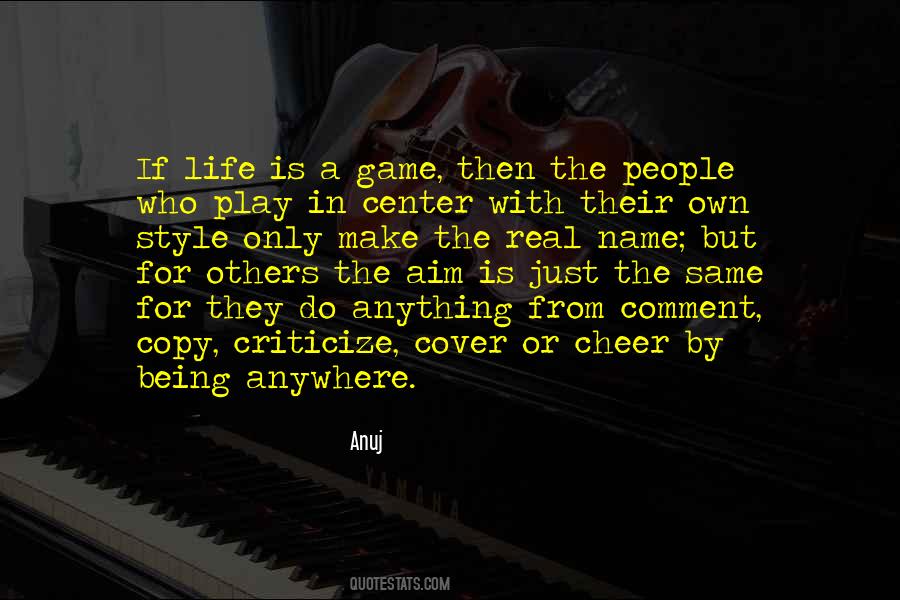 #21. I don't mind being a grandfather; I've been a mother for so many years. You just can't believe what it's like being a father. Especially when you come out of the chaos of the road to getting married and having children. - Author: Steven Tyler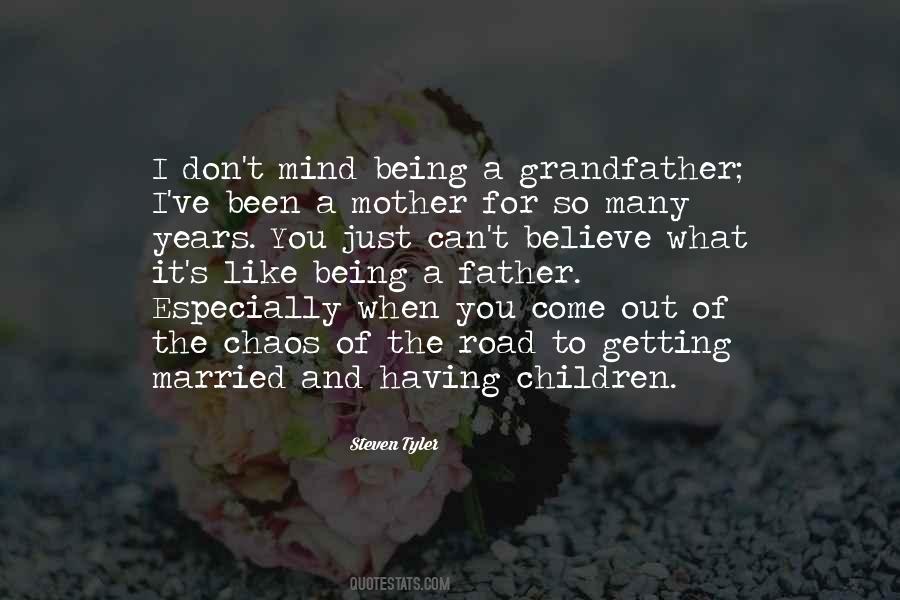 #22. If someone is being bullied or feels like an outsider, and they relate to something that I've done, even if it's just igniting a spark, that's great. I had that feeling as a kid. I was messed with no end. - Author: Johnny Depp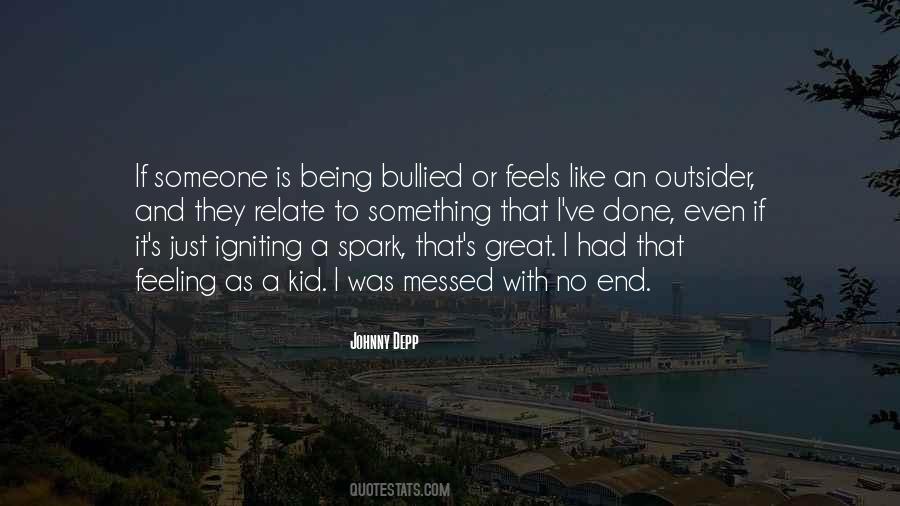 #23. No one ever complained about a fat brain. No one ever accused their brain of being too short or too tall, too wide or too narrow. Or ugly. It either worked or it didn't, and mine worked just fine. - Author: Lissa Price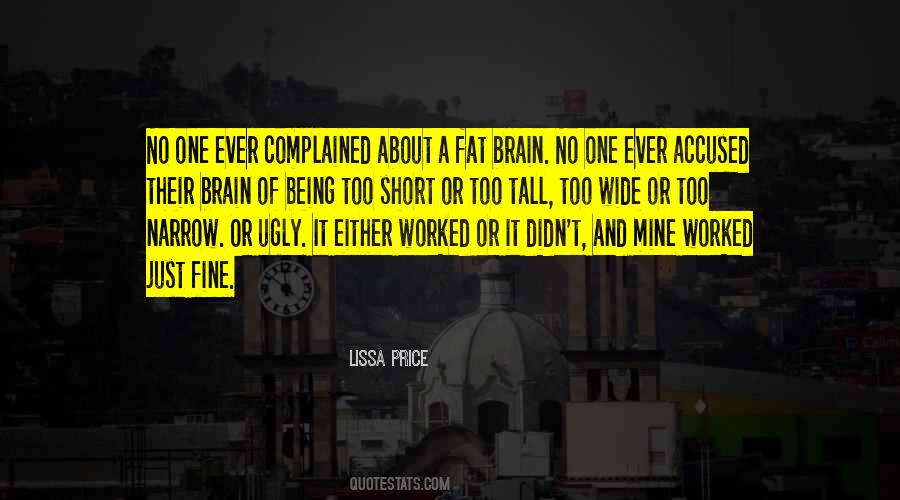 #24. We're all creative, it's just some of us earn our living by being so. - Author: John Hegarty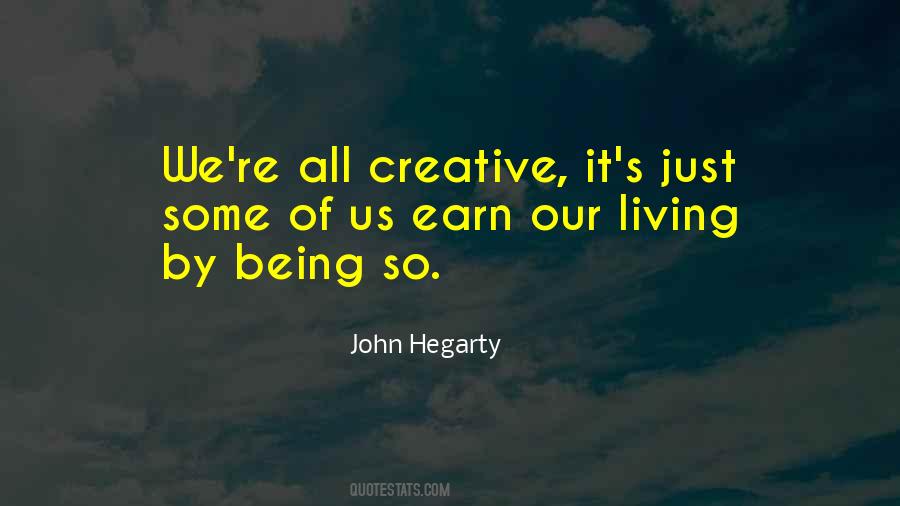 #25. She starts to cry. 'It's just so terrible,' she says.
'Which part?,' I ask.
'Being human. - Author: A.M. Homes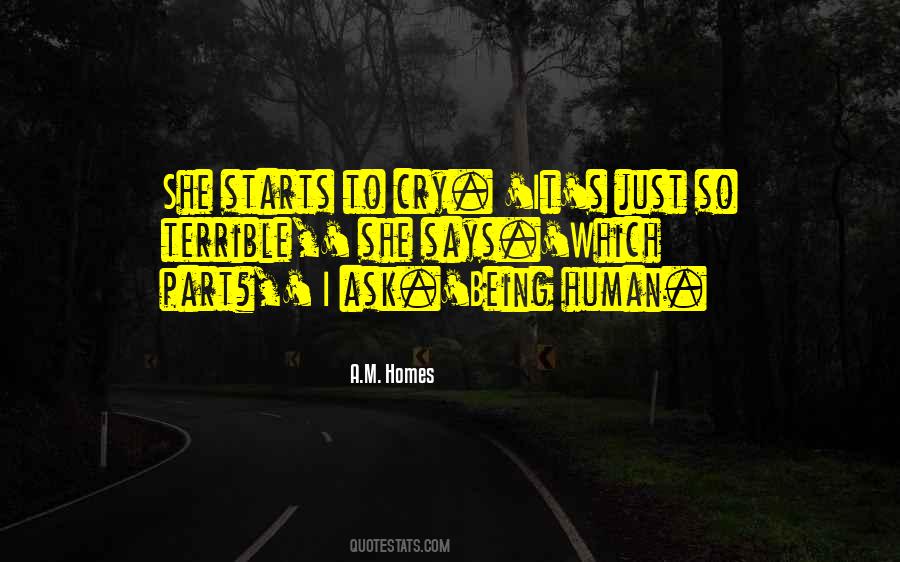 #26. I can only speak for myself, but when I was growing up in Memphis - and having the Martin Luther King holiday and the moment of pause on April 4th - he was just a statue to me. I wanted to make him a little bit more real to me as a human being. - Author: Katori Hall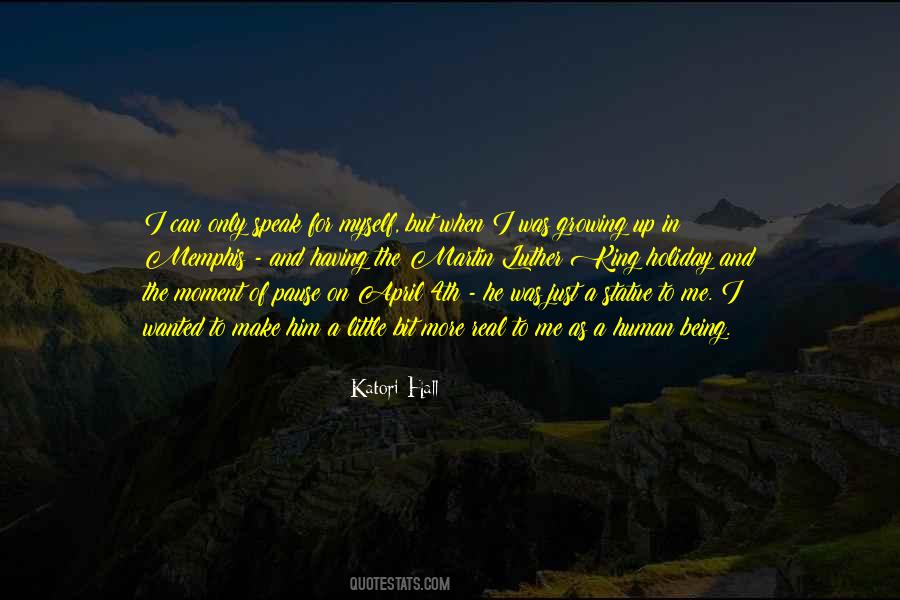 #27. What we love is that Glenn Geller admits to being a superfan of Big Brother and obviously he seems to be a big fan of reality TV, which is fabulous. He's been really, really excited and has just been smiling through all of our meetings so it's always a lot of fun. - Author: Allison Grodner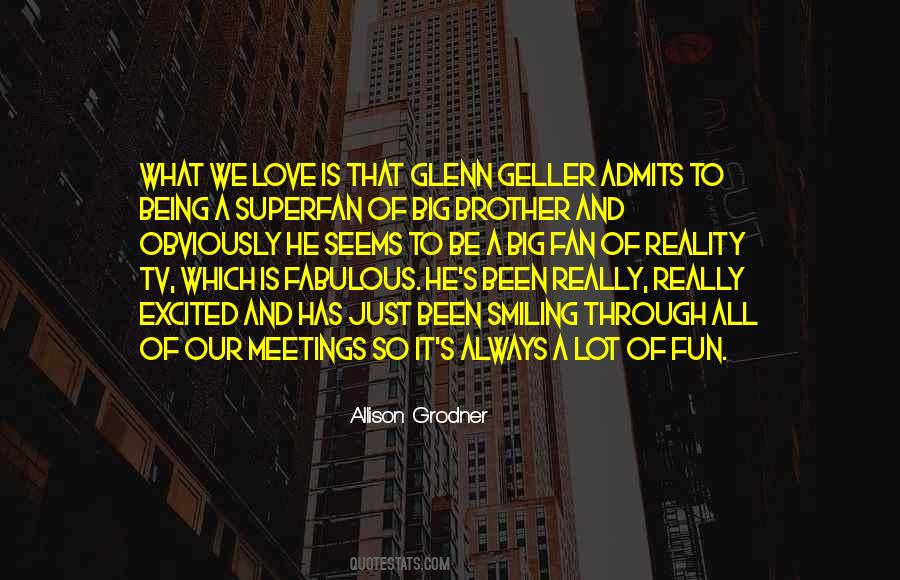 #28. I think to just single out a highlight of Elvis's career is pretty much impossible. As far as being a fan of his, a lifetime fan, there were just too many highlights. - Author: Jackie DeShannon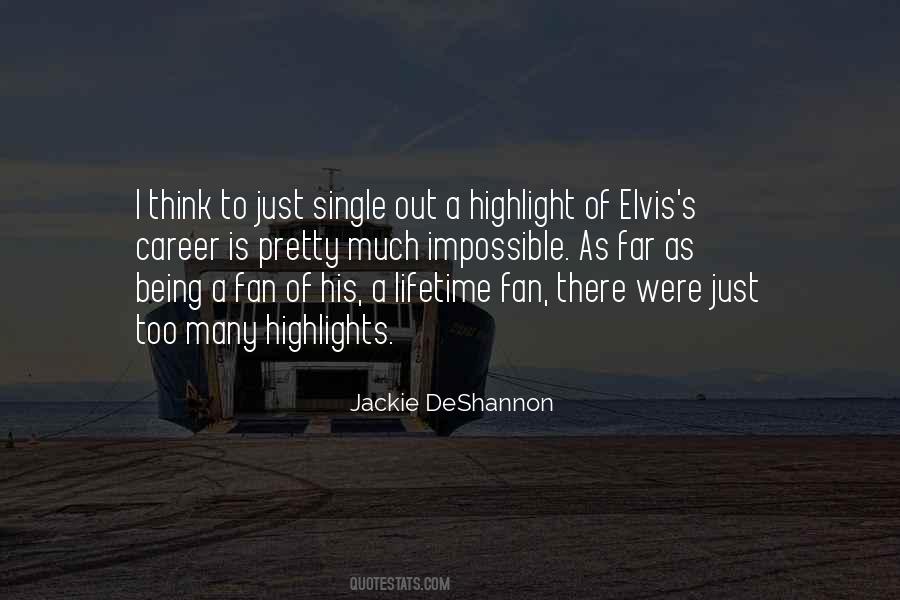 #29. Due to poor weather, low visibility and extreme winds, I was forced to make the decision to descend after receiving word that there was another week of the daunting weather around the corner. You just can't climb being blown off your feet! - Author: Lonnie Dupre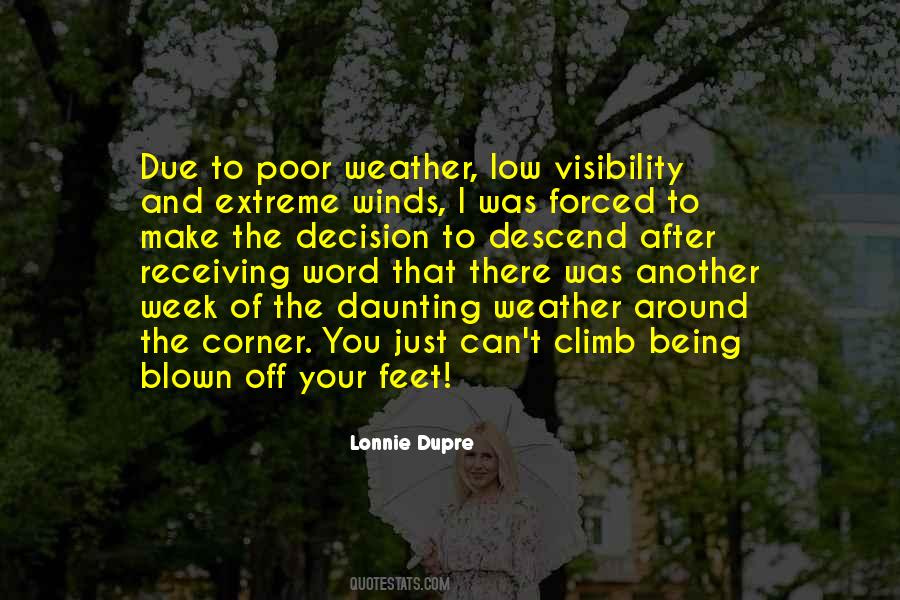 #30. How had I lost so much in such a short period of time? It would seem like leaving your family, living in some foreign place, and being separated from the person you love should be events that take years to roll into place, not just a day. - Author: Kiera Cass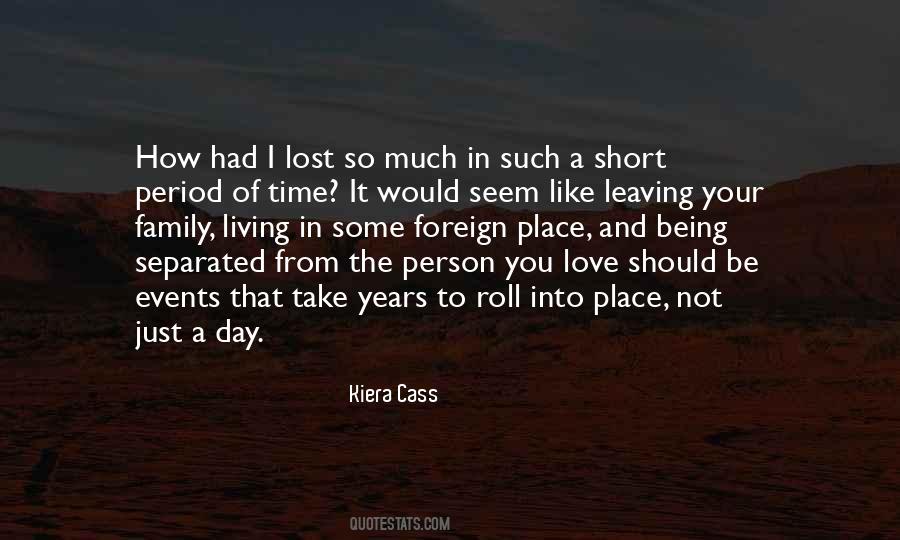 #31. I was kind of an outsider growing up, and I preferred reading to being with other kids. When I was about seven, I started to write my own books. I never thought of myself as wanting to be a writer - I just was one. - Author: Ann Hood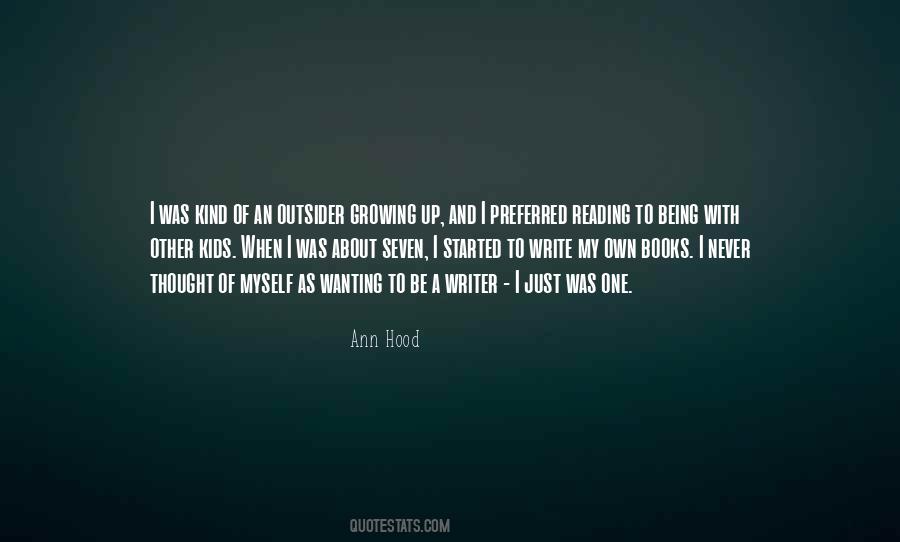 #32. You know the bodysuit that I built my line on? ... That was about me being able to go directly from work to yoga class. It just wasn't as accepted to talk about then. - Author: Donna Karan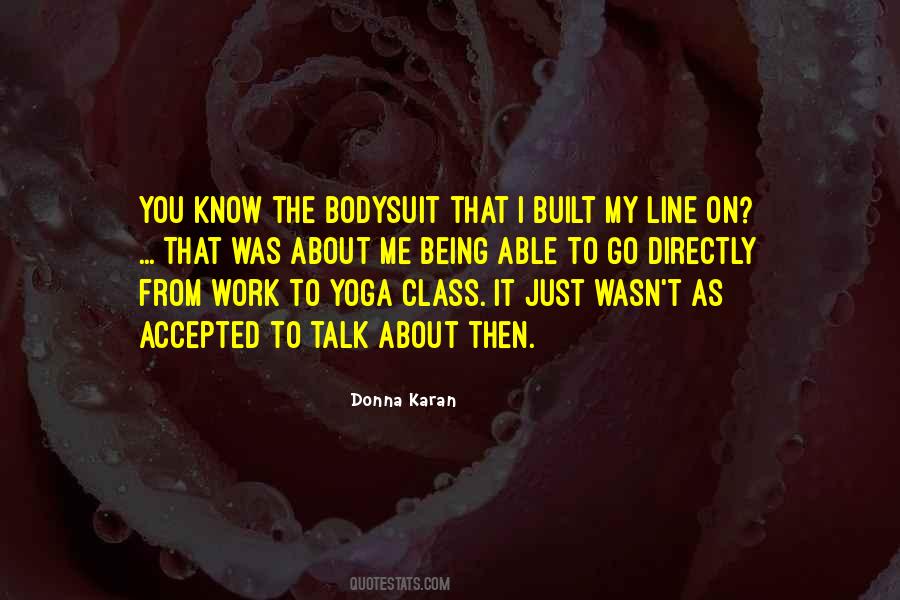 #33. Supposedly I'm impossible to talk to. But it's honestly not me being difficult. Sometimes you just don't have a lot to say. - Author: Nicholas Hoult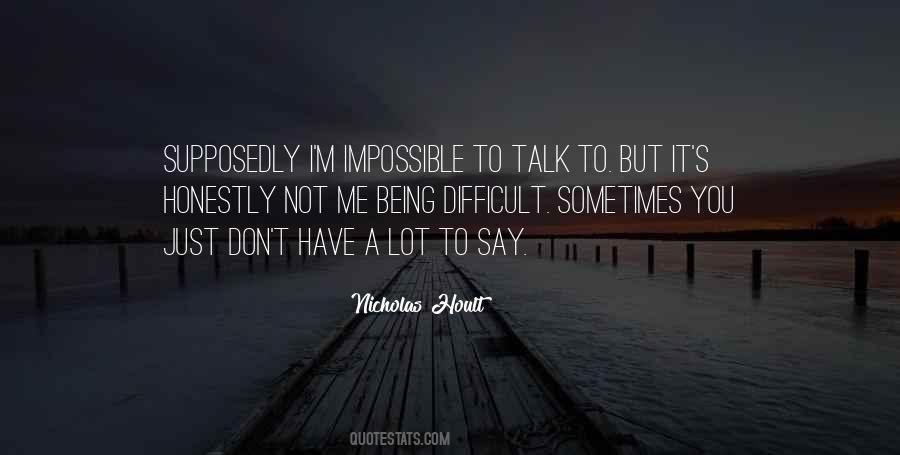 #34. I come from musical theater, and a lot of musical theater is about accepting fantasy. I think it is more about just being open and accepting. - Author: Amy Adams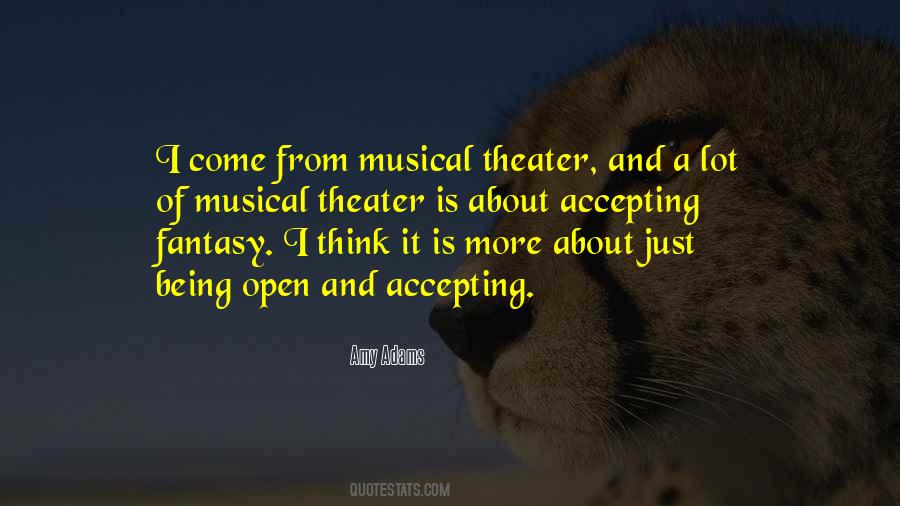 #35. To see poor people, their benefits being cut, to see pensions of Americans who have worked like my father, all their lives, and taken away, to see the rich just accumulating more and more wealth. I mean, it seems to me that there has to be a point where you have to say, 'No, this has to stop.' - Author: Henry Giroux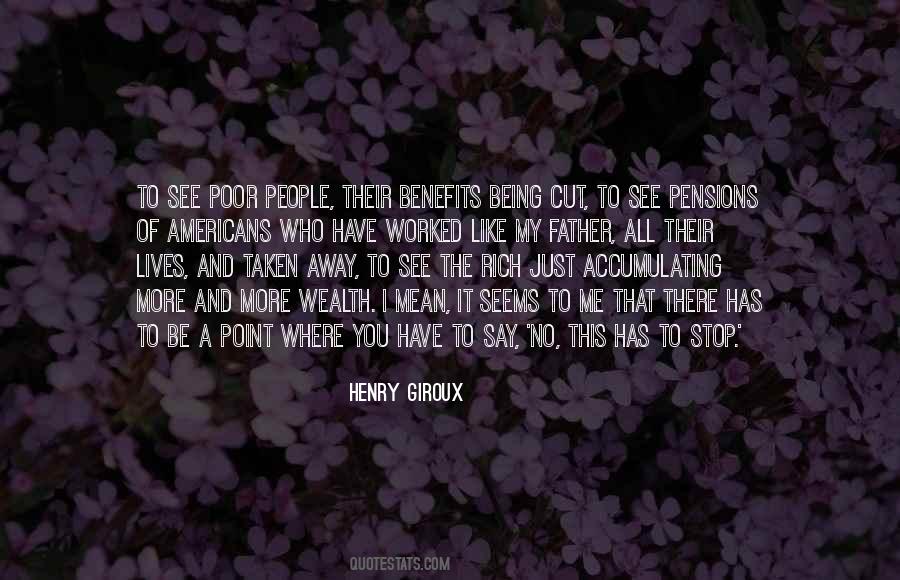 #36. Animals were not made for us, or our use. They have their own use, which is just being who they are. - Author: Alice Walker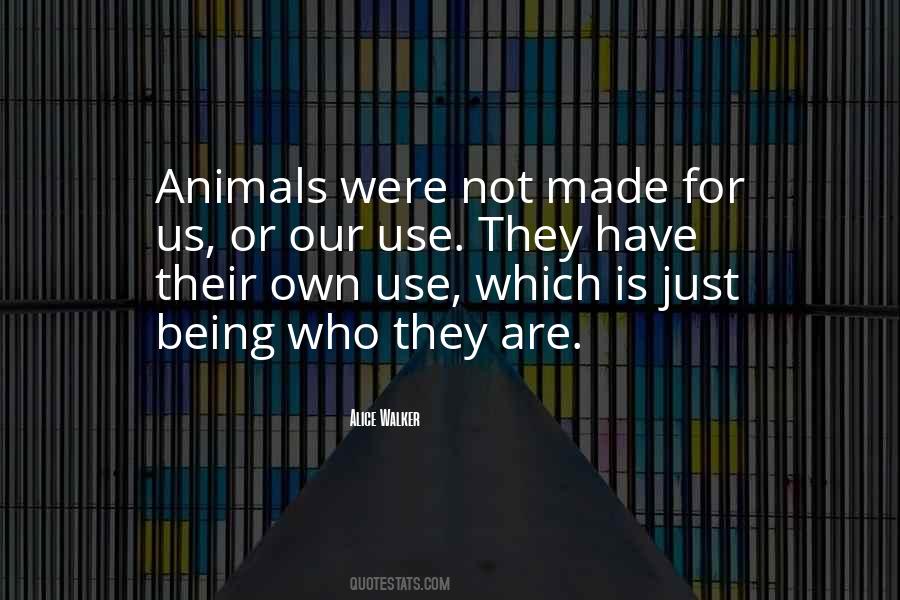 #37. It is all just the universe doing its stuff, and we are the stuff it is being done to. - Author: Julian Barnes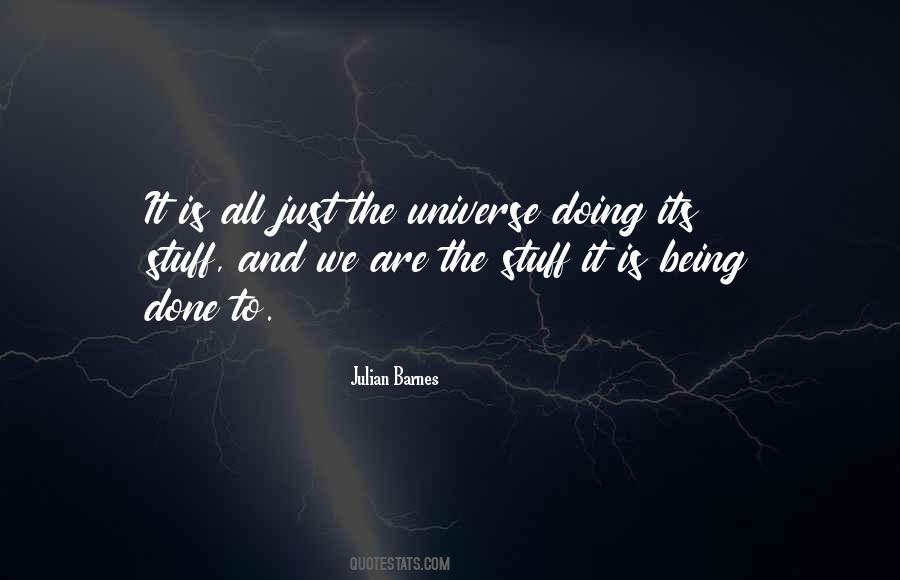 #38. He was one of your wicked, fascinating men. After he got married he left off being fascinating and just kept on being wicked. - Author: L.M. Montgomery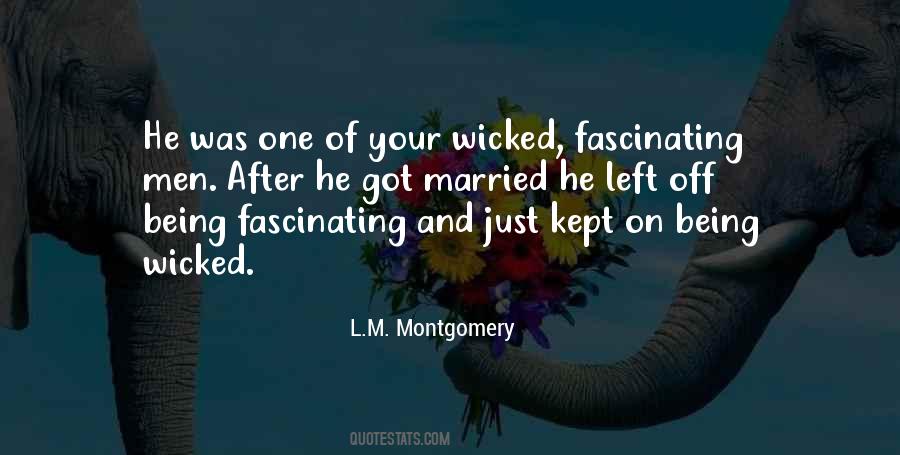 #39. She informed me that in the future, I was not to throw out Starbucks customers just for being heartless bitches. - Author: Lauren Myracle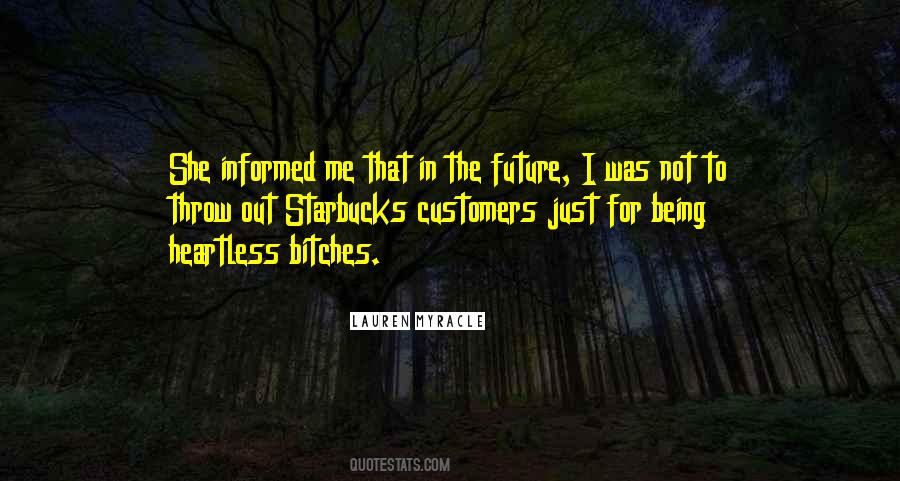 #40. I have met otherwise educated folks who haven't heard that cooked bones can kill a dog, so perhaps the vets are just being realists. - Author: Carina MacDonald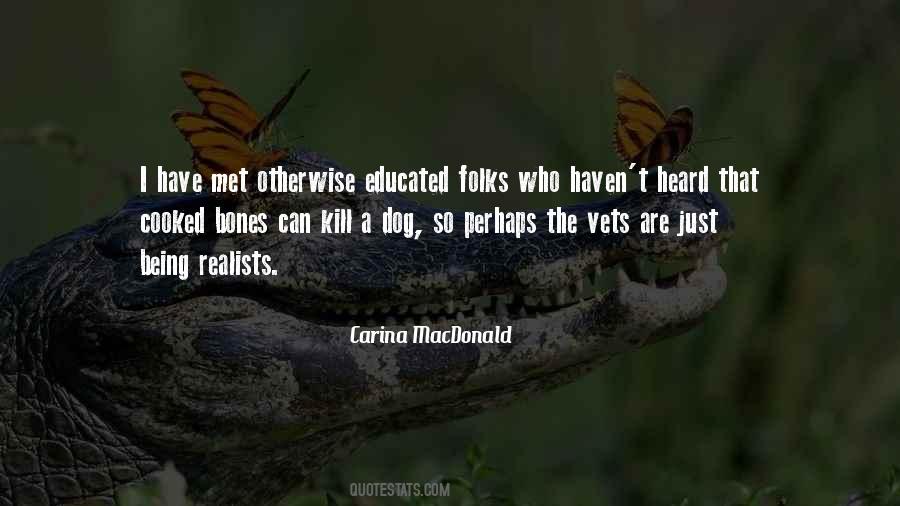 #41. We really invented the genre of tracing family trees and going back as far as we could on the paper trail. When the paper trail disappeared, we used DNA analysis. The technology was just being invented that allowed you to trace ancestry through DNA. - Author: Henry Louis Gates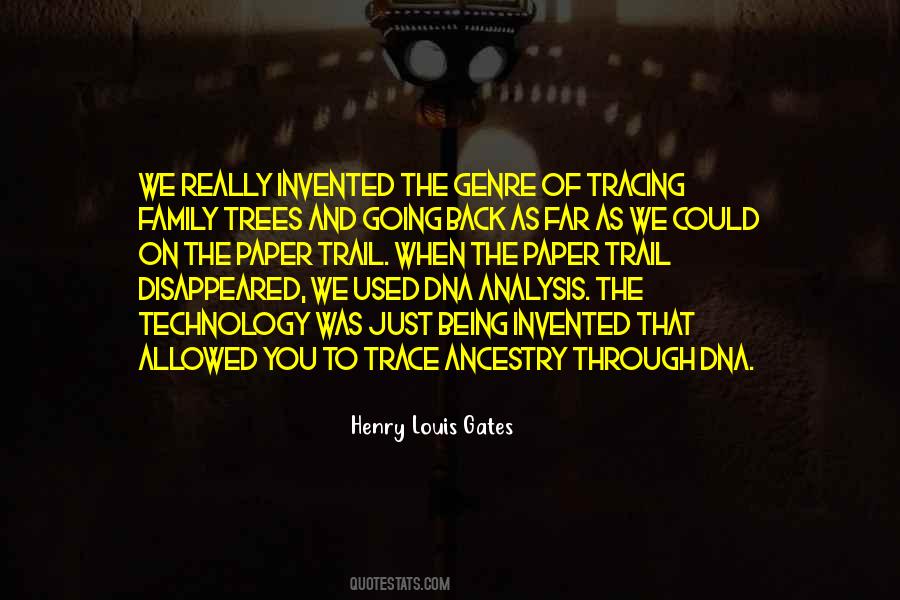 #42. The first time I was pregnant, Kanye and I were dating, and I was just being introduced to the world of fashion. I wanted to work with a bunch of different stylists, and when you work with a new stylist, everyone wants to possess your look. - Author: Kim Kardashian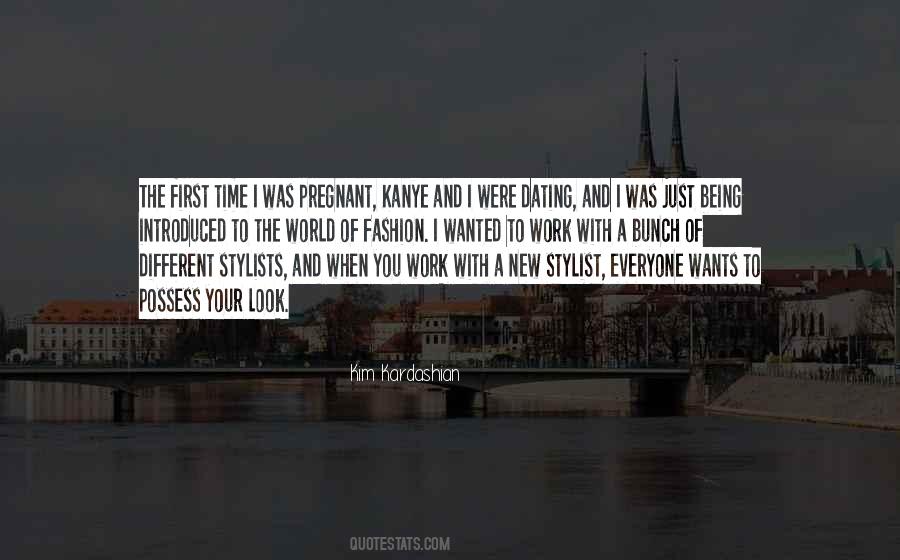 #43. There is some kind of a sweet innocence in being human- in not having to be just happy or just sad- in the nature of being able to be both broken and whole, at the same time. - Author: C. JoyBell C.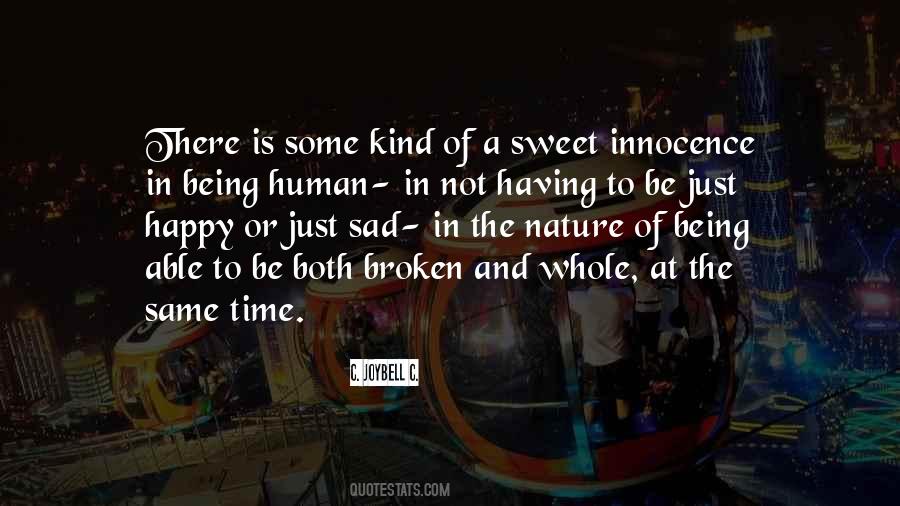 #44. Other times when I hear the wind blow
I feel that just hearing the wind blow makes it worth being born. - Author: Al Berto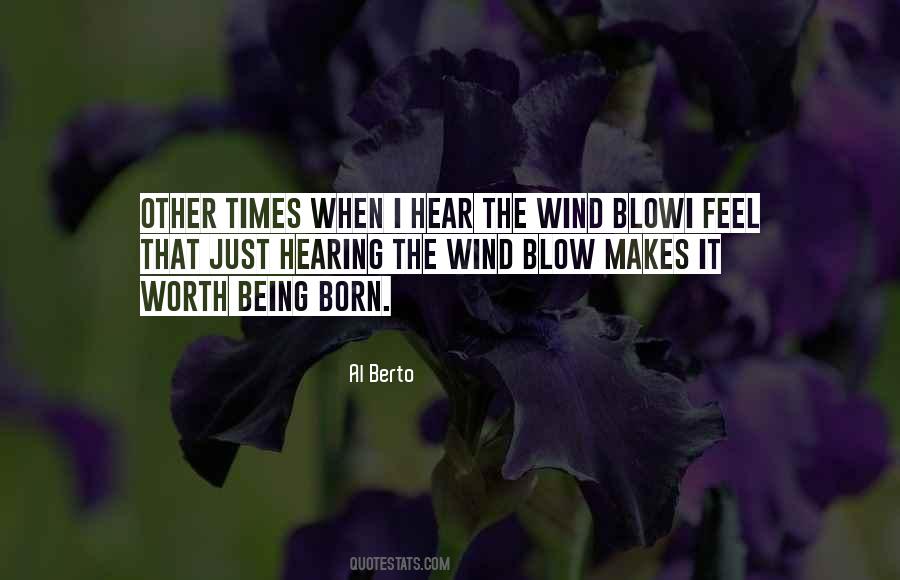 #45. I want a big career, a big man, and a big life. You have to think big - that's the only way to get it ... I just couldn't stand being anonymous. - Author: Mia Farrow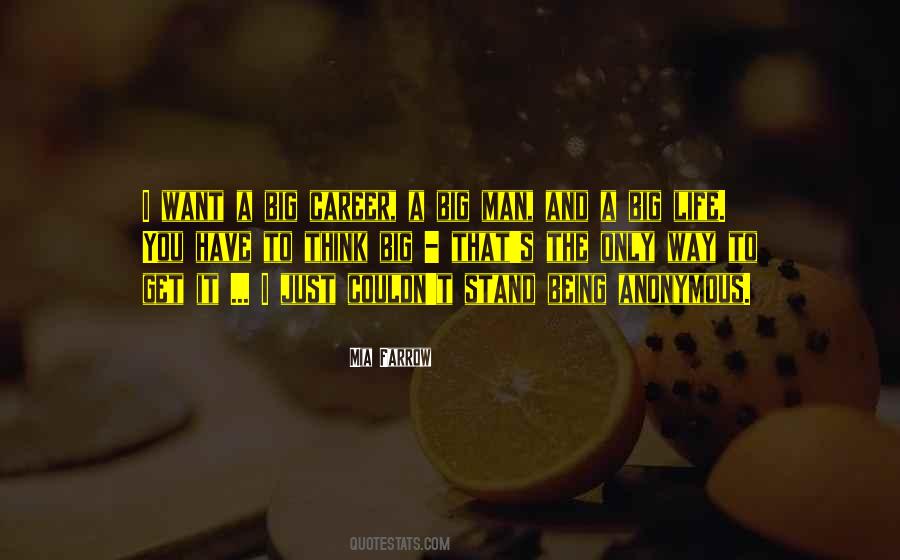 #46. It's not that I mind being alone, not really. I can distract myself with silly fantasies and daydreams for hours, but in the end it always comes back to me. That's what I'm left with: just me. And that's what scares me more than anything. Me. - Author: Cat Clarke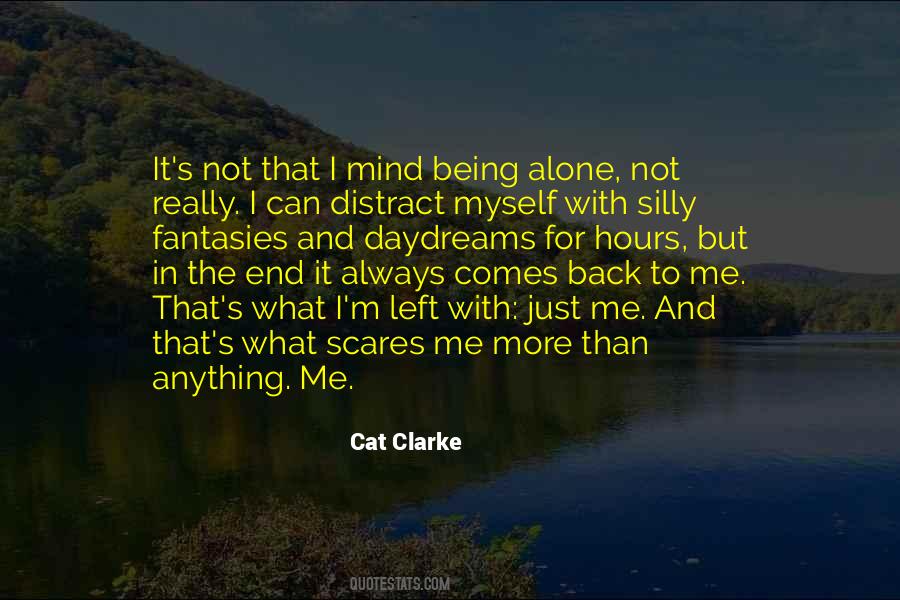 #47. I'm so busy trying to breathe through the pain that I'm breathing through the pain of being with people, and that is no way to spend a life. Eventually, they'll just go away, because you will make them sad. That's something I've proven quite adept at doing over the years. - Author: Adam Duritz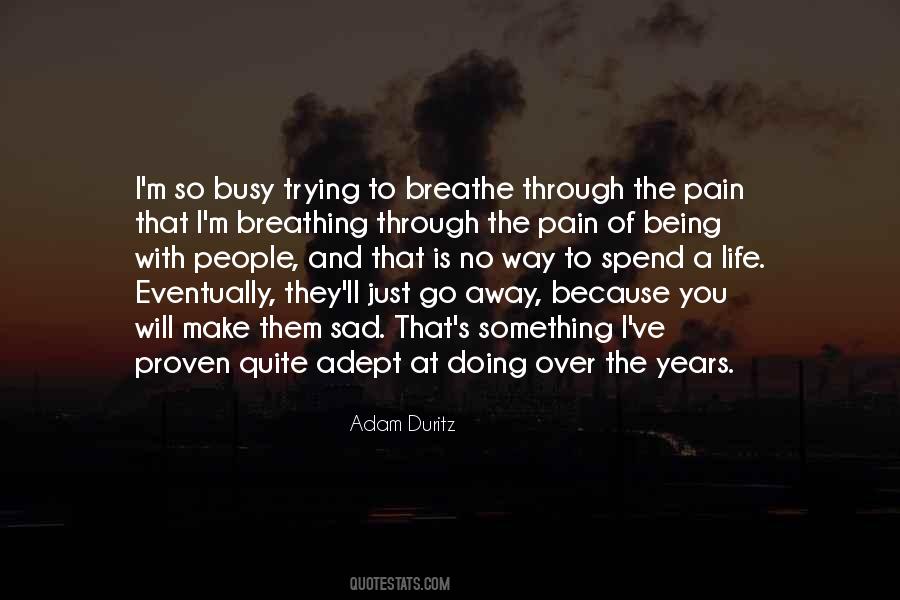 #48. Being the son of a father who works so hard, I always wanted to be able take a lot of load off of my dad so he can just relax. - Author: Romeo Miller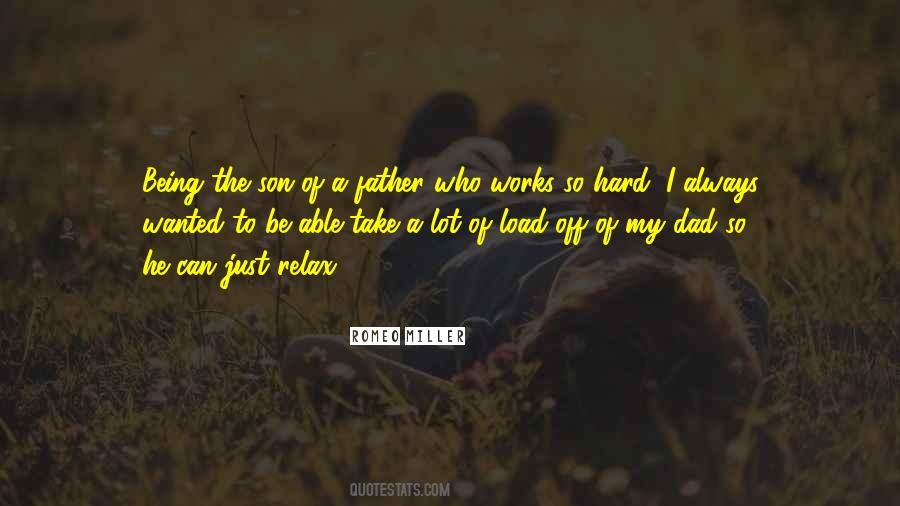 #49. You always have this fear in a movie of just being somebody's woman. - Author: Charlize Theron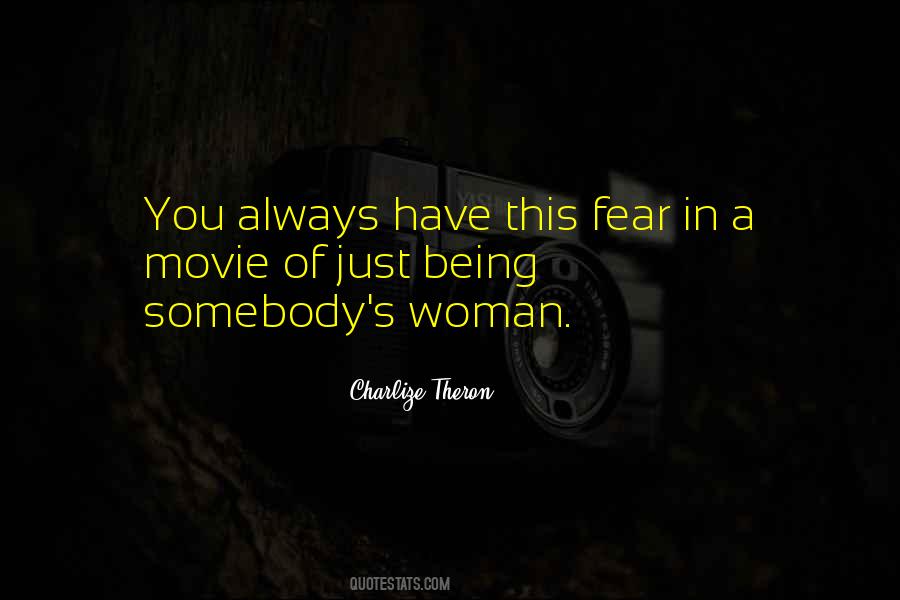 #50. I don't blame him for being in love with her. I just wish, for her sake, she wasn't in love with him. - Author: Tiffany Reisz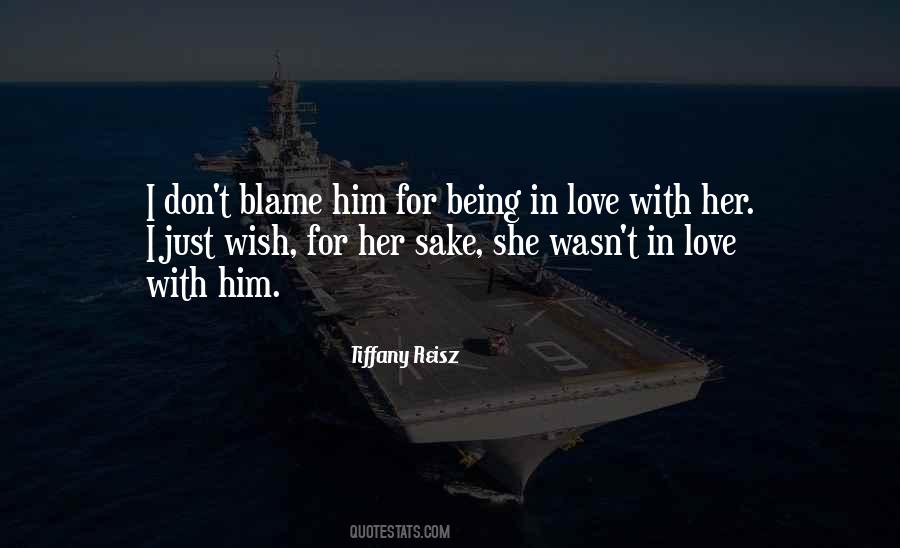 #51. If someone offers to take your burden, you need to know he is serious, not just being polite and kind. Polite and kind do not last. - Author: Amy Tan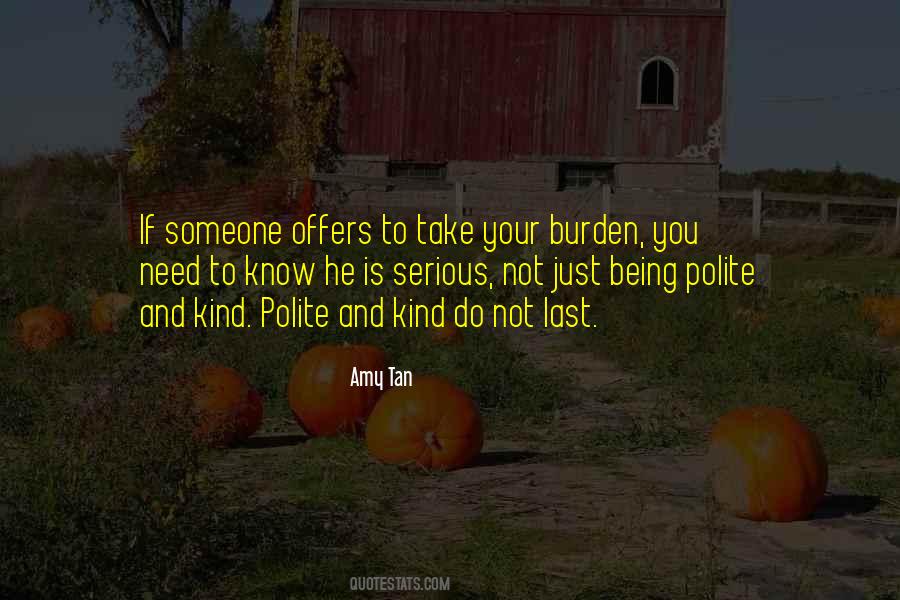 #52. Using every means possible to show that, although you're just an ordinary human being, you're far above other mortals. - Author: Paulo Coelho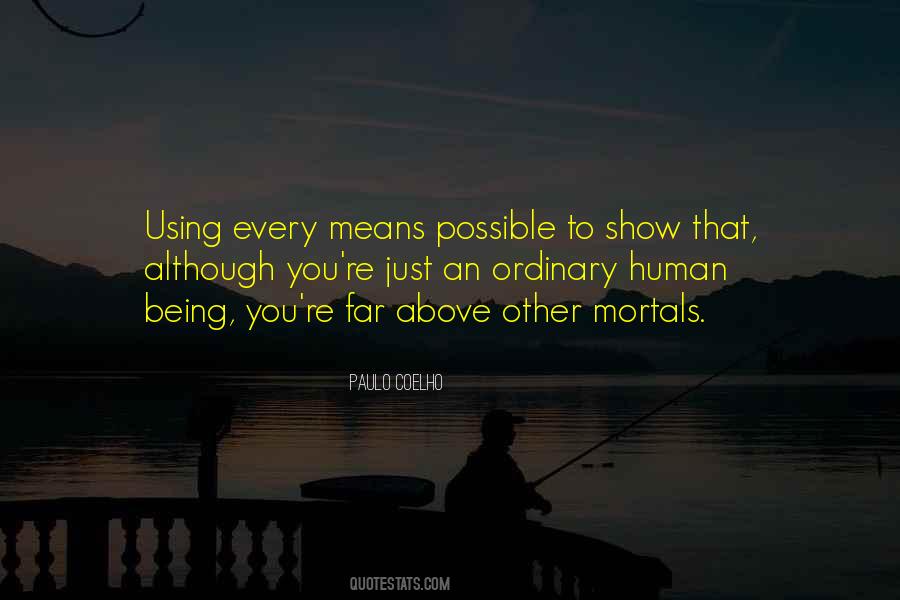 #53. Just going along with this, what I did, or what I do is I imagine not being myself seeing it, but imagine somebody else who's seeing it for the first time. - Author: Dennis Muren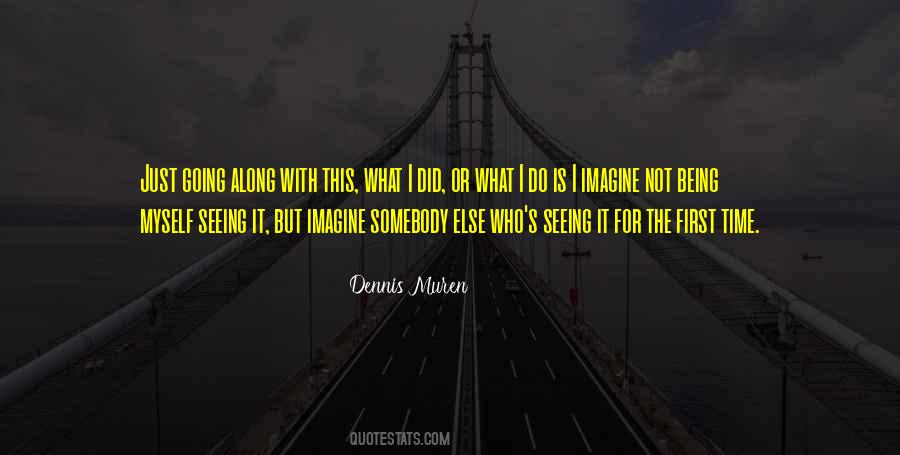 #54. As anyone who is gay will confirm, being that way is not something you become, it is a set of emotional and physical responses that just are. - Author: Lance Loud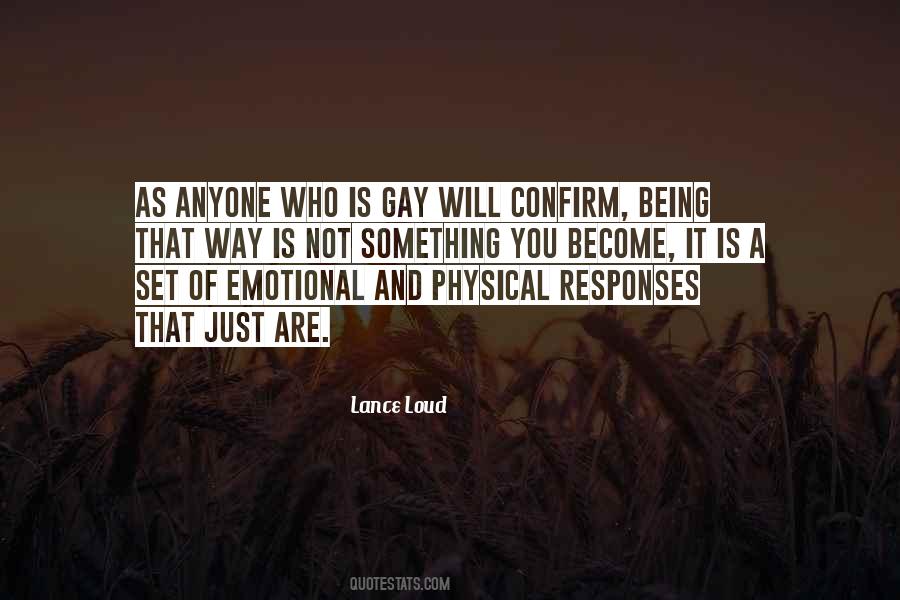 #55. And just like that he took me away into another world. A place where I was cherished, and where I could forget about a time when I never dared to dream about being loved like this. - Author: Raine Miller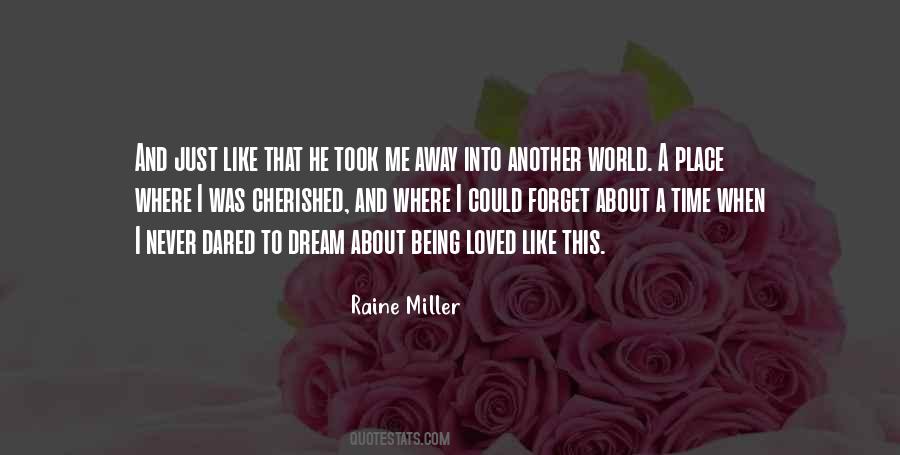 #56. He wasn't anti-gun really - he just wasn't pro-being-shot-at. - Author: Adam P. Knave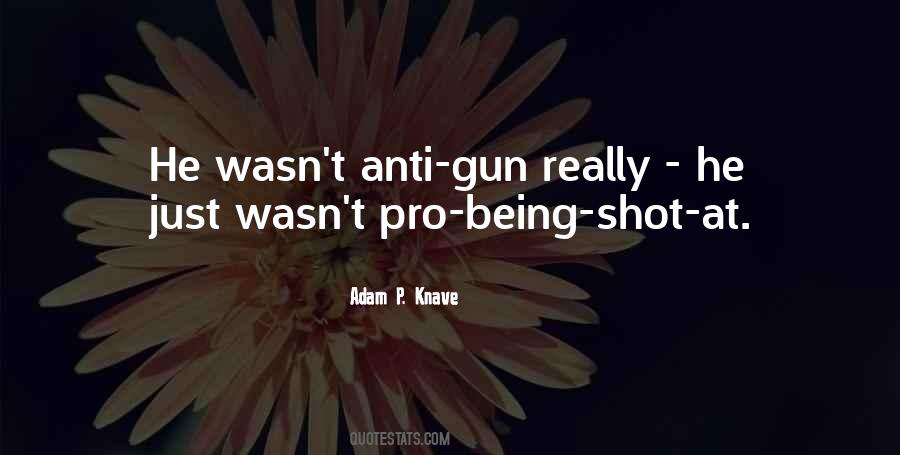 #57. I might be developing an addiction. You being my drug of choice. Rehab is 'not' an option, my love is forever. Just so you know. - Author: Truth Devour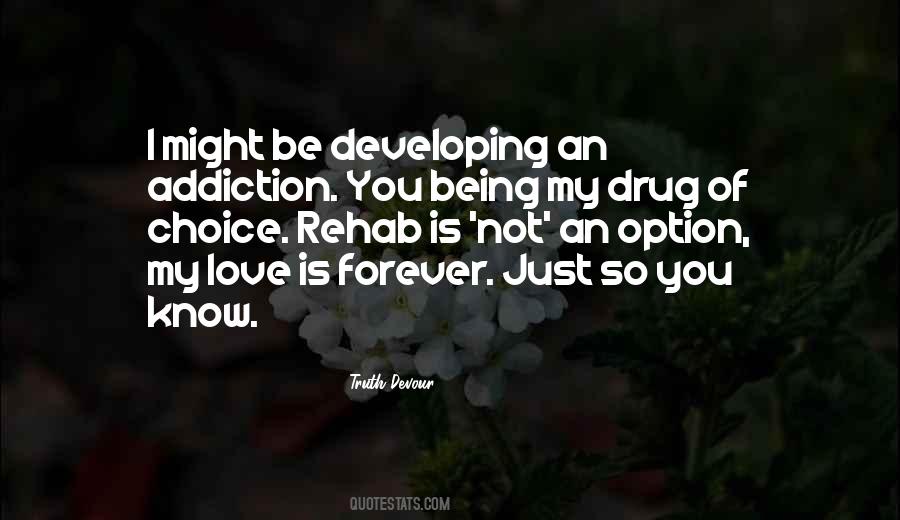 #58. I was always watching the boys and how they interacted. It comes with being a feminist, just somebody who thinks a lot about gender and how it plays out in society. - Author: Lynn Coady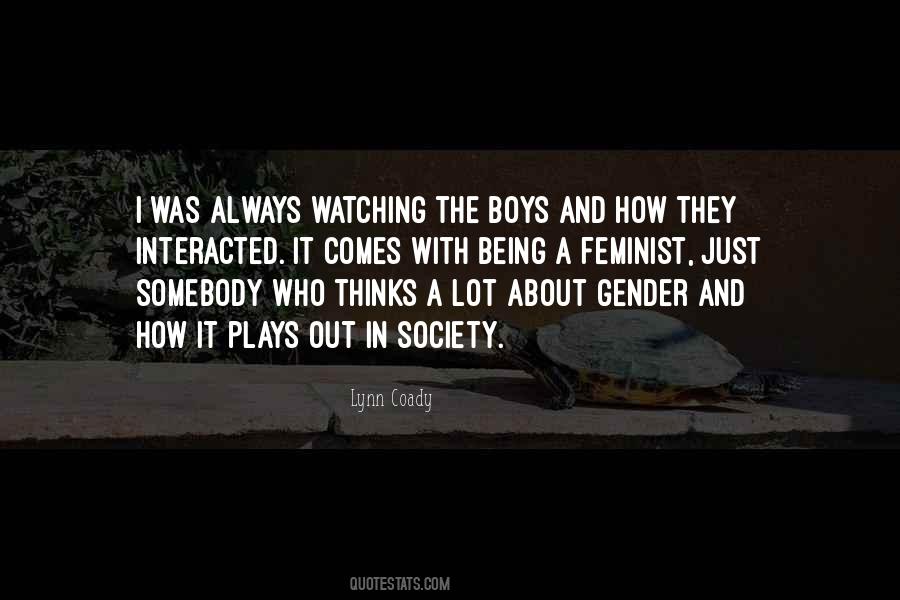 #59. An accent like mine and a face like mine, I think a lot of the time it's easy for casting directors to just stick me in as a bad boy, but 'Being Human' took a risk on me - bless 'em - and I'm not that bad boy no more. - Author: Michael Socha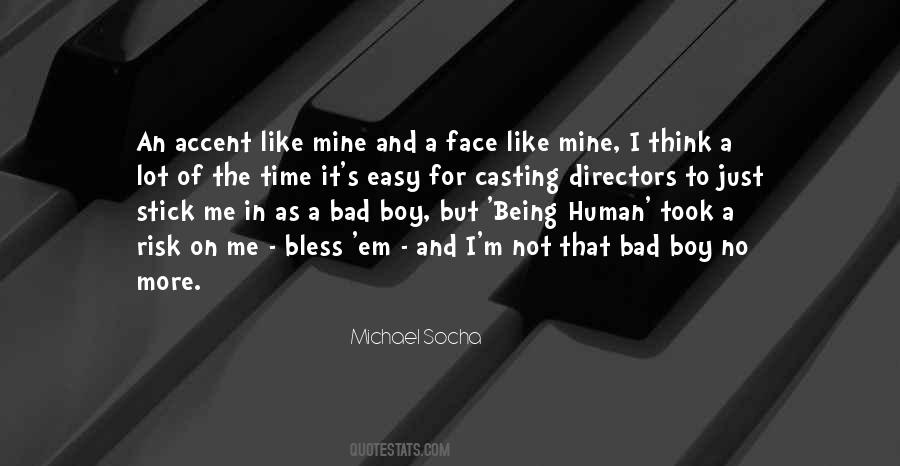 #60. I would say I don't like people who are really into themselves or are very materialistic. Just always talking themselves up. Not being real is the pet peeve. Be true to yourself. - Author: Austin Stowell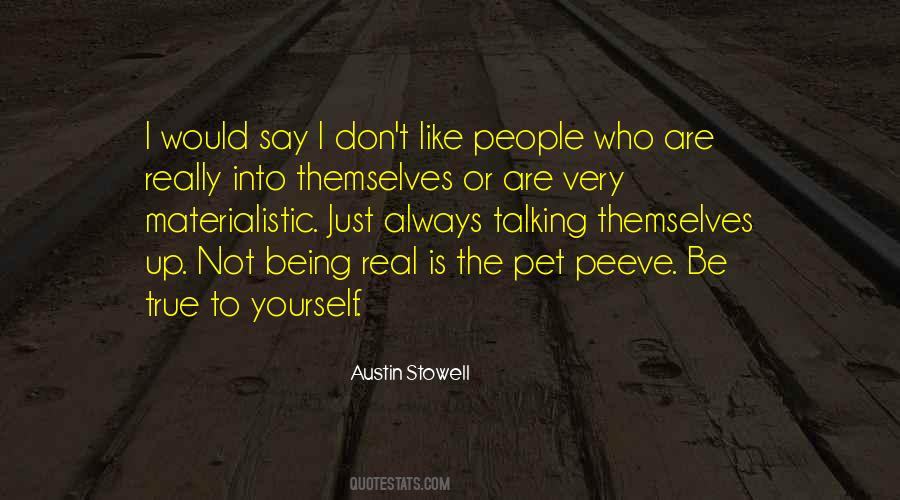 #61. I'm just an actor, but if the extra part of it is that I'm helping people or people are being helped by the virtue of what we're doing, then that's just a really nice added extra. - Author: Christopher Meloni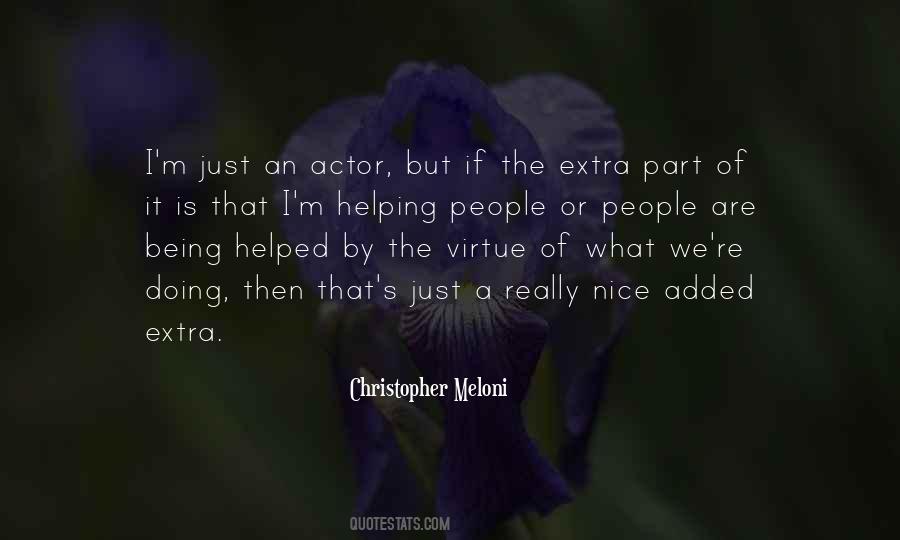 #62. A human being is like a television set with millions of channels ... We cannot let just one channel dominate us. We have the seed of everything in us, and we have to recover our own sovereignty. - Author: Thich Nhat Hanh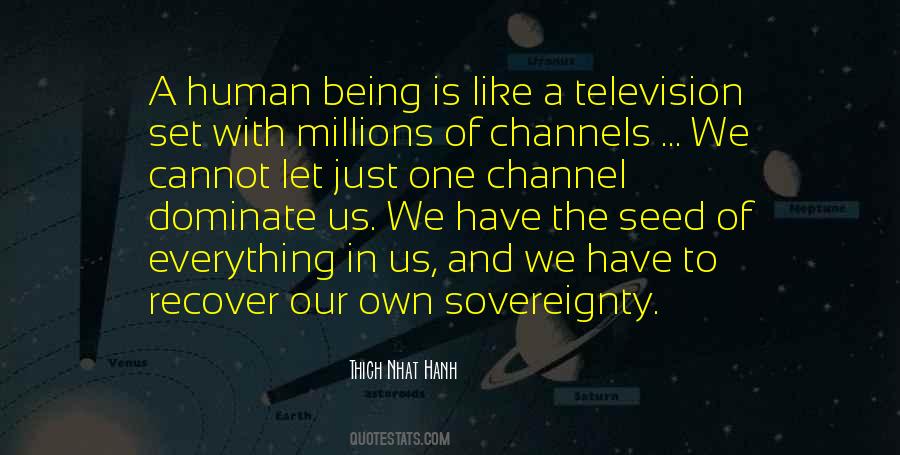 #63. I believe that whatever we have, regardless of a trade being done or not, I feel we have a shot. I've just got to believe that we're going to be all right. I've got to just play basketball. - Author: Allen Iverson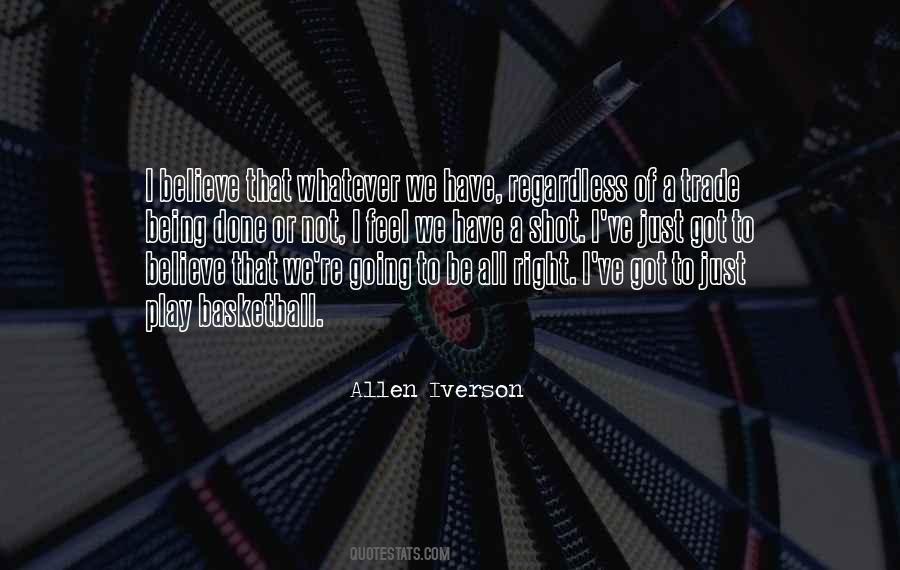 #64. The greatest thing about where my life is right now is it's very relaxed and chill. I'm just hanging out, being myself and doing my work. - Author: Lucas Grabeel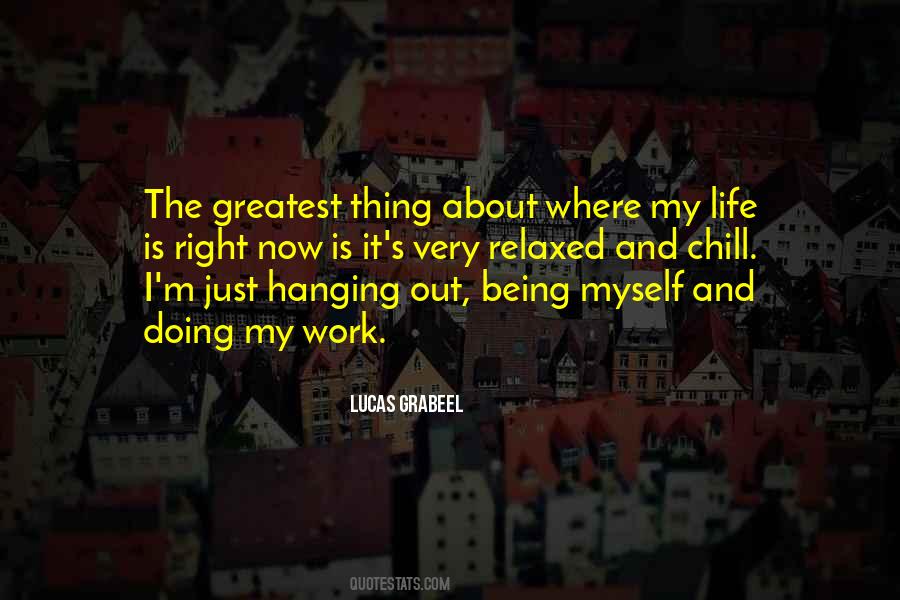 #65. I worked with someone who told me they'd never like me. But for some reason, I just felt like I needed her approval. So I started changing myself to please her. It made me stop being social and friendly. I was so unhappy. - Author: Ariana Grande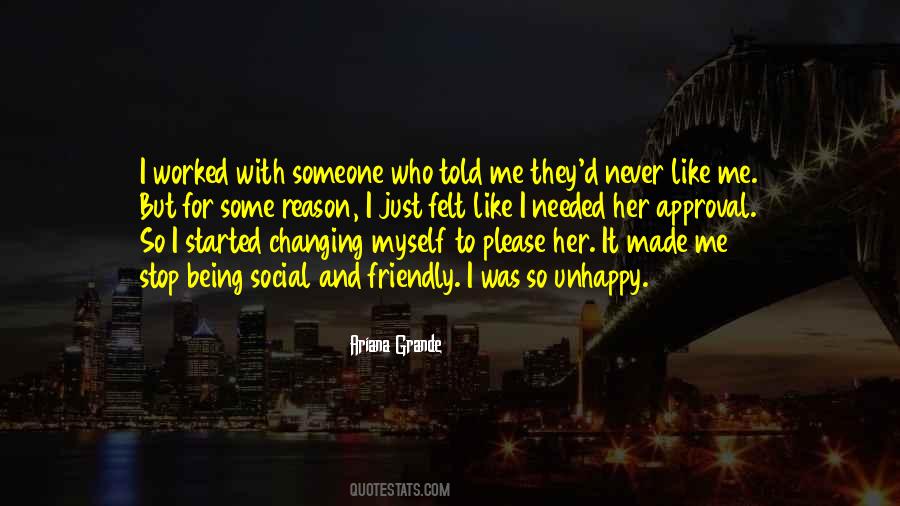 #66. So much of what folks want in the world turns out to be just a thing they say. Words change the way you feel for a small time and that just about goes as far as it can go toward being a true thing. - Author: Robert Bausch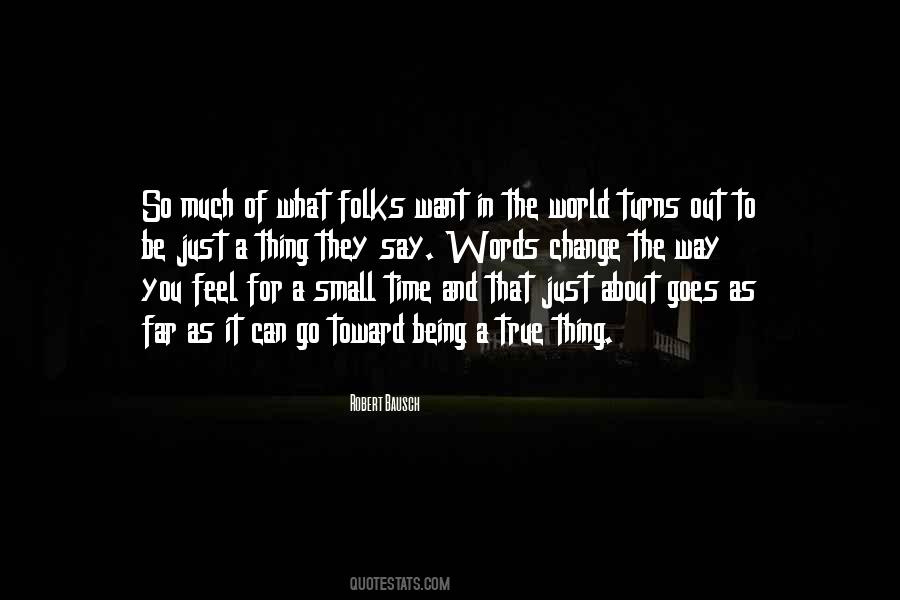 #67. If you want to be original just try being yourself, because God has never made two people exactly alike. - Author: Bernard Meltzer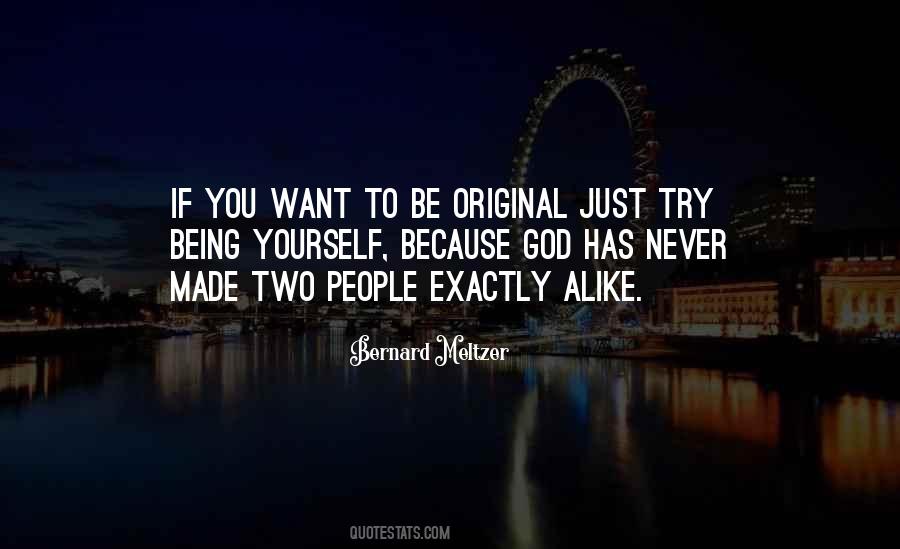 #68. As for him "feeling dead", that's probably just a consequence of him being gone from your life for so long. In some sense he no longer feels real to you. - Author: Paula Hawkins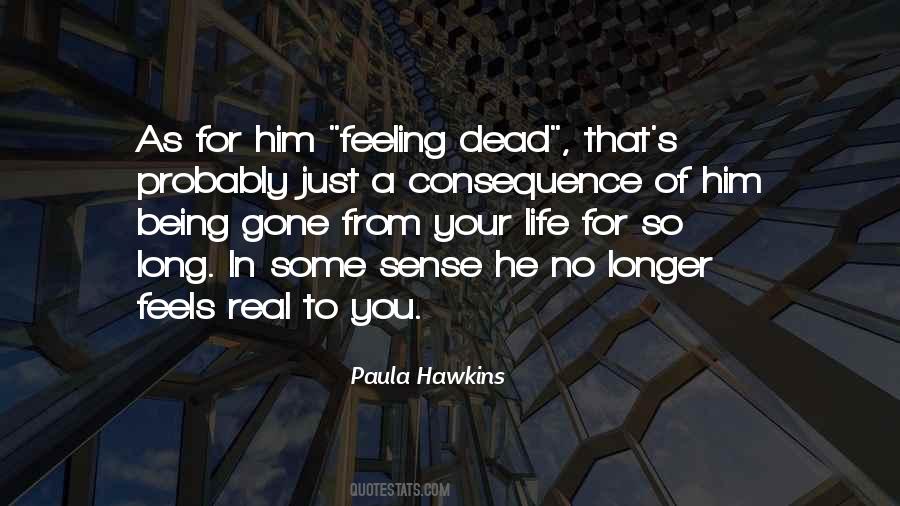 #69. It's funny when I hear people complain - particularly about the most fabulous parts of being a designer, like when you're getting ready to work on a show. I don't even know that I'm tired. I could stay up for six days straight! No drugs, no coffee, no nothing. I'm just so excited. - Author: Michael Kors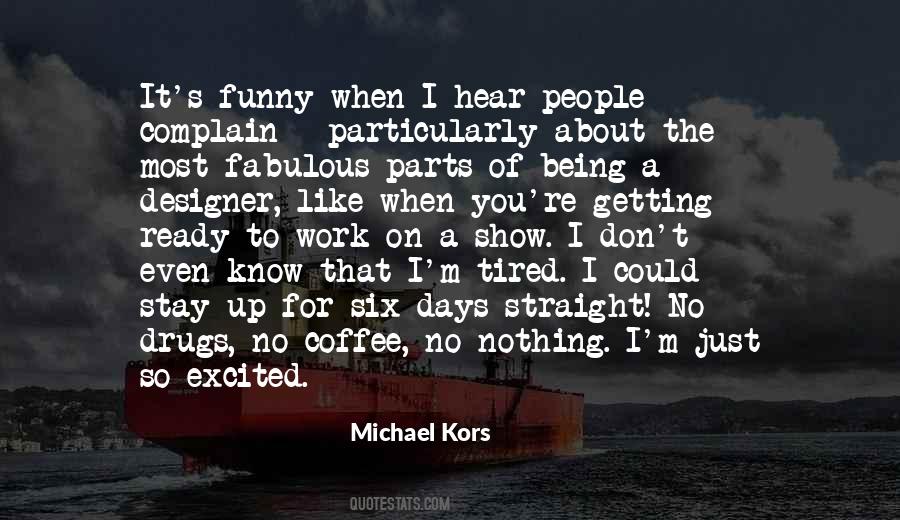 #70. I killed the Google Alert I used to have on myself two years ago. I don't need any more information about myself. I get more than enough of that just by being me. - Author: Lev Grossman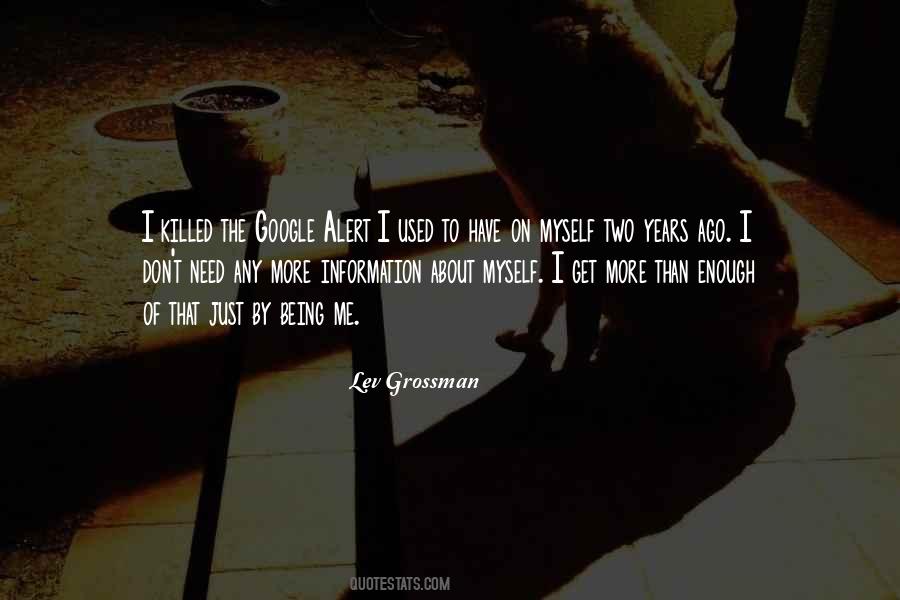 #71. It was almost like being a child again because you felt like you were in your bedroom and it almost felt like no one was really watching you. So, you were just kind of having a bit of fun on your own doing silly voices in the bedroom. - Author: Ashley Jensen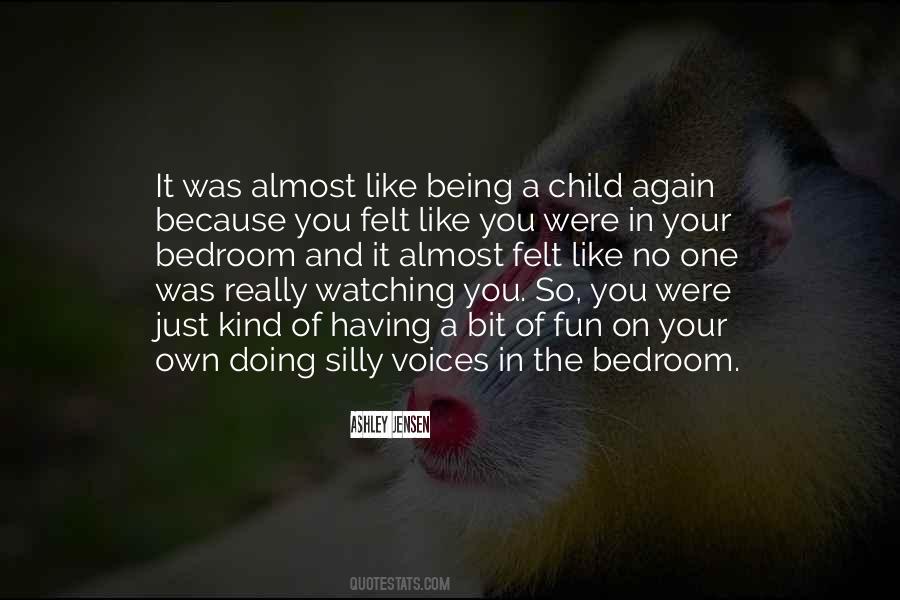 #72. Consciousness-Based Education is just plugging us all into the beautiful, eternal field within, and then watching things get better, which is what happens. It's a field of infinite, unbounded peace within every human being, and when you experience it, you enliven that peace. - Author: David Lynch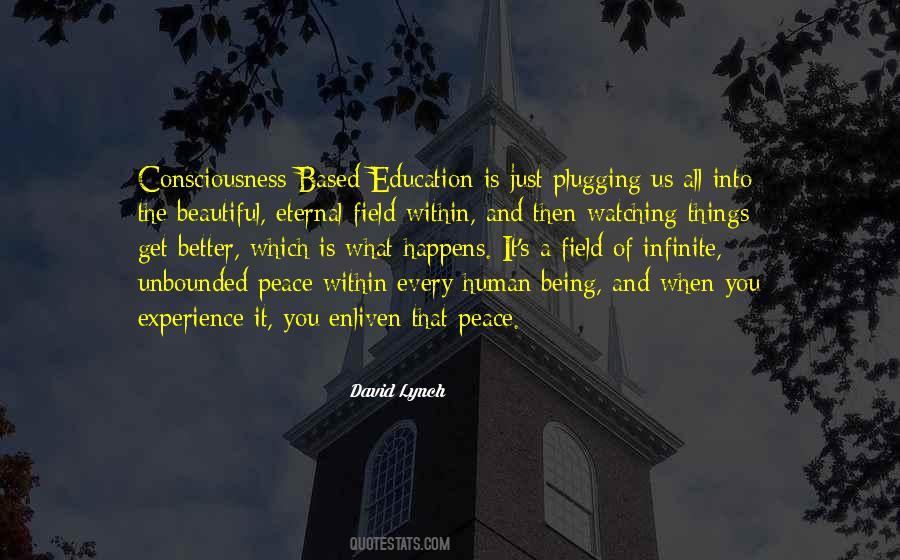 #73. Anyway, you don't have to be terribly intelligent to complete a PhD," Karim grumps. "You just need to be stupidly persistent. If anything, being too smart gets in the way - - Author: Charles Stross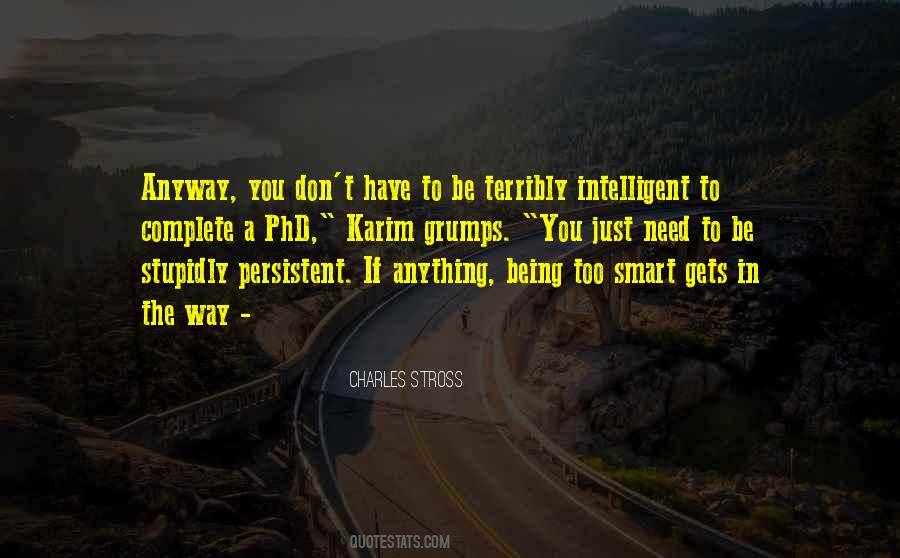 #74. I don't need a boyfriend to be happy. If I meet someone and I want to be with him, then I will be. I'm very confident in being single until I find someone who I'm extremely crazy about and who I want to devote my time and love to. Until then, I will just be on my own and I am totally fine with that, - Author: Nina Dobrev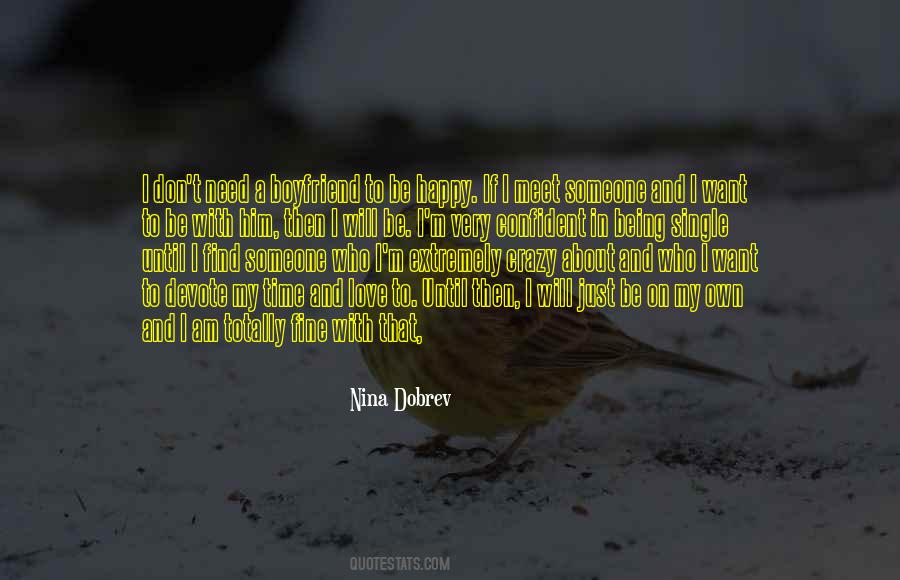 #75. People ask me if my shoes were too small when I was a kid and I say it wouldn't matter how fight my shoes were, I just liked that feeling of them being in there. That's how I started tapping my toes. - Author: Nomar Garciaparra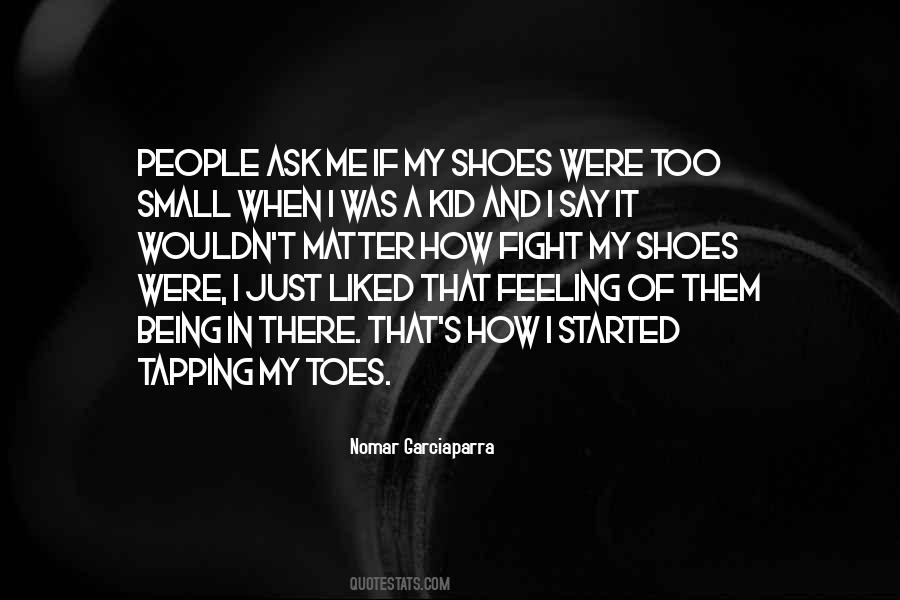 #76. Then I just moved into being a DJ when that turned into the hottest thing. - Author: Jam Master Jay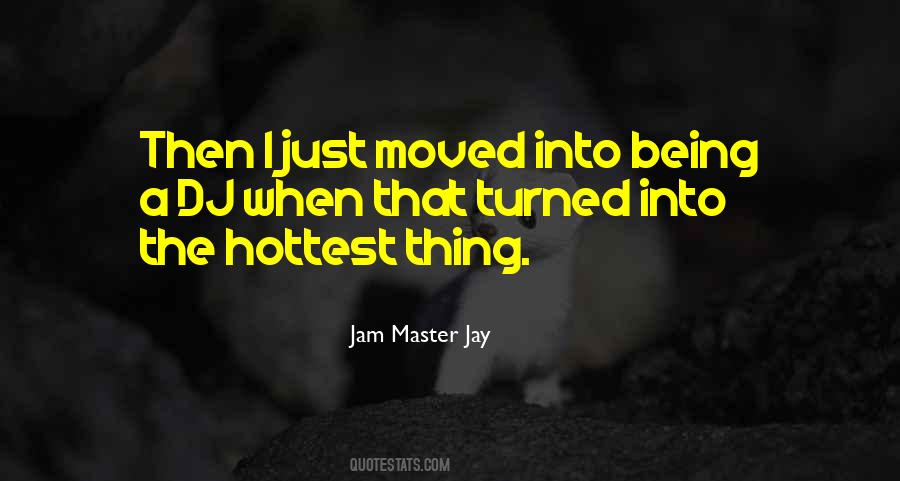 #77. For 'The Trip To Bountiful,' I was worried about being too heavy, because I supposedly had just gotten out of the hospital. - Author: John Heard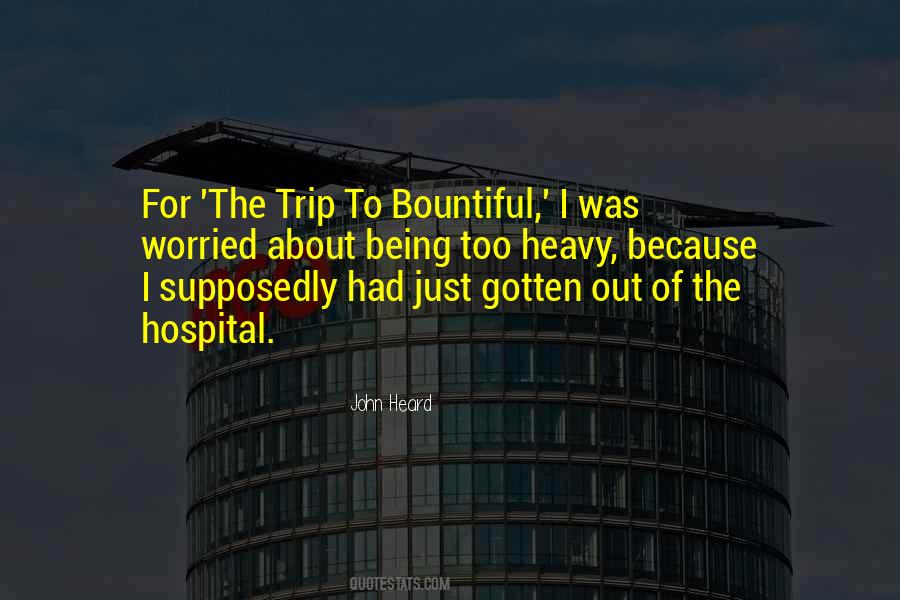 #78. I've seen stand up comedy, and after a while you start to notice that a lot of people are doing things that are like a lot of other people. There can be a bit of a herd mentality, and that's obviously less interesting because there's less going on. I'm just being totally frank with you. - Author: Dylan Moran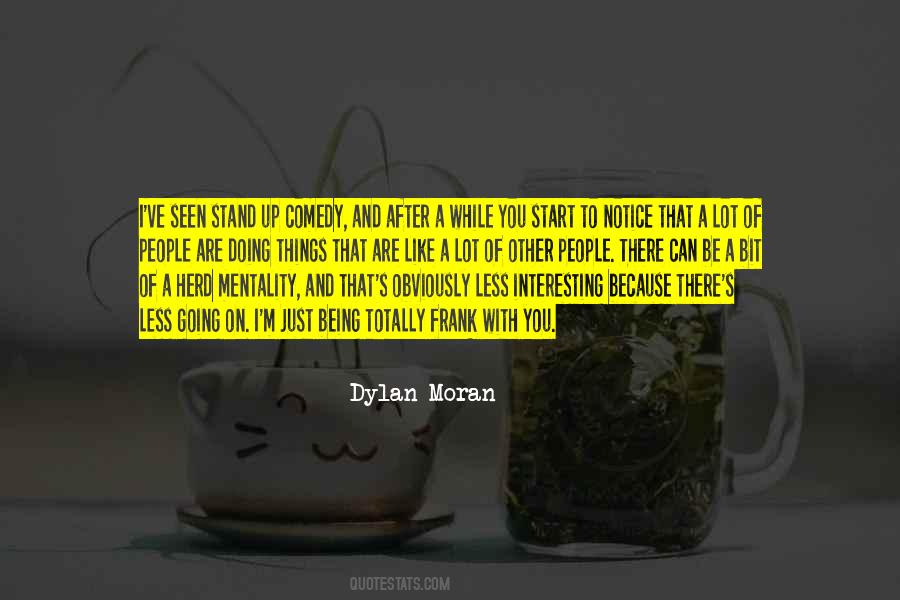 #79. We take men's obligation to earn money, and when they do it well, we blame them for having power and being oppressors. And when they don't do it all, women just don't marry men who are reading 'I'm Okay, You're Okay' in the unemployment line. - Author: Warren Farrell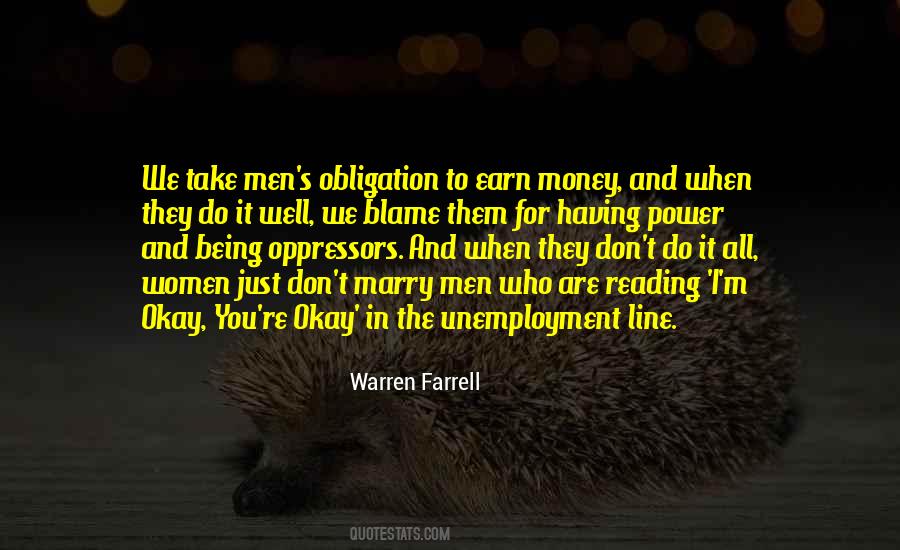 #80. Warhol was a prime example of a schizoid person. Maybe he had Asperger's, or maybe he was just an amorous human being on earth. - Author: Jim Shaw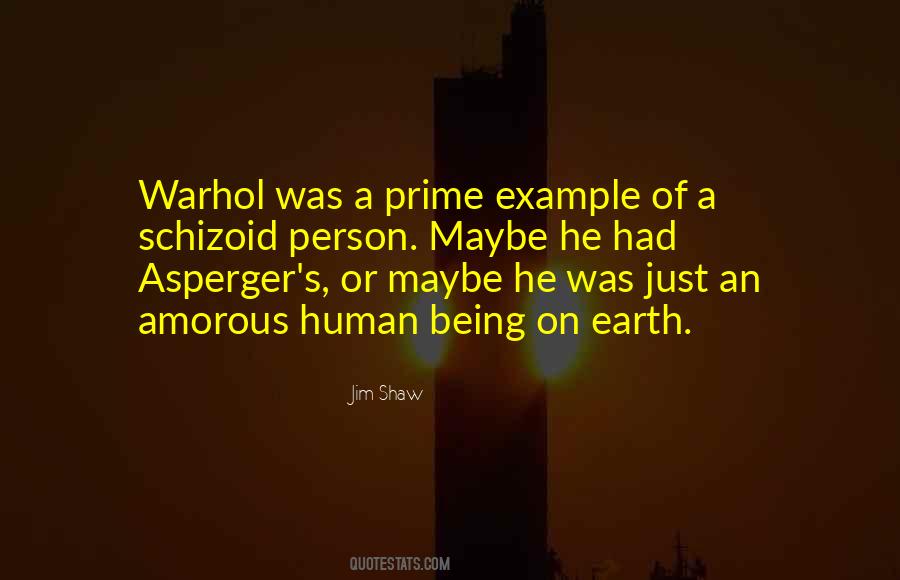 #81. There's a long pause.
But it's not a bad pause, because Mik is looking at me like I'm the treasure from the high shelf that someone's just taken down and put into his hands. I find I don't mind being looked at like this. I don't mind it at all. - Author: Laini Taylor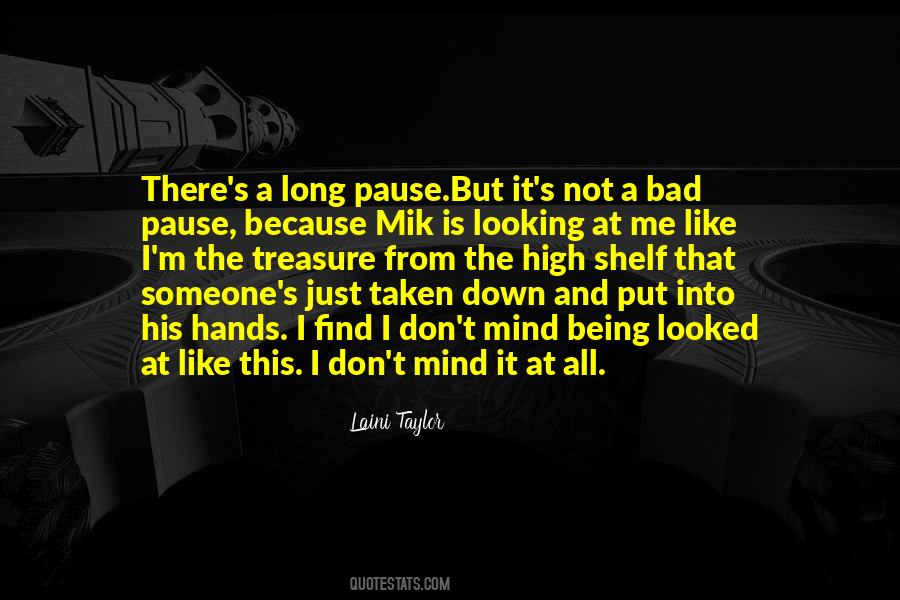 #82. People need meaning as much as they need air. Lucky for us, we can give meaning to each other for free. Just by being alive. - Author: Daniel H. Wilson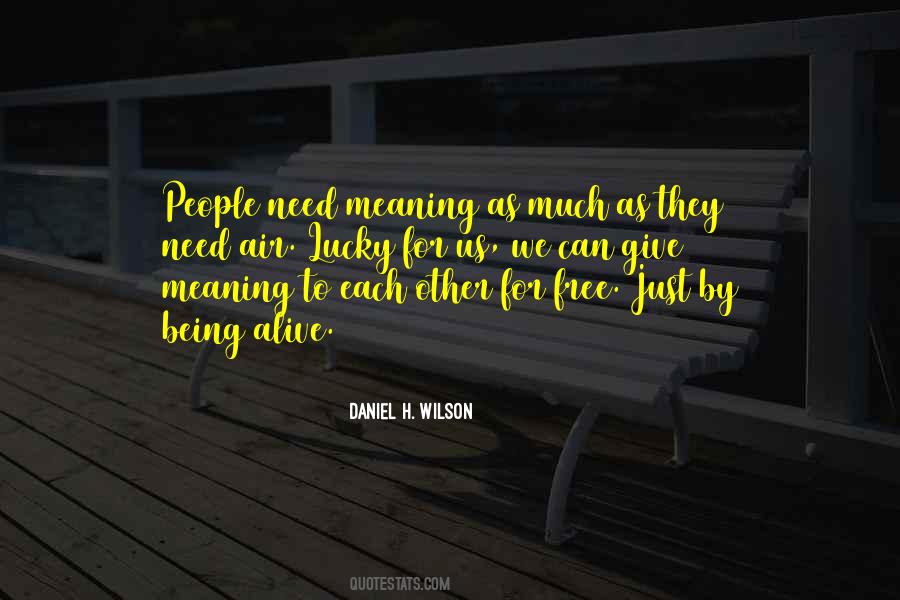 #83. I'm sympathetic to the nuns' violent impulses. I mean, if I'd given up sex to devote myself to a man who I had to just trust loved me, despite never being physically around to prove it, I'd probably be smacking little children too. - Author: Sarah Silverman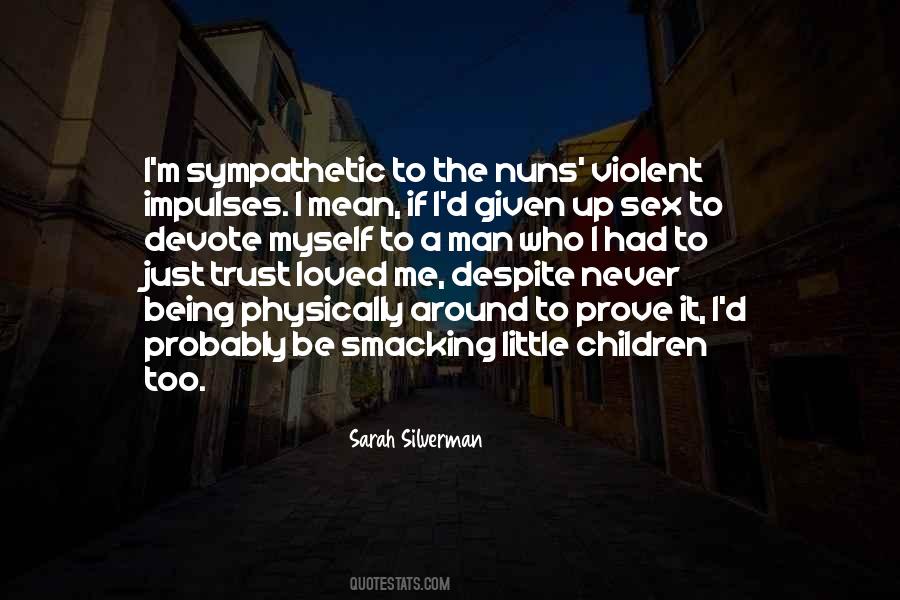 #84. Every portal coming into this country is being attacked by those who would harvest information, both national security secrets and just the common information of private individuals and private individuals. That crime is going on, every day, on a single entity known as the Internet. - Author: Darrell Issa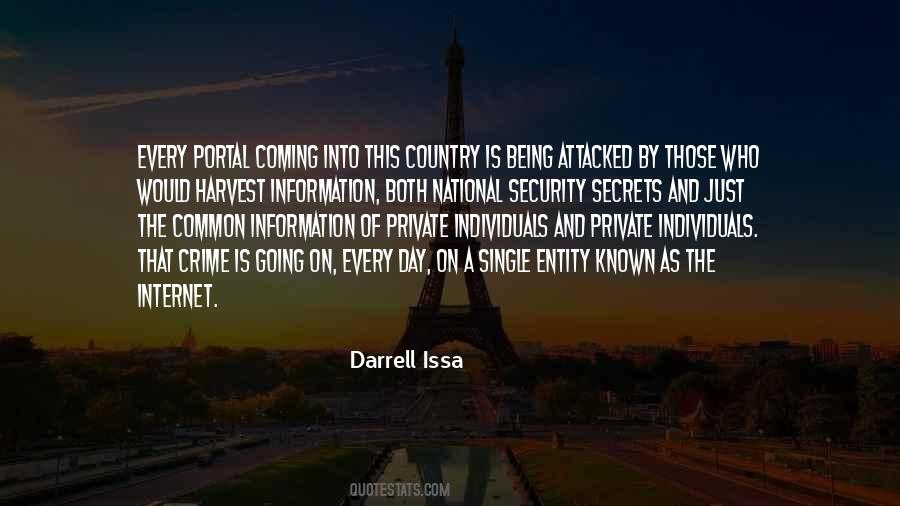 #85. Without thinking, I asked, "Are you afraid of temptation?"
He shook his head. "God, no. Just being with you, just seeing you. Fuck." He mostly swallowed the expletive, his hips rolling in a way that made me think the movement was instinctual, then added on a rush, "You breathing tempts me. - Author: Penny Reid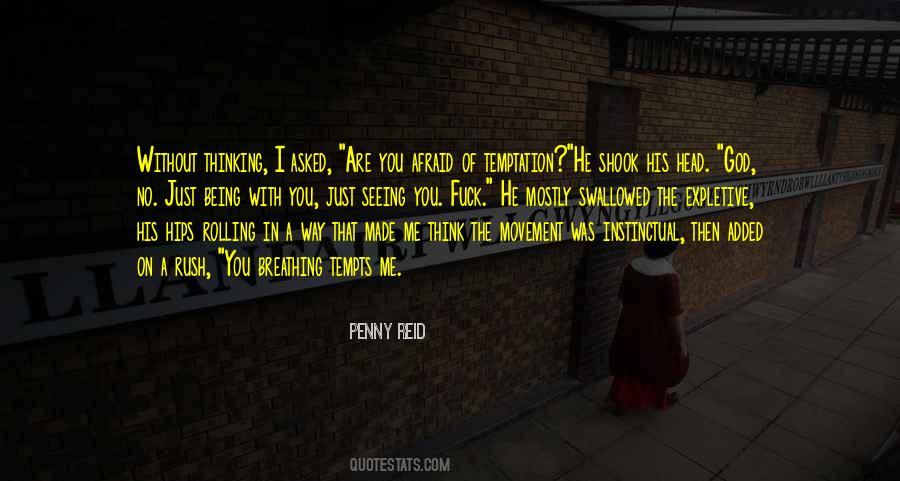 #86. I do not see why we should not be as just to an ant as to a human being. - Author: Charles Kingsley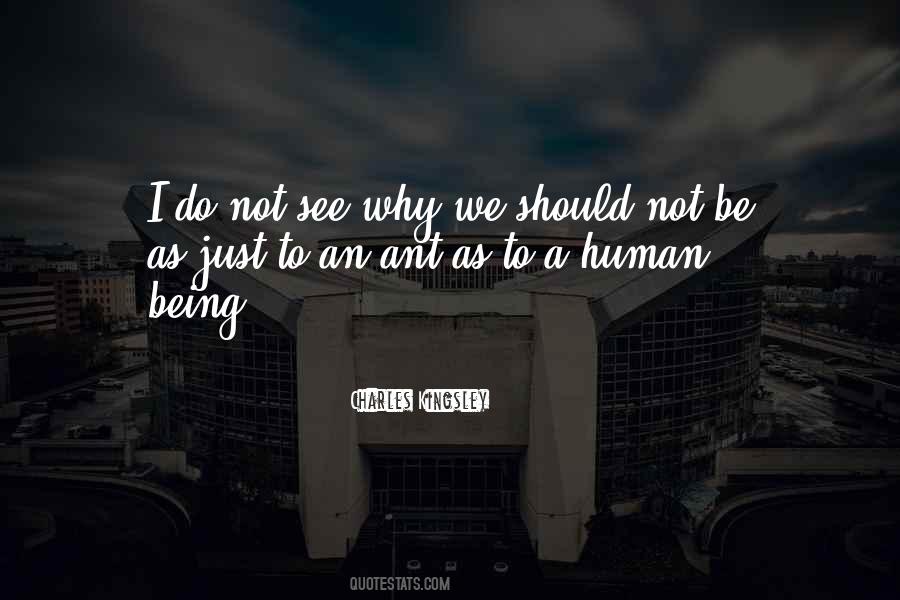 #87. Thanks for being the kind of person who likes to pick up a book. That's a genuinely great thing. I met a librarian recently who said she doesn't read because books are her job and when she goes home, she just wants to switch off. I think we can agree that that's creepy as hell. - Author: Max Barry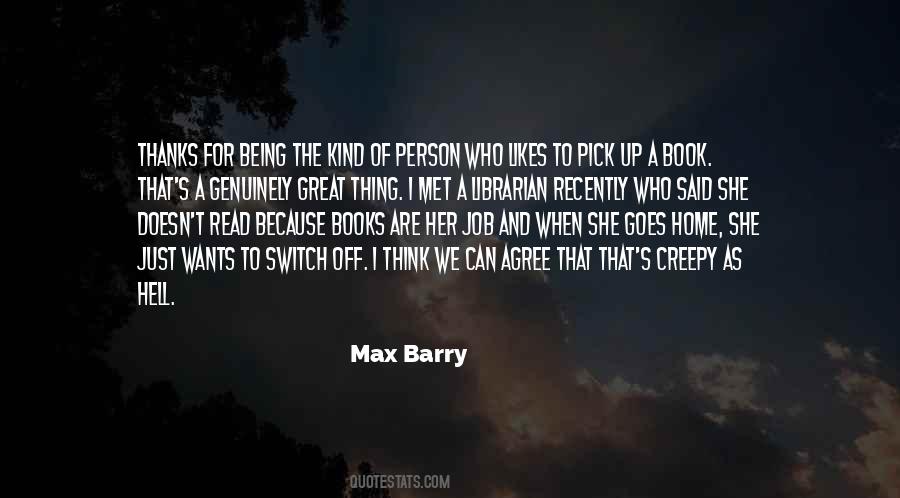 #88. I think if you believe in past lives, I must have been an extremely deprived being. I must have been mistreated, beaten, and forced into indentured servitude because this life has just been phenomenal. - Author: Bryan Cranston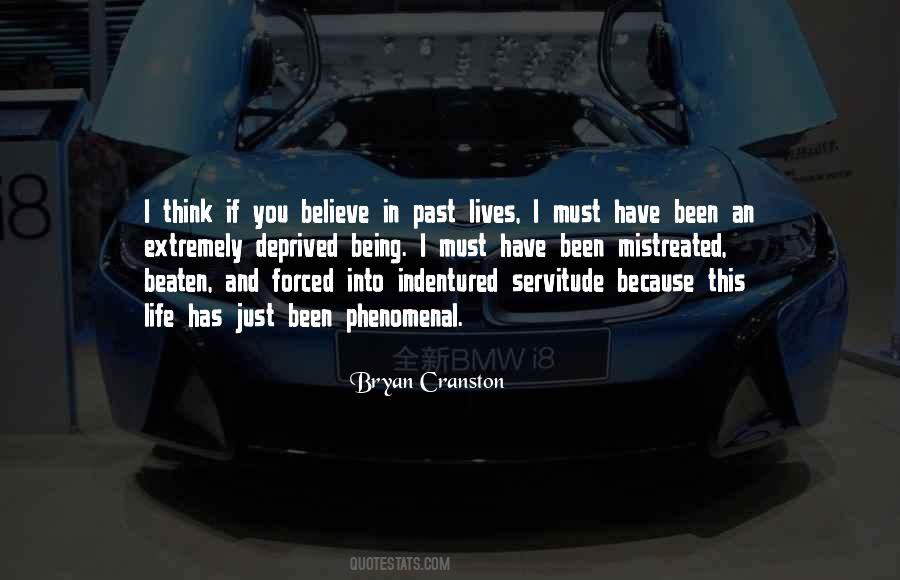 #89. Who are the executives, and what are the stories that are being released? Not just in movie theaters but online. When you watch Master of None, you're like, yes, this is real life to me. These are refreshing types of stories. - Author: Daniel Radcliffe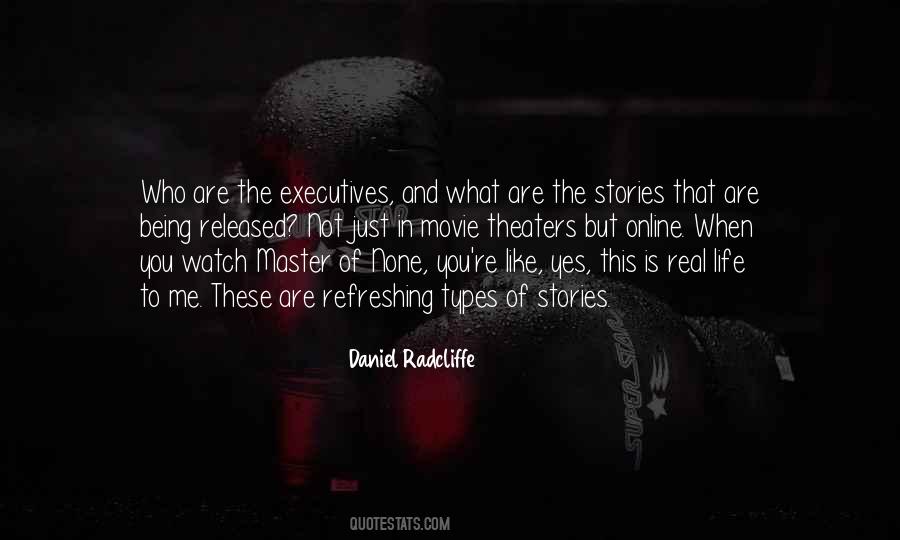 #90. He had a talent for asking exactly the right questions to lead me to my own answers. Just being near him made things clearer. - Author: K.D. Sarge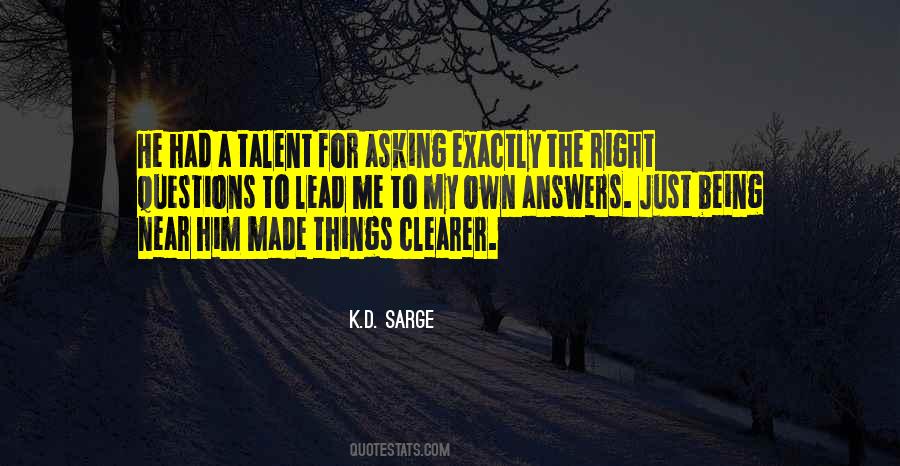 #91. Being the world's greatest athlete just does not get it done on the golf course. - Author: Caitlyn Jenner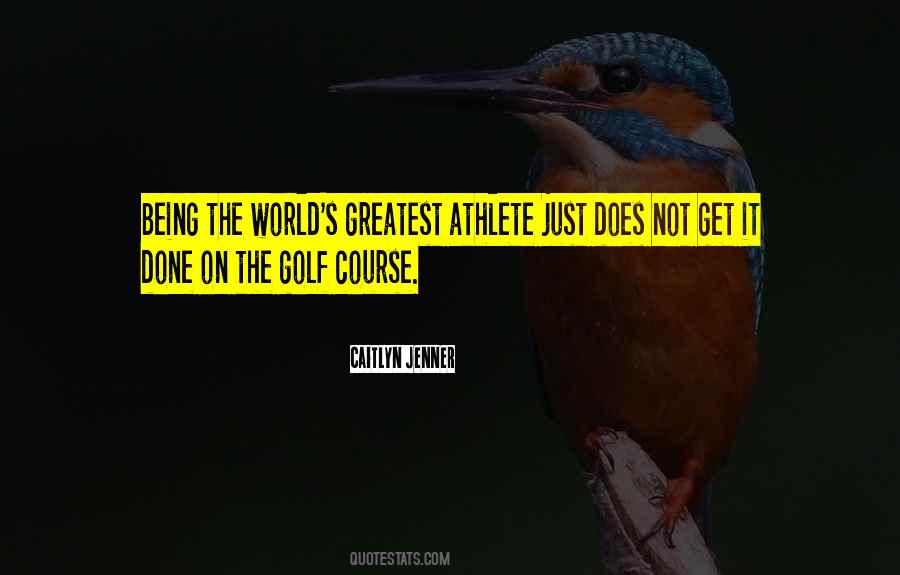 #92. I always knew I wanted to have children. When I met my husband, Rande, I thought, 'This is the guy.' When you are getting ready to become a mom, being in love with someone just isn't enough. You need to think about whether he would be a good parent and raise your children with similar beliefs. - Author: Cindy Crawford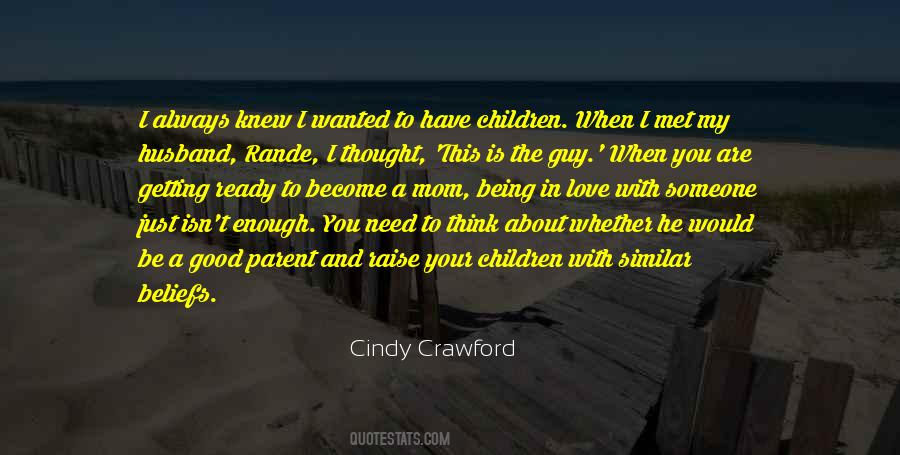 #93. I don't think I set out to have a career in female groups, but it's just kind of happened, and by nature of having worked with my sister - growing up with a sister who also plays, and being in communication with other female musicians. - Author: Emily Robison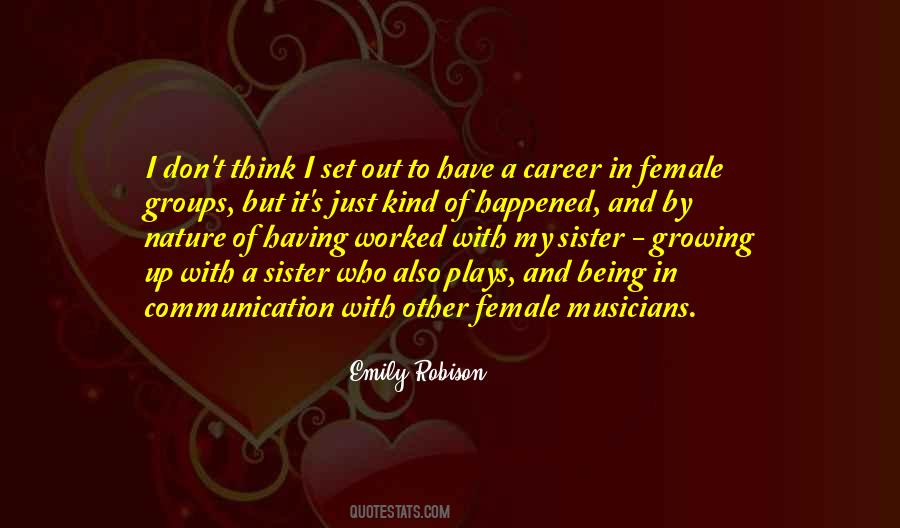 #94. Holiness consists simply in doing God's will, and being just what God wants us to be. - Author: Therese De Lisieux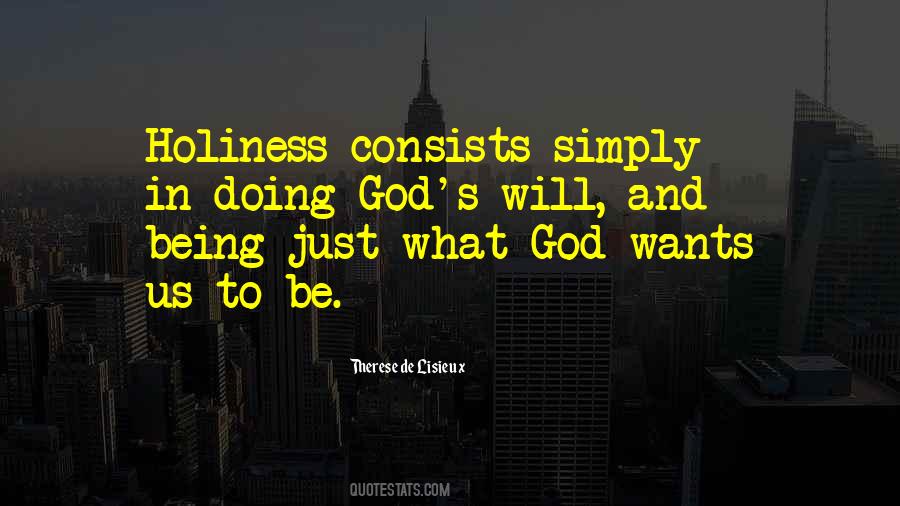 #95. Any human being is really good at certain things. The problem is that the things you're good at come naturally. And since most people are pretty modest instead of an arrogant S.O.B. like me, what comes naturally, you don't see as a special skill. It's just you. It's what you've always done. - Author: Stephen Jay Gould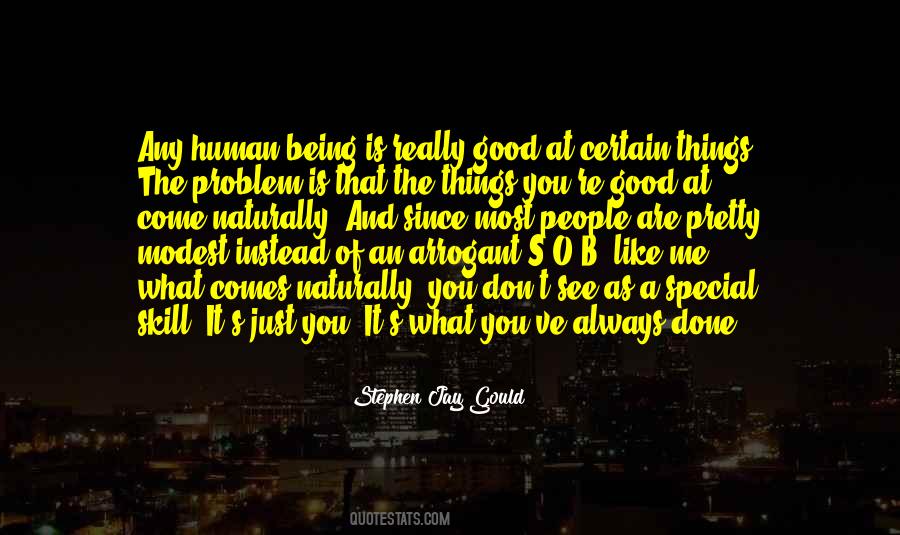 #96. When we think of "taking Christ into the workplace" or "keeping Christ in the home," we are making our faith into a set of special acts. The "specialness" of such acts just underscores the point - that being a Christian, being Christ's isn't thought of as a normal part of life. - Author: Dallas Willard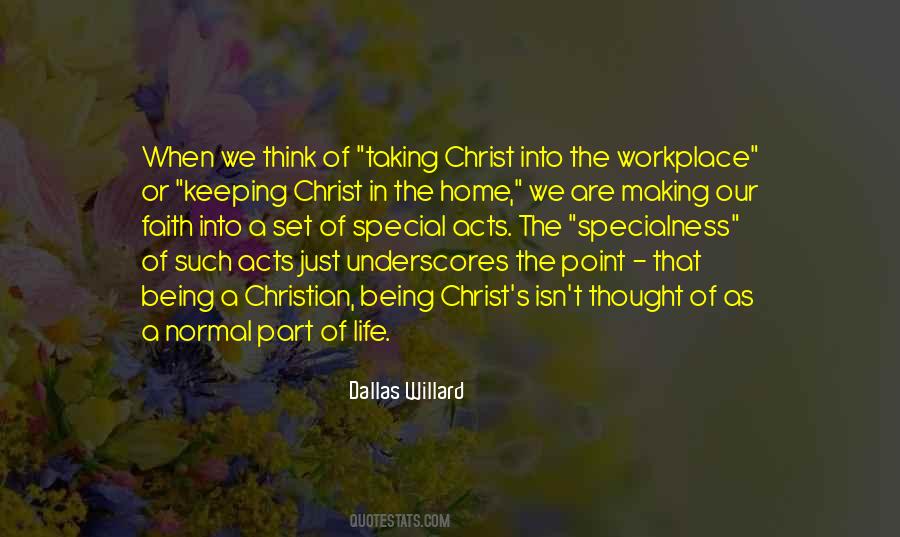 #97. I'm just flowing through, when I see things, I talk about 'em. And it's cool. I don't want any title. I just say what I say, and hopefully somebody gets it. I'm not perfect, and I'm just here and trying to make a dollar, and being real at the same time - Author: Nas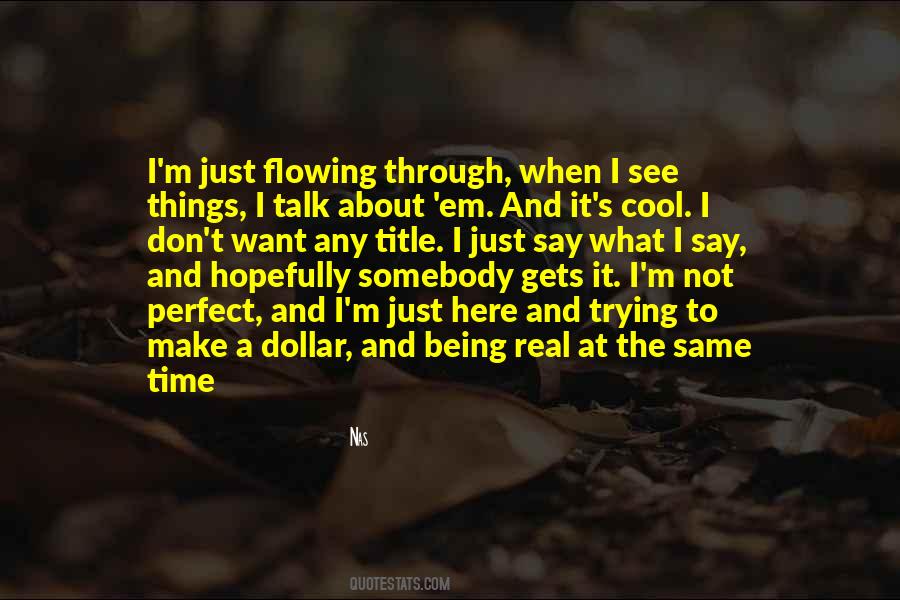 #98. The feeling of being halfway through a show and just realizing that there's nothing you can do to save it - it's a horrible feeling. - Author: Babatunde Adebimpe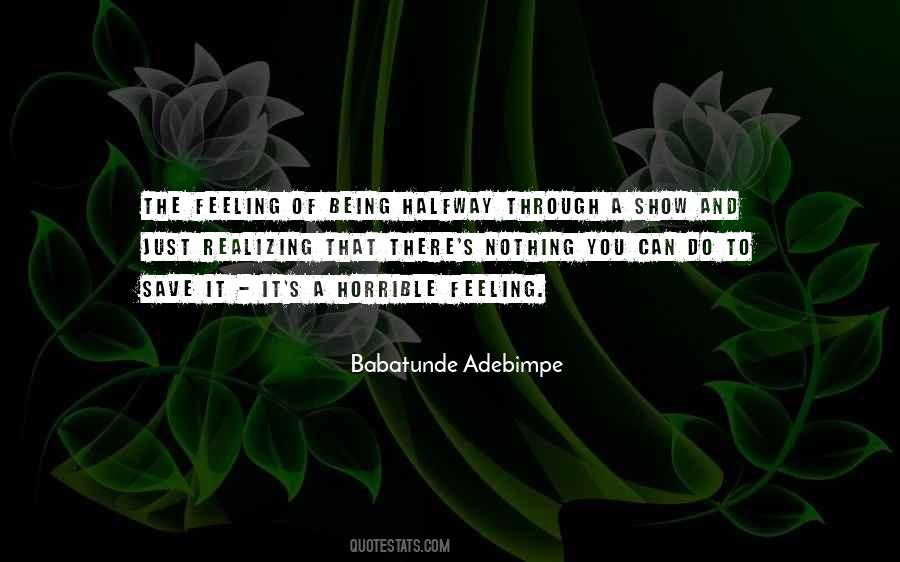 #99. After you read the script, then you actually just have to be in the moment you're in, in order to make it believable. You can't give it away. You can't tip it off. For me, it's always about being truthful in the moment I'm in. Hopefully, being able to reveal what I'm feeling, you have to believe it. - Author: Victor Garber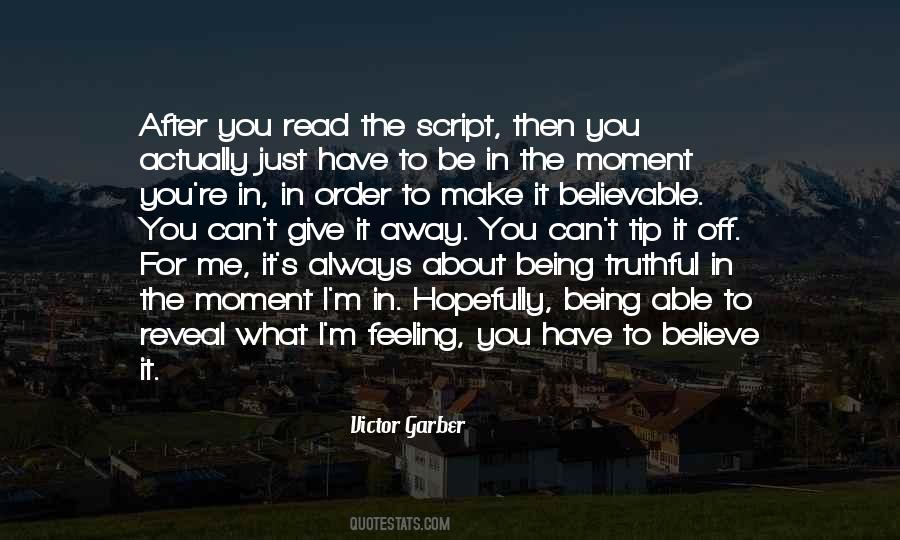 #100. Being a Christian, I'm eager to introduce people to Jesus. I just don't think I should do it in the science classroom. - Author: Kenneth R. Miller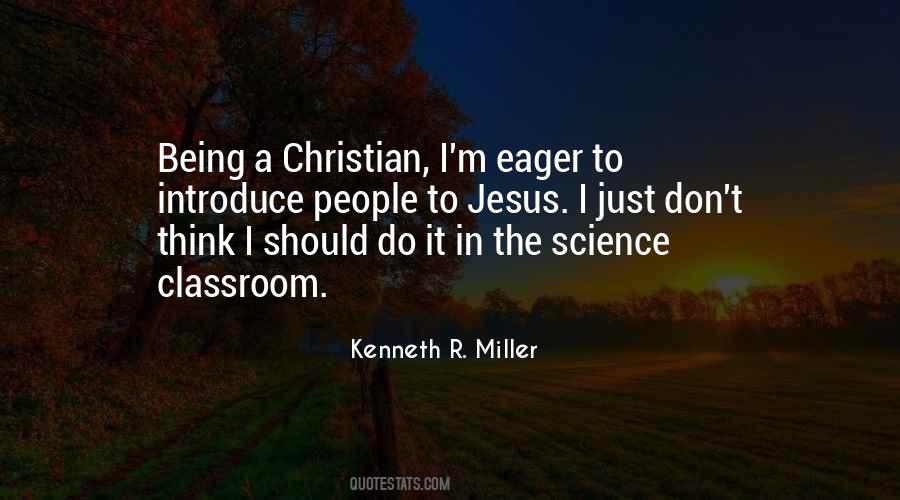 Famous Authors
Popular Topics