Jazz Music Famous Quotes & Sayings
List of top 100 famous quotes and sayings about jazz music to read and share with friends on your Facebook, Twitter, blogs.
Top 100 Quotes About Jazz Music
#1. I'm not supposed to be playing, the music is supposed to be playing me. I'm just supposed to be standing there with the horn, moving my fingers. The music is supposed to be coming through me; that's when it's really happening. - Author: Sonny Rollins
#2. I don't mind being classified as a jazz artist, but I do mind being restricted to being a jazz artist. My foundation has been in jazz, though I didn't really start out that way. I started in classical music, but my formative years were in jazz, and it makes a great foundation. - Author: Herbie Hancock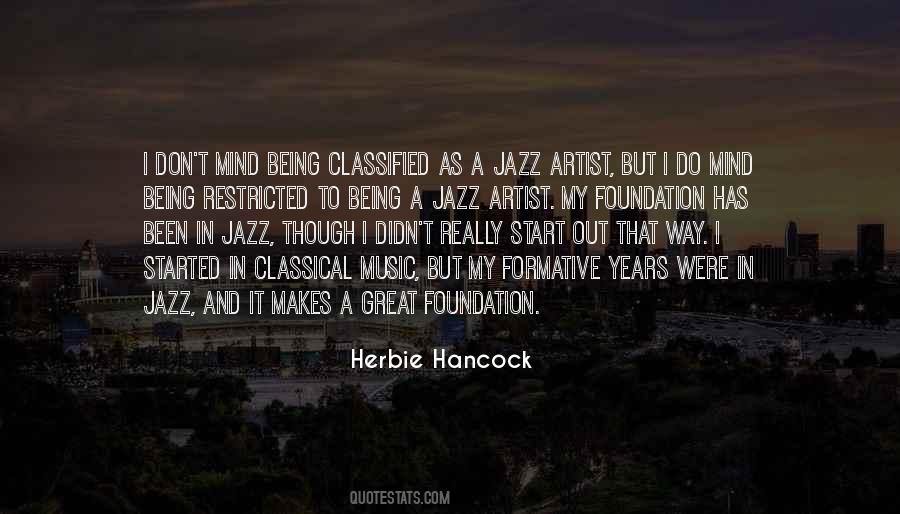 #3. The Zombies were really unique - they had elements of jazz and classical music in their songs and songwriting. They had a very, very different sound compared to a lot of their contemporaries at the time. - Author: Paul Weller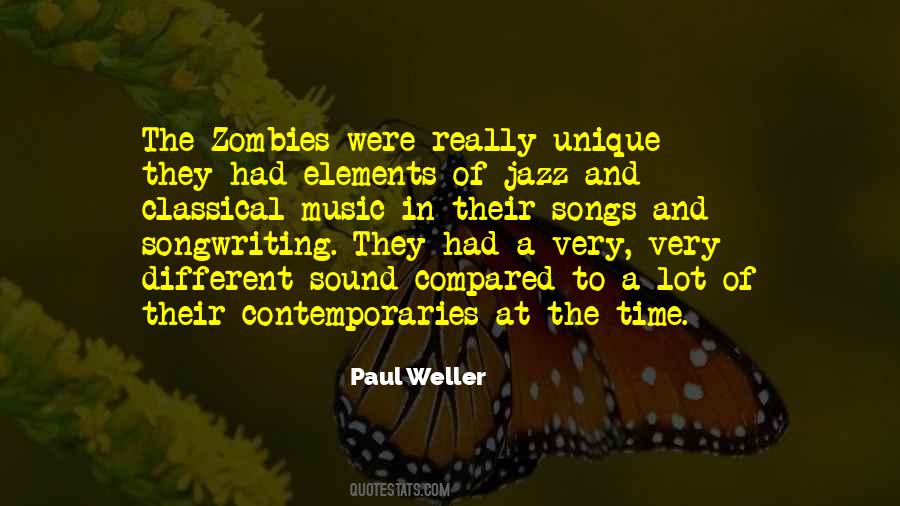 #4. In Montreal, there is a friend of mine at school who is a jazz pianist with an amazing voice, and we sort of have this fusion/soul/R&B/folk music kind of thing. We've been keeping it low-key and opening for some friends. - Author: Jake Epstein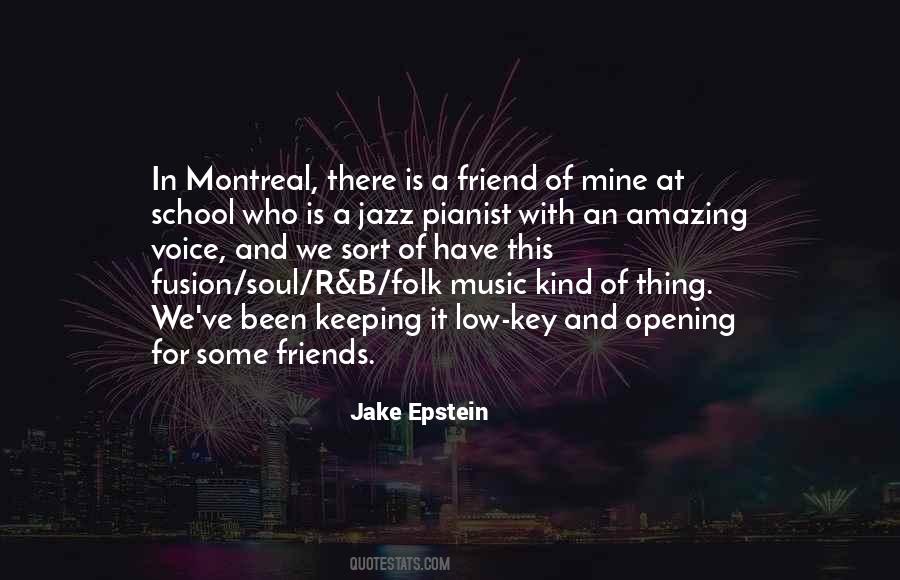 #5. Anyone who understands Jazz knows that you can't understand it. It's too complicated. That's what's so simple about it. - Author: Yogi Berra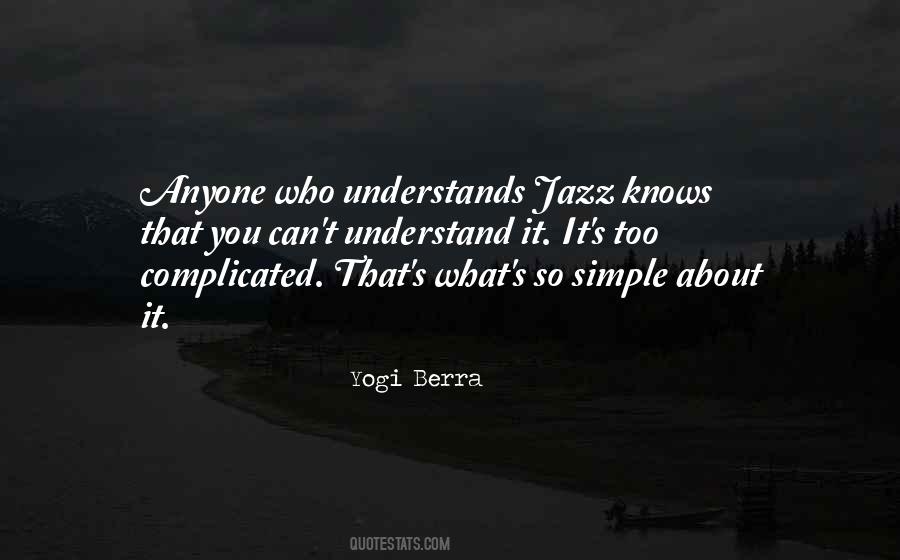 #6. There are singers that I have enjoyed, from Nina Simone and Ray Charles onward. But the music that made music the number one thing for me as a youth was jazz. - Author: Robert Wyatt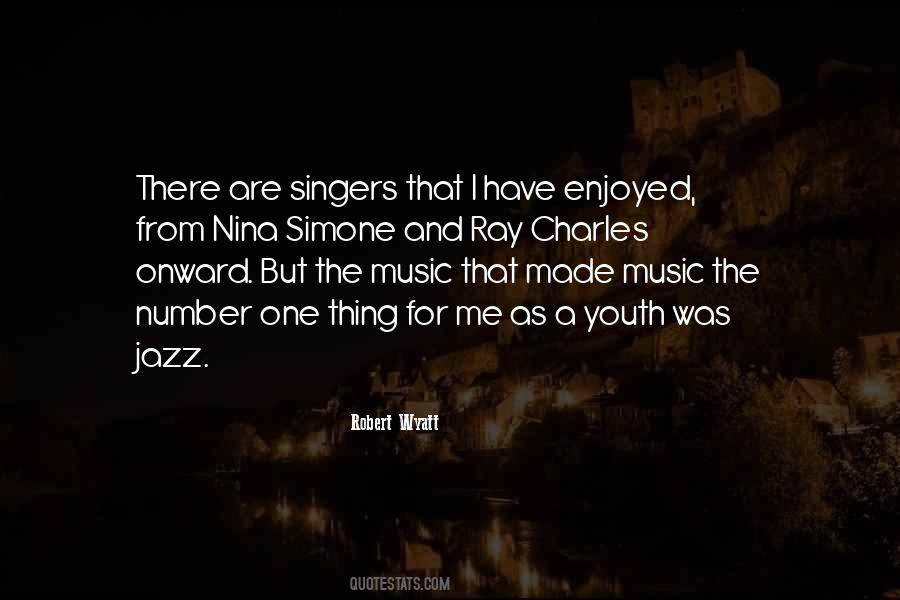 #7. There's more bad music in jazz than any other form. Maybe that's because the audience doesn't really know what's happening. - Author: Pat Metheny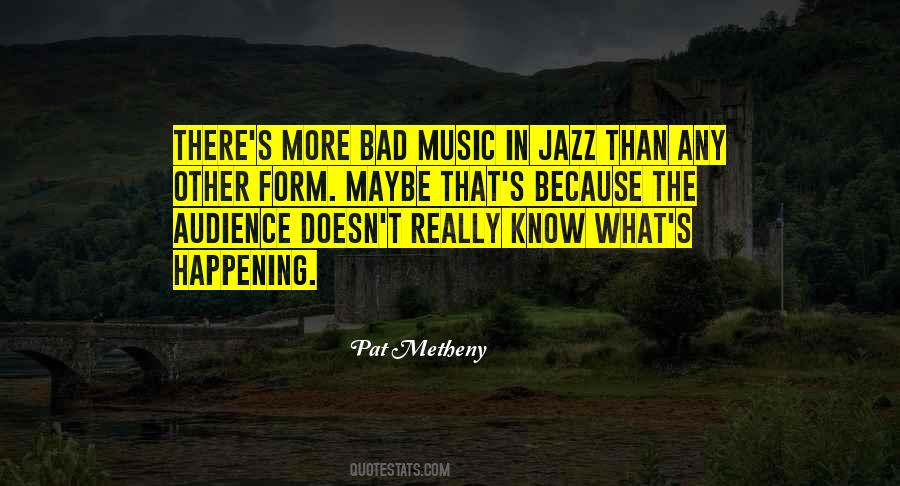 #8. My genre of music is very eclectic. I might play some Latin jazz, or just go into a spontaneous jazz thing. That's the thing about coming to one of my performances. Not every show is the same. - Author: Sheila E.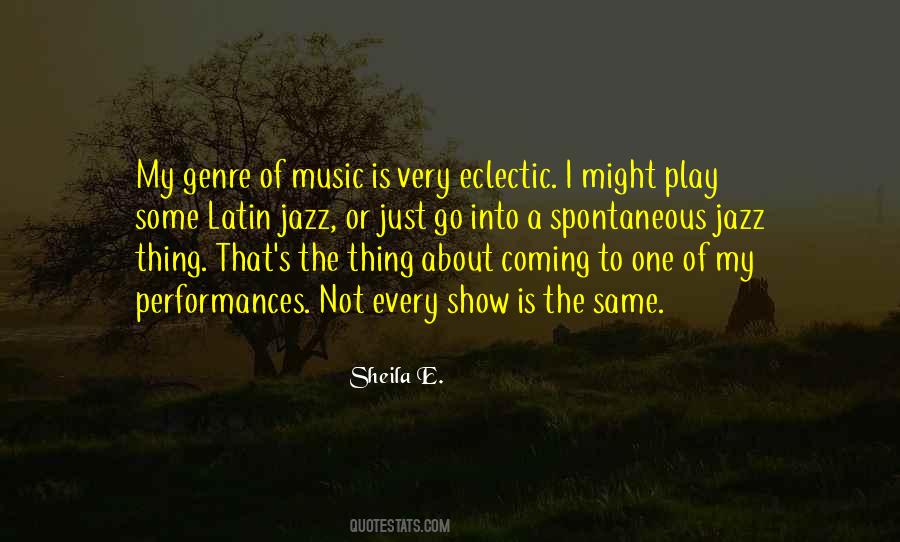 #9. Regarding jam sessions: Jazz musicians are the only workers I can think of who are willing to put in a full shift for pay and then go somewhere else and continue to work for free. - Author: George Carlin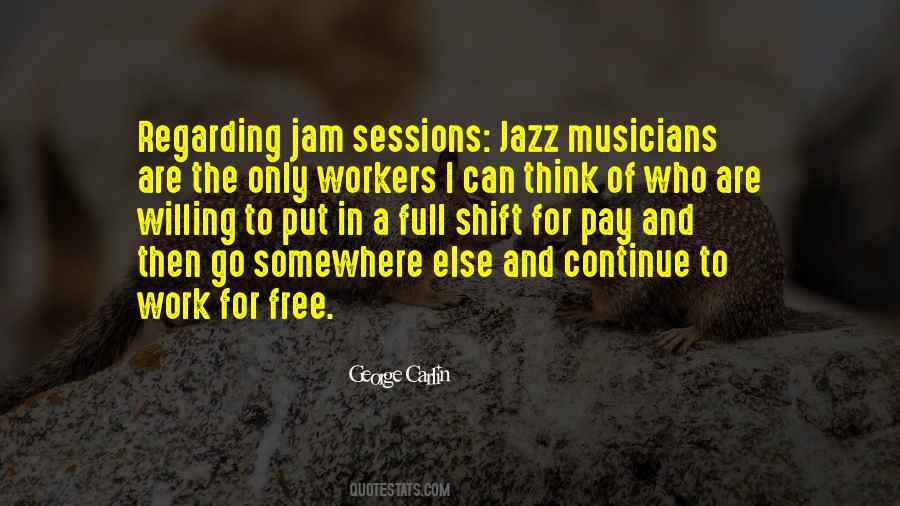 #10. I'm moved by a lot of different kinds of music, whether it's pop music or R&B or straight-ahead jazz or free or opera or music from all parts of the world. - Author: David Sanborn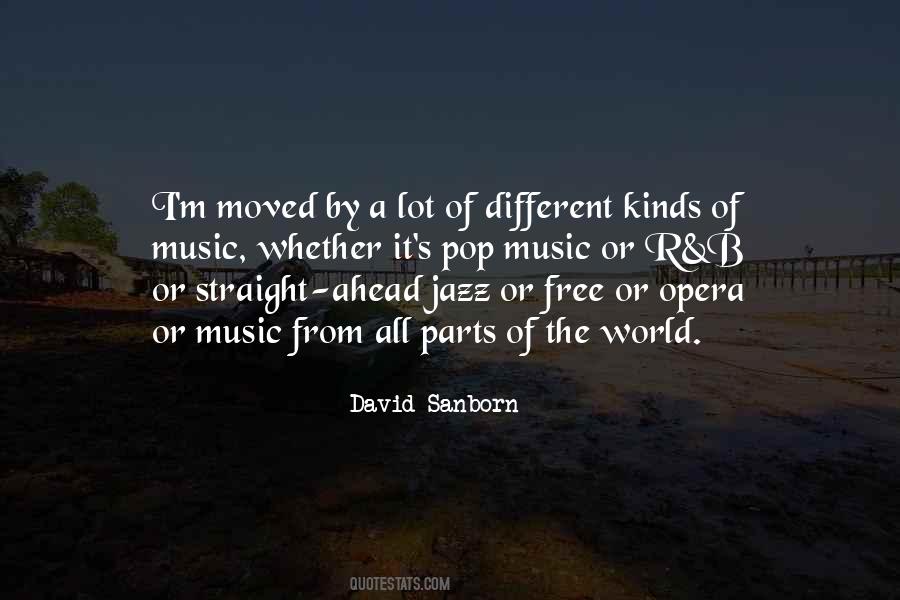 #11. I started off with classical music, and I got into jazz when I was about 14 years old. And I've been playing jazz ever since. - Author: Herbie Hancock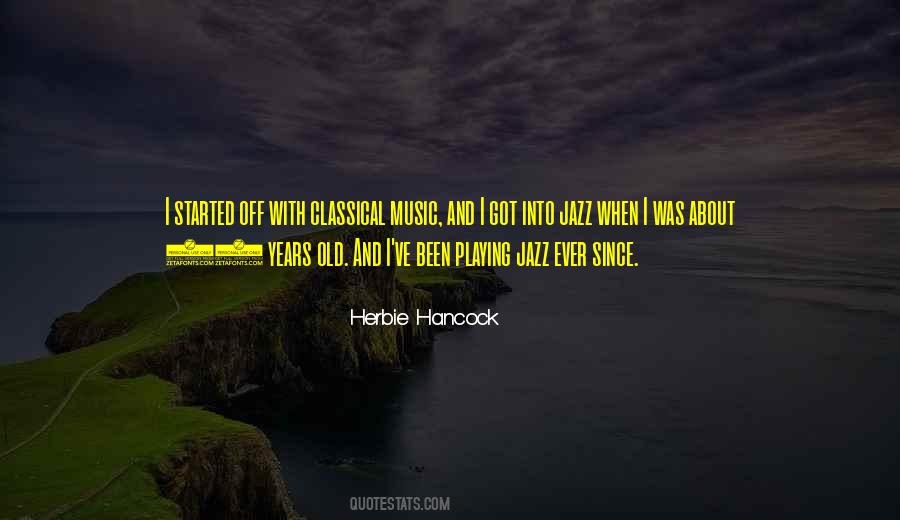 #12. When we stopped in front of it and turned off the engine, we heard music coming from inside - jazz. It sounded sophisticated and lonely. We - Author: Denis Johnson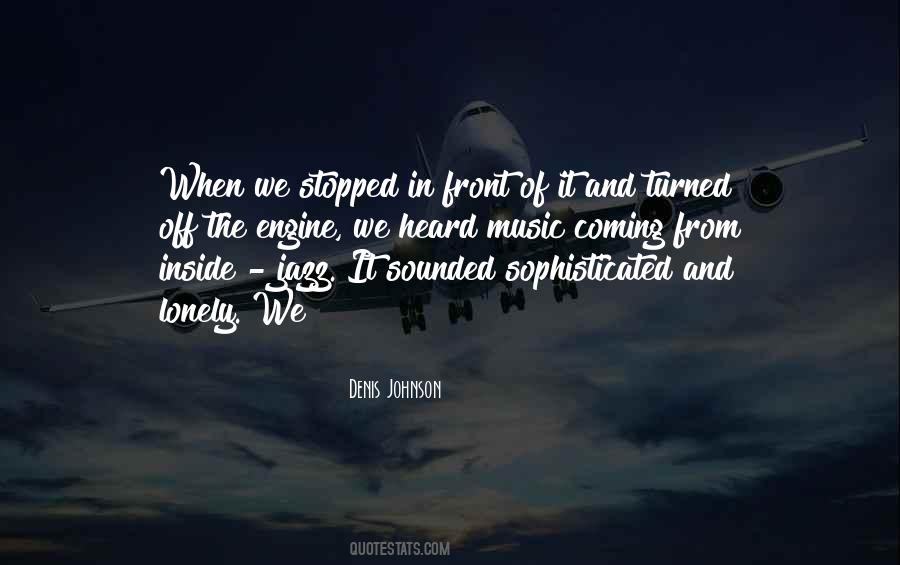 #13. Jazz is the music of unemployment. - Author: Frank Zappa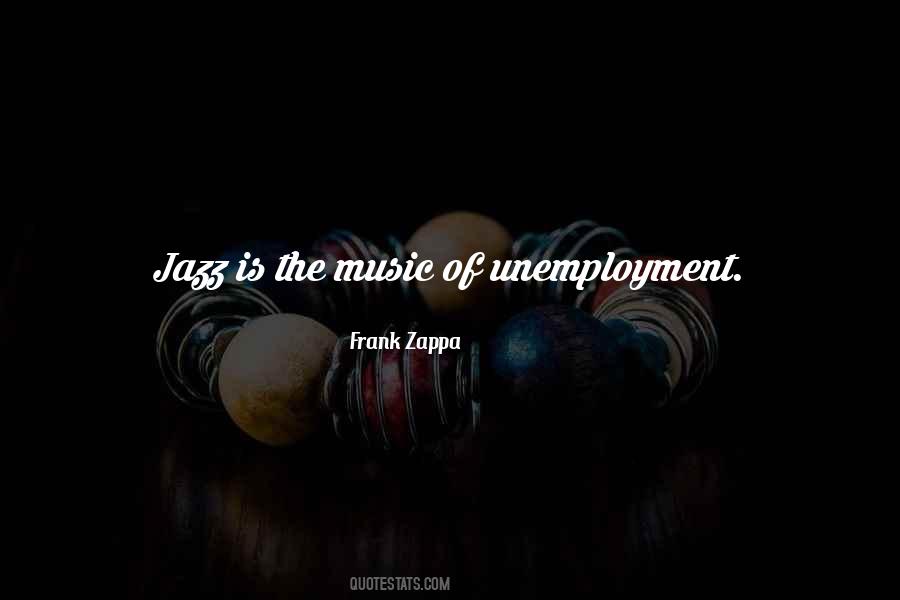 #14. Jazz voices that unvanquishable, natural will toward creaativity and self-expression, depite everything, in the here and now. - Author: Stephanie Mills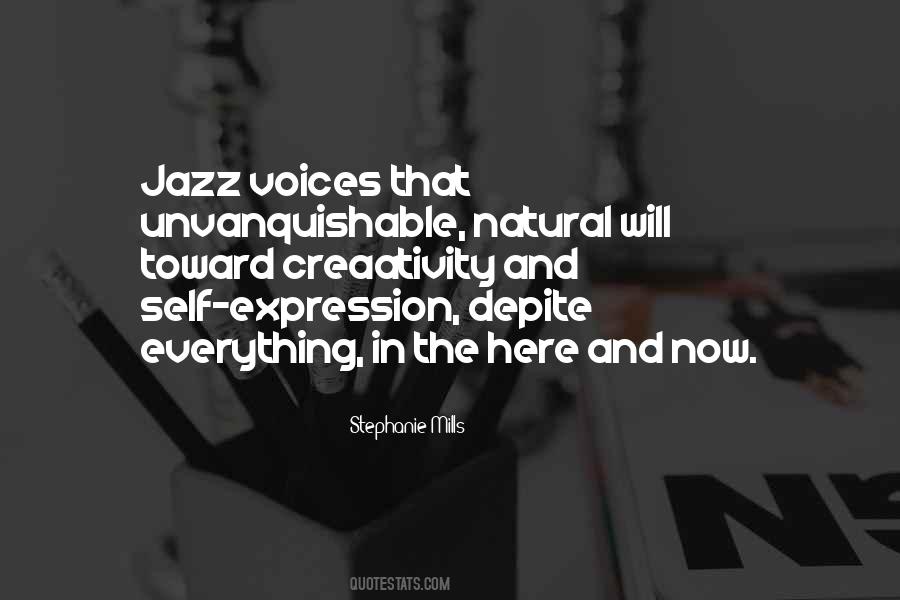 #15. I think the Flecktones are a mixture of acoustic and electronic music with a lot of roots in folk and bluegrass as well as funk and jazz. - Author: Bela Fleck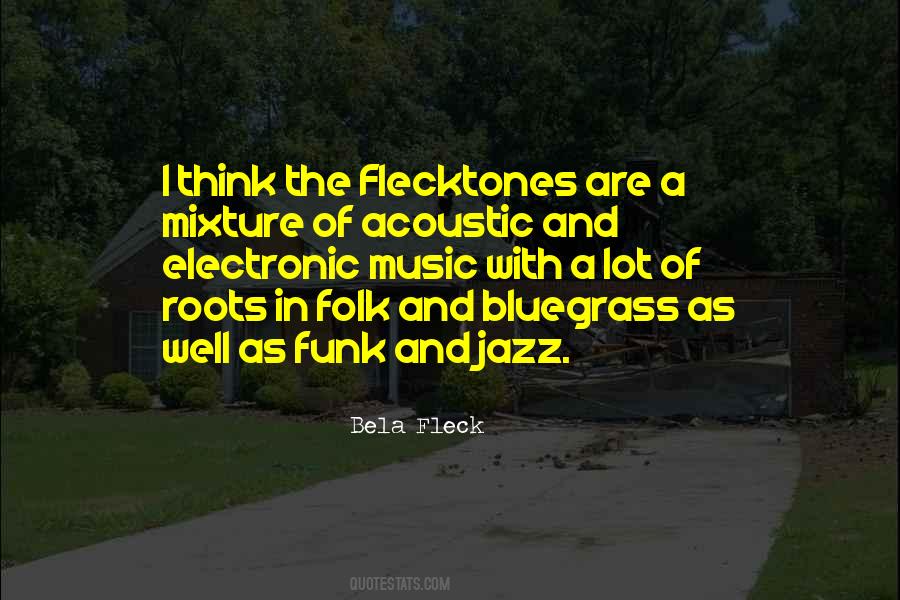 #16. I think there are only three things that America will be known for 2,000 years from now when they study this civilization: the Constitution, jazz music and baseball. They're the three most beautifully designed things this culture has ever produced. - Author: Gerald Early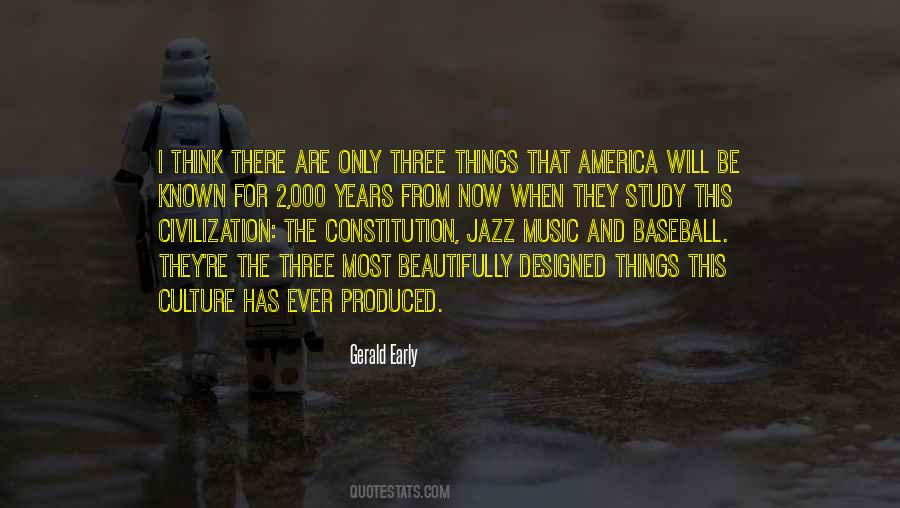 #17. One thing that sticks in my mind is that jazz means freedom and openness. It's a music that, although it developed out of the African American experience, speaks more about the human experience than the experience of a particular people. - Author: Herbie Hancock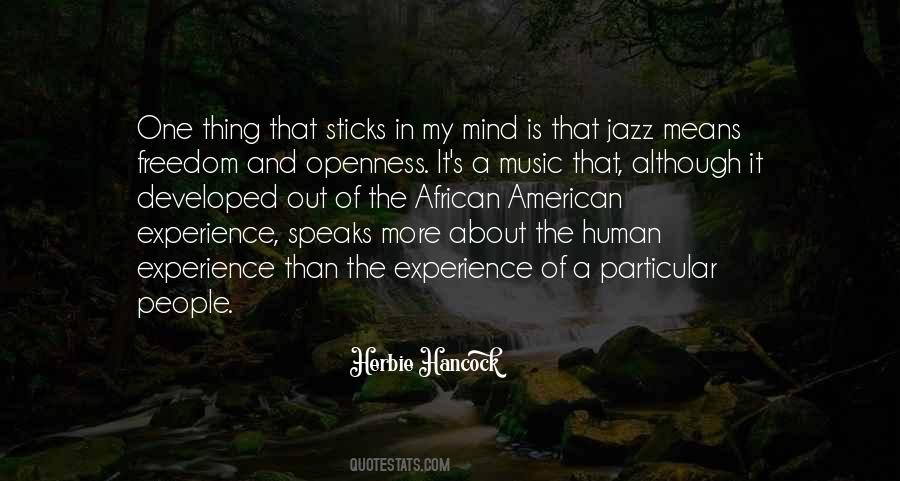 #18. Jazz music celebrates life! Human life; the range of it, the absurdity of it, the ignorance of it, the greatness of it, the intelligence of it, the sexuality of it, the profundity of it. And it deals with it. In all of its ... It deals with it! - Author: Wynton Marsalis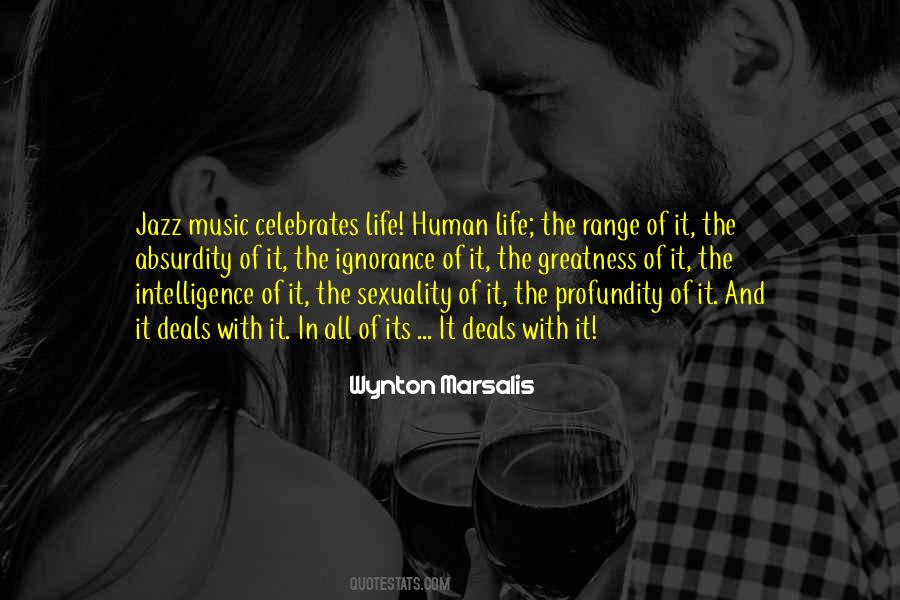 #19. Dizzy Gillespie, the jazz trumpet player, once said, "It's taken me all my life to learn what not to play." He was one of my special ones. And he was quite correct. Silence enhances music. What you do not play can sweeten what you do. But - Author: Mitch Albom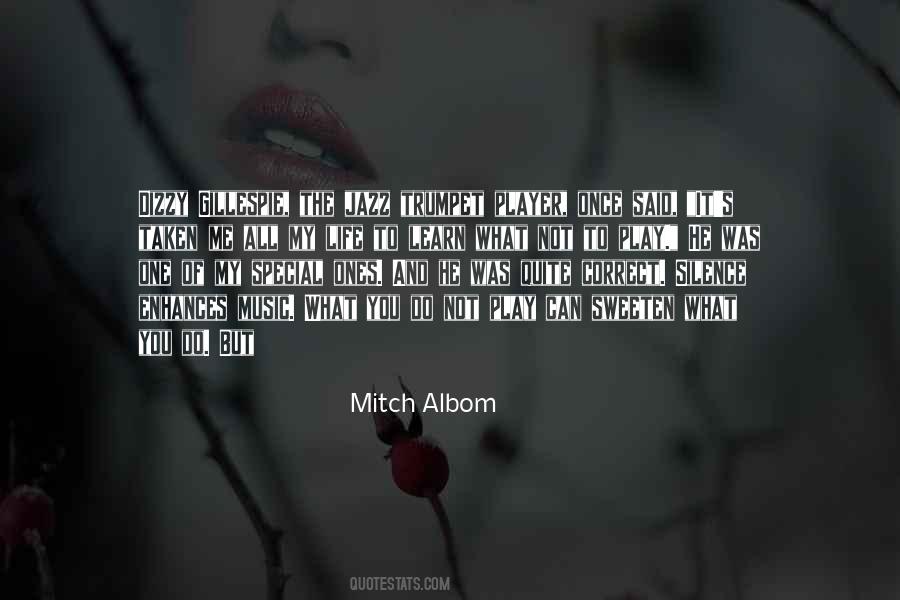 #20. You know I want to sing for people, I want to jazz people up I want to make new music that they've never heard. - Author: Casey Abrams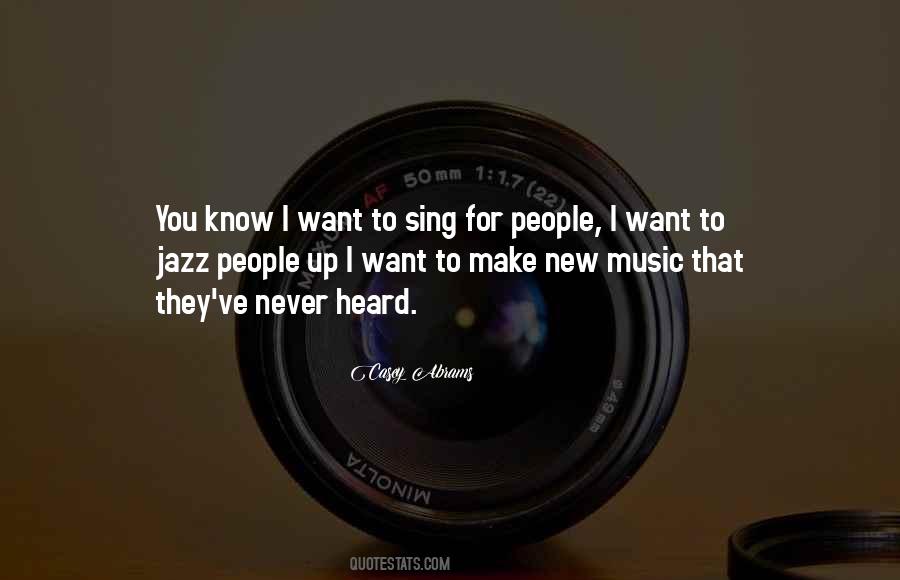 #21. [Jazz singing] is like pornography. You can't say what it is, but you know it when you see it. - Author: Kurt Elling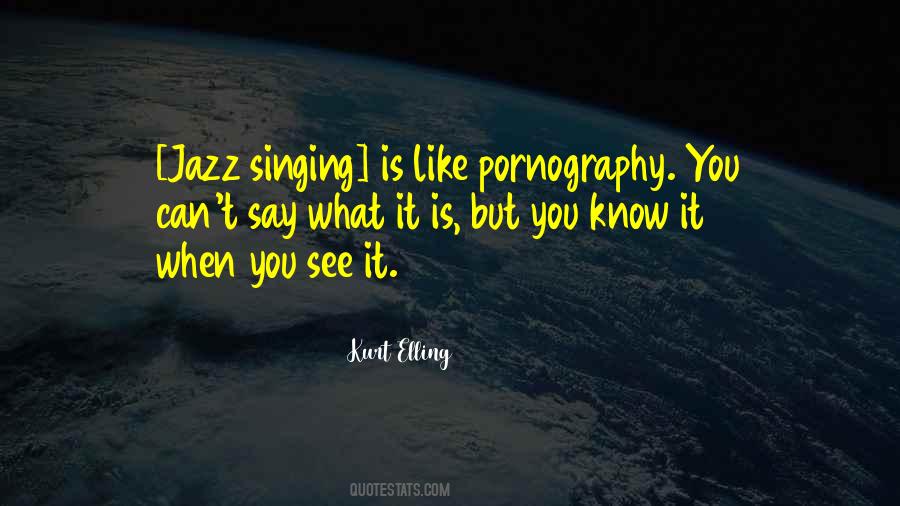 #22. I like rock music. I like jazz better, though. - Author: Clarke Peters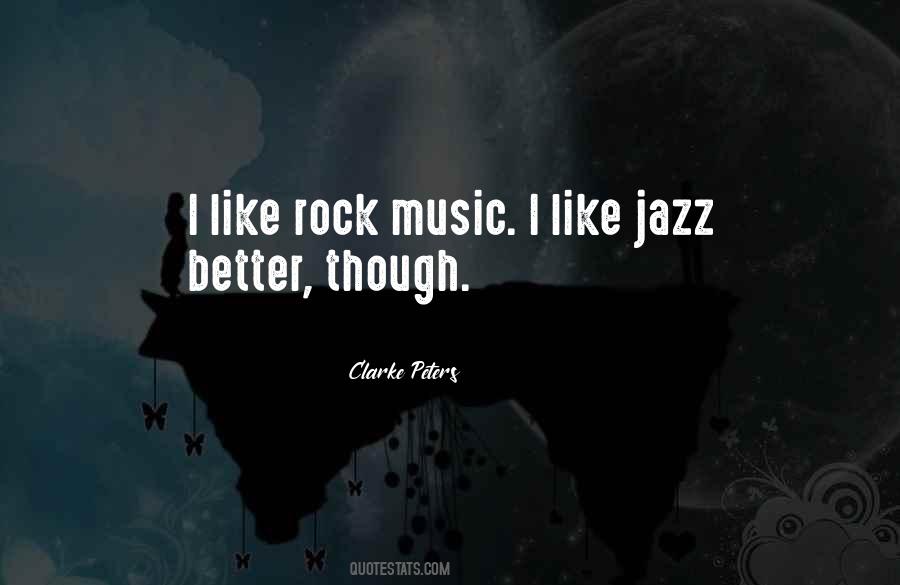 #23. Jazz exemplifies artistic activity that is at once individual and communal, performance that is both repetitive and innovative, each participant sometimes providing background support and sometimes flying free. - Author: Mary Catherine Bateson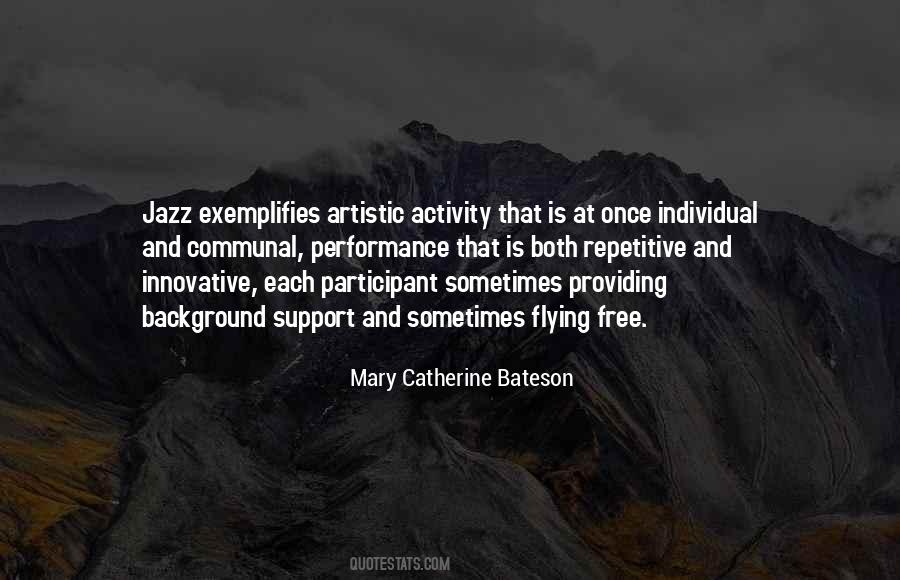 #24. The kid come in at a strange angle, made the notes glitter like crystal. - Author: Esi Edugyan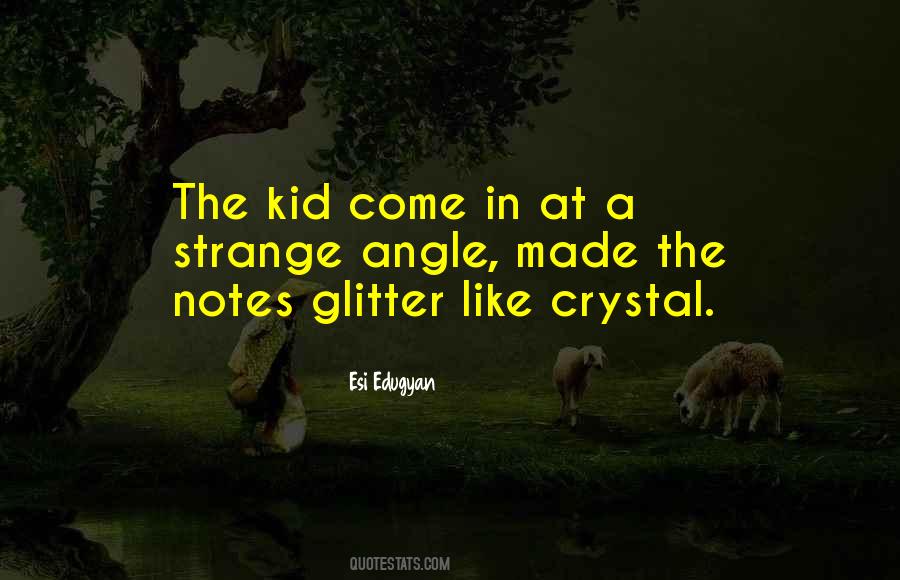 #25. Music is what you notice when it's no longer in your presence ... - Author: Pat Metheny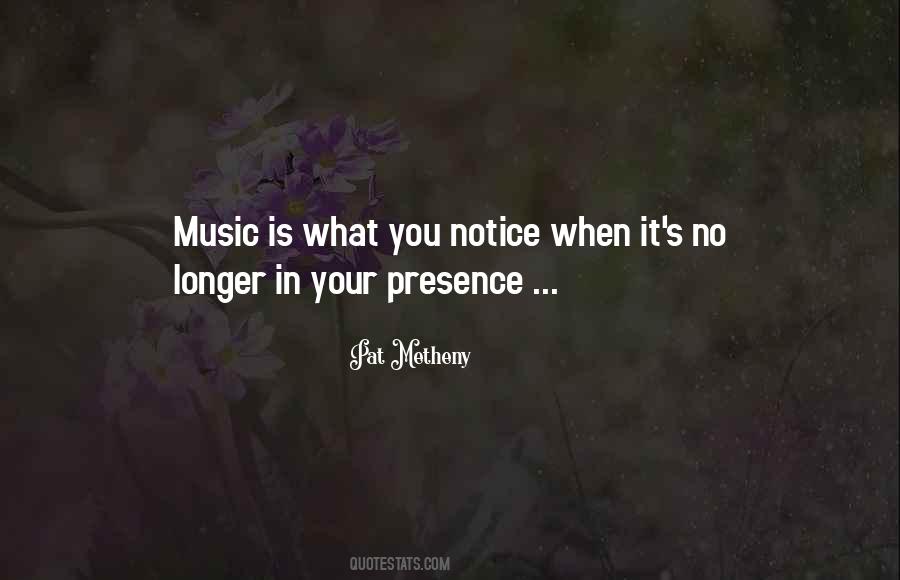 #26. I have truly eclectic taste in music, and I seem to cycle through phases in terms of to what's inspiring me. I'll go from Beethoven to Sigur Ros; world music, Brit-pop, classic rock, blues/jazz, even the odd bit of heavy metal. - Author: Rachel Miner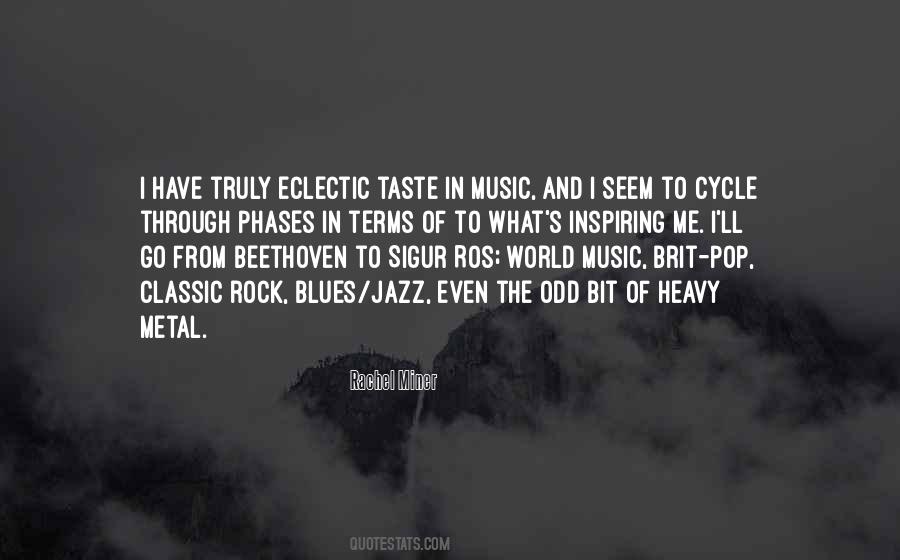 #27. The further jazz moves away from the stark blue continuum and the collective realities of Afro-American and American life, the more it moves into academic concert-hall lifelessness, which can be replicated by any middle class showing off its music lessons. - Author: Amiri Baraka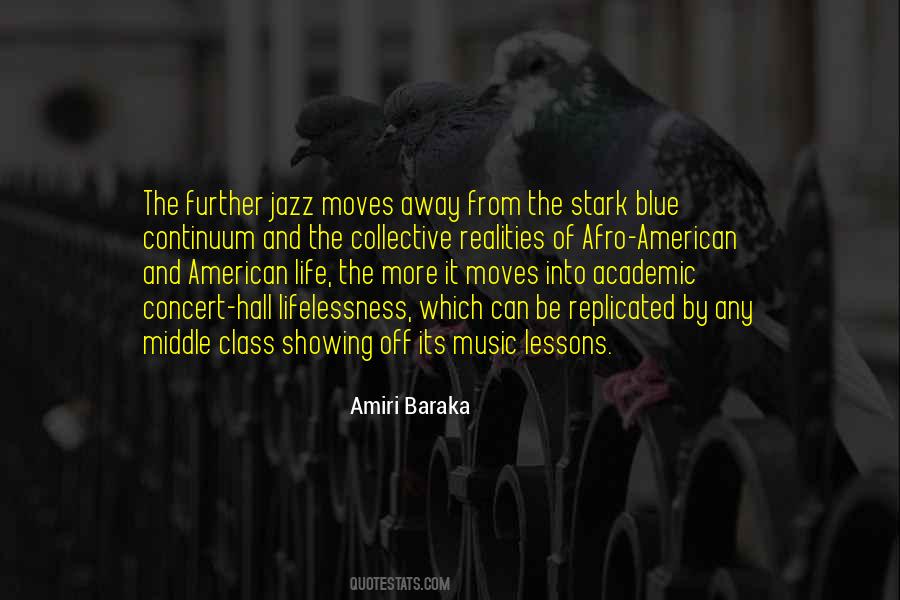 #28. Both the nationalists and the communists disapproved of jazz and feared it. They thought it would weaken people's resolve to fight off the invasion. And most Americans know, China did ban all Western music for about 30 years, starting in 1949. This is where it started. - Author: Nicole Mones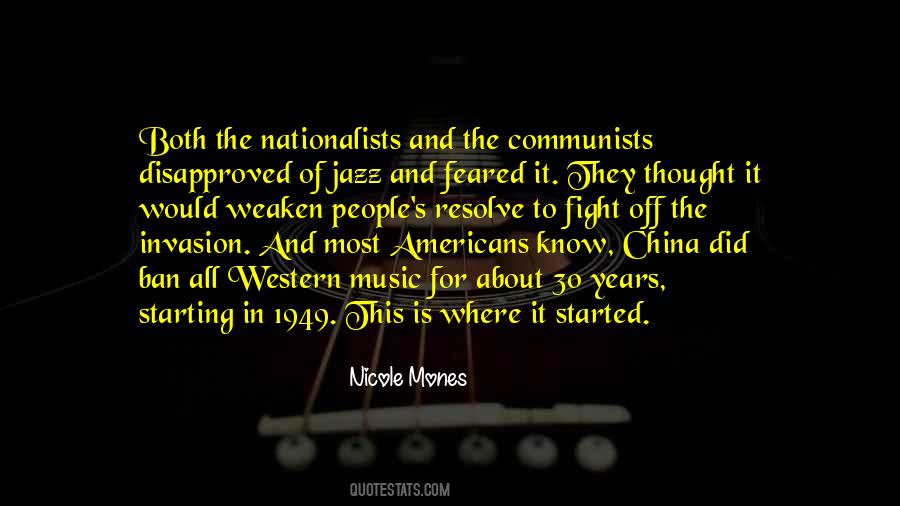 #29. Jazz is like a telescope, and a lot of other music is like a microscope. - Author: Kamasi Washington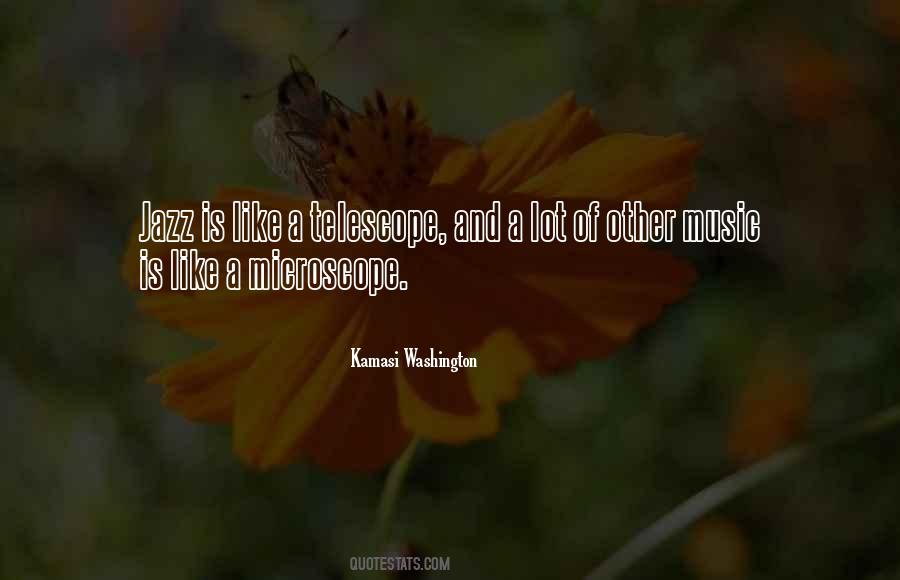 #30. It is Jazz's very nature to change, to develop & adapt to the circumstances of its environment. - Author: Pat Metheny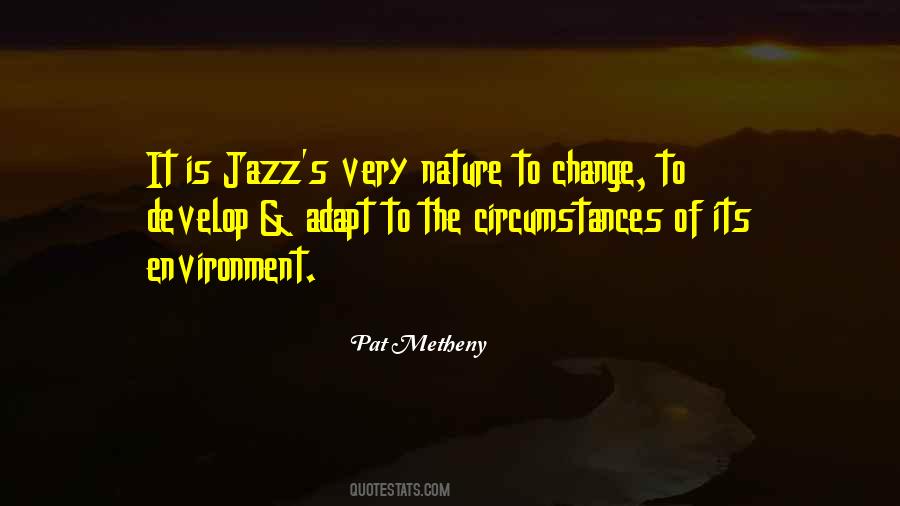 #31. But no one, when you stop to think, has ever equated abstract expressionism as a movement with jazz music. It's based on improvisation. The rhythms, the personal involvement, all of this is part of the jazz experience. - Author: Romare Bearden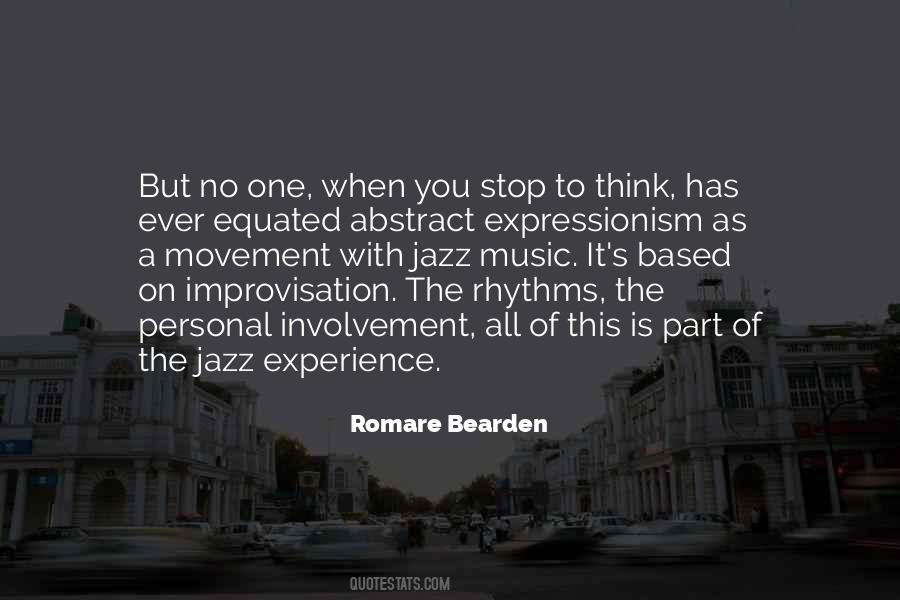 #32. I never thought that the music called "jazz" was ever meant to reach just a small group of people, or become a museum thing locked under glass like all the other dead things that were once considered artistic. - Author: Miles Davis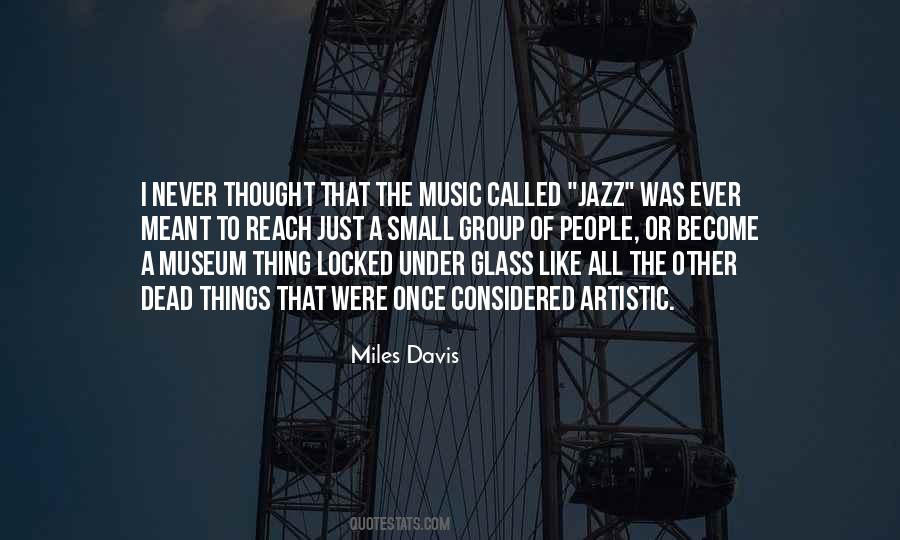 #33. Jazz is not background music. - Author: Horace Silver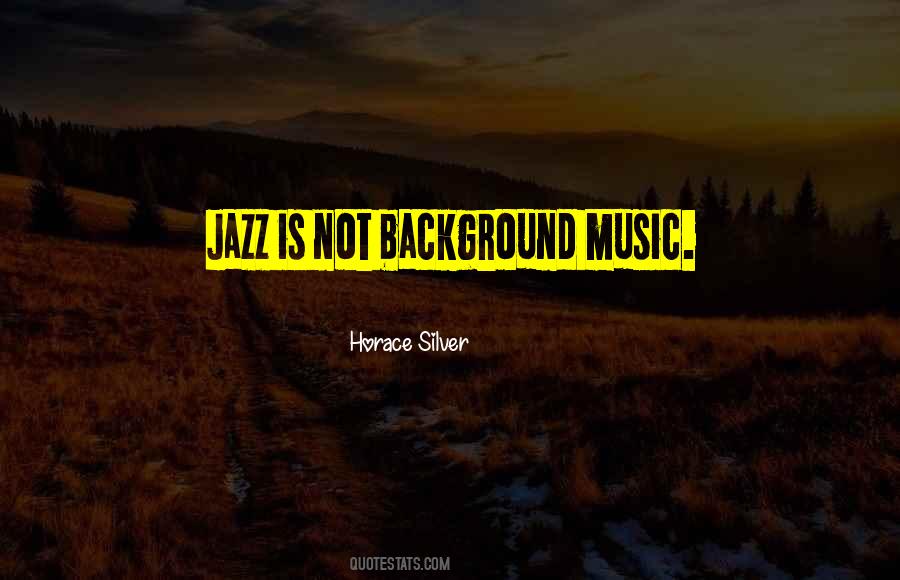 #34. The piano ain't got no wrong notes. - Author: Thelonious Monk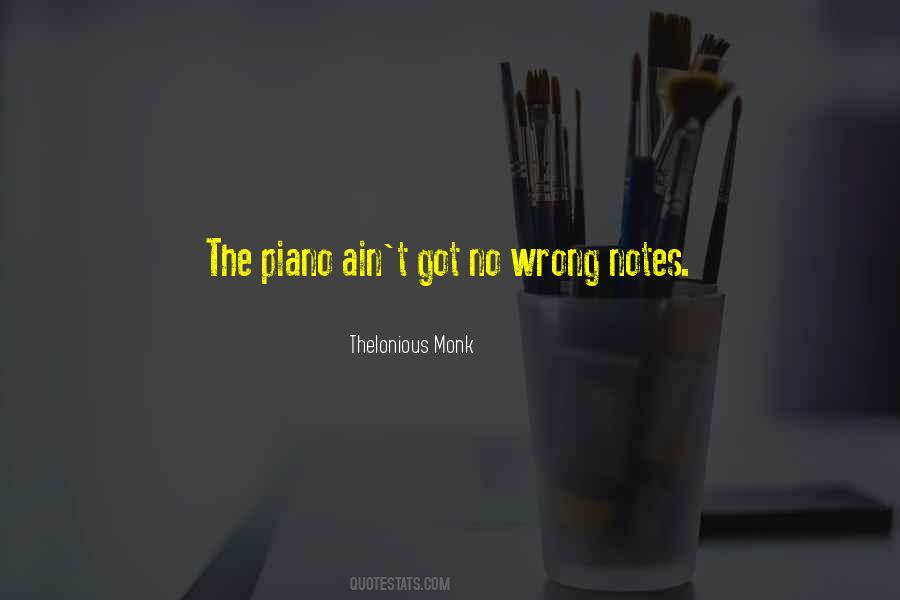 #35. Even if I could, I wouldn't want to undo the transformation of jazz into a sophisticated art music. - Author: Terry Teachout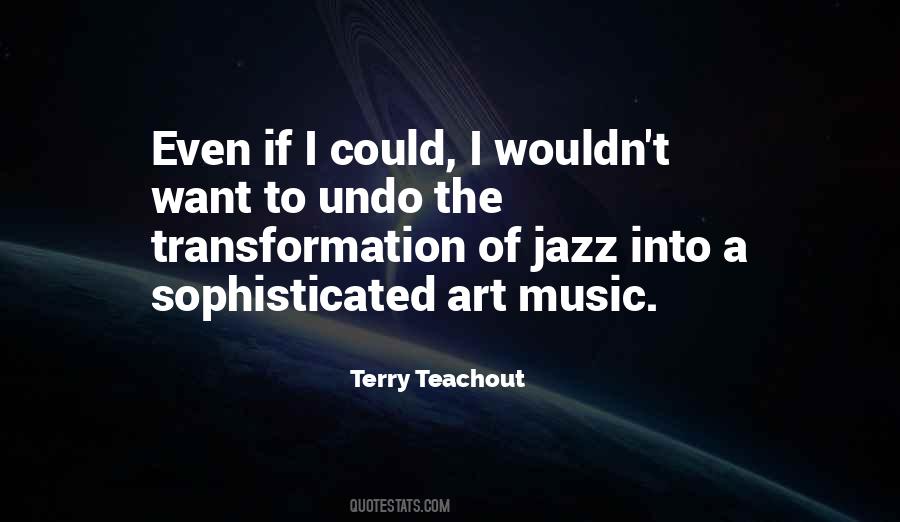 #36. In my music, I'm trying to play the truth of what I am. - Author: Charles Mingus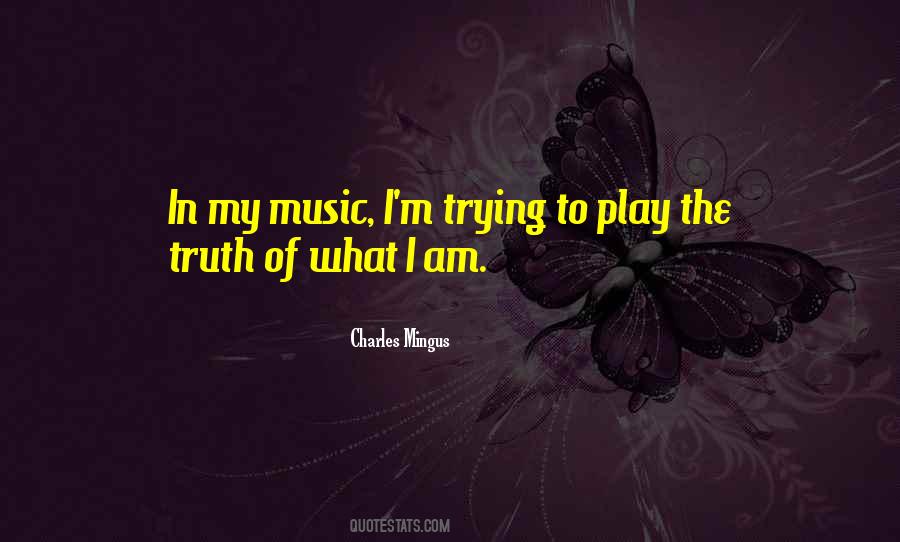 #37. My influences are jazz, blues, European classical music; they are rock music and pop music. So many kinds of music. World music from different countries like India and China. I think that would be a shame not to take advantage and do something ... not unique, because I don't have this pretension. - Author: Rokia Traore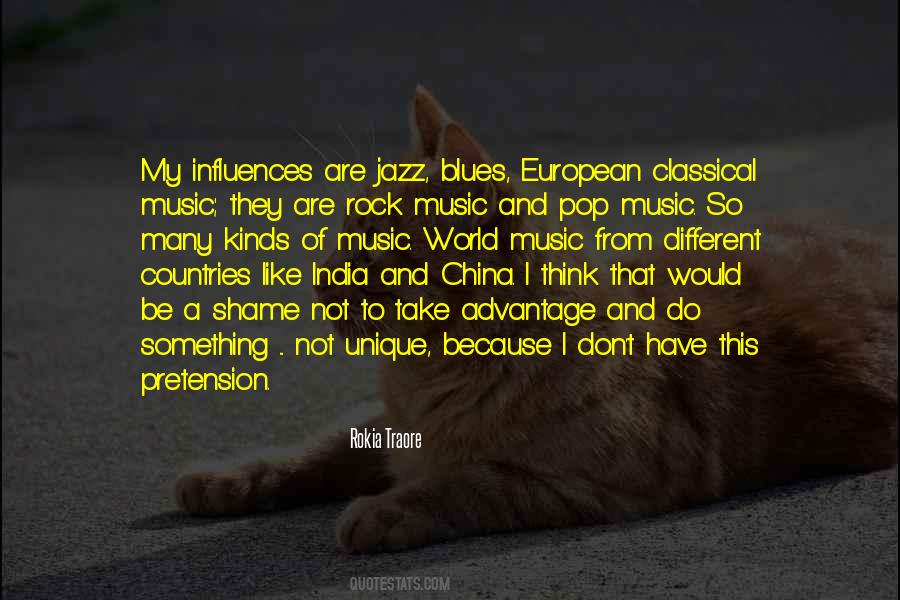 #38. To most white people, jazz means black and jazz means dirt, and that's not what I play. I play black classical music. - Author: Nina Simone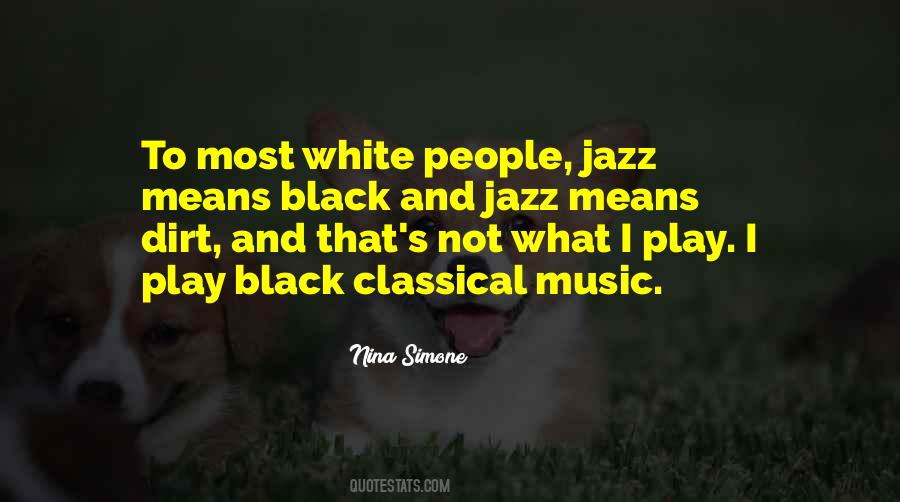 #39. I wanted to play some more grown-up music - jazz. - Author: Rick Derringer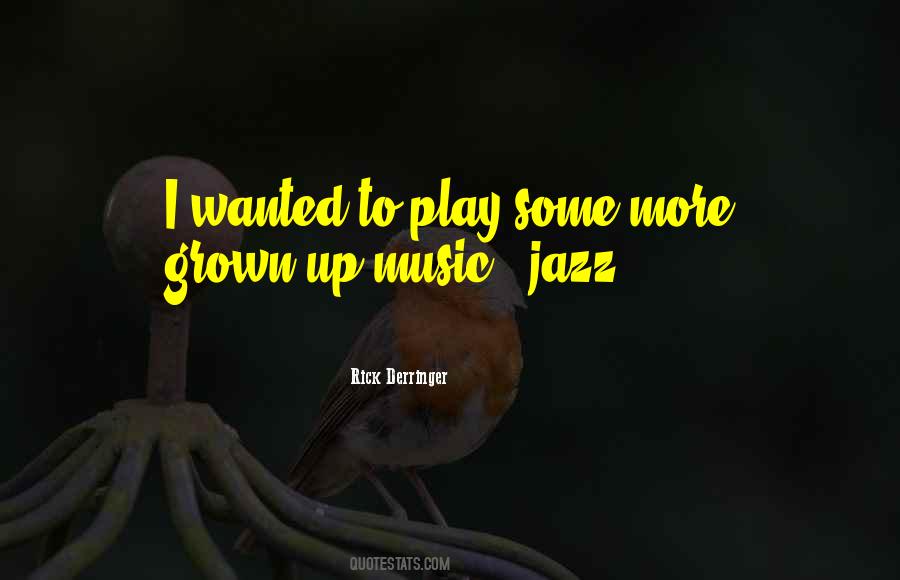 #40. If it hadn't worked out professionally, I would be teaching music theory and composition in a small college somewhere and playing drums in a jazz trio at the Holiday Inn on weekends, and I'd be happy there, too. - Author: J. D. Souther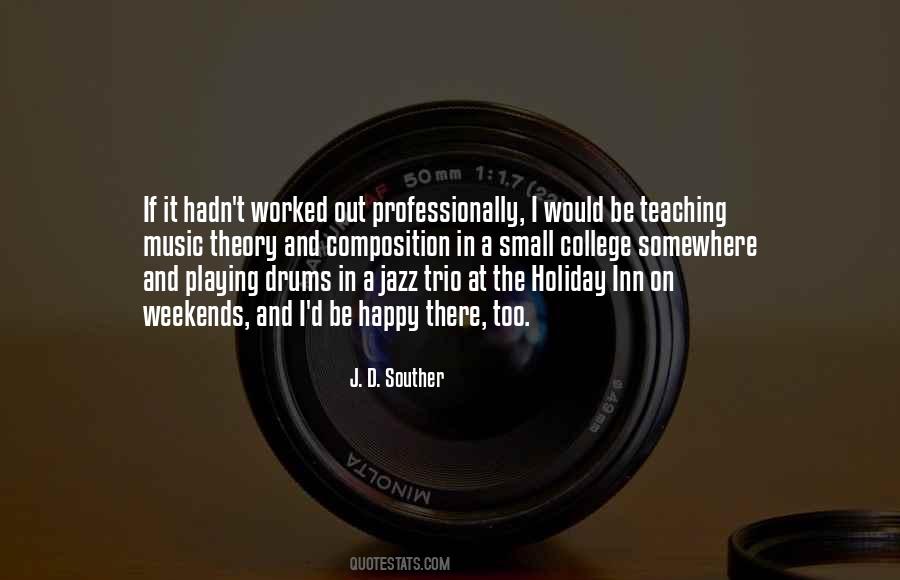 #41. I tried practicing for a few weeks and ended up playing too fast. - Author: Paul Desmond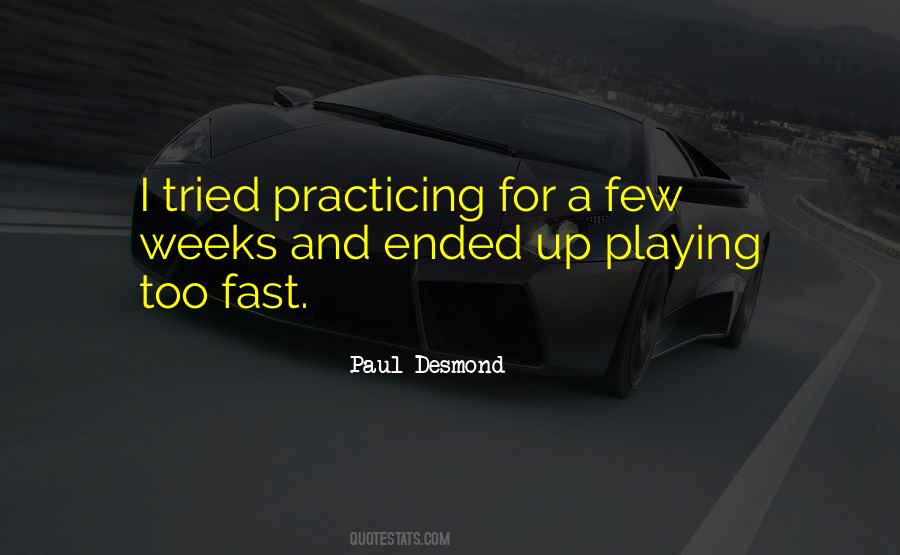 #42. What I love about Sonny's playing is that he is so inventive within the mainstream Jazz vernacular. Because he knows so many ways to deal with musical material, he is never repetitive and hasn't had to invent a new language. Also, he never asked me to do anything but swing! - Author: Pete La Roca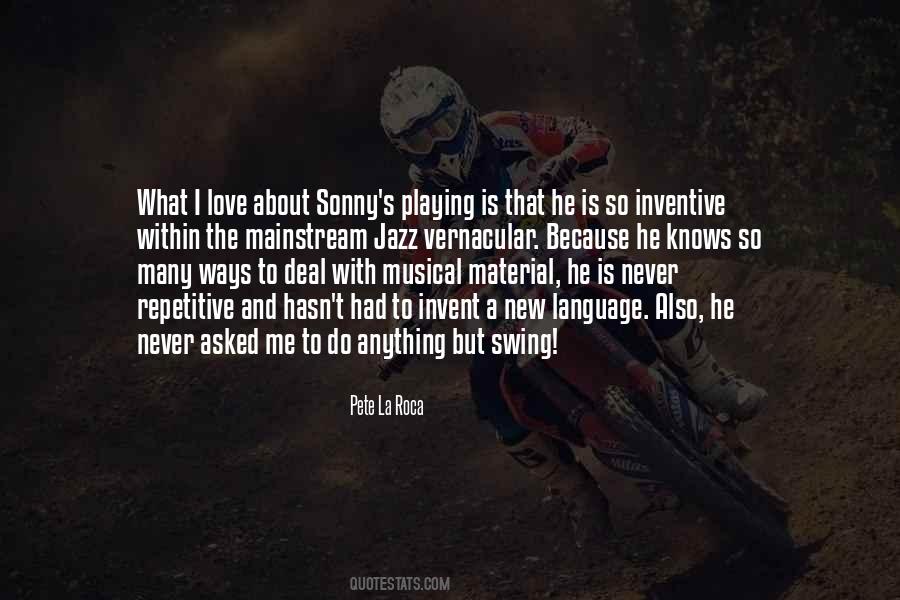 #43. The public, hearing pop music, is, without knowing it, also soaking up jazz. - Author: Norman Granz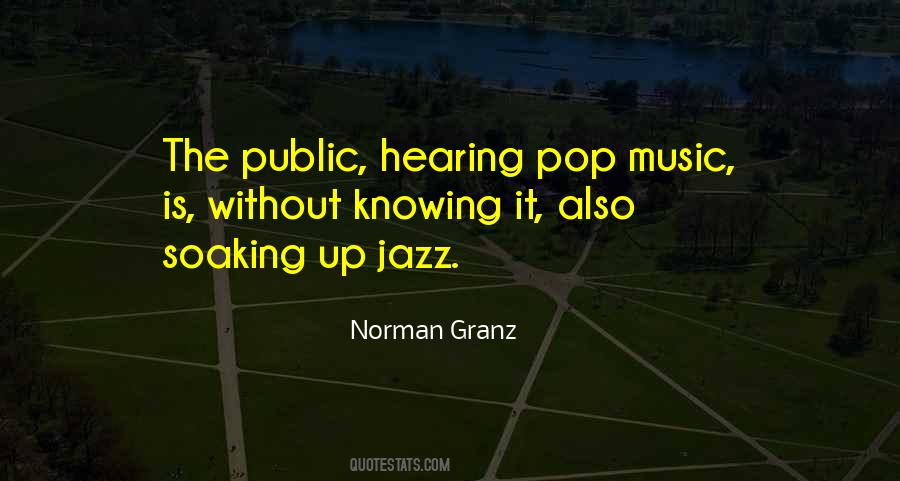 #44. There are two kinds of music. Good music, and the other kind. - Author: Duke Ellington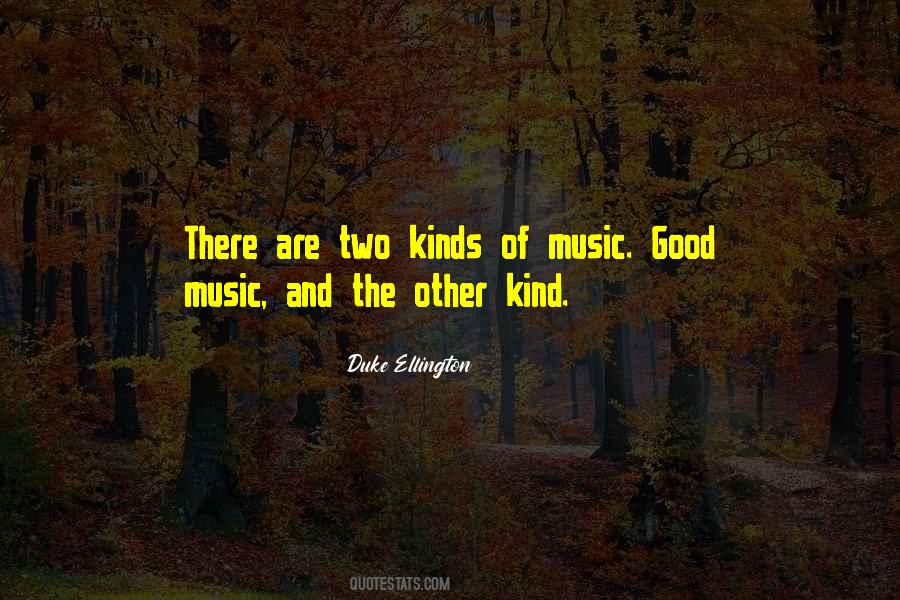 #45. What I believe to be jazz is constructed and improvised music which is in the air right now. But I don't think that's most people's definition of jazz, you know? We don't know what we're talking about, because we don't know the definition. - Author: John Lurie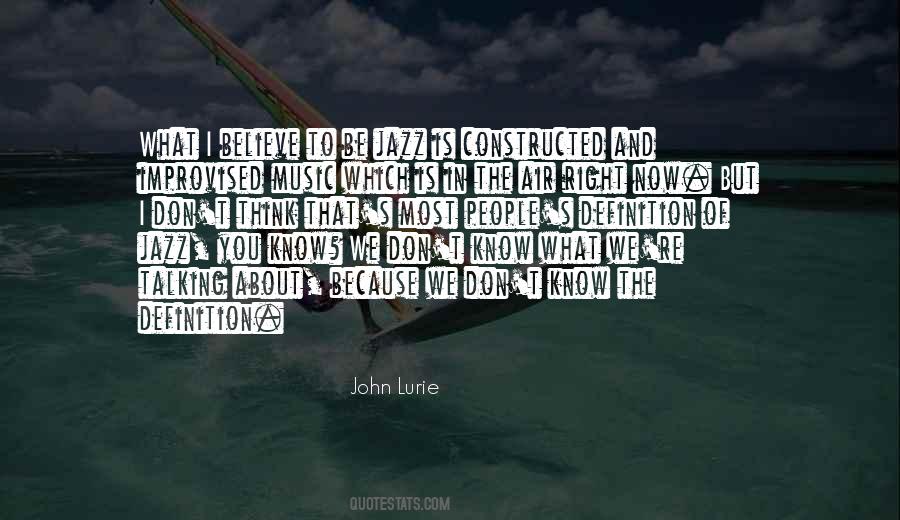 #46. Jazz is not background music. You must concentrate in order to get the most out of it. You must absorb it. - Author: Horace Silver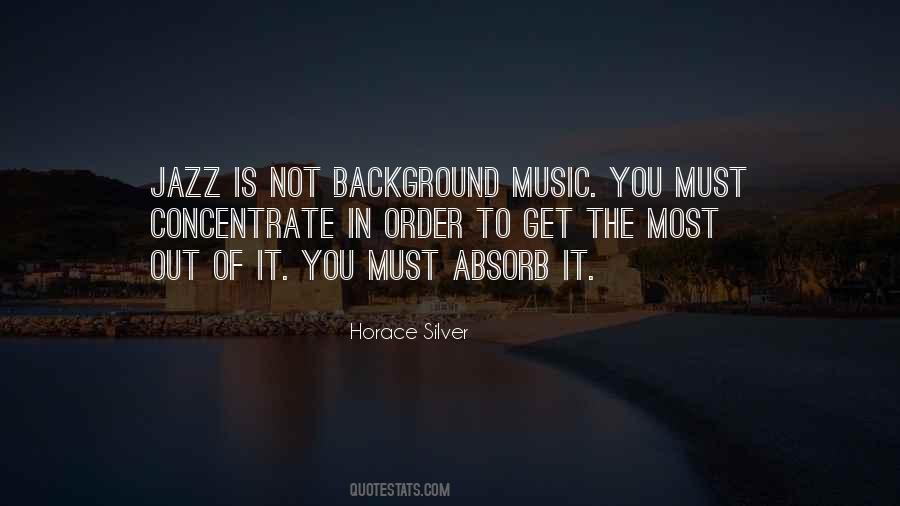 #47. Jazz music is an intensified feeling of nonchalance. - Author: Francoise Sagan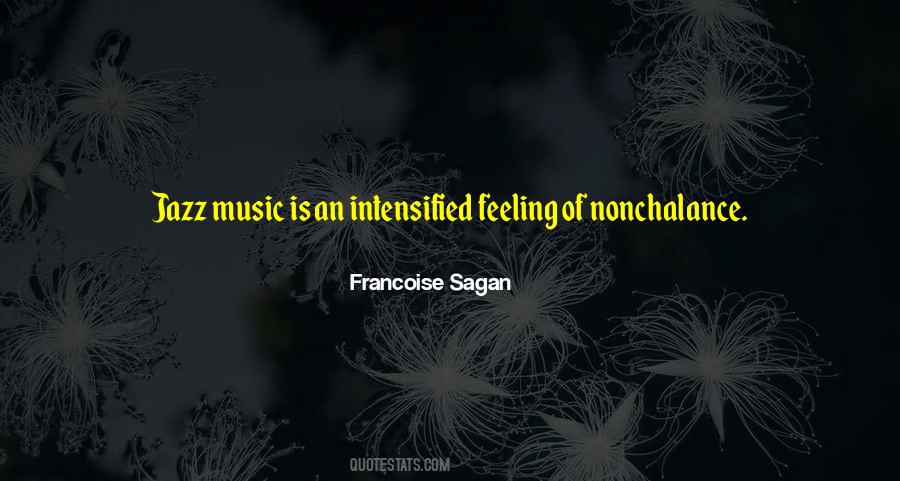 #48. That's the beautiful thing about the saxophone. It can peacefully coexist with just about anything - whether it's hip-hop, rap, rock music, pop, R&B or jazz, there's a place for the saxophone in all of those styles. - Author: Dave Koz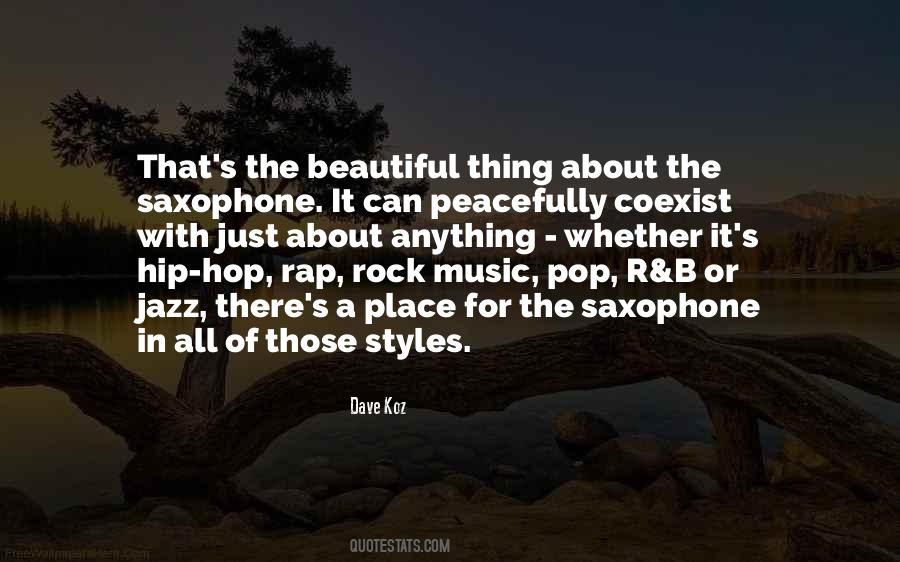 #49. I always called him the Dizzy Dean of music, he was so belligerent and braggadocio ... But one thing I always noticed about Jelly, he would back everything he said by what he could do. - Author: Omer Simeon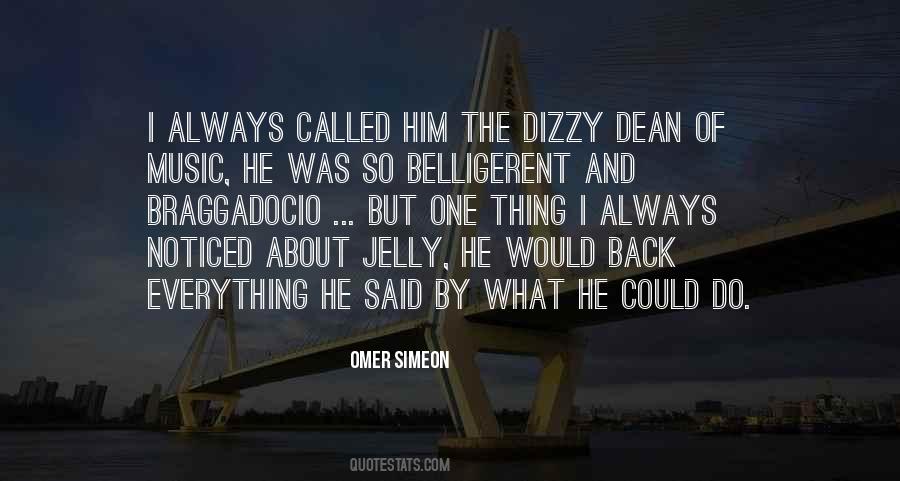 #50. When you are studying jazz, the best thing to do is listen to records or listen to live music. It isn't as though you go to a teacher. You just listen as much as you can and absorb everything. - Author: Carla Bley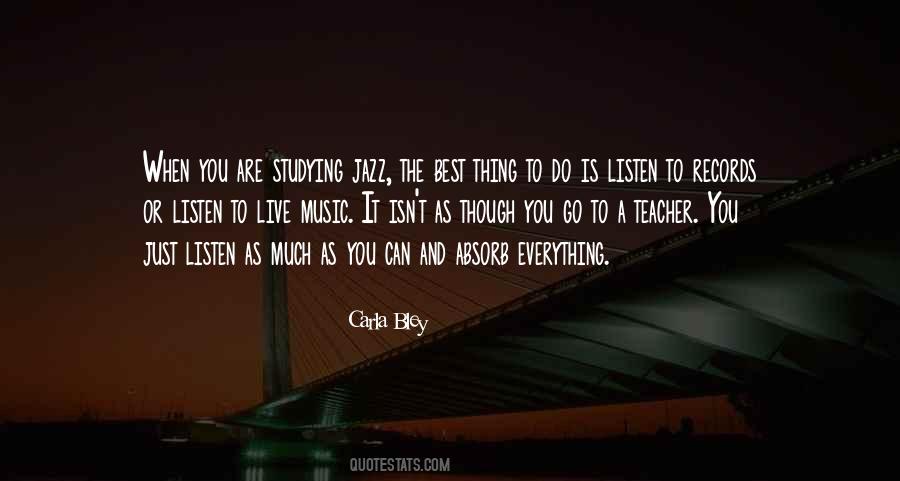 #51. People think it is all about country music, and I know a lot of country music has come out of there, but like Blonde on Blonde by Bob Dillon was recorded there. A lot of great records; R&B records, jazz records. It's a lot of great players and great studios. - Author: Elvis Costello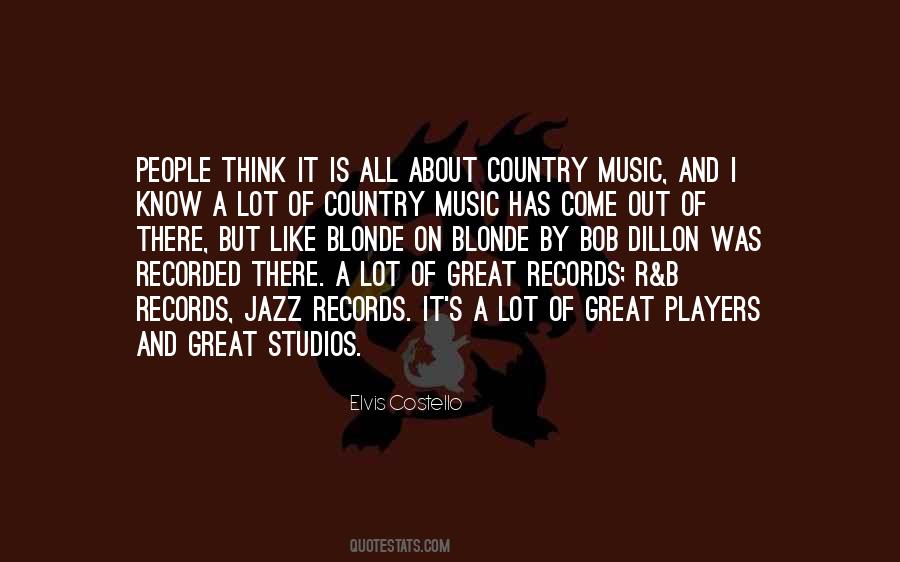 #52. There were a lot of R&B groups that were my heroes, but the funny thing about my career and the way it went and where it went, at first I didn't really want to do pop music. I was a little bit more into jazz and R&B. - Author: Frankie Valli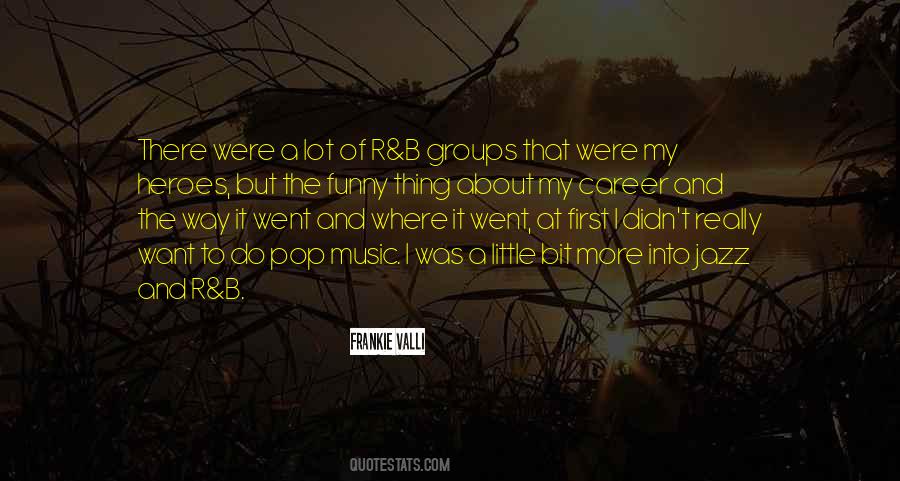 #53. I don't get jazz. It always sounds like a bunch of toddlers let loose in a music room. - Author: Libba Bray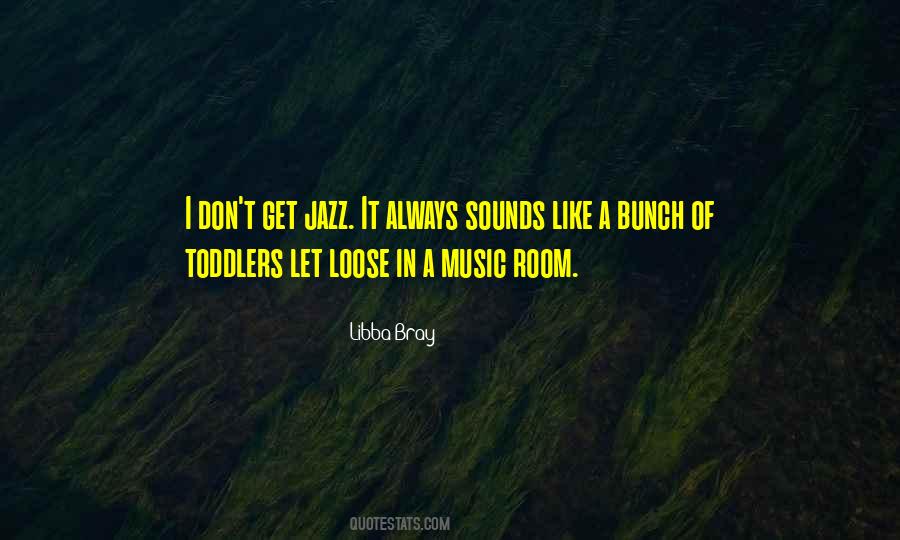 #54. Jazz music just resonates with the frequency of me. - Author: Esperanza Spalding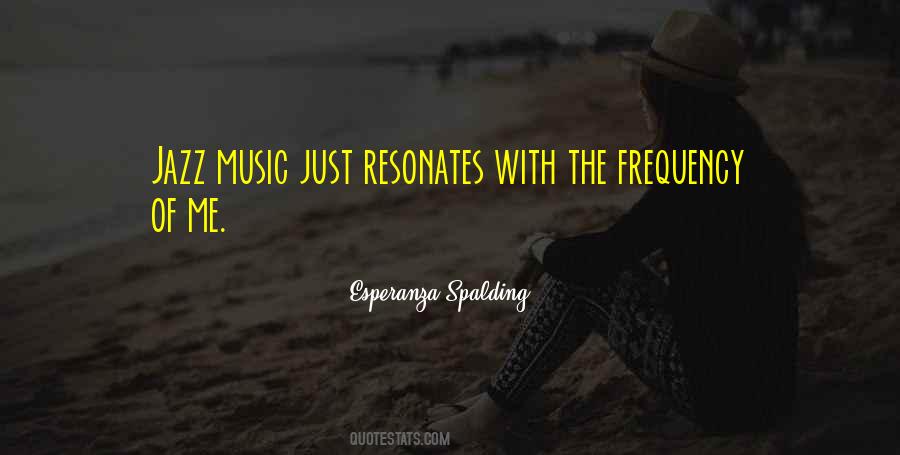 #55. The philosophy of jazz represents tolerance, teamwork and inclusion. That's what America is about. The music reflects that. - Author: T. S. Monk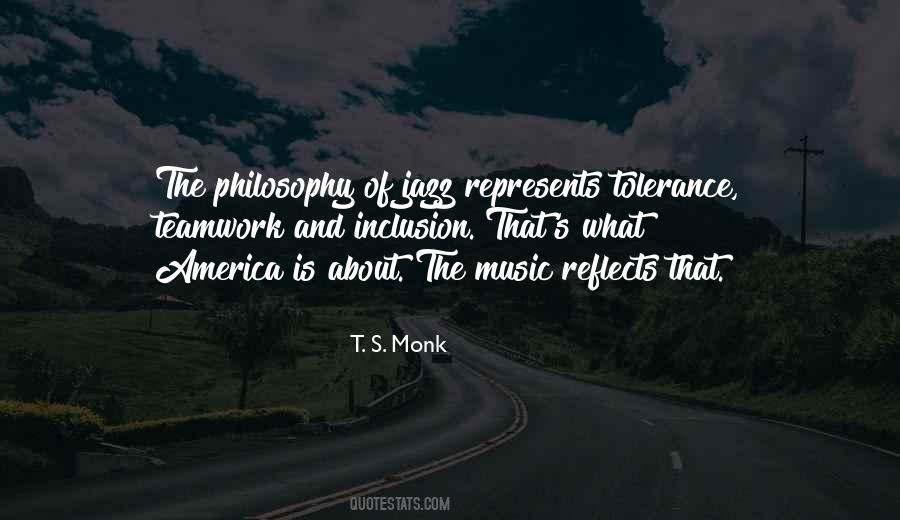 #56. How can music without any words make you think? I listen to jazz when I'm doing something else. I use it for background music, I don't just sit down and concentrate on it. Lyrics, words - that's what makes me think. - Author: Eddie Murphy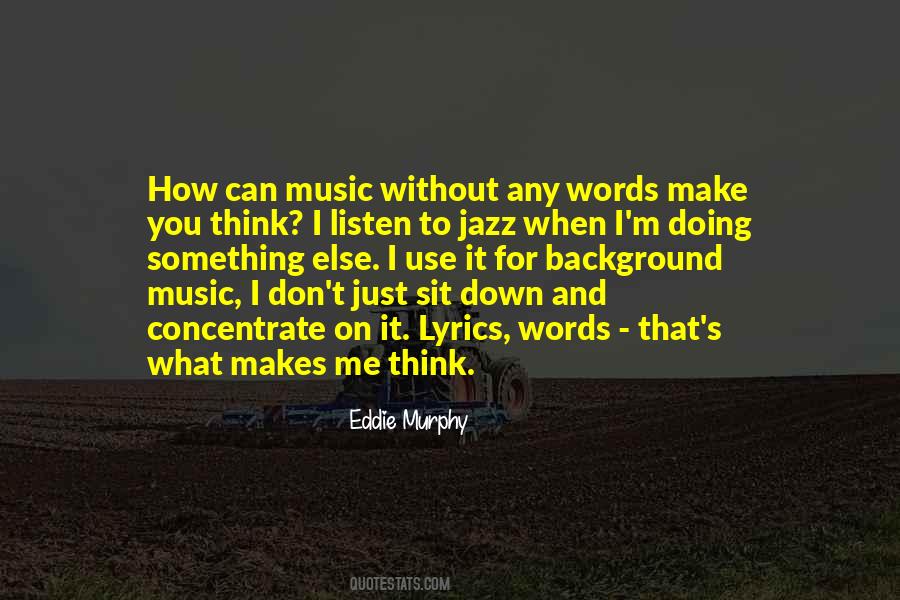 #57. I'm mostly a jazz fan and I've never really been into rock 'n' roll music - although I guess Coldplay isn't really rock 'n' roll - but he's made me a convert. I do go to their concerts whenever we're in the same town and I don't even have to wear earplugs any more, which I did in the beginning. - Author: Blythe Danner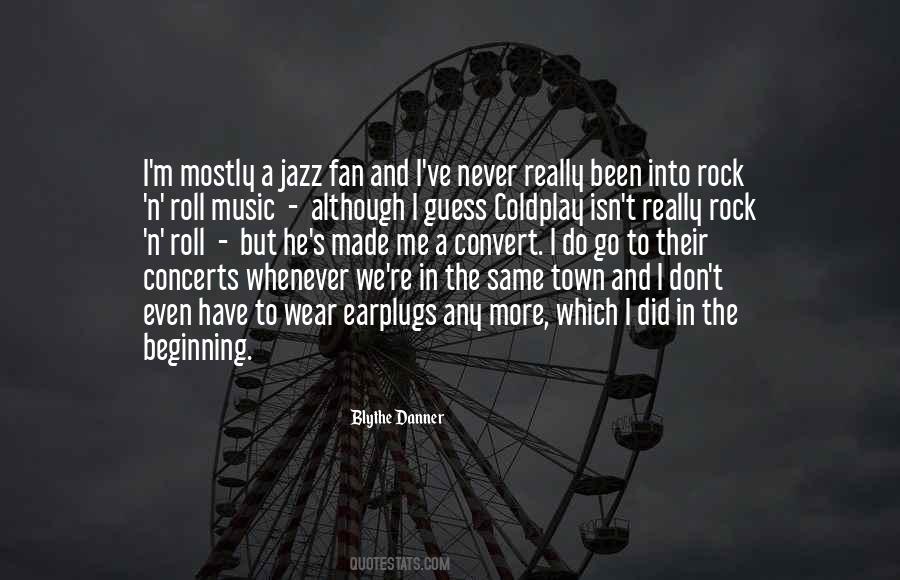 #58. Angel, you got checkout girls in these here grocery stores cain't feed their own kids right, jazz musicians workin' for the post office because music don't pay the charge of admission to a nightclub. You might love your work but one day you wake up and find that your work don't love you. - Author: Walter Mosley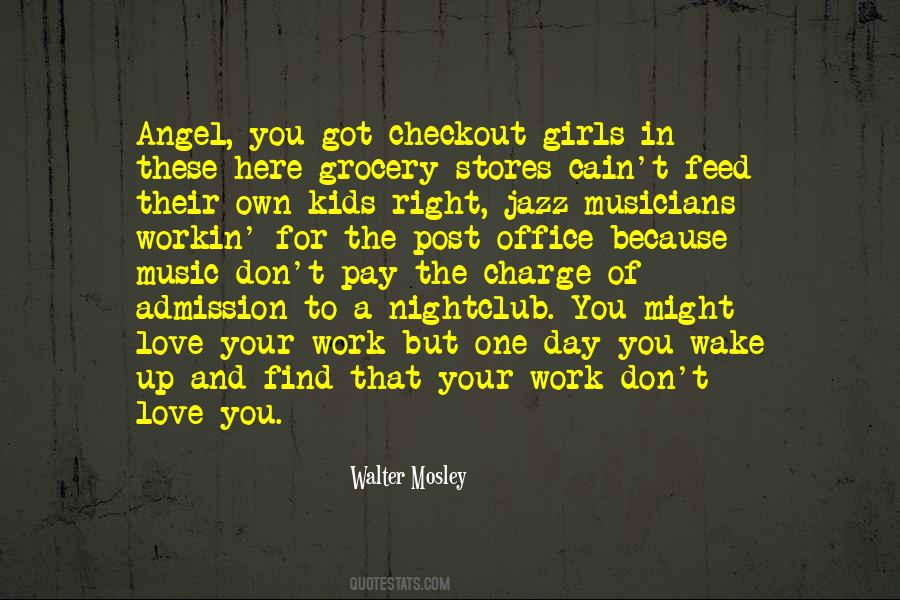 #59. Kansas City, I would say, did more for jazz music, black music, than any other influence at all. Almost all their joints that they had there, they used black bands. Most musicians who amounted to anything, they would flock to Kansas City because that's the place where jobs were plentiful. - Author: Jesse Stone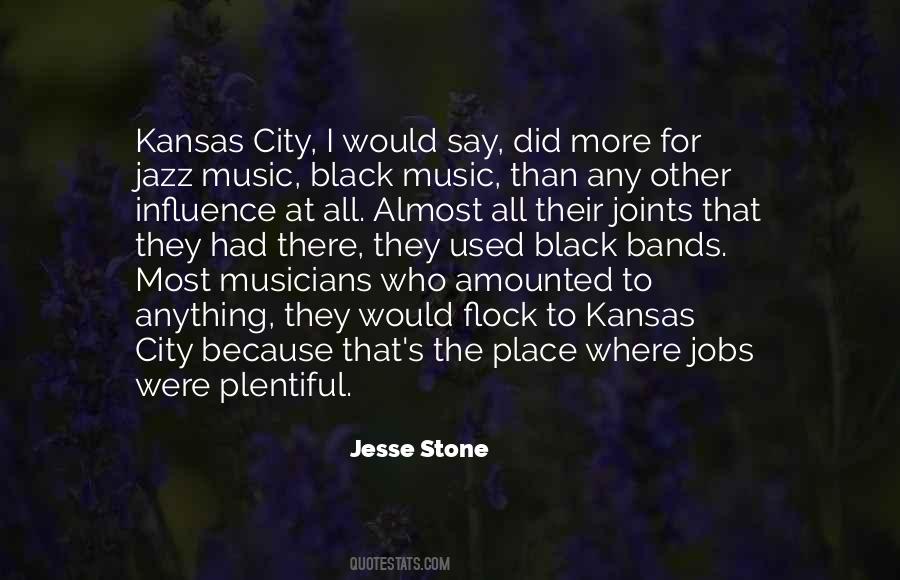 #60. Jazz music is as American as it gets, and so is the U.S. Postal Service. A Miles Davis stamp is a perfect marriage of two great American institutions. - Author: Henry Rollins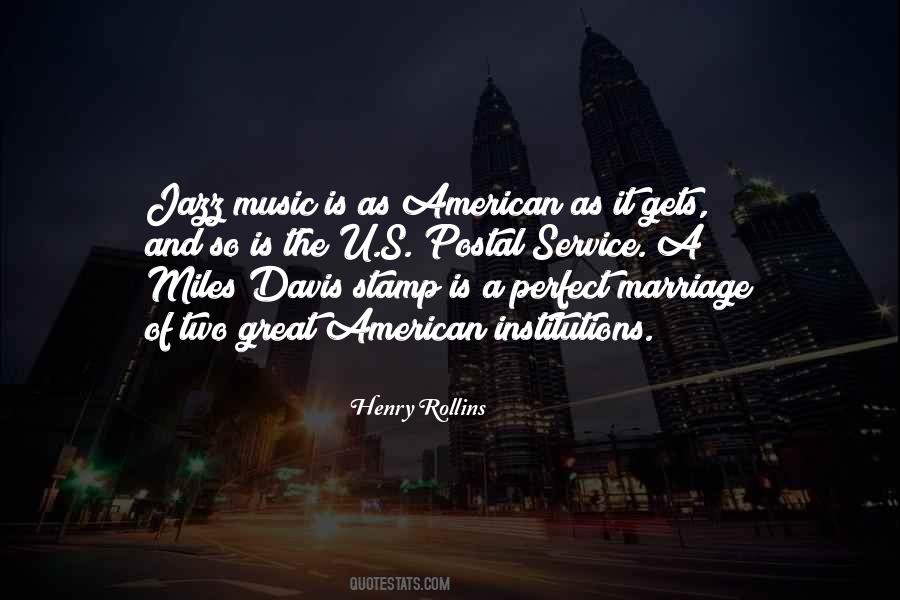 #61. In World War II, jazz absolutely was the music of freedom, and then in the Cold War, behind the Iron Curtain, same thing. It was all underground, but they needed the food of freedom that jazz offered. - Author: Herbie Hancock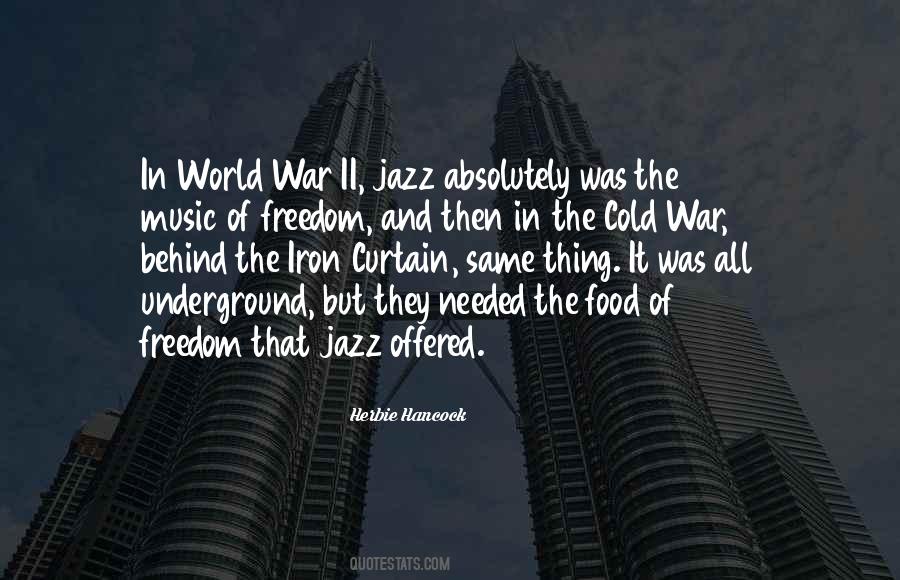 #62. Montreal was a very active jazz center until club owners started putting in strippers instead of music. Before long, there was nothing to hear. - Author: Oscar Peterson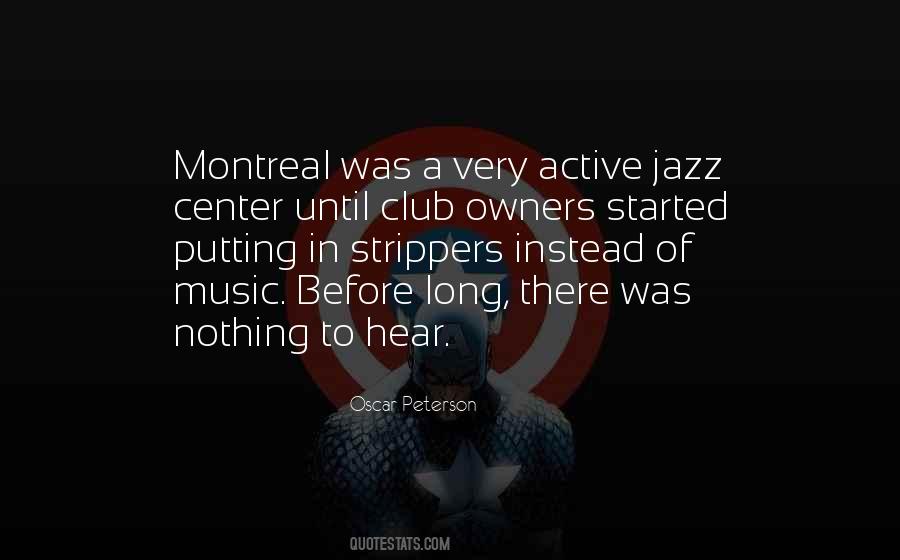 #63. Flexibility is an essential part of Jazz. It's what gives Jazz music the ability to combine with all other types of music and not lose its identity. - Author: Wynton Marsalis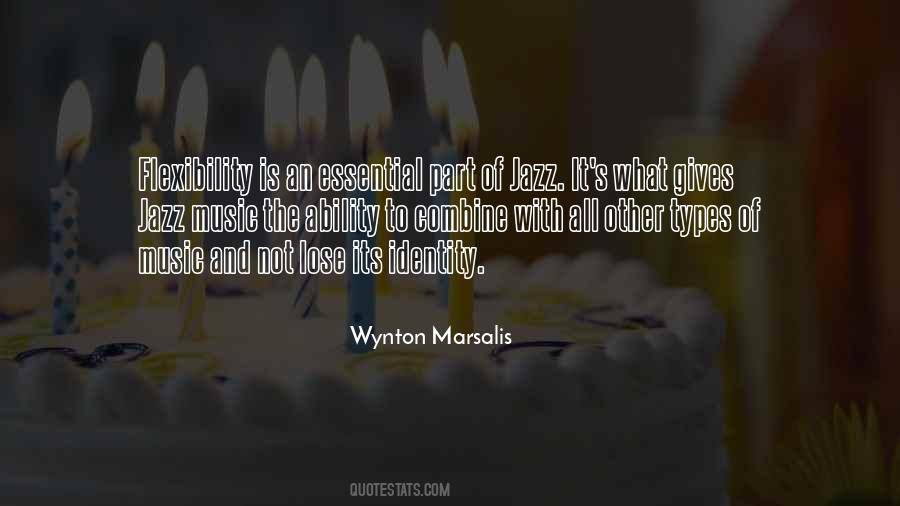 #64. Jazz is people's music, a collectivity. - Author: Steve Lacy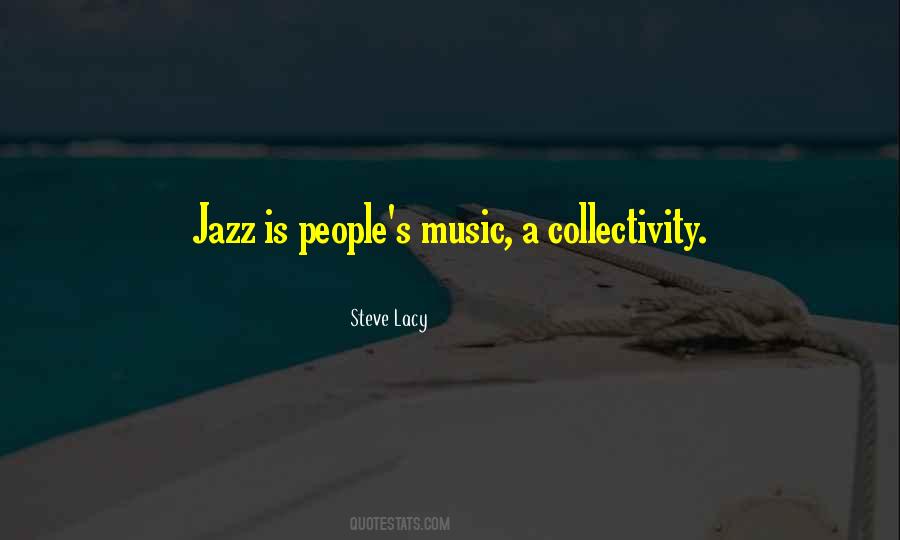 #65. Music is your own experience, your thoughts, your wisdom. If you don't live it, it won't come out of your horn. They teach you that music has boundaries. But, man, there's no boundary line to art. - Author: Charlie Parker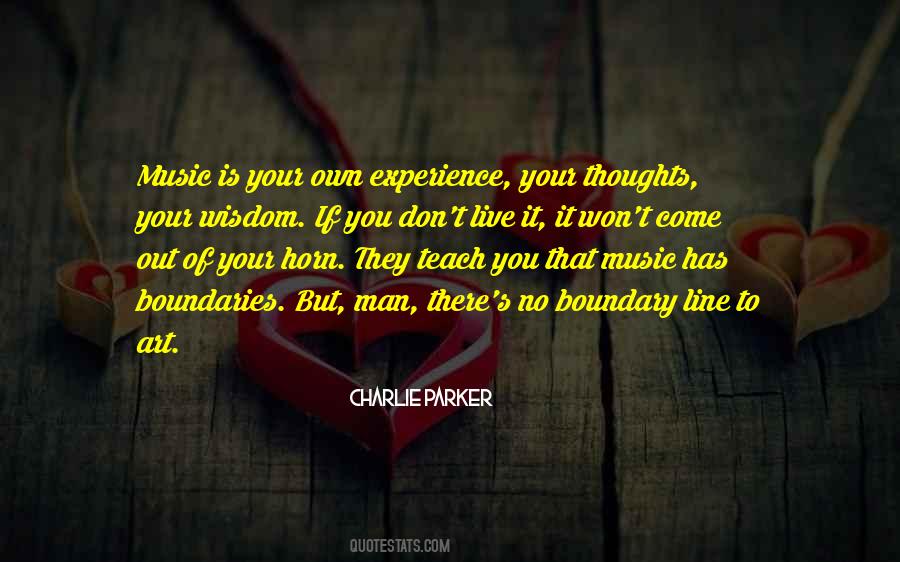 #66. I always think of music as interior decoration. So, if you have all kinds of music, you are fully decorated! - Author: Wayne Shorter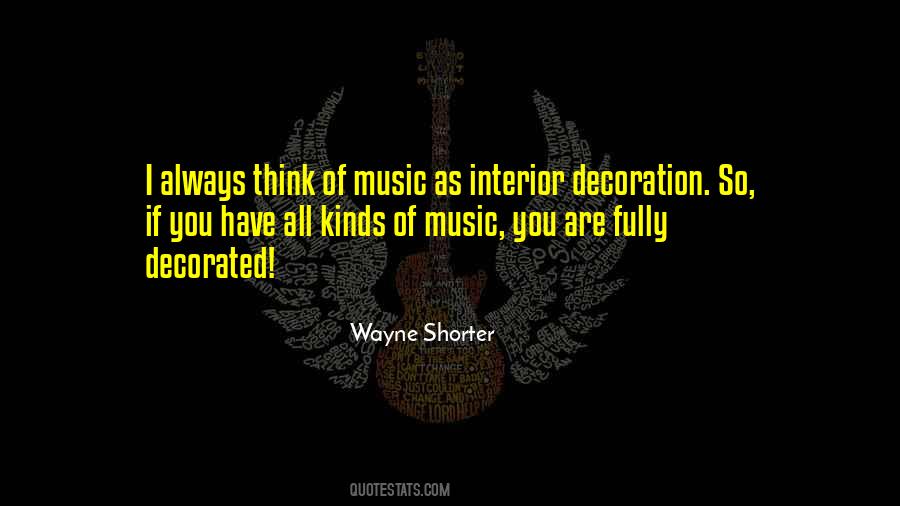 #67. We have such a great depth of human history in all of the arts, whether it's opera or mathematics or painting or classical music or jazz. There's so many things to study, new books to read, and certainly always ways to transform old ideas and to come up with new ones. - Author: Patti Smith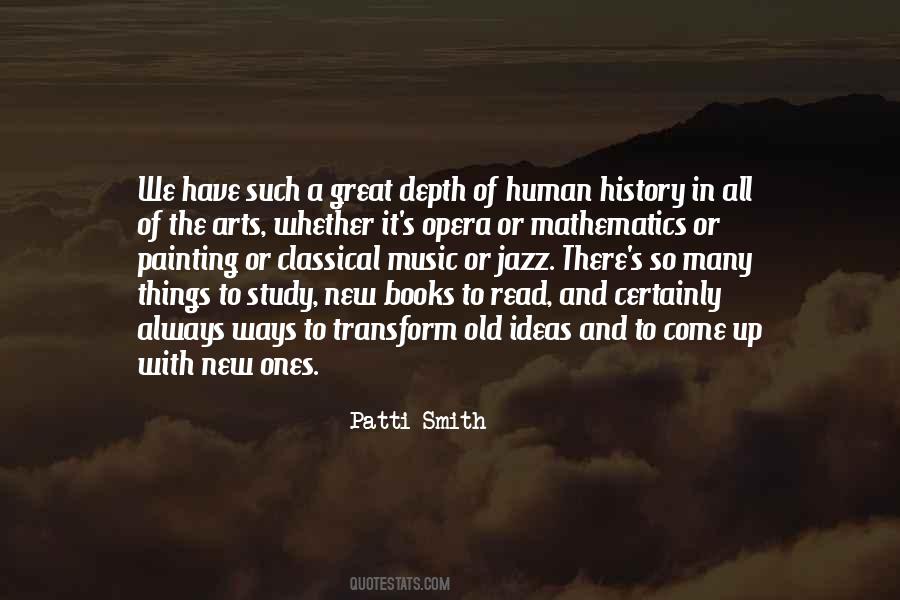 #68. Jazz is the continual pulsation of the now. - Author: Pat Martino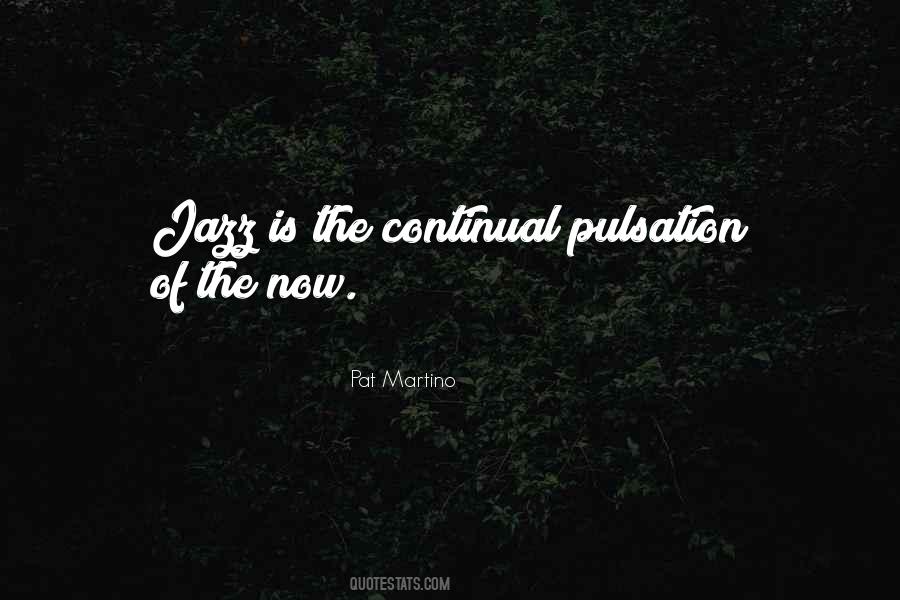 #69. Acting is like music and you improvise. It's like jazz, there's no rhyme or reason to it. It's not a plan. You practice to music and you just play it. - Author: Denzel Washington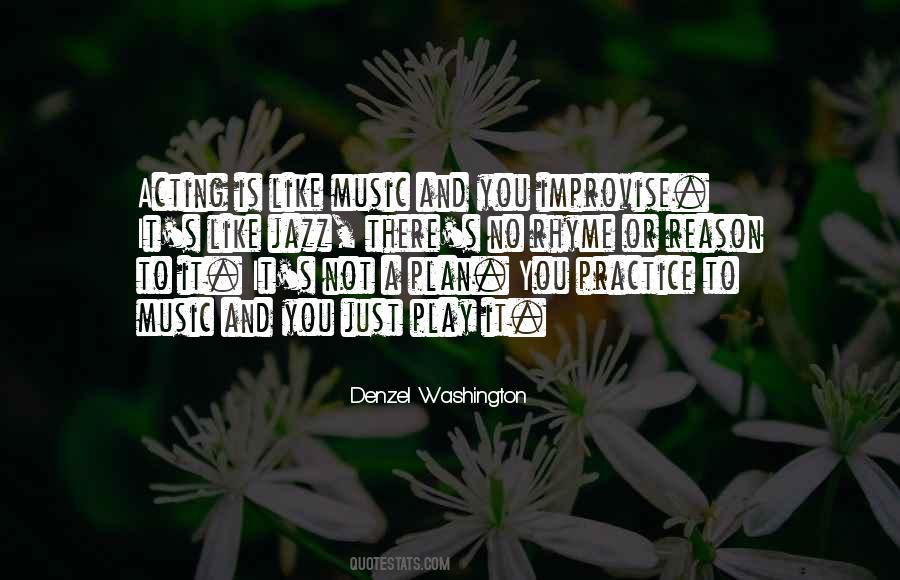 #70. If you have to ask what jazz is you will never know. Louis Armstrong - Author: Louis Armstrong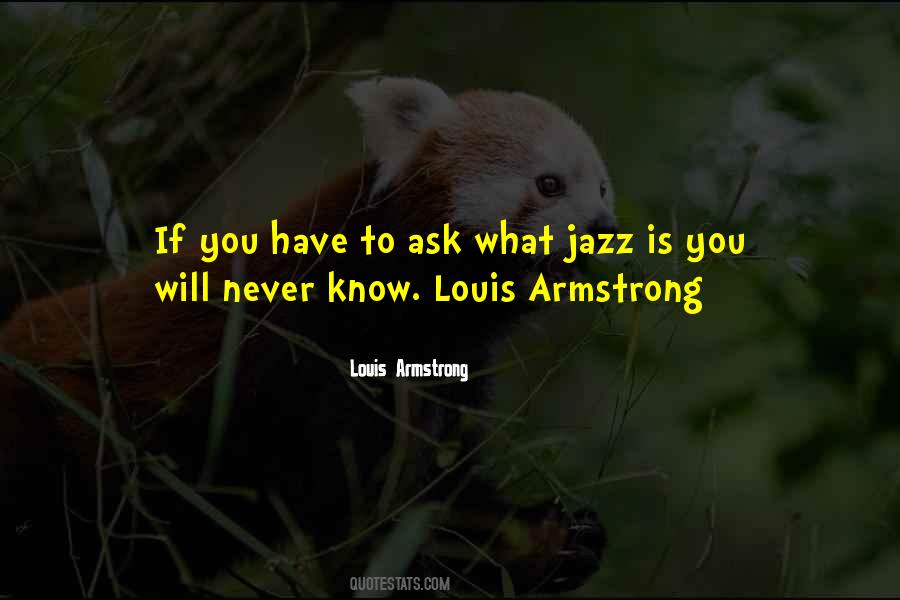 #71. The basic difference between classical music and jazz is that in the former the music is always graver than its performance - whereas the way jazz is performed is always more important than what is being played. - Author: Andre Previn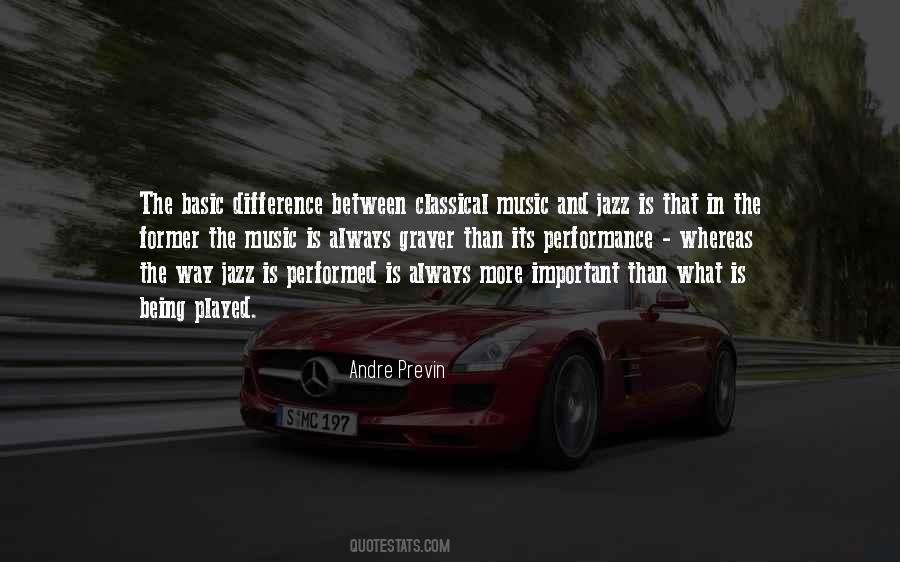 #72. Everybody has the blues. Everybody longs for meaning. Everybody needs to love and be loved. Everybody needs to clap hands and be happy. Everybody longs for faith. In music, especially this broad category called jazz, there is a stepping-stone to all of these. - Author: Martin Luther King Jr.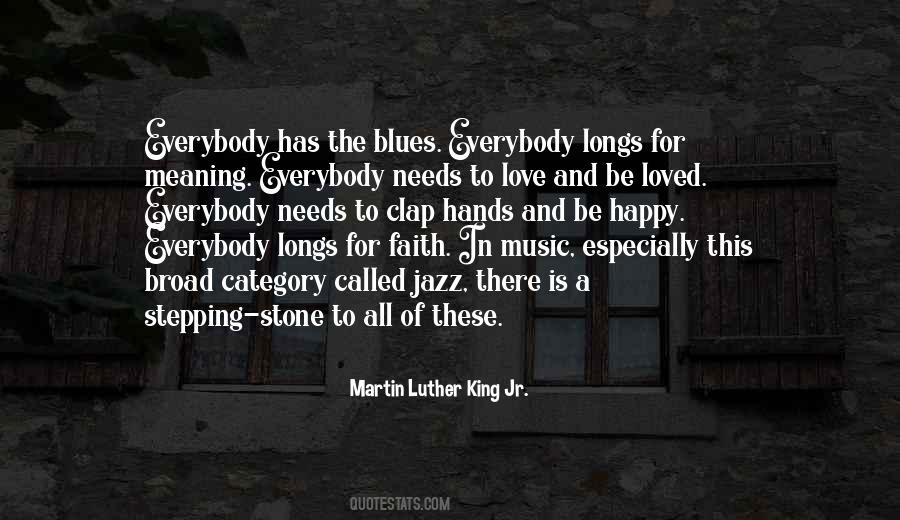 #73. Rather than say I play Jazz, I simply say I play music. - Author: Kenny Garrett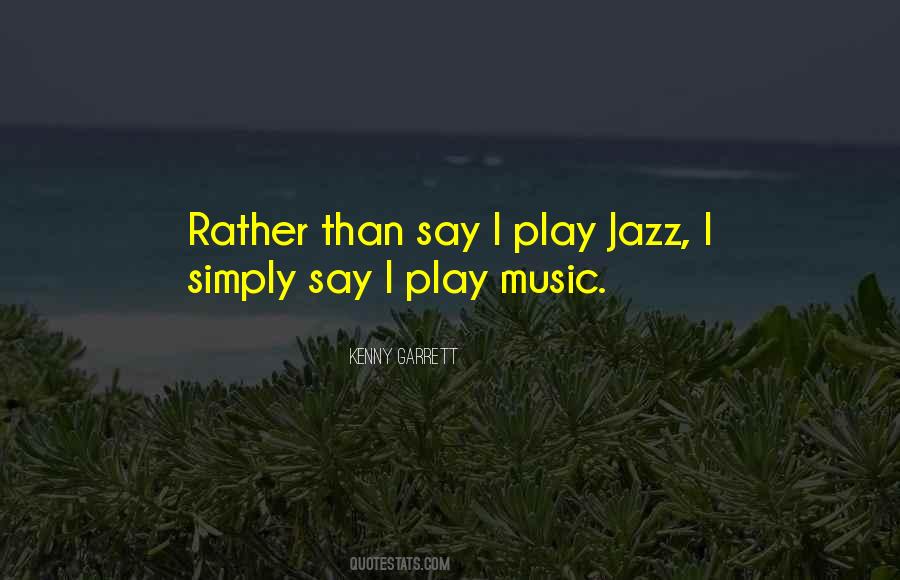 #74. Nothing else will ever capture the democratic process in sound as perfectly as Jazz. - Author: Wynton Marsalis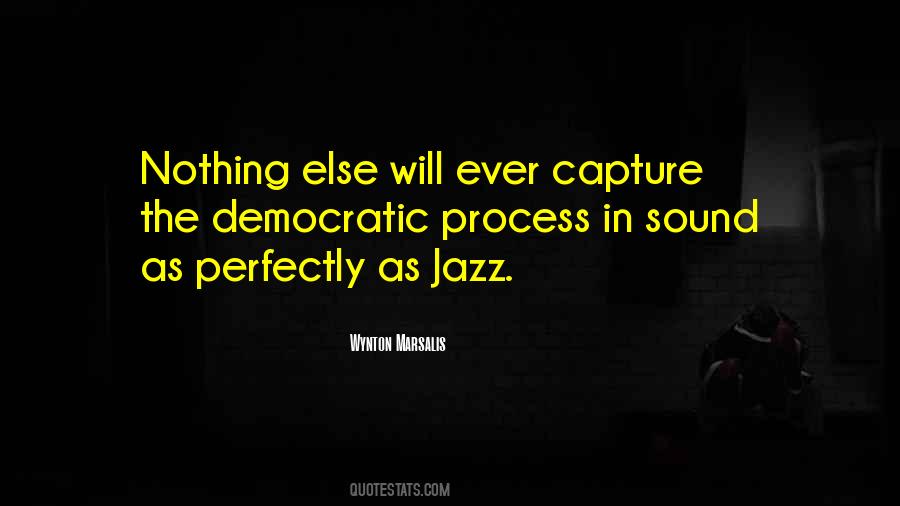 #75. Most of the music I've become interested in is hybrid in its originsClassical music, of course, is unbelievably hybrid. Jazz is an obvious amalgam. Bluegrass comes from eighteenth-century Scottish and Irish folk music that made contact with the blues. By exploring music, you're exploring everything. - Author: Edgar Meyer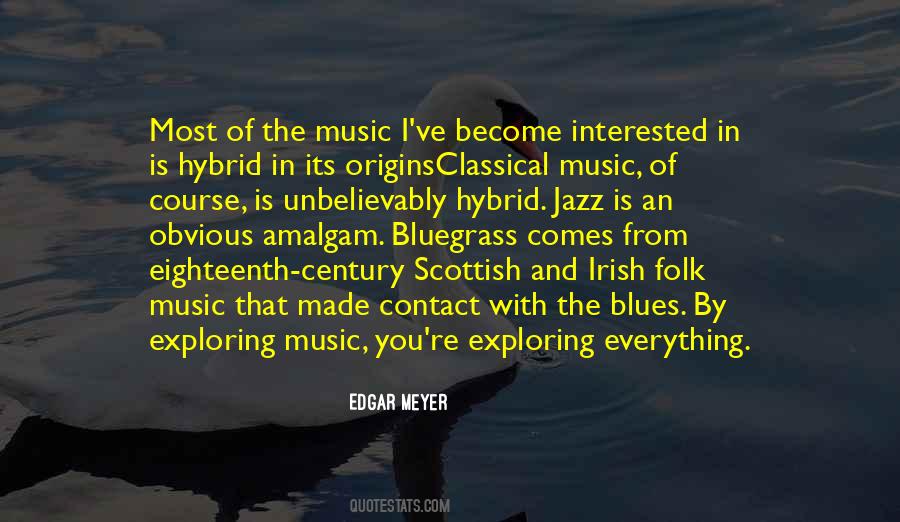 #76. Next to jazz music, there is nothing that lifts the spirit and strengthens the soul more than a good bowl of chili. - Author: Harry James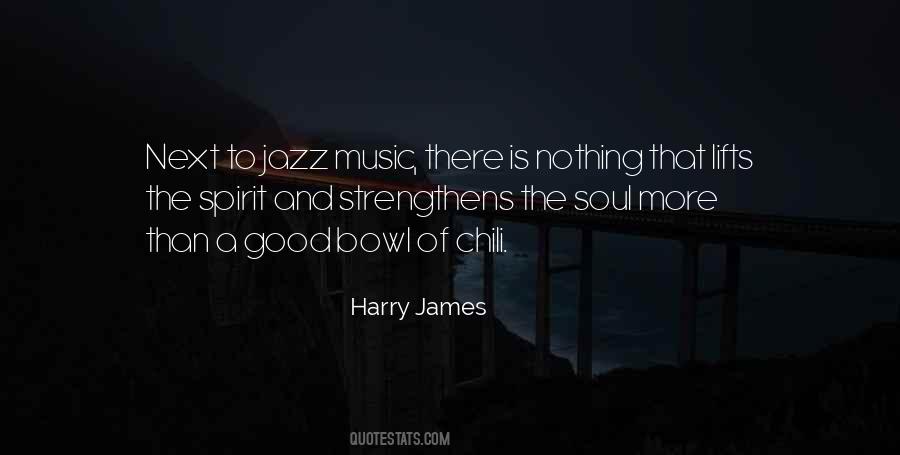 #77. This music that was supposed to only come from tapes like in any restaurant. Something would happened. One bird will start to do a little jazz thing, and another bird will start to answer. - Author: John Hench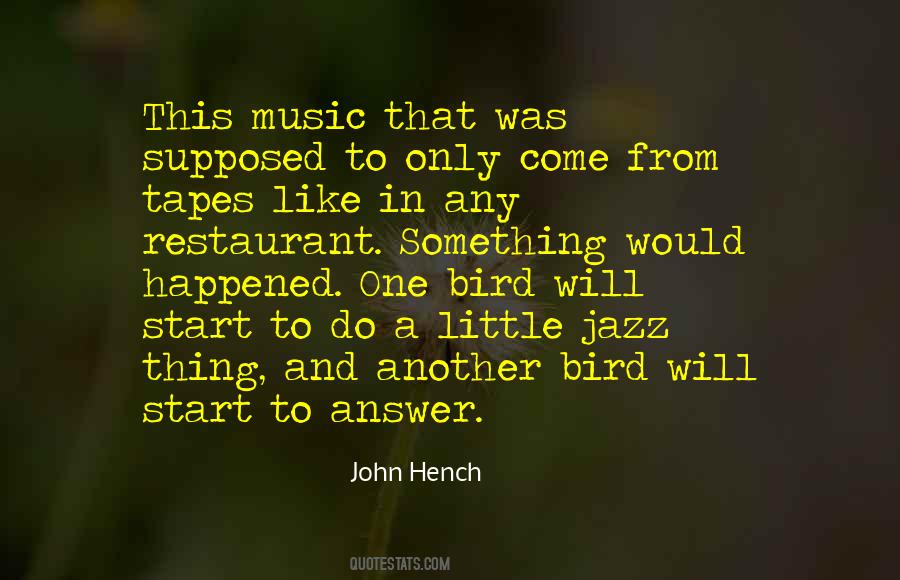 #78. If I knew what it was going to look like, I wouldnt be so excited to be a part of it. Jazz is a music of surprise; its a music of spontaneity. I think jazz musicians live
I know I do
for being surprised and not knowing whats going to come next. - Author: Joshua Redman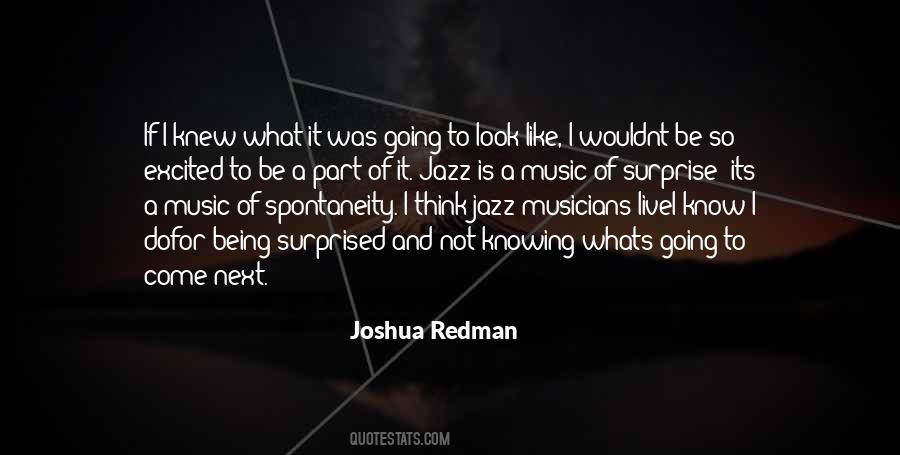 #79. I was in a competing company and have been dancing since I was four - ballet, tap, jazz, hip hop - so it's a huge part of my life and my music. - Author: Tinashe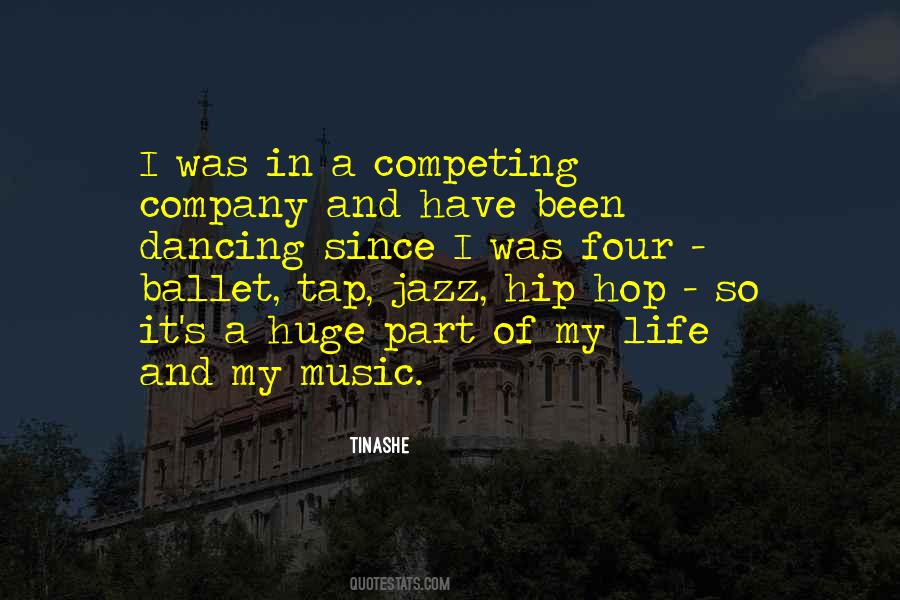 #80. The music I like best is kind of frozen in my mind from the Sixties and Seventies. I still listen to the same jazz music I listened to when I was eighteen years old, and like and admire it just as much. - Author: Don DeLillo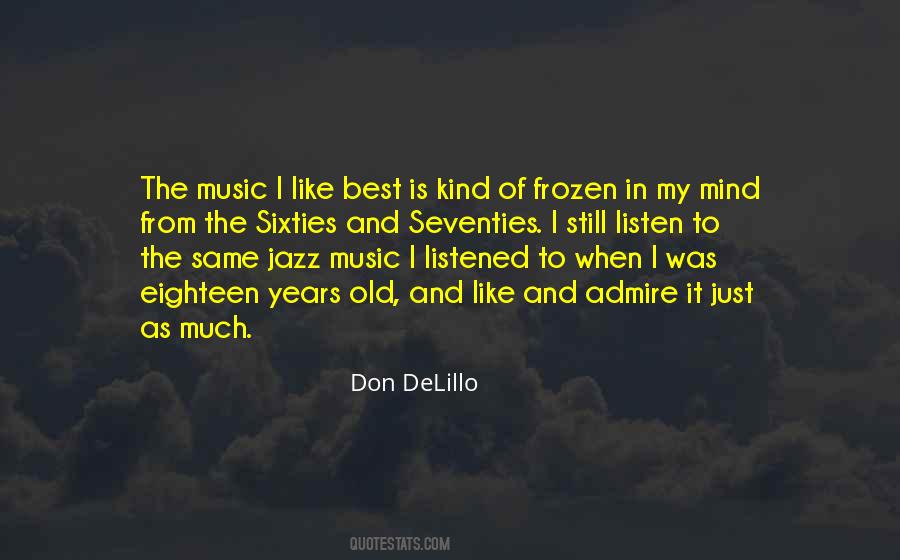 #81. Jazz should be recognized as music of the people, based in a lot of accents and melodies. What is jazz but music that people danced to? Jazz has the dynamic thing. I don't think you have to be playing only Charlie Parker licks on your horn or whatever the new version of that is. - Author: Al Jarreau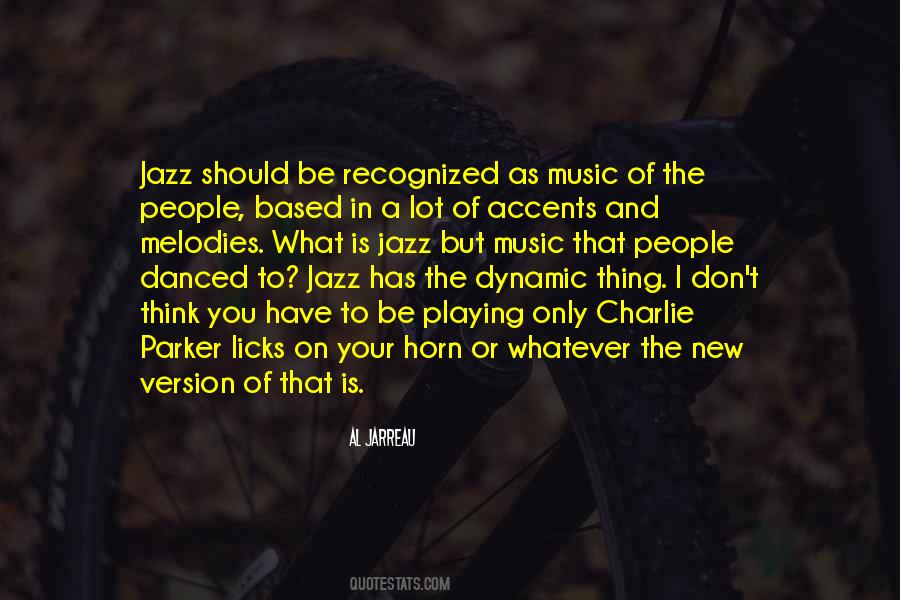 #82. If Music is a Place
then Jazz is the City, Folk is the Wilderness, Rock is the Road, Classical is a Temple. - Author: Vera Nazarian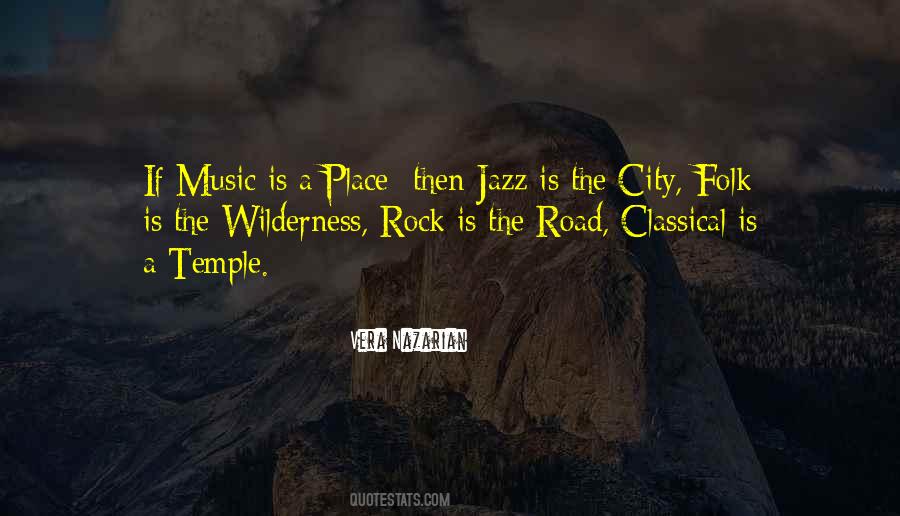 #83. So from Jazz, Blues, R&B, Soul, Classical and Country music, Hip Hop has introduced us to a little bit of everything. - Author: B.J. The Chicago Kid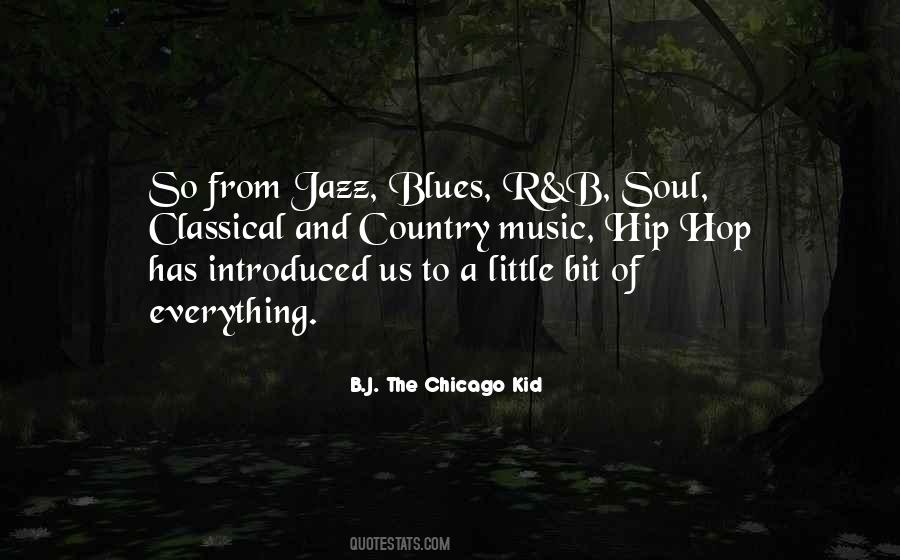 #84. I have always been a person who is concerned with the dignity of jazz music and the way jazz musicians have been treated and are treated, and the fact that the music has not been given the kind of due that it deserves. - Author: Sonny Rollins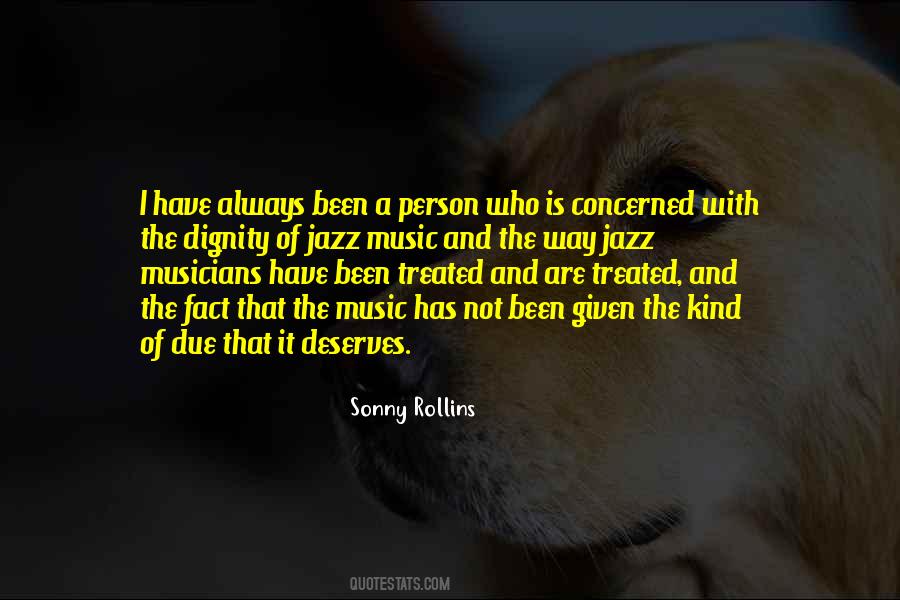 #85. Music is always for the listener, but the first listener is always the musician - Author: Wynton Marsalis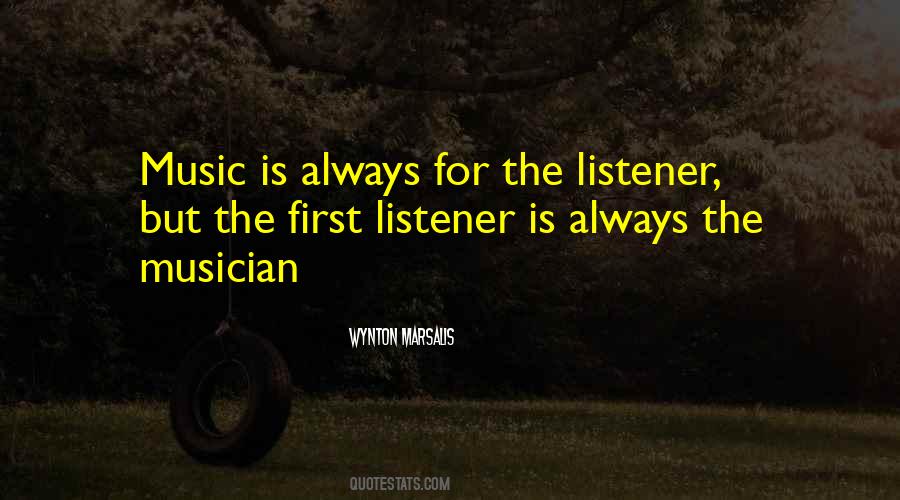 #86. I wanted to put jazz on the record, all the loves of music that I had on the record, so I could show people I was ahead of my 19 years. It may have been over the heads of some people. - Author: Brian McKnight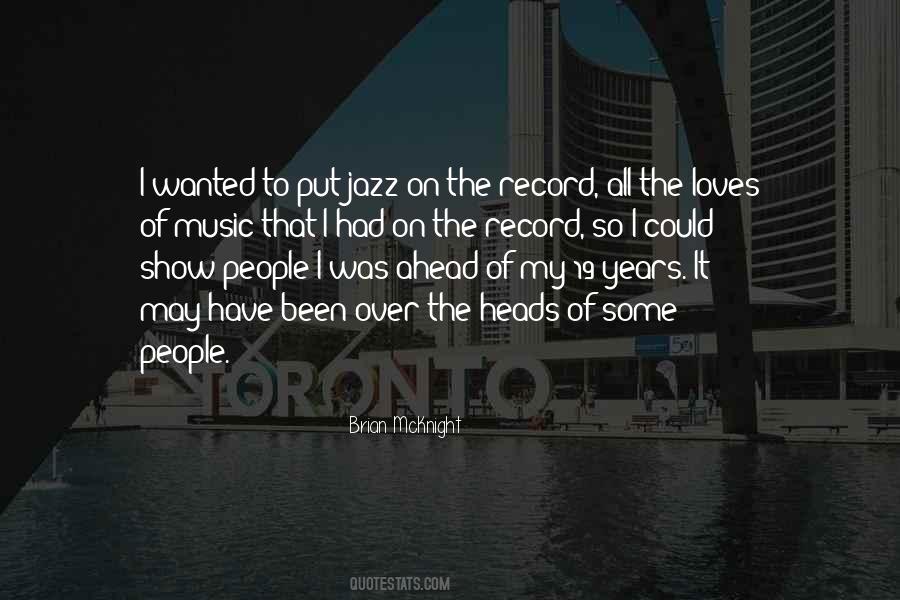 #87. Jazz music will continue to thrive, possibly in unexpected ways. - Author: Pat Metheny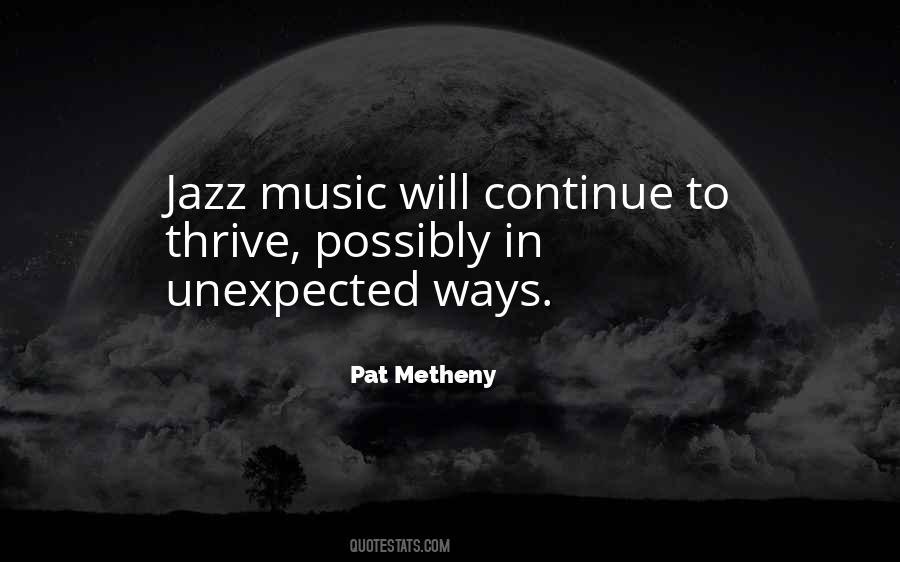 #88. Jazz is improvisation and syncopation, with resilience and flow, with earthy elegance, nuance and subtlety, with the integrity of individual expression within (usually) a group context, with true democracy in action. - Author: Greg Thomas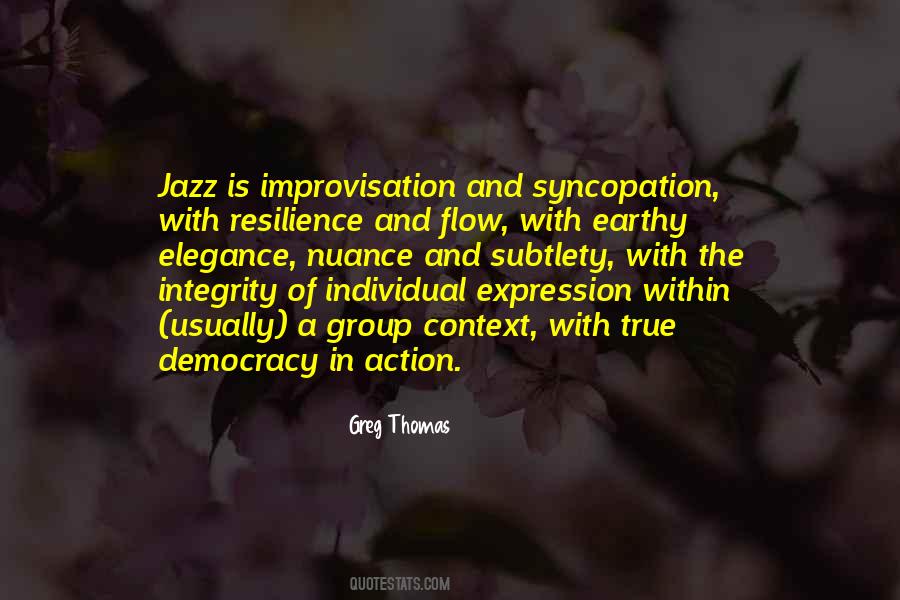 #89. Blues is to jazz what yeast is to bread
without it, it's flat. - Author: Carmen McRae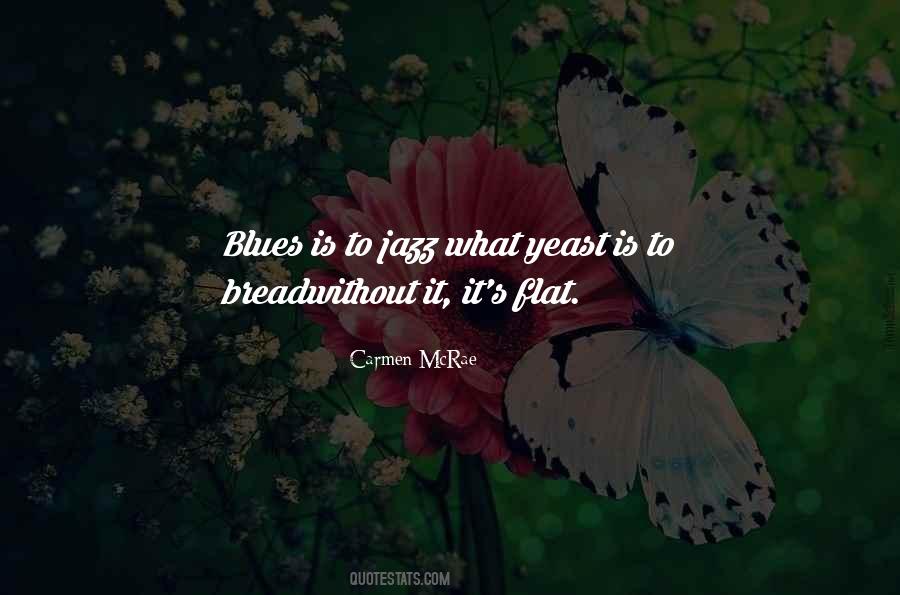 #90. Of course when you are a kid you listen to what your parents had around. A lot of gospel, jazz. Now when I started to listen to music on my own it was around the time of the birth of rock and roll. Shortly thereafter I started to get into more blues and more traditional rootsy American music. - Author: Jorma Kaukonen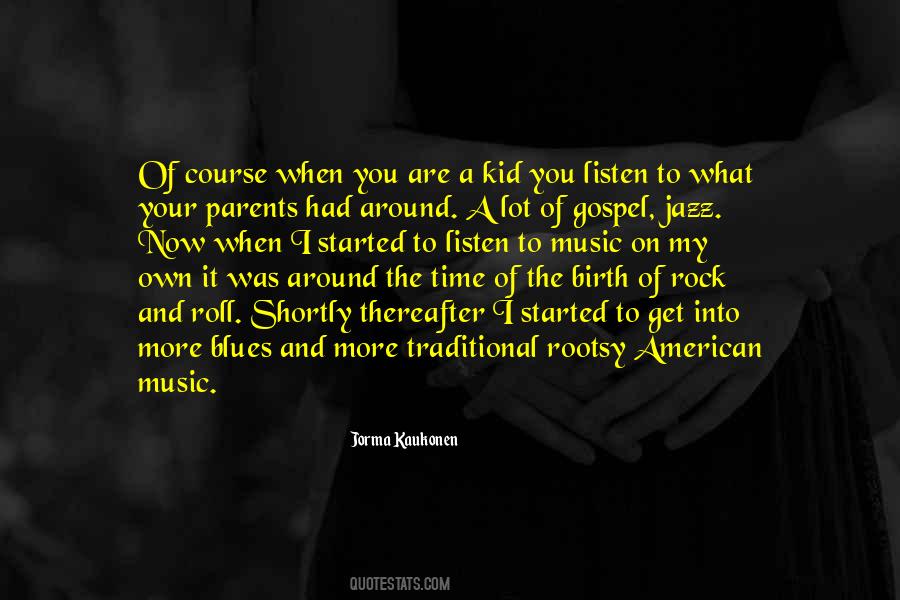 #91. Sarah Vaughan was the Charlie Parker of the vocalists during the 1950s. - Author: Roy Haynes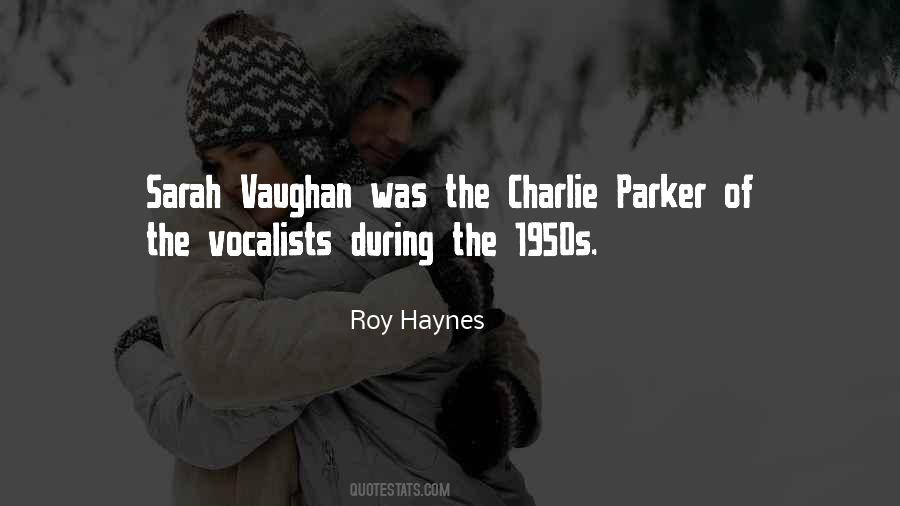 #92. What about a blues in W, in the key of W. - Author: Rahsaan Roland Kirk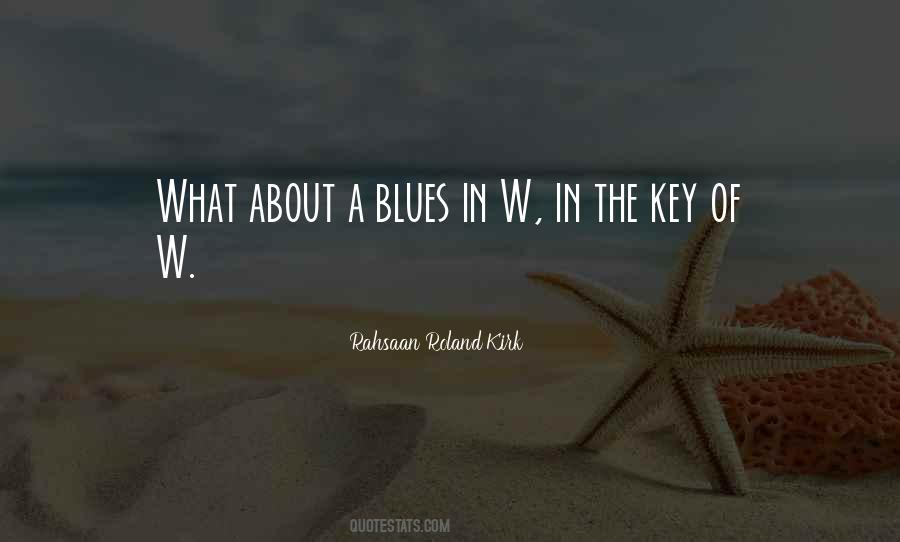 #93. They had a table near the rail round the huge floor. Bond was spellbound. He found many of the girls very beautiful. The music hammered its way into his pulse until he almost forgot what he was there for. - Author: Ian Fleming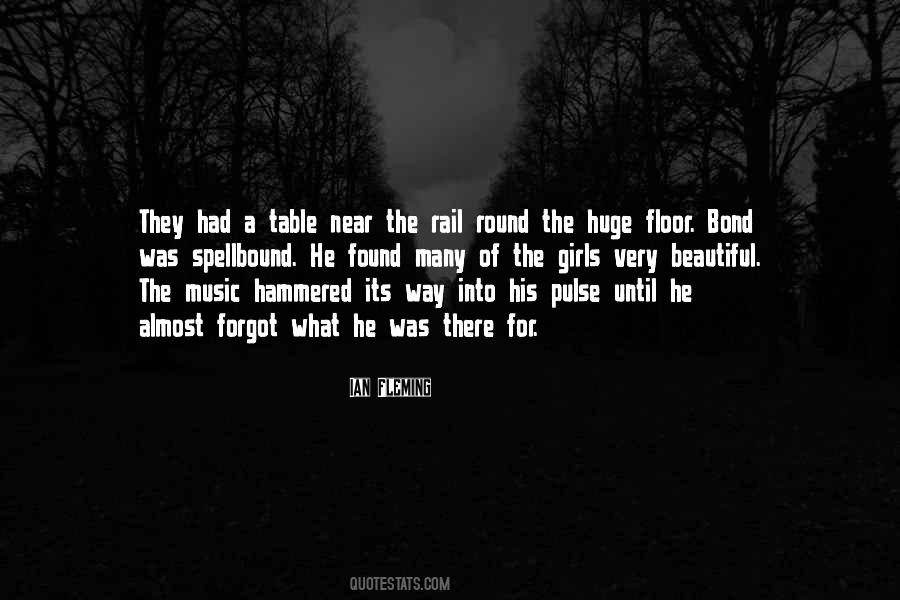 #94. Liz [Gillies] doesn't really listen to anything new, besides Adele, Ariana Grande, and stuff like that. She loves '70s music and old '60s songs. She loves songwriters from the '70s that I hate, like Jim Croce and James Taylor, and she loves Stevie Nicks and old jazz classics. - Author: Denis Leary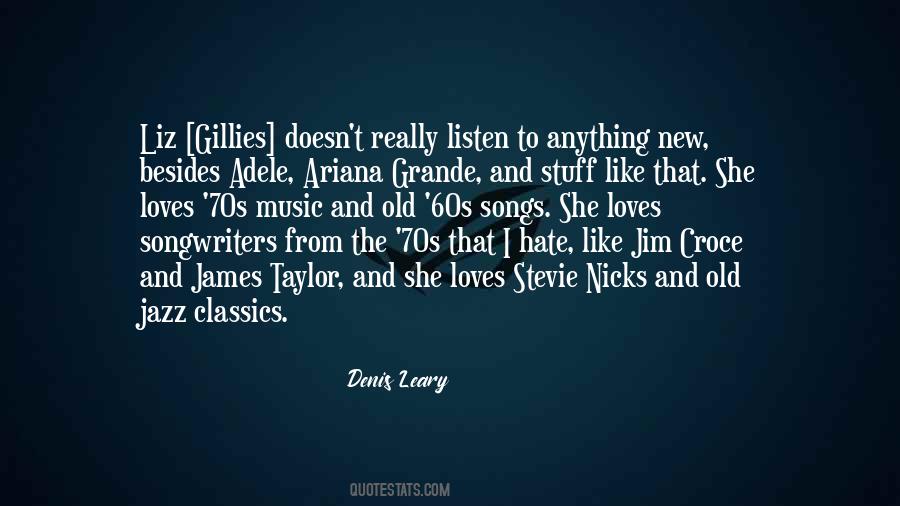 #95. Jazz is an idea that is more powerful than the details of its history. - Author: Pat Metheny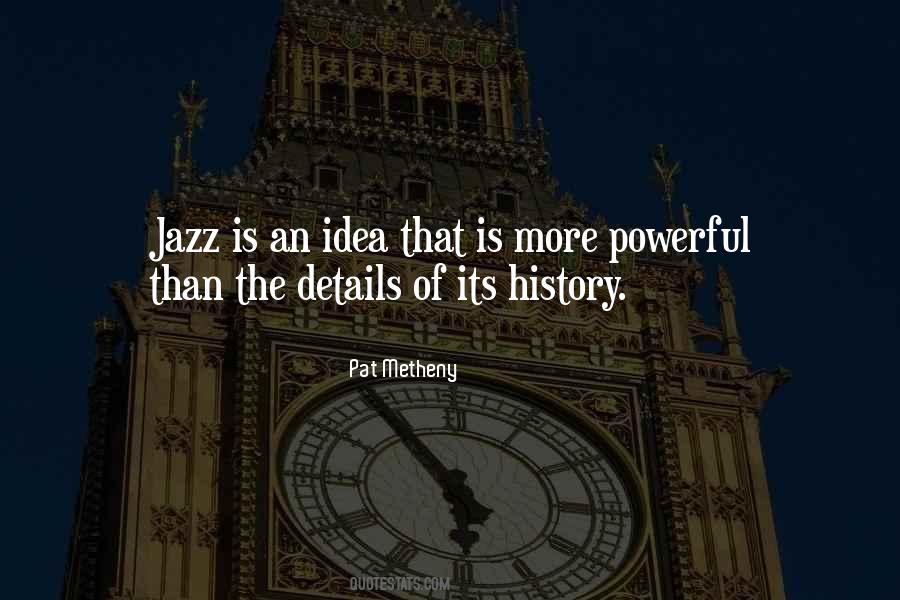 #96. Jazz is a music of great achievements but speed and chops serve a different function in jazz. - Author: Marc Ribot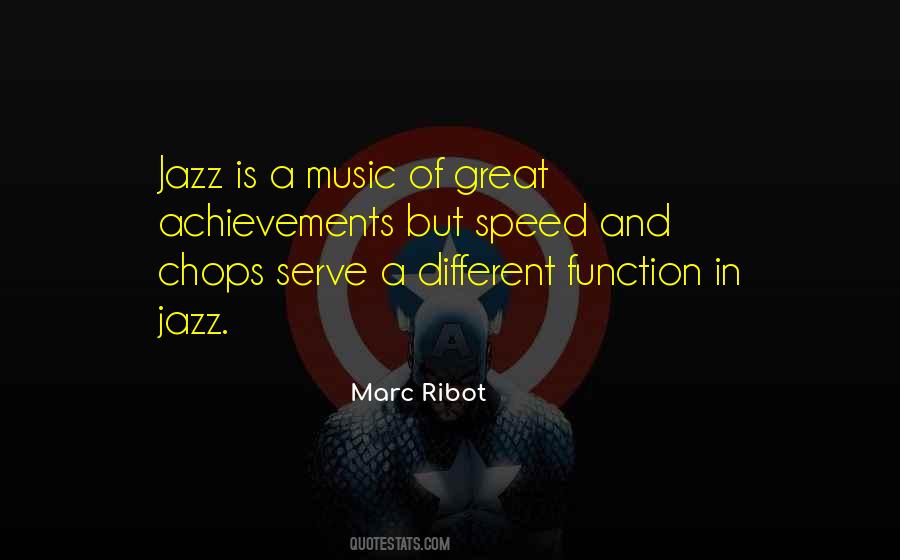 #97. I don't limit my taste. There's some jazz that I like and there's some opera. I've been listening to what was essentially country music, but it crossed over to rock. - Author: Rick Moranis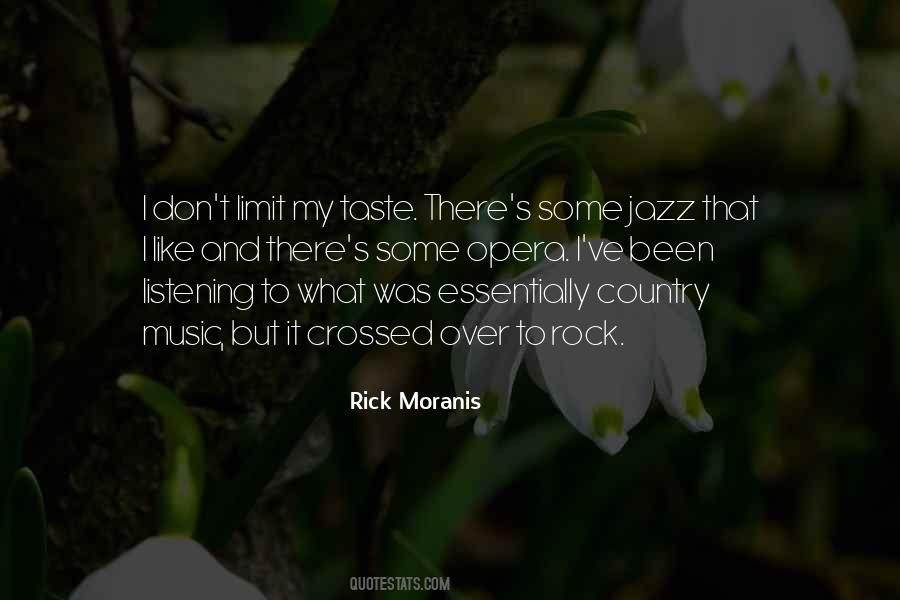 #98. In a way, the history of jazz's development is a small mirror of classical music's development through the centuries. Now jazz is a living form of original music, while classical music has gotten to the end of its cycle in terms of exploring its form. - Author: Mike Figgis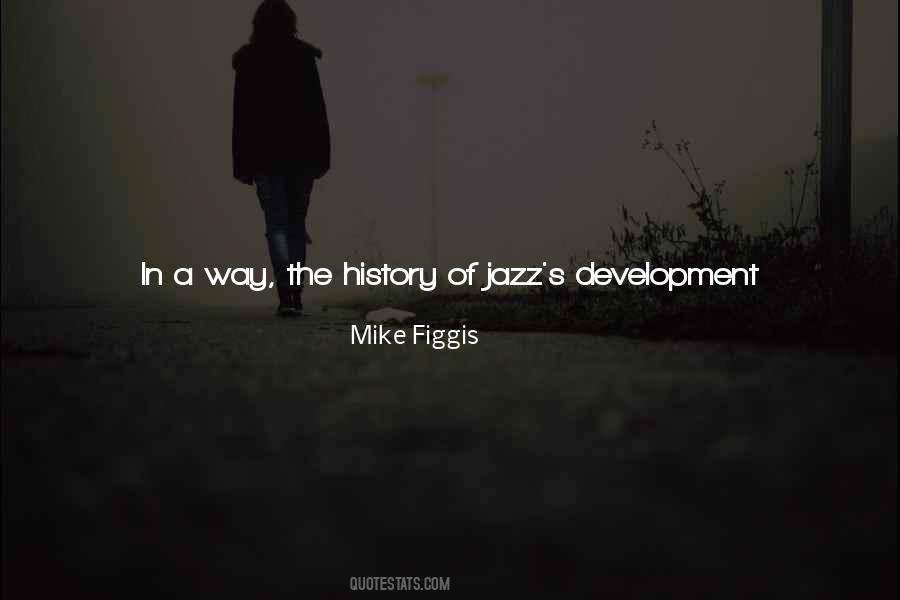 #99. Composing is improvisation slowed down. - Author: Wayne Shorter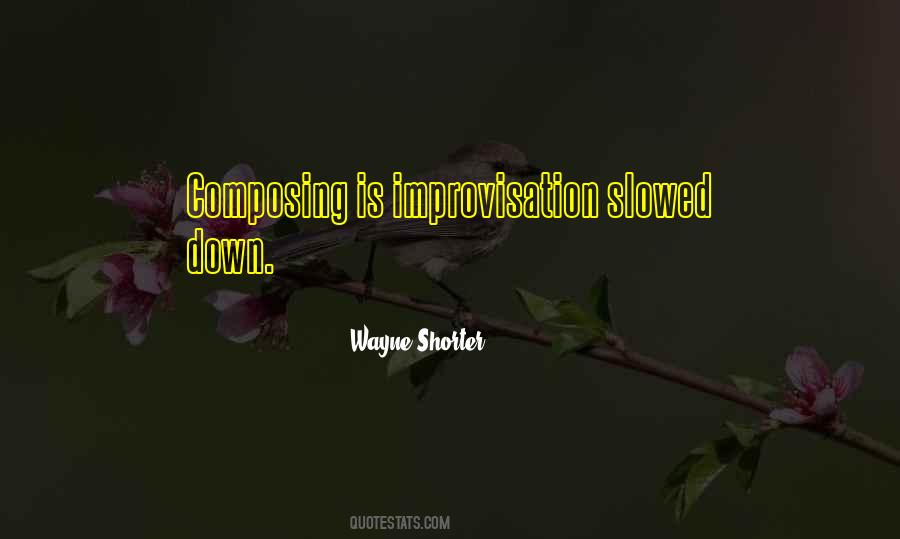 #100. You're just sort of searching for this 'thing' and sometimes you get it and sometimes you don't. All music is imperfect, but in jazz since you're improvising, at least the way I play, I'm trying to follow my train of thought in a solo. - Author: John Abercrombie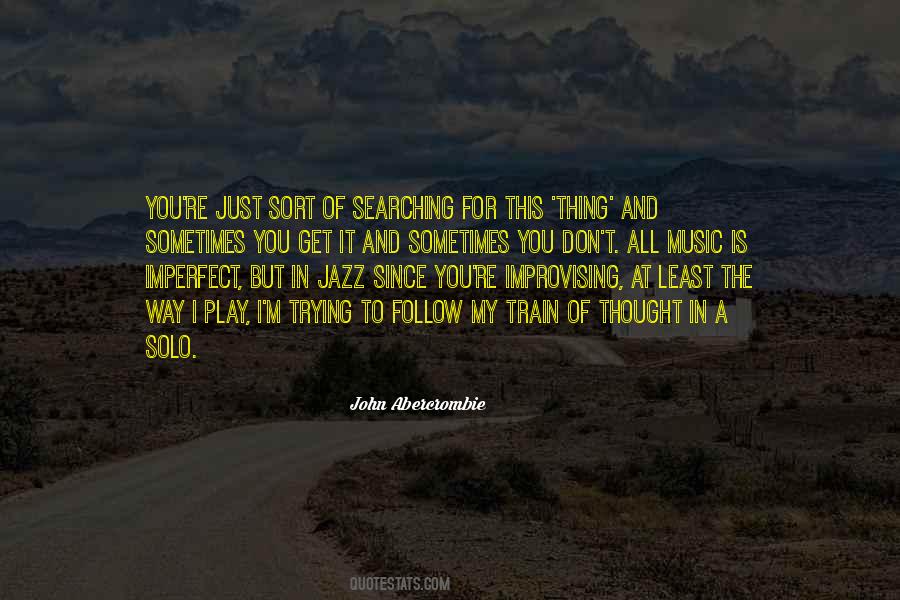 Famous Authors
Popular Topics