In Love With Someone Famous Quotes & Sayings
List of top 100 famous quotes and sayings about in love with someone to read and share with friends on your Facebook, Twitter, blogs.
Top 100 Quotes About In Love With Someone
#1. How many can honestly say that they never fell in love with someone else along the way, someone they didn't pursue because they'd made a vow to stay with their spouse? How many would say they regretted that choice? - Author: Holly Chamberlin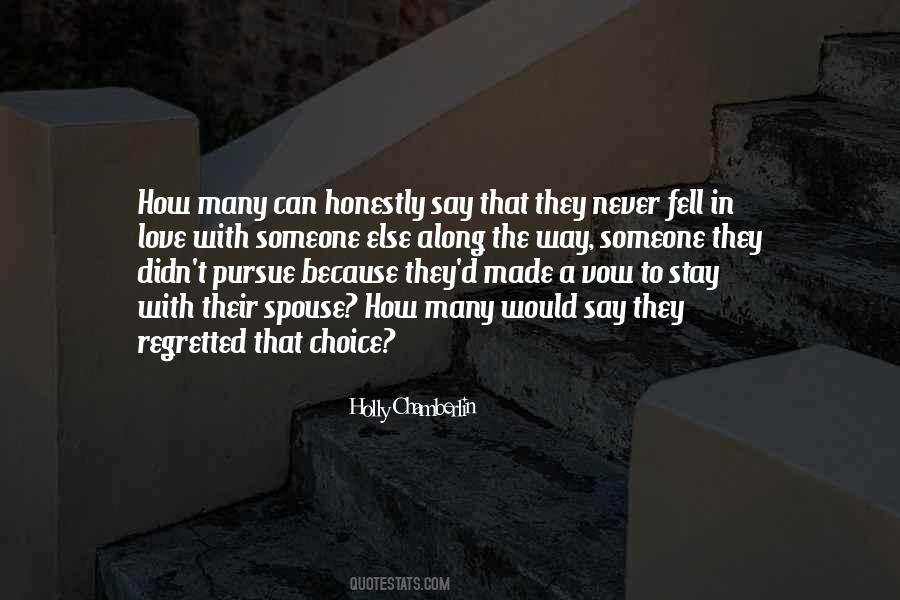 #2. The whole point of love is to trust someone with your heart and pray they don't break it. It's about faith in each other. I gave you my heart when I told you I loved you which means I'm giving you power over me. - Author: Belle Aurora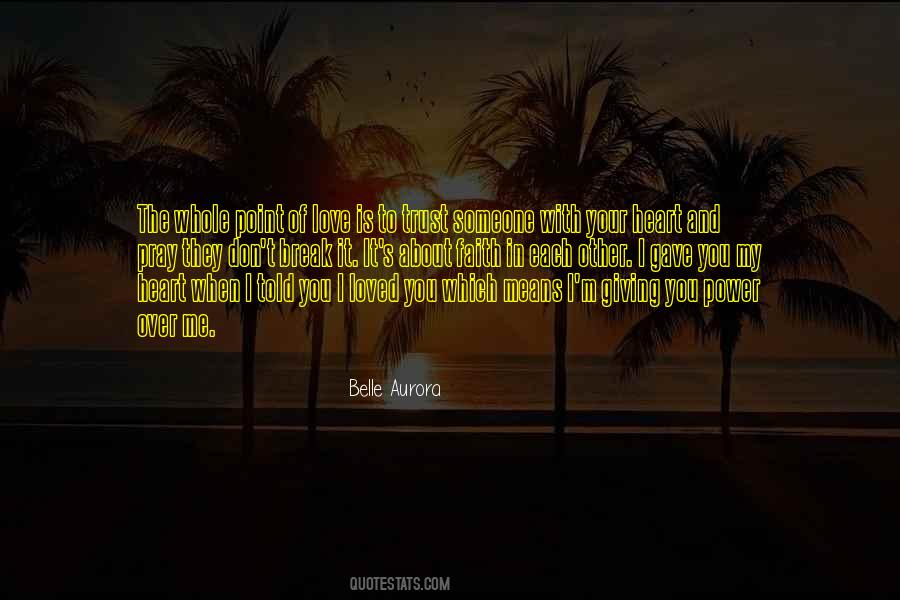 #3. Life is about creating your own world, your own joy.
Life is not about living in someone else's world or playing with someone else's toy. - Author: Debasish Mridha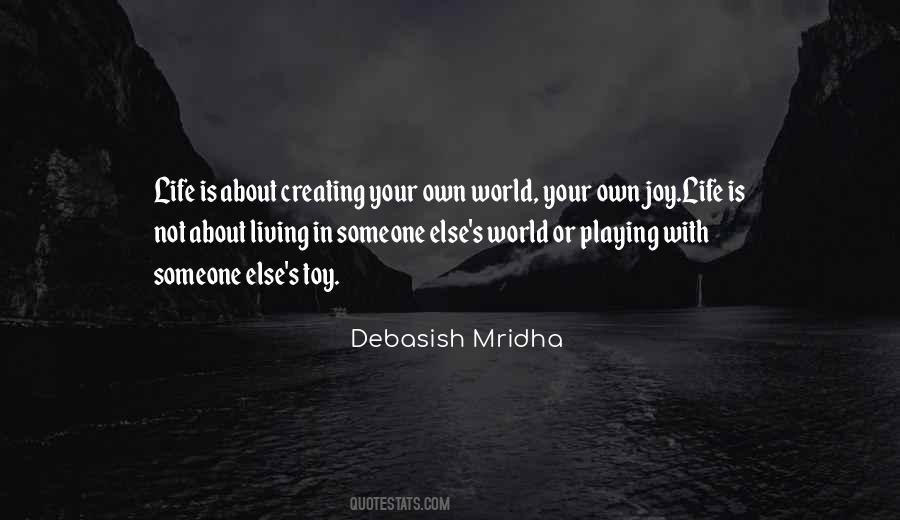 #4. I want to build a life with someone that's based on their dreams as well as my dreams. I think that the idea of finding another person to share with is the most fascinating, beautiful quest you could ever be on in life. - Author: Taylor Swift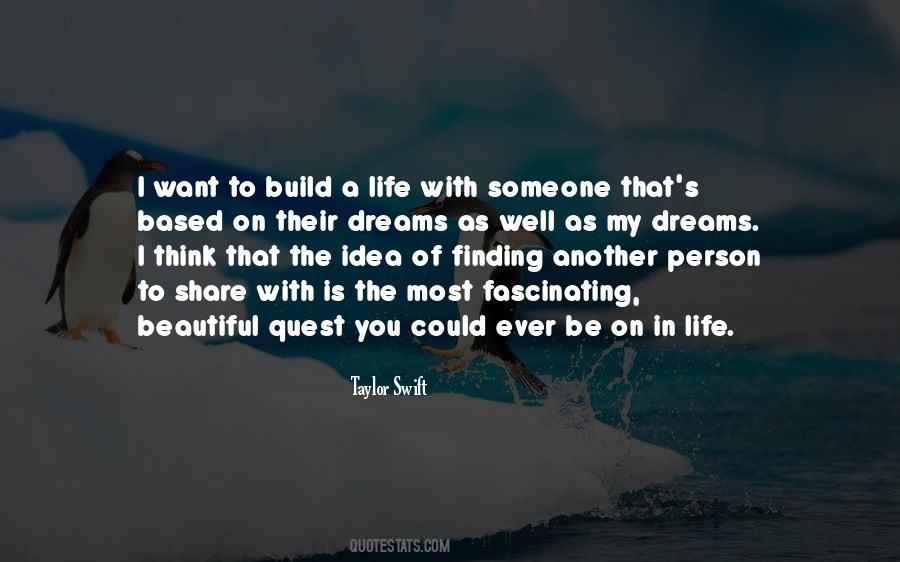 #5. I fall in love with someone about twice a week, but I'm starting to think that's a common problem with writers, that they have a dangerous excess of love that they give away to near strangers or turn inward on their private little worlds. - Author: Zach VandeZande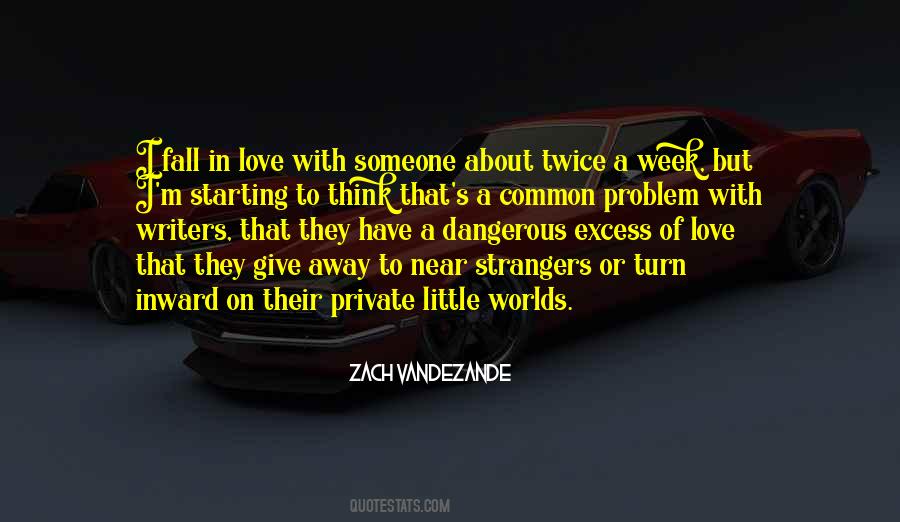 #6. Love in my world usually ended up with someone hearing "I smite thee!" as she was cursed to be some lame flower for the rest of her life. - Author: Jennifer L. Armentrout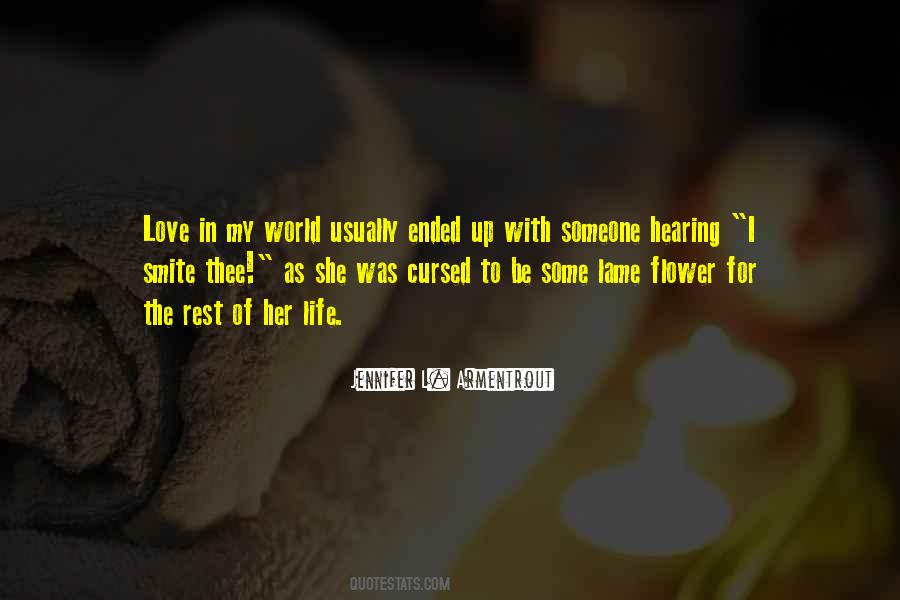 #7. There is a deep truth in being at home enough with someone to kiss them while your lips are dry. And happiness may not be the greatest of things to hear, but it should be. - Author: Mikl Paul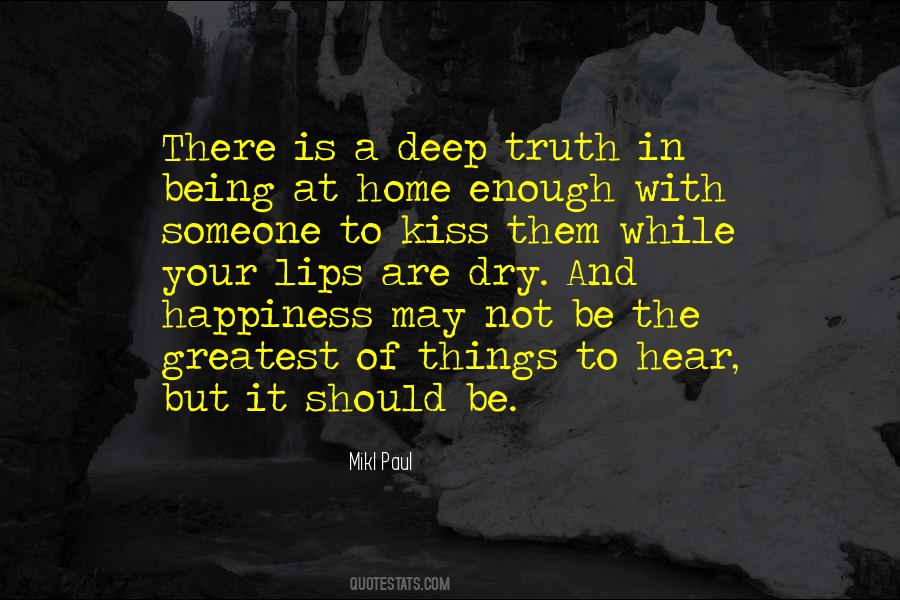 #8. It's amazing how you could be with someone for years and yet not love them in the same intensity as; you do love someone else, the very moment you meet them. - Author: Hafsa Shah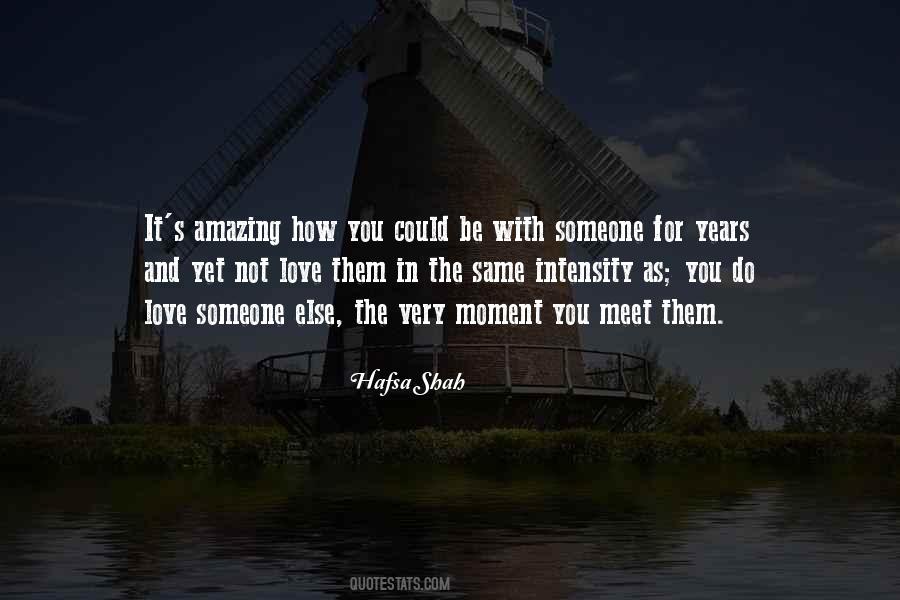 #9. Fall in love with a weird one - someone not quite right in the head - life is far more interesting when love is odd - Author: Topher Kearby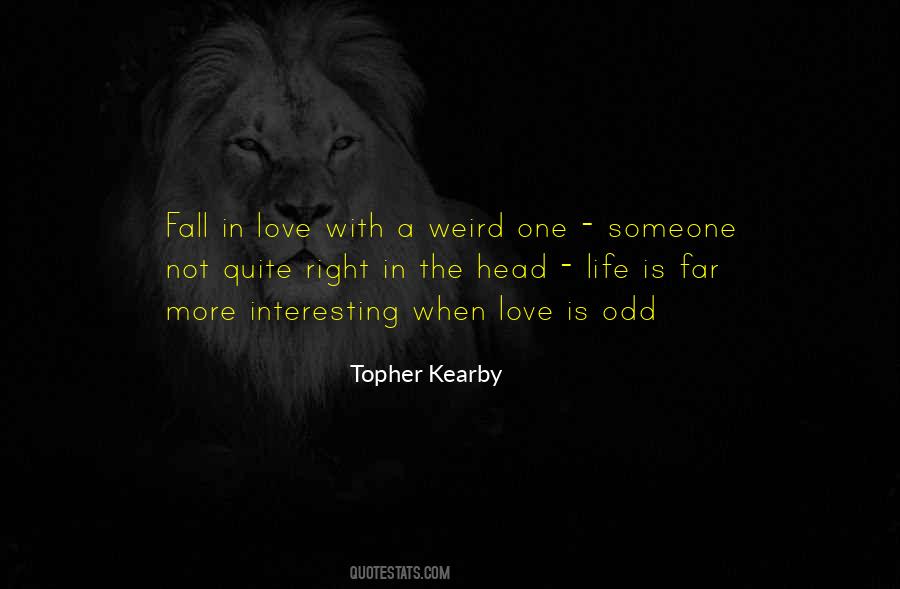 #10. Trying to make someone fall in love with you is about as pointless as trying to control who you fall in love with. - Author: James Earl Jones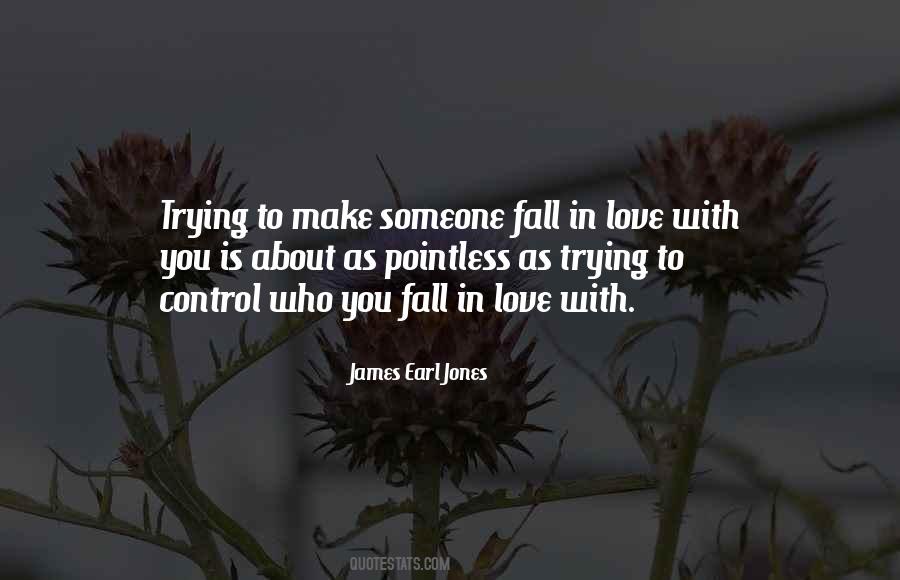 #11. I always tell people this when they're looking for an agent - they should love your work. You are entitled to work with someone who believes in you. Why do business with someone who is ambivalent about you and your art? - Author: Jami Attenberg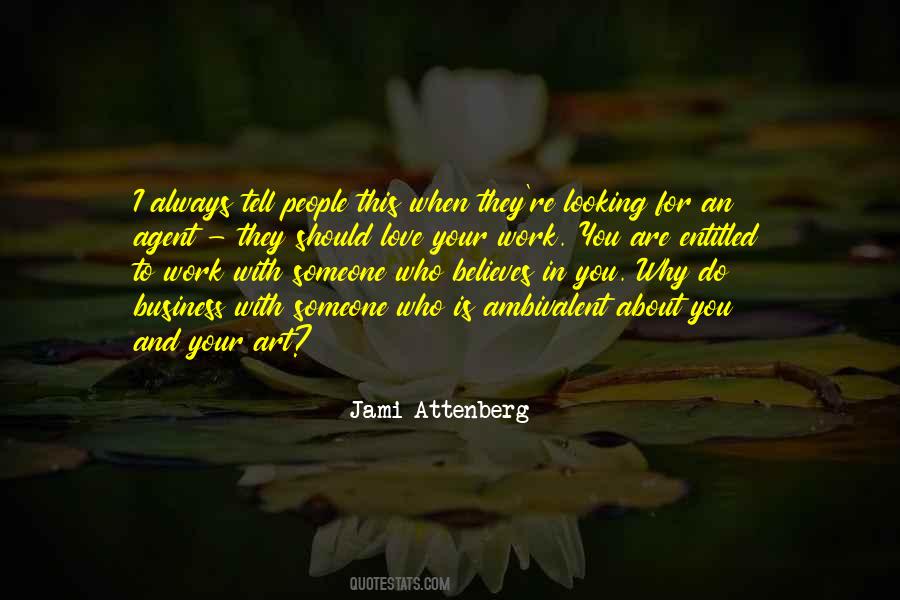 #12. But identification is not the same as knowing someone through and through - the man you fell in love with years ago might look the same and speak the same and smell the same yet be completely different. - Author: Jodi Picoult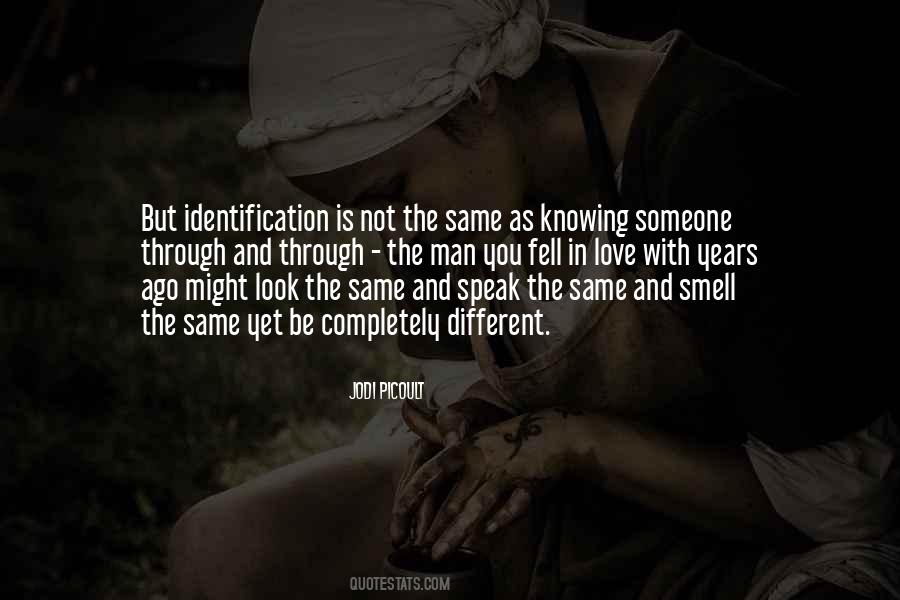 #13. Craziest thing I ever did for love? It's all crazy. None of it makes any sense, does it, when you're in love with someone. It doesn't make any logical sense. I guess that's why they call it being in love. - Author: Vince Vaughn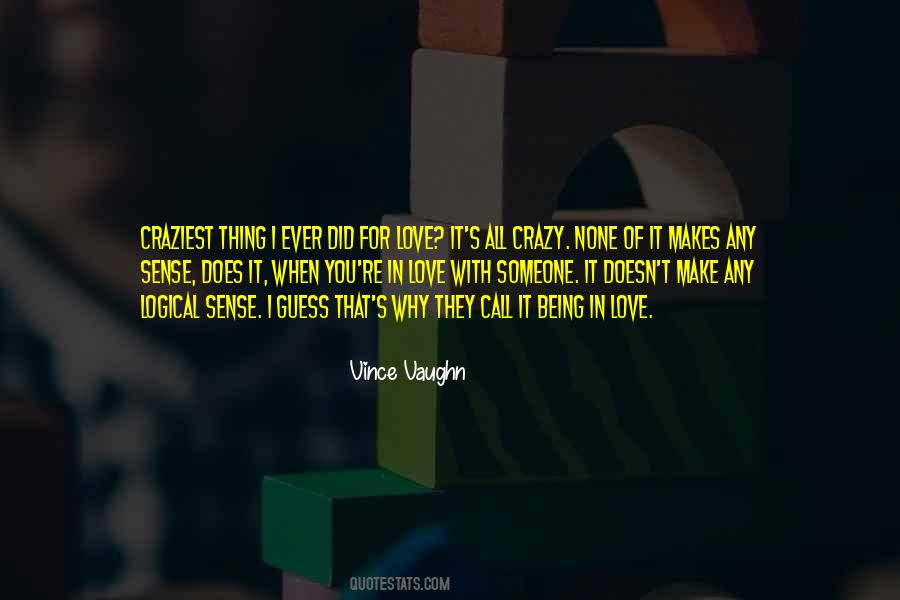 #14. Can you get a broken heart without being with someone? Can wanting to fall in love so bad make that happen? - Author: Jay Bell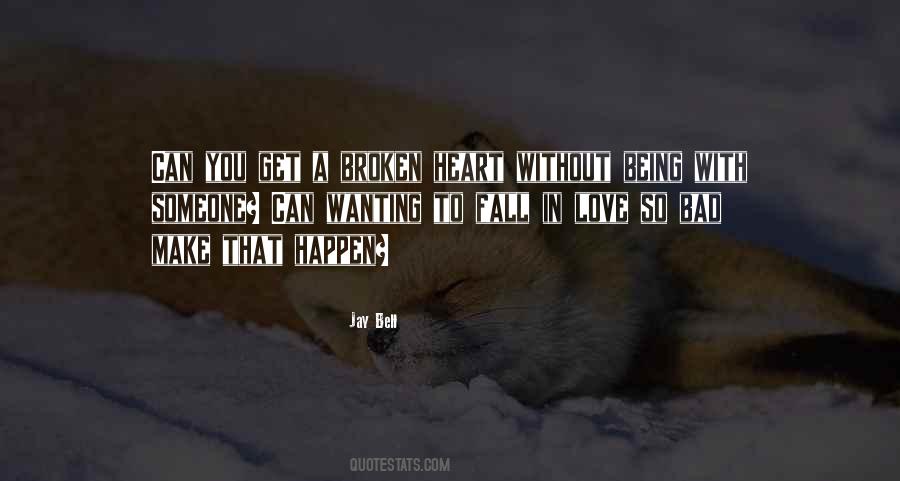 #15. All my life, in nameless, indeterminate ways, I'd tried to complete my life with someone else
first my father, then Hugh, even Whit, and I didn't want that anymore. I wanted to belong to myself. - Author: Sue Monk Kidd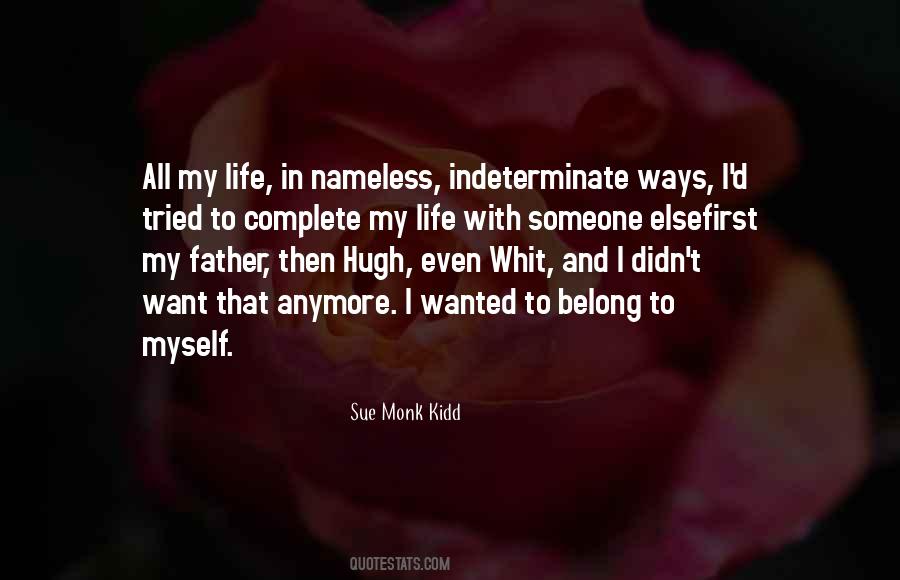 #16. I've been playing in the field of life on my own for a while now and it's fair to say I have gained myself along the way, I gotta admit though, after all this time I am damn well excited to fall insanely inLove with someone who knows how to take my breath away. - Author: Nikki Rowe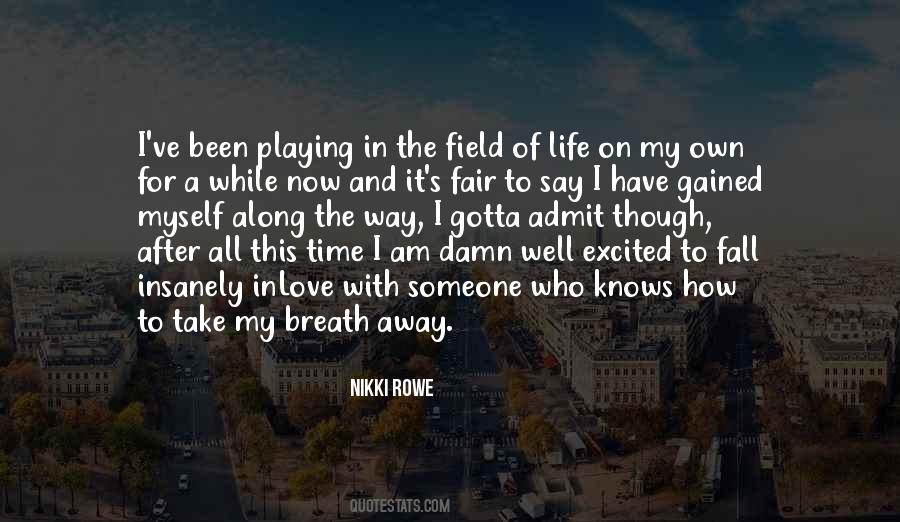 #17. It is superficial to fall in love with someone looking at their face. To me I need to discover the person. I would never look at someone and exclaim - He is the one! - Author: Preity Zinta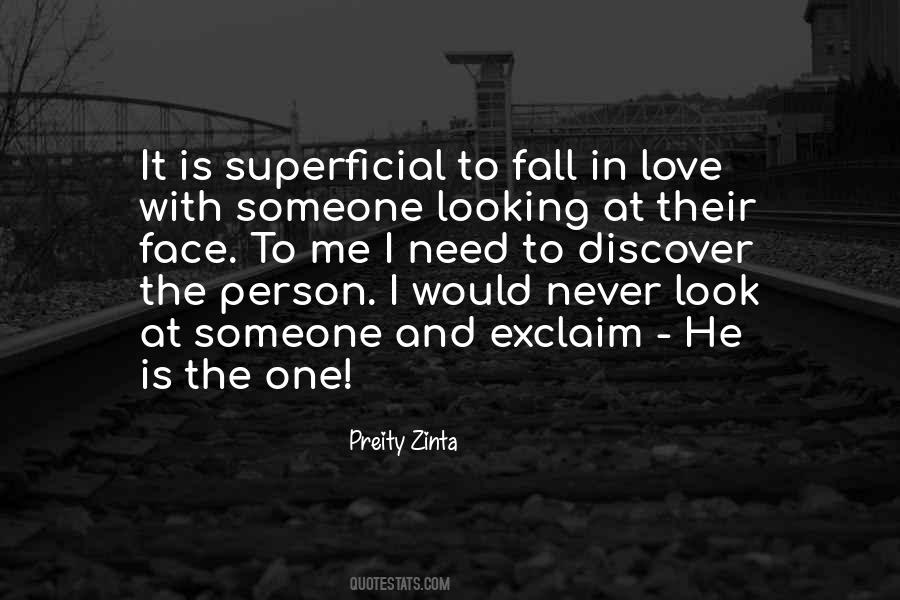 #18. If I was madly in love with someone who offered the opportunity to spend our lives together, I would love to have a child or adopt a child. - Author: Charlie Rose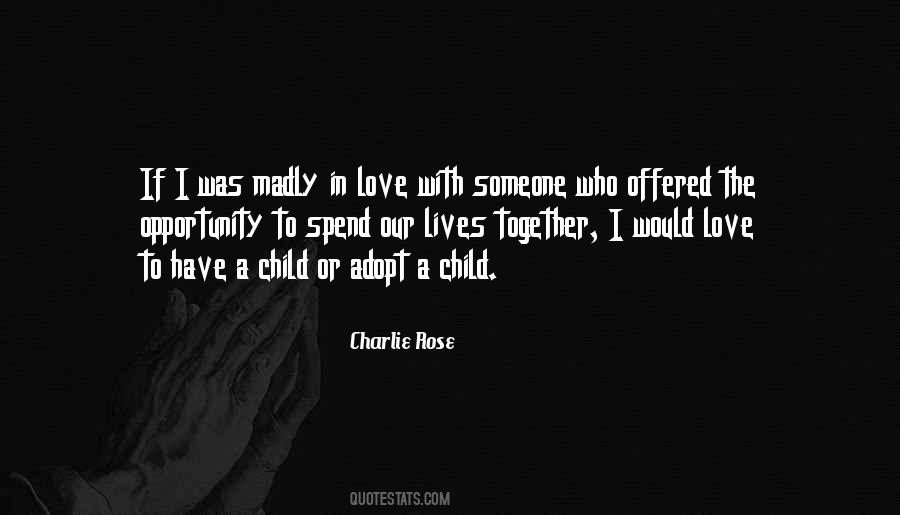 #19. When you write a manuscript, it feels like being in a relationship with someone. You'll hate it, get bored with it, be pissed of, like you just want to break up. But, just like any relationship, you will fall in love again and again, like you don't want to lose it. - Author: Alvi Syahrin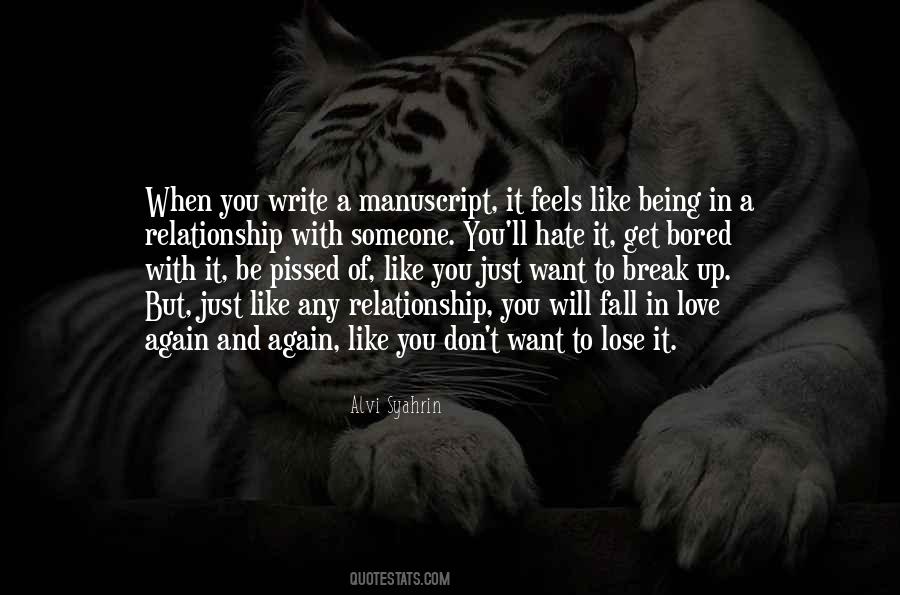 #20. So much of the language of love was like that: you devoured someone with your eyes, you drank in the sight of him, you swallowed him whole. Love was substance, broken down and beating through your bloodstream. - Author: Jodi Picoult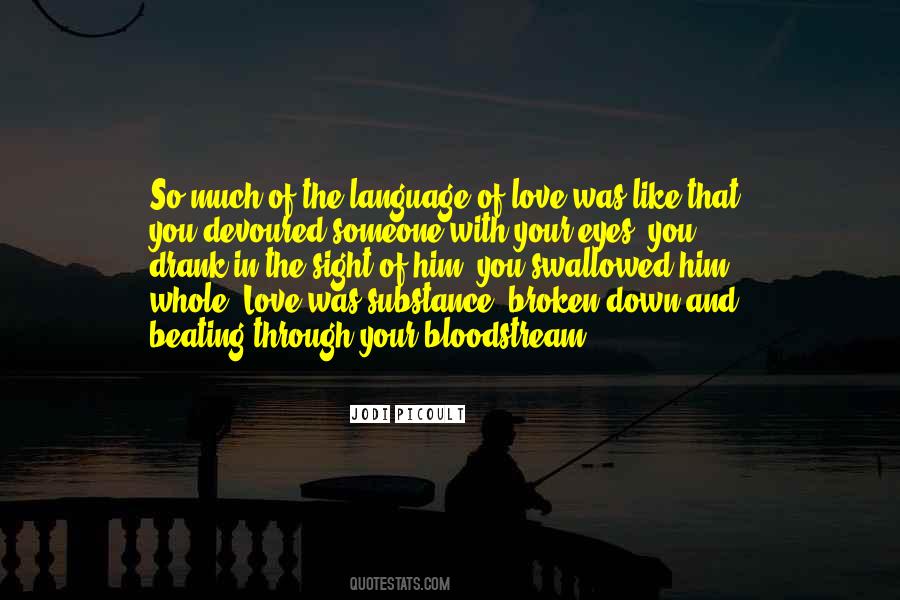 #21. The poetry I love is written with someone's voice and I believe its proper culmination is to be read with someone's voice. And the human voice in that sense is not electronically reproduced or amplified. - Author: Robert Pinsky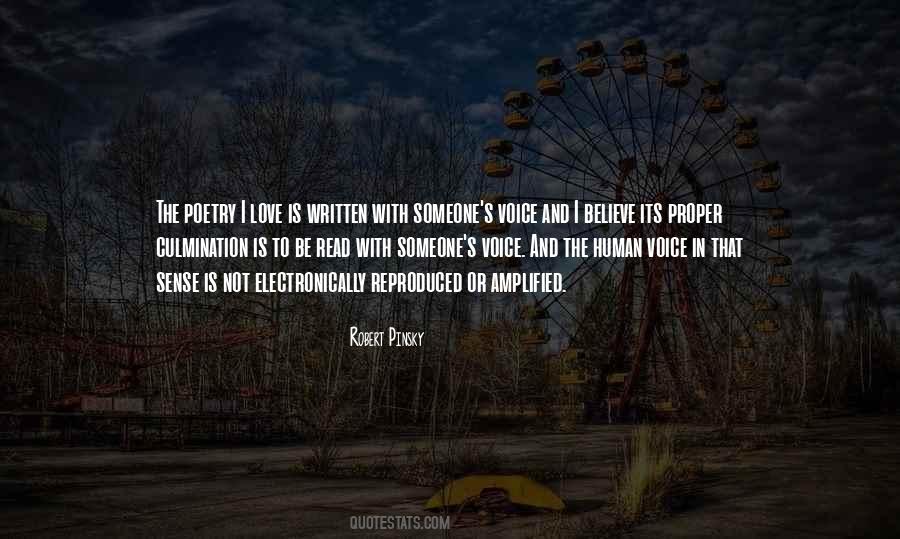 #22. Fall in love with someone
who tastes like adventure
but looks like
the calm, beautiful morning
after a terrible storm - Author: Nikita Gill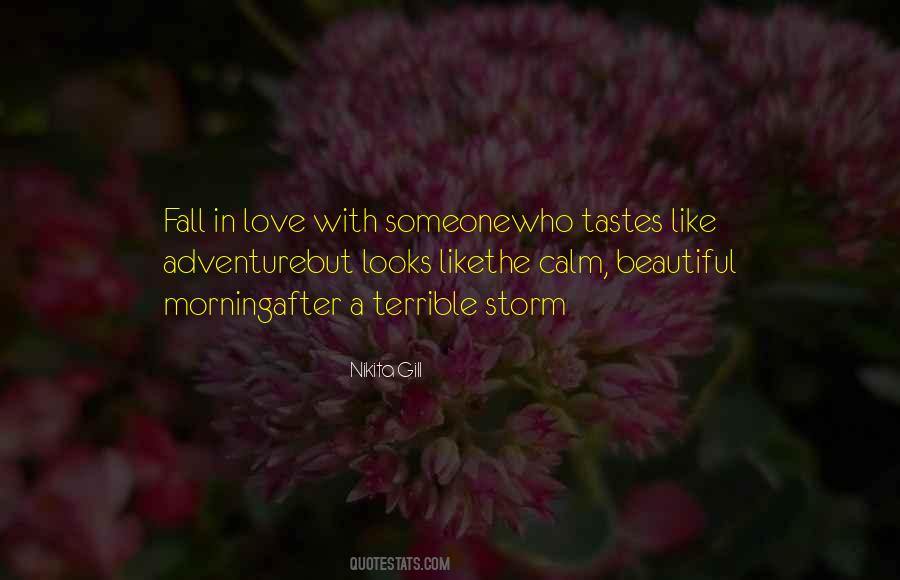 #23. Love vanquishes all attackers, it is impregnable in defense. When heaven wants to protect someone, does it send an army? No, it protects him with love. - Author: Wayne W. Dyer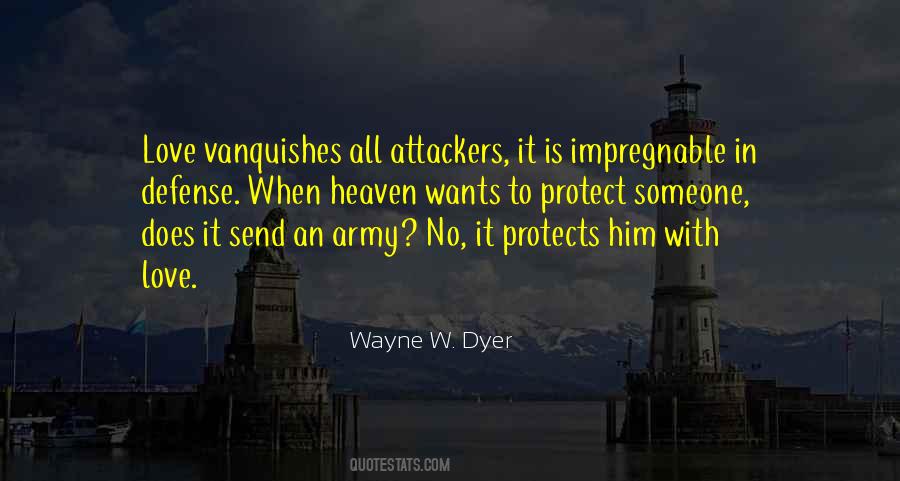 #24. I think you fall in love with someone when you least expect to. When it's the last thing you want. That's what's so great about it. - Author: Katie Klein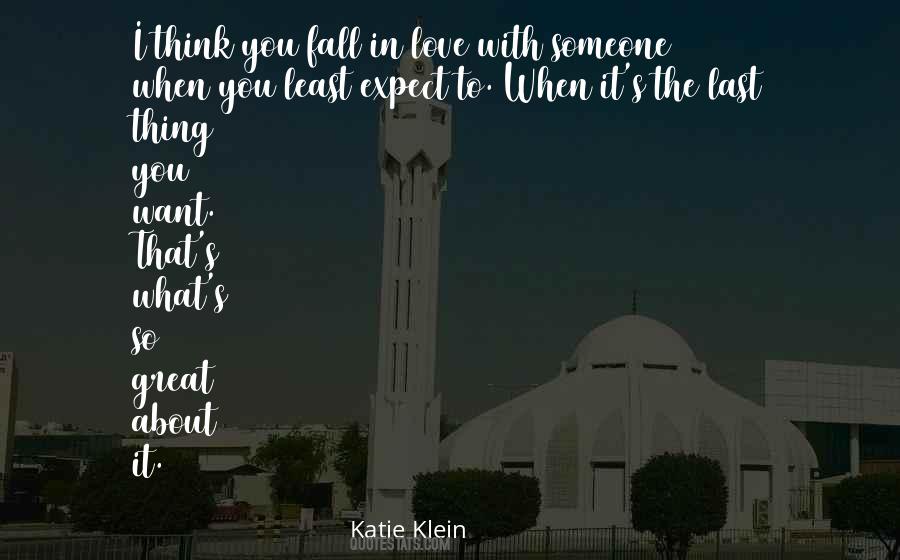 #25. Not everyone deals with what they don't like or understand in a positive way. Some people are going to judge you. Sometimes it's someone you really love and being rejected by them is incredibly painful. - Author: Lauren Dane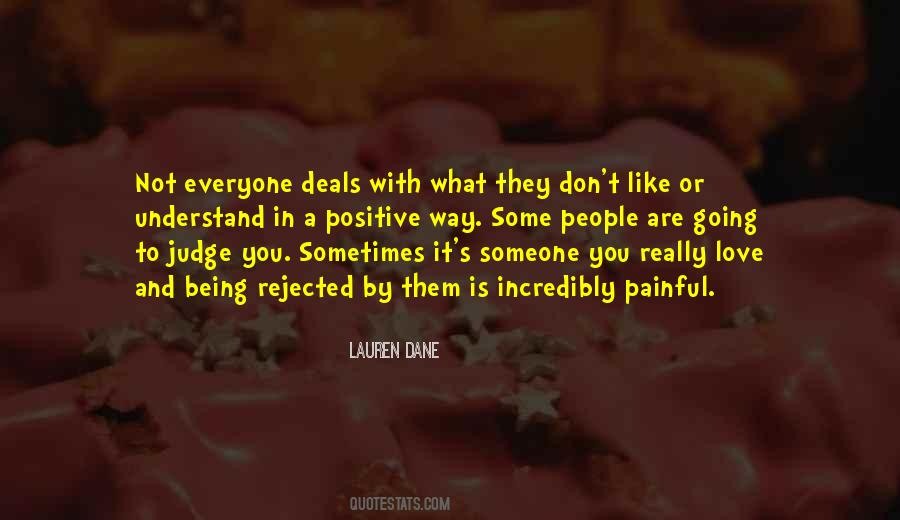 #26. But if you can get so interested in a conversation with someone you're in love with that you forget about wanting to kiss them, then - well then it looks as if you're safe to go ahead.. - Author: Jocelyn Playfair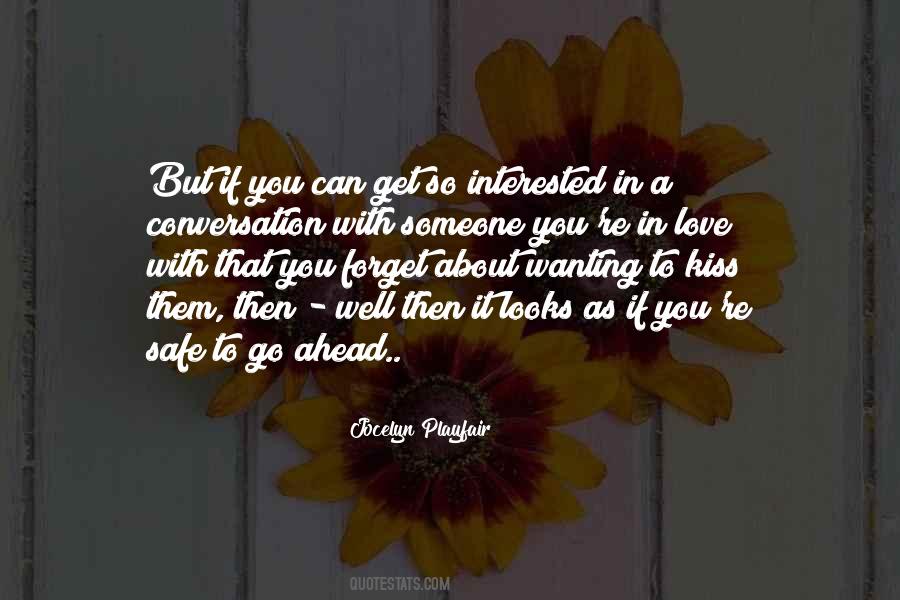 #27. Being in love with someone is like daytime. You know there are other stars our there someplace, but you can only see the sun. - Author: Henry Melville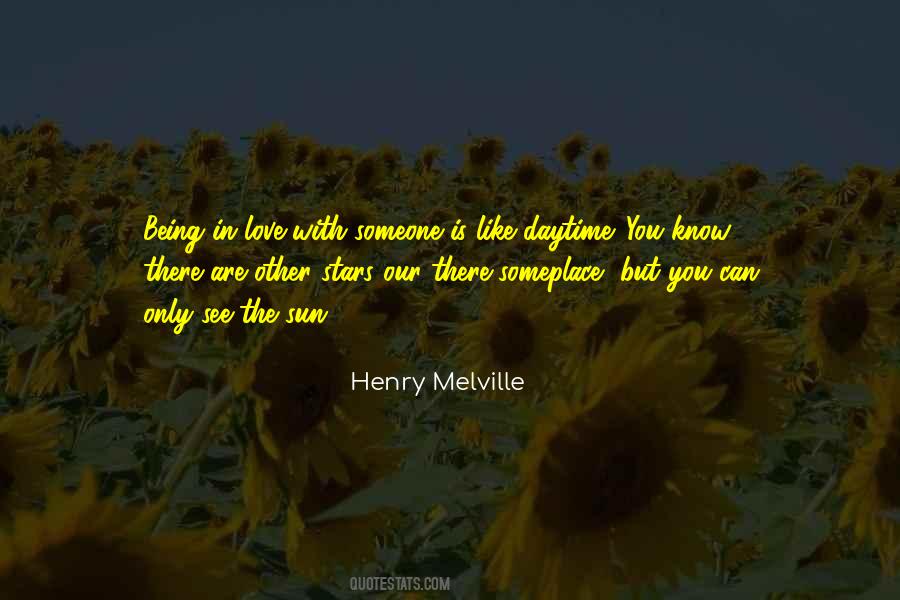 #28. It seems we need someone to know us as we are - with all we have done - and forgive us. We need to tell. We need to be whole in someone's sight: Know this about me, and yet love me. Please. - Author: Sue Miller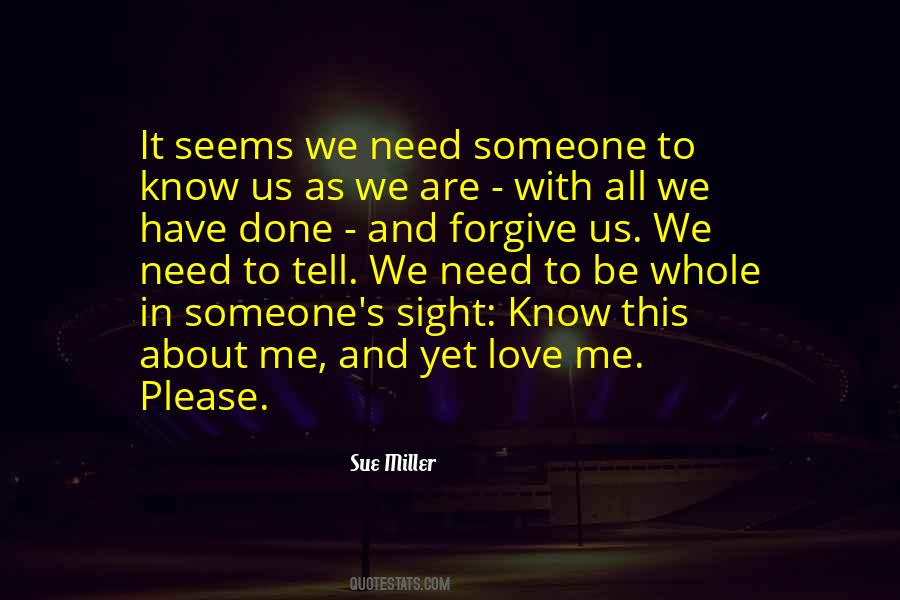 #29. Dead. It was me who was with her, me who found her. Felt her throat, no pulse. I gotta tell you, Red, there is nothin', not one thing in the world worse than puttin' your hand to the throat of someone you love and ... feelin' ... nothin'. - Author: Kristen Ashley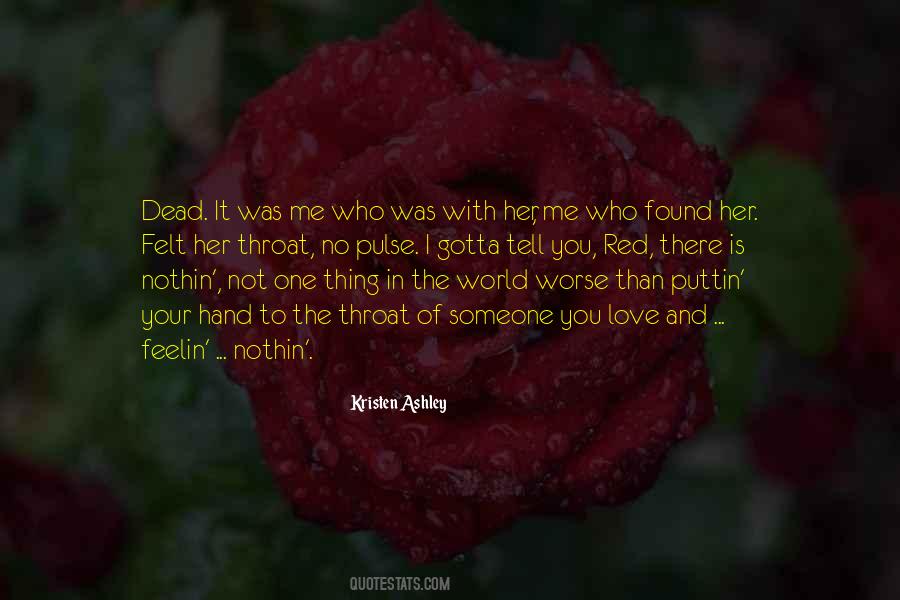 #30. We don't fall in love with someone. We discover love in someone! - Author: Avijeet Das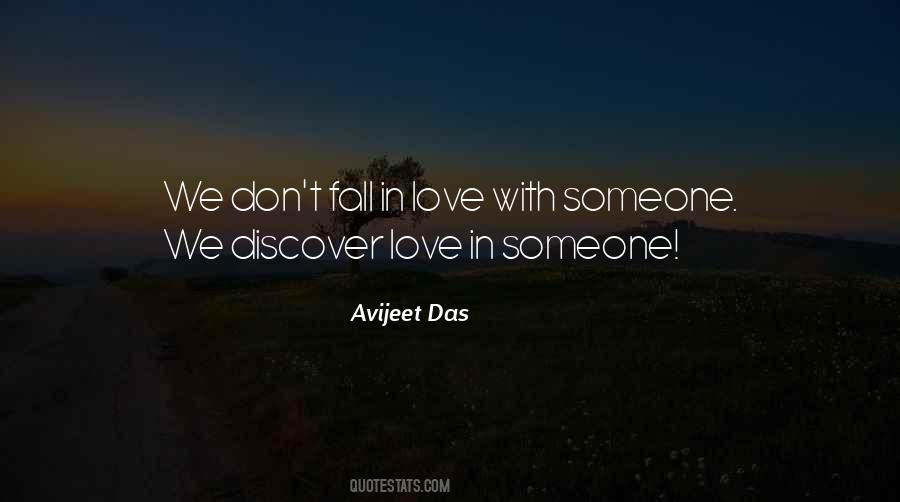 #31. There's nothing wrong with falling in love and sharing your life with someone. - Author: Lily James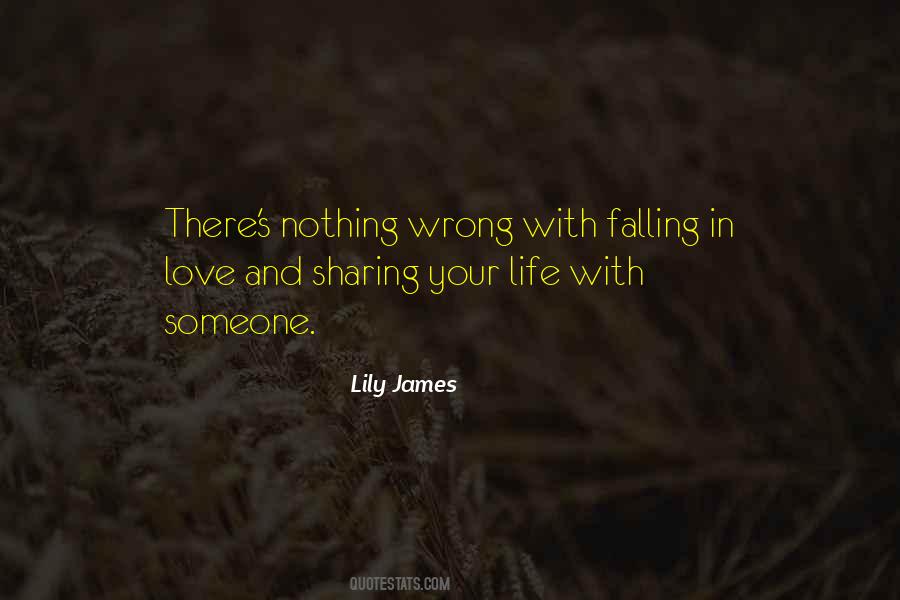 #32. He had something in him, how he walked, how he carried himself with that carelessness, he wasn't my type entirely, if I ever had a type of guy before him. - Author: Sela Ordaz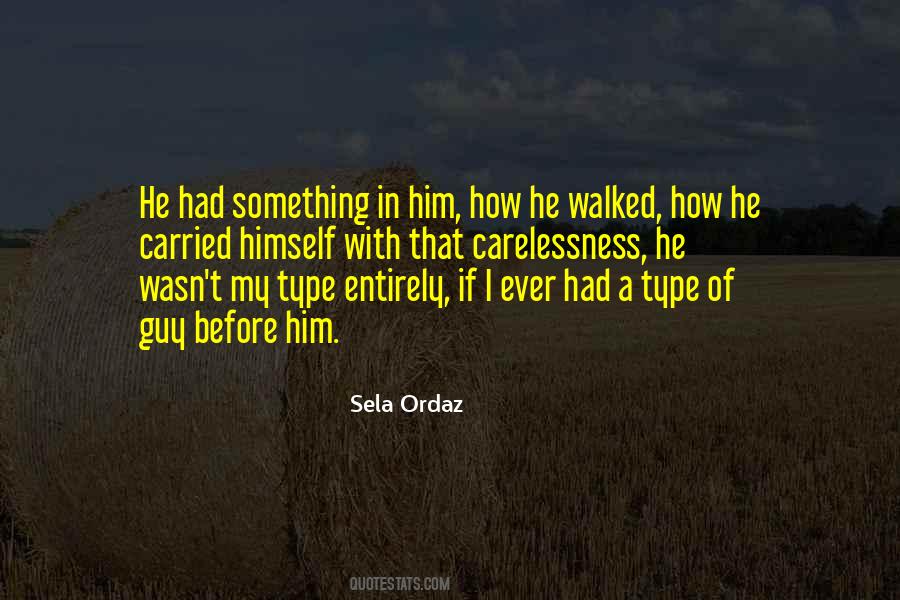 #33. Just because you fall in love with someone doesn't mean that your families are going to fall in love with each other. - Author: Laz Alonso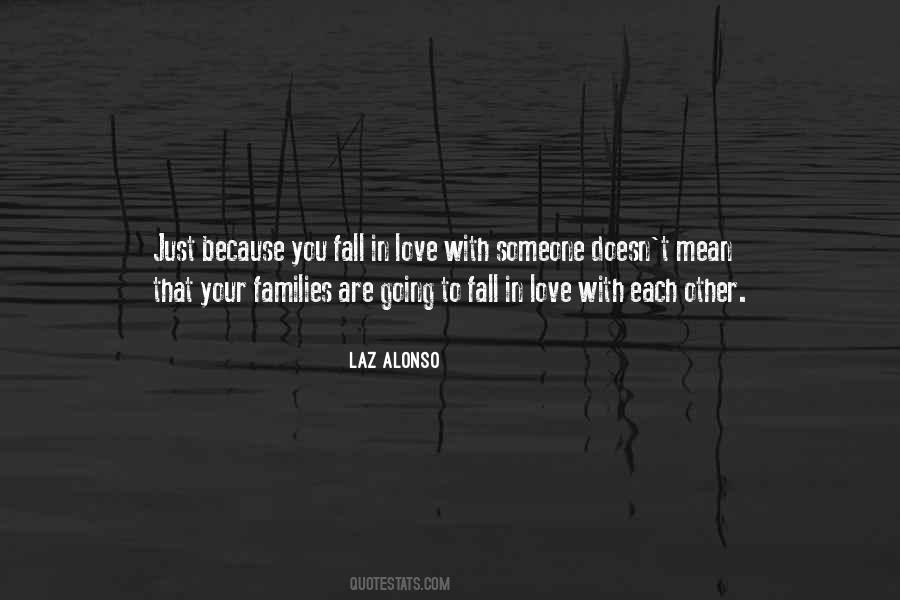 #34. There is nothing so mortifying as to fall in love with someone who does not share one's sentiments. - Author: Georgette Heyer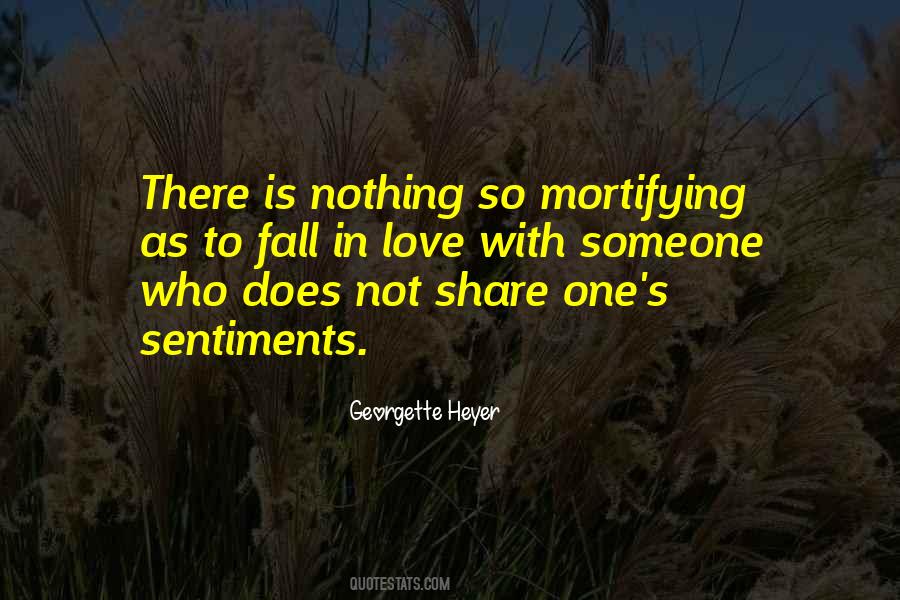 #35. In our minds, love and lust are really separated. It's hard to find someone that can be kind and you can trust enough to leave your kids with, and isn't afraid to throw her man up against the wall and lick him from head to toe. - Author: Tori Amos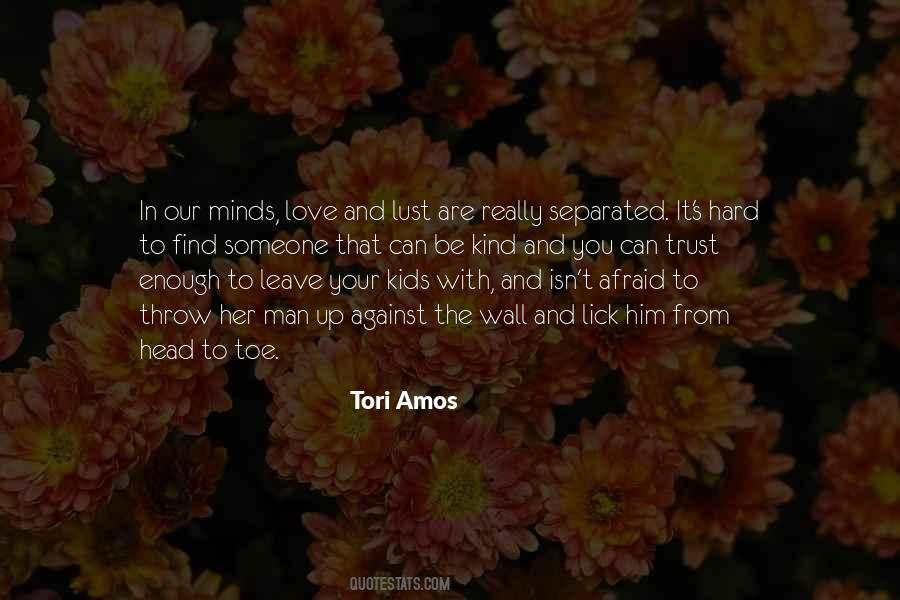 #36. a poem written for someone special to me, but a woman who I can't be with all the time due to where we are in life right now. Through the distance love can still survive, it just takes a little hard work and stubbornness at time. - Author: Robert Zimmermann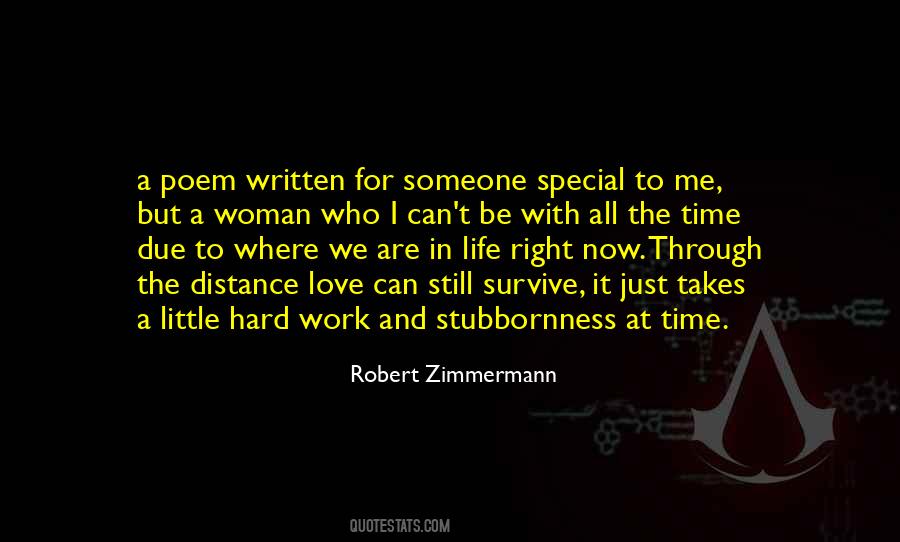 #37. 'Slow West' is a film that I did with Michael Fassbender in New Zealand and Scotland. The director was John McLean. It's a film set in the 1800s. I play a young Scottish boy brought up in the royal family. I fall in love with someone who works on our land. - Author: Kodi Smit-McPhee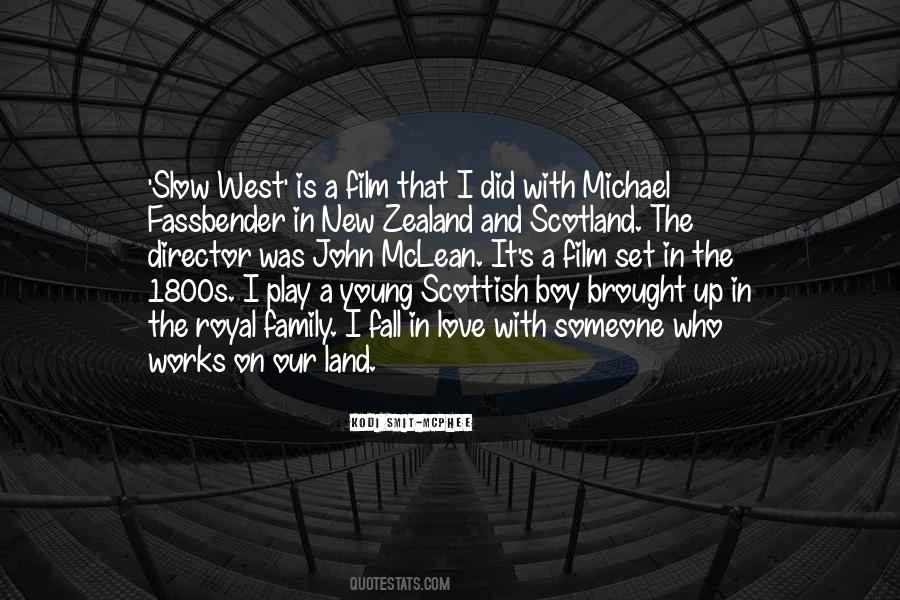 #38. I didn't have feelings for Carson - I was in love with him. And what's worse than falling in love when you don't want to? Falling in love with someone who can't love you back. - Author: Lauren Stewart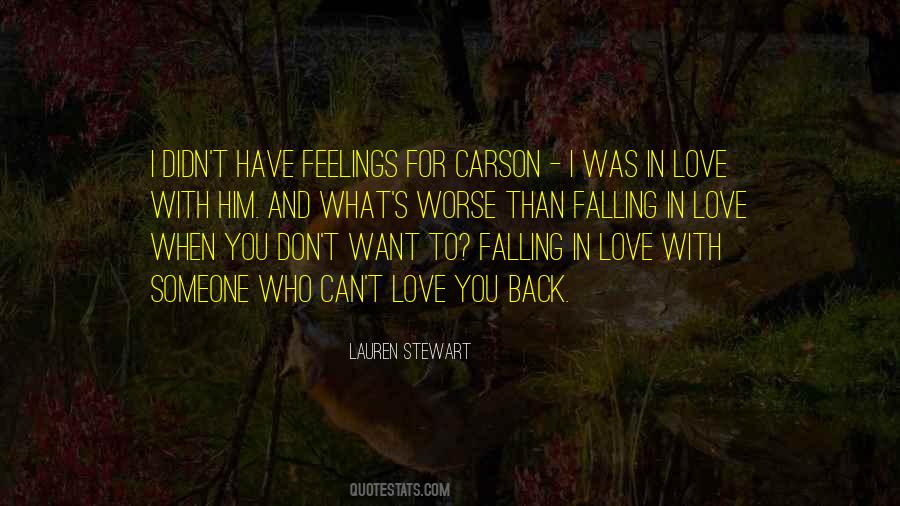 #39. Films really can change a conversation and change someone's thinking and perception, especially with people of color at the center. It rarely happens. I think it's important for both the community but also the world to see people of color in all genres, especially love stories. - Author: Gina Prince-Bythewood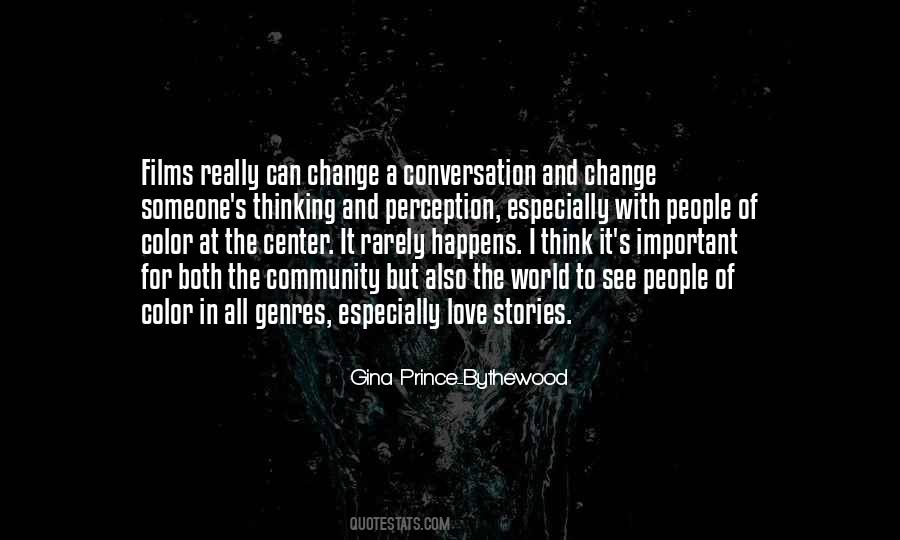 #40. I am in love with someone who's afraid of the future. And like a fool, I keep bringing it up. - Author: David Levithan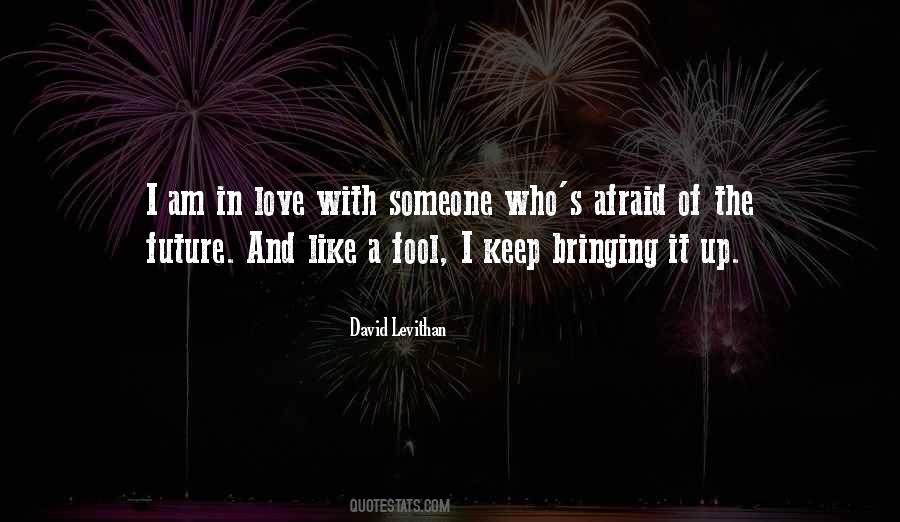 #41. I'm in love with a girl who knows me better.
Fell for the woman just when I met her.
Took my sweet time when I was bitter.
Someone understands,
She knows how treat a fella right.
Give me that feeling every night,
She wants show love when I wanna fight,
Now someone understand me. - Author: Juxtaposition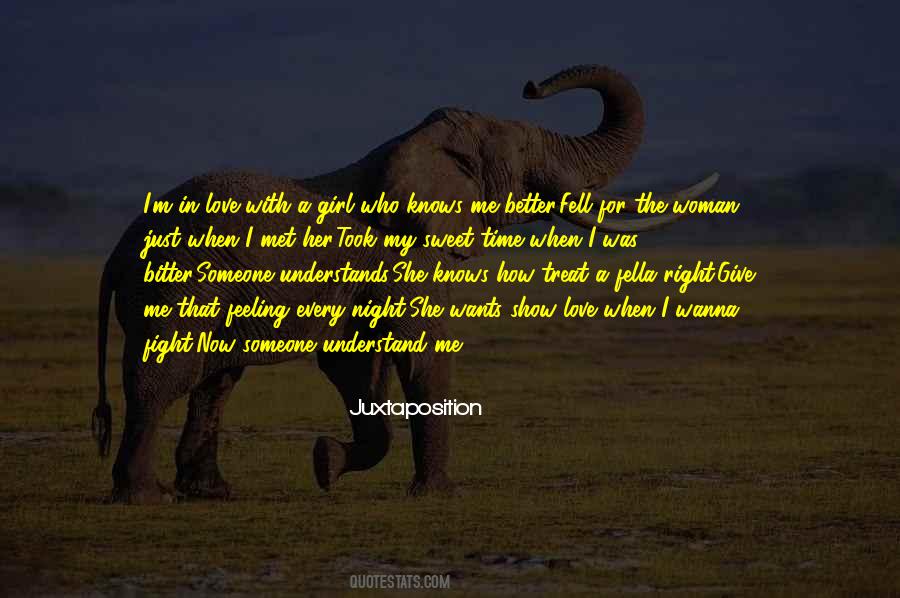 #42. Making love requires no thought. You move as the fronds of a palm tree move in the breeze. It is all instinct. All wonder. When you love someone, your lips are incomplete until they are oiled by a kiss. You can say 'I love you' a thousand ways but you can say it better with silence and a kiss. - Author: Chloe Thurlow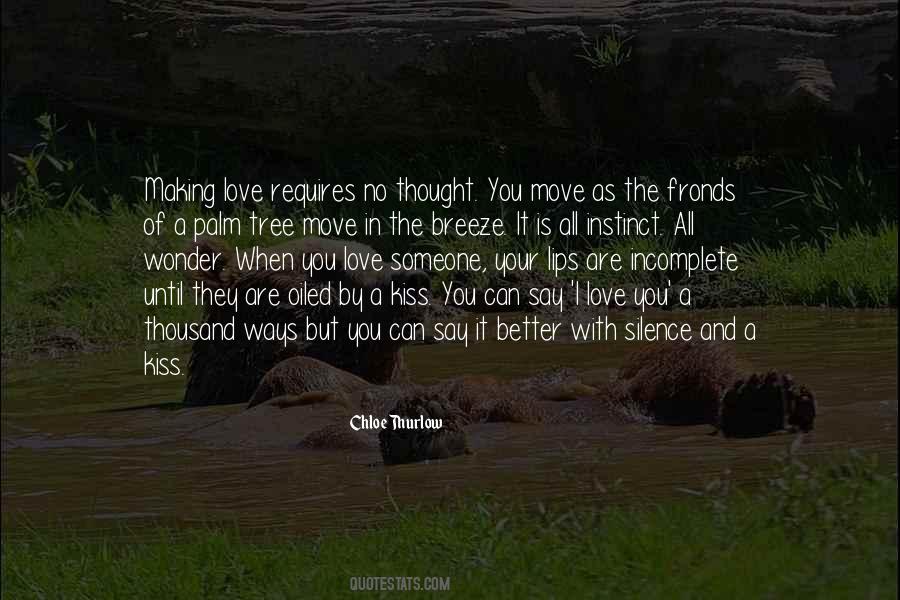 #43. When you graduate from "Being In Love" to "Loving Someone" you understand - Love is not about owning, Love is about wanting the best for them, It's about seeing or Helping them achieve great heights, with or without you. Love is not what you say, it's what you do. - Author: Drishti Bablani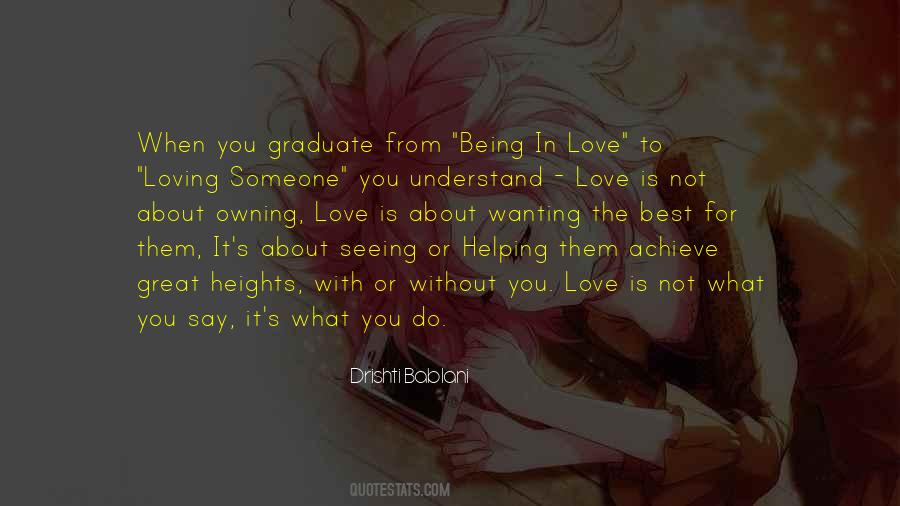 #44. They looked and seemed like a perfect match in every way possible.
I wanted that. I wanted to find someone who belonged with me like the stars belonged with the sky. Someone I could get lost in, who would make me forget about reality for a while(...) - Author: C.J. English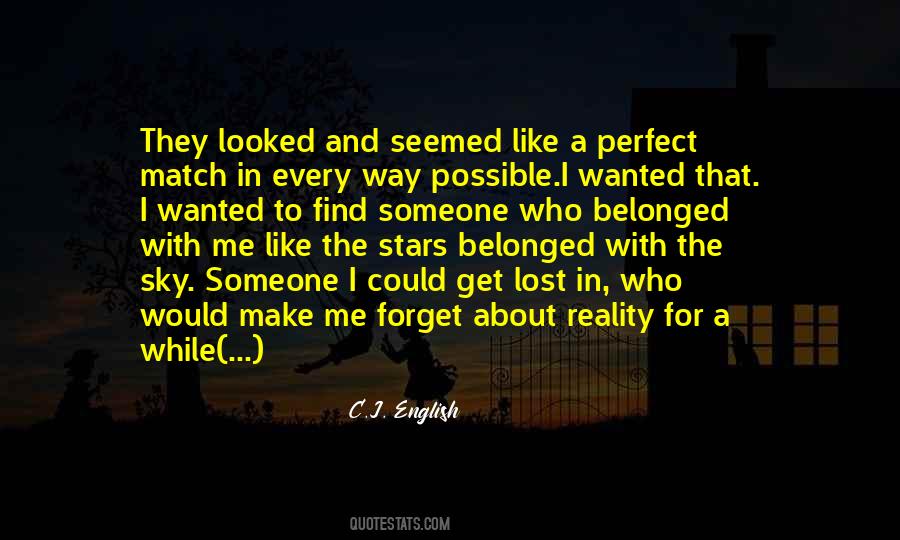 #45. Do you know what that's like?" Asher choked out, forcing himself to keep his feelings in check. "To be with someone who shines so brightly he's all you can see? That's how I feel when I'm with your brother. To me he's ... everything. - Author: Cardeno C.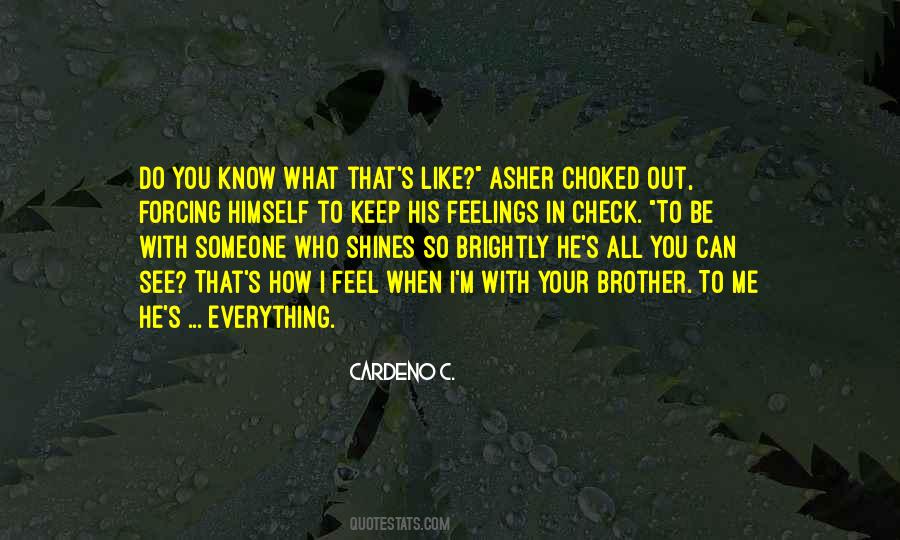 #46. I am not against marriage. I lived with someone for 11 years. But we weren't in love, and I thought that was quite important. - Author: Lynne Truss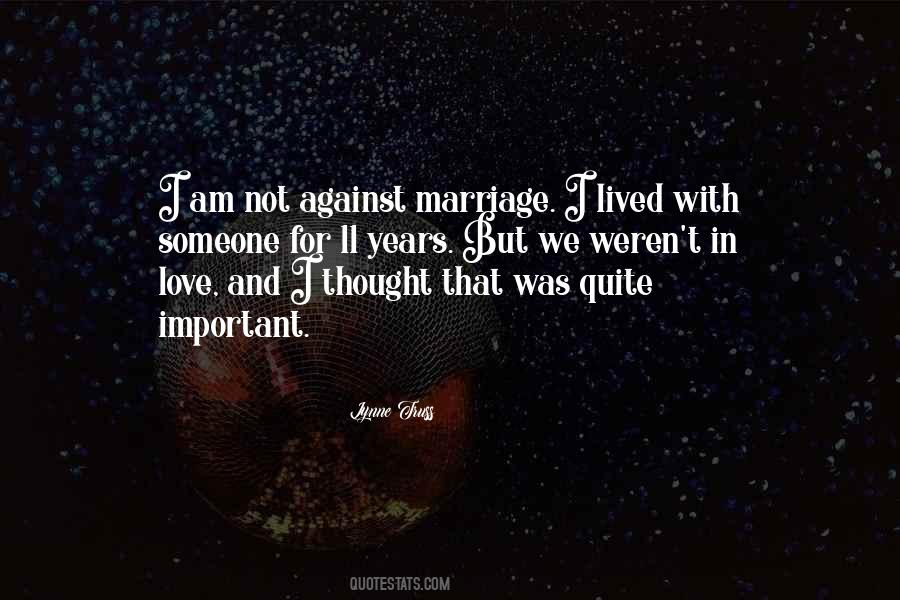 #47. At some point when tending someone you love who is in pain, you reach the edge of a lake, and you look at each other with such joy at the stillness. [Letter unsent] - Author: John Berger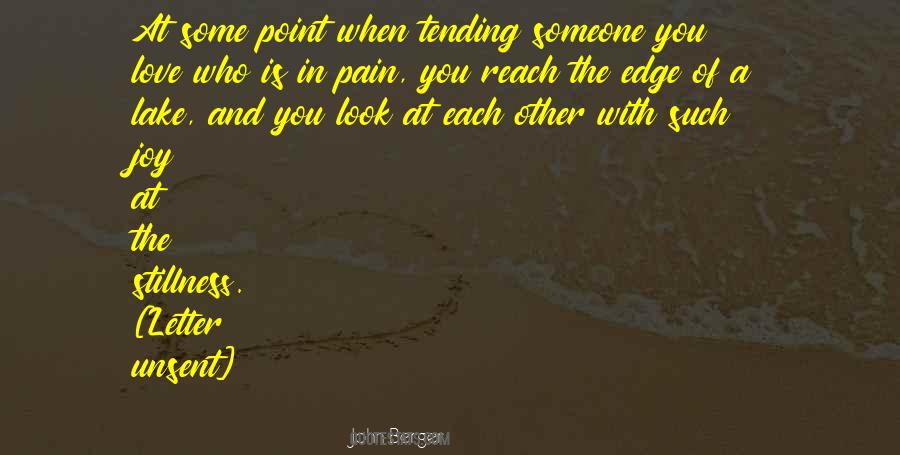 #48. If you're in love with someone maybe you can show it too much. - Author: Patsy Kensit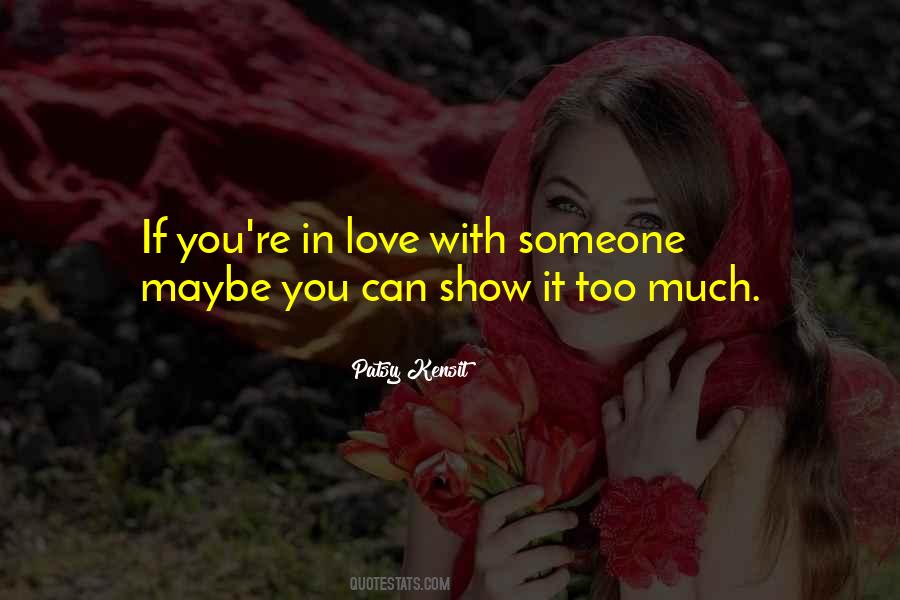 #49. It is far easier for us to accept the death of someone we love than to cope with the idea of losing him and discovering that he is able to carry on with his life, in all its intricacies, despite our absence. - Author: Ahlam Mosteghanemi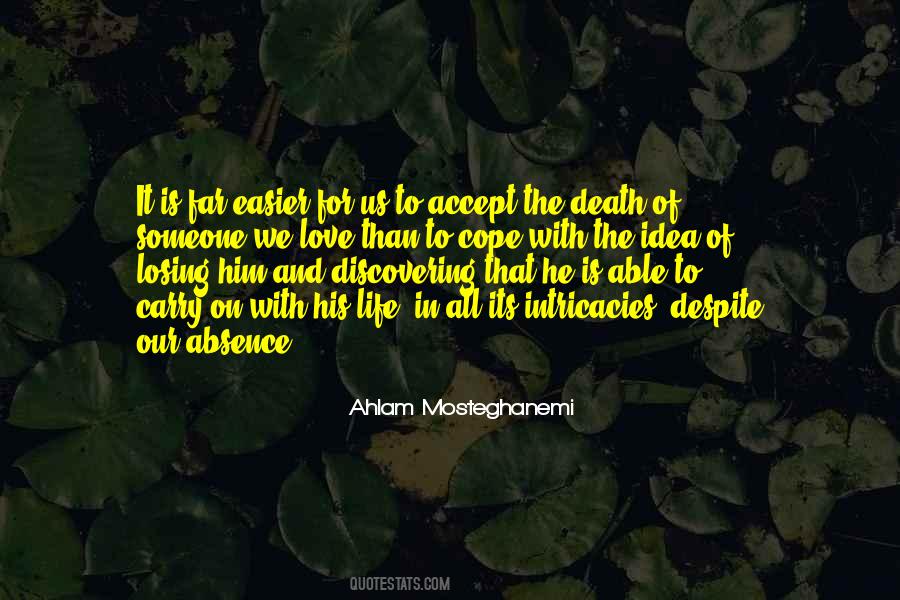 #50. You will know you are in love when it doesn't matter if you sit in heaven or hell with that special someone just as long as they can make you laugh, while you put out the fires. - Author: Shannon L. Alder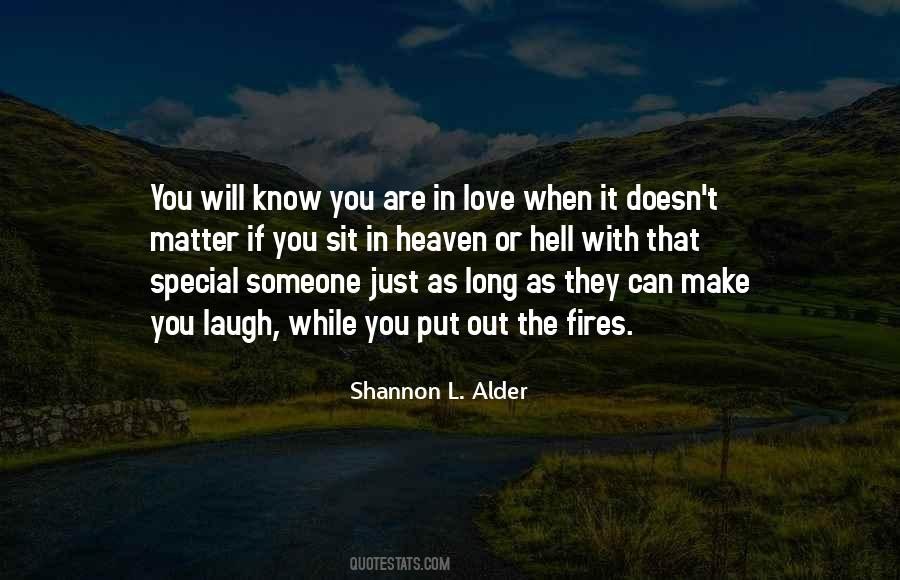 #51. But I realized the place didn't matter. The person did. With someone you loved, you could be anywhere, and it would be incredible. Being in the most luxurious bed in the world wouldn't matter if you were with someone you didn't love. - Rose Hathaway - Author: Richelle Mead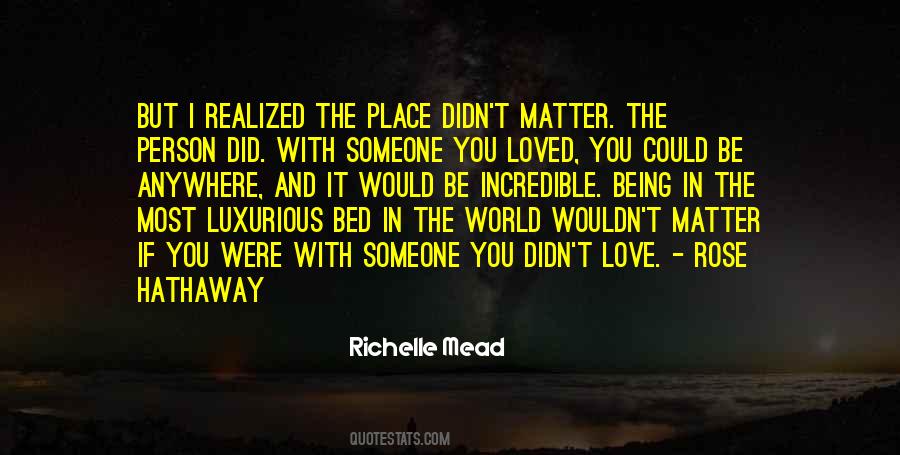 #52. Don't fall in love with your wit. Your cleverly turned phrase may not, as you hope, show off how much gray matter you have, especially if the phrase is at someone else's expense. - Author: Harvey MacKay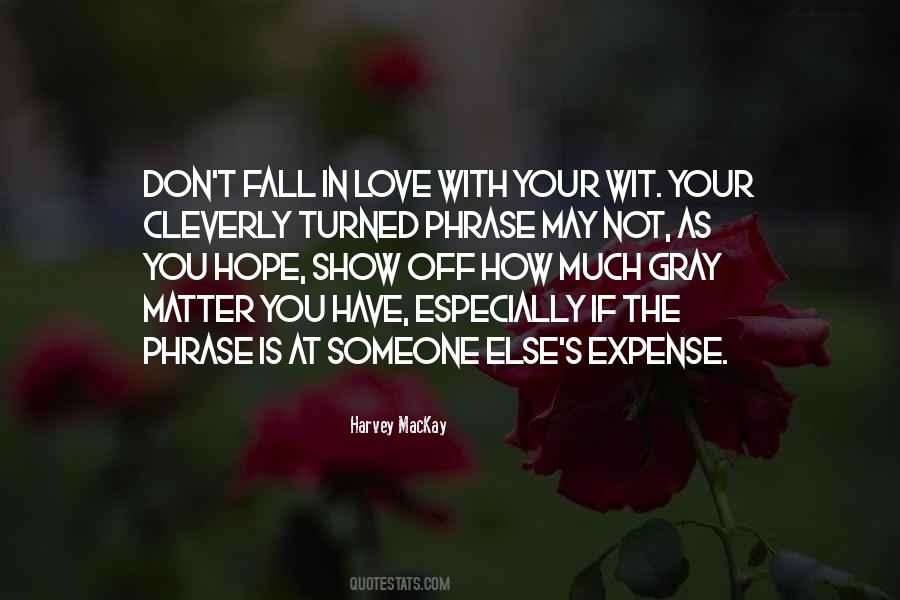 #53. Sometimes I really feel sorry for Mel - Her life would've been so much better if she'd fallen in love with someone normal. Instead she fell in love with me and had been paying for the mistake ever since. - Author: Mike Gayle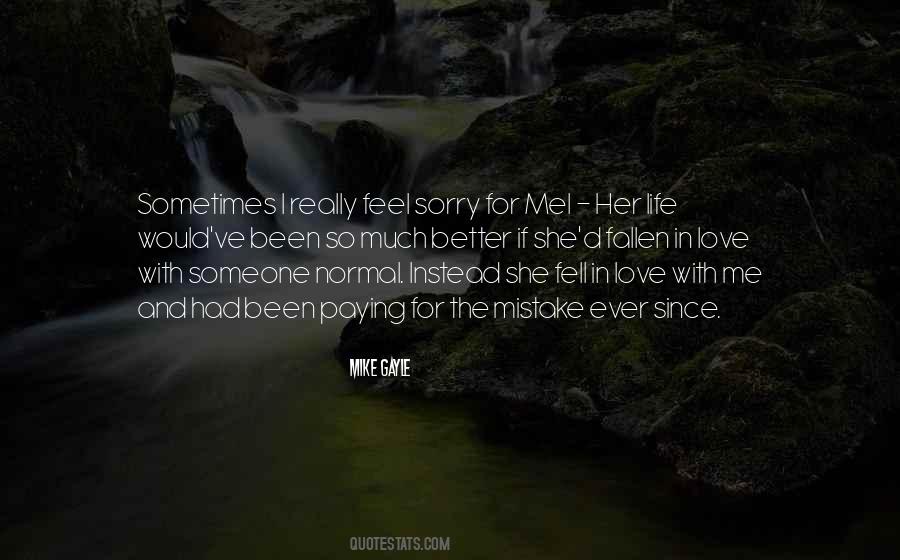 #54. I wanted to have more songs with religious backgrounds. The Christmas record has strong, traditional hymns, but it also has a song called 'Christmas in Heaven' about missing someone that you love that's passed on, and wondering what's going on up there on Christmas. - Author: Scotty McCreery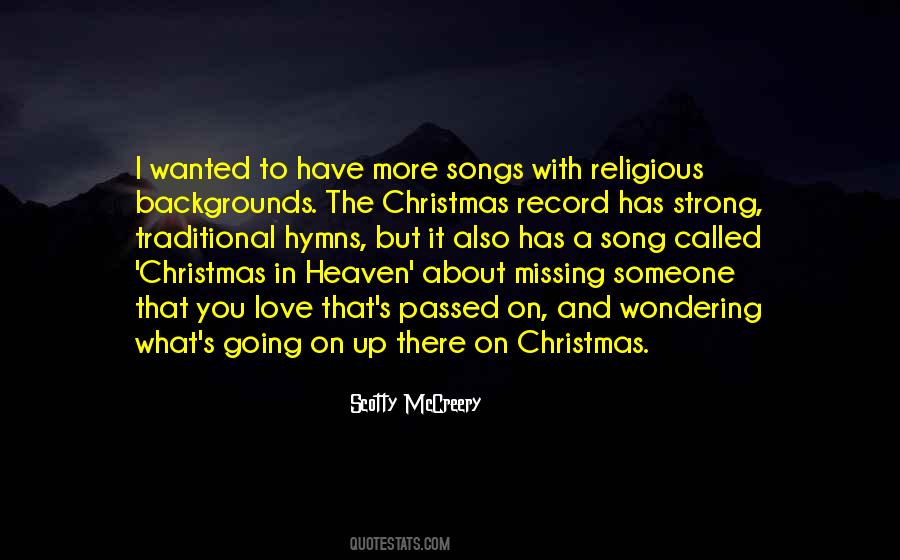 #55. There's not protocol for falling in love with someone. There's no game plan to tell you when it's appropriate to do certain things, say other things. - Author: Lori L. Otto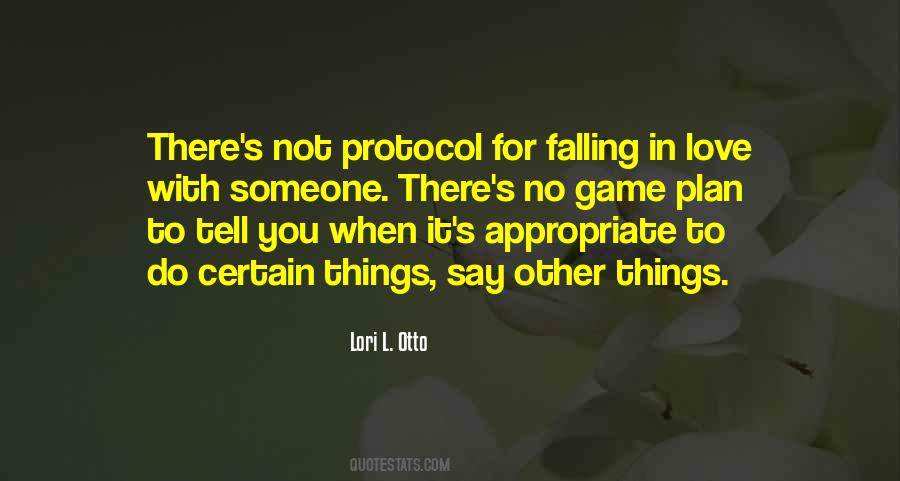 #56. Because I'm in love with you. Because I love my life with you in it. Because a world where someone as special as you lives, can't be the horrible place I once thought it was. - Author: Kirsty Moseley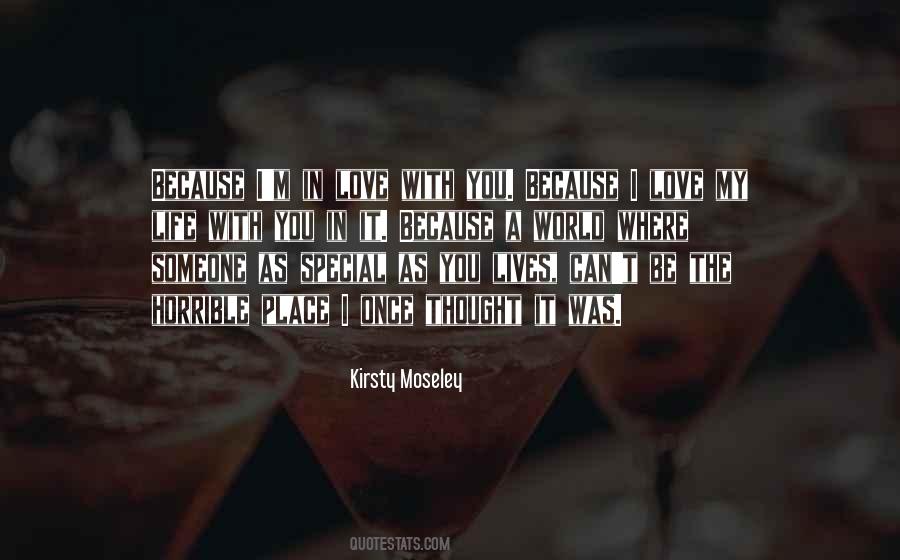 #57. It is impossible to say why we love something or someone. We can come up with reasons if we have to, but the important part happens in the dark, beyond our control. We just know when it is there. And when it goes away. - Author: John Ajvide Lindqvist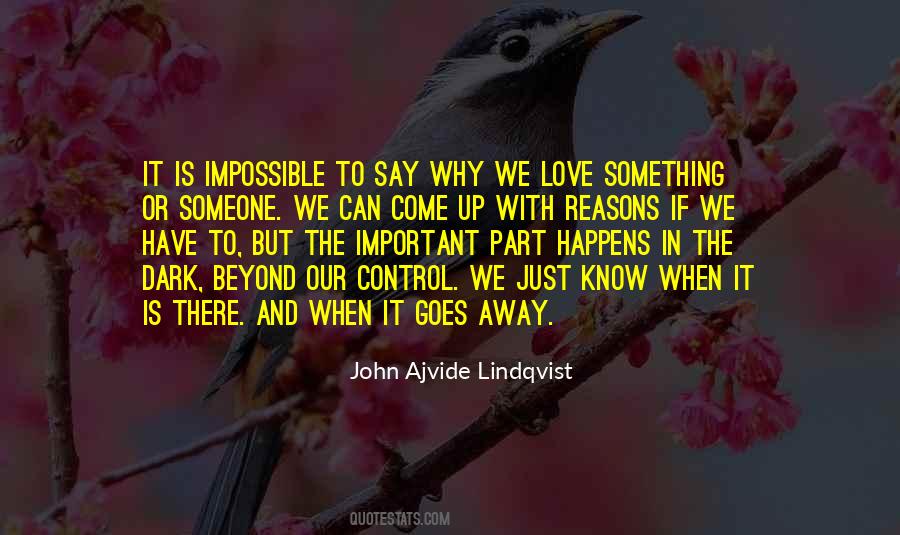 #58. But when you've been in love with someone who didn't love you, it really makes you protect your heart from anyone and everyone, - Author: Lauren Blakely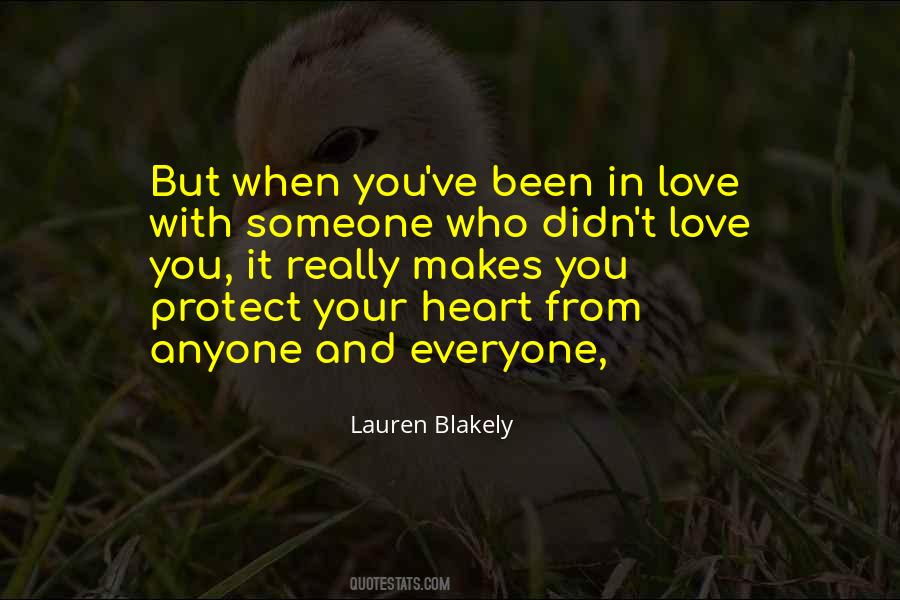 #59. Love dispels fear just as light dispels darkness. If even for a moment you have been in love with someone, fear disappears and thinking stops. With fear thinking continues. The more you are afraid, the more you have to think. - Author: Rajneesh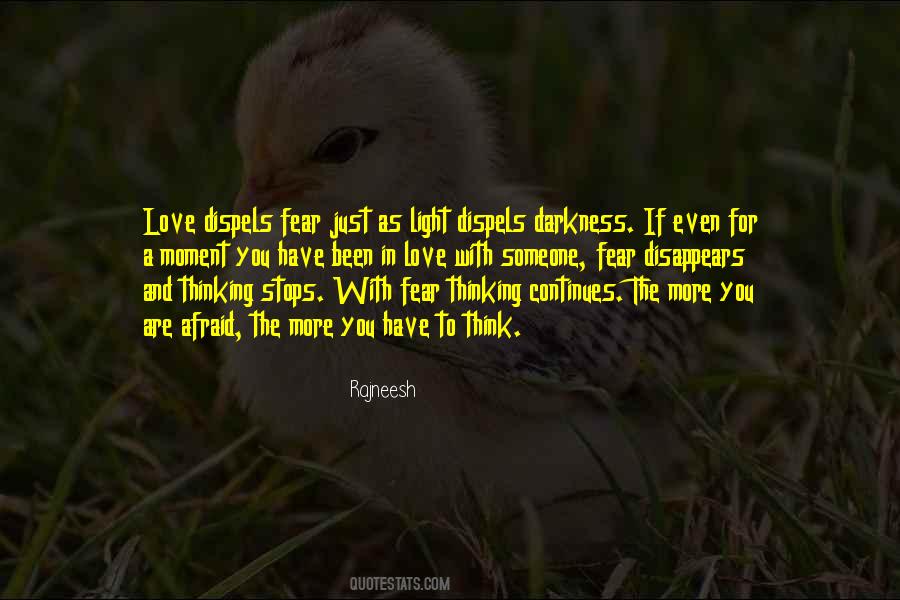 #60. I've never known before what it feels like to want someone - not to want to hook up with them or whatever, but to want them, to want them. And now I do. So maybe I do believe in epiphanies. - Author: John Green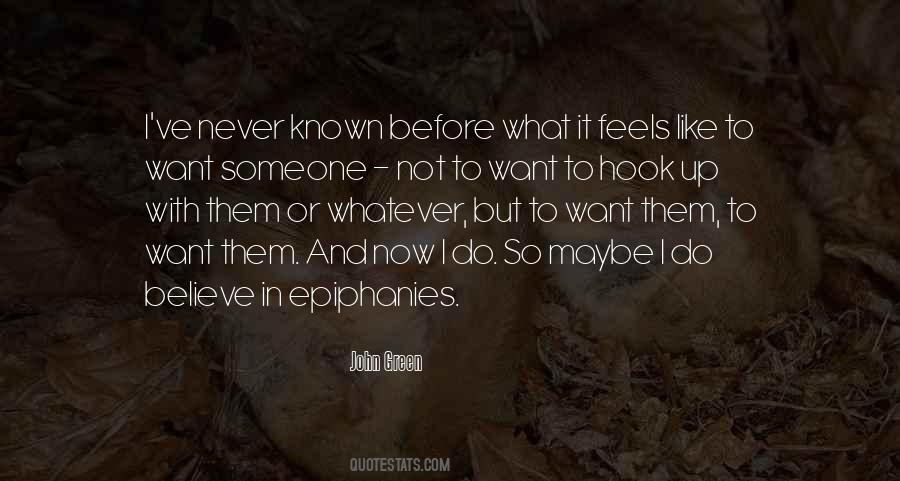 #61. People say love is a gift but i say love is a burden, loving someone and having to watch them be in love with someone else. - Author: Joshua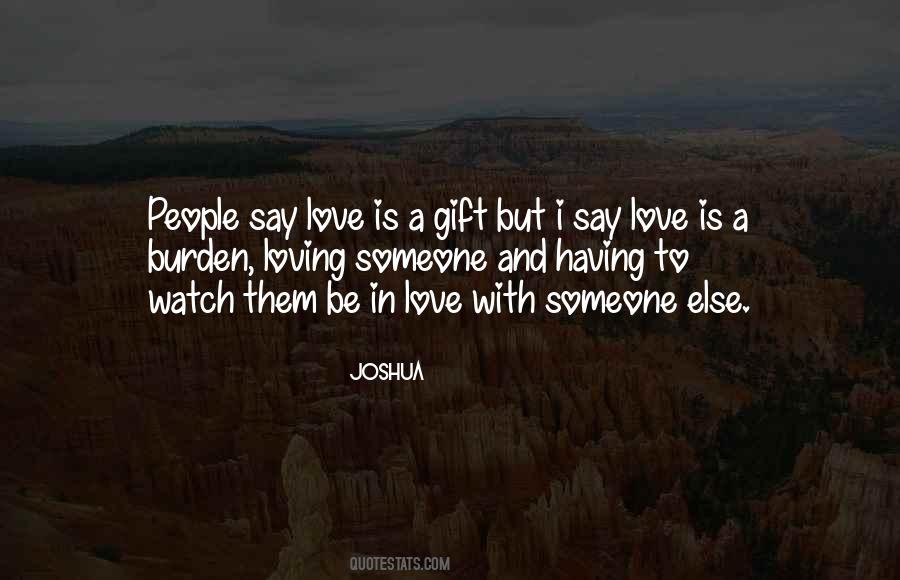 #62. I love when you get to work with people you know because there's so much more trust, and you're much more willing to be vulnerable in a scene with someone you trust. - Author: Malin Akerman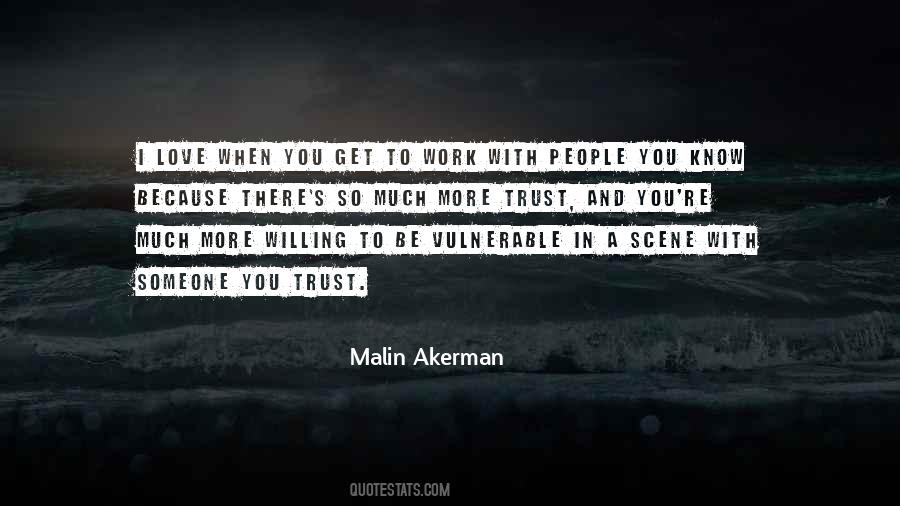 #63. You can't make someone love you." She held out her right hand to flash a ring with a gaudy stone set in it. "But you can imprison him in a ring for not loving you. See? - Author: David Cody Weiss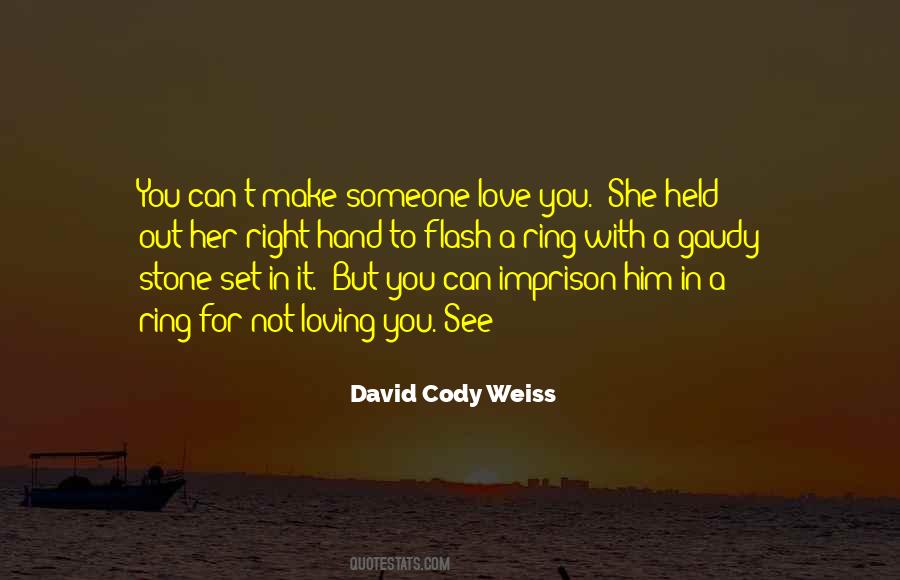 #64. The opposite is best. Whenever you're angry with someone, apply this maxim. I means doing the exact opposite of what your body's telling you to do. Believe me, it works miracles. Titus in Love in Lowercase - Author: Francesc Miralles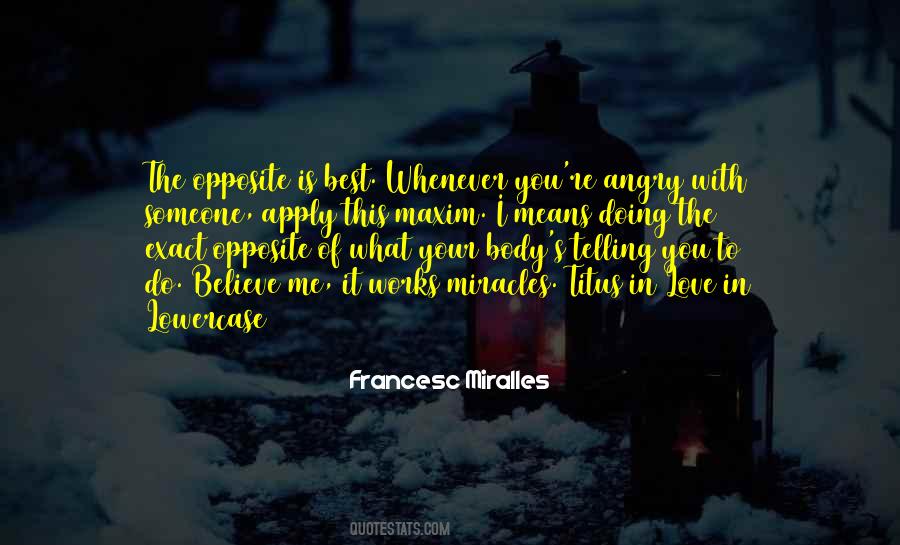 #65. At that time I told myself that I didn't want to fall in love ever again. But that night while praying for your happiness Nana, I thought that despite all the wounds and all the pains it could cause I wanted to dream again, and love someone with all my heart. - Author: Ai Yazawa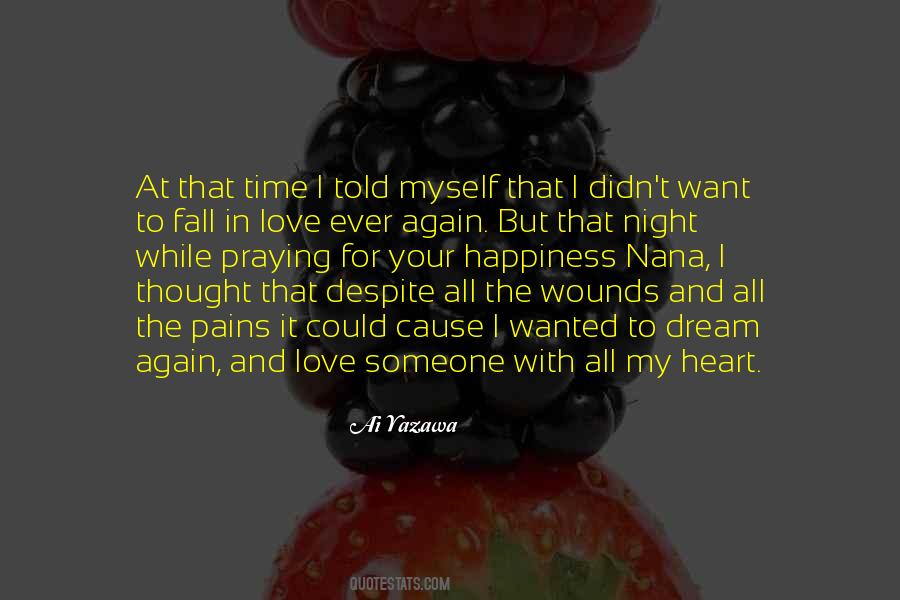 #66. You can only understand the pain of love when you fall in love with someone you cannot afford to have. - Author: M.F. Moonzajer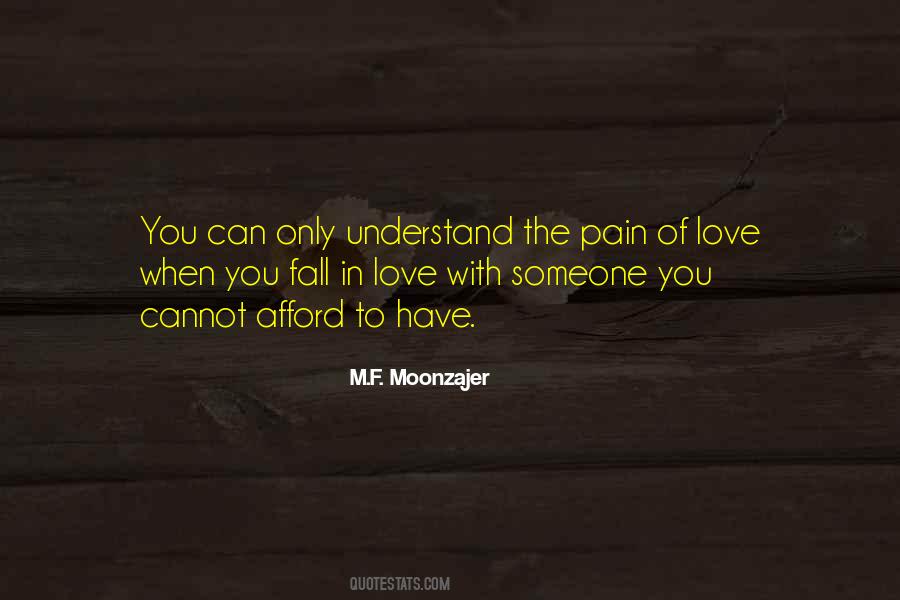 #67. True love is an electric shock with someone else in control of the switch. - Author: Kelly Moran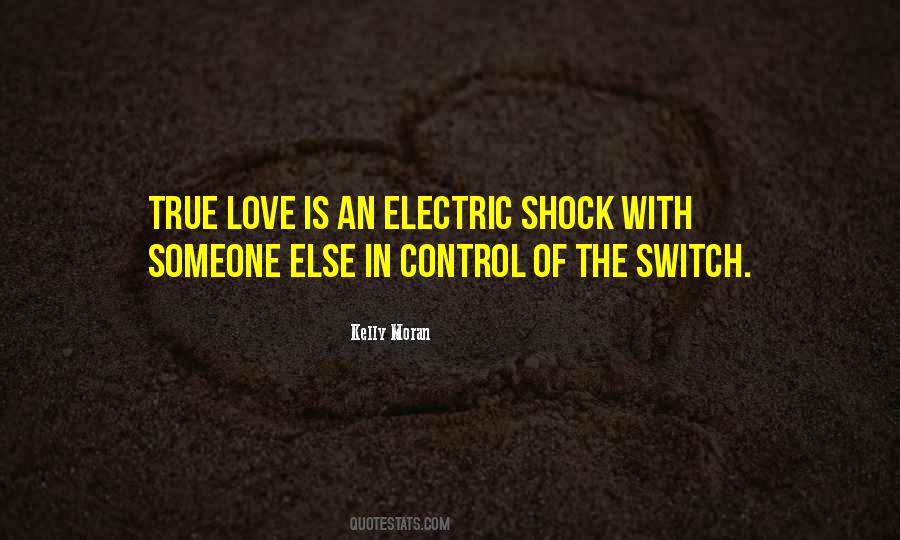 #68. [ ... ] falling in love with someone beautiful and intelligent and the rest of it, then feeling like a blank twit put you at something of a disadvantage. - Author: Nick Hornby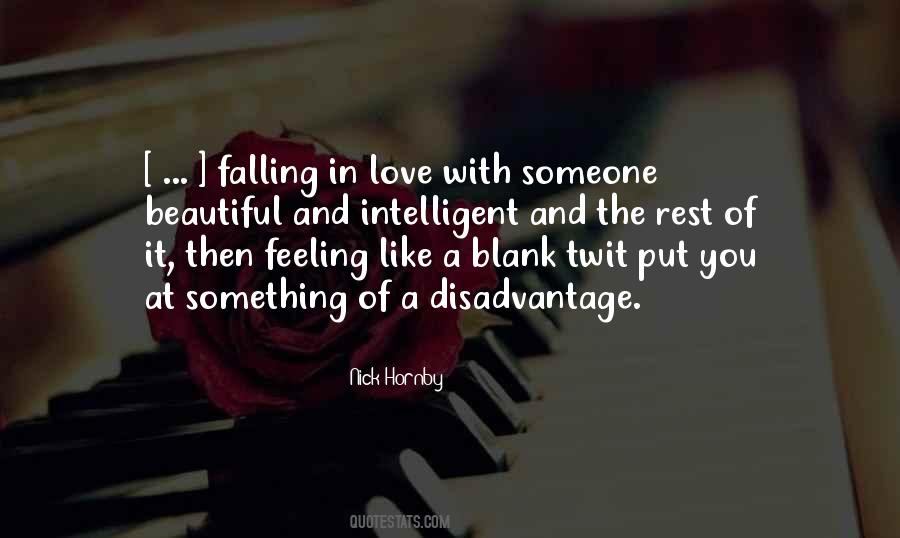 #69. I always knew I wanted to have children. When I met my husband, Rande, I thought, 'This is the guy.' When you are getting ready to become a mom, being in love with someone just isn't enough. You need to think about whether he would be a good parent and raise your children with similar beliefs. - Author: Cindy Crawford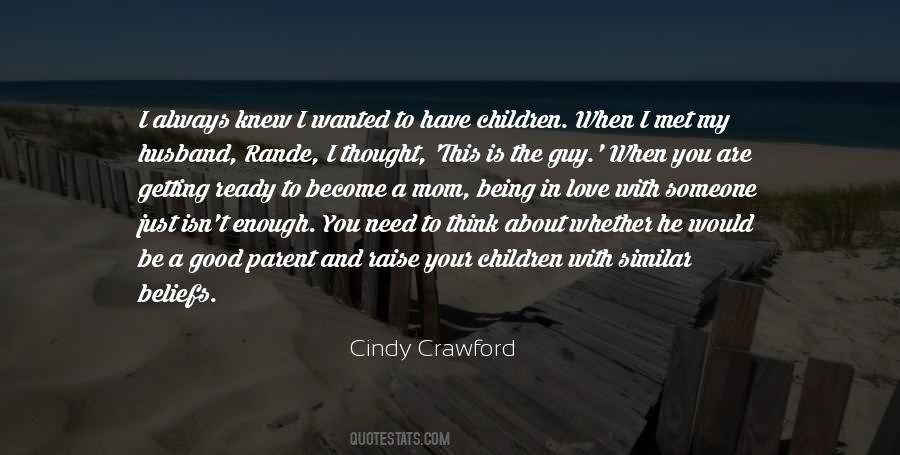 #70. If a boy ever says, you remind me of someone
don't fall in love with him. You will never be anything more than second best. - Author: Lang Leav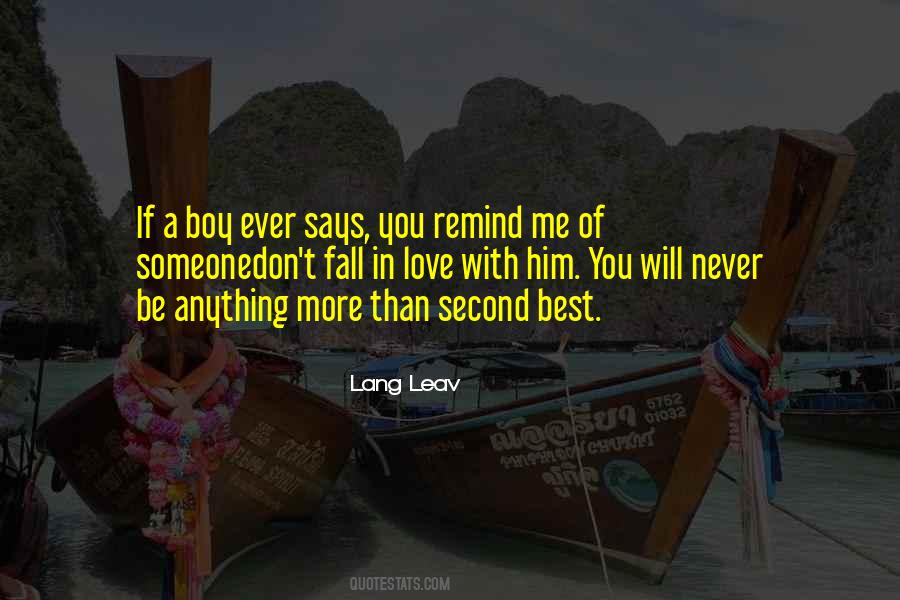 #71. Everyone is alien. And even when you are in love with someone, even when you think you know them better than you know yourself; even when you think you know everything about them and they you, and you live in each other's souls.

Even then you know nothing about them at all. - Author: Jenny Colgan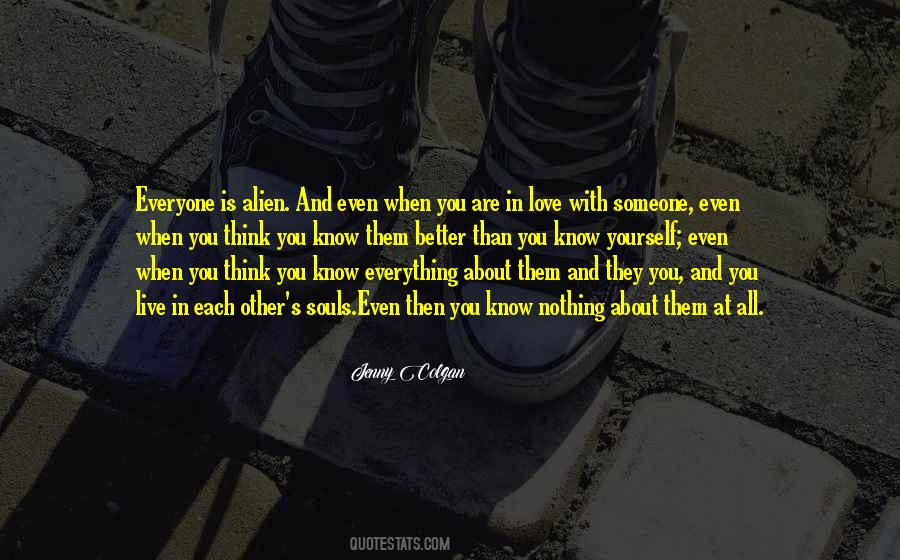 #72. Part of falling in love with someone is actually falling in love with yourself. Realizing that you're gorgeous, you're fearless and unpredictable, you're a firecracker spitting light, entrancing a hundred faces that stare up at you with starry eyes. - Author: Leah Raeder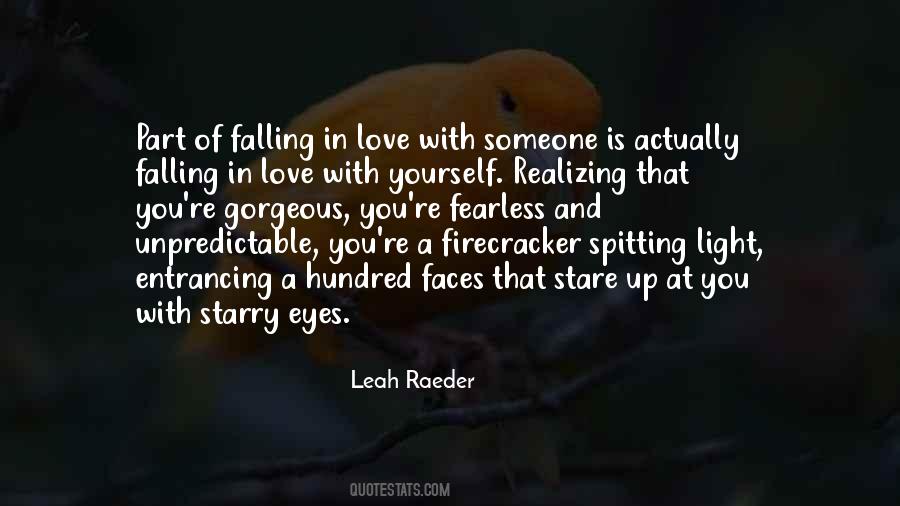 #73. Loving someone who can't love themselves is like pouring water into a bowl with a hole in the bottom. It can never stay filled. - Author: Brownell Landrum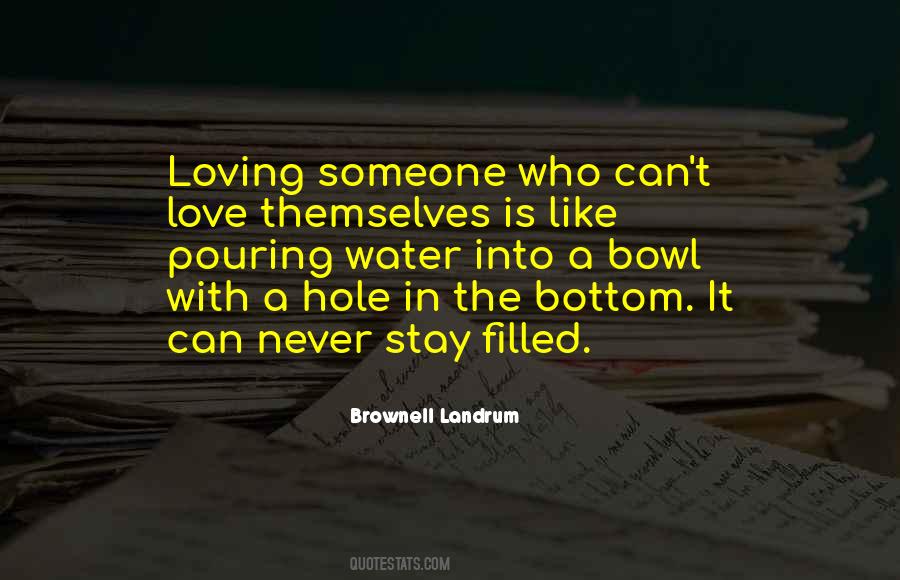 #74. Maybe love is a risk, but it's a risk I'm willing to take and as you said, it's not a choice. I never thought I would, never thought I could love someone like that but I fell in love with you. I fought it. It's the first battle I didn't mind losing. - Author: Cora Reilly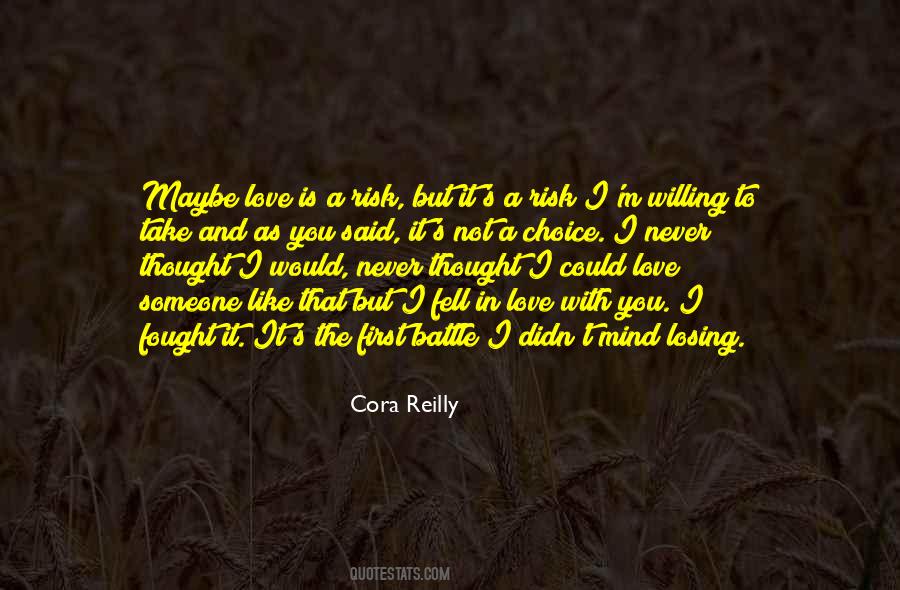 #75. I don't miss the bureaucracy of being in the Army. But I still love the relationships you can build. And it doesn't have to be in military service - it can be anything you're doing with someone that matters. You develop a bond. - Author: Stanley A. McChrystal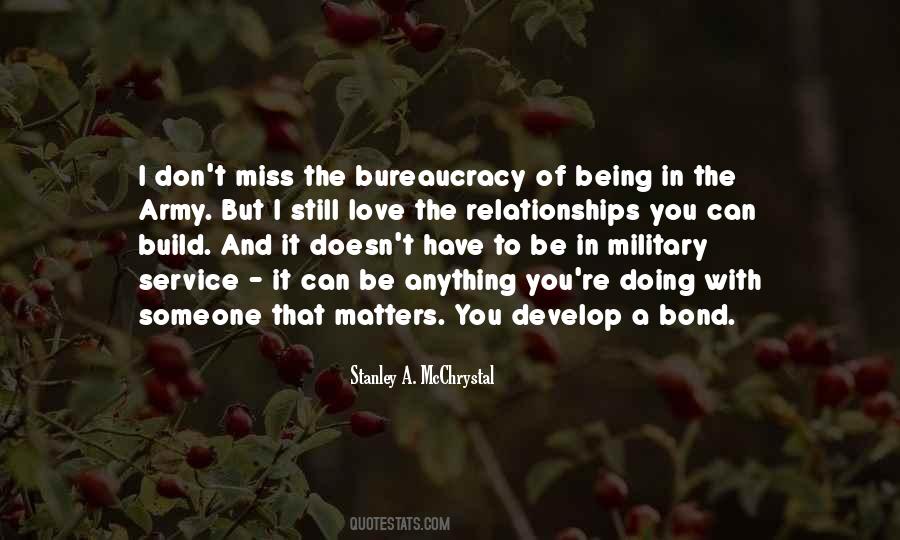 #76. If you are dating someone famous, you tend to be seen as part of a couple, rather than as an individual. But you can't help who you fall in love with. It's unfair when your career suffers - which mine did - simply because of who you're going out with. - Author: Max Beesley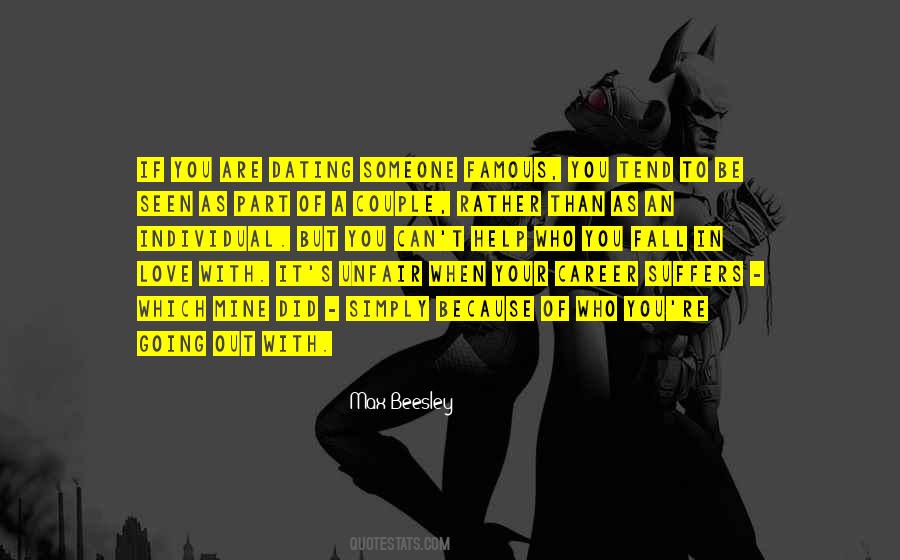 #77. When you fall in love with someone, you're not really changing at all. You're really just reliving something that already happened at some point. - Author: Cate Blanchett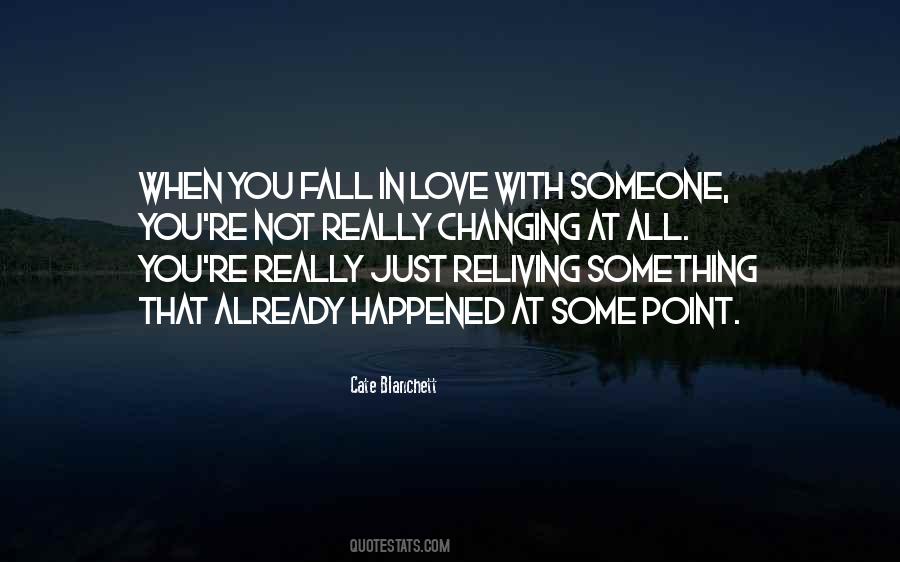 #78. I learn to trust someone I love..
I learn to deal with heartbreak..
I learn to forgive him who hurts.
I never stop learning in this life. - Author: Toba Beta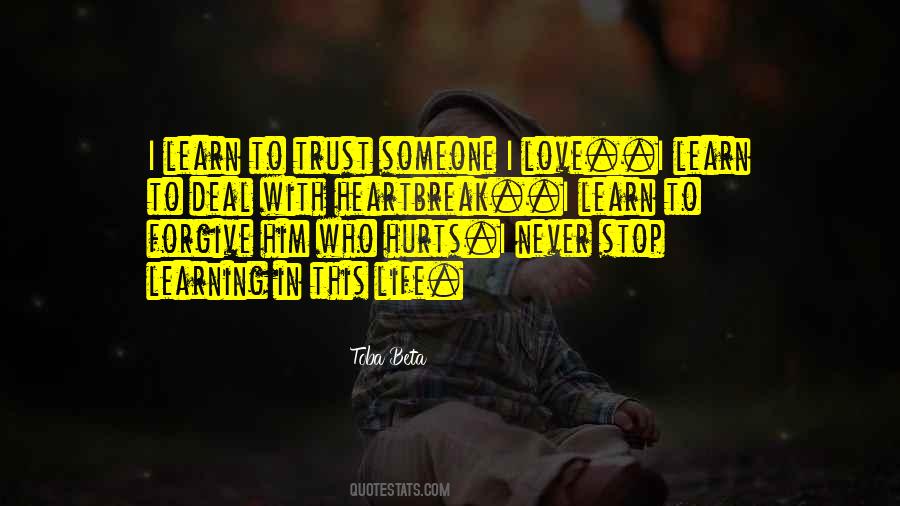 #79. Its hard to make the decisions to find it in your heart to love someone when your heart is still in love with someone else. But it's even harder to make when you know that it has already been hurt by that someone its still in love with. - Author: Jerome D. Williams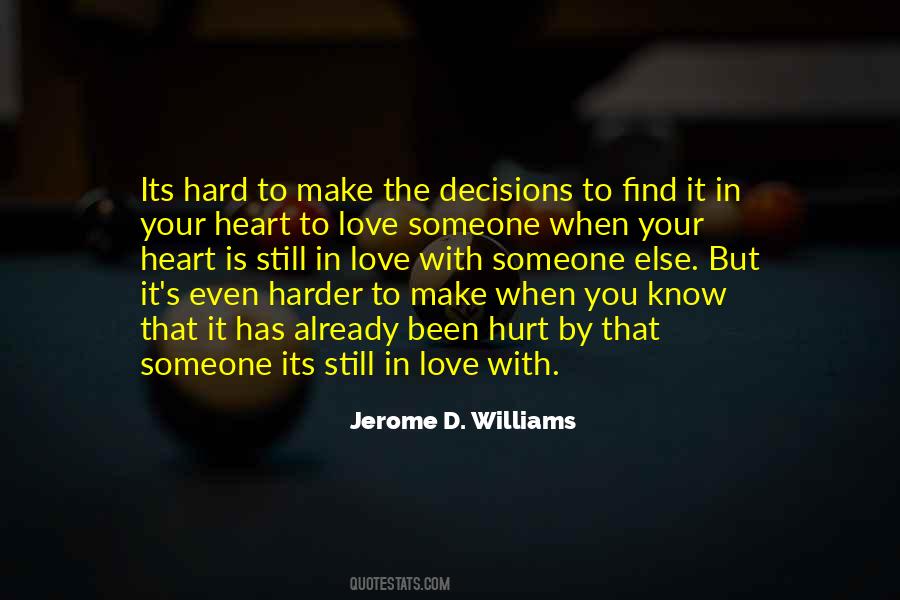 #80. I love funny people, and when I'm with funny people, or people who are amusing in their weirdness, I love it. Because that to me is funny, as opposed to someone who stops and says, 'Hey let me tell you a joke.' - Author: Paul Feig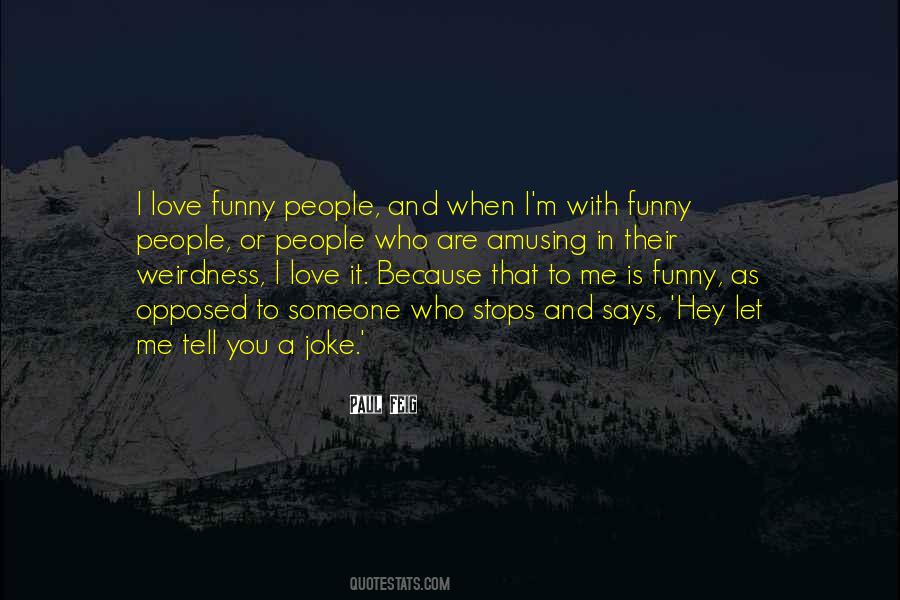 #81. You know you're in love with someone when the idea of them being in love with someone else doesn't just wreck you, it invades every part of your being. Yet, how could I be upset that Gabe loved her? When his love for her was one of the very reasons I loved him? - Saylor - Author: Rachel Van Dyken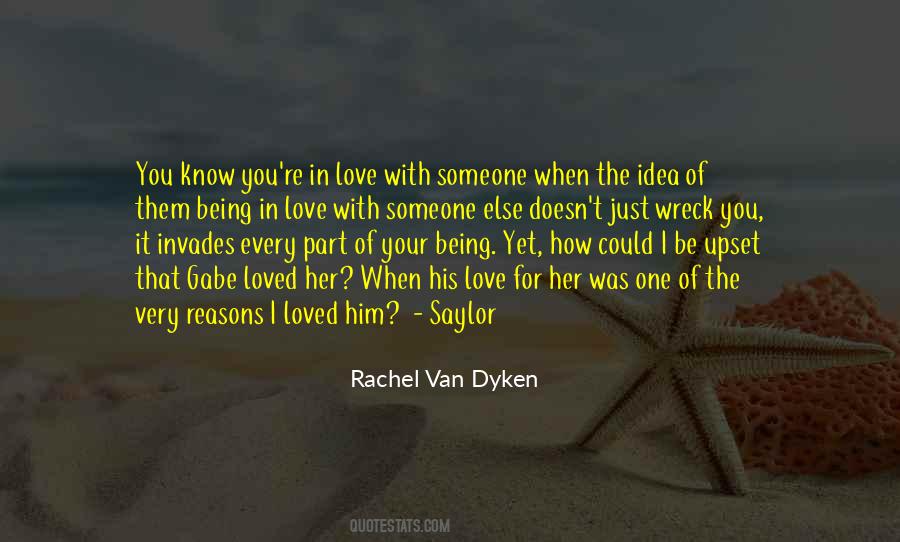 #82. I really love Andrew Dominik's movies. When you work with someone whose movies you really love and who you have a lot of admiration for, you turn into putty in their hands. - Author: Scoot McNairy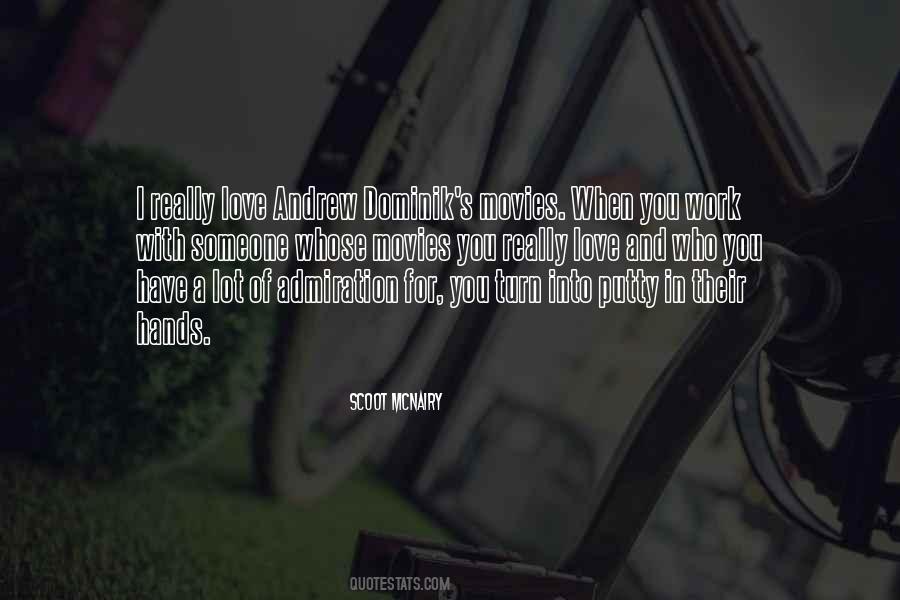 #83. You won't hear a character's friend say this in a romantic comedy. Taylor Swift won't sing this, Eminem won't rap it, and Suzanne Collins won't write it, but it's true: just because you're "in love" with someone doesn't mean you should seriously consider marrying them. - Author: Gary L. Thomas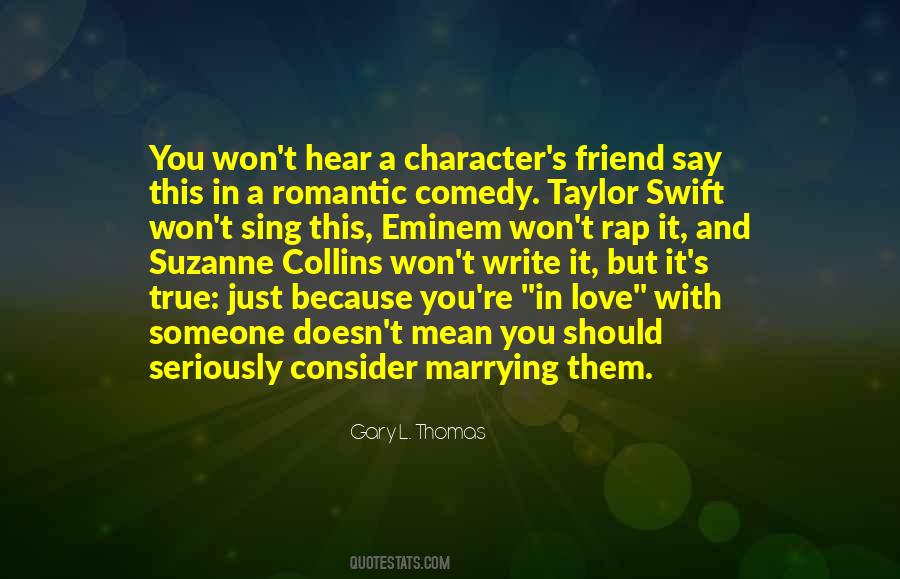 #84. I'm in love with someone, & none of it will go away.The memories bombard me every day.The dreams haunt me every night. - Author: Holly Chamberlin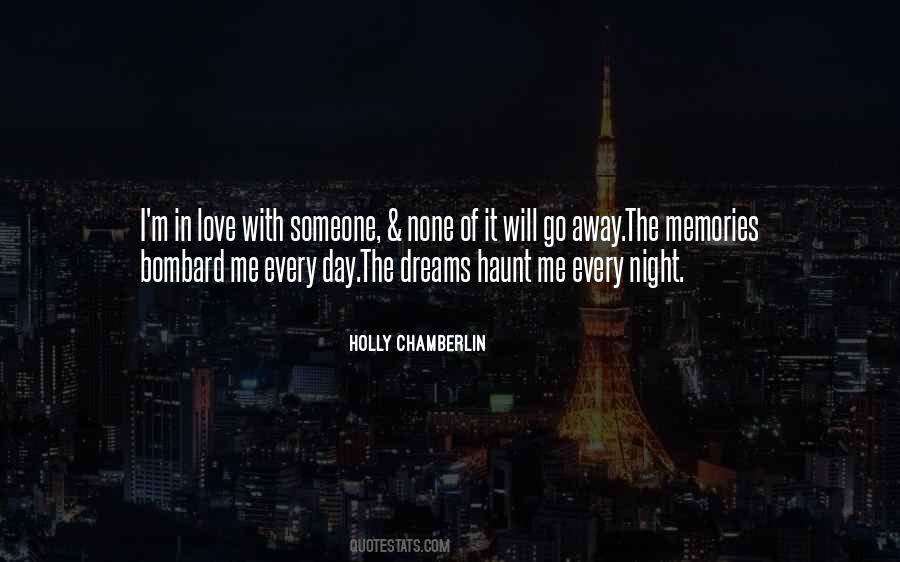 #85. In my old age, I was at last being permitted to make the discovery that lovemaking gets better and better with time, if it's with someone you care for. - Author: Patricia Nell Warren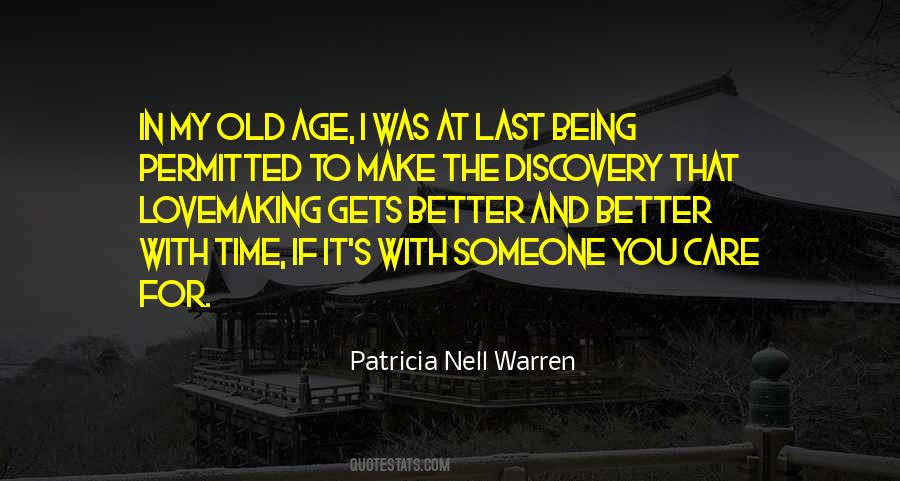 #86. My blog is a celebration of the unexpected, settled, happy life I find myself living in Portland, Maine, at the ripe old age of fifty with someone I deeply love and am very happy with. That's part of why I started the blog. - Author: Kate Christensen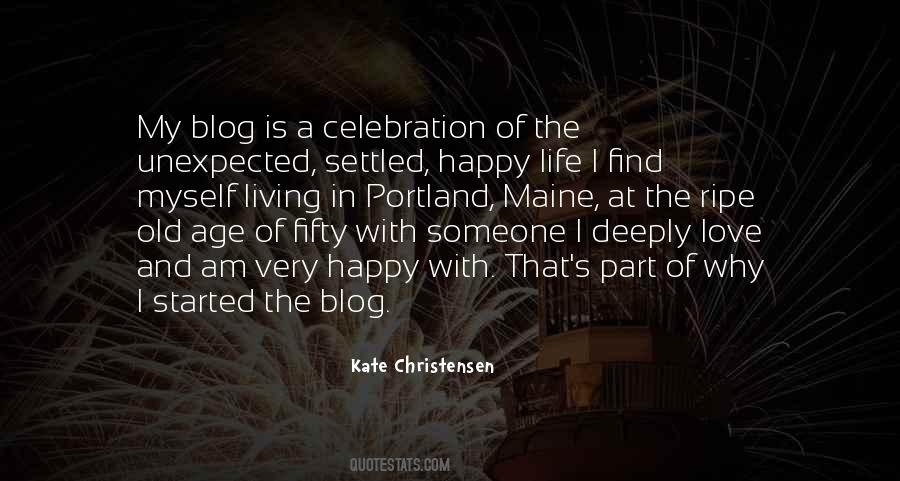 #87. My mother is a ball of fire in the world, and I love that about her. But what I have learned from my stepdad is something as important, which is patience and compassion. Because when you are living with someone else, those two qualities go a long way. - Author: Justin Timberlake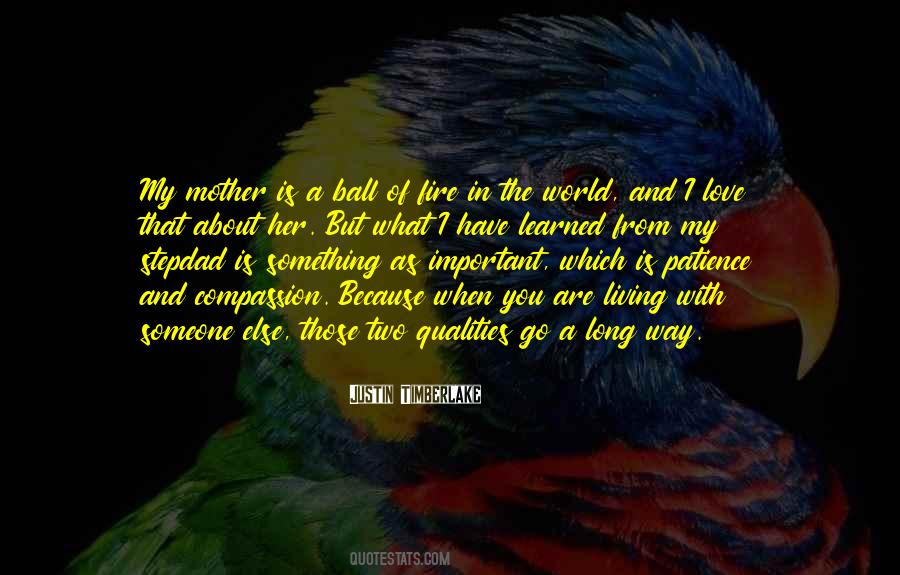 #88. So if we love someone, we should train in being able to listen. By listening with calm and understanding, we can ease the suffering of another person. - Author: Thich Nhat Hanh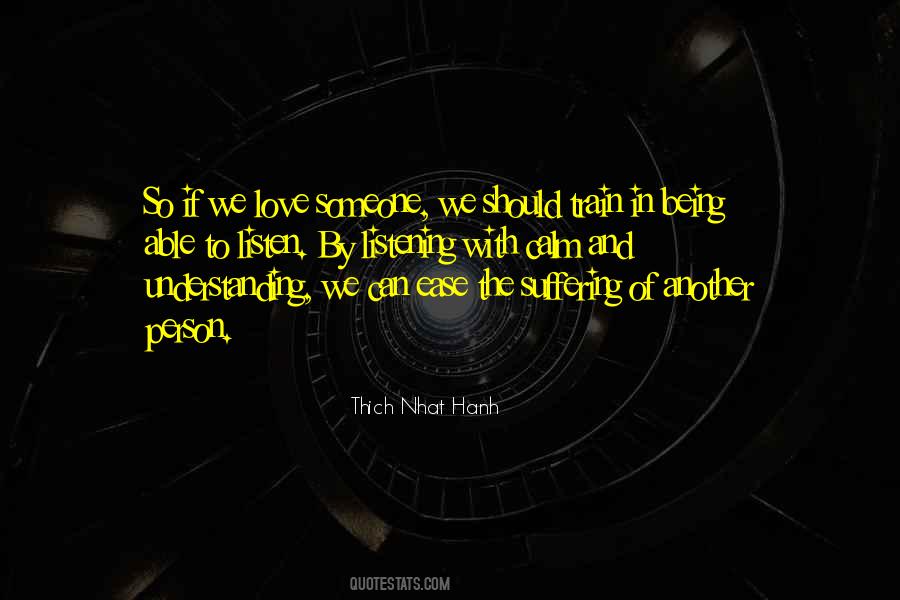 #89. I don't need a boyfriend to be happy. If I meet someone and I want to be with him, then I will be. I'm very confident in being single until I find someone who I'm extremely crazy about and who I want to devote my time and love to. Until then, I will just be on my own and I am totally fine with that, - Author: Nina Dobrev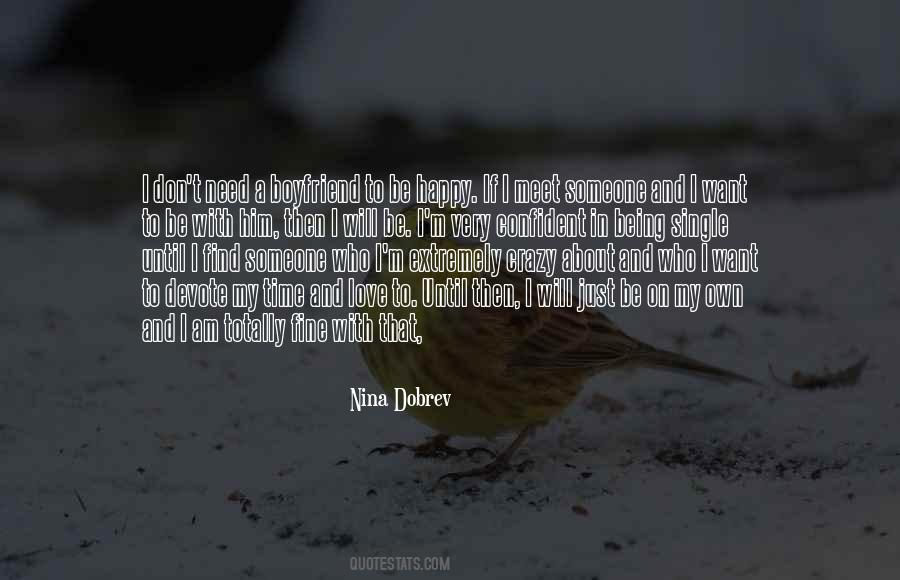 #90. If you're in love with someone, can't you manage one way or another with her? Hatsumi asked after a few moments' thought. - Author: Haruki Murakami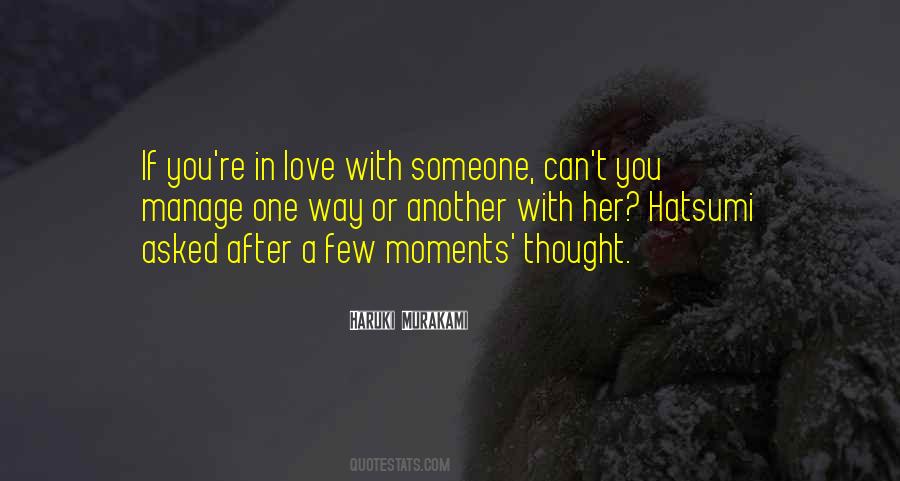 #91. Sometimes it just takes stronger eyeglasses to cure those who are in love
and someone with the ability to imagine a face or a figure twenty years older might perhaps pass through life quite undisturbed. - Author: Friedrich Nietzsche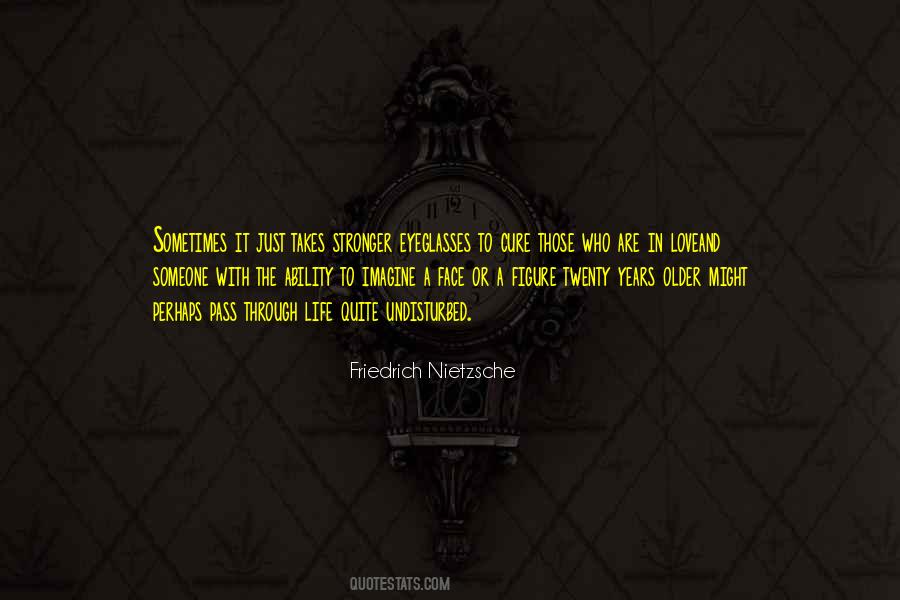 #92. It's so much easier to convince yourself you're madly in love with someone when you know nothing about him. - Author: Megan McCafferty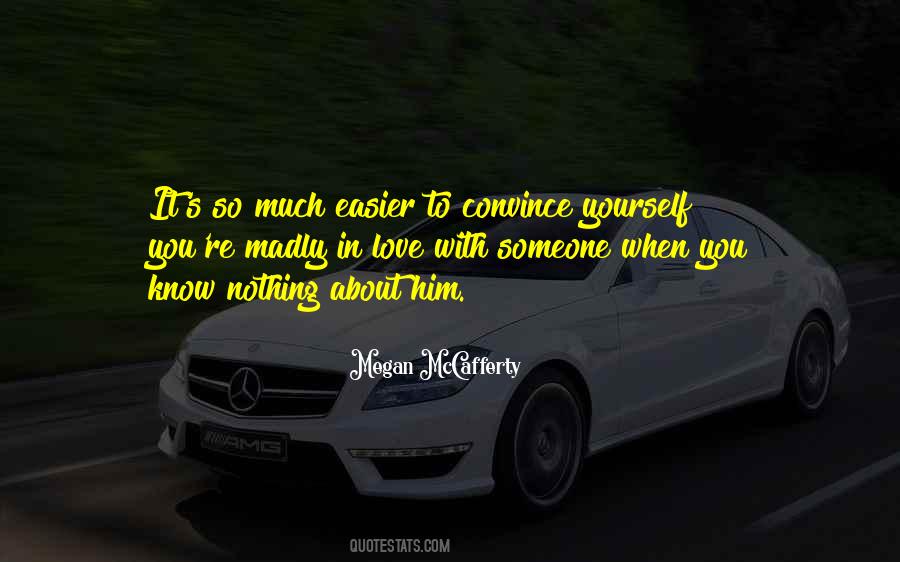 #93. With so many people in the world i am confident in saying, if you connect with someone on a soul level you dont take them for granted. - Author: Nikki Rowe
#94. Commitment. Someone who'll go the distance. I need somebody with staying power who'll make me go weak in the knees. Commitment. And everything that goes with it. I need honor and love in my life from somebody who's playing for keeps ... - Author: LeAnn Rimes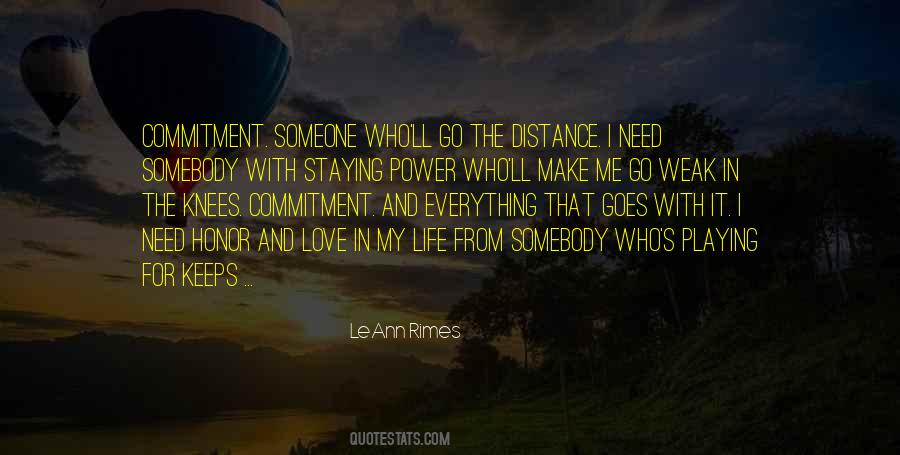 #95. I'm asking for you to save my life because with every breath in my body, I love you. I'll love you until my last. Without you, I am no longer someone with a reason to live. - Author: B.B. Reid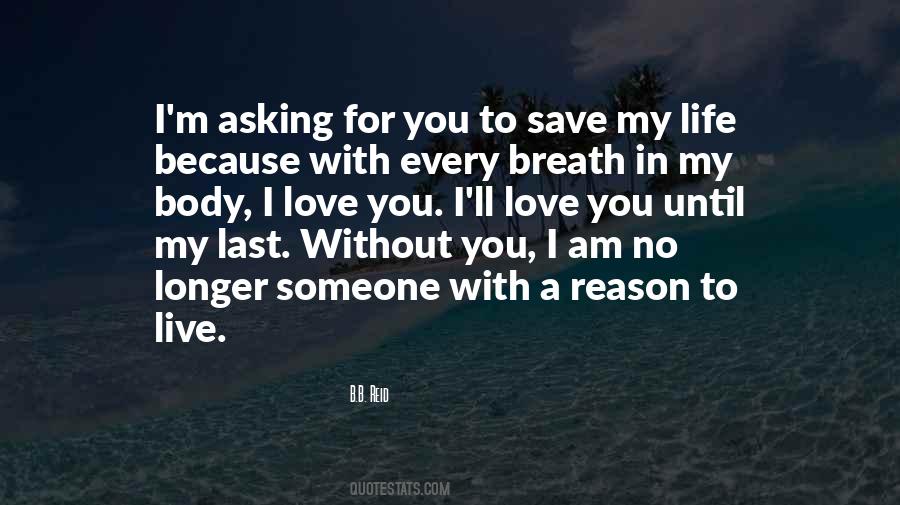 #96. Christians cannot be pessimists! They do not look like someone in constant mourning. If we are truly in love with Christ and if we sense how much he loves us, our hearts will "light up" with a joy that spreads to everyone around us. - Author: Pope Francis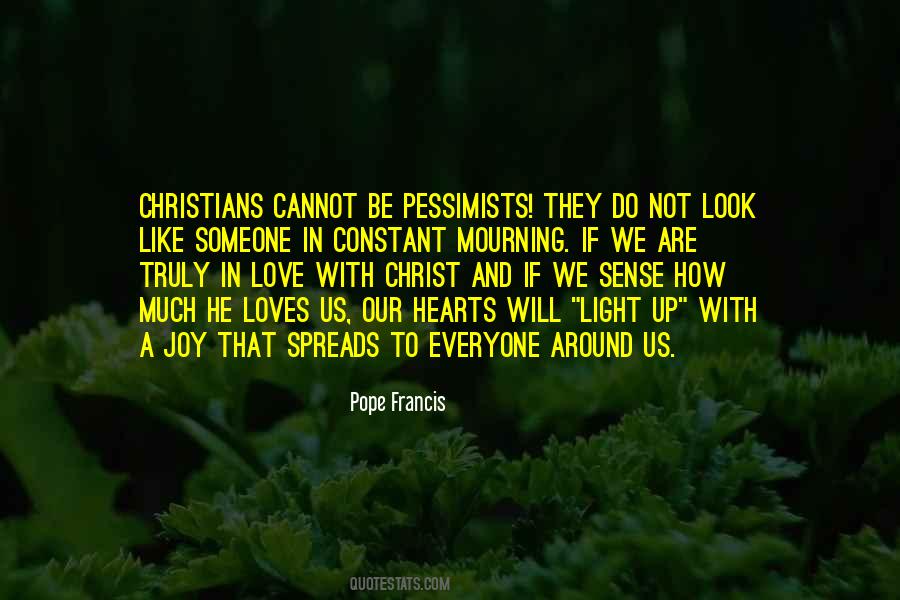 #97. I need more than anything right now what is, of course, most impossible, someone to love me, to be with me at night when I wake up in shuddering horror and fear of the cement tunnels leading down to the shock room, to comfort me with an assurance that no psychiatrist can quite manage to convey. - Author: Sylvia Plath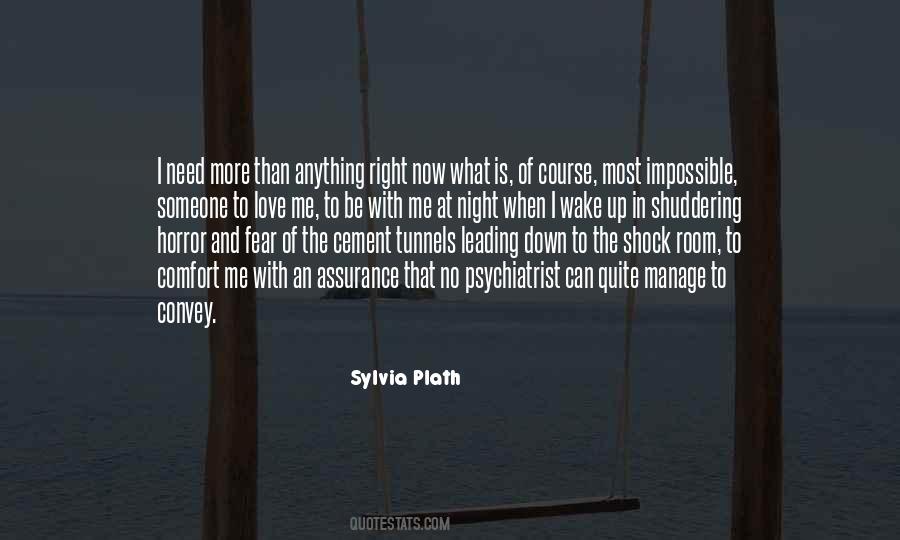 #98. Love is missing the taste of someone's morning breath. Thinking they're beautiful, even when their nose is Rudolph-red and their hair is bird's nest crazy. Love isn't putting up with someone in spite of their faults
it's adoring them because of them. - Author: Emma Chase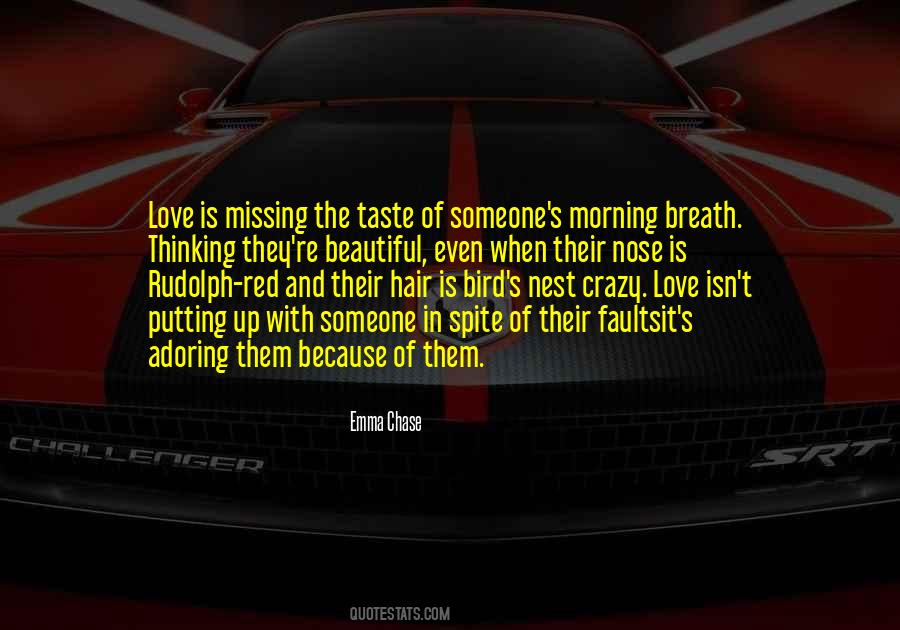 #99. As if you could terminate love abruptly because the one you loved signed papers with someone else in a church. - Author: Ali Shaw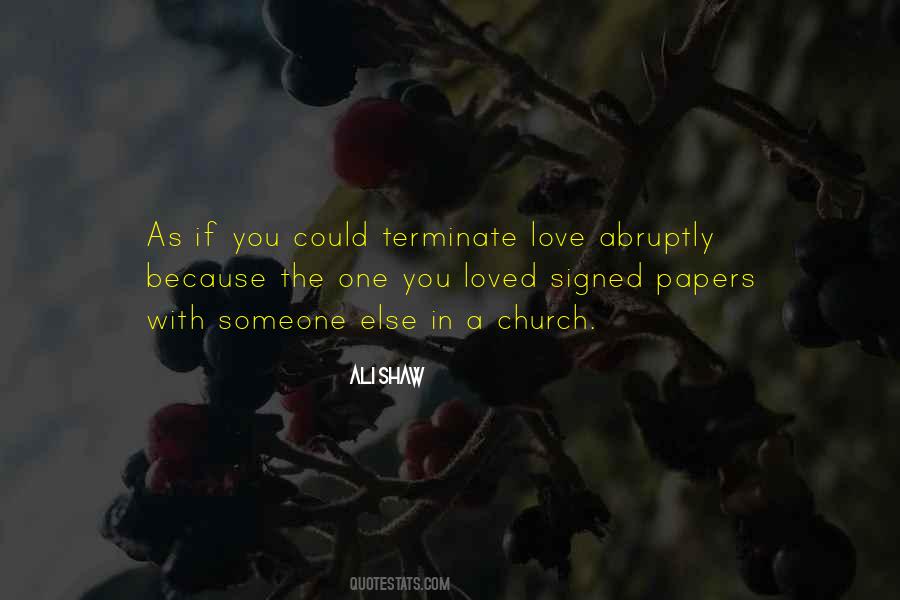 #100. I wasn't the demonstrative type. I didn't say I love you all the time, and I wasn't girlish or giggly. I hated shopping in pairs and preferred staying home with a good romance novel than a girls' night out. But I figured sometimes you have to meet someone halfway. - Author: C.D. Reiss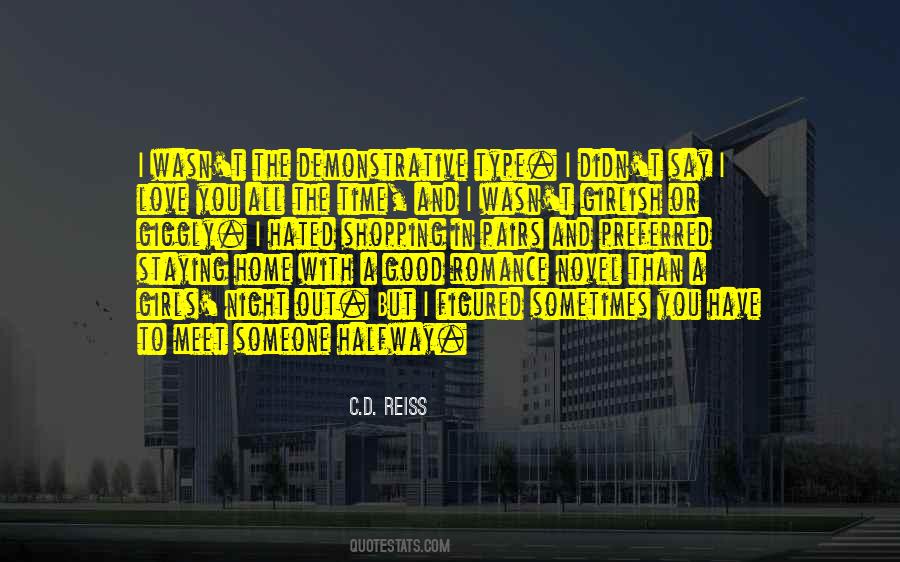 Famous Authors
Popular Topics