God's Love Famous Quotes & Sayings
List of top 100 famous quotes and sayings about god's love to read and share with friends on your Facebook, Twitter, blogs.
Top 100 Quotes About God's Love
#1. Today's Quote of the Day is an excerpt from 'The Religion of God (Divine Love)' by His Divine Eminence RA Gohar Shahi

'Had all humanity called upon God by one name, all would have been united inwardly despite different religions. - Author: Riaz Ahmed Gohar Shahi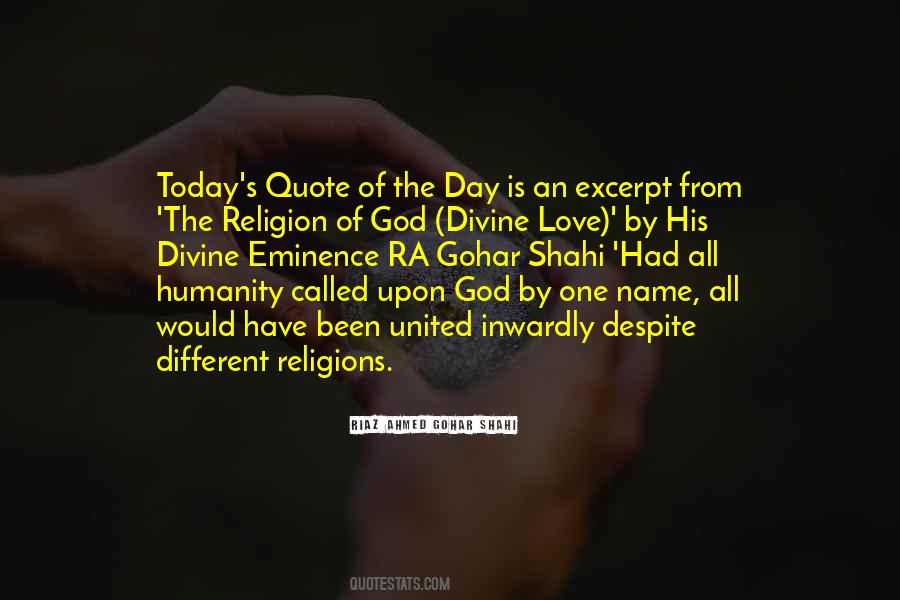 #2. Humility is a virtue that one can find, in which God in heaven rejoices ,and in His love he enfolds you, close to his heart He does bind. - Author: Henrietta Newton Martin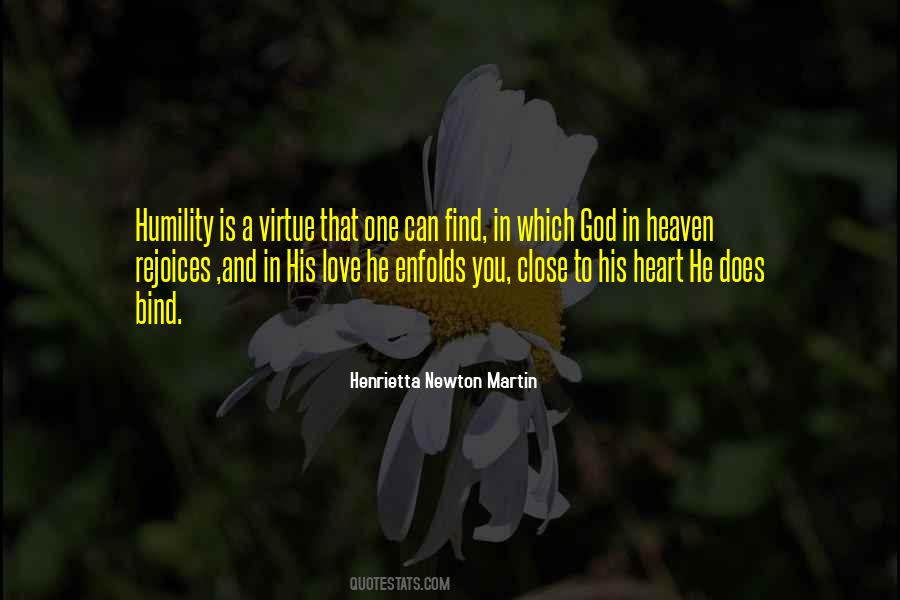 #3. Faith cannot be about absolute certainty in the letters of the Bible and wrath against those who don't comply (Ephesians 2:15). It has to be about overwhelming trust in God's love,6 which as the apostle Paul confirms, is beyond the letter of law and narrow legalistic interpretations. - Author: Amos Smith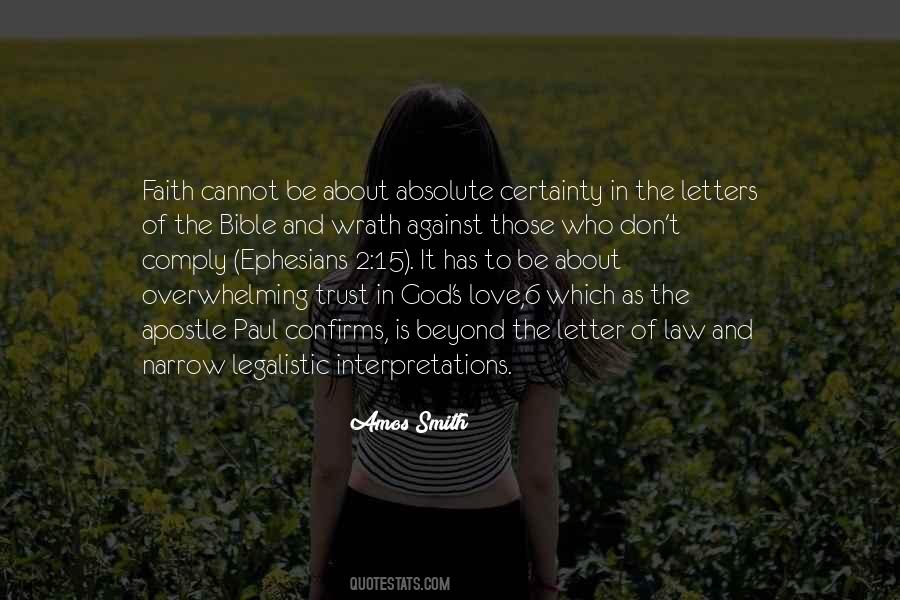 #4. God's love supersedes all religions and it is the core of all religions. - Author: Riaz Ahmed Gohar Shahi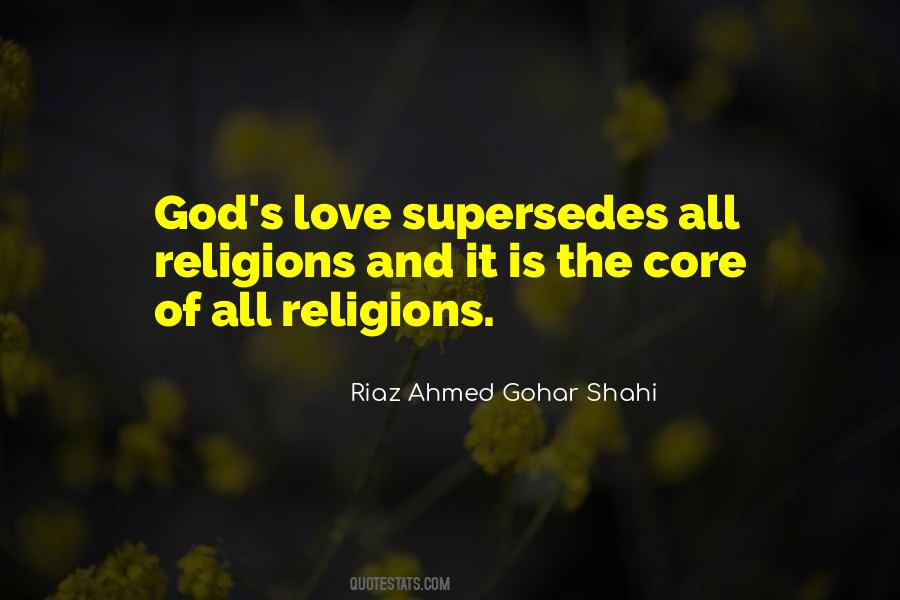 #5. Sound preaching arises out of two loves - love of the Word of God and love of people - and from them both a desire to show people God's glorious grace. - Author: Timothy Keller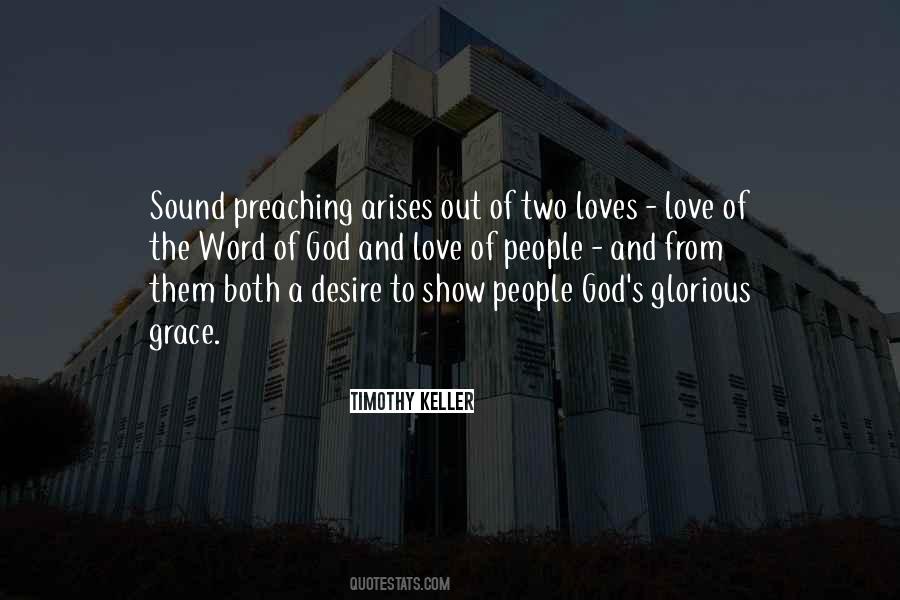 #6. If we ignore it the truth that God is love may slyly come to mean for us the converse, that love is God. - Author: C.S. Lewis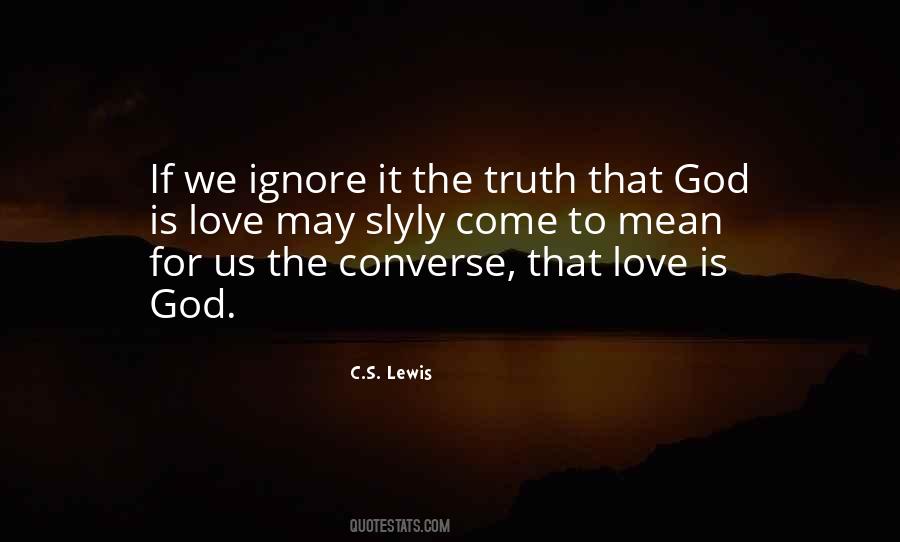 #7. It was not the part of His kindly love that he who was to praise God's divine generosity in regard to others should be compelled to condemn it in regard to himself. - Author: Giovanni Pico Della Mirandola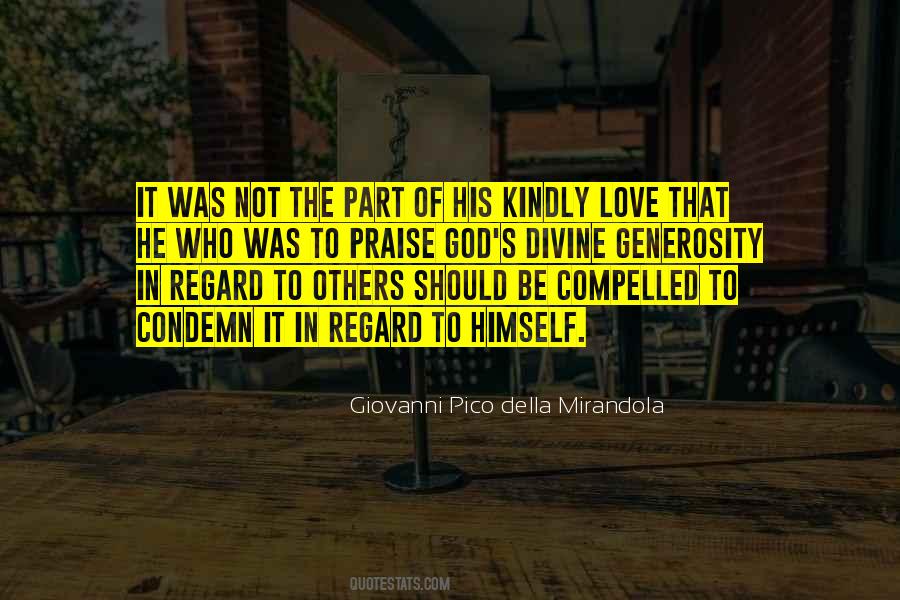 #8. Understanding God's great love for undeserving people such as us, gives us insight into His great majesty. As beauty is in the eyes of the beholder, so great love reveals the nature of the One who loves deeply. - Author: Mike Bickle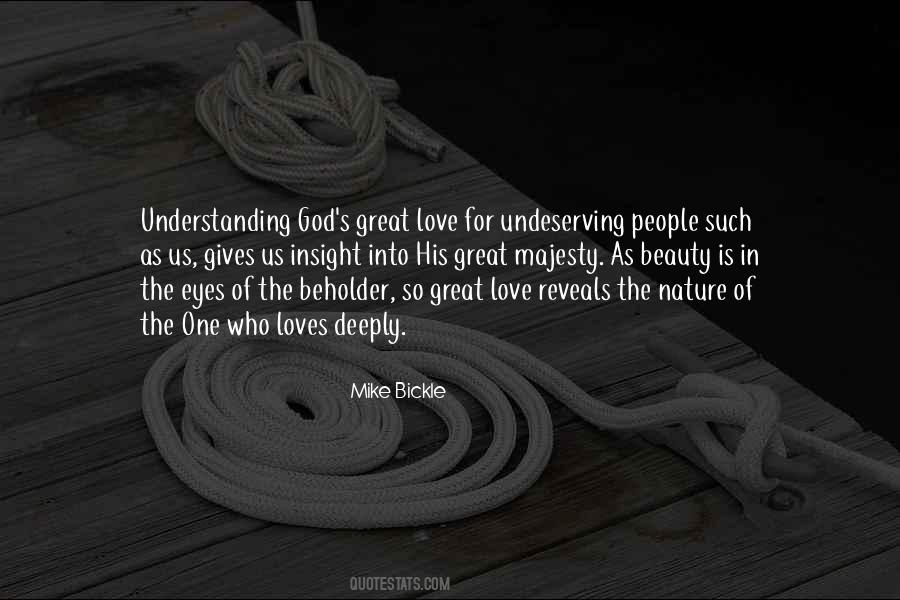 #9. For a mother's love is fashioned, After God's enduring love, It is endless and unfailing, Like the love of Him above. - Author: Helen Steiner Rice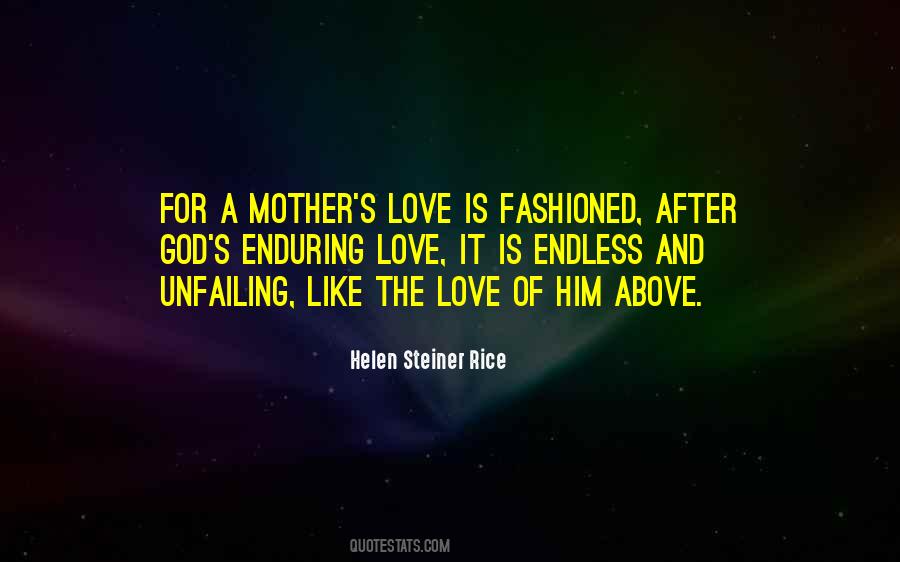 #10. Even the Quran, which Sufis respect as the direct speech of God, lacks the capacity to shed light upon God's essence. As one Sufi master has argued, why spend time reading a love letter (by which he means the Quran) in the presence of the Beloved who wrote it? - Author: Reza Aslan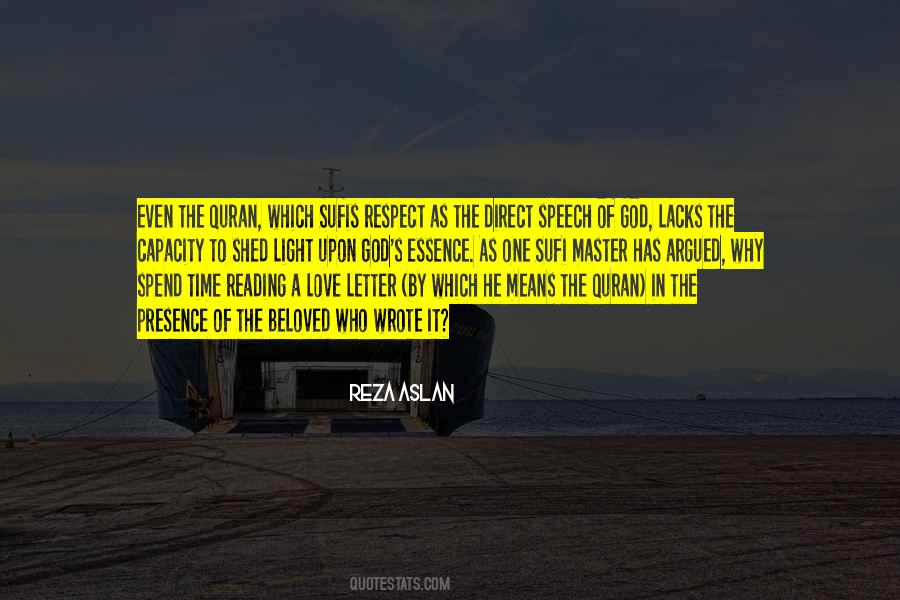 #11. Jesus's solution to our love affair with sin is that we be mastered by joy in a new reality, namely, God. - Author: John Piper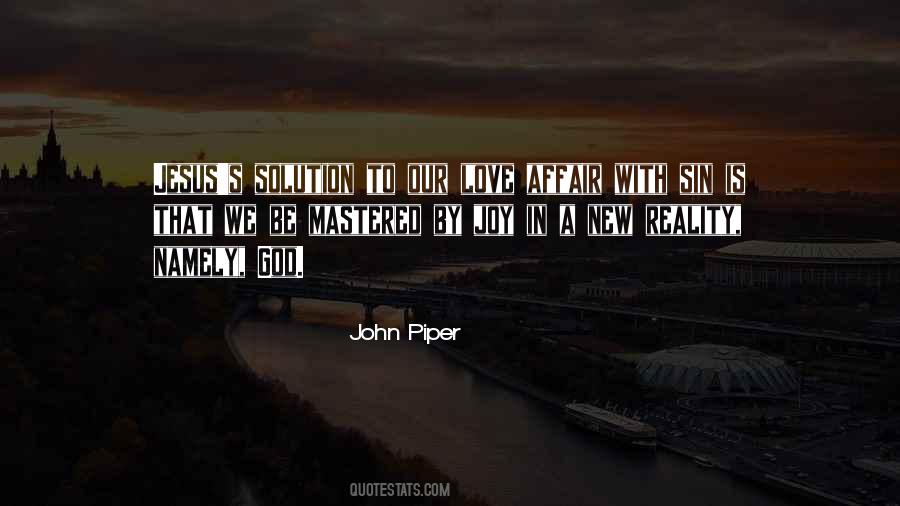 #12. No! he wanted to cry out. No, Tania, please come back. What can I leave her with, what can I say, what one word can I leave with her, for her? What one word for my wife?
"Tatiasha," Alexander called after her. God, what was the curator's name ... ?
She glanced back.
"Remember Orbeli- - Author: Paullina Simons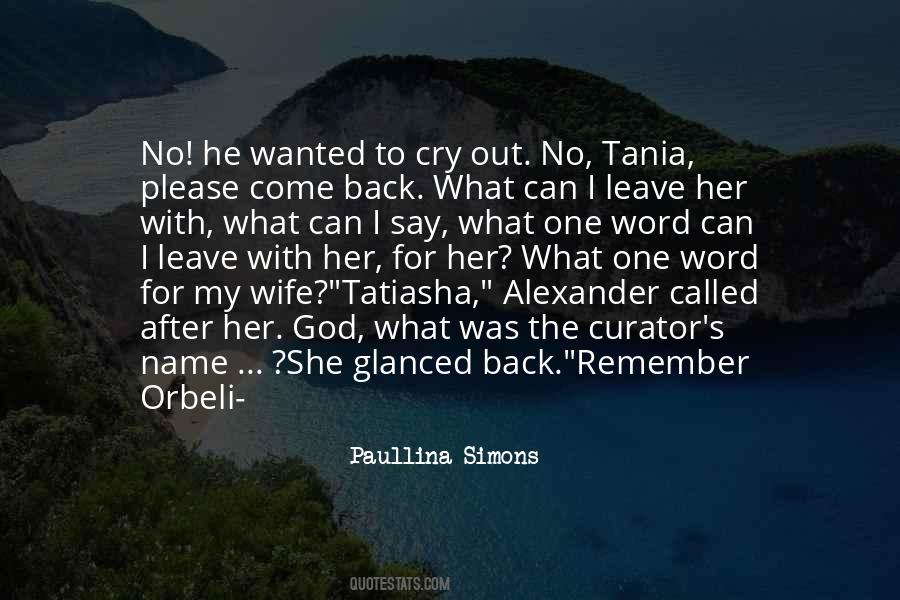 #13. When everything goes wrong, it's better to remember
someone who is not going to question you or blame you for what
you have done. Not even offer some free advice.
That's the best thing about God. - Author: Sheeja Jose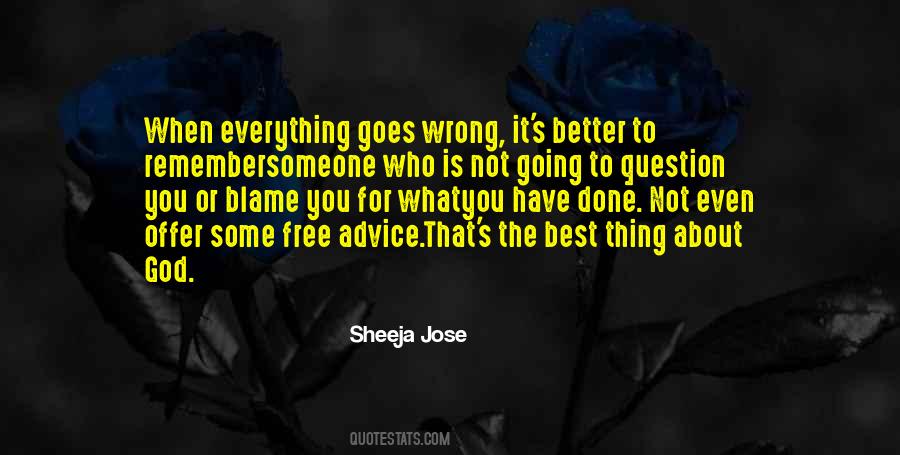 #14. The scripture is clear that we have a capacity for love because of God's love for us - Author: Sunday Adelaja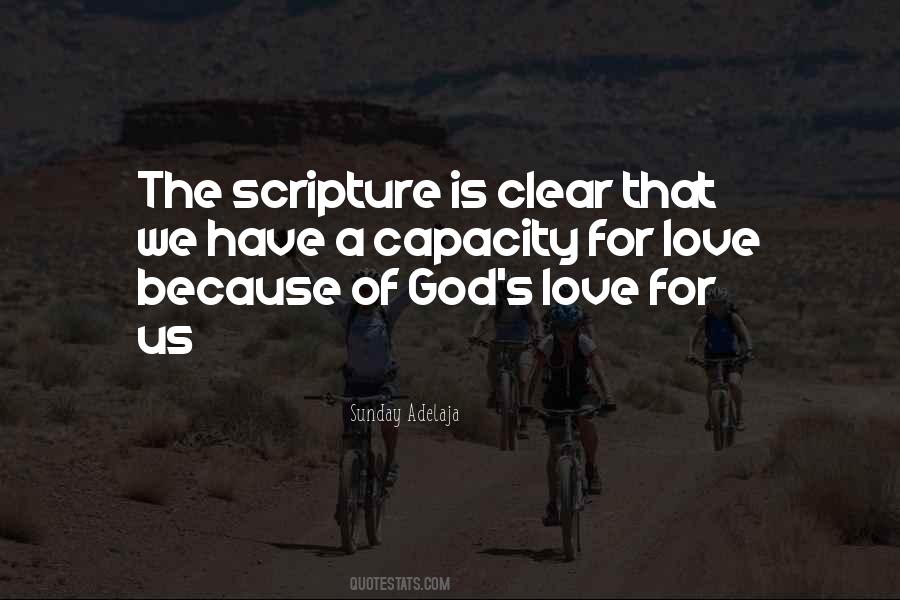 #15. I believe one reason that God allows poverty and suffering is so that His followers may demonstrate Christ's love, mercy, and comfort to [others]. - Author: Billy Graham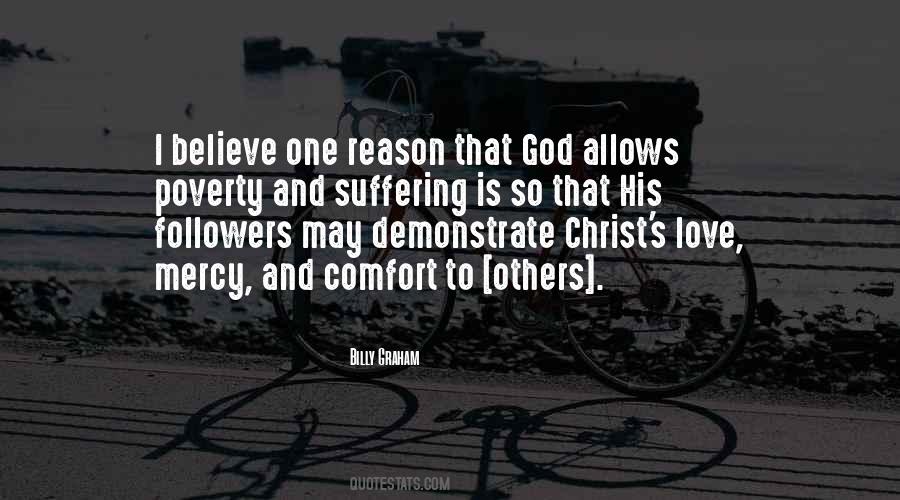 #16. Prayer enables you to tap into God's wisdom anywhere, anytime, no matter what's going on. - Author: Elizabeth George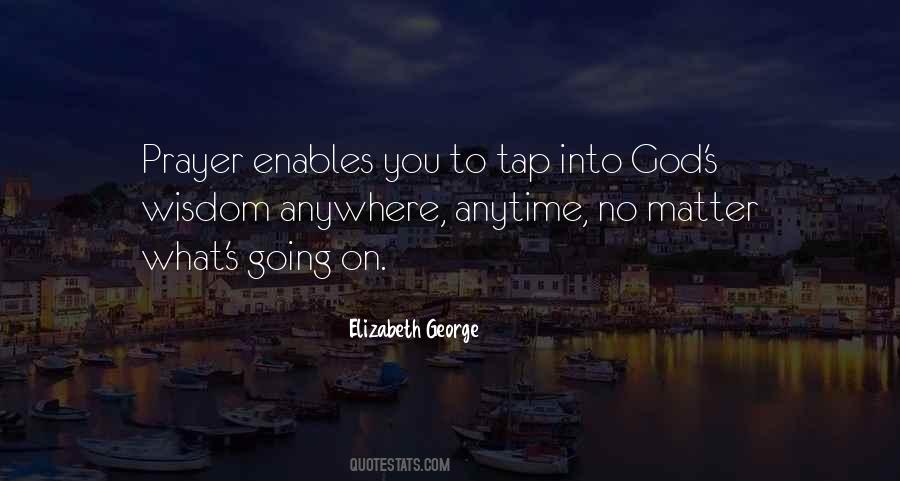 #17. Don't invest everything in another man's calling - Author: Sunday Adelaja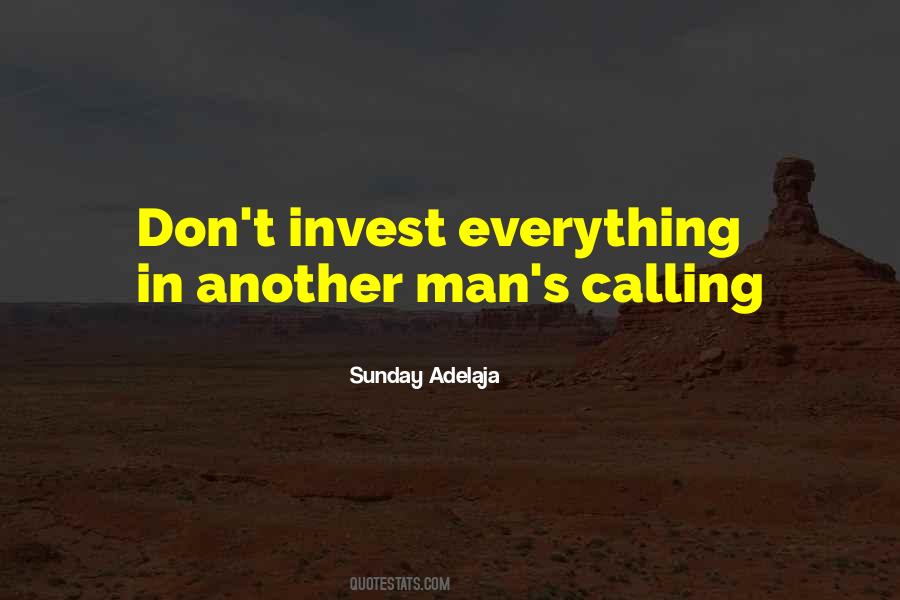 #18. purpose was not to make us worthy of God's love, but to set us free to see that we already have it. And - Author: Wayne Jacobsen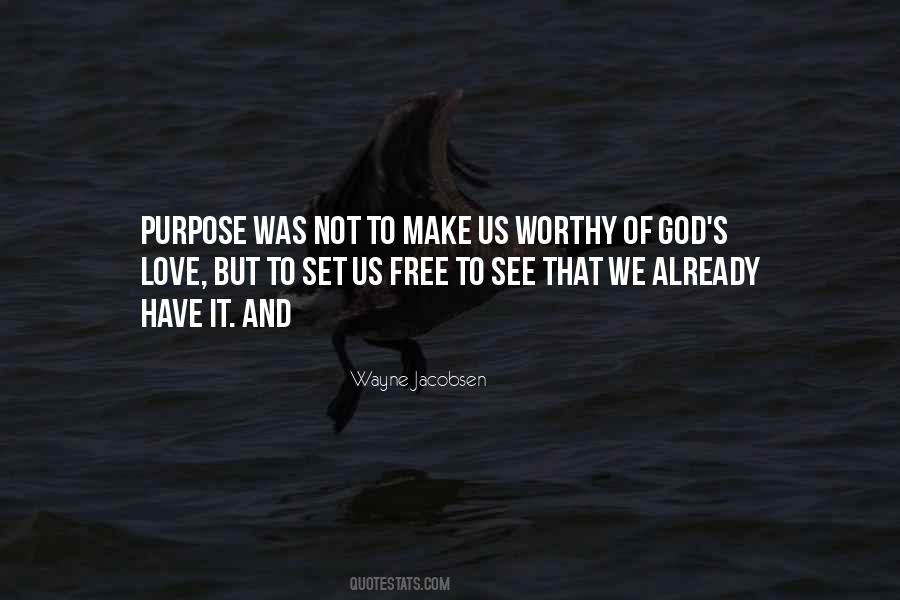 #19. My spiritual high naturally dissipated. At some point you've got to come out of the clouds and live real life. Again, it's just like falling in love. The feeling of euphoria is only temporary. - Author: Pattie Mallette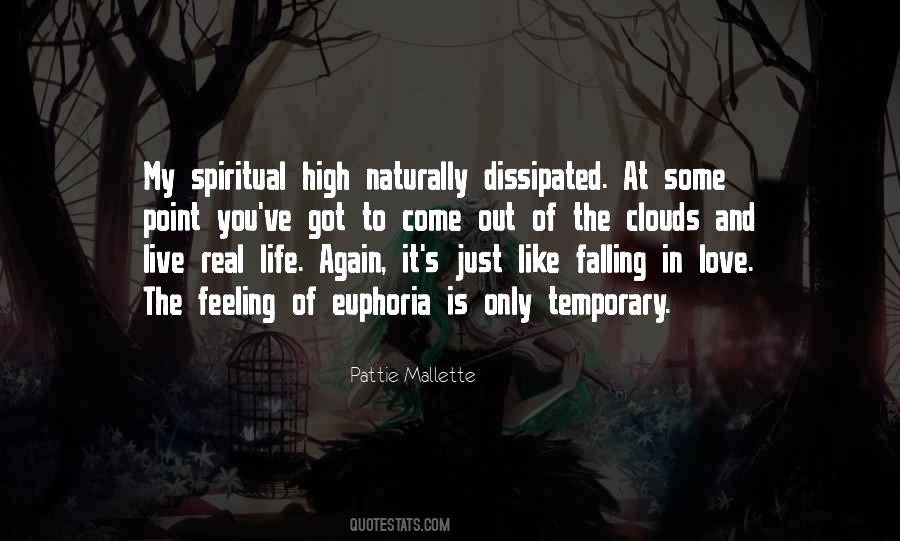 #20. It's good to dream. We can't out-give God. We can't out-love him, and we can't out-dream him. - Author: Stasi Eldredge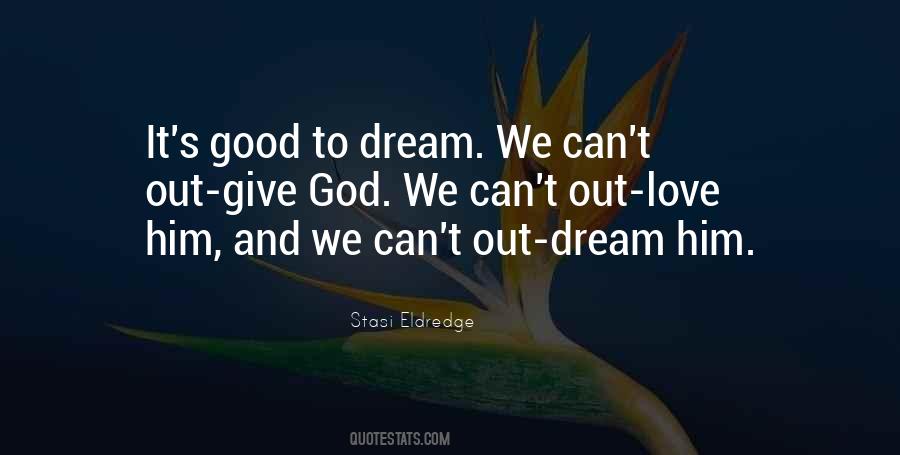 #21. A mother's love is indeed the golden link that binds youth to age; and he is still but a child, however time may have furrowed his cheek, or silvered his brow, who can yet recall, with a softened heart, the fond devotion, or the gentle chidings, of the best friend that God gives us. - Author: Christian Nestell Bovee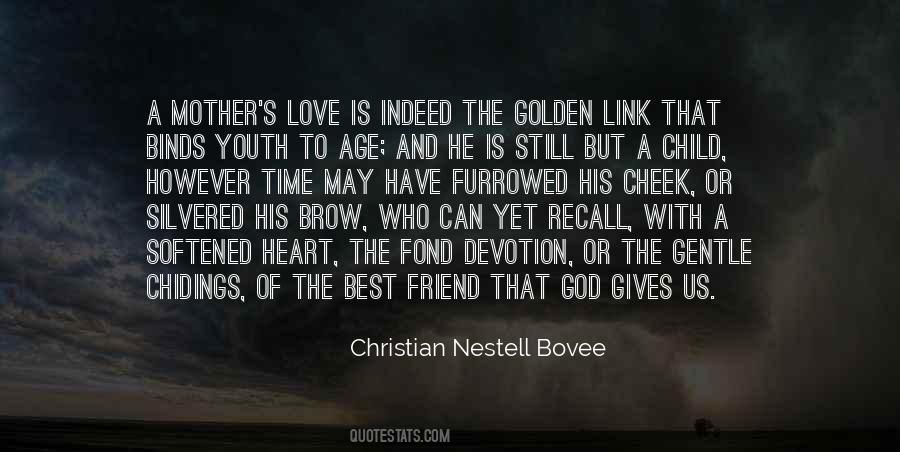 #22. God's love for mankind; wide, long, high and deep. - Author: Lailah Gifty Akita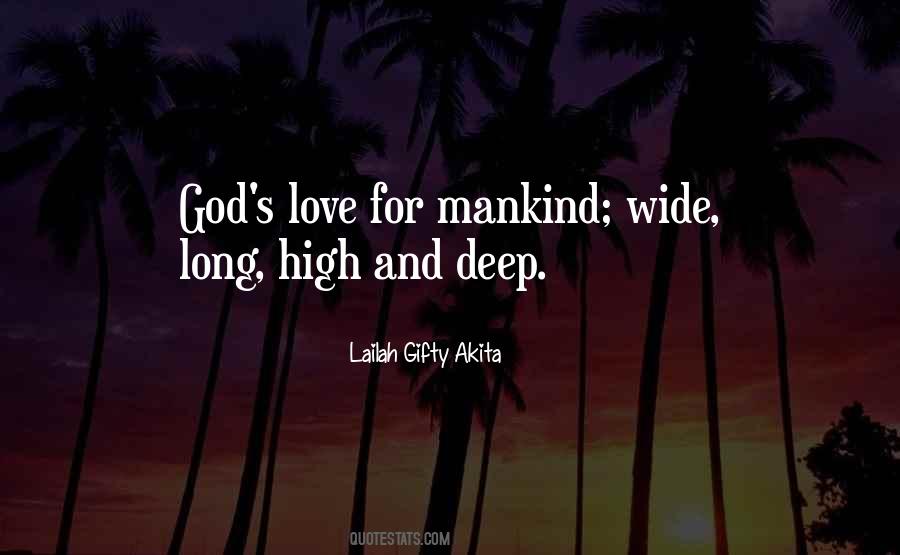 #23. God's great love and purposes for us are all worked out in messes in our kitchens and backyards, in storms and sins, blue skies, the daily work and dreams of our common lives. God works with us as we are and not as we should be or think we should be. - Author: Eugene H. Peterson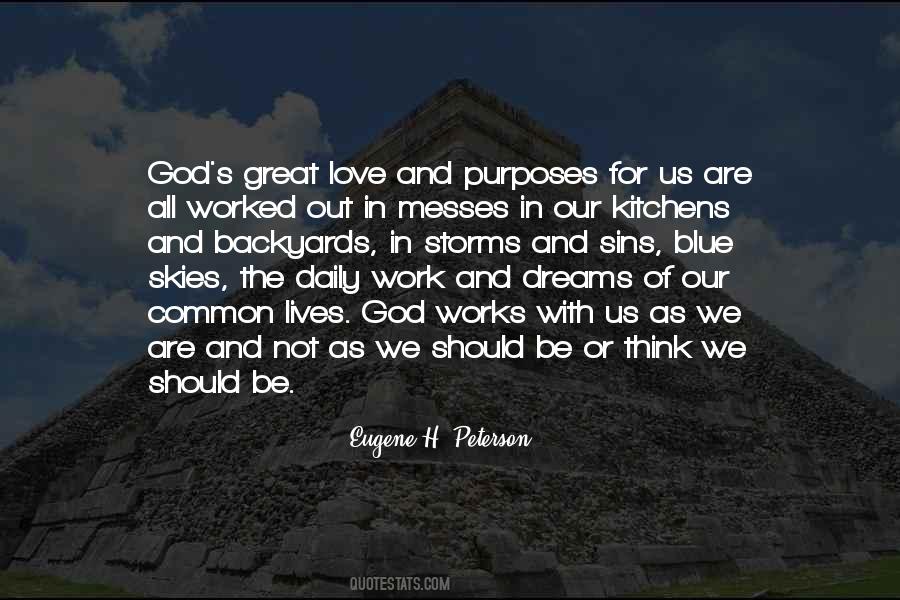 #24. In the best case, notions of God's love and grace provide some relief - but the central message of these faiths is that each of us is separate from, and in relationship to, a divine authority who will punish anyone who harbors the slightest doubt about His supremacy. - Author: Sam Harris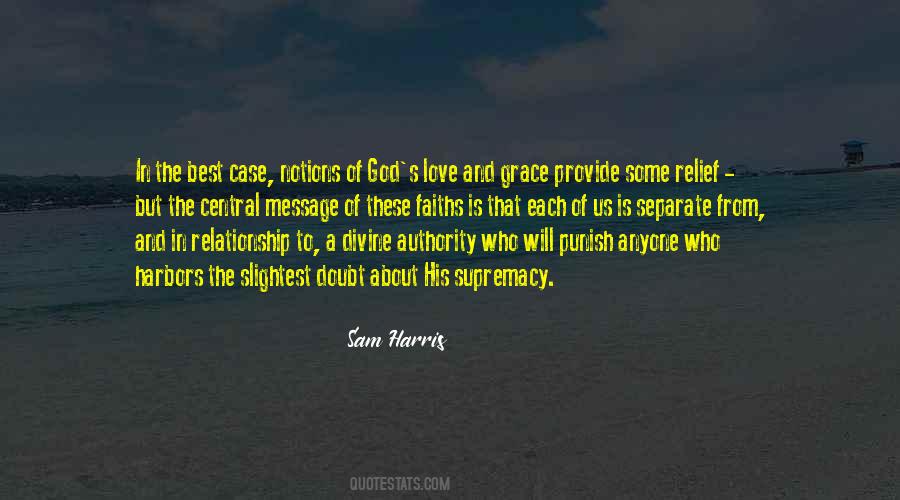 #25. Creation discloses a power that baffles our minds and beggars our speech. We are enamored and enchanted by God's power. We stutter and stammer about God's holiness. We tremble before God's majesty ...
and yet, we grow squeamish and skittish before God's love. - Author: Brennan Manning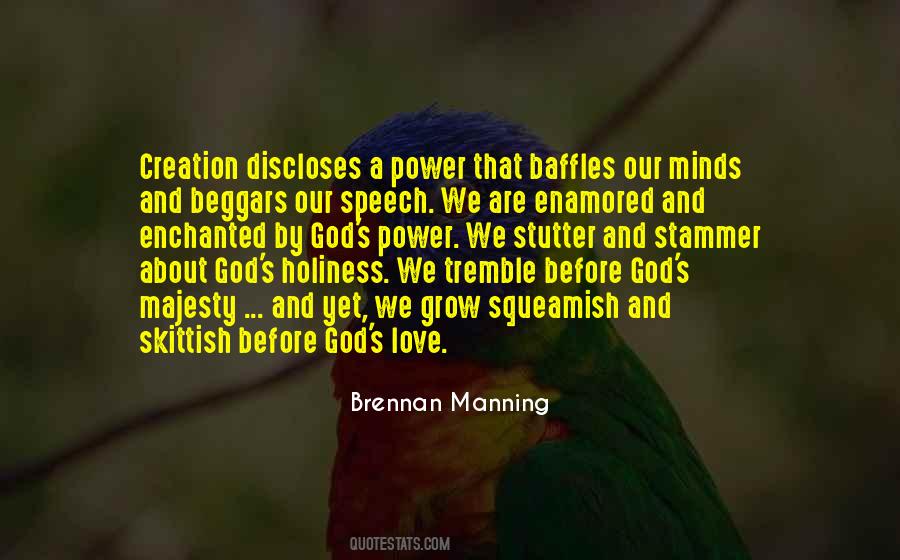 #26. God's LOVE is Like an Ocean; You can See its Beginning, but not its end. - Author: Rick Warren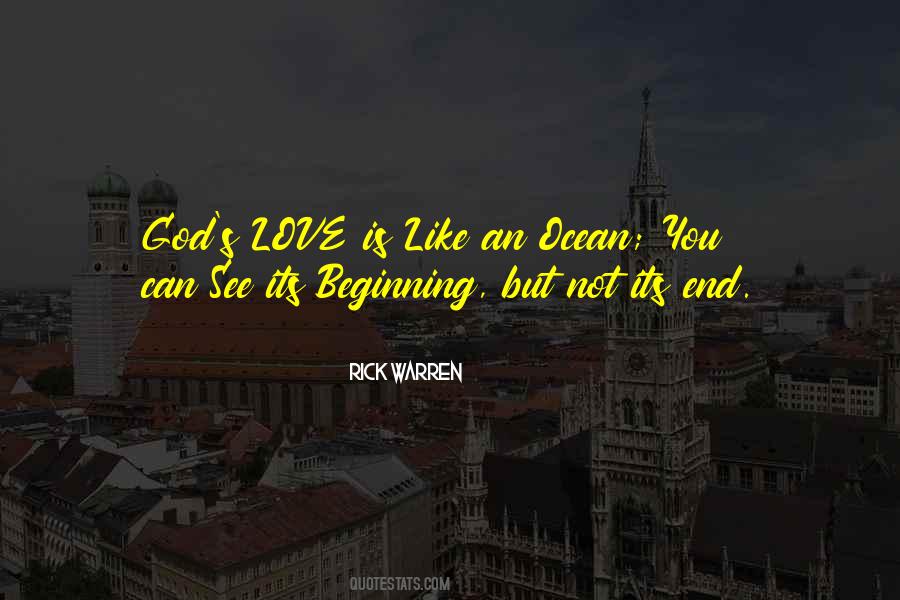 #27. Maybe there's a god above but the only thing I learned from love was how to shoot at somebody who outdrew you. - Author: Leonard Cohen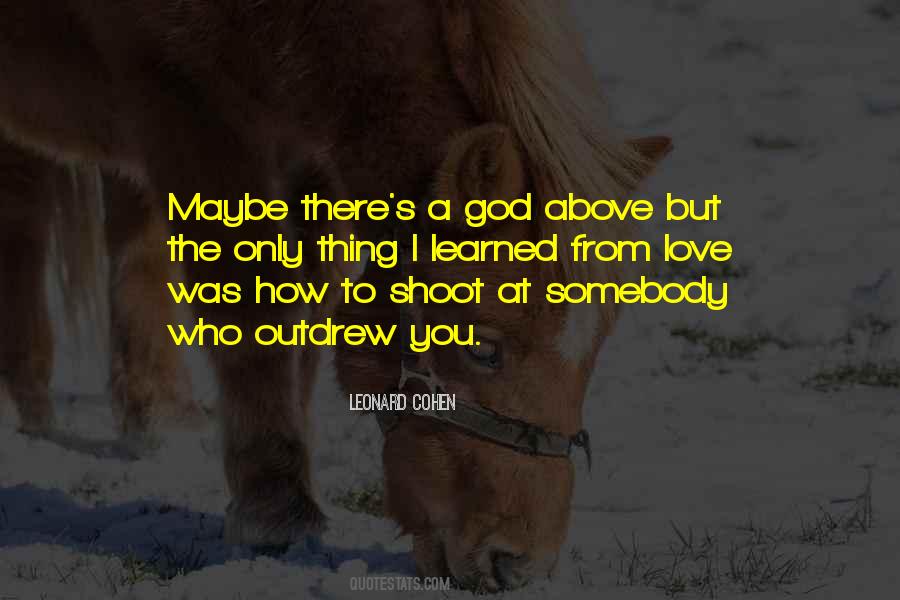 #28. Life with out friend, is like life with out God! But your love for them is different from God, because I always place God first in my life and that's why I am able to love you! - Author: Zybejta "Beta" Metani' Marashi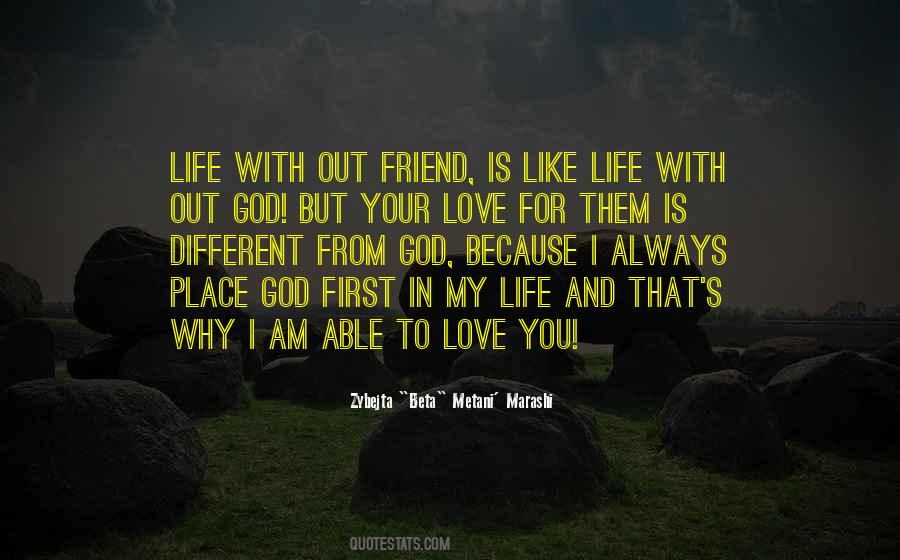 #29. This is very interesting because the Liberal Party of Canada, heading into an election, at the last minute they always stand up and they say: We know there's people out there that want to vote NDP and God love you. - Author: Rick Mercer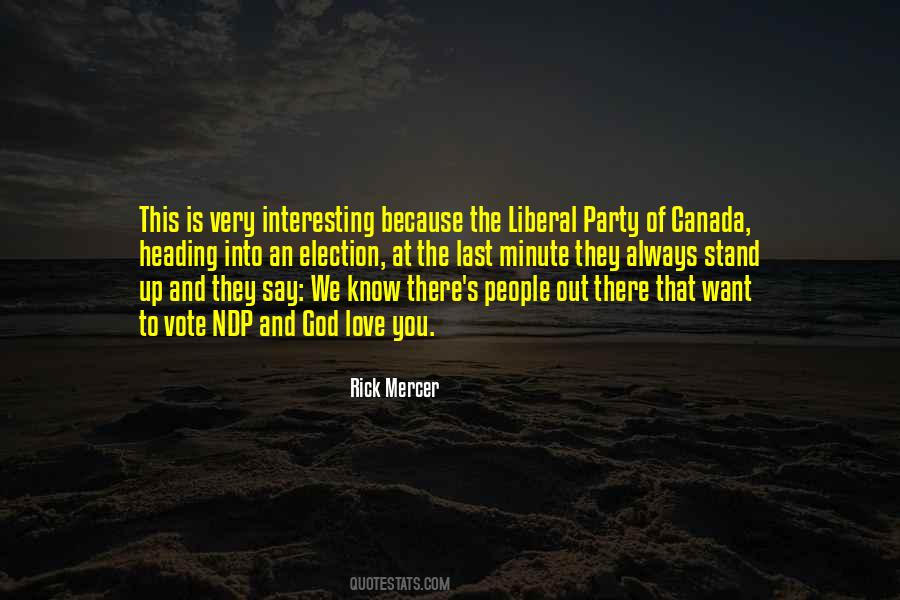 #30. Stake a claim on love. Believe in God. - Author: Elizabeth B. Knaus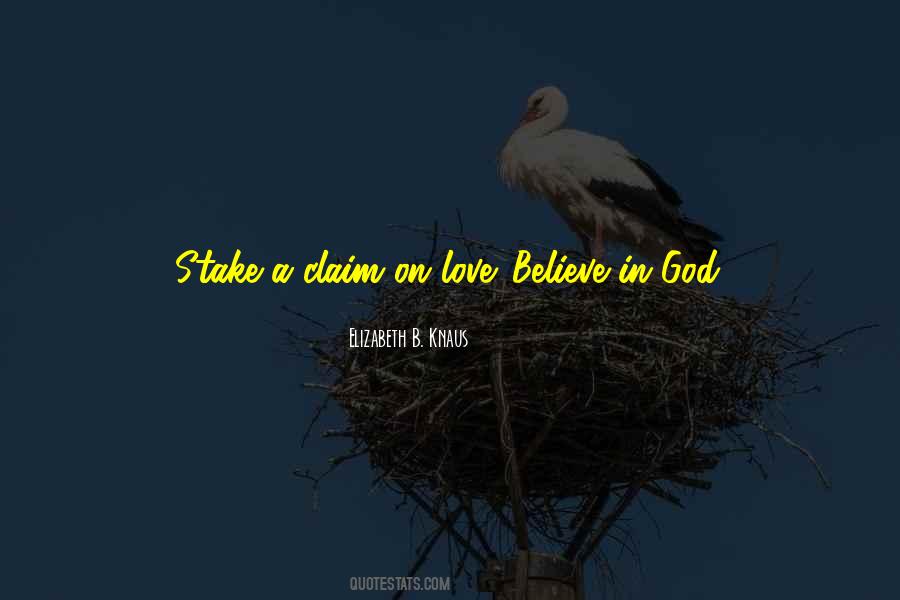 #31. If you have never known the power of God's love, then maybe it is because you have never asked to know it - I mean really asked, expecting an answer. - Author: Frederick Buechner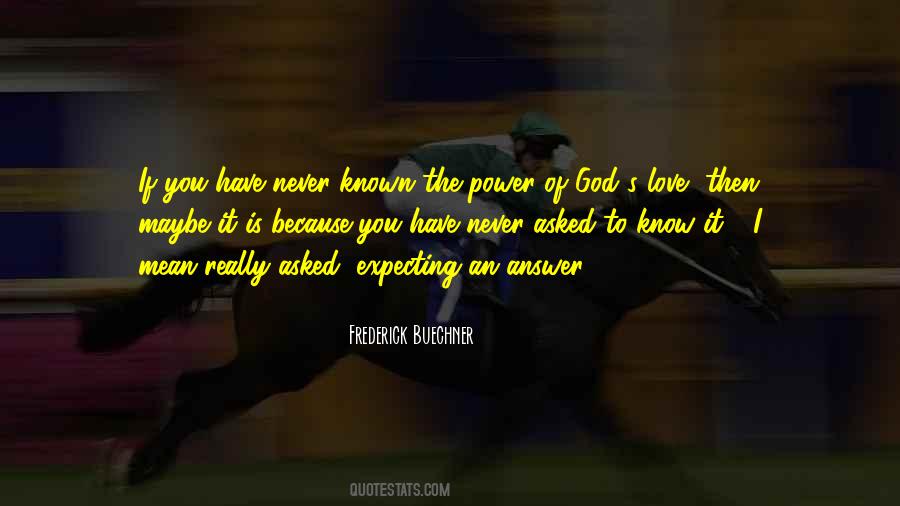 #32. God's love to us cannot fail any more than His love to Christ can fail. - Author: Jerry Bridges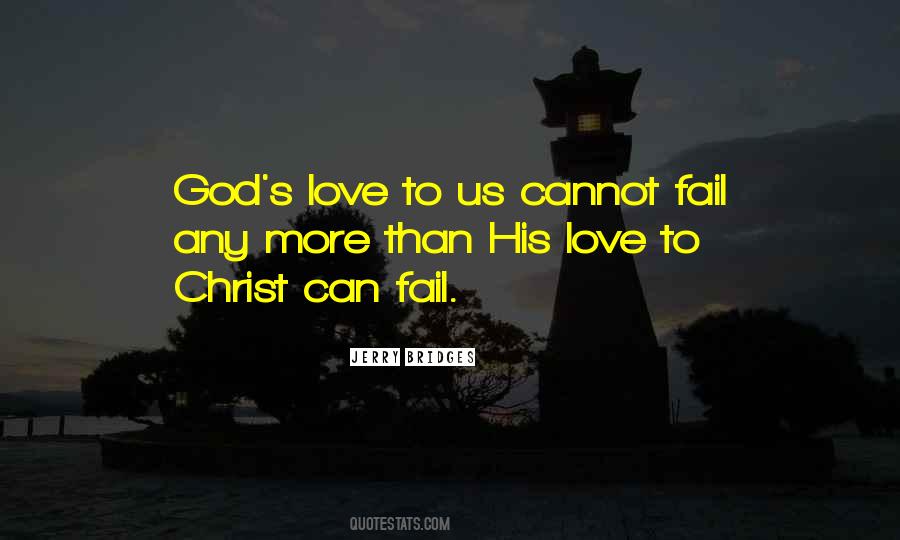 #33. We obey God's Law, not to be loved but because we are loved in Christ. - Author: Jerry Bridges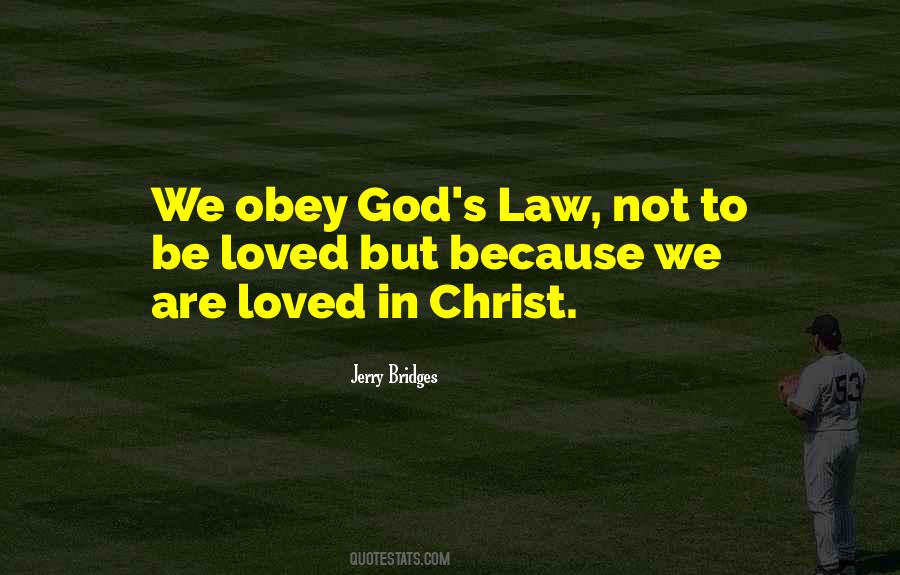 #34. Do you ever feel like we are the universe's date to a pig party?
Love,
The Human Race - Author: Christy Leigh Stewart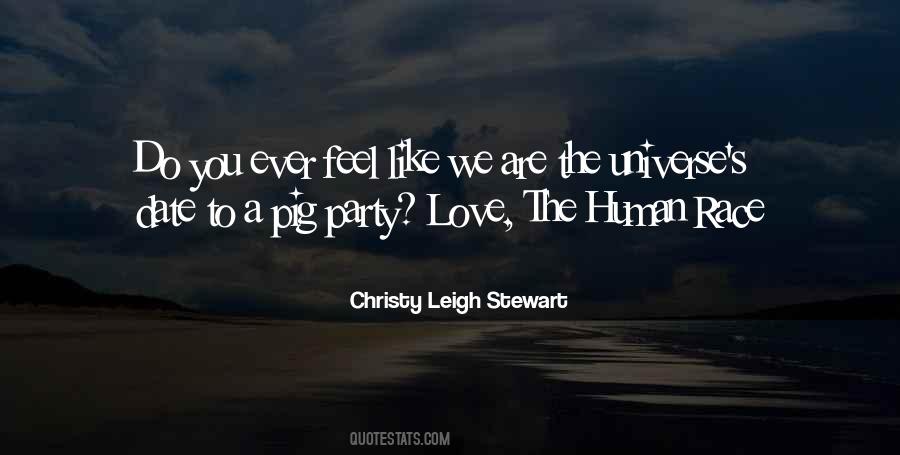 #35. You have to be intentional about receiving the Father's love. Seek God. Be passionate about it. No two people have the same experience of the Father's love, because every child of God is unique. - Author: James Goll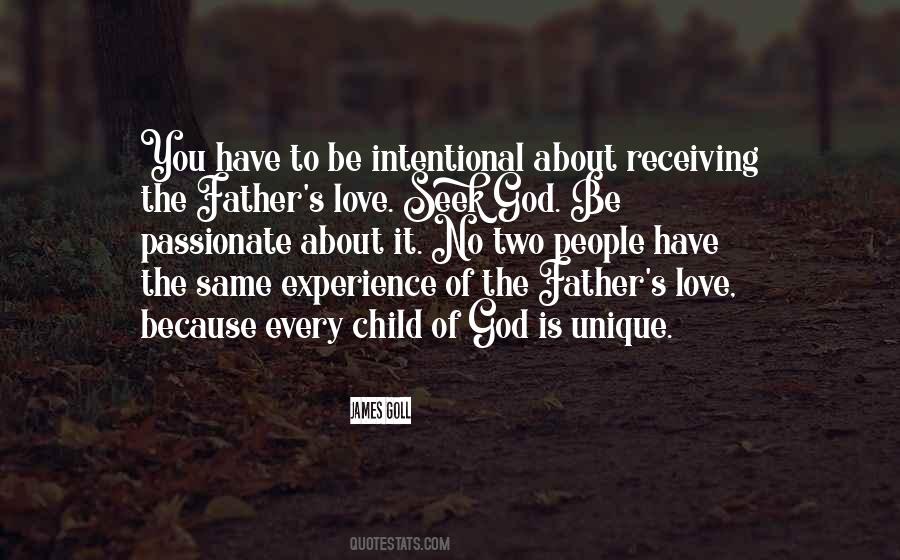 #36. When you hear the Word of God at Sunday Mass, expect healing, expect that you will experience God's love, expect that God will move in your life to meet all your needs. - Author: Robert Degrandis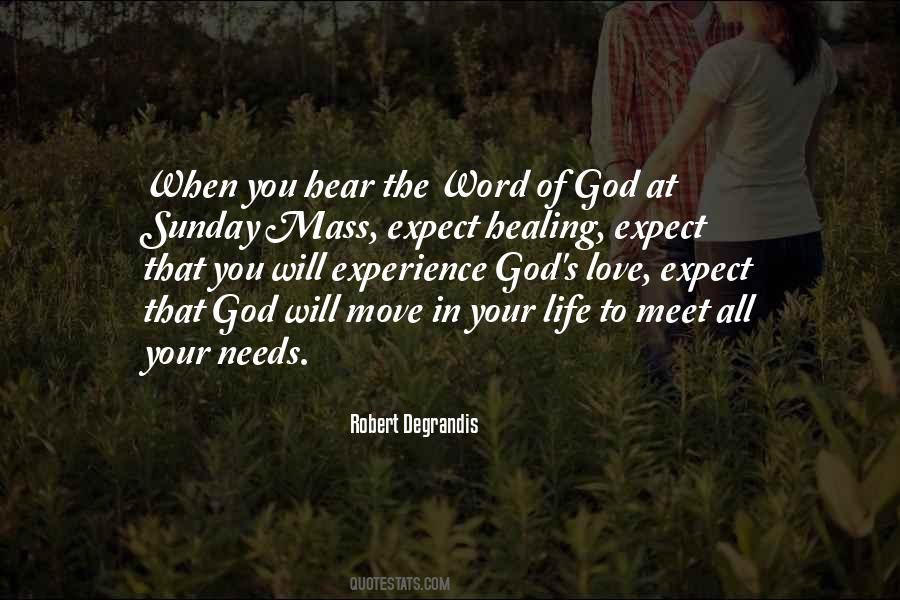 #37. We can talk about God's justice and love from now to the end of time. But until our theological discourse engages white supremacy in a way that empowers poor people to fight the monster, then our theology is not worth the paper it is written on. In - Author: Frederick W. Schmidt Jr.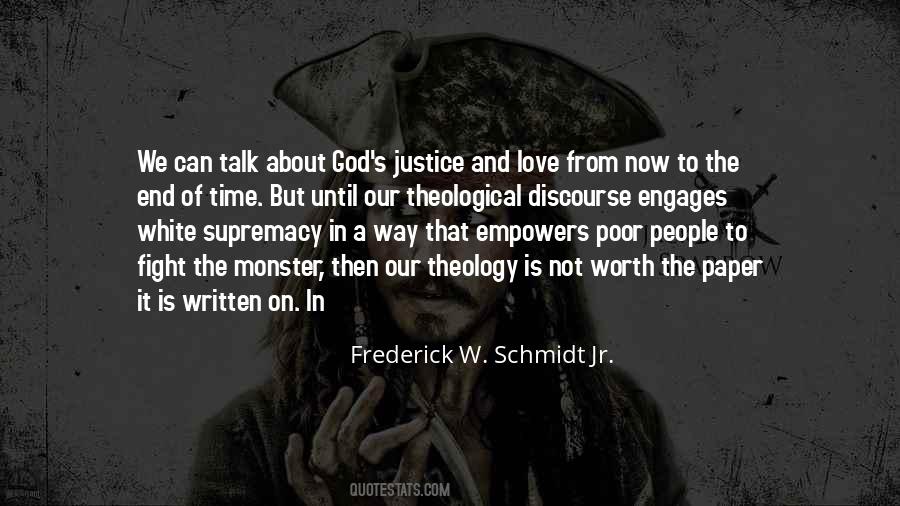 #38. Vainly you talk about voting it down. When you have cast your millions of ballots, you have not reached the evil. It has fastened its root deep into the heart of the nation, and nothing but God's truth and love can cleanse the land. We must change the moral sentiment. - Author: Frederick Douglass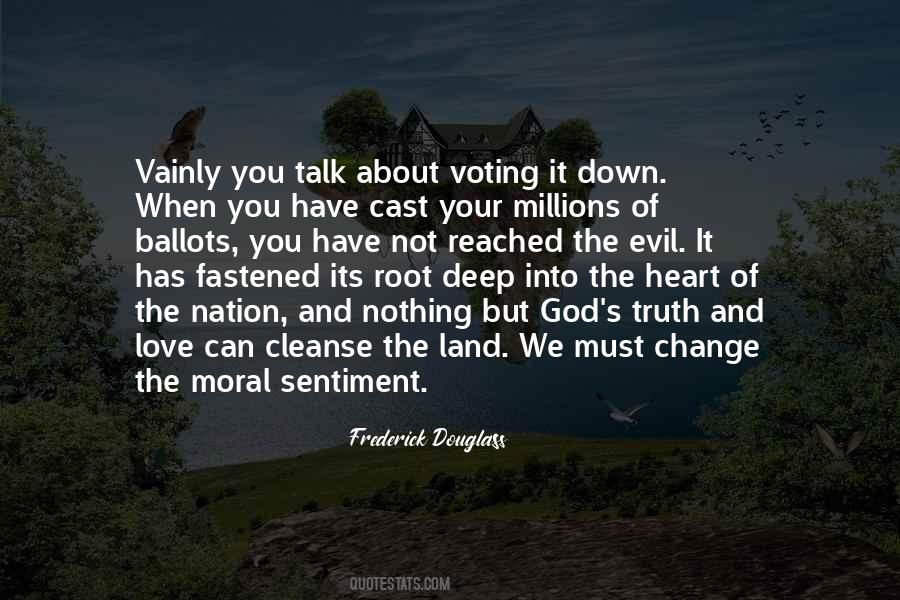 #39. Breaking News: I am still standing! - Author: Milan Jed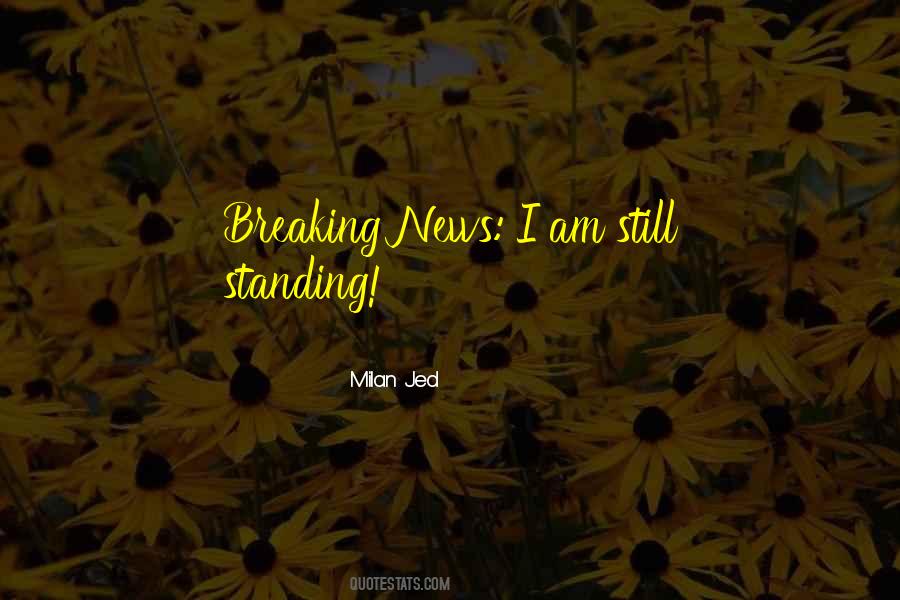 #40. Saddest of all God's creatures in the world is the religious person who has disciplined himself to outward obedience but who has no inward love to God. - Author: Walter Chantry
#41. What does the poor man do at the rich man's door, the sick man in the presence of his physician, the thirsty man at a limpid stream? What they do, I do before the Eucharistic God. I pray. I adore. I love. - Author: Francis Of Assisi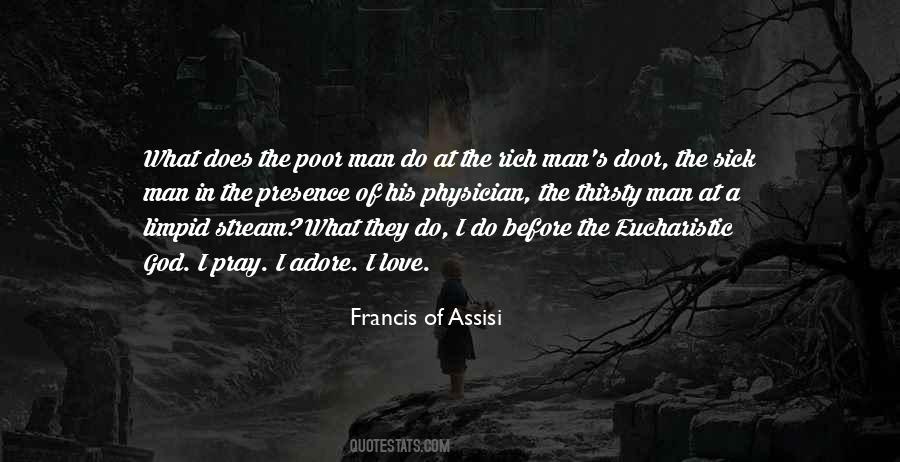 #42. We spring from one great tree of life; when the root of the tree is watered with love, we all thrive. - Author: Janet Autherine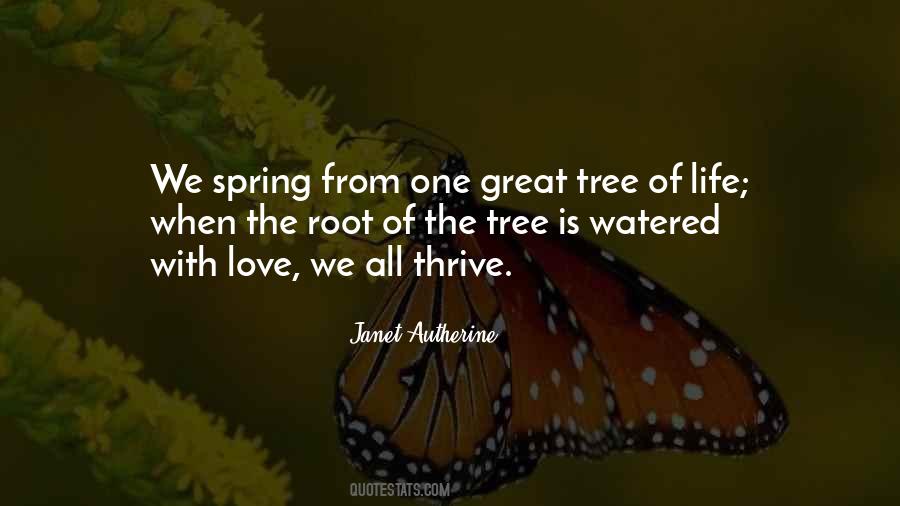 #43. If I am secure in God's devotion, then I am free to love others without depending on them to meet my need for love. - Author: Cynthia Heald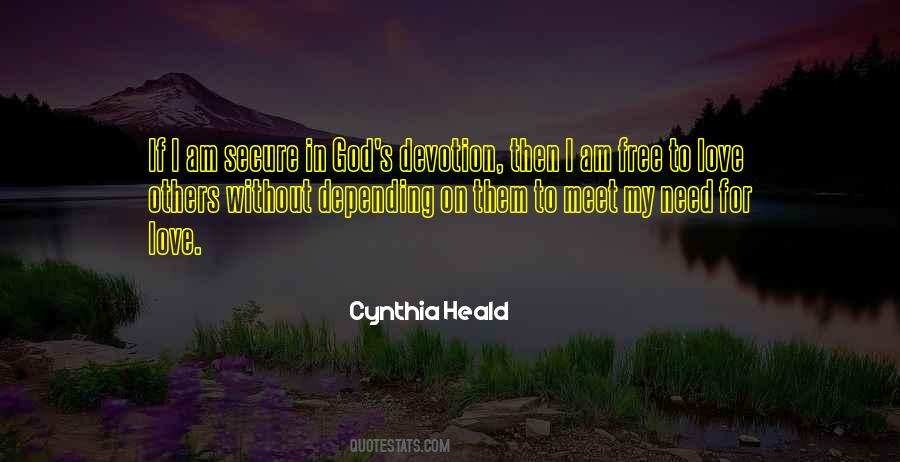 #44. You have the body of a god and the smile of a demon. I walk towards you, barefoot, a believer walking a religious path. I wrap my arms around your neck, a priest hugging his crucifix.
I offer you my all. Burn me like incense.
Let's make all the church bells in hell ring just for us. - Author: Malak El Halabi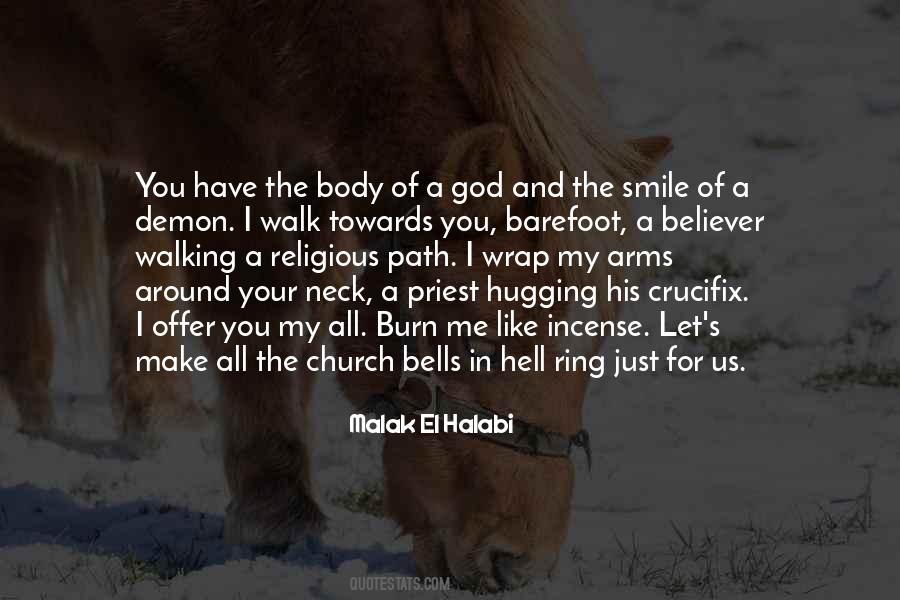 #45. God's purpose for man is to acquire a seeing eye and an understanding heart." "God gave you life and bestowed upon you his attributes; eventually you will return to him." "The rewards of life and devotion to God are love and inner rapture, and the capacity to receive the light of God. - Author: Rumi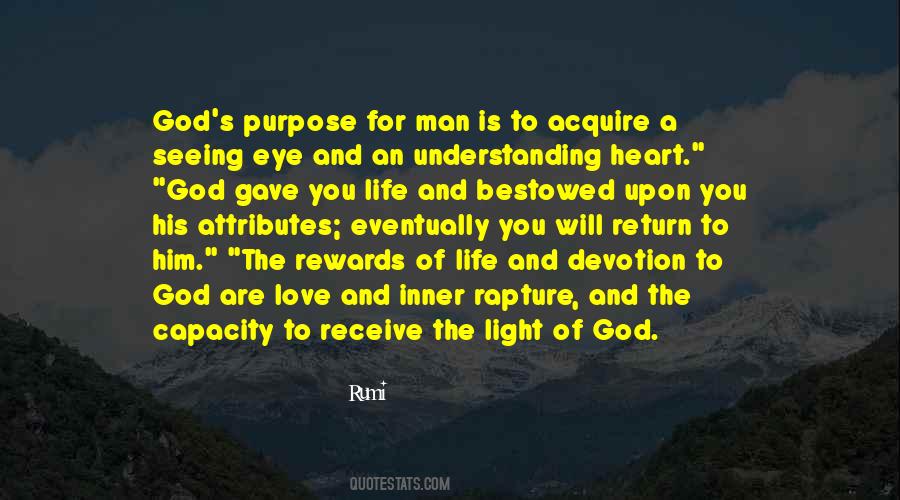 #46. I'm alive with love in my heart.. I'm grateful for each moment.. With a little patience and god's grace I know everything in my life will work out on its own time! - Author: Nehali Lalwani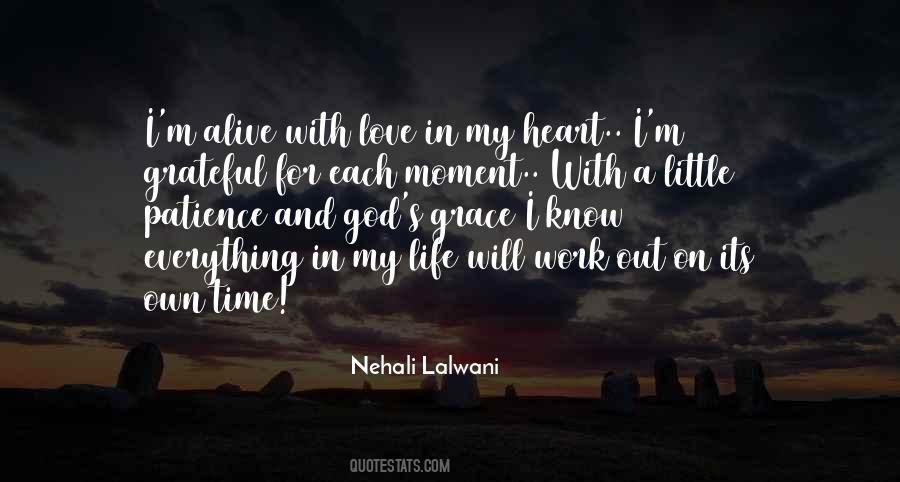 #47. Life of Ages, richly poured,
Love of God unspent and free,
Flowing in the Prophet's word
And the People's liberty!
Never was to chosen race
That unstinted tide confined;
Thine is every time and place,
Fountain sweet of heart and mind! - Author: Samuel Johnson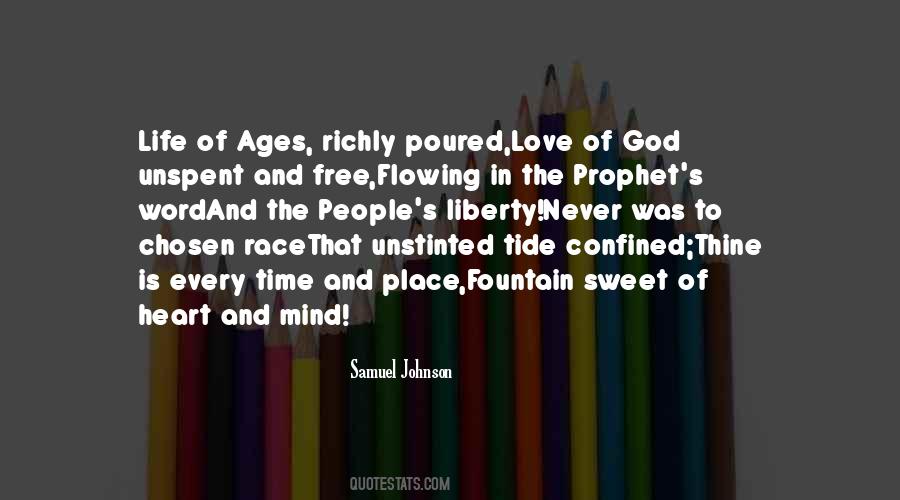 #48. Each time people come into contact with us, they must become different and better people because of having met us. We must radiate God's love. - Author: Mother Teresa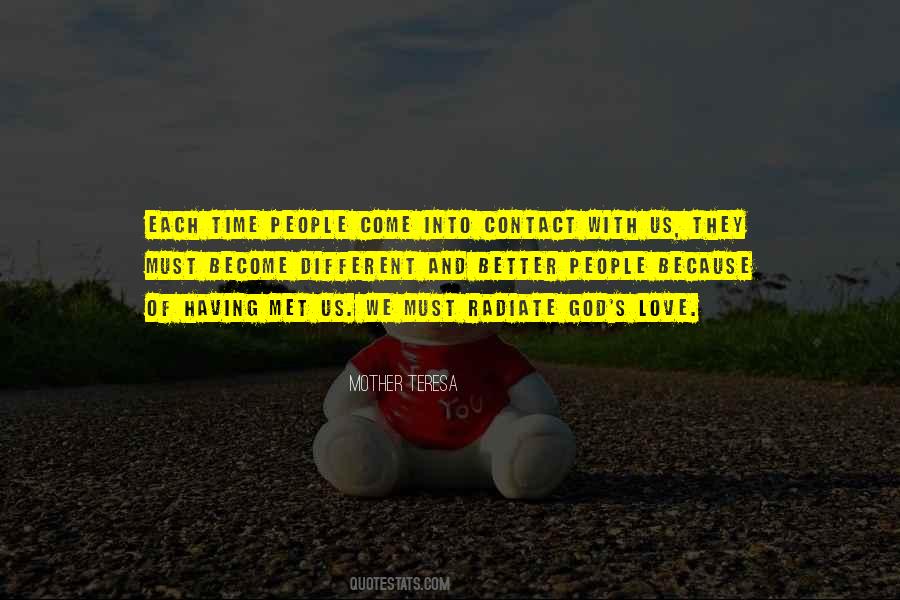 #49. All God's gifts and signs are useless if we do not have His love in ourselves. - Author: Sunday Adelaja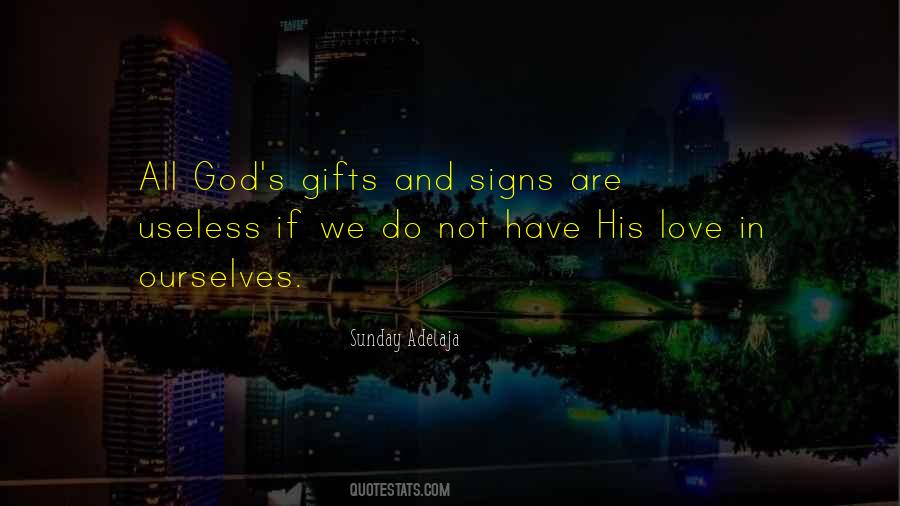 #50. God always wants what's best for us, just as you want what's best for someone you really love. You put them before you, and God does that too. God puts us before His Son, who He sacrificed for our salvation. But the Son did it voluntarily because He has the love of the Father before us. - Author: Francis George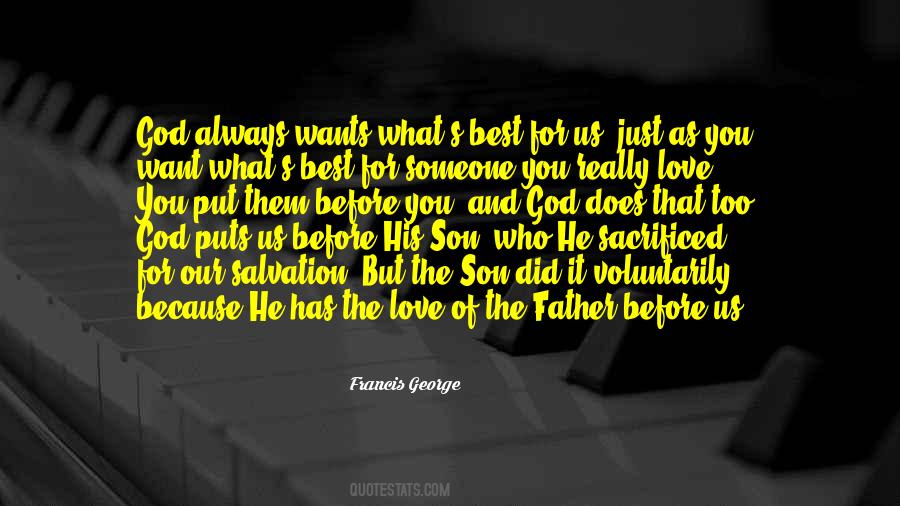 #51. May the fullness of God's love and His mercy shine as treasures to be found in every horizon. - Author: Amy E. Tobin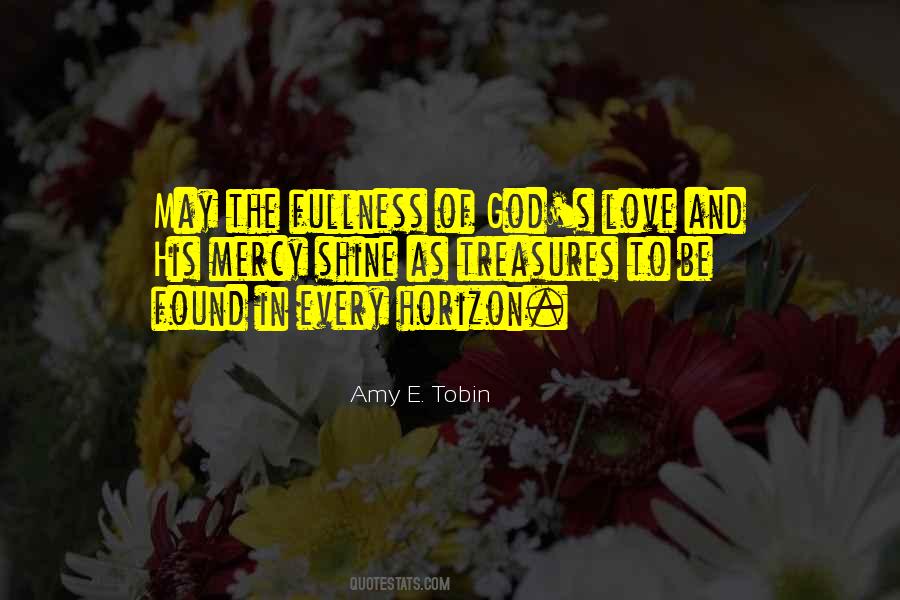 #52. In short, so great is God's love for you that He seems to love no one but you. And therefore, you should love no one but Him.* - Author: Alfonso Maria De Liguori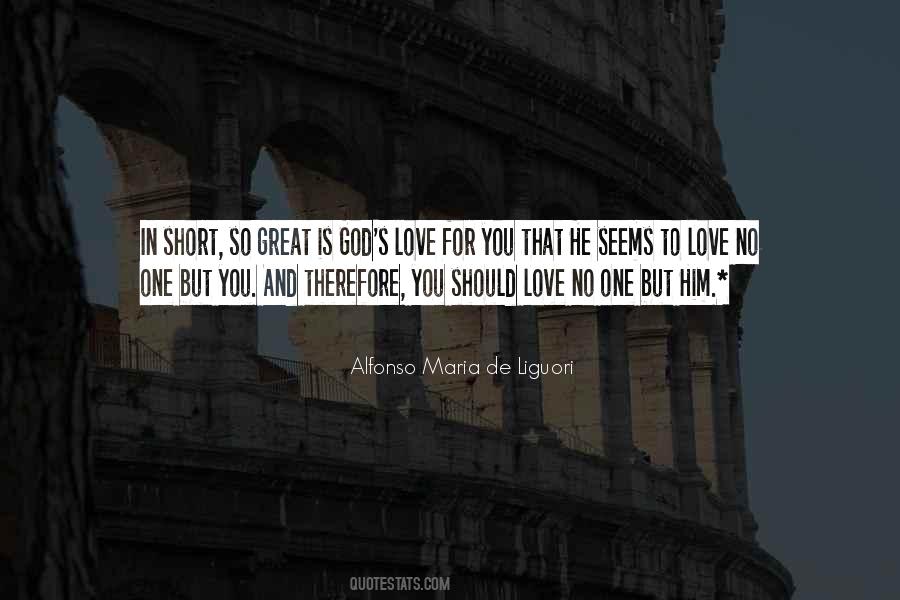 #53. At best we are but clay, animated dust; but viewed as sinners, we are monsters indeed. Let it be published in heaven as a miracle that the Lord Jesus should set His heart's love upon people like us. - Author: Alistair Begg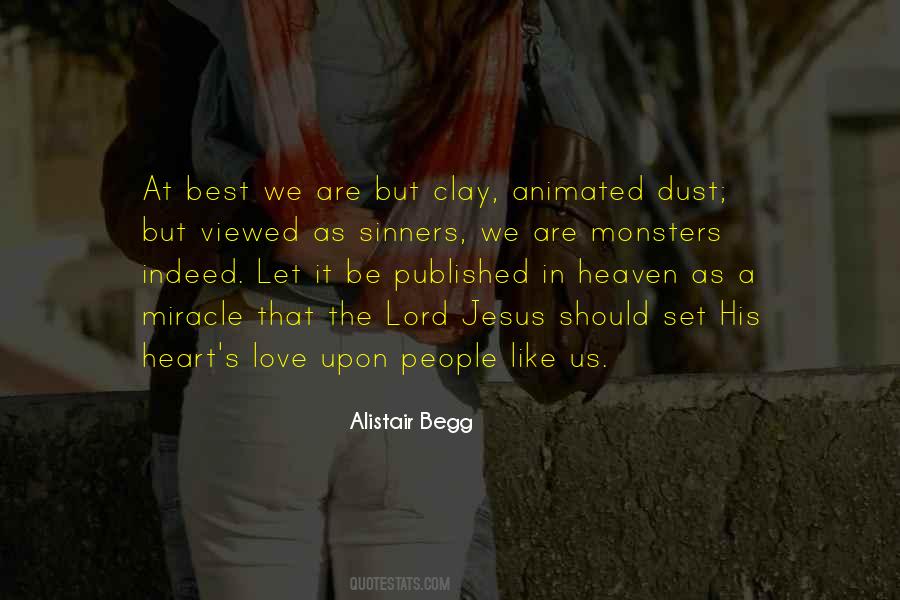 #54. I love to have confidence, but that confidence doesn't come from myself. It comes from God, and that's what I wanted America to see. - Author: Ashthon Jones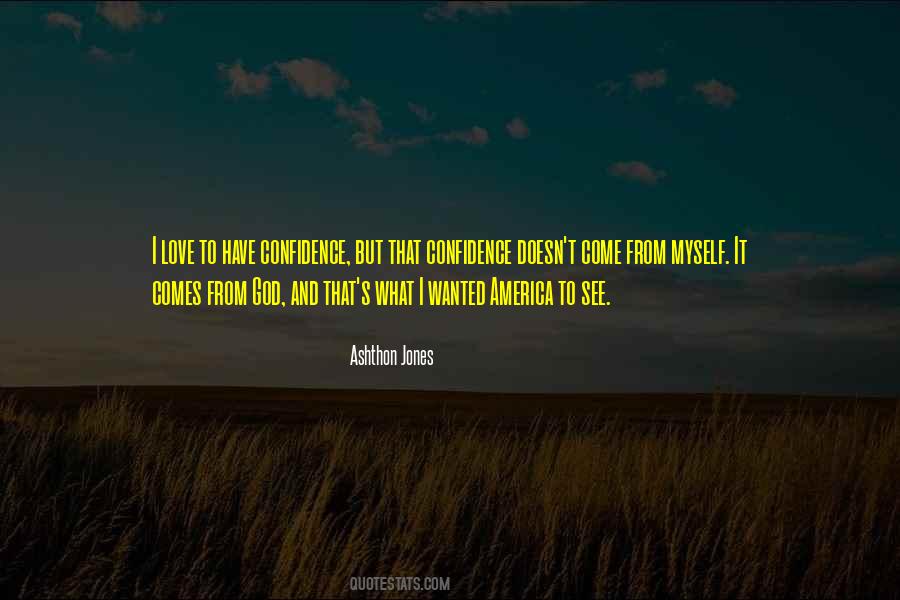 #55. There are black men who are madly in love with white women. God bless them, if that's what works for them. I just hope that we can strike a balance that portrays black folks and the black family in a light that's not extreme. Those are the types of characters that I find myself attracted to. - Author: Nia Long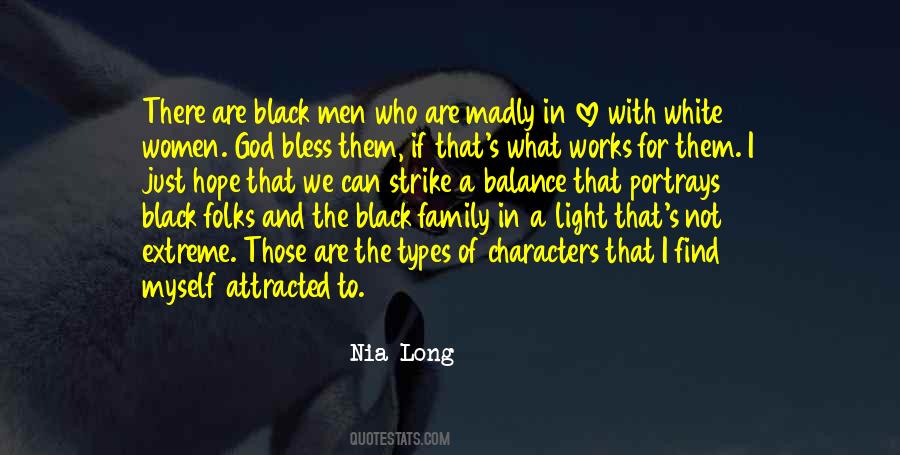 #56. When you wonder what is coming, tell yourself the best is coming, the very best life and love have to offer, the best God and His universe have to send. Then open your hands to receive it. It's yours. - Author: Melody Beattie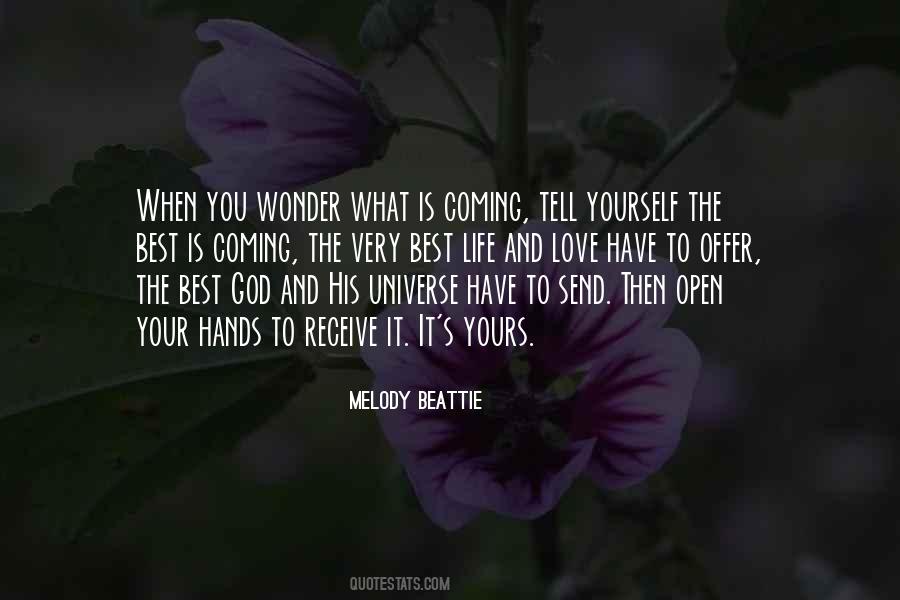 #57. God's sovereignty is not in His right hand; God's sovereignty is not in His intellect; God's sovereignty is in His love. - Author: Henry Ward Beecher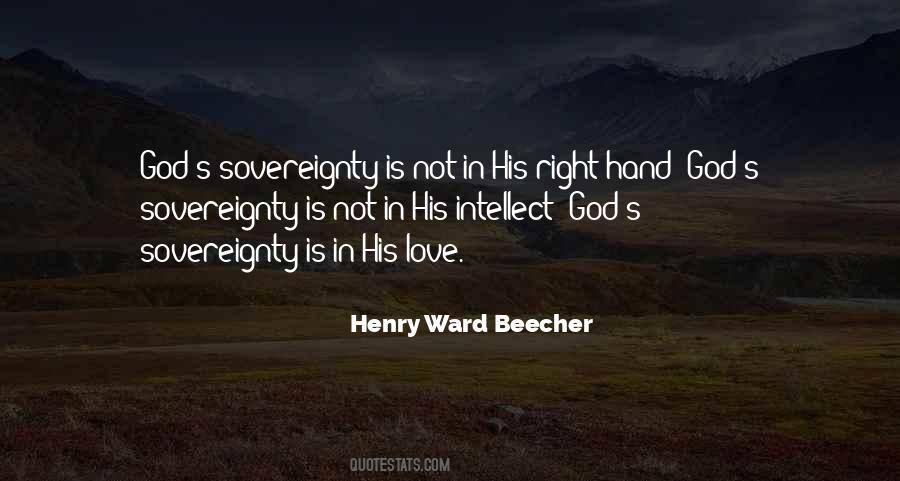 #58. May our lives reflect God's love and light. - Author: Lailah Gifty Akita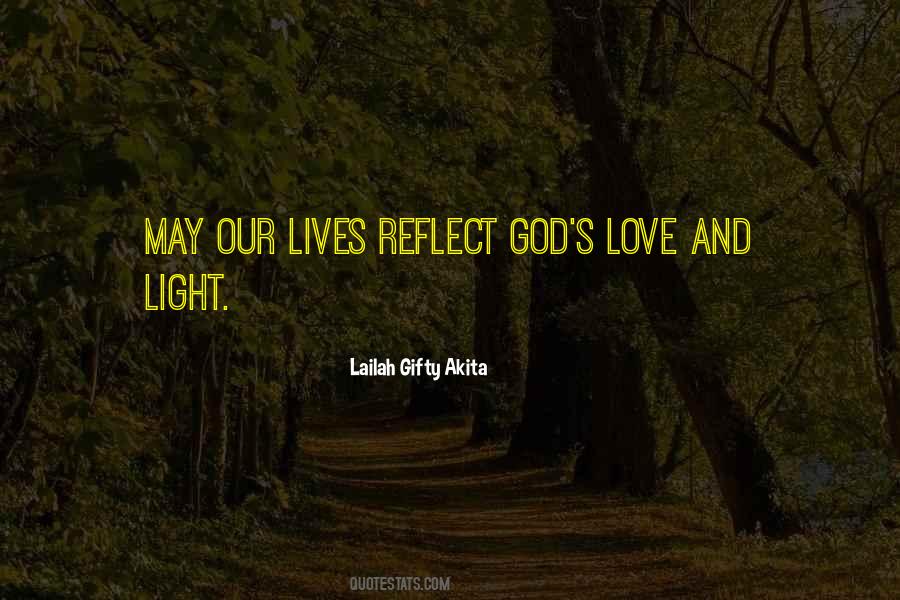 #59. It was God's love which knew that men were incapable of obeying His law, and it was His love which promised a Redeemer, a Savior, who would save His people from their sins. - Author: Billy Graham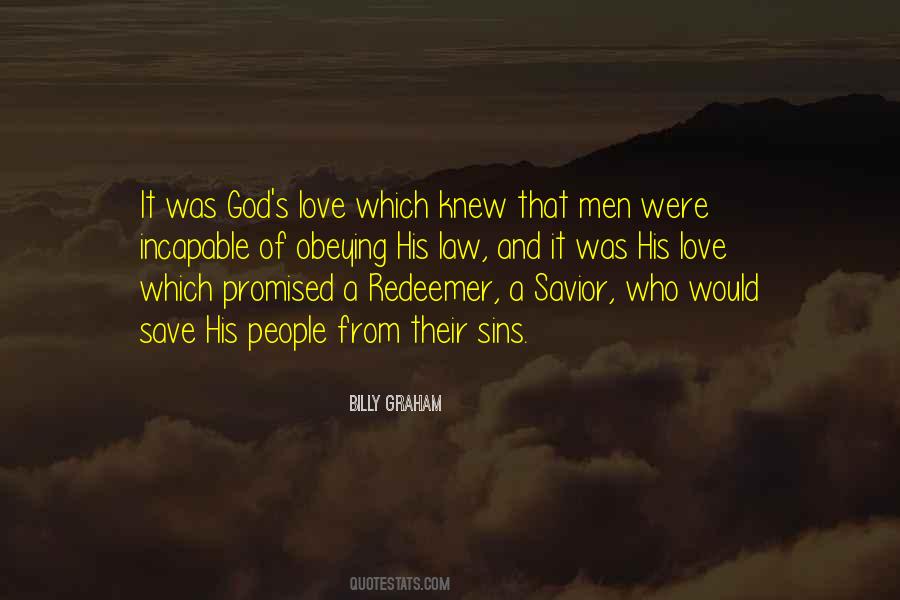 #60. Words may help you understand something, but experience allows you to know. Never ever trade your own experience for someone else's words about anything that is really important ... like God, for instance, or Love, or what is true about another. - Author: Neale Donald Walsch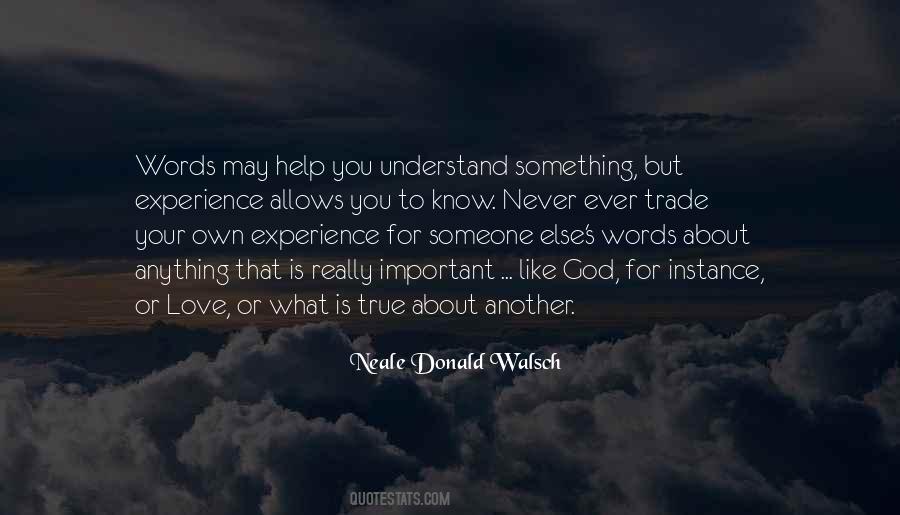 #61. Bear one another's burdens, and so fulfill the law of Christ. Ladies and gentlemen, this is what Christianity is all about. God never intended for us to walk this world alone, and Christ did not die for us to keep His love all to ourselves. - Author: Jen Stephens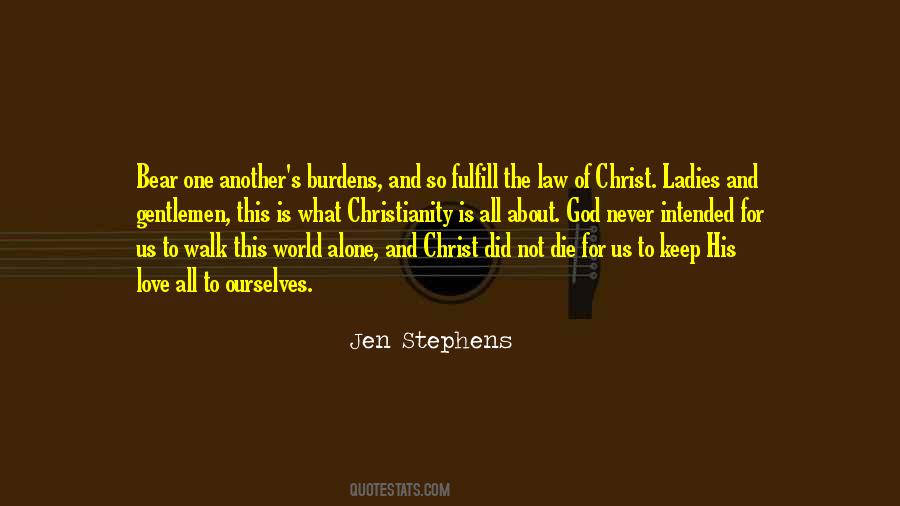 #62. You become a candidate for God's love when you are rejected by people - Author: Sunday Adelaja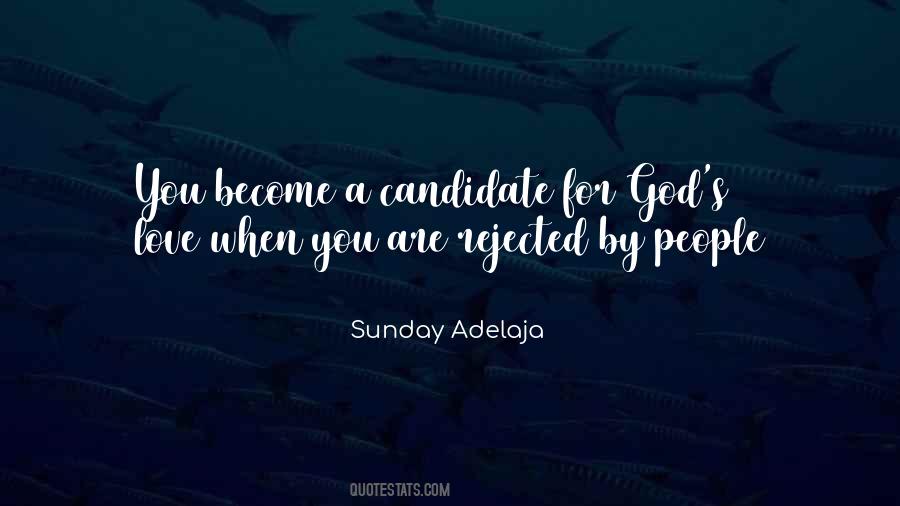 #63. God's love is too great to be confined to any one side of a conflict or to any one religion. - Author: Desmond Tutu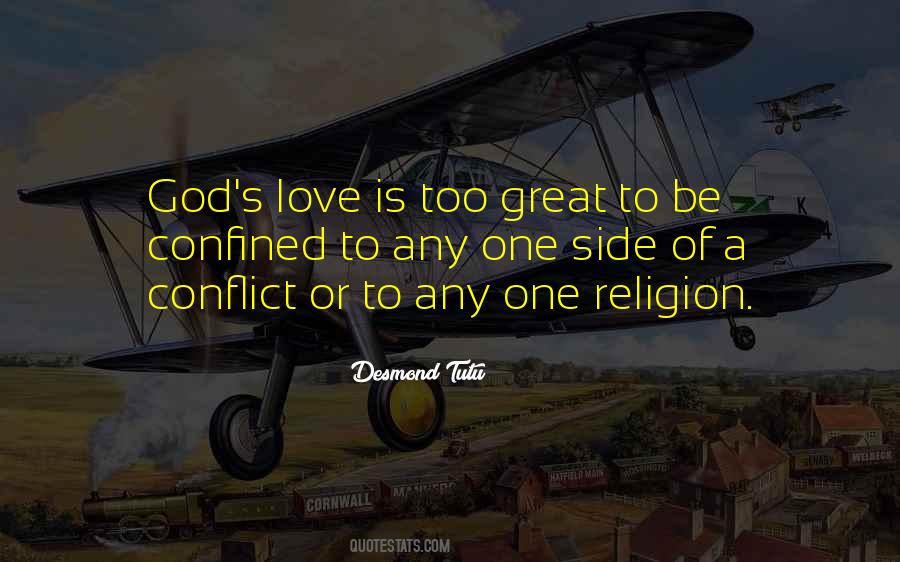 #64. When love is pure, it has the power to conquer. Lover and beloved conquer each other by their affection. The source, the essence, the fullest manifestation of love's conquering power is the love of the soul for the supreme soul, or God. - Author: Radhanath Swami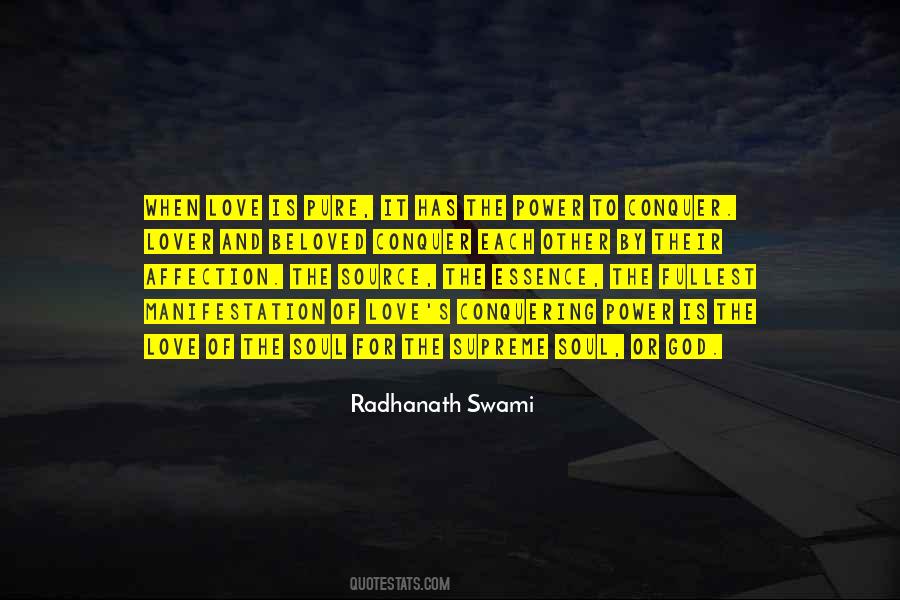 #65. In life, you have people that love to party. That's me. People that love God. That's me. People that love sex. That's me. People that love people. That's me. And people that make mistakes. That's me also. - Author: R. Kelly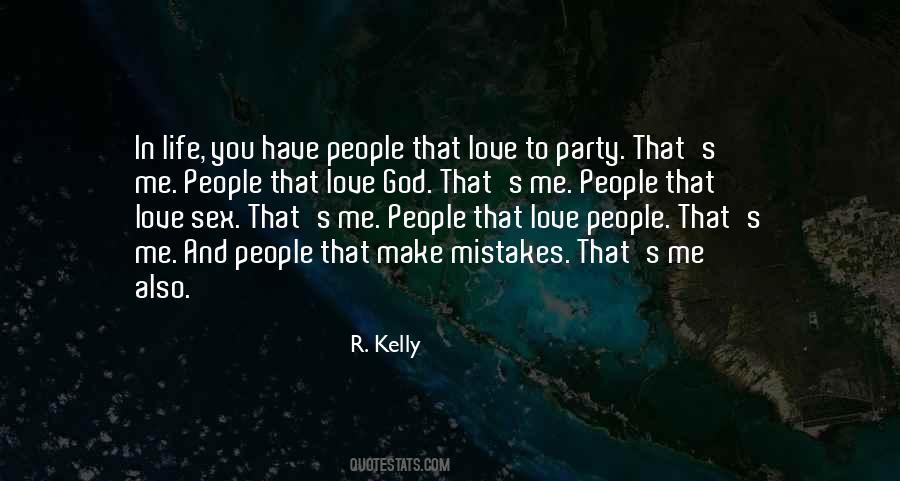 #66. When we view ourselves through the lens of God's Word, we better understand God's love for us and the worth we have in His eyes. - Author: Elizabeth George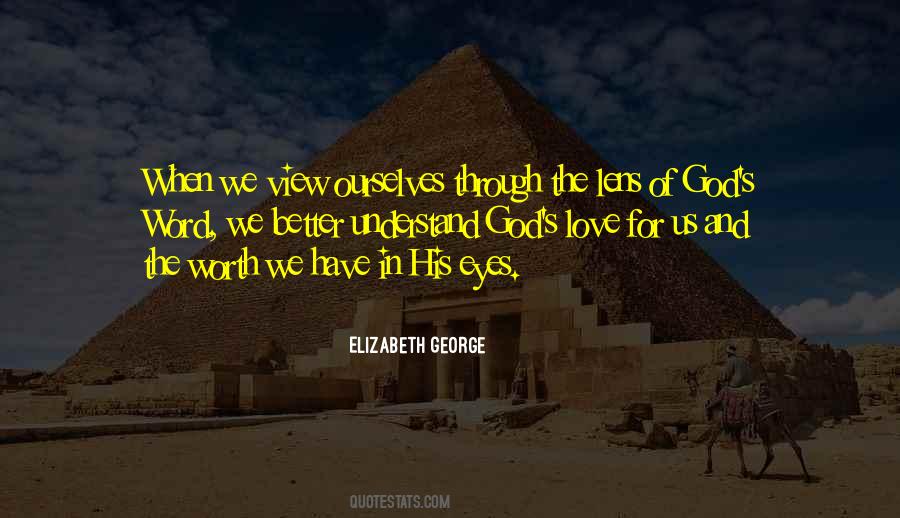 #67. I once sacrificed something I love for the God I love even more, and He has never forgotten me for it. - Author: Thomas S. Monson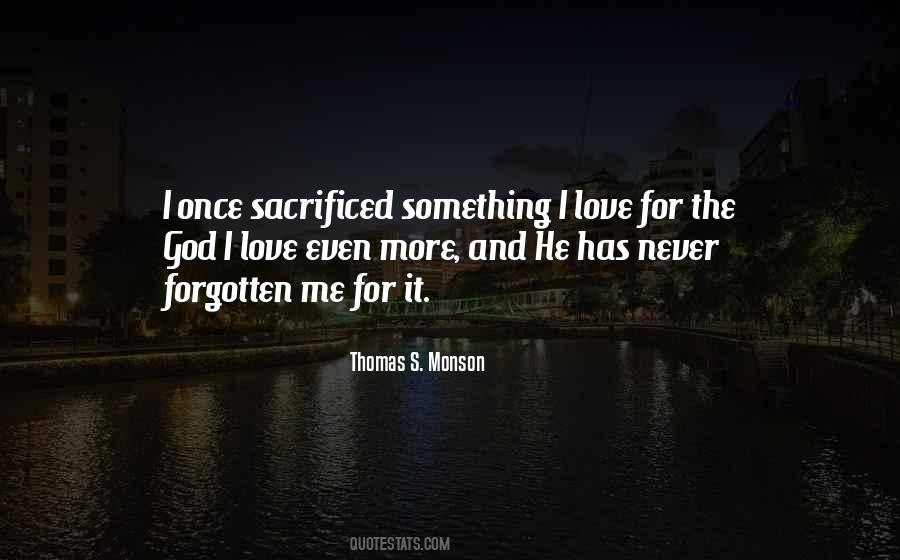 #68. God's Love is unconditional. He loves you because he created you. You can be sure, His love is eternally granted. - Author: Bangambiki Habyarimana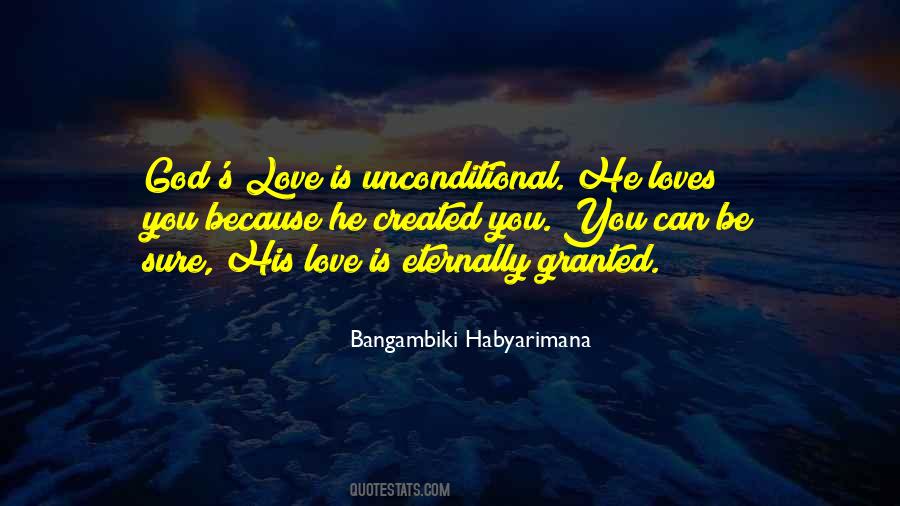 #69. God's love has been poured out in our hearts through the Holy Spirit Who has been given to us. 6 - Author: Anonymous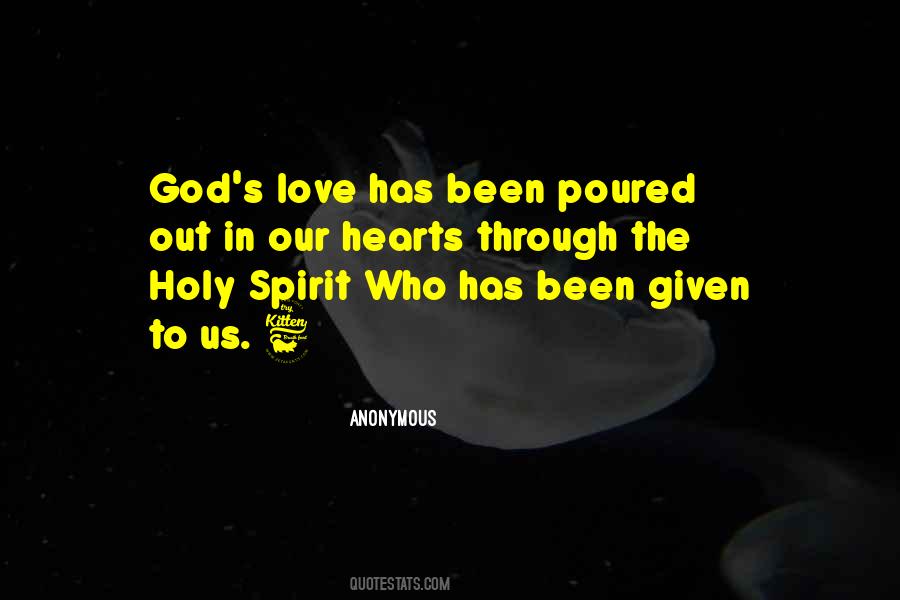 #70. To praise God is to express our acceptance of something that God is permitting to happen. So to praise God for difficult situations, as sickness or disaster, means literally that we accept its happening, as part of God's plan to reveal His perfect love for us. We - Author: Merlin R. Carothers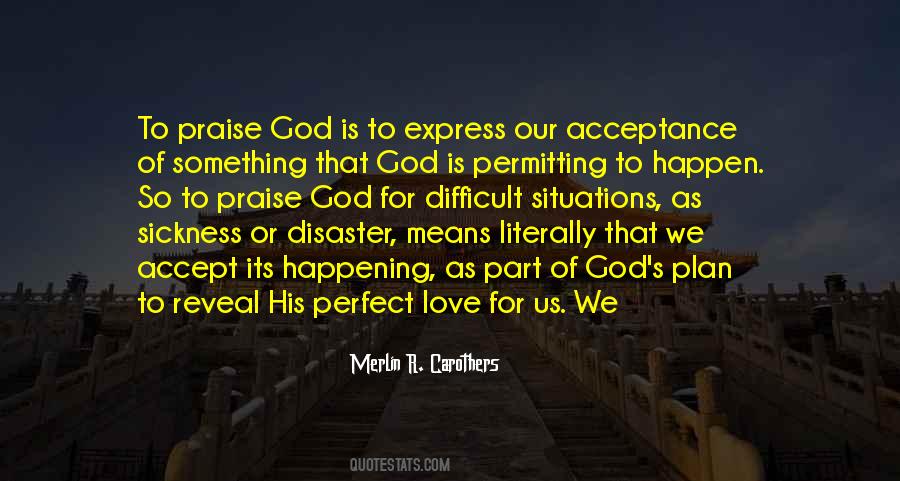 #71. On the path of love we feel that if we love today, it's only because God is loving through us, because there is a special grace present with which we can love. - Author: Frederick Lenz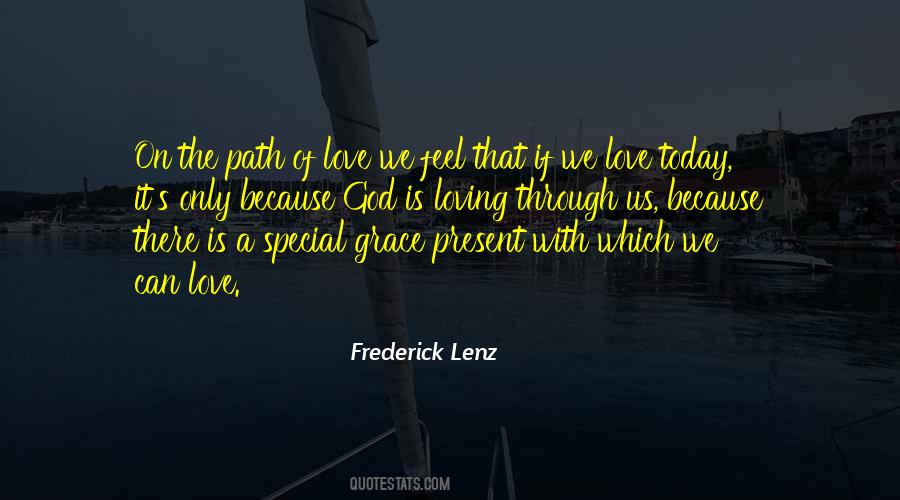 #72. Life is so precious. Please, please, let's love one another, live each day, reach out to each other, be kind to each other. Peace be with you. God is great. - Author: Julia Roberts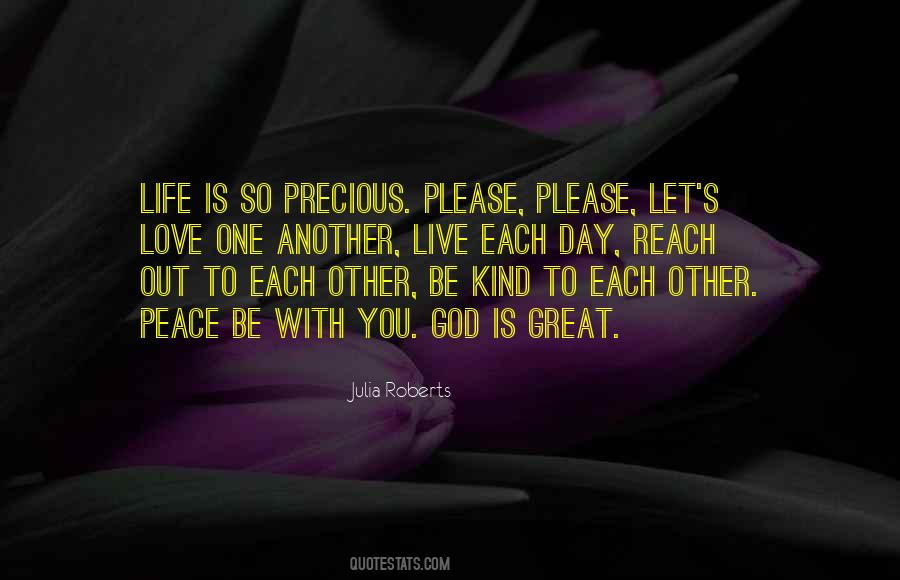 #73. Feeling offended is invigorating. Feeling offended is a reassuring sensation. It's easier than asking ourselves if the redeeming love of God is evident in the way we communicate with people. - Author: David Dark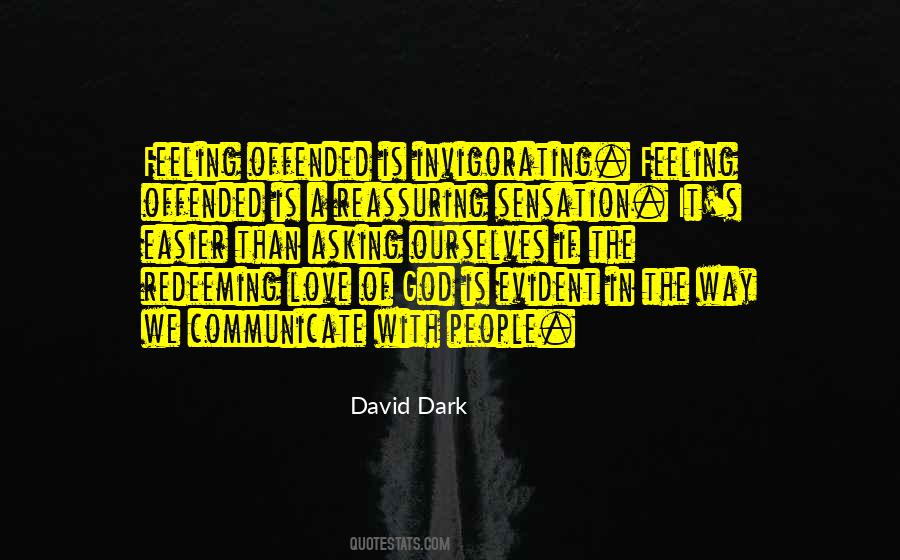 #74. GRACE
GRACE is the GIFT of God's Riches' the PEACE of God, The LOVE of God, The HOPE of God. - Author: Max Lucado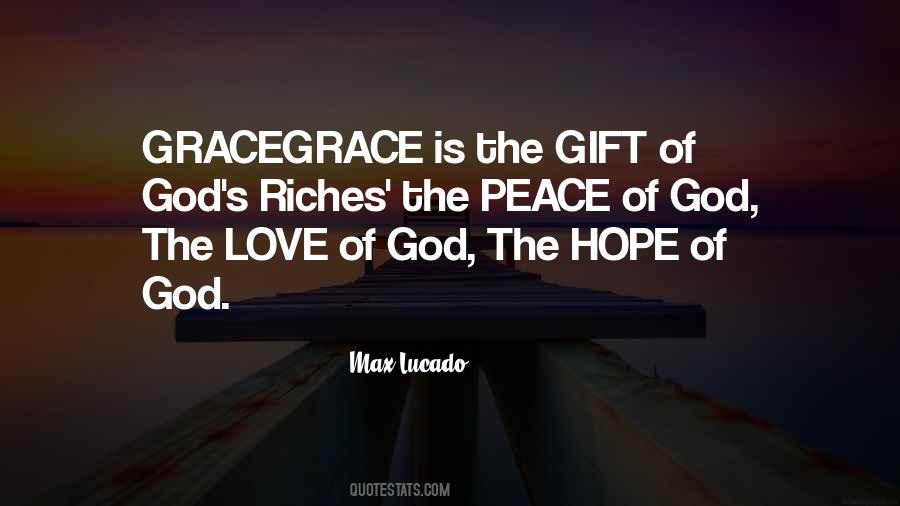 #75. Yeah, but before anything, I think in 6 years somehow I've grown up to have a beautiful home, 2 beautiful stepchildren, a beautiful husband, my family is healthy and happy. I'm financially ok and I do what I love for a living. That's what I think, and I think god, how did I get so lucky. - Author: Angelina Jolie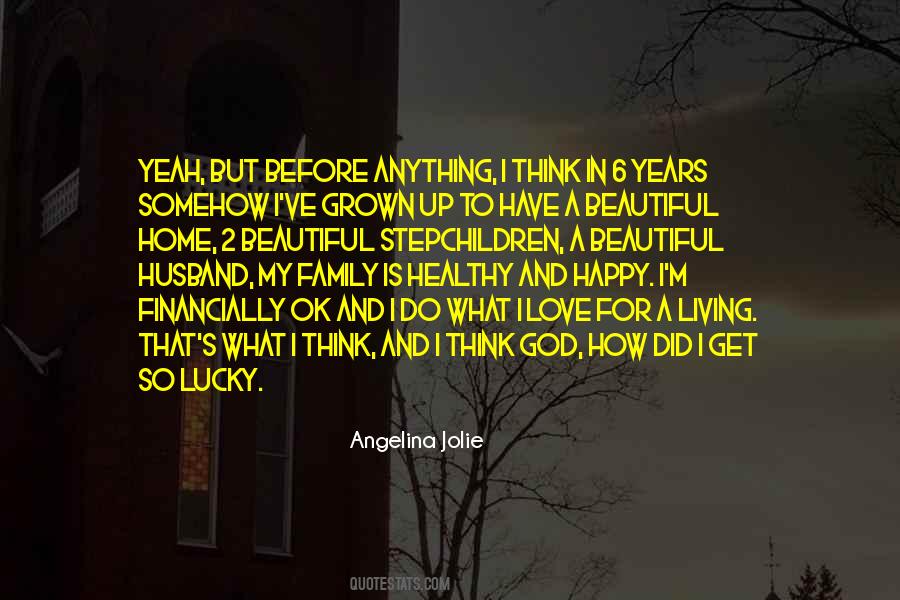 #76. Don't for a minute think that God has forgotten about you or doesn't have your back. And don't base God's love or desire to help you on your opinion of yourself. Base it on who God says He is. - Author: Susan May Warren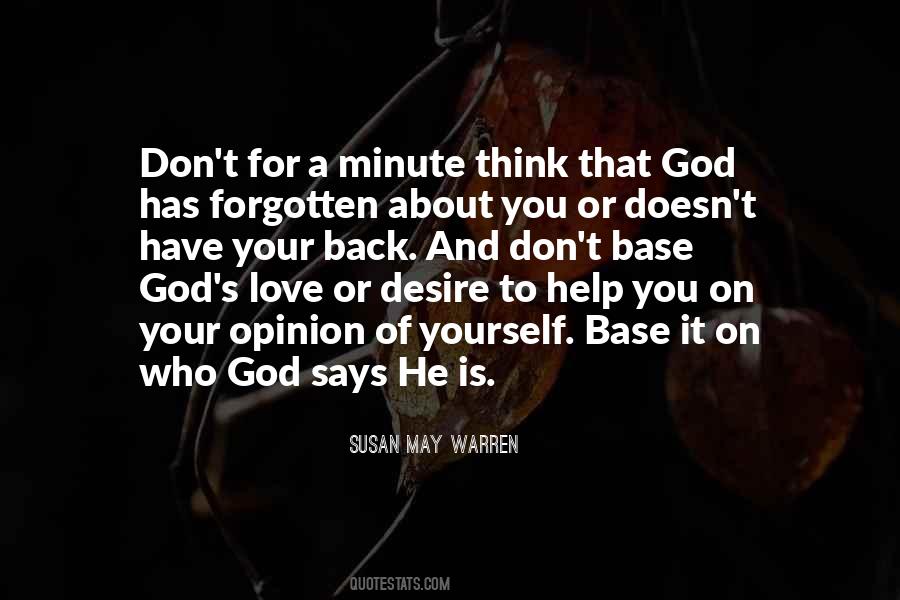 #77. Helen, beloved of the goddess of love, went downstairs to crawl into her empty bed as Lucas, the son of the sun, leaned back on his elbows and watched his father-god brighten the bare wooden planks of her widow's walk. - Author: Josephine Angelini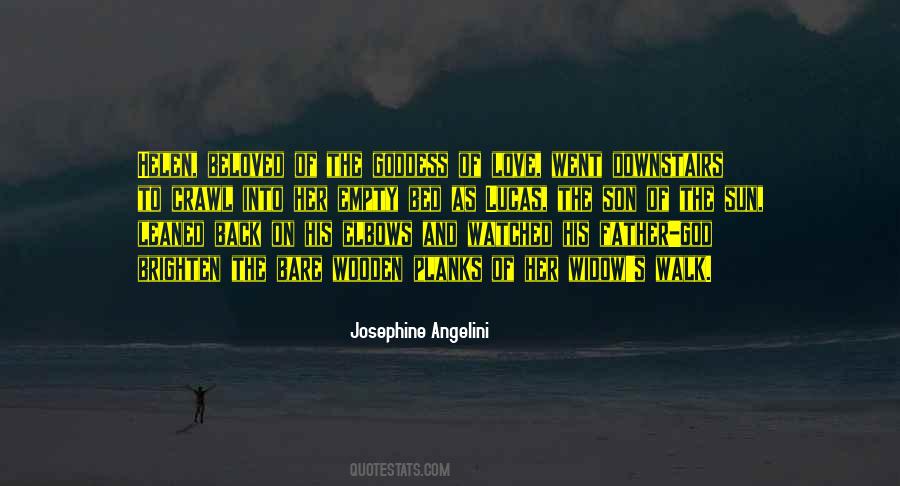 #78. God's love helps us to reach the unreachable, He's a great God. - Author: Euginia Herlihy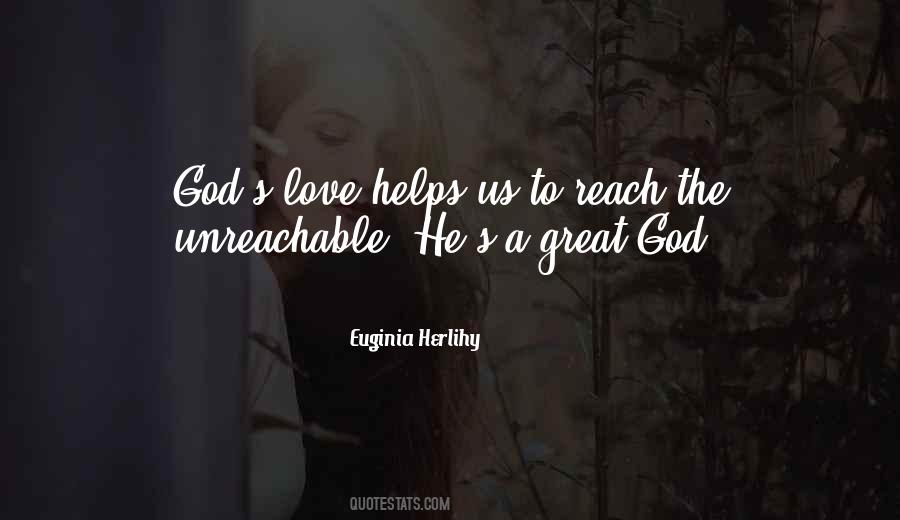 #79. To love life is to love God. Harder and more blessed than all else is to love this life in one's sufferings, in undeserved sufferings. - Author: Leo Tolstoy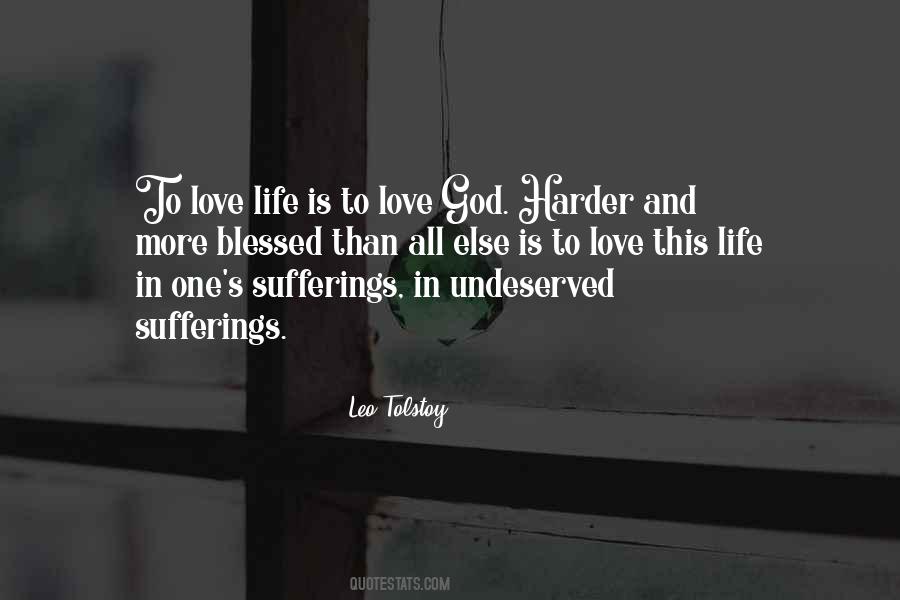 #80. Those who begin below, as so many do today, assume that God's love is whispered first in their inner senses, that it is part of their nature, that it is part of creation. And they assume that it becomes real to them when they experience its therapeutic benefits. - Author: David F. Wells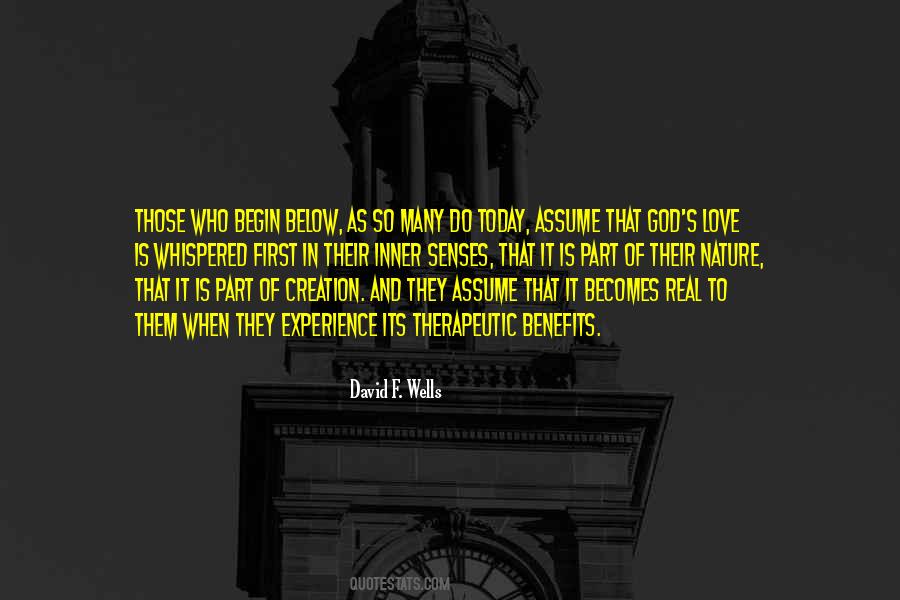 #81. You values are your life's worth - Author: Sunday Adelaja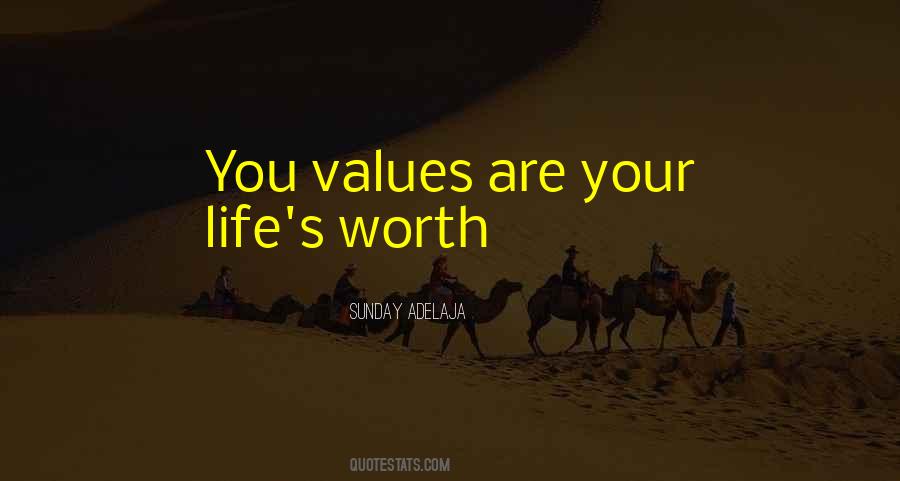 #82. The real mystery of marriage is not that husband and wife love each other so much that they can recognize God in each other's lives, but more because God loves them so much that they can discover each other more and more as living reminder's of God's presence. - Author: Henri J.M. Nouwen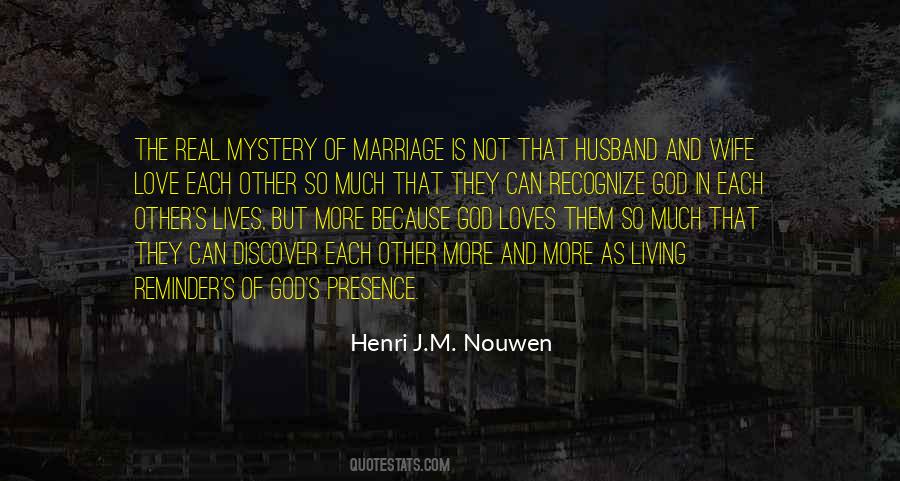 #83. Only through Absolution will you reach the Absolute. - Author: Toni Petrinovich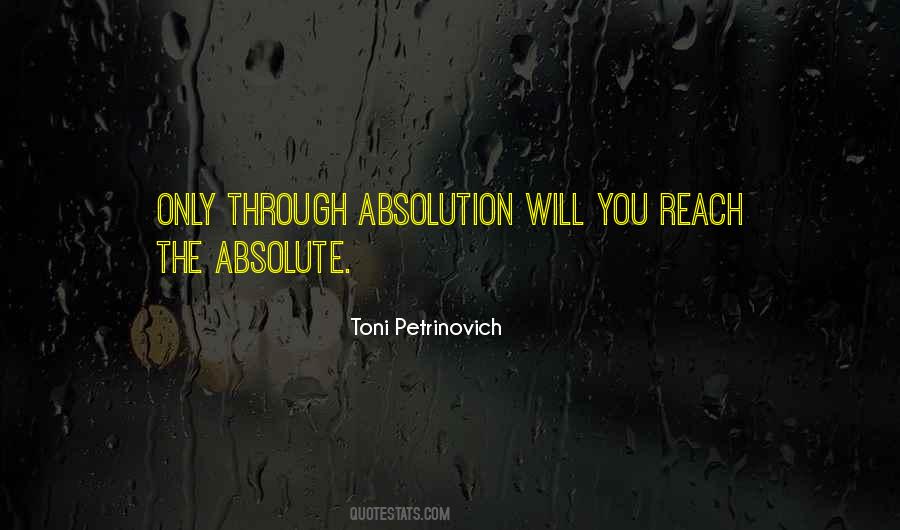 #84. heart of mine has been shattered in a million pieces - but even during the worst of times, I had you. One of God's tender mercies. Love, Phoenix - Author: Brenda Novak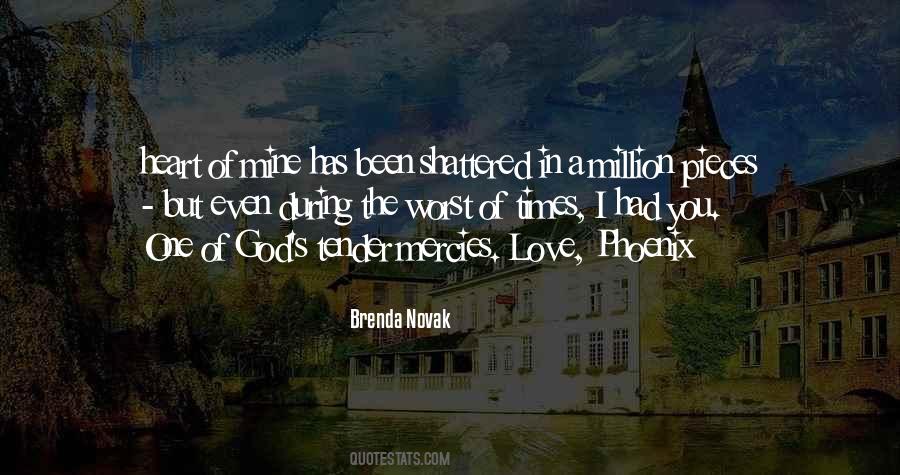 #85. After years of abuse, it was difficult for me to understand God's love. It took me years to truly understand it. - Author: Joyce Meyer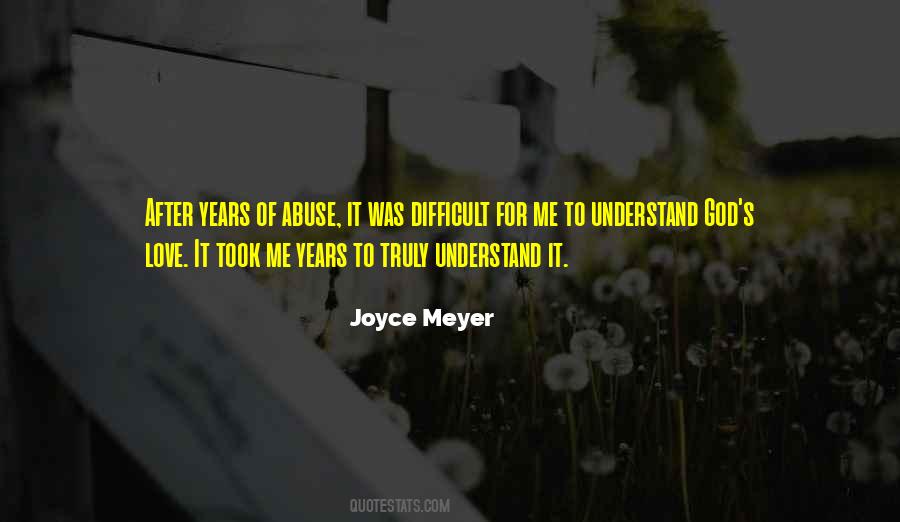 #86. I'm so single. It's funny. I'm usually a relationship girl. I love being in love and having a partner in crime. But it's good to be your own partner in crime. God, that makes me sound like I have multiple-personality disorder. - Author: Brittany Snow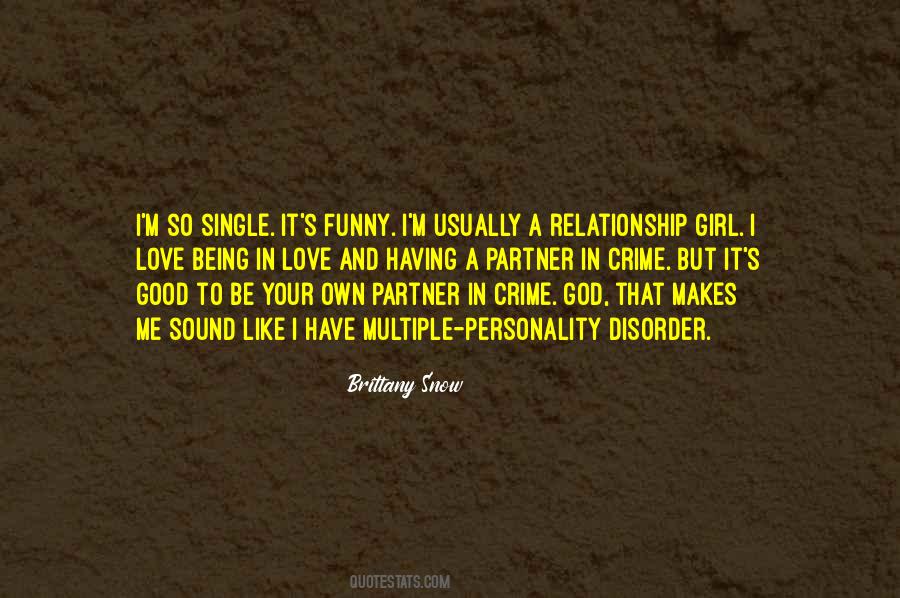 #87. In Lubbock, we grew up with two main things: God loves you and he's gonna send you to hell, and that sex is bad and dirty and nasty and awful and you should save it for the one you love. - Author: Butch Hancock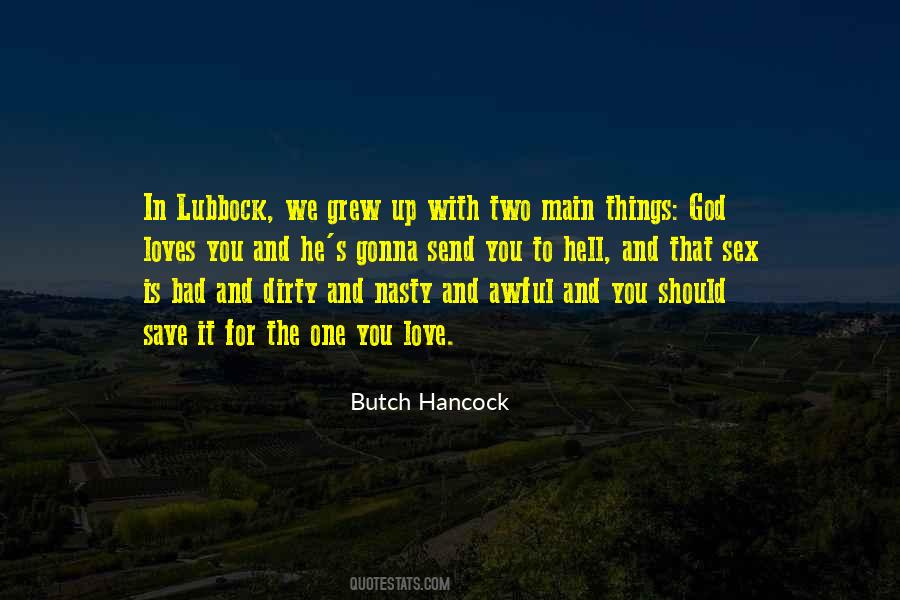 #88. You know that feeling just before you're going to laugh? That thing where you get all bubbled up? ... It's like a bubble of laughter, but it hasn't come out yet ... ?
That's what God feels like.
It's a feeling of joy and love and well-being. - Author: Goldie Hawn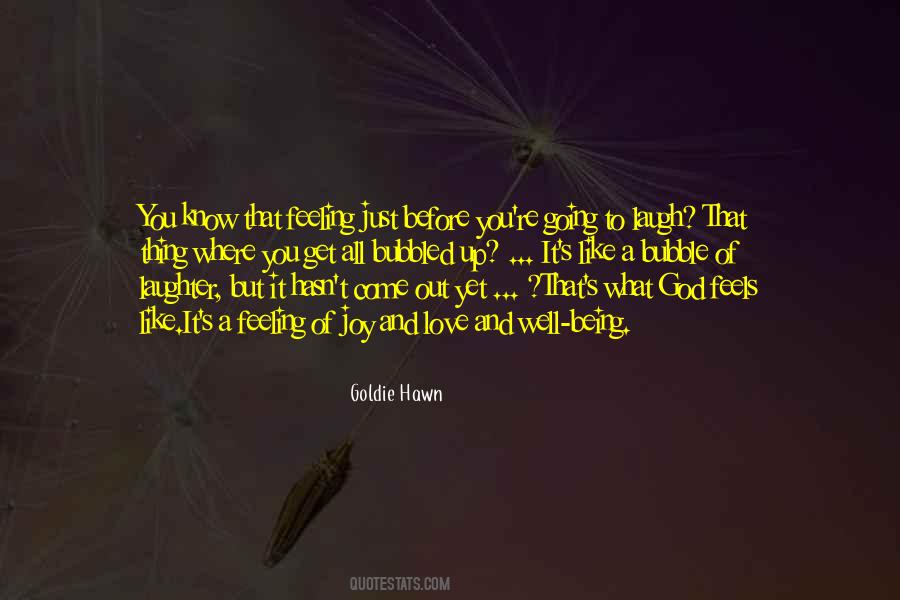 #89. Oh my God! Why did I leave India? I fell in love with a white man. That's what it was. It was the most boring, predictable reason in the world. I met him in India, we fell in love, and we got married. And then, we got divorced. Sorry about that. - Author: Deepa Mehta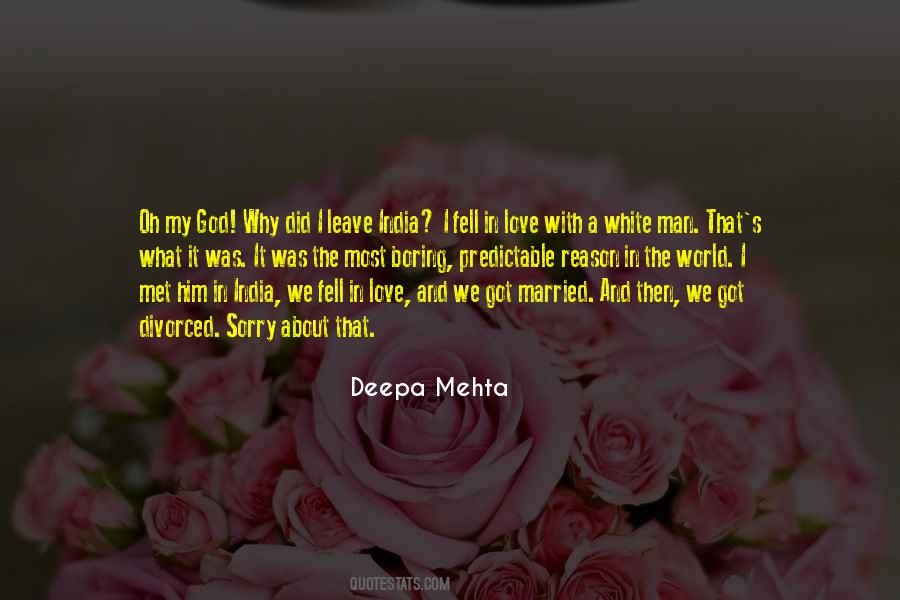 #90. In silence and in meditation on the eternal truths, I hear the voice of God which excites our hearts to greater love. - Author: C.S. Lewis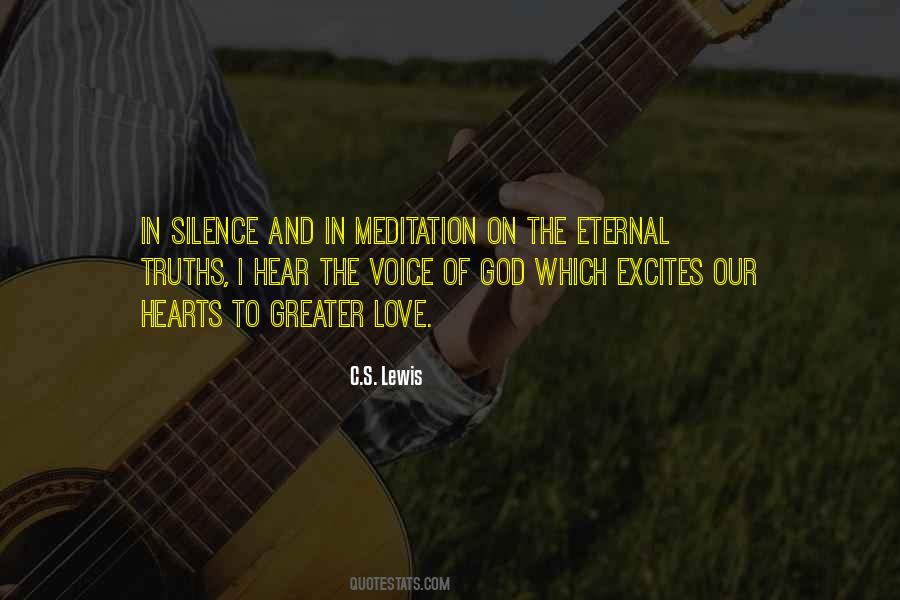 #91. That's the way to come to the Word of God. Read it as though it were His love letter to you. - Author: Howard G. Hendricks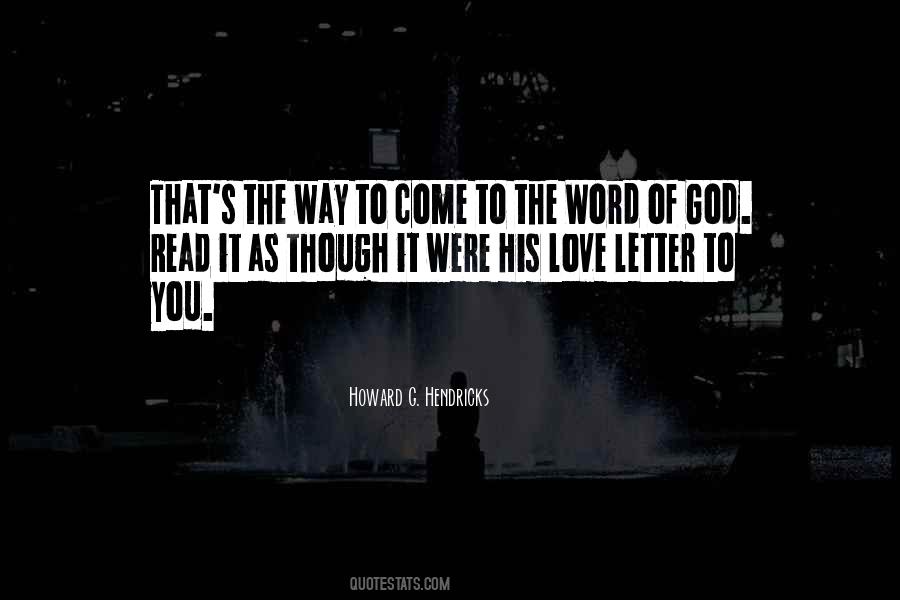 #92. God's love reached out to us and chose us even before we ever thought of Him. - Lloyd O'Donnell - - Author: Gary Chapman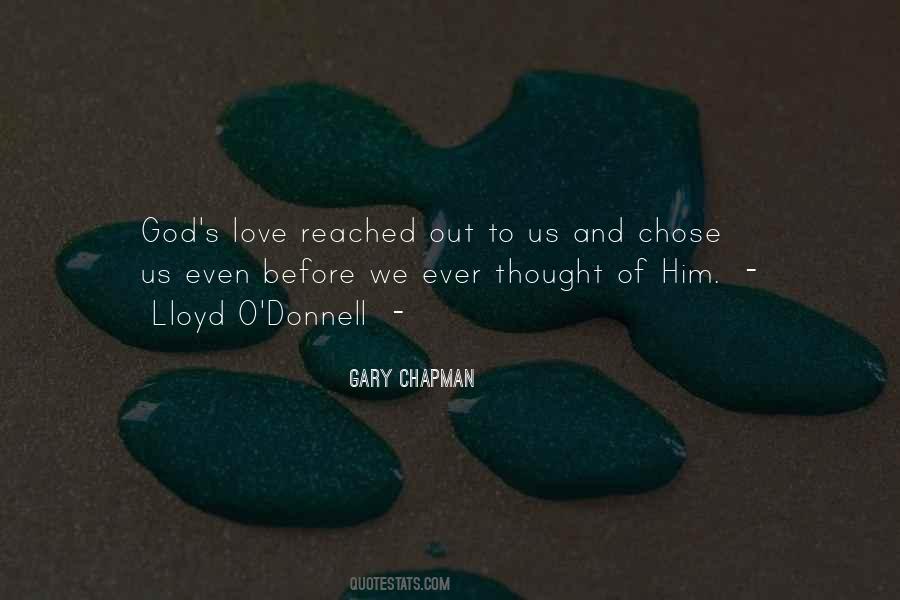 #93. With love everything is bought, everything is saved. If even I, a sinful man, just like you, was moved to tenderness and felt pity for you, how much more will God be. Love is such a priceless treasure that you can buy the whole world with it, and redeem not only your own but other people's sins. - Author: Fyodor Dostoyevsky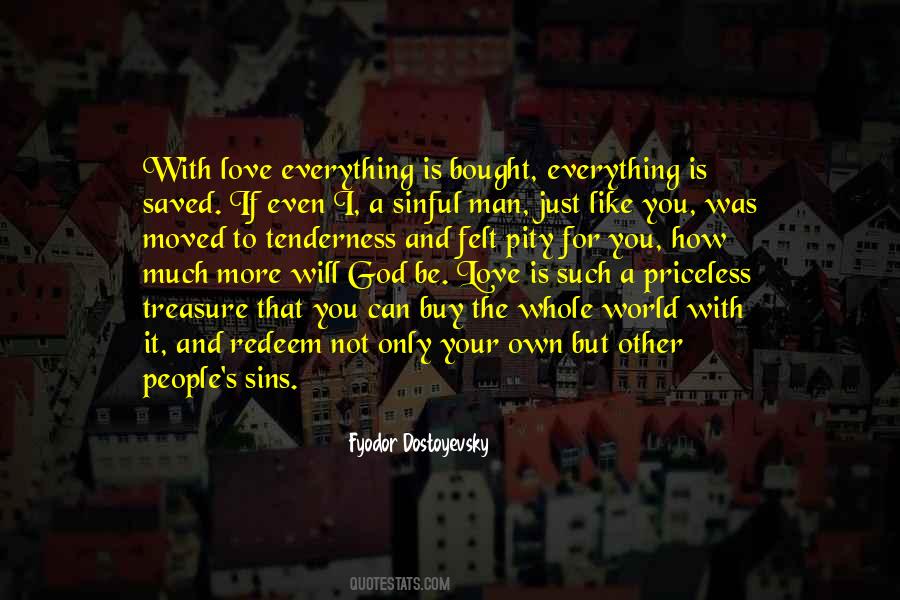 #94. Good girls earn good things." She let my jaw go, her eyes going beyond me toward Benny's house, then coming back to me. "Let yourself have good things." "It's not right," I told her quietly. "Know one thing on God's beautiful earth, and that is" - she leaned into me - "love is never wrong. - Author: Kristen Ashley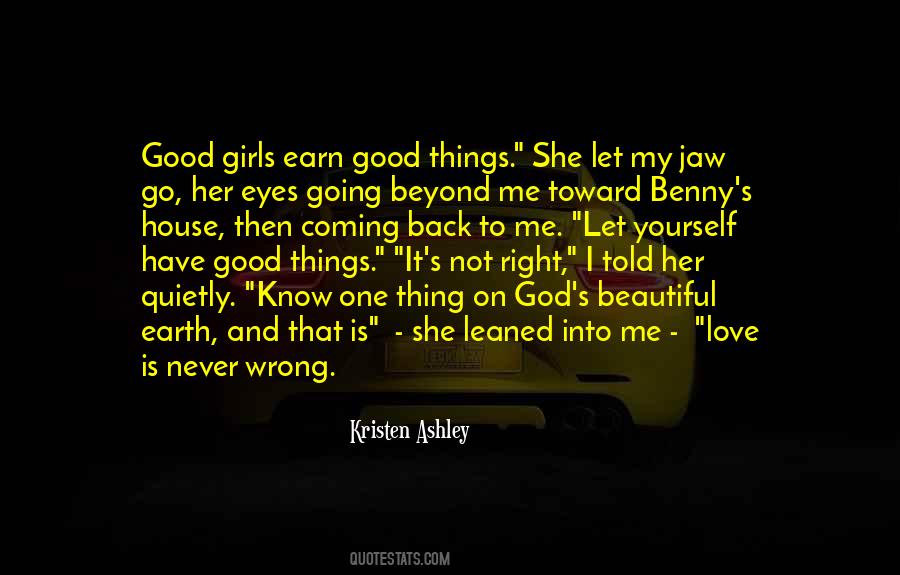 #95. I loved the fact that it wasn't my responsibility to change somebody, that it was God's, that my part was just to communicate love and approval. - Author: Donald Miller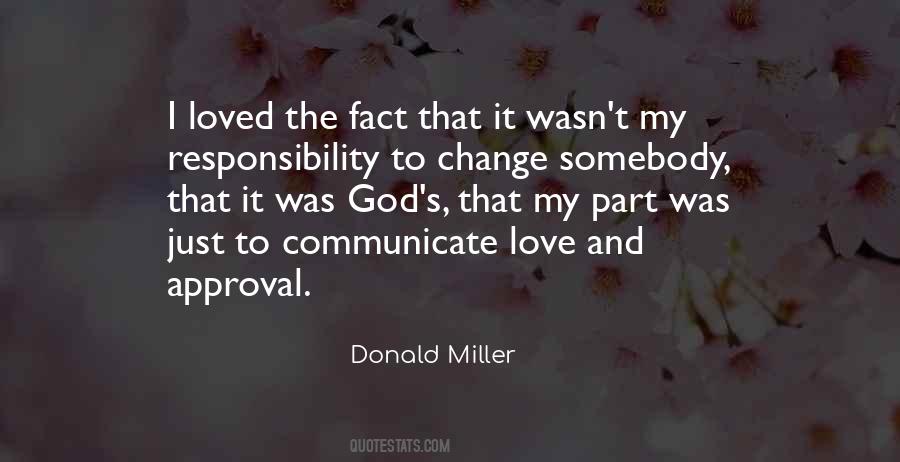 #96. The proper request of love is that our entire life should be oriented to the imitation of the Beloved. Let us therefore spare no effort to leave a transparent trace of God's love in our life. - Author: Pope Benedict XVI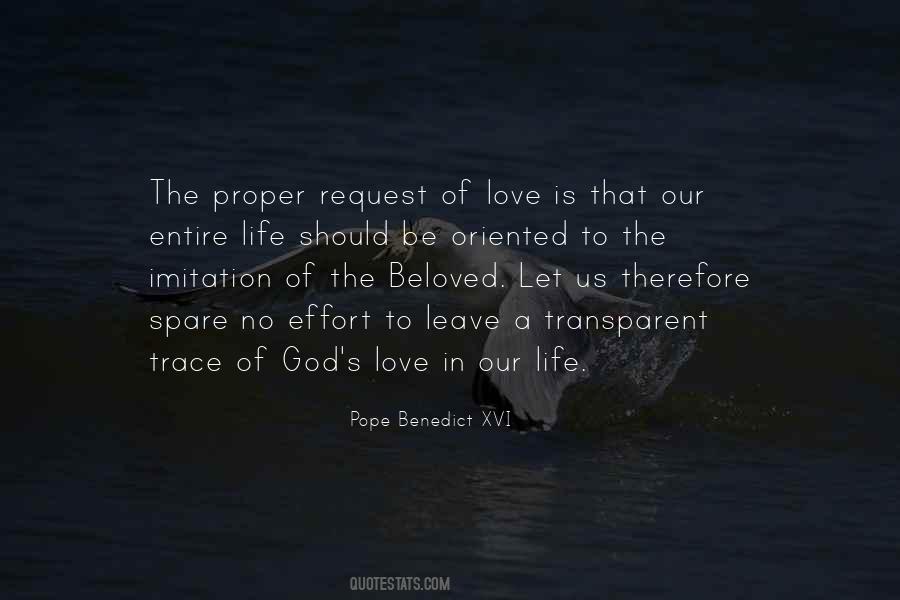 #97. I remember my first visit with my guru. He had shown that he read my mind. So I looked at the grass and I thought, 'My god, he's going to know all the things I don't want people to know.' I was really embarrassed. Then I looked up and he was looking directly at me with unconditional love. - Author: Ram Dass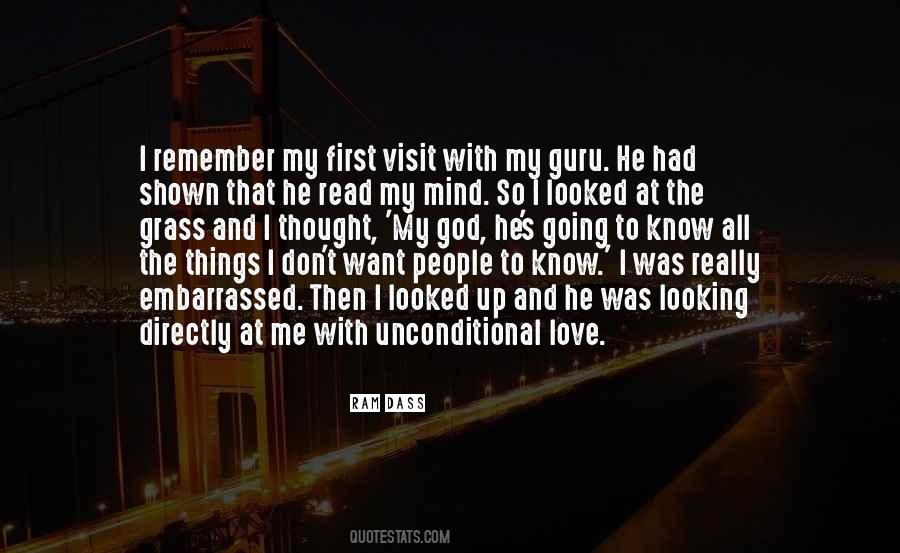 #98. In my opinion, the ability to love another person is one of God's greatest gifts, and I thank God every day for enabling me to give and share love with the people in my life. - Author: Anderson Cooper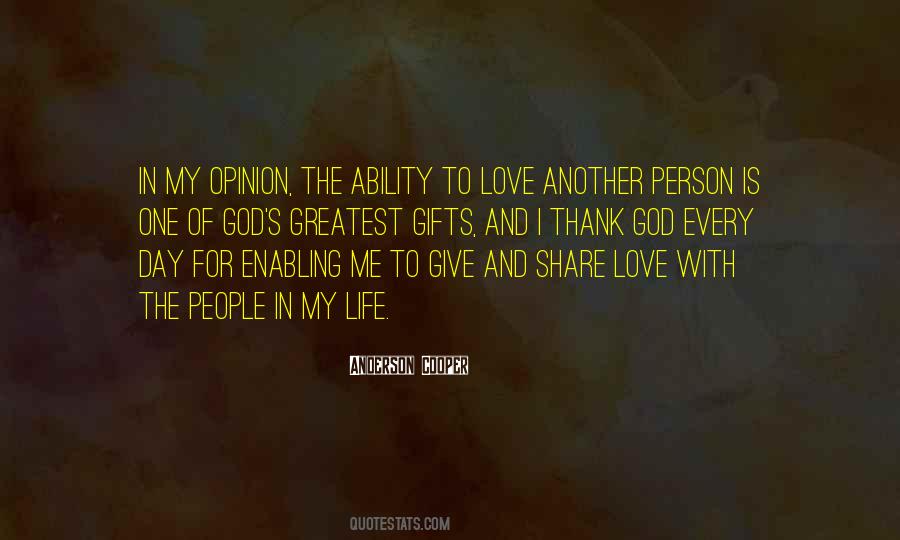 #99. If I were God, I certainly wouldn't want people to love me sentimentally. It's too unreliable. - Author: J.D. Salinger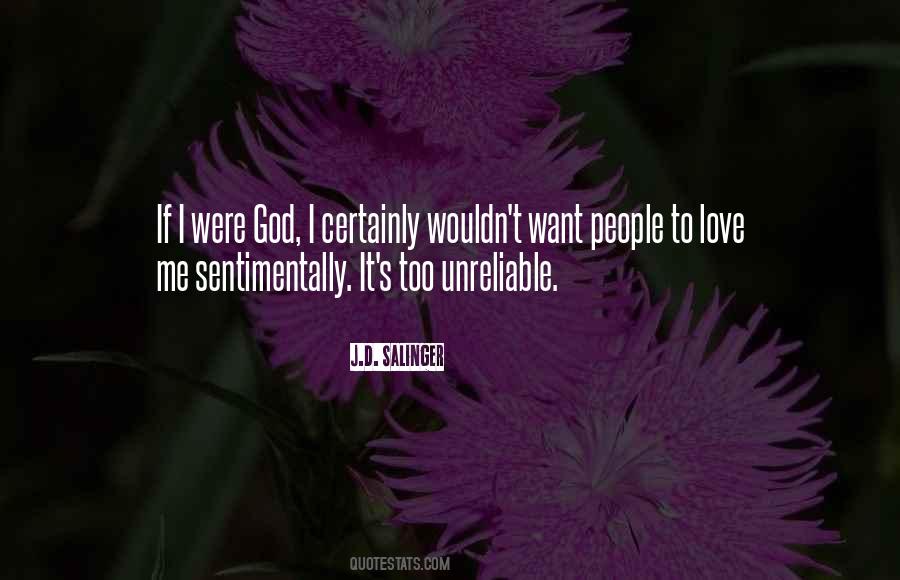 #100. When the universe was young, it took a breath, then sighed with a longing so deep, so ancient, that it stole God's attention for a moment. The sigh brushed God's cheek and He recognized it as the breath of love. In that moment God wished for another. The yearning had begun. - Author: Kate Belle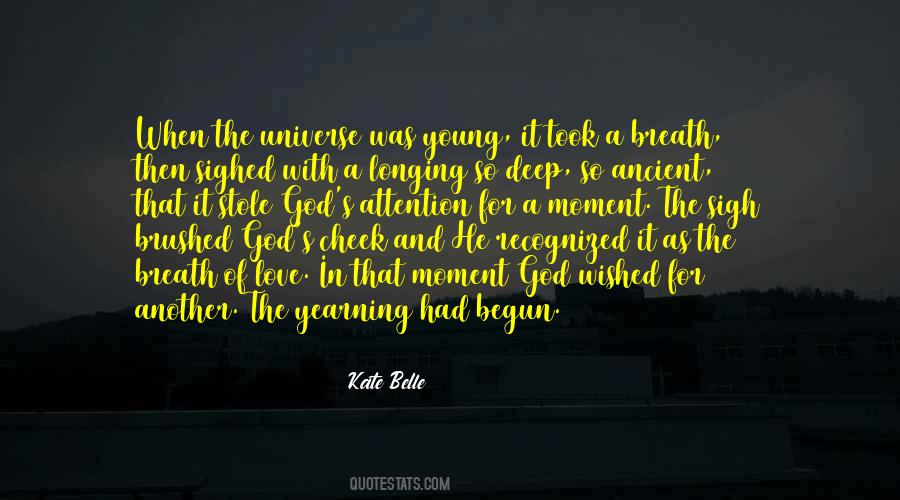 Famous Authors
Popular Topics