I Love My Wife Famous Quotes & Sayings
List of top 100 famous quotes and sayings about i love my wife to read and share with friends on your Facebook, Twitter, blogs.
Top 100 Quotes About I Love My Wife
#1. Beyonce is this massive star, but she's incredibly humble. But it's weird because even though I love her, she's my boss's wife. - Author: Rita Ora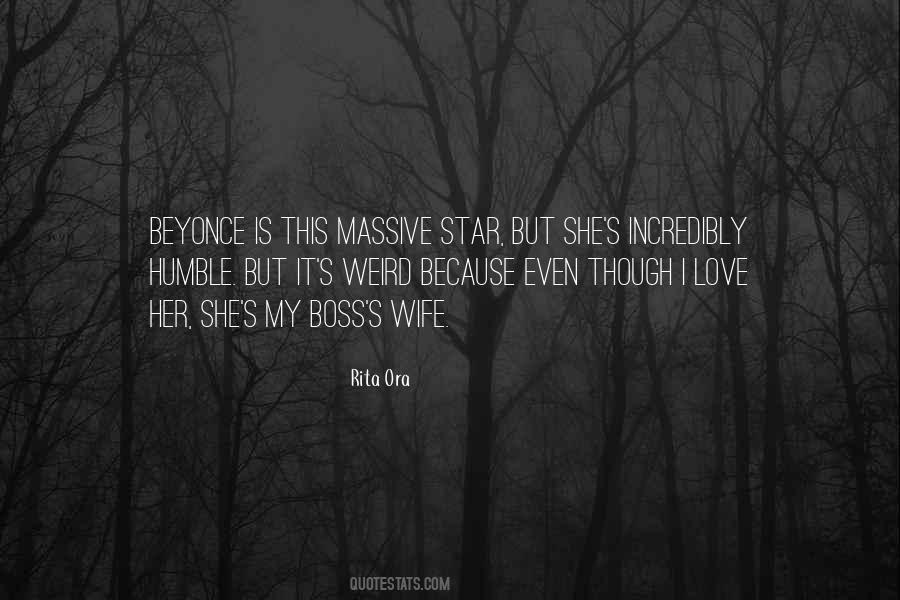 #2. Love changes everything. I proposed to my wife after we limped away from a physical altercation with another serial killer. Good times." "Feels - Author: J.D. Robb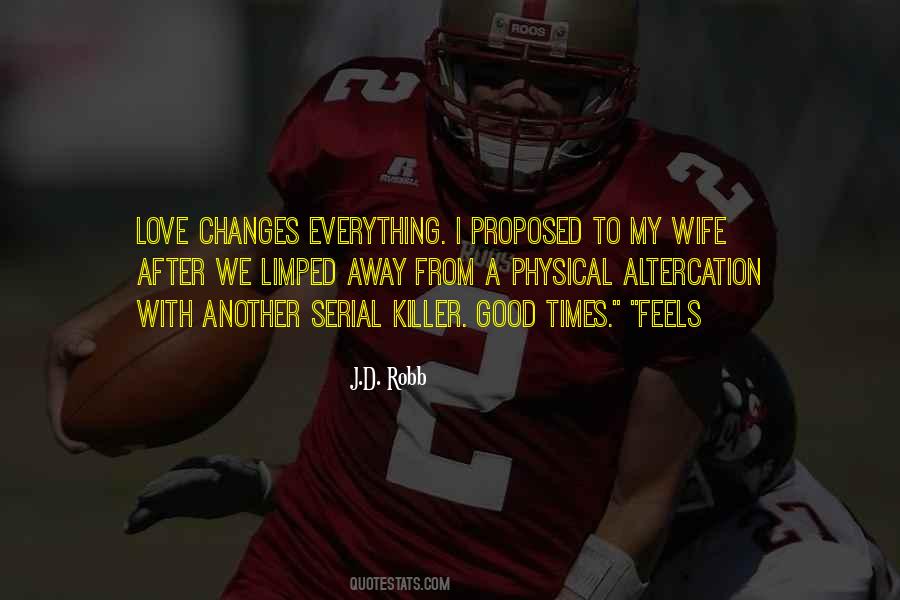 #3. I am still in love with my wife. - Author: Rob Lowe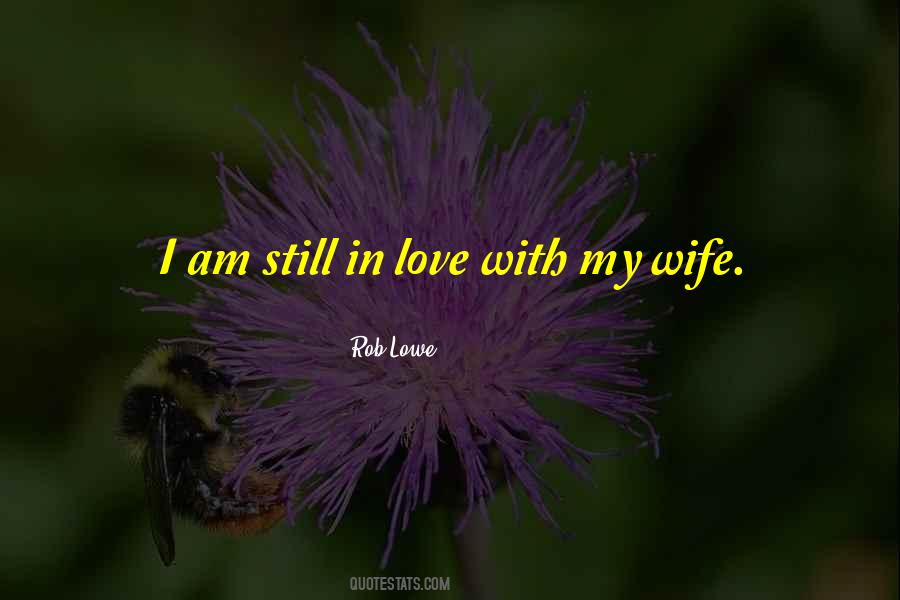 #4. My wife and I met when each of us was dragged to a party we didn't want to go to by friends. I was coming off a bad injury, but my roommate insisted I get out of the house and be around people. God love our friends; we've been together 20 years now! - Author: Michael Chiklis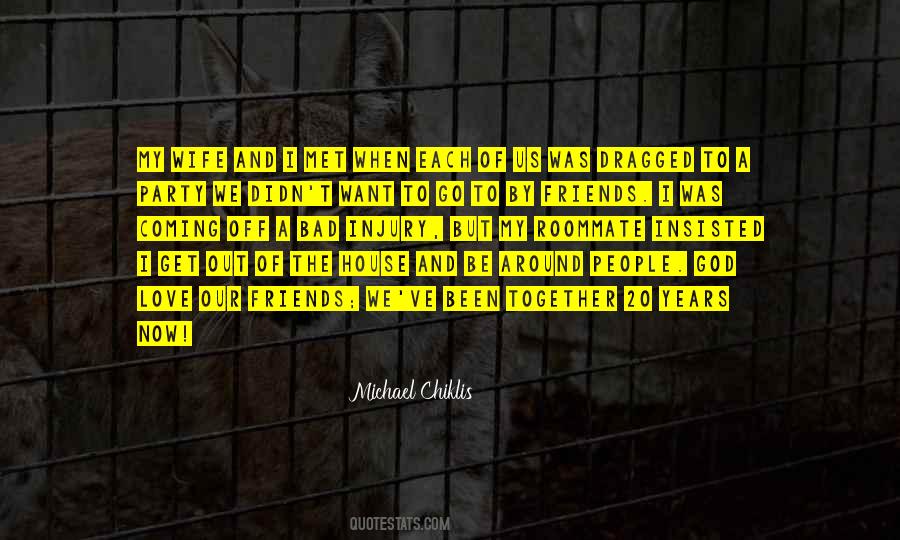 #5. My wife doesn't like me eating doughnuts. I love doughnuts. - Author: Gregorio Sablan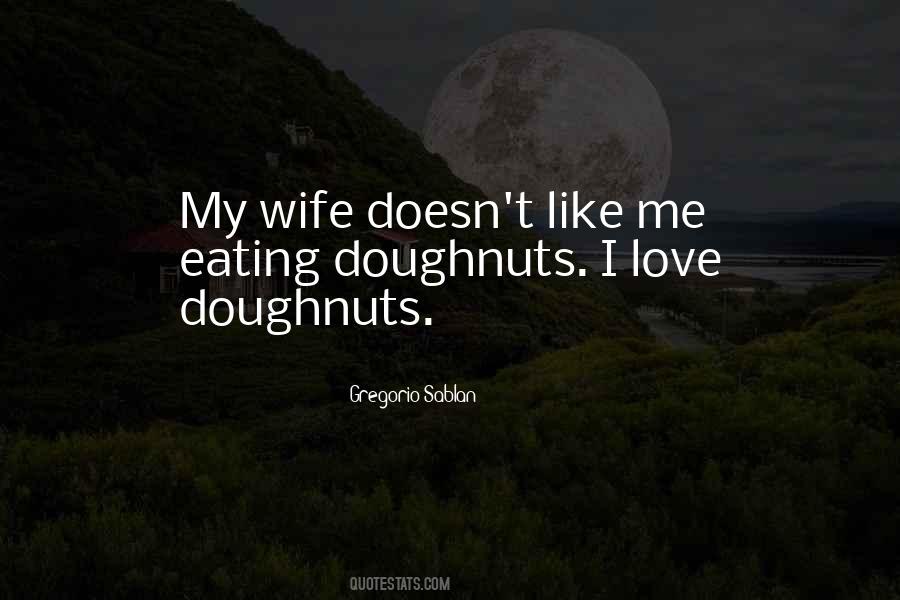 #6. I went in and auditioned for one of the main guys for 'The League' when it was first casting, and I was so excited because I was like, 'Oh my God, this is my life!' I love fantasy football, and I play with my buddies, and my wife is frustrated with it. - Author: Ike Barinholtz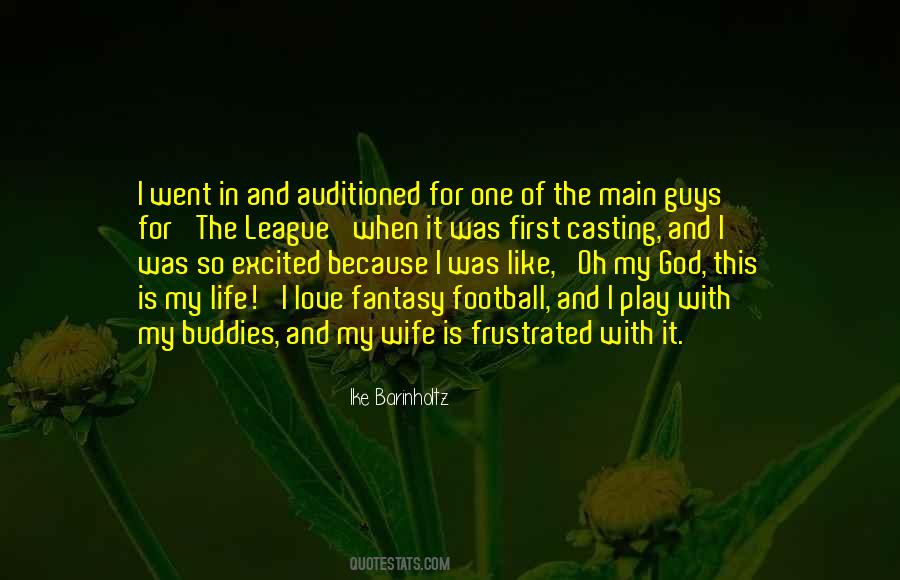 #7. If I could cook I wouldn't have to study my ass off at school and I would have tried to find a man to support me as his lovely wife. - Author: Carolina Soto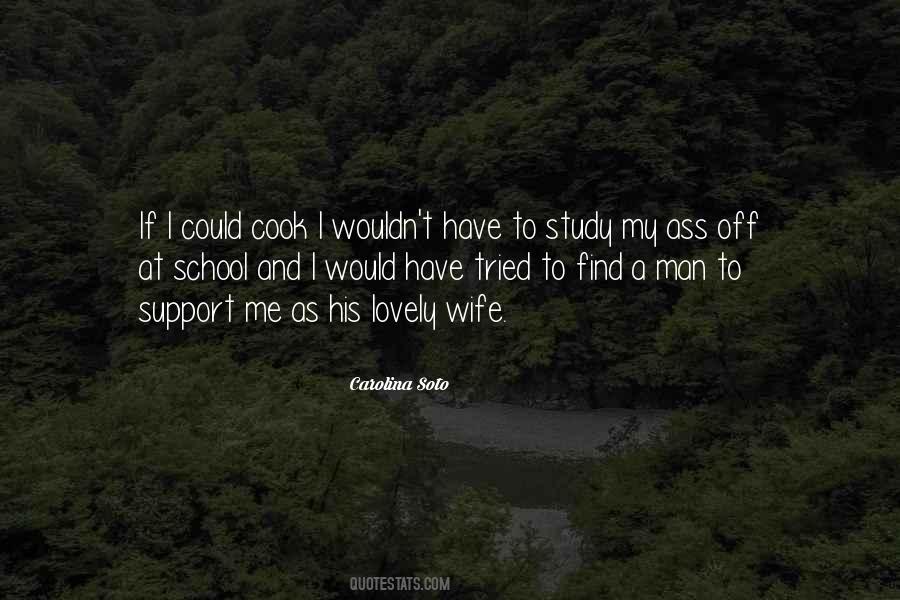 #8. True love is not the helpless desire to possess the cherished object of one's fervent affection; true love is the disciplined generosity we require of ourselves for the sake of another when we would rather be selfish; that, at least, is how I have taught myself to love my wife. - Author: Stephen L. Carter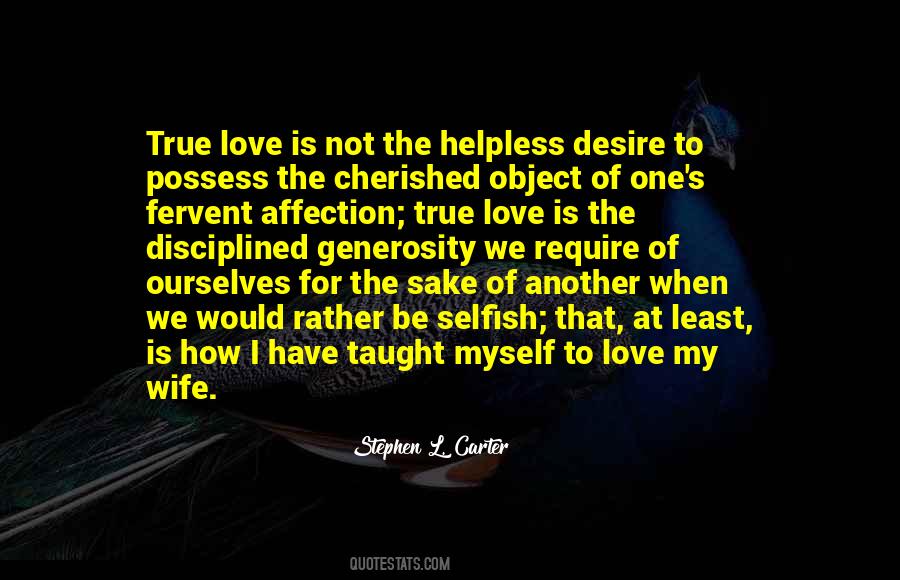 #9. I love all Puerto Rican food. I love rice and beans. I like anything with steak, chicken, pork. But I like chocolate and potato chips, too. I eat that when my wife goes away and isn't looking. - Author: Jorge Posada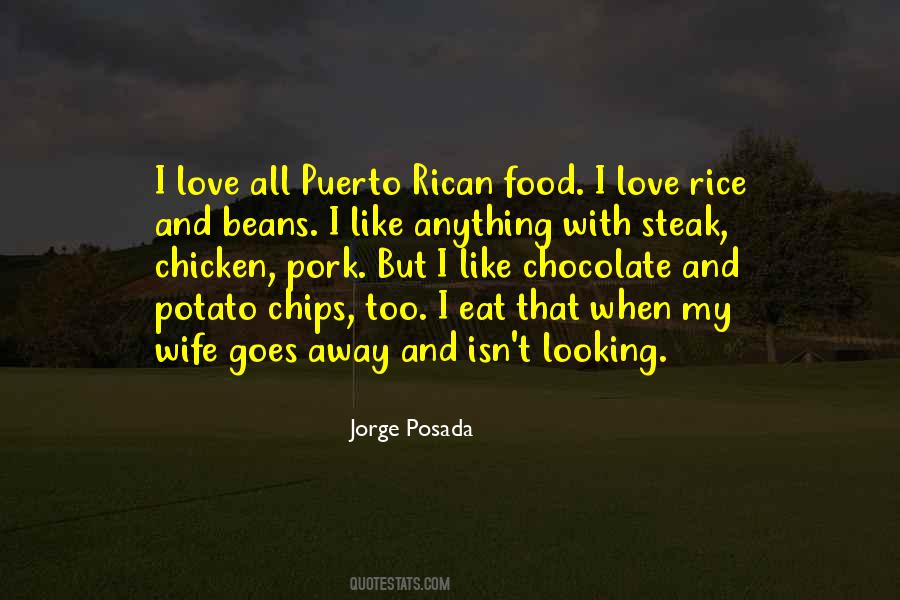 #10. My captive. My wife. My entire world.
I will love her to the end of time, and I will never, ever let her go. - Author: Anna Zaires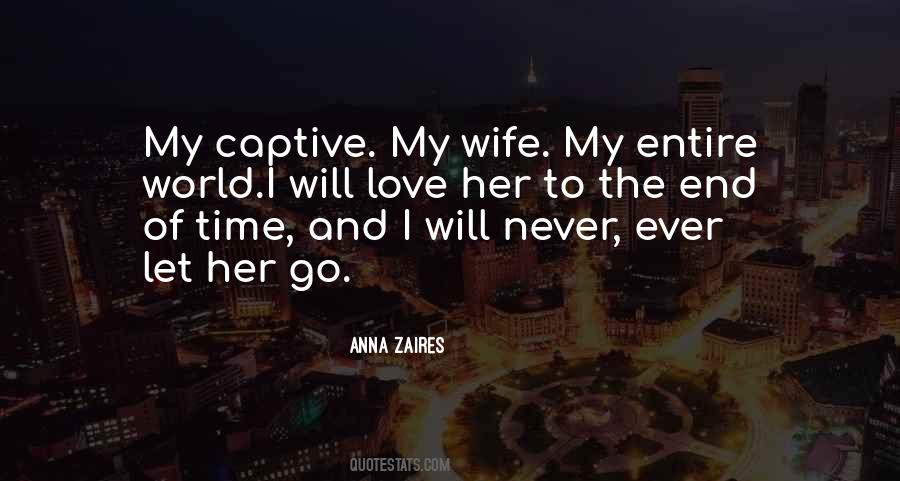 #11. My wife and I thought we were in love, but it turned out to be benign - Author: Woody Allen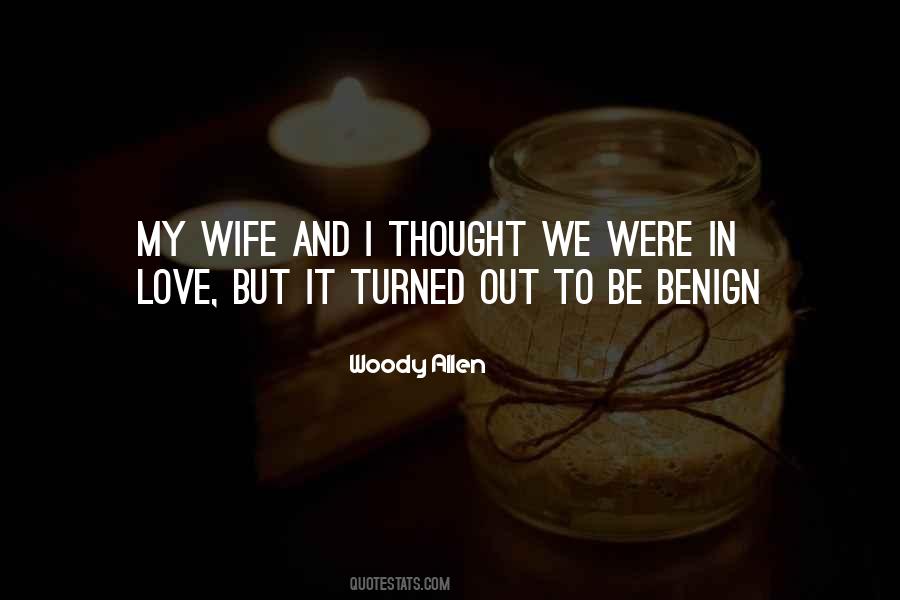 #12. ...A widow has freedoms a wife does not. But when I look at you, I do not see obstacles for my career, I see-" My face burned even more. "I see wings. A way to fly higher and further than I can on my own. - Author: Marie Brennan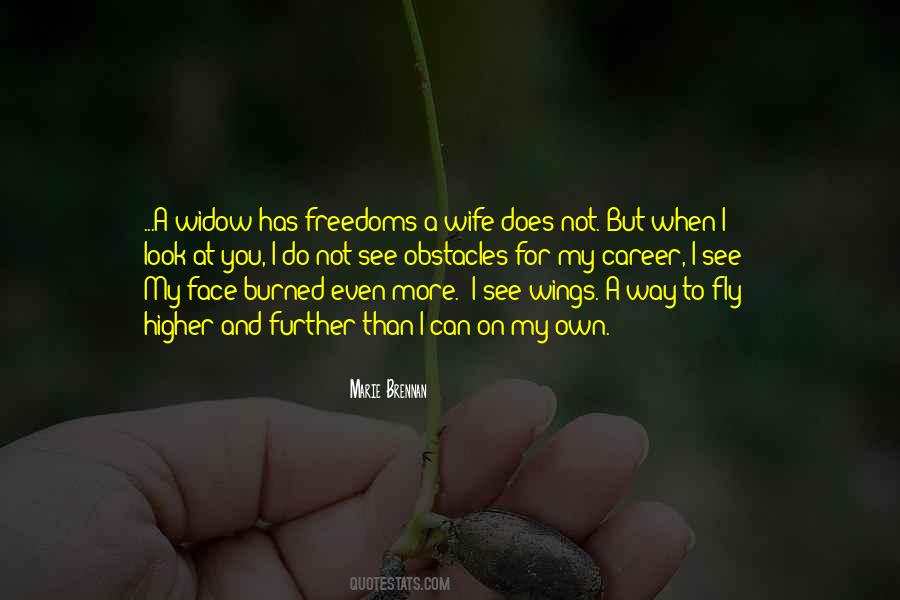 #13. God tells me that I need to provide for my family, discipline and teach my children, and love my wife as Christ loves the church. If I don't do that, I'm being unfaithful and sinful. - Author: Kevin DeYoung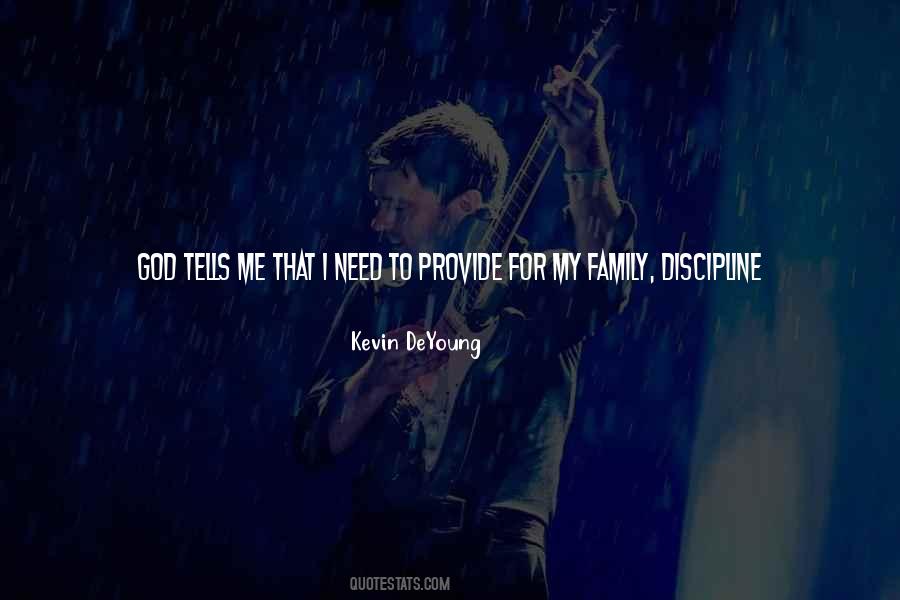 #14. I love books, food, music, sleep, people who work, heated arguments, the United States of America, and my wife and children. I dislike politicians, preachers, genteel persons, people who do not work or are on vacation, closed minds, movies, loud noises, and oiliness. - Author: Rex Stout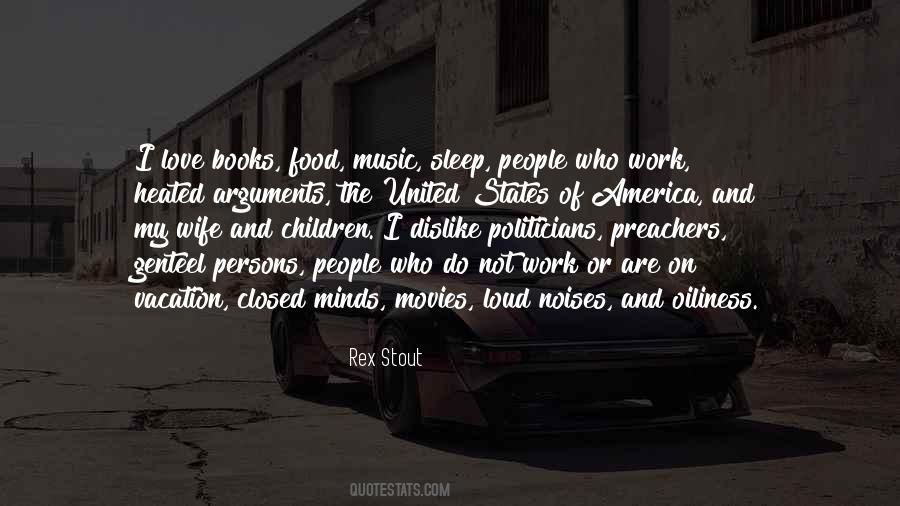 #15. I love 'Love Actually.' 'Love Actually,' there's, like, nine stories in that movie. Three of them are good. But watching that movie, I get emotional, I get choked up, my wife makes fun of me. I don't know if as you get older you get sappier and sentimental. - Author: Ike Barinholtz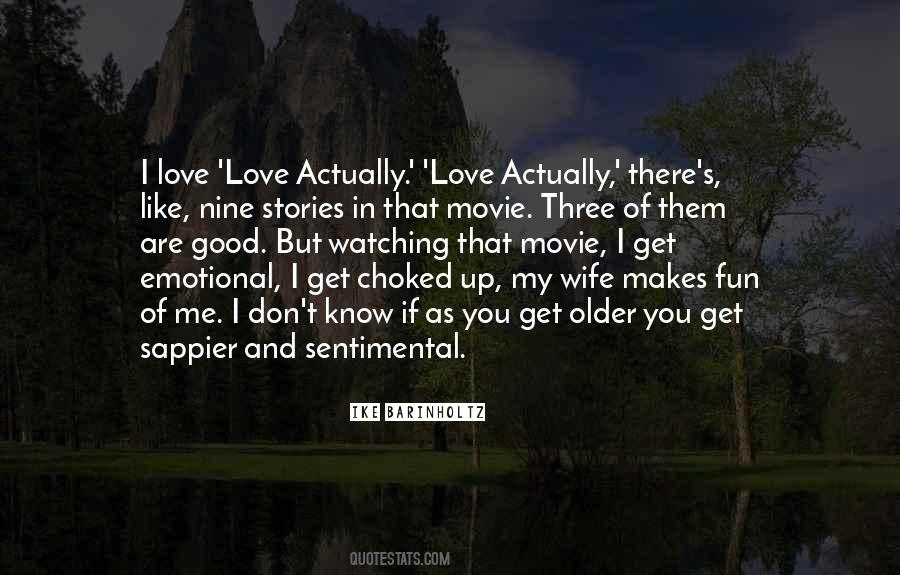 #16. Your most vital necessity in this life is that you shall love your wife completely and implicitly and in an entire nakedness of body and spirit ... this that I tell you is my message as far as I've got any. - Author: D.H. Lawrence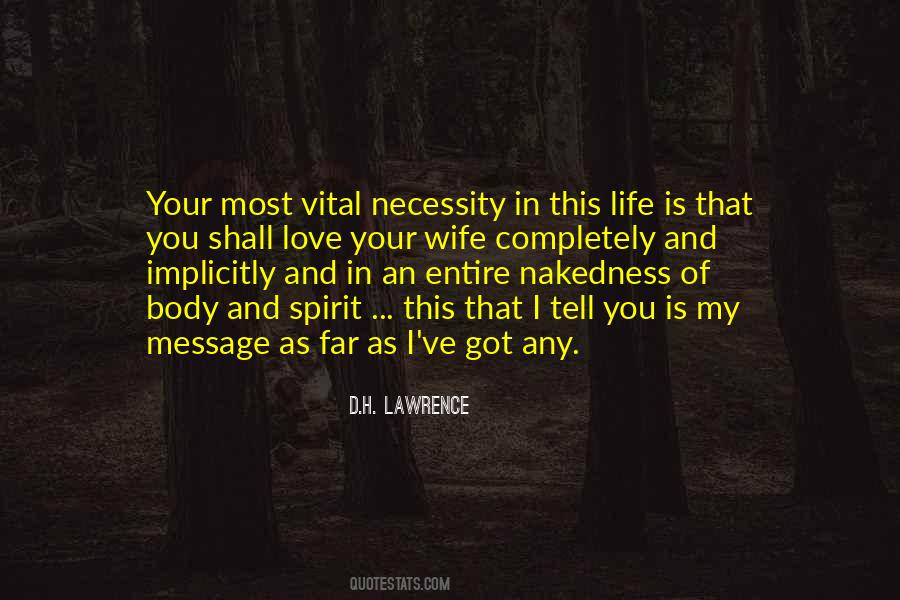 #17. There's something so human and warm about my dad.
It's his love of the people around him.
His love for his wife and children.
His love for me. It's more powerful than anything I've ever known. - Author: Krista Ritchie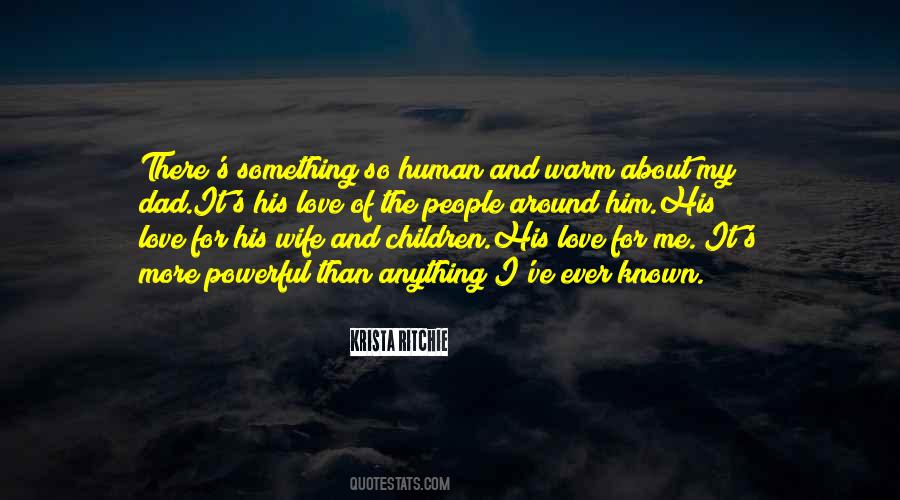 #18. The tears in my eyes are now running down my cheeks at the thought that I have been his wife and his bedfellow, his companion and his duchess, and even now, though he is near to death, still he does not love me. He has never loved me. He never will love me. - Author: Philippa Gregory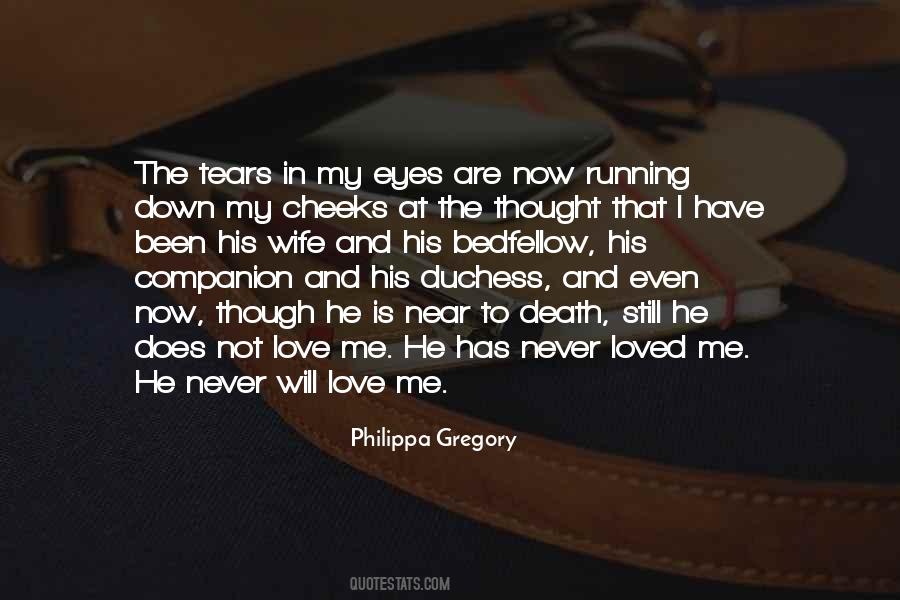 #19. I never take any commitment lightly, and I certainly don't take my wife lightly. I never did and I never will. That's permanent. That's true love. - Author: John Lydon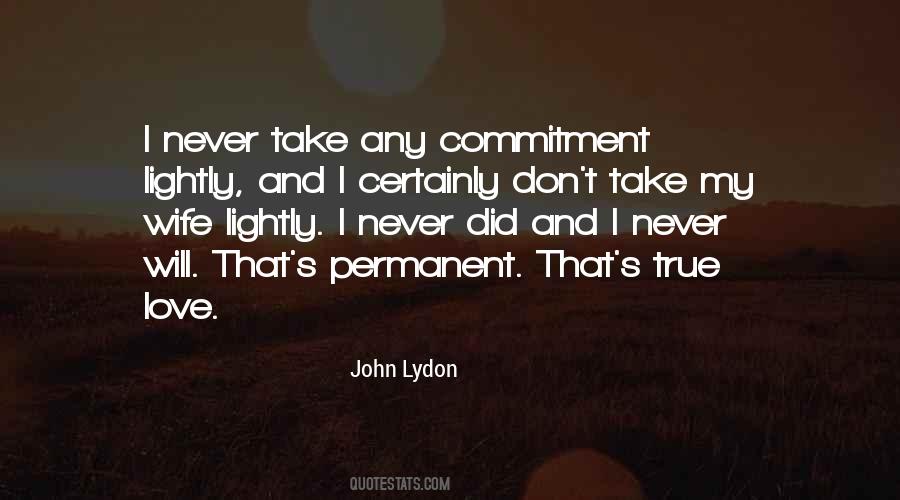 #20. My wife is so much a part of me, she's like the breath coming into my body. I love her very much. - Author: Susan Elizabeth Phillips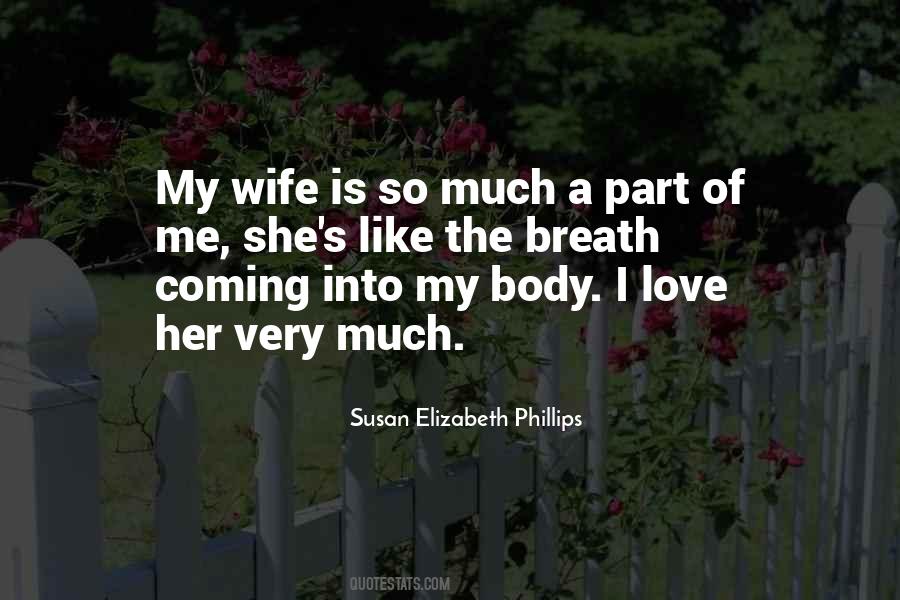 #21. No matter what happens, please remember that I love you, hridaya patni. Promise me that you'll remember."
"It's a pet name our father used to call our mother. It means ... wife of my heart. - Author: Colleen Houck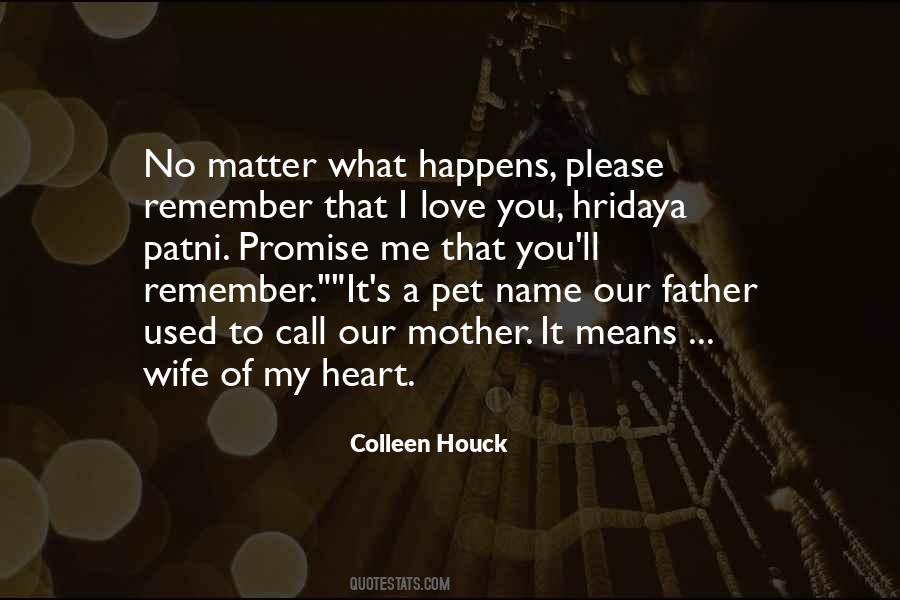 #22. I remember the first time I met my wife, Elisa. As a favor to a friend, I had gone to her home to pick up her sister, Frances. Elisa opened the door, and at least for me, it was love at first sight. - Author: Joseph B. Wirthlin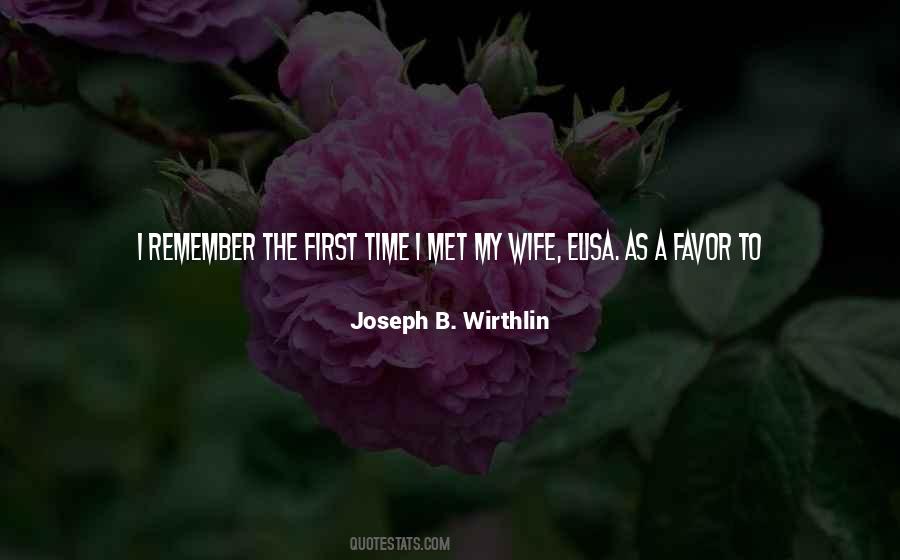 #23. My wife said, 'Can my mother come down for the weekend?' So I said, 'Why?' And she said, 'Well, she's been up on the roof two weeks already.' - Author: Bob Monkhouse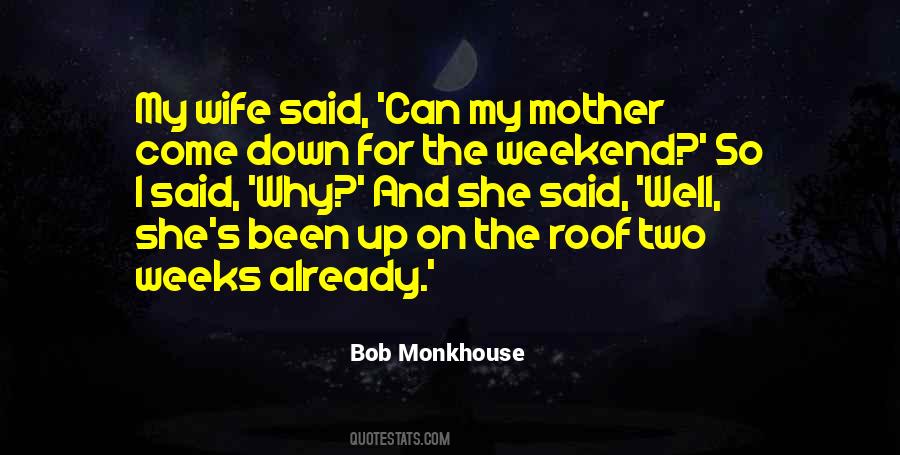 #24. You must make a choice, Libby. I can make you no promises of a fine house or an easy life. I can only pledge that as my wife you will never doubt that I love you and that I will protect you with the last ounce of my strength. - Author: Elizabeth Camden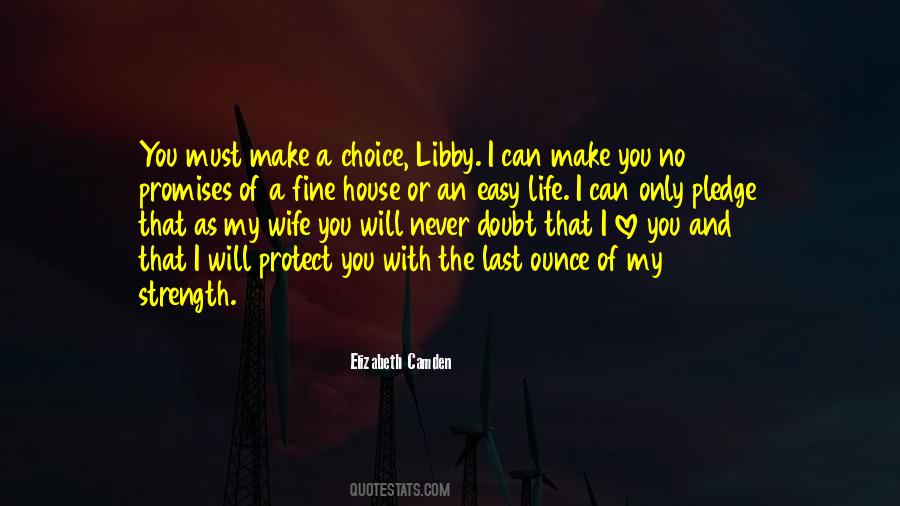 #25. Sure. I'd like to live regular. Go home to a good looking wife, a hot dinner, and a husky kid. But I guess I got film in my blood. I love this racket. It's exciting. It's dangerous. It's funny. It's tough. It's heartbreaking. - Author: Weegee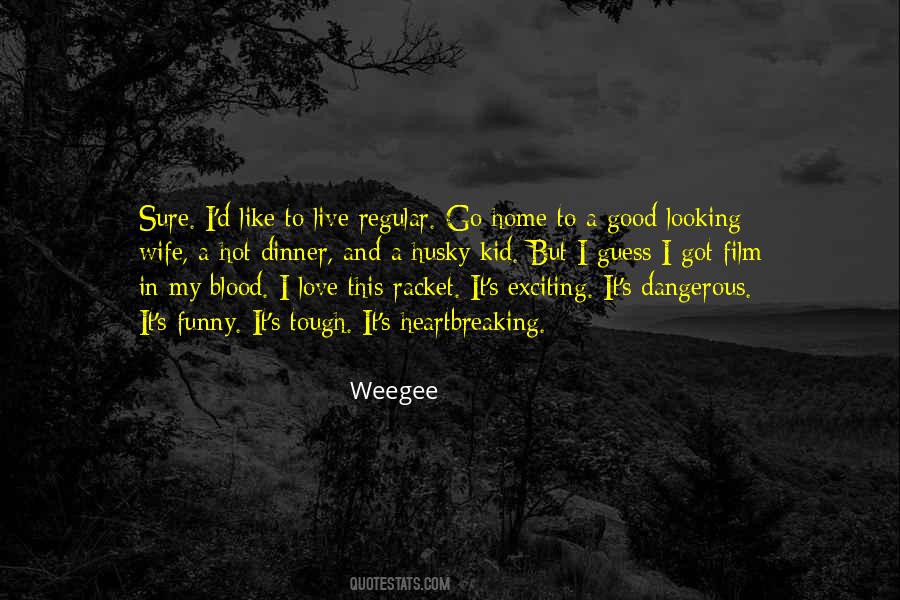 #26. I think the place we love the most is the Parc des Buttes Chaumont. It's in the 19th arrondissement. It's where I would go jogging and my wife, Rachel, and I would go for walks. It's appreciated by Parisians but it's not really known to tourists. - Author: Rosecrans Baldwin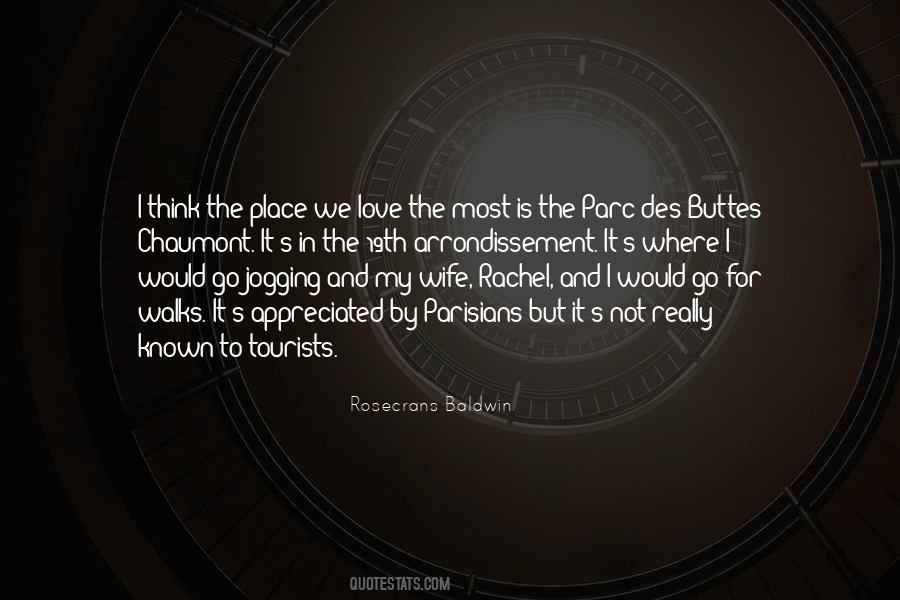 #27. Love is hanging out at the ocean, watching my wife and little girls play in the sand. I know, I threw up a little too, but it's true. - Author: Patrick Fabian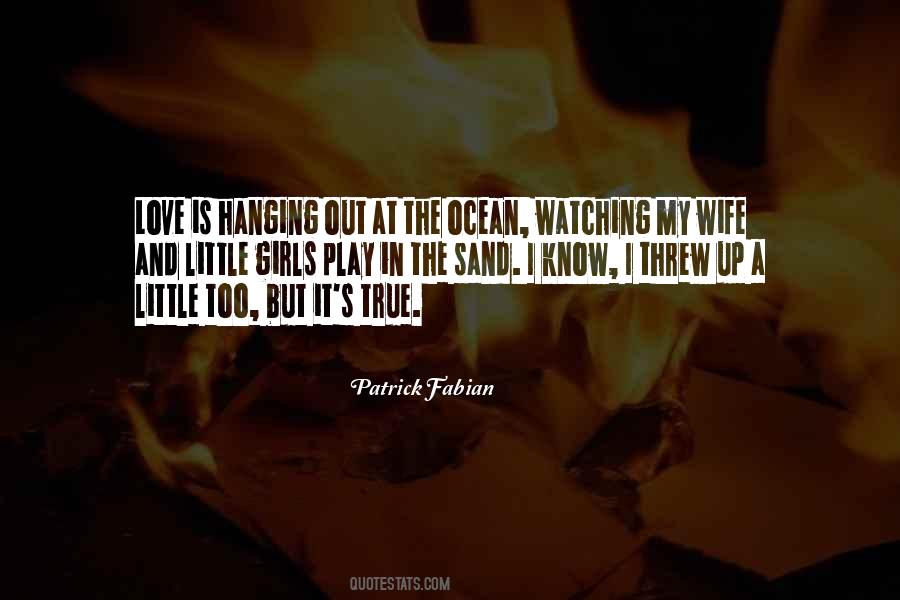 #28. This city has so many beautiful women. I fall in love like every ten minutes, I'm sitting on the subway, I'm like, "There's my wife ... there she is - oh, she's getting off. All right, there's the woman - all right, that's a man." - Author: Jim Gaffigan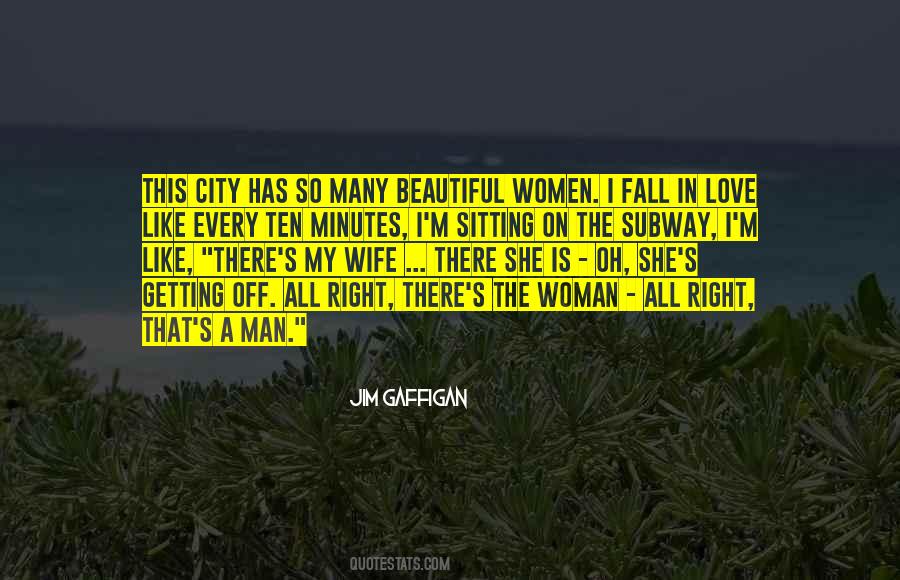 #29. You are the greatest wife of all times and I love you so much more' said my husband, Jeremiah Nii Mama Akita - Author: Lailah Gifty Akita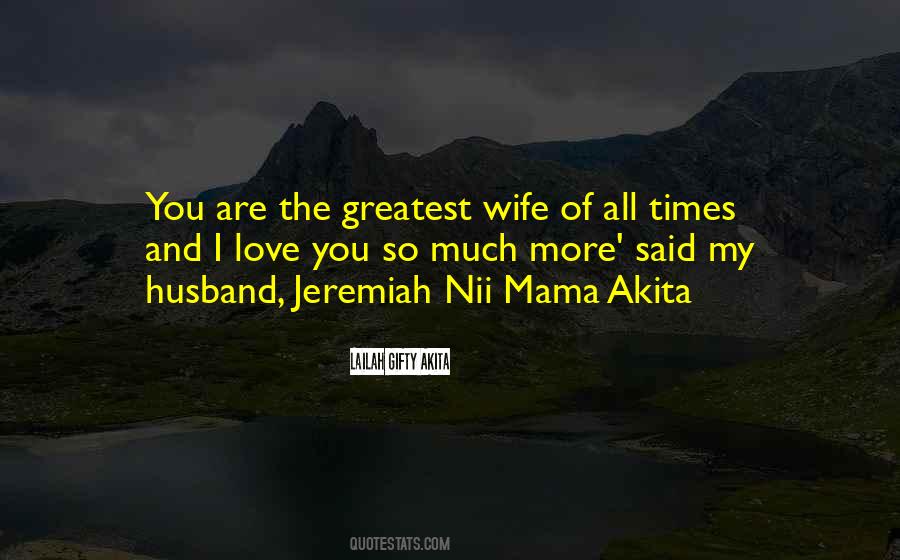 #30. She could hear him swallow, and then his face was against hers, his own damp. "I'm so lucky you would have me, my Phoebe, as my wife and my love. You've brought the sun into my lonely, gray life." (Captain James Trevellion) - Author: Elizabeth Hoyt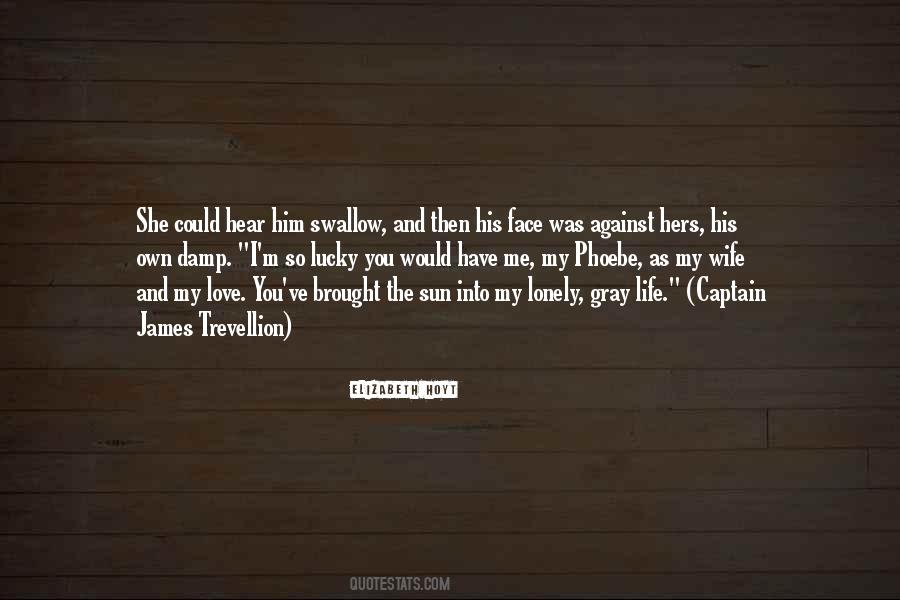 #31. I'm not your father! I'm not Duke! I'm not some gent paying for half an hour in your bed!" His hands tightened on her arms. "I'm your husband! I don't take what you feel lightly. I love you. You're my wife! - Author: Francine Rivers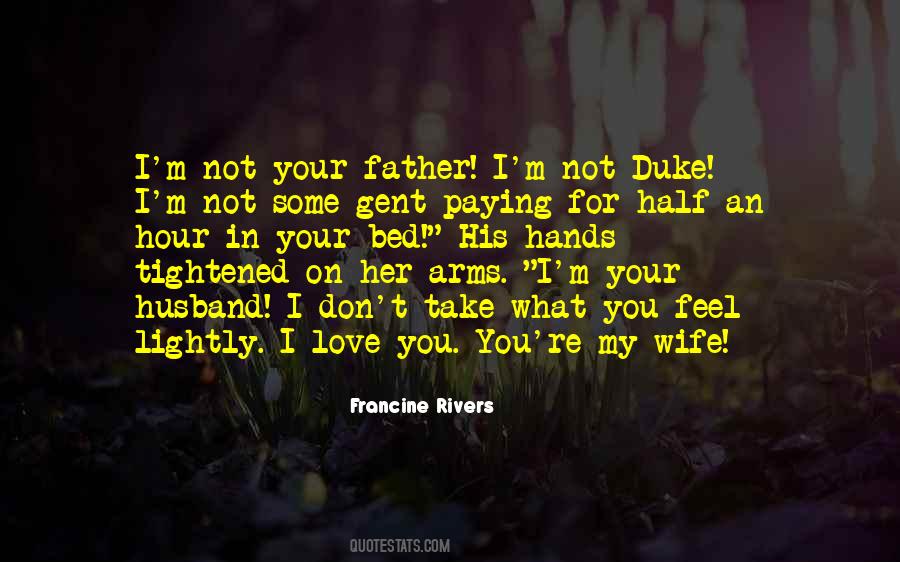 #32. I used to love that movie Wall Street and the line
'Greed is good.' Honestly, the only thing greed got me was five years in
prison, the loss of my wife and possessions, and the company I loved,"
Brad said slumping in his chair with his head down. - Author: Phil Wohl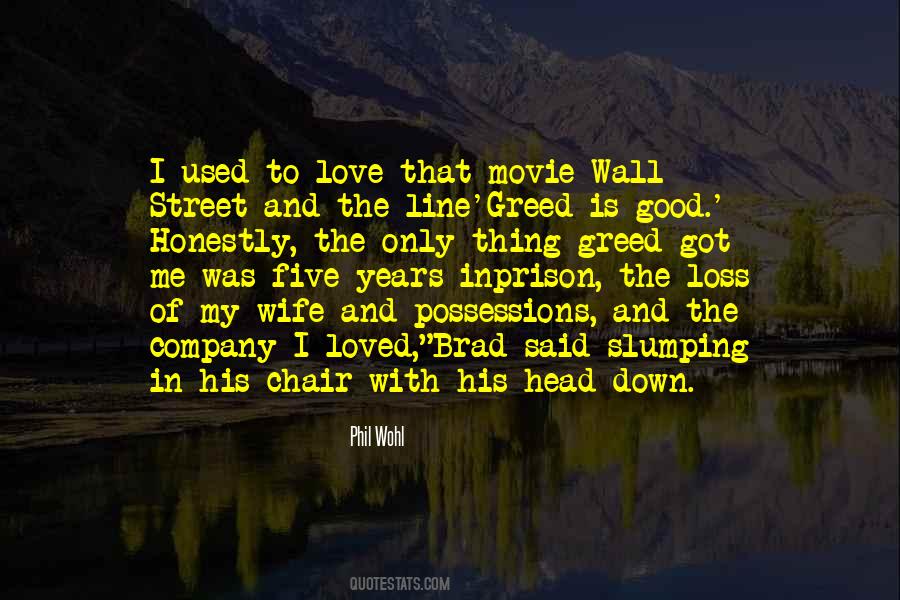 #33. Near my house in Los Angeles is a waterfall. I love to take the wife and kids, but it's also near a sketchy neighborhood. So there's a lot of gang members that hang out at the waterfall. It's like somebody took an Ansel Adams photo and then put a Cypress Hill video inside it. - Author: Al Madrigal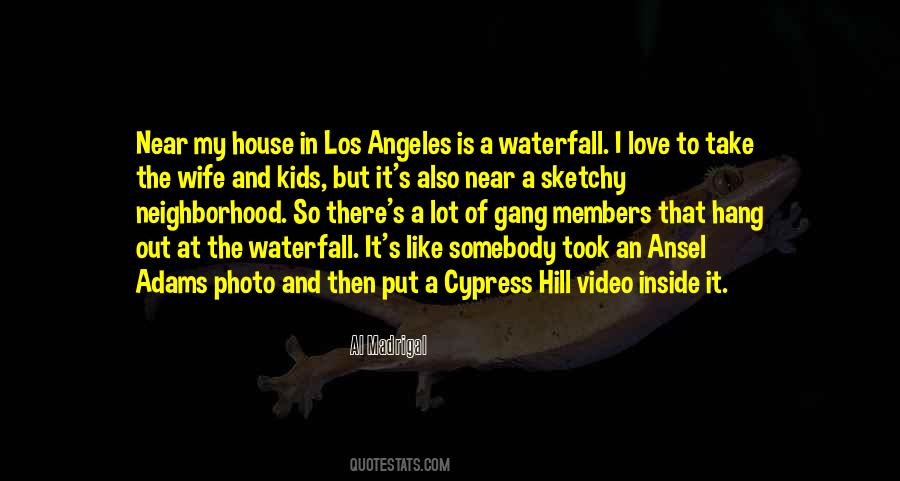 #34. My wife could turn to me and she may say, 'Why do you love me?' And I can with all honesty look her in the eye and say, 'Because our pheromones matched our olfactory receptors.' - Author: Robin Ince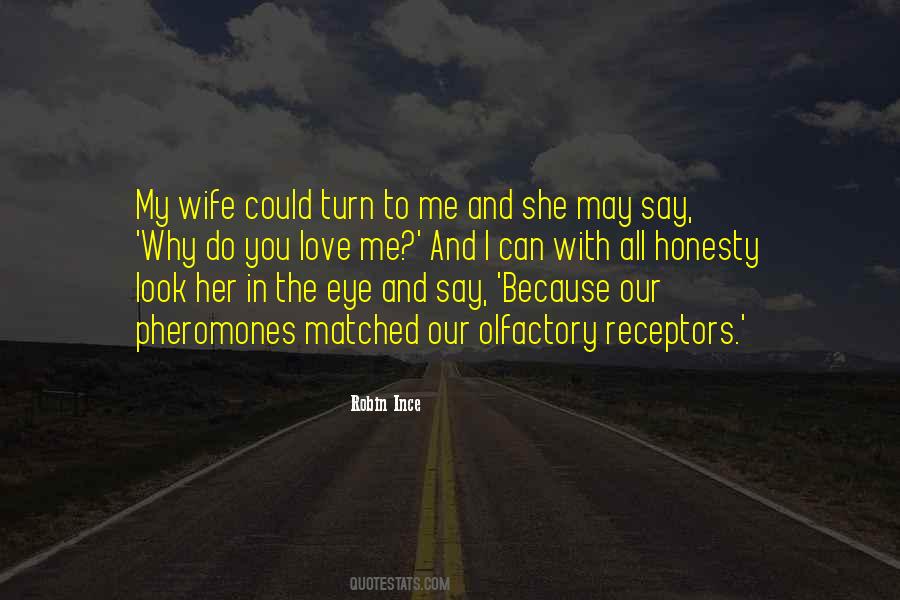 #35. I think I'm a really good girlfriend, and I think that I could be a really good wife. I know that I love being able to give my love out to someone. I know there is somebody great out there for me. - Author: Jennifer Love Hewitt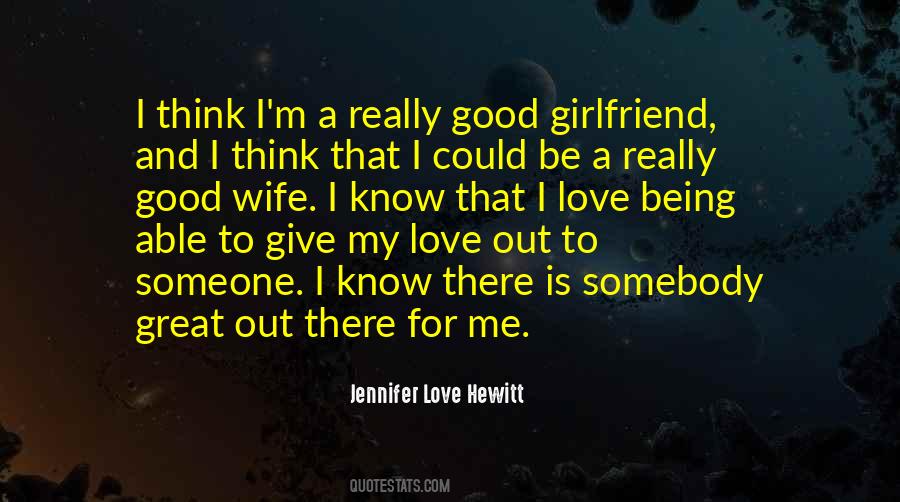 #36. You might be the cruelest person I've ever met," he said in a conversational tone.
"What?" I gasped.
"My first wife killed herself. Took me centuries to get over it and love again, yet you weren't going to mention that you might be compelled to slay yourself in front of me. - Author: Jeaniene Frost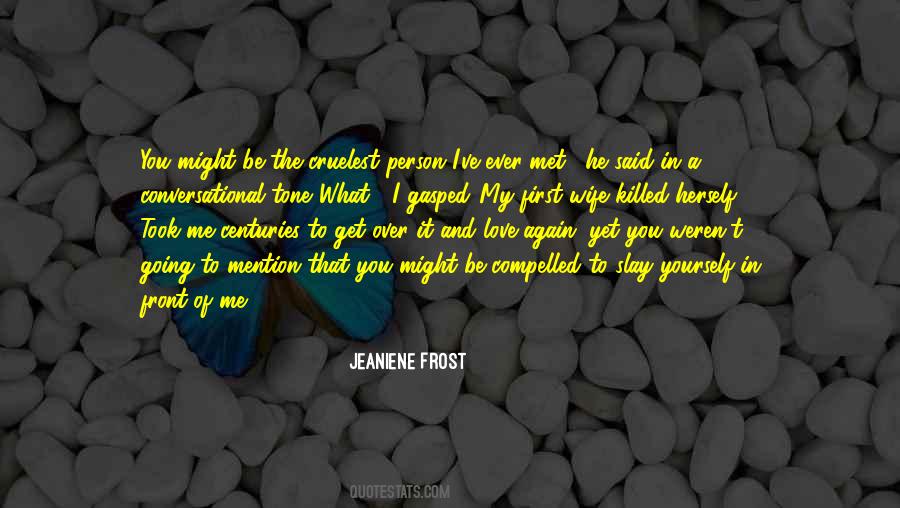 #37. The manic pursuit of success cost me everything I could love: my wife, my three children, some friends I would have liked to grow old with. - Author: Sammy Davis Jr.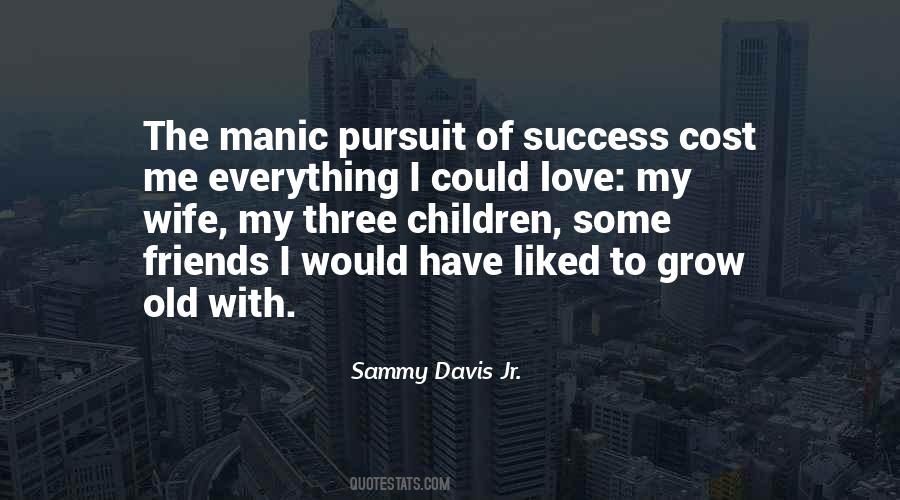 #38. I didn't want readers to think I was asking to be praised for taking care of my wife while she was ill. Lots of people are heroic, more heroic than I was, when faced with the suffering of someone they love. - Author: Rafael Yglesias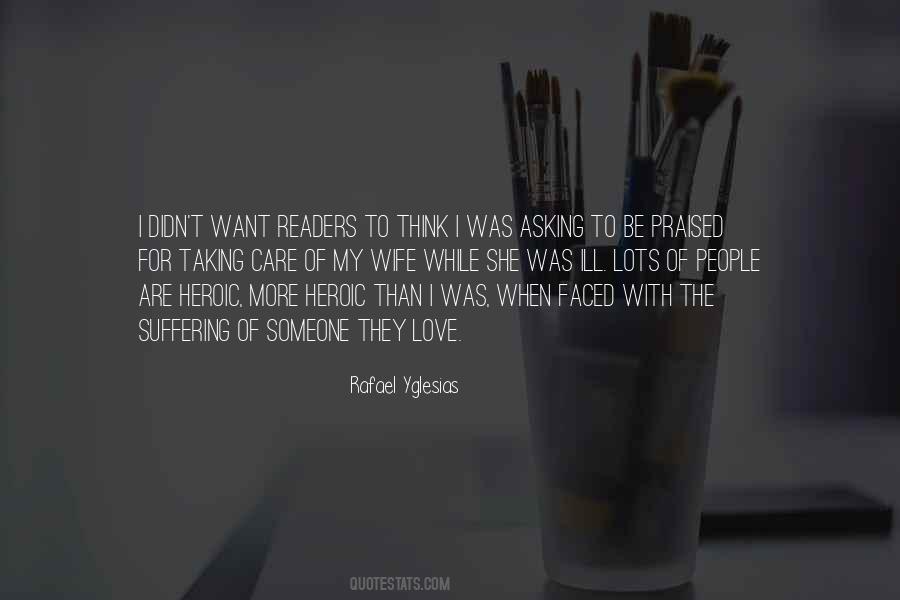 #39. Be a religion to each other. Each man has his own fashion of adoring God. Saperlotte! the best way to adore God is to love one's wife. I love thee! that's my catechism. He who loves is orthodox. - Author: Victor Hugo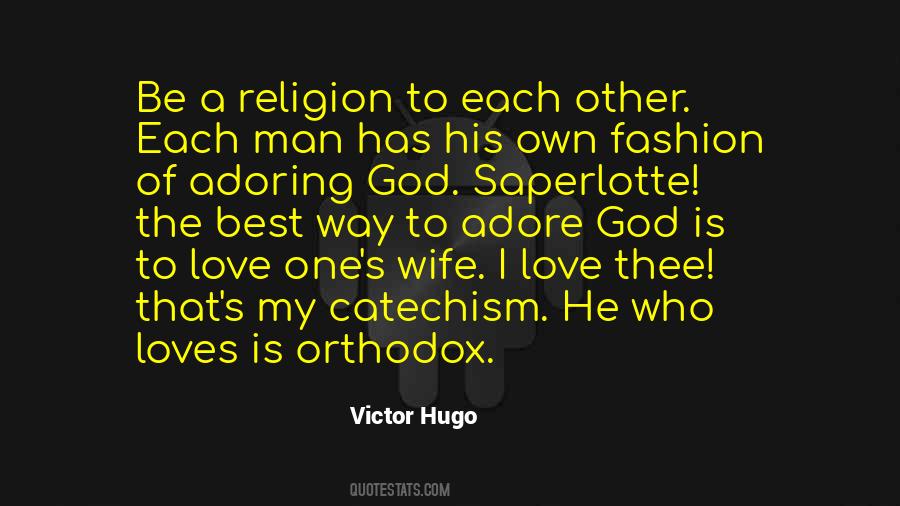 #40. You are the earth. We are sky and earth united ... You are my husband. You are my wife. My feet shall run because of you. My feet shall dance because of you. My heart shall beat because of you. My eyes see because of you. My mind thinks because of you and I shall love because of you. - Author: Andrew Schneider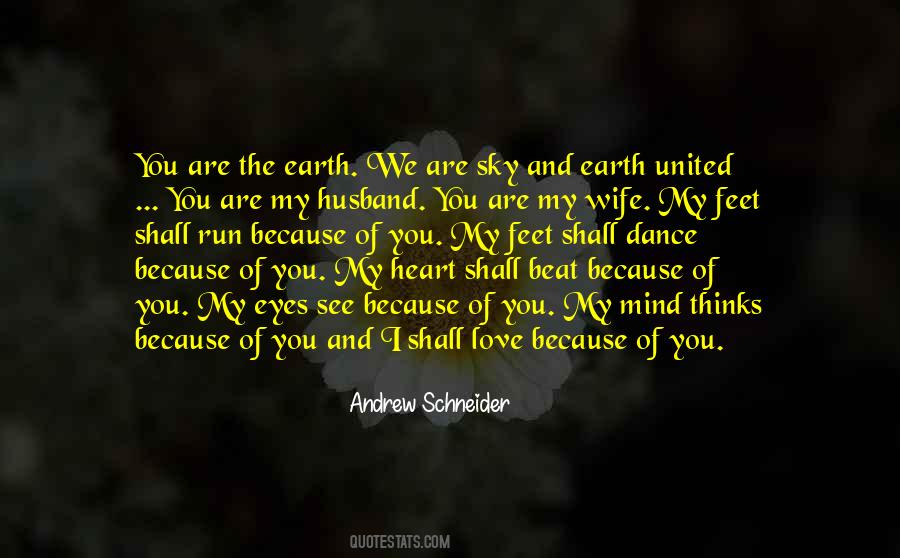 #41. I know what it is to live entirely for and with what I love best on earth. I hold myself supremely blest
blest beyond what language can express; because I am my husband's life as fully as he is mine. - Author: Charlotte Bronte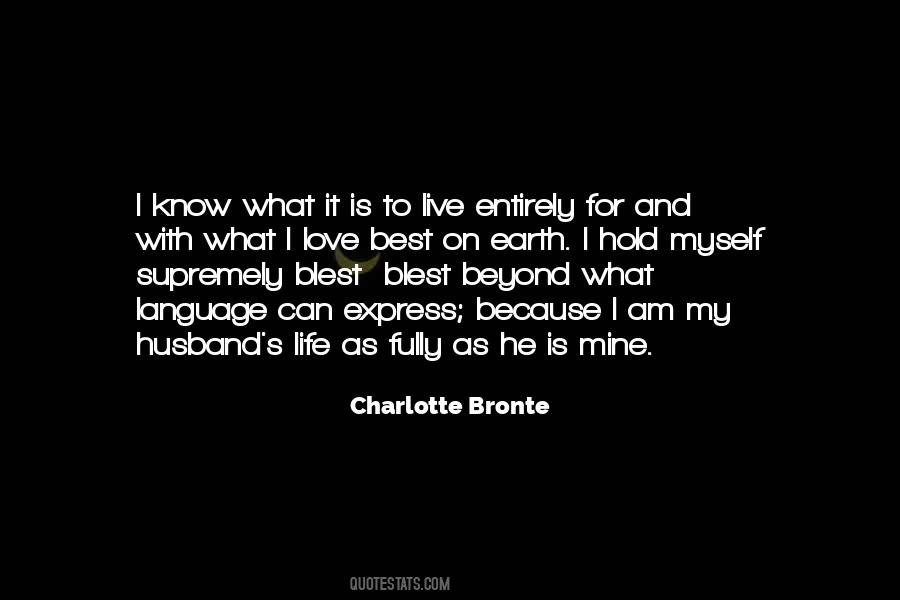 #42. I love my wife. We FaceTime and we talk on the phone and she travels to come see me when she can. But she works as well. But we see each other a lot more than people would think, though, because we make it happen and we love each other so much. - Author: Wiz Khalifa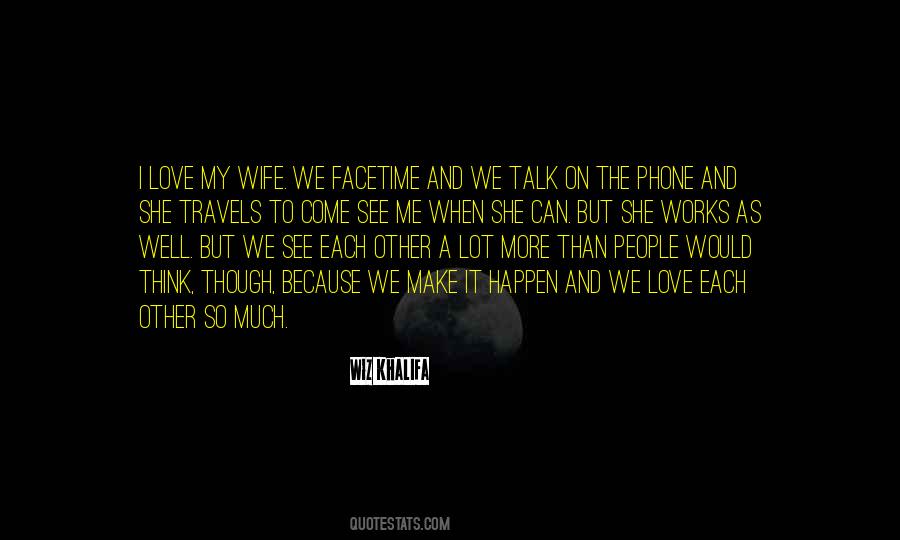 #43. I love my wife, I love my kids. - Author: Ted McGinley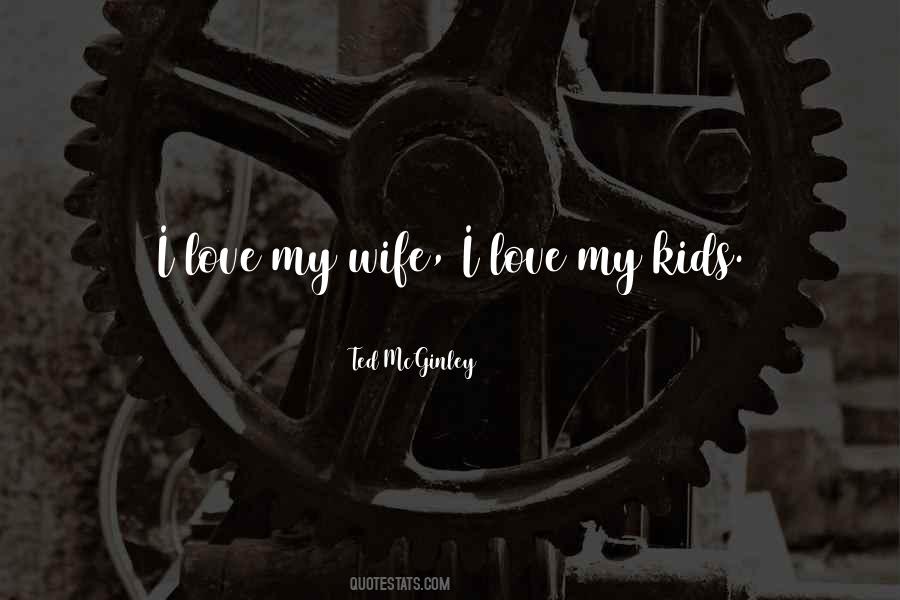 #44. When I sit with my wife and give her twenty minutes of my undivided attention and she does the same for me, we are giving each other twenty minutes of life. We will never have those twenty minutes again; we are giving our lives to each other. It is a powerful emotional communicator of love. - Author: Gary Chapman
#45. I have my own worries and concerns and frustrations, but I'm doing something I love to do. My wife and kids are in good shape. What is there not to be happy about? - Author: Chris O'Donnell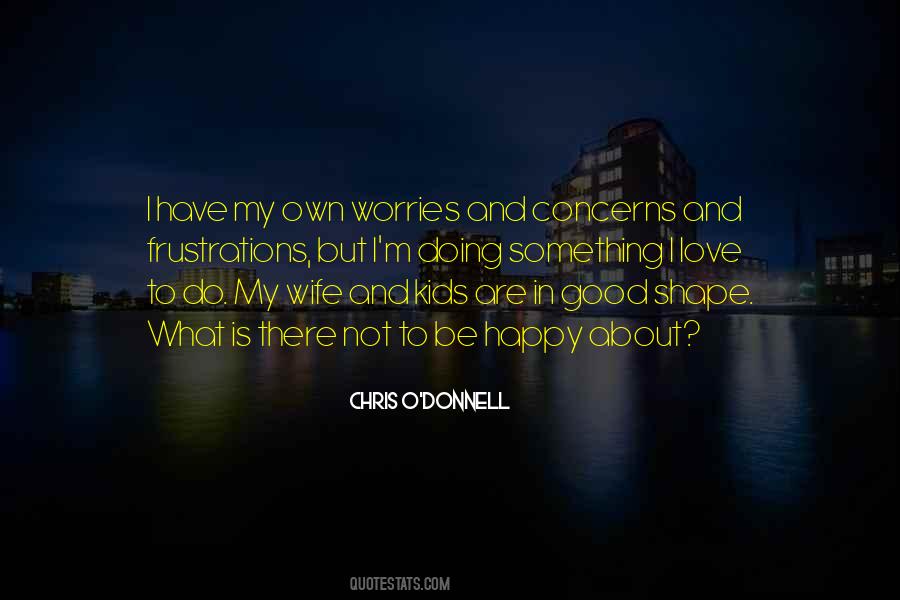 #46. My most memorable meal is every Thanksgiving. I love the food: the turkey and stuffing; the sweet potatoes and rice, which come from my mother's Southern heritage; the mashed potatoes, which come from my wife's Midwestern roots; the Campbell's green-bean casserole; and of course, pumpkin pie. - Author: Douglas Conant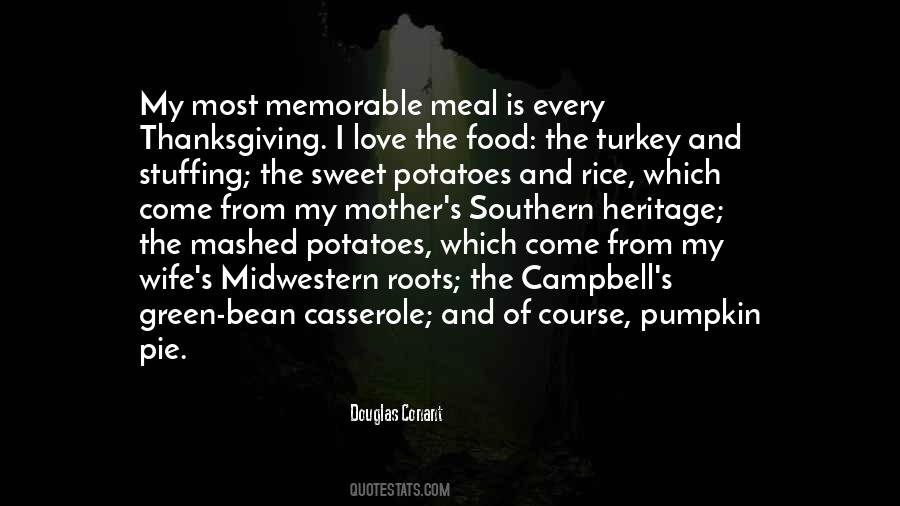 #47. No! I can't let you do that. That would be so lazy of me." "That is lazy of you, but you're my wife and I love you and I want you to have what you want." He starts to get up. - Author: Taylor Jenkins Reid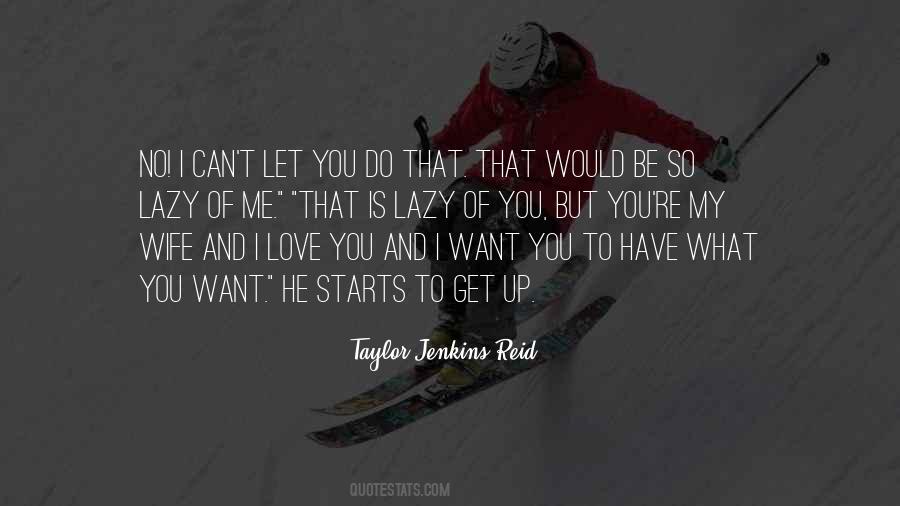 #48. I believe in love. Unfortunately, it doesn't believe me. Lust, on the other hand, is a nagging wife poking constantly at my DNA. - Author: Carroll Bryant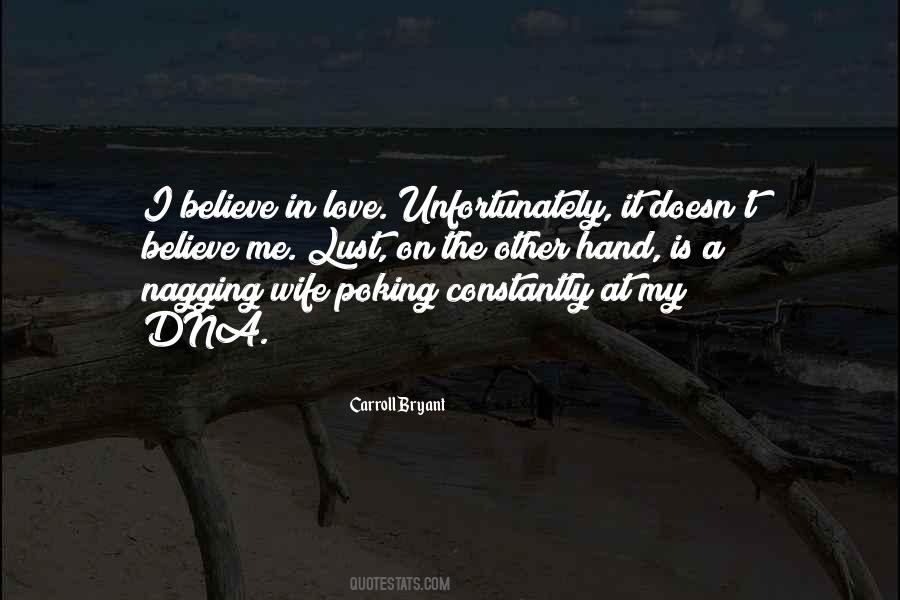 #49. My wife Kris and I enjoy keeping an active lifestyle, so it's hard to imagine what it would be like if breathing problems kept me from participating in the activities I love to do. But that's exactly what happens to many people who develop COPD, or chronic obstructive pulmonary disease. - Author: Caitlyn Jenner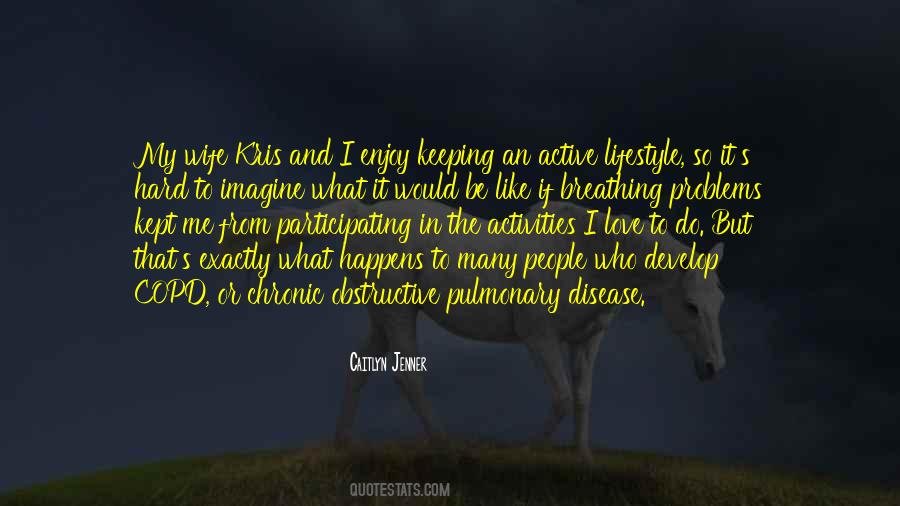 #50. I would love to interview Michael McKean and his wife, who wrote the songs for 'A Mighty Wind,' which is my favorite Christopher Guest movie. I'm just a sucker for any funny guy that has a wife who is intelligent and that he collaborates with. - Author: Julie Klausner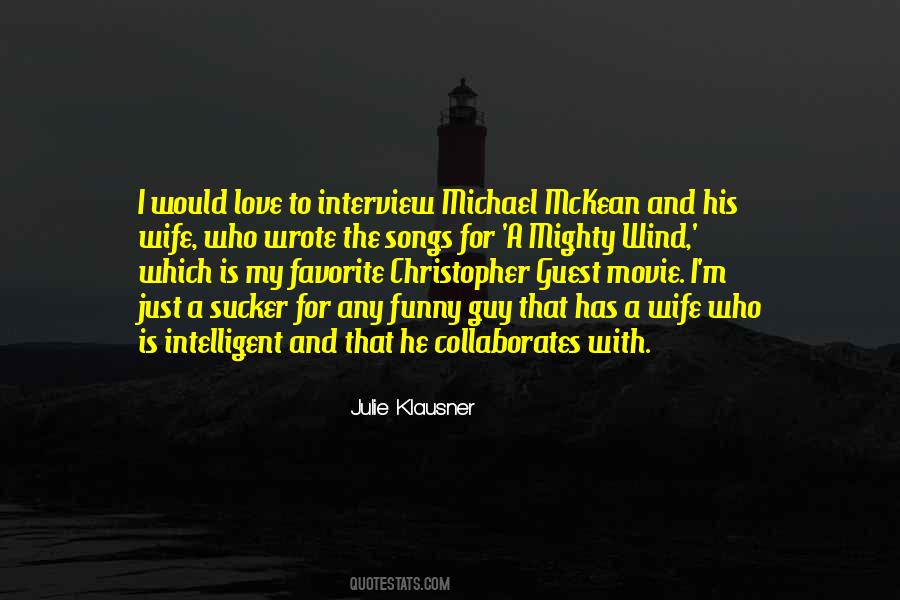 #51. I enjoy receiving love from my wife. I'm ecstatic when Kim loves me and expresses affection toward me. Something in me comes alive when she does that. But I've learned this freeing truth: I don't need that love, because in Jesus, I receive all the love I need. - Author: Tullian Tchividjian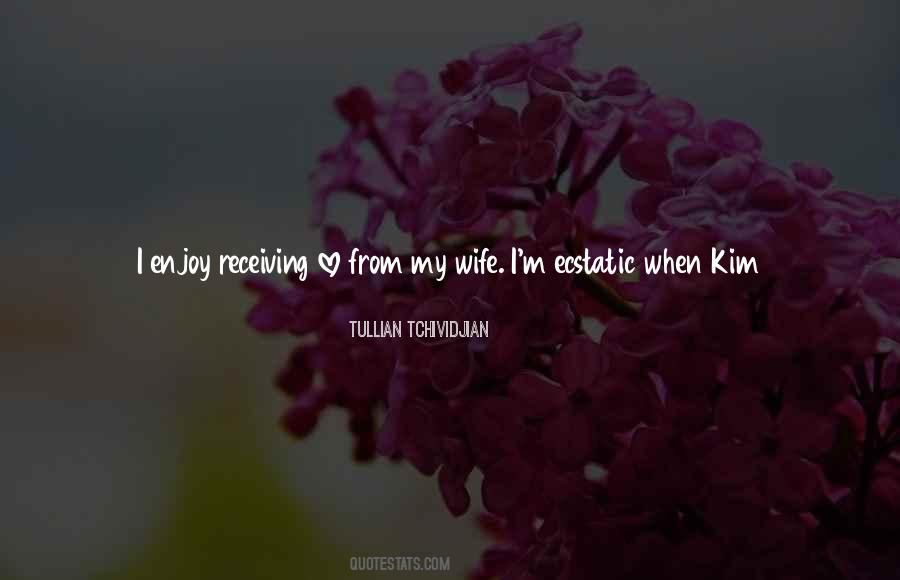 #52. I didn't need one so pissed at his ex-wife he'd make me fall in love with him before apologizing for leading me on. He wanted to hurt women, and nothing froze my creative juices like heartache. - Author: C.D. Reiss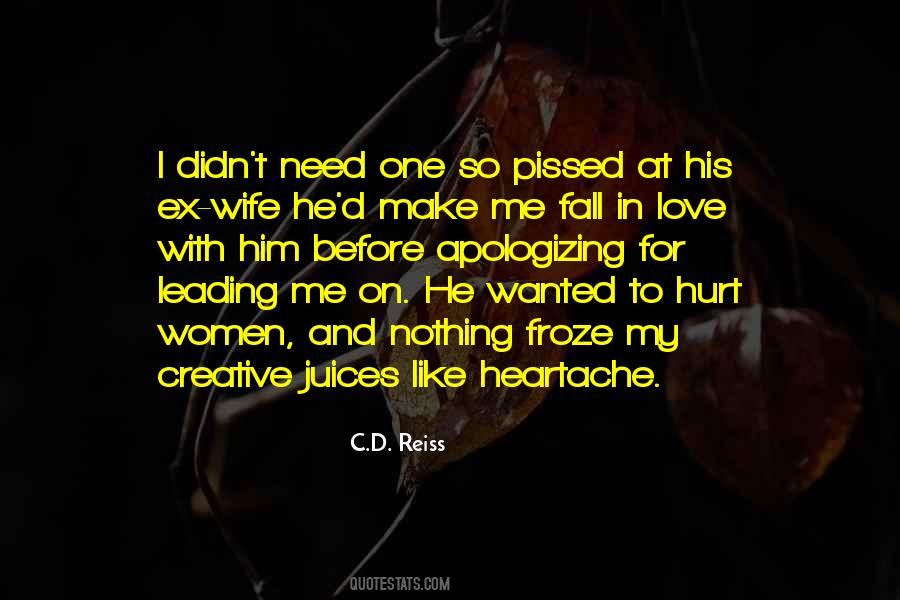 #53. I love you, Lottie, and I want to make you my wife." Stone's low voice rumbled between them. Ardent. Unwavering. Determined. "I'll pursue you," he vowed, "until a parson either joins us in marriage or speaks words over my grave. - Author: Karen Witemeyer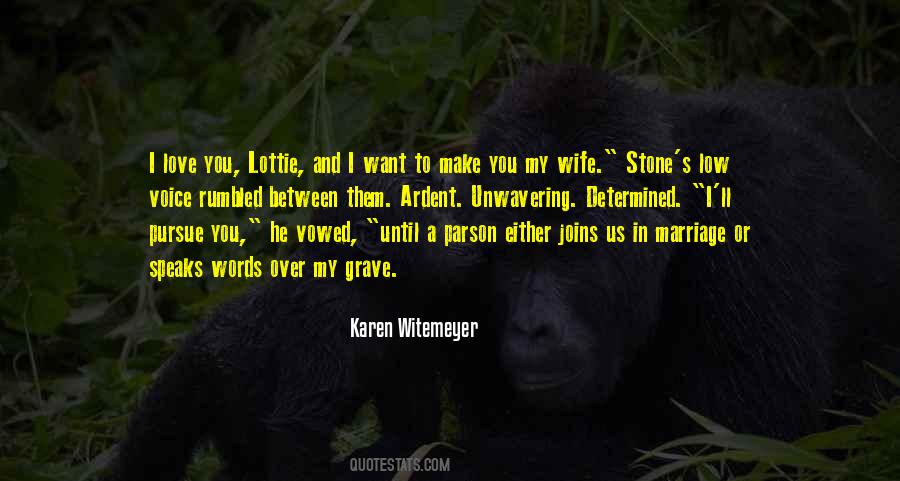 #54. I am indebted to my wife Coretta, without whose love, sacrifices, and loyalty neither life nor work would bring fulfillment. She has given me words of consolation when I needed them and a well-ordered home where #Christian love is a reality. - Author: Martin Luther King Jr.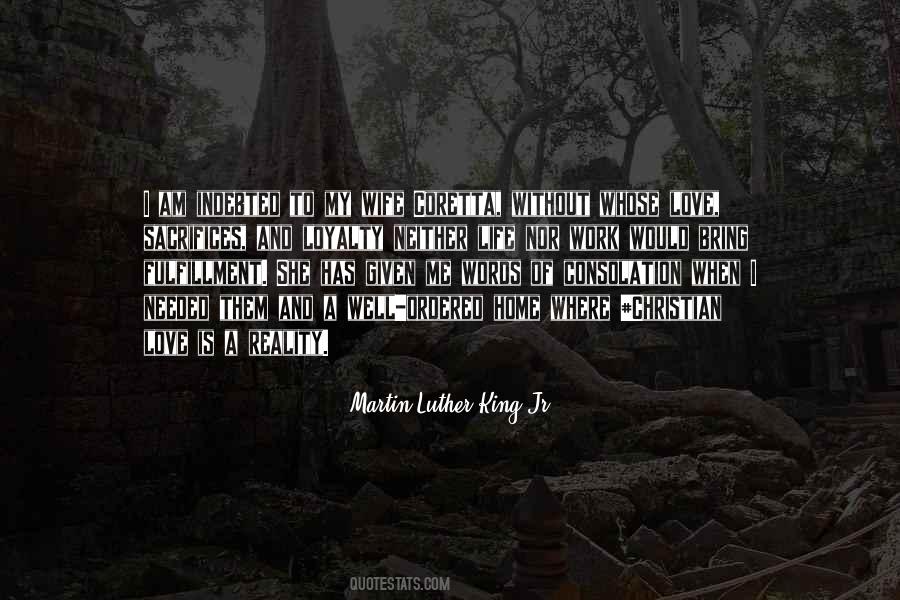 #55. Any husband who says, "My wife and I are completely equal partners," is talking about either a law firm or a hand of bridge. - Author: Bill Cosby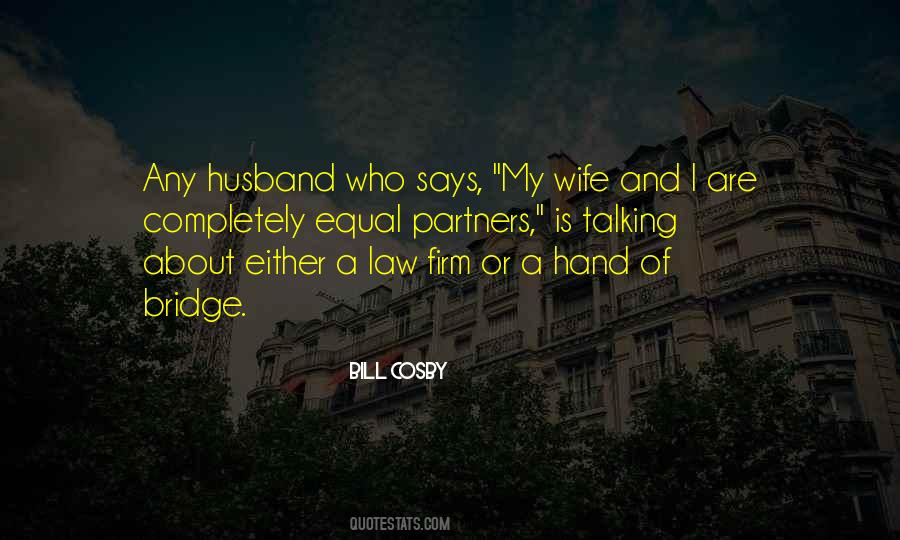 #56. It does not matter how strong you are. You are to be my wife, and I will not have the woman I love put herself at risk. Ever. - Author: S.T. Bende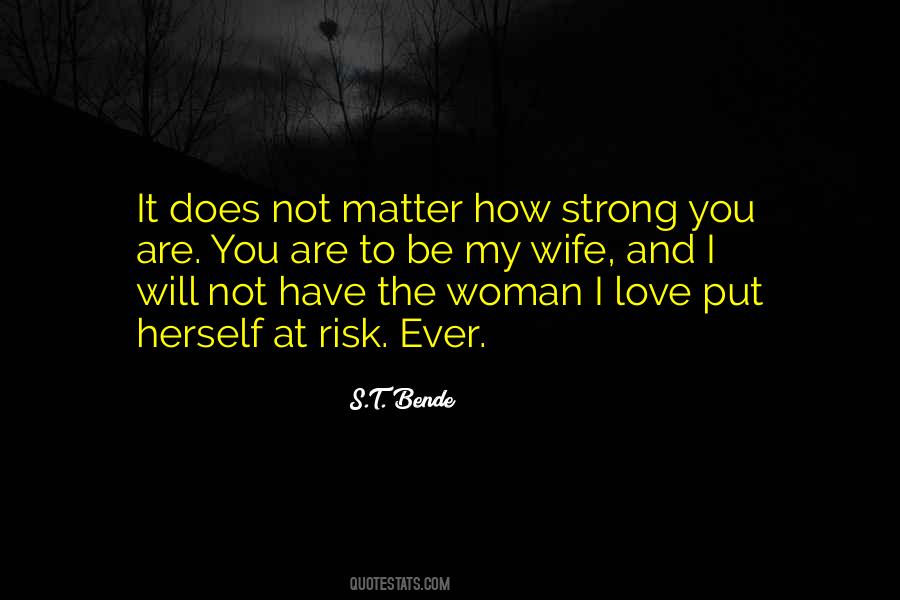 #57. I've always loved the music ... My favorite kind of music is Christmas music and the only thing I love better music is my wife and daughters. So, hanging out with my wife and daughters and cuddling them will be pretty cool. - Author: Keith Getty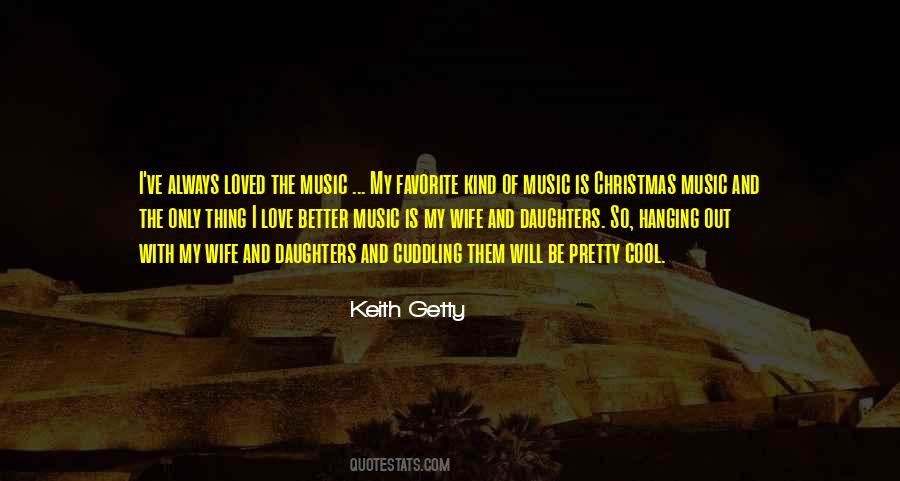 #58. I feel about John ['s gospel] like I feel about my wife; I love her very much, but I wouldn't claim to understand her.
(Following Jesus, p. 27.) - Author: N. T. Wright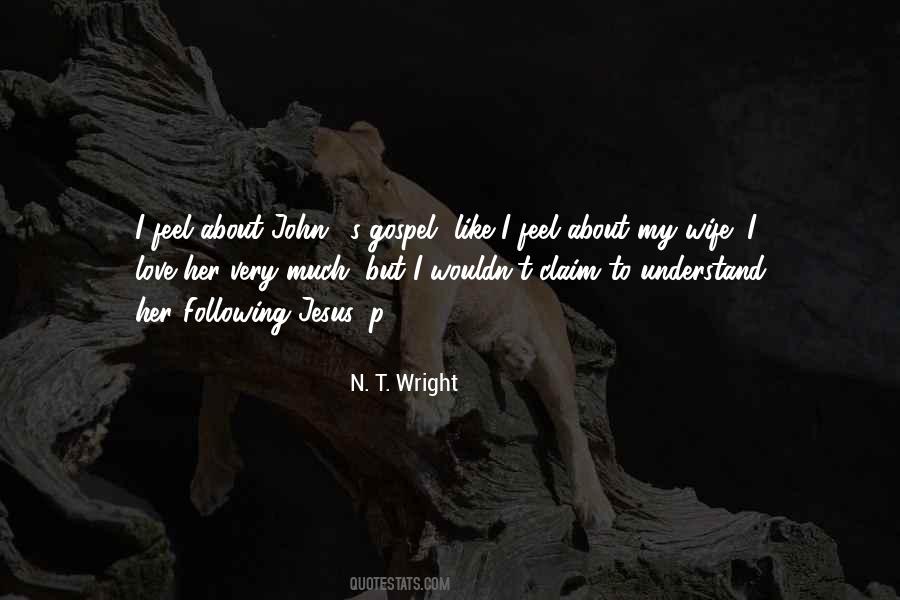 #59. I love my wife, she deserves anything and everything. - Author: Aaron Spelling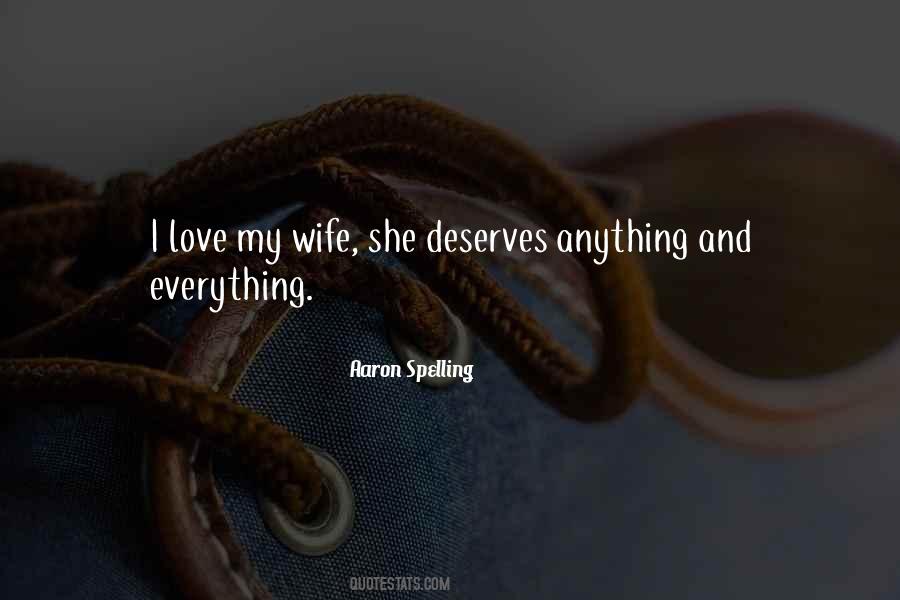 #60. I know it can be dangerous, but I love racing. I worry my wife, but she knows it's important to me. - Author: Patrick Dempsey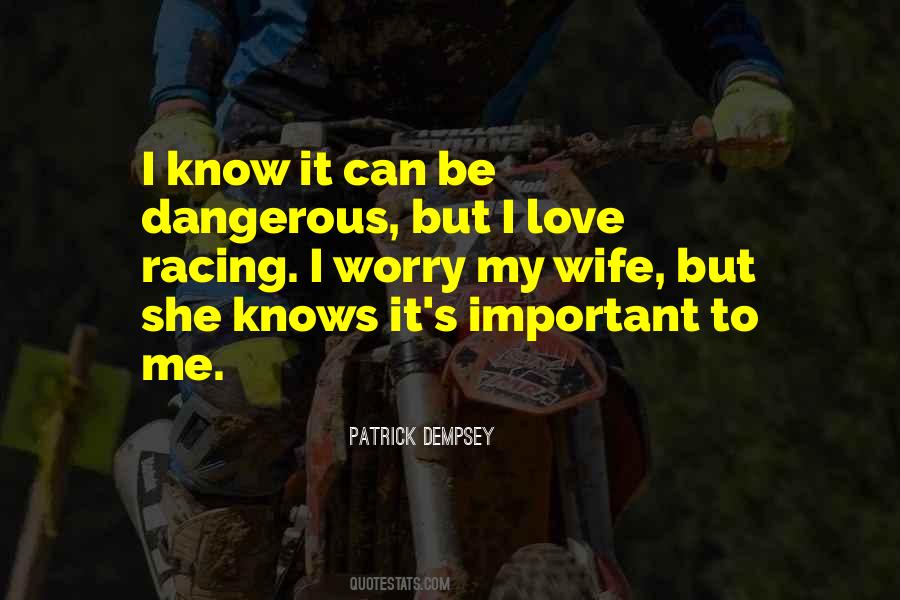 #61. I absolutely love being back in Nebraska and I love that my wife is able to experience a lot of the great things that made me love this place years ago. The lifestyle, the people. - Author: Jason Peter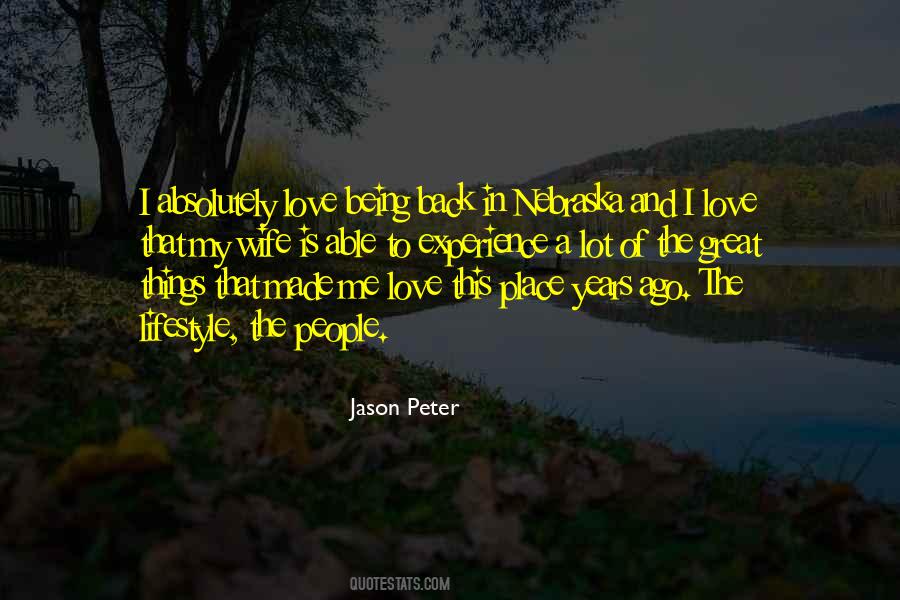 #62. Yeah, Dundee was great. It was a great film. I fell in love with my Mexican wife on Dundee. - Author: Sam Peckinpah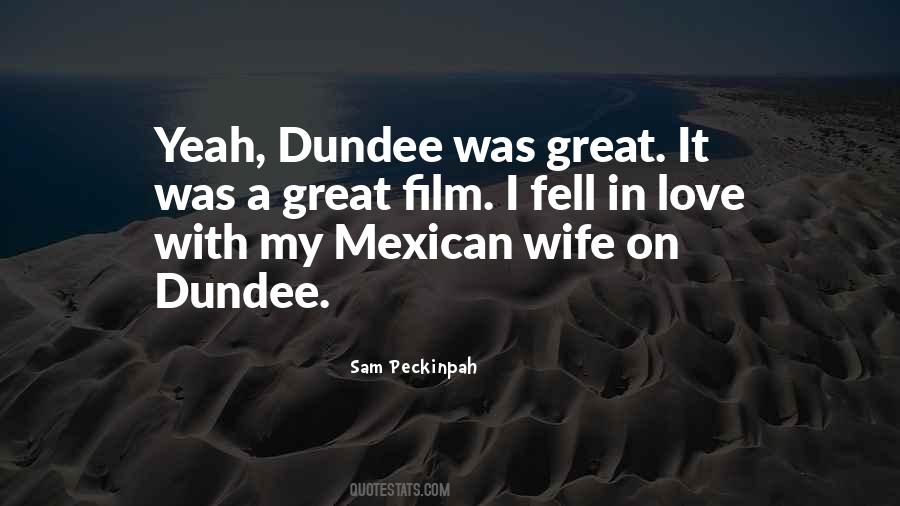 #63. Most of the time I'm thinking of you
All of the time I love you
Remembering the good times and the bad
So much as
Happened and
Maybe I'm loving too fast
All I know is I ...
Love you. And want to
Live with you
Only you
Will you be my wife? - Author: Monica Murphy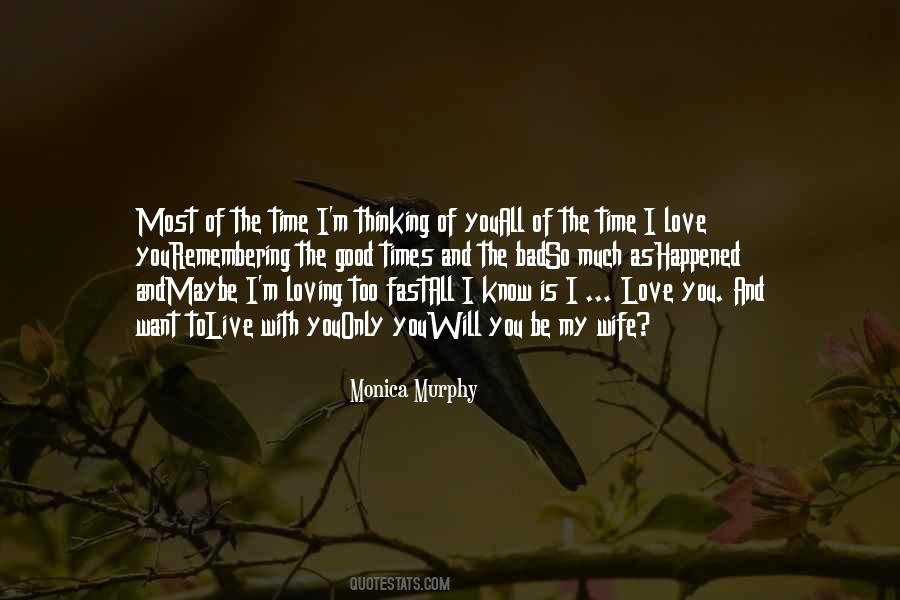 #64. My wife is really sentimental. One Valentine's Day I gave her a ring and to this day she has never forgotten those three little words that were engraved inside Made in Taiwan! - Author: Leopold Fechtner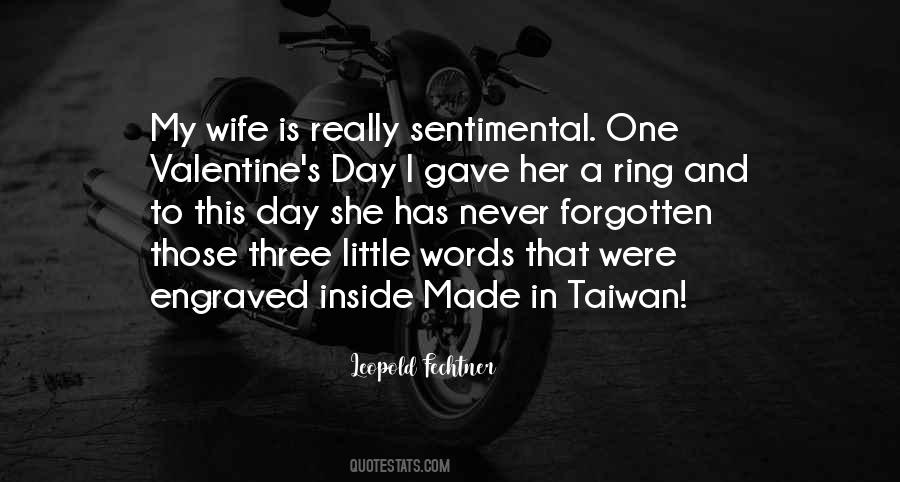 #65. My wife is as handsome as when she was a girl, and I ... fell in love with her; and what is more, I have never fallen out. - Author: Abraham Lincoln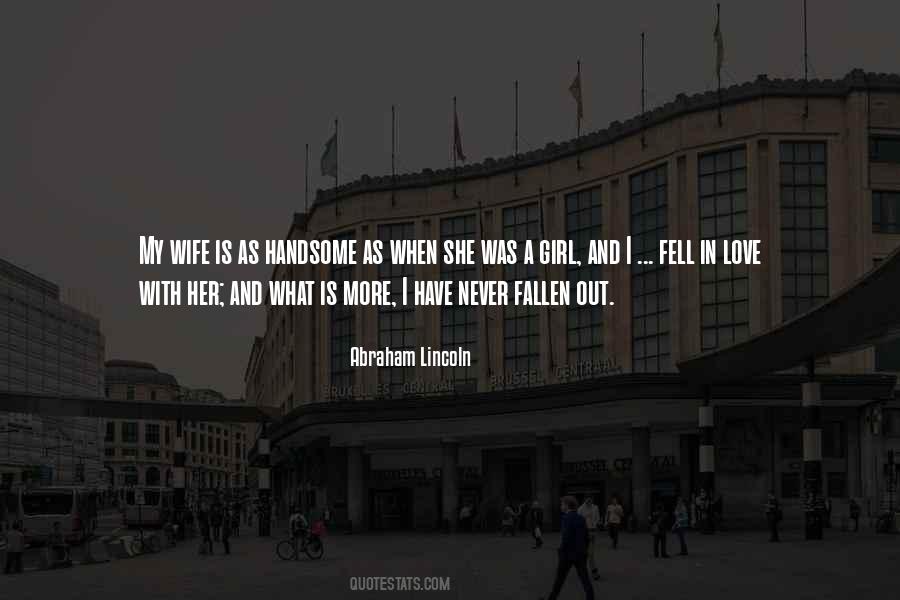 #66. No! he wanted to cry out. No, Tania, please come back. What can I leave her with, what can I say, what one word can I leave with her, for her? What one word for my wife?
"Tatiasha," Alexander called after her. God, what was the curator's name ... ?
She glanced back.
"Remember Orbeli- - Author: Paullina Simons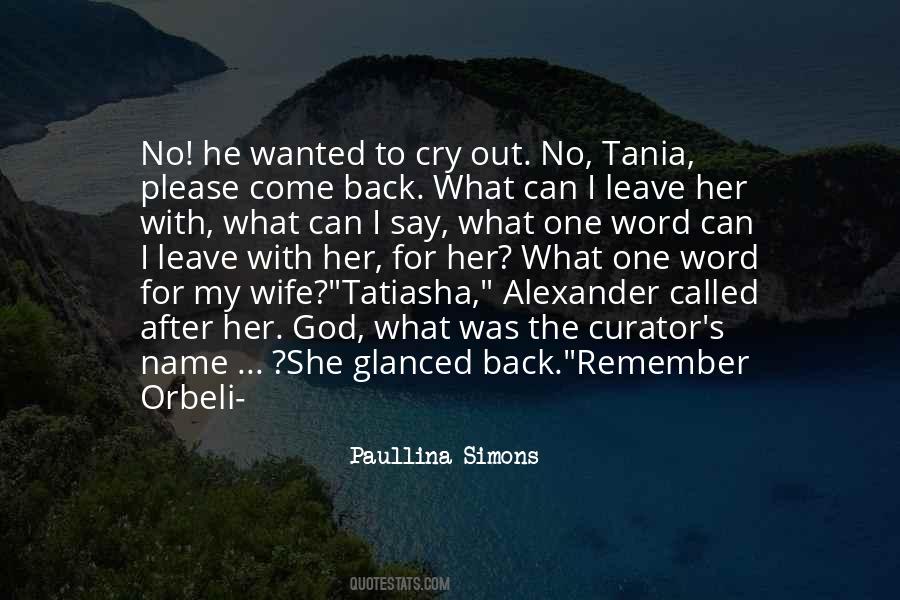 #67. I loved them too and while you might lay a greater claim to them, I defy you to miss your wife any more than I'll miss my best friend or your child, who was every inch a son to me. - Author: Fiona McIntosh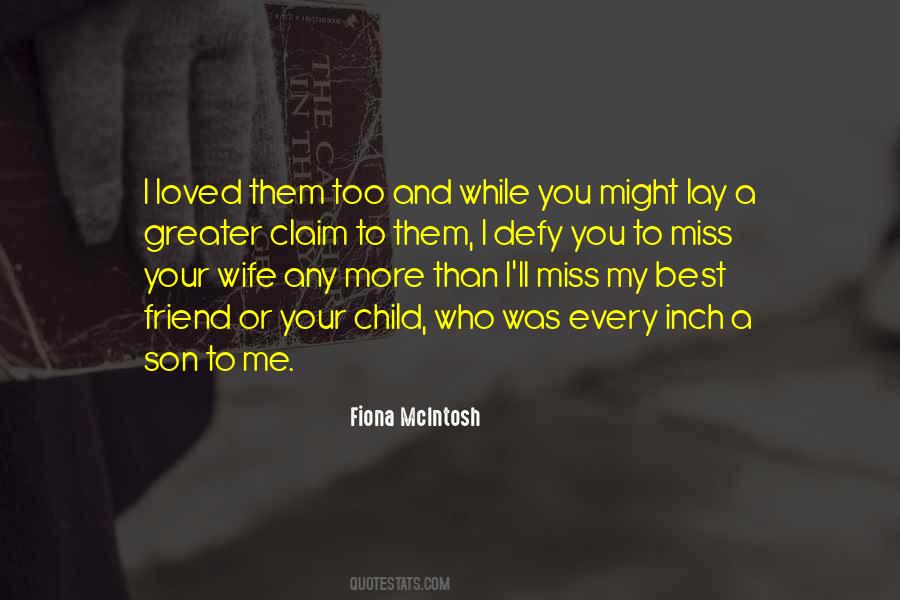 #68. It was hard to love my wife and kids because I was all wrapped up in loving only myself. I did what I wanted, when I wanted, without any real concern for them. - Author: Phil Robertson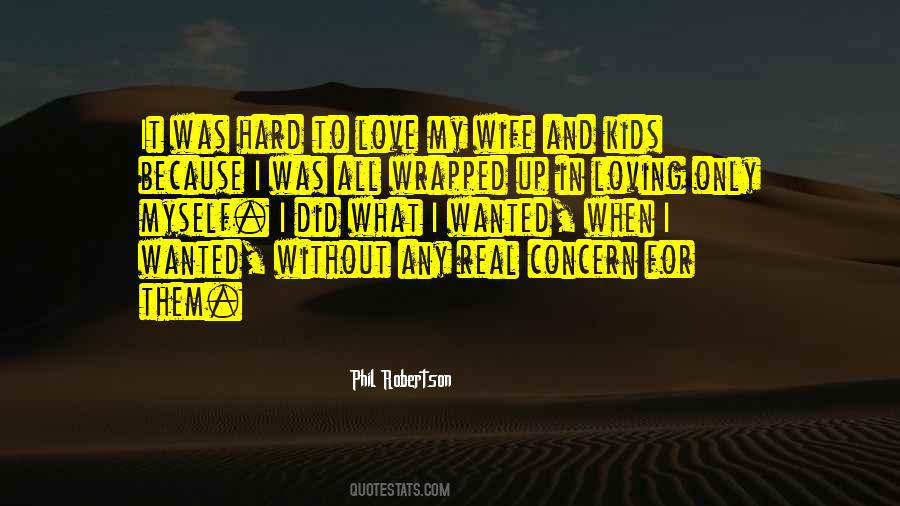 #69. My heart, my wife, my life. I will love you until the day I die. - Author: Laura Thalassa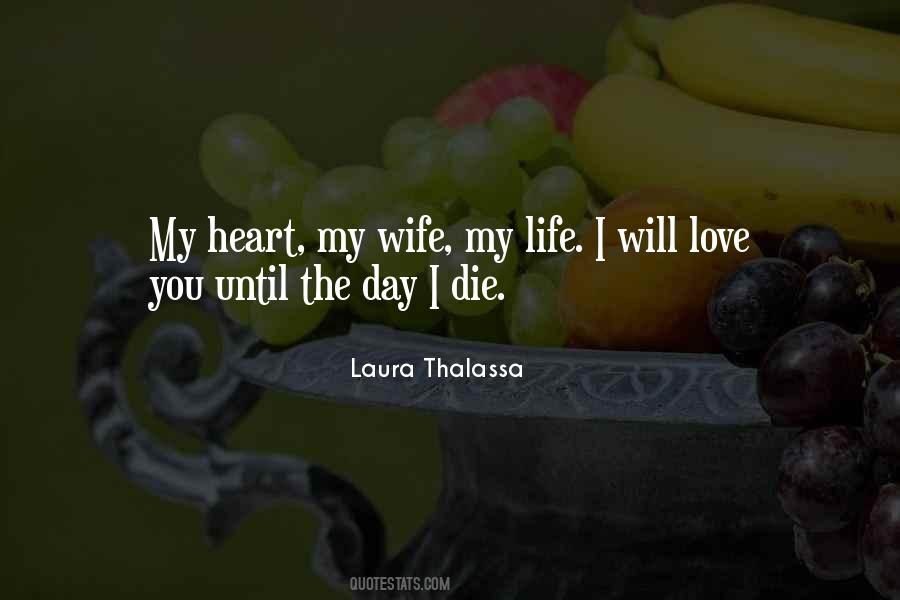 #70. It stayed there because, honey, I've never stopped loving you. In my heart, you are my wife and always will be. ~Carlos & Maddie - Author: Bernadette Marie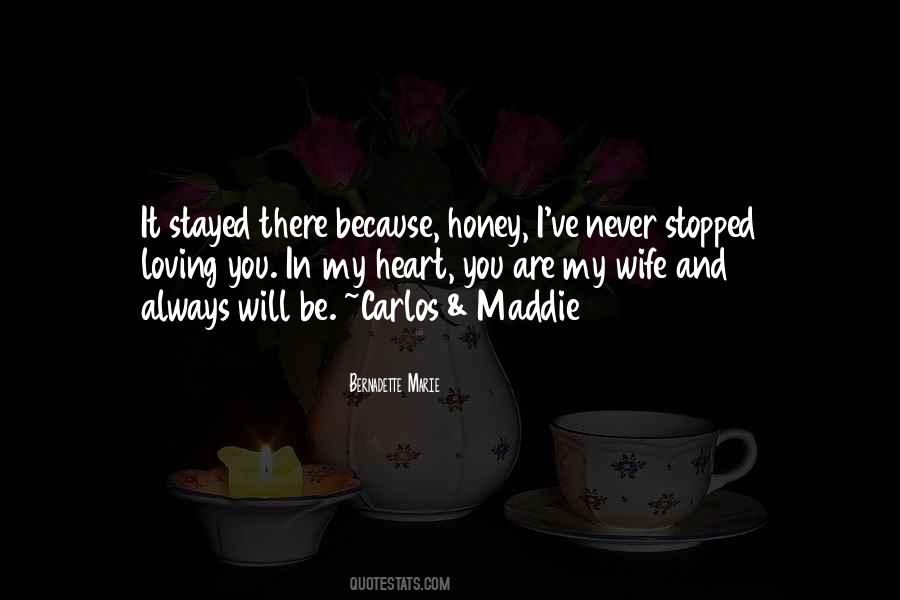 #71. This is hell,
but I planned it. I sawed it,
I nailed it, and I
will live in it until it kills me.
I can nail my left palm
to the left-hand crosspiece but
I can't do everything myself.
I need a hand to nail the right,
a help, a love, a you, a wife. - Author: Alan Dugan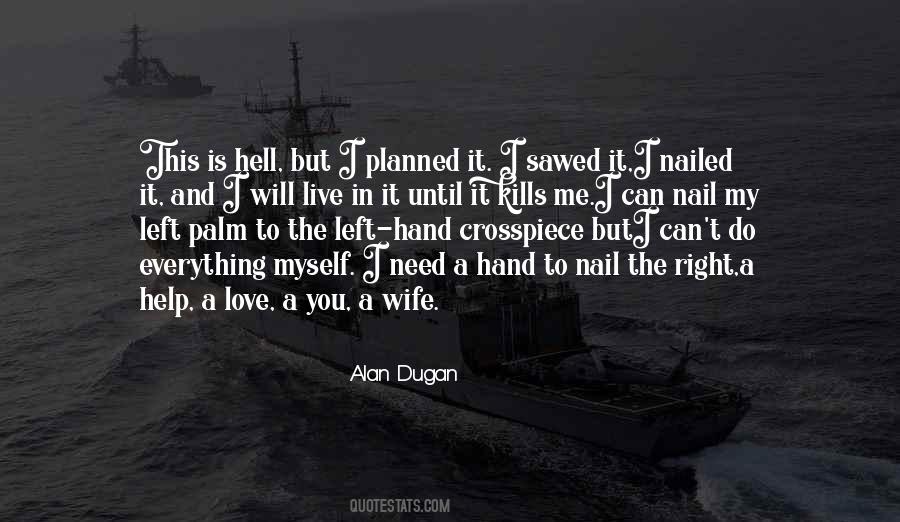 #72. If it's a romantic holiday, the only thing I need is my wife. We love quiet and calm places where we can't be disturbed. Neither of us likes being in busy places; we would much rather stay in our hotel room and enjoy each other's company. - Author: Jean Reno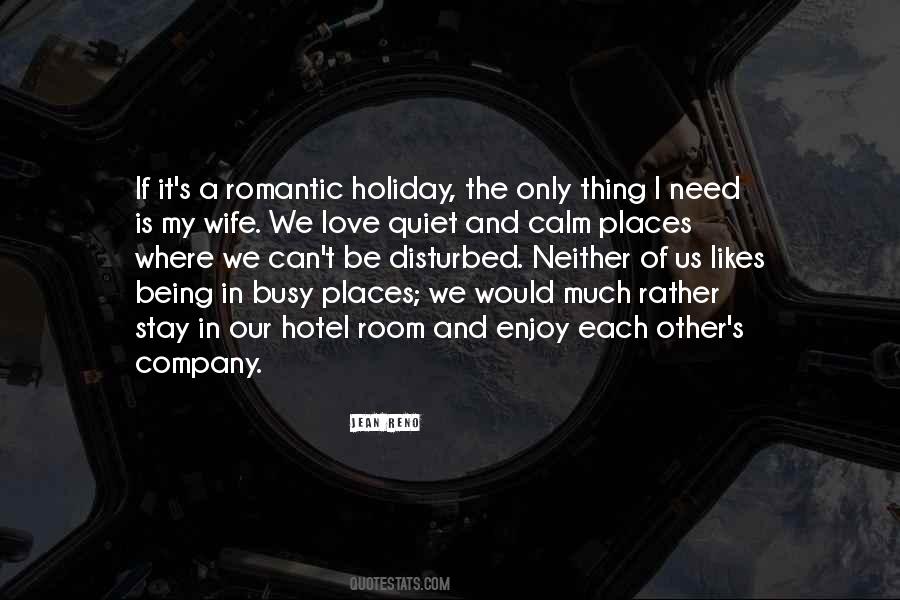 #73. Little Britain ... ever since it first came on ... I come here a lot, we have a lot of friends here, my wife used to work with a lot of Brits, so we were always keyed into the hot shows when they first came out. So, I fell in love with Little Britain. - Author: Paul Feig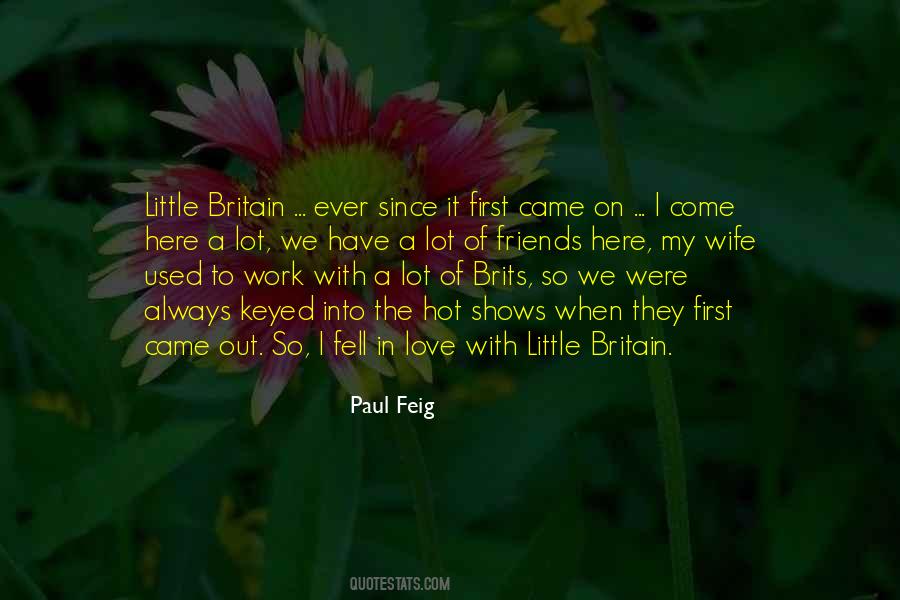 #74. I was making love to my wife the other night, I looked up. She was on the phone. - Author: Rodney Dangerfield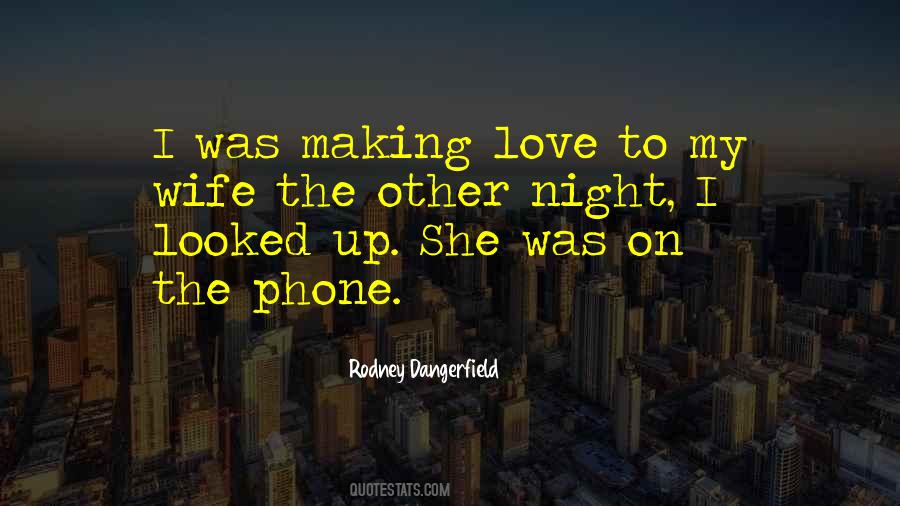 #75. I'm not sure what kind of love you mean, baby, but if you mean do I want you to be with me forever, that I can't bear the thought of being without you as my lover, my best friend, my whole world....one day my wife, and my baby mama, then yes, I Love you, Love you! - Author: S.E. Hall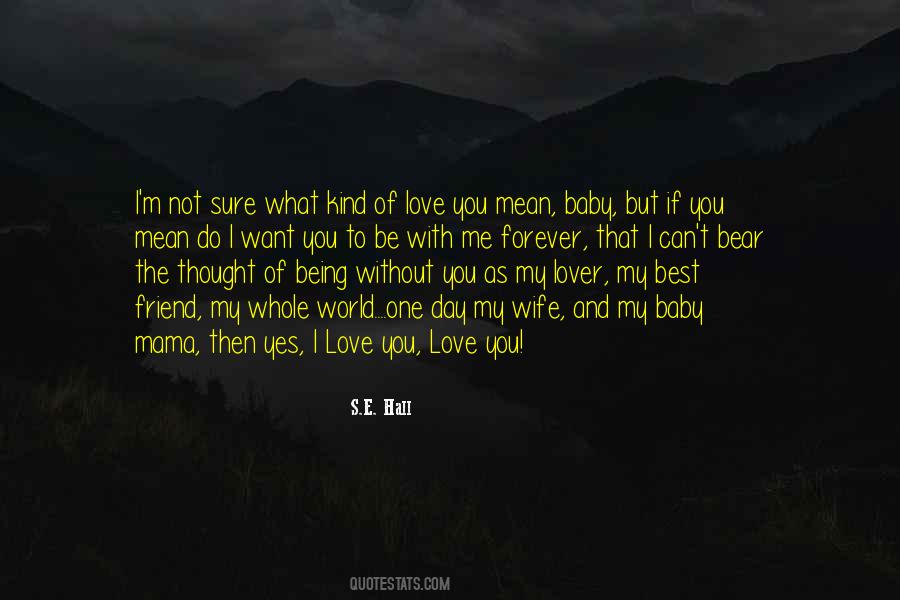 #76. I mean, I'm happy to see you, but why aren't you home?"
"Wherever my wife sleeps is my home. - Author: Olivia Parker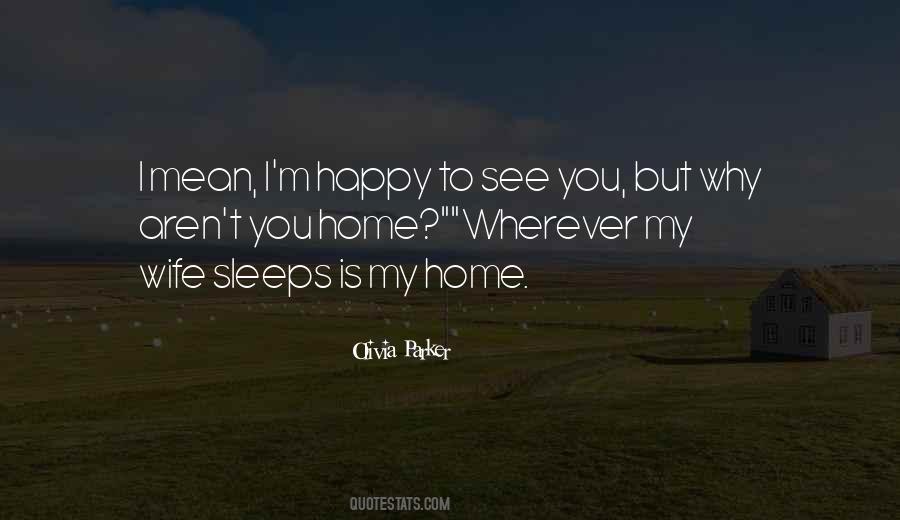 #77. Ah, a romantic." Danny leaned back, threading his fingers behind his head. "I used to be one, until my wife died. And then I was just pathetic. - Author: Mary Jane Hathaway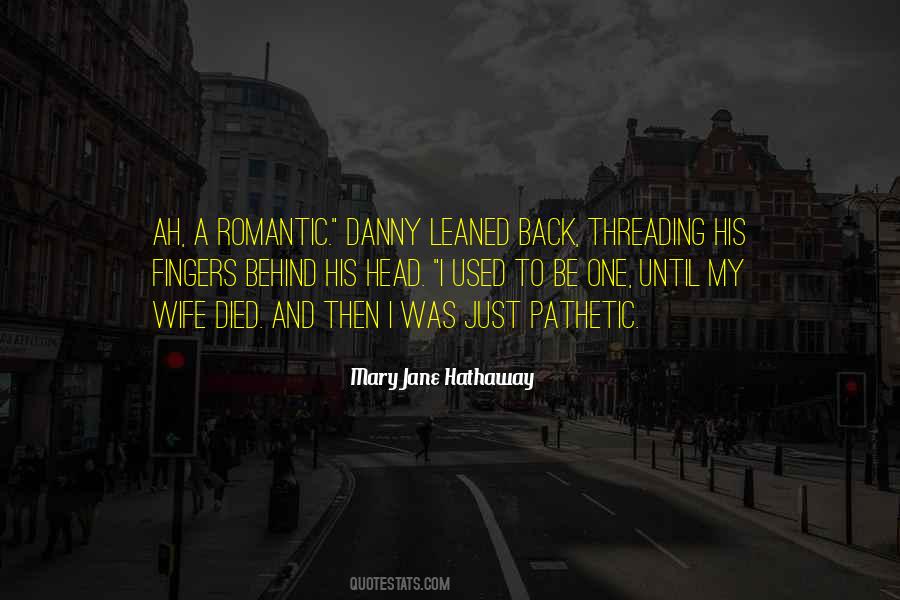 #78. Never to be outdone, my wife, who also happens to be a psychoanalyst and therefore a specialist in ambivalence, wrote the following to me: 'Dear Simon, Break a leg, or all your legs. I better brake fast. With all my love-hate, Jamieson (who is about to drive us off a cliff) - Author: Simon Critchley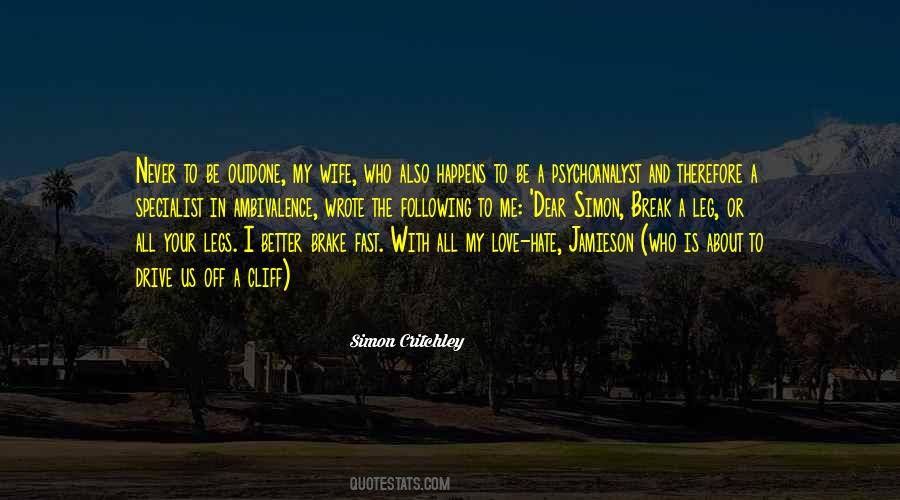 #79. My wife and I love each other very much. - Author: Stephen Hawking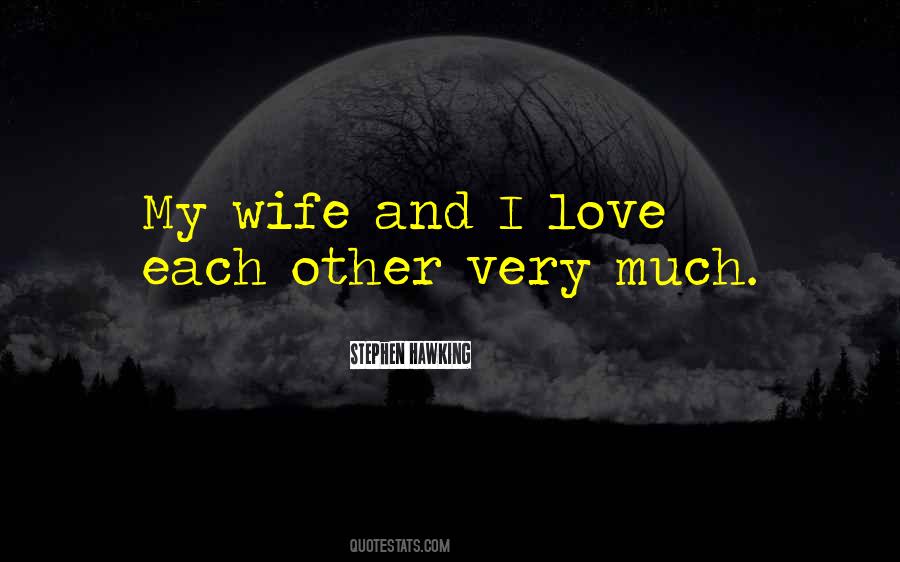 #80. I love my wife and I know she loves me. We're best friends. We're just lucky to have found each other. It takes a lot of work but I just feel very blessed that I found the right person. It's a very fortunate situation and not everyone has that. - Author: Harry Connick Jr.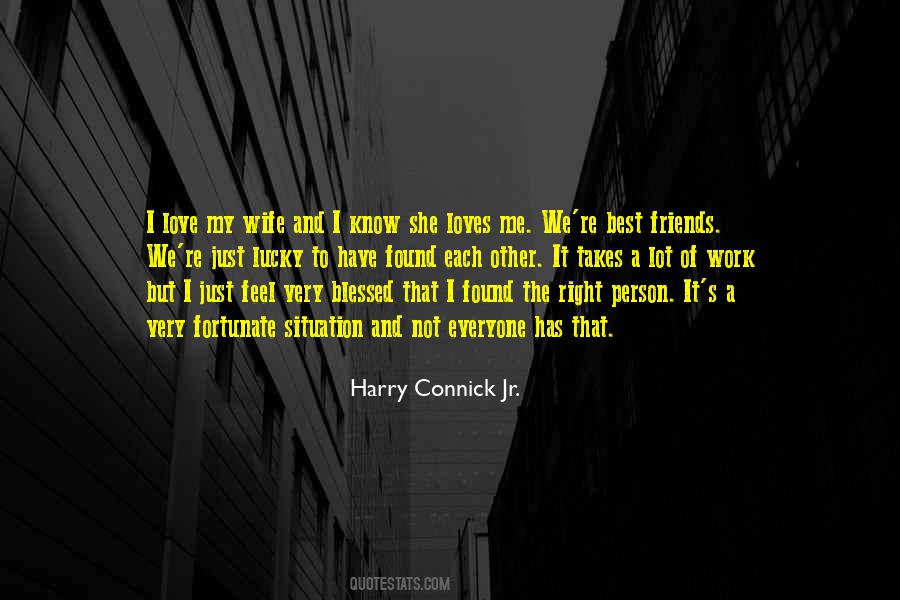 #81. So long as I can stay mentally alert - inquiring, curious - I want to keep going. I love my wife and my children, but I don't want to sit around at home with them. We go on safaris and things like that. I can do that for a couple of weeks a year. I'm just not ready to stop, to die. - Author: Rupert Murdoch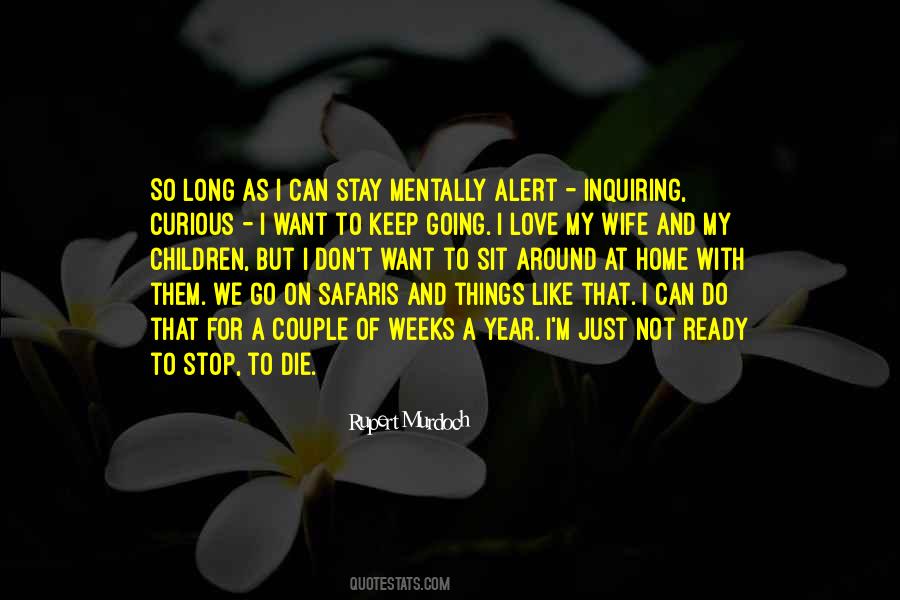 #82. How was I able to live alone before, my little everything? Without you I lack self-confidence, passion for work, and enjoyment of life
in short, without you, my life is no life.
[Written to his wife, Mileva] - Author: Albert Einstein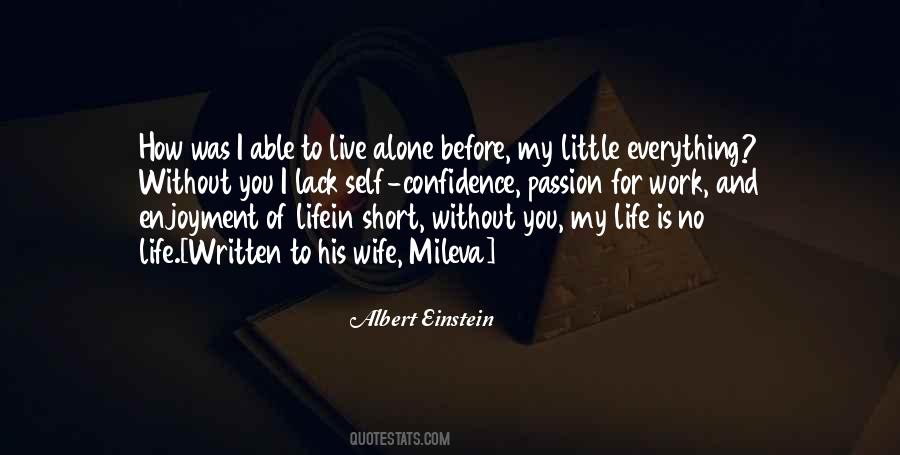 #83. My wife and I love to host wine and cheese parties. They are simple and elegant and you don't have to put a lot of effort and time into it. - Author: Tyler Florence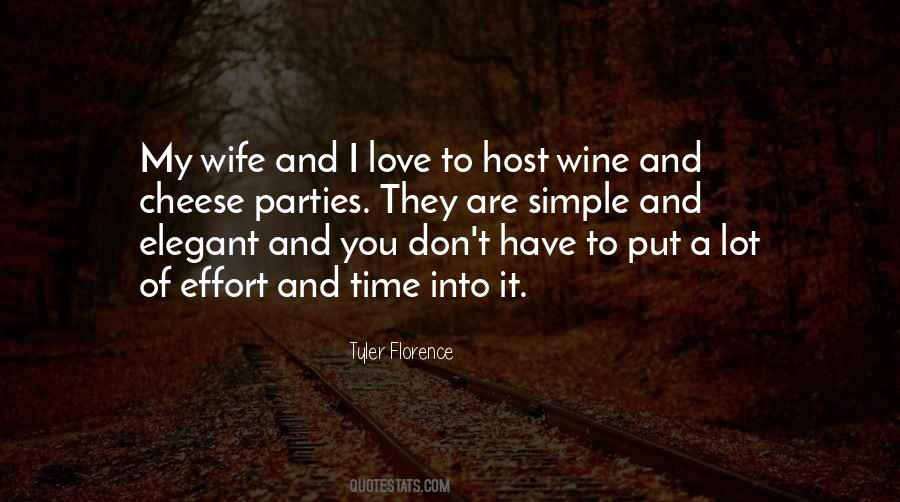 #84. I would love to have the power to be the just eternally perfect husband so my wife would always be happy; that would take me to heaven if I could figure that one out. - Author: Robert Knepper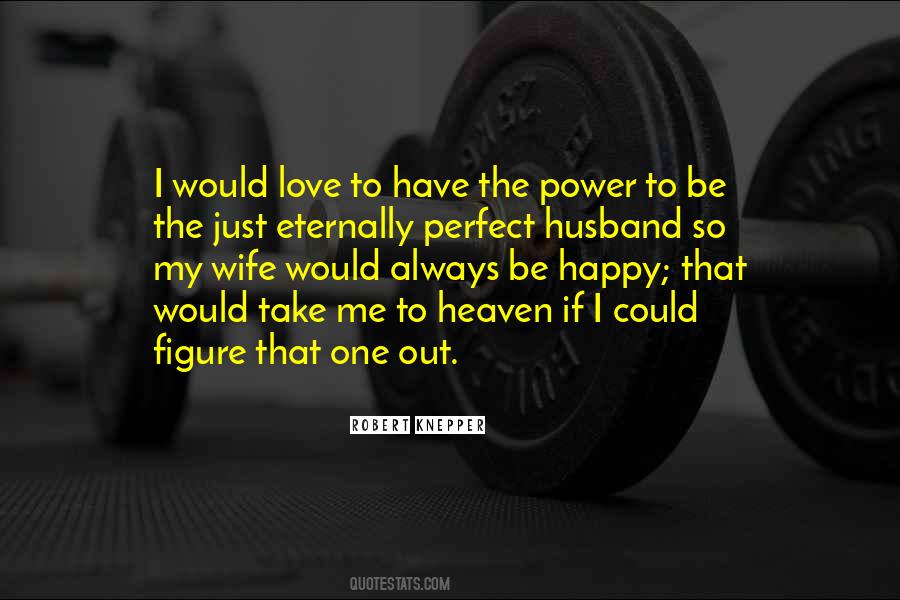 #85. I just love sport; I love competing. I'm obsessed by it, to be honest. I can accept losing, sure, no question, but it just drives me crazy. Just ask my wife. - Author: James Spithill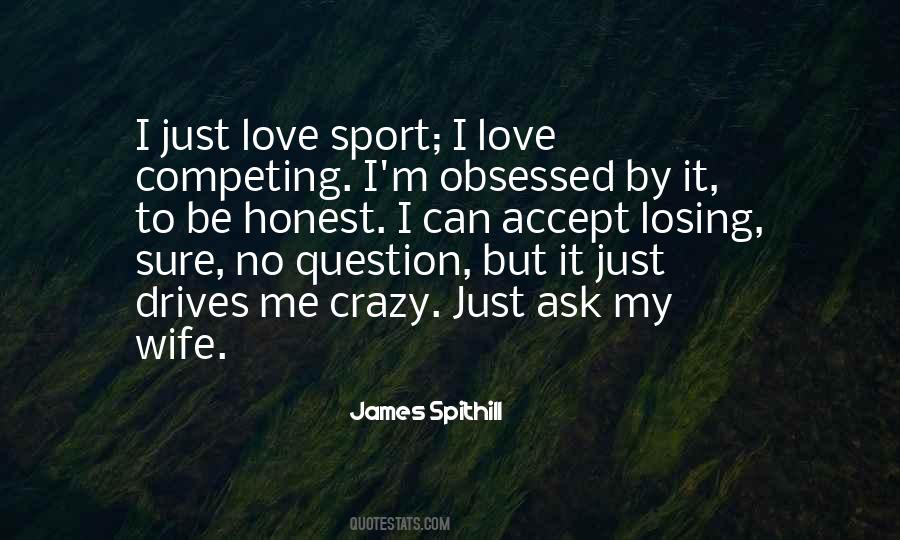 #86. he almost never spoke about himself, in my hearing at least: though once, shortly after his marriage, when he brought his wife to lunch with me, he said...looking at her across the grassy quadrangle, 'I never expected to have, in my sixties, the happiness that passed me by in my twenties. - Author: Jocelyn Gibb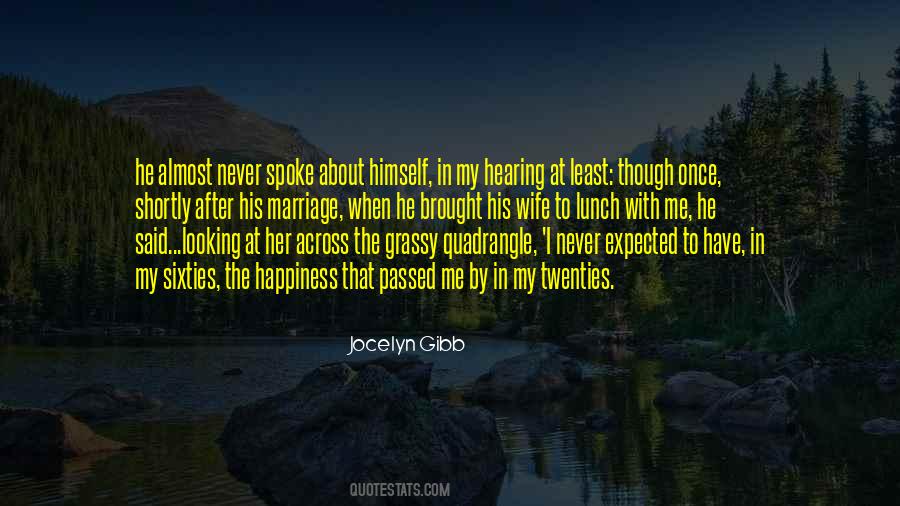 #87. I love rings, but I can't wear them. I mean, look at my knuckles. My fingers and joints are so swollen from years of playing. That means no wedding band, either. Luckily, I have a very understanding wife. - Author: Justin Tuck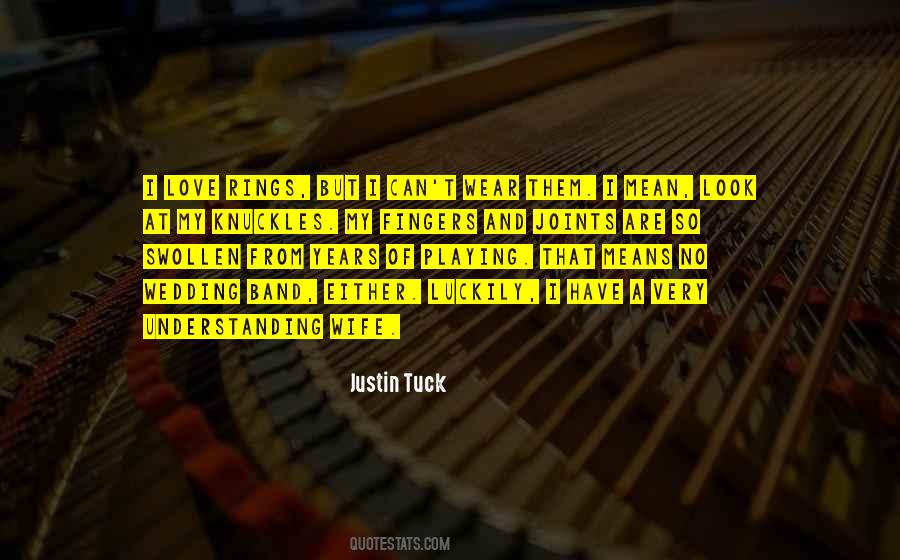 #88. I went swimming the other day and my wife was watching and she said, 'You know, it's funny, it's when you've got no clothes on, no one recognizes you.' I said, 'What are you saying? That I should do more love scenes?' - Author: Eddie Marsan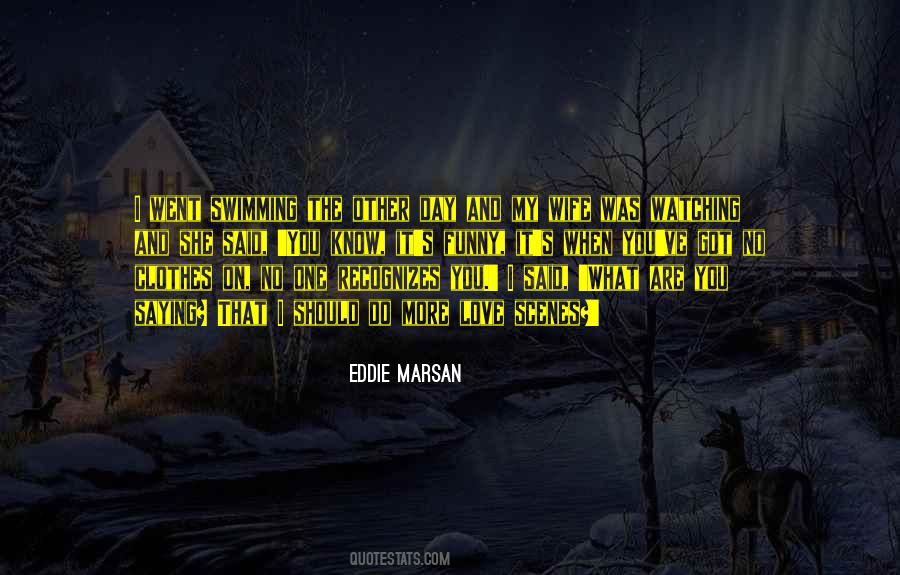 #89. Eight years ago, I was a waiter, and I didn't have a pot to piss in. And now ... ? It's like I said to my wife: I love the fact that, if I was in a restaurant and Steven Spielberg walked in, I could go up to him and say, 'Hey, mate, how are you?' I think that's pretty amazing, actually. - Author: Nick Frost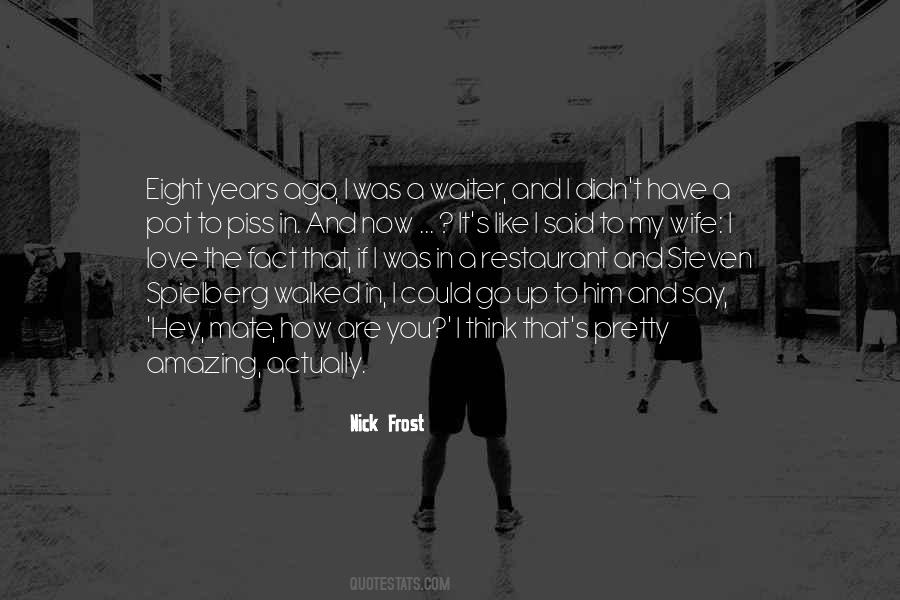 #90. This would be a perfect day if Ray were here with us, but he's not far away. He's doing well, and I know he'd like to enjoy yourself, Ana. To all of you, thank you for coming to share my beautiful wife's birthday, the first of many to come. Happy birthday, my love. - Christian Grey - Author: E.L. James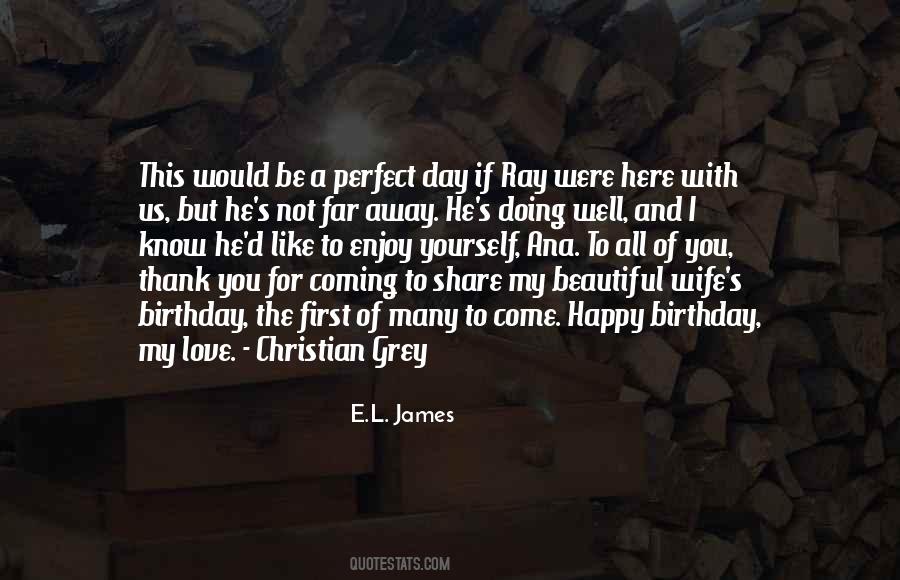 #91. One of the things I've realised is that I am very simple. My wife asked me once if I loved her. I said: 'Look love, I'm a simple man. I love you. End of story.' But I guess you gotta keep saying it with women. I guess she needed reassurance. - Author: Bob Hoskins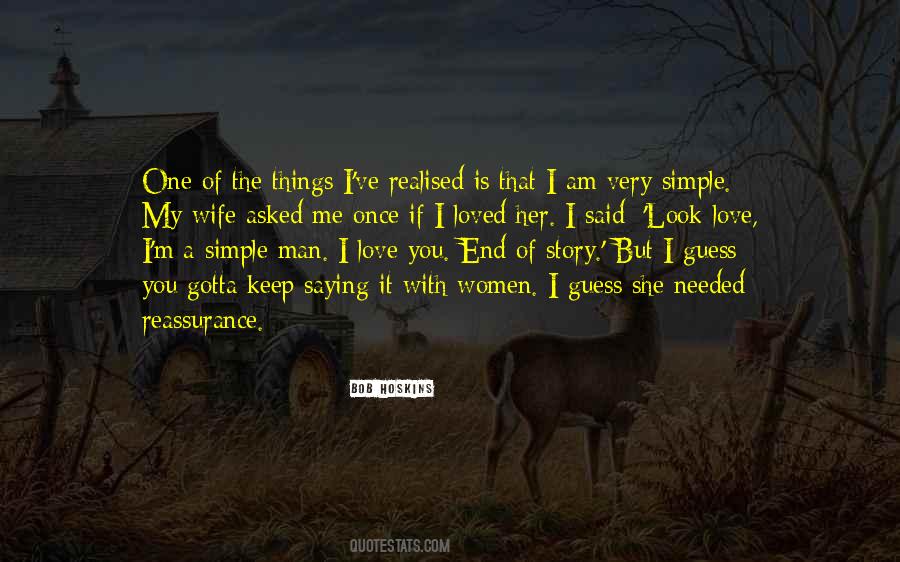 #92. I met my wife in Oxford, fell in love with her, and followed her to New York. I was an illegal there for the first few years, until we got married, so I ended up doing lots of interesting jobs, some for a few days, some for a few months. - Author: Adrian McKinty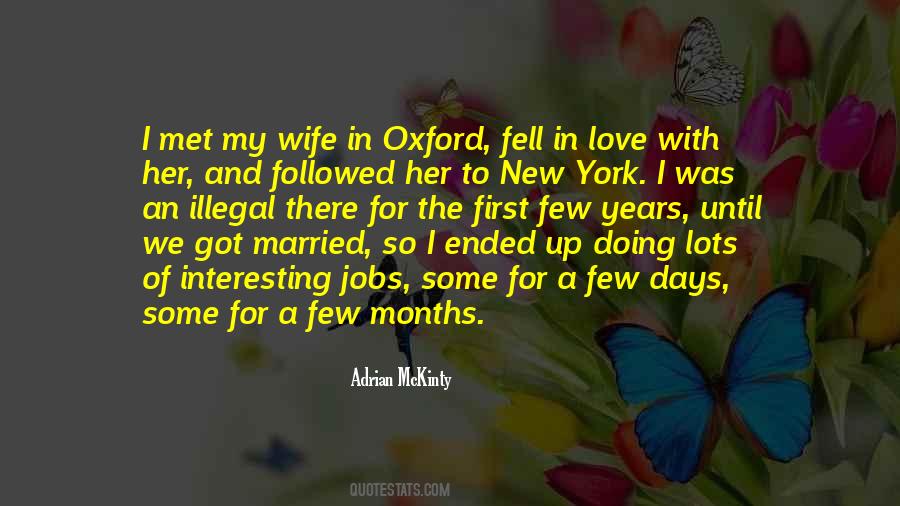 #93. I cannot say for certain if there is such a thing as love at first sight, but I do know that the moment I first glimpsed Winnie Nomzamo, I knew that I wanted to have her as my wife. - Author: Nelson Mandela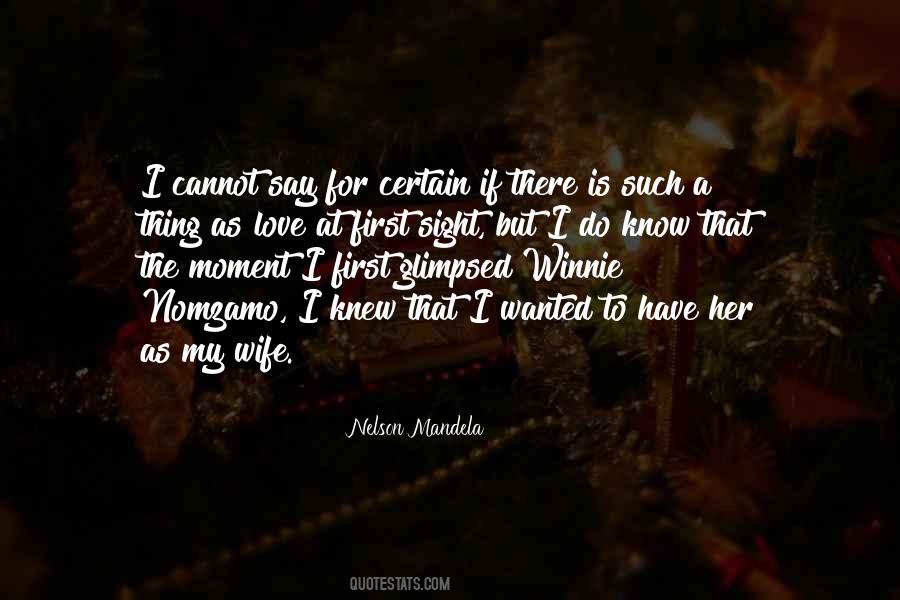 #94. Children are the first thing I see in the morning and the last thing I see at night. It hurts me to be away from them for a few hours. It really does. I love them and they're girls, so they know how to push my buttons. But I've learned a lot and I have to thank my wife for that. - Author: Sylvester Stallone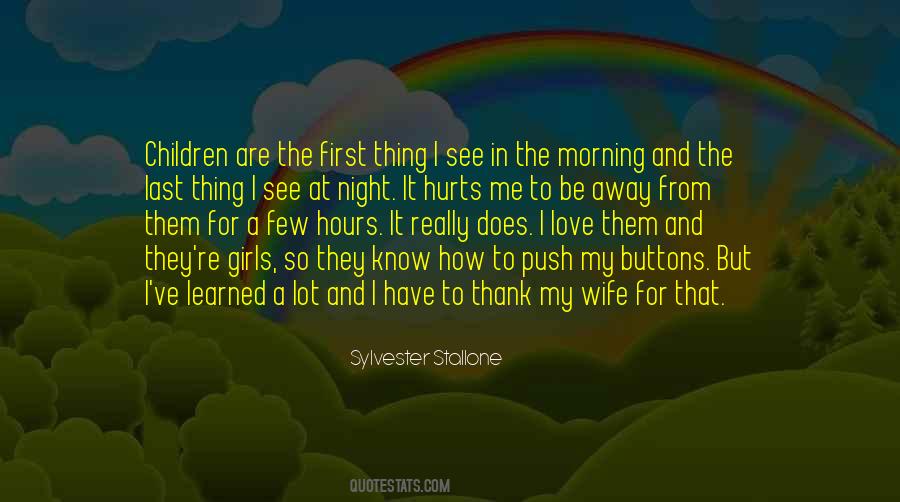 #95. Saracen The Knight: There will be a cost.
Saint-Germain: Anything. I will pay anything to get my wife back.
Saracen: Even your immortality?
Saint-Germain: Even that. What's the point in living forever, when it is not with the woman I love? - Author: Michael Scott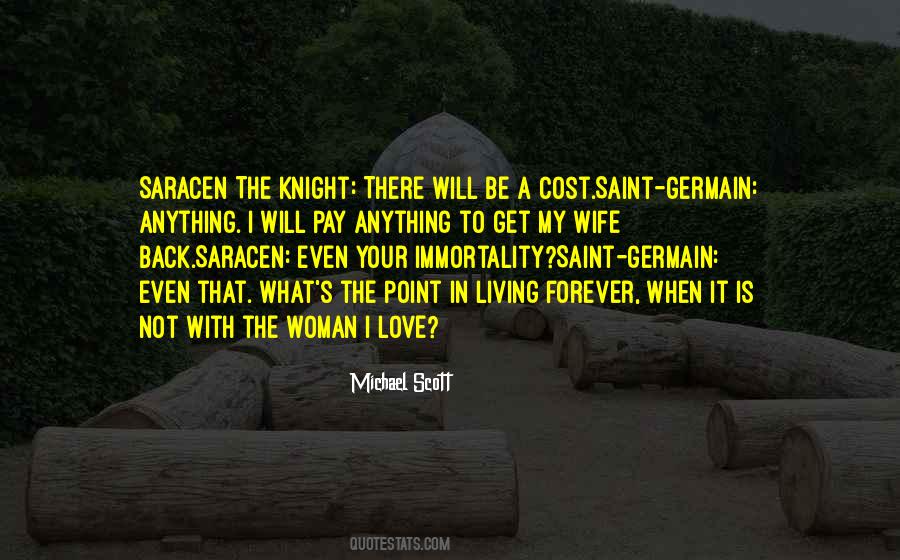 #96. I love you," he said. "I love you more than any other creature, because you are cruel, and kind, and alive. Nyx Triskelion, will you be my wife? - Author: Rosamund Hodge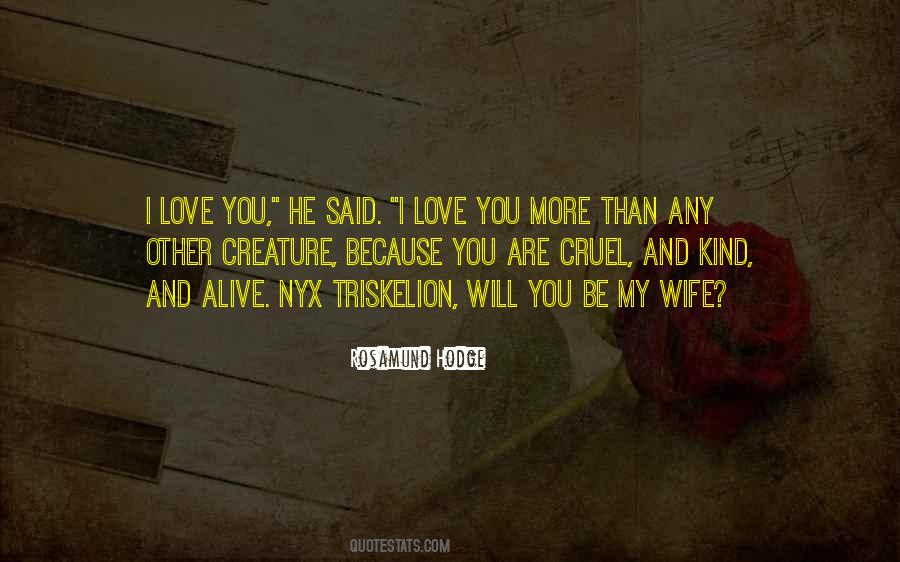 #97. I killed the wife when I first tasted sensual joys without love, and then it was that I killed my wife. - Author: Leo Tolstoy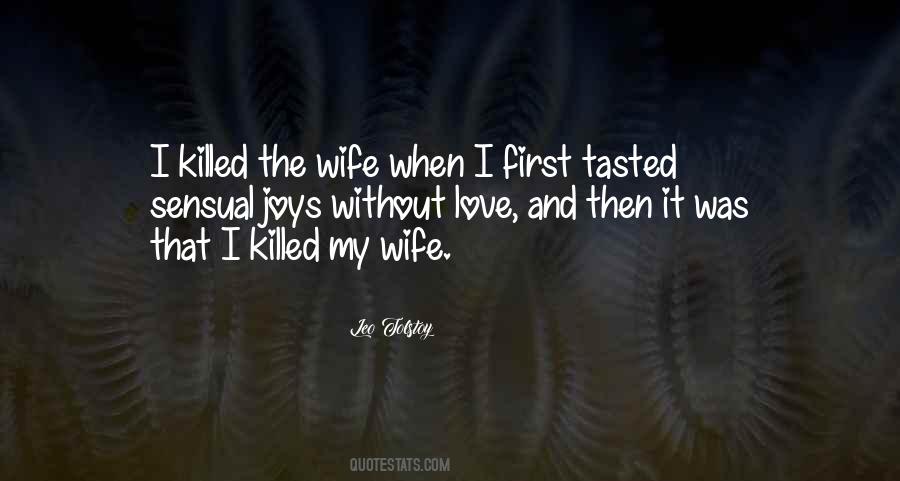 #98. I define myself by helping others. This is what I do.
Those people who want me to abandon my husband are asking me to put myself first and to judge him. The poor man has been judged unfairly by others. Why would I abandon him in his greatest need? - Author: Deirdre-Elizabeth Parker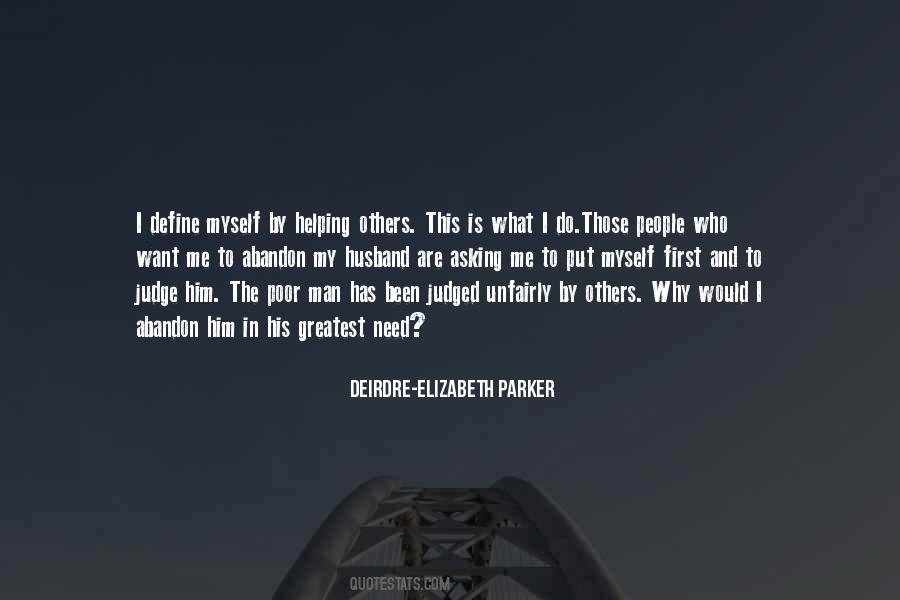 #99. Verranica Welling, I love you with all my soul. I will happily be your king, if you will consent to be my love, my wife and my queen for all of our days in Doon and beyond.
This time, I didn't need to think about my answer. Yes, Jamie, Yes! - Author: Carey Corp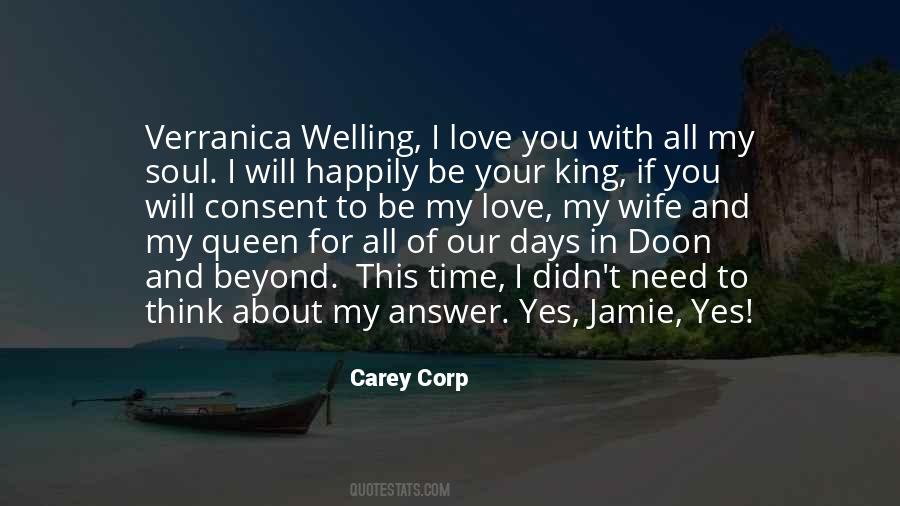 #100. I did I Love My Wife on Broadway in 1978, and then went into television land. Now things are starting to come together in the way I thought they might when I was a kid. - Author: Tom Wopat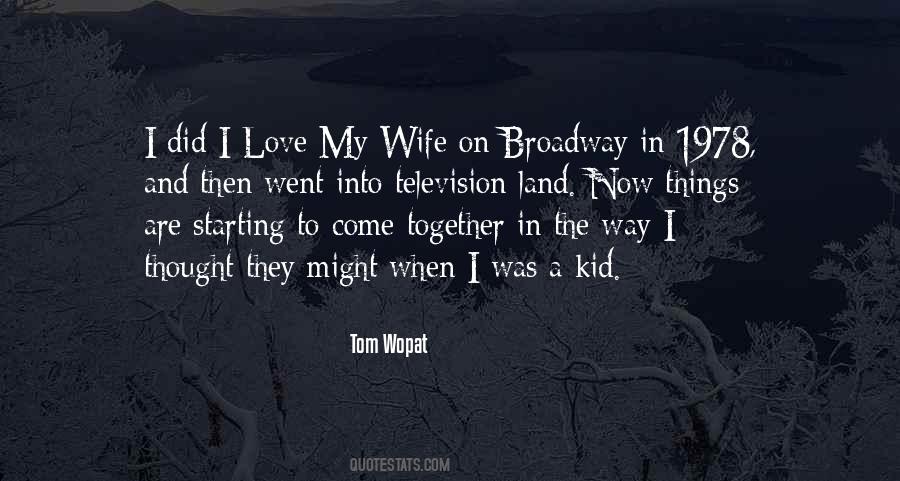 Famous Authors
Popular Topics