I Choose To Be Happy Famous Quotes & Sayings
List of top 40 famous quotes and sayings about i choose to be happy to read and share with friends on your Facebook, Twitter, blogs.
Top 40 Quotes About I Choose To Be Happy
#1. I always laugh and say, 'Dudes, if I have to choose, I'm a political person first. I would never do another movie again and be completely happy.' I need to say how I feel. - Author: Kathy Najimy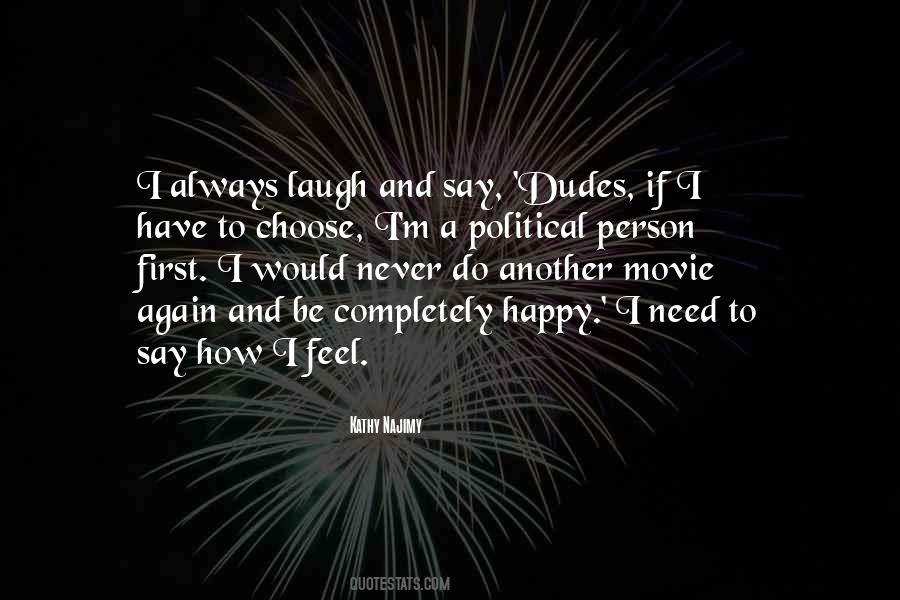 #2. Find light in the beautiful sea. I choose to be happy. - Author: Rihanna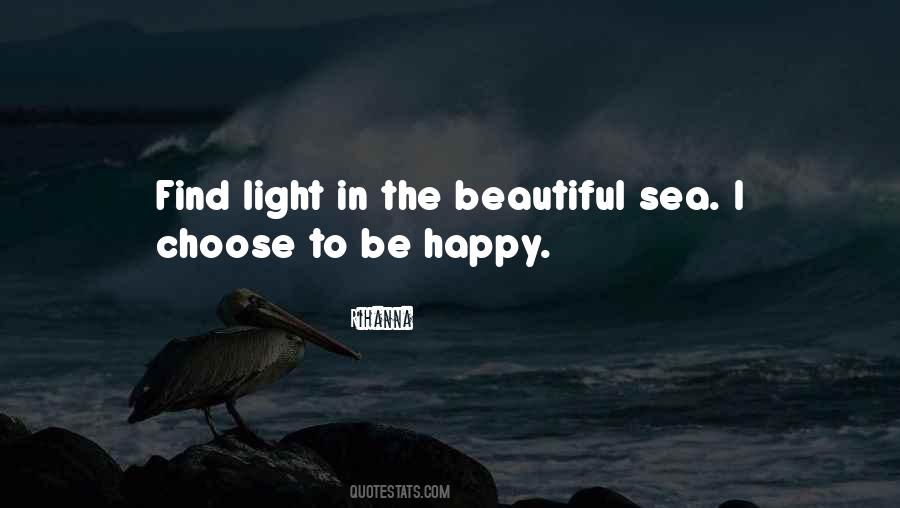 #3. You should learn to be happy with what you have. Besides, the fact that I'm not a huge star has allowed me to pick and choose the roles I want to do, not the ones some person sitting in a studio office thinks I should do. - Author: Aidan Quinn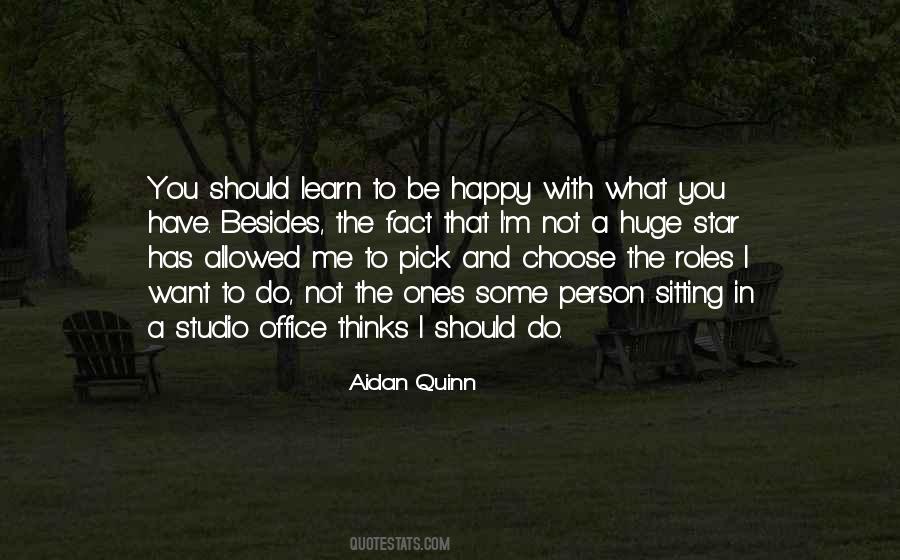 #4. Patrick wanted someone else. I wanted him to be happy, but why couldn't he be happy with me? I knew the answer. He couldn't choose me. - Author: Ruta Sepetys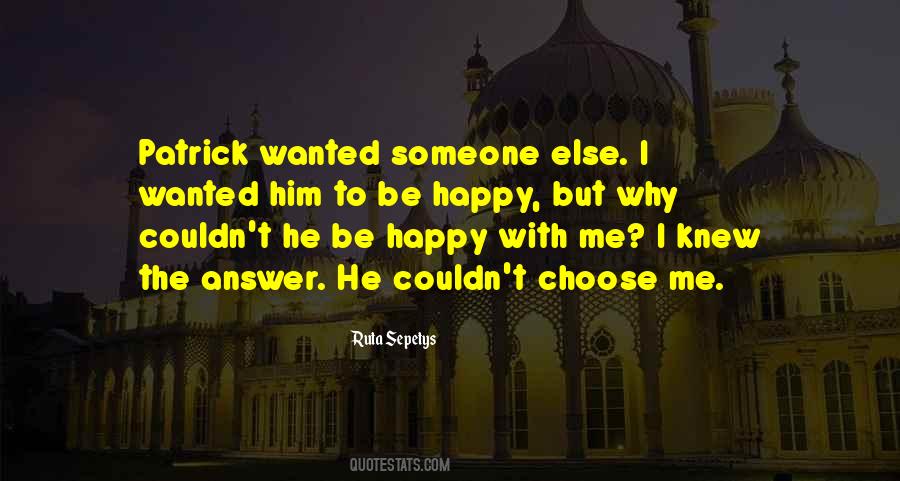 #5. I knew that I did not have to buy into society's notion that I had to be handsome and healthy to be happy. I was in charge of my 'spaceship' and it was my up, my down. I could choose to see this situation as a setback or as a starting point. I chose to begin life again. - Author: Warren Mitchell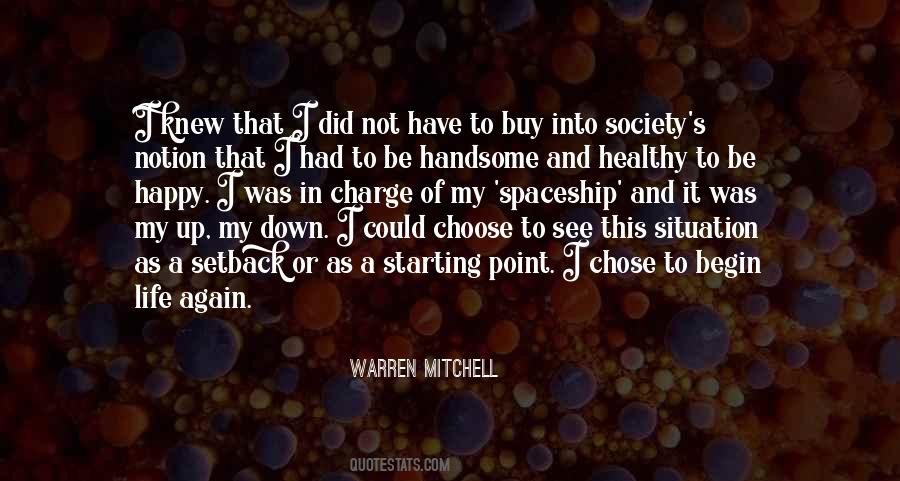 #6. I'm a happy person. If you want to be around me, you can either choose to be happy too, or follow the signs to the nearest exit! - Author: Sharon Swan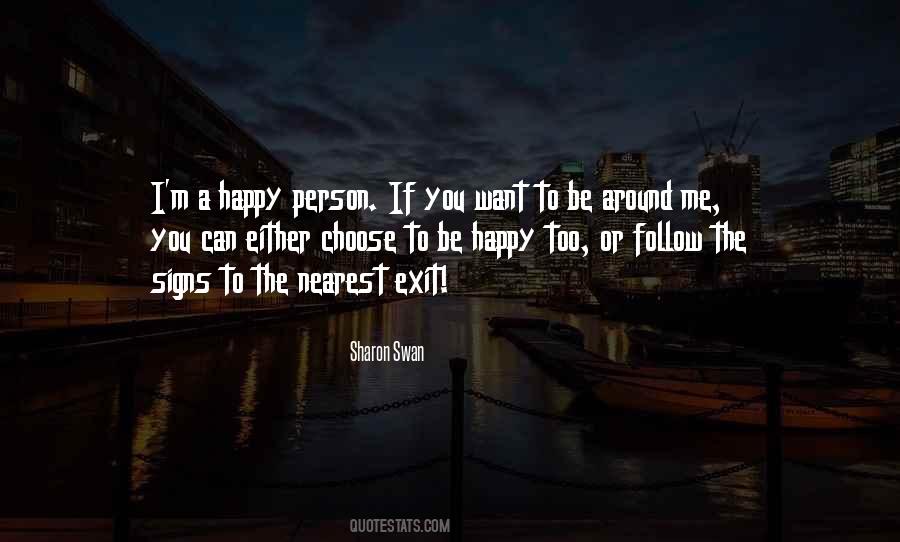 #7. Some women choose to stay at home and be housewives. If they are happy with it, then it's a wonderful choice. But I know I couldn't do that. I couldn't be a housewife. - Author: May-Britt Moser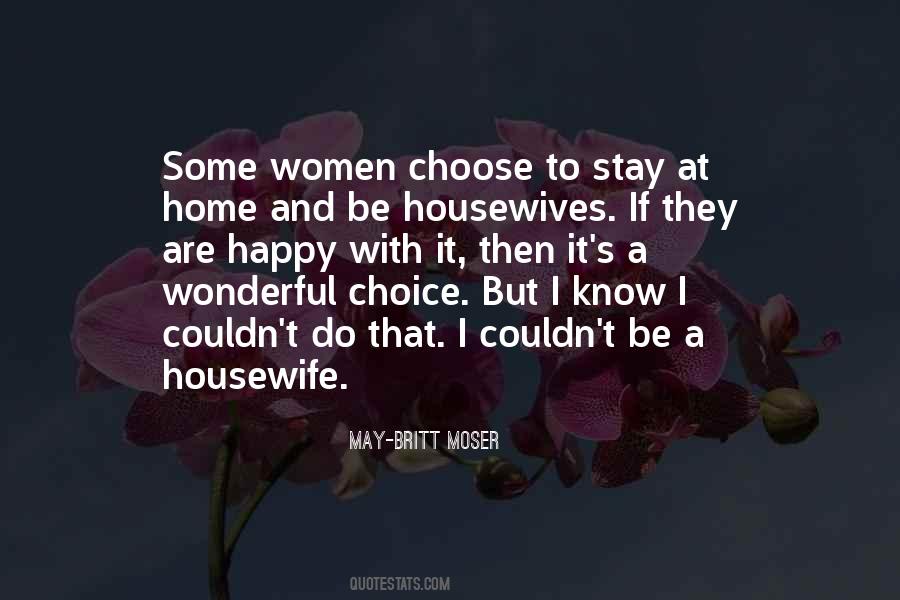 #8. When I think about it, if I had to choose, I'd rather be happy than write. - Author: Jean Rhys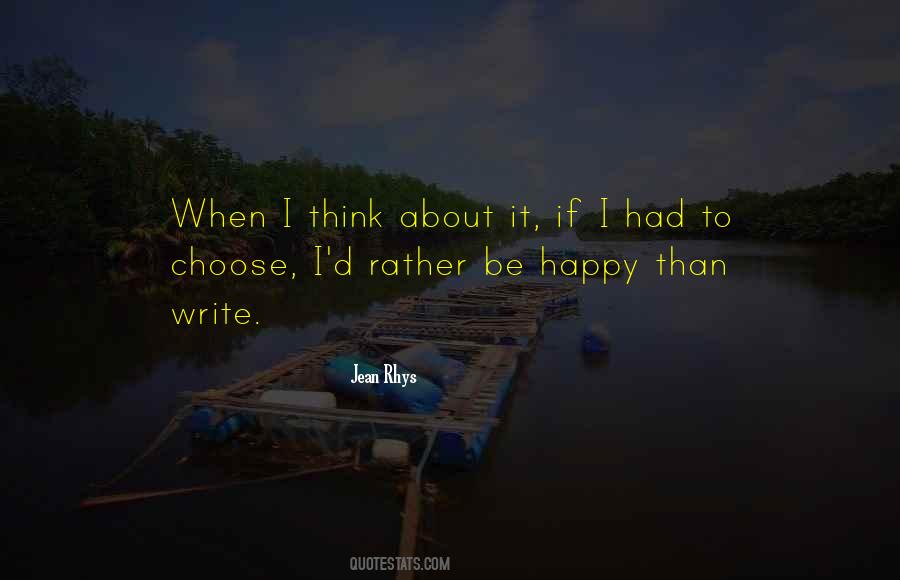 #9. I choose to be a happy person. I choose not to be a bitter person - Author: Britney Spears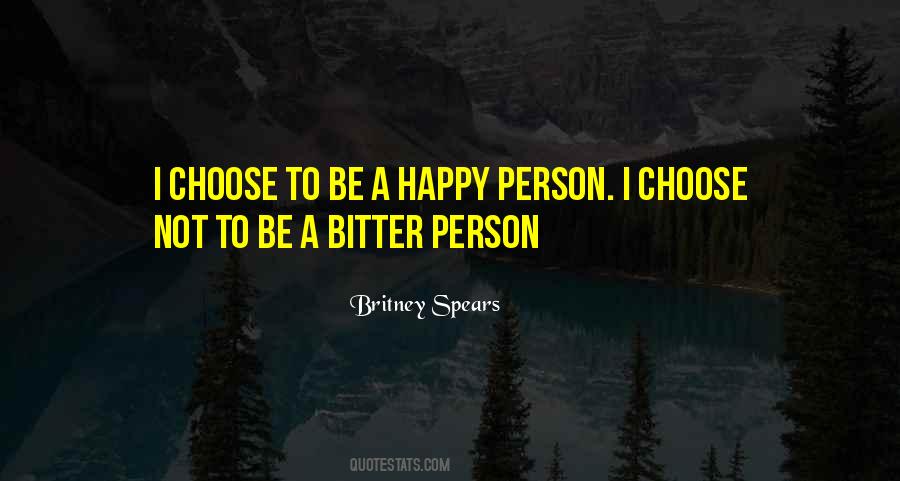 #10. No matter what I choose to become, I believe I can change the world. And as I am striving to change the world, I will be happy. - Author: Sam Berns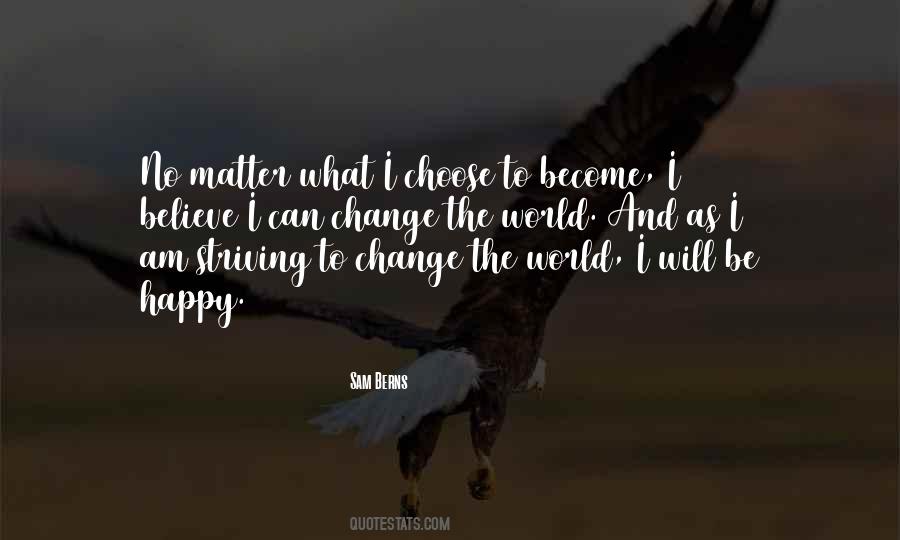 #11. I took comfort in doing without because I knew it was all for the greater good. We all made great sacrifices, none more so than those boys who lost their lives. Tragedy was part of our daily routine. But through it all, I never understood the point of being sad when I could choose to be happy. - Author: Megan McCafferty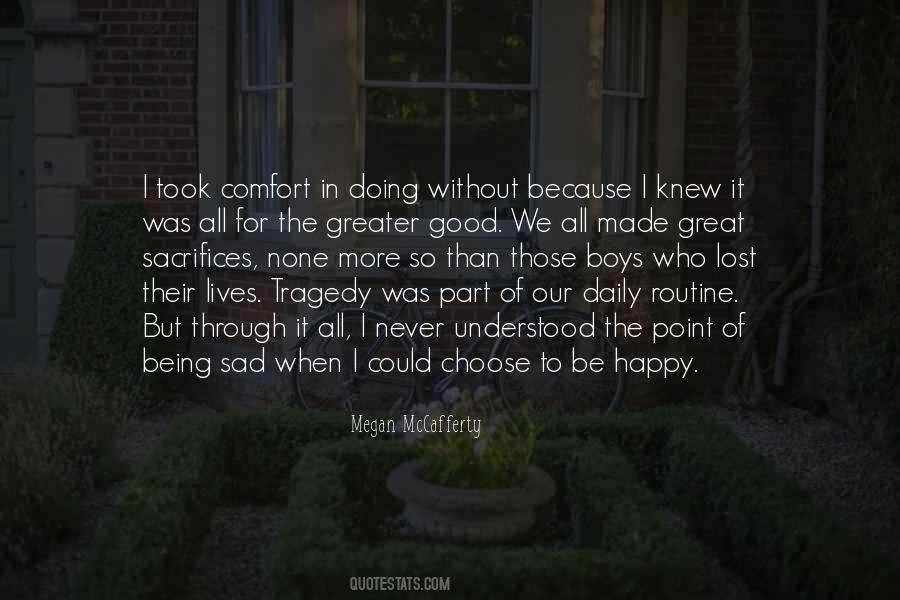 #12. You choose to be happy, and in life we have as many good days as bad days. I try to find and record those songs that pull you through the bad days, and keep you believing that the good days are just around the corner. - Author: Rodney Atkins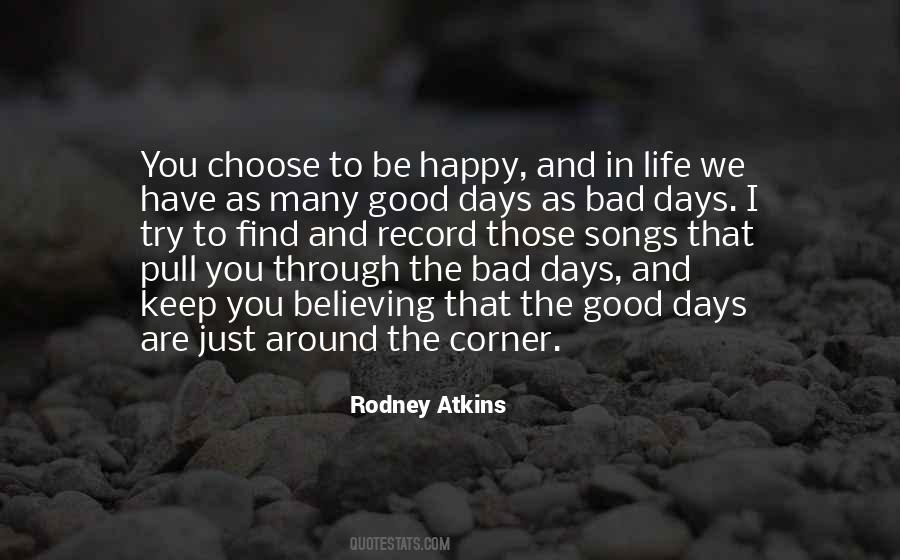 #13. Some people would rather be right that happy, I choose to be happy. - Author: Catie Hartsfield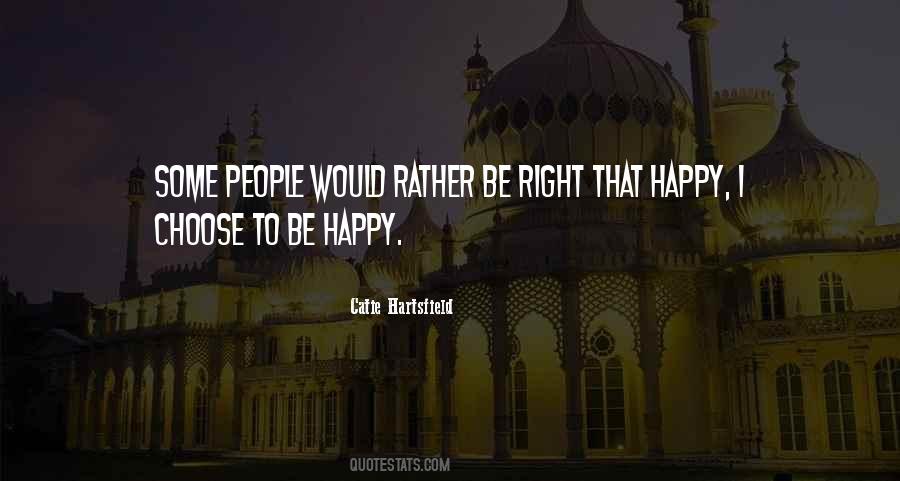 #14. I, not events, have the power to make me happy or unhappy today. I can choose which it shall be. Yesterday is dead, tomorrow hasn't arrived yet. I have just one day, today, and I'm going to be happy in it. - Author: Groucho Marx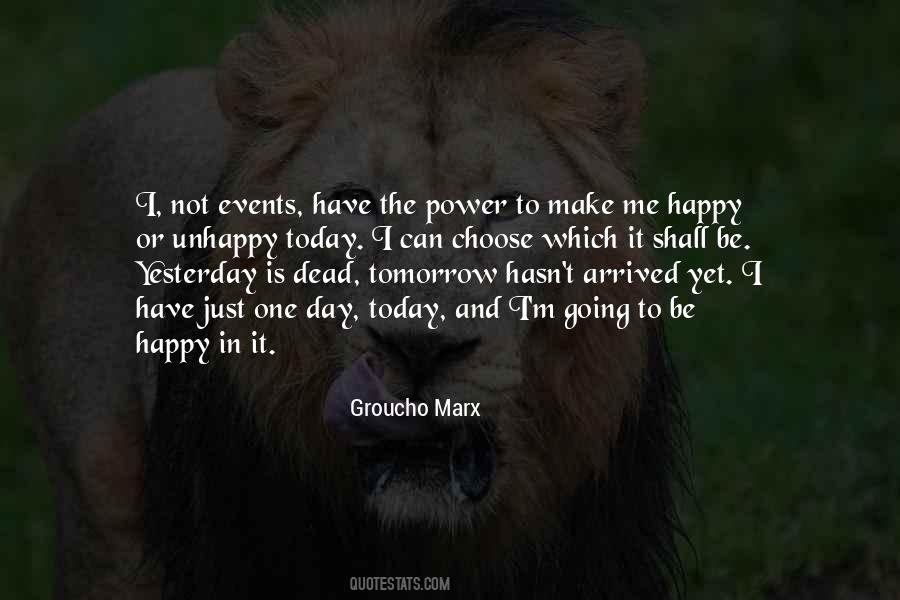 #15. Dear Jack,
I love you, too.
And I think I know the secret to a long and happy marriage - just choose someone you can't live without.
For me, that would be you.
So if you insist on being traditional ...
Yes.
- Ella - Author: Lisa Kleypas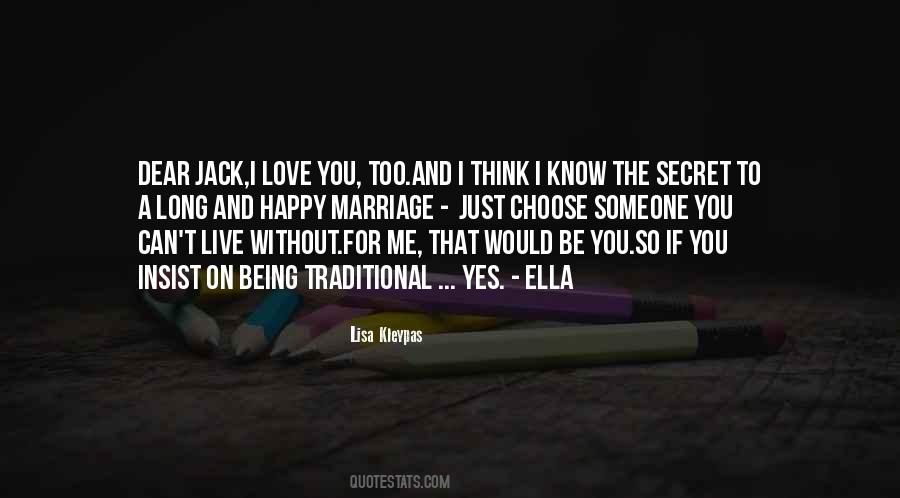 #16. I'II be happy when ...
Choose to be happy now. The journey counts, every single step make it count. Never loose sight of your smile. - Author: Truth Devour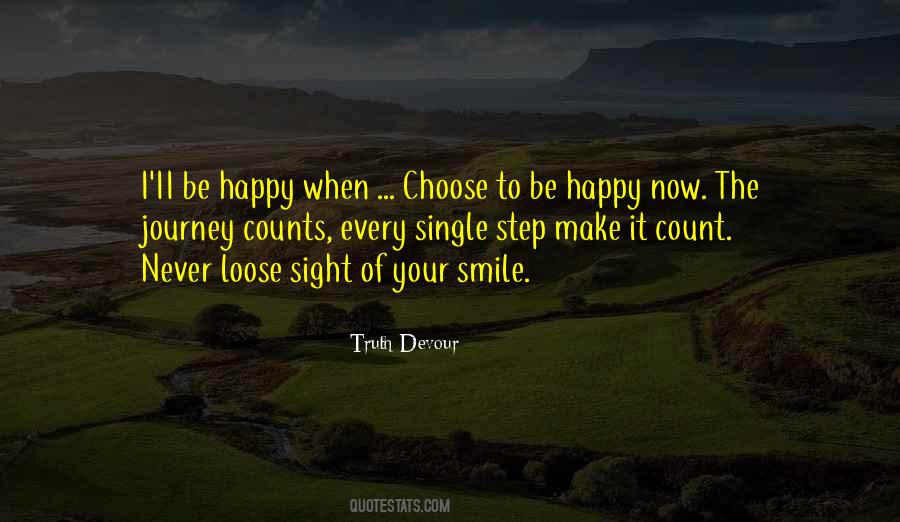 #17. TODAY, I can choose what affects me, to not be afraid, to not let this break-up depress me, to look at mistakes as learning experiences, to be happy, to feel loved, TODAY I can choose ... - Author: Doobie Shemer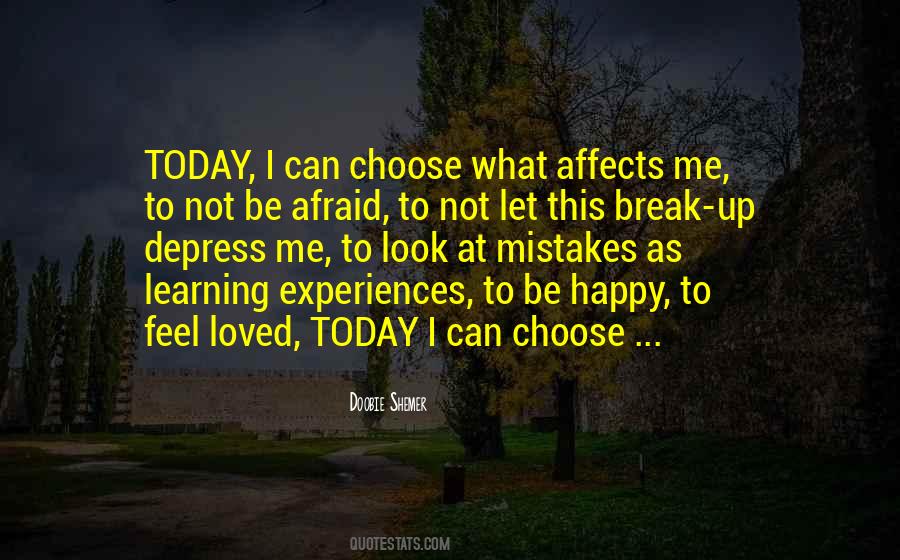 #18. Let go of your ego's need to be right. When you're in the middle of an argument, ask yourself: Do I want to be right or be happy? When you choose the joyous, loving, spiritual mode, your connection to intention is strengthened. - Author: Wayne Dyer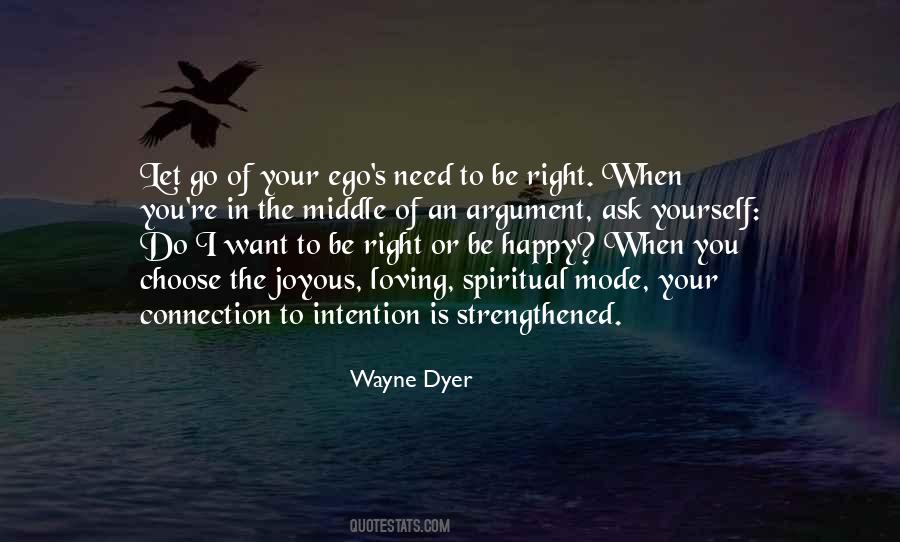 #19. I should choose to be happy. You can choose; you can just throw a switch since, your whole life, it?s just in your brain anyway. It?s just your perception of it. - Author: Matthew Caws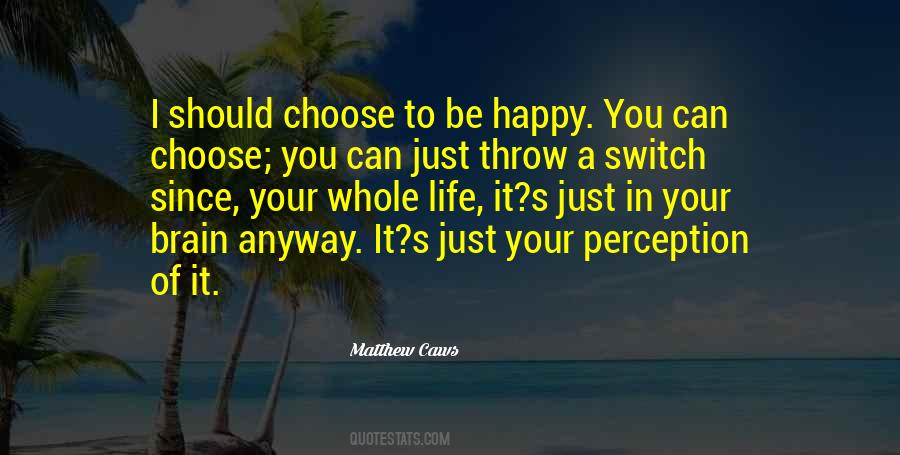 #20. If I had to choose a moment in time when I knew my life would be different going forward - when I knew I would be different - this would be it. - Author: T.M. Frazier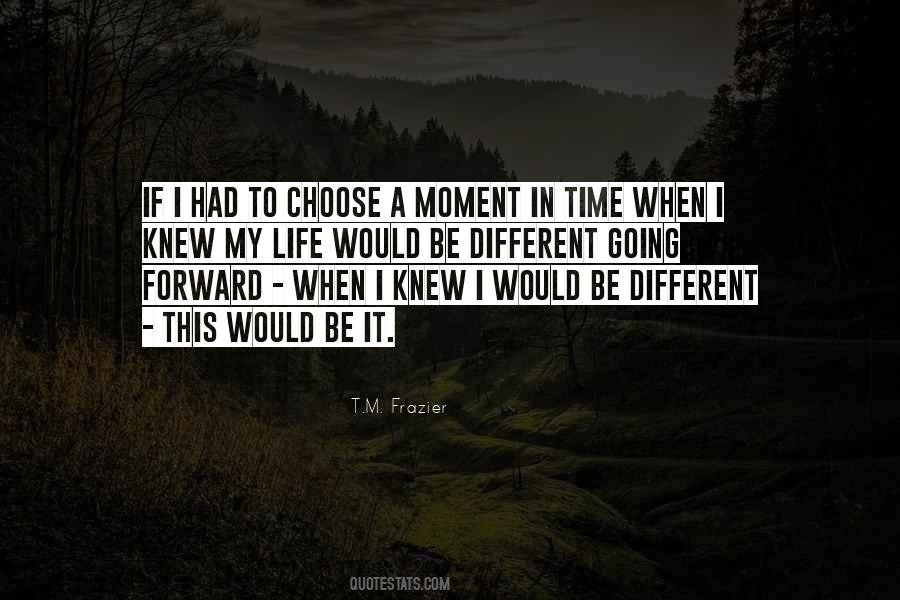 #21. I think of life as very much like a game. The one who created it gave us the rules by which it is to be played, rules designed to help us win, rules to help us be happy. The problem is many times we choose to play by our own rules, and then we're at a loss to understand why we never win. - Author: Julie Lessman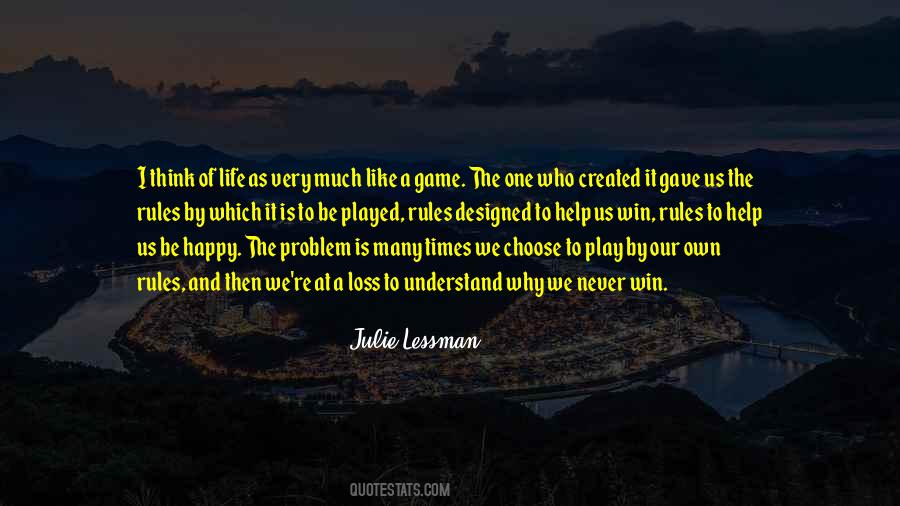 #22. Of all the worst things I could do,
why, oh why, did I choose to be happy? - Author: Someone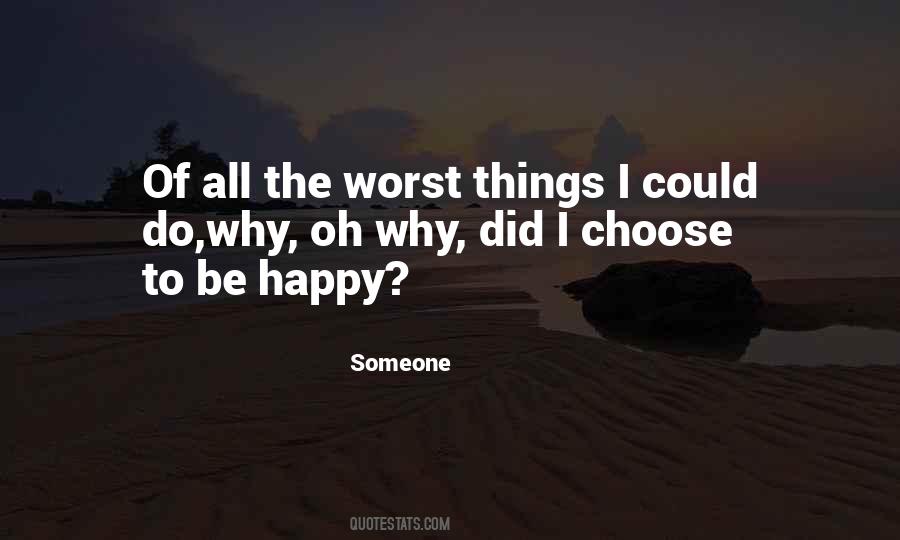 #23. I would sooner be holy than happy if the two things could be divorced. Were it possible for a man always to sorrow and yet to be pure, I would choose the sorrow if I might win the purity, for to be free from the power of sin, to be made to love holiness, is true happiness. - Author: Charles Spurgeon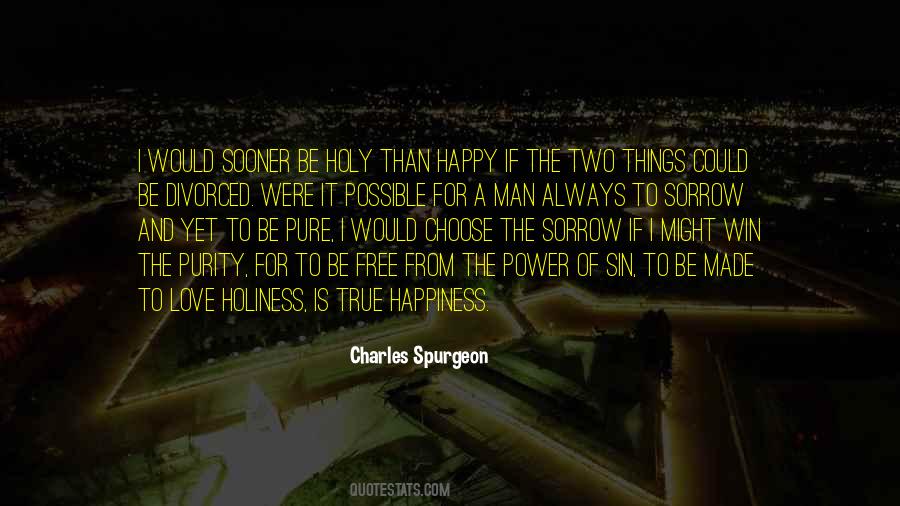 #24. At this point, I'm happy to be part of something special. As an actor I liked to choose scripts that I'm passionate about. - Author: Liam Hemsworth
#25. Everybody has something, that one thing they must do to feel happy. I think this is yours, and I want you to be happy. You don't have to do it, but it's here if you choose to come back to it. - Author: Ilona Andrews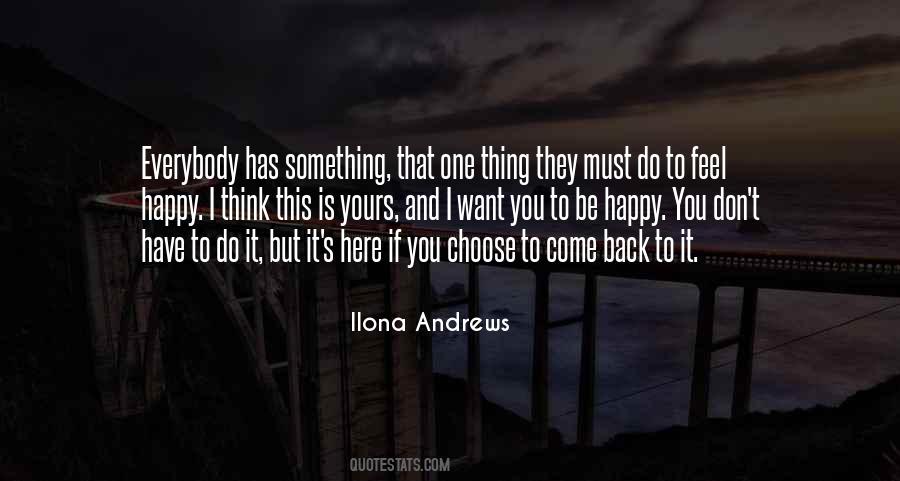 #26. IT'S MY CHOICE
I get a gift every morning, the gift of a new day,
It's up to me whether I make it bright, joyful or grey.
I can choose to be Happy, Successful and Content,
Or dishonor it with worry, anger or resent. - Author: Maddy Malhotra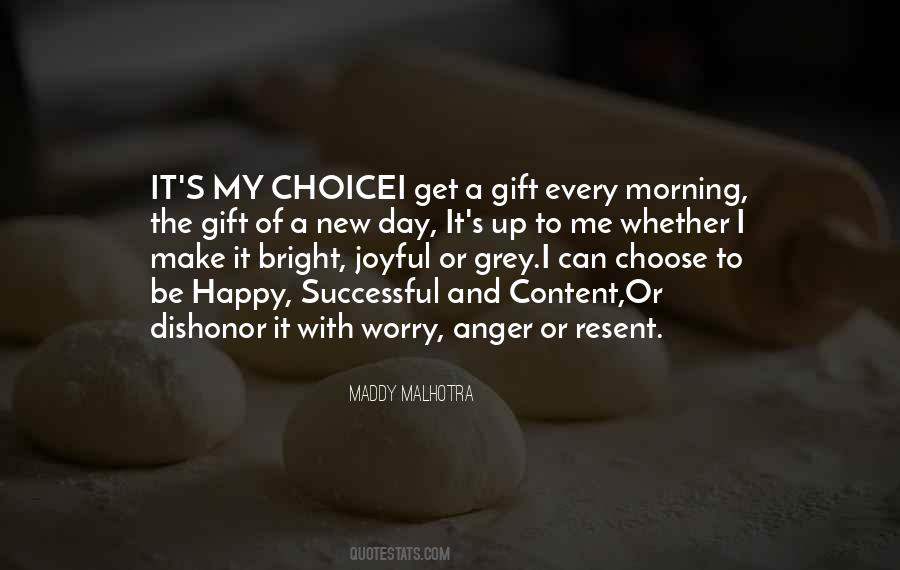 #27. Last weekend a young man asked me how I remain so positive. "It seems all the negativity in the world doesn't affect you," he said. I had no more than a minute with the young man so I offered this: It's all about where you choose to put your attention, and I choose to be happy. - Author: Jason Mraz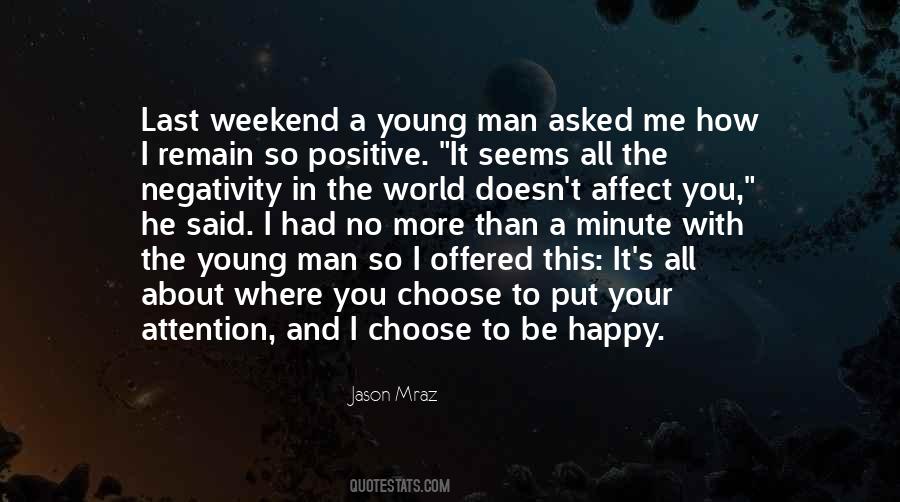 #28. I choose to be happy now - Author: Cierra Rantoul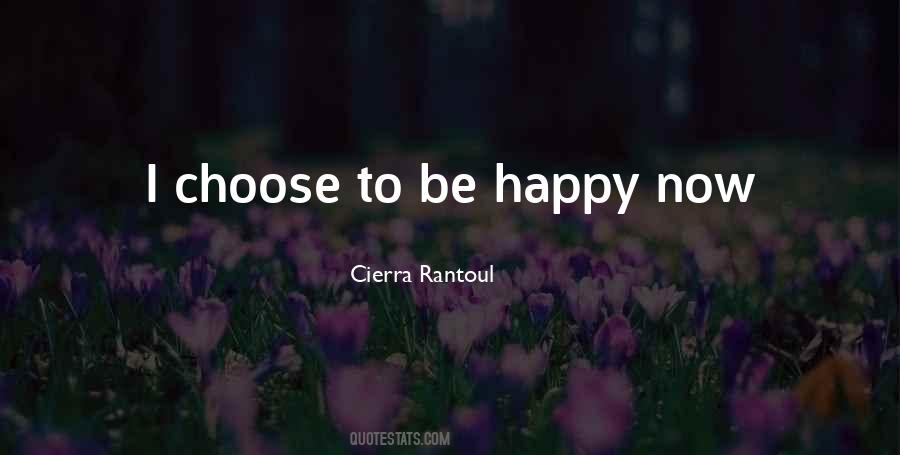 #29. I'm perfectly happy to eat organic food, but if I choose to pay more for it, I don't pat myself on the back ethically. Quite the reverse. I think I'm actually being quite greedy, because what I'm doing is essentially saying, 'I want more land to be devoted to growing my food.' - Author: Matt Ridley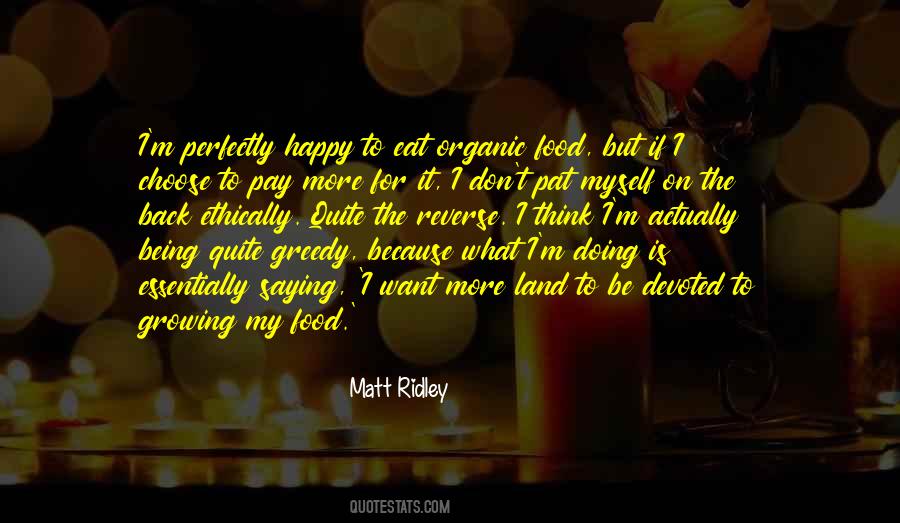 #30. I think Samuel Johnson had it right when he observed that hope is itself a species of happiness. So if we want to be happy it only makes sense to discipline ourselves to choose our attitudes, to think positively and to be hopeful. - Author: Michael Josephson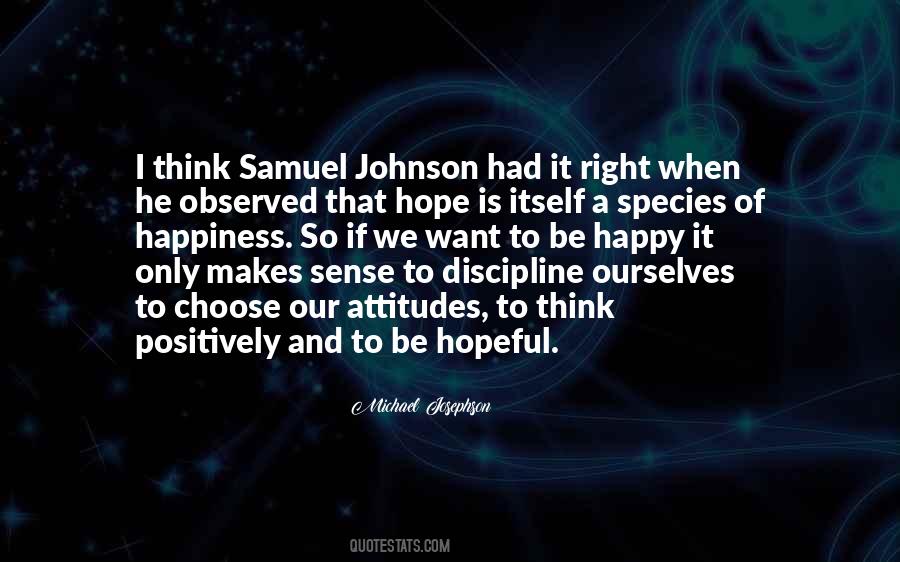 #31. I no longer try to be right; I choose to be happy. - Author: Ric Elias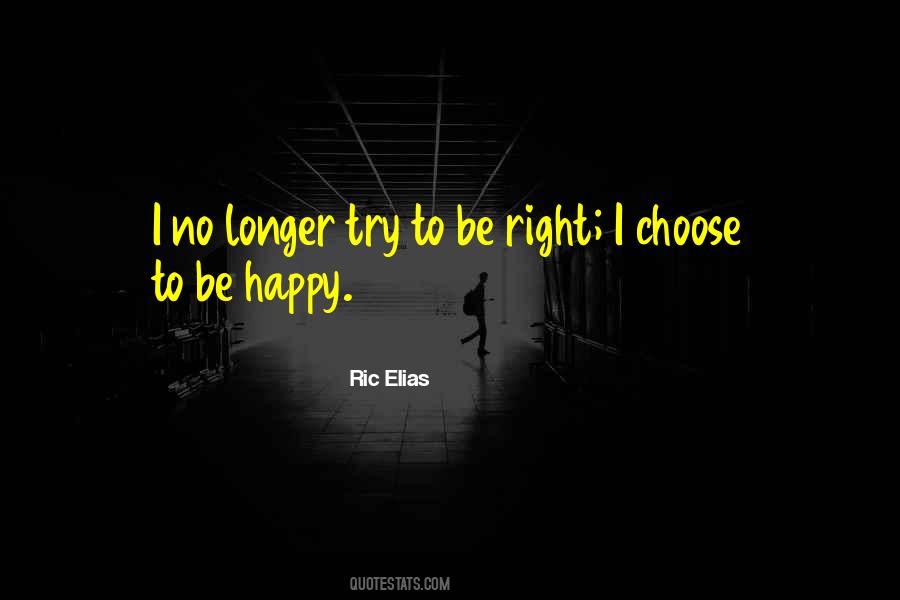 #32. I can choose to be happy, or choose to be miserable every day - waiting until I die. - Author: Angel Haze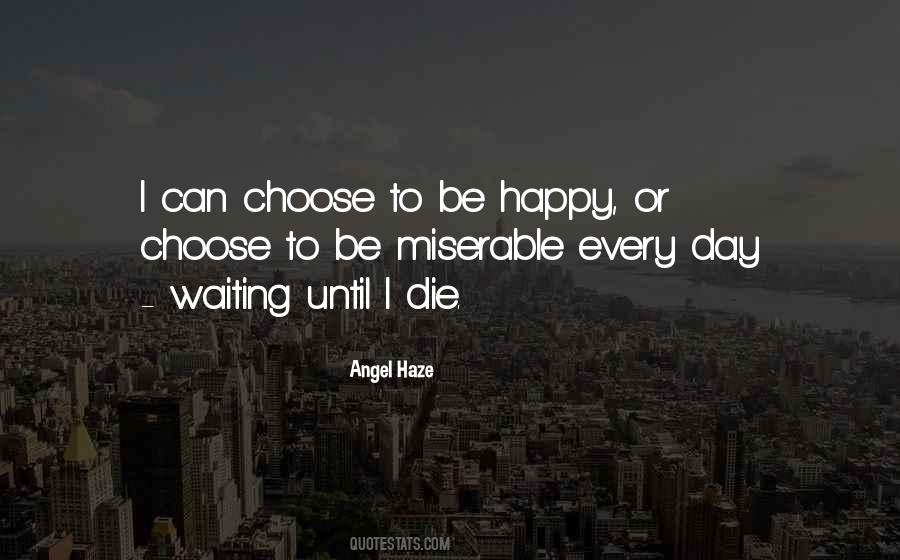 #33. Don't ever rob a bank. Enjoy life. Have fun. Choose to be happy now; don't wait until you're 'successful,' because honestly, I was as happy when we were unemployed and scrounging around for a buck. - Author: Peter Farrelly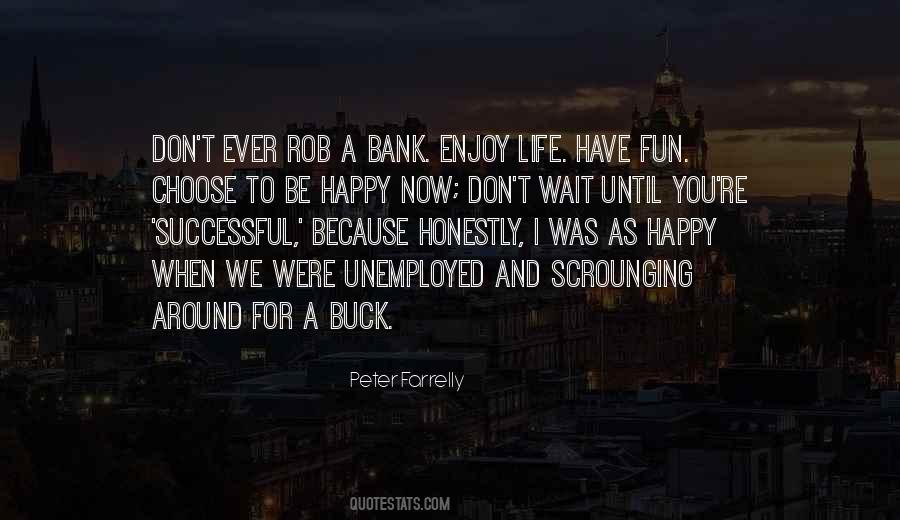 #34. I carefully choose people in my life and if you are not happy with it, then its your call to be angry, broken, disappointed and lose sleep over my choice, judgement & decision ... no apologies. - Author: Uzoma Nnadi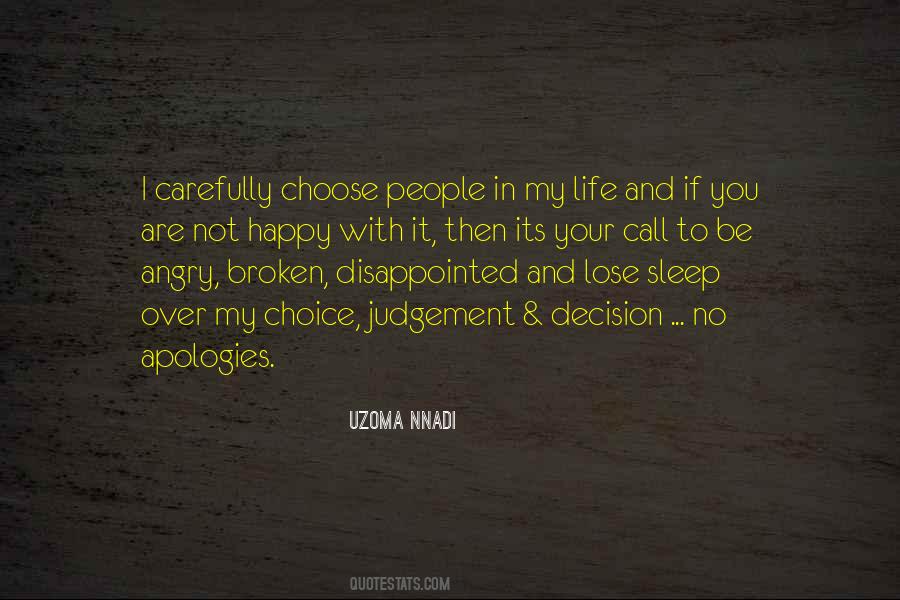 #35. I am a happy person and I choose to be a positive person. I think some people think my life has been tragic and there have been these horrible dramas but things really have been, and are, fine. - Author: Patsy Kensit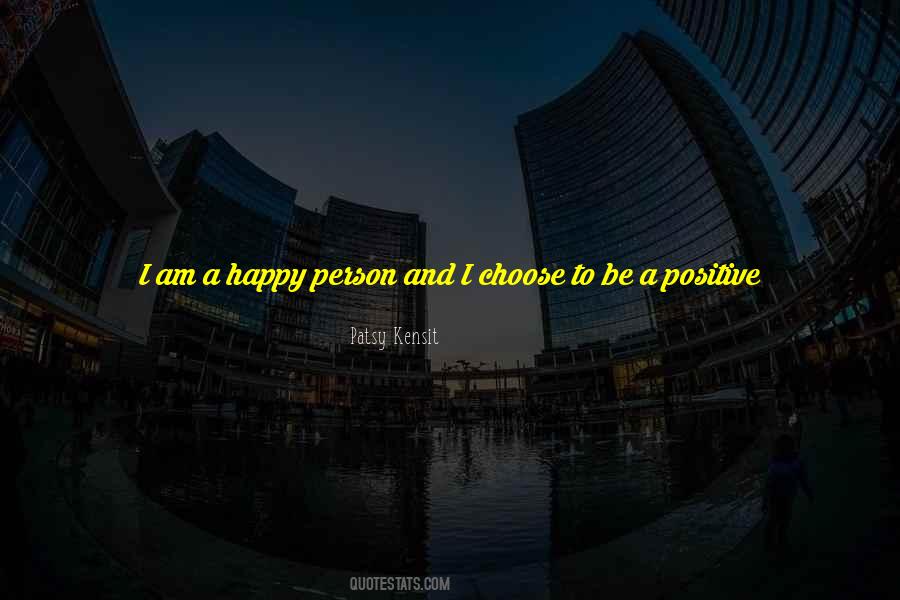 #36. I figure whatever I choose to create, I'll be neglecting somebody - so my art may as well make me happy. - Audrey Niffenegger - Author: Jen Campbell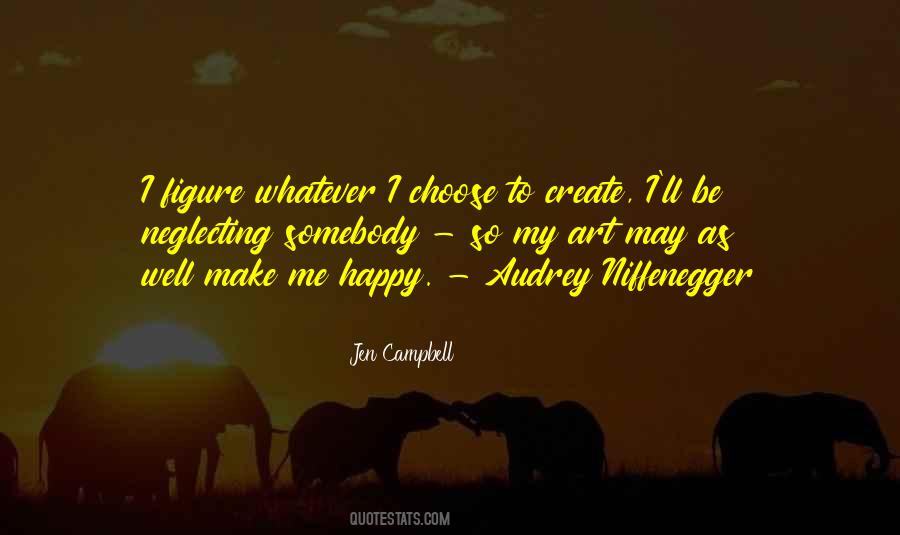 #37. You have a choice whether you want to be happy or not. I choose to be happy. - Author: Vanessa Hudgens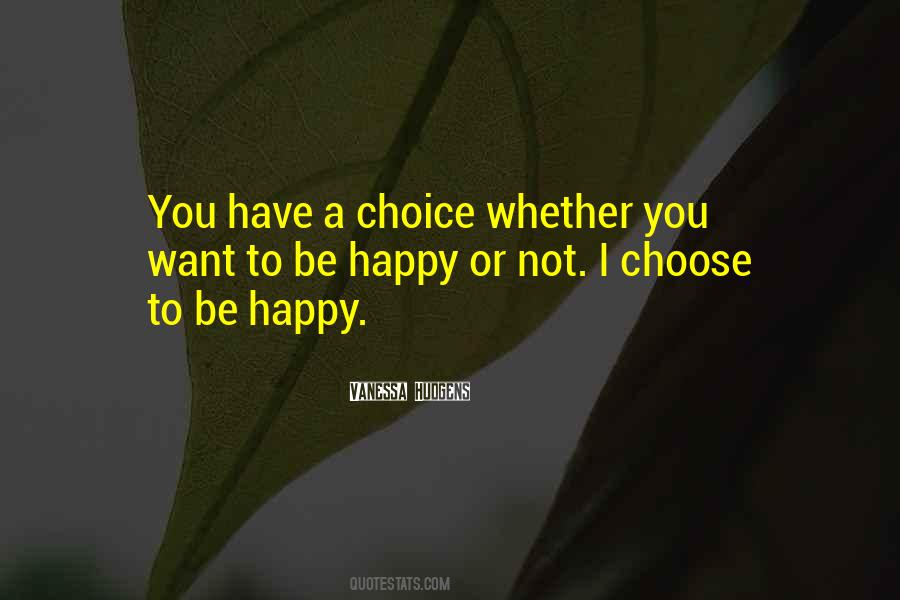 #38. Discomfort and awkwardness are places where you feel things. I'm a big advocate for being happy. We can choose to live in a happy bubble. But part of being happy is understanding how sad things can be. - Author: Laurel Nakadate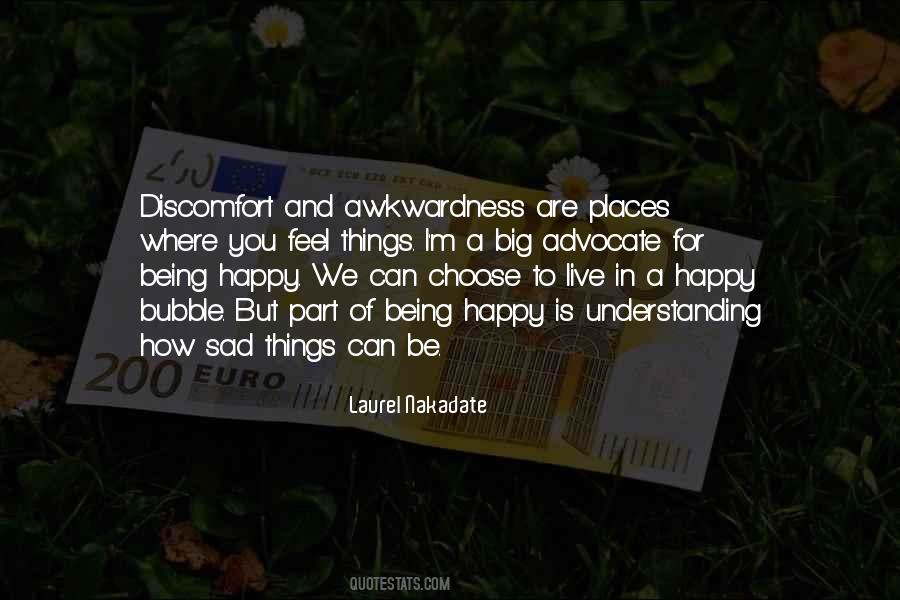 #39. It was dawning on me how uphill a poet's path was, and I confessed to her that if I had to be the choice between being happy or being a poet, I'd choose to be happy. - Author: Mary Karr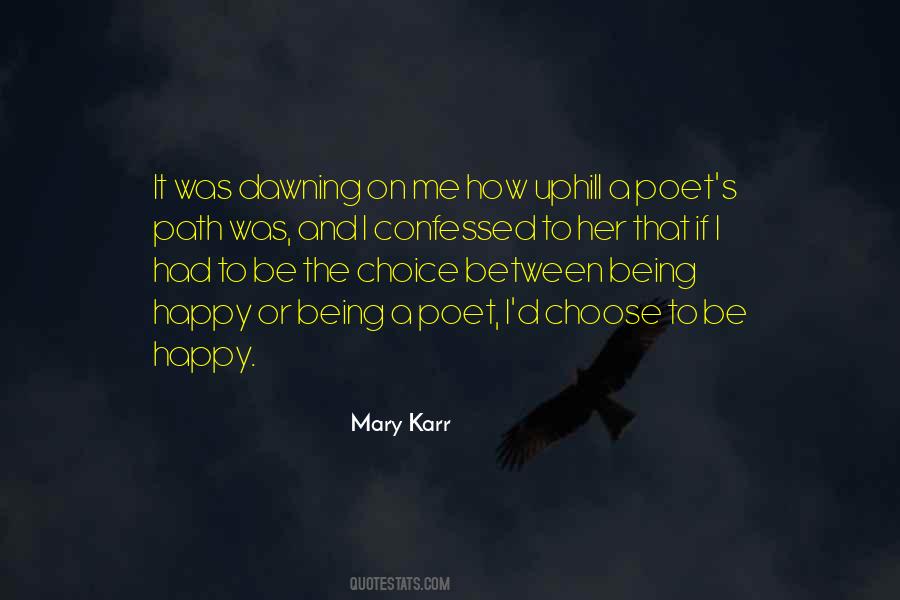 #40. Far greater than all the material possessions that I possess is my Freedom to choose, my Freedom to Live,and my Freedom to be Happy.-RVM - Author: R.v.m.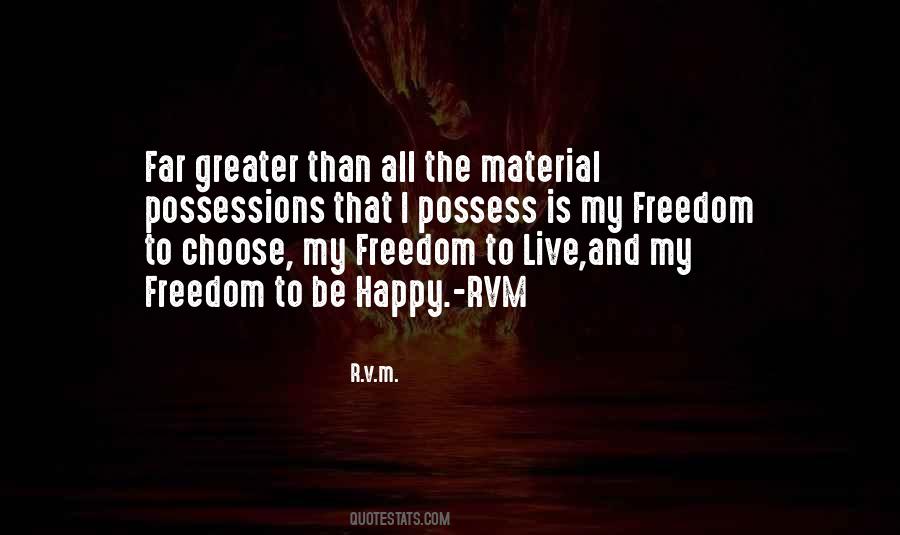 Famous Authors
Popular Topics