How Hard Life Is Famous Quotes & Sayings
List of top 100 famous quotes and sayings about how hard life is to read and share with friends on your Facebook, Twitter, blogs.
Top 100 Quotes About How Hard Life Is
#1. Where there is darkness, let me be the light. Where there is suffering, let me be kind and compassionate. - Author: Debasish Mridha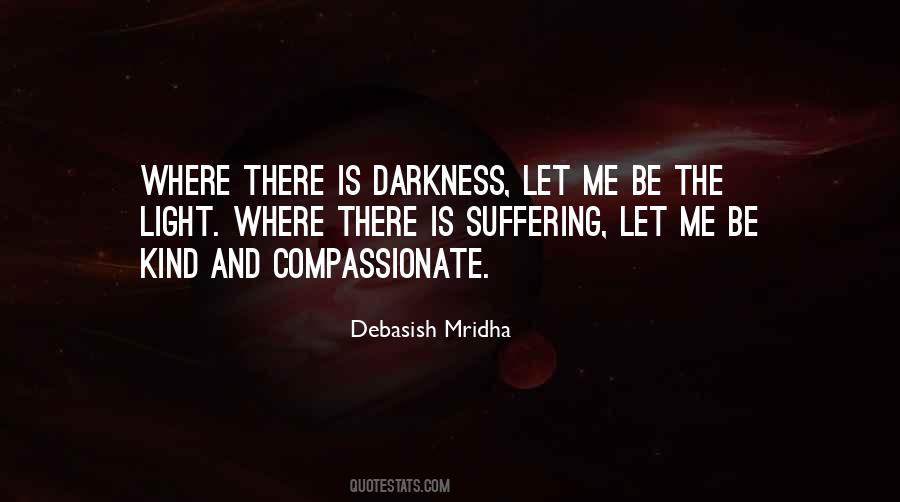 #2. It is funny you know, you spend 12 years of your life learning about things and about life, but they never really tell you how hard life really is. - Author: Amanda Peterson
#3. SNEAK AROUND IN LIFE
NO MATTER HOW MUCH YOU TIP TOE
THE SPIRITUAL WOOD FLOORS CREAK
LOUDER AND LOUDER NO MATTER HOW HARD
YOU TRY SNEAK IN SILENCE.
THAT'S WHEN YOU REALIZE ...
"SNEAKING IS NOISY"
AND S.I.N IS LOUD!!!! - Author: Qwana M. BabyGirl Reynolds-Frasier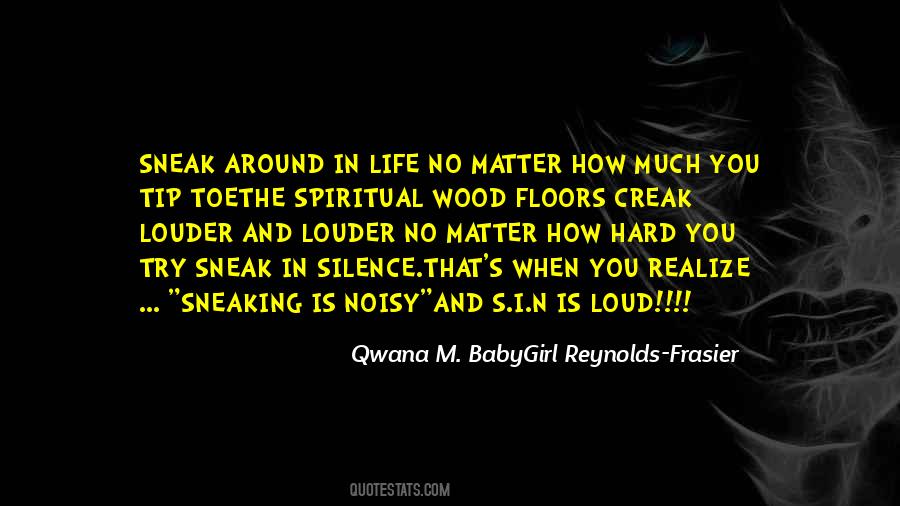 #4. You can't imagine how hard it is to come home from hell and be expected to pick up the threads of a life. Apply for jobs, go to a factory, punch in, punch out. Put your lunch in a bag and get on the omnibus every day. Like nothing happened. Nothing. - Author: Simone St. James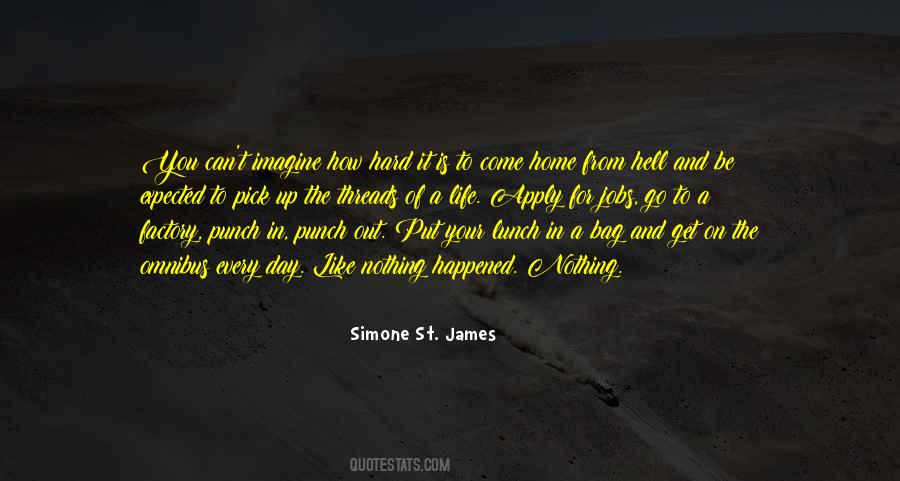 #5. people you work with don't want to hear how hard your life is or how hard you work. They care how well you do your job. - Author: Liz Weber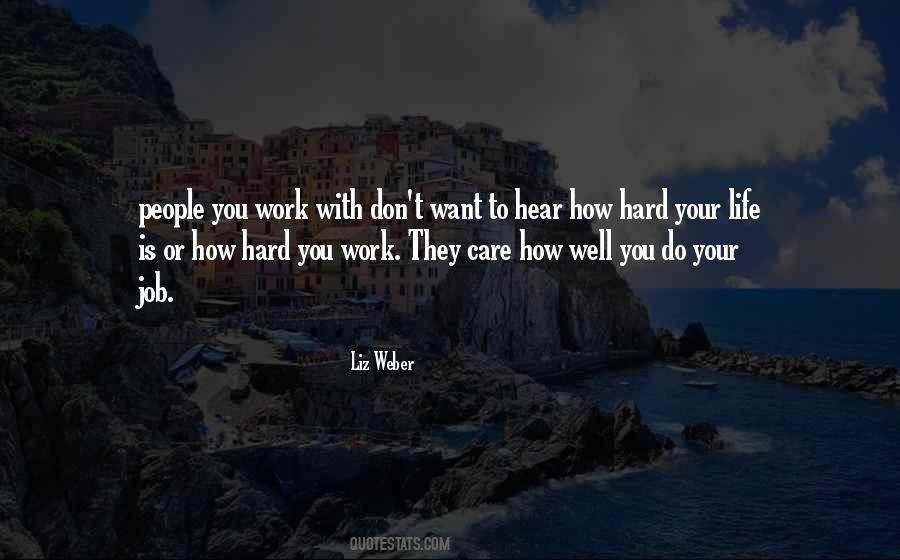 #6. Business, like life, is about how you make people feel. It's that simple, and it's that hard. - Author: Daniel Meyer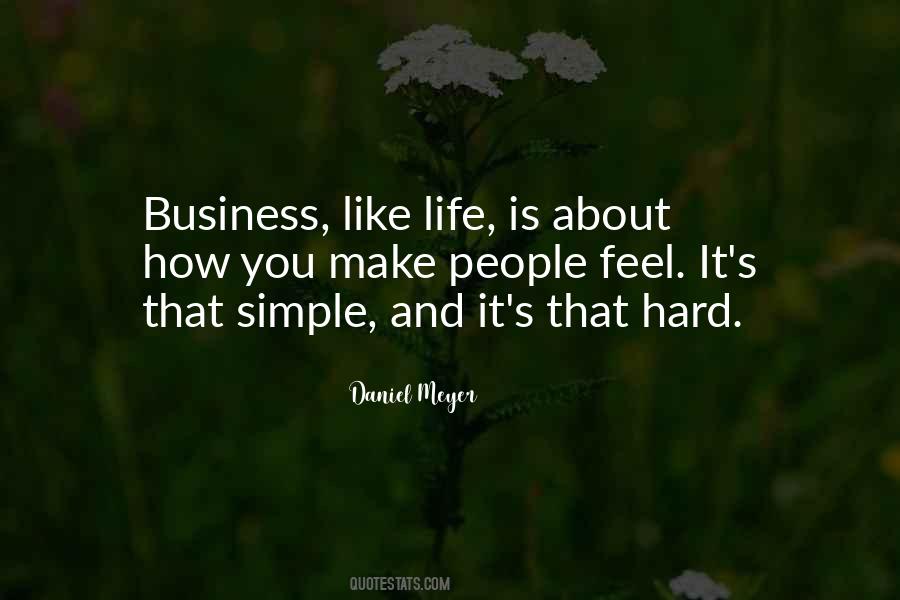 #7. Think, how hard it is to change yourself. How can it be easy to change others? - Author: Radhe Maa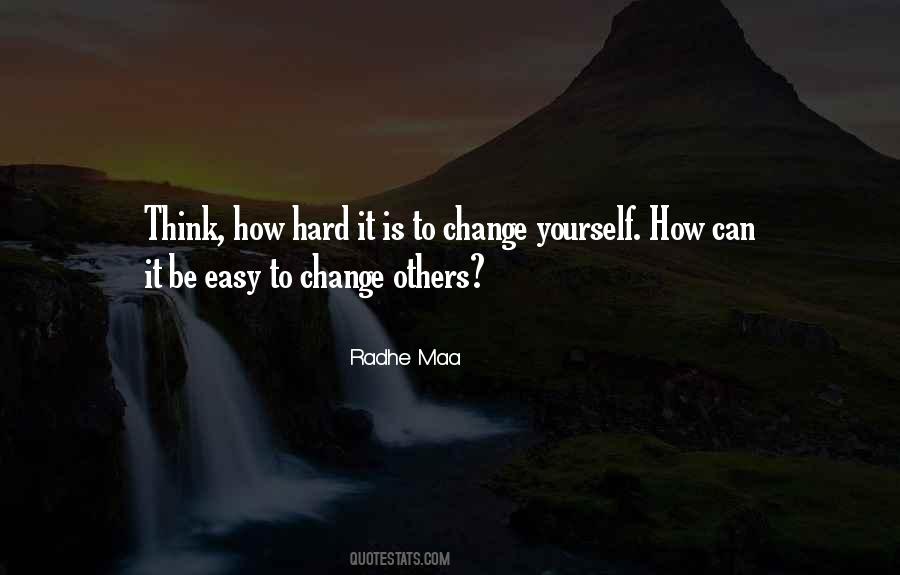 #8. I think at times I read too much of my own press. I wish I was better at taking in how great my life is, but that's surprisingly elusive. I tend to be very hard on myself and insecure about failing no matter what happens. - Author: Seth MacFarlane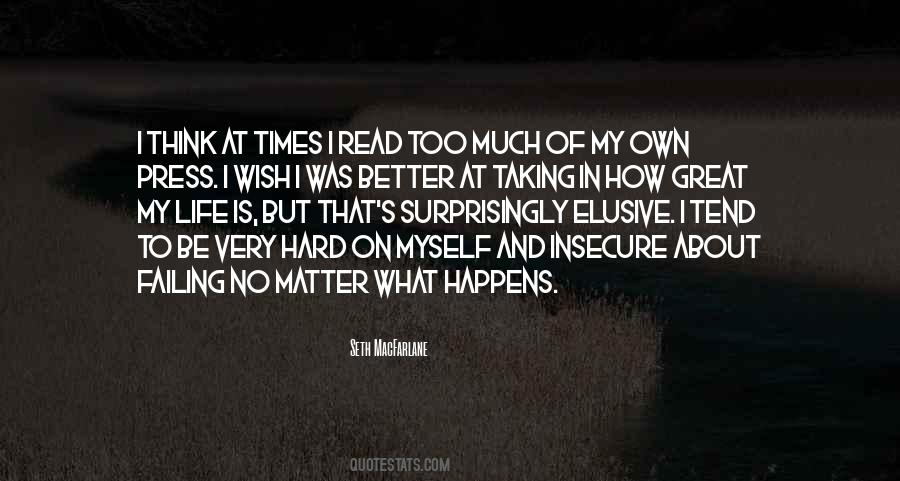 #9. I spoke to a girl today who had cancer and we were talking about how this is such a hard thing for her, but it taught her a big lesson on who her friends are and so much about life. She's 18. And I was like, that's how I feel. - Author: Kim Kardashian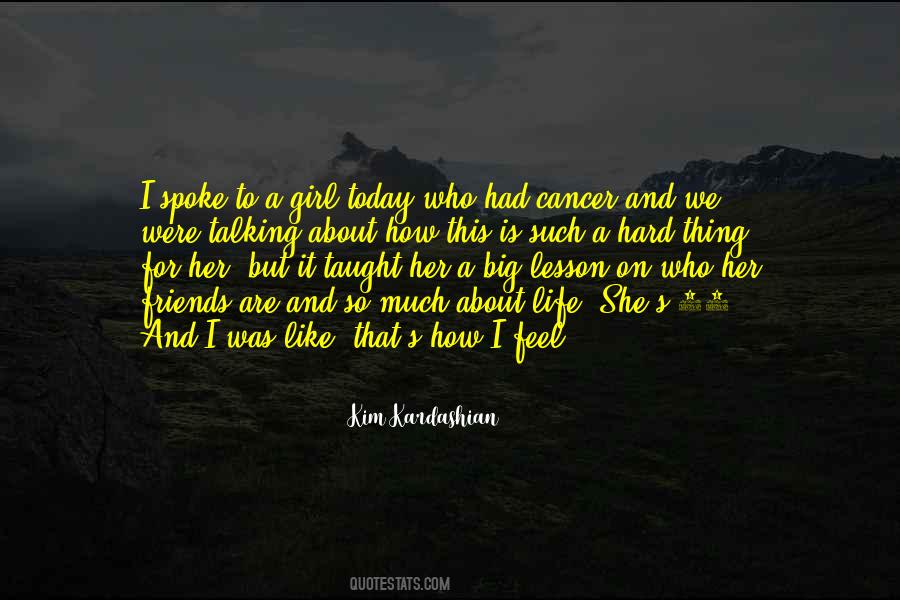 #10. The healthy life is hardly one marked by an absence of crises. In fact, an individual's psychological health is distinguished by how early he or she can meet crisis. - Author: Bill Vaughan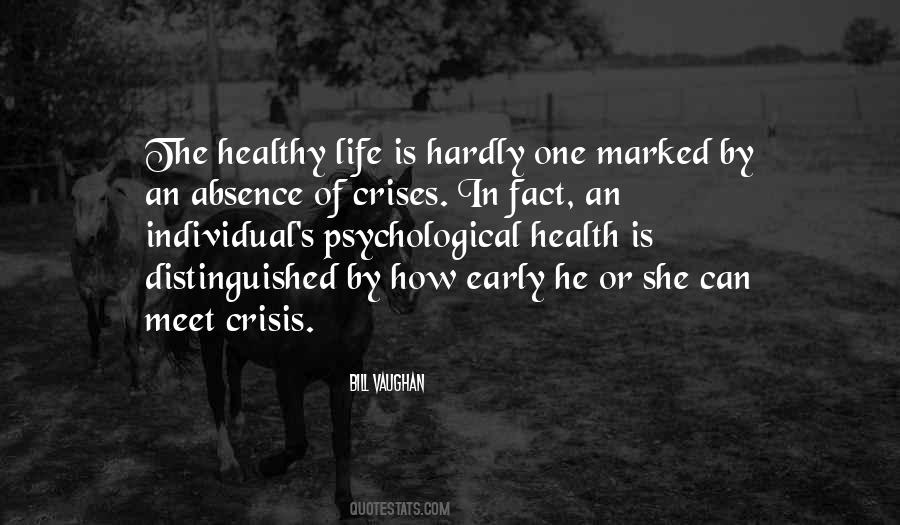 #11. No life is so hard that you can't make it easier by the way you take it for example by seeing it how it could be worse and then being grateful it isn't. - Author: Ellen Glasgow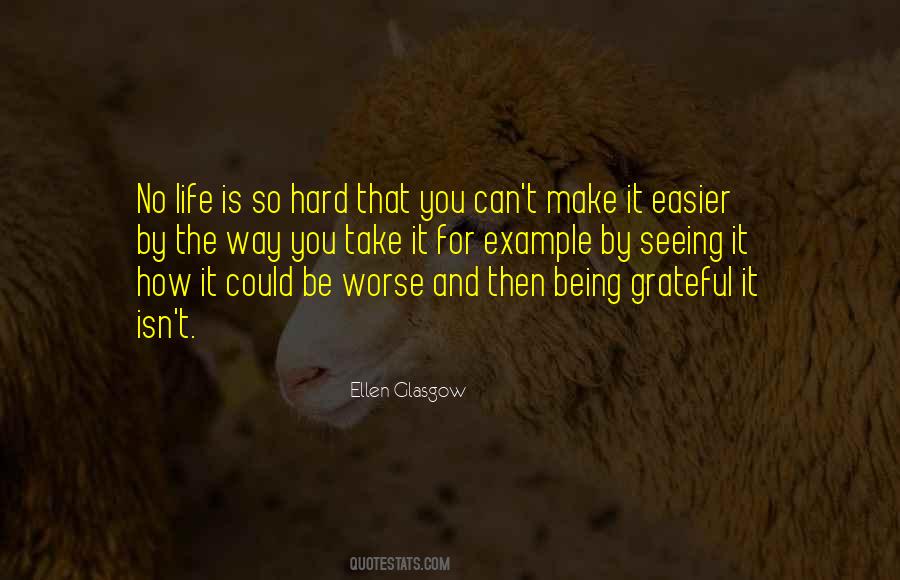 #12. Life works in mysterious ways, Ember, and the secret is to not think too hard on the why or how of it, and to not mourn what is no longer, but live: live hard and love hard. - Author: L.A. Fiore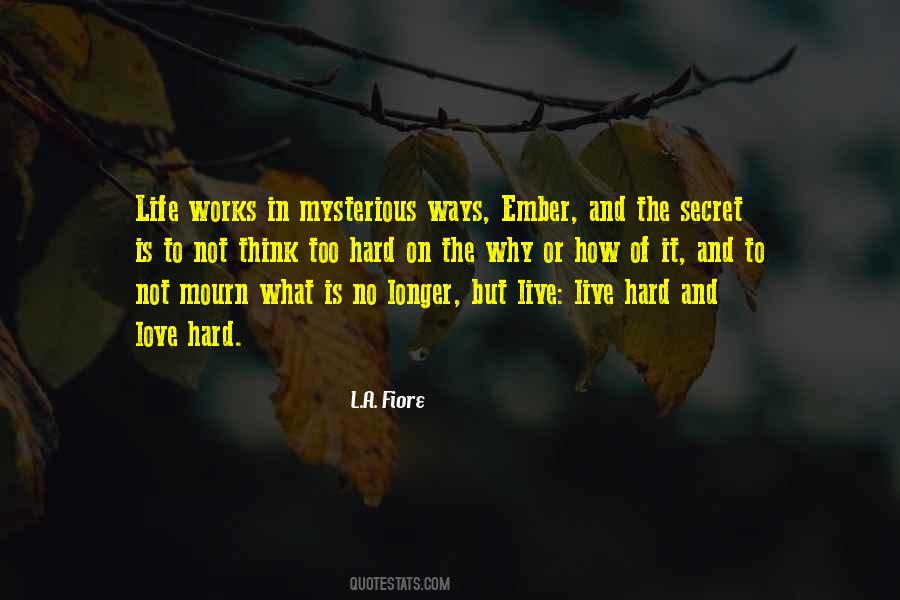 #13. One of the greatest things about being an artist is, as you get older, if you keep working hard in relationship to what you want the world to be and how you want it to become, there is a history of interesting growth that resonates with different moments in your life. - Author: Catherine Opie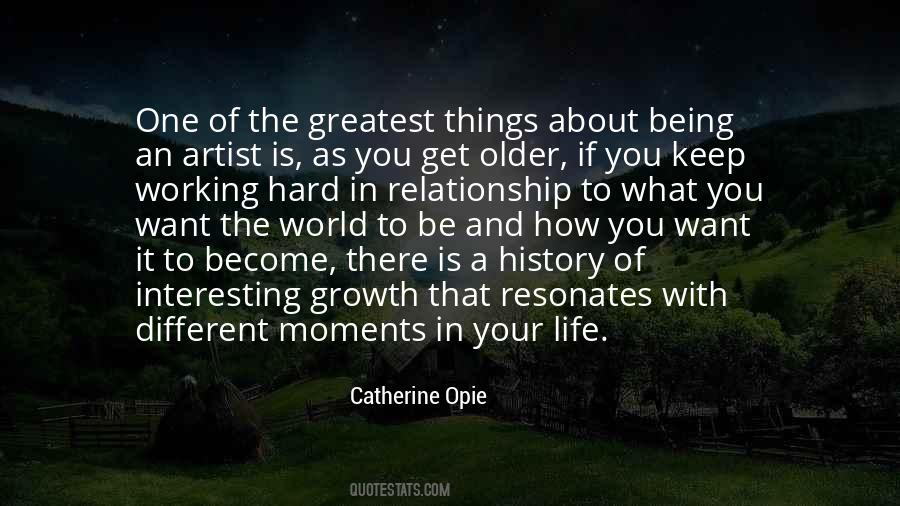 #14. Going through life is hard think how to move on is not that easy and never will be. - Author: Chasidy Merlos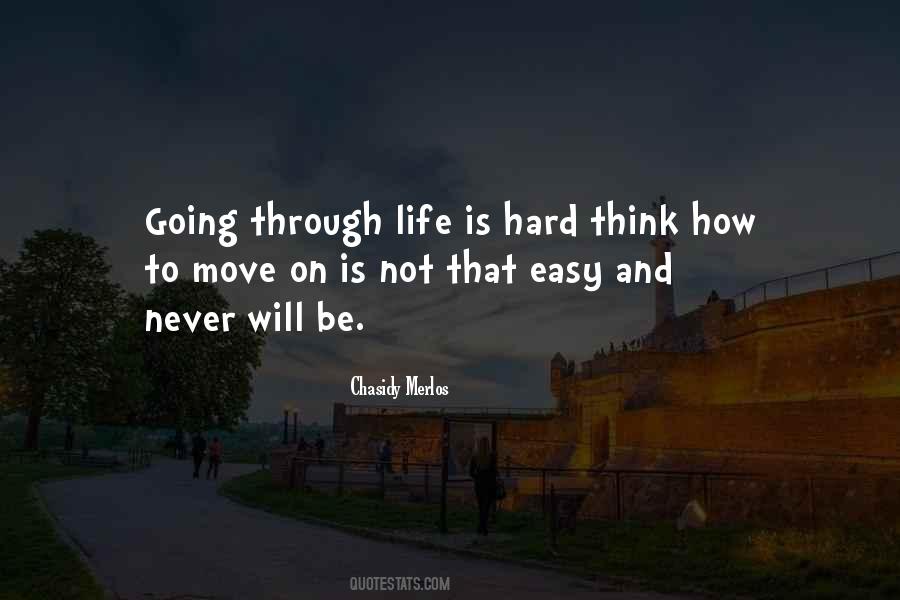 #15. Life is so hard, how can we be anything but kind? - Author: Jack Kornfield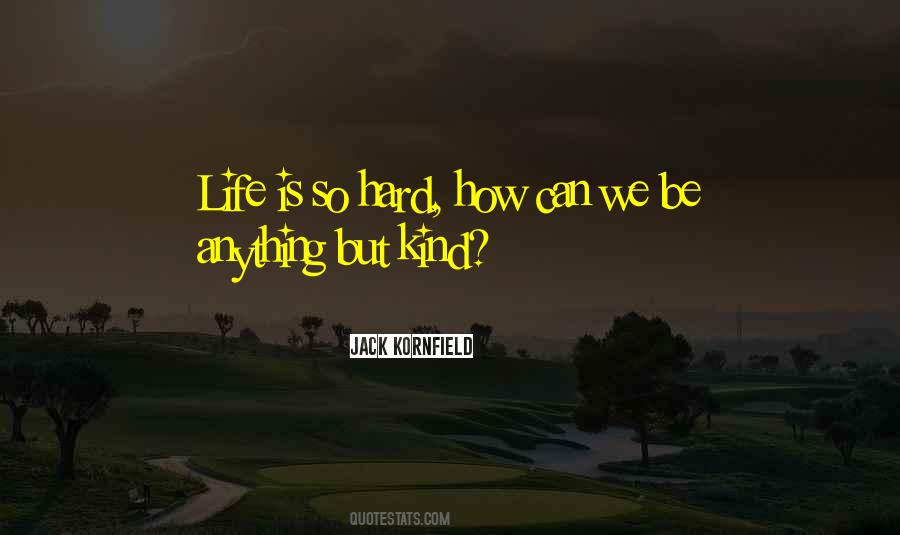 #16. For Man to tell how human life began is hard; for who himself beginning knew? - Author: John Milton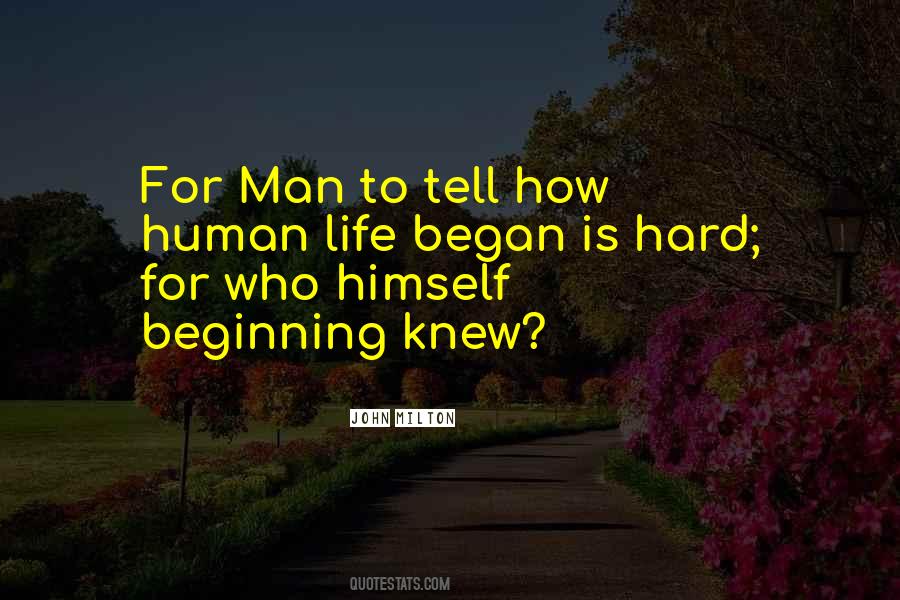 #17. Life on earth is hard. Competition for the necessities of life is fierce. How ridiculous to believe that the law of harsh survival would not be true elsewhere, or that it would be negated by the progress of technology in an advanced civilization ... - Author: Greg Bear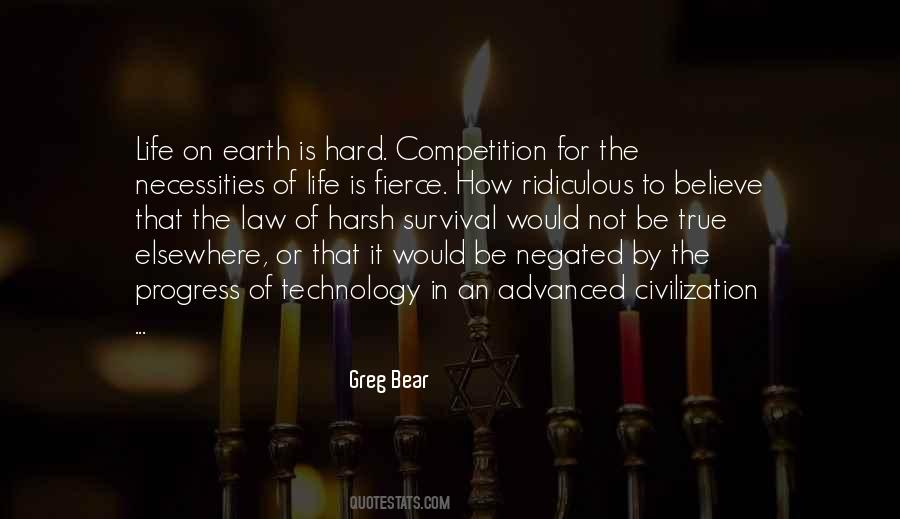 #18. No matter how hard life is, though the sky falls, earth fissure and heart shatter ... Life must keep go on. - Author: Adam Aksara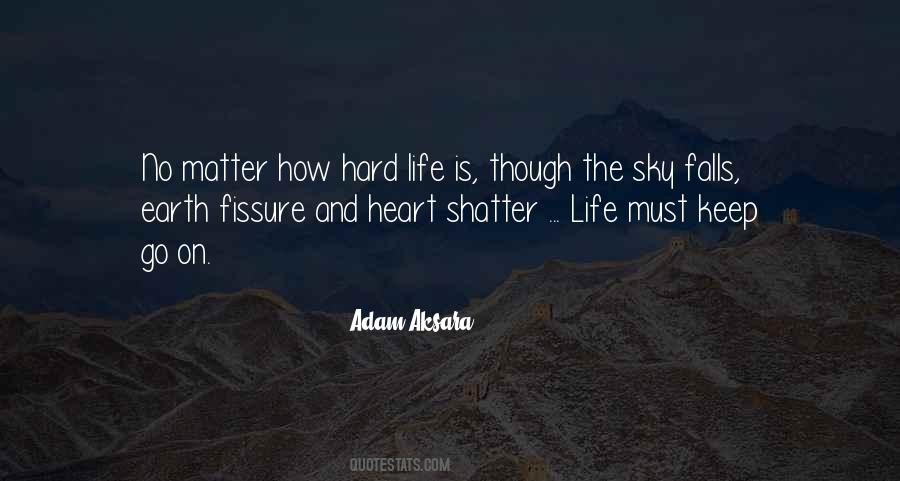 #19. We tend to think that it's up to others to respect our needs and fill them for us. But that doesn't ever work, and for the following reason:
If you have a hard time knowing what it is you really need, then how on earth can you logically expect someone else to know? - Author: Amanda Butterworth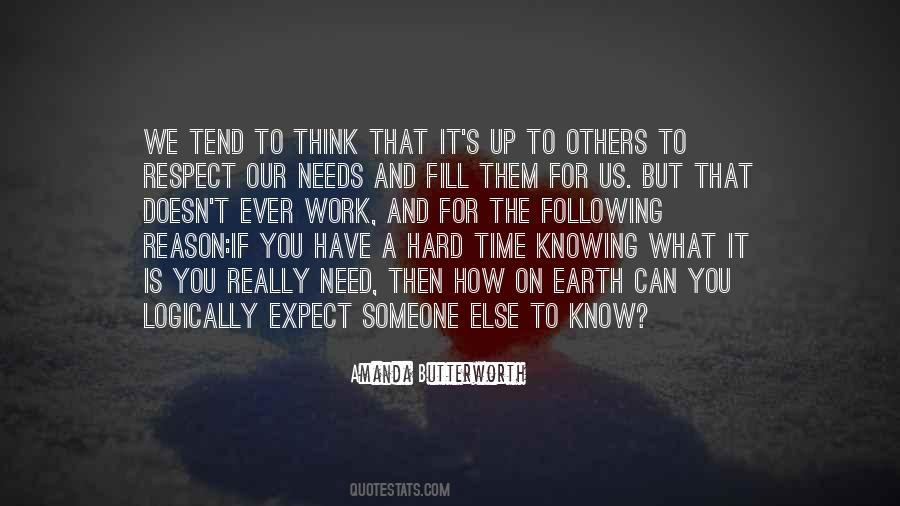 #20. Remember, no matter how hard your life is right now, it would be worse if a song by Chicago was playing. - Author: Andy Borowitz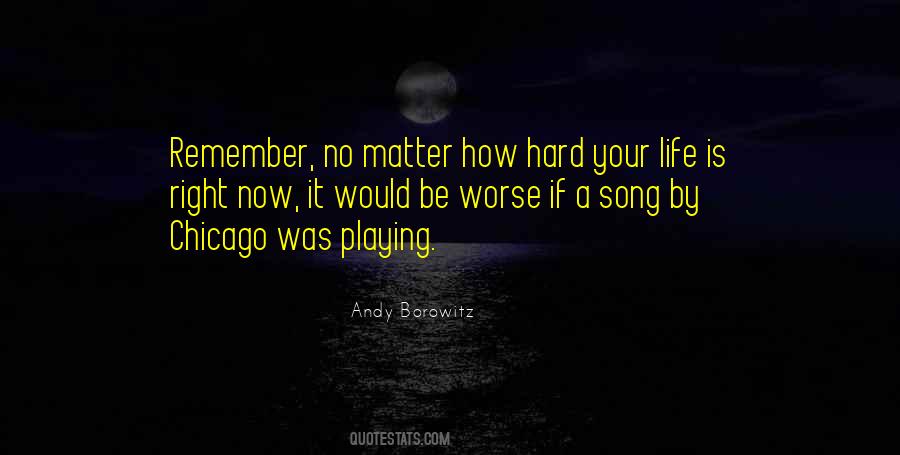 #21. Every experience is a once in a lifetime experience, because no matter how hard we try, nothing's ever exactly the same as it was the first time - Author: Jolene Perry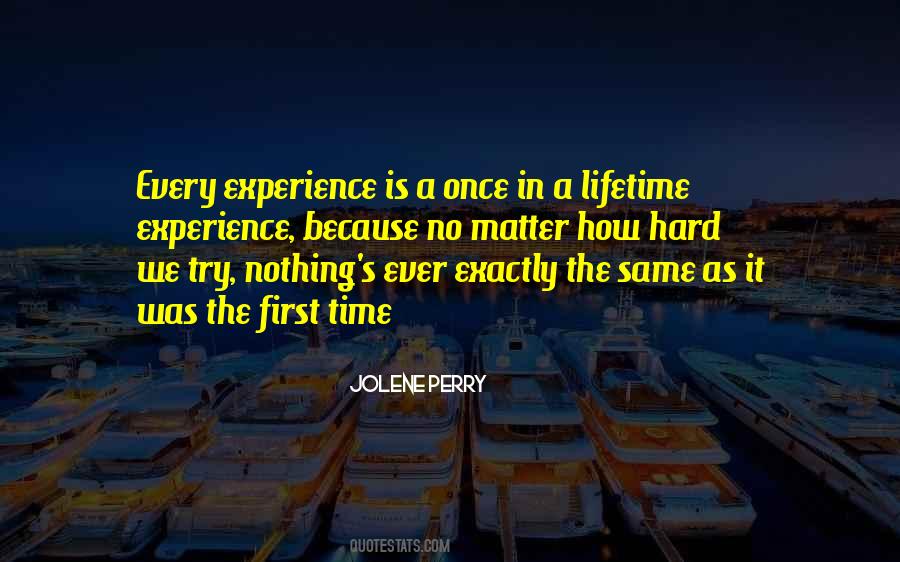 #22. When something happens to you, good or bad, consider what it means. There is a purpose to life's events, to teach you how to laugh more or not to cry too hard.
You can't make someone love you, all you can do is be someone who can be loved, the rest is up to the person to realize your worth. - Author: Anonymous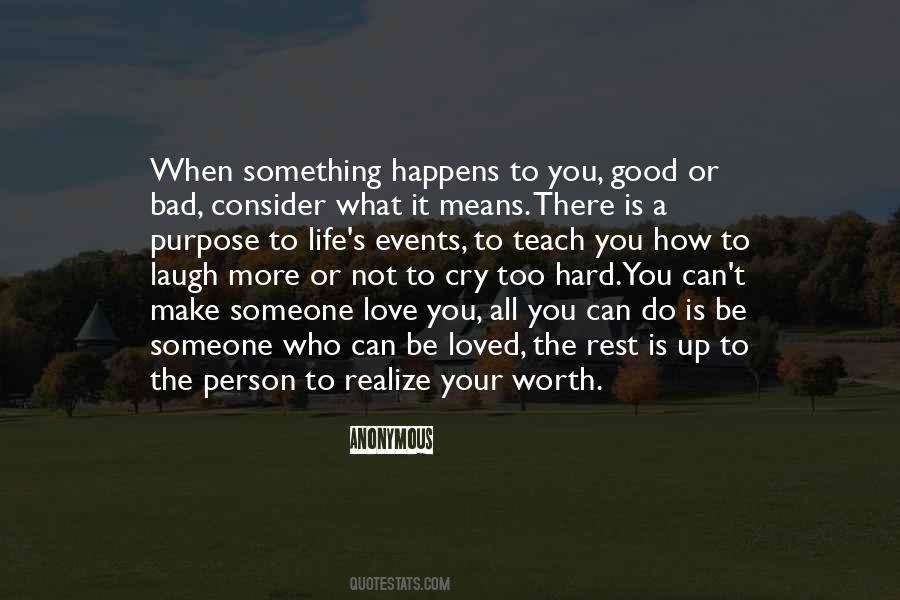 #23. . In order to love yourself really, tests will be provided by life. All that is for your benefit, no matter how hard it is, no matter what the physical end result is. Physical things come and go, your Soul is part of the eternal. We promise you this. - Author: A. Antares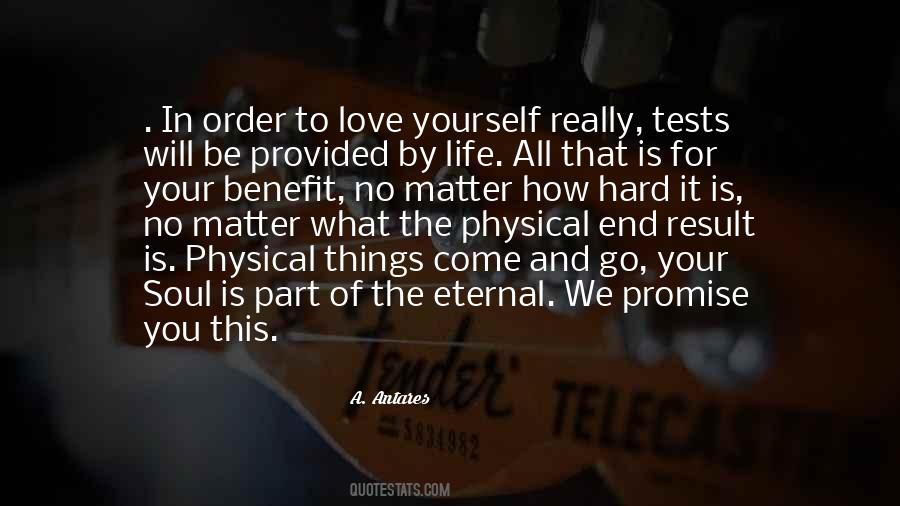 #24. Safe. No one ever is. No matter how hard we try. No matter how much we plan and prepare. There will always be an enemy at the door and a storm trying to knock us down. Life's not about security. It's about picking up the peices after it's all over and carrying on. - Author: Sherrilyn Kenyon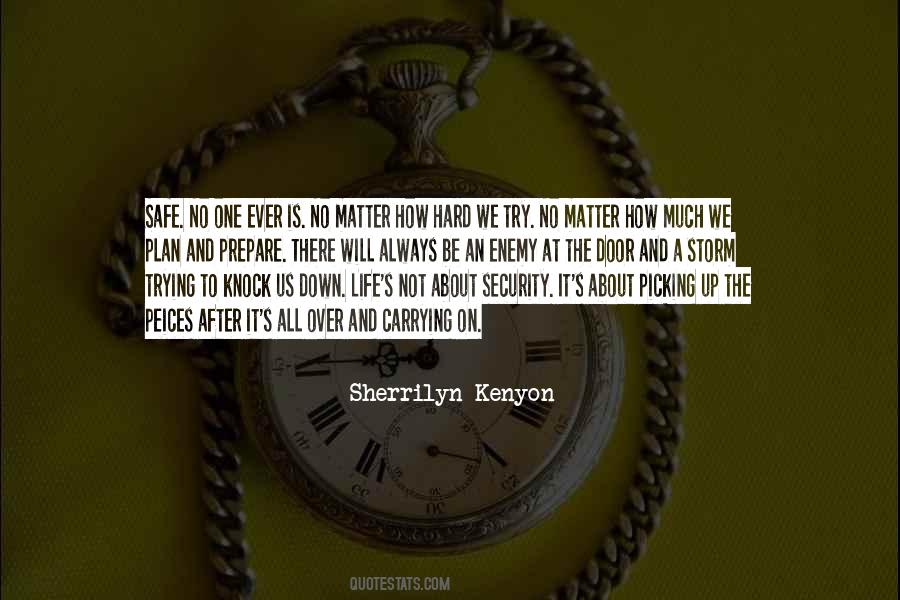 #25. Always communicate no matter how hard it is to tell someone something's wrong. It's worse not to talk about it. I learn this every few years. The truth hurts for 3 days. Lack of truth hurts your whole life. - Author: James Marsters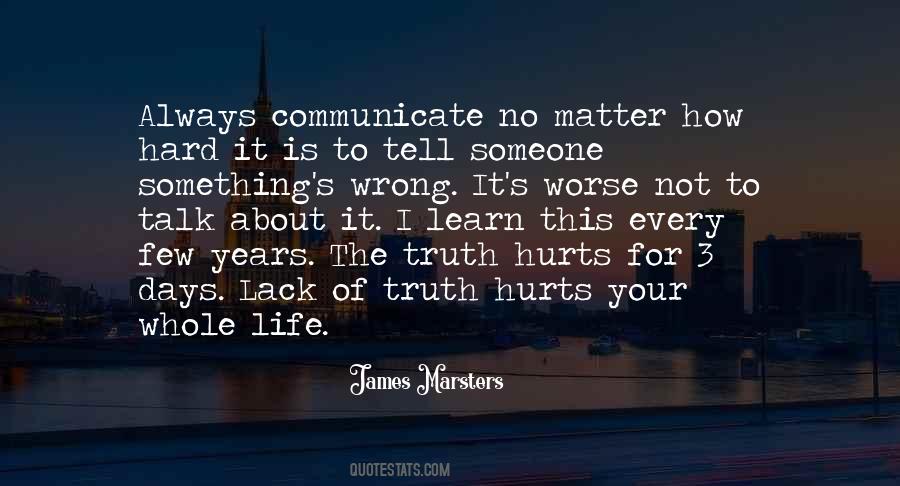 #26. When he thought about how he wanted to build his career coming out of college, Hahn took inspiration from Theodore Roosevelt's famous dictum, "Far and away the best prize that life has to offer is the chance to work hard at work worth doing."5 - Author: Reid Hoffman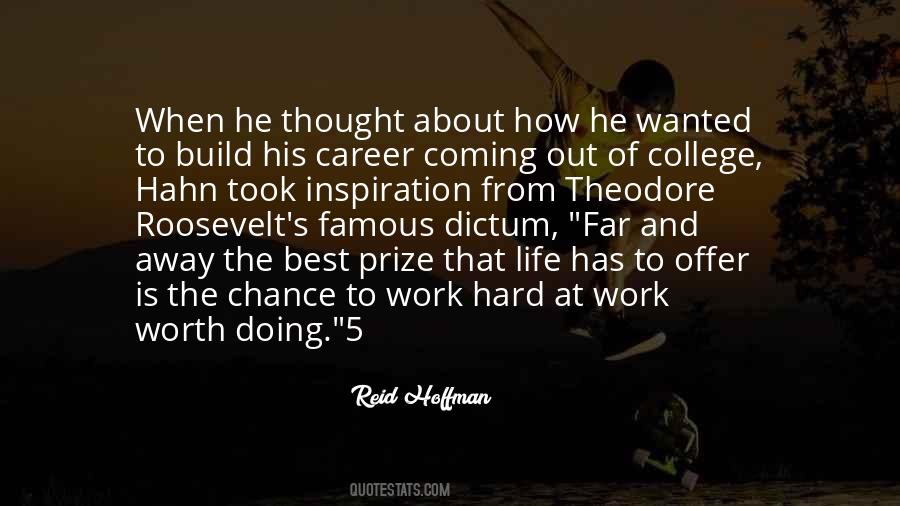 #27. She is a woman. No matter how hard you think she has grown, she always has her softer parts. Feel her there. - Author: Akif Kichloo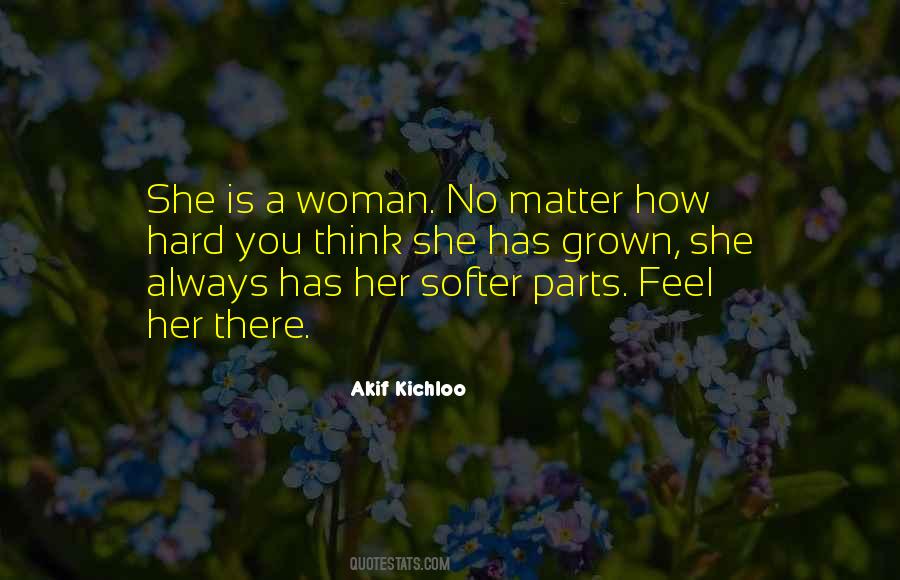 #28. Life is so often unfair and painful and love is hard to find and you have to take it whenever and wherever you can get it, no matter how brief it is or how it ends. - Author: Jenna Blum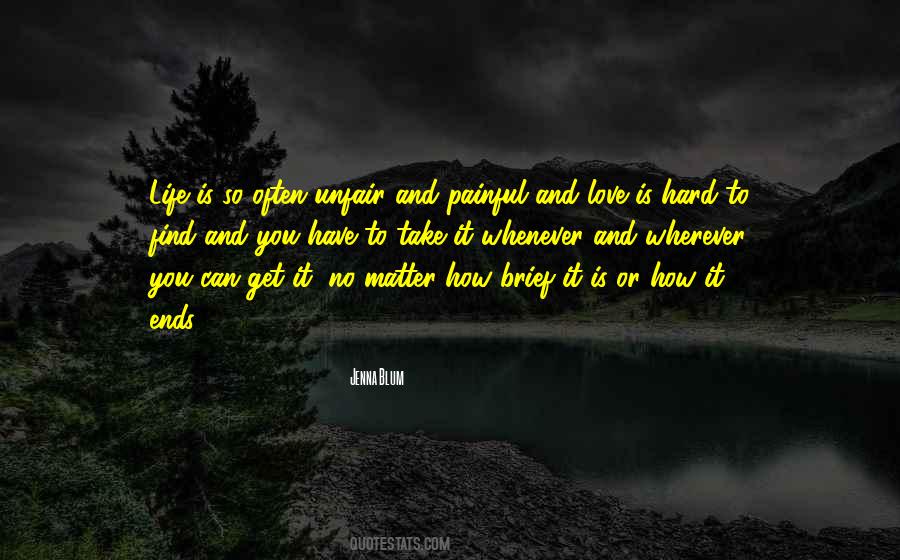 #29. Anybody who's ever gone through a hard time - any outsider's perception, no matter how much information they're given, they have no idea what the person's life is like. - Author: Amy Grant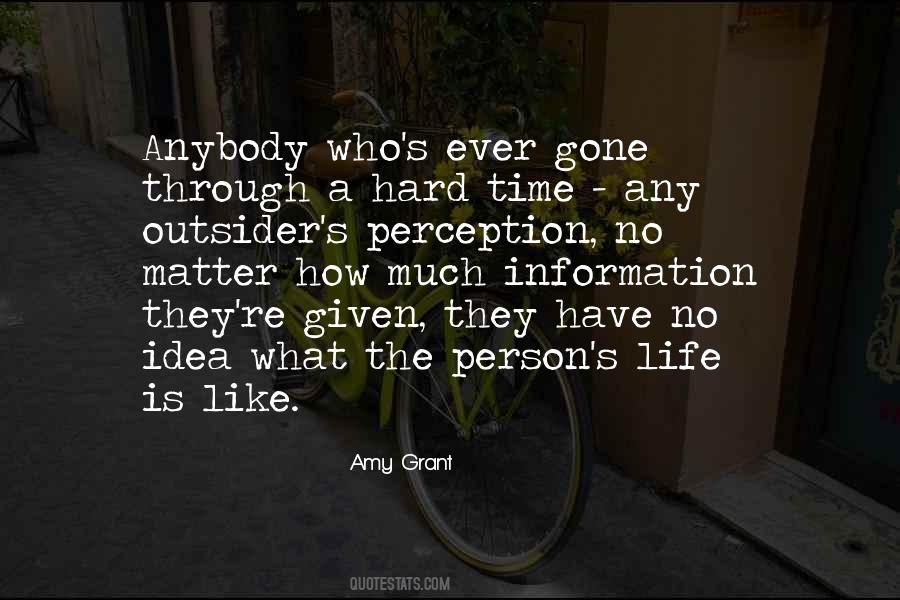 #30. Nobody gives you respect in this life. You must take it, you must earn it, and then you must hold it sacred, because no matter how hard respect is to attain, it can be lost in an instant. - Author: Jennifer A. Nielsen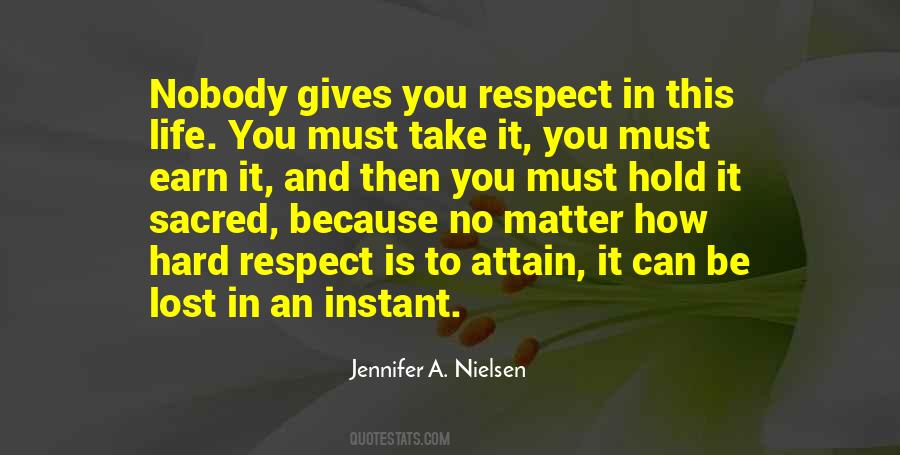 #31. Life is hard. It is not too short, it is too long. But you have to learn how to live; you have to have a sense of humour. - Author: Carolina Herrera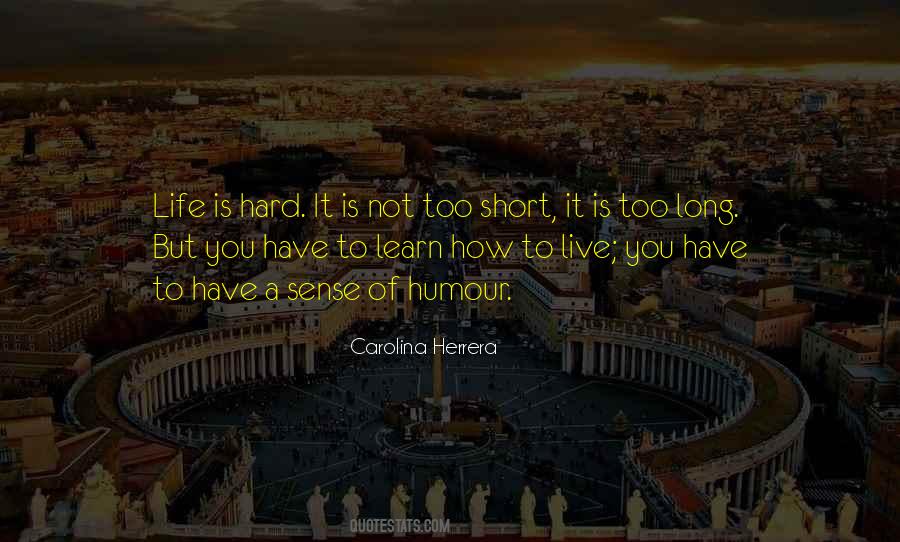 #32. People always want to know how you know. And knowing in your heart is very hard to describe. I think so often, we're trying to understand something with our mind. But, actually, the Bible teaches us that much of what God does in our life will be difficult to understand with the mind. - Author: Joyce Meyer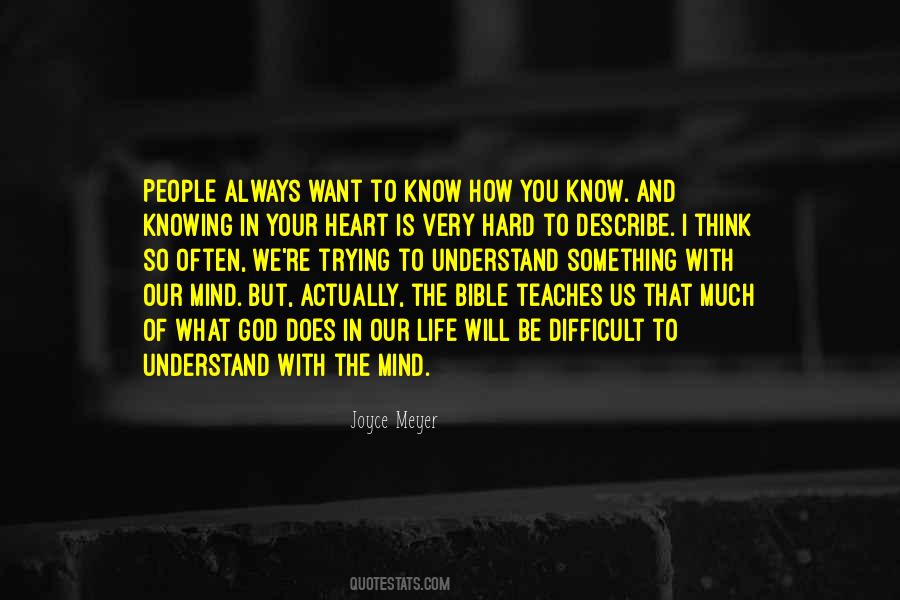 #33. It is quite hard when we do things that we couldn't forgive before in others,. but that's how we forgive others and ourselves at the same time. Life pushes us to those situations. - Author: Robin Sacredfire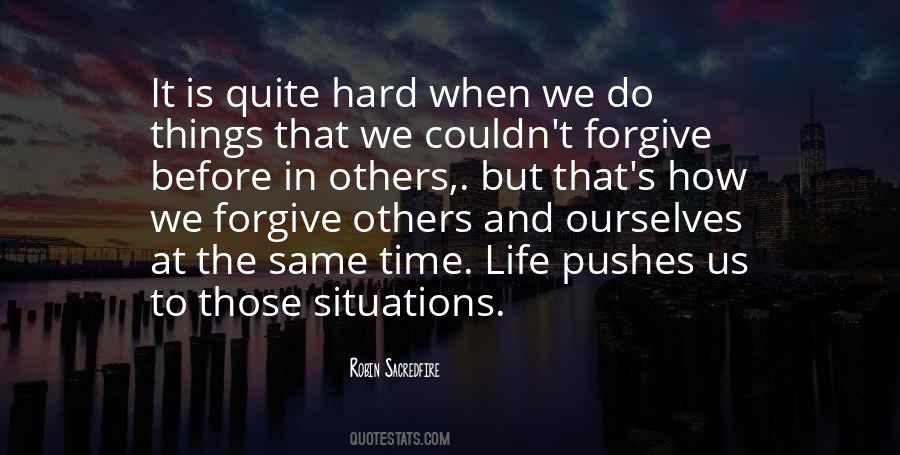 #34. It is the single most stunning reality in the life of a believer. God has placed his love on us and he will never again remove it. There's a reason to continue, no matter how hard life seems and how weak you feel. - Author: Paul David Tripp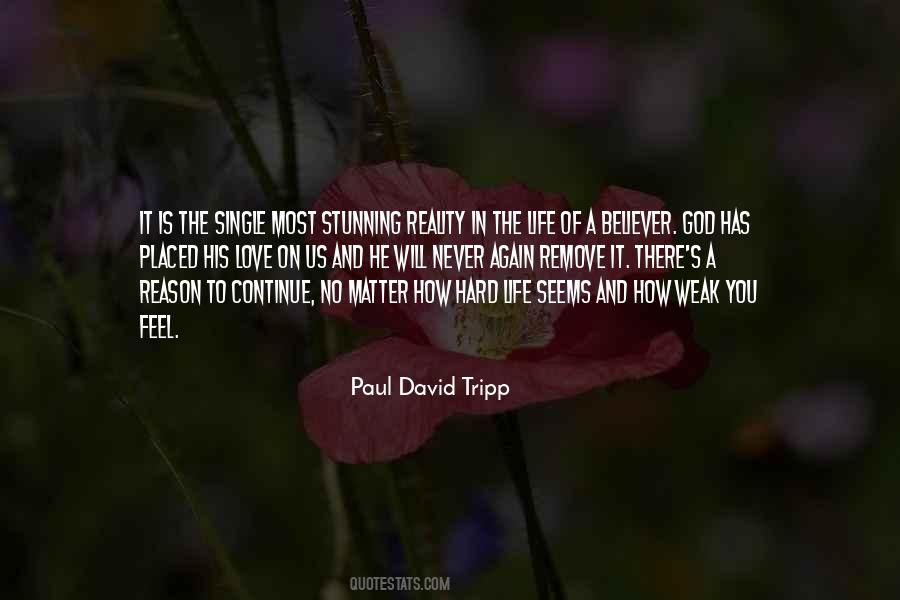 #35. It scares me how hard it is to remember life before you. I can't even make the comparisons anymore, because my memories of that time have all the depth of a photograph. It seems foolish to play games of better and worse. It's simply a matter of is and is no longer. - Author: David Levithan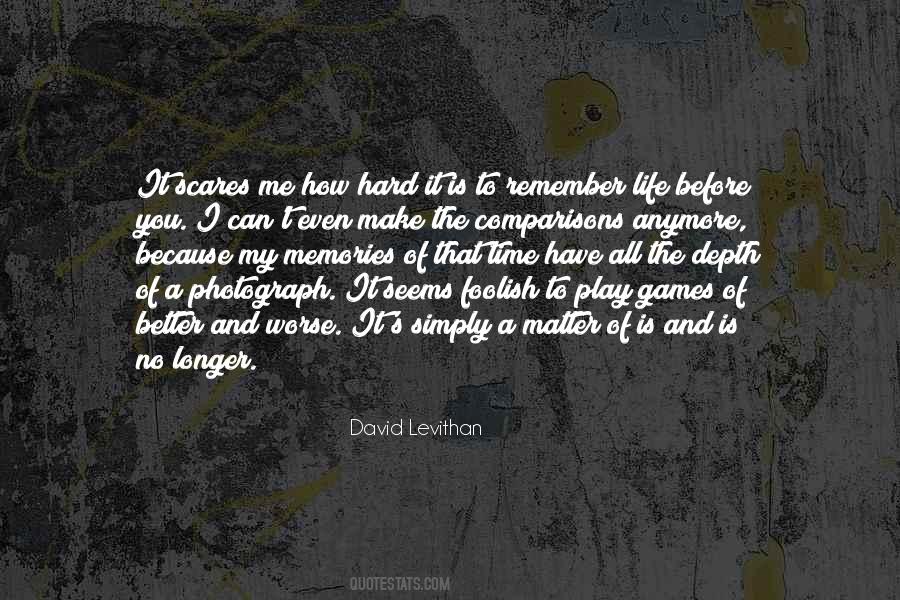 #36. But if that is what it meant to win the game, how hard it must be to live only with what one knows and what one remembers, and deprived of what one hopes. [...] There is no peace without hope [...] A warmth of life and an image of death: that was knowledge. - Author: Albert Camus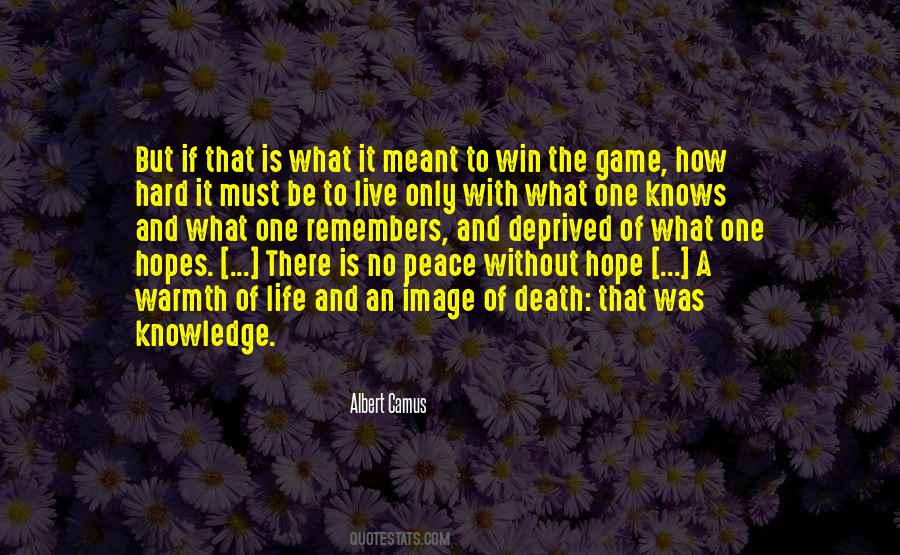 #37. How hard it is to see things in life with a child's "eyes of newness" once we have an adult's "eyes of experience". - Author: BigDaddy Abel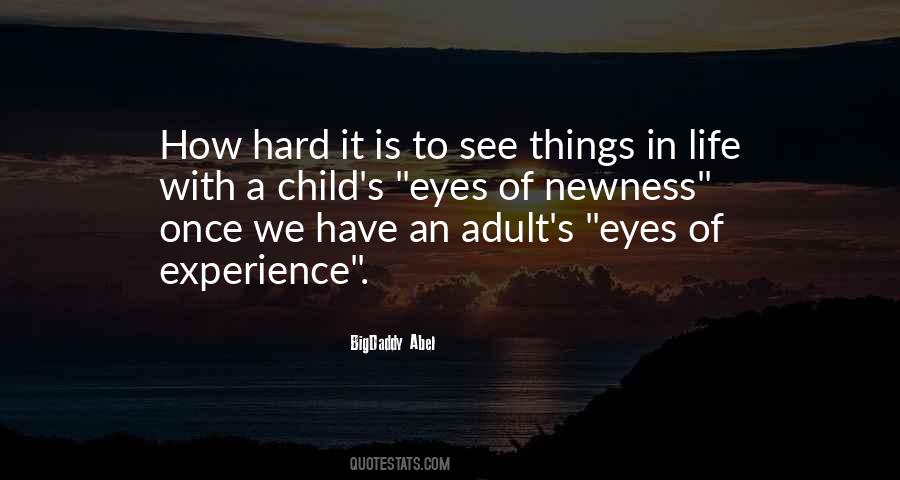 #38. I know some times you think I say I love you because I have to, but every time I say i love you I mean it that little bit more. It's hard to explain how I feel as I have never felt like this, and yeah it's scary because i could never see a life before you and now my life is you. - Author: Charanjit Singh Mannu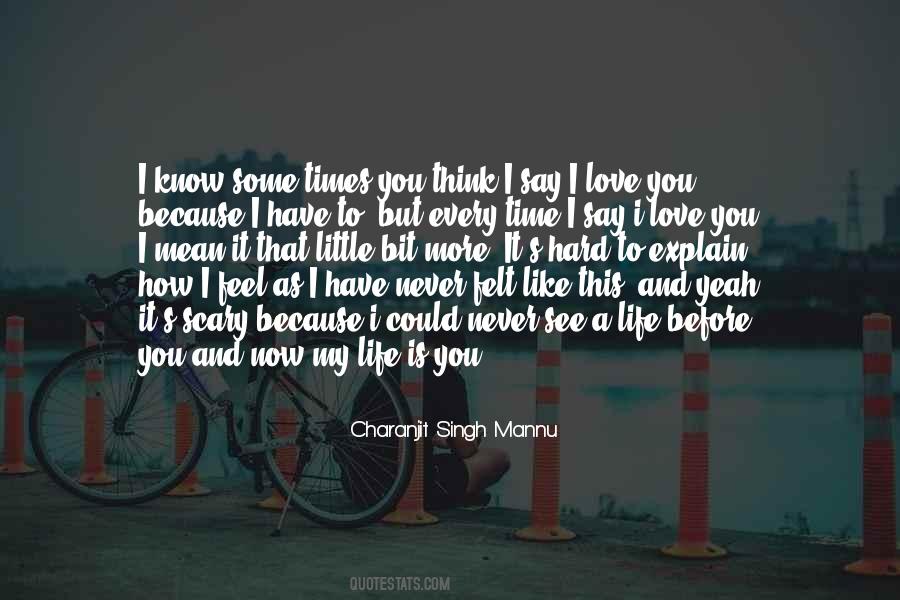 #39. I know one day I'll be irrelevant. No matter how hard you try there is a cultural moment, but eventually that window's gone, your time on Earth is finished, and you might as well leave. I could absolutely die tomorrow - I would not care. I feel like I've lived, I feel like I've had a great life. - Author: Tom Ford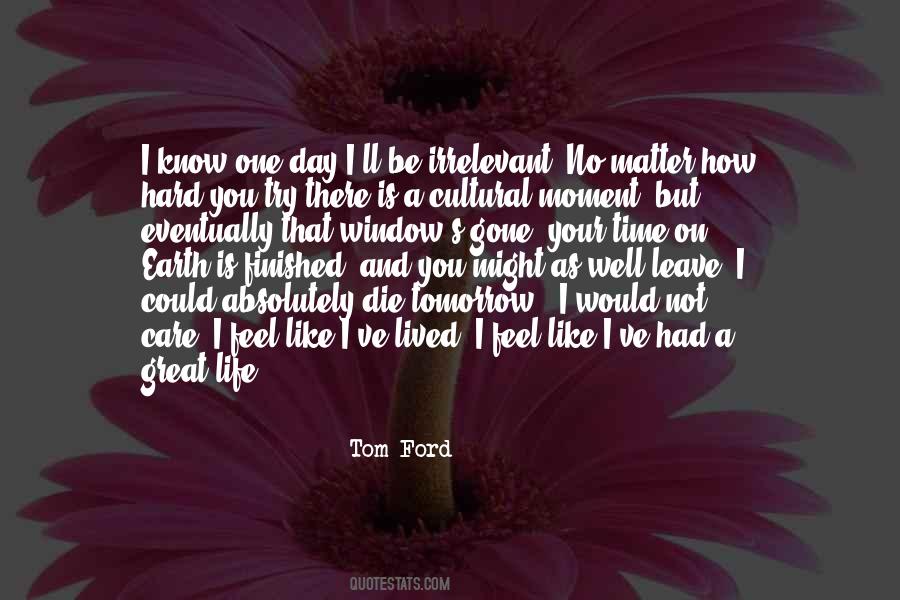 #40. What cracks me up is people who think I don't take baseball seriously. It's the most important thing in my life. They don't know how hard it is for me to get a bad game out of my mind. I still can't, but I'm getting better. - Author: Brady Anderson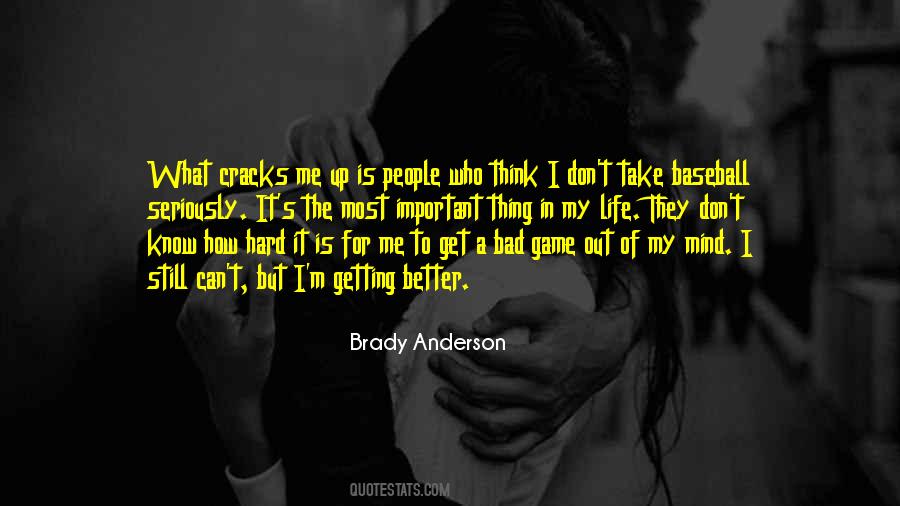 #41. Like life, basketball is messy and unpredictable. It has its way with you, no matter how hard you try to control it. The trick is to experience each moment with a clear mind and open heart. When you do that, the game - and life - will take care of itself. - Author: Phil Jackson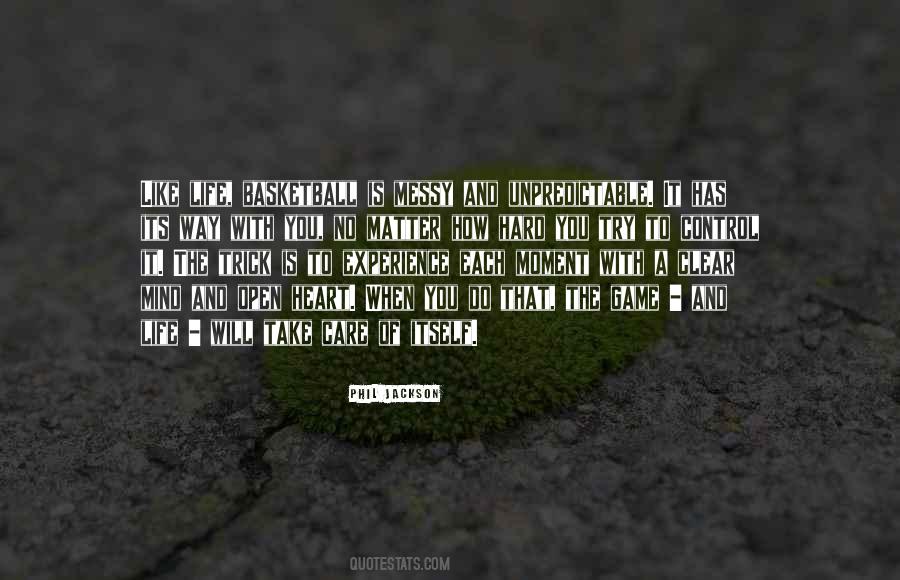 #42. Will you excuse us all," [Jeff] said, "if we admit that we find it hard to believe? There is no such-possibility-in the rest of the world."
Have you no kind of life where [asexual reproduction] is possible?" asked Zava.
"Why, yes-some low forms, of course."
"How low-or how high, rather? - Author: Charlotte Perkins Gilman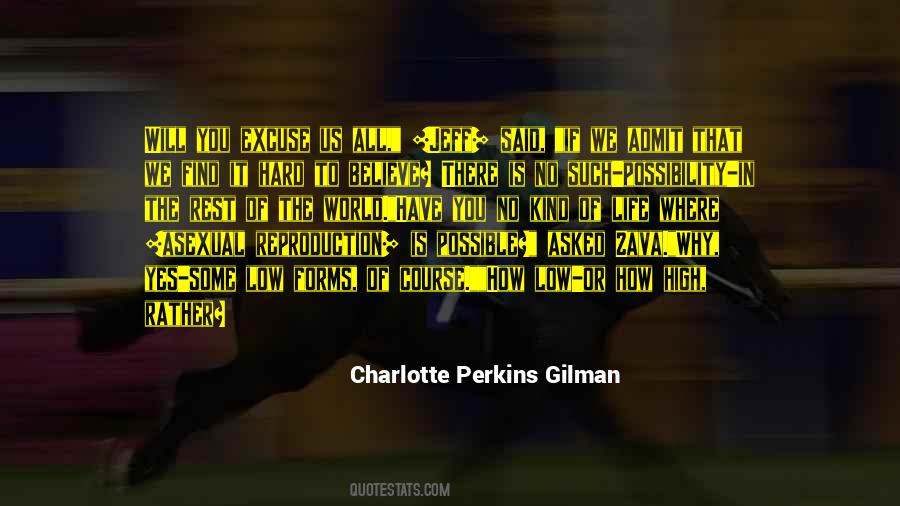 #43. Feelings are murky, contrived and confusing. And the worst thing about them is no matter how hard you try, you can never sort them. They tangle more and more with thinking. - Author: Saru Singhal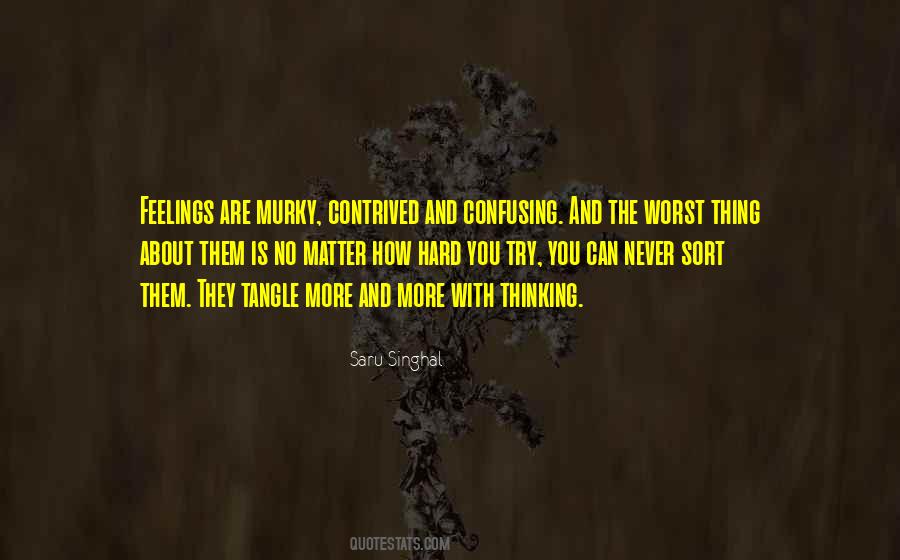 #44. No matter how perfect our circumstances, most of us, as Adam Phillips observed, "learn to live somewhere between the lives we have and the lives we would like." The hard part is to make peace with that misty zone and to recognize that no life - no life worth living anyway - is free of constraints. - Author: Jennifer Senior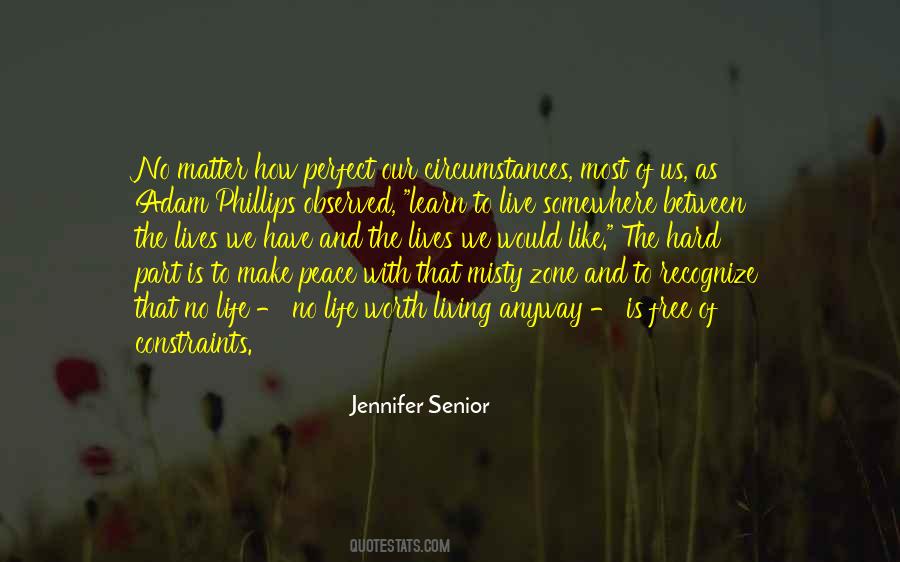 #45. You can either complain about how hard your life is, or you can realize that only you are responsible for it. - Author: Glenn Beck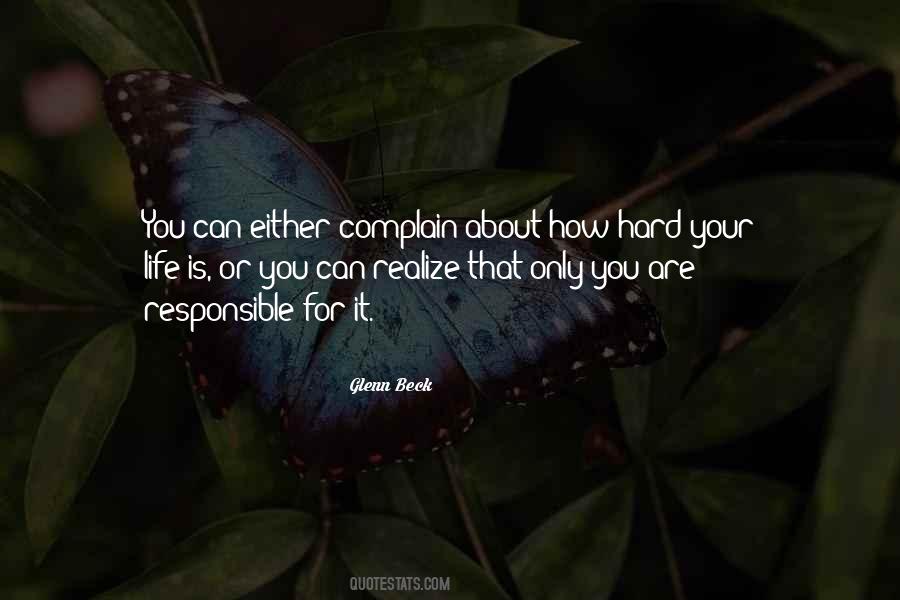 #46. Don't they appreciate how hard it is, staying decent, keeping your head on straight when so much is happening to you and your life is so full and eventfull? - Author: David Nicholls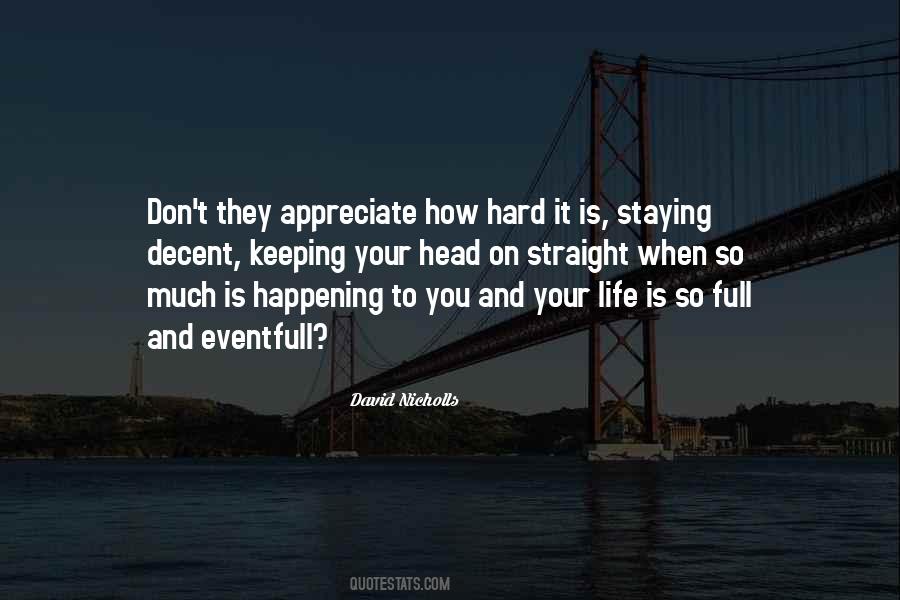 #47. The future sometimes looms like a monster, a horrible scary one with teeth and claws.It's hard to plan your life when all the news talks about is how screwed up the world's become. - Author: Ann Aguirre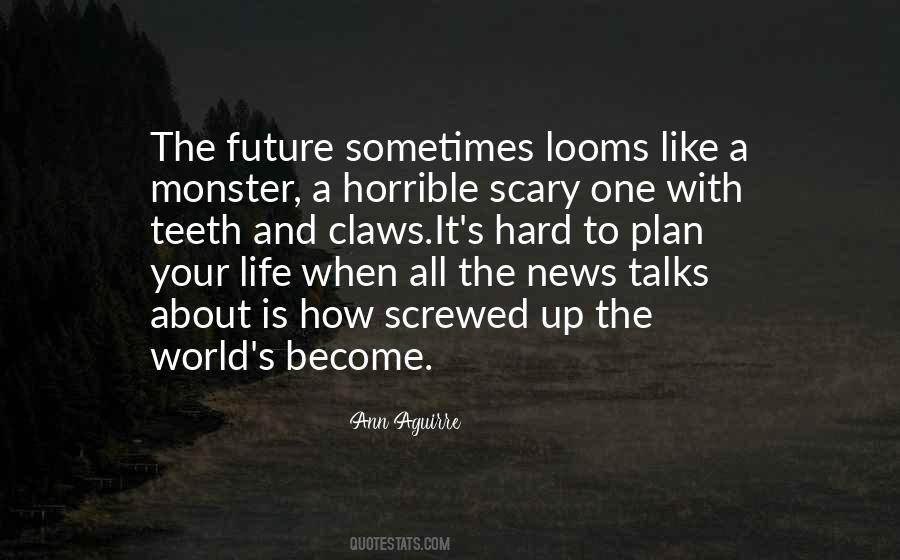 #48. Embrace your beautiful mess of a life with your child. No matter how hard it gets, do not disengage ... Do something - anything - to connect with and guide your child today. Parenting is an adventure of the greatest significance. It is your legacy. - Andy Kerckhoff, from Critical Connection - Author: Andy Kerckhoff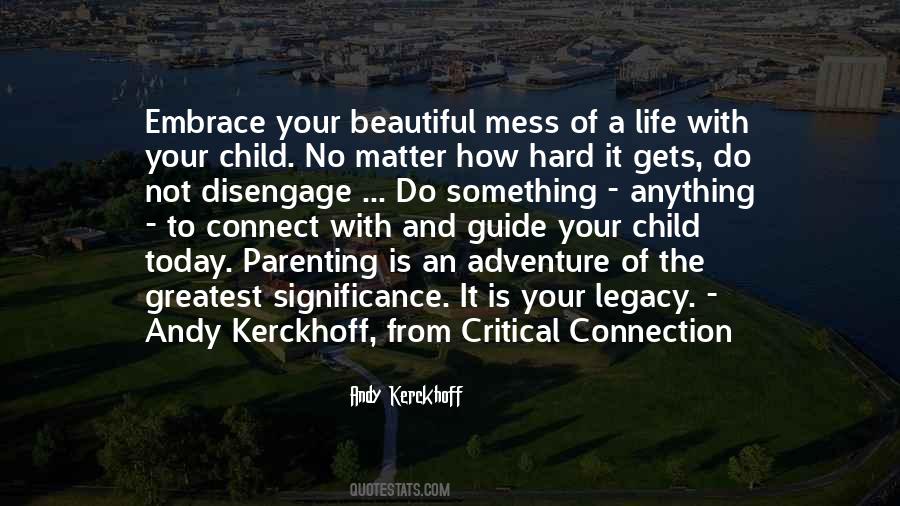 #49. It hurts every day when you practice hard, but when this decathlon is over, I got the rest of my life to recuperate. Who cares how bad it hurts? - Author: Caitlyn Jenner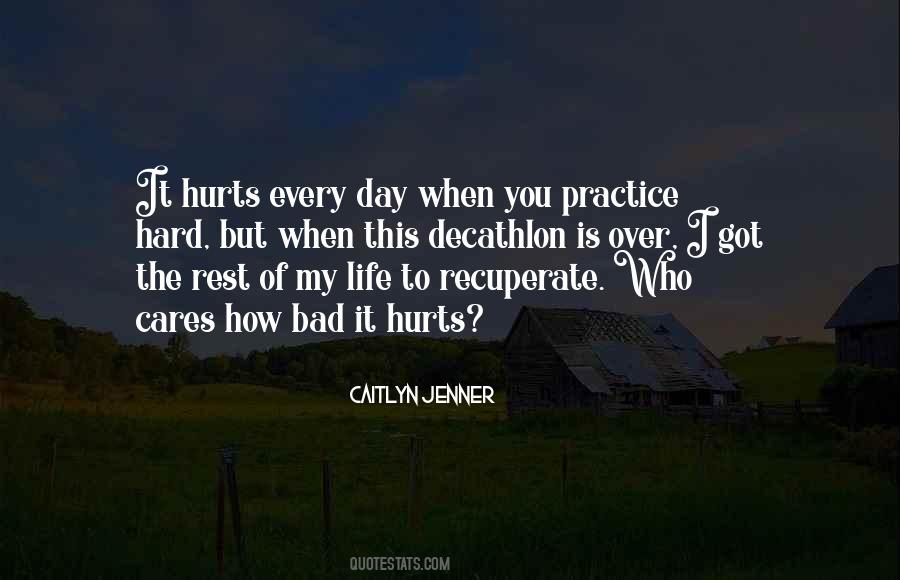 #50. The thing about being catapulted into a whole new life
or at least, shoved up so hard against someone else's life that you might as well have your face pressed against their window
is that it forces you to rethink your idea of who you are. Or how you might seem to other people. - Author: Jojo Moyes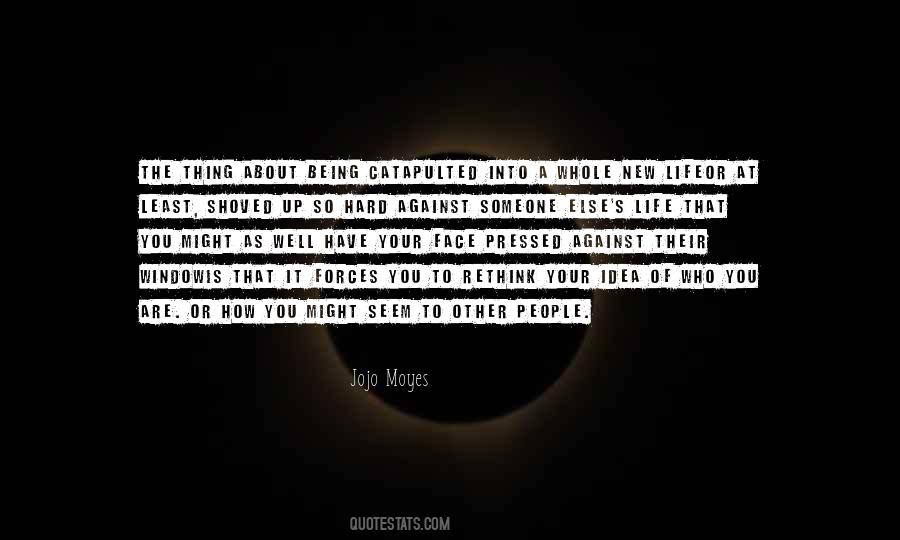 #51. The flesh is sweeter, where the creature has some chance for its life; for that reason, I always use a single ball, even if it be at a bird or a squirrel; besides, it saves lead, for, when a body knows how to shoot, one piece of lead is enough for all, except hard-lived animals. - Author: James F. Cooper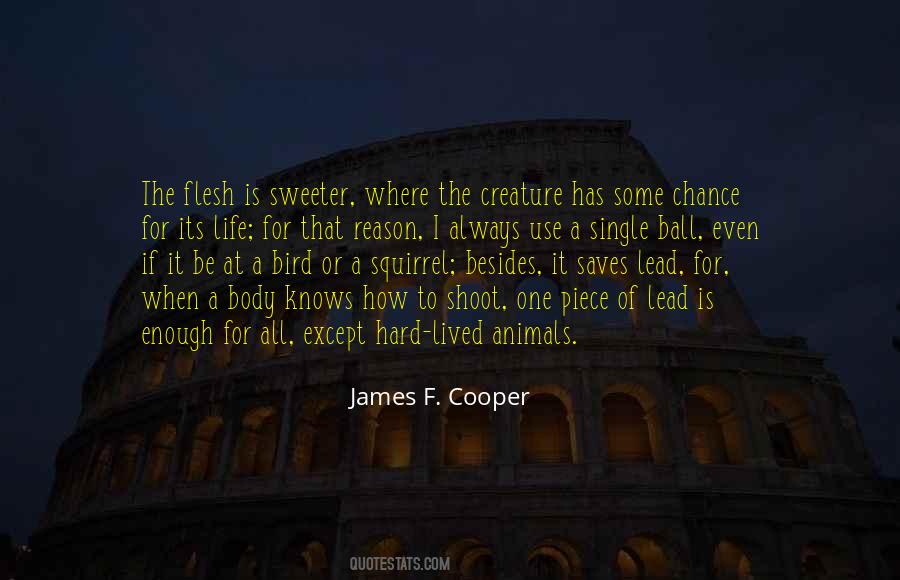 #52. In radio I had one, maybe two people who cared about getting it done. I'd really be a loser if I forgot where I came from. So I show them the love. And how hard is it really to be interested in someone's life? - Author: Billy Bush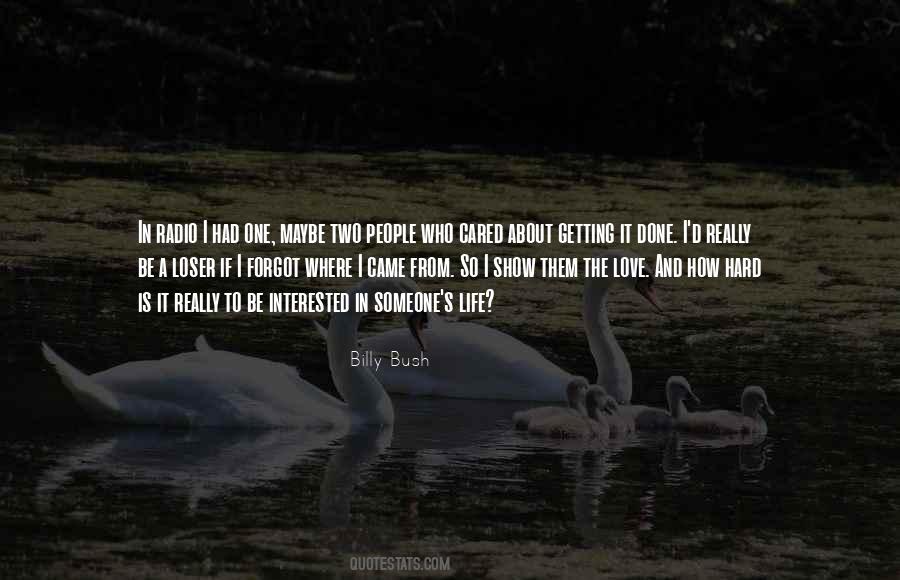 #53. People think it must be fun to be a super genius, but they don't realize how hard it is to put up with all the idiots in the world. - Author: Bill Watterson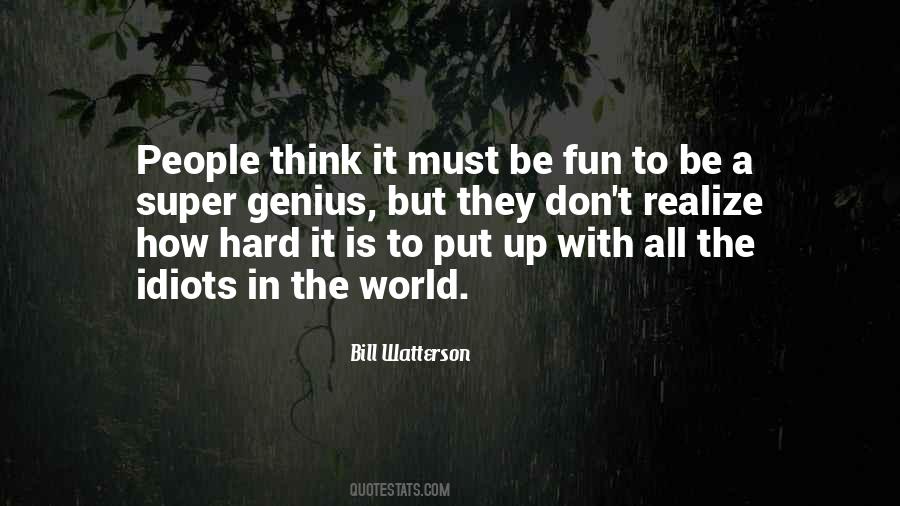 #54. Life is hard, kid. you gotta be harder. you gotta take it on and fight for it and be a fucking man about how you live it. if you're too much of a pussy to do that, then maybe you should leave, 'cause you're dead already - Author: James Frey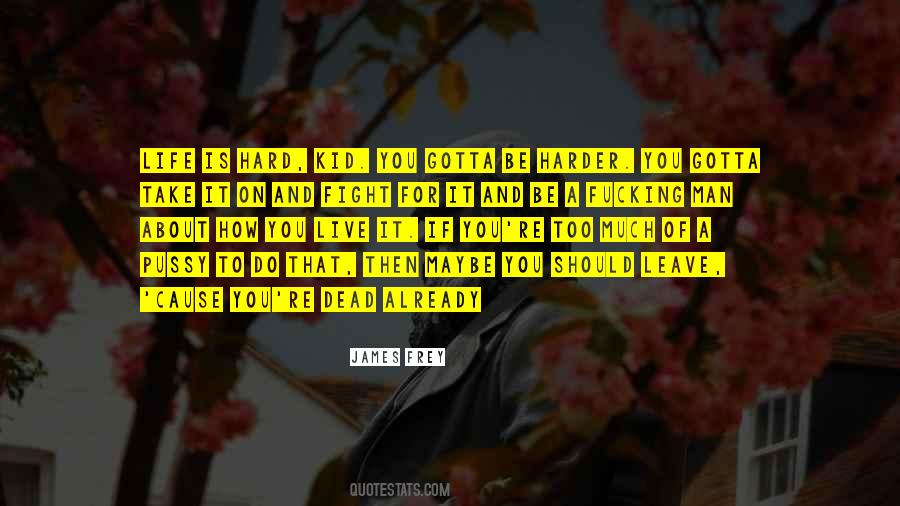 #55. Stop making excuses of why you can't or how hard it is and start making your life matter. - Author: John Patrick Hickey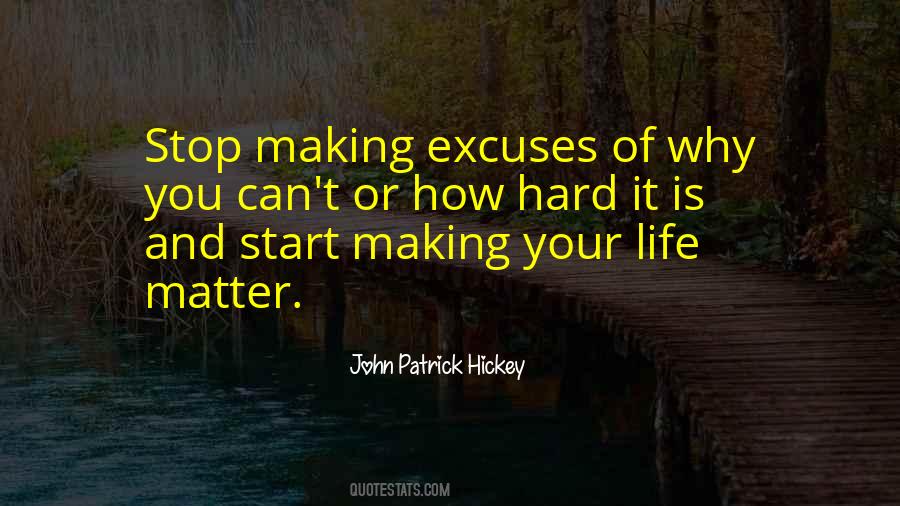 #56. I never played with a runner in my entire life, even in schools, because only I know where the ball is going and how hard, when I hit the ball, something my runner will never know about. - Author: Sachin Tendulkar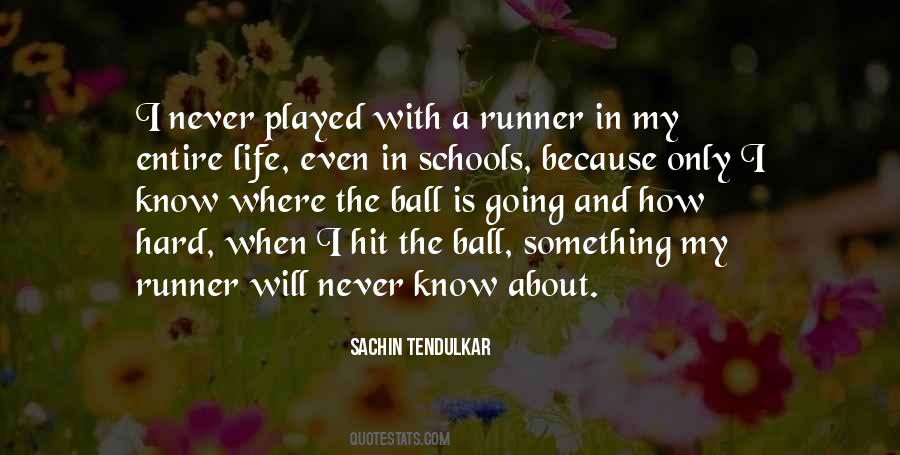 #57. We don't realize how much we create reality through language. If we say that life is hard, it will be hard. - Author: Fernando Flores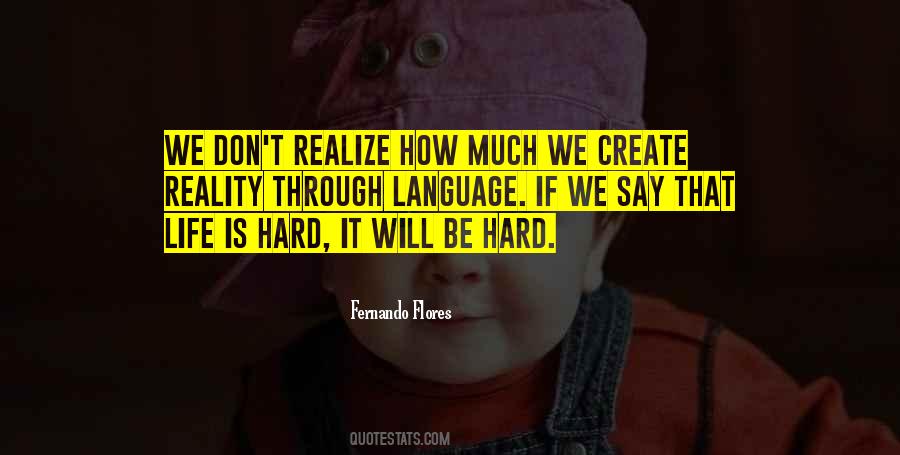 #58. Each day is unexpected. No matter how hard you try, you can never prepare for the life ahead. - Author: E.L. Montes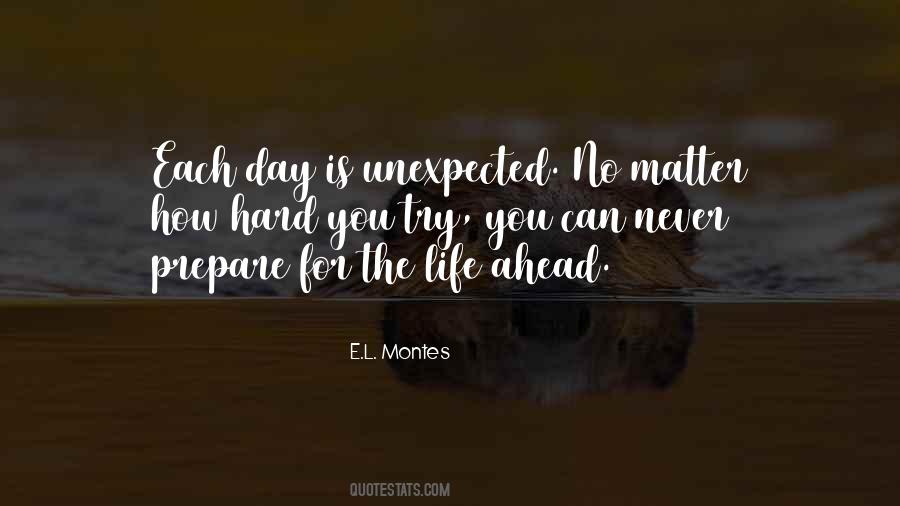 #59. Some people say it is hard to live in such a way, being completely one with the present moment. Of course, it is not hard. The opposite is hard. Not being one with life is hard, and that is how most people live. - Author: Eckhart Tolle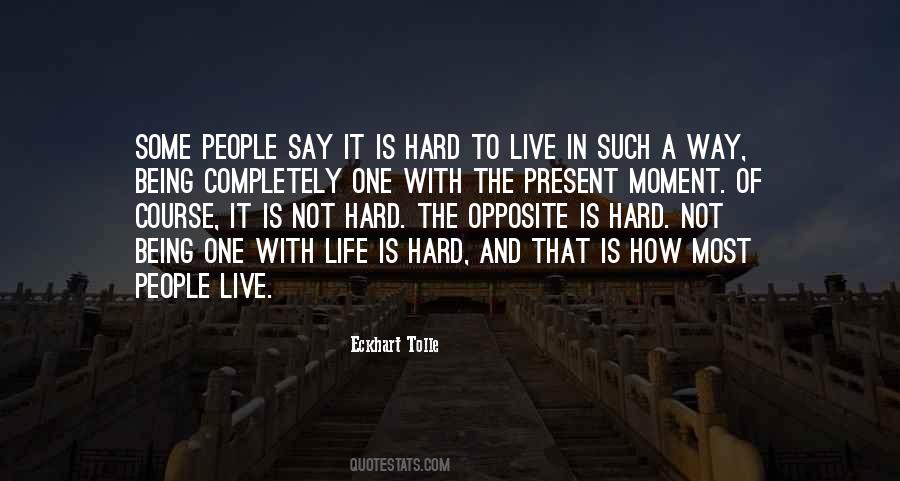 #60. Yet I, too, know how hard it is to peel back the veneer of your life, and to peek at the real. It's like - Author: Jodi Picoult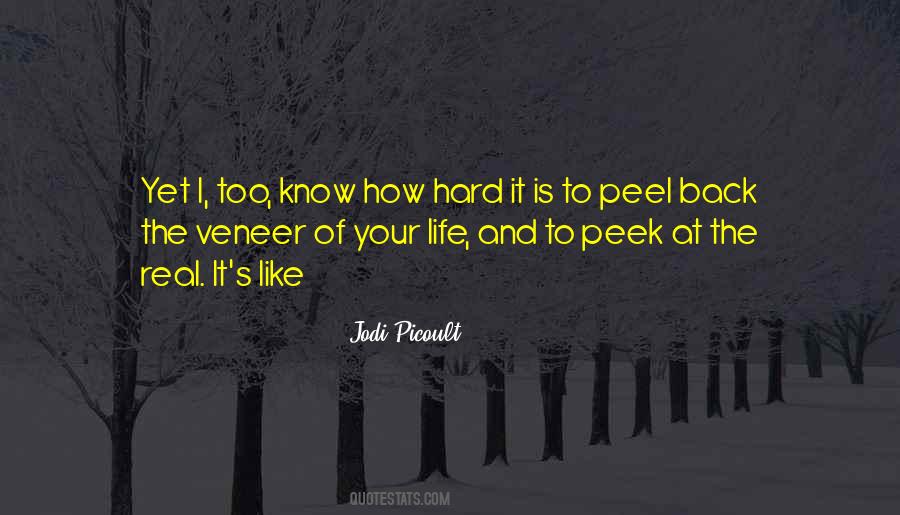 #61. For some life is incredibly easy, and for others, life is incredibly hard. Regardless of what side you fall on, you will certainly face challenges in your life. It's how you face and overcome these challenges that will ultimately define you as a person. - Author: Bryan A. Wood
#62. I think that if the novel's task is to describe where we find ourselves and how we live now, the novelist must take a good, hard look at the most central facts of contemporary life - technology and science. - Author: Richard Powers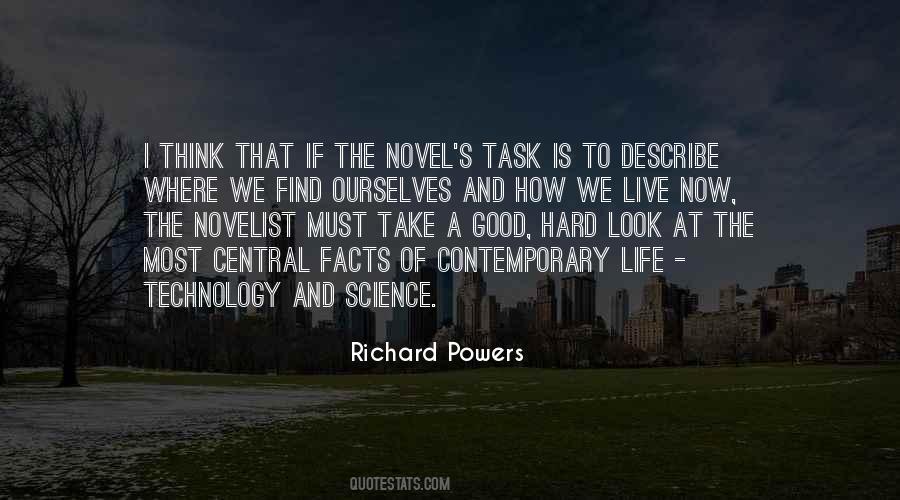 #63. It's a strange life, isn't it? ... A Rom with no tribe. No matter how hard you look, you can never find a home. Because to us, home is not a building or a tent or a vardo ... home is a family. - Author: Lisa Kleypas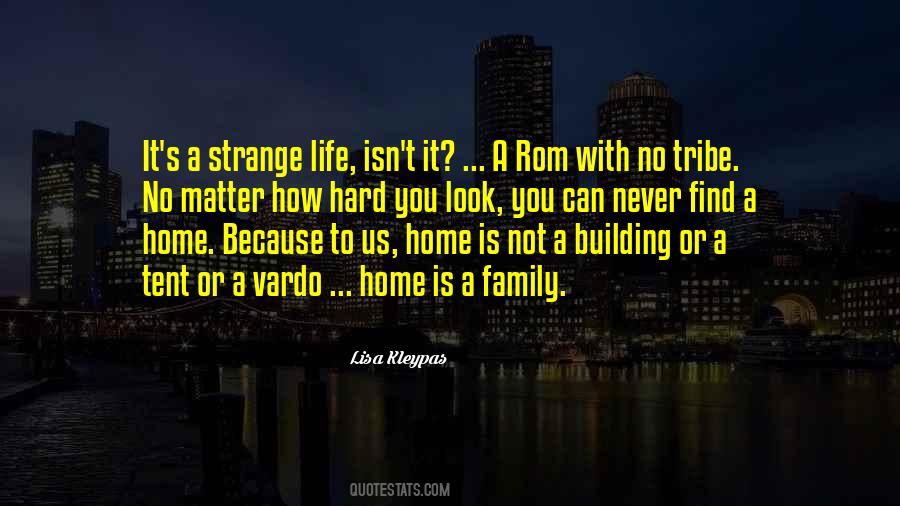 #64. The world is full of holes and uneven seams, wrinkled places that you can't make smooth, no matter how hard you try. - Author: Paula Stokes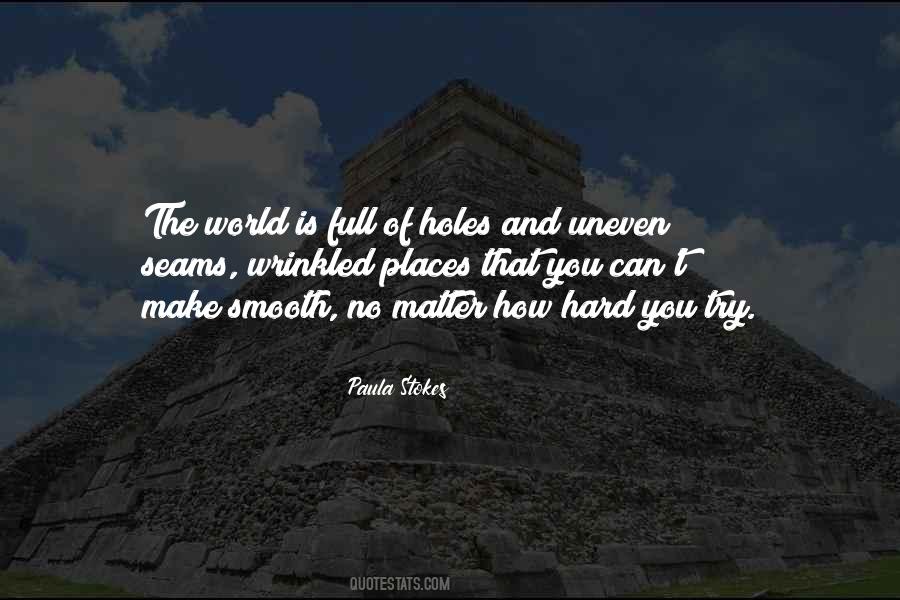 #65. After his failed political career, Lincoln often pondered the question of the purpose of the meaning of life. In 1850 [ten years before he was elected President], Lincoln told Herdon [his law partner] How hard, oh how hard it is to die and leave one's country no better than if one had never lived. - Author: Ronald C. White Jr.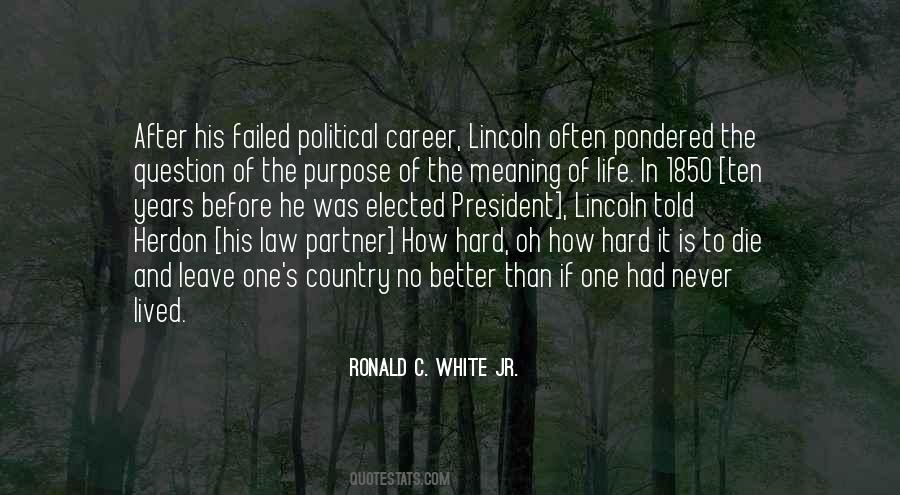 #66. How easy life is when it's easy, and how hard when it's hard. - Author: Philip Roth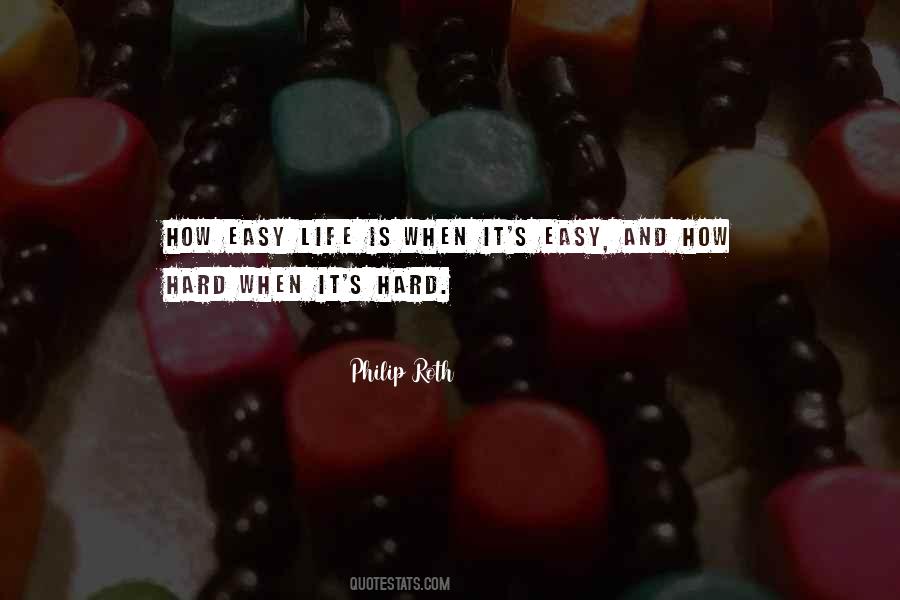 #67. The only thing your life teaches you is how to live your life. And that's only if you're very lucky. And you listen very hard. - Author: Mark Slouka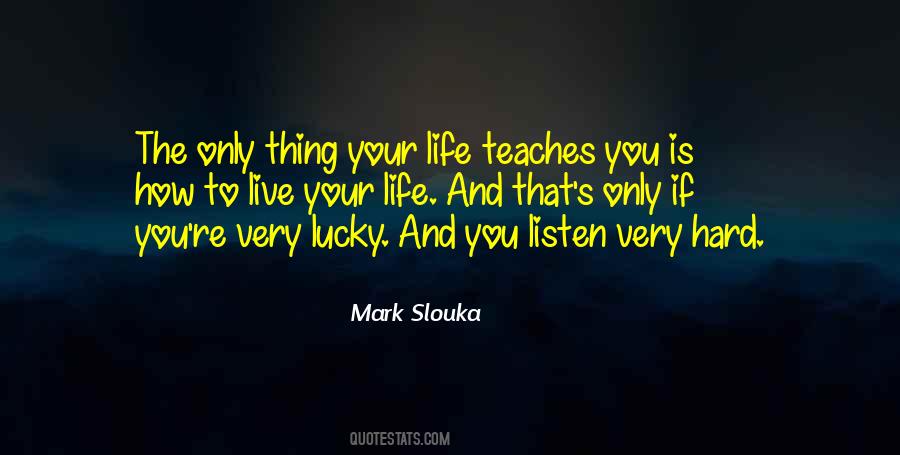 #68. How hard it is to escape from places. However carefully one goes they hold you - you leave little bits of yourself fluttering on the fences - like rags and shreds of your very life. - Author: Katherine Mansfield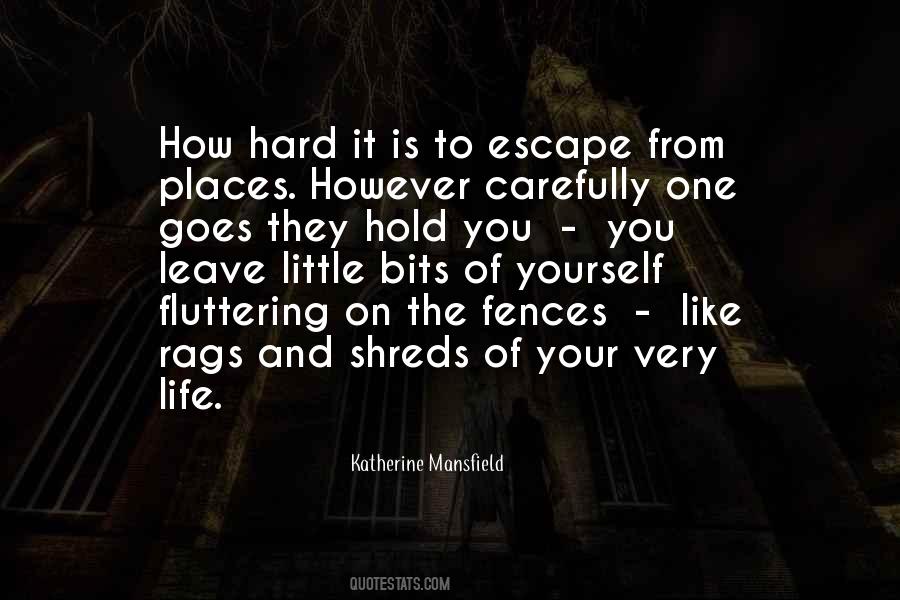 #69. Life will hit you hard in the face, wait for you to get back up just so it can kick you in the stomach. But getting the wind knocked out of you is the only way to remind your lungs how much they like the taste of air. - Author: Sarah Kay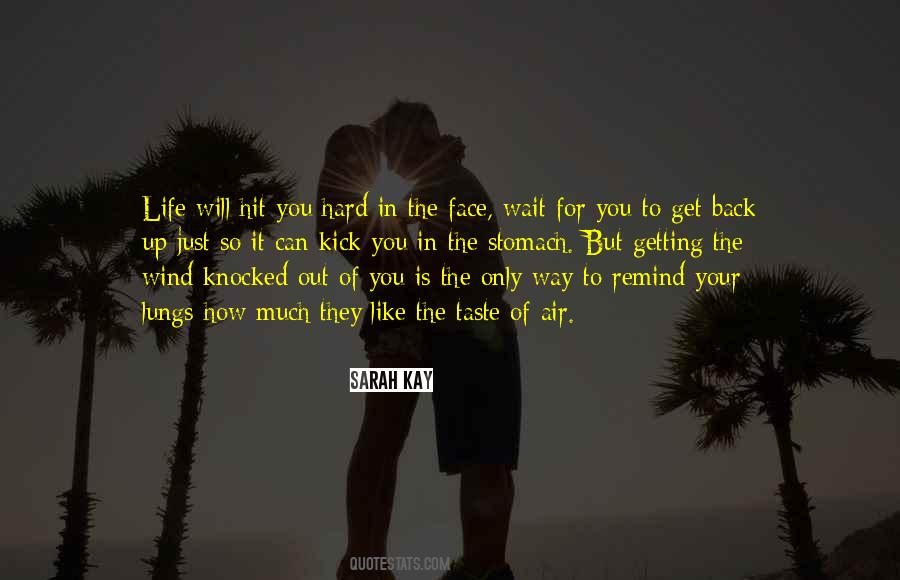 #70. How hard it is to sleep
in the middle of life. - Author: Audre Lorde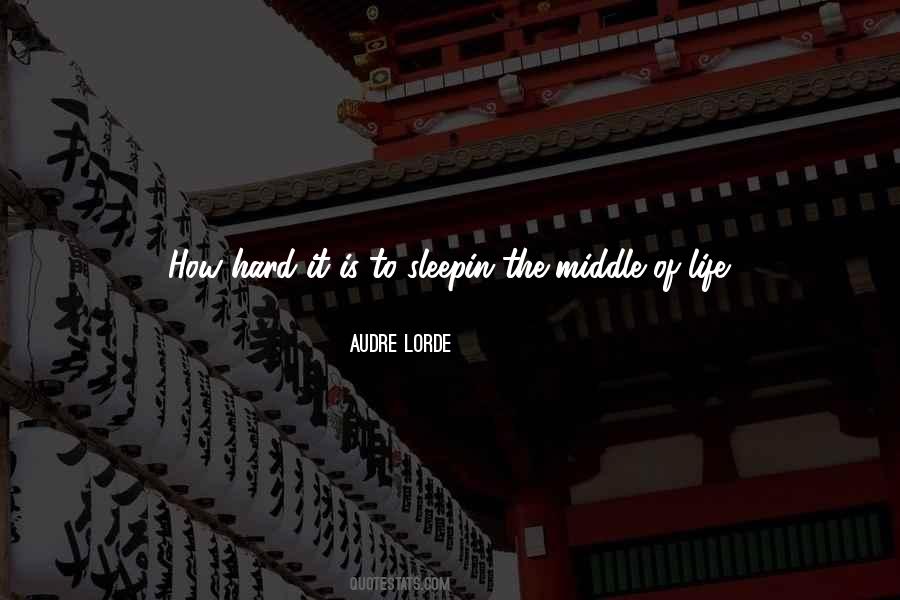 #71. You'll go far. How do I know? Because life is goosing you so hard you'll never stop climbing. - Author: Robertson Davies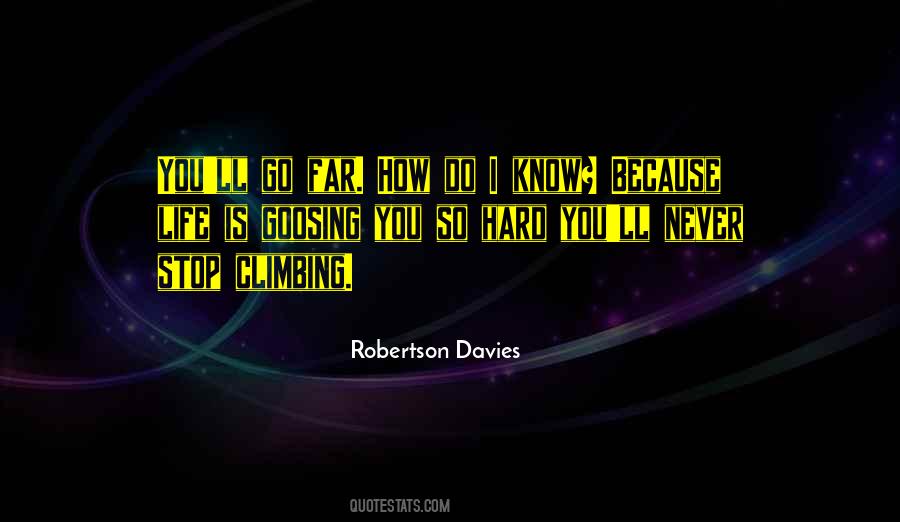 #72. These kids are already hard. They don't need to be made harder. The issue is softening them up. They need to learn how to care about life again. They've lost that. That's what we need to give back to them. - Author: Edward Humes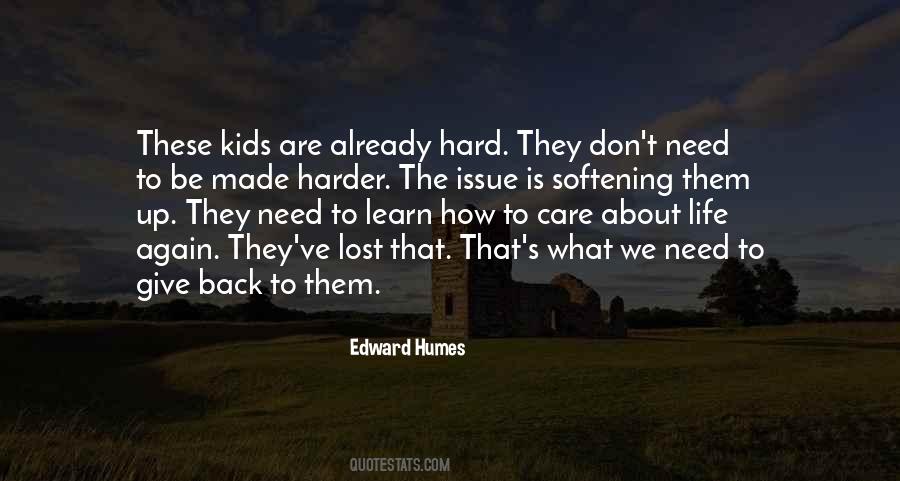 #73. I tell them that if compulsive eating is anything, it's a way we leave ourselves when life gets hard. When we don't want to notice what is going on. Compulsive eating is a way we distance ourselves from the way things are when they are not how we want them to be. - Author: Geneen Roth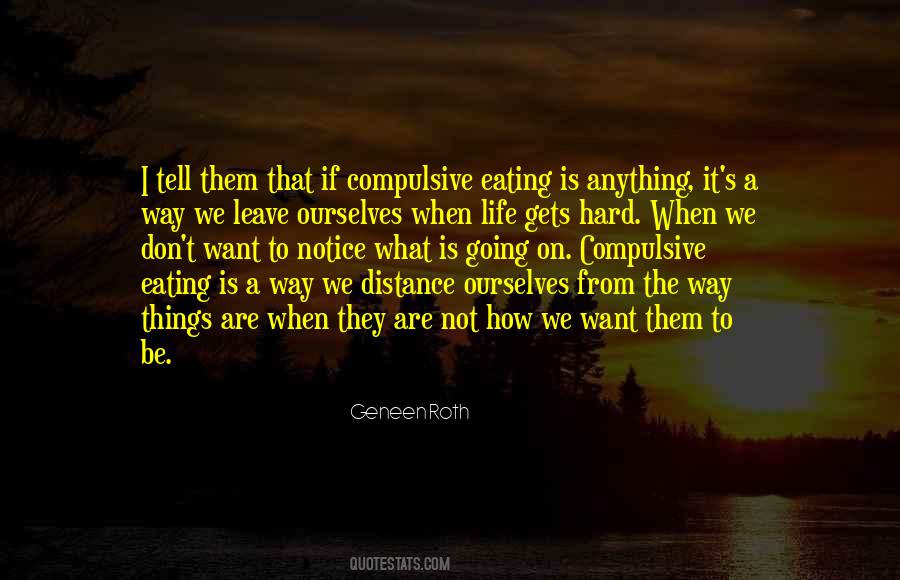 #74. Live your life so that you'll have no regrets. No matter how hard, no matter how sad, if something is precious to you, protect it with both arms. - Author: Masashi Kishimoto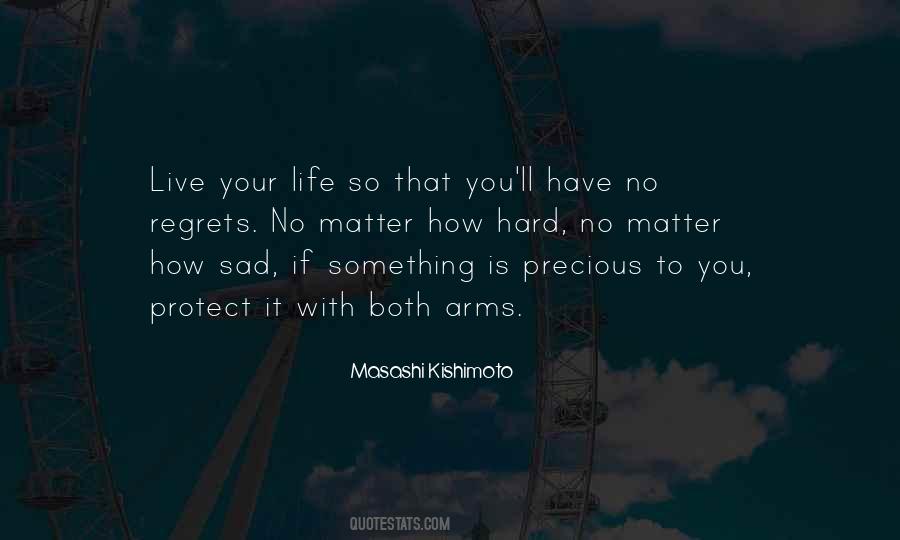 #75. I've gone through a really hard divorce, and anyone who has gone through a divorce will speak about how hard the journey is from start to finish. It's a life-uprooting time. - Author: Christina Aguilera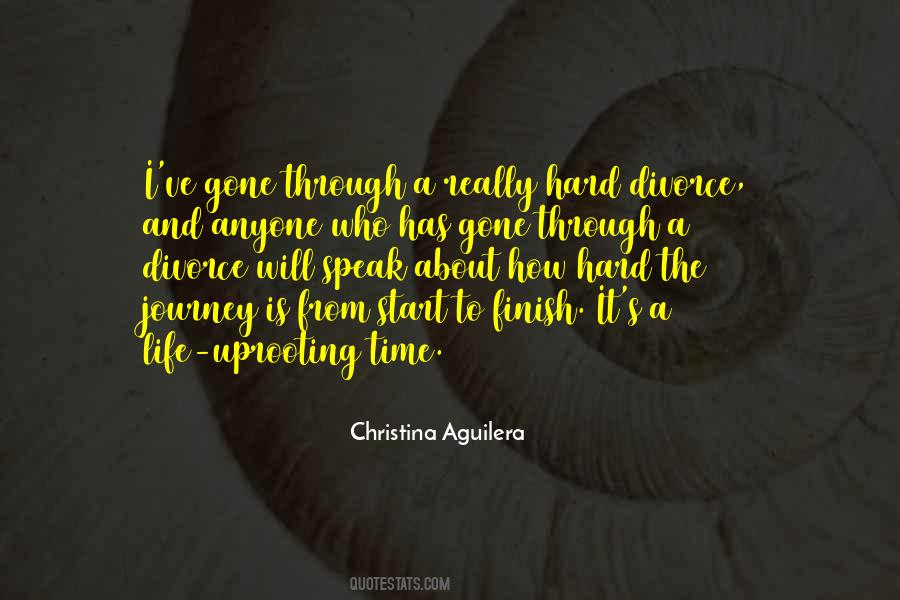 #76. How tragic lives there are in this world! But there is a greater tragedy: People who have very hard lives often believe that they will have a better life after death! Losing hope in life and running after an absolute illusion is even a bigger tragedy! - Author: Mehmet Murat Ildan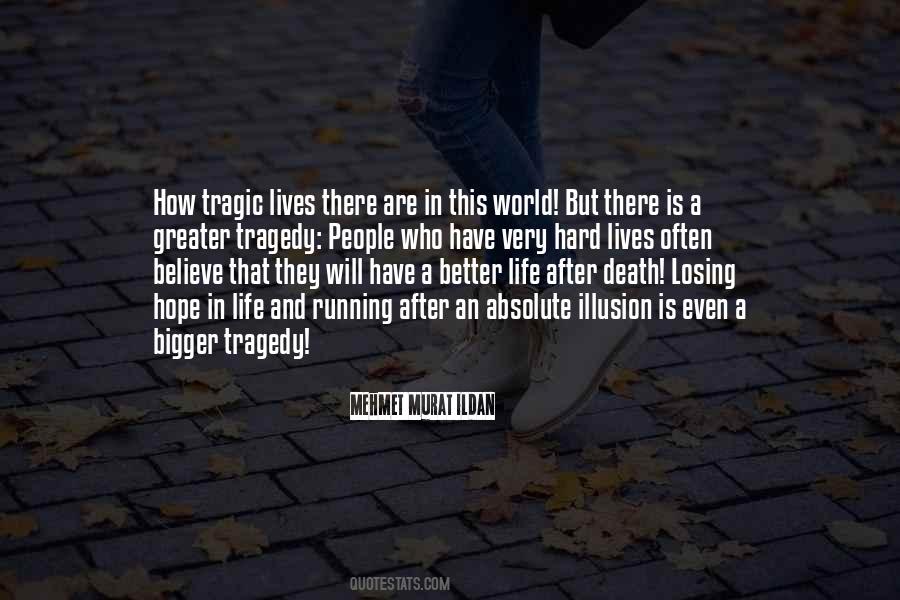 #77. That is how I came to think that heavy and hard was the beginning of living, real living; and though I might not end up with a mark on my cheek, I had no doubt that I would end up with a mark somewhere. - Author: Jamaica Kincaid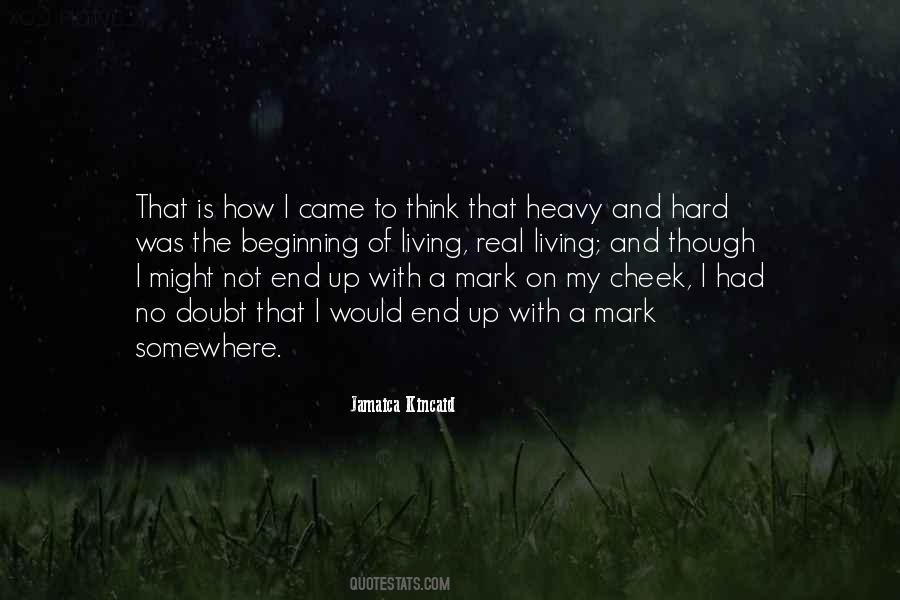 #78. I think your 20s are the hardest part of life. I mean, everyone goes on about how hard it is to be a teenager, but actually I think it's tougher to be in your 20s because you're expected to be a grownup and expected to earn your own living and be successful and I think you feel like a kid still. - Author: Nigel Cole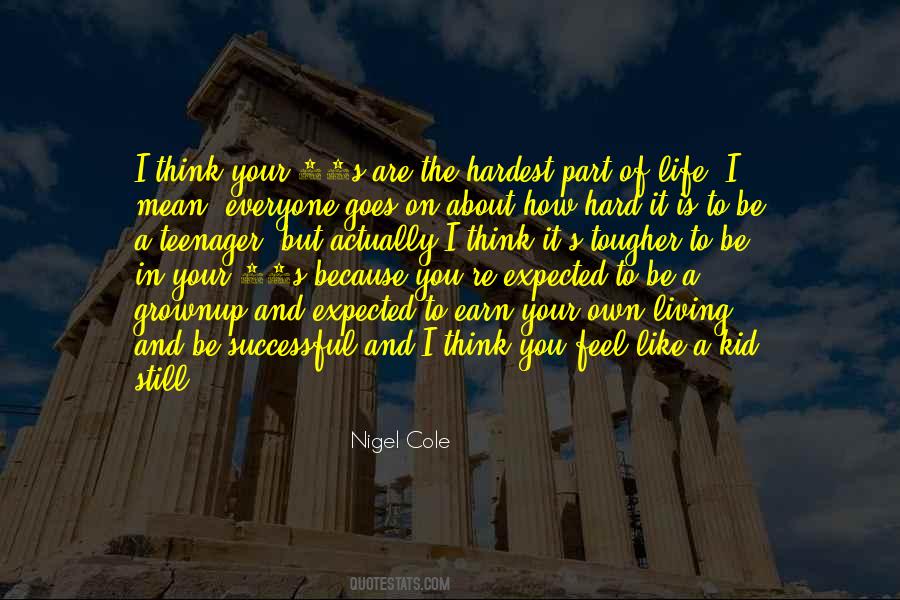 #79. And day to day, life's a hard job, you get tired, you lose the pattern. You need distance, interval. The way to see how beautiful the earth is, is to see it as the moon. The way to see how beautiful life is, is from the vantage point of death. - Author: Ursula K. Le Guin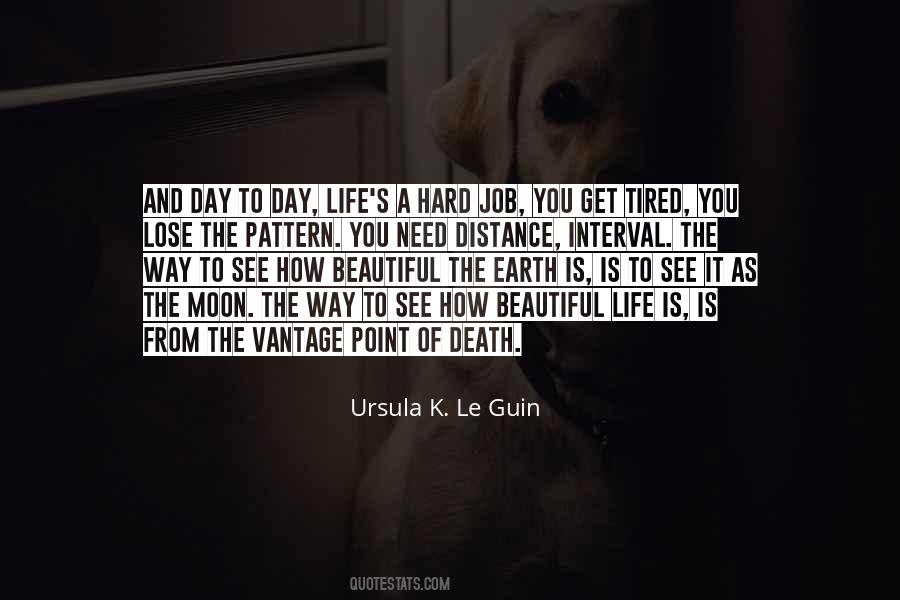 #80. Maybe learning how to be out in the big world isn't the epic journey everyone thinks it is. Maybe that's actually the easy part. The hard part is what's right in front of you. The hard part is learning how to hold the title to your very existence, to own not only property, but also your life. - Author: Meghan Daum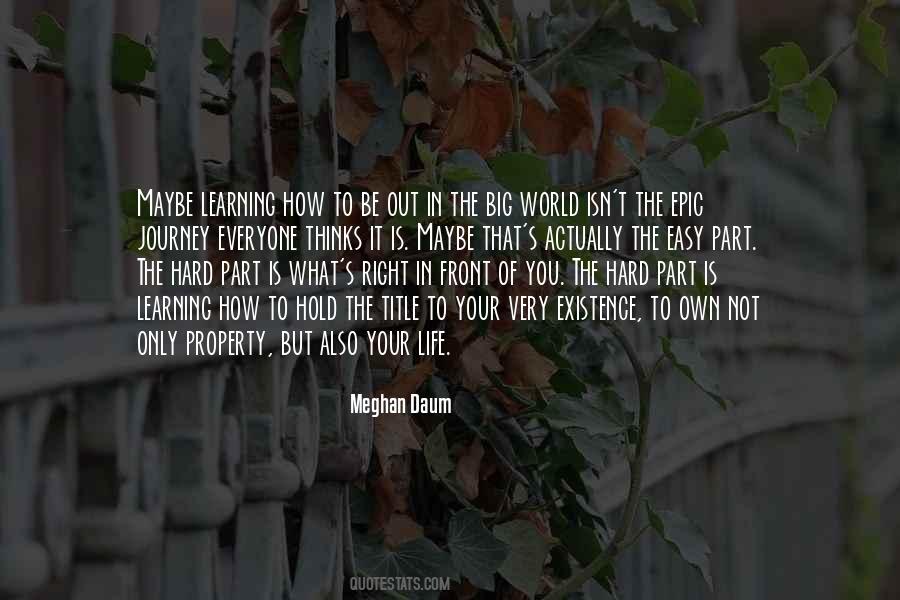 #81. I suppose I just had this Christian idea about how I ought to go about my life. I thought, 'If I work really hard and have a bit of success, the problems I'd had all my life would leave me.' But, of course, not a bit of it left me because Asperger's is not something you just get over or grow out of. - Author: Paddy Considine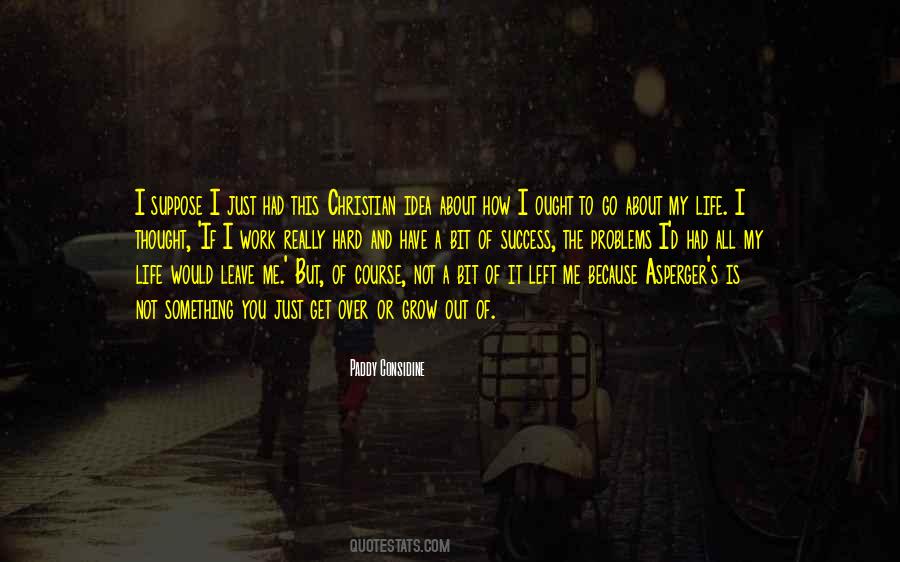 #82. Life is so freaking hard. How do people do it? How do people get up every day and deal with the shit? It really makes you understand why there are so many messed-up people in the world. I mean, it's tough, trying to deal with demands coming at you from all sides. - Author: Lisa Schroeder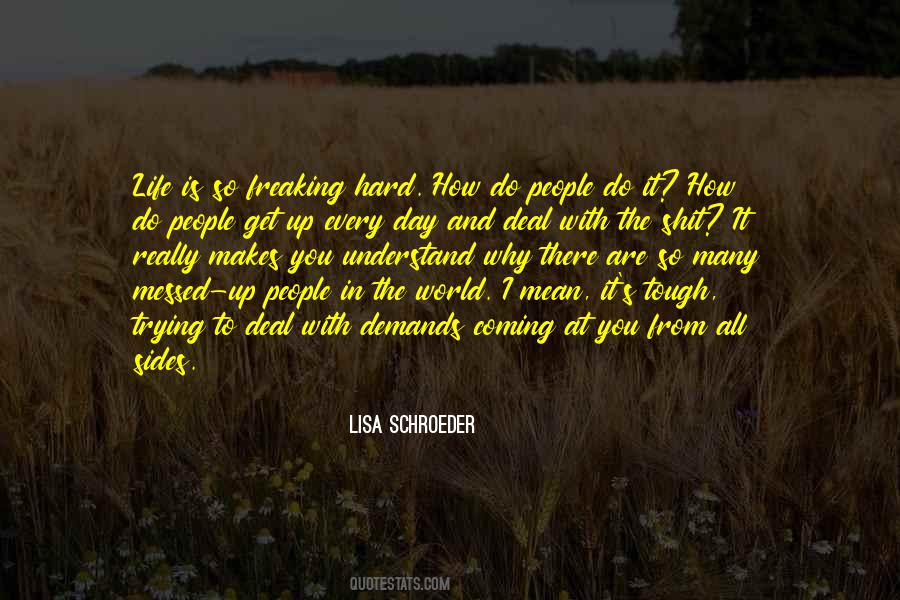 #83. It is hard to know when we have done enough for the Atonement to change our natures and so qualify us for eternal life. And we don't know how many days we will have to give the service necessary for that mighty change to come. But we know that we will have days enough if only we don't waste them. - Author: Henry B. Eyring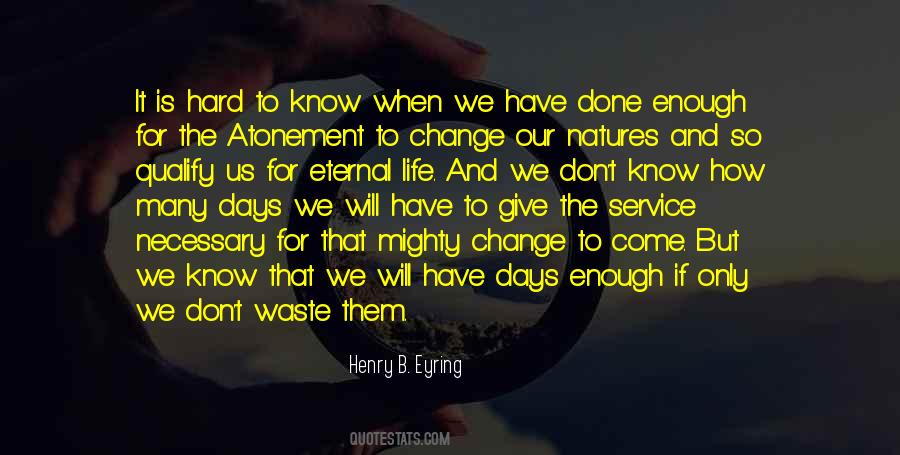 #84. How is your love life, Minz?" she would ask hungrily, hoping to be entertained by raunchy details.
I had none. "Um, you know. So hard to meet guys," I answered vaguely, hoping my lack of a sex life would seem mysterious and not pathetic. - Author: Mindy Kaling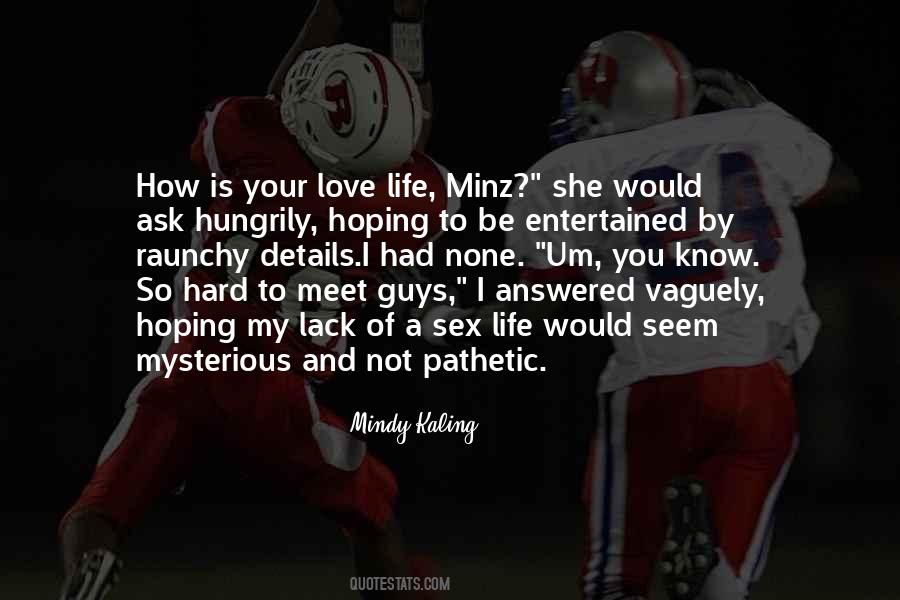 #85. It's at the core of the Catholic faith, and to imagine how we are going to succeed in our country unless we have committed family life, a child-centered family system, is hard to imagine. - Author: Jeb Bush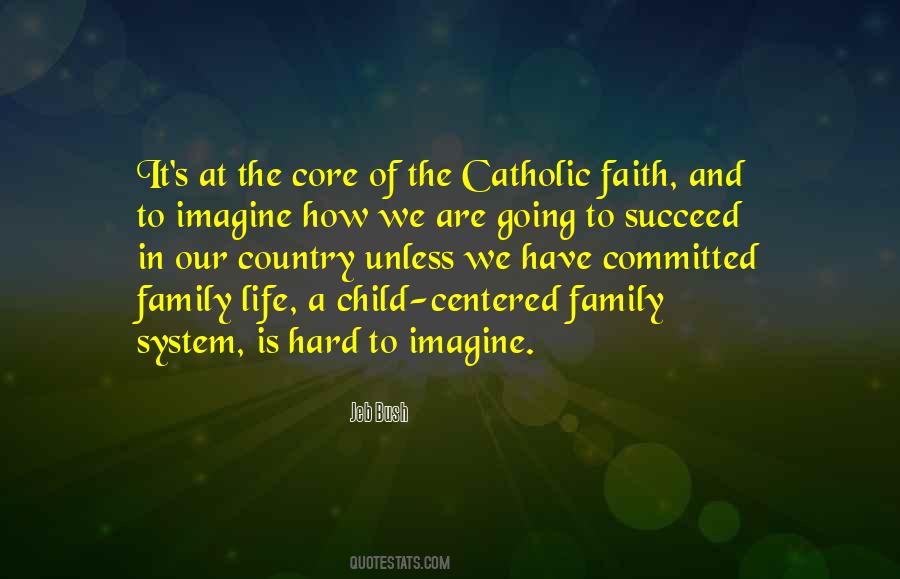 #86. No matter how hard life is, don't lose hope - Author: Zayn Malik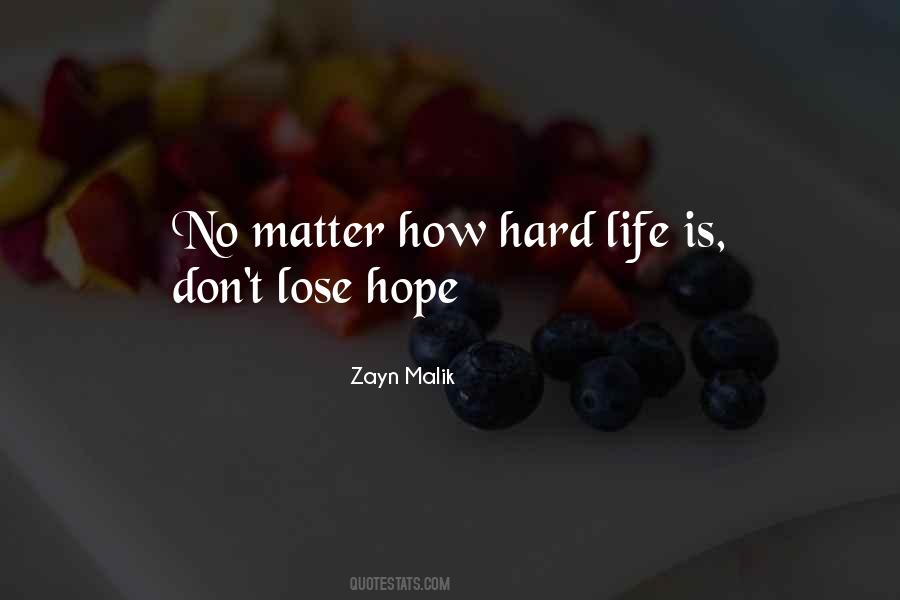 #87. Its not living the gospel thats hard. Its life thats hard ... How often do we make the mistake of talking to our youth about how hard it is ... Shouldn't we instead be focusing on the doctrine of joy ... ? p 106 - Author: Sheri L. Dew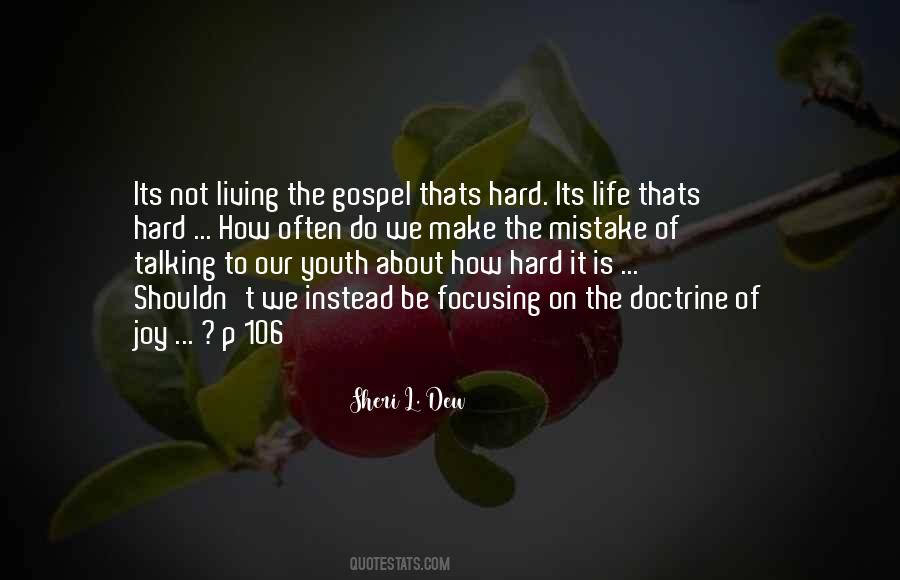 #88. No matter how hard life is, you are your own architecture. If you give up then there's no one that can help you, but if you want to keep building your future, then no one can stop you either. - Author: Jaejoong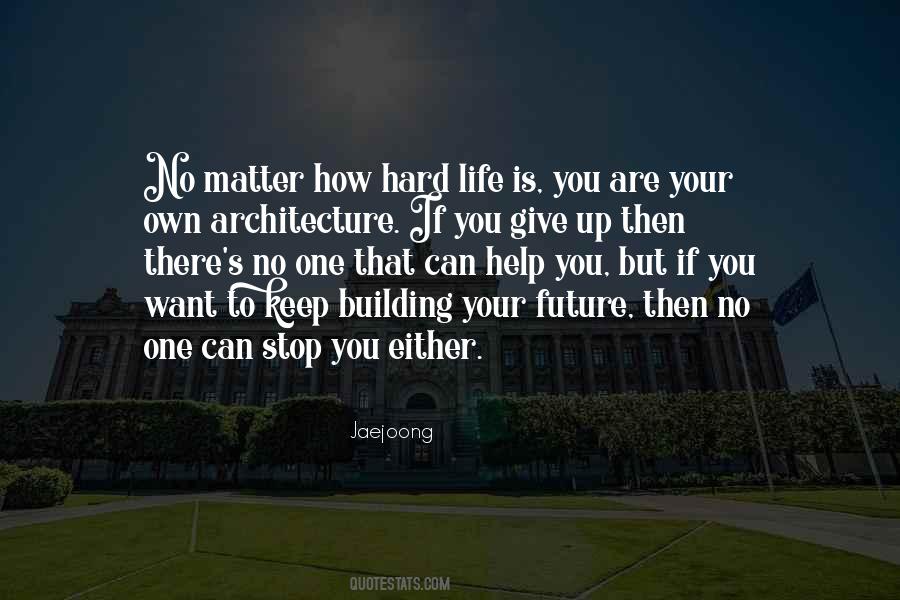 #89. You should step in my shoes
Walk for a while
and maybe you will see how hard it is
to hold back the tears and fake a smile - Author: Elizabeth Panos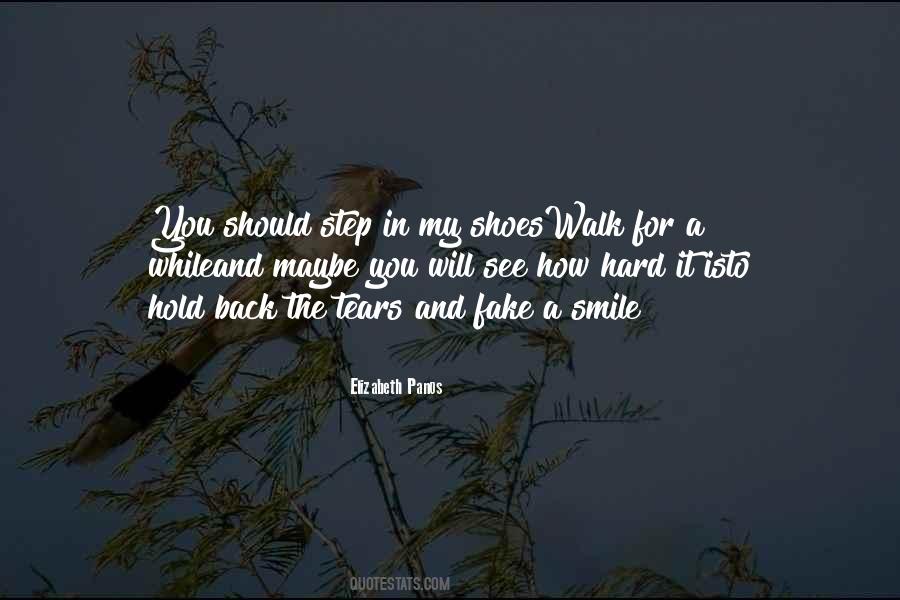 #90. There is no question that at times in my life, partially driven by how passionately I felt about my country, that I worked far too hard and that things happened in my life that were not appropriate. - Author: Newt Gingrich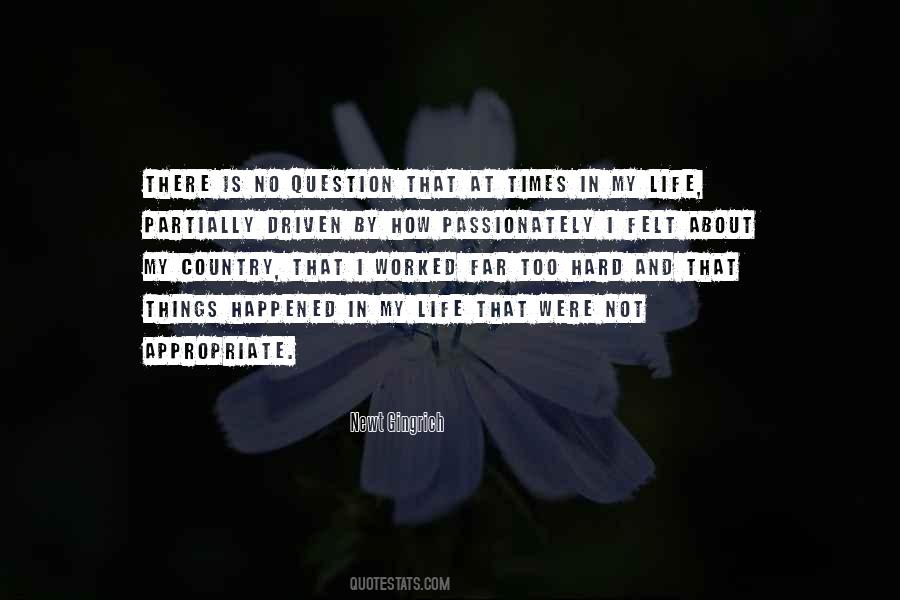 #91. Funny how when your life is mostly bullshit, you turn off feeling.
Sometimes it's hard to turn it back on again. - Author: Ellen Hopkins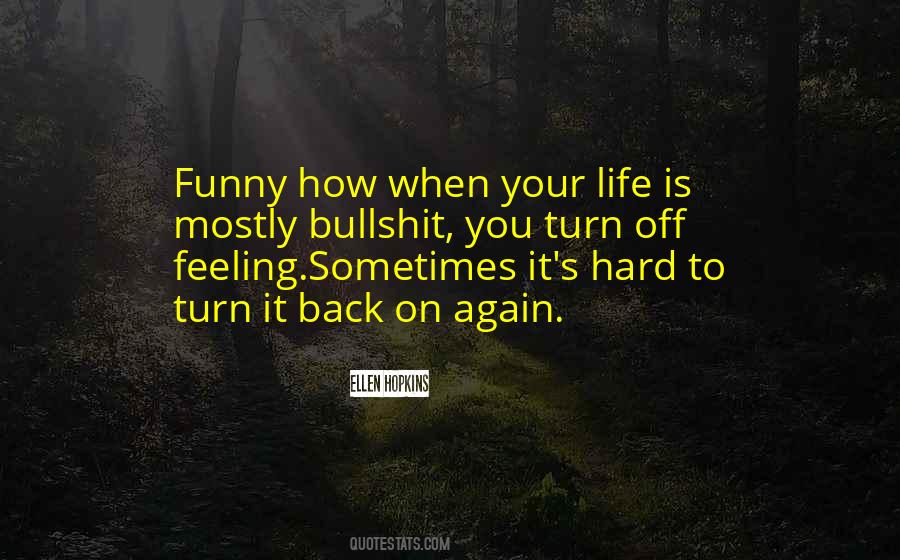 #92. No matter how hard life gets, there's always goodness right around the corner. All you have to do is look for it. - Author: Amy Matayo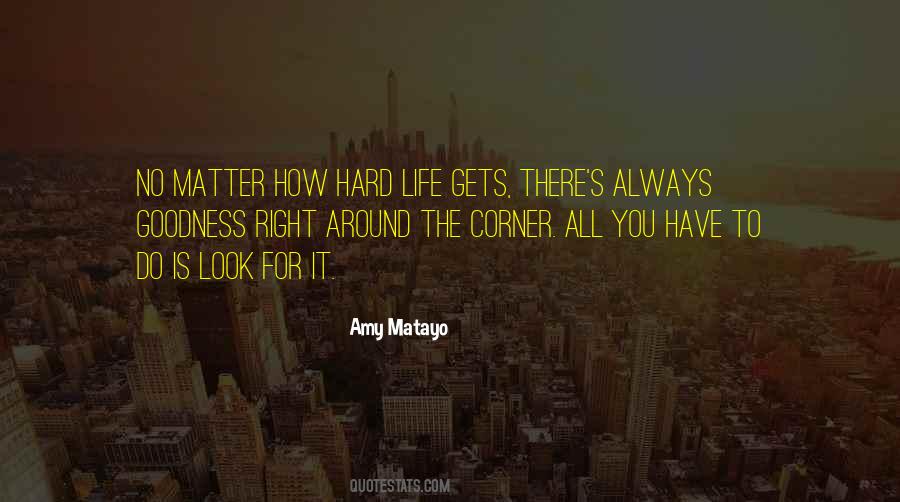 #93. All along, I was less concerned about walking a path of integrity and more caught up in a compass calibrated by greed. And with a compass such as this, how is it that I'm having a hard time understanding why I am where I am? - Author: Craig D. Lounsbrough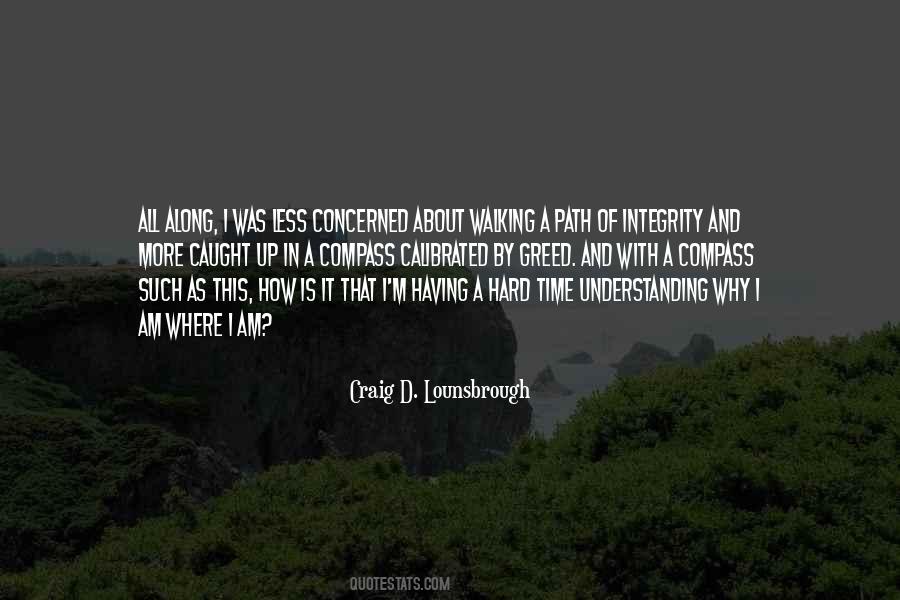 #94. He who thinks in a sunny garden about the miners who work in the dark galleries of mines will understand so perfectly how beautiful and how hard life is! - Author: Mehmet Murat Ildan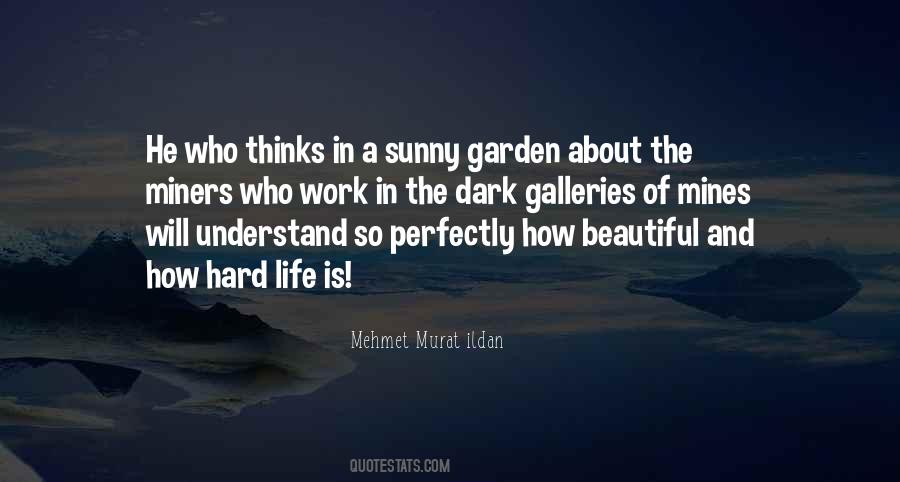 #95. I know how hard it is to live your life with your wounds exposed to heal other people - Author: Jessie J.
#96. The resilience and the resourcefulness of people to make a better life, to survive, to give their children something better than they had, is so inspiring. I look at how hard it must be to get up every day and fight that battle and I think, Wow, anything I'm doing just has to be in service. - Author: Kathy Calvin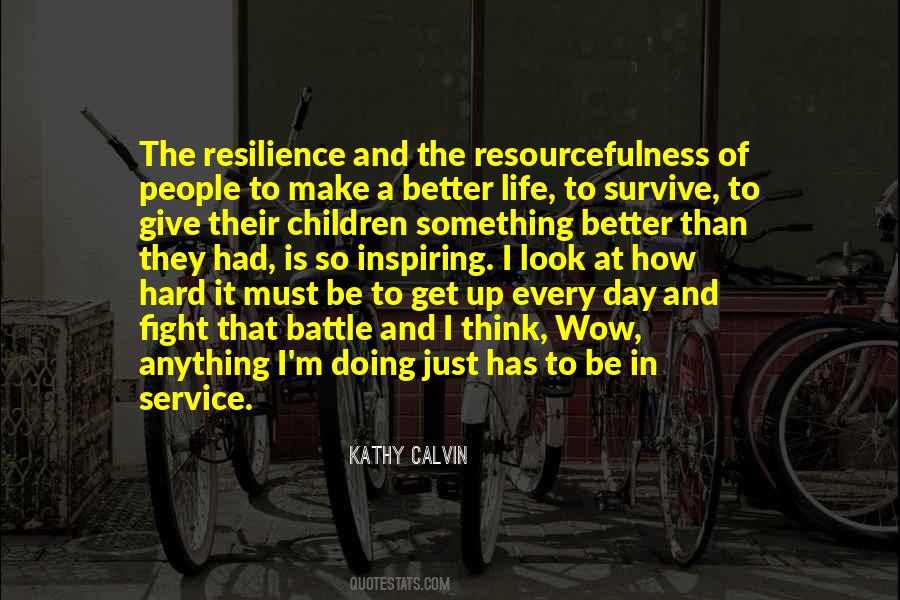 #97. There are things in my life that are hard to reconcile, like divorce. Sometimes it is very difficult to make sense of how it could possibly happen. Laying blame is so easy. I don't have time for hate or negativity in my life. There's no room for it. - Author: Reese Witherspoon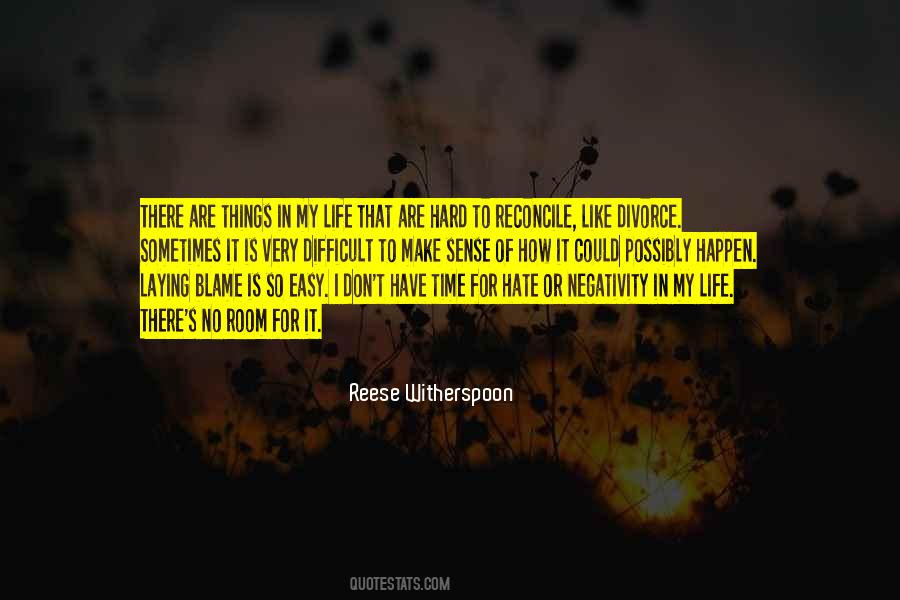 #98. No matter what the day brings and no matter how hard life hits you, if you can breathe, smile and keep moving on! Once you have life, know that God is alive! - Author: Ernest Agyemang Yeboah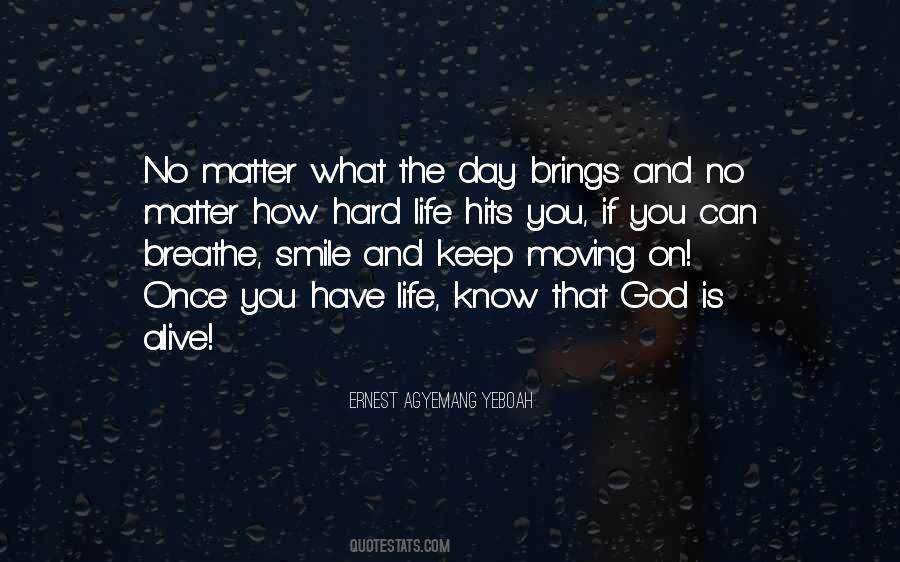 #99. I try to show the children how every lesson I teach them is going to be something they use in their real life. That's why my kids work so hard, not because I'm so cool. They're working for themselves. - Author: Rafe Esquith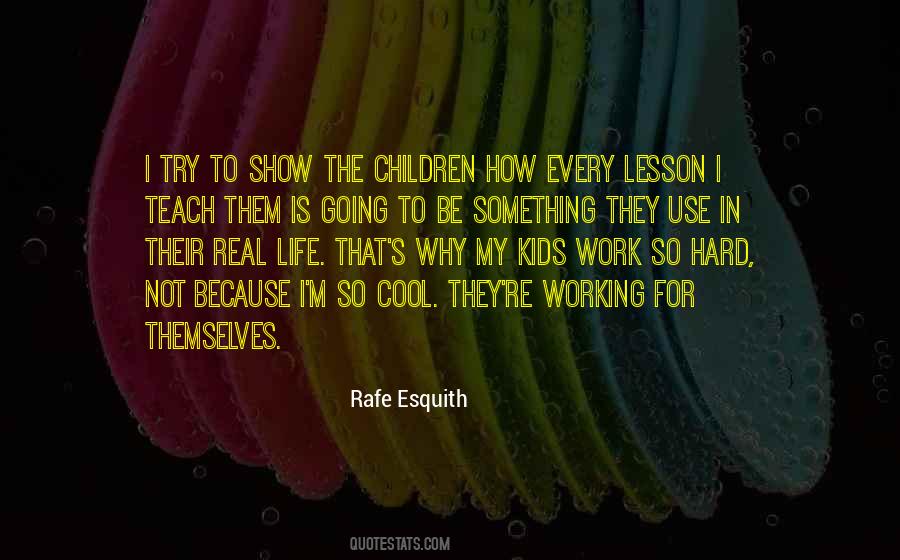 #100. To truly fail in life is to never try. When you fall on your face, it is an opportunity for you to find the road again. It may remind you how hard the road is, but you will never forget its presence once you make contact. - Author: H.L. Stephens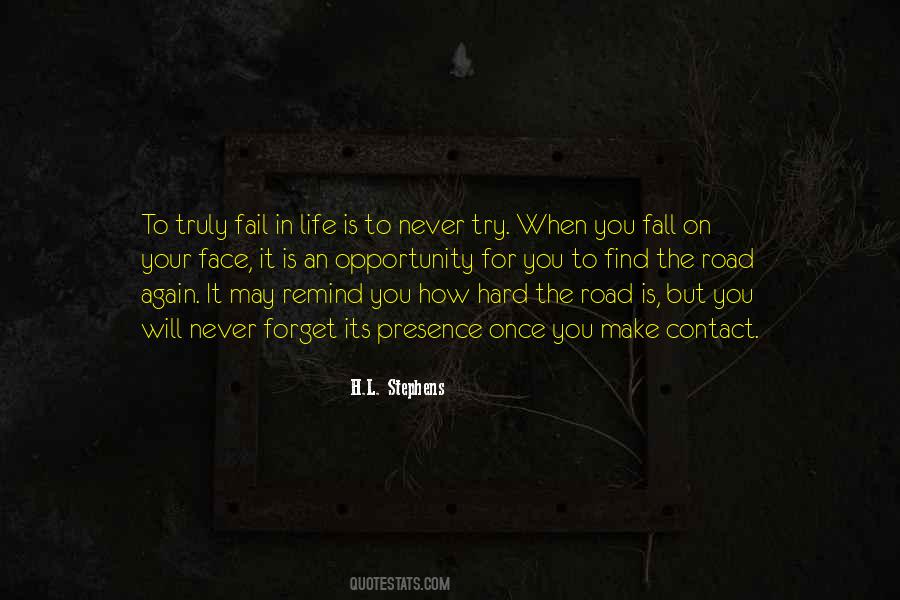 Famous Authors
Popular Topics