Hope And Healing Famous Quotes & Sayings
List of top 100 famous quotes and sayings about hope and healing to read and share with friends on your Facebook, Twitter, blogs.
Top 100 Quotes About Hope And Healing
#1. When we understand the illusory nature of life and the profound power of eternal love, which enables us to create miracles and experience the presence of our deceased loved ones, we find ourselves living with joy, hope and peace. - Author: Susan Barbara Apollon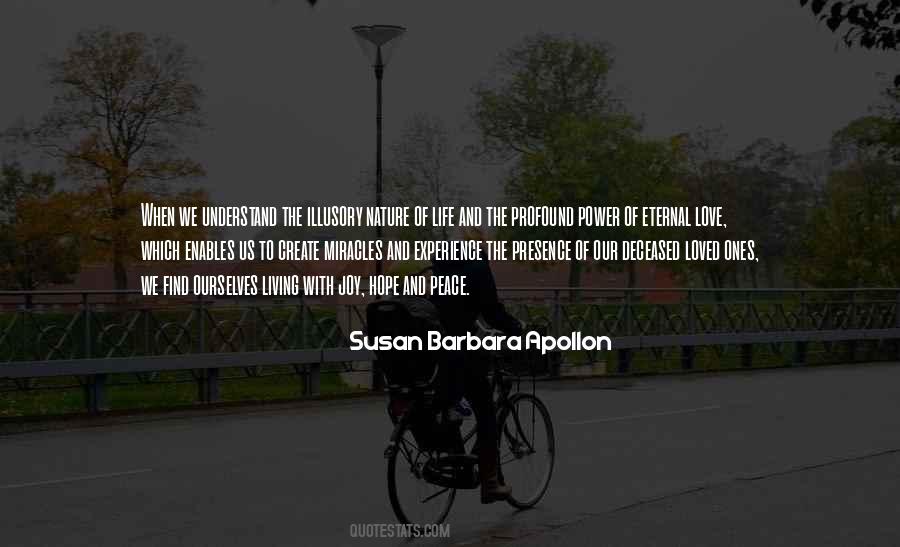 #2. Sometimes it is one step at a time, and things don't always work out the way we would like them to, but as you allow God to direct you He will bring you to a place of peace. - Author: Anna Stevens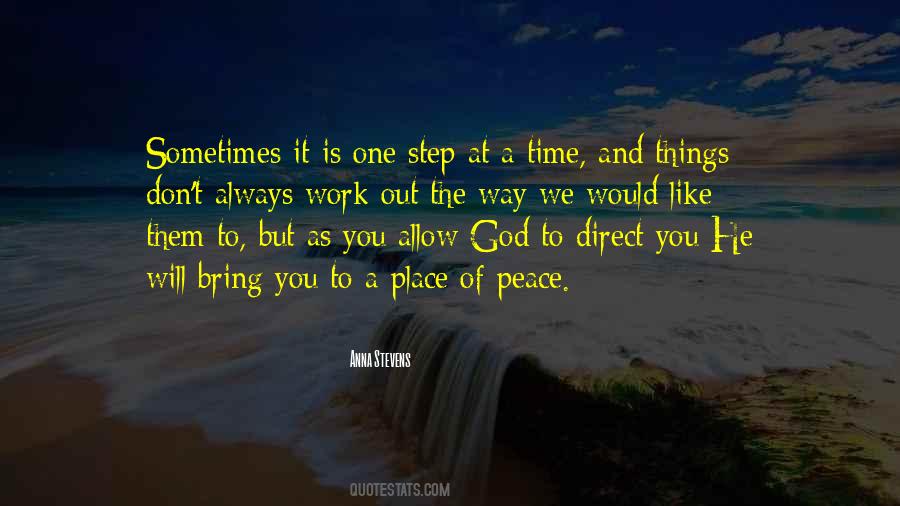 #3. I enjoy the healing music and touch of love, touching my heart and soul when I give it away. - Author: Debasish Mridha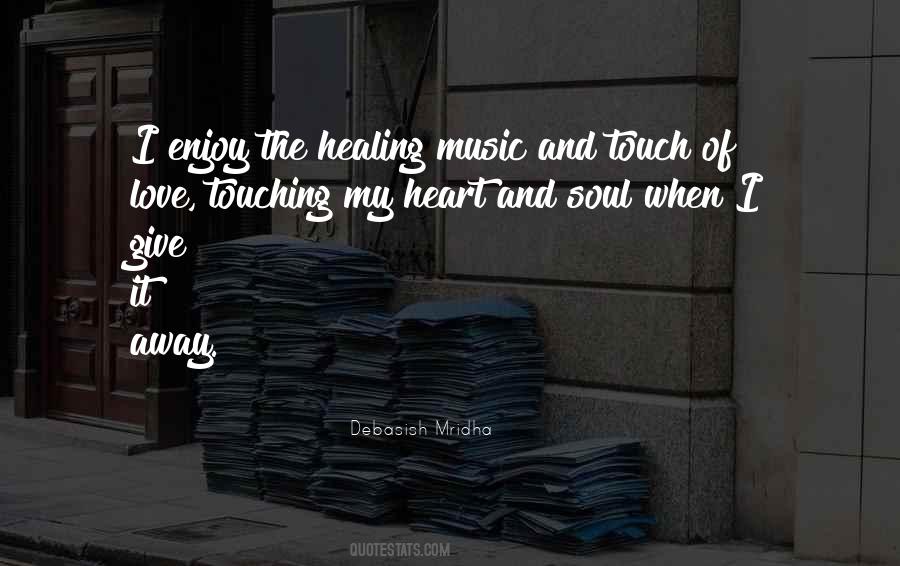 #4. I can't cure anyone. I can't guarantee they will heal. I can only tell them my story, remind them that they are not alone in their journey and offer a glimmer of hope for healing. - Author: Sharon E. Rainey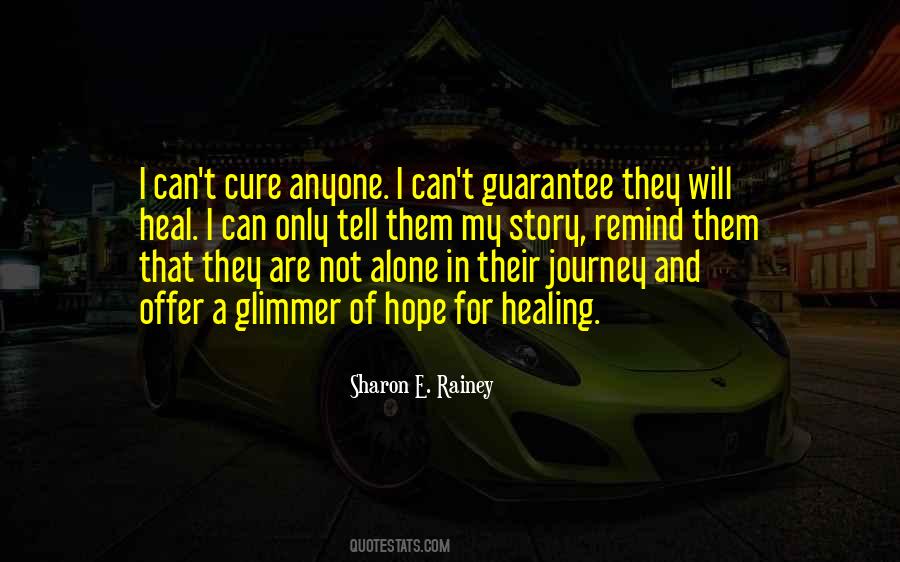 #5. I hope this will help new moms not feel alone or desperate, and that there is no shame in their feelings. PPD is out of their control, but the treatment and healing process is not. - Author: Brooke Shields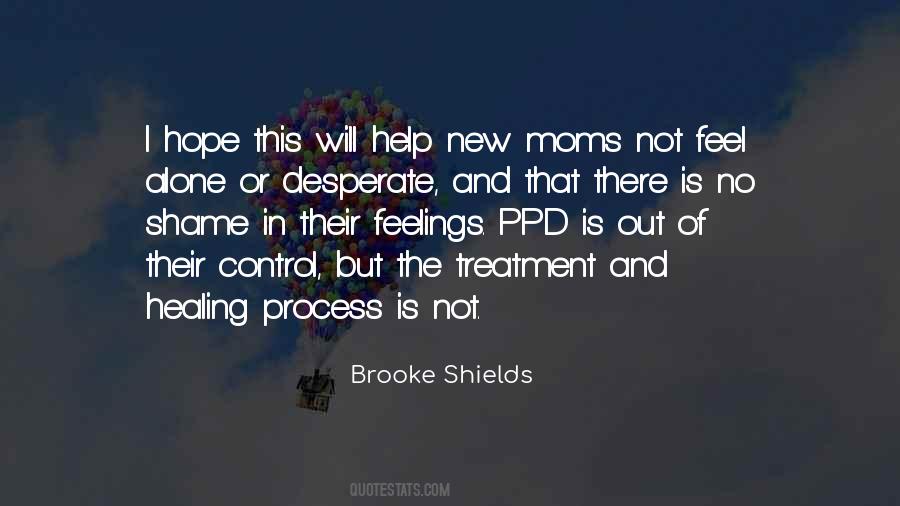 #6. Through His stripes, I found my healing, Joy, Life, Hope and more to live for. - Author: Evans Biya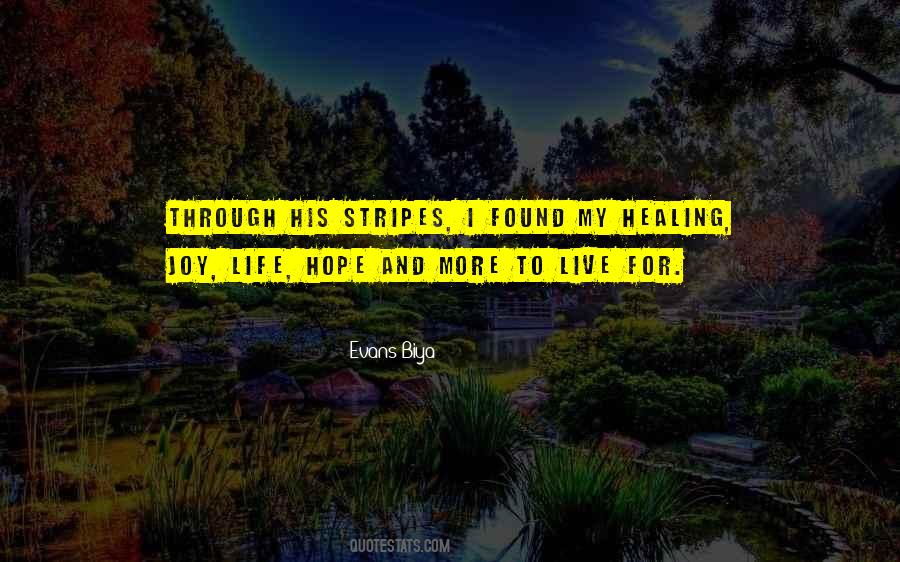 #7. I felt the wall between the world of secrets and the real world start to collapse. I felt the girls from the portrait becoming us and us becoming them ... - Author: Carol Rifka Brunt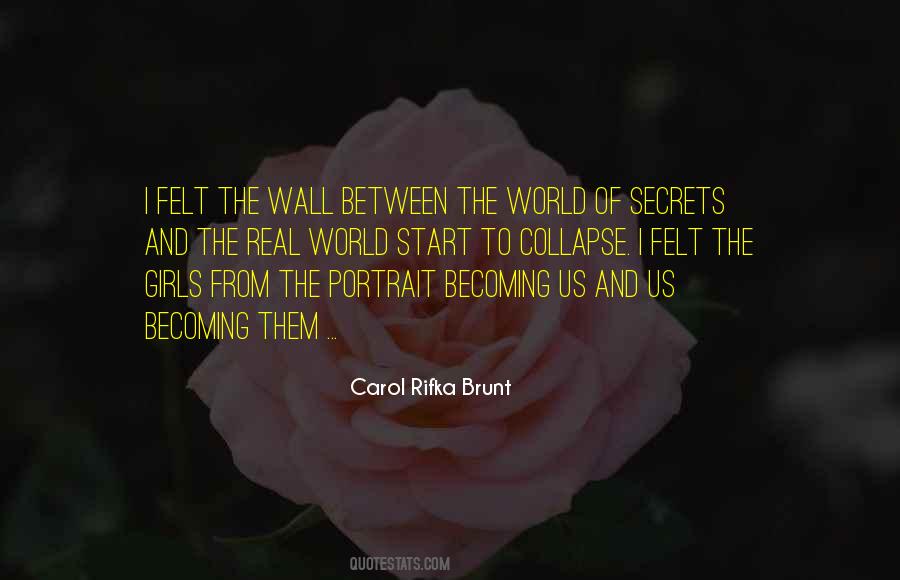 #8. Study nothing except in the knowledge that you already knew it. Worship nothing except in adoration of your true self. And fear nothing except in the certainty that you are your enemy's begetter and its only hope of healing. - Author: Clive Barker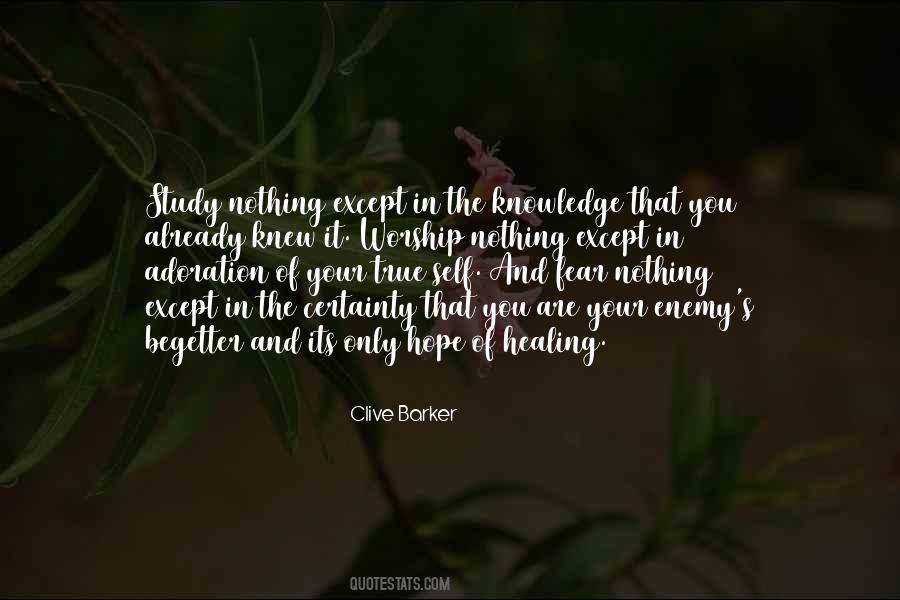 #9. Always know there are friends somewhere rooting for you. There are people you don't know, always praying for you and lifting you before God. - Jenee, from "To the Survivors". - Author: Robert Uttaro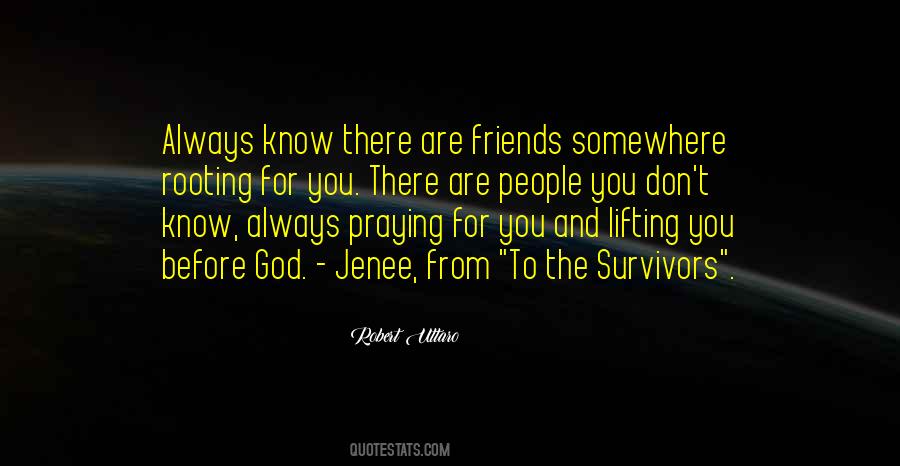 #10. We can be, and we are called to be, good-news people - people who themselves are being renewed by the good news, people through whom the good news is bringing healing and hope to the world at whatever level. - Author: N. T. Wright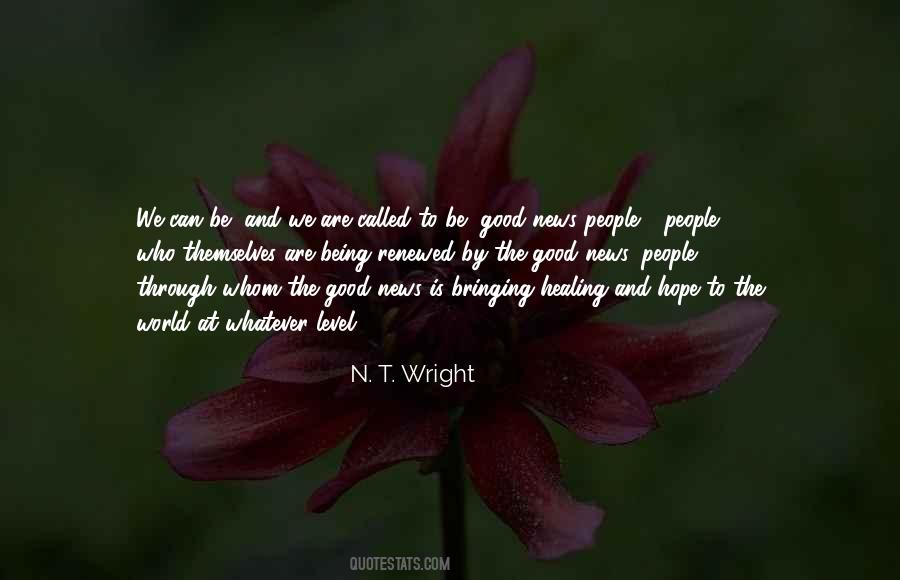 #11. Forgive and be happy. - Author: Lailah Gifty Akita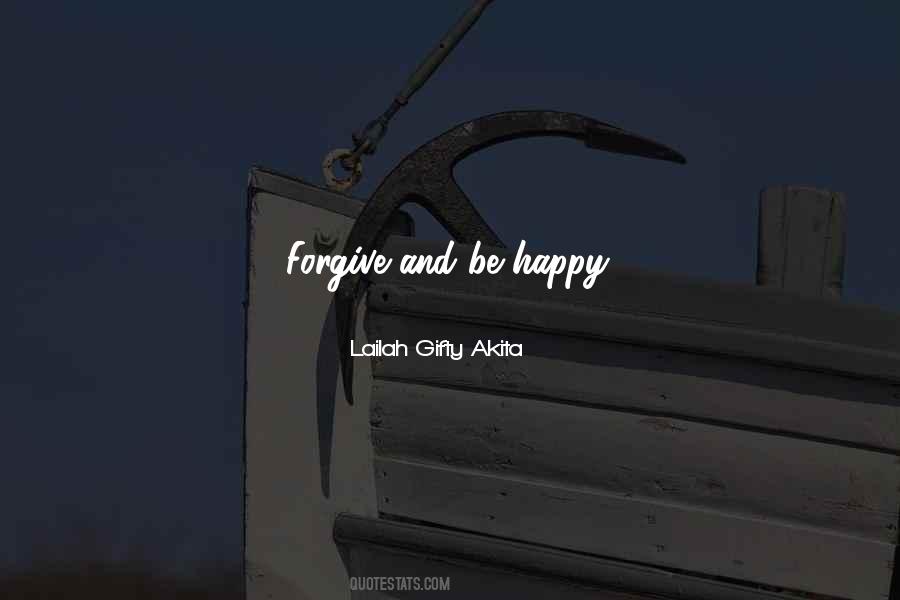 #12. Our Ancestors knew that healing comes in cycles and circles.

One generation carries the pain so that the next can live and heal.

One cannot live without the other, each is the other's hope, meaning & strength. - Author: Gemma B. Benton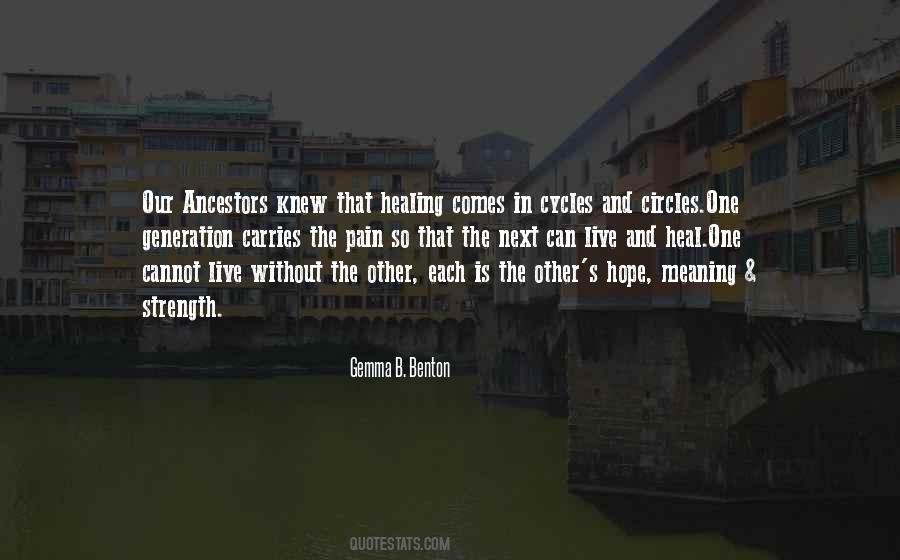 #13. When people get into therapy, or when they need healing, their real hope is that they'll come to the secret frontier in themselves, some unknown source of energy and healing in themselves, where the divinity of who-ness is protected. This is a spiritual quest. - Author: John O'Donohue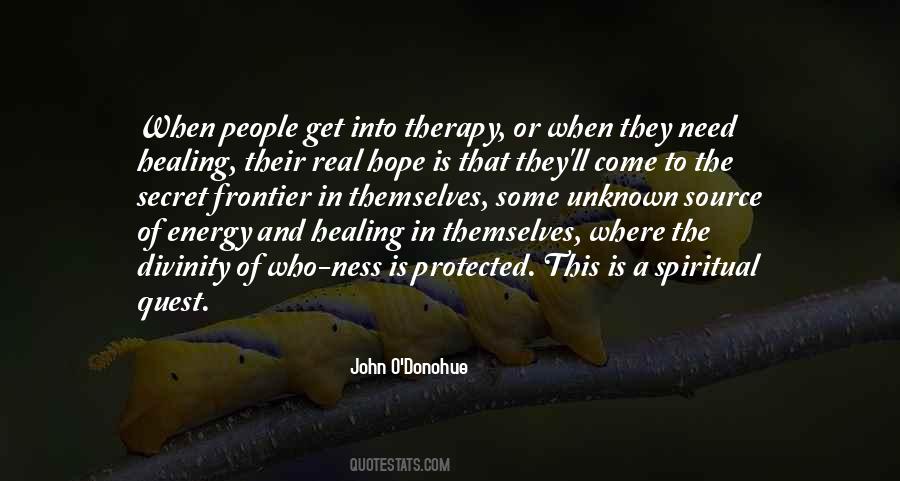 #14. Hope is the supernatural grace of God for
survival of hard times. - Author: Lailah Gifty Akita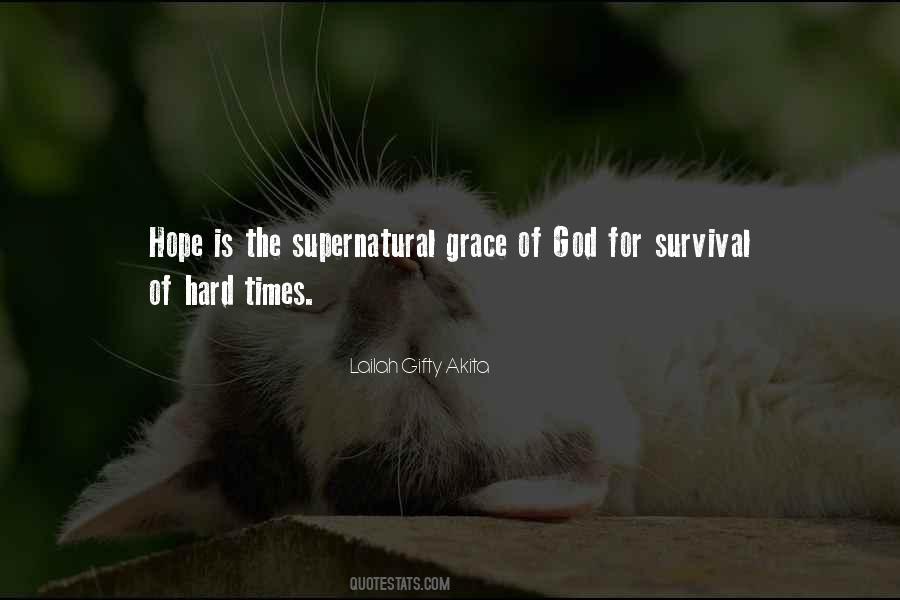 #15. No matter how dark life can be, it's how we react to it that matters. Love & forgiveness instead of hate and fear, create in us a garden of healing. - Author: Kathy Goodhew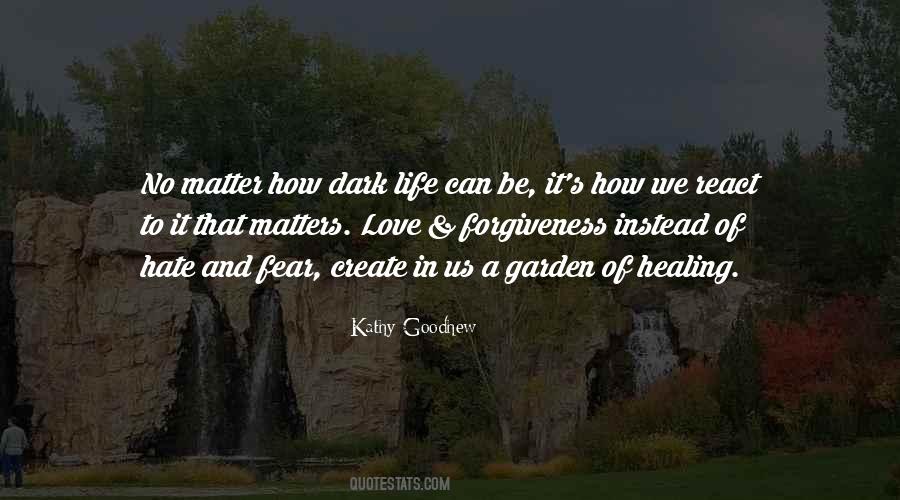 #16. This is a book which I would recommend to anyone who is walking through the pain of abuse. A book of courage in the face of overwhelming odds; a book which will touch your heart and give you hope. - Author: Ruth Hawkey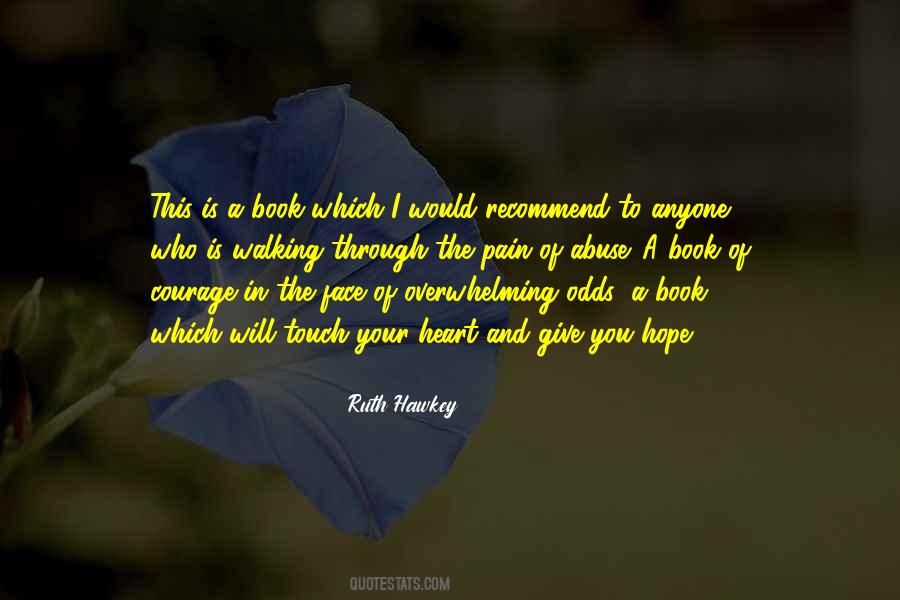 #17. Some wounds were worth bearing for the healing they brought. - Author: Dianna Hardy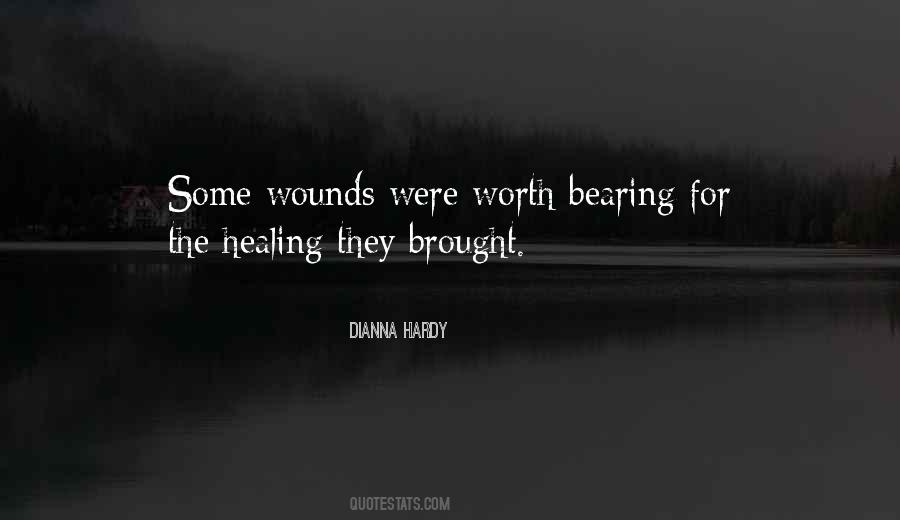 #18. Most important, the reason I wrote this book is to serve as proof that miracles do happen, that love can and does heal wounds, that there is hope for those with the courage and fortitude to seek healing. - Author: Rachel Reiland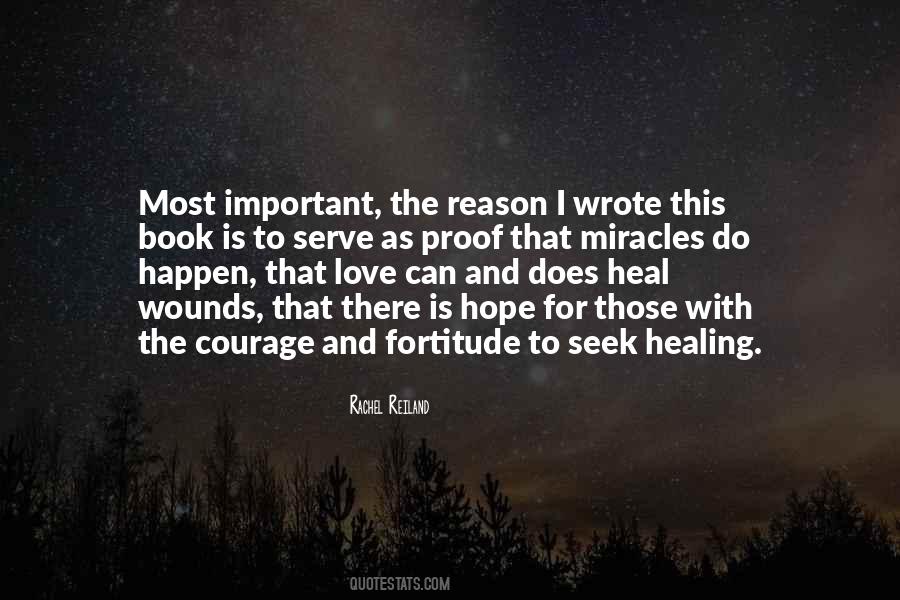 #19. Everybody's damaged. It's just a question of how badly, and whether you're healing or still bleeding. - Author: Angela N. Blount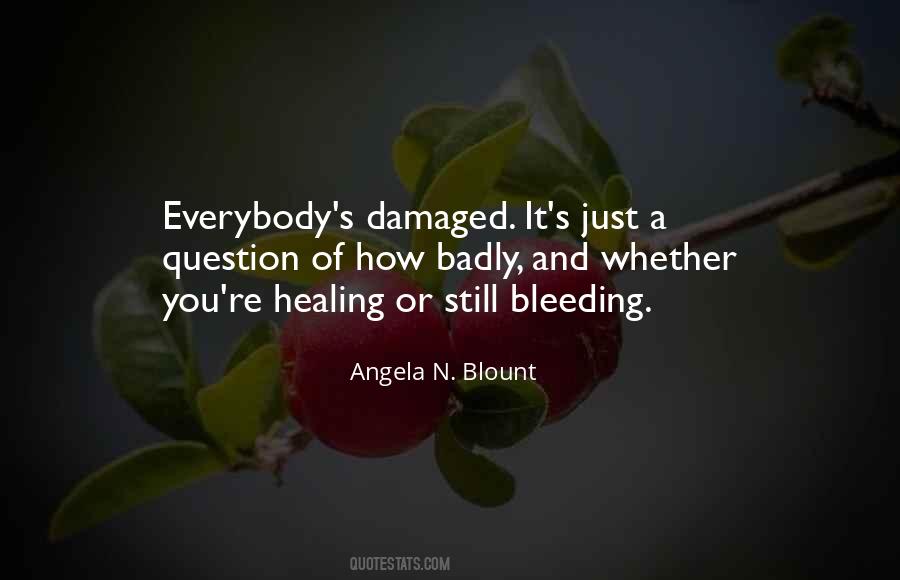 #20. If you're having trouble counting your blessings, remember that you are alive to count them. - Author: Charles F. Glassman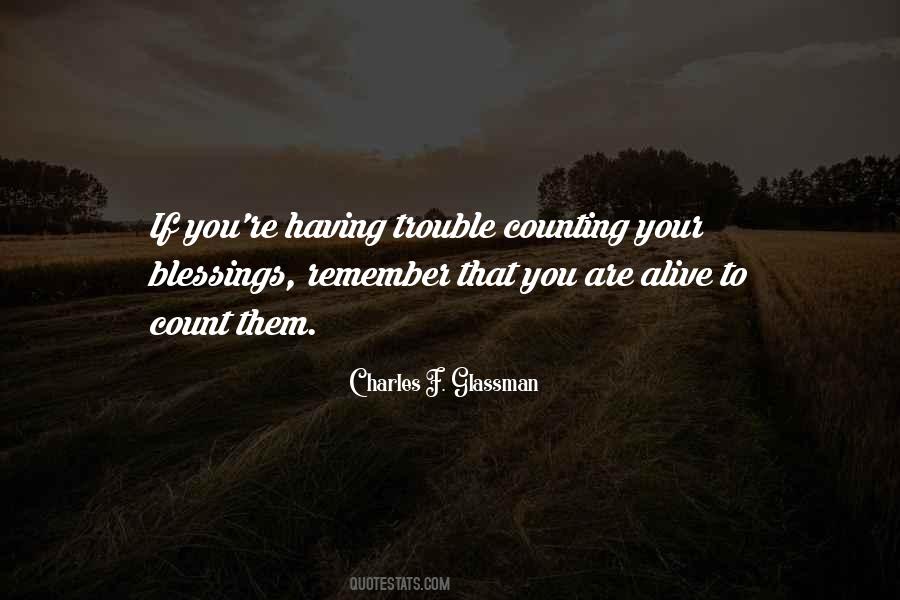 #21. Relax,Refreshed! - Author: Lailah Gifty Akita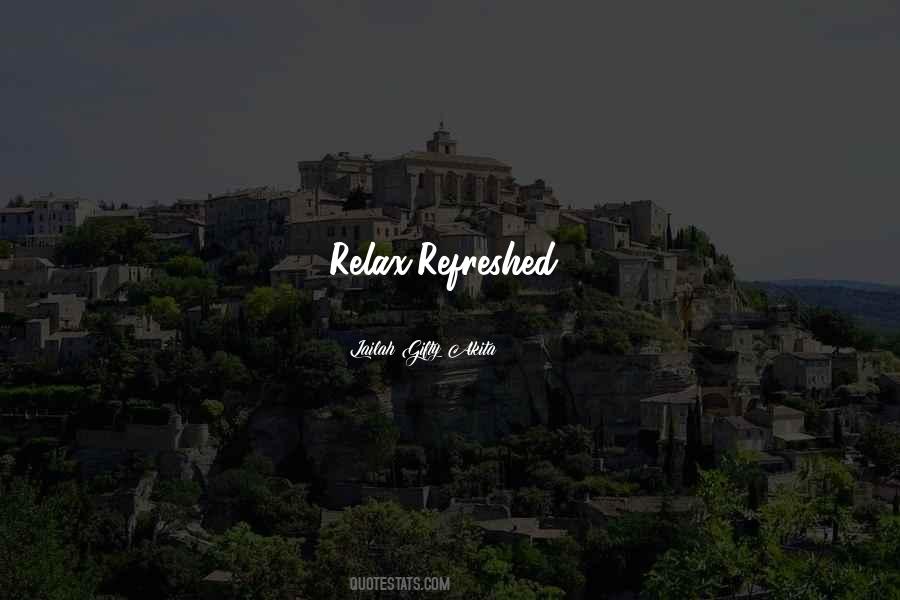 #22. Healing is a deeply private process and, honestly, you're not welcome to be a part of it. But you will have given me a short furlough from the dark, sorry prison of my mind, and that gift, precious in its own right, is really the best you can hope to offer. - Author: Jonathan Tropper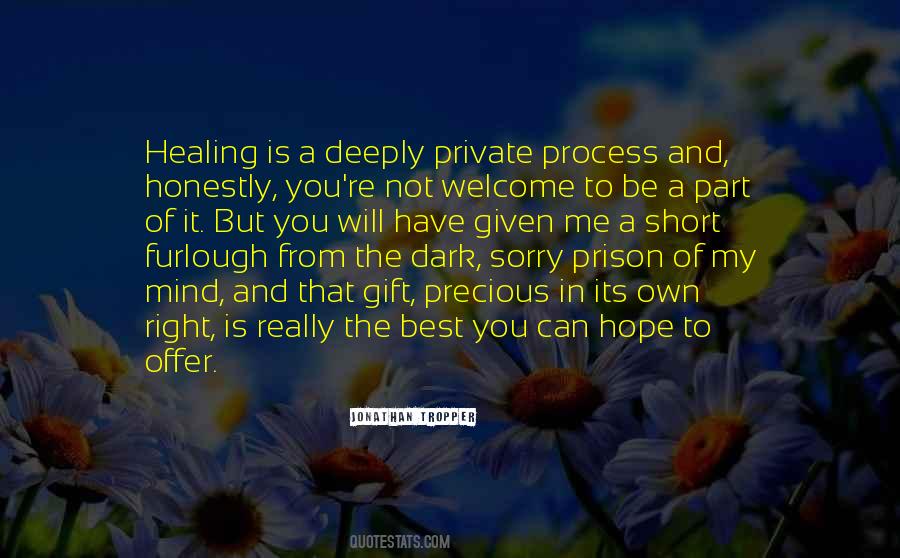 #23. Behind every dancer there's someone that broke her, a song that moved her, a moment that inspired her and a dance floor that healed her. - Author: Hope Alcocer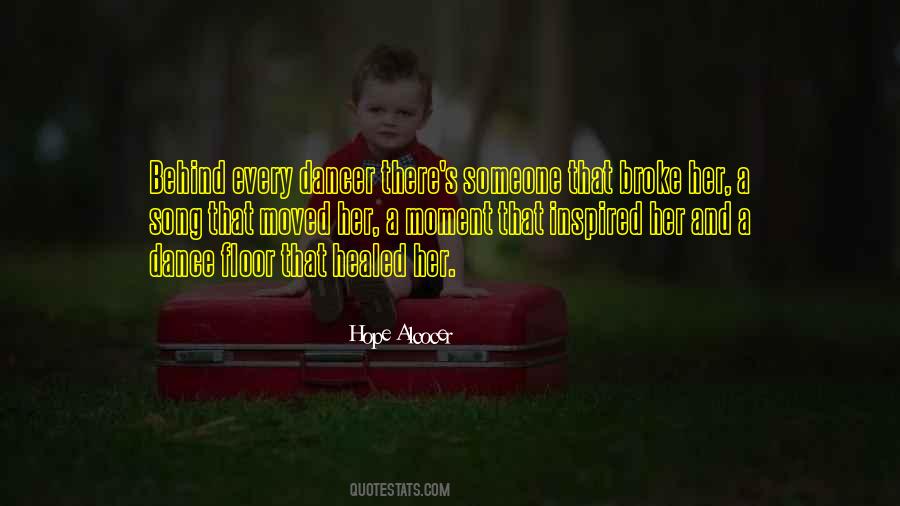 #24. Give yourself permission to see and feel the extraordinary events in your own life. In internalizing them, you also will find your perspective about life and its meaning will change, resulting in growth and expansion of your soul. - Author: Susan Barbara Apollon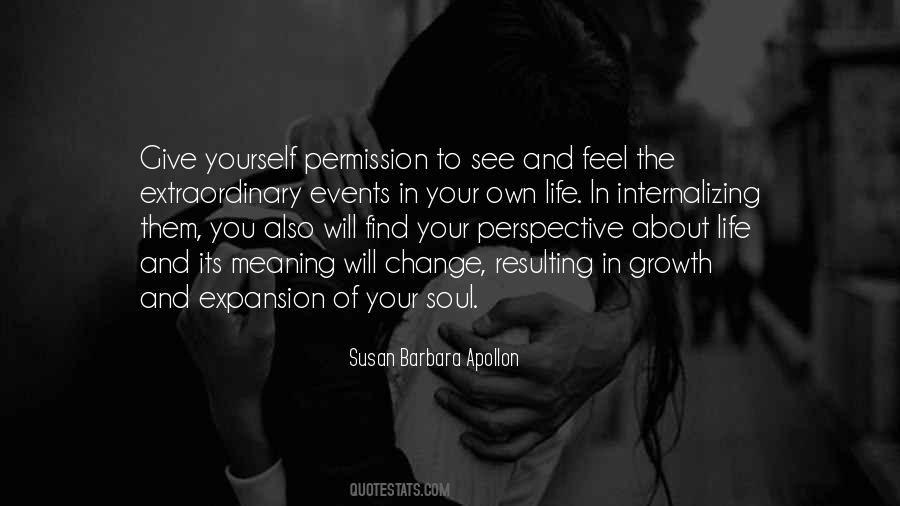 #25. Dealing with the impossible, fantasy can show us what may be really possible. If there is grief, there is the possibility of consolation; if hurt, the possibility of healing; and above all, the curative power of hope. If fantasy speaks to us as we are, it also speaks to us as we might be - Author: Lloyd Alexander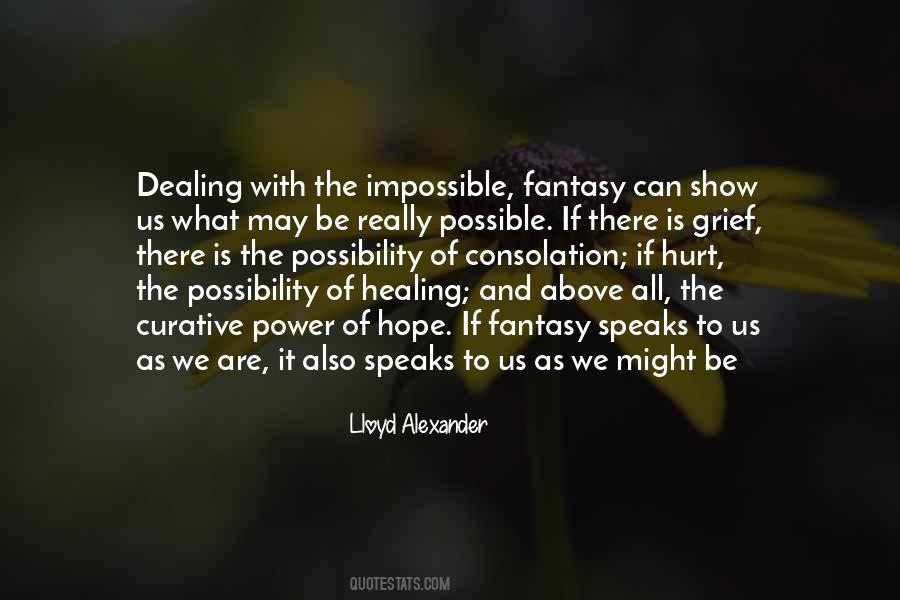 #26. My book 'Trust Your Heart', which is the story of my life, will be followed by 'Singing Lessons', a memoir of love, loss, hope, and healing, which talks about the death of my son and the hope that has been the aftermath of the healing from that tragedy. - Author: Judy Collins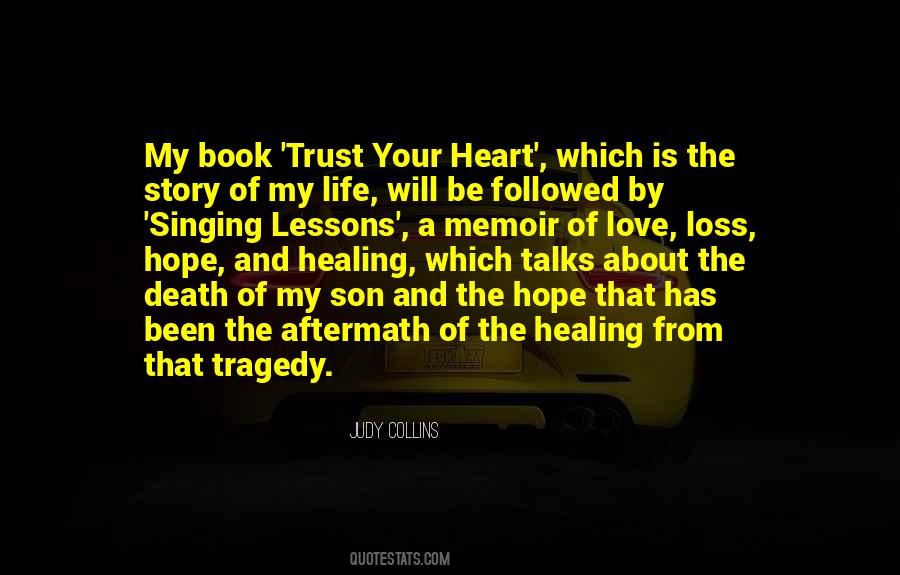 #27. Filling ourselves and living with the energy of love feels wonderful. And because this energy resonates at a high vibrational level, it also attracts into our lives other high, vibrational experiences, many of which feel quite miraculous. - Author: Susan Barbara Apollon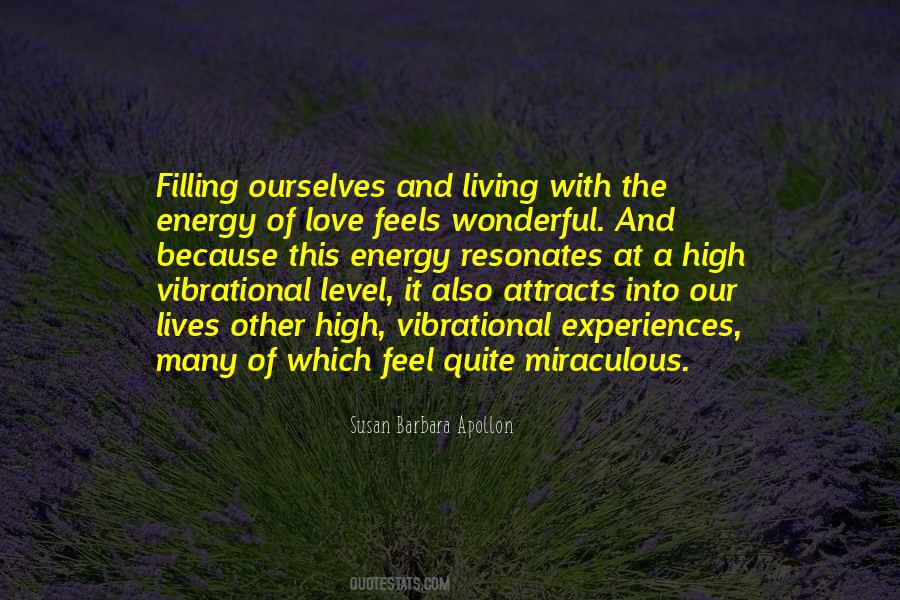 #28. Insects, birds, and small game all chattered, yet for a while, they sat in peace. In an odd way, connection and understanding thrived on the non-words. The forest spoke like God's voice, alive and real, leaving healing and hope in the wake of silence. - Author: Michelle Griep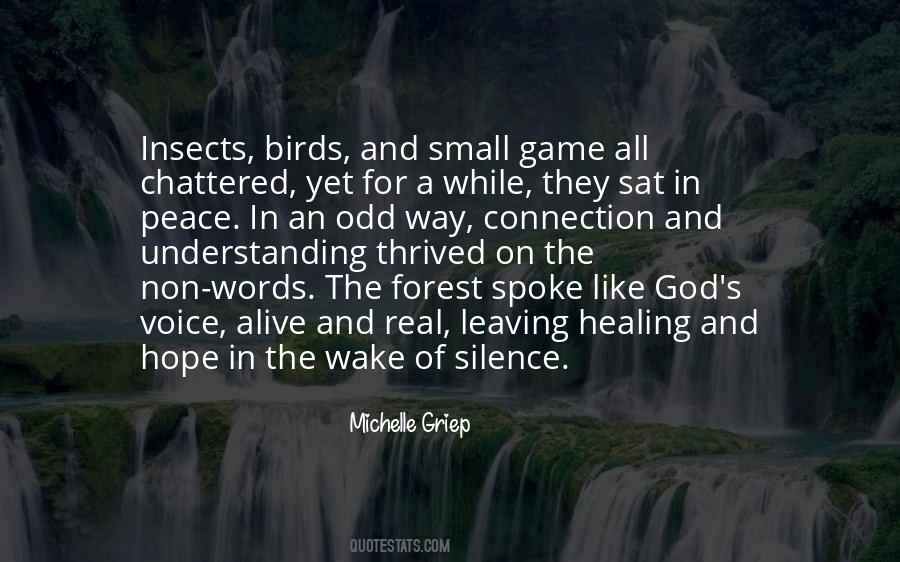 #29. The sun shall always rise upon a new day and there shall always be a rose garden within me. Yes, there is a part of me that is broken, but my broken soil gives way to my wild roses. - Author: C. JoyBell C.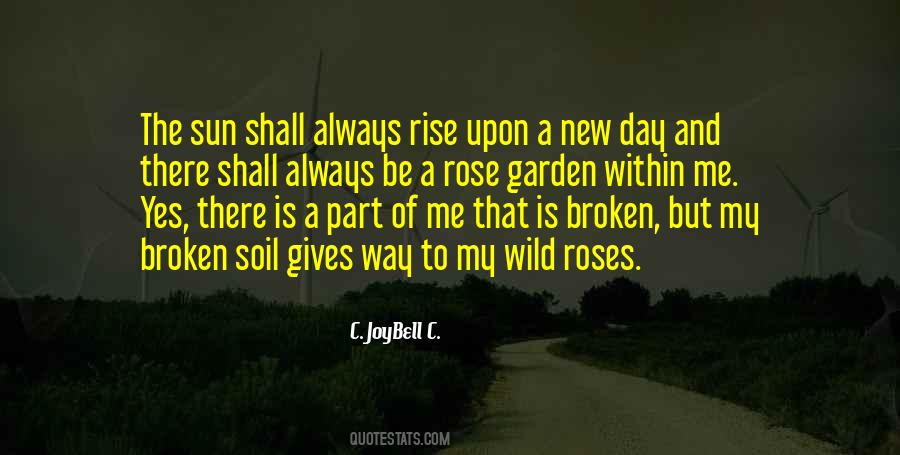 #30. We humble ourselves under the mighty grace of the Creator. He will deliver us from every chain and oppression. - Author: Lailah Gifty Akita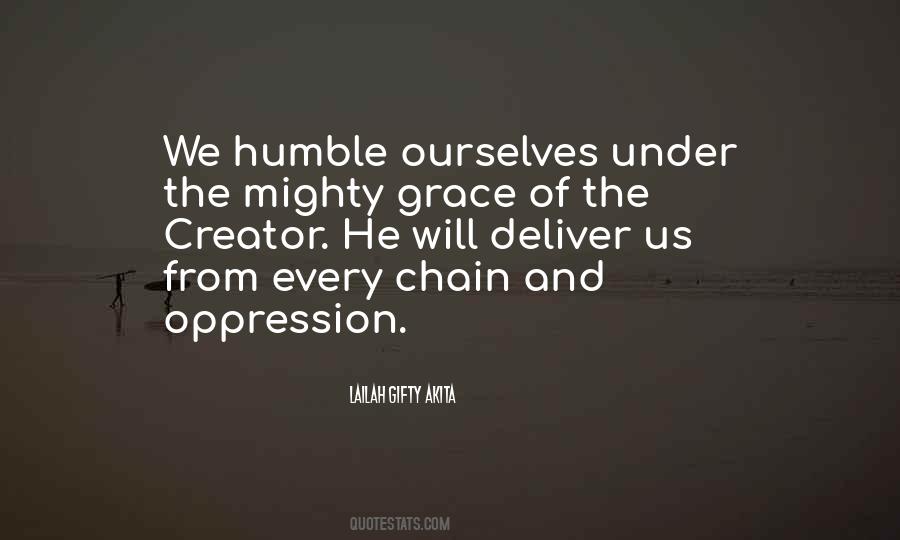 #31. Something I keep coming back to in my music is the tension between two extremes: healing and chaos, hope and anxiety - these big themes are inside us, flickering, all day. - Author: Arca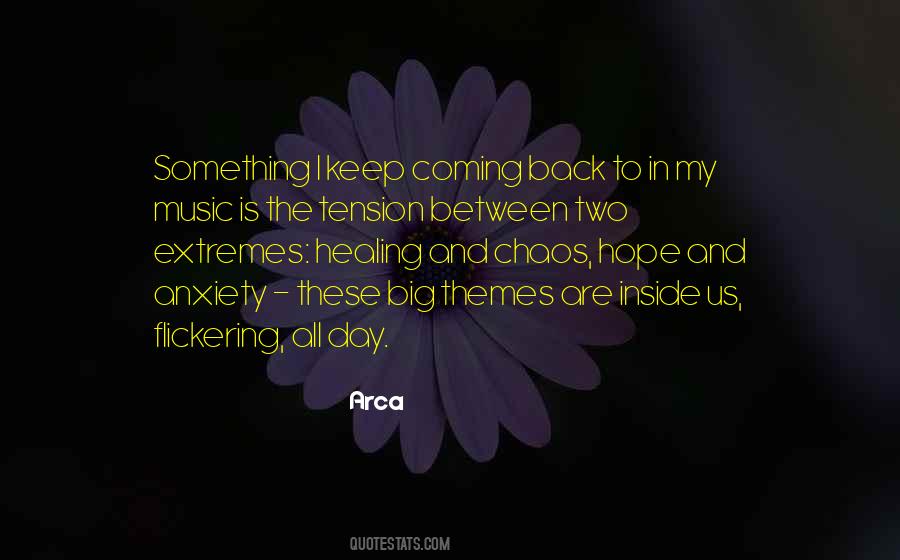 #32. Even though men and women are different in our thinking, we all share the need and desire for compassion, compliments, and companionship. - Author: Germany Kent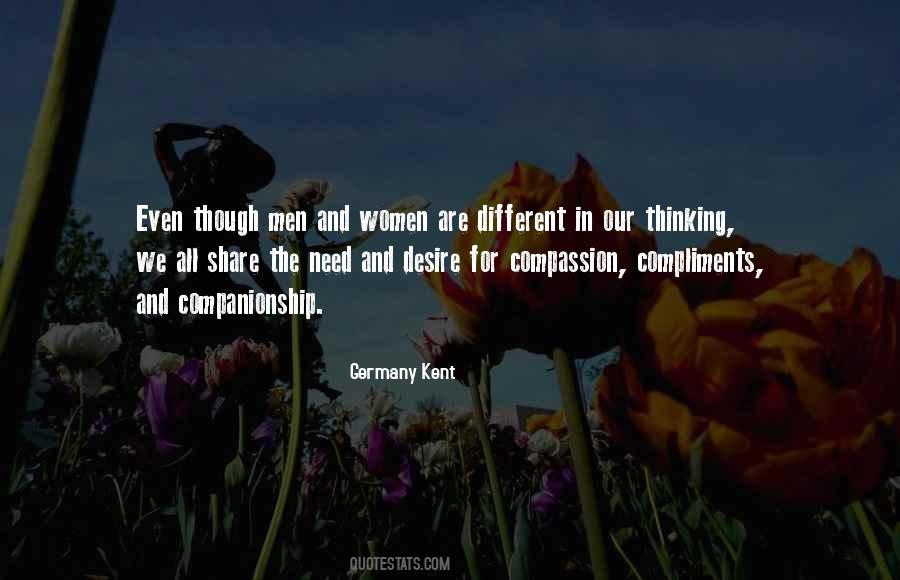 #33. Thoughts by a graveside are too dark and deep to be sustained for any length of time. Sooner or later the hurt mind turns to the sun for healing, and this is as it should be, for otherwise, what future could any of us hope for, but madness? - Author: Miss Read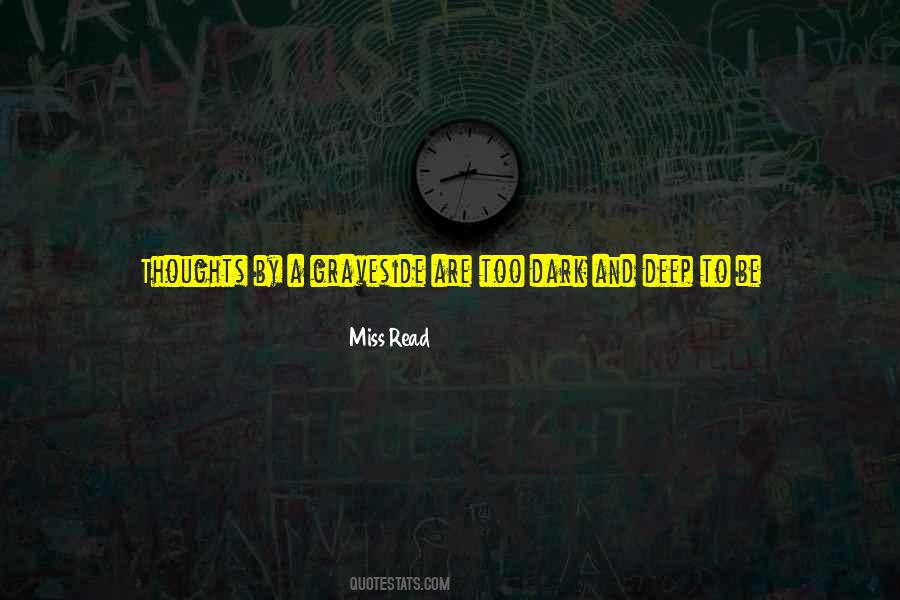 #34. When your heart is full of kindness, mind is full of love, words are healing and compassionate, hands are extended for care, you are the purest temple, you are great and rare. - Author: Debasish Mridha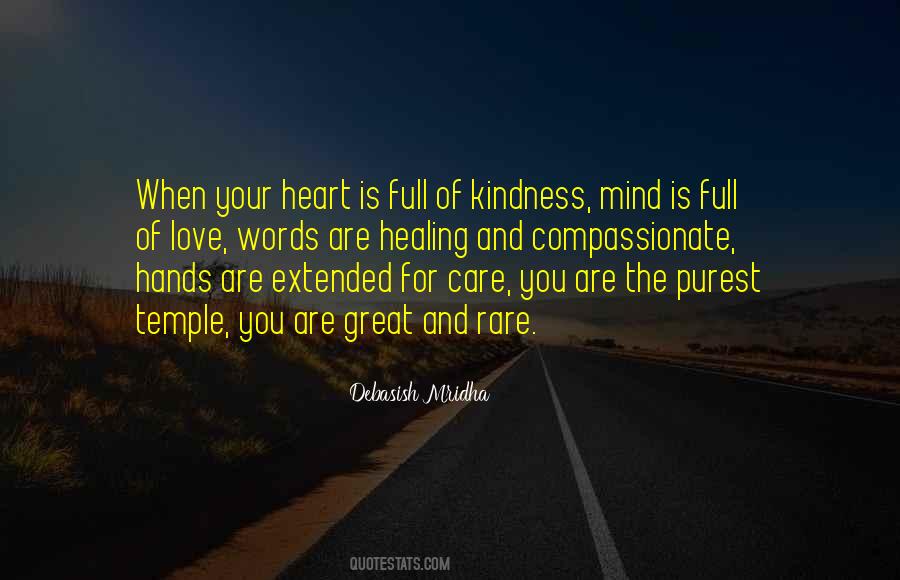 #35. It is through repentance that the Lord Jesus Christ can work his healing miracle, infusing us with strength when we are weak, health when we are sick, hope when we are downhearted, love when we feel empty, and understanding when we search for truth. - Author: Spencer W. Kimball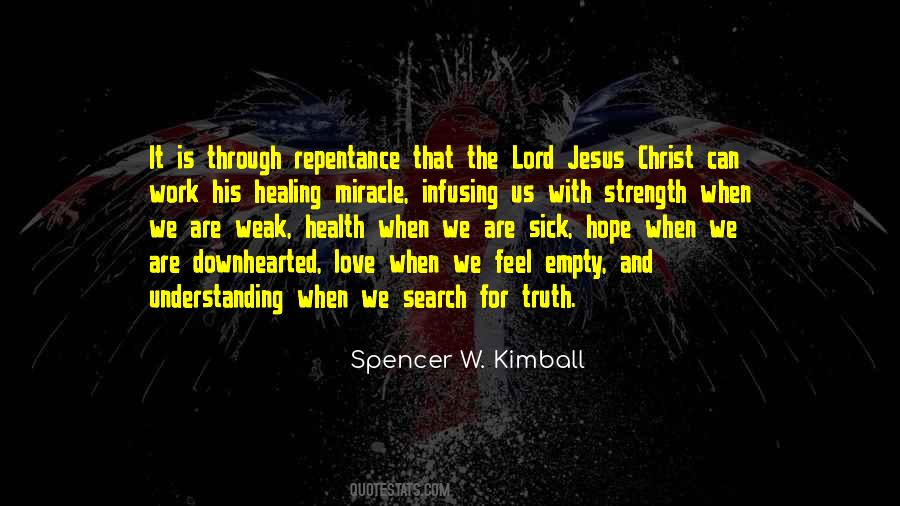 #36. The hope is the best and the worst thing at the same time. - Author: Pawan Mishra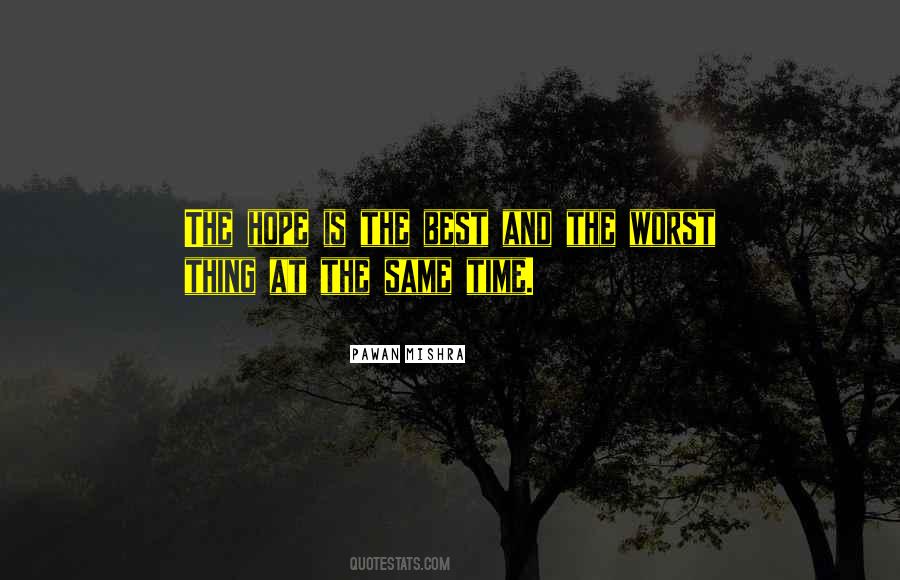 #37. God can craft ten thousand tomorrows and shape a thousand dreams to fill every one of them. And He carries out this most ingenious 'crafting' and 'shaping' using the very cinders and ashes left by the fires that had originally destroyed our tomorrows and leveled our dreams. - Author: Craig D. Lounsbrough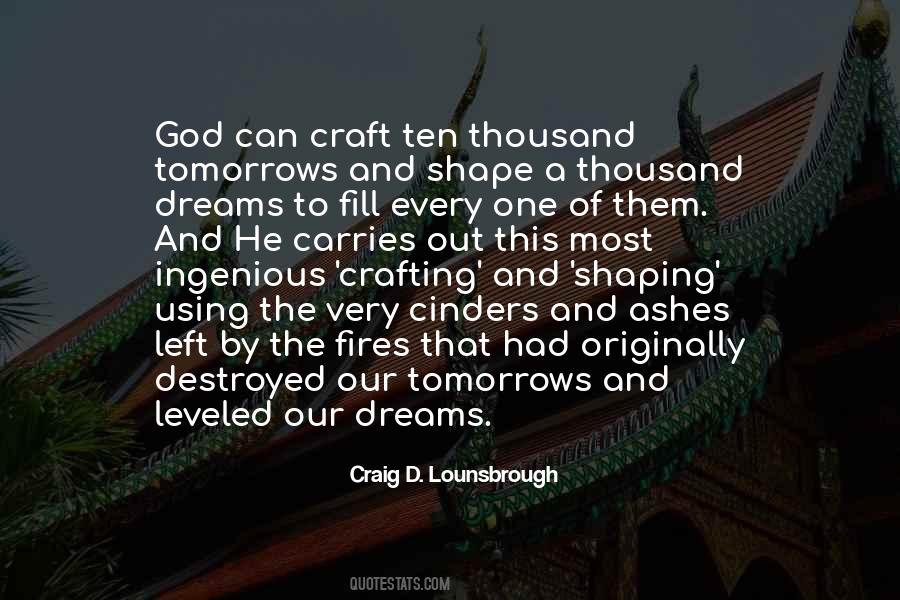 #38. I have been blessed by those I cannot see, but whose presence I feel. I know that I am not alone and hope that you, too, will find that, even in the most difficult situations, you are fully supported by the universe. All that is required is that you ask for help. It is there waiting for you. - Author: Susan Barbara Apollon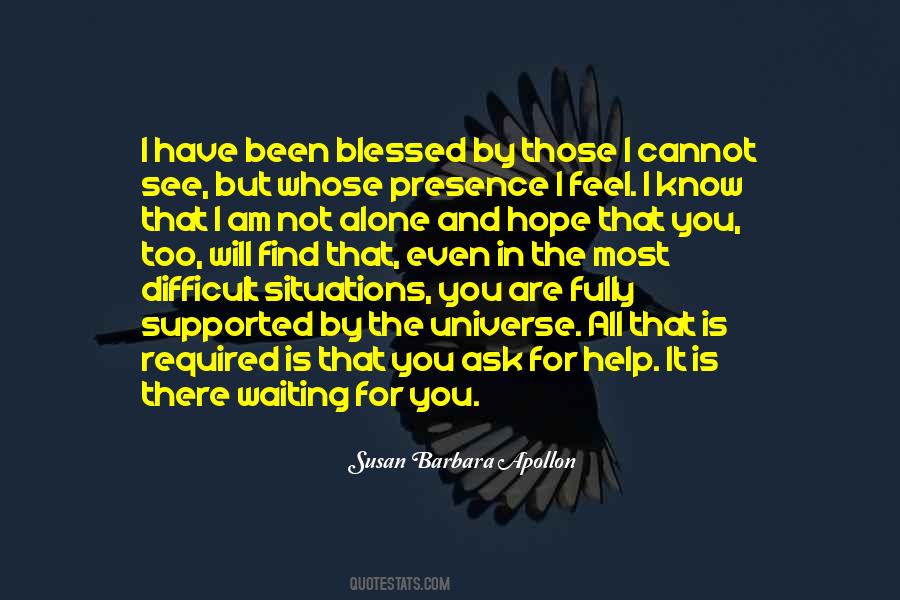 #39. Maybe if we love ourselves healthy we will all heal? - Author: Nikki Rowe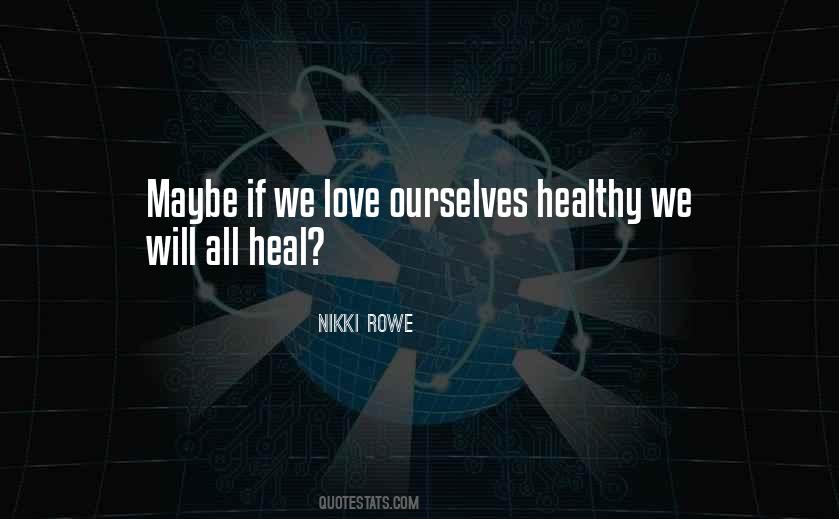 #40. My story testifies to the truth that we must never give up on people, no matter how many times they fail or how long recovery takes. We must never underestimate the healing power of prayer and love in the hands of the Lord. We must never give up hope. - Author: Walt Heyer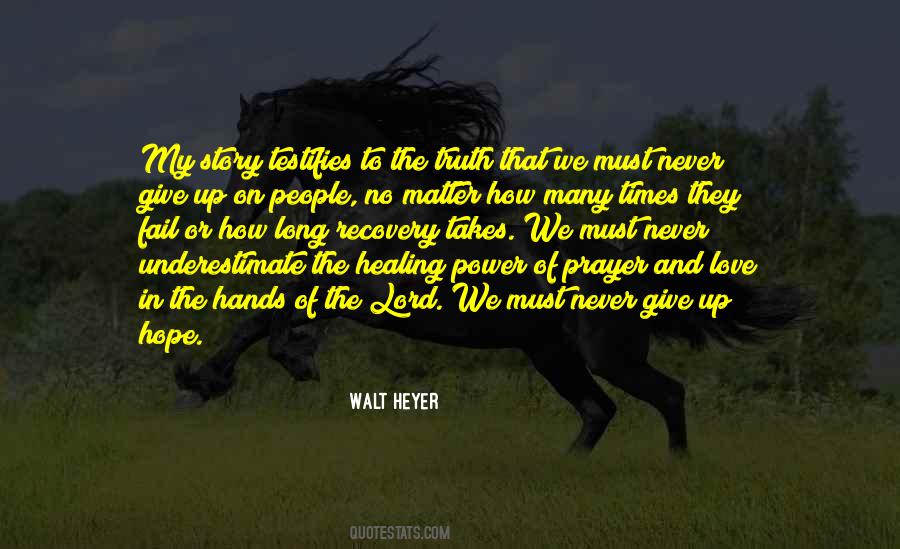 #41. Hope is the assurance of the promise. - Author: Lailah Gifty Akita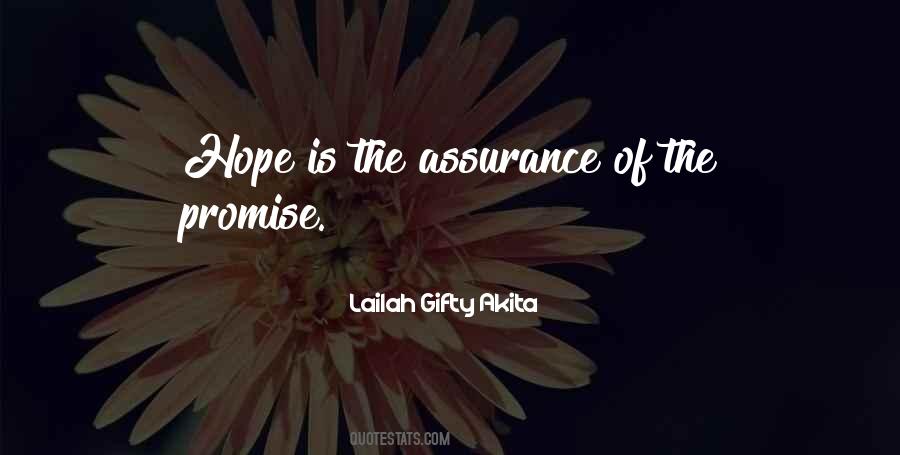 #42. By seizing every opportunity for kindness, forgiveness, healing, and love that crosses my path each day, I hope that my death, although perhaps sad for some, will be gracefully concluded. - Author: Lisa J. Shultz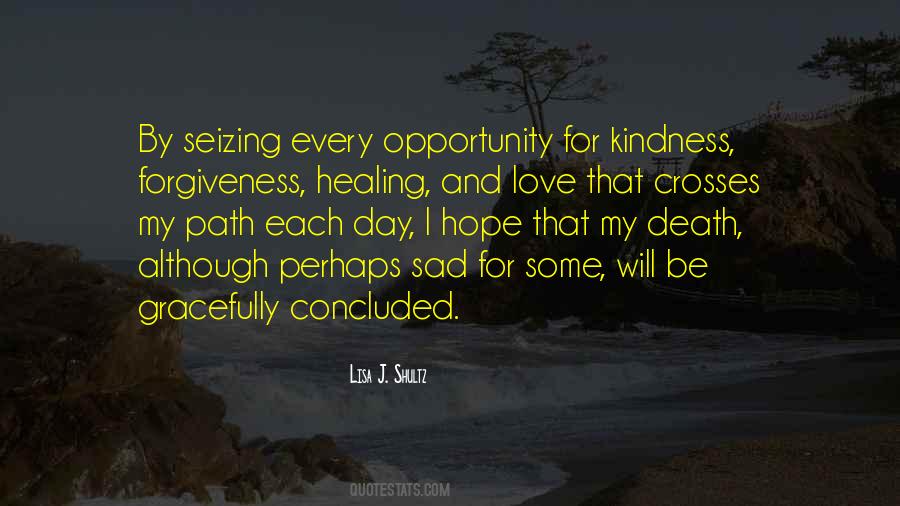 #43. If you did not live lovingly and love deeply, you would not feel the pain of separation. But neither would you feel the joy, passion, and happiness that living fully and loving deeply bring. - Author: Susan Barbara Apollon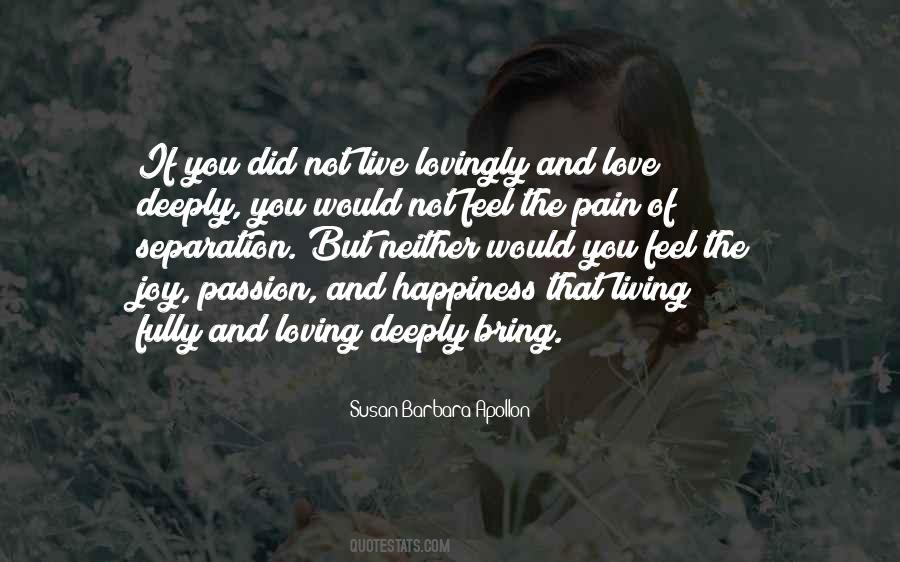 #44. There is an old phrase, 'hiding in plain sight.' This is where we find the loved one we miss so much. All we need to do is open our eyes, our minds, and our hearts. - Author: Susan Barbara Apollon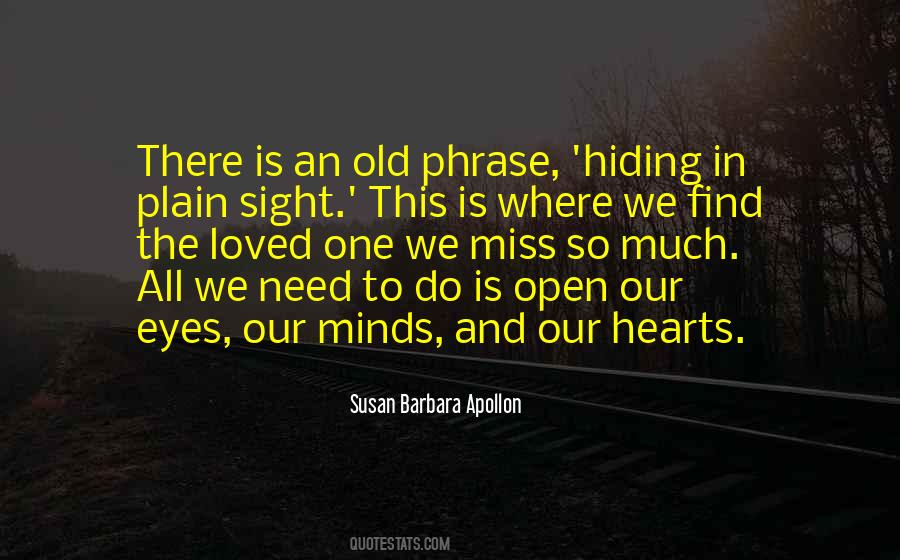 #45. A mother's love is like an everlasting bed of roses, that continues to blossom. A mother's love bears strength, comfort, healing and warmth. Her beauty is compared to a sunny day that shines upon each rose petal and inspires hope. - Author: Ellen J. Barrier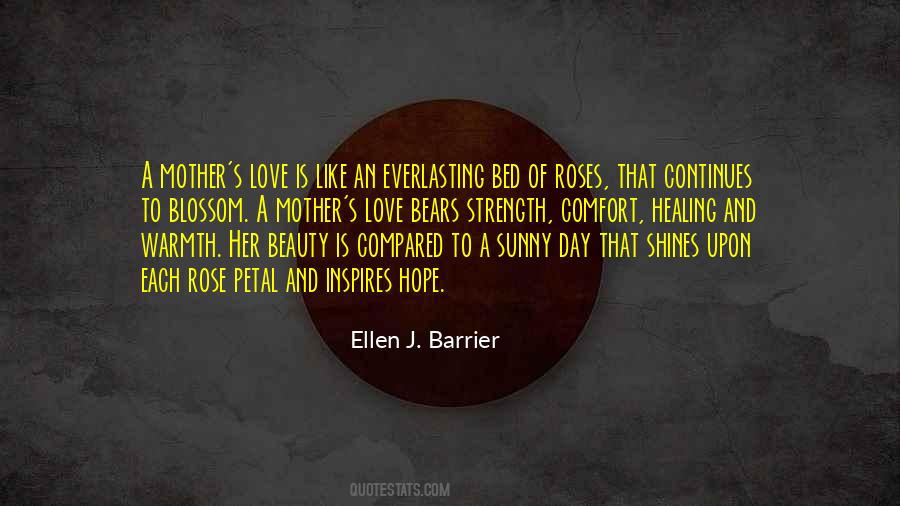 #46. The pain is necessary. Sometimes pain is the teacher we require, a hidden gift of healing and hope. - Author: Janet Jackson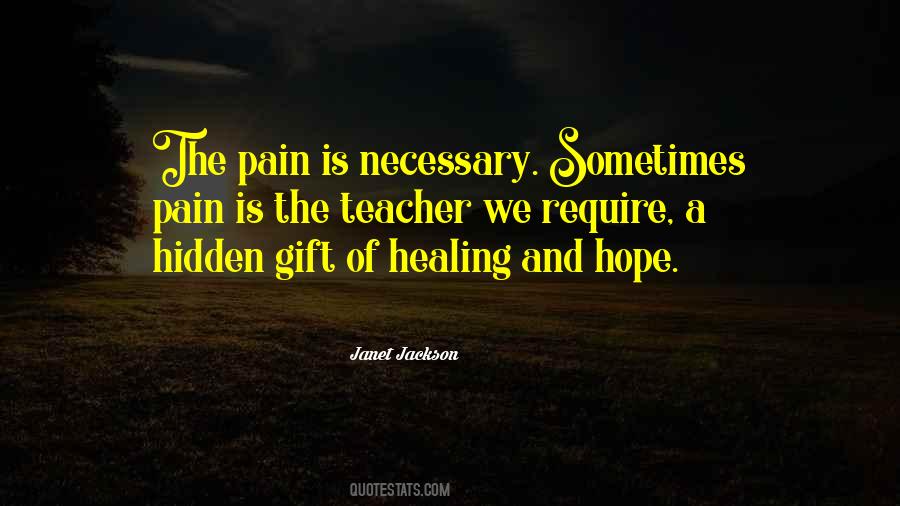 #47. It's part of the calling to at least do a few songs in the show that give people some hope. There's so much hurt in this world and ... music is such a great healing balm and a great way to forget your troubles. - Author: Ricky Skaggs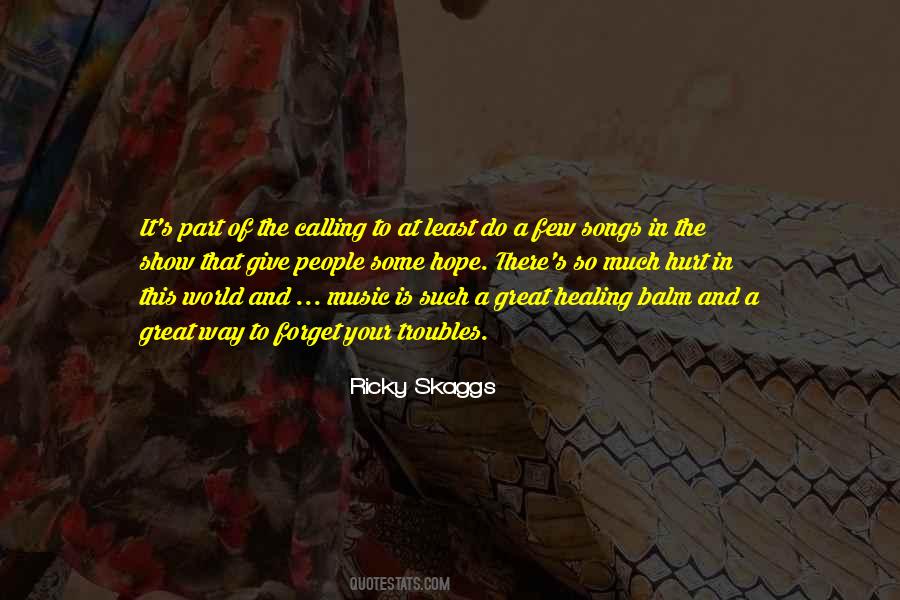 #48. The thought of hope is the seed to healing. - Author: Shilpa Menon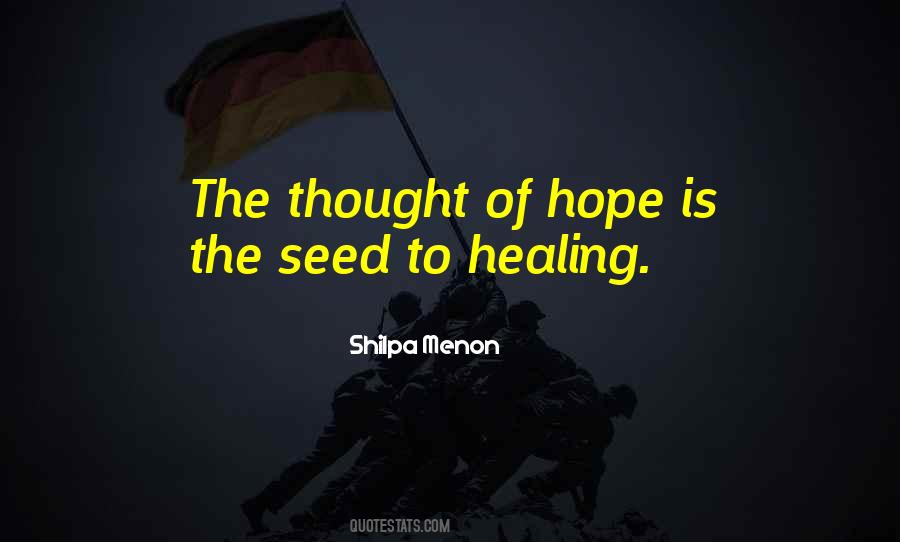 #49. In a world plagued with commonplace tragedies, only one thing exists that truly has the power to save lives, and that is love. - Author: Richelle E. Goodrich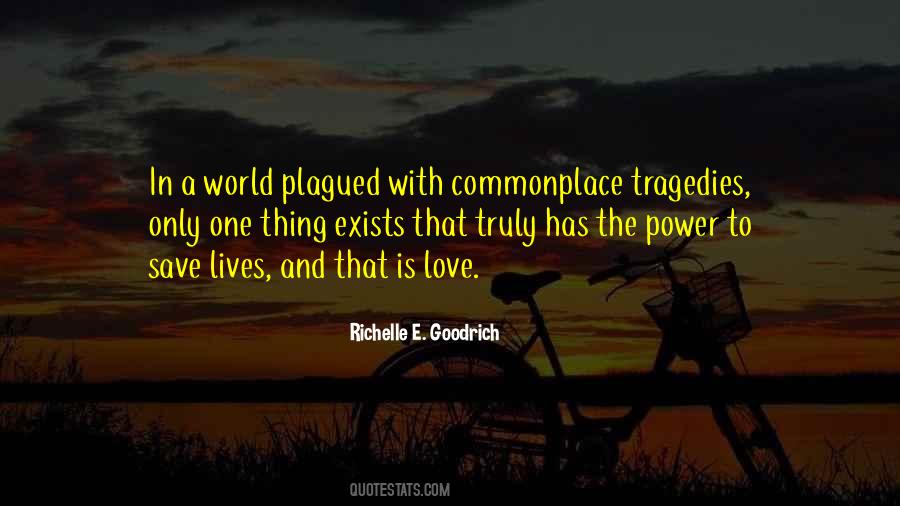 #50. Other flowers came at the end of the summer, but by then the winter sadness had already dissipated, and the effect of the blooms was not the same. - Author: Jessica Stern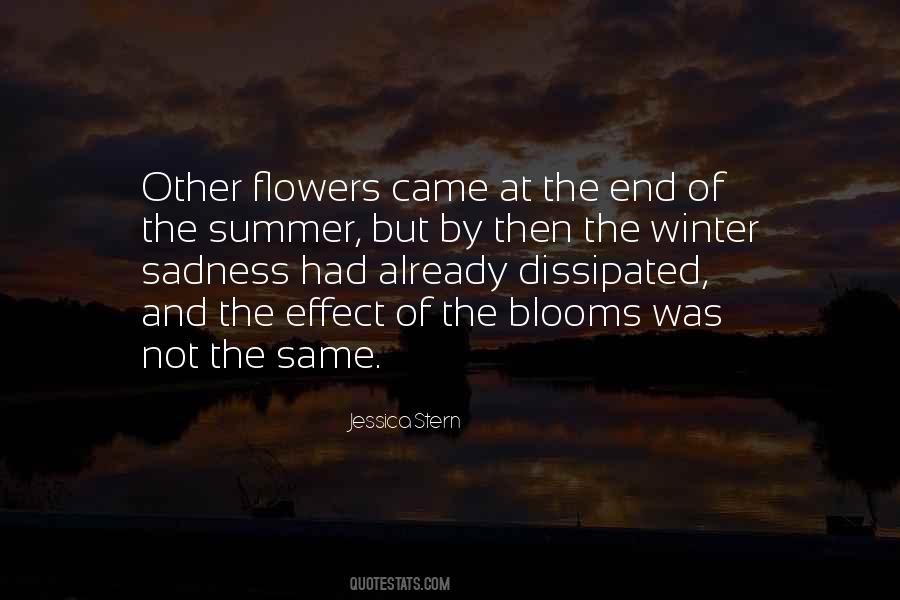 #51. Love doesn't hurt, love doesn't cut, and in dark times love doesn't cease.
Love heals, love seals, it drains out the world and leaves you with peace. - Author: Palle Oswald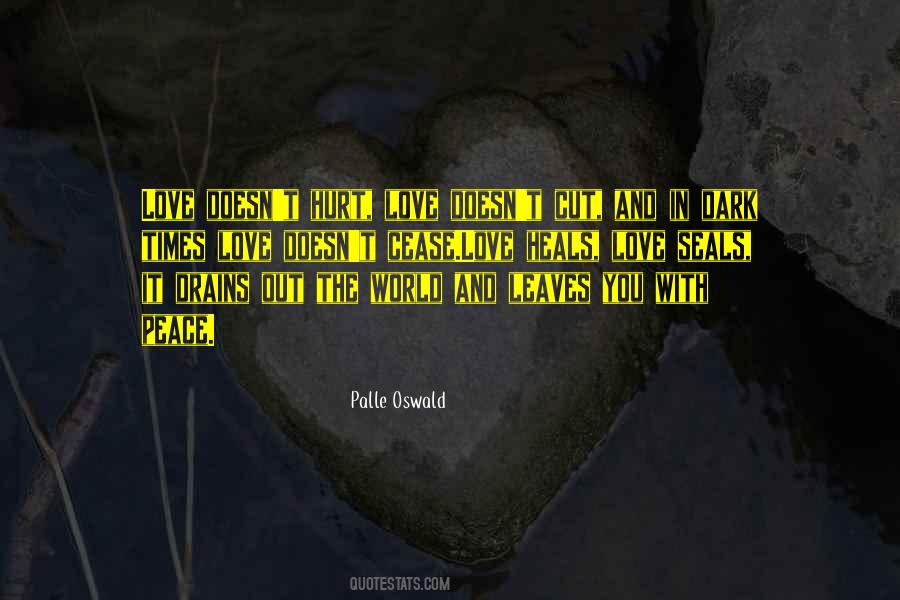 #52. This book attempts to
record a journey to restoration that applies to ordinary people like you and I. It is a shot towards healing. A step headed for a new consciousness. It emerges from a moment in time where all seems lost. - Author: Phindiwe Nkosi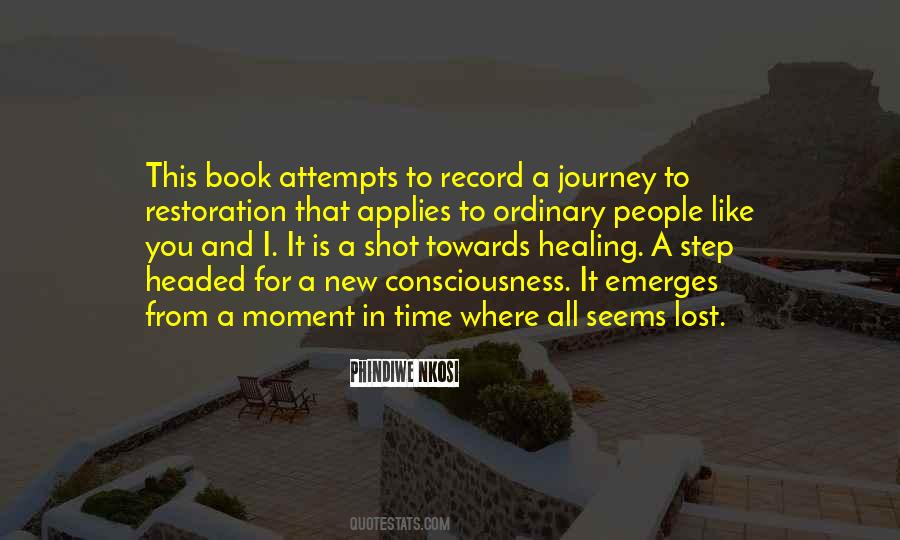 #53. It is faith that looks up at the creator God and knows him to be the God of love. And it is faith that looks out at the world with the longing to bring that love to bear in healing reconciliation, and hope. - Author: N. T. Wright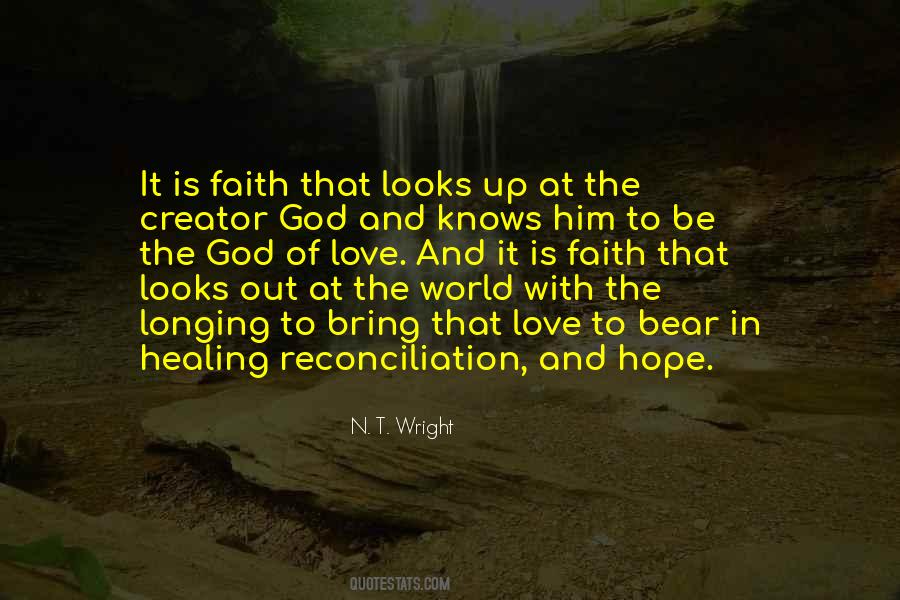 #54. May you know always that you are never alone, that life and love are eternal, and that you are extraordinary. - Author: Susan Barbara Apollon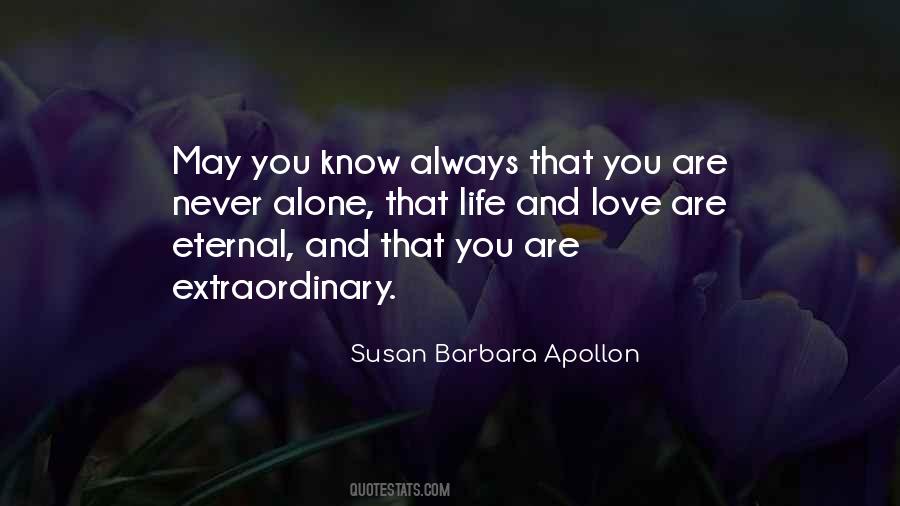 #55. If you have been raped or sexually assaulted and you have been blamed, or fear that you may be blamed, I just want you to understand this: You are not to blame. There is nothing you did to make someone hurt you, nor is there anything you could have done differently to prevent or stop it. - Author: Robert Uttaro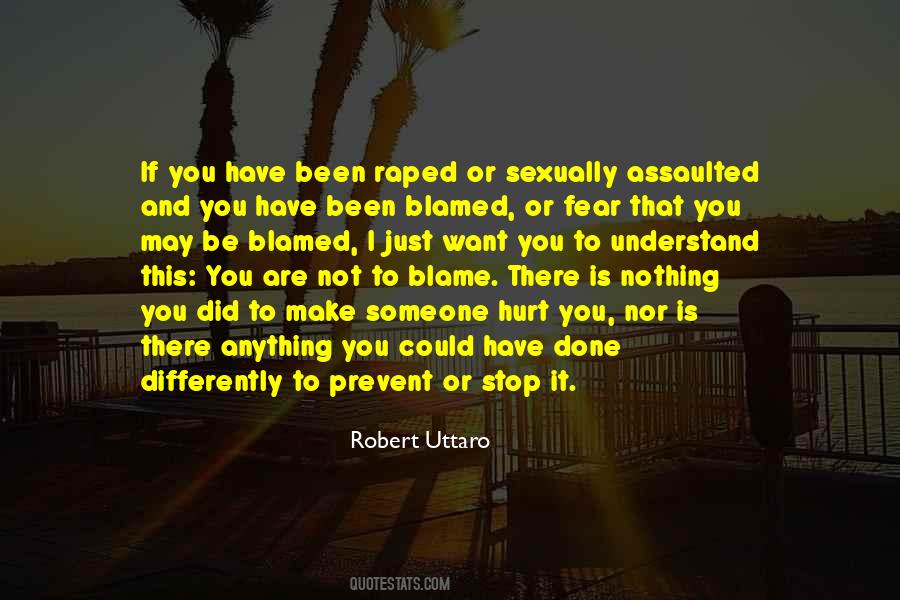 #56. Hope is an act of faith. Great faith, great hope. - Author: Lailah Gifty Akita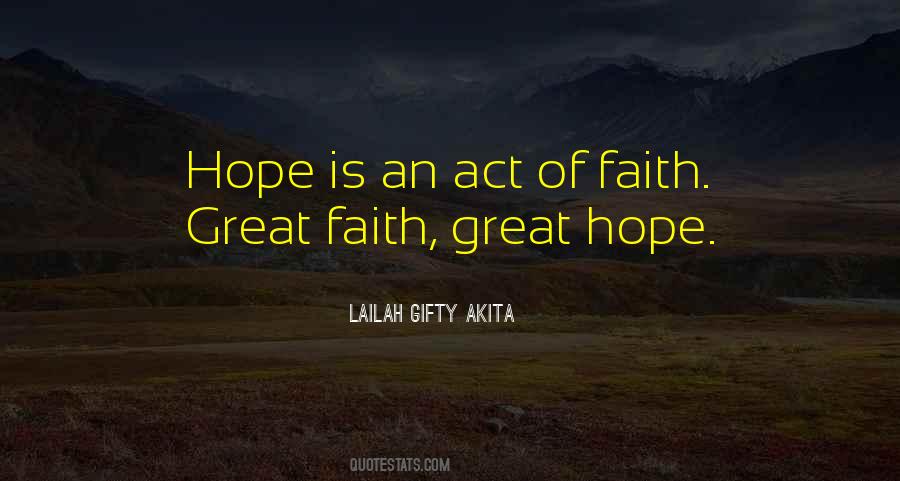 #57. Loss pushes us to difficult places where we have not been before. We often question whether or not we have the courage and stamina to survive the pain. However, we often are given gifts that tell us that we are not alone and that we can withstand the journey. - Author: Susan Barbara Apollon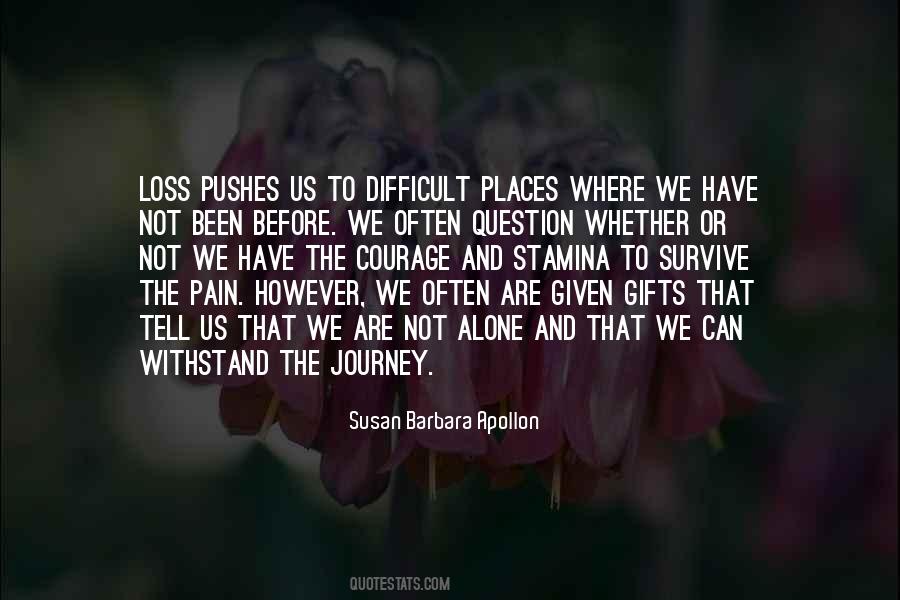 #58. I'm not everything I want to be, but I'm more than I was, and I'm still learning. - Author: Charlotte Eriksson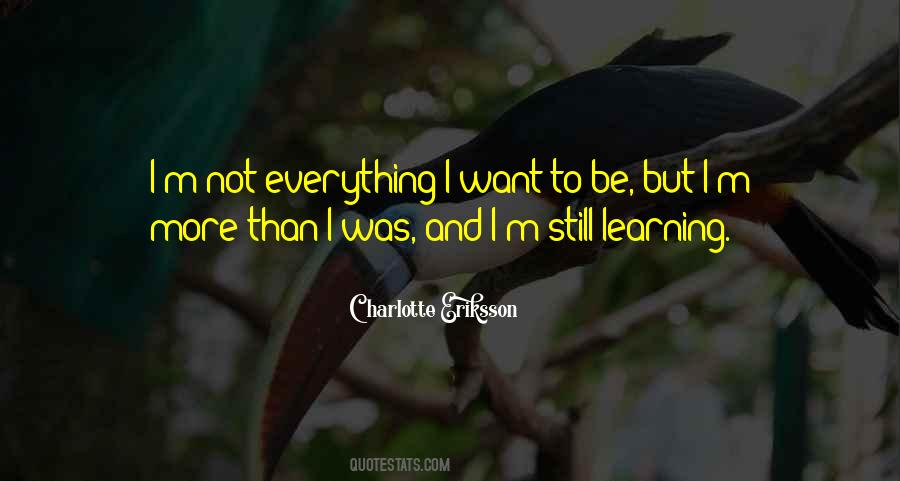 #59. With the change of the seasons, God reminds us that darkness always ends. Light always exists and will always return when missing. There is no night that doesn't end. No nightmare from which you cannot awaken. No hurt that cannot heal. - Author: Sharon Bayliss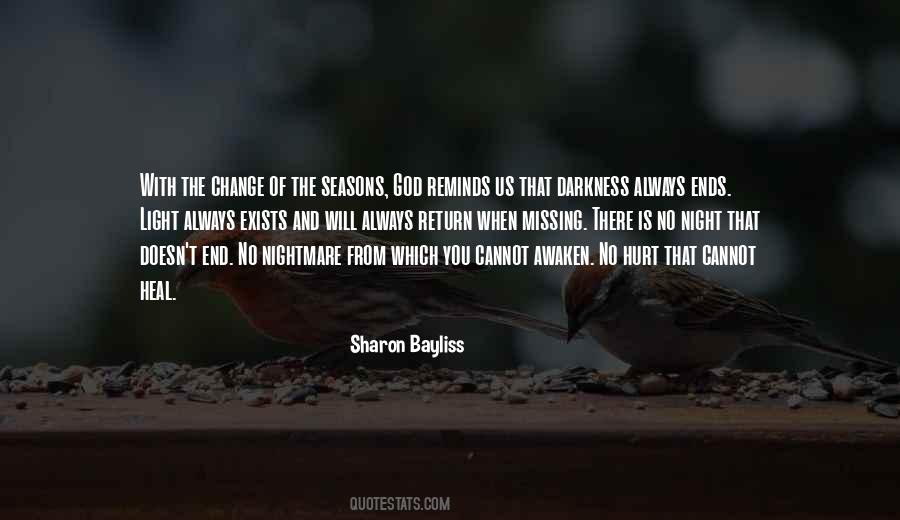 #60. One hello can change a day. One hug can change a life. One hope can change a destiny. - Author: Lynda Cheldelin Fell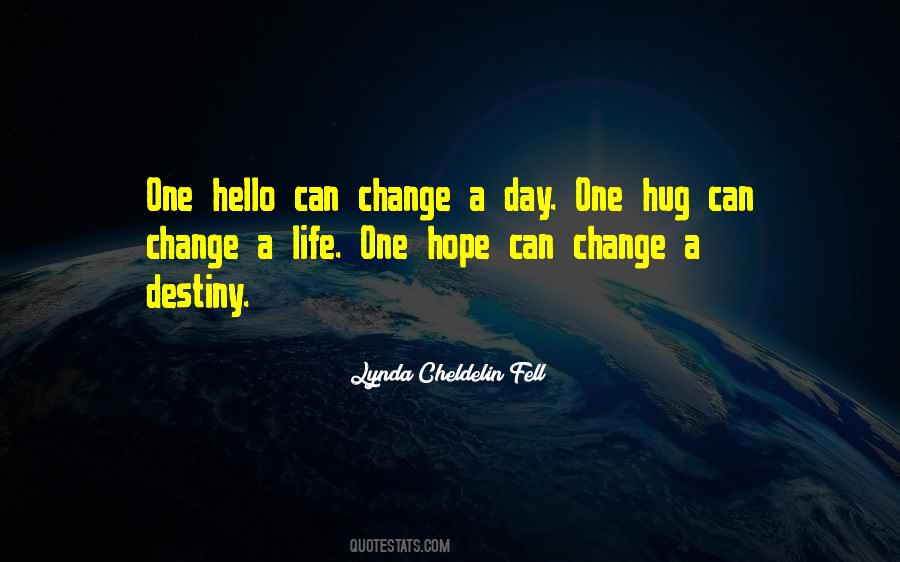 #61. Love much dear friends for love will bring the healing joy and hope of Spring ... - Author: John McLeod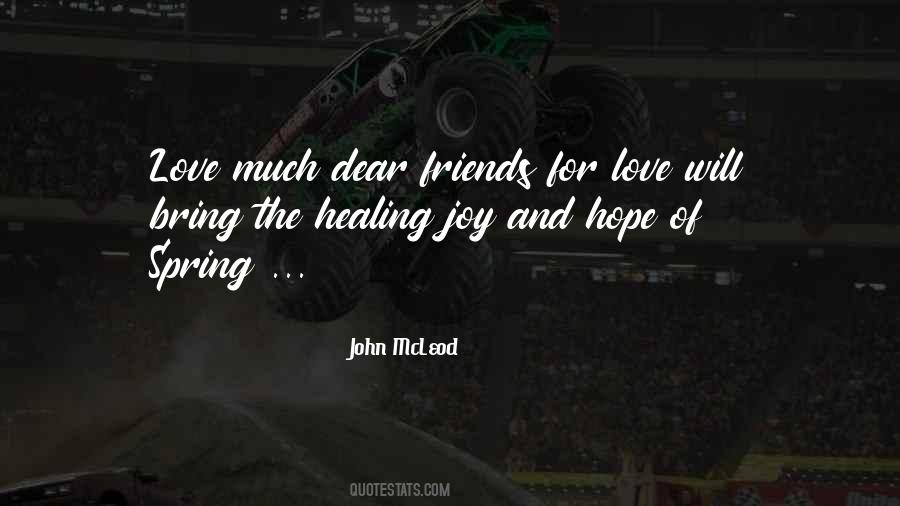 #62. The Biology of Hope and the Healing Power of the Human Spirit, - Author: Brian L. Weiss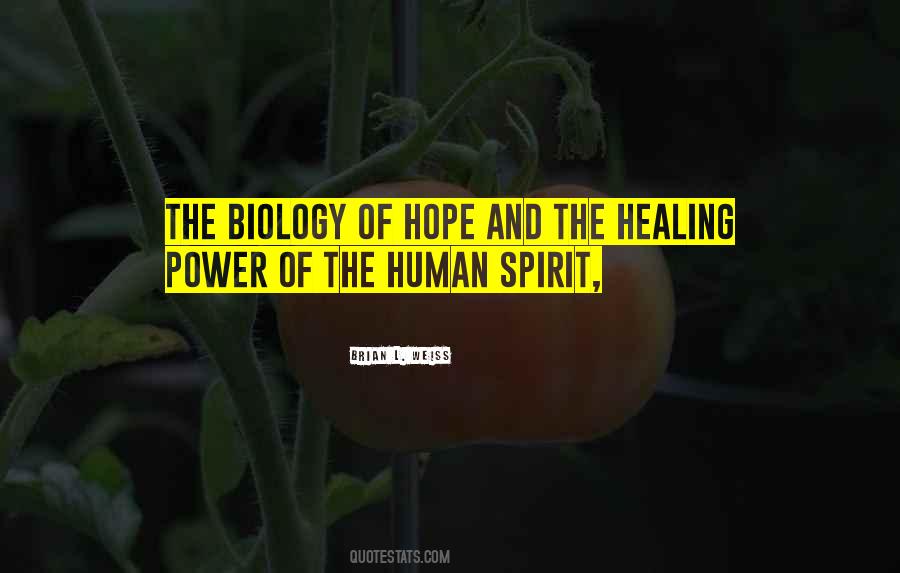 #63. Your struggles and tears will NEVER be wasted but will be transformed into a healing balm after your victory, release and manifestation comes. You've won already. Hold on just a little while longer. Everything will be alright. We serve a God whose Name is FAITHFUL. - Author: Theresa Pecku-Laryea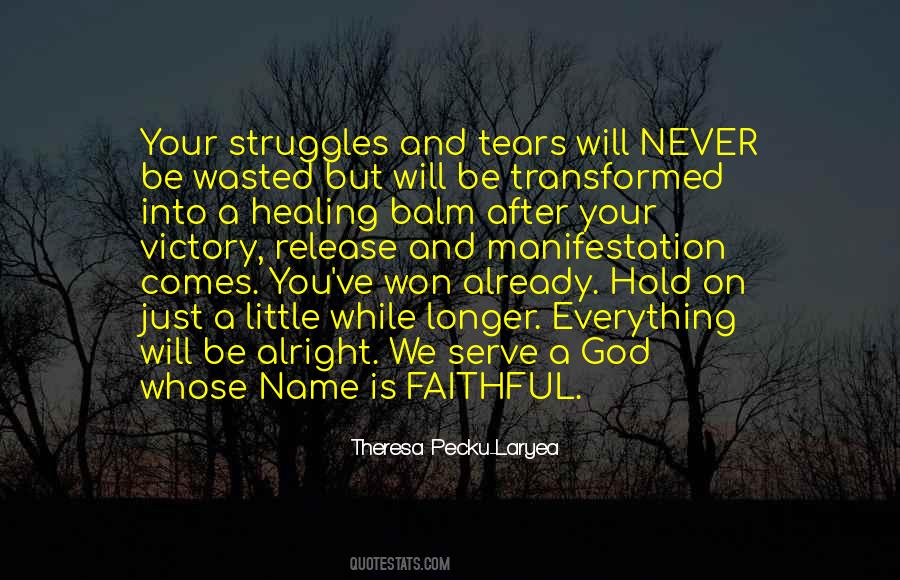 #64. An engaging examination of a painful subject, with a focus on healing and forgiveness. - Kirkus Review - Author: Robert Uttaro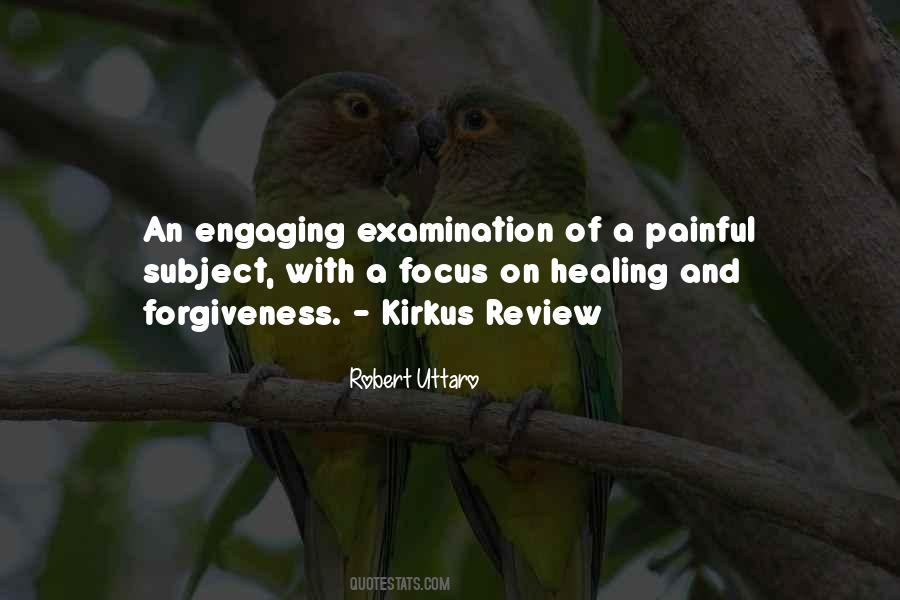 #65. Long-term trauma for women who have survived armed conflict is a haunting reminder that health issues and depression can follow decades after the end of war, but women who hope for healing can and do move forward. - Author: Zainab Salbi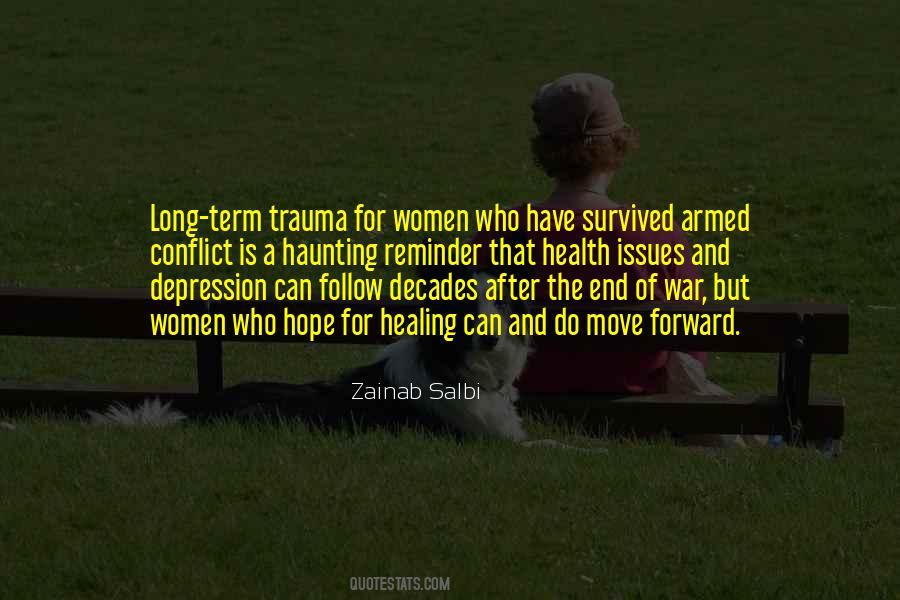 #66. Hope is confidence. - Author: Lailah Gifty Akita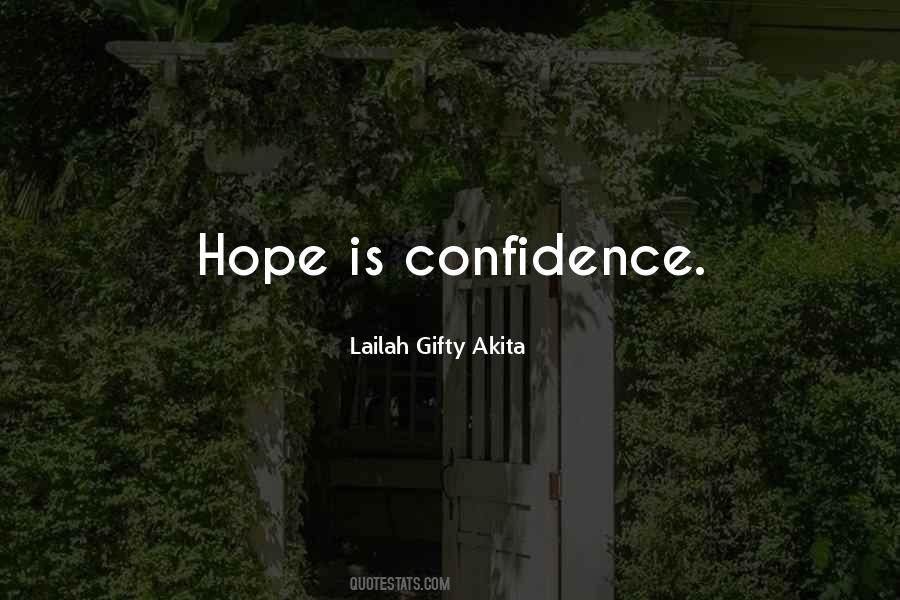 #67. It was come as you are when visiting my blog, CiCI's Garden -otherwise what would be the point? Readers were welcomed to a virtual place where emotions were respected and affirmed, and encouragement was offered to those who longed to know that wounded hearts can heal - even if it takes a lifetime. - Author: EsthersChild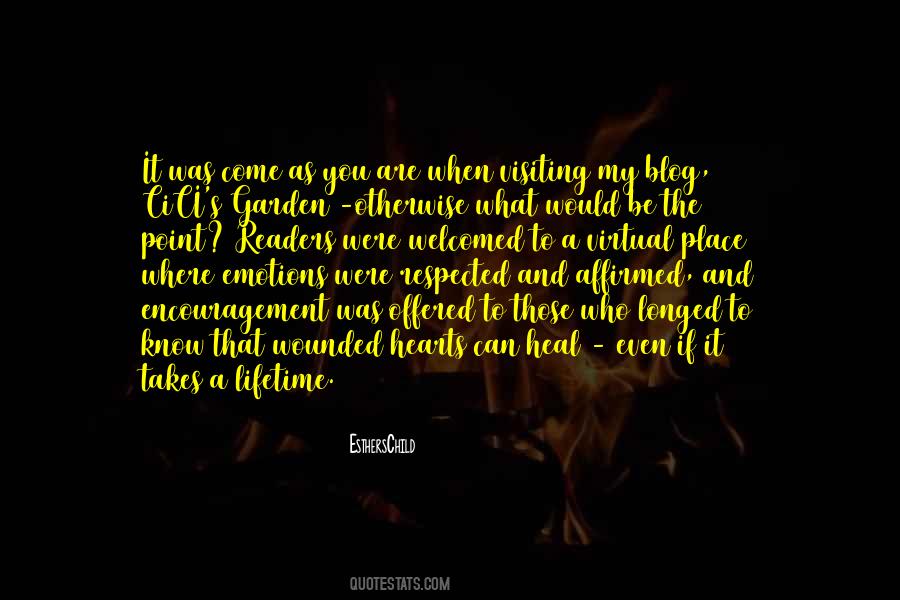 #68. Where there's God, there's hope," she said. "And where there's hope, there can be healing. - Author: Becky Wade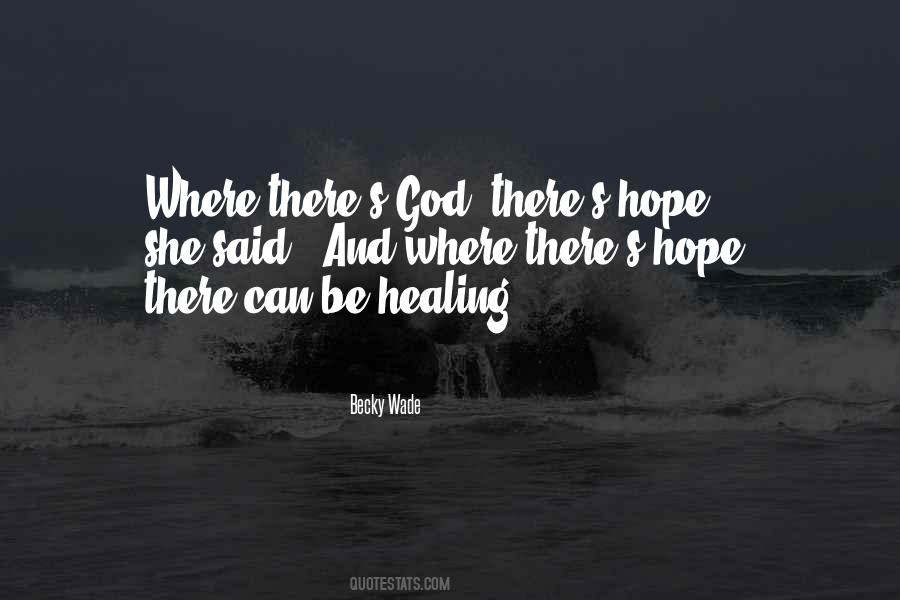 #69. I praise you for healing all my diseases - diseases in my body, heart, and mind. Though I wish you would completely heal me before you return, nonetheless, I have this sure hope: one day I will be perfectly whole. Praise the Lord, O my soul, for present, ongoing, and a secured complete healing! - Author: Scotty Smith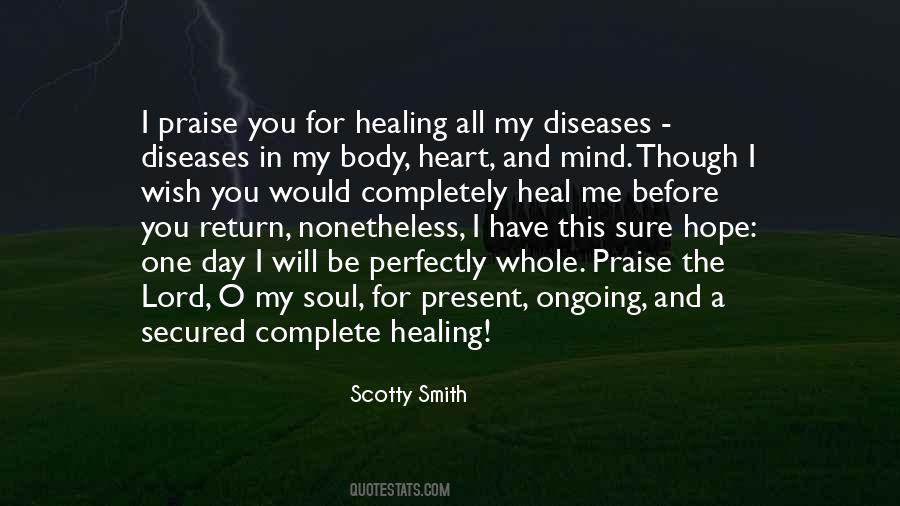 #70. He tasted like hope and healing. He tasted like the future. - Author: Heather Demetrios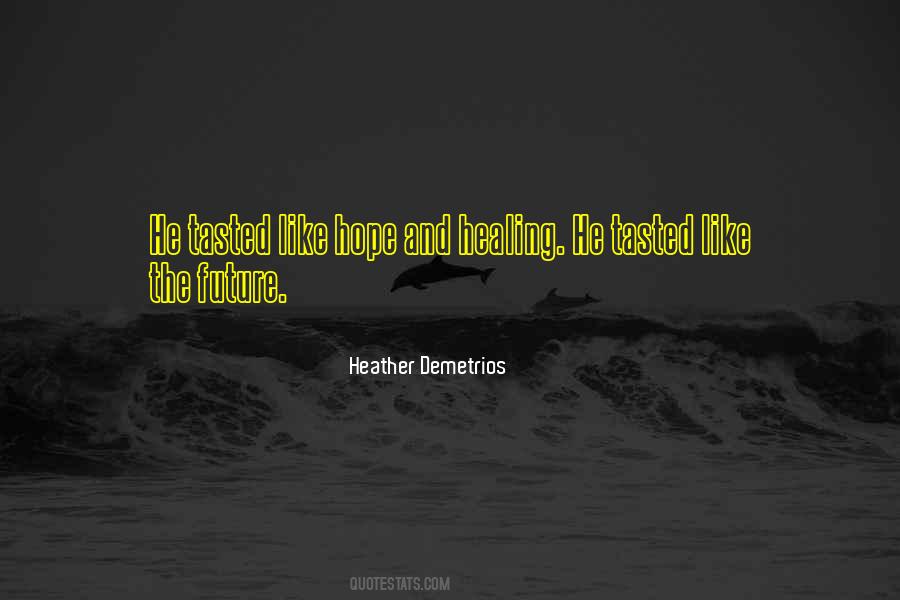 #71. Blessed are you who forgive.
You will forever be happy. - Author: Lailah Gifty Akita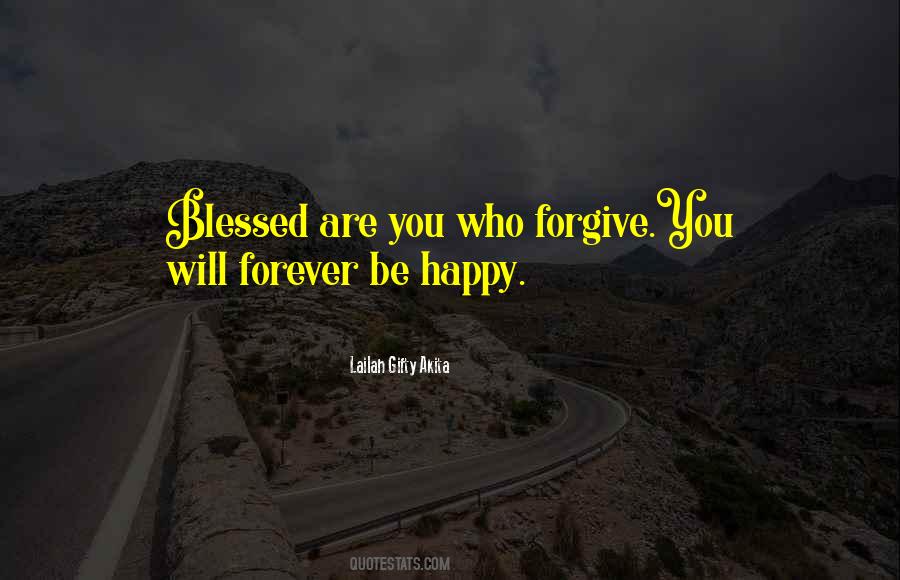 #72. The Beatitudes, far from being a new set of virtues that further divide the religious haves and have nots, are words of hope and healing to those who have been marginalized. - Author: James Bryan Smith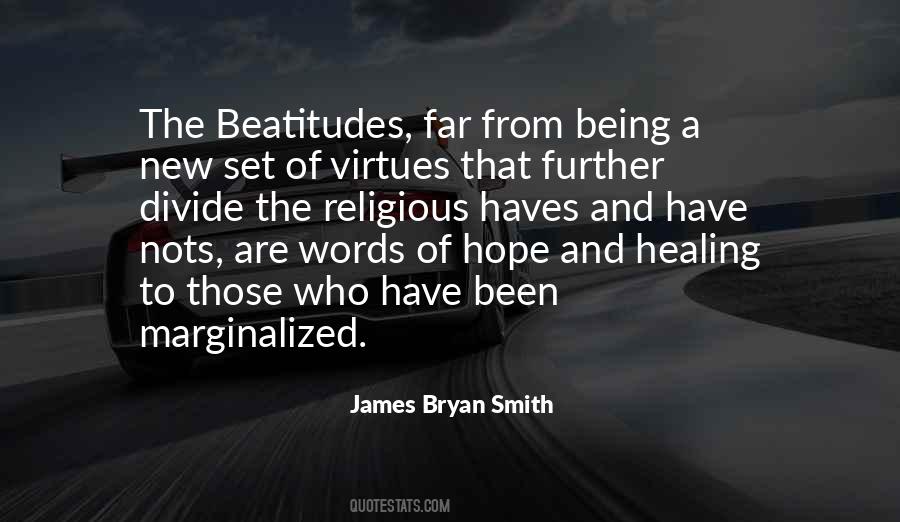 #73. Hope comes in the form of synchronicities. When one even occurs and is followed by another, which is in complete alignment with the first, we sense we are not alone. We know, intuitively throughout our beings, that what we are experiencing is the universe lovingly embracing us. - Author: Susan Barbara Apollon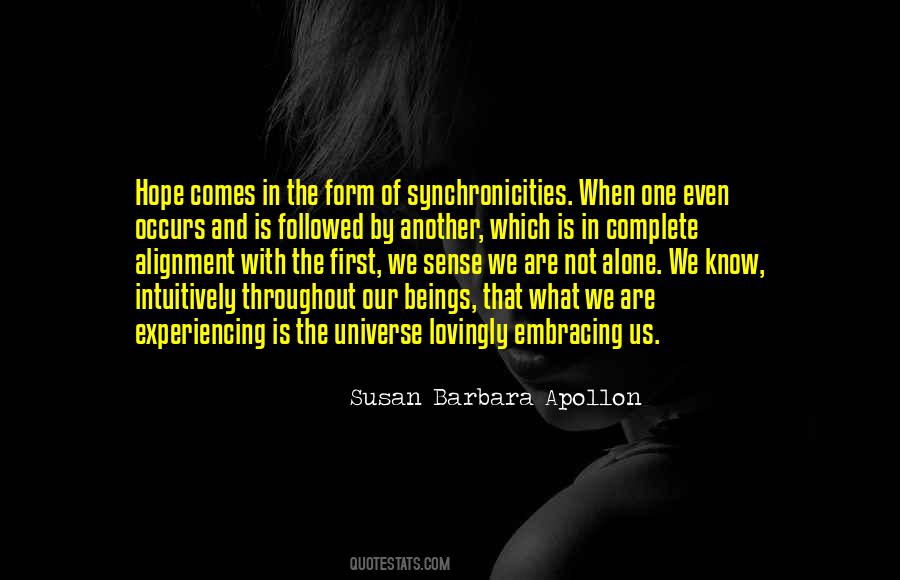 #74. You have the power to feel good - or not - just by being conscious of what you choose to think. Choose to focus on hope and healing. - Author: Susan Barbara Apollon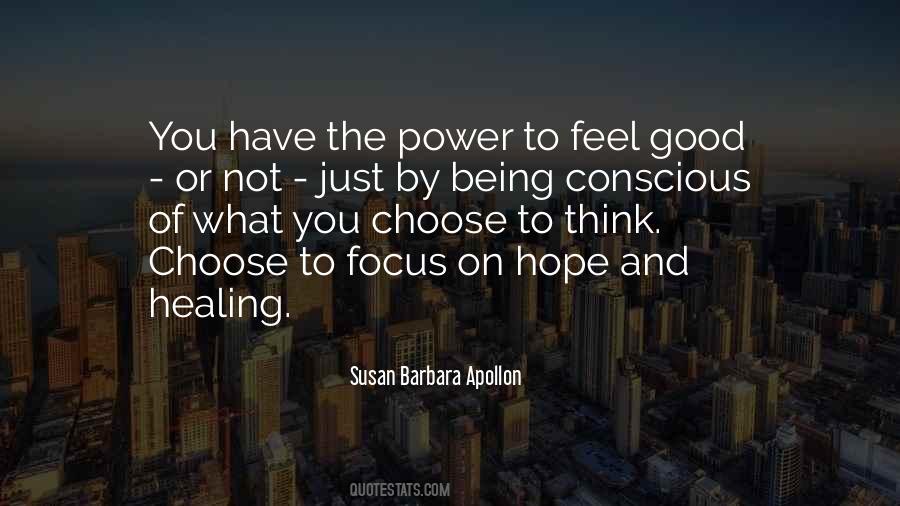 #75. The seasons of my heart change like the seasons of the fields. There are seasons of wonder and hope, seasons of suffering and love, seasons of healing. There are seasons of dying and rising, seasons of faith. - Author: Macrina Wiederkehr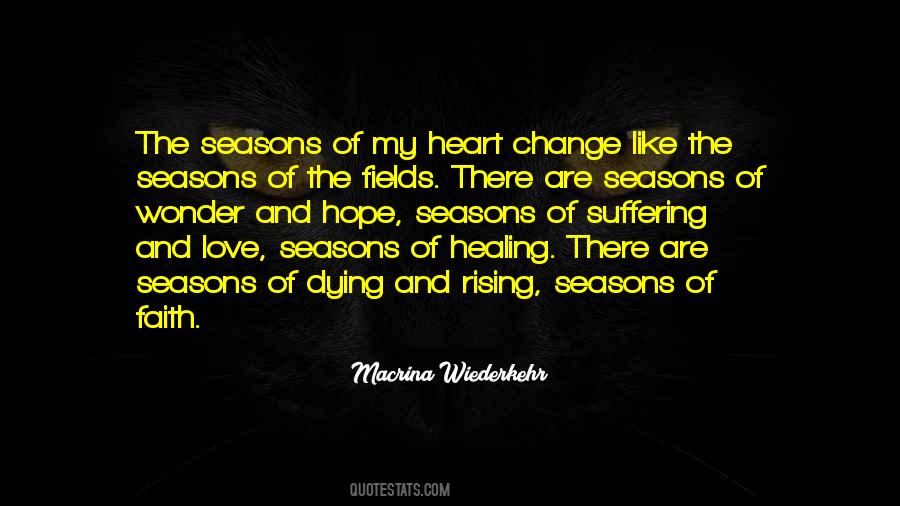 #76. I want to lead people toward finding hope through the purity and healing power of metal. - Author: David Draiman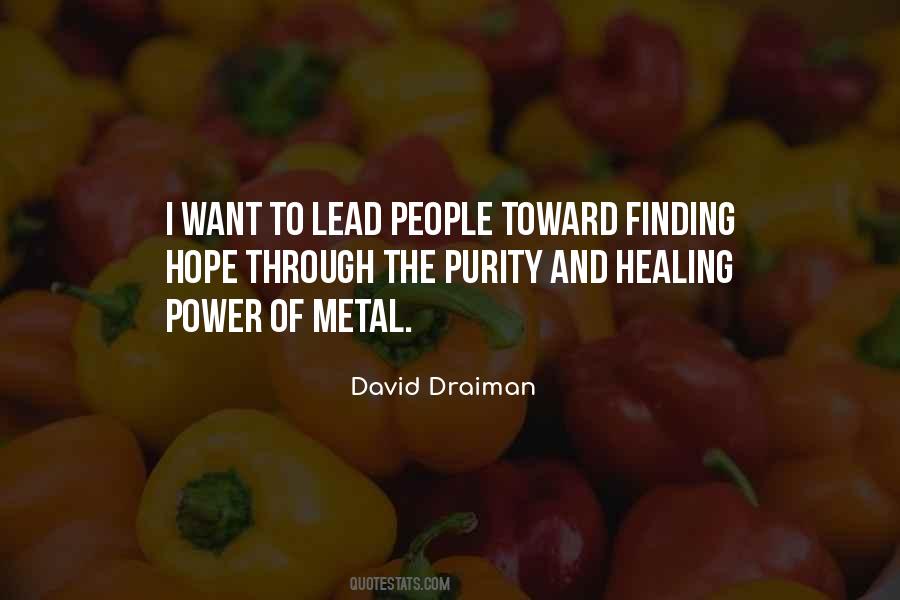 #77. Let go of all your hurt and be healed. - Author: Lailah Gifty Akita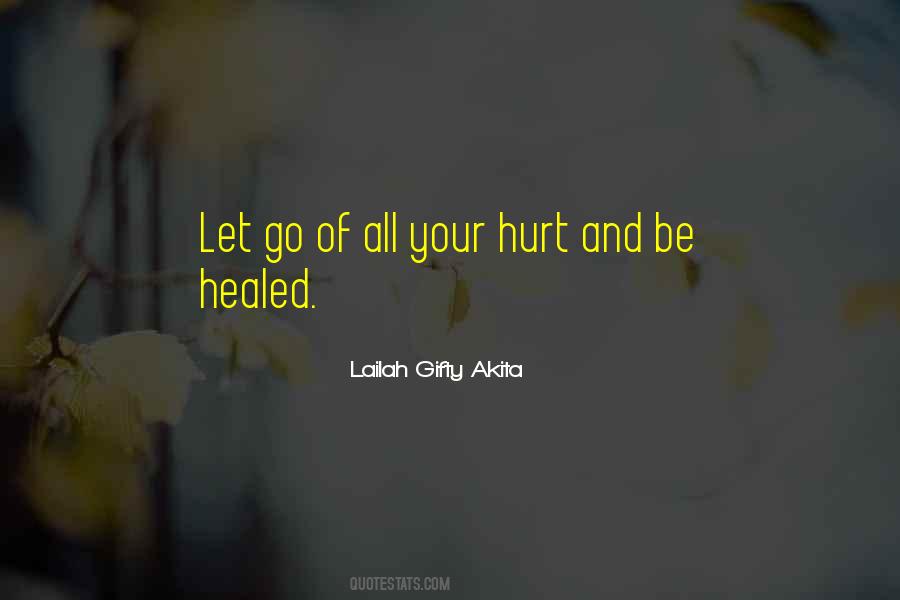 #78. As we are set free by that love from our own pride and fear, our own greed and arrogance, so we are free in our turn to be agents of reconciliation and hope, or healing and love. - Author: N. T. Wright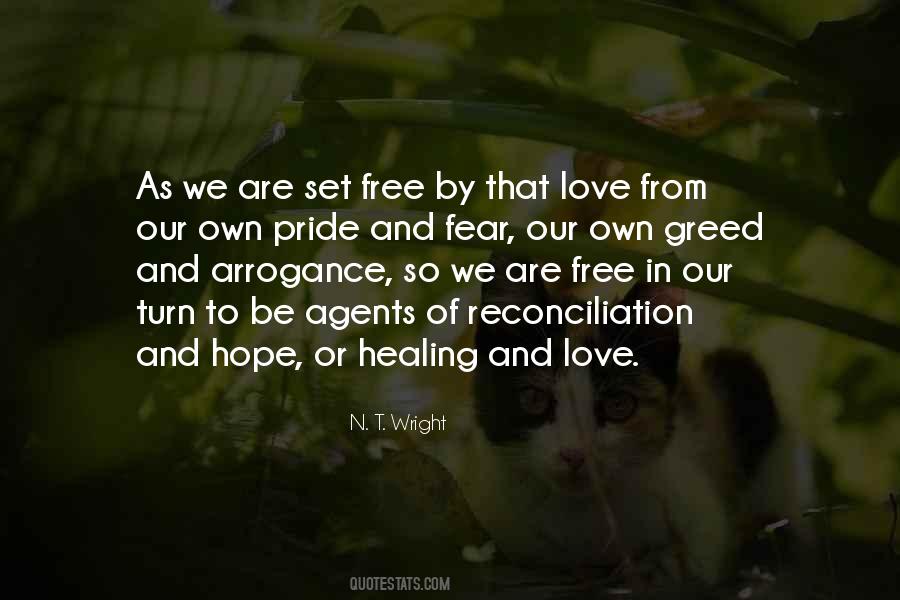 #79. With me, illusions are bound to be shattered. I am here to shatter all illusions. Yes, it will irritate you, it will annoy you - that's my way of functioning and working. I will sabotage you from your very roots! Unless you are totally destroyed as a mind, there is no hope for you. - Author: Osho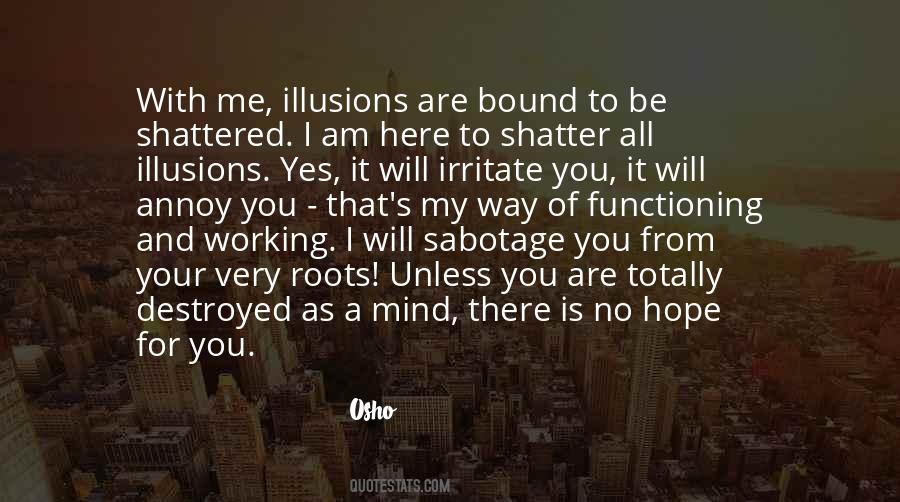 #80. A burdened heart doesn't equate to a lack of faith. The God of Abraham, Isaac and Jacob can heal with a simple command. The burden comes from wondering if that's His will and may it be done. - Author: Donna Lynn Hope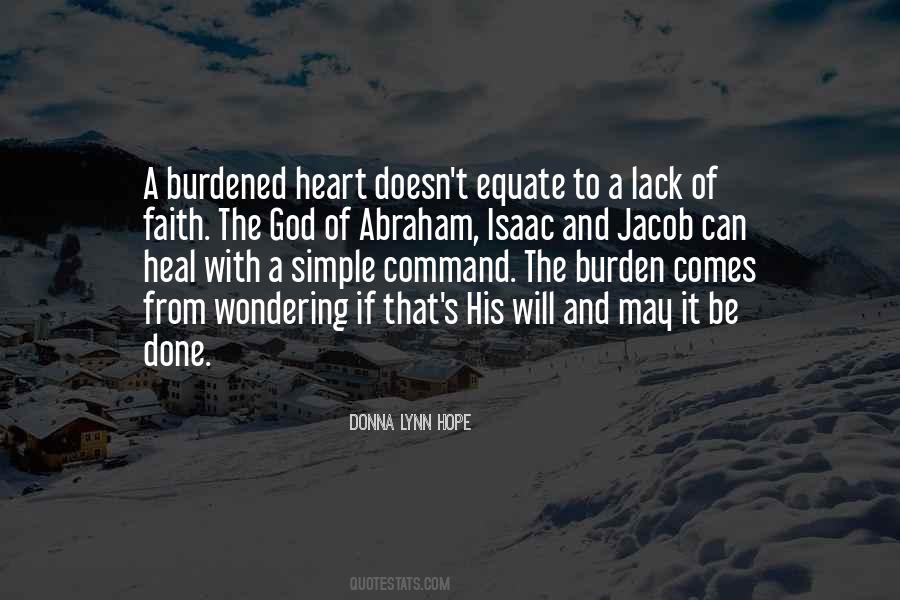 #81. Forgiveness, she was only required to accept the seed of healing, and to let it grow on its own time. - Author: H. L. Balcomb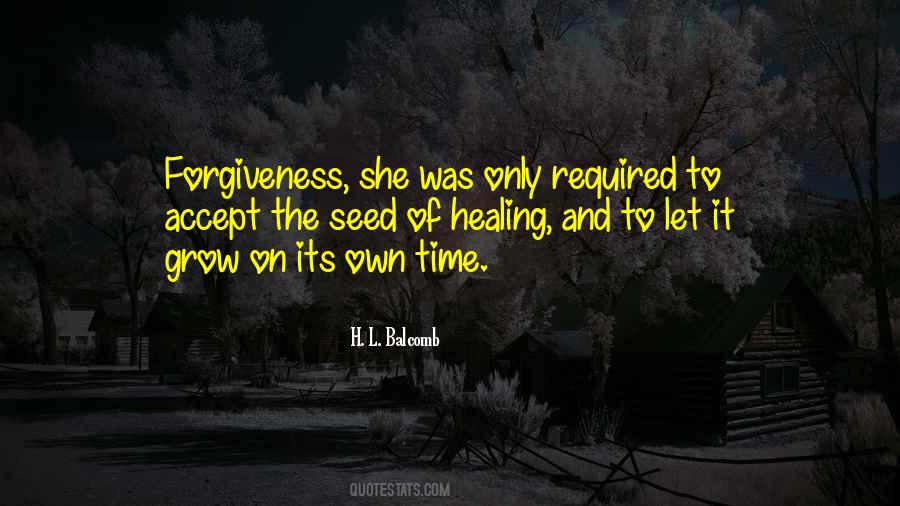 #82. We have a choice. We can embrace our humanness, which means embracing our broken natures and the compassion that remains our best hope for healing. Or we can deny our brokenness, forswear compassion, and, as a result, deny our own humanity. - Author: Bryan Stevenson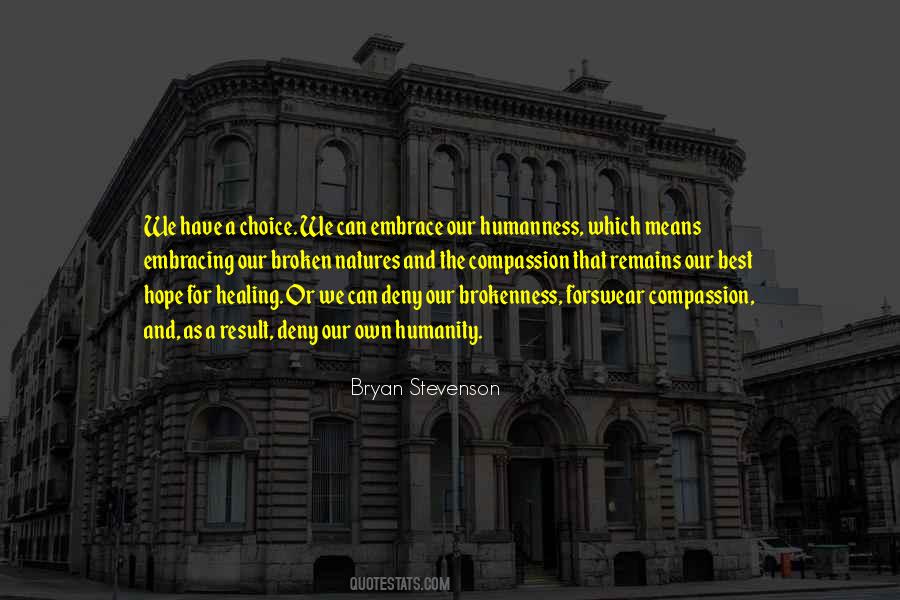 #83. The deepest healing is the healing of the deepest wound. The deepest wound is the frustration of the deepest need. The deepest need is the need for meaning, purpose, and hope. - Author: Peter Kreeft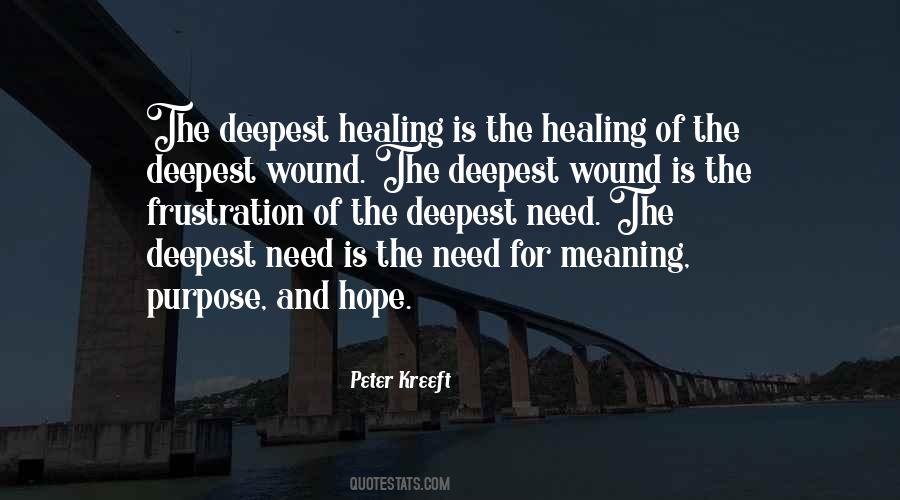 #84. Remember, pain and misery
are transient and ephemeral
but love has the healing power,
which is eternal. - Author: Debasish Mridha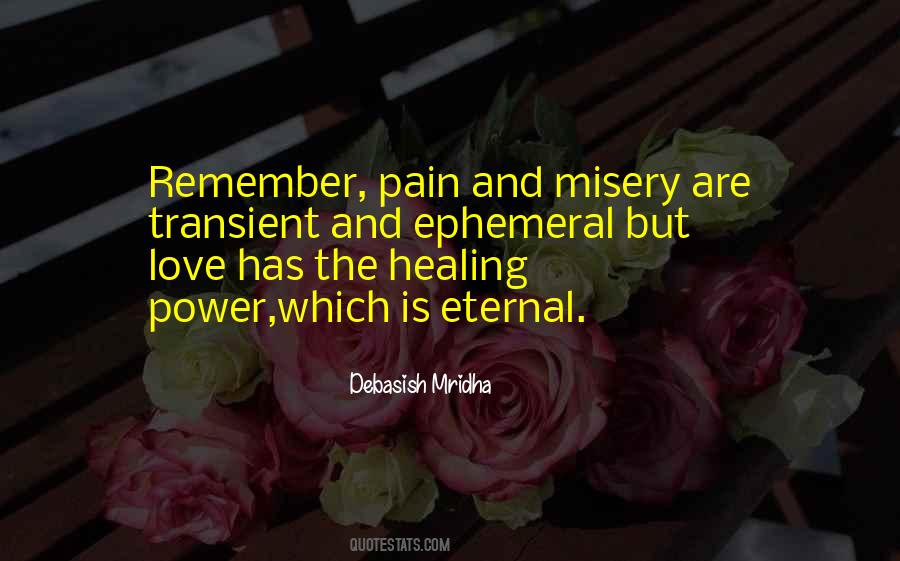 #85. Tears rolled down his cheeks, the sadness in his eyes shattered my heart into a million little pieces. We had both lost so much and yet found our way to one another. I could only hope that I could heal him as much as he was healing me.- Brooke - Author: Alyson Raynes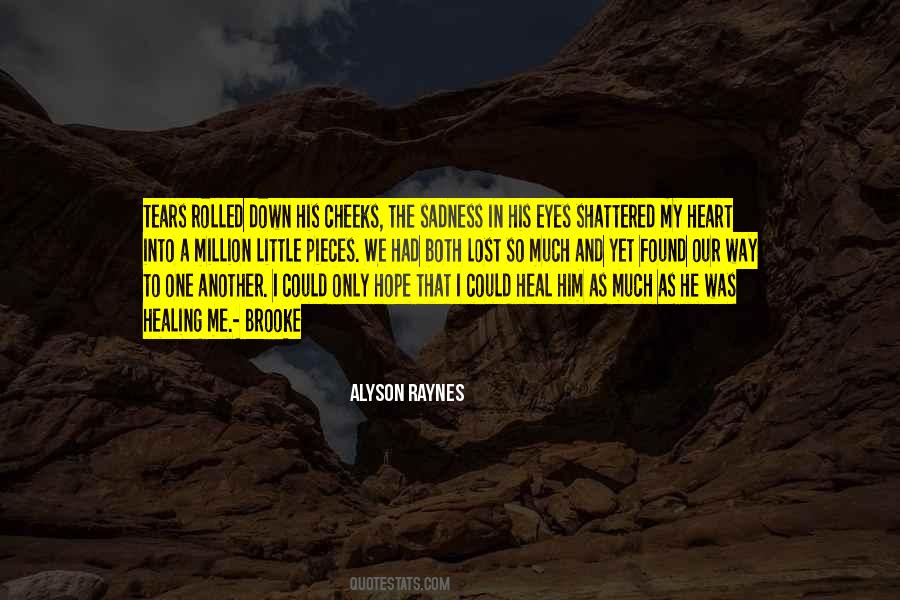 #86. I would still rather feel things and live life to the fullest rather than hide in a cave and attempt to protect myself from the uncertainties of the world. - Author: Elizabeth Berrien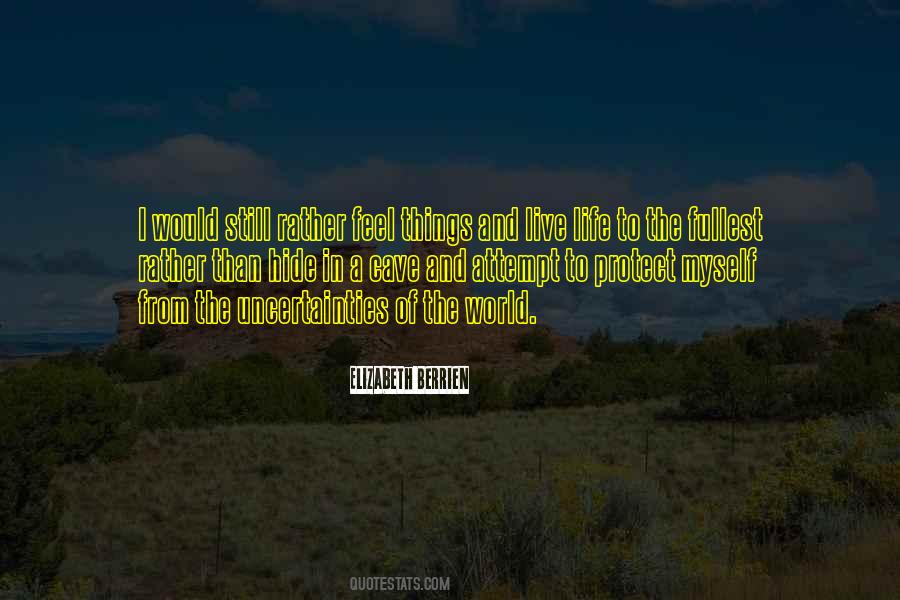 #87. Healing isn't just about pain. It's about learning to love yourself. As you move from feeling like a victim to being a proud survivor, you will have glimmers of hope, pride and satisfaction. Those are natural by-products of healing. - Author: Ellen Bass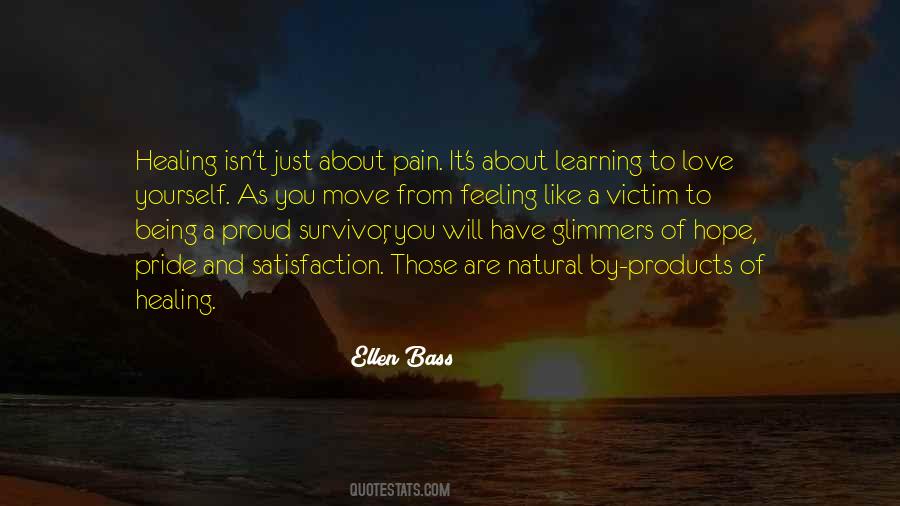 #88. The world isn't necessarily going to explode. There will just be vast change. There is hope. It is in the rain forests, the healing plants from there, and in sex and the children who are being born. They have different strains of DNA. They aren't really humans. So they will make the difference. - Author: Francesca Lia Block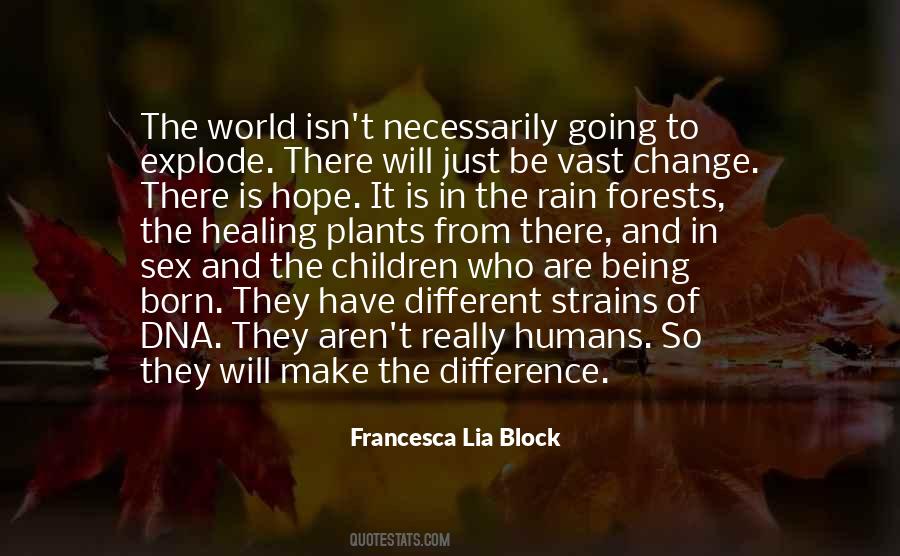 #89. [h]ope, like a desert aloe. Hope, stubborn and bitter to the taste. That hides water. That bears the drought. An ugly plant with the power to heal. - Author: Sofia Samatar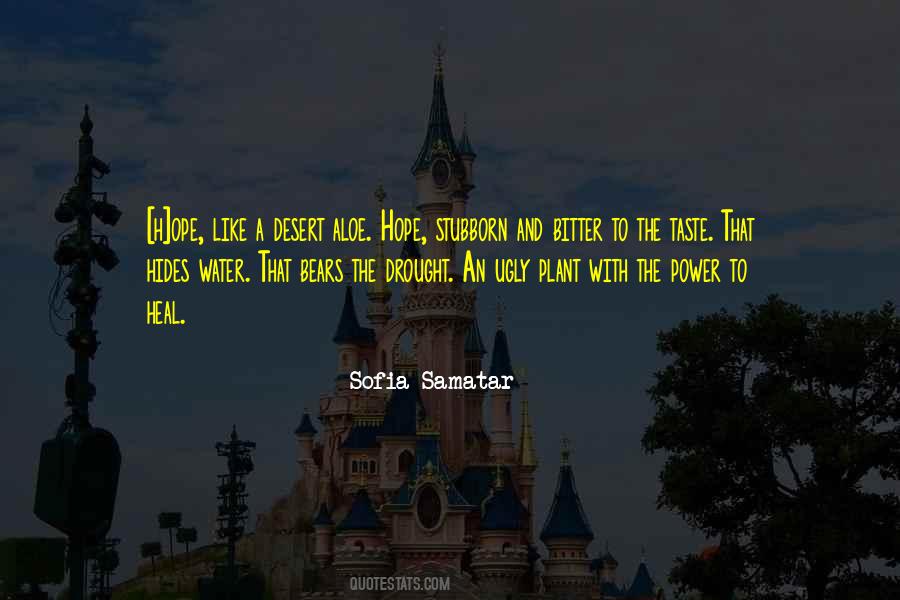 #90. Just one person. It really honestly just takes one positive person. One positive person can help you. And that can go a long, long way. - Alexis - Author: Robert Uttaro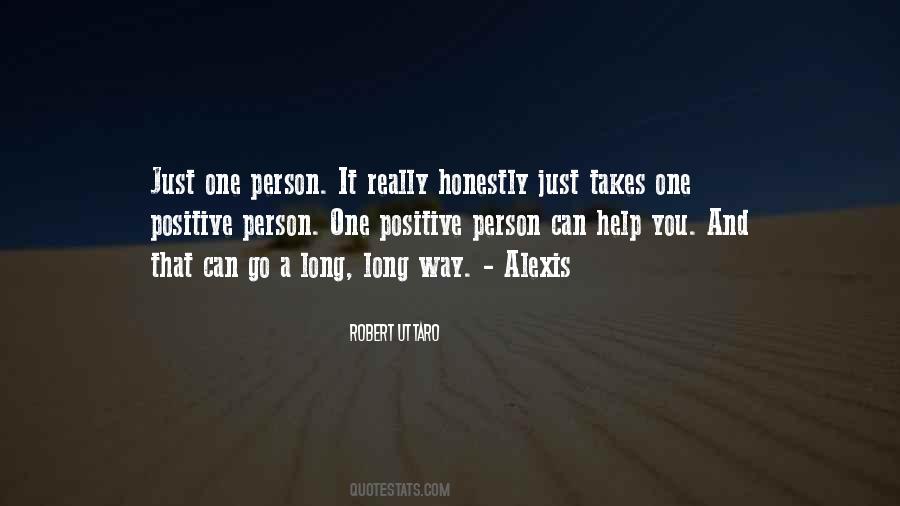 #91. Children who feel unloved and unprotected are like a half-filled cup. They become incapable of 'filling up' because they have come to believe they are unworthy of love. They try to please others, give to others, and care for others in a desperate hope that they may make themselves worthy. - Author: Beverly Engel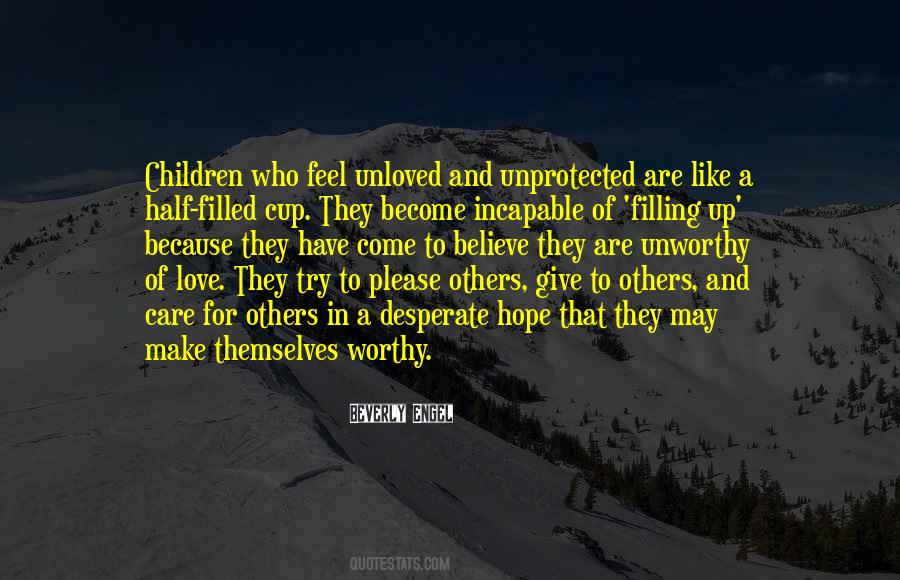 #92. The Hope, Love & Healing necklace is the perfect embodiment of what we are trying to bring to Haiti through safe and sustainable housing, sanitation solutions, and water filtration devices. - Author: Patricia Arquette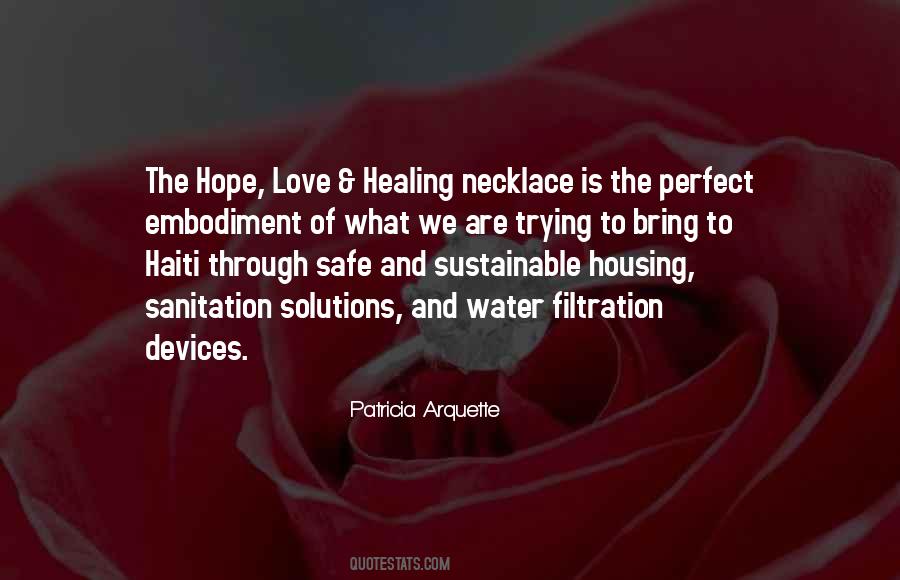 #93. Hope is sure and steadfast trust. - Author: Lailah Gifty Akita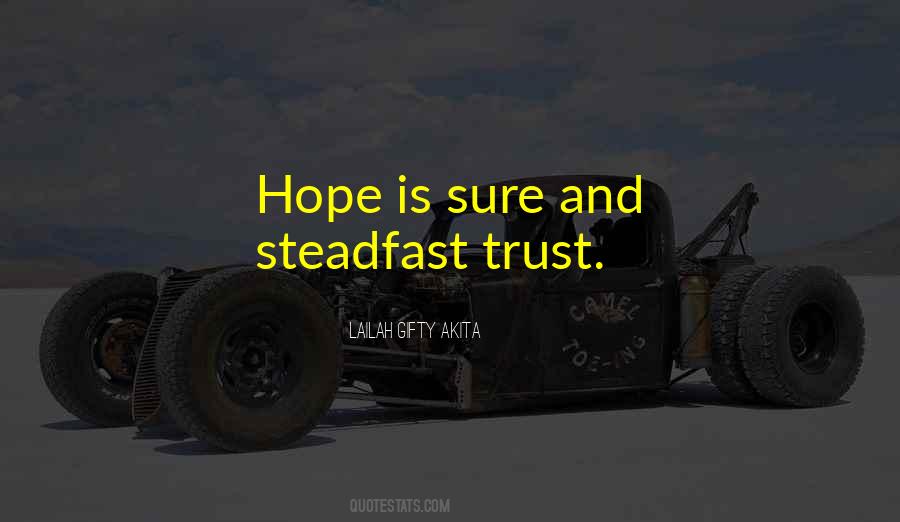 #94. Death doesn't happen instantly. For a little while, you hover around your body, confused. What you want more than anything is to go home, to be safe, to know you're okay. But my life was over. - Author: Caroline Flohr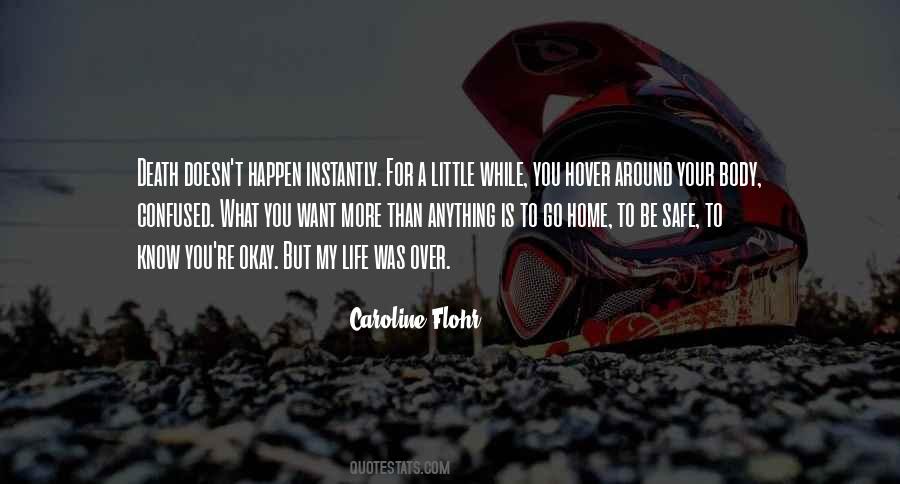 #95. S:uch is Heaven on Earth, in all land
A:s the sun brightens to the moon
N:ails the Creation in a palm of a hand,
D:ancing IT makes the desert bloom. - Author: Ana Claudia Antunes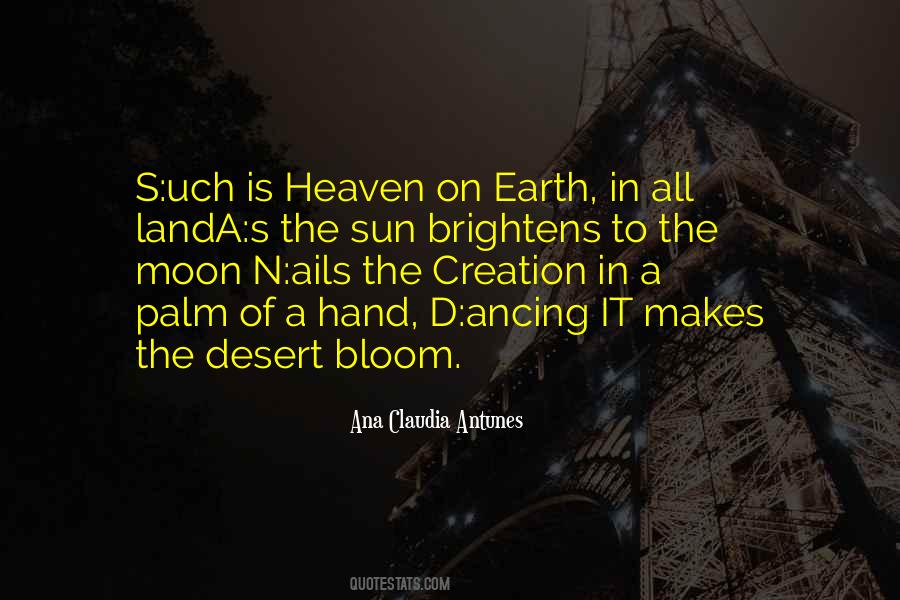 #96. Hope is affirmation of positive thoughts. - Author: Lailah Gifty Akita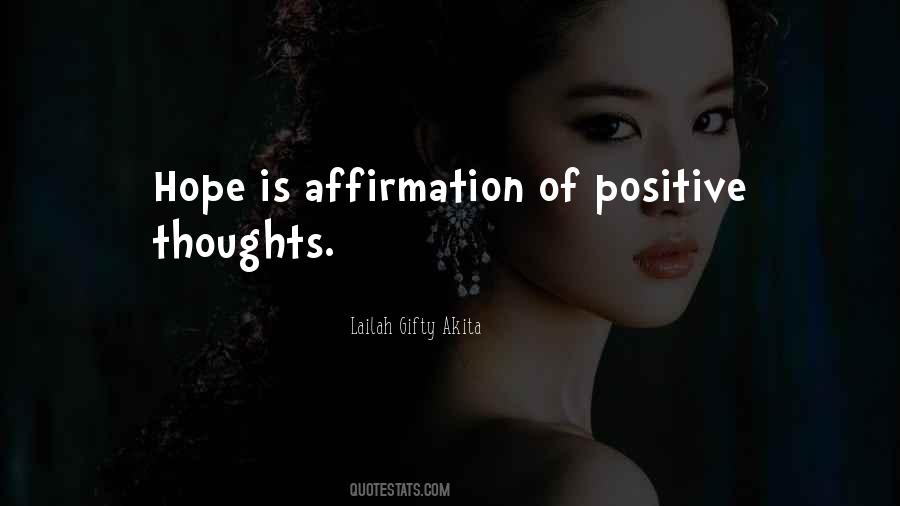 #97. The truth is, we never know what life will bring us and we don't have as much control as we might think we have. But we CAN choose how we walk through life and how we spend our time. - Author: Elizabeth Berrien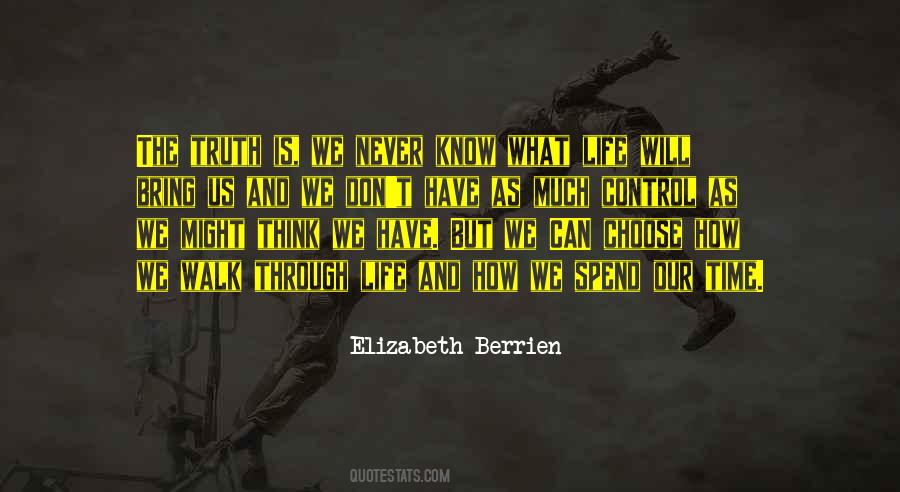 #98. So hope for a great sea-change
On the far side of revenge.
Believe that further shore
Is reachable from here.
Believe in miracles
And cures and healing wells. - Author: Seamus Heaney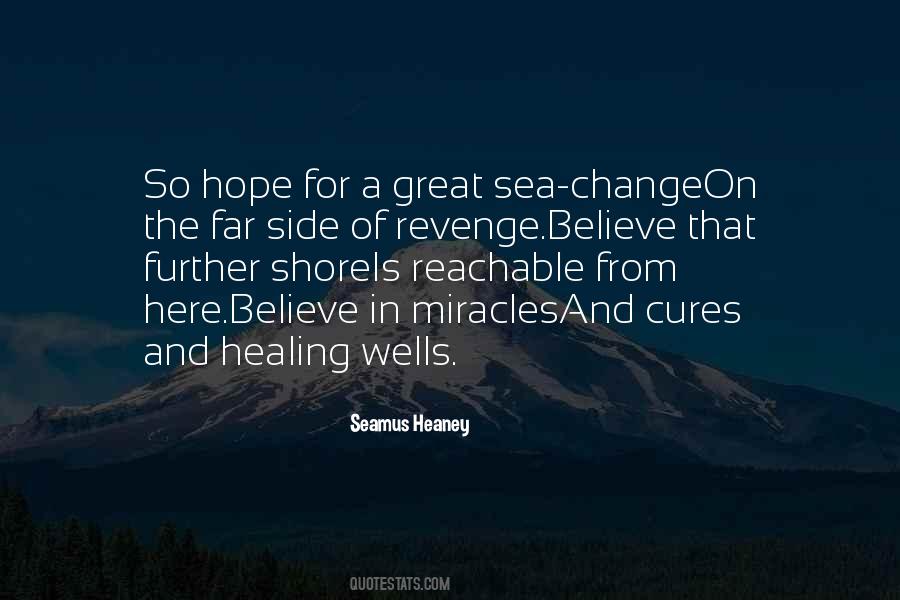 #99. When we learn to attribute meaning to the events in our lives, we connect with our Higher Purpose, Higher Wisdom, or Source; we become Master of the Self. A gradual process, this is often tied to loss and to love. - Author: Susan Barbara Apollon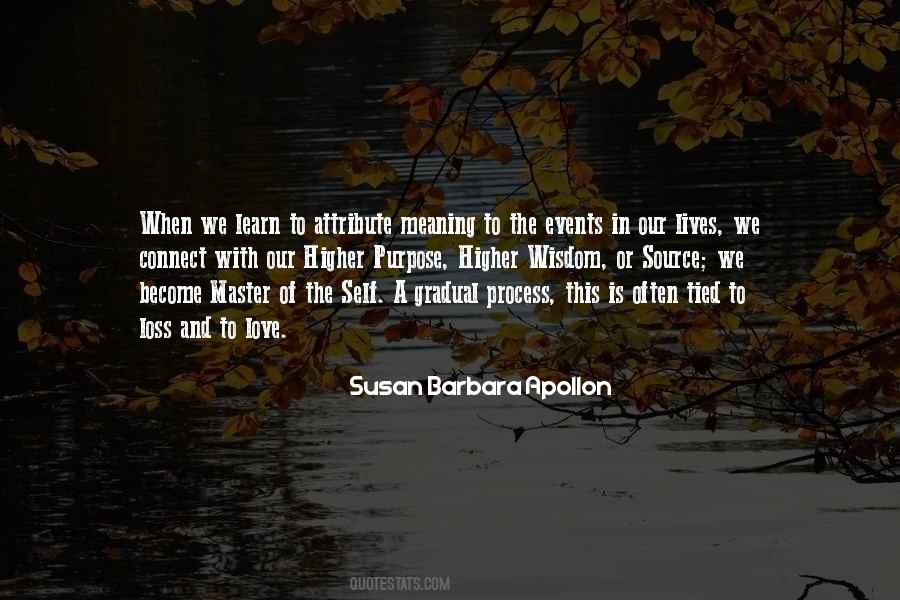 #100. Hope is the confidence of brighter tomorrows. - Author: Lailah Gifty Akita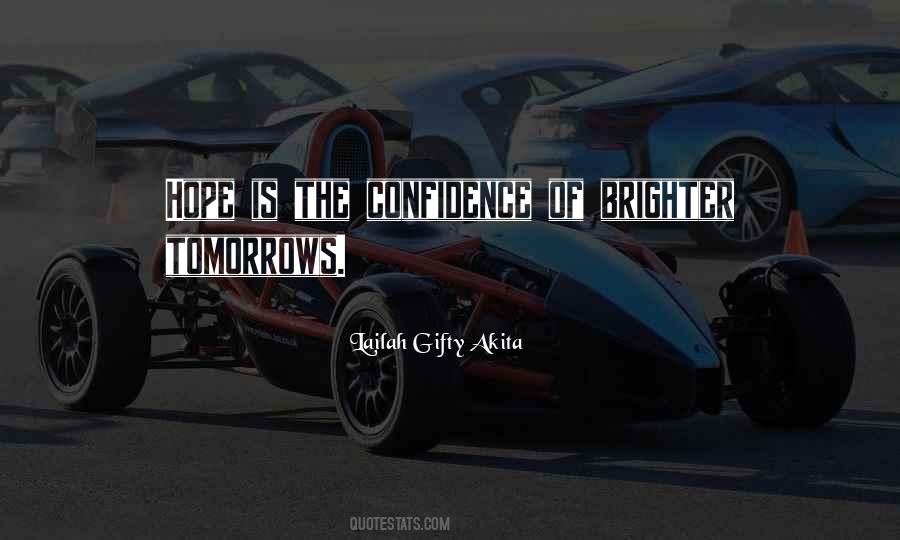 Famous Authors
Popular Topics