Helping The World Famous Quotes & Sayings
List of top 100 famous quotes and sayings about helping the world to read and share with friends on your Facebook, Twitter, blogs.
Top 100 Quotes About Helping The World
#1. The principles of Buddhism and Shambhala can be effective in helping the course of what is happening in the world. - Author: Sakyong Mipham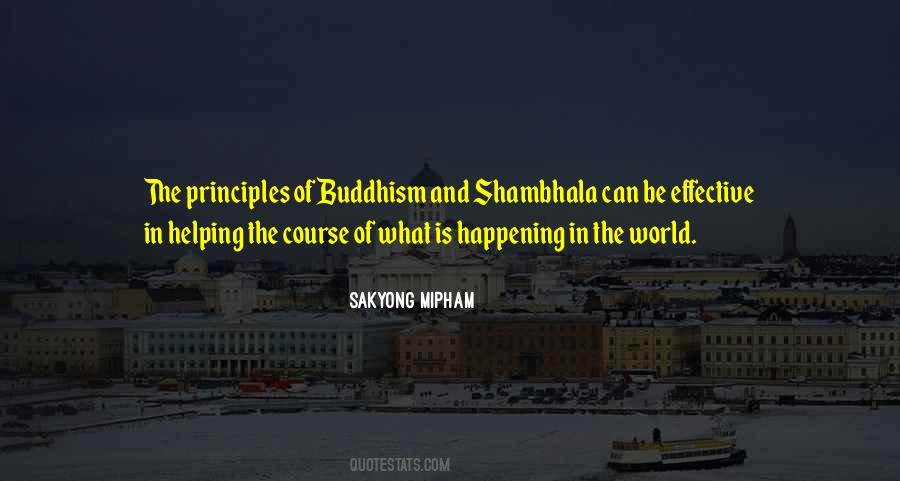 #2. When one man of popularity can let the world know the problem, he might lose a few dollars himself. He might lose his life. But he's helping millions. - Author: Muhammad Ali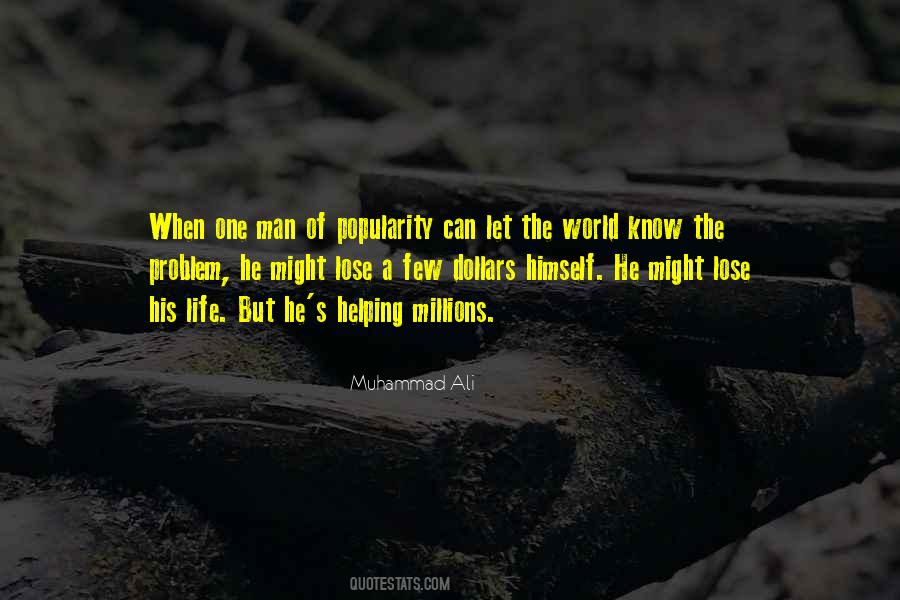 #3. The most satisfactory thing in all this earthly life is to be able to serve our fellow-beings-first, those who are bound to us by ties of love, then the wider circle of fellow-townsmen, fellow-countrymen, or fellow-men. To be of service is a solid foundation for contentment in this world. - Author: Charles William Eliot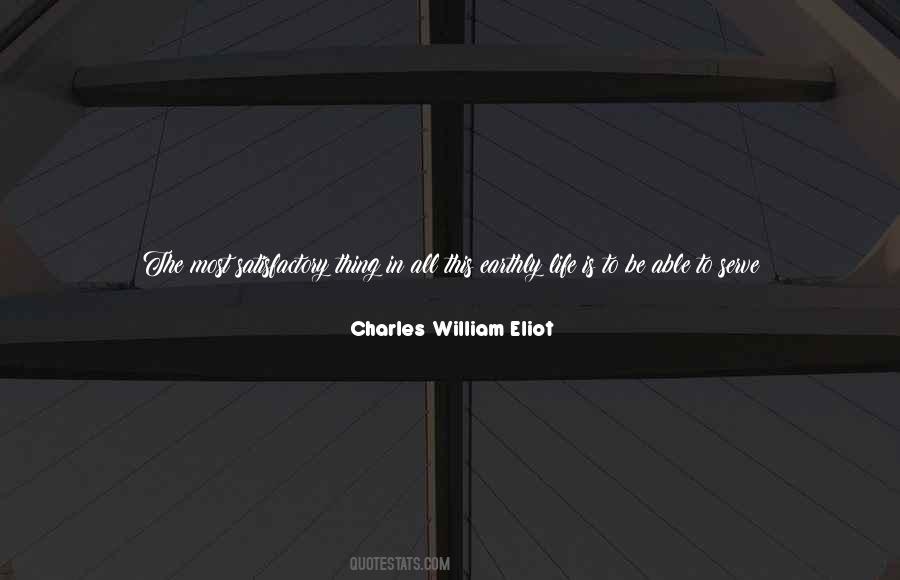 #4. No one is useless in this world who lightens the burdens of another. - Author: Charles Dickens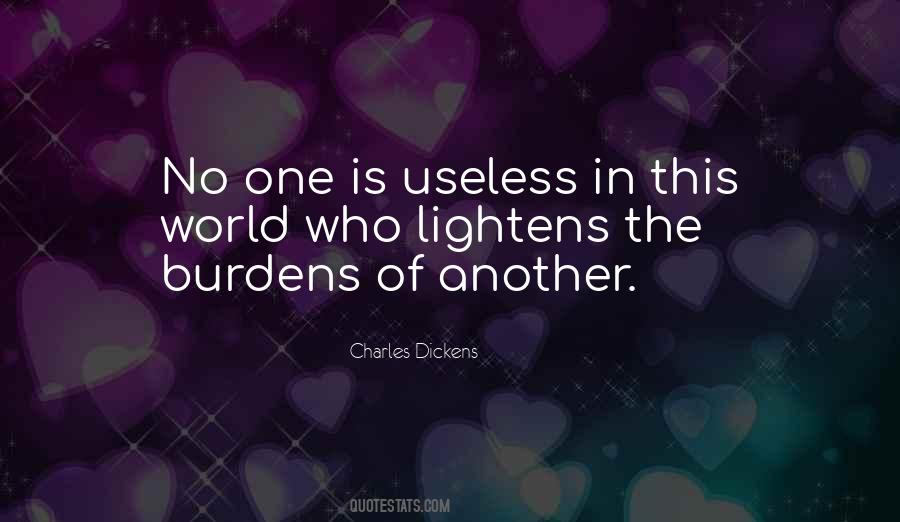 #5. America has the greatest reputation in the world for helping others whenever and wherever disaster strikes. Now, more than ever,it's important for us to contribute to those who are in need. Your assistance is really beneficial and will be greatly welcomed and appreciated. - Author: Bobby Knight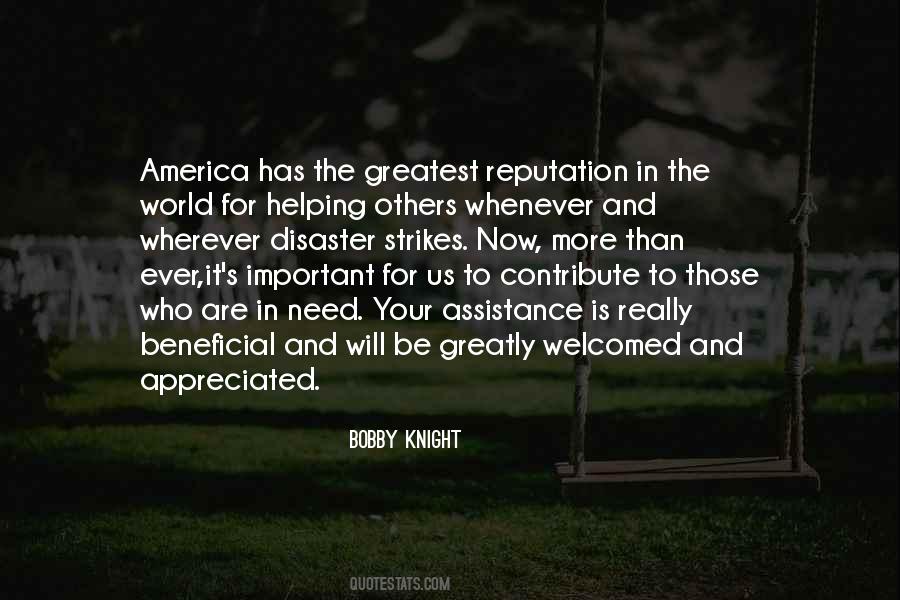 #6. Saw Knight smiling, Kat giggling and Kasha in her own world, not helping her father and sister, but for some reason she was in the middle of the kitchen twirling. There it was again. Knight was a natural at everything he touched. - Author: Kristen Ashley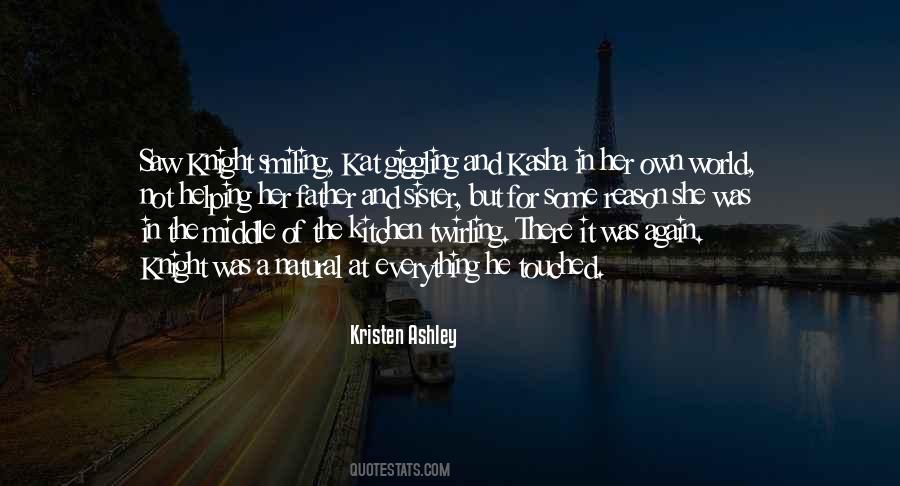 #7. Find something that you are passionate about in making a difference and you'll find a waiting kinship of people willing to unite for the cause. - Author: Wes Adamson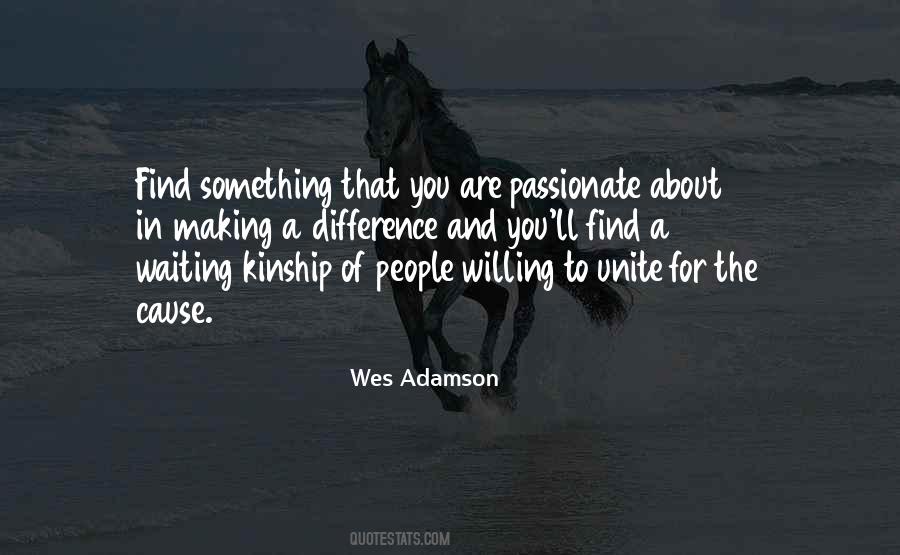 #8. Basically, I see myself as a maker of things who knows how to support other makers of things. At the end of the day, I am just committed to helping put good stories out into the world in whatever role is appropriate and needed for that particular project. - Author: Mark Kassen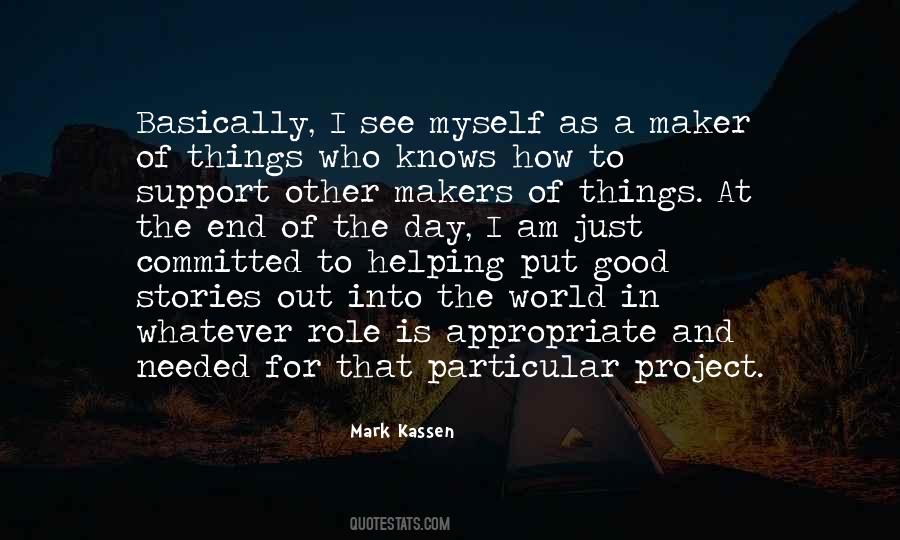 #9. We can help others in the world more by making the most of yourself than in any other way. - Author: Earl Nightingale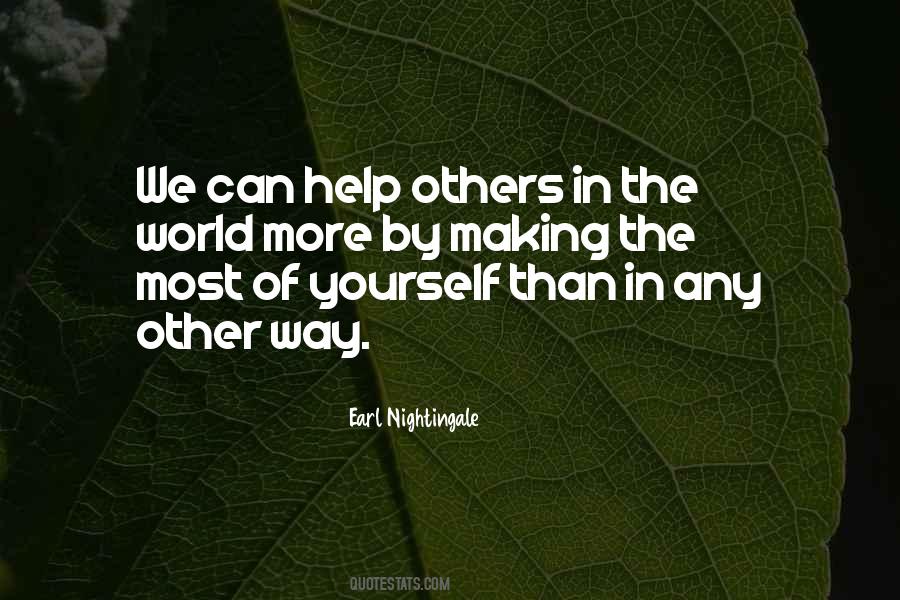 #10. Scientists are doing an awful lot of damage to the world in the name of helping it. I don't mind attacking my own fraternity because I am ashamed of it. - Author: Kary Mullis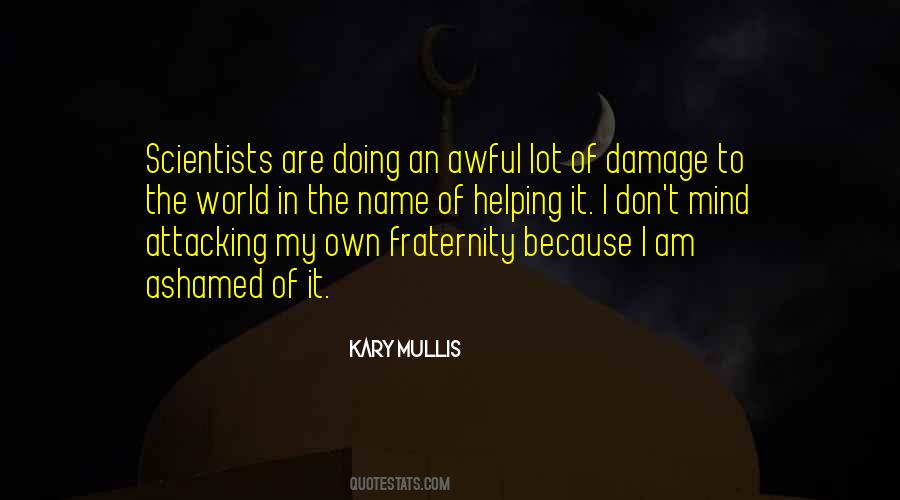 #11. The church is not to be judged by how useful we are as a "supportive institution" and our clergy as members of a "helping profession". The church has its own reason for being, hid within its own mandate and not found in the world. We are not chartered by the Emperor. - Author: Stanley Hauerwas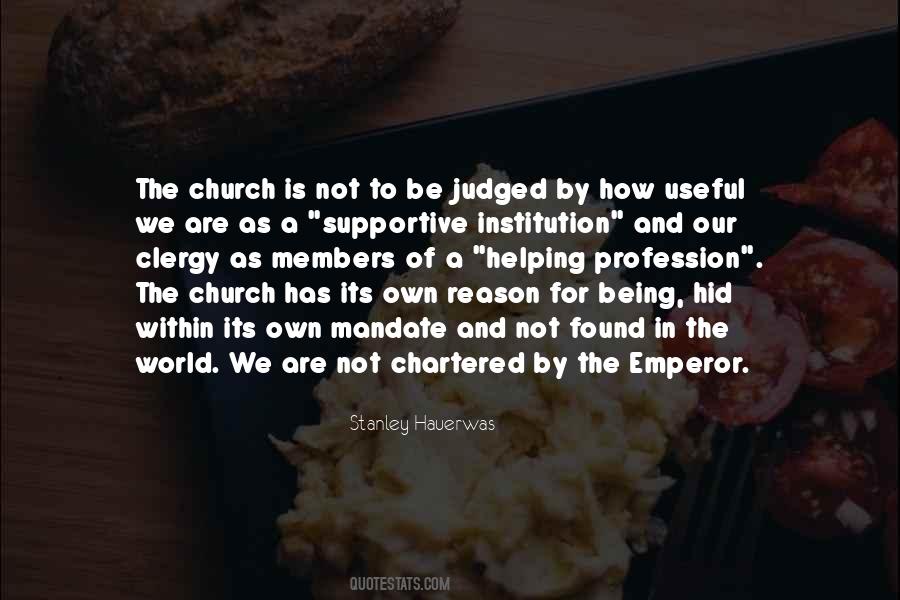 #12. We come to realize that other people's welfare is just as important as our own. In helping them, we help ourselves. In helping ourselves, we help the world. - Author: Pema Chodron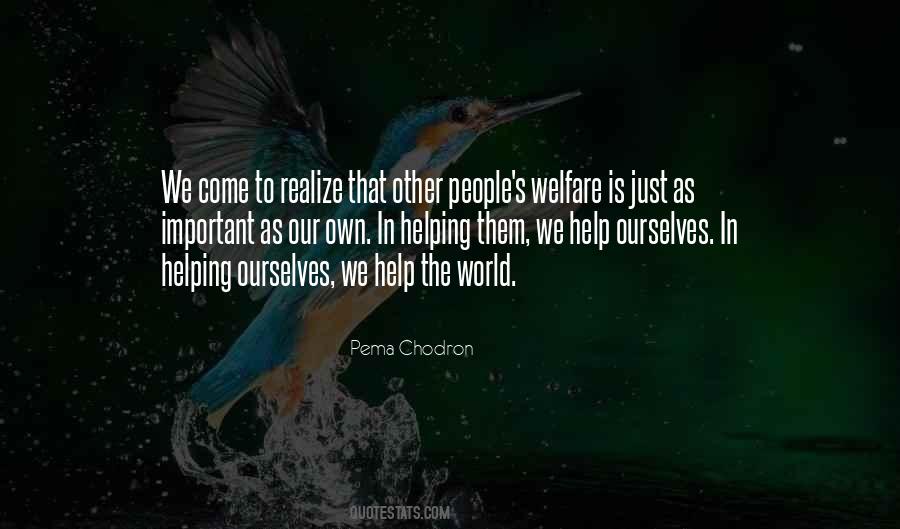 #13. Lift up your eyes and see the good in the world, for we are people with an amazing capacity to do great good. And if only the minority choose to exercise this capacity to the smallest degree, oh how wondrous and sweet the deeds performed at but a few hands! - Author: Richelle E. Goodrich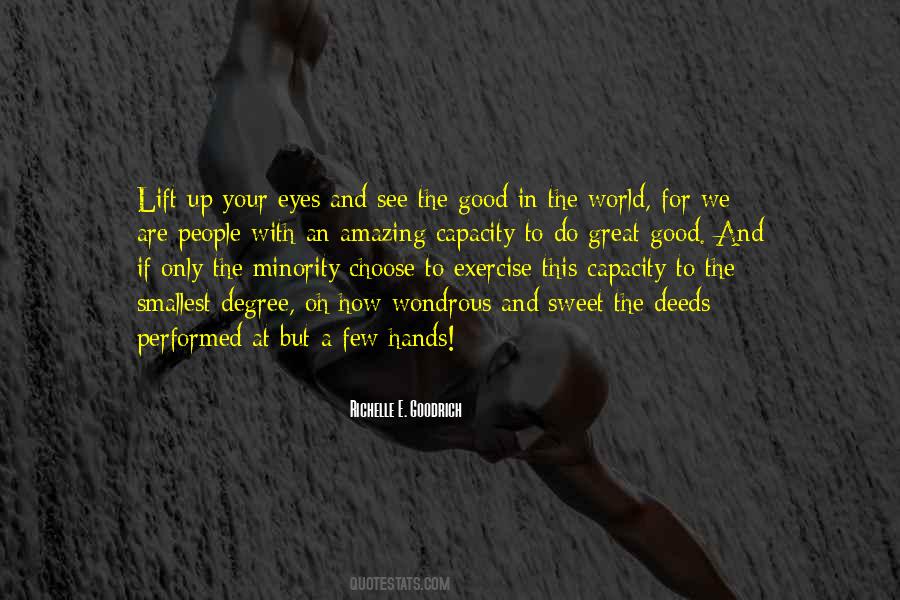 #14. CoverGirl's Girls CAN movement is perfectly aligned with my passion for helping young women overcome life's challenges, and my commitment to highlighting girls' successes. I am thrilled to partner with CoverGirl to embark on this exciting journey to improve the lives of girls and women in the world. - Author: Soledad O'Brien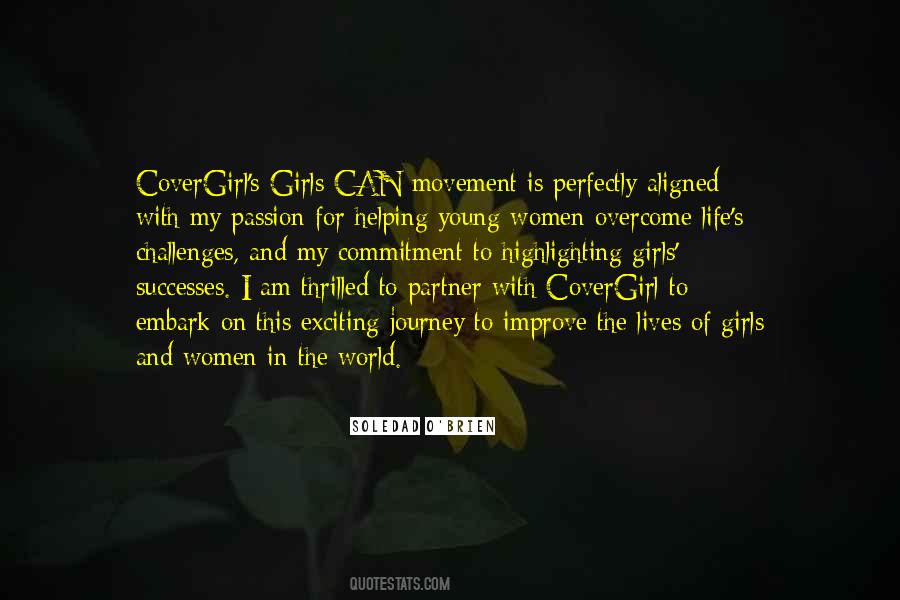 #15. By helping us keep the world in perspective, sleep gives us a chance to refocus on the essence of who we are. And in that place of connection, it is easier for the fears and concerns of the world to drop away. - Author: Arianna Huffington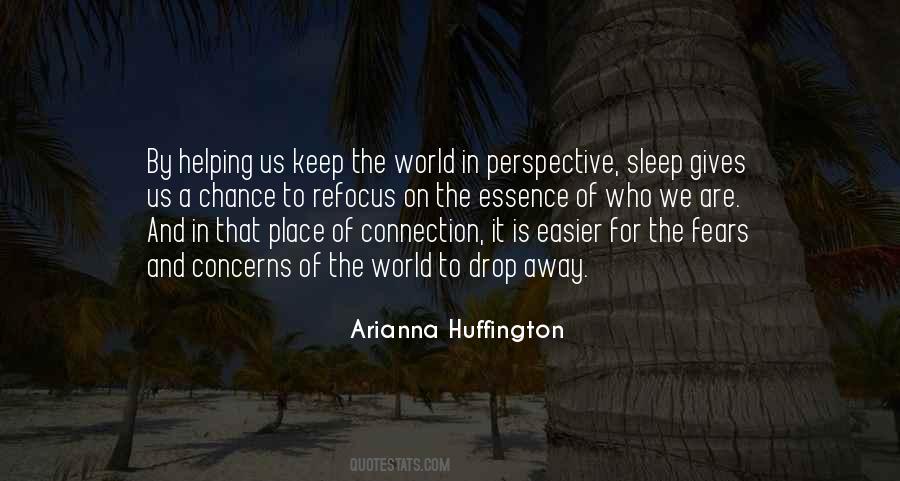 #16. I like fixing things," he said as he worked. "The world is always breaking, here and there, this way and that. Fix a bit of it, and I feel like I'm helping. - Author: Bruce Coville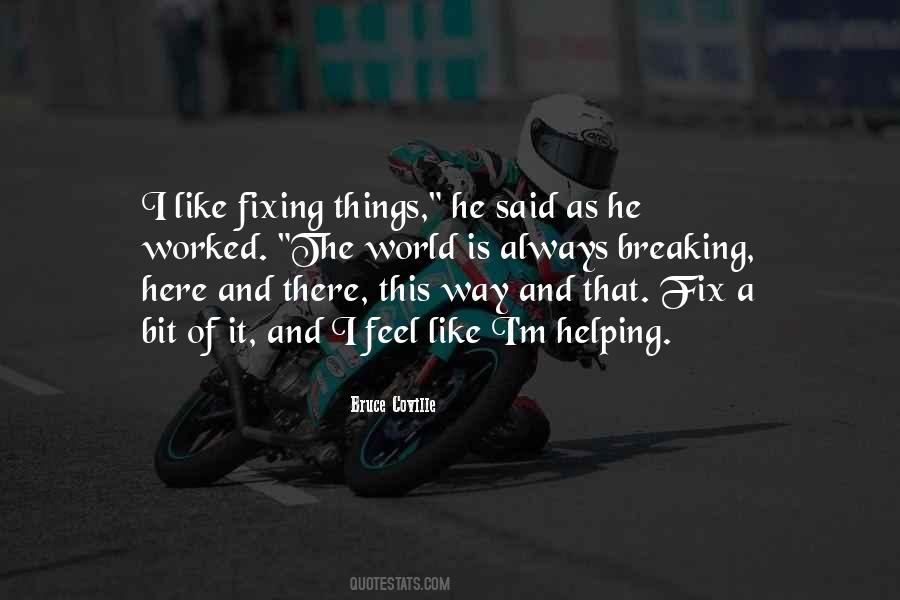 #17. Don't accept the world as it is.
Dream of what the world could be -
and then help make it happen. - Author: Peter Tatchell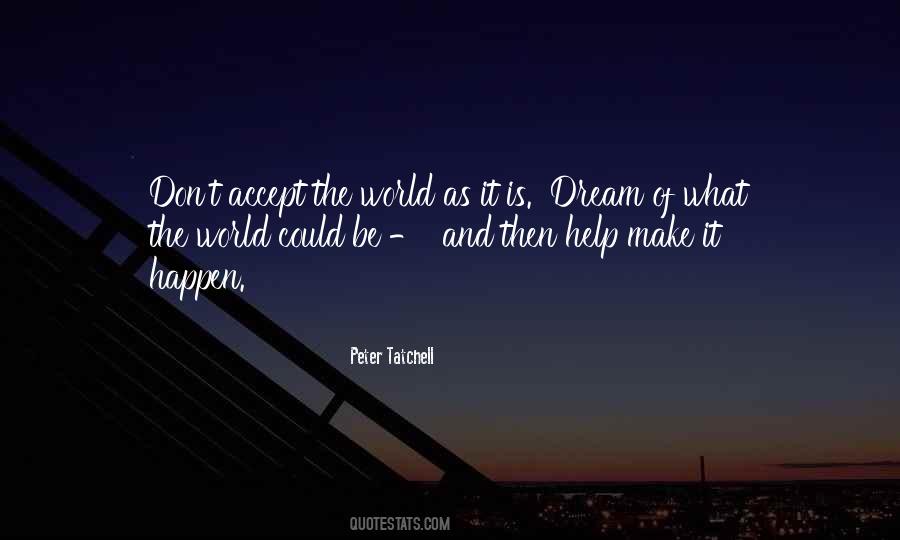 #18. Providing great customer service is the most natural activity in the world. It's fun to help others because it feels good. - Author: Kevin Stirtz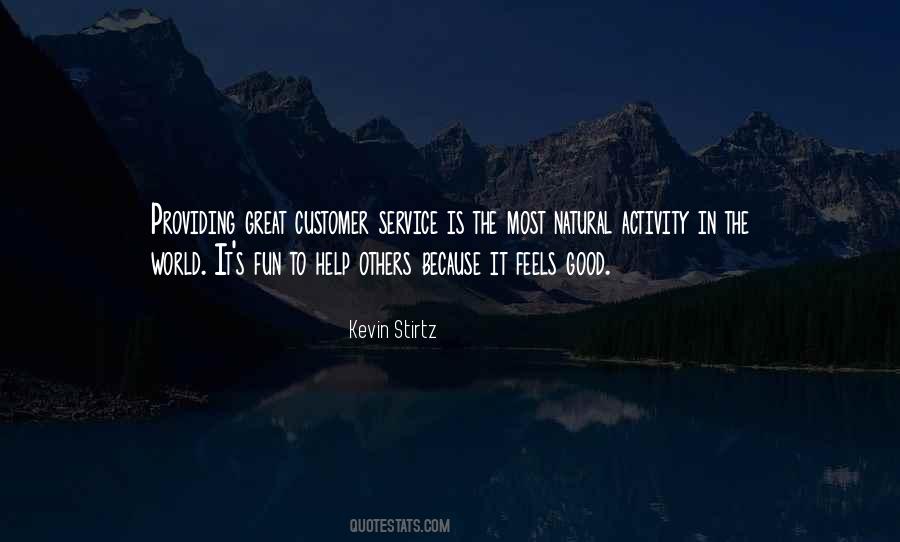 #19. It's all about trying to make the world and the universe a better place. I'm proud to be connected with it. I think we need that in our lives. We need ethical, heroic people trying to do the right thing to help others and to improve life on this planet and in the universe. - Author: Leonard Nimoy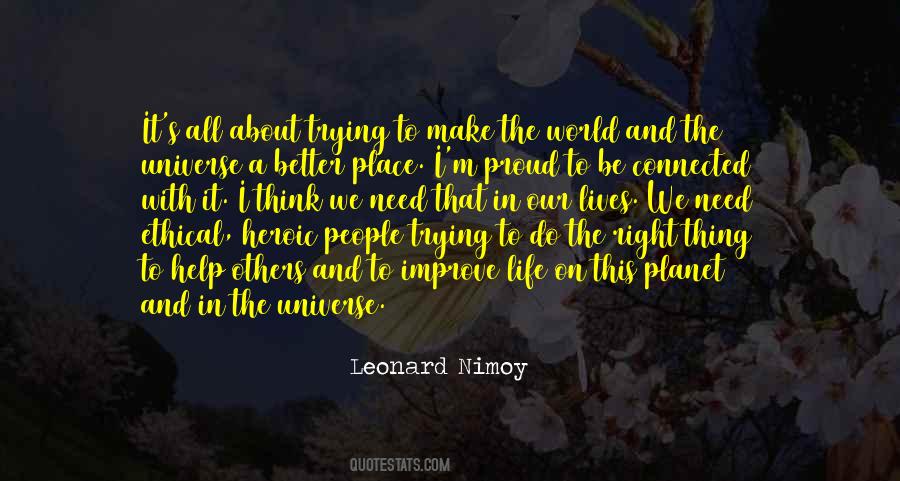 #20. If people in the Arab world knew what was happening in this place, the hatred against the U.S. would be heavily watered, and the accusation that the U.S. is helping and working together with dictators in our countries would be cemented. - Author: Mohamedou Ould Slahi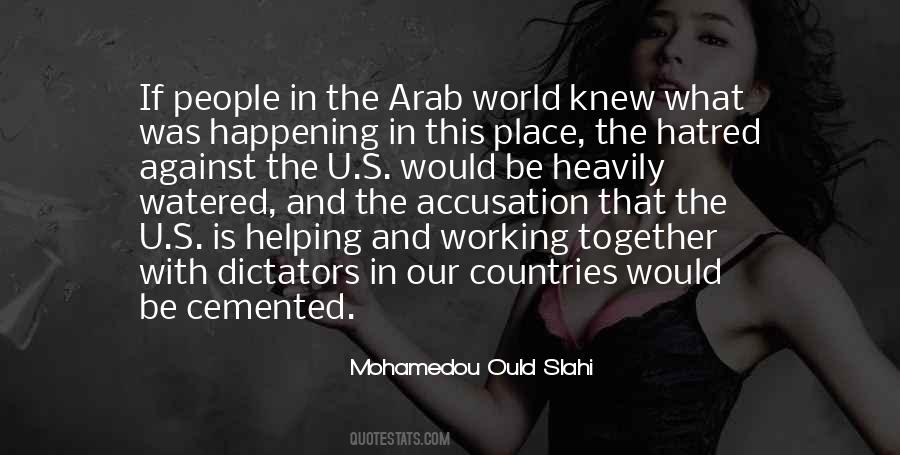 #21. The Peace Panda Says: Change Ourselves First And Then We Can Start Helping To Change The World! - Author: Timothy Pina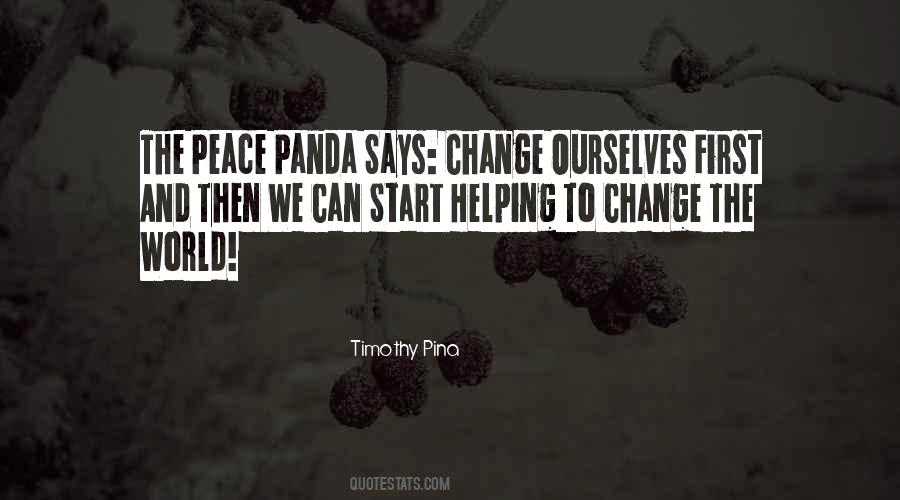 #22. while there's a lot that I don't know about the world, I do know that kids have a funny way of helping you keep things in perspective. - Author: Nicholas Sparks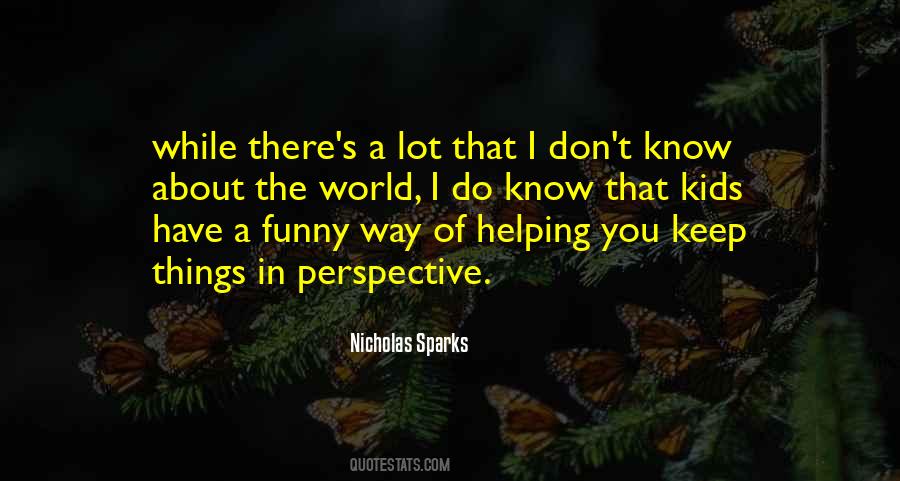 #23. I'm very involved in my business and with my family and my friends. I don't play the social world very much, and not to promote my product. I do it for the philanthropic problems because there I feel that I'm making a difference, and that I'm helping. So I do it in a soulful way. - Author: Donna Karan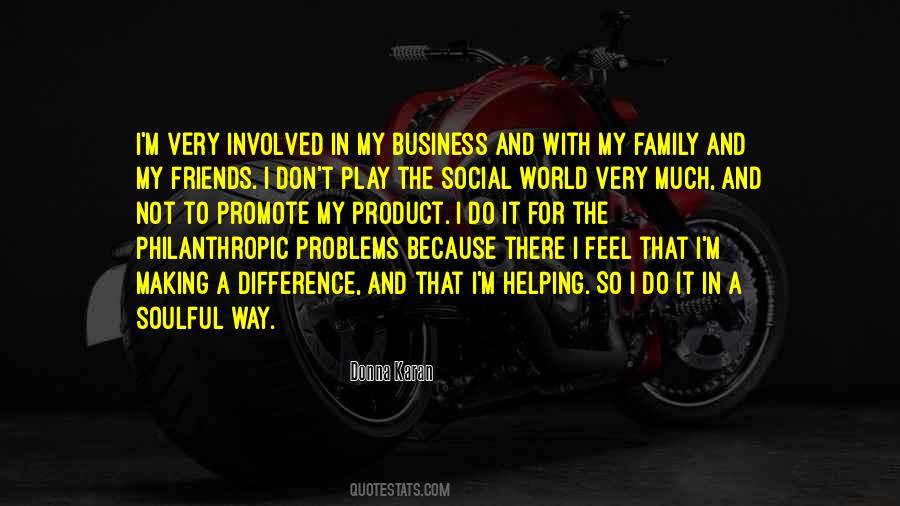 #24. Microwork gives marginalized people a chance to earn a living by playing a vital role in the business processes of big companies. In parallel, the organization assists local entrepreneurs in running microwork centers, helping to grow a new pool of business talent across the developing world. - Author: Leila Janah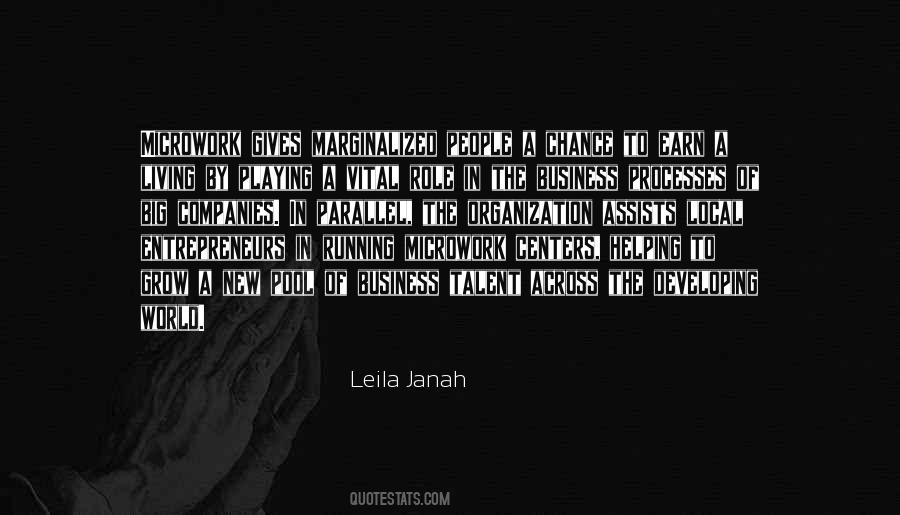 #25. How dare you talk of helping the world? God alone can do that. First you must be made free from all sense of self; then the Divine Mother will give you a task to do. - Author: Ramakrishna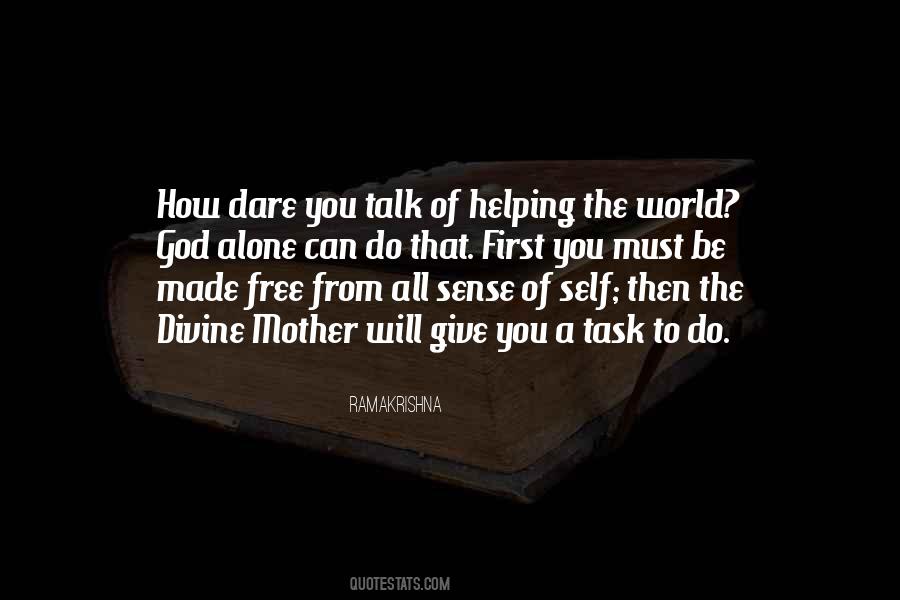 #26. I think we - the way to stop anything violent or anything wrong is by really just paying attention to your own circle. You only can help the world by helping the people next to you. - Author: Schoolboy Q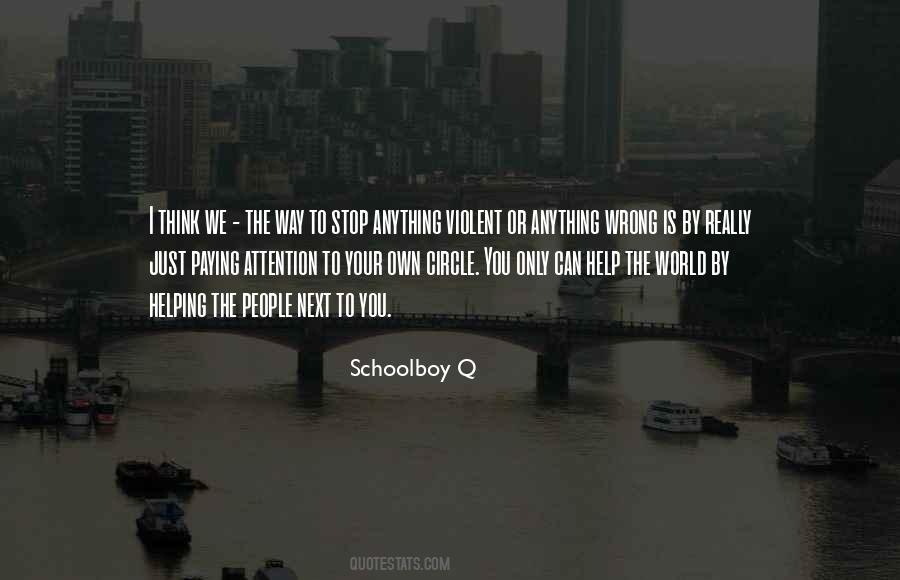 #27. In my view, helping to feed a hungry world is Australia's greatest responsibility and opportunity in the 21st century. - Author: Anthony Pratt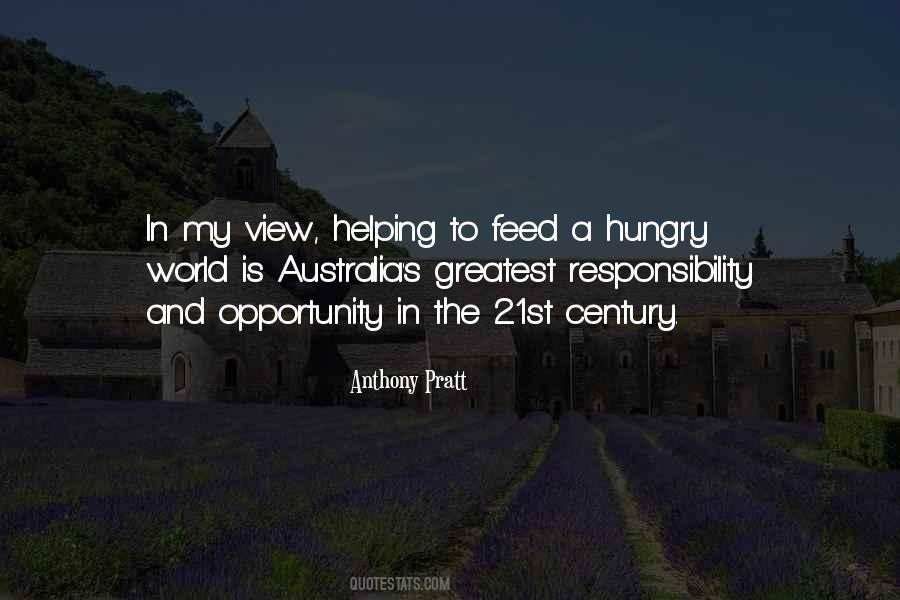 #28. Be patient with the negative people of the world. Take a moment to think how they are helping you clarify your own thinking and firming your own resolve. Then, headslap them out of your way. - Author: Deacon Jones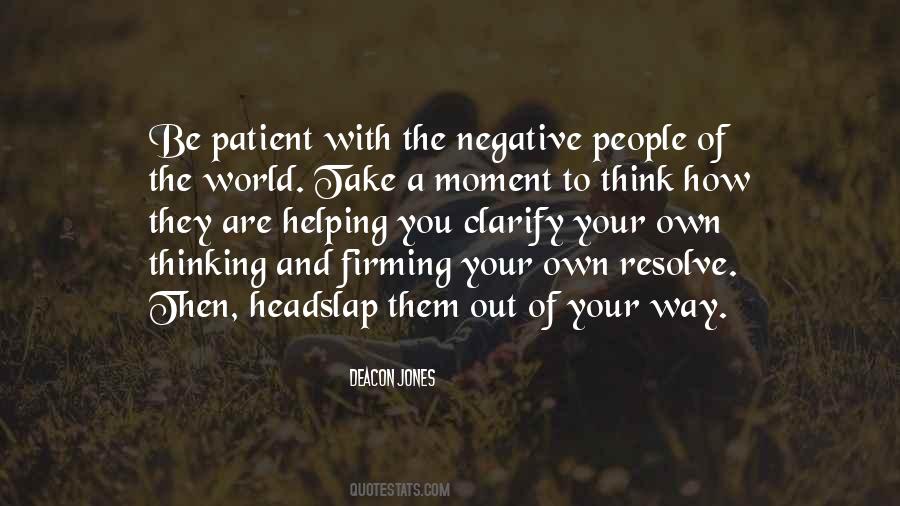 #29. The truth is that if we are consumed with finding ways to help others, there will be little room left in our minds or our hearts for self-pity, self-loathing or unhappiness with the world in which we live. - Author: David S. Baxter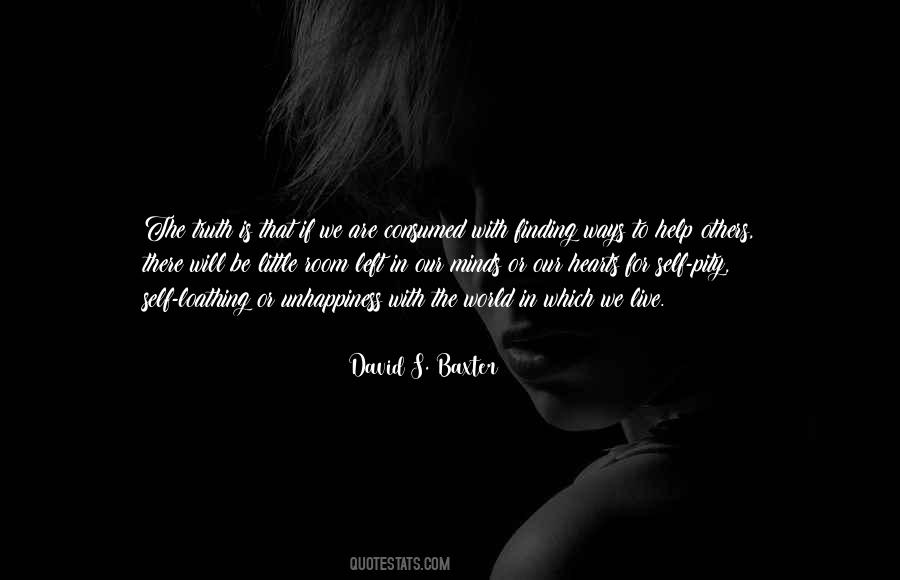 #30. Wherever you turn, you can find someone who needs you. Even if it is a little thing, do something for which there is no pay but the privilege of doing it. Remember, you don't live in a world all of your own. - Author: Albert Schweitzer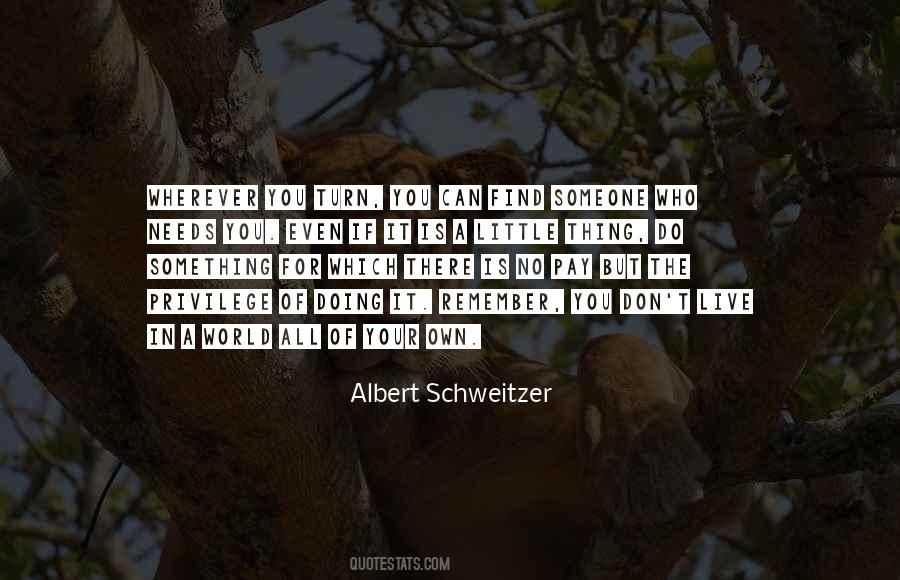 #31. The work of your heart, the work of taking time, to listen, to help, is also your gift to the whole of the world - Author: Jack Kornfield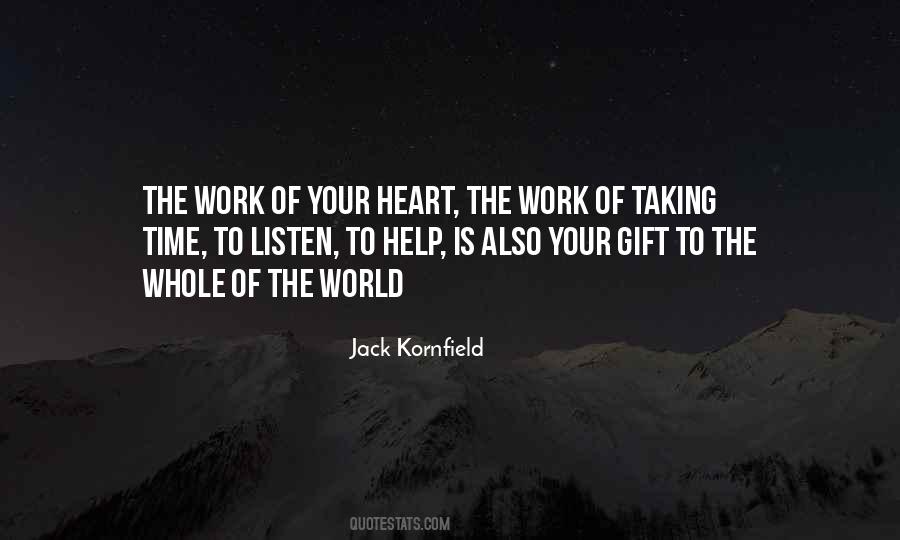 #32. I don't think in terms of that bizarre tautology 'value for money' in my literary and journalistic work - and nor will I in my academic role. However, if I don't believe I'm helping my students towards a fuller and more empowering relationship with the world, then I'll resign. - Author: Will Self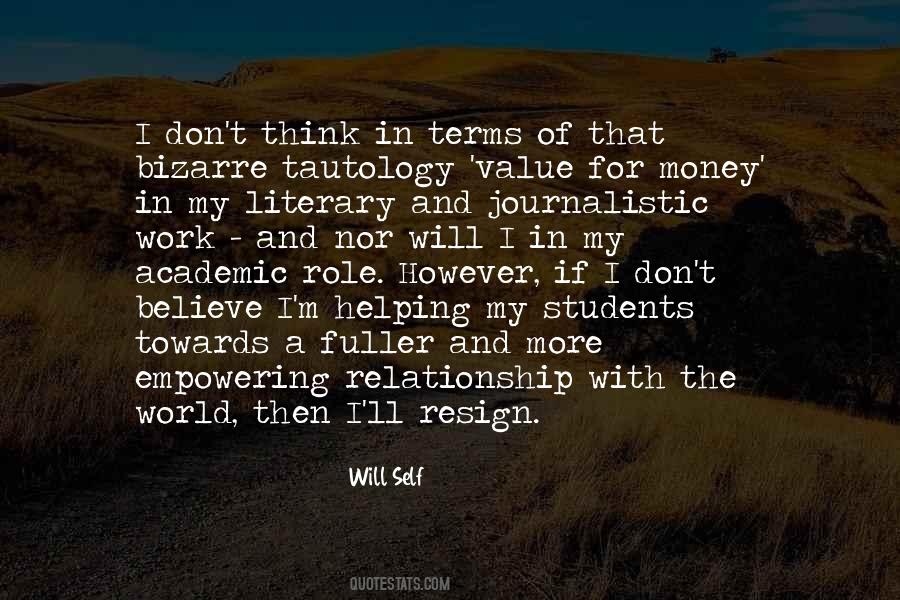 #33. Heal the world! Stop the hate. Lend a helping hand to those in need. - Author: Michael Jackson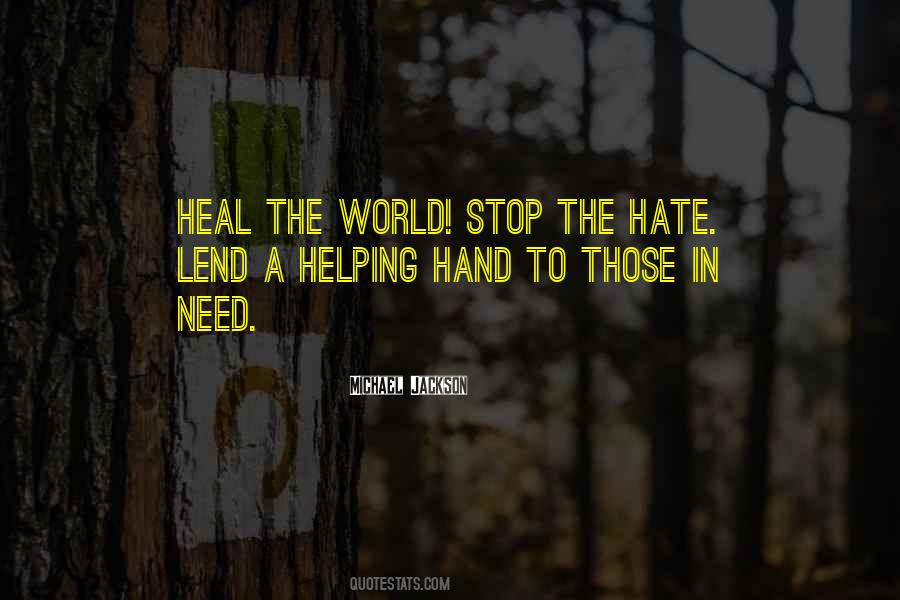 #34. If I could do anything in my life and be remembered for anything, I would like to be remembered for helping the world see the value of physical engagement with ideas. - Author: Margaret Wertheim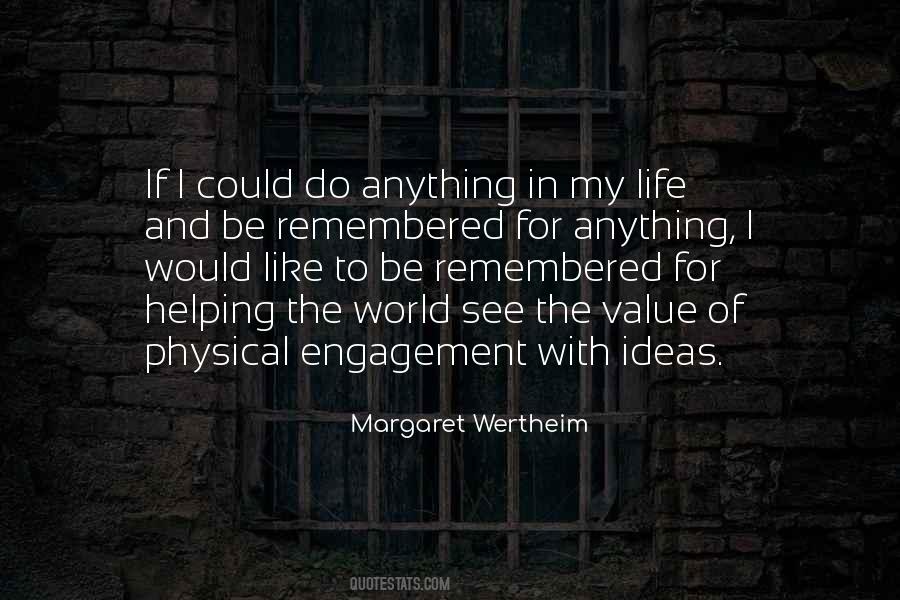 #35. The Bush Administration's failure to be consistently involved in helping Israel achieve peace with the Palestinians has been both wrong for our friendship with Israel, as well as badly damaging to our standing in the Arab world. - Author: Barack Obama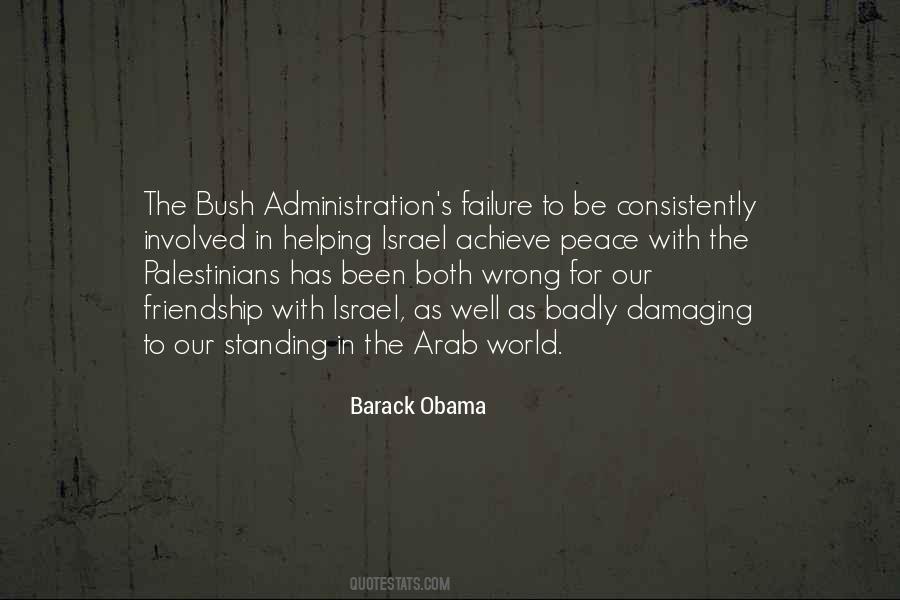 #36. Are you comfortable? That's good. But there is somewhere at least someone is uncomfortable! And this should somehow make you uncomfortable too! The world can be a better place only through this way, through thinking others! - Author: Mehmet Murat Ildan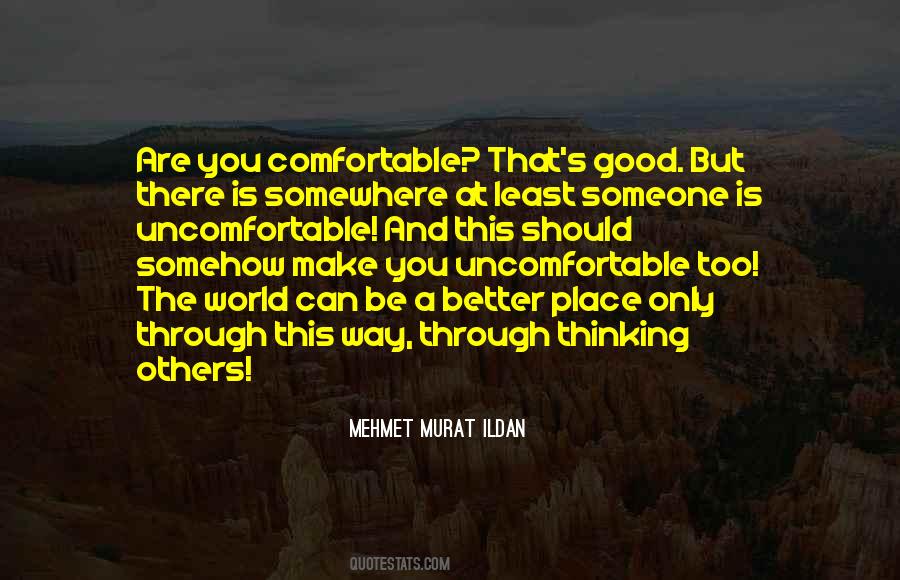 #37. If you want something bad enough the whole world conspires to help you get it. - Author: Madonna Ciccone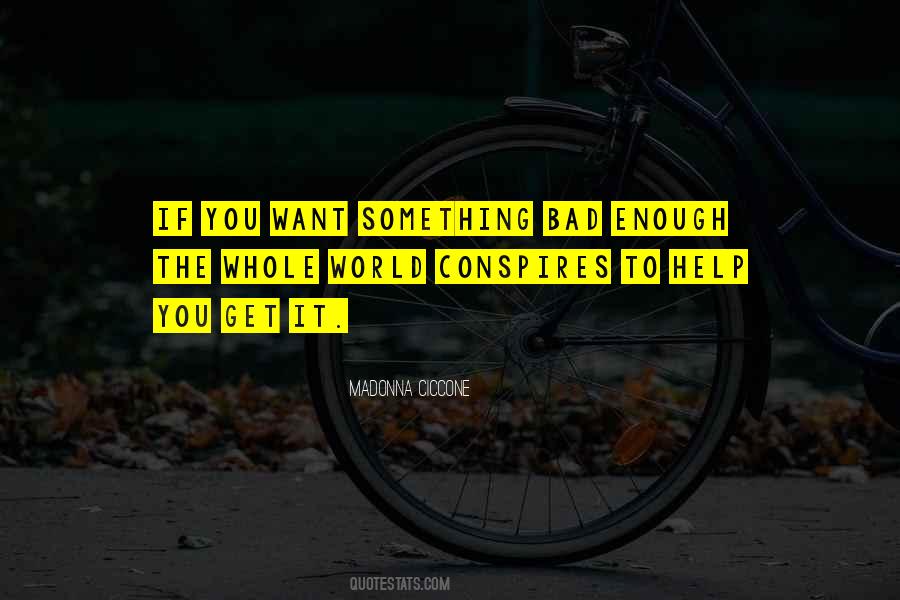 #38. Cutting food waste is a delicious way of saving money, helping to feed the world and protect the planet. - Author: Tristram Stuart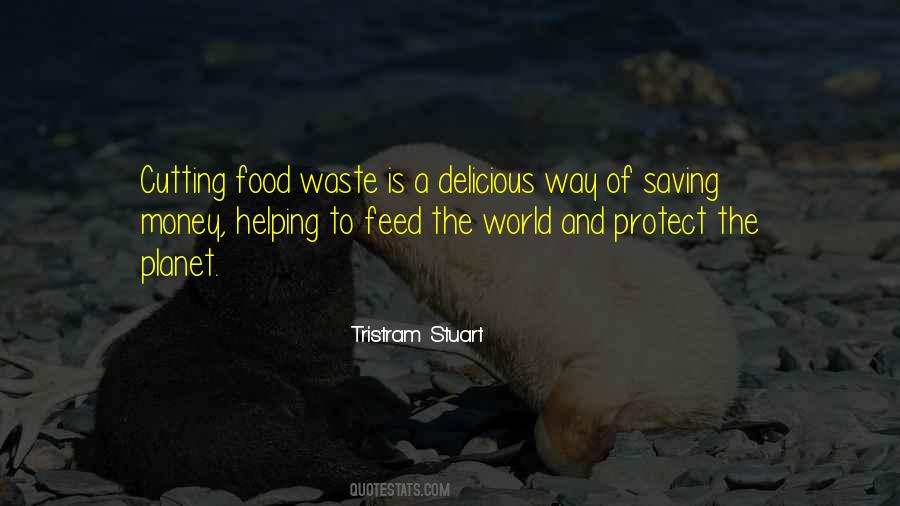 #39. I think the United States and its British attack dog are not taken seriously anywhere in the world and can play no role in helping a political solution. - Author: Tariq Ali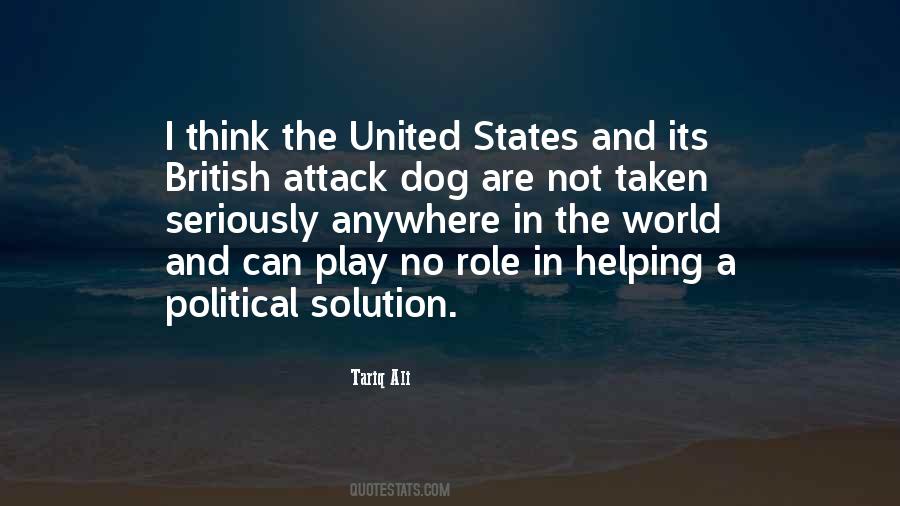 #40. The American patriots of today continue the tradition of the long line of patriots before them, by helping to promote liberty and freedom around the world. - Author: John Linder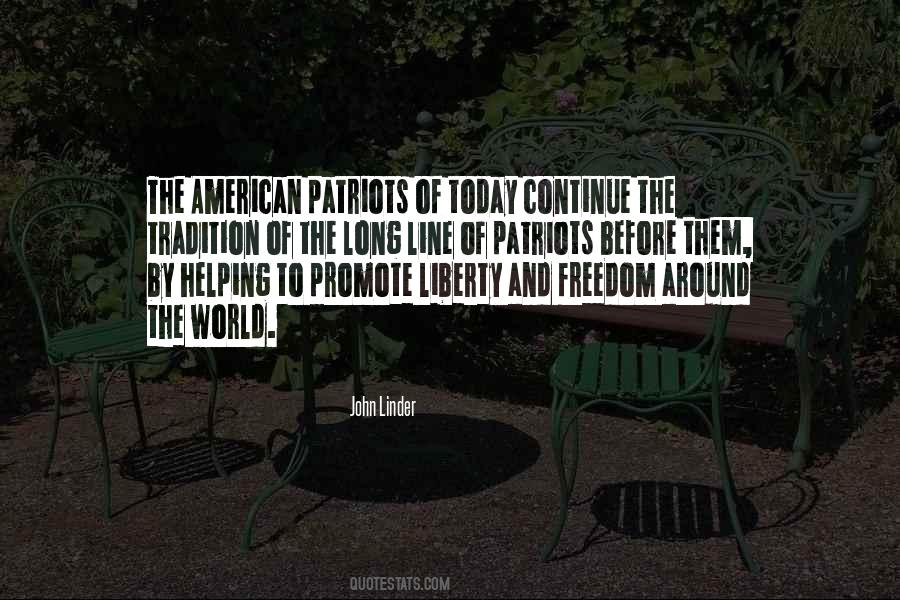 #41. ... helping each other to have a true gaze on reality, on the circumstances we are living in, is the first gesture of friendship we can offer each other for living like human beings in the presence of the needs of the world. - Author: Julian Carron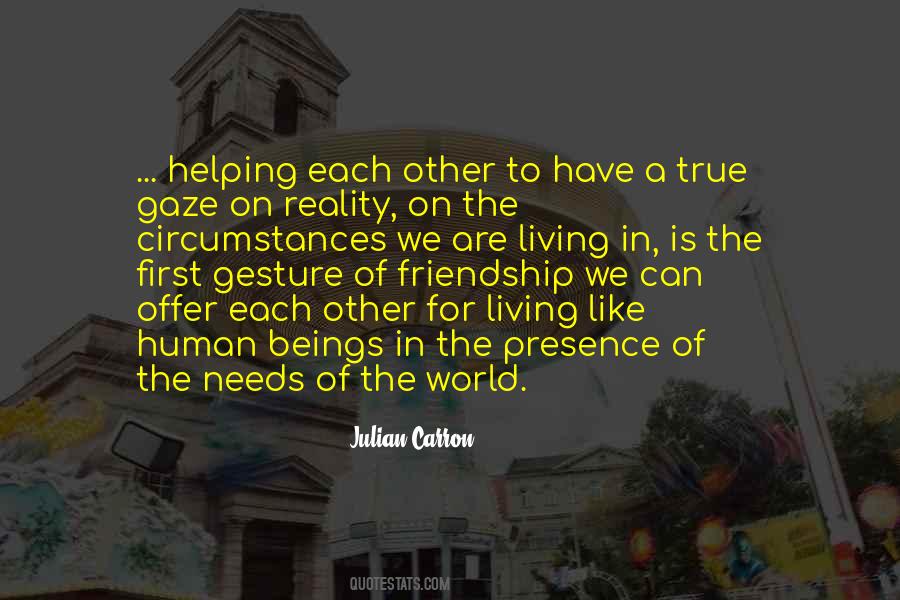 #42. No matter how you try to make the world a better place, the first step always starts with helping each other. - Author: Magith Noohukhan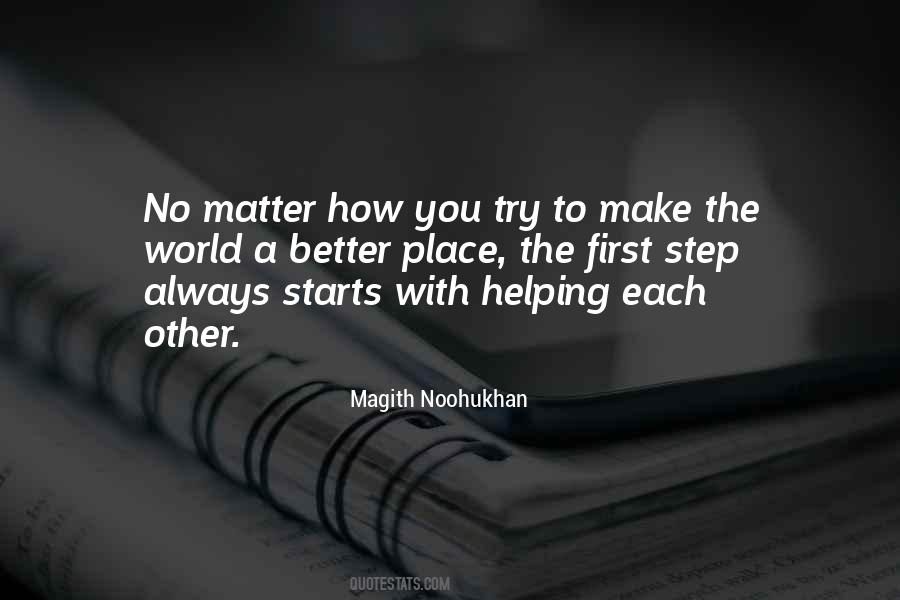 #43. The Church must be one because a fragmented church is not much help to a fragmented world. - Author: Justo L. Gonzalez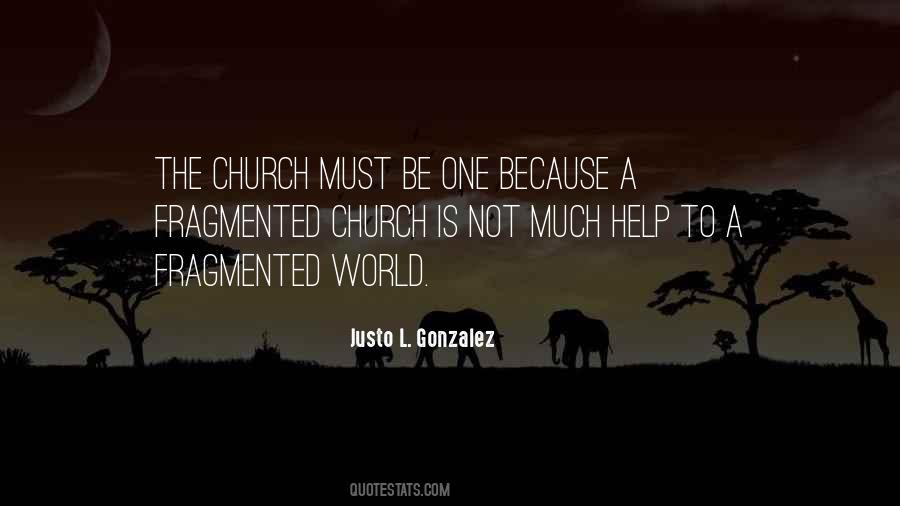 #44. I believe that through music we can help heal the world. - Author: Michael Jackson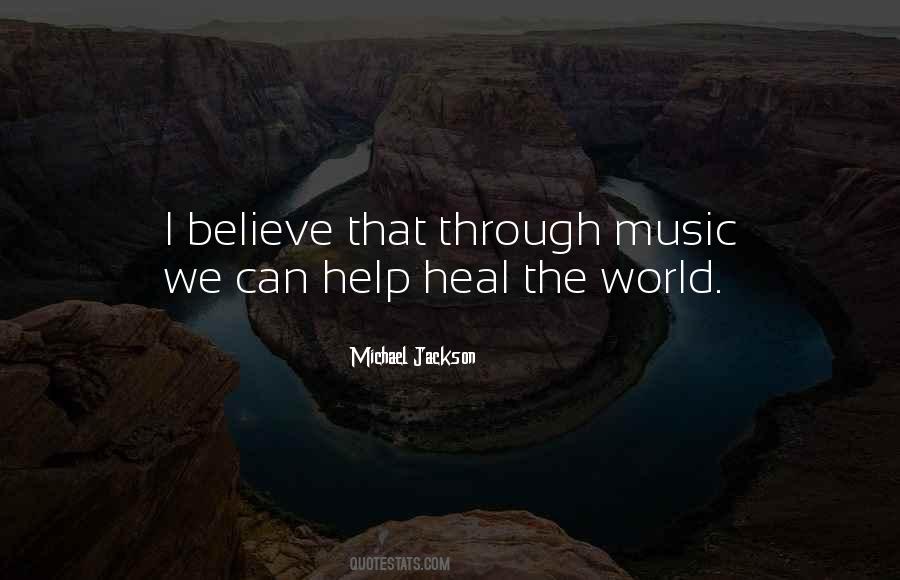 #45. Food is strength, and food is peace, and food is freedom, and food is a helping hand to people around the world whose good will and friendship we want. - Author: John F. Kennedy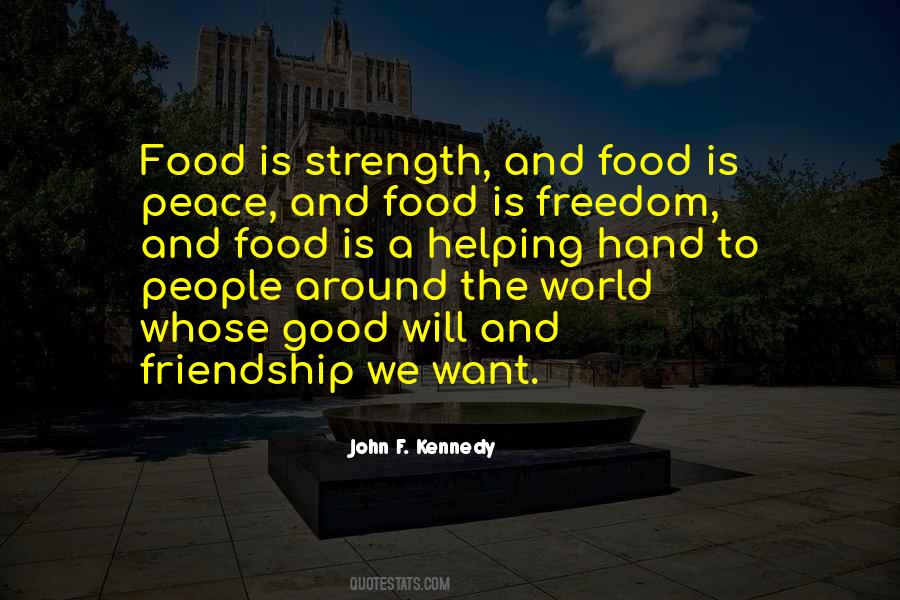 #46. Literature has the ability to open up a whole new world to children, but we need to have a share in helping them to find that door and open it with them. Let's set the example and help to foster this love of reading in our little ones. - Author: Carmela Dutra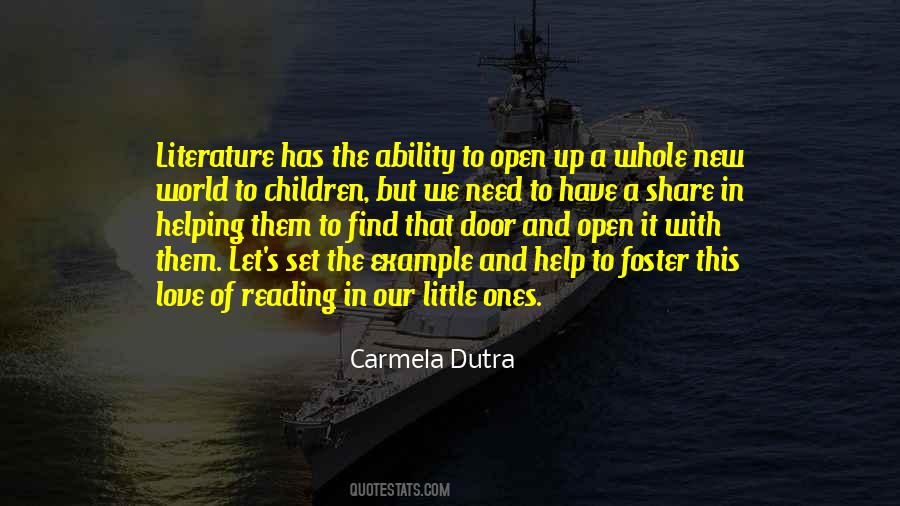 #47. One of the proudest things of my three years in office is helping to restore a sense of respect for America around the world ... - Author: Barack Obama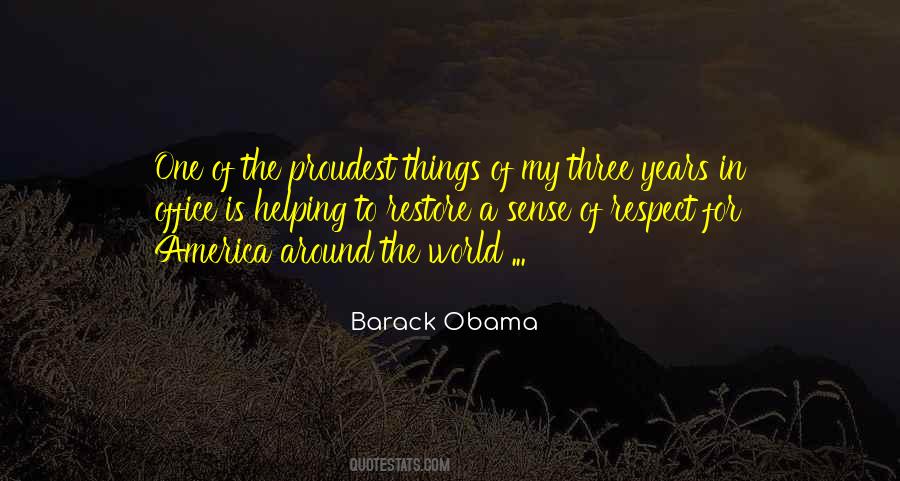 #48. Every time we hold our tongues instead of returning the sharp retort, show patience with another's faults, show a little more love and kindness, we are helping to stock-pile more of these peace-bringing qualities in the world instead of armaments for war. - Author: Connie Foster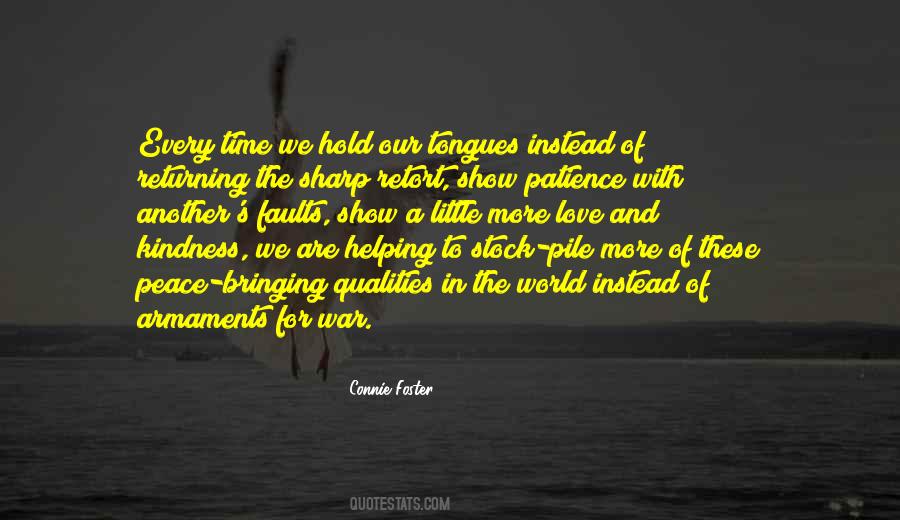 #49. So, take what's inside you and make big, bold choices. And for those who can't speak for themselves, use bold voices. And make friends and love well, bring art to this place. And make this world better for the whole human race. - Author: Jamie Lee Curtis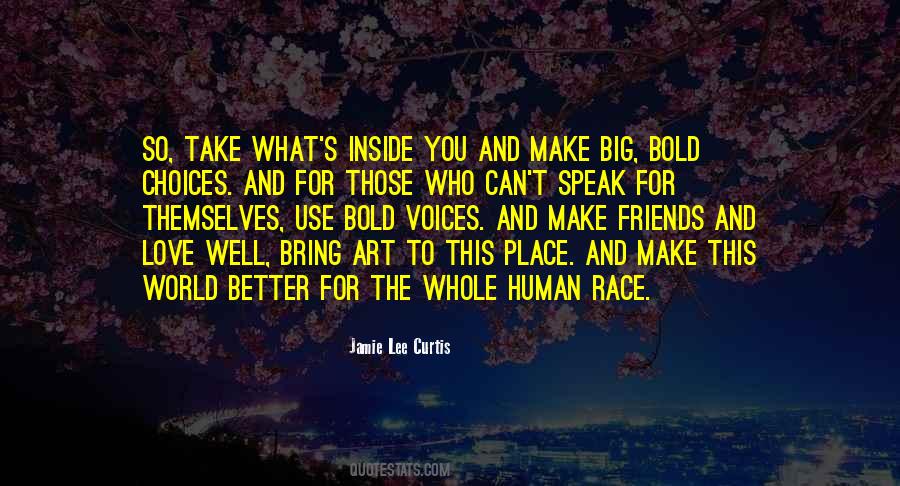 #50. I realized that my truest passion was for helping people change through faith in a higher power. That meant, for me, belonging to the church. Using my abilities to bring Christian doctrine to a postmodern world. - Author: James McGreevey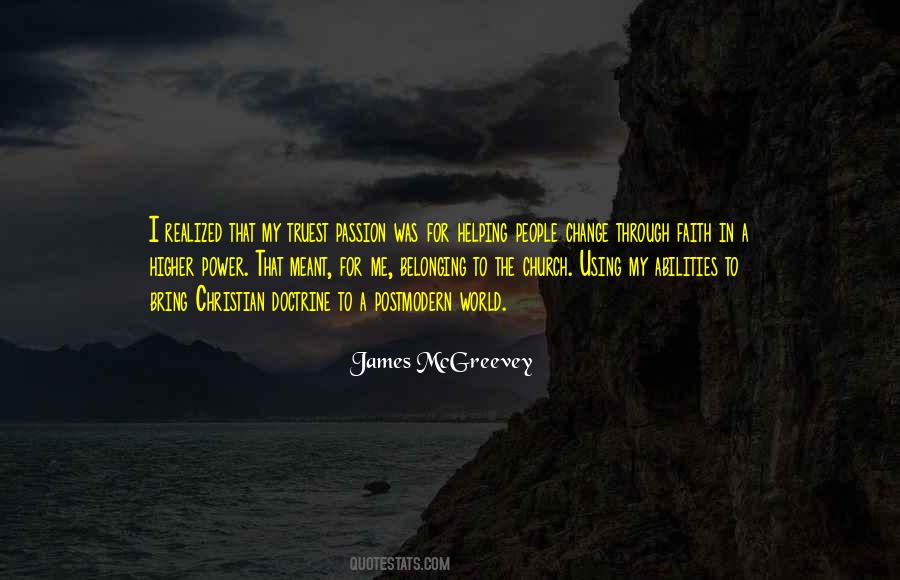 #51. The world is in trouble. Many have prayed. God sent help. God sent you. - Author: Marianne Williamson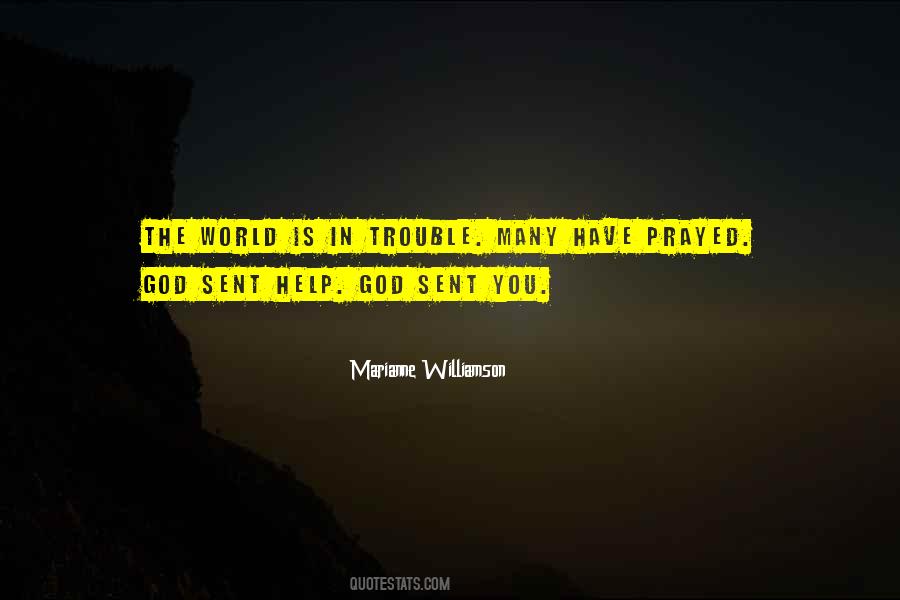 #52. Many of us would like the world to change, but we don't want to endure the trouble of helping make it happen. - Author: Arnold Mindell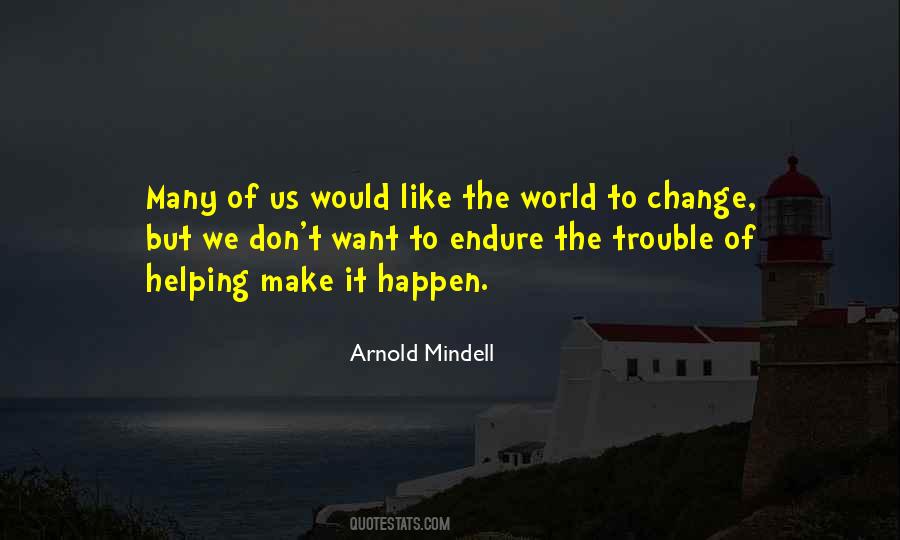 #53. If bloggers are to improve our public discourse - helping busy and usually uninformed people make sense of the world - it is necessary to use some sort of standard with which to judge their reliability. Perhaps the answer (strictly advisory) is a body of their peers. Perhaps not. - Author: Eric Alterman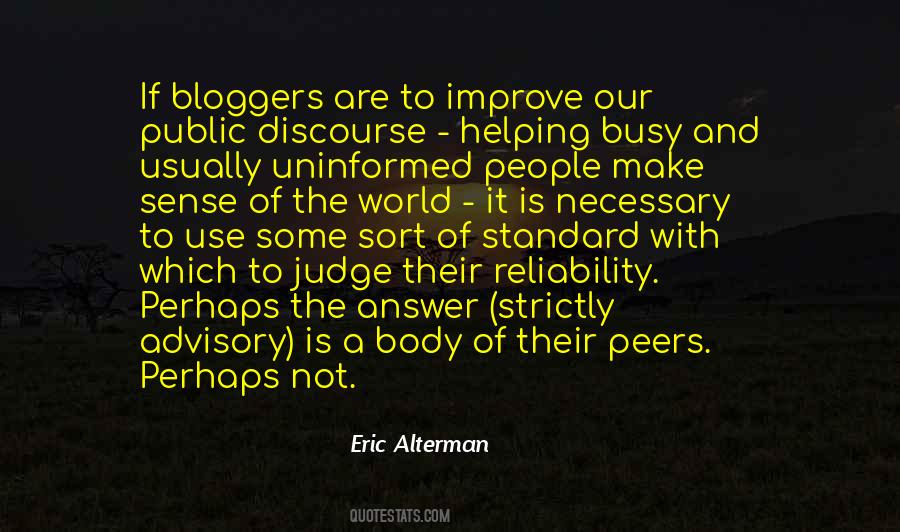 #54. If our hopes of building a better and safer world are to become more than wishful thinking, we will need the engagement of volunteers more than ever. - Author: Kofi Annan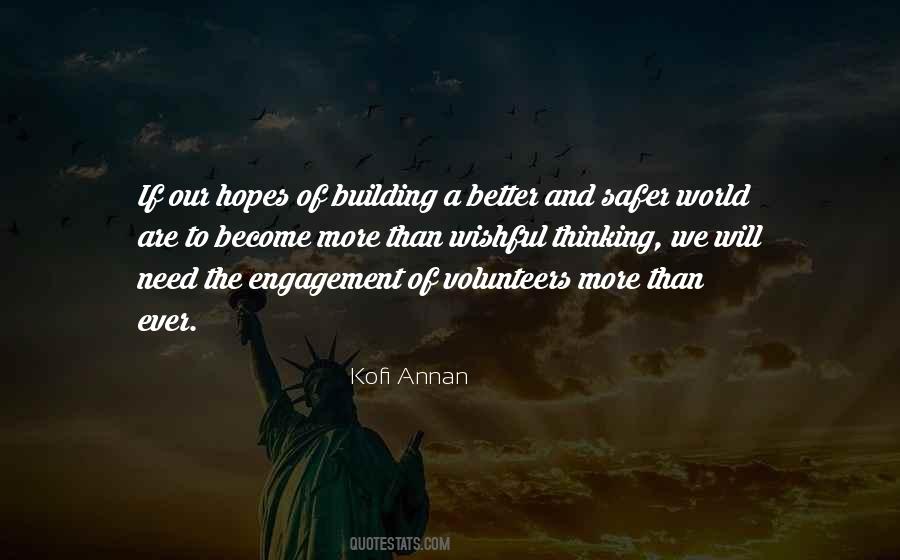 #55. I think as you grow up, you realize you have obligations just in your life - being a citizen, being part of humanity - to help other people, to help your country, to help the world. - Author: George Lucas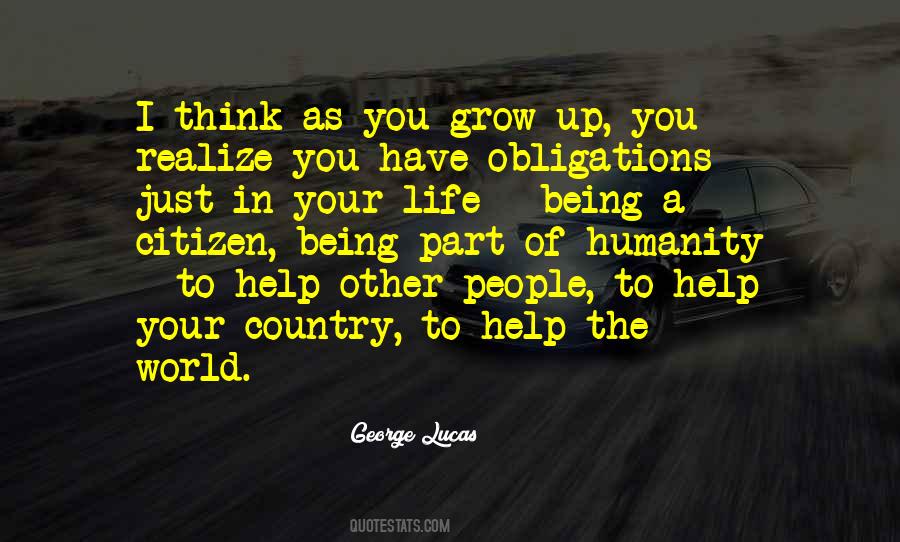 #56. Being dyslexic can actually help in the outside world. I see some things clearer than other people do because I have to simplify things to help me and that has helped others. - Author: Richard Branson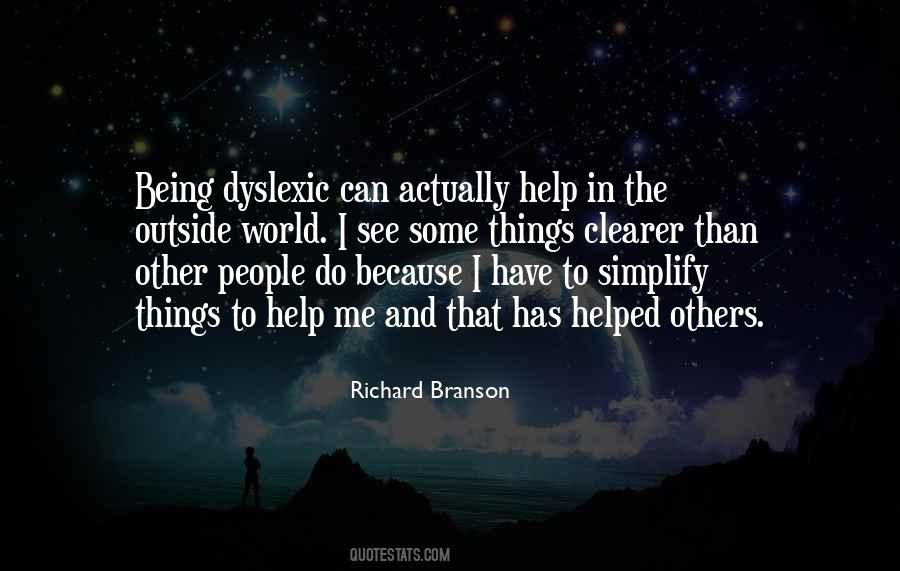 #57. You want to get rich in order that you may surround yourself with beautiful things, see distant lands, feed your mind, and develop your intellect; in order that you may love others and do kind things, and be able to play a good part in helping the world to find truth. - Author: Wallace D. Wattles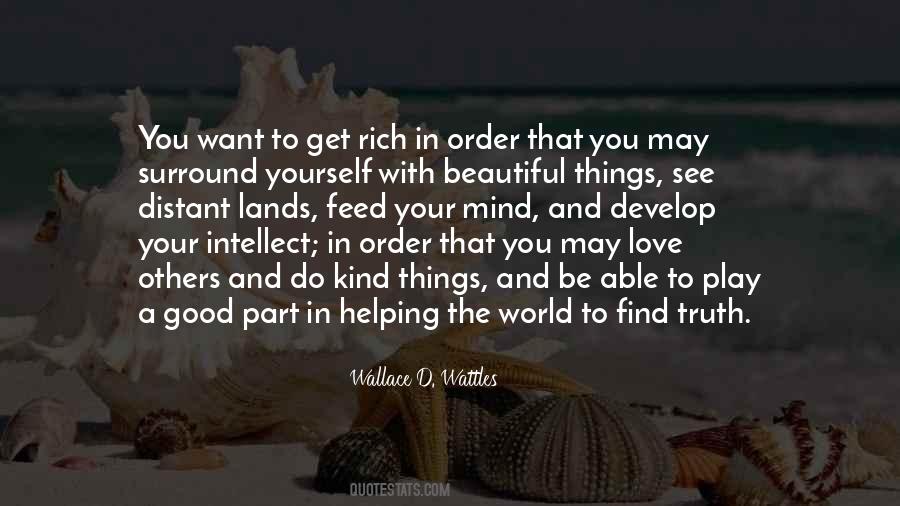 #58. Sam was helping animals long before he was Sam Simon. He lived what he believed; his thing was making the world better and having rights for animals, and every area of his life reflected that. - Author: Justin Baldoni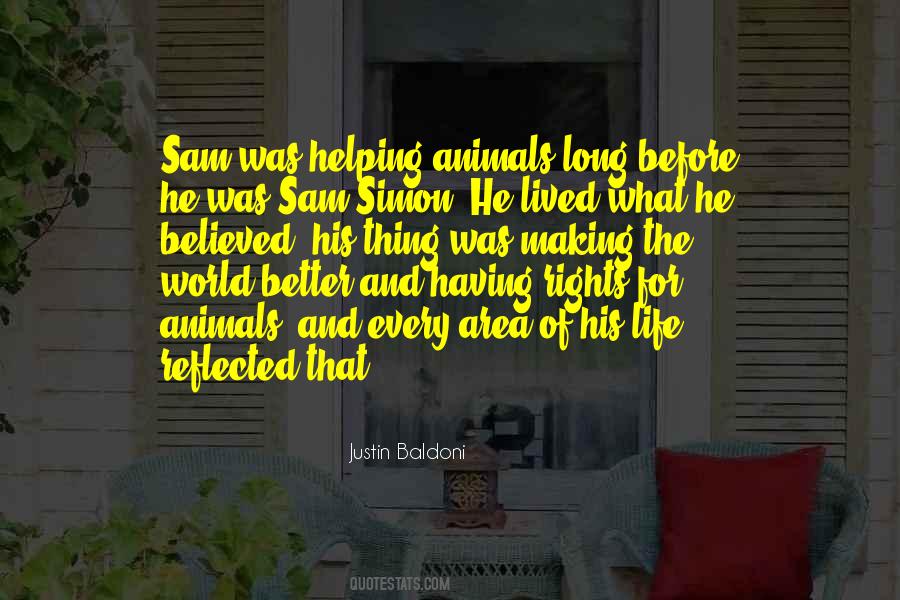 #59. When you want something, all the Universe conspires to helping you achieve it.
The Alchemist, Paulo Coelho
Just ask.. - Author: Victoria Aldridge Washuk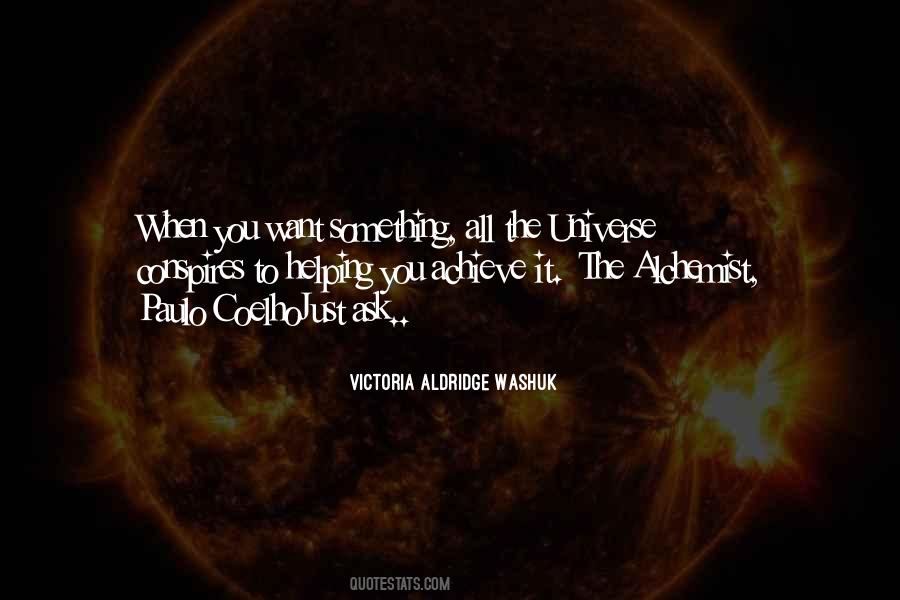 #60. The world has yet to see what God can do with a man fully consecrated to him. By God's help, I aim to be that man. - Author: Dwight L. Moody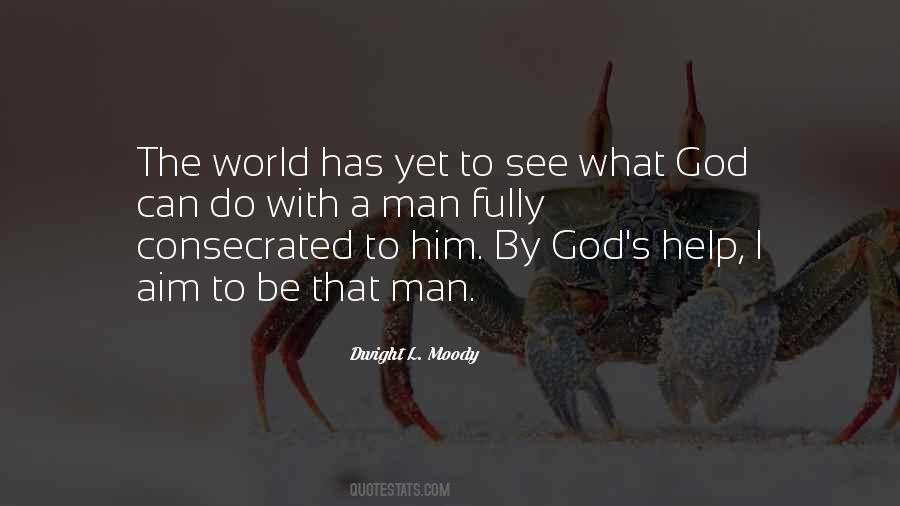 #61. I'm terrified of getting what I'm not deserving of, feeling that I've got something for nothing ... at the expense of brilliant starving writers all over the world. But I have to hope these people who are helping me have integrity. - Author: Nick McDonell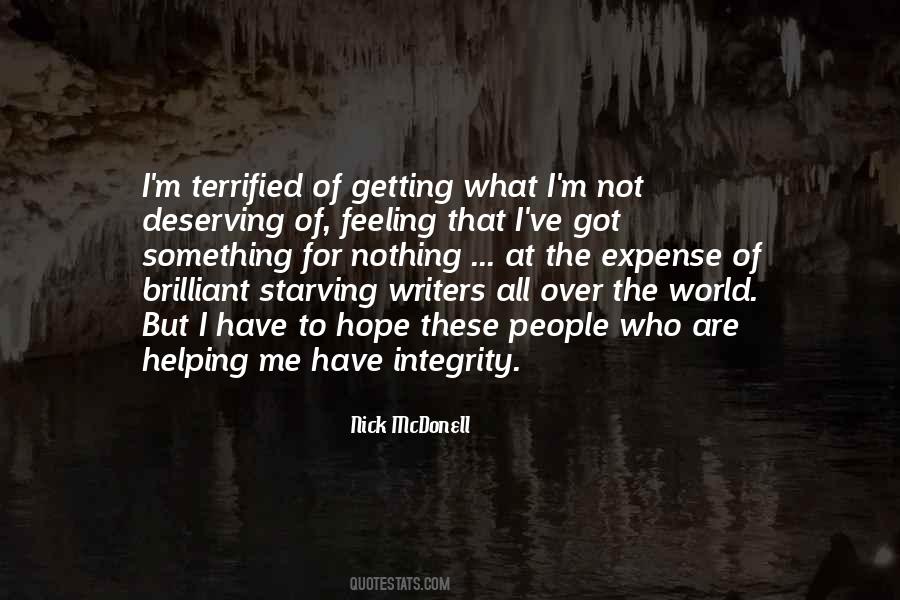 #62. Value work. But not any kind of work. Ask yourself "Is the work vital, strengthening my own character, or inspiring others, or helping the world?". - Author: Anna Robertson Brown Lindsay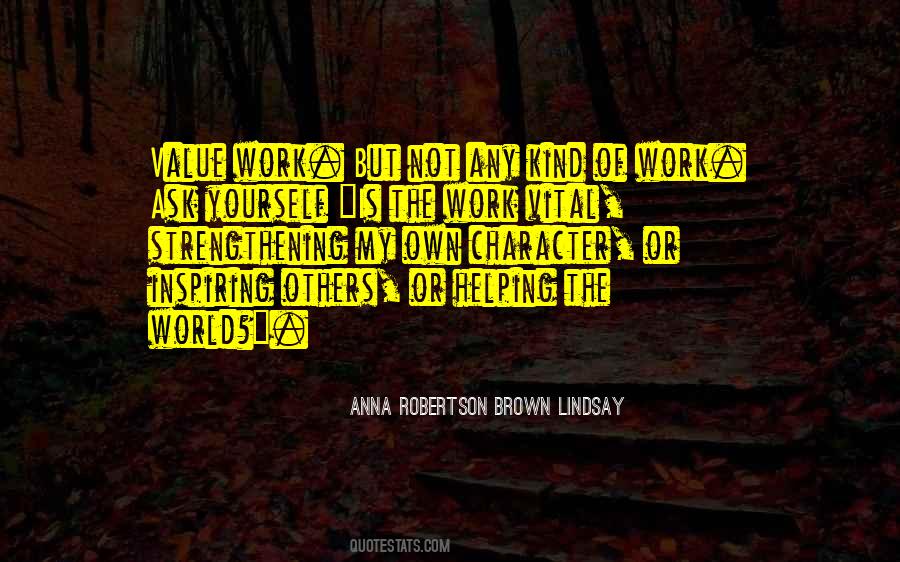 #63. Apologetics is about persuading people that there is a door to another world - a door that perhaps they never realized existed. Evangelism is about helping people to open that door and enter into the new world that lies beyond. - Author: Alister E. McGrath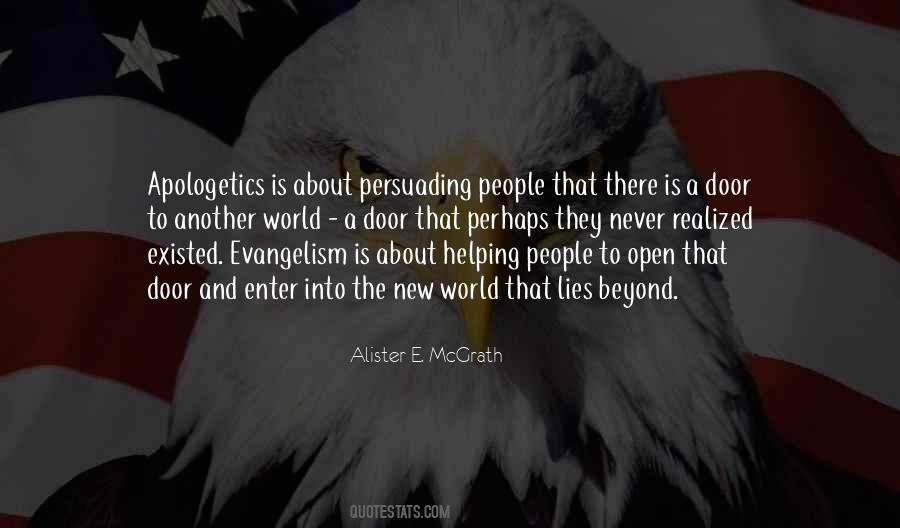 #64. The best way to not feel hopeless is to get up and do something. Don't wait for good things to happen to you. If you go out and make some good things happen, you will fill the world with hope, you will fill yourself with hope. - Author: Barack Obama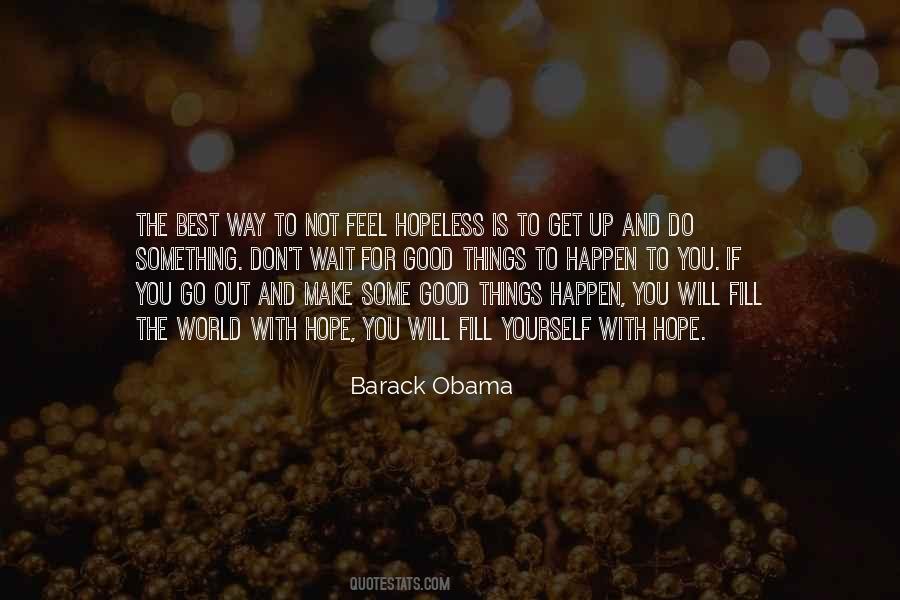 #65. Look, this is helping me out quite a bit, but could you just get to the punishment part? We're at the end of World War Two in history, and I can't wait to find out who wins. - Author: Rob Thomas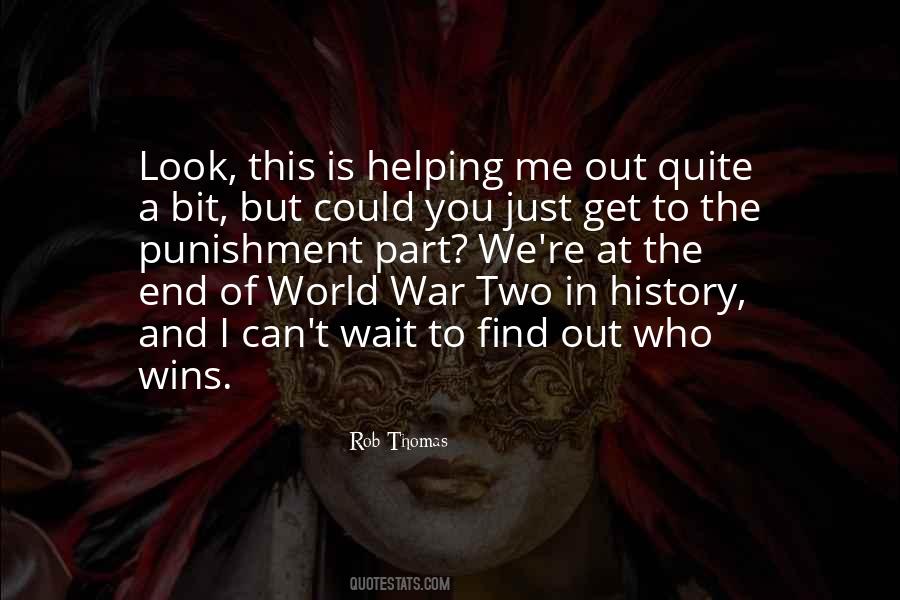 #66. hell if I was going to be another person who stood by and watched another person get abused without helping. Some of the world's greatest atrocities could've been stopped if people hadn't just stood around watching. - Author: Donna Augustine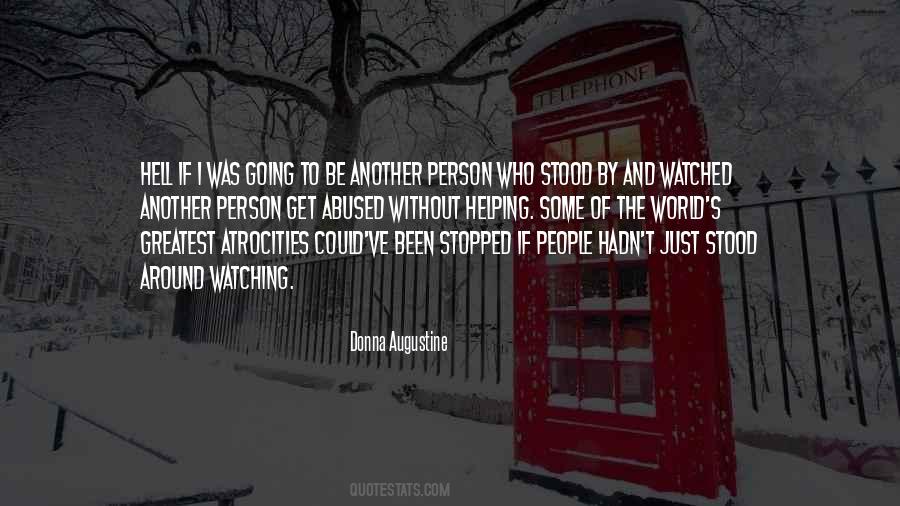 #67. I don't want to live in the kind of world where we don't look out for each other. Not just the people that are close to us, but anybody who needs a helping hand. I cant change the way anybody else thinks, or what they choose to do, but I can do my bit. - Author: Charles De Lint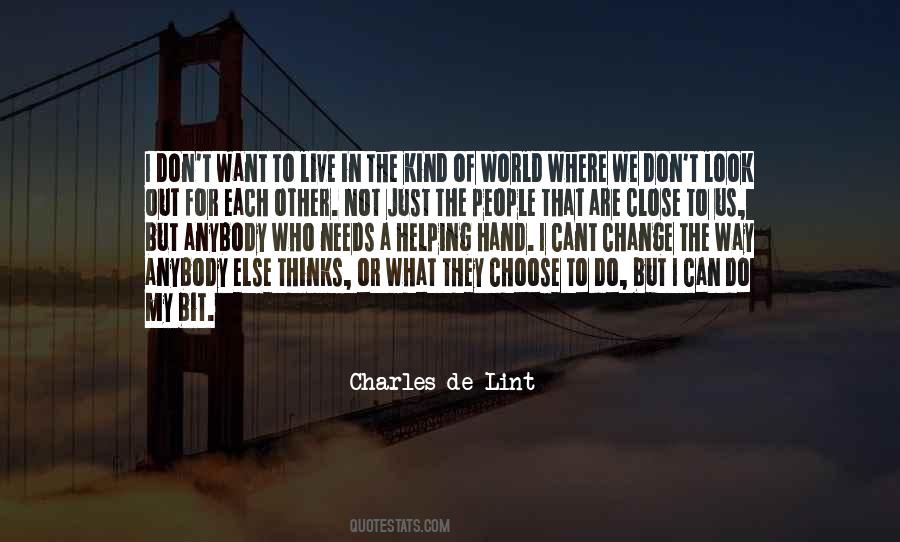 #68. By doing something positive in this world, you're helping people and the future. We're all trying to help the world ... make it a better place to live. We're actually still changing the world, aren't we? - Author: Rick Danko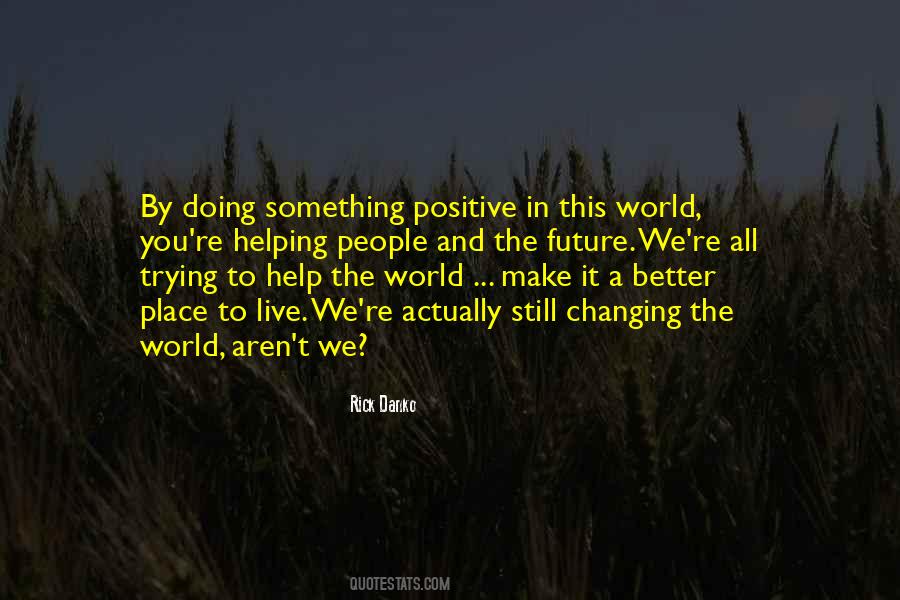 #69. Iraq is a very important part of securing the homeland, and its a very important part of helping change the Middle East into a part of the world that will not serve as a threat to the civilized world, to people like
or to the developed world, to people like
in the United States. - Author: George W. Bush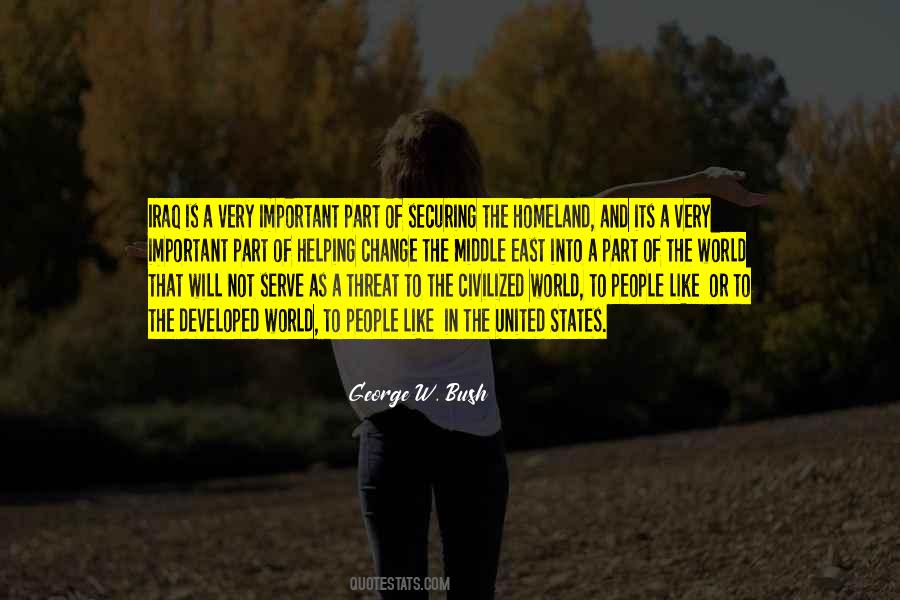 #70. I have a problem with the term social entrepreneurship because people say only business helps to make the world a better place. - Author: Sabriye Tenberken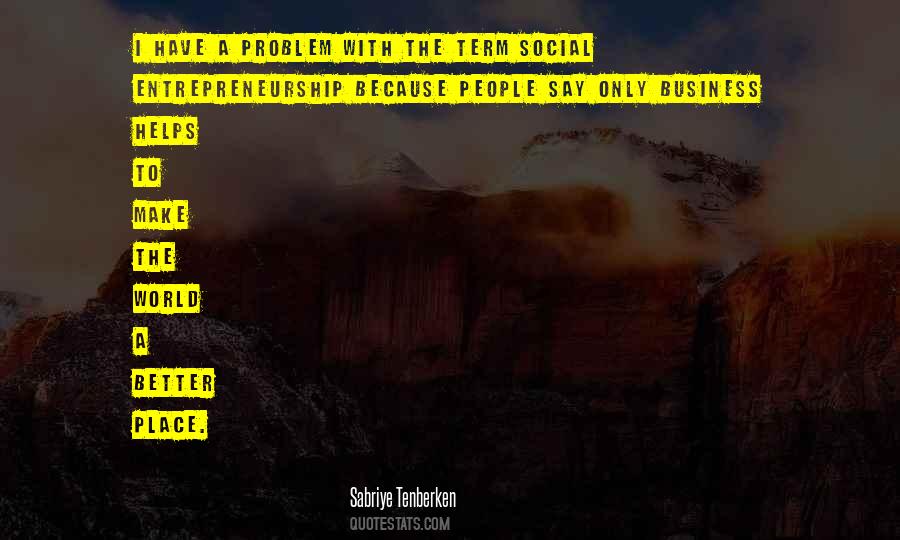 #71. If we're going to change the world for the better, kids need to know that they can by feeling good about who they are and helping others. - Author: Dorothy Koomson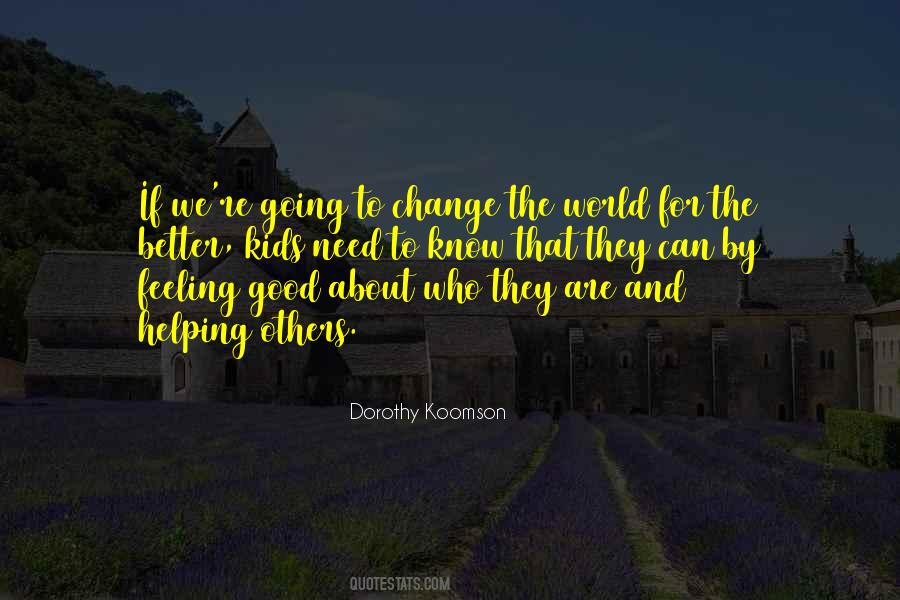 #72. If you can HELP someone, DO IT! The world NEEDS more of THAT! - Author: Tanya Masse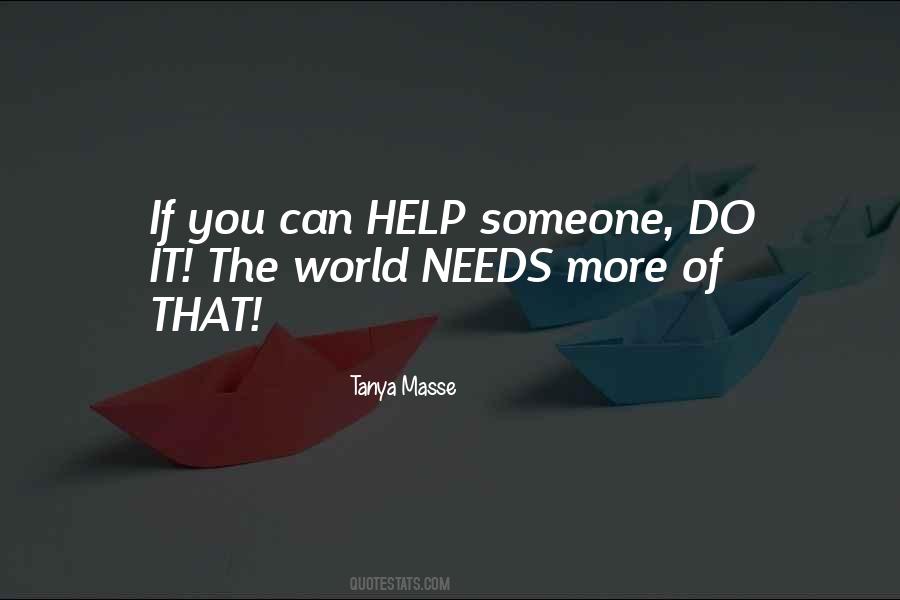 #73. Ben West points out that even from a selfish perspective, earning to give allows you to have things that people believe make them happy, like money and a high-status job, while still getting the fulfillment that comes from knowing you are helping to make the world a better place. - Author: Peter Singer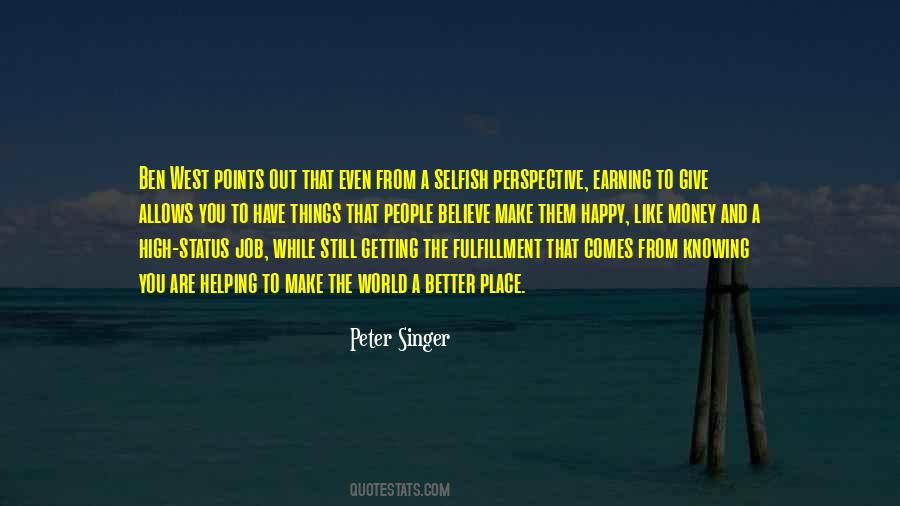 #74. I am keen on helping Indian bowlers but I am not seeking a full-time role. But yes I am really keen on helping out pace bowlers across the world, - Author: Brett Lee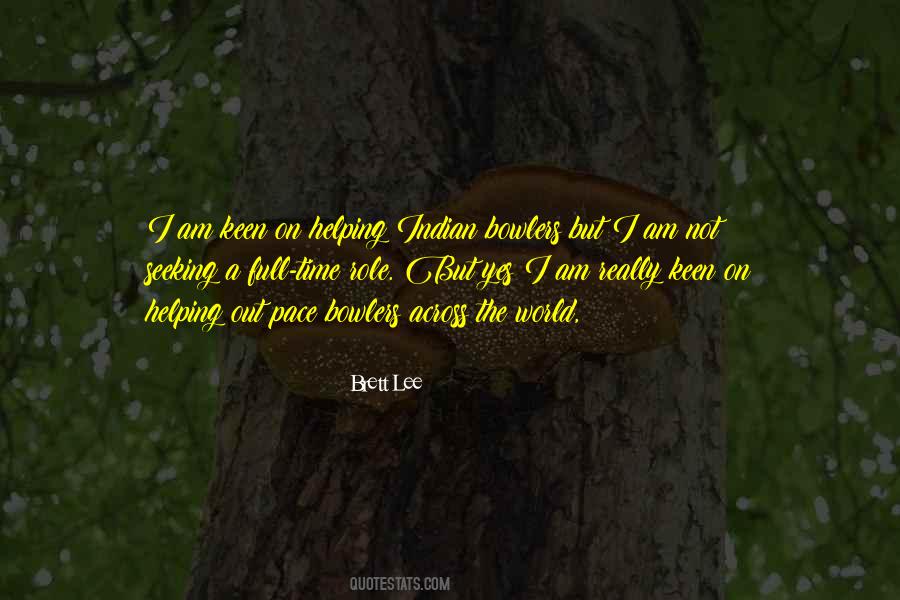 #75. Giving to others selflesly and anonymously, radiating light throughout the world and illuminating your own darkness, your virtue becomes a sanctuary for yourself and all beings. - Author: Laozi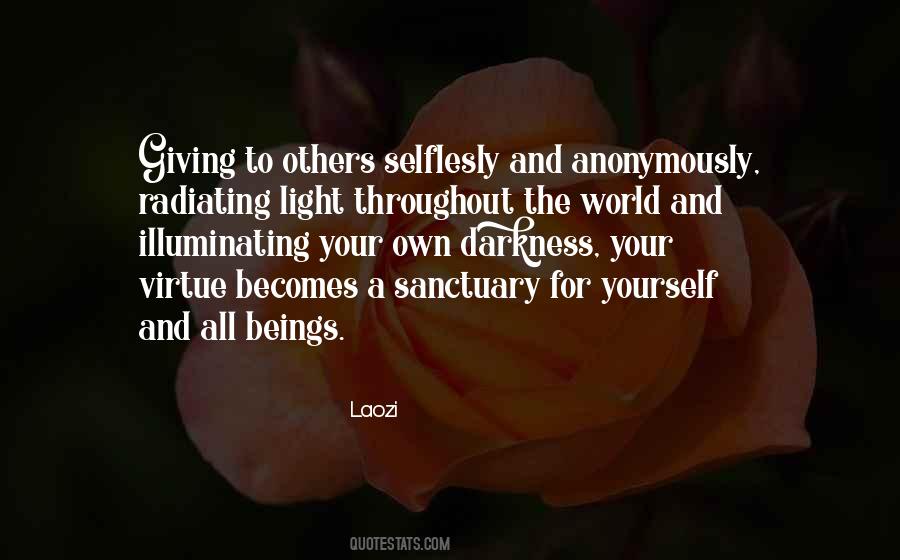 #76. If you go out and make some things happen, you will fill the world with hope. - Author: Barack Obama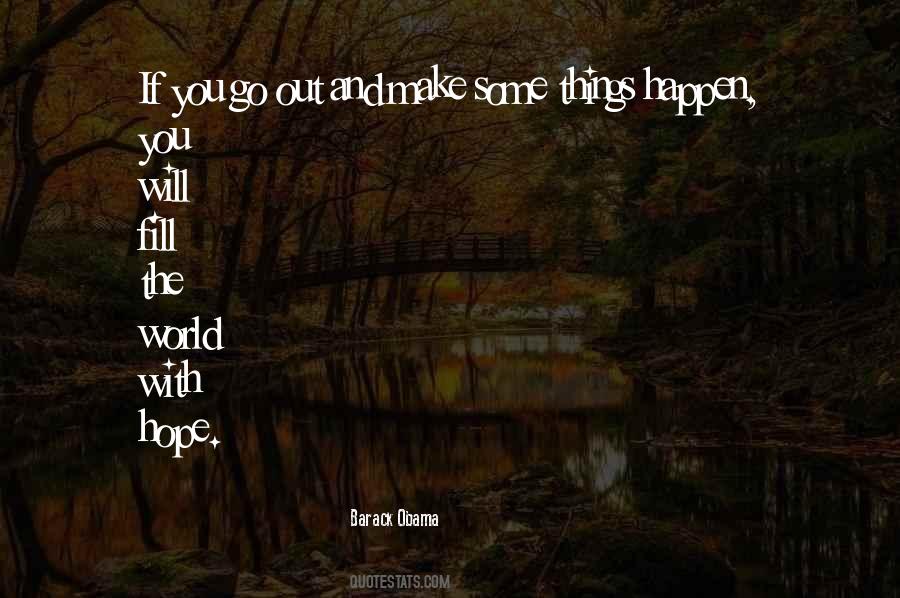 #77. Grown-up love means actually understanding what you love, taking the good with the bad and helping your loved one grow. Love takes attention and work and is the best thing in the world. - Author: Al Franken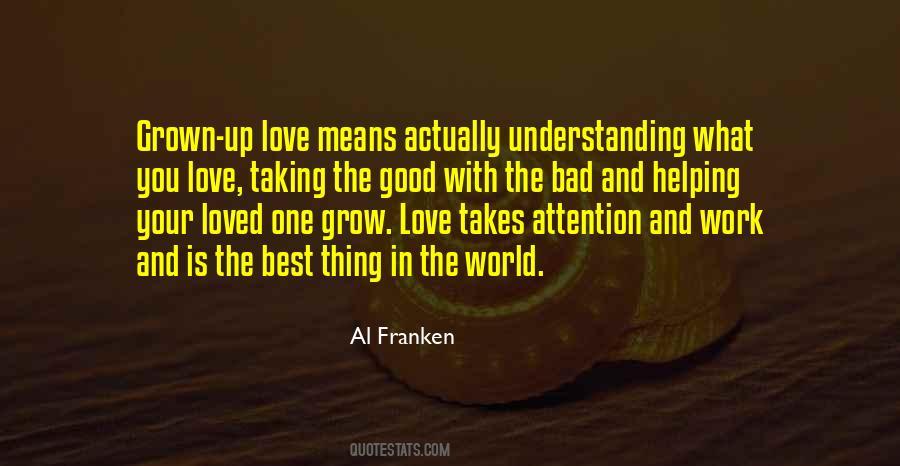 #78. I'm particularly proud of my work with the Starkey Hearing Foundation for whom I raised a million dollars in one day on 'Celebrity Apprentice.' They do great work around the world helping deaf children in developing countries get proper attention and free hearing aids. - Author: Marlee Matlin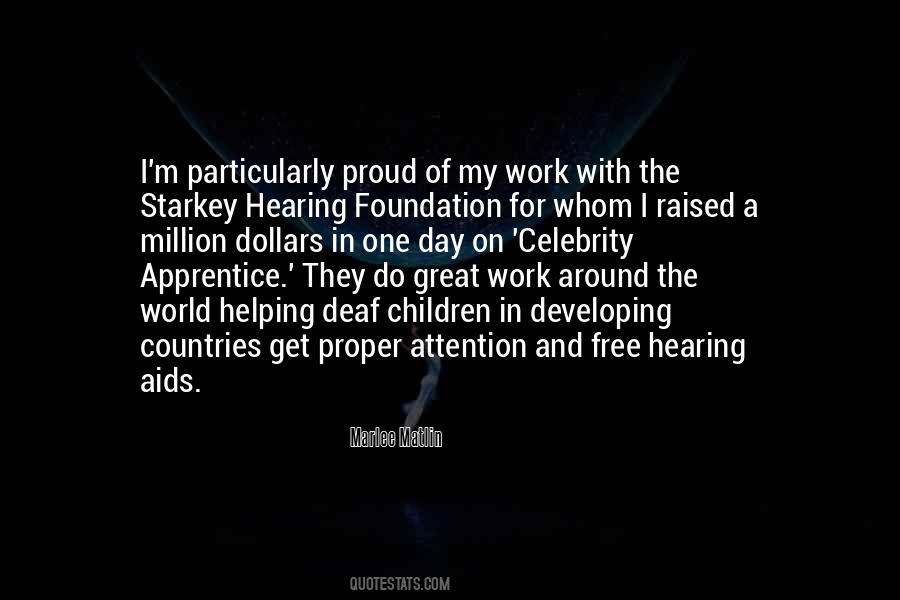 #79. What has made me most proud - the things that I've done that I feel the most pride about - is helping people care about making the world better. - Author: Patrick Rothfuss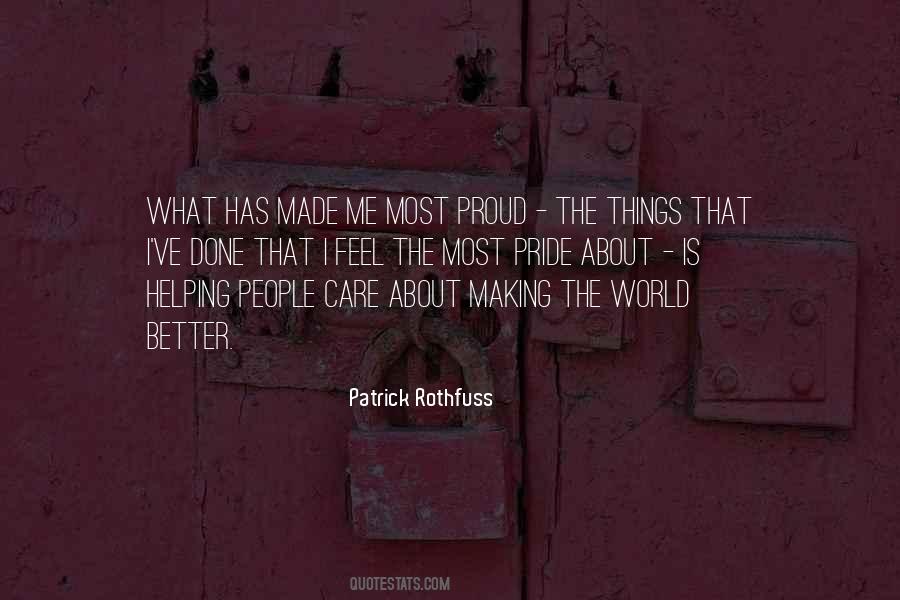 #80. That is our hope. Because if we all start listening and helping, then surely, together, we can make the world a better place for all living things. Can't we? - Author: Jane Goodall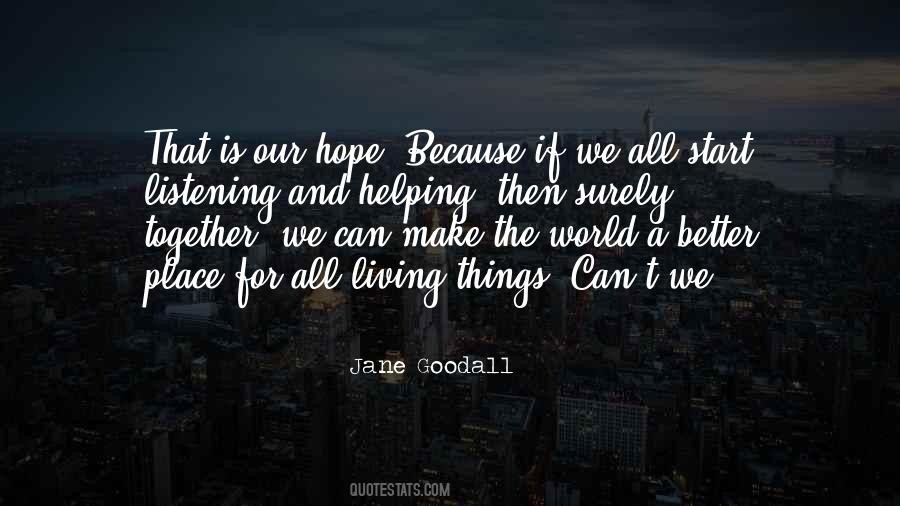 #81. You know, there's nothing damnable about being a strong woman. The world needs strong women. There are a lot of strong women you do not see who are guiding, helping, mothering strong men. They want to remain unseen. It's kind of nice to be able to play a strong woman who is seen. - Author: Ginger Rogers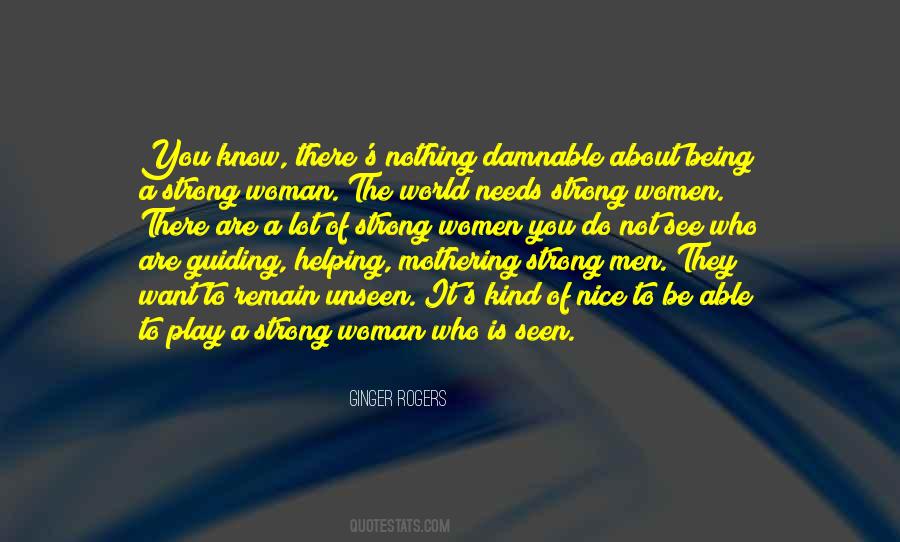 #82. The greatest thing we can do is love another. - Author: Lailah Gifty Akita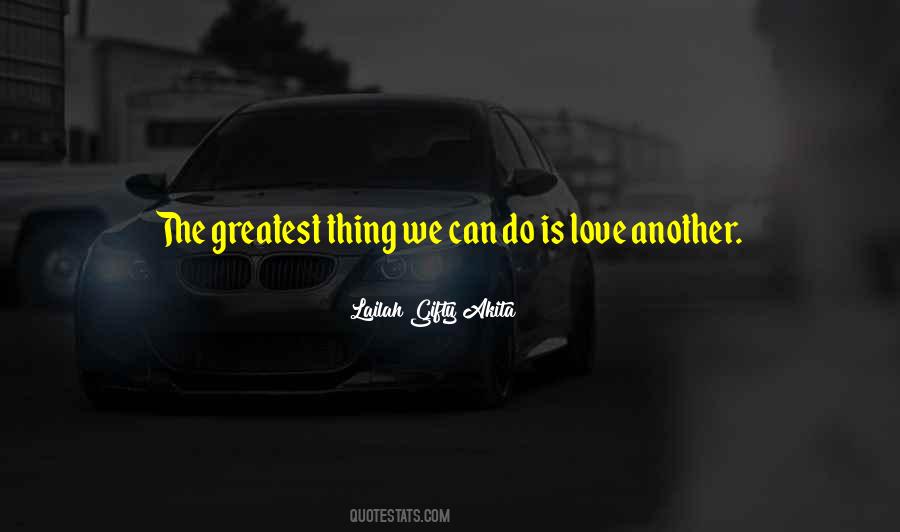 #83. Sand did not suddenly come into being because we had need for glass and silicone. Neither did wild flowers suddenly spring up because a bunch of environmentalists in Texas wanted alternative ways of helping the world without dumping more chemicals into it - these things were already there. - Author: Stephen Richards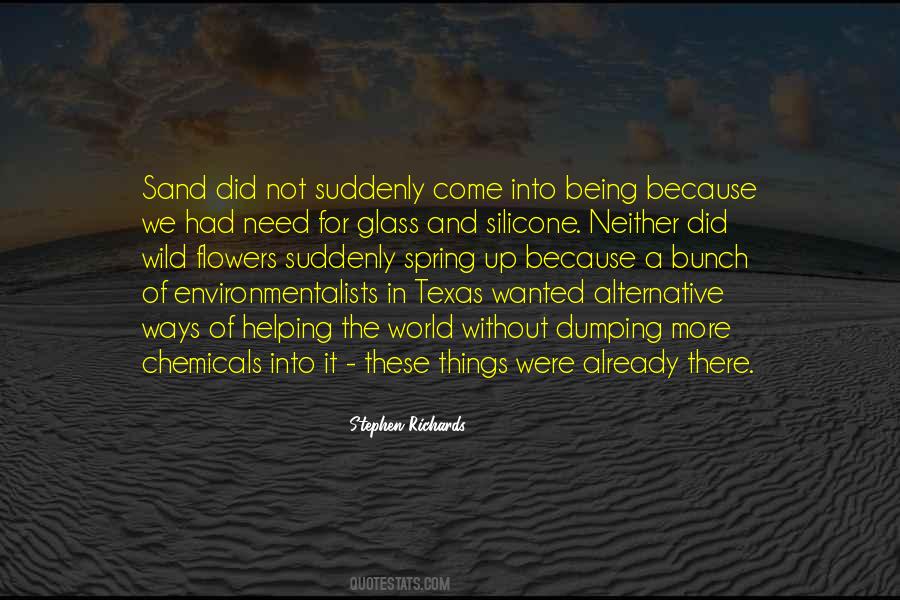 #84. Helping people understand the impact of key environmental and human issues worldwide is something that I'm passionate about. CNN's 'Going Green' series of specials are engaging viewers around the world through important messages of conservation and hope. - Author: Philippe Cousteau Jr.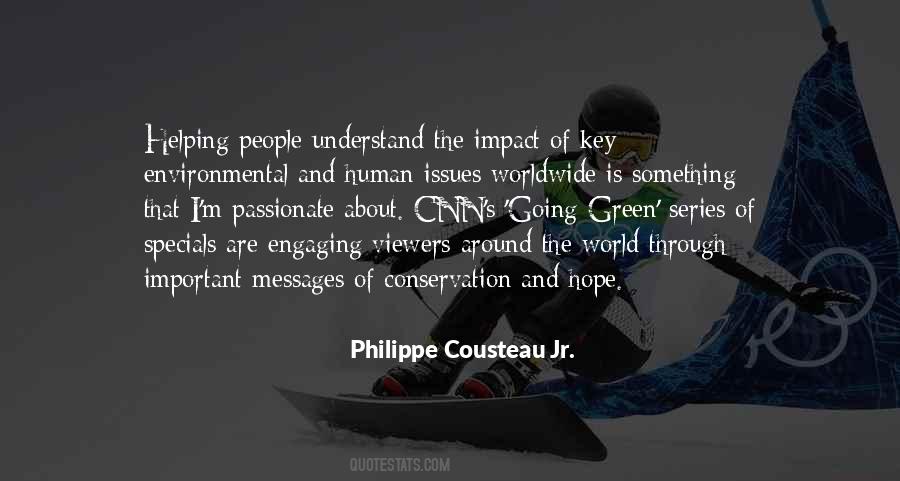 #85. Whereas there are many people in the world who can give life to others, there are but few who can help others to possess it. - Author: Ruth Sawyer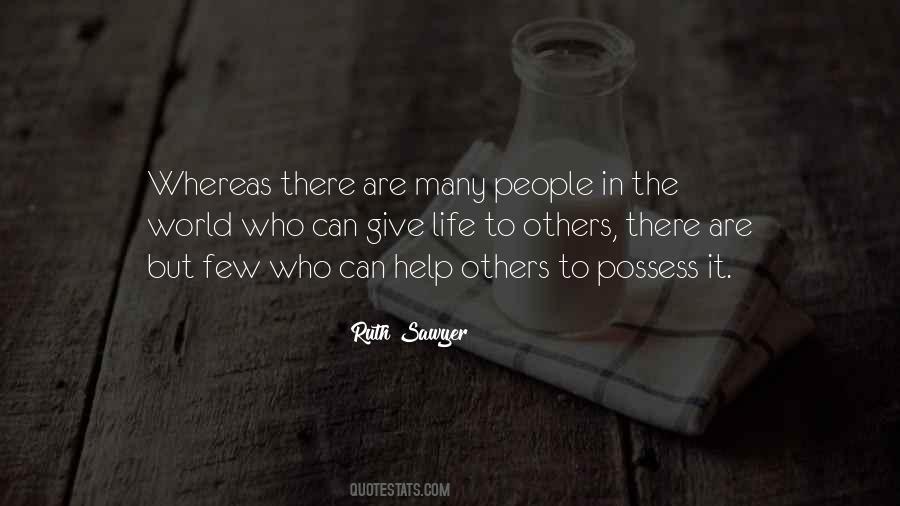 #86. If you see what you do each day as your way of loving the world and helping it heal, then life gets to be a lot different. The difference between burning up and burning out is the difference between loving what you are doing and not loving it. - Author: Bernie Siegel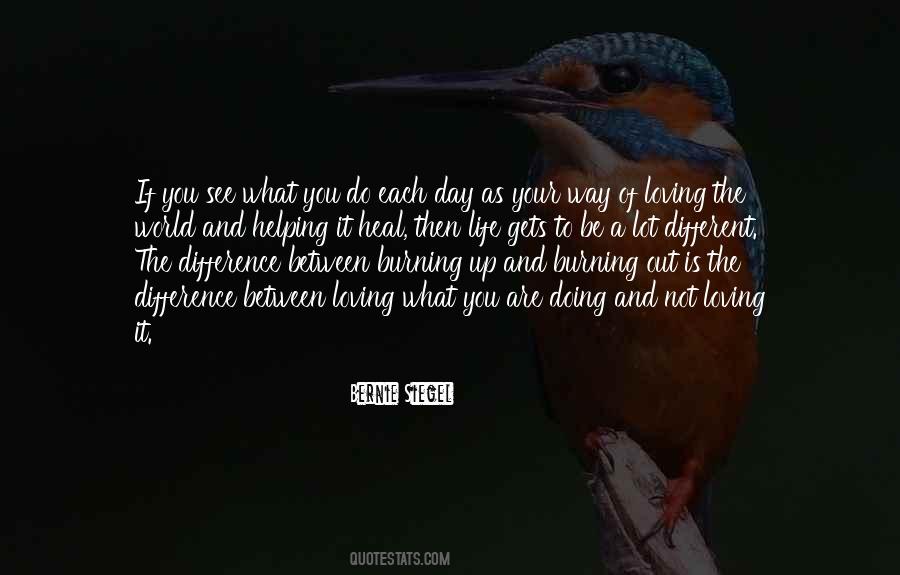 #87. The greatest crime is not developing your potential. When you do what you do best, you are helping not only yourself, but the world. - Author: Roger Williams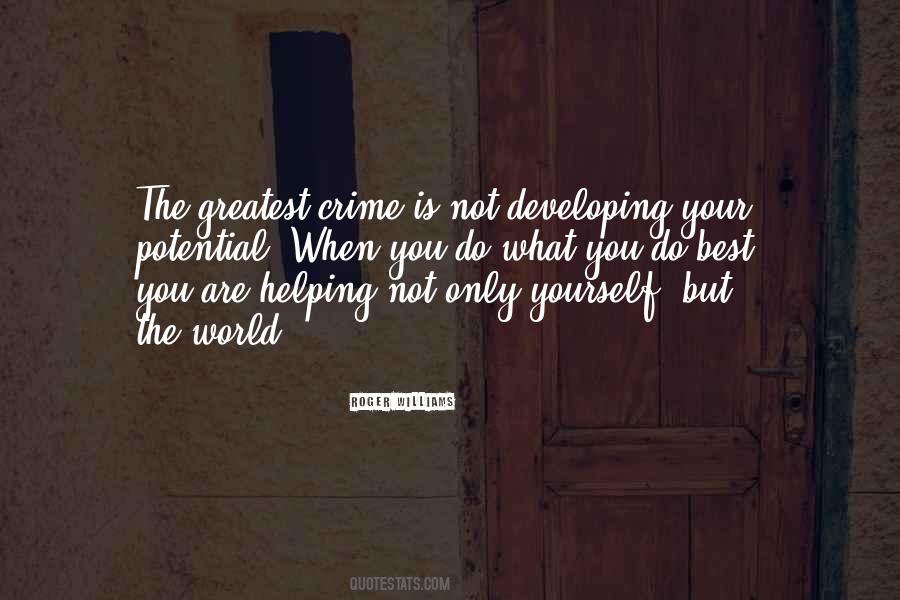 #88. Now everybody knows about this thing that's my secret. It was my thing, the music I turned to when I was alone and needed it. It's what helps me get through these times. It's just between me and music, and now it's been shared with the world. - Author: Devendra Banhart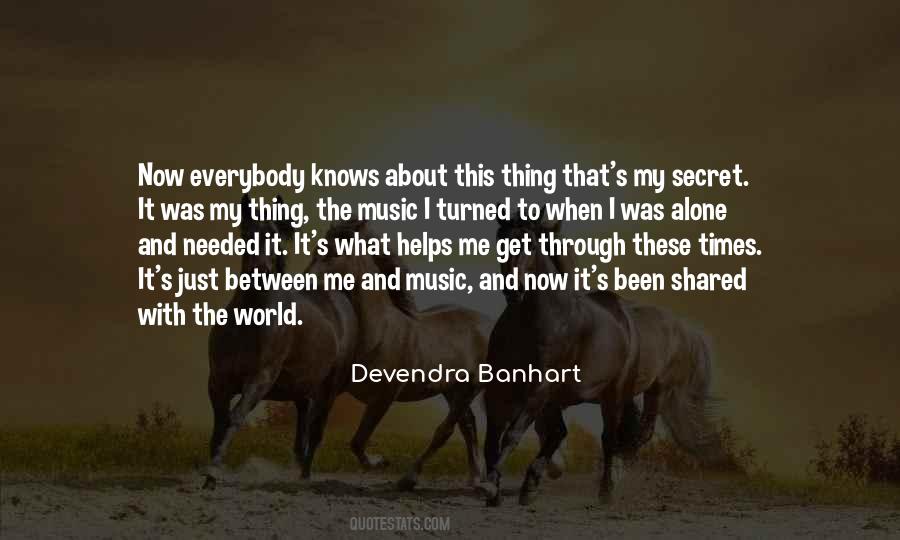 #89. The EU should help the emergence of "organized multipolarity" in the currently non-polar world. - Author: Laurent Fabius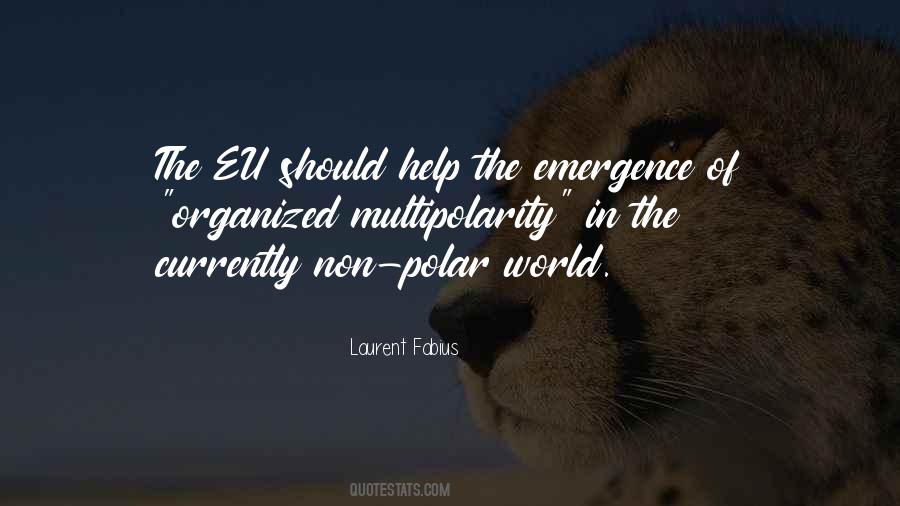 #90. The day you were born, a ladder was set up to help you escape this world ... - Author: Rumi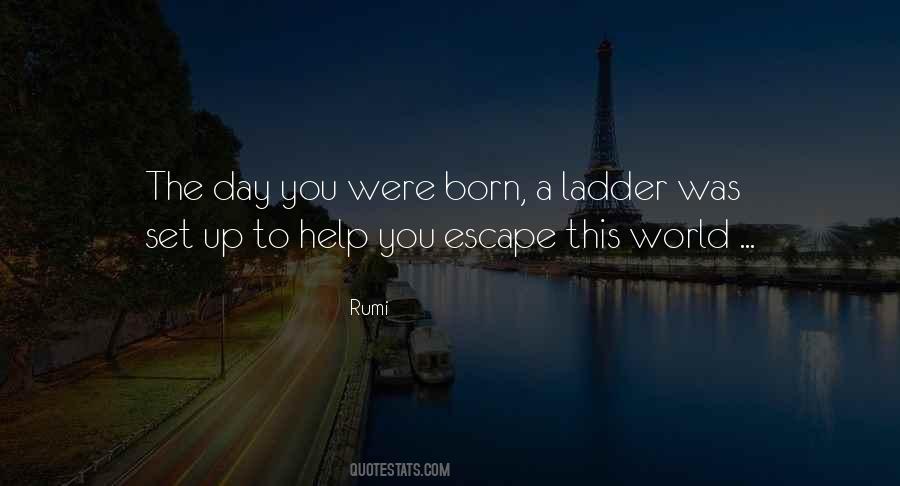 #91. Reacting to the world with a smile instead of a curse, a wave instead of the middle finger, will actually help you live longer. - Author: Russell Simmons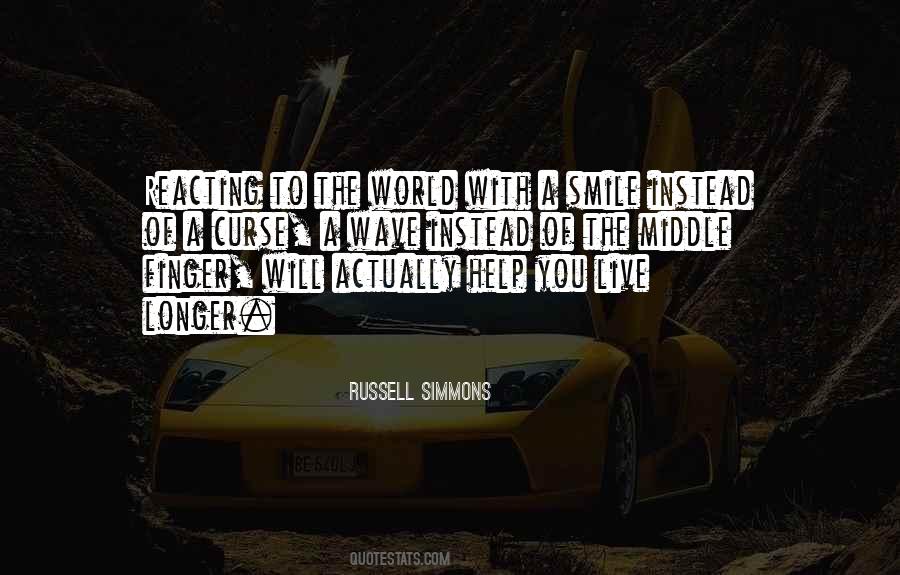 #92. Governments do not have the answers - indeed, quite the reversal. A lot of times, they not only do not have the answers, but they themselves are the problem. If we are committed to helping our world's children, then we must begin to create solutions from the bottom up. - Author: Betty Williams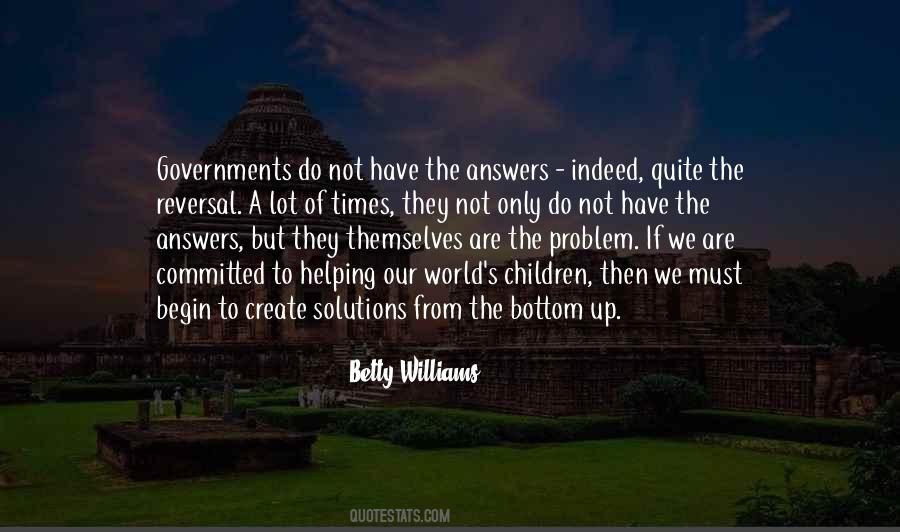 #93. If compassion was the motivating factor behind all of our decisions, would our world not be a completely different place? - Author: Sheryl Crow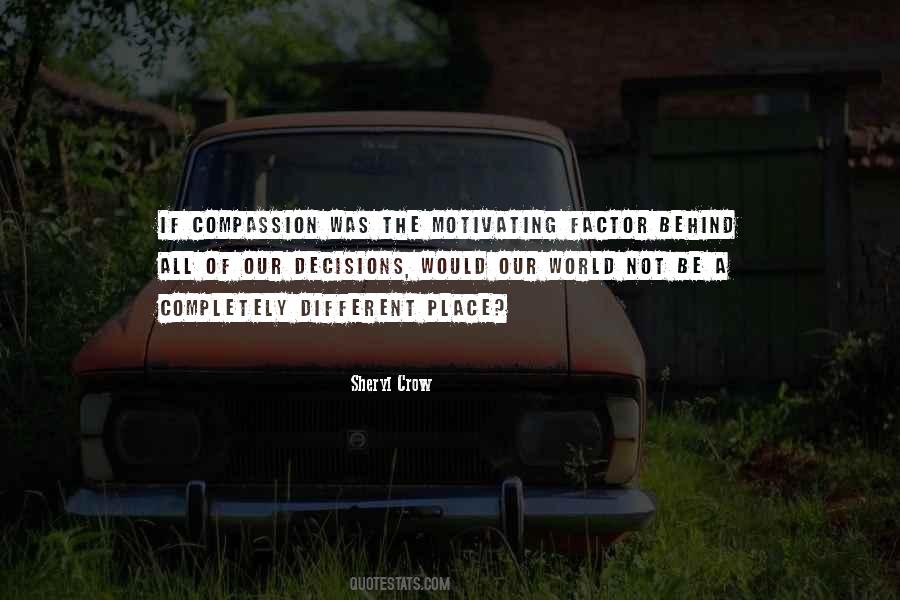 #94. Sally, do you think God has put us into the world just to be selfish, and do nothing but see after our own souls? or to help one another with heart and hand, as Christ did to all who wanted help? - Author: Elizabeth Gaskell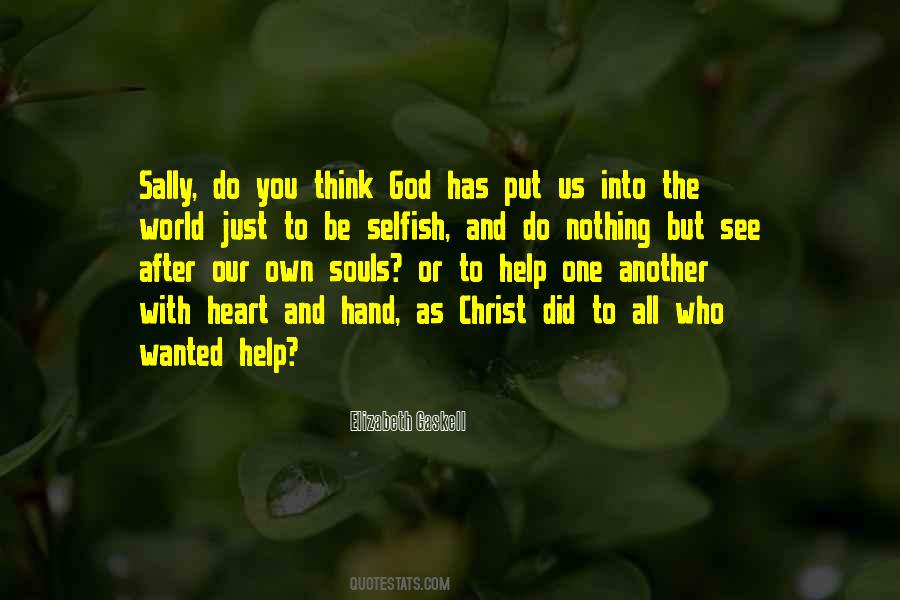 #95. While I am here I would like to experience as many of the beauties of the world as possible and help others to do the same. - Author: Frederick Lenz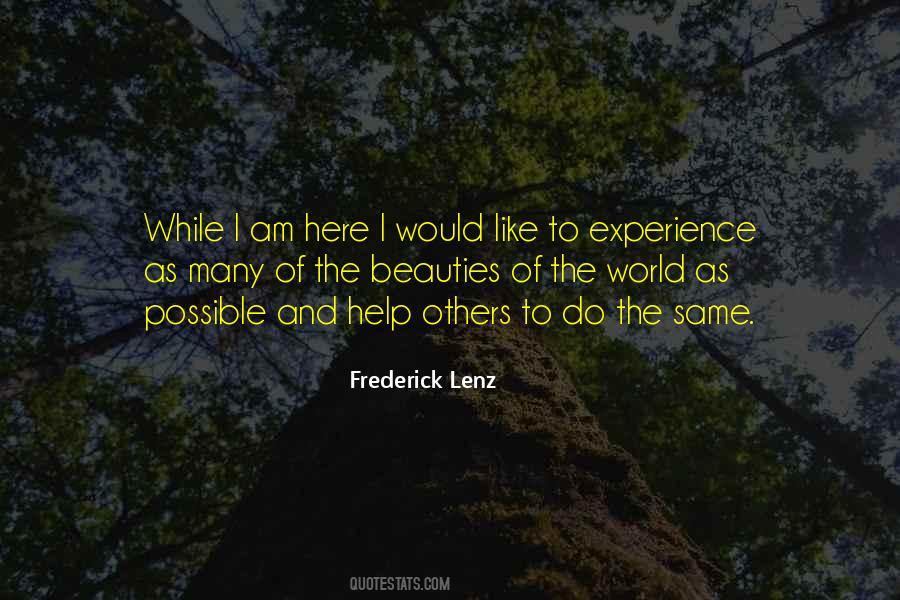 #96. So it's mainly a question of helping the Third World overcome the effects of global warming. - Author: Bjorn Lomborg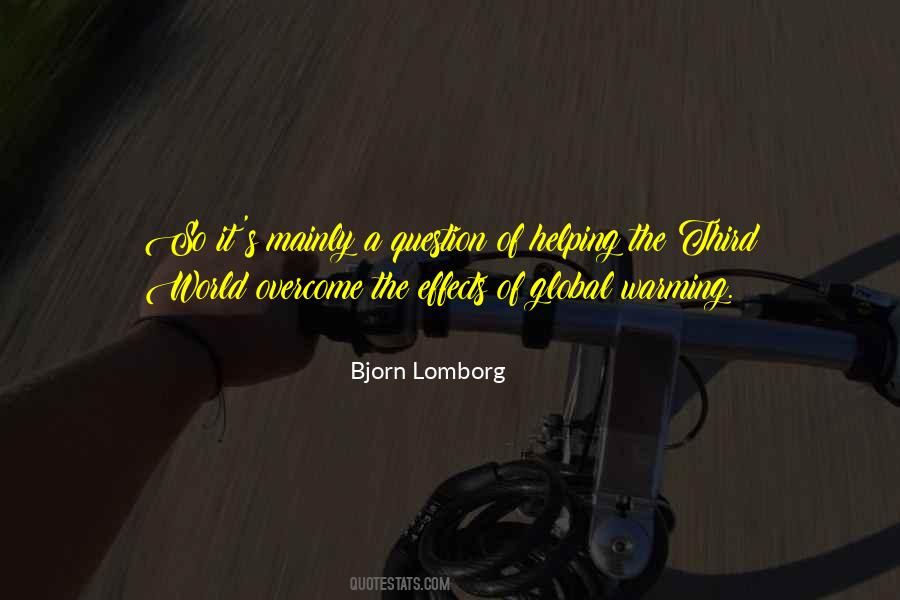 #97. The world is a wonderful place. What goes around comes around. Please help others to the best of your ability. In the long run you may be helping yourself only. - Author: Pravin Agarwal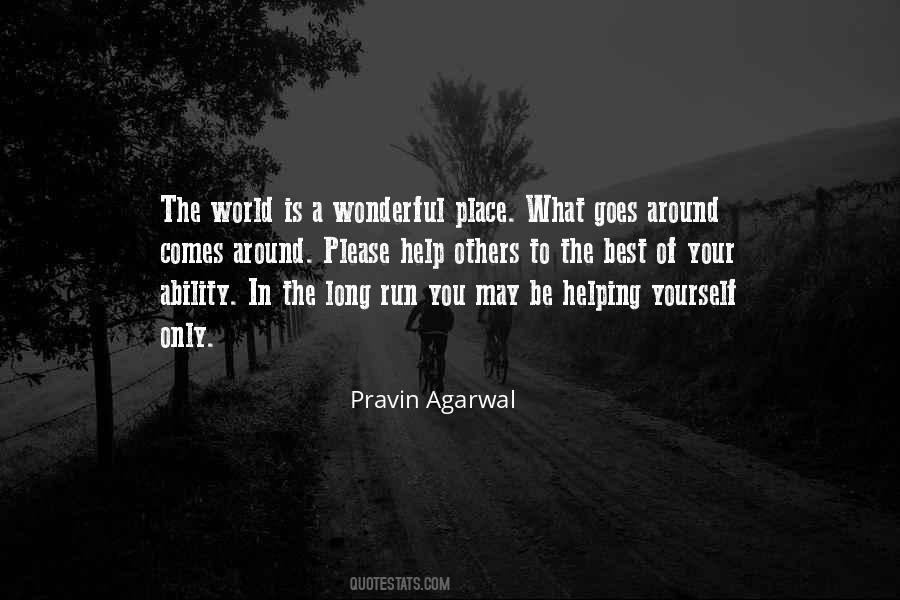 #98. I'm a golfaholic. And all the counseling in the world wouldn't help me. - Author: Lee Trevino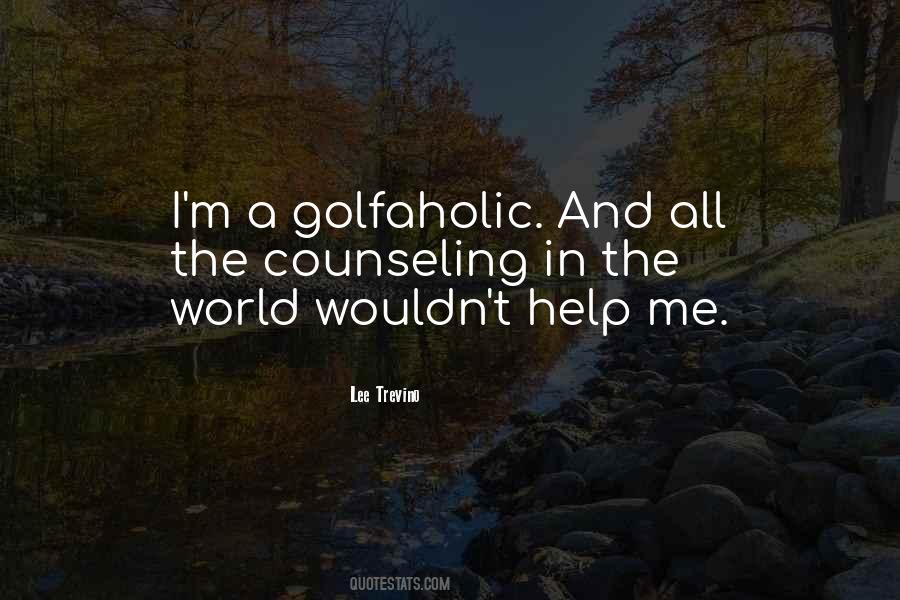 #99. Travis Alexander was a good guy. Was he a saint? No. But he was somebody who was really, really invested in helping other people and making this world a better place. Everything he did, even the car he drove, was a sign of him trying to be a force for good in this world. - Author: Jane Velez-Mitchell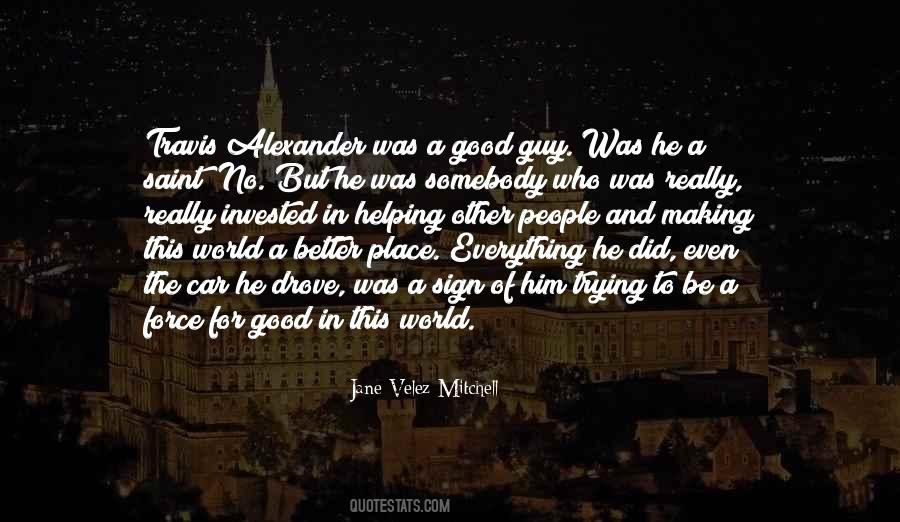 #100. The greatest living person in the world is some individual who at this very moment has gone in love to help another. - Author: Albert Schweitzer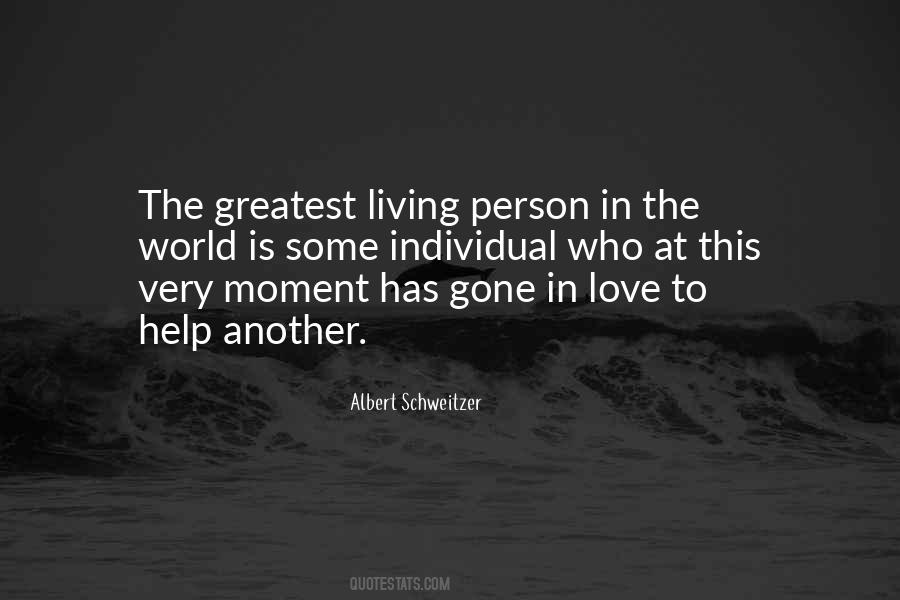 Famous Authors
Popular Topics