Having A Full Life Famous Quotes & Sayings
List of top 76 famous quotes and sayings about having a full life to read and share with friends on your Facebook, Twitter, blogs.
Top 76 Quotes About Having A Full Life
#1. The difference between memoir and autobiography, as far as I see it, is that a memoir is there primarily to tell one particular story, whereas an autobiography tries to be a full account of a life. - Author: Salman Rushdie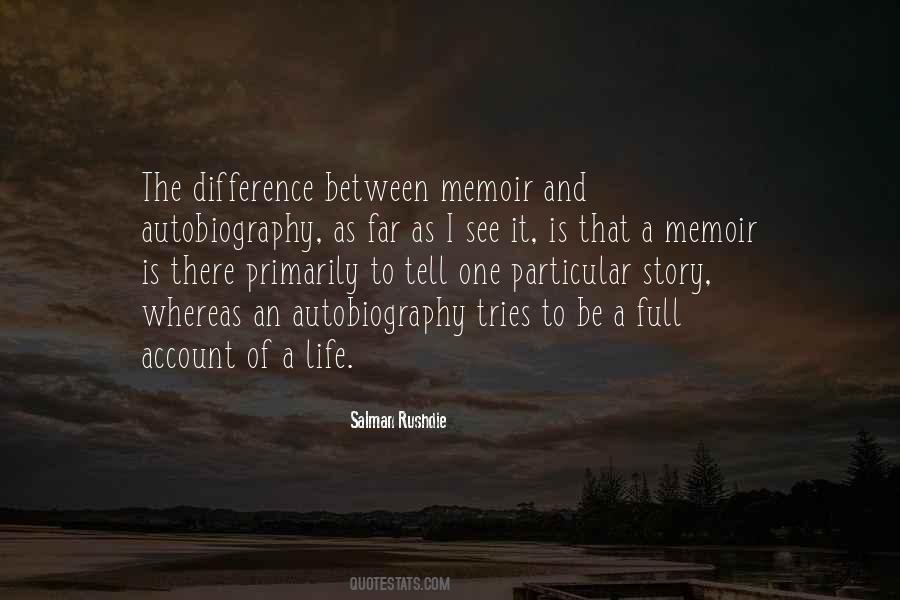 #2. If kings would only determine not to extend their dominions until they had filled them with happiness, they would find the smallest territories too large, but the longest life too short for the full accomplishment of so grand and so noble an ambition. - Author: Charles Caleb Colton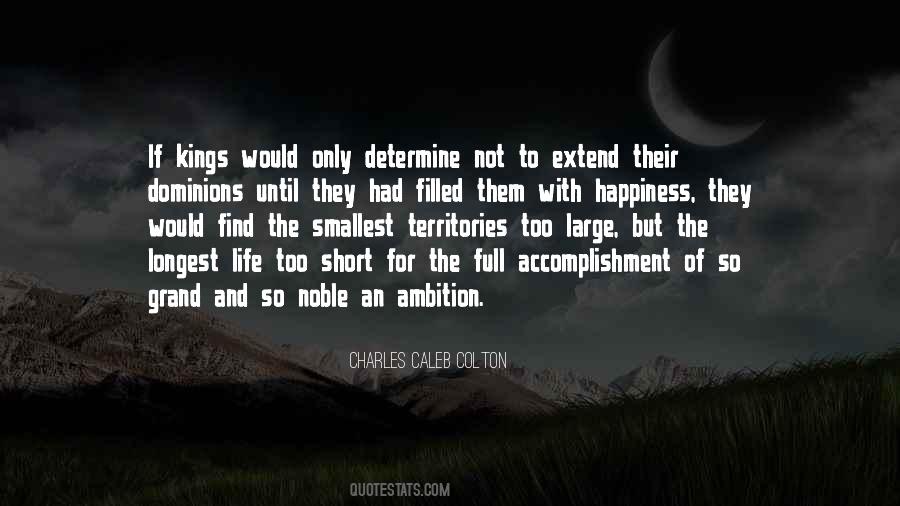 #3. Like many women, I stay active juggling many aspects of a very full life! I'm a busy mom. I also love to travel, garden, cook and volunteer at my kids school. - Author: Jane Clayson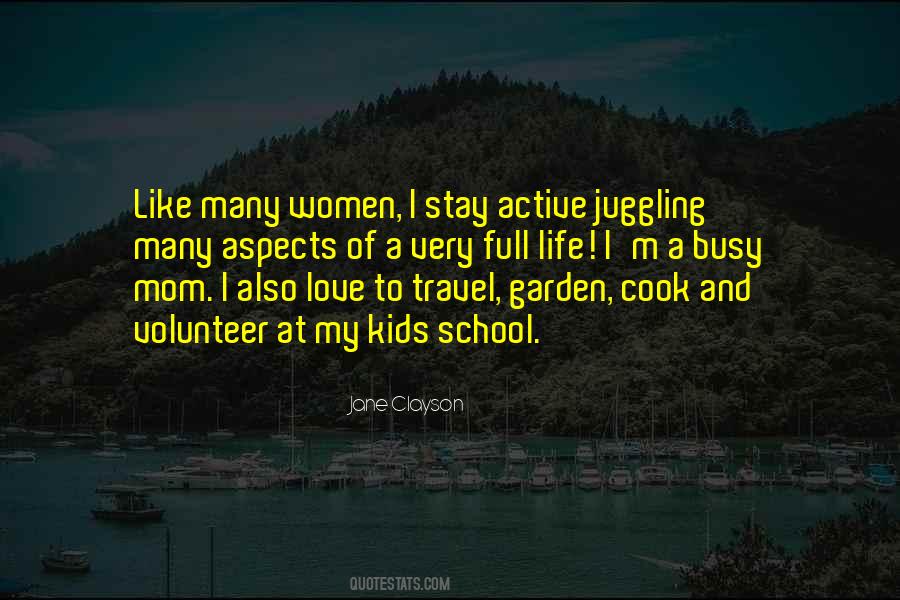 #4. Life is always full of surprises. We have our ups and downs, but the biggest pleasure is enjoying the ups to keep us going. - Author: J. Hale Turner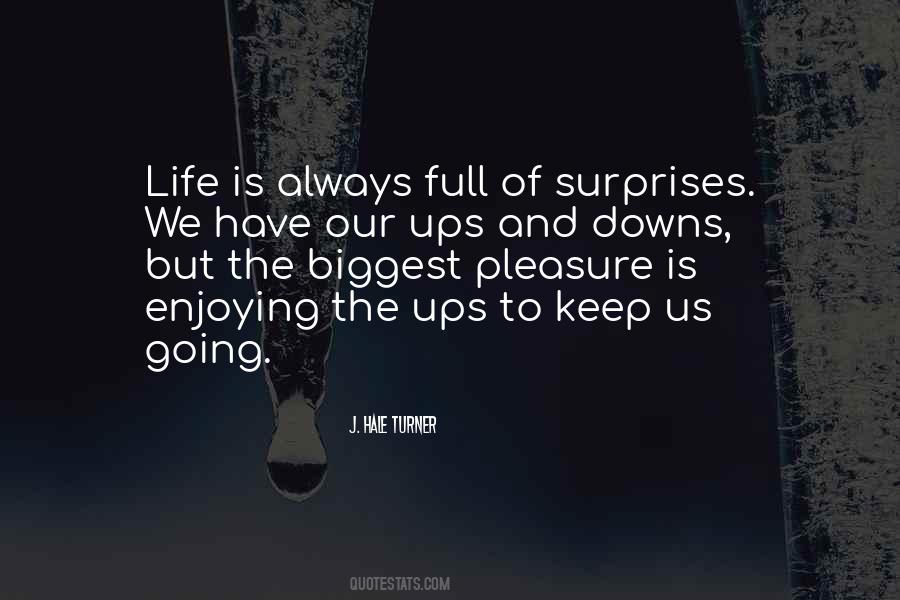 #5. A life that was surprisingly full, even though it was simple. Or maybe because it was simple. - Author: Carlene O'Connor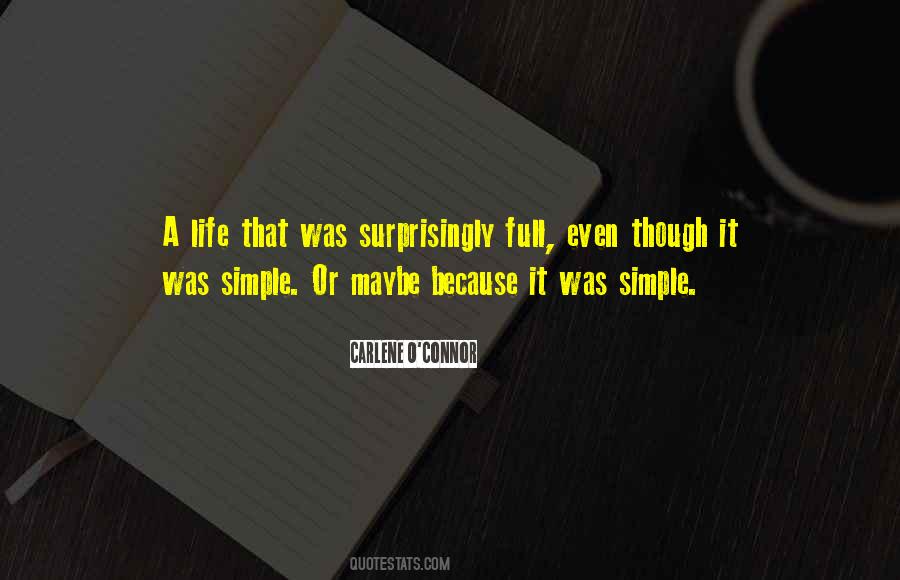 #6. A Highlander in full regalia is an impressive sight - any Highlander, no matter how old, ill-favored, or crabbed in appearance. A tall, straight-bodied, and by no means ill-favored Highlander in the prime of his life is breathtaking. - Author: Diana Gabaldon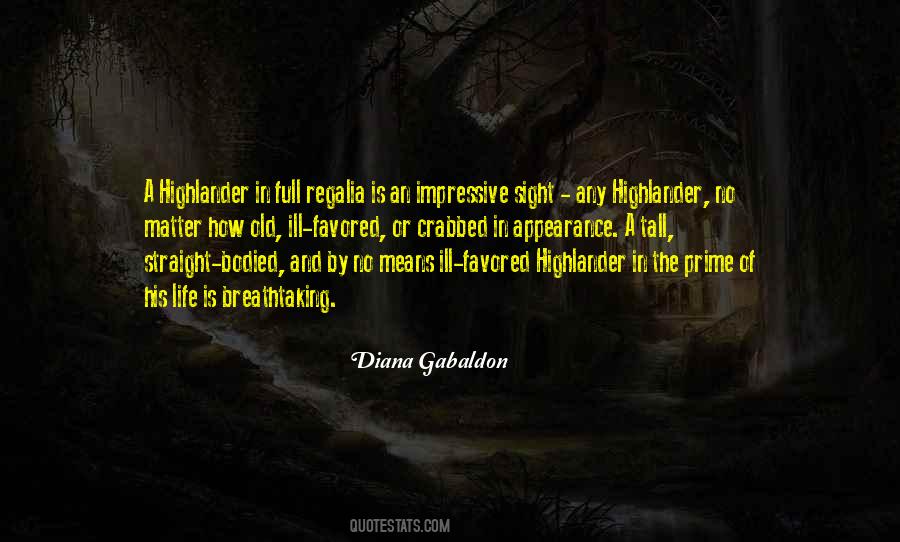 #7. There are many photographs which are full of life but
which are confusing and difficult to remember.
It is the force of an image which matters. - Author: Brassai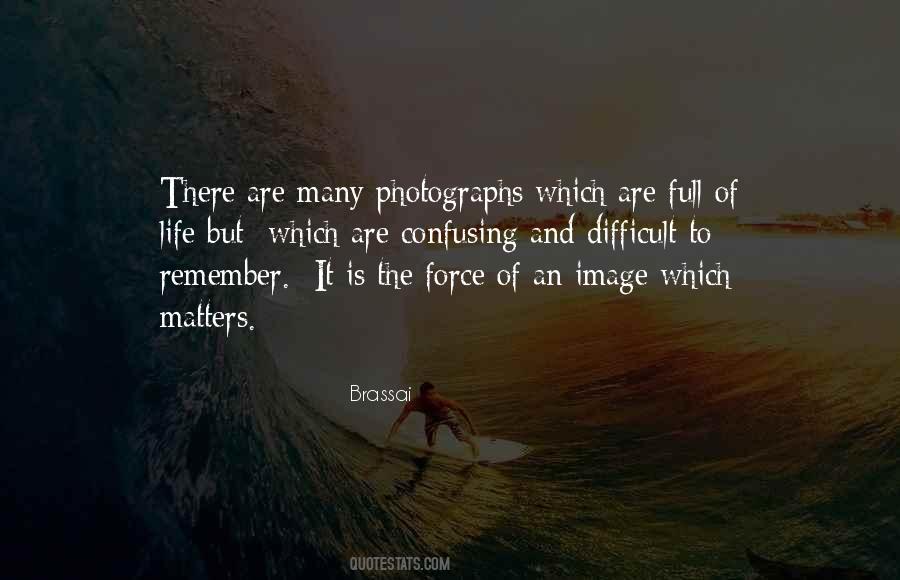 #8. When you are not full of the Holy Spirit, you easily cower in fear and lack a stand on truth - Author: Paul Gitwaza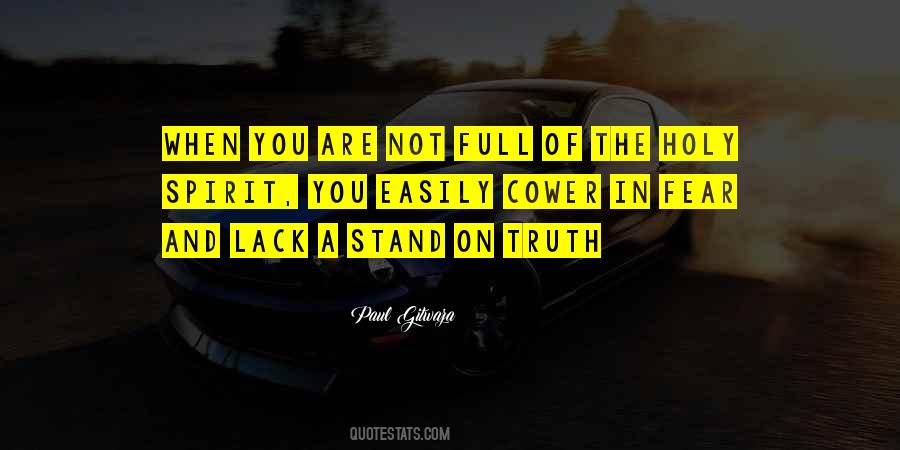 #9. Scars are badges of honors. They tell people you've lived a full life - Author: Lizzy Ford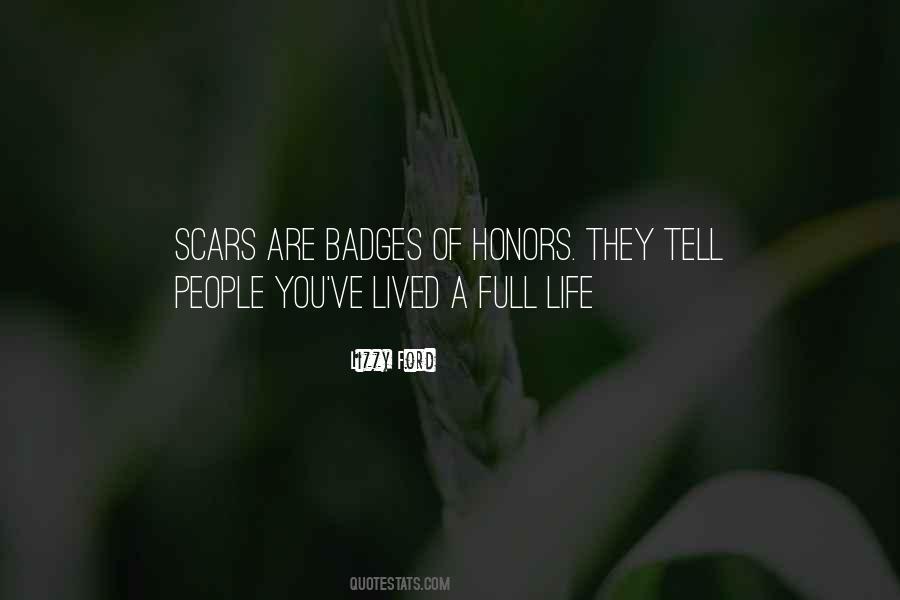 #10. I was utterly without worldly ambition because I knew that all that was needed for a rich, full life was a few shillings a week with which to buy SF magazines and beer. - Author: Bob Shaw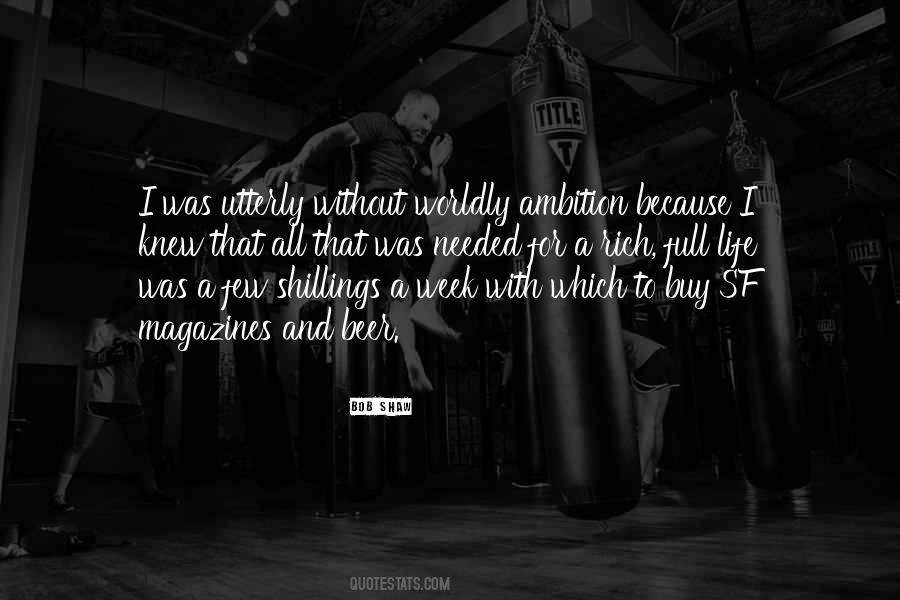 #11. Life is full of disparate details arbitrarily joined together by dreams, pain and yearning. I do not long for sense, but I call for emotion and imagination amidst this chaos. - Author: Juhani Peltonen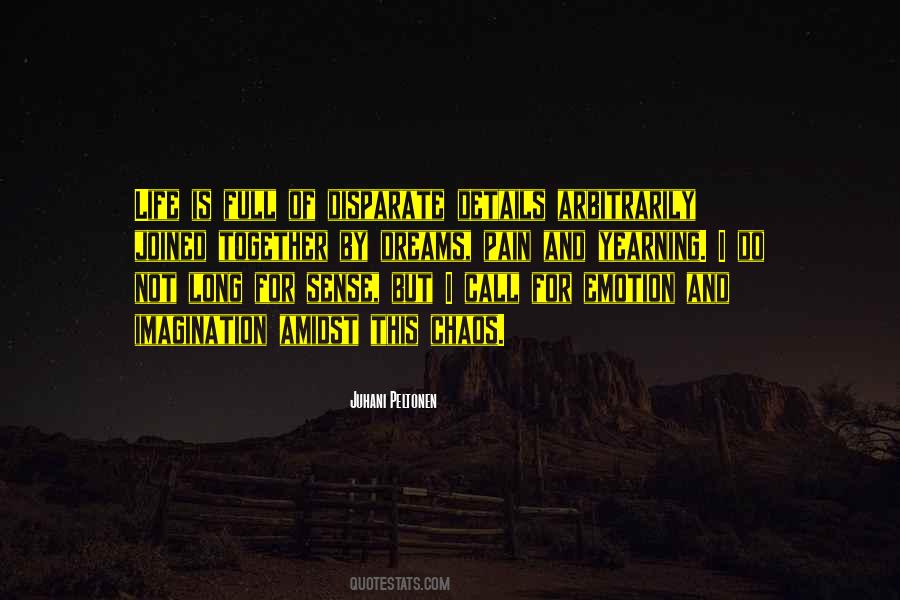 #12. The birds of the air die to sustain thee; the beasts of the field die to nourish thee; the fishes of the sea die to feed thee. Our stomachs are their common sepulchre. Good God! with how many deaths are our poor lives patched up! how full of death is the life of momentary man! - Author: Francis Quarles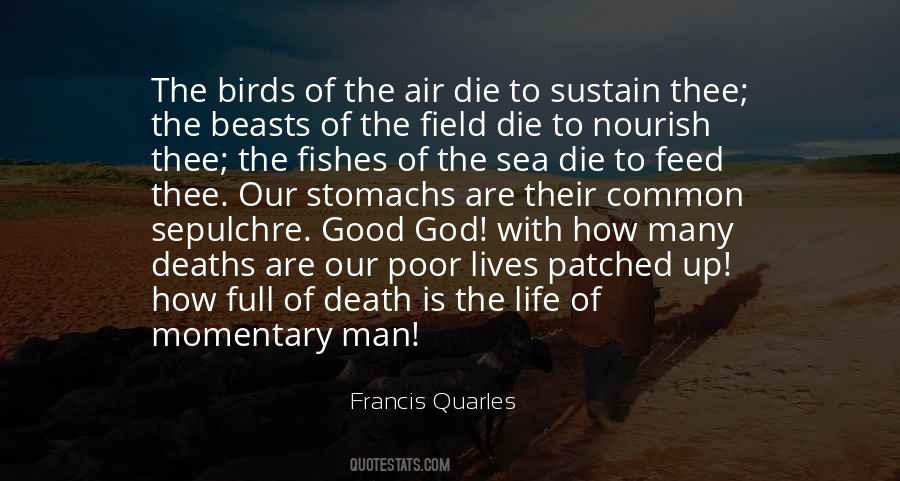 #13. You wouldn't be here if you didn't care, Abby."
"I don't." She glared at him, so full of life she almost glowed.
"You do." He kissed the pouting lips lightly. "And I'm going to keep you. - Author: Cherise Sinclair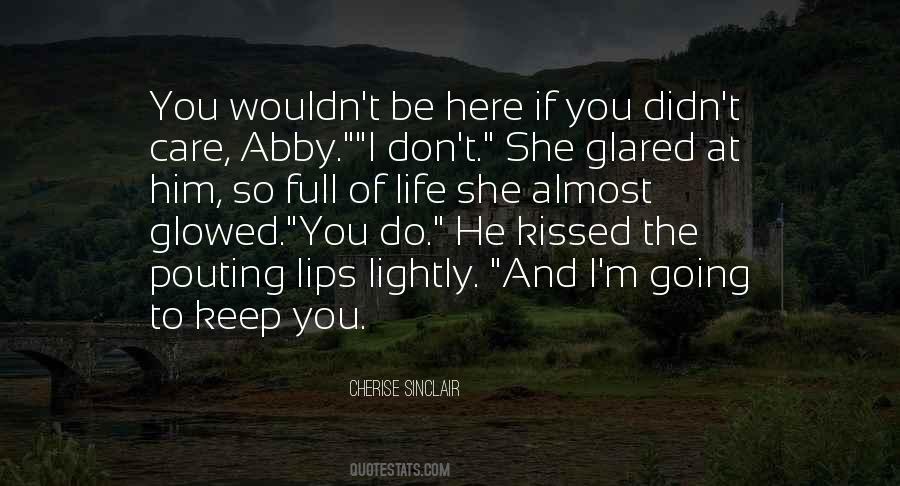 #14. Something within me is waking from long sleep, and I want to live and move again. Some zest is returning to me, some immense gratefulness for those who love me, some strong wish to love them also. I am full of thanks for life. I have not told myself to be thankful. I am just so. - Author: Alan Paton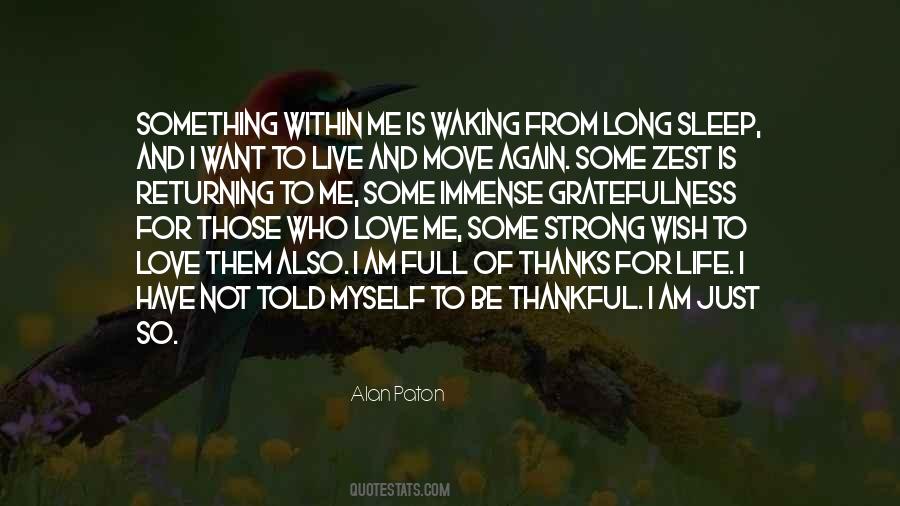 #15. I'm looking very much forward to growing older. I want to be an exhausted older woman but with a very full life behind me and one still going. - Author: Angelina Jolie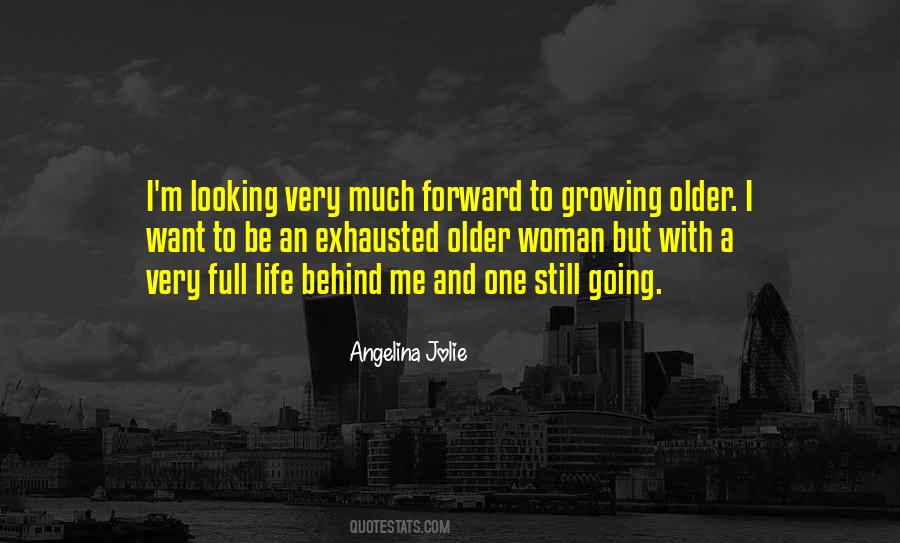 #16. There was somewhere, if you knew where to find it, some place where money could be made like drawing water from a well, some Big Rock Candy Mountain where life was effortless and rich and unrestricted and full of adventure and action, where something could be had for nothing. - Author: Wallace Stegner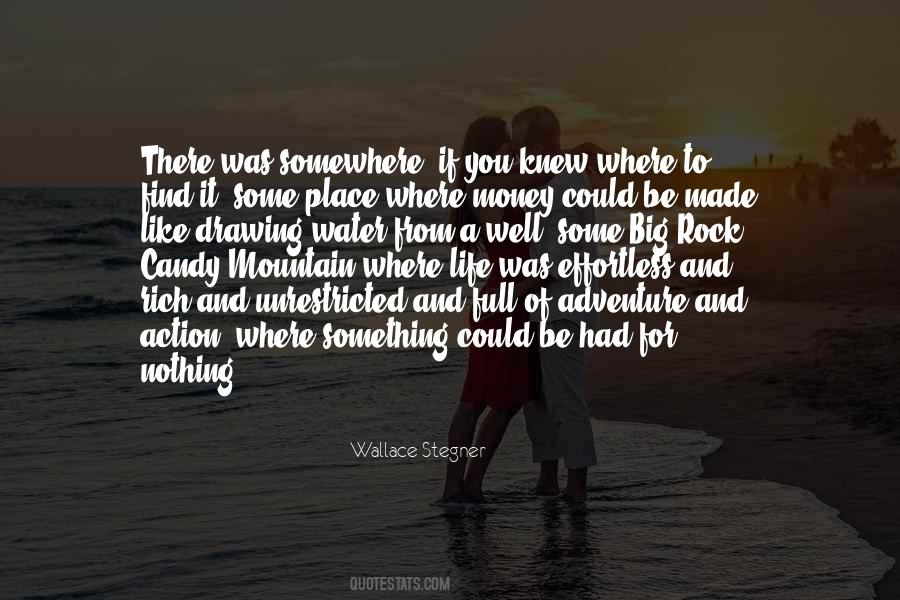 #17. If your Life is full of Sorrow, then beg, steal, or borrow ENTHUSIASM from a great soul to make your Life whole.-RVM - Author: R.v.m.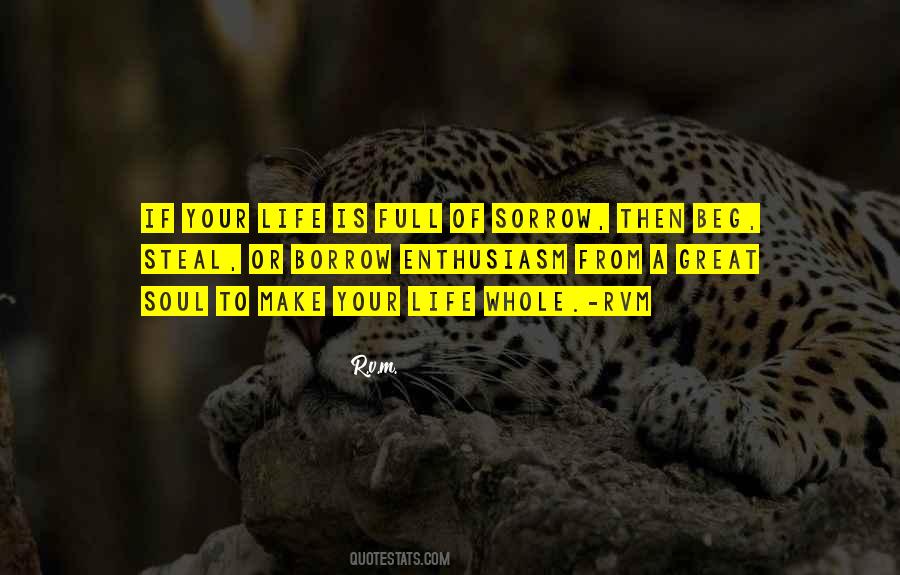 #18. The single factor most responsible for the disruption of the family is the automobile. Its full effect cannot be assessed. Modern life, as we know, would be impossible without the ubiquitous motorcar. It broke up the old family and community. - Author: Alexander Lowen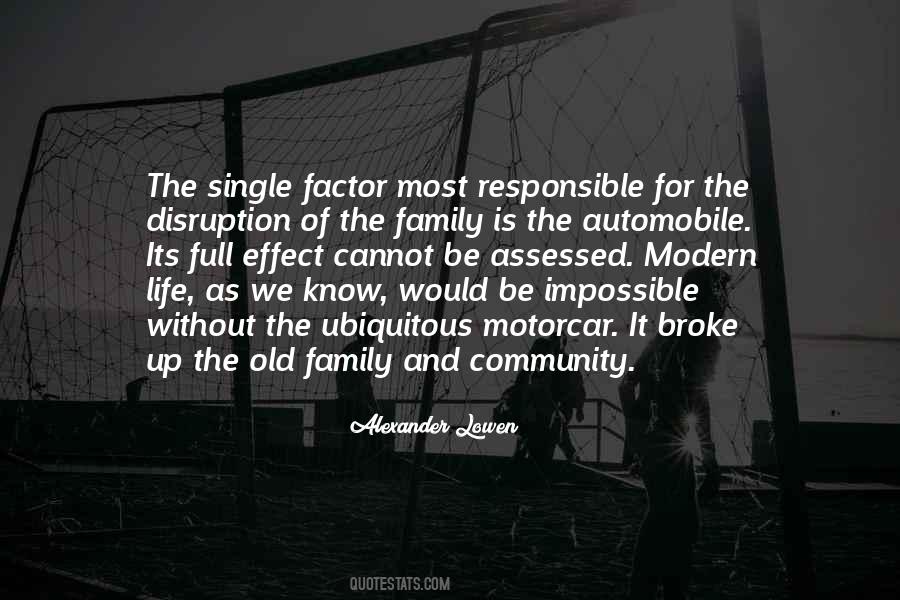 #19. Well, I don't know that I'm OK any more than anybody else is OK but I've led at least a happy life and a very full one. - Author: L. Ron Hubbard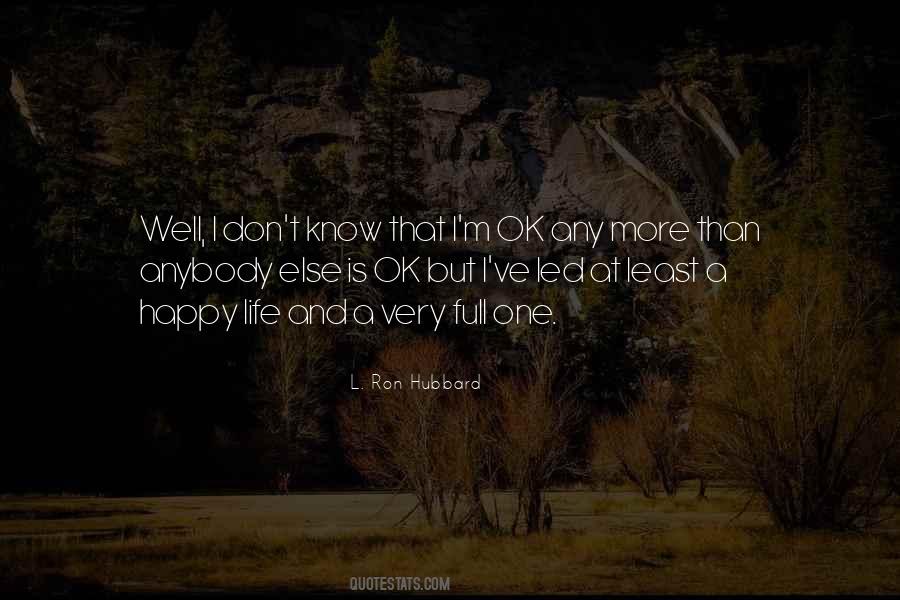 #20. I'm so proud that my offspring became a musician. I'm full of awe that we are able to have a whole family live the life of artists. - Author: Maxine Hong Kingston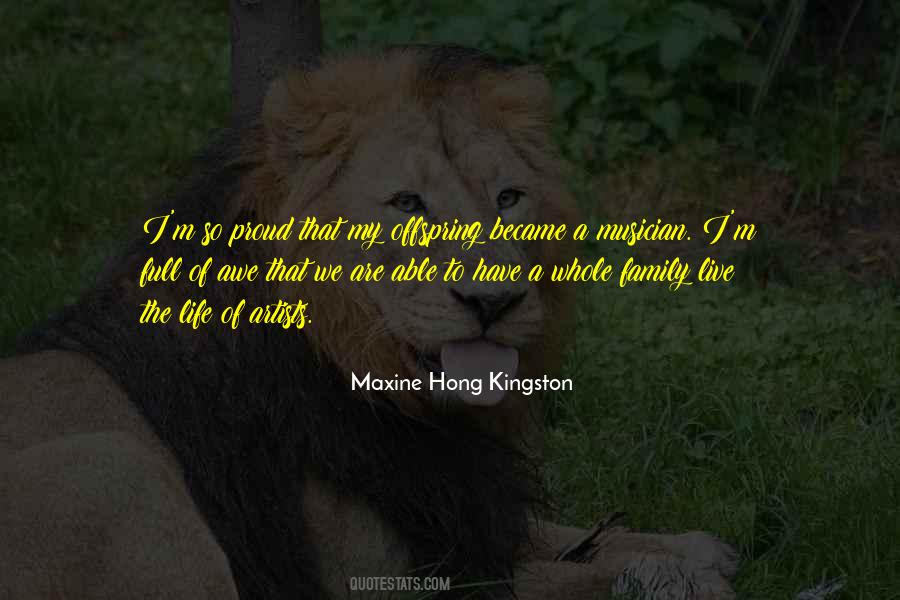 #21. As you get older, your metabolism slows down. You've got to admit it. It's nothing to be ashamed of if you have lived your life to the full. - Author: Rod Stewart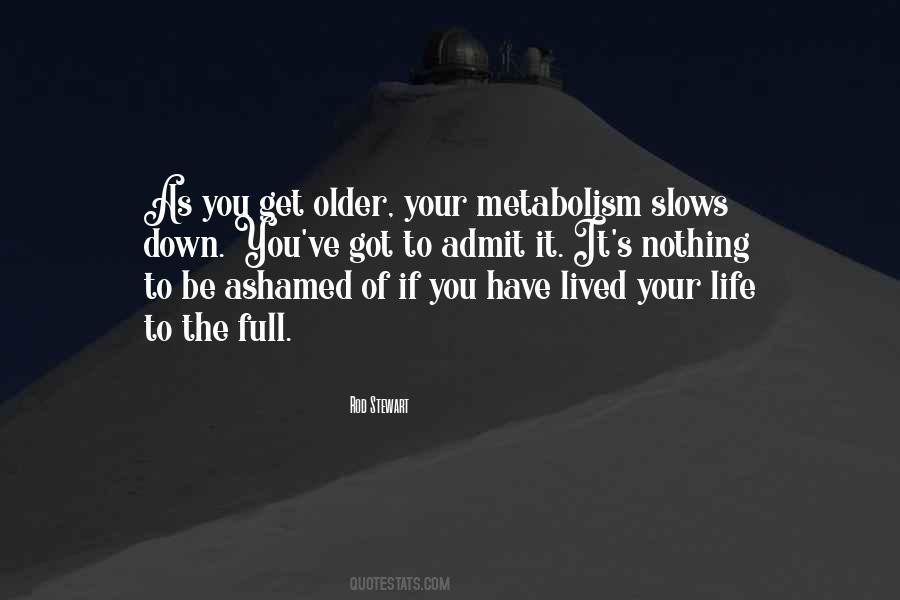 #22. I'd rather die riding 95 than live a life full of nothing but filthy lies. - Author: Mitch Lucker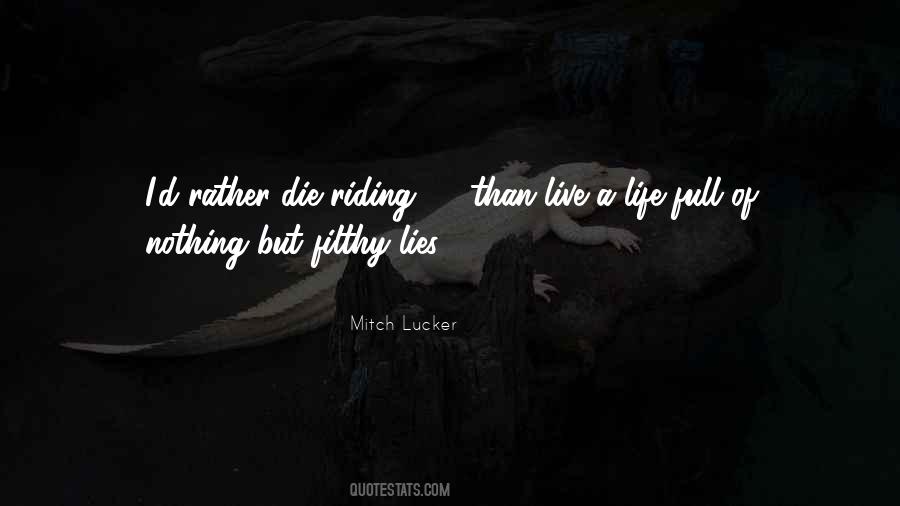 #23. We are the inheritors of a wonderful world, a beautiful world, full of life and mystery, goodness and pain. But likewise are we the children of an indifferent universe. We break our own hearts imposing our moral order on what is, by nature, a wide web of chaos. - Author: Colin Meloy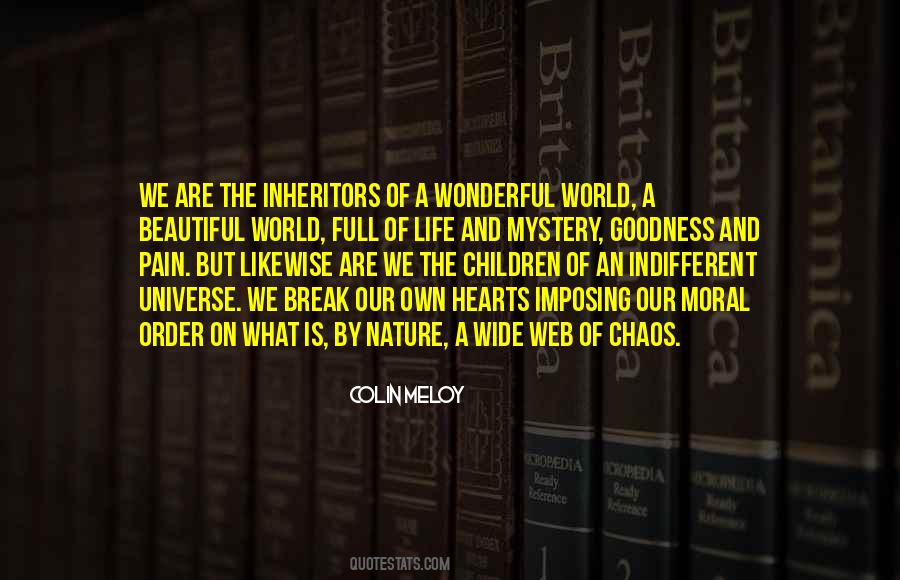 #24. If I look at my old lyrics, they seem to be full of rage, but empty. There was an emptiness in my life. - Author: Green Day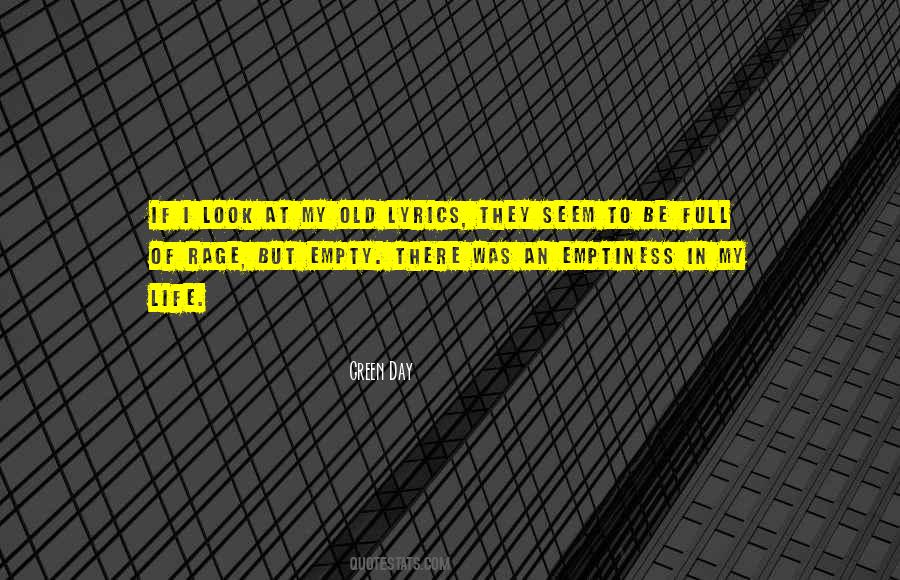 #25. I could write pages and pages about the delights of being a full-time housewife and mother and trying to write and support a family with two babies - but I don't use that kind of language in public. - Author: Marion Zimmer Bradley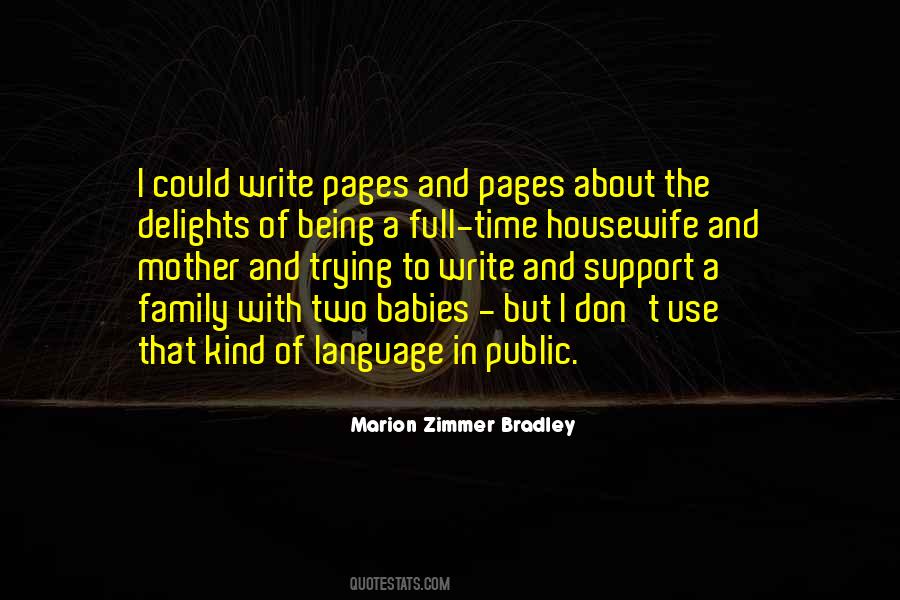 #26. Life is full of possibilities and people should take an advantage of it to pursue success. - Author: Saaif Alam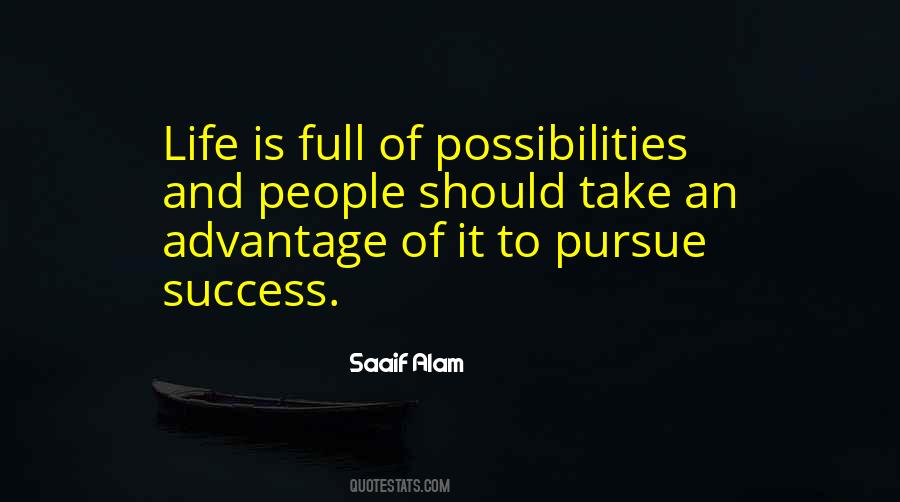 #27. When the writing fit came on, she gave herself up to it with entire abandon, and led a blissful life, unconscious of want, care, or bad weather, while she sat safe and happy in an imaginary world, full of friends almost as real and dear to her as any in the flesh. - Author: Louisa May Alcott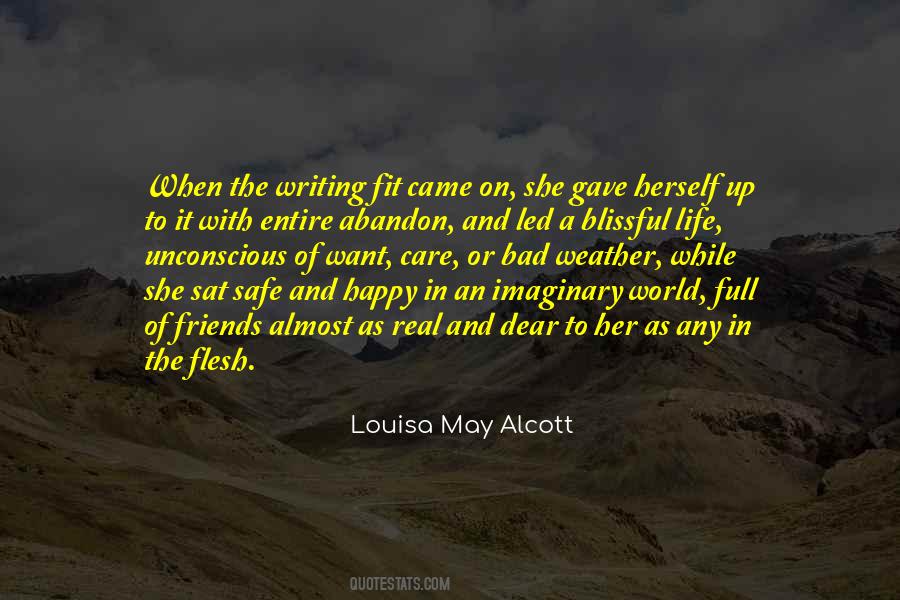 #28. Until it had been clearly explained that men were always and always partly wrong in all their ideas, life would be full of poison and secret bitterness. Men fight about their philosophies and religions, there is no certainty in them; but their contempt for women is flawless and unanimous. - Author: Dorothy Richardson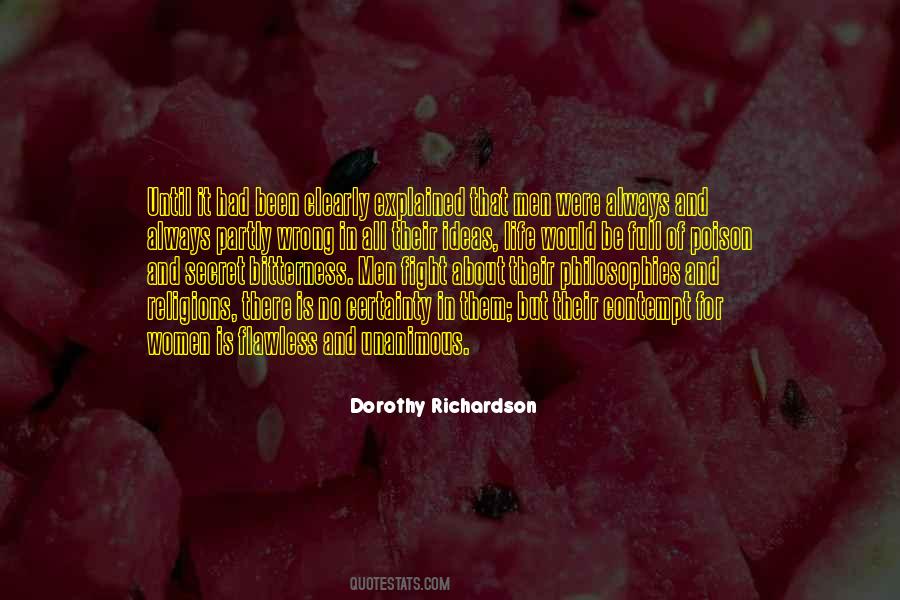 #29. Inside this new love, die. Your way begins on the other side ... . Die, and be quiet. Quietness is the surest sign that you've died. Your old life was a frantic running from silence. The speechless full moon comes out now. - RUMI - Author: Tim Farrington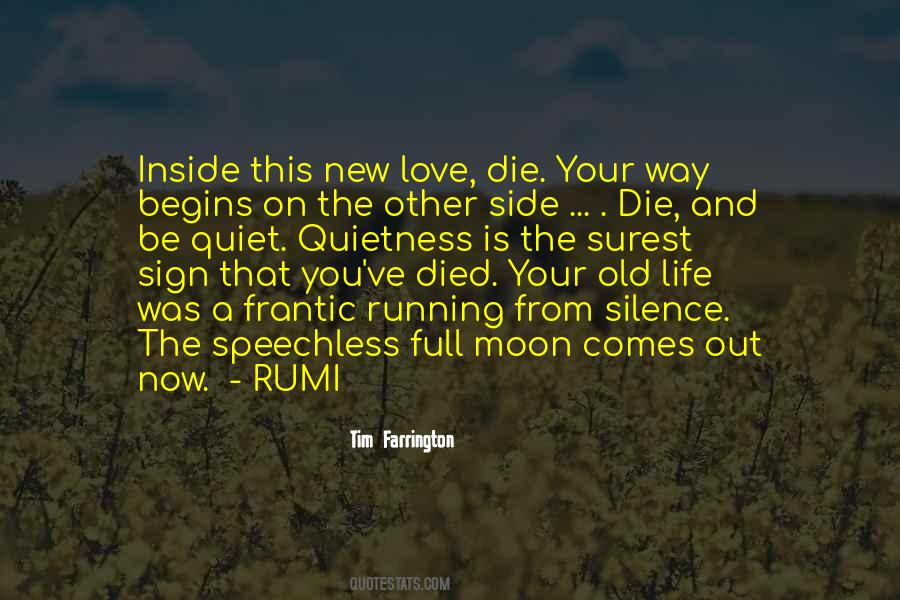 #30. I got my iPad, and I'm trying to buy books on that, but I kind of like a book. At the end of my life, when I'm old, I want to have all these shelves full of books. So I'm just gonna do the book thing. - Author: Luke Bryan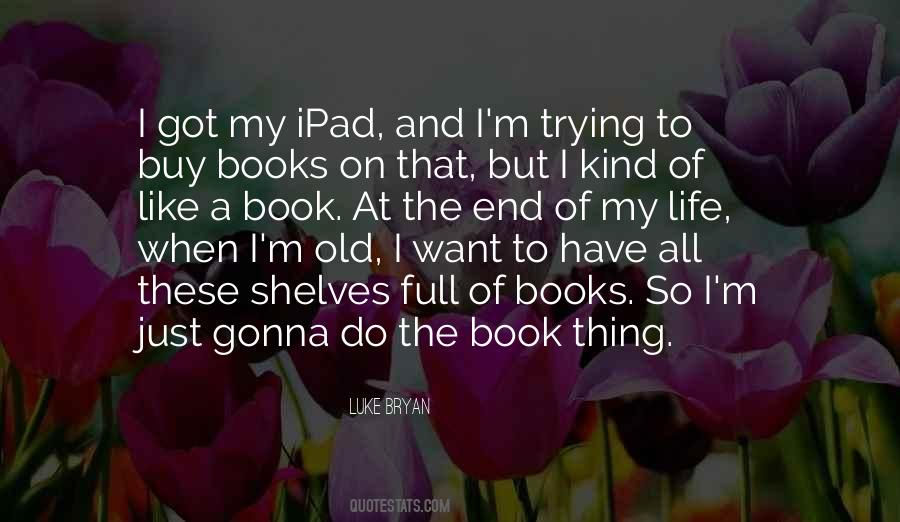 #31. My senses are consumed by their chatter, the sound of sneakers on the floor, laughter. These people are always in motion, always full of a life I lack, no matter how much I pretend. - Author: Kelsey Sutton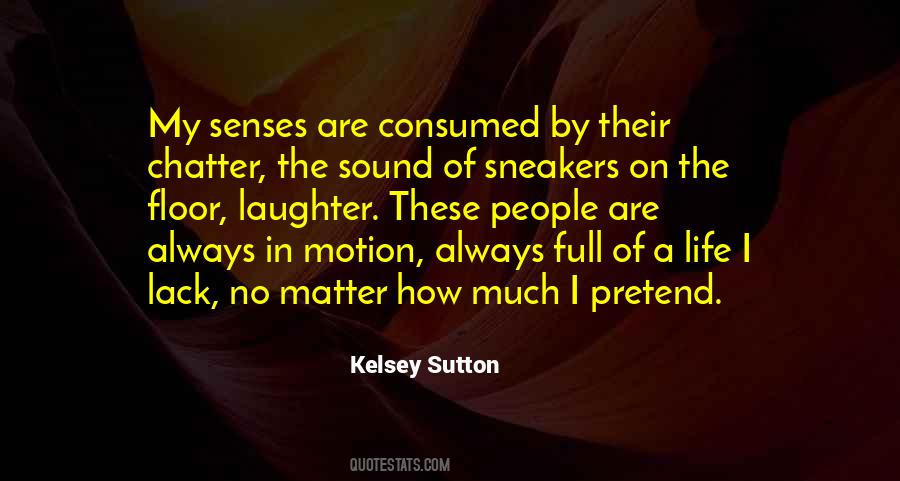 #32. My river of words and her silence seemed to demonstrate that my life was splendid but uneventful, which left me time to write to her every day, while hers was dark but full - Author: Elena Ferrante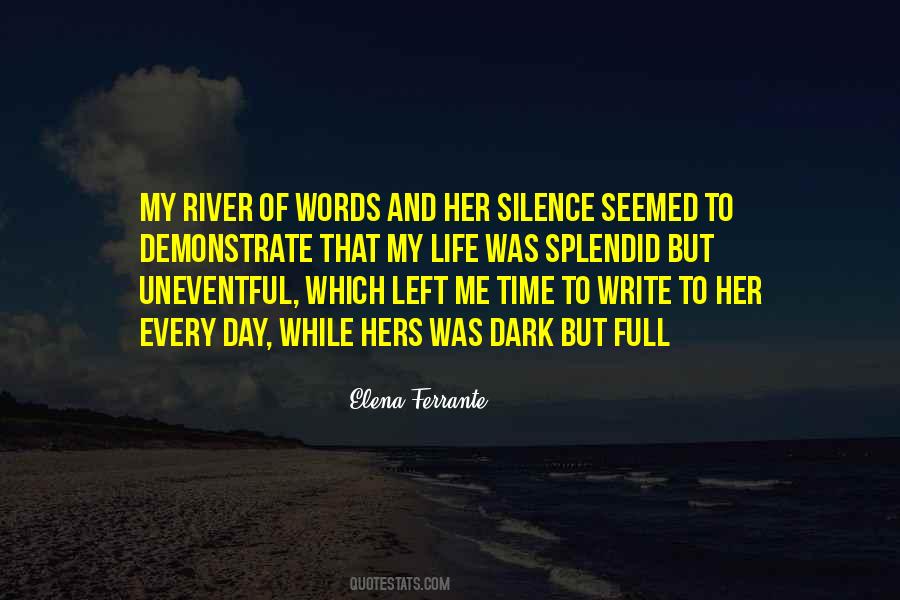 #33. Friendship, as has been said, consists in a full commitment of the will to another person with a view to that person's good. - Author: Pope John Paul II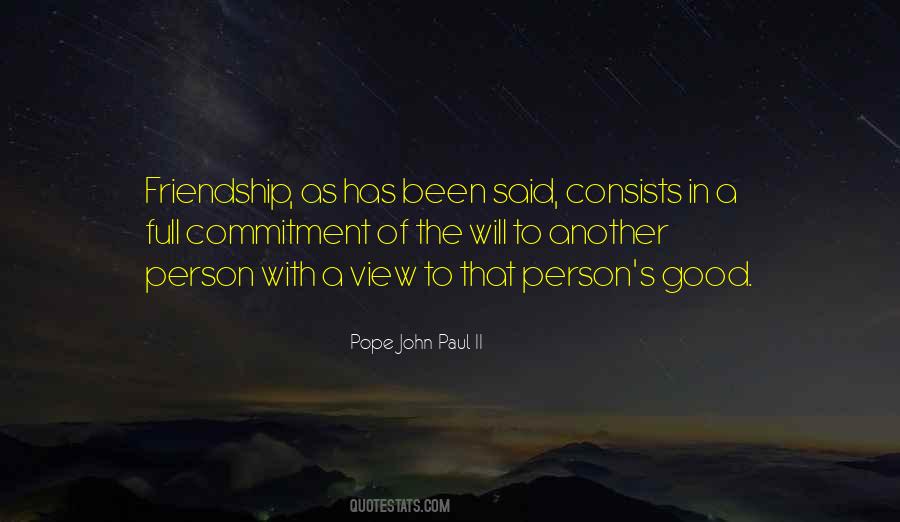 #34. I want to live a full life - period. - Author: Regina King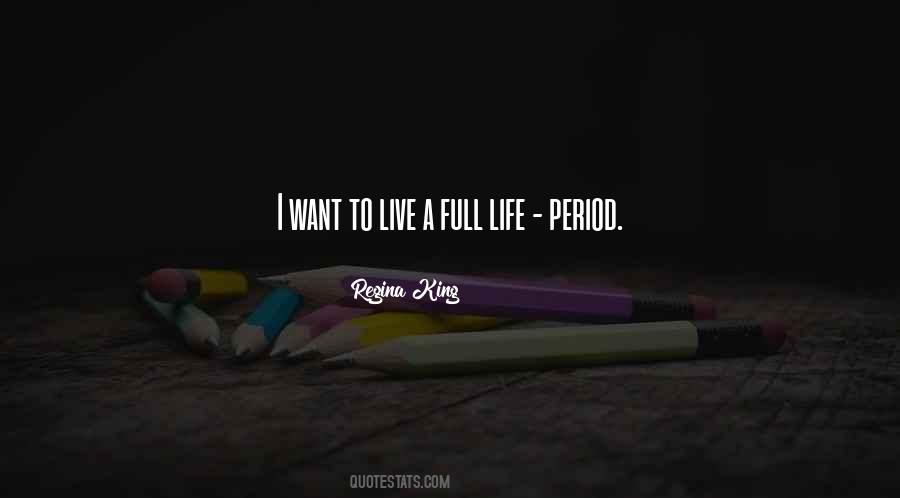 #35. Here's how I look at it: Life is full of challenges. Everybody has them. For some, it's health or family crises. I had a financial challenge. - Author: Tamara Tunie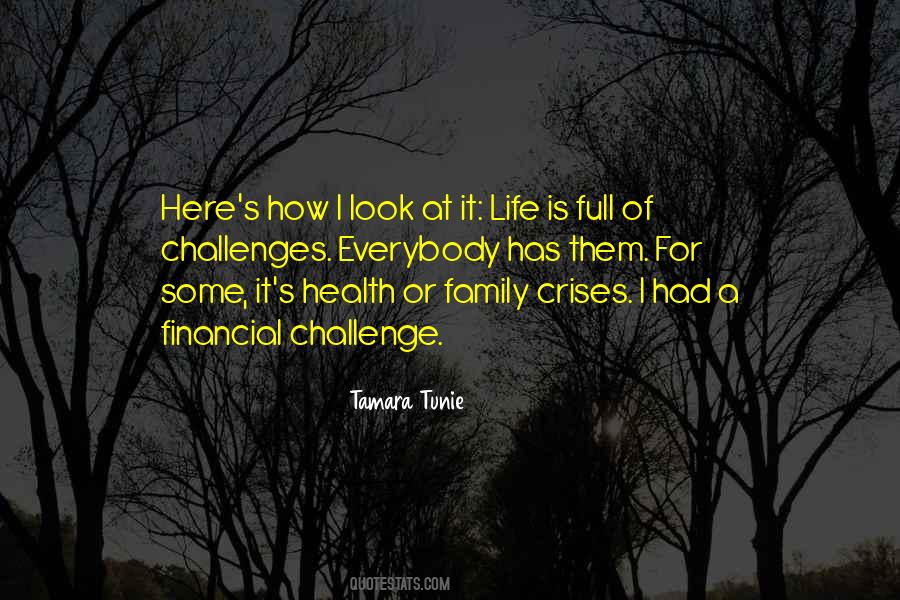 #36. I invite you to read again the full accounts of this inspired vision. Study them, ponder them, and apply them to your daily life. In modern terms we might say we are invited to "get a grip." We must hold on tight to the iron rod and never let go. - Author: Ann M. Dibb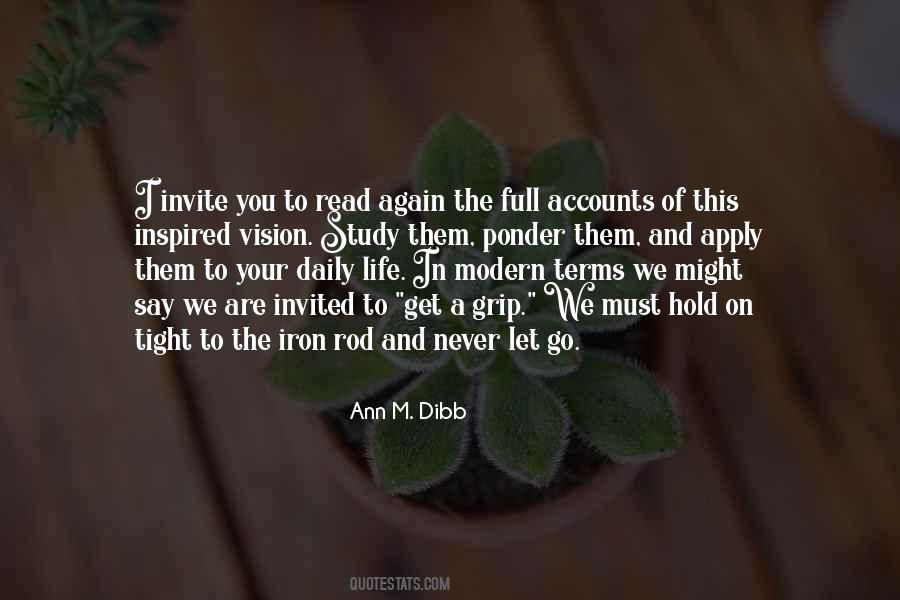 #37. Life is varied, colorful, and full of surprises. It is always good to remember that your existence matters, so better get moving and move forward with your life. - Author: Kcat Yarza
#38. Dr. Warren was of the mental build of the man whose life would be interesting and full of outlook if it were spent on a desert island or in the Bastille. - Author: Frances Hodgson Burnett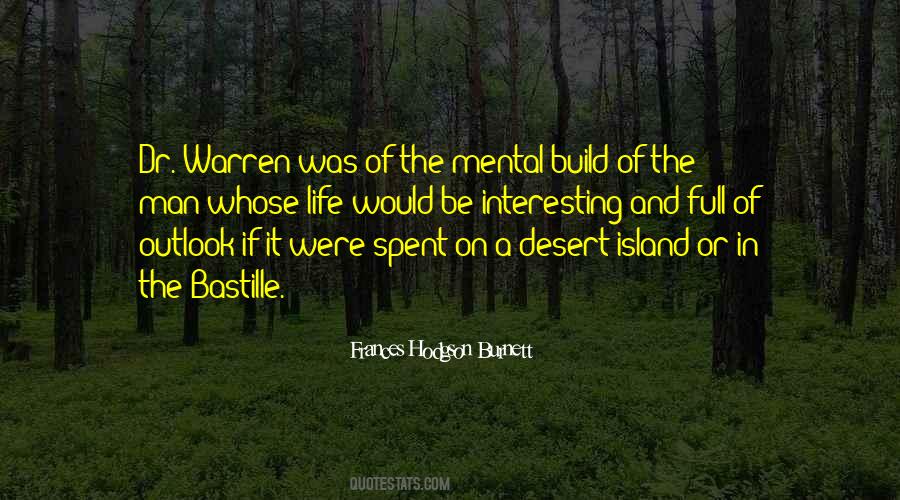 #39. In its most fundamental sense, execution is a systematic way of exposing reality and acting on it. Most companies don't face reality very well ... Realism is the heart of execution, but many organizations are full of people who are trying to avoid or shade reality. Why? It makes life uncomfortable. - Author: Lawrence Bossidy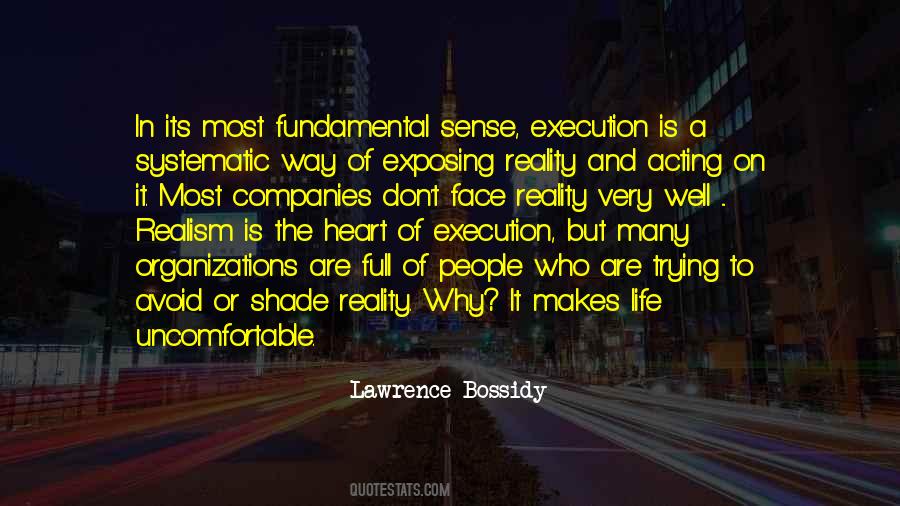 #40. I live in New York. I have an amazing apartment over there; I have this amazing life over there that's full of glamour. I get treated like a queen over there - and that's one of the reasons I love coming home. It's very grounding. - Author: Nicole Trunfio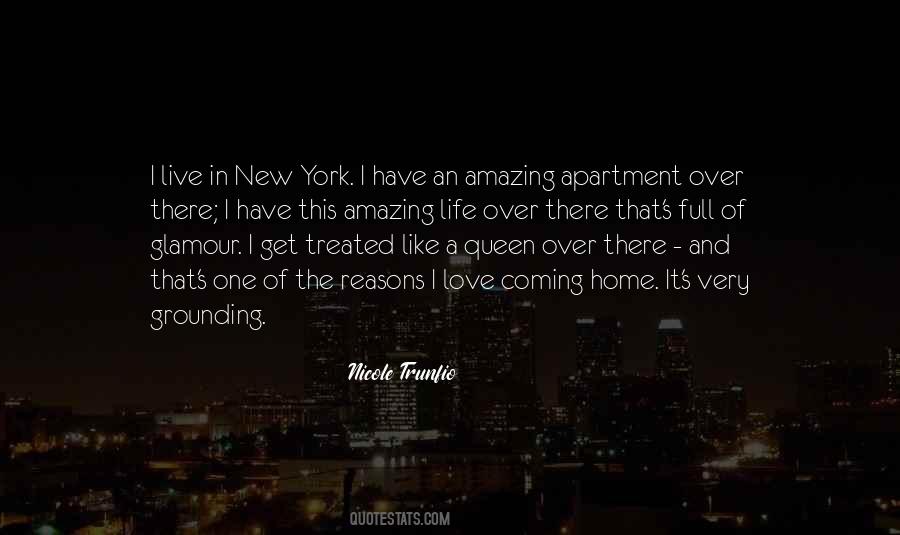 #41. It made Alice realize how much of life was full of empty stuff, objects longed for because the hope of them made your small life seem bigger, better, brighter. - Author: Christina Henry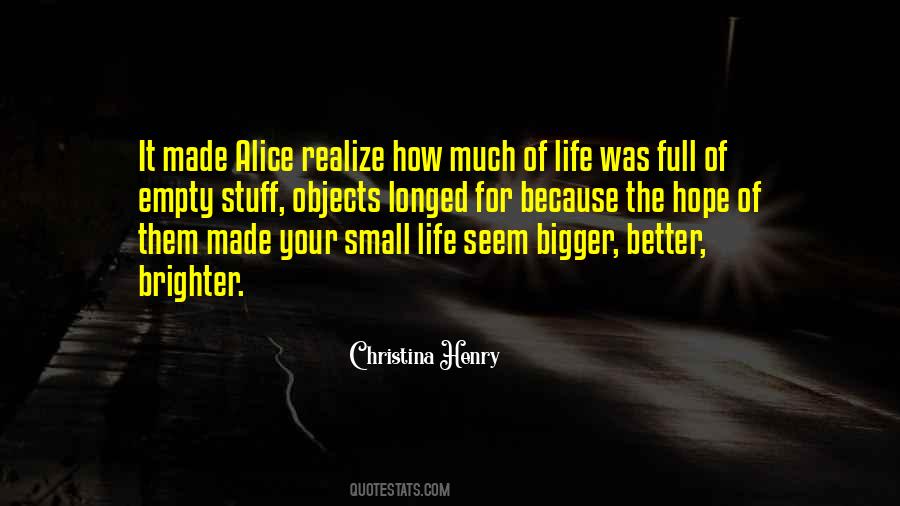 #42. Only by a life of obedience to the voice of the Spirit, by a daily denying of self, by full dedication to Christ, and by constant fellowship with Him are we enabled to live a godly life and an influential life in this present ungodly world. - Author: Billy Graham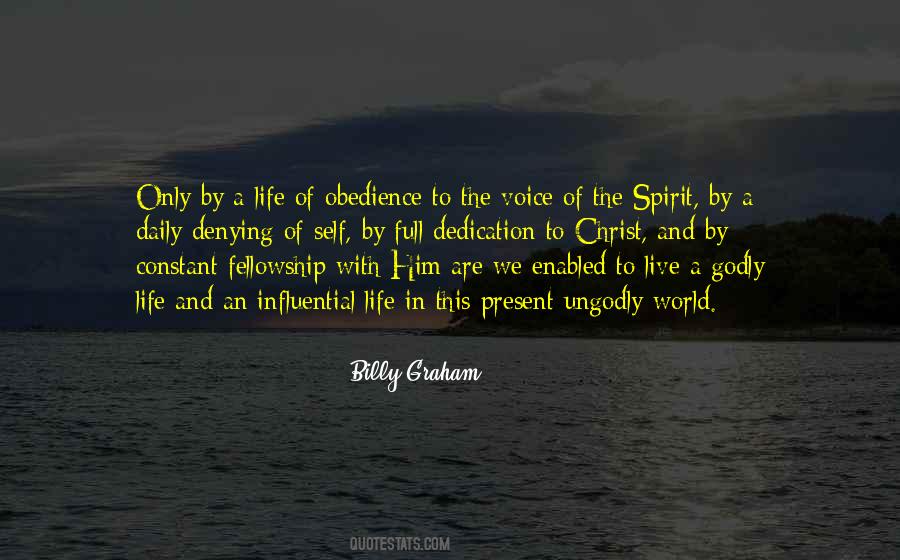 #43. A tank full of life and a running tap. - Author: Saleem Sharma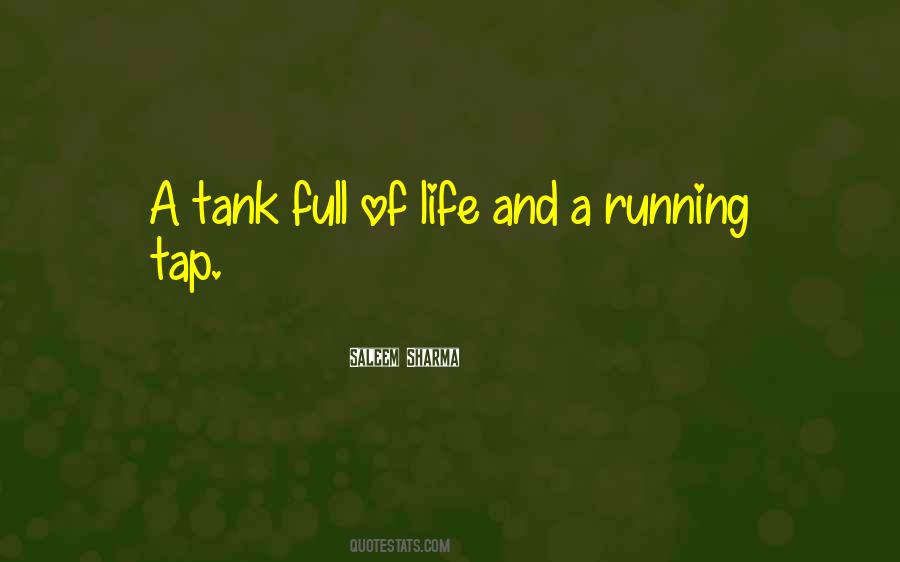 #44. It is one of the peculiar truths of life that people often say things that they know full well are ridiculous. - Author: Lemony Snicket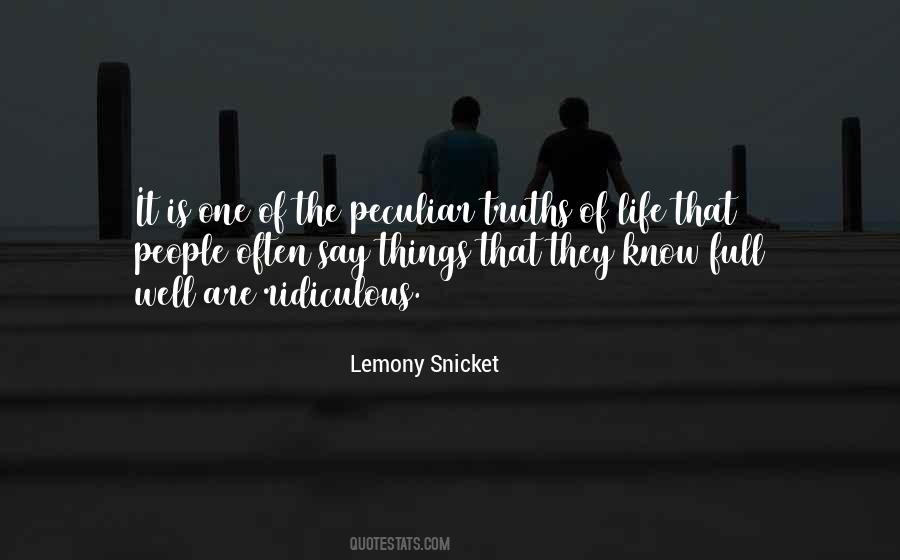 #45. It's always the end for now, and in real life, the only full stop is on the obituary page. - Author: Stephen King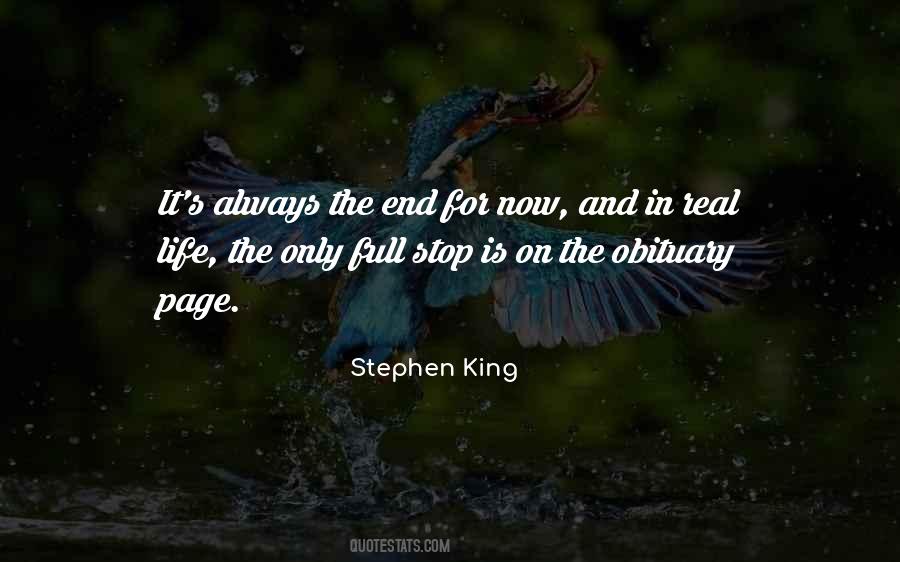 #46. Who knows why you kids do any of the crap you do?"
"And who knows why you guys are such assholes?" Lex countered, taking a sip of her soda. "Life is just full of little mysteries, isn't it? - Author: Gina Damico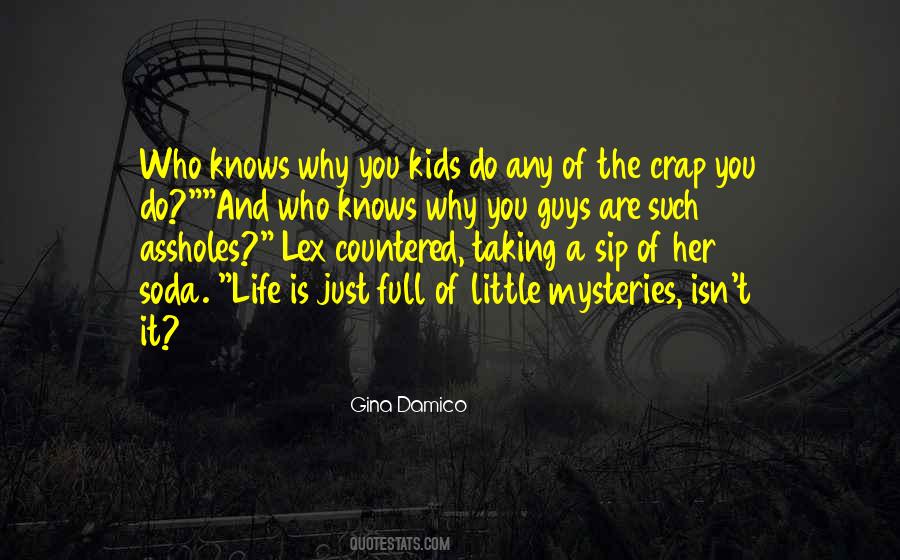 #47. Aunty, whatever the matter, just remember that it is the same moon that wanes today that will be full tomorrow. And even the sun, however long it disappears, it always shines again. - Author: Chinelo Okparanta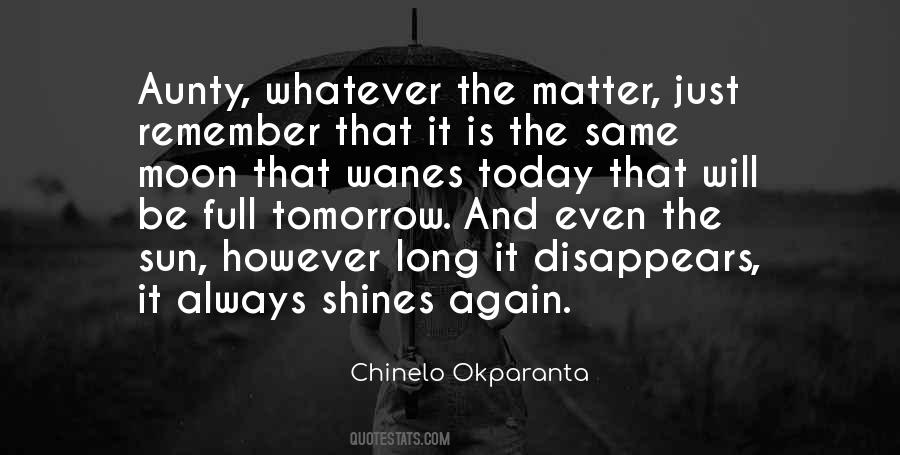 #48. Of course, when you remember your life, you never remember anything in a chronological way. You always have pieces of memories, and some of these memories are full of details and very colorful. Some of them you just see the action and it's completely blank. - Author: Marjane Satrapi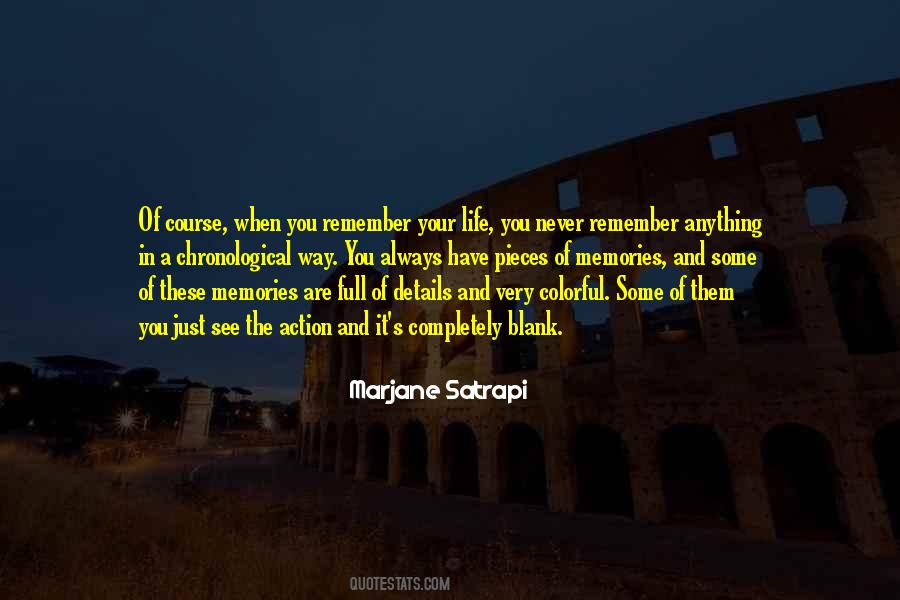 #49. He will be out there, living his life to the full, when she seems to have put hers perennially on hold. - Author: Jojo Moyes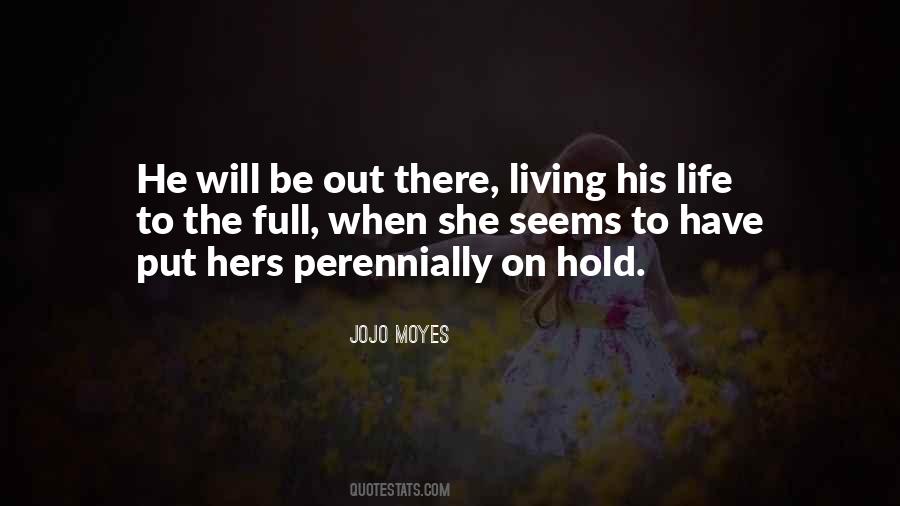 #50. This life is full of signs, many of which find their way to you exactly when you need them most. - Author: Christy Hall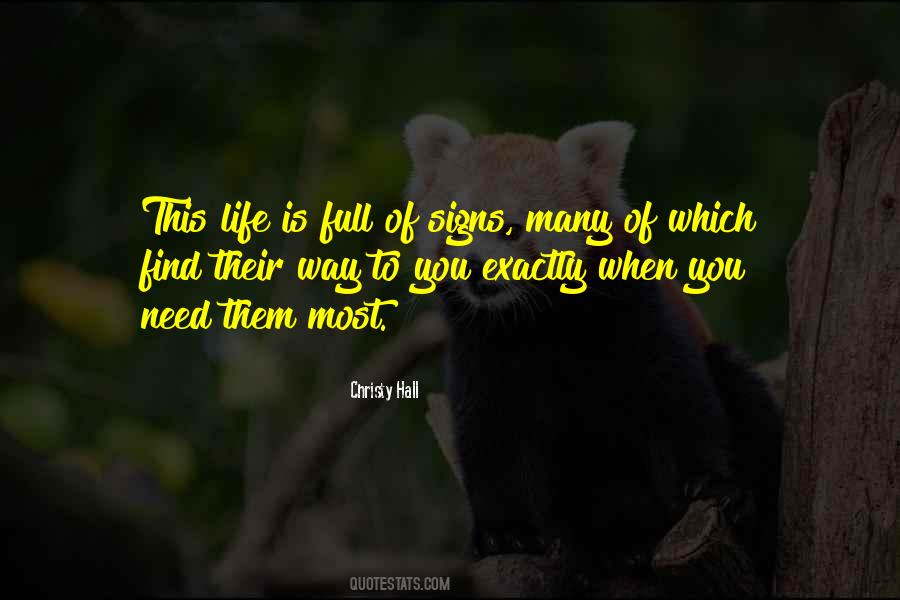 #51. Ideas are not just counters used by the calculating mind; they are also golden vessels full of living feeling. "Freedom" is not a mere abstraction, it is also an emotion. ~Carl Jung, The Symbolic Life, Pages 310-311. - Author: C. G. Jung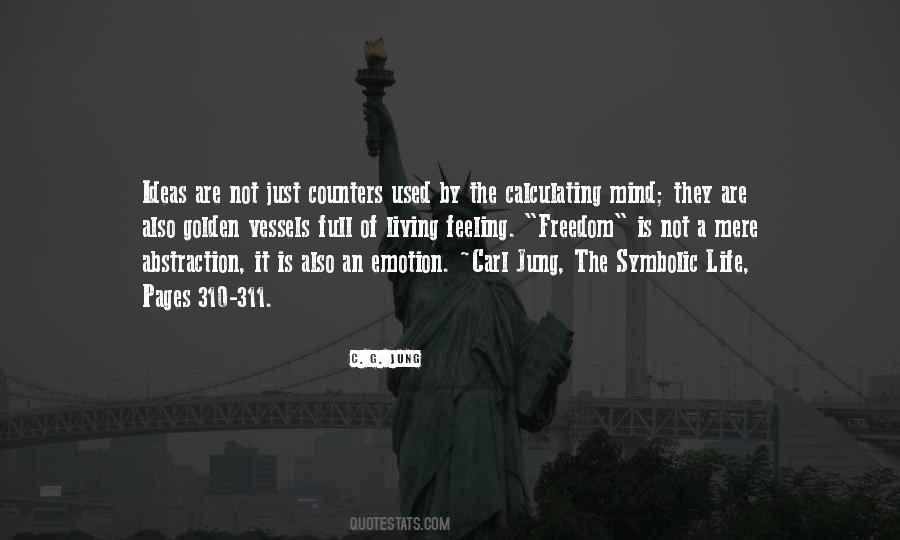 #52. Redeemed humanity is still young, it has hardly come to its full strength. But already there is joy enough in the little finger of a great saint such as yonder lady to waken all the dead things of the universe into life. - Author: C.S. Lewis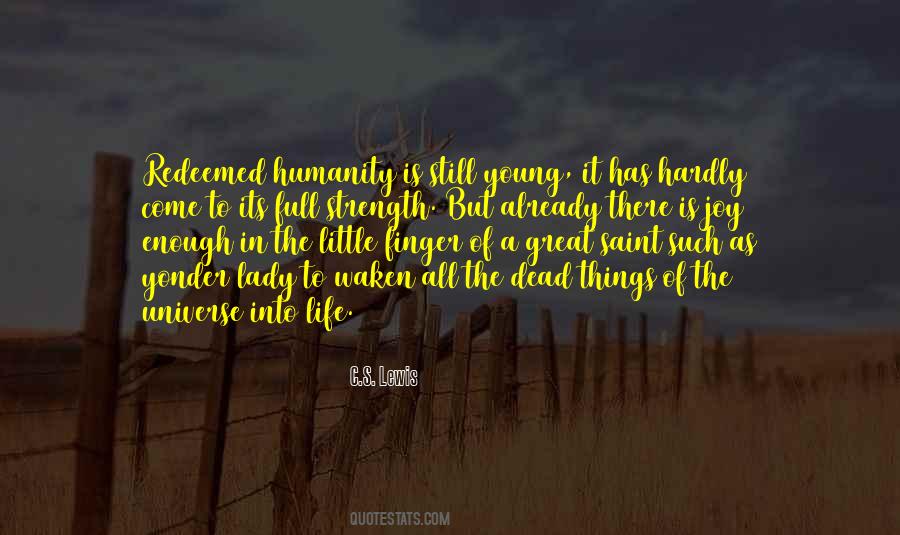 #53. Most writers agree on the fact that Zen is not to be understood but to be lived; and far from being incompatible with the requirements of everyday life, Zen confers on it its own full revealing value. - Author: Robert Linssen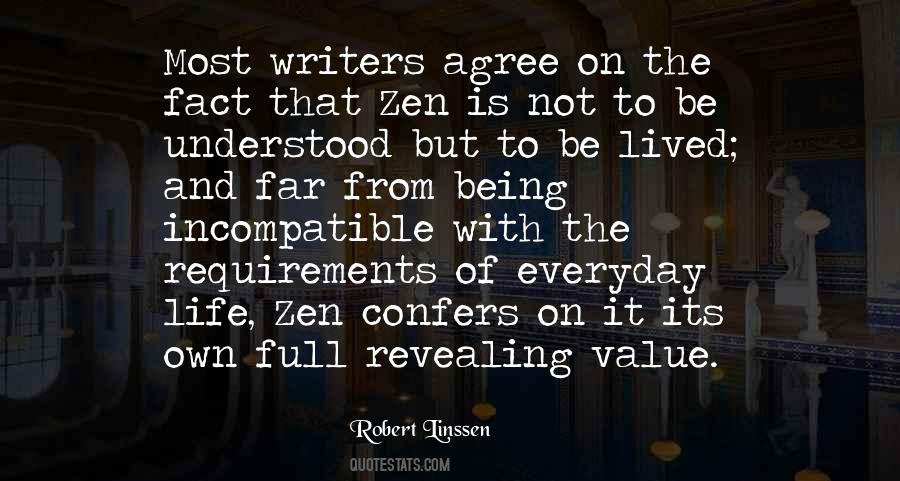 #54. Young friends, do not hesitate to follow the example of Pedro, who 'pleased God and was loved by him' and who, having come to perfection in so short a time, lived a full life. - Author: Pope John Paul II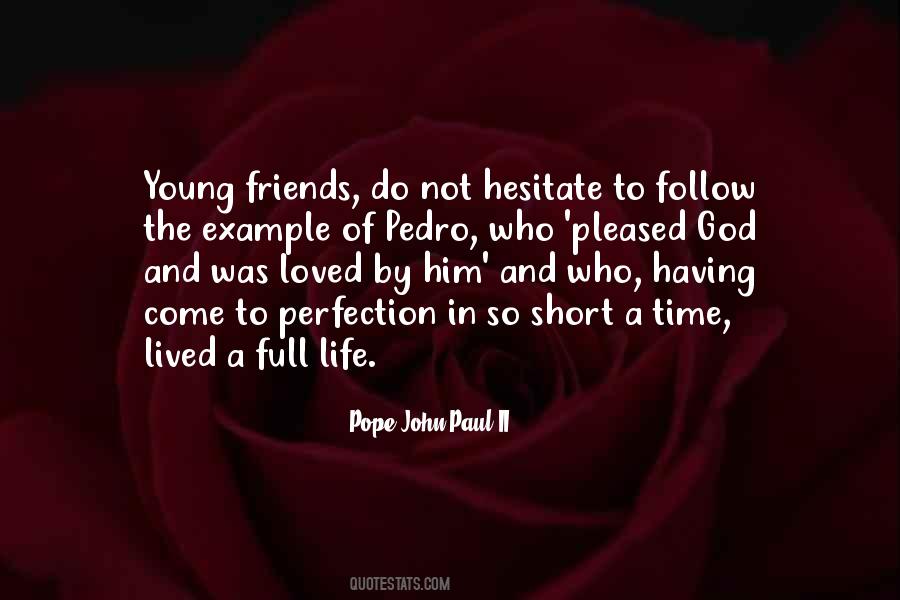 #55. One big contribution my father [Stephen Hawking] has made is to show that having a disability does not bar you from leading a full and eventful life. - Author: Stephen Hawking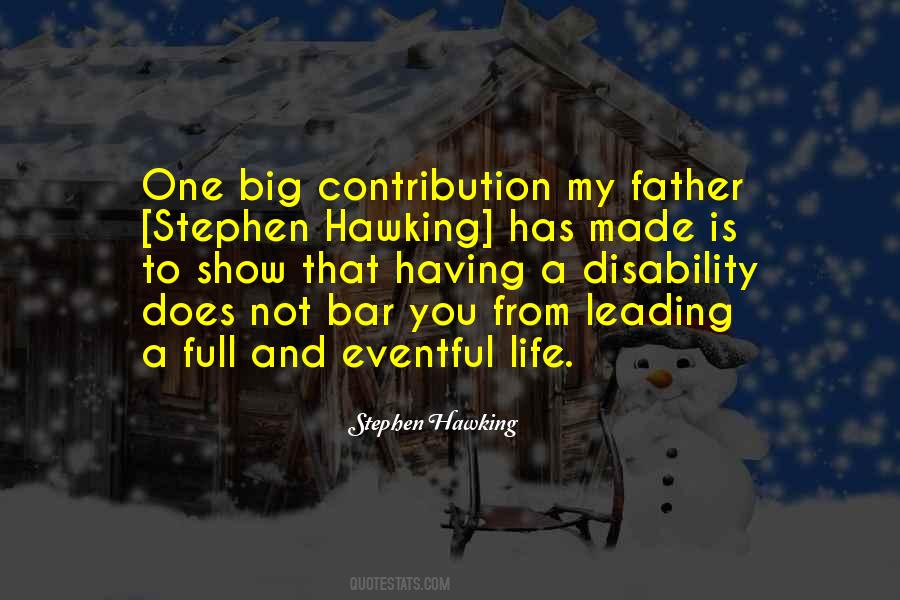 #56. Of all liars the most arrogant are biographers: those who would have us believe, having surveyed a few boxes full of letters, diaries, bank statements and photographs, that they can play at the recording angel and tell the whole truth about another human life. - Author: A. N. Wilson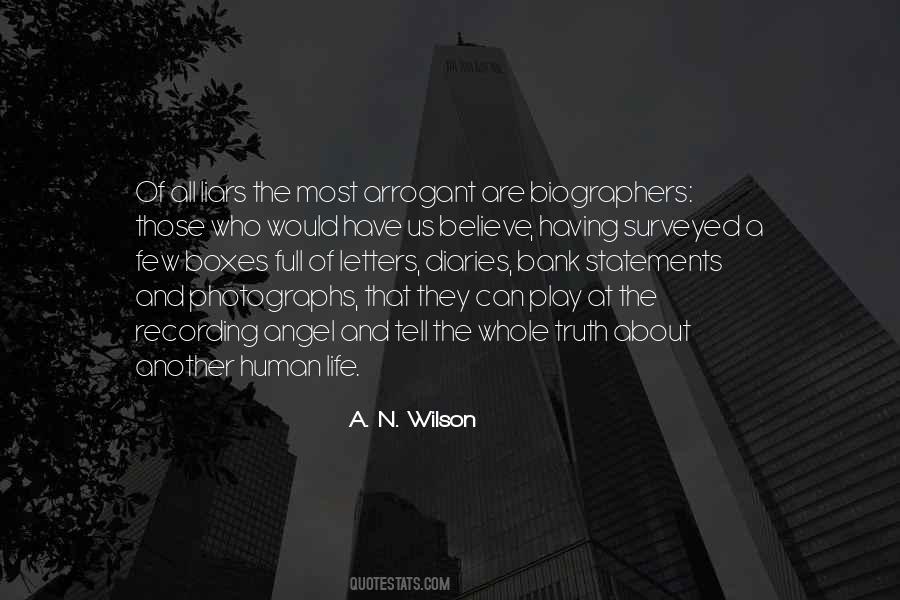 #57. I'm living by example by continuing on with my career and having a full, rich life, and I am incidentally gay. - Author: Portia De Rossi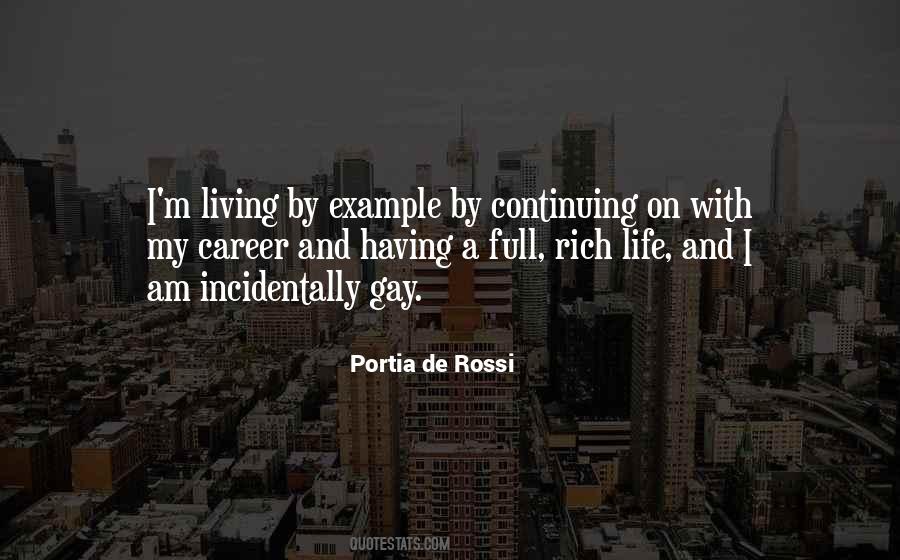 #58. There were definitely times I couldn't shower for a full week because I could barely stand, it felt like having all your life sucked out of you. - Author: Avril Lavigne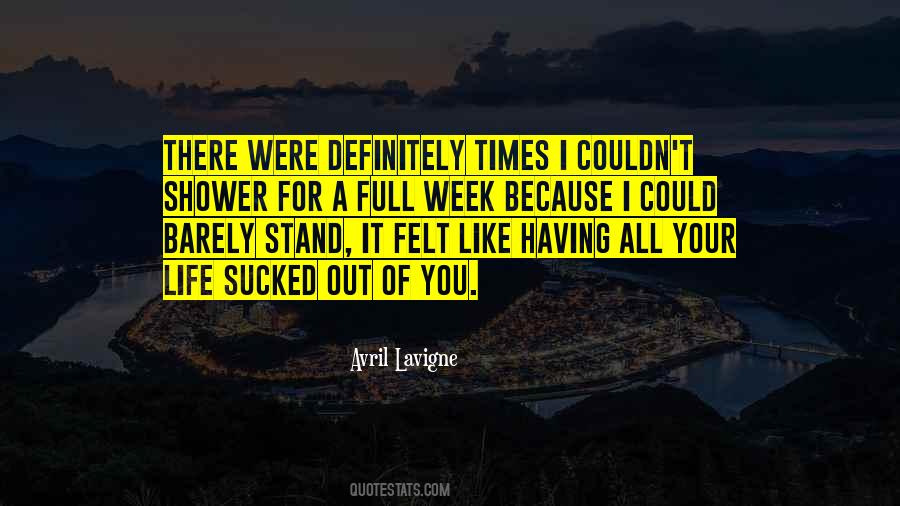 #59. I don't regret for a single moment having lived for pleasure.
I did it to the full, as one should do everything that one does. There was no pleasure I did not experience. - Author: Oscar Wilde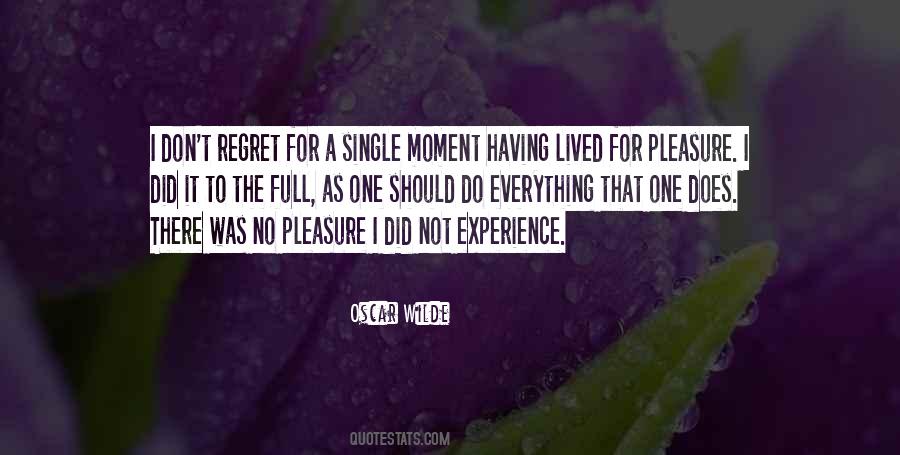 #60. We live this life, full of agony, despair,and pain. Living day by day, having no clue of what will happen, after a second, a minute, an hour, and a year.. Will we die of despair? Or will we find that person who completes our life and enlightens our hearts? - Author: Junior Isaac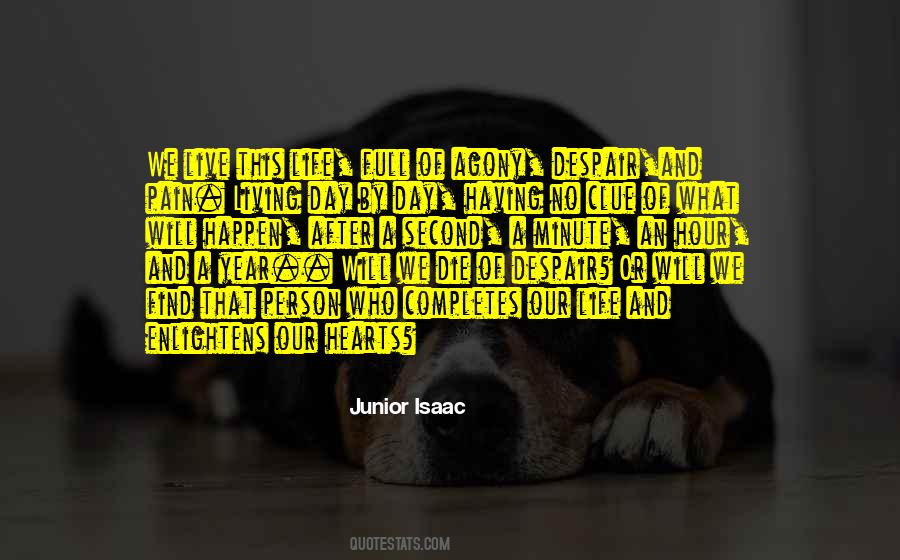 #61. I guess I'm in a state of becoming. Even though I've had a full career and I've been around a long time, it's like dinosaurs are coming back. It's all new. I'm having to be on my own and seeing how exciting life can be now. - Author: Valerie Simpson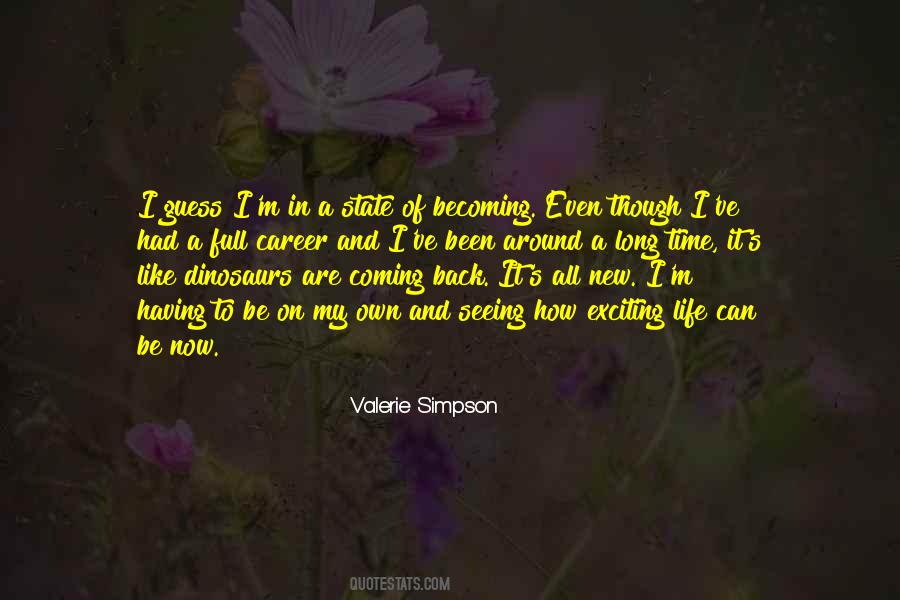 #62. Finding happiness is not as simple as having good friends or a full social life. The crunch issue is our ability, or inability, to find within ourselves a sense of meaning or deeper purpose, something not found in everyday life. - Author: Mark Vernon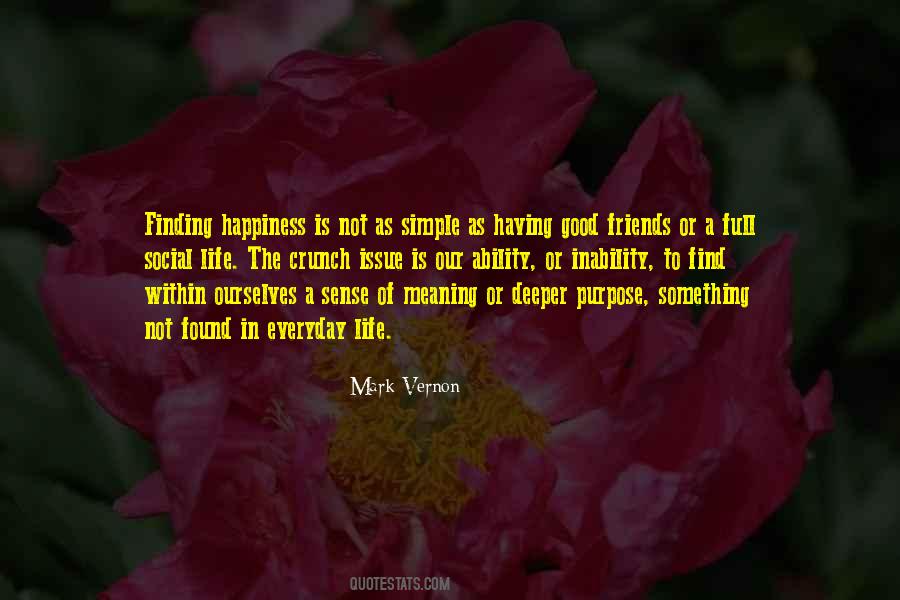 #63. The feeling of being hurried is not usually the result of living a full life and having no time. It is on the contrary born of a vague fear that we are wasting our life. When we do not do the one thing we ought to do, we have no time for anything else
we are the busiest people in the world. - Author: Eric Hoffer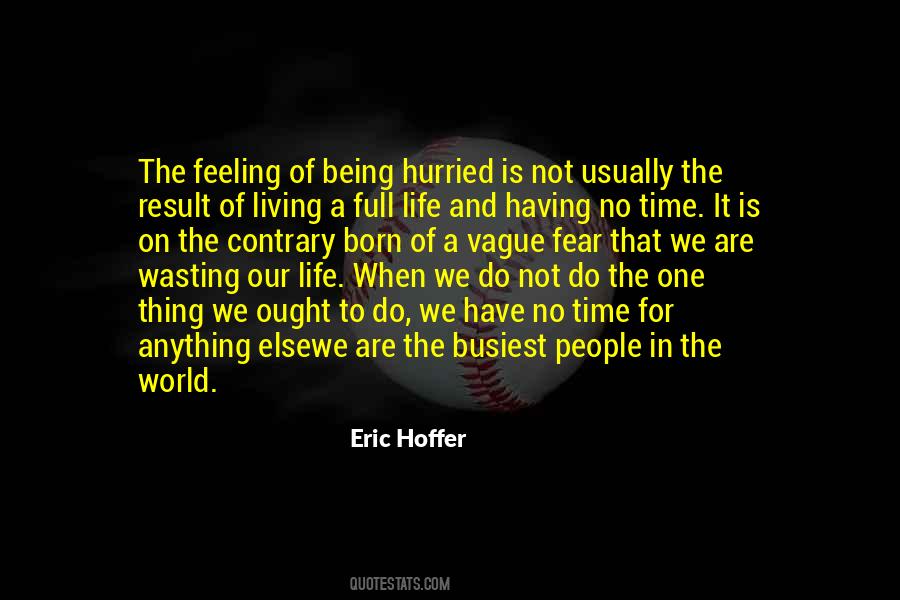 #64. My whole life has been a very communal experience; growing up in a house full of happy hippies, having dinner parties three days a week, and going to Christiania, I was constantly surrounded by people celebrating community. If you look at the films I've done, they all share that theme. - Author: Thomas Vinterberg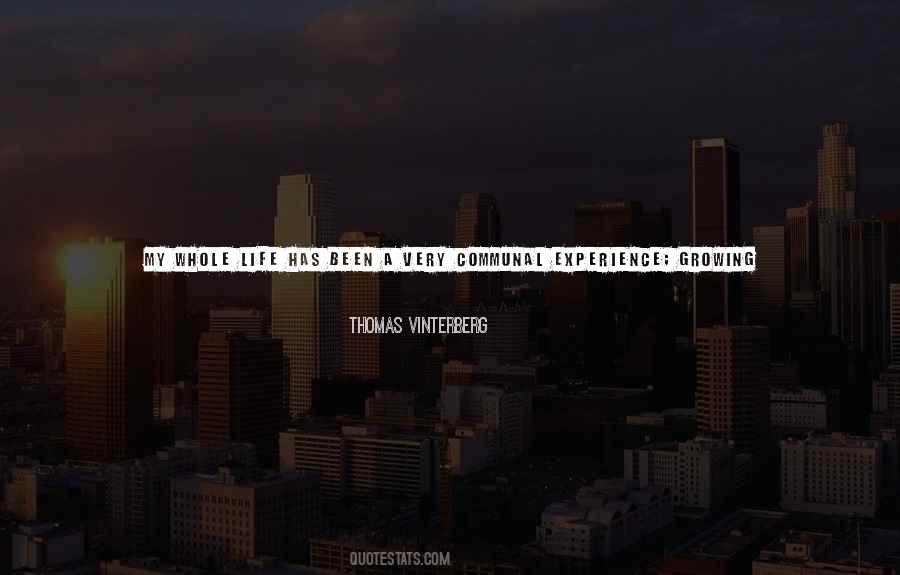 #65. For me, it's about having a full life wherever I come to set my hat for a while; so I like to be in a place that offers me a base that's rich and full of people. New York certainly has that at the moment. - Author: Sean Mahon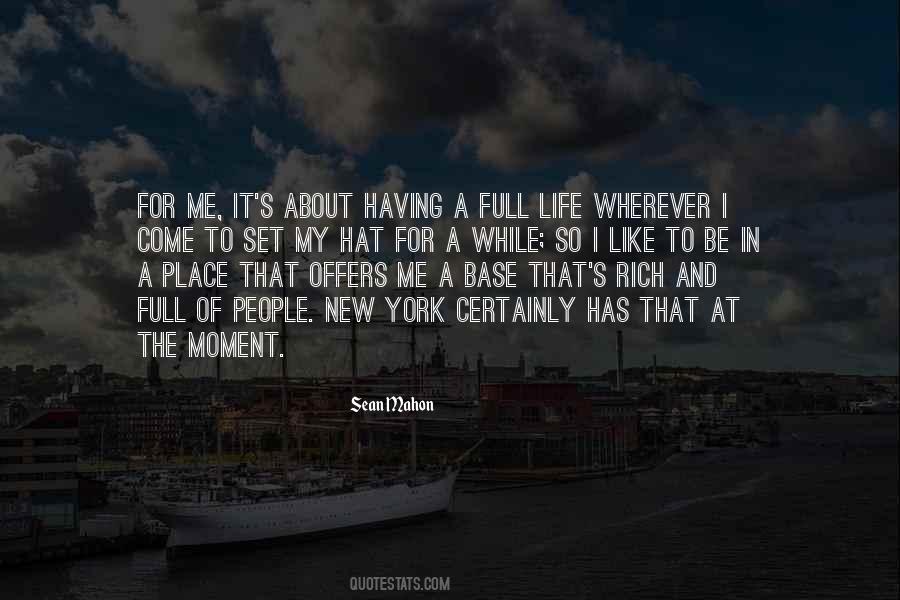 #66. There really was no point in having vision that didn't revolve a full 360 degrees because it was usually from behind that life would sneak up and overtake you. - Author: Keith Buckley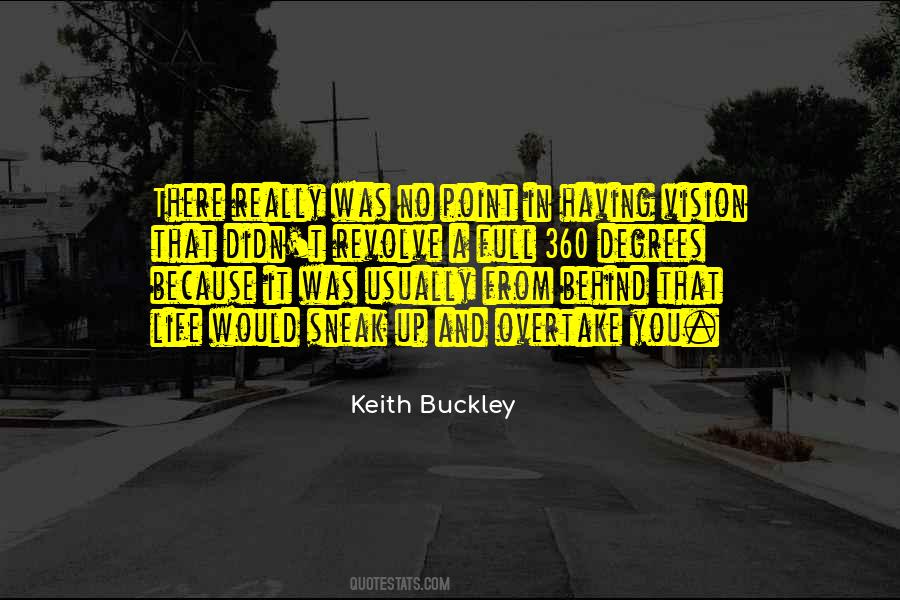 #67. I wake up so full of life and feeling so alive and so full of joy when I get to go to a set and tell a story. I just - I couldn't imagine not having that, and what a gift it's been in my life. - Author: Hilary Swank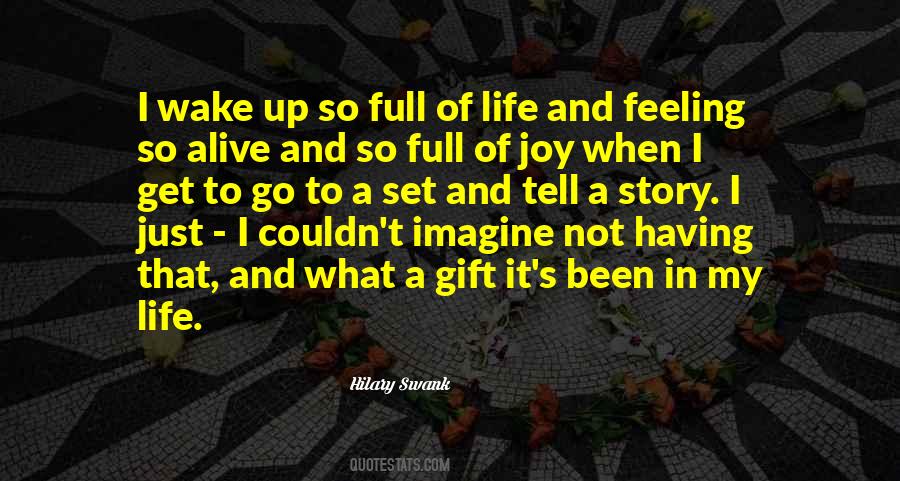 #68. I have never, ever, had an acting partnership that was a safe, as full, and as exciting as the one I had with Tony. I didn't want to go through life without having a chance to taste it again. - Author: Genie Francis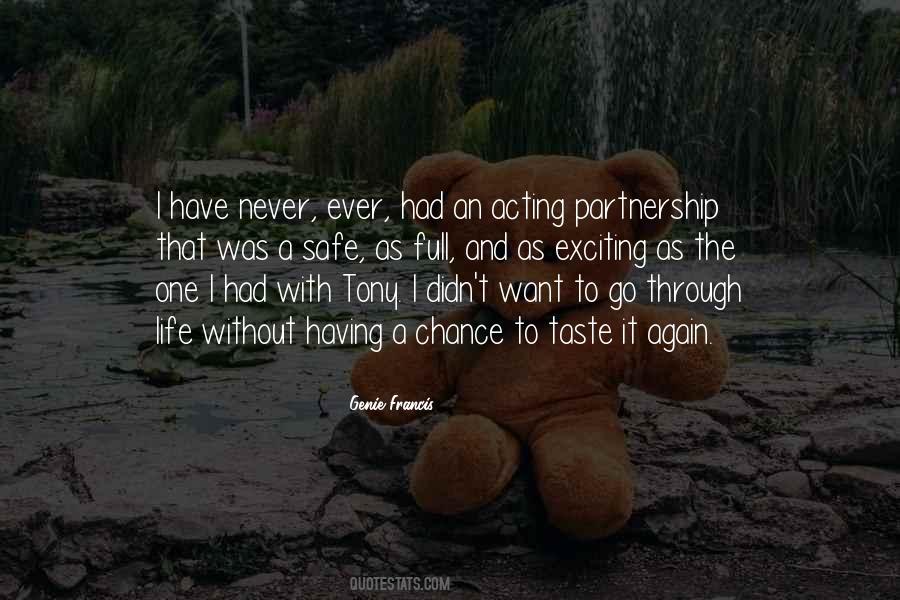 #69. Life is full of surprises, a wise man said, and would not be worth having if it were not. - Author: Richard Ford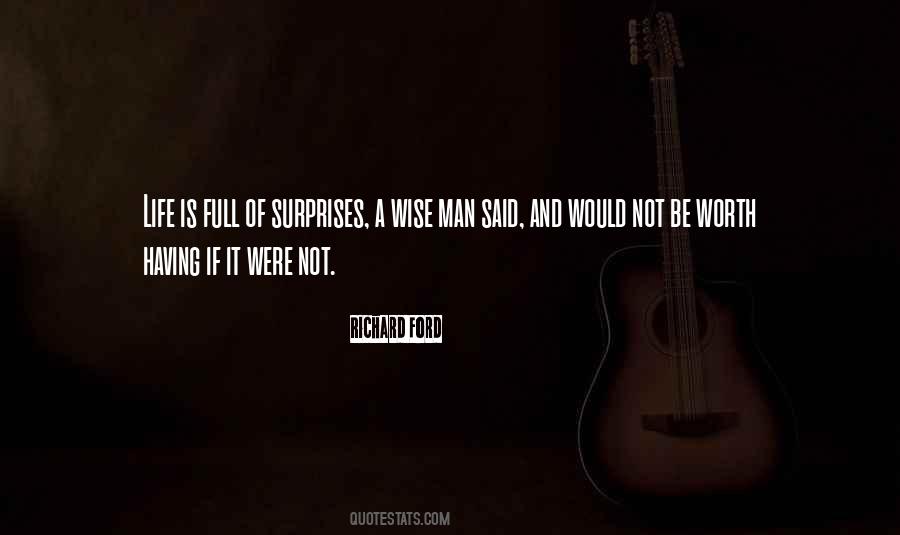 #70. Having lived a full and stimulating life before I had my kids, I've relished every minute I've had to spend with them and felt a degree of confidence in dealing with their trials and tribulations to date. - Author: Mariella Frostrup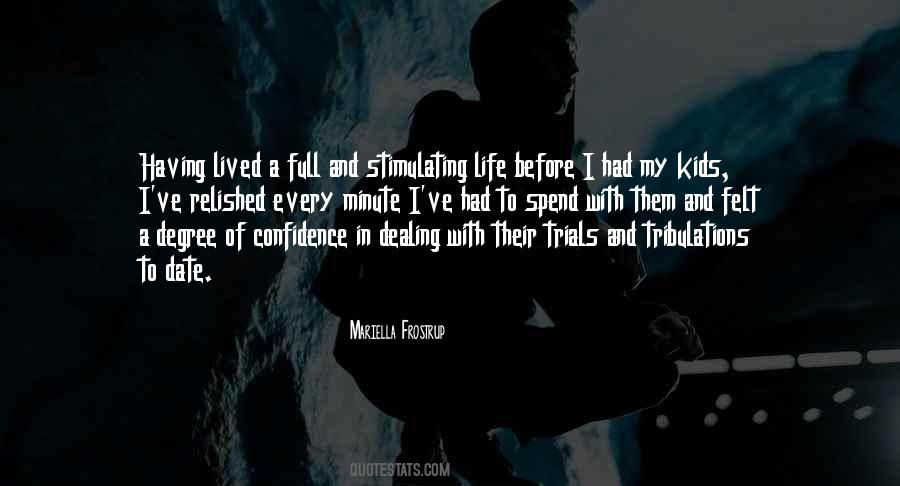 #71. Having a messy coat closet should not be a big deal in a full life, and yet there's something about getting control of that coat closet that's surprisingly satisfying. - Author: Gretchen Rubin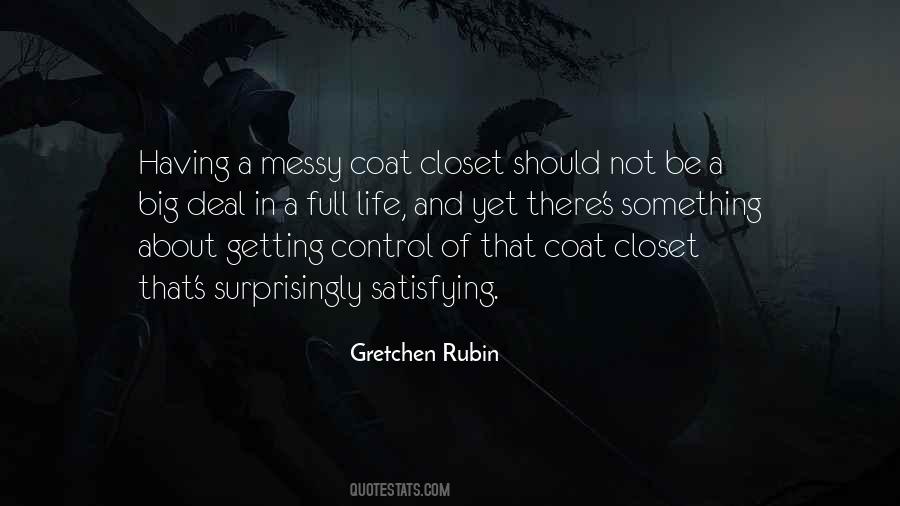 #72. Imagine having a city full of things that no other city had. - Author: Bill Bryson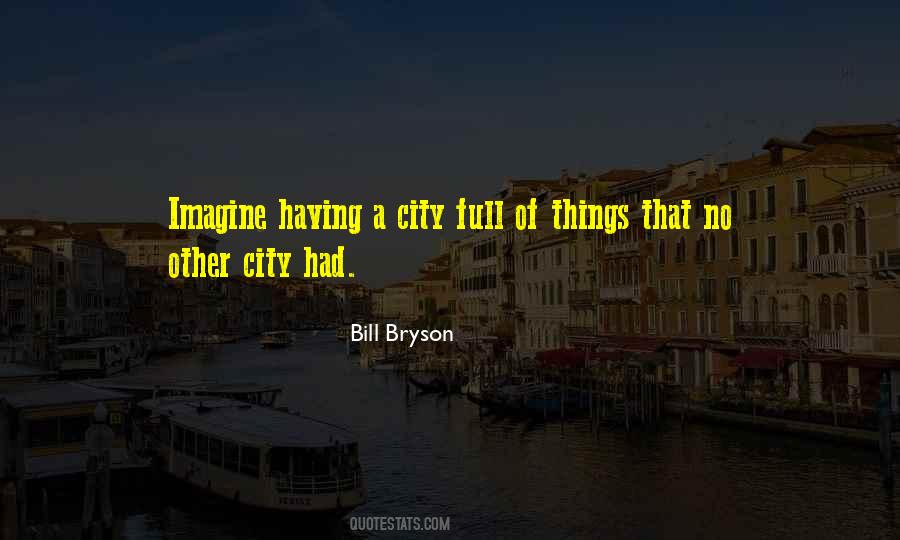 #73. I used to be very routine-based and the new thing in my life is not having a clear, full-time existence. - Author: Alastair Campbell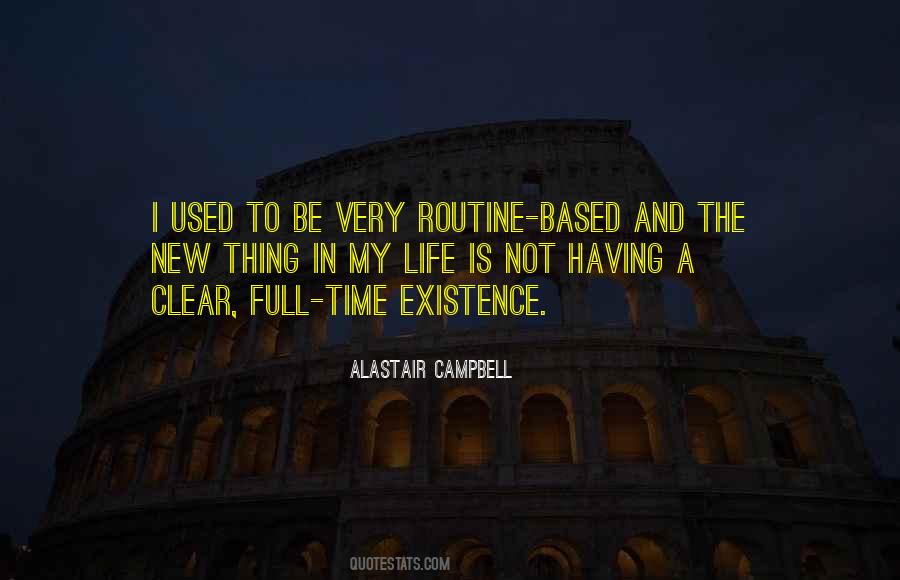 #74. Sometimes the things that scare me are the things I'm drawn to: moving to London, L.A., New York; marrying, having a kid. In order to live a full life, sometimes you have to do things that scare you. - Author: Jason O'Mara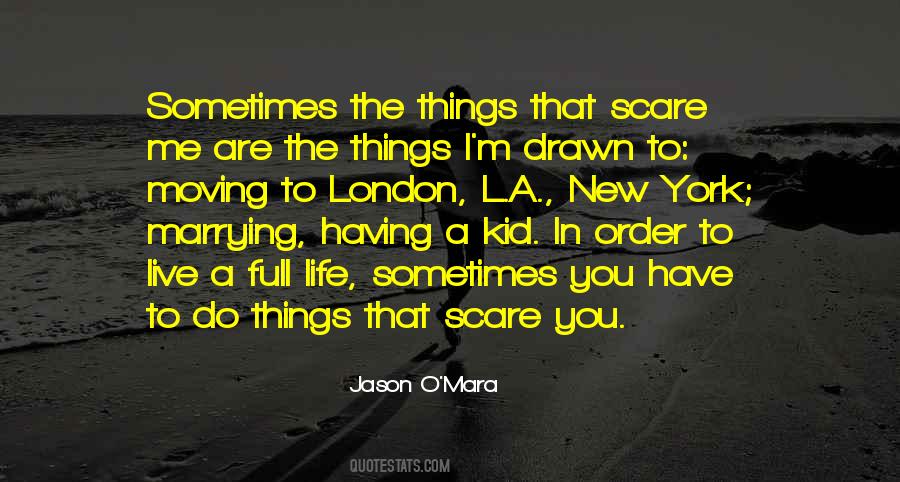 #75. I often find human behavior amusing. Like having a full refrigerator of food to eat yet buying fast food instead. If you learn to conquer the two big "N" words. Niceties vs Necessities. You might actually have some funds for the hard times that come. - Author: Stanley Victor Paskavich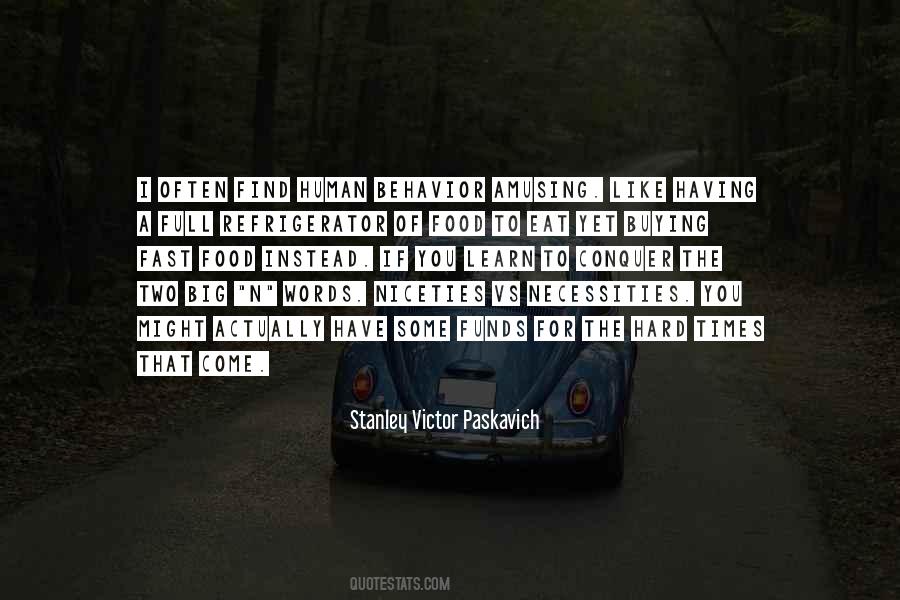 #76. But painting houses wasn't unsatisfying work. You had your good karma jobs, your decent clients. It felt pretty good when you drove away on that last day, paid in full, having restored a little color to someone's shit-brown life. - Author: Wally Lamb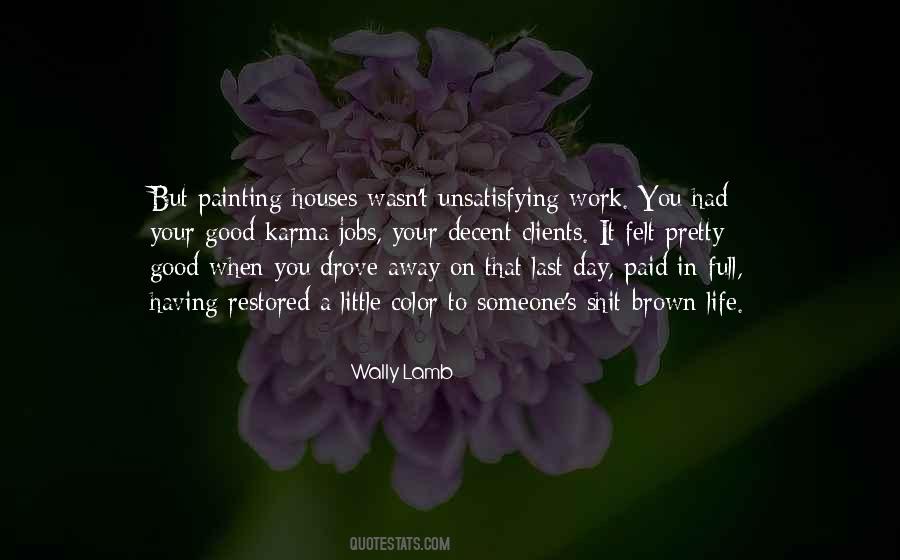 Famous Authors
Popular Topics