Happy And Love Famous Quotes & Sayings
List of top 100 famous quotes and sayings about happy and love to read and share with friends on your Facebook, Twitter, blogs.
Top 100 Quotes About Happy And Love
#1. It is well known that lust brings madness and desperation and ruin. But upon my oath, I never meant any harm. All I wanted was to be happy, to love and to be loved in return, and for my life to count for something.
That is not madness, is it? - Author: Fiona Mountain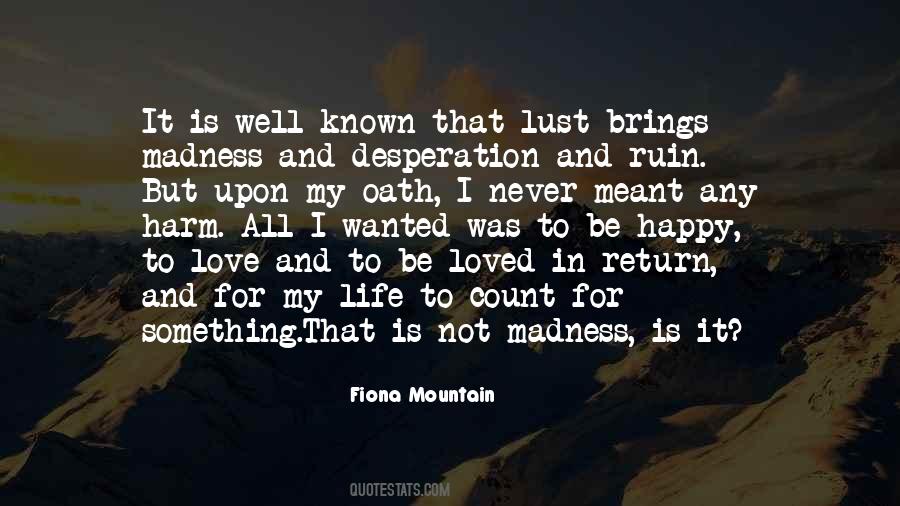 #2. Find out what makes you happy and do it. If you are happy, you bring happiness for the world. - Author: Debasish Mridha
#3. You're not in love with him. You're just happy to be here. Really supremely fucking happy. And all hopped up on the fresh air and orgasms. - Author: Melanie Harlow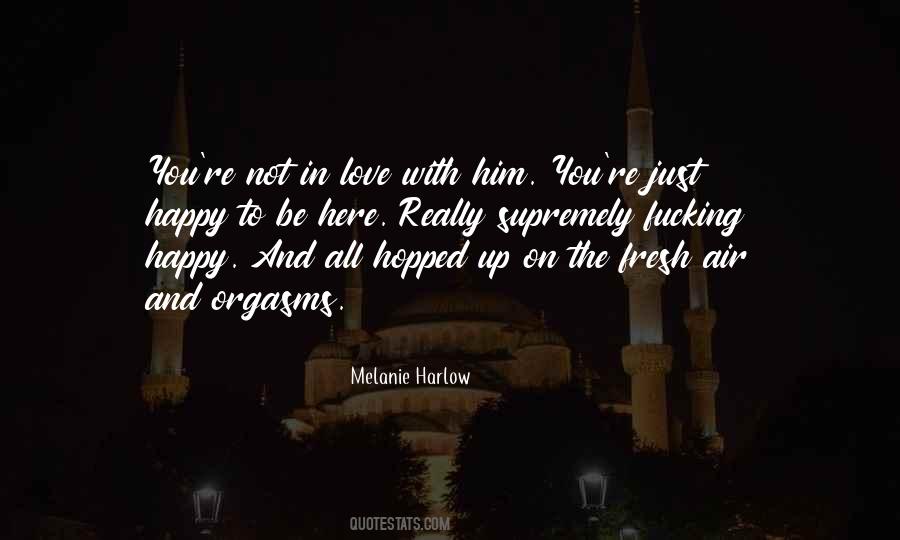 #4. I would sooner be holy than happy if the two things could be divorced. Were it possible for a man always to sorrow and yet to be pure, I would choose the sorrow if I might win the purity, for to be free from the power of sin, to be made to love holiness, is true happiness. - Author: Charles Spurgeon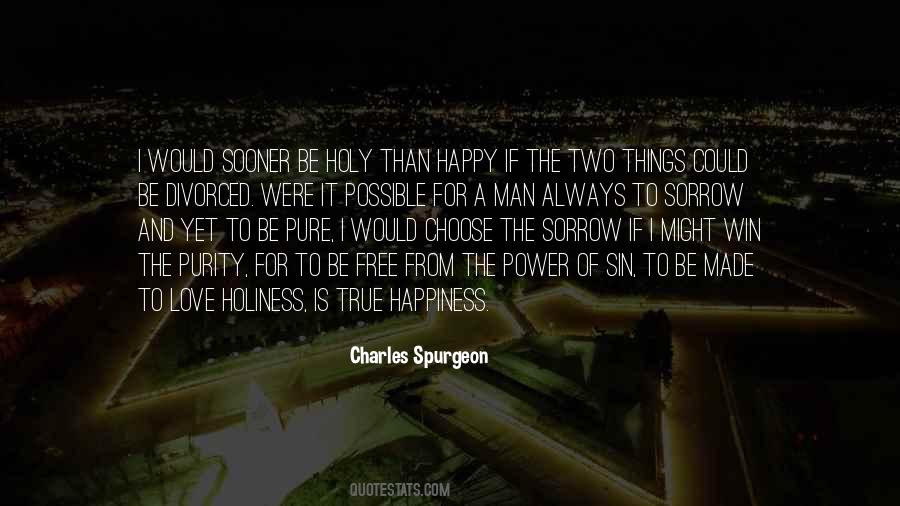 #5. Oh, and I'm also happy to watch our darling little love child dragon while you're in St. Louis. - Author: Richelle Mead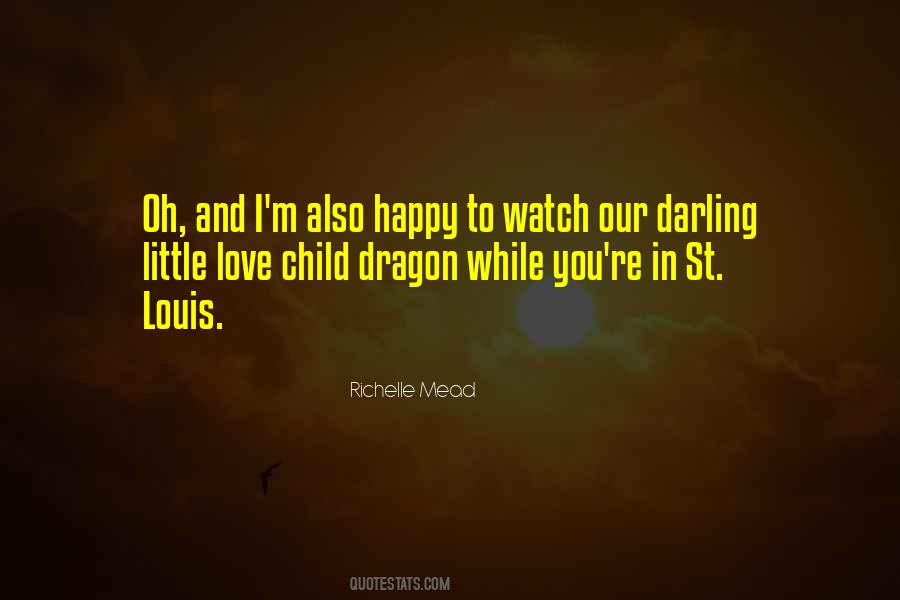 #6. This proves the significance of individualism; being able to face the music, to embrace it, and then create something beautiful from it. You can't truly be happy unless you're unhappy sometimes and the pinnacle of life can only be reached when one can carve their own path. - Author: Nadege Richards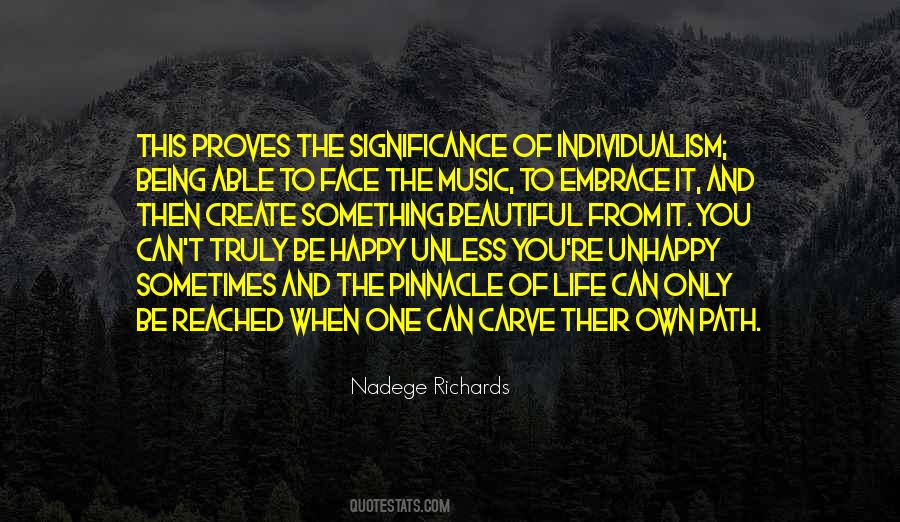 #7. Mel rolled her eyes. "You can't live your life based on 'what-ifs,' Liv. And change is inevitable. It's the one thing you can always count on. Stop worrying about what might or not happen and follow your heart. How can you expect to ever be happy if you don't? - Author: Alicia Kobishop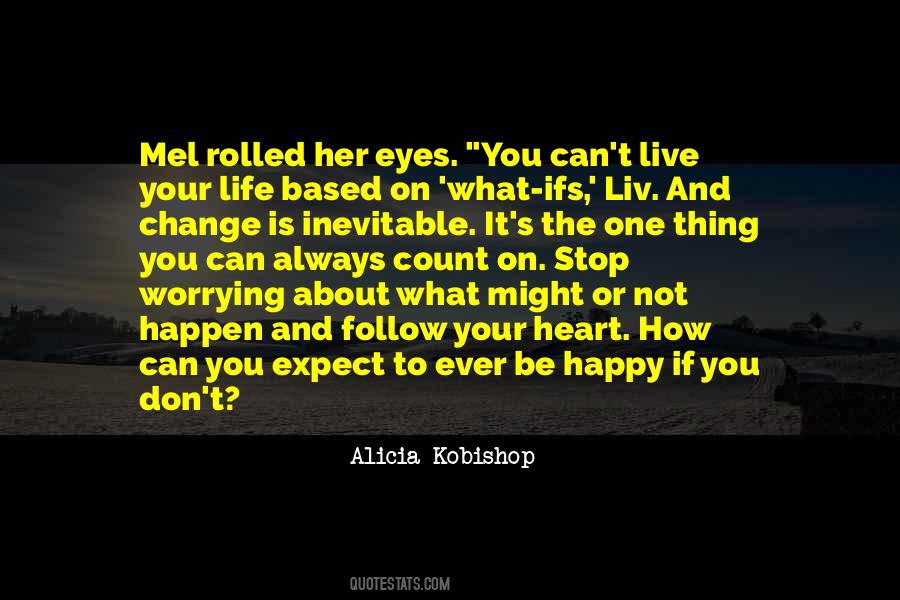 #8. There's the risk of being loved ... and that would keep me from being happy. - Author: Albert Camus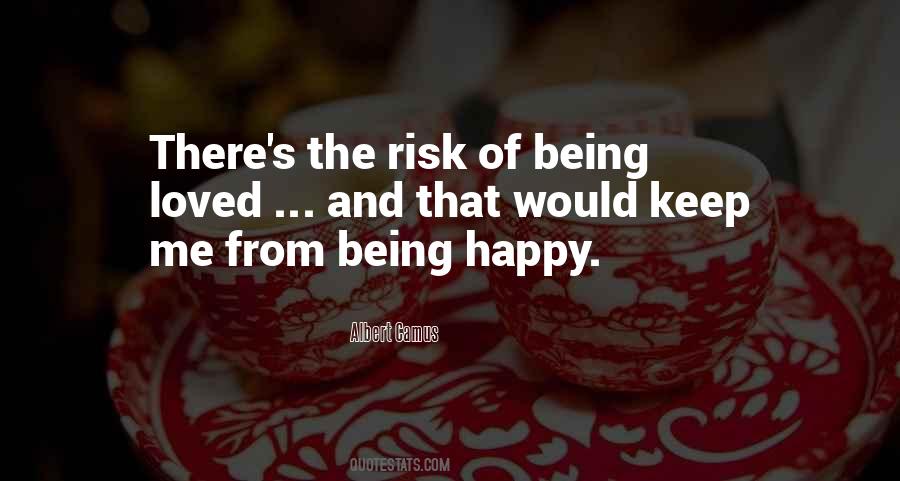 #9. You are damaged and broken and unhinged. But so are shooting stars and comets. - Author: Nikita Gill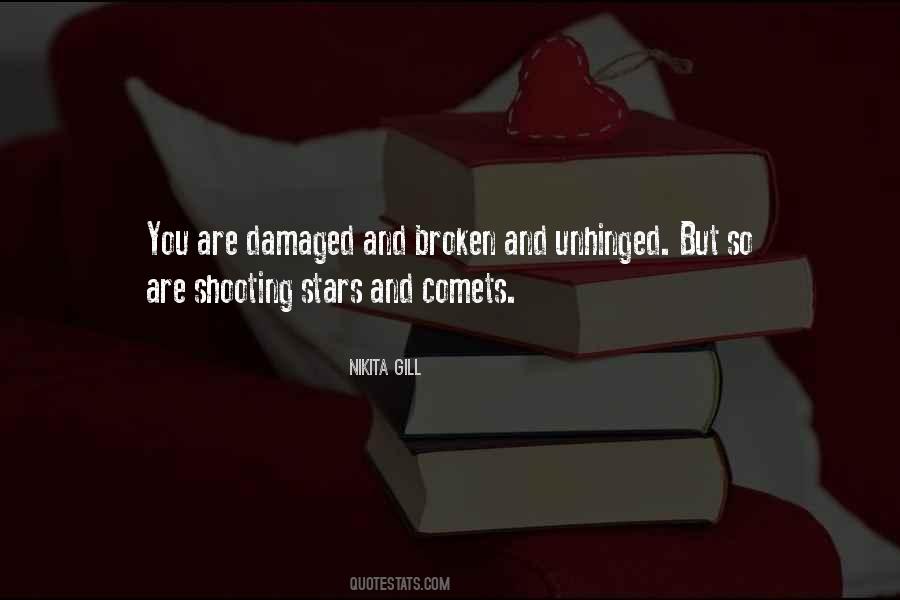 #10. When you have a baby, when you feel his love, you feel so at peace with the world. You just want to share the good news and share how happy you feel. - Author: Shakira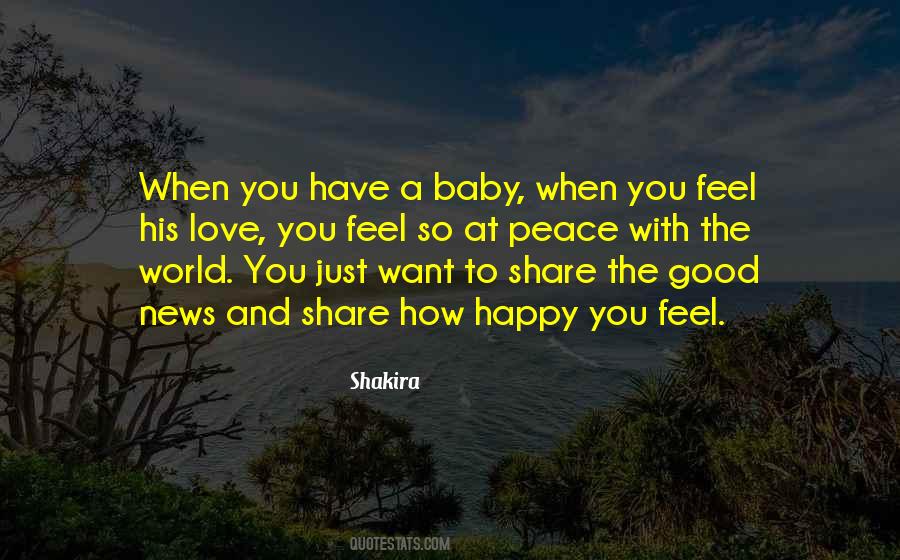 #11. Movie stars are supposed to be healthy. They're kept happy and nutritionally together. - Author: Courtney Love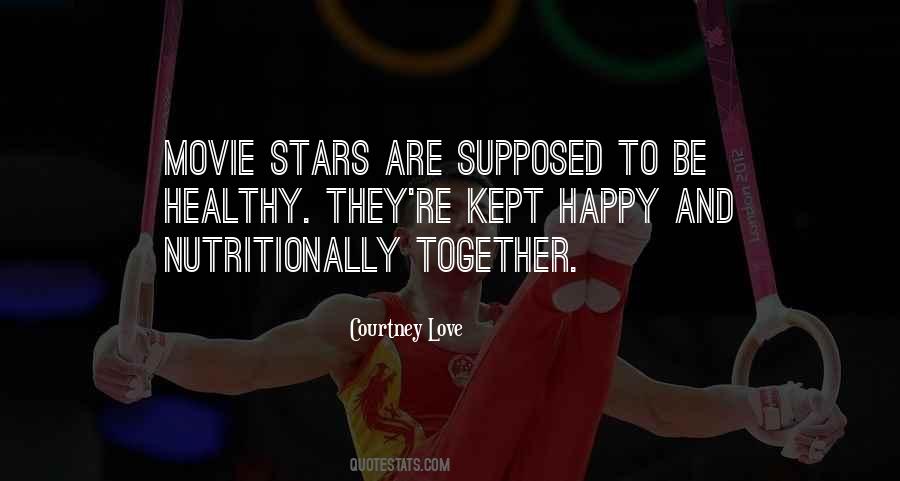 #12. If I had a suitcase, I would love it. I would shrink-wrap it when I traveled. I would put stickers from every place I'd ever been on it. And when I saw it on the carousel I would grab it with both hands and I'd be so happy to have it because then my adventures would really begin. - Author: Nicola Yoon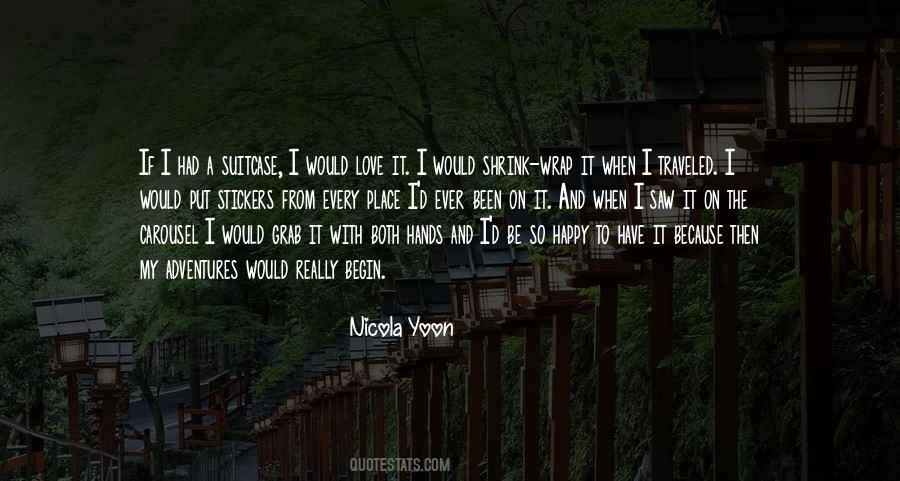 #13. But there is an overarching passion that keeps me alive. That is love, understood as a condition in which I can be an inspiration, make someone feel happy and special, and in turn, feel understood and driven. I function better if I am in that condition of love, and I try to cultivate that daily. - Author: Giovanni Frazzetto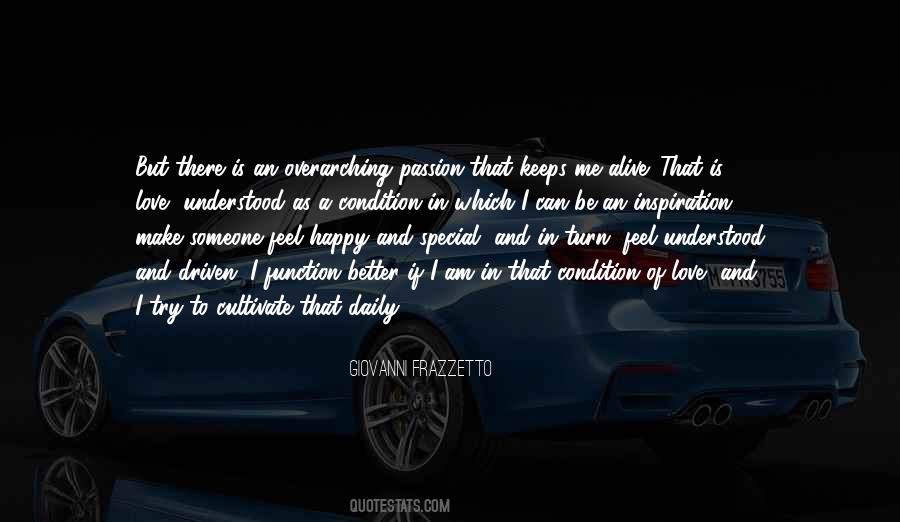 #14. When you love someone, when you care for someone, you have to do it through the good and the bad. Not just when you're happy and it's easy. - Author: Lauren Oliver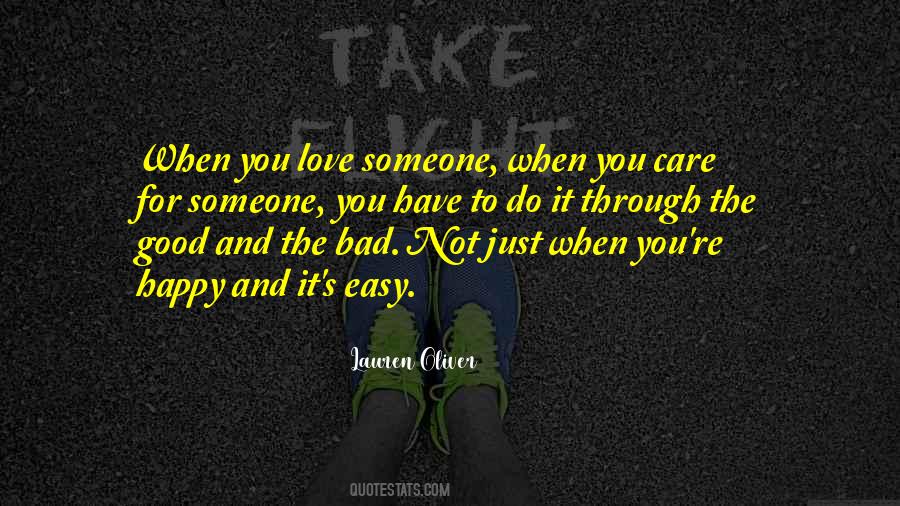 #15. You have to enjoy your job; you should wake up every day and love what you do ... I honestly do ... From the bottom of my heart to the depths of my soul. I'm truly happy. - Author: Aaliyah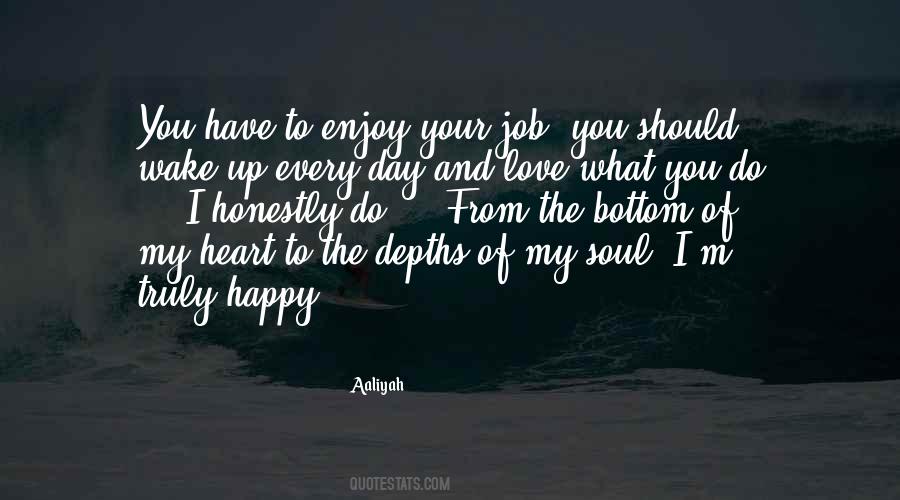 #16. To be rich is to give; to give nothing is to be poor; to live is to love; to love nothing is to be dead; to be happy is to devote oneself; to exist only for oneself is to damn oneself, and to exile oneself to hell. - Author: Eliphas Levi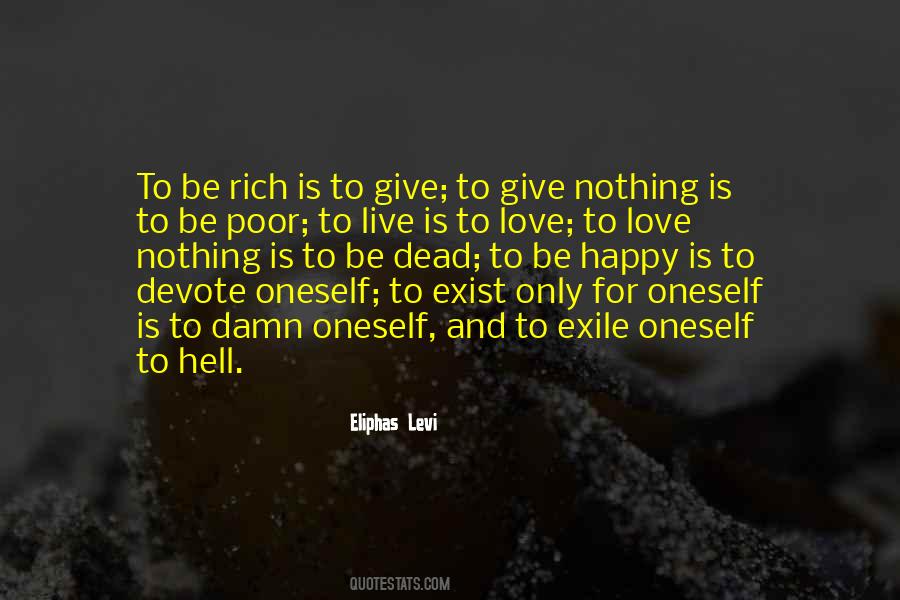 #17. It was a flight, a kind of fleeing, a kind of falling, falling higher and higher, spinning off the edge of the earth and beyond the sun and through the vast silent vacuum where there were no burdens and where everything weighed exactly nothing. - Author: Tim O'Brien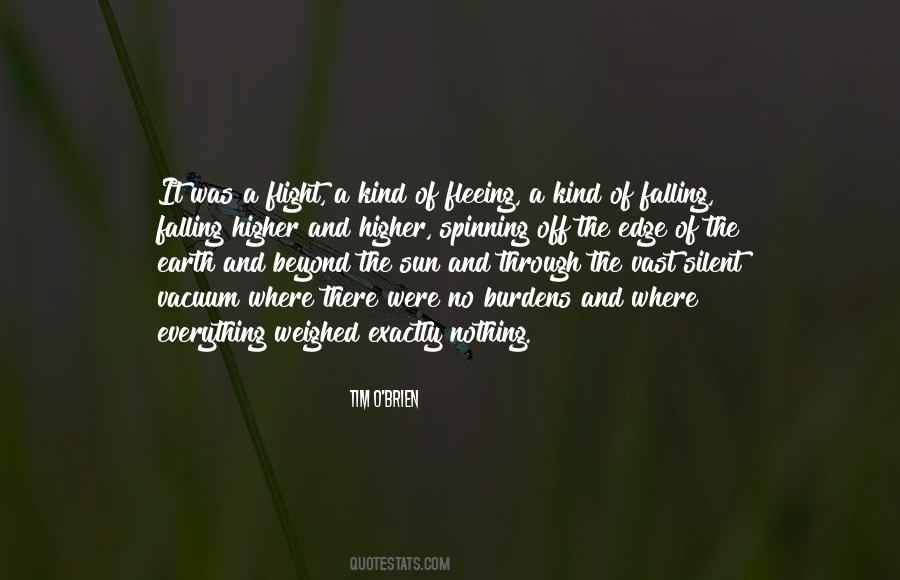 #18. Follow your heart and what it's saying,
after you die, an when you live.

What he/ she lives is what she/he is giving to you .
Enjoy it and you'll be happy.
Love isn't a game ,love is a portrait, of a beautiful butterfly flapping it's wings to the horizon. - Author: Avis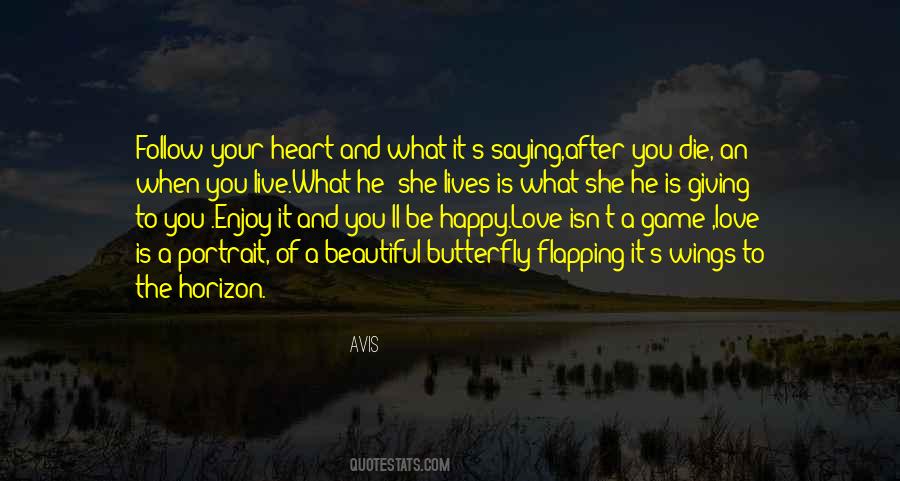 #19. I love cartoons. So when they came to me to make Ice Age and this sequel, I was so happy. - Author: John Leguizamo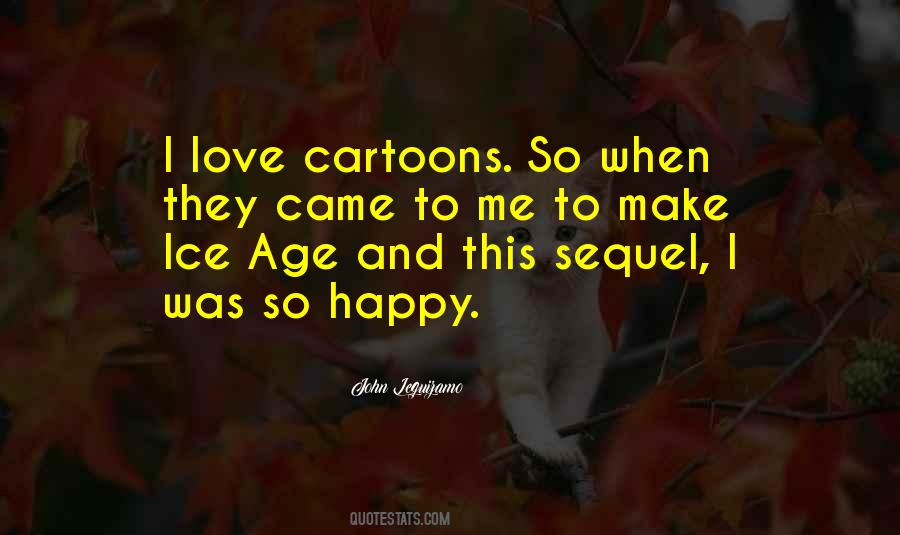 #20. Above all else, it is about leaving a mark that I existed: I was here. I was hungry. I was defeated. I was happy. I was sad. I was in love. I was afraid. I was hopeful. I had an idea and I had a good purpose and that's why I made works of art. - Author: Felix Gonzalez-Torres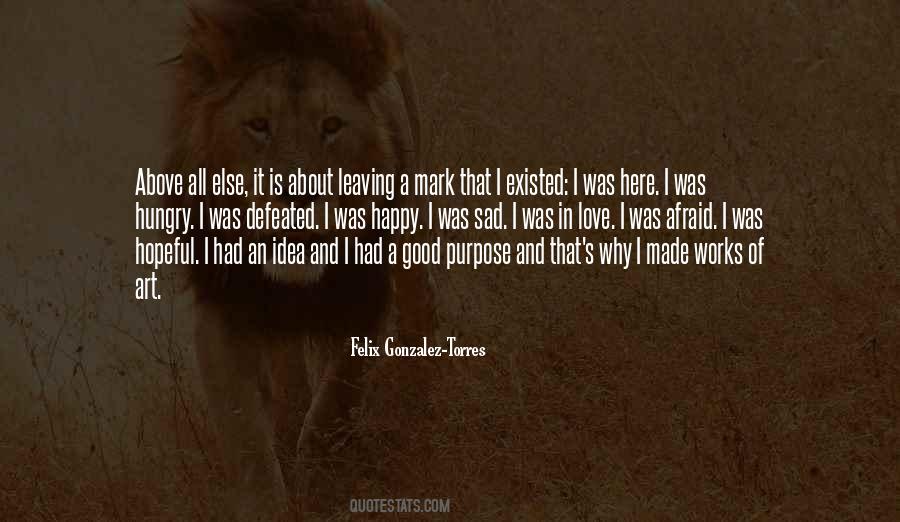 #21. Even Socrates, who lived a very frugal and simple life, loved to go to the market. When his students asked about this, he replied, I love to go and see all the things I am happy without. - Author: Jack Kornfield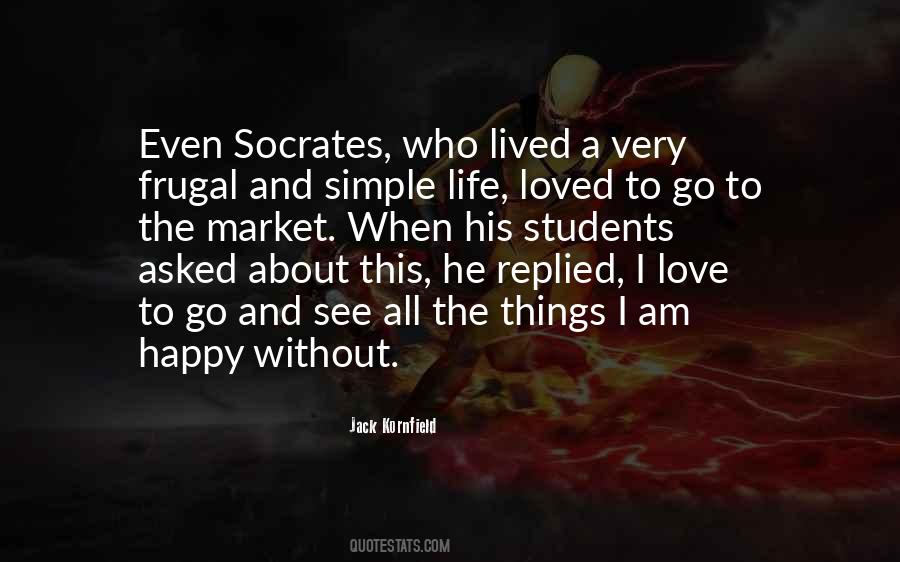 #22. I've never felt as happy as I've been for the past month. And I've never loved anyone like I love you right now. - Author: Natalie Ansard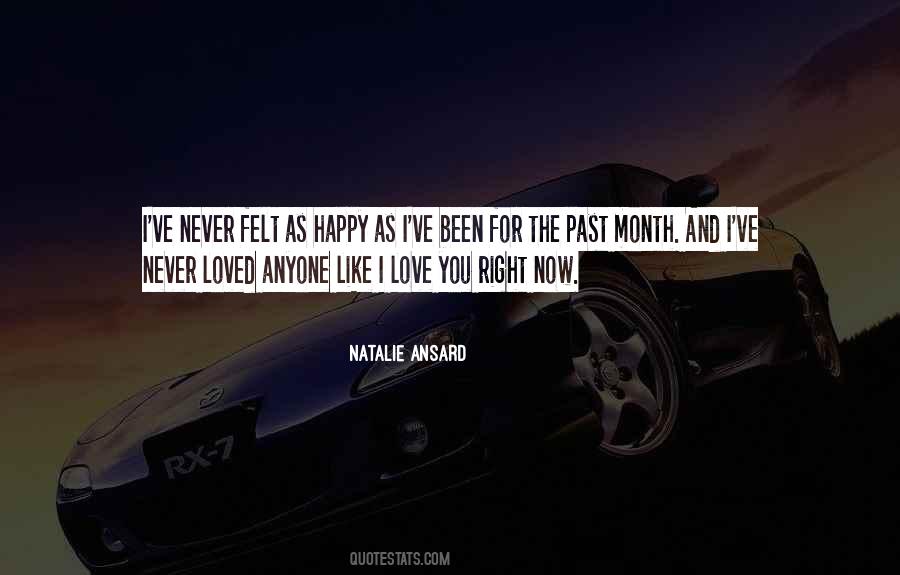 #23. I have the most devoted and loyal following. I could probably type up my grocery list and they'd all want to read it. I love that they're willing to let me go wherever I need to go as an author, and they're happy to come along for the ride as the reader. - Author: Jodi Picoult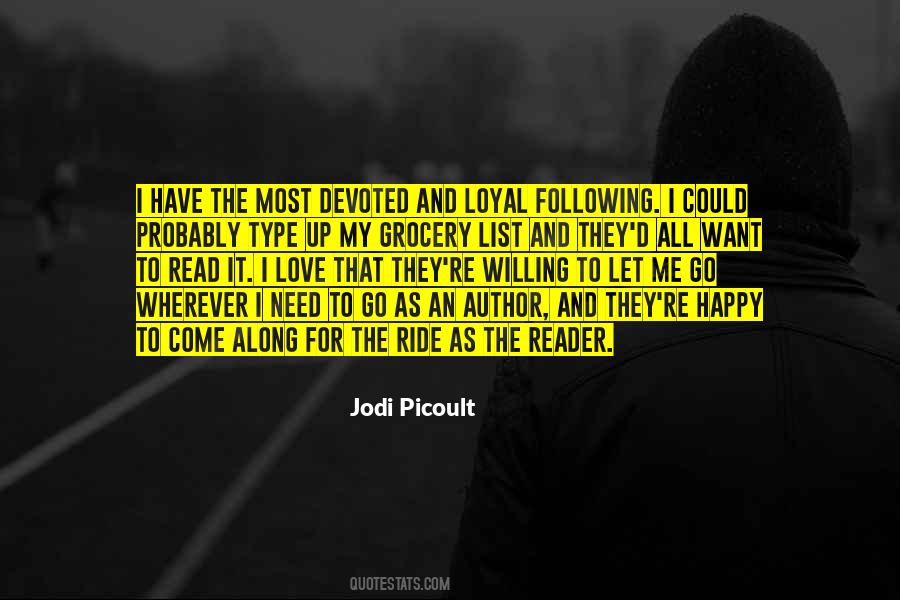 #24. I tell ya! The road to success is an endless battle for you and me. - Author: Steven Jackson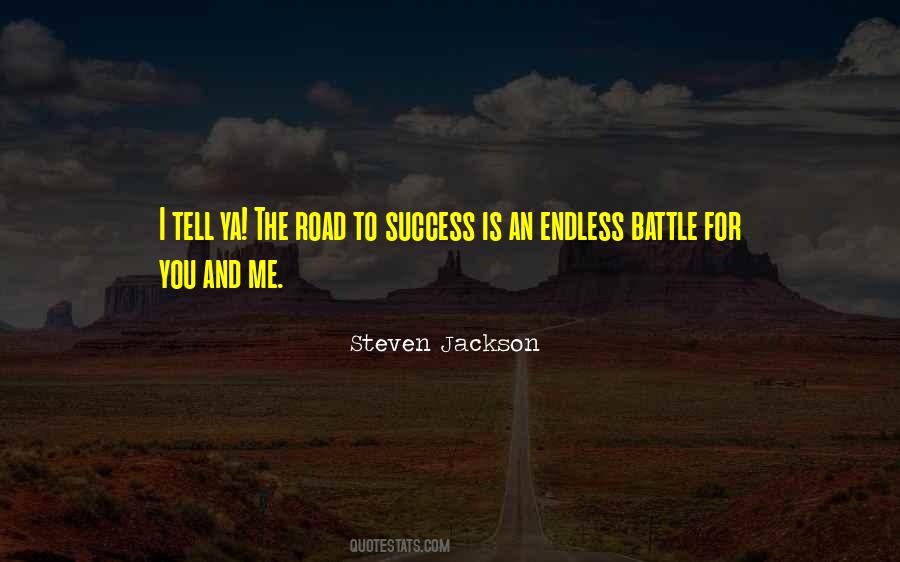 #25. The memory of his voice made her feel warm and happy, though she could not explain why - Author: Anamika Mishra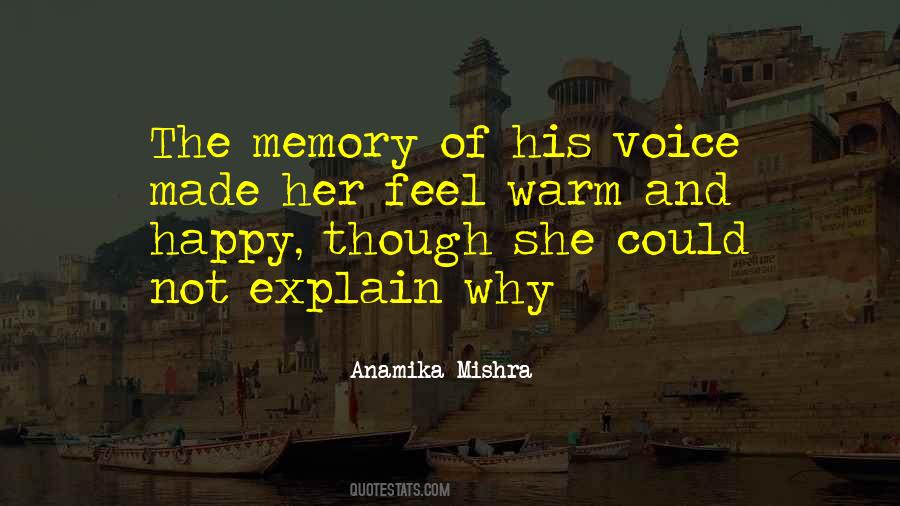 #26. I'm very gay, but I love women. I'm not attracted to men in any way ... But yes I am gay, I'm so happy. I'm a gay, heterosexual male ... I got major love for the gay and lesbian community, and I just want to push less separation. - Author: Lil B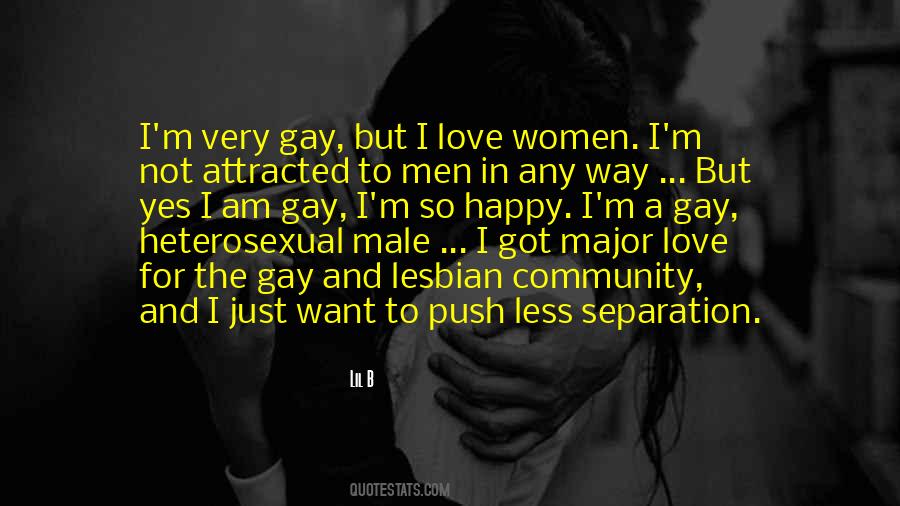 #27. I think videos are really hard. I'm yet to be happy with a video. It's very weird watching yourself on camera, which I guess I'm going to have to get used to. I love the thought of being in them, but it's one thing to say that and another to actually do it. - Author: Conrad Sewell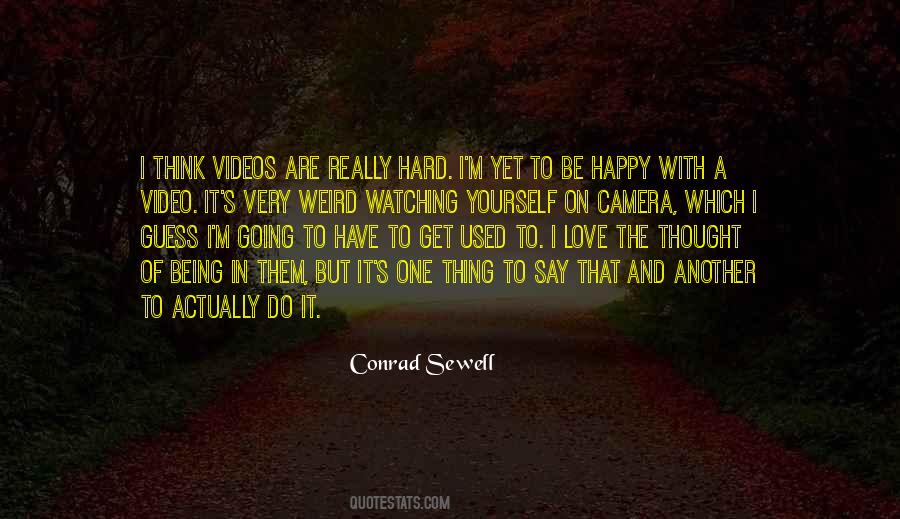 #28. And I'll look back at him because I shan't be able to help it, remembering about being young, and about being made love to and making love, about pain and dancing and not being afraid of death, about all music I've ever loved, and every time I've been happy. - Author: Jean Rhys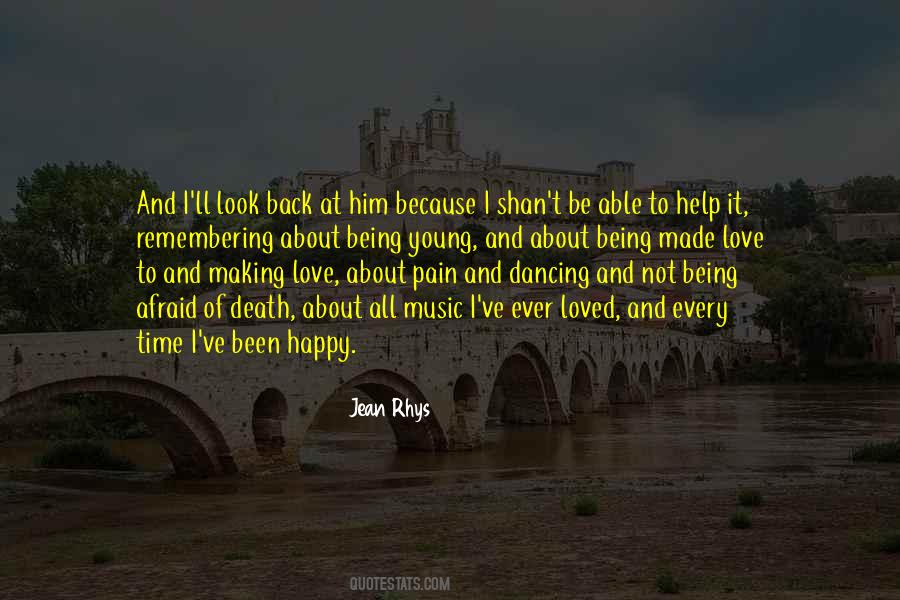 #29. She says that each of us has his or her role in life, and if we know ourselves well enough to understand what that role is, we will be happy doing nothing but what we can do best. - Author: Dean Koontz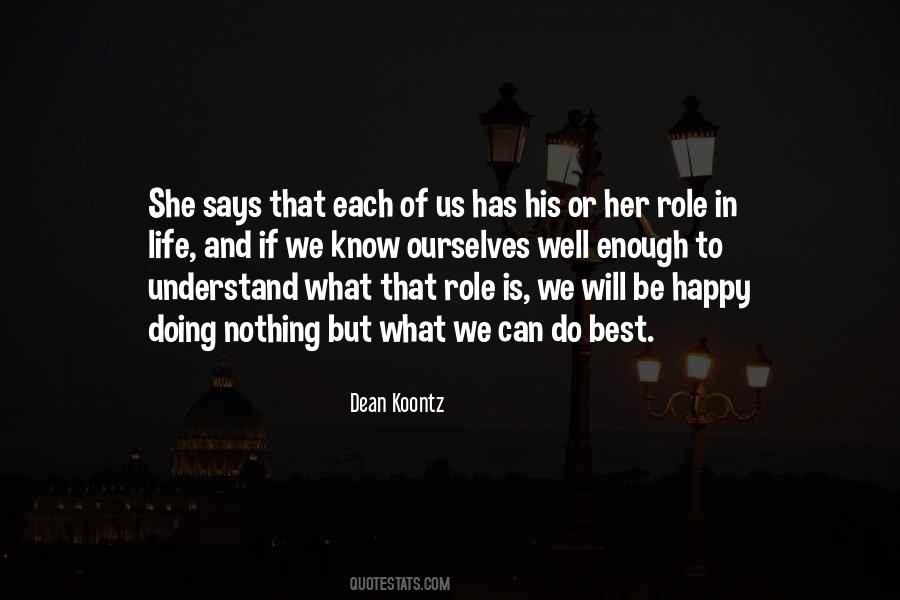 #30. You go home happy, you go to work happy, you make a better project because everybody loves it and loves each other. - Author: Aldis Hodge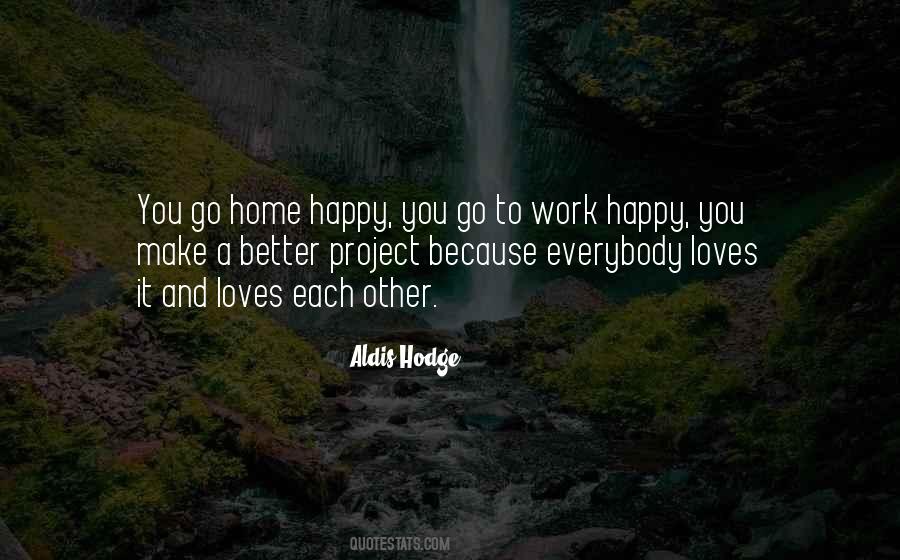 #31. Anyone who says things like "Happy Ever After" as though that end to a love story is a given, is cooking up a right stinking cauldron of shite and trying to serve it as soup. - Author: Amy Lane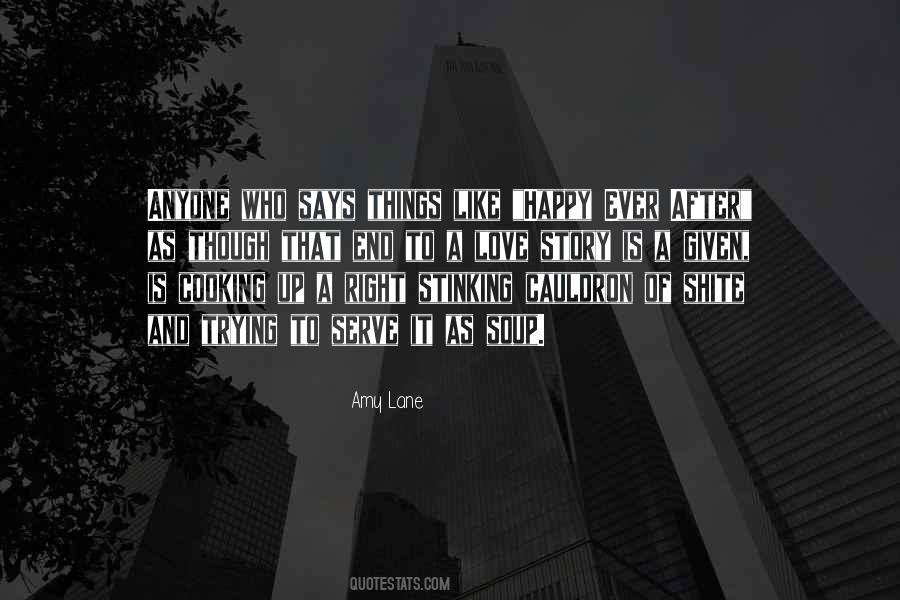 #32. Stay true to yourself because a lot of times women get so wrapped up in doing for a man that we forget to focus on us. A lot of times that is unattractive. They love us because we are independent and focused on the things that make us happy. Because when they see you happy, their happy! - Author: Gabrielle Dennis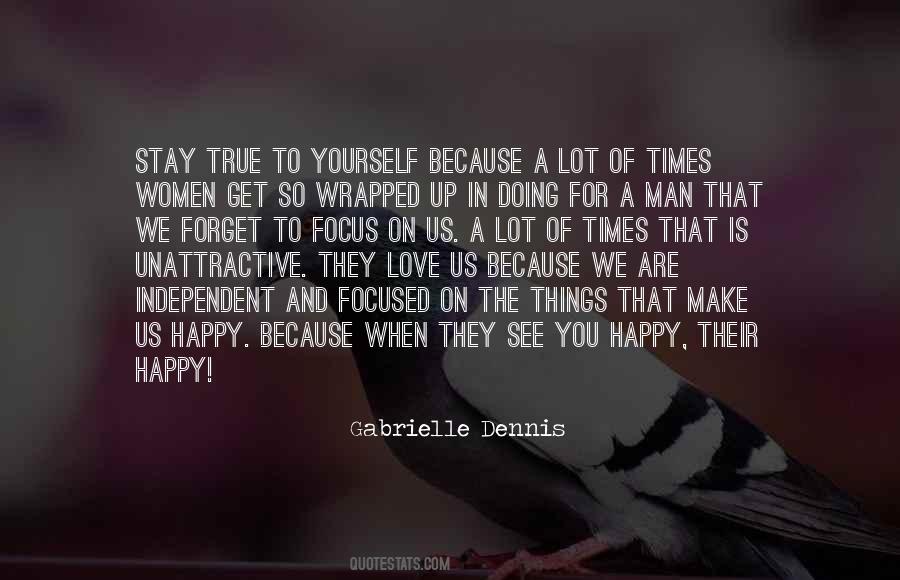 #33. You're the best bad decision I ever made, and you are, by far, my favorite story to tell. - Author: Jay Crownover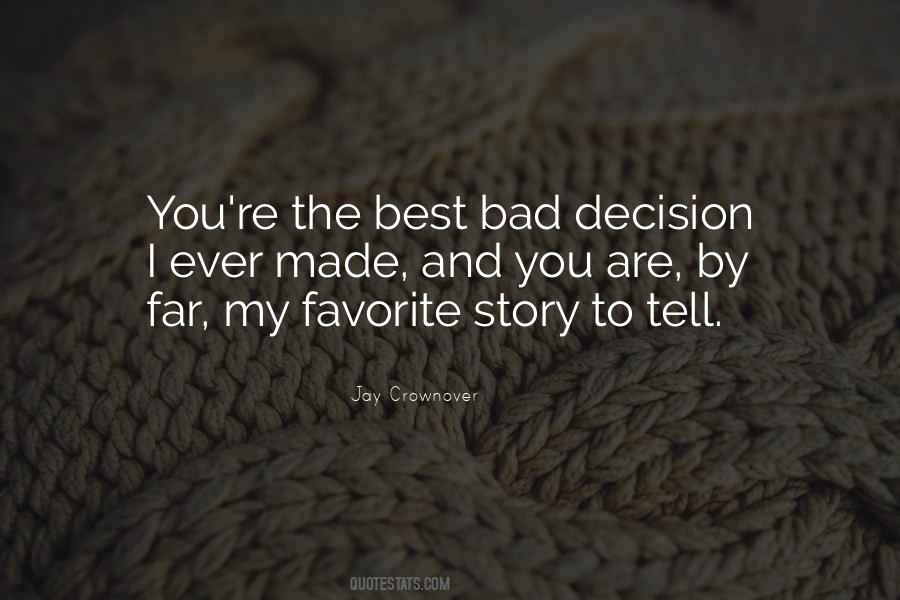 #34. You don't need to live in a mansion to be happy. All you need is to create the right space, something that says this is who you are, and you can always change who you are, just as you change your environment. - Author: Anthea Syrokou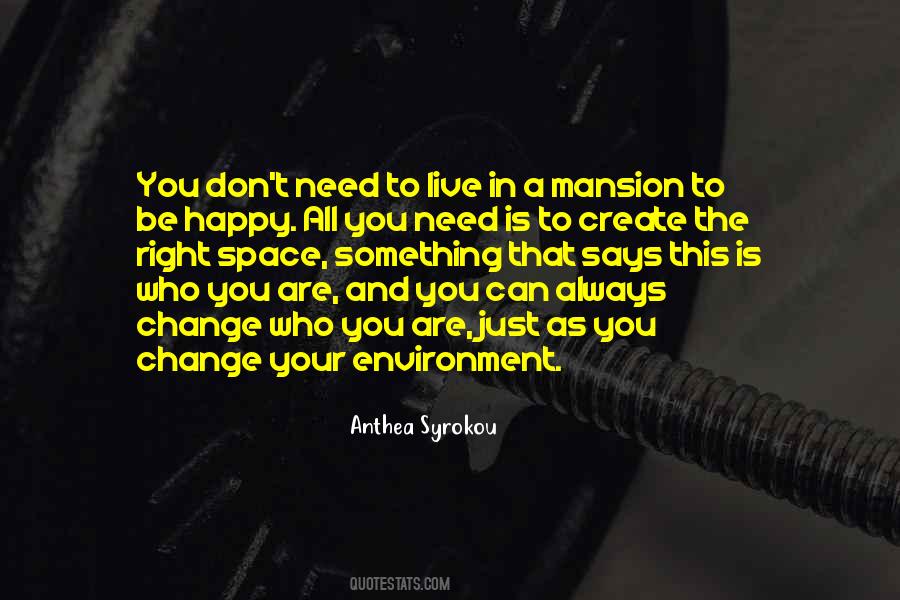 #35. My blog is a celebration of the unexpected, settled, happy life I find myself living in Portland, Maine, at the ripe old age of fifty with someone I deeply love and am very happy with. That's part of why I started the blog. - Author: Kate Christensen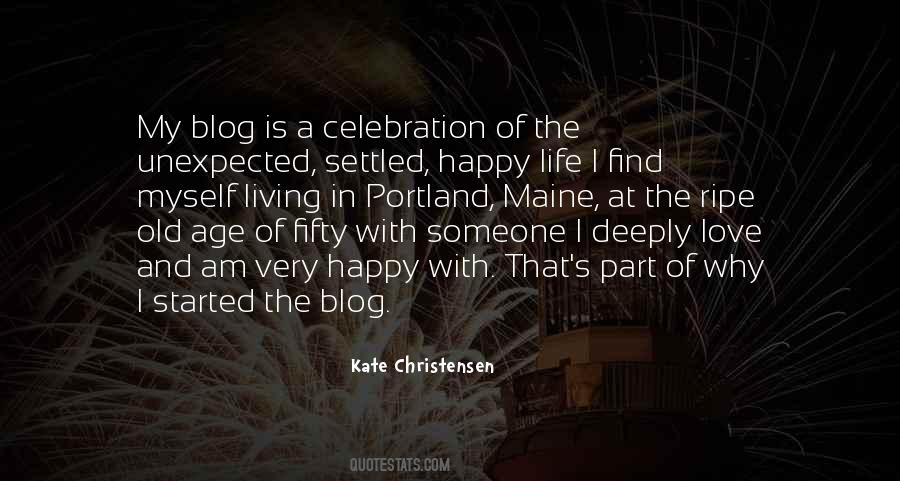 #36. Perhaps for him there's a way to love that's sane and happy, that isn't cruel. - Author: Rosamund Hodge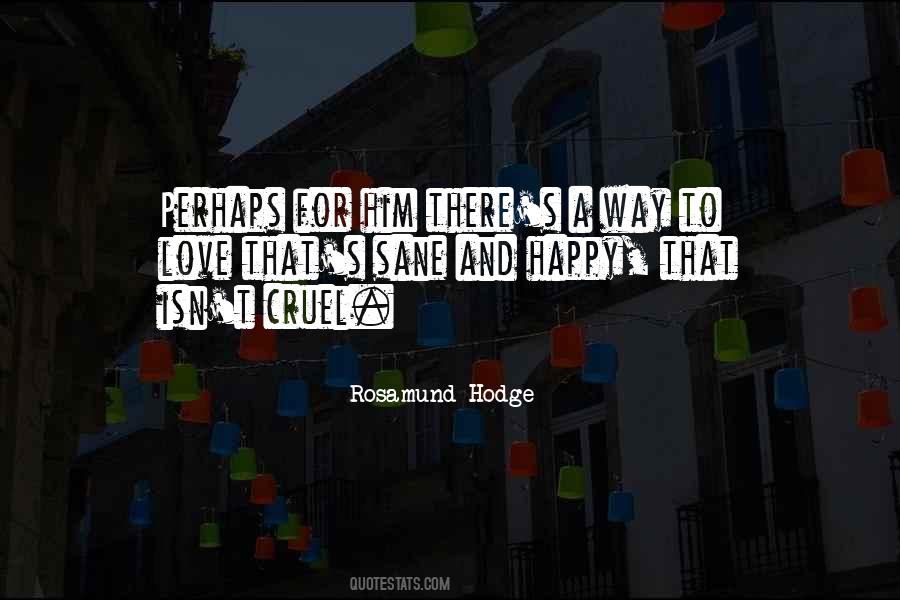 #37. I am not a fairy godmother or anything of that sort, but I hope to give you a happy home and a good education, and to send you out into the world true, brave, generous men, prepared to serve God truly all the days of your life."
~Aunt Persis - Author: Constance Savery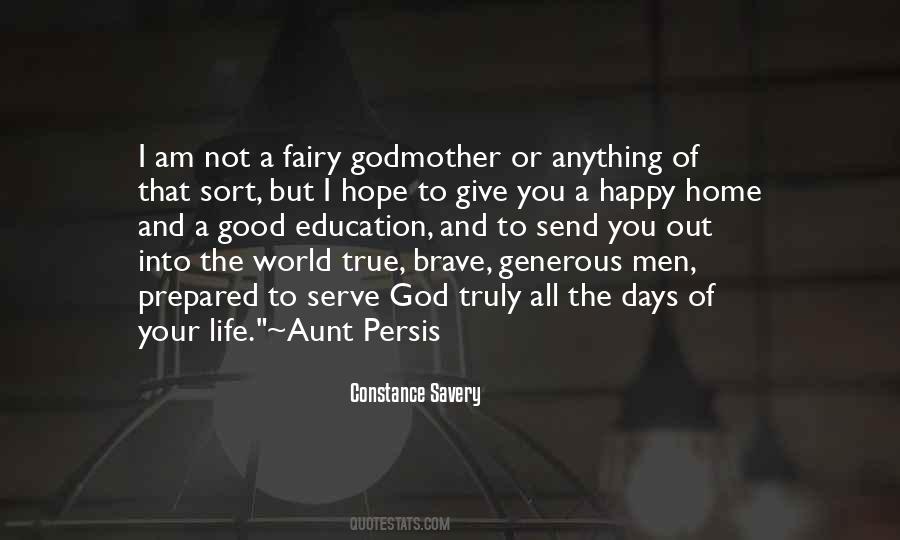 #38. I love to see people laugh and put a smile on peoples' faces. Anytime I'm doing that I'm happy. - Author: Dexter Darden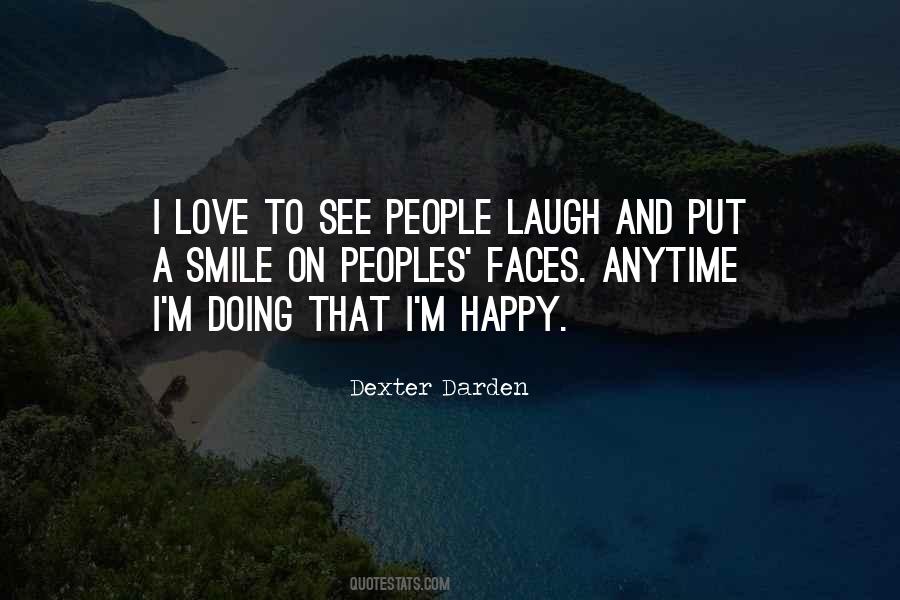 #39. I love books; my suitcases are always full of them. Books and shoes. I read when I am sad, when I am happy, when I am nervous. My favourite British author is Jane Austen, and my favourite American one is John O'Hara. - Author: Carolina Herrera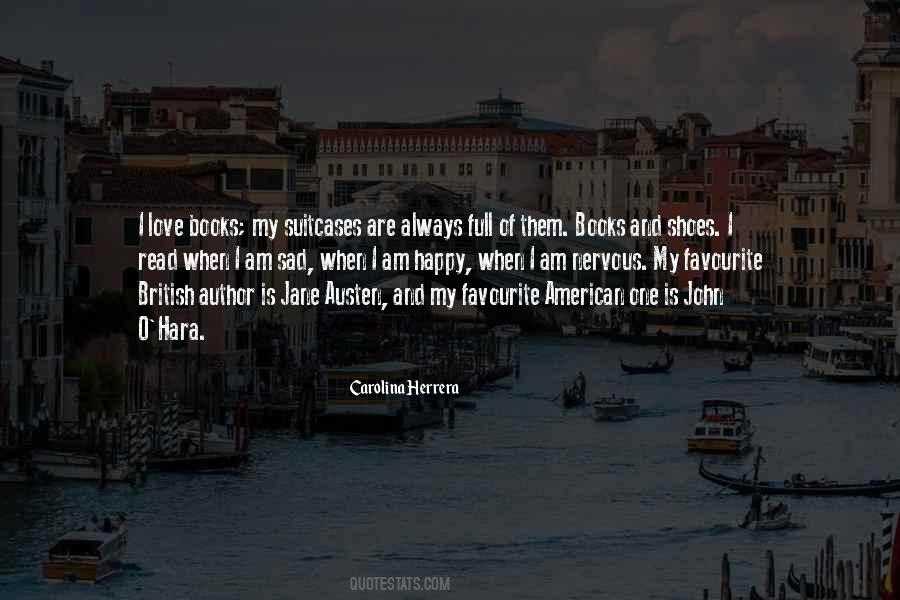 #40. Perhaps love and attention are really the same thing. One can't exist without the other. The British scholar Avner Offer calls attention "the universal currency of well-being." Attentive people, in other words, are happy people. - Author: Eric Weiner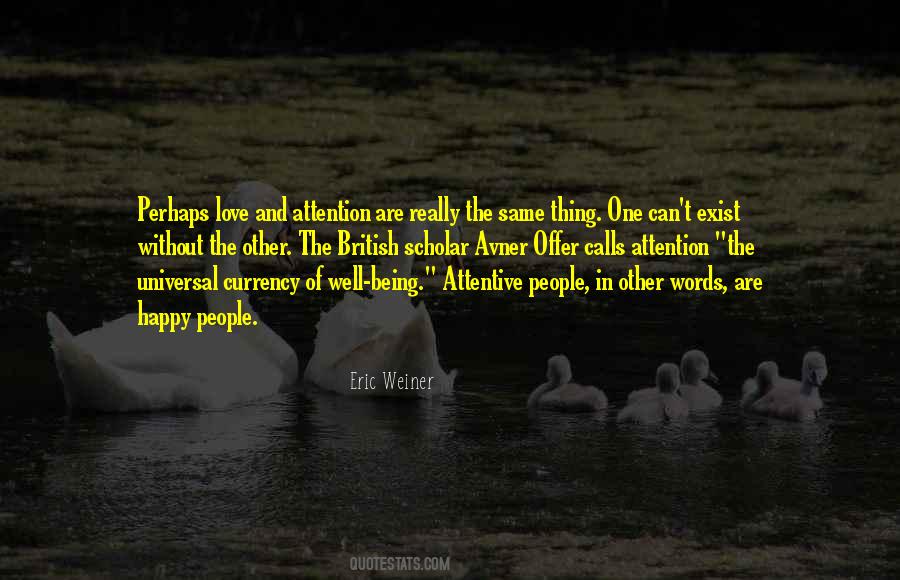 #41. She better liked to see him free and happy, even than to have him near her, because she loved him better than herself. - Author: Charles Dickens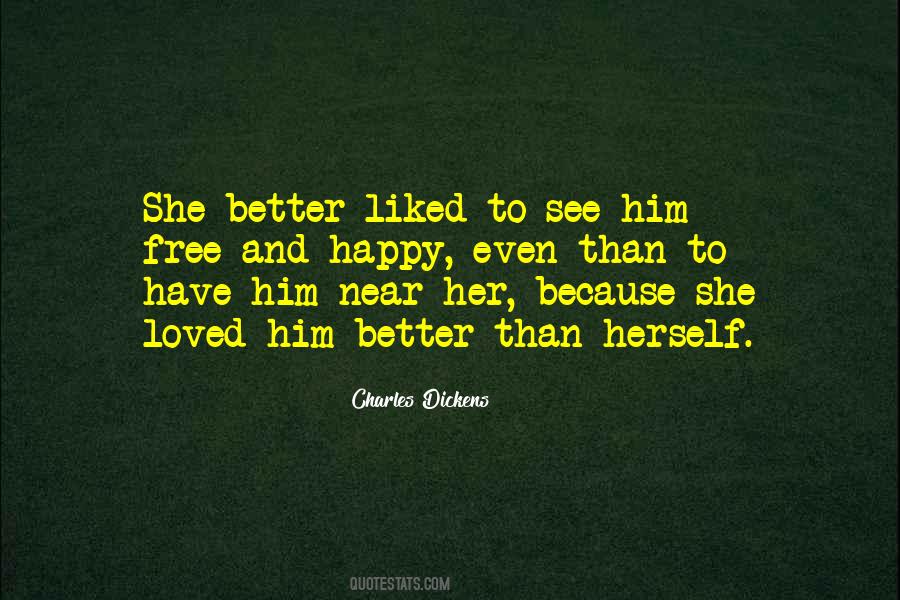 #42. I'm in love and I'm happy. Don't you see it? - Author: Irina Shayk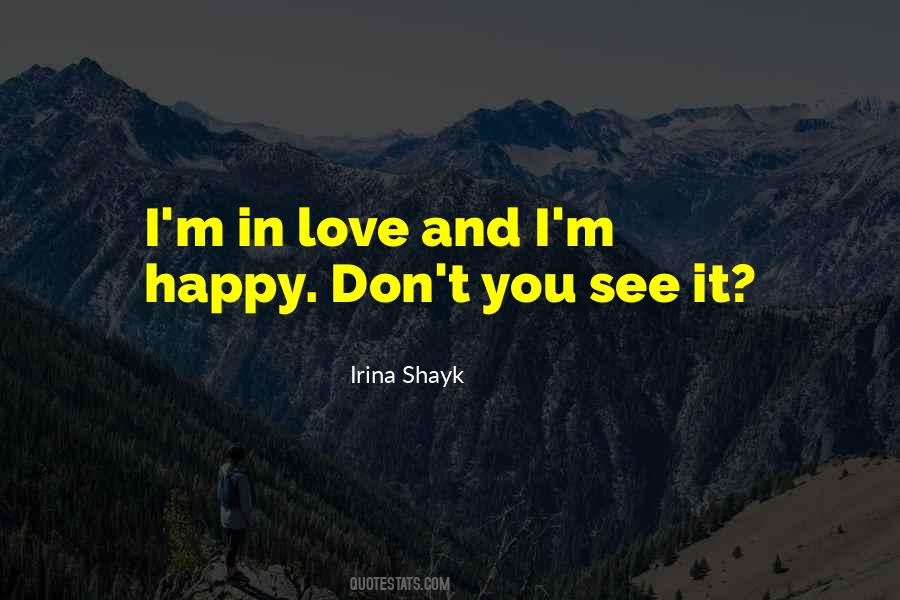 #43. It's lovely to be going home and know it's home. I love green gables already, and I've never loved any place before. Oh, Marilla, I'm so happy. - Author: L.M. Montgomery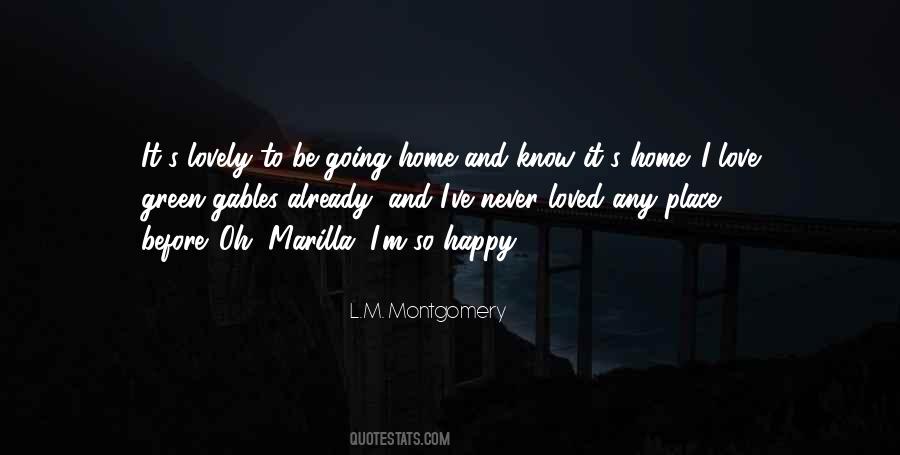 #44. The real mission you have in life is to make yourself happy, and in order to be happy, you have to look at what you believe, the way you judge yourself, the way you victimize yourself - Author: Miguel Ruiz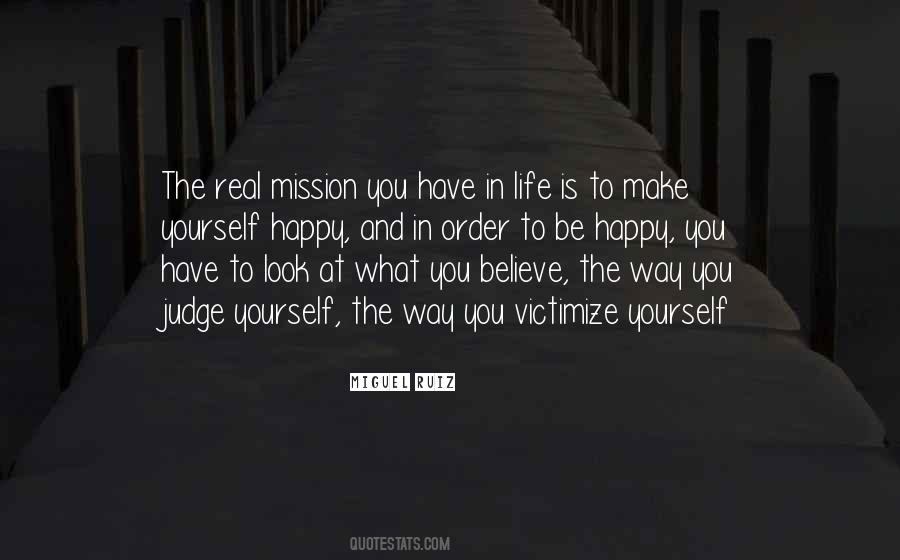 #45. His hand lay across my stomach as he slept soundly. I entwined my fingers with his and breathed through the warmth that seeped through my chest. Such a simple, sweet thing to do, yet holding hands in bed was incredibly intimate. - Author: N.R. Walker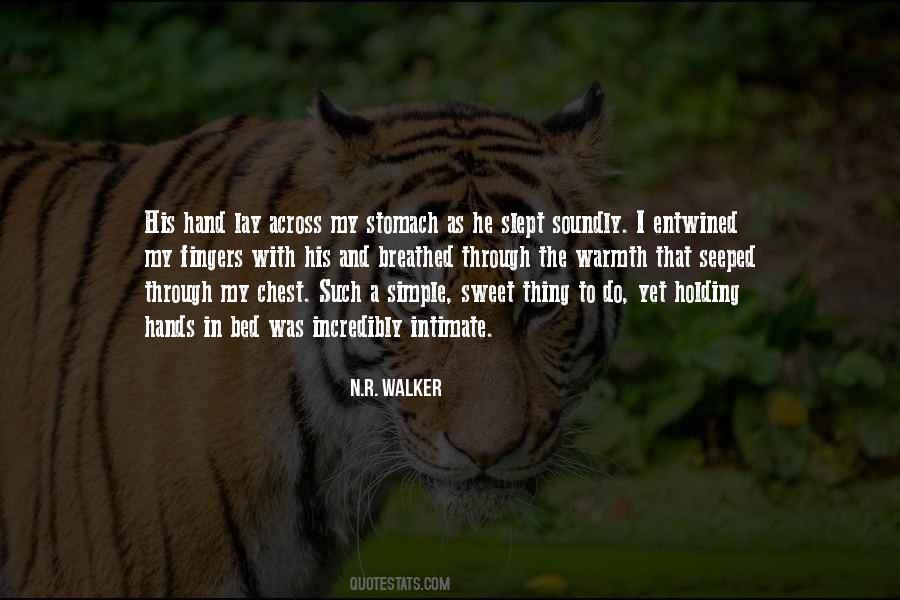 #46. You want to know the secret to raising good kids?"
"What's that? asked Thomas.
"High expectations."
Thomas laughed. "Alright, well what's the secret to a happy marriage?"
Clyde smiled back, but his face started to fall, and he chose his words carefully. " ... Low expectations. - Author: Chris Nicolaisen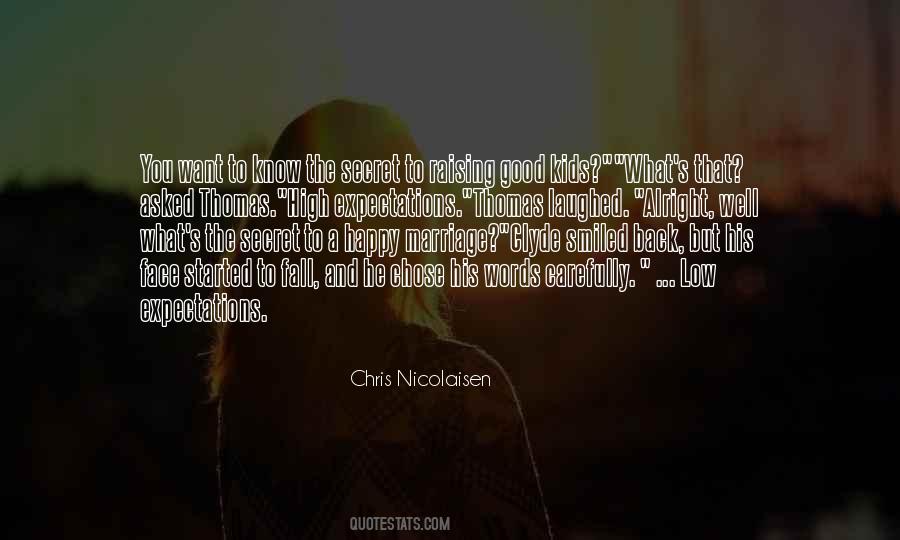 #47. Every morning, arising from the death of sleep, the happy plants and all our fellow animal creatures great and small, and even the rocks, seemed to be shouting, Awake, awake, rejoice, rejoice, come love us and join in our song. Come! Come! - Author: John Muir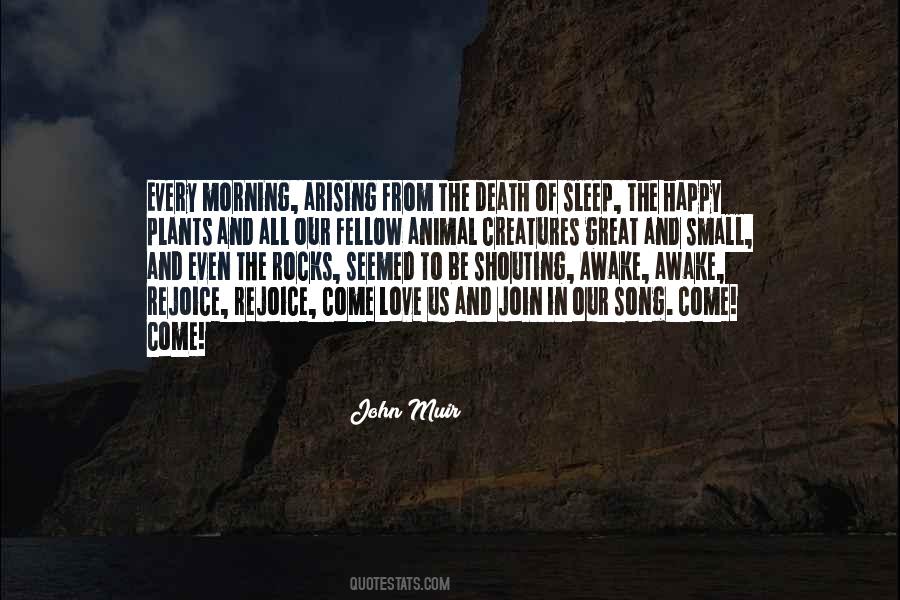 #48. Commandments are loving counsel from a wise Father. Our understanding and concept of God as a loving and personal Heavenly Father allows us no other definition. He gives us commandments for one reason only-because he loves us and wants us to be happy. - Author: Paul H. Dunn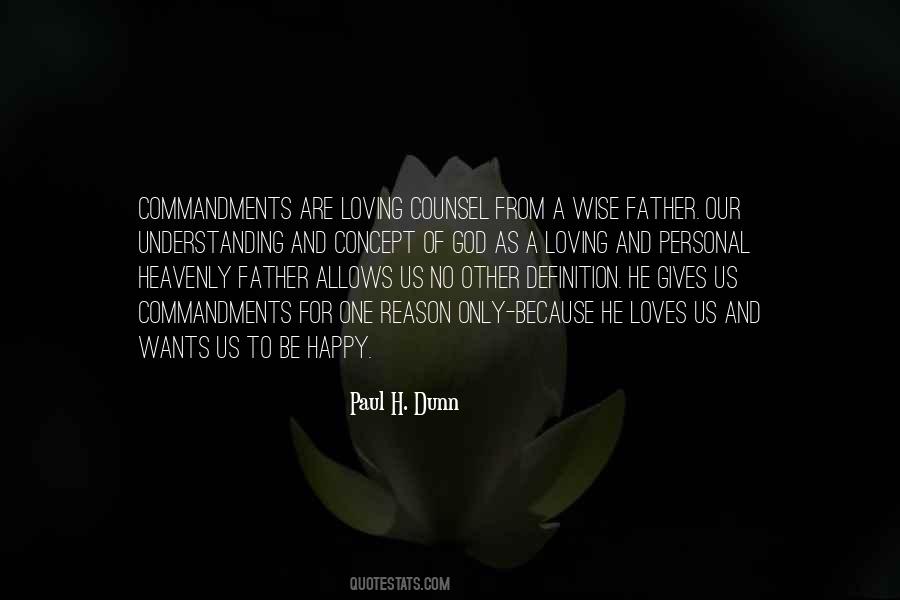 #49. Because people love music, I feel it's my responsibility to produce more of the music and to get it out to more people, so like I said, If the mainstream route does that without compromising me being happy as a person then that's something I'll do. - Author: Jhene Aiko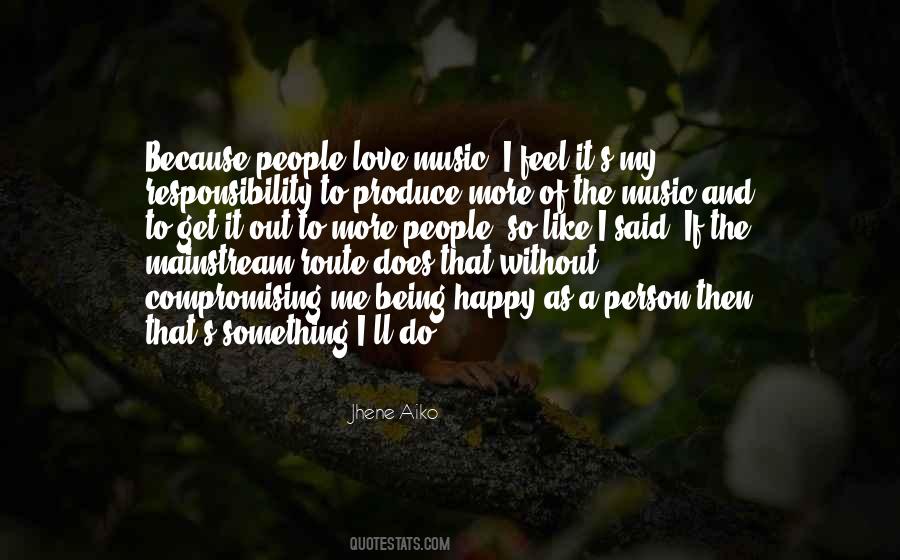 #50. Happy Holidays

Is it not this day to smile?
Is it yet a time to give?
Is this friend as old as good?
Is my family so well?

Santa is just on his way,
Bringing gifts and love tonight,
Have a prosperous New Year!
And a happy day to last! - Author: J.M.K. Walkow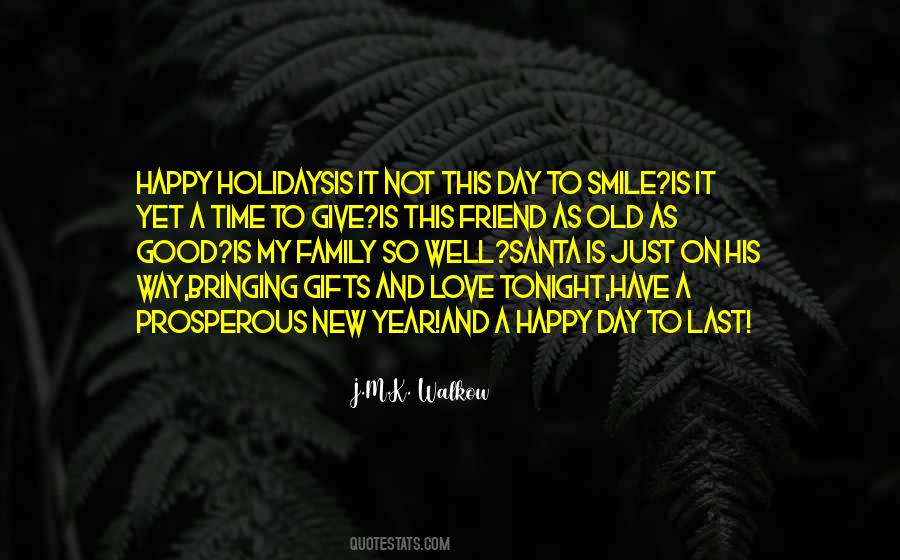 #51. I know my life's meaningful because" - and here he stopped, and looked shy, and was silent for a moment before he continued - " because I'm a good friend. I love my friends, and I care about them, and I think I make them happy. - Author: Hanya Yanagihara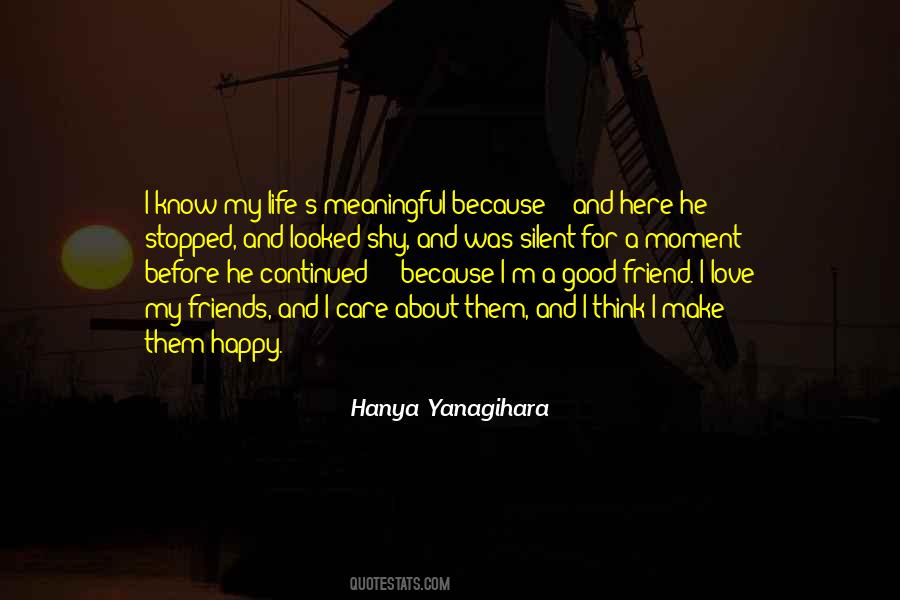 #52. Our two first parents, yet the only two Of mankind, in the happy garden placed, Reaping immortal fruits of joy and love, Uninterrupted joy, unrivalled love In blissful solitude. - Author: John Milton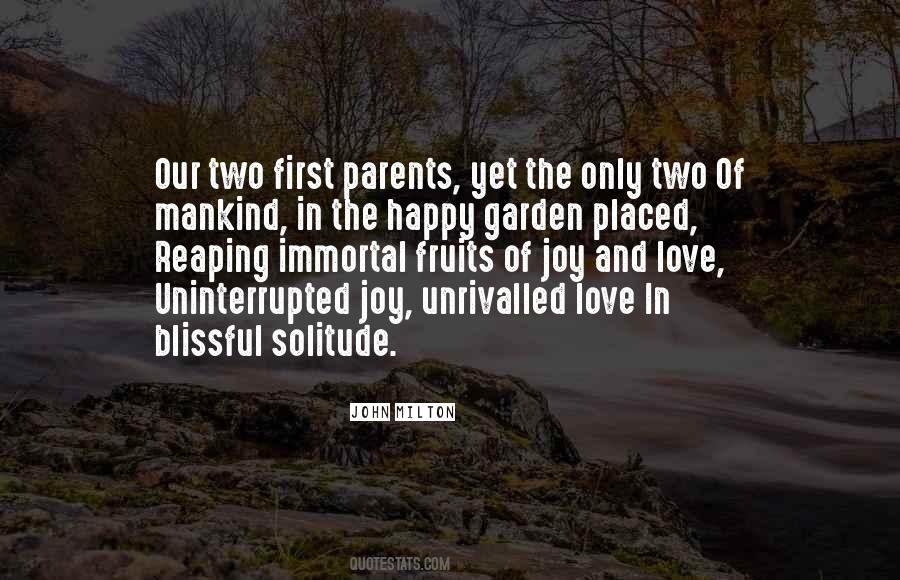 #53. Actors love mental disorders, dialects, and corsets. Give them one of the three and they're happy. - Author: Robin Tunney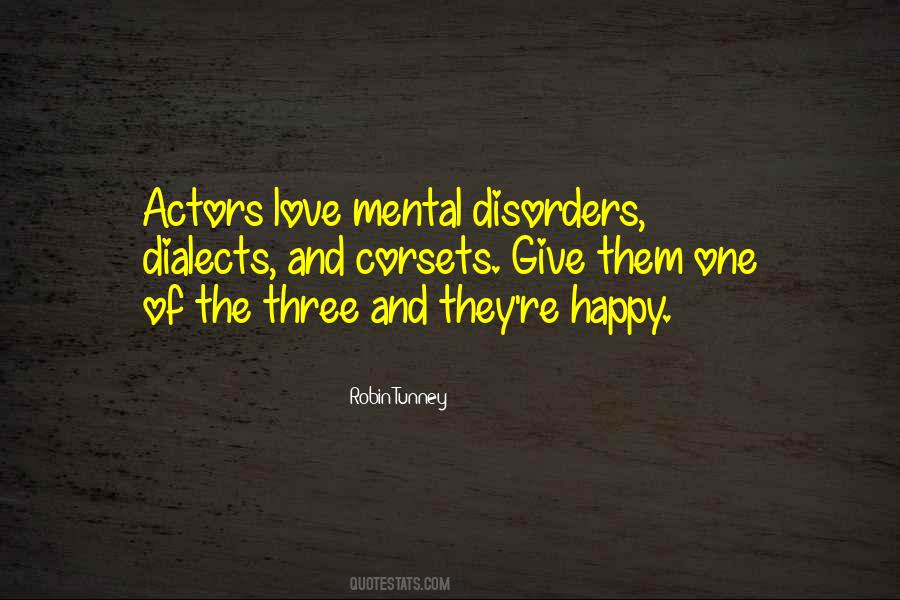 #54. Think Positively.
Network well.
Eat healthy.
Work Smart.
Stay Strong.
Build faith.
Worry less.
Read more.
Be happy.
Volunteer freely.
Relax often.
Love always.
Live eternally
and you will see doors open to your favor. - Author: Ifeanyi Enoch Onuoha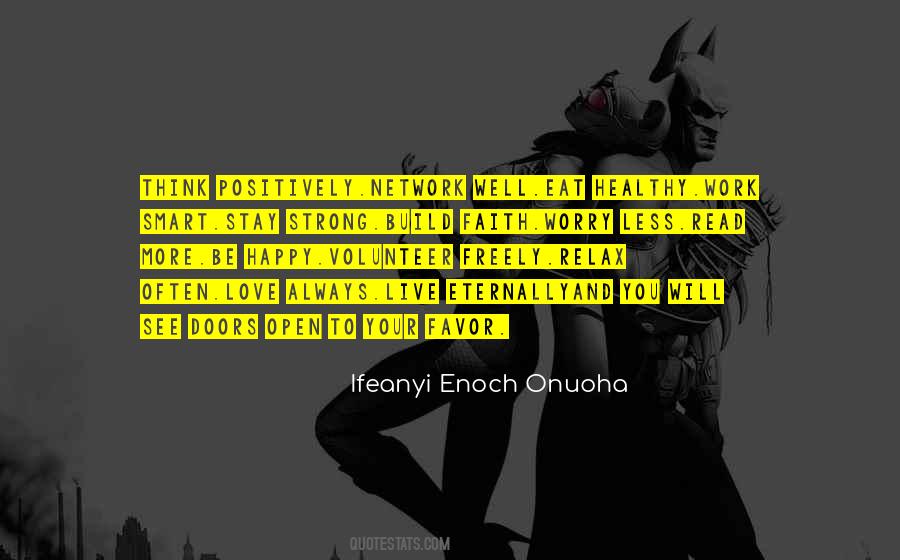 #55. I'm reluctantly interested in love and helplessly interested in logic and yet they're so conflicting. And they're both necessary for a happy balance, a happy existence ... I think. - Author: Laura Marling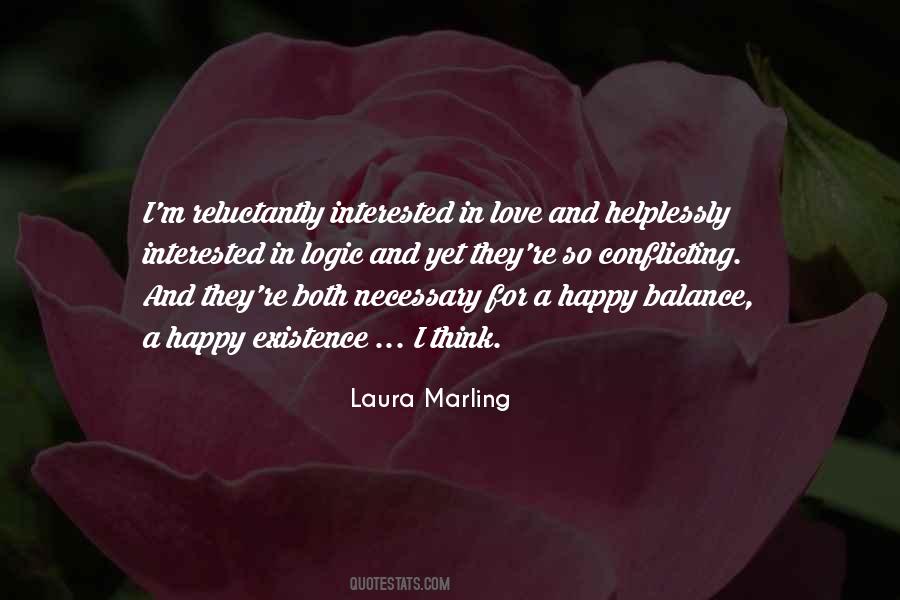 #56. I was looking for someone to inspire me, motivate me, support me, keep me focused; someone who would effectively love me, cherish me, make me happy and then I realized that all along I was looking for myself. - Author: Alex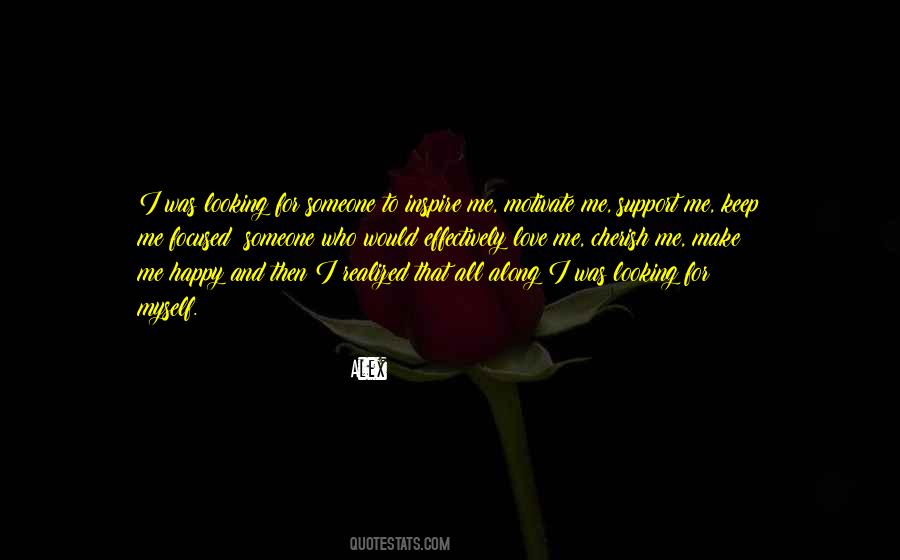 #57. Actually it deals ("as usual" I was about to say!) with Life, Love and Death. Because nothing in fact is more important. To occupy oneself with. To think of. To worry over. To be happy about. And so on. - Author: Ingmar Bergman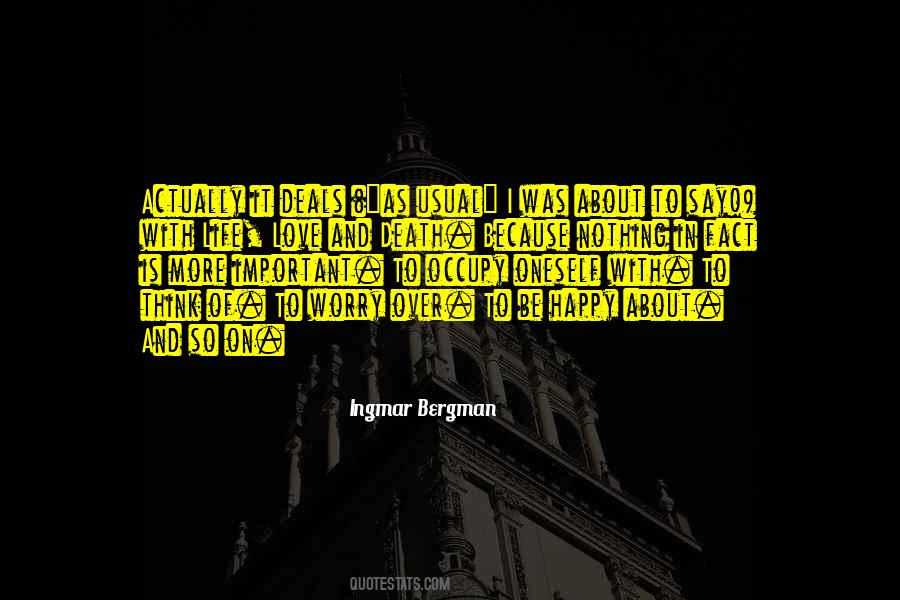 #58. When I think about you with him, it guts me. I feel like you ripped open my chest and tore out my damn heart. Do you even realize that? I know I should want you to be happy, but I can't wish it for anyone else other than me. I belong to you, and that's never going to change. - Author: Ashleigh Z.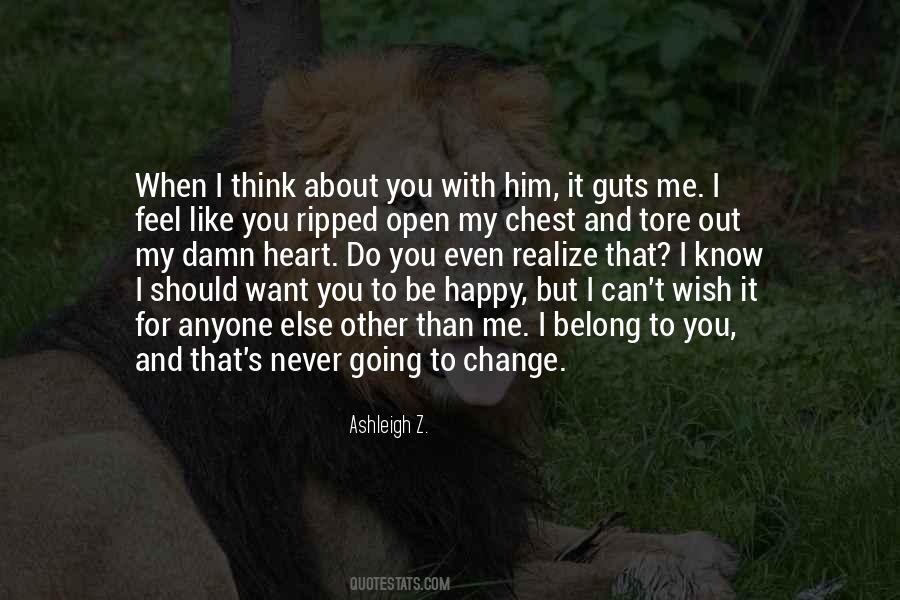 #59. It is our will That thus enchains us to permitted ill. We might be otherwise, we might be all We dream of happy, high, majestical. Where is the love, beauty and truth we seek, But in our mind? and if we were not weak, Should we be less in deed than in desire? - Author: Percy Bysshe Shelley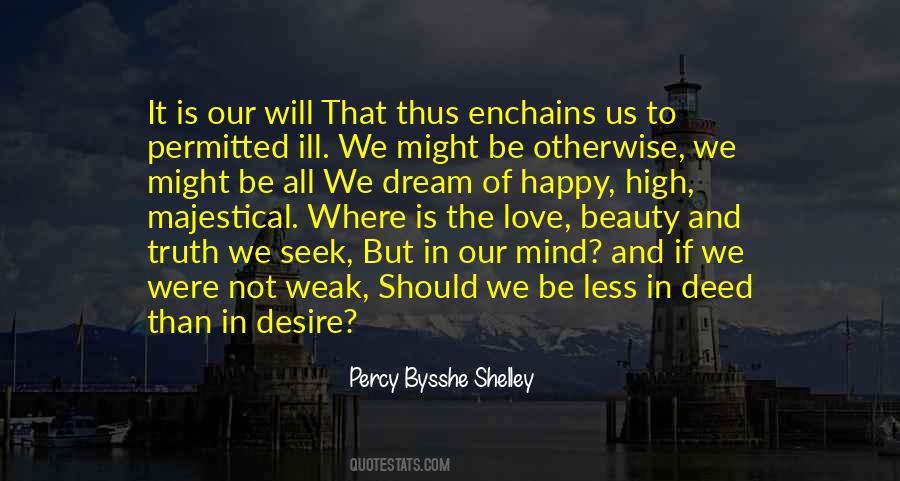 #60. There's this really good line in 'Women in Love' where Ursula says, 'I always thought it was a sin to be unhappy.' And actually I think that's very common, it's what a lot of people feel - that you have an obligation to life to be happy if you can. - Author: Rachel Cusk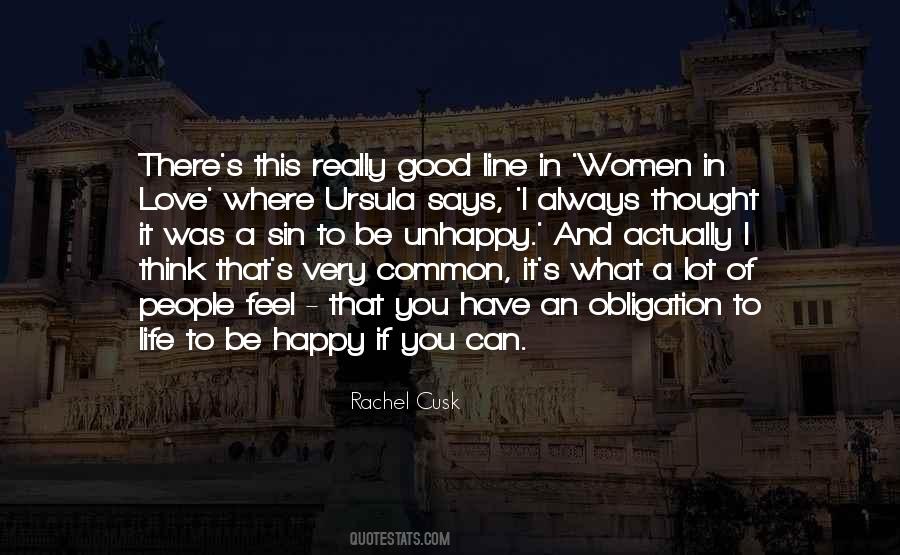 #61. I realize how much I have wanted this and not gotten it [good love], realize how much it is branded in my heart that, to be happy, alone, and childless is a fucking gift that most women get brainwashed into relinquishing. - Author: Leah Lakshmi Piepzna-Samarasinha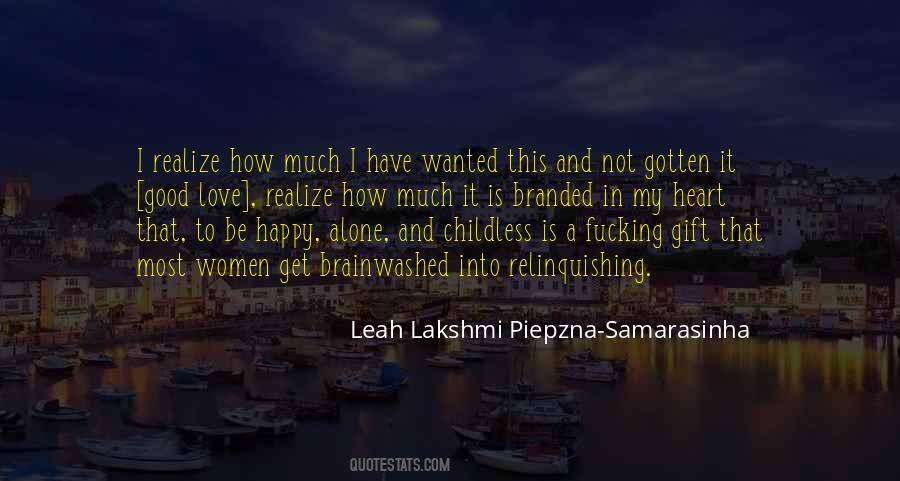 #62. I watch movies and hang with my family, go shopping, love to cuddle with my dog, Happy, & write songs with my guitar! - Author: Megan Lee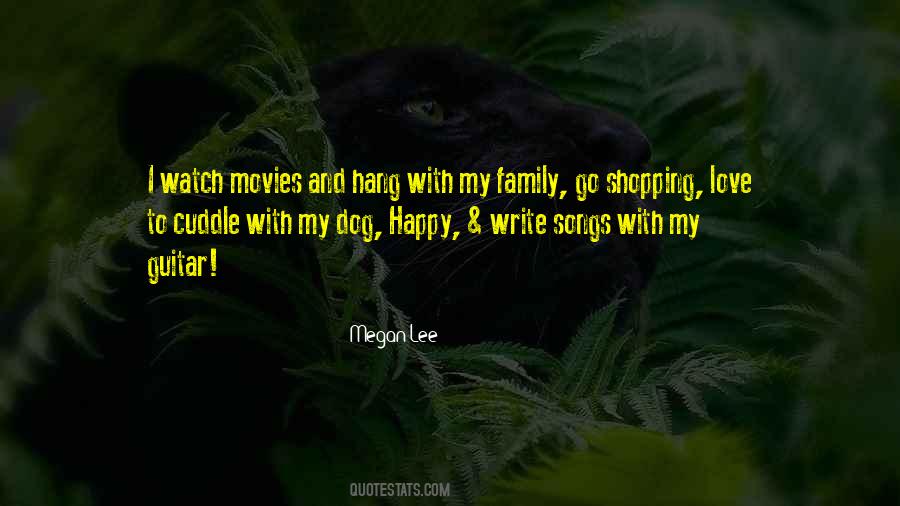 #63. Sometimes people in abusive situations think they're responsible for the other person's happiness or that they're going to fix them and make them feel better. The practice of equanimity teaches that it's not all up to you to make someone else happy. - Author: Sharon Salzberg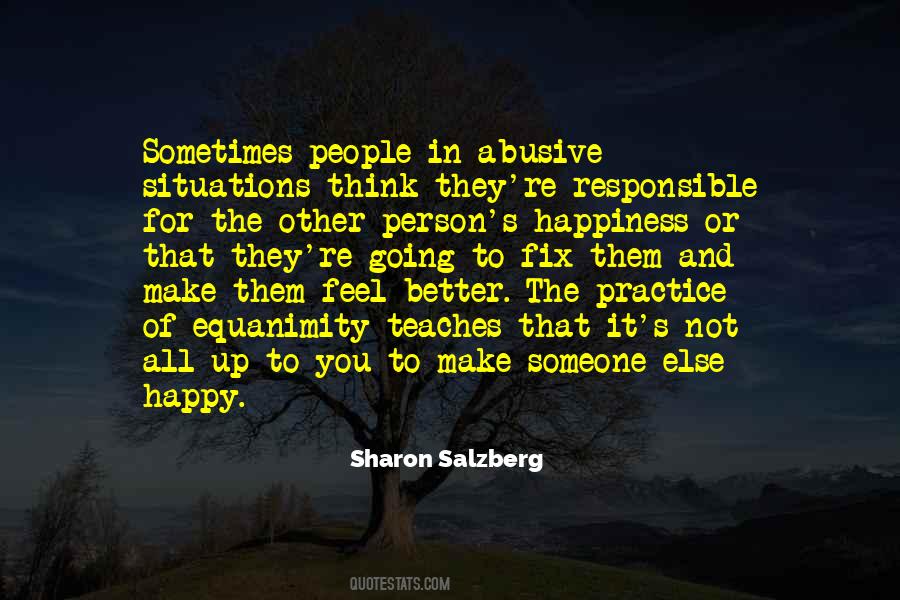 #64. Halloween is one of my favorite holidays. Christmas and the others can end up making you sad, because you know you should be happy. But on Halloween you get to become anything that you want to be - Author: Ava Dellaira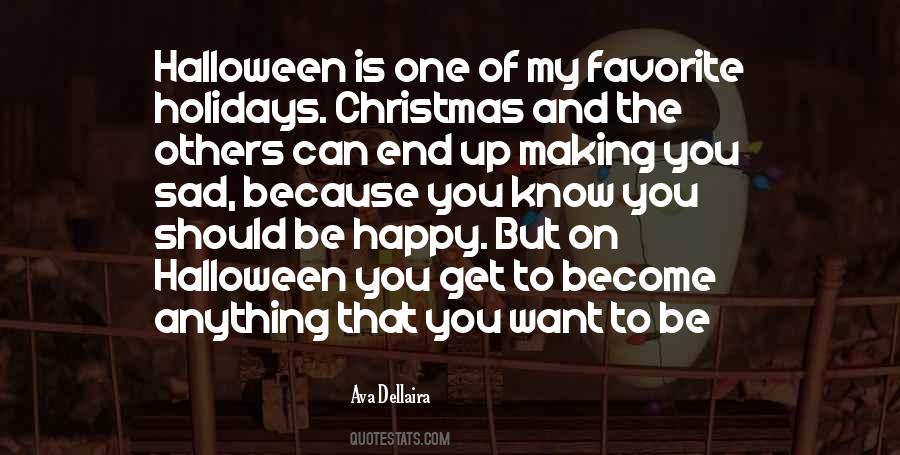 #65. Madly in love after so many years of sterile complicity, they enjoyed the miracle of loving each other as much at the table as in bed, and they grew to be so happy that even when they were two worn-out old people, they kept on blooming like little children and playing like dogs. - Author: Gabriel Garcia Marquez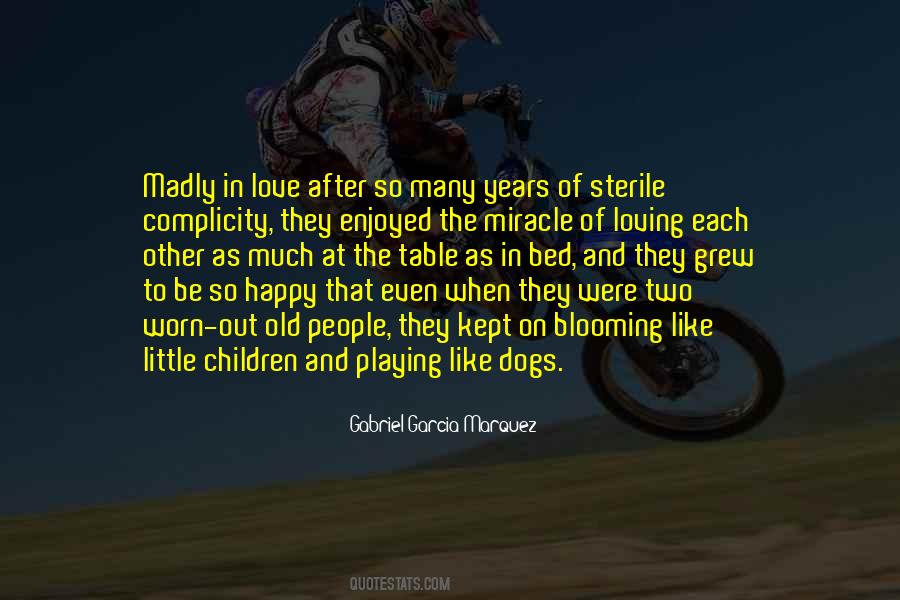 #66. The key is to be happy for no reason. Just be love. Just be it. Just be happy no matter what. Just share your love and know that like it's all ok. - Author: Drew Chadwick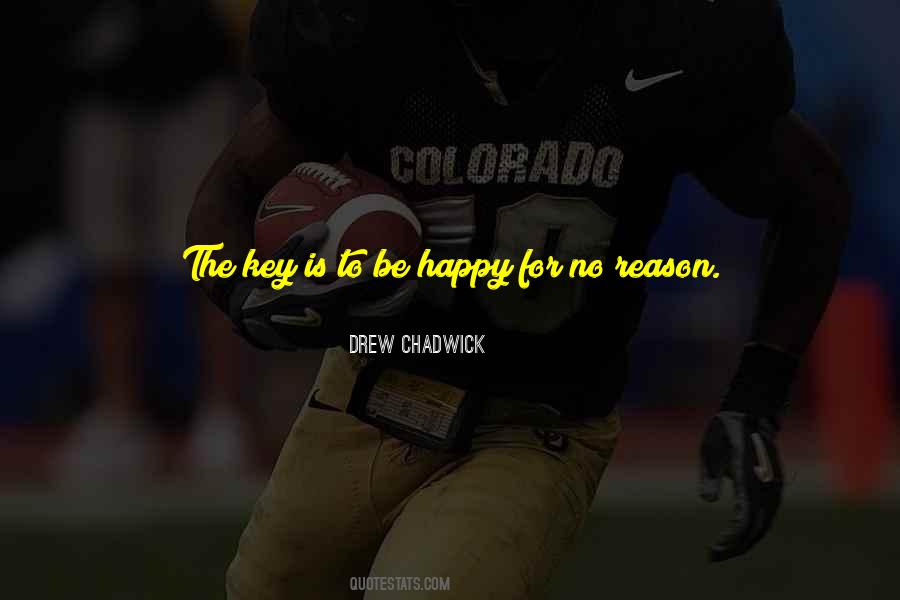 #67. ..love is as complex an emotion as exists. There are many reasons why love does not prosper.
.. the waters are perilous, and you would do well to know that, because unlike your novels, not every story has a happy ending. - Author: Mary Lydon Simonsen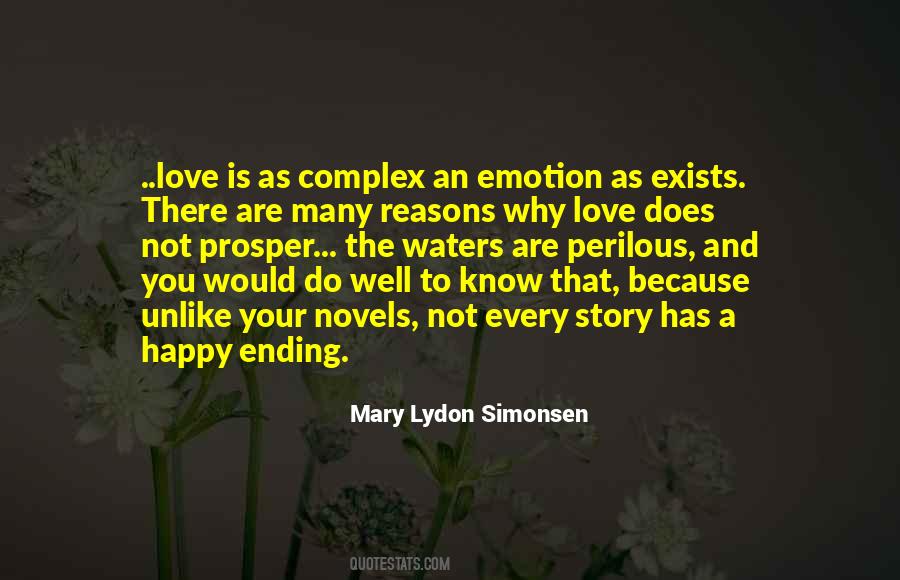 #68. My hobby is gardening, I love it, it's my main hobby. I like being at home and I'm very happy being in my house, I love cooking. - Author: Susan Hampshire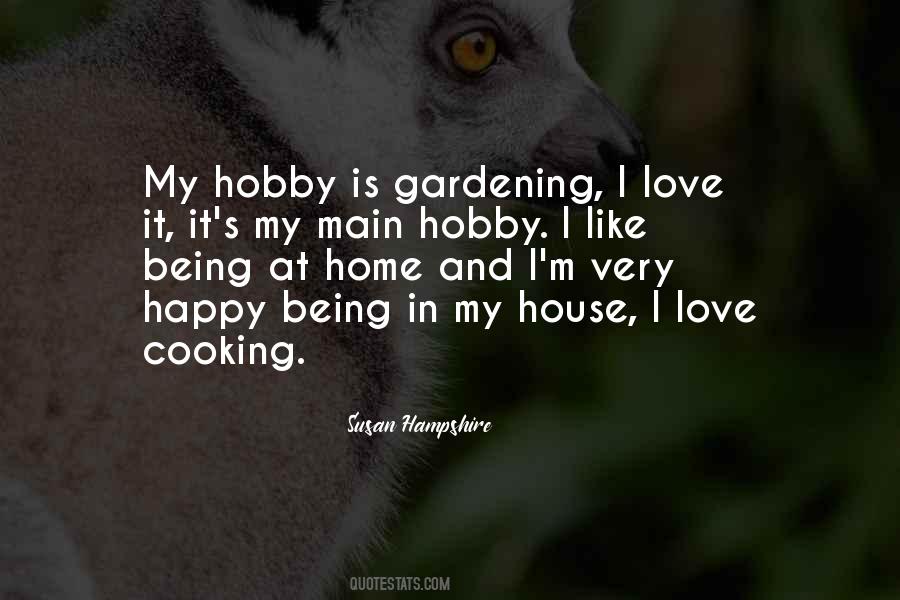 #69. You are alive, so take your life and enjoy it. You were born with the right to be happy, to love, and to share your love. Just to be-to take a risk and enjoy your life-is all that matters. - Author: Miguel Angel Ruiz
#70. You've got to be happy, you have to do this thing [music] for the love. It's not like you go into music because it's going to make a lot of money. It's something you do ... that's the thing. You got to accept all that hard work with it, too. And enjoy it, and love it. - Author: Creed Bratton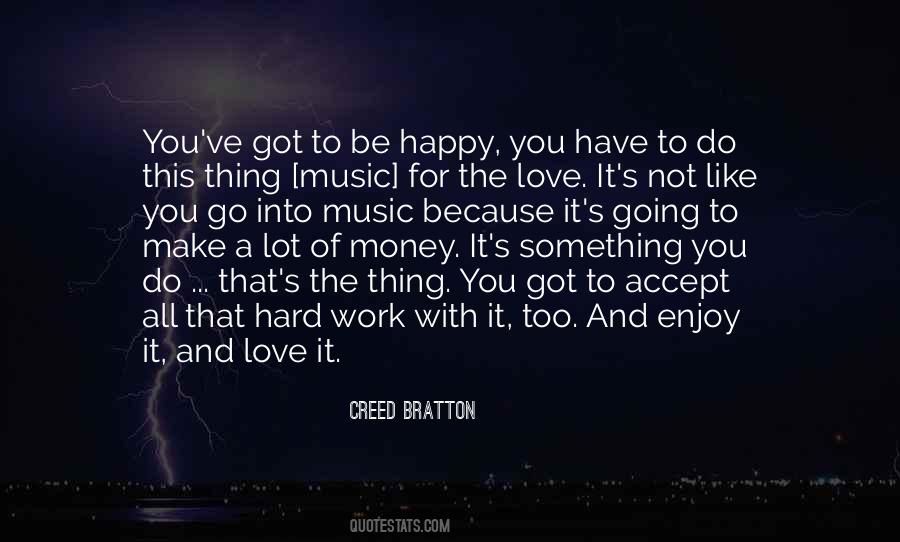 #71. I love dogs. They live in the moment and don't care about anything except affection and food. They're loyal and happy. Humans are just too damn complicated. - Author: David Duchovny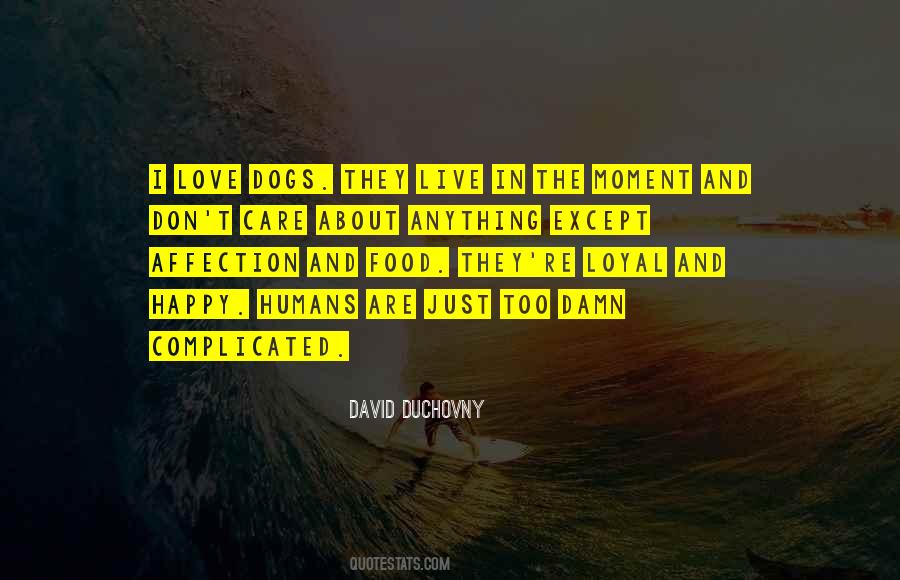 #72. I love the predictions of a man right before his first child is born," Flowers said. "They're like little snowflakes. Right before the sun comes blazing out the clouds and melts those happy dreams away. - Author: Michael Chabon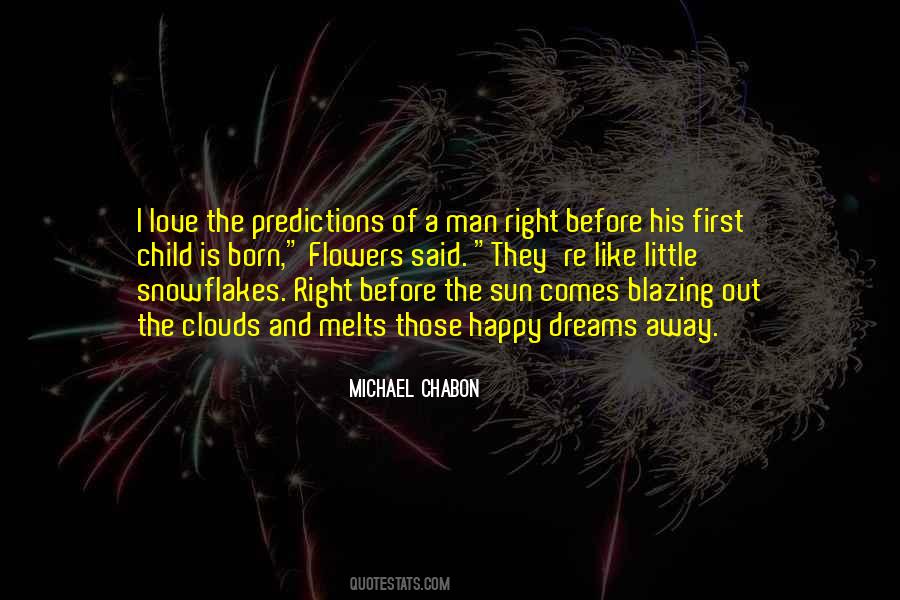 #73. Yeah, but before anything, I think in 6 years somehow I've grown up to have a beautiful home, 2 beautiful stepchildren, a beautiful husband, my family is healthy and happy. I'm financially ok and I do what I love for a living. That's what I think, and I think god, how did I get so lucky. - Author: Angelina Jolie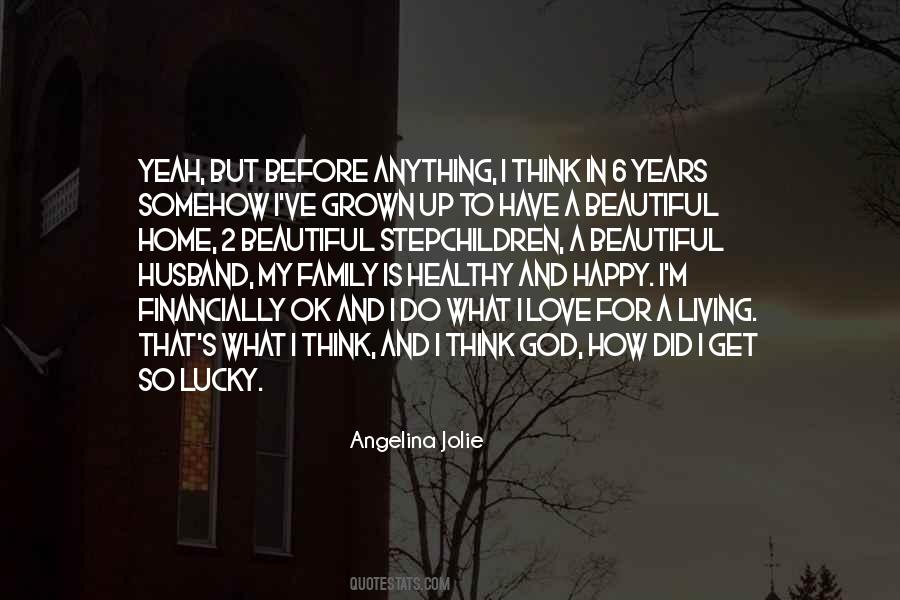 #74. 'Love Letter' reminds me of 'Chocolate Factory' and 'Happy People.' It's a little bit of both of those, yeah. I just wanted it to be classy, man. And romantic. And maybe 10 percent sexy. - Author: R. Kelly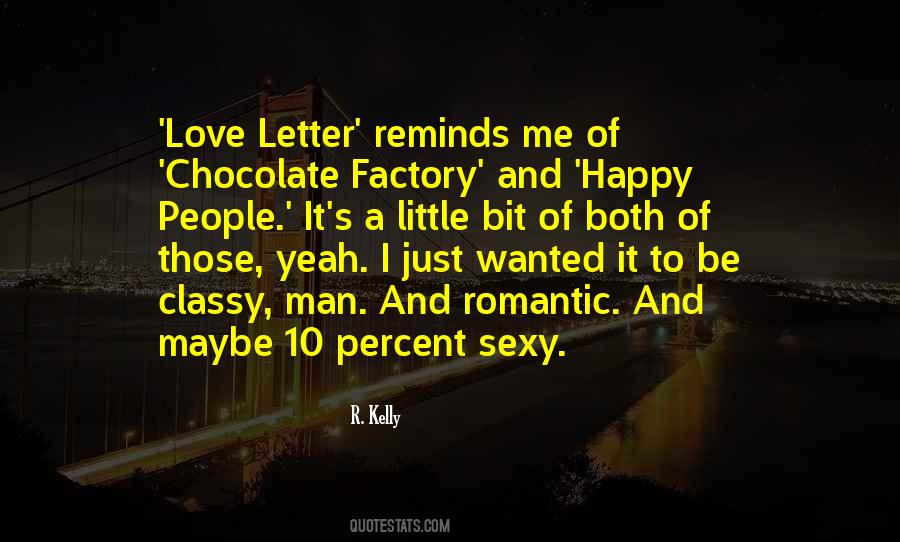 #75. Those who prefer their principles over their happiness, they refuse to be happy outside the conditions they seem to have attached to their happiness. - Author: Albert Camus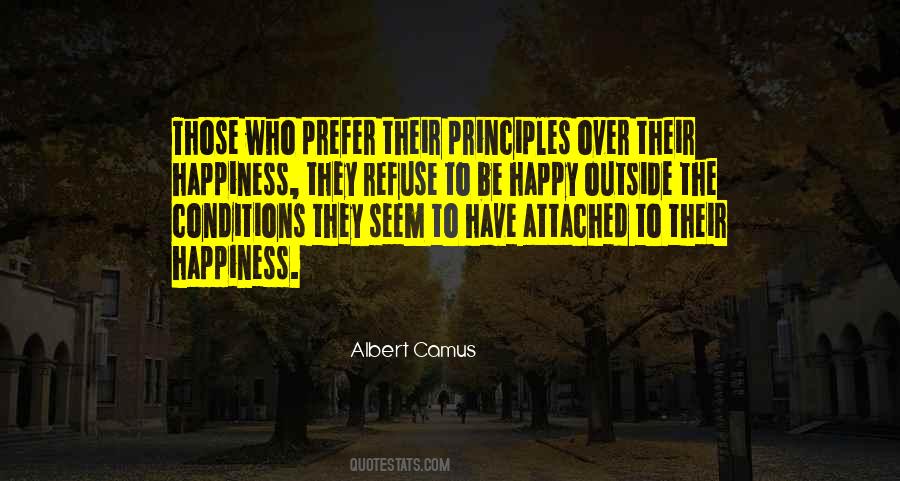 #76. With true love, you can move mountains, make unusual sacrifices, live a life of deprivations and still be happy. - Author: Janvier Chouteu-Chando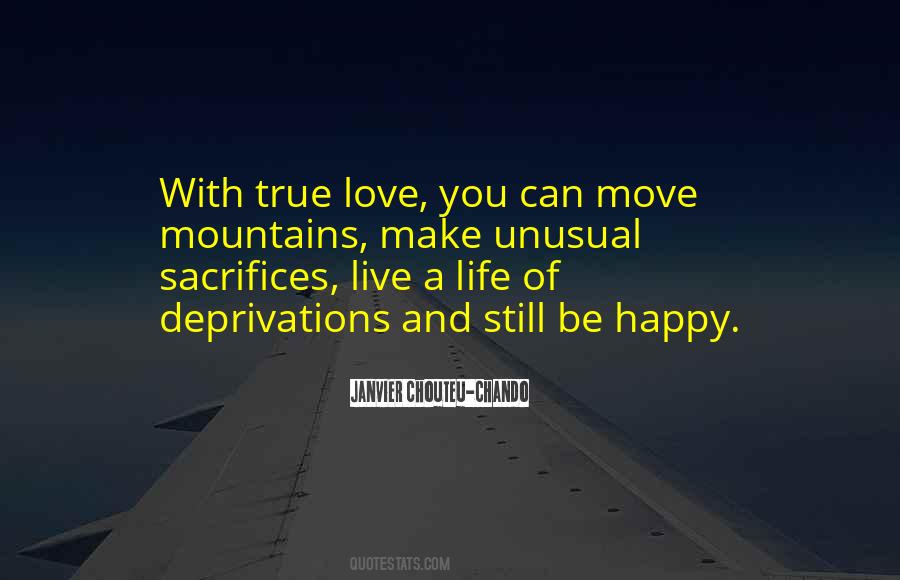 #77. When something flipping out to the worse, don't feel bad. But be strong and make yourself hard so that the situations stop taking chance to hurt you. - Author: Giridhar Alwar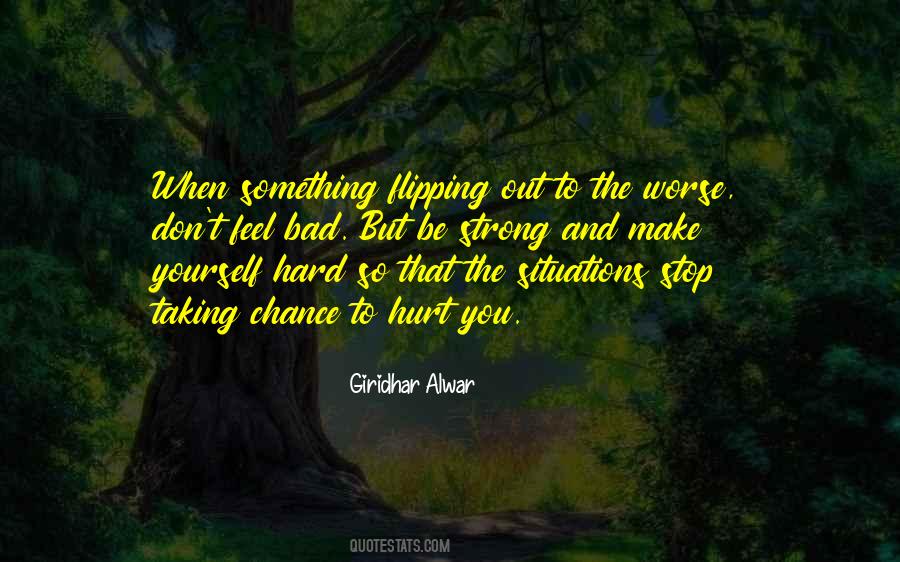 #78. My mother, poor fish,
wanting to be happy, beaten two or three times a
week, telling me to be happy: "Henry, smile!
why don't you ever smile?"
and then she would smile, to show me how, and it was the
saddest smile I ever saw - Author: Charles Bukowski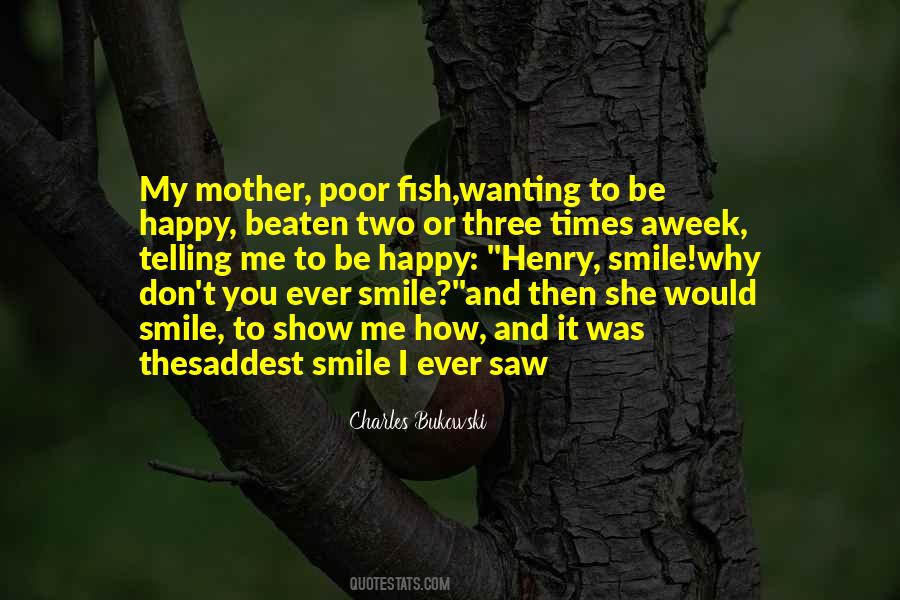 #79. Jelle, if you really love Guji, you'd be willing to let him go and allow him to be happy with the woman he loves. Walang problema kung nais mong ipaglaban ang feelings mo pero dapat alam mo rin kung paano sumuko lalo na kung alam mong talo ka na. - Author: Marione Ashley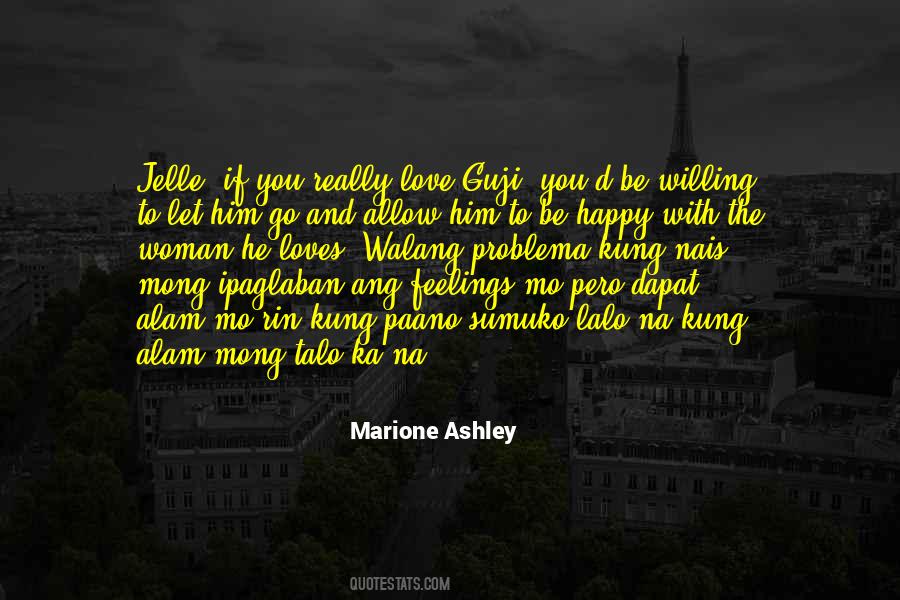 #80. Love one another and you will be happy, it is as simple and as difficult as that - Author: Michael Leunig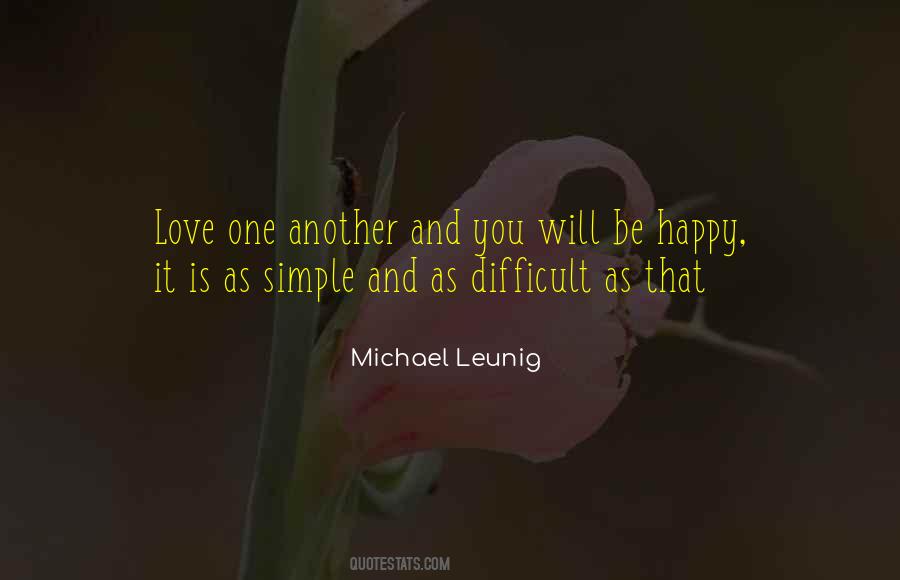 #81. I never try to give a message in my books. It's about living with characters long enough to hear their voices and let them tell me the story. Sometimes I would love to have a happy ending, and it doesn't happen because the character or the story leads me in another direction. - Author: Isabel Allende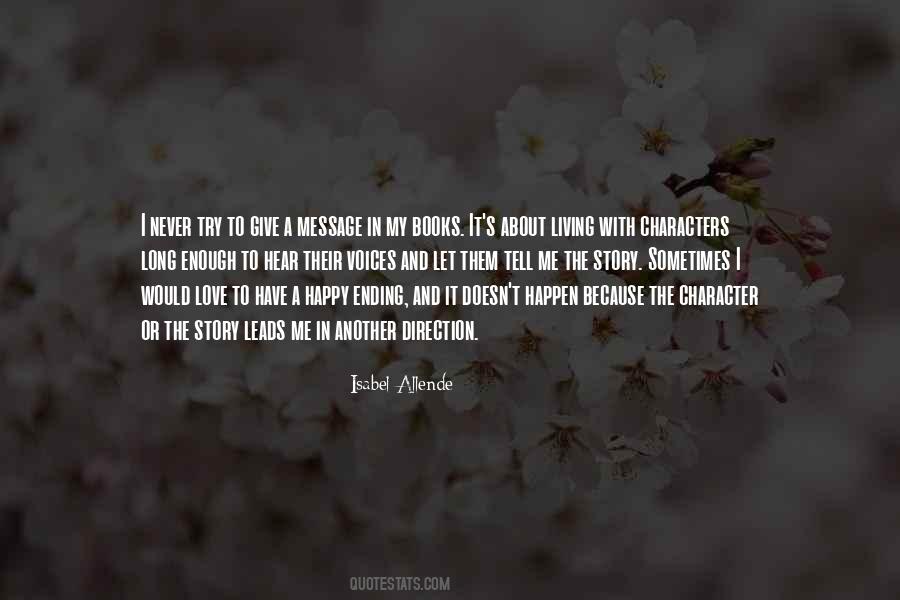 #82. Love is not an equation, as your father once wanted me to believe. It's not a contract, and it's not a happy ending. It is the slate under the chalk and the ground buildings rise from and the oxygen in the air. It is the place I come back to, no matter where I've been headed. - Author: Jodi Picoult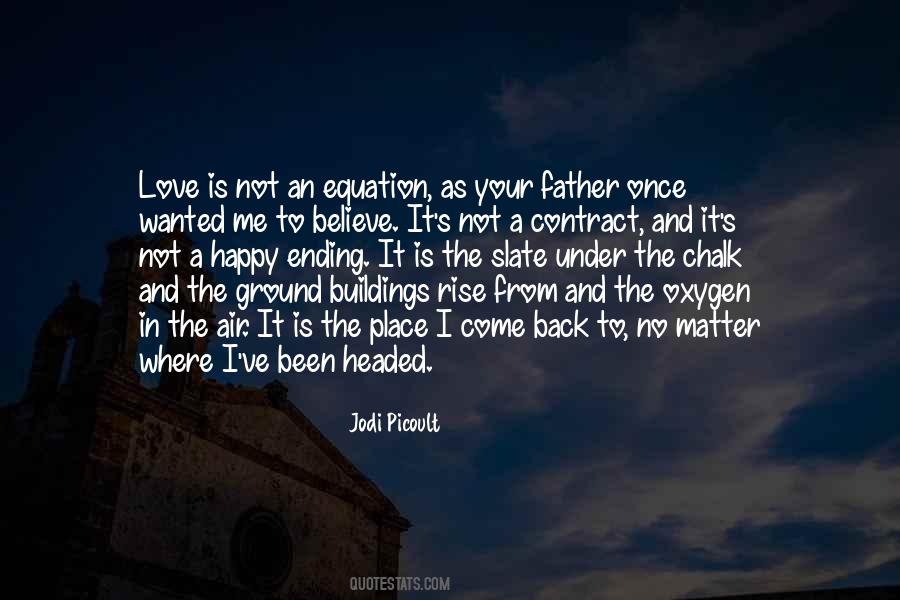 #83. I'm happy here, and why change when you love the club and the club's in a really good position right now. - Author: Frank Lampard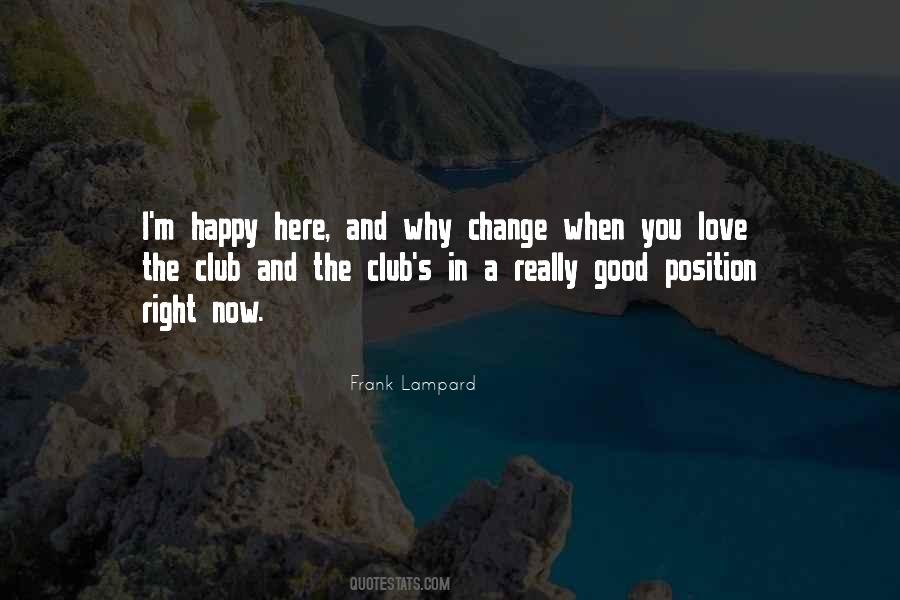 #84. If I have the power to post 'Happy Birthday' on someone's Facebook page and make them feel really good, it feels really good to make other people feel really good. I love it. I'm a huge Facebook and Twitter person. And I love talking to my fans. It's fun. - Author: Rebecca Mader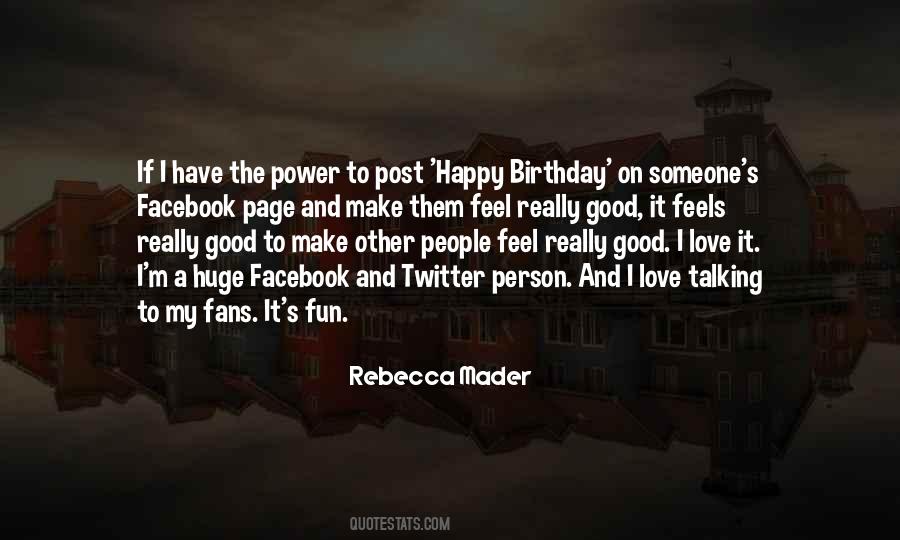 #85. When I do a festival, I want everyone to have a party, I think it is kind of similar to a club where everyone is there to have a good time and celebrate not being at work or just being able to have fun. I love people dancing to my music as well; if I can make them dance I feel happy. - Author: Katy B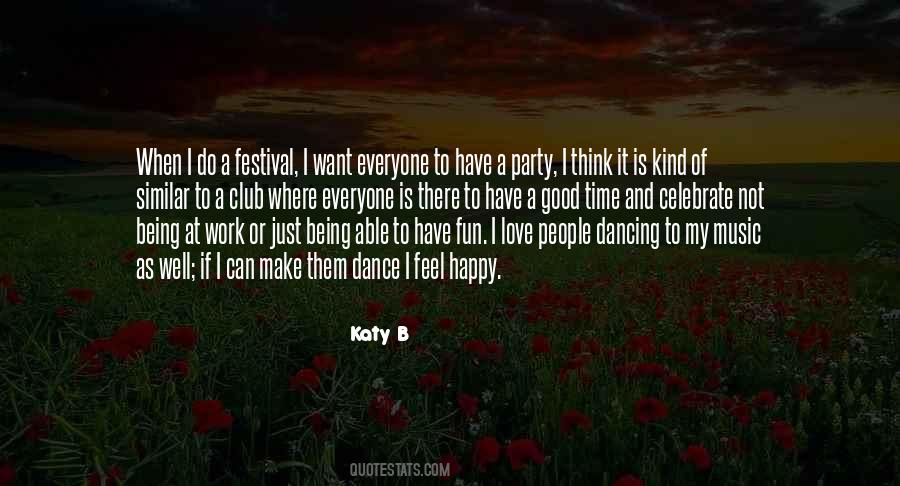 #86. I live to love and I love to be happy. - Author: Debasish Mridha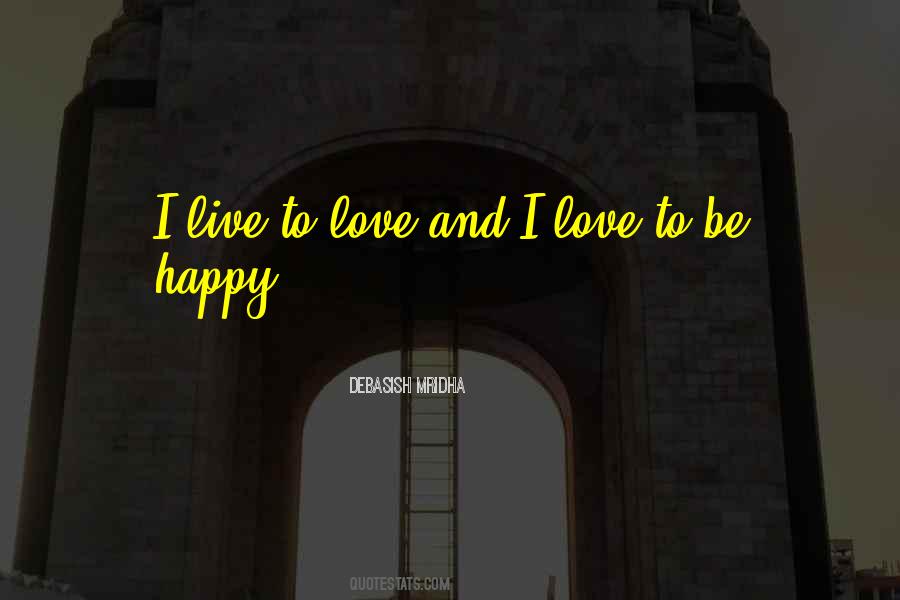 #87. To love, to be loved, and to be useful: these are the most important elements in a happy, meaningful life, and they can be achieved anywhere. - Author: Syrie James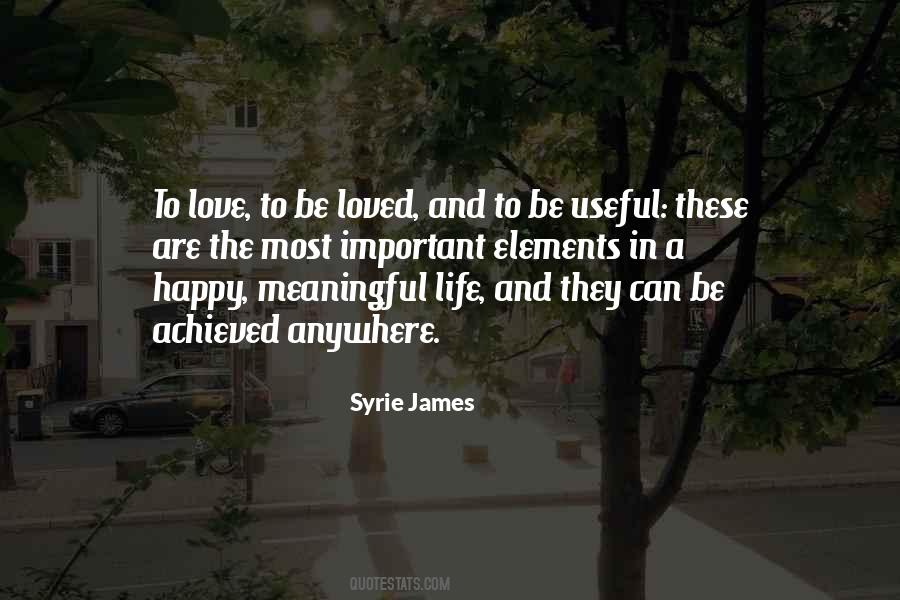 #88. He had realised that it was Clara he loved, and that he loved her in many different ways. (Because there are even more ways of loving than there are ways of being happy, but it would take another book to explain them all.) - Author: Francois Lelord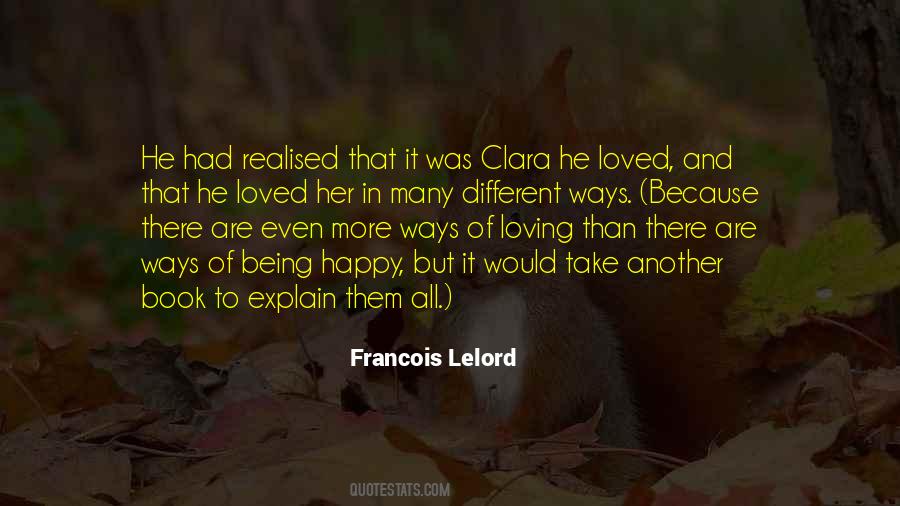 #89. I don't need a boyfriend to be happy. If I meet someone and I want to be with him, then I will be. I'm very confident in being single until I find someone who I'm extremely crazy about and who I want to devote my time and love to. Until then, I will just be on my own and I am totally fine with that, - Author: Nina Dobrev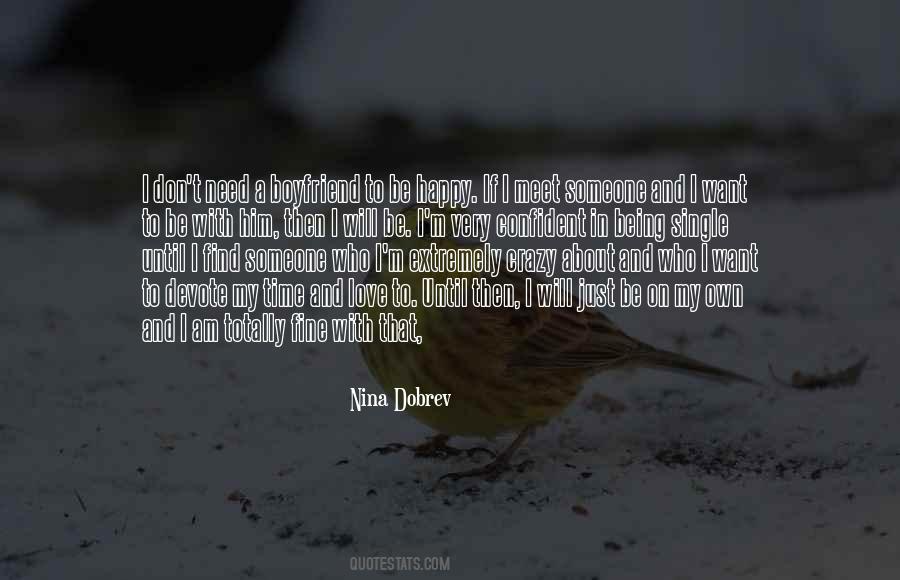 #90. Time is precious and should be spent doing things that make you happy, not brushing those very moments aside. That's when you really die, and I plan on living. - Author: Katelin LaMontagne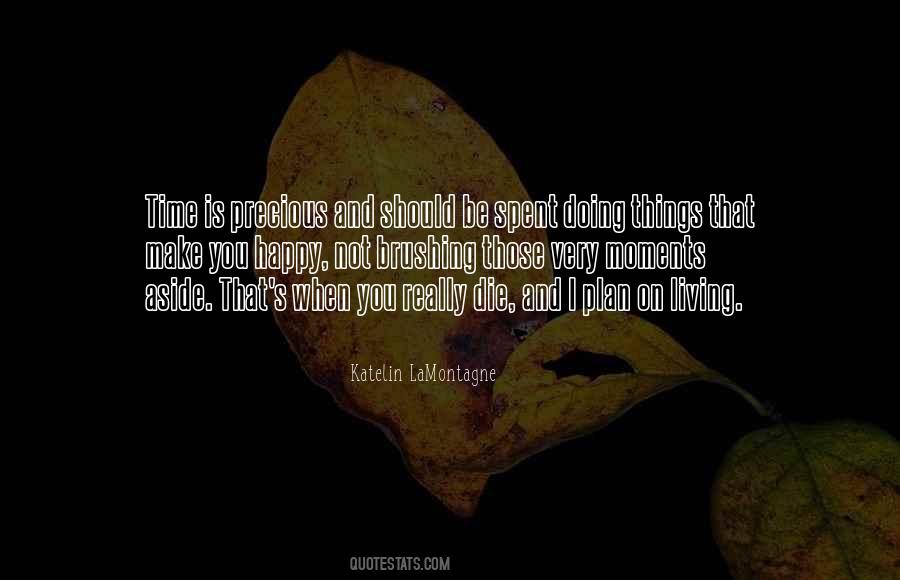 #91. How to be happy starts with self love, being proud of who you are and making happiness a daily choice. - Author: Robert Moment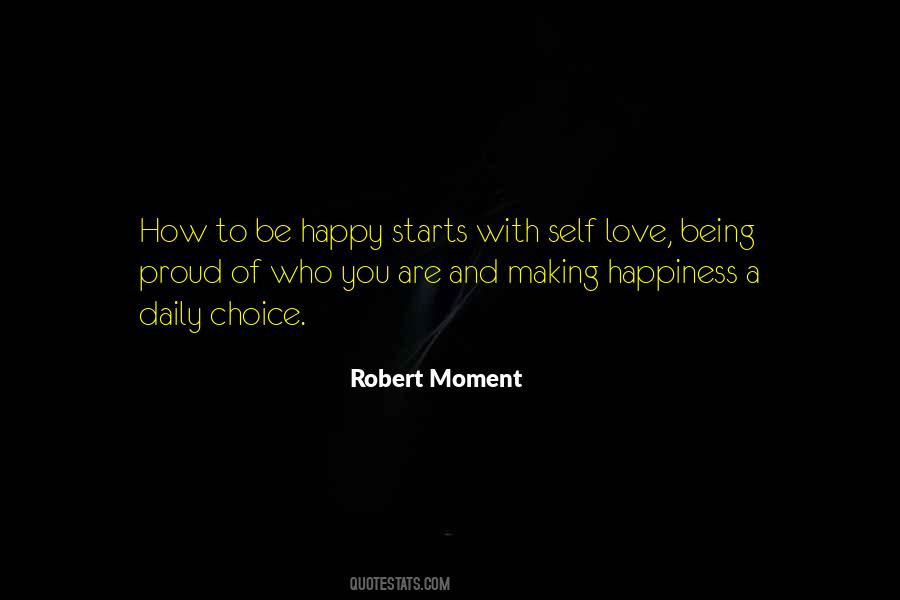 #92. His house to me was a child was a heart of happiness. If there is a wonder childhood possesses which makes it forever superior to what shall come after, it is the happy and uncritical love of whatever is happy, place or person, it does not matter which. - Author: Elizabeth Spencer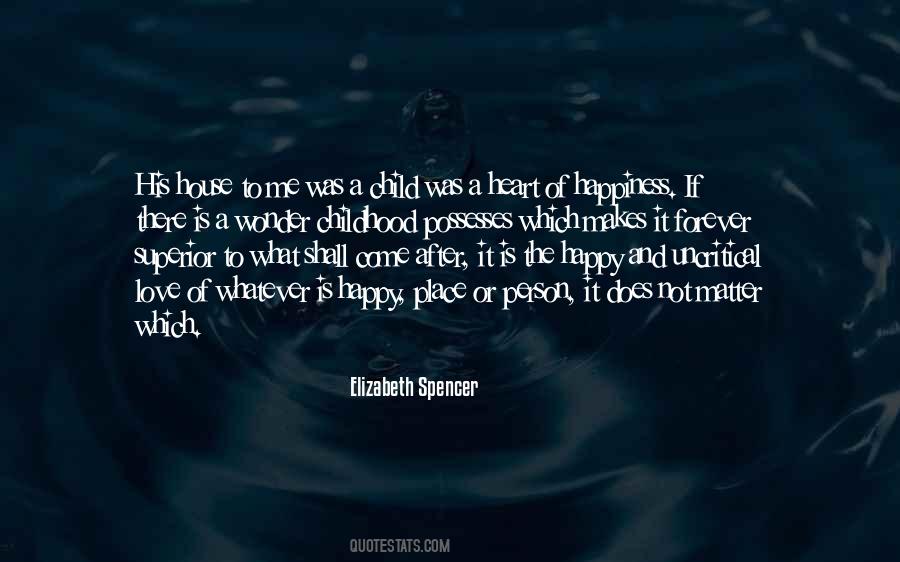 #93. This imbalance causes resentments within the over-responsible and dependency with the irresponsible person and this dynamic becomes the destructive life-pattern not conducive to happy families. - Author: David W. Earle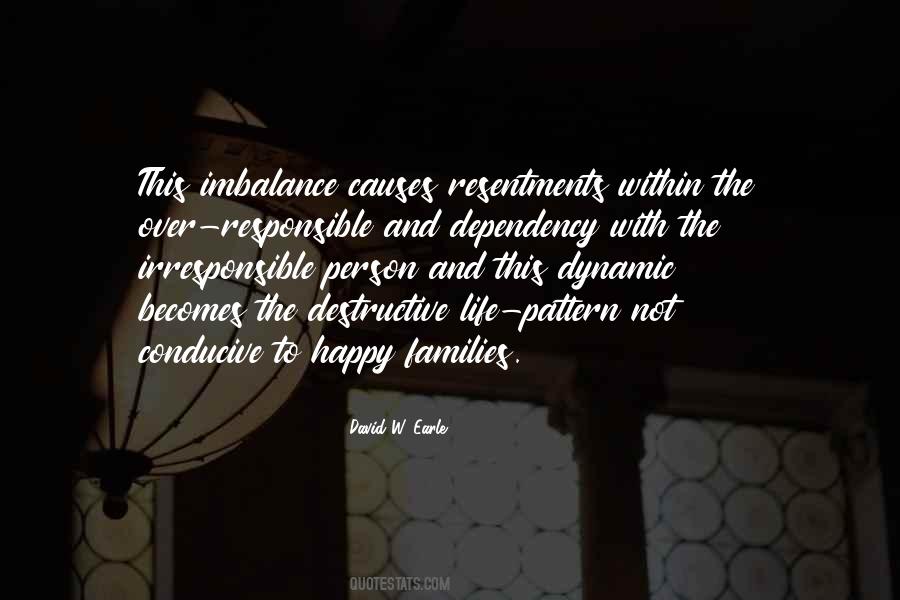 #94. Here is my experience. Stay away from the ones you love too much. Those are the ones who will kill you. What you want to live and be happy in the world is a woman who has her own life and lets you have yours. - Author: Donna Tartt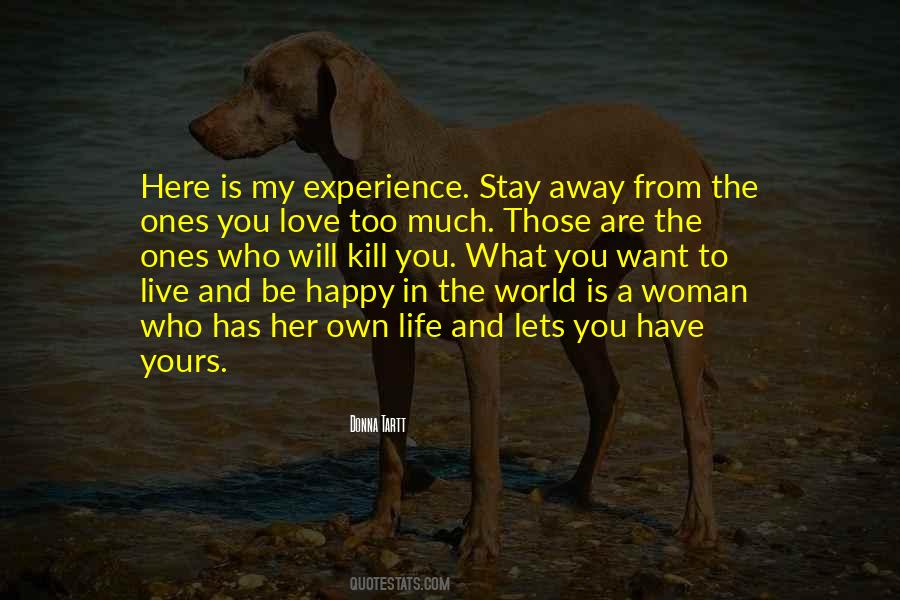 #95. I want to make paintings full of colour, laughter, compassion and love. I want to make paintings that will make people happy, that will change the course of people's lives. If I can do that, I can paint for a hundred years. - Author: Norval Morrisseau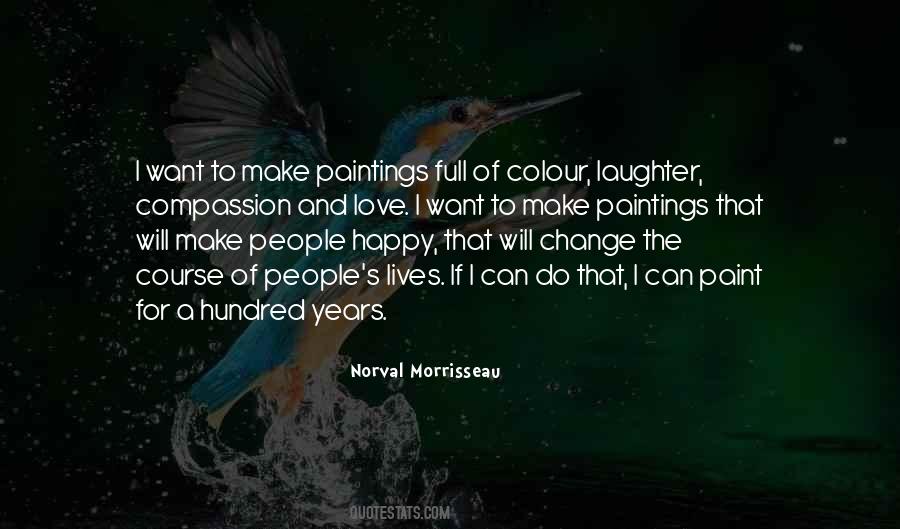 #96. I think love's exciting and happy, as well as being able to make you sad. - Author: Billy Idol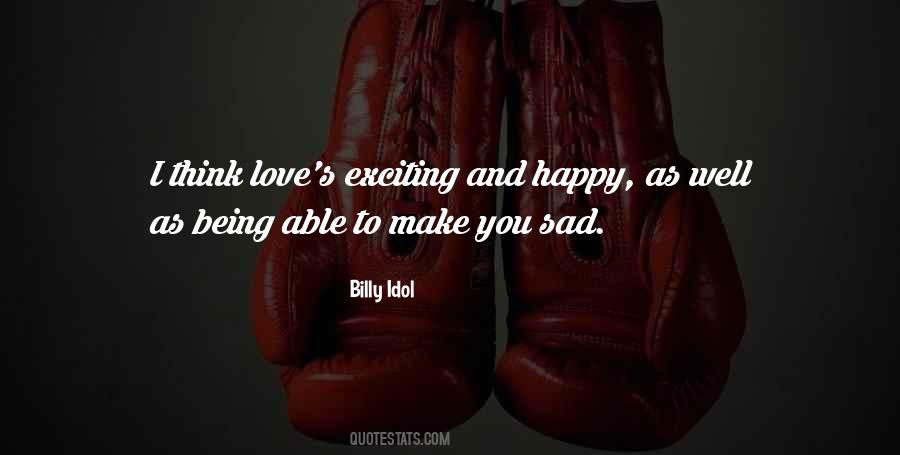 #97. Acting Government officials, they said they wanted - they would be happy, they would love to put a bullet in my head, to poison me as I was returning from the grocery store, and have me die in the shower. - Author: Edward Snowden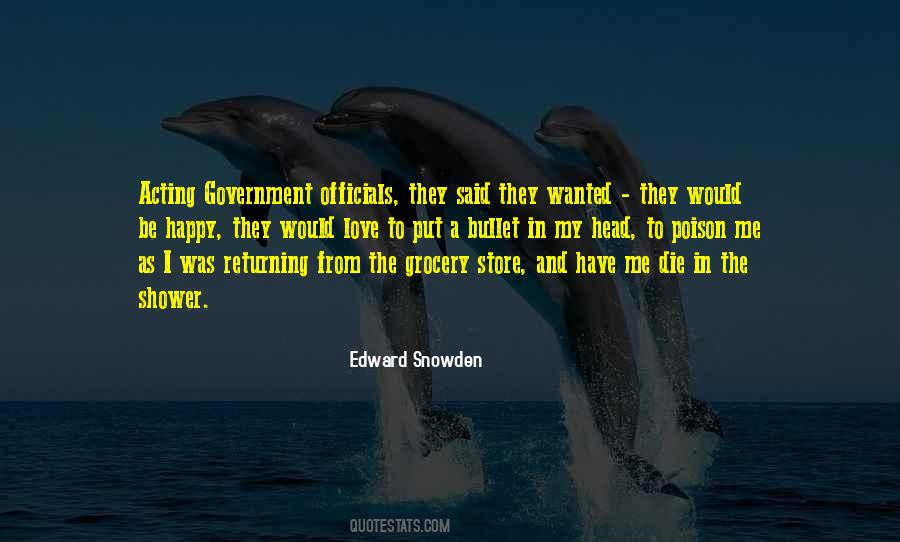 #98. I'm not over you. I dream about you every night. I watch that fucking video over and over just to hear your voice. Does that make you happy? Is that proof I cared? - Author: Leah Raeder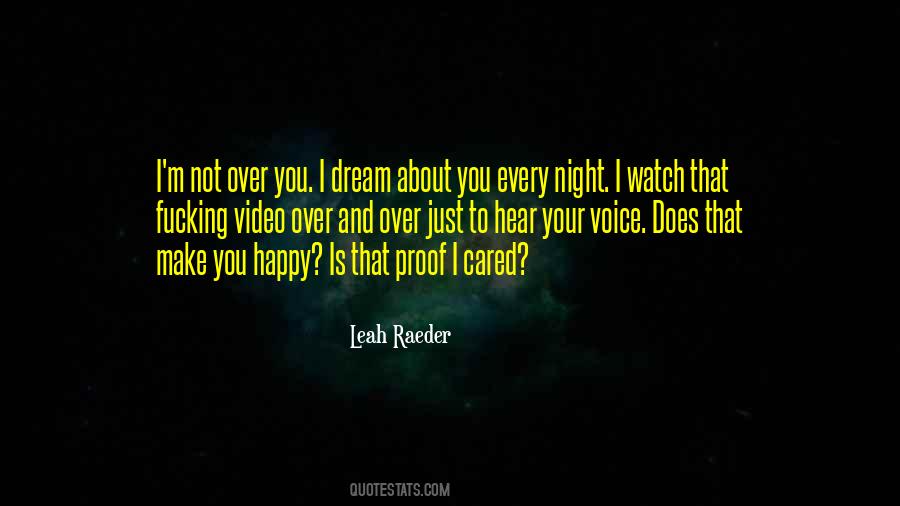 #99. You don't know how long you have, do what makes you happy. Live. Love and be remarkable. - Author: Will Kostakis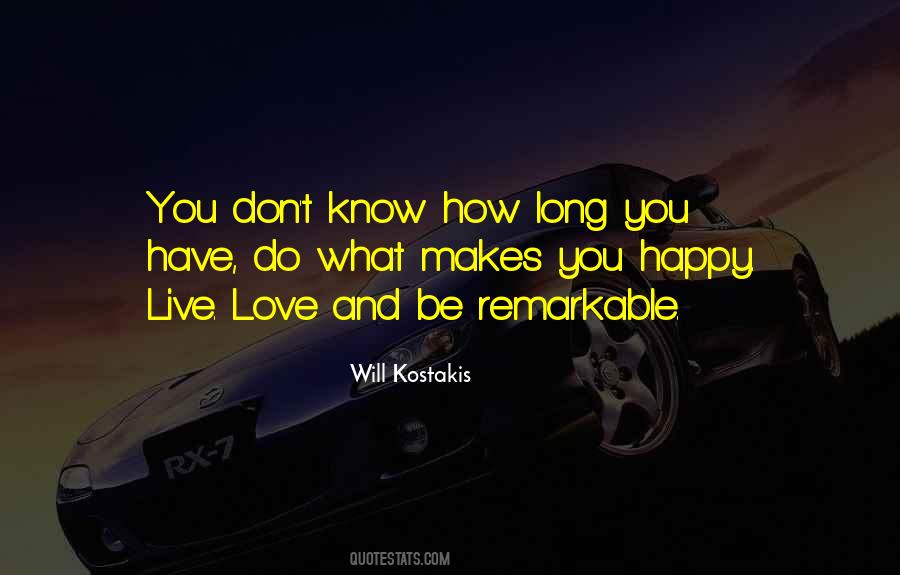 #100. My life is never perfect, but life is always a beautiful thing. I choose to see the beauty out of it. I choose to make it wonderful. I choose to love life and it loves me back in return. I may only have one life to live, but if I do it right, once is enough. - Author: Diana Rose Morcilla
Famous Authors
Popular Topics