Feeling Sad Famous Quotes & Sayings
List of top 100 famous quotes and sayings about feeling sad to read and share with friends on your Facebook, Twitter, blogs.
Top 100 Quotes About Feeling Sad
#1. When you're feeling down, sad, lonely, negative, you don't want to take care of yourself - and the weight problem and the diabetic problem and the heart attack and stroke problems and high cholesterol set in. - Author: Richard Simmons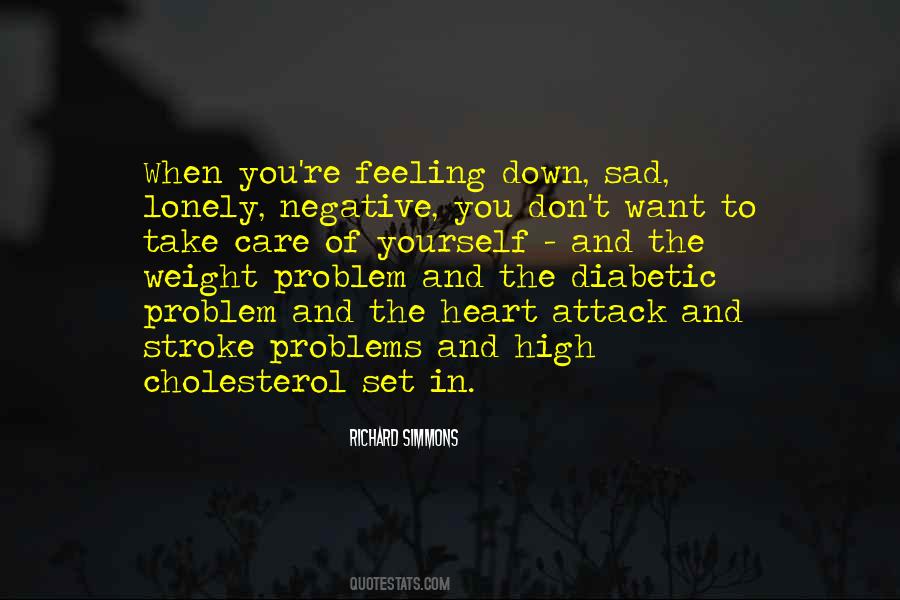 #2. When I'm feeling sad, or lonely, and I don't know what I'm doing and I don't know where I'm going, I imagine the Cool Awesome Future Version of Myself just telling my present self, "It's okay. You just gotta grab that giraffe by the ears and ride it on out." - Author: Jenna Marbles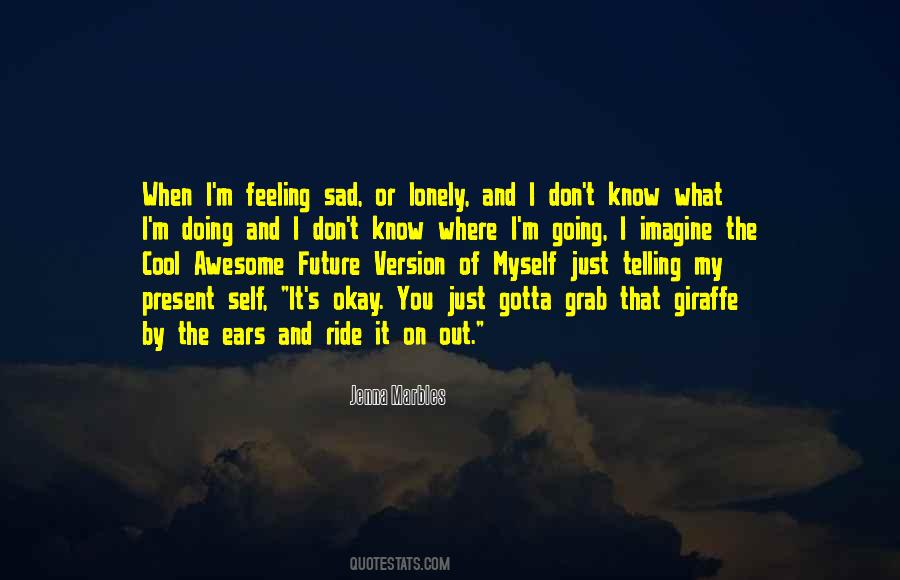 #3. Feeling sad means having too much time on your hands, usually. - Author: Gillian Flynn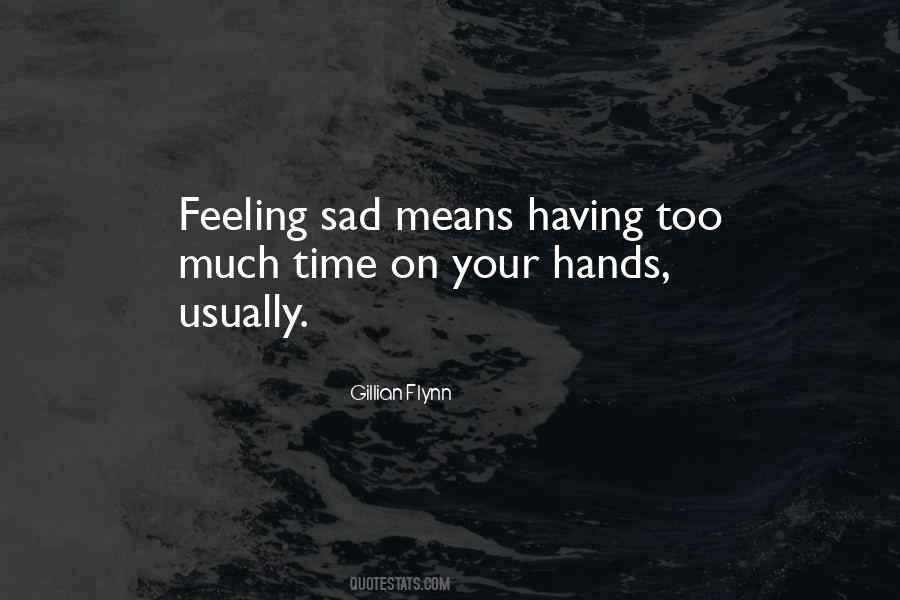 #4. I find most of the human race extraordinarily repulsive. They probably reciprocate this feeling. - Author: Agatha Christie
#5. The tragedy of life is in what dies inside a man while he lives - the death of genuine feeling, the death of inspired response, the awareness that makes it possible to feel the pain or the glory of other men in yourself. - Author: Norman Cousins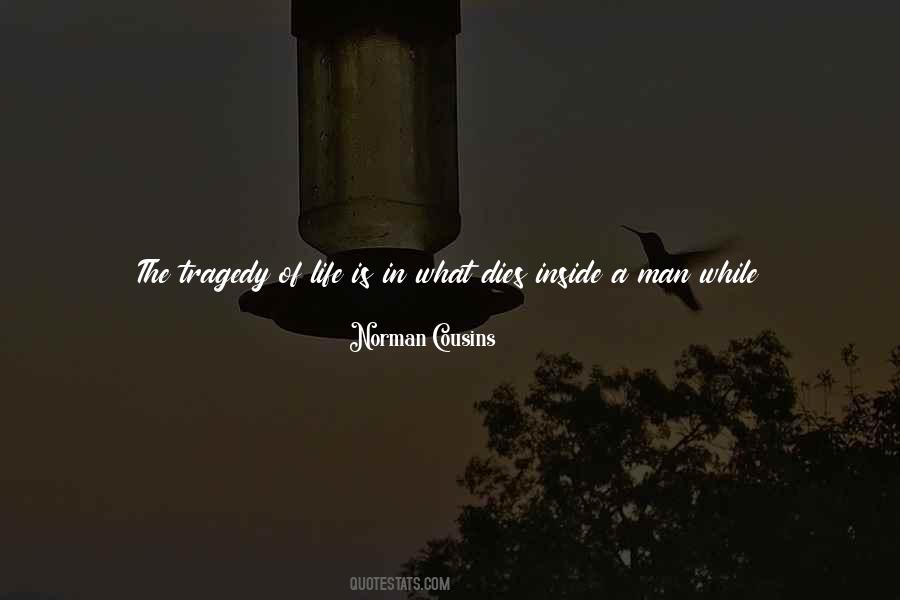 #6. The hate directed against the colored people here in St. Louis has always given me a sad feeling because when I was a little girl I remember the horror of the East St. Louis race riot. - Author: Josephine Baker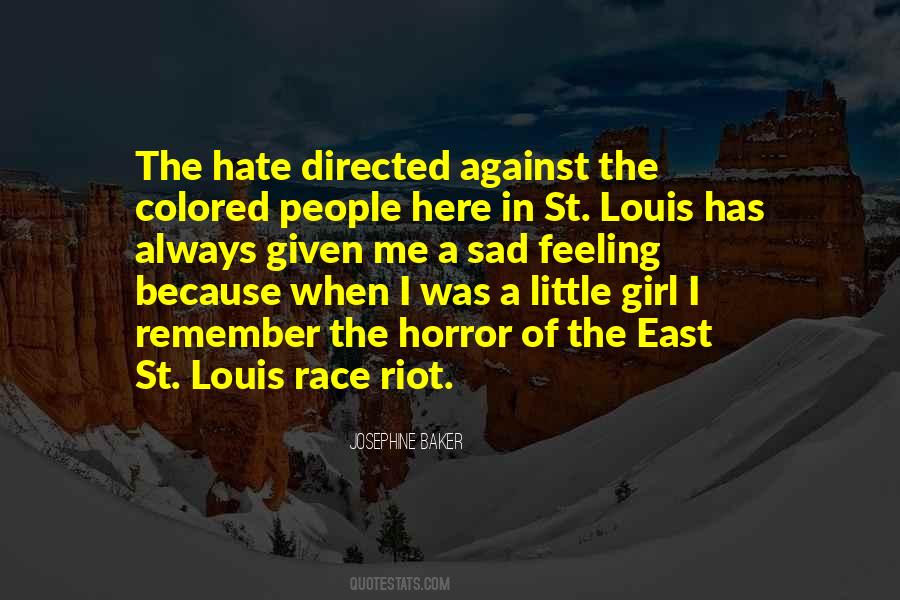 #7. Of these years nought remains in memory but the sad feeling that we have advanced and only grown older. - Author: Max Muller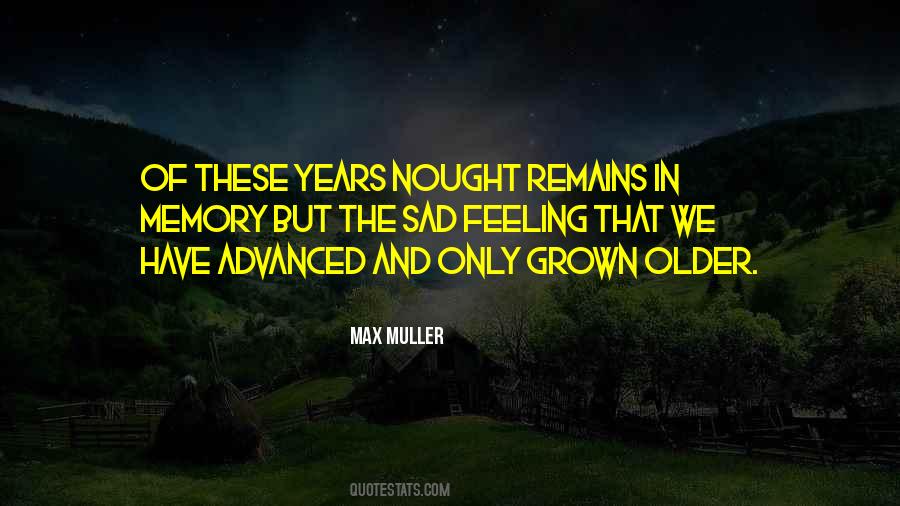 #8. I cried at first, and then, it was such a beautiful day, that I forgot to be unhappy. - Author: Frances Noyes Hart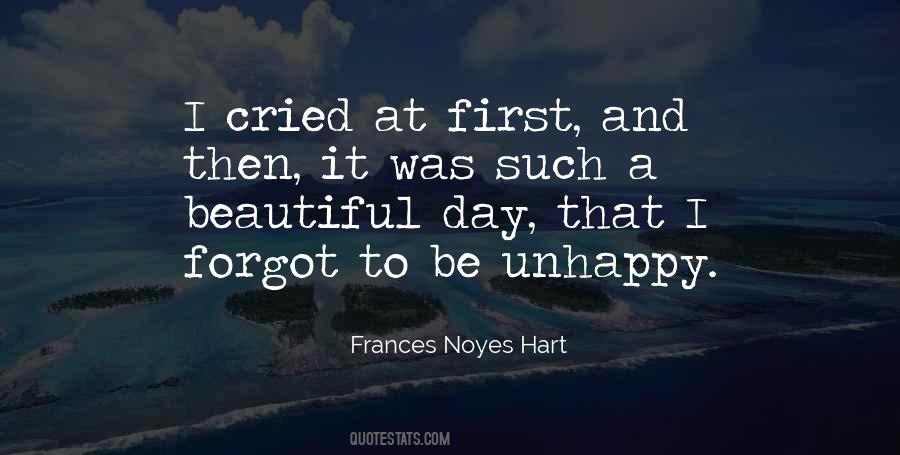 #9. Depressed is a word that often describes somebody who is feeling sad and gloomy, but in this case it describes a secret button, hidden in a crow statue, that is feeling just fine, thank you. - Author: Lemony Snicket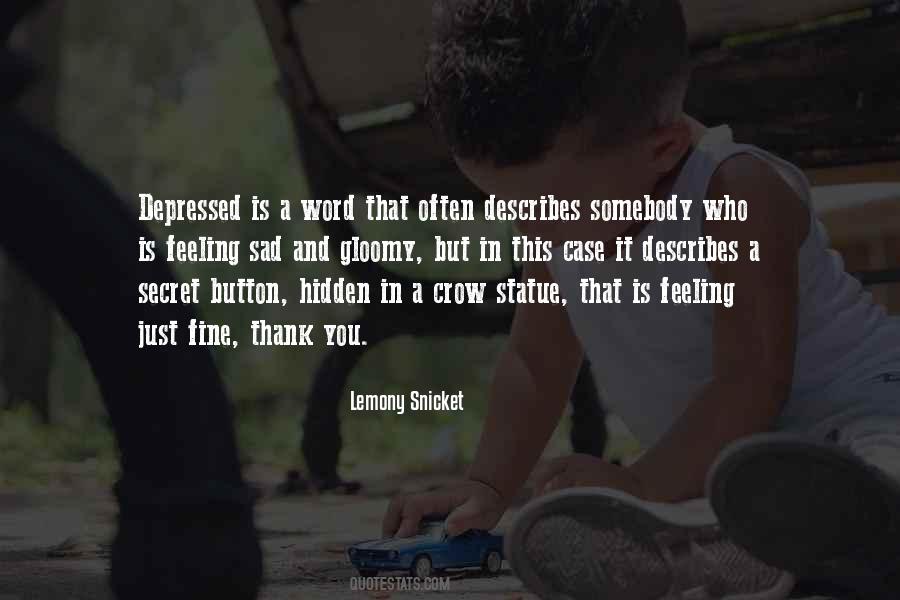 #10. It wasn't that she was sad - sadness had very little to do with it, really, considering that most of the time, she felt close to nothing at all. Feeling required nerves, connections, sensory input. The only thing she felt was numb. And tired. Yes, she very frequently felt tired. - Author: Nenia Campbell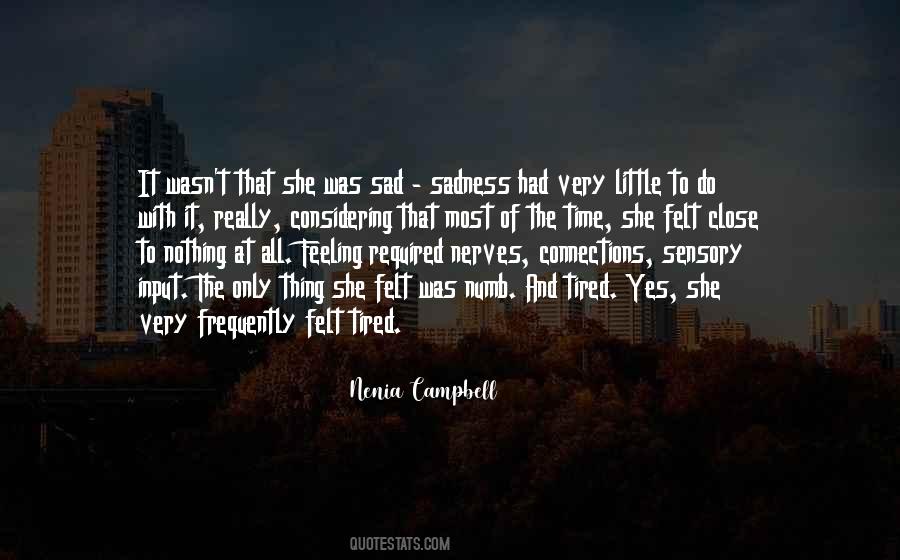 #11. I CAN'T GO ON! I FEEL LIKE NONE OF MY EMOTIONAL WOUNDS CAN HEAL! AS SOON AS IT TRIES TO HEAL, IT SHATTERS AGAIN! I CAN'T HEAL! - Author: Shine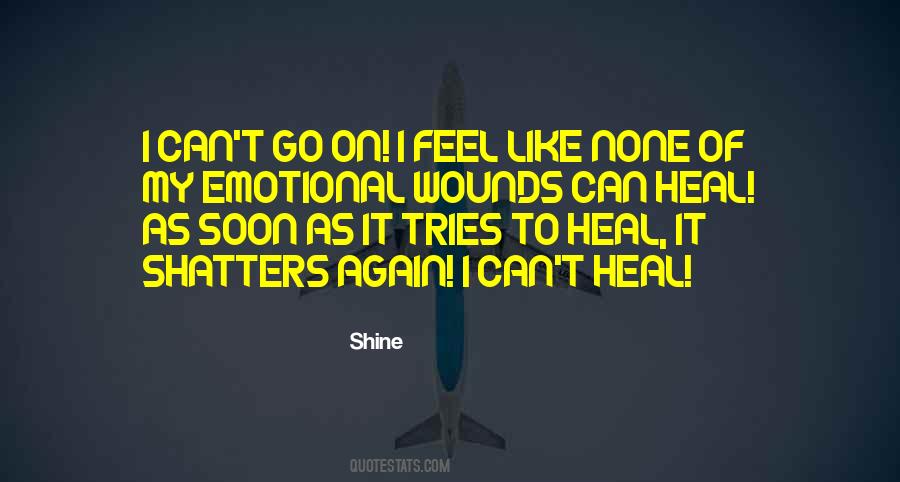 #12. Everything should take place slowly and incorrectly so that man doesn't get a chance to start feeling proud, so that man is sad and perplexed. - Author: Venedikt Erofeev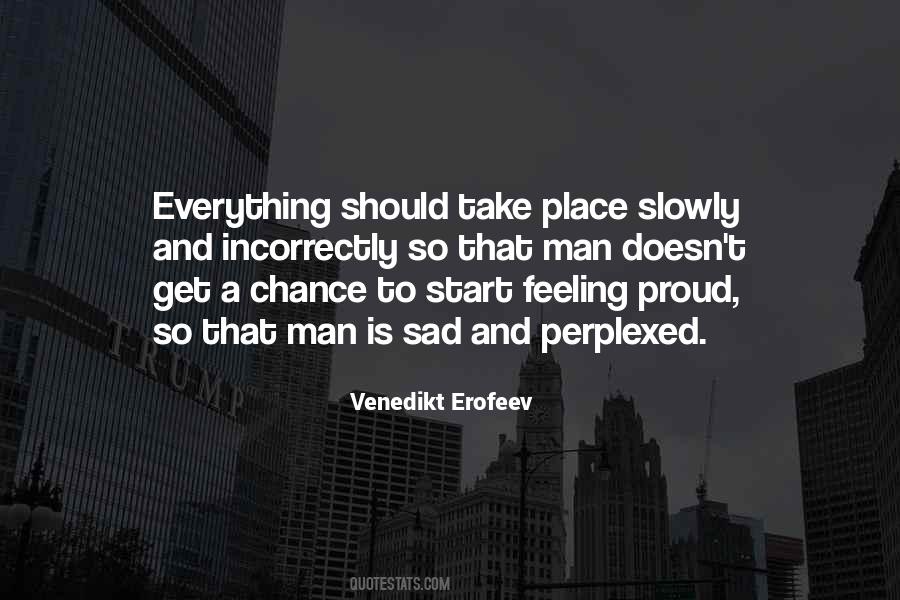 #13. I tend to want to listen to melancholy music, but sometimes if you're feeling too sad, you can't. - Author: Kim Gordon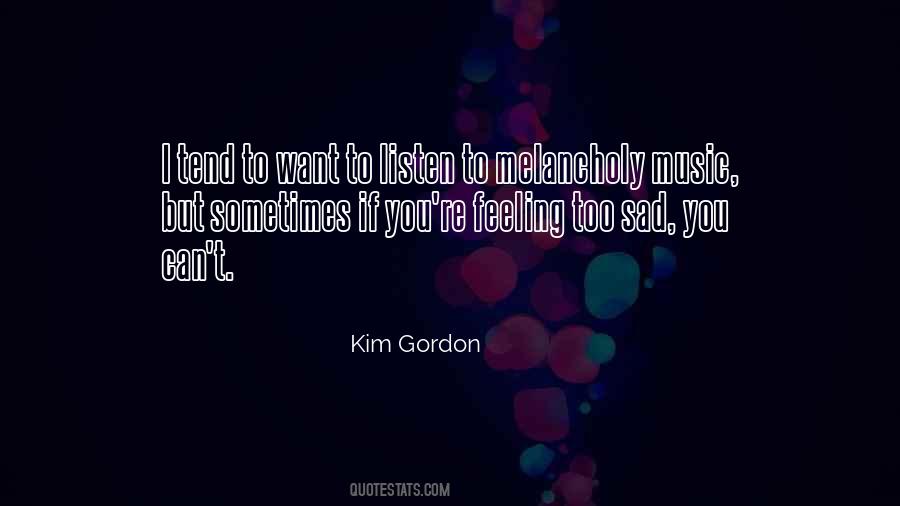 #14. Distance never seperates two hearts that really care, for our memories span the miles and in seconds we are there. But whenever I start feeling sad cuz I miss you I remind myself how lucky I am to have someone so special to miss. - Author: Henri J.M. Nouwen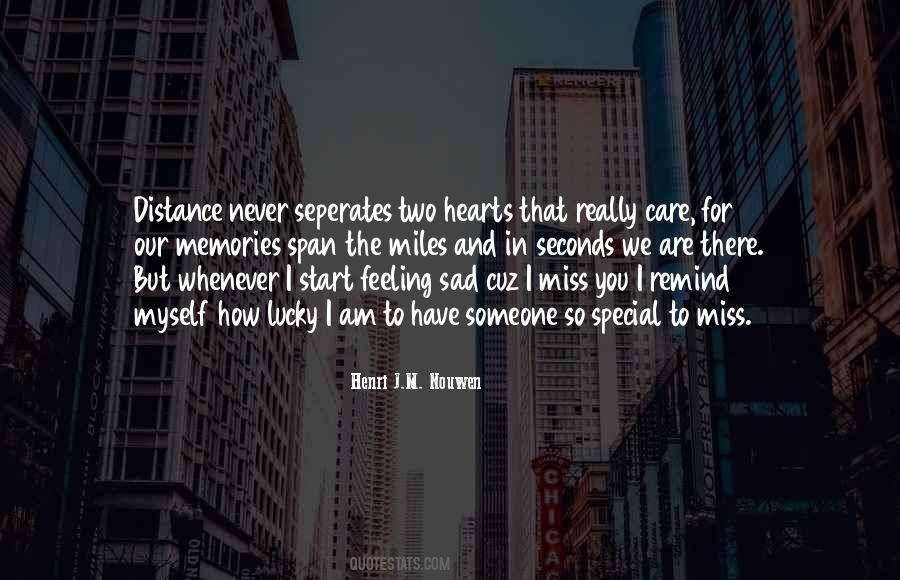 #15. If I'm feeling hurt, sad, lonely, depressed, and then I shame myself for feeling that, then that's a black hole for me. I really have worked a lot to meet pain with both gratitude and gentleness. - Author: Bellamy Young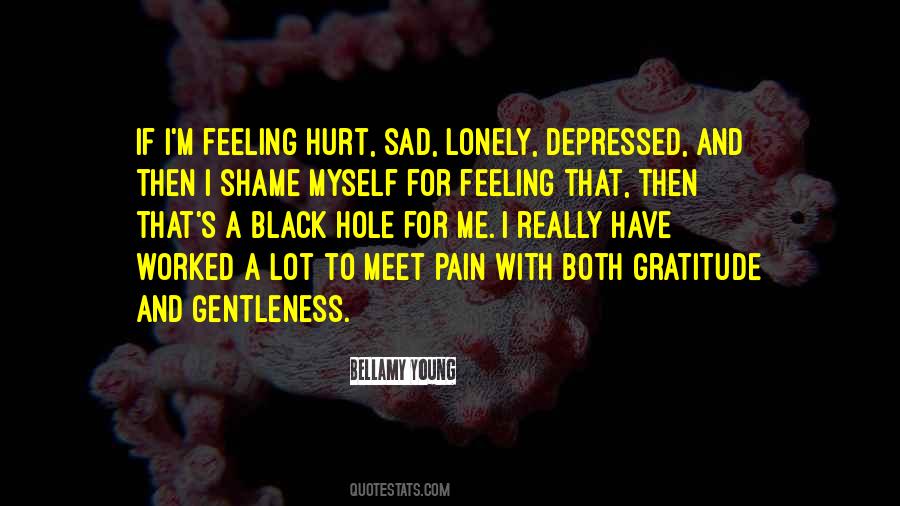 #16. And I had the feeling he was far out ahead of me then and in many things. Any time spent with your child is partly a damn sad time, the sadness of life a-going, bright, vivid, each time a last. A loss. A glimpse into what could've been. It can be corrupting. I - Author: Richard Ford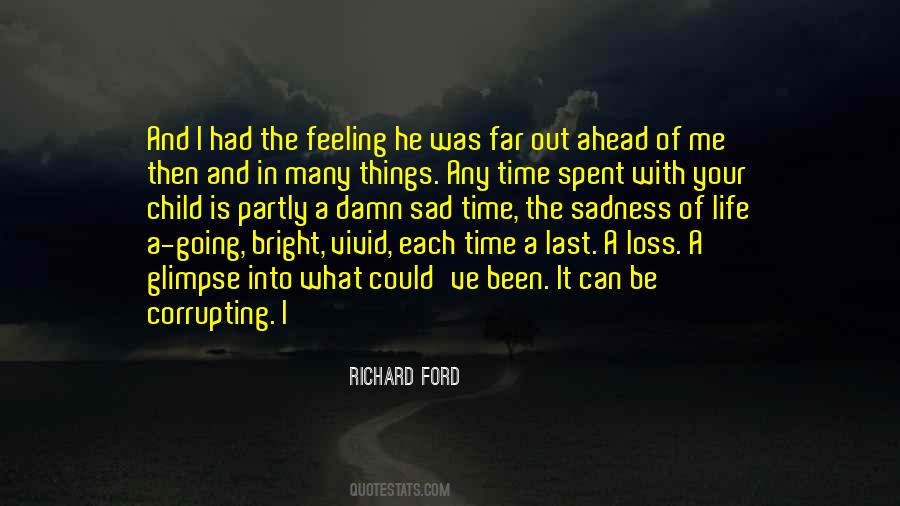 #17. Kindness is not feeling sad when you see someone is sad but when you try to take away sadness with your compassion. - Author: Debasish Mridha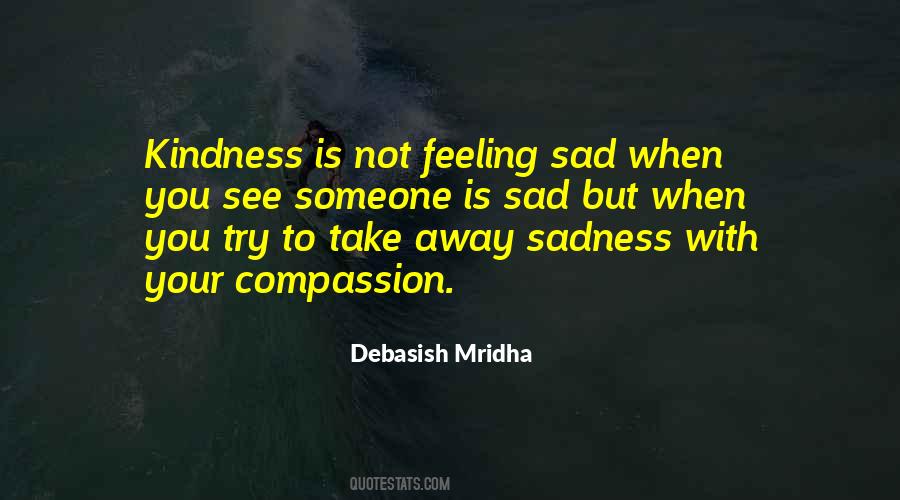 #18. How can you lose something you never had, I tell myself when I'm feeling sad. - Author: Elvis Presley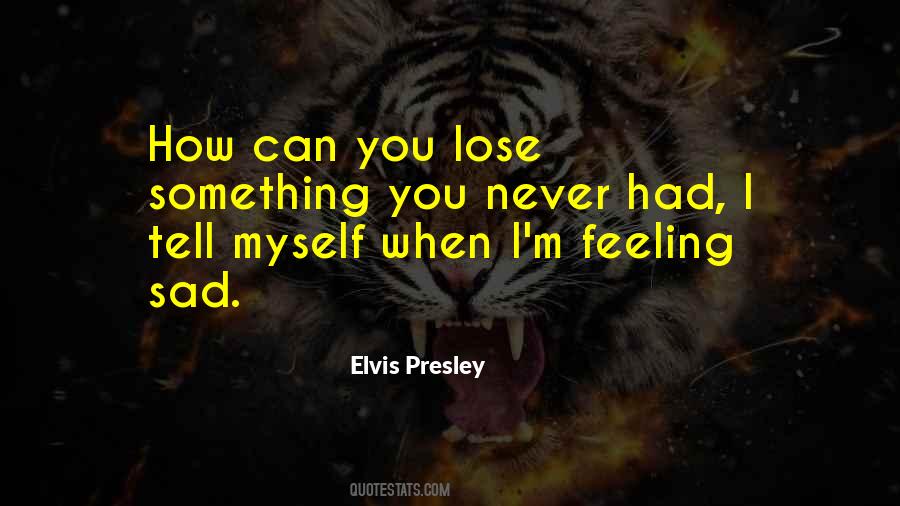 #19. I think is sad, how easily we throw around the word without actually understanding the sacrifice behind its meaning. Love in its definition isn't about a strong feeling towards someone, but action. - Author: Rachel Van Dyken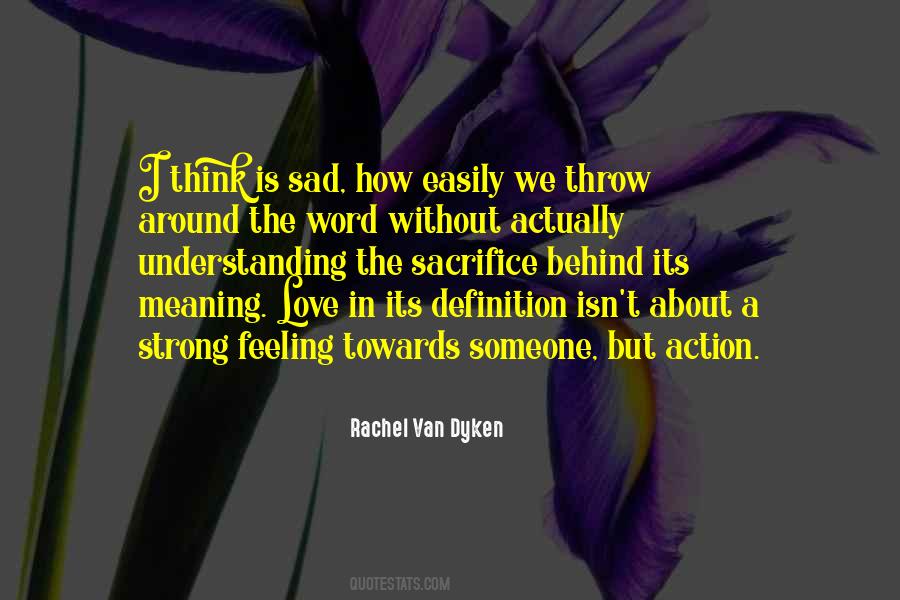 #20. Person who loves you is never the same person who you love. That's the reason why love is always sad feeling. - Author: Amer Jaganjac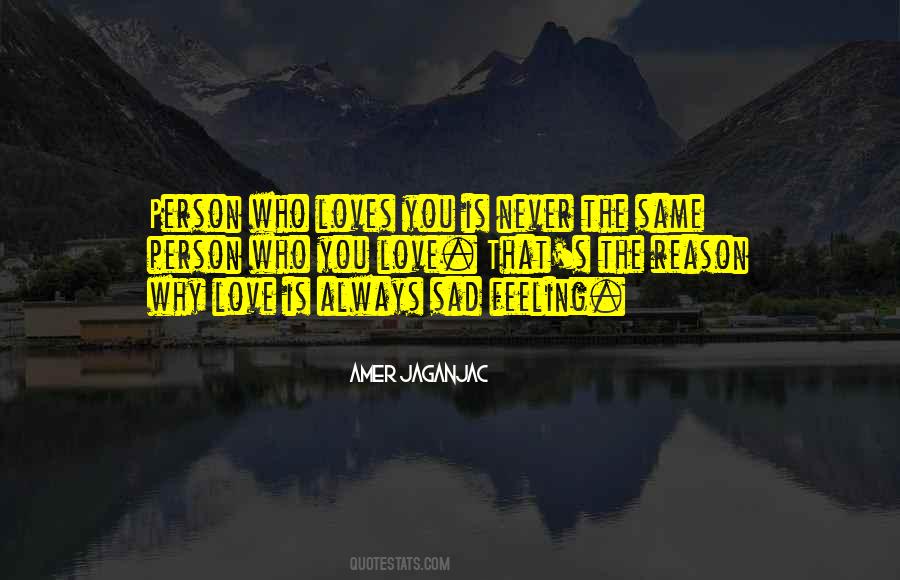 #21. I am starting to realize what this means, and how sad it would be.
I am already feeling some of the sadness now, and it isn't even happening. - Author: David Levithan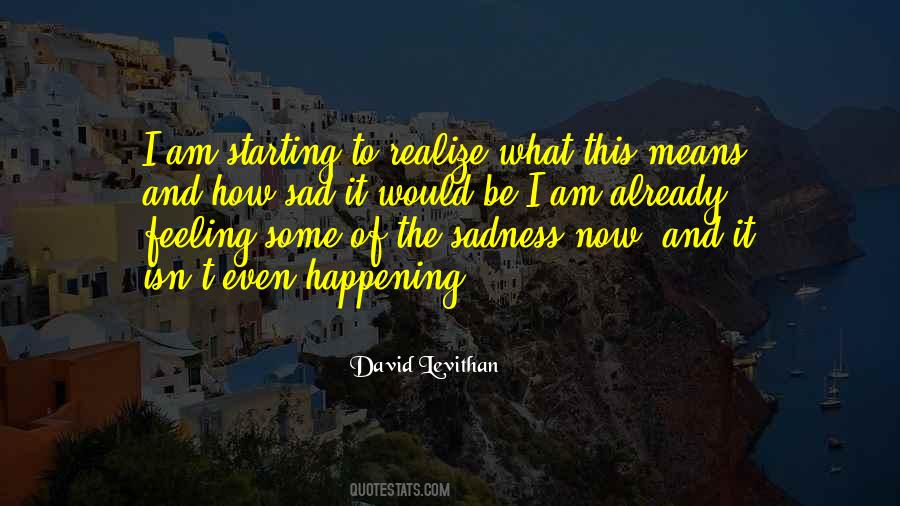 #22. The most difficult thing in this world is to adopt the spirit and attitude of a warrior. It is no use being sad, complaining, feeling unjustly treated, and believing someone is doing something negative. No one is doing anything, and certainly not to a warrior. - Author: Paulo Coelho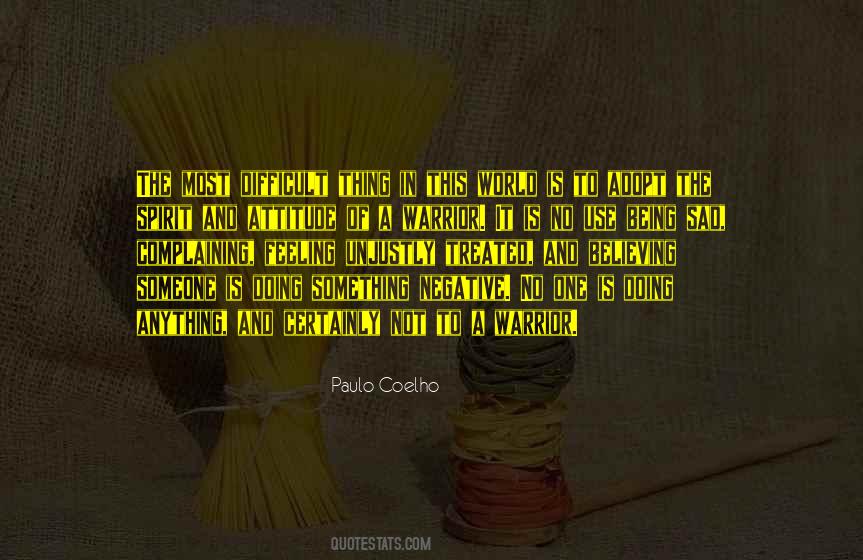 #23. Just now, at the hotel, I saw one man having an affair. He's not even my husband. He's another woman's husband. Weather or not he has an affair, is none of my business. But what am I feeling so sad. Really ... - Author: Kim A-joong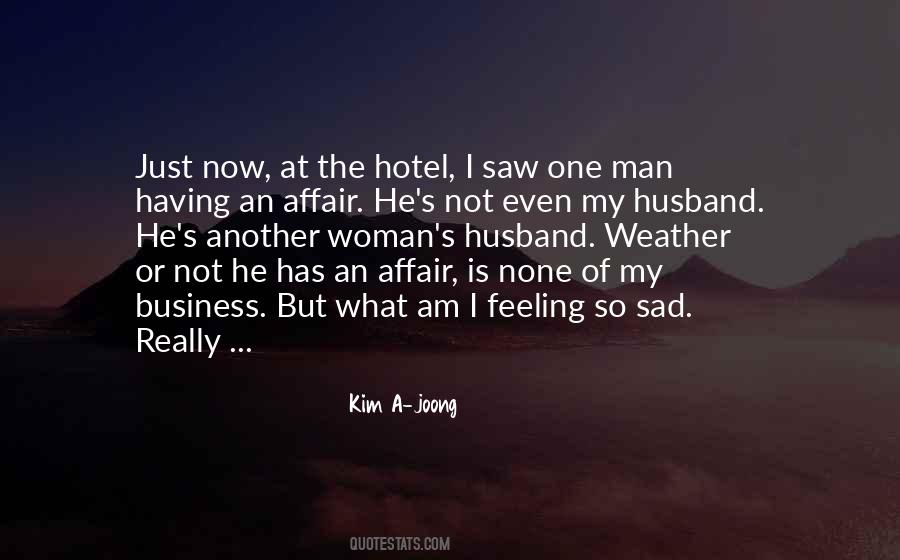 #24. If you have heard a Jewish cantor sing, if he has touched you and made your own sorrow seem trivial when compared with his, you will know my feeling when I follow the curves of her profile, like mobile rivers, to their common delta. - Author: Jean Toomer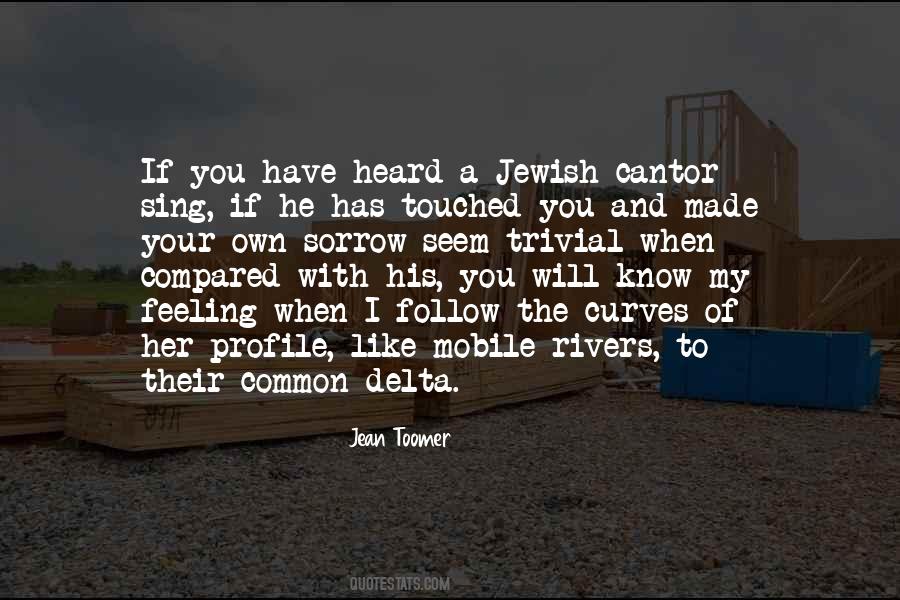 #25. I suggest you all ask your mothers to make you some smiles and keep them in your pockets. If you ever find any one feeling sad or frightened or angry, then you can give them a smile and you will see what a change takes place. - Author: Deepak Menon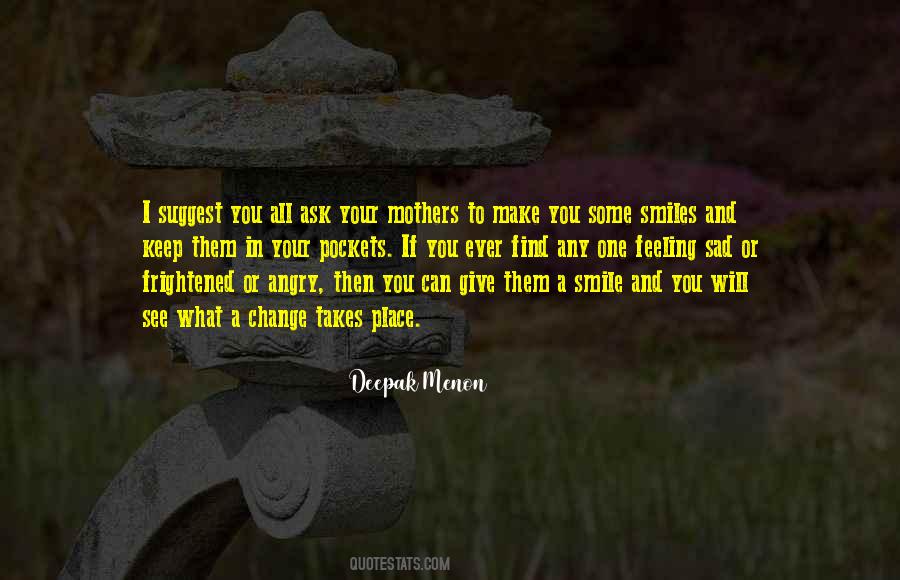 #26. But what is memory if not the language of feeling, a dictionary of faces and days and smells which repeat themselves like the verbs and adjectives in a speech, sneaking in behind the thing itself,into the pure present, making us sad or teaching us vicariously ... - Author: Julio Cortazar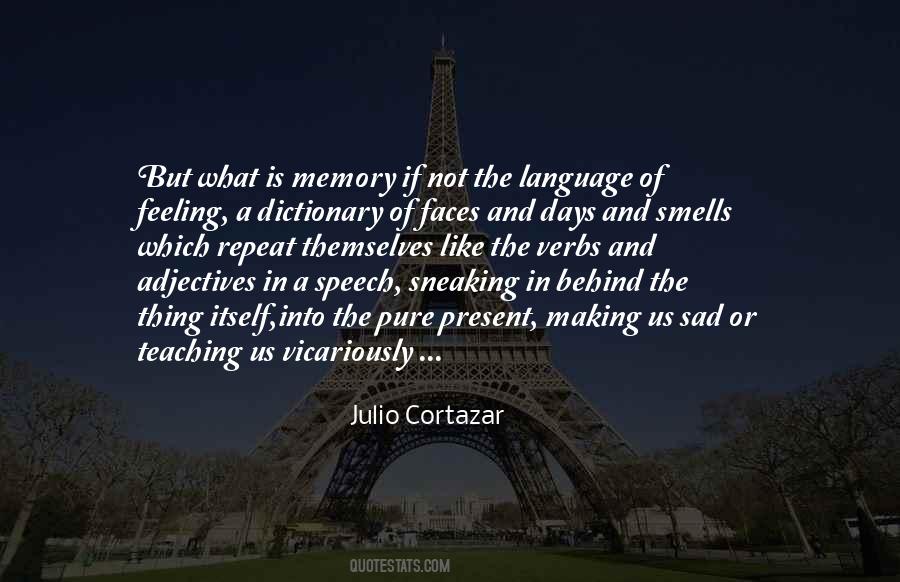 #27. The sky was electric blue above the trees but the yard felt dark. Stephanie went to the edge of the lawn and sat her forehead on her knees. The grass and soil were still warm from the day. She wanted to cry but she couldn't. The feeling was too deep. - Author: Jennifer Egan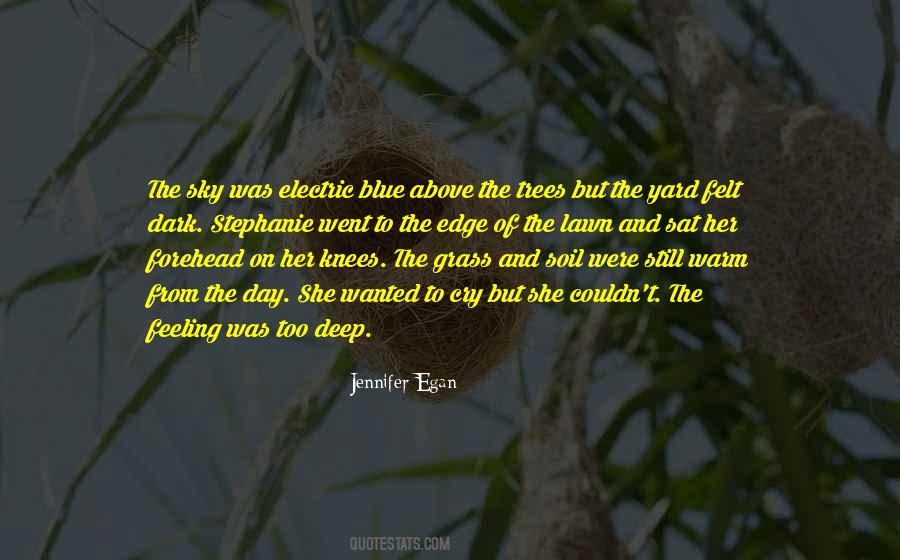 #28. If you're feeling really sad, there is only one reason: it's because you're deleting all the reasons you could be feeling good. And if you're feeling good, it's because you're deleting all the bad things you could be focusing on. - Author: Tony Robbins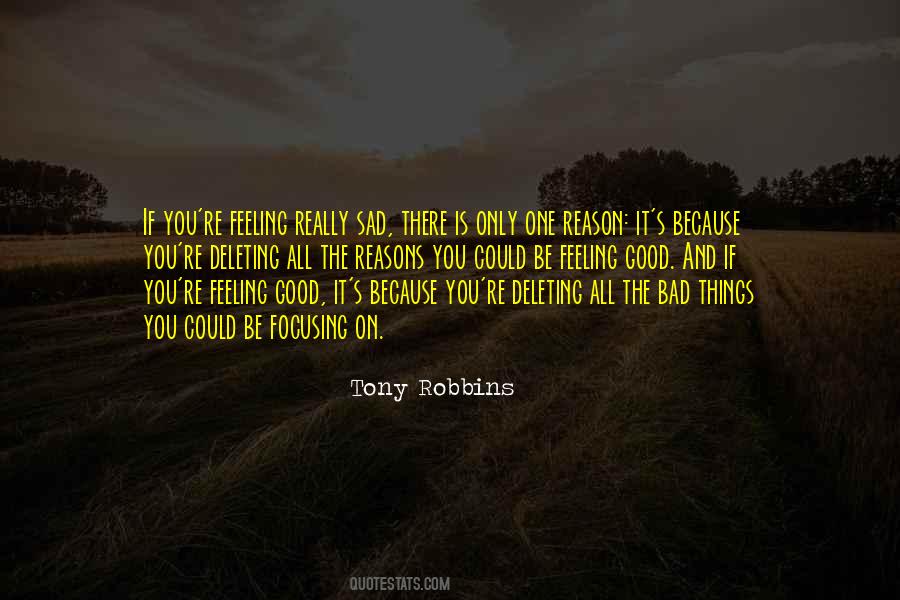 #29. But how to do feelings? All very well to write "She felt sad", or describe what a sad person might do, but what of sadness itself, how was that put across so it could be felt in all its lowering immediacy? Even harder was the threat, or the confusion of feeling contradictory things. - Author: Ian McEwan
#30. Well the country songs themselves are three-chord stories, ballads which are mostly sad. If you are already feeling sorry for yourself when you listen to them they will take you to an even sadder place. - Author: Willie Nelson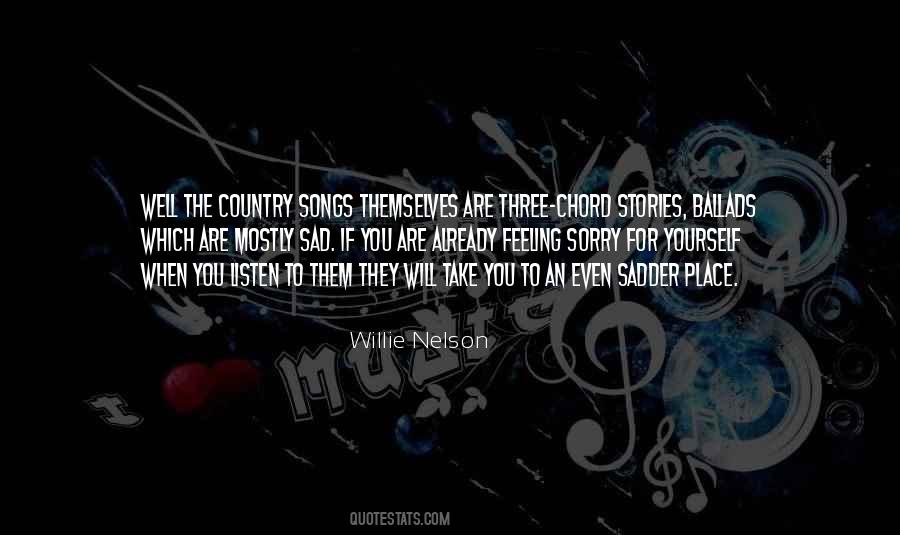 #31. I could not escape a feeling that this was my own funeral, and you do not cry in that case. - Author: John Knowles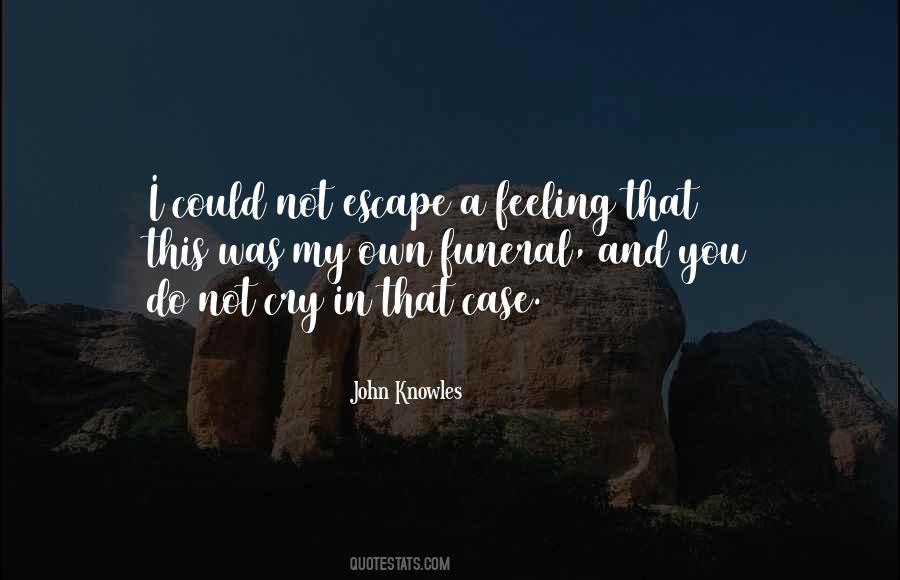 #32. I'm living under water. Everything seems slow and far away. I know there's a world up there, a sunlit quick world where time runs like dry sand through an hourglass, but down here, where I am, air and sound and time and feeling are thick and dense. - Author: Audrey Niffenegger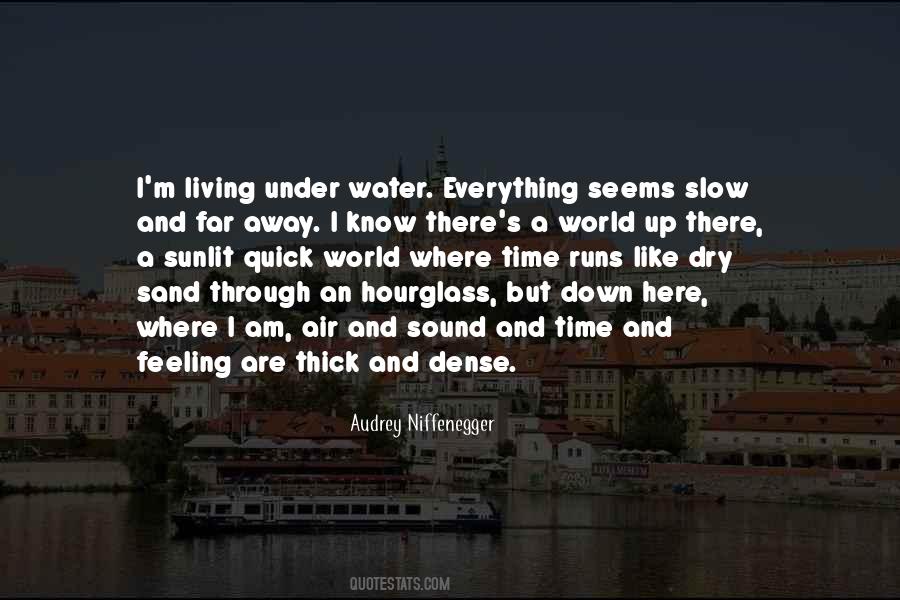 #33. Guilt is such a weird feeling, a combination of sad and sick that I was getting too used to feeling. - Author: Rachel Hawkins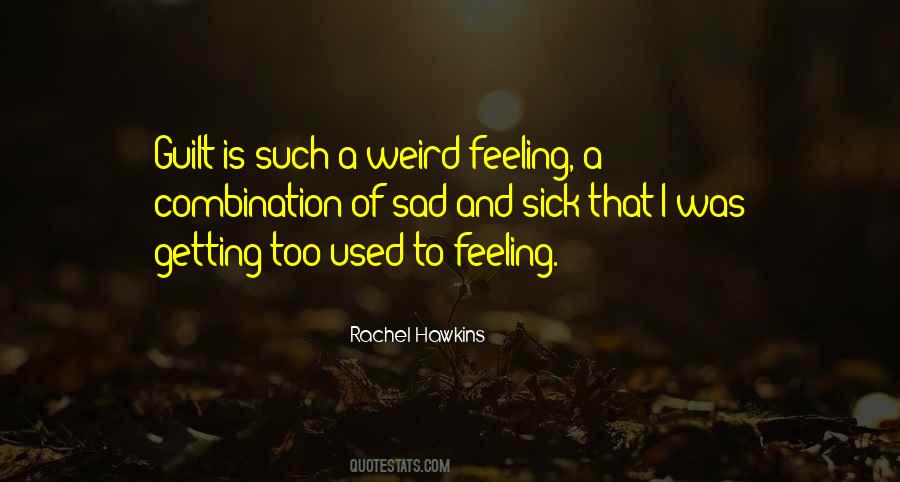 #34. Giving to other people makes me feel alive. Not my car or my house. Not what I look like in the mirror. When I give my time, when I can make someone smile after they were feeling sad ... - Author: Mitch Albom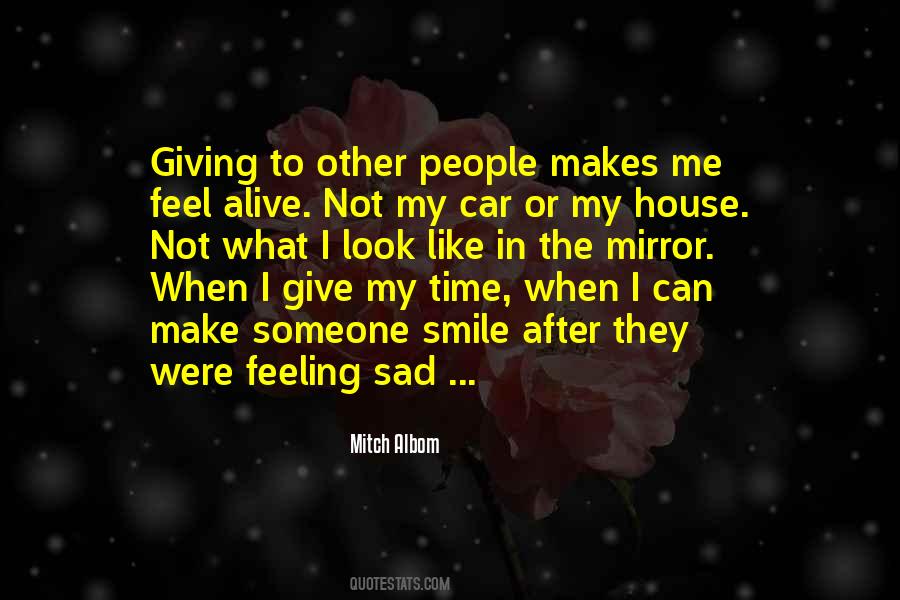 #35. No one can hurt me now 'cause i have stopped permitting them. - Author: Pavankumar Nagaraj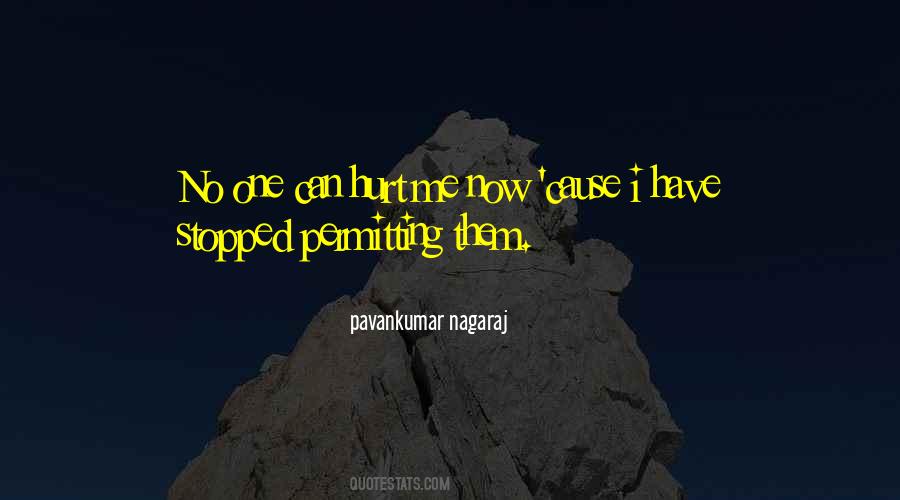 #36. But what a poor lie: no one has any rights; they are entirely free, like other men, they cannot succeed in not feeling superfluous. And in themselves, secretly, they are superfluous, that is to say, amorphous, vague, and sad. How - Author: Jean-Paul Sartre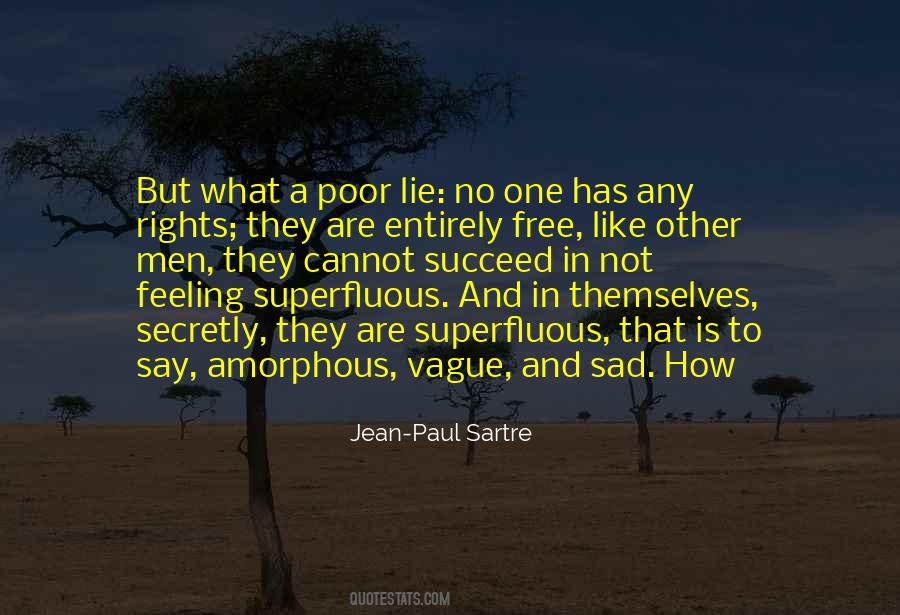 #37. You're playing a role, but you're still feeling it. You can walk away from it after 'Cut,' but if you're playing a sad or mixed-up person, it's hard to stay in that place for these longish period of times. You kind of have to check out. - Author: Nick Nolte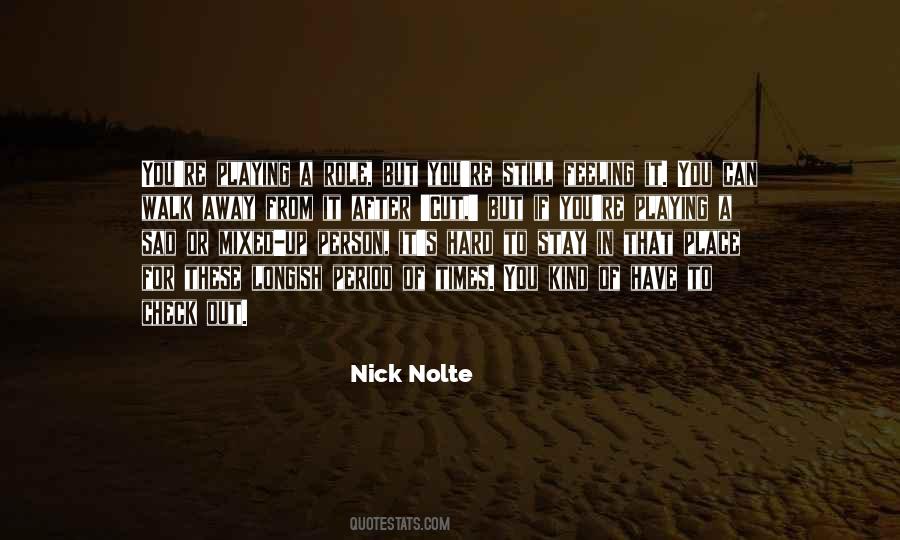 #38. There are receptors to these molecules in your immune system, in your gut and in your heart. So when you say, 'I have a gut feeling' or 'my heart is sad' or 'I am bursting with joy,' you're not speaking metaphorically. You're speaking literally. - Author: Deepak Chopra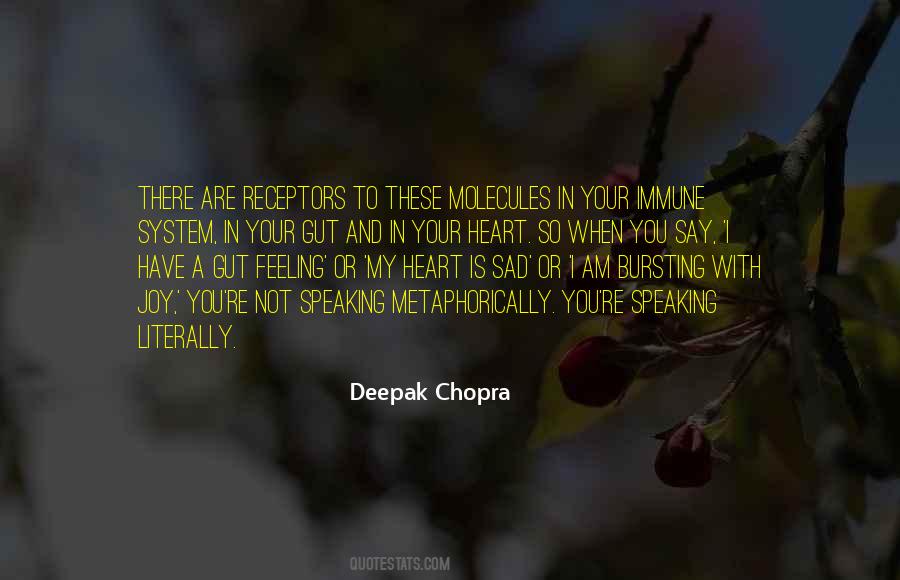 #39. We can not imaging the pain, You must all be feeling At the loss of Your loving son But just to let you know You are in our thoughts, At this very sad time. - Author: Julie McGregor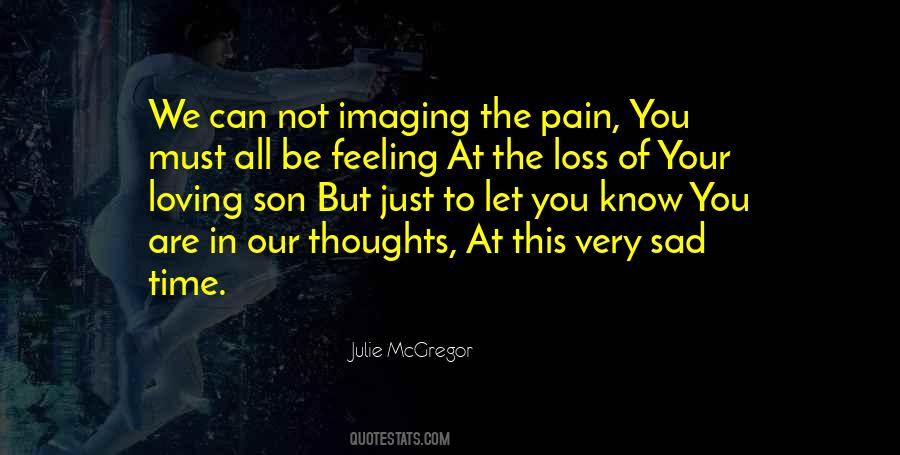 #40. When feeling says, 'In myself, I am sinful; I am dark; I am weak; I am poor; I am sad;' let faith say. 'In Christ, I am holy; I am light; I am strong; I am rich; I am joyful. - Author: Andrew Murray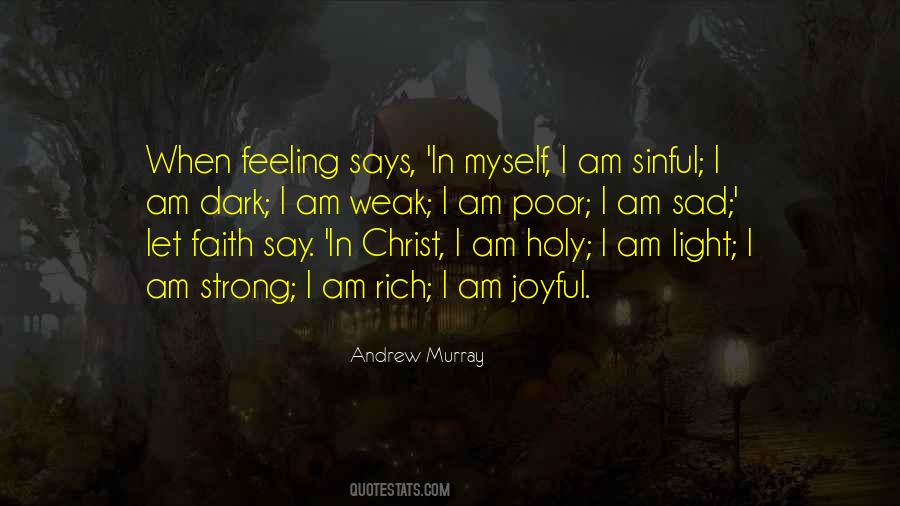 #41. I still catch myself feeling sad about things that don't matter anymore. - Author: Kurt Vonnegut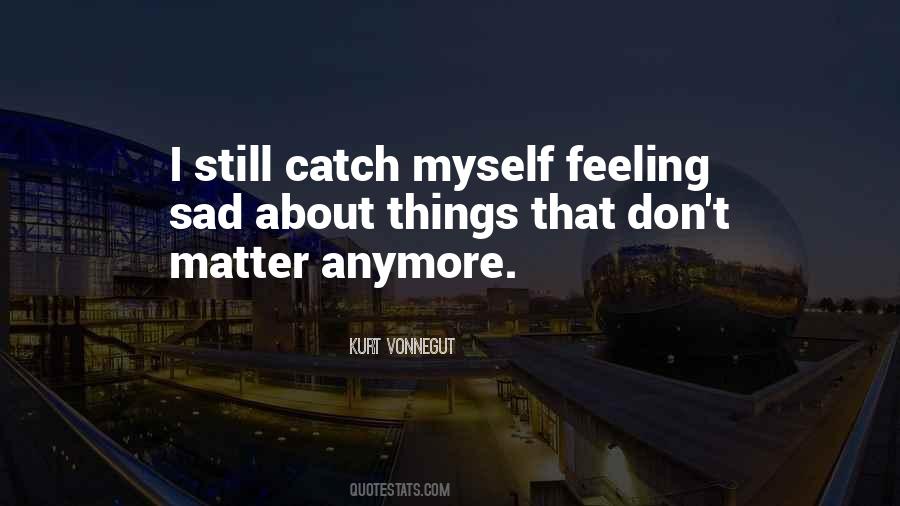 #42. Someone is going to tell you to get use to this. That feeling of being scared and sad. They're going to say it'll be better when you learn to ignore it. Don't listen to them. Hold on to it, remember it ... Don't let yourself forget it. It's too easy to lose.
-Carl Grimes - Author: Robert Kirkman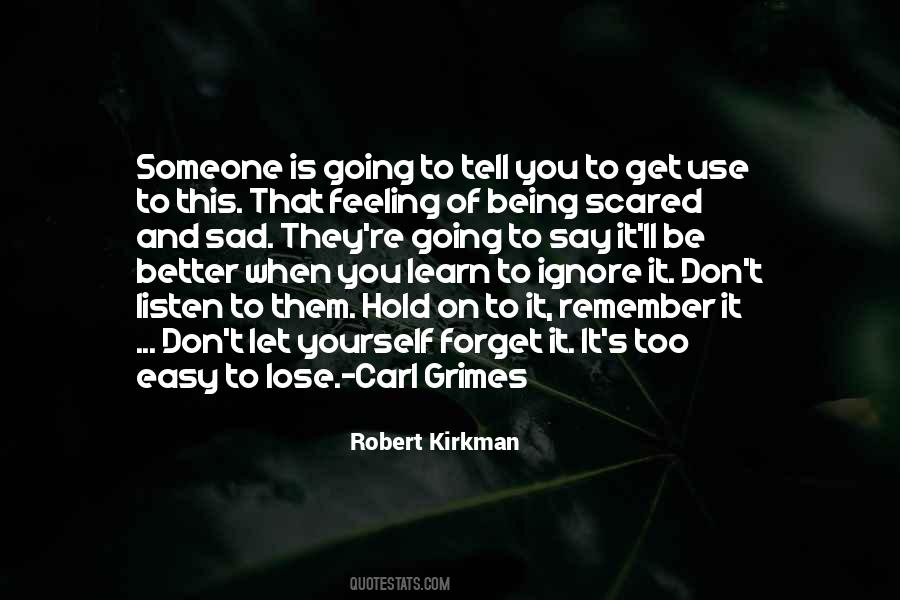 #43. Let us be sad; it is feeling that makes us human. - Author: Ming-Dao Deng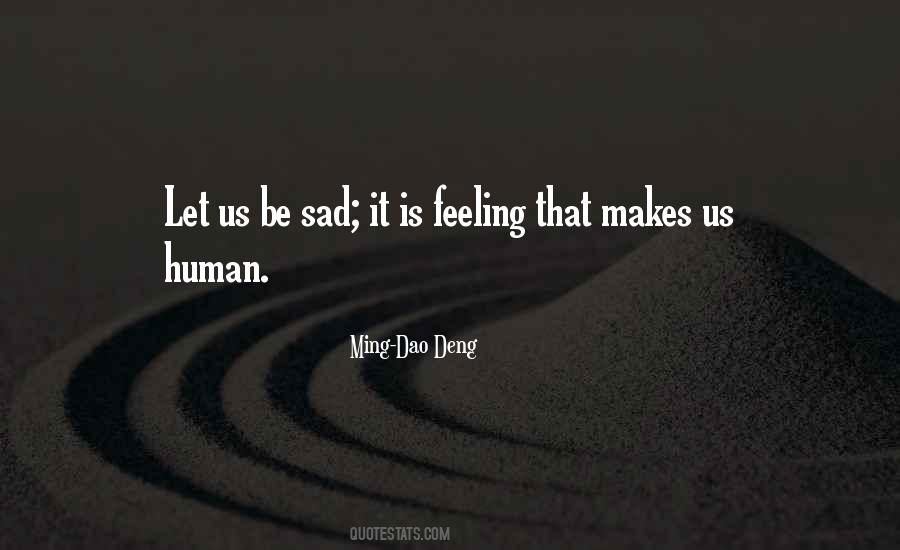 #44. Maybe there is a feeling that women get judged more about how they look and how they present themselves visually as opposed to what they are thinking and feeling. Especially as a female performer that happens a lot, and I think that is regressing even more, which I find really sad. - Author: Planningtorock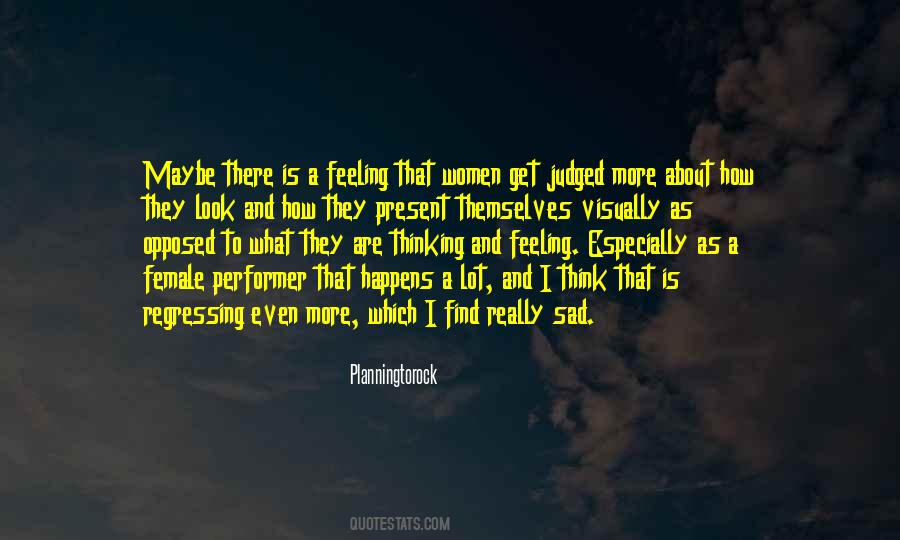 #45. Why feel blue when there's sooooo many other colors you can feel. - Author: Karen Salmansohn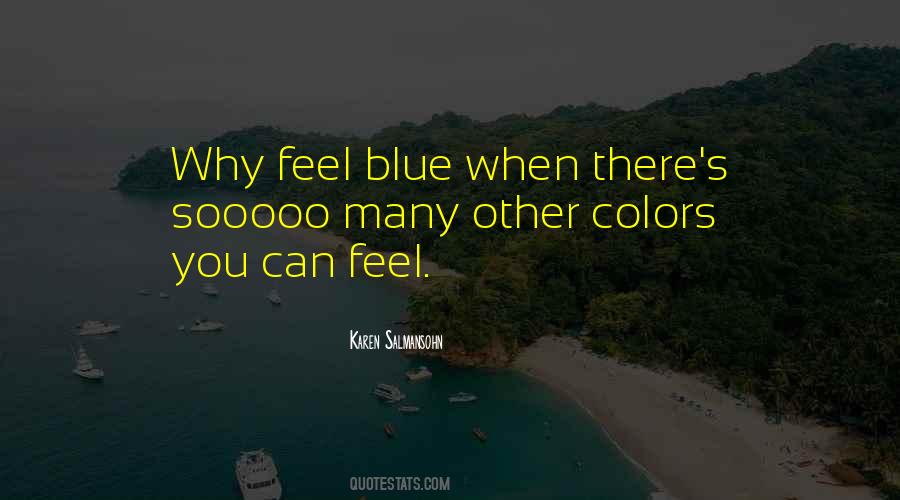 #46. There is the melancholy of Europe. There is the romantic malaise. Feeling sad is almost a form of deepness. - Author: Mathieu Amalric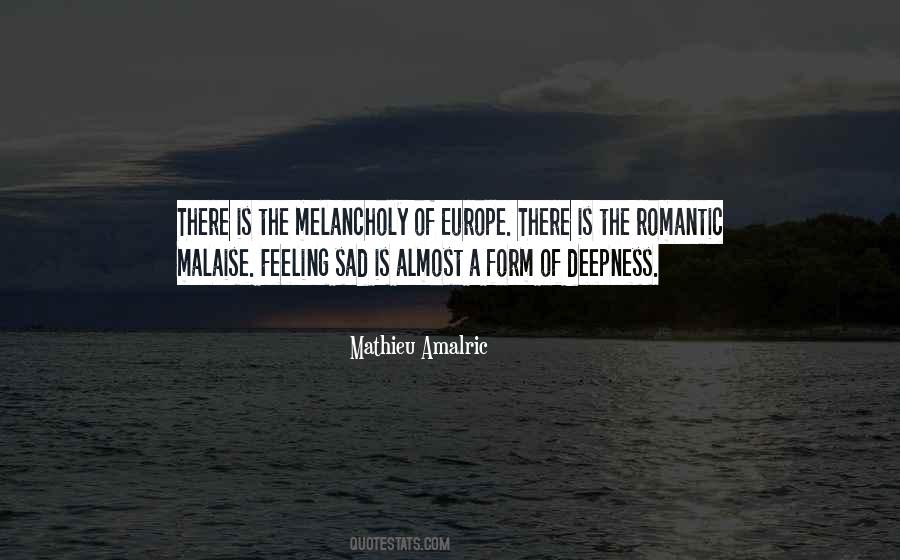 #47. He hated this feeling of free-floating, just drifting from place to place, thought to thought, without any sense of anchor or root. - Author: Nora Roberts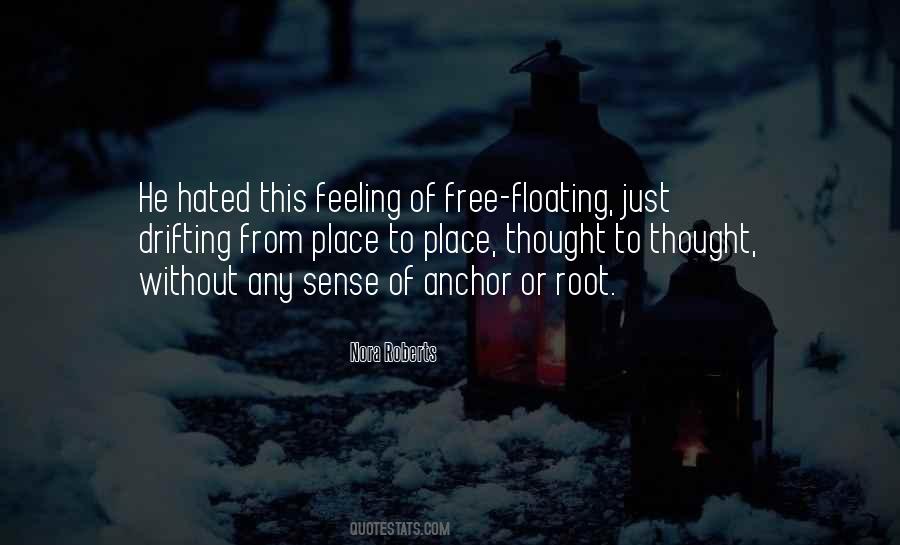 #48. Lisa, I apologize to you, I was wrong, I take it all back. Always be yourself. If you want to be sad, honey, be sad. We'll ride it out with you. And when you get finished feeling sad, we'll still be there. From now on, let me do the smiling for both of us. - Author: Matt Groening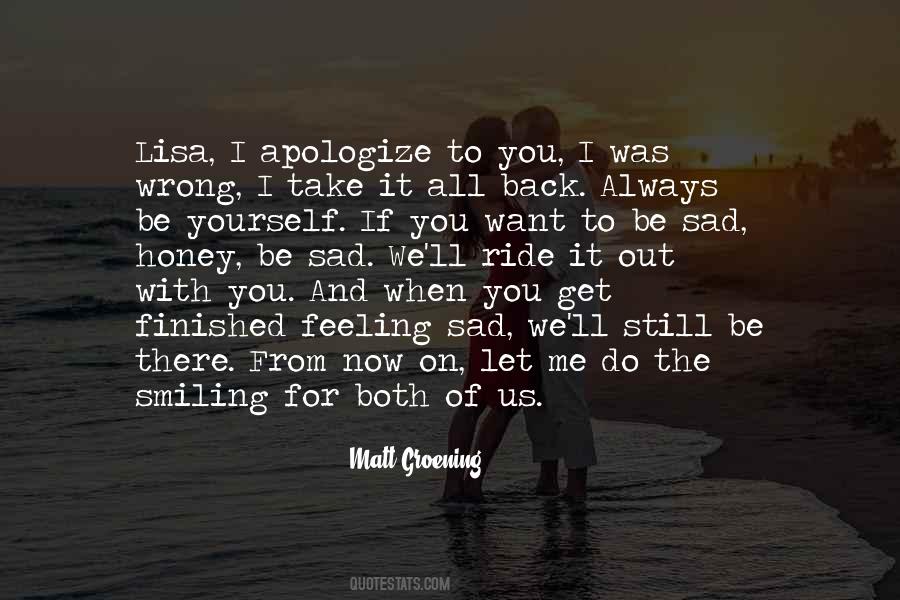 #49. I'm kind of sad and happy all the time. Just kind of like feeling, you know, full of life and confident, and at the same time terrified. I'm all of those things at once. - Author: Billy Bob Thornton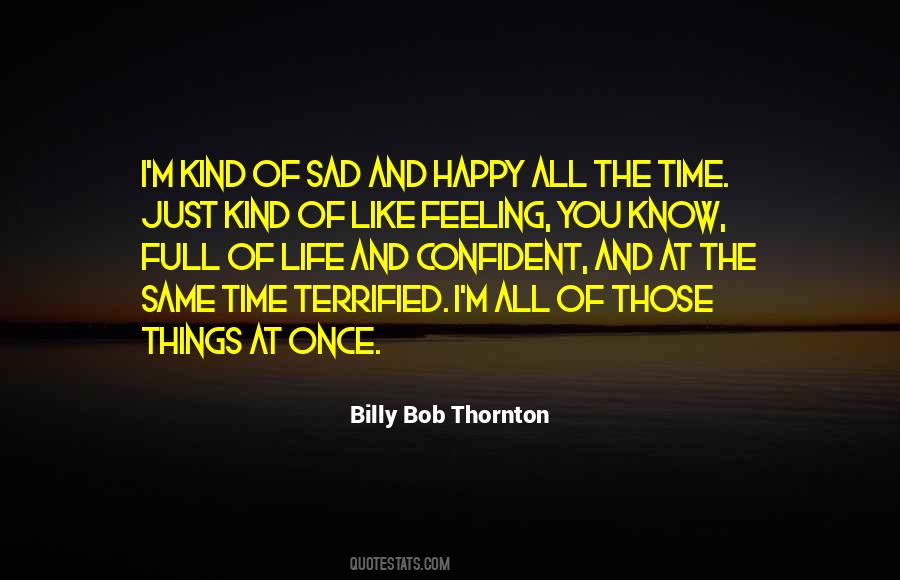 #50. In terms of love, you're not in control and I hate that feeling. I seem to write a lot of sad songs because I'm a very tragic person. But there's always an element of humour at the end. - Author: Freddie Mercury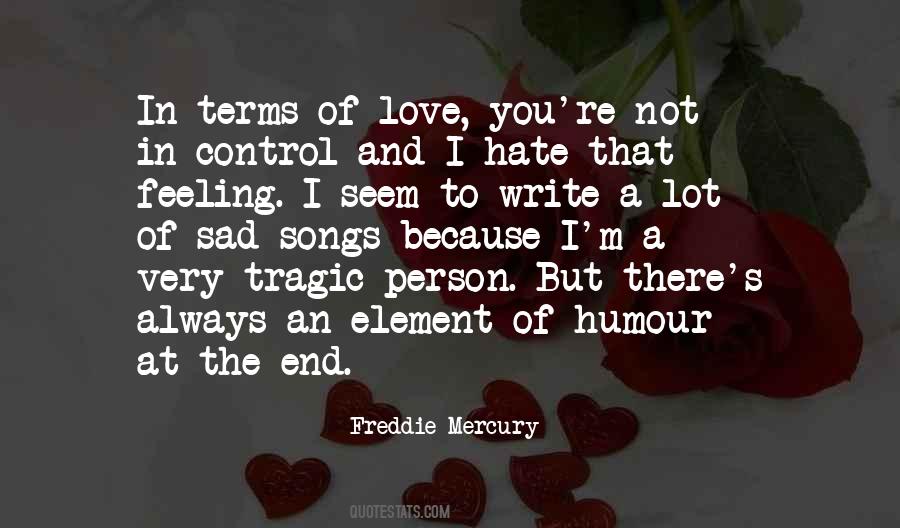 #51. People feeling the need to live inside of Faraday cages is a sad reflection on modern society that humans are devolving into living inside of safe spaces. - Author: Steven Magee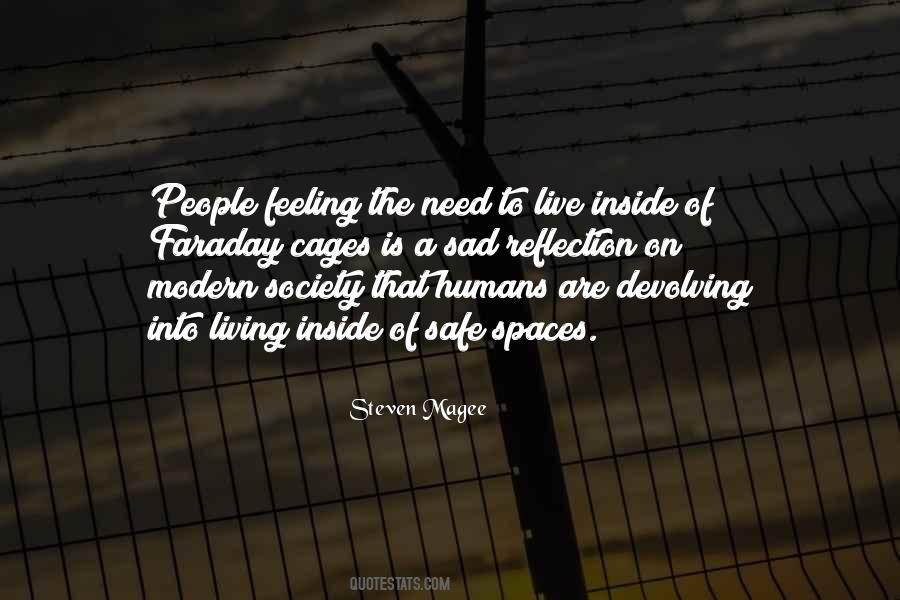 #52. You know that feeling deep in your tummy where you just don't feel comfy and you feel sad and sort of want to cry but not about anything specific. It's like your entire body is just upset and unnerved all the way to the core almost like your just longing for something but don't know what. - Author: Unklnown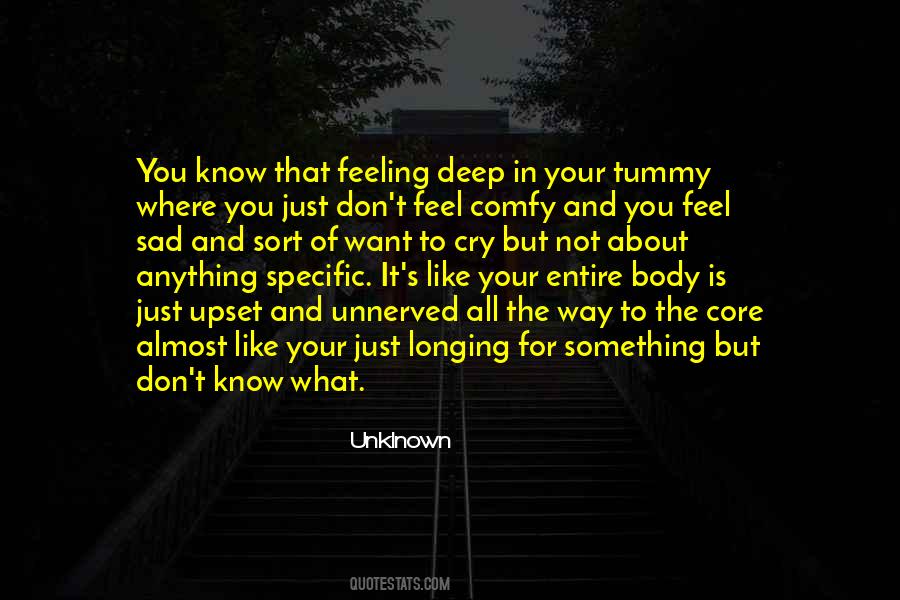 #53. It would be easy to become a victim of our circumstances and continue feeling sad, scared or angry; or instead, we could choose to deal with injustice humanely and break the chains of negative thoughts and energies, and not let ourselves sink into it. - Author: Erin Gruwell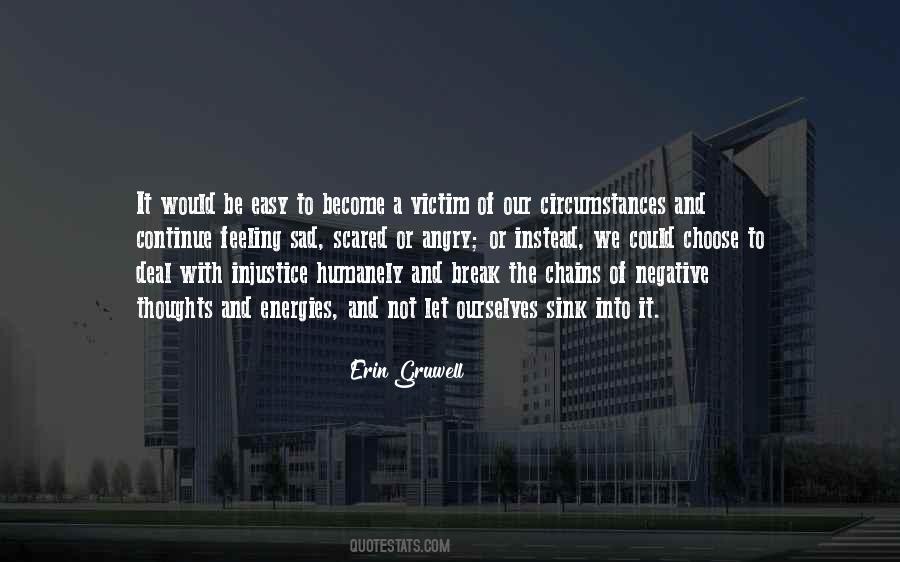 #54. Sometimes we get so used to not really feeling anything, just going with the flow, that we forget how it feels to be really happy or sad. - Author: Lindsey Kelk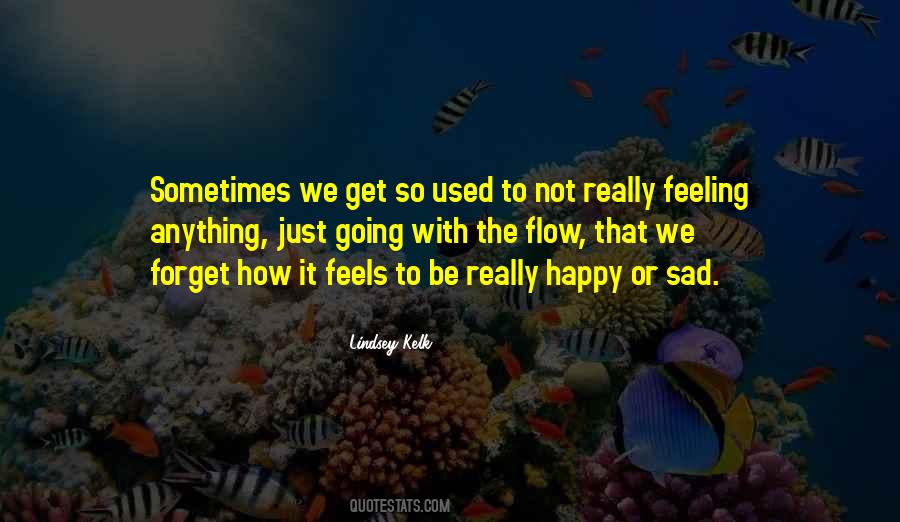 #55. I had no cause to be happy. I felt sad with a good reason, and it wouldn't be right to mess with that feeling. I thought I ought to just stay sad for a while. - Author: Natalie Standiford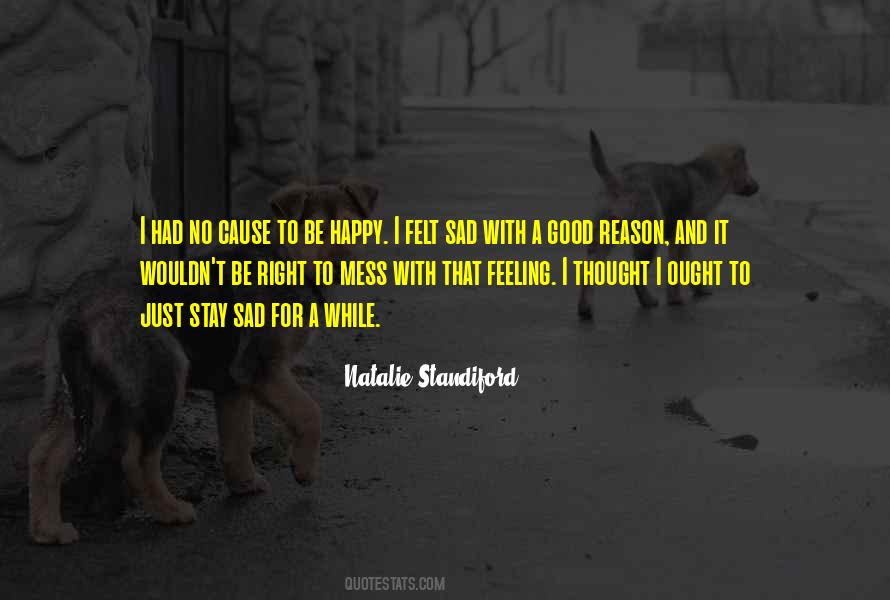 #56. It is very wrong for people to feel deeply sad when they lose some money, yet when they waste the precious moments of their lives they do not have the slightest feeling of repentance. - Author: Dalai Lama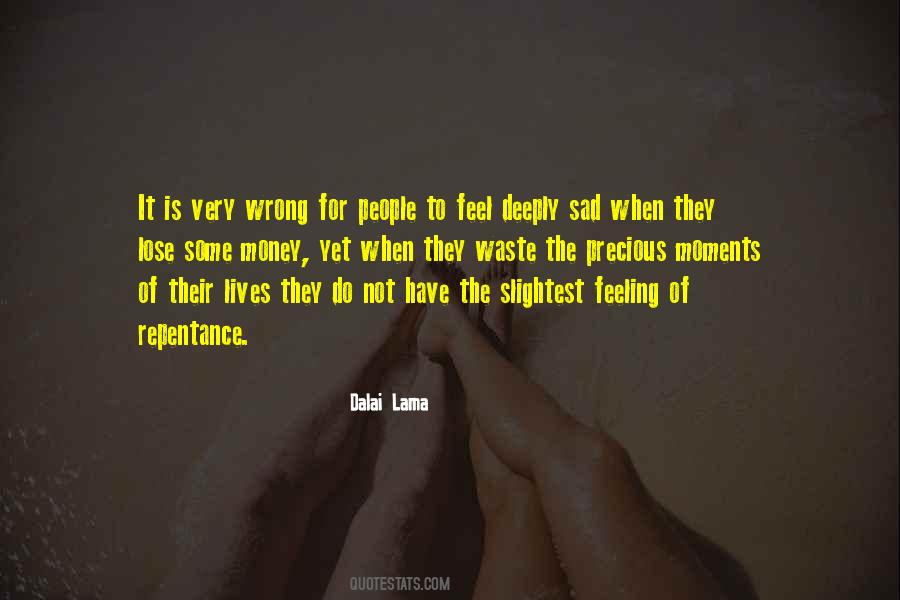 #57. The two of us in that room. No past, no future. All intense deep that-time-only. A feeling that everything must end, the music, ourselves, the moon, everything. That if you get to the heart of things you find sadness for ever and ever, everywhere; but a beautiful silver sadness, like a Christ face. - Author: John Fowles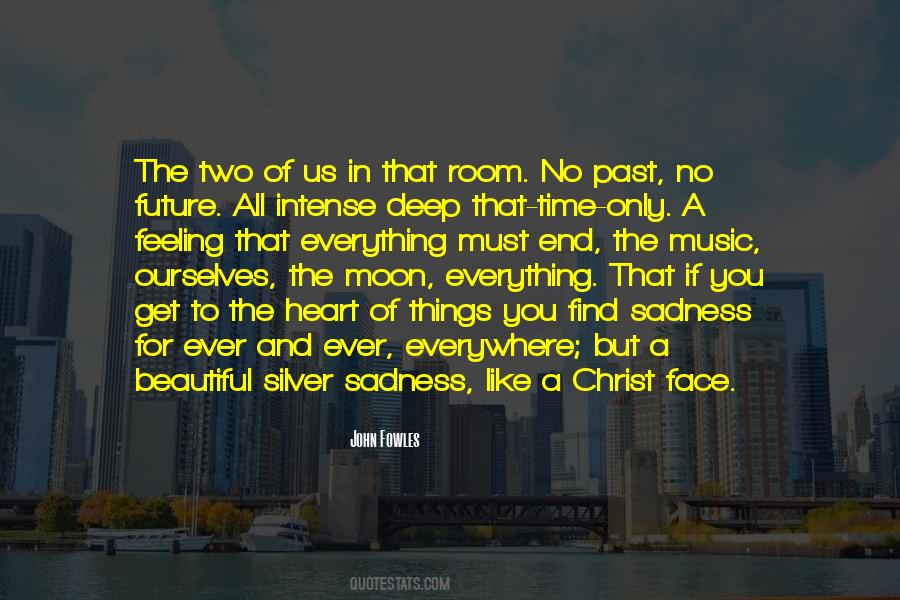 #58. That's what they always ended up saying: "But I'm just sad." Feeling sad means having too much time on your hands, usually. Really. I'm not a licensed therapist but usually it means too much time. - Author: George R R Martin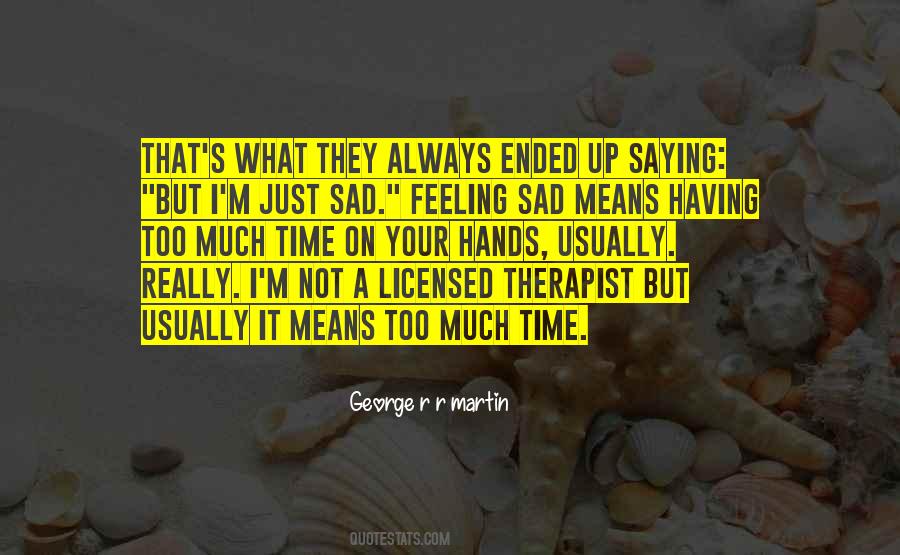 #59. I don't like it when people on the street say "smile" or "cheer up." It's a real cheap line. I'm feeling good. I'm feeling real grateful for everything. It's a solid time in my life. When people say I look sad, they're wrong. - Author: Nicolas Cage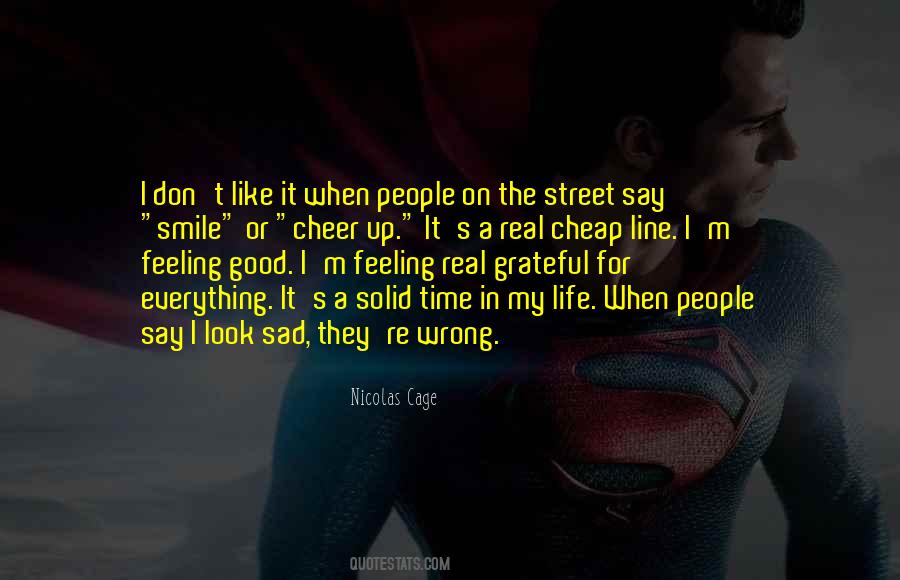 #60. Giving to other people is what makes me feel alive. Not my car or not my house. Not what I look in the mirror. When I give my time, when I can make someone smile after they were feeling sad, it's as close to healthy as I ever feel. - Author: Mitch Albom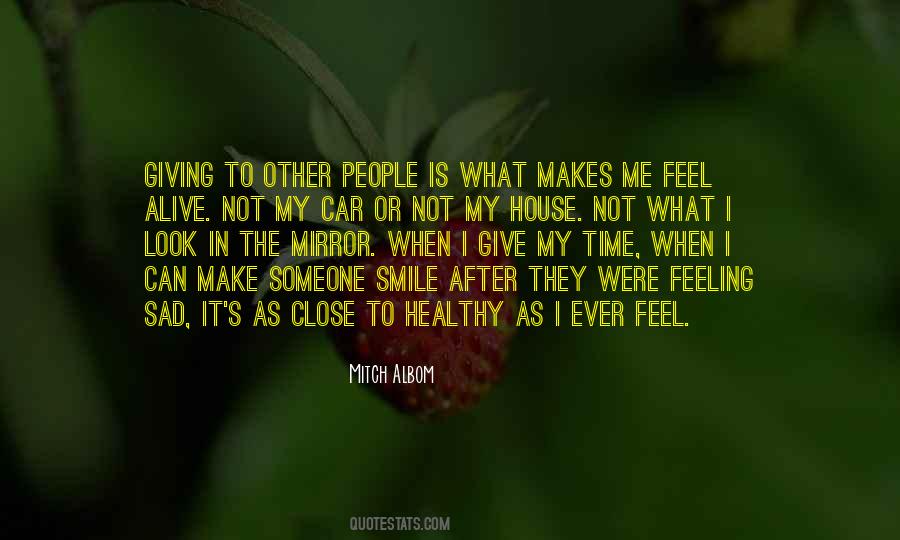 #61. I'm lonely. And I'm lonely in some horribly deep way and for a flash of an instant, I can see just how lonely, and how deep this feeling runs. And it scares the shit out of me to be this lonely because it seems catastrophic. - Author: Augusten Burroughs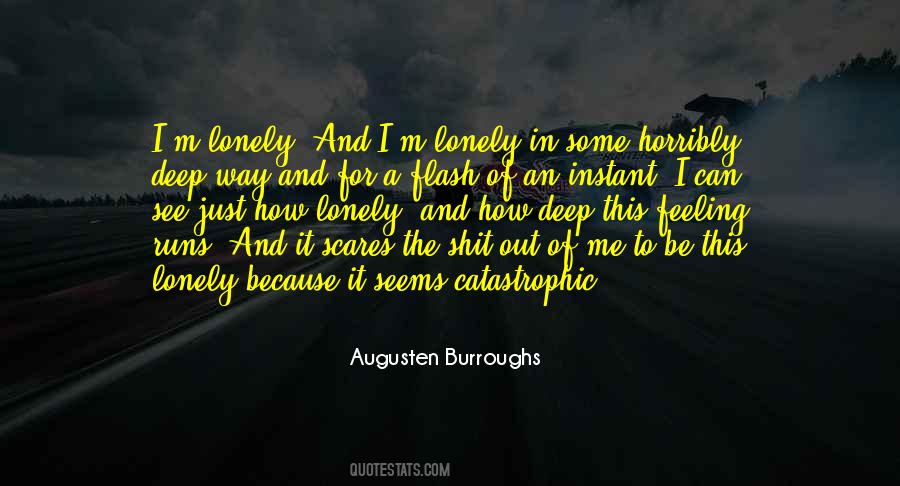 #62. And suddenly it was all too much for him. He felt sad and misplaced, with the abrupt, overwhelming, dizzying sadness that comes over people in countries not their own, which has none of the richness of feeling that usually comes with sadness but is rather a kind of exhaustion. - Author: Caleb Crain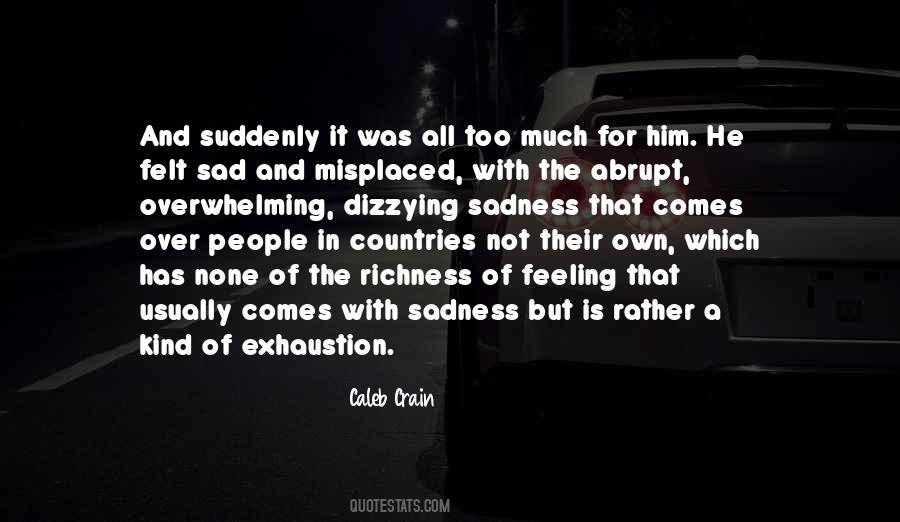 #63. I think there is something beautiful in reveling in sadness. The proof is how beautiful sad songs can be. So I don't think being sad is to be avoided. It's apathy and boredom you want to avoid. But feeling anything is good, I think. Maybe that's sadistic of me. - Author: Joseph Gordon-Levitt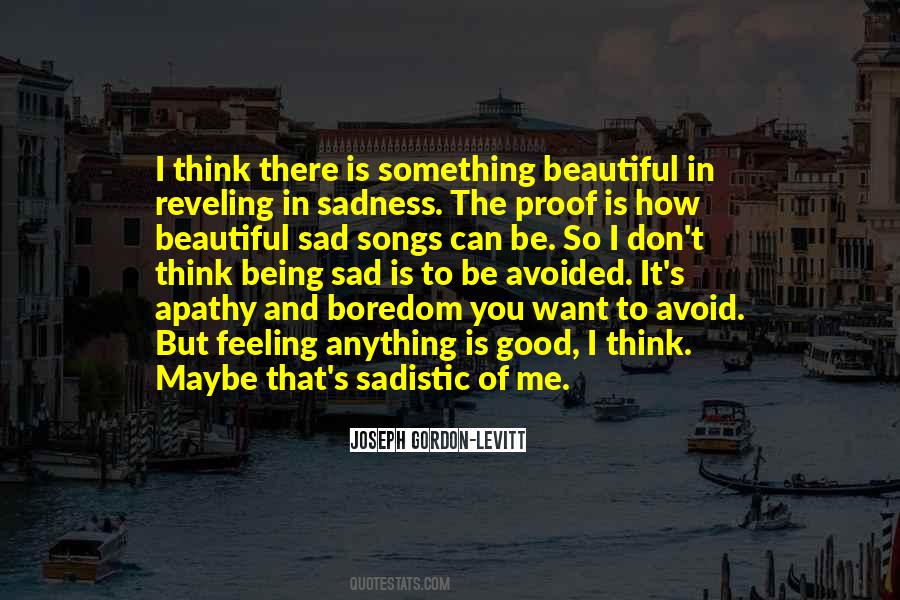 #64. When feeling sad, dream on! When feeling happy, dream on! You shall survive by means of your dreams! - Author: Mehmet Murat Ildan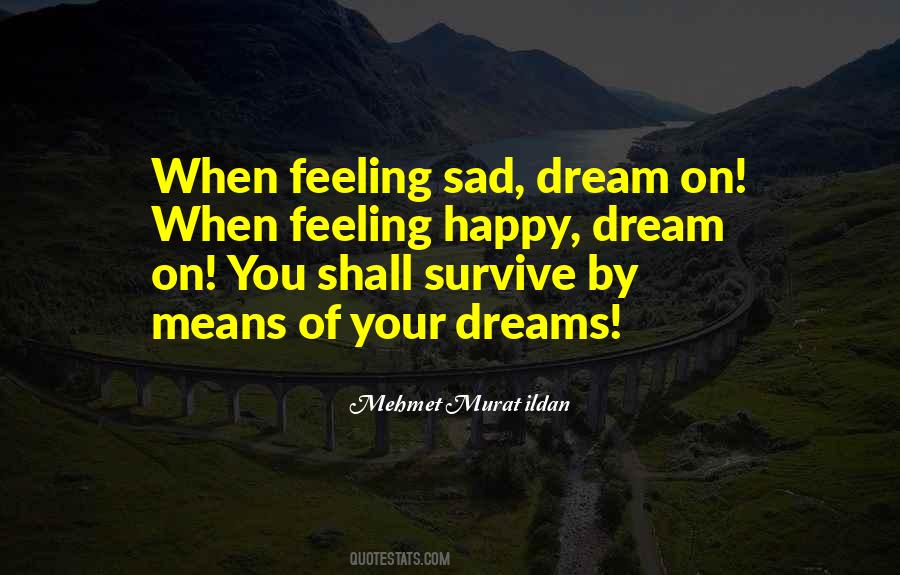 #65. To all the broken-hearted and anyone feeling sad, may your hearts heal and may you feel happy in your lives.Flutter as the butterflies do. - Author: Krystal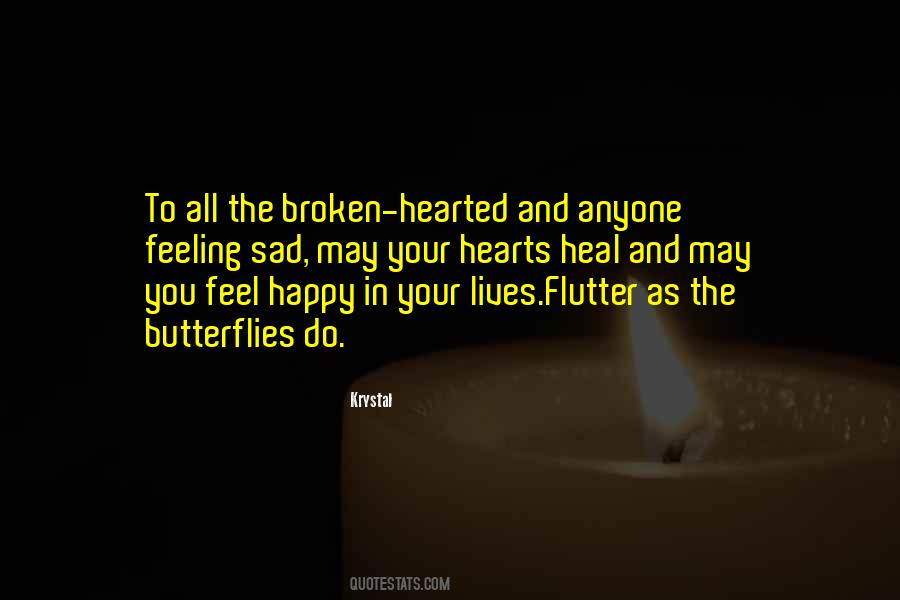 #66. Cyndi Lauper's 'Time After Time' was a perfect song. It was so beautiful and so heartfelt. Her vocals were so amazing. And, for me, that was a song I went to when I was feeling sad and wanted to feel even sadder. - Author: Lea Thompson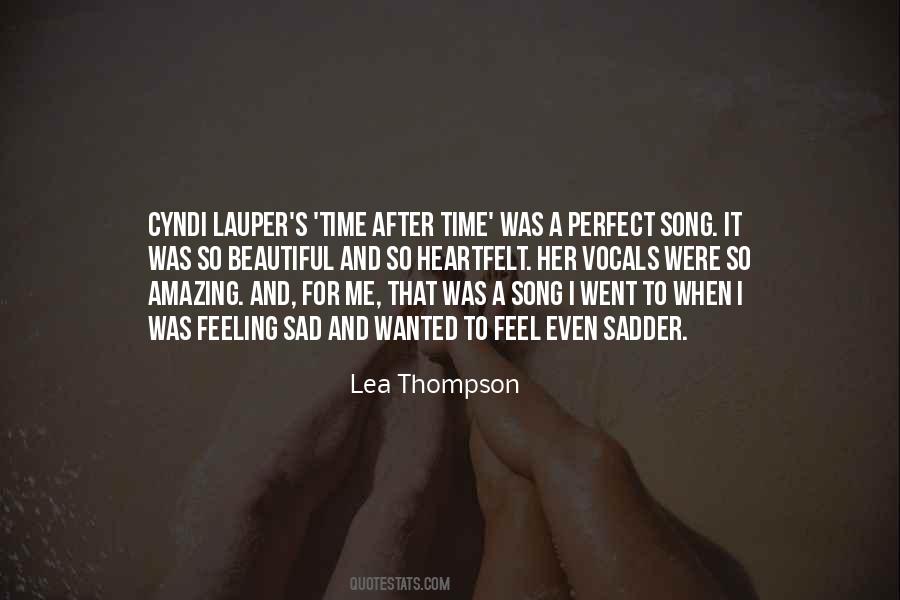 #67. There is no point treating a depressed person as though she were just feeling sad, saying, 'There now, hang on, you'll get over it.' Sadness is more or less like a head cold- with patience, it passes. Depression is like cancer. - Author: Barbara Kingsolver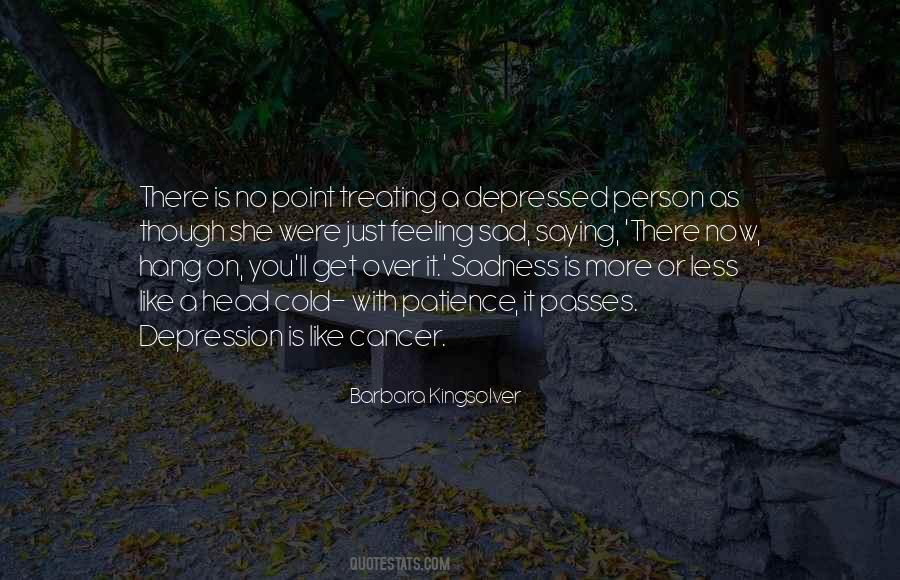 #68. Life is like a tree, when you feeling down the leaves fall off. - Author: Iyonna Williams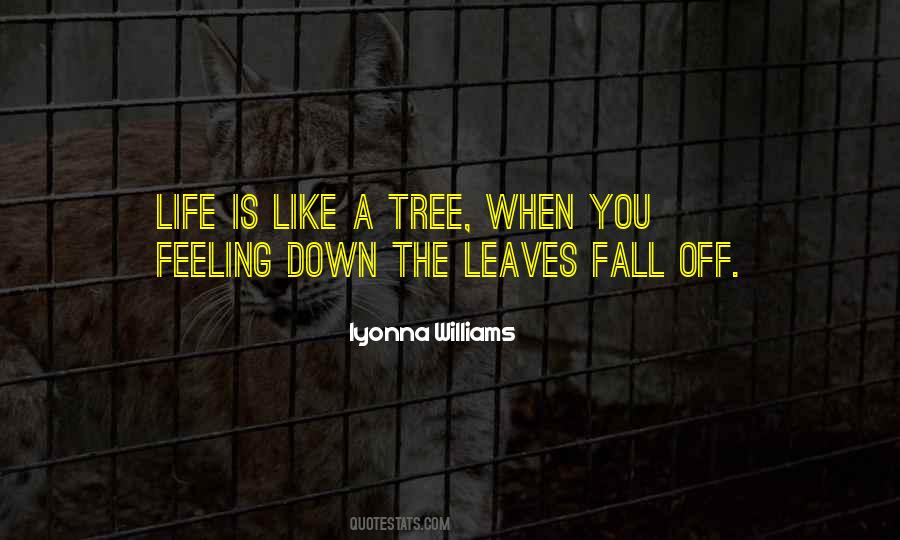 #69. If you were feeling sad right now and you recall a sad - or, a very happy memory from the past, it will be tinged with more sadness based on your current feeling. So we felt like that was actually on solid scientific ground . - Author: Pete Docter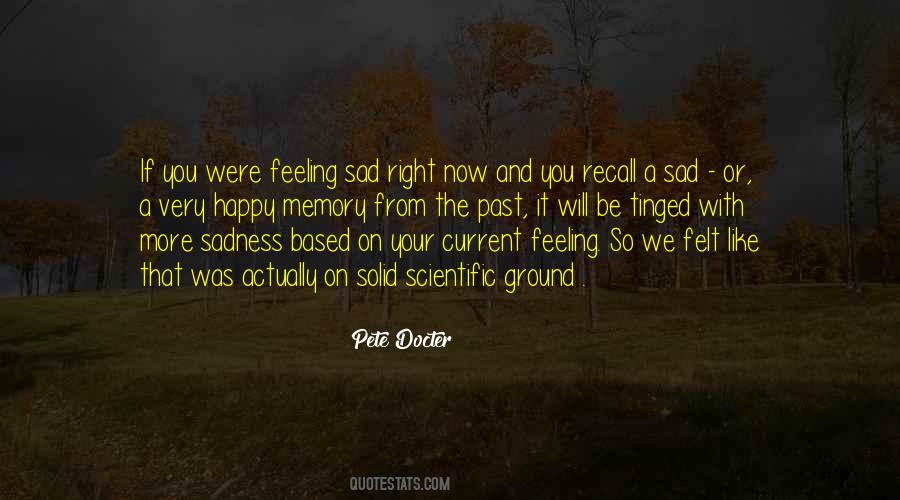 #70. Trust Me. Life is not worth living feeling sad and down and lonely. Always be true to who you are. - Author: Jessie J.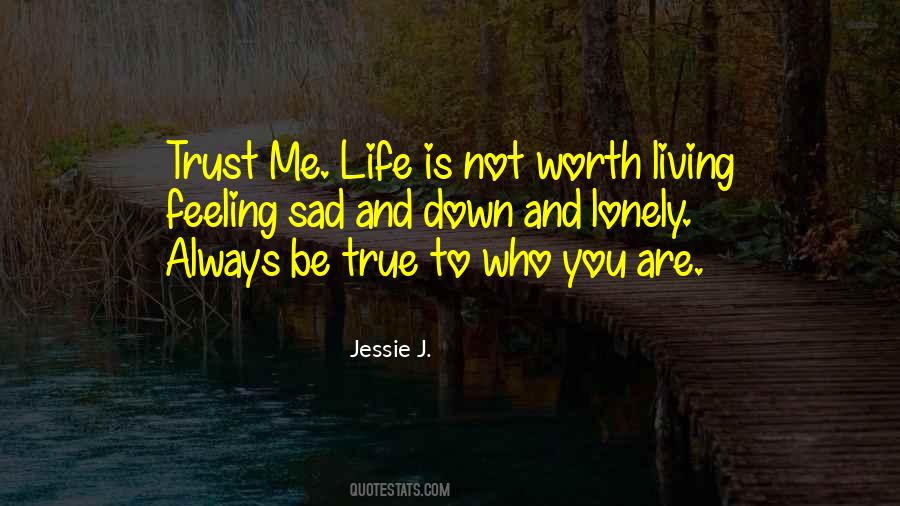 #71. Who wants that? I'd rather choose to fall in love and be hurt. Sometimes I can't even sleep because I love someone too much. And there's always sadness in our lives. It's that sad feeling that keeps us going. - Usagi/Sailor Moon - Author: Naoko Takeuchi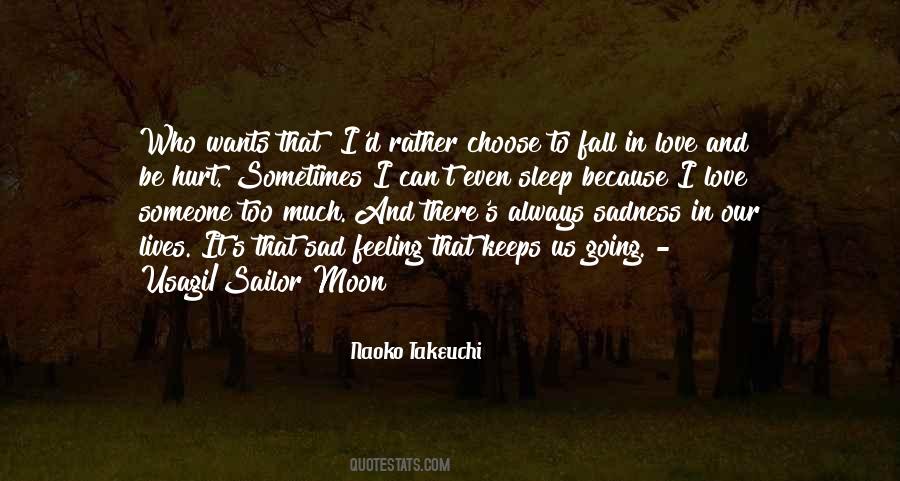 #72. It was sad leaving the BBC; not quite like being divorced, but you don't leave after a period stretching from 1960 to 1999 without feeling a certain number of pangs. - Author: Richie Benaud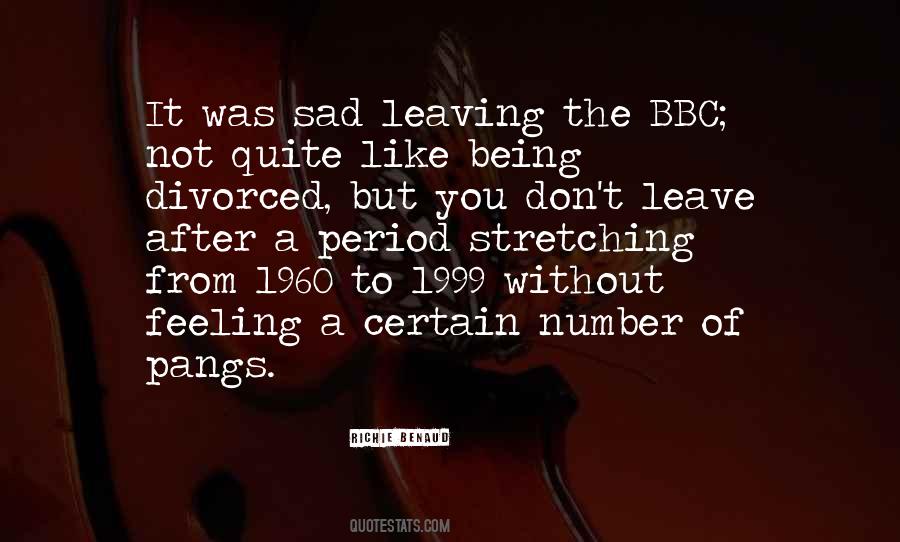 #73. You could ask for hugs if you were feeling sad or you'd hurt yourself, but when it happened spontaneously it made you feel warm inside. - Author: Mark Haddon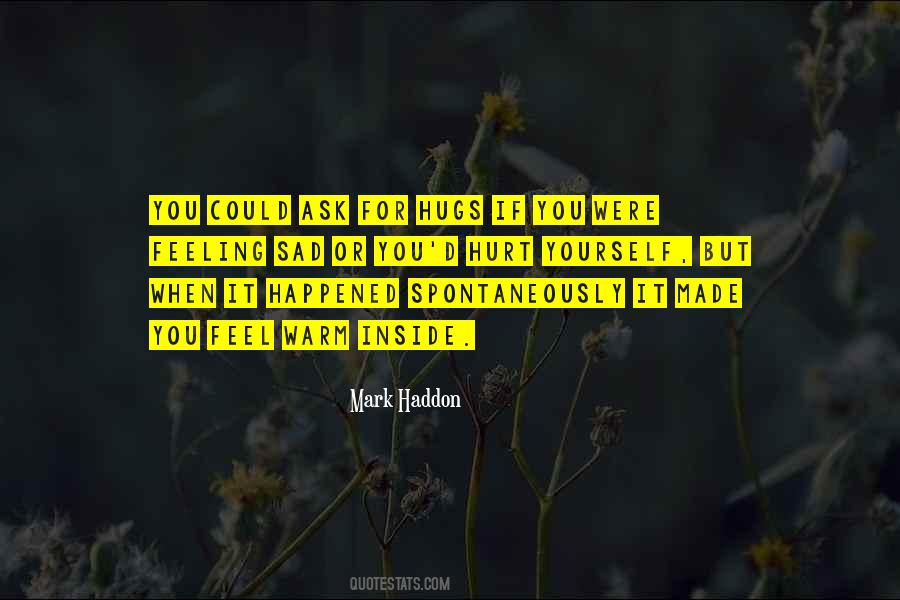 #74. The street had that sad summertime feeling that you want to push on to see why it hurts. - Author: Olivia Sudjic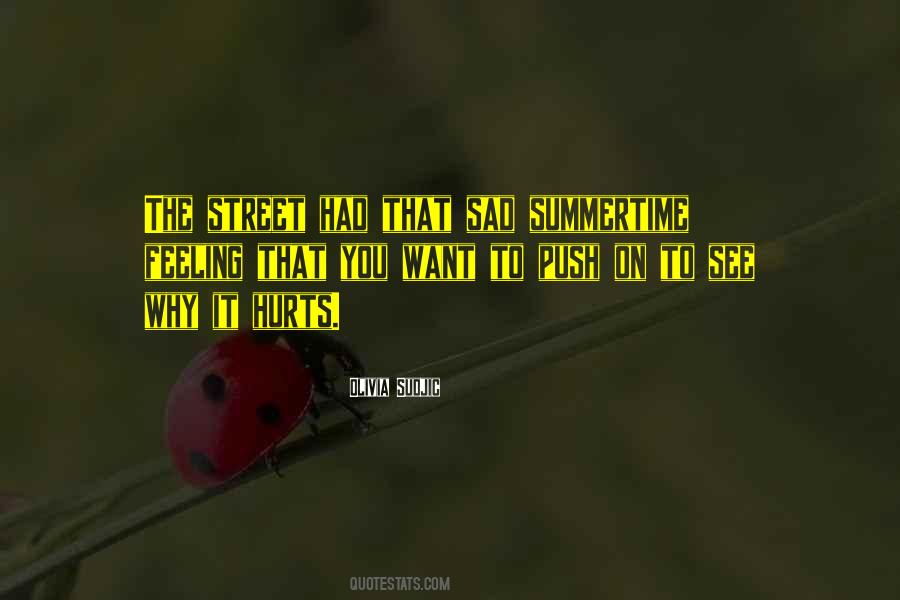 #75. Then, into the silence, over the top of everything, came a long, sad howl. For a second it felt like the sound had come from inside me. Like the world had taken everything I was feeling and turned it into a sound. - Author: Carol Rifka Brunt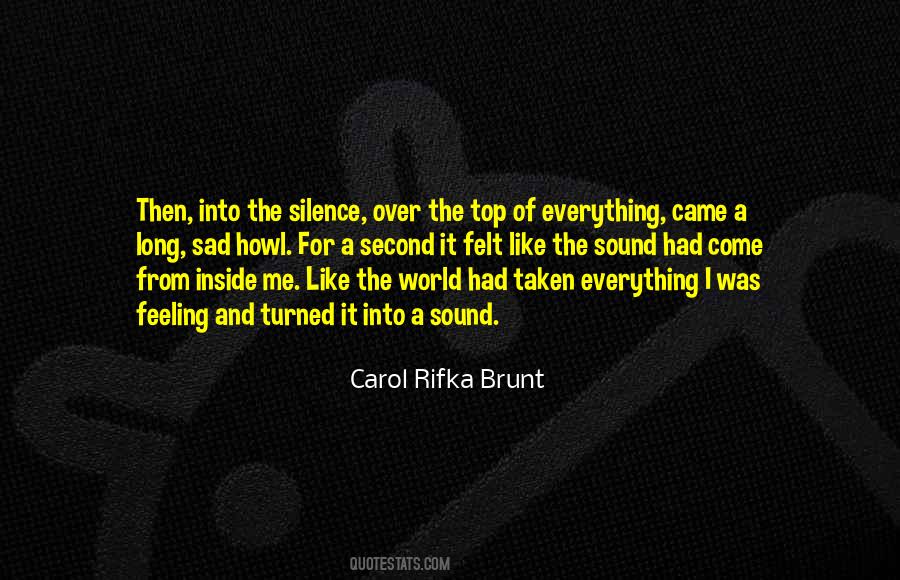 #76. A sad person who is so involved with his sadness that he mistakes it for reality will have a hard time seeing himself as anything but sad. For him, the sadness is not a feeling that he experiences - it is him. - Author: Mary Gaitskill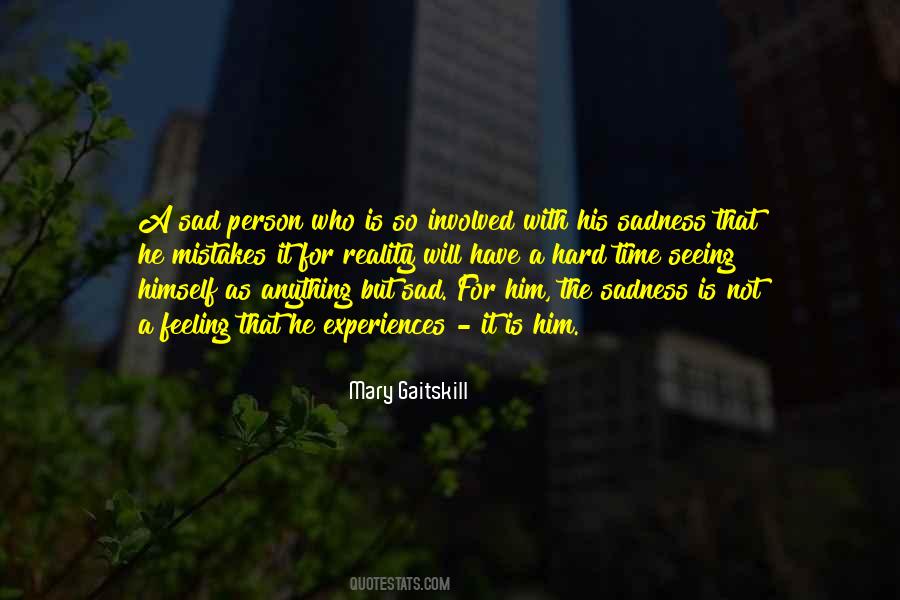 #77. Love Is Louder is a movement that is hopefully going to bring some awareness and make some noise when it comes to teens who are feeling suicidal or even just sad, outcasts, and being bullied, and really feel like they have nowhere to turn to. - Author: Brittany Snow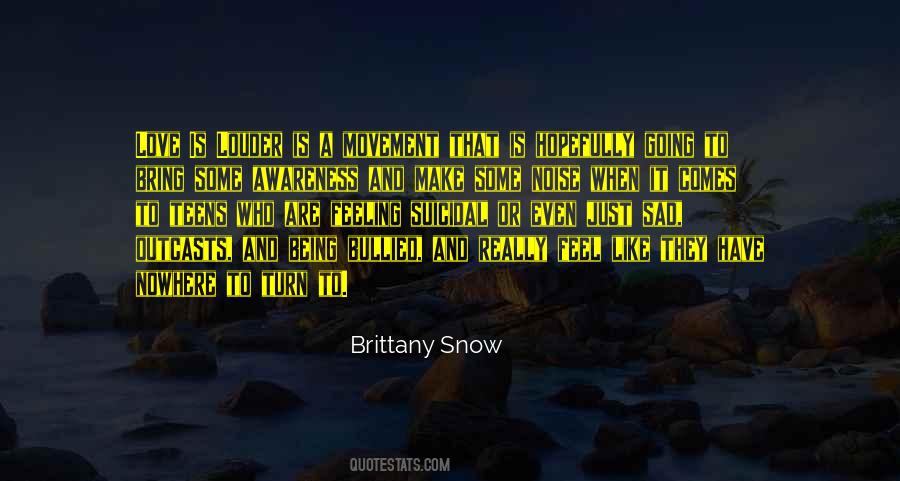 #78. There is no point in treating a depressed person as though she were just feeling sad, saying, There now, hang on, you'll get over it. Sadness is more or less like a head cold - with patience, it passes. Depression is like cancer. Cynthia - Author: Barbara Kingsolver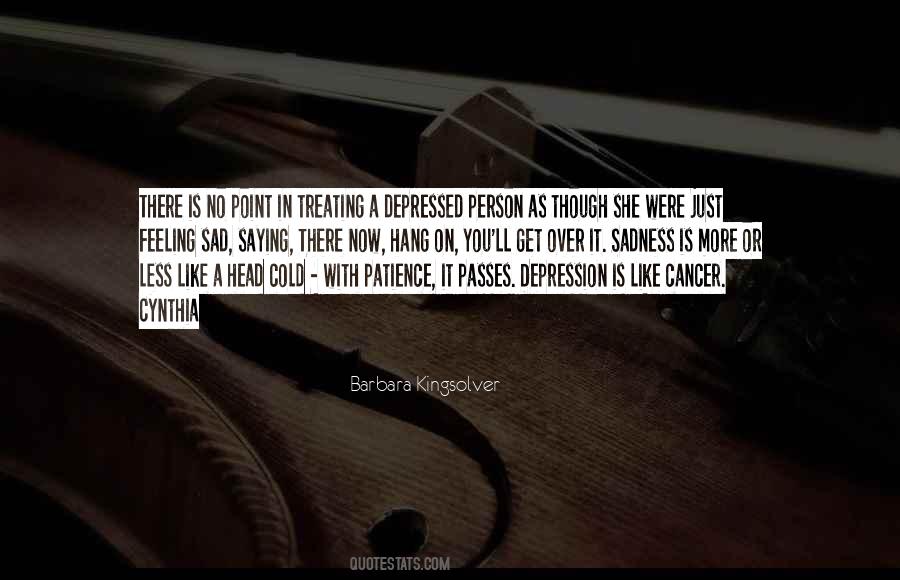 #79. Seeing him again after so long awakened something inside me. I was surprised to find myself feeling sad rather than joyful, as I would have imagined. - Author: Arthur Golden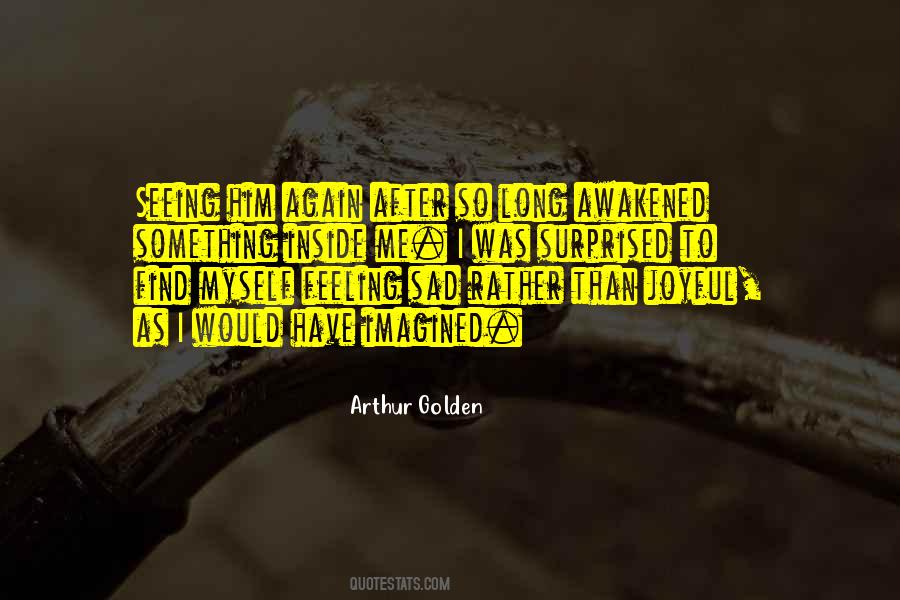 #80. It's impossible to feel sad or have any negative feeling when you're grateful. If you're in the midst of a difficult situation, look for something to be grateful for. - Author: Rhonda Byrne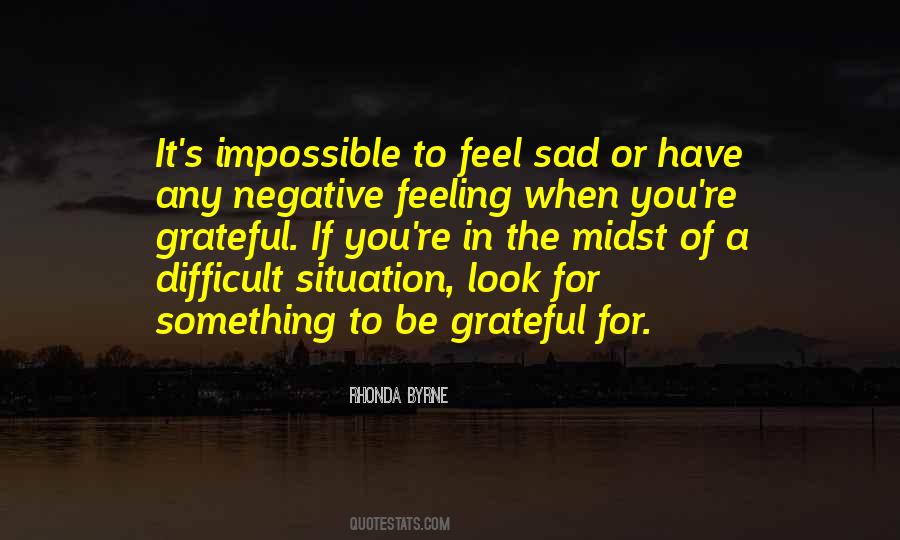 #81. Po Campo had given him a hailstone dipped in molasses and he sat licking it and feeling alternately happy and sad while the men got dressed and prepared to be cowboys again. - Author: Larry McMurtry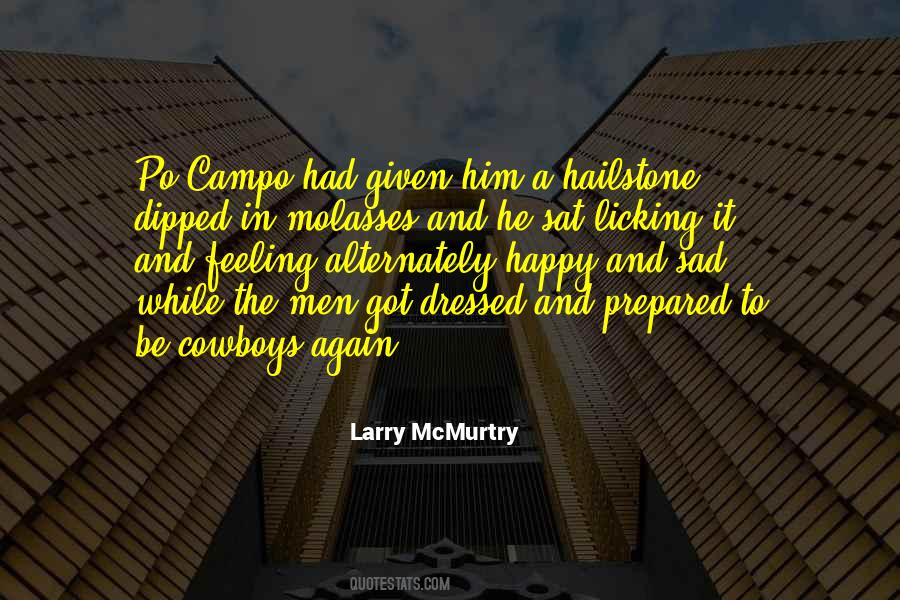 #82. Finny never tells anyone how he is feeling; you just have to know him well enough to understand when he is sad or scared. Today his expression does not tell me how he feels about me being over here. Either he couldn't care less, or he could be annoyed. - Author: Laura Nowlin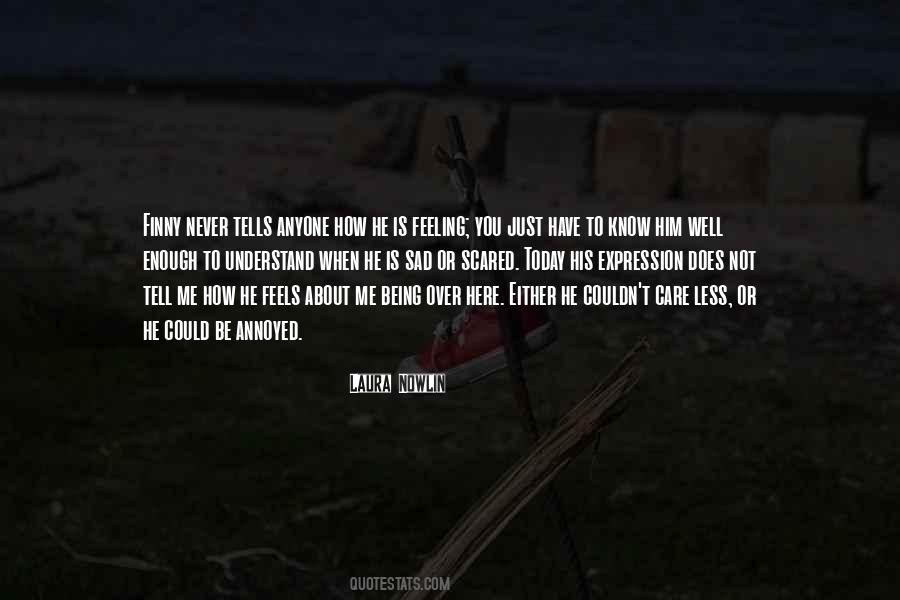 #83. These are sad days in literature. Homer is dead. Shakespeare is dead. And I myself am not feeling at all well. - Author: Mark Twain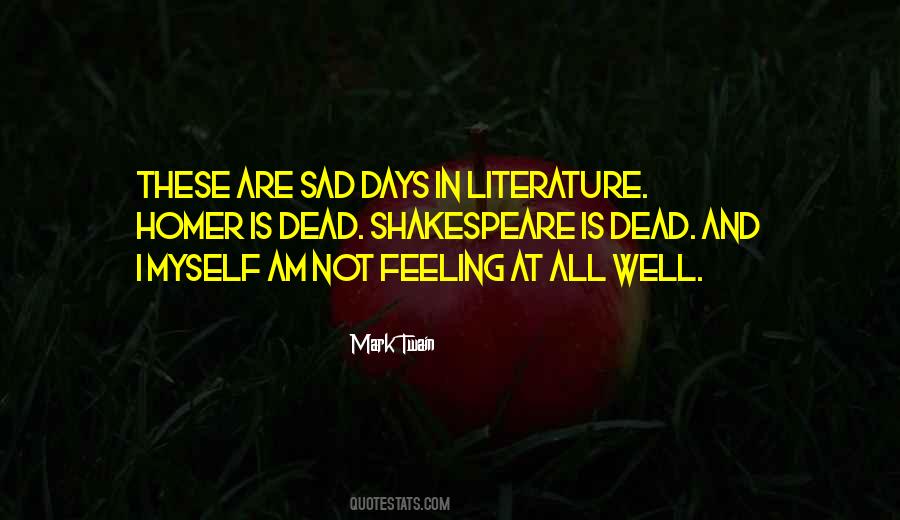 #84. 'A Bug's Life' is a really funny movie and the characters have such different personalities. The movie is happy and then gets really sad and I'm like, W'hoa, I'm feeling this way and this movie is about bugs!' - Author: Booboo Stewart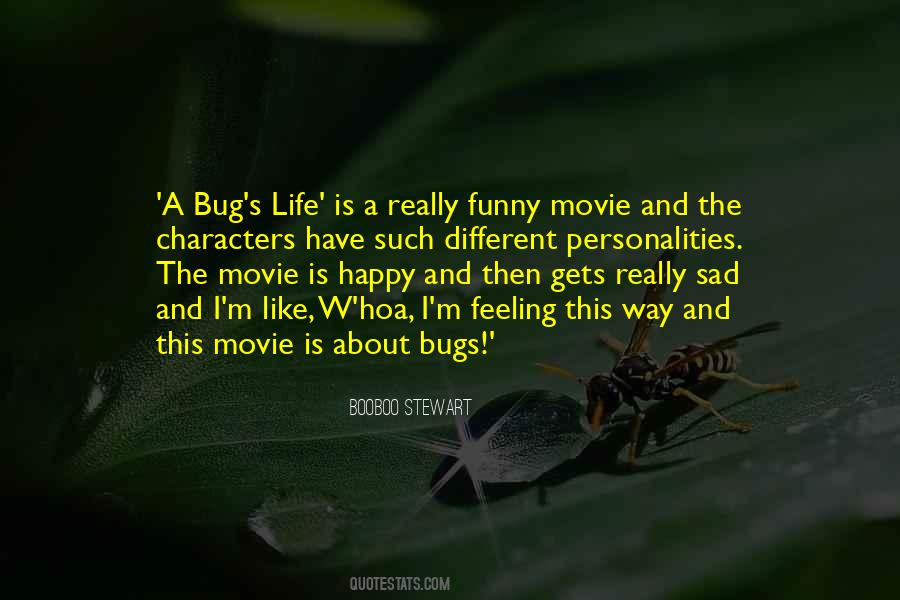 #85. I had spent my whole life feeling homesick. The only difference between the two of us was that I didn't know what or where home was. - Author: Marian Keyes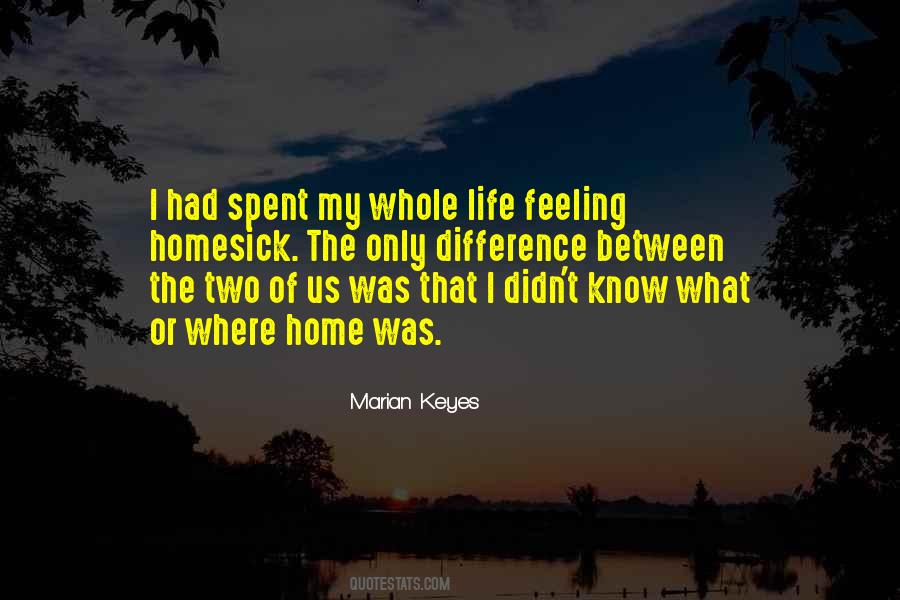 #86. A feeling is not bottomless. once felt all the way through,a great peace greets you there - Author: Alanis Morissette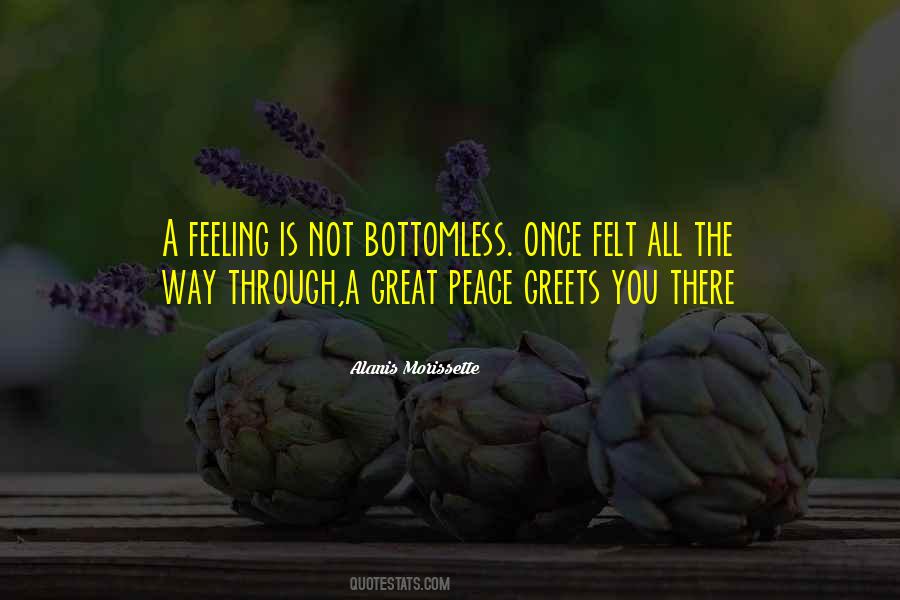 #87. Many marriages break up over hormonal imbalance, which is truly sad because it comes from a lack of understanding. When hormones are put back in balance with natural bioidentical hormones, a woman or man resumes their normal life of feeling good and having days filled with quality. - Author: Suzanne Somers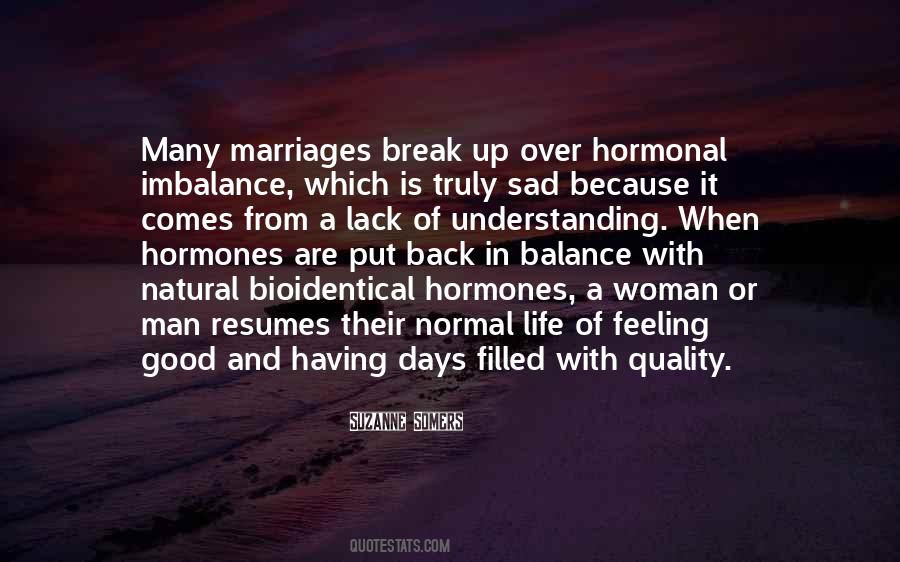 #88. Sometime am feeling proud to have ma loneliness but, sometime am so feeling lonely. - Author: Kamal Parvez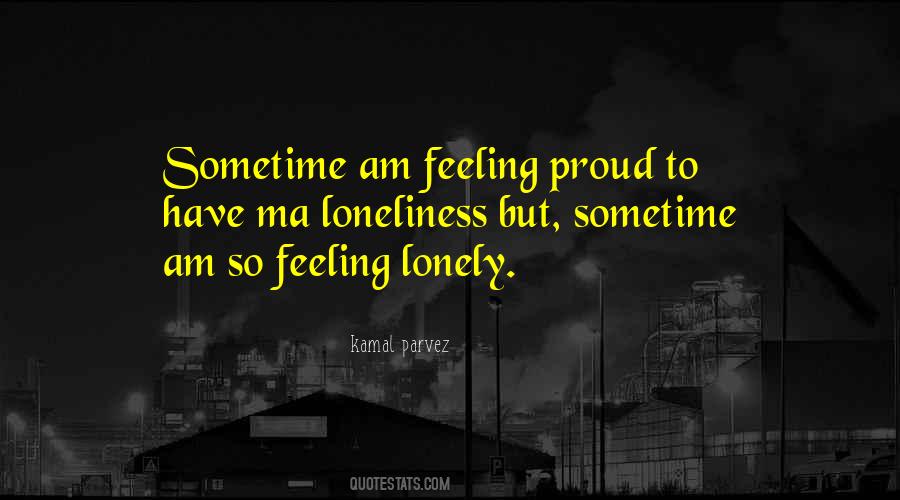 #89. My father's face, when he said that, dissolved into a stillness, a sad expression, sadder than human feeling. - Author: Jonathan Safran Foer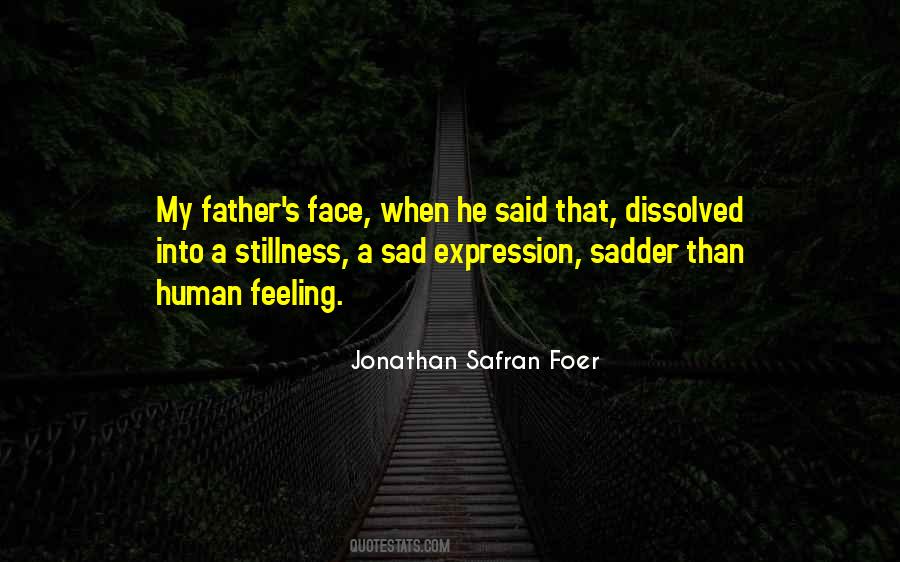 #90. My feeling is that there is nothing in life but refraining from hurting others, and comforting those who are sad. - Author: Olive Schreiner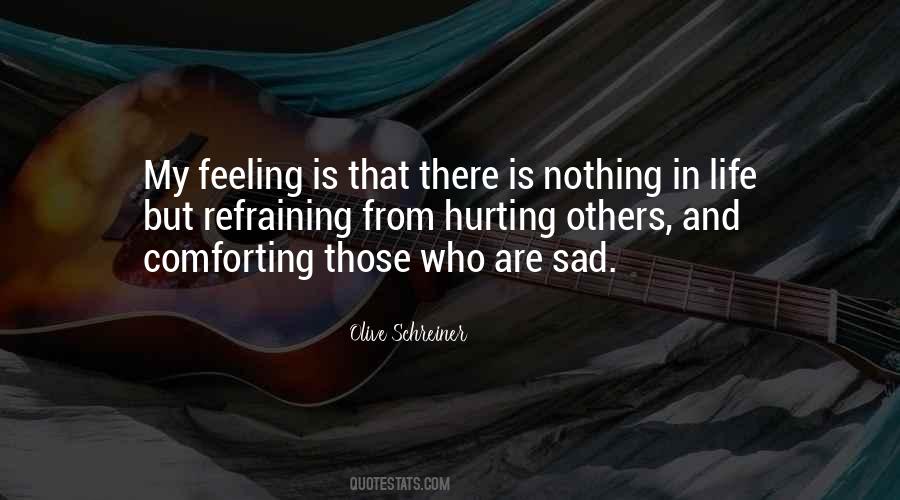 #91. Most of the time I write my best songs just from feeling a strong emotion, so whether I'm just really angry or really sad or really happy, I immediately sit down at a piano and I begin writing a song. - Author: Ella Henderson
#92. For the rest of the morning they worked quietly ad steadily, realizing that their contentment here at Uncle Monty's house did not erase their parents' death, not at all, but at least it made them feel better after feeling so sad, for so long. - Author: Lemony Snicket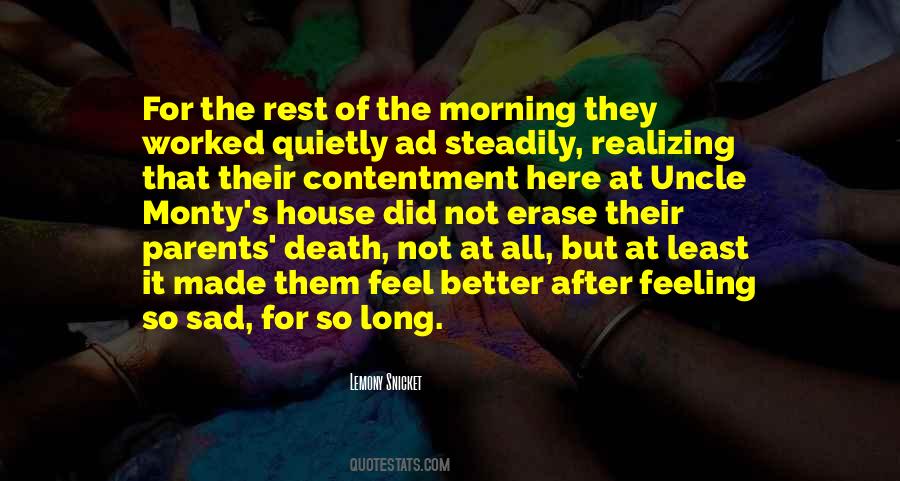 #93. Her laugh was sad and taciturn, seemingly detached from any feeling of the moment, like something she kept in the cupboard and took out only when she had to, using it with no feeling of ownership, as if the infrequency of her smiles had made her forget the normal way to use them. - Author: Gabriel Garcia Marquez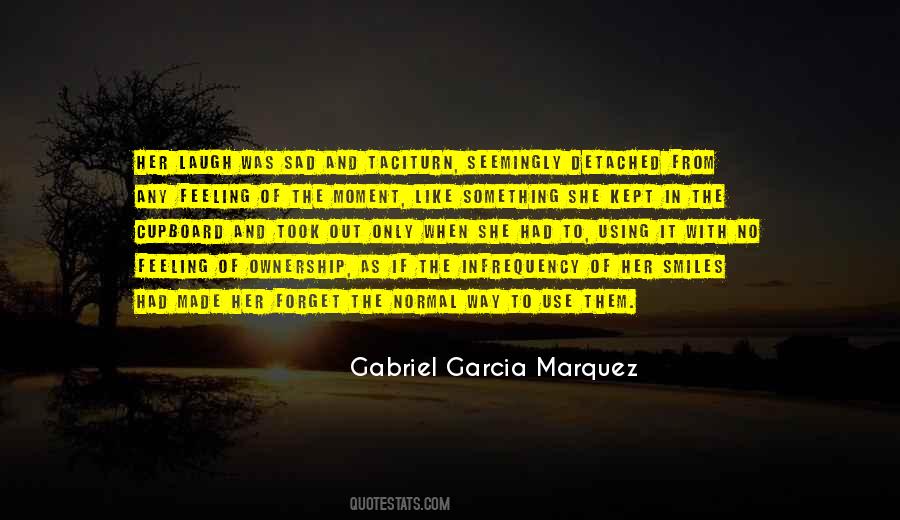 #94. Lorraine once told me, smile big when you're sad. Smile big when you're happy. Smile big when you're bored. Because regardless how you feel, your face could use a stretch. - Author: Marley Jacobs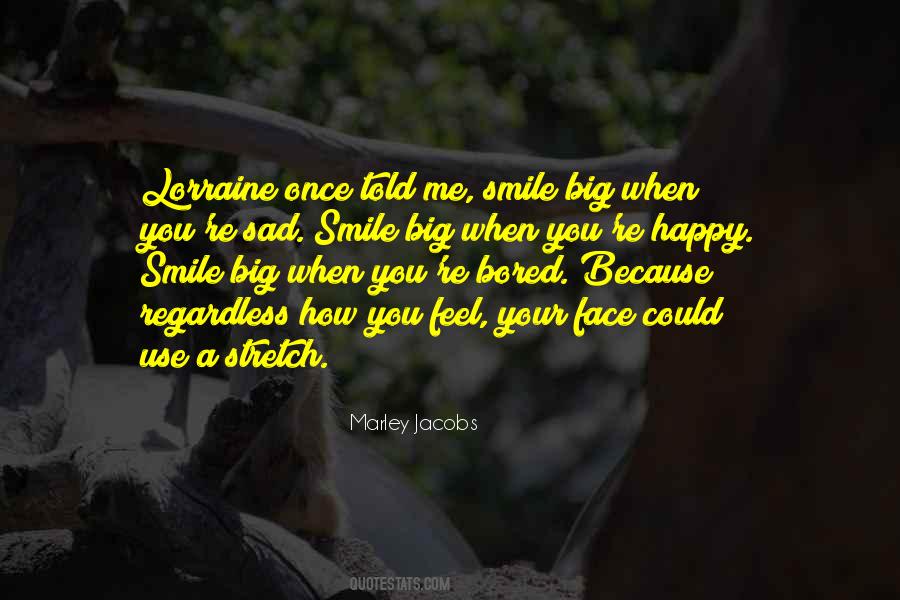 #95. Look at that party the other night. Everybody wanted to have a good time and tried real hard but we all woke up the next day feeling sorta sad and separate. - Author: Jack Kerouac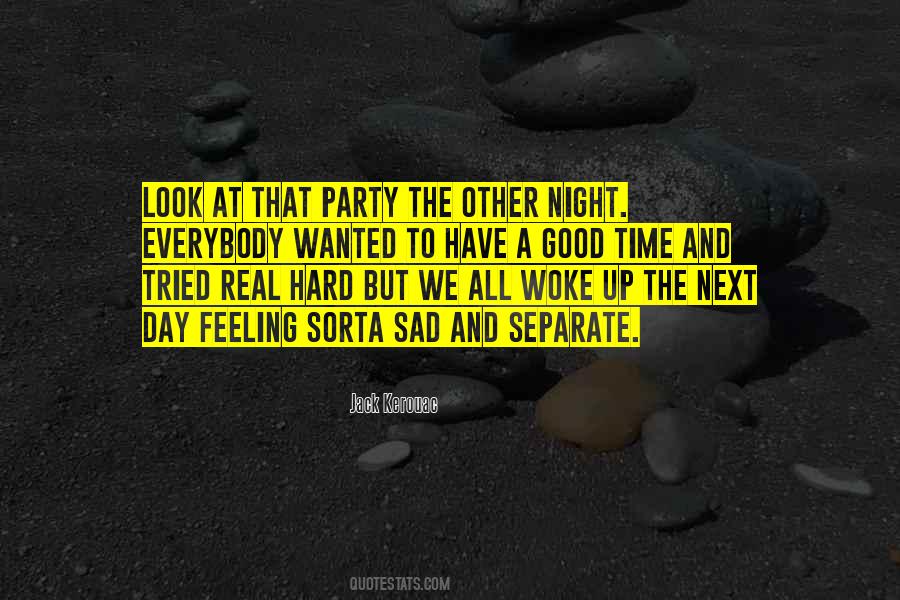 #96. I learned to practice smiling when I'm feeling sad, you know? - Author: Yuna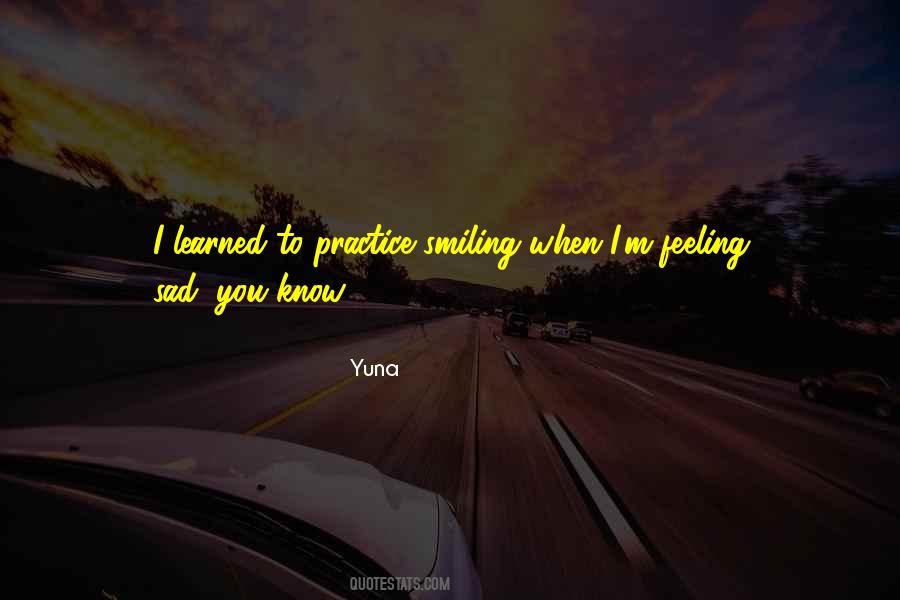 #97. Feeling sad about anything is holding onto it. Say, 'This is something I have to let go of,' and immediately you will feel better. - Author: Lester Levenson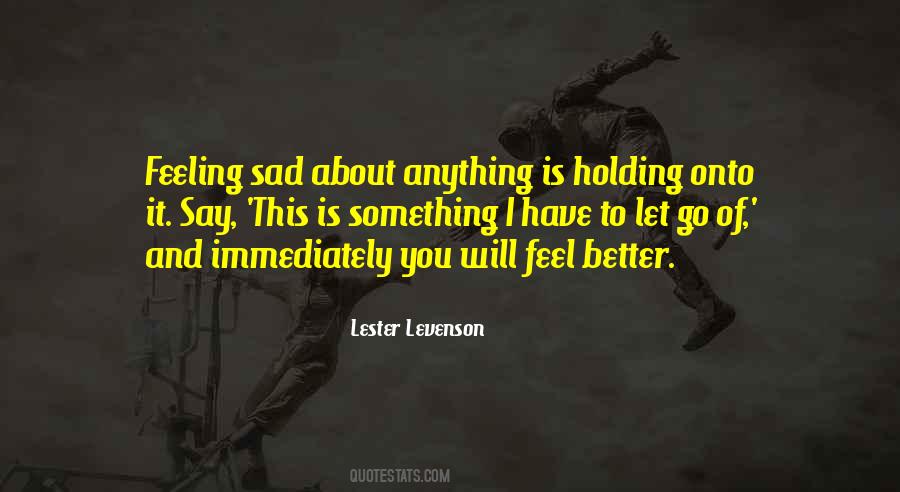 #98. Sleep was the greatest invention in the history of mankind. When I was sleeping, I wasn't feeling guilty, or miserable, or sad. - Author: Jenna Black
#99. And when I have that feeling, that feeling like I need a handout, desperate, I want to pull my skin off and turn into dust.I want to throw myself back to the angels and tell them to start over,start over without me cause you put the screws in loose, you put the hinges in wrong. - Author: Andrea Portes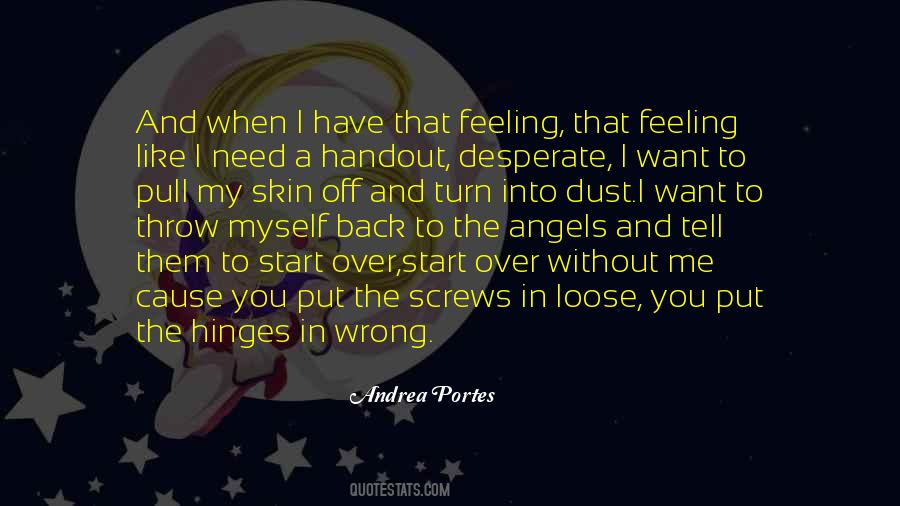 #100. He put his arms around me. We were both feeling miserable. How were we to know we were happy, even then? Because we at least had that: arms, around. - Author: Margaret Atwood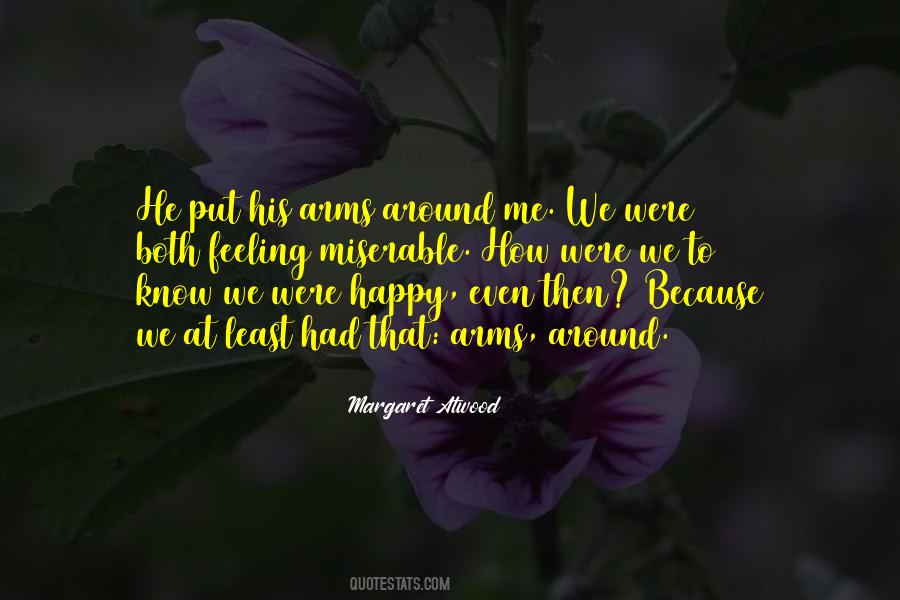 Famous Authors
Popular Topics