Experience And Change Famous Quotes & Sayings
List of top 100 famous quotes and sayings about experience and change to read and share with friends on your Facebook, Twitter, blogs.
Top 100 Quotes About Experience And Change
#1. Placing the blame or judgment on someone else leaves you powerless to change your experience; taking responsibility for your beliefs and judgments gives you the power to change them - Author: Byron Katie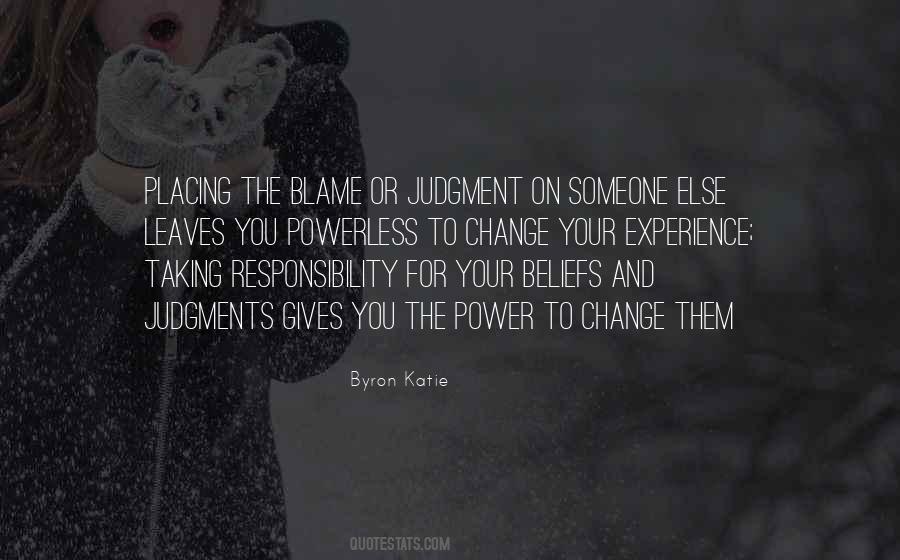 #2. Change is no modern invention. It is as old as time and as unlikely to disappear. It has always to be counted on as of the essence of human experience. - Author: James Rowland Angell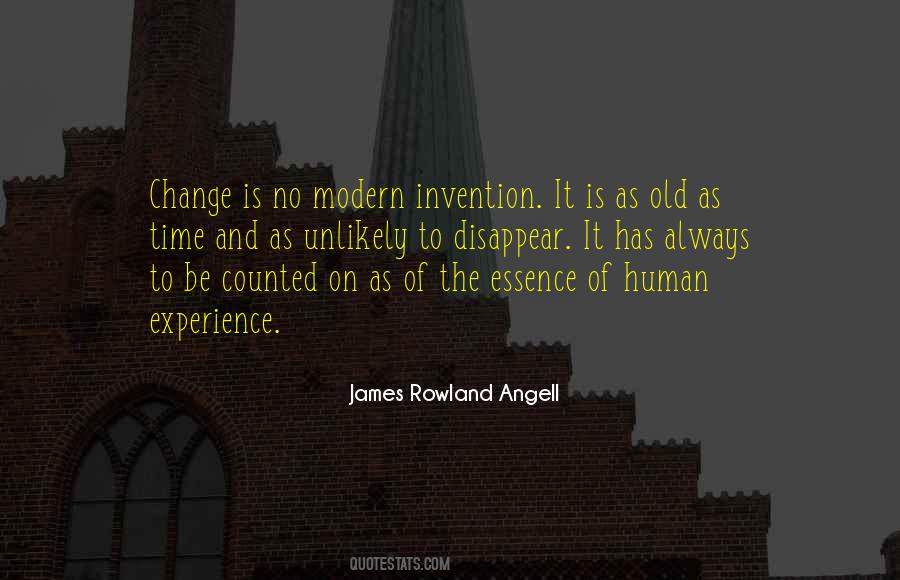 #3. We define learning as the transformative process of taking in information that, when internalized and mixed with what we have experienced, changes what we know and builds on what we can do. It's based on input, process, and reflection. It is what changes us. - Author: Marcia Conner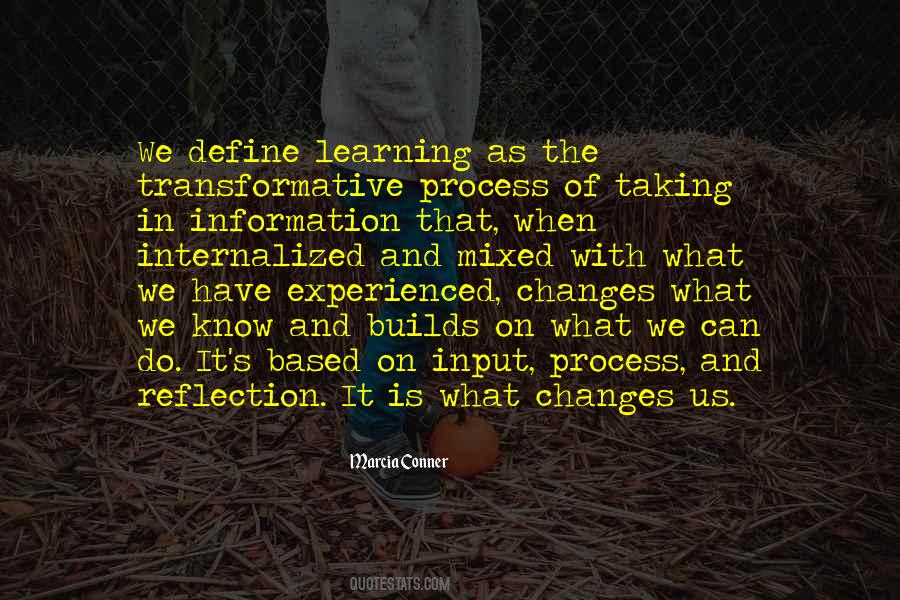 #4. I received Christ into my heart and my life began to change. But it was a gradual change. And I didn't see any flashing bulbs. I didn't hear any thunder. There was no great emotional experience. It was just saying: Yes, Lord Jesus, I want you to be the lord of my life. - Author: Billy Graham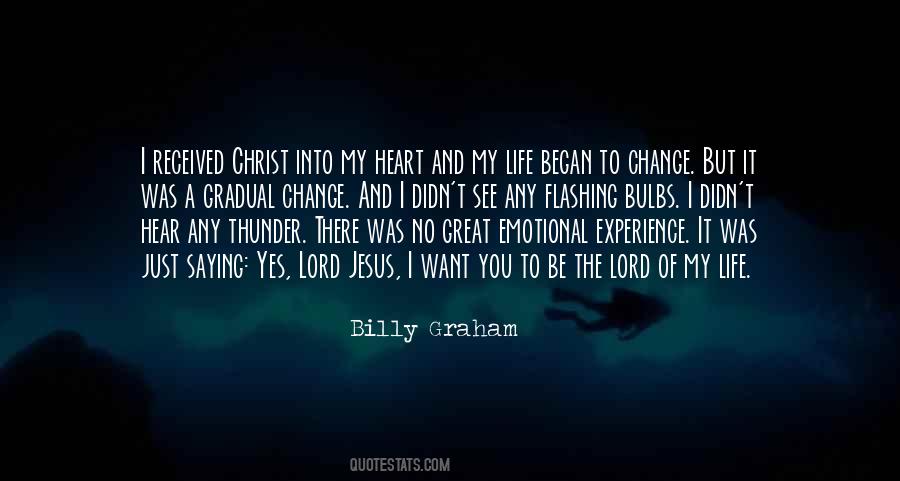 #5. Change for someone today and tomorrow you will hear them say, "You are not the same. - Author: Akash Lakhotia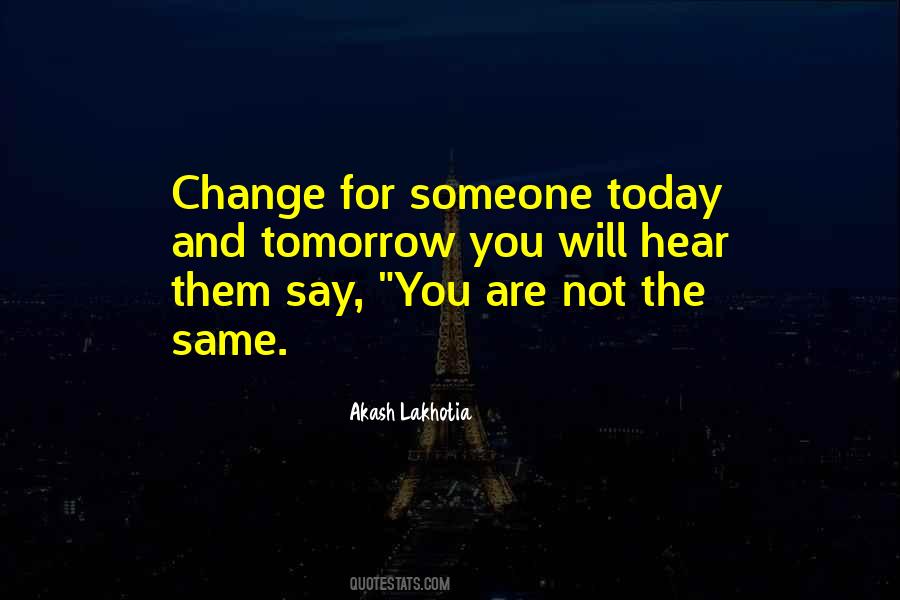 #6. Those who stand for different causes during different generations often experience the same oppositions and the same difficulties as those of the previous and the next generations. That is the basis of history repeating itself. - Author: Criss Jami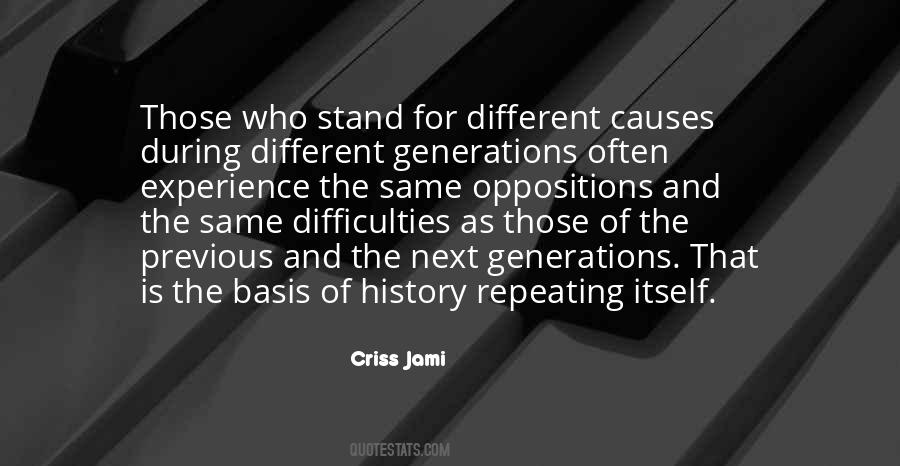 #7. Our first impressions are generated by our experiences and our environment, which means that we can change our first impressions ... by changing the experiences that comprise those impressions. - Author: Malcolm Gladwell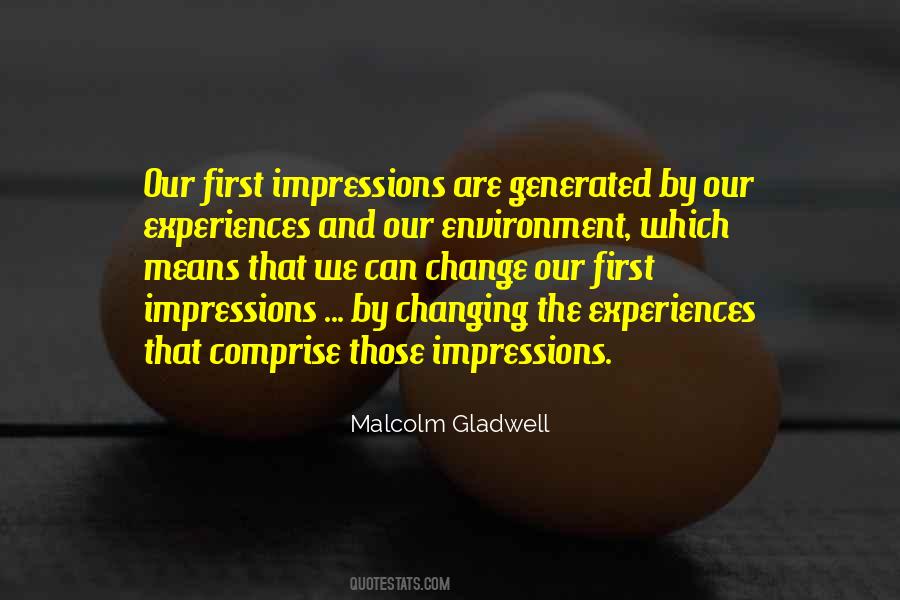 #8. True revolutionary change begins by first challenging yourself -- not the world. Until you own your story and the complexities of your experience, no matter how much you may strain against it, you will still be enslaved -- if not by your oppressor, by your past. - Author: Sil Lai Abrams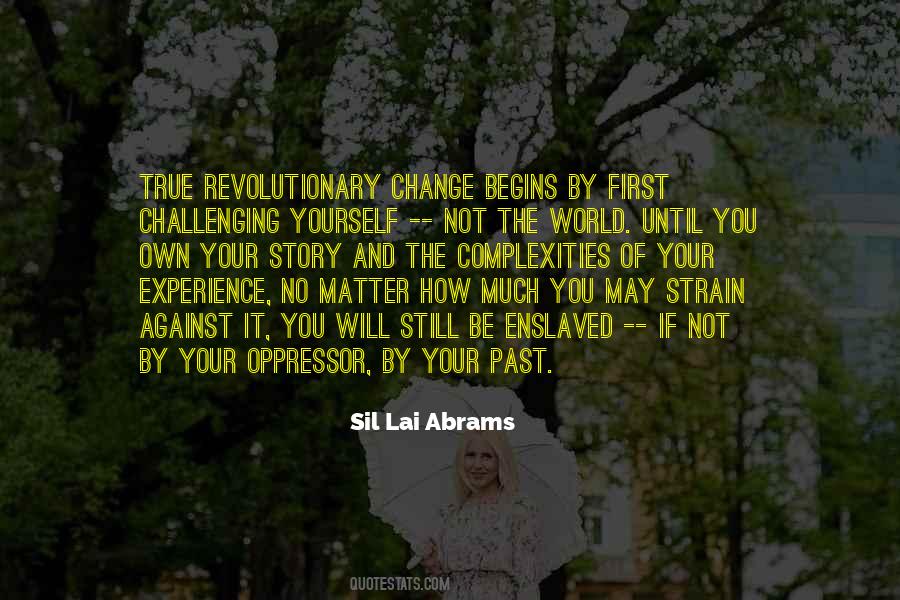 #9. The ideas of right and wrong change with the experience of the race, and this change is wrought by the gradual ascertaining of consequences - of results. - Author: Robert Green Ingersoll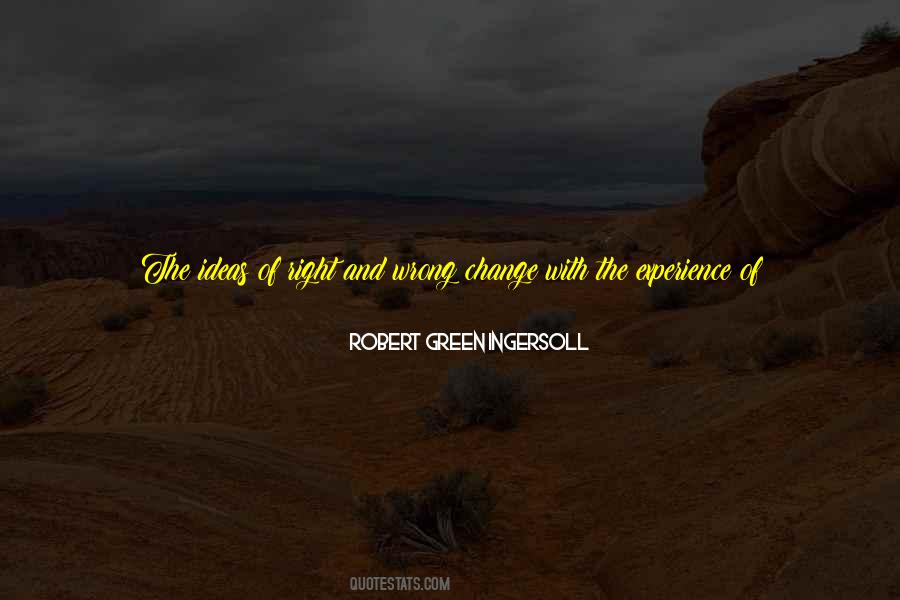 #10. Something of the previous state, however, survives every change. This is called in the language of cybernetics (which took it form the language of machines) feedback, the advantages of learning from experience and of having developed reflexes. - Author: Guy Davenport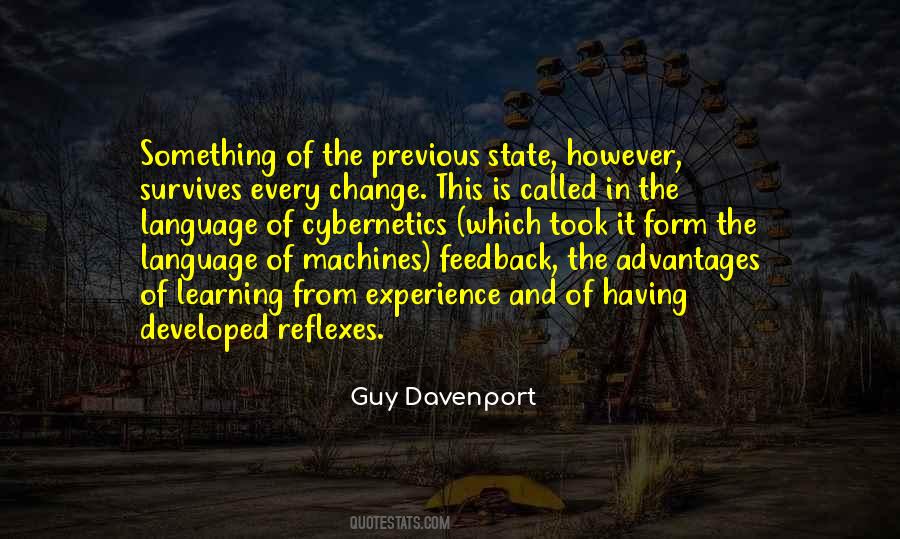 #11. For our own past is covered by the currents of action,
But the torment of others remains an experience
Unqualified, unworn by subsequent attrition.
People change, and smile: but the agony abides. - Author: T. S. Eliot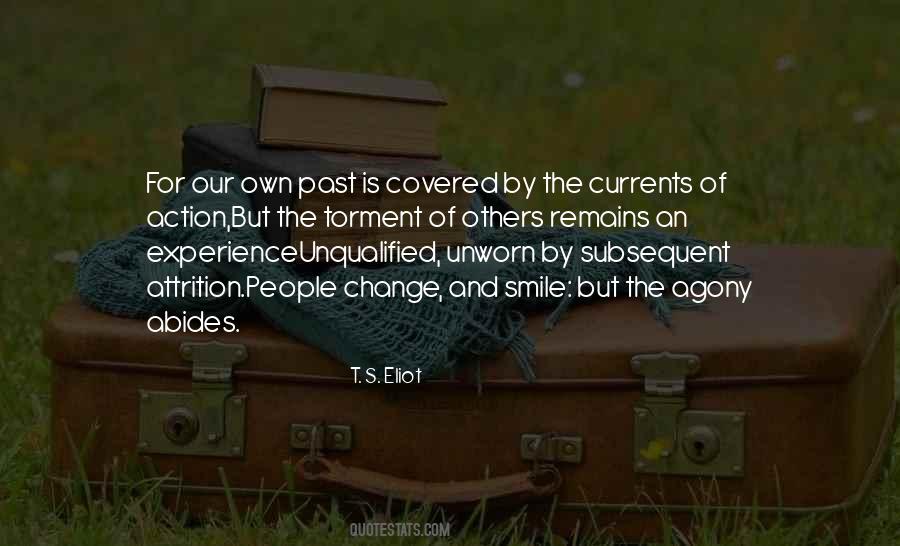 #12. No doubt, some people are quantitatively less busy than others and some much more so, but that doesn't change the shared experience: most everyone I know feels frazzled and overwhelmed most of the time. - Author: Kevin DeYoung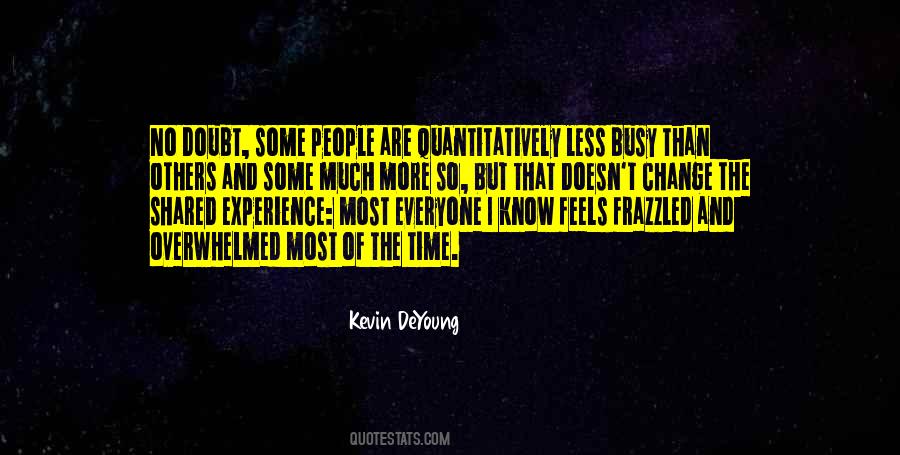 #13. When we give over our (false sense of) control, and just allow, each change and each new experience becomes less of a worry and more of an exciting new adventure. It can be likened to awaiting Christmas (or birthday) morning as a child: Anticipation of unwrapping a beautiful new gift. - Author: Camille Lucy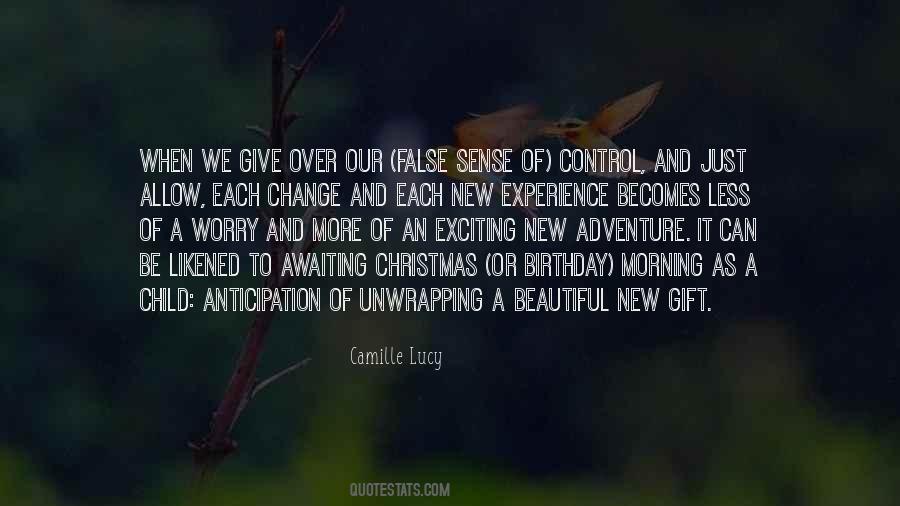 #14. If life is such a painful experience and we can't change that, why can't this person just be allowed to die? - Author: Jo Nesbo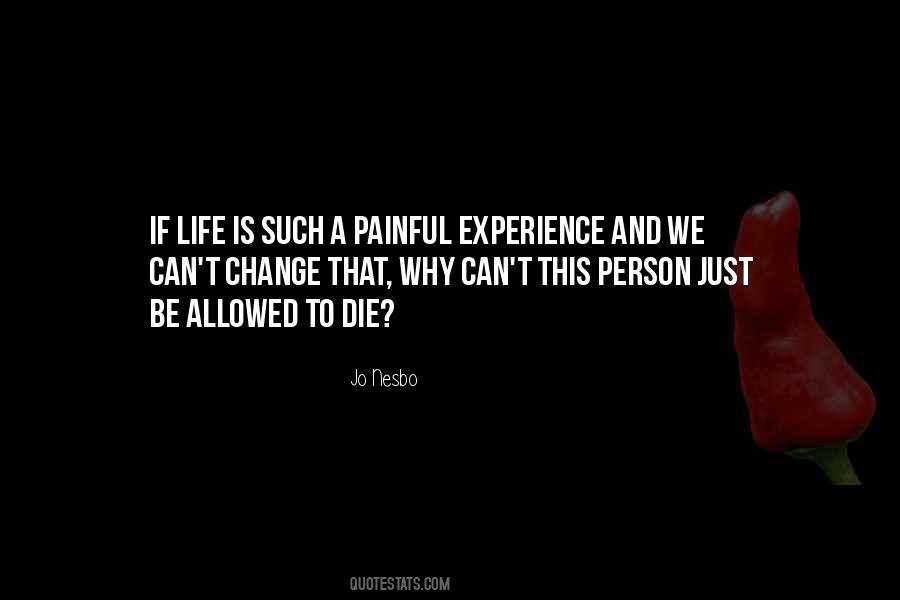 #15. The future of the television industry is changing at an unstoppable rate, and it is exciting to share my experience and thoughts on how this will change the value of content in the digital space. - Author: Dana Brunetti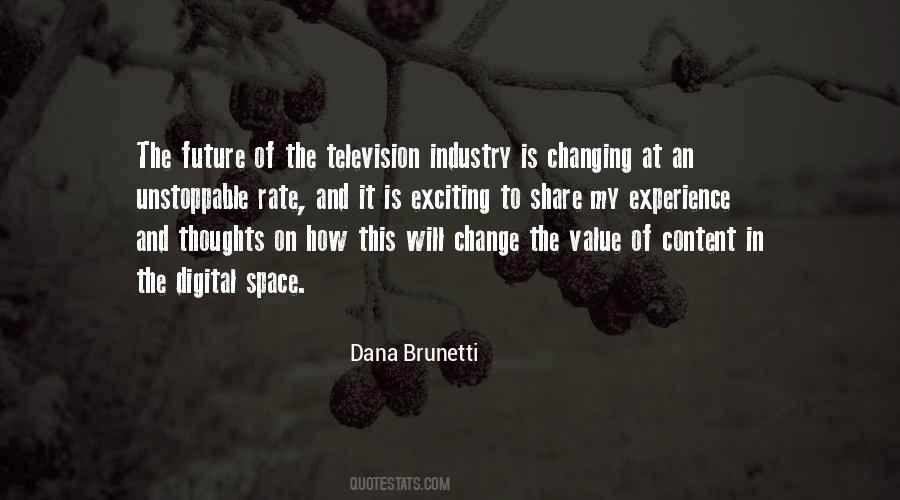 #16. Today was the end of freedom. High school had fallen behind; college loomed ahead. Tomorrow he traded freedom and Arizona for Colorado and discipline. - Author: Tony Taylor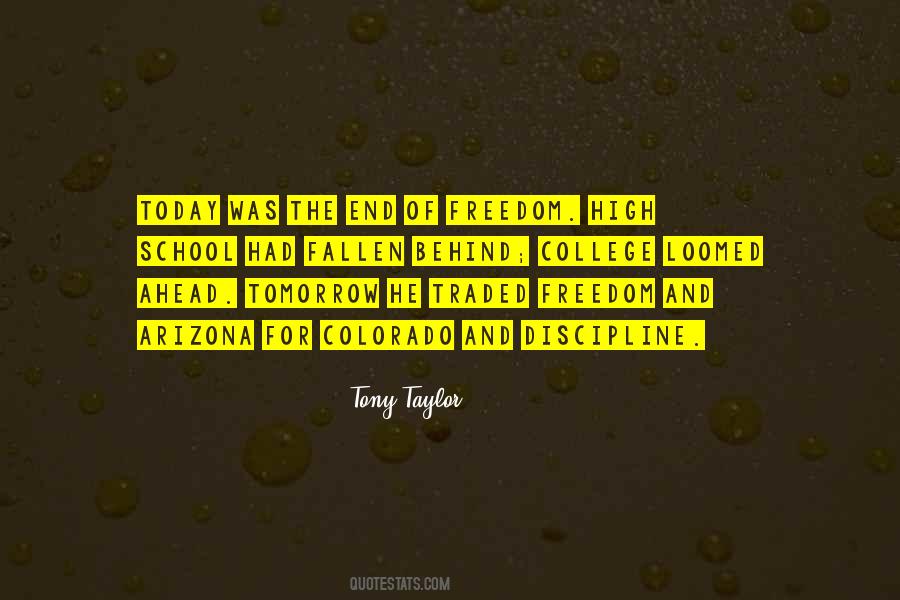 #17. The next phase is to 2016, and yes, I want to be First Minister because I believe I have the life experience, and I've got a commitment to change. - Author: Johann Lamont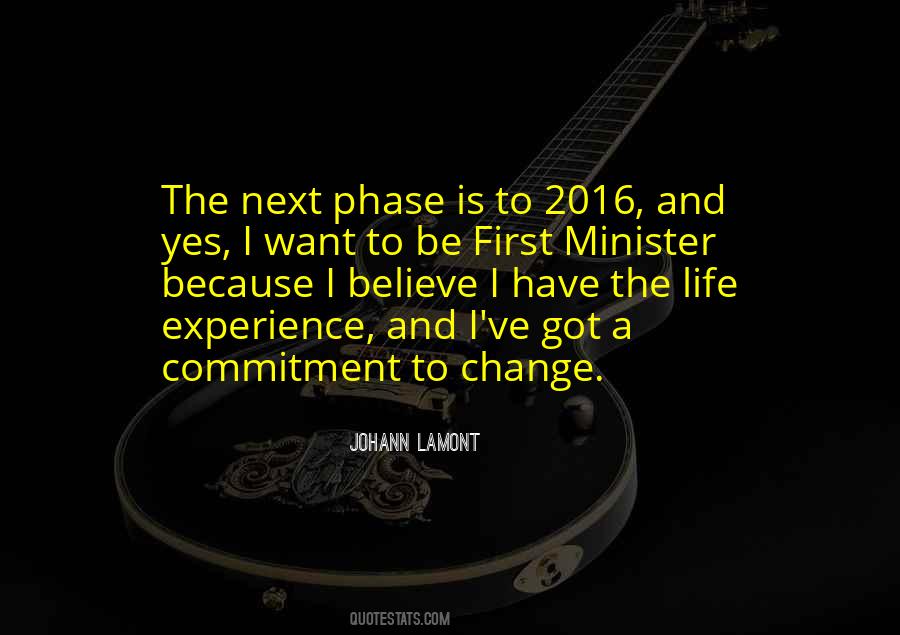 #18. The dialectical change of mind that occurs in Buddhism is not simply the assimilation of a new philosophical basis or religious basis for viewing and interpreting experience. Rather it is the complete structural revision of that which is. - Author: Frederick Lenz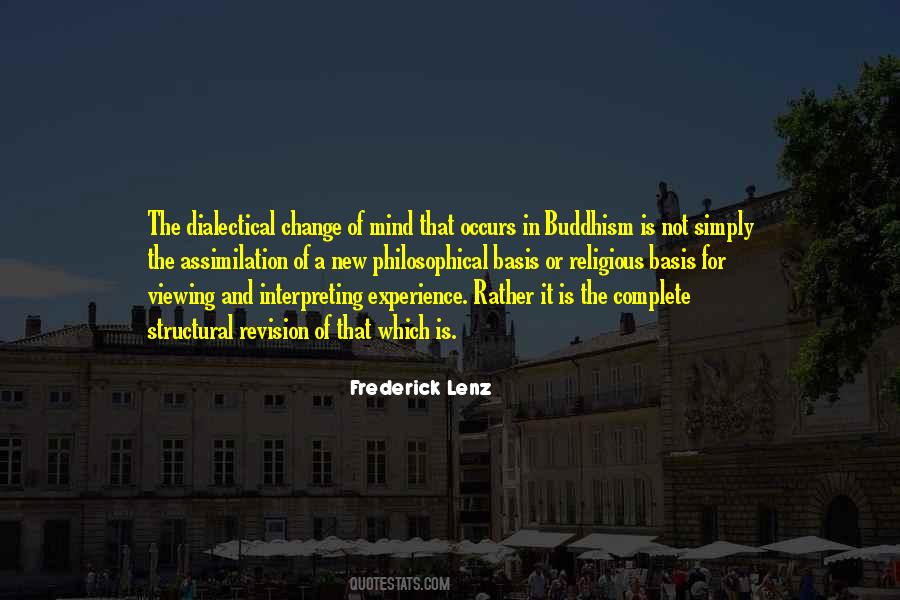 #19. A child born today will experience an increase to sea level of about three to six feet. The rate of change is so remarkable and so dramatic. We are already seeing the consequences of man-made climate change. - Author: Jeff Orlowski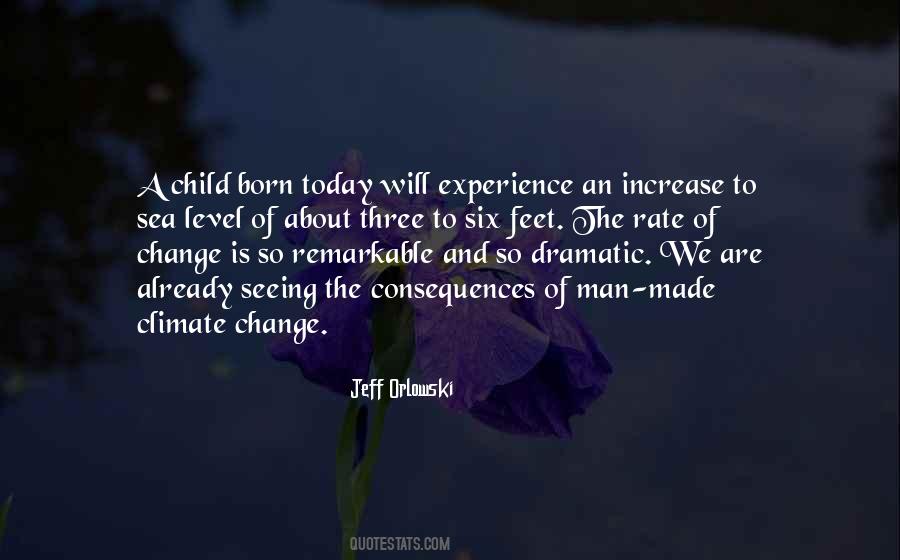 #20. It is not my experience that we are here to fix the world, that we are here to change anything at all. I think we are here so the world can change us. And if part of that change is that the suffering of the world moves us compassion, to awareness, to sympathy, to love, that is a very good thing. - Author: Cheri Huber
#21. When the seasons change, we experience a sympathetic internal shift. All life-forms open themselves up to receive cosmic redirection from nature during these crucial seasonal transitions, so we are likely to be more vulnerable and unsettled. - Author: Maya Tiwari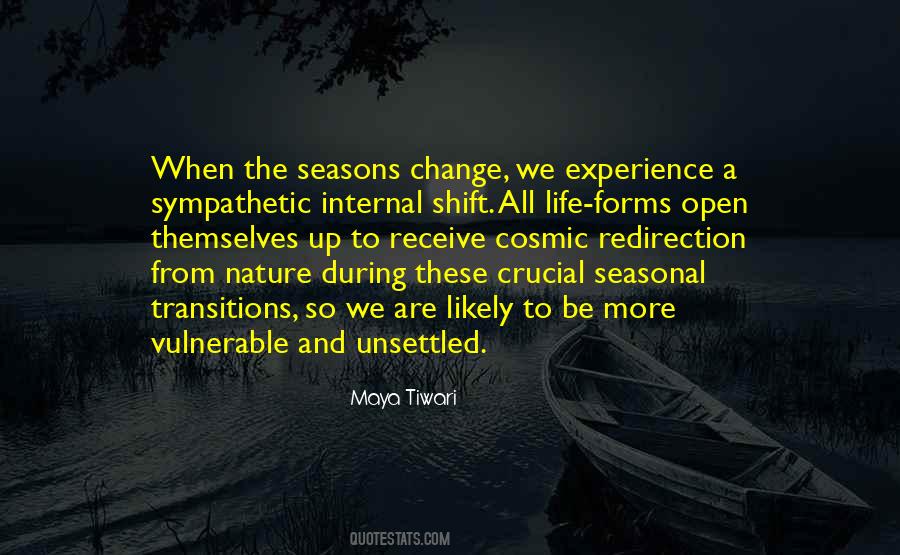 #22. As human beings we have a choice: we can resist the change and crumble or we can accept the change, experience the feelings they provoke and then consciously respond with the true light of our power. 3. - Author: Robin S. Sharma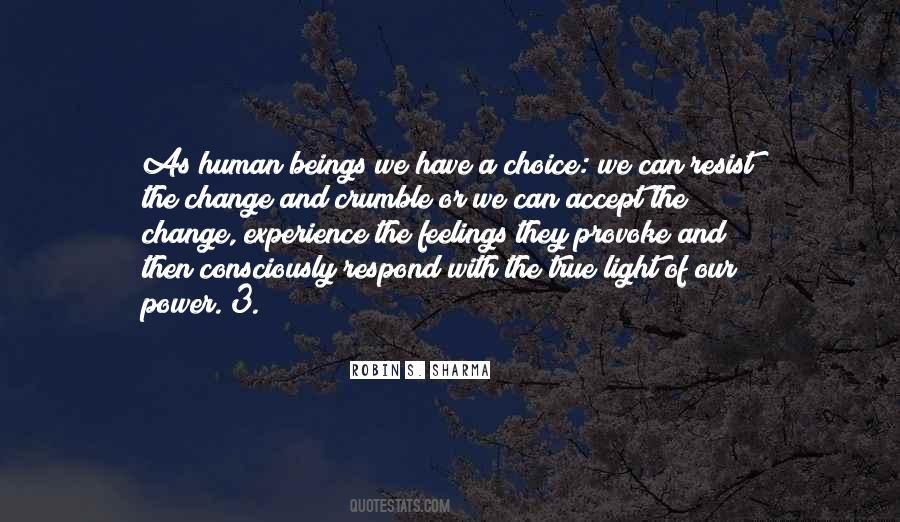 #23. Think of the mystical three days between the crucifixion and the resurrection as the time it takes for a situation to change once spirit has infused our consciousness. As we come to look at an experience differently, in time in begins to transform. - Author: Marianne Williamson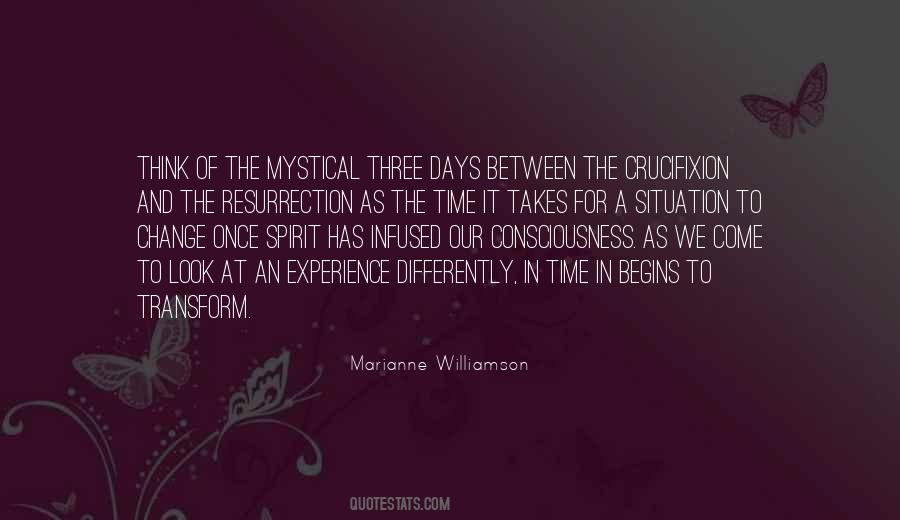 #24. Contrast the experience with something worse and you cannot help feeling happy and grateful because ... The change from trouble to comfort gives us more pleasure than uninterrupted comfort does. - Author: Maimonides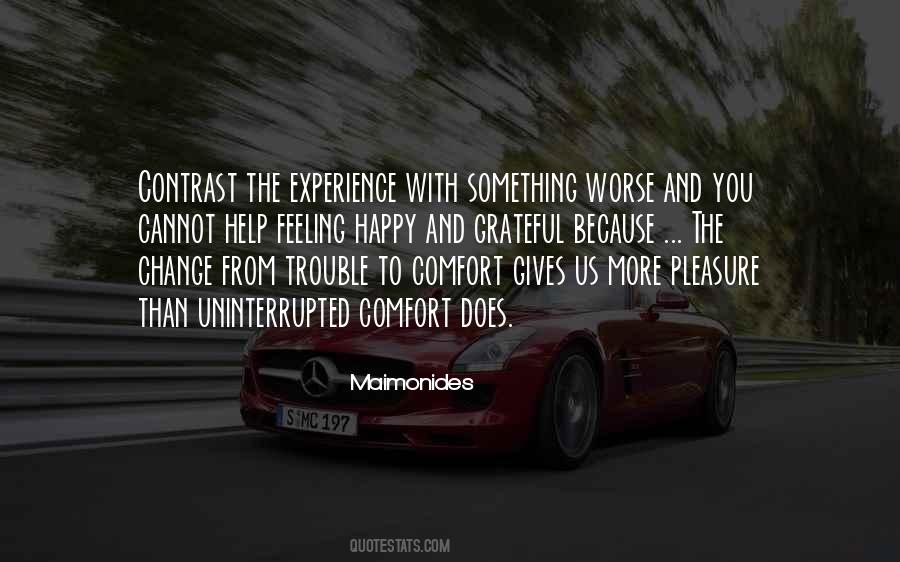 #25. Can you hold happiness? Can you drink it? Can you taste it? Can you touch it? Of course not, it is immaterial. So, stop looking for it in the material world! Happiness is experienced within; when we bridge the gap between what we want to experience and how we choose to behave. - Author: Steve Maraboli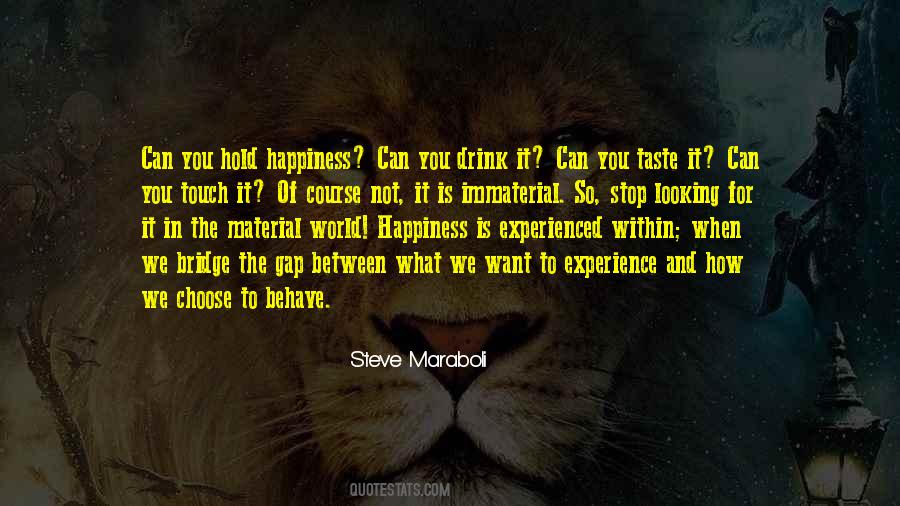 #26. It is one thing to understand the gospel but is quite another to experience the gospel in such a way that it fundamentally changes us and becomes the source of our identity and security. - Author: J.D. Greear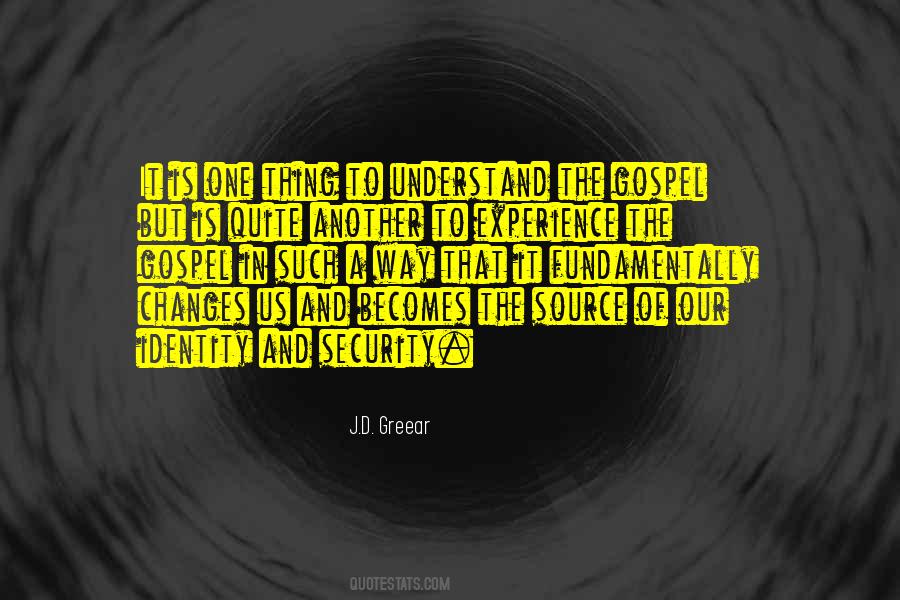 #27. When the heart is touched by direct experience, the mind may be challenged to change. Personal involvement with innocent suffering, with the injustice others suffer, is the catalyst for solidarity which then gives rise to intellectual inquiry and moral reflection. - Author: Peter Hans Kolvenbach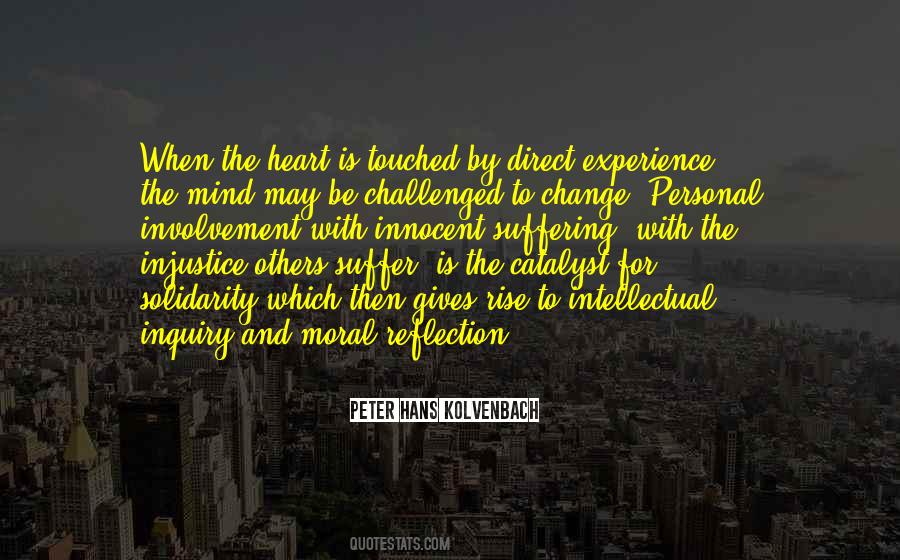 #28. We can be safe and live with other defined truths exemplified by a capital "T" or we can change and with our limited time experience truth with a small "t," seeking our own understanding, which can change with new awareness. - Author: David W. Earle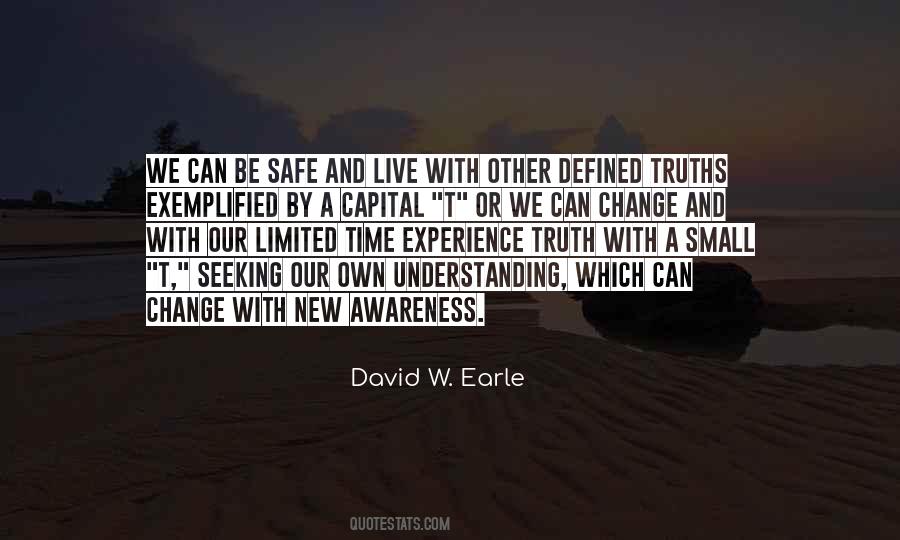 #29. As any change must begin somewhere, it is the single individual who will experience it and carry it through. The change must indeed begin with an individual; it might be any one of us. Nobody can afford to look round and to wait for somebody else to do what he is loath to do himself. - Author: Carl Jung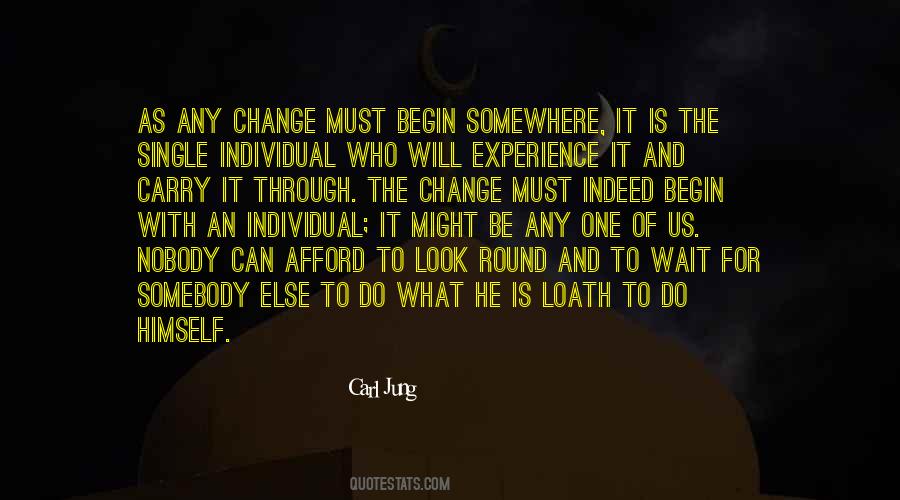 #30. Your mind doesn't age much, Lexi. That's why you see all those eighty-year-old women acting silly. In their head, they're still young. Time doesn't change people, experience does. And sickness. - Author: Dannika Dark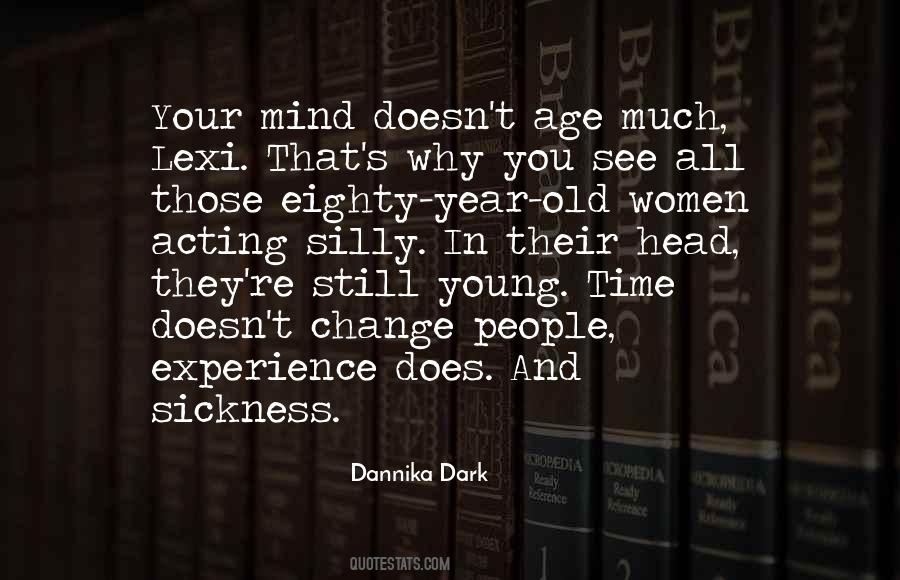 #31. You are going to change the world, because that is actually what the world is. You do not pass through this life, it passes through you. You experience it, you interpret it, you act, and then it is different. That happens constantly. You are changing the world. You always have been. - Author: Joss Whedon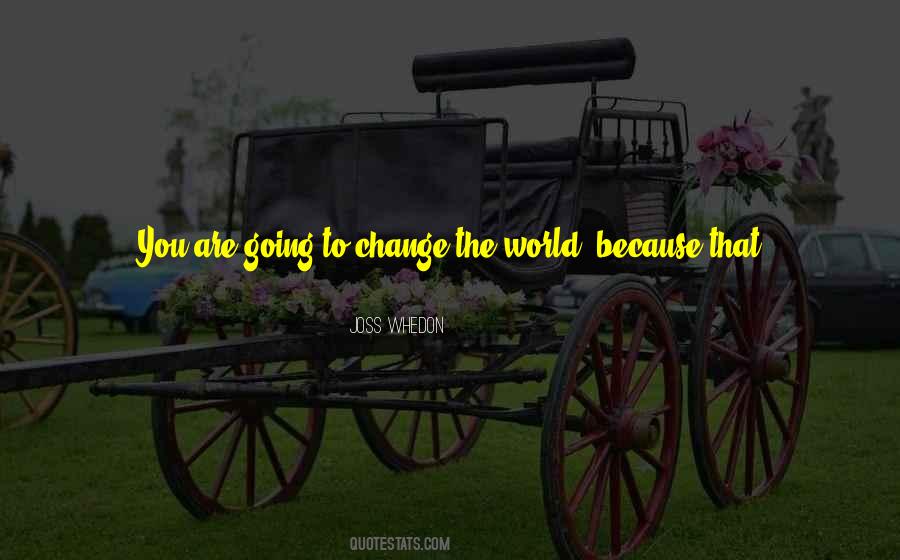 #32. Our whole life is wasted in trying to change others. For a change, try to change yourself! It is easier and at least under your control. - Author: Sanchita Pandey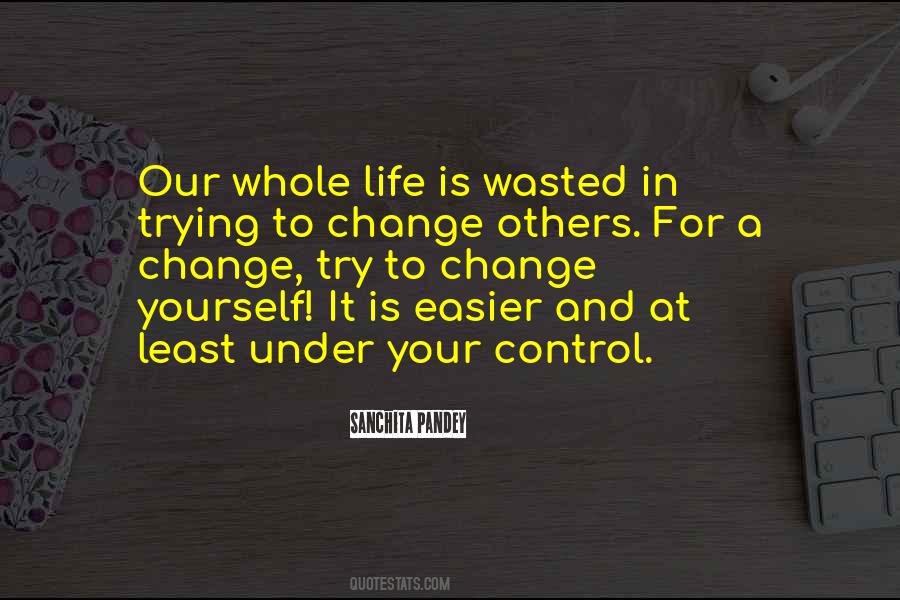 #33. Nirvana manifests as ease, as love, as connectedness, as generosity, as clarity, as unshakable freedom. This isn't watering down nirvana. This is the reality of liberation that we can experience, sometimes in a moment and sometimes in transformative ways that change our entire life - Author: Jack Kornfield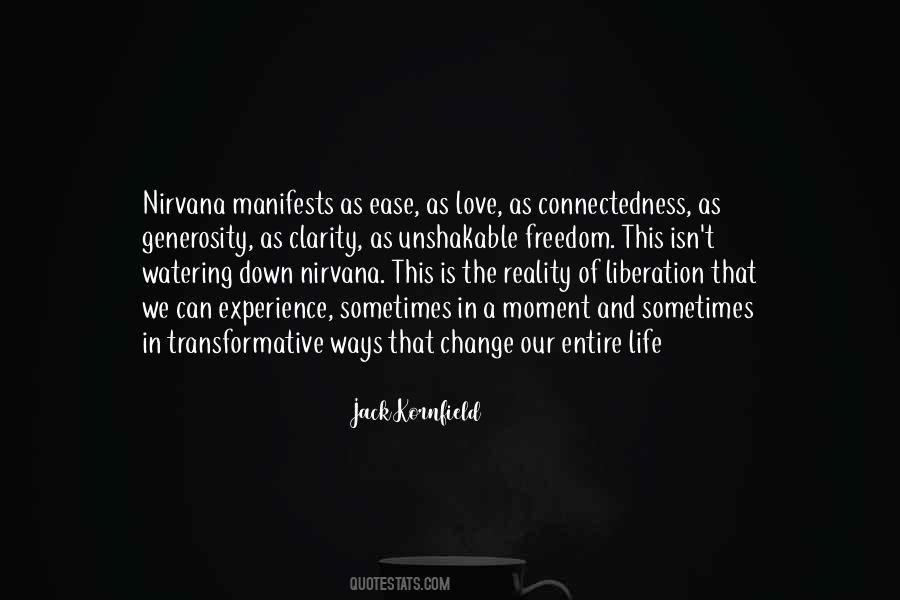 #34. I meet people in my daily life, people who seem to experience some change and some growth on a personal level, and that gives me hope. - Author: Tracy Chapman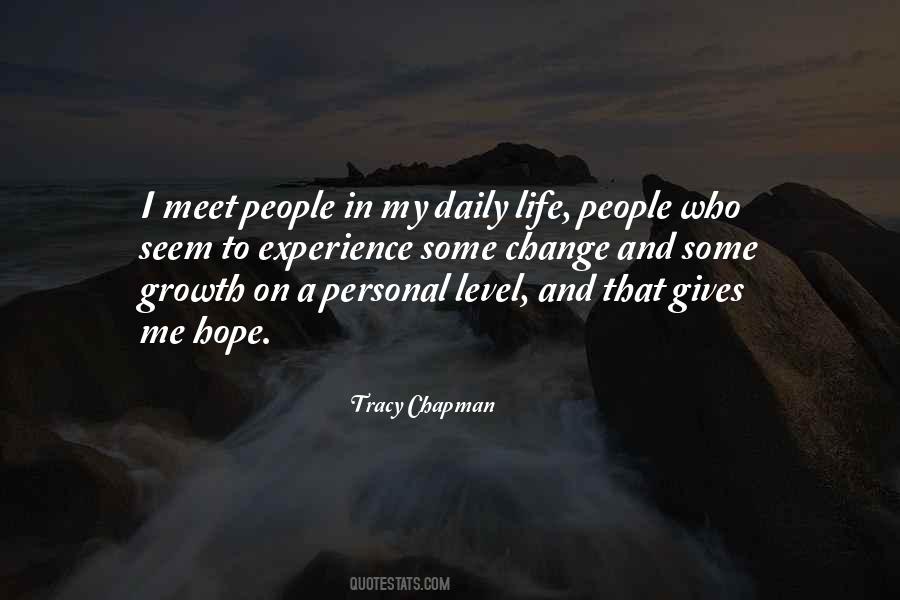 #35. The memory may not change in form, but years of underlining give it a weight that can become tremendous. Each of the many, many times you are called to remember the cold of abandonment, the bars, and the loneliness, this experience says deep inside you, 'You see? That's the way life is, after all. - Author: Joanne Greenberg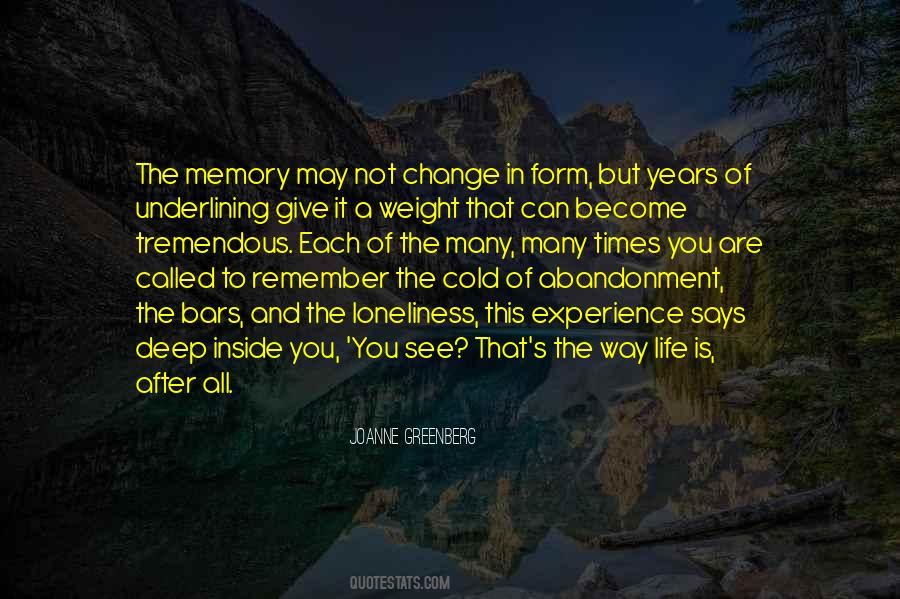 #36. As you shift and change your own experience, the experience of the whole human race begins to shift and change as well. So this is important work you are doing, this business of changing your life. - Author: Neale Donald Walsch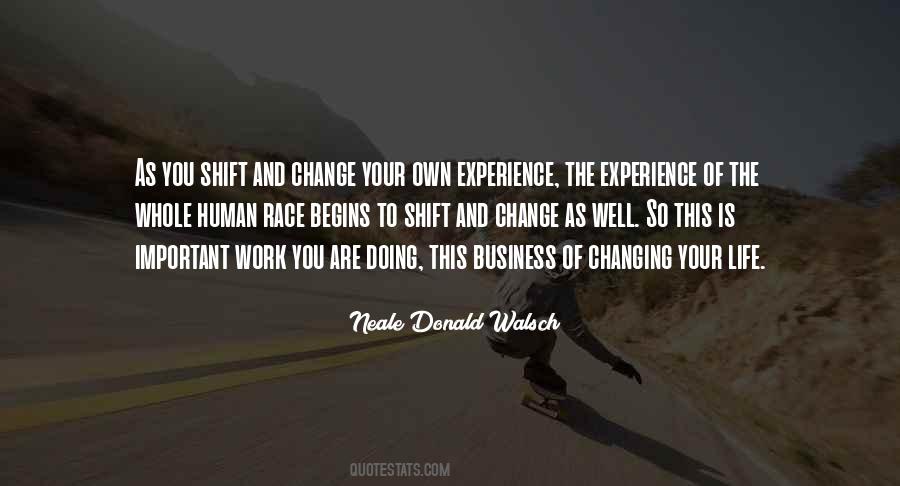 #37. One of the Great Truths of human experience is that we will achieve only what we conceive. Life cannot get better than the picture of life we habitually carry around with us. But if we want to, there is a practical way to look at that picture and change it. Here is the way of the Treasure Map. - Author: Lisa Hoffman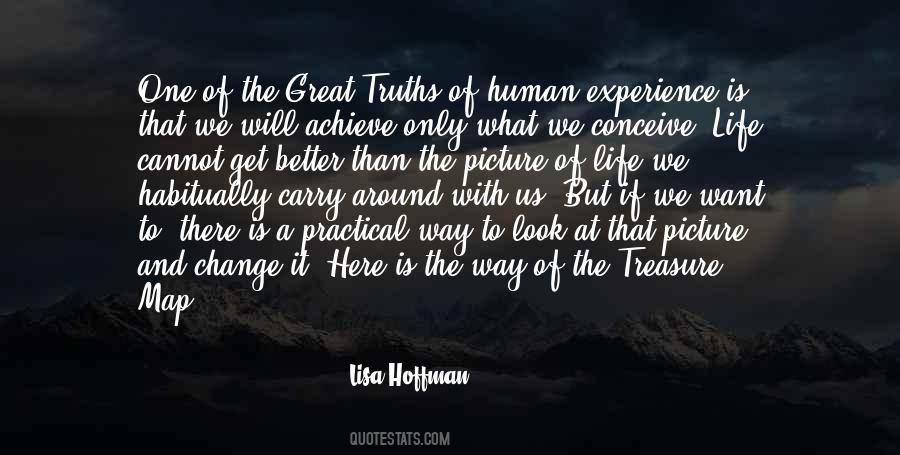 #38. It is not your duty or responsibility to change the minds of other people. The nature of their thinking is advanced or limited by their experience. In your presence, they have an opportunity to learn about you and, perhaps, to grow. - Author: Iyanla Vanzant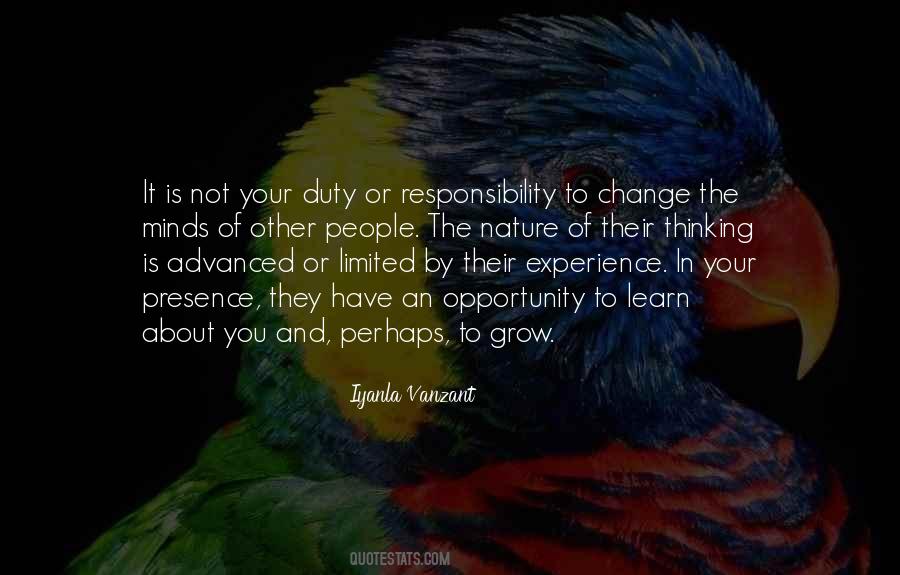 #39. When fish experience something that would cause other animals physical pain, they behave in ways suggestive of pain, and the change in behaviour may last several hours. - Author: Peter Singer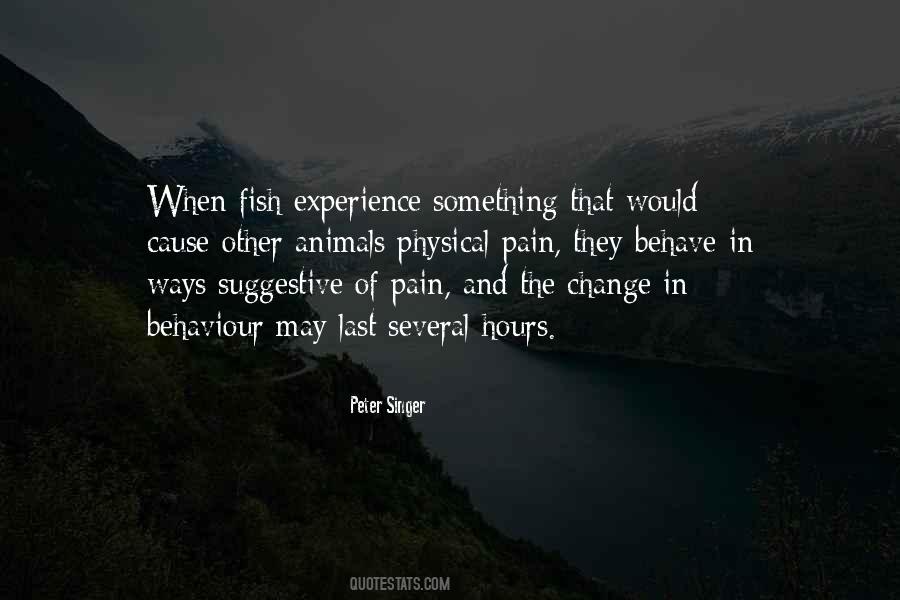 #40. It is a transition, from modelling to singing, but for me it's a natural progression. The modelling was something I did to travel the world and make some money and end up doing what I want to do. It was a way for me to go gather the experience to write an album and now sing about it. - Author: Erica Packer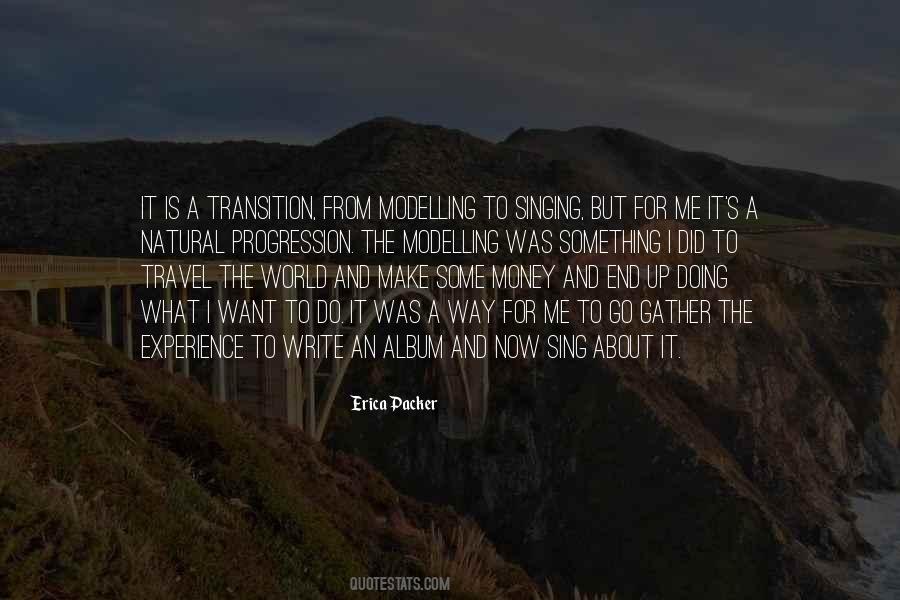 #41. Every day you have the opportunity to learn and experience some-thing and some-one new. Seize the opportunity. Learn and experience everything you can, and use it to change the world. - Author: Rodney Williams Jr.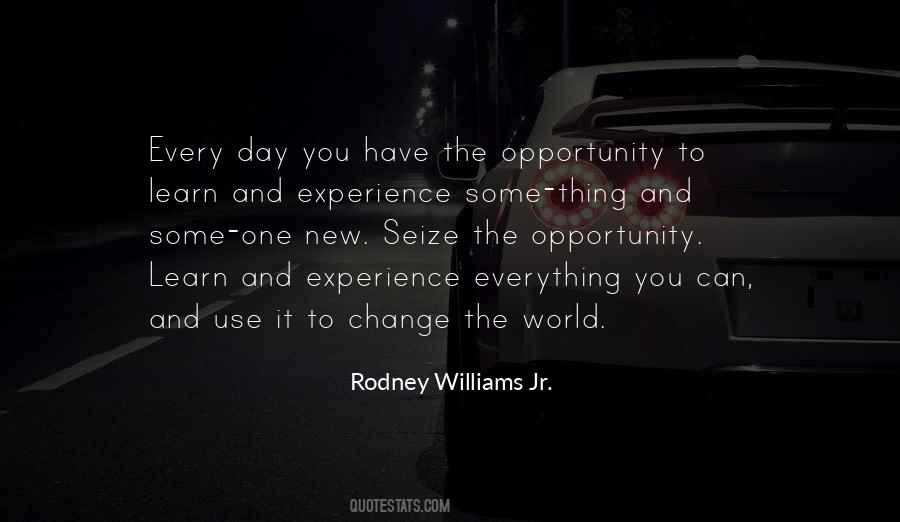 #42. You think of me as a ... living stone - hard and cold. That's true. We are set the way we are, and it is very rare for us to experience a real change. When that happens, as when Bella entered my life, it is a permanent change. There's no going back ... - Author: Stephenie Meyer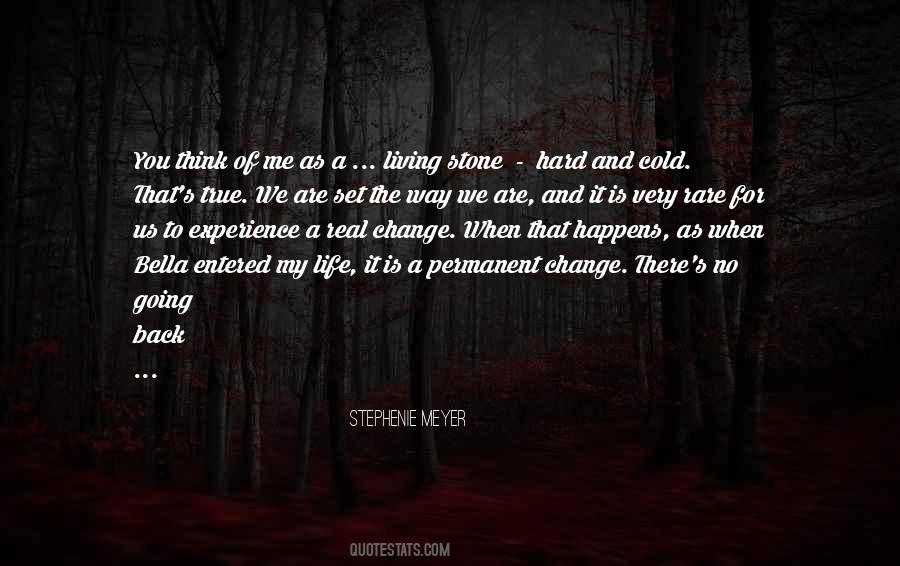 #43. Nevertheless, it is a change that is known and felt - known by works of holiness and felt by a gracious experience. This - Author: Charles Haddon Spurgeon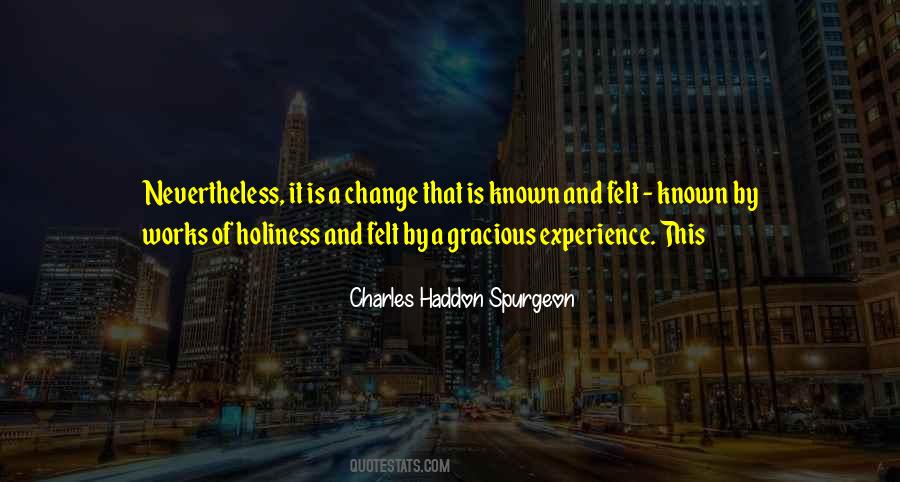 #44. I can only speak from my own experience, and I would say that the depression I experienced feels like a chemical change. When it came over me, when it comes over me, it feels like it's coming over me like a flu. - Author: Sarah Silverman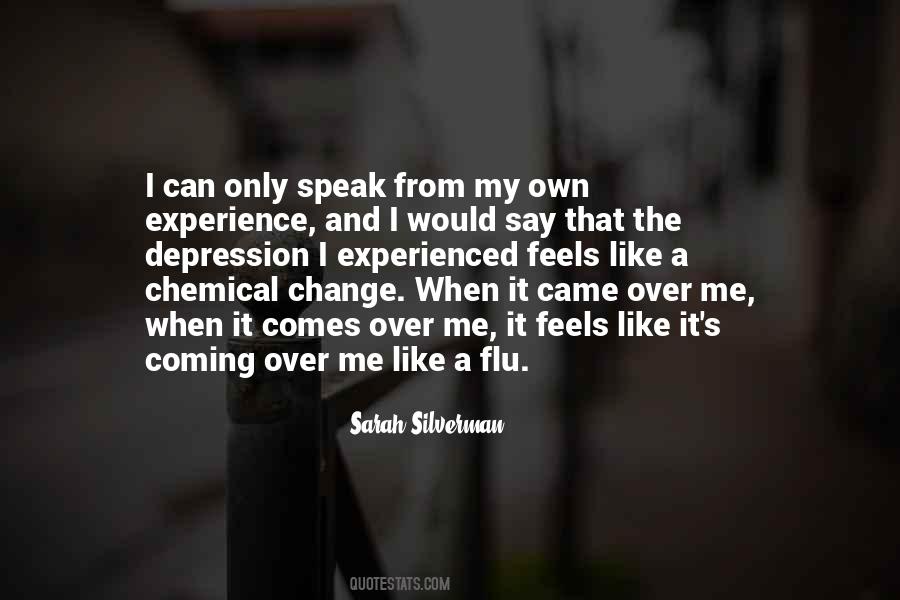 #45. They (the French) have taken genius instead of reason for their guide, adopted experiment instead of experience, and wander in the dark because they prefer lightning to light. - Author: Gouverneur Morris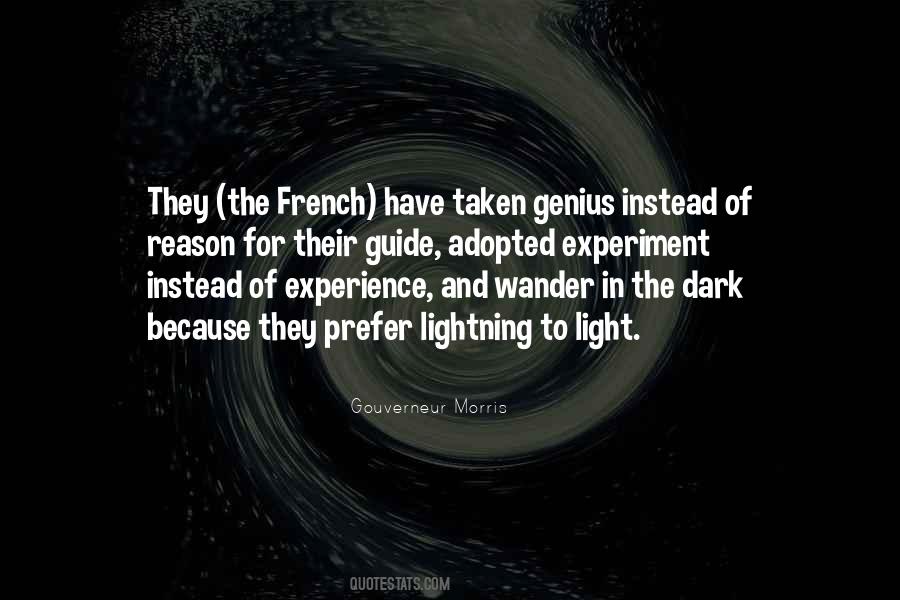 #46. Rhetoric and dialectics can't change what I have learned from observation and experience. - Author: J. Paul Getty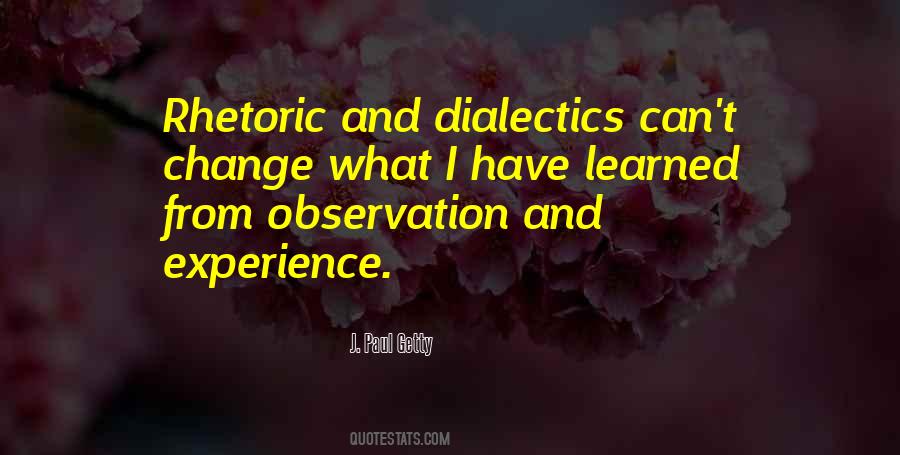 #47. As you pray for forgiveness, you will find yourself forgiving others. As you thank God for His kindness, you will think of others, by name, who need your kindness. Again, that experience will surprise you every day, and over time it will change you. - Author: Henry B. Eyring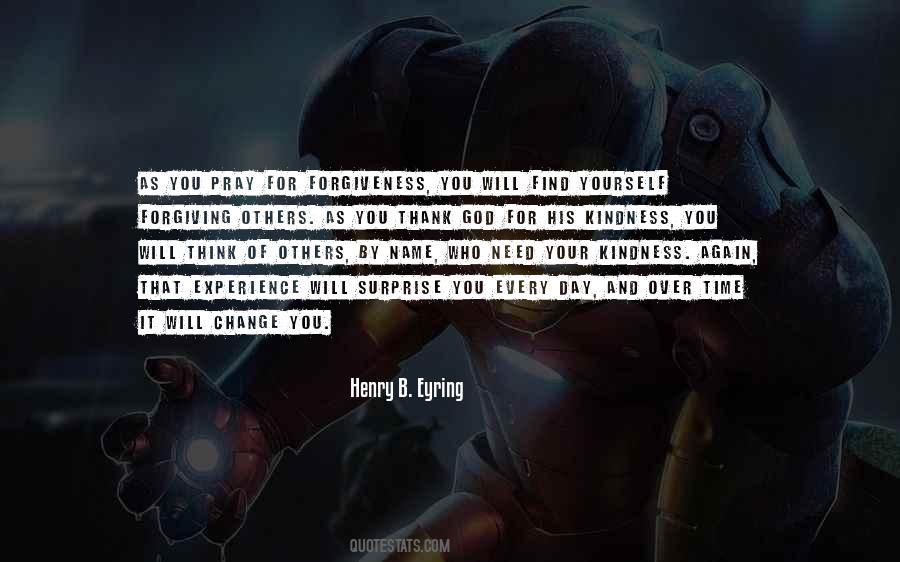 #48. for men change their rulers willingly, hoping to better themselves, and this hope induces them to take up arms against him who rules: wherein they are deceived, because they afterwards find by experience they have gone from bad to worse. This - Author: Niccolo Machiavelli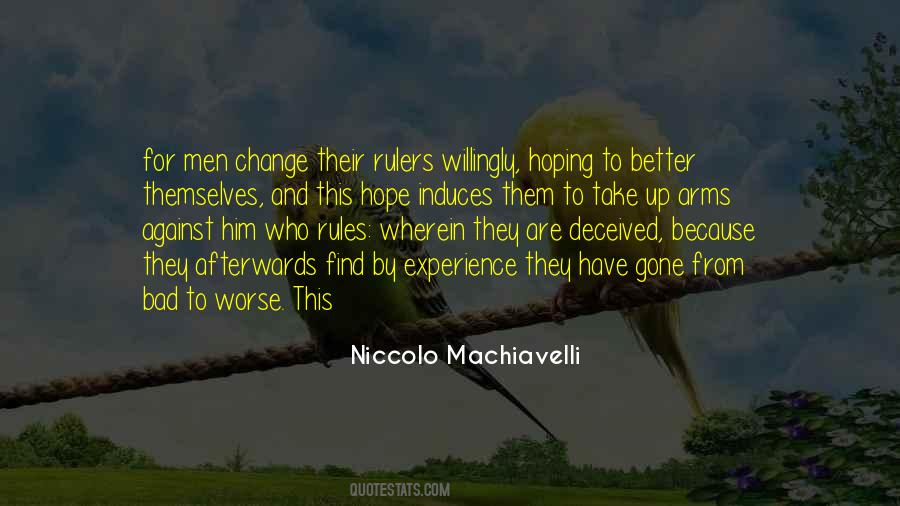 #49. You could try to surrender to the experience and let change happen.""Change or die?" she said."Yes. Change or die.""You might have noticed, I don't do surrender very well, - Author: Thea Harrison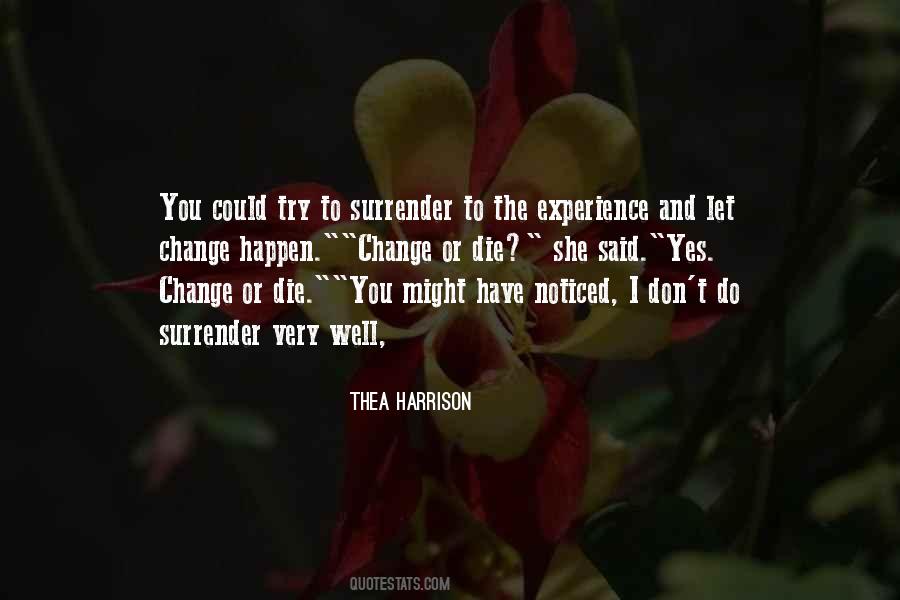 #50. If you want to know the taste of a pear, you must change the pear by eating it yourself. If you want to know the theory and methods of revolution, you must take part in revolution. All genuine knowledge originates in direct experience. - Author: Mao Zedong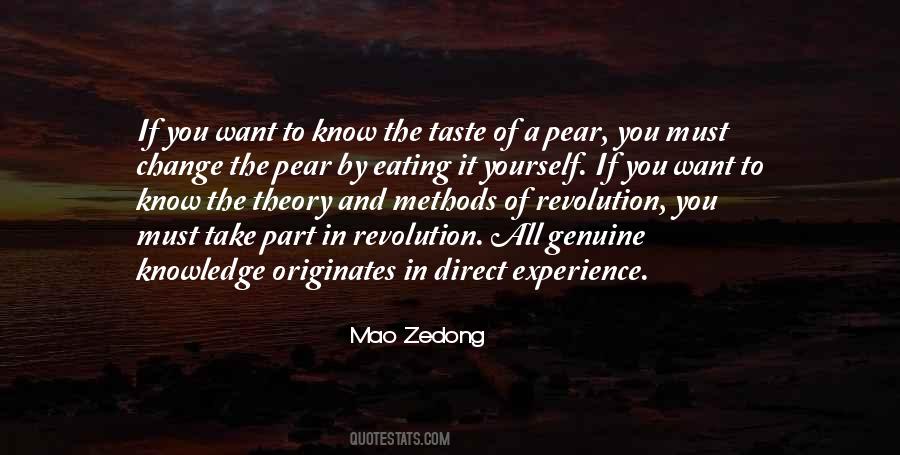 #51. From now on, change will be the constant. The individuals best prepared to succeed are those who can learn, modify, and grow, regardless of age, experience, or ego. - Author: Danny Goodman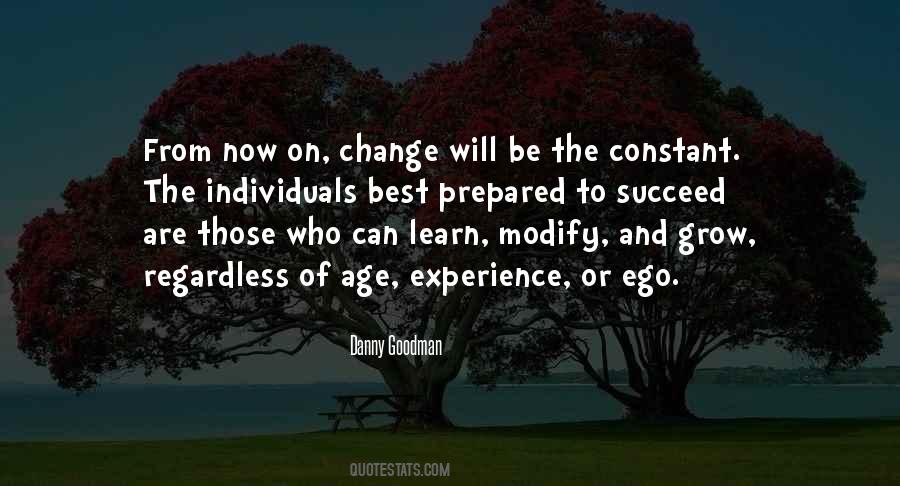 #52. Christopher McCandless:I will miss you too, but you are wrong if you think that the joy of life comes principally from the joy of human relationships. God's place is all around us, it is in everything and in anything we can experience. People just need to change the way they look at things. - Author: Shunryu Suzuki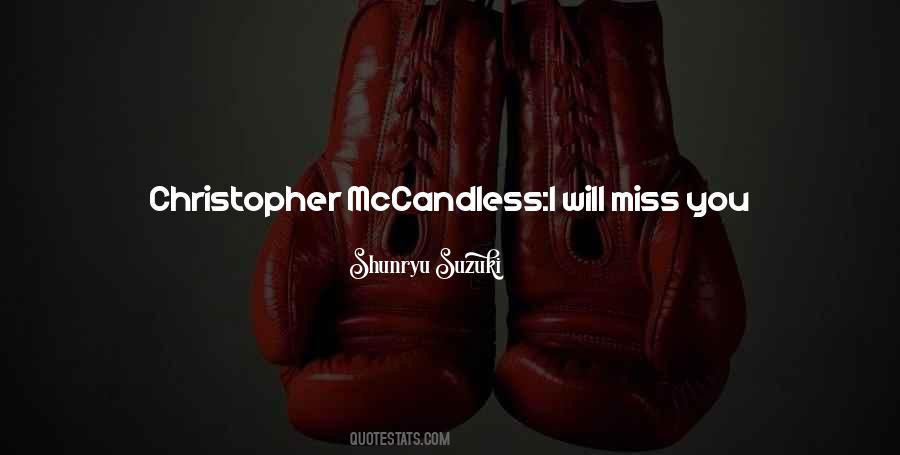 #53. To grow, change, love, adapt, experience. We have to be open minded. This is the life and that's the way it should be lived. - Author: Shannon Leto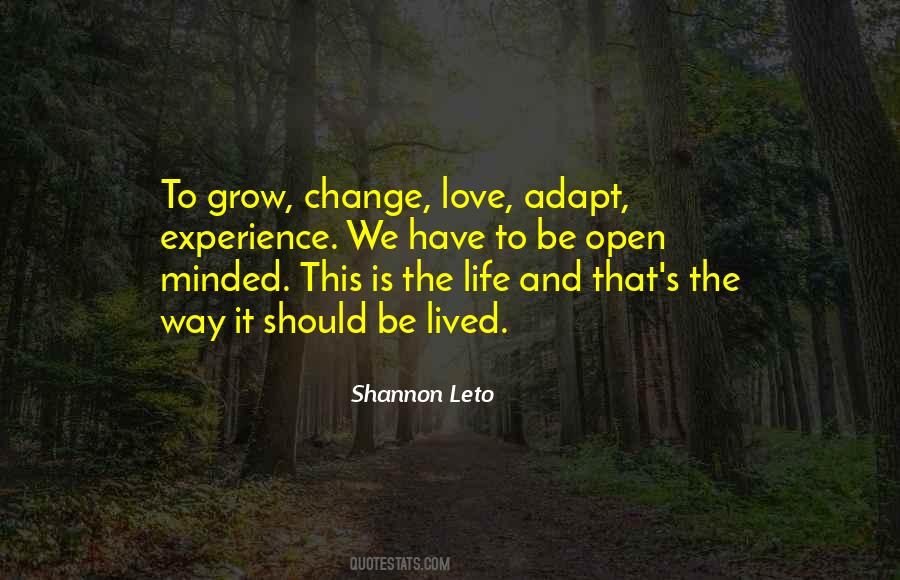 #54. Although our inattention can contribute to our lack of total well-being, we also have the power to choose positive behaviors and responses. In that choice we change our every experience of life! - Author: Greg Anderson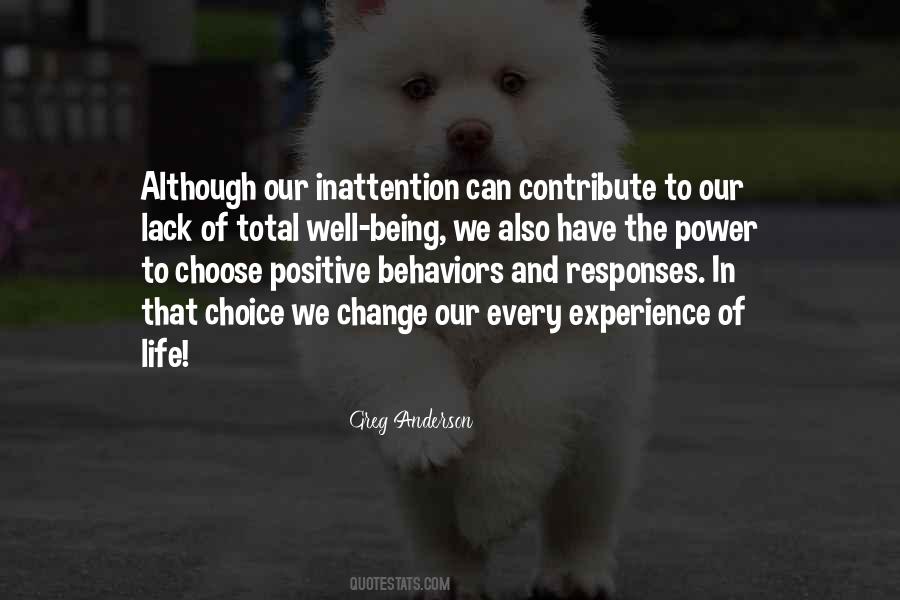 #55. Traveling to the Middle East and playing music for people on the street, for soldiers, for people in hospitals, and for people who lost their homes, and seeing people open up through the experience of music really restored my faith in music, in art, and in culture to change things. - Author: Michael Franti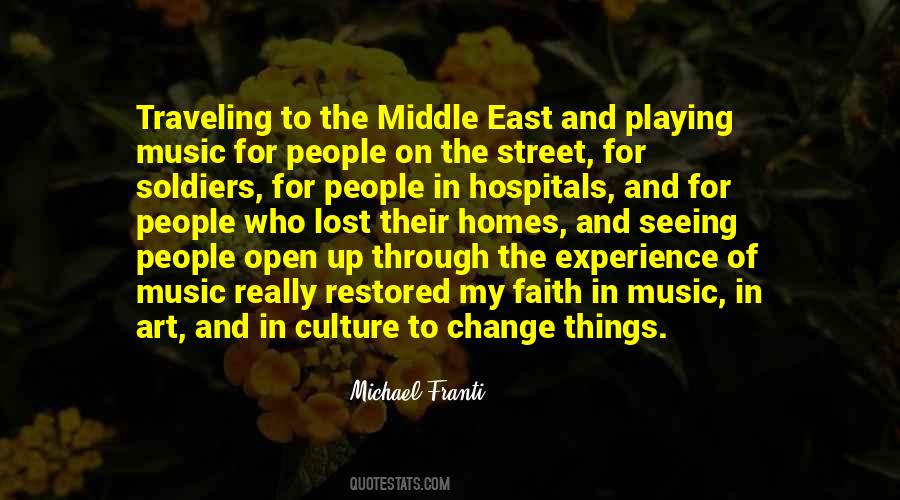 #56. Neuroscience research shows that the only way we can change the way we feel is by becoming aware of our inner experience and learning to befriend what is going inside ourselves. - Author: Bessel A. Van Der Kolk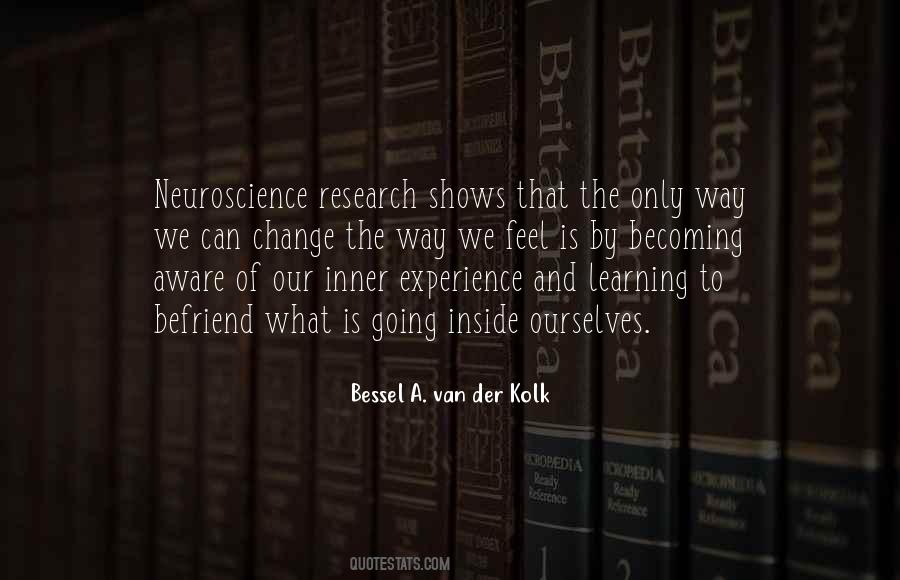 #57. In Proverbs 20:30, the Bible basically says it sometimes takes a painful experience to make us change our ways. And sometimes it does. - Author: Kyle Idleman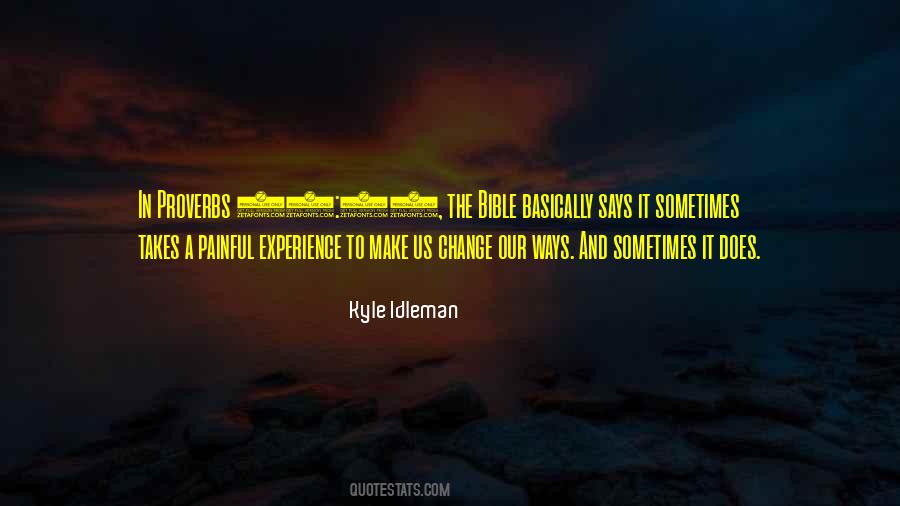 #58. Some people are afraid of change and [feel] that getting older is a bad thing, but I really love maturing and gaining wisdom, and the experience of being pregnant and having a child and seeing what a woman's body can do is amazing. - Author: Christina Aguilera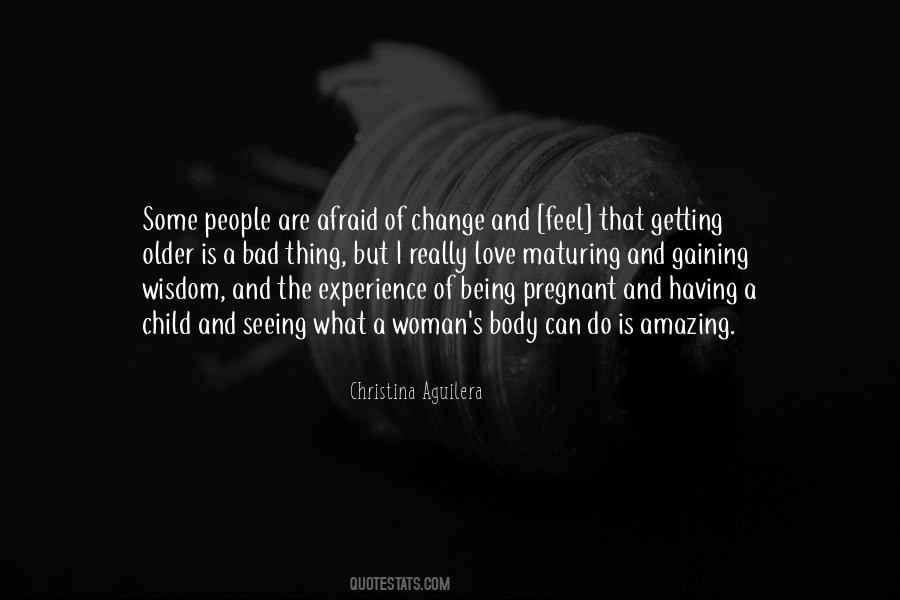 #59. I love clothes and do sort of change my wardrobe a lot. But a thousand dollar jacket? I'd rather spend it on an experience, like traveling. - Author: Douglas Booth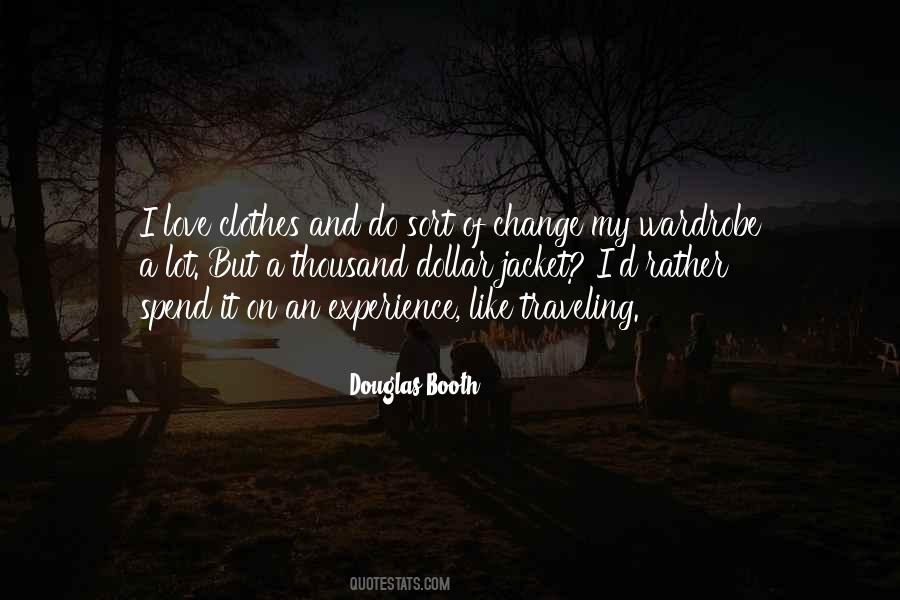 #60. Most of us were taught that God would love us if and when we change. In fact, God loves you so that you can change. What empowers change, what makes you desirous of change is the experience of love. It is that inherent experience of love that becomes the engine of change. - Author: Richard Rohr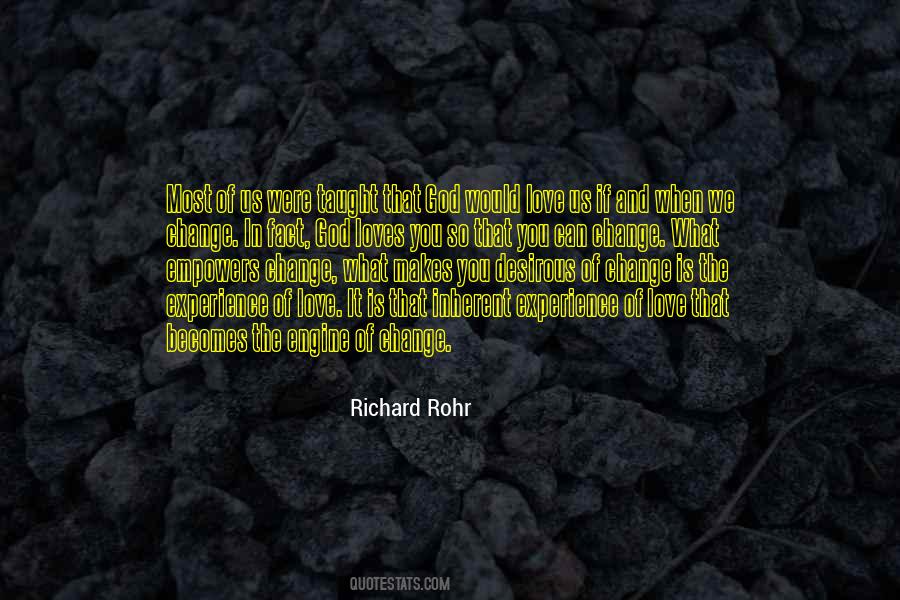 #61. we may experience an absolute positive change and do the undone if we shift our thoughts from descriptive thinking to prescriptive thinking - Author: Ernest Agyemang Yeboah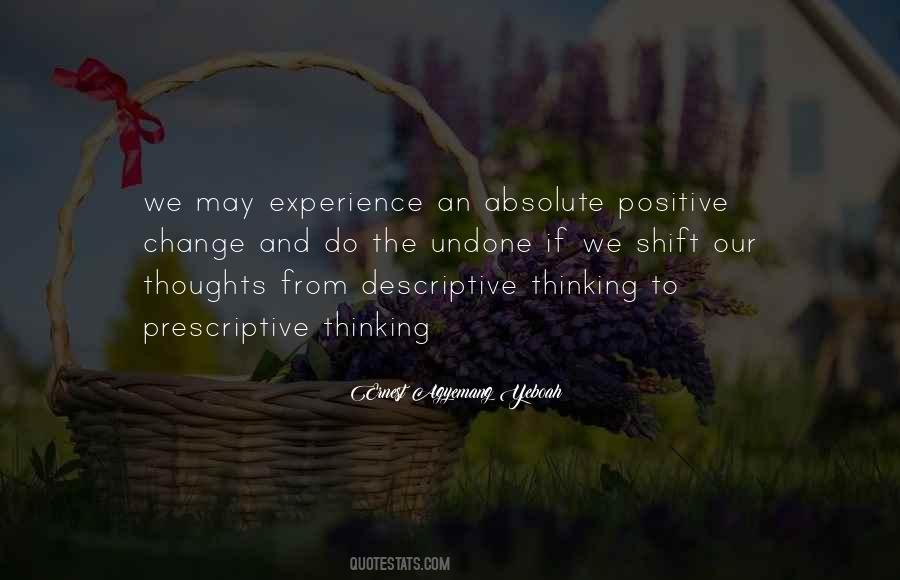 #62. Between 18 and 19 years old [in the 1950s] I came to Paris. I studied art. And that experience really did change my life. I was living hand to mouth. I walked everywhere. I thought, this city is incredible but you really have to experience it by walking it. - Author: Robert Redford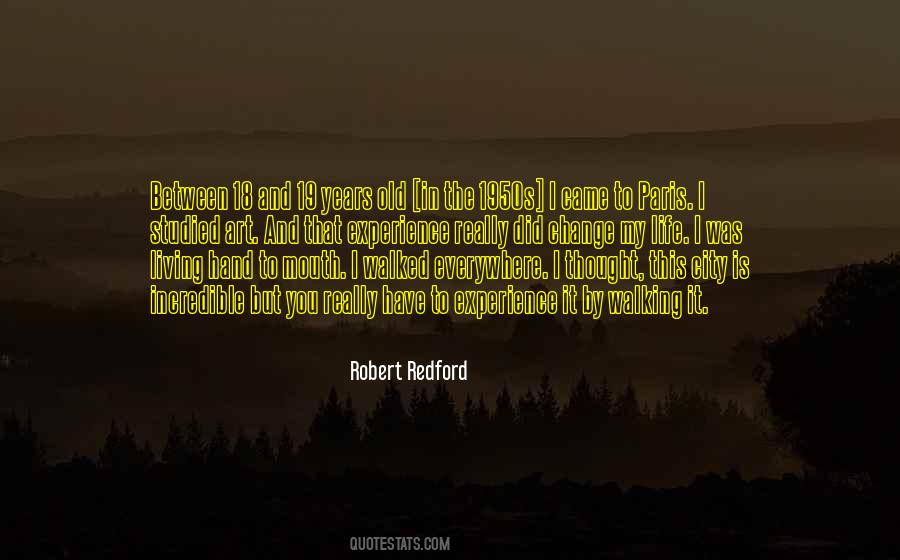 #63. I'm not a fan of debt consolidation. In my experience, many people "clear" credit cards and other debt to get the one payment and never change what they need to change to prevent getting into debt again. - Author: Michelle Singletary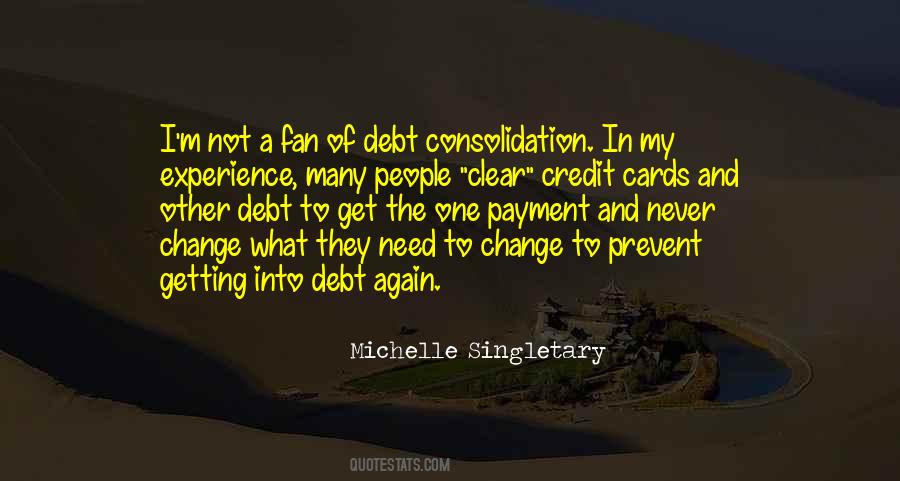 #64. The business of making a photograph may be said in simple terms to consist of three elements: the objective world (whose permanent condition is change and disorder), the sheet of paper on which the picture will be realized, and the experience which brings them together. - Author: Aaron Siskind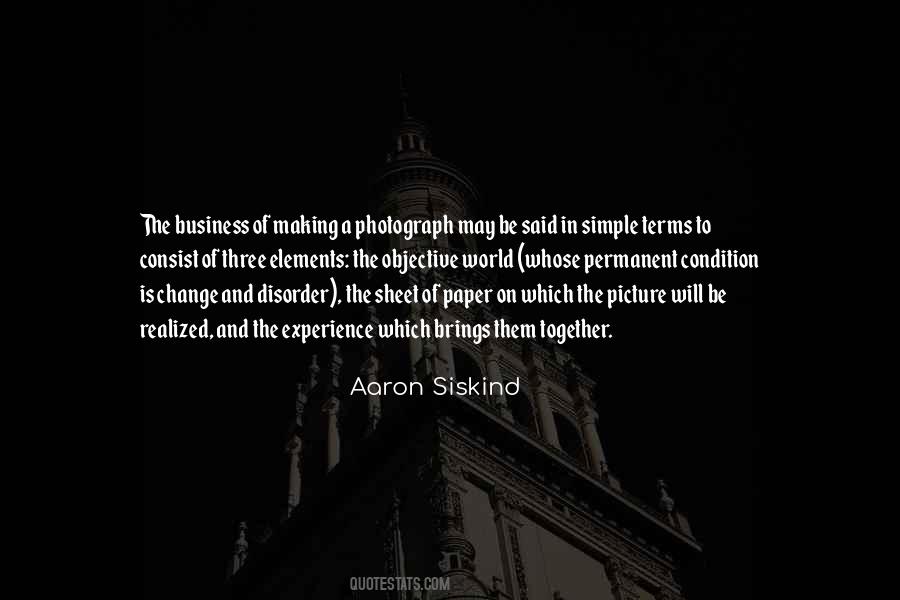 #65. Whatever you experience in your life is really but the outpicturing of your own thoughts and beliefs. Now, you can change these thoughts and beliefs, and then the outer picture must change too. The outer picture cannot change until you change your thought. - Author: Emmet Fox
#66. I enjoy thinking about how paintings can change depending on where they are - how they look in a gallery or in relation to other paintings, or in different rooms. Paintings can change the way we experience and see the world. - Author: Stephen Beal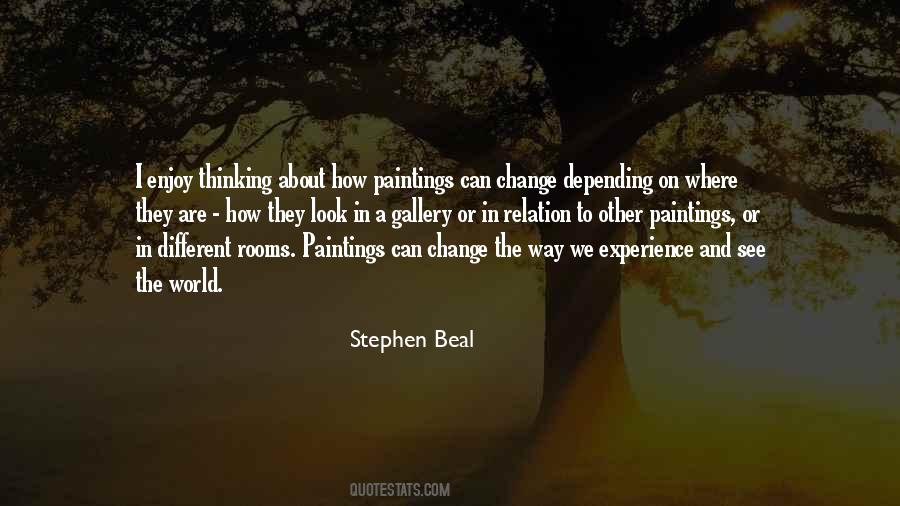 #67. Time when learning how to learn (and unlearn) is central to success. Instead of hiding from change, let's embrace it. Each time we try something new, we get better at getting better. Experience builds competence and confidence, so we're ready for the big changes, like re-thinking what we do. - Author: Peter Morville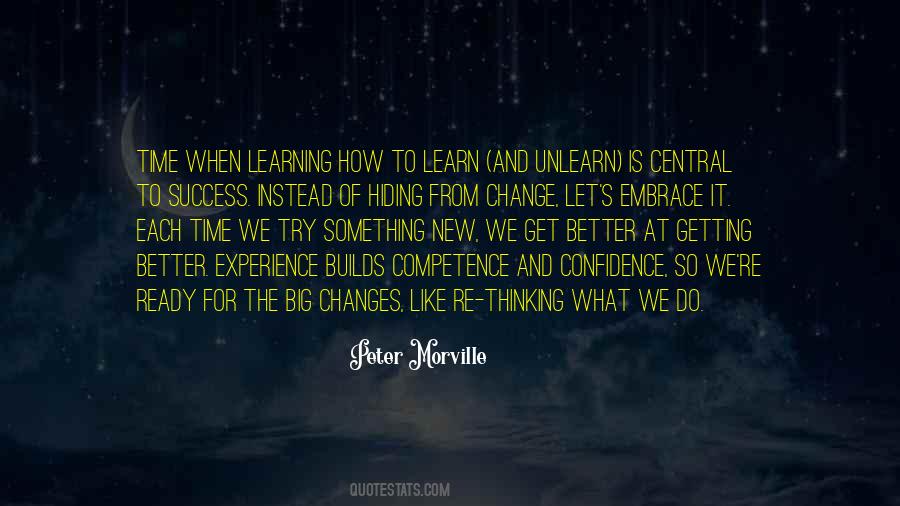 #68. The more I experience, the more I see that so many things in our future are planned for us, I think that what isn't planned for us is our attitude, and it's our attitude that can change our lives. - Author: Rosemary Altea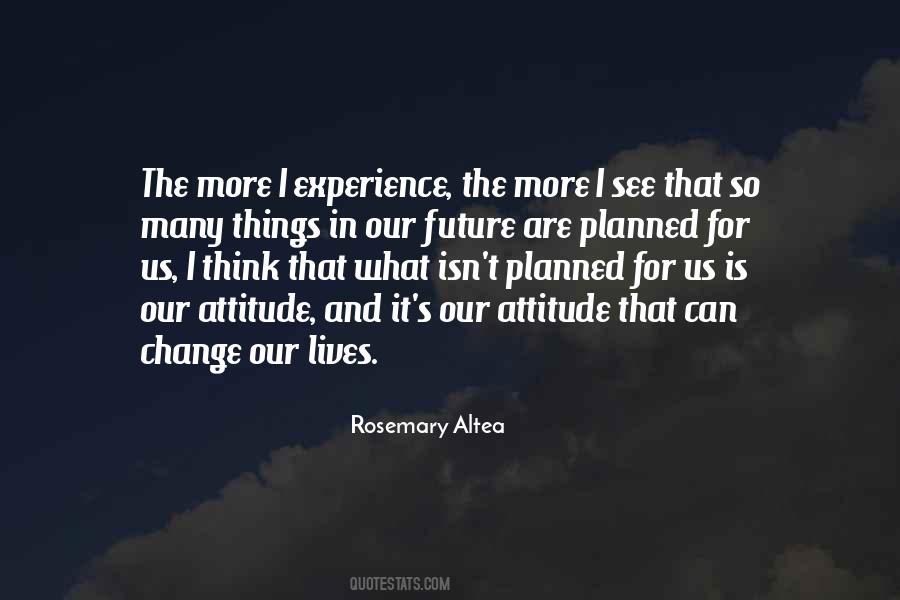 #69. The laws of nature are structured so that we grow and change, and get to experience the full spectrum of biological existence. - Author: Robert Lanza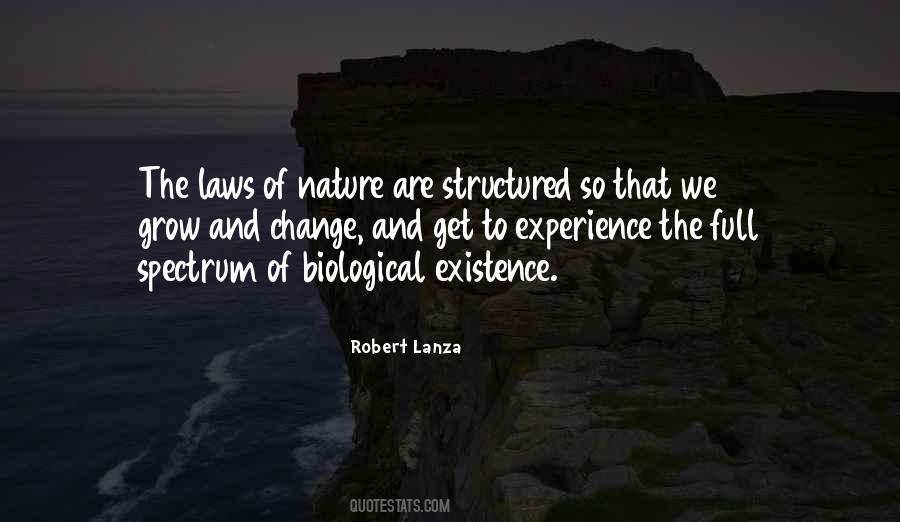 #70. A paradigm shift of viewing palliative care or hospice as a gift instead of seeing it as giving up has the potential to change the way we experience advanced age. - Author: Lisa J. Shultz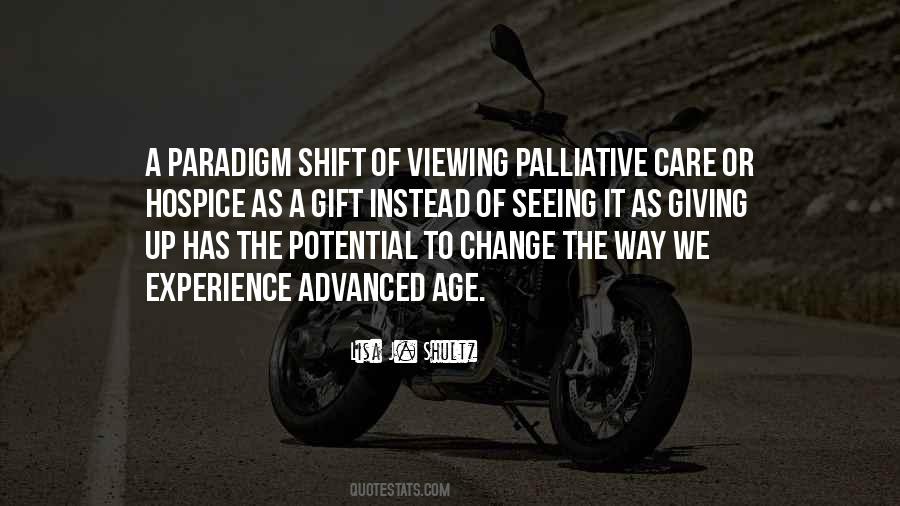 #71. Whenever we have something that we are good at
something we care about
that experience and passion fundamentally change the nature of our first impressions. - Author: Malcolm Gladwell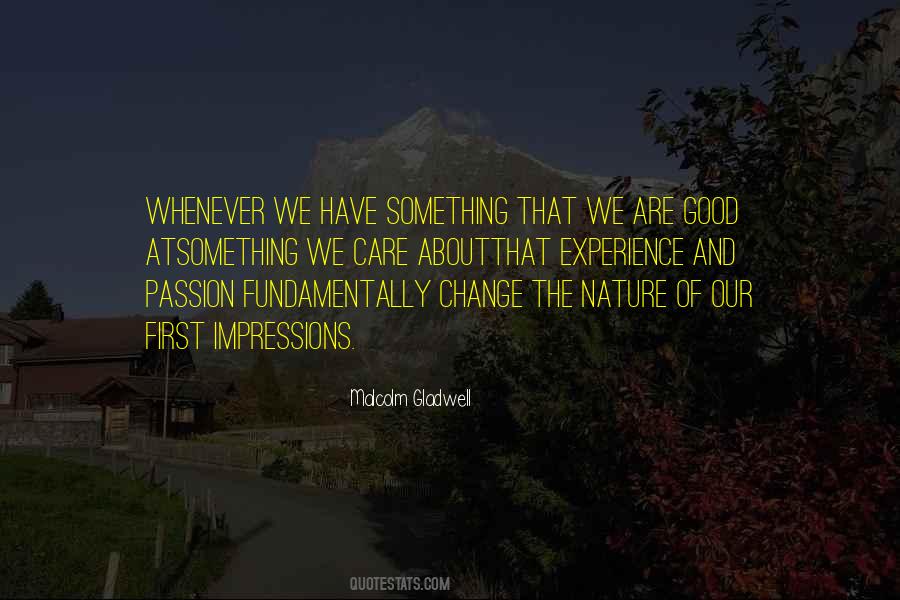 #72. Google prefers a site that's dynamic and frequently updated. This doesn't mean that every page needs to change every day, but the addition and modification of content on the pages can enhance the experience for your customers and the search engines. - Author: Rob Mabry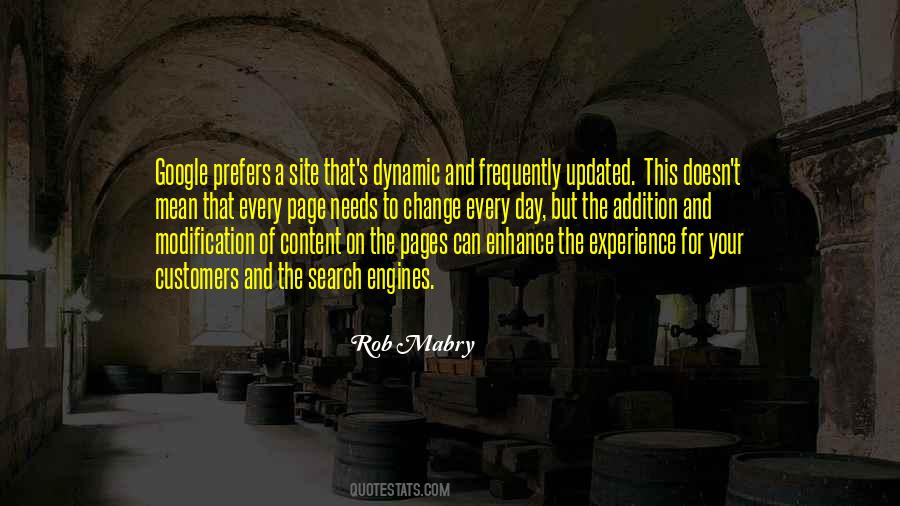 #73. You have the power in the present moment to change limiting beliefs and consciously plant the seeds for the future of your choosing. As you change your mind, you change your experience. - Author: Serge King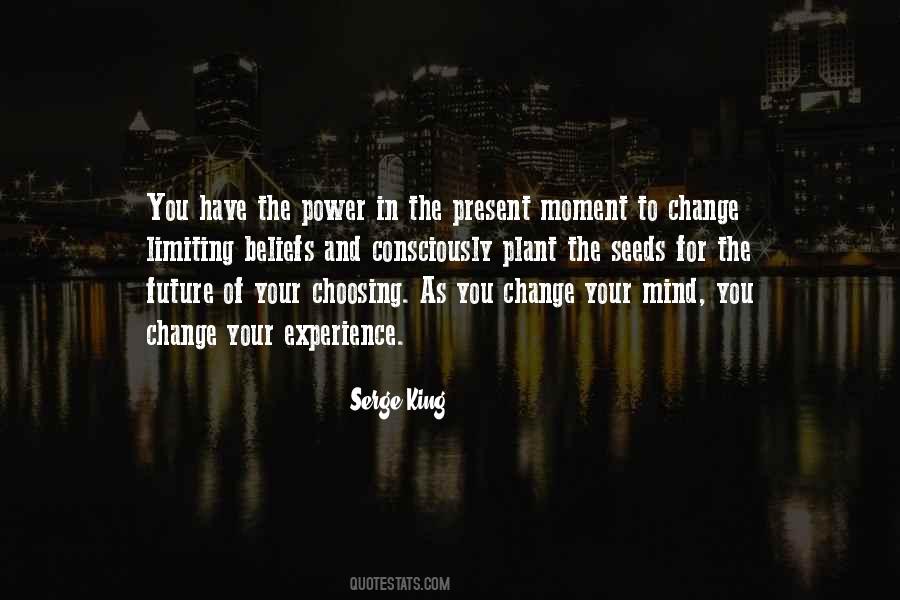 #74. In short, it is madness. People try to manage their emotions by controlling external factors. Others let their emotions change based on what they experience outside of them. And none of it works. The truth is and has always been that you are in complete control of how you feel. - Author: Dave Asch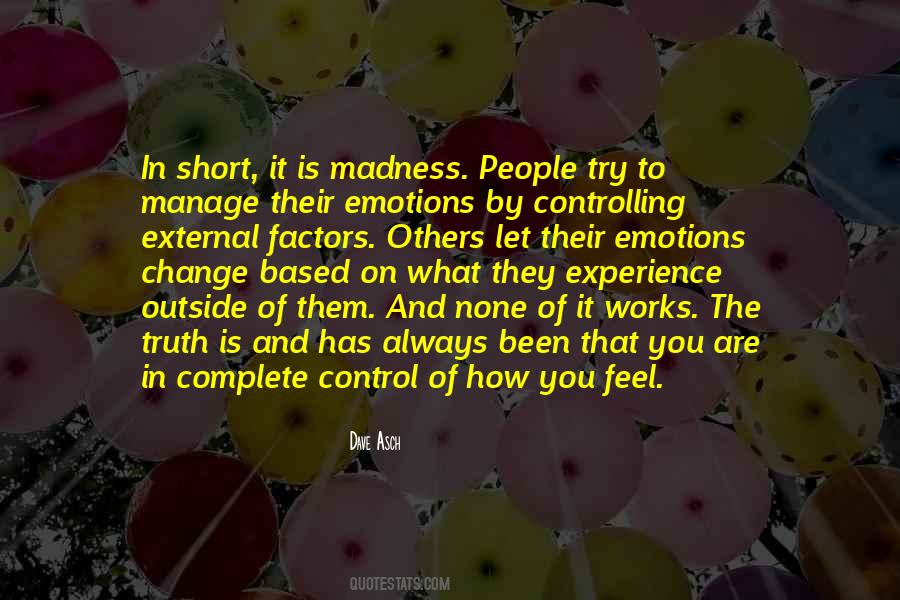 #75. Don't you notice that there are particular moments when you are naturally inspired to introspection? Work with them gently, for these are the moments when you can go through a powerful experience, and your whole worldview can change quickly. - Author: Sogyal Rinpoche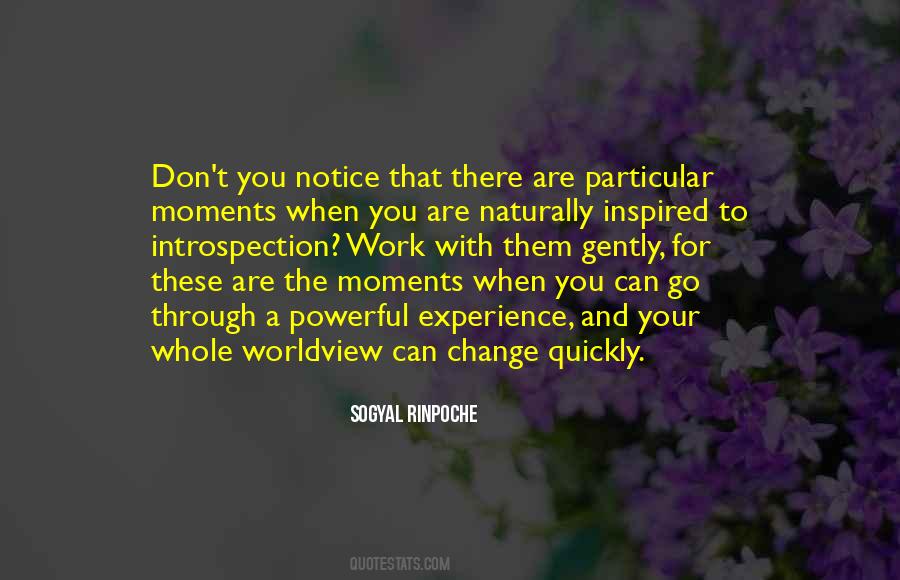 #76. Our peaceful hearts change the situation, disrupting the story in which hate comes naturally and offering an experience that suggests a new one. - Author: Charles Eisenstein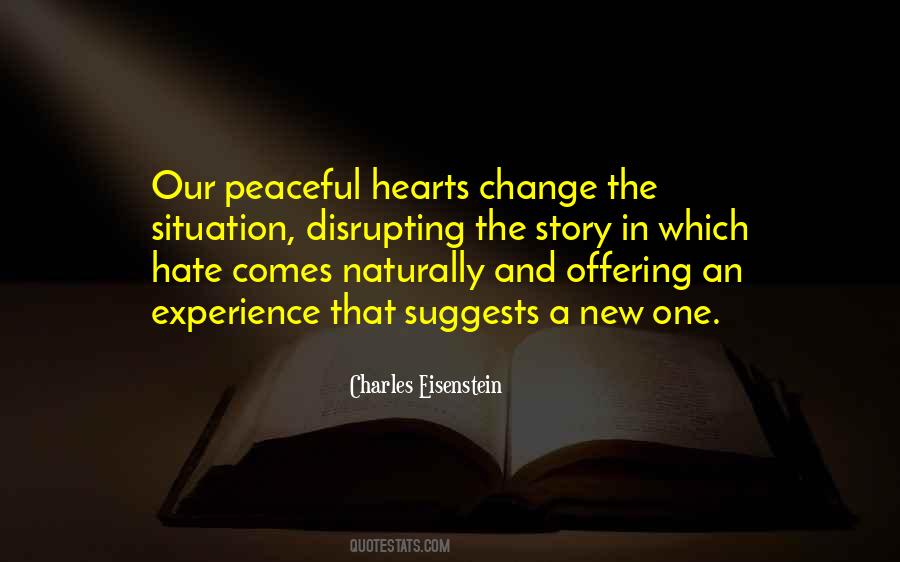 #77. What is sure is that technological change is accelerating in all directions and, like children playing in a fountain, consumers are reveling in the experience. - Author: Simon Mainwaring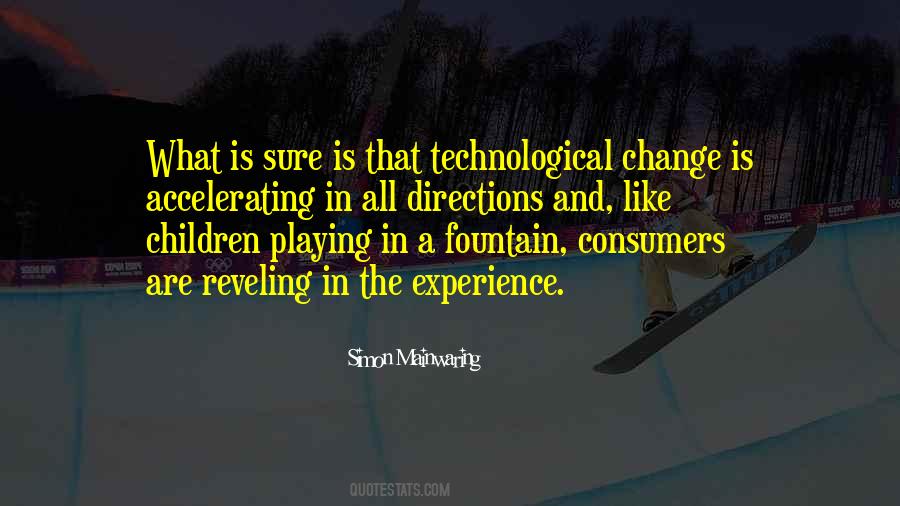 #78. The worth is in the act. Your worth halts when you surrender your will to change and experience life. But options are before you; choose one and dedicate yourself to it. The deeds will give you a new hope and purpose. - Author: Christopher Paolini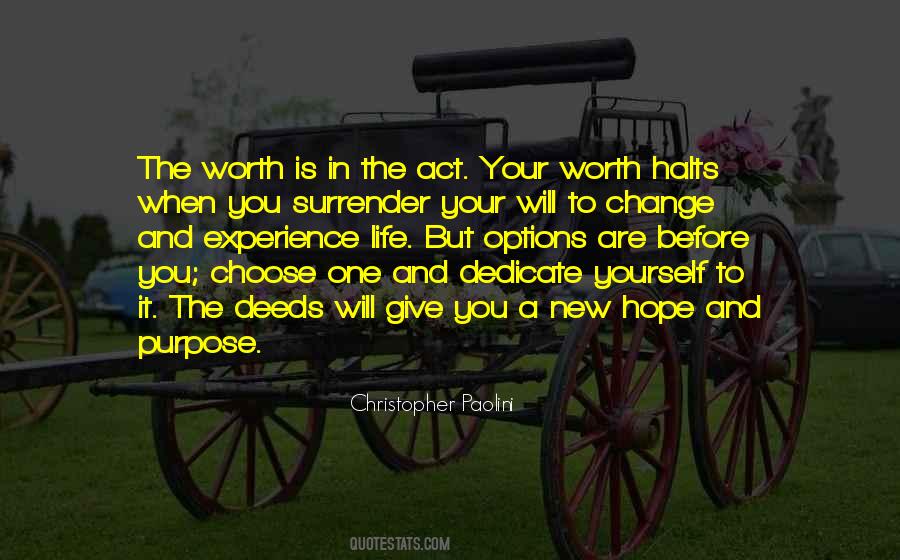 #79. Travellers understand, instinctively and by experience, that travel and adventure change and elongate time, even while navigating the deadlines of airline and train departures. - Author: Paul Sheehan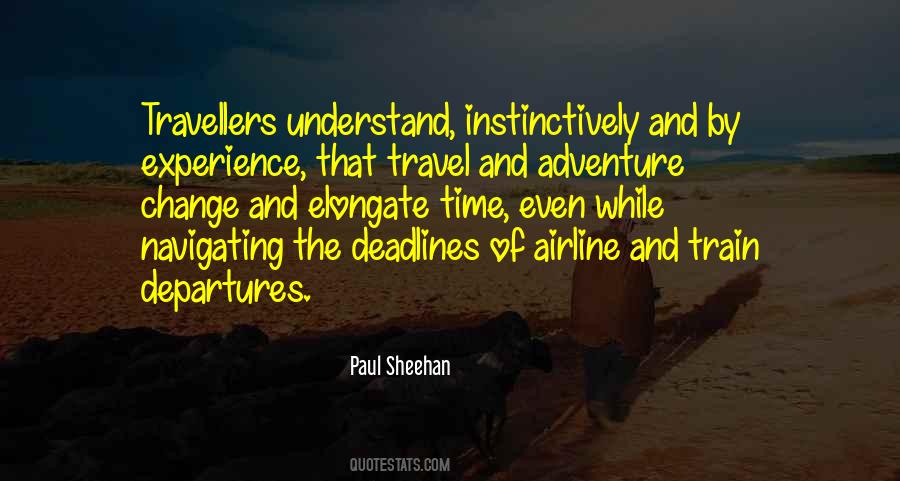 #80. Men change their rulers willingly, hoping to better themselves, and this hope induces them to take up arms against him who rules, wherein they are deceived because they afterward find by experience they have gone from bad to worse. - Author: Niccolo Machiavelli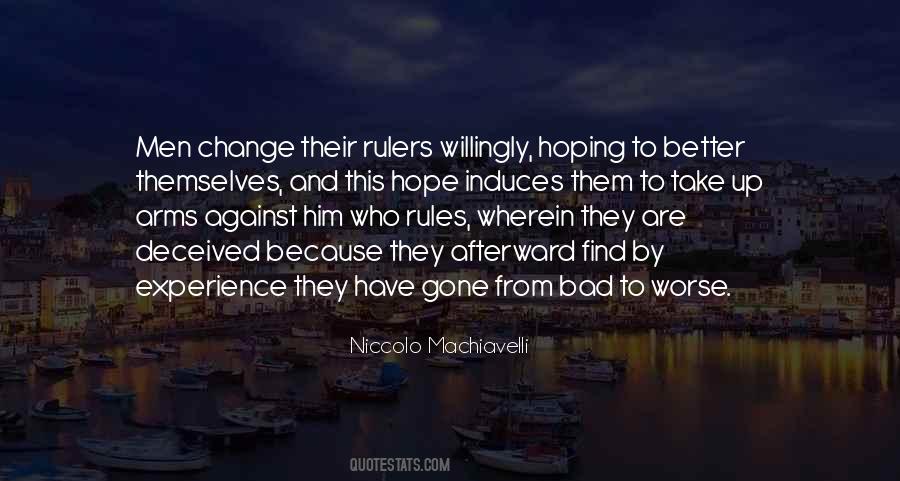 #81. A song has a life of its own. It's an autonomous thing, separate from your own experience, almost. And the mere repetition of it means it's subject to change; it means approaching it differently, expressing different emotional aspects of it. It doesn't feel like wallowing. - Author: St. Vincent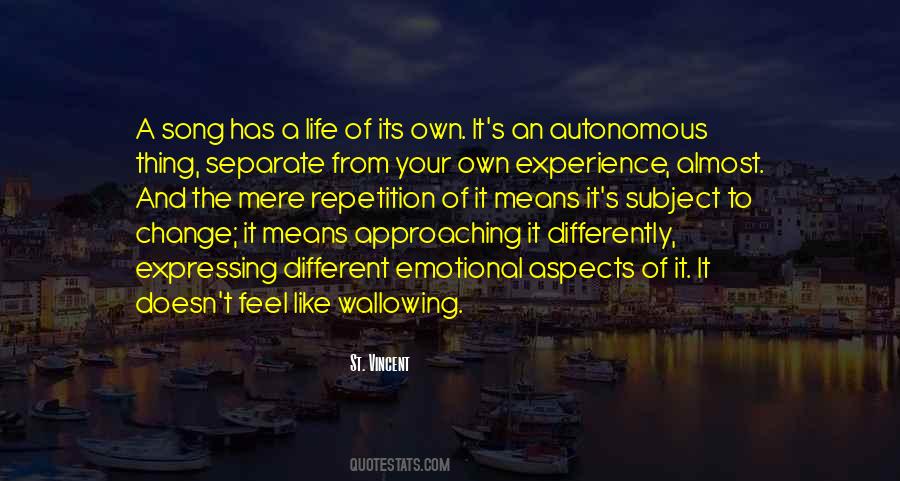 #82. And realizing there is no such thing as the Black experience. Time and events allow for change on both sides. - Author: Alice Childress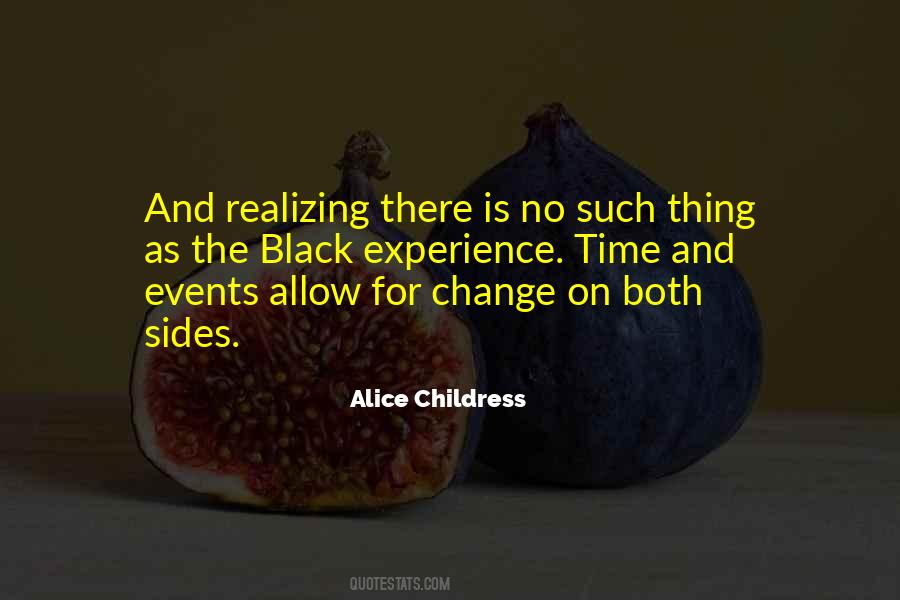 #83. A lot of the offers I get are for these innocent 16-year-olds, and I turn down a lot of stuff because it's the same-old same-old. The whole point of wanting to act is trying to change it up, and I want to experience everything. - Author: Jillian Murray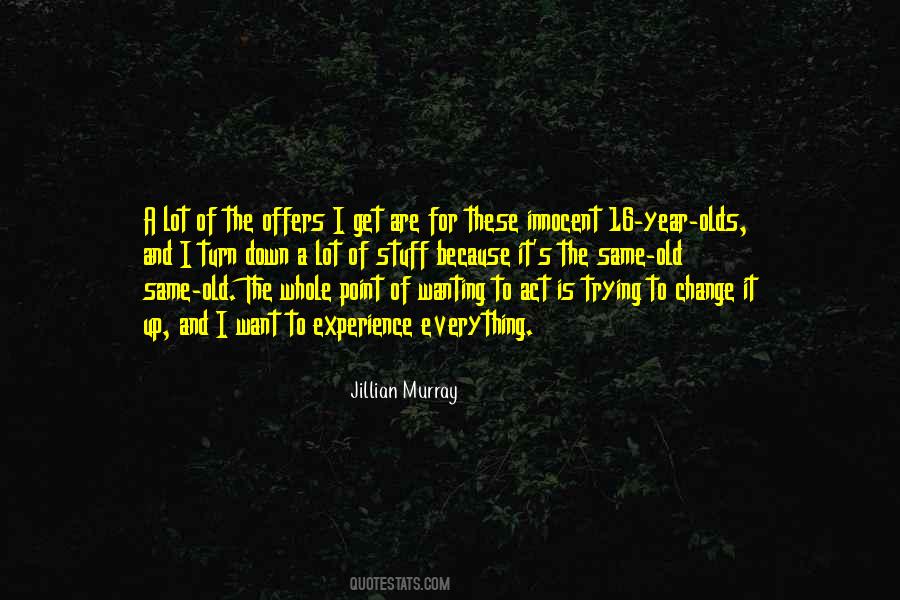 #84. It is clear that every civilization undergoes a process of historical change. We can see that a civilization comes into existence, passes through a long experience, and eventually goes out of existence. - Author: Carroll Quigley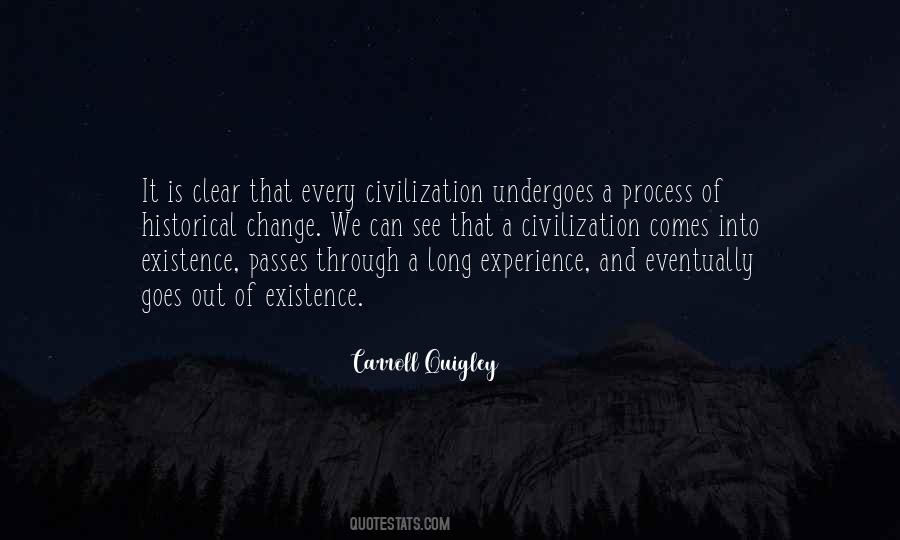 #85. The experience was like running into someone you hadn't seen since middle school - you recognize them, but what you really notice is the ways they've changed. They don't match your memory of how they should look and for a second you're thrown off, because your memory of them IS them. - Author: Rick Yancey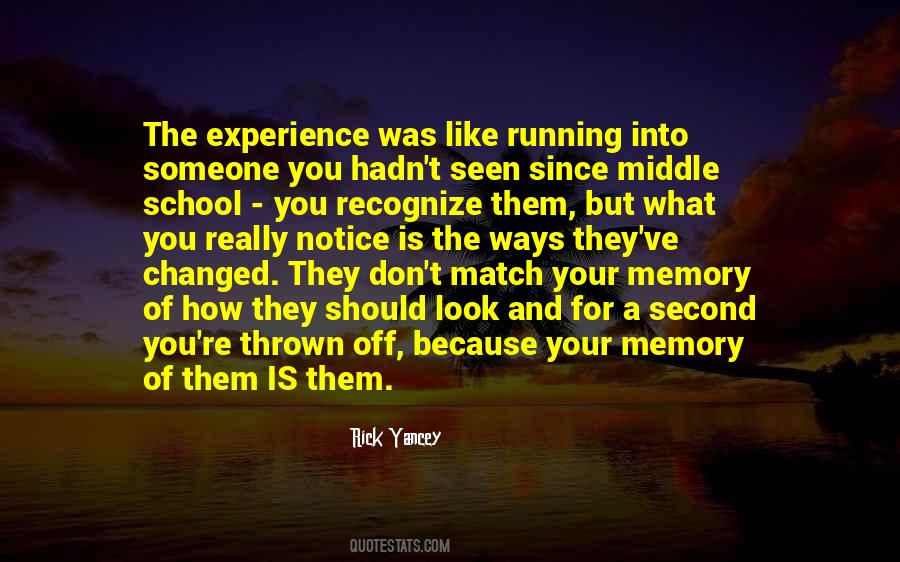 #86. This world isn't perfect. That means it isn't perfectly good; but it isn't perfectly bad, either. The ease comes with the hardship. Shift the focus of what you see, and your experience of this life will change. - Author: Yasmin Mogahed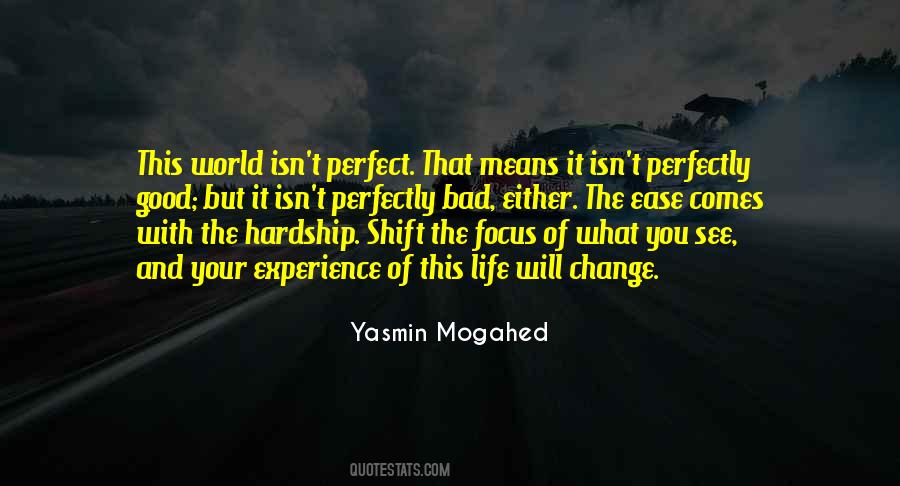 #87. If the defeated and depressed group of disciples overnight could change into a victorious movement of faith, based only on autosuggestion or self-deception-without a fundamental faith experience-then this would be a much greater miracle than the resurrection itself. - Author: Pinchas Lapide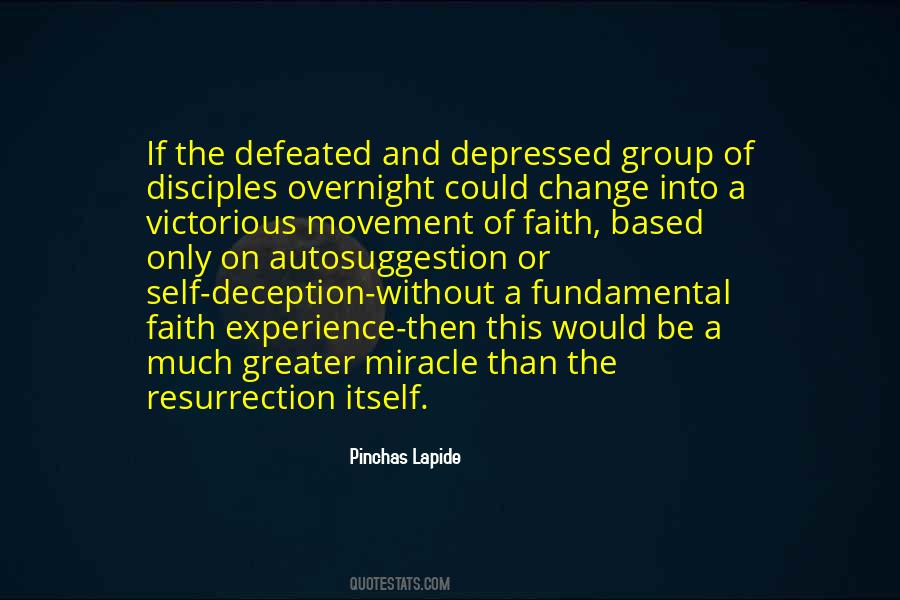 #88. There was a change in Boldwood's exterior from its former impassibleness; and his face showed that he was now living outside his defences for the first time, and with a fearful sense of exposure. It is the usual experience of strong natures when they love. - Author: Thomas Hardy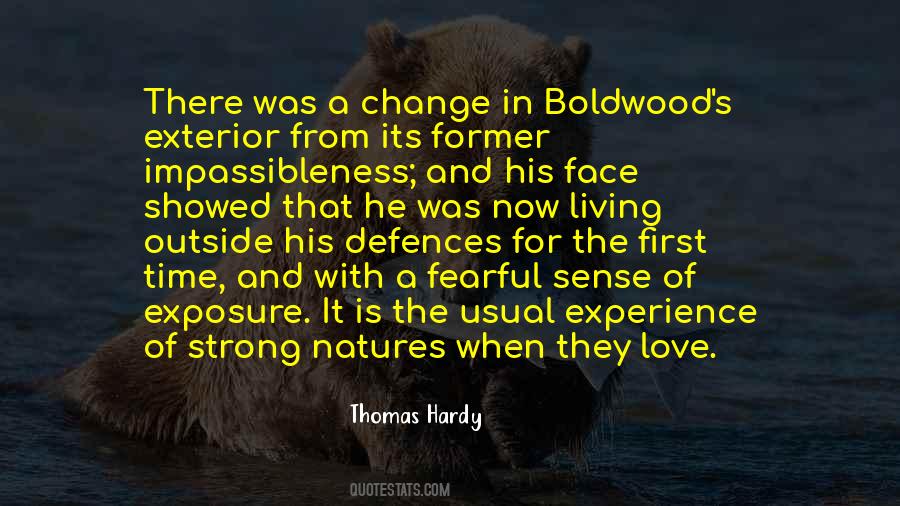 #89. The normal experience of the body and its aging is a conditioned response (a habit of thinking and behavior). By changing your habits of thinking and behavior, you can change the experience of your body and its aging - Author: Deepak Chopra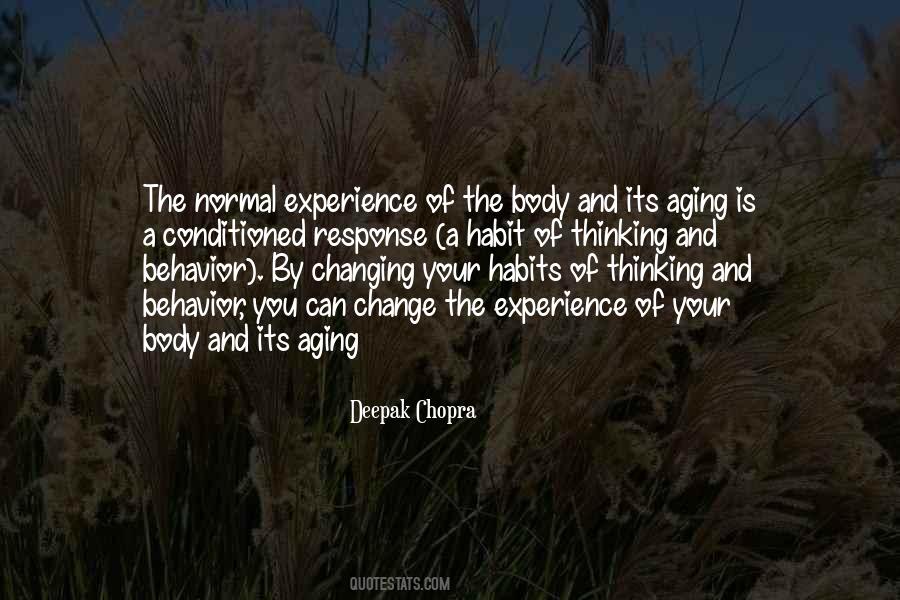 #90. A writer's problem does not change. He himself changes and the world he lives in changes but his problem remains the same. It is always how to write truly and having found what is true, to project it in such a way that it becomes part of the experience of the person who reads it. - Author: Ernest Hemingway,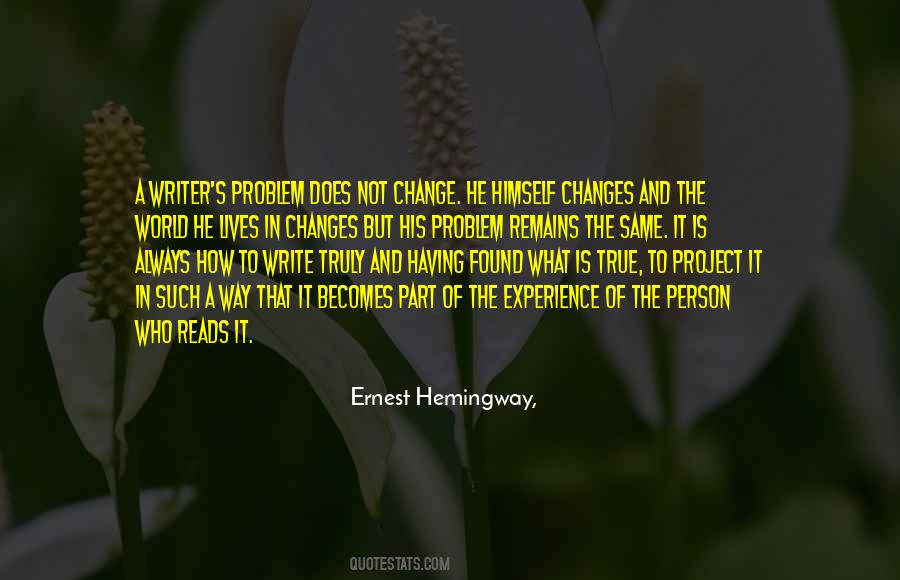 #91. I believe that when people experience an event as a community, it can transcend and change people's lives. - Author: Andy Serkis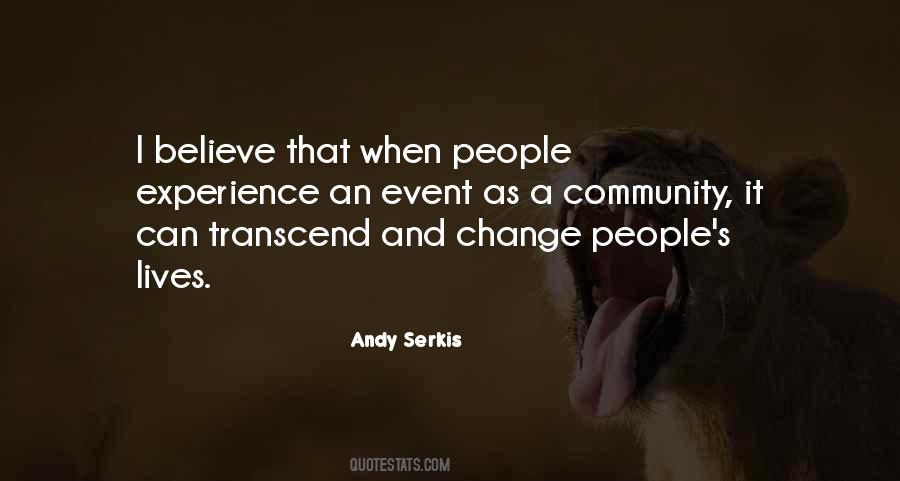 #92. I talk about things from the perspective of the consumer - mostly because that's what I am. A guy going out and buying things and sharing that experience with the viewer. Nothing should change that, but if it ever does, I'll absolutely make it known. - Author: Marques Brownlee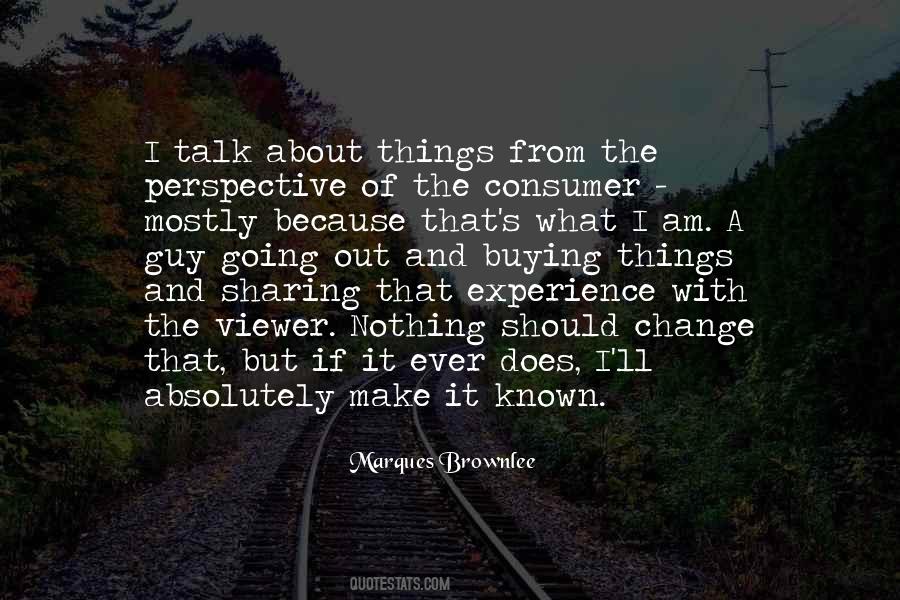 #93. But what about love, compassion, moral goodness, and self-transcendence? Many people still imagine that religion is the true repository of these virtues. To change this, we must talk about the full range of human experience in a way that is as free of dogma as the best science already is. - Author: Sam Harris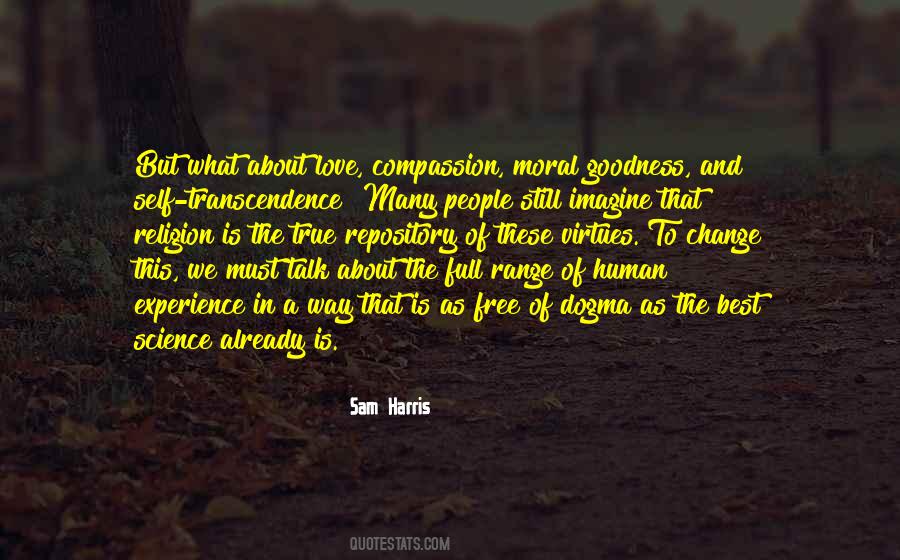 #94. If you stopped yourself every single time you were about to say, "I have to" and changed it to "I get to," it might change your entire experience. - Author: Kristin Armstrong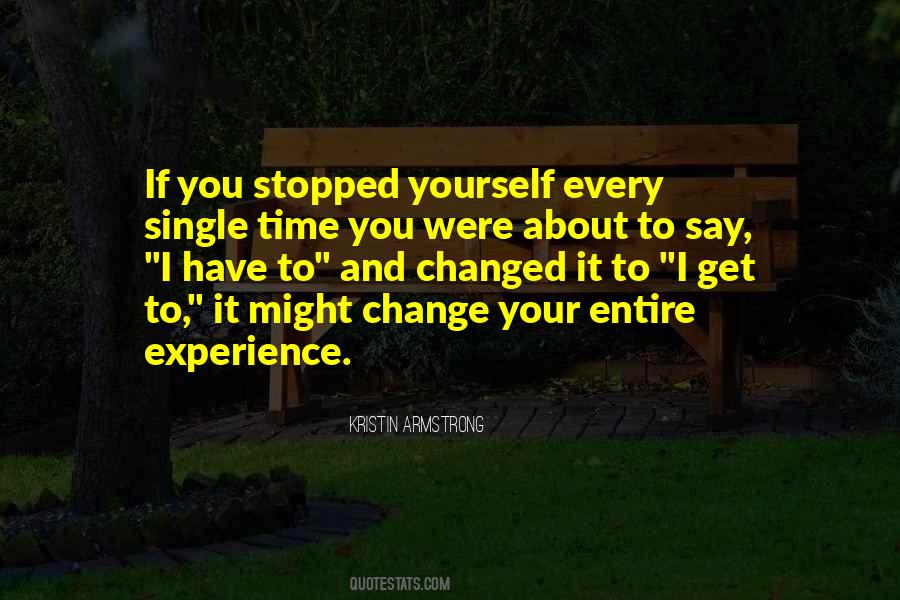 #95. Change the focus of the eye. When you have done that, then the end of the world as you formerly knew it will have occurred, and you will experience the radiance of the divine presence everywhere, here and now. - Author: Joseph Campbell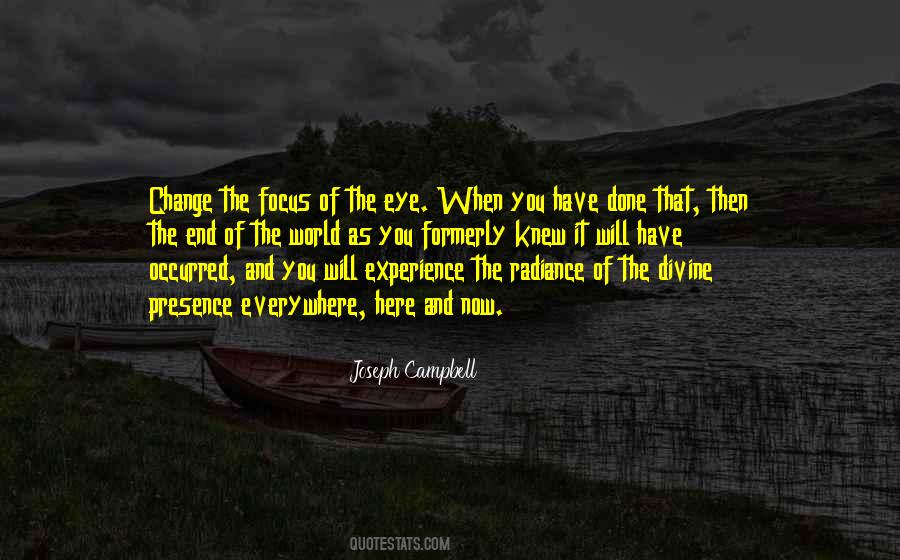 #96. The virtue and the strength of UWC is that it provides small, but powerful cells of innovation, catalysts for change, breaking barriers of habit and opening broader vistas of experience for both pupils and educationalists. - Author: Nelson Mandela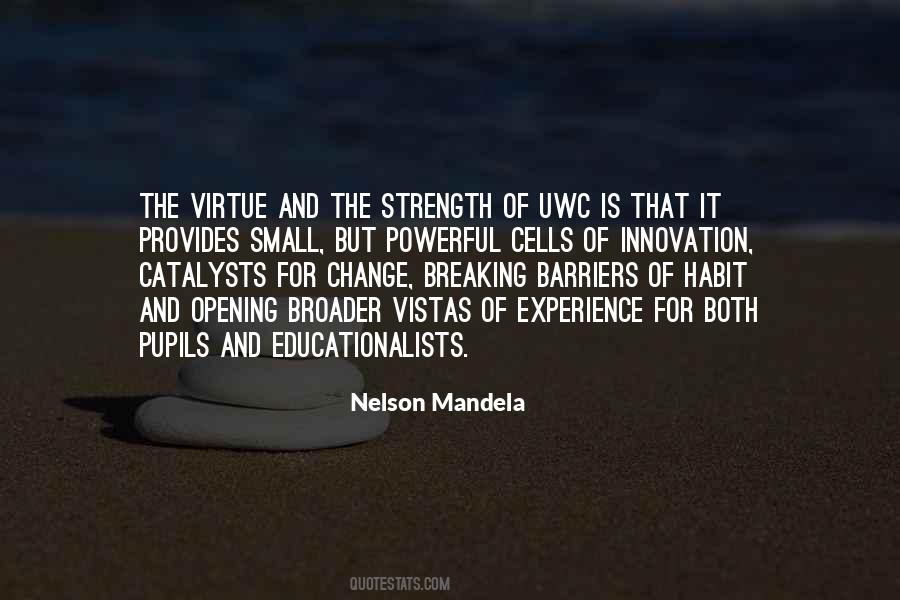 #97. Our own private intuition is the catalyst for self-improvement and self-realization, because when it comes to making deep and lasting changes in one's personal life, it is only subjective experience, not facts, that registers as real. - Author: Penney Peirce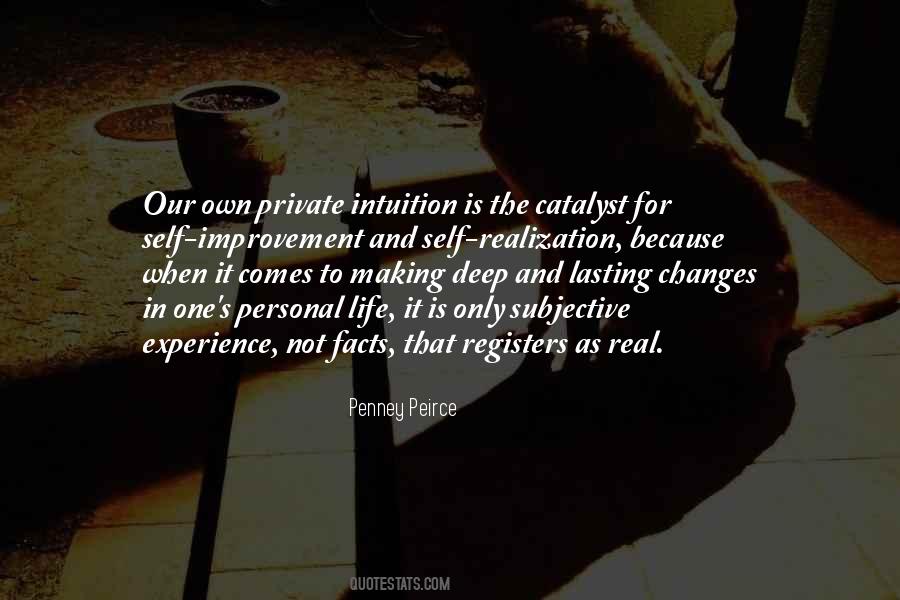 #98. It is impossible to come to God and not experience changes in your life - Author: Sunday Adelaja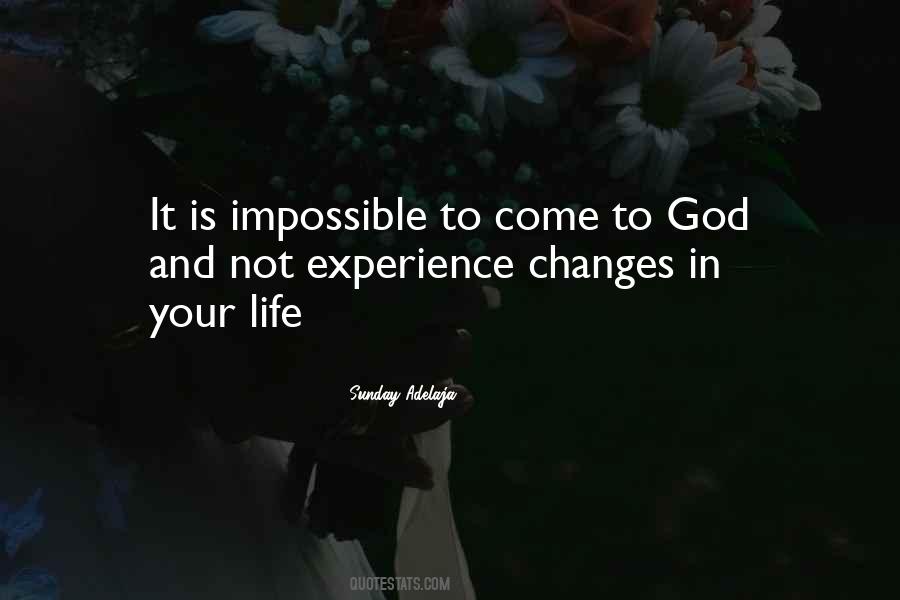 #99. Life is filled with pain and beauty. It's a journey, a learning experience. You've always been a girl who has had to learn by doing, not by watching and listening--don't change that. Don't change that now--you're too young. - Author: Karyn Bosnak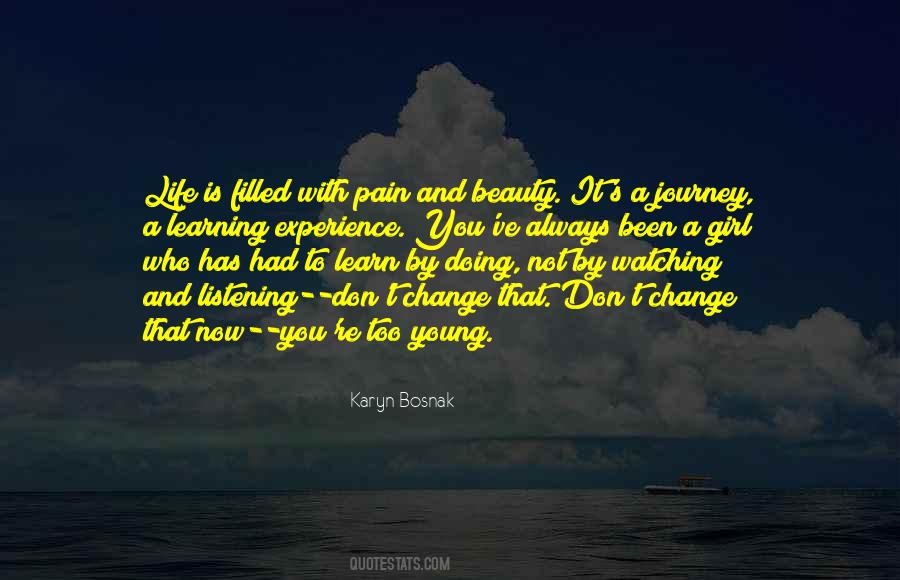 #100. Change is a function of time and experience, and time is implacable. - Author: Lois McMaster Bujold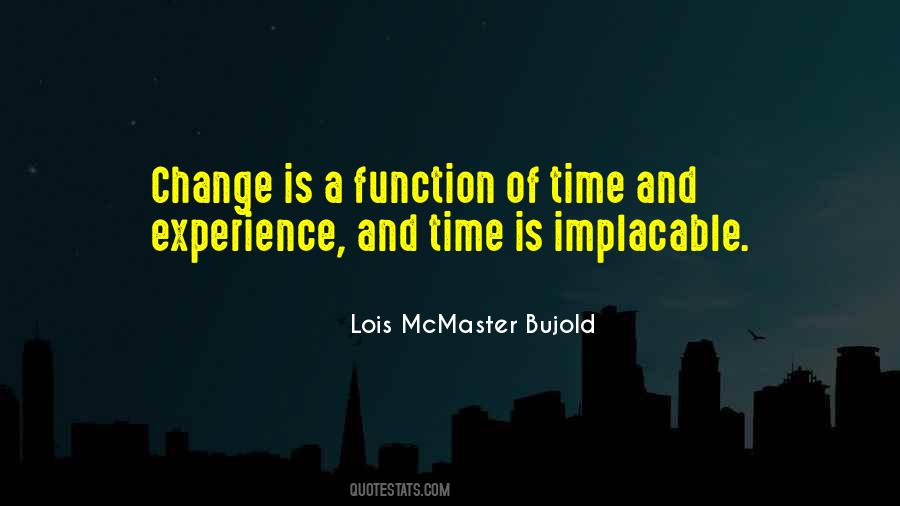 Famous Authors
Popular Topics