Doing Activities Famous Quotes & Sayings
List of top 53 famous quotes and sayings about doing activities to read and share with friends on your Facebook, Twitter, blogs.
Top 53 Quotes About Doing Activities
#1. Regarding quality, the following rule is very important: do each activity right at the first time with the aim of saving money and time. Regardless of the process under consideration, the activities that were carried out badly may cause repetitions with considerable additional costs. - Author: Eraldo Banovac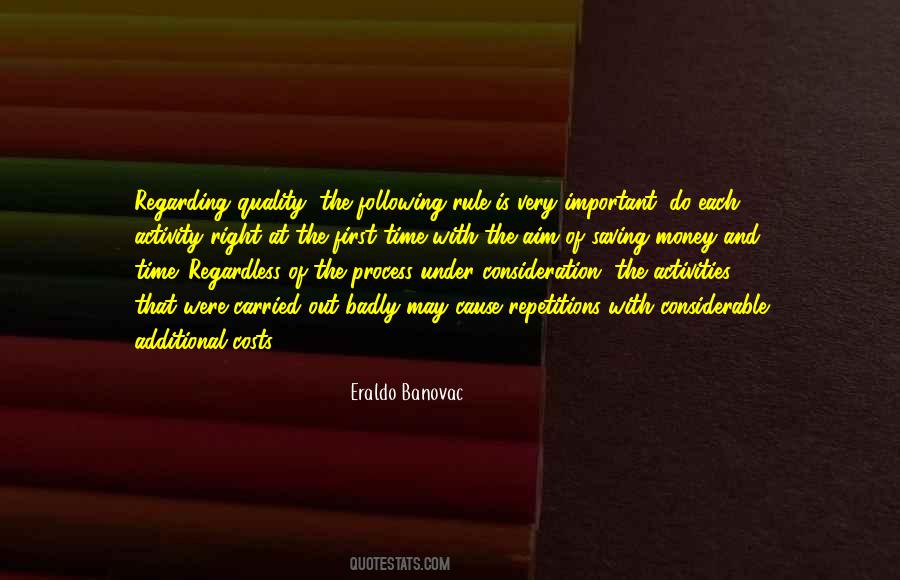 #2. While doing sadhana you must quieten your mind and keep awake the Purusha consciousness behind all your activities. - Author: Sri Aurobindo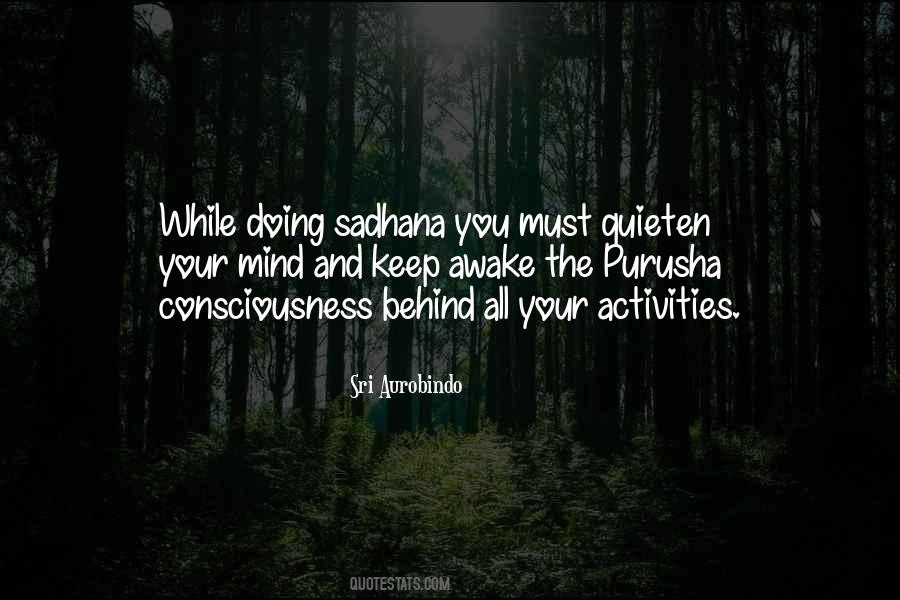 #3. People try to do all sorts of clever and difficult things to improve life instead of doing the simplest, easiest thing-refusing to participate in activities that make life bad. - Author: Leo Tolstoy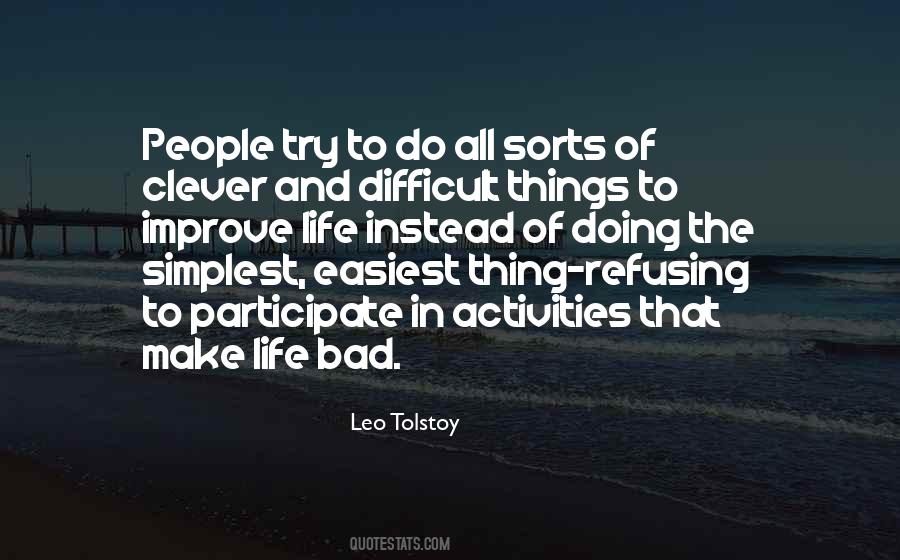 #4. I used to be more of a sporty girl. I love outdoor activities. I haven't been doing much since living in Vancouver. I have my routines down in L.A. - Author: Lana Parrilla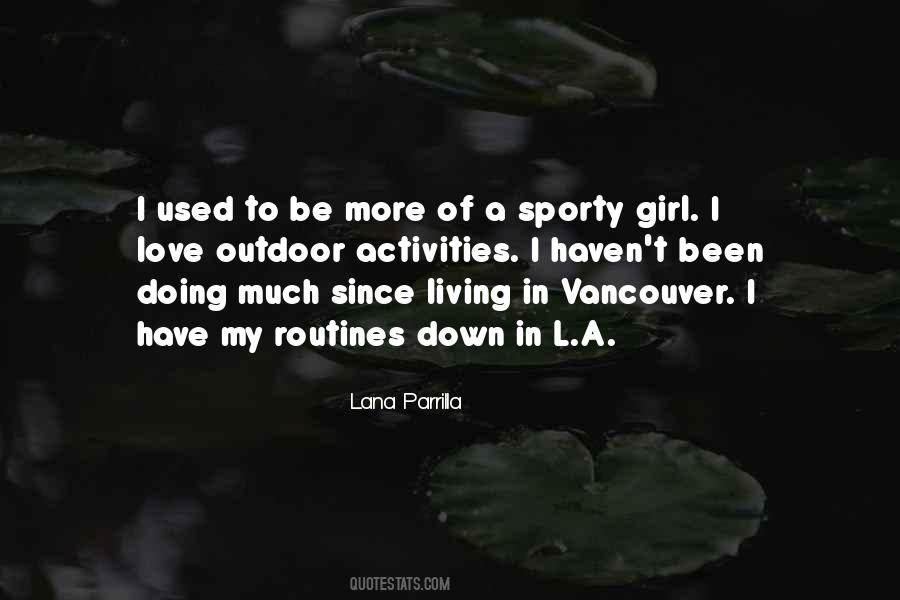 #5. Doing agile is a set of activities, but being agile is the state of mind, the ongoing capability, and the cultural adaptability. - Author: Pearl Zhu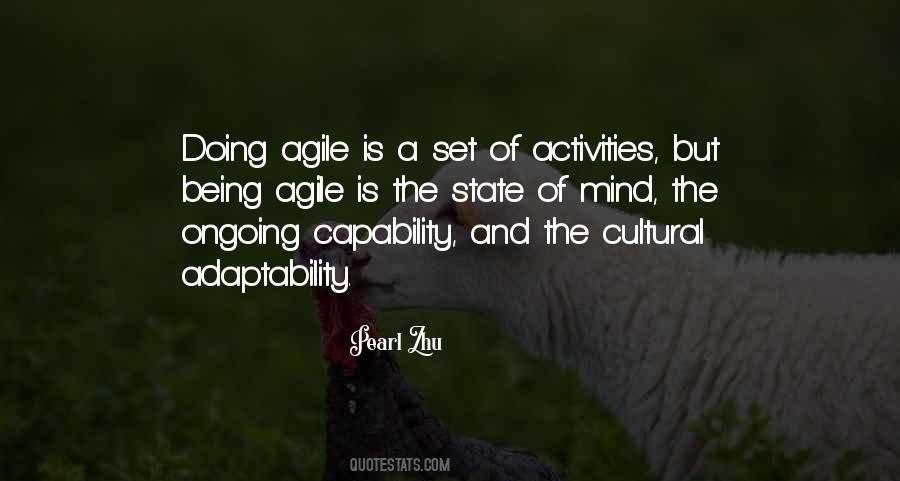 #6. I believe Jesus wasn't thinking about miracle when He performed it.
He's just doing normal activities as he did in His heavenly kingdom. - Author: Toba Beta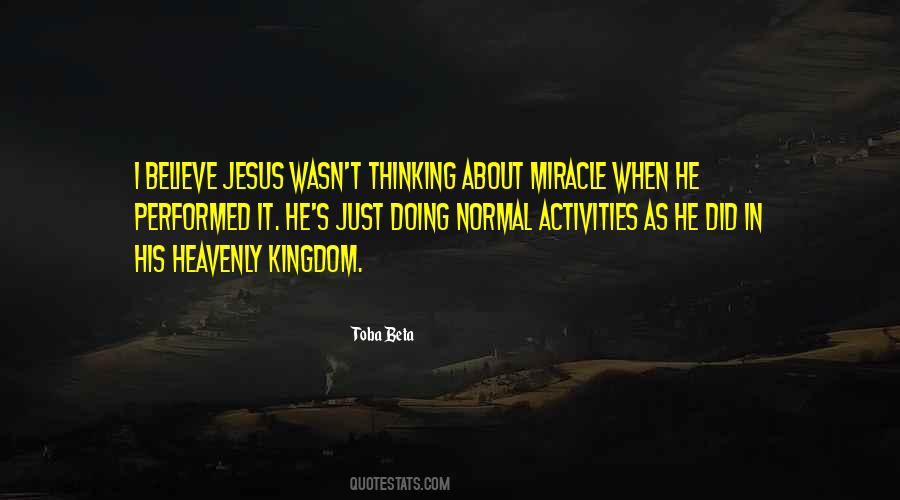 #7. and fulfillment come from engaging in activities that are productive and you enjoy doing. Contrary to popular belief, relaxing does not bring lasting joy. - Author: Alex Foster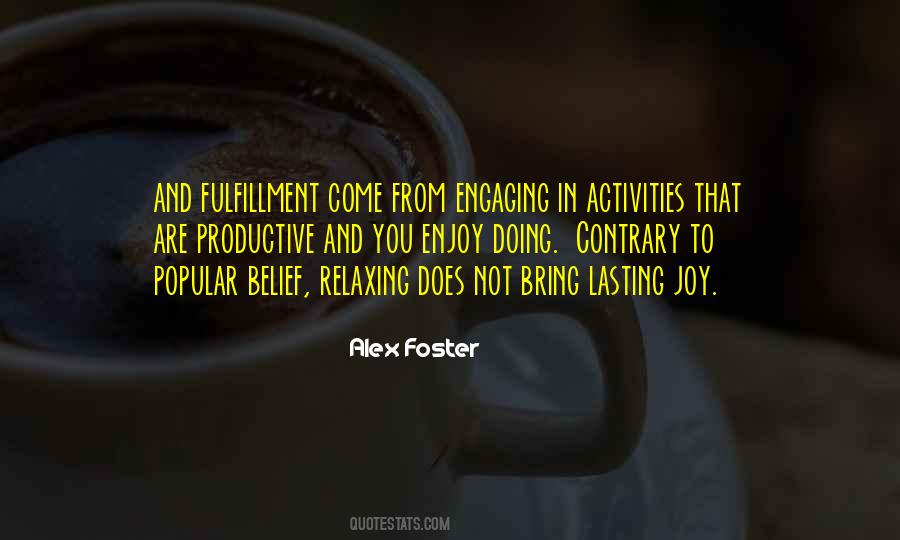 #8. I really enjoy being able to spend my time doing different charitable and philanthropic activities. - Author: Jennie Garth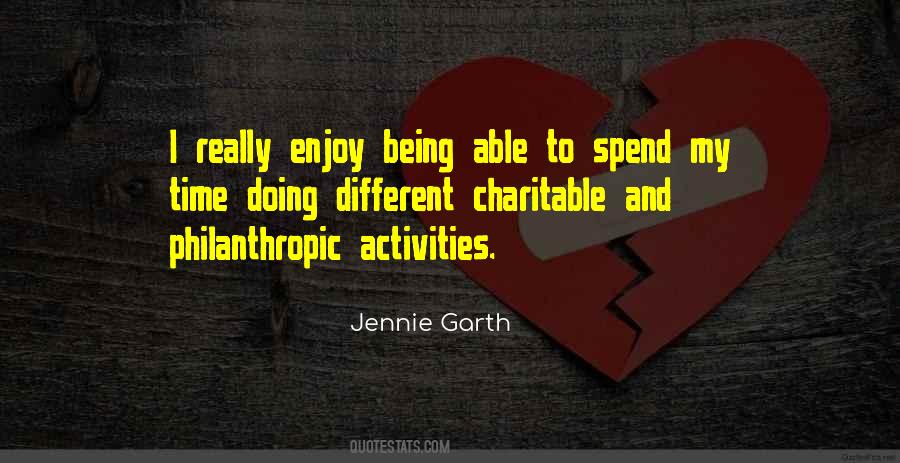 #9. You can get control of your tasks and activities only to the degree that you stop doing some things and start spending more time on the few activities that can really make a difference in your life. - Author: Brian Tracy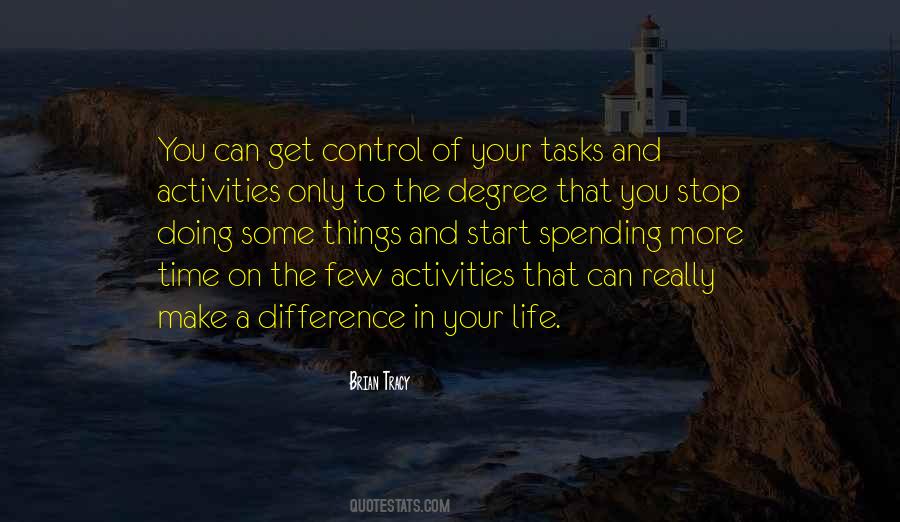 #10. No one likes doing chores. In happiness surveys, housework is ranked down there with commuting as activities that people enjoy the least. Maybe that's why figuring out who does which chores usually prompts, at best, tense discussion in a household and, at worst, outright fighting. - Author: Emily Oster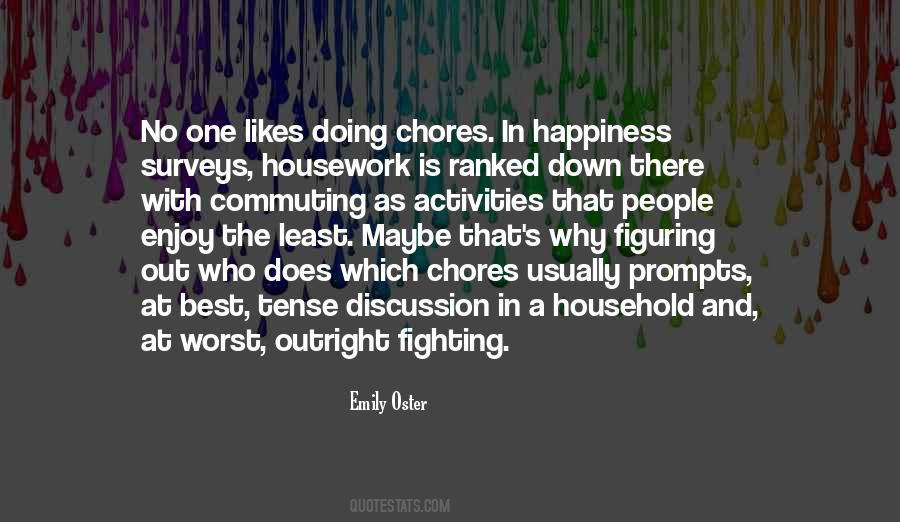 #11. I love going to the gym and taking aerobics classes and kickboxing. Doing a variety of activities keeps it fresh and helps work other muscles that could potentially help you with your game. - Author: Swin Cash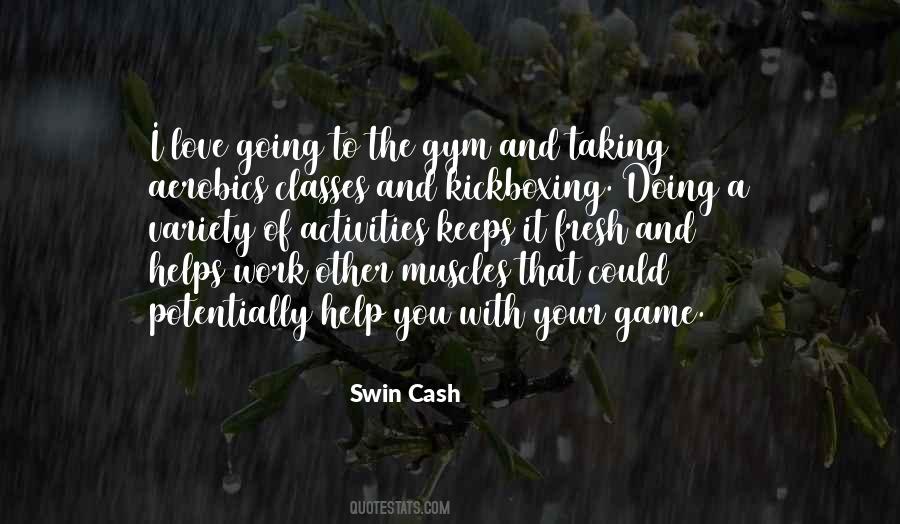 #12. Be committed to whatever you're doing. That's something I've taken to heart and tried to do with whatever activities I take up. - Author: Eli Manning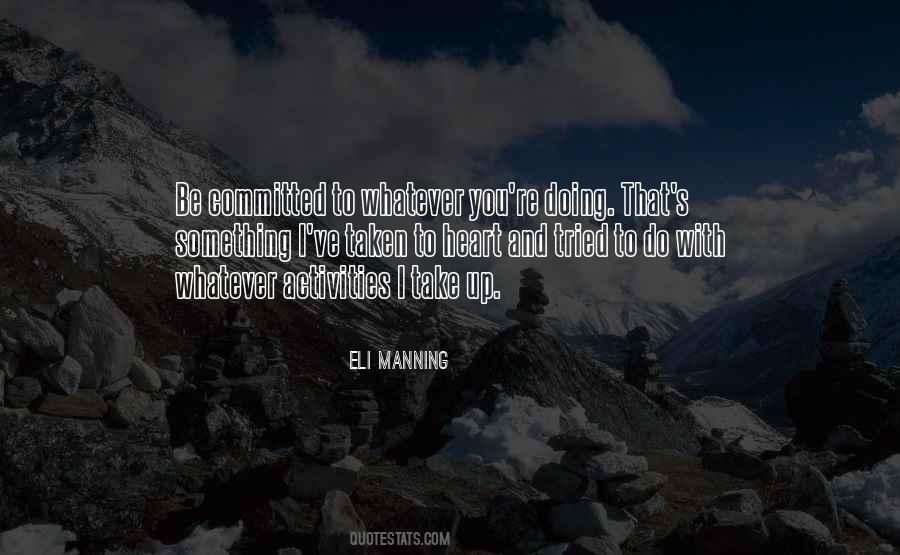 #13. In today's culture - where our self-worth is tied to our net worth, and we base our worthiness on our level of productivity - spending time doing purposeless activities is rare. In fact, for many of us it sounds like an anxiety attack waiting to happen. We - Author: Brene Brown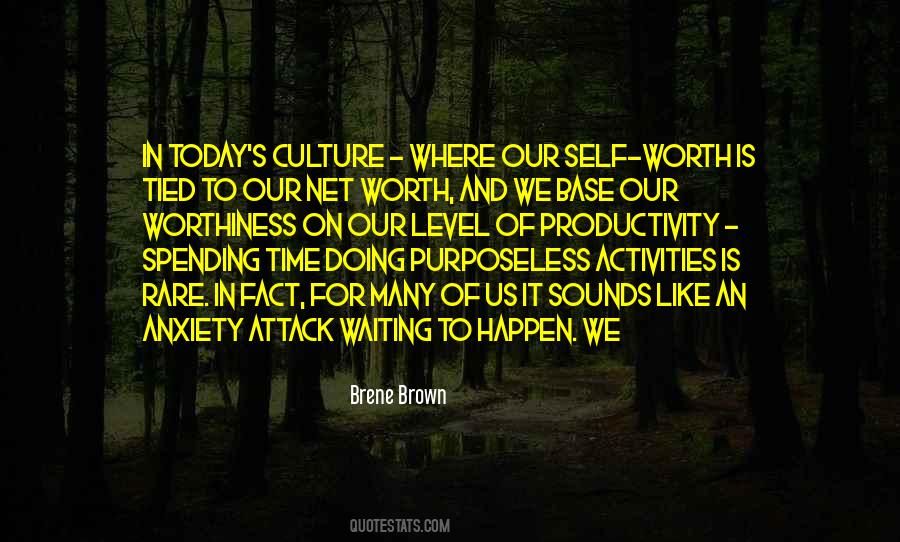 #14. I had no idea when I went to college what I'd be doing. I took organic chemistry and did terribly, but I was good in English and art. I took many courses and participated in as many activities as I could. I learned a lot about every single thing. - Author: Martha Stewart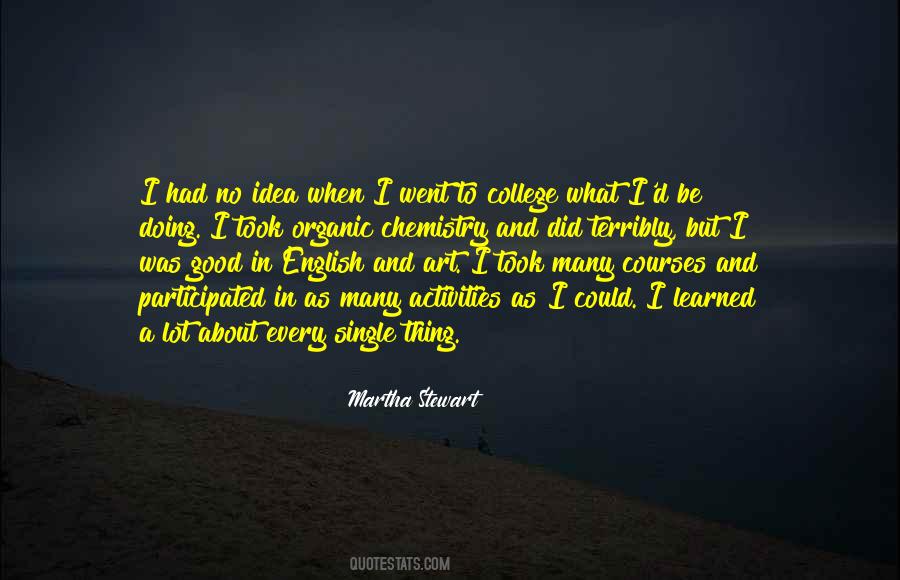 #15. Boredom is useful to me when I notice it and think: Oh I'm bored; there must be something else I want to be doing ... boredom acts as an initiator of originality by pushing me into new activities or new thoughts. - Author: Hugh Prather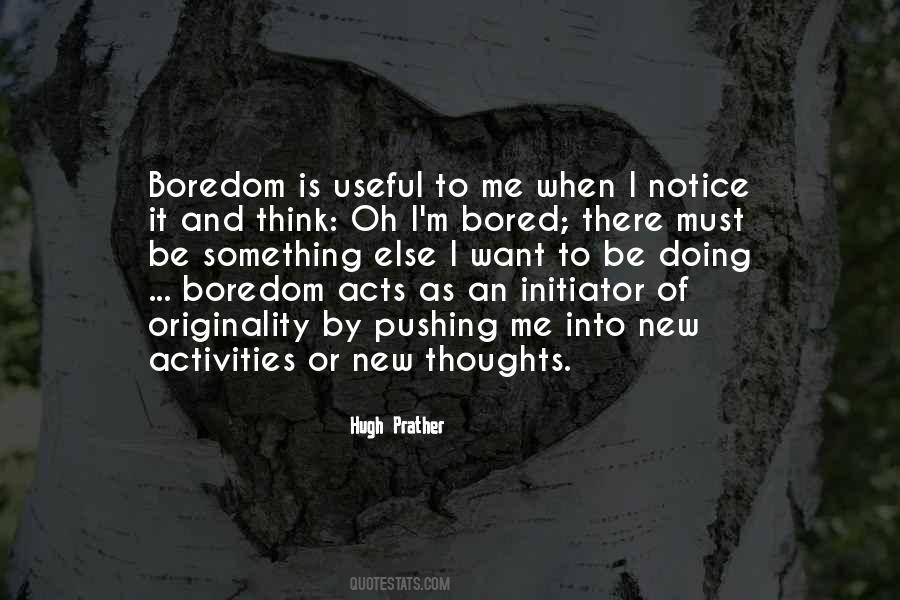 #16. What if the person is doing something that seems diametrically opposed to flirting, like going about their daily activities completely unaware of your existence? They are probably flirting a little bit. Aren't they coy! - Author: Ted Pillow
#17. I was pursuing the arts with theater in school, and I was doing after-school activities, but not in any real movement towards a professional career. - Author: Uzo Aduba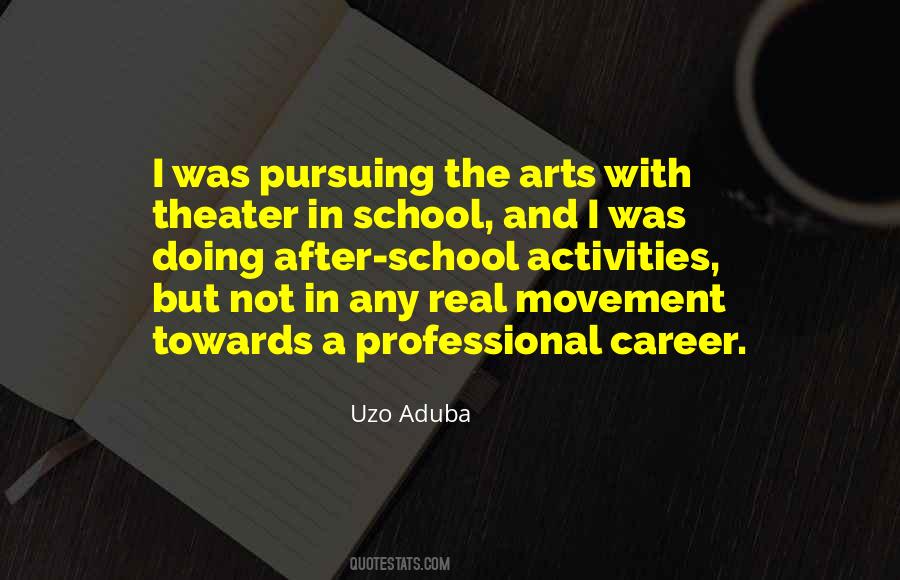 #18. Life is difficult. Not just for me or other ALS patients. Life is difficult for everyone. Finding ways to make life meaningful and purposeful and rewarding, doing the activities that you love and spending time with the people that you love - I think that's the meaning of this human experience. - Author: Steve Gleason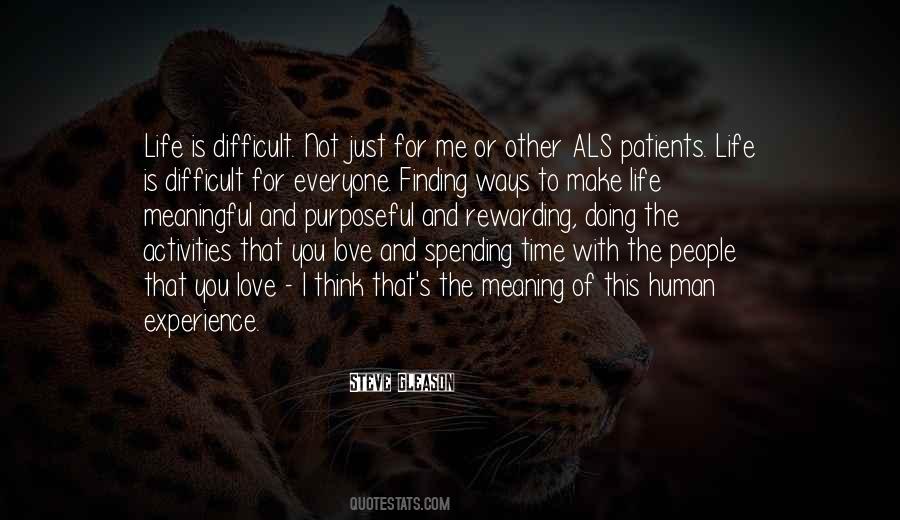 #19. Do not lose yourself in your everyday work and activities. Rather, lose yourself in God. When you are doing work, let your innermost heart be centered on Him. Live in His presence and abide in Him. Then your work will follow you into eternity, and you will reap a rich harvest. - Author: Basilea Schlink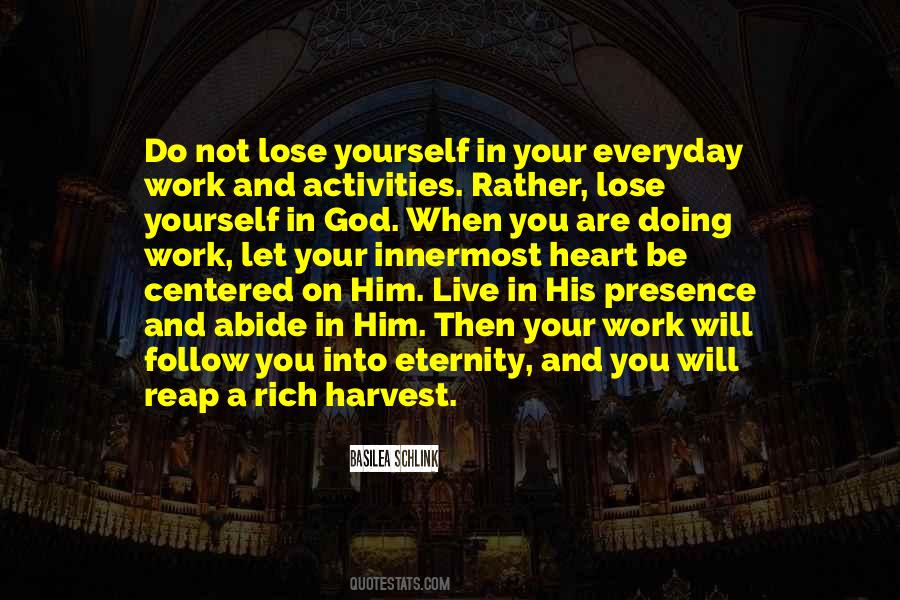 #20. Jeremy Stoppelman started Yelp. Max Levchin started Slide. I started LinkedIn. It was a mininova explosion of folks jumping out to doing other entrepreneurial activities. - Author: Reid Hoffman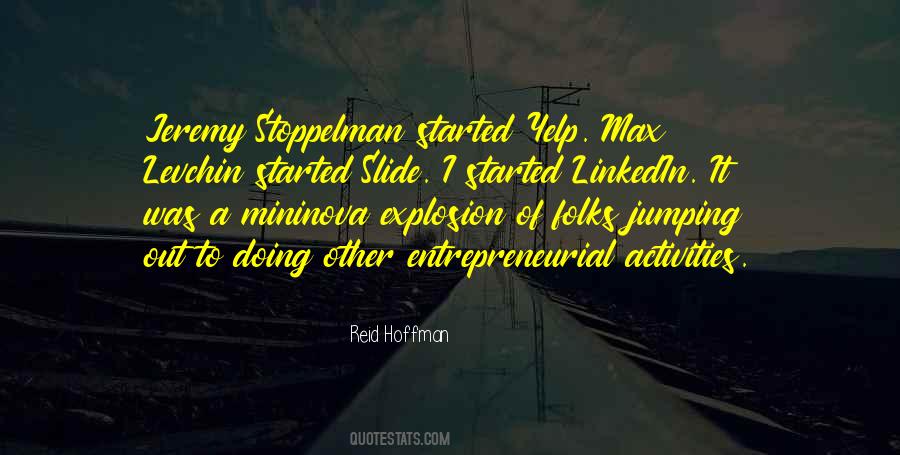 #21. The law of increasing returns says that the more you focus on doing the few things that represent the most valuable use of your time, the better you become at those activities and the less time it takes you to accomplish each one. - Author: Brian Tracy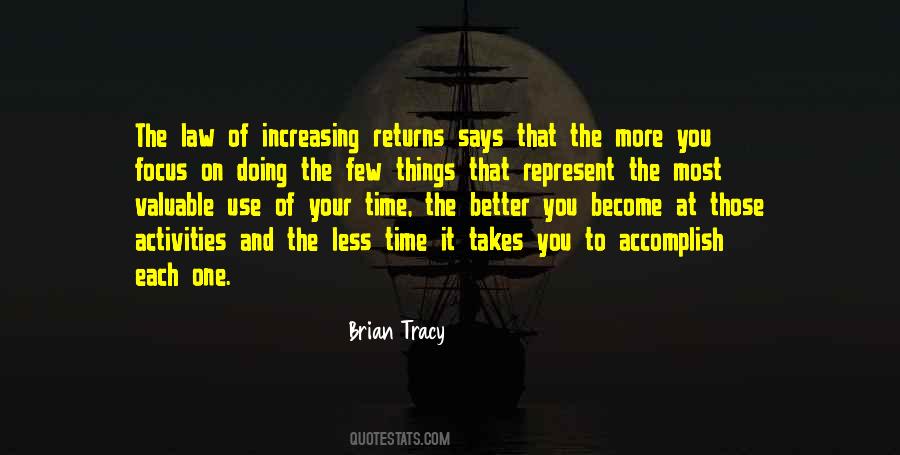 #22. Strengths are not activities you're good at, they're activities that strengthen you. A strength is an activity that before you're doing it you look forward to doing it; while you're doing it, time goes by quickly and you can concentrate; after you've done it, it seems to fulfill a need of yours. - Author: Marcus Buckingham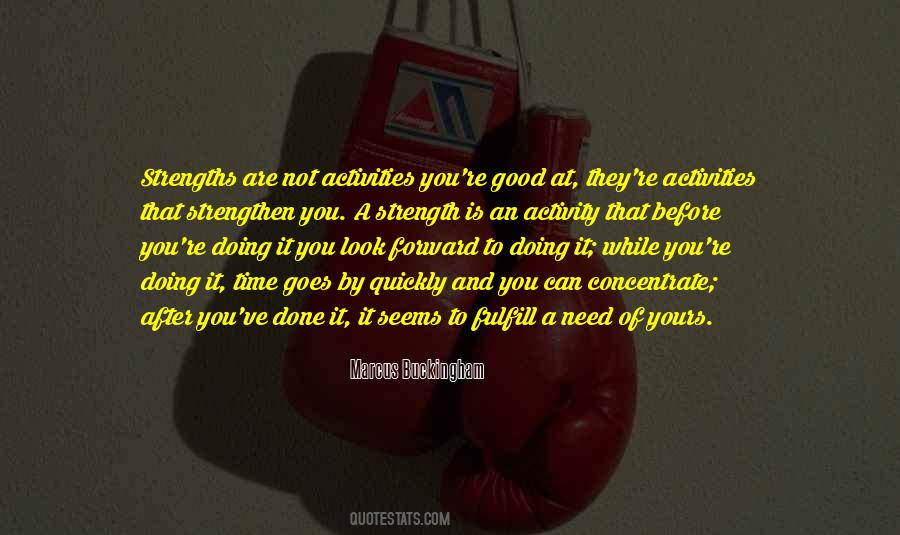 #23. A man who sets out to justify his existence and his activities has to distinguish two different questions. The first is whether the work which he does is worth doing; and the second is why he does it (whatever its value may be). - Author: G.H. Hardy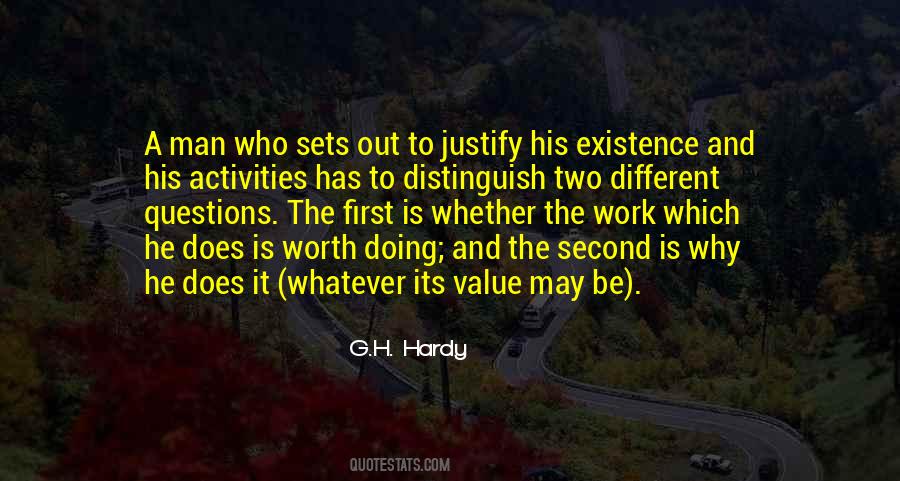 #24. I had two major activities as a child. I was trying to put on shows with kids in my street, or I was drawing. Actually, what I'm doing now is exactly what I was doing then. Either I'm drawing, or I'm gathering people for a common project. The only difference is that now they are paying me for that. - Author: Marjane Satrapi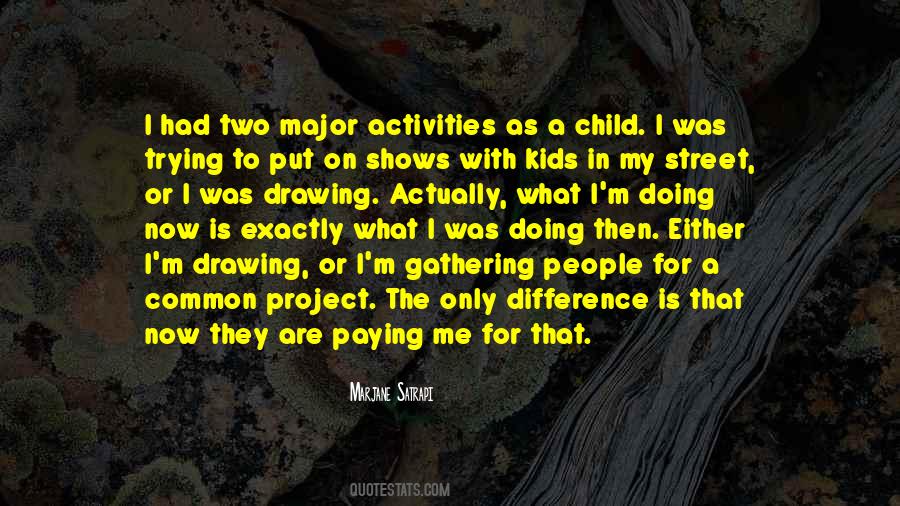 #25. I work, and then whenever I have any other time, I'm with my daughter, and then I go to sleep. I think you basically have to abandon the dreams of having any other adult activities in your life. You have to go to sleep whenever your child goes to sleep. That's basically how we're doing it. - Author: Tina Fey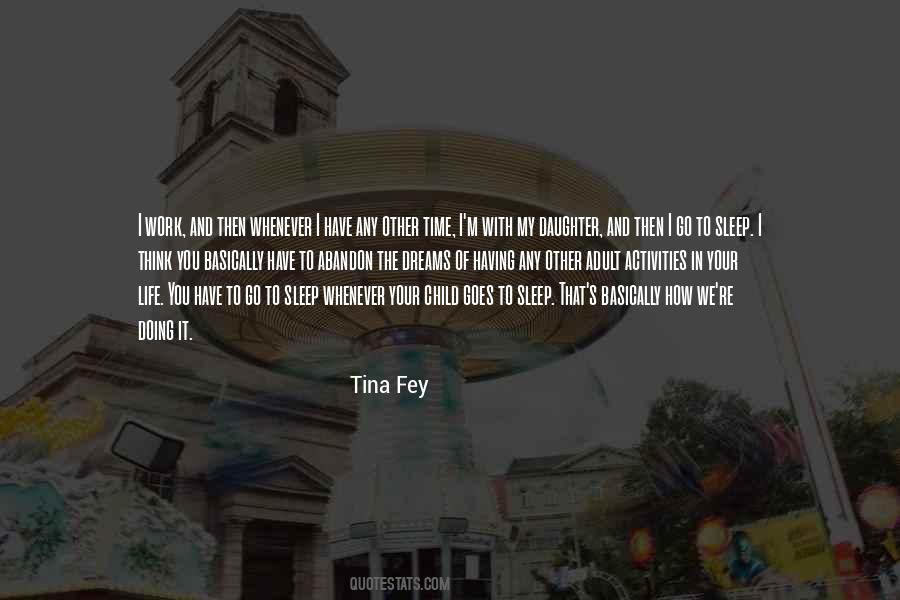 #26. I suppose I felt guilty not to be doing something more important, more political. So in a way I am trying to use the company for these other activities. - Author: Miuccia Prada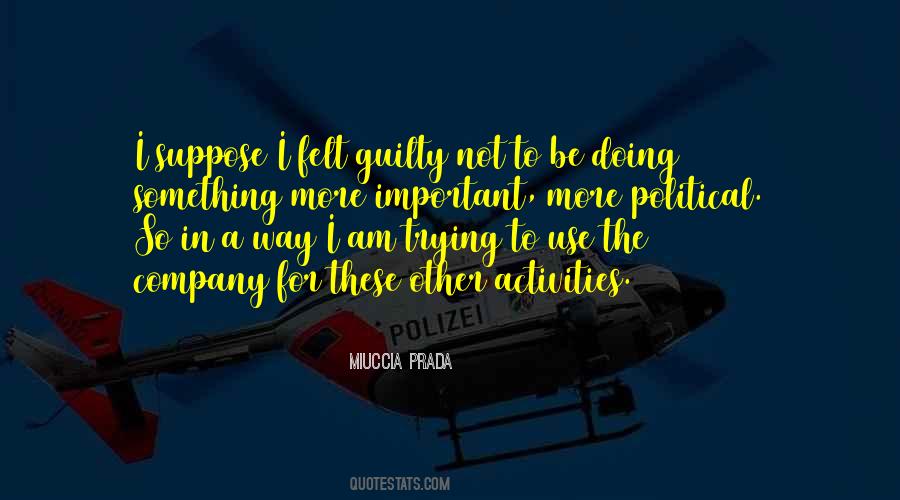 #27. Sabbath is that uncluttered time and space in which we can distance ourselves from our own activities enough to see what God is doing. - Author: Eugene H. Peterson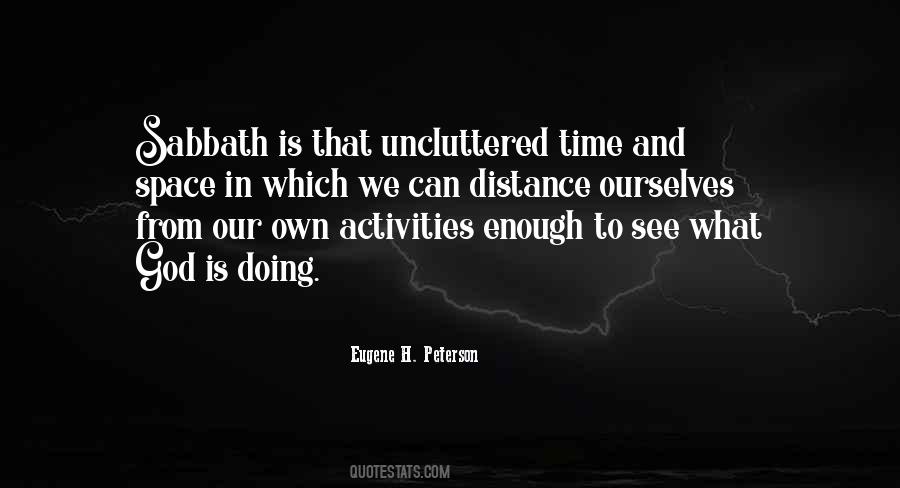 #28. Zen is just a lifestyle, your everyday life. It is doing your best at your job, relationships, health, hobbies, and other daily activities! - Author: Mika.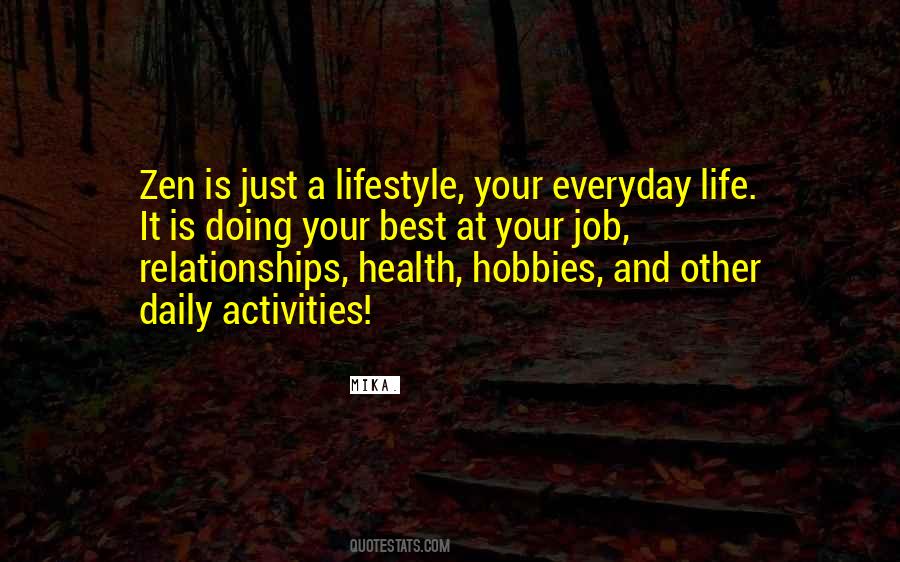 #29. However, unschooling doesn't imply that a child doesn't take classes or participate in structured learning activities. It means that we, the parents, don't attempt to make our children learn by giving assignments or otherwise manipulating or threatening them into learning and doing things. - Author: Sara McGrath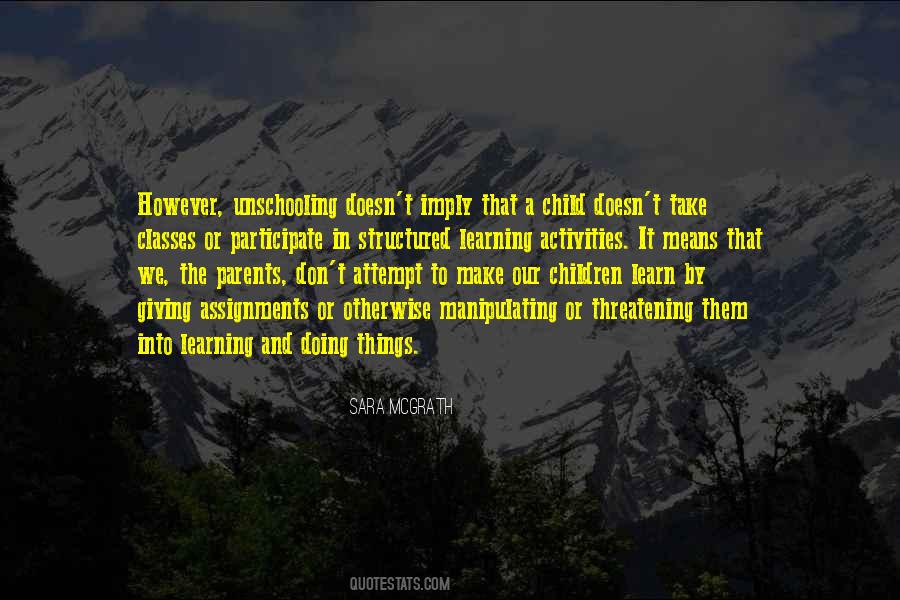 #30. One minute I was playing chess and doing maths all the time, the next I had been rerouted into more 'normal' girls' activities: reading, writing stories and worrying about my clothes. - Author: Scarlett Thomas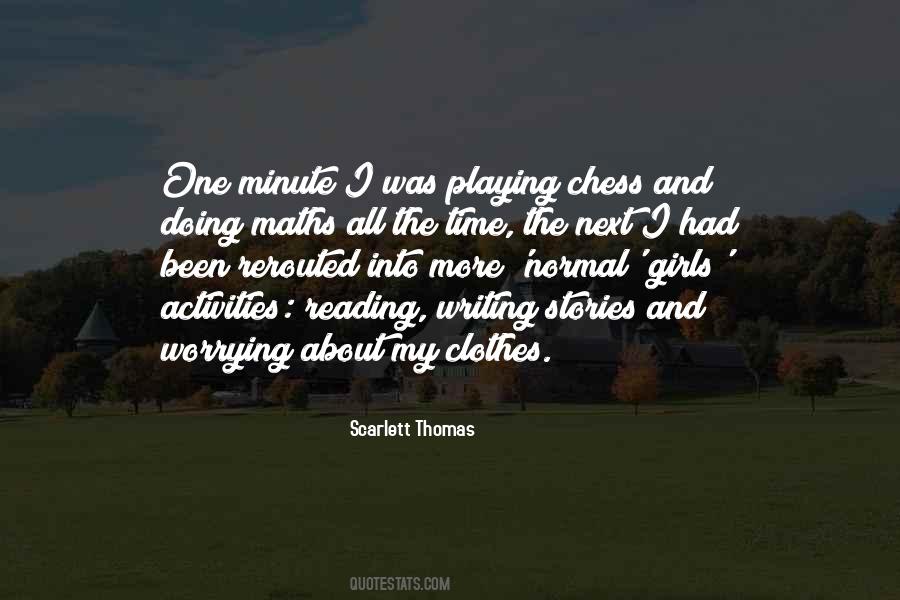 #31. Forget that you are anybody and just perform the activities around you. Look at them. Watch what you are doing, my God! Life is right in front of you, and it's great. - Author: Frederick Lenz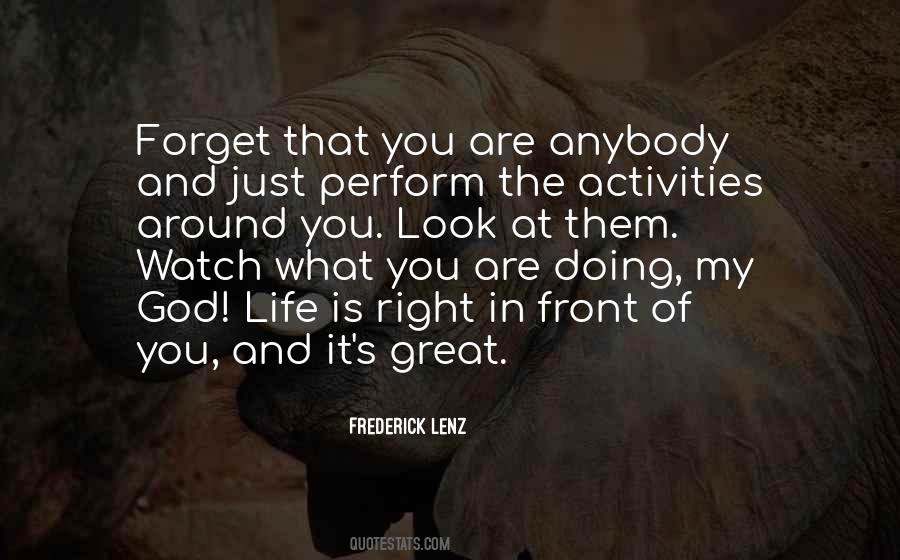 #32. Let us free ourselves from anxiety by doing some relaxing activities for our entire lives. - Author: Saaif Alam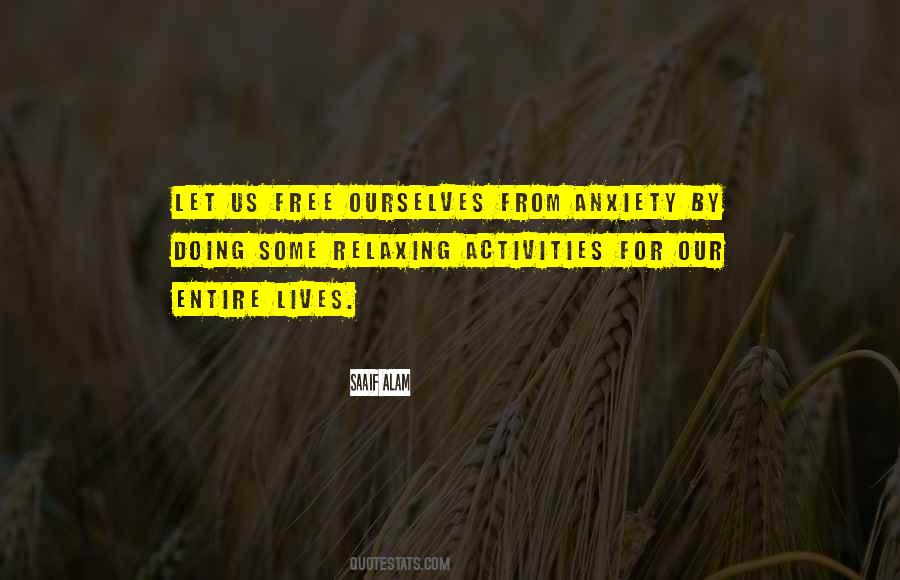 #33. I think the money that I've got is a consequence of the activities I've been doing and the interests that I've had in my life. I've never set out to make a lot of money.. - Author: Clive Palmer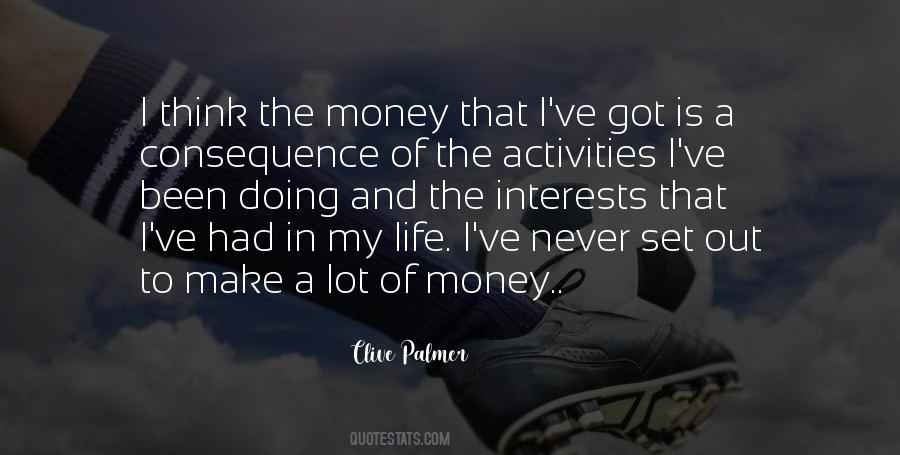 #34. Preaching the gospel without the Holy Spirit is to miss the entire point of the command of Jesus Christ for our era. In the area of "Christian activities" or "Christian service," how we are doing it is at least as important as what we are doing. - Author: Francis Schaeffer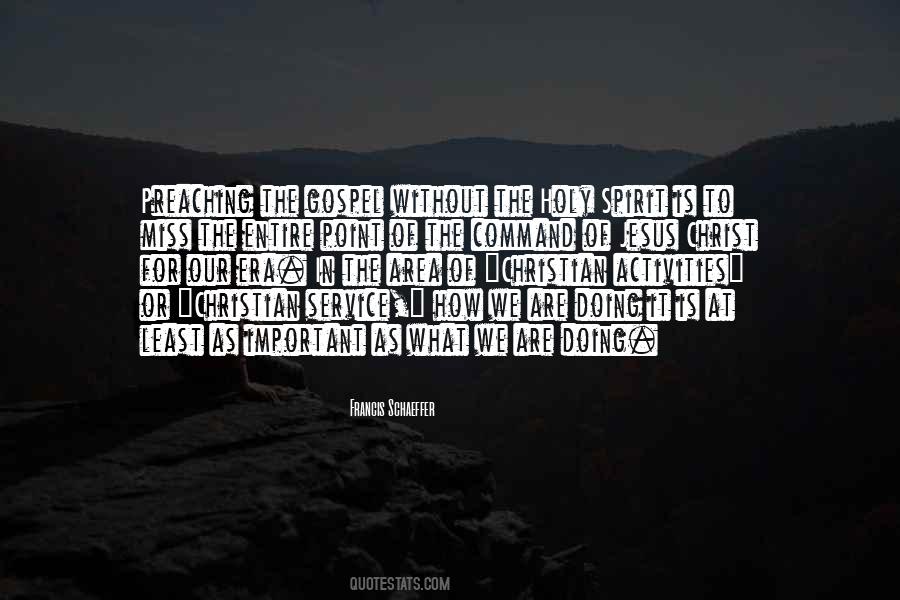 #35. Live your life by doing activities that are beneficial - Author: Jimmy Fallon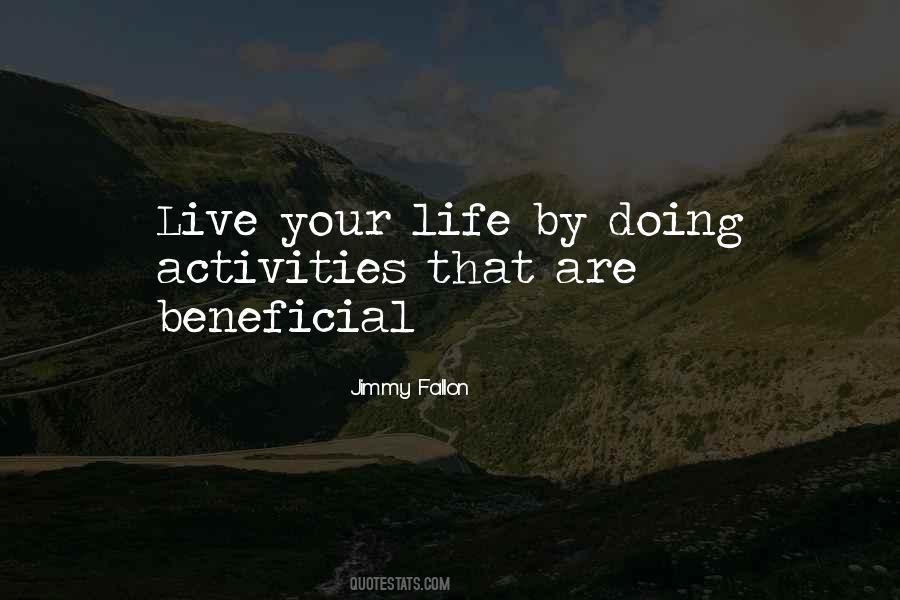 #36. Humans do not engage in activities that are meaningless. If you think you see people doing things you find meaningless, look again and try to understand what the activities mean for them. - Author: Henry Jenkins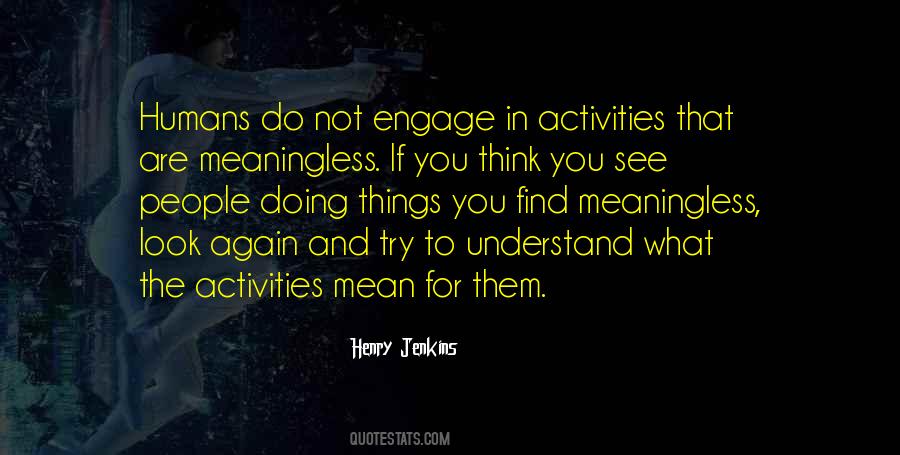 #37. The power of God is with you at all times; through the activities of mind, senses, breathing, and emotions; and is constantly doing all the work using you as a mere instrument. - Author: Anonymous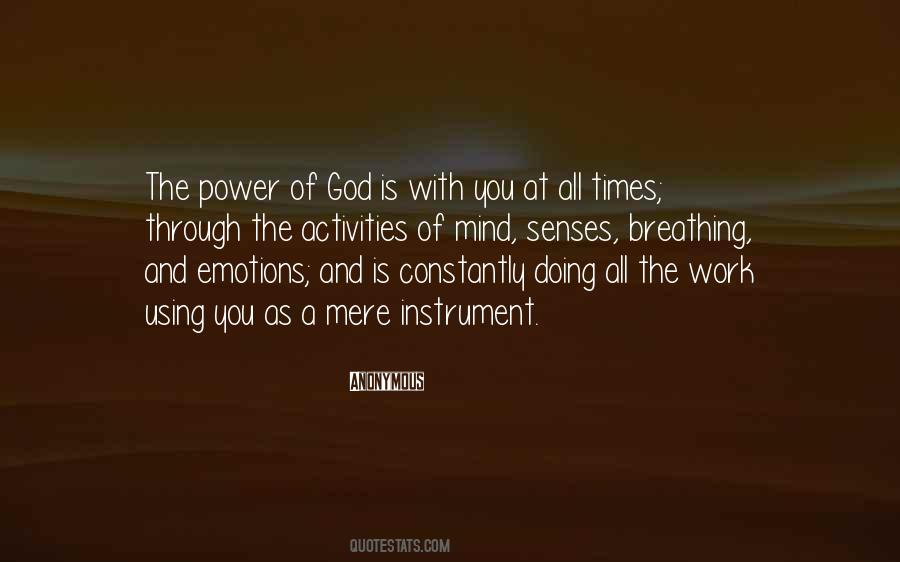 #38. Labour-saving devices just make us try to cram more pointless activities into each day, rather than doing the important thing, which is to enjoy our life. - Author: Tom Hodgkinson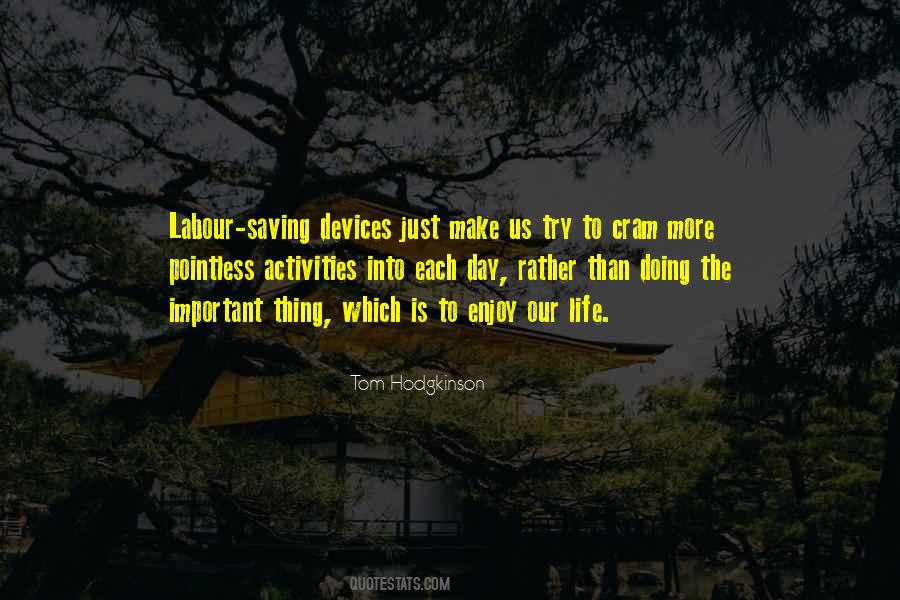 #39. It interrupts any doing, any ordinary activities, no matter what they happen to be. All thinking demands a stop-and-think. - Author: Hannah Arendt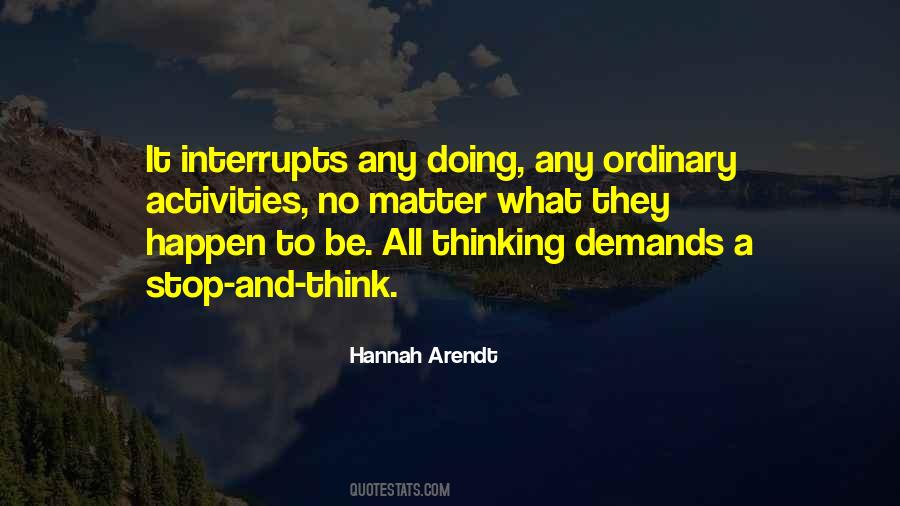 #40. There are a lot of things that go into creating success. I don't like to do just the things I like to do. I like to do things that cause the company to succeed. I don't spend a lot of time doing my favorite activities. - Author: Michael Dell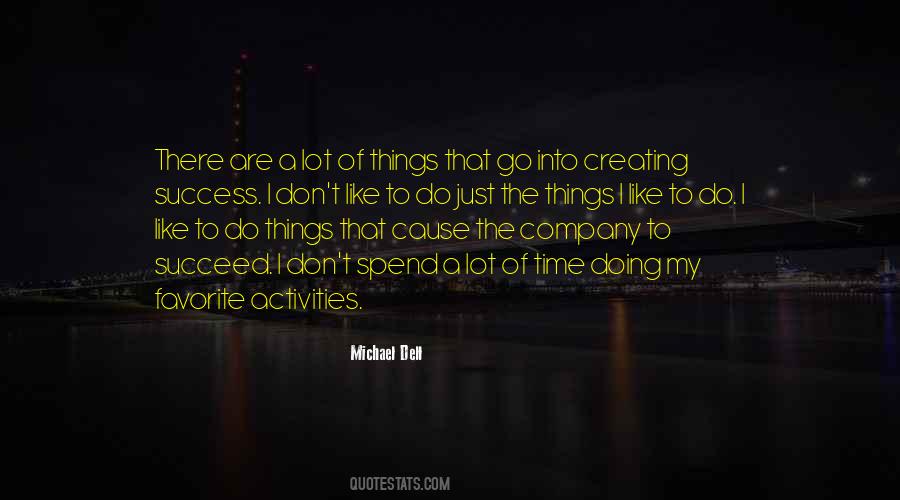 #41. I've been doing extremely dangerous activities for a long time, but I've been lucky enough to have survived so far. However, sooner or later we all die ... and, if that's the case, I want to die doing what I love to do the most. That's how I view death. - Author: Yuichiro Miura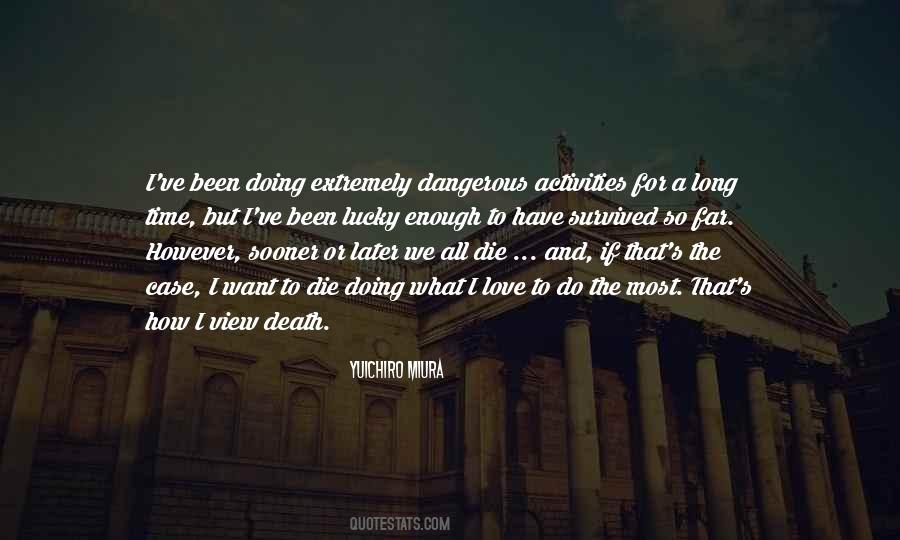 #42. I prefer to stay in shape through doing activities I enjoy, such as climbing, hiking and exploring. - Author: Clive Standen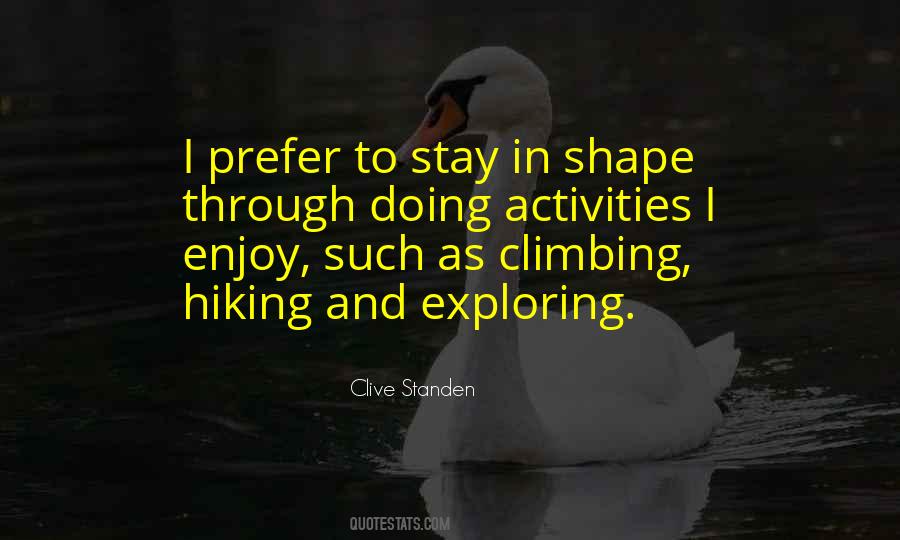 #43. He [my father] didn't have a basement workshop as such, but I know that he did build things, construct things, repair things. My mother, likewise, was sewing and doing activities that often take place in a household. - Author: Paul Smith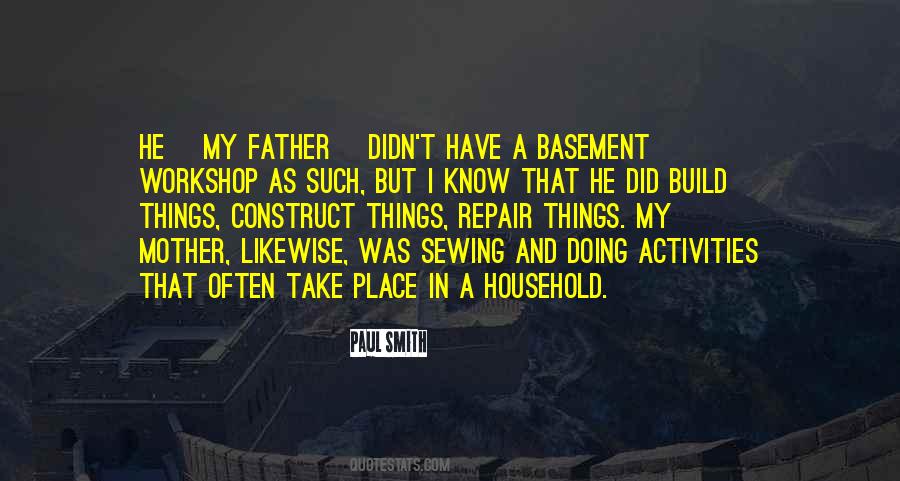 #44. Presence remains even amidst worldly activities. Stillness is there even when you're doing something quickly, like rushing to answer the phone. Otherwise you would be condemned to moving in slow motion. - Author: Eckhart Tolle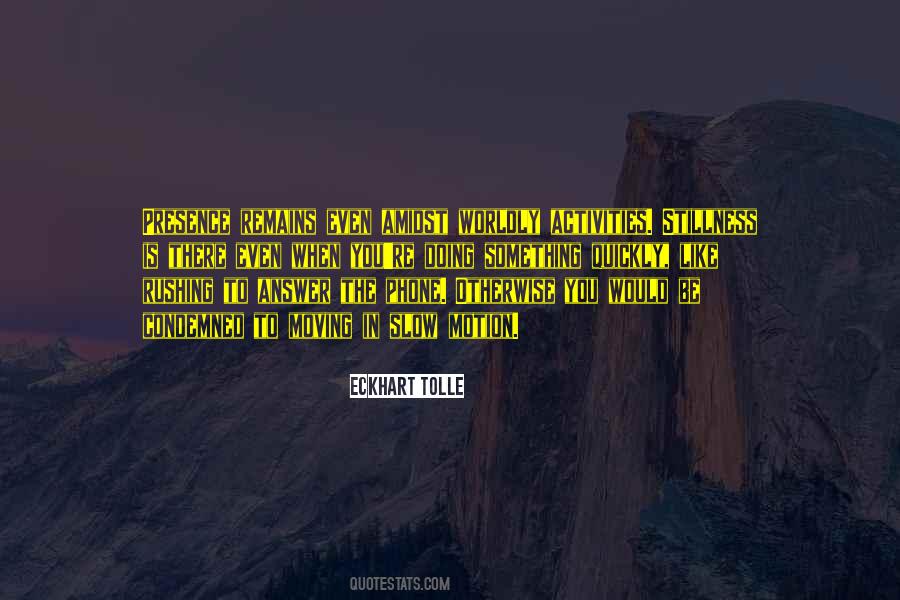 #45. There are many activities that human beings have been doing "forever." We might argue from that perspective that eating meat should be allowed to continue. Men have been raping women for thousands of years; does that mean that it is normal and should be allowed to continue? - Author: Sharon Gannon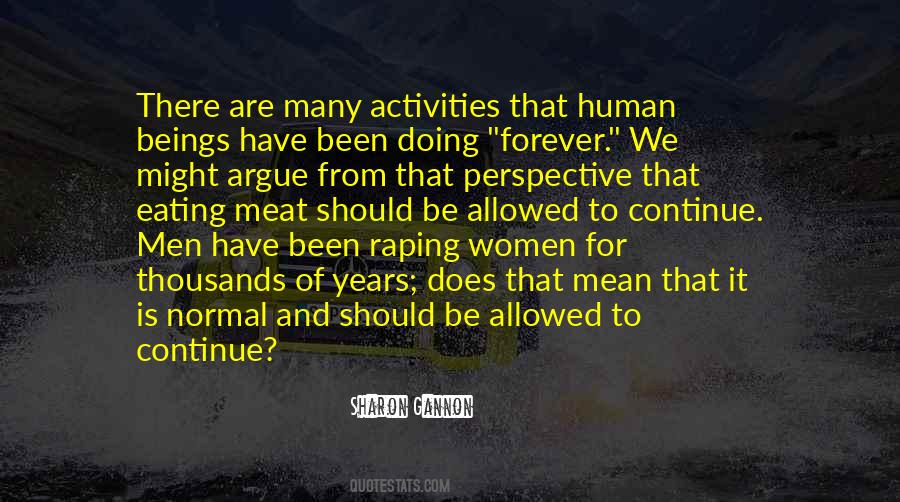 #46. The ordinary activities I find most compatible with contemplation are walking, baking bread, and doing laundry. - Author: Kathleen Norris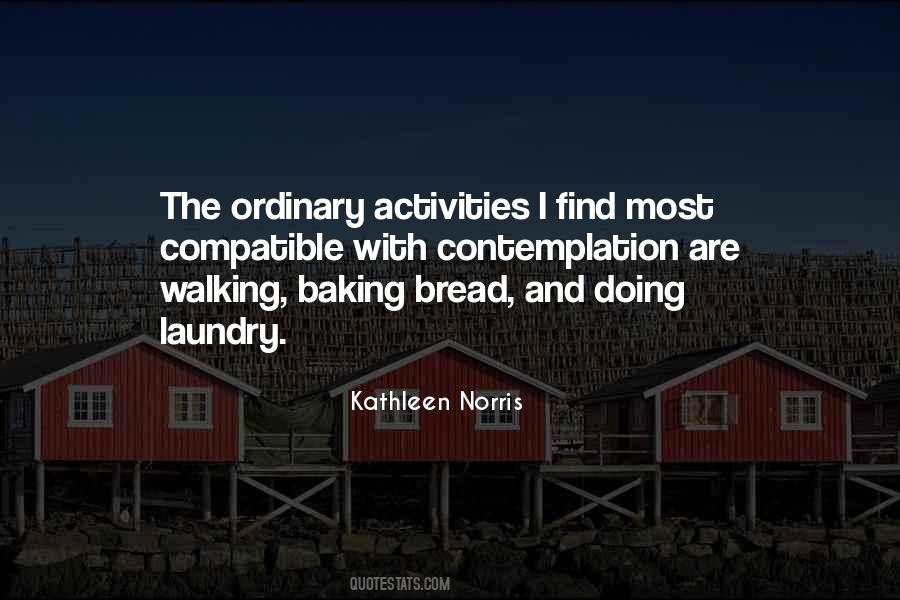 #47. My mother has been my mentor in my life. The number one attribute was discipline. To be on time to school, never miss a day at school, and then checking out homework and making sure I was doing it correctly and signing me up for lots of activities, extra tests and classes. - Author: Ram Shriram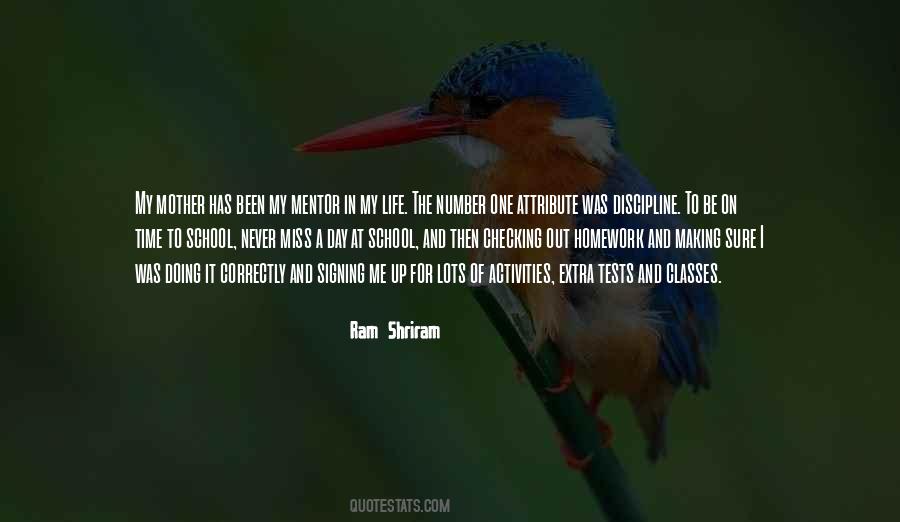 #48. All the action, in semiconductors at the present time is in the new consumer applications, and that's where we have focused our activities since we started doing our own products in the late '90s. - Author: David Milne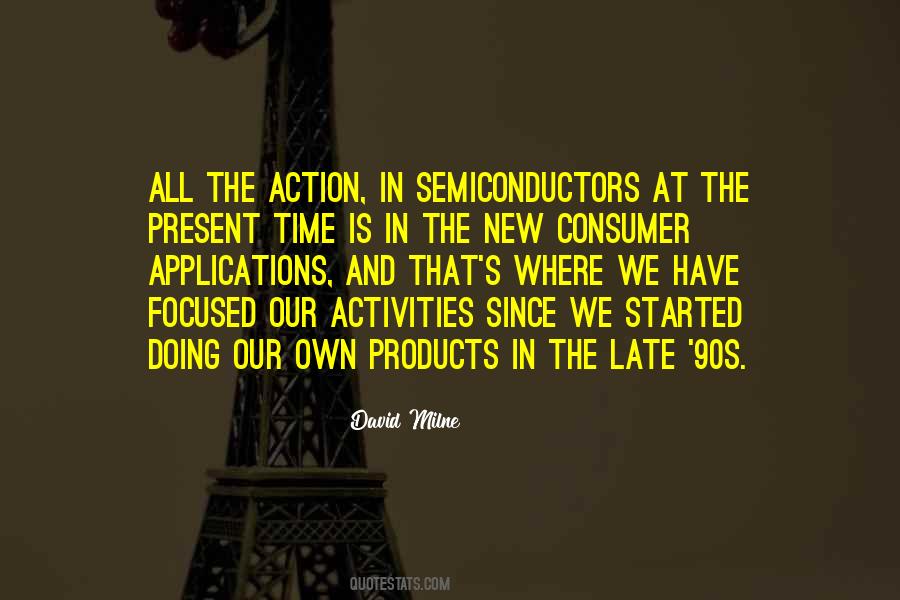 #49. As we don't live in a perfect world, try to spend 80% of your time doing important but not urgent activities - Author: Eddie De Jong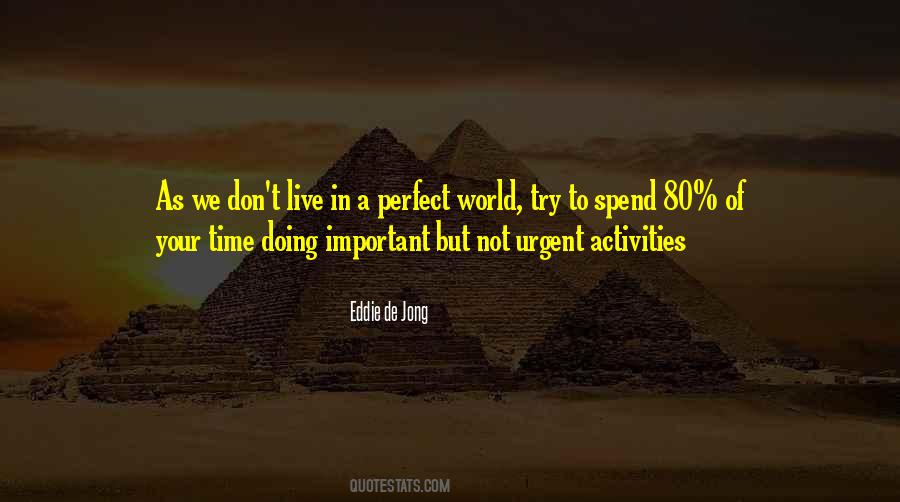 #50. I don't want to be remembered for my activities of my past, but for what I am doing today. By that I mean, I don't want to rest on my laurels satisfied by my past deeds. I want to contribute to the advancement of our Folk each and everyday. - Author: Richard Kemp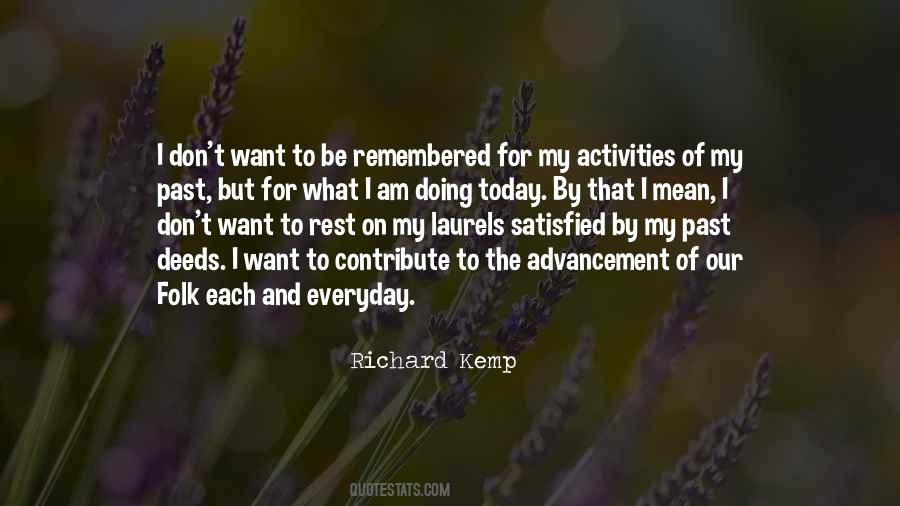 #51. If you see your activities and situation originally, you will be able to originally see your goals as well. If you can look with fresh eyes, as though for the first time, you will see yourself doing things that you would never dream of doing if they were not habits. - Author: Eliezer Yudkowsky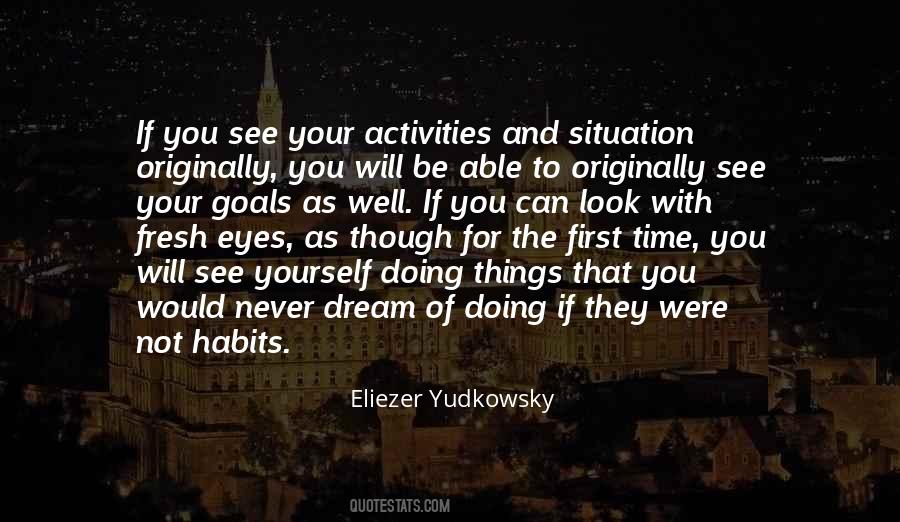 #52. I started bands at a pretty young age and played with my friends back in Detroit. I've always known that I wanted to do this. It was all I was ever interested in doing. I never had, outside of music, any extracurricular activities that I took part in. - Author: Alex Winston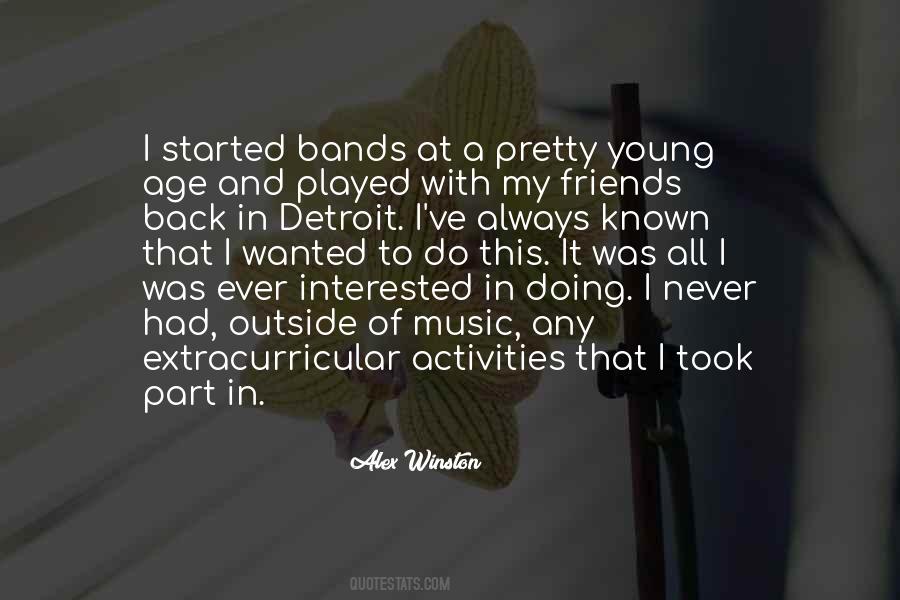 #53. Sometimes it seems as if writing a group of songs is like getting groceries, or doing the laundry - banal things I do more or less on a day-to-day basis. We deal with the issues involved in our mundane activities as they come up, - Author: David Byrne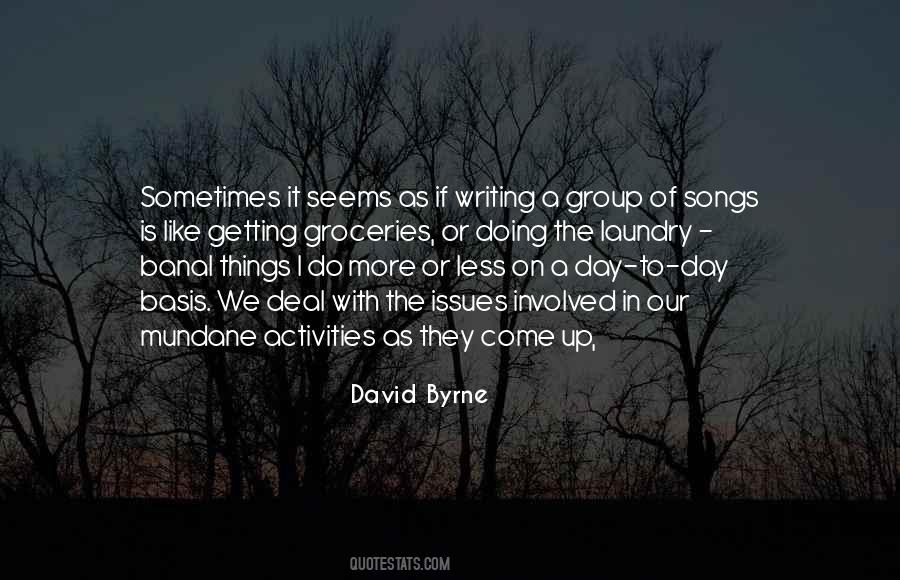 Famous Authors
Popular Topics