Do Whatever You Want Famous Quotes & Sayings
List of top 100 famous quotes and sayings about do whatever you want to read and share with friends on your Facebook, Twitter, blogs.
Top 100 Quotes About Do Whatever You Want
#1. The next time you want to withhold your help, or your love, or your support for another for whatever the reason, ask yourself a simple question: do the reasons you want to withhold it reflect more on them or on you? And which reasons do you want defining you forevermore? - Author: Dan Pearce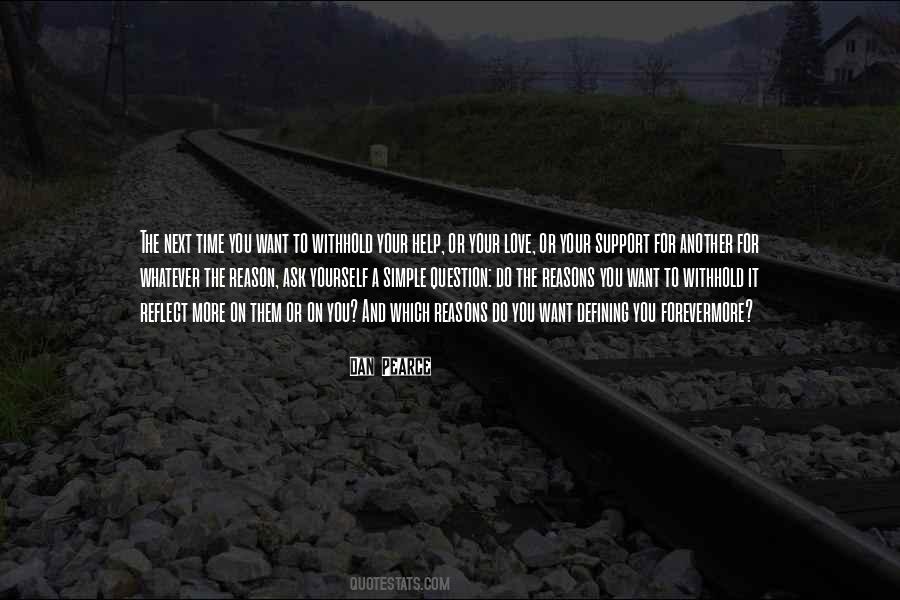 #2. Let me finish my music, and let me present it the way I want to present it. And then share it, put it online, do whatever you want to do after that. - Author: Talib Kweli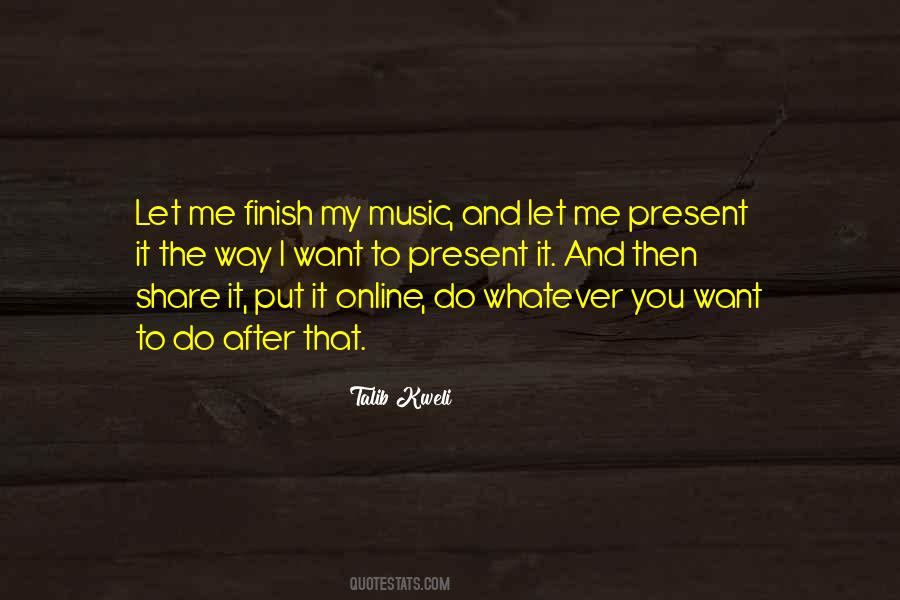 #3. I don't care what your politics are, but I do suggest you pay attention to the next election and go out and vote. It doesn't matter; you can believe whatever you want to believe, but this is the time everybody should be paying a lot of attention. - Author: Andrew McMahon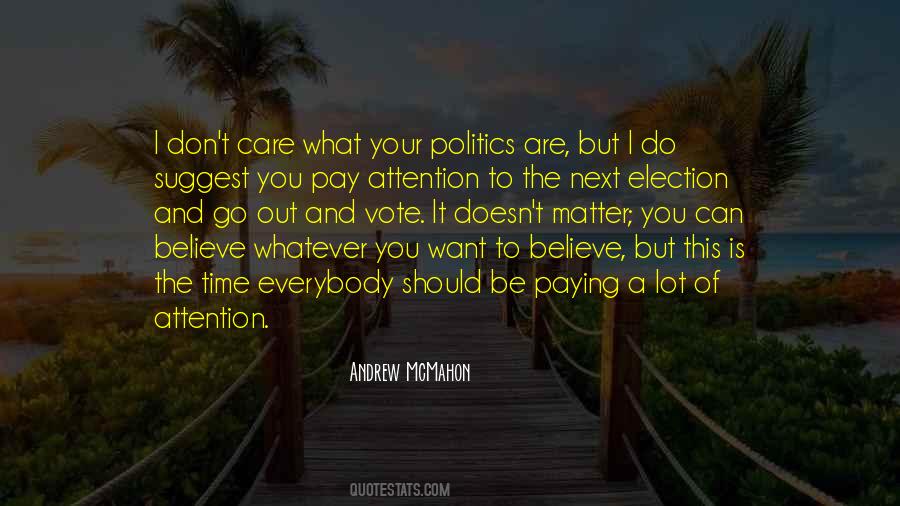 #4. That's what being free means - not the right to do whatever you want, but the right to take a stand and say what you'll die for. - Author: Sebastien De Castell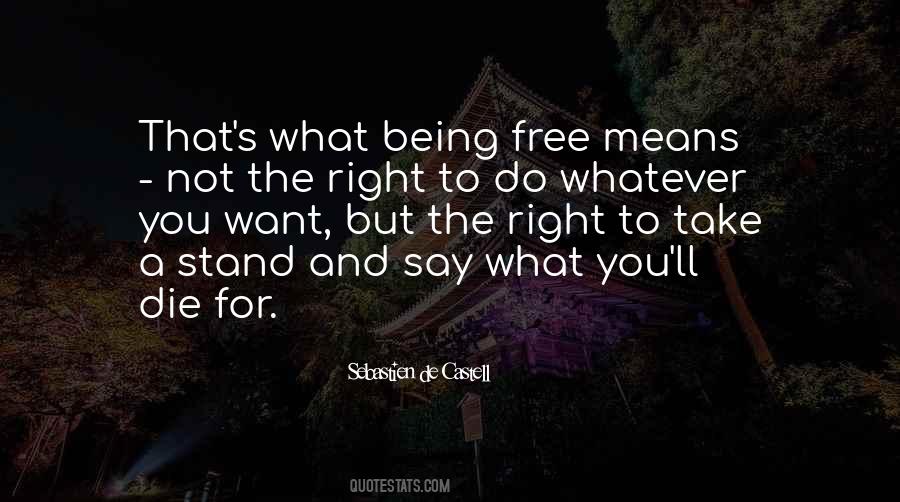 #5. Galina: You want to control the world and everyone in it, but you can't. Let whatever this is - and it's likely nothing - play out ...
Anya: So we do nothing?
Galina: Sometimes that's the only thing to do. - Author: Gabrielle Zevin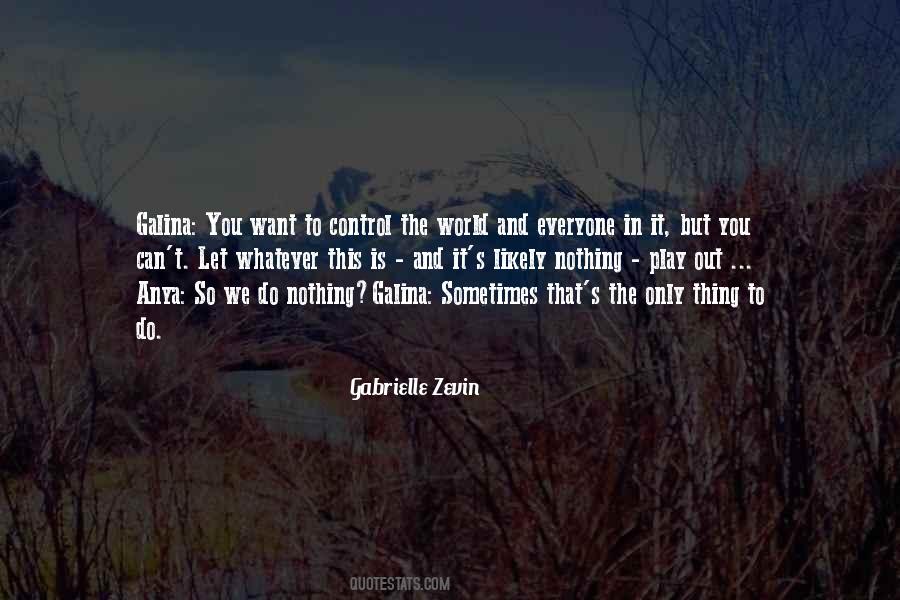 #6. Society is going to judge you anyway, so do whatever you want to do ... No guts no glory - Author: Ziad K. Abdelnour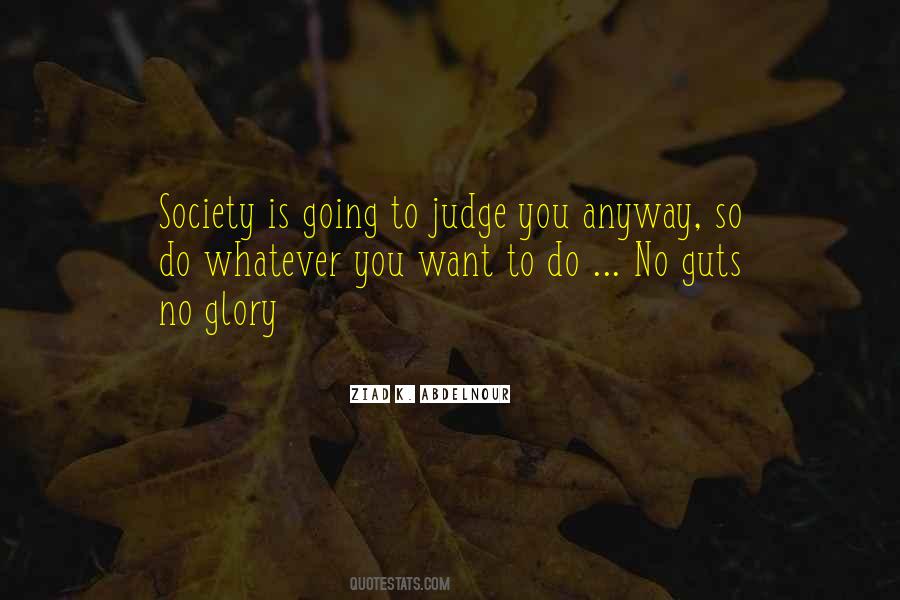 #7. There is one great truth on this planet: whoever you are, or whatever it is that you do, when you really want something, it's because that desire originated in the soul of the universe. - Author: Paulo Coelho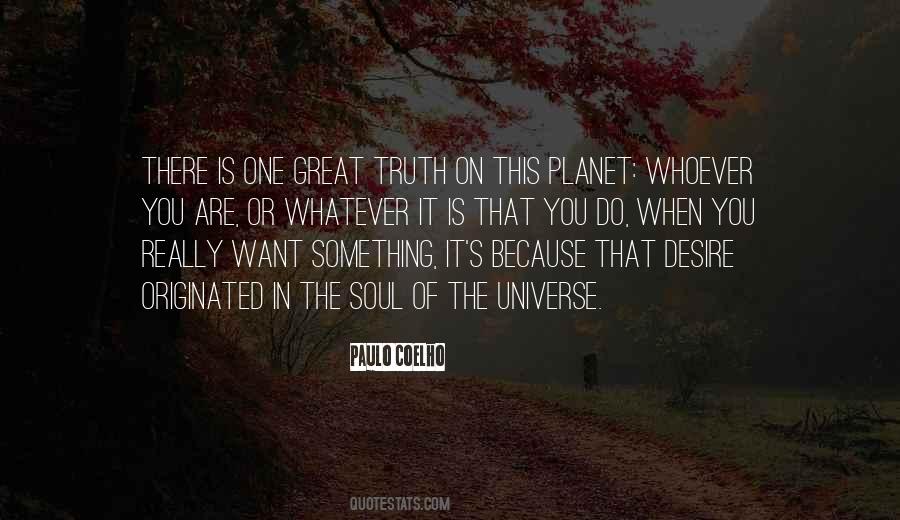 #8. Do whatever you want to do in the privacy of your own home. - Author: Willie Geist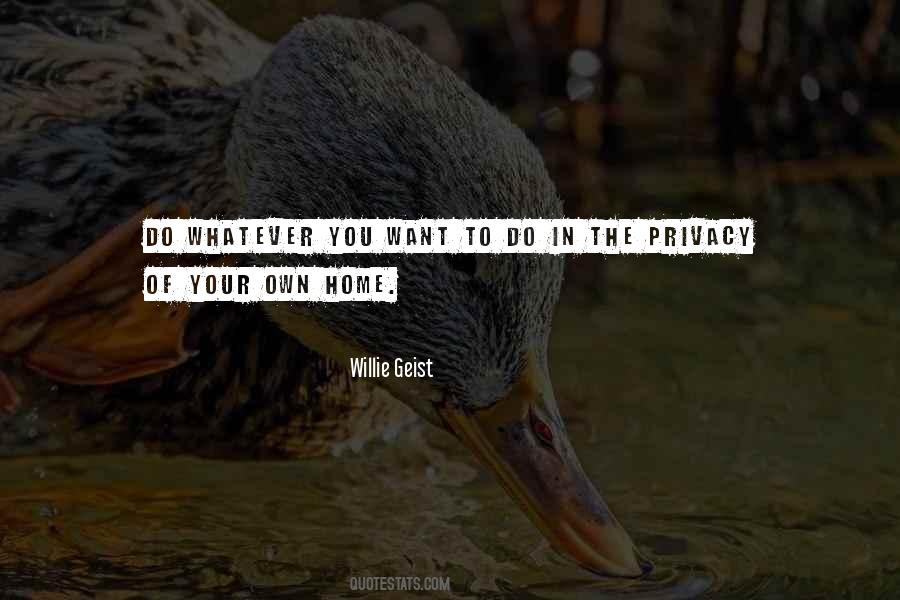 #9. Embrace the moment, your life will be whatever you want to make of it. Be inspired to do great works. You aren't finished yet. Go for your goals! - Author: Sereda Aleta Dailey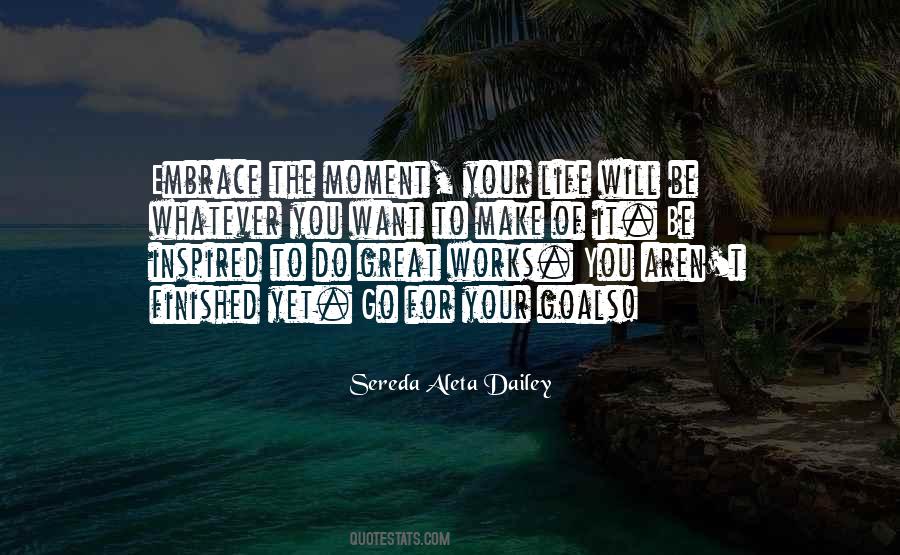 #10. People only see what they want to see, and they only do whatever they want to do. You can make excuses for them all you like, but you'll always be making excuses for them, - Author: Jade West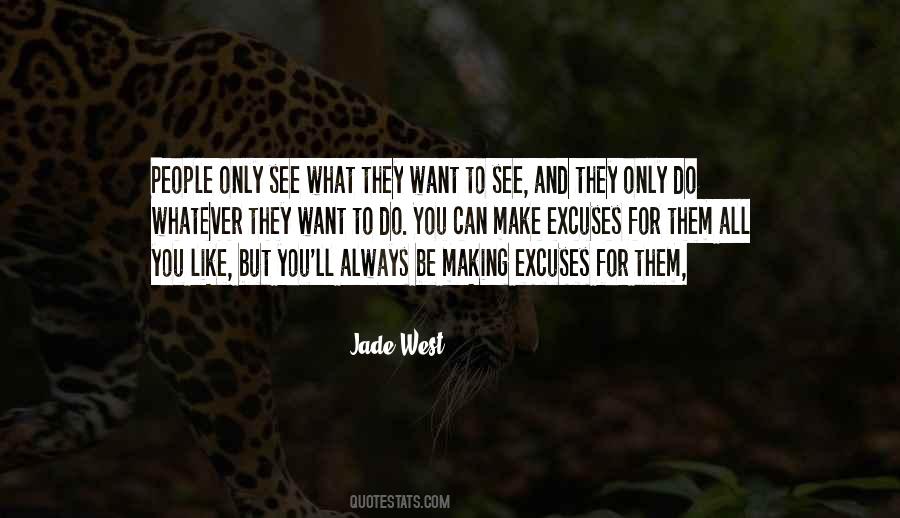 #11. I could see how people get addicted to animation, and I understand why it's so great for comedy. You can do whatever you want and it just happens. - Author: Adam McKay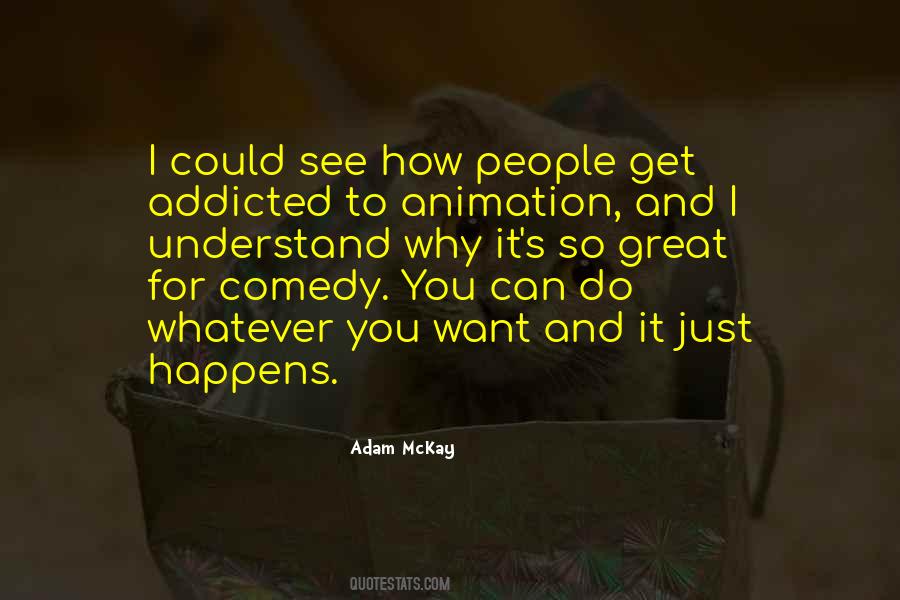 #12. Basch: So why don't you ask her out?
The Runt: I'm scared she wouldn't like me and say no.
-So what? What have you got to lose?
-The possibility -if she says no- that she might have said yes. Whatever I do, I don't want to lose that possibility. - Author: Samuel Shem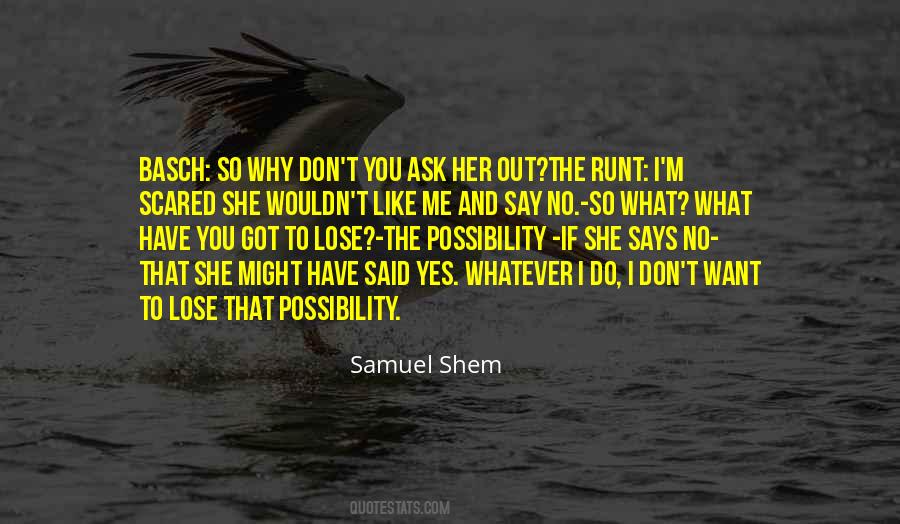 #13. We leave our home," she pointed upwards, "and come here. When we're done down here in the swamp of humanity, whatever you want to call it, we go home. To our real home. We all do. No choice. Whether you believe it or not. - Author: Jonas Saul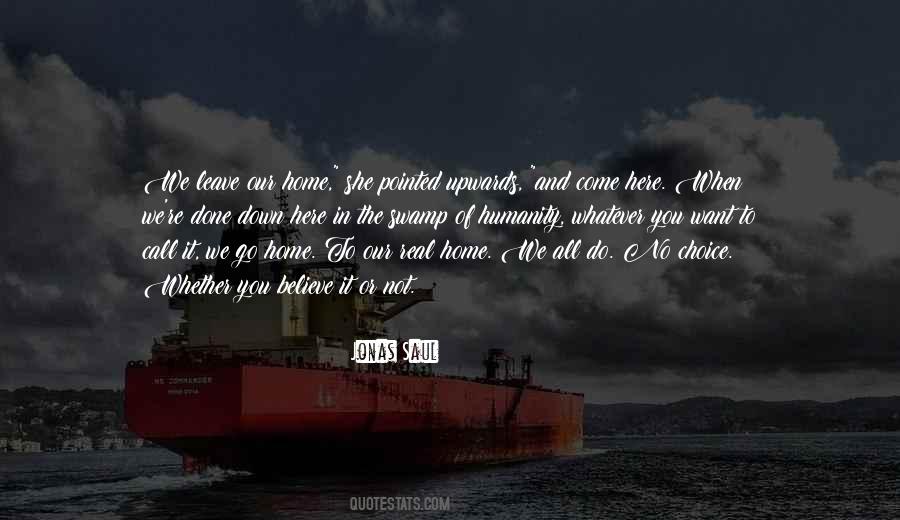 #14. You can say whatever you want; it doesn't matter. It doesn't faze me. I'll still go out and do what I have to do, whether that's making A's in the classroom or doing well on the field. - Author: Robert Griffin III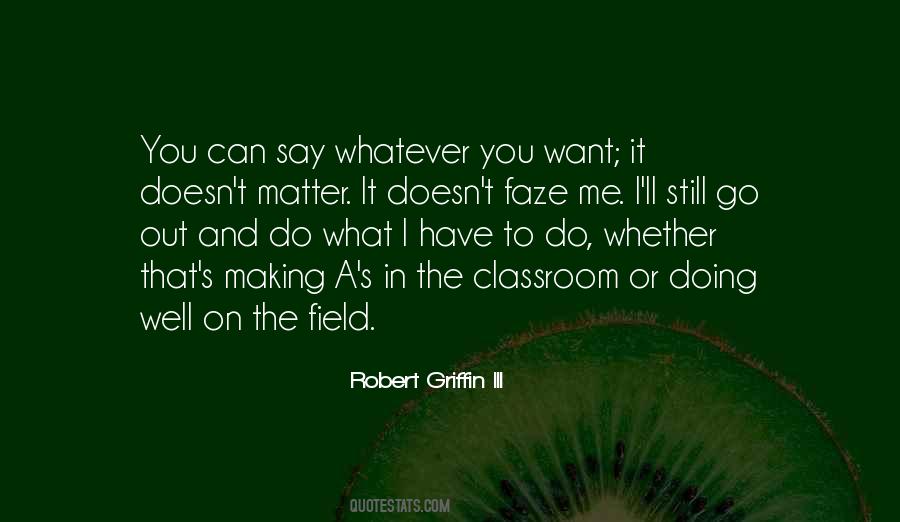 #15. I think doing something of your life is something that you've got deep inside, whether it's to, whether you want to be an astronaut or a, whether you want to do science, or whether you want to be a movie star, or whatever. - Author: Philippe Perrin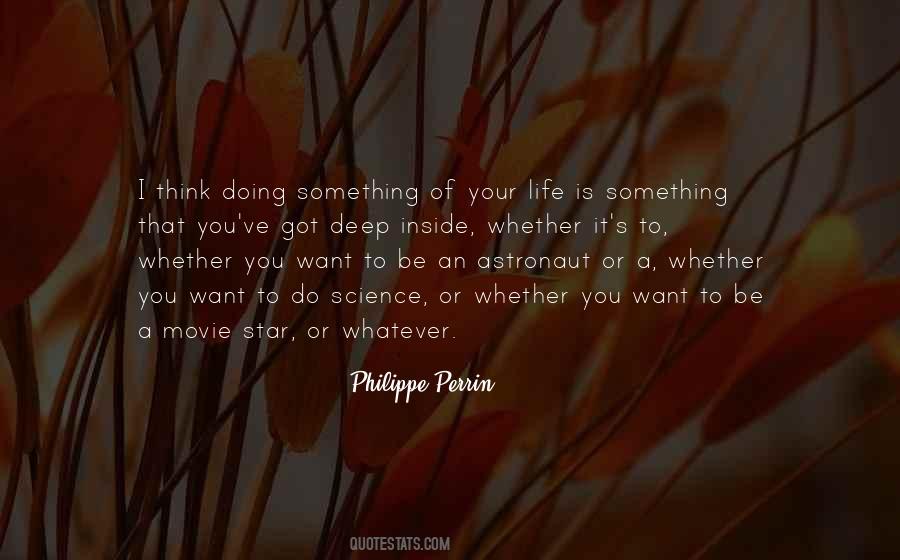 #16. Nobody ever listens. People will tell you whatever they want to hear themselves say. Nobody cares if you feel better, just so long as they do. - Author: David Elliott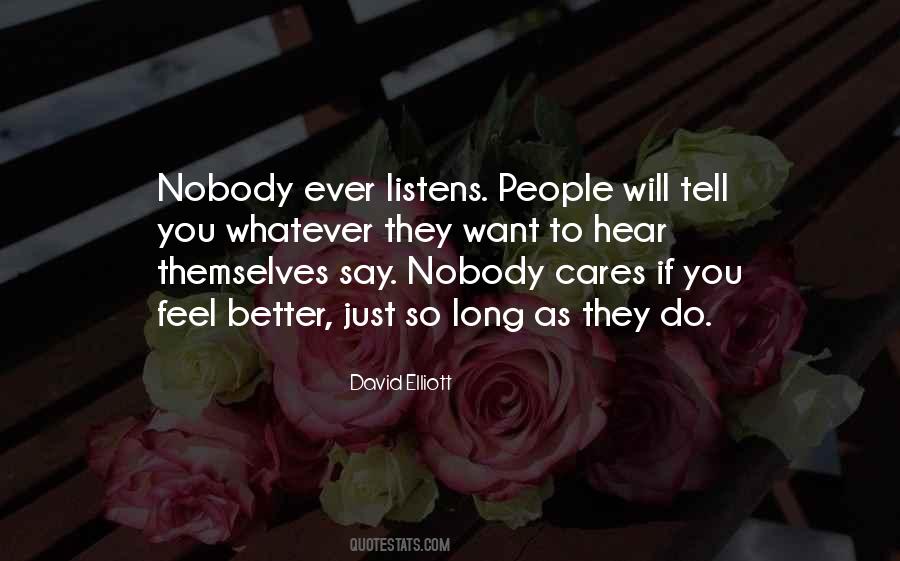 #17. I wash my hair once a week. You can do that. I swear. My sister-in-law and all of my friends were like, 'I can't do that. It sounds gross.' Once you train your hair, it will do whatever you want it to do. And on day seven when it's too oily, you just put it in a ponytail. - Author: Joyce Giraud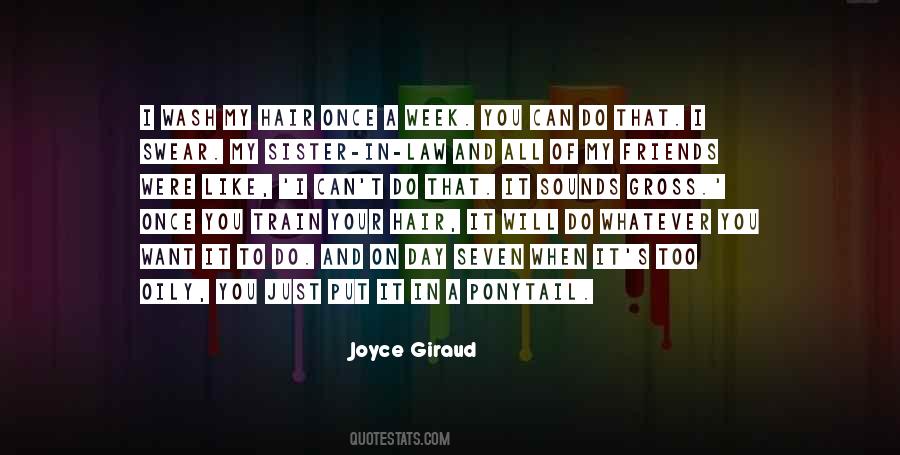 #18. Once you free your mind about the concept of harmony and of music being correct, you can do whatever you want. So nobody told me what to do, and there was no preconception of what to do. - Author: Giorgio Moroder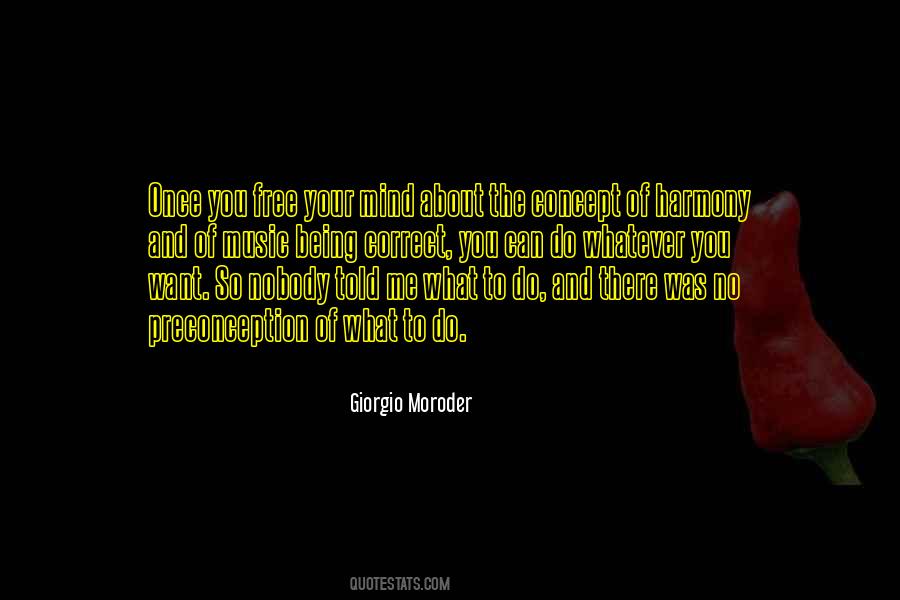 #19. I've seen comedians make people laugh by being either really dark and sad and touching, or really strange and bizarre and creepy. You can take the format and do whatever you want with it, and that seemed interesting to me. - Author: Amy Seimetz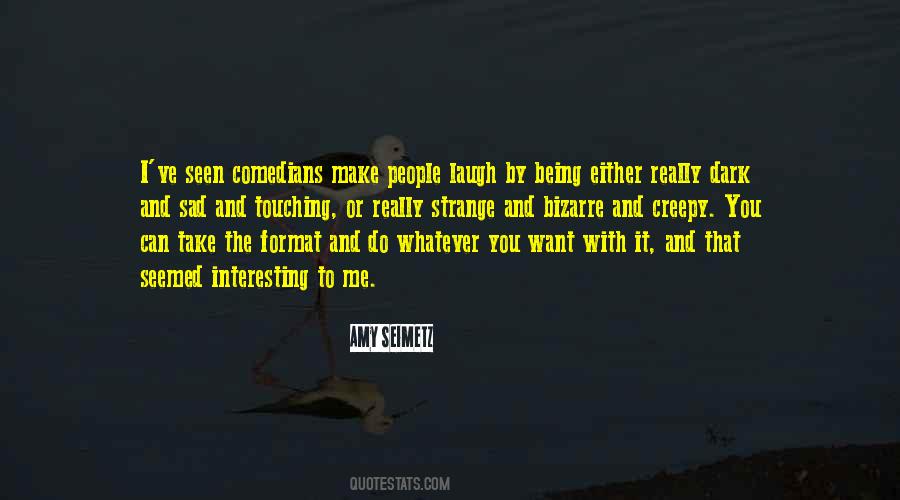 #20. As an actor, you can show up on a set and be on a TV show for three or four years, or whatever it is and, by the end of it, you just want to do something else. - Author: Michael Ian Black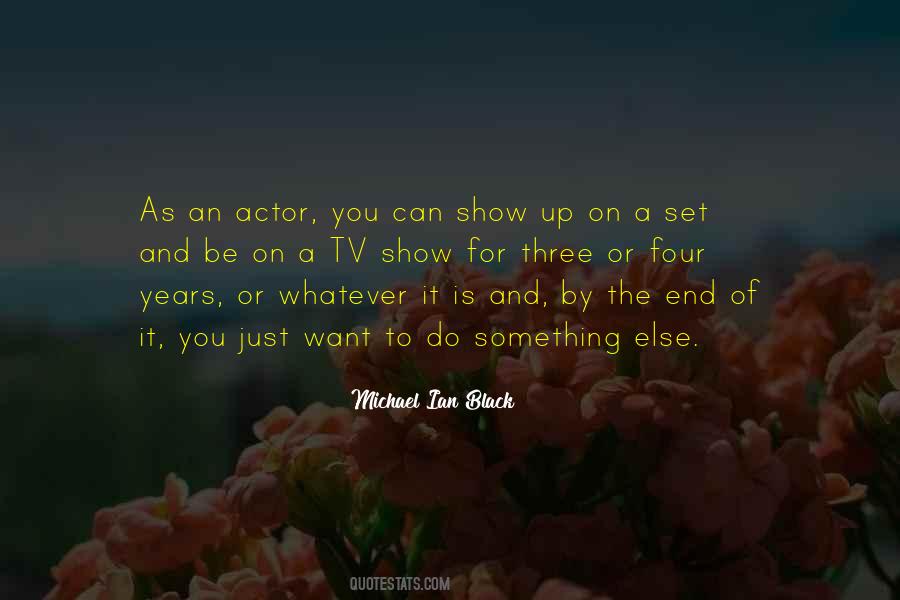 #21. Fine! Do whatever you want. And when you get fleas, don't come complaining to me. - Author: Shelly Laurenston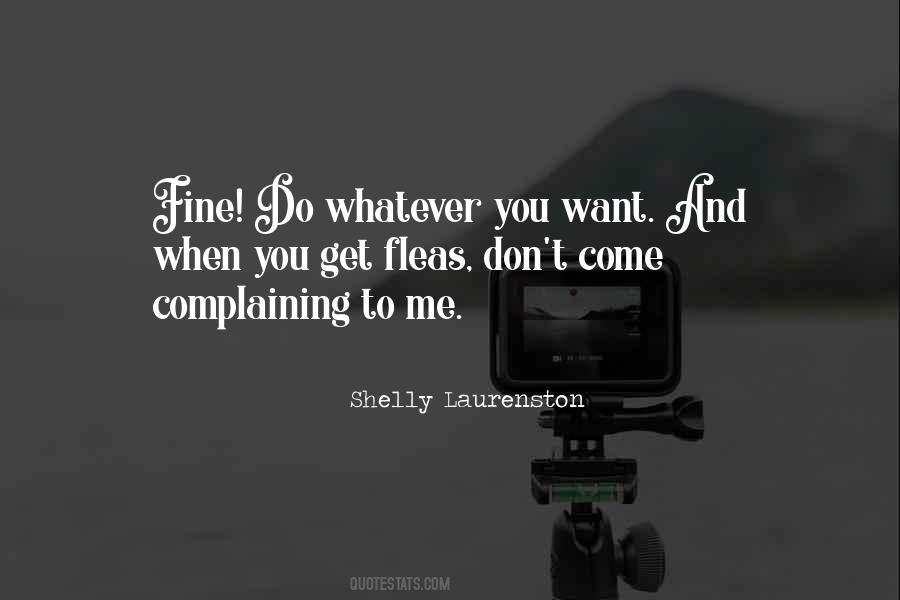 #22. In America, the colors sing, they don't just glower at you. The West Coast especially is fantastic. It seems like you can do whatever you want here. - Author: Stanley Donwood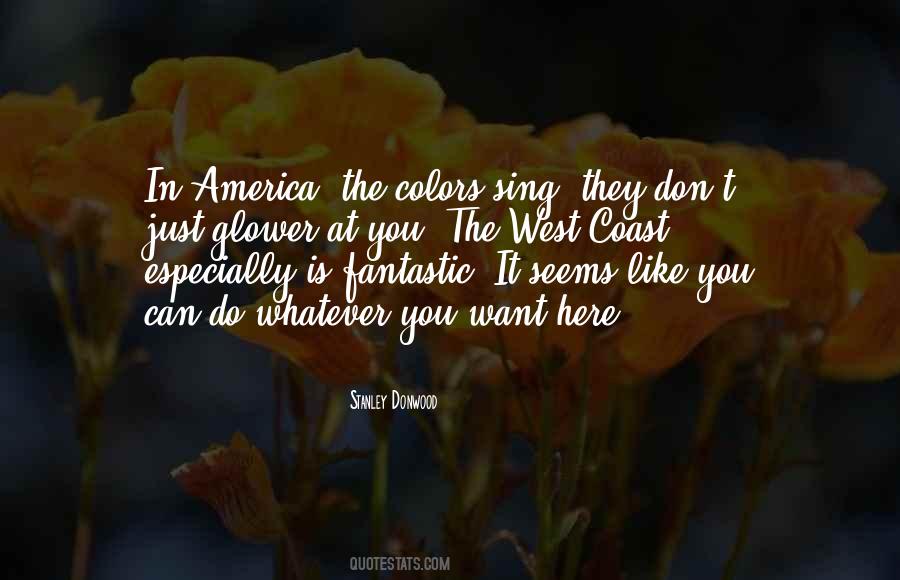 #23. You can rule ignorance; you can manipulate the illiterate; you can do whatever you want when a people are uneducated, so that goes in line with corrupt business and corrupt politics. - Author: Will.i.am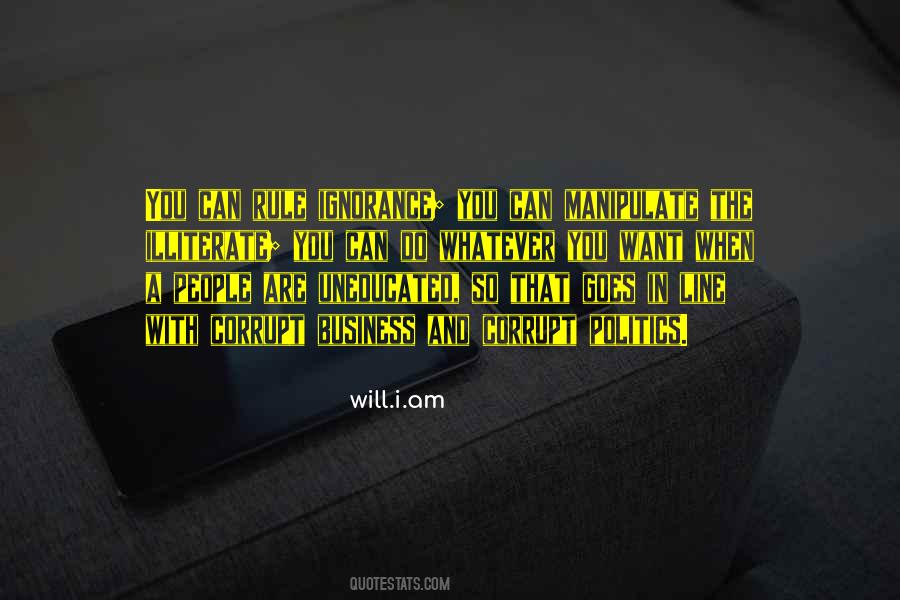 #24. Take whatever position you want, but do take a position, because once you do, ample money awaits you on either side. - Author: Dick Morris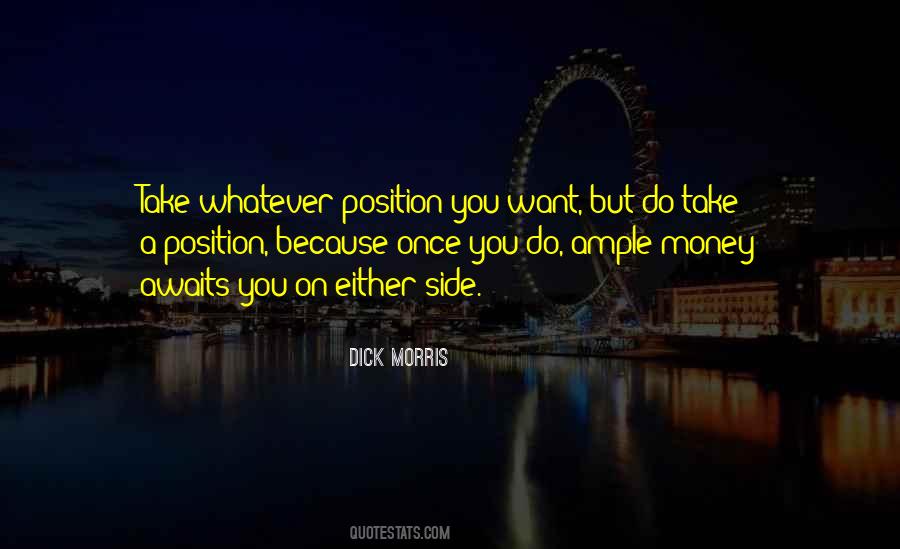 #25. The old man stared at me with his bright green eyes. You're Gin Blanco, Genevieve Snow, and the Spider all rolled into one. You can do whatever you want to, sweetheart. - Author: Jennifer Estep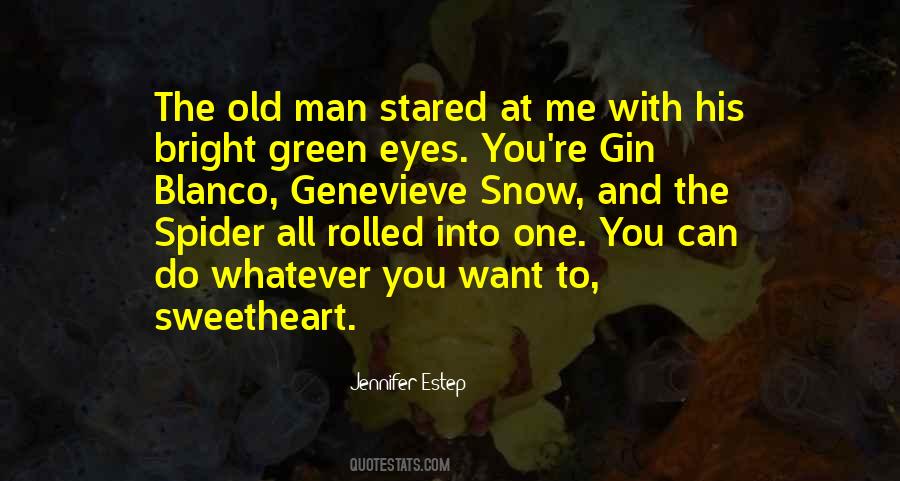 #26. Everybody's not as fortunate as I've been that can have their hubby with them on the road, that we can do whatever we want and mainly be honest with the kids. Just the time that you do give them, make it be great time. It doesn't have to be hours. - Author: Gloria Estefan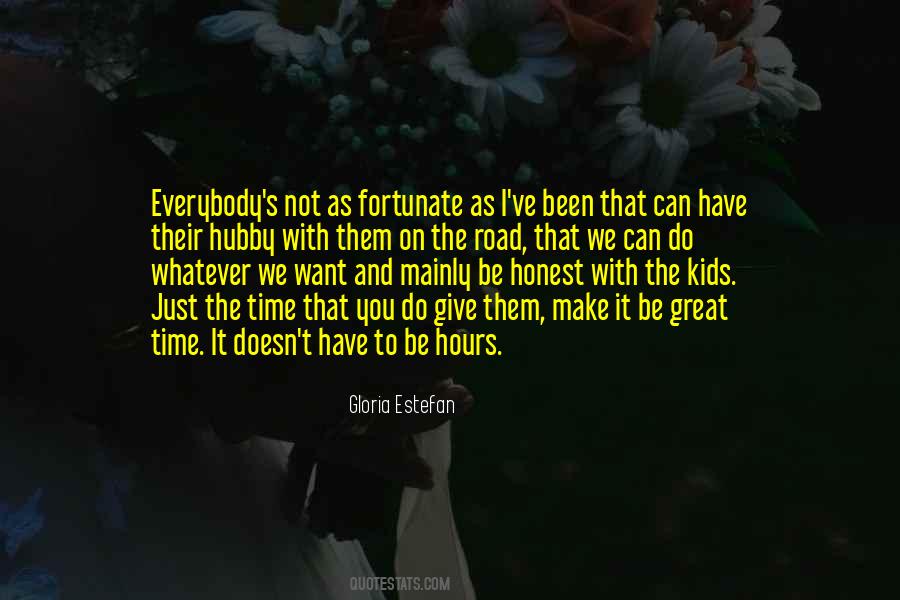 #27. Despite the aweful paparazzi drama that people seem to believe, i am still just like you ... i obsess over hot guys, get told what to do, and go to school. Believe what you want, but i am NORMAL ... whatever that means - Author: Miley Cyrus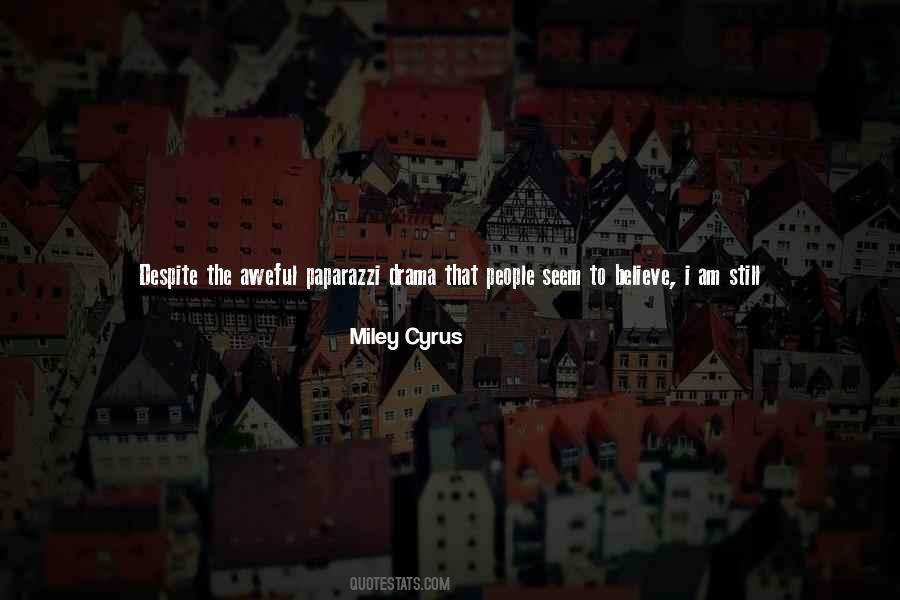 #28. If I have to sacrifice to give you everything you want, if I have to change who I am, whatever I have to do - tell me. It's done. I can't believe I thought I could live without you. - Author: Kendall Ryan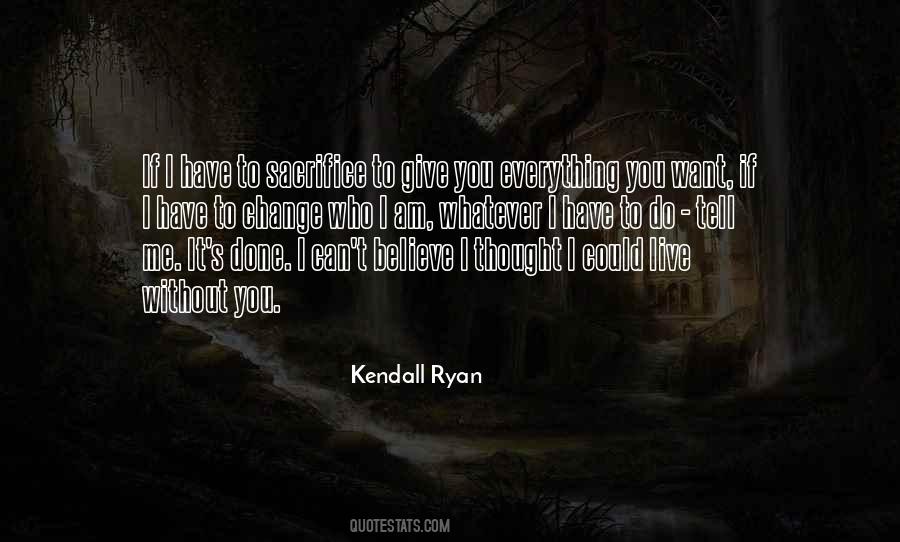 #29. You everything I need. I'm just saying, I trust you. Whatever you want to do. I need you. And that includes ways and things that everybody else would shy away from. Because we're not everybody, Dan. We're us. - Author: Aleksandr Voinov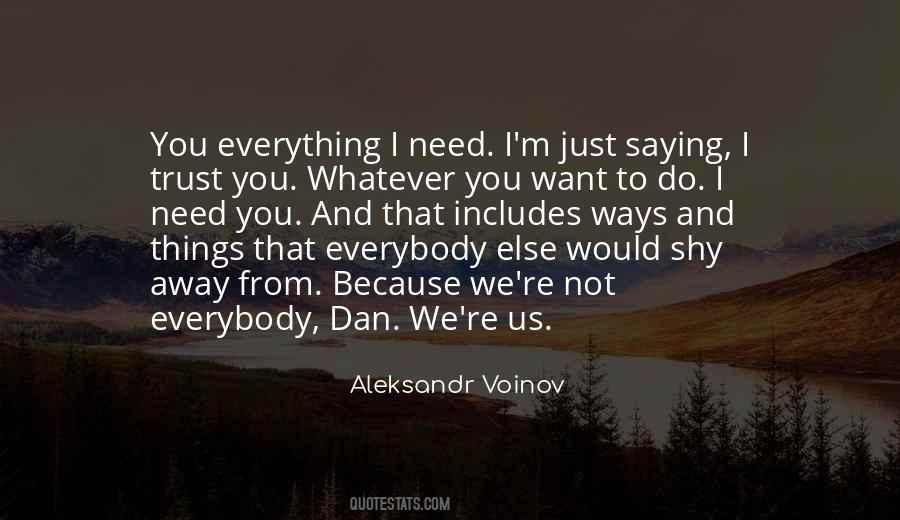 #30. The Second Amendment! It says you have the right to bear arms, or the right to arm bears, whatever the hell you want to do! - Author: Robin Williams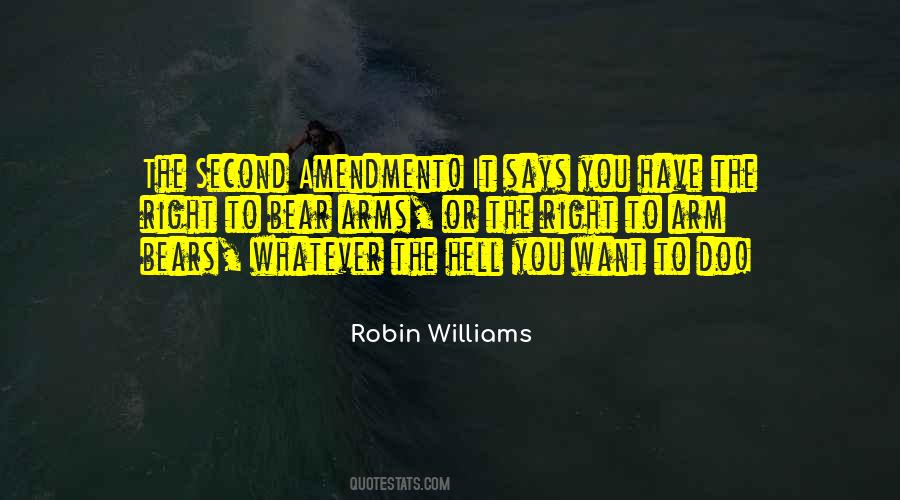 #31. What's the point of prolonging your life if you don't enjoy it? It's your body. Do whatever you want with it. Better to wear out than rust over. - Author: Rita Mae Brown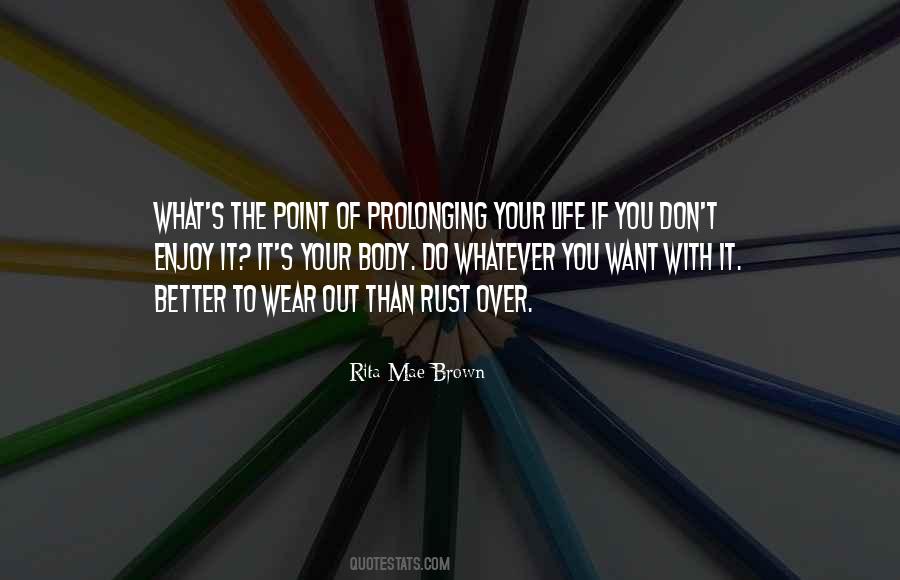 #32. I like bossy girls. I don't like girls who just do whatever they think you want them to do, and follow you around trying to please you all the time. - Author: Jarvis Cocker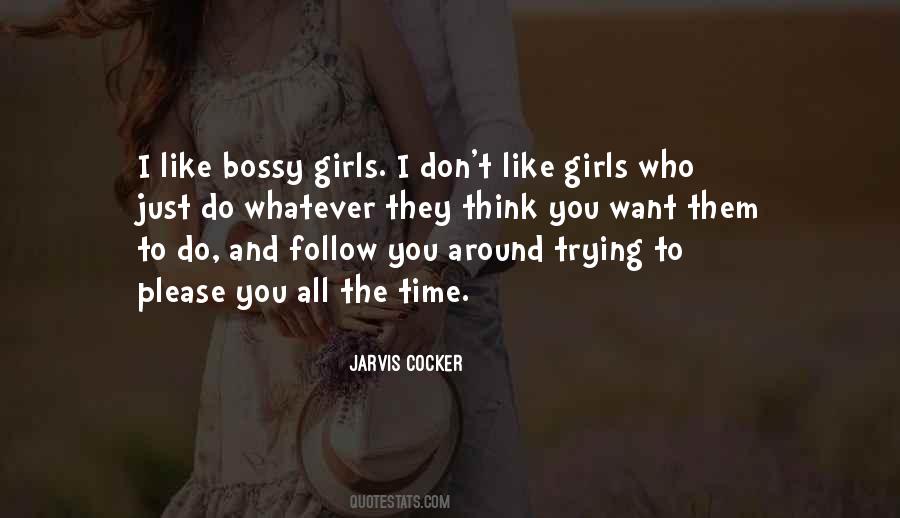 #33. I love that woman. The only thing I want is for her to be happy. I'll do whatever it takes to see that happen. Do you get that? - Author: Kelley Armstrong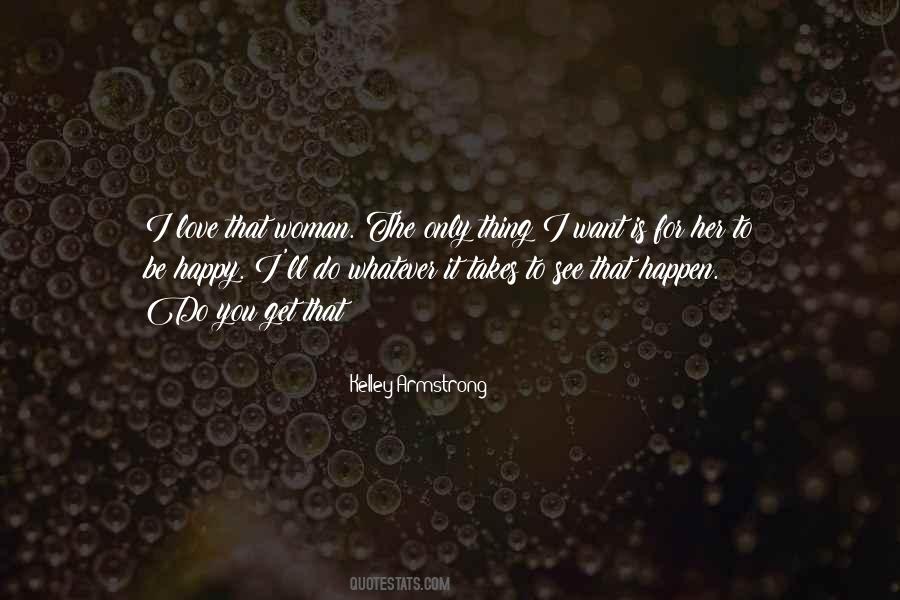 #34. Be a great capitalist. Be a great socialist. Be a great whatever you want to be, but do it with style, clarity and precision. That is the hallmark of those who seek higher knowledge and truth. - Author: Frederick Lenz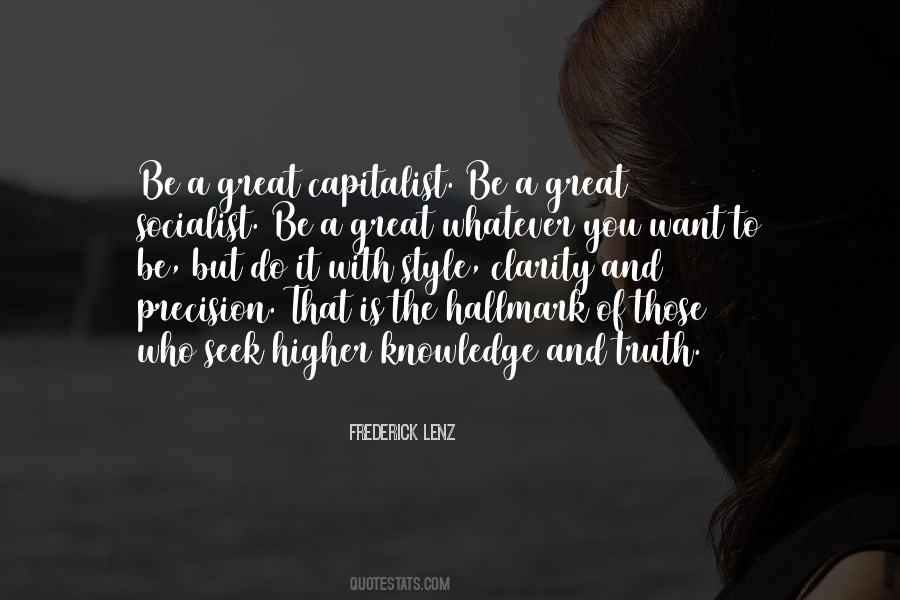 #35. There are really only two stories the coal industry tells: "Coal keeps the lights on, and by implication, you'll live in medieval, soul-shattering darkness if you don't let us do whatever the hell we want with the landscape and drinking water you public health, because there's no alternative." - Author: Robert F. Kennedy Jr.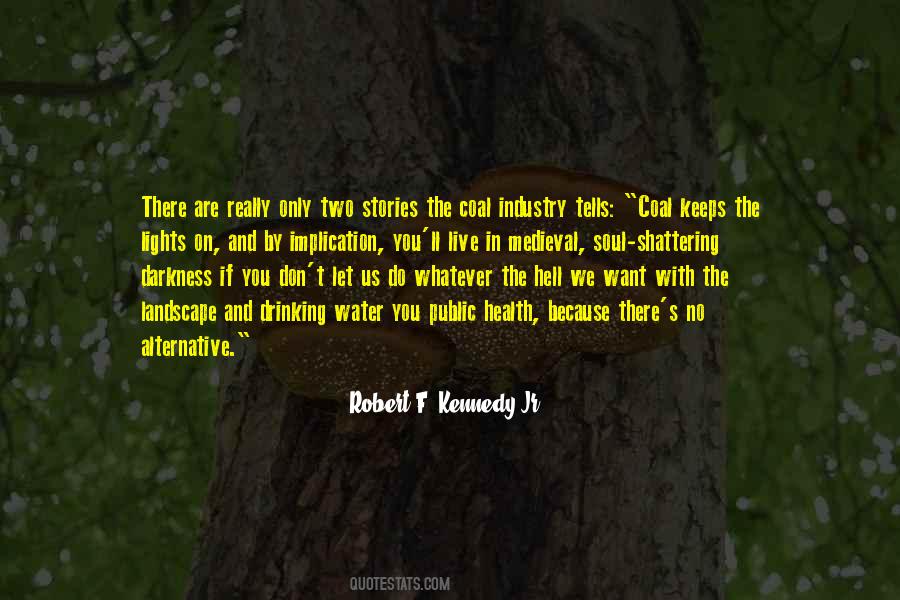 #36. It's so funny because you think you're attracted to this bad boy. They do whatever they want, but you don't really want that. You don't want someone who's out on a tour bus, sleeping around with different people and getting wasted. - Author: Malin Akerman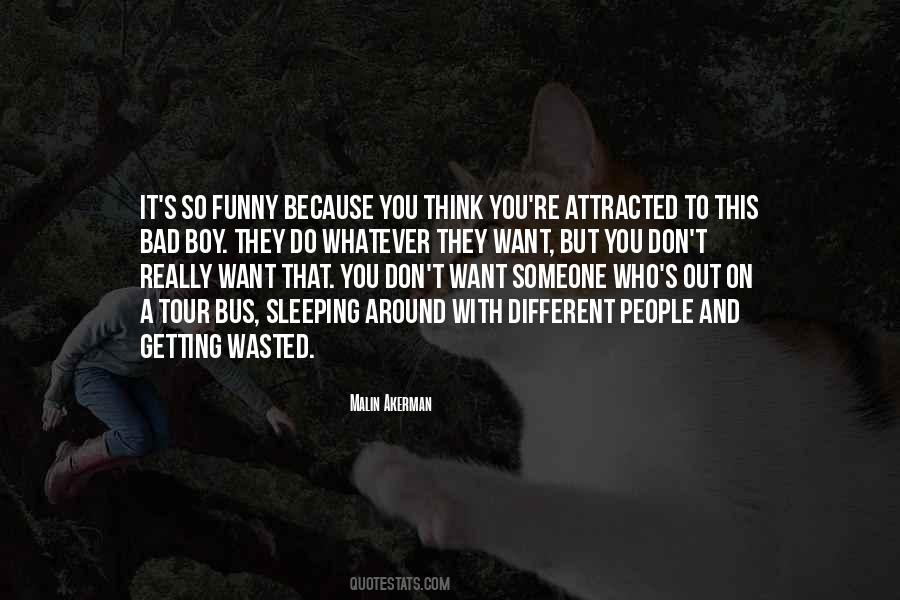 #37. Whatever you want to do, if you do it with all your heart, it will happen. - Author: William Kamkwamba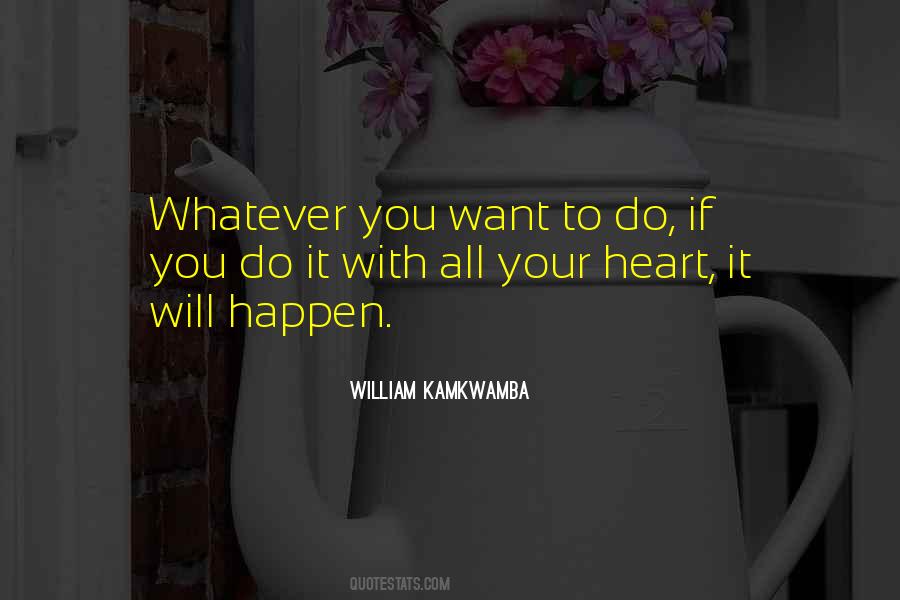 #38. Do something that you love. Whatever you're going to do is going to be tough enough. Find something that gets you so excited that the sun can't come up early enough in the morning because you want to go do your thing. - Author: Chris Gardner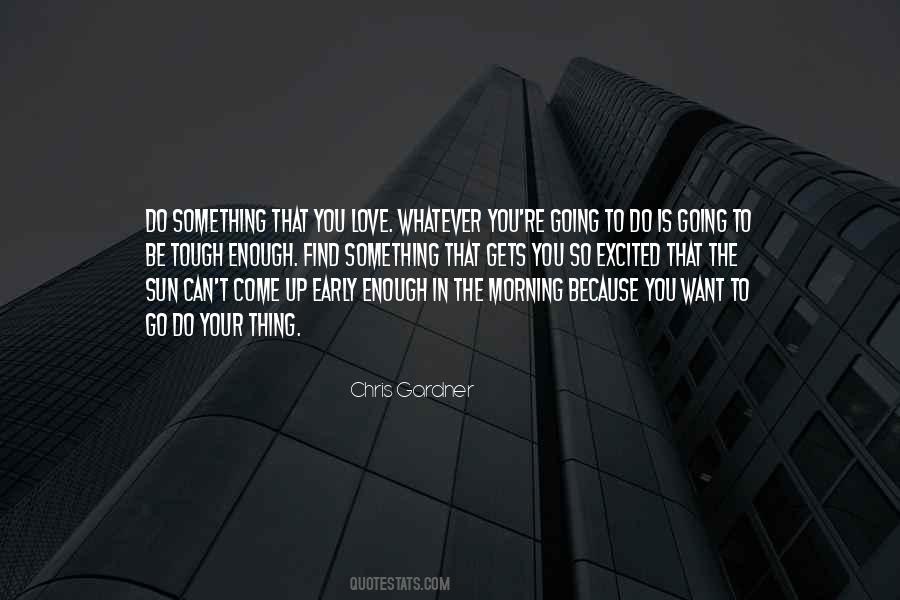 #39. Own me, fill me, break me, repair me, complete me. Do whatever you want to me. Just stay with me. I need you. I need to be able to live. I need my life back, I need you back. - Author: Mia Asher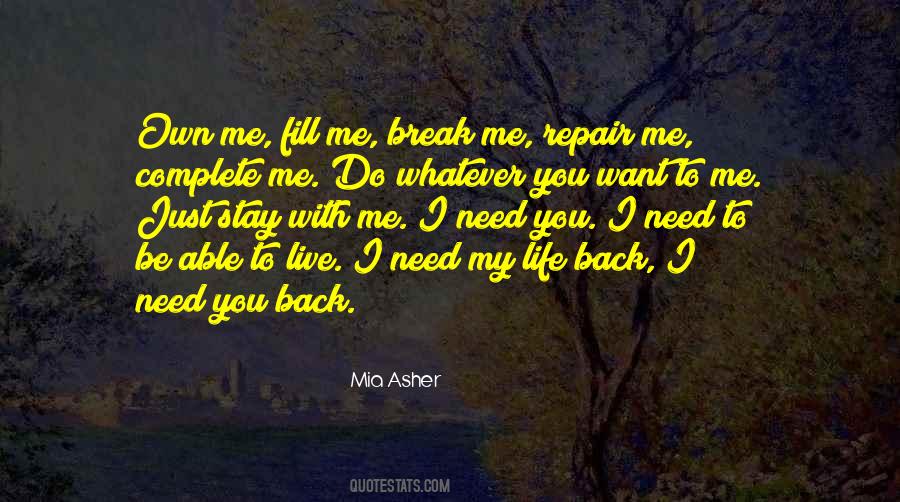 #40. Everything depends on liking the people and trusting the people. You have to assume that whatever they do will be as good as you want the thing to be and just go ahead with that. - Author: Anne Carson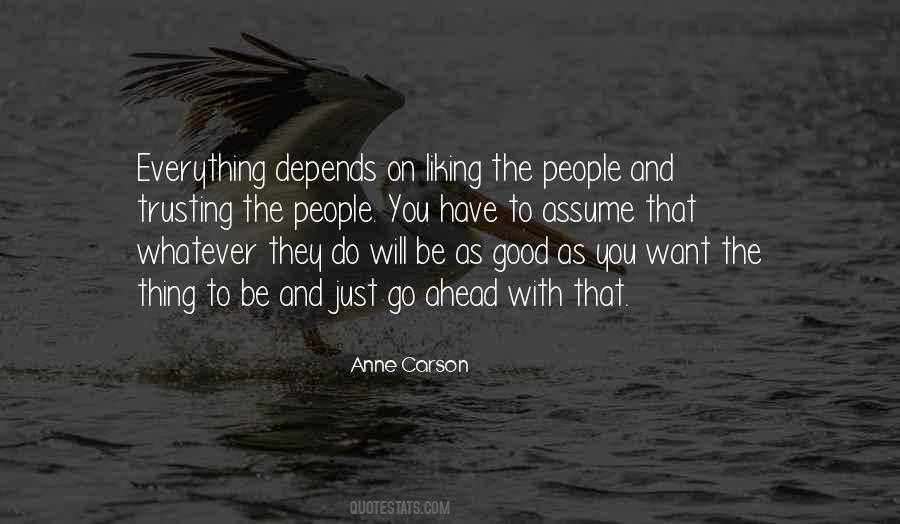 #41. Look at a guy like Ian McKellen, who is eighty or whatever, and he's just loving his work, and you can see that in the work. That defines what type of actor you are. And what kind of people want to work with you. And whether you can do this job for a long, long time. - Author: Jason Clarke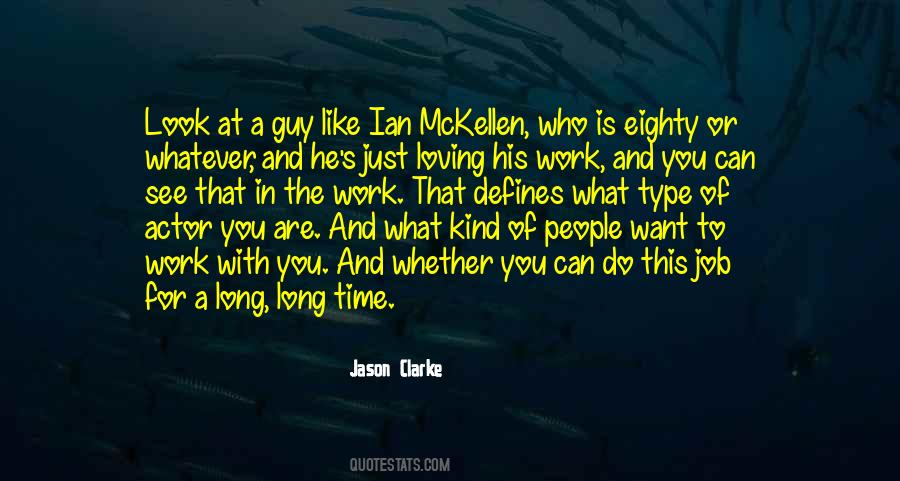 #42. You do it for the highs, when you're totally engrossed and everything's flowing and whatever you want, you get. It's like magic. That's why you play the game. That's what it's for. That's why you work. - Author: Greg Rusedski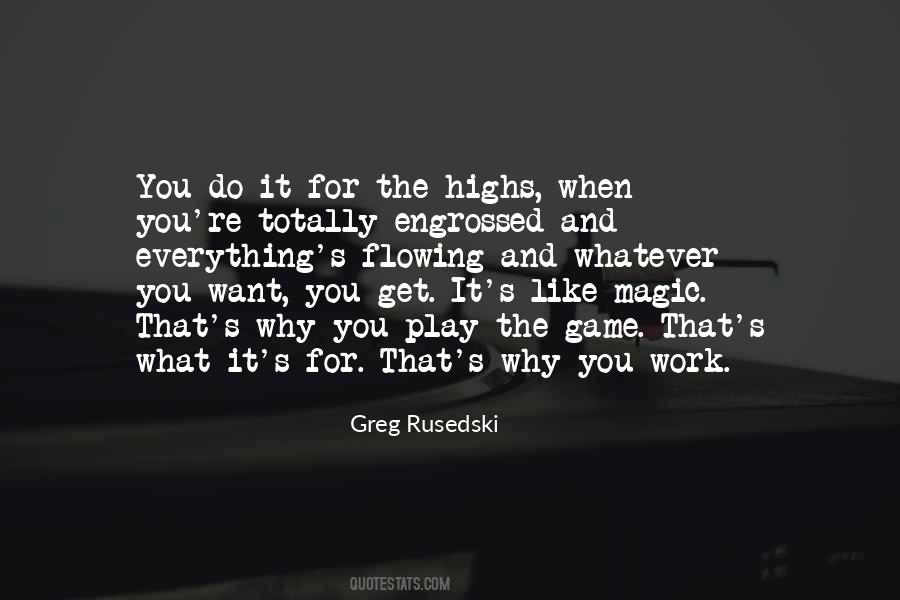 #43. I can do whatever I want - I'm rich, I'm famous, and I'm bigger than you. - Author: Don Johnson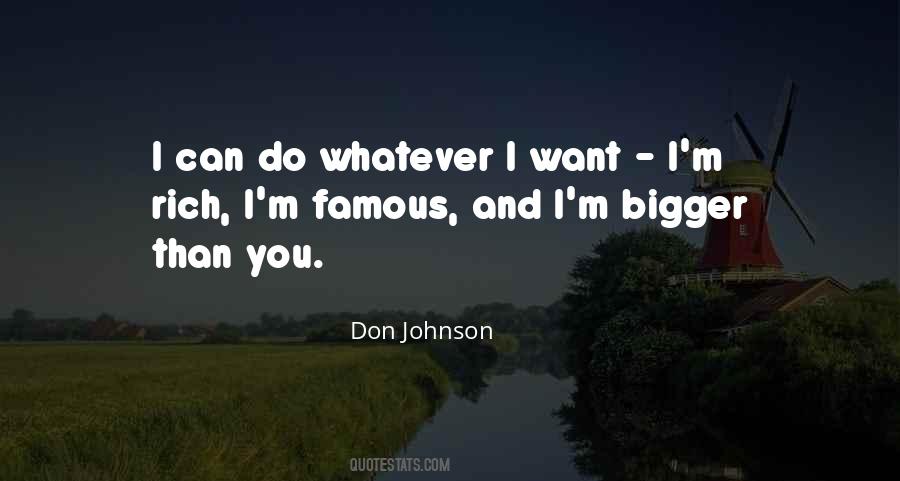 #44. You have the power to pause stuff and you have the power to go to the bathroom. You can do whatever you want in your own home. It's a much more relaxed thing. It's more like a book, it seems to me. That's kind of the way I watch movies. - Author: David Fincher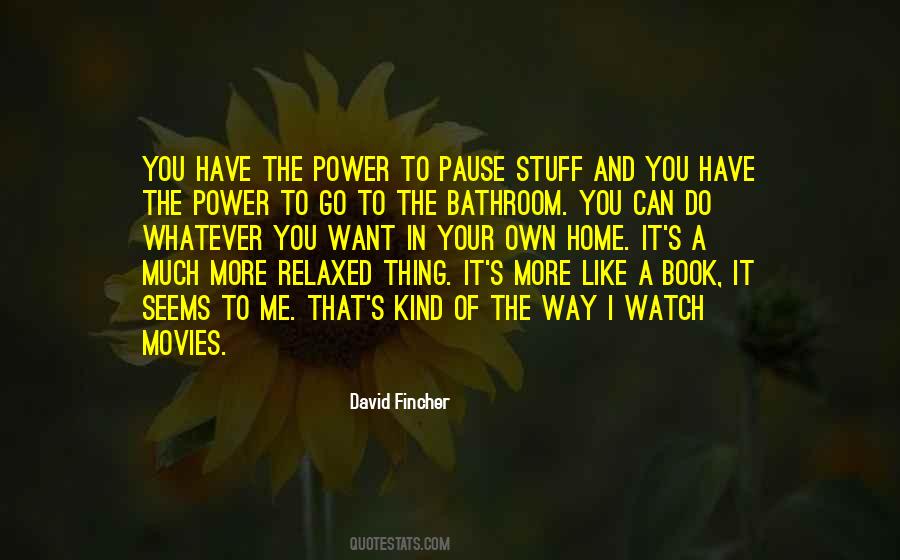 #45. You don't have to choose, Hannah. It's not success or fun. It's not life or love. You don't have to just pick one door to walk through. You can have both. It's okay. You just have to go out and do something about it. Don't sit back and let life happen to you. Go grab what you want, whatever it is. - Author: Jessica Love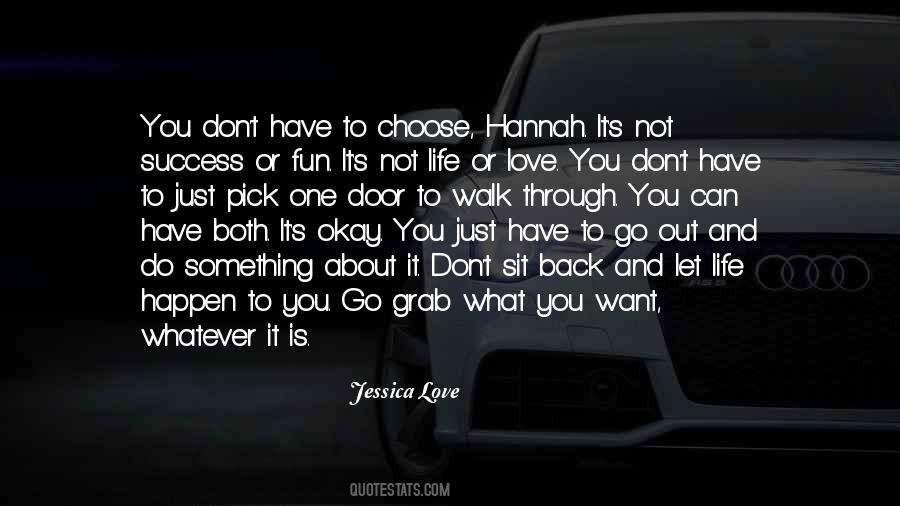 #46. With theatre especially, you don't want to do it unless you love it - there's no way you can pull it off, making people happy, making yourself happy for 12 weeks or whatever. - Author: Carey Mulligan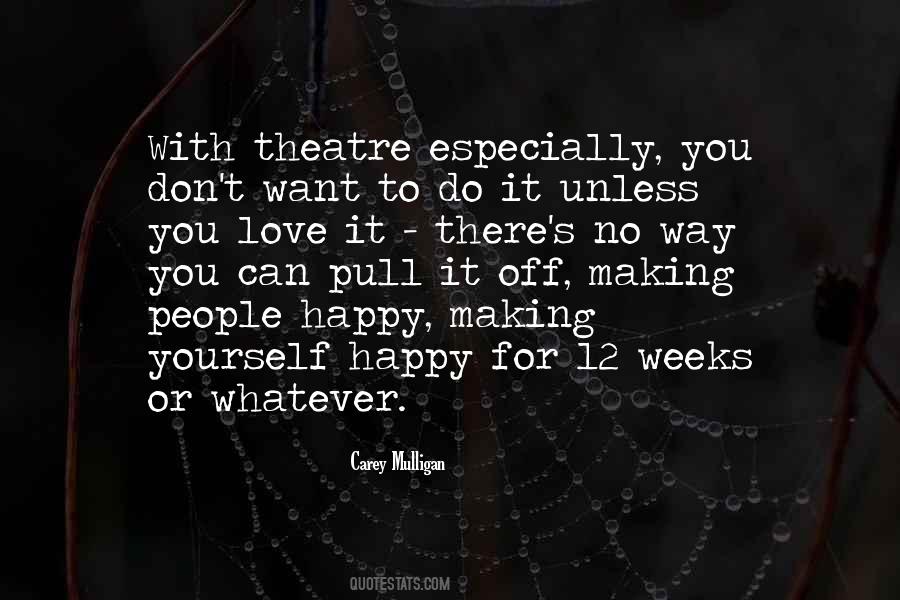 #47. Whatever it is you love, and whatever it is that you want to do, that's what you should be doing. - Author: Zakk Wylde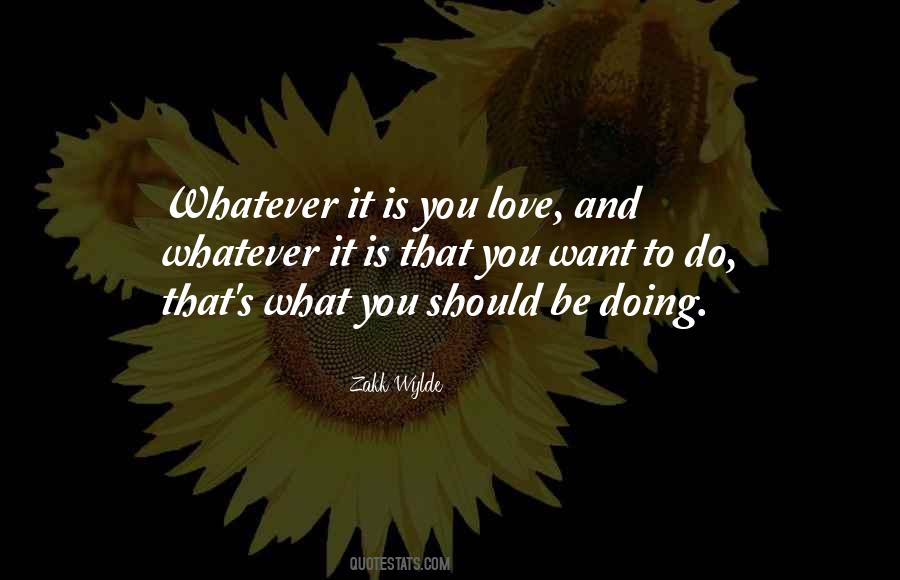 #48. I love it when the director says, 'Rebel, just do whatever you want.' I'm, like, 'Yes!' - Author: Rebel Wilson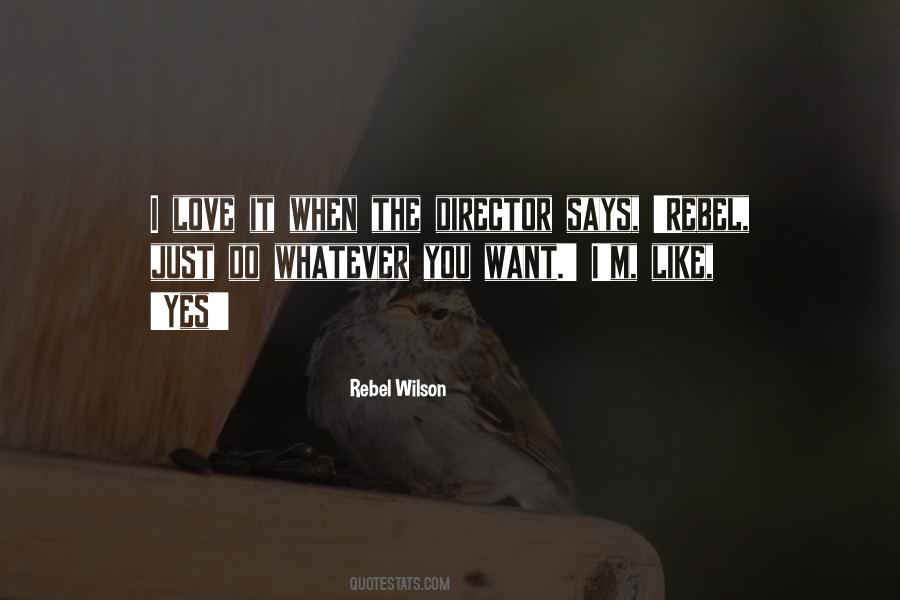 #49. I started at an agency called Intertalent. You copy scripts, you pick up people's dry cleaning, you take their dogs to the vet, you deliver packages, you do whatever they want you to do. - Author: Patrick Whitesell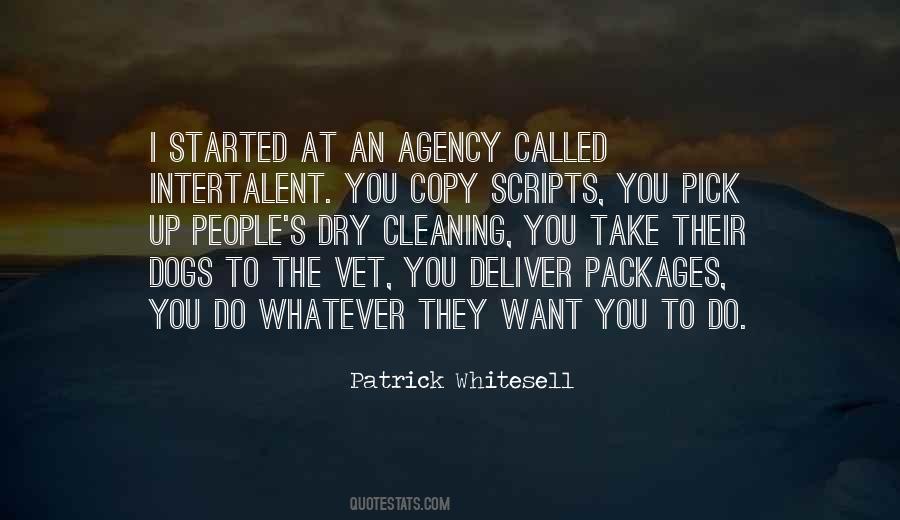 #50. If you can make the day, you can do whatever you want. - Author: Alfonso Gomez-Rejon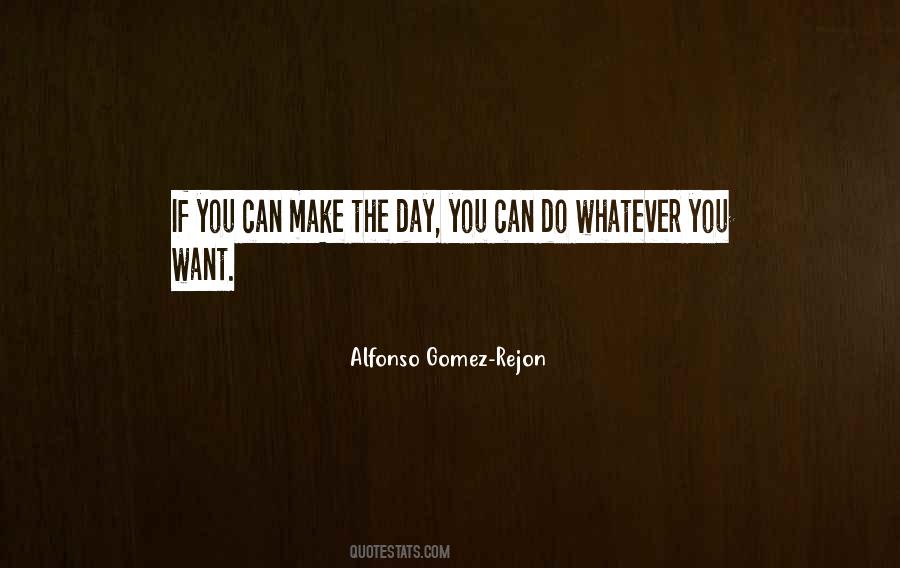 #51. #3: Do Whatever the Hell You Want for Once Instead of What You Think You Should Do. - Author: Jessica Sorensen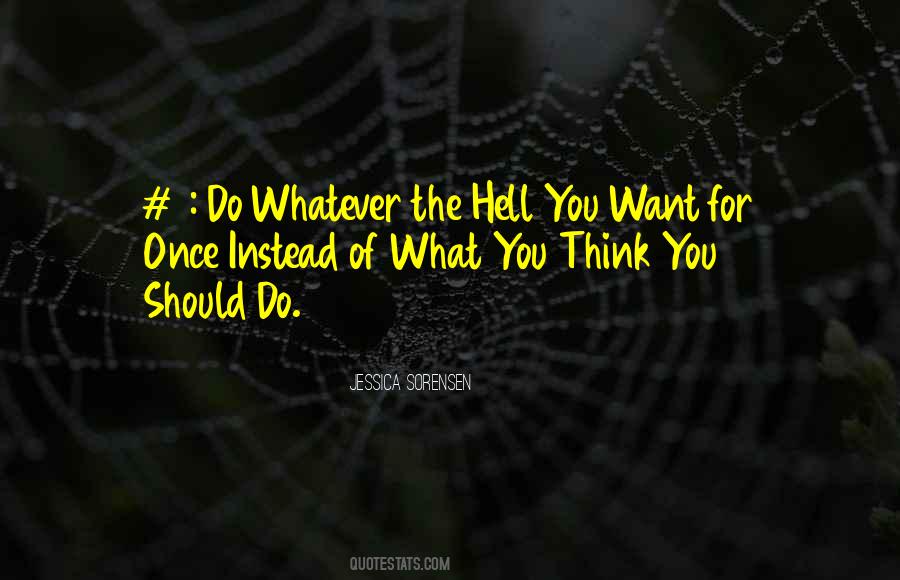 #52. [When you are an actor] it's not a burden to go to work whether it's hard work, whether it's super early work, whatever. So, I go there because I want to be there. I want to do this. That helps a lot. - Author: Vanessa Paradis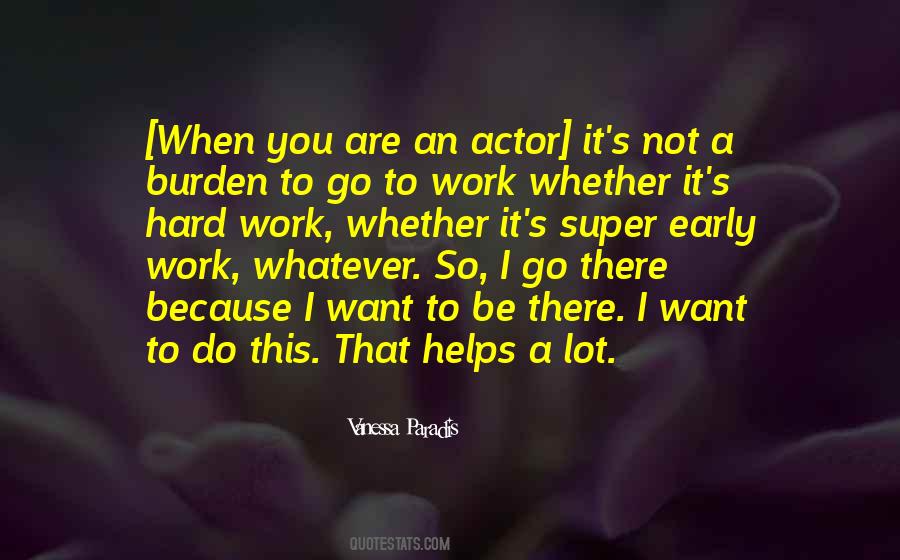 #53. The No. 1 thing is you want to be able to win the game, and we're going to do whatever we have to do to win the game. - Author: Mike Singletary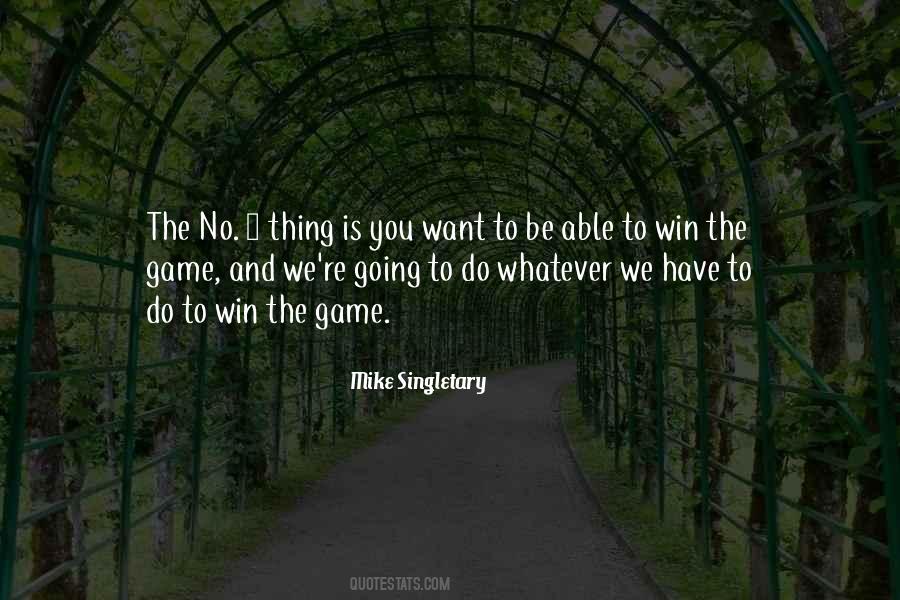 #54. I have a message for my fans. Whatever you want to do in this world, it is achievable. The most important thing that I've found, that perhaps you could use, is be passionate and enthusiastic in the direction that you choose in life, and you'll be a winner. - Author: Steve Irwin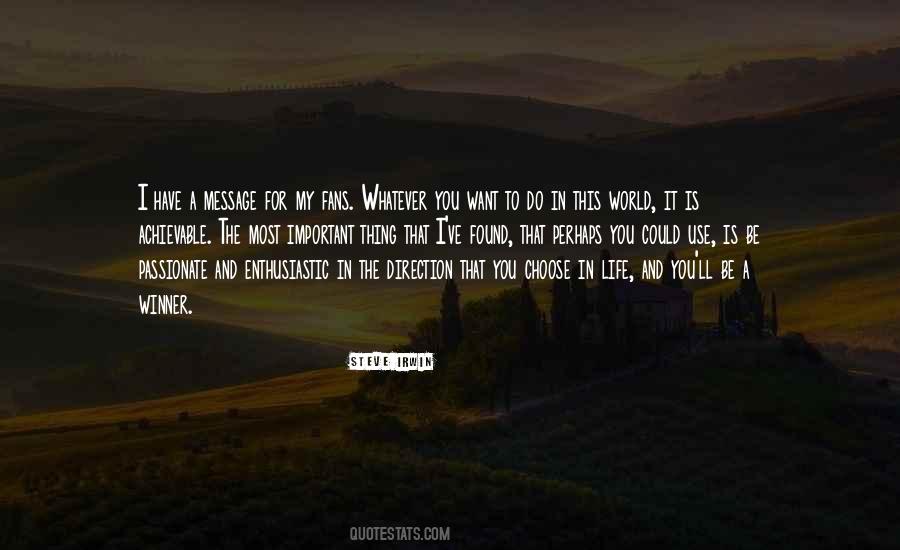 #55. Mia: Why did you leave?
Sam: What do you mean, 'why did I leave'?
Mia: Well, if I was lost in the forest with someone who looked like that, I'd want to stay lost
Sam: I wasn't lost
Mia: Whatever - Author: Marilyn Phillips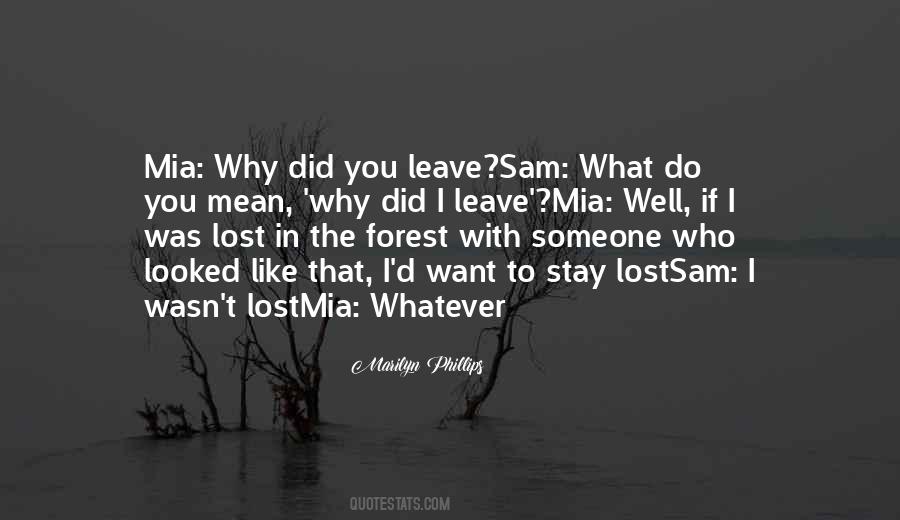 #56. Life gives you plenty of time to do whatever you want to do if you stay in the present moment. - Author: Deepak Chopra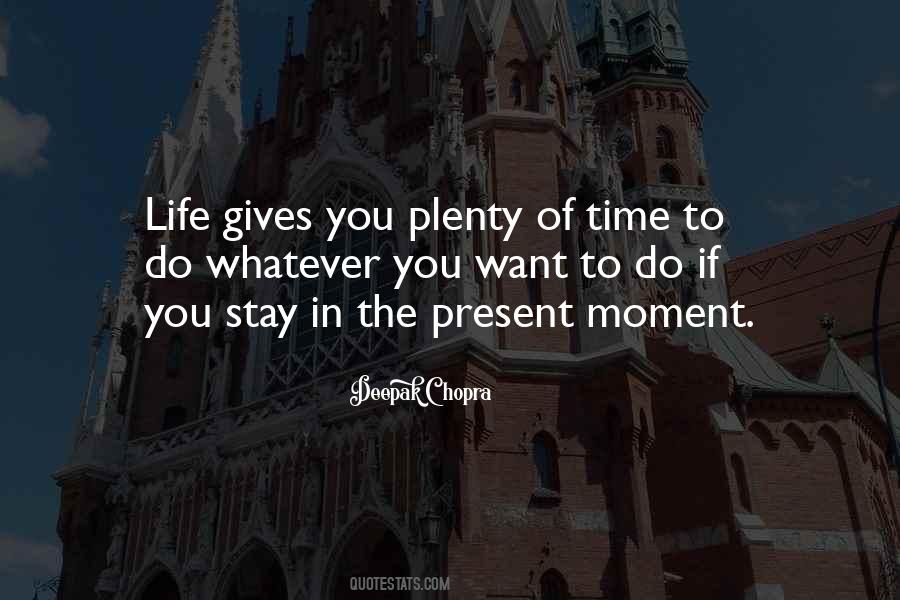 #57. For another thing, we're under martial law, so I can do very nearly whatever the fuck I want. Including march through your precious little ship there towing you along behind in a ball gag and lacy underwear. So your warrant bullshit? You can roll that up and fuck it. Now tell me why I'm here. - Author: James S.A. Corey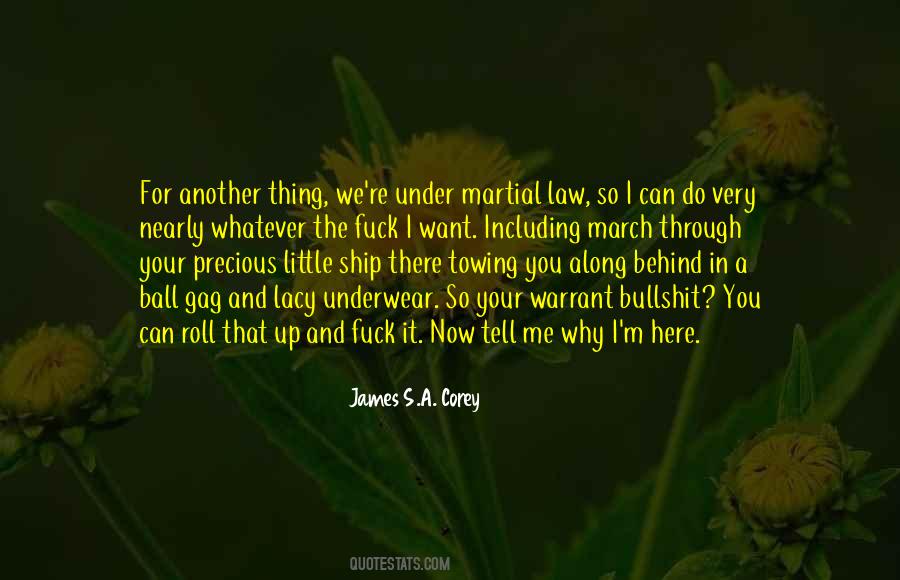 #58. Somebody asked me recently, 'Have you done a lot of plays?' I thought hang on. I used to do nothing but plays. I've been very fortunate that on several occasions I've had jobs where I didn't want to be anywhere else in the world whatever you had to offer - however much money you've got. - Author: Bill Nighy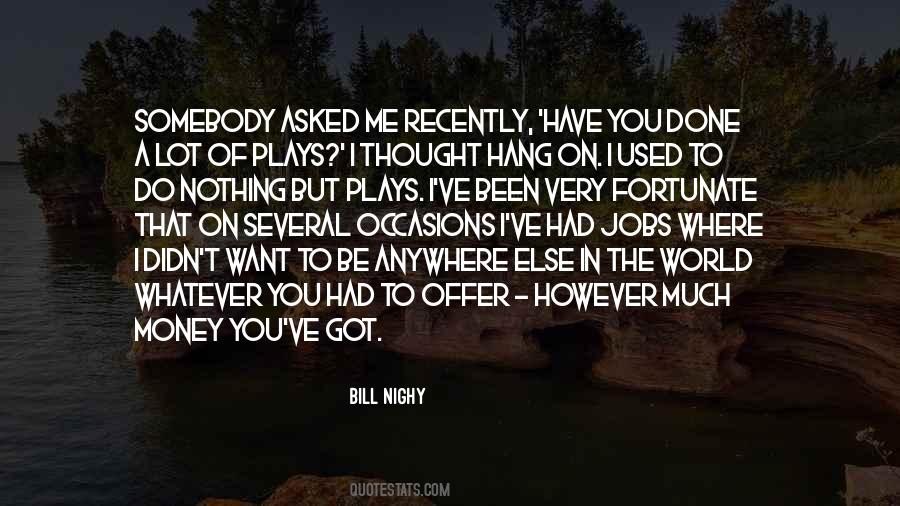 #59. In the U.K., there's absolutely no money for television. So you can do pretty much whatever you want. They're not losing money on any of the shows, so they'll give you a lot of creative freedom. In the United States, there are millions and millions of dollars at stake, so they need a sure formula. - Author: Kristen Schaal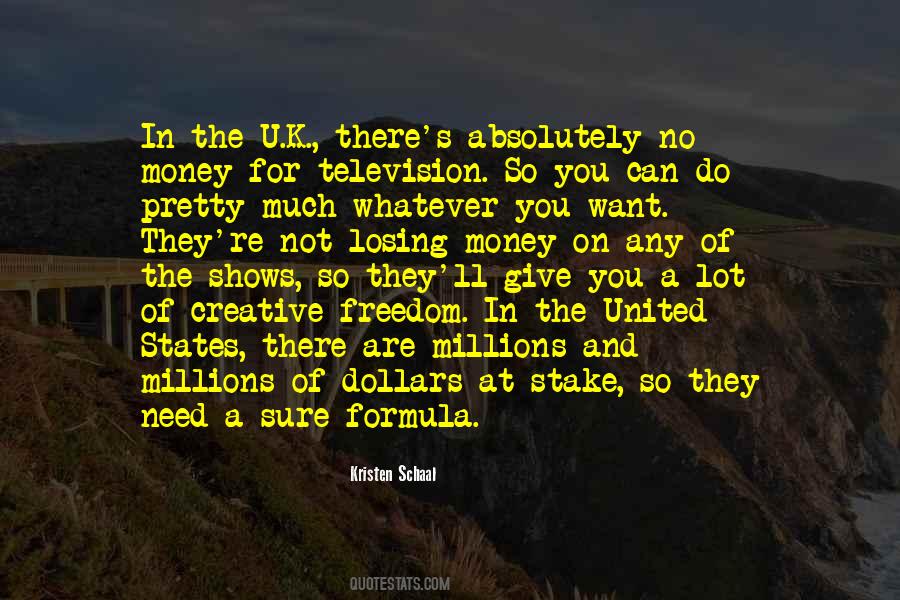 #60. If you do things to the limit, and don't purposely go over that limit, then I think it's fine to do whatever you want. So long as you enjoy it. That's what's important. - Author: Michael Schumacher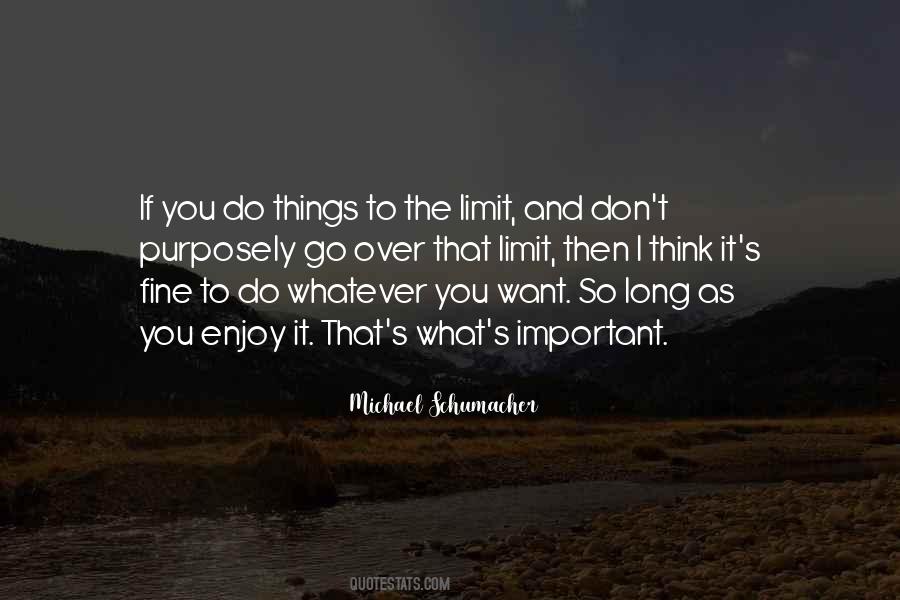 #61. I'll do whatever you want," Trash said gratefully in the dream. "My life for you! My soul for you!"
"I will set you to burn," the dark man said gravely. - Author: Stephen King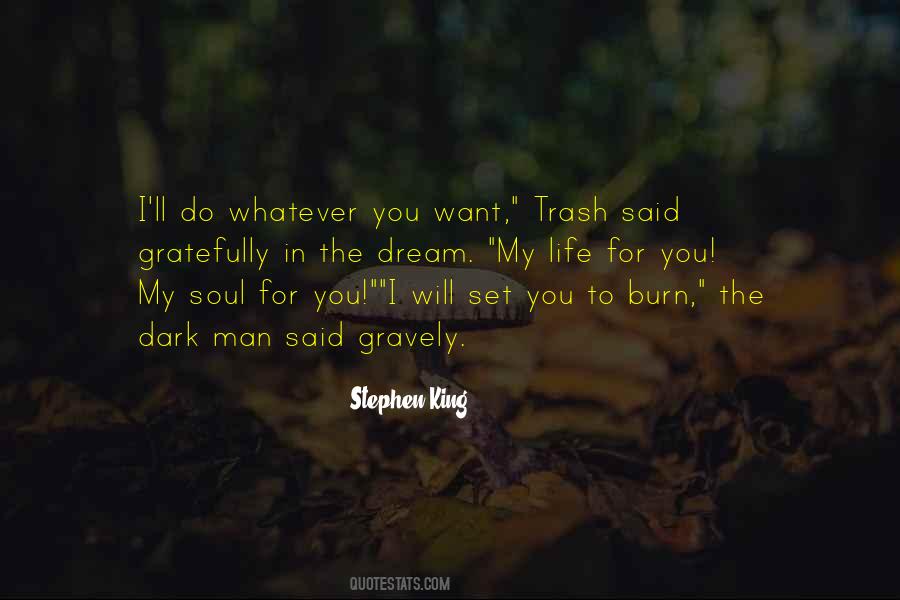 #62. Do whatever you do, from eating fast food to living with mobile phones,
But always question the way in which you do.
Pause, look and see before doing,
Because there are many who would want you to blindly follow what they do. - Author: Gian Kumar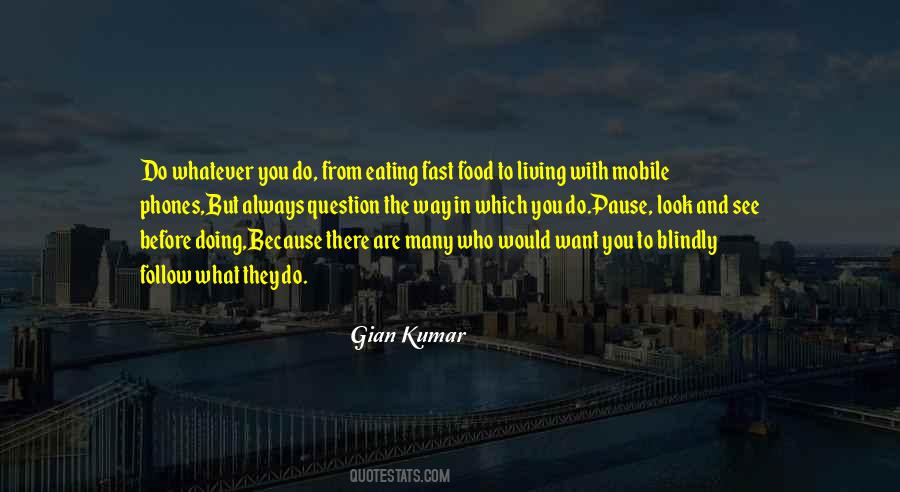 #63. The best advice I can give anybody is to try to understand who you are and what you want to do, and don't be afraid to go down that road and do whatever it takes and work as hard as you have to work to achieve that. - Author: Sally Ride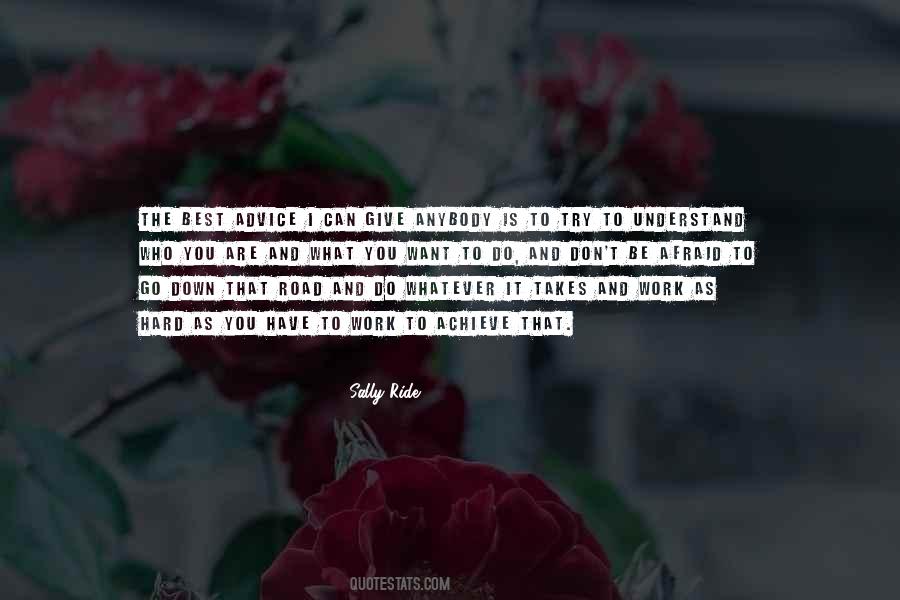 #64. Tell me yes," he ordered huskily. "Tell me yes and I'll do whatever you want. Anything you want. Just let me do this. - Author: Jennifer L. Armentrout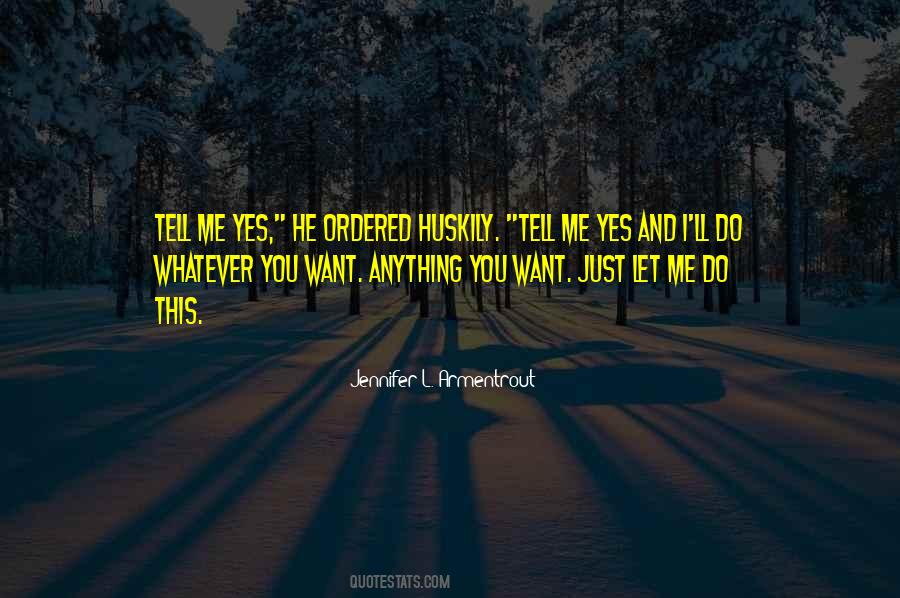 #65. We live in the country. I'm a redneck. No, ha-ha. I live in L.A. County, but more in the hills. Not in the fancy kind! Trust me; whatever you do you do not want to come to my neighborhood! - Author: Atticus Shaffer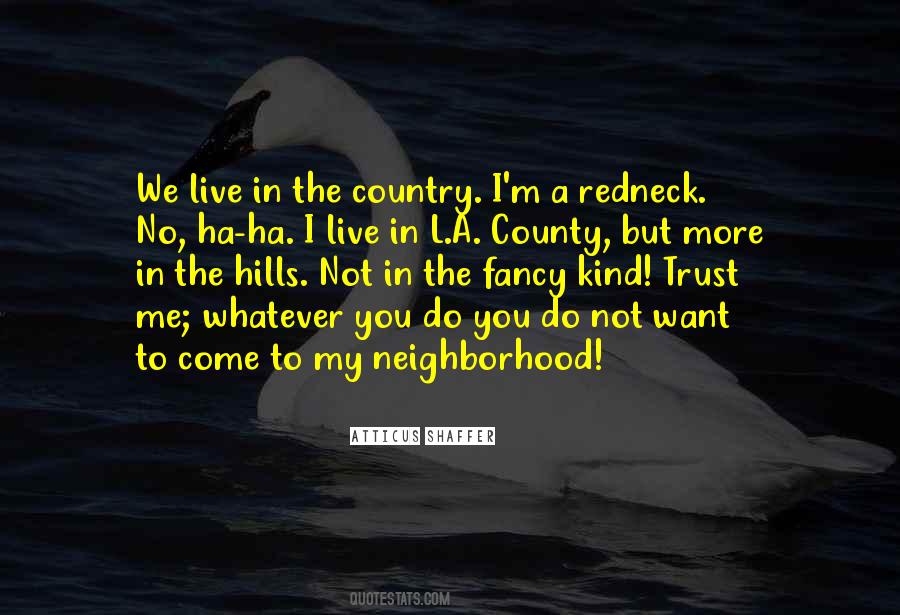 #66. I told you I don't care! I said again and again! I don't care! Whoever you are. Whatever you do. Rank or nobility, they have nothing to do with me. I just want to be with you! I've told you many times! - Author: Shoko Hidaka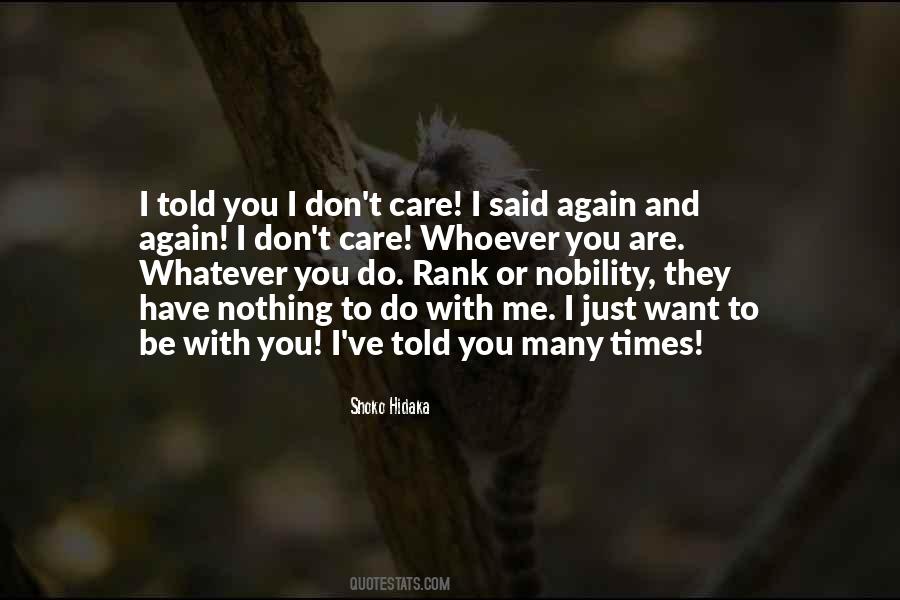 #67. I could bend you with my finger and my thumb. A mere reed you feel in my hands. But whatever I do with this cage, I cannot get at you, and it is your soul that I want. - Author: Charlotte Bronte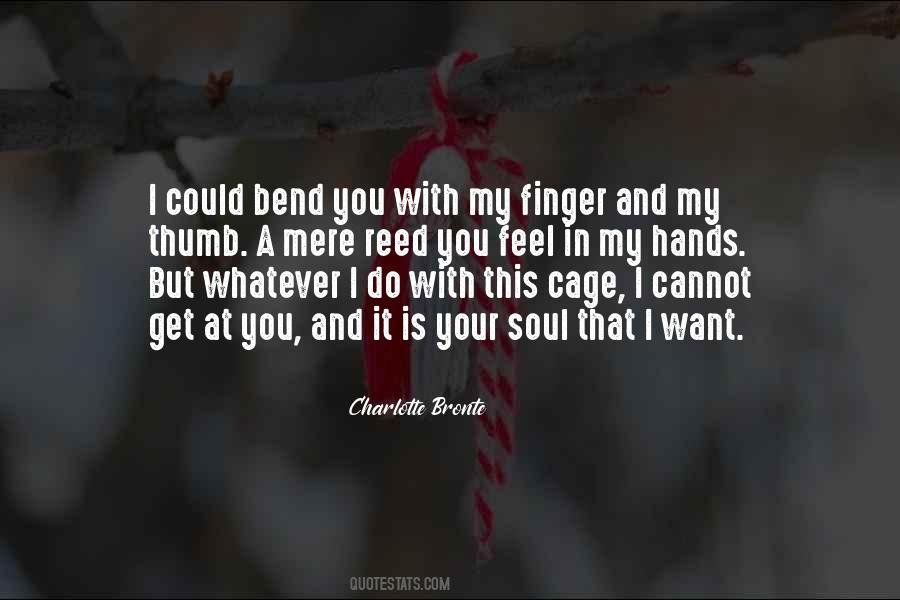 #68. Somebody should tell us, right at the start of our lives, that we are dying. Then we might live life to the limit, every minute of every day. Do it! I say. Whatever you want to do, do it now! There are only so many tomorrows. - Author: Pope Paul VI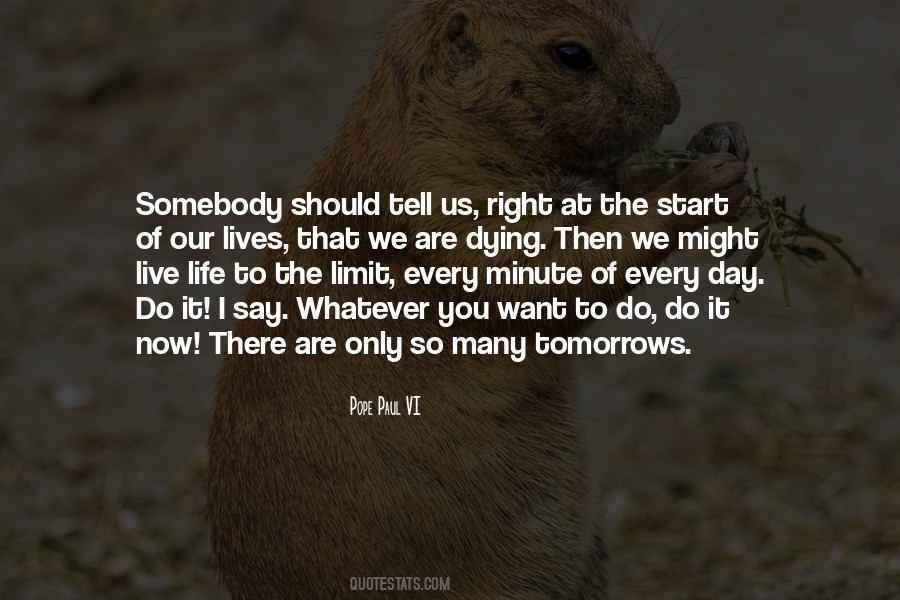 #69. Whatever you want to do, do with full passion and work really hard towards it. Don't look anywhere else. There will be a few distractions, but if you can be true to yourself, you will be successful for sure. - Author: Virat Kohli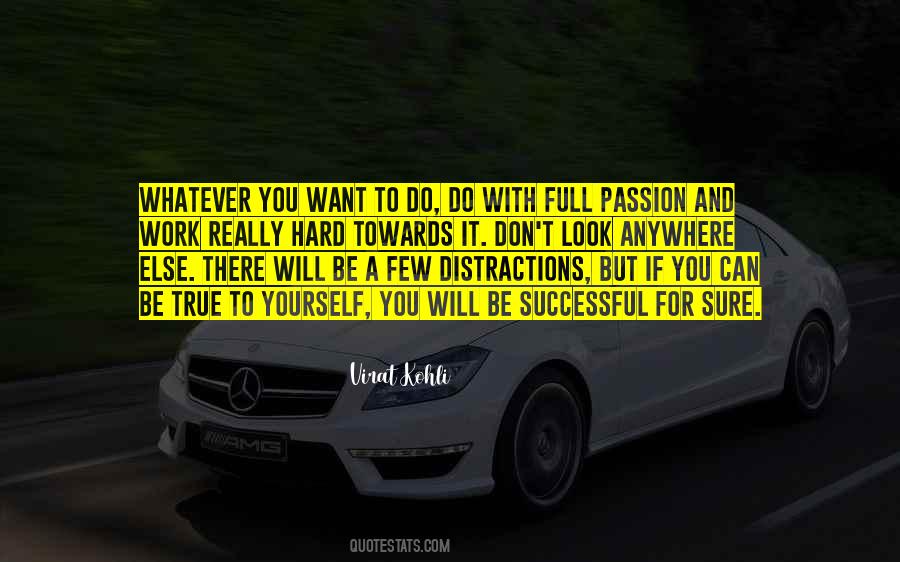 #70. When you love, whatever you do is because you want to do it. It becomes a pleasure, it's like a game, and you have fun with it. When you love, you don't expect something to happen; whatever happens is okay, and hardly anything disappoints you. - Author: Miguel Angel Ruiz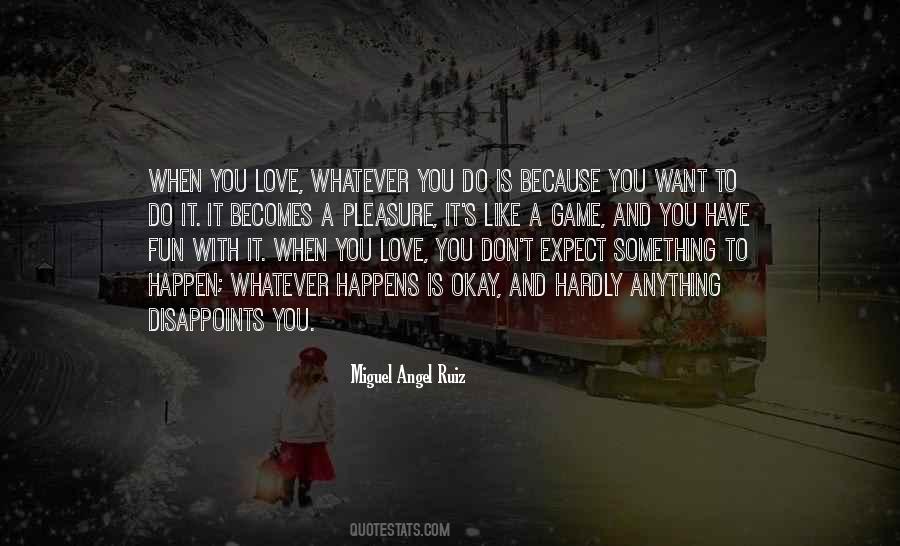 #71. But for the love of piss, make some sort of decision. If you don't want to eat babies and nail bloodbags to walls, that's your choice. What Sarren did or made you do in the past has nothing to do with it now. You're a vampire. Do whatever the hell you want. - Author: Julie Kagawa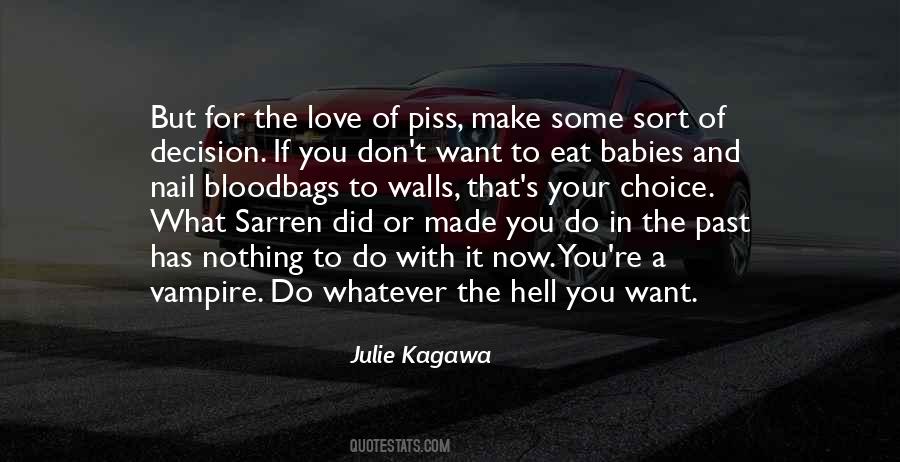 #72. being meek and silent prevents social violence. The message is, "I am not challenging you, I will do nothing bad, you do whatever you want and I will stay out of your way." This is exactly what a predator is looking - Author: Rory Miller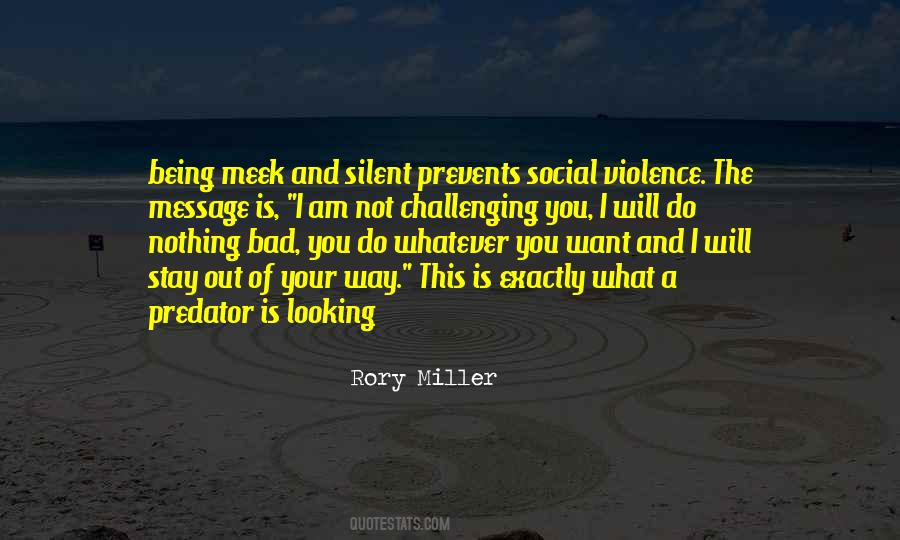 #73. I love being in an arena that has like 10,000 people and huge crowds. I want to do a show at like the Viper room so badly. Like go up on stage and thrash myself around, go jump into the crowd. You can effing swear, get drunk on stage and do whatever you want basically. - Author: Avril Lavigne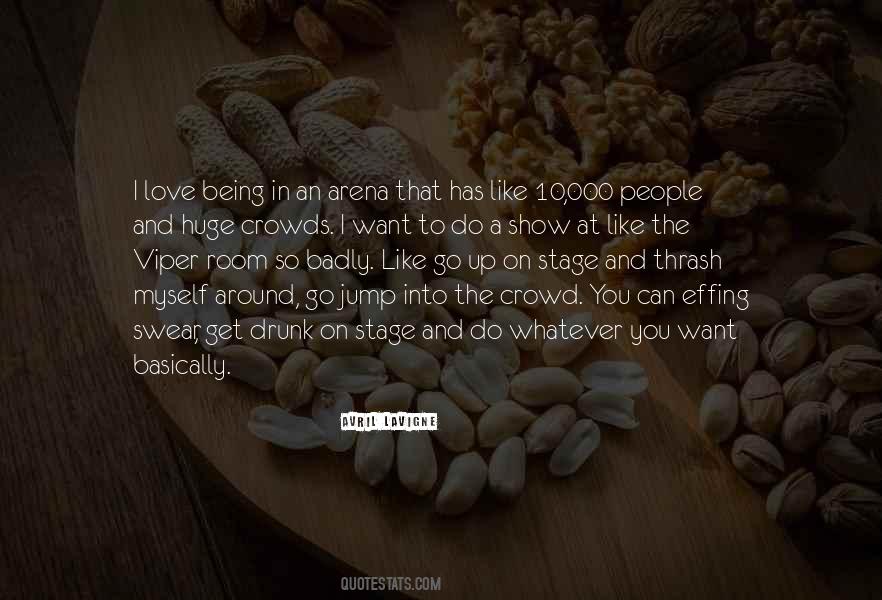 #74. I think the crucial thing in the writing career is to find what you want to do and how you fit in. What somebody else does is of no concern whatever except as an interesting variation. - Author: James A. Michener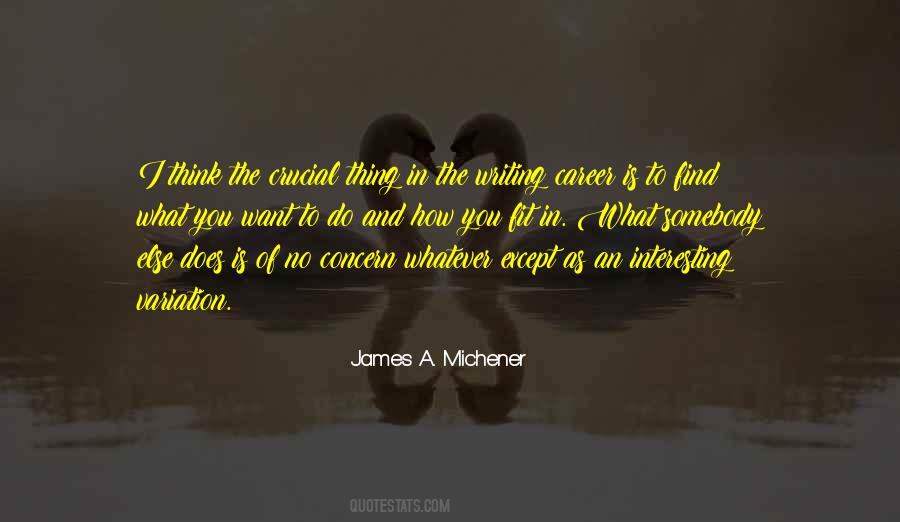 #75. Unfortunately, the simplest things - such as thinking for myself, creating my own reality and being whatever the hell I want to be each day of my life - are a sin. To be a good Christian basically means to give up the reigns of your life and let some unseen force do it for you. - Author: Brandon Boyd
#76. Whatever you do, make sure you want to write more than you want to be a writer. Make sure you want to act more than you want to be an actor. That is what will sustain you. - Author: Bradley Whitford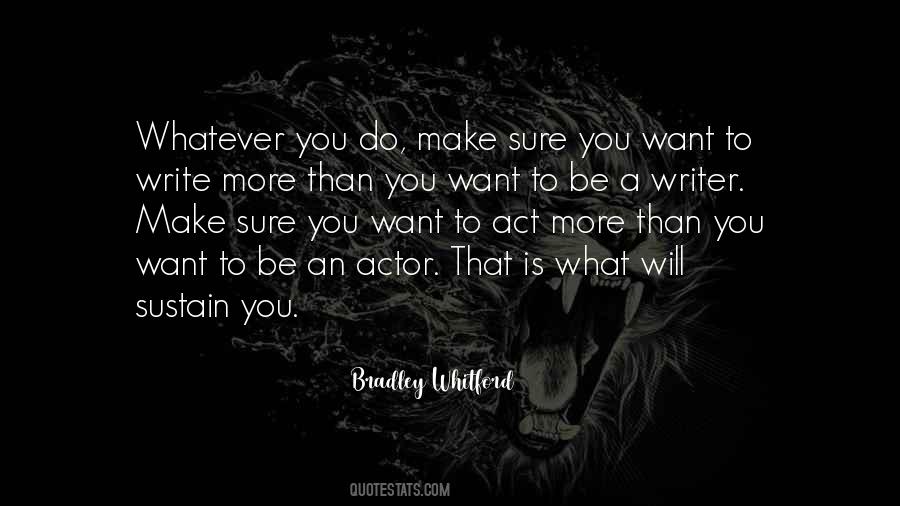 #77. There is a reason behind life. There is some connectivity between living beings. Whether you want to call that 'God' or 'The Force' or whatever word you use for it, I do believe in a spiritualized mechanism. - Author: Damon Lindelof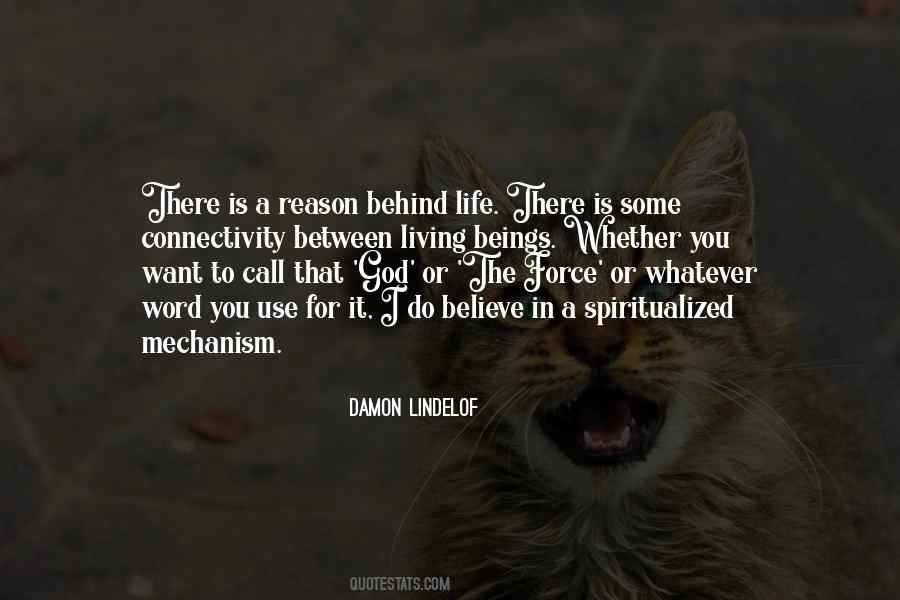 #78. I've already been to hell and back. This time, I want to go to paradise. I want to do whatever it is you want. Because all I want is you, by my side, from this moment until forever. - Author: Holly Stephens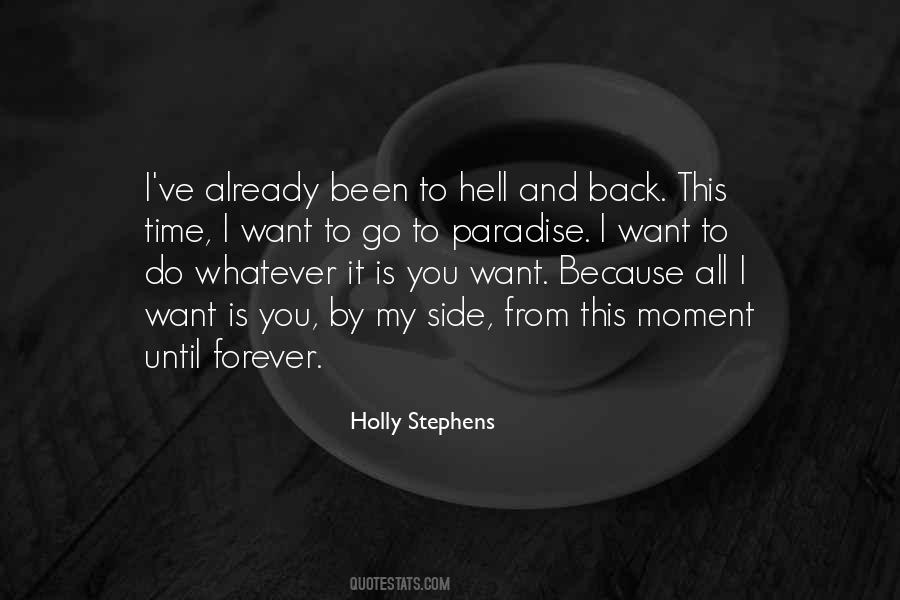 #79. If you're putting your name on something, it's really important to be a part of it, or else people will just do whatever they want with it. And then it's not really you, and it won't be true. - Author: Lauren Conrad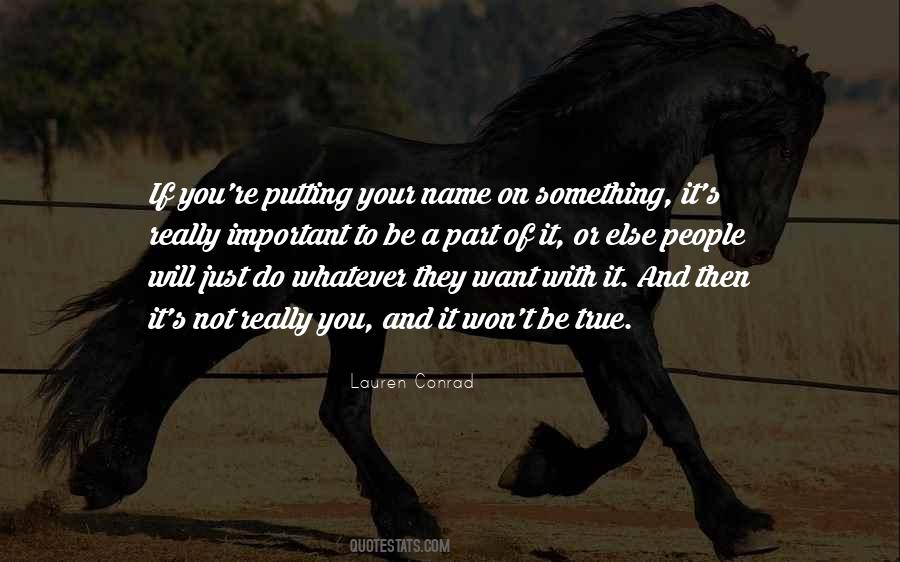 #80. One of the things you can always depend on - this is one of the truths of the universe, and you heard it first from here - whatever we decide we want to do is what we do. - Author: Morgan Freeman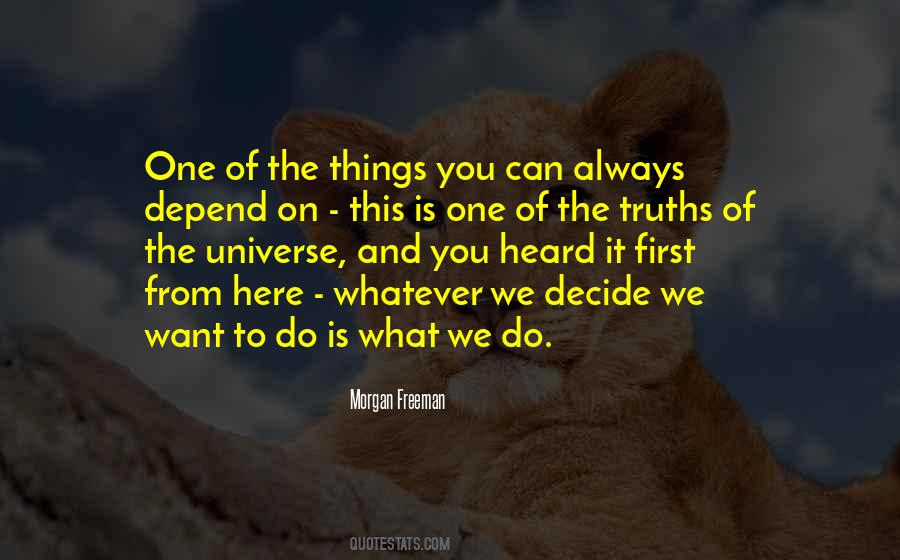 #81. Know that your soul can do whatever you want it to do, because you're not your body - Author: Daniel Marques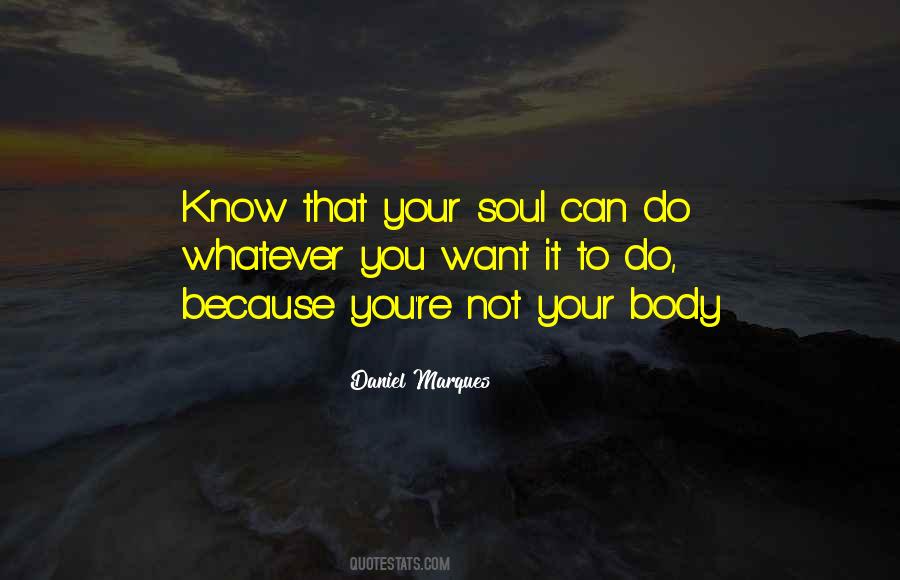 #82. If you confine it, you're confining a whole thing. If you make it spontaneous, so that anything can happen, like we don't want to confine or restrict anything. What we can do, whatever we can let happen, you just let it happen. - Author: Alice Cooper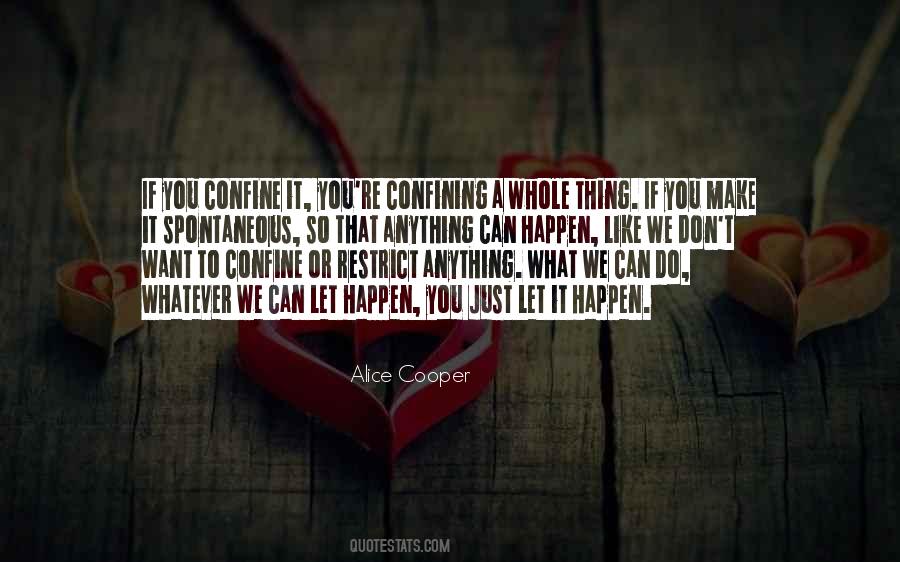 #83. All you want is to have hot sex,
But after work every night,
You're so tired, the only thing
You can turn on is T.V shite.
There's never energy for sex.
So, oh, whatever will you do?
Well, there is no need to worry,
Because the system will screw you. - Author: Harry Whitewolf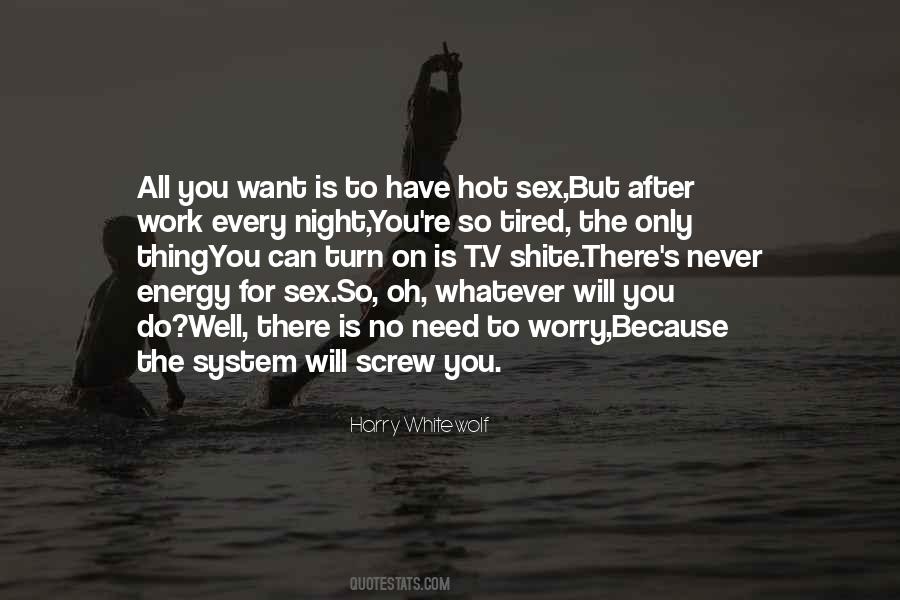 #84. To be honest with you, I don't have the words to make you feel better, but I do have the arms to give you a hug, ears to listen to whatever you want to talk about, and I have a heart; a heart that's aching to see you smile again.
lines from Love Vs Destiny ... - Author: Atul Purohit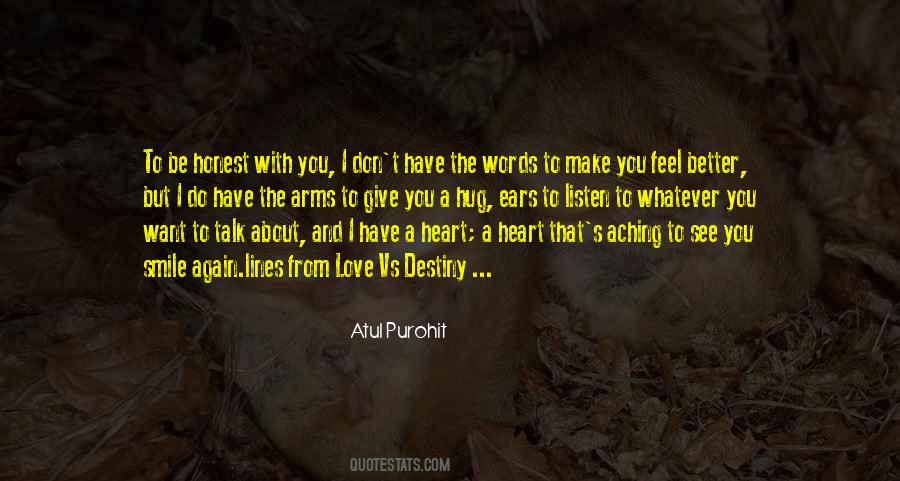 #85. Holiness is not to love Jesus and do whatever you want. Holiness is to love God and do what He wants. - Author: C. Wagner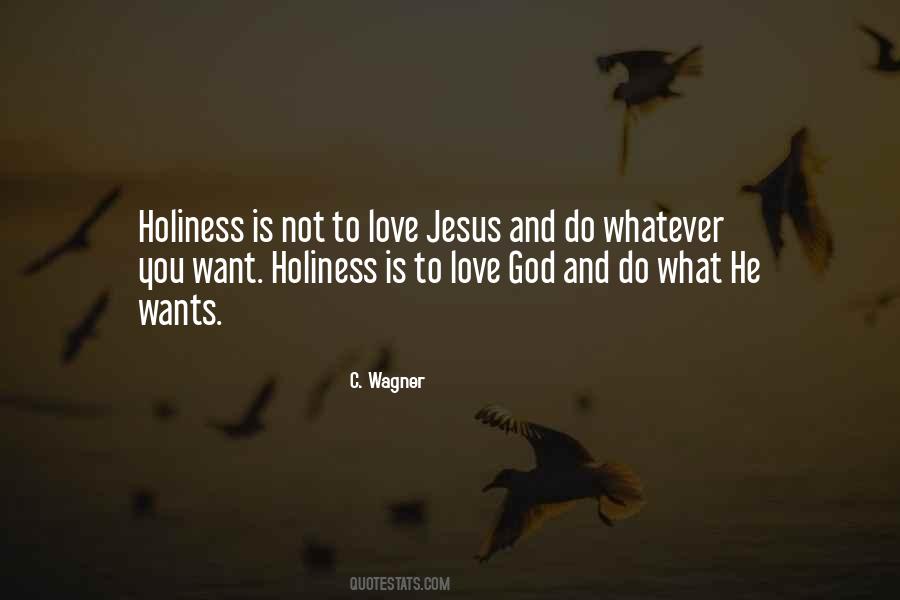 #86. You always want to feel better but I'm good. My thing is once you get to the playoffs, you do whatever it takes. You've got to lay it on the line. - Author: Brian Jordan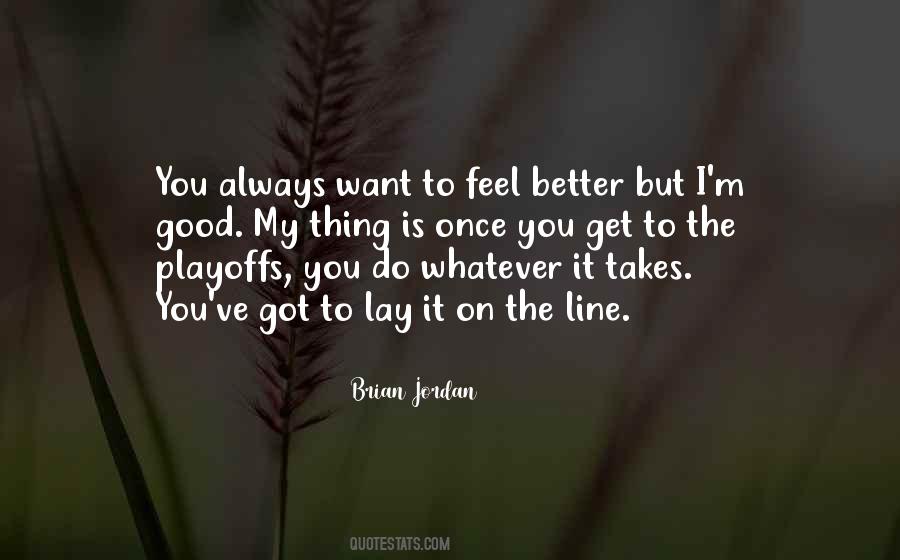 #87. I had my style of moving and dancing and whatever I do. What you have to do, is take all the fighters you want and me and rank me where you want. I can't tell you. - Author: Muhammad Ali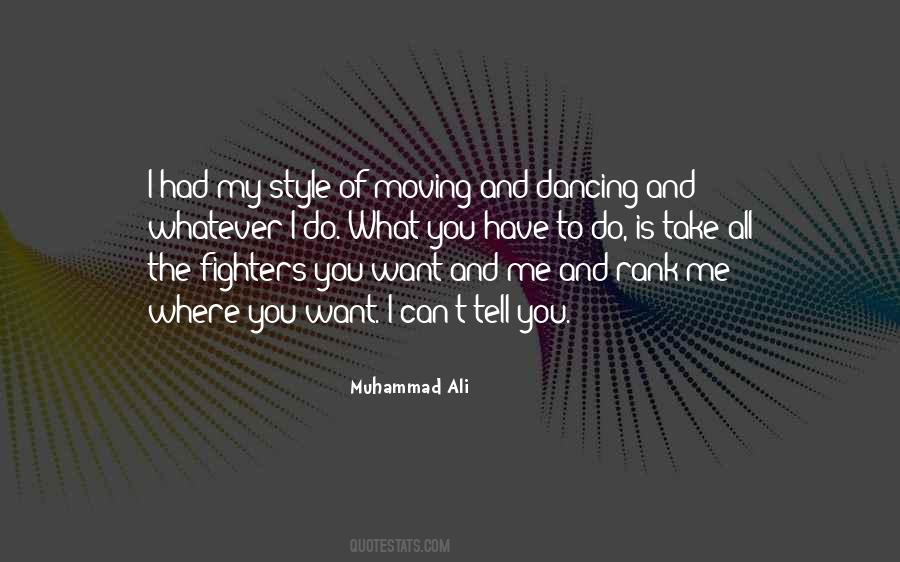 #88. The best thing about being rich is the freedom; freedom to do whatever you want whenever you want. It doesn't suck. - Author: Tommy Lee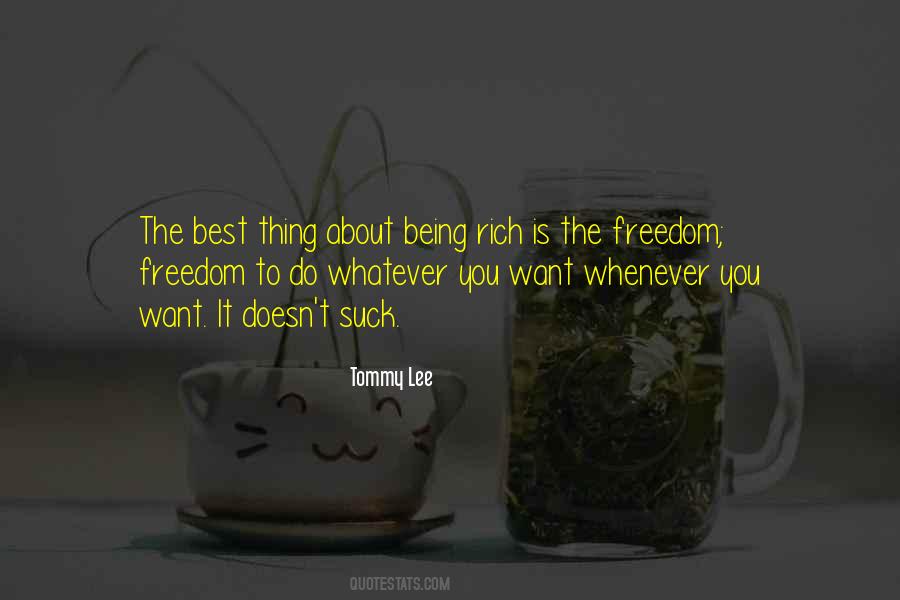 #89. Once you have love as a motivator in a story, your character is free to do anything. Once you say the character is in love, he can do the craziest thing that nobody would do who's not in love. Once you're in love, you have that excuse to go and do whatever you want. - Author: Josh Hutcherson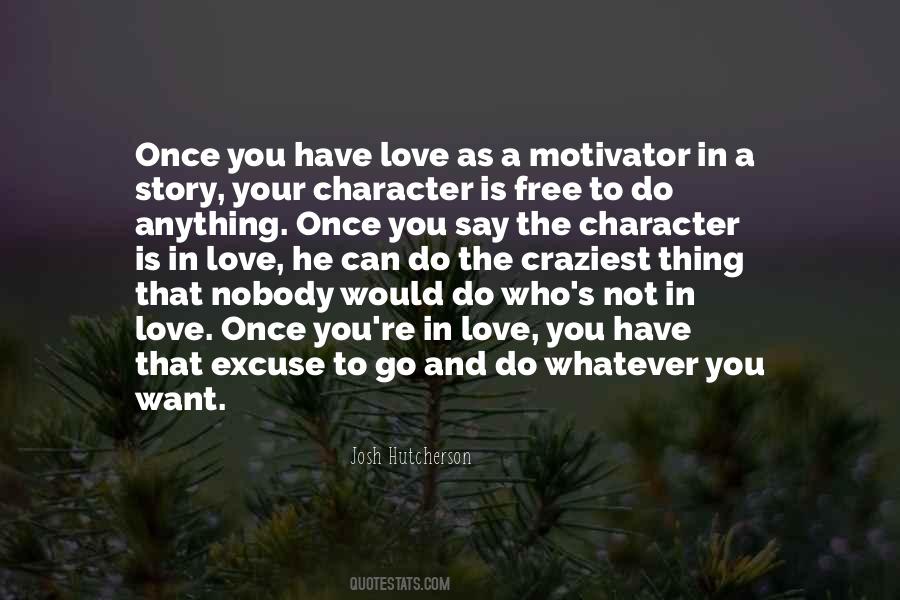 #90. I'm constantly being courted by labels and their backing. Obviously the market is there when you talk about the economics and the numbers, but it's hard to give up the freedom of being able to do whatever you want. - Author: Brian McKnight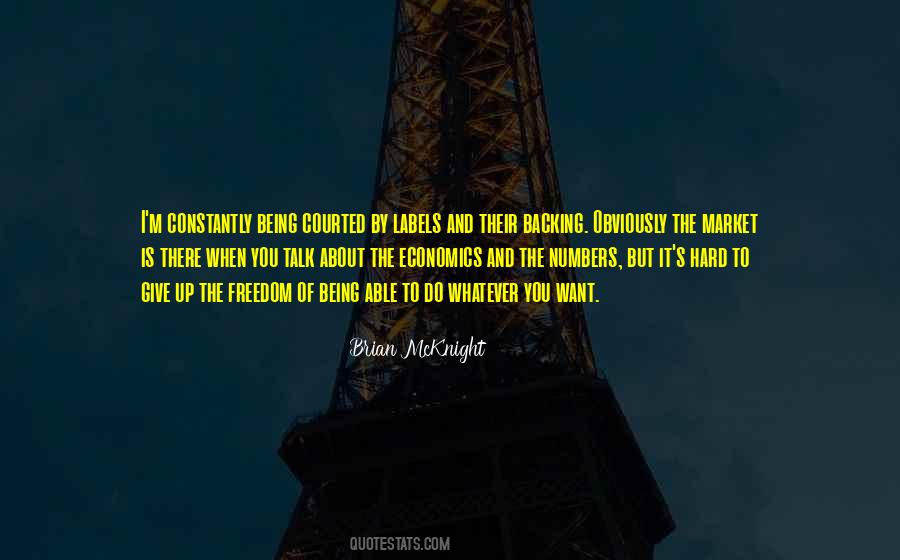 #91. I think it's such a risky thing doing interviews. I try to limit the amount of interviews that I do because no one is that interesting especially when you're not really saying anything. And I don't particularly want to be an character in society or whatever. - Author: Robert Pattinson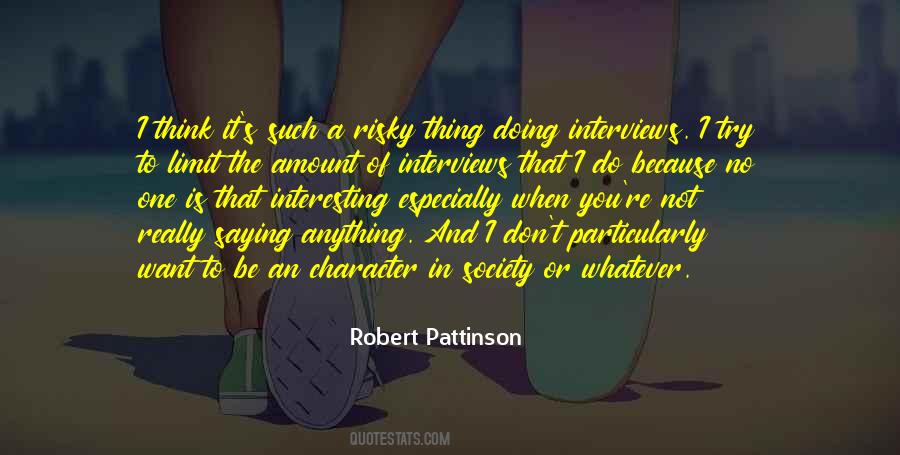 #92. You don't want to be on a show that no one wants to see, and then think your phone is going to be ringing off the hook to do other jobs. I'm not tethered to the fact that my demise may be reached this season or next season, or whatever. - Author: Isaiah Washington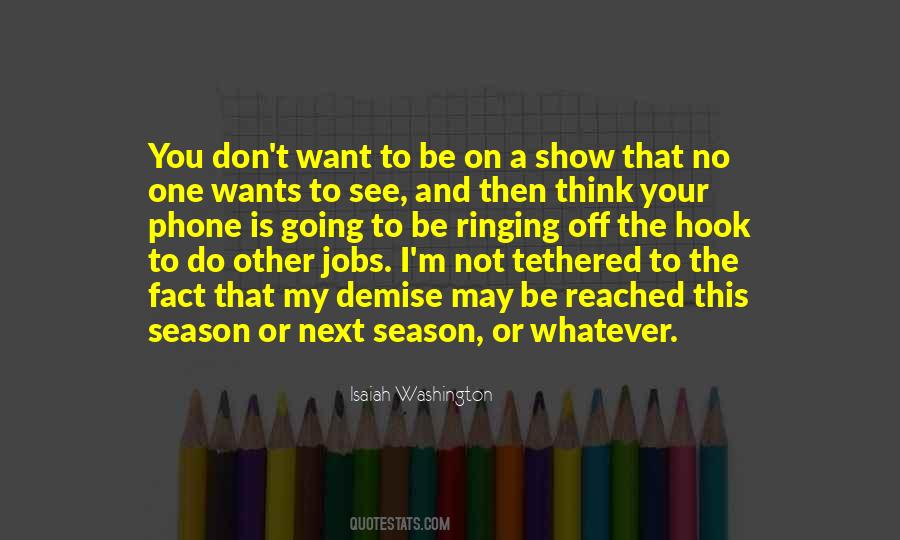 #93. There is inside you all of the potential to be whatever you want to be all of the energy to do whatever you want to do. - Author: Donna Levin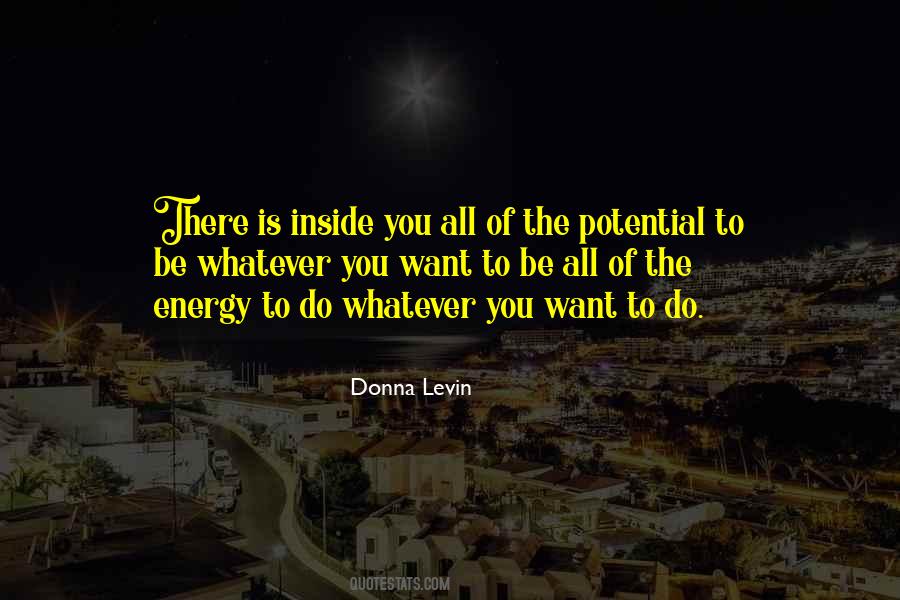 #94. ...use design as a secret disguise to infiltrate whatever world you want to go into. If you do that over and over again, and then translate that interest and curiosity into the work that you're doing, you'll do great. - Author: Michael Bierut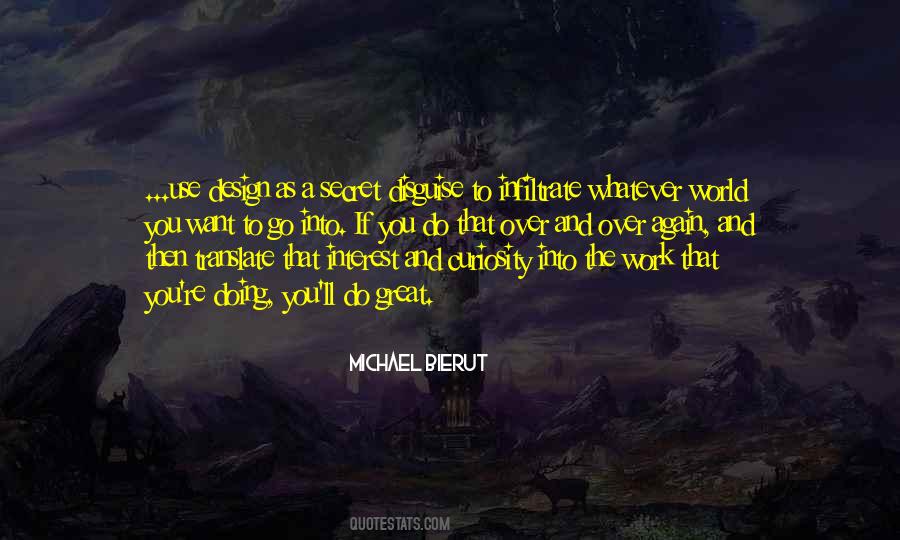 #95. You can set up whatever negotiations or structure you want, but until the Palestinians are willing to accept the fact, as the majority of Israelis do, that there should be two states between the Jordan and the Mediterranean, we won't have peace. - Author: Chuck Schumer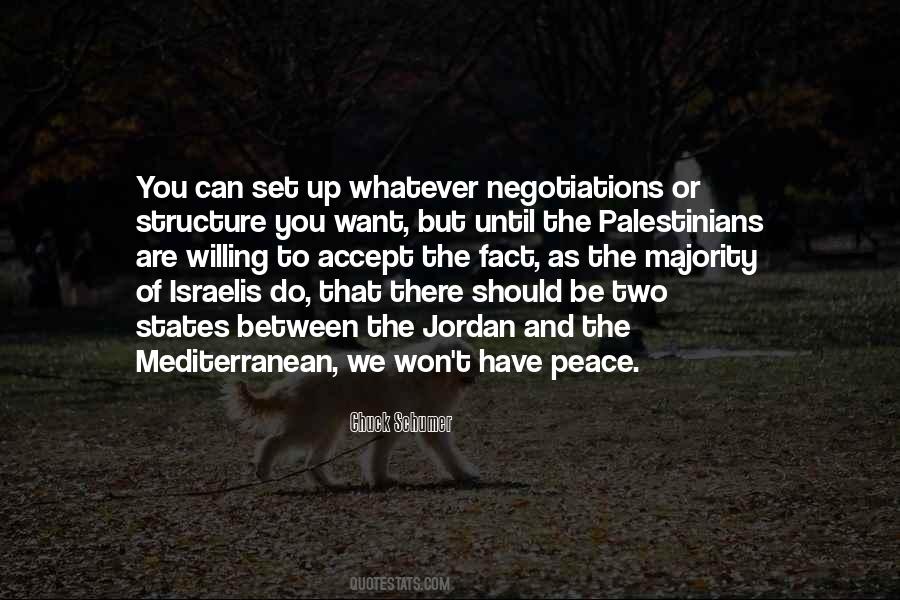 #96. So I want to let women of all sizes out there know, you can do whatever you put your mind to. It doesn't matter what size you are, what color you are, you can do whatever, whatever, whatever you put your mind to! - Author: Amber Riley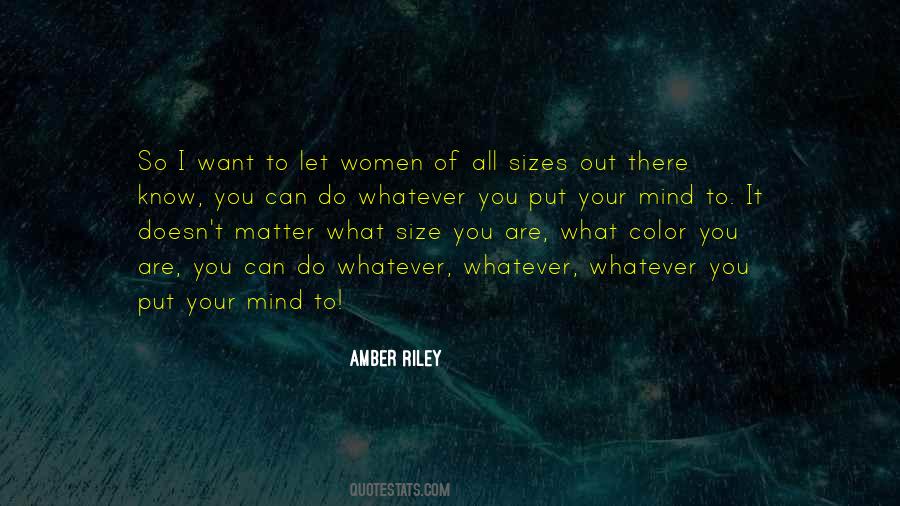 #97. Whatever you do, just don't stand still. Make the changes you need today, so you can live the life you want, tomorrow. - Author: Joel Brown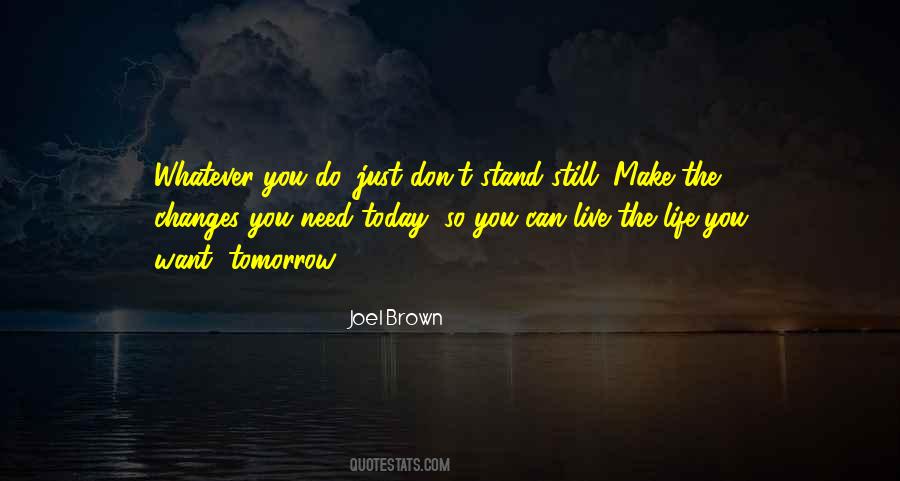 #98. Believe in yourself, you can do whatever you want. - Author: Lailah Gifty Akita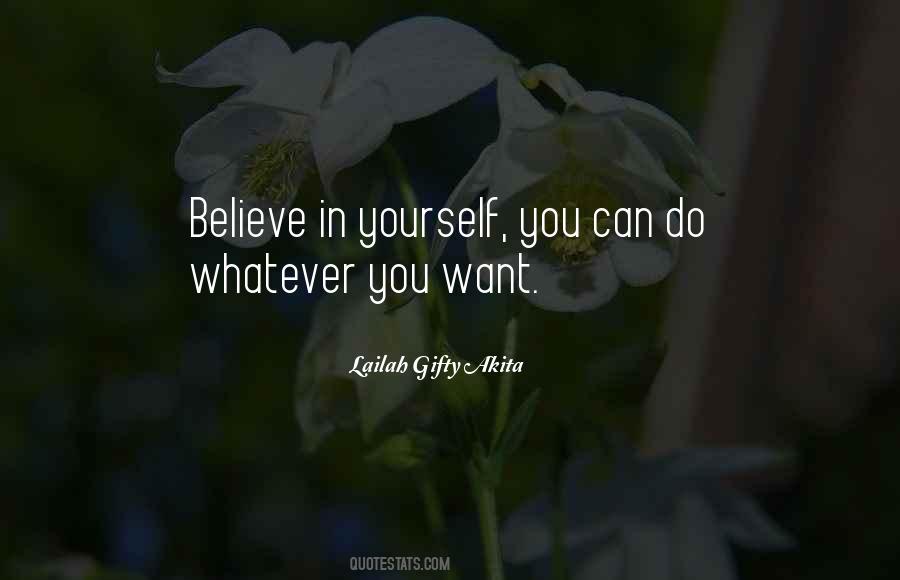 #99. Truth Matters "Somebody should tell us, right at the start of our lives that we are dying. Then we might live life to the limit, every minute of every day. Do it! I say. Whatever you want to do, do it now! There are only so many tomorrows." Pope Paul VI Italian Pope 1897-1978 - Author: C Snapp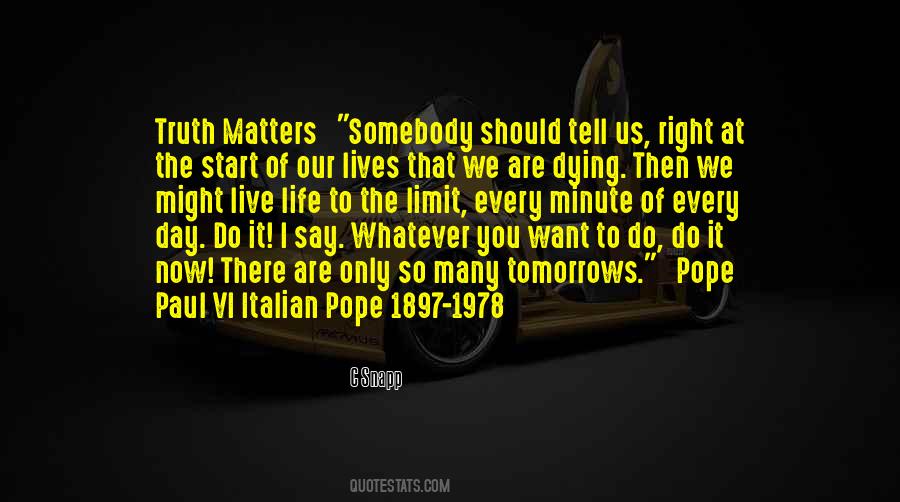 #100. I wanted it for how it made me feel, regardless of how little it cared for me. Do whatever you want -- just give me the bliss. - Author: C.M. McKenna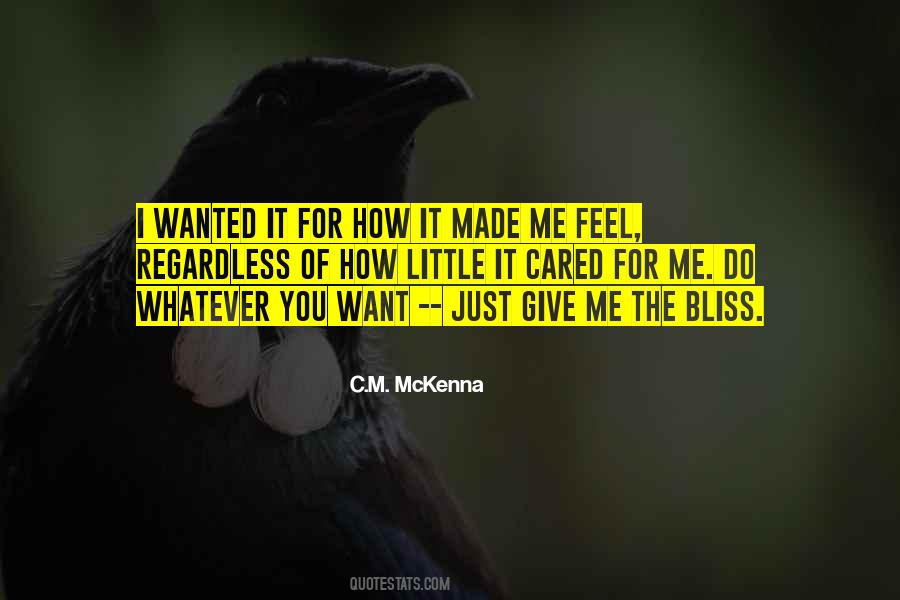 Famous Authors
Popular Topics