Decisions In Life Famous Quotes & Sayings
List of top 100 famous quotes and sayings about decisions in life to read and share with friends on your Facebook, Twitter, blogs.
Top 100 Quotes About Decisions In Life
#1. I don't regret any of the decisions I've made in my life because with every choice I make, I learn something new. - Author: Siva Kaneswaren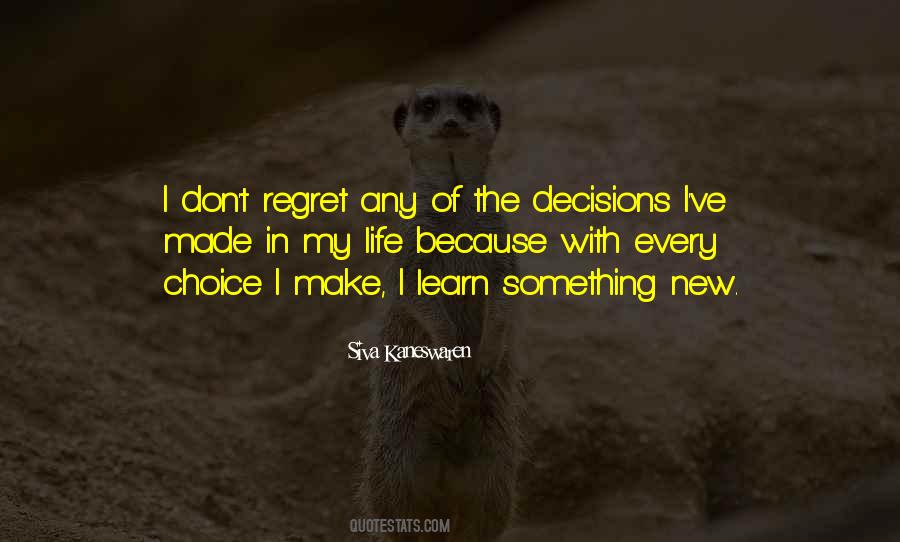 #2. You are here and you are allowed to be here and therefore you are allowed to make decisions about yourself and the people in your life; rather than sort of backing up and making sure it's okay with everybody at every turn. - Author: Elizabeth Gilbert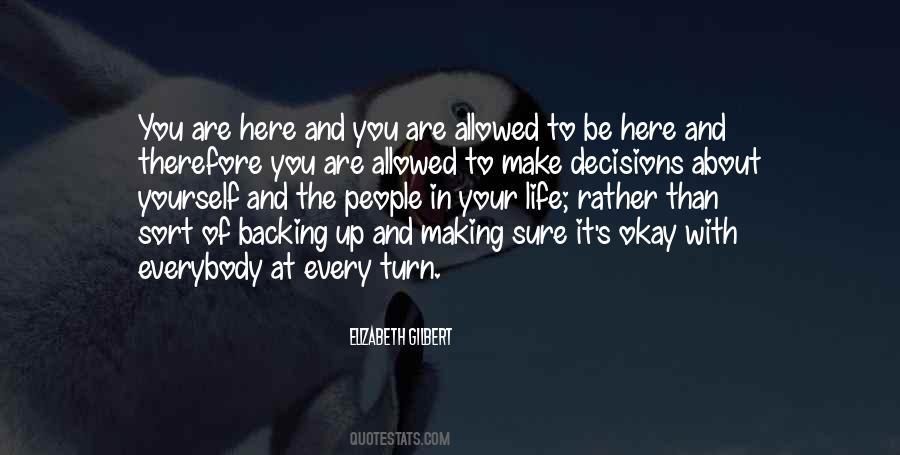 #3. The difference in our potential as angels or demons is the effect of time on the decisions we make. - Author: Slade Combs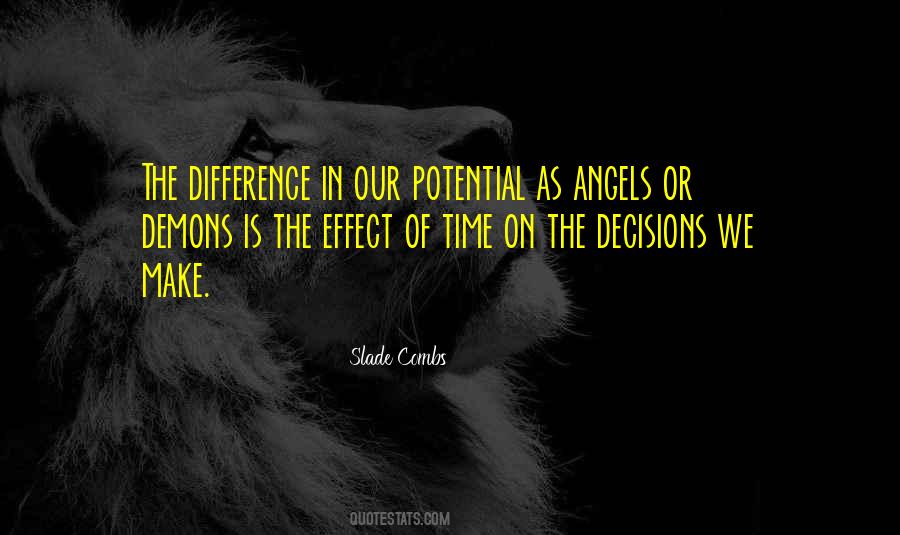 #4. In life, most decisions are a case of let go to get. - Author: Innocent Mwatsikesimbe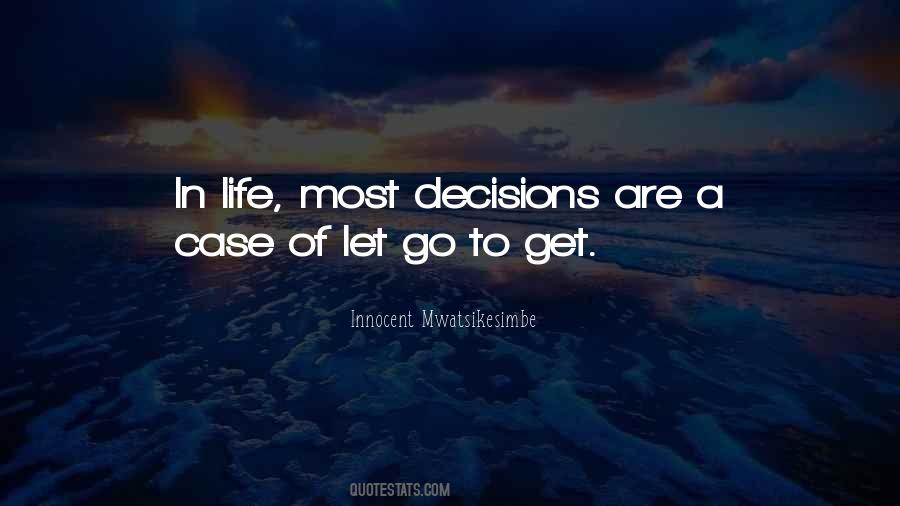 #5. It's important to have a vision of the long run and make wise decisions for our highest good in the present moment; however, we don't want to become attached to how everything must look. When we show up in good faith, life provides. And when we trust, we are always in the flow of manifestation. - Author: Alaric Hutchinson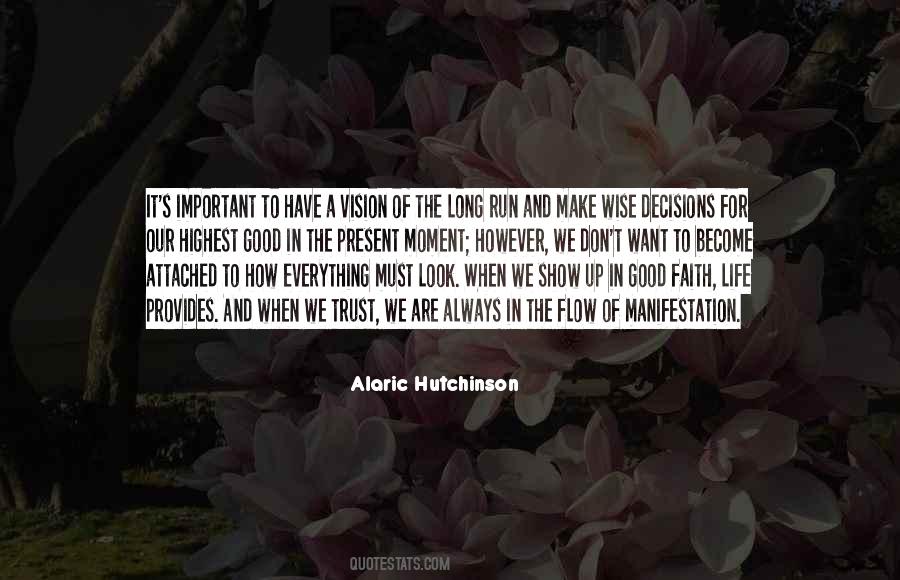 #6. If I have refused to risk, I have in the self-same decision refused to love. And if indeed I have refused to love, tragically I have refused to live. And when will I realize that that in and of itself is an unacceptable risk. - Author: Craig D. Lounsbrough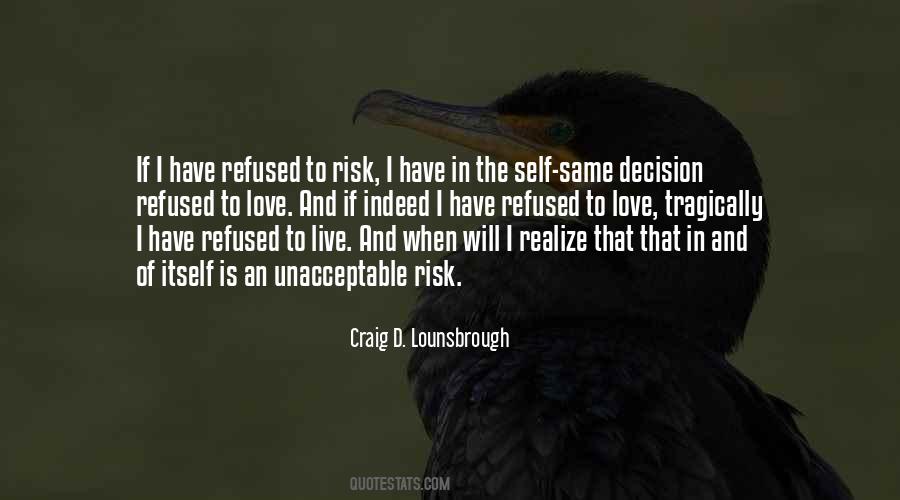 #7. When you hold your baby for the first time. All the pain in your life disappears. You'll sacrifice many things for your children, your family. It's hard to watch them make the wrong decisions. - Author: Catherine Bybee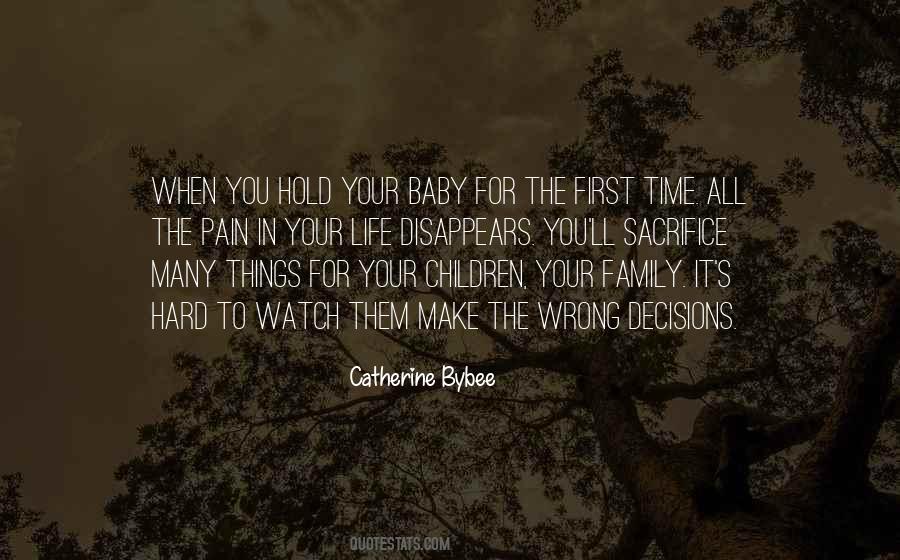 #8. If you are uncertain or in confusion don't take any decisions. If you feel you can do something just feel it and do it.
you cannot justify your actions that you do for others when you are unstable.
People will feel for something all the time and you cannot make them happy anyway... - Author: Giridhar Alwar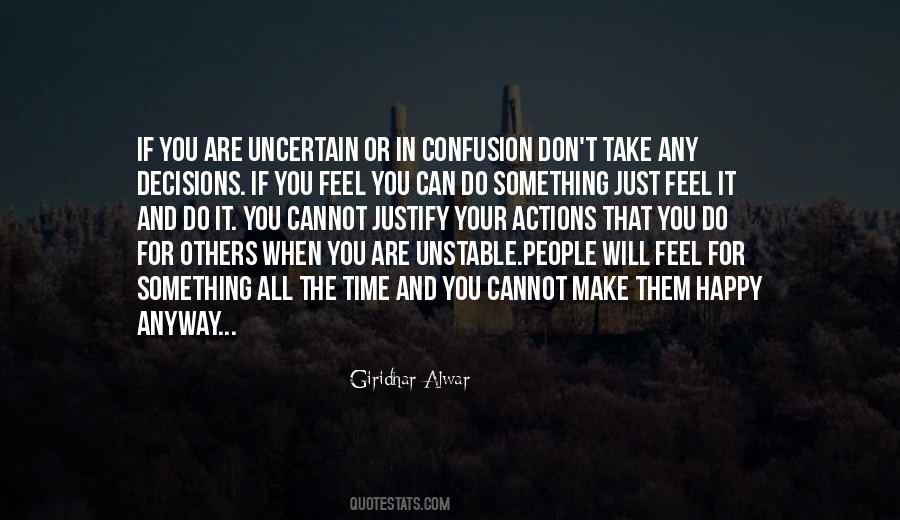 #9. With the need for the self in the time of another / I left my seaport grim and dear / knowing good work could be made / in the state governed by both Hope and Despair. - Author: Roman Payne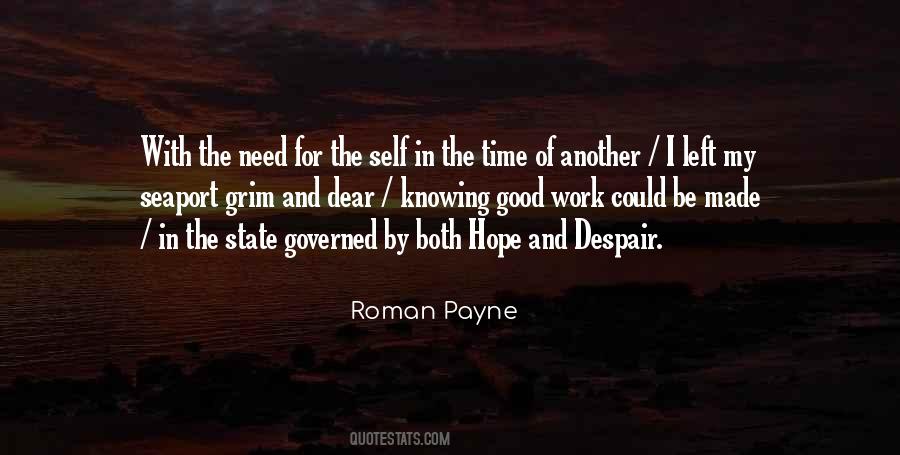 #10. I have made some bad decisions ... and done some things I regret in my life ... but without a doubt ... what I regret the most ... is divorcing you. If you tell me there is hope, that one day you'll be Mrs. Rawlings again, I will wait. - Author: Aleatha Romig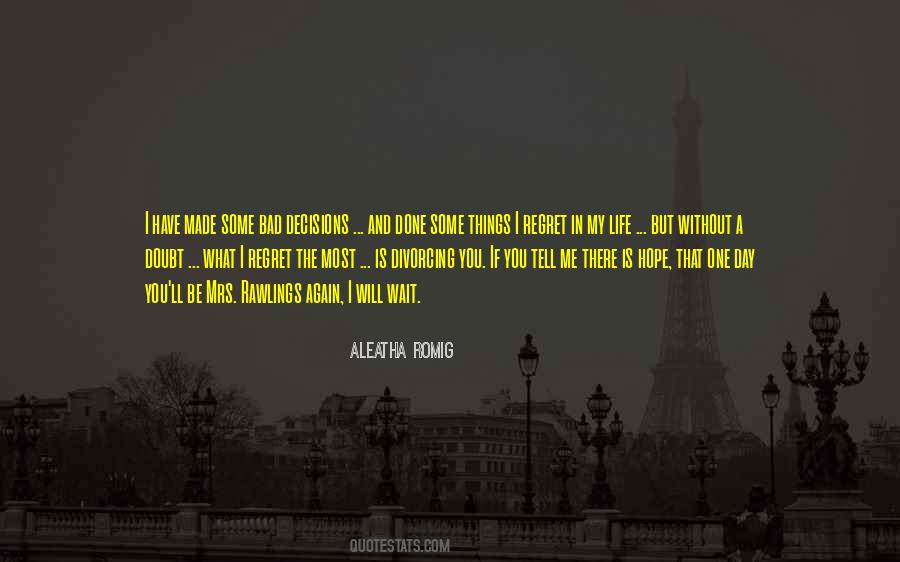 #11. I should move away from his touch. But he's a constant storm in my life, clouding my head, ensuring I make bad decisions. He doesn't do it on purpose, he knows we're not good for each other, but there's something about us that makes us fight back harder, thinking we can overcome it. - Author: Brittany Butler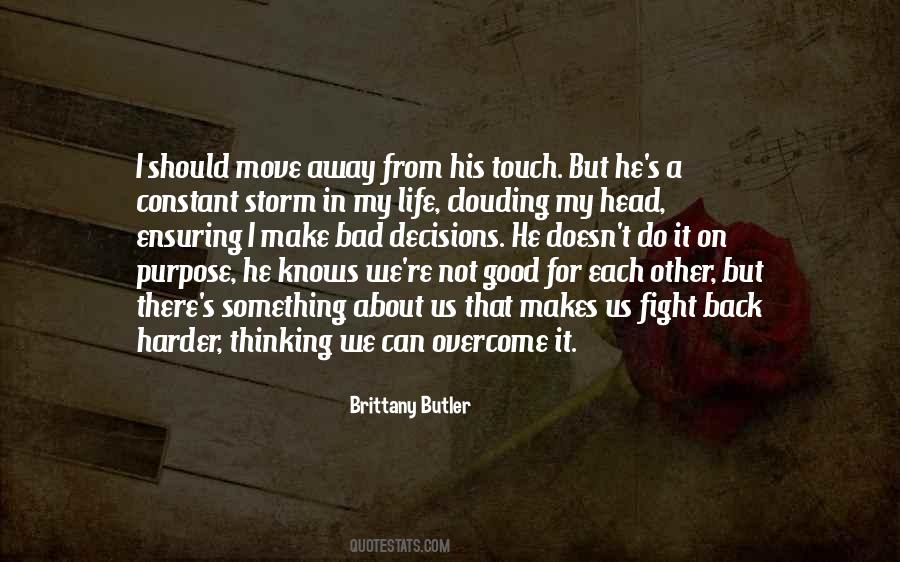 #12. Believe in dreams. Never believe in hurts ... You can't let the grief and the hurts and the breaking experiences of life control your future decisions. - Author: Robert H. Schuller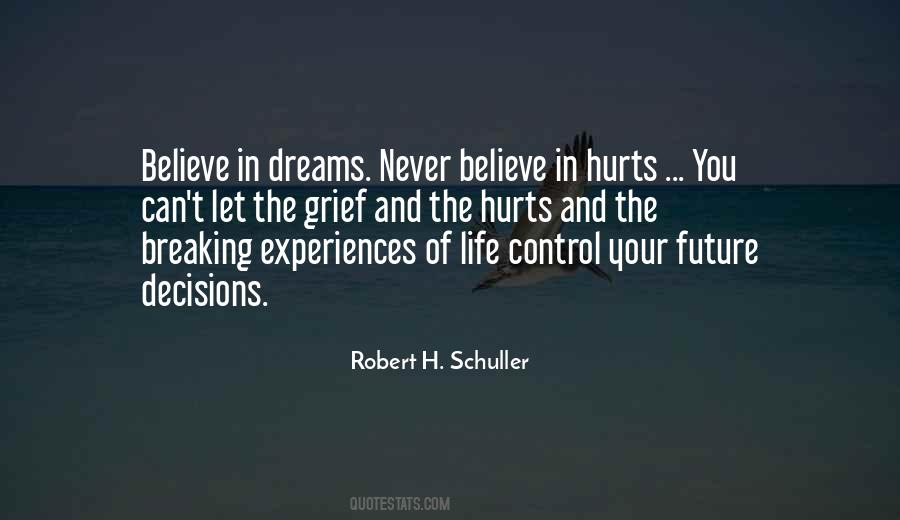 #13. And when you're that sure and end up getting it that wrong, you lose faith in yourself, your ability to make the right decisions about your life. - Author: Kristen Ashley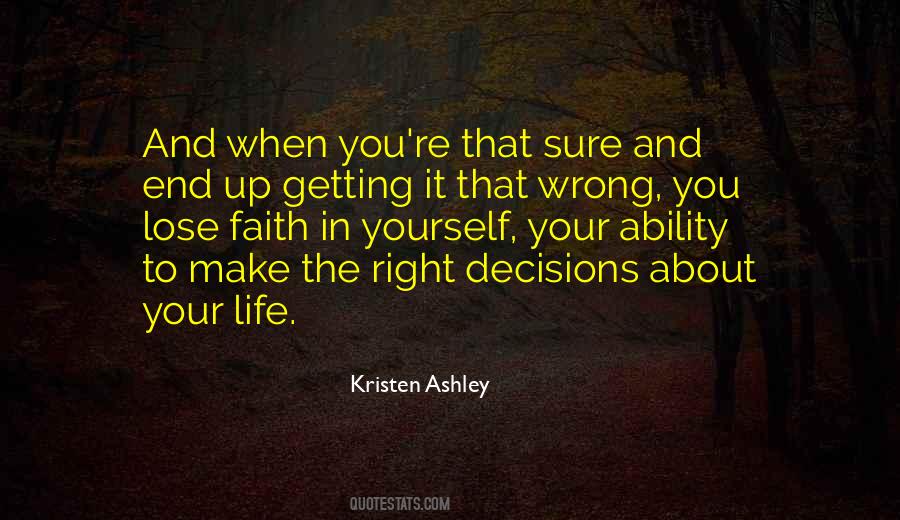 #14. So many tremendous decisions in life are made because it is five o'clock. - Author: Arthur Miller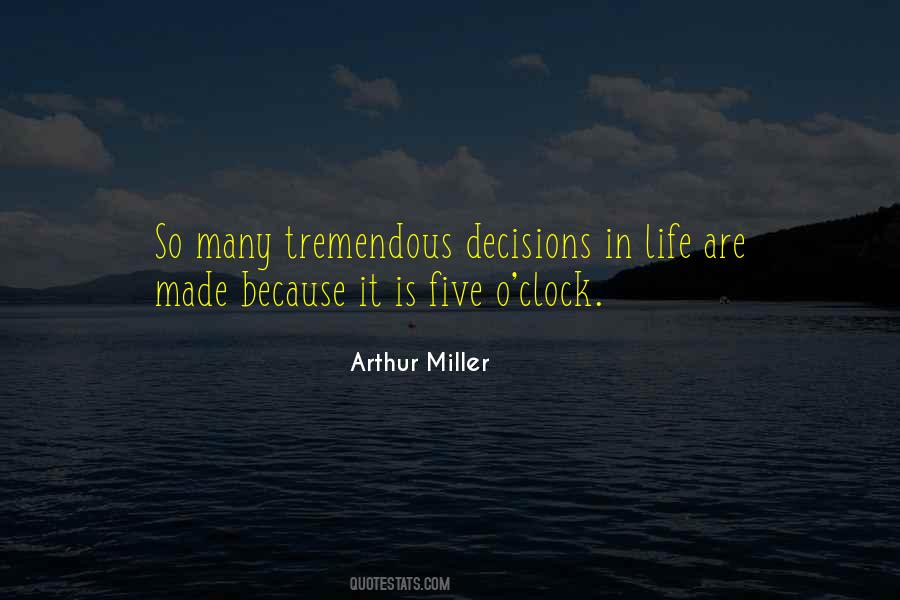 #15. Many times in our lives, we are dropped, crumpled, and ground into dirt by the decisions we make and the circumstances that come our way. We feel as though we are worthless. But no matter what has happened or what will happen, we will never lose our value in God's eyes. - Author: Joyce Meyer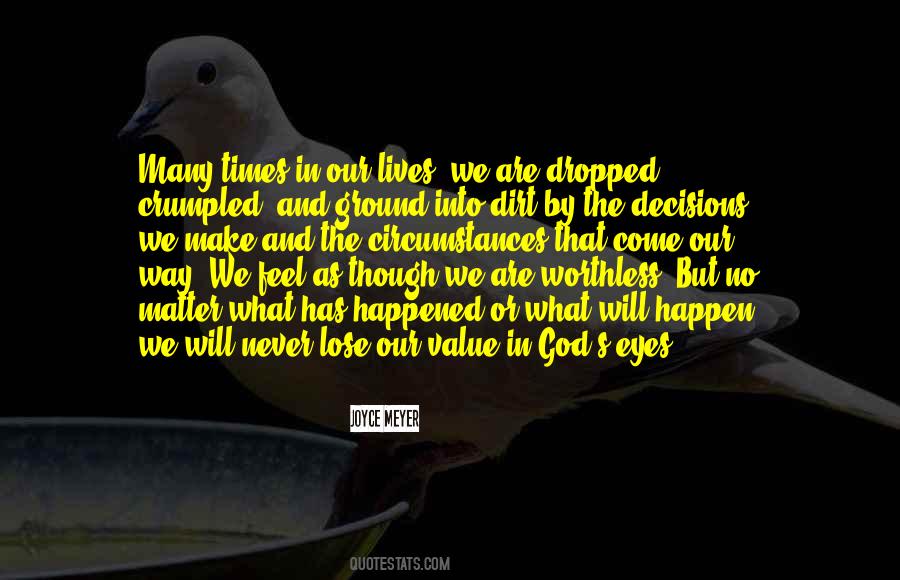 #16. There must be a few times in life when you stand at a precipice of a decision. When you know there will forever be a Before and an After ... I knew there would be no turning back if I designated this moment as my own Prime Meridian from which everything else would be measured. - Author: Justina Chen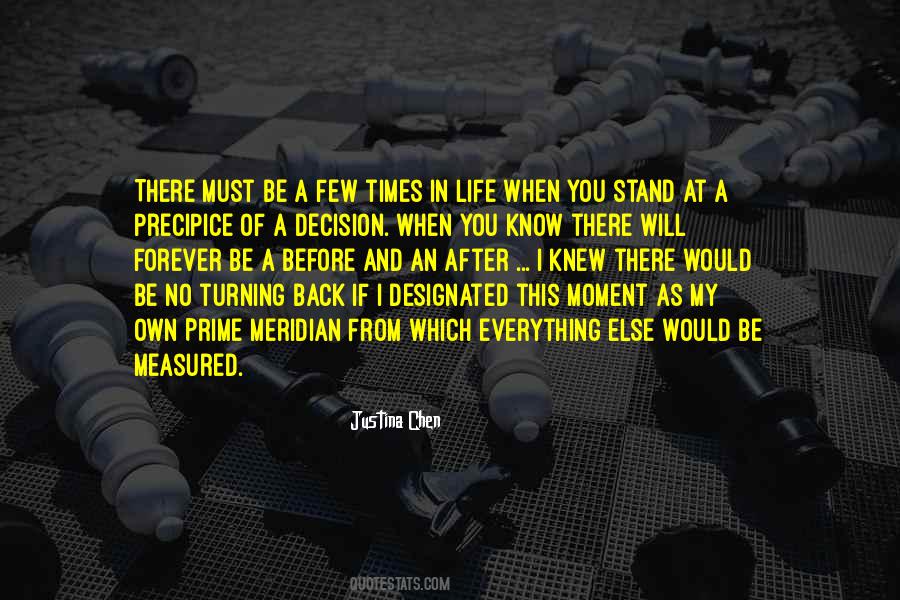 #17. Everybody makes personal decisions that are right for them and if you're in political life, you're used to having those analyzed. - Author: Elizabeth Edwards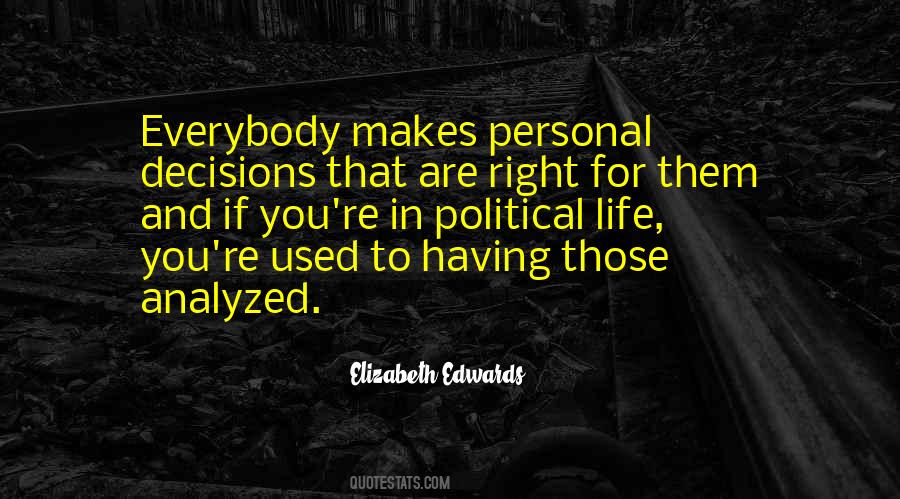 #18. In life you make the small decisions with your head and the big decisions with your heart. - Author: Omid Kordestani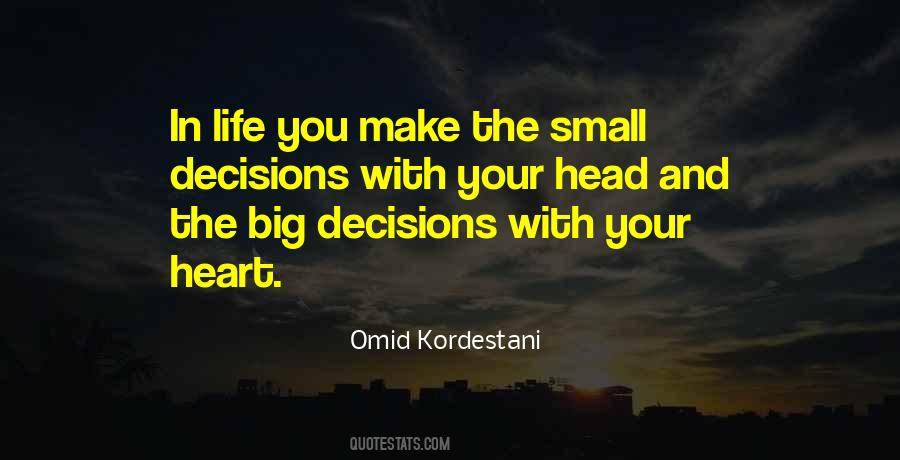 #19. In my life I think I made really solid decisions, and I would stand by them all over again. - Author: Julia Roberts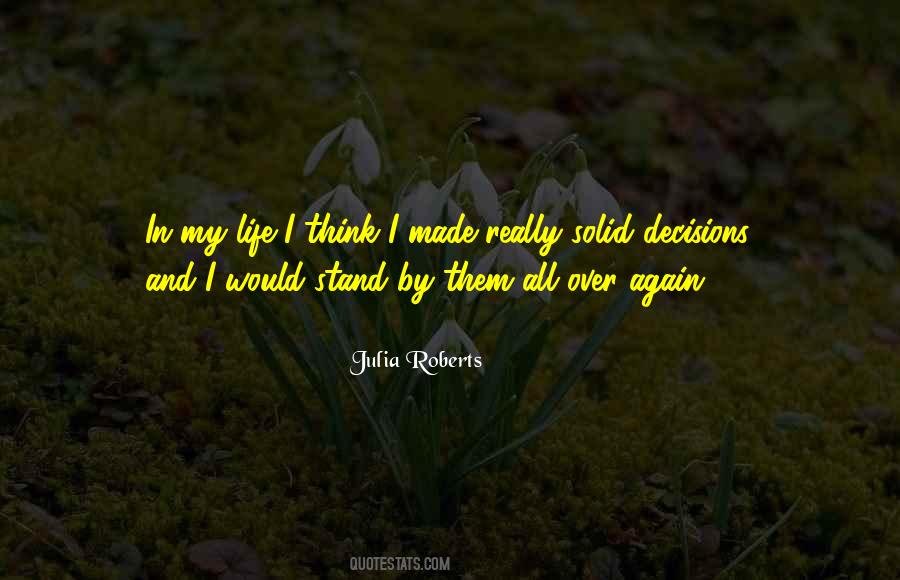 #20. We take thousands of decisions in life; the very best ones are often the ones taken boldly and unhesitatingly! - Author: Mehmet Murat Ildan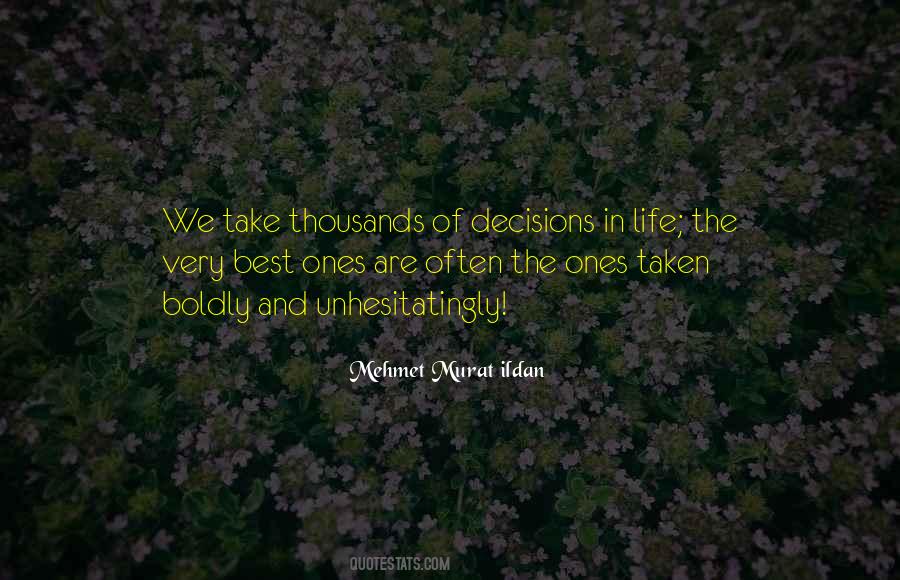 #21. Making our worst decisions in life, can destroy us, but God is trying to Rebuild us - Author: Gary Louis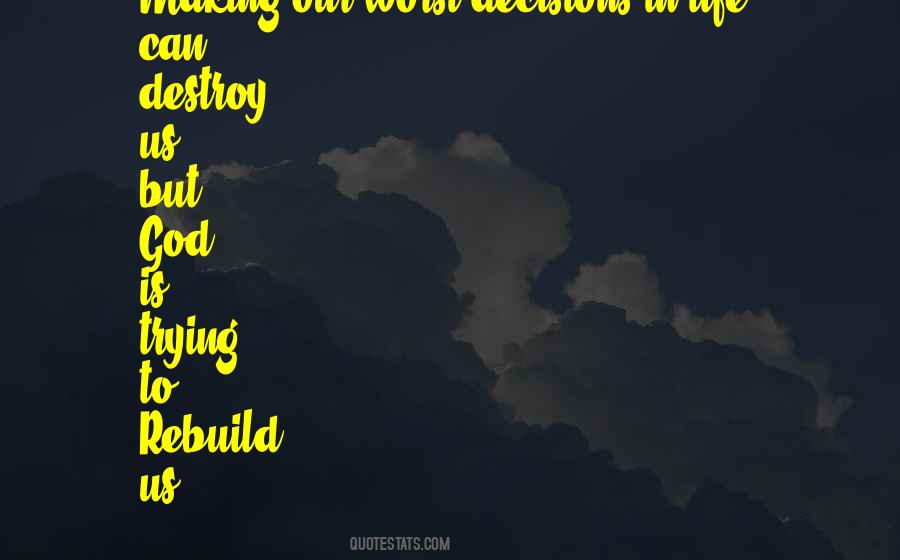 #22. The association promotes a way of life, not causes; a harmony in living, not political faiths; a bilateral loyalty, not commercial or social projects. Yet it is an association for as noble a purpose as any involved in any prior decisions. - Author: William O. Douglas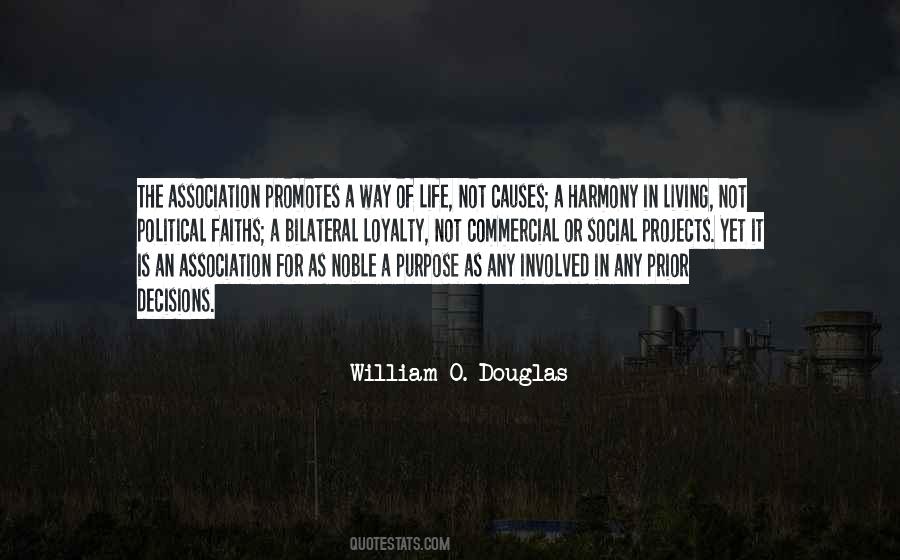 #23. After years of making wrong decisions in my life, in 1977 I found out that it was all right to be square, simple, and sober. - Author: Martha Reeves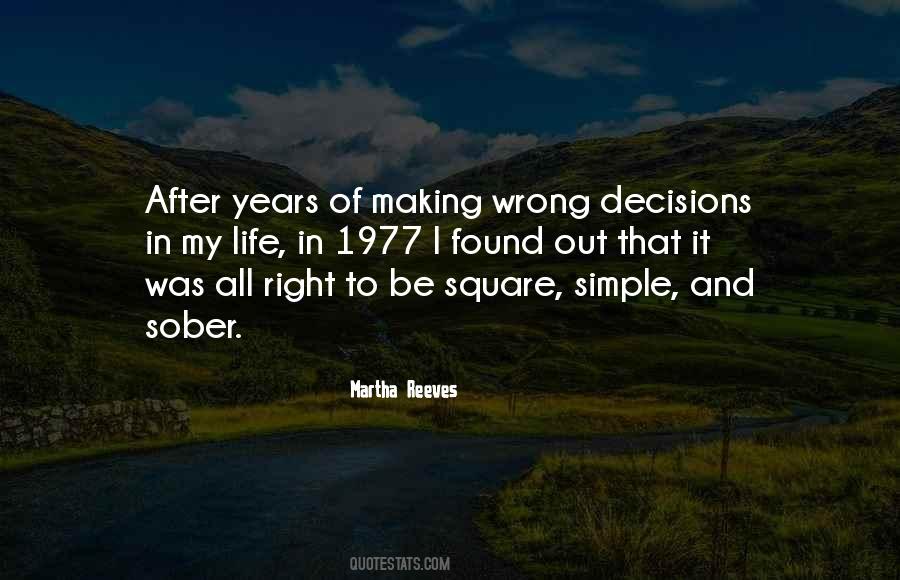 #24. In life, the hardest decisions often have to be made more than once. But each time, it gets easier. - Author: Matthew J. Kirby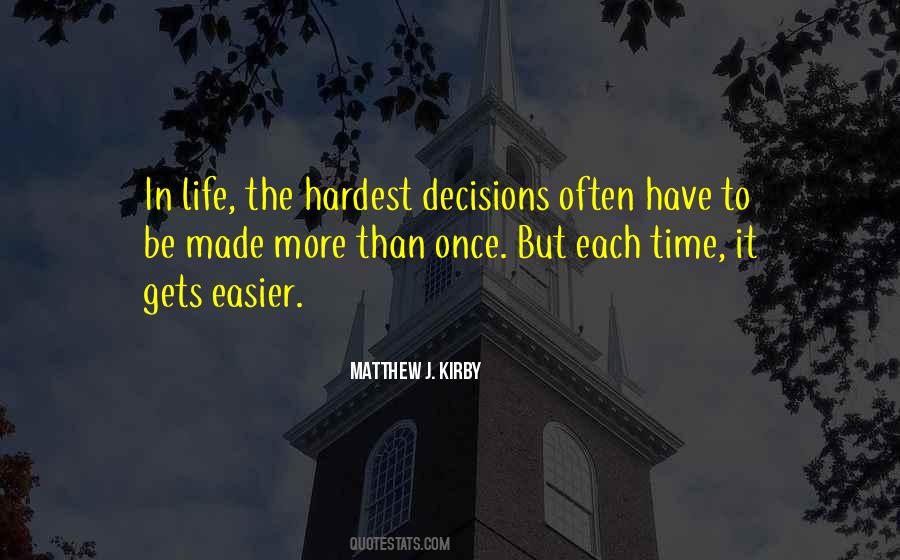 #25. When I'm in management meetings when we're deciding my future, those decisions are left up to me. I'm the one who has to go out and fulfill all these obligations, so I should be able to choose which ones I do or not. That's the part of my life where I feel most in control. - Author: Taylor Swift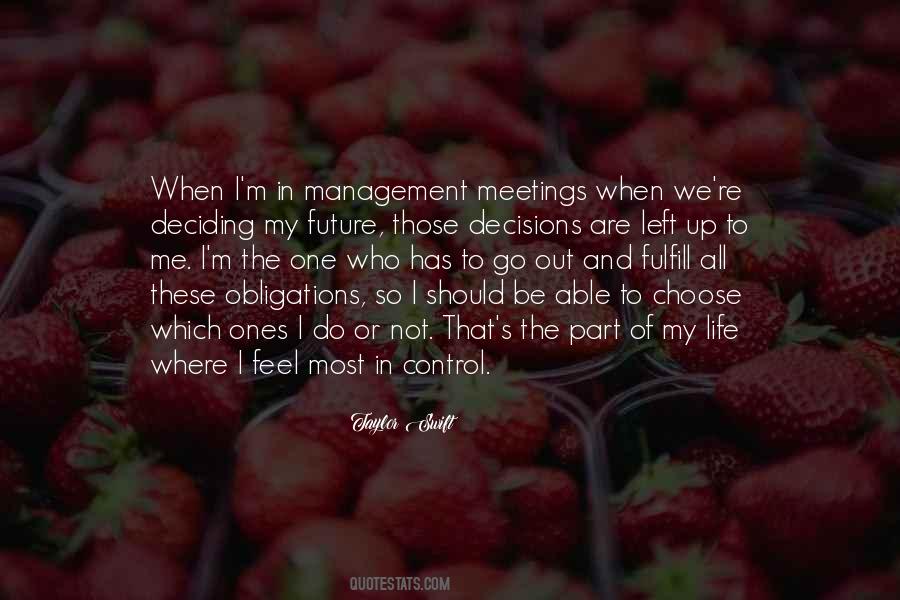 #26. In all my songs, I take on roles and play characters. It's a unique way to explore ideas and decisions I might not think or make in real life. - Author: Jack White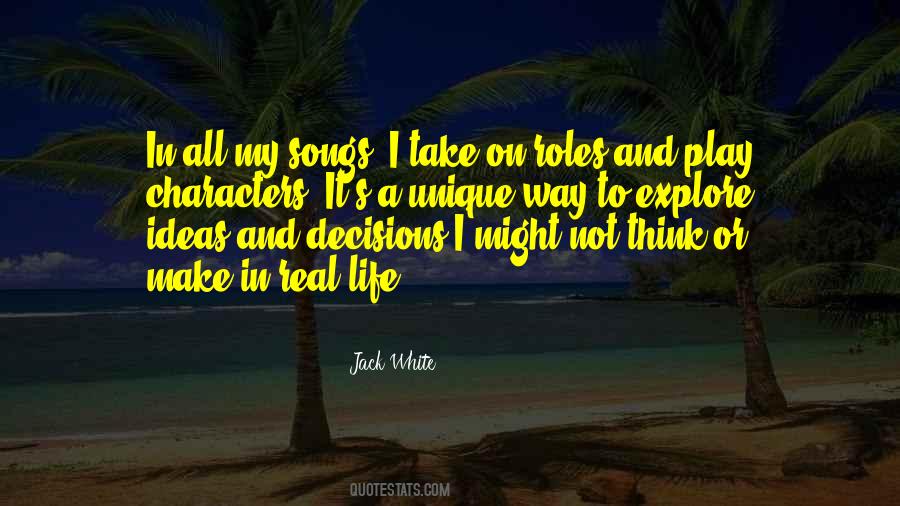 #27. It may not seem obvious at first glance, but the way we make decisions in life tells a lot about the kind of faith we have in Jesus Christ. - Author: Jim Cymbala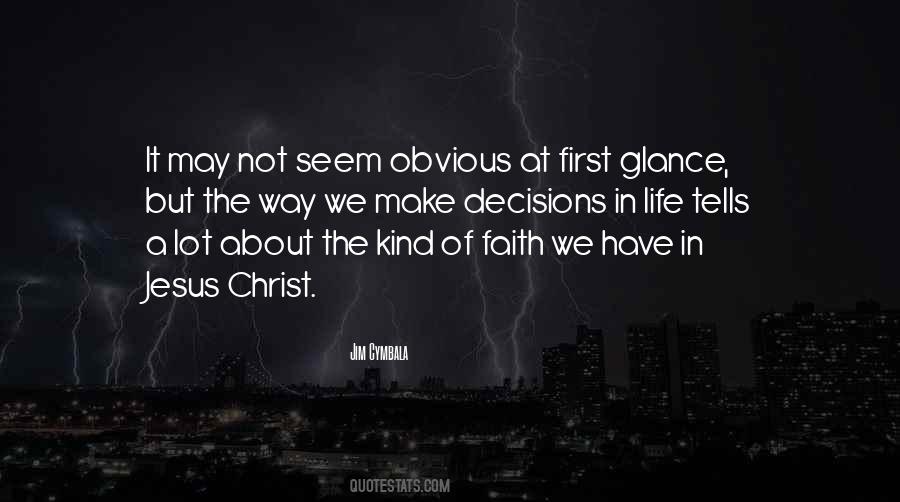 #28. You have to understand that in a person's life there are a few precious moments in which decisions, choices that you make now, will affect you for the rest of your life. - Author: Dave Pelzer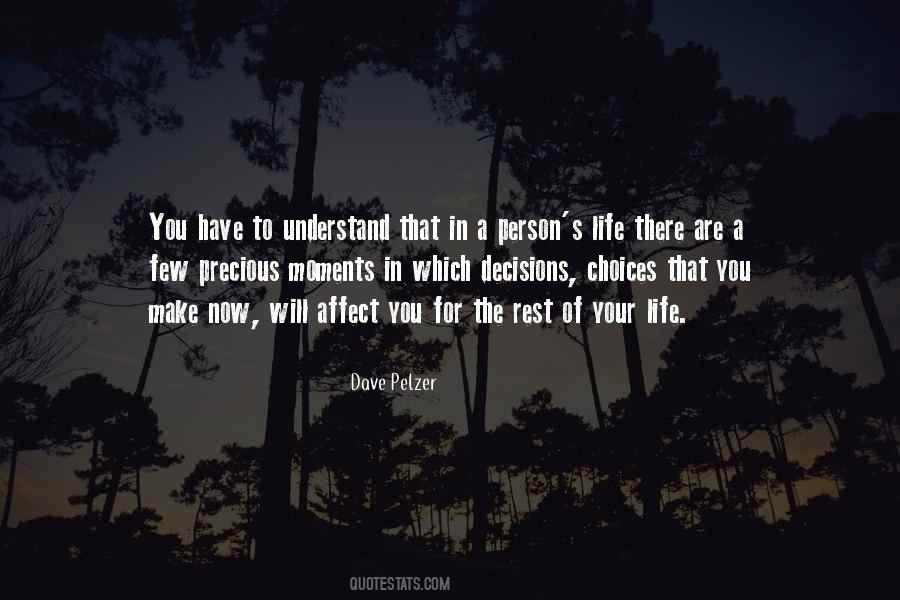 #29. In every moment, you make decisions based on your beliefs or inspiration which comes to you directly from the divine/universe. - Author: Hina Hashmi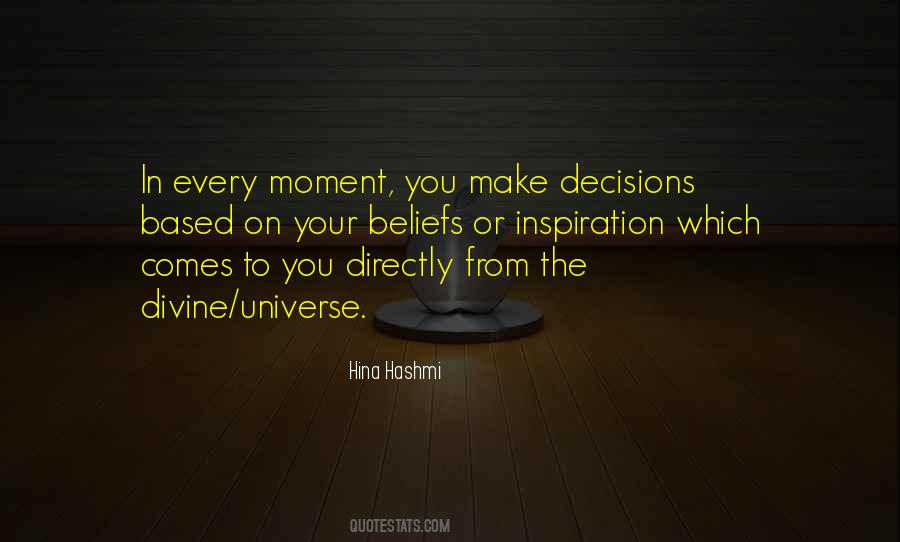 #30. I want them [female fans] to not be afraid to live life, to not be afraid to make bad decisions because there are a lot of lessons and blessings in those decisions. Sometimes, if you don't fall into the pit, you won't reach out to God. - Author: Karrine Steffans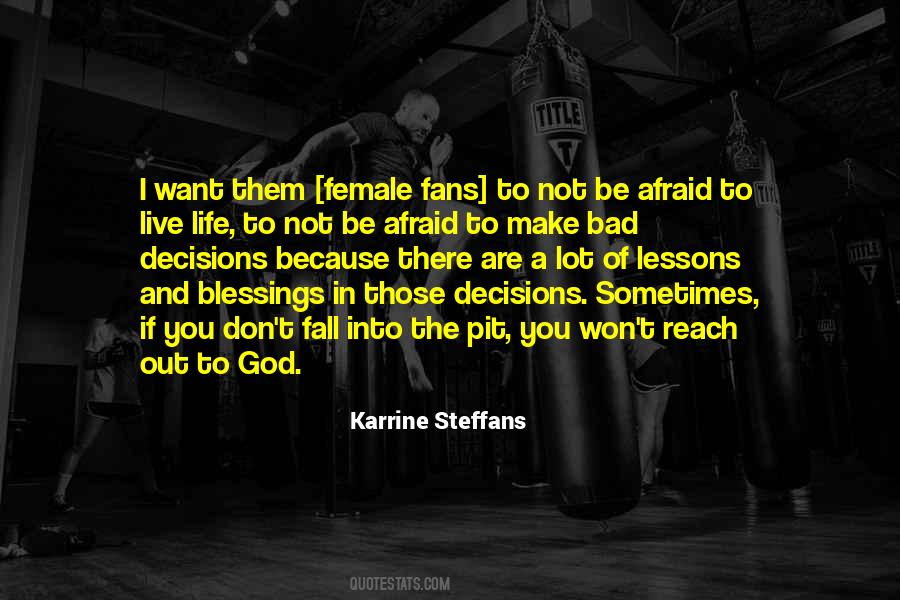 #31. We never know where life is going to lead, Ethan. What so many small decisions are going to add up to. - Author: Ali Standish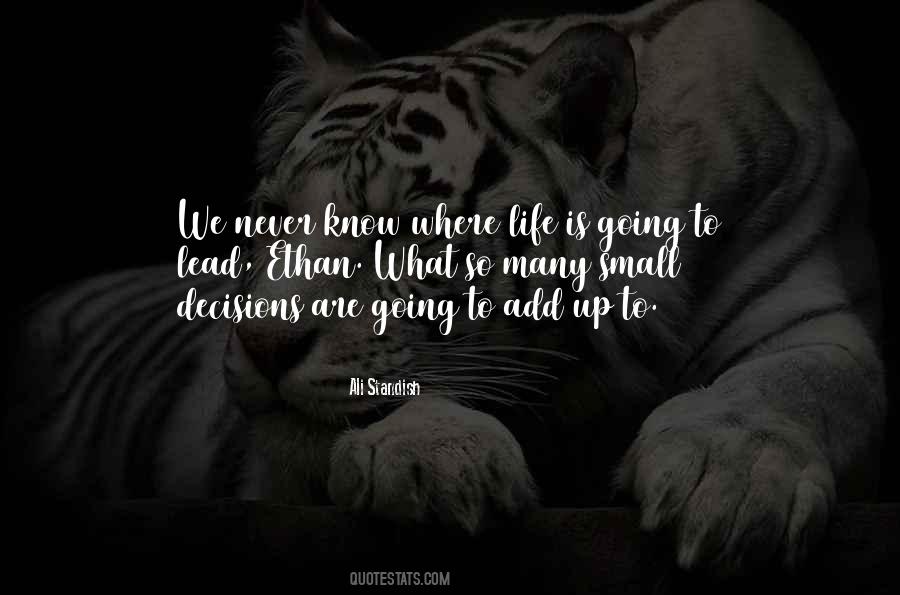 #32. Let go of yesterday, you made it! Don't use yesterday's state of mind to make today's decisions. - Author: C. Nzingha Smith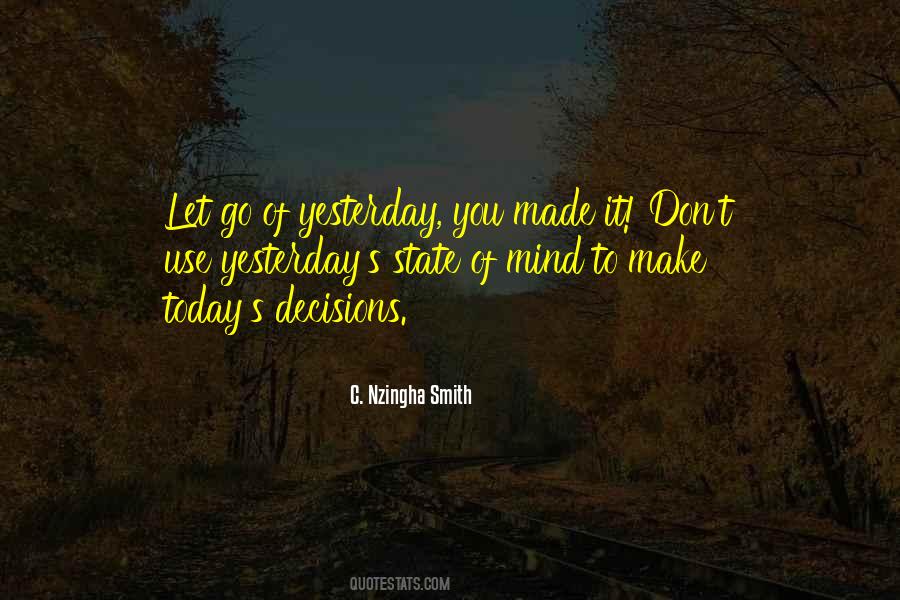 #33. Soul is that part of you that longs for harmony and cooperation and sharing and reverence for life. When you make decisions that align you with those values, you align your personality with your soul. It's that simple to understand. Now to do it, in my experience, is hard. - Author: Gary Zukav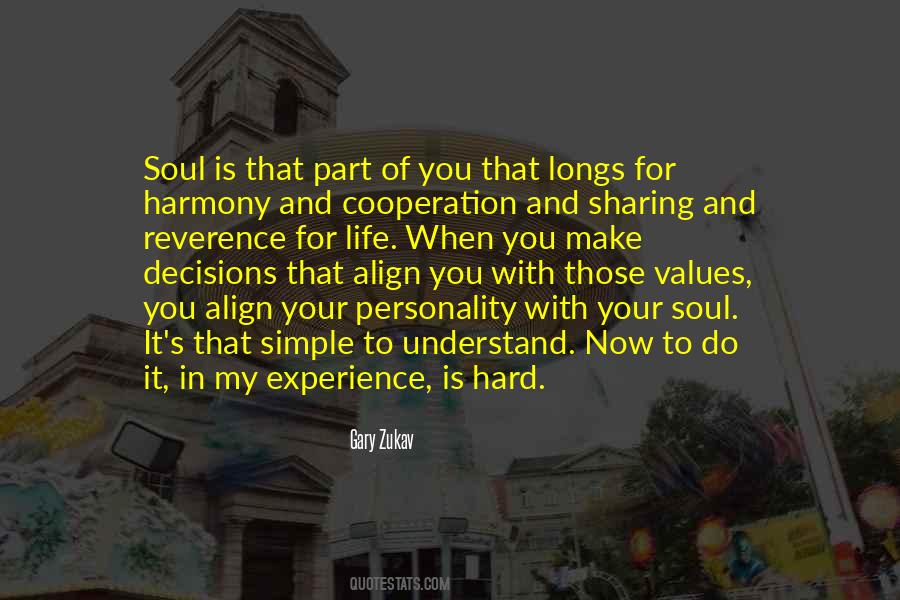 #34. And I do get it; some decisions are irreversible. But like I've said, sometimes it's the irreversible ones that help a person get to know herself a little better. It's the consequences that matter. It's the fact that there are no do-overs that makes life matter at all. - Author: Hannah Pittard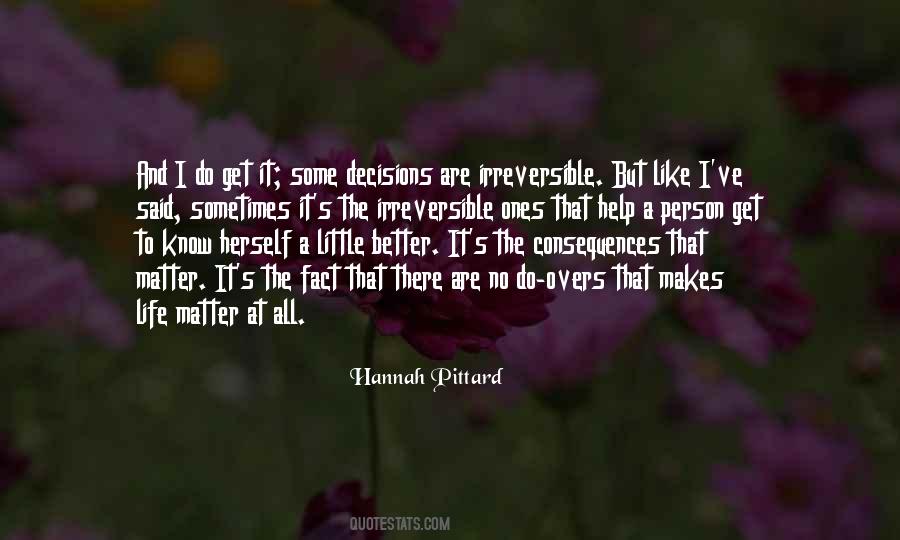 #35. Everything you do in life, whether it's good or bad, makes you who you are. Don't maybe your decisions to death because you can't change them. - Author: Karyn Bosnak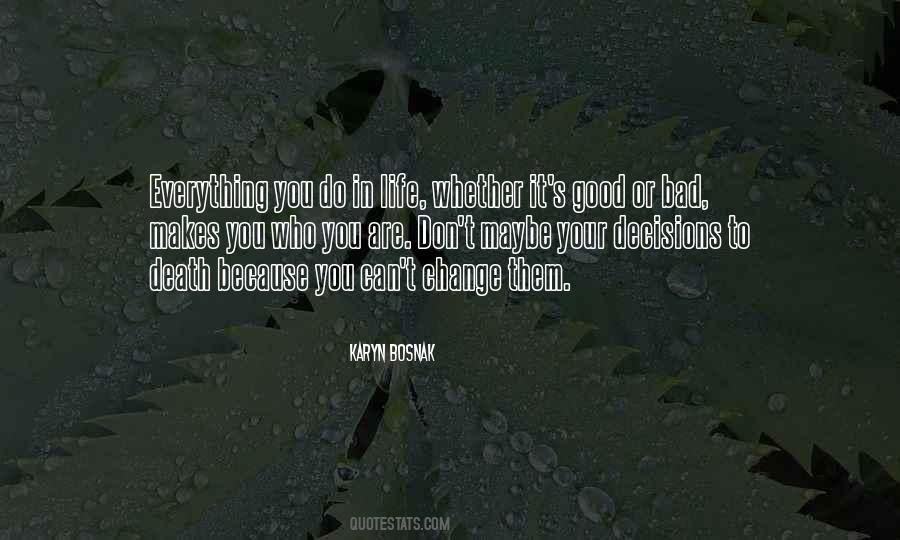 #36. Before you make a decision, ask yourself this question: will you regret the results or rejoice in them? - Author: Rob Liano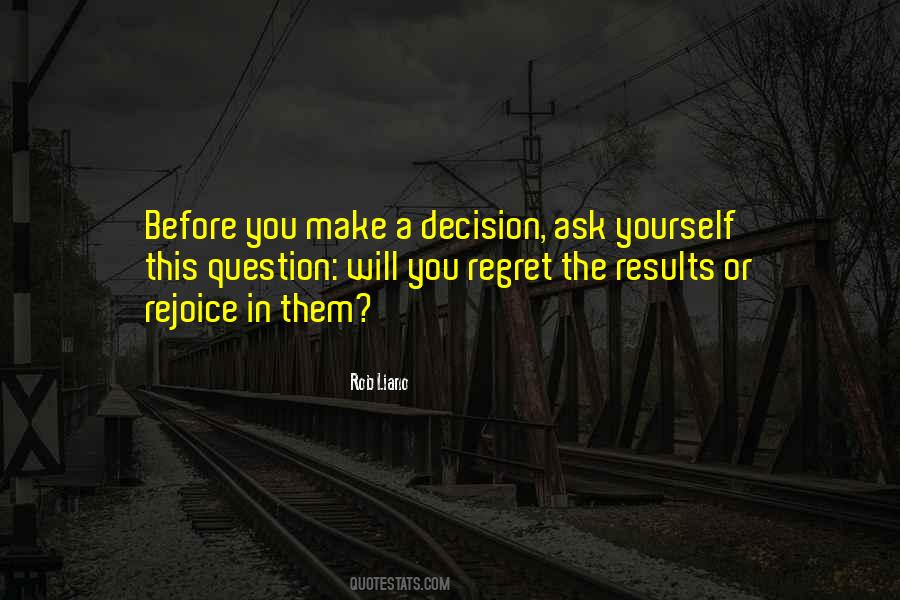 #37. Freedom of will is born from the neurons. And that freedom allows you to sometimes make even the worst decisions ever in your life. And by making the worst decision, you simply learn what would be the better decision in future. - Author: Abhijit Naskar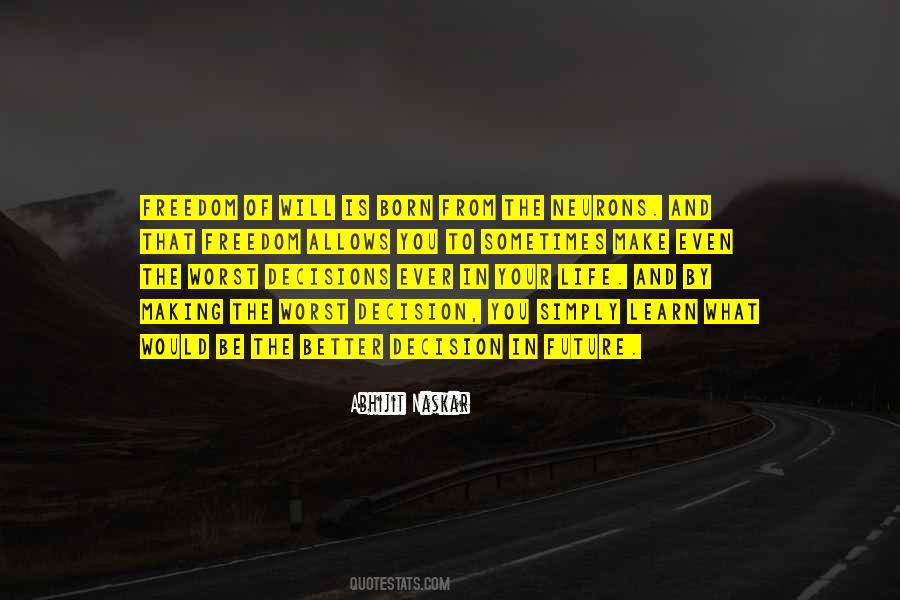 #38. The decisions you make are a choice of values that reflect your life in every way. - Author: Alice Waters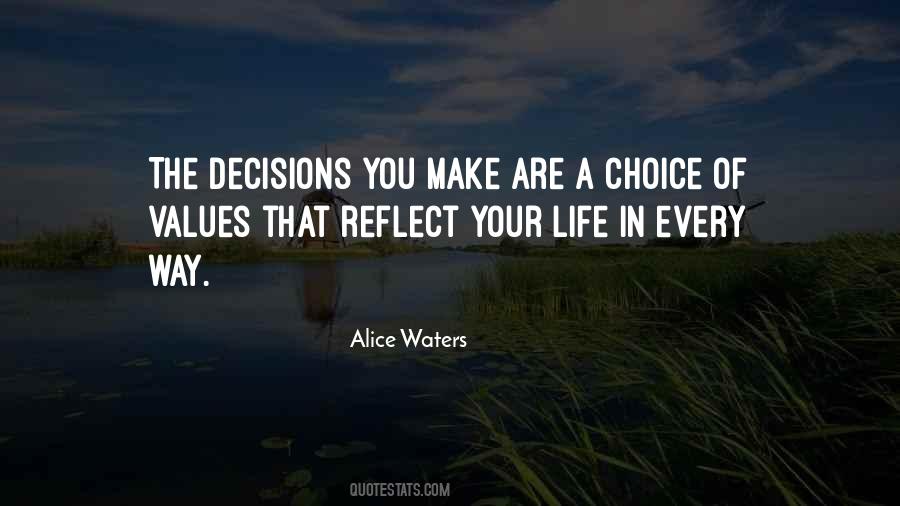 #39. All his life Bosch had lived and worked in society's institutions. But he hope he had escaped institutional thinking, that he made his own decisions. - Author: Michael Connelly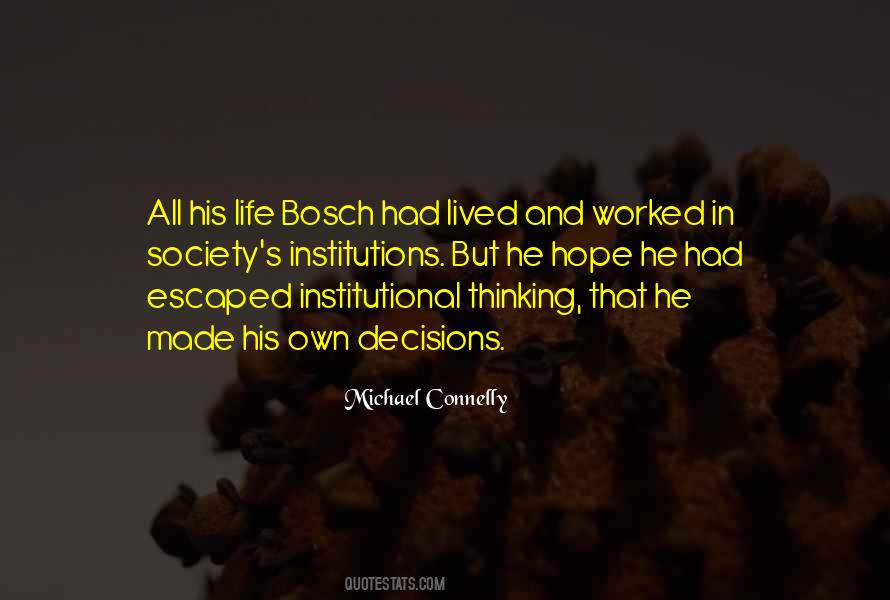 #40. In a lot of ways, it was a huge relief, not being a member of a troupe, being able to make your own decisions and kind of live your own life. - Author: Dave Foley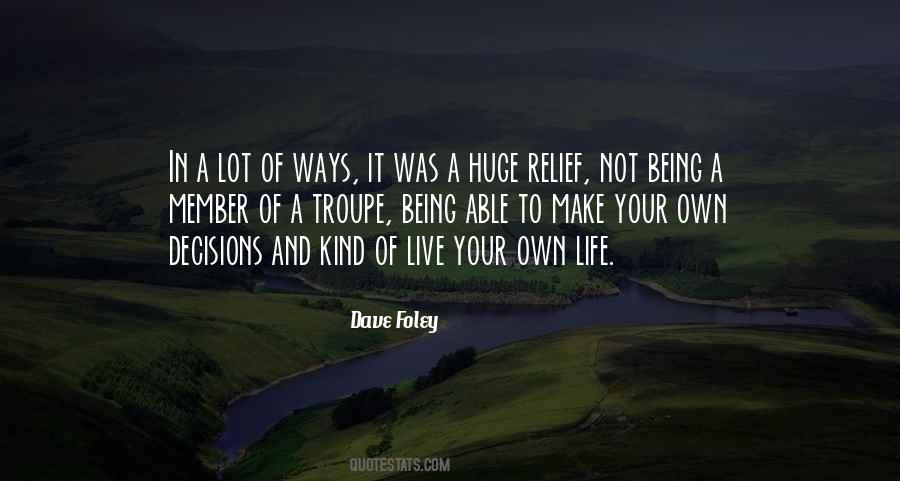 #41. We should make decisions in life with our hearts, not our brains, not only in music but in daily life. - Author: Andre Rieu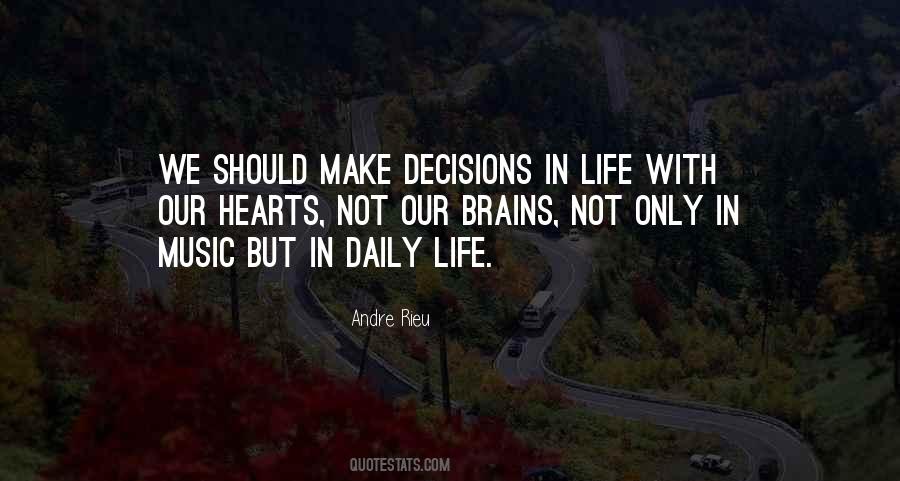 #42. Making hard decisions in life to accomplish the dreams, It requires a gut from within. - Author: Mohith Agadi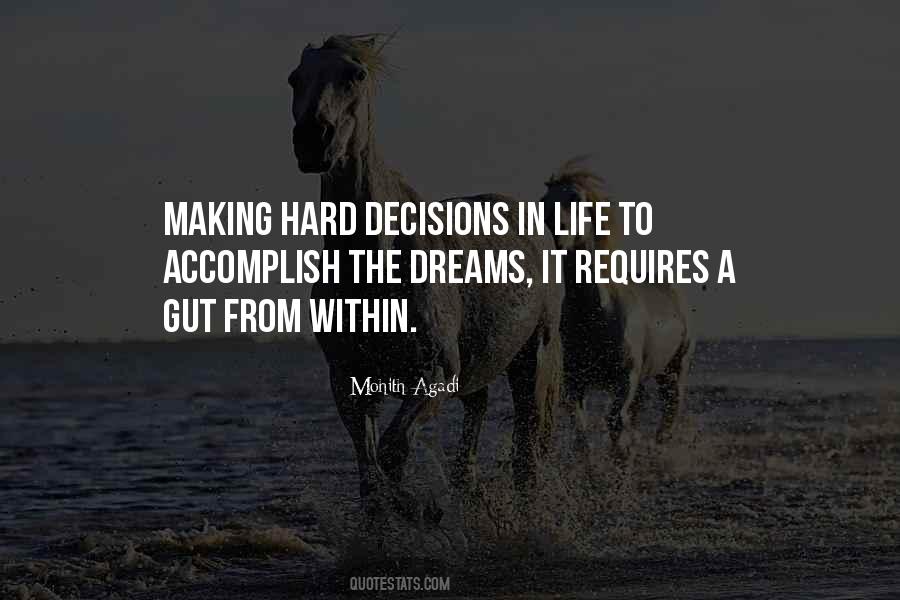 #43. Every decision you make in life, not just on the sporting field - a lot of time and energy goes into it. You think things through before you make decisions and you always think the decision you make at the time is going to be the right one. - Author: Ricky Ponting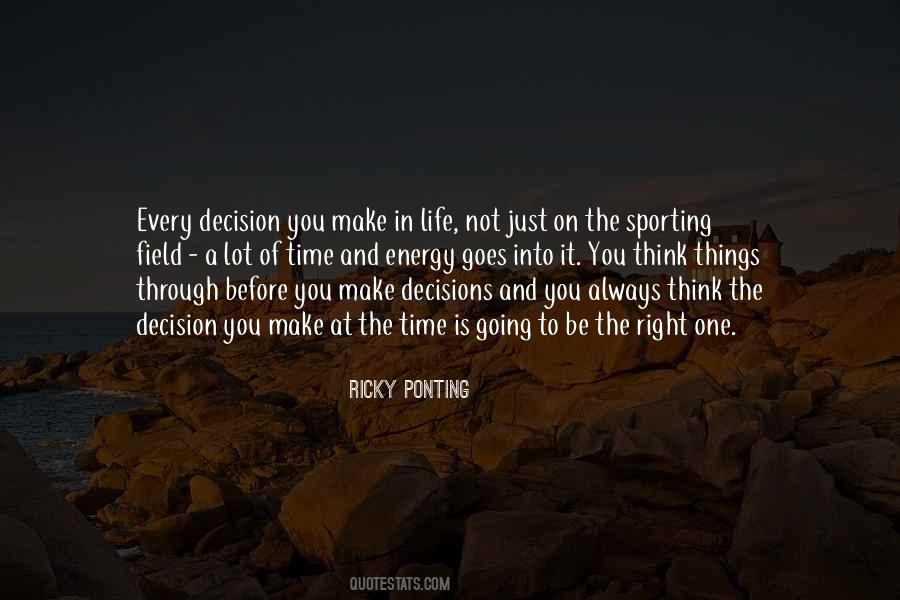 #44. If you are indecisive, make decisions quickly and act in accordance with your decisions you will be able to acquire a new habit - Author: Sunday Adelaja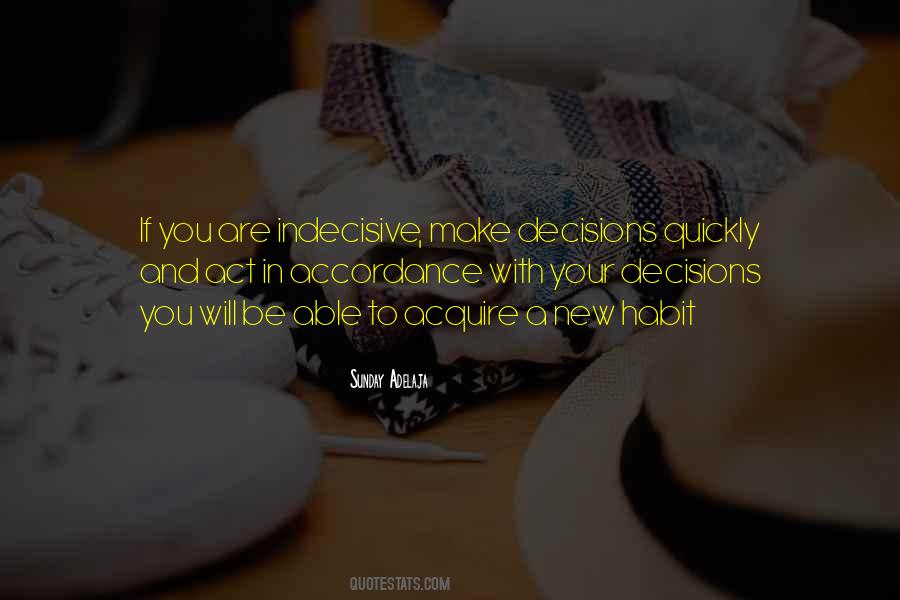 #45. Life at its best is a series of misadventures with a few sound decisions thrown in just to make it livable. - Author: Sebastian Di Mattia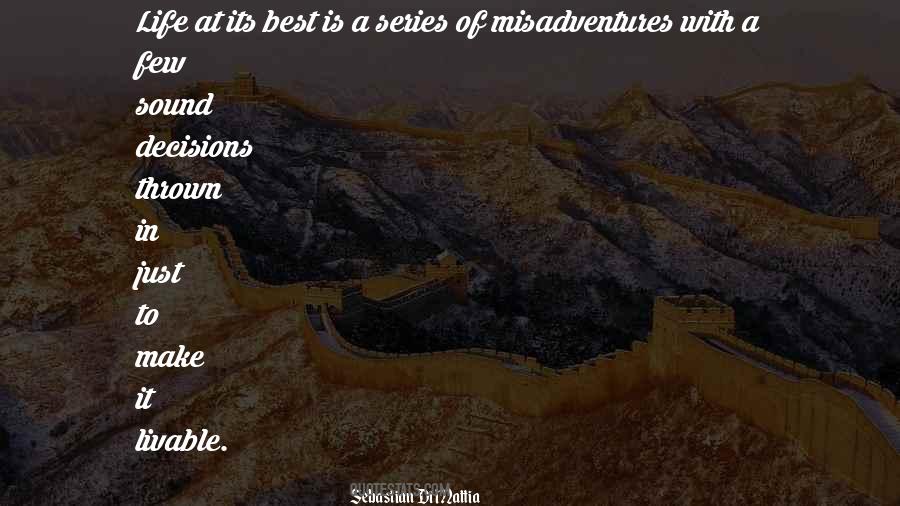 #46. The thin line between good and evil lays in the decisions we make". - Author: Abdulazeez Henry Musa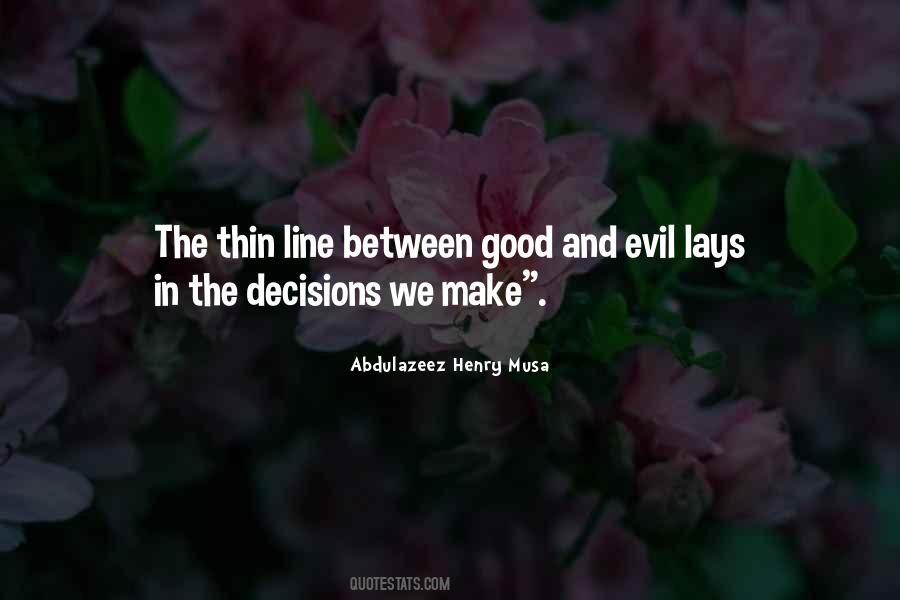 #47. I cannot understand for the life of me why DOE is going forward with this licensing procedure when we do not know whether or not the scientific documentation upon which you are basing your decisions is, in fact, flawed. - Author: Shelley Berkley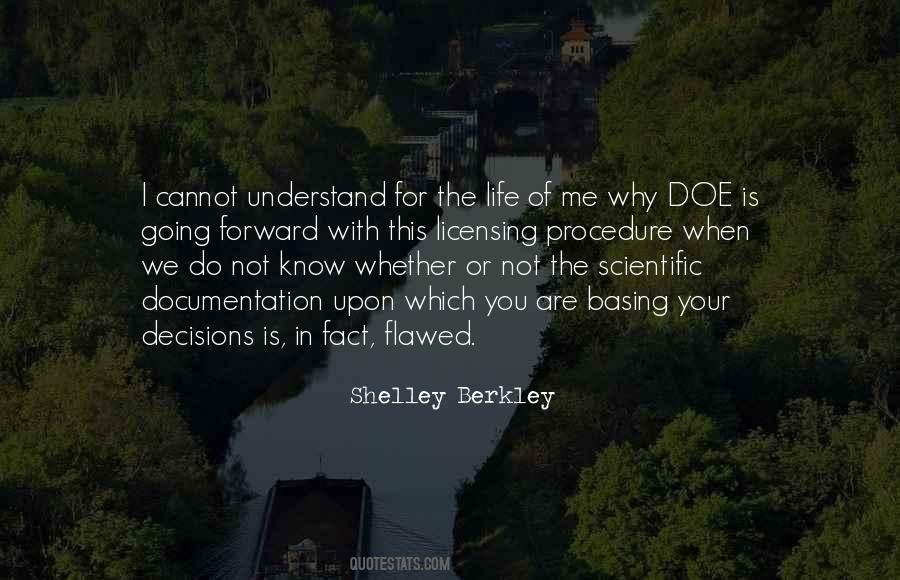 #48. You tell them - you tell them there's a cost ... Every decision we make in life, there's always a cost. - Author: Brad Meltzer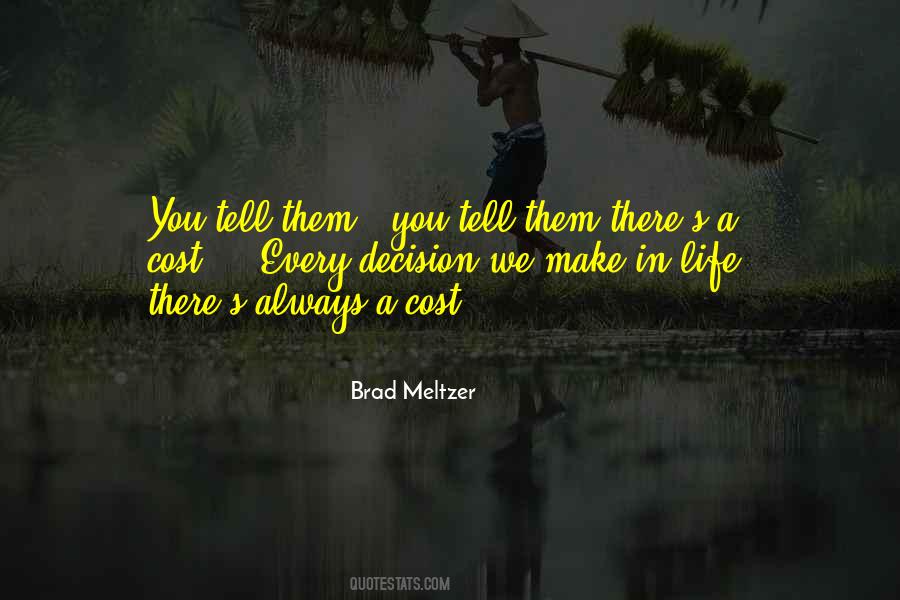 #49. I've done smarter things in my life. Once, for example, I threw myself out of a moving car in order to take on a truckload of lycanthropes singlehandedly."
~Harry Dresden - Author: Jim Butcher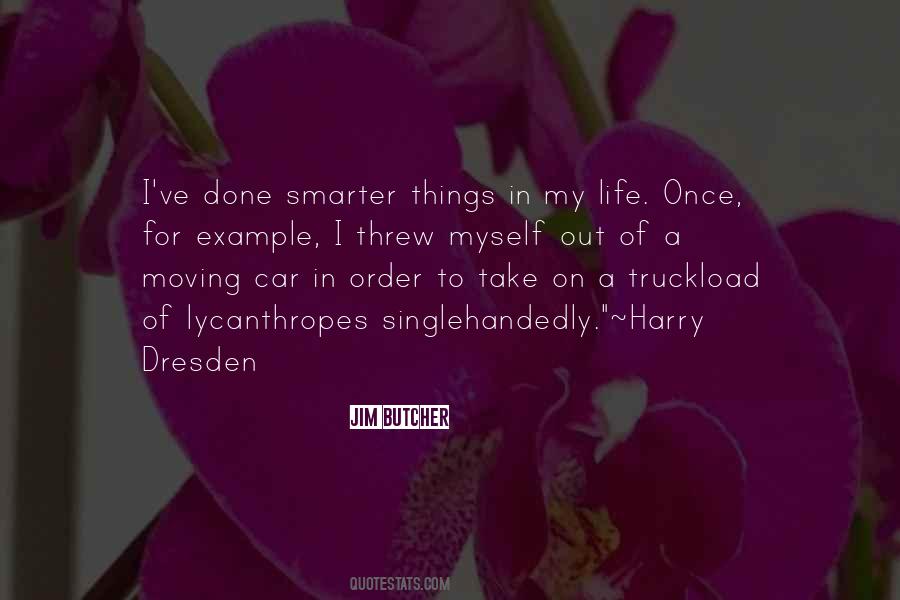 #50. Whatever decisions we make in life always have their respective consequences - good, better, best, or bad, worse, worst. - Author: Kcat Yarza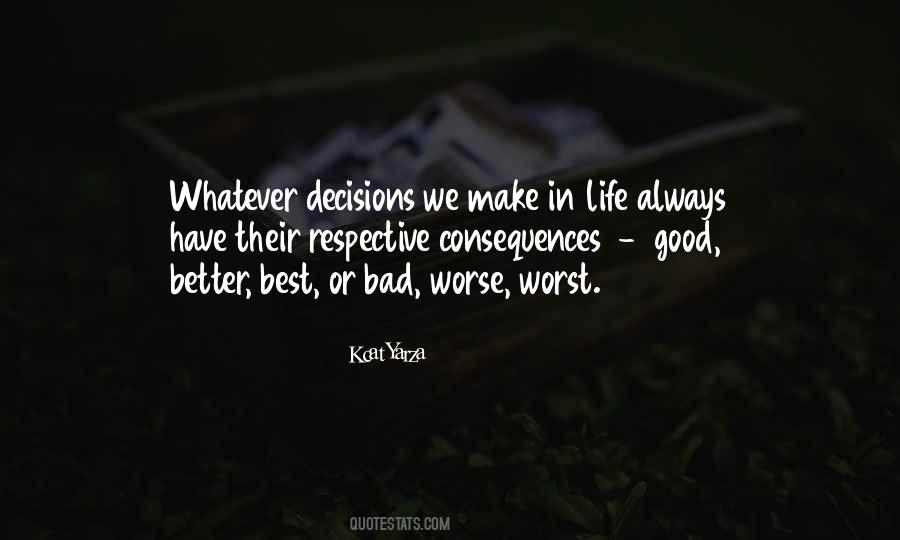 #51. Yes, life was made up of these instances in time. Big moments hidden inside little decisions. - Author: Genevieve Dewey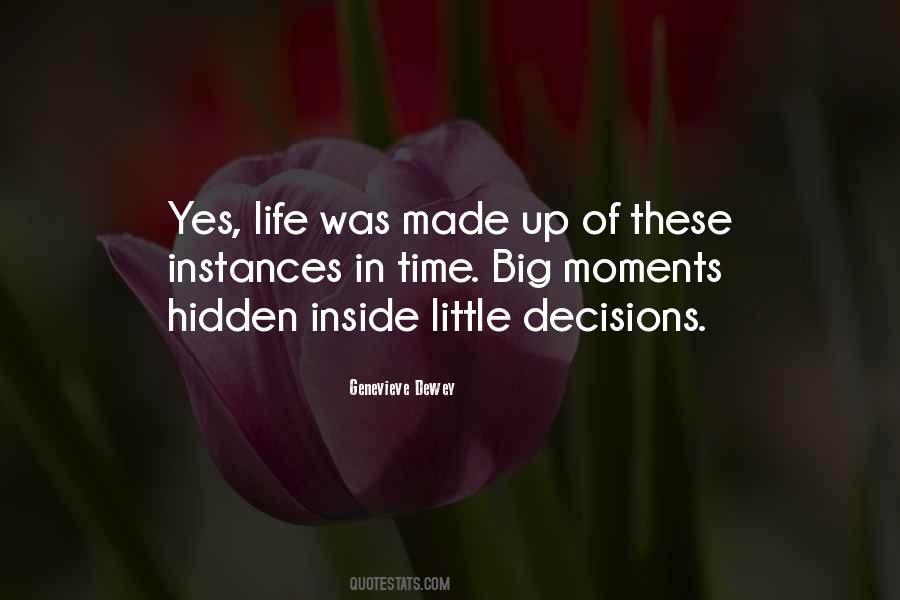 #52. I did 'Degrassi' for five years in Toronto, and I made the decision to quit the show to go to theatre school, which a lot of people thought I was really crazy to do, but it was one of those major decisions in my life that I haven't regretted - hopefully I won't! I really wanted to go to school. - Author: Jake Epstein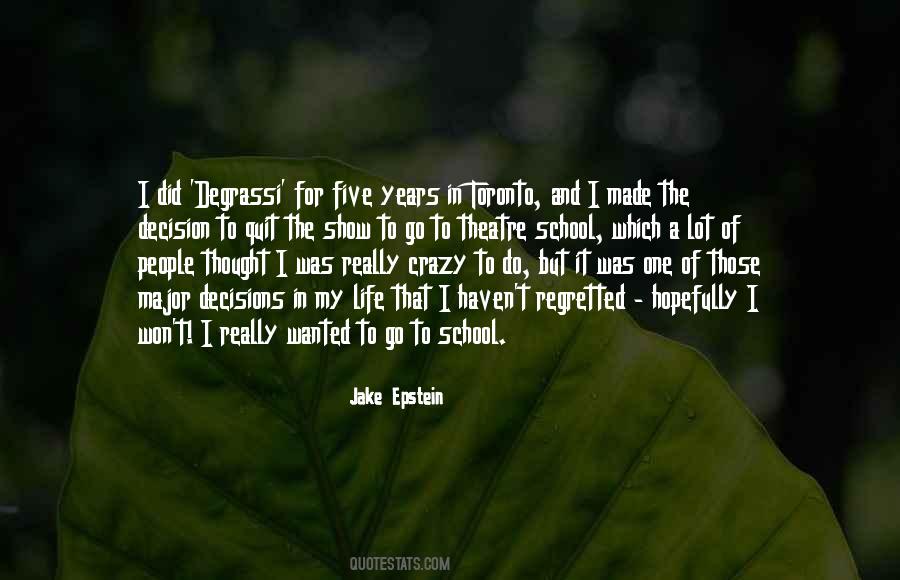 #53. With every decision you make in your life, you're going to have some regrets about the way it goes. You just have to chose which set of regrets you can live with the best, and try to minimize the amount of regrets you have. - Author: John Rzeznik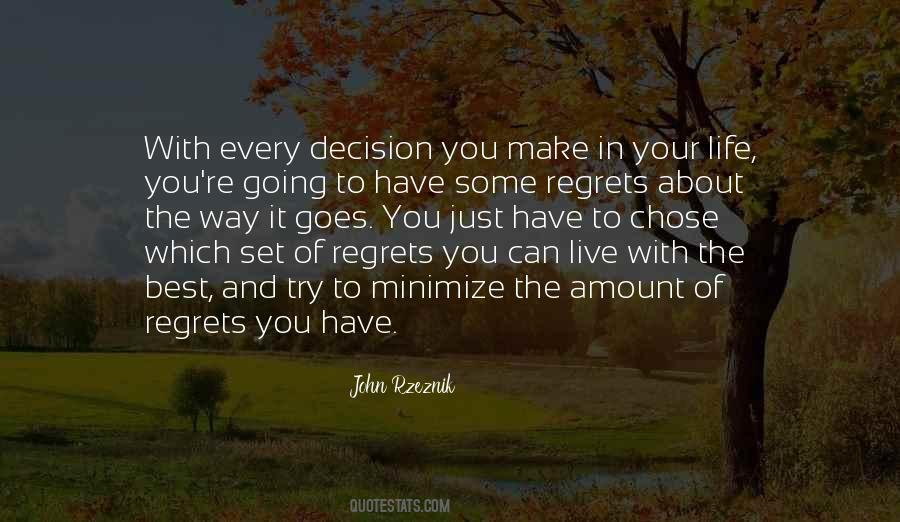 #54. Sometimes, it turns out, the most important decisions in life are made by your dog. - Author: Adam Gidwitz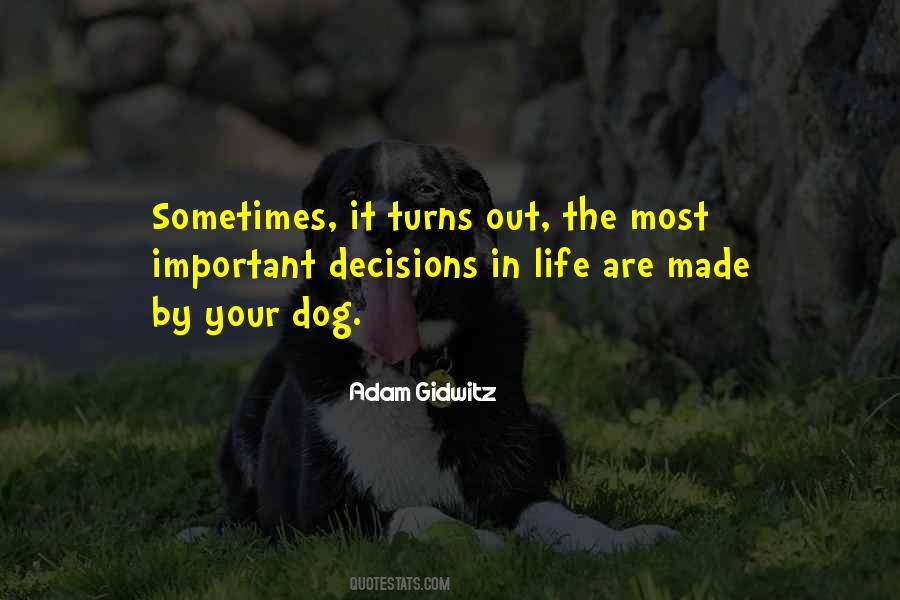 #55. Your little choices become habits that affect the bigger decisions you make in life. - Author: Elizabeth George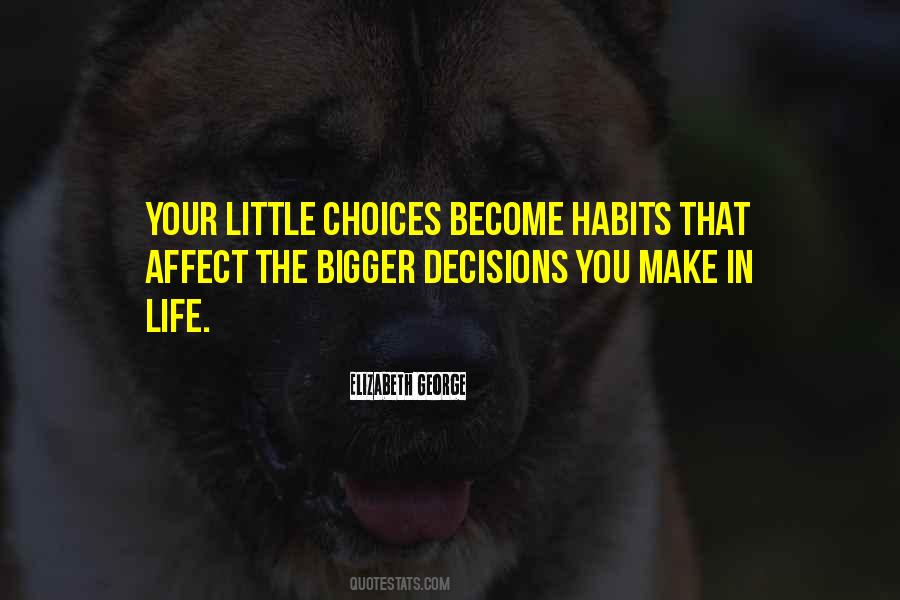 #56. It's a memoir of various events in my own life, but it's also a teaching book: along the way I explain the writing decisions I made. They are the same decisions that confront every writer going in search of his or her past: matters of selection, reduction, organization and tone. - Author: William Zinsser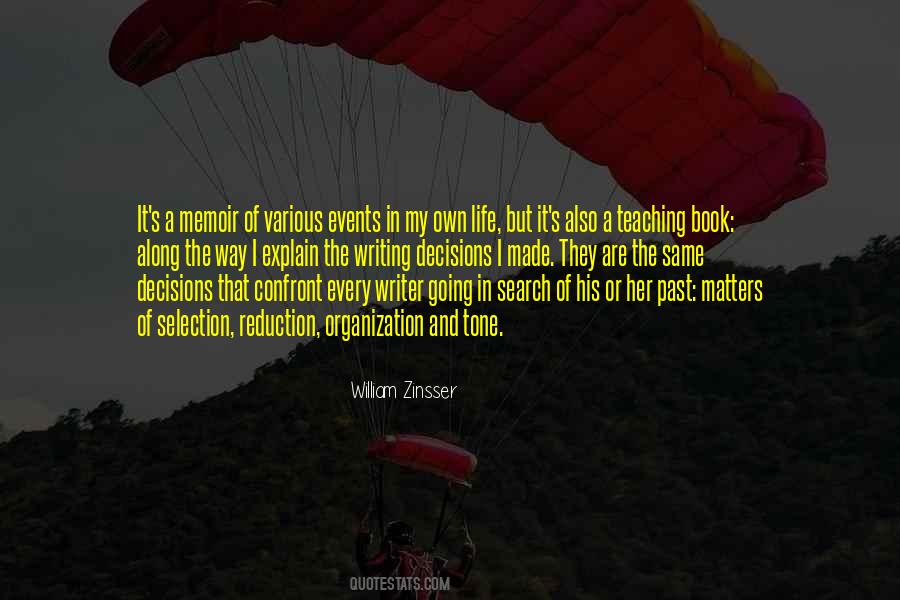 #57. But I know who I am, and I've chosen the things that are important to me. I think the best decisions I make about what to do in my life come when I'm being true to both of those things." She - Author: April White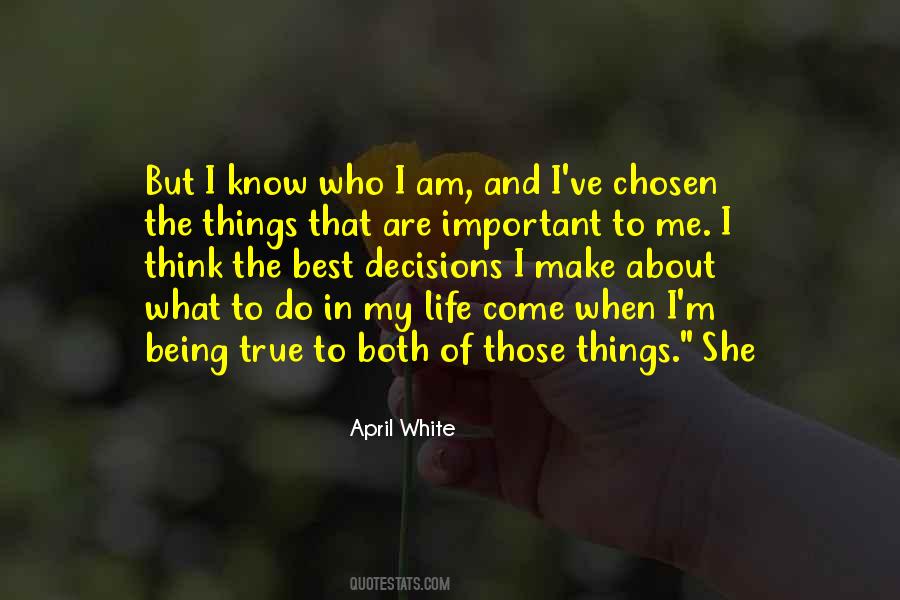 #58. People tend to think that big things only happen to big people ... I think that is not true. The small decisions we make every day define who we are and define the world around us ... But I bet to you there is a decision every day in your life where you affect somebody else. - Author: Guillermo Del Toro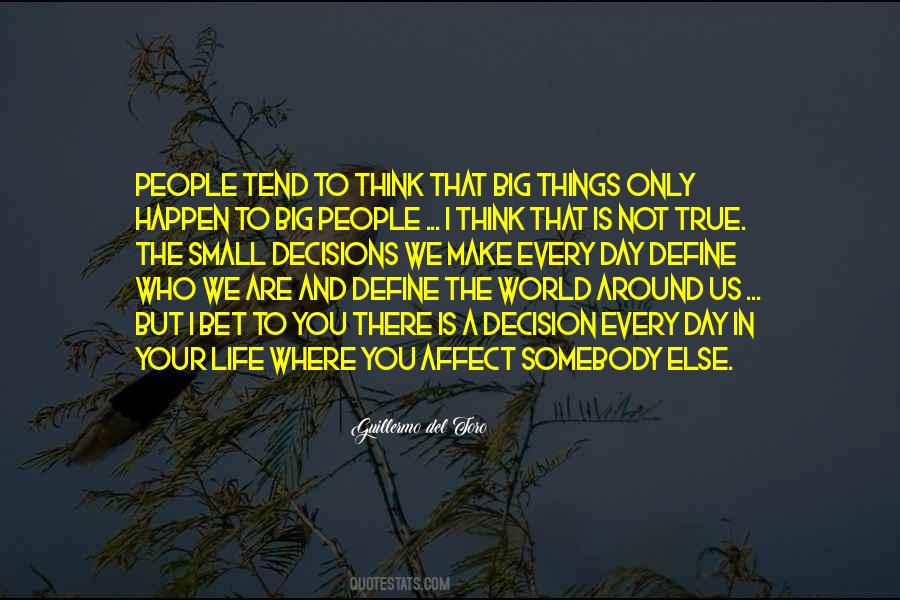 #59. The choices and decisions we make in terms of how we use the land ultimately affect our very DNA. Environmental issues are life issues. - Author: Terry Tempest Williams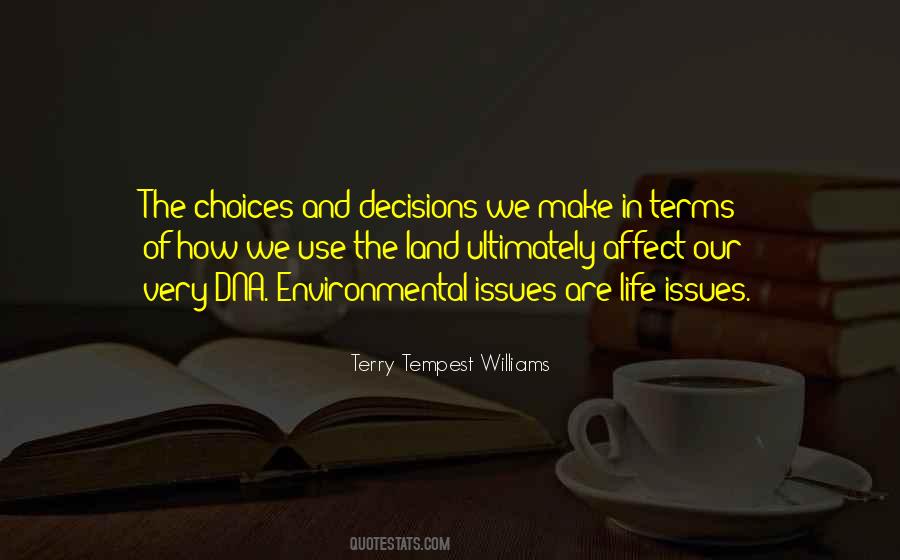 #60. Don't let your emotions get in the way of rational decision making. - Author: Roy Bennett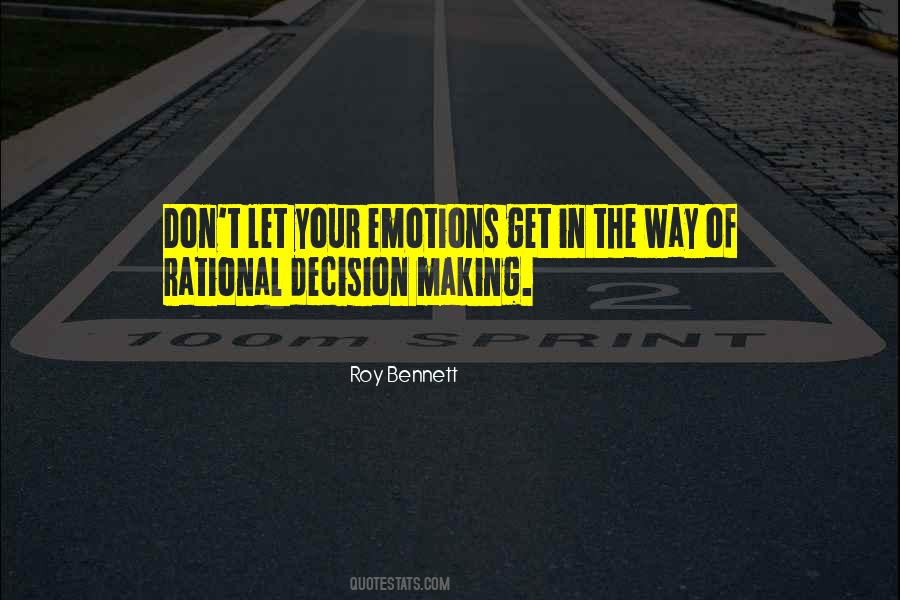 #61. I have seldom heard people engaging in deep intellectual conversations. Most chats are either about mundane life decisions [ ... ] or juicy gossip. - Author: Gad Saad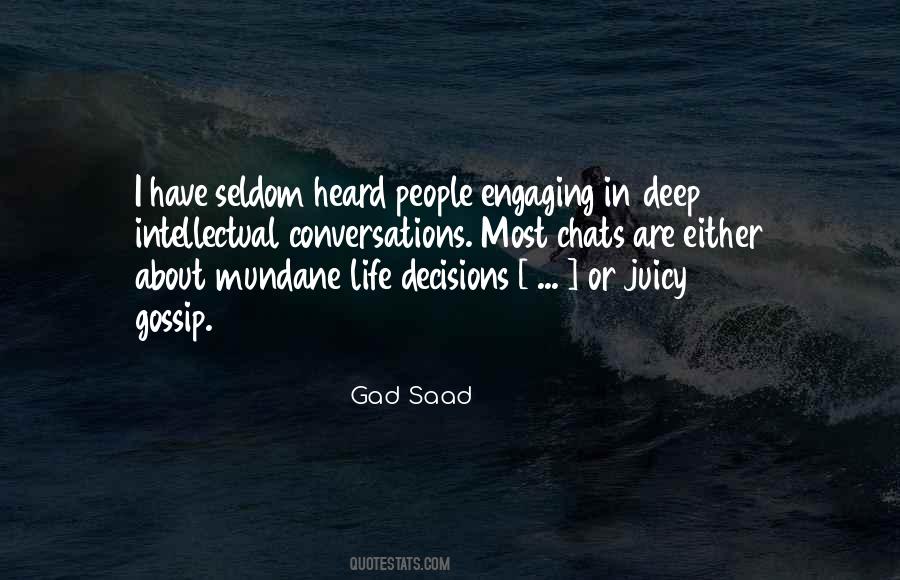 #62. One of the most important things that I have learned in my 57 years is that life is all about choices. On every journey you take, you face choices. At every fork in the road, you make a choice. And it is those decisions that shape our lives. - Author: Mike DeWine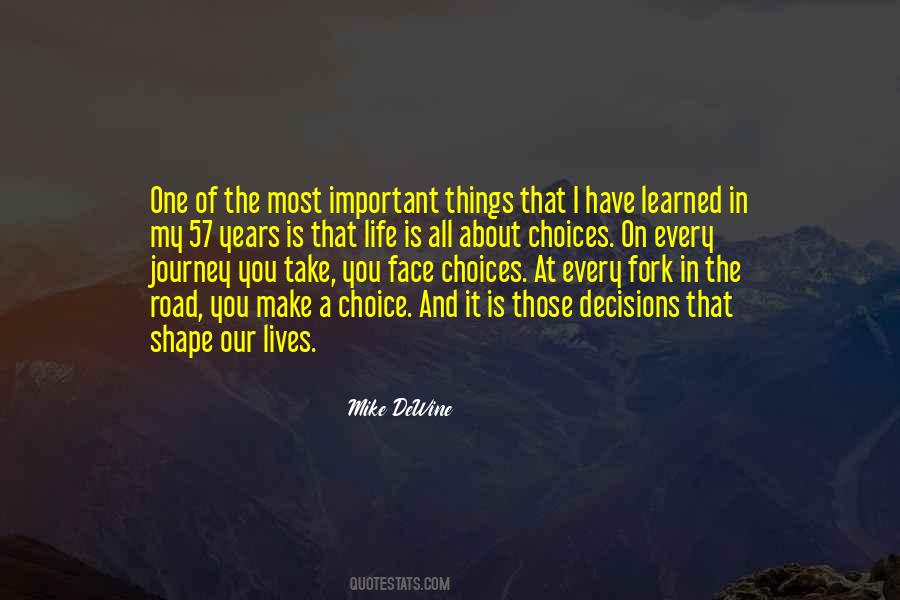 #63. I have great friends around me that are positive and I think that's the key to life is making your own path. Set your own rules because there is no set rule, there is no set look, there is no set anything. You make your own rules in your life. You make your own decisions. - Author: Amber Riley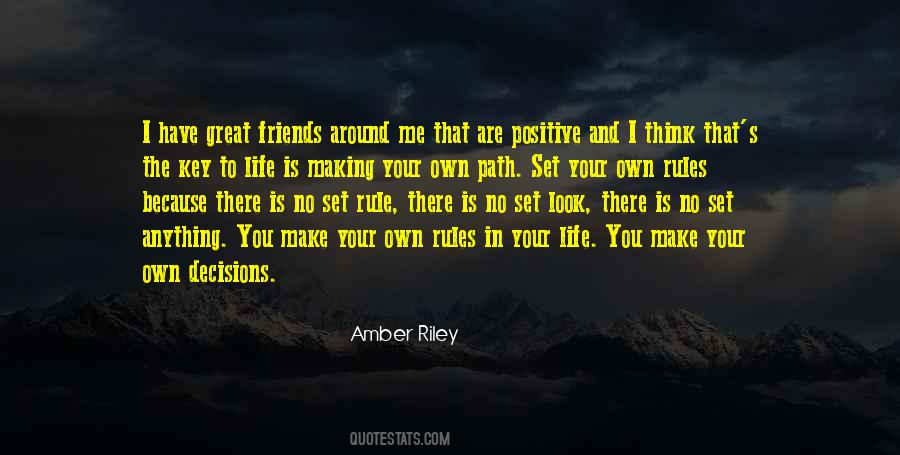 #64. After a breakup, it takes a couple weeks for the fog to settle, but it's always a period of self-priority and growth. Life presents you with so many decisions. A lot of times, they're right in front of your face and they're really difficult, but we must make them. - Author: Brittany Murphy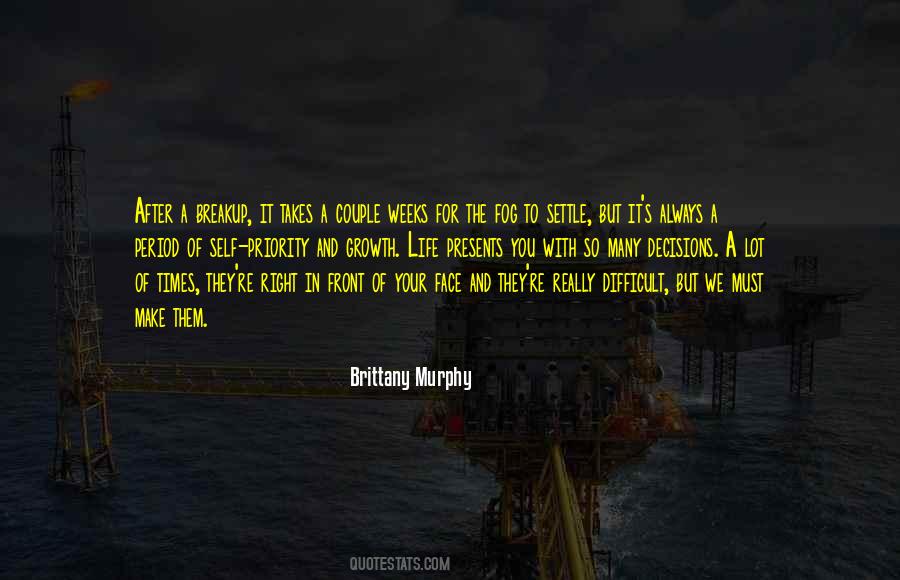 #65. Black Power simply means: Look at me, I'm here. I have dignity. I have pride. I have roots. I insist, I demand that I participate in those decisions that affect my life and the lives of my children. It means that I am somebody. - Author: Whitney M. Young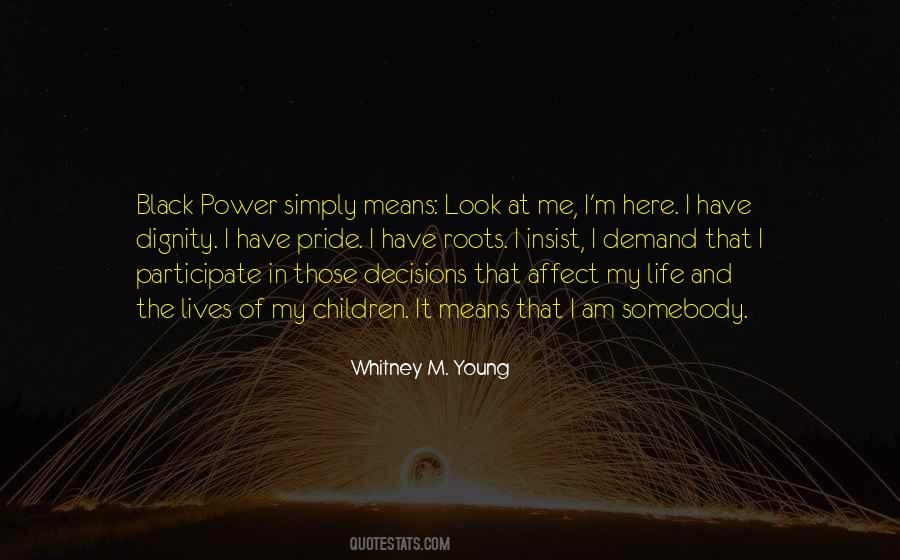 #66. For the most important decisions in your life, trust your intuition, and then work with everything you have, to prove it right. - Author: Tim Cook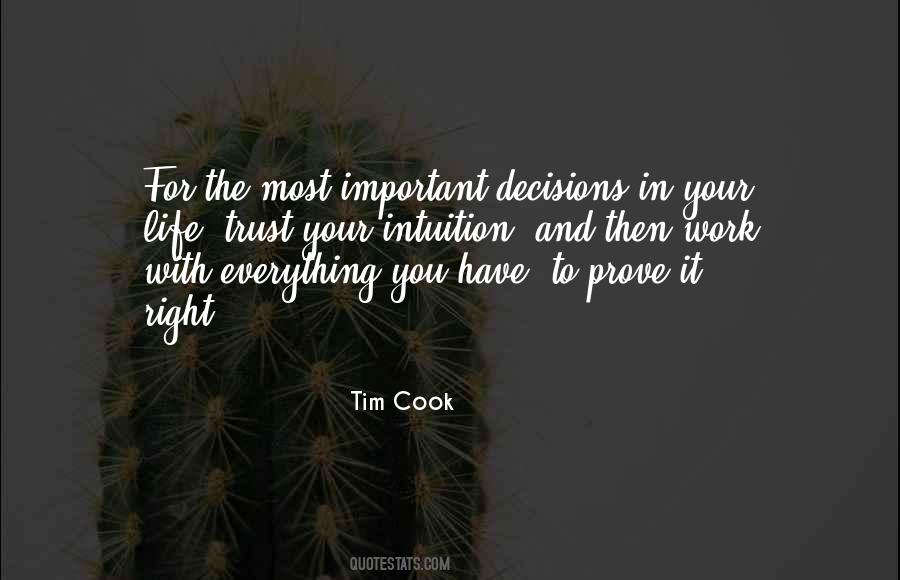 #67. The choices Israelis face and the decisions they make, day in and day out, are literally the difference between life and death. In many ways, I liken their reactions to the way I felt while serving in Iraq. - Author: Pete Hegseth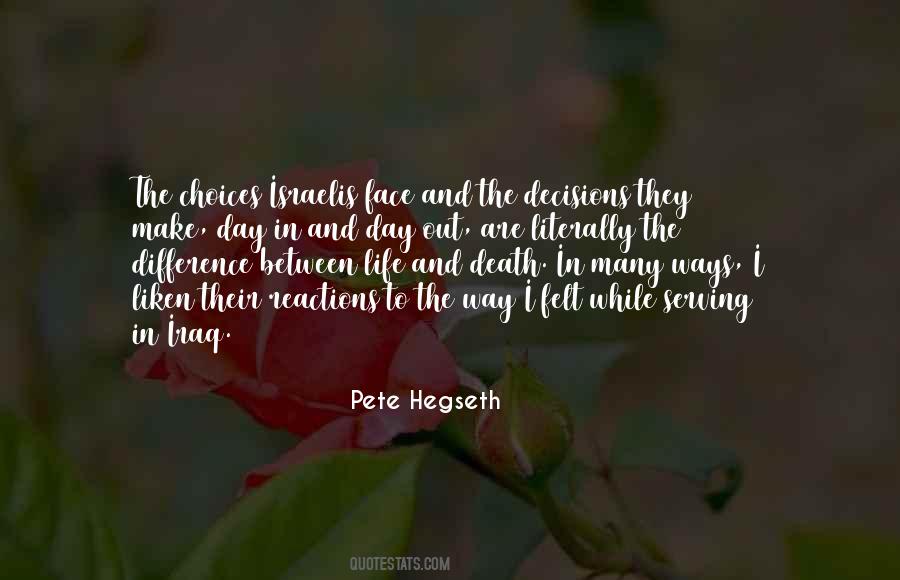 #68. People who make decisions based merely on what seems most advisable to them will inevitably choose something inferior to God's best. Jesus, the ultimate model for the Christian life, did not rely on His own best thinking, but depended completely on His heavenly Father for wisdom in everything. - Author: Henry Blackaby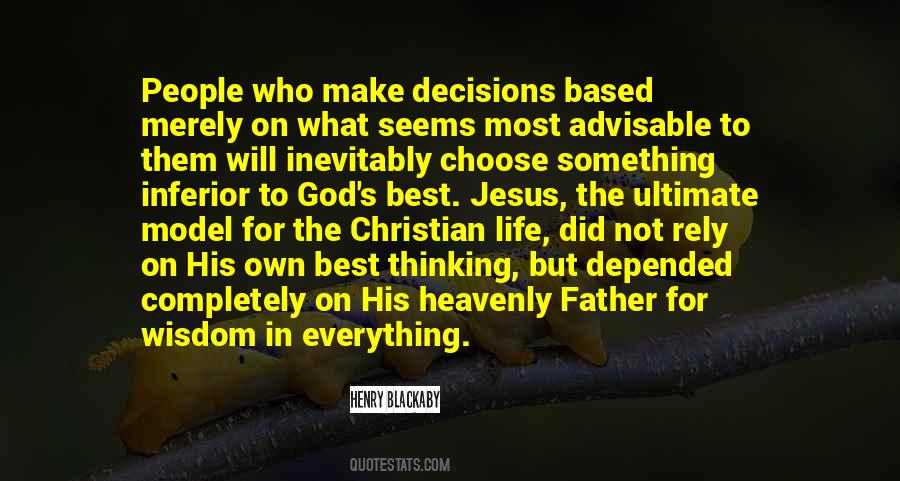 #69. to be right in the wrong direction may be wrong; what then is the wrong direction? - Author: Ernest Agyemang Yeboah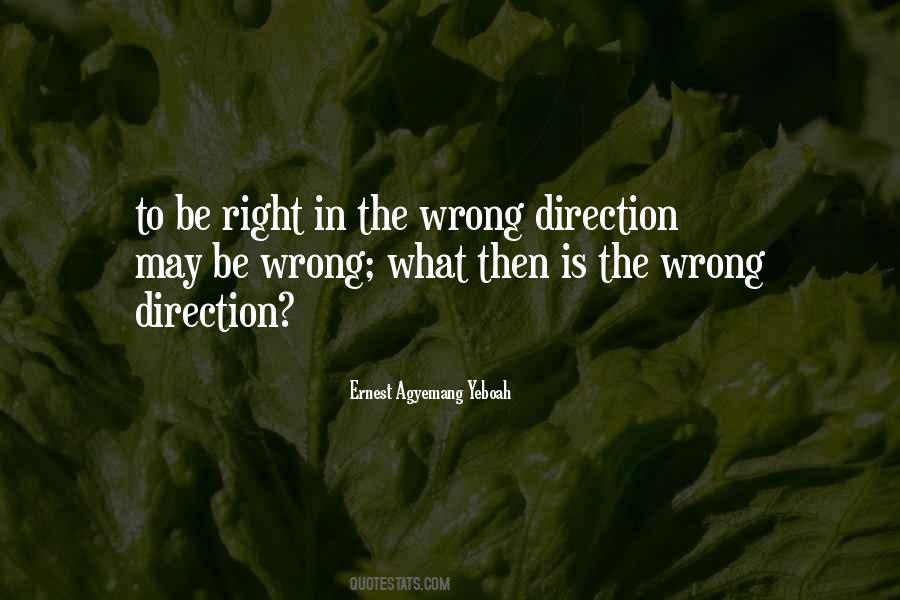 #70. Your parents will die before you do, so you'd better make your own life decisions. Your own choices are always good if you know yourself - especially in art, because whenever you do something new, everyone will be against you. - Author: Yoshitaka Amano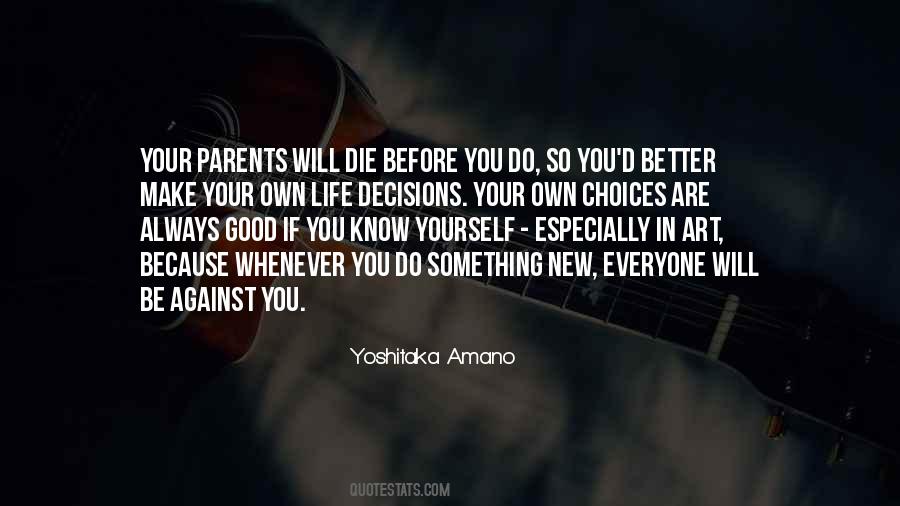 #71. Big decisions in my life have always come easy and are made without hesitation. It is easier for me to make a life-changing decision than to decide what to get for dessert. - Author: Tony Hawk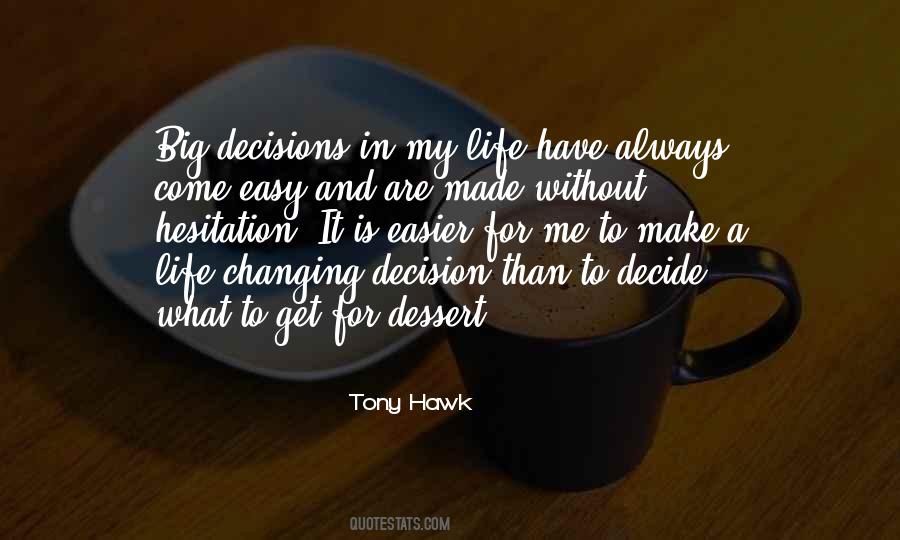 #72. People try to get into your life. They try and keep you off-balance, keep you from making good decisions that will empower you - because if your attention field is sharp - you will see if anyone is in your life for ill reasons. - Author: Frederick Lenz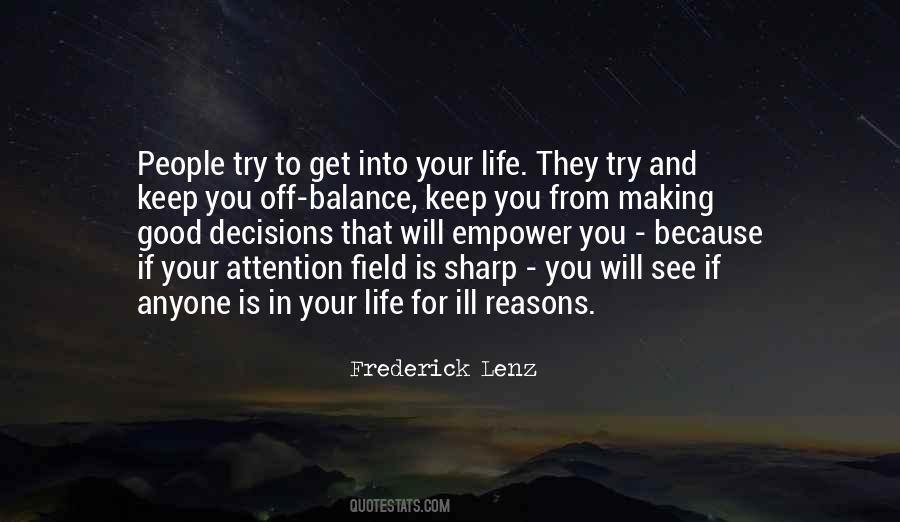 #73. To be careless in making decisions is to naively believe that a single decision impacts nothing more than that single decision, for a single decision can spawn a thousand others that were entirely unnecessary or it can bring peace to a thousand places we never knew existed. - Author: Craig D. Lounsbrough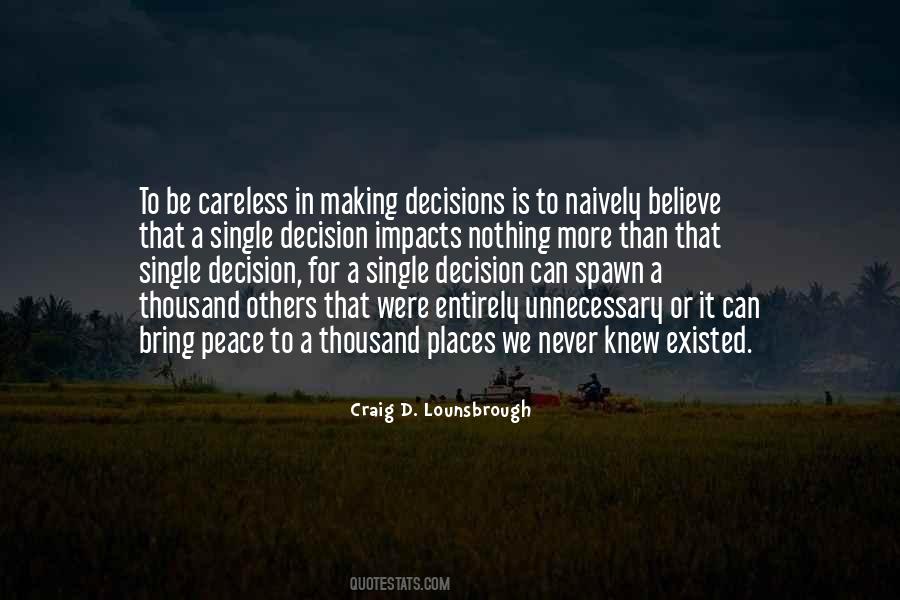 #74. If there's somebody that I love that's in my life, I don't necessarily have to agree with their decisions or the decisions they've made to continue to love them and participate in important events. - Author: Marco Rubio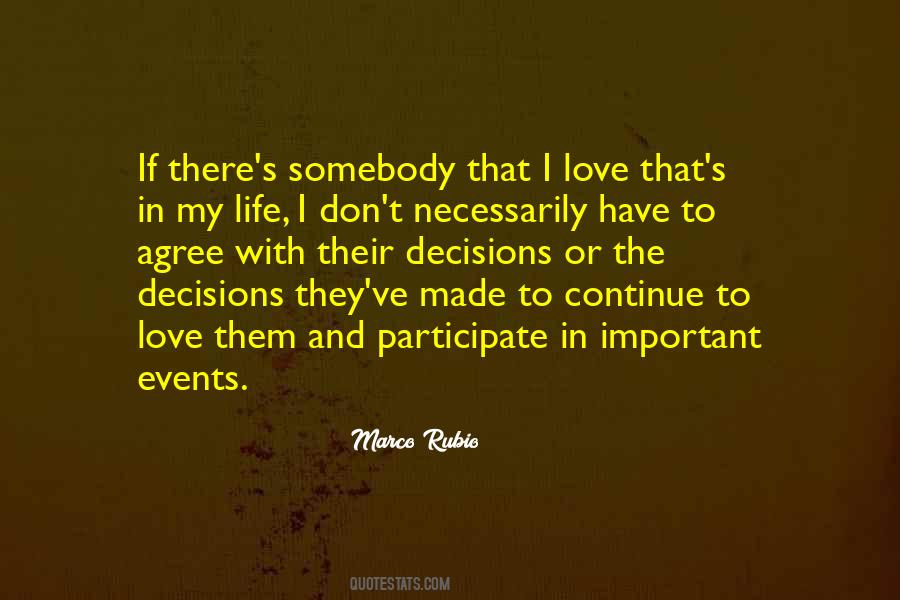 #75. We all have to start with ourselves. It is time to walk the talk. Take the journey of making very difficult decisions. Start removing things from your life that are not filling your cup and adding things that bring joy in to your life. - Author: Lisa Hammond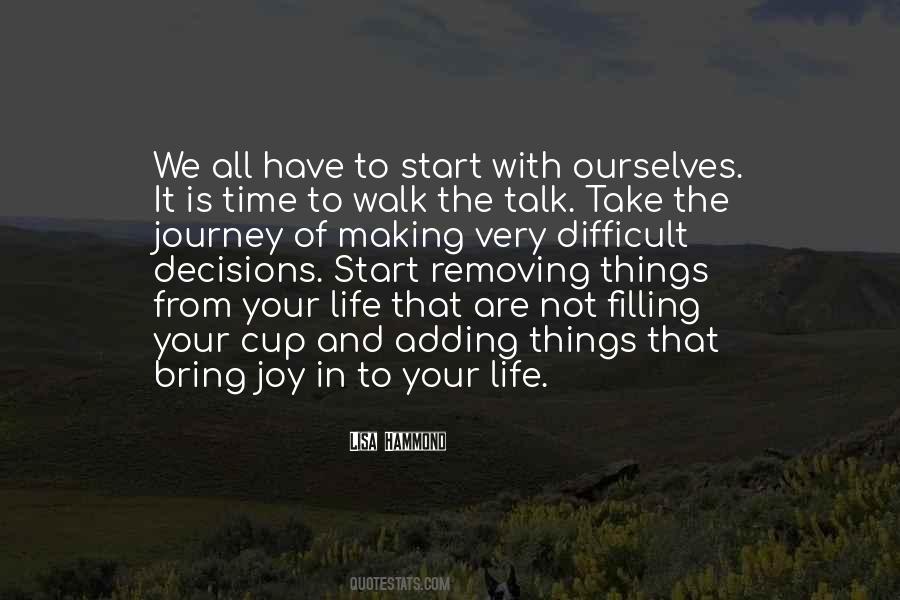 #76. When you walk into a chocolate store, suddenly the most difficult decision you will ever have to make in your life, is which chocolates to pick! It is pure torture! Especially when you are in Belgium surrounded by Belgian chocolates! - Author: C. JoyBell C.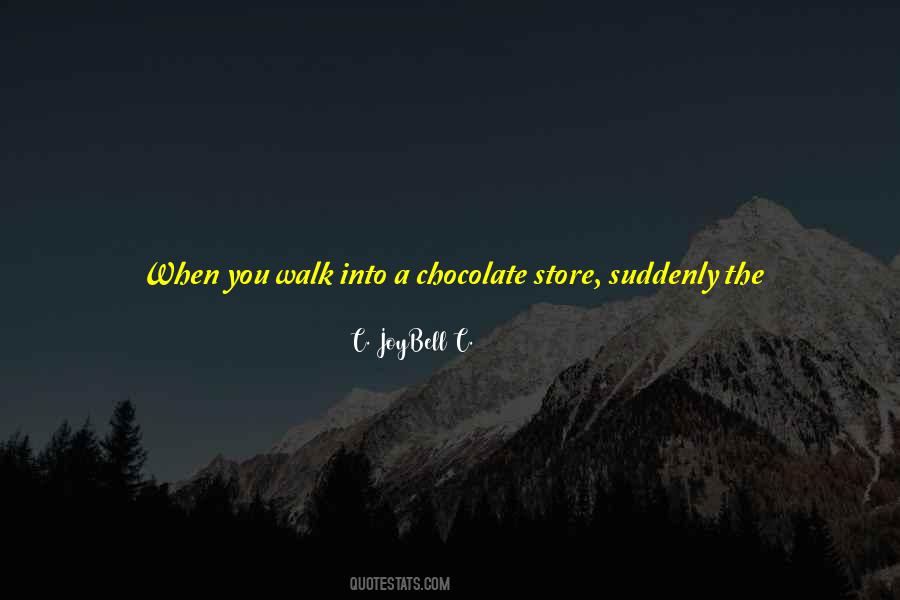 #77. All men are created equal. It is what you do from there that makes the difference. We are all free agents in life. We make our own decisions. We control our own destiny. - Author: Glenn Beck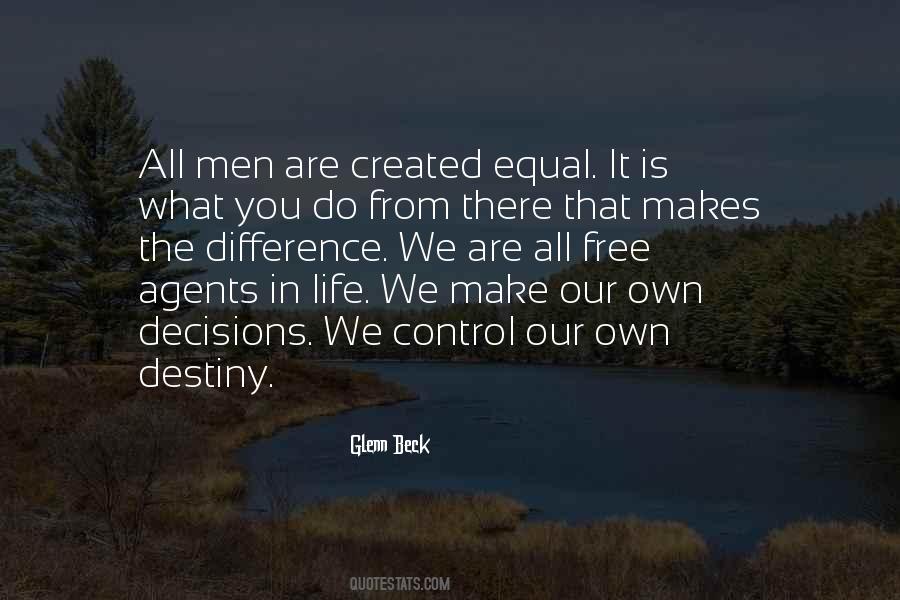 #78. If I have learned one thing in my 54 years, it is that it is very good for the character to engage in sports which put your life in danger from time to time. It breeds a saneness in dealing with day to day trivialities which probably cannot be got in any other way, and a habit of quick decisions. - Author: Nevil Shute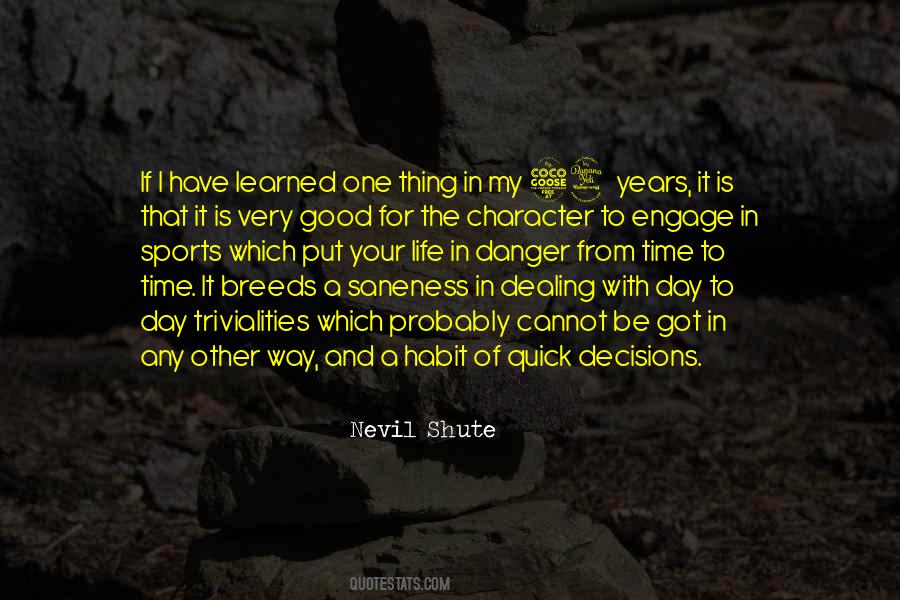 #79. At that moment, everyone walks on the sky. Maybe all great decisions are made without a net," The Wonder herself had told him. "There comes a time, in every life, when you must let go. - Author: John Irving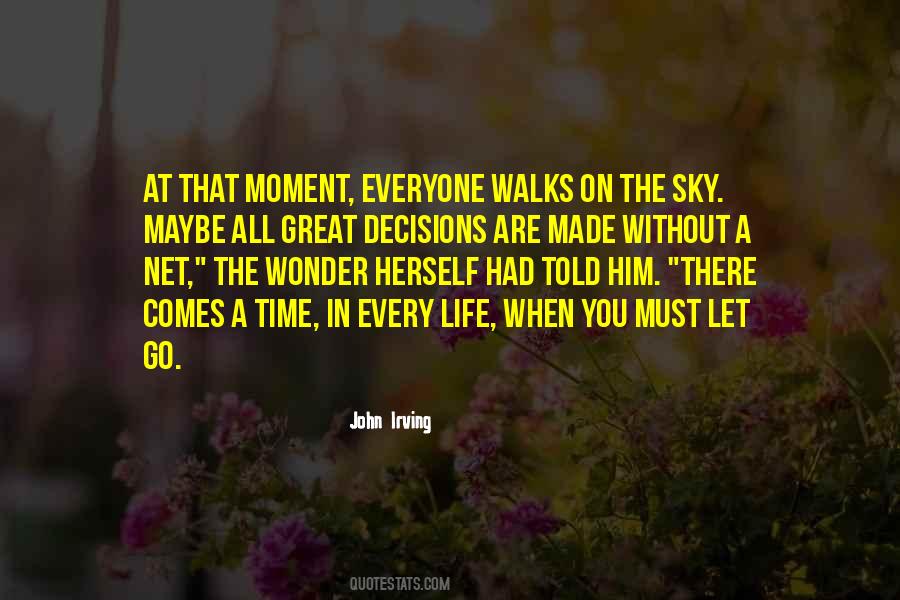 #80. Your choices are made in a moment, and yet their consequences transcend a lifetime. - Author: MJ DeMarco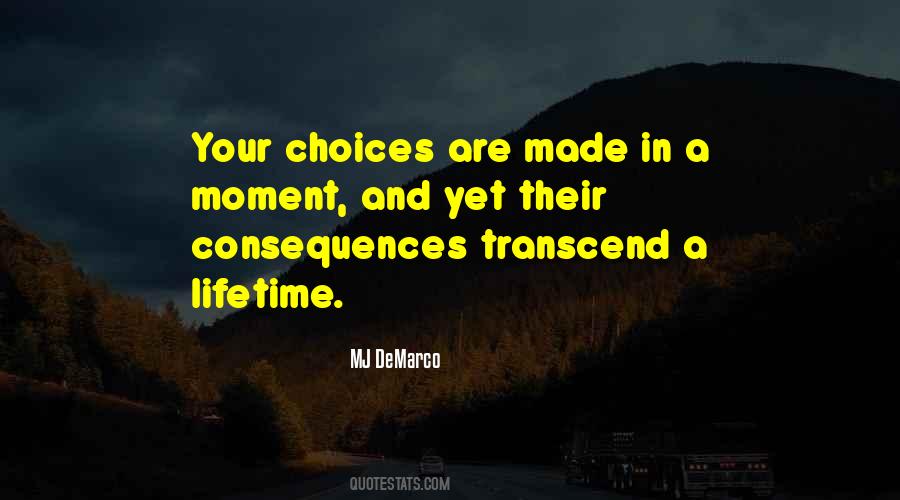 #81. [ ... ] intuition can sometimes get things wrong. And intuition is what people use in life to make decisions. - Author: Mark Haddon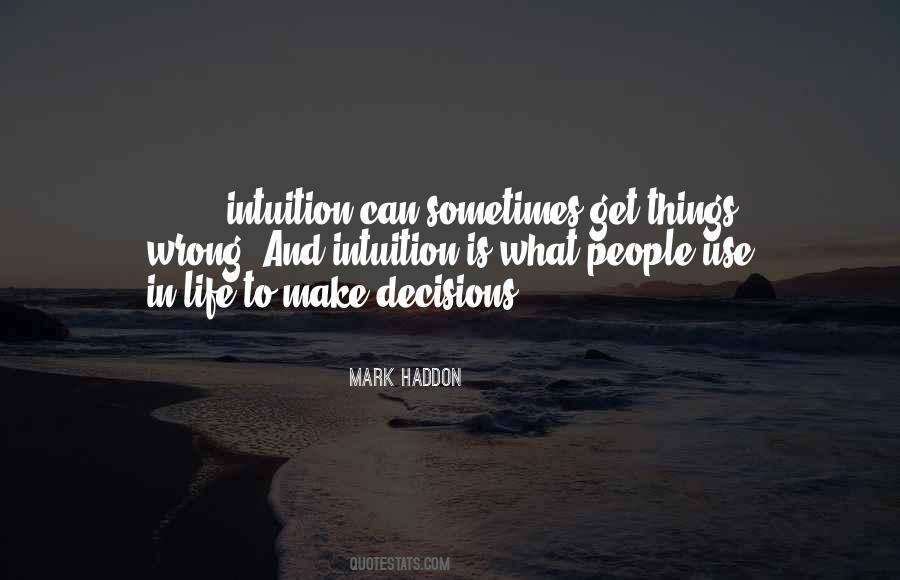 #82. There's a constant contradiction between what feels good and what feels right. But you live with decisions that you make in your life. - Author: Randy Travis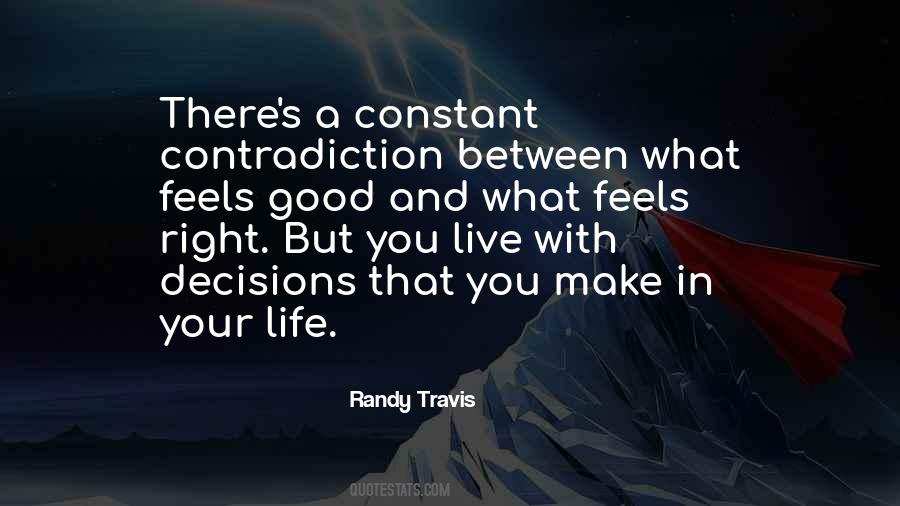 #83. The worst decisions in life we make are always the one we make out of fear. - Author: Sherrilyn Kenyon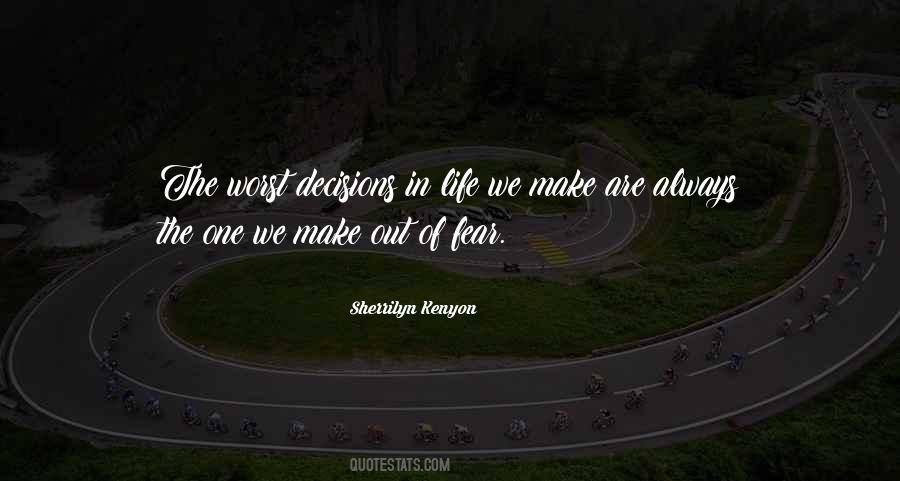 #84. Prayer in a combat zone serves exactly the same purpose as it does in peacetime. In war, the stakes are life and death, true; but if you believe in God and in the notion of a human soul, then we are always making decisions of tremendous significance. - Author: Phil Klay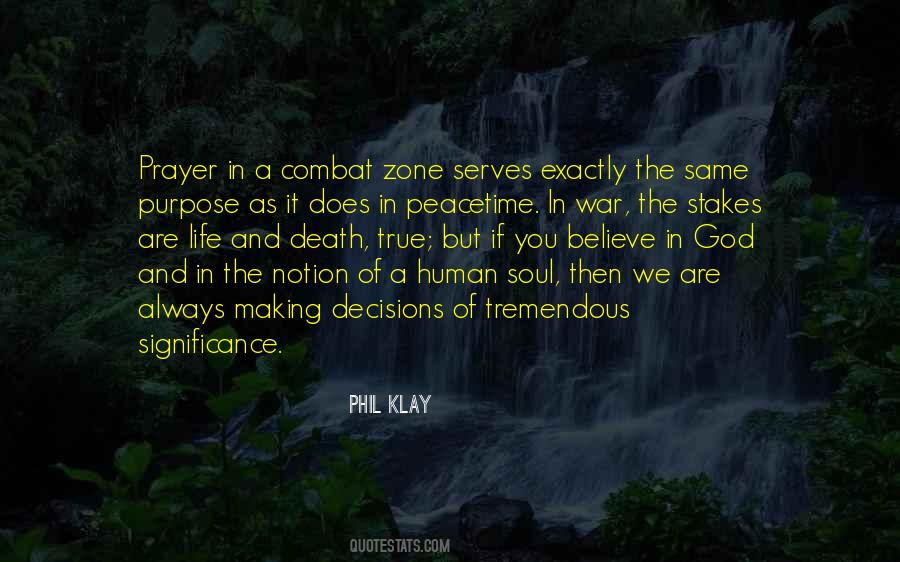 #85. Beat sprouts, I croaked, ashamed I'd reached a point in my life where I had to make decisions like choosing between bean sprouts or potato chips (and then going with fucking bean sprouts!). - Author: Brando Skyhorse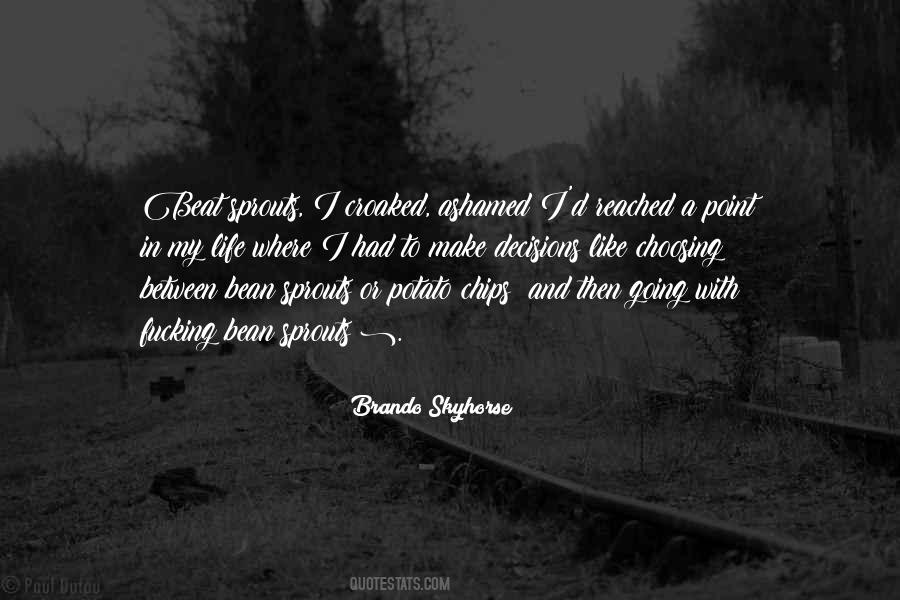 #86. It's not your business to decide if a woman you love should, or should not, marry you. It's her business. Tell her all about yourself and leave the decision to her. God knows it's trouble enough having to make one's own decisions in life without having to make other people's too. - Author: Elizabeth Goudge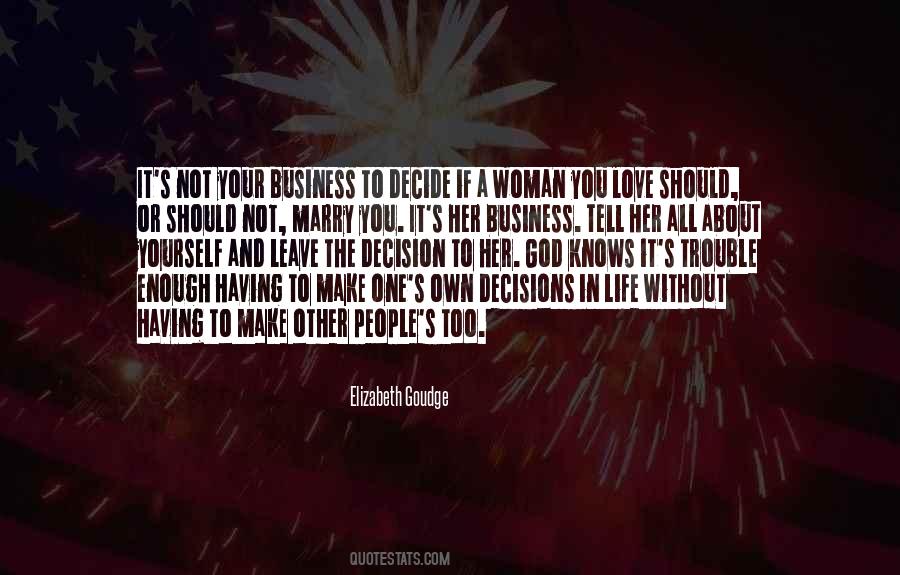 #87. If you believe people use reason for the important decisions in life, you will go through life feeling confused and frustrated that others seem to have bad reasoning skills. The reality is that reason is just one of the drivers of our decisions, and often the smallest one. Recently - Author: Scott Adams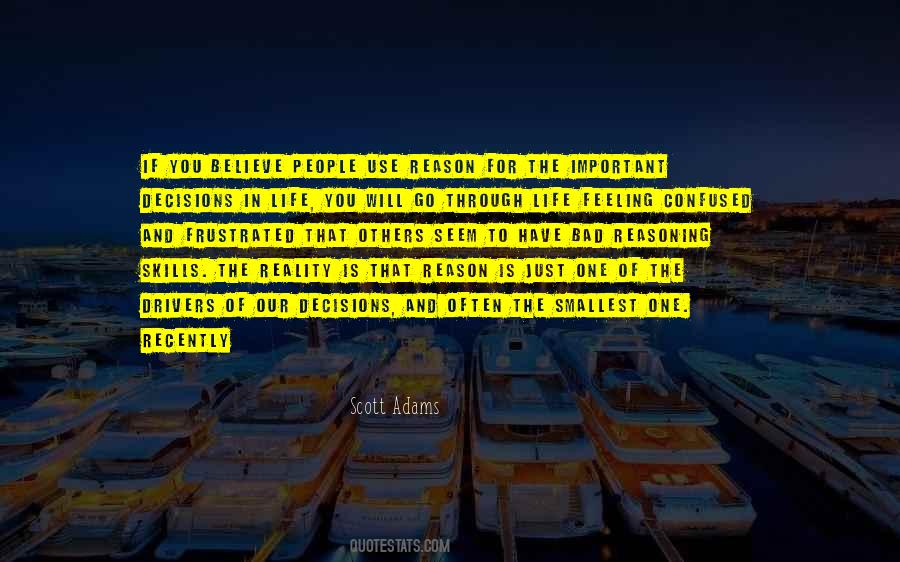 #88. The fact that you made worse decisions in the past shouldn't be an excuse to make bad decisions in the present. - Author: Sanhita Baruah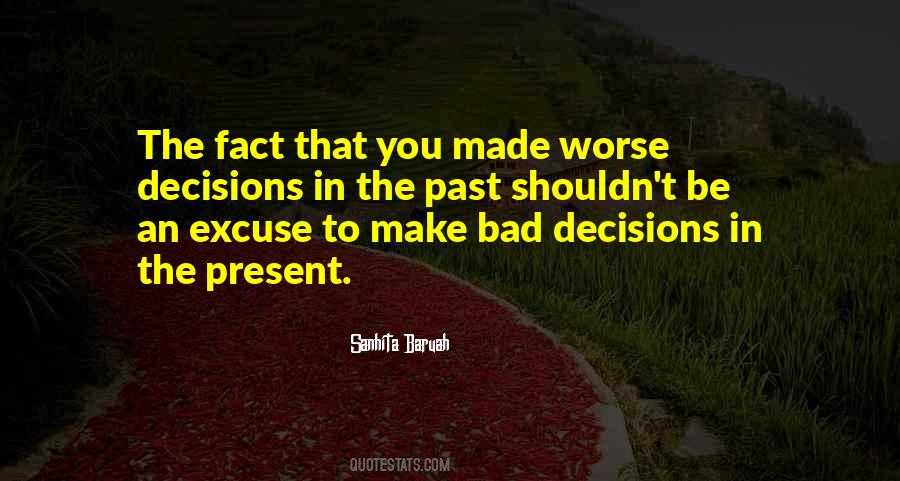 #89. I don't regret any decisions I've made in my life. - Author: Gladys Knight
#90. After all, our possessions very accurately relate the history of the decisions we have made in life. Tidying is a way of taking stock that shows us what we really like. - Author: Marie Kondo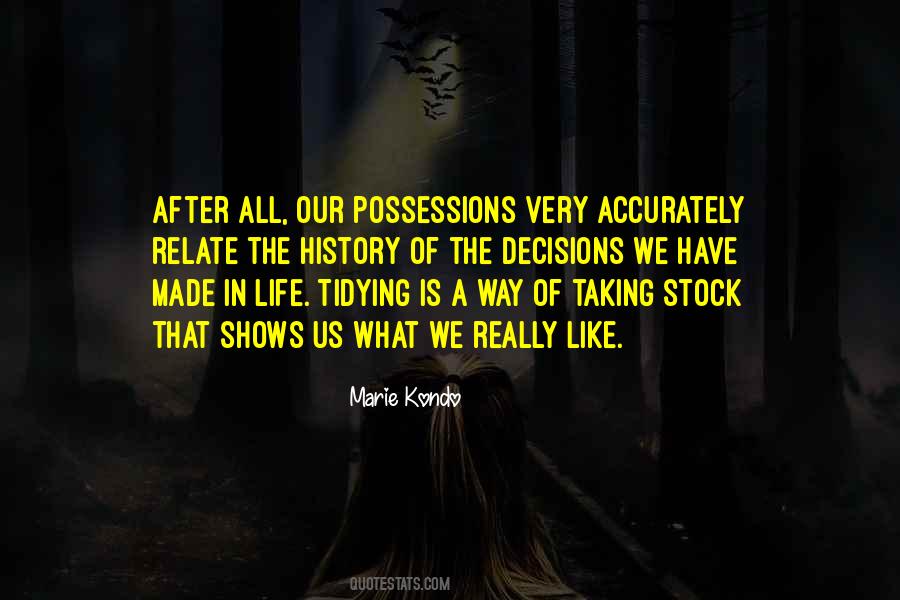 #91. I think of how life takes unexpected twists and turns, sometimes through sheer happenstance, sometimes through calculated decisions. In the end, it can all be called fate, but to me, it is more a matter of faith. - Author: Emily Giffin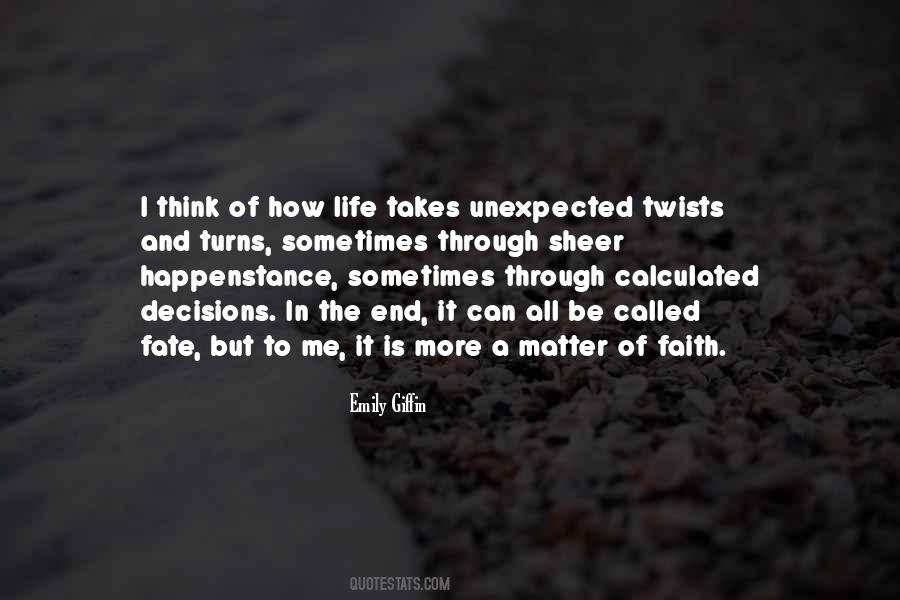 #92. I wake up around noon, light a cigarette, get a cup of coffee, sit in the bathtub for an hour and daydream, and I usually come up with some ideas ... It's a very irresponsible life. The only decisions I make are about the notes I'm writing. - Author: Hans Zimmer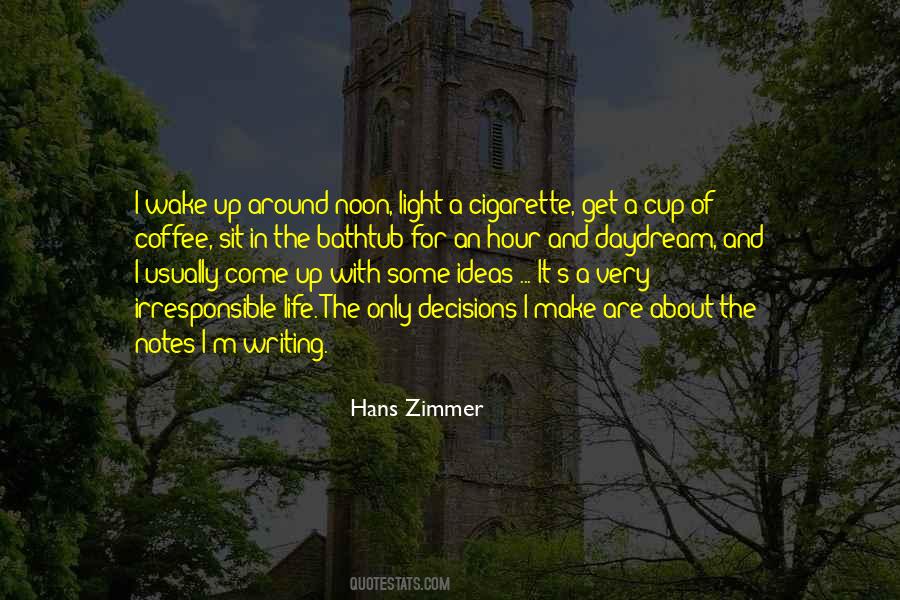 #93. In life, most short cuts end up taking longer than taking the longer route. - Author: Suzy Kassem
#94. The mind is a strange thing: it works in secret. Oftentimes the most important decisions in life are made while you're not paying attention. - Author: Nikolai Grozni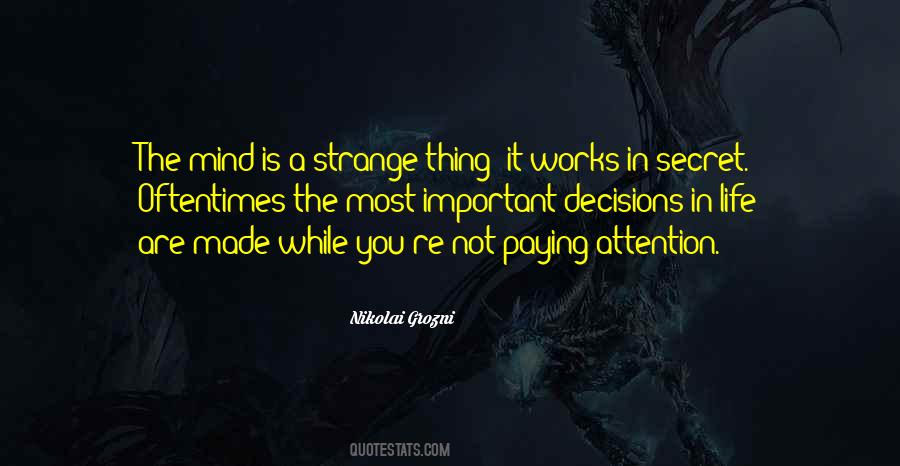 #95. My motivation has to do with what happened to my family. I want to help young people make important decisions at the most important time in their life. If I didn't do this, it would be like my kids died in vain. I want to help them make the right decisions. - Author: George Chuvalo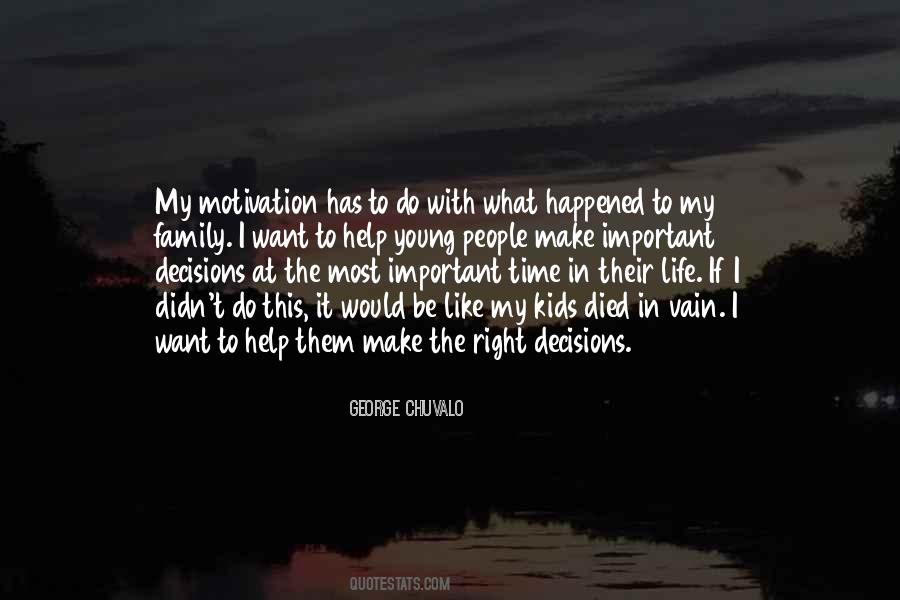 #96. Everything can turn around in a moment, if you just change your thoughts, and make different decisions. Listen to your heart. - Author: Stacie Hammond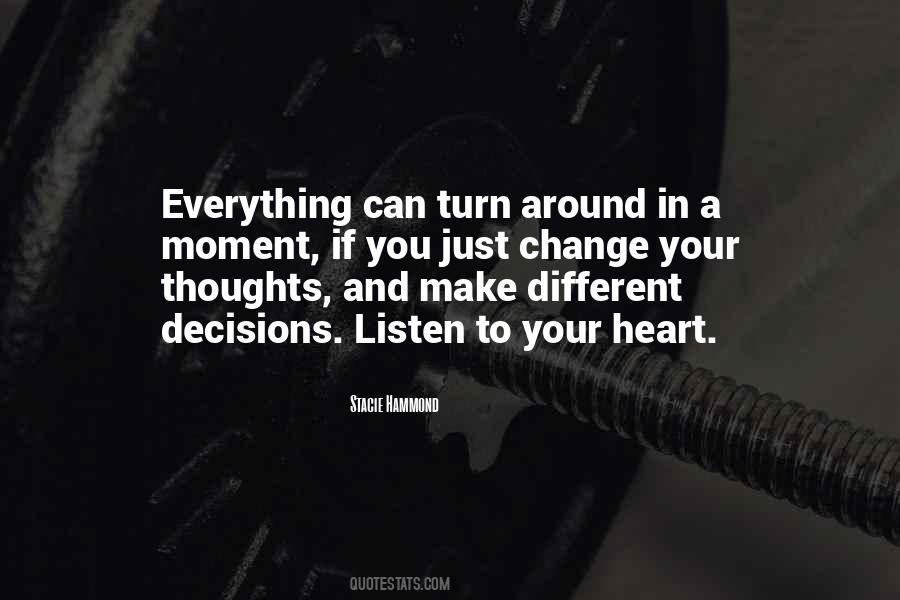 #97. It is strange how intricately life hangs in the scales, and how unrelated events and single decisions alter the outcomes. Some remote land ten thousand miles from me, some land unfamiliar to me, held the key to my future. - Author: Sara Niles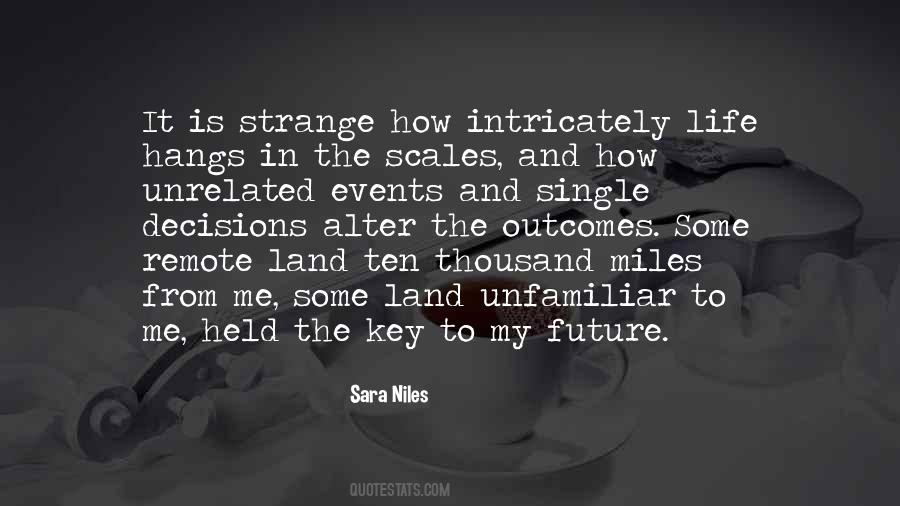 #98. Never make decisions you will live to regret later in the near future. - Author: Abdulazeez Henry Musa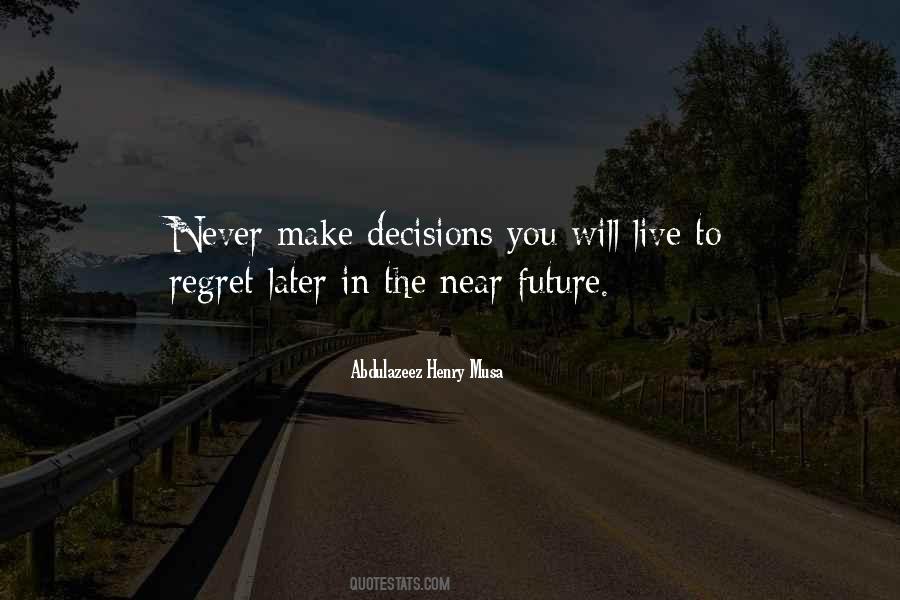 #99. Every decision in life; whether good or bad, teaches us a lesson for the next decisions that we will someday meet again. - Author: Kristian Goldmund Aumann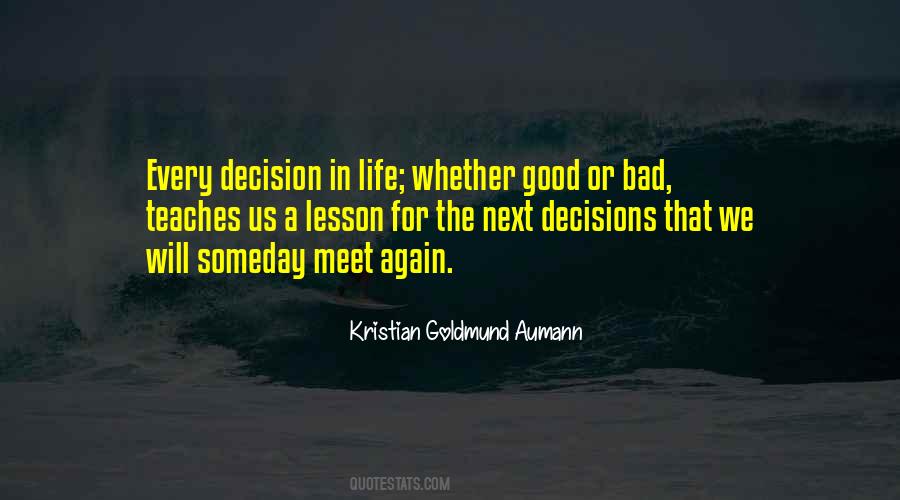 #100. You are defined by the decisions you make. When one bites you in the ass the way you respond to it either makes or breaks you. - Author: Benjamin Bayani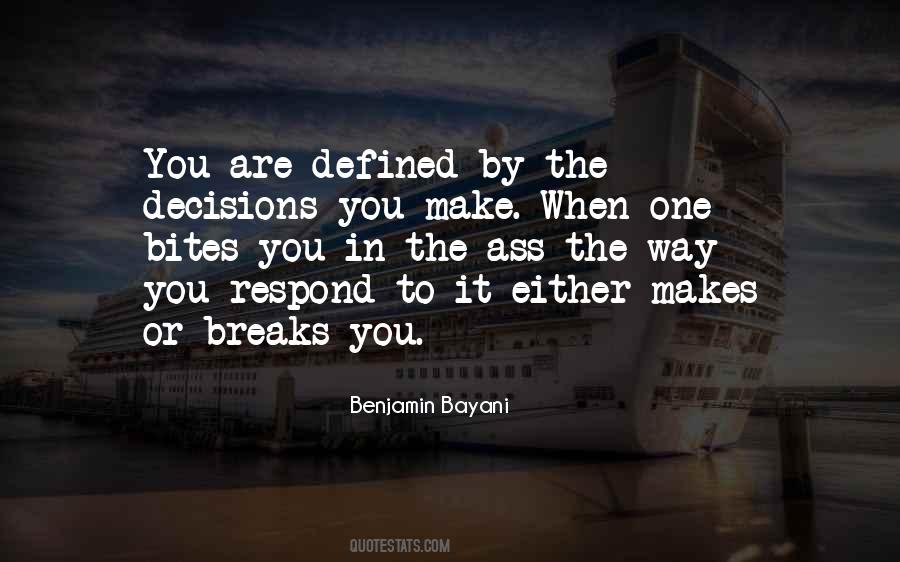 Famous Authors
Popular Topics