List of top 100 famous quotes and sayings about covenant to read and share with friends on your Facebook, Twitter, blogs.
Top 100 Quotes About Covenant
#1. Third Covenant "monosacredness" is not a break with the earlier covenants; it transcends and includes them all.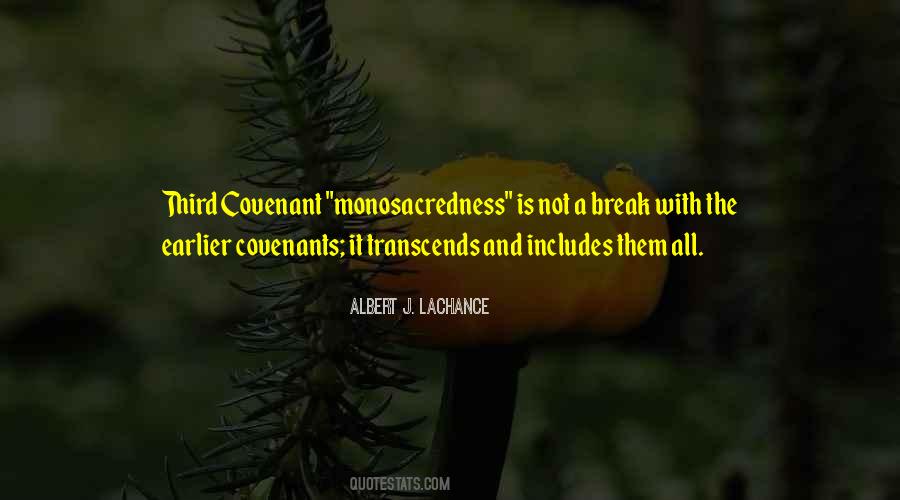 #2. No child, still less a fetus, has ever mastered the art of small talk, or would ever want to. It's an adult device, a covenant with boredom and deceit.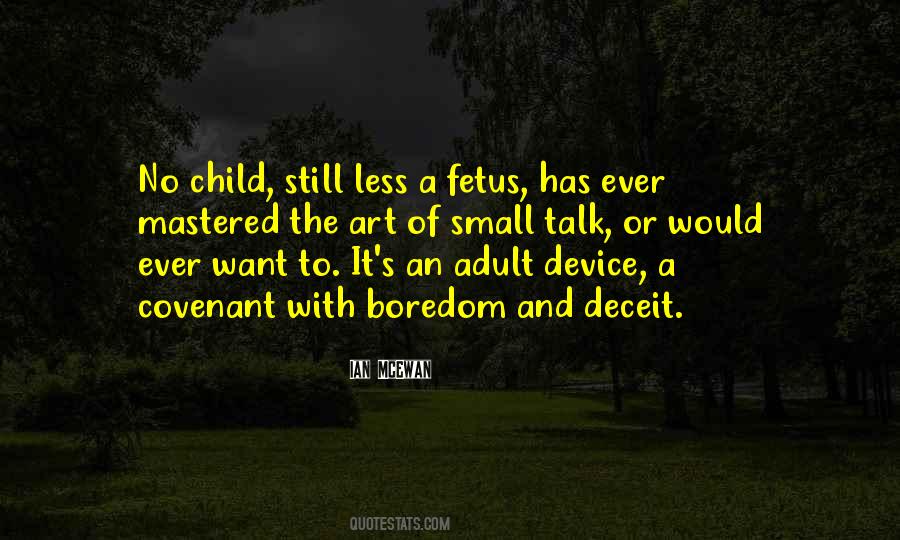 #3. In essence, sin is all that is in opposition to God. Sin defies God; it violates His character, His law, and His covenant. It fails, as Martin Luther put it, to 'let God be God.' Sin aims to dethrone God and strives to place someone or something else upon His rightful throne.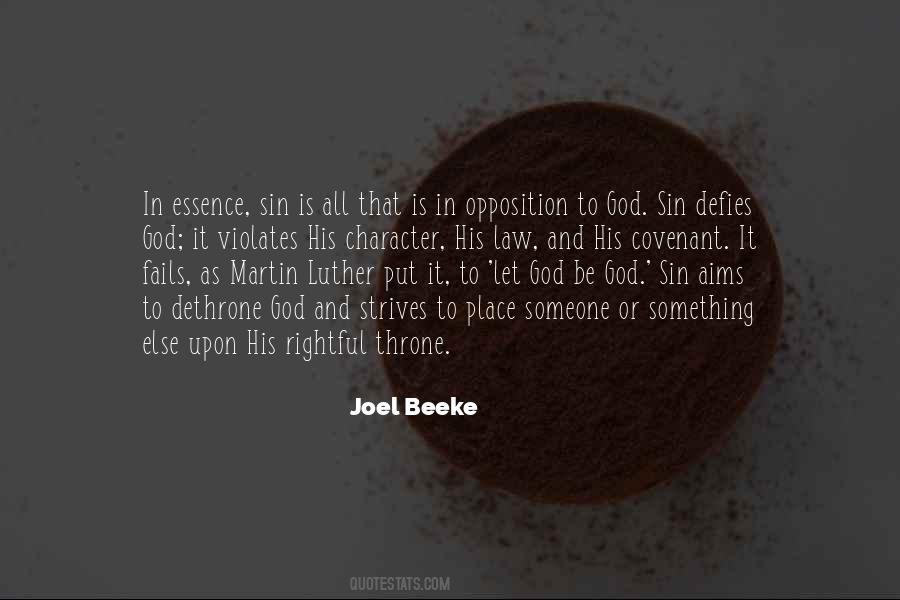 #4. His Pronouncement is Your Announcement -I will make thy name great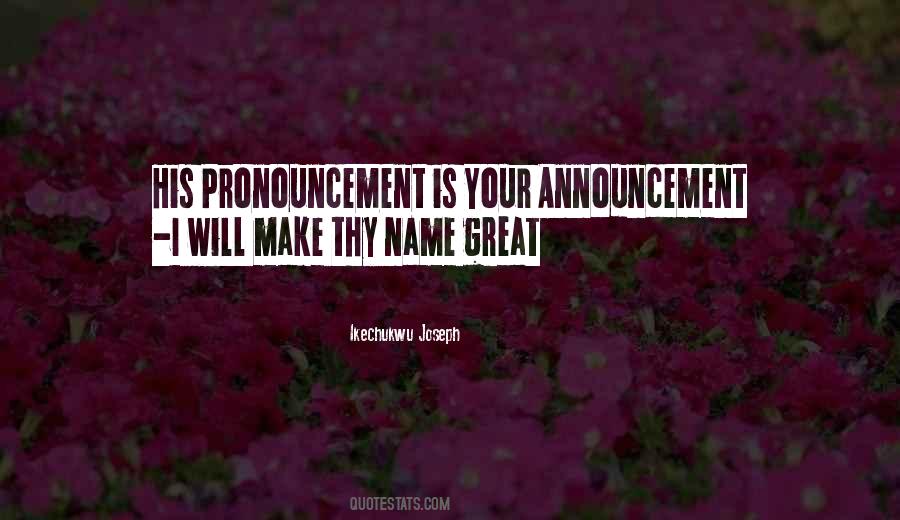 #5. What though distresses afflict me, though Satan assault me, though there may be many things to be experienced before I get to heaven, those are done for me in the covenant of divine grace; there is nothing wanting in my Lord, Christ hath done it all. On the cross He said, It is finished!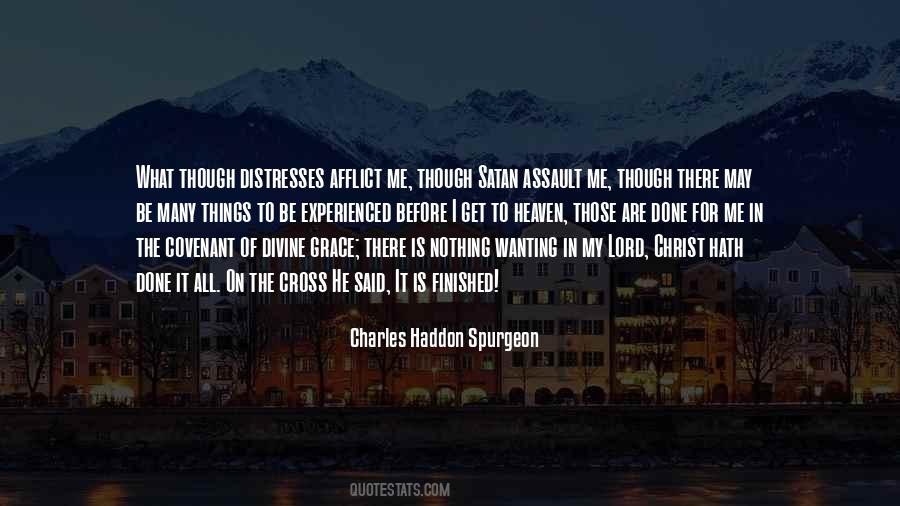 #6. 18 So that day Jehovah made this covenant with Abram: "I have given this land to your descendants from the Wadi-el-Arish[*] to the Euphrates River. 19-21 And I give to them these nations: Kenites, Kenizzites, Kadmonites, Hittites, Perizzites, Rephaim, Amorites, Canaanites, Girgashites, Jebusites.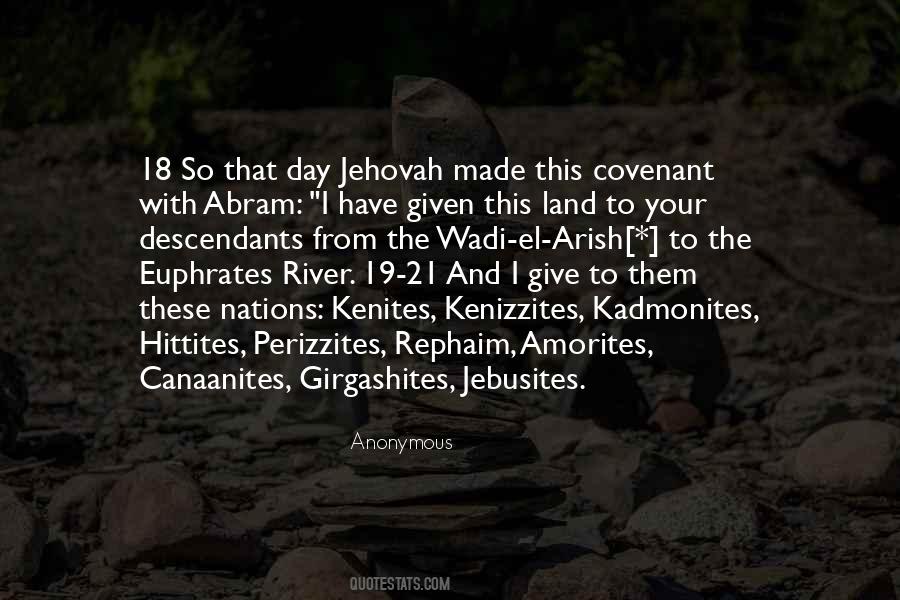 #7. Whether or not you choose to keep your covenant to always remember Him, He always remembers you.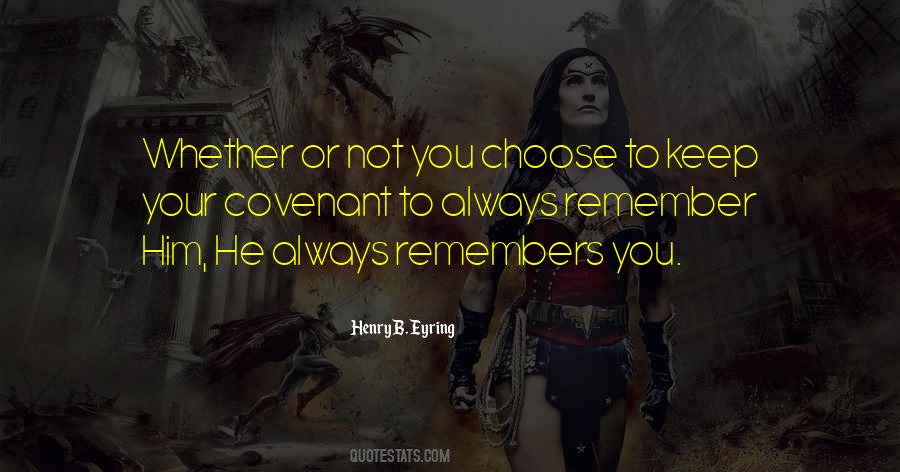 #8. The covenant of works
was contingent on the uncertain obedience of a changeable man, while the covenant of
grace rests on the obedience of Christ as Mediator, which is absolute and certain.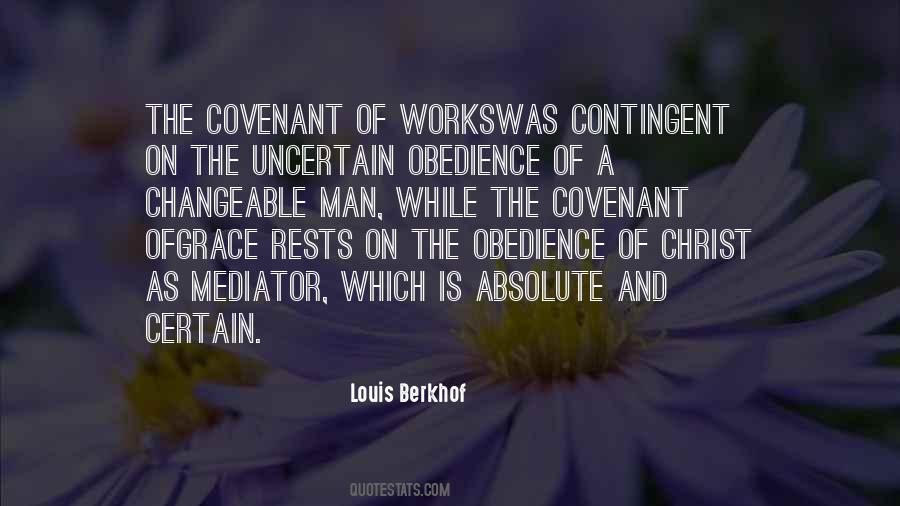 #9. The sign of the new Covenant is humility, hiddenness - the sign of the mustard-seed. The Son of God comes in lowliness. Both these elements belong together: the profound continuity in the history of God's action and the radical newness of the hidden mustard-seed.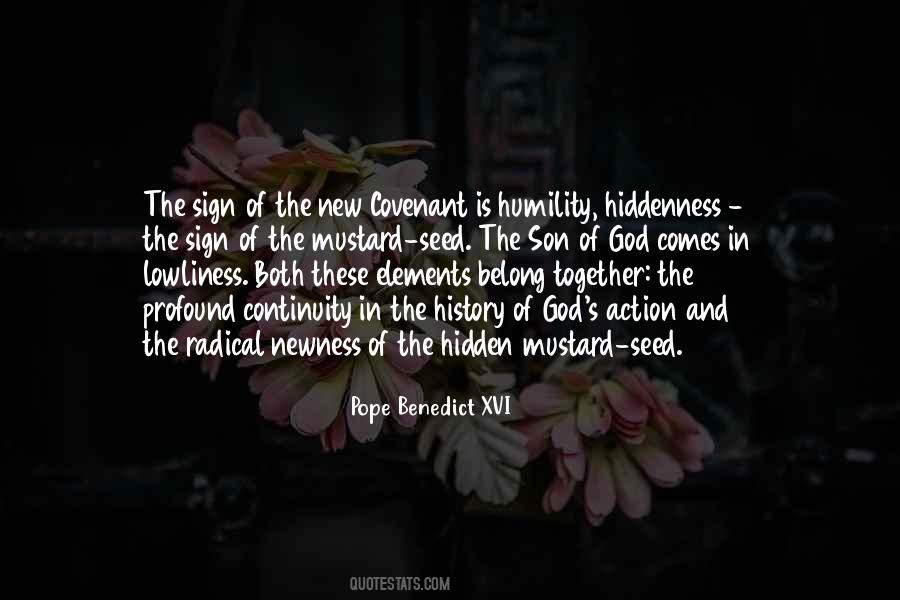 #10. When God looks at a sinner who still loves his sin and rejects the mystery of the atonement, justice condemns him to die. When God looks at a sinner who has accepted the blood of the everlasting covenant, justice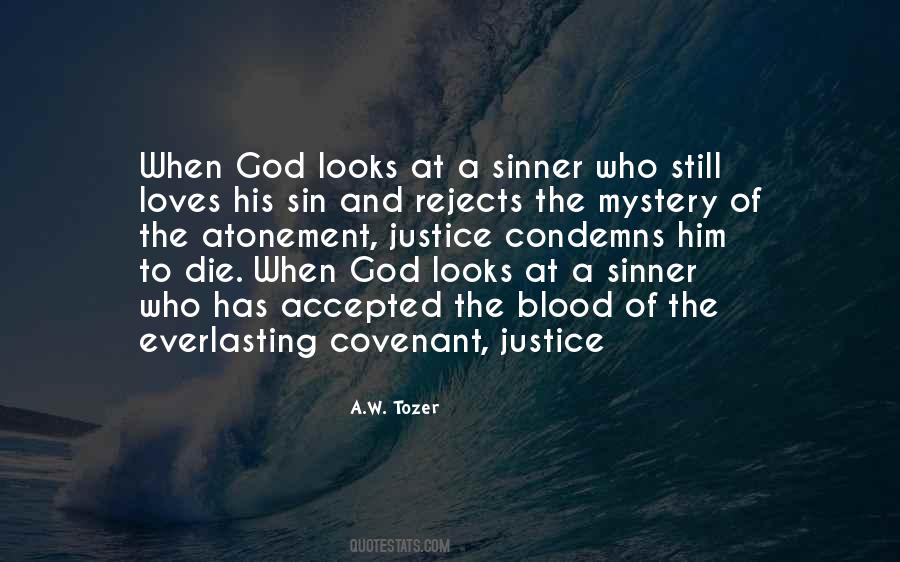 #11. Another blast from Rivenrock shivered the air. It snatched Mhoram's head up, and he faced Covenant with tears streaming down his cheeks. "It is as I have said," he breathed achingly. "Madness is not the only danger in dreams."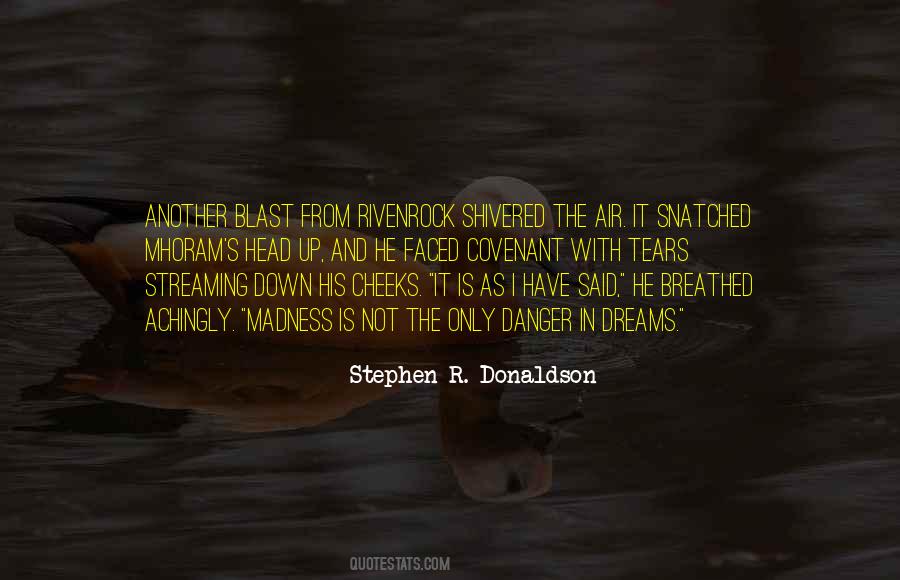 #12. Something in her expression made Covenant feel that he came from a very poor world, where no one knew or cared about the healing of stoneware pots.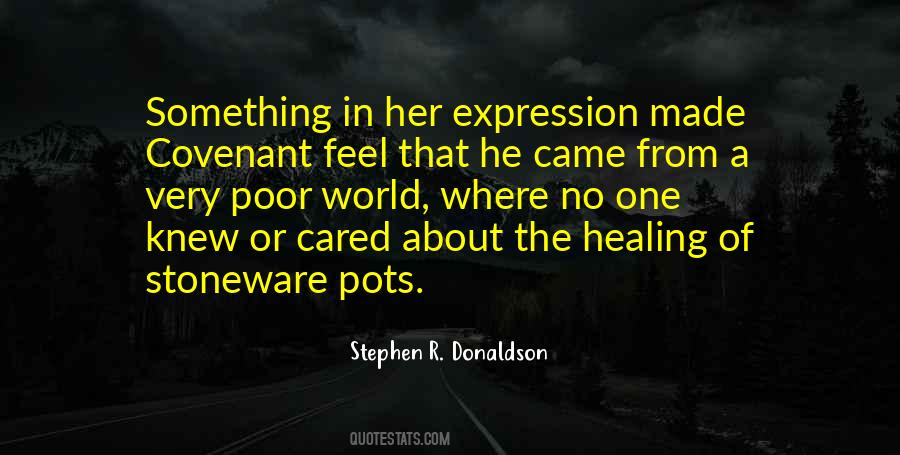 #13. Omissions are sins, and must come into judgment, and particularly the contempt and neglect of the seals of the covenant;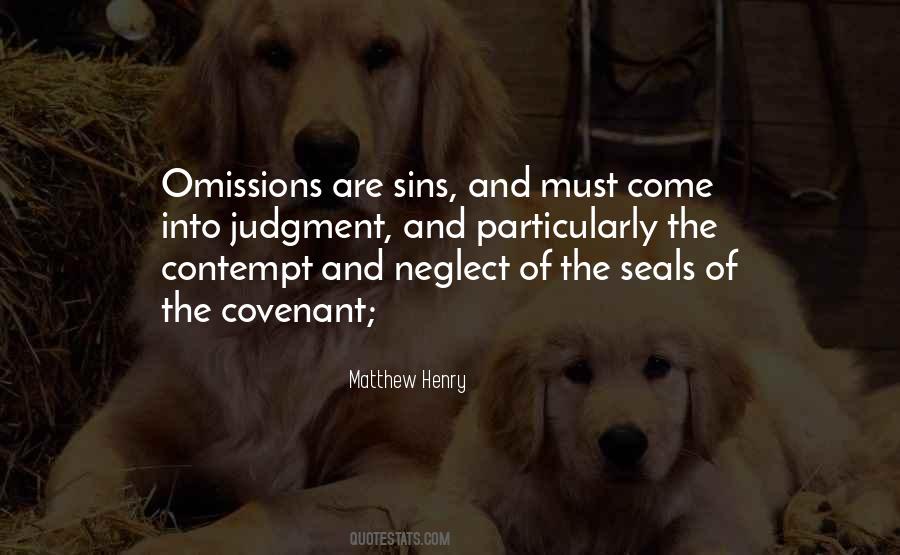 #14. I recall no arrangement, Mau, no bargain, covenant, agreement or promise. There is what happens, and what does not happen. There is no 'should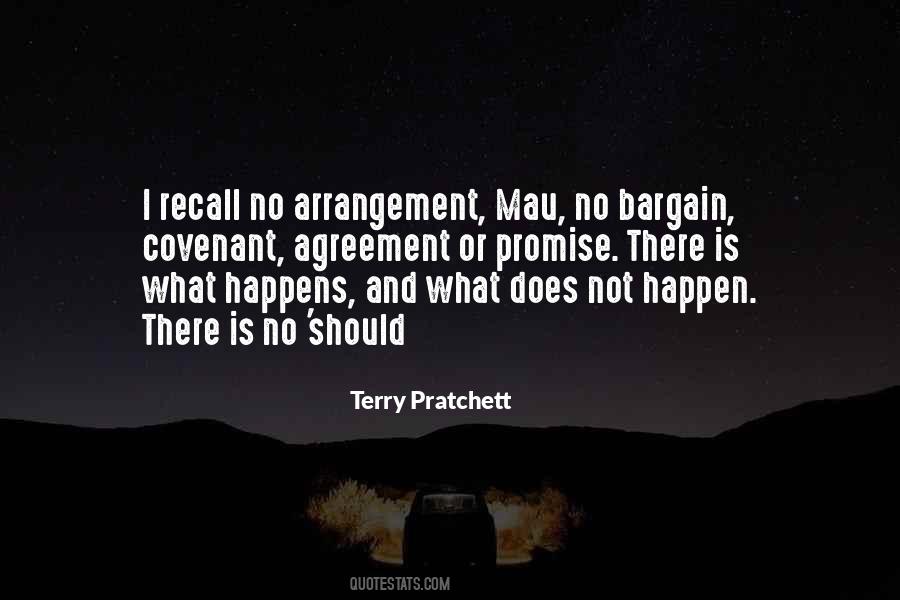 #15. Bishop Hostettler explained that baptism was not the means by which one is saved, but simply an outward sign of salvation. Just as an Amishman's beard is an indication of his marriage and commitment to his wife, so baptism symbolizes our covenant with Christ.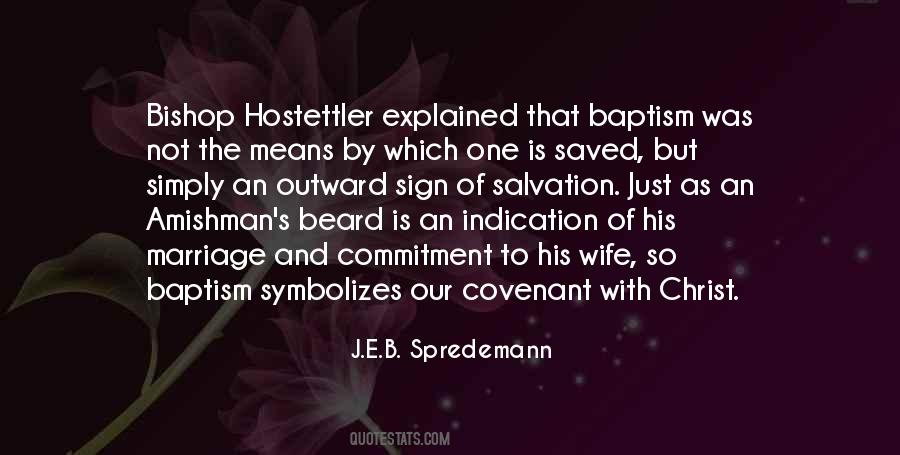 #16. I can remember the lush spring excitement of language in childhood. Sitting in church, rolling it around my mouth like marbles
tabernacle and pharisee and parable, tresspass and Babylon and covenant.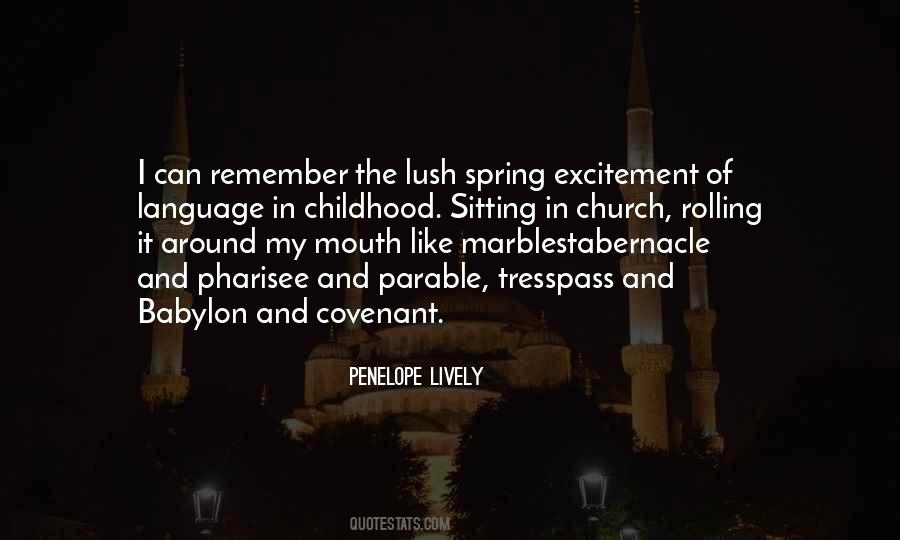 #17. Covenant community is like air. We don't miss it until we need it.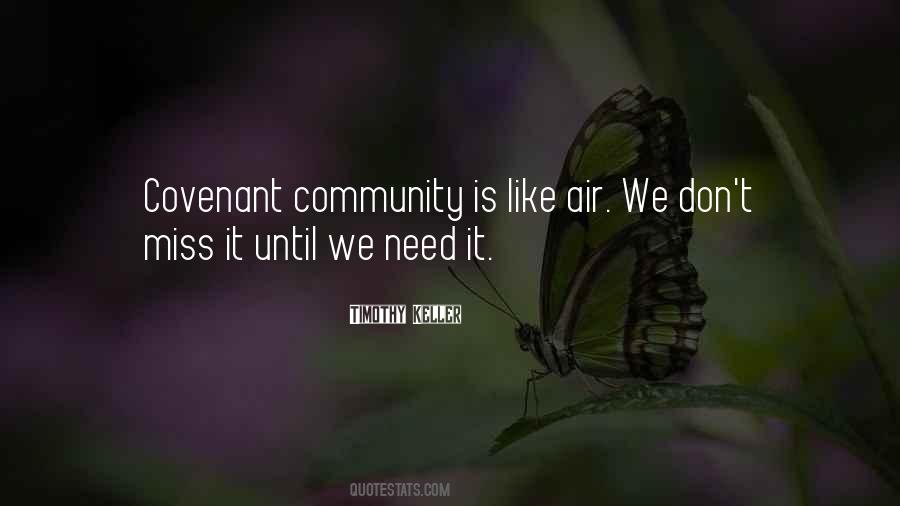 #18. You would never have possessed the precious faith which now supports you if the trial of your faith had not been like unto fire. You are a tree that never would have rooted so well if the wind had not rocked you to and fro, and made you take firm hold upon the precious truths of the covenant grace.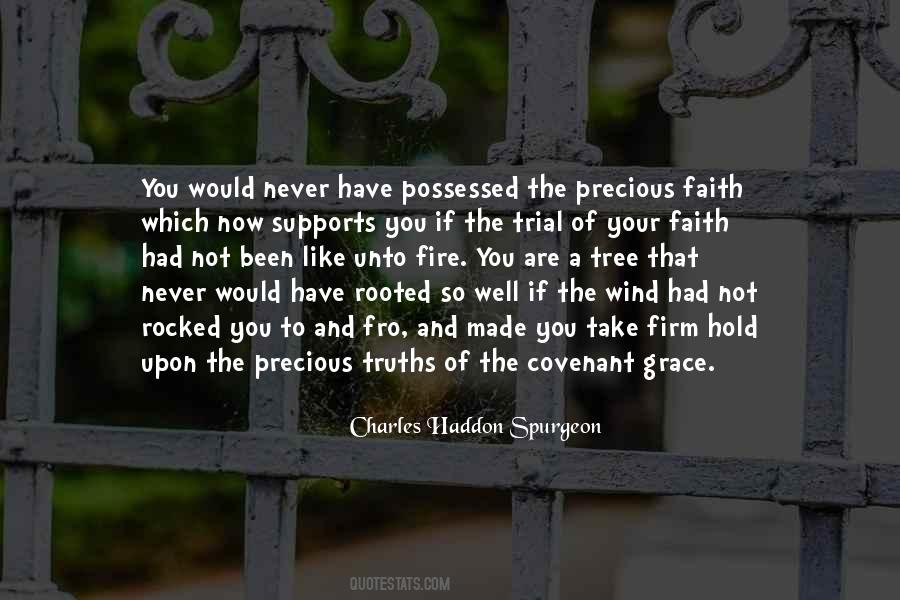 #19. God has a plan for the conquest of all things by His covenant people. That plan is His law. It leaves no area of life and activity untouched, and it predestines victory. To deny the law is to deny God and His plan for victory.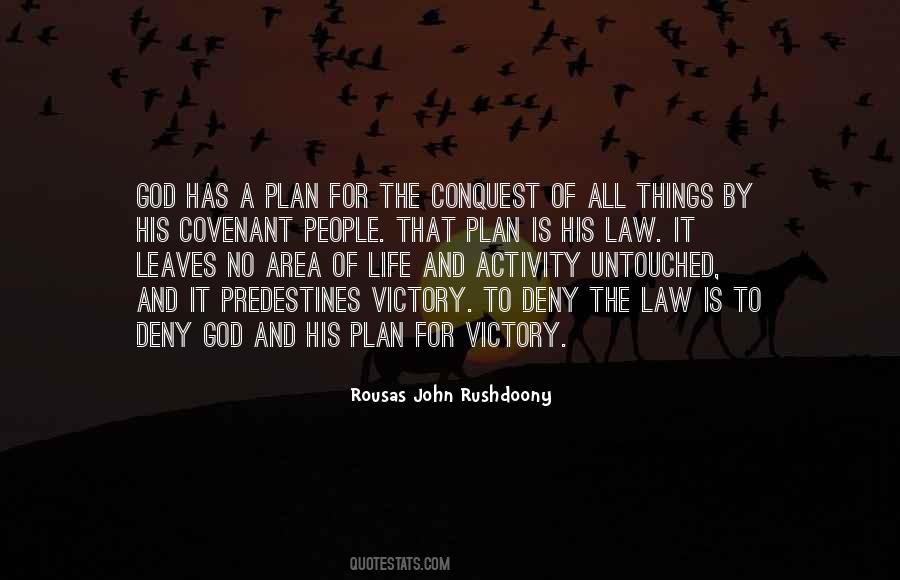 #20. We each have a covenant responsibility to be sensitive to the needs of others and serve as the Savior did-to reach out, bless, and uplift those around us.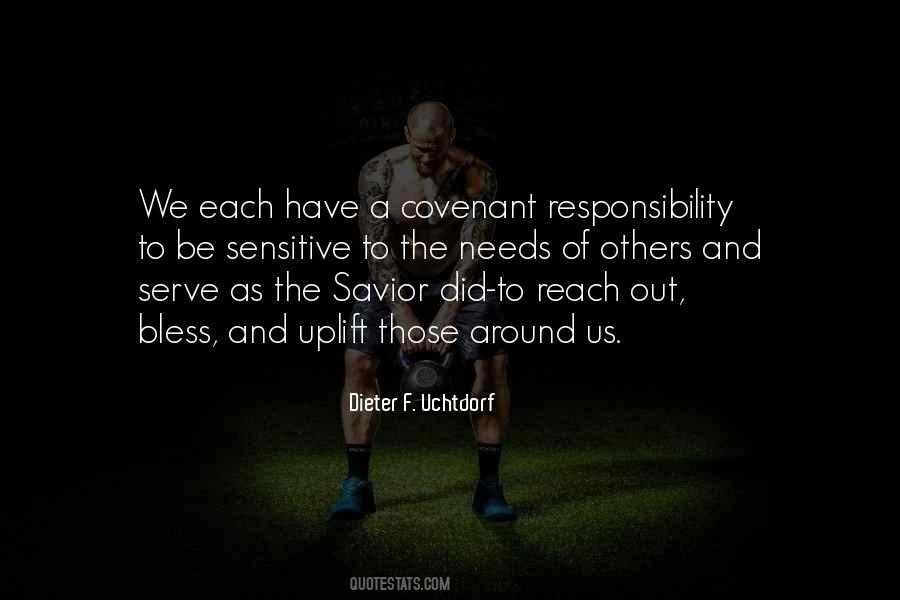 #21. Those that set God always before them and walk before him with all their hearts, shall find him as good as his word and better; he will both keep covenant with them and show mercy to them.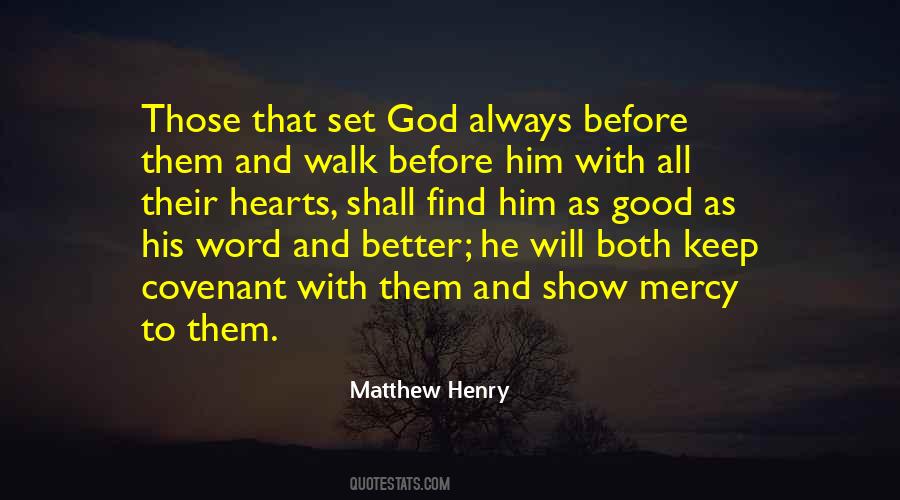 #22. No woman should ever lie about another woman. You've violated the sacred covenant between women! How will stabbing one another in the back help women to rise above patriarchal oppression?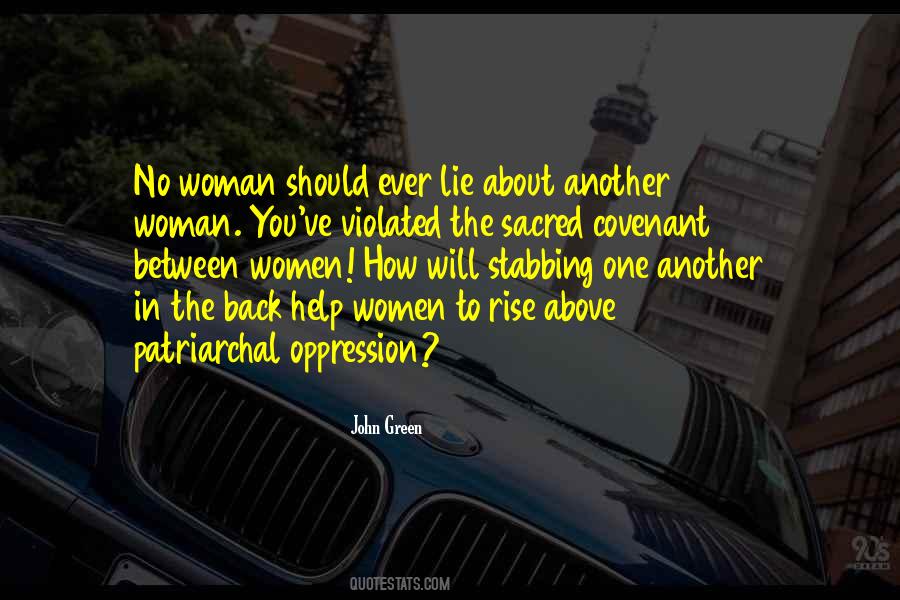 #23. We don't need a "New Covenant." We need a new Congress.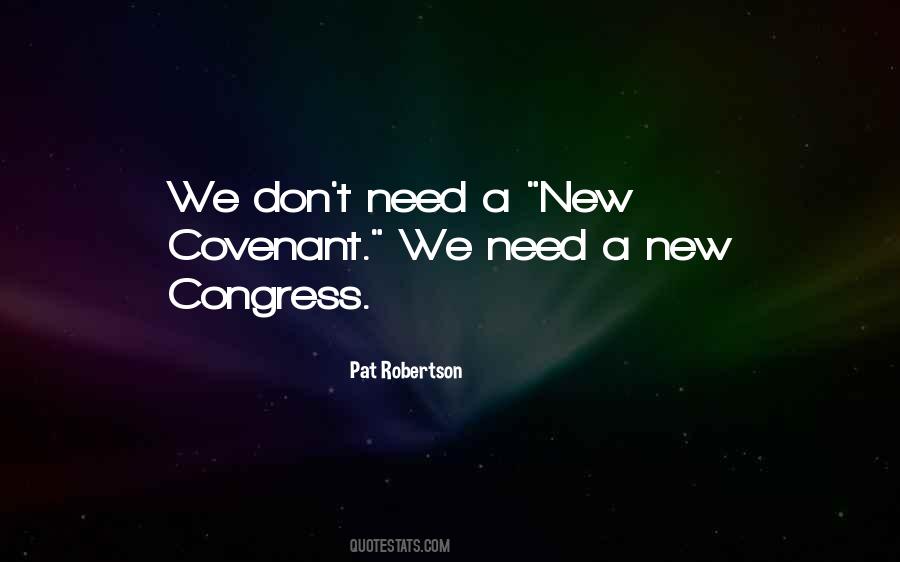 #24. Simplicity is the most sophisticated complexion and the reason why man begins with it, is because that is the instinct which she/he was born with. It is the mark of purity (contrary to Jew Covenant and Roman Baptism beliefs) which were given to her/him by God in the womb.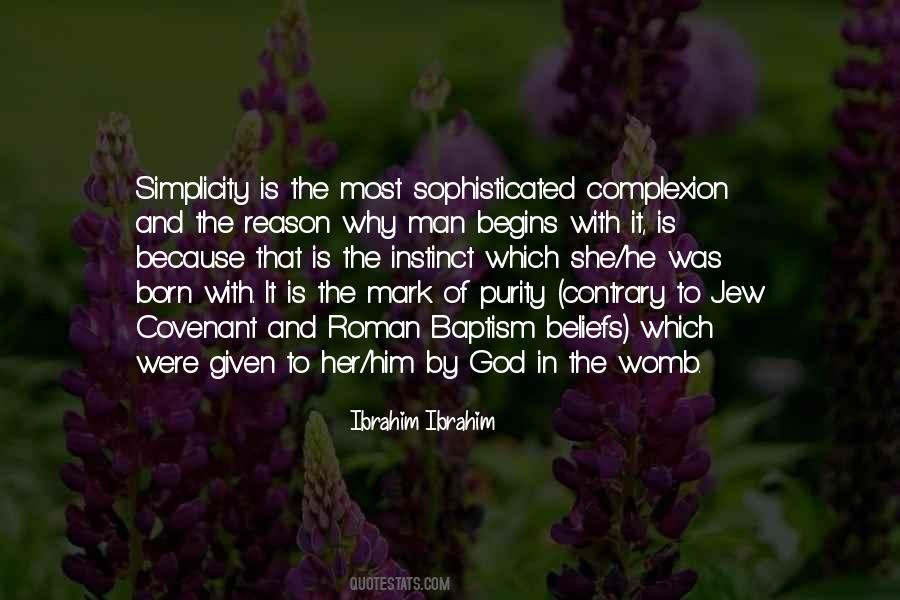 #25. How is it that from beauty I have derived a type of unloveliness? - from the covenant of peace a simile of sorrow? But as, in ethics, evil is a consequence of good, so, in fact, out of joy is sorrow born.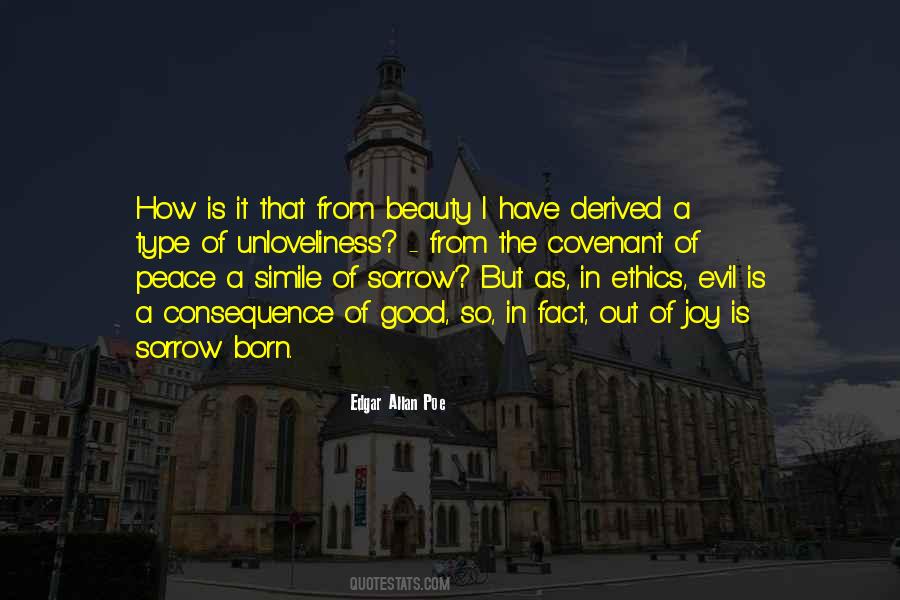 #26. A covenant is a bond in blood sovereignly administered. When God enters into a covenantal relationship with men, he sovereignly institutes a life-and-death bond. A covenant is a bond in blood, or a bond of life and death, sovereignly administered.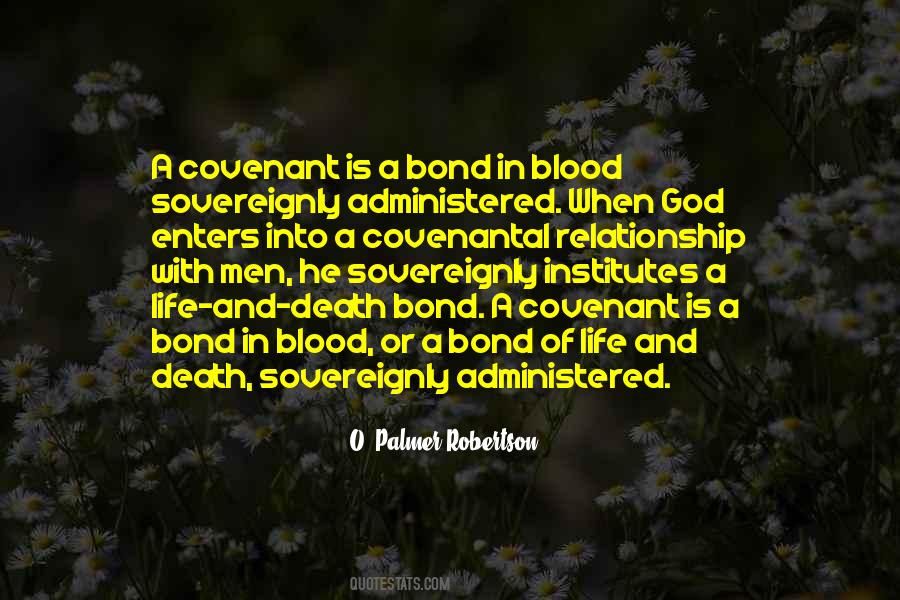 #27. Christians must be Jews. The truth of what we believe depends on the truth of Judaism, depends on the first covenant.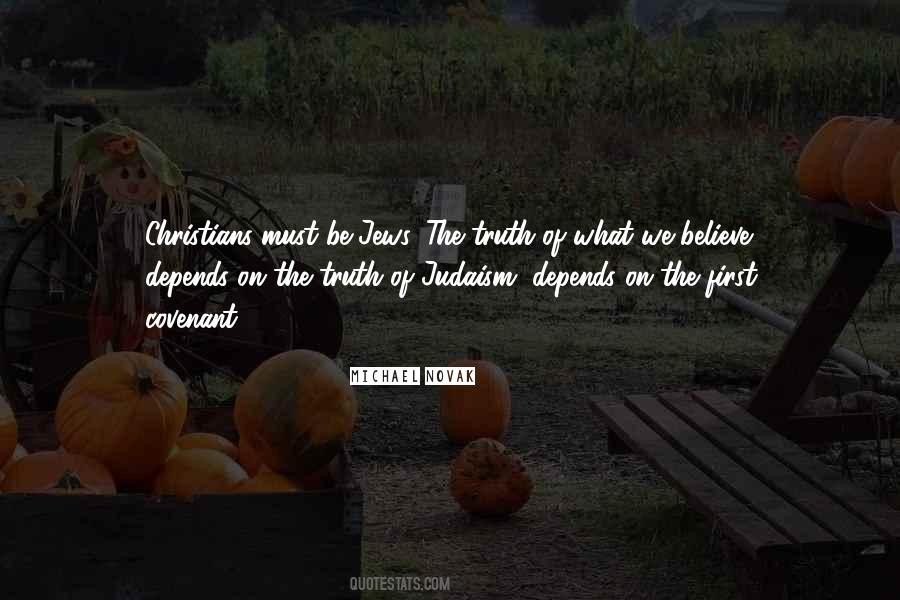 #28. The portal structure is simply a technique: it is neither necessary nor unnecessary, except as the writer and the story make it so. In the case of 'The Chronicles of Thomas Covenant,' it was absolutely necessary to my intentions.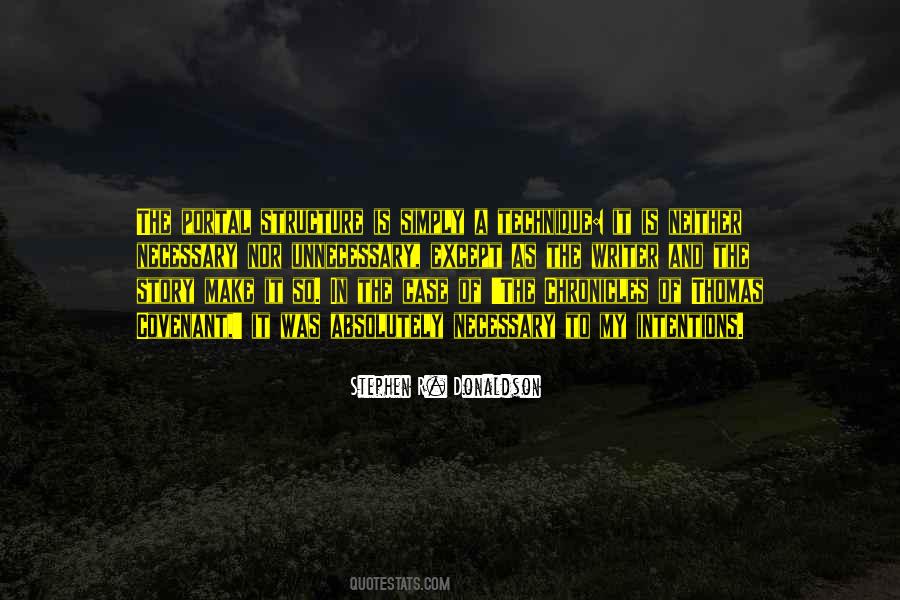 #29. Enduring to the end requires total commitment to the Savior and to our covenants.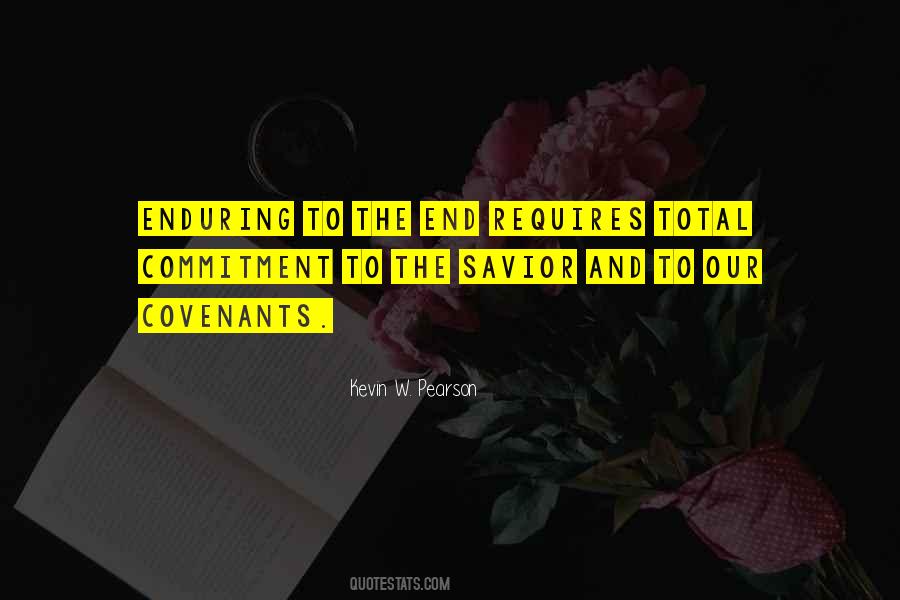 #30. Brother, the act of faith, by which you accept and enter this life in the New Covenant, is not commonly an act of power, but often of weakness and fear and much trembling.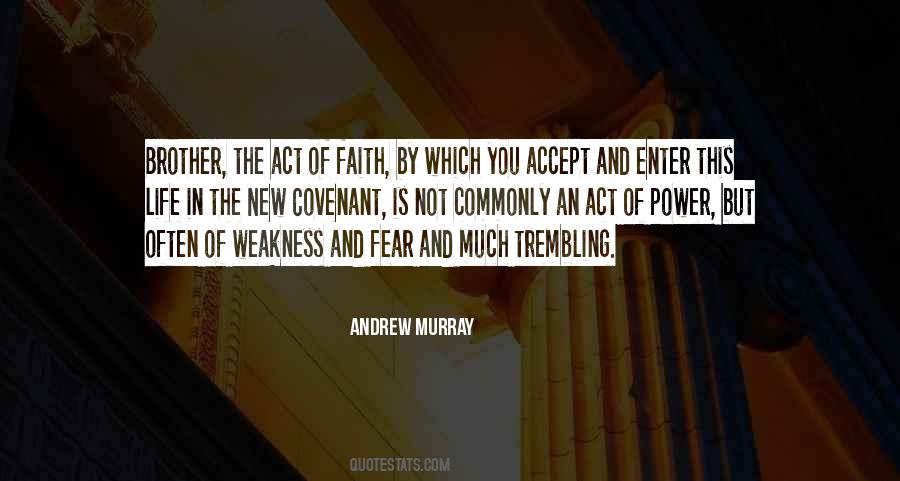 #31. The tribulation period is seven years, and when the signing of the covenant occurs, people who know the Bible and take it literally will know that, seven years later, Christ is going to come in His power and glory.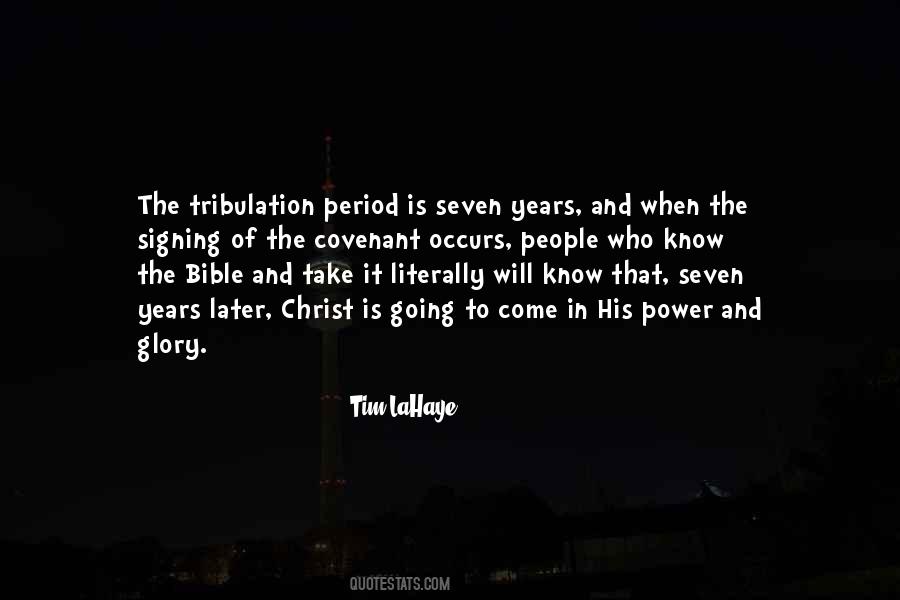 #32. The temple is the house of the Lord. The basis for every temple ordinance and covenant ... is the Atonement of Jesus Christ. Every activity, every lesson, all we do in the Church, point to the Lord and His holy house.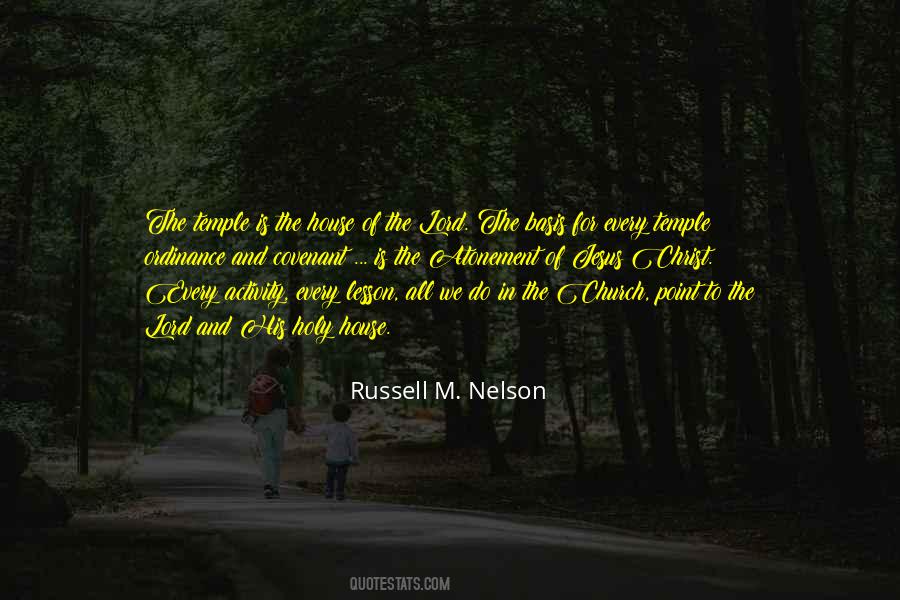 #33. The new covenant only begins after the cross, when the Holy Spirit was given on the day of Pentecost. There is a lot of confusion and wrong believing in the church today because many Christians read their Bibles without rightly dividing the old and new covenants.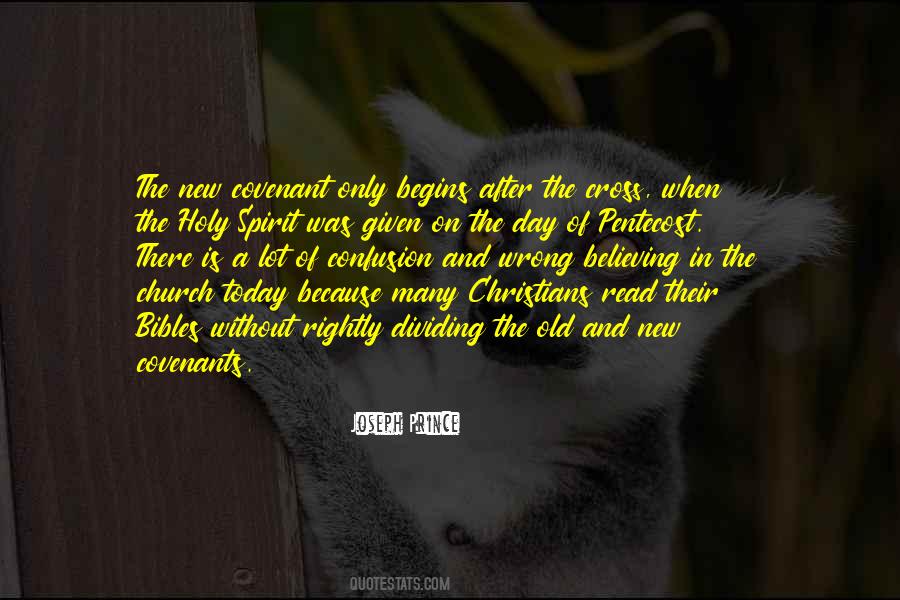 #34. Every generation has an obligation to leave its children in a better position than it inherited. Our representatives in Washington are breaking faith with that covenant. America must reduce its federal spending and accumulation of debt for the sake of generations to come.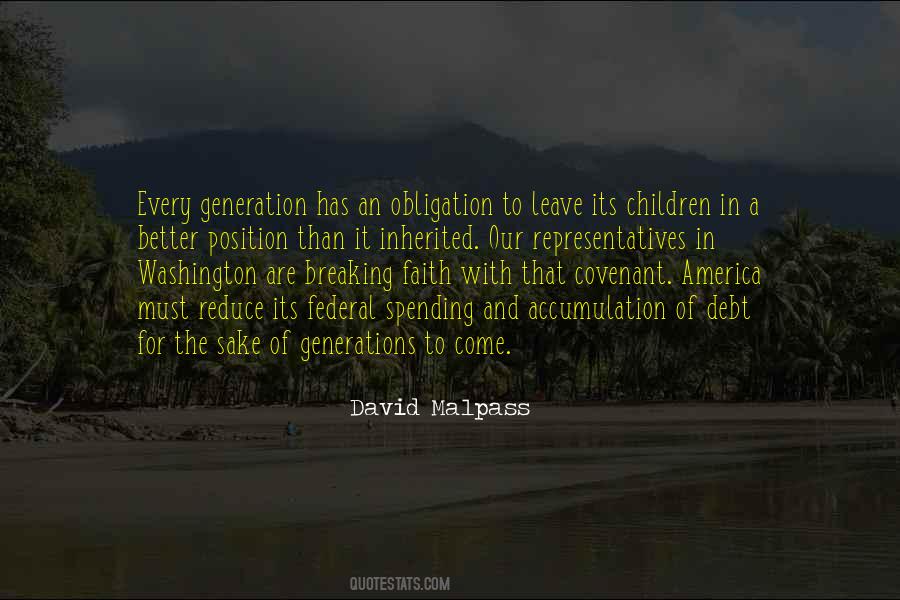 #35. The descendants of Abraham were flattered by the opinion, that they alone were the heirs of the covenant, and they were apprehensive of diminishing the value of their inheritance, by sharing it too easily with the strangers of the earth.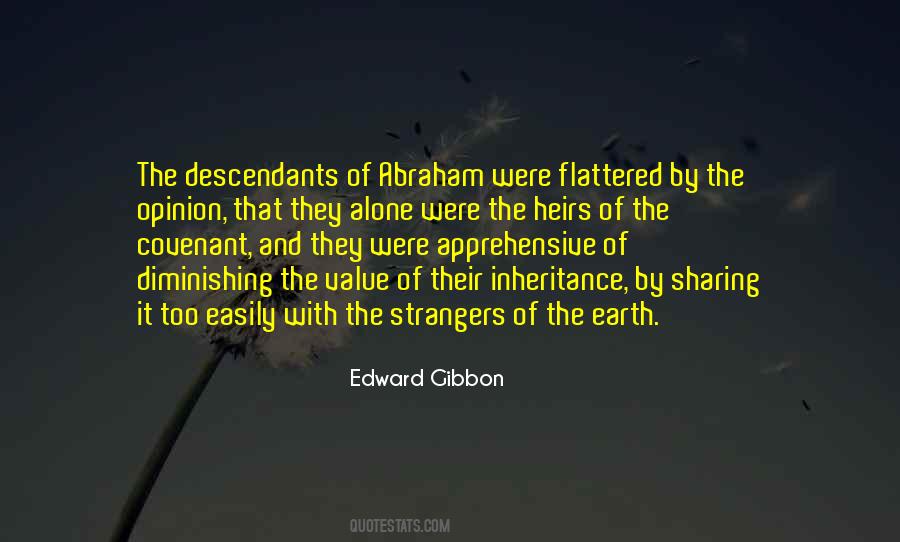 #36. The best way to strengthen a home, current or future, is to keep covenants.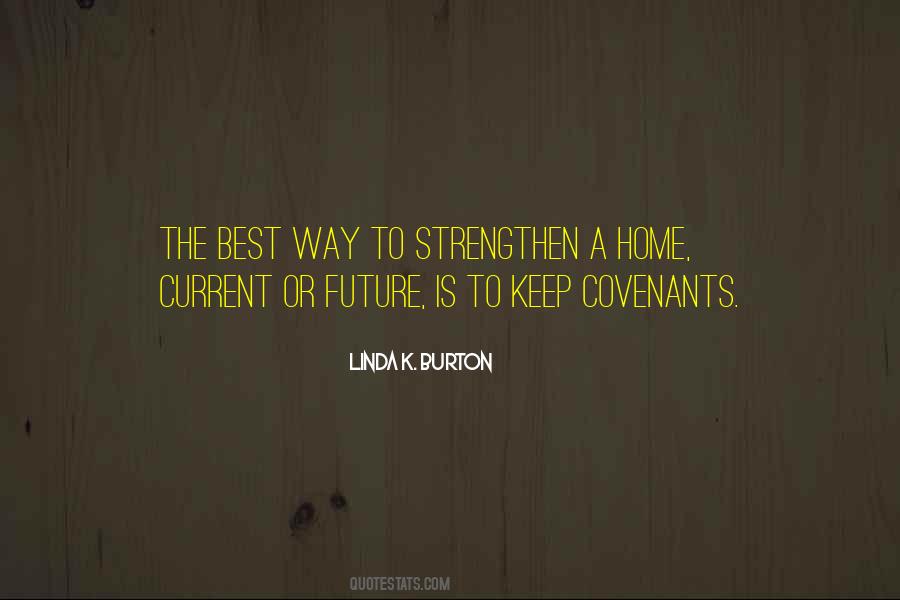 #37. You cannot begin to understand the failure of marriage - or the living of these ideas commitment or covenant - without considering and factoring in the devaluing of fatherhood. The two are inextricably linked and dependent.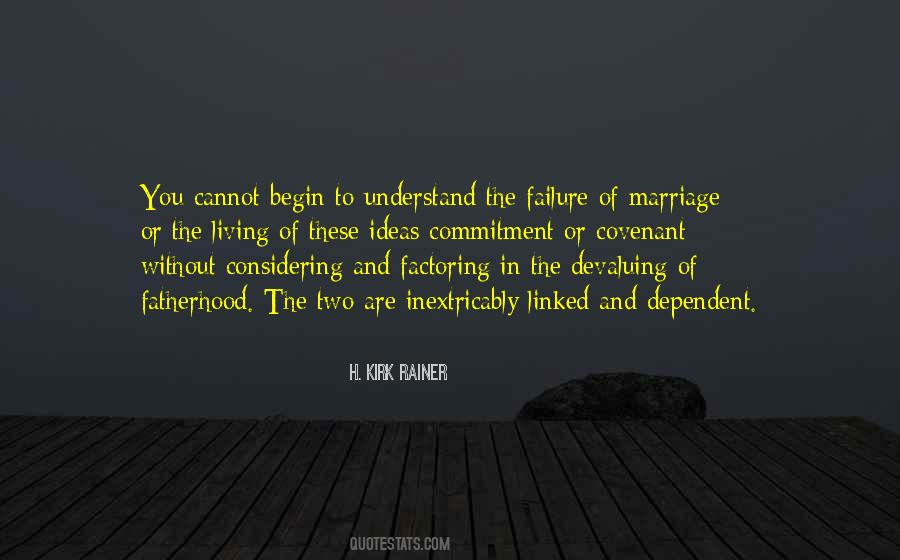 #38. Too many Christians reverse New Covenant commands as we seek, through condemnation of the world, the return of the never-existent, demonic myth of the "Christian Nation"!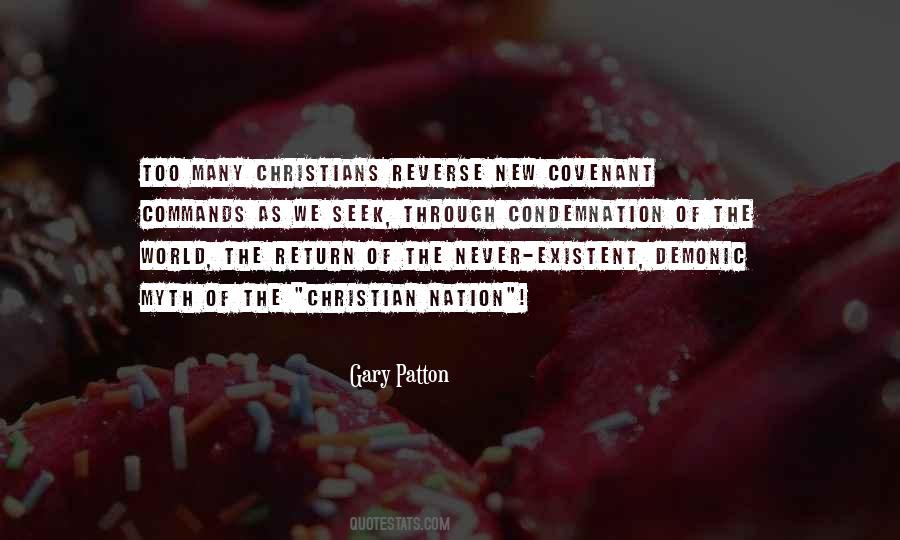 #39. The financial game is a team sport. God established a covenant with Noah after the flood, and later he established a covenant with Abraham. A covenant is an agreement between two parties. In order to prosper, you must establish what I call a "carevenant" with your family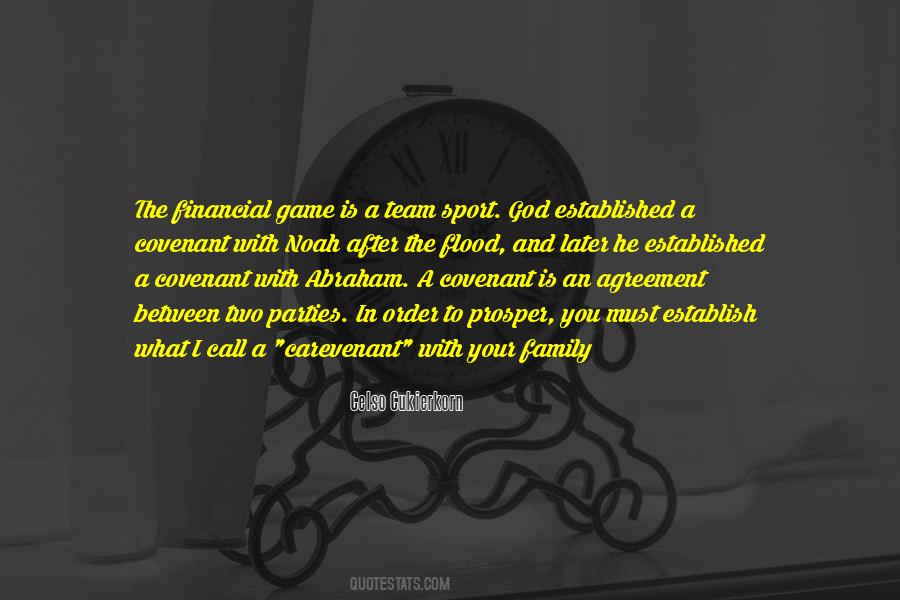 #40. When day begins to break I count my blessings, good and bad, Being wakeful for your sake, Remembering the covenant we've always had, What eagle look your face still shows, While up from my heart's root So great a sweetness flows I shake from head to foot.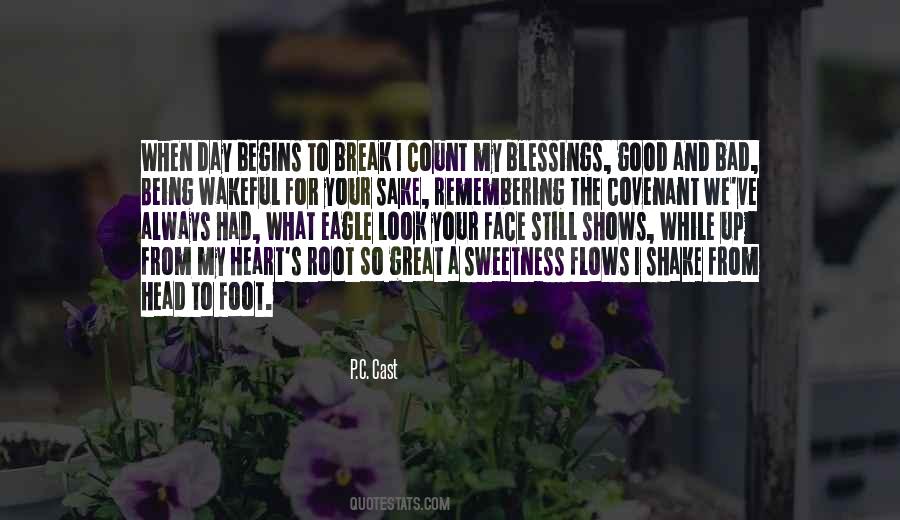 #41. The highest meaning and the most ultimate purpose of marriage is to put the covenant relationship of Christ and his church on display. That is why marriage exists. If you are married, that is why you are married. If you hope to be, that should be your dream.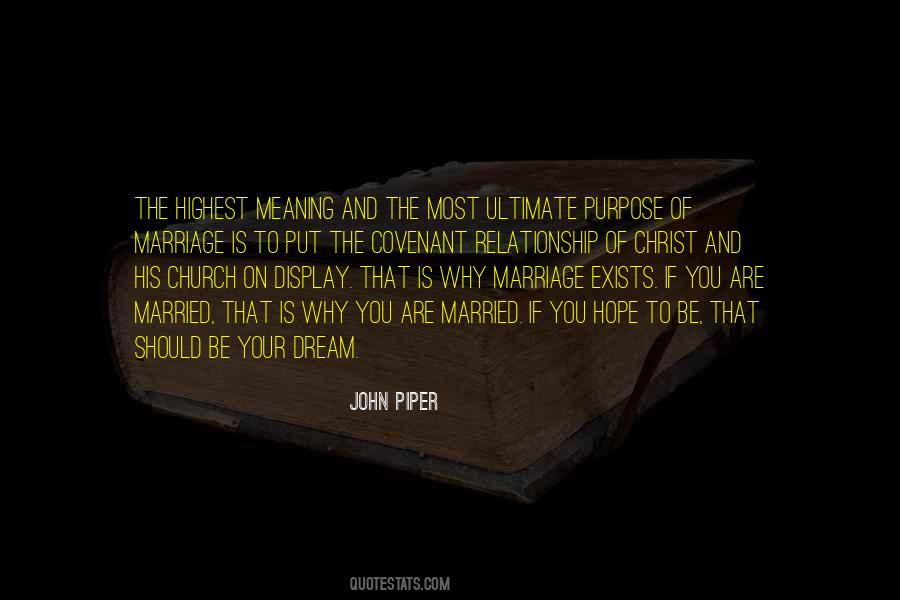 #42. And I was normally a pretty emotional person. In any given day, I experienced a hundred different things like I was trying ice cream flavors.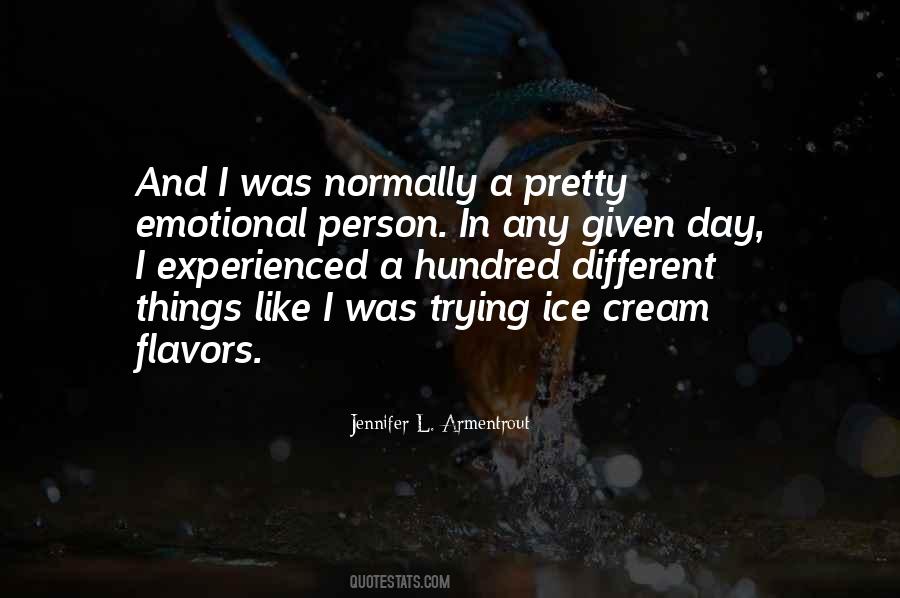 #43. Back during the war, the sides were a lot clearer. Now that we're fighting other humans again as well, things get muddy real fast. Many soldiers who were fantastic against the Covenant have now balked at battling the Front or any of the other dozens of homegrown terrorist groups across our worlds.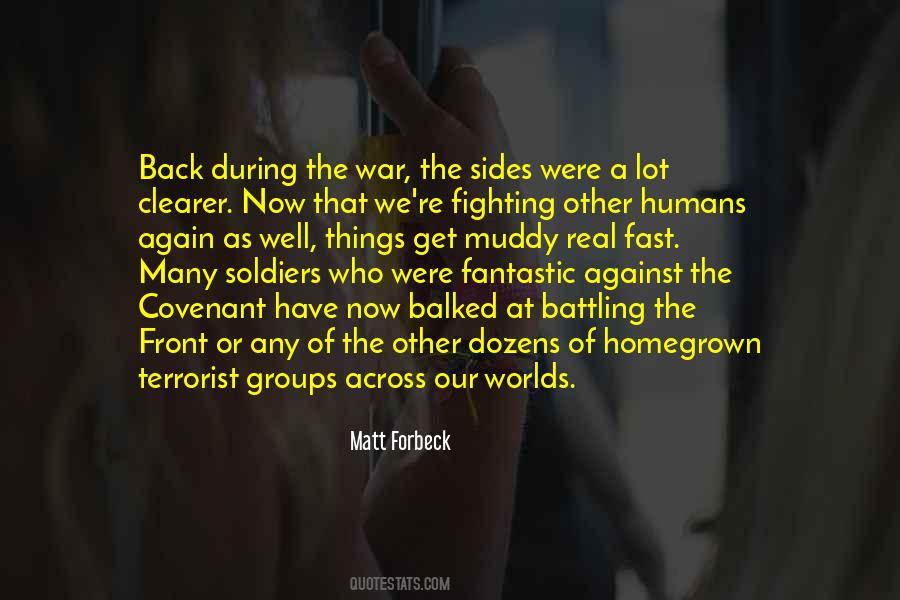 #44. The compact which exists between the North and the South is a covenant with death and an agreement with hell.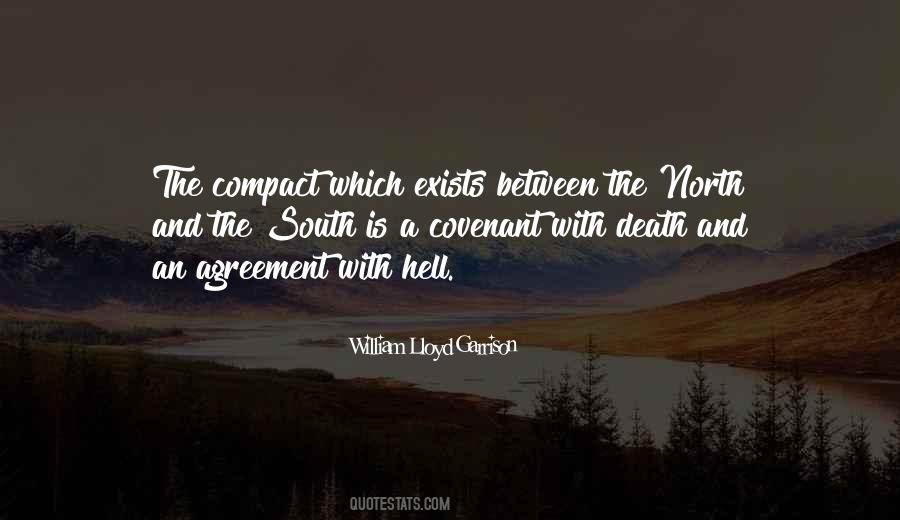 #45. So God heard their groaning, and He remembered His covenant with Abraham, Isaac, and Jacob. Exodus 2:24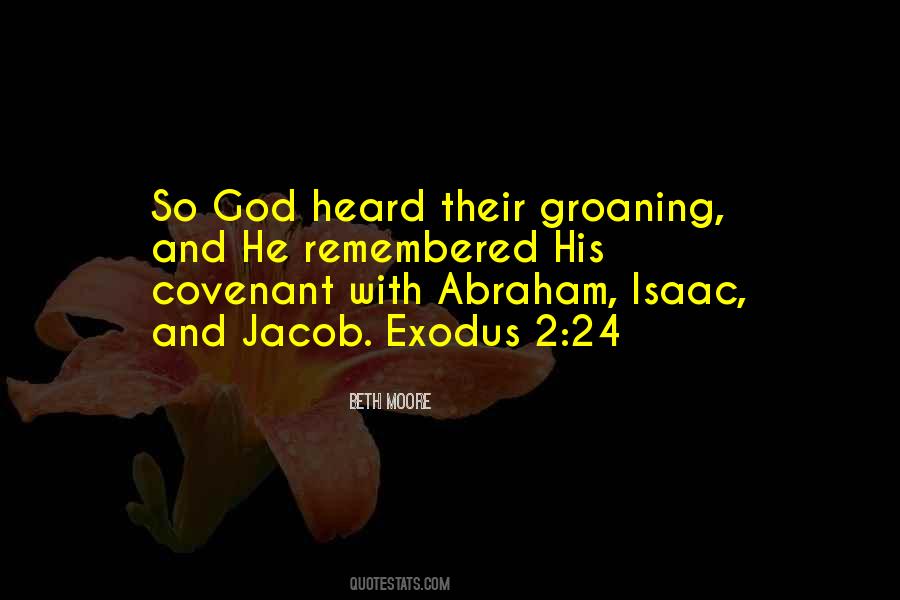 #46. Realise that man is comparable to the brute creation except when uplifted by the loving Covenant initiated with our Patriarchs.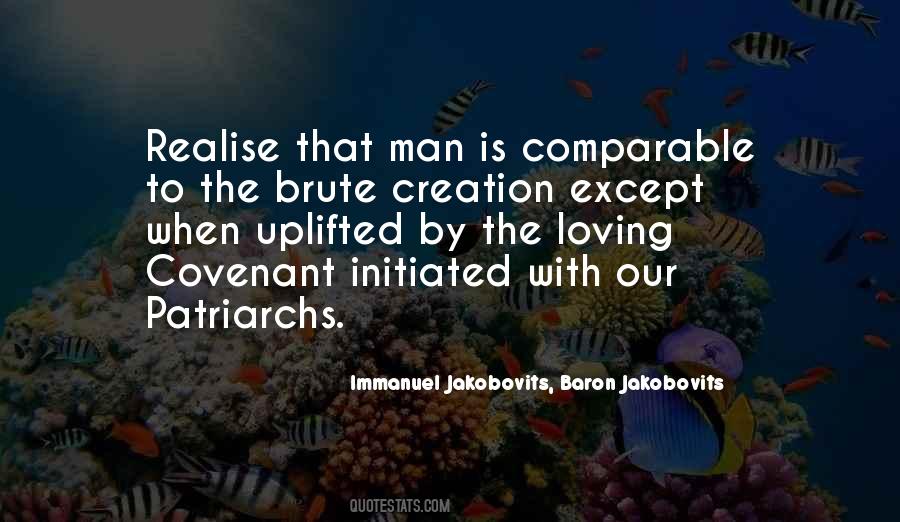 #47. The story of the Bible is not the story of the covenant of grace; nor is it the story of Israel. The Bible is the story of God's work in history to sum up all things in Christ. New Covenant Theology strives to keep this one plan of God - centered in Jesus Christ - primary.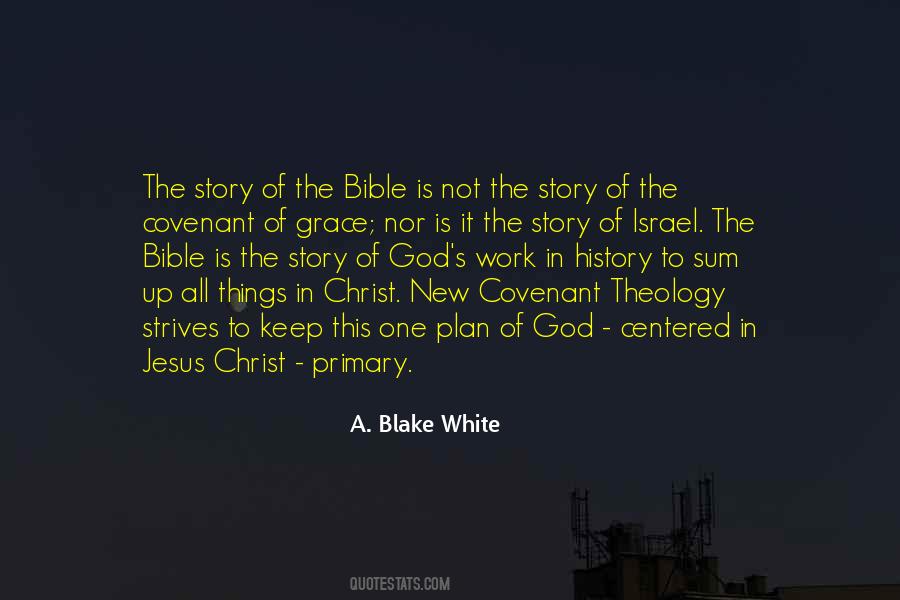 #48. The New Deal repudiation of democracy has left the Republican Party alone the guardian of the Ark of the Covenant with its charter of freedom.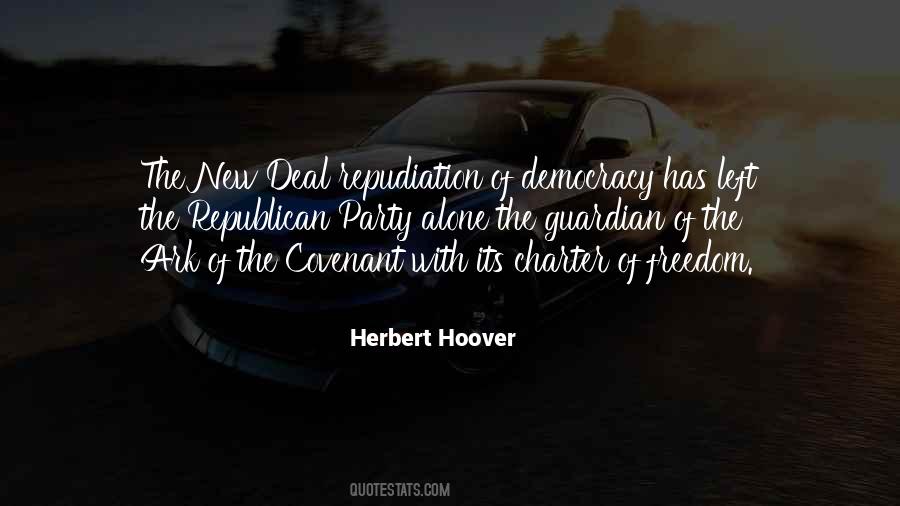 #49. I believe that we are arks of the covenant and our true nature is not rage or deceit or terror or logic or craft or even sorrow. It is longing.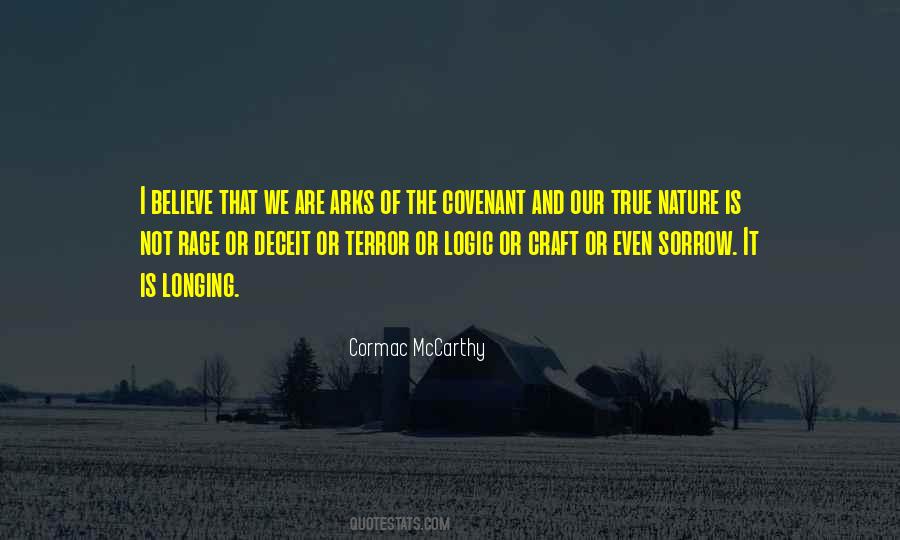 #50. We've been given the covenant community because we need each other, and together we'll be more mature, experience more life, and know more joy than we ever would apart from one another.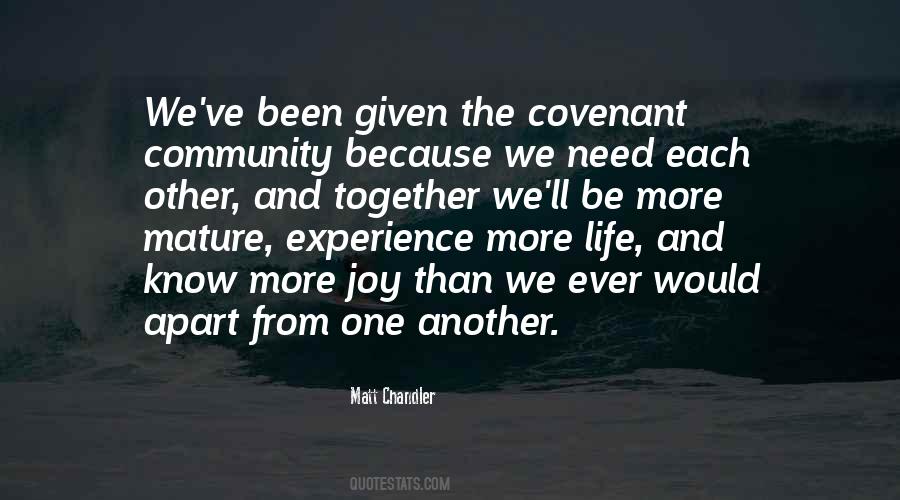 #51. 4 of us, and 2000 of them. Piss-poor odds. For them.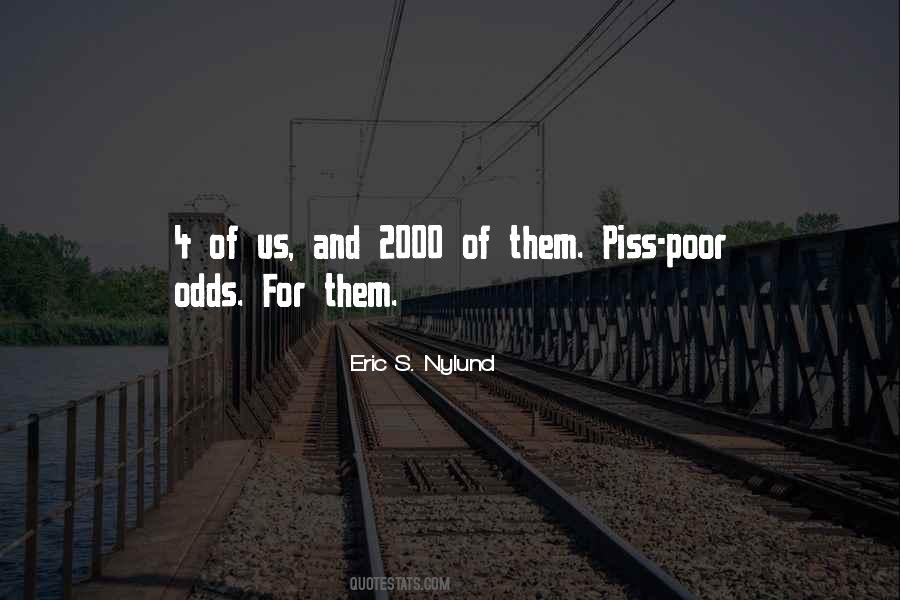 #52. I do believe that Israel is covenant land. That's very controversial, but I read the Bible literally, and I believe that God gave them that land, all the way back to Deuteronomy.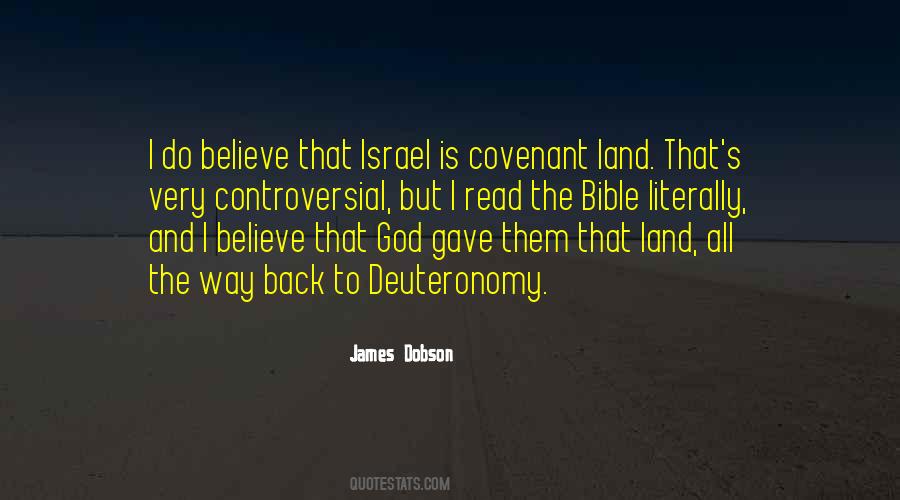 #53. When I'm zoomed in on my fear, I can't see the faithfulness of God and the steadfastness of His covenant.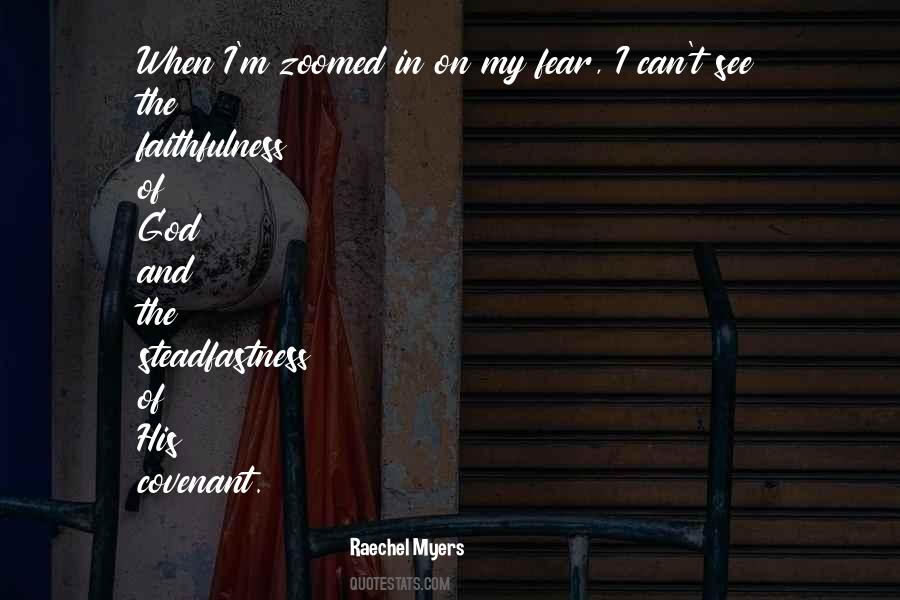 #54. The everlasting covenant which God has made with Jesus, and through Jesus with all His beloved people, individually, is a strong ground of consolation amidst the tremblings of human hope, the fluctuations of creature things, and the instability of all that earth calls good.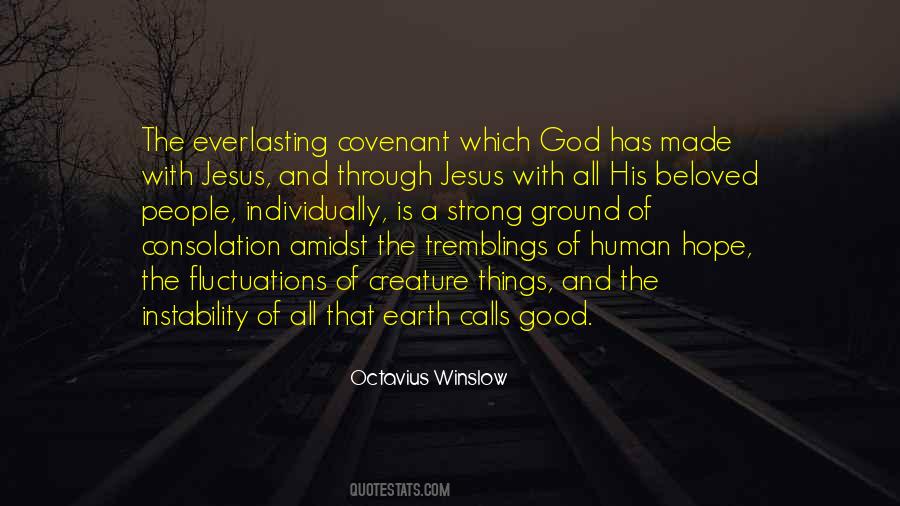 #55. His Magnificence - Your Manifestation.I will make of thee a great nation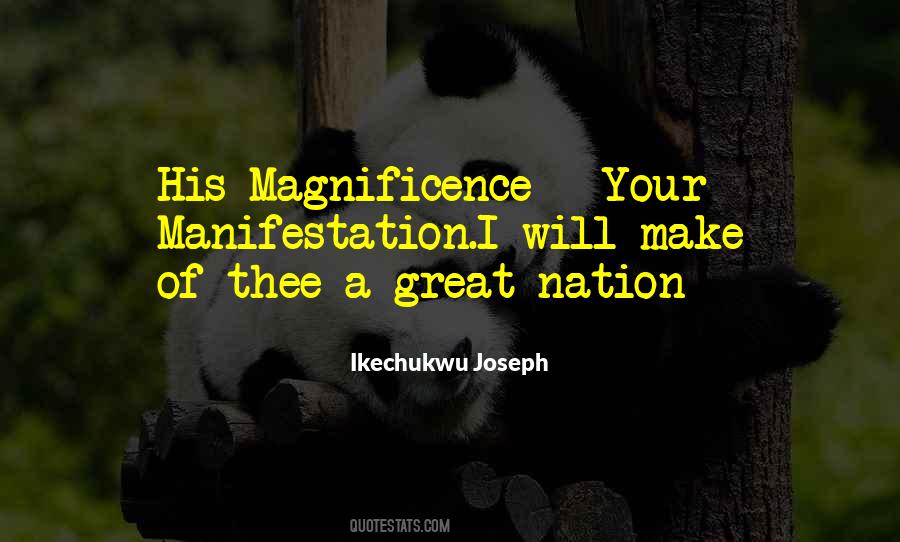 #56. The Covenant of the League of Nations had envisaged sponsoring only the protection of certain categories of men: national minorities and populations of territories controlled by other countries.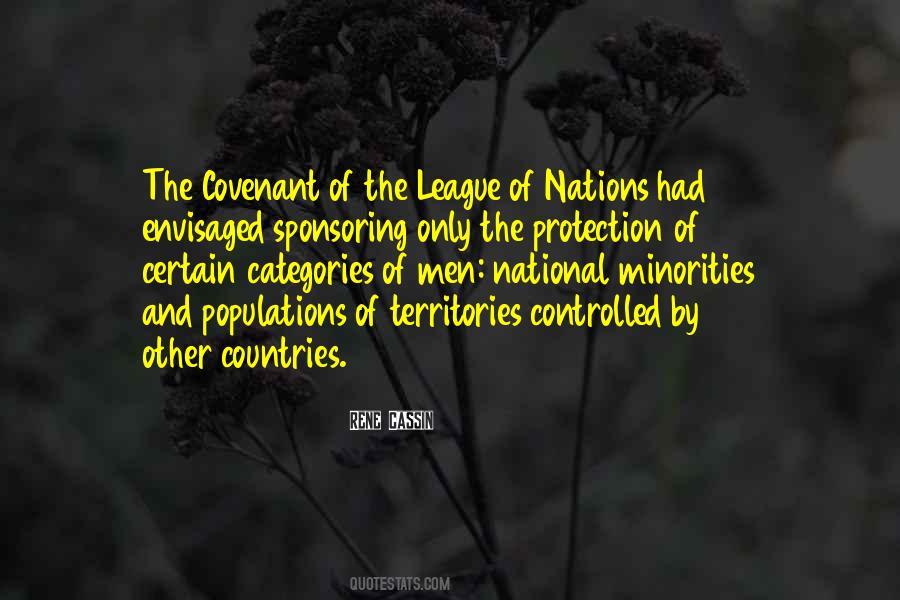 #57. When mothers know who they are and who God is and have made covenants with Him, they will have great power and influence for good on their children,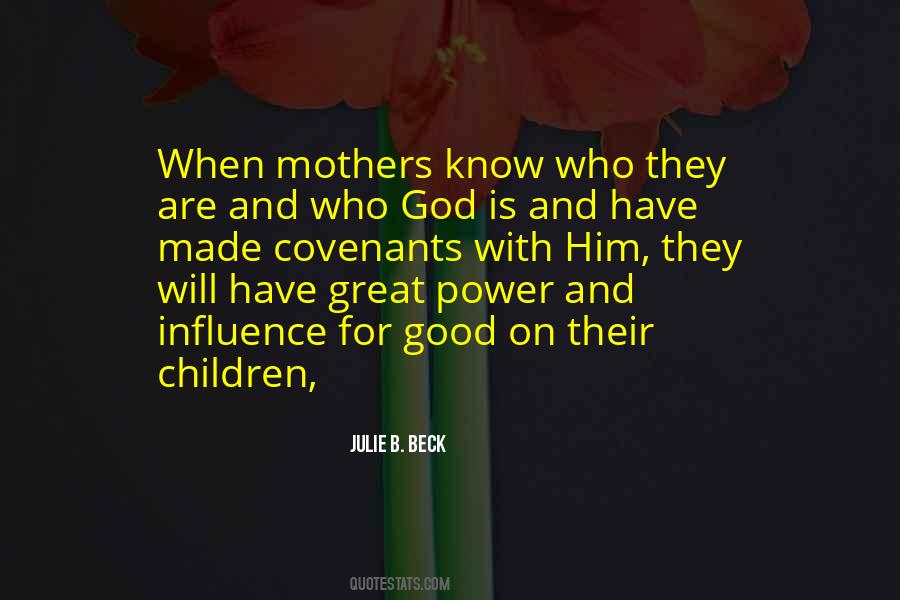 #58. That's a fucking, blood covenant promise that you can take that to the bank every day of the week and twice on Sunday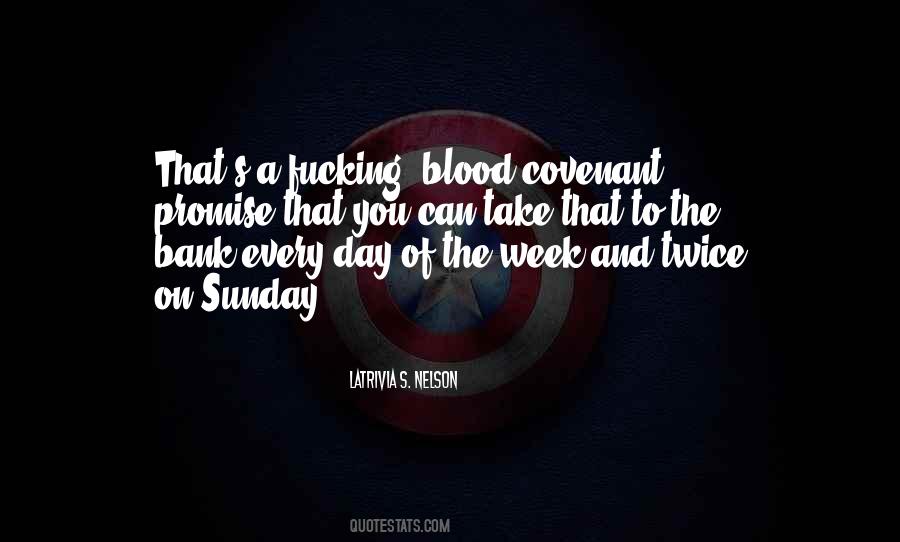 #59. The secret of the Lord is with them that fear him; and he will show them his covenant.' - Psalms 25:14.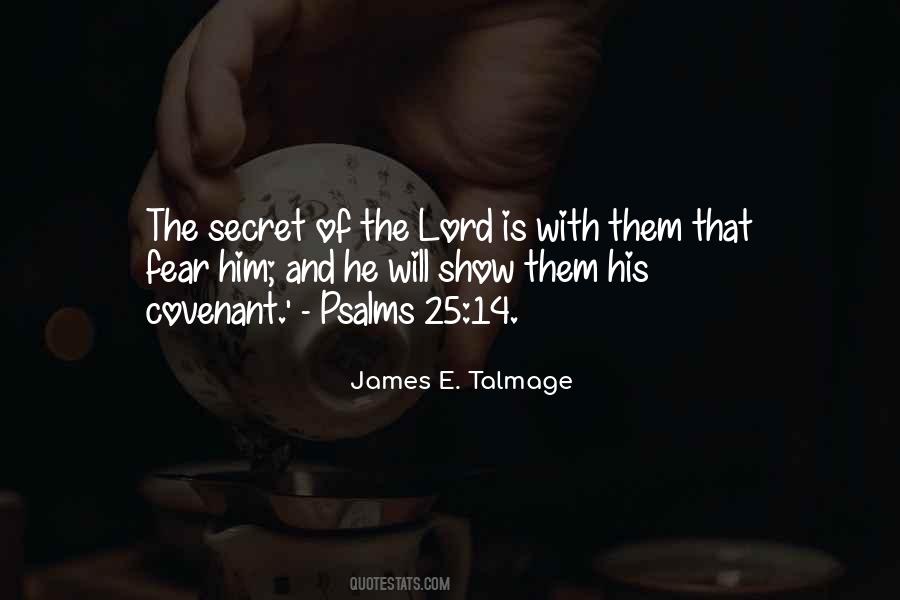 #60. Because God is the living God, He can hear; because He is a loving God, He will hear; because He is our covenant God, He has bound Himself to hear.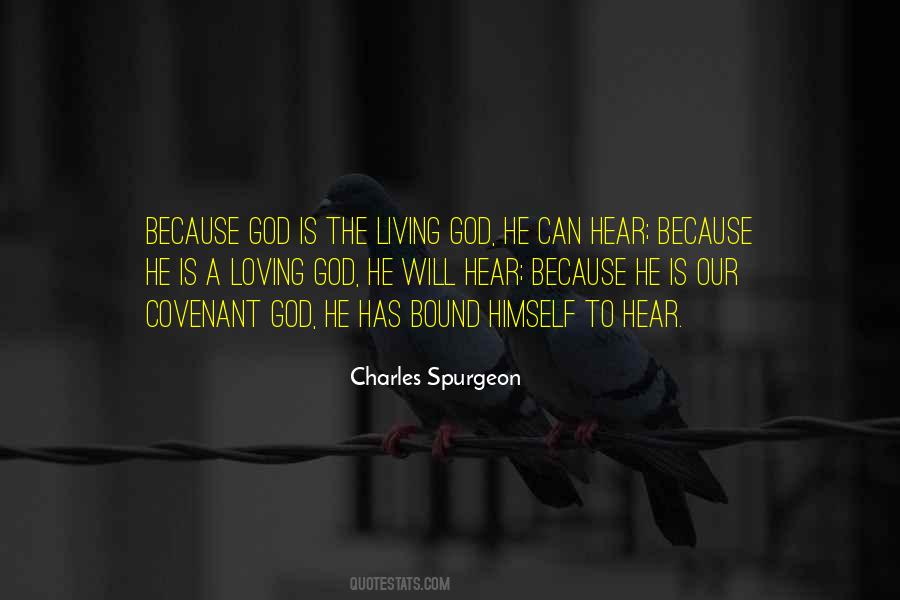 #61. 24And God heard their groaning, and God remembered his covenant with Abraham, with Isaac, and with Jacob. 25God saw the people of Israel - and God knew.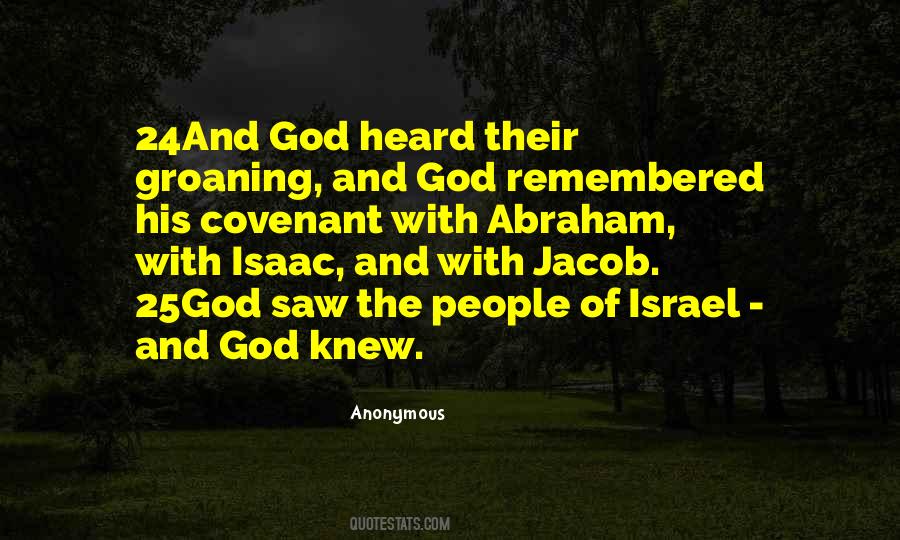 #62. Why don't you just put me down for a couple of boxes of cookies and go earn your next patch bothering someone else." - Jayke Wolff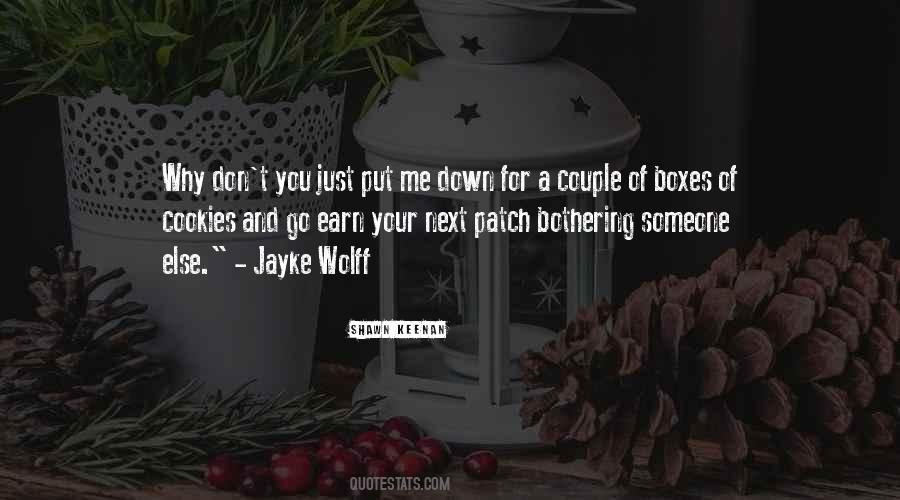 #63. Indeed, a quick glance around this broken world makes it painfully obvious that we don't need more arguments on behalf of God; we need more people who live as if they are in covenant with Unconditional Love, which is our best definition of God. (p. 21)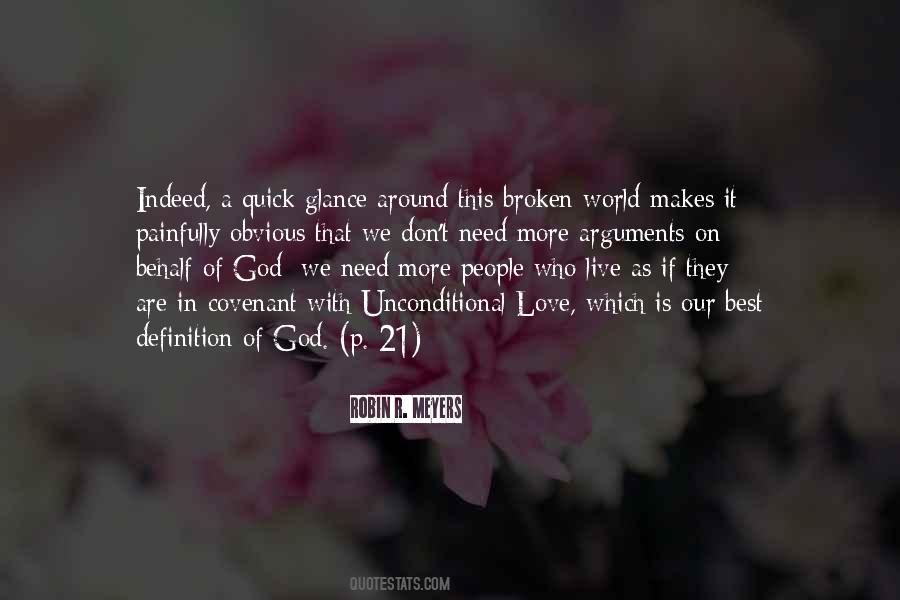 #64. For resurrection faith means courage to revolt against the "covenant with death" (Isa. 28:15), it means hope for the victory of life which shall swallow up and conquer life-devouring death. ~ p.14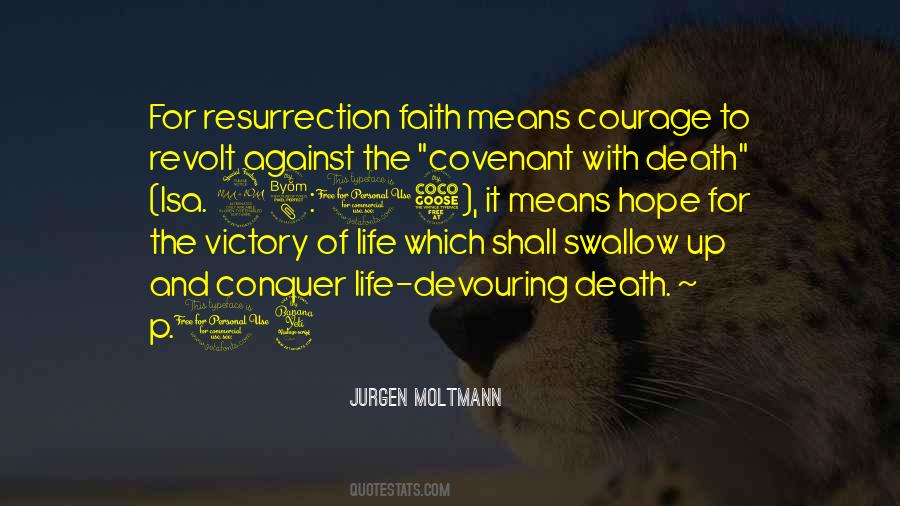 #65. In marriage, we're called to reflect God's love for us through our self-giving love for our spouse. God's love for us isn't dependent on our day-to-day feelings toward him, on how hard we work to please him, or even on how faithful we are to him. It's grounded in his nature and his covenant.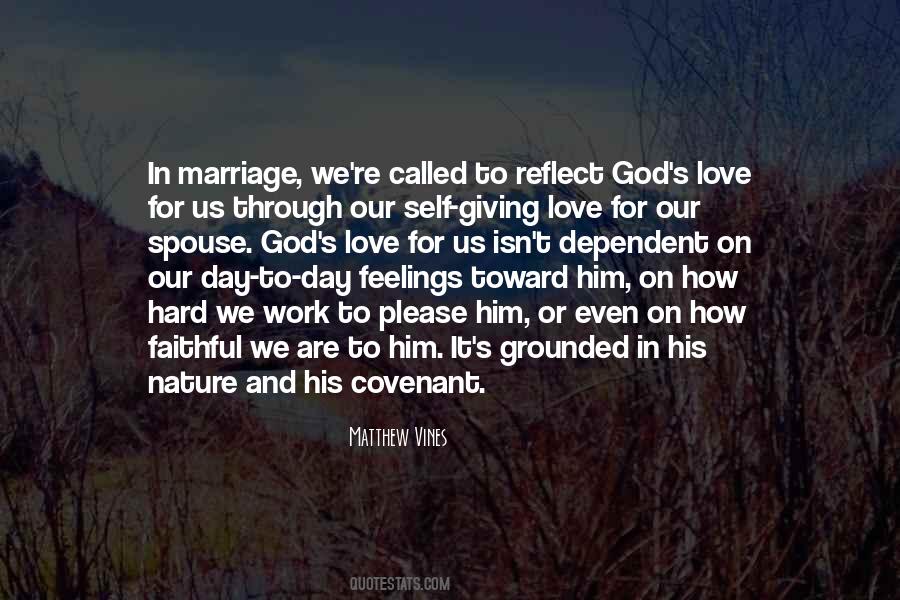 #66. Every human is born of collusion. We come into this world the result of a covenant. Sometimes made of love, Sometimes of circumstance. But almost always made in secret.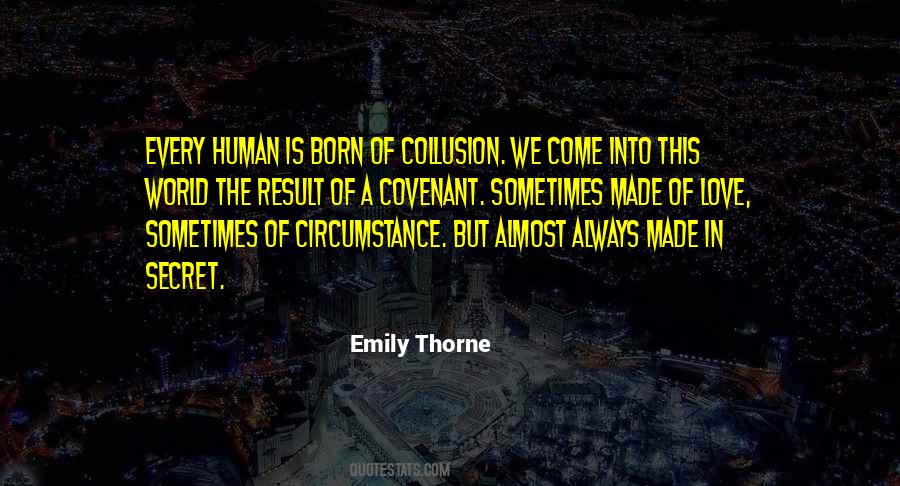 #67. One may preach a covenant of grace more clearly than another ... But when they preach a covenant of works for salvation, that is not truth.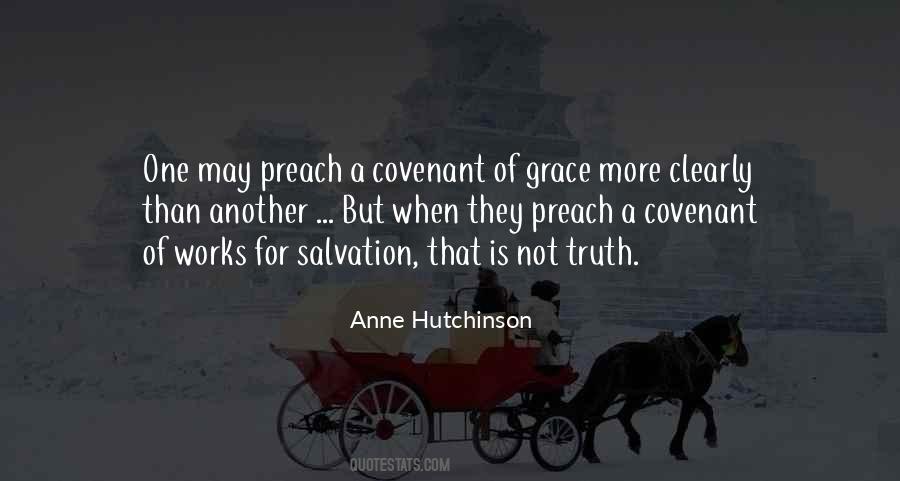 #68. Real faith never disappoints because it is in God, grounded on His character, promises, covenant and oath.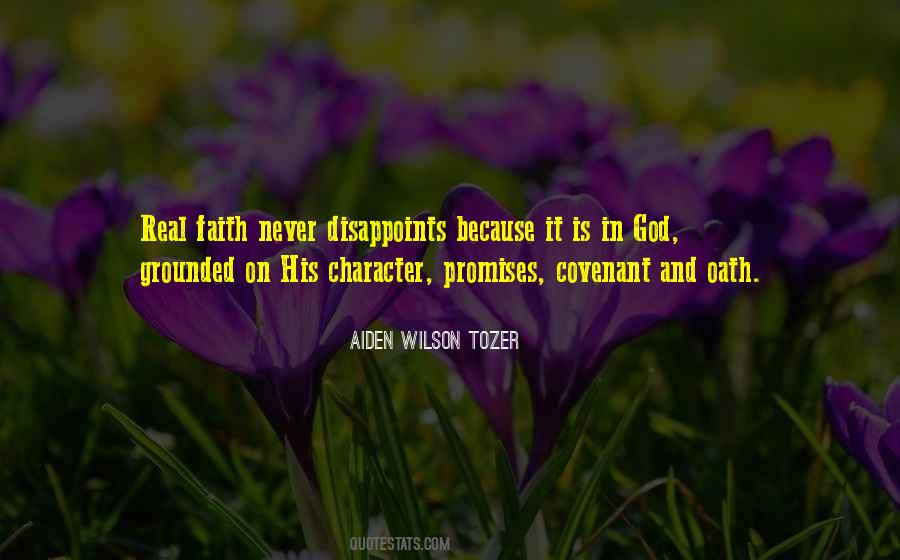 #69. I am verily persuaded the Lord has more truth yet to break forth out of His holy word. I beseech you, remember (it is an article of your church covenant) that you be ready to receive whatever truth shall be made known to you from the word of God.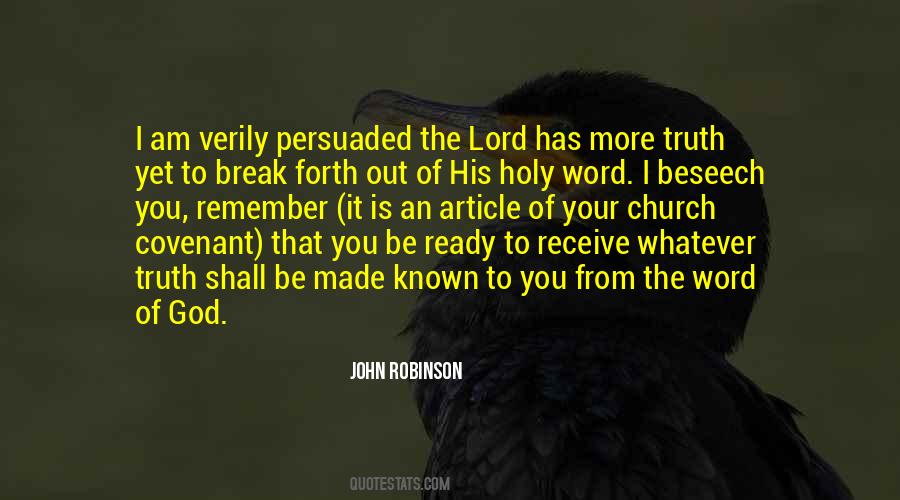 #70. The exodus was not a movement from slavery to freedom, but from slavery to covenant. Redemption was for relationship with the redeemer, to serve his interests and his purposes in the world.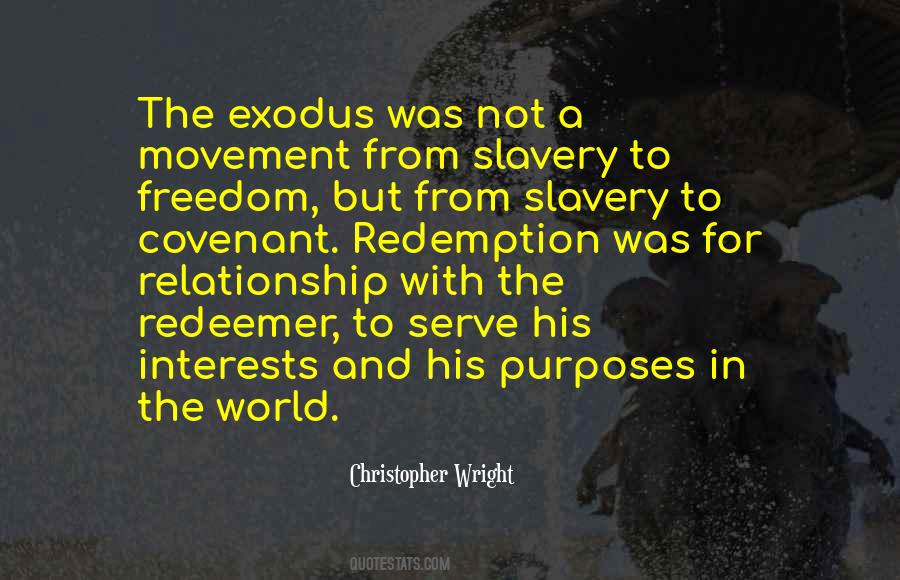 #71. Death is the ultimate weapon of the tyrant; resurrection does not make a covenant with death, it overthrows it.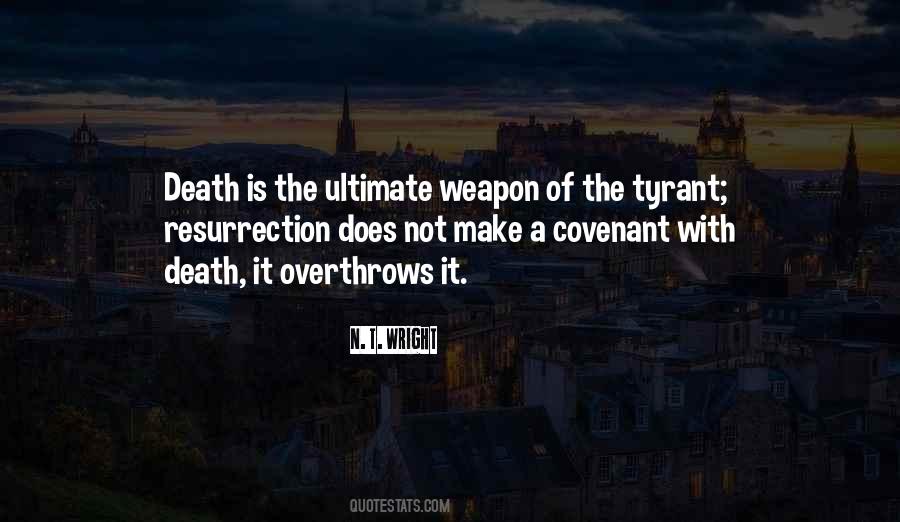 #72. Shame on our cold hearts! We are but poor lovers of our sweet Lord Jesus, not fit to be his servants, much less to be his brides, and yet he hath exalted us to be bone of his bone and flesh of his flesh, married to him by a glorious marriage covenant. Herein is love!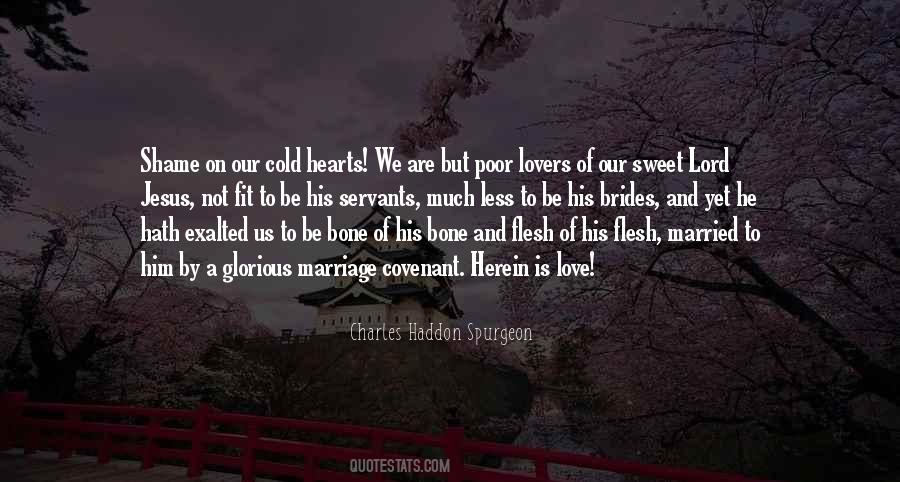 #73. COVENANT blessings are not meant to be looked at only, but to be appropriated.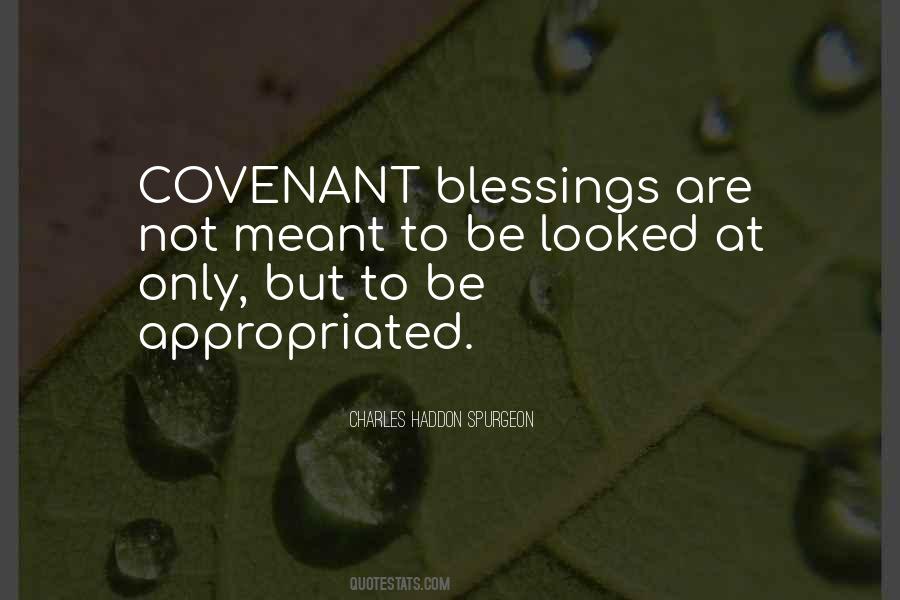 #74. Mother Earth needs us to keep our covenant. We will do this in courts, we will do this on our radio station, and we will commit to our descendants to work hard to protect this land and water for them. Whether you have feet, wings, fins, or roots, we are all in it together.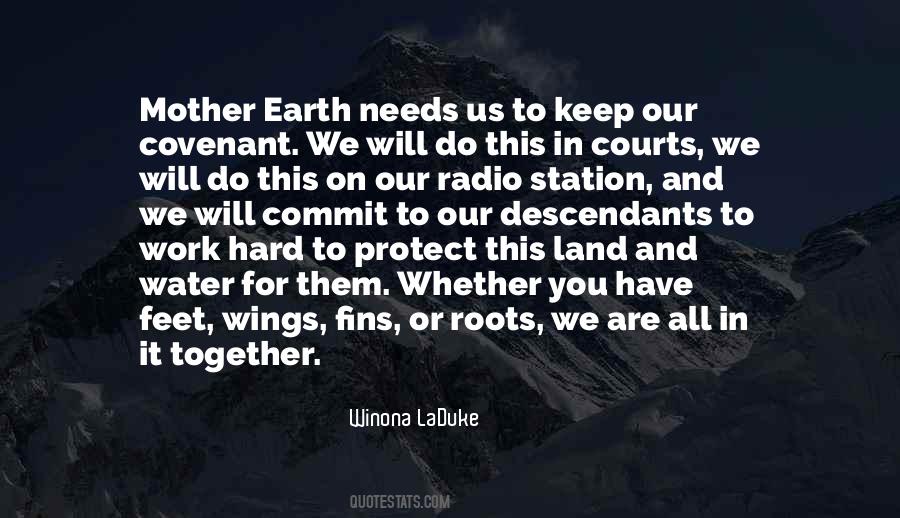 #75. By electing a covenant people, God demonstrated to humankind that striving for him is not a vain thing. He rewards those individuals who seek him according to his divine attributes, the highest wisdom, and the ultimate standard of fairness.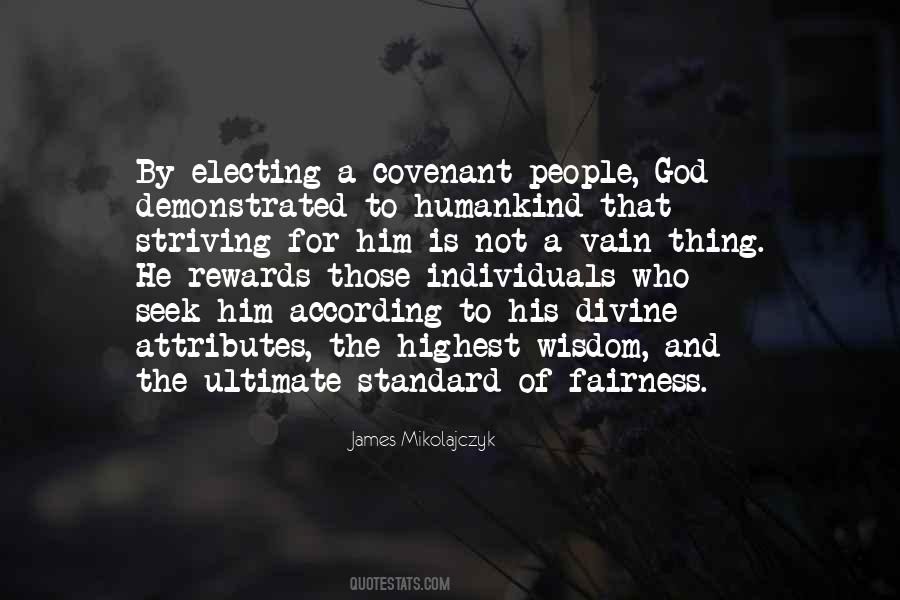 #76. The covenant we make with ourselves is to love ourselves: to center in the devotion to sacred experience, honoring our bodies as temples of spirit, our emotions as reflections of spirit, our aspiration as the adoration of spirit for spirit.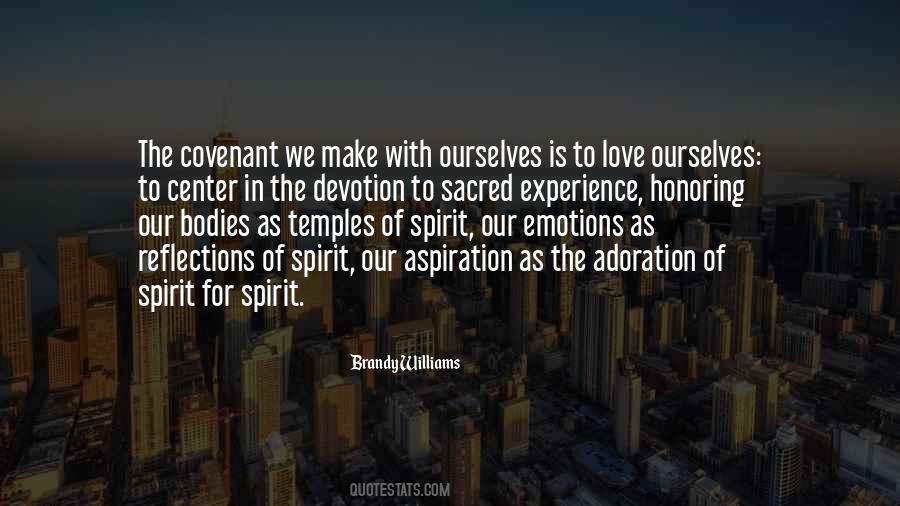 #77. The social institution of marriage is first and foremost a covenant relationship in which a man and a woman pledge themselves to each other for a lifetime partnership. In the biblical account of creation, God's expressed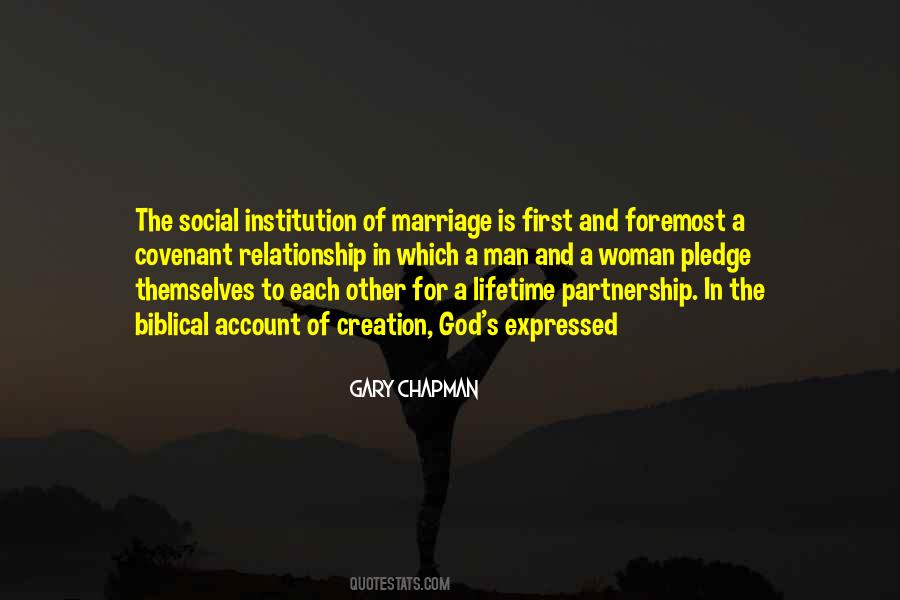 #78. Join a company of young men and women who have made a covenant by sacrifice to turn a nation through united massive fasting and prayer.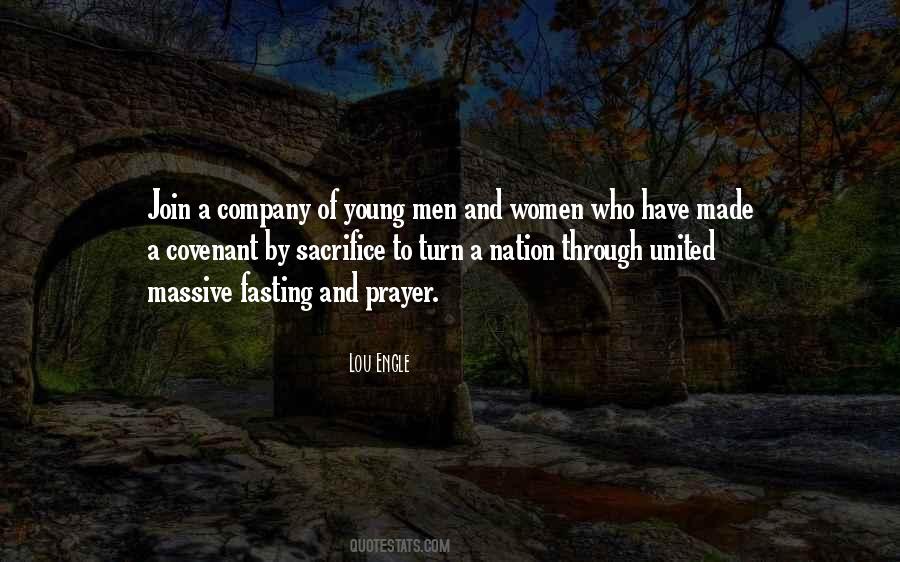 #79. This language implies the covenant is unique to Earth, exclusive to humans, and universally unprecedented.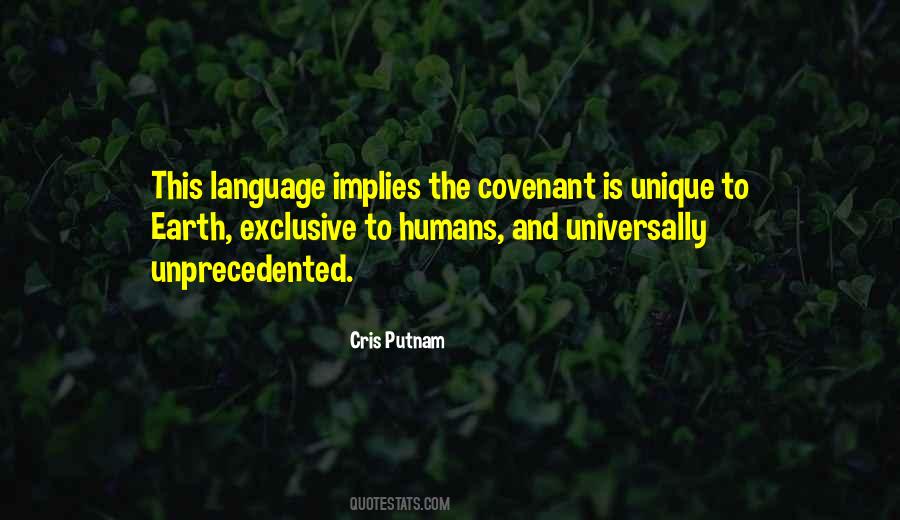 #80. Is the covenant between God and his people conditional or unconditional? Yes. Yes. Jesus came and fulfilled the conditions so God could love us unconditionally.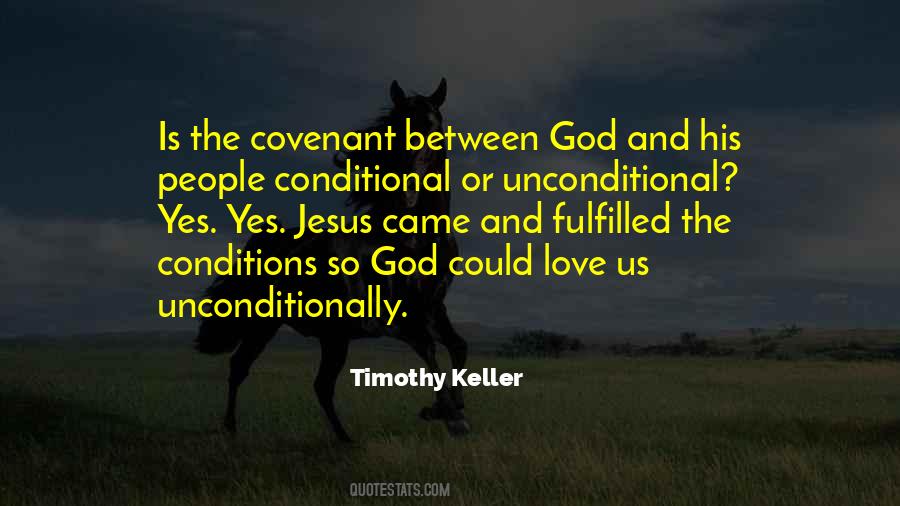 #81. He is a Shadowhunter," said Jocelyn. "His loyalty will be to Clave and Covenant."
"He's my friend," said Magnus coldly. "His loyalty is to me.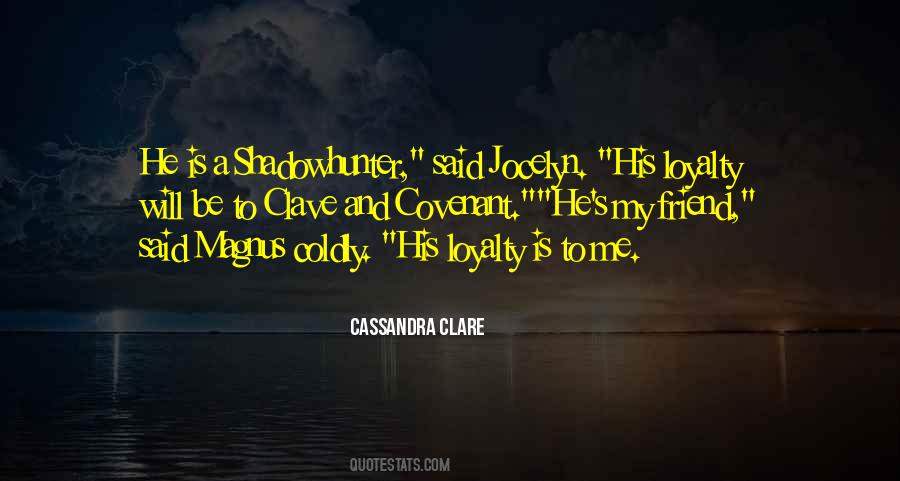 #82. Both God's love and God's wrath are ratcheted up in the move from the old covenant to the new, from the Old Testament to the New. These themes barrel along through redemptive history, unresolved, until they come to a resounding climax - in the cross.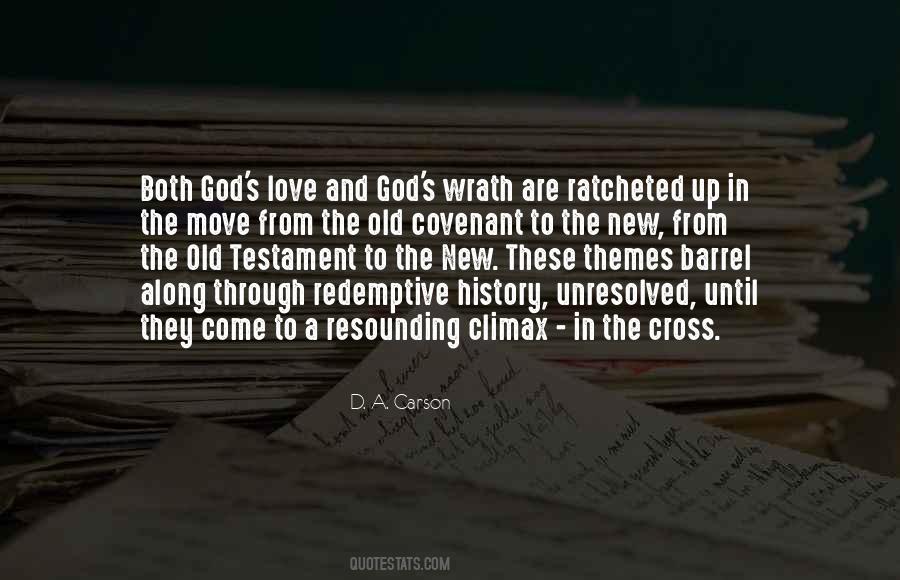 #83. Under reverent, patient care, the wild seed gradually relinquishes its protective husk and entrusts its reproductive life to human hands.(thus) this sacred law and covenant with Mother Earth; Respectful care brings abundance. If you take, you must give back-Return the gift.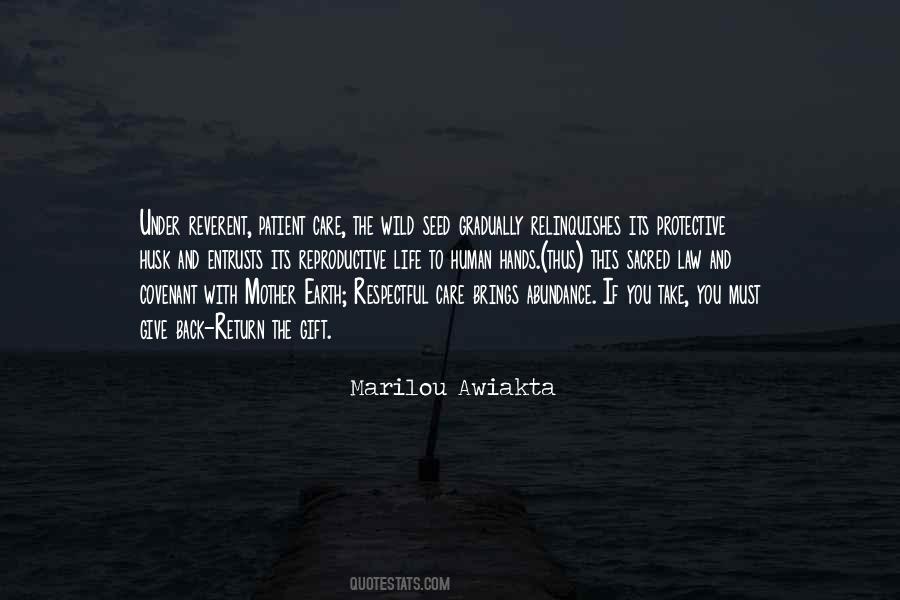 #84. We must surrender ourselves so utterly that we can never own ourselves again. We must hand over self and all its rights in an eternal covenant, and give God the absolute right to own us, control us and possess us forever.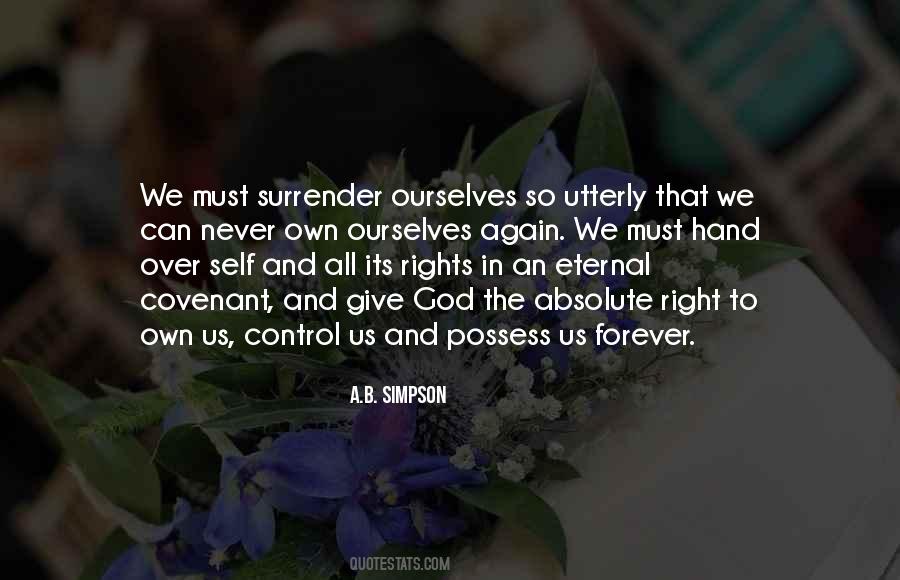 #85. Strange clothes you wear, Child of the Dragon. Has the Wheel turned so far? Do the People of the Dragon return to the first Covenant? But you wear a sword. That is neither now nor then.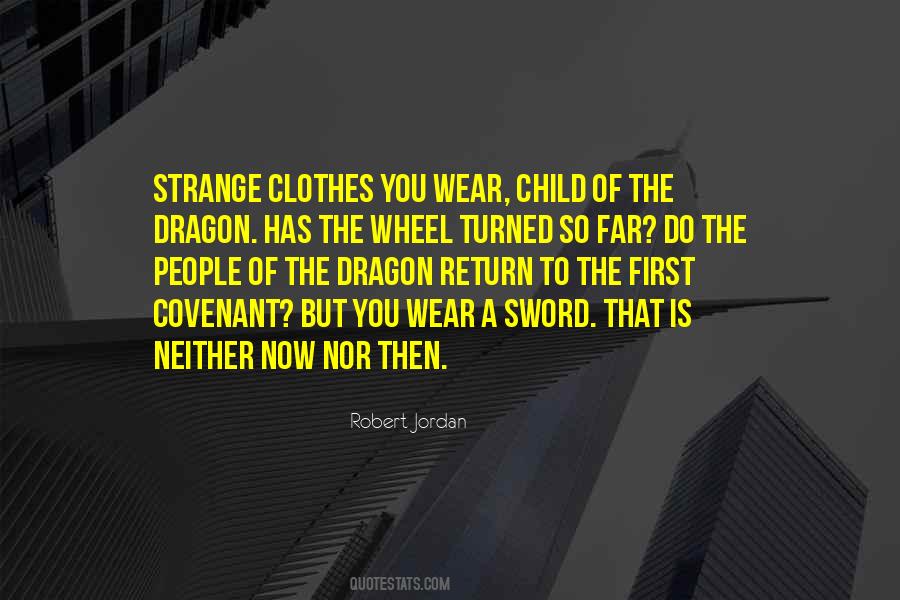 #86. Most Christians are still living with an Old Testament view of their heart. Jeremiah 17:9 says, 'My heart is deceitfully wicked.' No, it's not. Not after the work of Christ, because the promise of the new covenant is a new heart.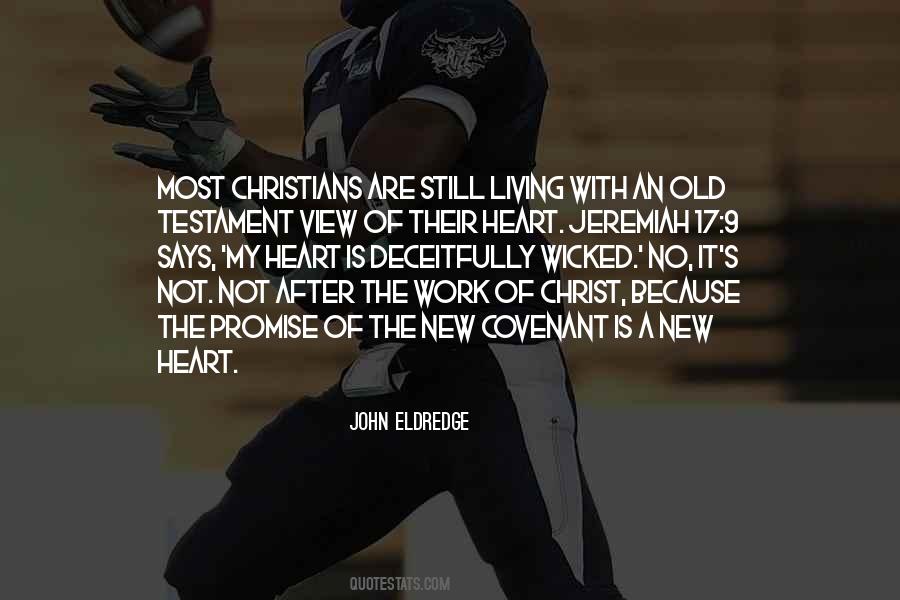 #87. As disciples of Christ, we have a sacred obligation to uphold His laws and commandments and the covenants which we take upon ourselves.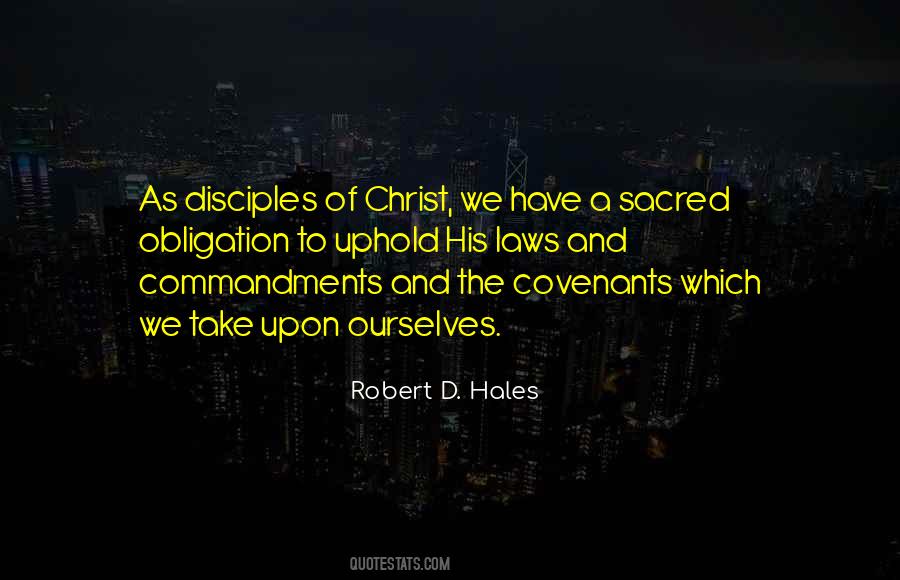 #88. The reason Christians get married "before the church" is not to give a religious appearance to the ceremony but because Christians hold the marriage covenant in the context of the community of the body of Christ. Seeking the support and counsel of family is an extension of this.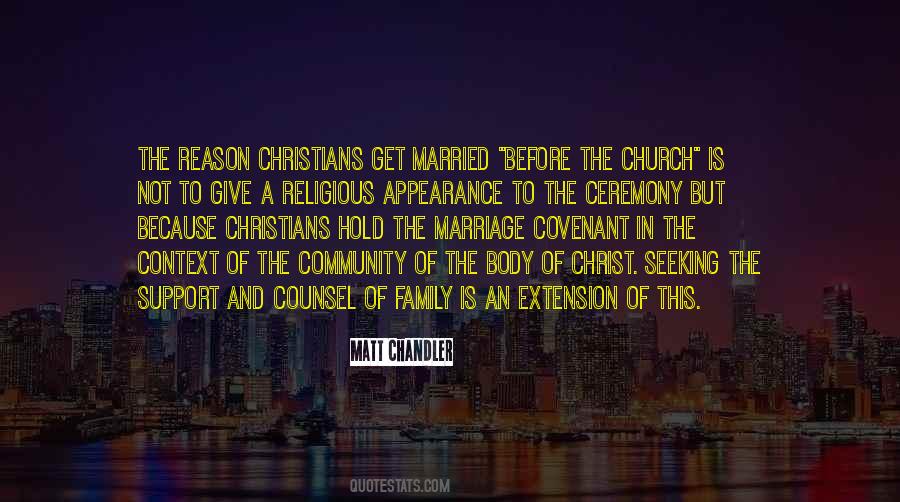 #89. When we realize that we are children of the covenant, we know who we are and what God expects of us.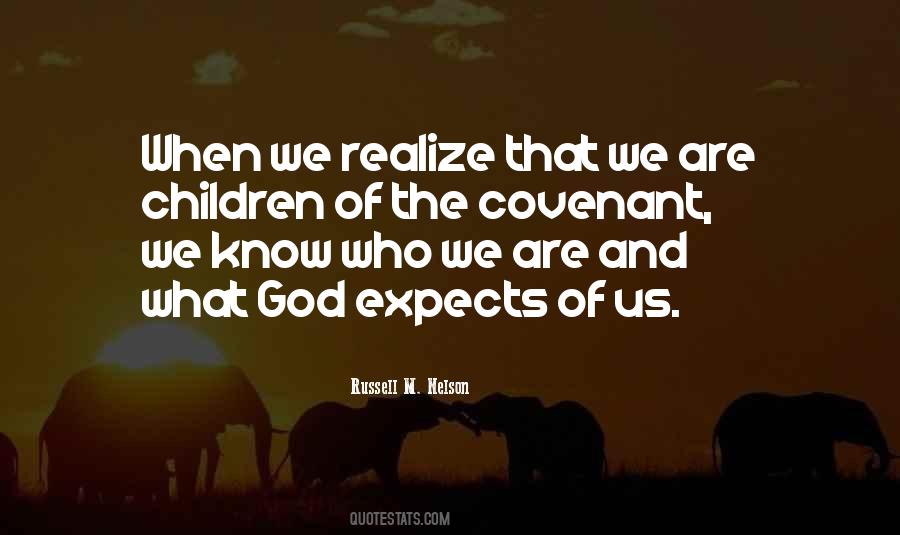 #90. The implementation measures of both Covenants, but especially those of the Covenant concerning civil and political rights, were considerably weakened to the point where they assumed an optional character.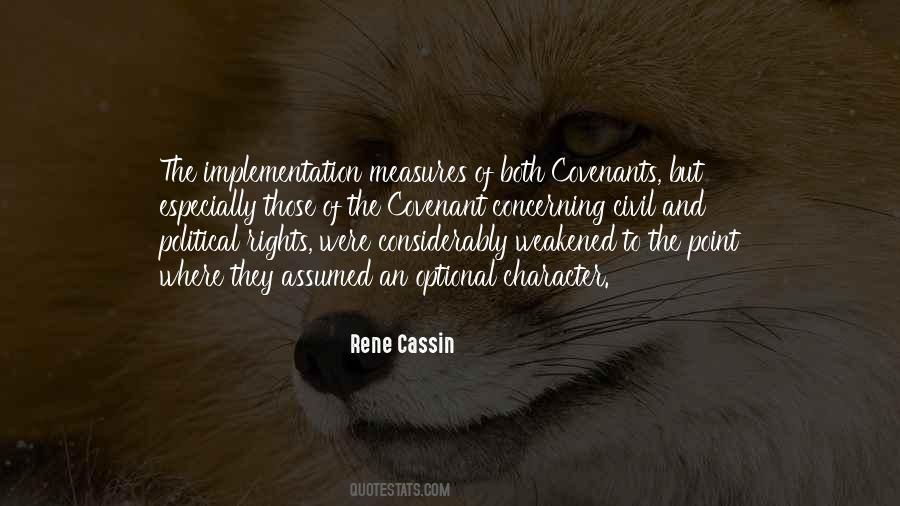 #91. Creation implies authority in the sense of originator. The possibility of a 'Fall' is implied in a Covenant insofar as the idea of a Covenant implies the possibility of its being violated.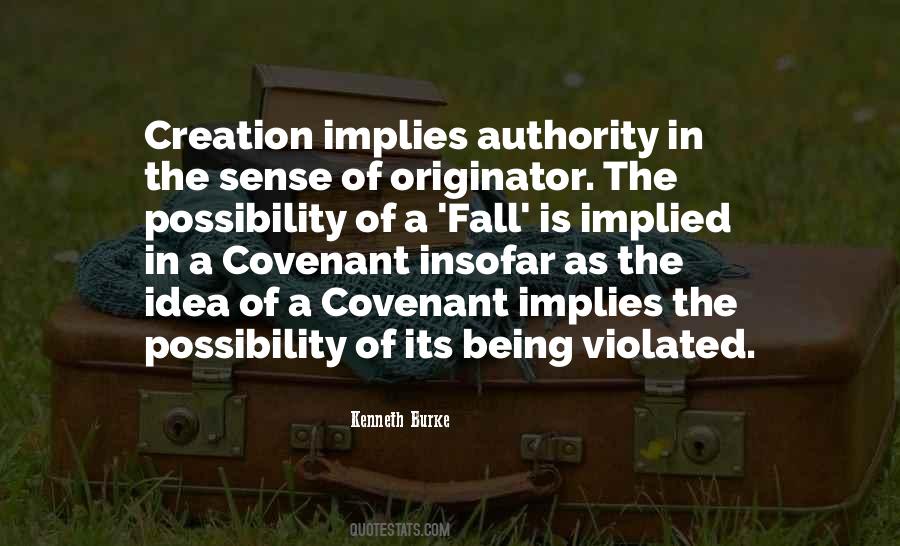 #92. When our children obey the Lord and go to the temple to receive their blessings and enter into the marriage covenant, they enter into the same order of the priesthood that God instituted in the very beginning with father Adam.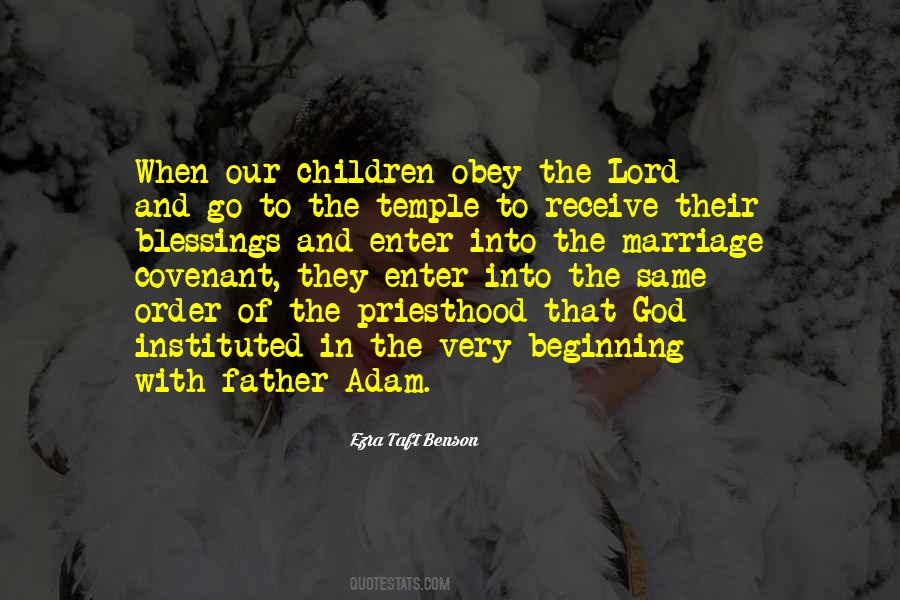 #93. Gods were like possums.
You could go your whole life without seeing one, but once you found one of them, you found the whole freaky family.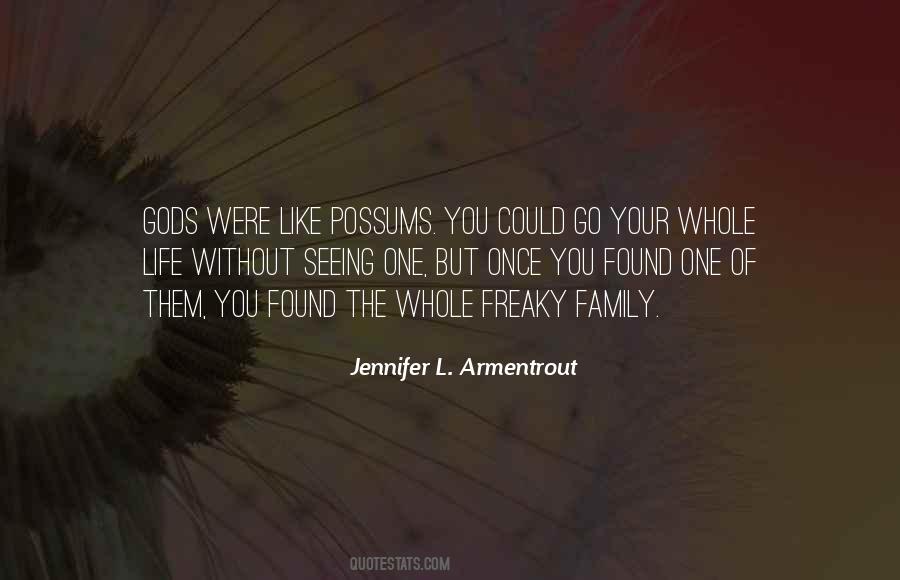 #94. Let us not give up. Let us be true to our covenants. Let us never lose sight of our Advocate and Redeemer as we walk toward Him, one imperfect step after another.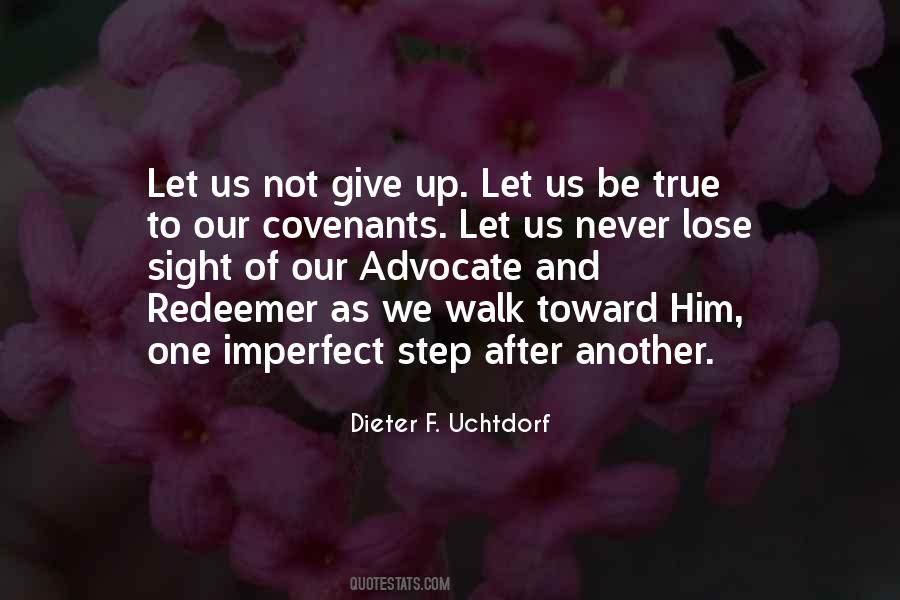 #95. covenant with Abraham, and will do well with you and your seed all the days.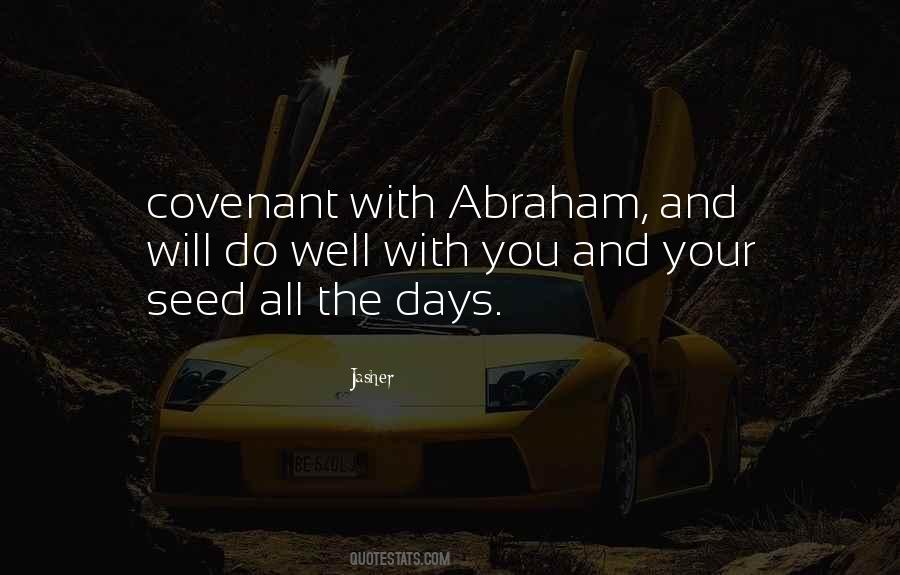 #96. The novel at its nineteenth-century pinnacle was a Judaized novel: George Eliot and Dickens and Tolstoy were all touched by the Jewish covenant: they wrote of conduct and of the consequences of conduct: they were concerned with a society of will and commandment.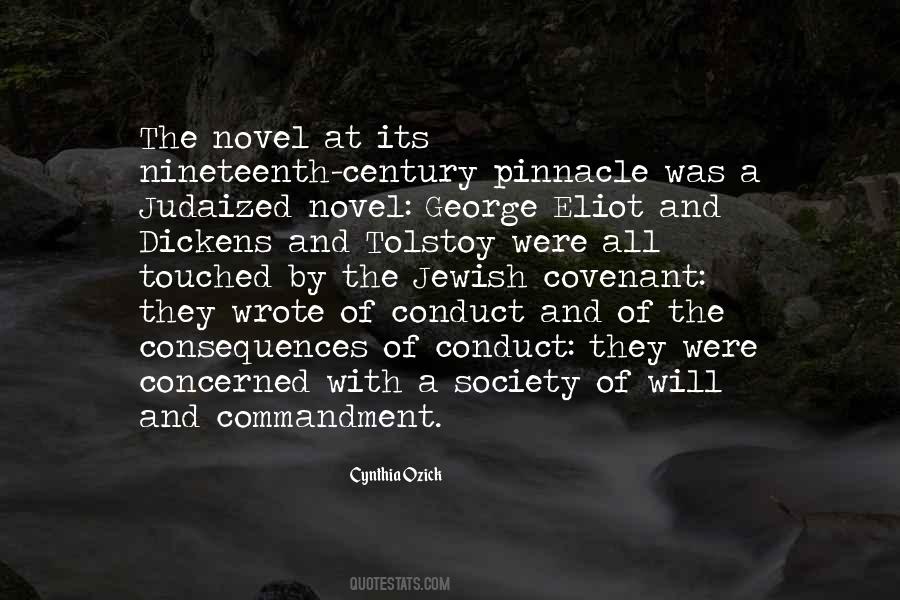 #97. After a hard frost a man might wake in the morning and find he was breaking a covenant.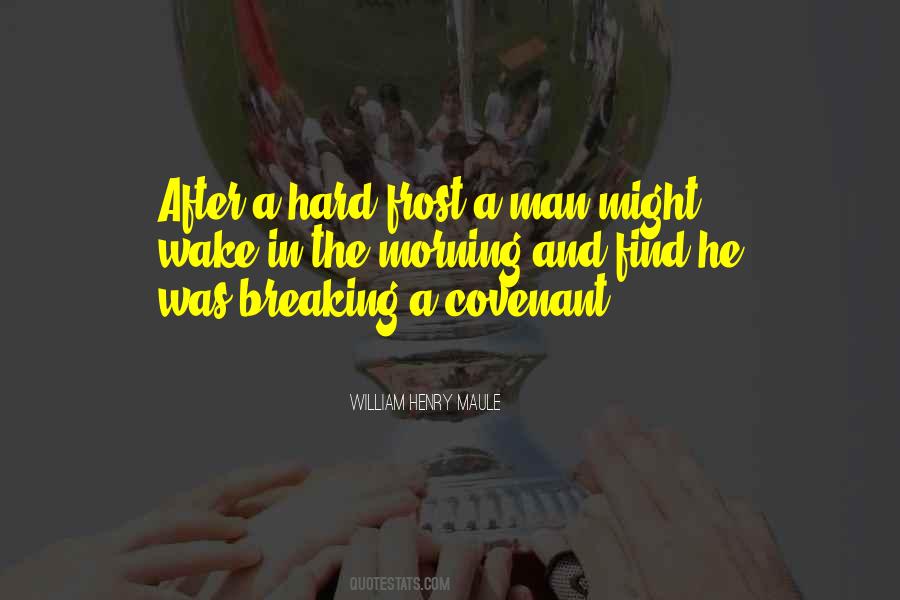 #98. It is still possible, after all, to forge a covenant that binds us not to God in obedience but to one another in mercy. We need only choose, this year, to keep the flame lit...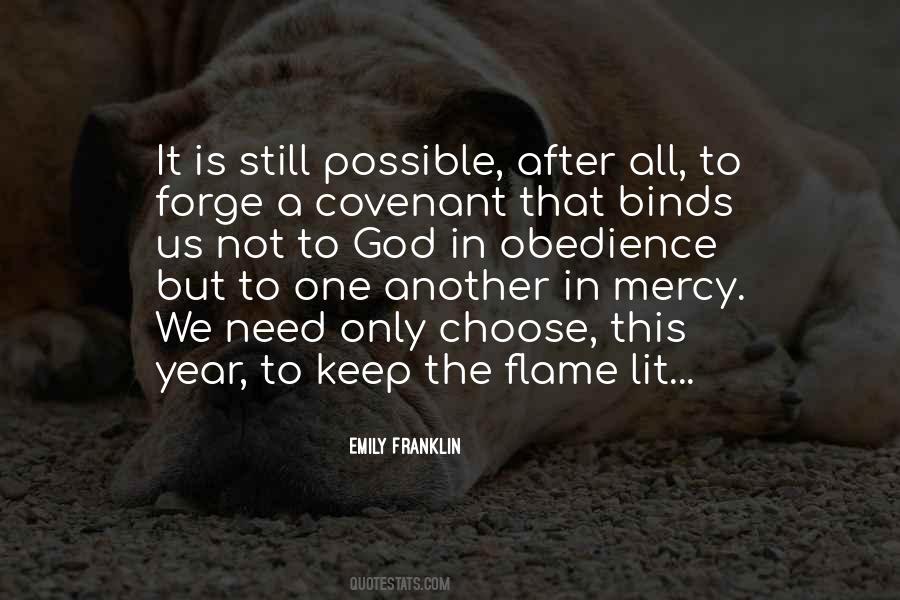 #99. Make covenants and receive ordinances for yourself. Then steadily and consistently work to provide ordinances in the temple for your own ancestors.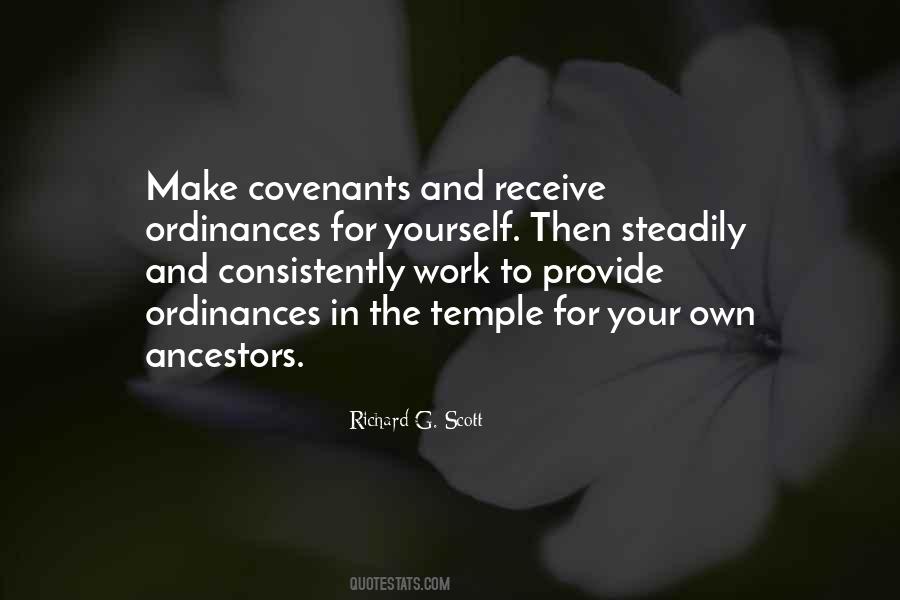 #100. Marriage ... is the most glorious and most exalting principle of the gospel of Jesus Christ. No ordinance is of more importance and none more sacred and more necessary to the eternal joy of man. Faithfulness to the marriage covenant brings the fullest joy here and glorious rewards hereafter.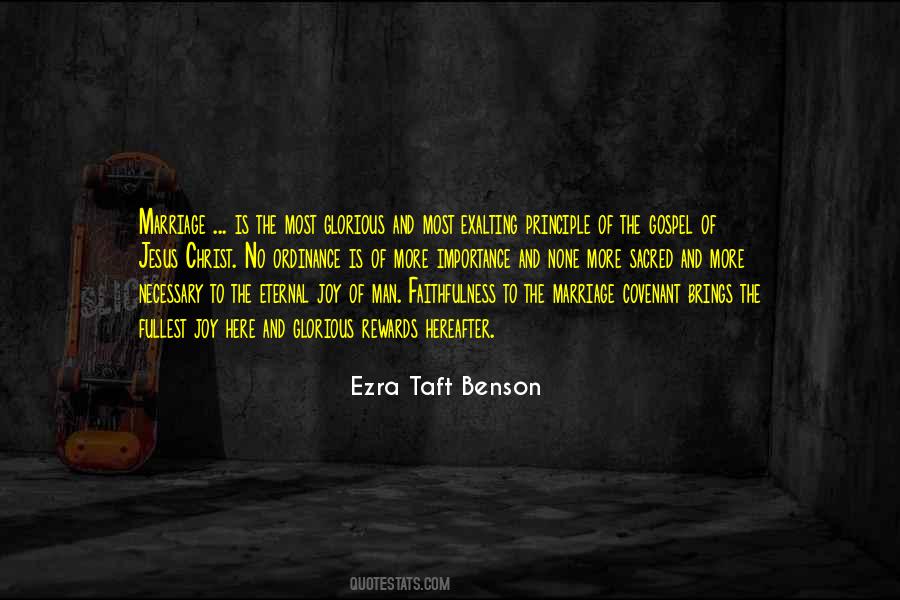 Famous Authors
Popular Topics