Character And Actions Famous Quotes & Sayings
List of top 74 famous quotes and sayings about character and actions to read and share with friends on your Facebook, Twitter, blogs.
Top 74 Quotes About Character And Actions
#1. There are two lives to each of us, the life of our actions, and the life of our minds and hearts. History reveals men's deeds and their outward characters, but not themselves. There is a secret self that has its own life, unpenetrated and unguessed. - Author: Edward Bulwer-Lytton, 1st Baron Lytton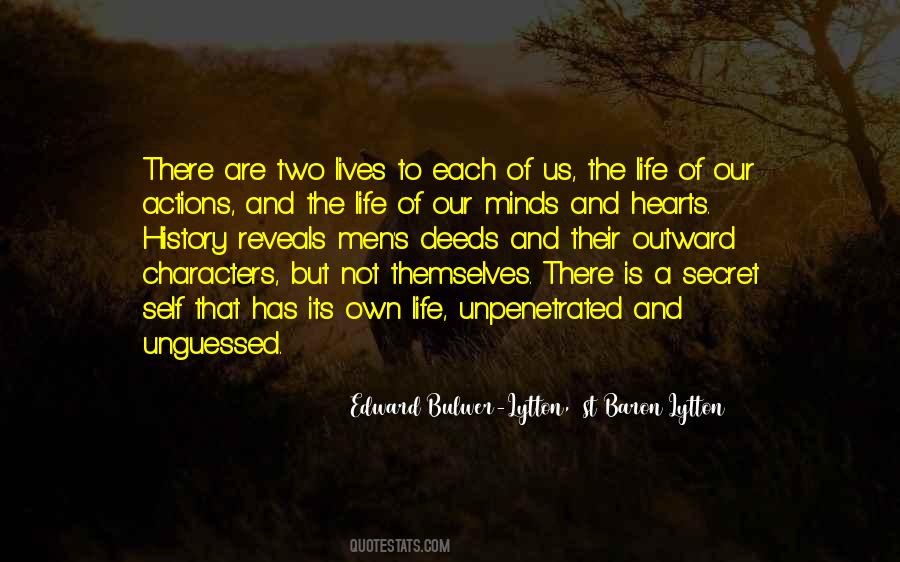 #2. The first glance at History convinces us that the actions of men proceed from their needs, their passions, their characters and talents; and impresses us with the belief that such needs, passions and interests are the sole spring of actions. - Author: Georg Wilhelm Friedrich Hegel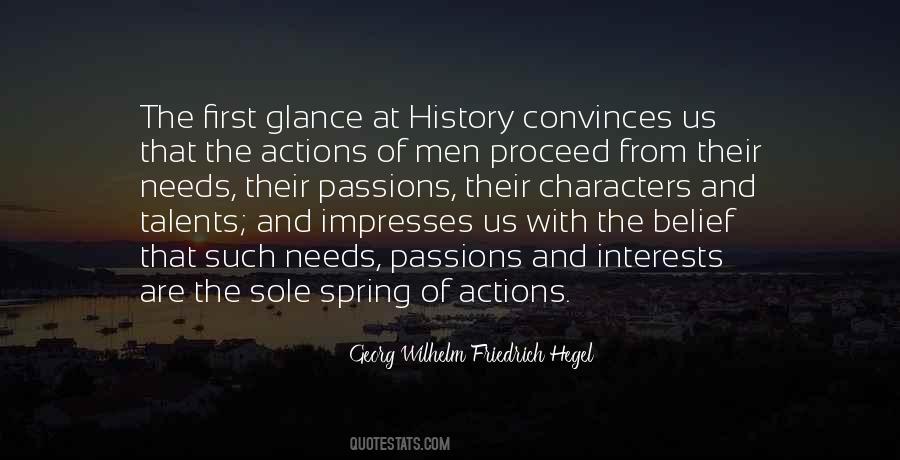 #3. Not only thinking and feeling are determined by man's character structure but also his actions. - Author: Erich Fromm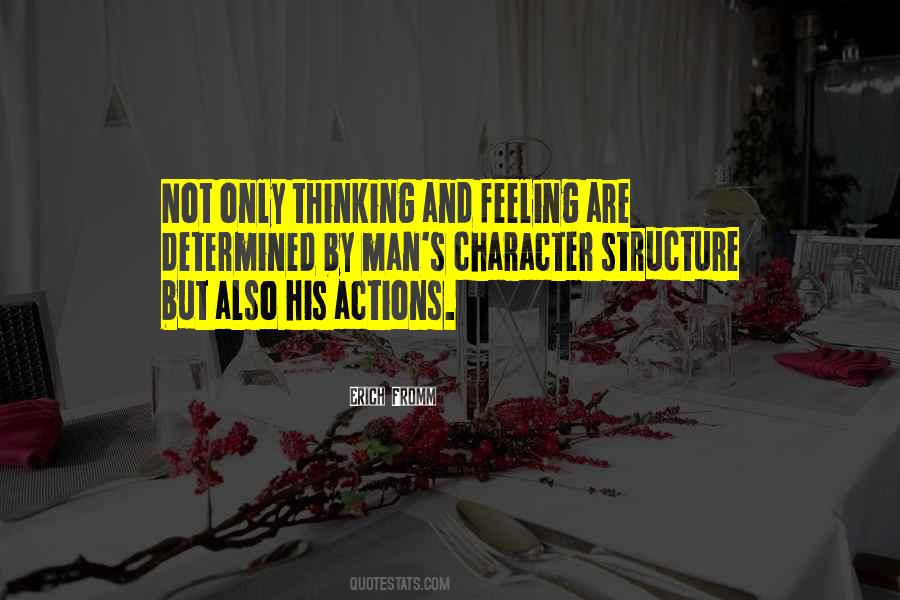 #4. You can speak with spiritual eloquence, pray in public, and maintain a holy appearance ... but it is your behavior that will reveal your true character. - Author: Steve Maraboli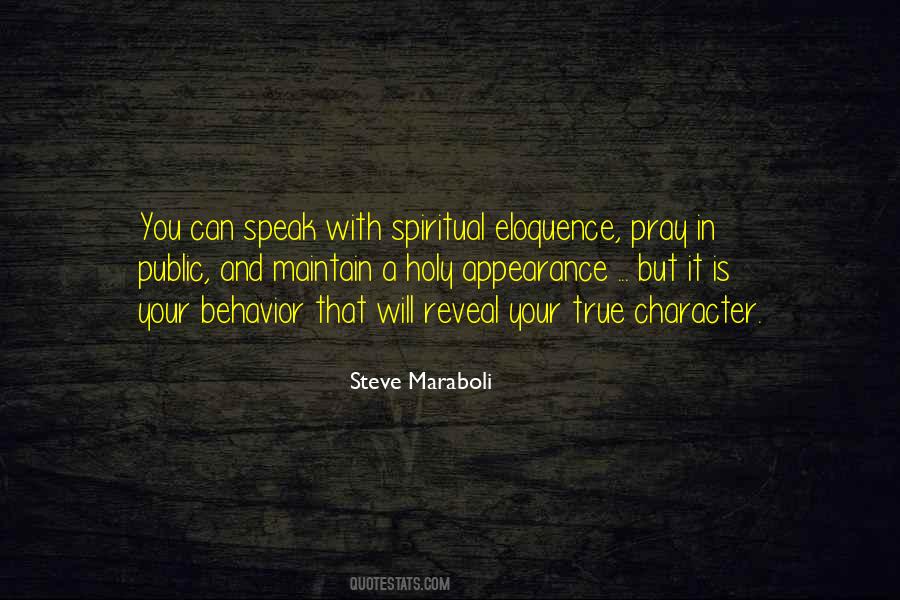 #5. Character teaches above our wills. Men imagine that they communicate their virtue or vice only by overt actions, and do not see that virtue or vice emit a breath every moment. There - Author: Ralph Waldo Emerson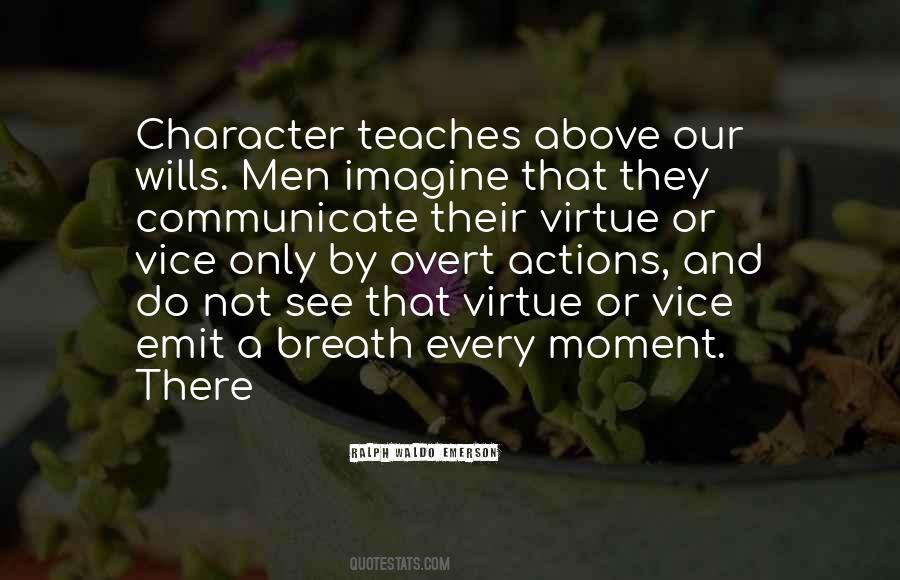 #6. A farce is that in poetry which grotesque (caricature) is in painting. The persons and actions of a farce are all unnatural, and the manners false, that is, inconsistent with the characters of mankind; and grotesque painting is the just resemblance of this. - Author: John Dryden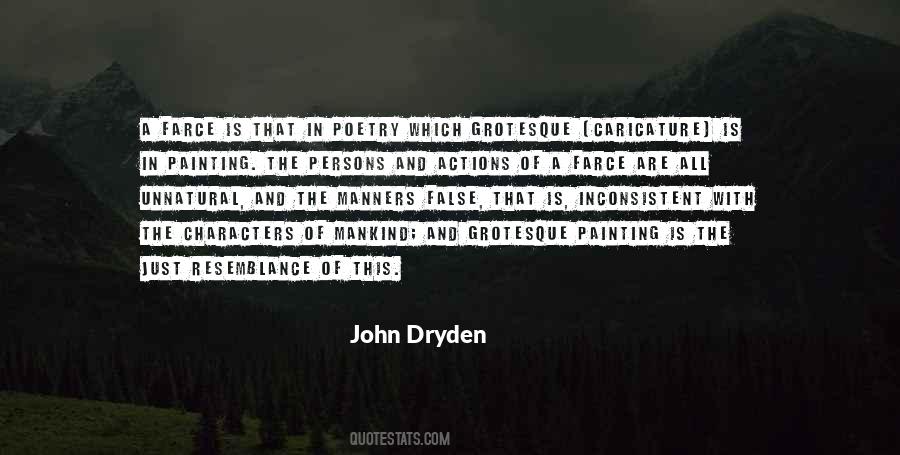 #7. The actions of our closest friends say a lot about our character - what we overlook, what we contribute to and what is important to us when the world doesn't take notice. - Author: Shannon L. Alder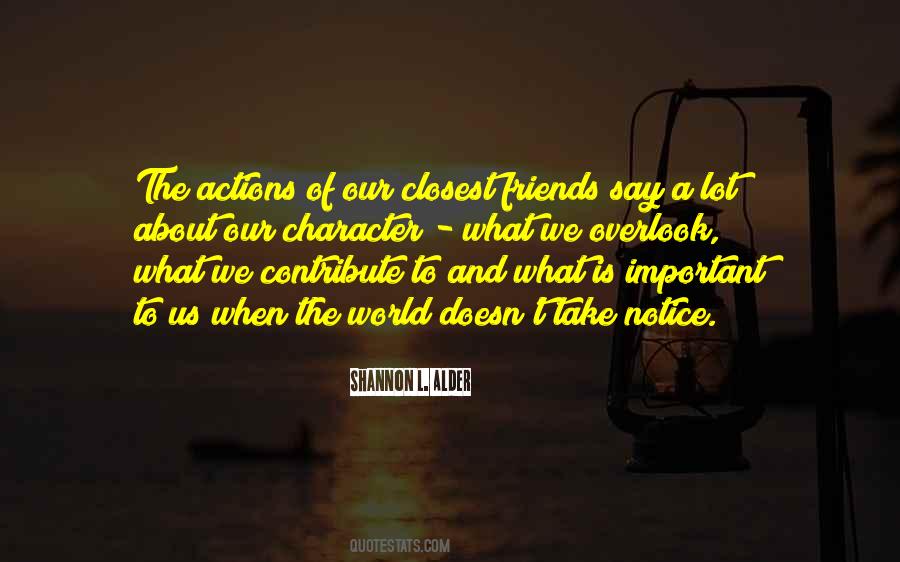 #8. The very essence of politeness is to take care that by our words and actions we make other people pleased with us as well as with themselves. - Author: Jean De La Bruyere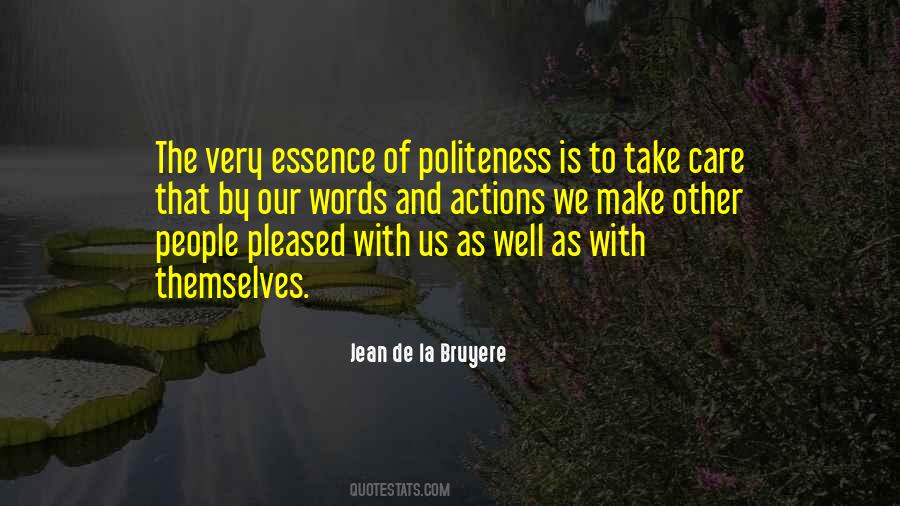 #9. I'd like to be taken in charge of as an actor, not to be abandoned with asinine dialogue and meaningless actions or stereotyped characters. I'd like to feel like I'm in a character driven story. - Author: Xavier Dolan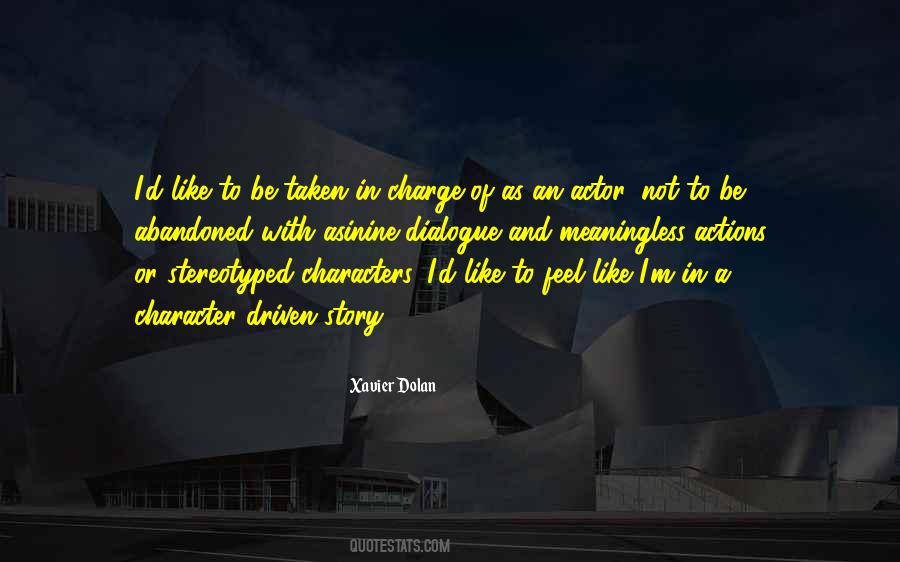 #10. [Since] a player controls every character, it is that player's intelligence that dictates the character's goals and actions, not an arbitrary number on a character sheet. Thus, in a sense, the player _is_ the character's "intelligence score"! - Author: Greg Stafford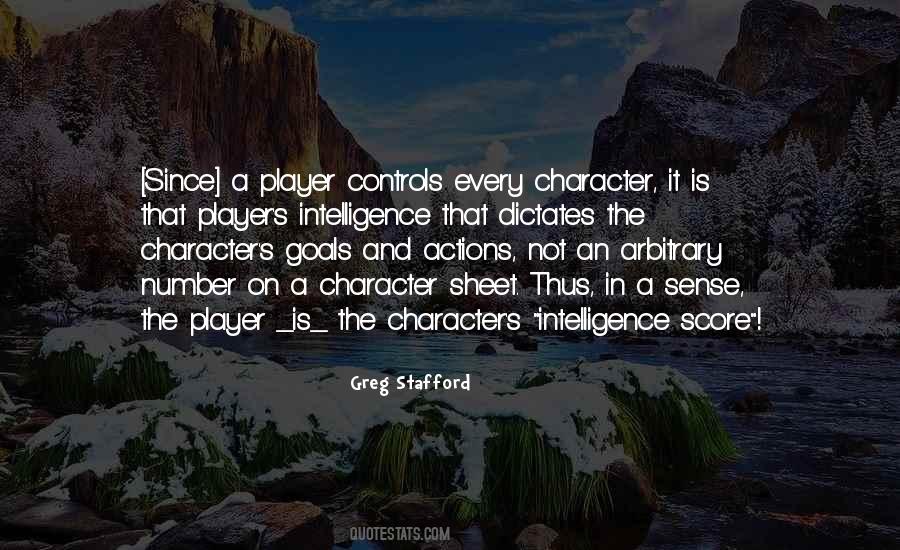 #11. Until a character becomes a personality it cannot be believed. Without personality, the character may do funny or interesting things, but unless people are able to identify themselves with the character, its actions will seem unreal. And without personality, a story cannot ring true to the audience. - Author: Walt Disney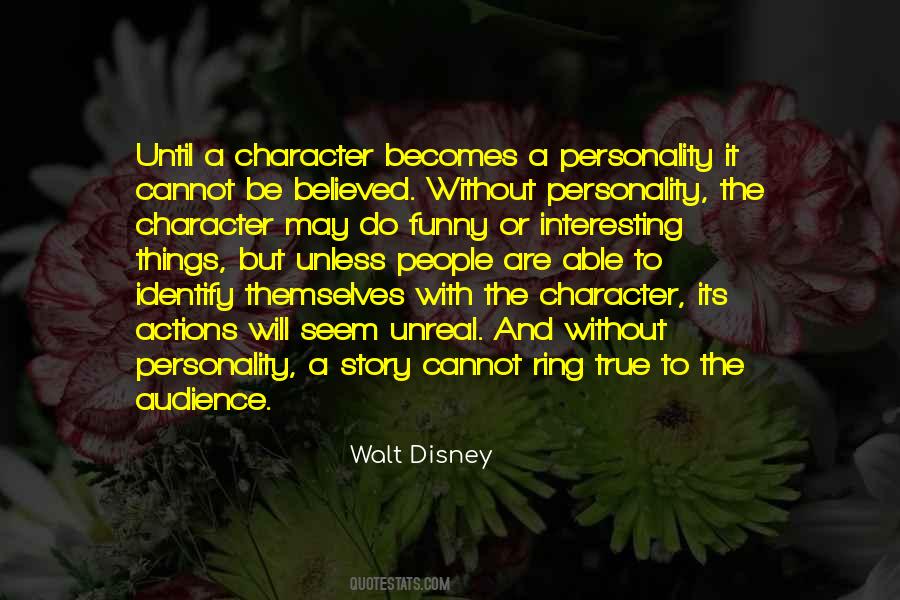 #12. Words reveal your beliefs and intentions. Actions reveal your character. When they are in alignment, they reveal your greatest life. - Author: Steve Maraboli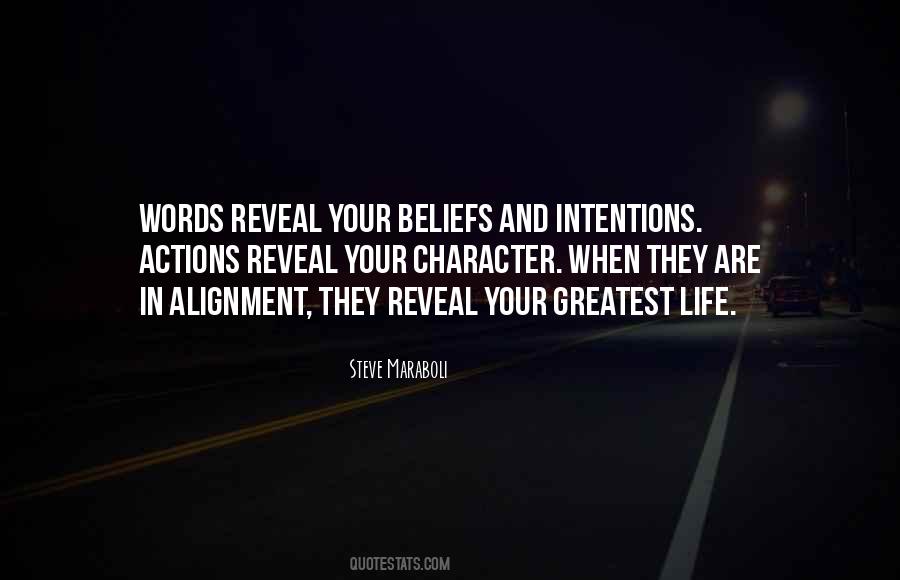 #13. Reputation is what people expect us to do next. It's their expectation of the quality and character of the next thing we produce or say or do.
We control our actions (even when it feels like we don't) and our actions over time (especially when we think no one is looking) earn our reputation. - Author: Seth Godin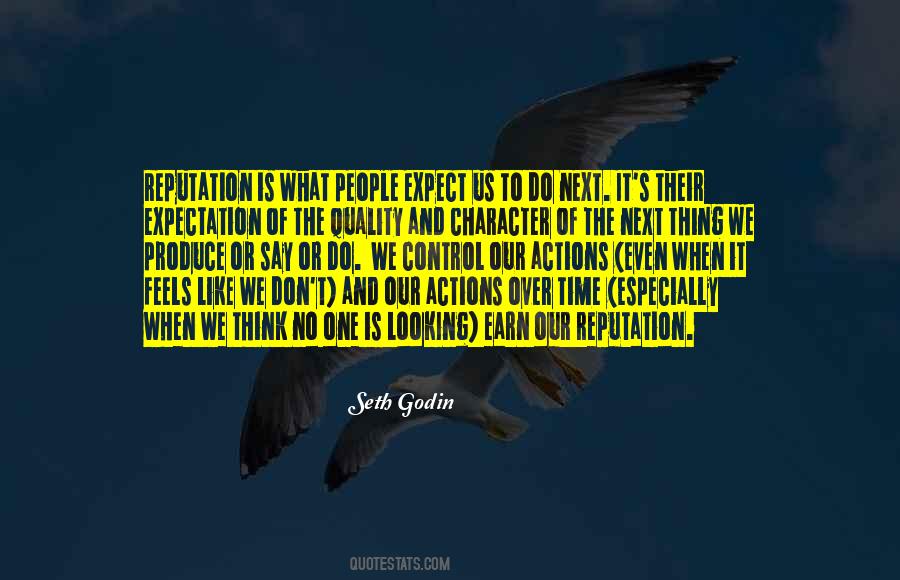 #14. In terms of whether my mom was influential, I think she instilled a certain way of thinking in me quite early: having a reflective mindset regarding my actions and trying to find the underlying reasons to behavior. I think that's quite helpful when you're trying to understand a character. - Author: Joel Kinnaman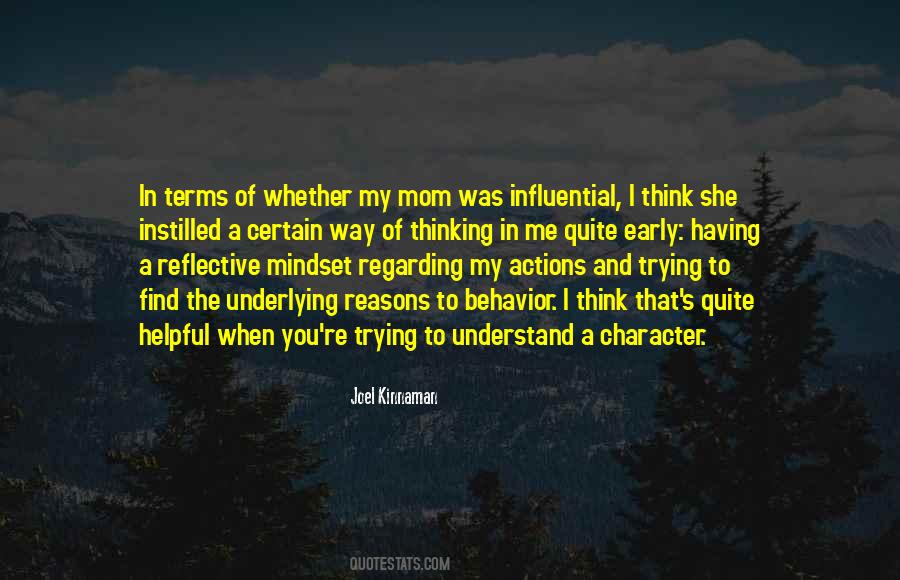 #15. The quality of a man is not determined by the opinions that others hold of him, nor by the opinions that he holds of himself. The quality of a man is determined only by his actions and the choices that he makes. Only that and that alone. - Author: C. JoyBell C.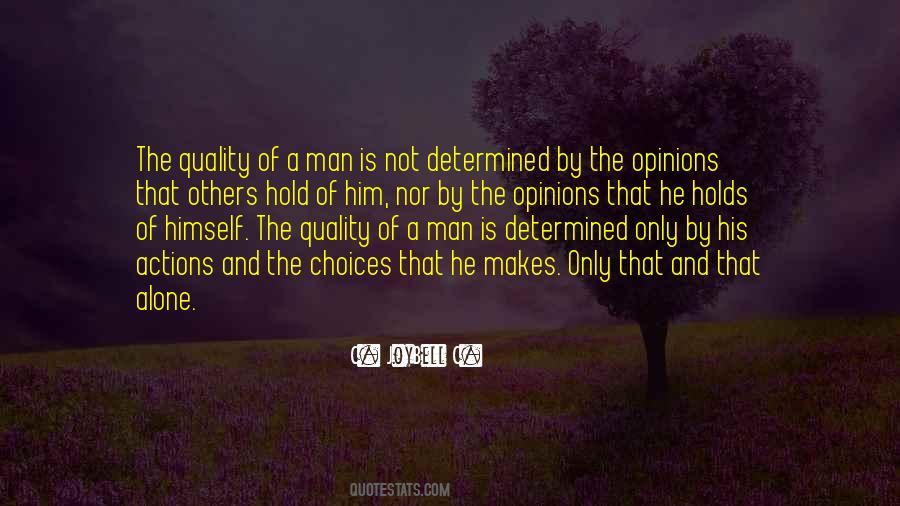 #16. Give yourself fully to your endeavors. Decide to construct your character through excellent actions and determine to pay the price of a worthy goal. The trials you encounter will introduce you to your strengths. - Author: Epictetus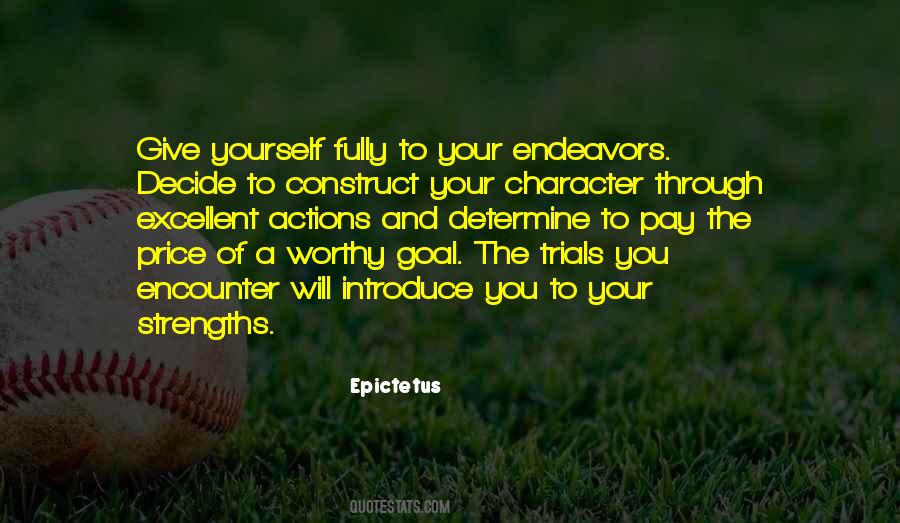 #17. We develop our whole character from our thoughts, actions, attentive observations, and from the resolute pursuit of our inspirational dreams. - Author: Kilroy J. Oldster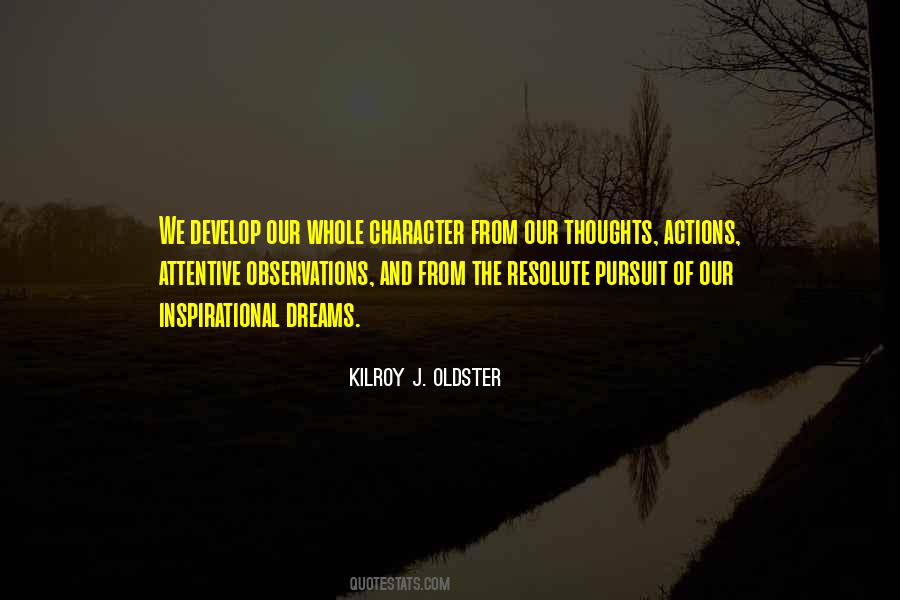 #18. If habits, lifestyles, or personalities are fruits, then the thoughts, words, or actions are seeds. Change your seeds and the fruits will change accordingly. This can a flow like this. Thoughts -> Words -> Actions -> Habits -> Character -> Destiny. - Author: Ilchi Lee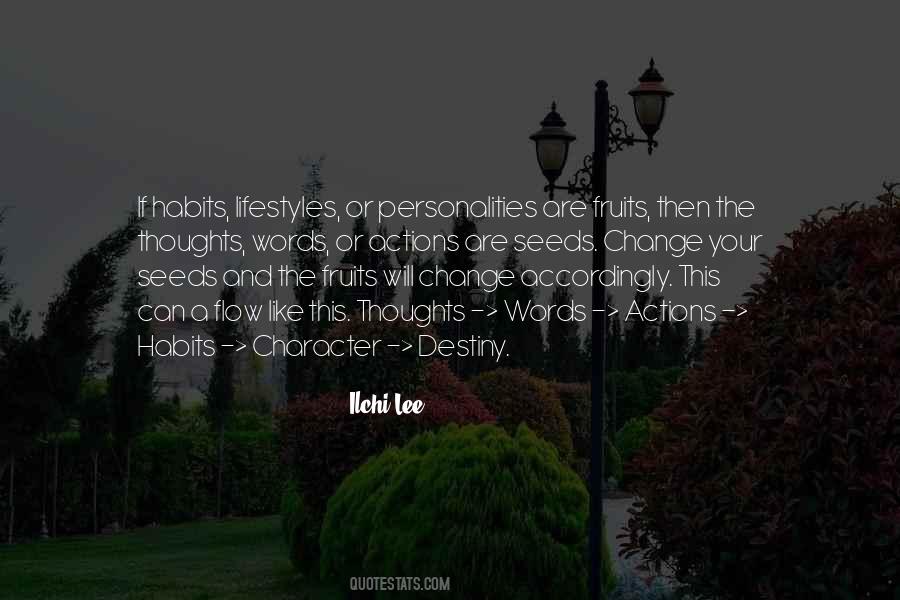 #19. When values, thoughts, feelings, and actions are in alignment, a person becomes focused and character is strengthened. - Author: John C. Maxwell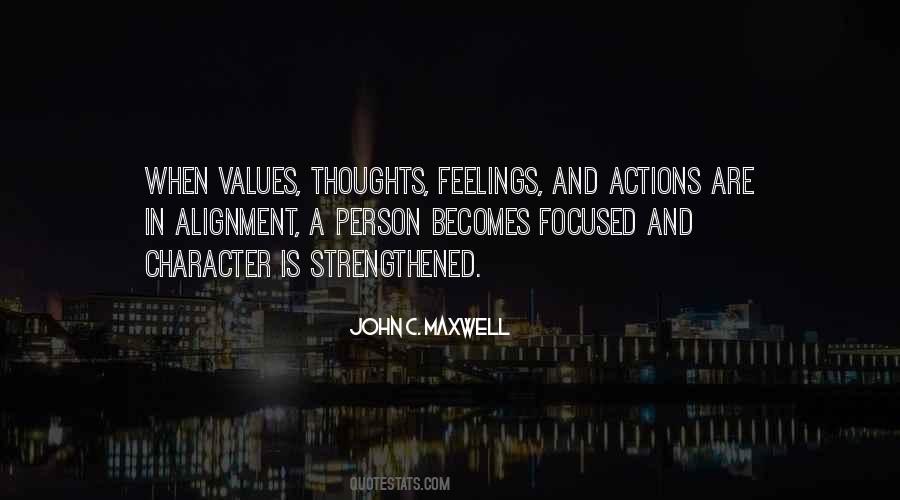 #20. All your scholarship would be in vain if at the same time you do not build your character and attain mastery over your thoughts and your actions. - Author: Mahatma Gandhi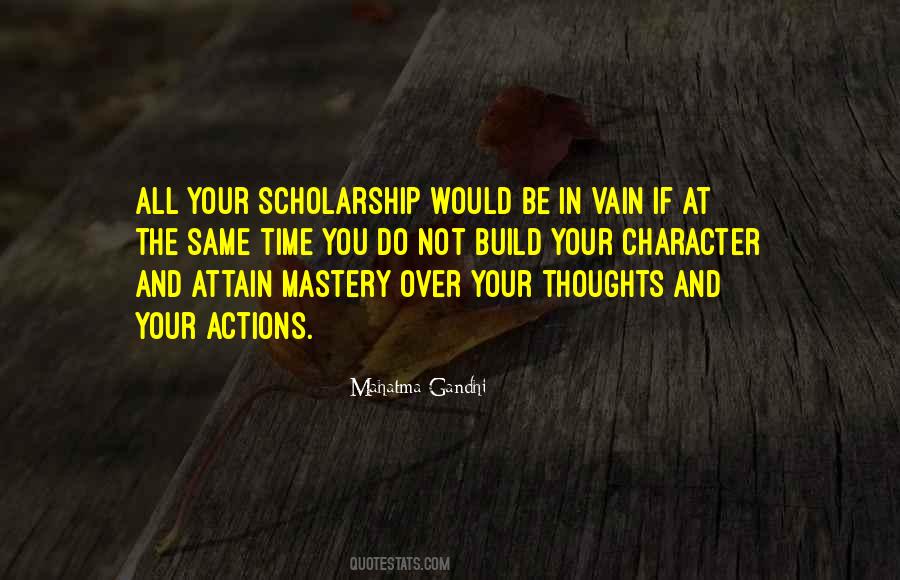 #21. The character of a whole society is the cumulative result of countless small actions, day in and day out, of millions of persons. - Author: Duane Elgin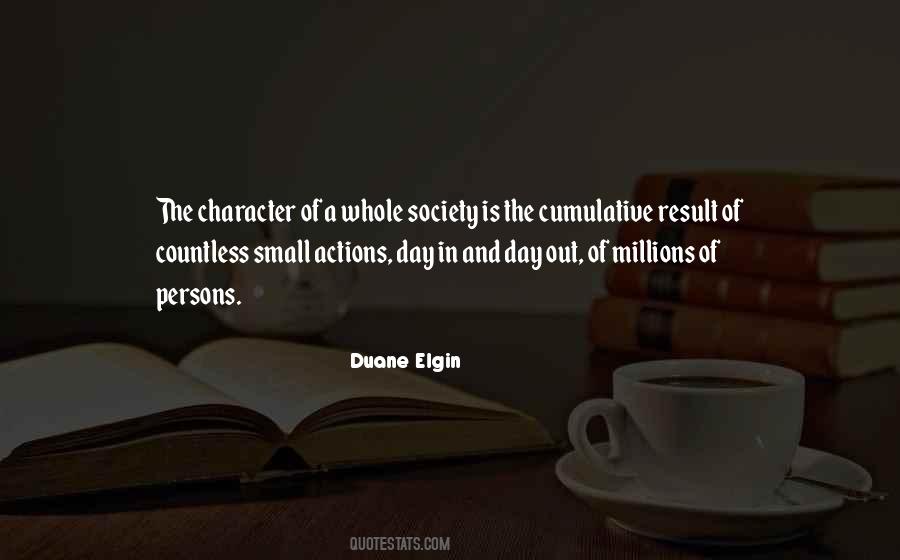 #22. Thinking is the place where intelligent actions begin. We pause long enough to look more carefully at a situation, to see more of its character, to think about why it's happening, to notice how it's affecting us and others. - Author: Margaret J. Wheatley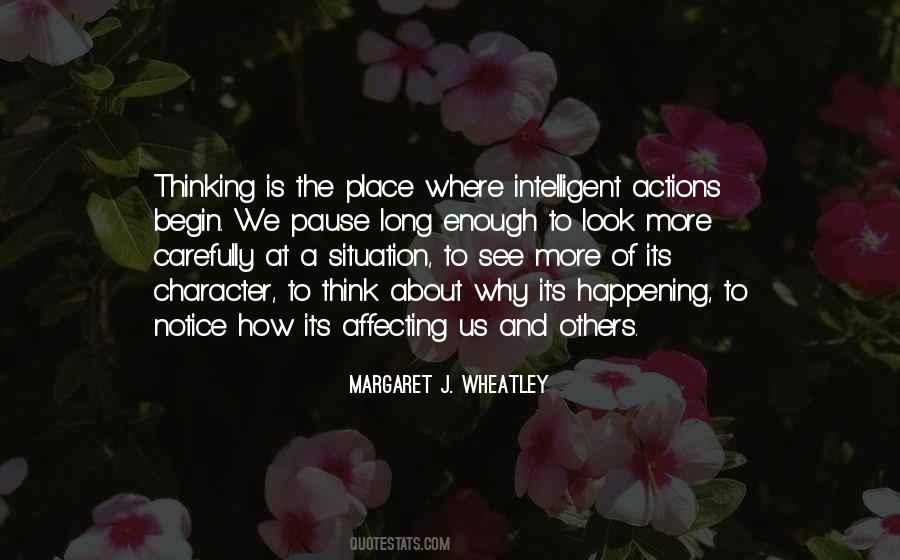 #23. My life up until my illness could be understood as the linear sum of my choices. As in most modern narratives, a character's fate depended on human actions, his and others. - Author: Paul Kalanithi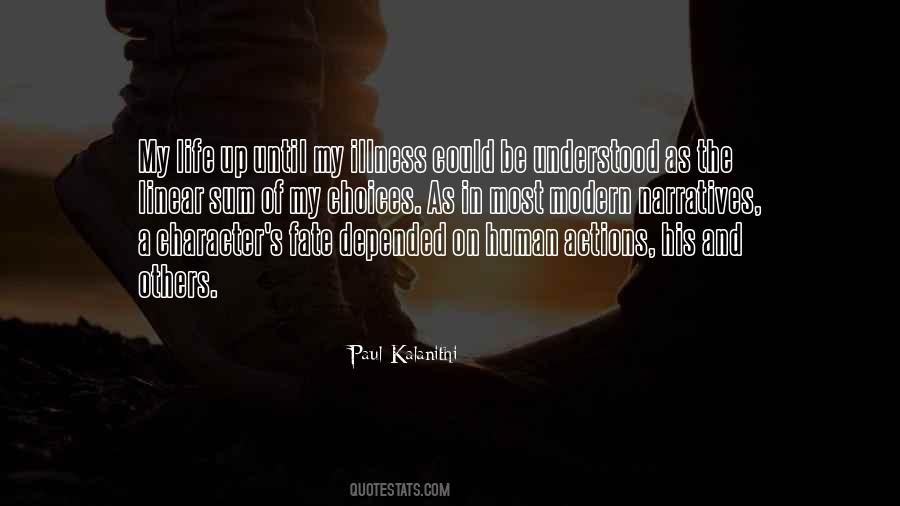 #24. Nothing affects the heart like that which is purely from itself, and of its own nature; such as the beauty of sentiments, the grace of actions, the turn of characters, and the proportions and features of a human mind. - Author: Anthony Ashley Cooper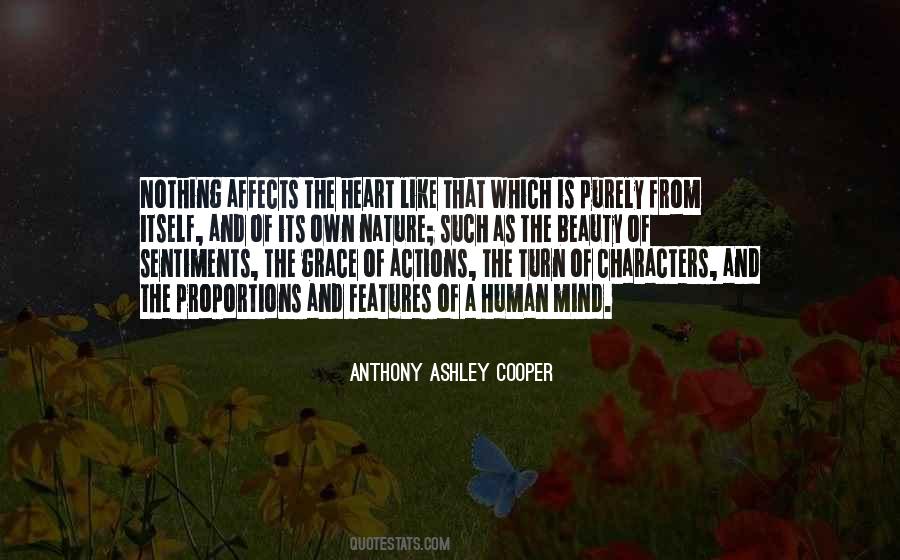 #25. Character is the measure of our freedom from the tyranny of our instincts. It is the space we create between our urges and our actions. - Author: Valson Thampu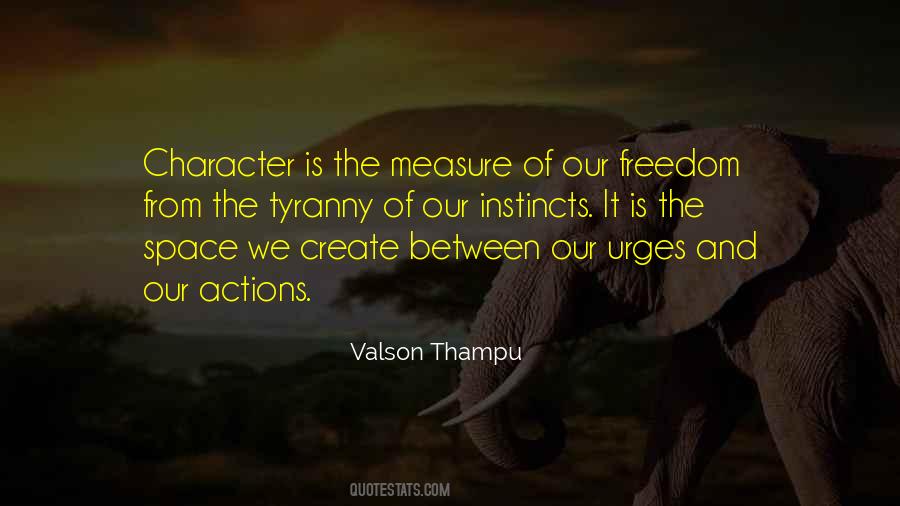 #26. [We need] someone bold, to put himself at the head of the disaffected and rally them against the oppressor. Some great character who could captivate the people ... someone wise who could direct the actions of an unbridled and floating multitude. - Author: Jean-Paul Marat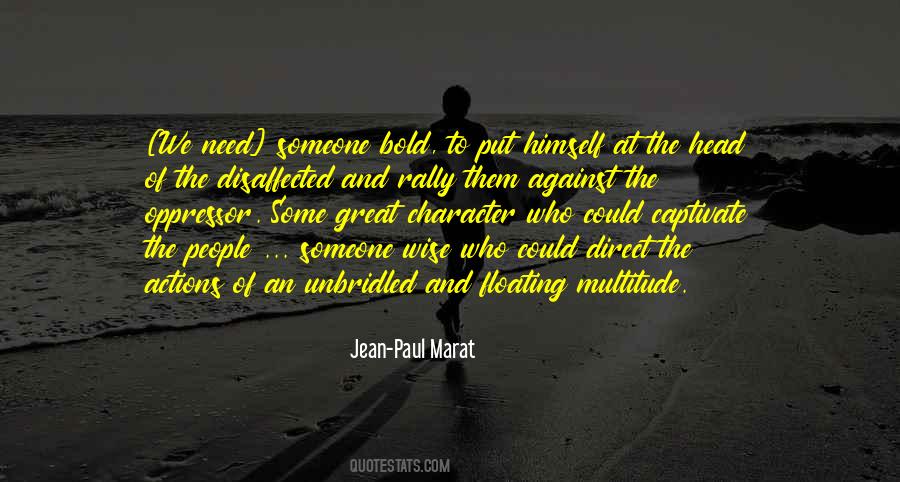 #27. The gap between intentions and actions is character. - Author: Orrin Woodward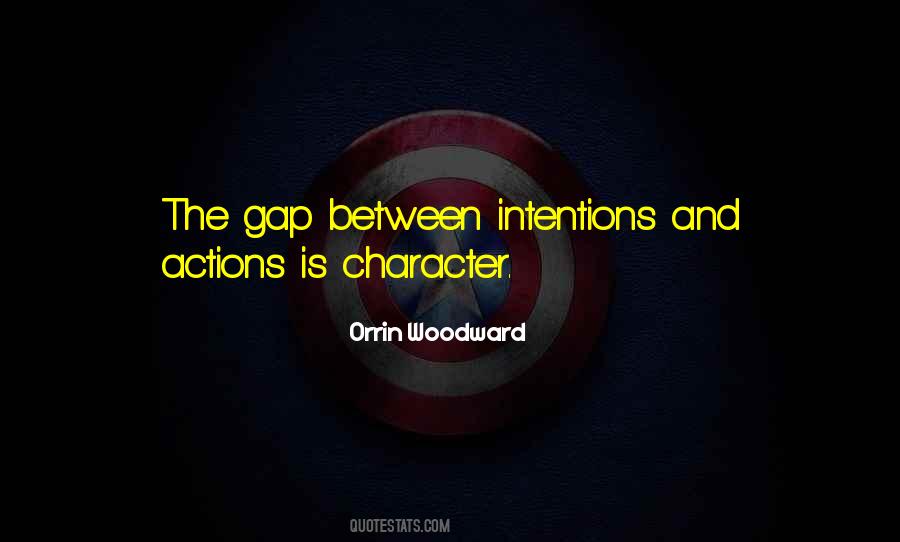 #28. Character is one factor that will guide all our actions and decisions.
We invested in uncompromising integrity that helped us take difficult stands in some of the most difficult business situations. - Author: Azim Premji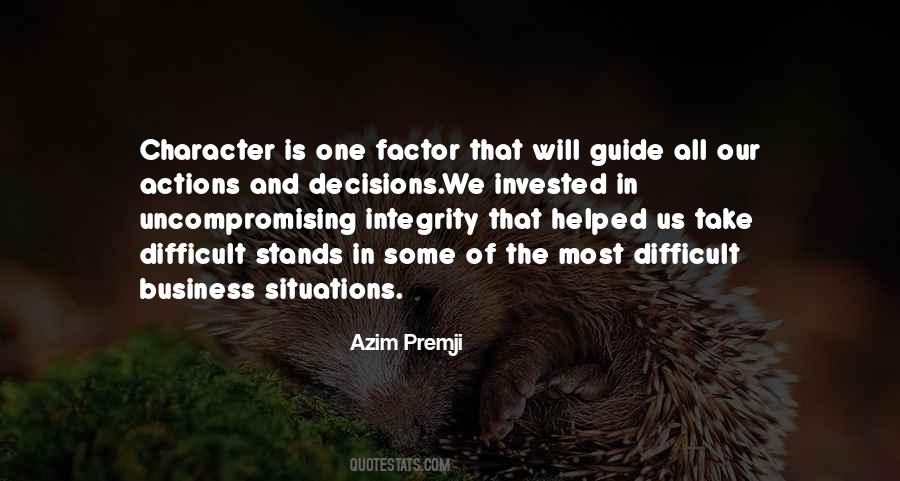 #29. The shadow of a character is defined by its maker...while a heroine is personified by its actions and relatability. So writers can create a world with a heroine that has impact and finish with everessence lights at the dims of its shadows - Author: Raquelle Stepney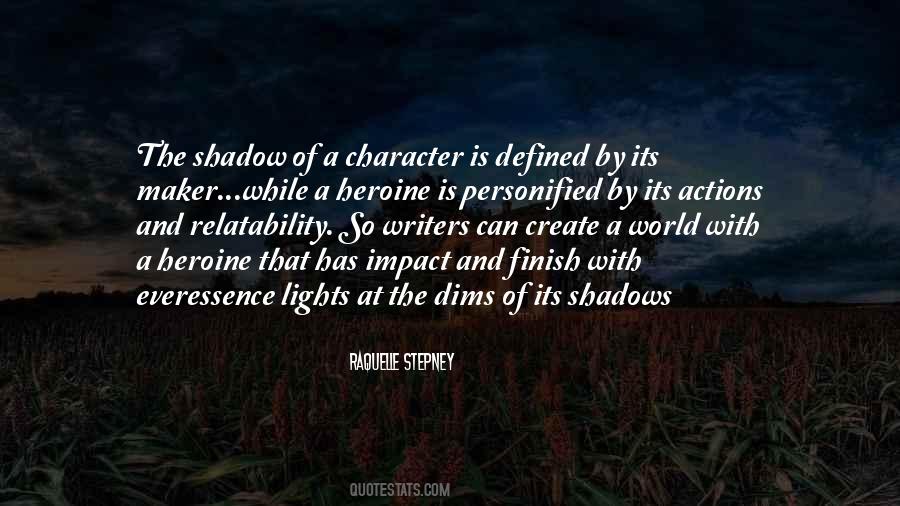 #30. My self-wroth is not linked to your cruel words and actions.

My self-esteem is not affected by your deliberate attempts to destroy my character.

You have no power over me.

You will not silence me. - Author: Marina Cohen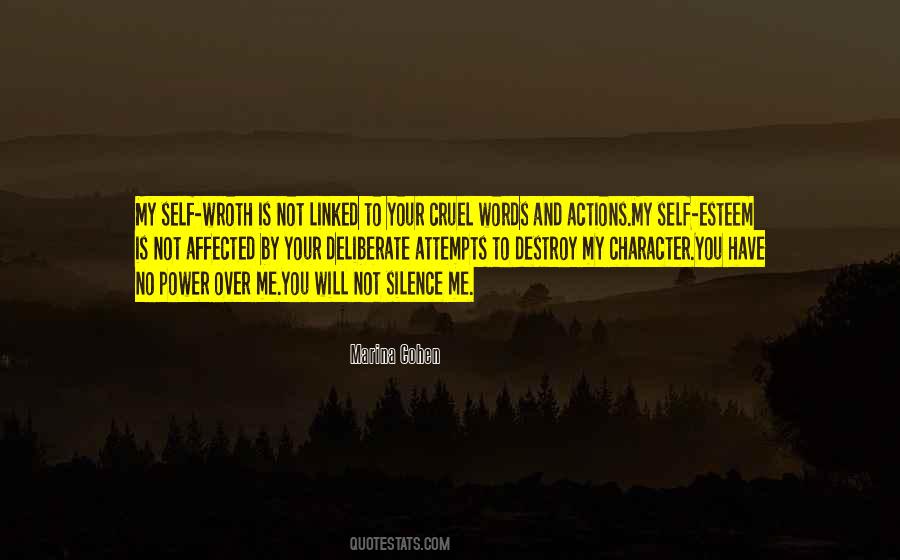 #31. Everyone who comes within the reach of your knowledge is, as it were, on trial in your mind. It is easy to be an unjust, ignorant, and even a merciless judge. The real character of the actions of others depends in great measure on the motives that prompt them, and these motives are unknown to you. - Author: Lawrence G. Lovasik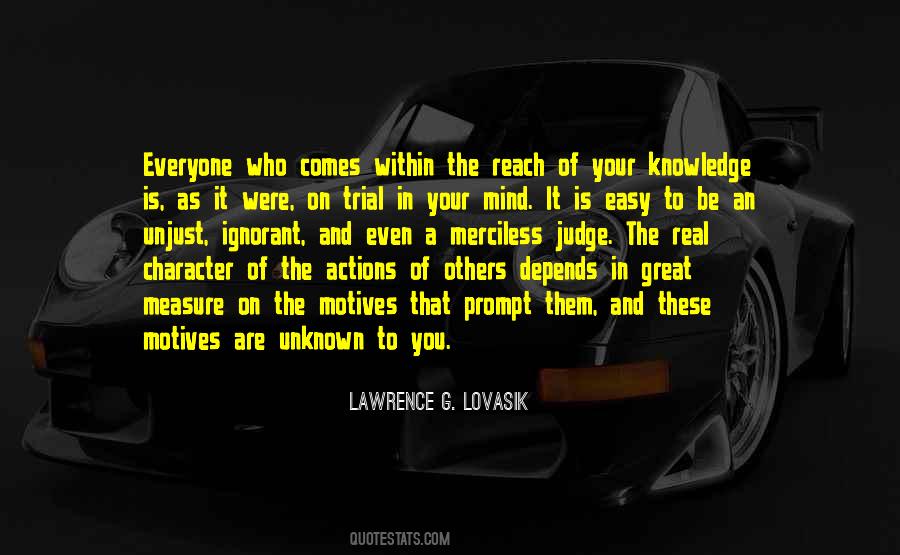 #32. Accountability is not consequences, but ownership. It is a character trait, a life stance, a willingness to own your actions and results regardless of the circumstances. In - Author: Brian P. Moran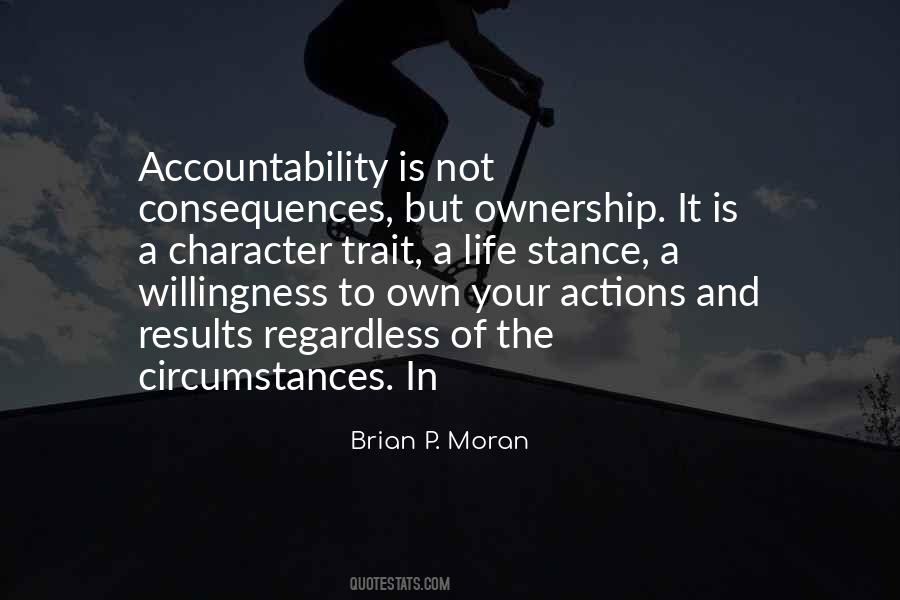 #33. It is the duty of men to judge men only by their actions. Our faculties furnish us with no means of arriving at the motive, the character, the secret self. We call the tree good from its fruits, and the man, from his works. - Author: Ralph Waldo Emerson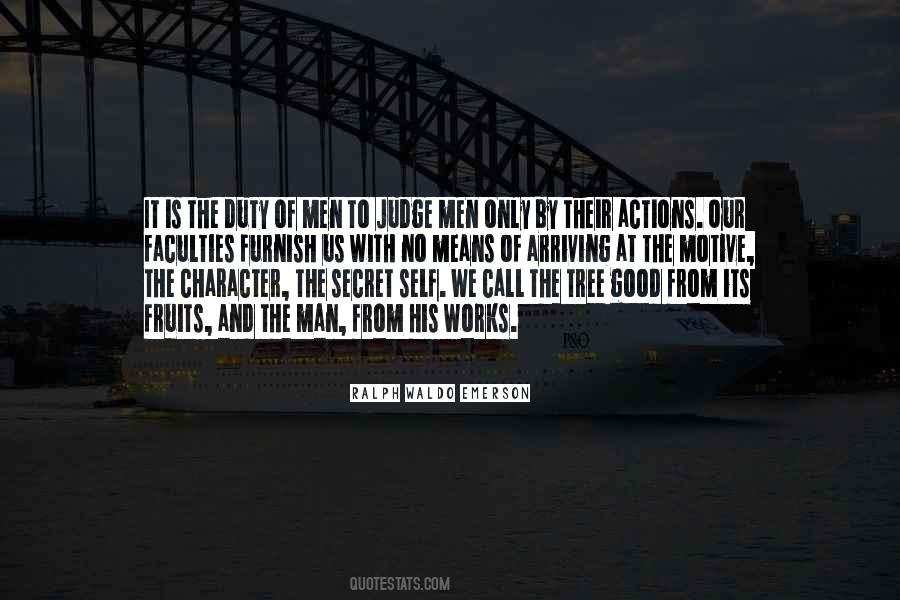 #34. I have one outstanding trait in my character, which must strike anyone who knows me for any length of time, and that is my self-knowledge. I can watch myself and my actions, just like an outsider. - Author: Francine Prose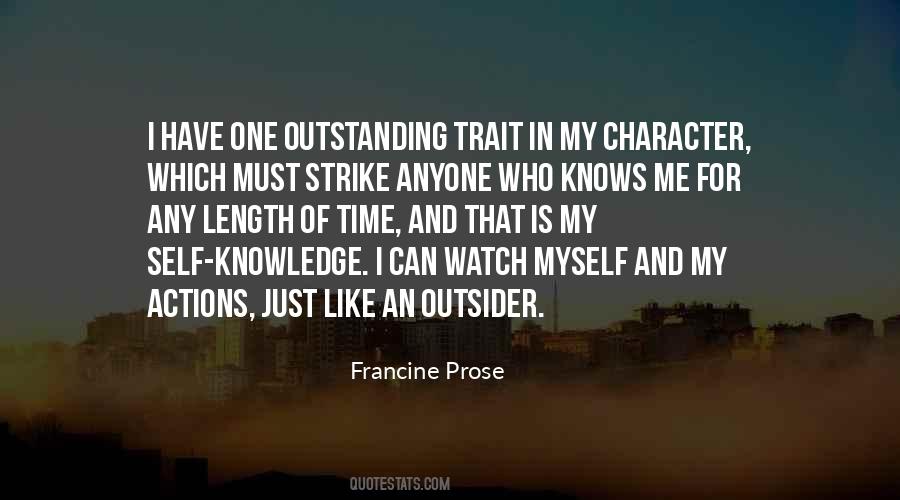 #35. Show enough backstory to allow the reader to glean and make assumptions about what remains behind the curtain of time, yet continues to influence the character's worldview, attitudes, decisions, and actions. - Author: Larry Brooks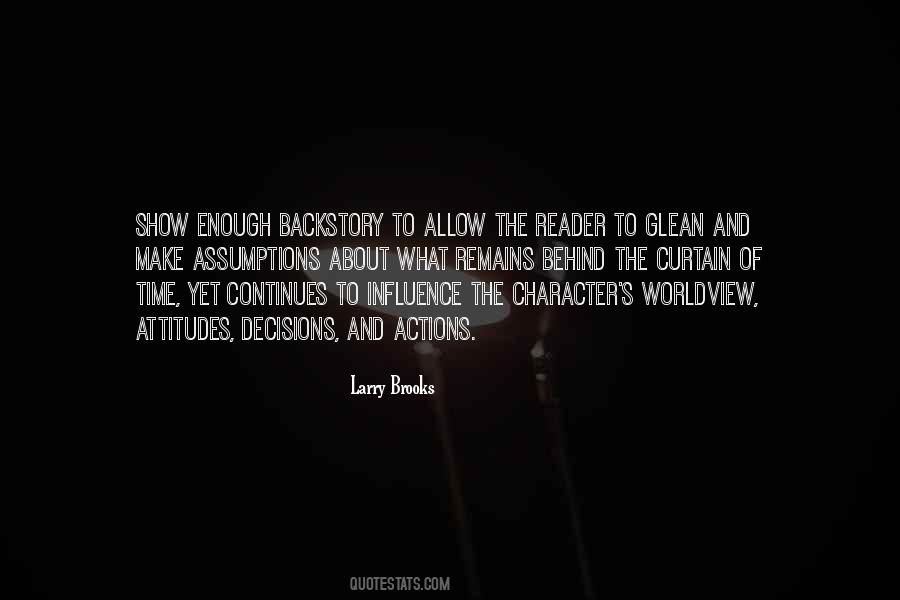 #36. In our animation we must show only the actions and reactions of a character, but we must picture also with the action ... the feeling of those characters. - Author: Walt Disney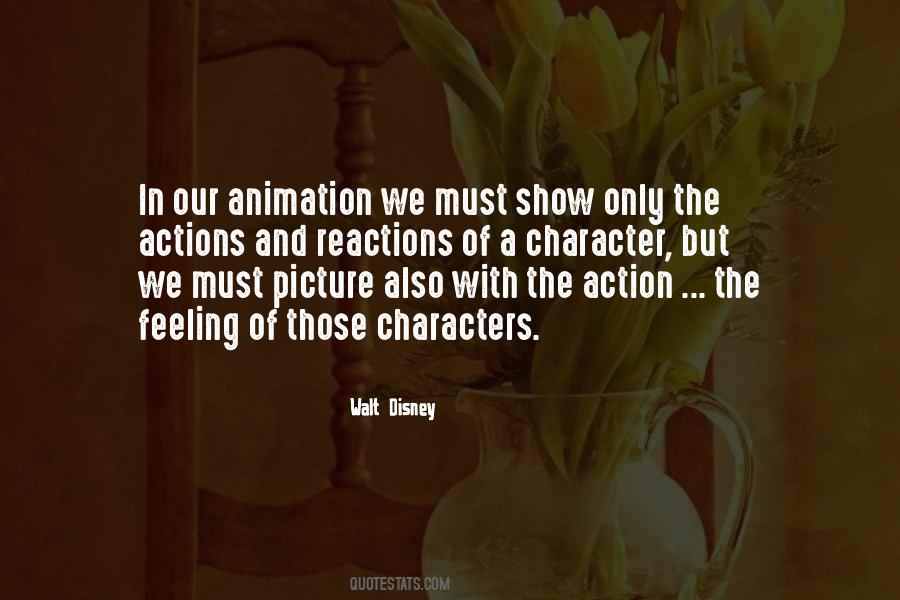 #37. Nothing is more human than substituting the quantity of words and actions for their character. But using imprecise words is very similar to using lots of words, for the more imprecise a word is, the greater the area it covers. - Author: Robert Musil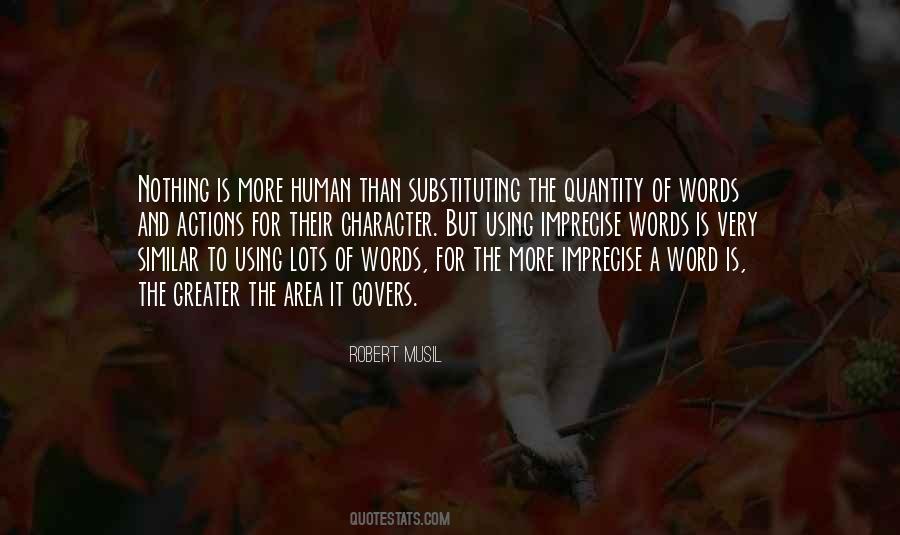 #38. Can a literary character be said to live a life from birth to death or otherwise to undergo a development from beginning to end? Or is a literary character-fixed on the pages of a book, trapped forever in the same few words and actions-the very opposite of a living, developing human being? - Author: Jack Miles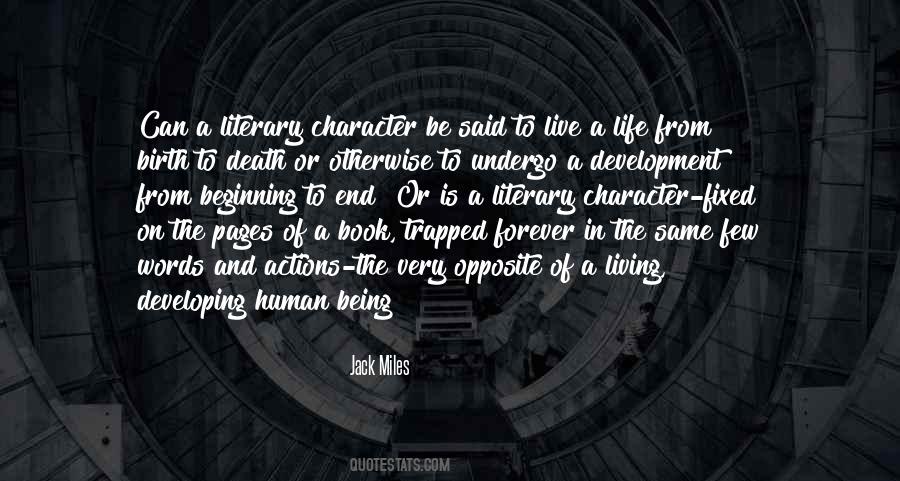 #39. Your actions and values define you. - Author: Fennel Hudson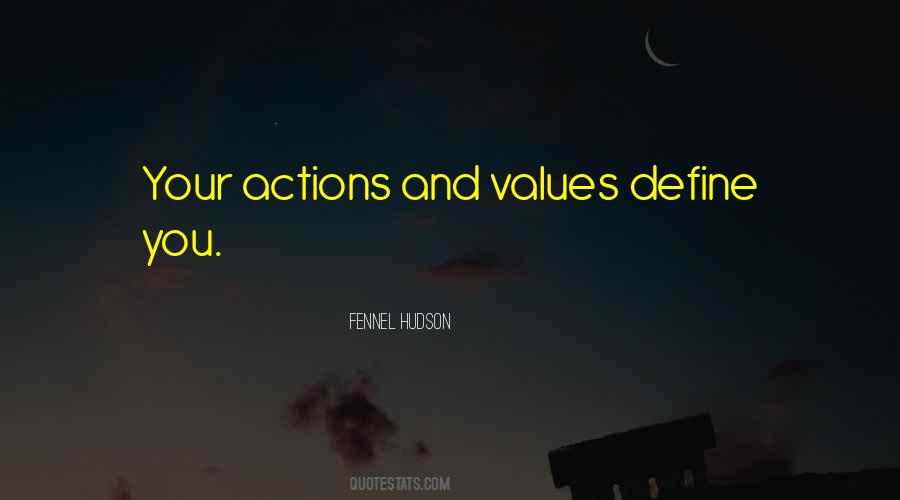 #40. It's fun to play a character who lives on the edge, who is an ethical and moral mess, and is paying the price for some of his actions. - Author: Josh Charles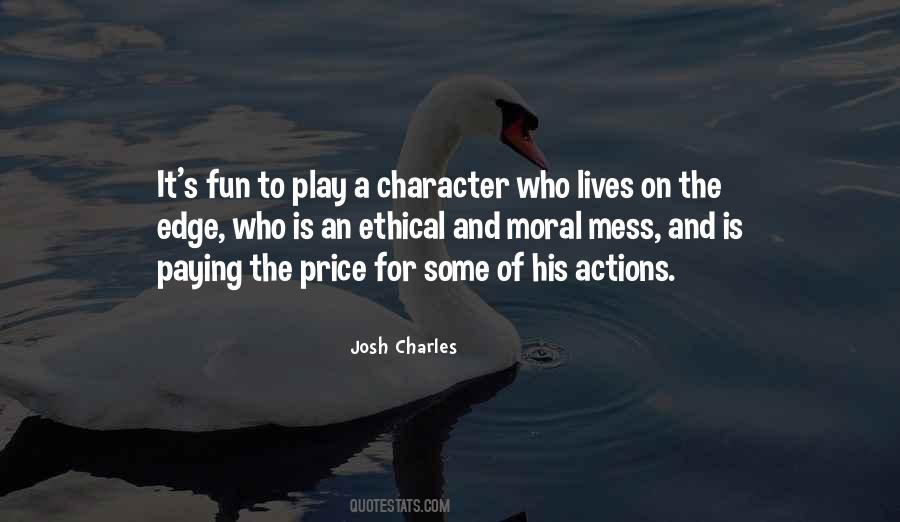 #41. If we lose our significance (character) we fall in ruin. The exploiters take over and sell freedom from fear, from guilt, from want. They excuse all corrupt actions. Collective status degenerates the human spirit. - Author: Moxie Will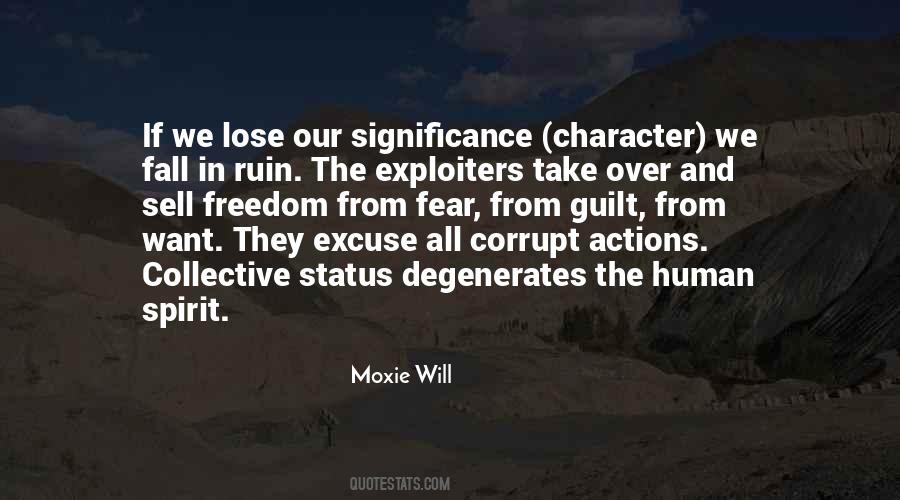 #42. To empathize with someone means to care about and understand him. That's why the trick to keeping the audience's interest in a character, even when the character is not likable or is taking immoral actions, is to show the audience the hero's motive. - Author: John Truby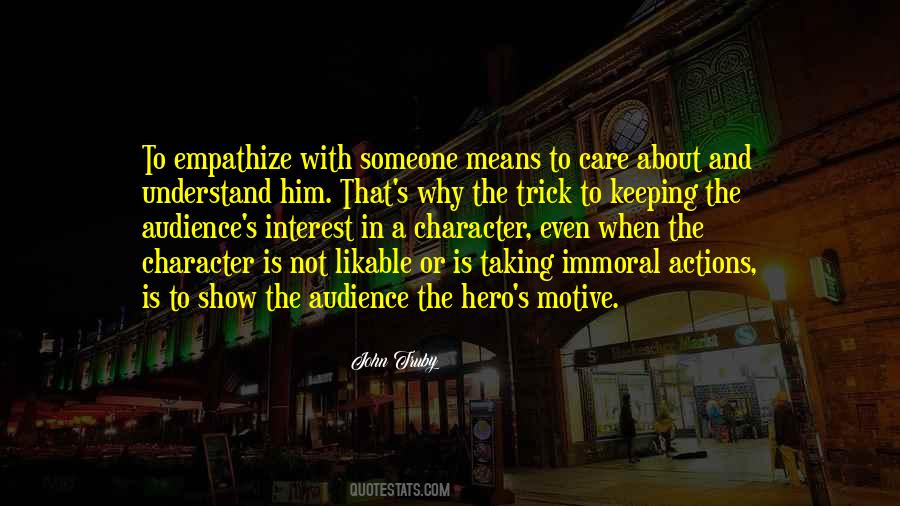 #43. Humility isn't as much a character trait as an action. We must clothe ourselves with it. We choose to wear it or we don't. If God has to humble us, it's too late - and that's going to be a bad day. We all have to demonstrate the humility of Christ in our actions. - Author: Ross Parsley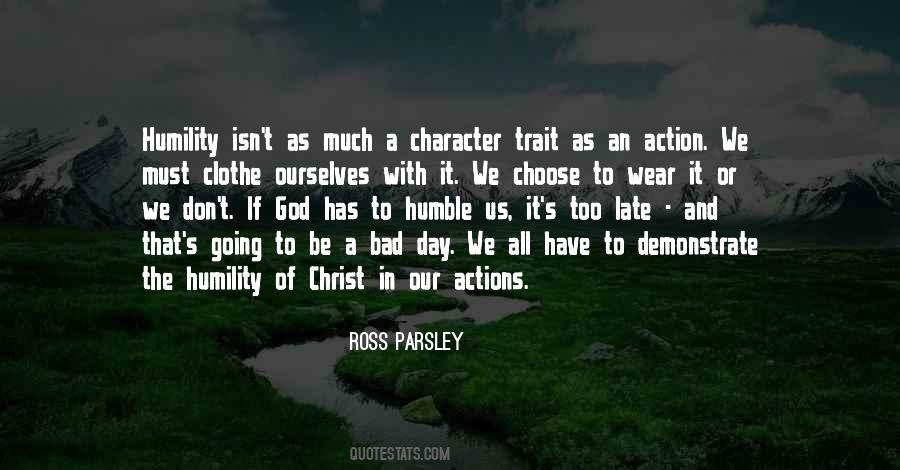 #44. Character isn't something you talk about; it's something you show through your actions-through your every day habits. - Author: Brian Joyce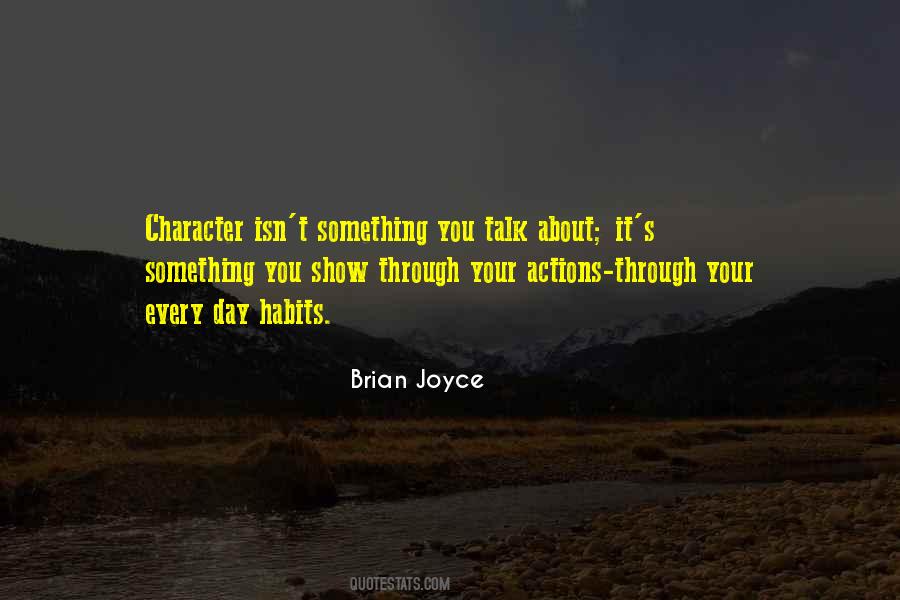 #45. When a man is made up wholly of the dove, without the least grain of the serpent in his composition, he becomes ridiculous in many circumstances of life, and very often discredits his best actions. - Author: Joseph Addison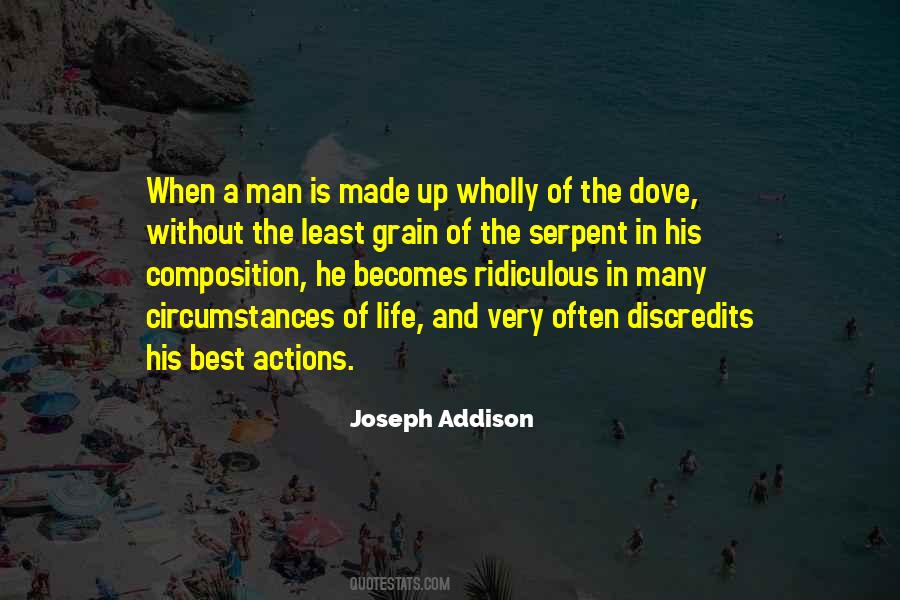 #46. For an entire populace, change, growth, and spontaneity were dangerous. Acting upon a personal desire, whispering a hidden longing, revealing your true feelings - all the human actions we think of as essential to a character - had be censored by the self lest they be punished by the state. - Author: Adam Johnson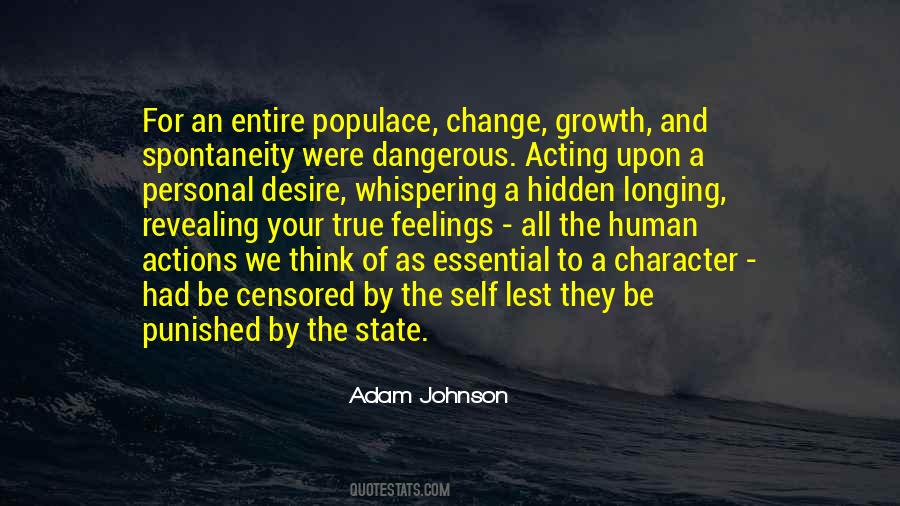 #47. Don't allow yourself to be fooled by how "nice" a person appears to be, measure a person's virtuousness by the way in which they treat others with their words and actions . - Author: Miya Yamanouchi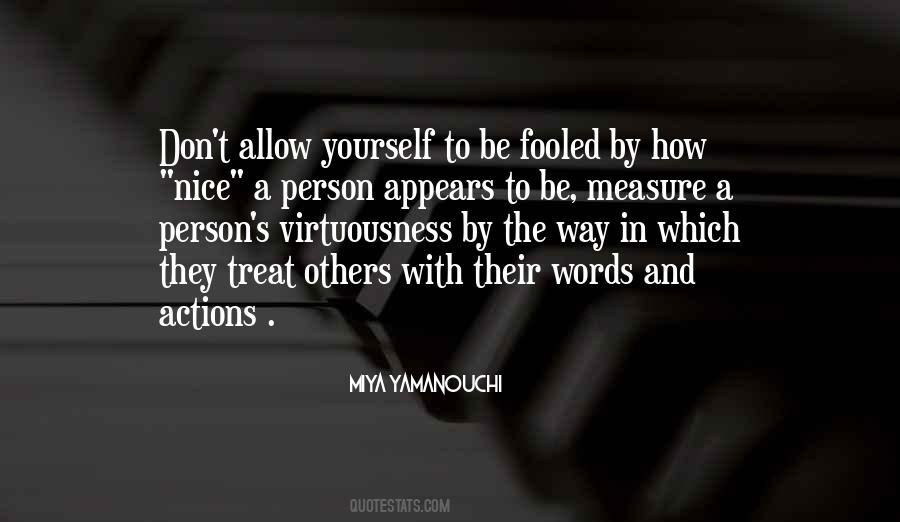 #48. Don't do the right thing for the wrong reasons. It is the "why" that keeps us committed to our choices and defines our character. - Author: Shannon L. Alder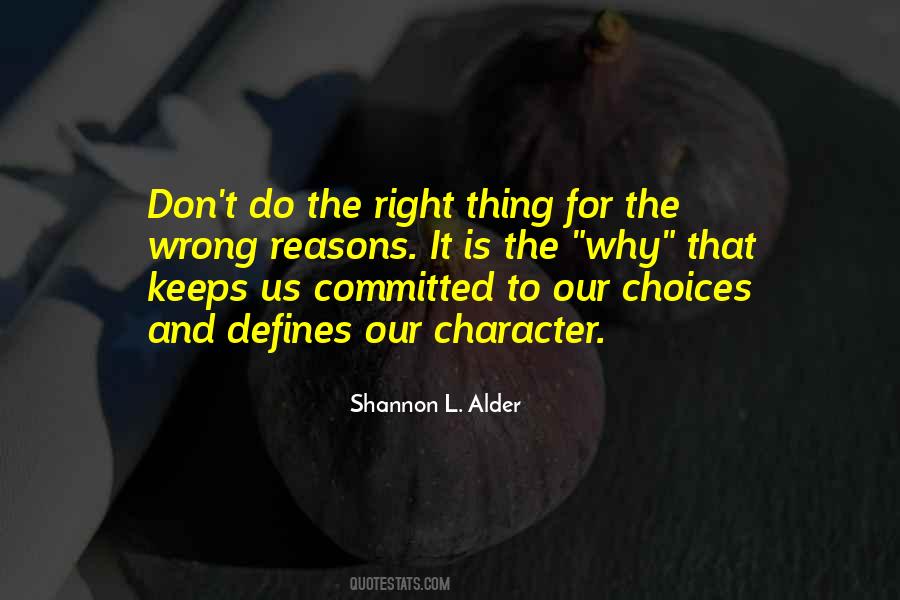 #49. Solid character will reflect itself in consistent behavior, while poor character will seek to hide behind deceptive words and actions. - Author: Myles Munroe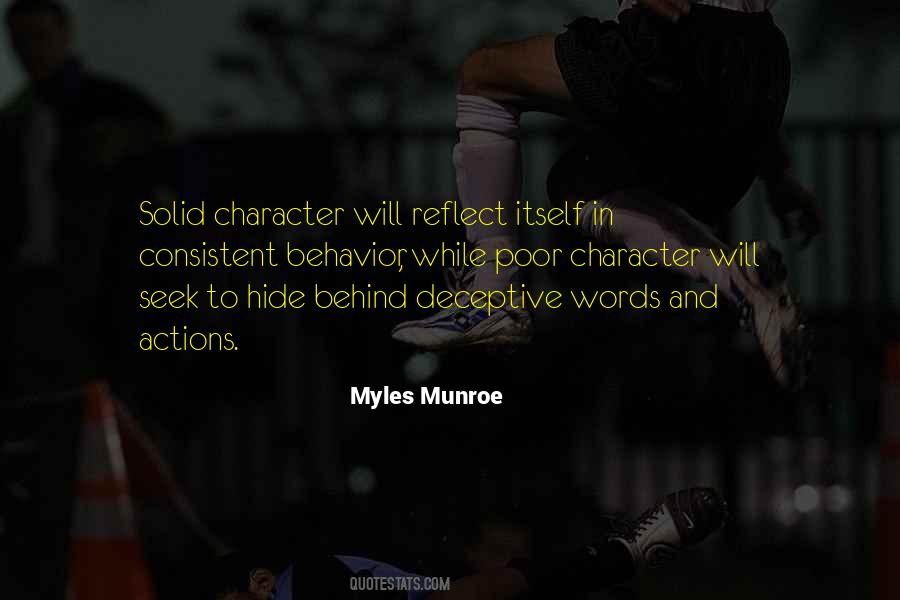 #50. Our actions, habits, character, and future are most definitely affected by our thoughts. - Author: Elizabeth George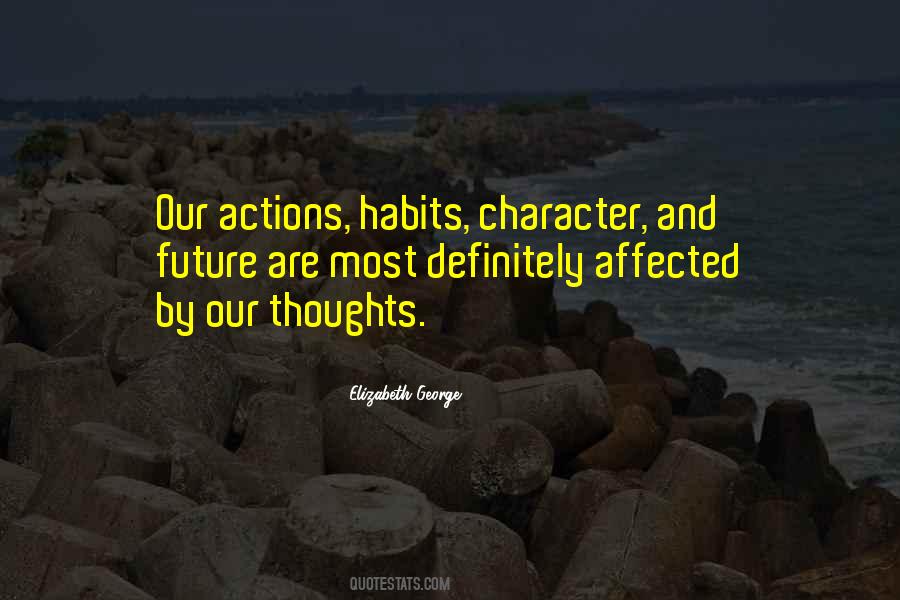 #51. Thoughts become actions, actions become habits, habits become our character, and our character becomes our destiny. - Author: James Hunter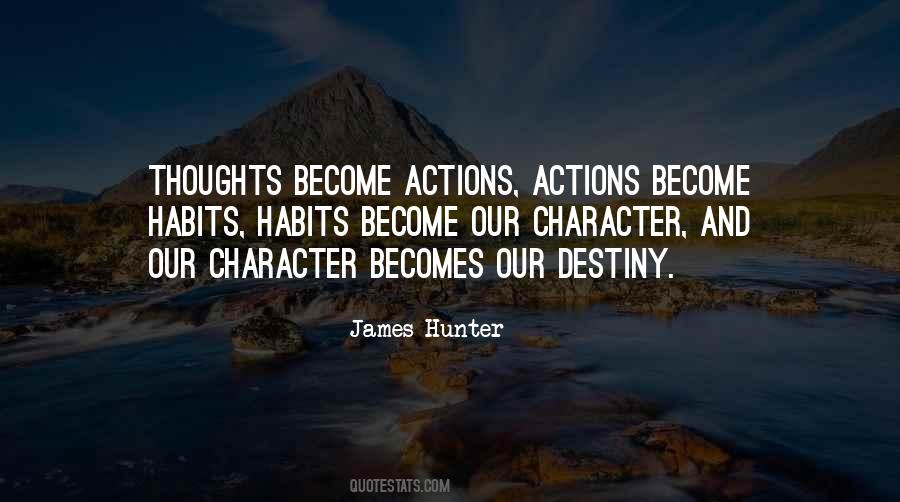 #52. I think in some ways, acting and writing are the same. You're getting inside the skin of someone else; you're creating their language and their actions. As a writer, you have to see the whole picture and the structure, and you have to understand every character. - Author: Finn Wittrock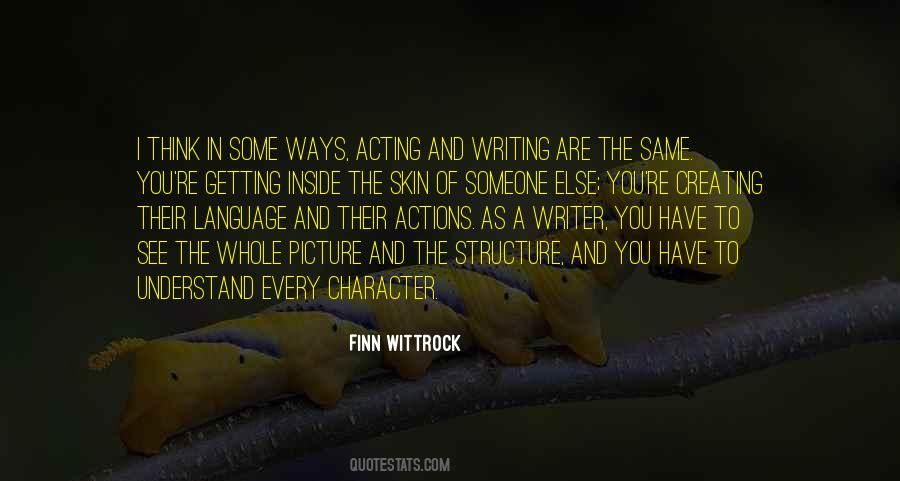 #53. I was once a fortunate man but at some point fortune abandoned me.
But true good fortune is what you make for yourself. Good fortune: good character, good intentions, and good actions. - Author: Marcus Aurelius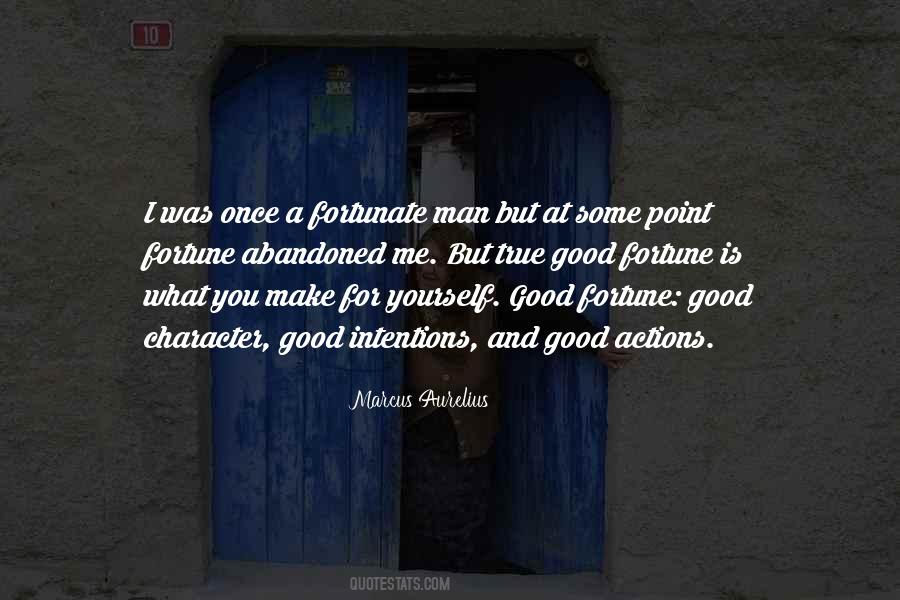 #54. The character of the architectural forms and spaces which all people habitually encounter are powerful agencies in determining the nature of their thoughts, their emotions and their actions, however unconscious of this they may be. - Author: Hugh Ferriss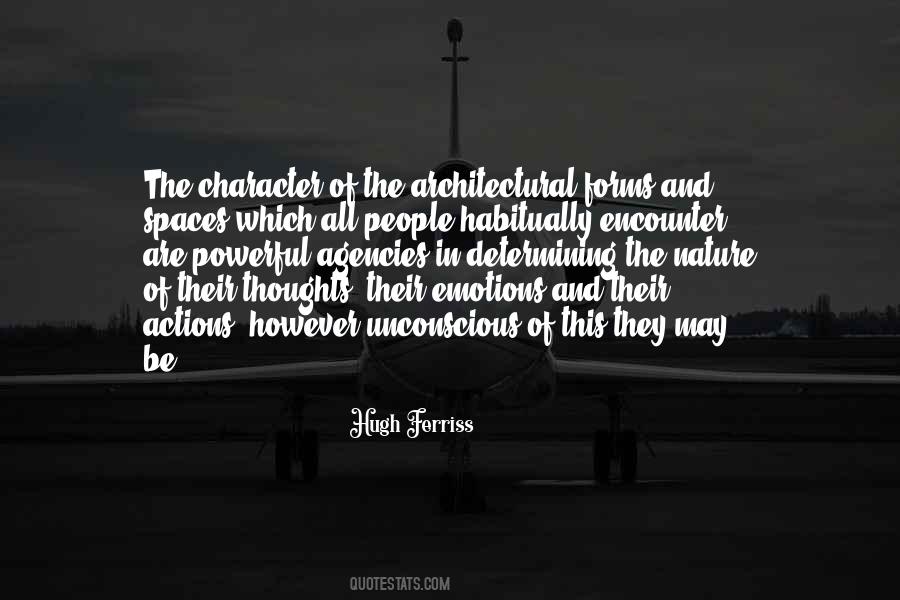 #55. Be a role model not a critic. Don't tell your children, your peers, or your subordinates what to do - show them. And when the lesson is over, keep showing them by demonstrating that your actions are part of your character, not part of their curriculum. - Author: Denis Waitley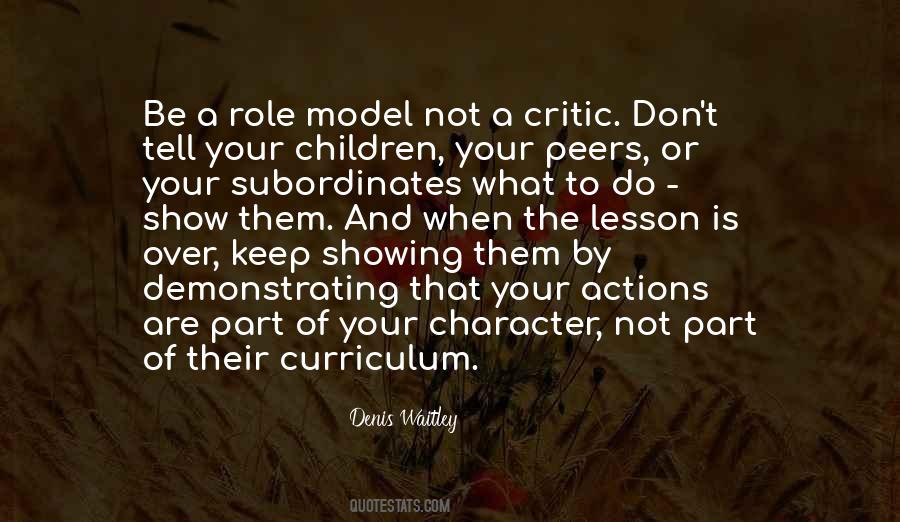 #56. Real literature was about psychological, emotional, and social truth as demonstrated by the actions and reflections of its protagonists; the novel was about character developed over time. - Author: Julian Barnes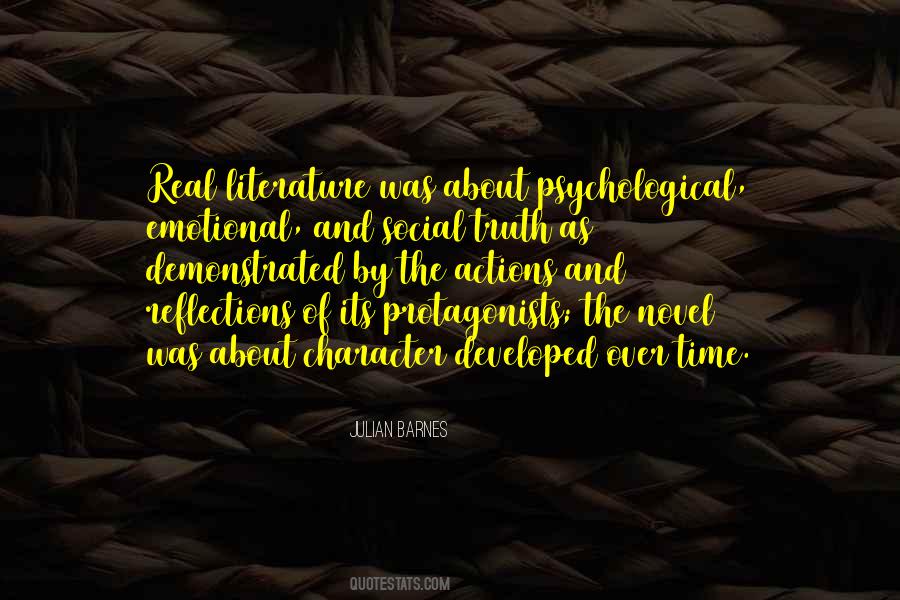 #57. As a hero, you have to play it straight. The audience is going to live through you, so you have to be more neutral. They will be projecting their thoughts and their actions onto the main character. - Author: Dolph Lundgren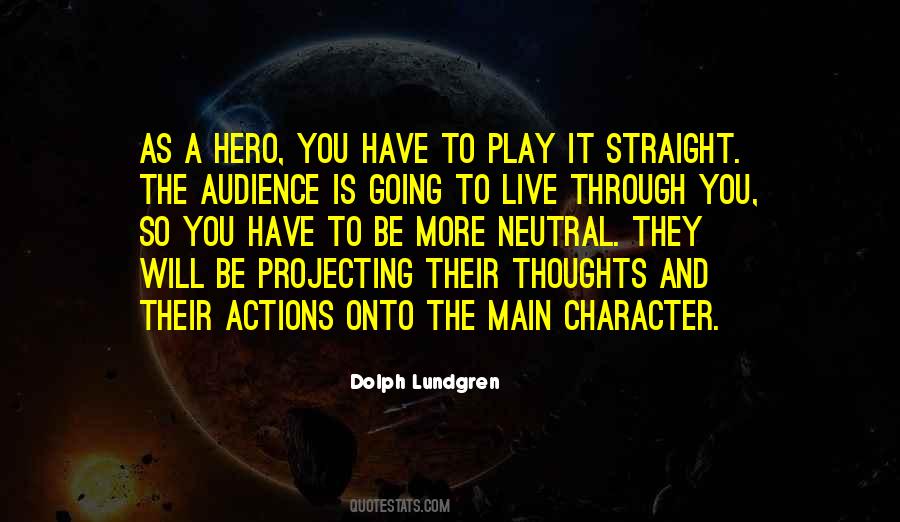 #58. A man shouldn't be measured by looks, attire, or finances.
A man should be measured by his character, actions, and intelligence.
-Nate Spears - Author: Nate Spears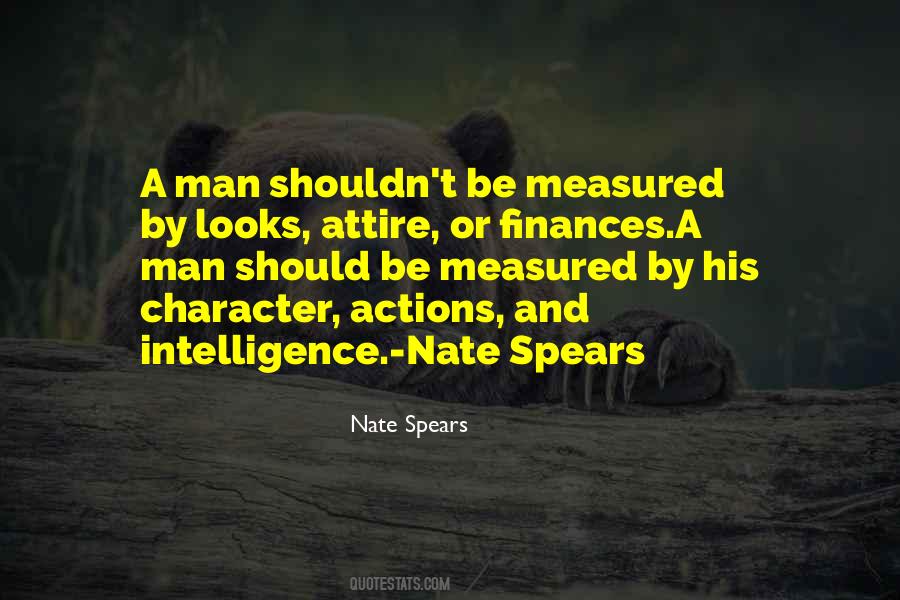 #59. What the statesman is most anxious to produce is a certain moral character in his fellow citizens, namely a disposition to virtue and the performance of virtuous actions. - Author: Aristotle.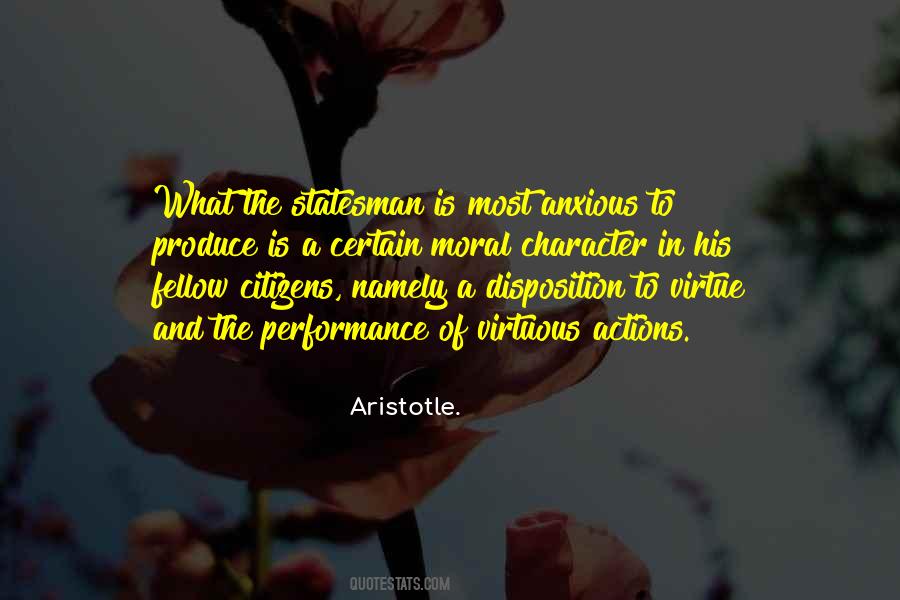 #60. Things present themselves to you, and it's how you choose to deal with them that reveals who you are. We all say a lot of things, don't we, about who we are and how we think. But in the end it's your actions, how you respond to circumstance that reveals your character. - Author: Cate Blanchett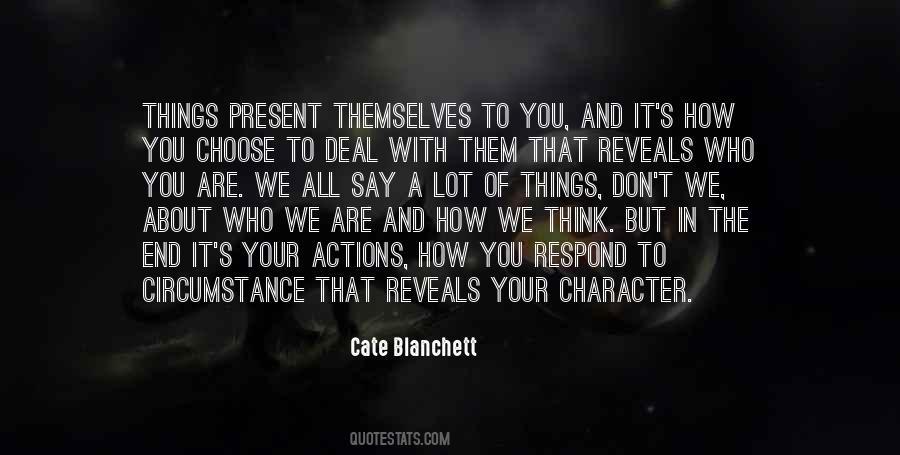 #61. Perhaps Vanderbilt's most important role in the interest of our free society is to give the world educated men and women of character, possessing a fundamental integrity that affects both their thoughts and their actions. - Author: Joe B Wyatt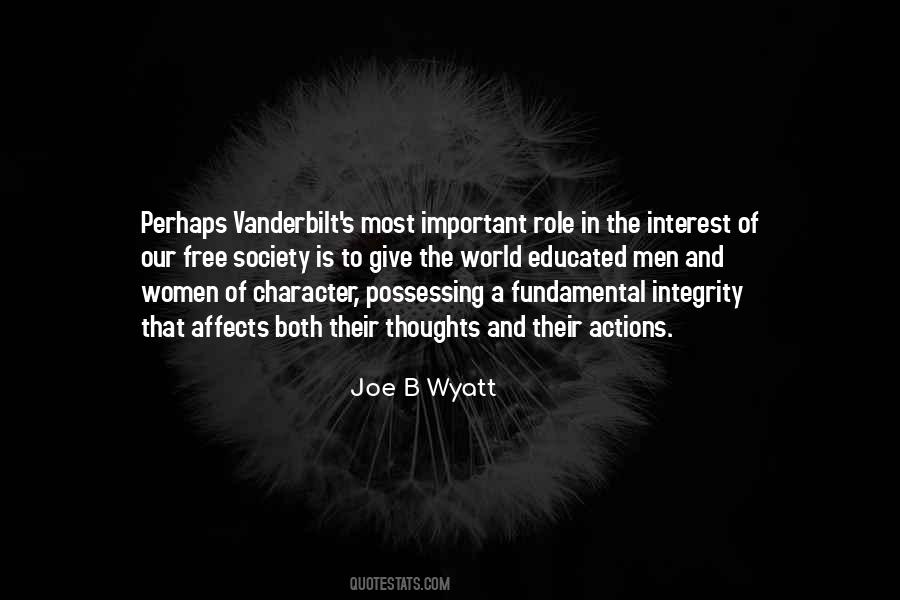 #62. Tell the truth. Do your best no matter how trivial the task. Choose the difficult right over the easy wrong. Look out for the group before you look out for yourself. Don't whine or make excuses. Judge others by their actions and not by their race or other characteristics. - Author: James F. Amos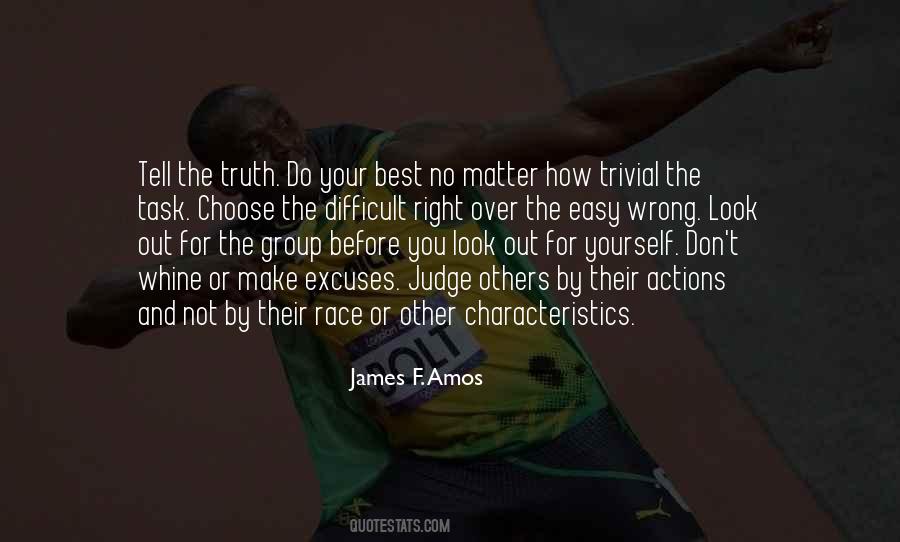 #63. Thoughts and feelings are suspended in a vacuum unless they instigate and feed the selected actions, and it is the characters actions which reveal the character in the play. - Author: Uta Hagen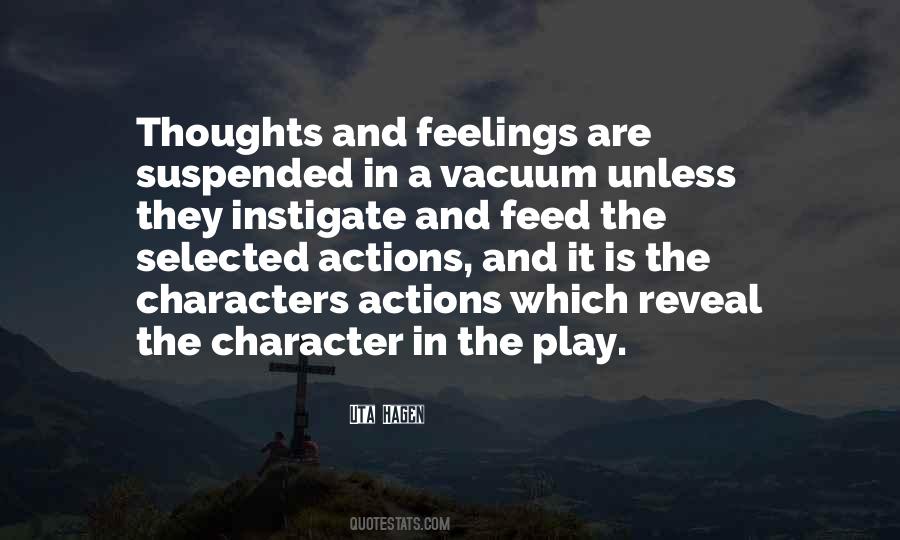 #64. You express the truth of your character, your dedication to your goals, and your commitment to your relationships with the choice of your actions. - Author: Abdul'Rauf Hashmi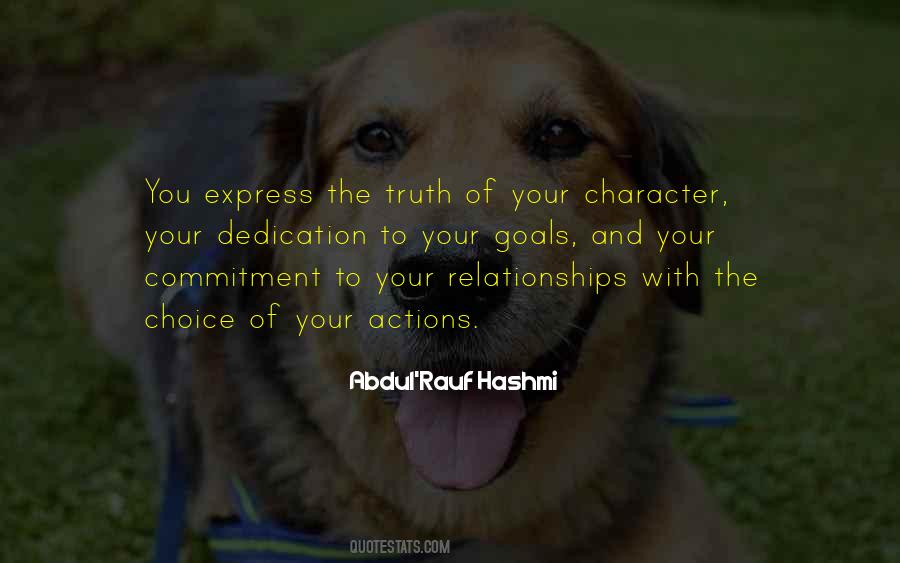 #65. At any age it does us no harm to look over our past shortcomings and plan to improve our characters and actions in the coming year. - Author: Eleanor Roosevelt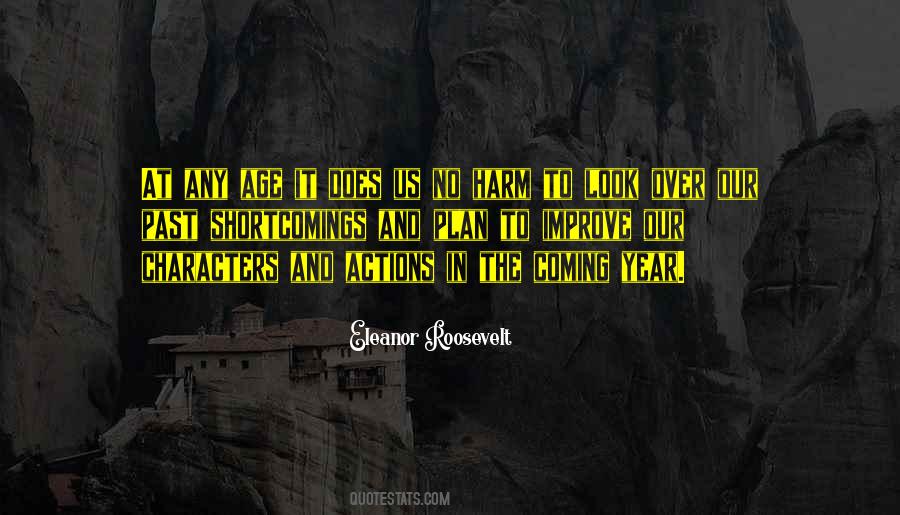 #66. Choose your friends and mates, not by the money in their bank account, creed, ethnicity, or color; instead, choose character, actions, heart, and soul. When we bleed, we bleed the same color. - Author: Ana Monnar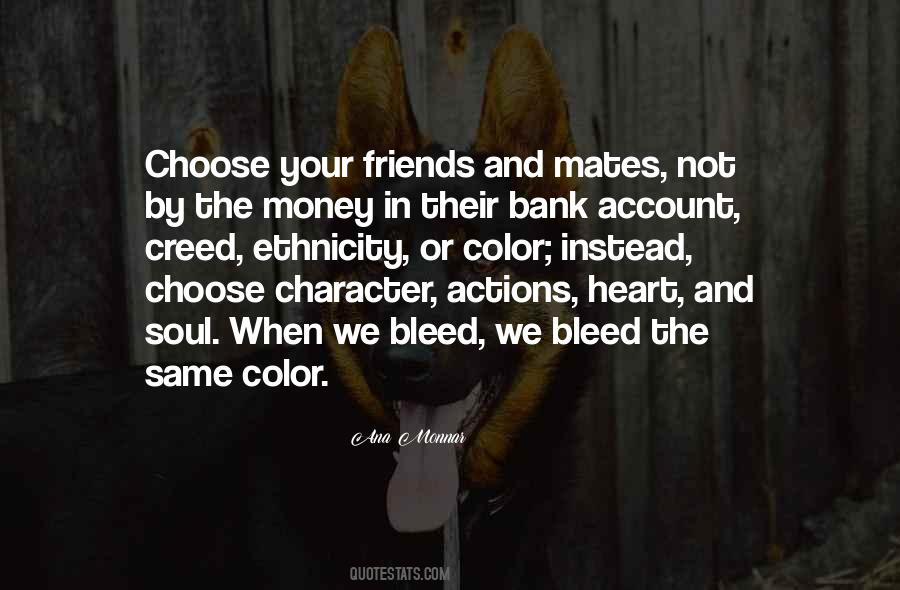 #67. Thoughts lead on to purposes; purposes go forth in action; actions form habits; habits decide character; and character fixes our destiny. - Author: Tryon Edwards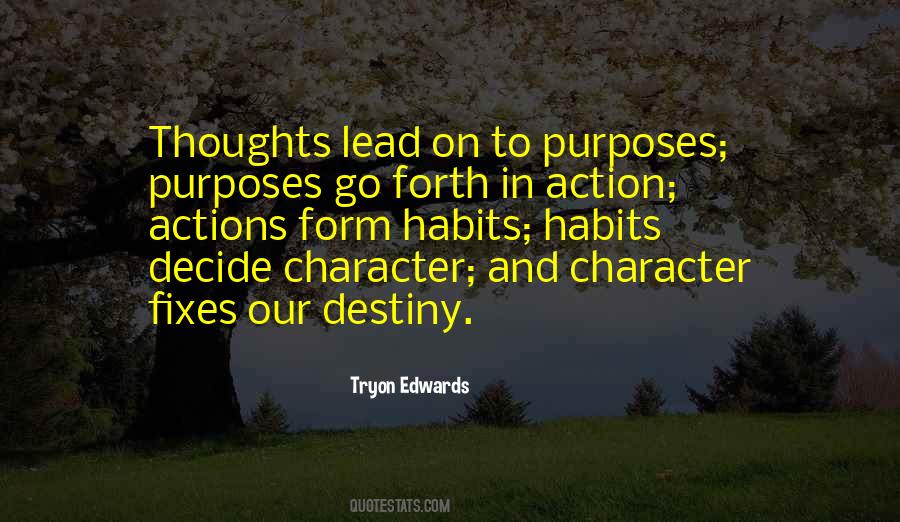 #68. I still have a hard time saying who Johnny [ Cash ] is in one sentence. He seemed so contradictory in his actions, and I think that's probably what is most fascinating about him and what made him such an interesting character to study. - Author: Joaquin Phoenix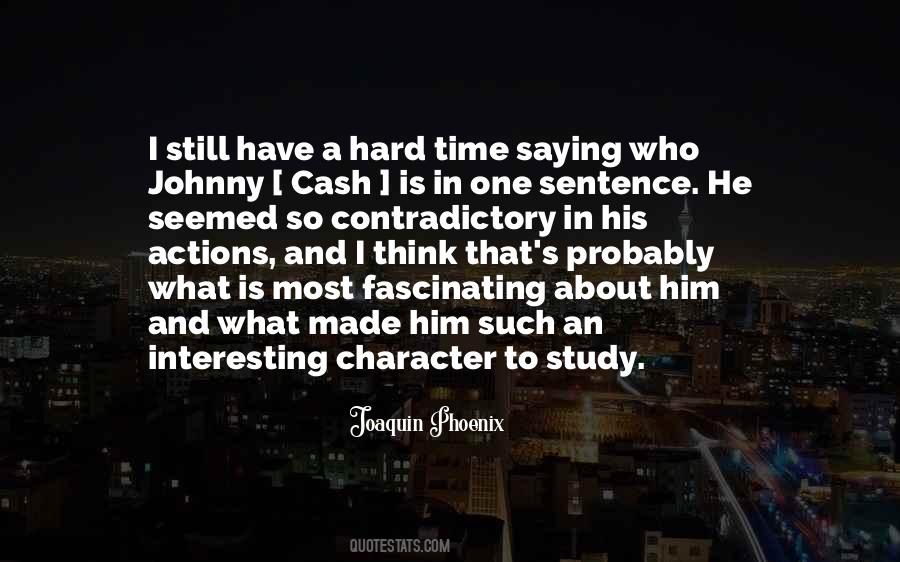 #69. You are here to make a difference, to either improve the world or worsen it. And whether or not you consciously choose to, you will accomplish one or the other. - Author: Richelle E. Goodrich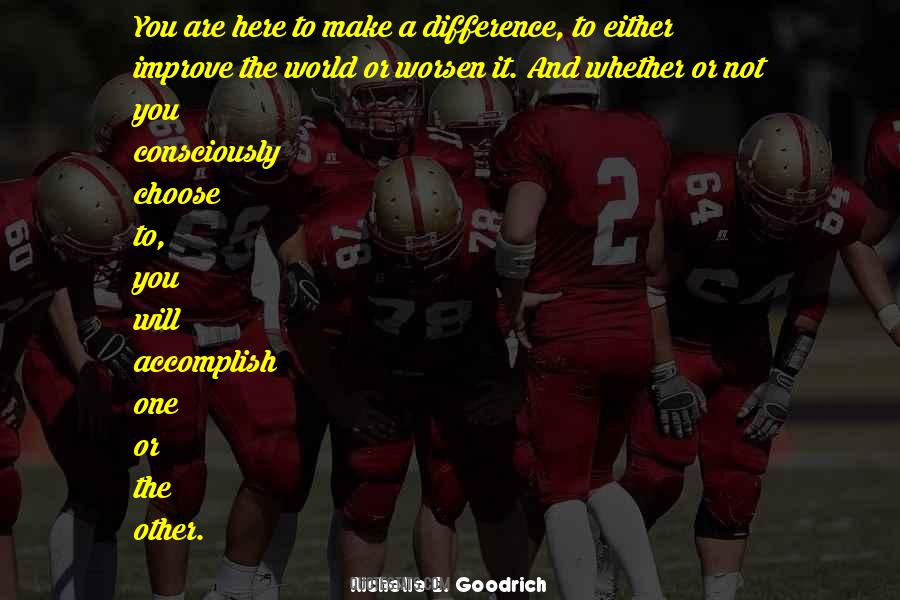 #70. So other people hurt me? That's their problem. Their character and actions are not mine. What is done to me is ordained by nature, what I do by my own. - Author: Marcus Aurelius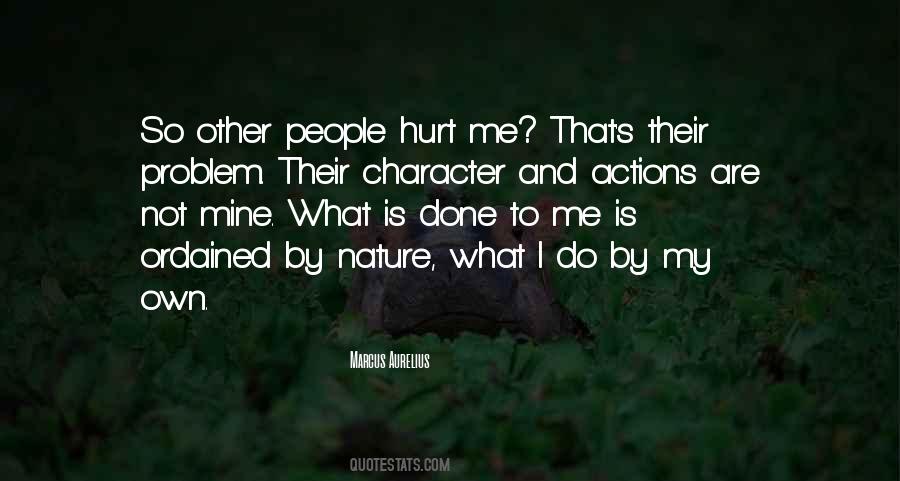 #71. Dare to dream. For your dreams become words, your words become actions, your actions become habits, your habits become character, and your character becomes your destiny. - Author: Hyperion Books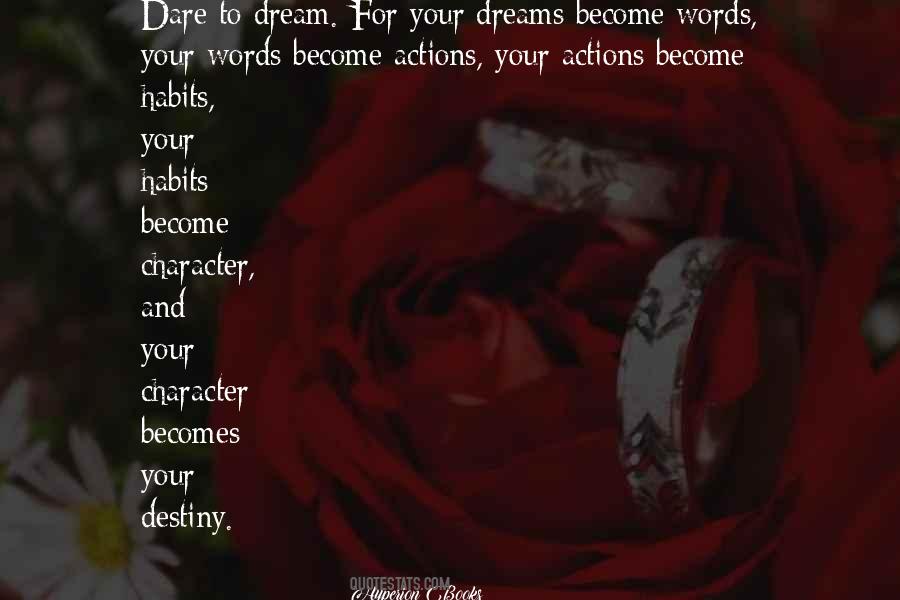 #72. There are complete men and incomplete men. If you would be a complete man, put all of your soul's strength into all of your life's actions. - Author: Eugenio Maria De Hostos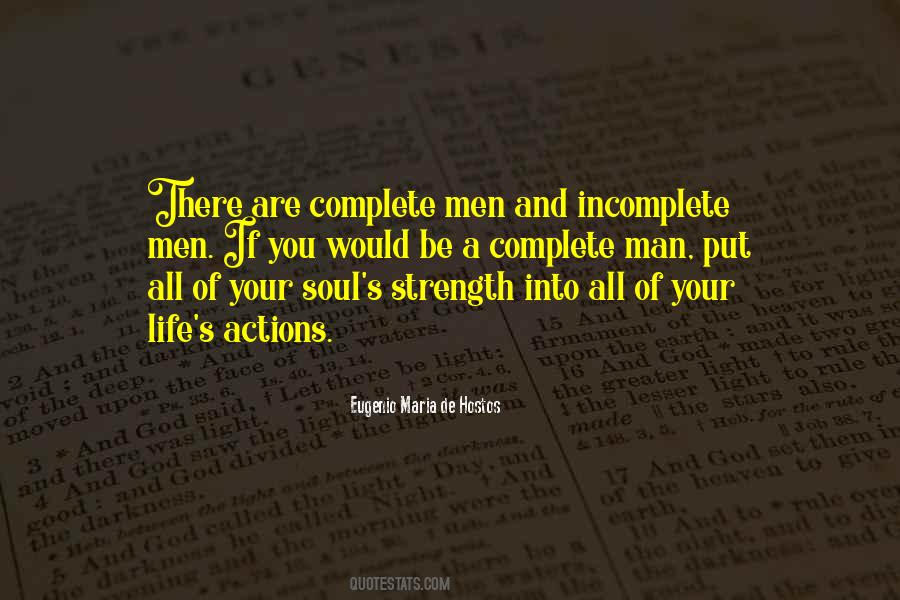 #73. A man or a woman can't be defined by the pain inflicted in them by others or by someone else's issues, but by their own character and actions. - Author: Linda Alfiori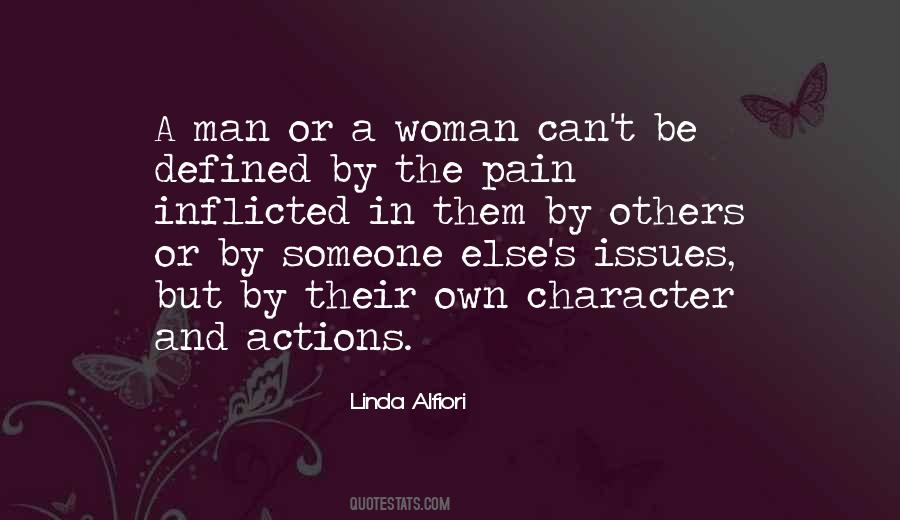 #74. Character is not something one wears on their sleeve, shoulder or badge on their chest. It resides in the core of ones being and his displayed by actions and words. - Author: John Paul Warren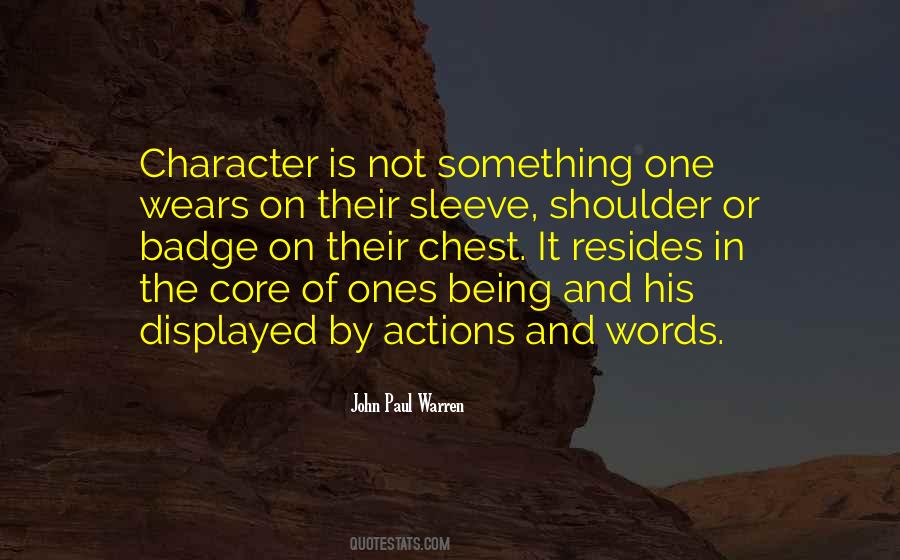 Famous Authors
Popular Topics