Chaos And Peace Famous Quotes & Sayings
List of top 52 famous quotes and sayings about chaos and peace to read and share with friends on your Facebook, Twitter, blogs.
Top 52 Quotes About Chaos And Peace
#1. Gratitude - practicing gratitude. "Gratitude turns what we have into enough, and more. It turns denial into acceptance, chaos into order, confusion into clarity...it makes sense of our past, brings peace for today, and creates a vision for tomorrow." Melody Beattie - Author: Jennifer Takagi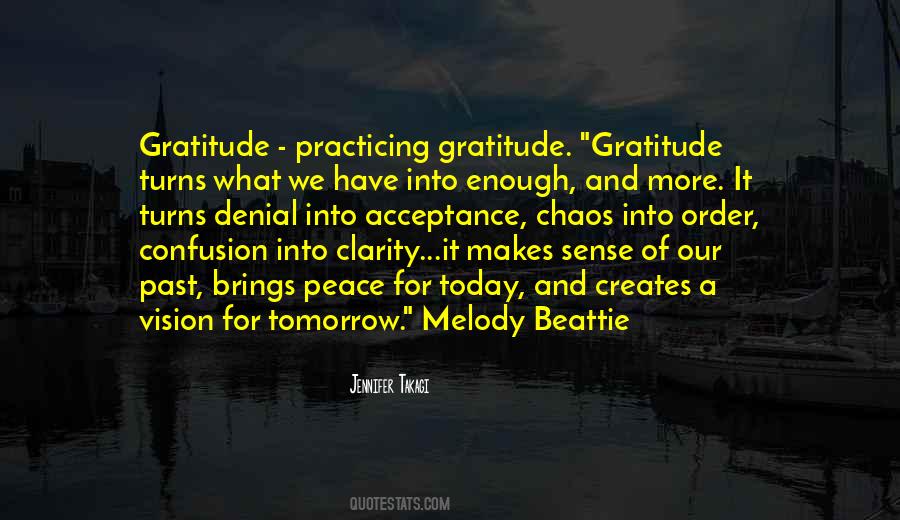 #2. It's more than ok to say no to the people and places that harm your peace. - Author: Nikki Rowe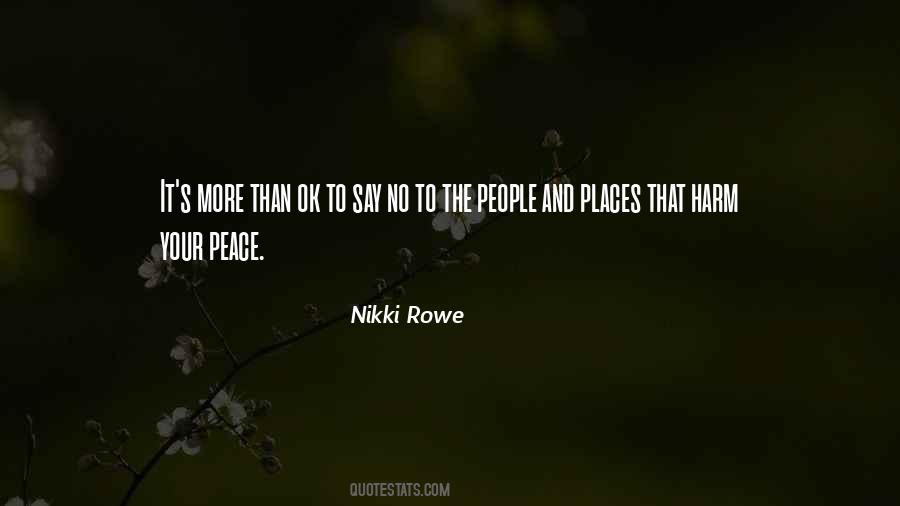 #3. Give a woman pain and she 'll turn it into power. Give that woman chaos and she 'll create peace. - Author: R H Sin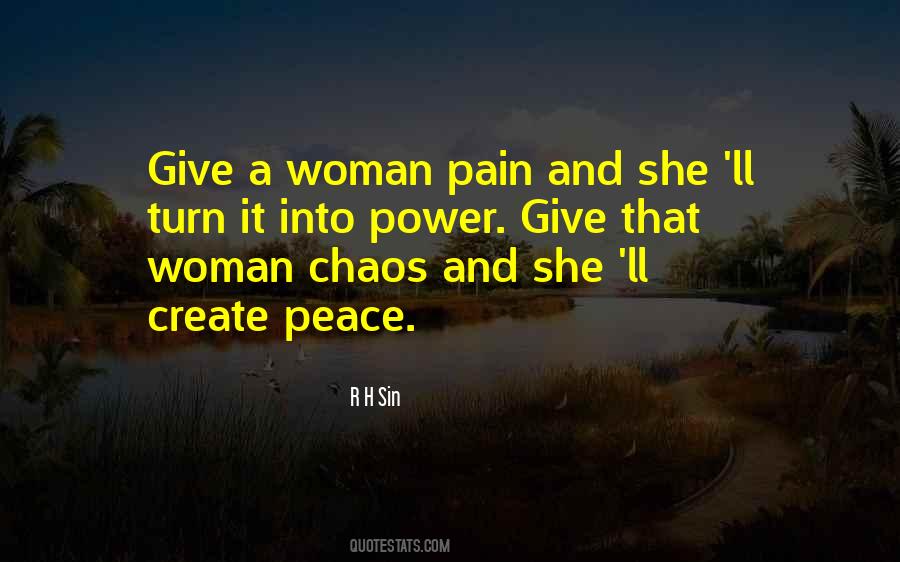 #4. Peace is not the absence of chaos. It is the presence of tranquility and joy in the midst of chaos. - Author: Debasish Mridha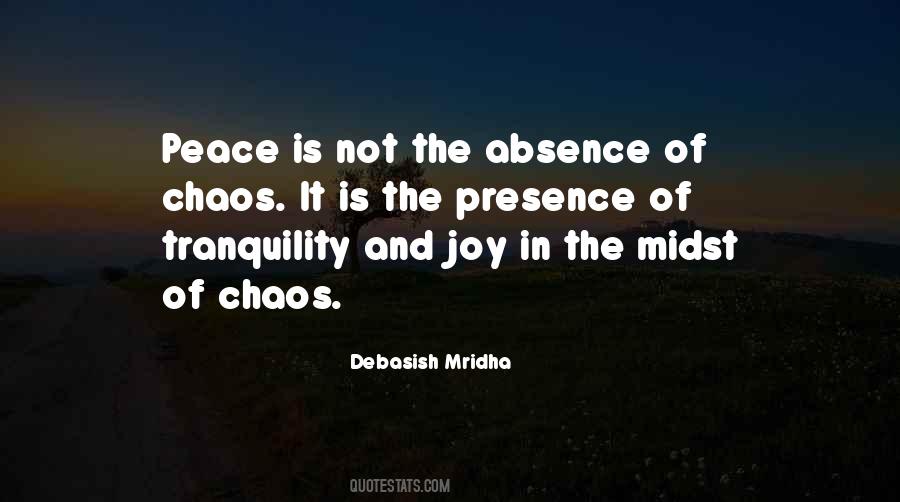 #5. It is not worrying, but rather trusting and abiding in the peace of God that will crush anything that Satan tries to do to us. If the Lord created the world out of chaos, He can easily deal with any problem that we have. - Author: Rick Joyner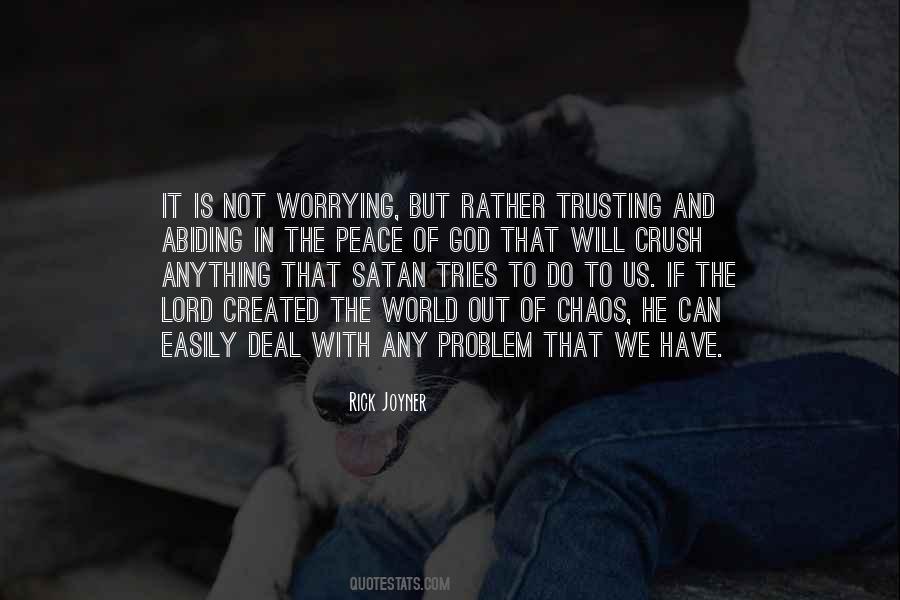 #6. Do not allow outer chaos disturb your inner tranquility, serenity, and peace. - Author: Debasish Mridha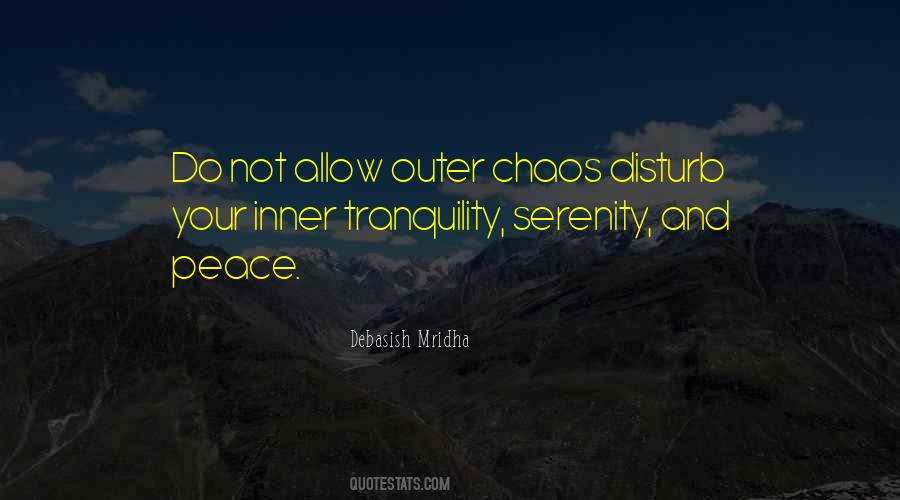 #7. Chaos erupted, but Magnus's darkest imaginings had been proved wrong. When the fight was joined, there were Shadowhunters on his side, fighting with him against Shadowunters, fighting for Downworlders and the Accords of peace they had all agreed to. - Author: Cassandra Clare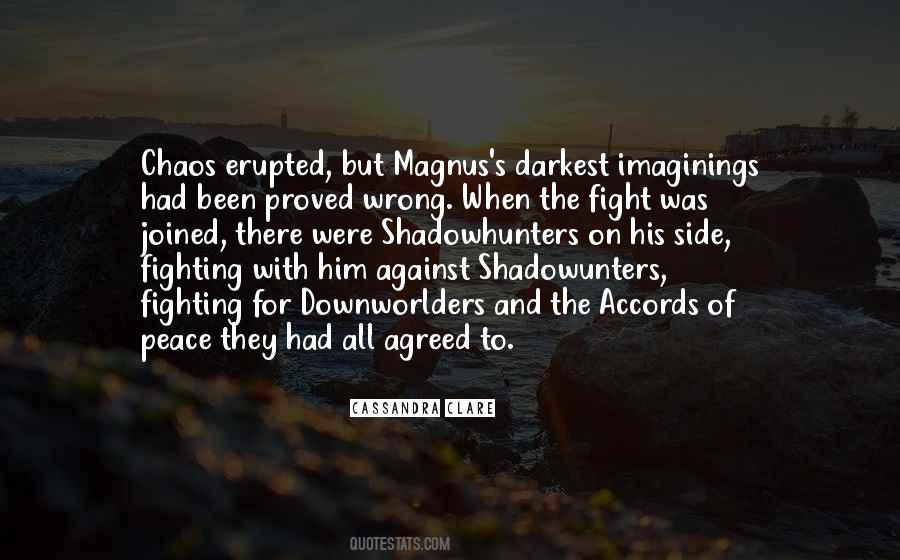 #8. Variety is not the spice of life. It is the mother of disorder. Individuality is not the hallmark of freedom. It is the essence of decadence. Freedom is slavery to chaos. Unity is peace, all thinking and acting as one. - Author: Dean Koontz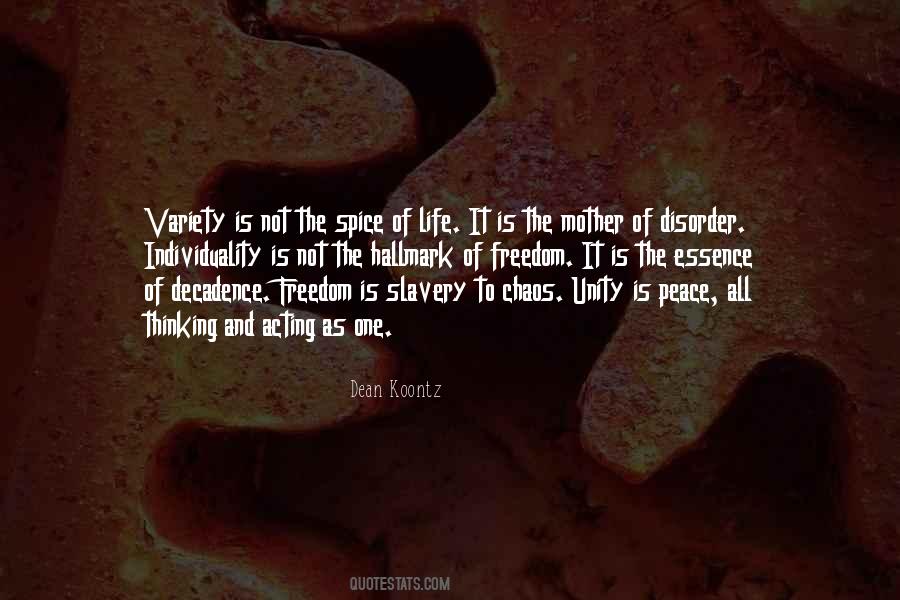 #9. My belief is in the chaos of the world and that you have to find your peace within the chaos and that you still have to find some sort of mission. - Author: Ta-Nehisi Coates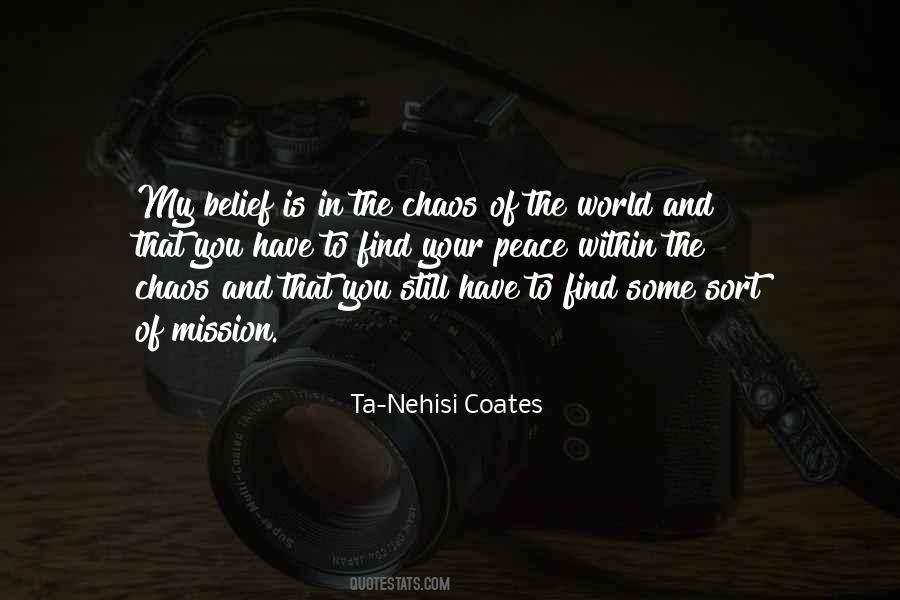 #10. I want someone to sit beside after the day's pursuit and all its anguish, after its listening, and its waitings, and its suspicions. After quarrelling and reconciliation I need privacy - to be alone with you, to set this hubbub in order. For I am as neat as a cat in my habits. - Author: Virginia Woolf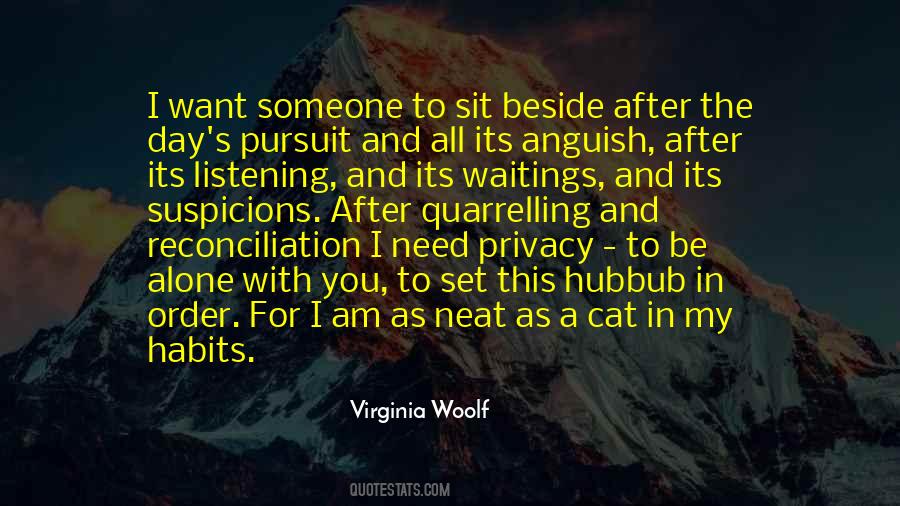 #11. Books had become a symbol of trust and libraries places of peace and stability. In all the chaos of the world that counted people as different levels of worthy, the Library served all equally. All genders, races, levels of ability. It was the one place they could all be safe, p195 - Author: Rachel Caine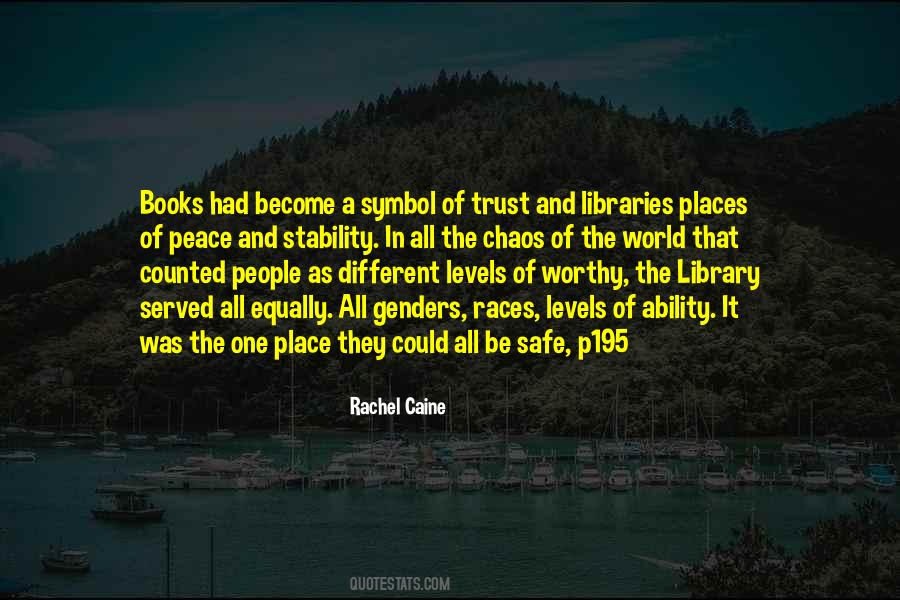 #12. Happy Tuesday! We are responsible for peace and order in our lives! When your world is CONSTANTLY filled with chaos, then it's time to take a look at SELF! - Author: Tracey Edmonds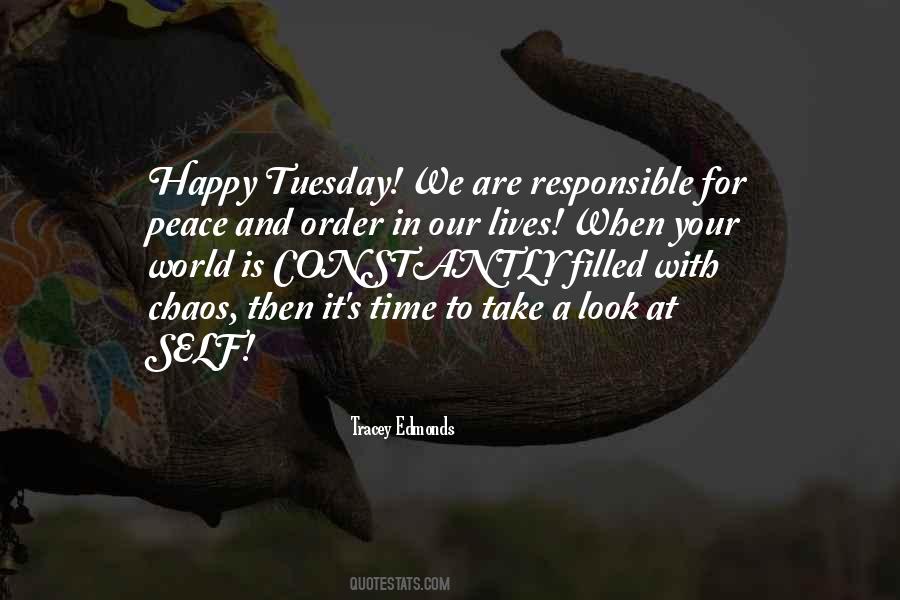 #13. Meditation, practiced individually and as a family, helps with a different type of peace. It is not a calm absent of noise and confusion but a calm that persists in the very center of the noise and the chaos. Ten minutes daily can transform your life. - Author: Ann Brasco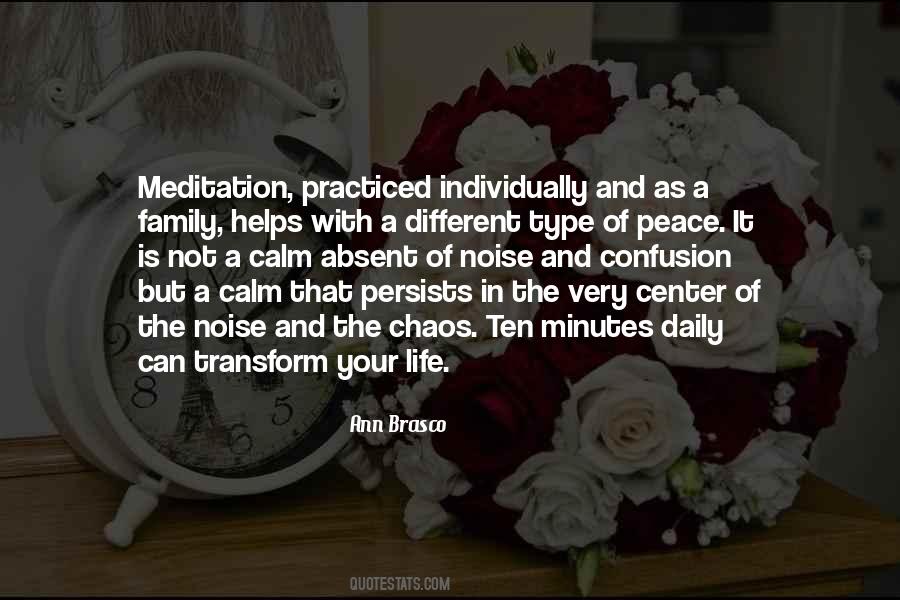 #14. When the great Tao is forgotten, goodness and piety appear. When the body's intelligence declines, cleverness and knowledge step forth. When there is no peace in the family, filial piety begins. When the country falls into chaos, patriotism is born. - Author: Laozi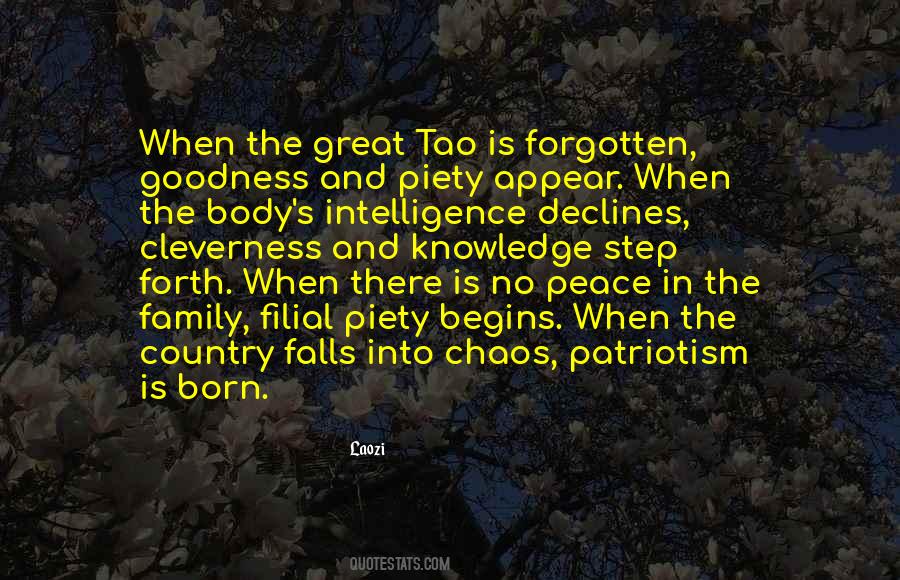 #15. Peace of the sort that brings wholeness, harmony, and health to our lives only happens when chaos, confusion, and conflict are included and transcended. - Author: Harrison Owen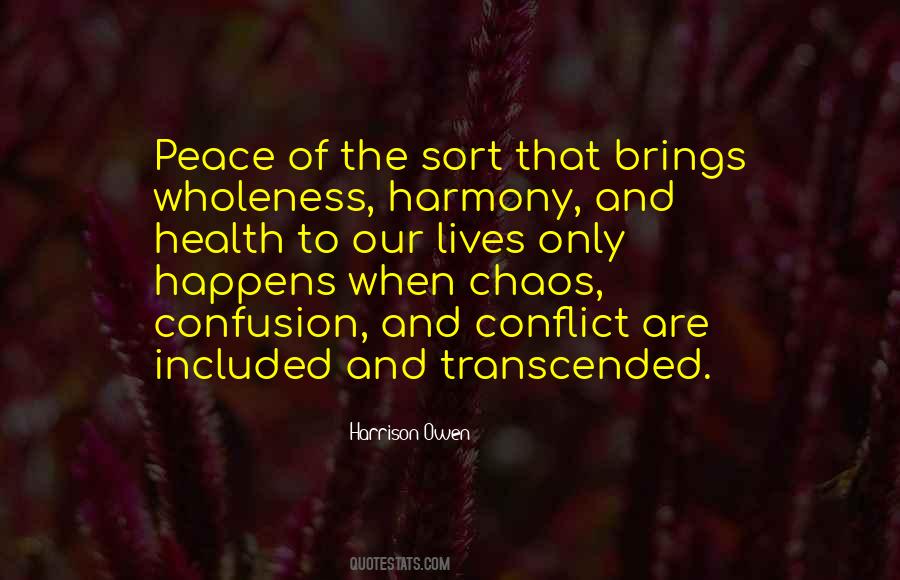 #16. We remember the surge and we remember the Awakening
when the abyss of chaos turned toward the promise of reconciliation. By battling and building block by block in Baghdad, by bringing tribes into the fold and partnering with the Iraqi army and police, you helped turn the tide toward peace. - Author: Barack Obama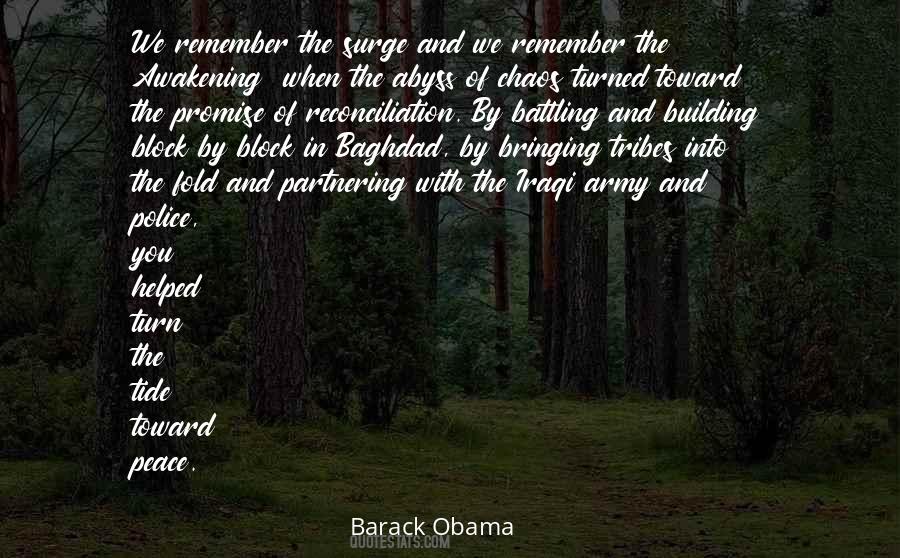 #17. A sausage is an image of rest, peace and tranquility in stark contrast to the destruction and chaos of everyday life. - Author: Tom Robbins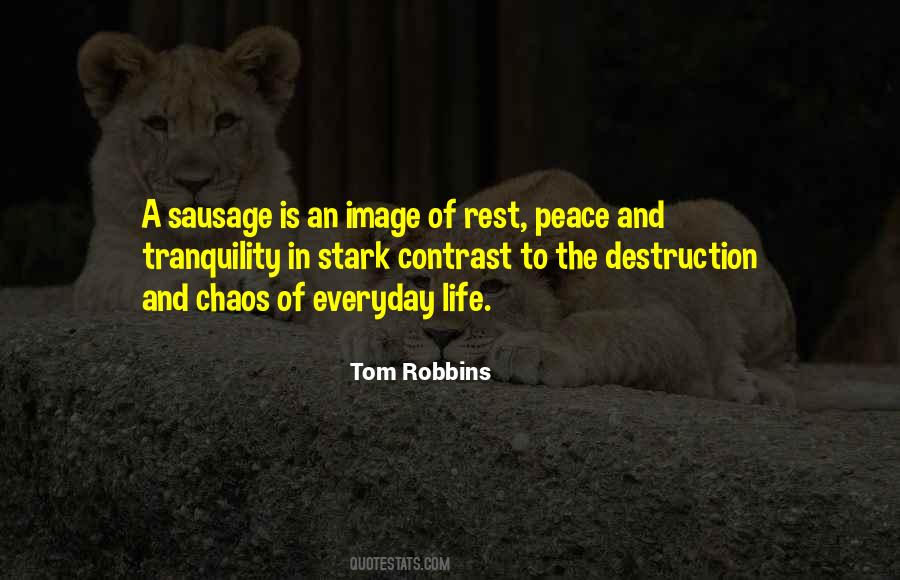 #18. There is no greater feeling than hanging out with my dogs, or just walking around the land with our horses. My rescue ranch is is where I feel the most at peace and where I'm reminded of the simple things in life and let the chaos of my crazy work life fade away. - Author: Kelly Clarkson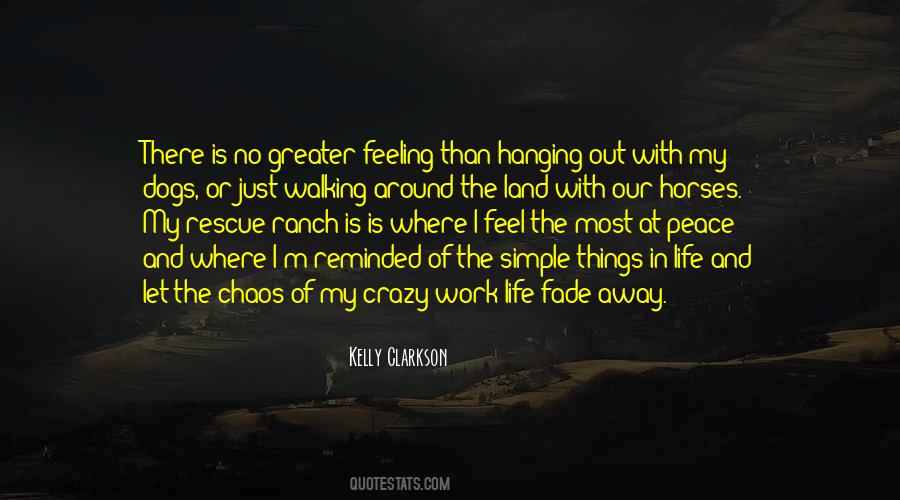 #19. Most people go, I wish for world peace. But chaos has a place in balancing out the light and the dark in the world. I don't know if I would wish for world peace. - Author: Brendan Fraser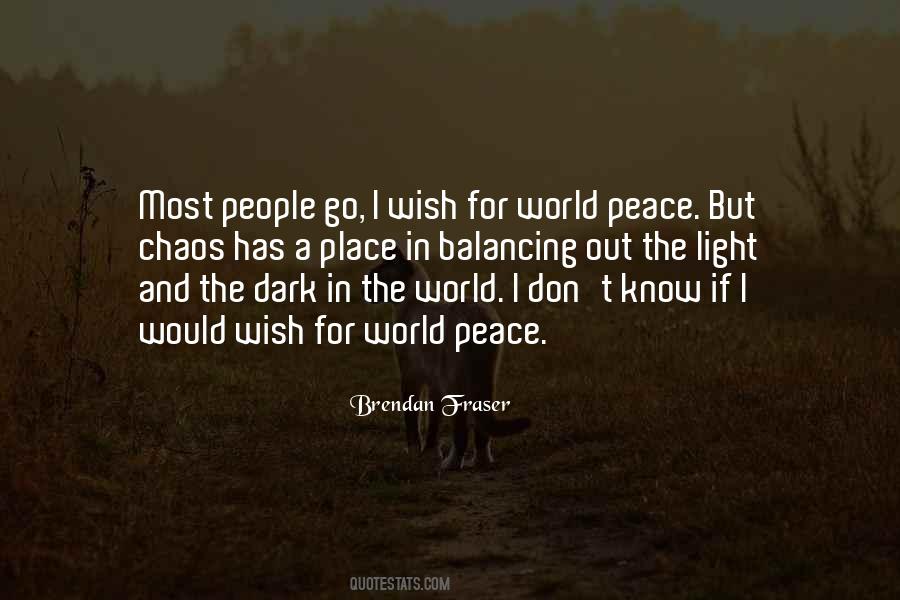 #20. In the middle of the night, I saw chaos bleeding out of darkness and peace. Everything that was said and seen before seemed like a paradox. I saw the graves of lies breaking open and the truth crawling out silently into the cold hearts. - Author: Akshay Vasu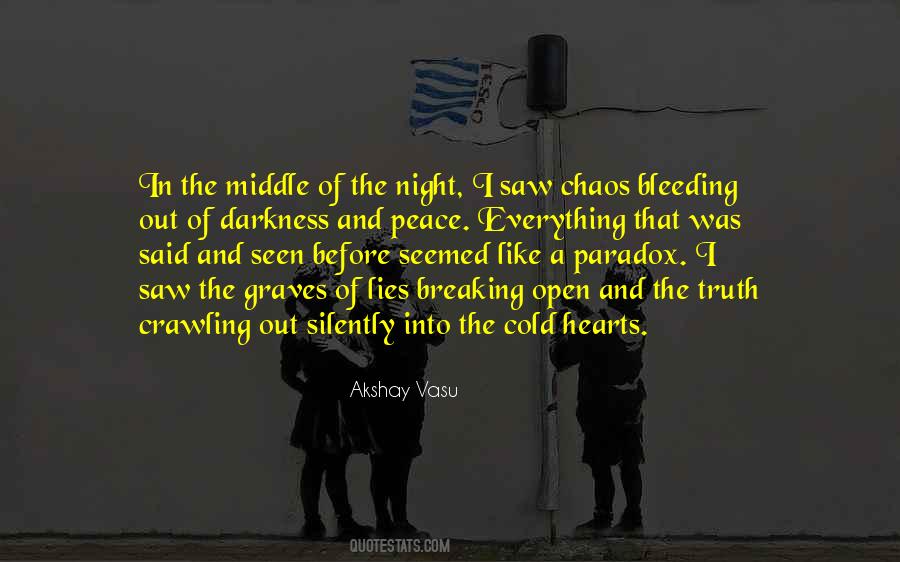 #21. A great deal of chaos in the world occurs because people don't appreciate themselves. Having never developed sympathy or gentleness toward themselves, they cannot experience harmony or peace within themselves, and therefore, what they project to others is also inharmonious and confused. - Author: Chogyam Trungpa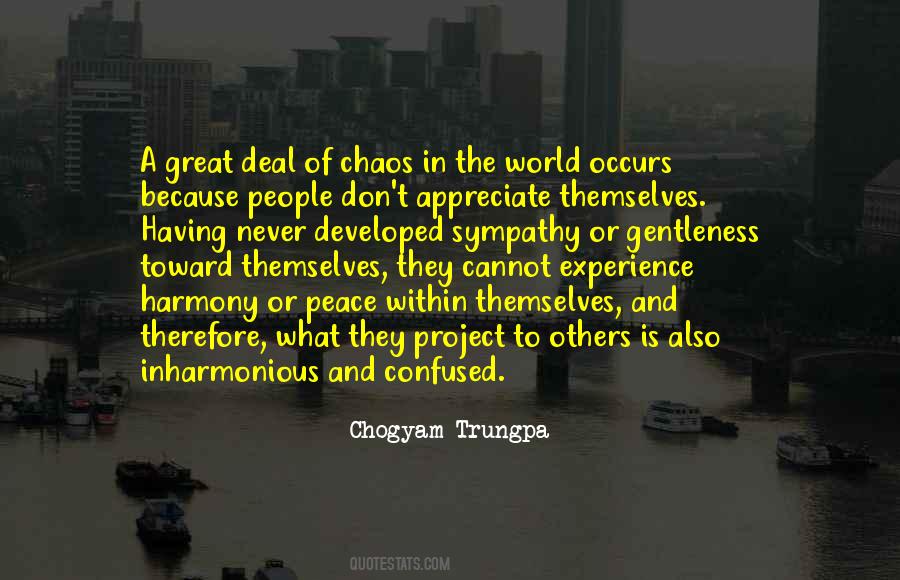 #22. It was loneliness and insecurity that had brought Claudia to the chaos of madness. It was community, love, and friendship that finally brought her inner peace. This movement from chaos to inner peace, from self - hate to self - trust, began when Claudia realized that she was loved. - Author: Jean Vanier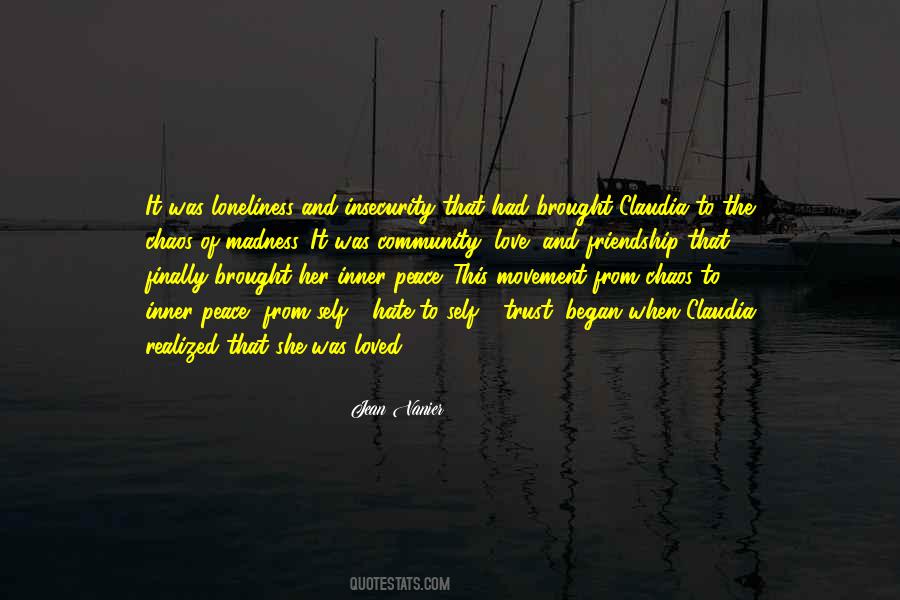 #23. Just because life is full of craziness doesn't mean you must go crazy. You can experience outer chaos and still find inner peace. Nothing even needs to change outside of you for you to find calm inside of you. This inner calm is available at all times. Just breathe. - Author: Karen Salmansohn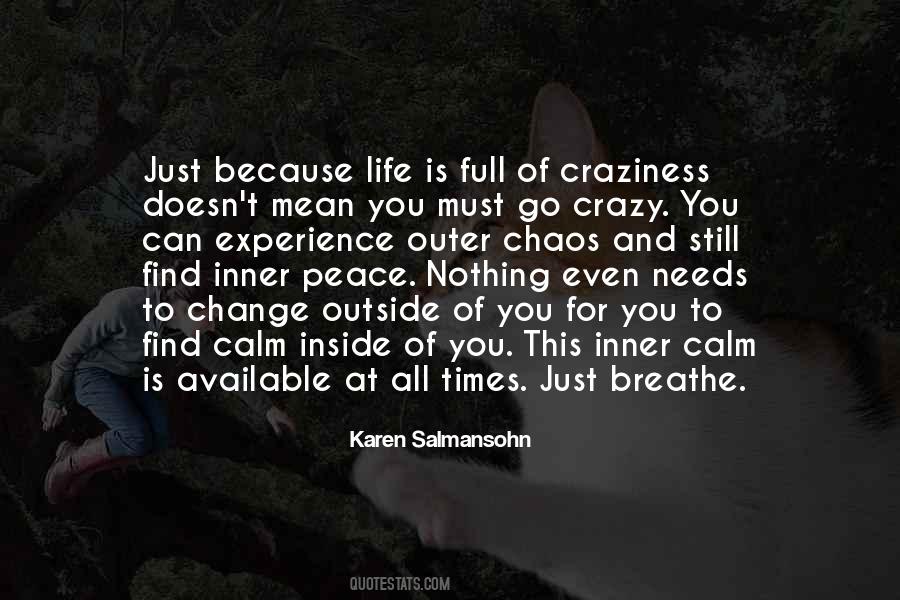 #24. Practice being still amidst the chaos. This and only this will guide you where you need to be, to a place of infinite wisdom and inner peace. - Author: Patience W. Smith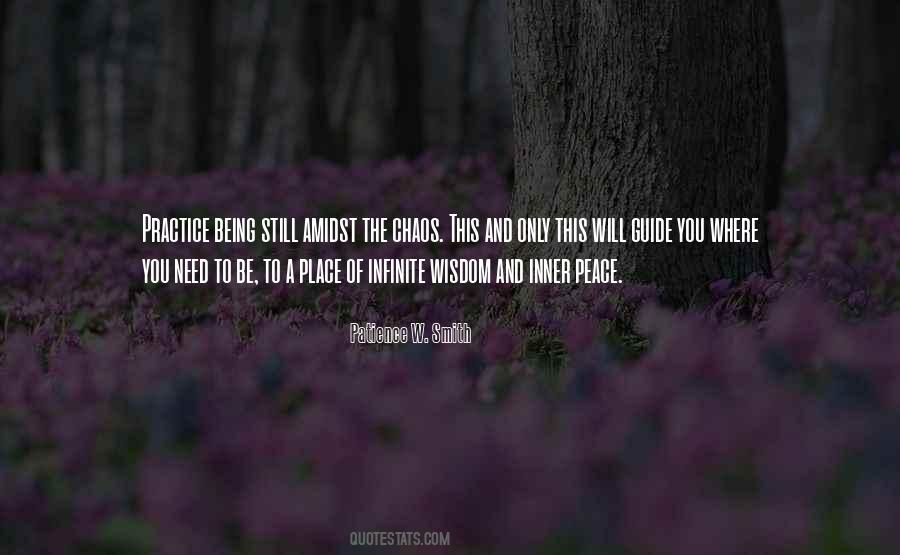 #25. For every moment the sea is peace and relief, there is another when it shivers and stirs to become chaos. It's just as ready to claim as it is to offer. - Author: Tim Winton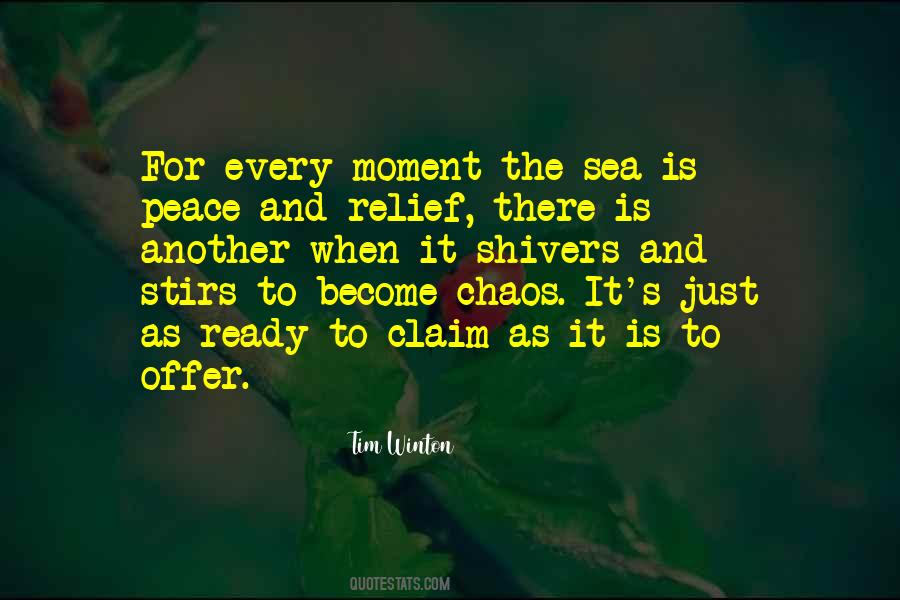 #26. Deep down, nature is inherently peaceful, calm and beautiful. The universe as a whole is perfect. The chaos is on the surface. - Author: Amit Ray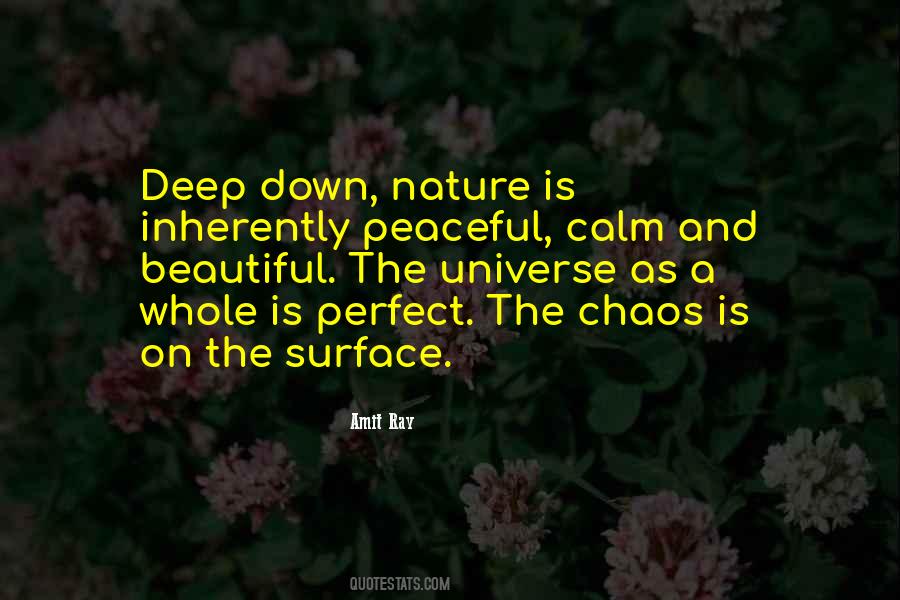 #27. B.C.) - Stoicism stressed the search for inner peace and ethical certainty despite the apparent chaos of the external world by emulating in one's personal conduct the underlying orderliness and lawfulness of nature. - Author: Marcus Aurelius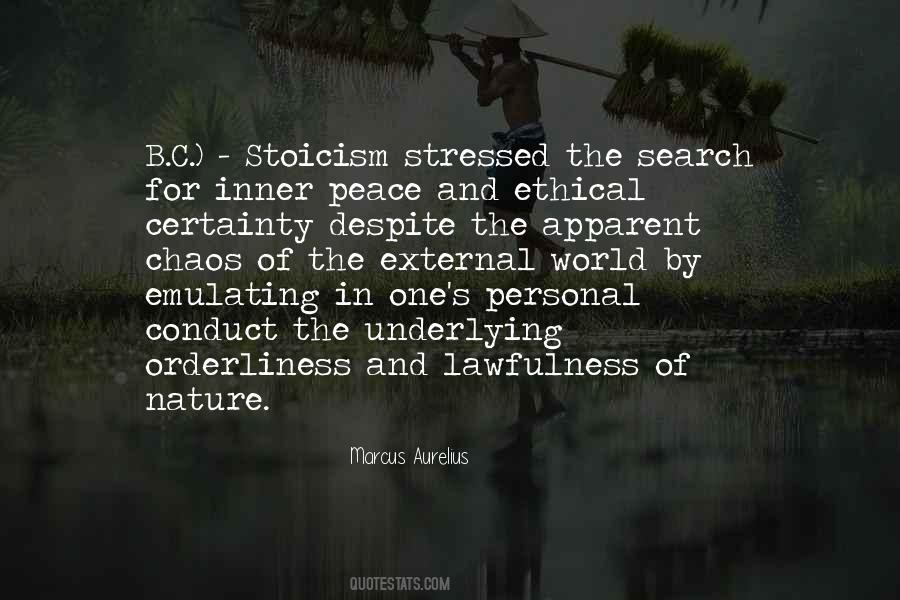 #28. I use the word inquiry as synonymous with The Work ... Inquiry is a way to end confusion and to experience internal peace, even in a world of apparent chaos. Above all else, inquiry is about realizing that all the answers we ever need are always available inside us. - Author: Byron Katie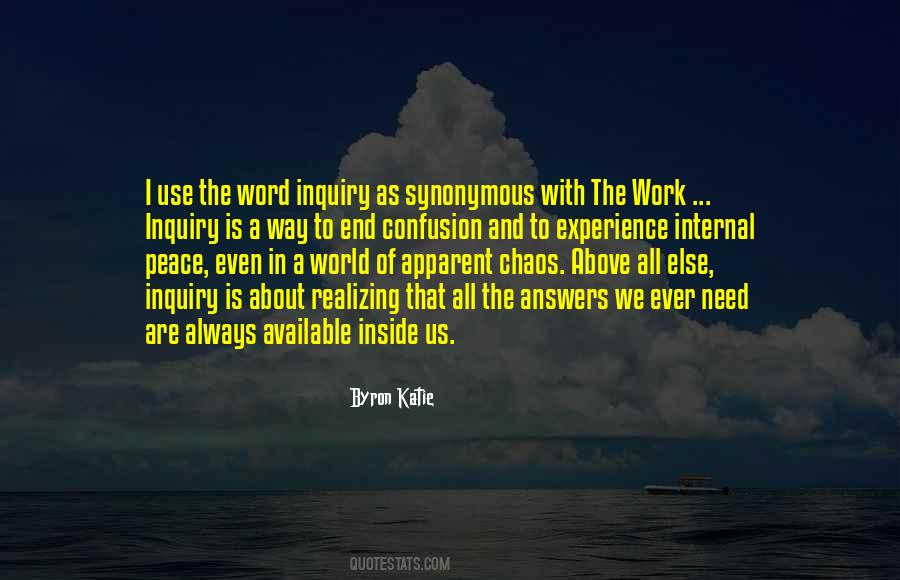 #29. With the world in a chaos of questions, family should be the answer. - Author: Anthony Liccione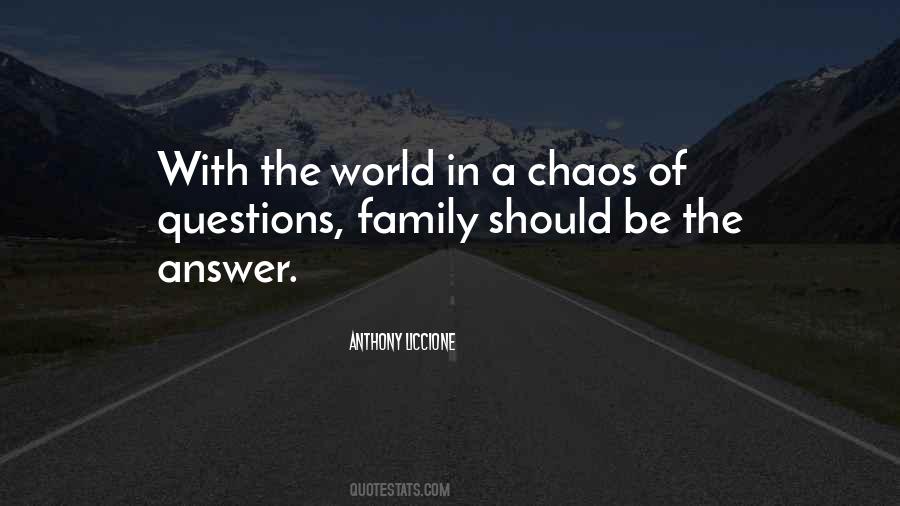 #30. I owe it all to words and art, the peace that came with a flicker of a pen silenced the suffering; eased the pain and life that was once filled with burden became sane again. It Became meaningful.
Art does matter, it made me, when the world changed me. - Author: Nikki Rowe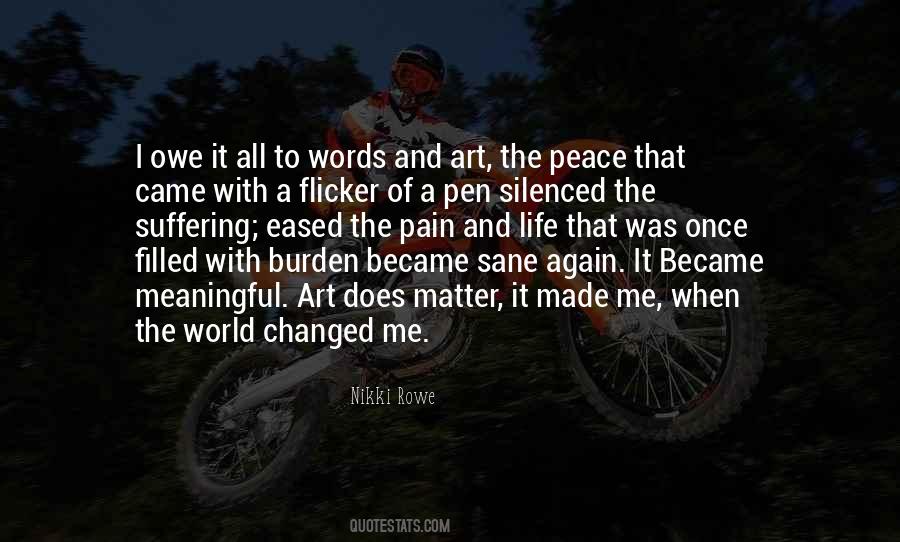 #31. If [his] peace of mind depended on me promising to be a sweet and careful little girl, he'd be smart to get used to chaos. - Author: Sharon Green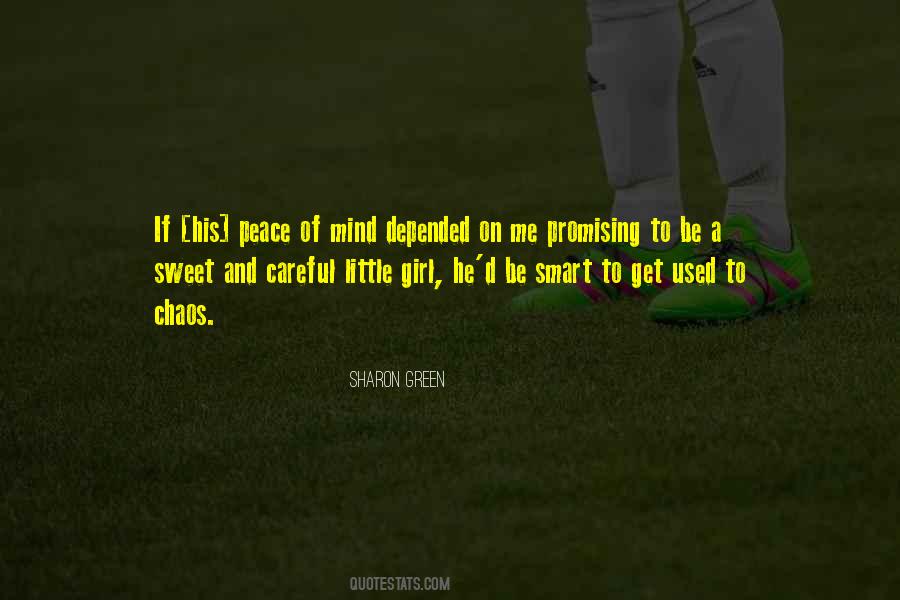 #32. If I want to live in a peaceful world, then it is up to me to make sure that I am a peaceful person. No matter how others behave, I keep peace in my heart. I declare peace in the midst of chaos or madness. I surround all difficult situations with peace and love. - Author: Louise Hay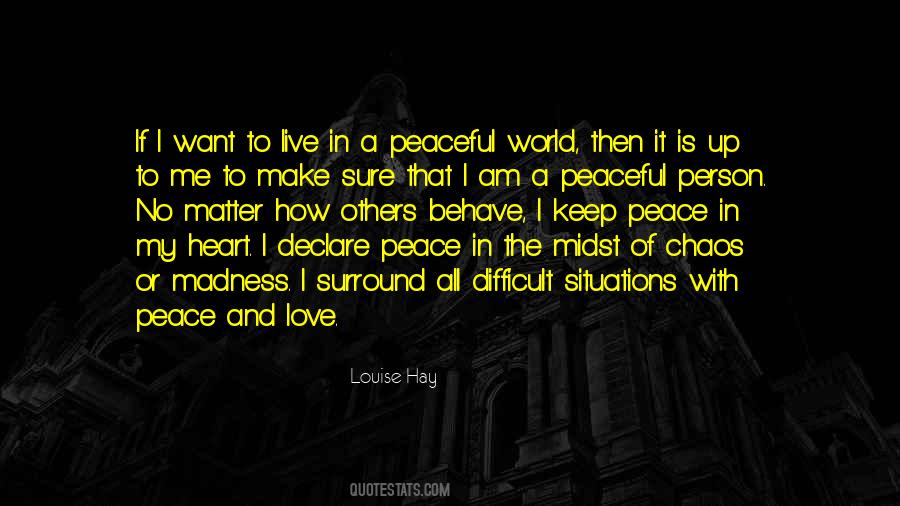 #33. Prayer guards hearts and minds and causes God to bring peace out of chaos - Author: Beth Moore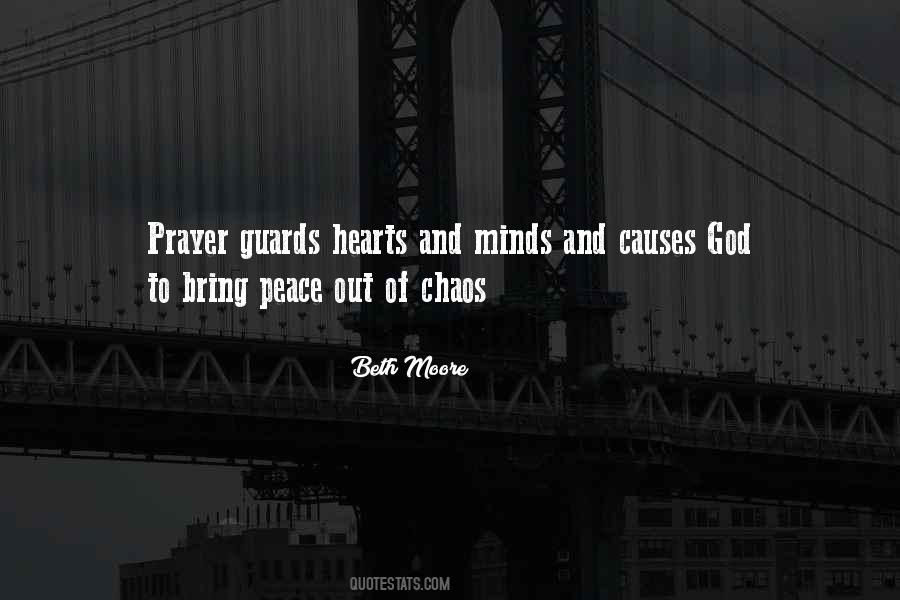 #34. Beyond drama and chaos, beyond anxiety and fear, lies a zone of endless peace and love. Let's all take a very deep breath, slow down for just a moment and remember this. That alone will open the door ... - Author: Marianne Williamson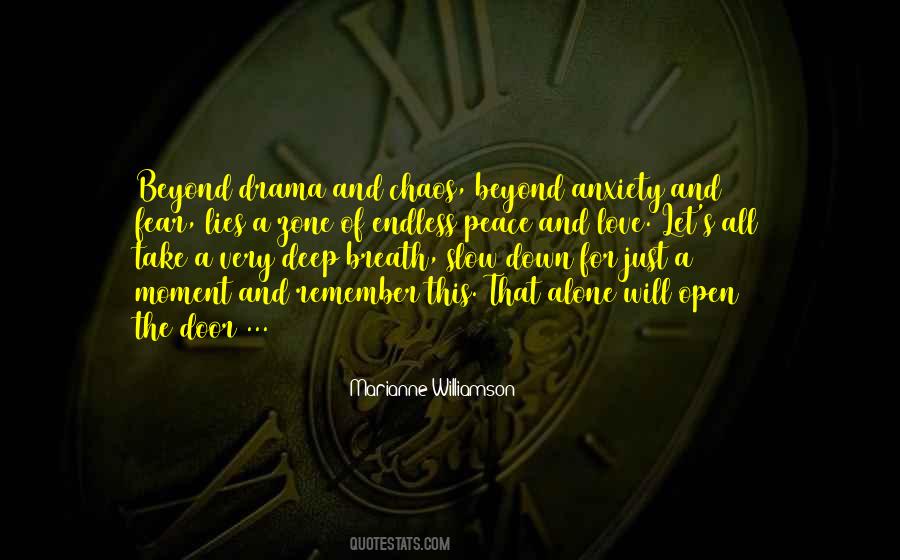 #35. Isn't it funny how true peace describes war and chaos? - Author: Lionel Suggs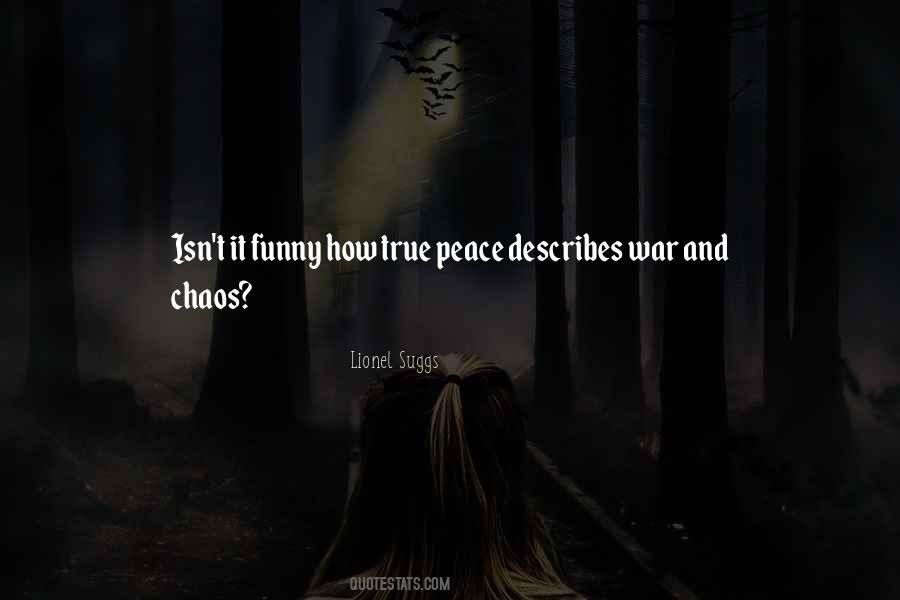 #36. A man of peace is guided by peace, but when that peace is threatened, he has a choice to either kneel down and die silently as it falls into chaos, or fight for it and not look back. ~ Ryan Mark, Author - Author: Ryan Mark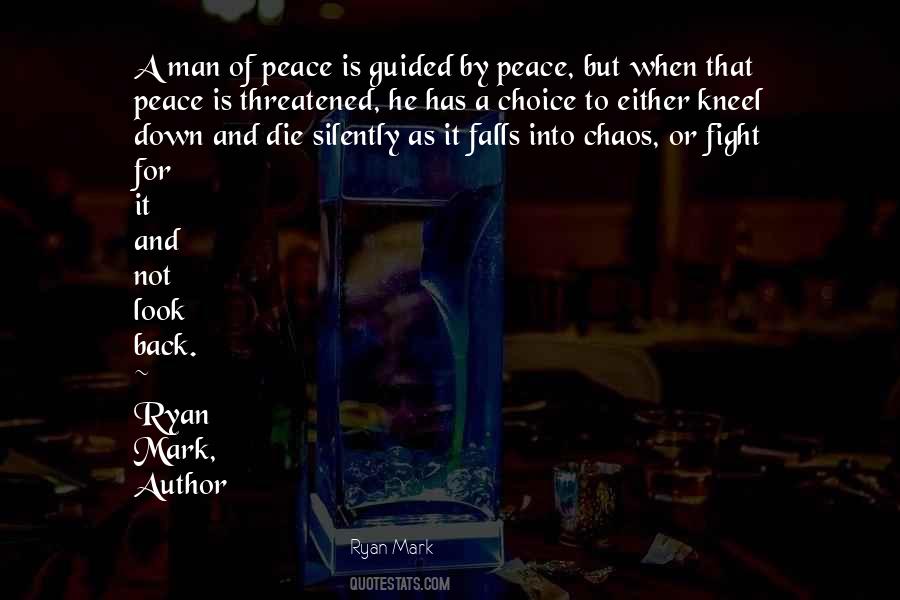 #37. While Grayson brought peace and calm to my life, I brought worry and chaos to his. - Author: Ella Frank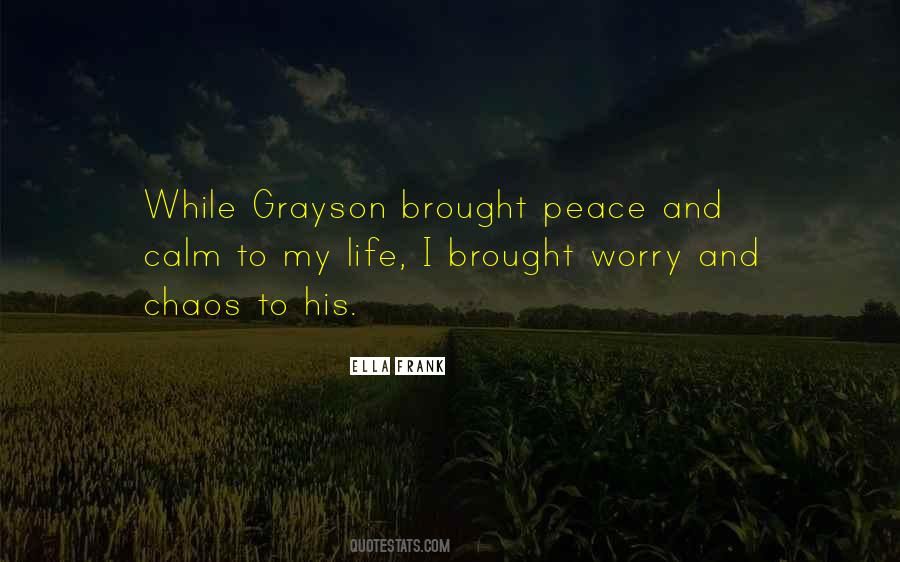 #38. Darkness is the only place, where chaos and peace always met and fell in love with each other. - Author: Akshay Vasu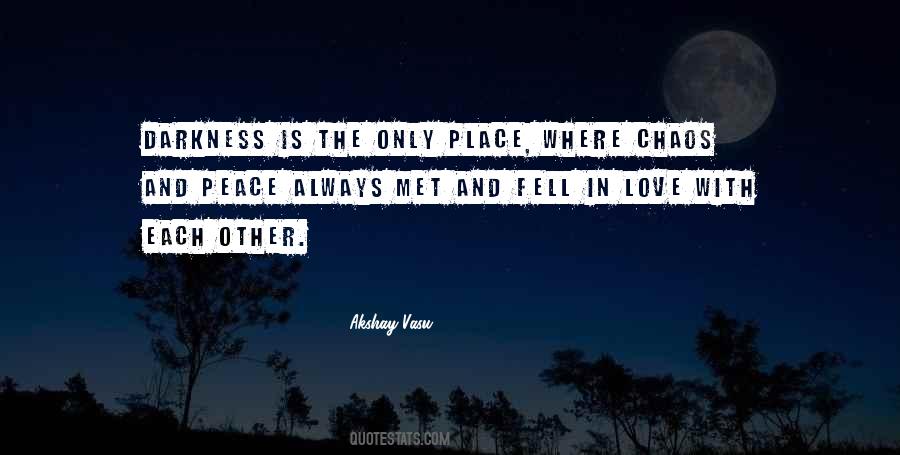 #39. When someone obtains peace and serenity, this shines a bright spotlight on others' own unhappiness making their discomfort even more apparent. - Author: David W. Earle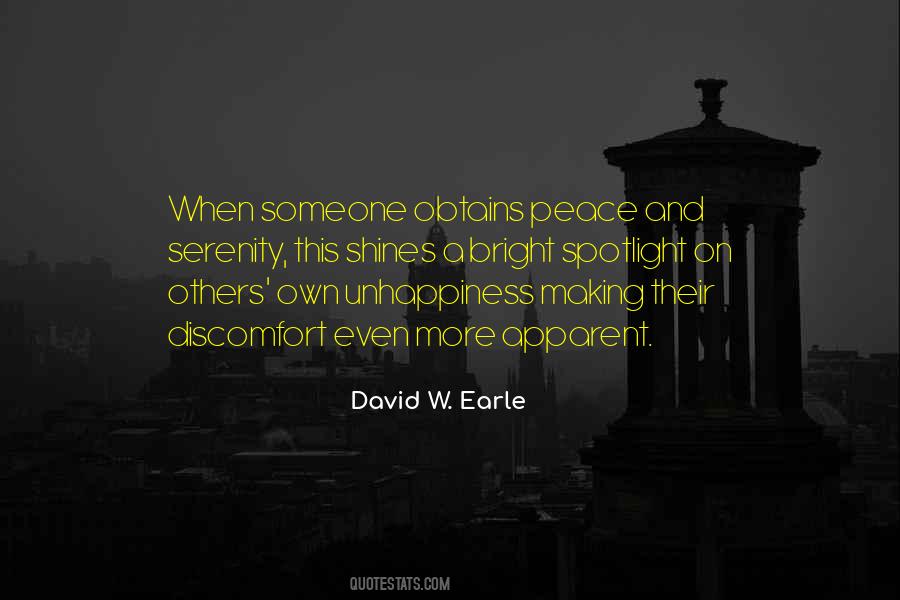 #40. One day you'll make peace with your demons, and the chaos in your heart will settle flat. And maybe for the first time in your life, life will smile right back at you and welcome you home. - Author: Robert M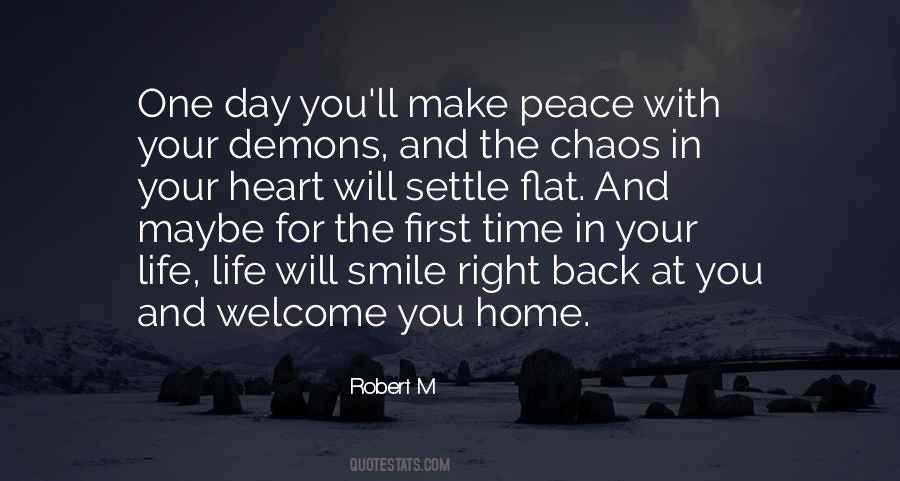 #41. So, even in the midst of craziness and exhaustion and life-changing chaos, I was filled with peace and the sweet knowledge that I was walking the path my Goddess wanted me on. Not that that path was smooth and pothole free. But still, it was my path, and like me, it was bound to be unique. - Author: P.C. Cast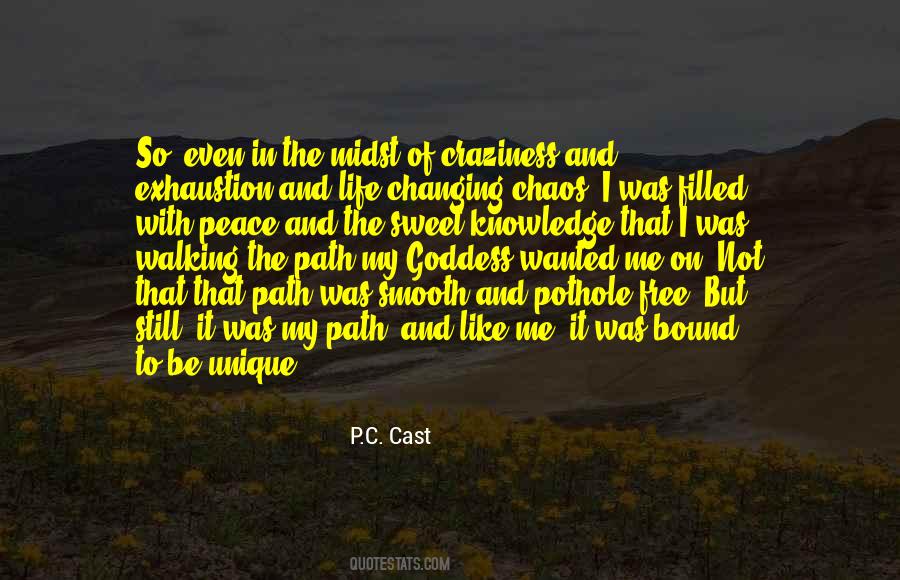 #42. Love breaks your heart, fucks you up - perfect, all-consuming chaos." ... He wraps me up in his arms, his eyes on mine. "But it's also this. Peace, and warmth, and so fucking beautiful, you'll risk anything to keep it. - Author: Kristen Callihan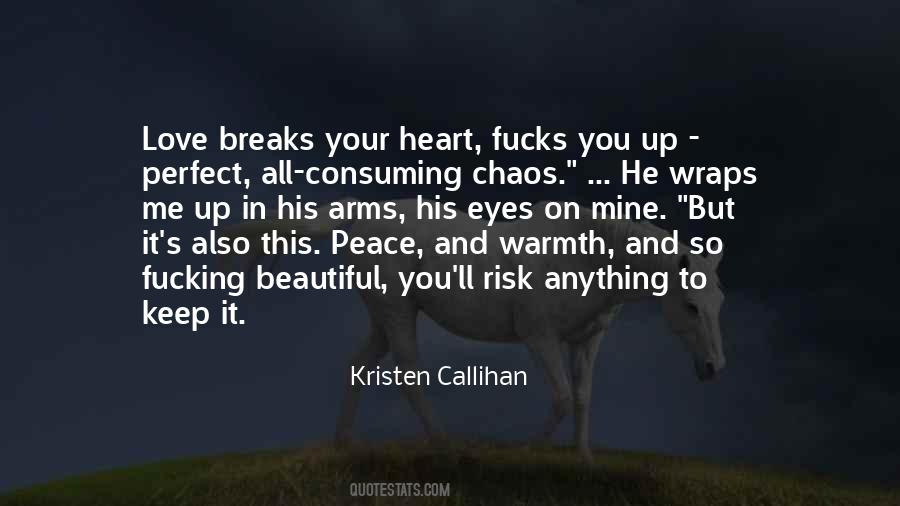 #43. We still have a choice today: nonviolent coexistence or violent co-annihilation. This may well be mankind's last chance to choose between chaos and community. - Author: Martin Luther King Jr.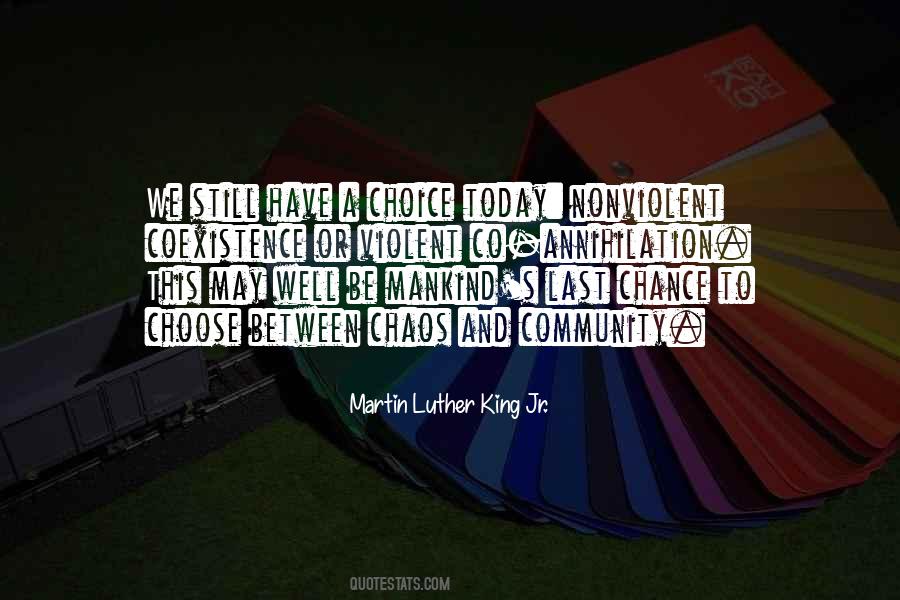 #44. I have seen people starting the fire with water, turning every breeze into a storm, create chaos out of peace. Few people are meant to destroy everything and themselves no matter what, and if you hold on to them long they will take you into their abyss and tear you into pieces. - Author: Akshay Vasu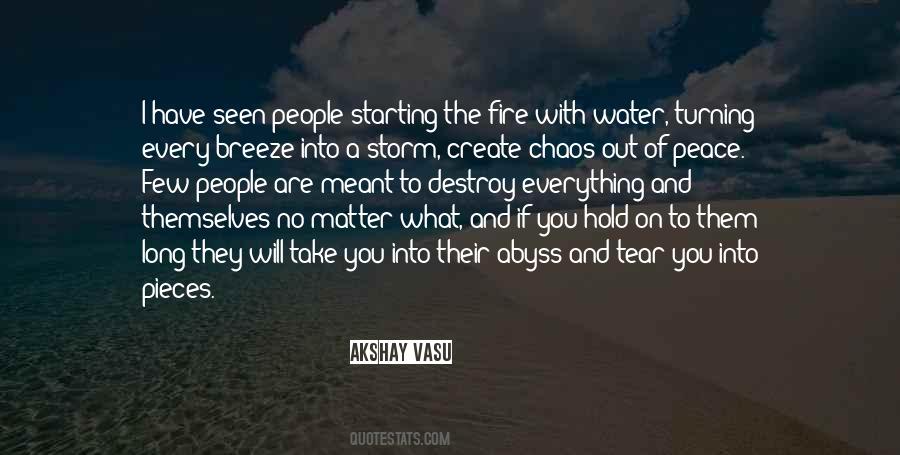 #45. Wild woman are an unexplainable spark of life. They ooze freedom and seek awareness, they belong to nobody but themselves yet give a piece of who they are to everyone they meet.
If you have met one, hold on to her, she'll allow you into her chaos but she'll also show you her magic. - Author: Nikki Rowe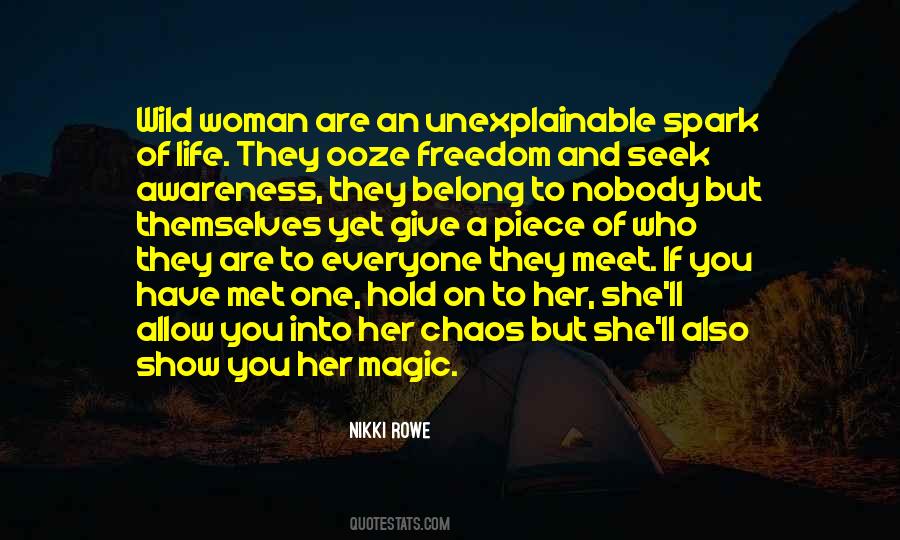 #46. We don't need to fight the forces of chaos so much as we need to restore and revitalize the forces of peace. - Author: Marianne Williamson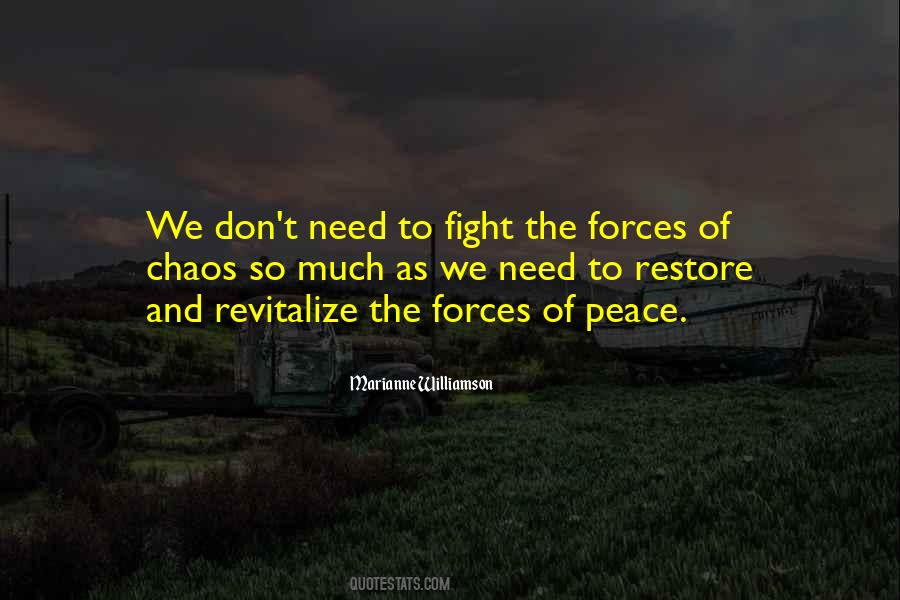 #47. During certain hours, at certain years in our lives, we see ourselves as remnants from the earlier generations that were destroyed. So our job becomes to keep peace with enemy camps, eliminate the chaos at the end of Jacobean tragedies, and with 'the mercy of distance' write the histories. - Author: Michael Ondaatje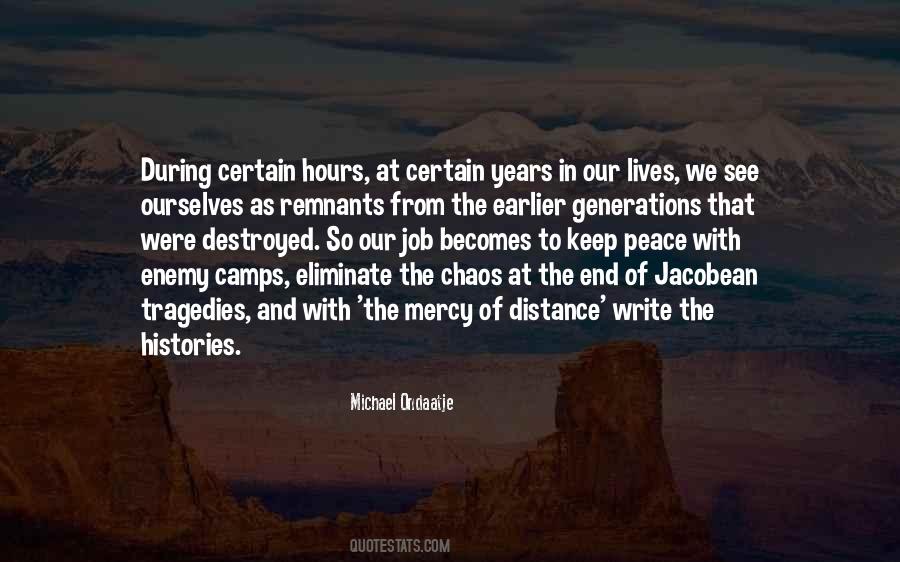 #48. If anarchy is chaos, and chaos is war, why wasn't a single war started by anarchists? - Author: Jakub Bozydar Wisniewski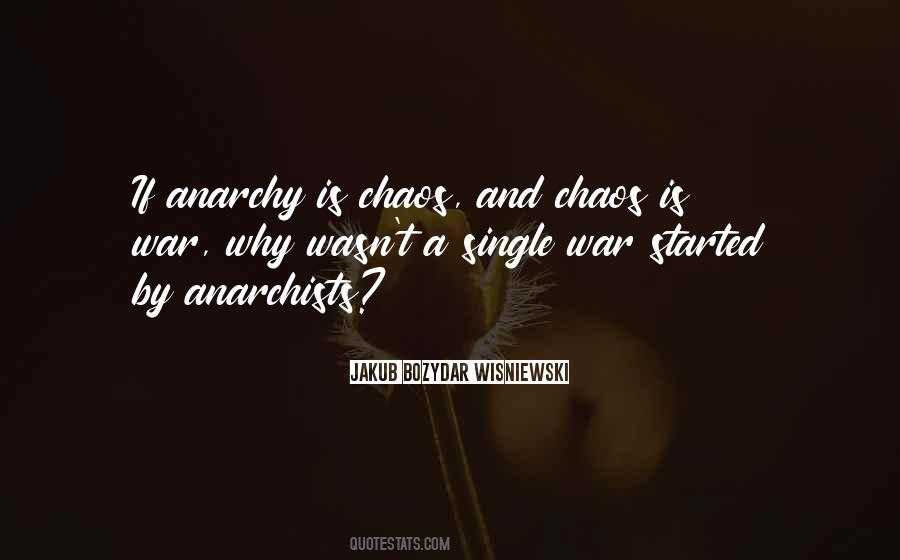 #49. Why do we live out every day as if there is no hope to overcome our chaos and no possibility for living a stressed-less life when Scripture repeatedly reassures us that God has the power and the peace to make that happen? - Author: Tracie Miles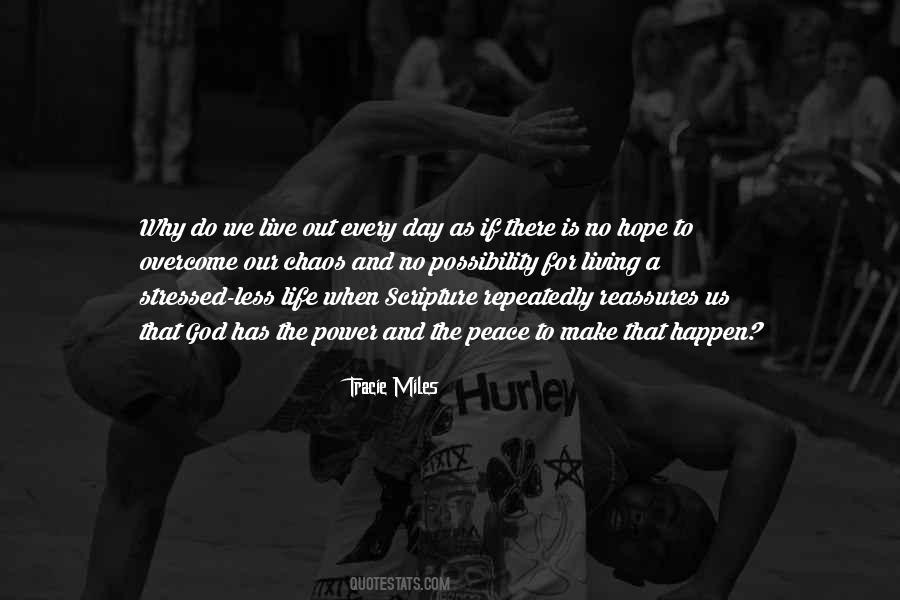 #50. In trials and hardships, we can choose to be grounded in hope and experience peace in the chaos, or wiggle and wrestle with worry and wind up at the same destination!EL - Author: Evinda Lepins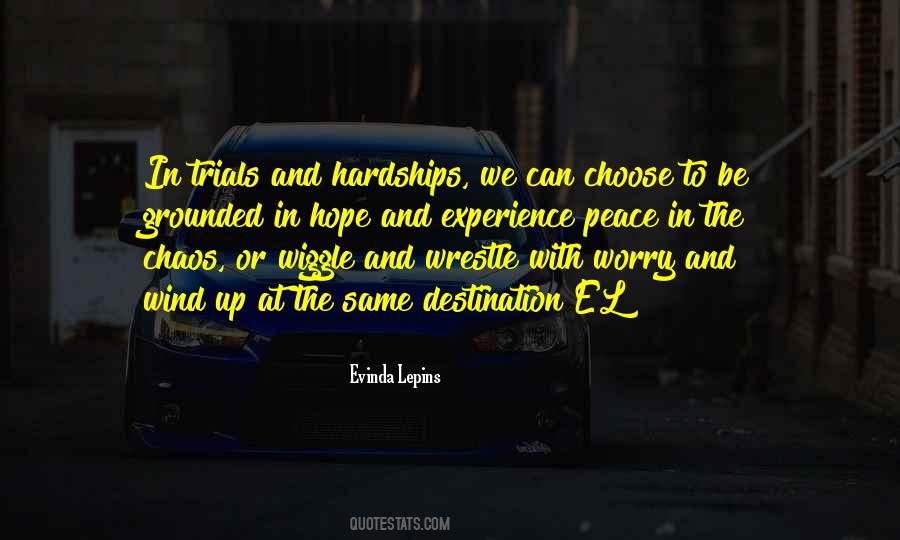 #51. There is an immutable conflict at work in life and in business, a constant battle between peace and chaos. Neither can be mastered, but both can be influenced. How you go about that is the key to success. - Author: Phil Knight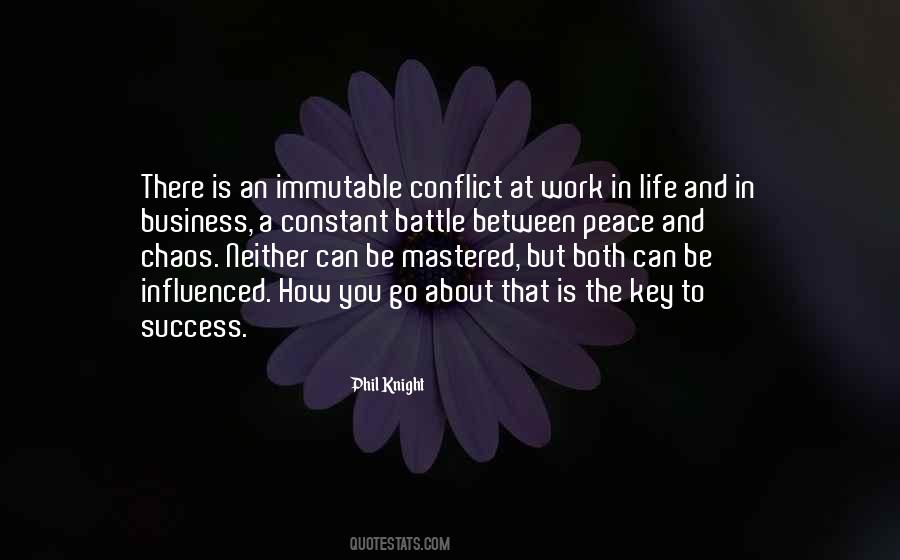 #52. The great lesson of history for us is that strength and resolve bring peace and order, and weakness and vacillation invite chaos and conflict. - Author: Rick Perry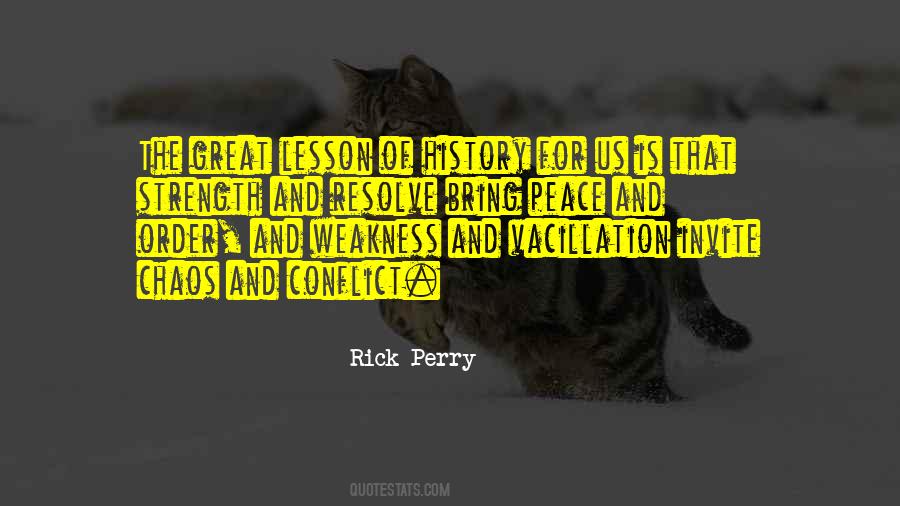 Famous Authors
Popular Topics