Break Up Love Famous Quotes & Sayings
List of top 100 famous quotes and sayings about break up love to read and share with friends on your Facebook, Twitter, blogs.
Top 100 Quotes About Break Up Love
#1. We are not trapped or locked up in these bones. No, no. We are free to change. And love changes us. And if we can love one another, we can break open the sky. - Author: Walter Mosley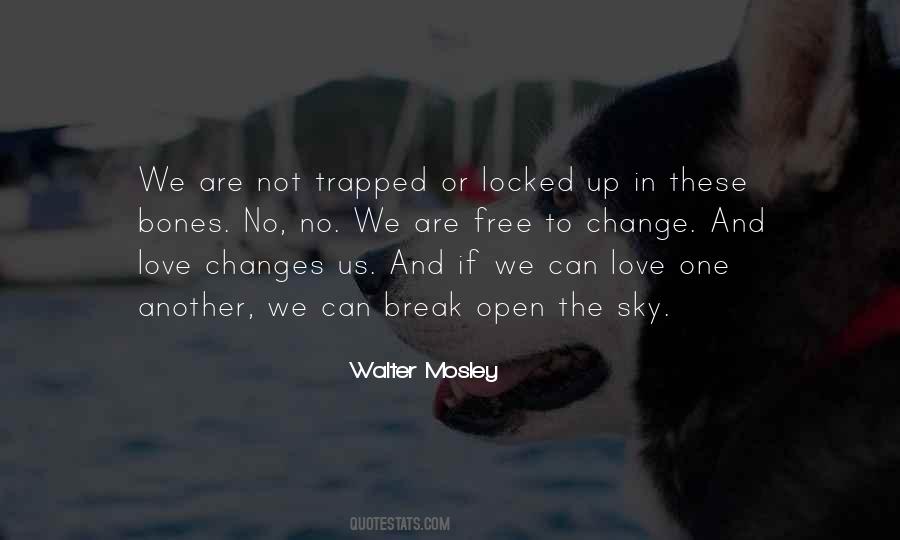 #2. Let's still be friends (things that are never true in a break up, but you have to say). - Author: Lauren Leto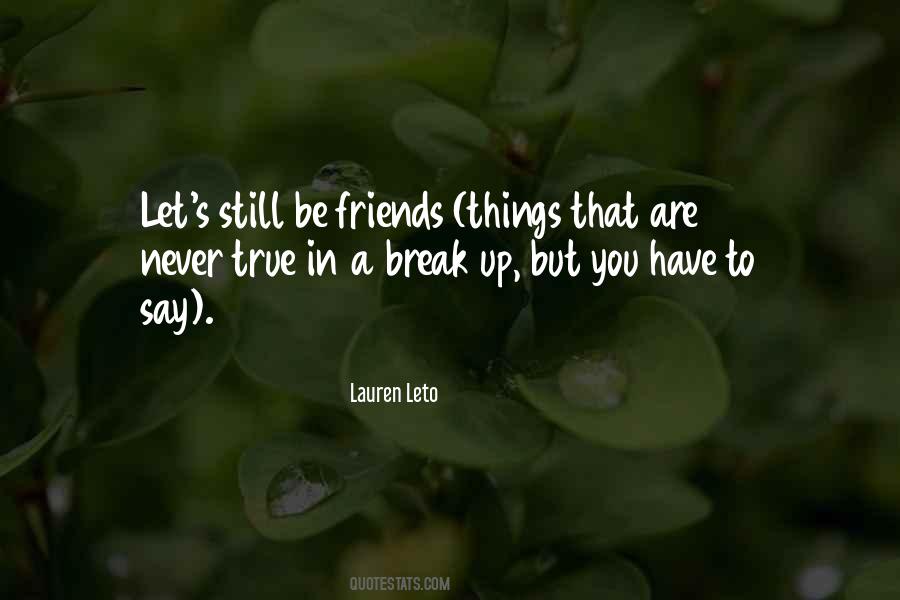 #3. *on saying I Love You* When you hear those words, it's like being picked out from the crowd. - Author: Philip Siegel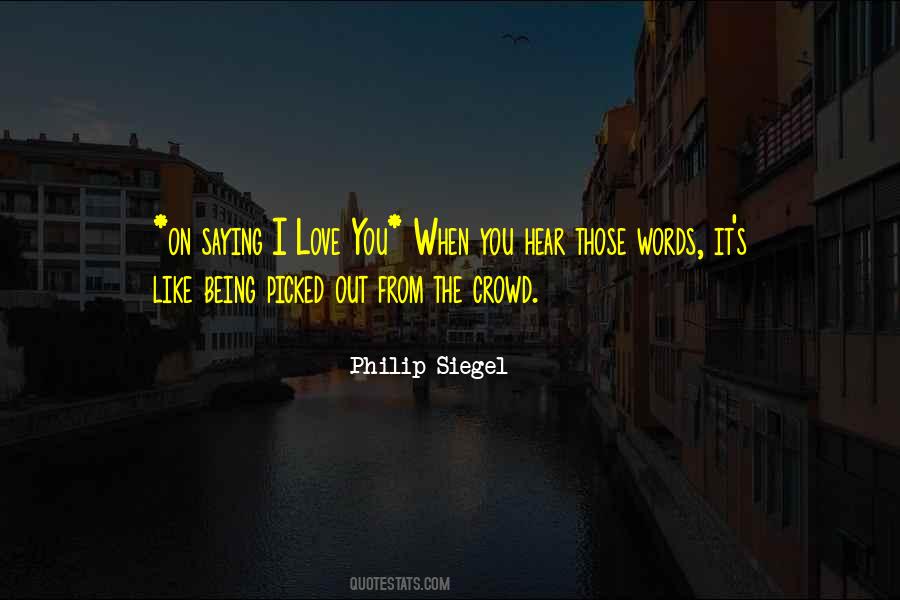 #4. Hearts may break, and relationships end, but life goes on. You can't stop life's motion; it's either you let life pass you by or you go with it's motion. - Author: Innocent Mwatsikesimbe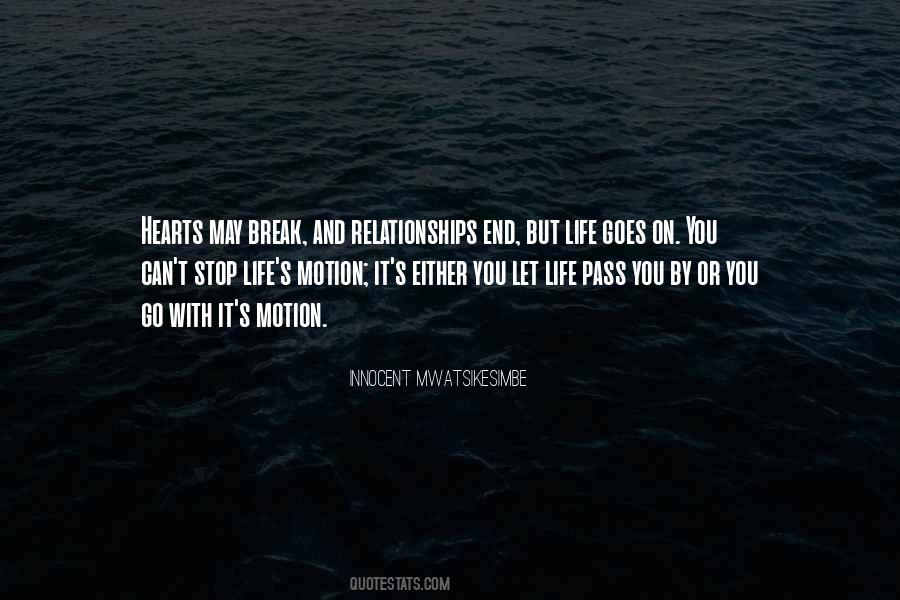 #5. Break my heart or break my fall. - Author: Amber Newberry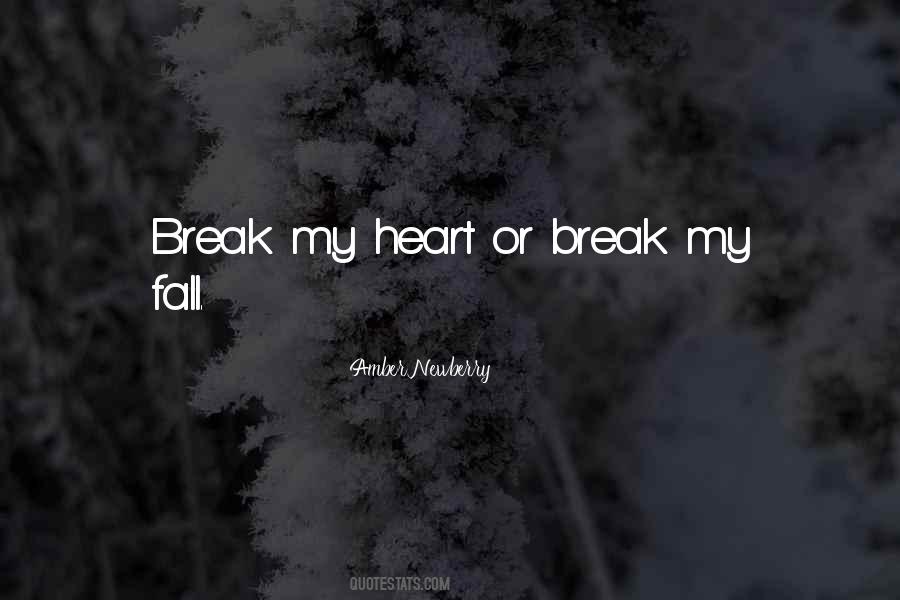 #6. If someone doesn't like what you bring to the table in a relationship, let them eat alone. - Author: Karen Salmansohn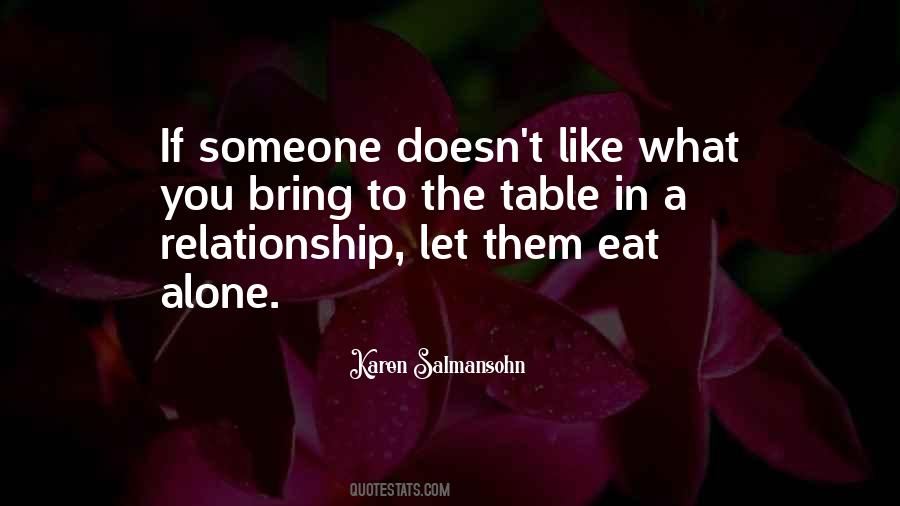 #7. Like the muscles knew from the beginning that it would end with this, this inevitable falling apart ... It's sad, but a relief as well to know that two things so closely bound together can separate with so little violence, leaving smooth surfaces instead of bloody shreds. - Author: Julie Powell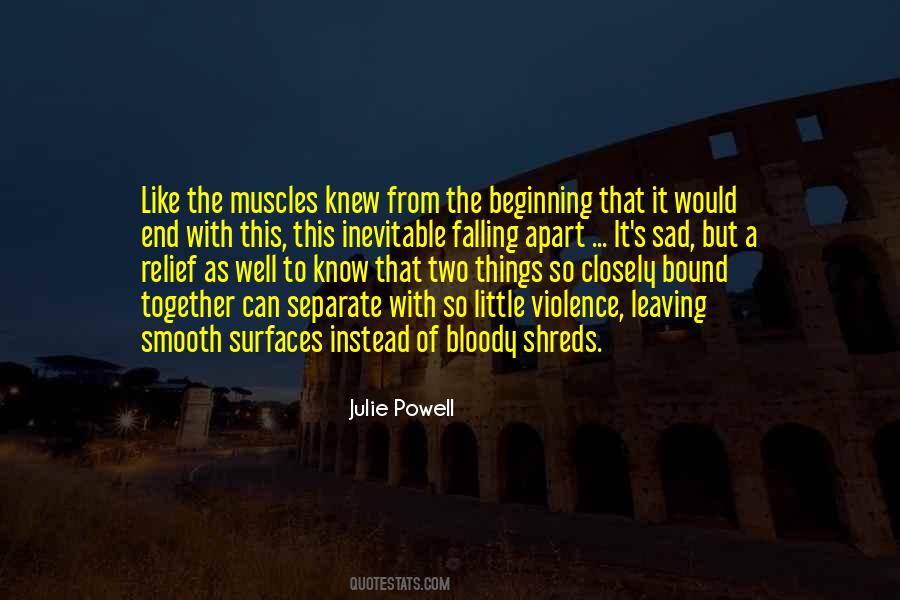 #8. You can't easily break out of this cycle of love. It's always here and there up and down.. pain and joy, this wonderful feeling of being in love, which will come to an end later, is so dominating through your entire life. And you cannot escape it. - Author: Till Lindemann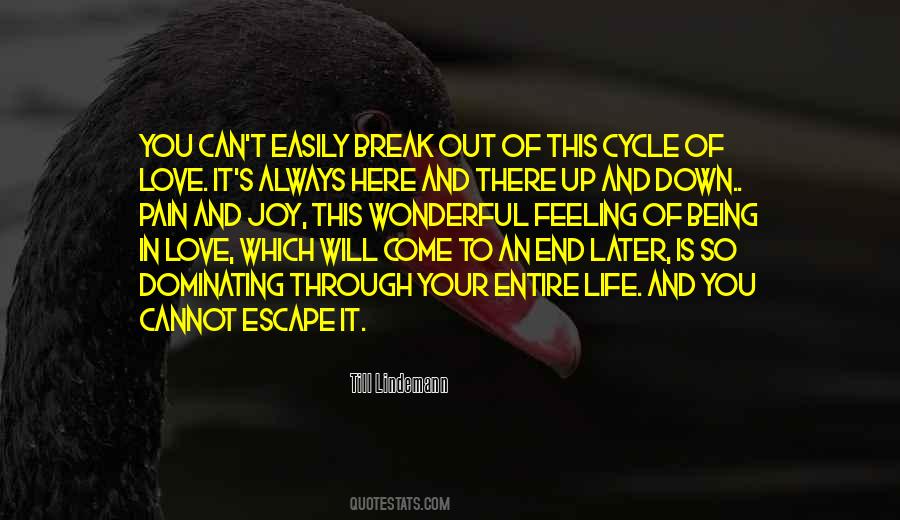 #9. I have seen the breakups between people who love each other and rush into getting married too quickly and I do not want to make that mistake. - Author: Paris Hilton
#10. If you're asking if I would be foolish enough, or insulting enough, to write about people in my life that I respect and sell it to the masses as a "break-up song," I can't imagine doing that to people I love. - Author: Jack White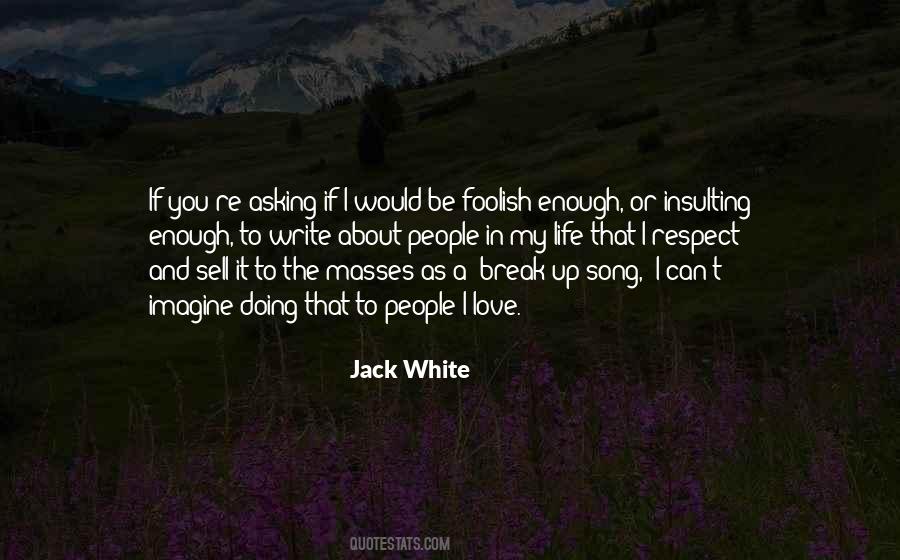 #11. I opened my mouth and kissed you then, the first time all night, attacked you and surrendered completely, and let's get out of here. I'm ready, I'm finished, let's not break up, no, no. Take me home, my boyfriend, my love. - Author: Daniel Handler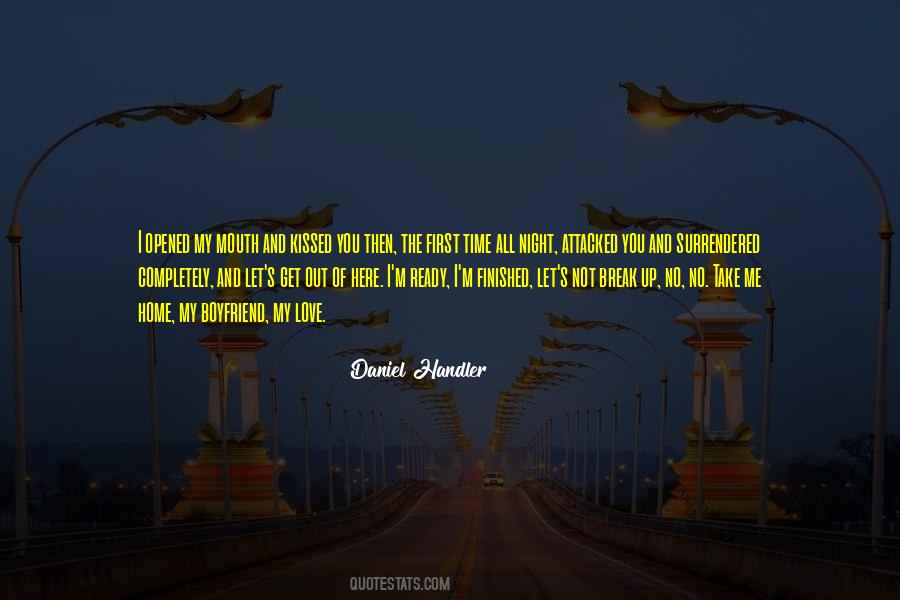 #12. Do you think you can wait - because I don't want you to stop loving me. I keep remembering us and how it was. I don't want to hurt you ... not ever ... - Author: Judy Blume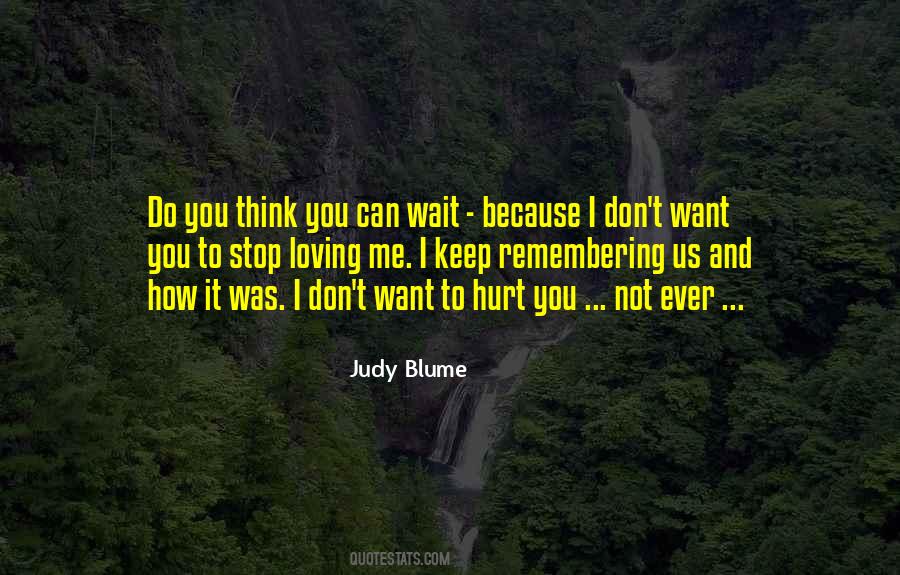 #13. I'm starting to learn that if things are messy, or pieces don't get put back right, they are going to hurt, either way. - Author: R. YS Perez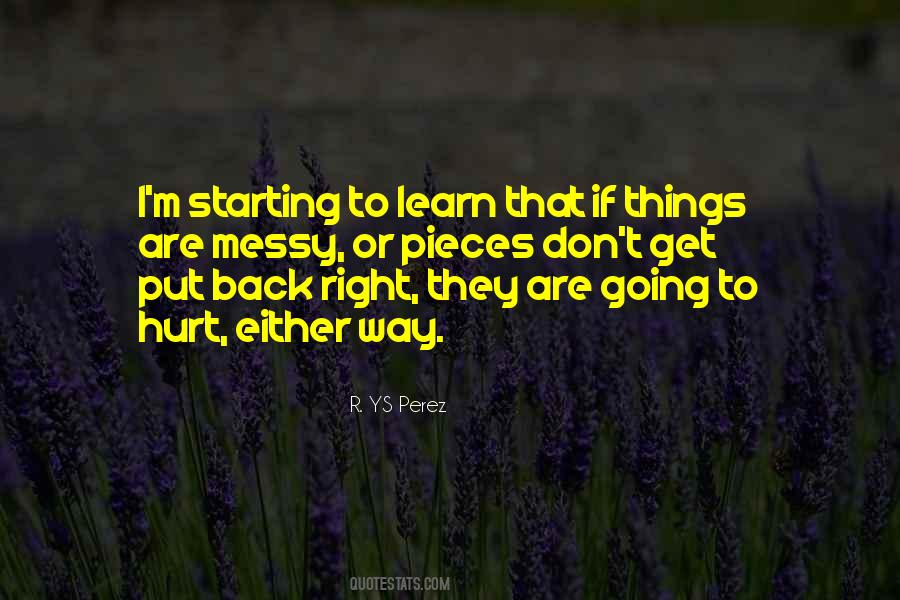 #14. It is not the pain from the present that is killing you, but all your repressed feelings from the past that adds weight to it. - Author: Linda Alfiori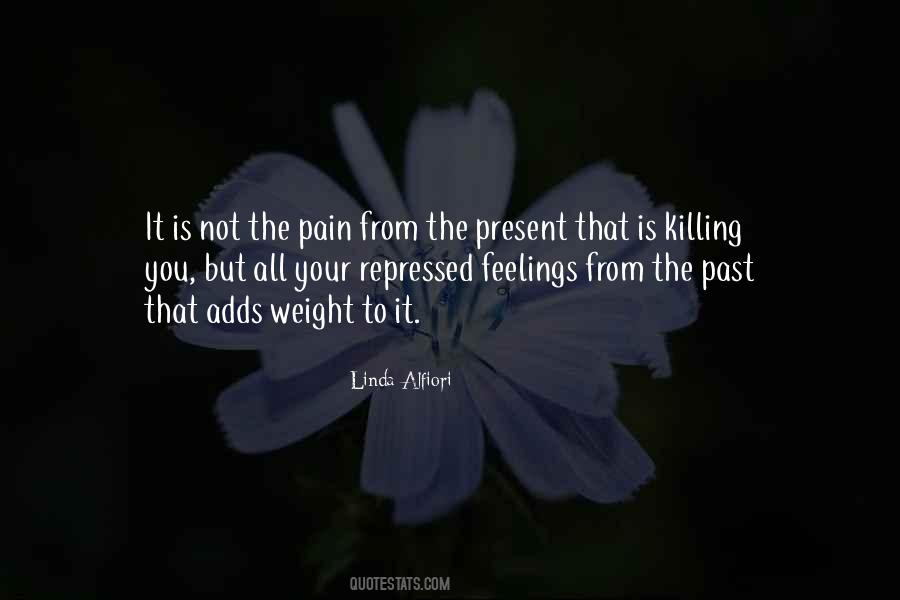 #15. I decided I would fill the emptiness in me with God and with paint. - Author: Kimberly Novosel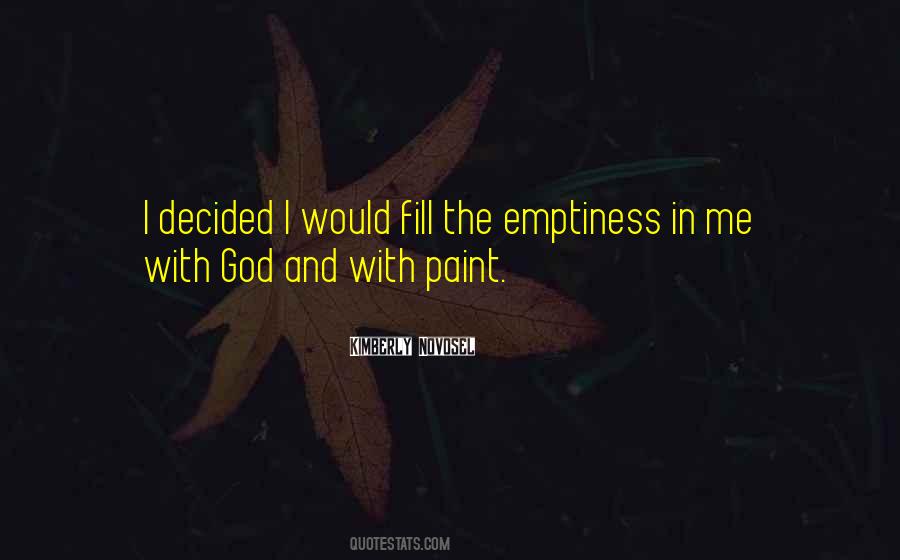 #16. Sometimes a woman will look back on what she had, not because she wants to go there but to motivate her to do better. - Author: Reuben " Mulah Truth " Holmes II
#17. When you write a manuscript, it feels like being in a relationship with someone. You'll hate it, get bored with it, be pissed of, like you just want to break up. But, just like any relationship, you will fall in love again and again, like you don't want to lose it. - Author: Alvi Syahrin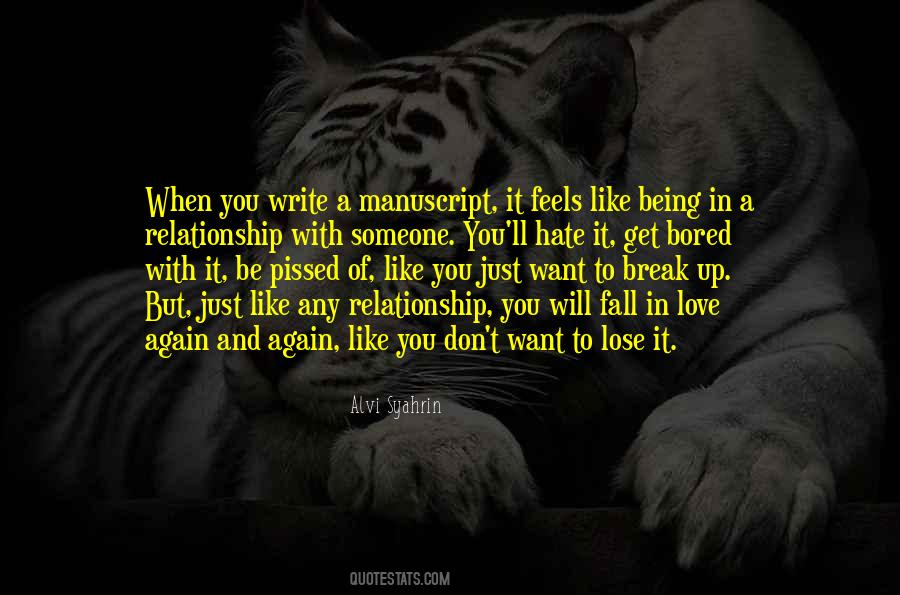 #18. I've fallen for the one person I shouldn't have. For the boy who broke Mary's heart. For Rennie's one true love. For Alex's best friend.
It has to end here. Now. - Author: Jenny Han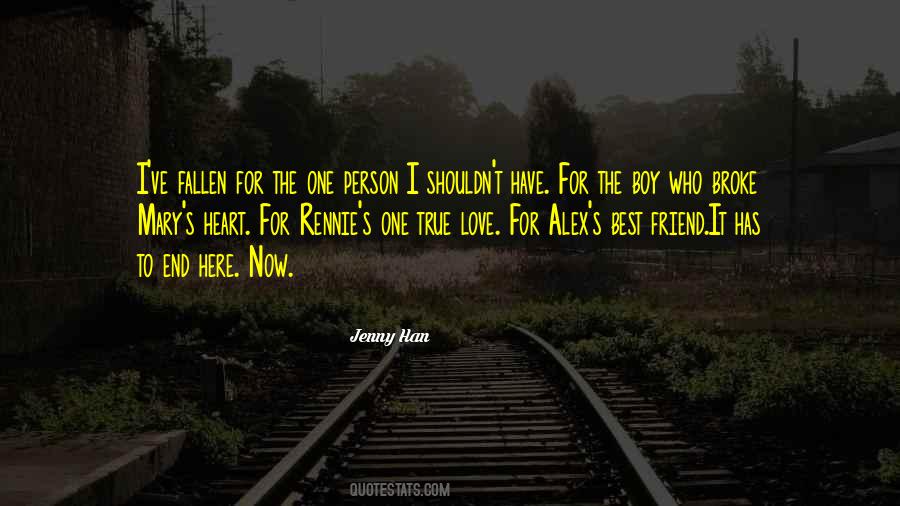 #19. i know it all ends the same,
but i was interested in seeing
how you would break my heart. - Author: AVA.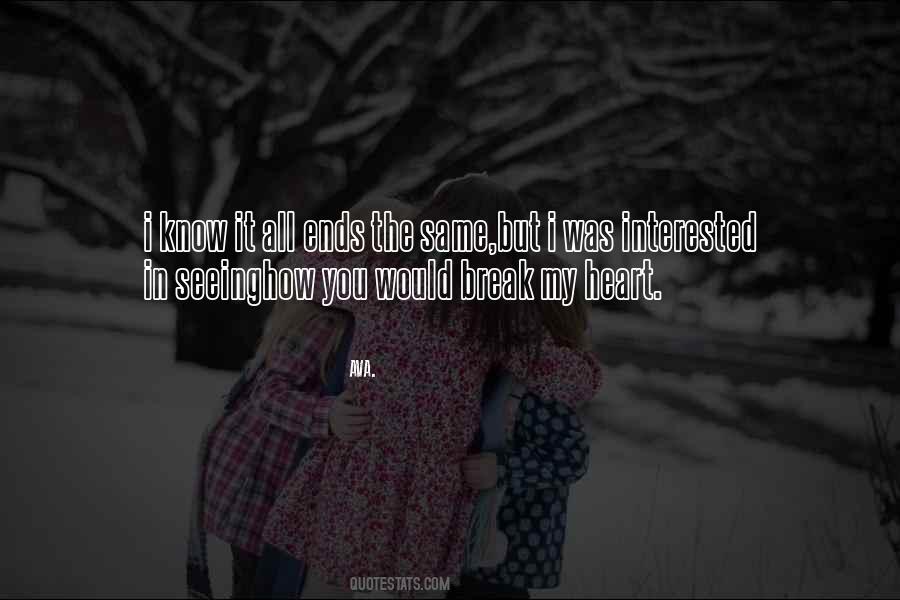 #20. Loving someone isn't a hard task, it's not a chore, you don't wake up one day and decide to break their heart because you got all hot and bothered, that doesn't happen! he boomed. - Author: Holly Hood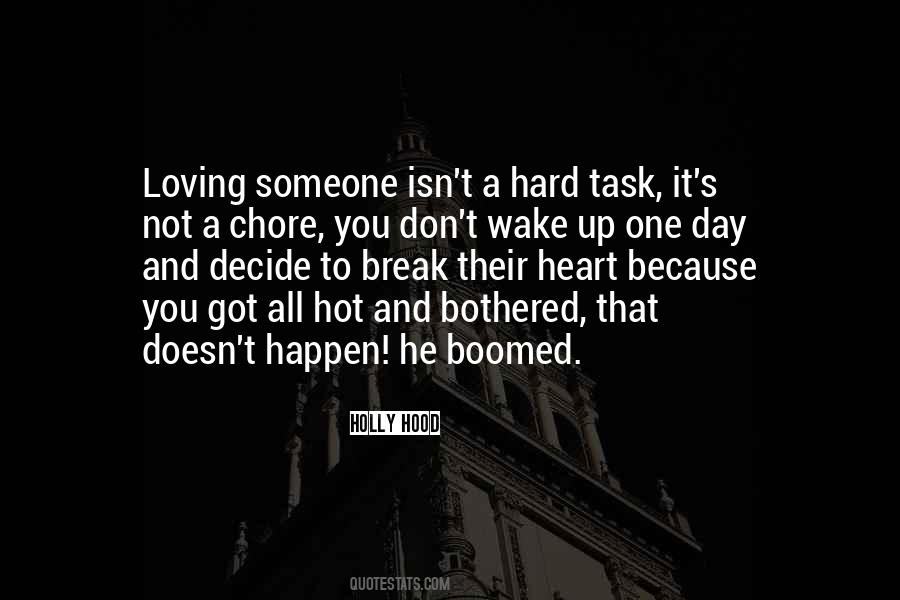 #21. It's OK if you mess up. You should give yourself a break. - Author: Billy Joel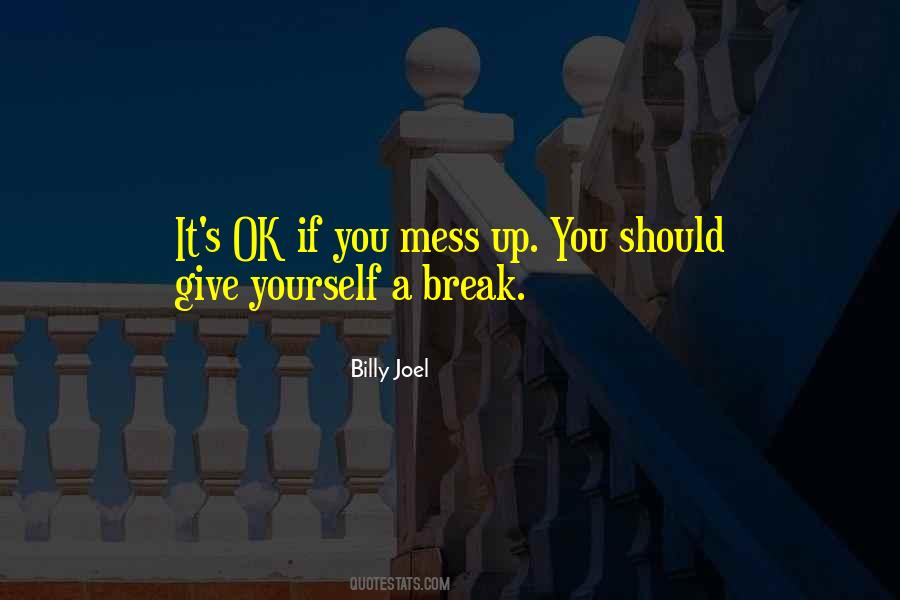 #22. Falling in love with somebody is like a rush of heroin, and trying to break up with somebodyis like trying to kick heroin. - Author: Matt Skiba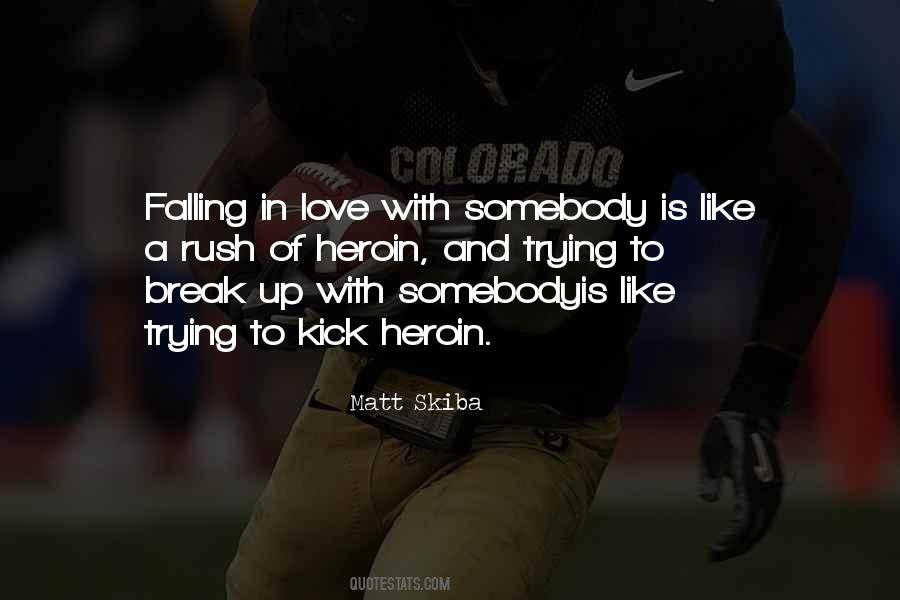 #23. I wanted to say "don't leave me," but I'm so tired of begging people to stay. - Author: R. YS Perez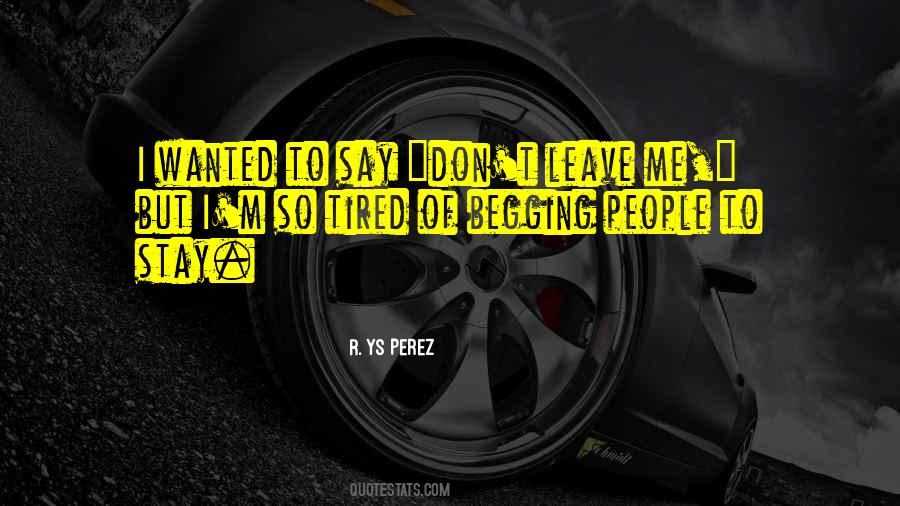 #24. I'm not brave enough to love you
The same way
You're not strong enough to take me on. - Author: Dawn Lanuza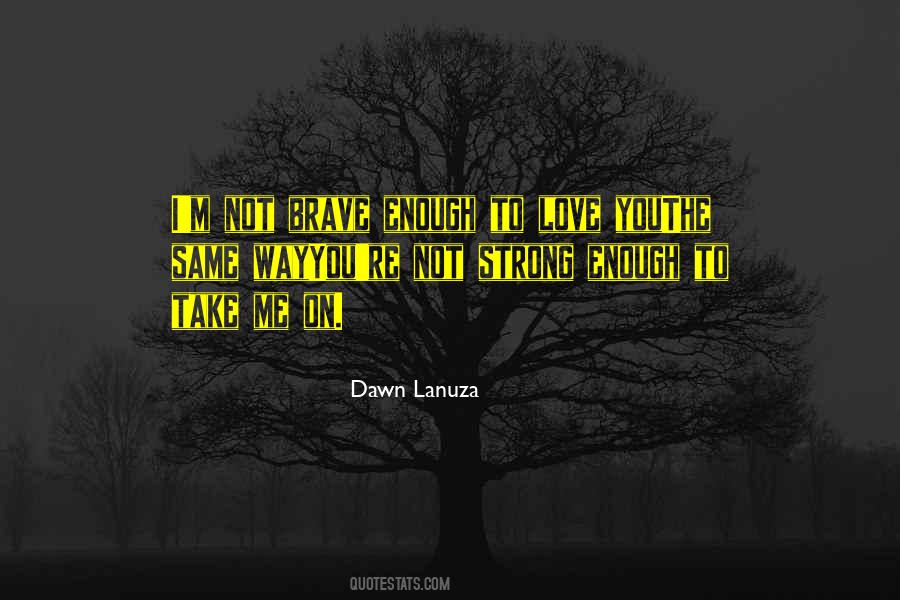 #25. I liked you because you could make me smile. I fell in love with you because you made me want to be a better person. Now that you're leaving me, what am I supposed to do? - Author: Lisa Gilbert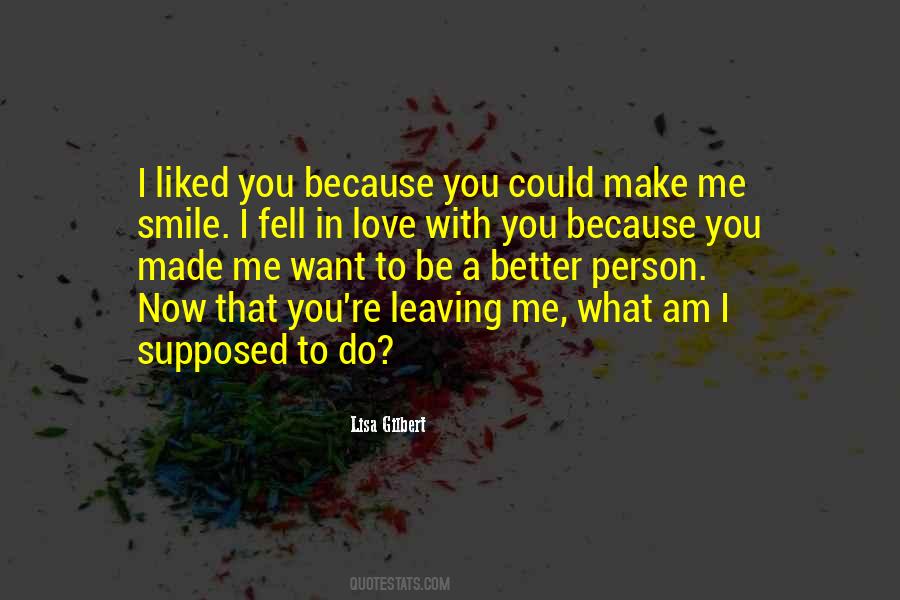 #26. Tis good for men to love their present pains
Upon example; so the spirit is eas'd :
And when the mind is quicken'd, out of doubt
The organs, though defunct and dead before,
Break up their drowsy grave, and newly move
With casted slough and fresh legerity. - Author: William Shakespeare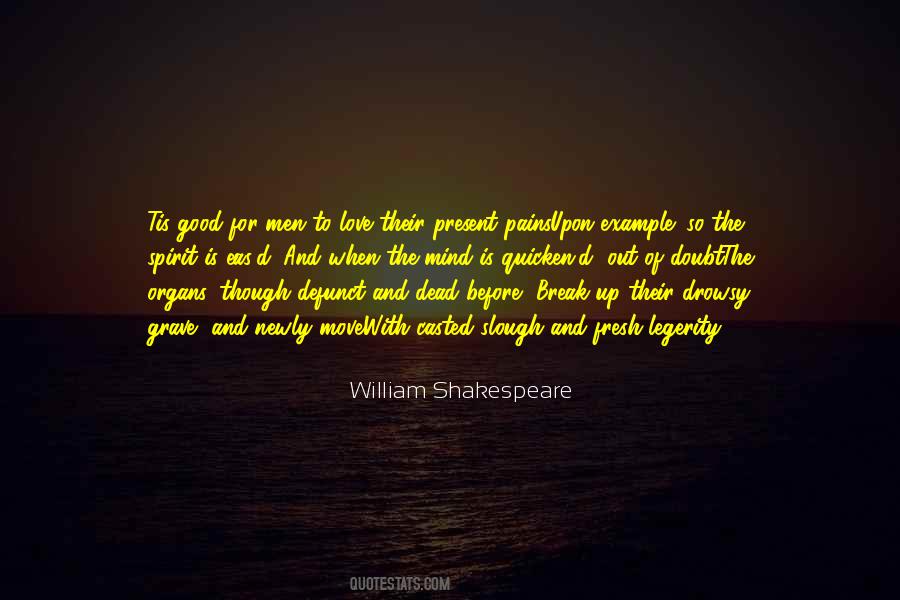 #27. Sometimes when you're young, you have moments of such happiness, you think you're living on someplace magical, like Atlantis must have been. Then we grow up and our hearts break into two. - Author: Stephen King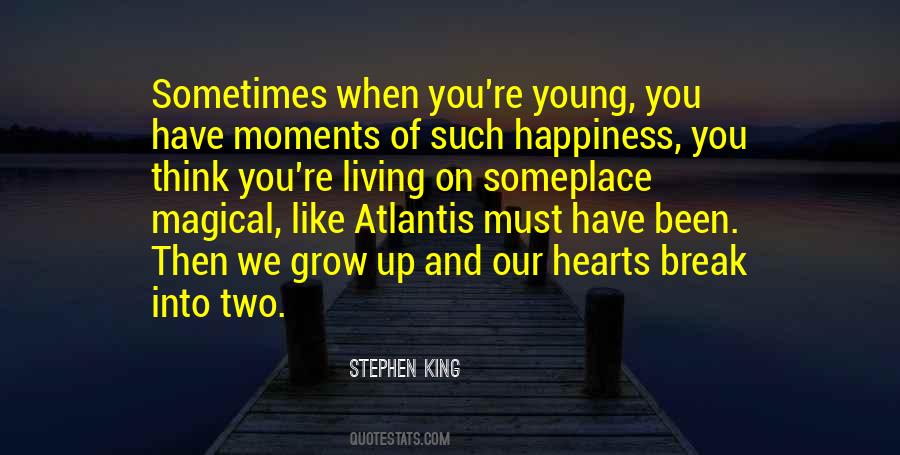 #28. Bleeding for a decade
For a decade,
We bleed like there is no hell but the earth
We bleed like we were born to dare
We bleed like there is nothing alive inside.
We find a clue
After a decade
Bleeding is just to breath
Simply keeps us alive. - Author: Arzum Uzun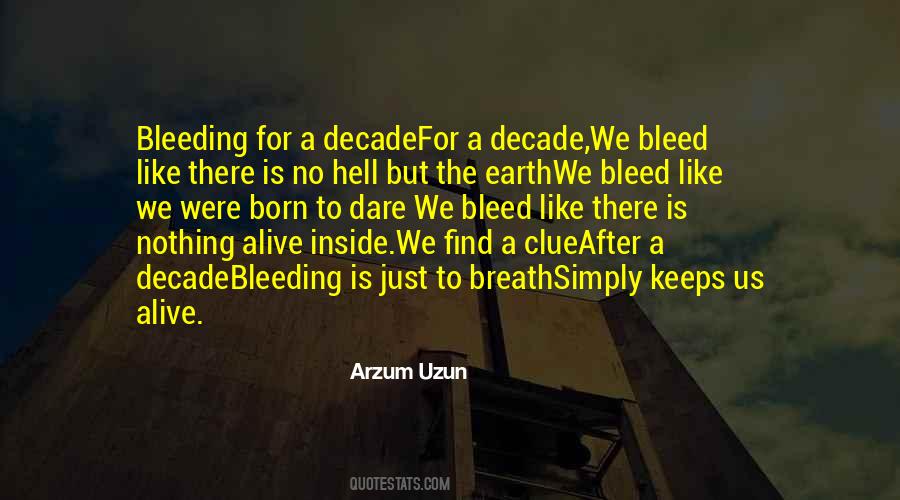 #29. I know, you love me and soon you will see, you were meant for me and I was meant for you - Author: Jewel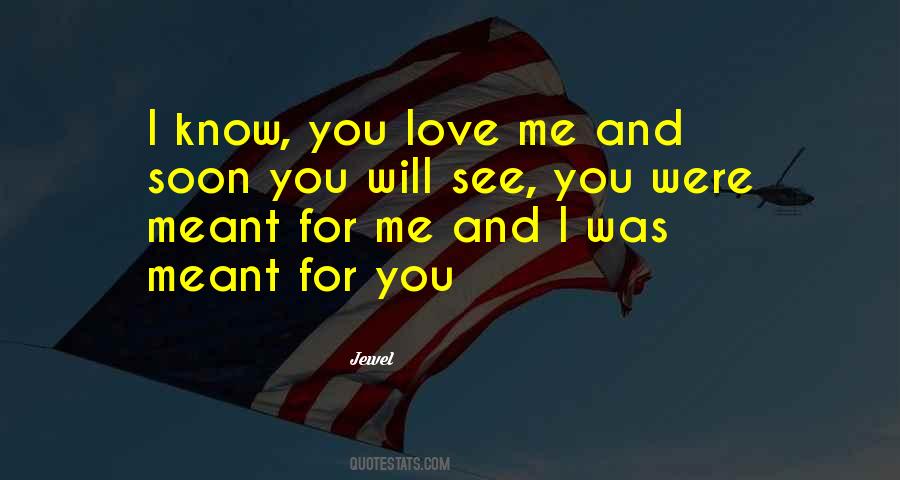 #30. I thought you're someone worth fighting for. But after all, you're not. - Author: Nina Ardianti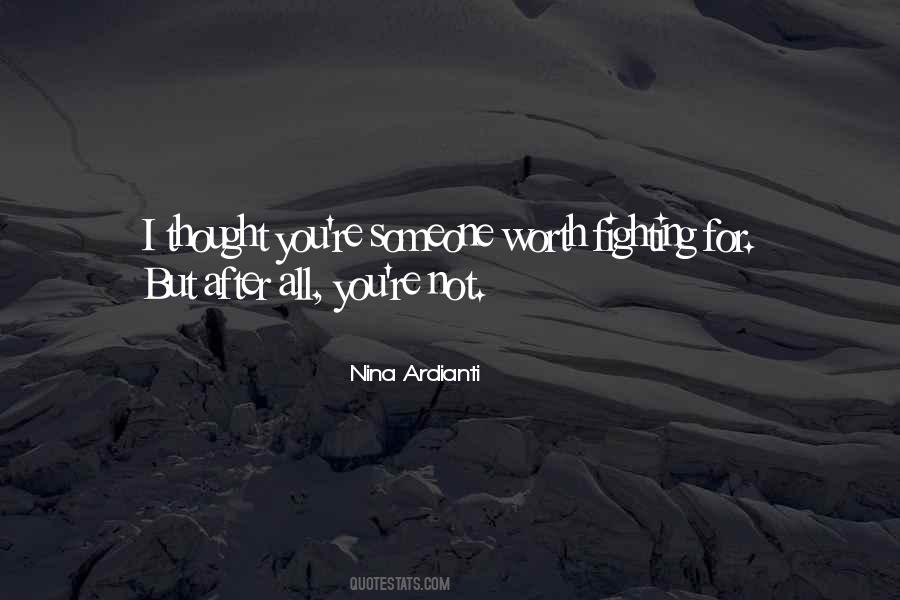 #31. We're a mess, Kate. - Author: Rachel Higginson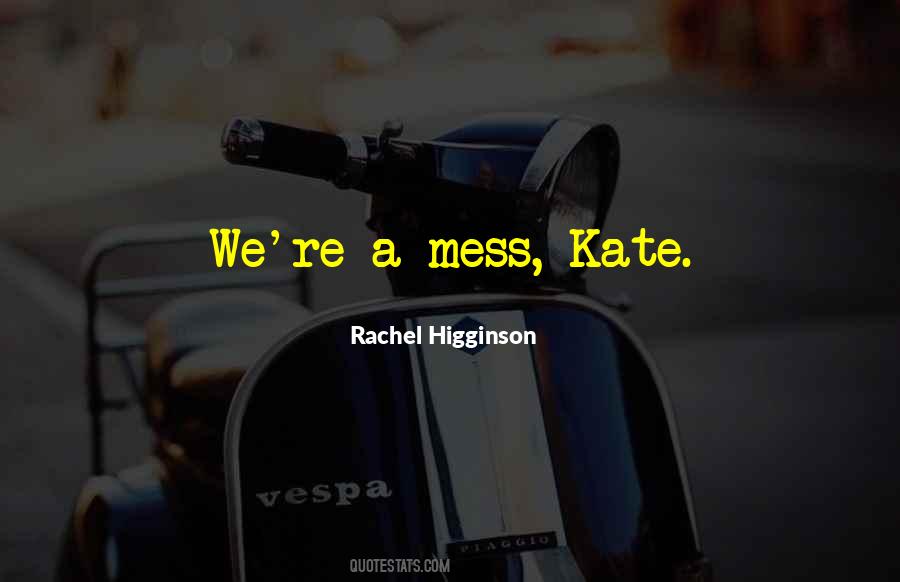 #32. It can be hard to feel like you have to start from scratch when you have invested so much time with a person, but shortly after my break up I realized something: I wasn't losing the chance to have love
I was getting the opportunity to do it all over again. - Author: Lauren Conrad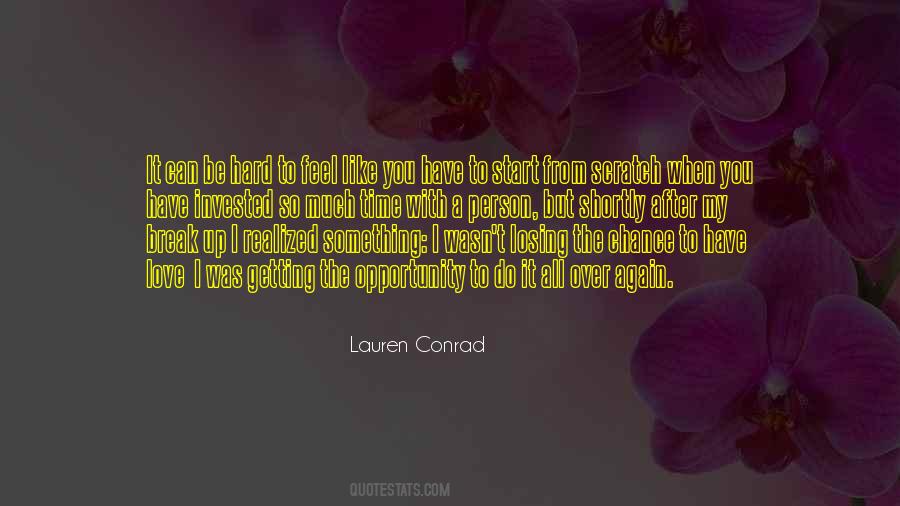 #33. Self-love is so monogamous that no one is going to take the trouble to break the affair up for you. - Author: Arlene Francis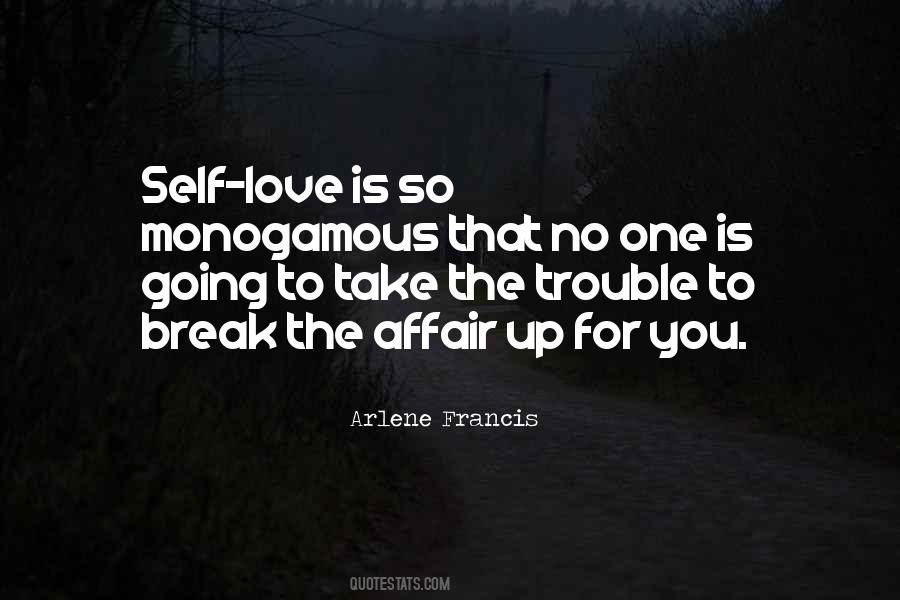 #34. I think we've grown so far apart, we don't even know each other anymore. - Author: Rachel Higginson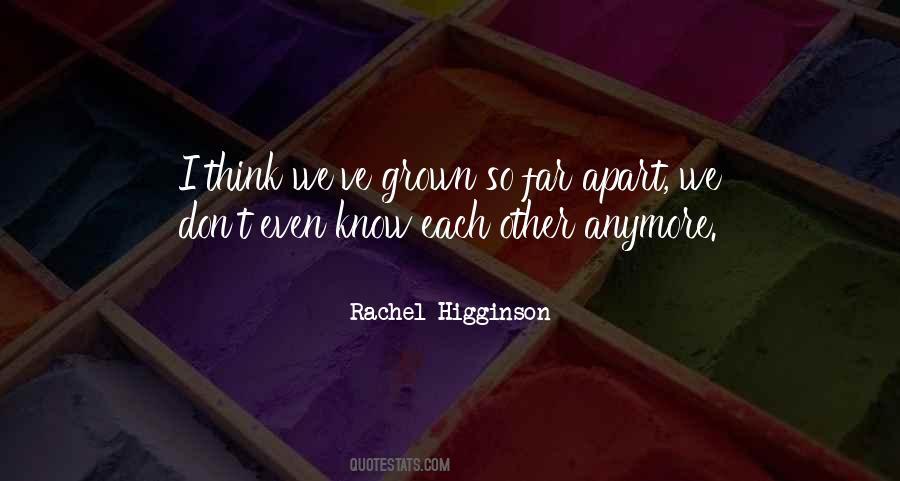 #35. The next year had seen them drop into the crazy-obsessive love spiral in which they'd break up and then not be able to stay away from each other, until one time she was able to stay away, and that was all she wrote. - Author: David Foster Wallace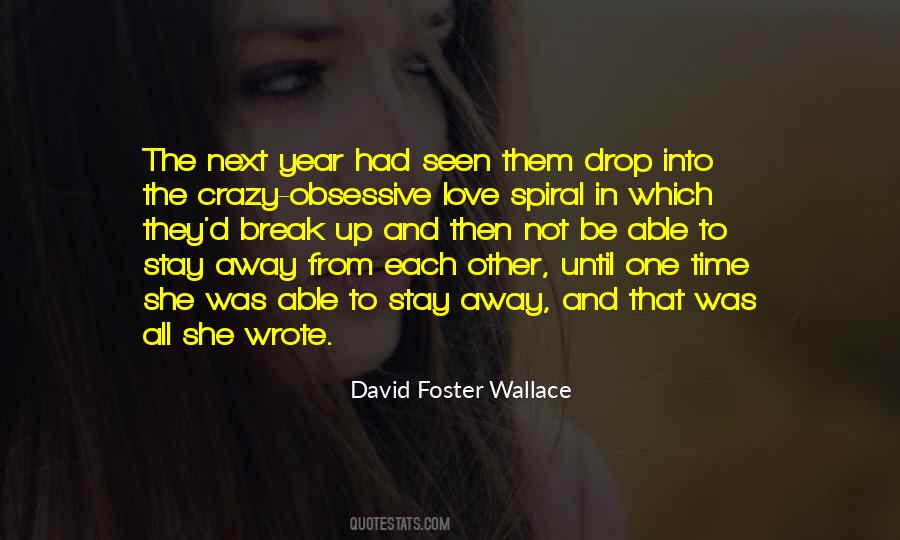 #36. If you say, I love you, then you have already fallen in love with language, which is already a form of break up and infidelity. - Author: Jean Baudrillard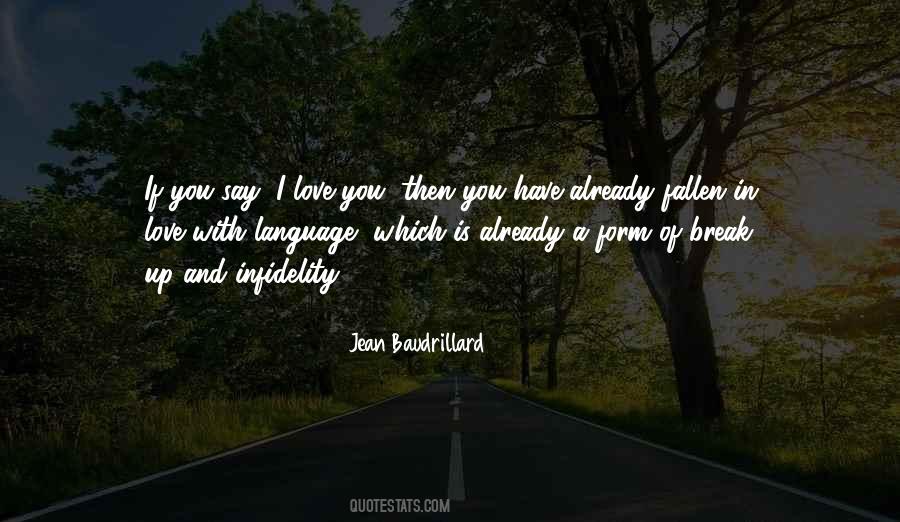 #37. Words, Kaden. Only lost unsaid words that added up to good-bye. - Author: Mary E. Pearson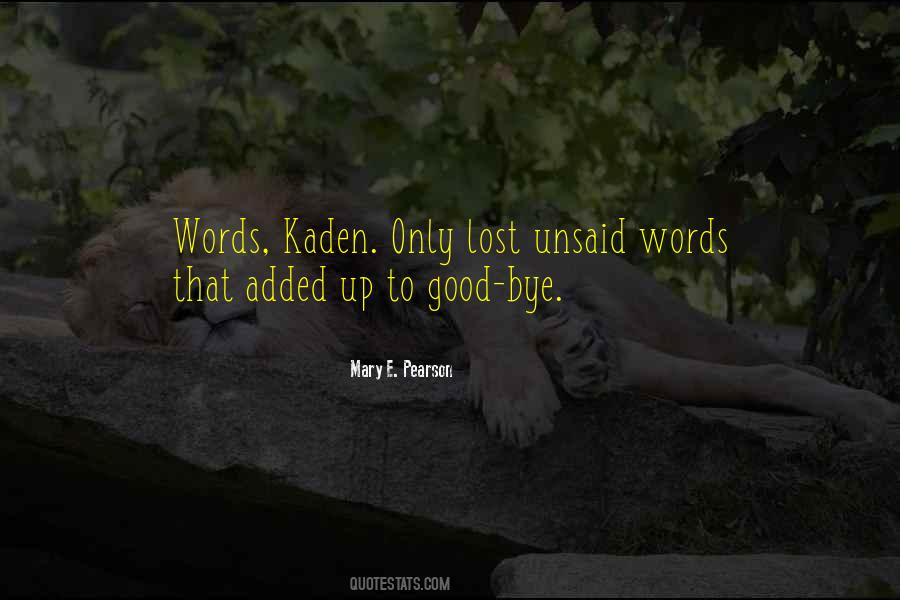 #38. Life is all Love, unless you are with right people. - Author: Prathmesh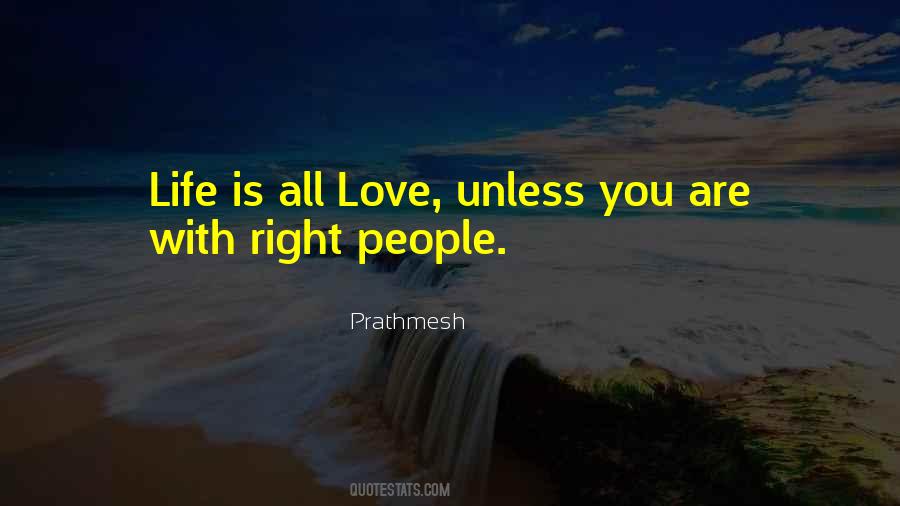 #39. Denis's love for Mattia had burned itself out, like a forgotten candle in an empty room, leaving behind a ravenous discontent. - Author: Paolo Giordano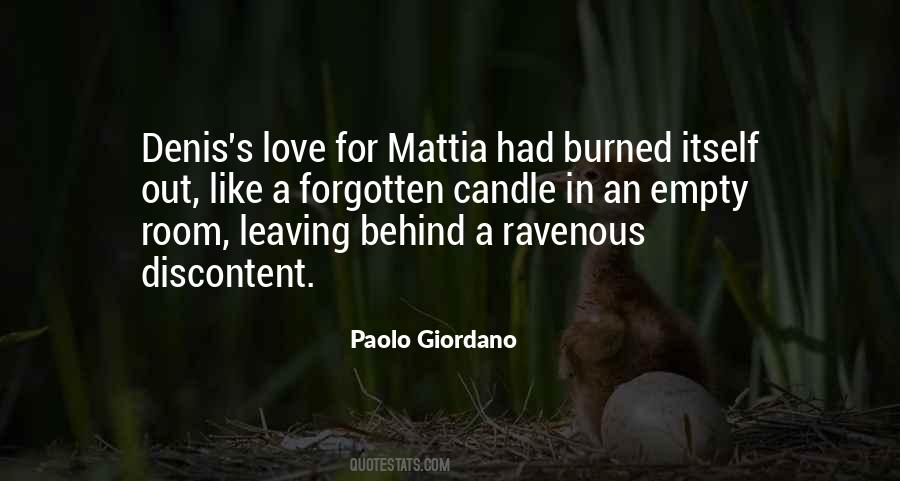 #40. It's not TIME that heals everything, it is SLEEP ...
Sleeping is the perfect answer to all doubts and troubles.
Leaving the world of reality behind and disappearing in to a world of make-believe and imaginations, is a solace you get from nothing else ... - Author: Sanhita Baruah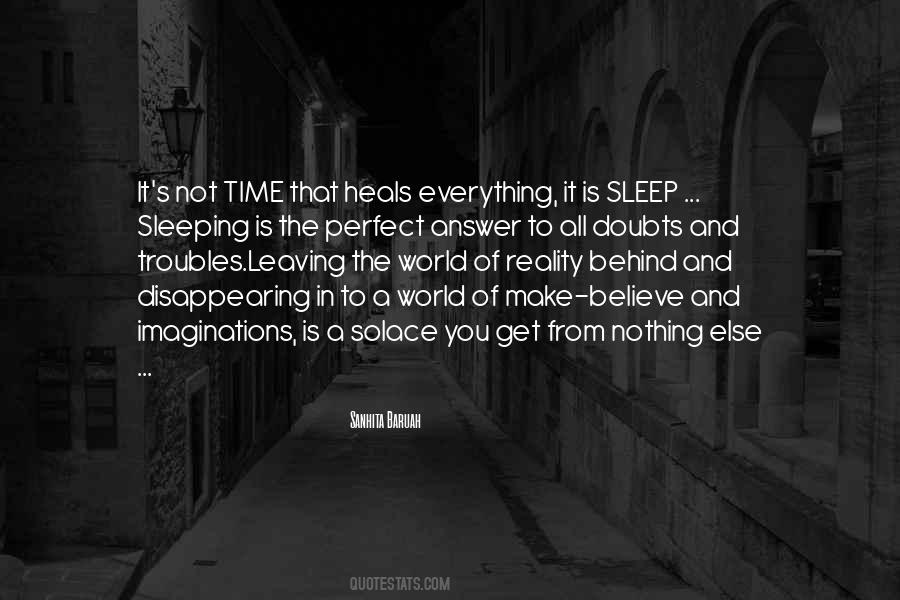 #41. Reshuffllng of thoughts - facilitates a refreshed perspective to a mental deadlock! - Author: Deeba Salim Irfan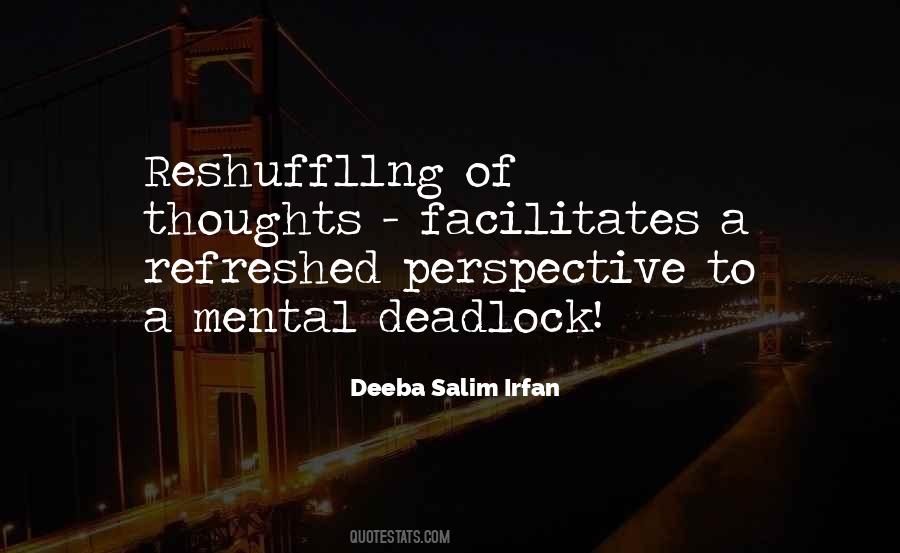 #42. She thought about Cheryl's contention that this was young love, and about how she'd feel if they were ever to break up and she had to look back on this moment as an episode in a life that was full of people she didn't even know now. The thought made her want to cry. - Author: Beth Harbison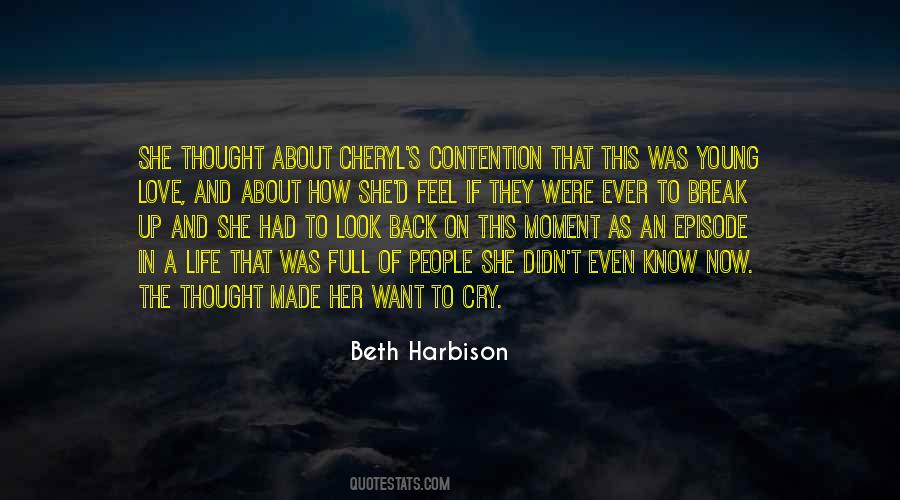 #43. I want to make people feel things when they hear my music I want to give a song to someone who is going through a break up, I want to give a song to someone who loves someone and can't tell them. A song for someone who has just fallen in love and a song for just people who are living their lives. - Author: Taylor Swift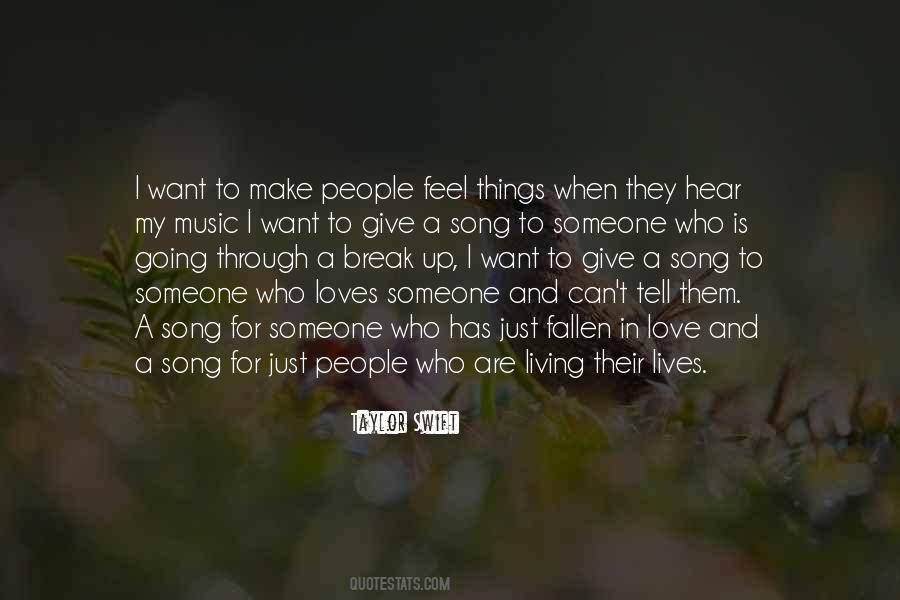 #44. I love to talk to flowers. They are sensitive. And sometimes I just want to have couple of wings and fly away ... Will you ever notice? - Author: Galina Nelson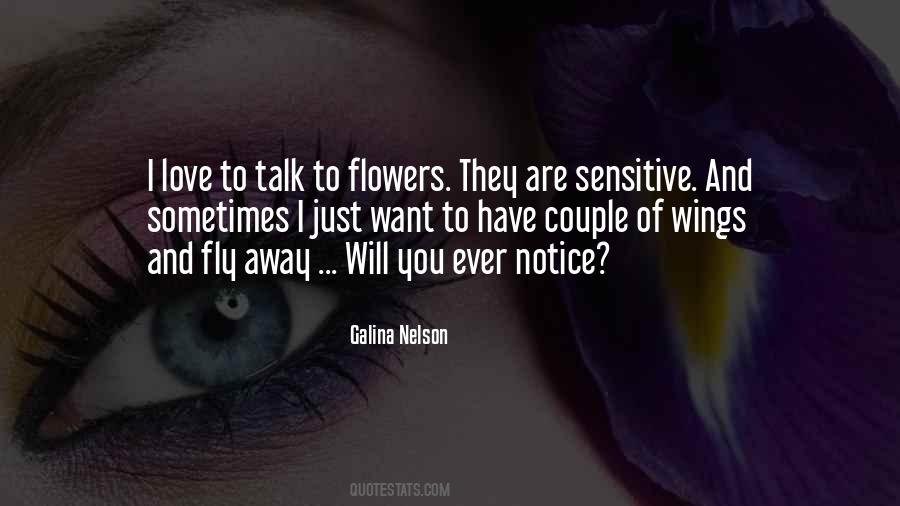 #45. I may not be perfect, but i'm always me - Author: Selena Gomez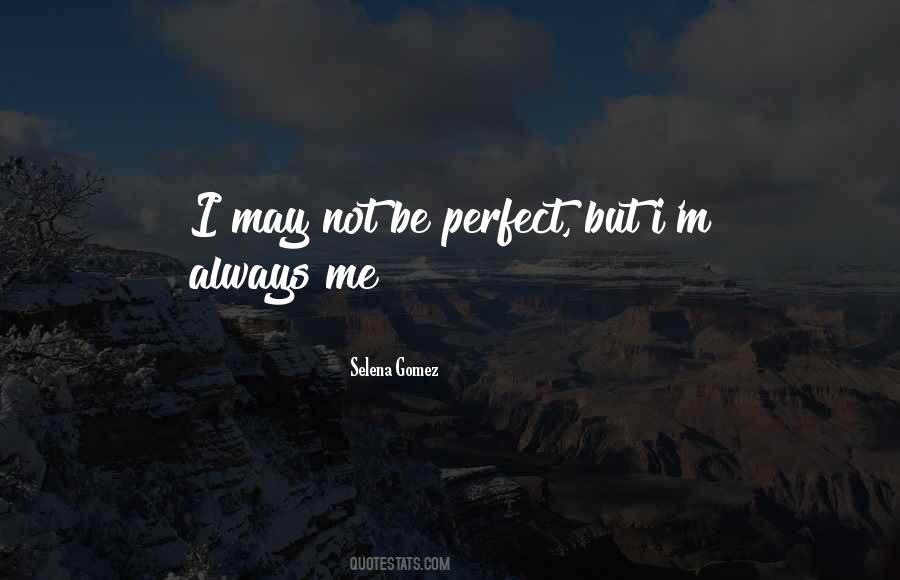 #46. There isn't much difference between "giving" and "leaving". While the former will ALWAYS come back to you, the latter will only do if it was meant to be yours in the first place. - Author: Olaotan Fawehinmi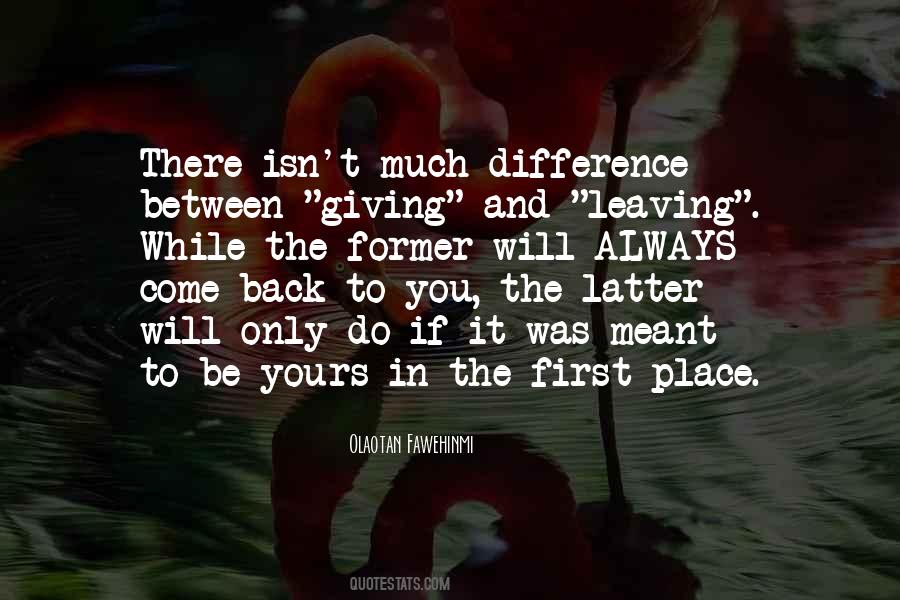 #47. Give three hundred seconds to your dream. Take a tiny step with big integrity. It takes a step to break to break into a run. The result at hand doesn't matter. The resolve does. Show up for your love. Showing up always shines. - Author: Tama J. Kieves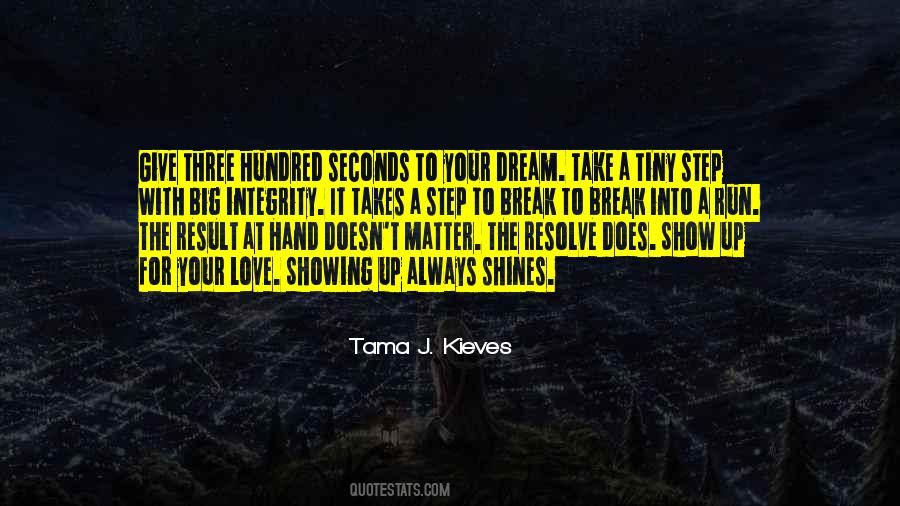 #48. If someone had problem with me, they had to find what it is, similarly if I had any problem with someone, I need to find out myself then only problem solves. Otherwise the problem will become the cause of break up in any relationship. - Author: Nutan Bajracharya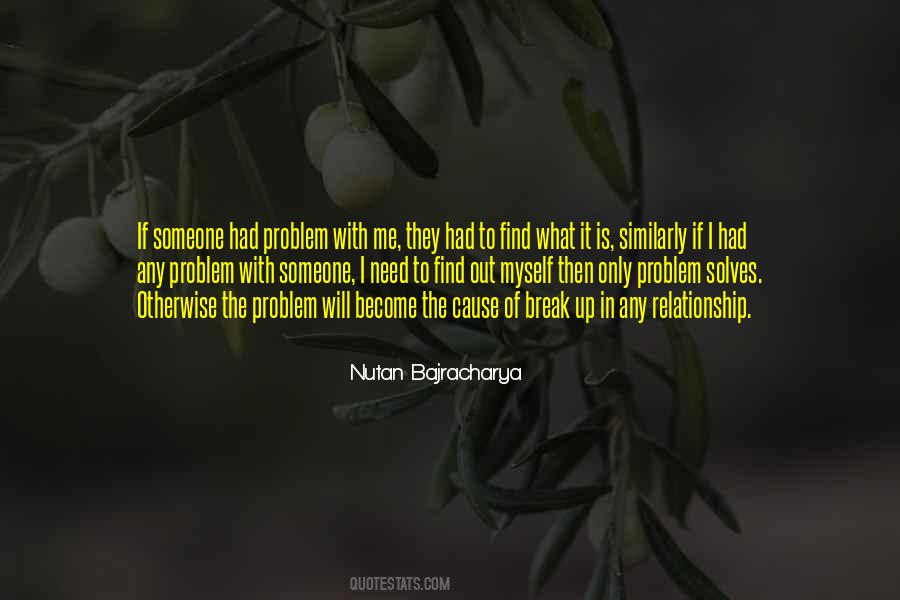 #49. I would do almost anything for him to kiss me; his possessive lips and eager tongue invading my mouth, even the thought sent tingles up my numb spine and lifeless body - Author: Mercy Cortez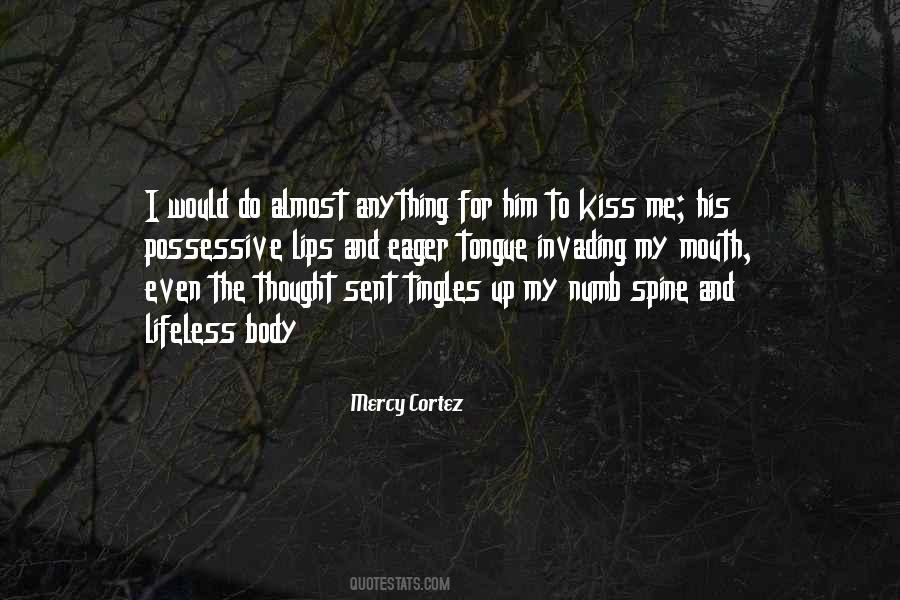 #50. Every morning I wake up with your thoughts
Holding my heart as if it would break
I know my pain doesn't reach you
Will I ever stop loving you? - Author: Balroop Singh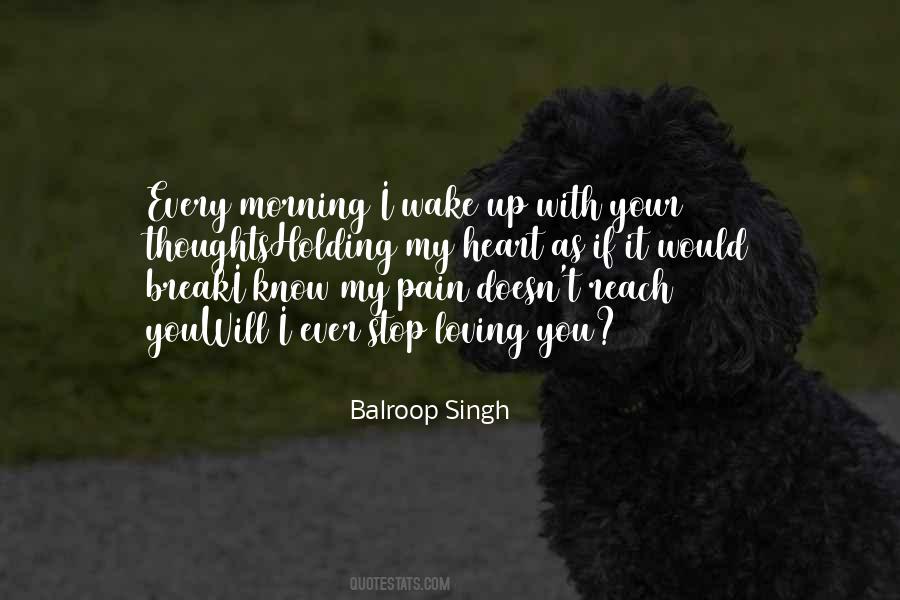 #51. Of all the things you said I couldn't do
forgetting you has been the easiest ... - Author: Sanhita Baruah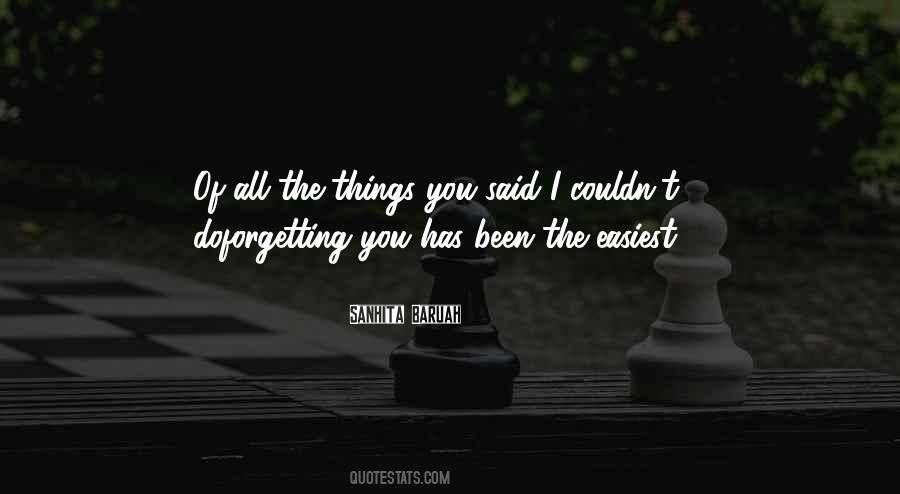 #52. If a relationship is going wrong, if a marriage is going wrong, the answer cannot simply be to say, 'You can't afford to break up because you are going to lose the house.' The answer has to be only one thing, which is 'I love you.' - Author: Rory Stewart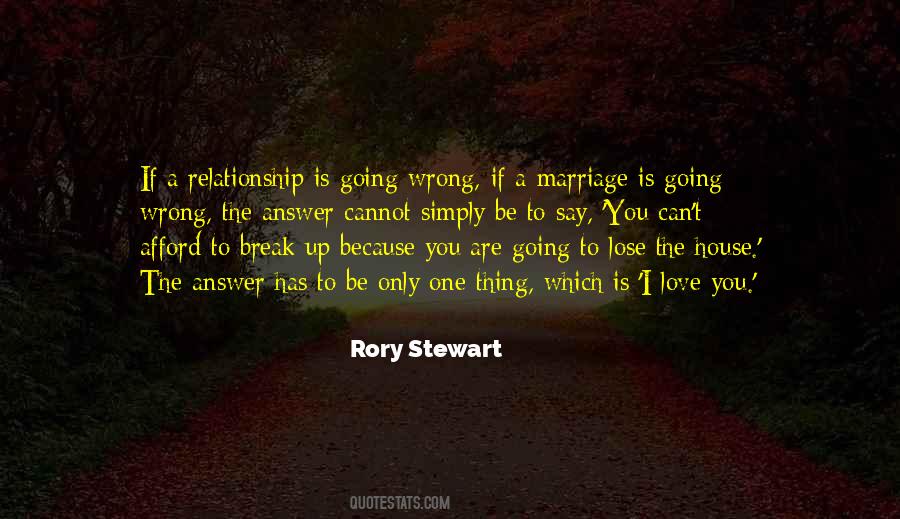 #53. Let's hope that for every time that we get hurt or break our heart, there is something somewhere being written to make up for it, to make the happiness due even bigger and laughters even merrier, for after all good things must happen to good people. - Author: Mansi Soni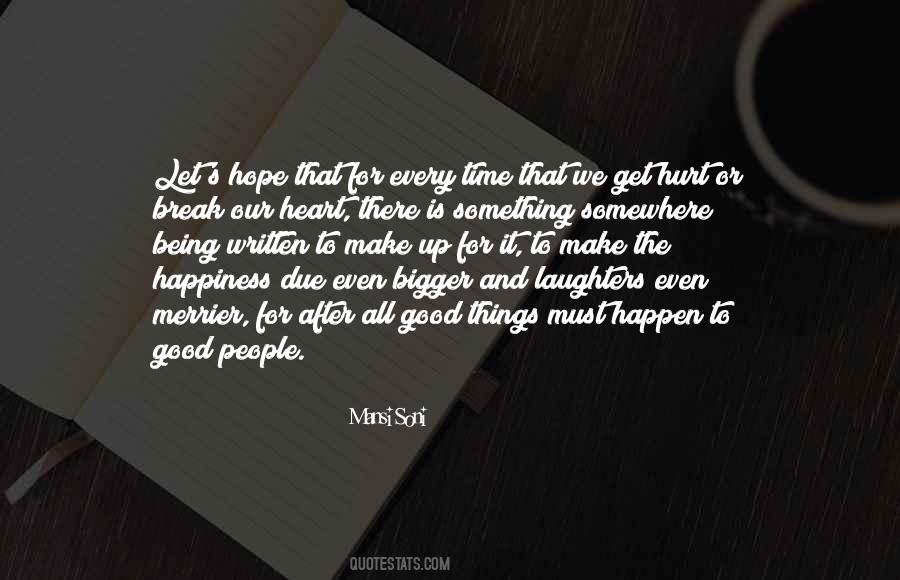 #54. Sometimes you come to a point where there's nothing more you can do. You love and respect each other, but it's not working. So you amicably decide to part. I don't know what the future holds: a lot of people get back together after they break up. - Author: Drew Barrymore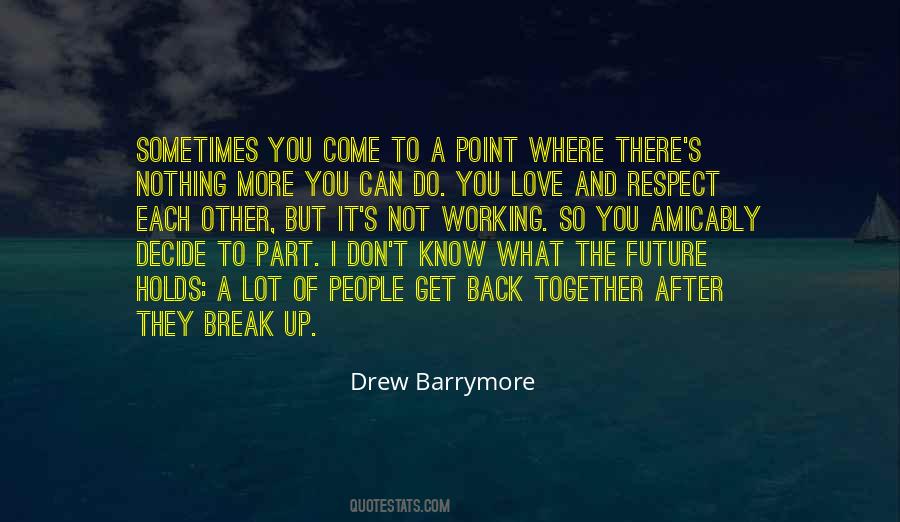 #55. Who'd break up with him?"
"I might, if he was insufficiently attentive to my needs. - Author: Cassandra Clare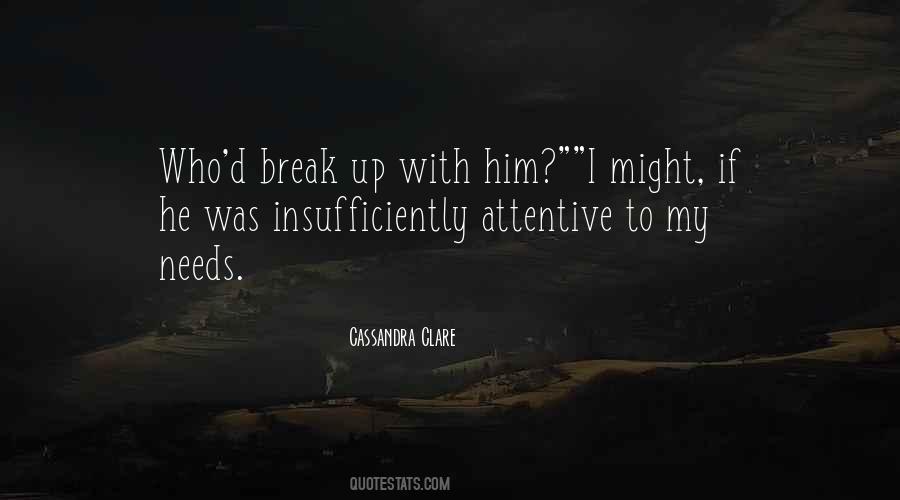 #56. Umm ... abit gross it kinda about boyfriend and girlfriend kinda going throw then they break up then they love each other then they make up again and the girl father said u have to come home until 9pm but the girls want more time to be with her boyfriend - Author: Jacqueline Wilson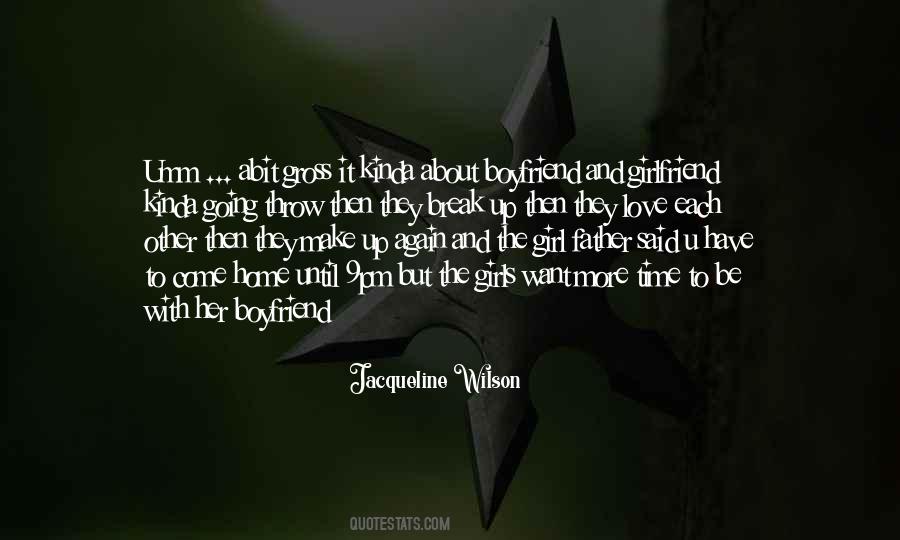 #57. Wake up, Shake up, Make up and Break up; life is all about moving like ant in search of sugar not sand. - Author: Santosh Kalwar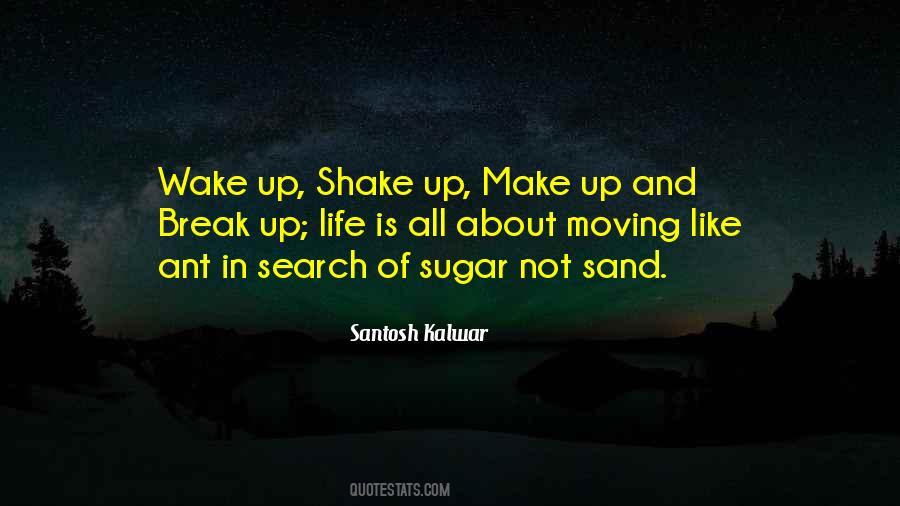 #58. You can't break up with a soul mate. - Author: Christina Strigas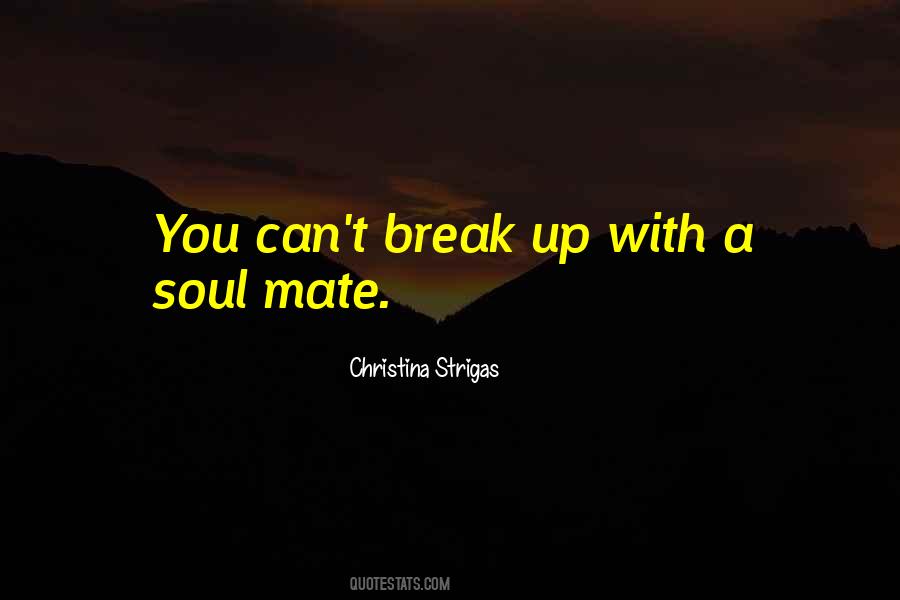 #59. Keep moving. Create routines (but sometimes break them). Be opportunistic. Be a mensch. Believe in something. Lighten up. Cultivate a sense of progress. Don't do it if you don't love it. Begin now. - Author: Bruce Grierson
#60. Time made me stronger, you're no longer on my mind - Author: Boyz II Men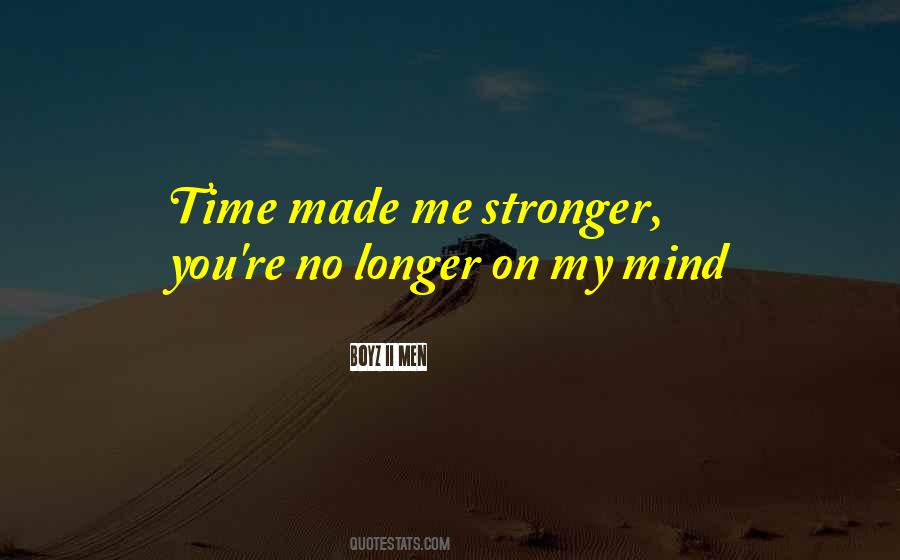 #61. Sow righteousness for yourselves, reap the fruit of unfailing love, and break up your unplowed ground; for it is time to seek the LORD, until he comes and showers his righteousness on you. (Hosea 10:12) - Author: Lysa TerKeurst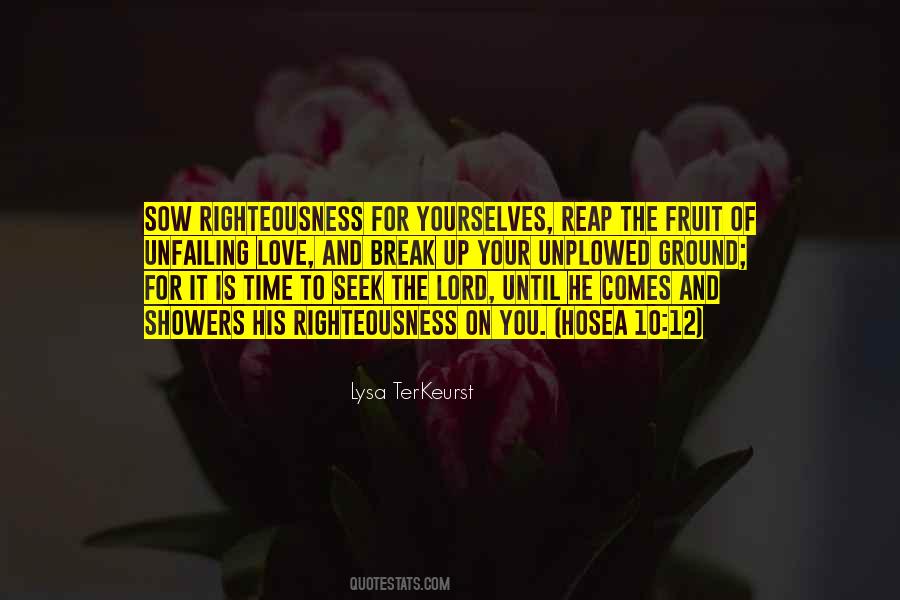 #62. There was a time when I thought I loved my first wife more than life itself. But now I hate her guts. I do. How do you explain that? What happened to that love? What happened to it, is what I'd like to know. I wish someone could tell me. - Author: Raymond Carver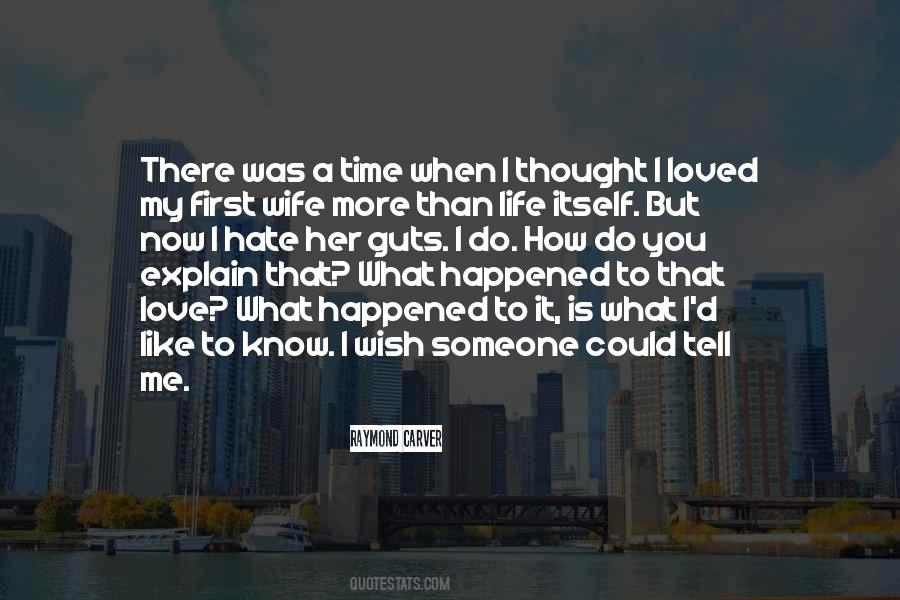 #63. Whatever's going on with me at the time of writing is going to find its way into the piece. If that doesn't happen, then what the hell am I doing? So if I'm writing 'Inglourious Basterds,' and I'm in love with a girl and we break up, that's going to find its way into the piece. - Author: Quentin Tarantino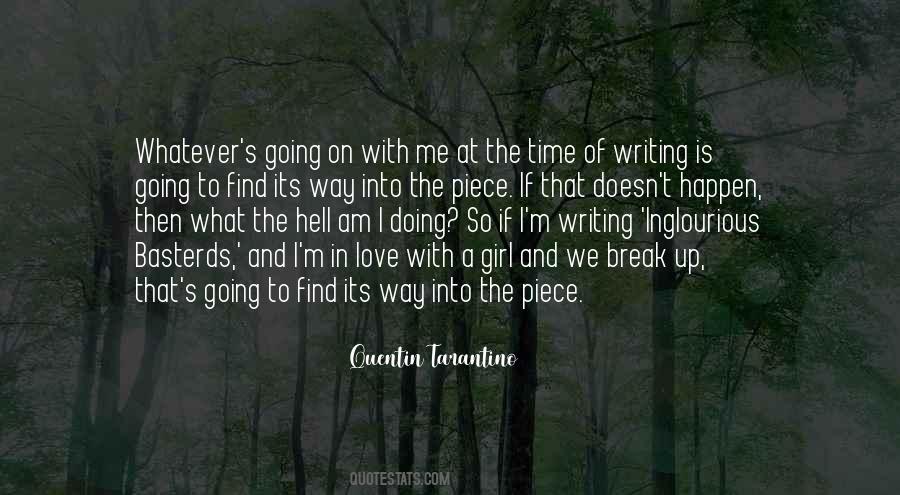 #64. I love to shop after a bad relationship. I don't know. I buy a new outfit and it makes me feel better. It just does. Sometimes I see a really great outfit, I'll break up with someone on purpose. - Author: Rita Rudner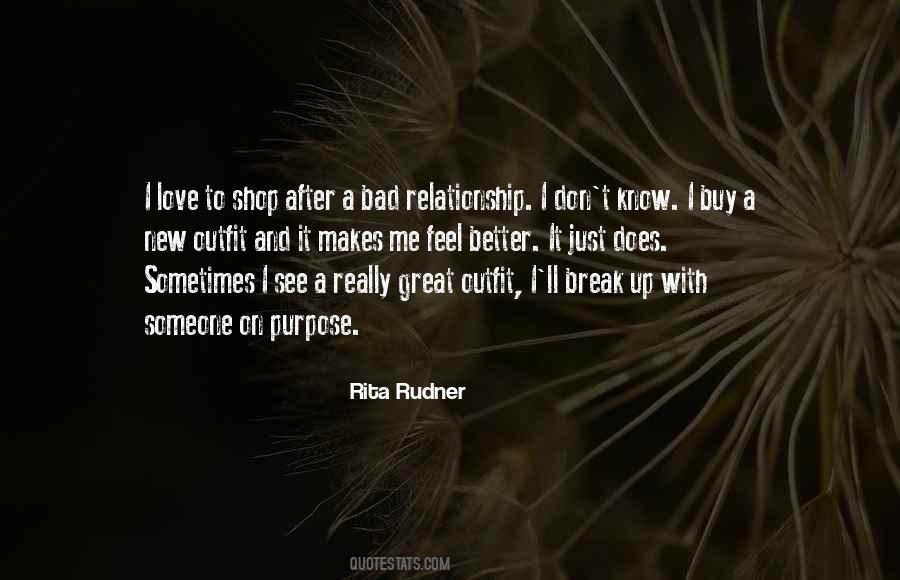 #65. Our relationship was toxic. He was slowly poisoning me. I was slowly poisoning him. - Author: Rachel Higginson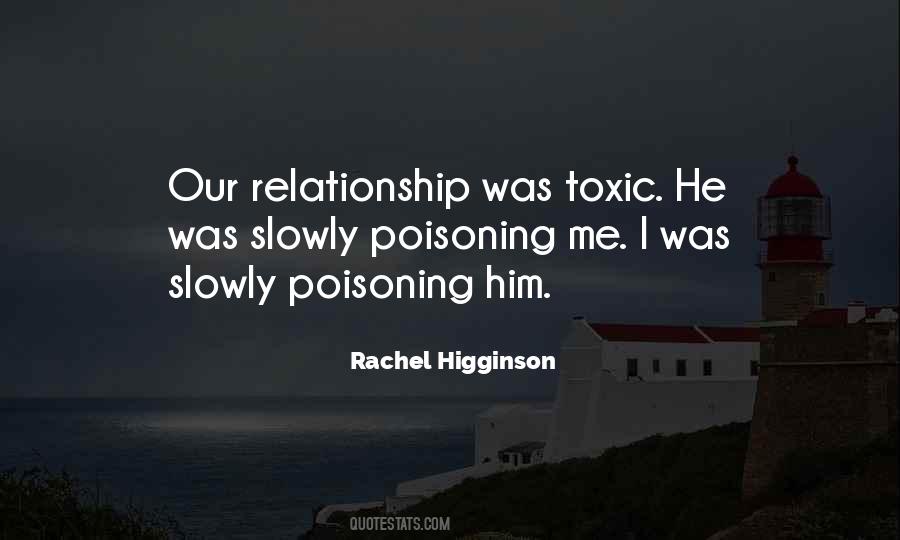 #66. Your Heavenly Father knows that you will make mistakes. He knows that you will stumble-perhaps many times. This saddens Him, but He loves you. He does not wish to break your spirit. On the contrary, He desires that you rise up and become the person you were designed to be. - Author: Dieter F. Uchtdorf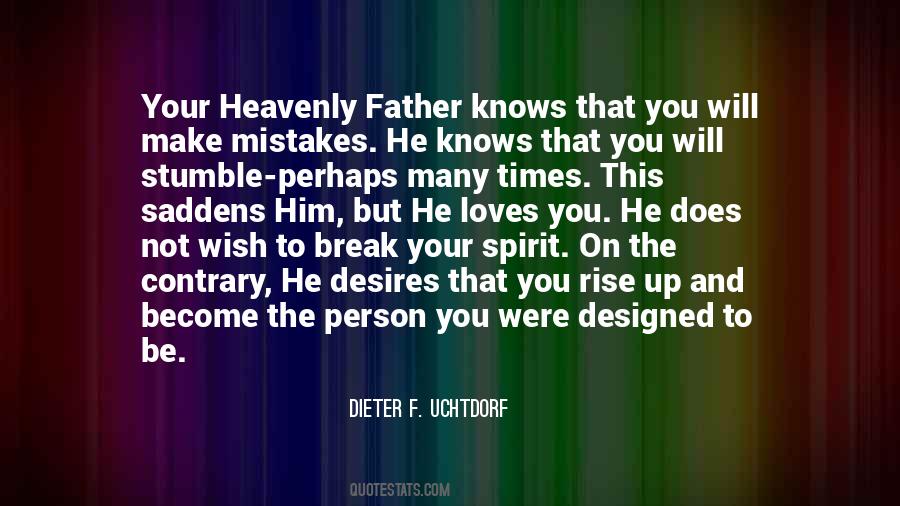 #67. When I'm a ship tossed around on the waves, Up on a highwire that's ready to break. When I've had just about all I can take, baby you save me - Author: Kenny Chesney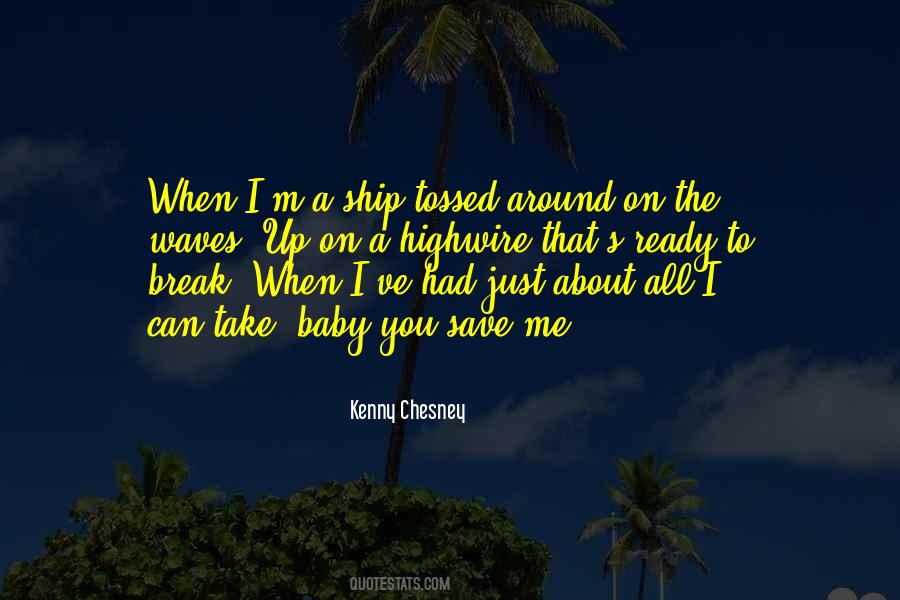 #68. No wonder how much you pretend, but you cannot ever forget the taste of your first kiss and the pain of your first break up. - Author: M.F. Moonzajer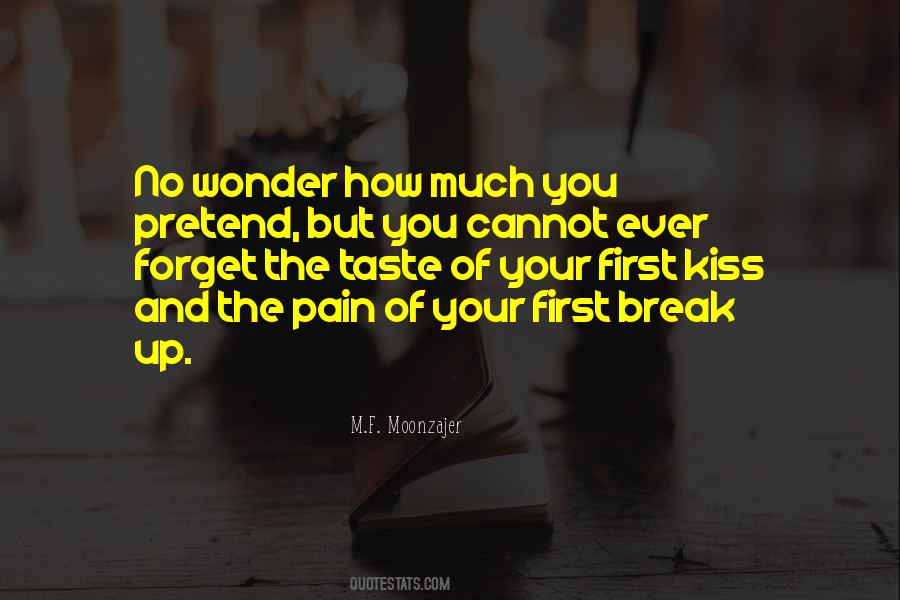 #69. From midnight to 4: 00 AM is the loneliest time in the world. Because for those of us too sad to sleep, the only thing we have to look at is an empty bed, and the only thing we have to think of is every single person who didn't want to fill it tonight. - Author: Lone Alaskan Gypsy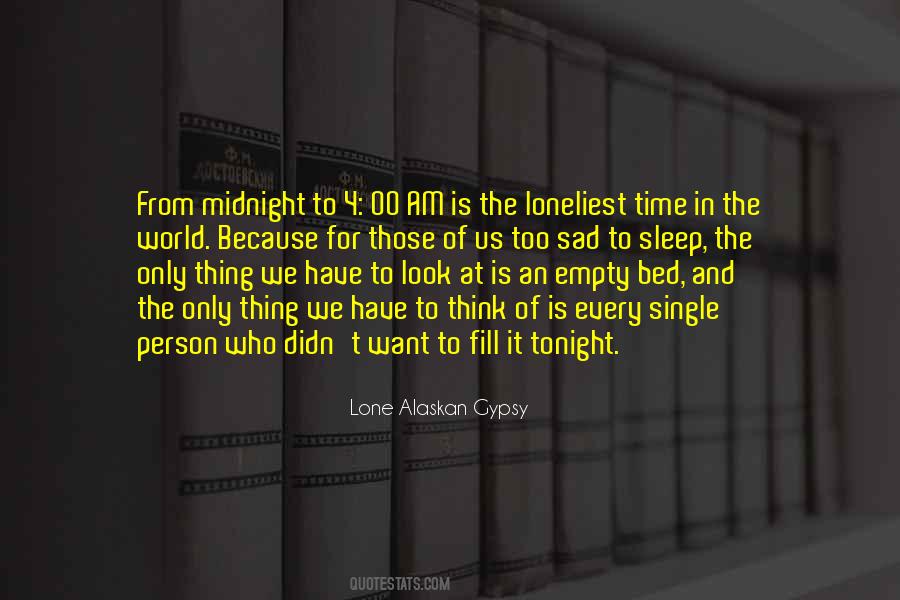 #70. Men go out with me, we break up and then they get married. And later they call me to thank me for teaching them what love is. That I tought them to care and respect women.
( ... )
I wanna kill them! Why didn't they ask me to marry them? I would've said no, but at least they could have asked. - Author: Julie Delpy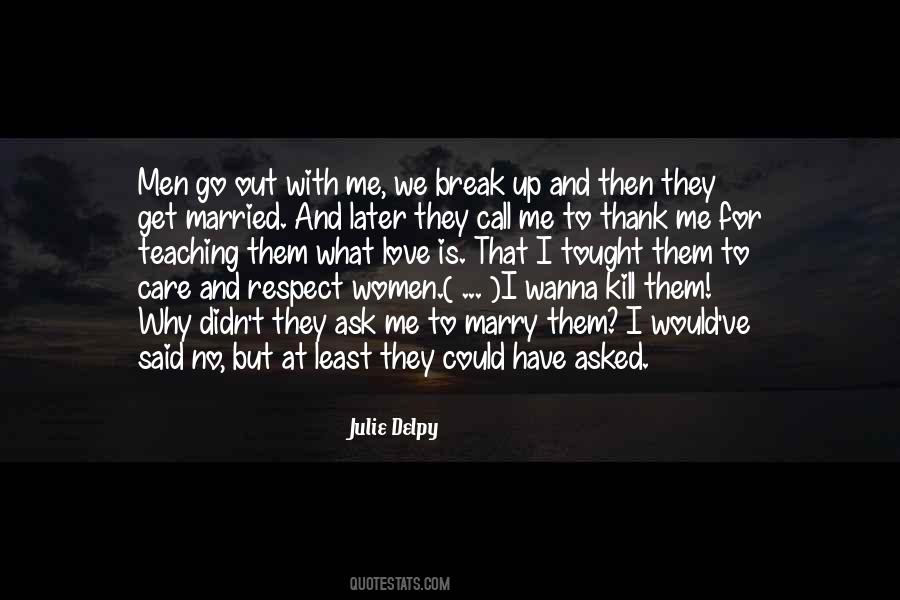 #71. The things that mattered
Were broken and shattered
One by one - Author: Jonny Lang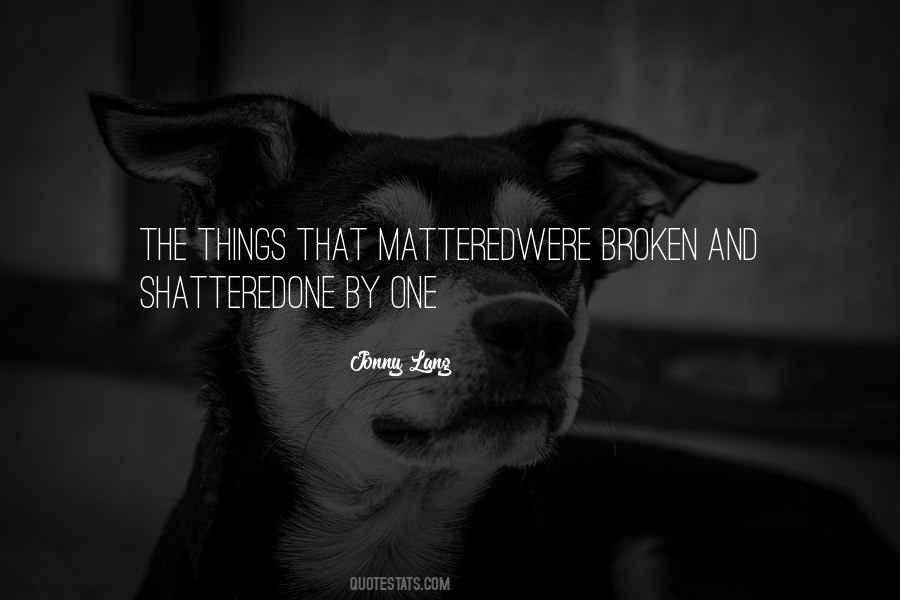 #72. Because we have loved profoundly,
Because we have given much,
Because we have hoped passionately,
Because we have desired intensely,
We allow ourselves to be infinitely hurt. - Author: Jess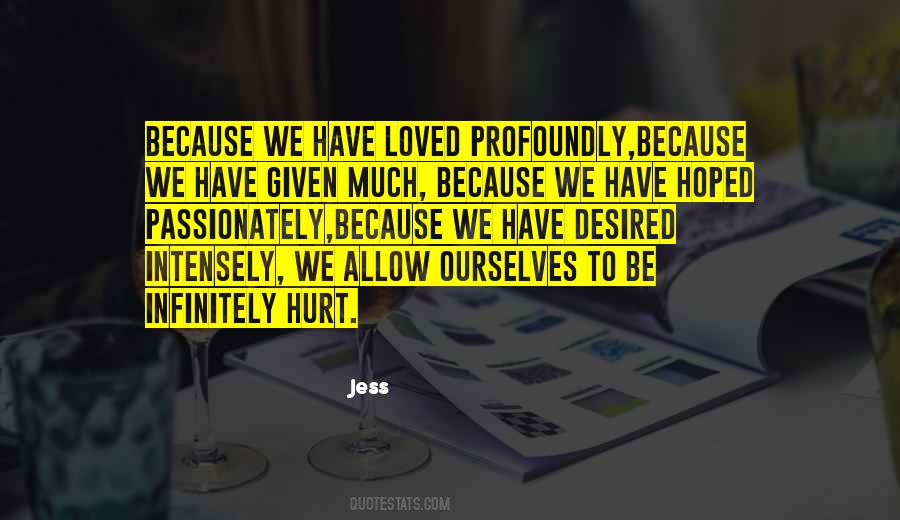 #73. I delete the picture of him from my phone; I delete his number. I think that if I just delete him enough, it will be like none of it ever happened and my heart won't hurt so badly - Author: Jenny Han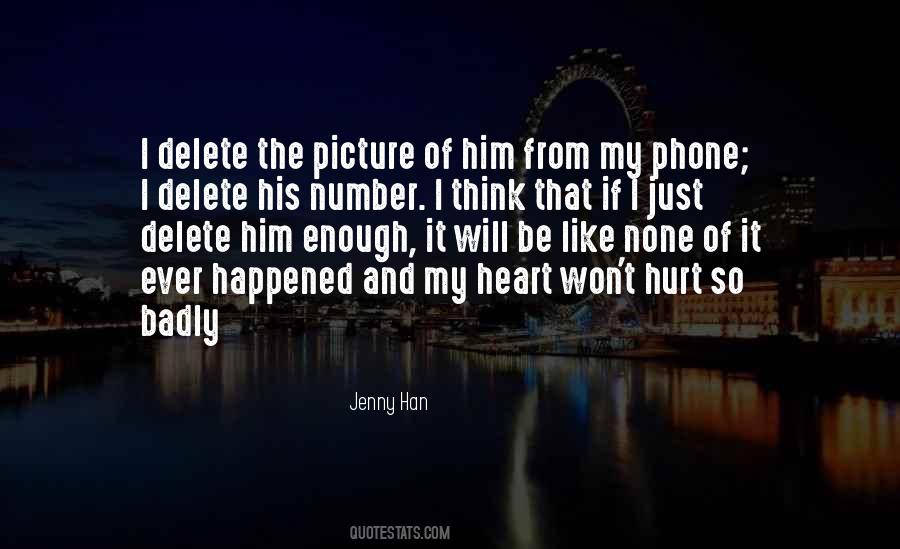 #74. Rules are made to be broken, but hearts are broken to be made.
It is a big miracle to be loved "because" of your inadequacies, not "despite" them.
And nothing can be as fascinating as walking tall on the same road that once witnessed your fall. - Author: Olaotan Fawehinmi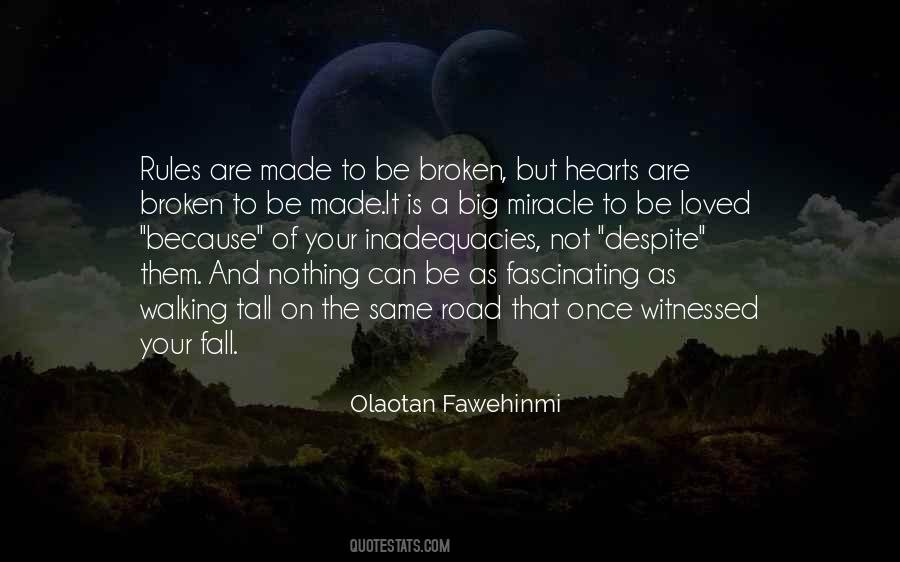 #75. And you should hear the music. Incredible, amazing music, like nothing you've ever heard, music that almost takes your head off, you know? That makes you want to scream and jump up and down and break stuff and cry ... - Author: Lauren Oliver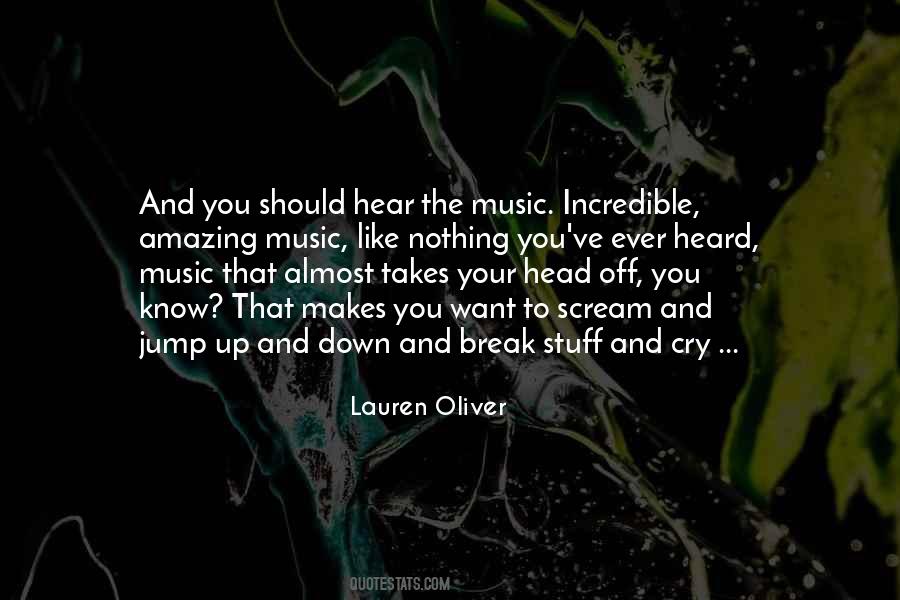 #76. I want somebody to love, and I want somebody to love me. And nobody ever will. And that's why it hurts. Because it makes a difference. And when nobody cares, it makes you all mad inside and it makes you want to say things, tear up things, break things, get through the glass. - Author: Flora Rheta Schreiber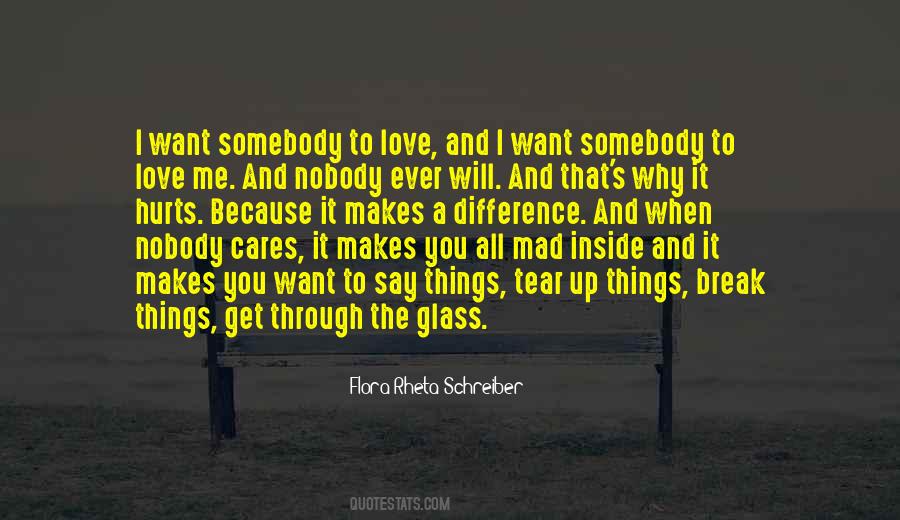 #77. I've been burdened with blame trapped in the past for too long, I'm moving on - Author: Rascal Flatts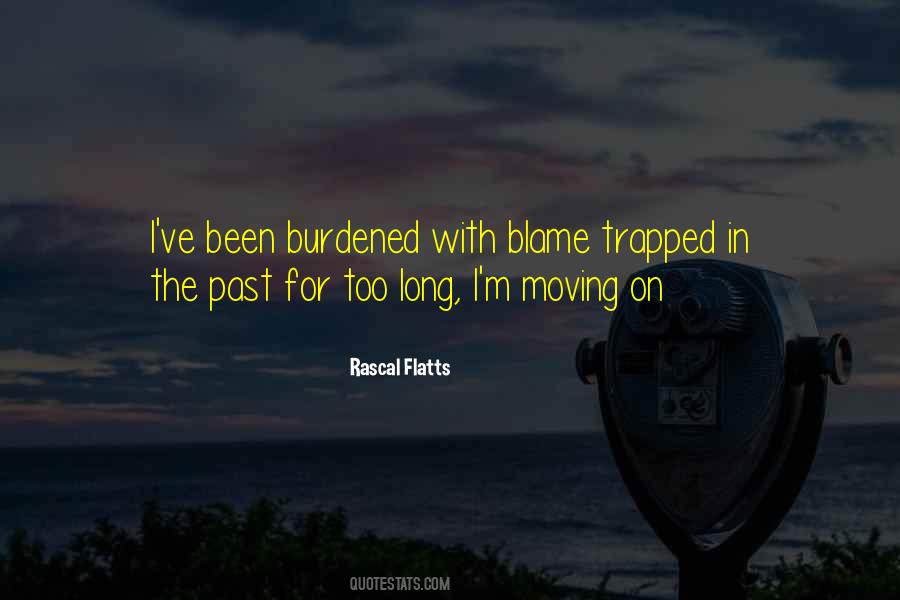 #78. When your ex says "I miss you", that means the person they tried to replace you with has failed. - Author: Manasa Rao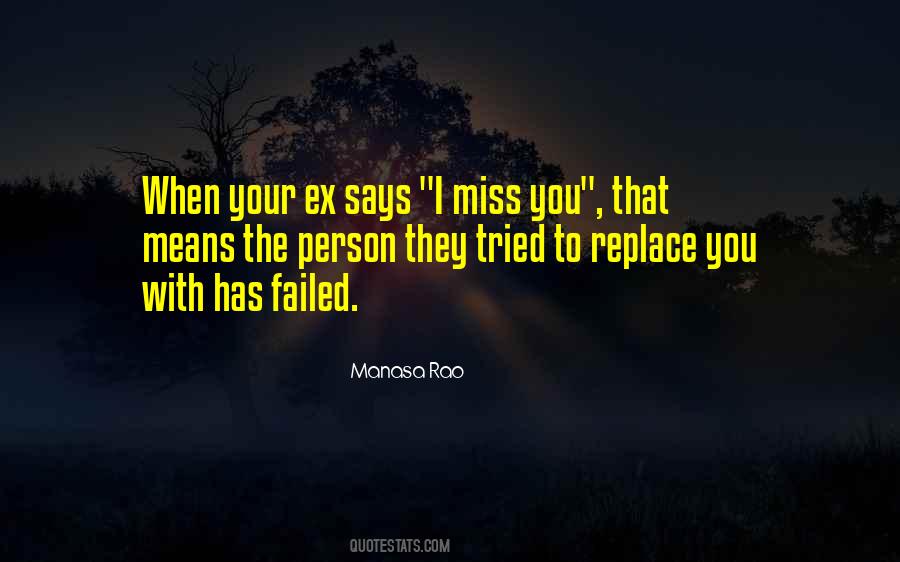 #79. I once had a man break up with me. He said I was using him because right after making love I would weigh myself. - Author: Emily Levine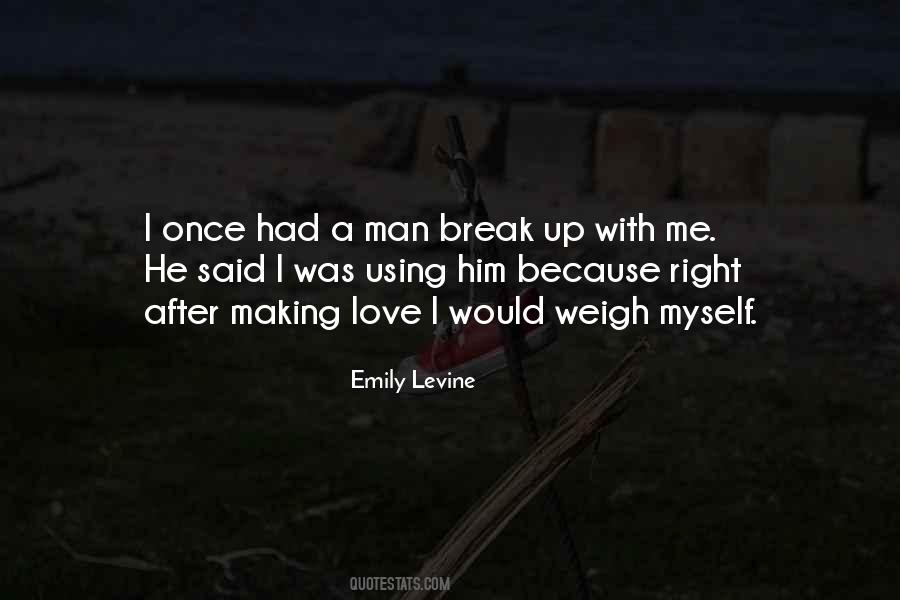 #80. Your new CD is a weed plate, nothin' but love songs,
100% pure garbage, just something to break up buds on. - Author: Jadakiss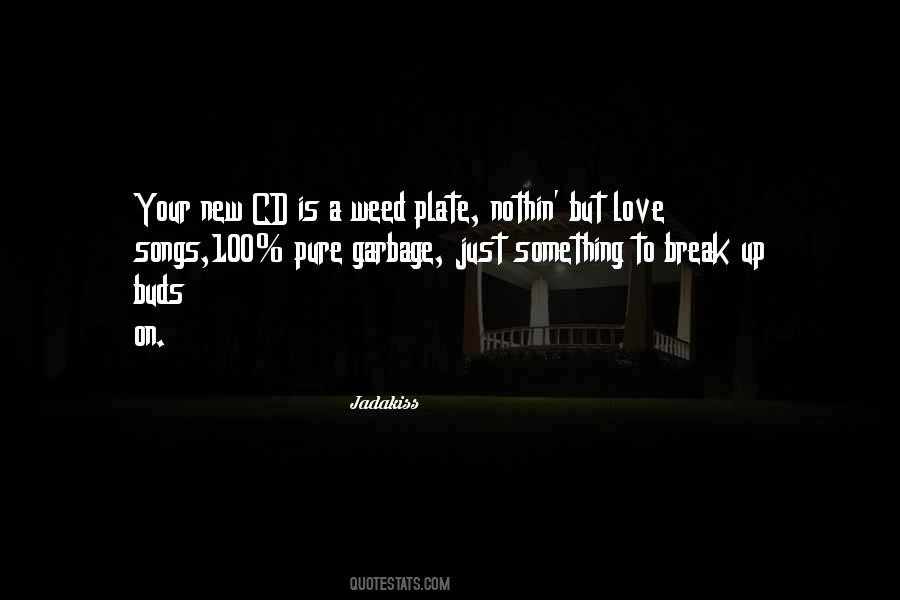 #81. Good-bye. I'm sorry," I said.
"Don't be sorry." He stood straight, his chin proud and his shoulders relaxed. "This isn't over. - Author: C.D. Reiss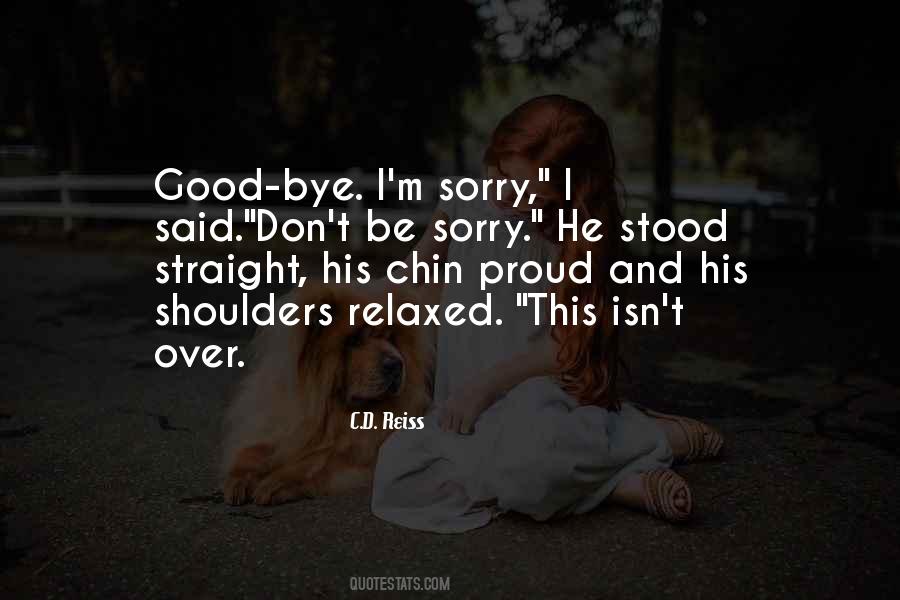 #82. The purest regret, no matter what, is thinking you didn't love enough. - Author: Criss Jami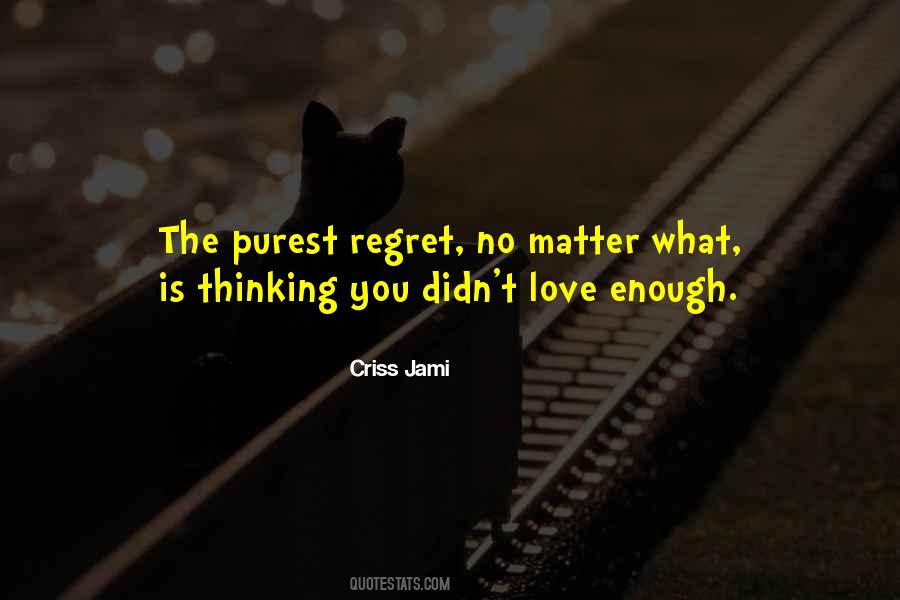 #83. It's weirding me out, to be honest. Is this the moment you break the ultimate boyfriend illusion and tell me you knocked up my cousin while we were on a break? - Author: Colleen Hoover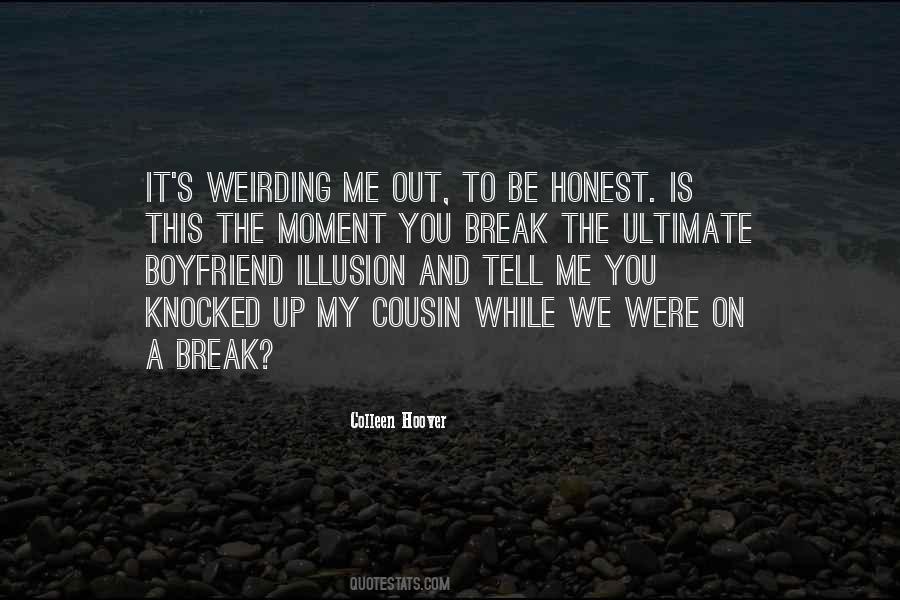 #84. Damn, I love you, but this is crazy,
I have to fight you almost daily,
We break up so fast,
And we, we make up so passionately,
Why can't we just trust each?
You can't hate me and be my lover,
Passion ends, and pains begins, I come back ... - Author: John Legend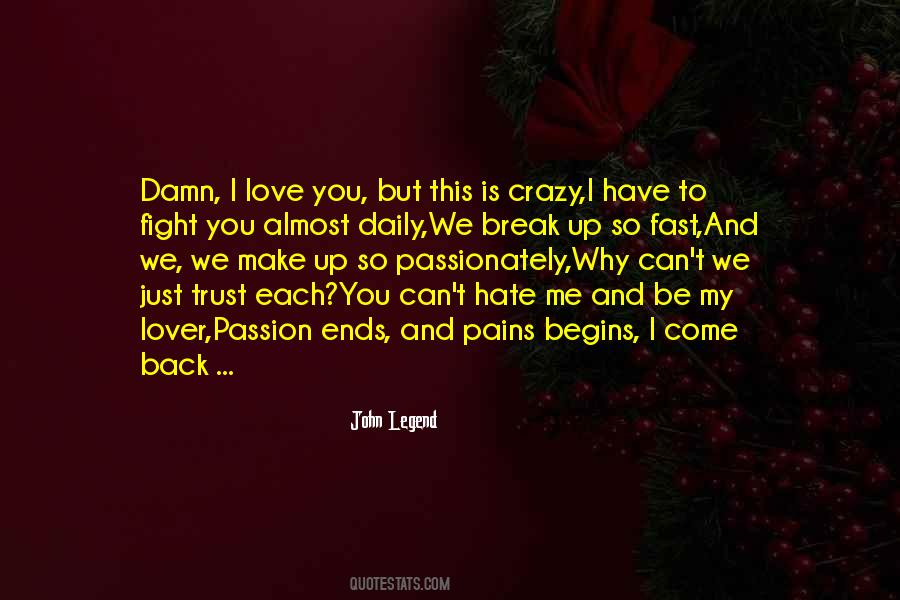 #85. At the end of all things, why do lovers break up?

Because love is magic. You have to believe, for it to exist. - Author: Timothy Joshua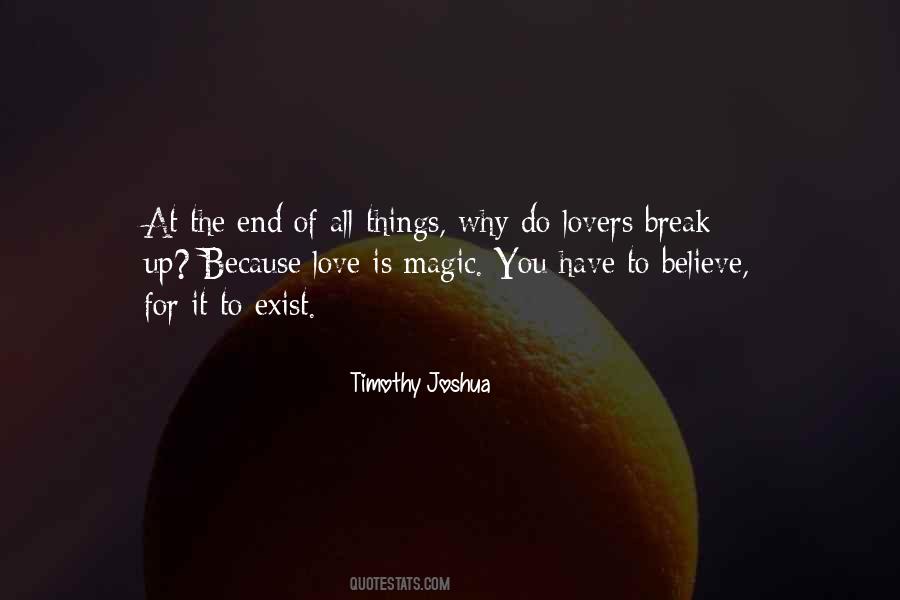 #86. Choosing to break up your family is one of the most difficult decisions you will make in a lifetime. But once you have come to it; it will be with certainty. Certainty that you are ready to embrace the changes, the challenges and the joys of starting a new life. - Author: Lisa Thomson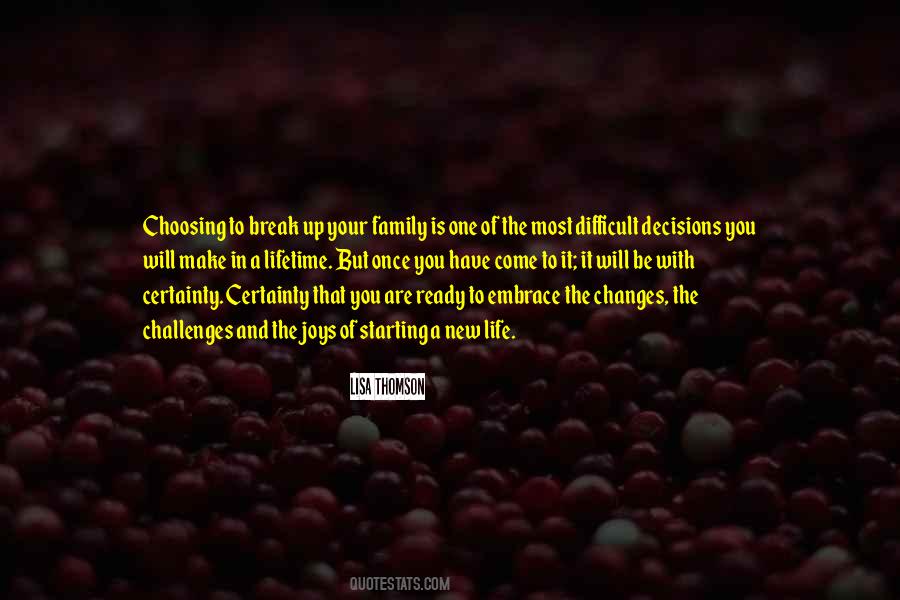 #87. She left, never to return. I planted a tree and a seed each time I thought of her. I grew a small forest and a large garden and had no one to give the orchids to. - Author: Darnell Lamont Walker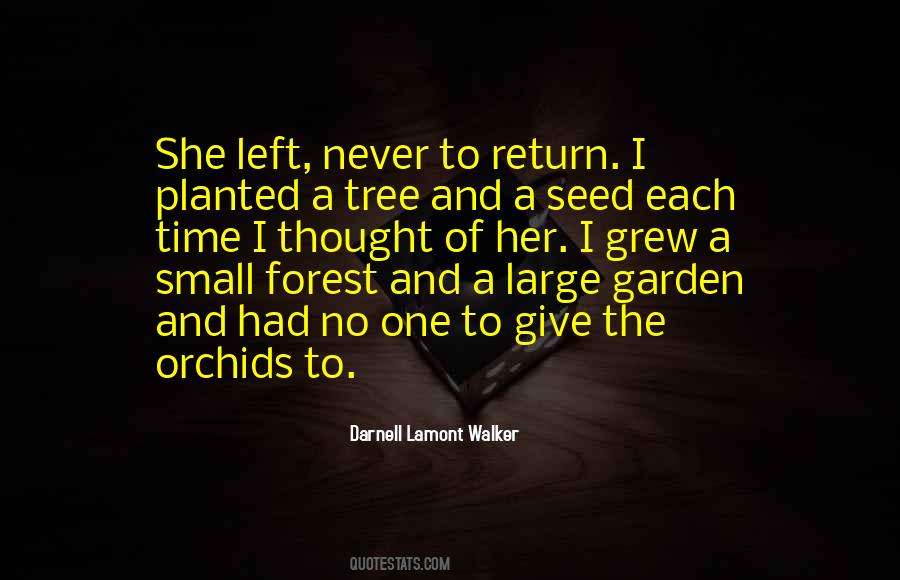 #88. So break up with him. - Author: Catherine Gilbert Murdock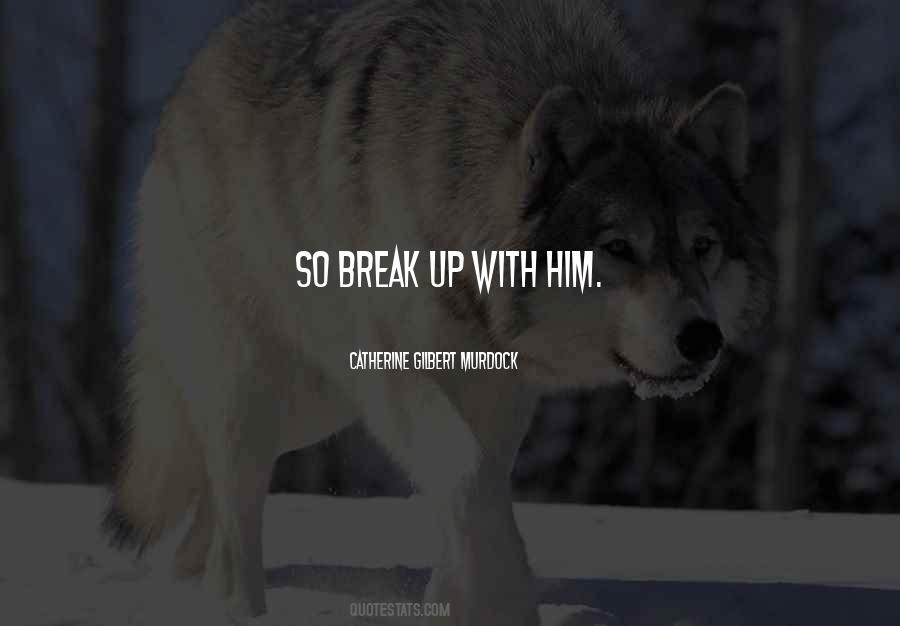 #89. Love lifts you up where we belong, but it can also break you into teeny, tiny pieces, and then you need your best friend and a bunch of wine to put you back together again. - Author: Georgia Clark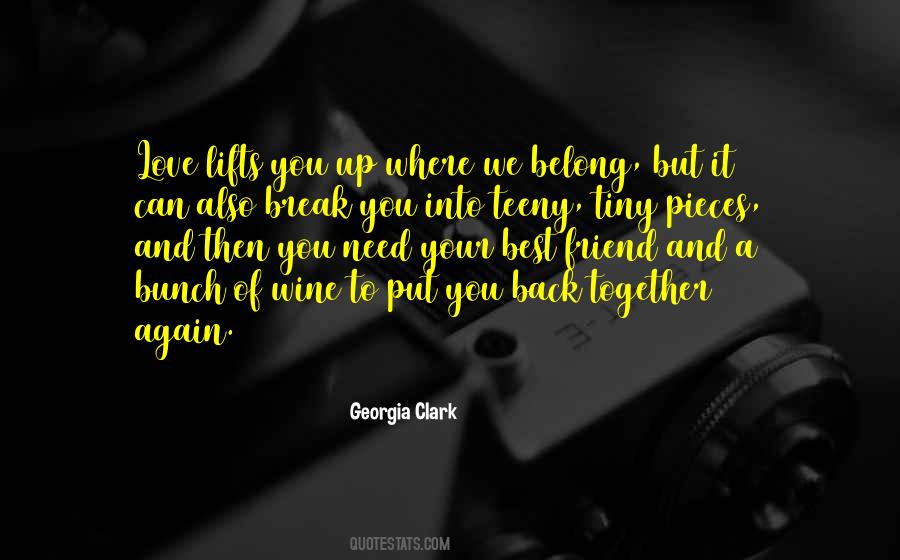 #90. You were the hardest year of my life and I've never been so happy. What does that say about me? - Author: Charlotte Eriksson
#91. Dads. Do your faces light up when you first see your child in the morning or when you come home from work? Do you not understand that a child's entire sense of value can revolve around what they see in your face when you first see them? - Author: Dan Pearce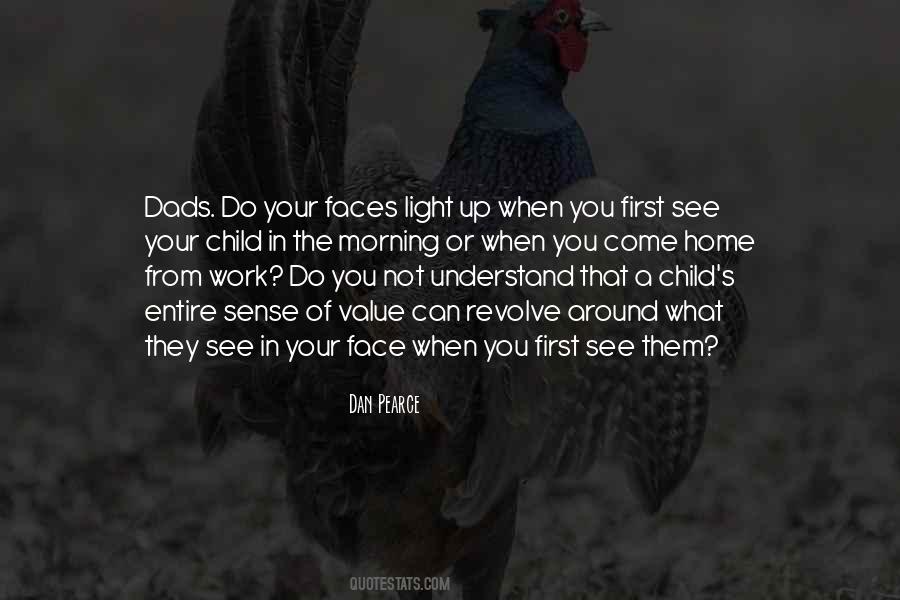 #92. I'd fallen in love with a woman but she broke up with me and I was devastated. Six months later, I went into a suicidal depression from the break-up of the relationship, but I resolved to not do what my friends had done. And so I reached out for help. - Author: Aron Ralston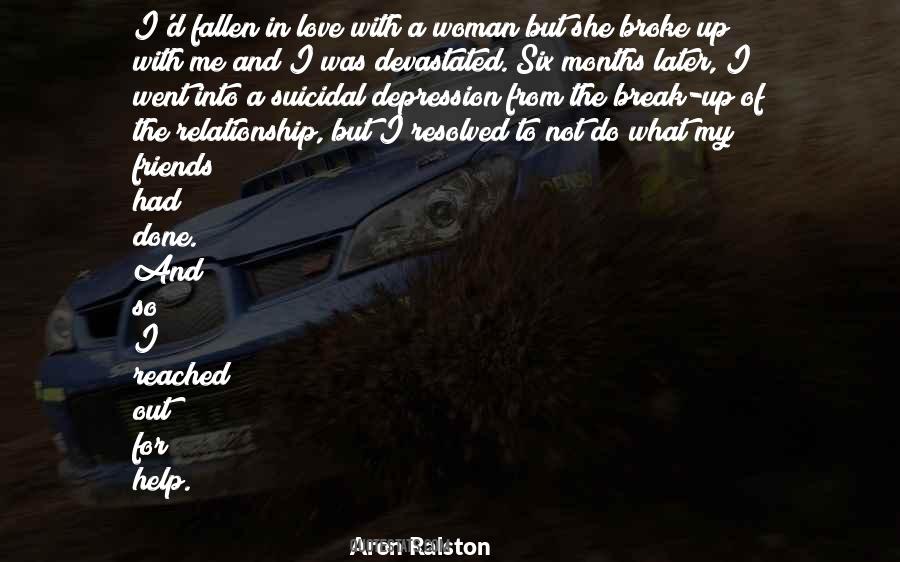 #93. You need to tell me why it won't work."
"Because you're seventeen and I'm eighteen. Because your first love isn't supposed to last. - Author: Kris Noel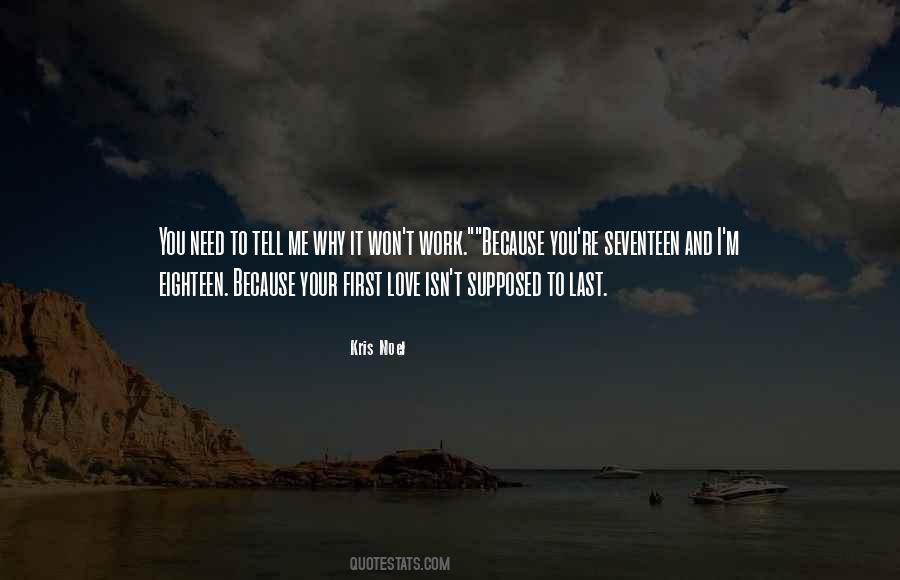 #94. Don't ever love anyone," her mother said, picking the papers up and sliding them into the bureau drawer she'd kept her ring in. "All you'll do is break your own heart. - Author: Matthew Thomas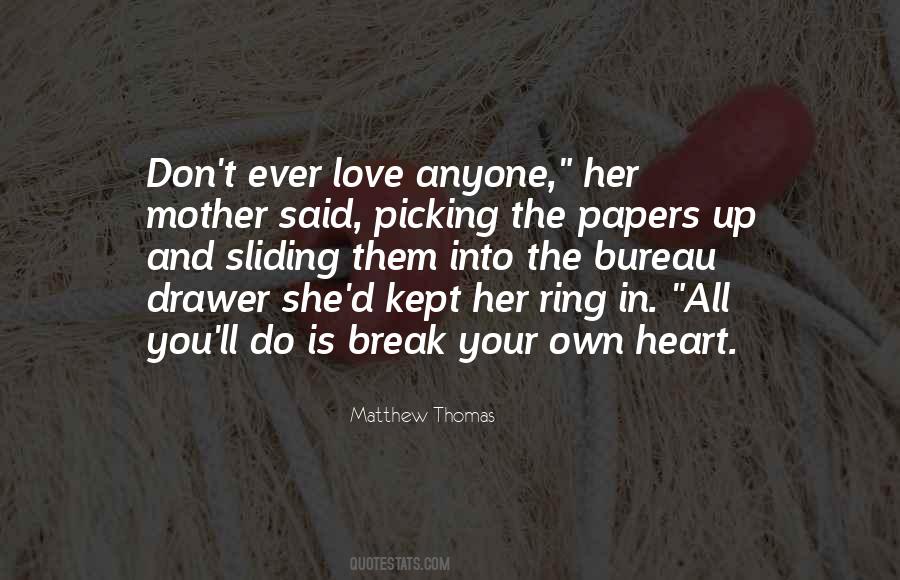 #95. I think you forget that I'm still alive. It's like you don't expect me to keep on existing now that I'm not in your life every day. - Author: Rachel Higginson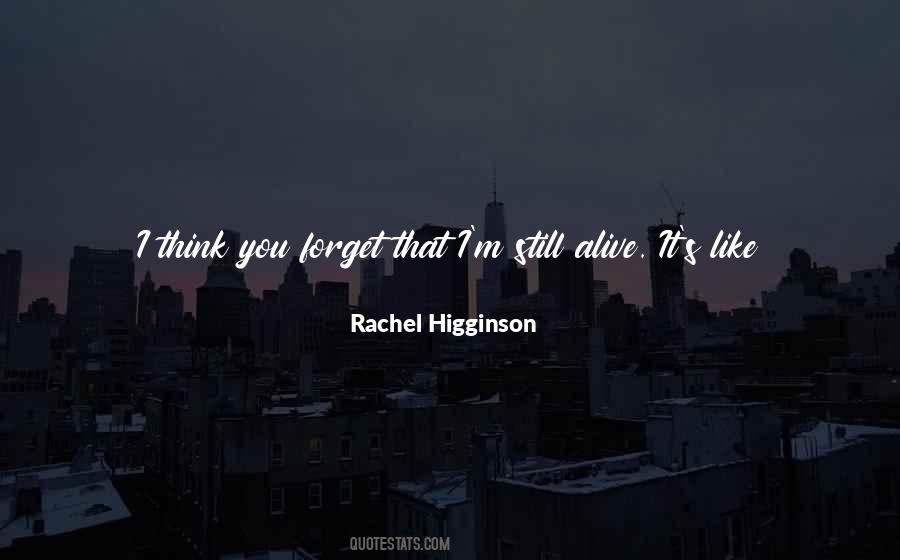 #96. Growing up in that house sucks so badly and when my brother leaves I break down and cry because I don't want him to leave, but I know that he has to have a life of his own - Author: Cassie Brode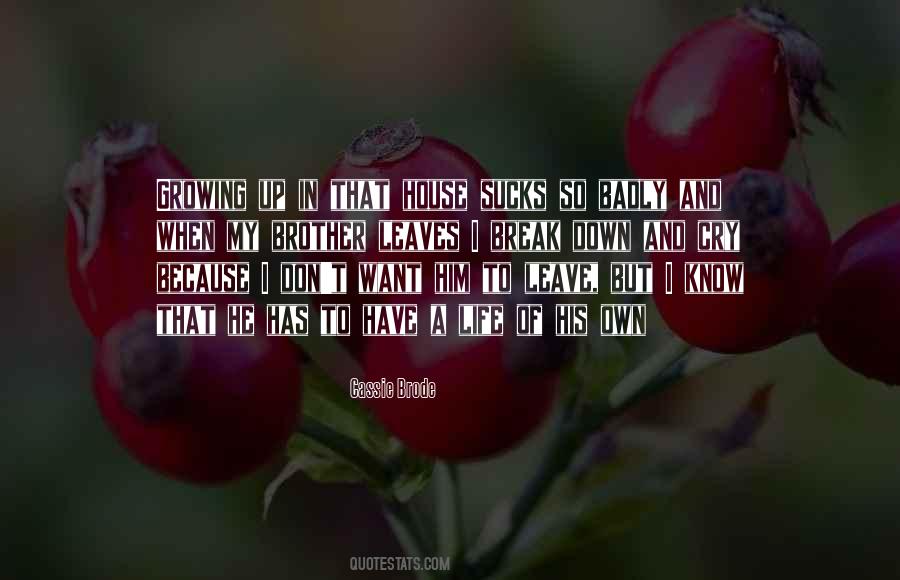 #97. I'll keep looking- till that watery reflection of mine in your eye, rolls down as a tear. I'll keep looking till we finally look away like our lives never met. Let's cheat destiny as if we never knew each other. Let's do this last thing together. - Author: Jasleen Kaur Gumber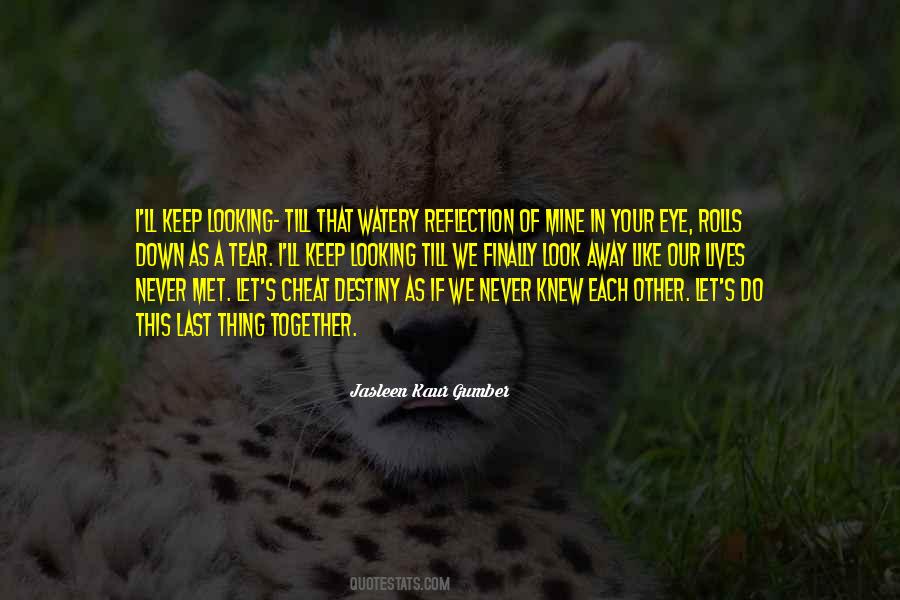 #98. People who say "It is better to have loved and lost than never to have loved at all" never felt a broken heart. - Author: LeBron James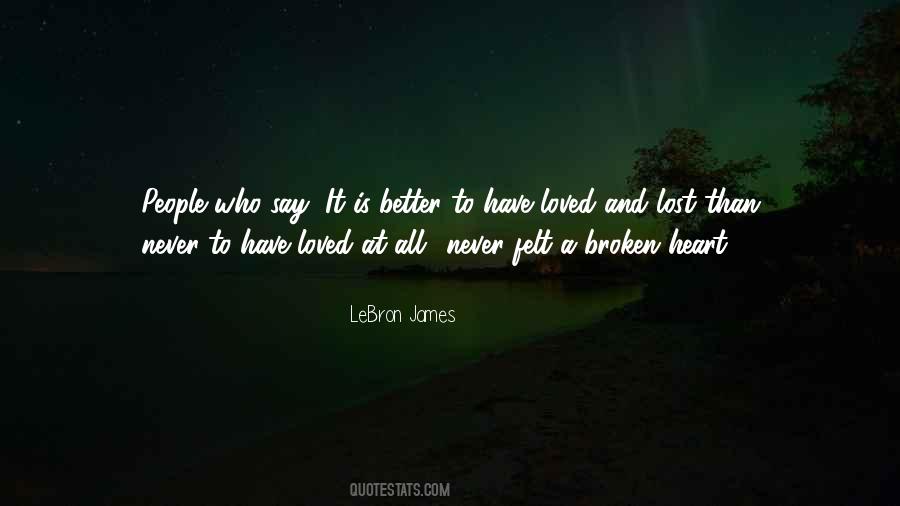 #99. Granted, I'd waited a long time to hear those words. Would've sold a kidney-maybe two-to have heard them at one point. Now, though ... they didn't have the same impact. They were, in fact, an overcooked noodle in the pasta salad of love. - Author: Kristan Higgins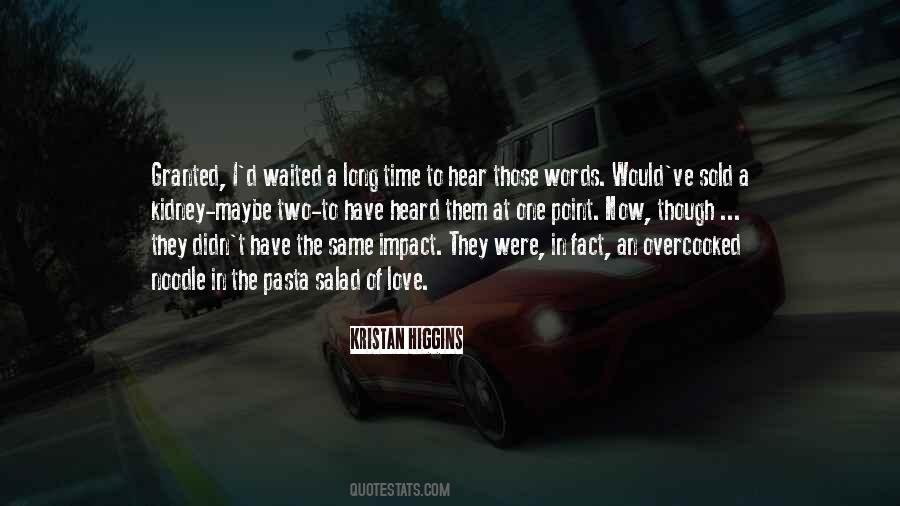 #100. A good journal entry- like a good song, or sketch, or photograph- ought to break up the habitual and life away the film that forms over the eye, the finger, the tongue, the heart. A good journal entry ought to be a love letter to the world. - Author: Anthony Doerr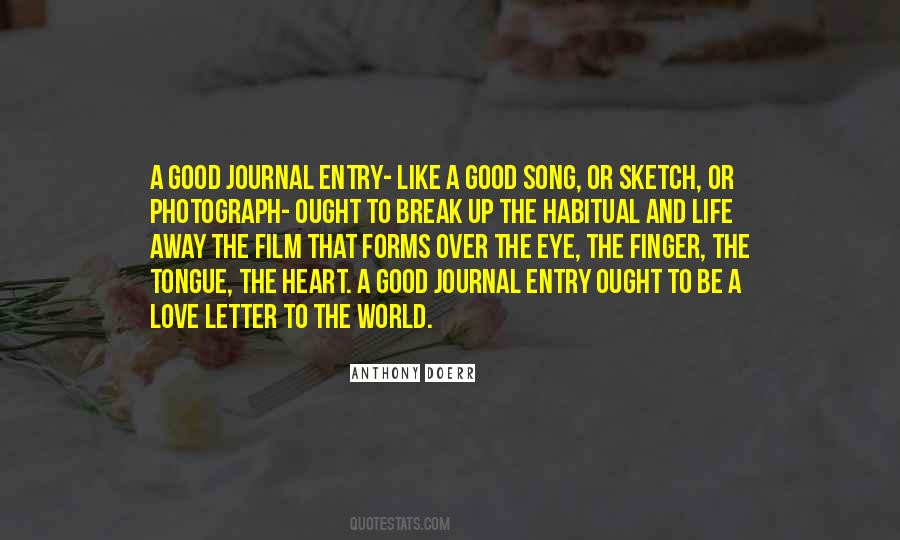 Famous Authors
Popular Topics