Boss Life Famous Quotes & Sayings
List of top 53 famous quotes and sayings about boss life to read and share with friends on your Facebook, Twitter, blogs.
Top 53 Quotes About Boss Life
#1. Aside God, you have just one boss! That is you. You choose to be a good boss or a bad boss with the business of your life! That is you! - Author: Ernest Agyemang Yeboah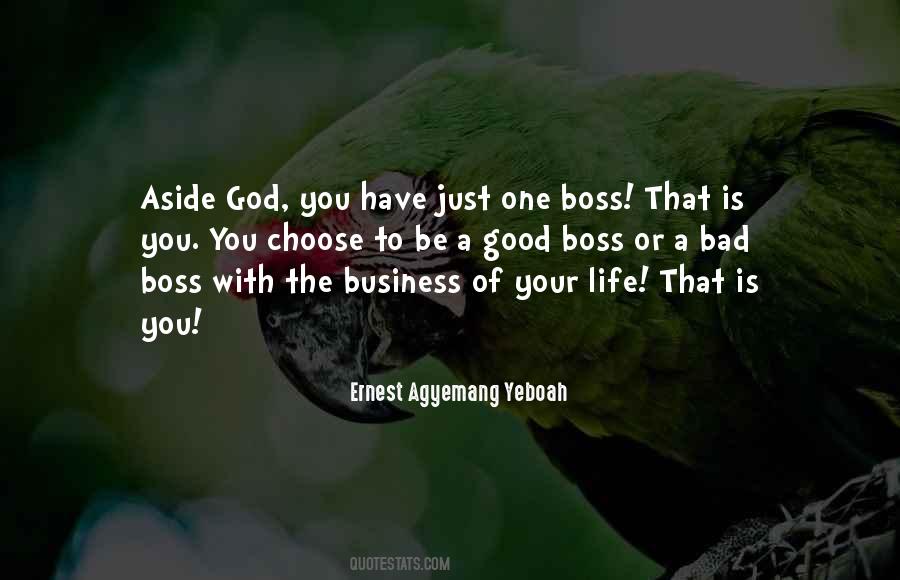 #2. People work around you and next to you and the universe waits for the perfect time to whisper in your ear, "Look this way." There is someone in your life right now who may end up being your enemy, your wife, or your boss. Lift up your head and you may notice. - Author: Amy Poehler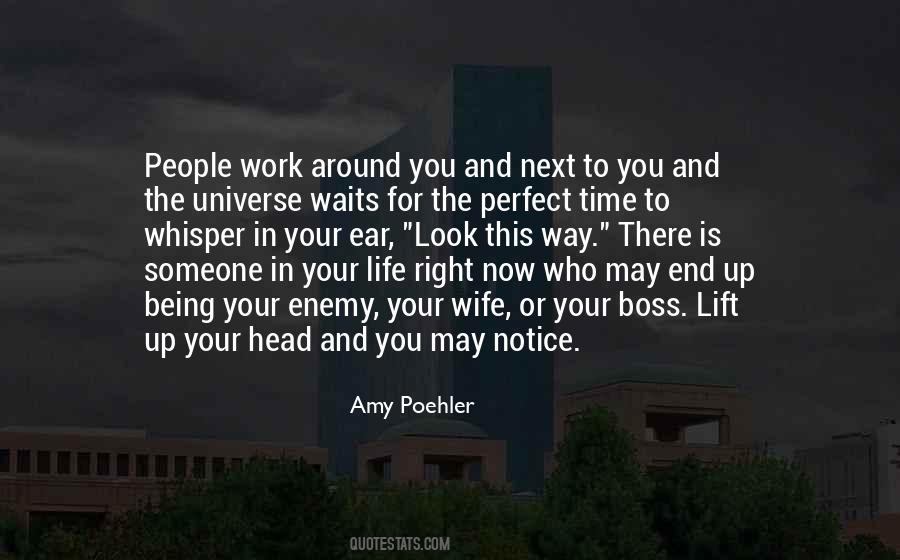 #3. You are your own boss. No one else. - Author: Mindee Arnett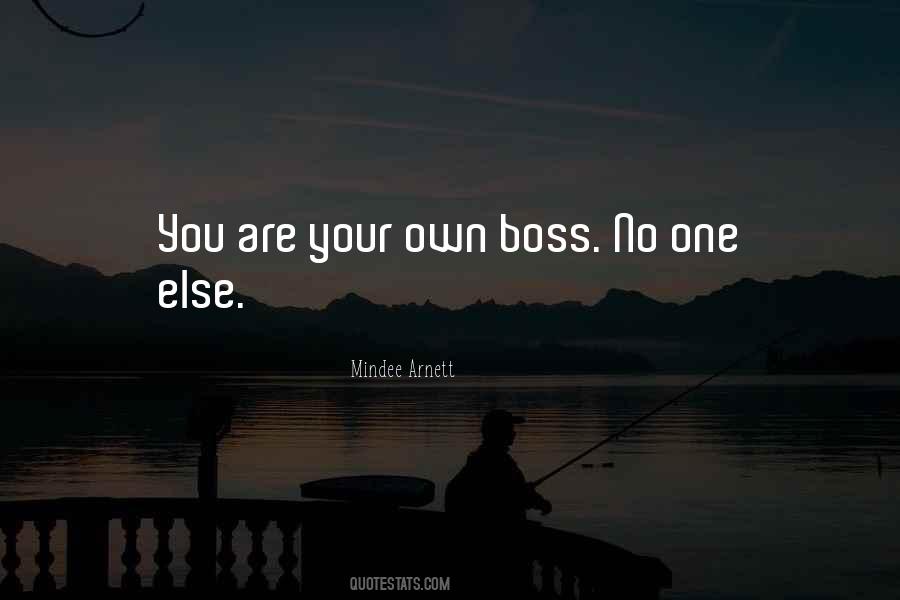 #4. Hey, boss? (Vik)
Not now, Vik. (Syn)
Dude, listen to the metallic life form. (Vik) - Author: Sherrilyn Kenyon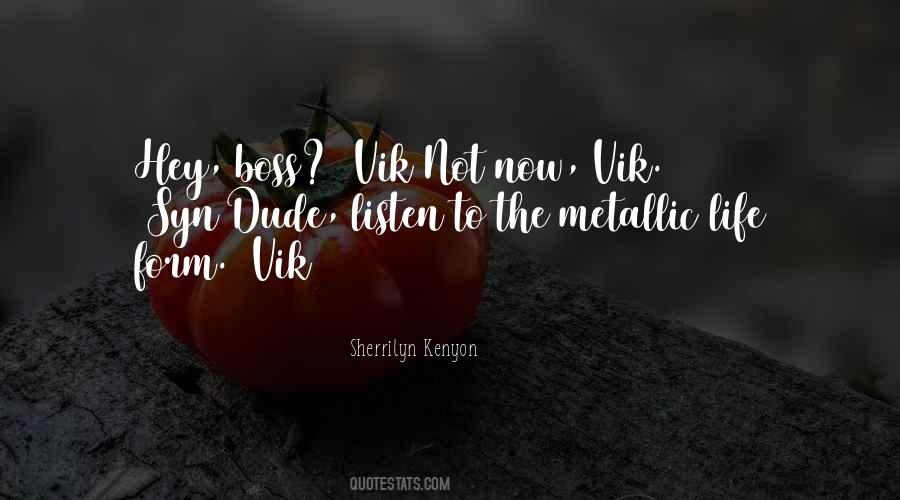 #5. A job should only be a stepping stone to being your own boss - Author: Sunday Adelaja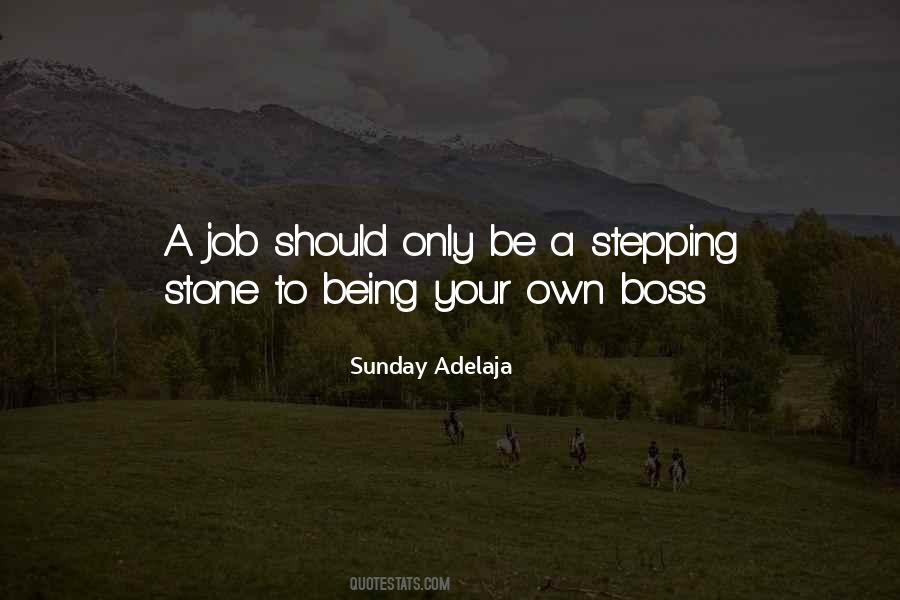 #6. Life, I announced, is not a B picture. Well, it ain't no De Mille epic either, boss. Things'll work out, Bernie. - Author: Lawrence Block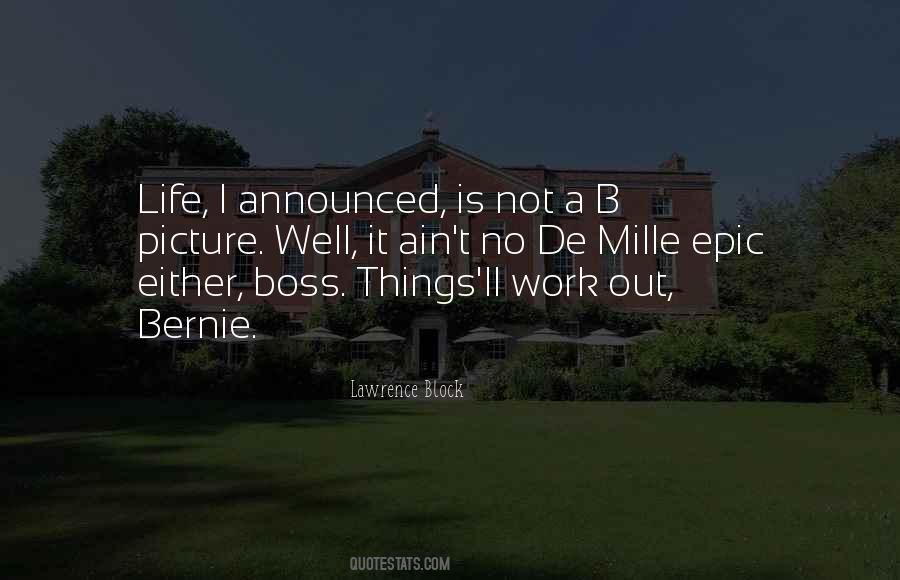 #7. A good game gives us meaningful accomplishment - clear achievement that we don't necessarily get from real life. In a game, you've beaten level four, the boss monster is dead, you have a badge, and now you have a super laser sword. Real life isn't like that, right? - Author: Jesse Schell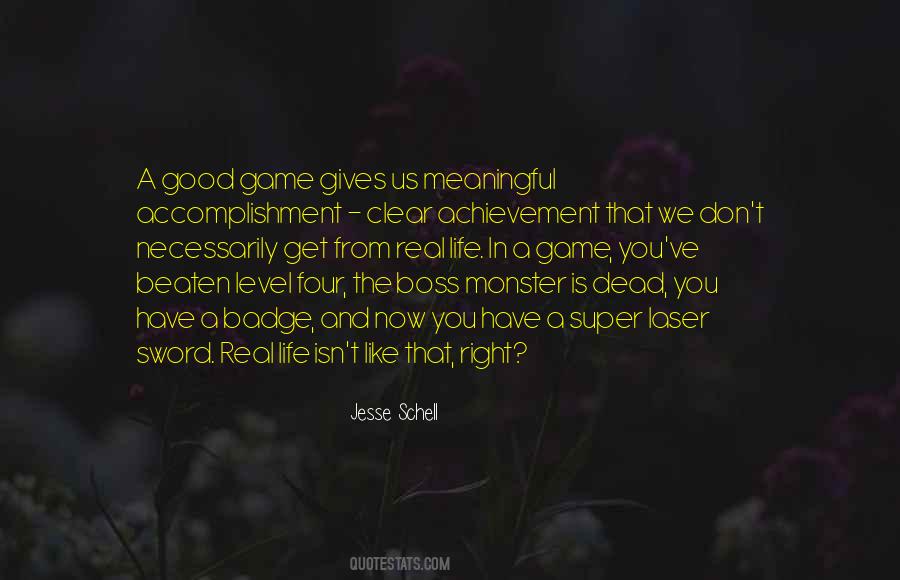 #8. Every boss started as a worker. - Author: Rick Ross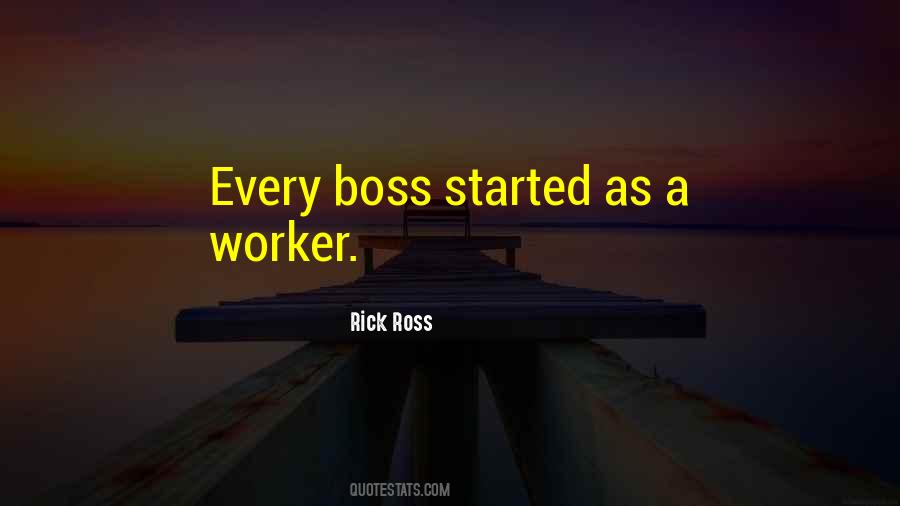 #9. There's only one boss in your life ... and that's you! The person looking back in the mirror at you is the one you have to answer to every day. - Author: Wayne Dyer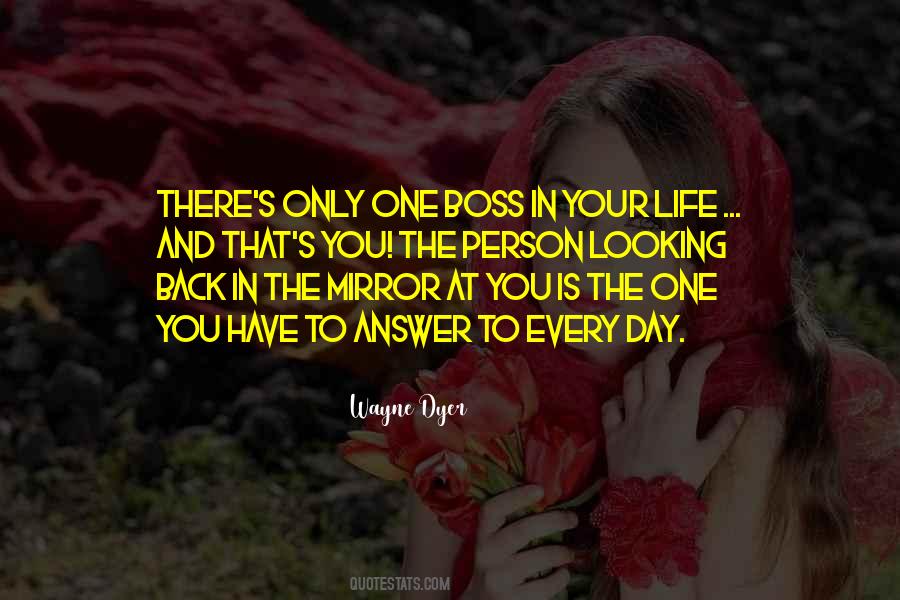 #10. We all in real life put on these masks - we don't swear when we're around certain people ... When we come home, when you're on your own I'm sure you're really different than when you're with your boss. - Author: Malin Akerman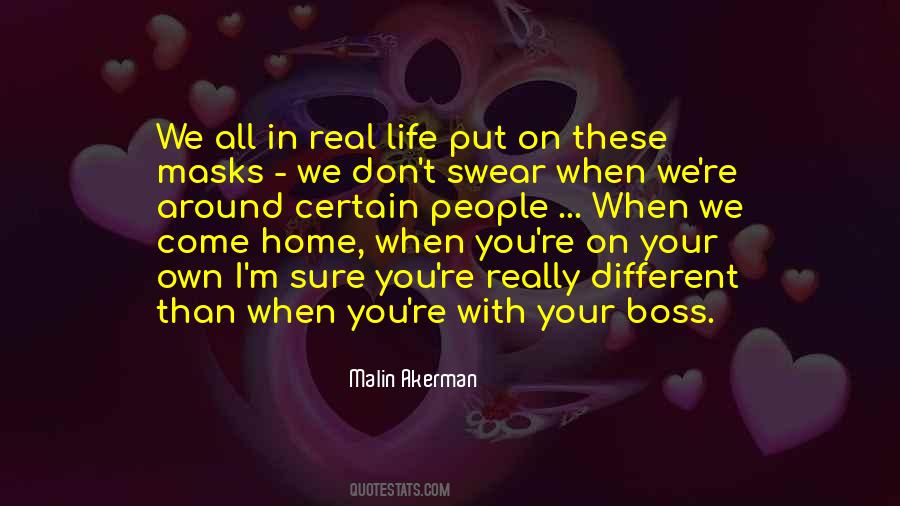 #11. The spike heels left a trail of silent reproach in the broadloom.

Petite and lovely as the girl next door, Dusty eschewed manners and bras in a way that complimented her boss's more uptight, corseted approach to life. - Author: James Wilcox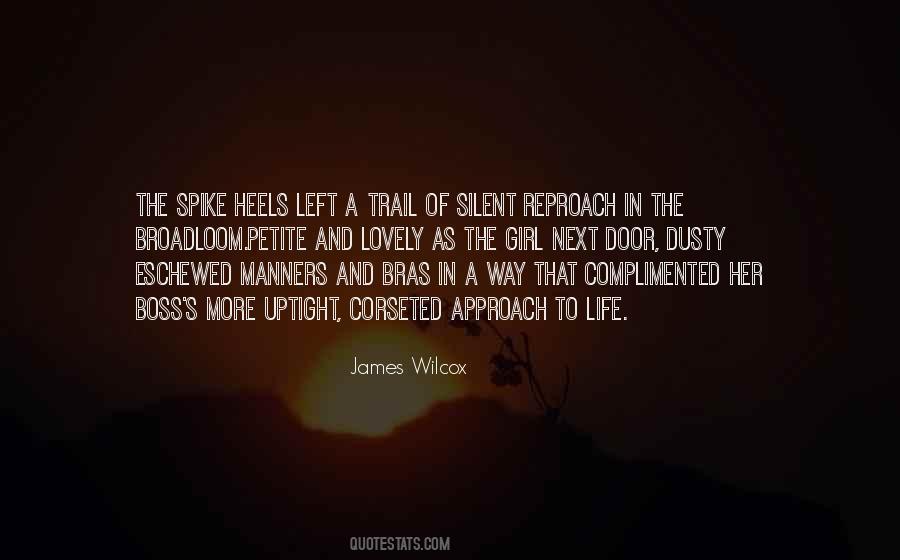 #12. Prosecutors say my father was the biggest crime boss in the nation ... If you really want to know what John Gotti was like, you need to talk to my family. We lived this life. - Author: Victoria Gotti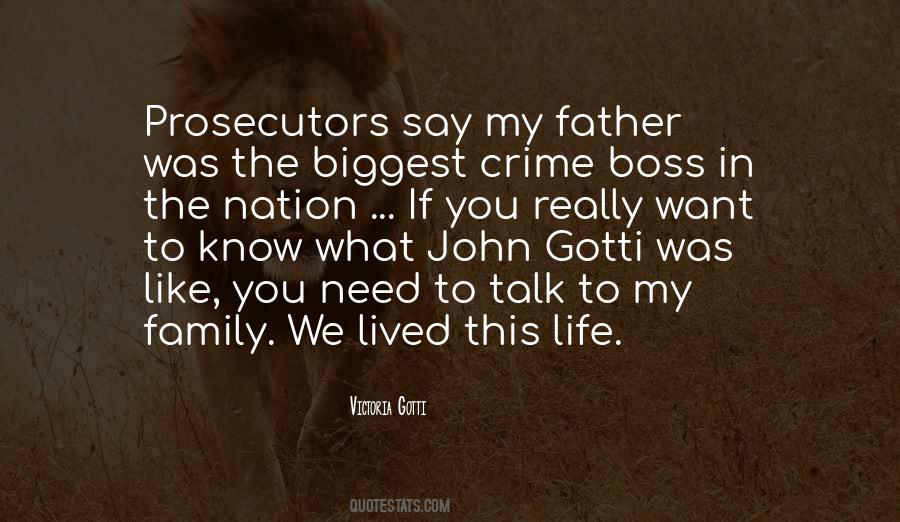 #13. I like my father being the boss in my life - Author: Shreya Ghoshal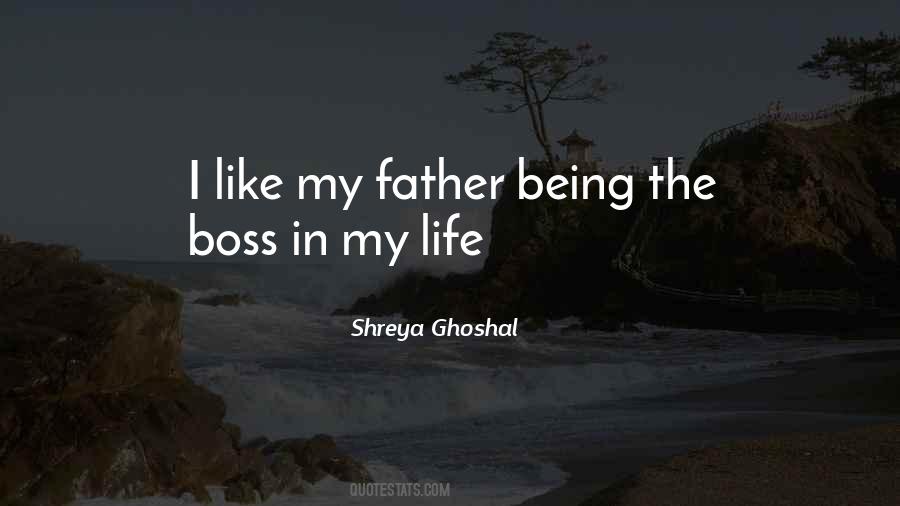 #14. In all of your living, don't forget to live. - Author: Ricky Maye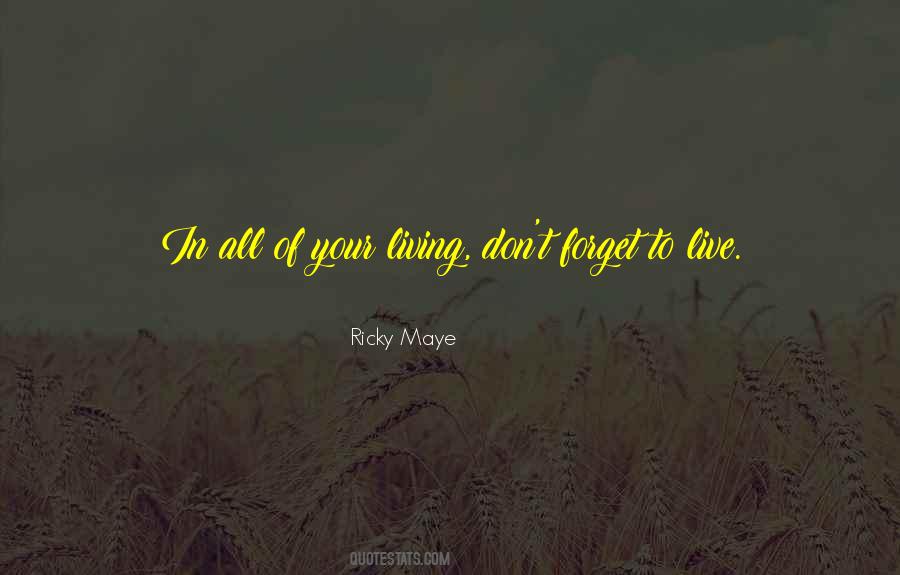 #15. To believe that your husband, wife, parents, kids, boss, job, bank account, or body is even partly responsible for your emotions, to think that there are bullets 'out there' that you have to contend with, that there are stressful life events to overcome, is to miss something vital. - Author: Andrew J. Bernstein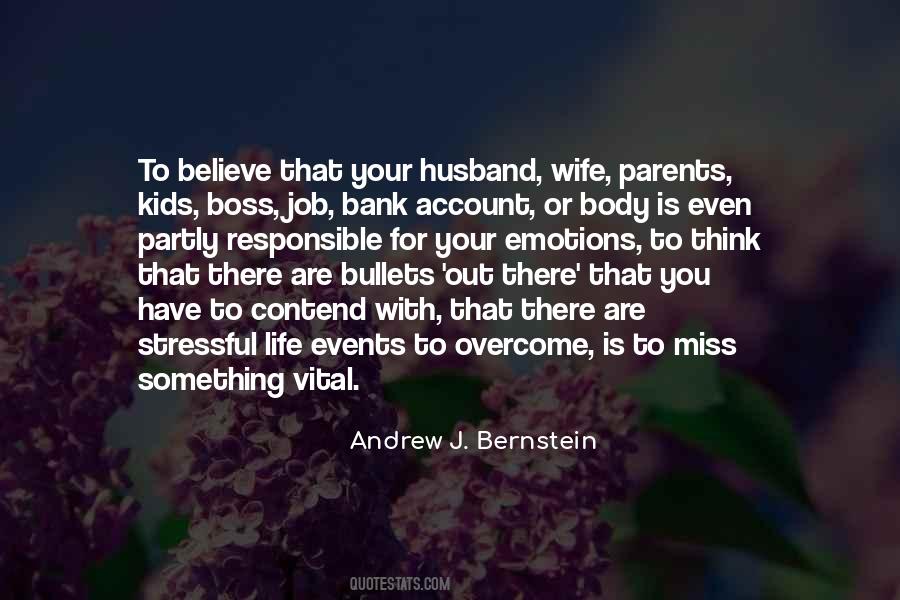 #16. Professional loyalty now flows "horizontally" to and from your network rather than "vertically" to your boss, as Dan Pink has noted. - Author: Reid Hoffman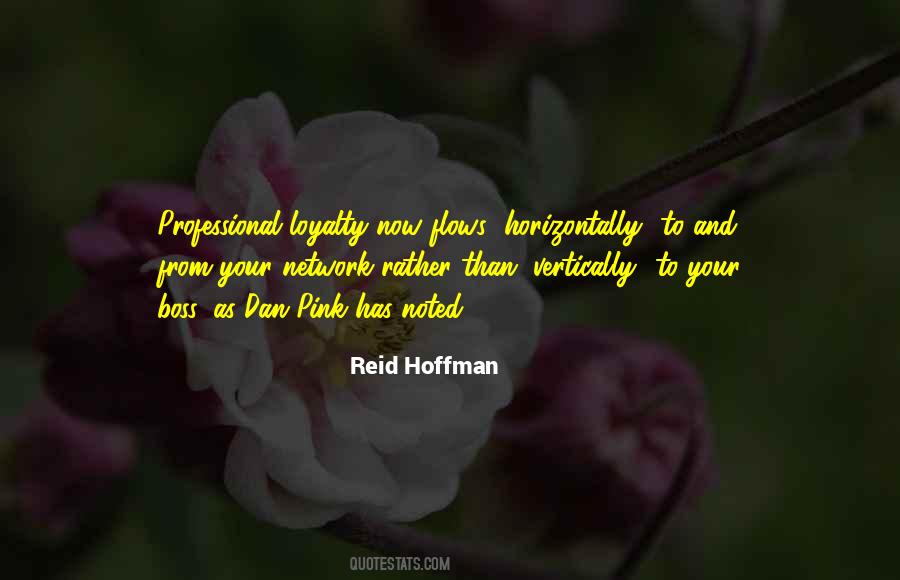 #17. You can be your own boss - Author: Sunday Adelaja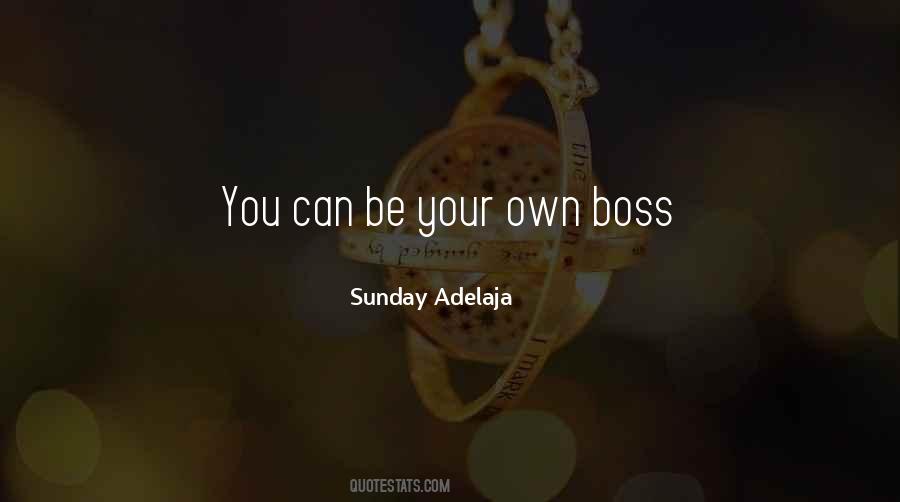 #18. My wife came into my life, and my mother still wanted to be the boss. - Author: Don Rickles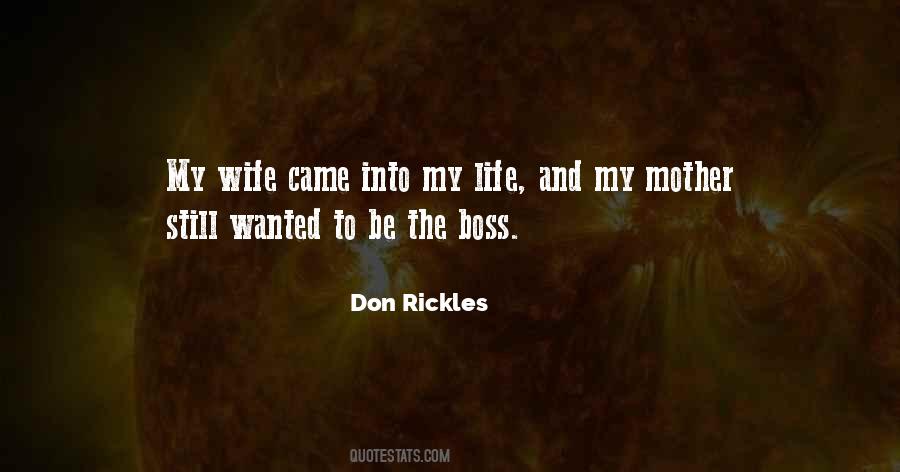 #19. If u want to work in Corporate, then u should know how to play Chess. - Author: Honeya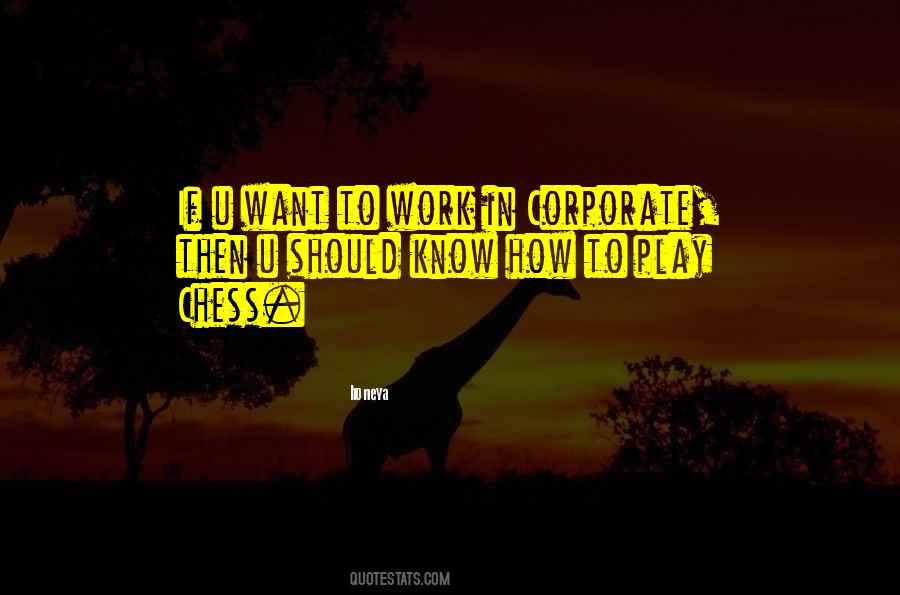 #20. In those days, when I was a little kid, I met the truer more authentic people of my life. The men were so pure, strong, honest, and faithful unto death - with an incredible sense of respect for a boss. - Author: Gianni Versace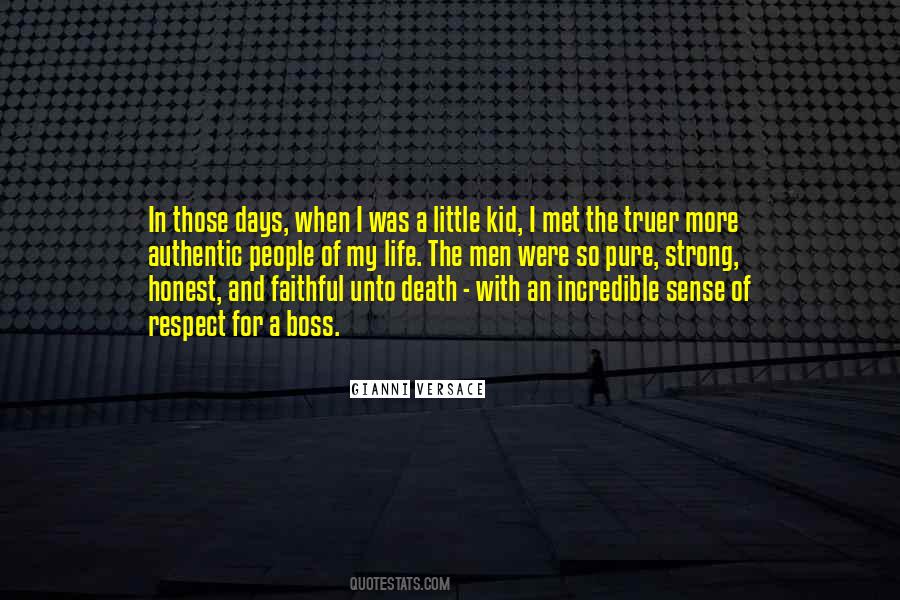 #21. When you fail to be your own boss,
You are giving somebody else the contract. - Author: Richard Marcel I.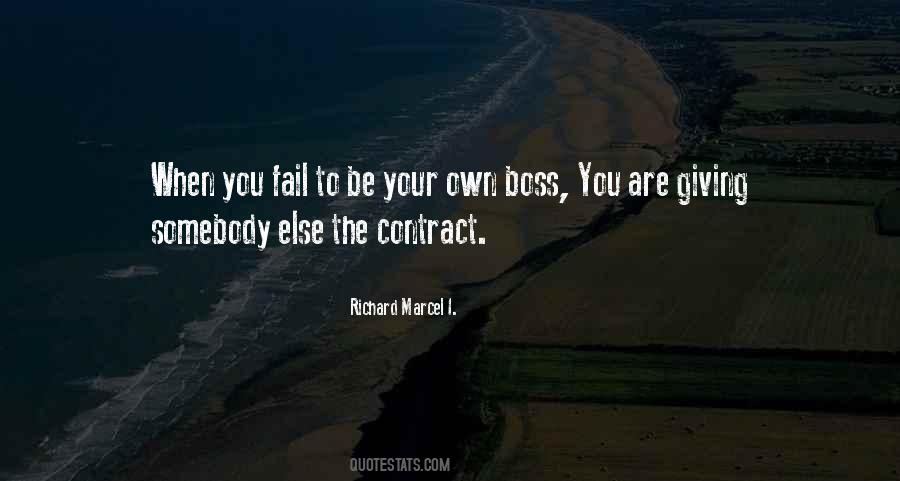 #22. Sociologists have a theory of the looking-glass self: You become what the most important person in your life (wife, father, boss, etc.) thinks you are. How would my life change if I truly believed the Bible's astounding words about God's love for me, if I looked in the mirror and saw what God sees? - Author: Philip Yancey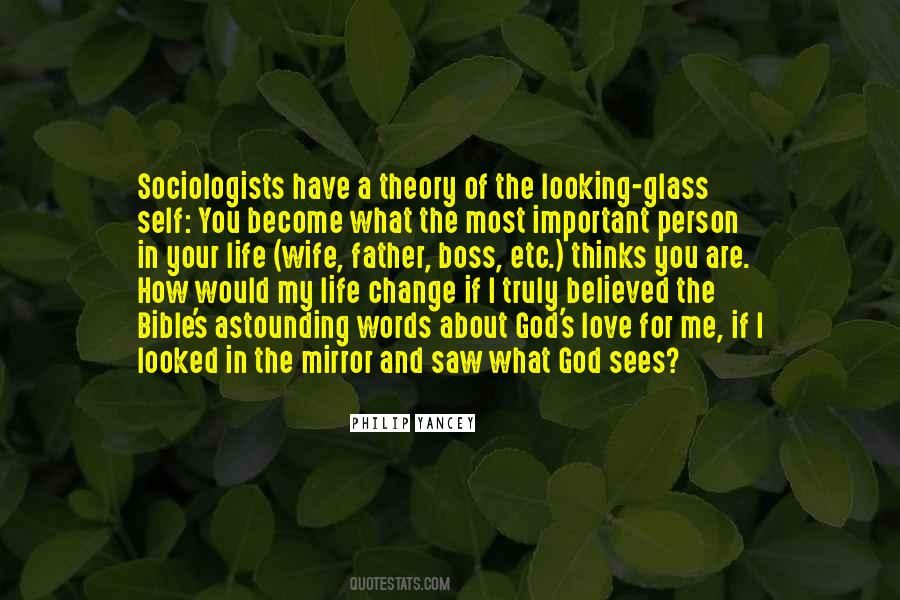 #23. Work is my vacation from worry of what to do with my life - Author: Janna Cachola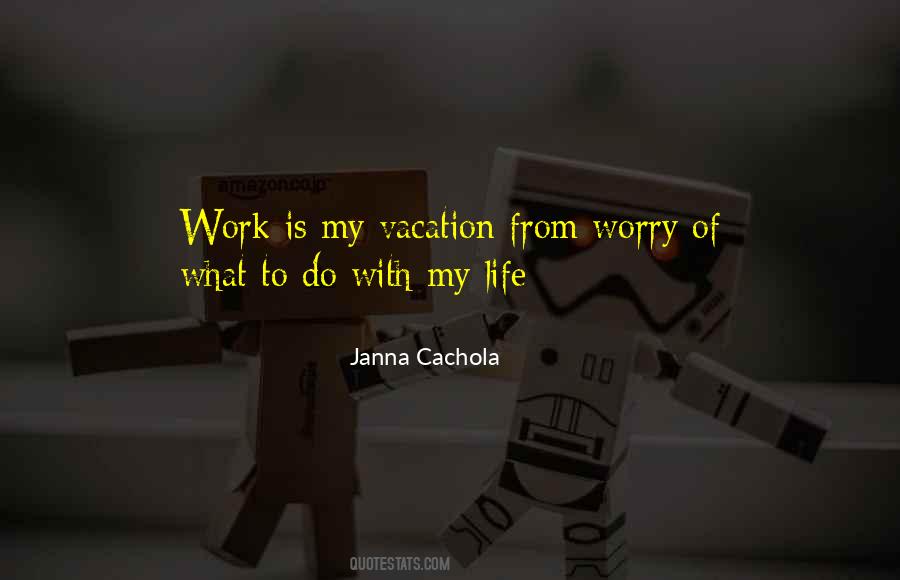 #24. Jesus is knocking at your door. Take hold of the better life by letting him into your life. Make him the boss of your life. It'll change everything. - Author: Rick Warren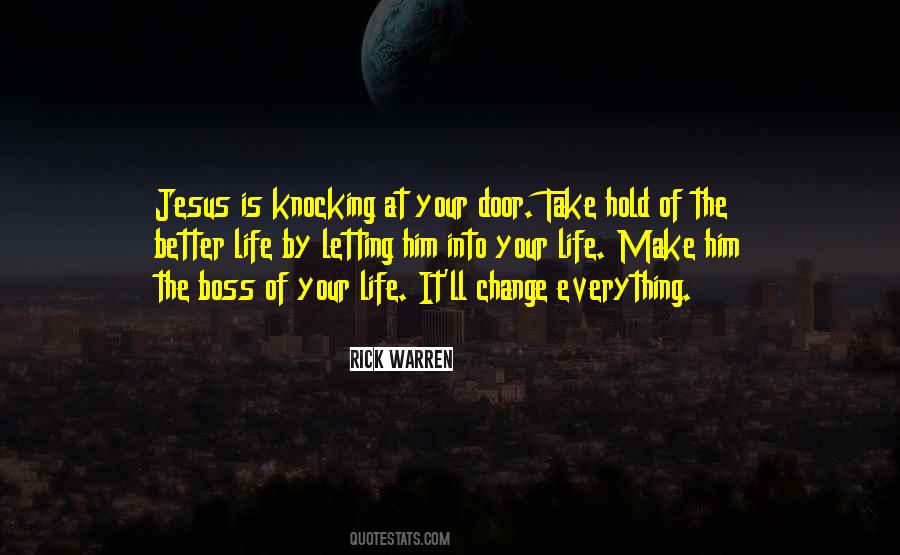 #25. How close, Frost?"
"Real close, boss. I swear on my life."
Joker slowly looked up, eyes glistening with black hope. The fire in his madness was still burning.
"If you're going to swear, swear on something that matters. - Author: Marv Wolfman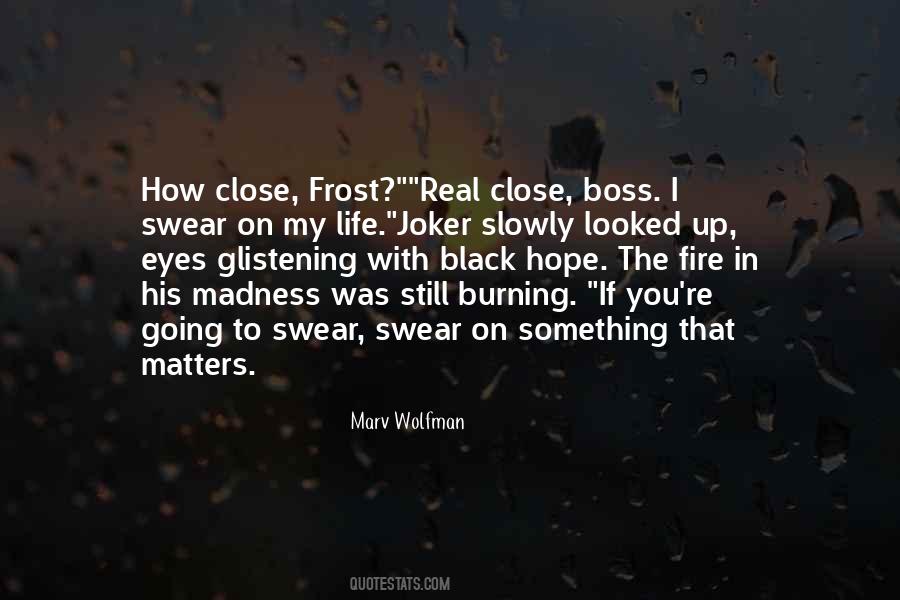 #26. I remember Robin [Williams] walked up to me after the last take and said, "Thanks boss! We nailed it!" That will probably be one of the best moments of my life. - Author: Roberto Aguire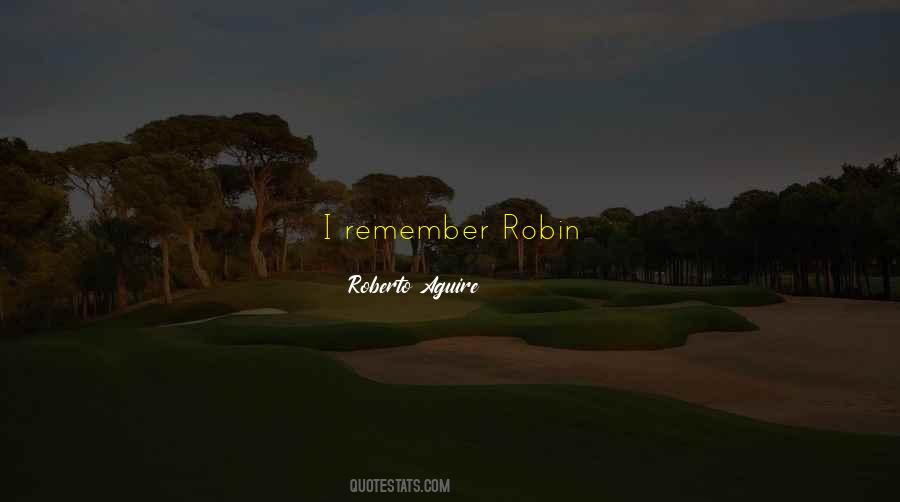 #27. My husband had a very strong identity and was successful in his life. Thank God for that. There's no way I can control him. I wouldn't stay married to him if I felt I could. I can readily take my business personality into the home. But he forces me to be a partner rather than the boss. - Author: Barbara Corcoran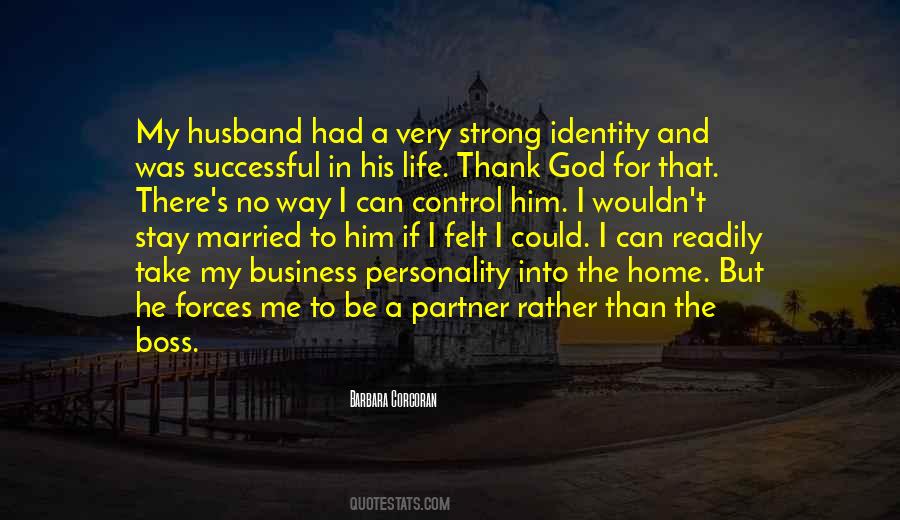 #28. If you are working with no vision to be own your own boss, you are no different from people who are unemployed - Author: Sunday Adelaja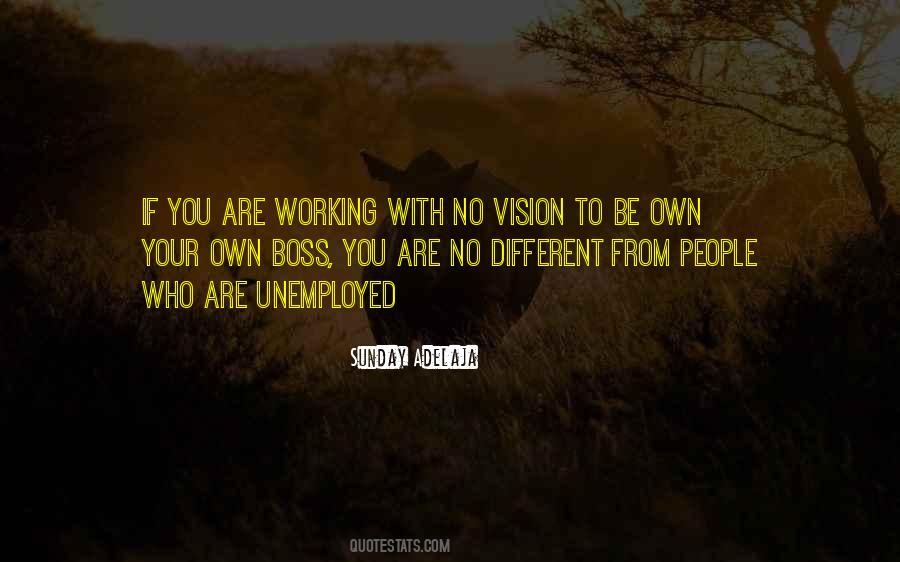 #29. There are many people in the world who feel that if only they had a bigger car, a nicer house, better vacations, a more understanding boss, or a more interesting partner, then their life would work. We all go through that one. Slowly we wear out most of our 'if onlies.' - Author: Joko Beck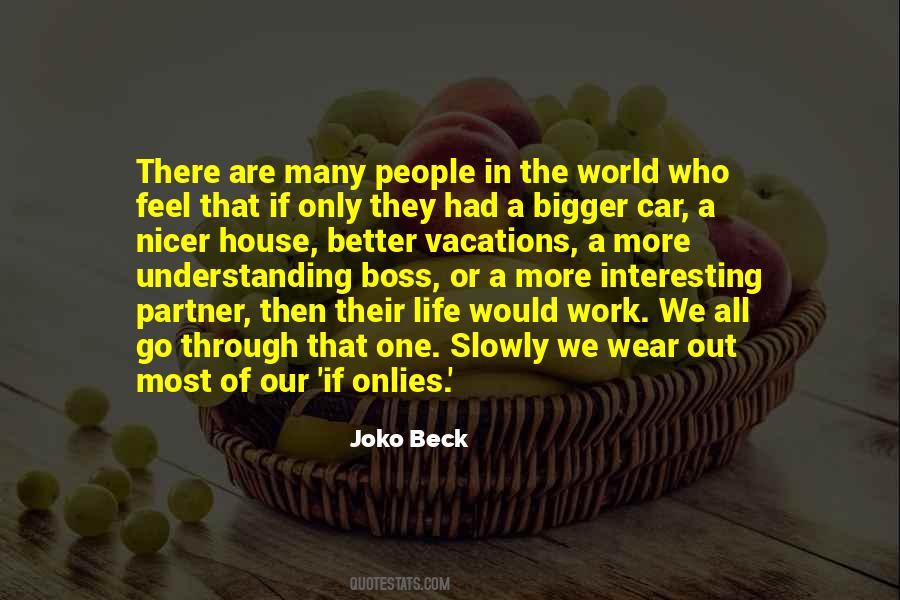 #30. When your boss listens to you carefully, reaches out to help you, and learns from you, it enhances your dignity and pride. Doing so also helps your boss gain empathy for you, to better understand how it feels to be you and what you need to succeed in your job and life. - Author: Robert I. Sutton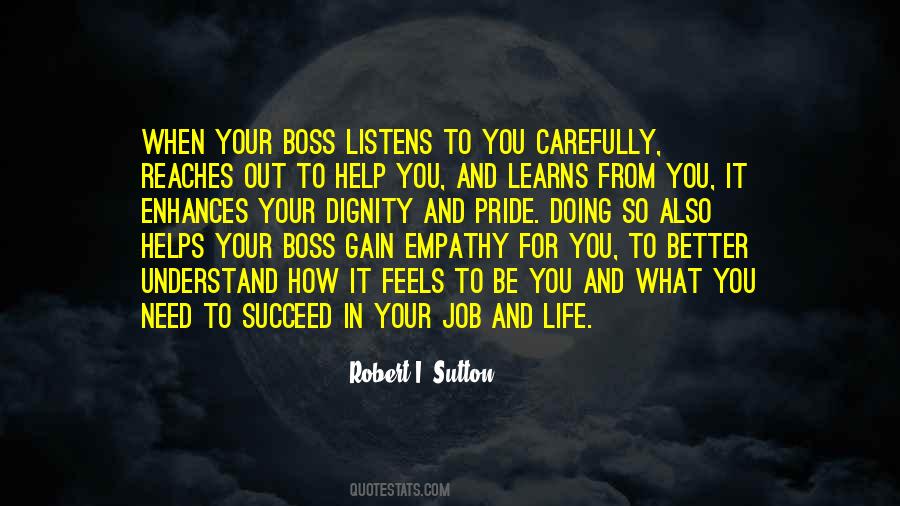 #31. I'm a spoilt brat. I thought I was just going to walk in and make movies. But I'd been my own boss for so long that all of a sudden to be facing a roomful of people who were niggling over every little scene ... I just thought I'd go back and draw my comics and have a happy life. - Author: Frank Miller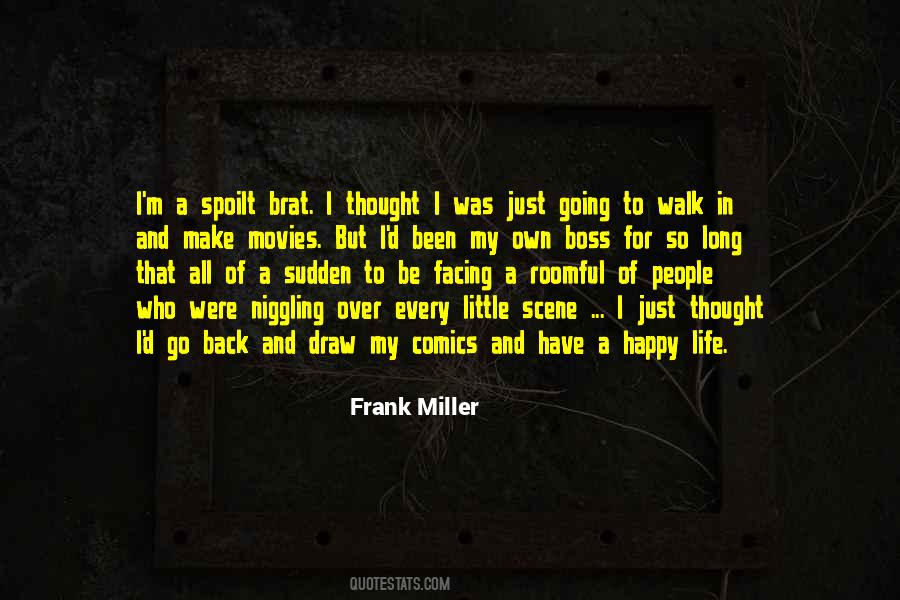 #32. The last 16 years of my daddy's life, he got to work for me, and that made him his own boss and he like that. - Author: Buck Owens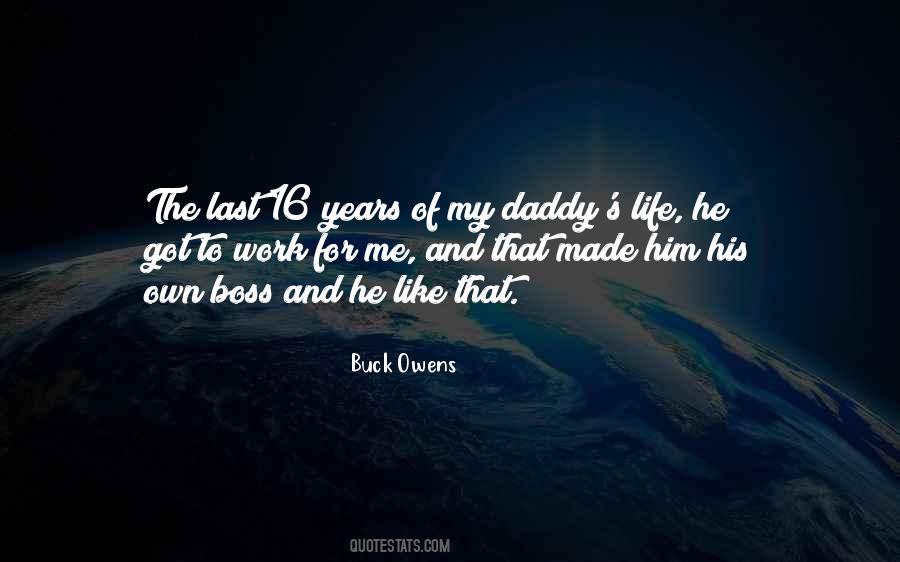 #33. So every time you think about your work-life balance issue, remember what your boss is thinking about - and that's winning. Your needs may get heard - and even successfully resolved - but not if the boss's needs aren't met as well. - Author: Jack Welch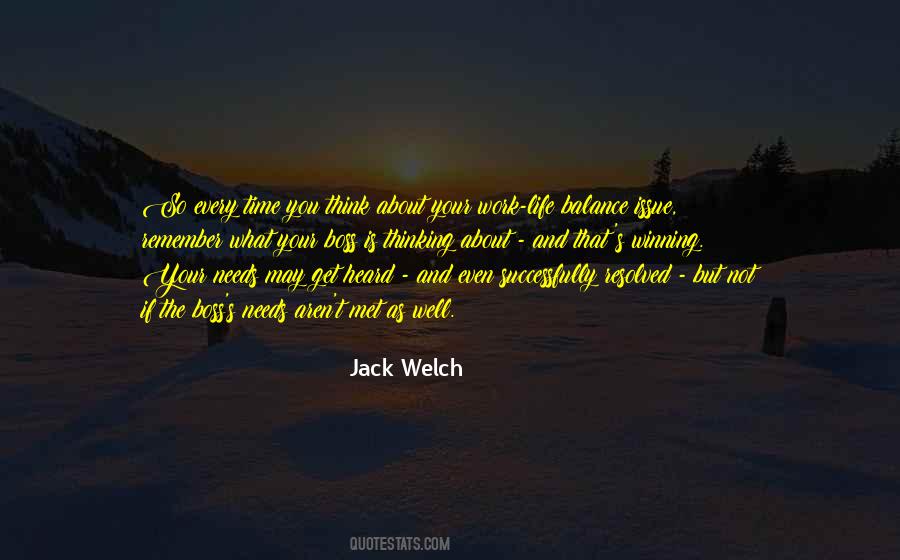 #34. Variety is definitely the spice of life but I love writing office romances (I was a secretary before I became a writer), because it's every girl's dream to meet that gorgeous hunky boss who sweeps her off her feet and takes her out of her dull routine. - Author: Helen Brooks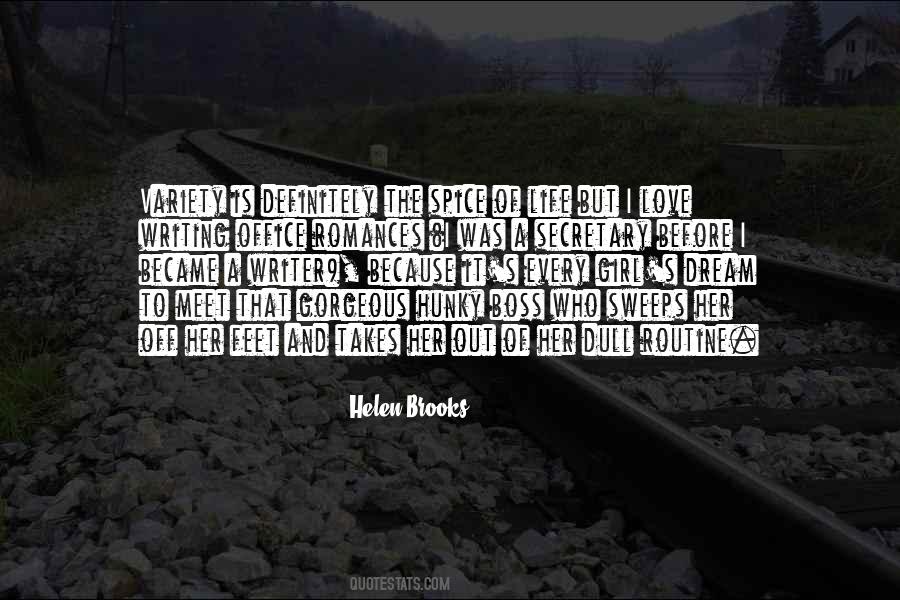 #35. The life of a dancer is not for everyone. You really have to have some thick skin. You really have to know what you're going into and how competitive the field is. - Author: Stephen Boss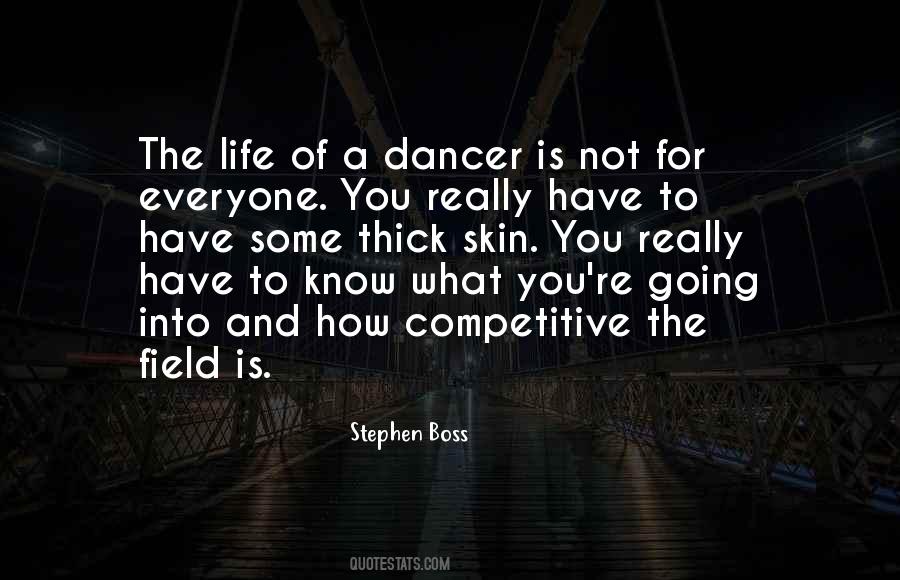 #36. I saw my whole life flash before my eyes, boss. It was horrific. I haven't done anything to regret yet and it's been way too brief. I at least want a license before I check out, you know? - Author: Sherrilyn Kenyon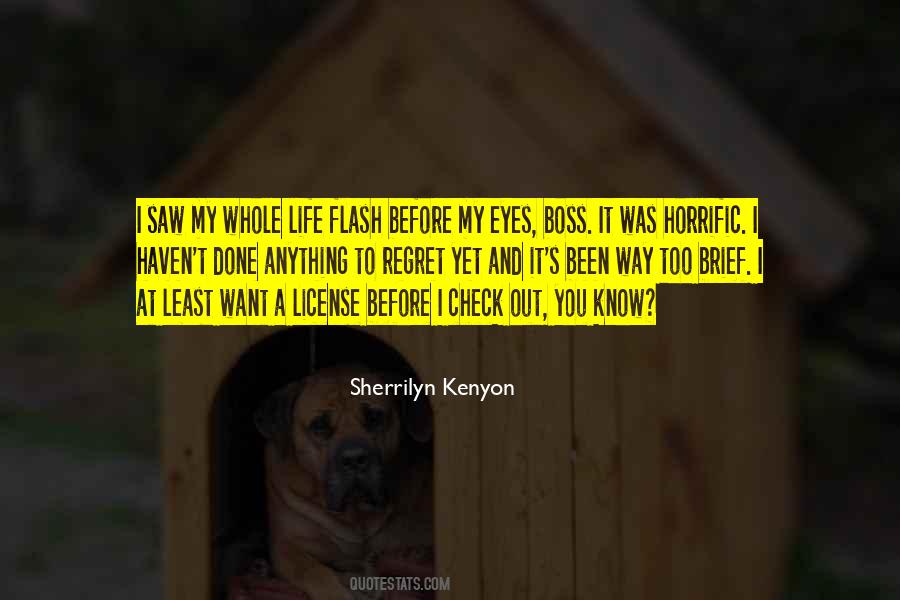 #37. If only I could handle my problems like a video-game style battle against a boss. But there are no power-ups in real life. No FTW moment when I can declare total pwnage. I don't even know who the bad guys are. - Author: Kat Kruger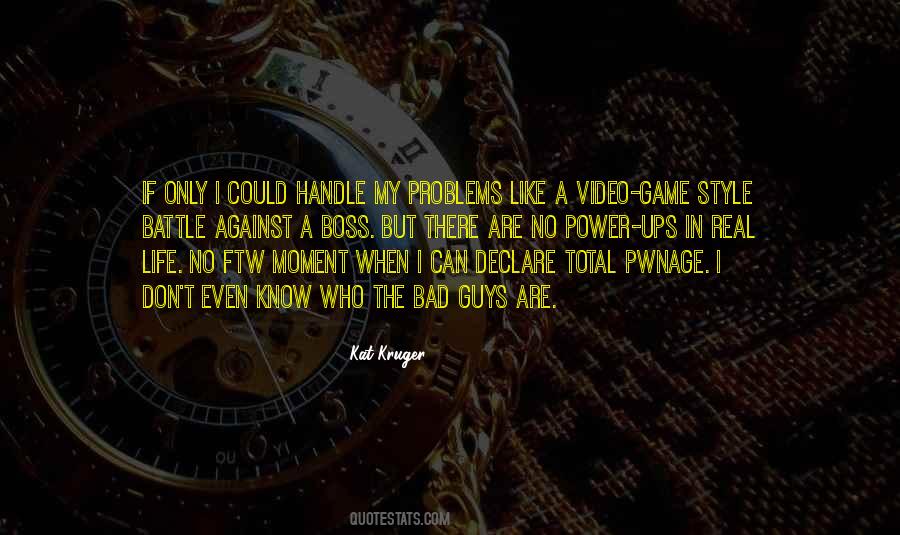 #38. The only thing stopping you is fear, and the only thing that will get you past it is courage. What you do with your life isn't up to your parents, your boss, or your spouse. It's up to you and you alone. - Author: Steve Pavlina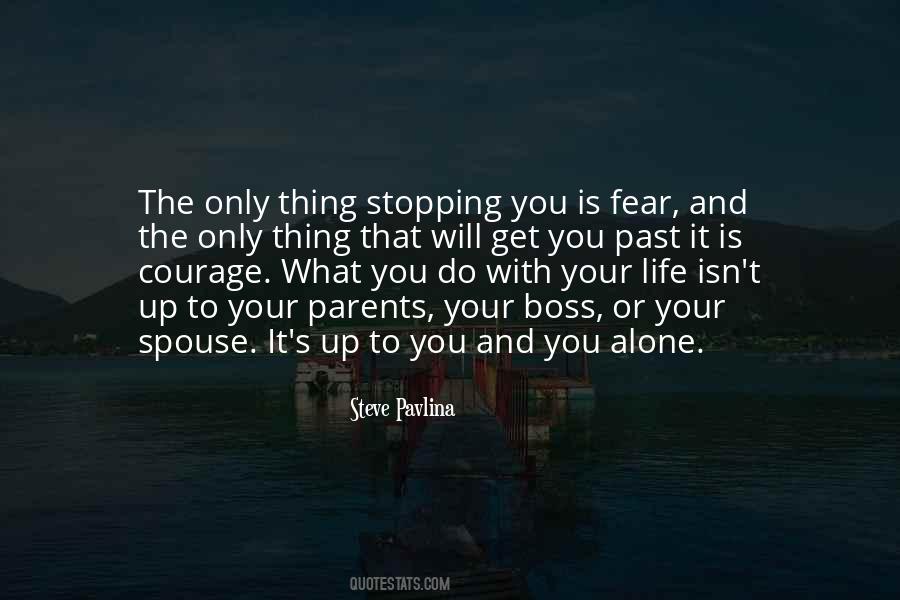 #39. - So what do we do? - She asked.
I reached for the doorknob and looked at the Bi.
- Forward to a normal life.
- Do you think that happens? - She asked, and I became spuskatsya through the power of the stairs to the exit:
"Be happy, the boss"
- And we'll try - Author: Rachel Hawkins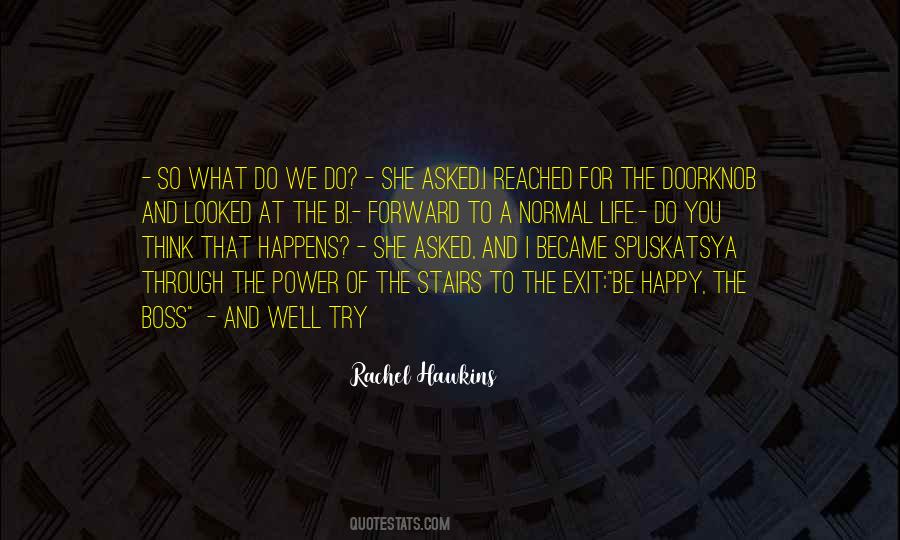 #40. I love you but you were a boring mother fucker until Mister-Pussy-Eating-Like-a-Boss, Hot-as-Hell, Sex-on-a-Stick came into your life. - Author: Kathryn Perez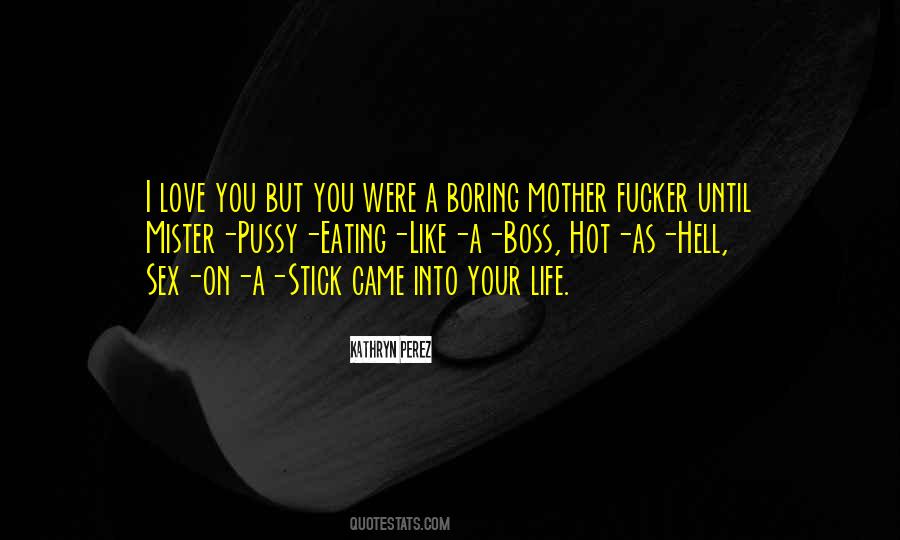 #41. Success on any level begins when you accept responsibility for creating life what you want. You are the only person who can truly make it happen. Not your boss, your business partner, your financial planner, your spouse of life-partner. Just you. - Author: Paul Clitheroe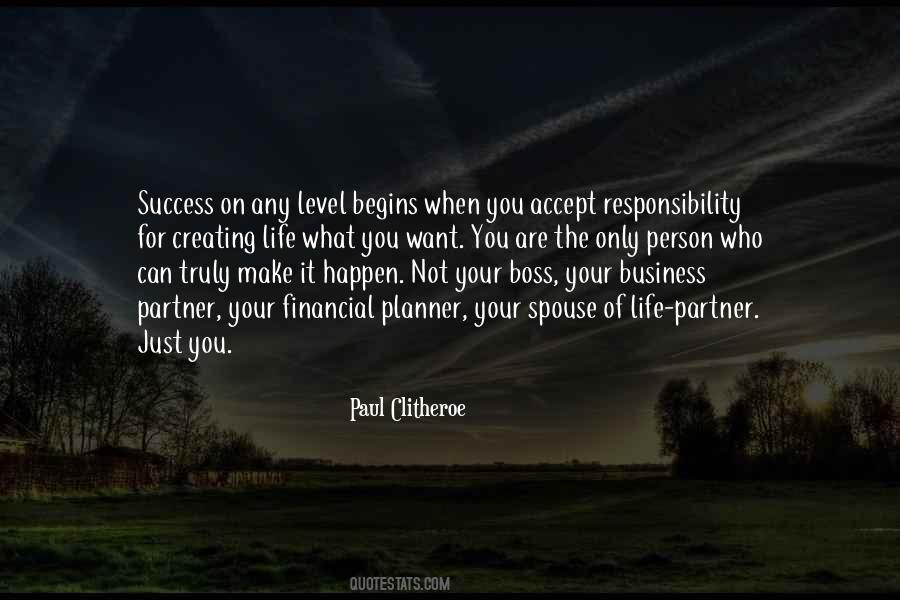 #42. Homeworkers embody the real American Dream. Not fame or fortune, but being your own boss. Calling your own shots. Taking control of your life, not necessarily to work more--or less--but to work the way you want to work. - Author: Lionel Fisher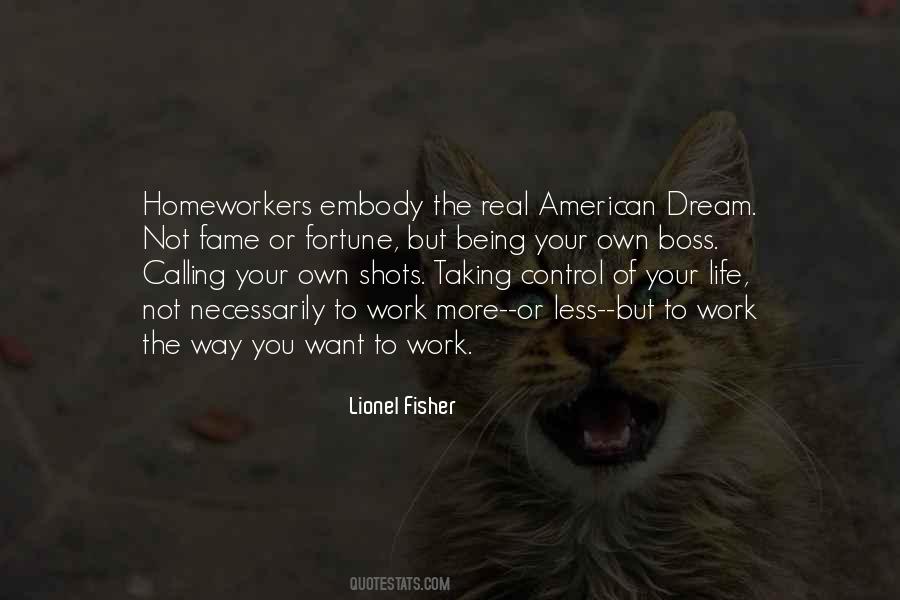 #43. Since you cannot control the weather, or the traffic,
or the one you love, or your neighbors, or your boss,
then you must learn to control you ...
the one whose response to the difficulties of life REALLY counts. - Author: Jim Rohn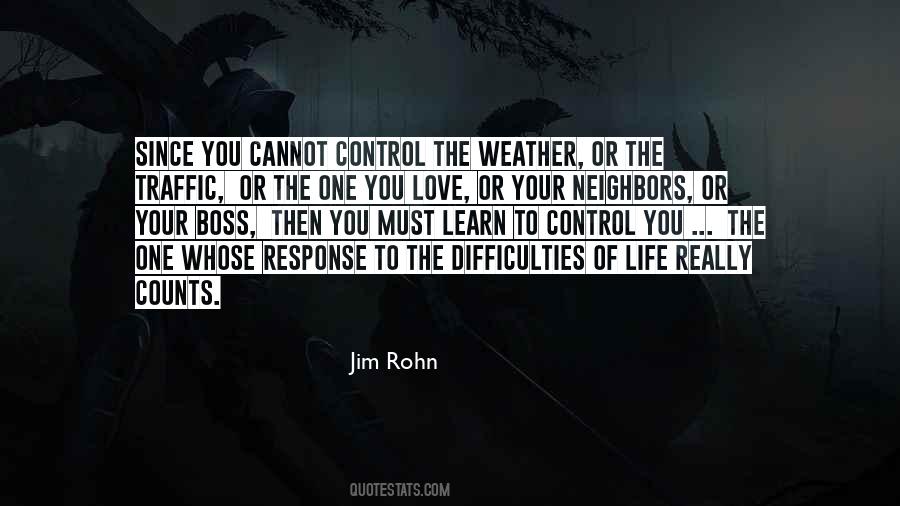 #44. You can be a small element in a corporate system serving your boss all your life and you will retire unsatisfied with your way of living - Author: Sunday Adelaja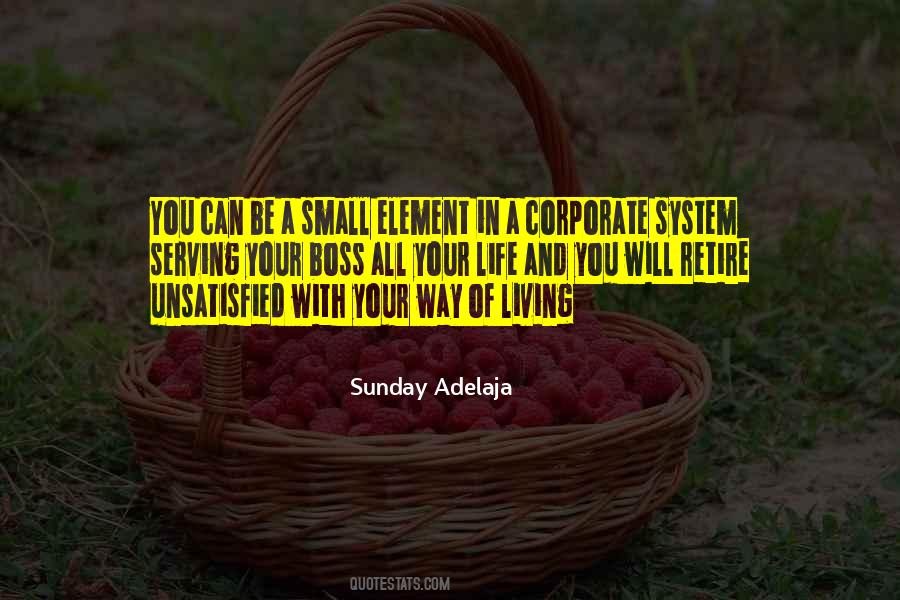 #45. I never had a boss in my whole life. I've totally destroyed anybody's ability to tell me what to do. - Author: David H. Murdock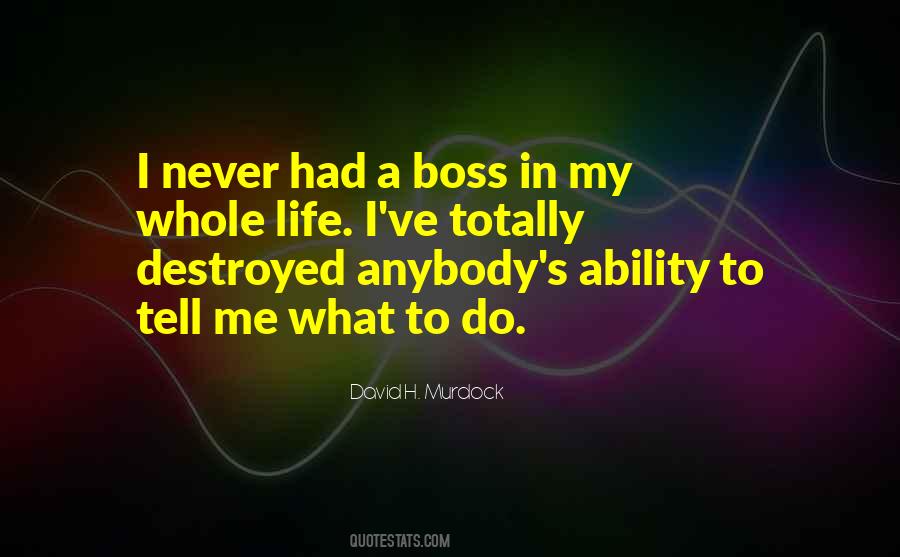 #46. I was working in customer service and had a verbally abusive boss. One day, I decided to quit and pursue my acting passion with everything I had. One week after quitting, I booked 'One Life to Live.' - Author: Tika Sumpter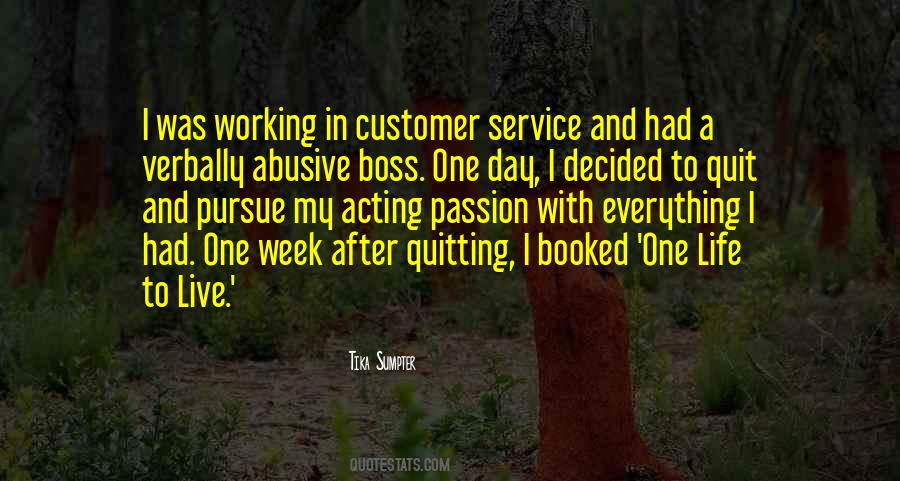 #47. Smile and Slay.
You have to slay it in life or life will slay you. - Author: Janna Cachola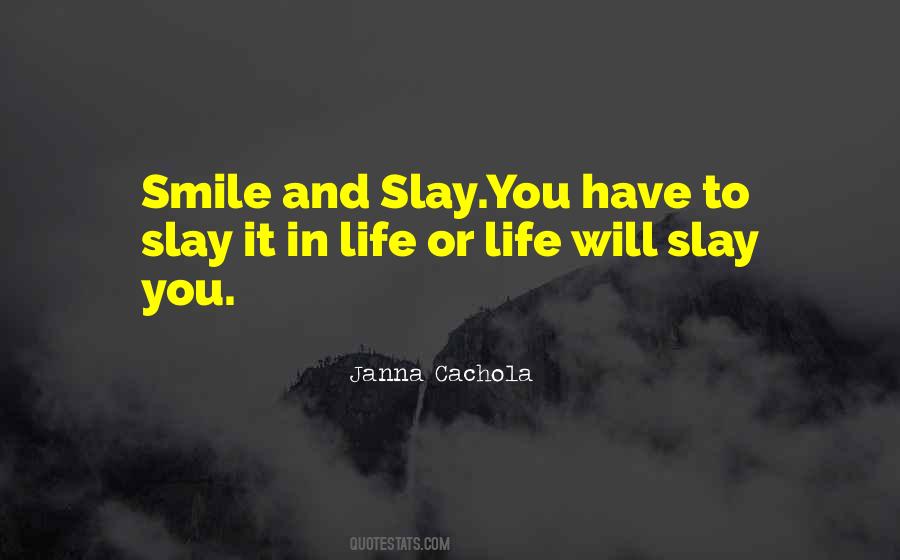 #48. A six-week island getaway and a book deal any way I looked at it. I glanced over at Jeannie and she was giving me a death glare. Islands or Boss from Hell. Coconut Hell or Editorial Hell. Sand in my swimsuit crack every day for two months, or jeannie up my ass for the rest of my life. - Author: Jessica Clare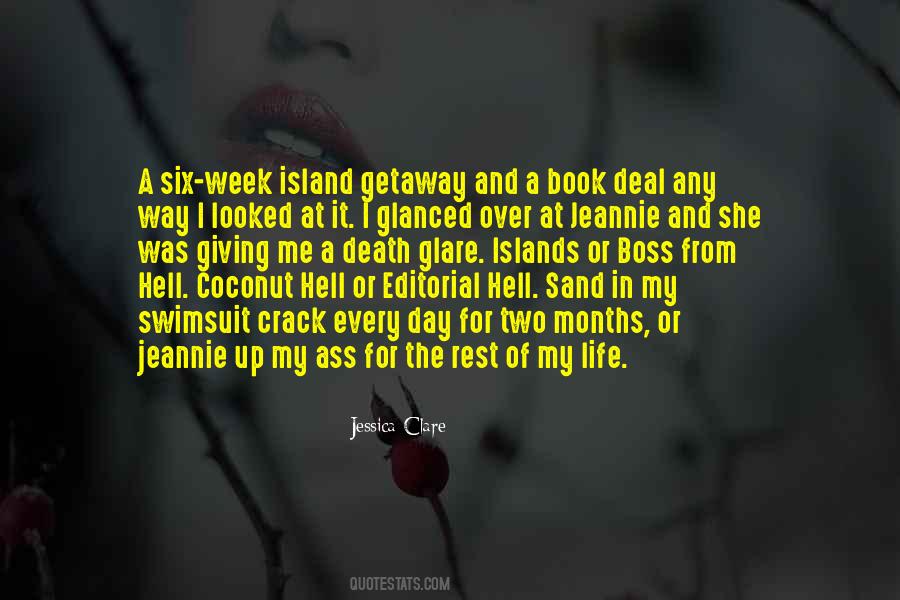 #49. So you went to the doctor. What did he say? - He said I have to start killing people like my boss and my wife. - WHAT? - Well, not in those exact words. He said I need to reduce the stress in my life. But that's exactly the same thing. - Author: Donald Shaw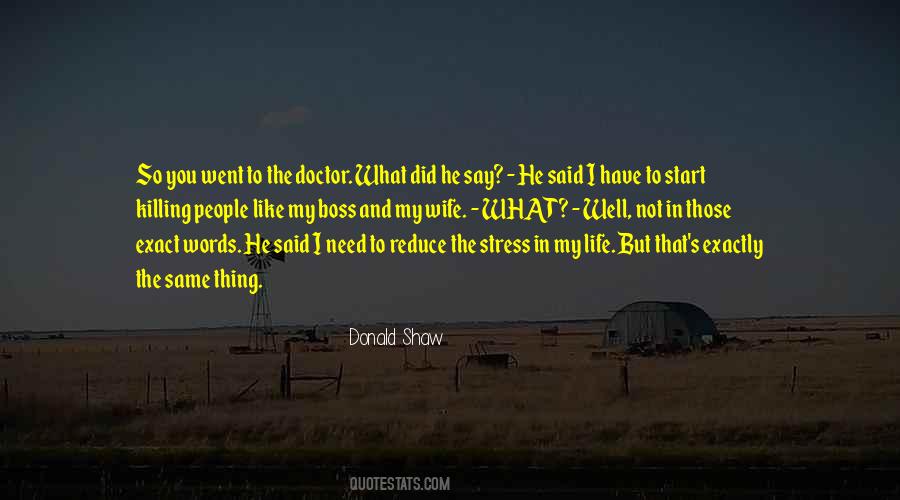 #50. Actually, I started to become an actress because I met someone who was just a friend and I found his life wonderful, I thought, Oh my god, you can travel, you're free, you can do what you want, you're the boss. And then I met an actor and I was in love with him. - Author: Lea Seydoux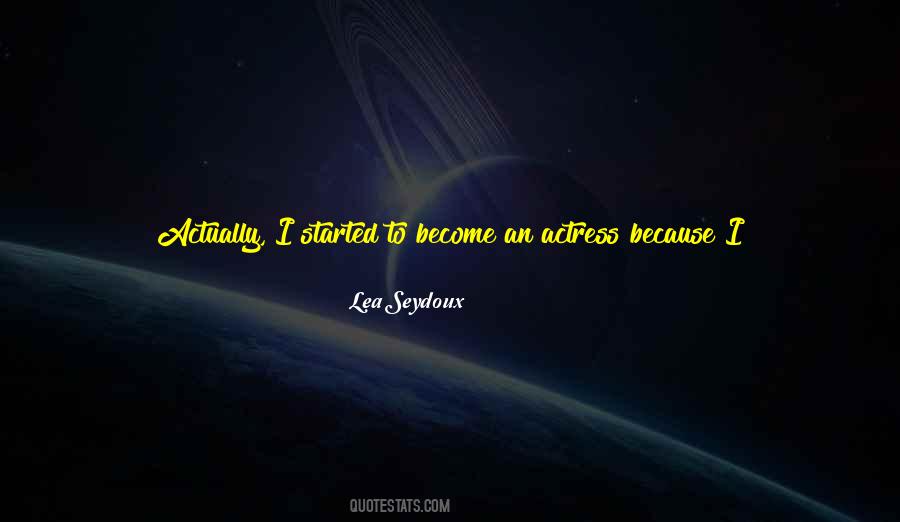 #51. You can be a sincere person devoting yourself to your husband child or boss, but your sincerity cannot and will not, fill the gap in your knowledge about your life purpose - Author: Sunday Adelaja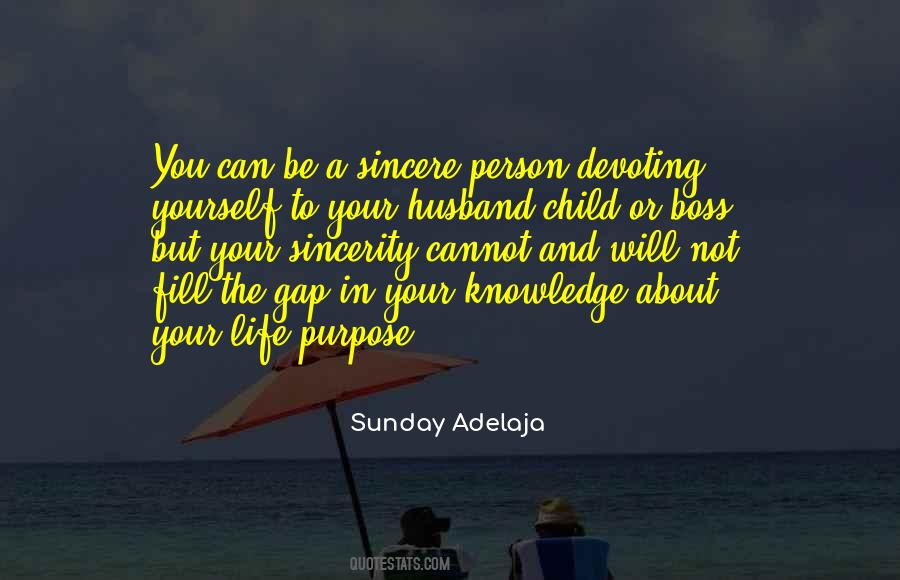 #52. I'm single, I'm enjoying life. Being a boss. Like all true bosses, one day you gotta give it up. - Author: Rick Ross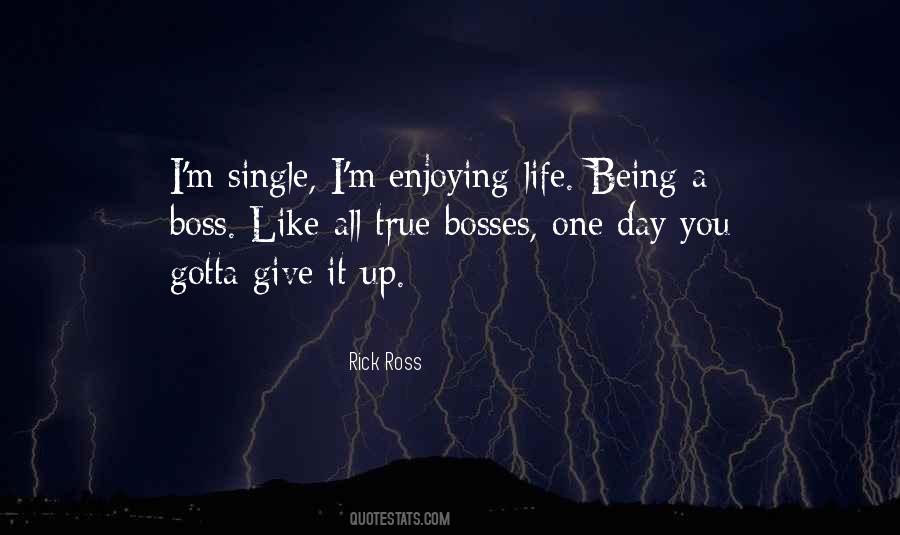 #53. Akroyd!" Sunny cried, a phrase which here means "Roger. - Author: Lemony Snicket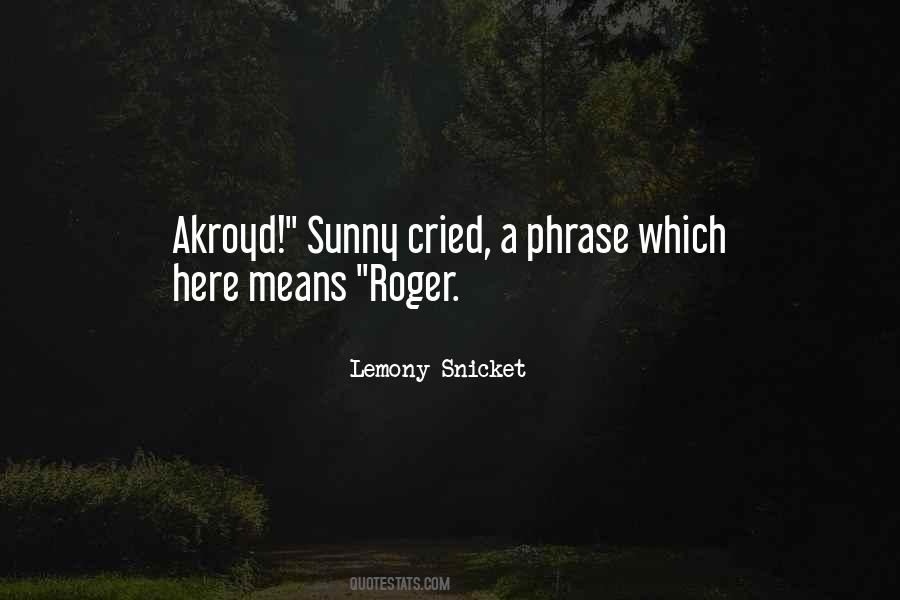 Famous Authors
Popular Topics