Bored Of Life Famous Quotes & Sayings
List of top 66 famous quotes and sayings about bored of life to read and share with friends on your Facebook, Twitter, blogs.
Top 66 Quotes About Bored Of Life
#1. I hunt chickens , men hunt me,All the chickens are just alike,and all the men are just alike.and in consequence, i am little bored,but if you tame me, it will be as if the sun came to shine on my life.I shall know the sound of a step that will be different from all the others - Author: Antoine De Saint-Exupery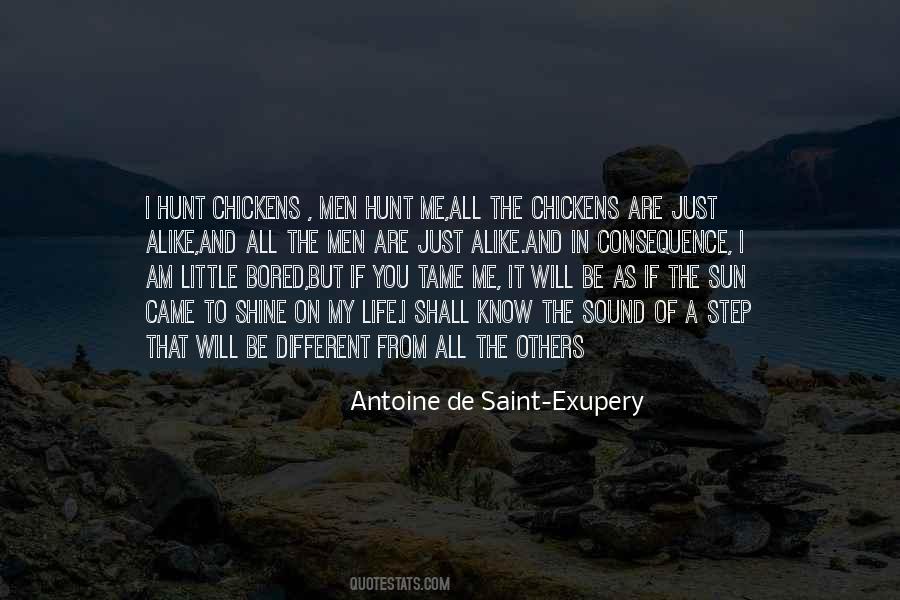 #2. I had friends who ran off to become ski instructors or worked in cool bars, and I often envied them, but I know I'd quickly become bored with that kind of life. I always need to push myself. - Author: Douglas Booth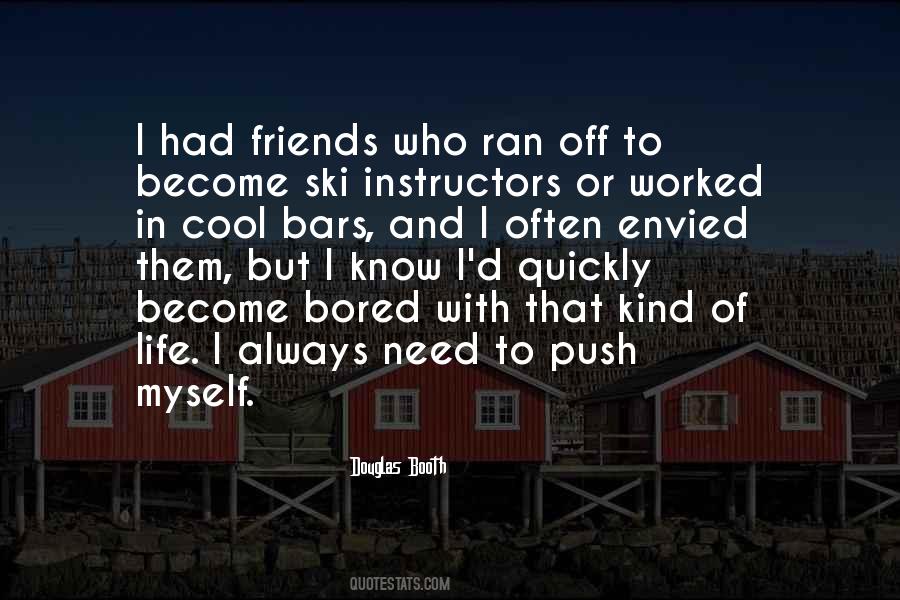 #3. Boredom is a symptom of a conditioned and closed mind. If you are bored, you're doing yourself a tremendous disservice. Open your mind, break-free from your conditioned routine, and reignite the flames of excitement and discovery. - Author: Steve Maraboli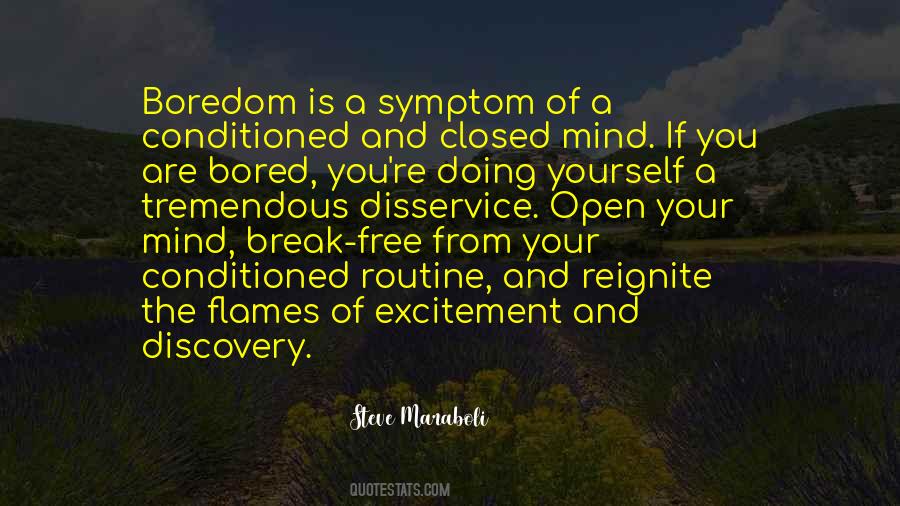 #4. You only lose energy when life becomes dull in your mind. Your mind gets bored and therefore tired of doing nothing. - Author: Norman Vincent Peale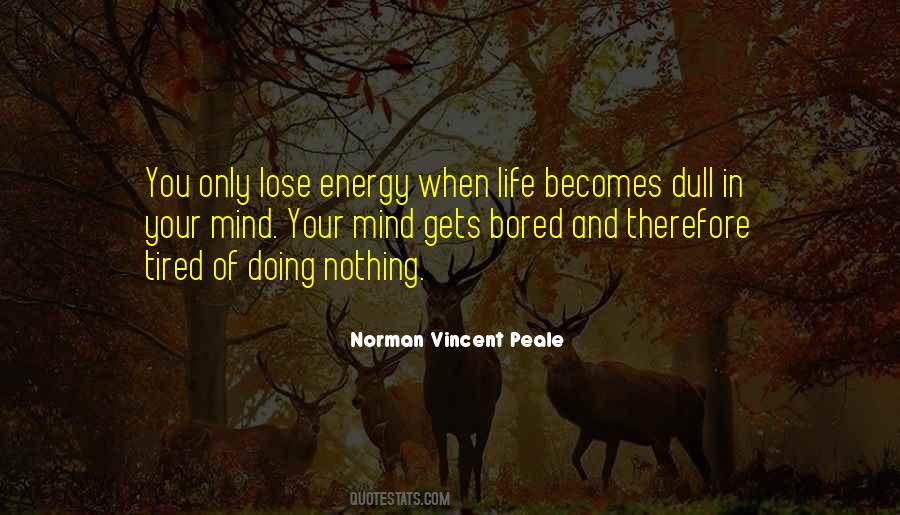 #5. The unknowable is the beauty, the meaning, the aspiration, the goal. Because of the unknowable, life means something. When everything is known, then everything is flat. You will be fed up, bored. - Author: Osho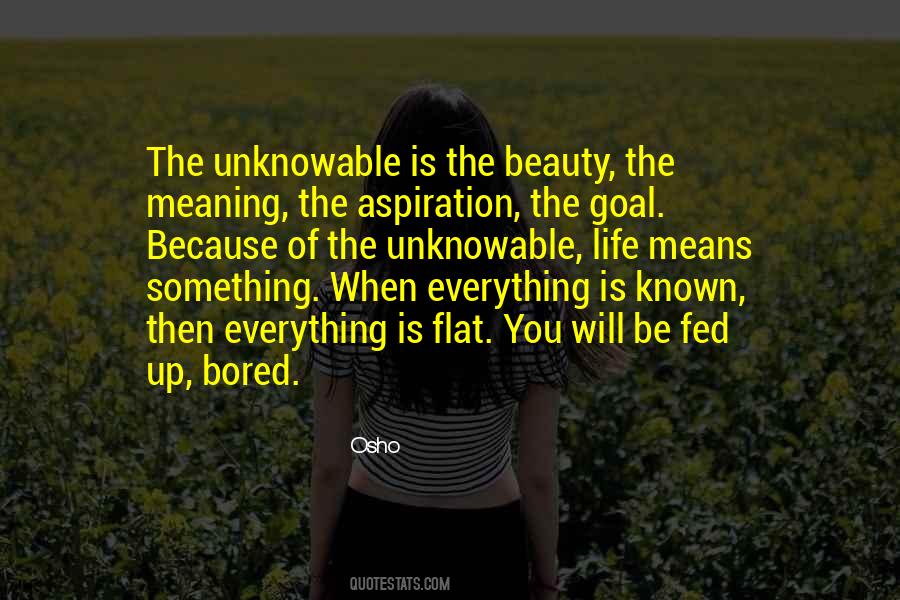 #6. The whole purpose of civilization is to take the surprises out of life, so one can be bored to death - Author: Murray Leinster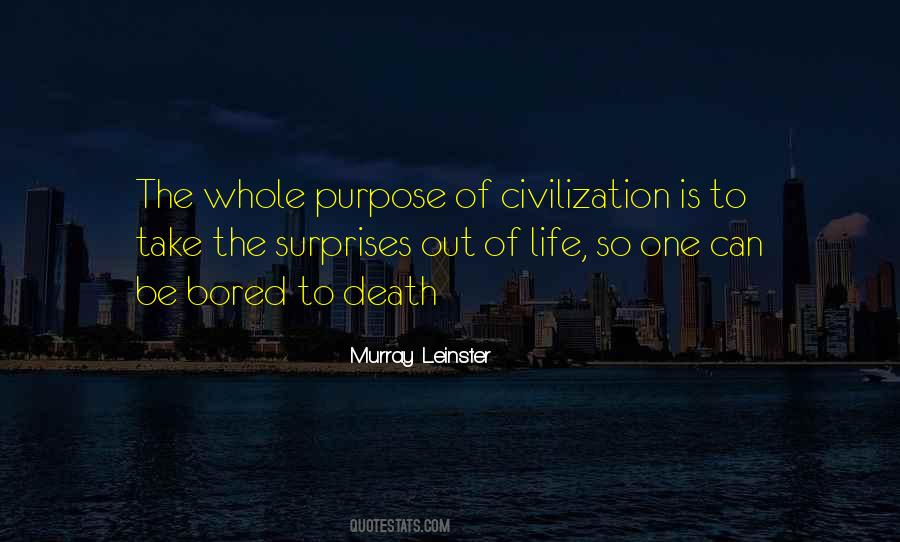 #7. I get bored easily. I've been bored most of my life. - Author: John Cleese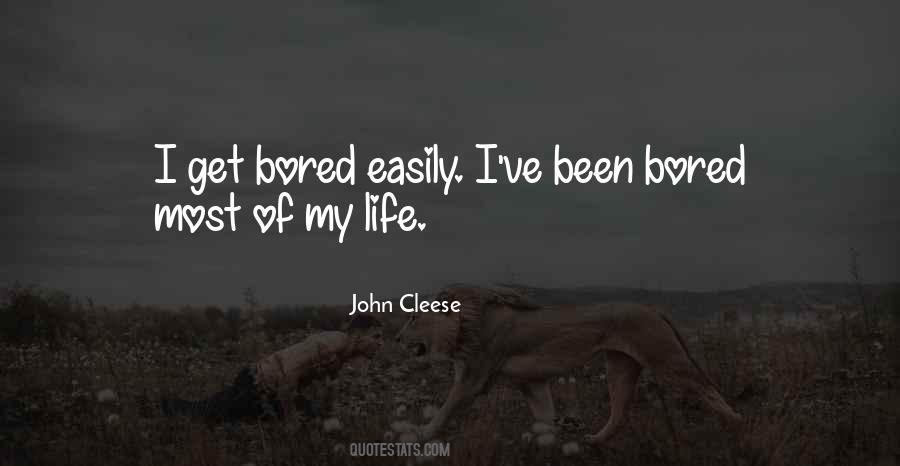 #8. It was a time in my life when many things bored me deeply and I hungered for beauty and those realms of pure elation granted to those who had the imagination to know what to look for and how to find it. - Author: Pat Conroy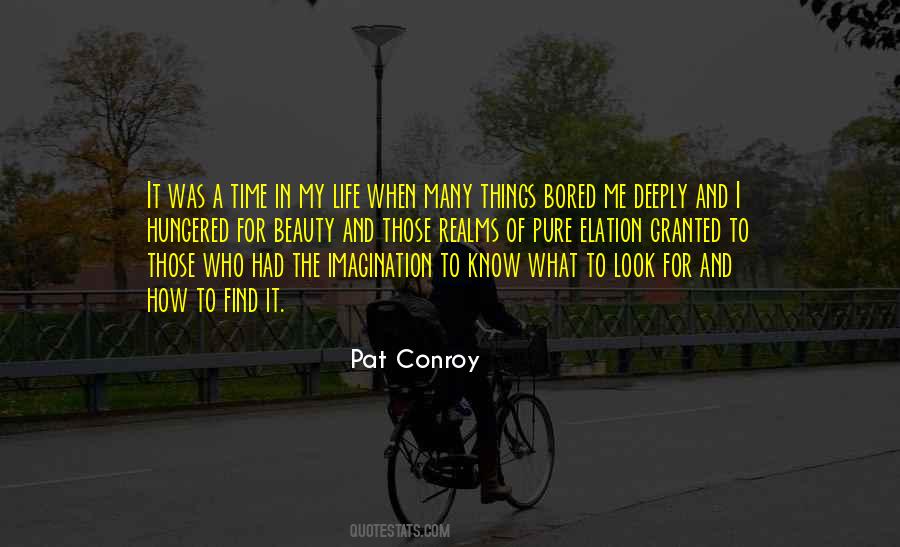 #9. Life is full of choices, if you have the guts to go for it. That's why I get immediately bored with anyone's complaining about how boring their life is, or how bad their town is. Fucking leave and go somewhere else. Or don't. - Author: Henry Rollins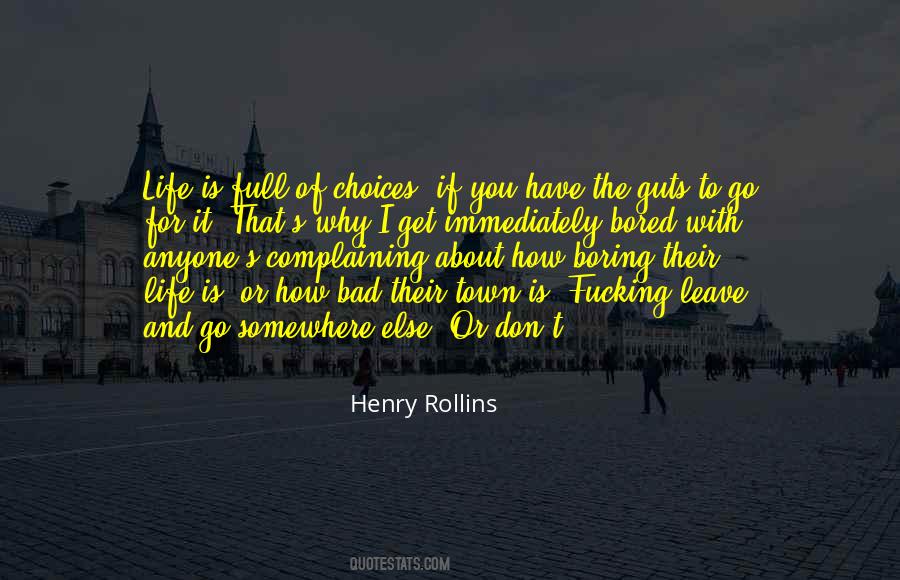 #10. God says that the one who does not find the worldly life boring at all, is not worthy of moksha [the ultimate liberation] at all. While earning money one gets bored, while not earning money one gets bored, everywhere one gets bored, then he is considered worthy of moksha. - Author: Dada Bhagwan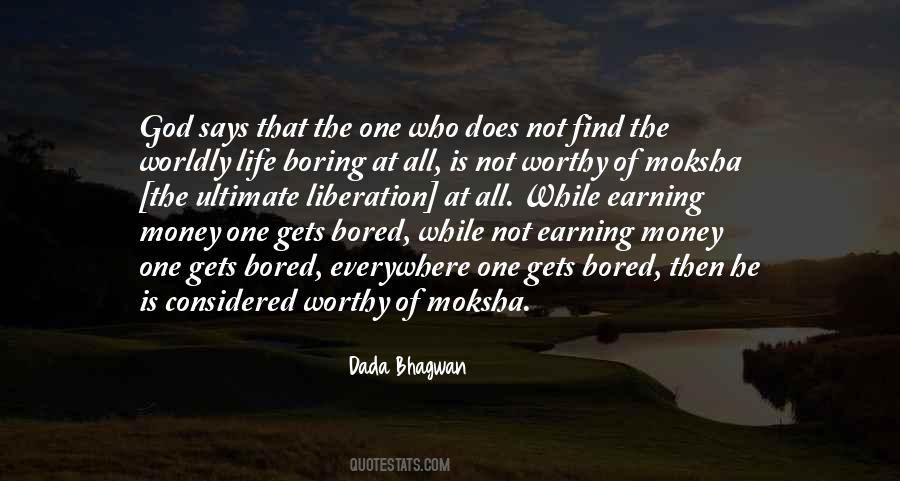 #11. When I started to paint I felt transported into a kind of paradise ... In everyday life I was usually bored and vexed ... Starting to paint I felt gloriously free ... - Author: Henri Matisse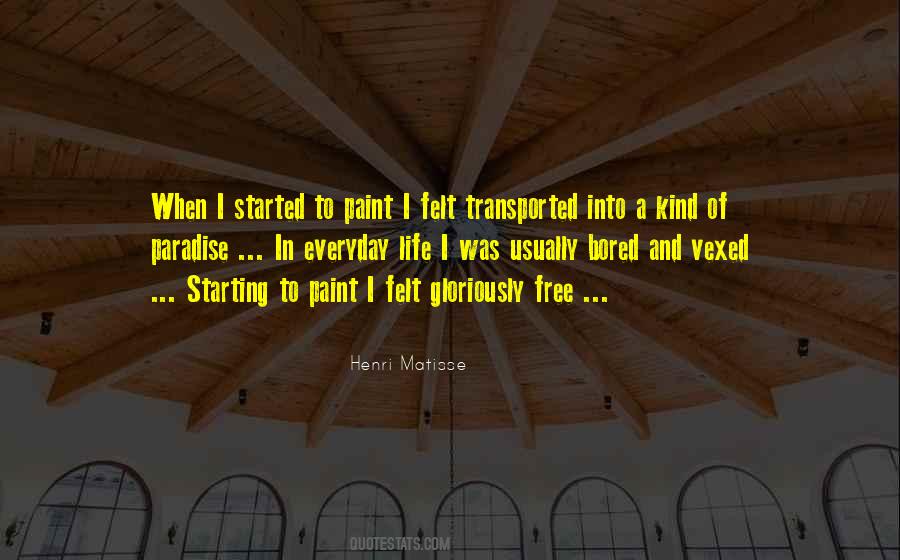 #12. I had a stalker while filming a movie in Spain last year. She stood outside of my apartment I used every day for weeks, all day, every day. I was so bored and lonely that I went out and had dinner with her. I just complained about everything in my life and she never came back. - Author: Robert Pattinson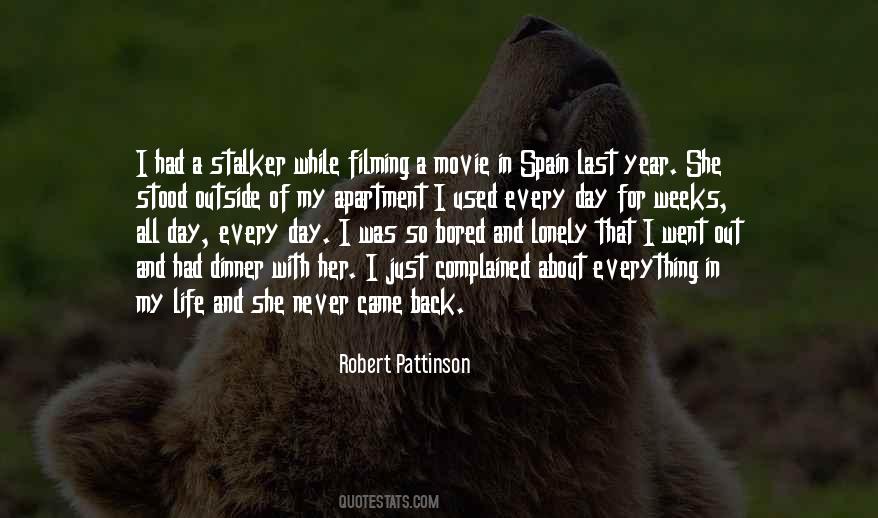 #13. As the woodpecker taps in a spiral quest
From the root to the top of the tree,
Then flies to another tree,
So have I bored into life to find what lay therein,
And now it is time to die,
And I will fly to another tree. - Author: Sidney Lanier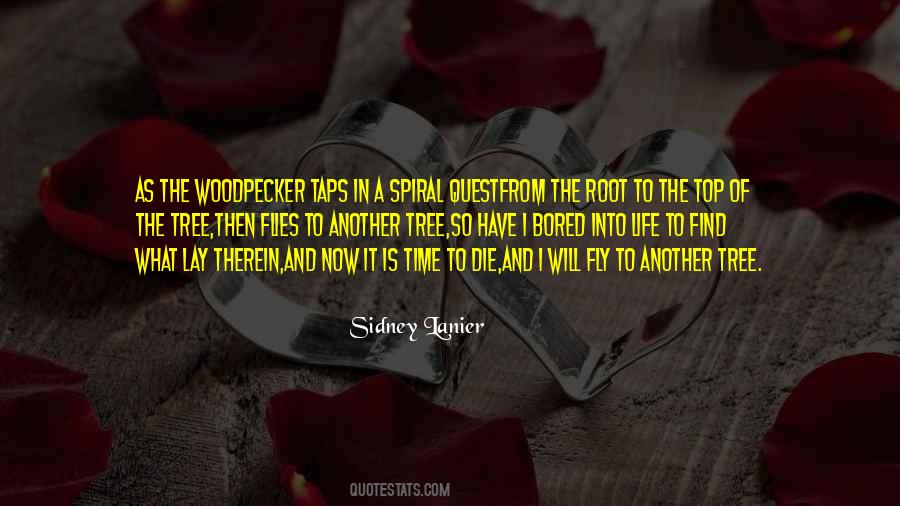 #14. It's great that in life you do something that you want to do because you like doing it and you're not bored. I'm not bored at all. I'm even interested in lots of things, more so today than before. - Author: Karl Lagerfeld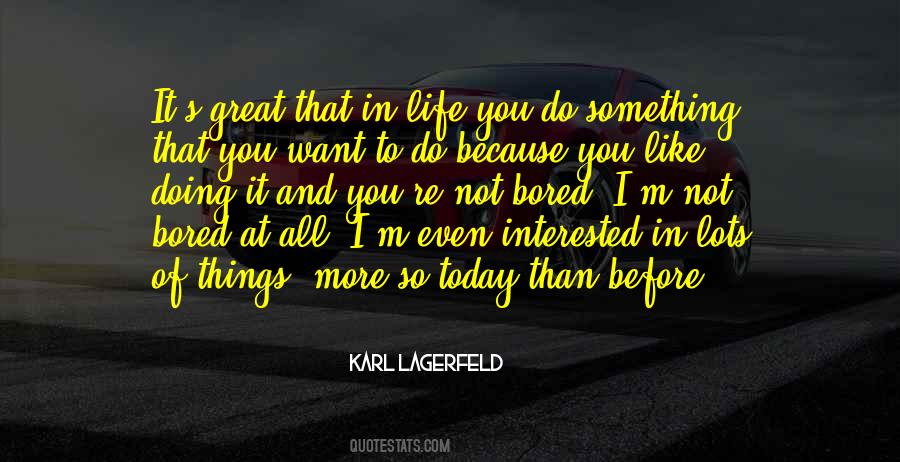 #15. The man who is aware of himself is henceforward independent; and he is never bored, and life is only too short, and he is steeped through and through with a profound yet temperate happiness. - Author: Virginia Woolf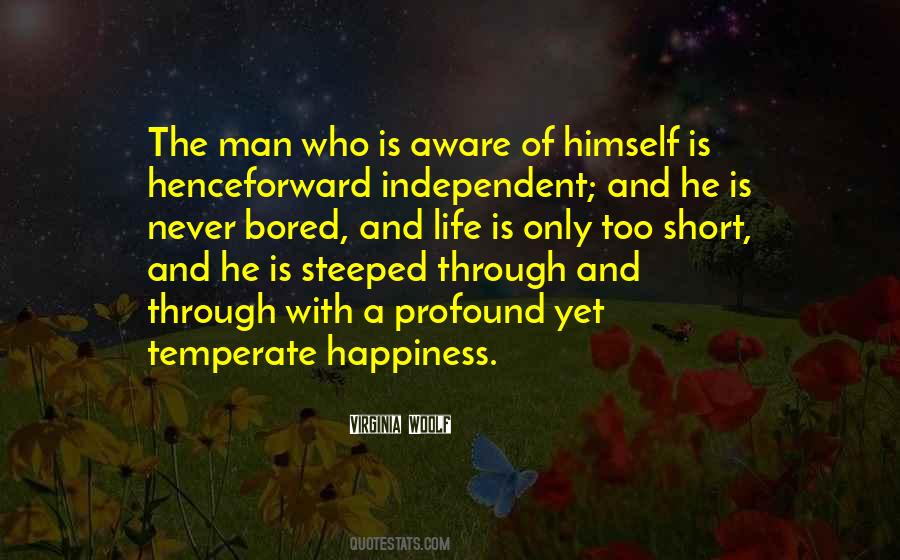 #16. My life is spent in perpetual alternation between two rhythms,
the rhythm of attracting people for fear I may be lonely
and the rhythm of trying to get rid of them
because I know that I am bored. - Author: C.E.M. Joad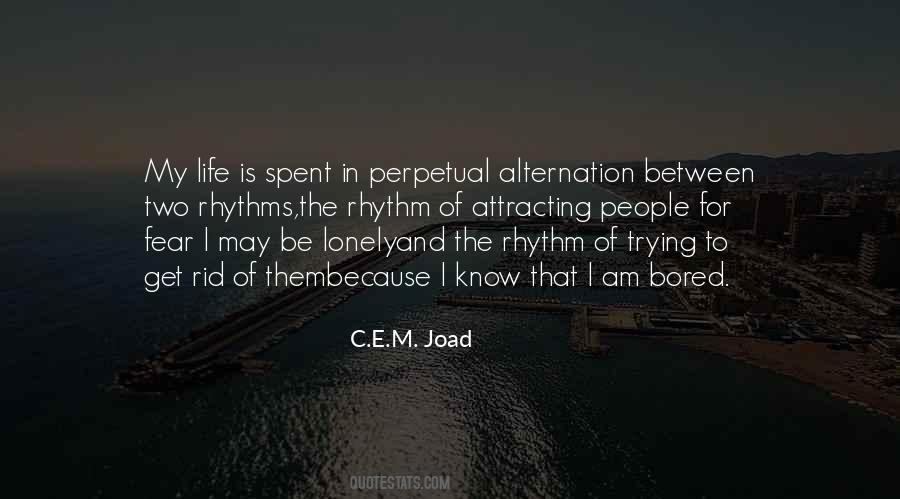 #17. No one who appreciates the shortness of this life and the eternality of the next can ever say, 'I'm bored' - Author: Abu Ammaar Yasir Qadhi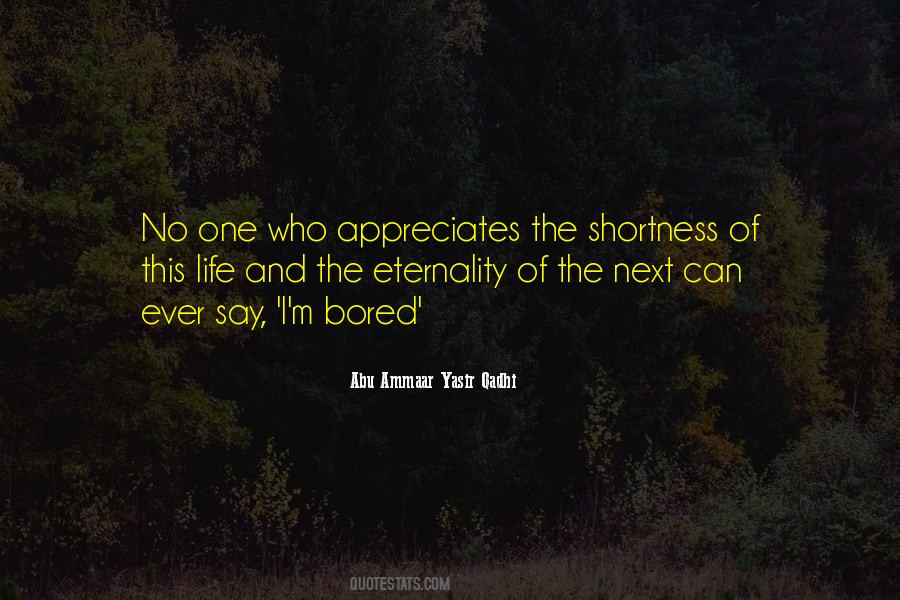 #18. From children to men we cage ourselves in patterns to avoid facing new problems and possible failure; after a while men become bored because there are no new problems. Such is life under the fear of failure. - Author: Luke Rhinehart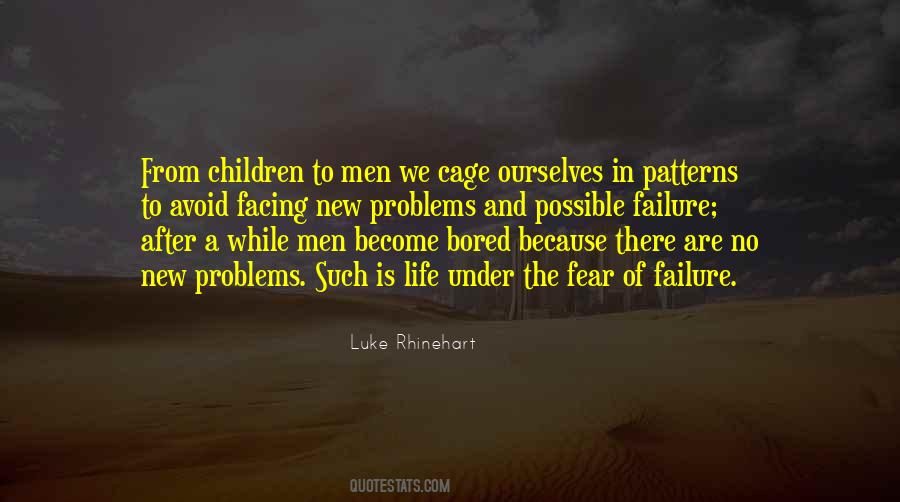 #19. To simply wait and be bored has become a novel experience in modern life, but from the perspective of concentration training, it's incredibly valuable. - Author: Cal Newport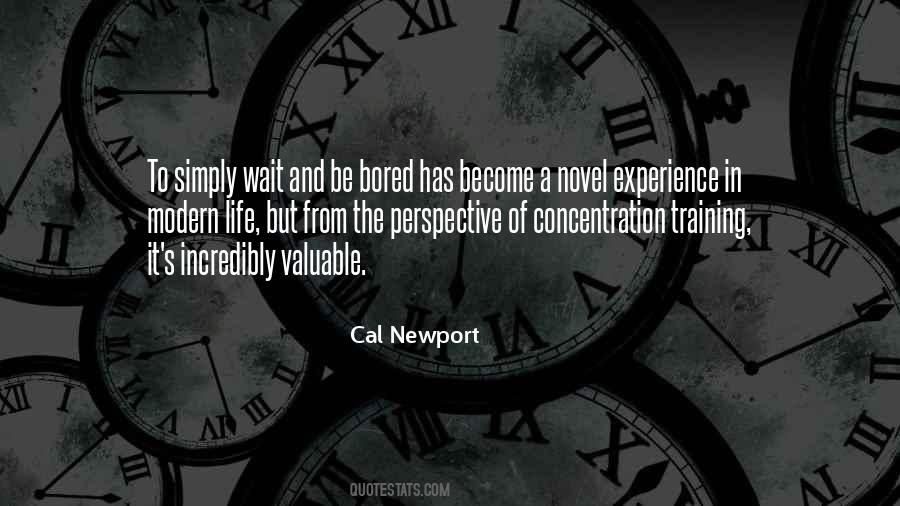 #20. None but the ignorant can be bored by life. To the lovers of learning, life is pure adventure shared with adventurers. - Author: Pearl S. Buck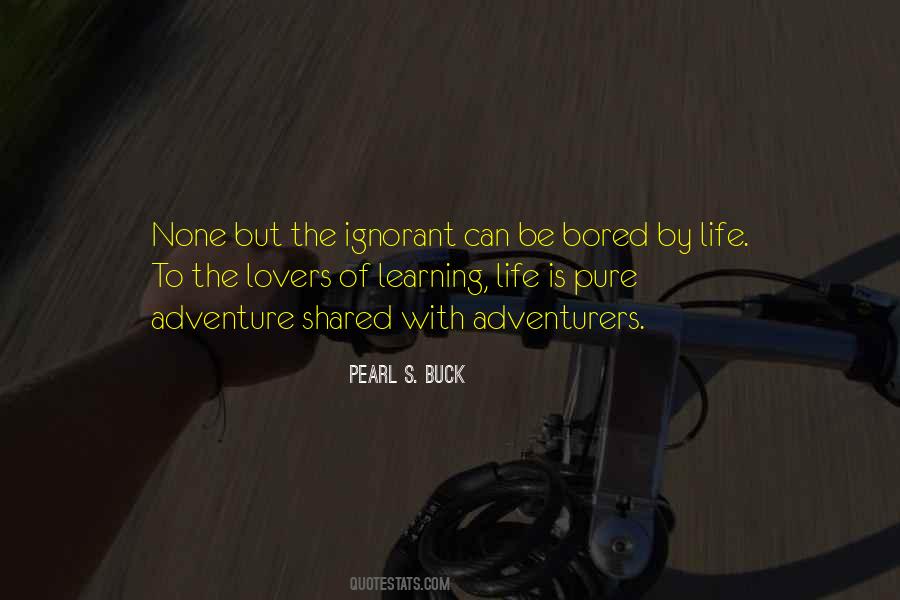 #21. He had been bored, that's all, bored like most people. Hence he had made himself out of whole cloth a life full of complications and drama. Something must happen - and that explains most human commitments. Something must happen, even loveless slavery, even war or death. Hurray then for funerals! - Author: Albert Camus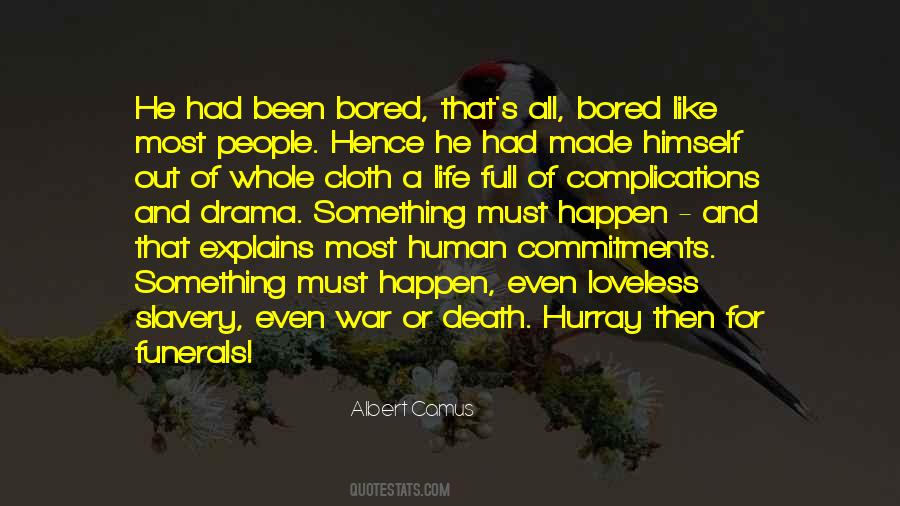 #22. I mused for a few moments on the question of which was worse, to lead a life so boring that you are easily enchanted, or a life so full of stimulus that you are easily bored. - Author: Bill Bryson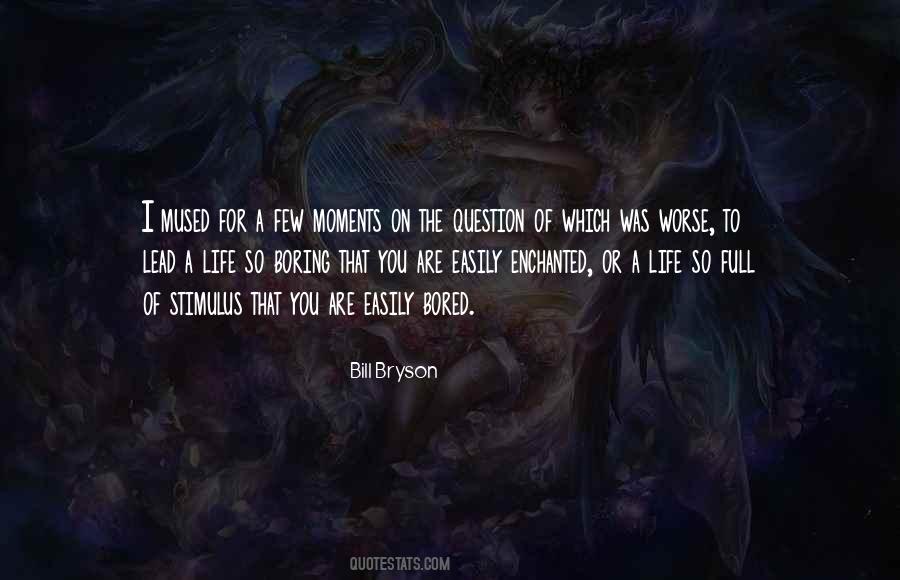 #23. Idleness, we are accustomed to say, is the root of all evil. To prevent this evil, work is recommended ... Idleness as such is by no means a root of evil; on the contrary, it is truly a divine life, if one is not bored ... - Author: Soren Kierkegaard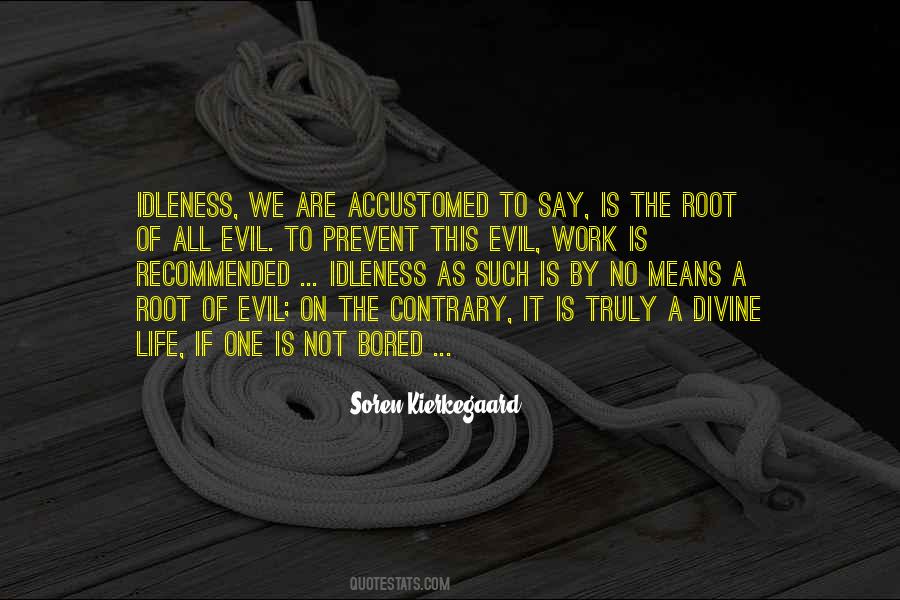 #24. I always knew that I was kind of bored; the regular life of a child didn't fit me. - Author: Christina Ricci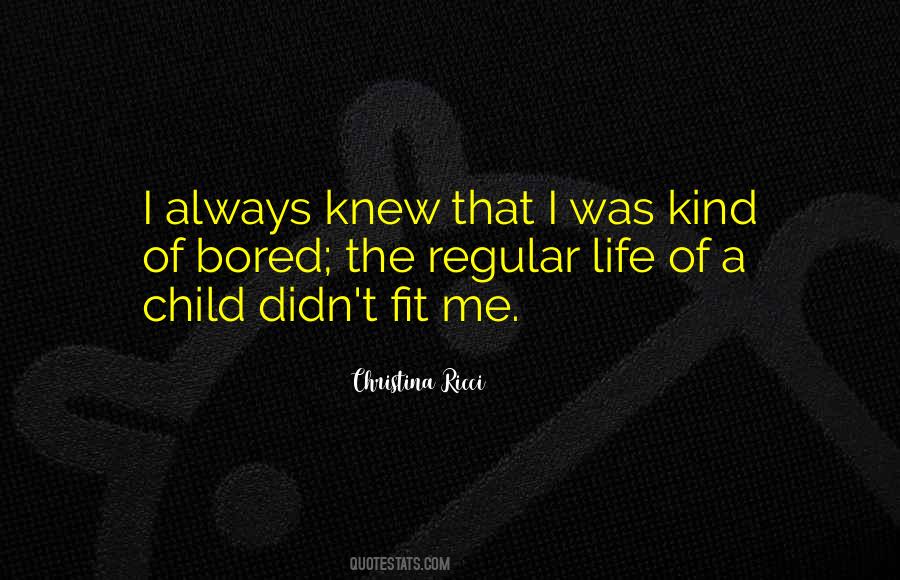 #25. You talk; I'll sleep. feel free to make up my side of the conversation in case you get bored. I recommend throwing in the occasional 'fuck you' on my behalf, just to keep things true to life. - Author: Douglas Hulick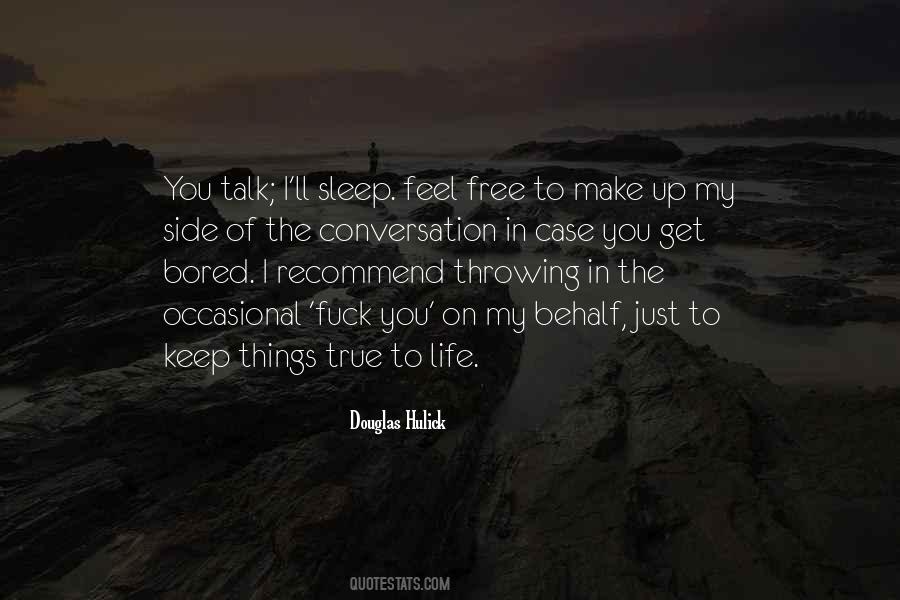 #26. If whites bored me, it was because they bored themselves. They seemed to get little fun out of life and were desperately lonely. - Author: Ethel Waters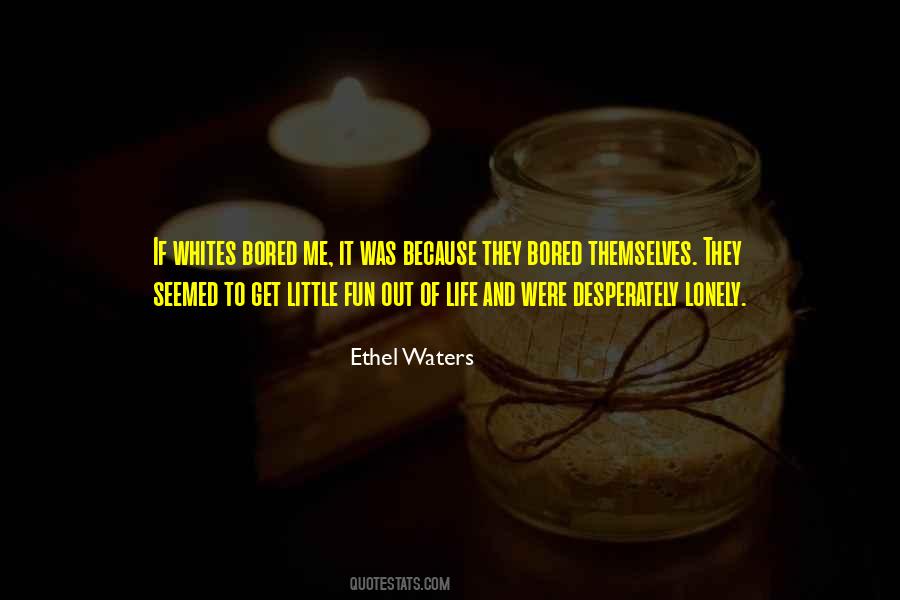 #27. What's life in this nation? Collect emptiness in a household of cornflakes. Transient fuel gobbles attention, the television aches, the truth walks. Scheme worms welcome your corpse, trap clicks and you're in heaven, bored rigid
- Author: Steve Aylett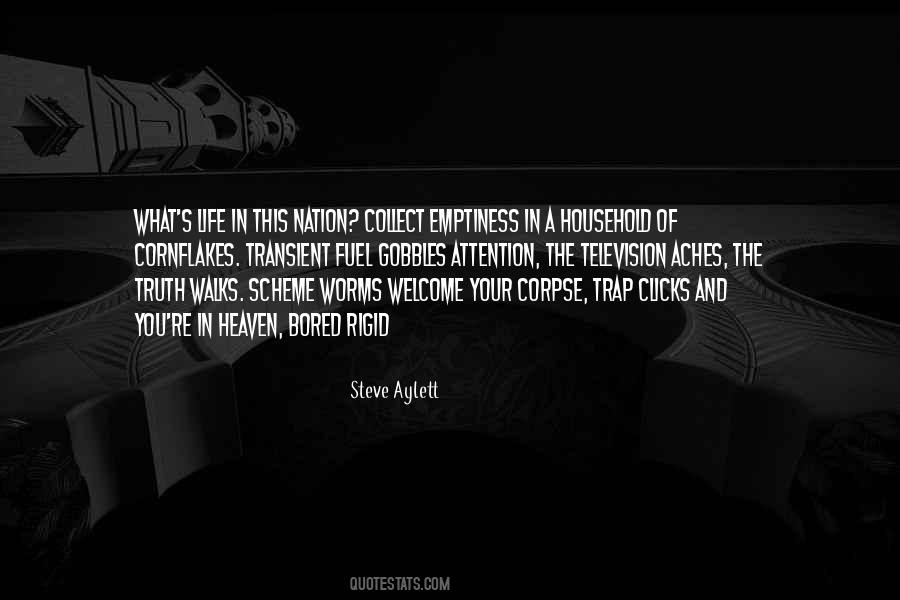 #28. I come from Somalia. We start working young, and we understand that kind of life. I would be bored to death not doing anything creative. - Author: Iman Abdulmajid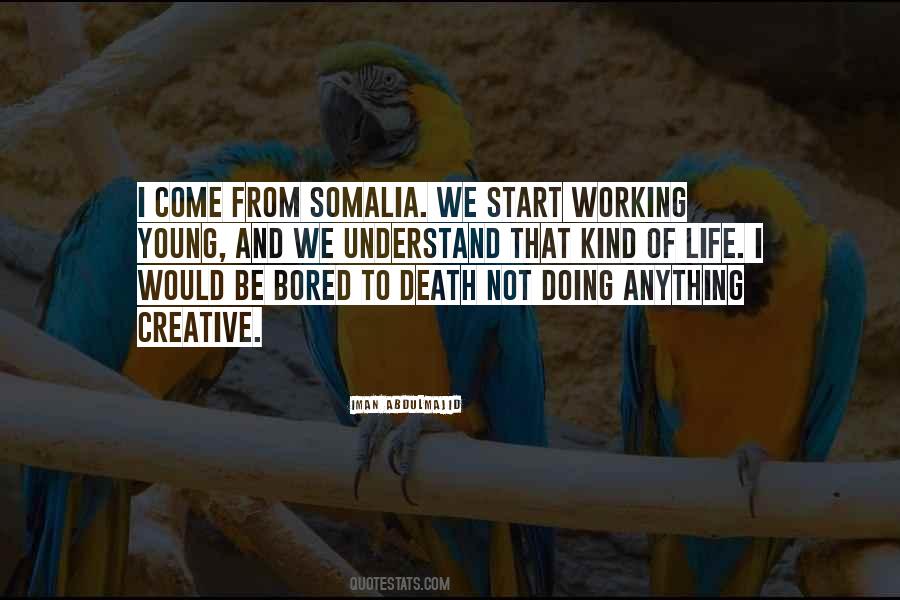 #29. Every day is important for us because it is a day ordained by God. If we are bored with life there is something wrong with our concept of God and His involvement in our daily lives. Even the most dull and tedious days of our lives are ordained by God and ought to be used by us to glorify Him. - Author: Jerry Bridges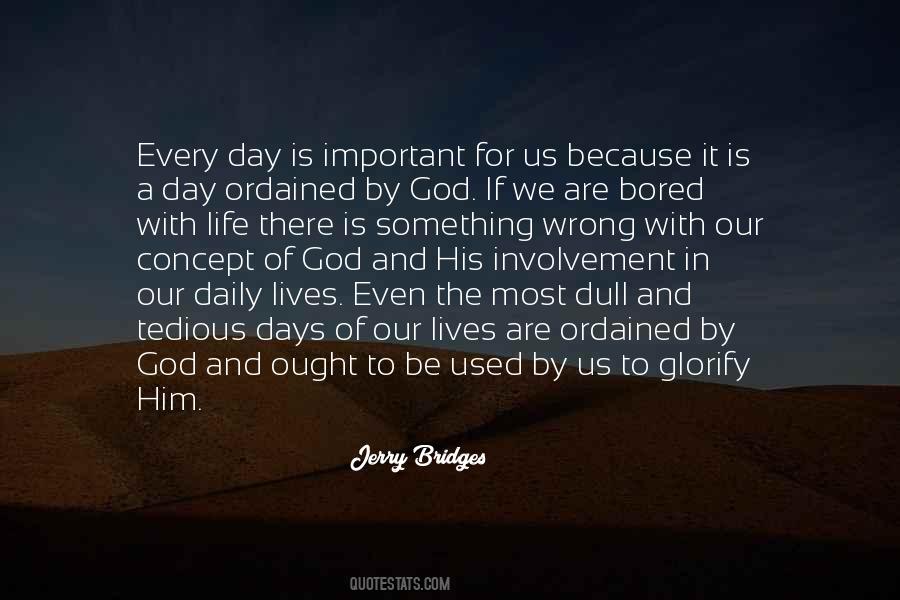 #30. There were 10 or 15 years where all the Scandinavian movies were gray and light brown. I got really bored with it. I really felt that movies had to have that life of vivid colors. - Author: Susanne Bier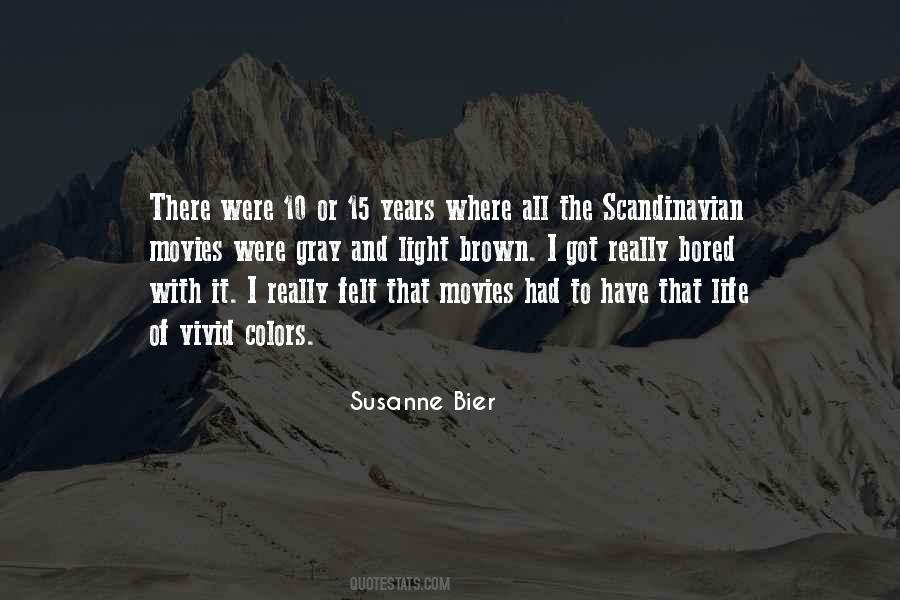 #31. A rune for the very bored: when very bored say to yourself: It was during the next twenty minutes that there occurred one of those tiny incidents which revolutionizes the whole course of our life and alter the face of history. Truly we are the playthings of enormous fates. - Author: Cyril Connolly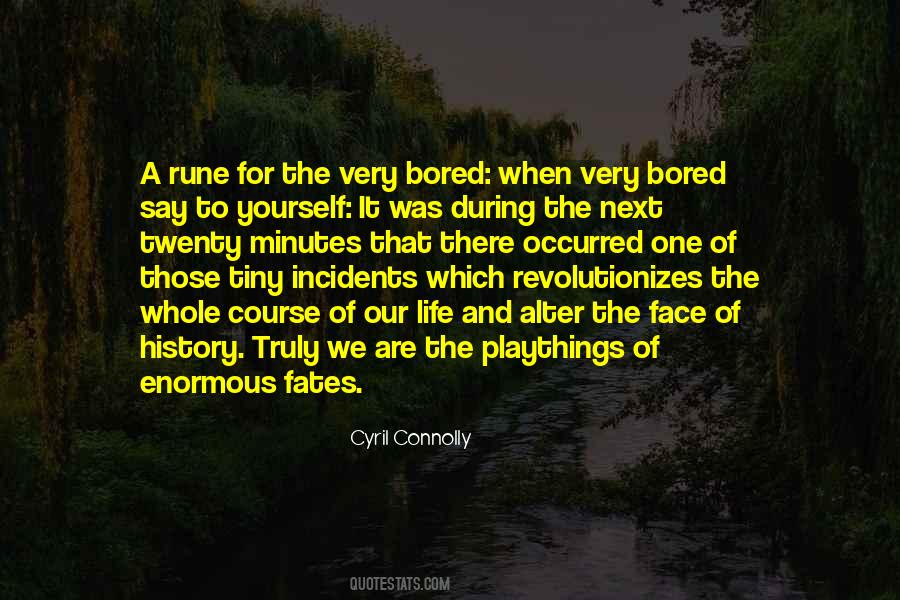 #32. If you are bored, you're doing yourself a tremendous disservice. Open your mind, break-free from your conditioned routine, and reignite the flames of excitement and discover. - Author: Steve Maraboli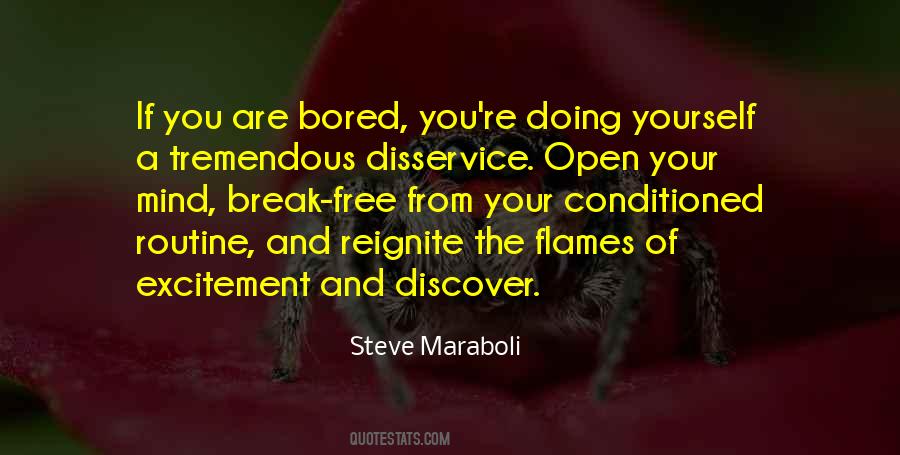 #33. One sometimes says: 'He killed himself because he was bored with life.' One ought rather to say: 'He killed himself because he was bored by lack of life.' - Author: Victor Hugo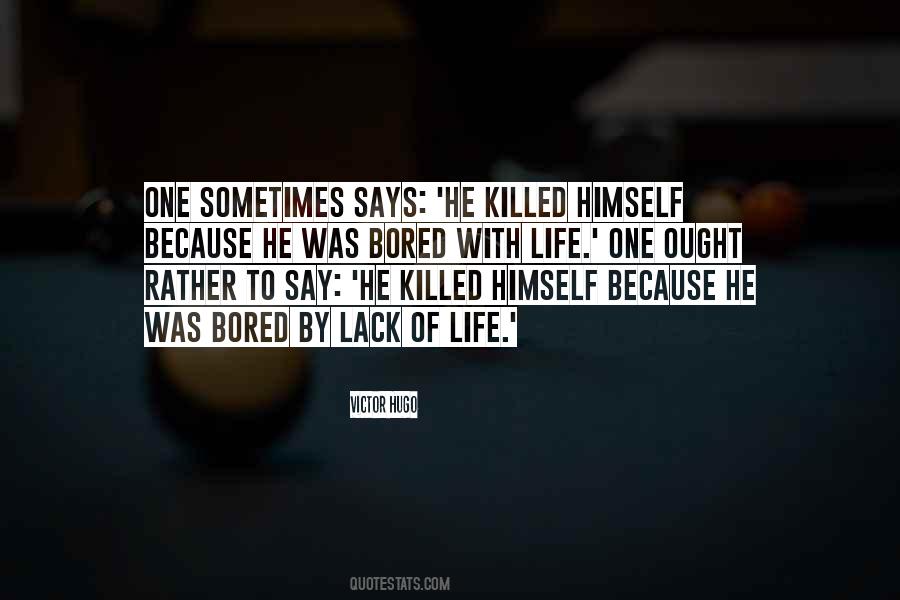 #34. I know definitive points in my life and in relationships because of my songs. I write my music so that I'll never be bored of it. - Author: Amy Winehouse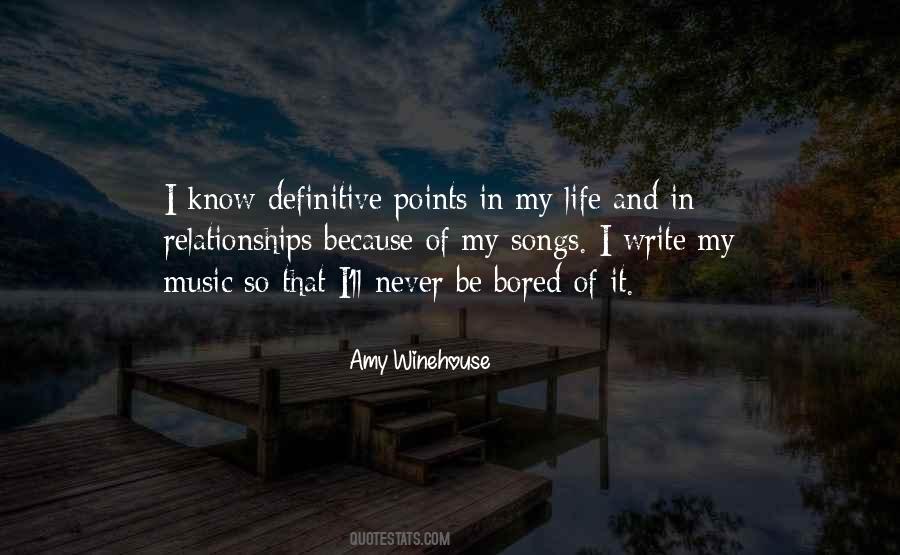 #35. Generations of readers, bored with their own alienating, repetitious jobs, have been mesmerized by Crusoe's essential, civilization-building chores. - Author: Maureen Corrigan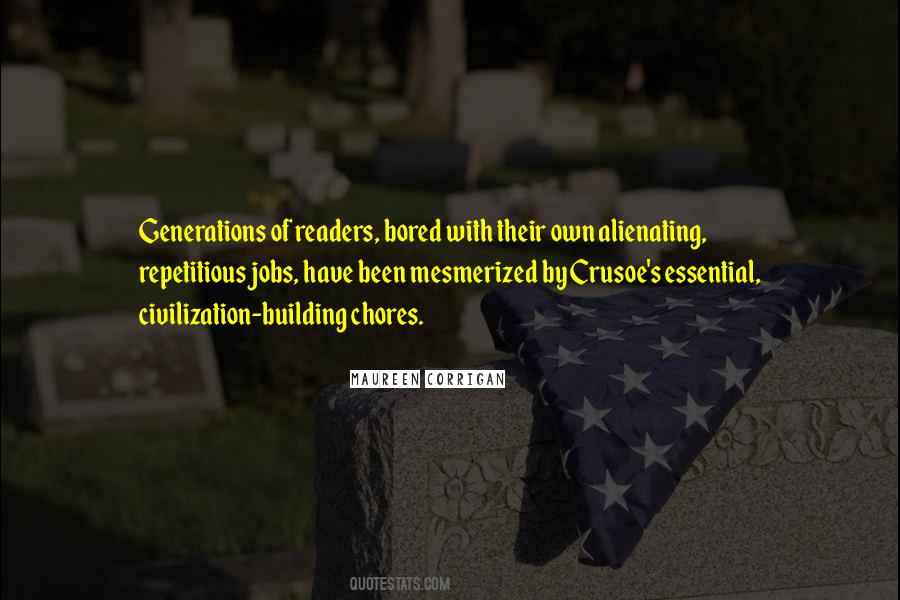 #36. Isn't 'not to be bored' one of the principal goals of life? - Author: Gustave Flaubert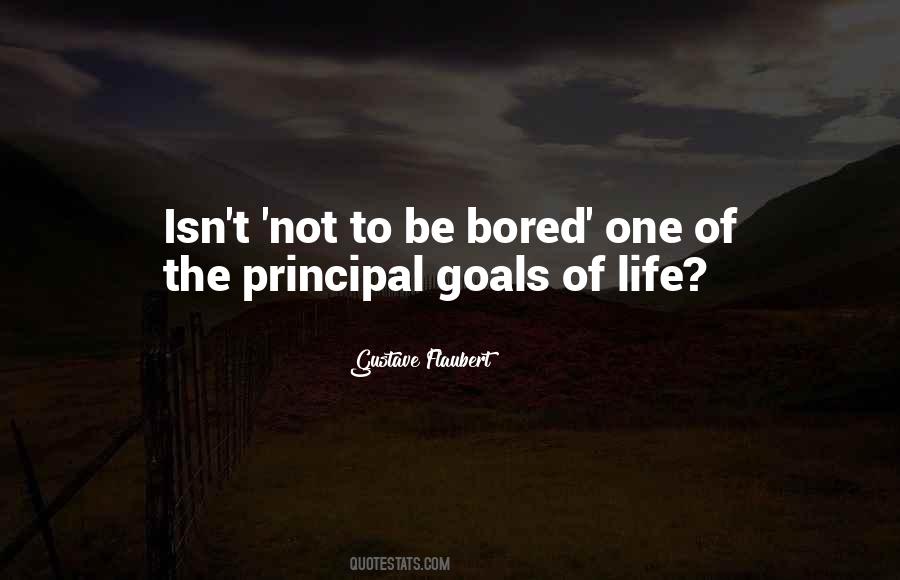 #37. Stress is not the spice of life any more than arsenic is. And without it, you won't feel bored. - Author: Andrew J. Bernstein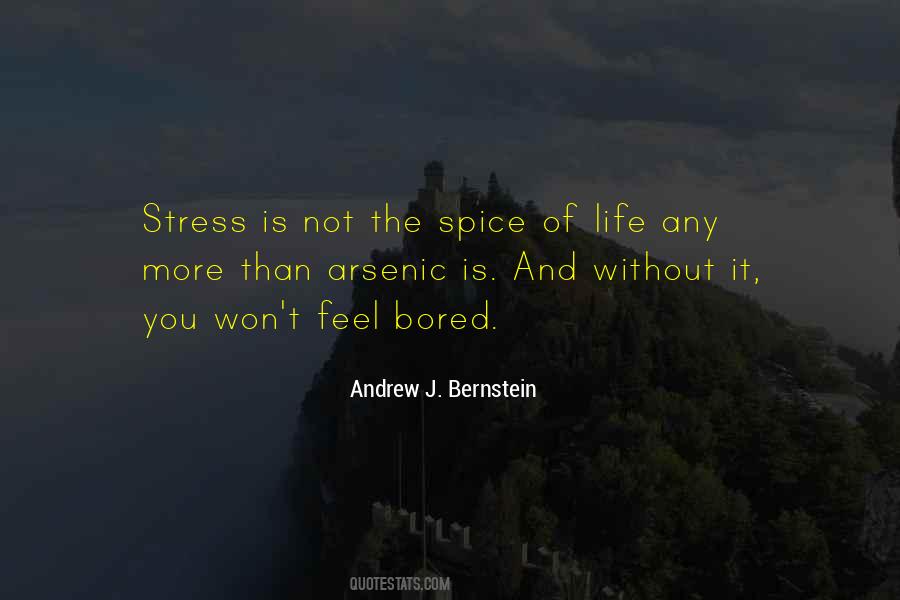 #38. I was tired and crazy and rushed, and every time I boarded a plane, I wanted the plane to crash. I envied people dying of cancer. I hated my life. I was tired and bored with my job and my furniture, and I couldn't see any way to change things.
Only end them. - Author: Chuck Palahniuk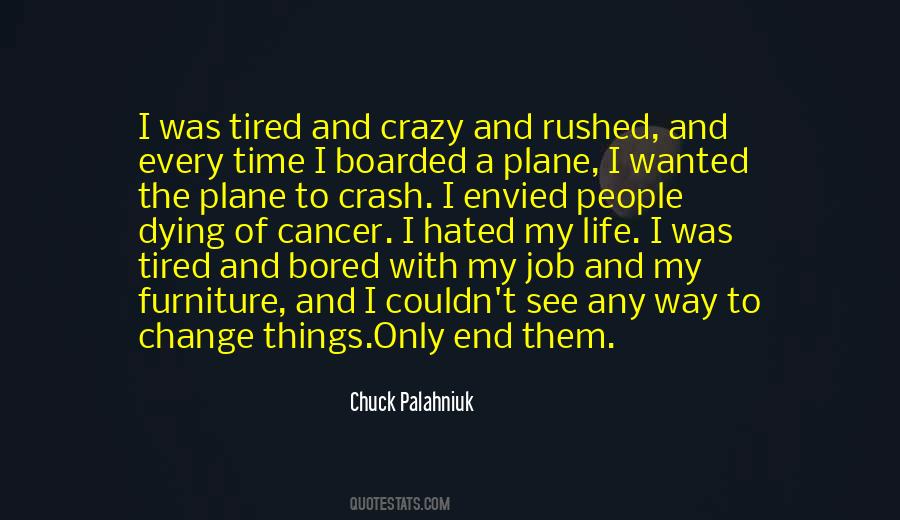 #39. I love the intensity of the Psalms. No-one ever sounds bored about God or about life in the Psalms. - Author: Matt Redman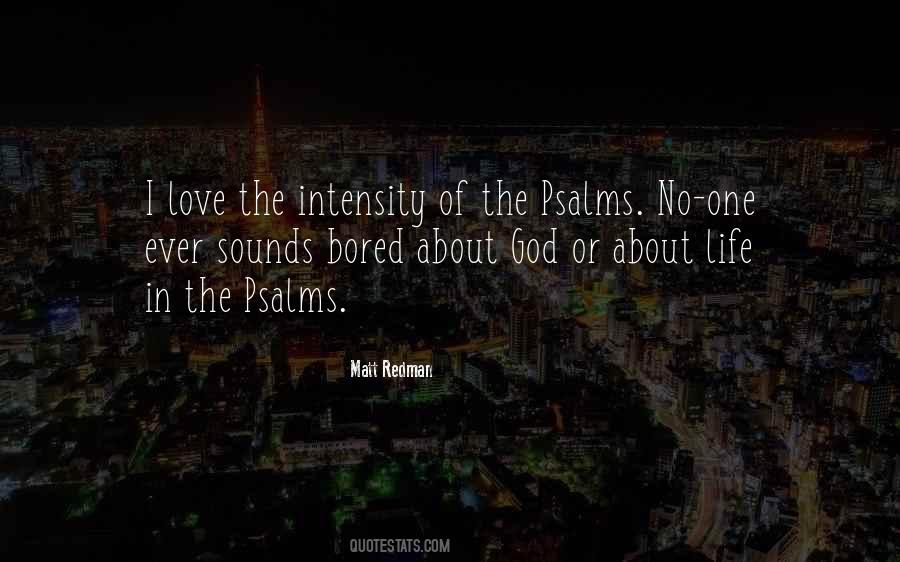 #40. Boredom is my worst enemy. It's killed a lot of my friends, but it won't get me. When I get bored, I go risk my life somewhere. - Author: Larry Niven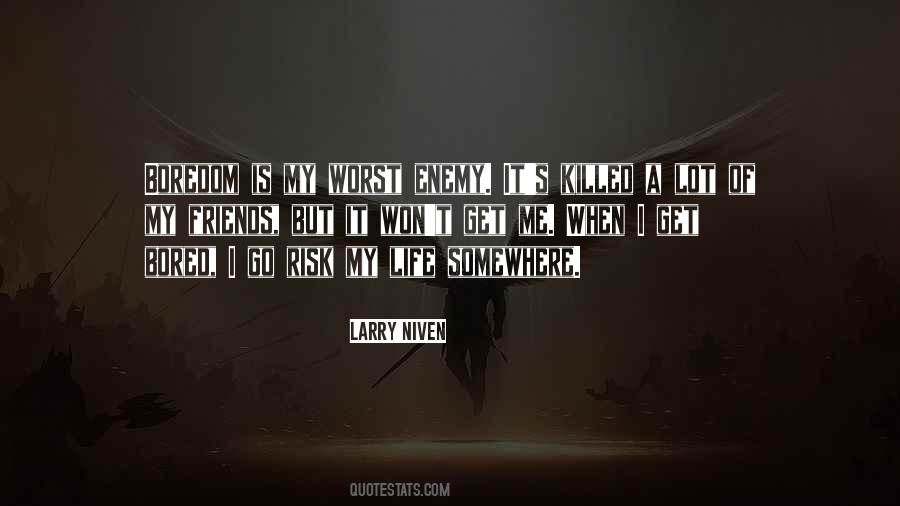 #41. The life of meditation and religious study is absolutely no guarantee of peak moments. Most people involved in religious study and meditation are downright bored, and they're as stuck in what they do as everyone else is. - Author: Frederick Lenz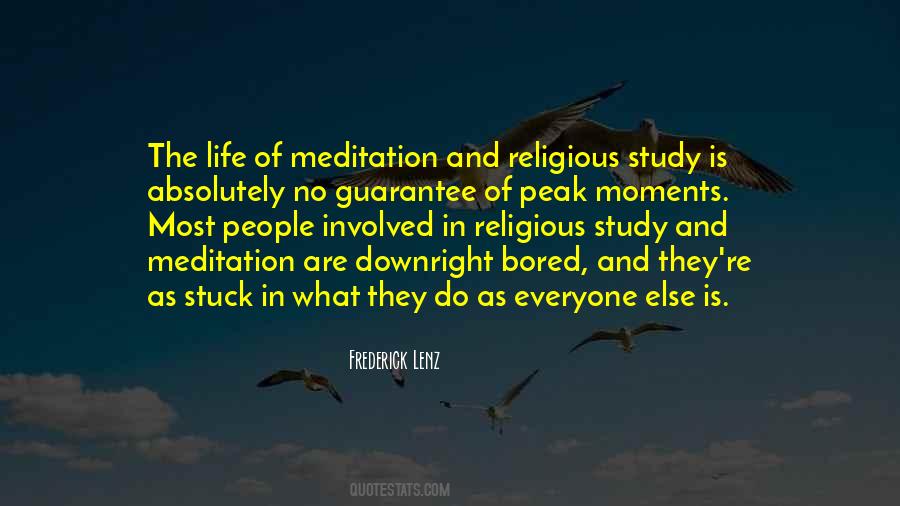 #42. I'm actually doing what I want with my life. I do sometime think I could just shut up and rest on my laurels and say: you know what guys, I'll operate out of the pocket you put me in ... but no way! No way I'm gonna do that! I'd just get bored stiff the first minute. - Author: Paul McCartney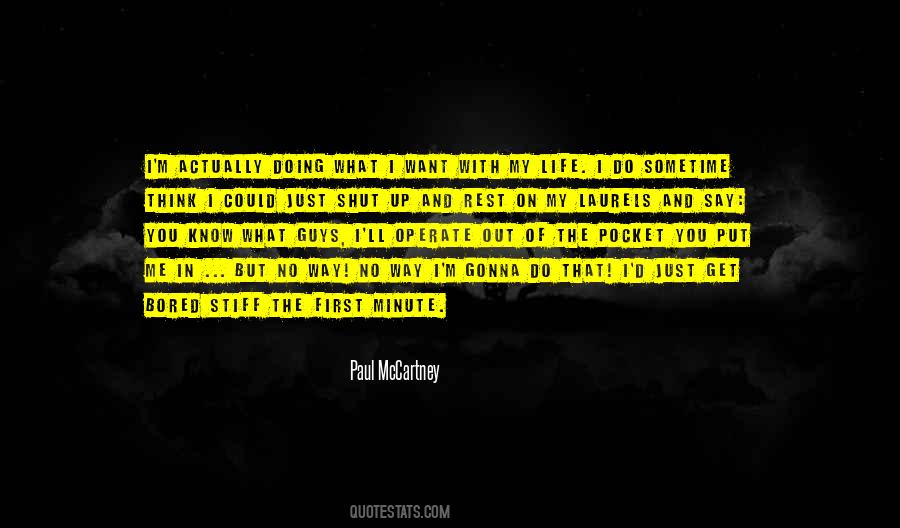 #43. If you only think about yourself - how much money can I make, what can I buy, how nice is my house, what kind of fancy car do I have? - over the long term, I think, you get bored. I think your life becomes diminished. The way to live a full life is to think: What can I do for others! - Author: Barack Obama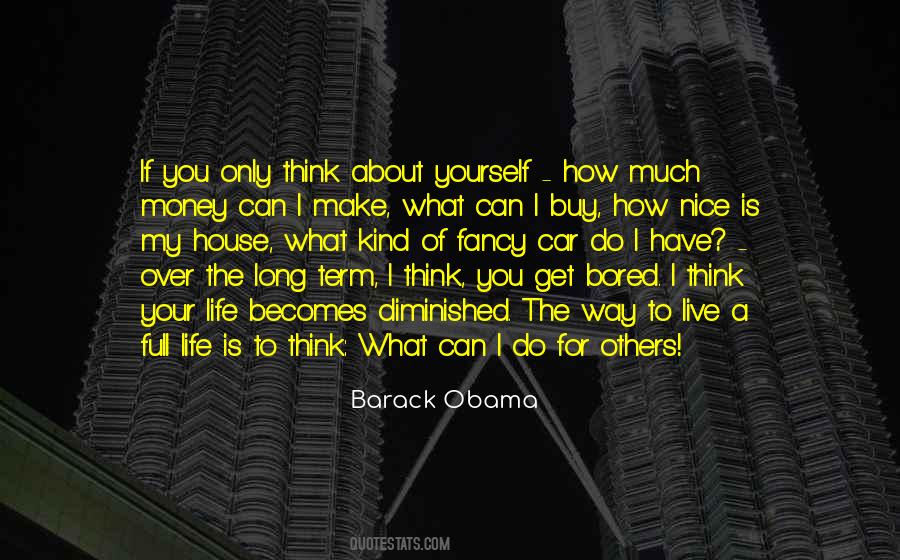 #44. There is one quality that characterizes all of us who deal with the sciences of the earth and its life - we are never bored. - Author: Rachel Carson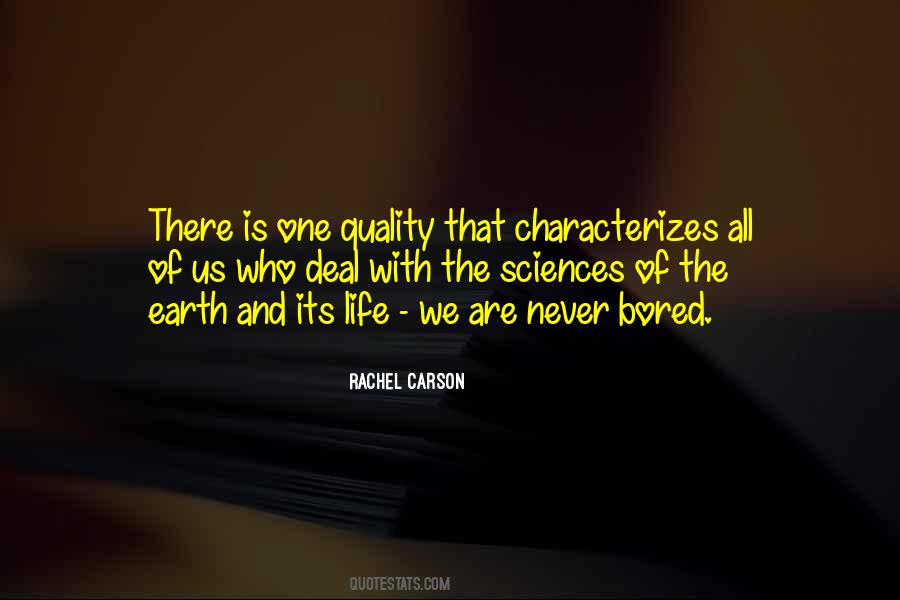 #45. If one of the most interesting places to be is your inner world, you will never be bored when you are alone. - Author: Sahara Sanders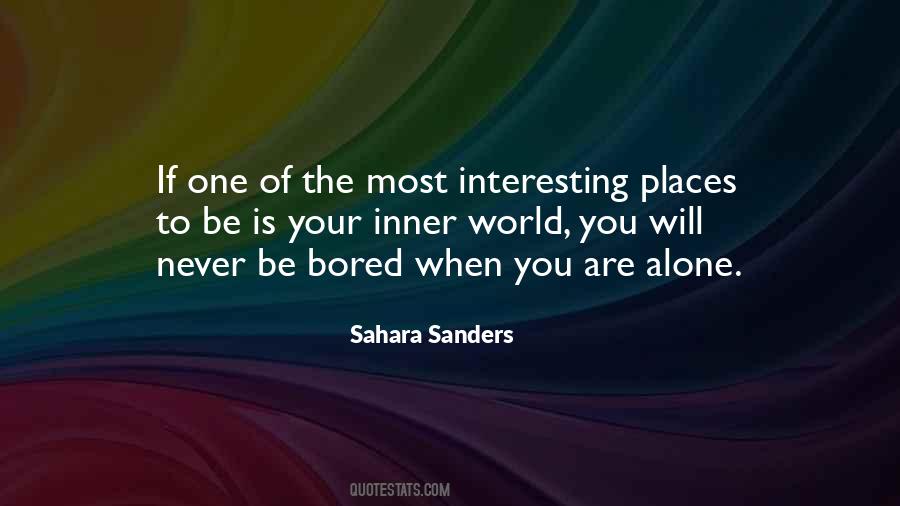 #46. Live an adventurous life. Every adventure freshens your life anew, and you do not get bored. An adventurous person dies only once, but a coward dies thousands of times. - Author: His Holiness Divas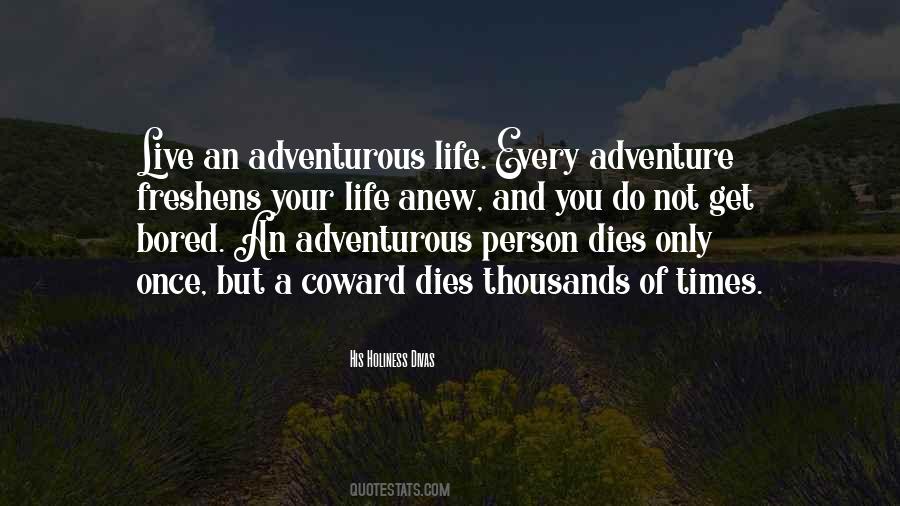 #47. When you write a manuscript, it feels like being in a relationship with someone. You'll hate it, get bored with it, be pissed of, like you just want to break up. But, just like any relationship, you will fall in love again and again, like you don't want to lose it. - Author: Alvi Syahrin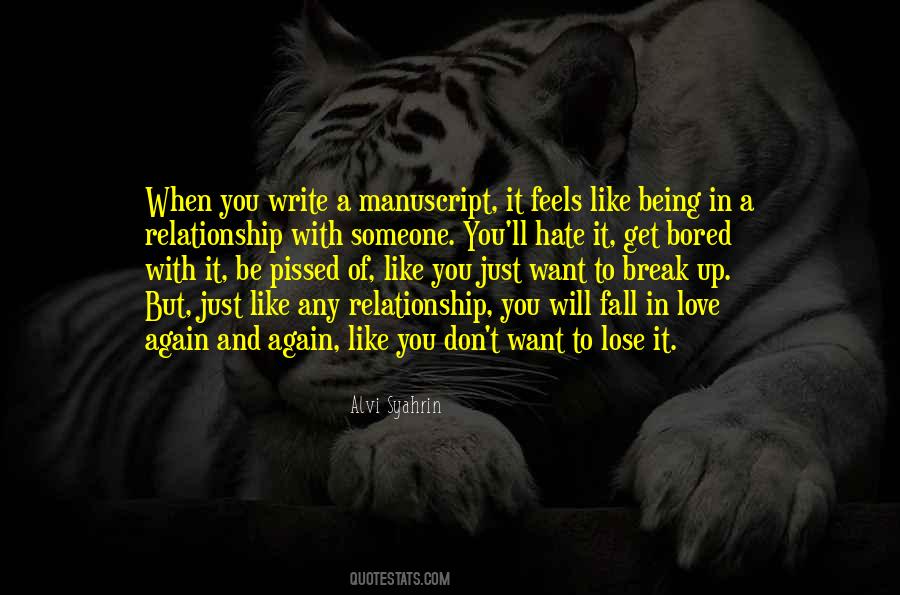 #48. When bored of sitting, move! When bored of moving, sit! Balance your life or there will remain neither moving nor sitting in your life but only falling! - Author: Mehmet Murat Ildan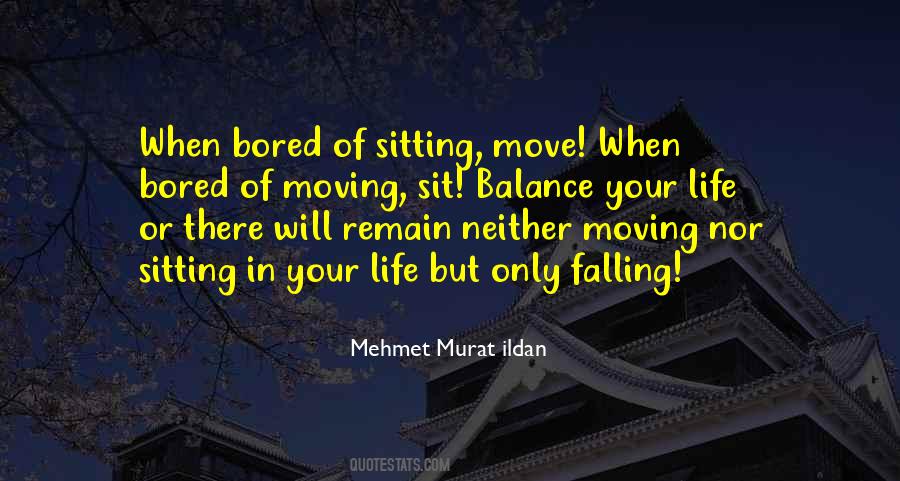 #49. I was a swimsuit model, and I got bored. Acting was challenging. It was very hard and intimidating. We choose to do things in life sometimes that scare the crap outta us. Performing in front of people was my challenge. - Author: Christa Campbell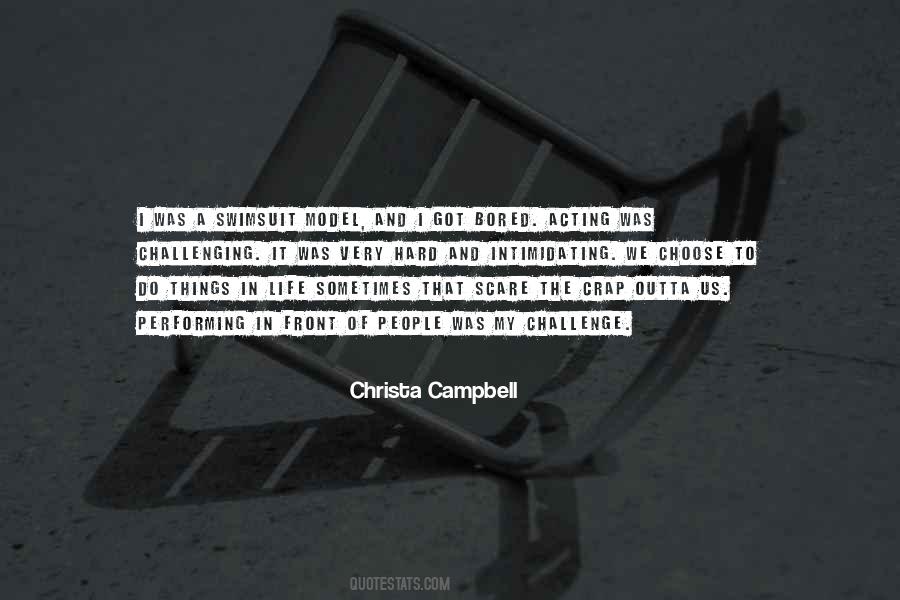 #50. Life was full of so many possibilities - why should you spend even one day of it being bored? - Author: Mia Sheridan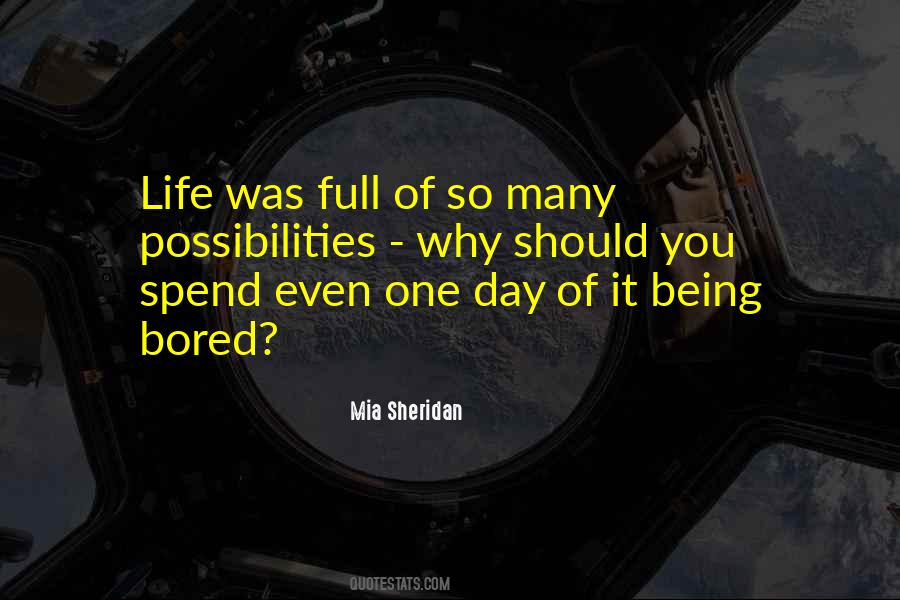 #51. There are oceans of things to discover, to explore, to learn, to invent, to create in this world; especially with its modern possibilities offered. So, I don't understand when people complain they're bored and have nothing to do. - Author: Sahara Sanders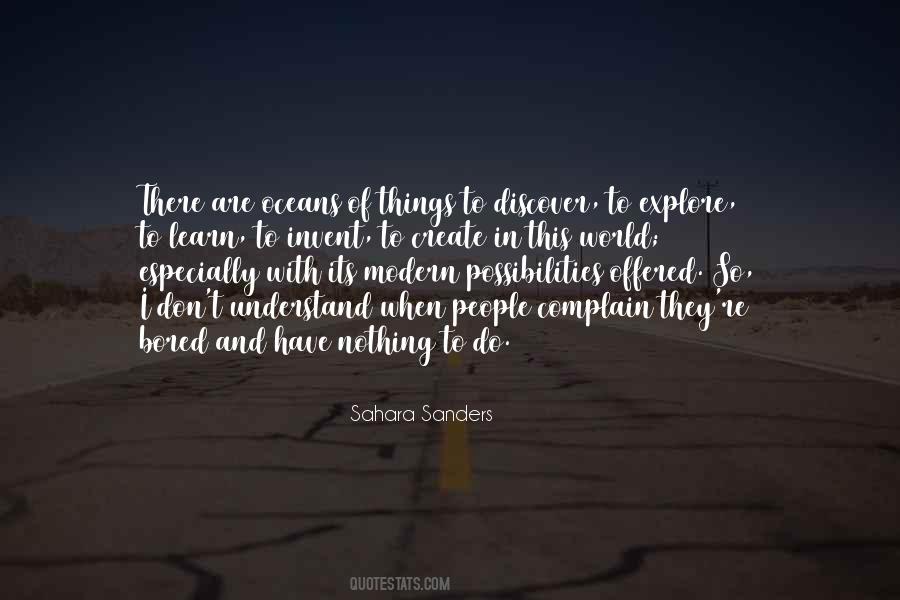 #52. The job has left me with a healthy disregard for what you might call Public Life. I have no desire now to go to receptions, to be seen at gatherings of the great and the good, to stand and be bored to death by men in grey suits. - Author: Michael Longley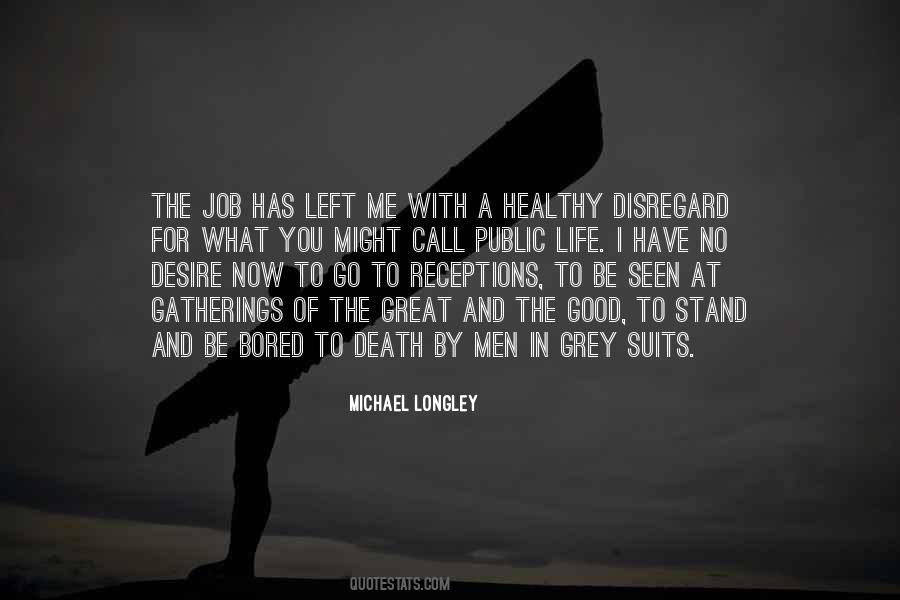 #53. If you look at the literature of the 19th century, you get things like Kafka and Dostoevsky, who basically write about feeling bored and alienated. That's because we lost contact with the important things in life like work that you enjoy, or the garden, nature, your family and friends. - Author: Tom Hodgkinson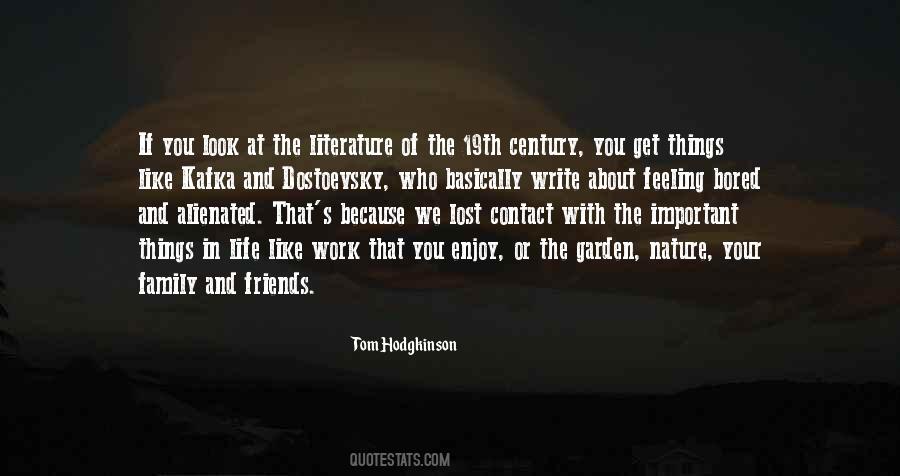 #54. Why must a girl pay so dearly for her least escape," Lily muses as she contemplates the prospect of being bored all afternoon by Percy Grice, dull but undeniably rich, "on the bare chance that he might ultimately do her the honor of boring her for life? - Author: Edith Wharton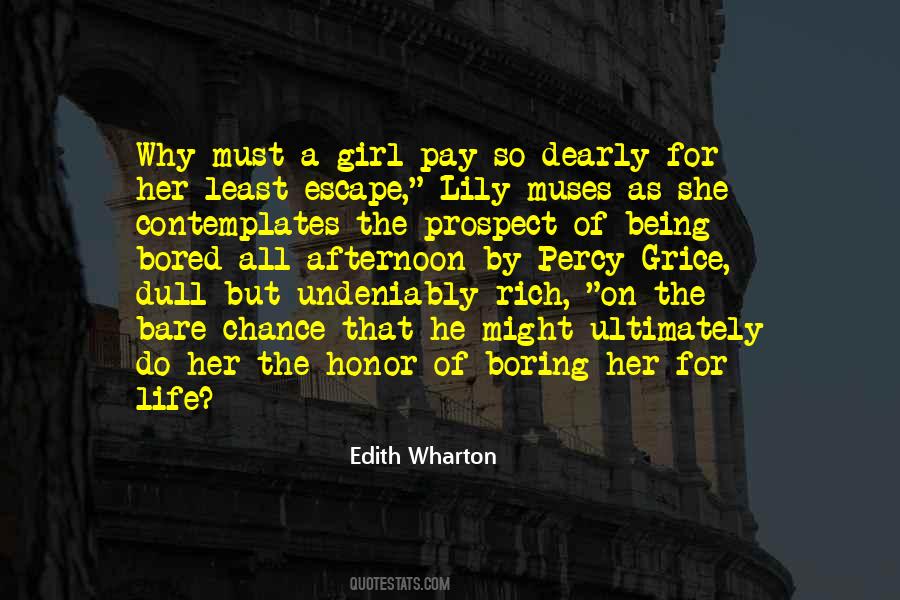 #55. Perhaps the most fundamental value of a liberal education is that it makes life more interesting. It allows you to think things which do not occur to the less learned ... it makes it less likely that you will be bored with life. - Author: Kingman Brewster Jr.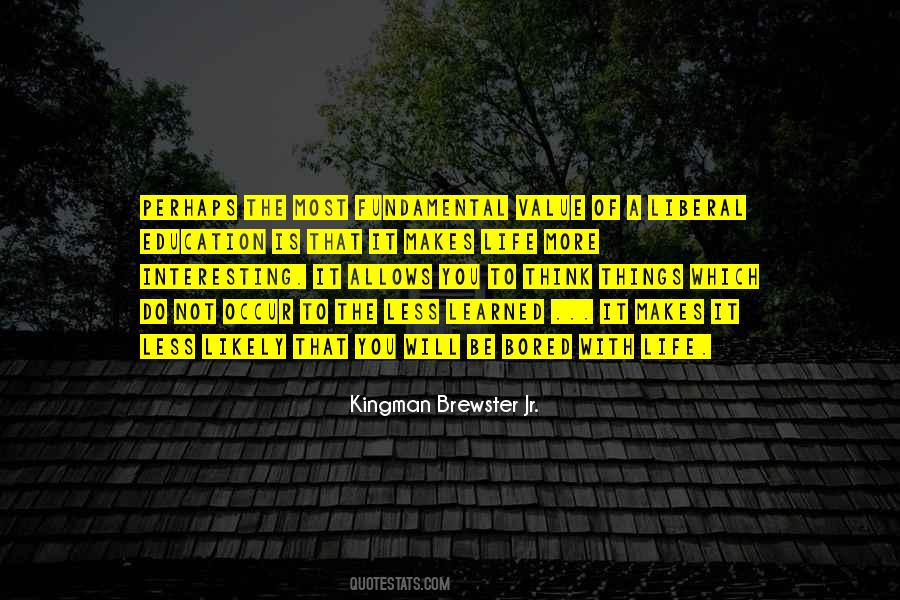 #56. How does one get bored of life? - Author: Osric Chau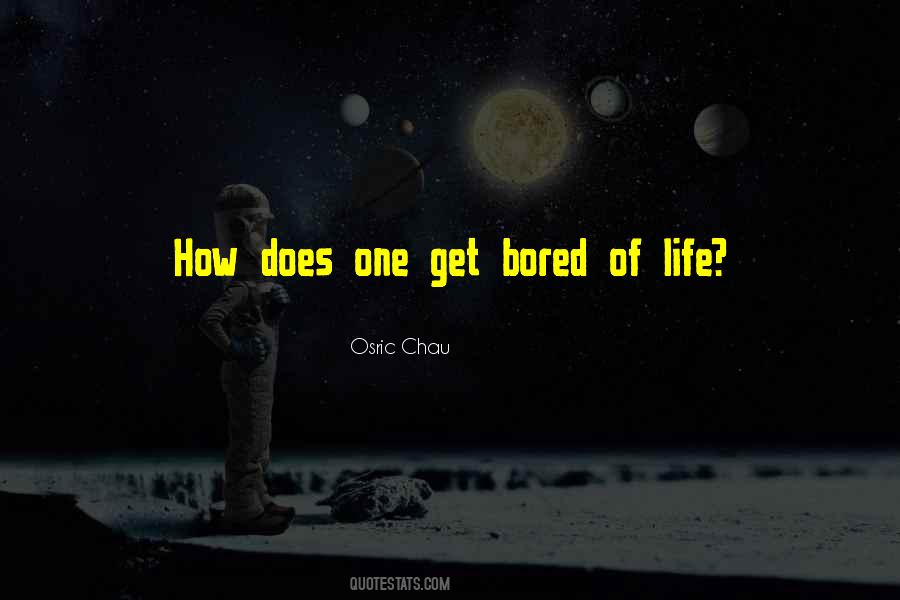 #57. There are children who will leave a game to go and be bored in a corner of the garret. How often have I wished for the attic of my boredom when the complications of life made me lose the very germ of freedom! - Author: Gaston Bachelard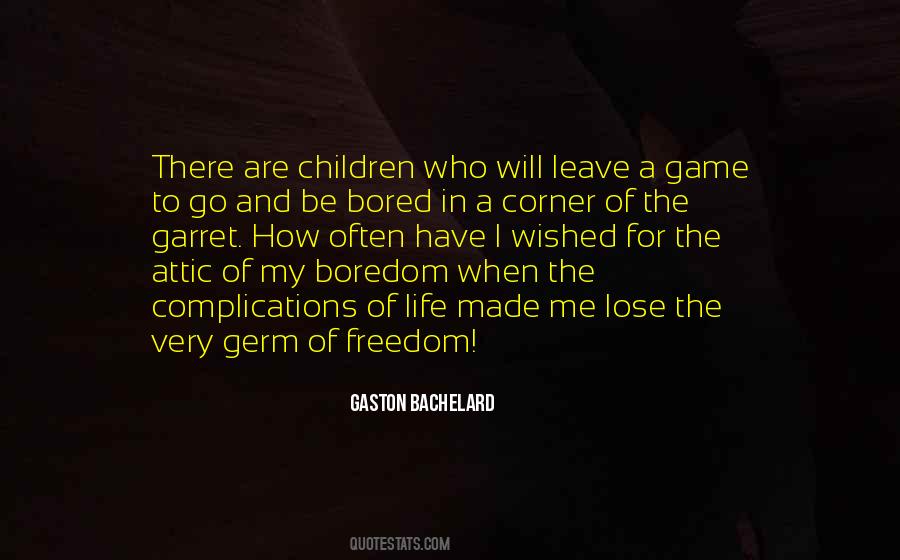 #58. For all his dour black and stern expressions, all the whispered rumors of trick swords and cold brutality, he did not appear worthy of genuine fear. He appeared bored with life. Bored and in need of a nap. - Author: Renee Ahdieh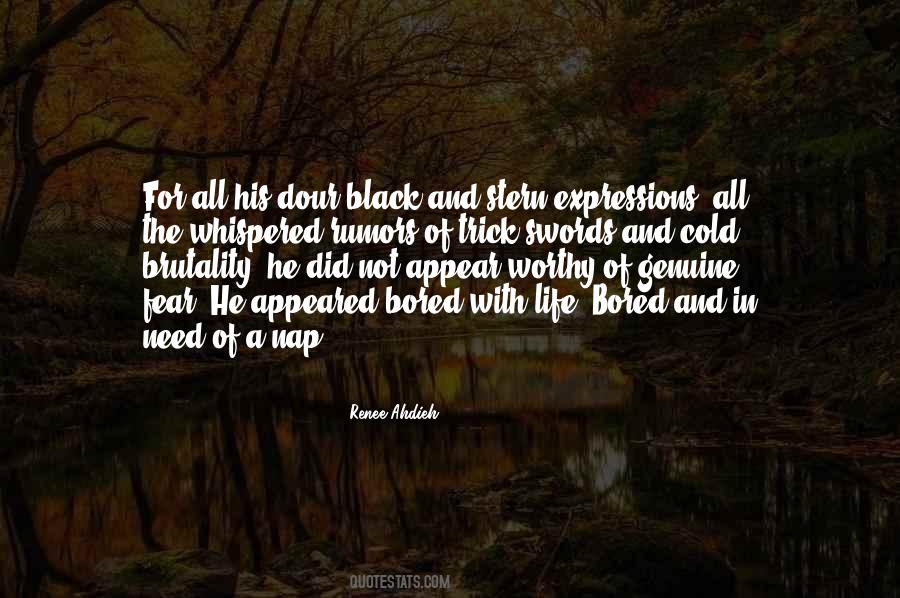 #59. I'm considered wise, and sometimes I see myself as knowing. Most of the time, I see myself as wanting to know. And I see myself as a very interested person. I've never been bored in my life. - Author: Maya Angelou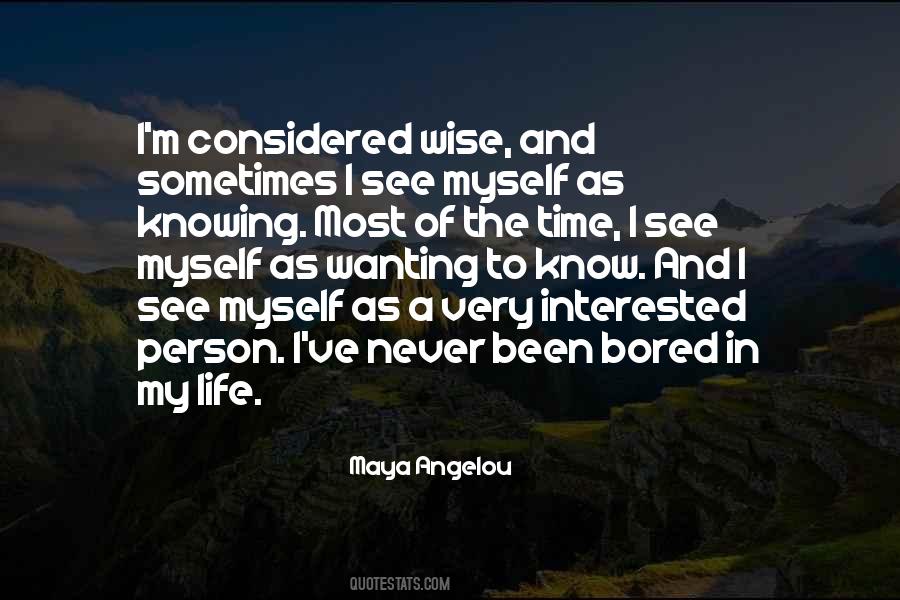 #60. Why did I allow myself to be bored ever in the past and to compensate for it got high or drunk or rages or all the tricks people have because they want anything but serene understanding of just what there is, which is after all so much. - Author: Jack Kerouac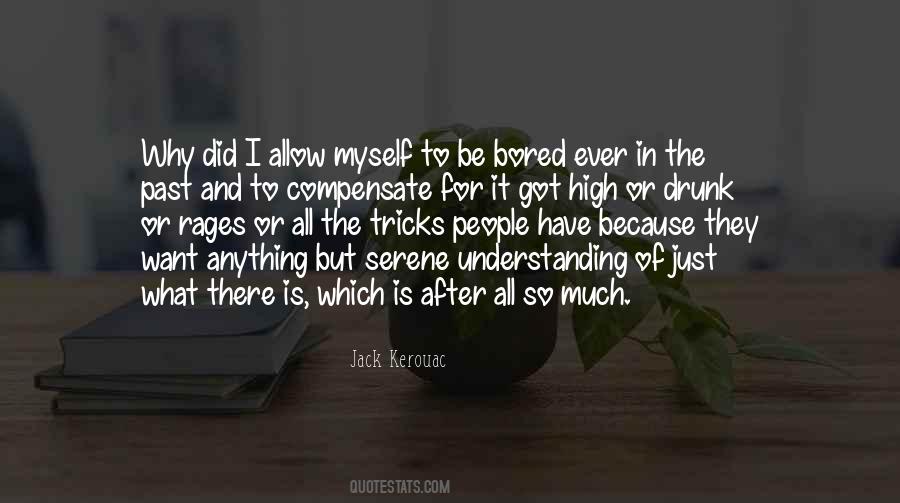 #61. Tried living in the real world instead of a shell, but I was bored before I even began. - Author: Morrissey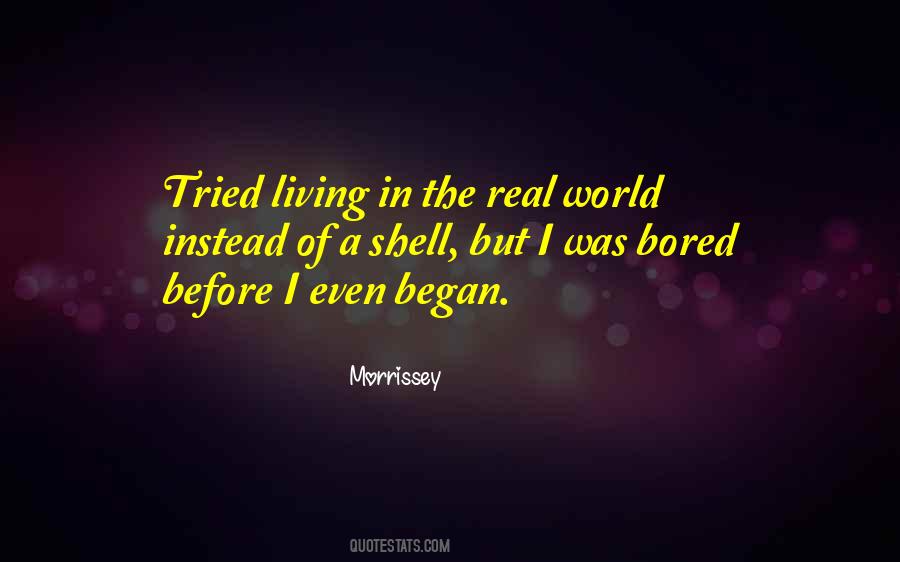 #62. I think what we call the dullness of things is a disease in ourselves. Else how could anyone find an intense interest in life? And many do. - Author: George Eliot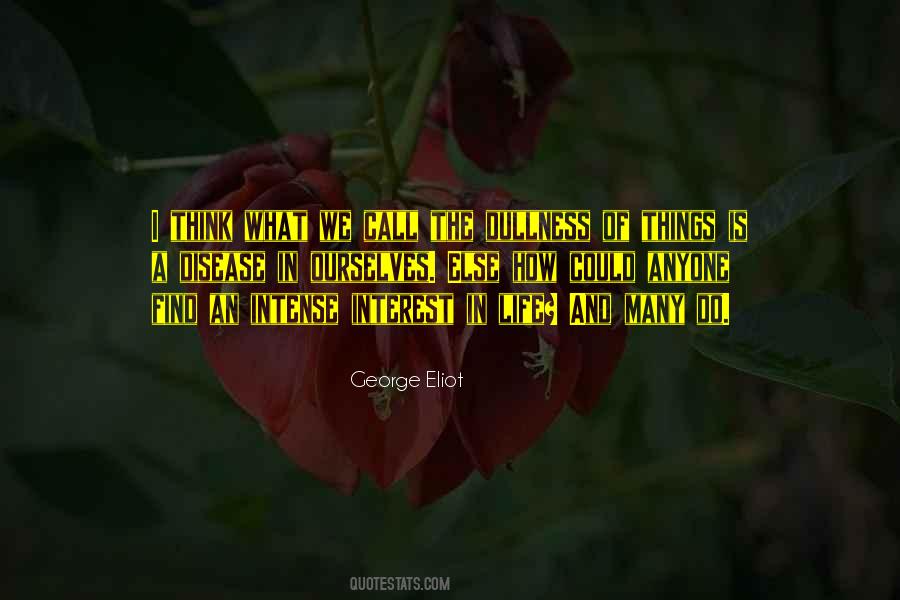 #63. What of it? If I die, I die. It will be no great loss to the world, and I am thoroughly bored with life. I am like a man yawning at a ball; the only reason he does not go home to bed is that his carriage has not arrived yet. - Author: Mikhail Lermontov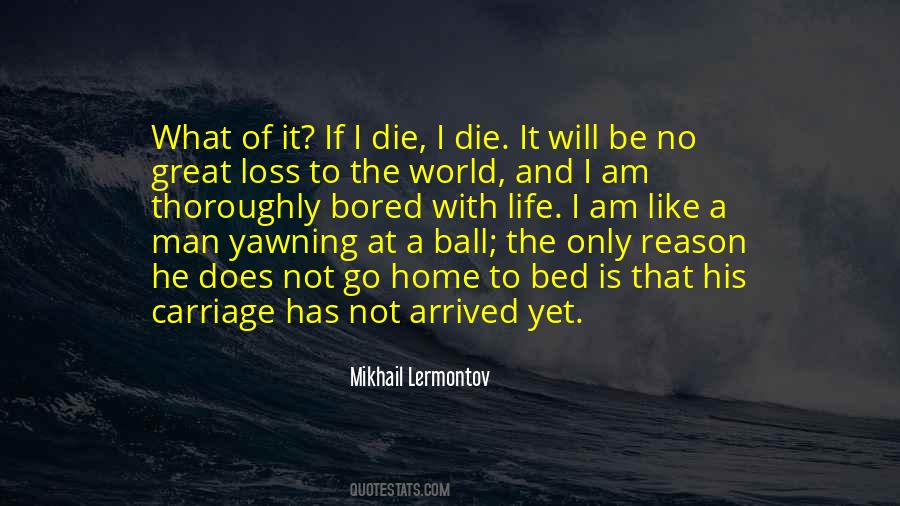 #64. I got bored and then joined the British SAS. It was five very exciting years of my life, and then I'd always had this passion for swimming, so started swimming around the world, in some of the most exotic and distant and dangerous locations. - Author: Lewis Pugh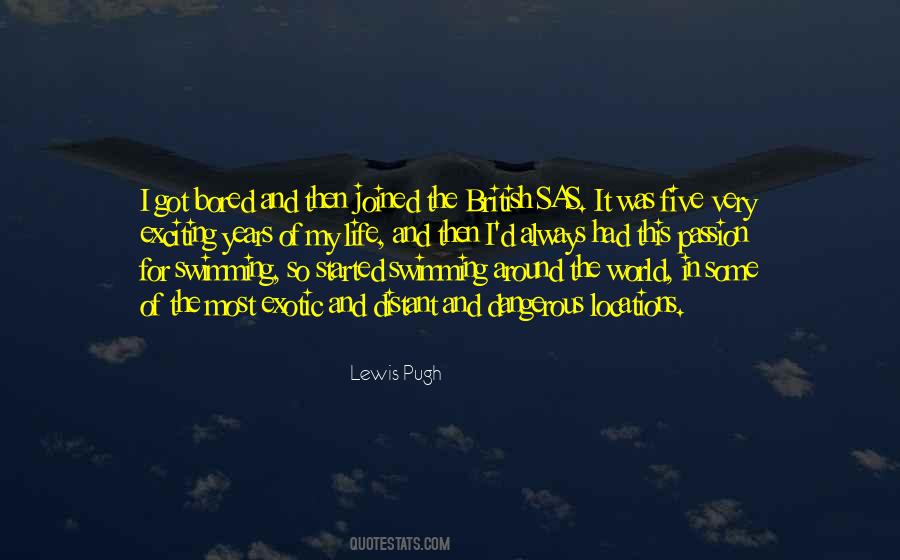 #65. Shabelsky: I'd go into the flames of hell, into the jaws of the crocodile, just so as not to stay here. I am bored.
I've become dulled from boredom. I've got on everyone's nerves. You leave me at home so she isn't bored alone, but I've made her life hell, I've eaten her up! - Author: Anton Chekhov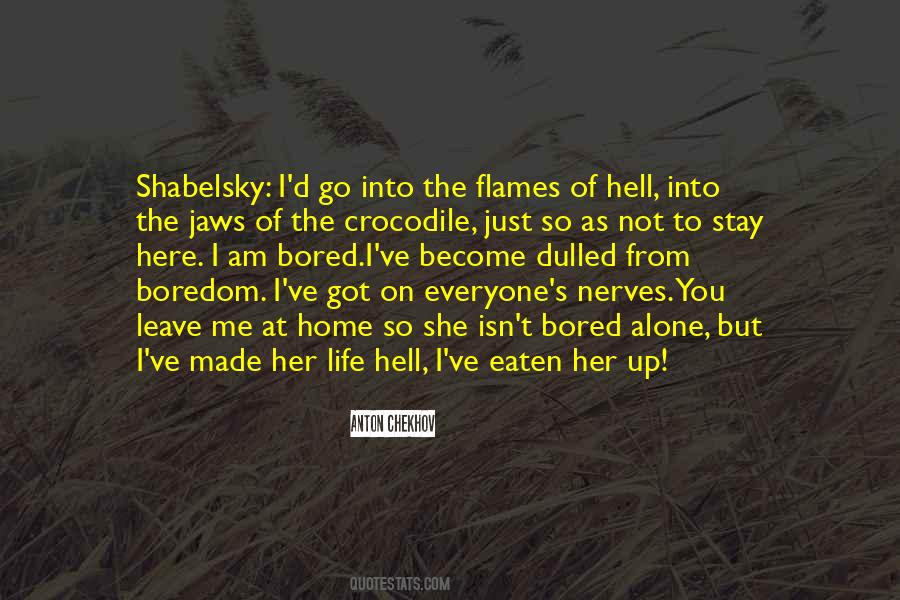 #66. I didn't start writing so that I could more deeply know myself. I was bored of myself, my life, my childhood, my hometown. I started writing as a way to know others, to get away from myself. - Author: Julianna Baggott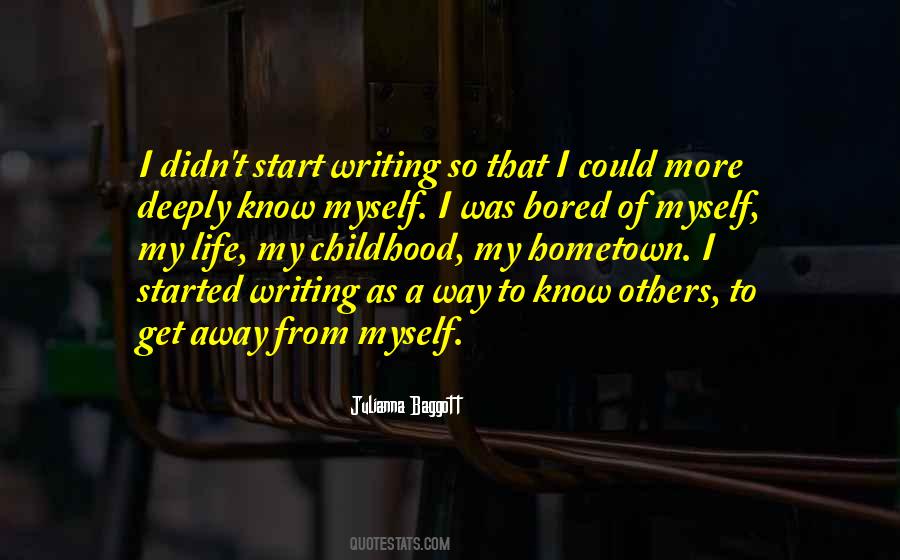 Famous Authors
Popular Topics