Big Books Famous Quotes & Sayings
List of top 100 famous quotes and sayings about big books to read and share with friends on your Facebook, Twitter, blogs.
Top 100 Quotes About Big Books
#1. Generally my typical books have lots of twists and turns a big surprise ending and then usually another surprise at the end and ideally, as in Garden of Beasts, we get to the very end and we find at the last few pages that there's yet another surprise. - Author: Jeffery Deaver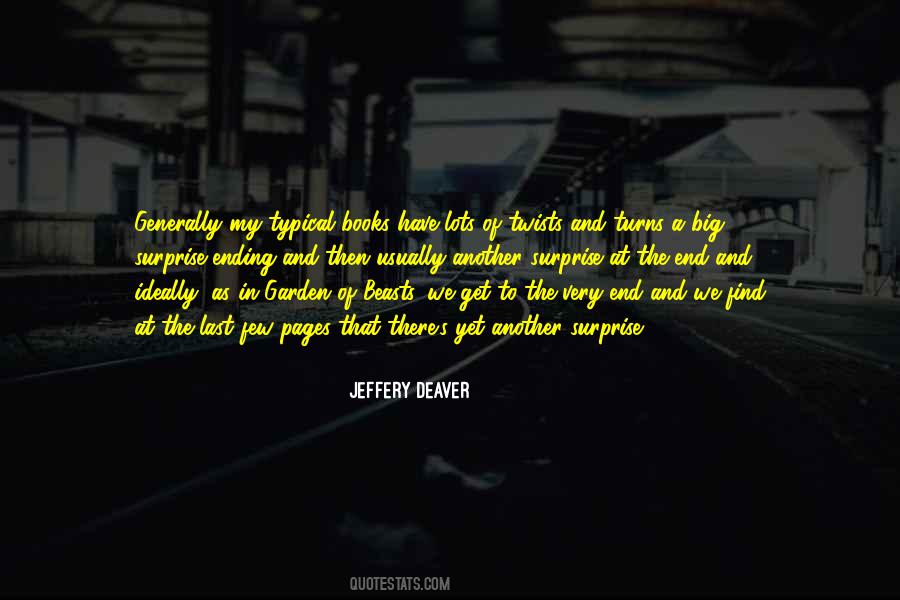 #2. Reading doesn't put you to sleep... it makes you dream... - Author: Nanette L. Avery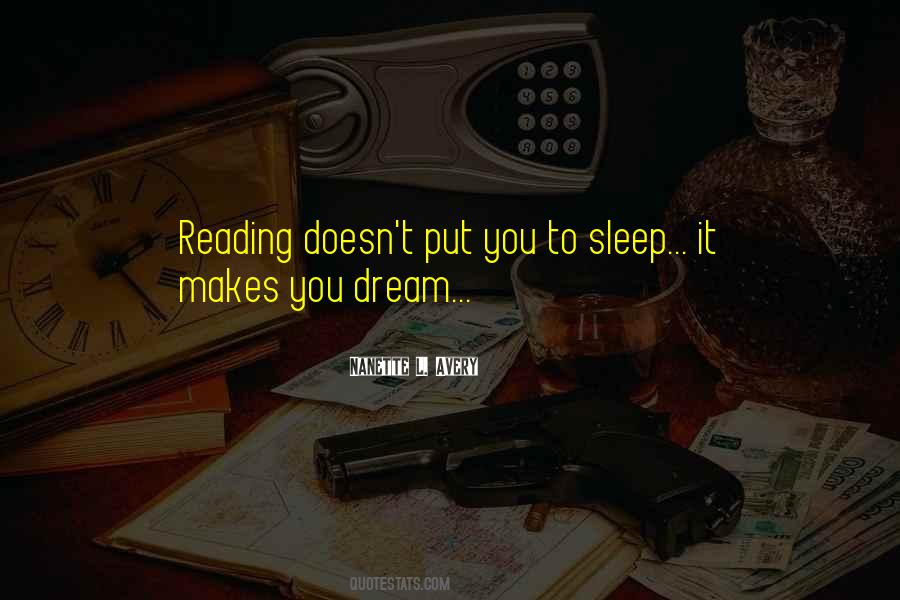 #3. I'm not a big fan of my books going on cross-country road trips. They get arrogant and, next thing, start aspiring to become 'large-print' books. I say, let them stay home and be regular small-print books. - Author: George Saunders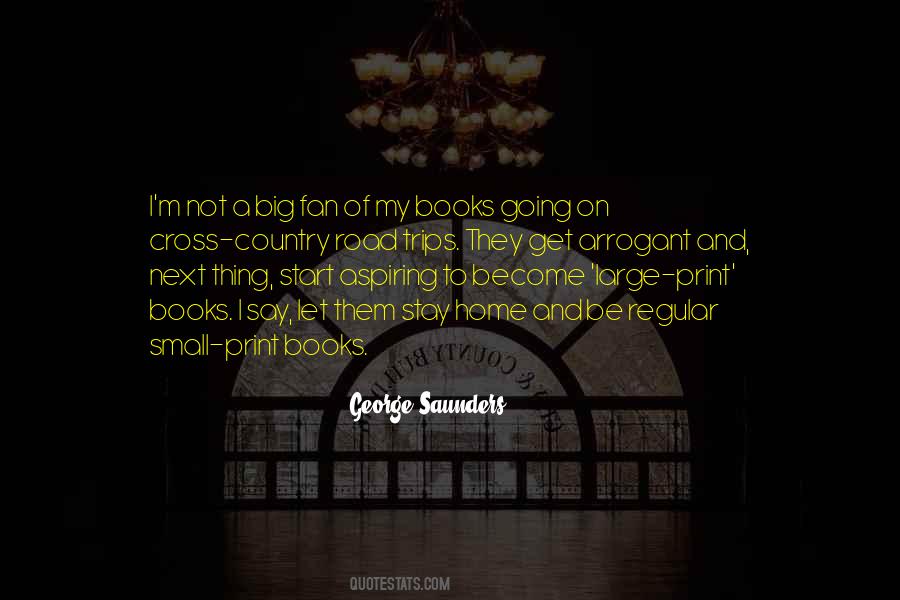 #4. I like BIG BOOKS
and I cannot lie! - Author: Jose N. Harris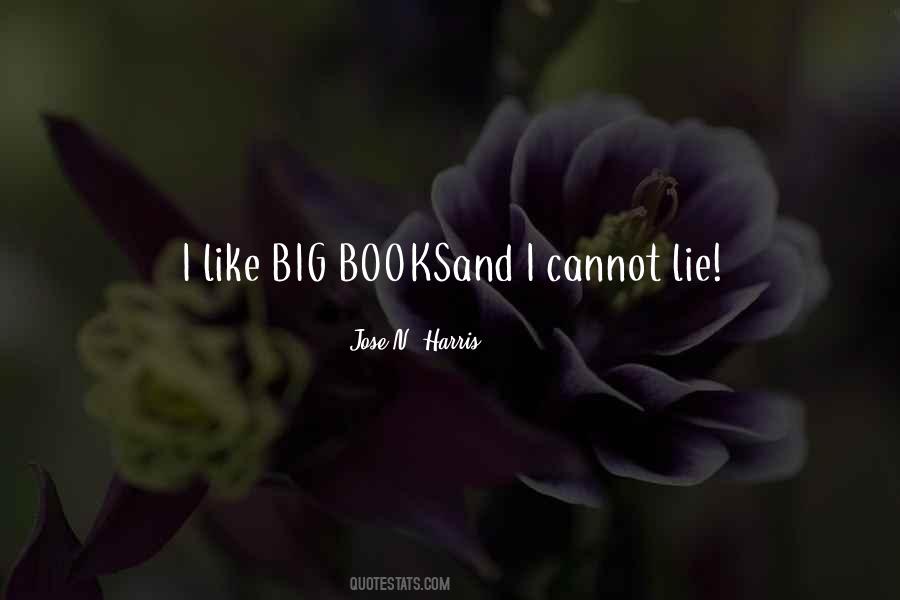 #5. When I made the leap from category romance to larger single-title books, I was encouraged to make the book 'big,' and suspense was allowed. Over the years, I've been able to write the kind of books I love, with a balance of suspense and romance. How lucky am I? - Author: Lisa Jackson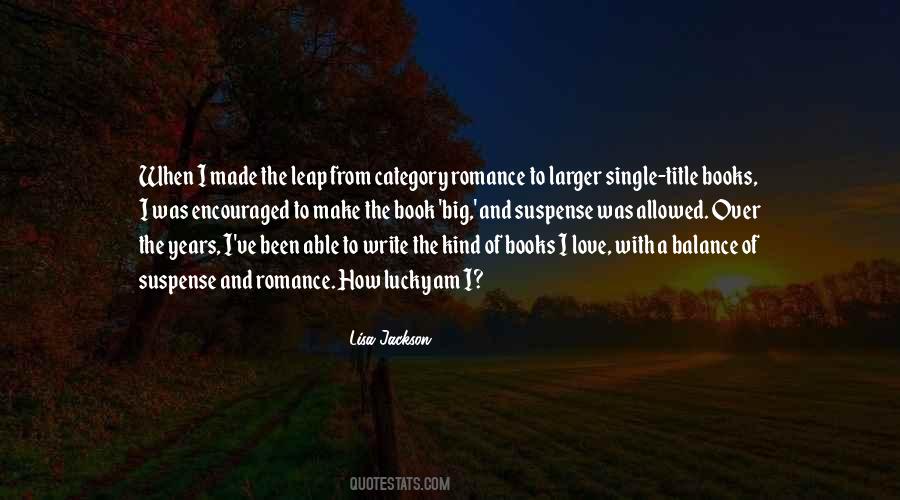 #6. Commercial books don't even get covered. The reason why so many book reviews go out of business is because they cover a lot of stuff that nobody cares about. Imagine if the movie pages covered none of the big movies and all they covered were movies that you couldn't even find in the theater? - Author: James Patterson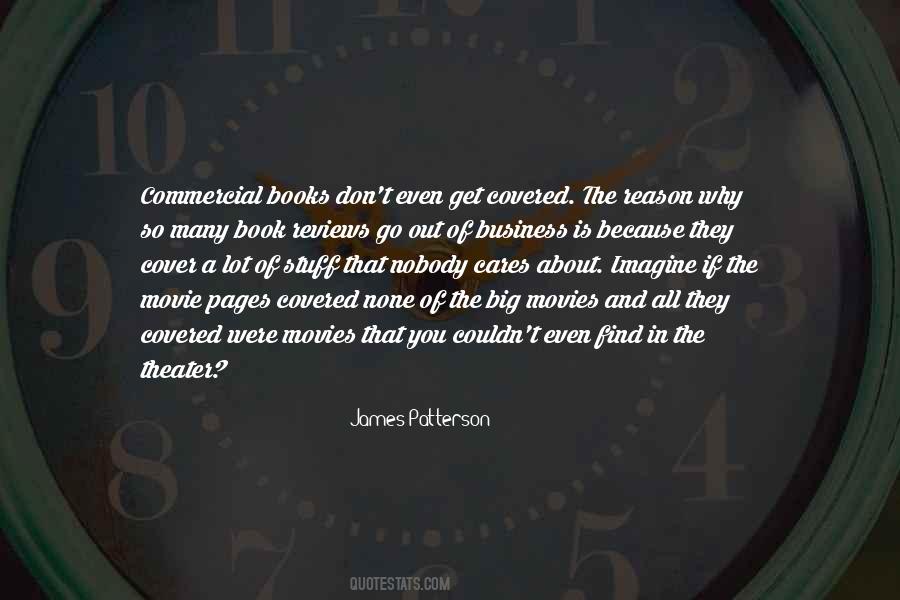 #7. With the big publishers, they publish 50 books and promote five. - Author: Marissa Moss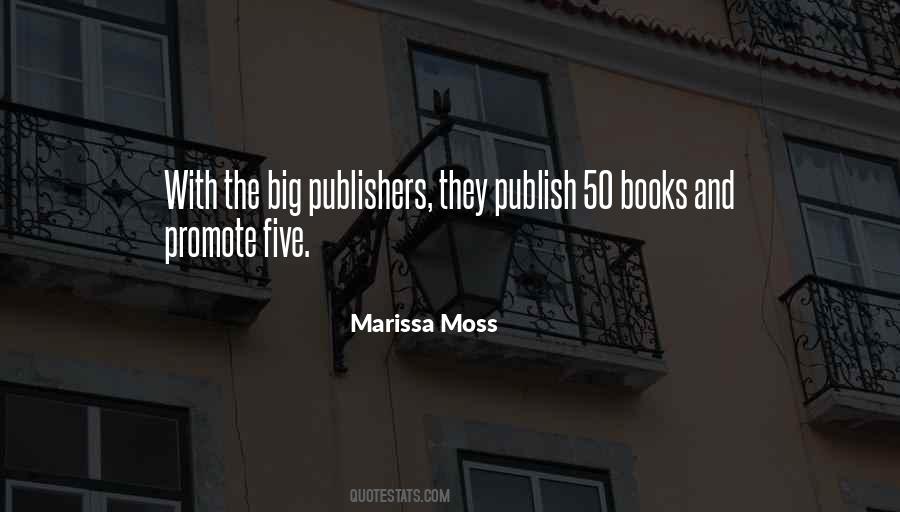 #8. They're old enough to know how the world really works, so why are they so stupid? It's easy to talk big, but the important thing is whether or not you can clean up the shit. - Author: Haruki Murakami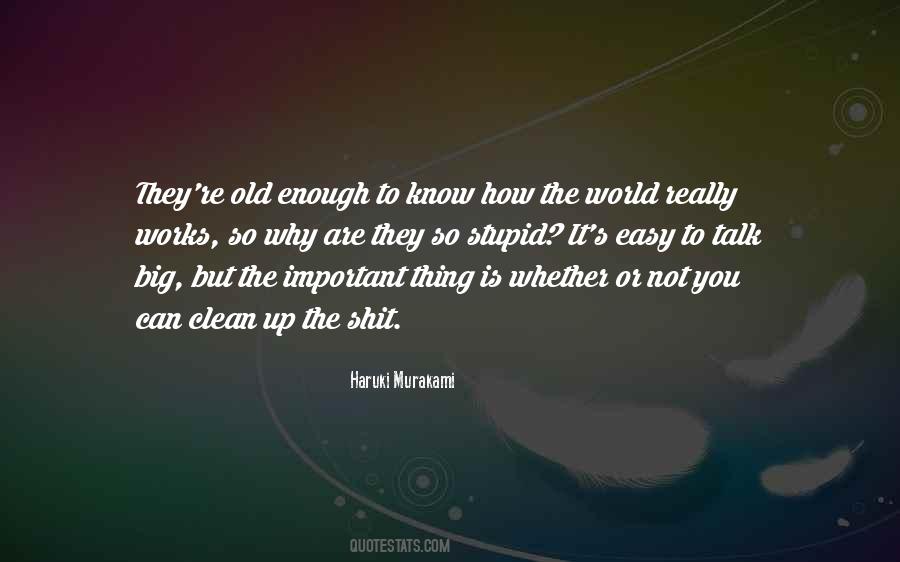 #9. Writing books is a nice retreat. There's nothing quite like diving into a book for a few hours. That is a big time vacation. - Author: Padgett Powell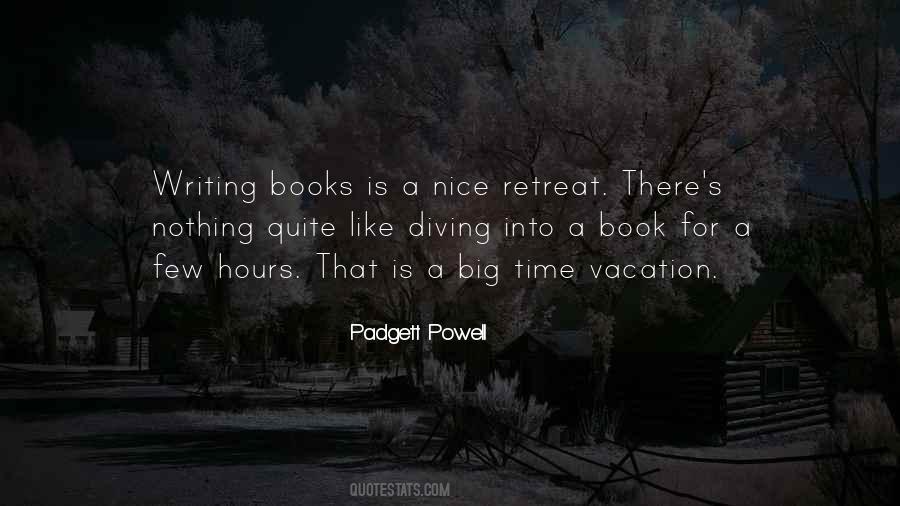 #10. I was always a really big fan of R. L. Stine and the 'Goosebumps' T.V. series and the 'Goosebumps' books. - Author: Dylan Minnette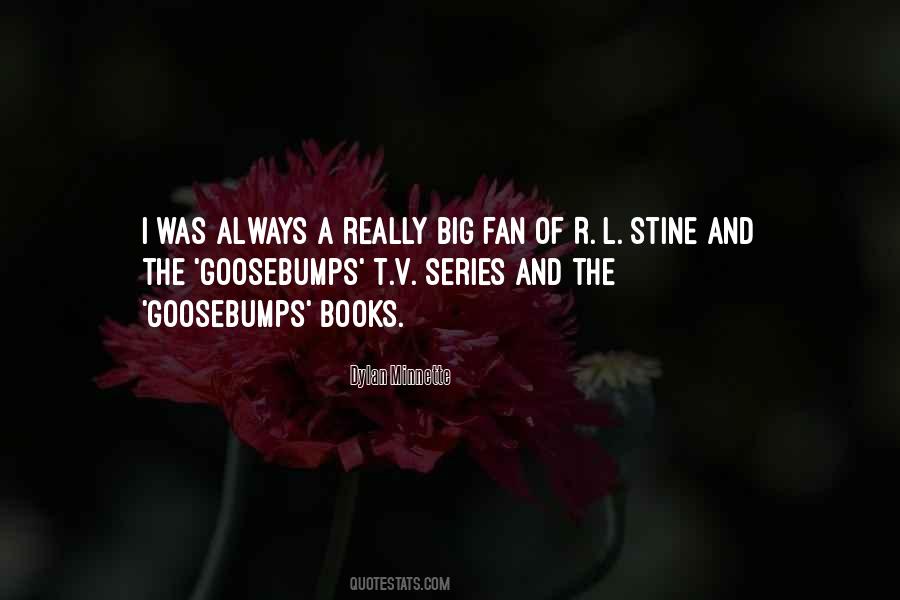 #11. The Booker Prize is a big, popular prize for big, popular books, and that's the way it should be. - Author: John Banville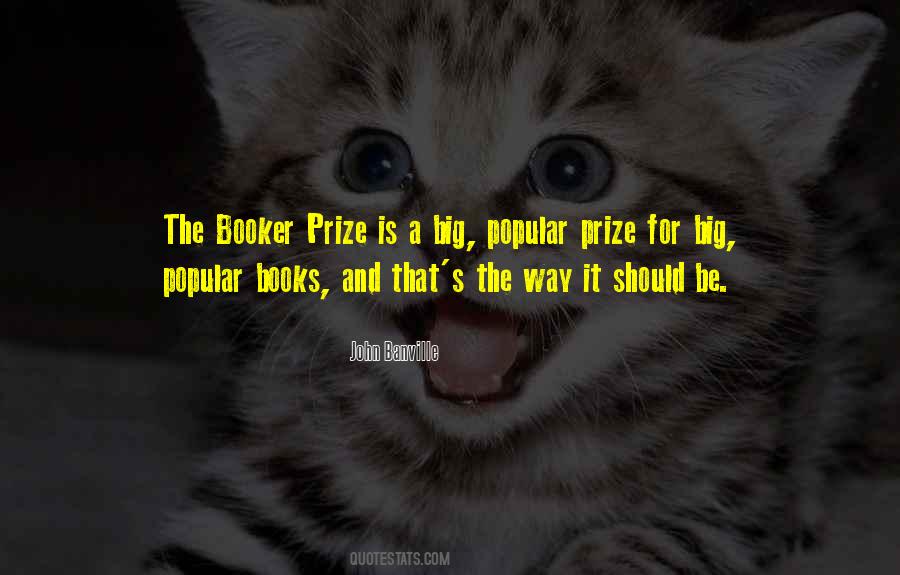 #12. There is a very big difference between writing for children and writing for young adults. The first thing I would say is that 'Young Adult' does not mean 'Older Children', it really does mean young but adult, and the category should be seen as a subset of adult literature, not of children's books. - Author: Garth Nix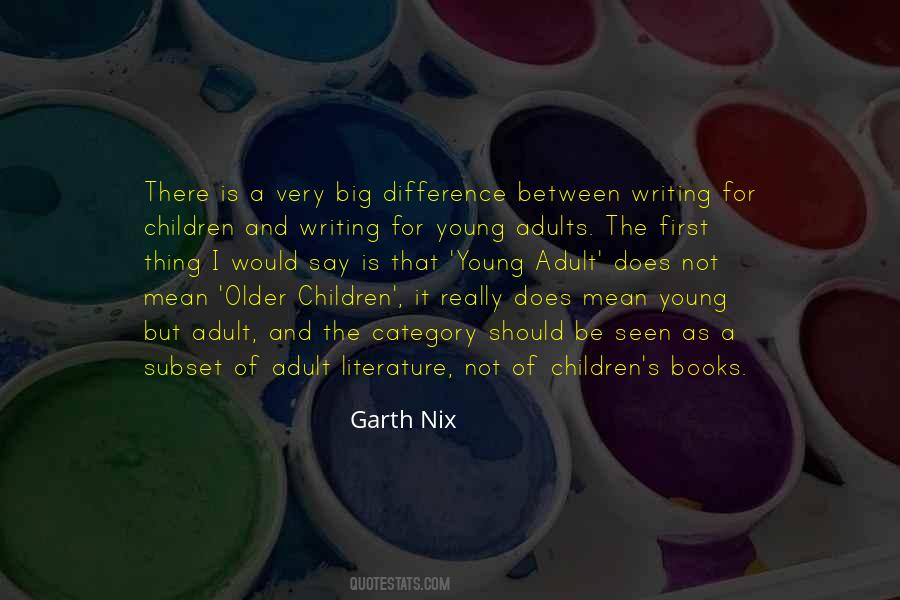 #13. When you buy a jacket, it's important the pockets are big enough for a paperback! - Author: Daniel Pennac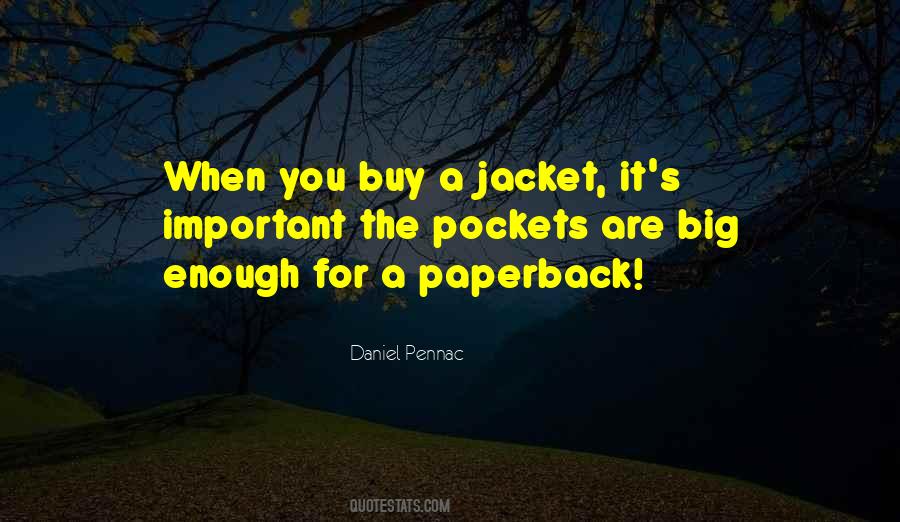 #14. There's nothing on Earth like really nailing the last line of a big book. You have 200 pages to tickle their fancy, and seven words to break their heart. - Author: Alex De Campi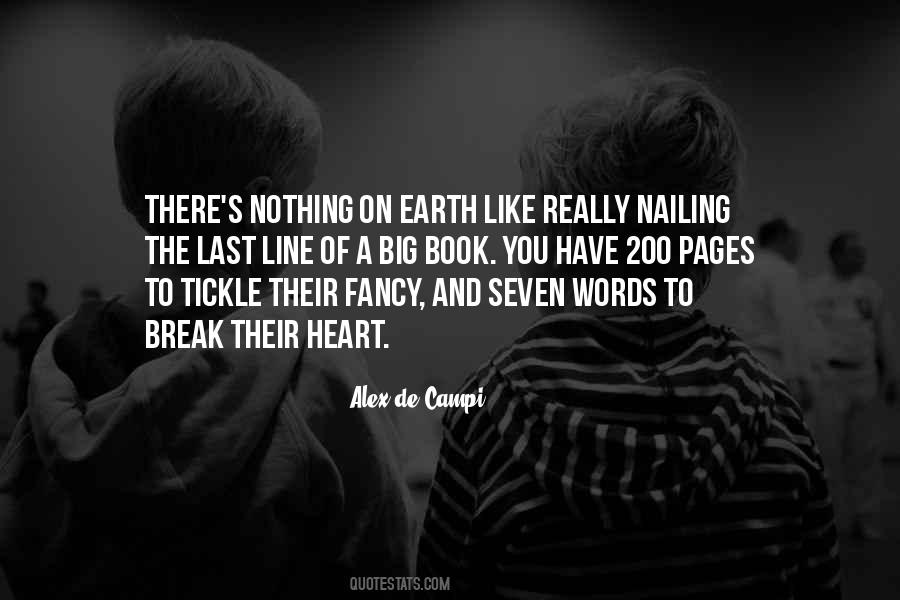 #15. The library was one more essential in the parade of rooms in a big 18th-century house - and part of the required kit ever afterwards. The important thing was to have the books, not actually read them. - Author: Peter York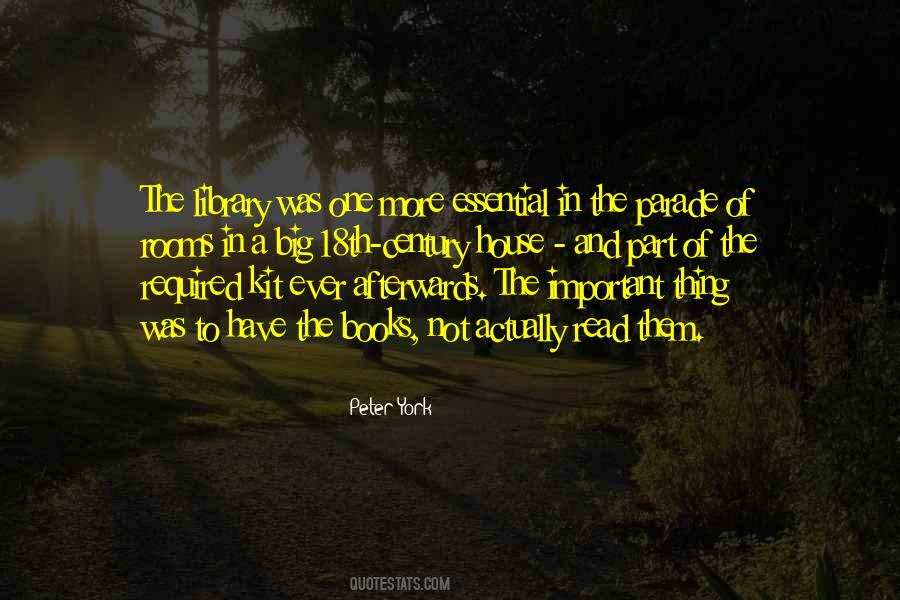 #16. Virginia Woolf came along in the early part of the century and essentially said through her writing, yes, big books can be written about the traditional big subjects. There is war. There is the search for God. These are all very important things. - Author: Michael Cunningham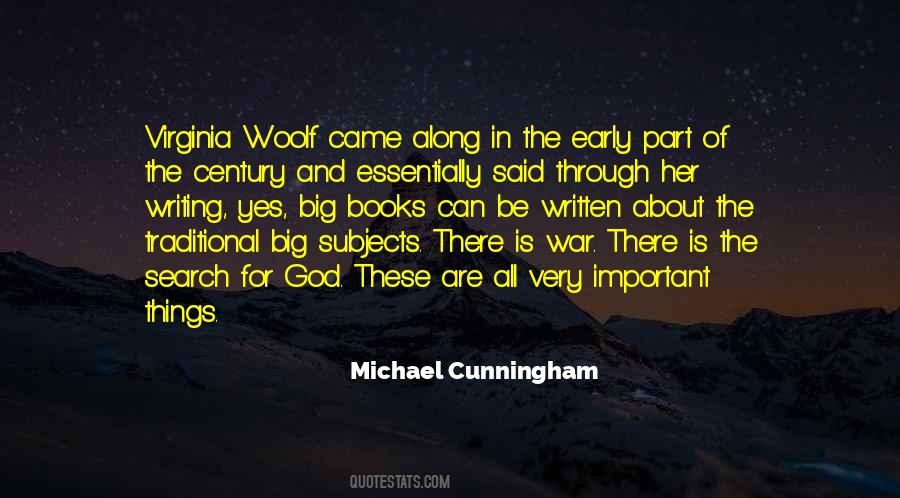 #17. I've got a big, long list of stuff you're entitled to hate about my books. - Author: Jim Crace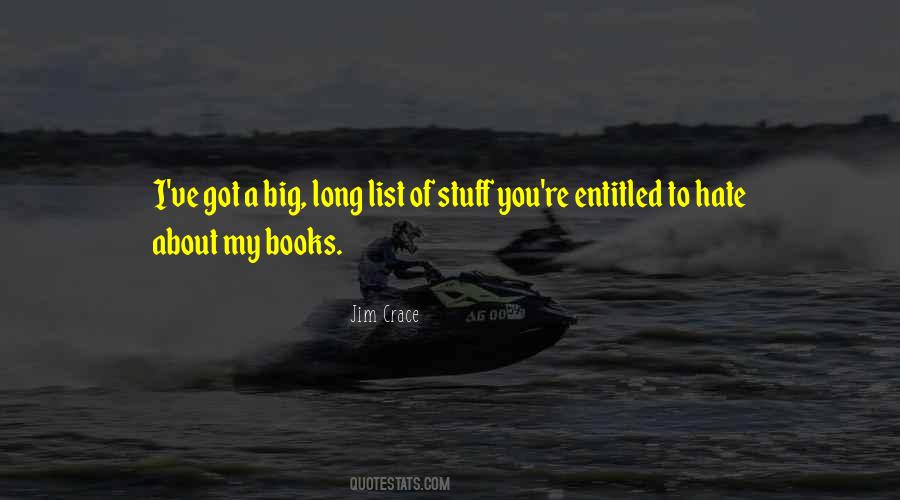 #18. I'm quite proud of what I anticipated about reality television from my books in the early '90s, which I based on the early seasons of 'Cops' and on the amazing stuff I had read about happening on Japanese shows and the British 'Big Brother'. - Author: William Gibson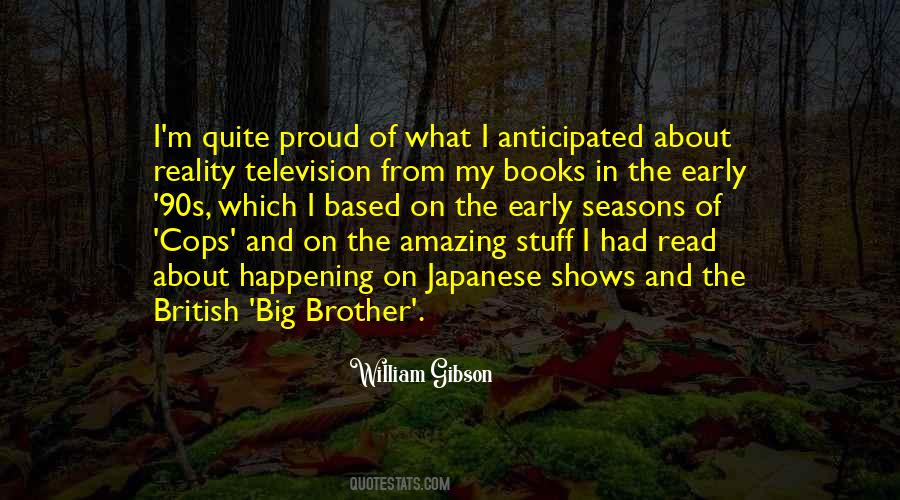 #19. Science is a victim of its own reductive metaphors: 'Big Bang,' 'selfish gene' and so on. Richard Dawkins' selfish gene fitted with the Thatcherite politics of the time. It should actually be the 'altruistic gene,' but he'd never have sold as many books with a title like that. - Author: Charles Jencks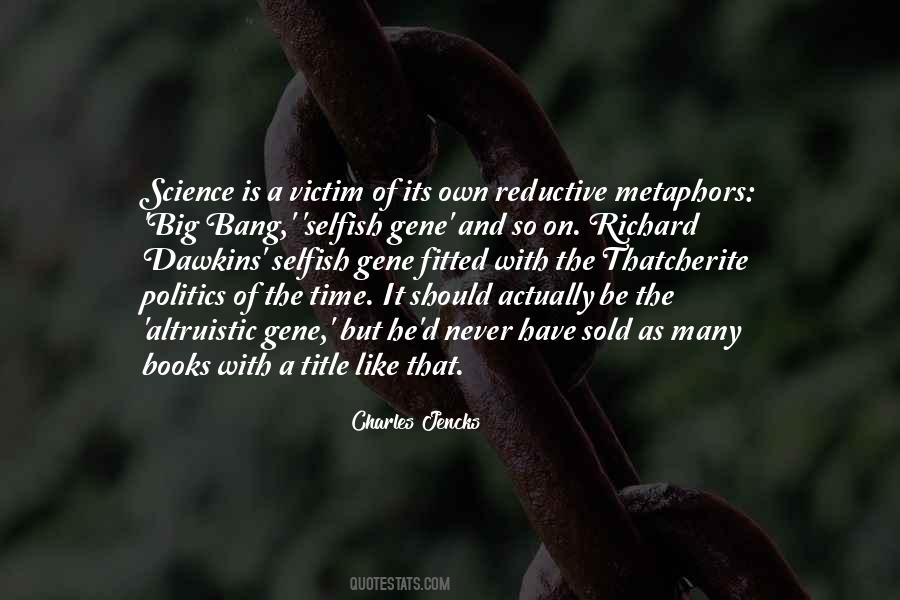 #20. Size has nothing to do with literature. All legs are long enough to touch the ground, and all books are big enough to fill their covers. - Author: Walter Kirn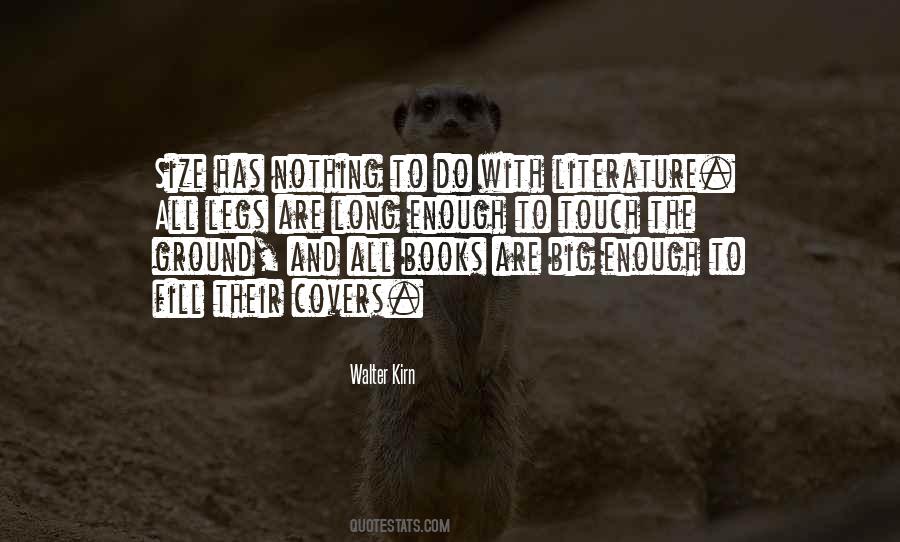 #21. For as long as she could remember, she had thought that autumn air went well with books, that the two both somehow belonged with blankets, comfortable armchairs, and big cups of coffee or tea. - Author: Katarina Bivald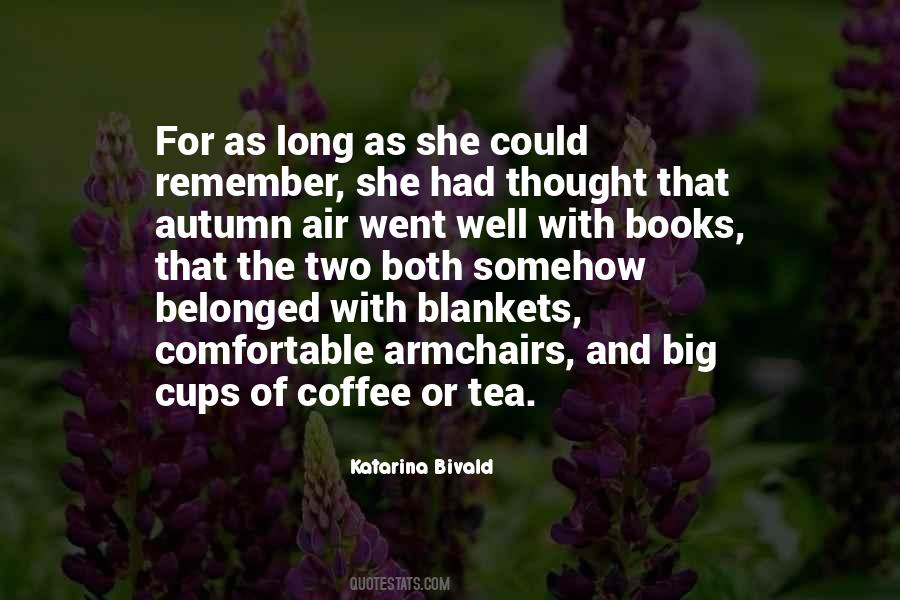 #22. I'm a big illustration and comic book fan. In my eyes, comic books and illustration are the same kind of art forms. - Author: Mika.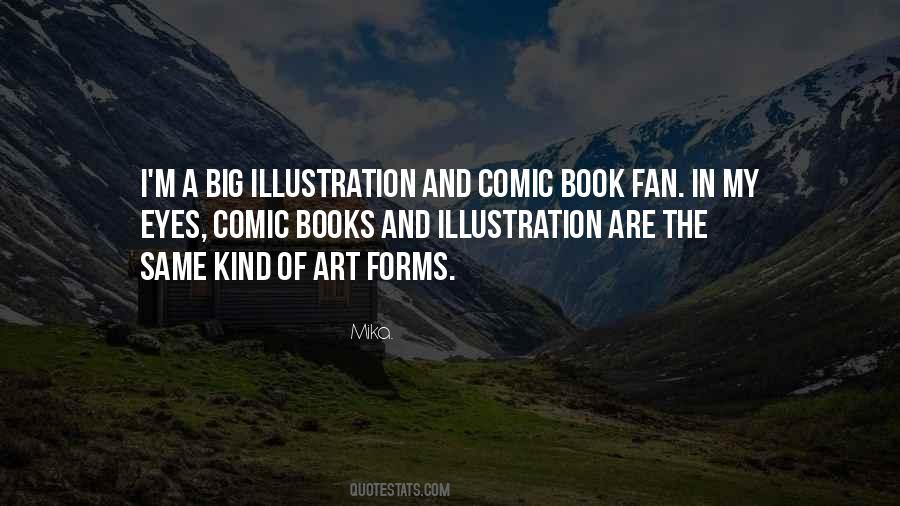 #23. Where once September seemed merely and quietly odd, staring out the window during Mathematics lectures and reading big colorful books under her desk during Civics, now the other children sensed something wild and foreign about her. - Author: Catherynne M Valente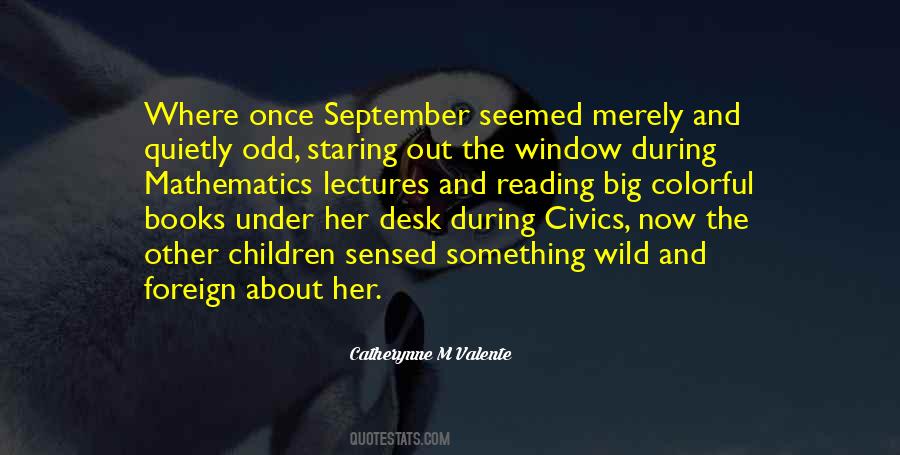 #24. My mom was a big feminist, and when I was growing up, I wasn't allowed to have typical girl toys: she did not let me have dolls. Barbies were banned in our household. She read feminist books to me; my mom was a major feminist. - Author: Leila Janah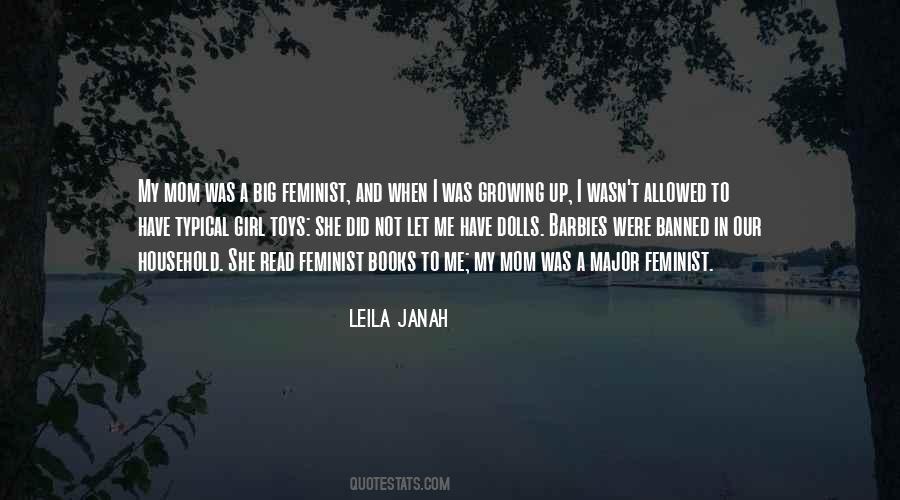 #25. I like shelves full of books in a library, but if all books become electronic, the task of big research libraries remains the same - keep what's published in the form in which it appeared. - Author: Nicholson Baker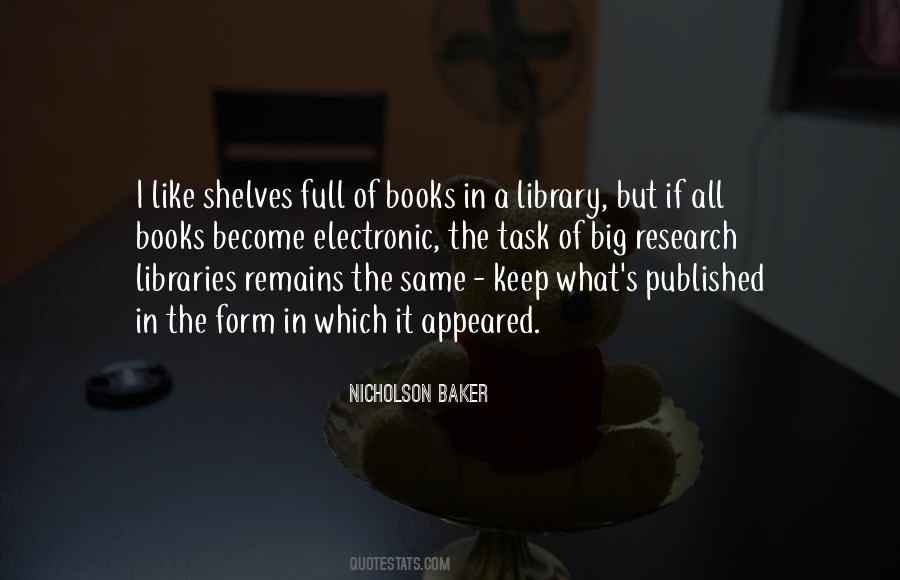 #26. The fact that we don't read more books in America can be traced squarely to the fact that we have newspapers that are about a hundred times as big as the newspapers anywhere else. - Author: Bennett Cerf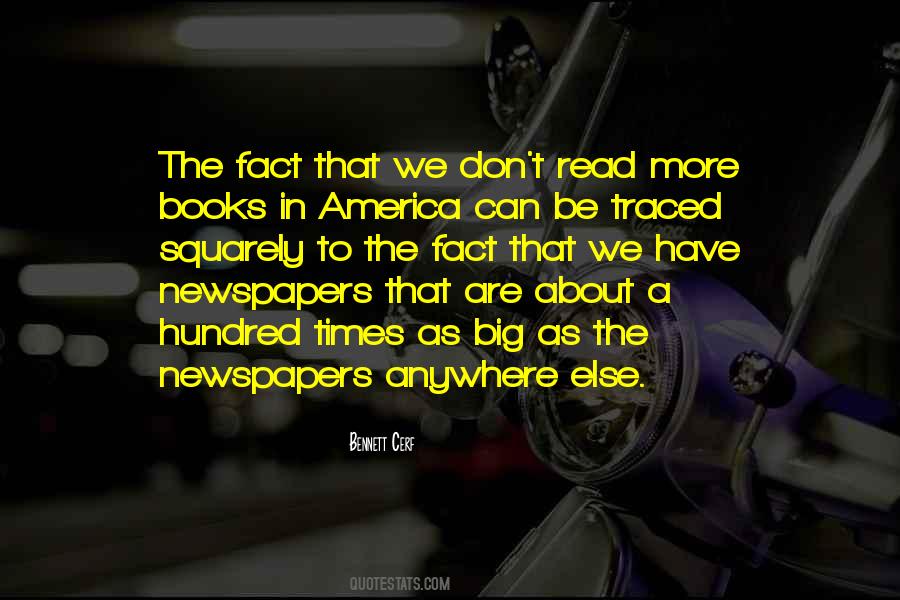 #27. One thing that is sometimes forgotten in this "future of books" discussion is that there are all these awesome presses - big and small - that are producing and designing amazing books. - Author: Kevin Sampsell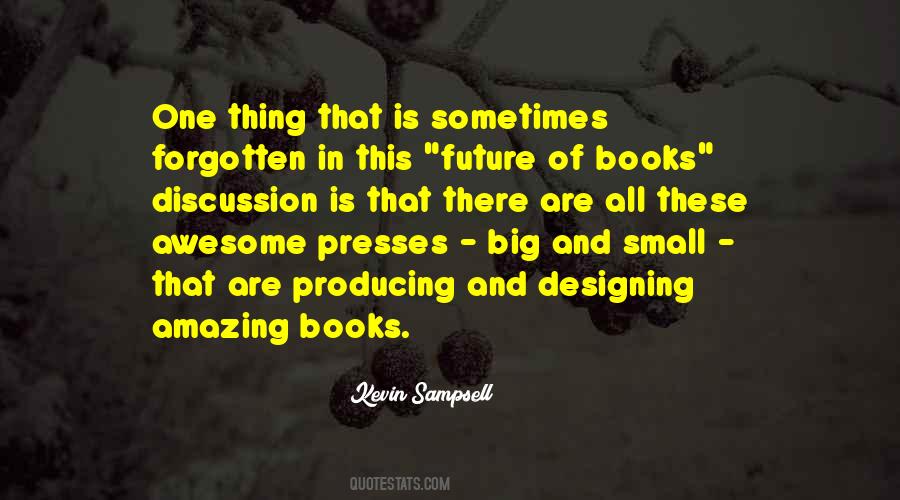 #28. A lot of comic conventions go way beyond comic books and include other parts of pop culture, like celebrities and science fiction and movies and books. So I go to them either as a celebrity, or as a fan, because I'm a big sci-fi geek. - Author: Jane Wiedlin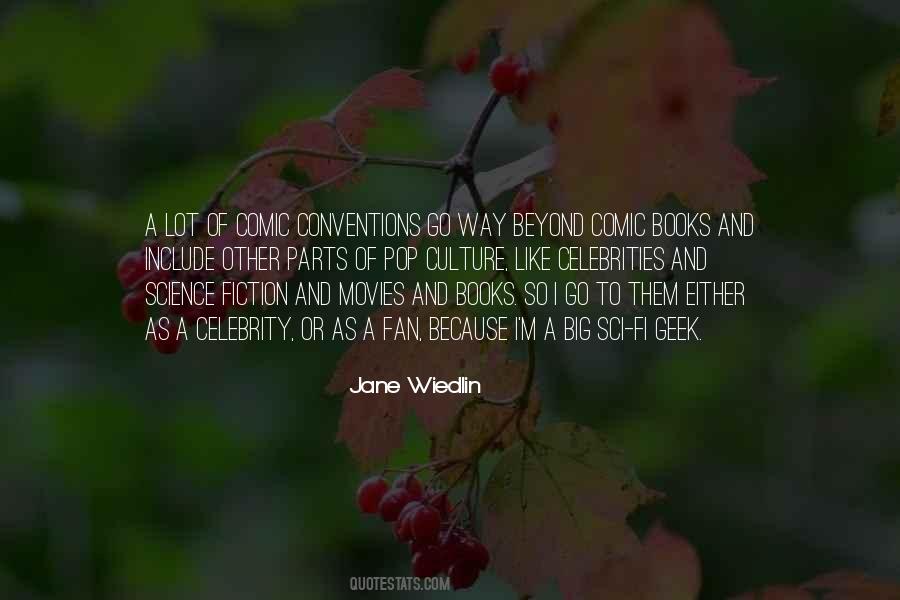 #29. I write in an old-school paneled study in the middle of a large farmhouse in rural Iowa. I have pine floors, a big cherry desk, and a small window. The room is cluttered with papers and books and gifts from friends. - Author: Dean Bakopoulos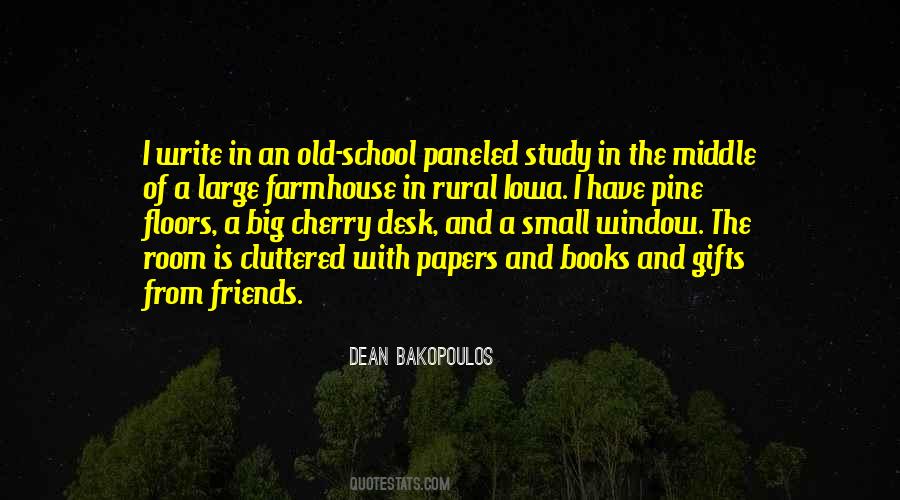 #30. ...I have big dreams, too. I used to think that made me different and strange. But when I came here and found all these books, I realized there are places in the world where I belong, even if I haven't found them yet. - Author: Random House Disney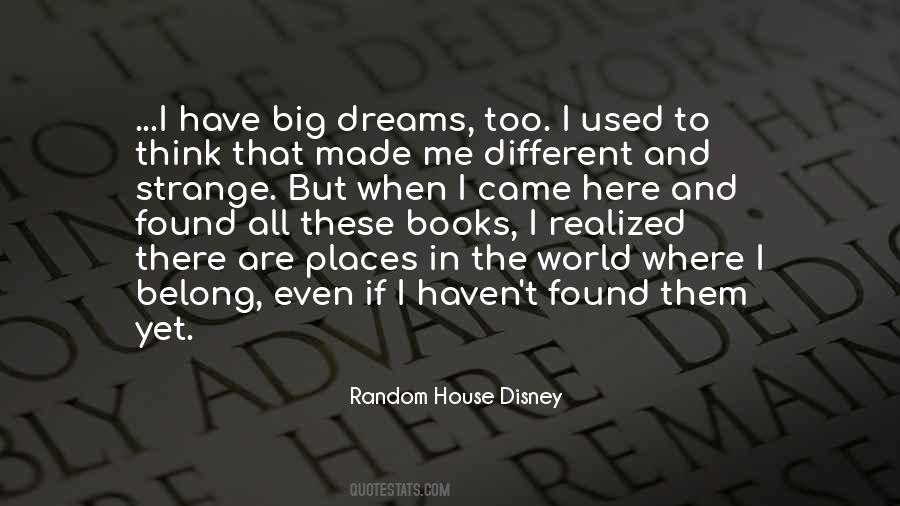 #31. Books, shmooks, this sickness has got me wishing if I can ever get out of this I'll gladly become a millworker and shut my big mouth. - Author: Jack Kerouac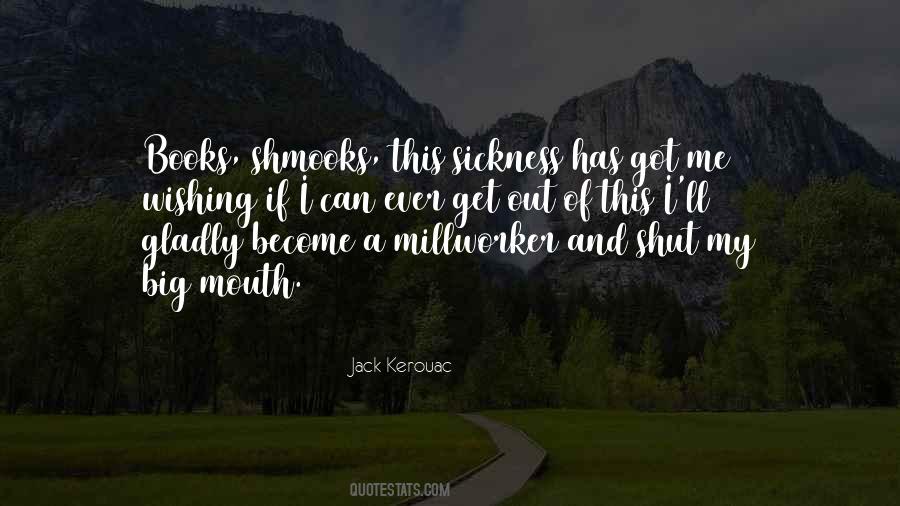 #32. Looking at my reflection tonight, I see a new girl staring back at me. She has big hair and big eyes and a big heart. Not only is she the perfect size and pretty ... she is smart. -Mackenzie - Author: Tara Michener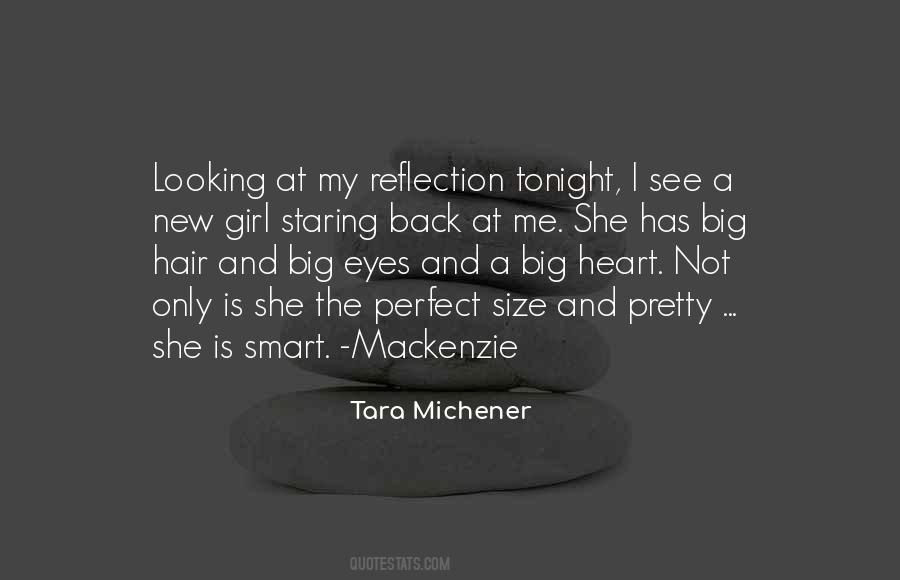 #33. Still and all, I think a library is a library is a library, don't you? No matter how big or small. Books are important. - Author: Elizabeth Kane Buzzelli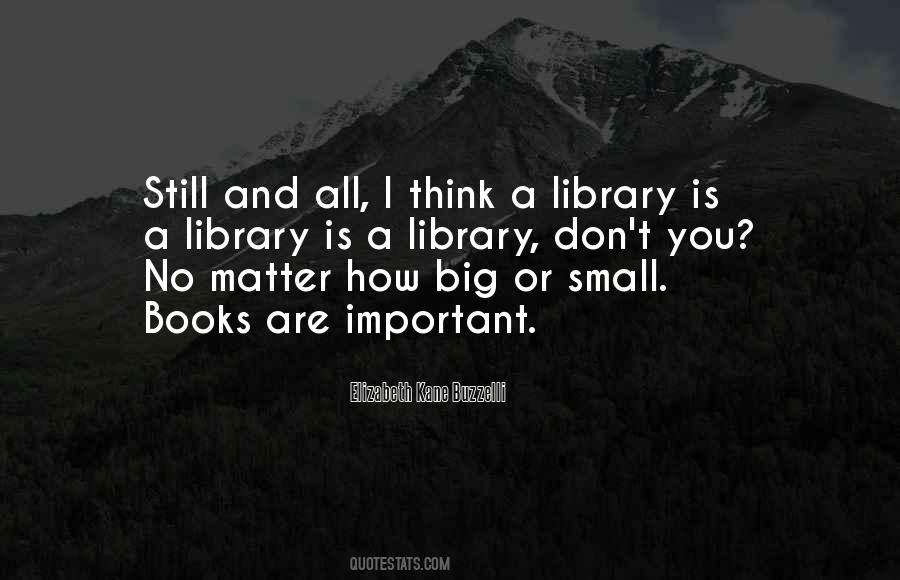 #34. When other children dreamed of mansions with fountains and big silky beds and servants to do their bidding, this was what Belle dreamed about. The money to buy all the books she ever wanted from all over the world - and a place to keep them. - Author: Liz Braswell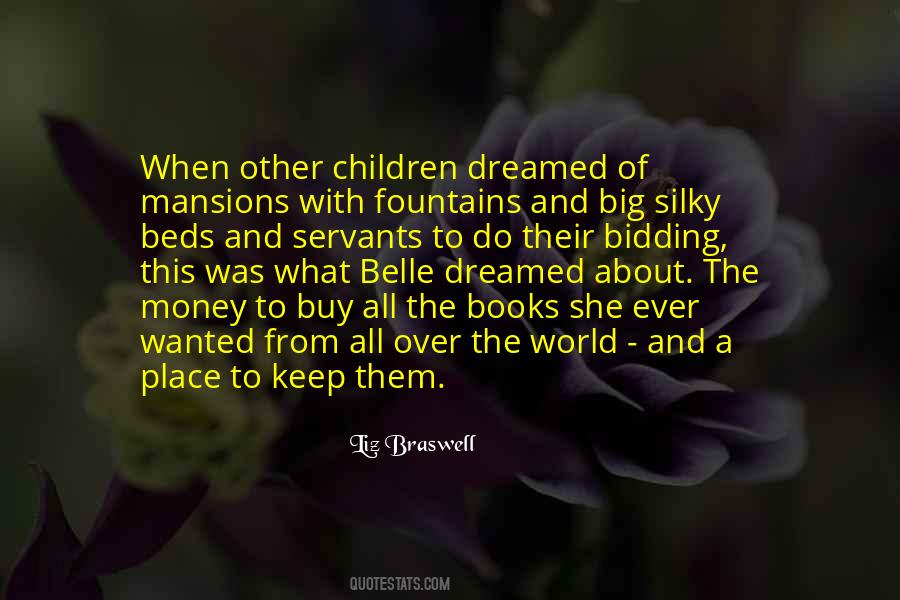 #35. J. K. Rowling is one of my favourite authors, and I really admire how she created this big wizarding world. But I think our books are very, very different, and I don't think there can be a next J. K. Rowling. She is one of a kind. - Author: Samantha Shannon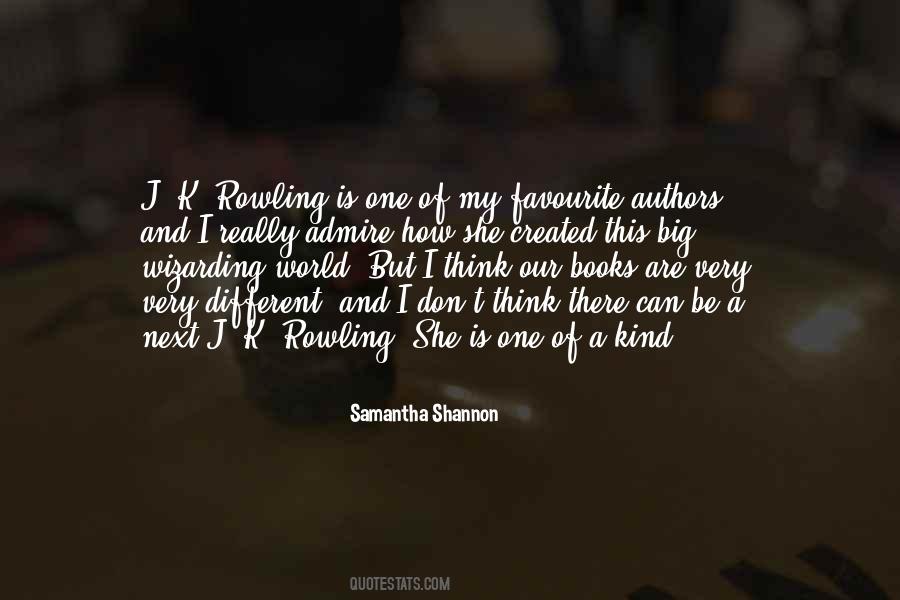 #36. I would say the flip side to my fascination with systems is a fascination with components. So many of my books are dialogues between little and big. - Author: Richard Powers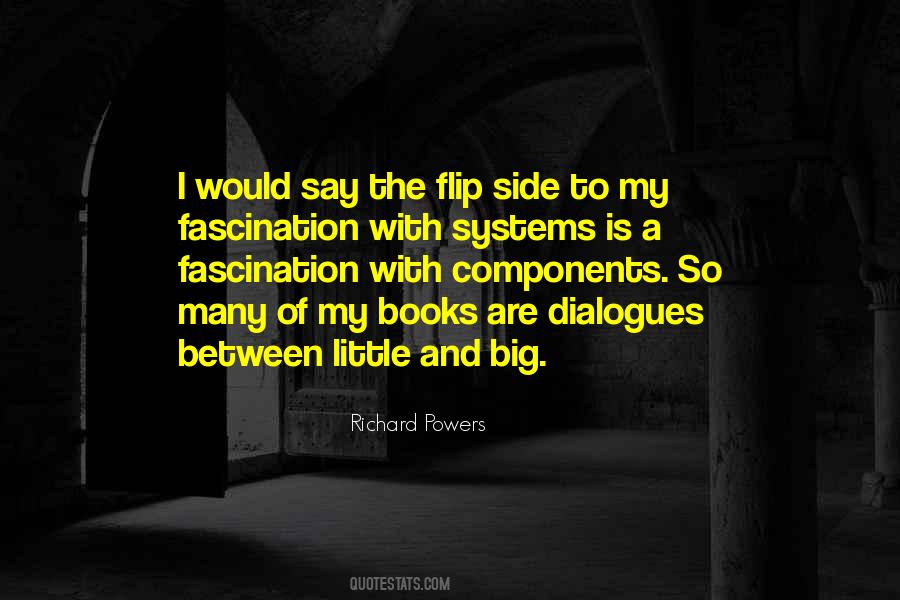 #37. He liked women with little butts and big tits? Someone had played with one too many barbie dolls as a kid. - Author: Kelley Armstrong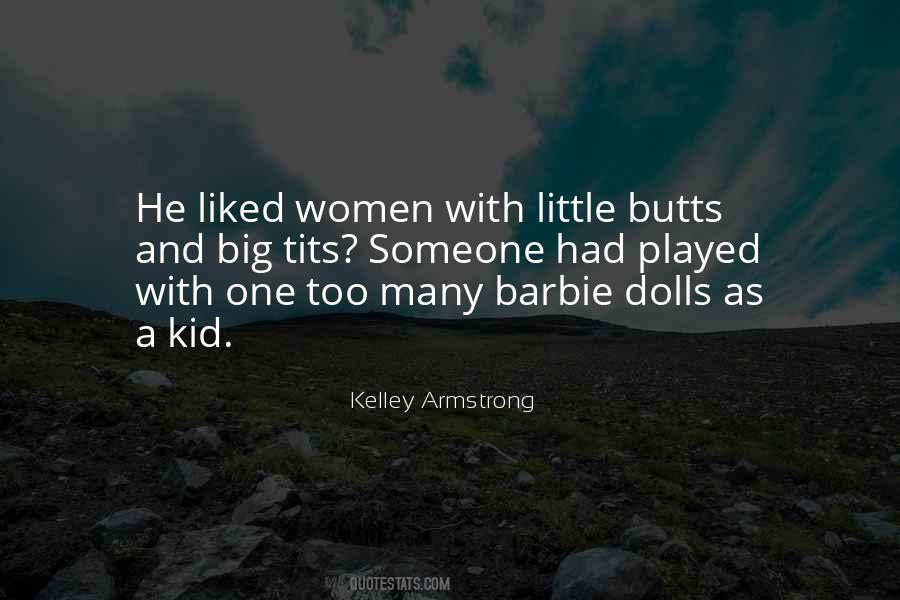 #38. Suddenly, she heard a loud bang, a thump and a scream that caused her to jump from the bed. The hair on the back of her neck stood straight up and her body became one big goosebump. - Author: Evangeline Duran Fuentes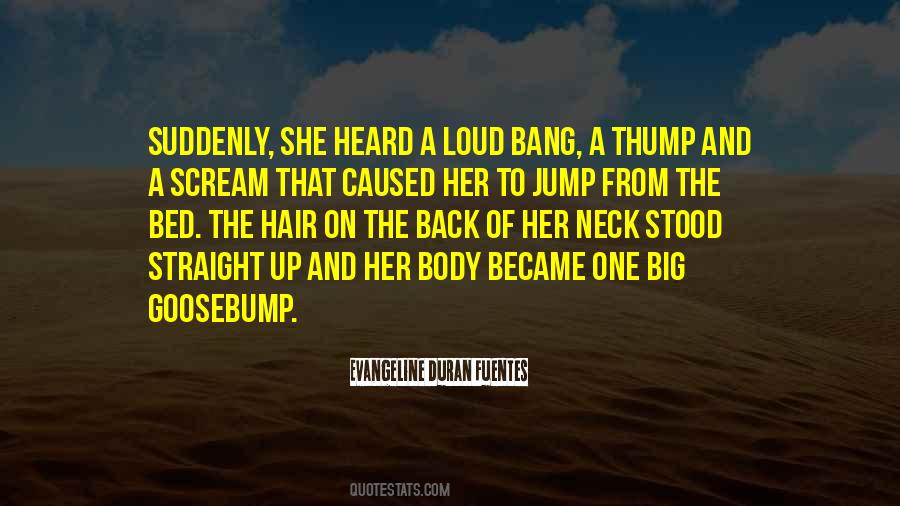 #39. Seriously, when you see a new book fresh on the stand and in big letters it says "A Million Copies Sold," did you ever wonder who bought them? - Author: Stanley Victor Paskavich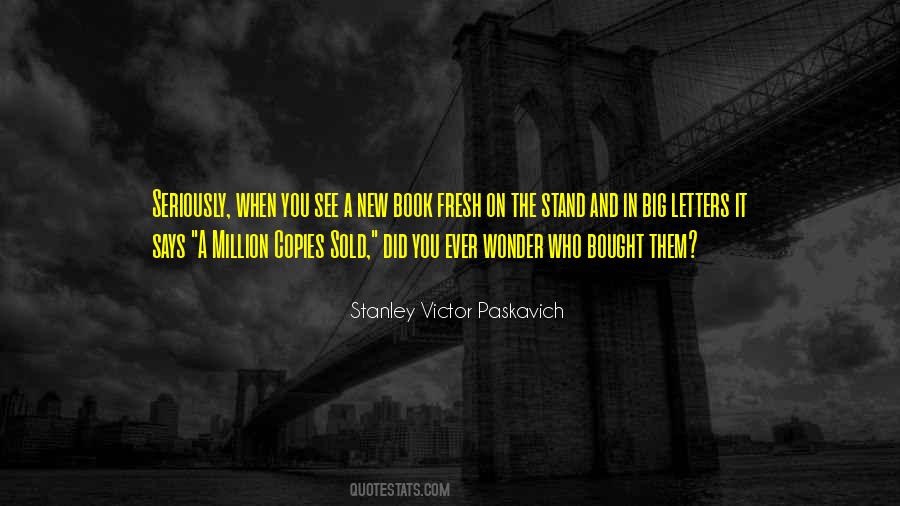 #40. I'm a big believer in big books, and that doesn't necessarily mean long books. - Author: Mark Z. Danielewski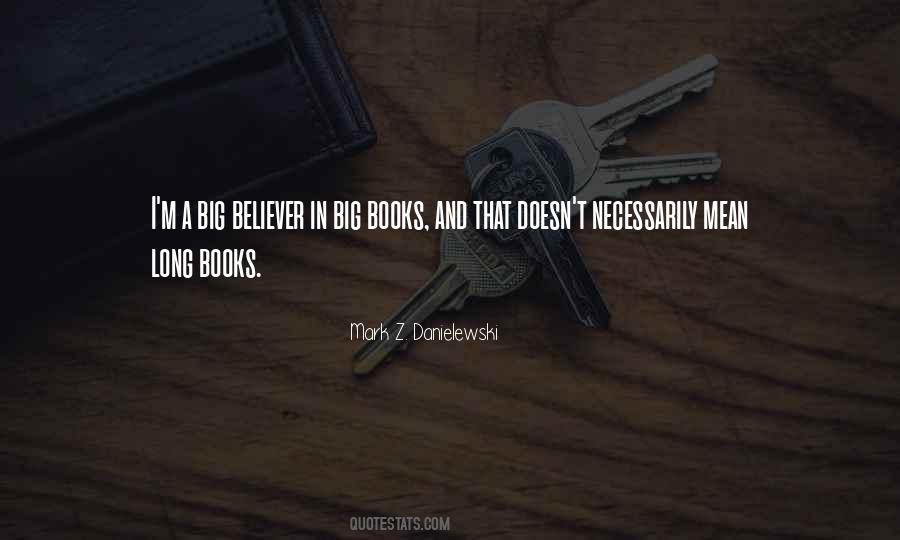 #41. Books train your mind to imagination to think big. - Author: Taylor Swift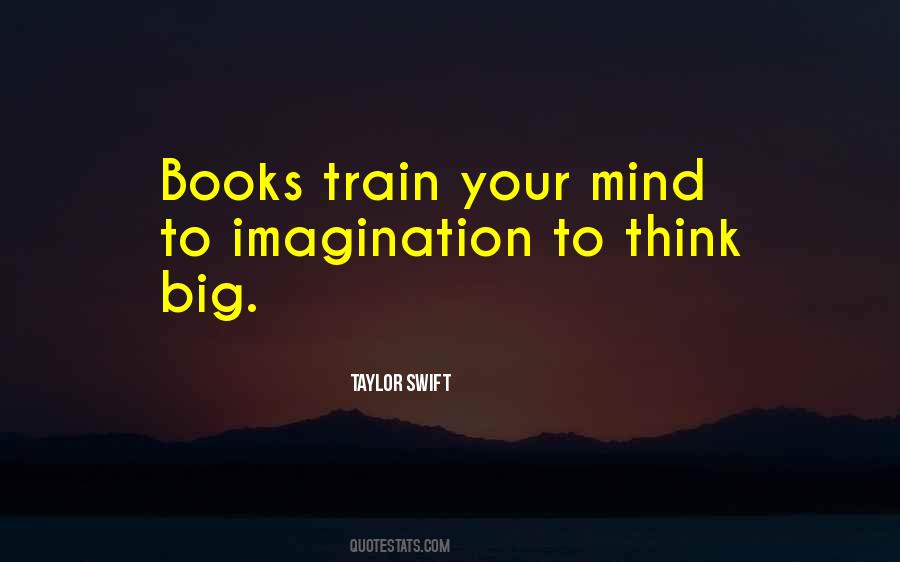 #42. I was big into mythology when I was a kid - Arthurian legends and Greek mythology, that was kind of my passion. I hadn't heard of the books, but I was told they were very popular amongst the kids, so I got a hold of them and read them. I totally got it! - Author: Steve Valentine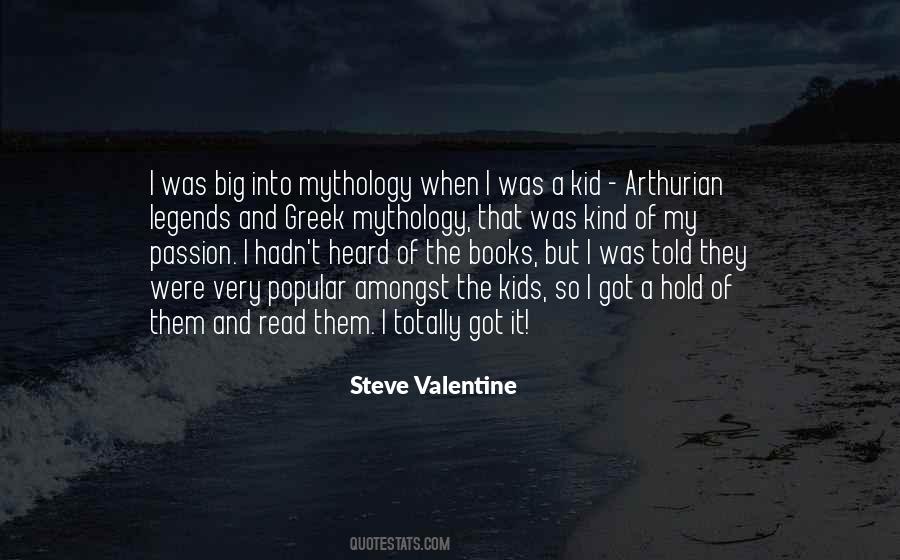 #43. This is the big reason most humorists fail. Drunks don't read books. - Author: Garrison Keillor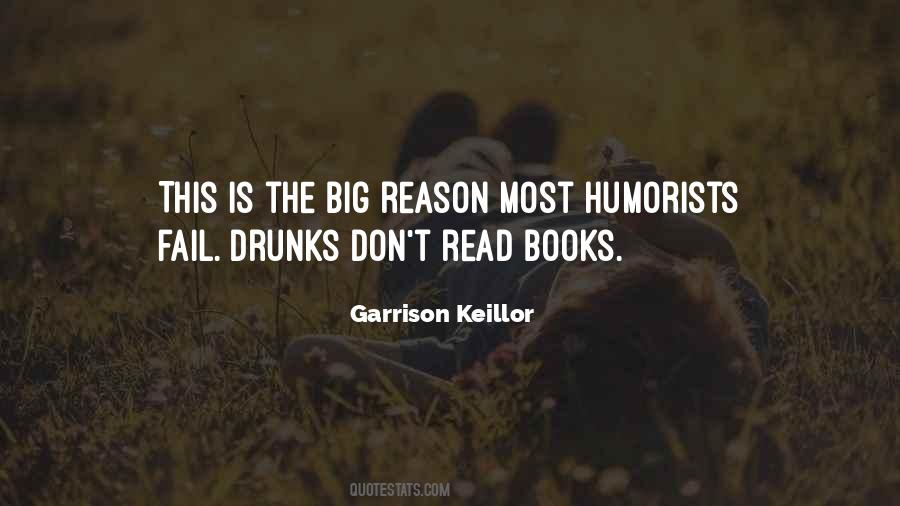 #44. Her parents didn't understand that braille meant big clunky books that marked you as different, while audiobooks live invisibly on your phone and text-to-speech gave you the whole damn internet. - Author: Scott Westerfeld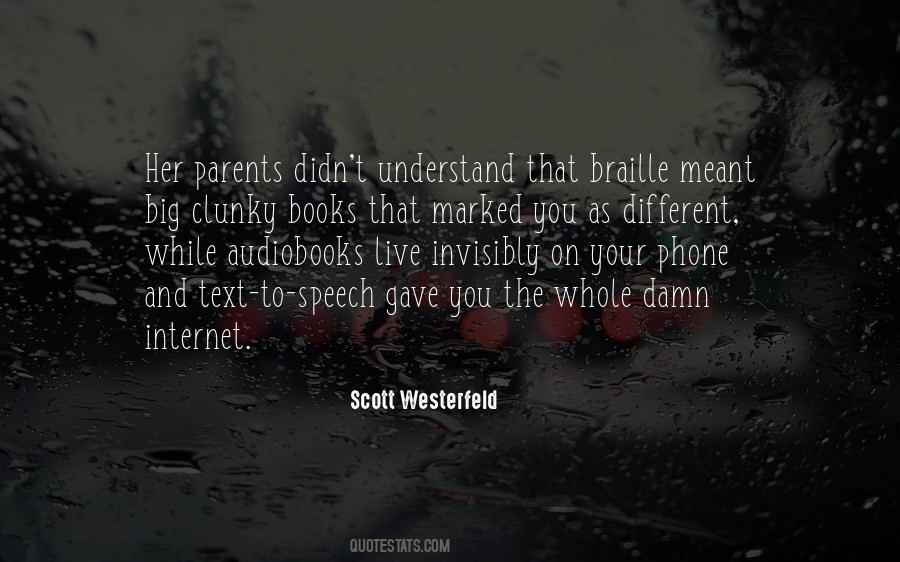 #45. And because the world is too big and time is too short and you only have one life to live, read! - Author: A.A. Patawaran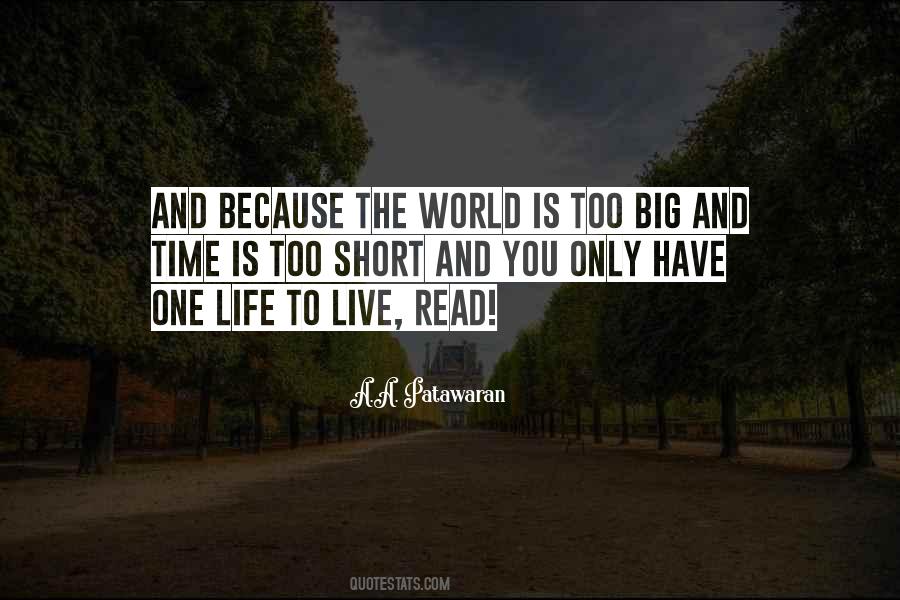 #46. Reading was a big thing, yes. Books were a big thing. But the things that stick out were the newspapers. - Author: James Earl Jones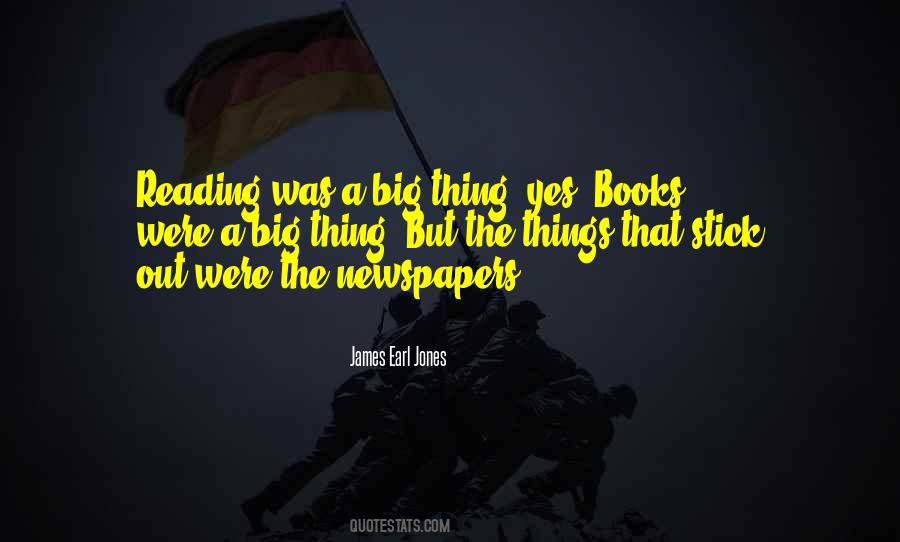 #47. What I like writing about are people's relationships, not necessarily great big dramatic things but the smaller things in life and how they affect characters and challenge and change the people that they are. I do like a happy ending, so my books have to have a happy ending. - Author: Penny Jordan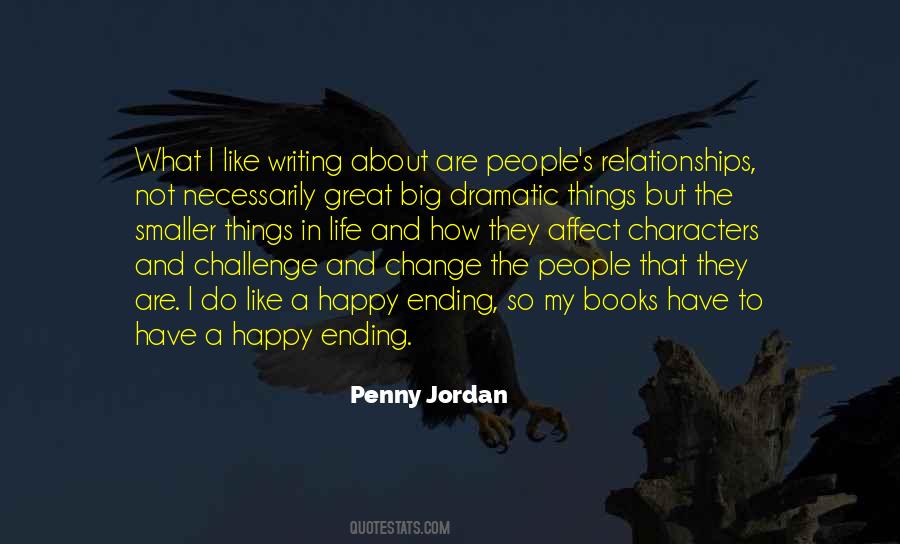 #48. I have insane curiosity as to what happened in all these events. I will never know. I'm not a researcher. I don't possess that kind of mind. I have a researcher who compiles the fact sheets and chronologies that allow me to write these big books of mine. - Author: James Ellroy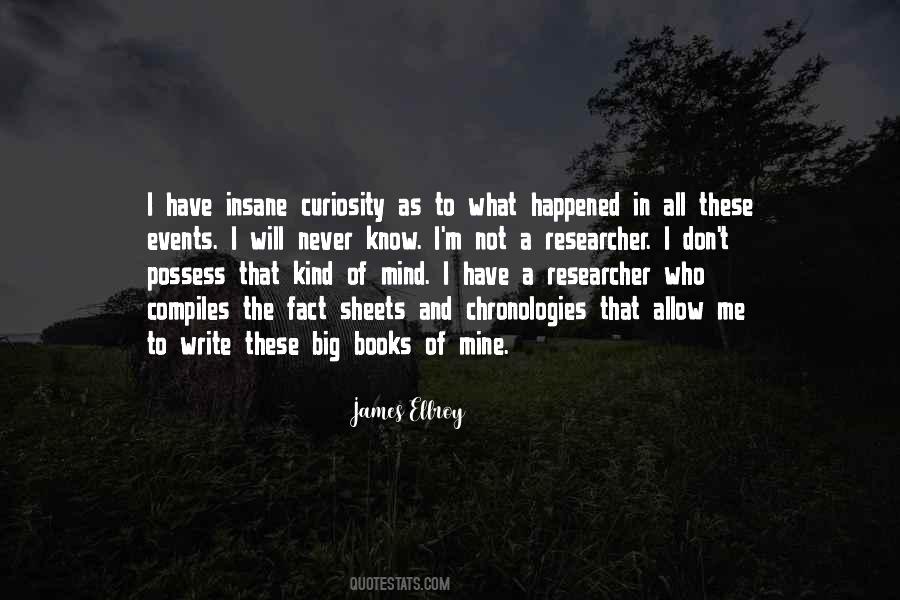 #49. Your thoughts define the boundaries of your life. Think big. - Author: Kulpreet Yadav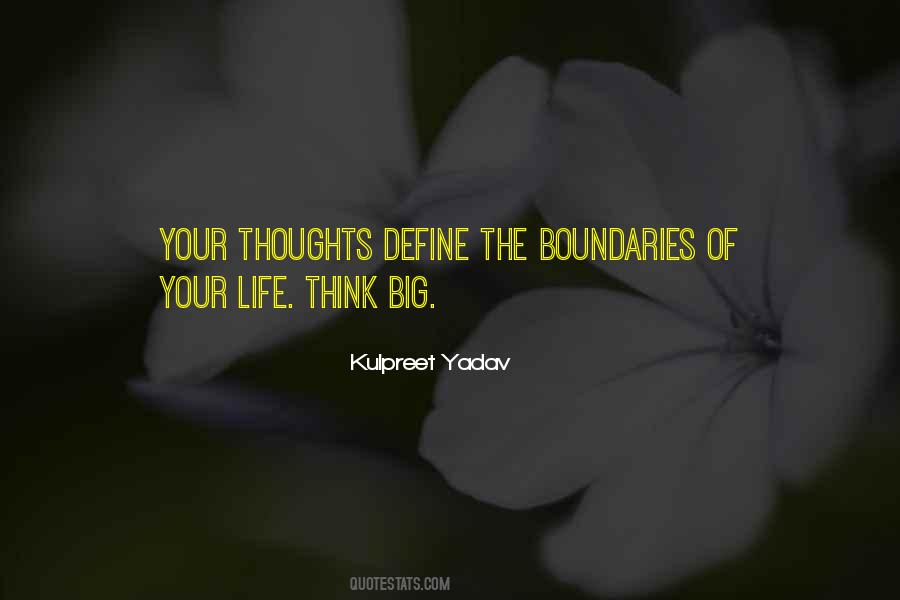 #50. I think shorter books are going to become more and more of the trend. So I don't think you have to write big, big, long books. - Author: Larry Winget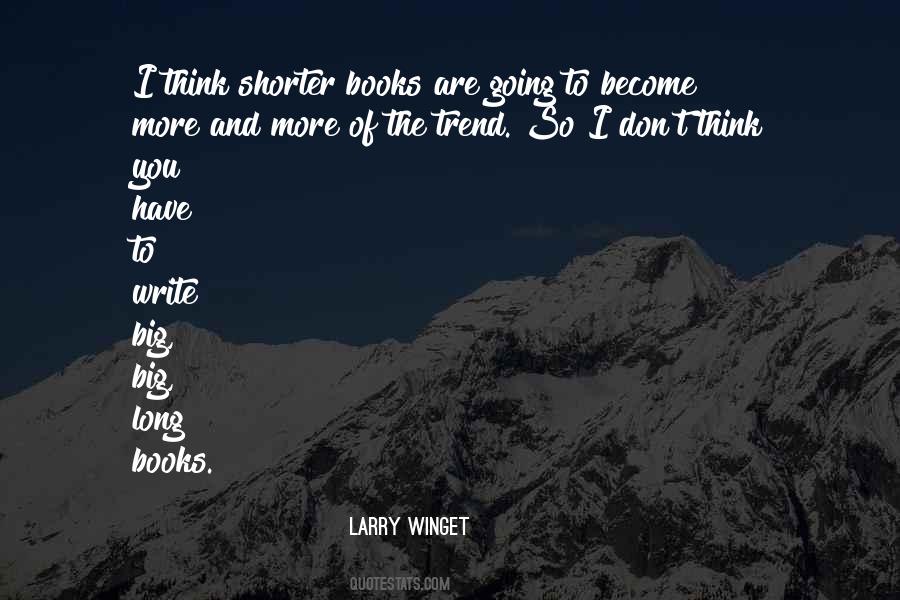 #51. When my generation grew up, our only sources of knowledge were books, teachers, parents and friends. The encyclopedia was an item of luxury. We faced big limits in what we could learn, where we could be and who we could reach. - Author: Vivek Wadhwa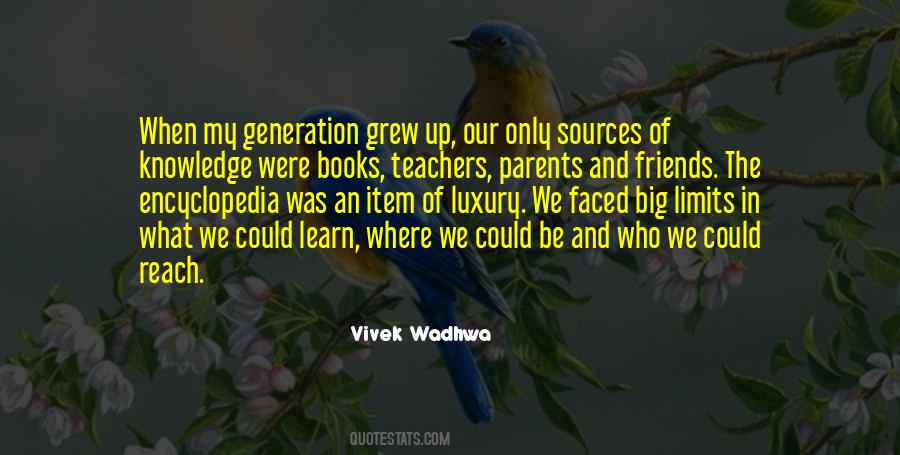 #52. I'm a huge reader ... I'm a big book nerd. I go through, like, two books a week. - Author: Jodie Sweetin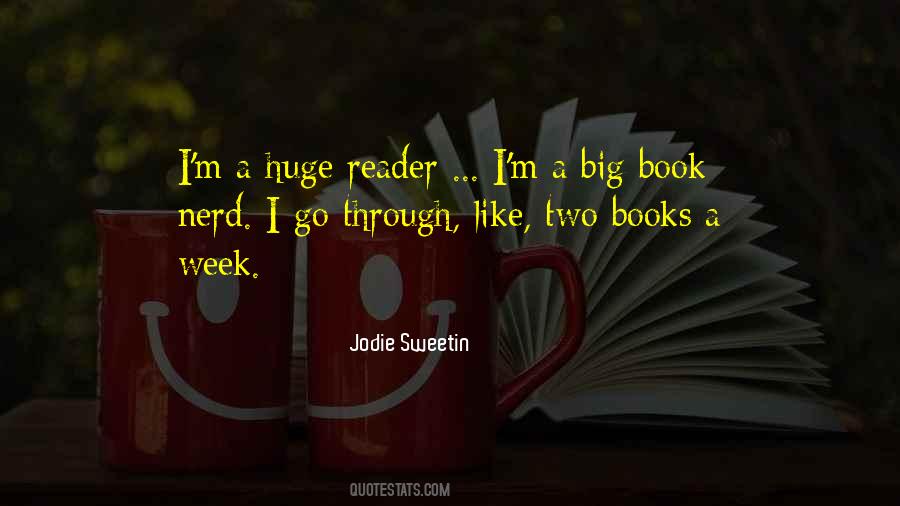 #53. There are a lot of people of my generation in New Zealand literature, young writers on their first or second books, that I'm just really excited about. There seems to be a big gap between the generation above and us; it seems to be quite radically different in terms of form and approach. - Author: Eleanor Catton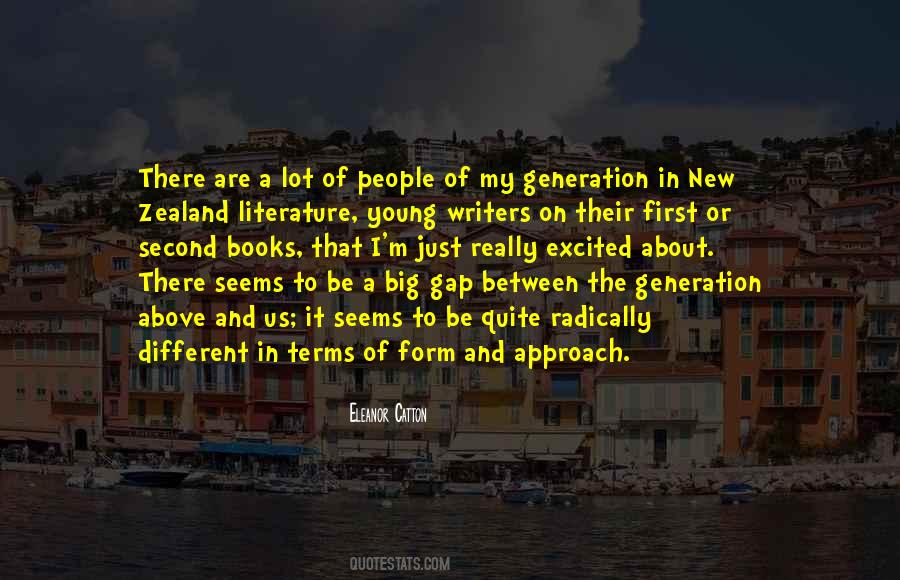 #54. I'd always been a big reader, and I loved books, and I always thought writing would be a great way to get by in the world. - Author: Donald Ray Pollock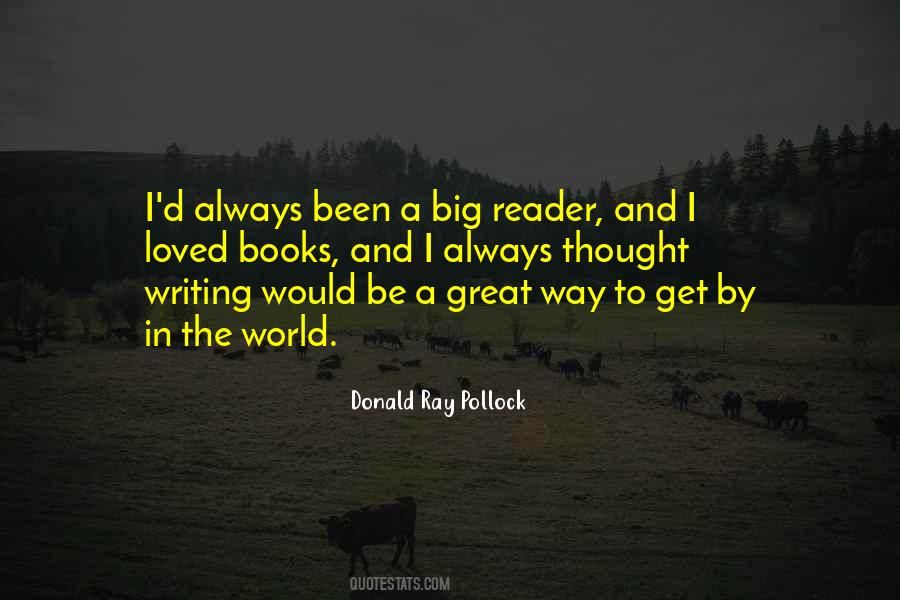 #55. I would love to be in 'The Hunger Games.' I'm one of the few people who haven't read the books, because unfortunately, I'm not a big book reader. I do read a lot of scripts and I read the script and I loved it. So, yeah, I'd love to be in 'The Hunger Games.' - Author: Cassi Thomson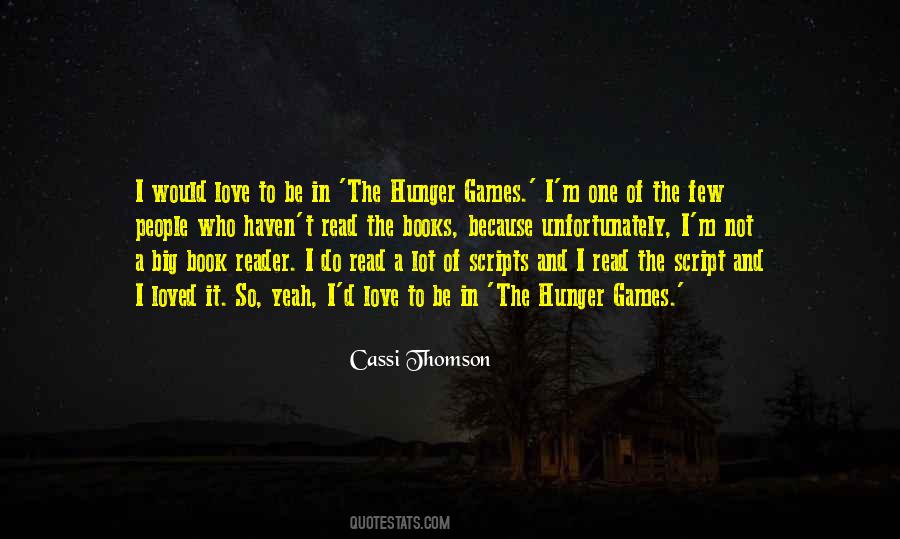 #56. I always loved horror, but I read all sorts of books. My favourite as a child was 'The Secret Garden' which has a big influence on Lord Loss, believe it or not! - Author: Darren Shan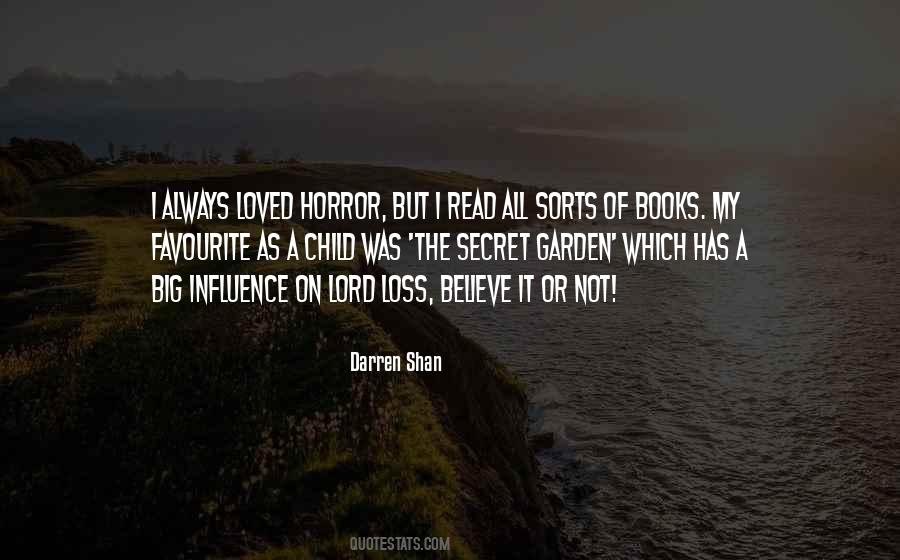 #57. I am a big book collector. I love books. - Author: Andrew Zuckerman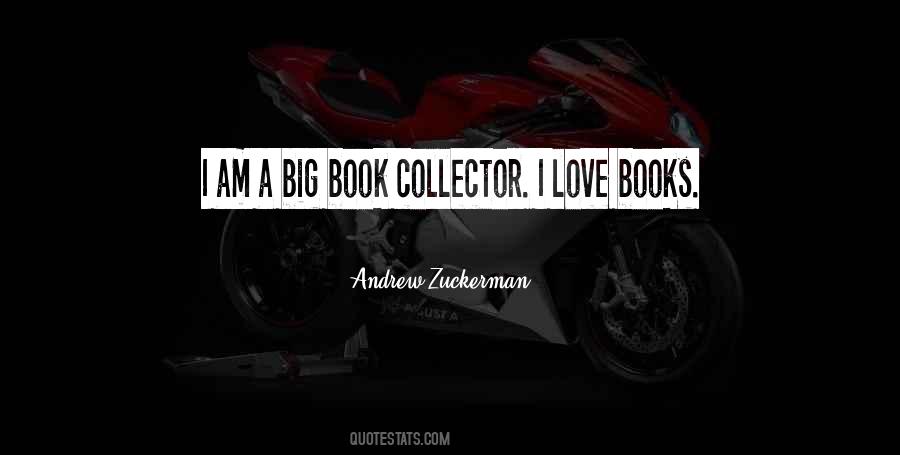 #58. I was never really a nerd. I'm not really into comic books or Dungeons and Dragons or any of that kind of stuff. I was in drama class, and I'm a big movie and music buff. And I'm into sports. - Author: Christopher Mintz-Plasse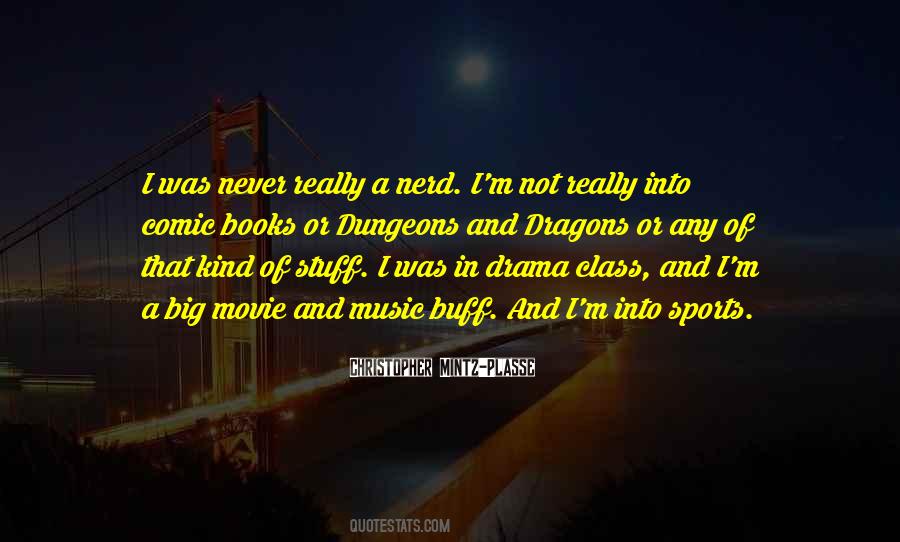 #59. I want books written out of a brain and heart and soul crowded and vital with Life, spelled with a big L. I want poetry bursting with passion. I don't care a hang for the 'verbal felicities.' They'll do for the fringe, but I want the garment to warm me first. - Author: Gertrude Atherton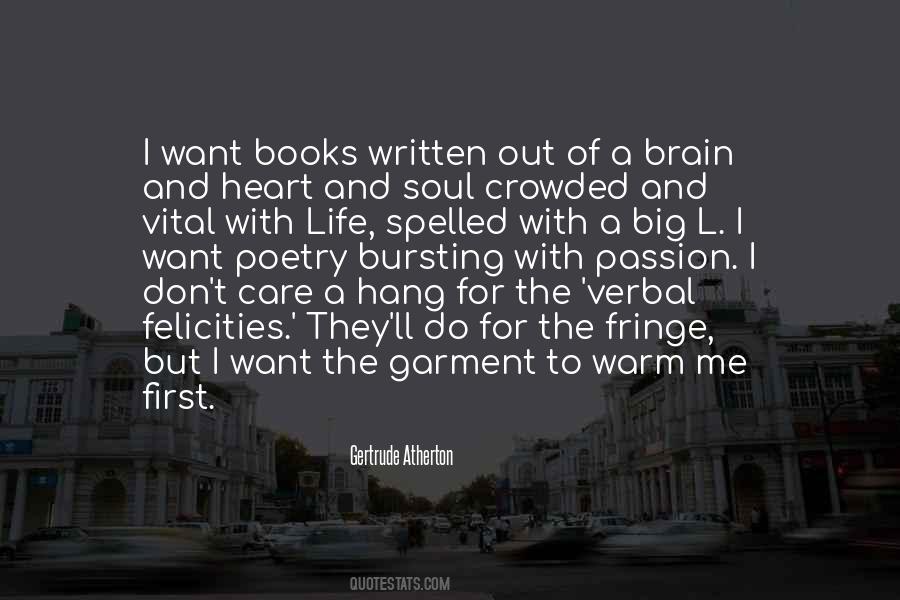 #60. I am a big defender of 'Harry Potter,' and I think any book that gets kids to read are books that we should cherish, we should be thankful for them. - Author: Judy Blume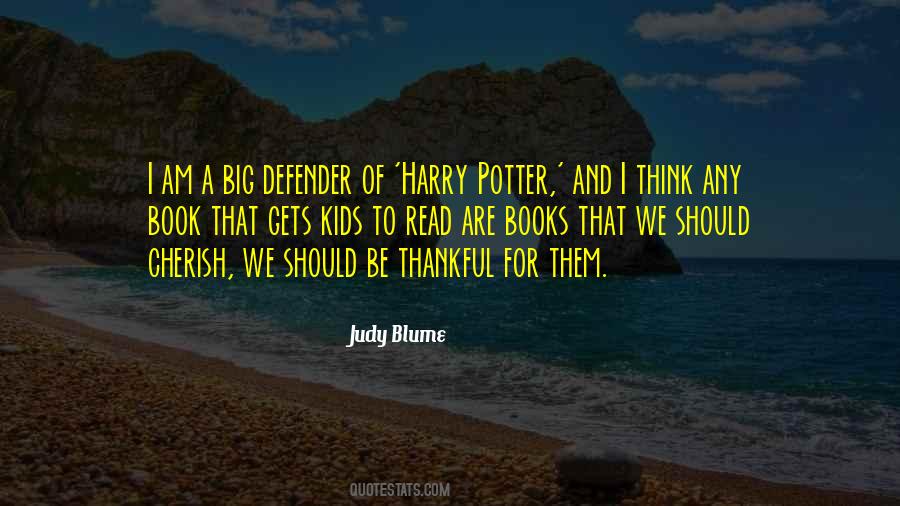 #61. I'm a big comic book geek and I've been reading comic books since pretty much since I was five or six in 1971 or something like that. So, I mean, I read it all and there's certainly a lot of different iterations of Superman that I personally have enjoyed more than others. - Author: David S.Goyer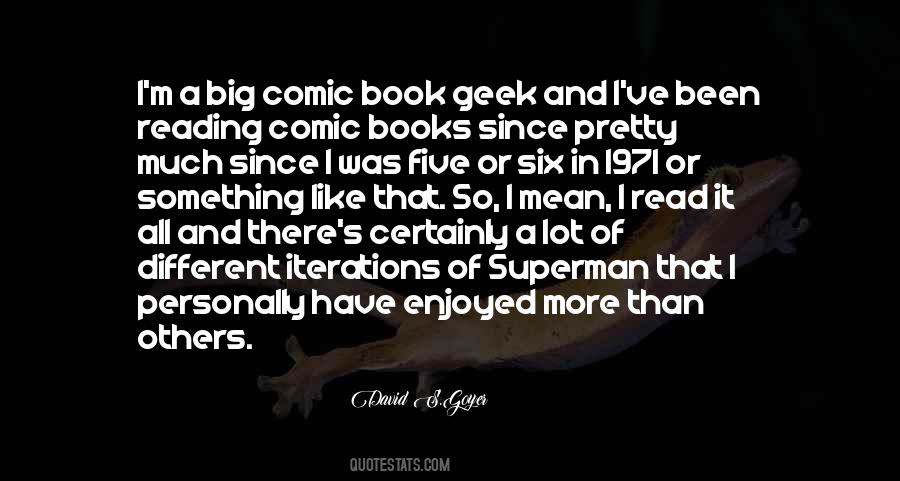 #62. Going back to my own past as a reader, I was a big, big reader of romances, particularly as a teenager, the age that my books are aimed at. - Author: Nancy Werlin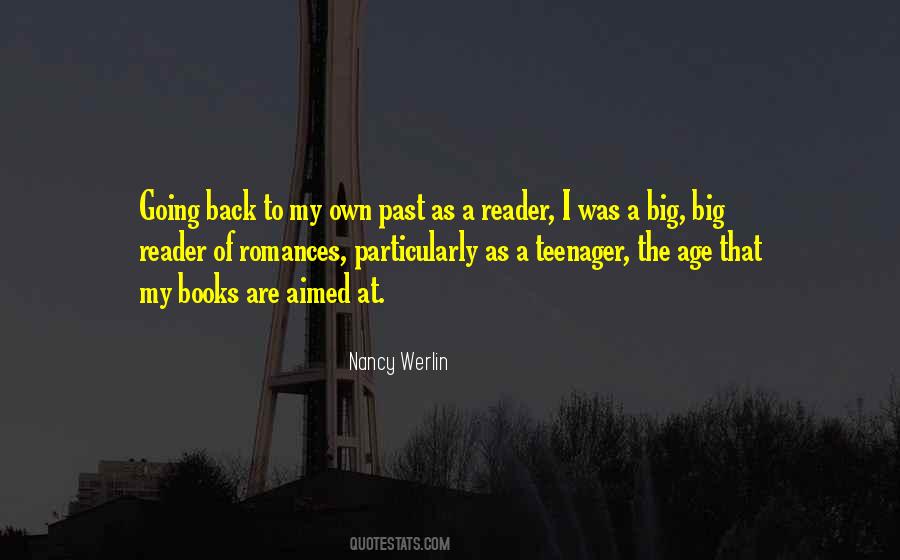 #63. My interior is very, very dense - Proustian-looking, sort of Henry James. The walls are covered in pictures, and I transformed the big drawing room into a library lined with books. - Author: Hamish Bowles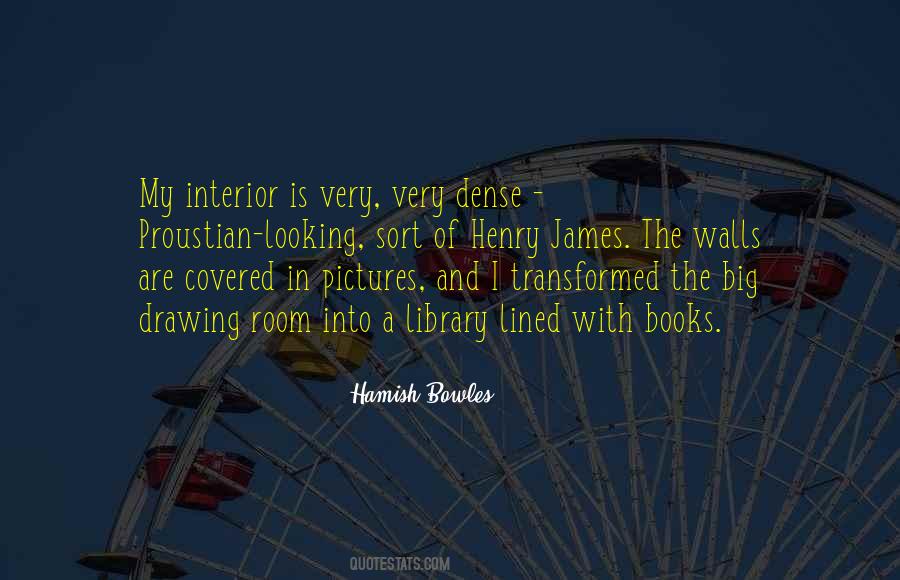 #64. I try hard and aim big. People can hate or love my books but they can never accuse me of not trying. - Author: Markus Zusak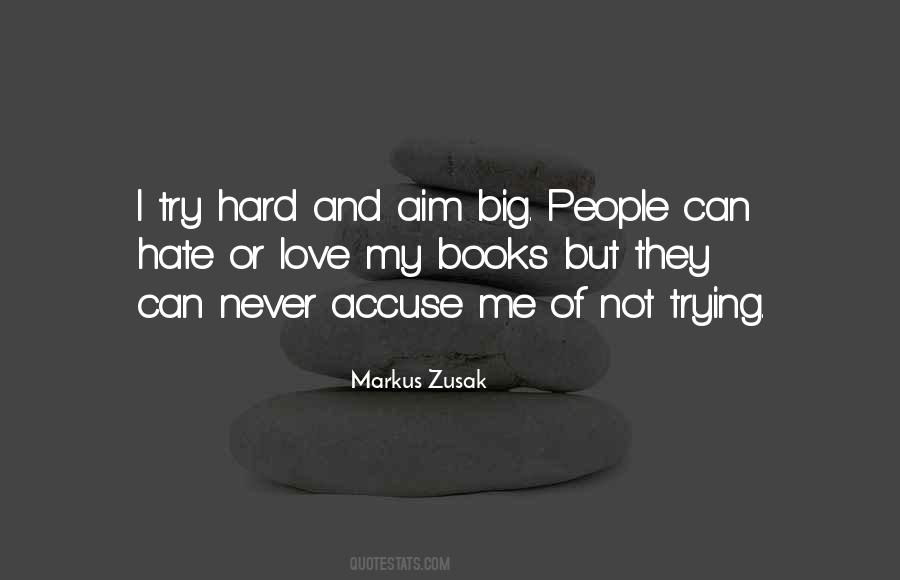 #65. The printing press did something really big for the world when everyone could get books in their hands and read. - Author: Kevin Systrom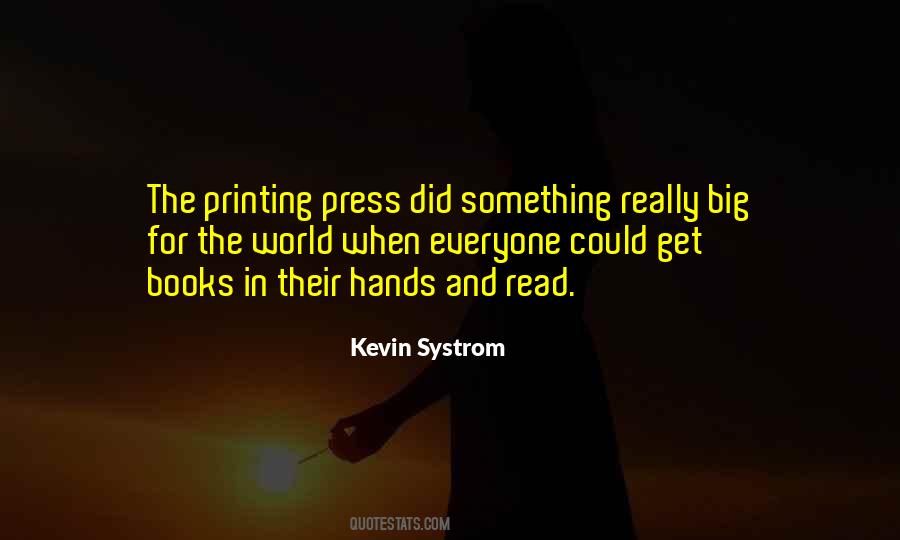 #66. I have a sort of Christmas-morning sense of the library as a big box full of beautiful books. - Author: Audrey Niffenegger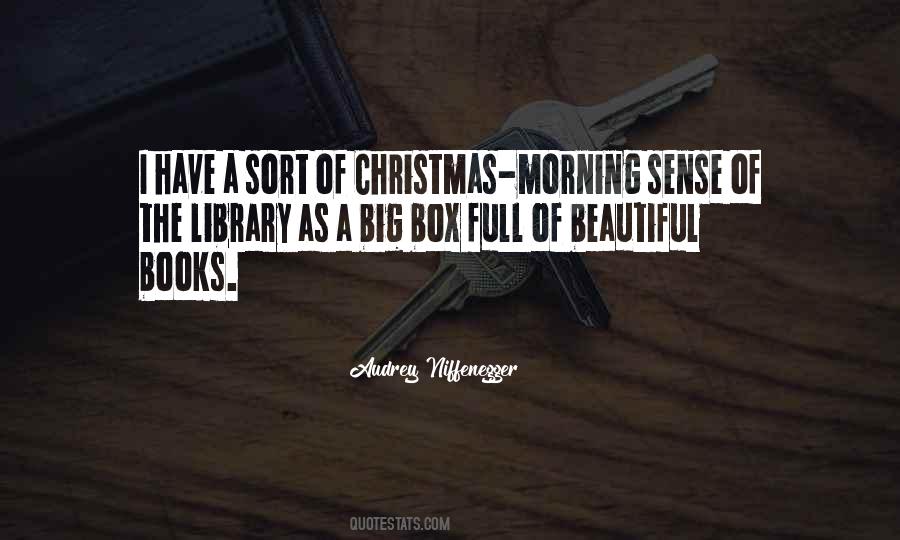 #67. There was a universe inside every human being every bit as big as the universe outside them. Books were the best way Nina knew - apart from, sometimes, music - to breach the barrier, to connect the internal universe with the external, the words acting merely as a conduit between the two worlds. - Author: Jenny Colgan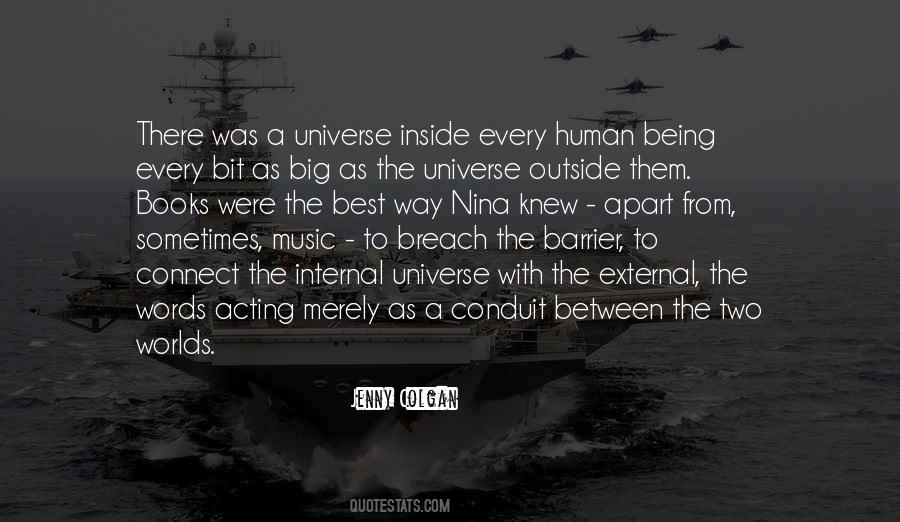 #68. If you like fantasy and you want to be the next Tolkien, don't read big Tolkienesque fantasies - Tolkien didn't read big Tolkienesque fantasies, he read books on Finnish philology. Go and read outside of your comfort zone, go and learn stuff. - Author: Neil Gaiman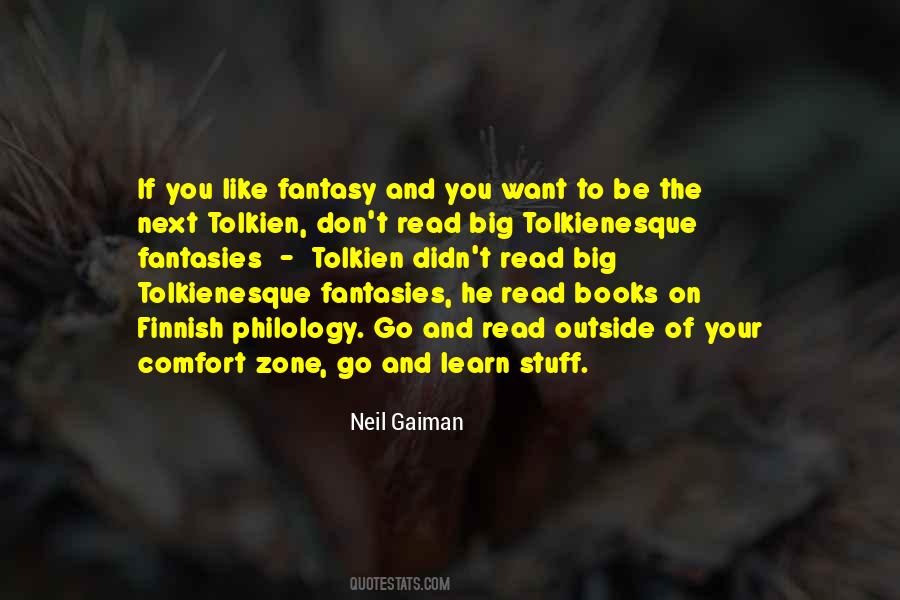 #69. The homes I like the best are totally occupied, busy, and useful, whether it's a tiny little house or a great big one. Rarely do you find a great big house that's used in a good way. So I prefer smaller spaces that are full of books, full of things that people are doing. - Author: Martha Stewart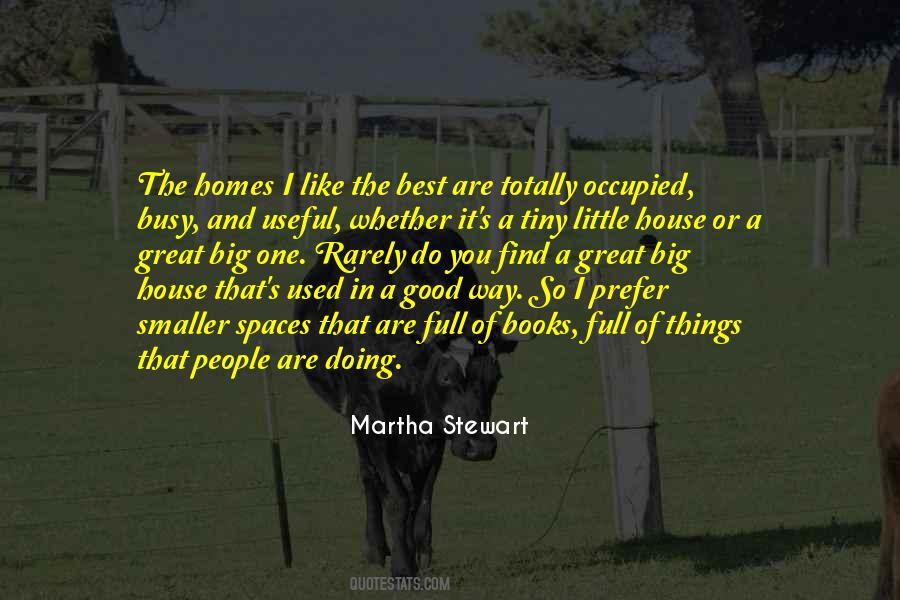 #70. That became a big time in comic books because it's when people were starting to break out into independent stuff, the market was getting choked with speculators and everybody was trying to do their own trick covers. - Author: Todd McFarlane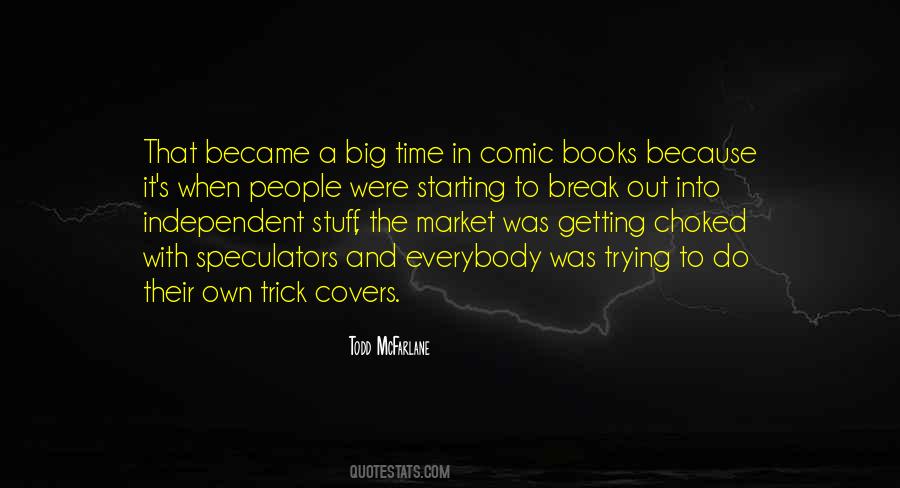 #71. I feel sorry for people who say they cannot read big books. - Author: Anonymous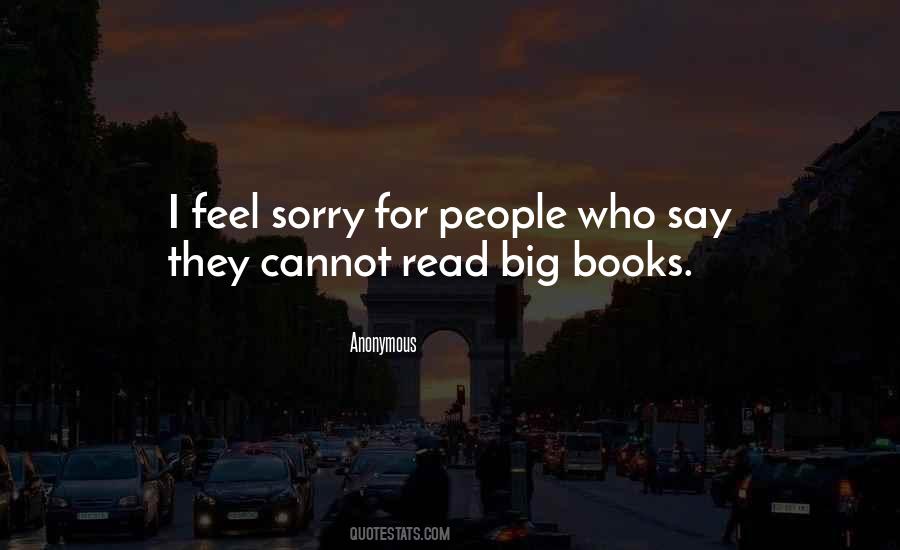 #72. There are lots of big books that have gay characters - or, more commonly, a gay character - in secondary roles, but seldom are their lives, and especially their sexual lives, on center stage. - Author: Garth Greenwell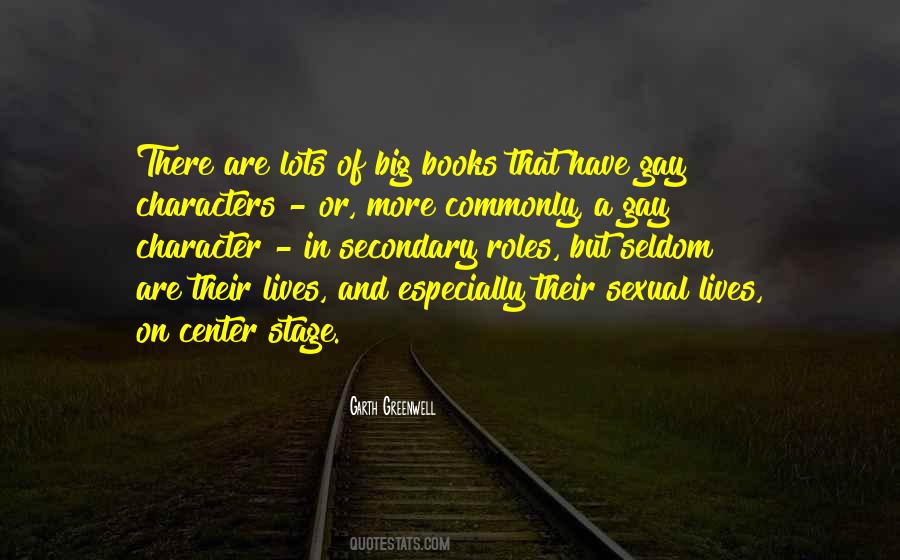 #73. I am a really big Harry Potter fan and I've seen all the sets, I've lived Harry Potter and I don't think it's destroyed the books at all, I think it's really spot on. - Author: Rupert Grint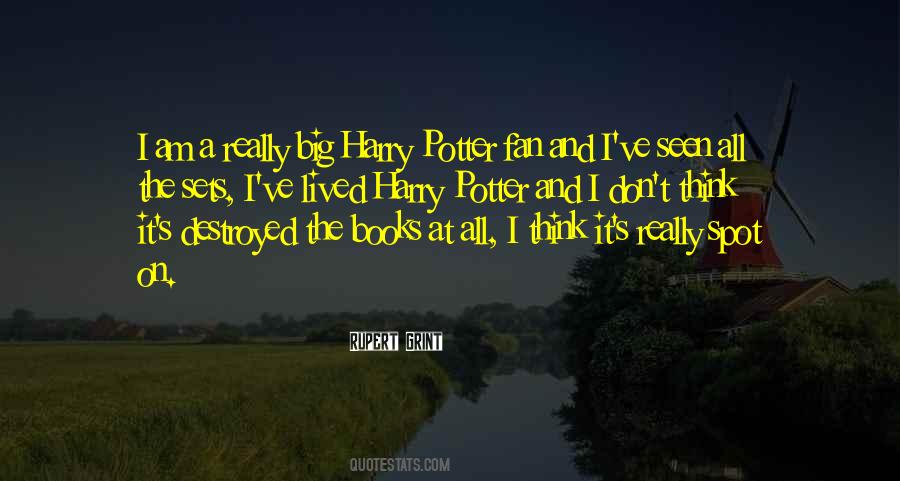 #74. I'm not big on reading business books. I get copies of all of them, because people want me to put a comment on the jacket. Every once in a while, I'll get interested and read one all the way through. - Author: James Goodnight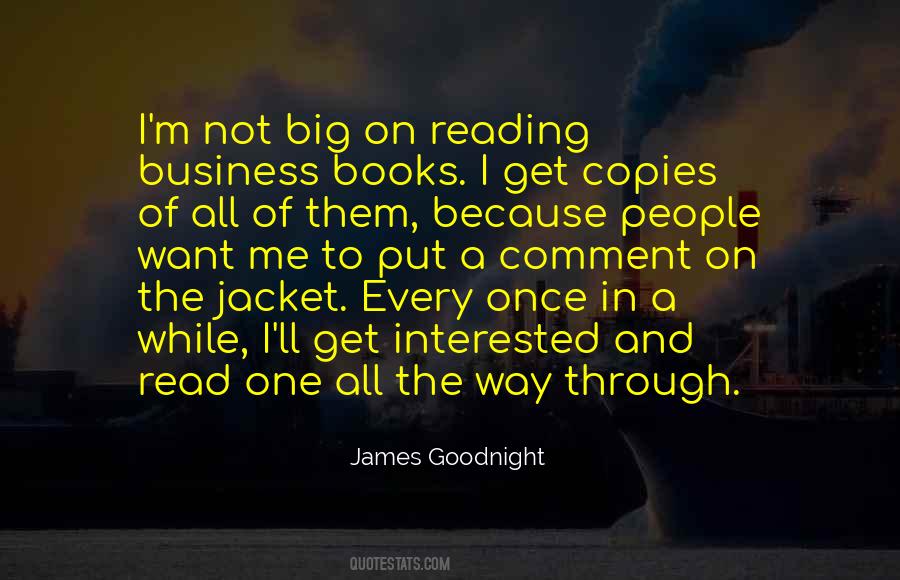 #75. I've been a big music guy for a long time and a lot of my books have music in them so I like music analogies. - Author: Charles Soule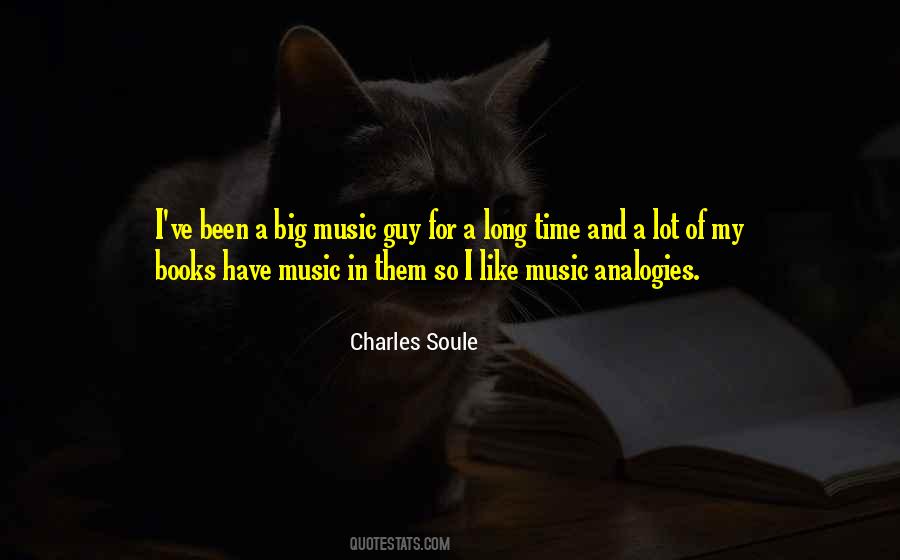 #76. If I have to go to New York or something, I'll bring my books and read and do homework. It's not really a big deal. - Author: Kara Hayward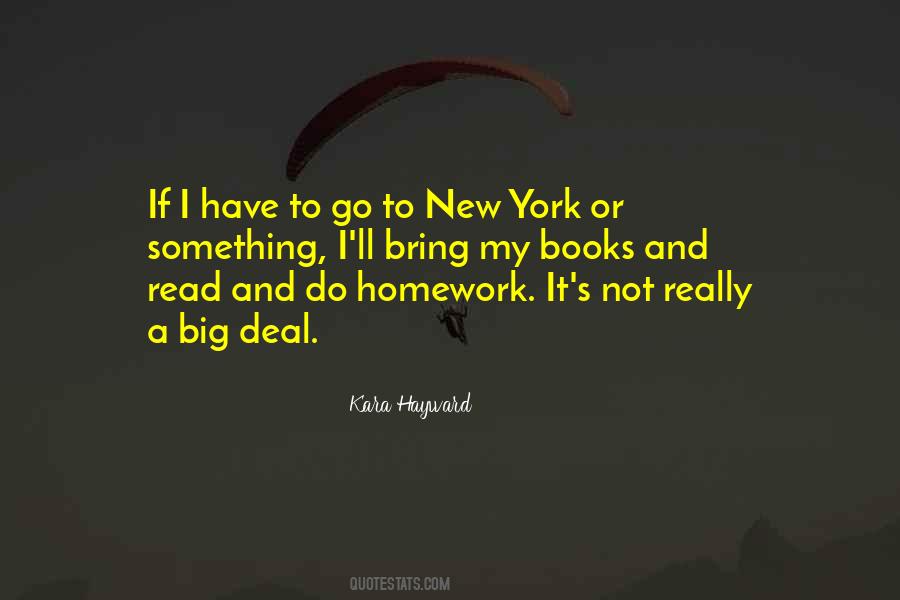 #77. I'm a big reader, so I tend to already know the books when they're adapted into something. - Author: Carrie Coon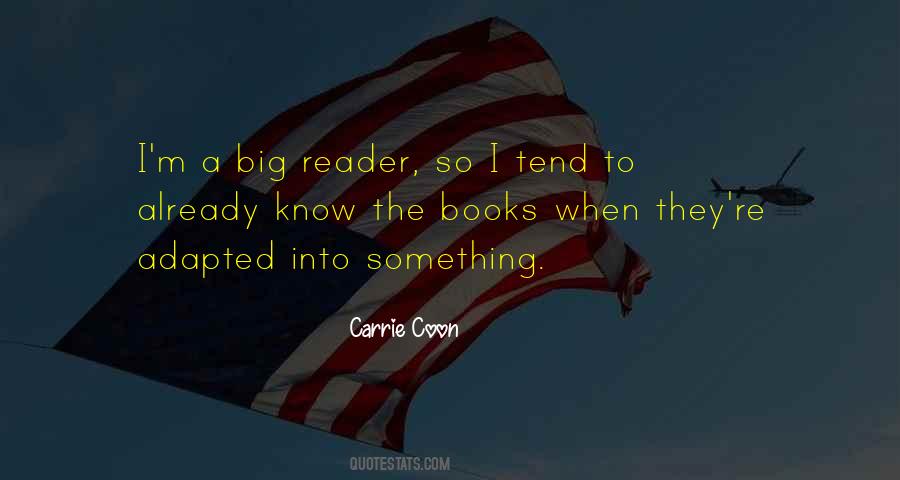 #78. I do feel that even though I didn't grow up being a big sci-fi fan or comic books or superhero fan, I felt myself definitely gravitate towards these movies that have a high concept and yet they're giving you a moral dilemma within that. - Author: Joseph Gordon-Levitt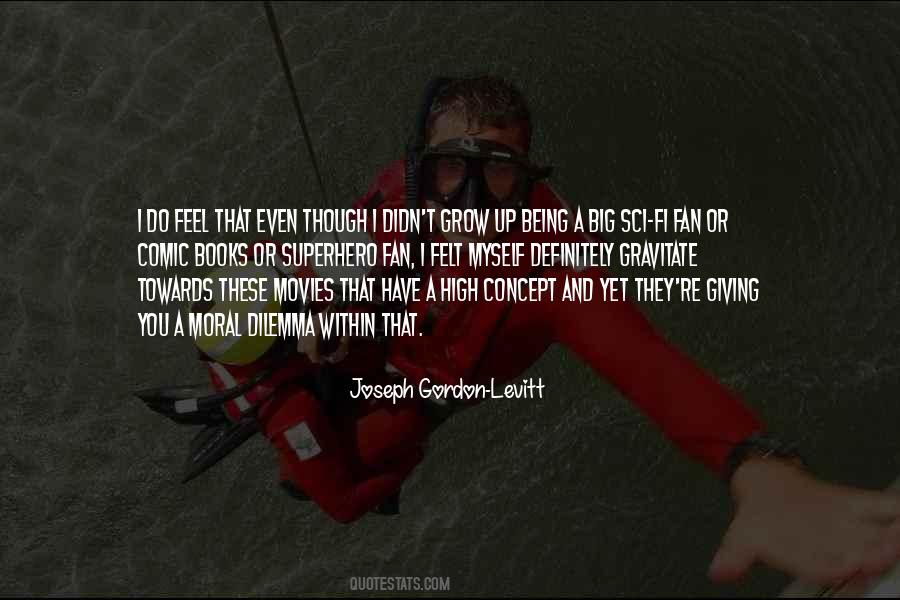 #79. I'm humbled and enormously grateful to be connected to [Franz] Kafka in a any way. He is one of the writers I admire. I think he has been a big influence on me. I appreciate the idea of the individual person battling the society - which is true in all his books. - Author: Alan Lightman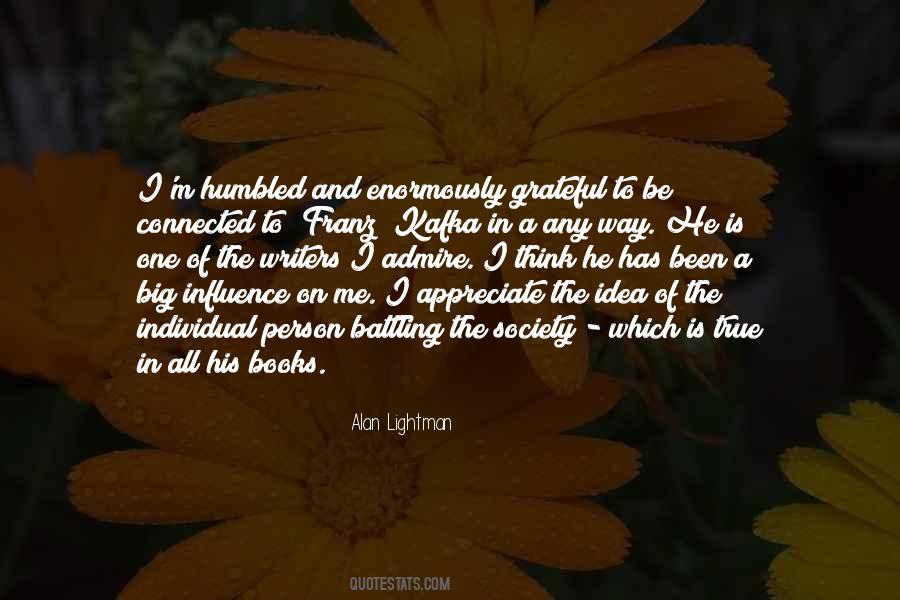 #80. Sometimes I'm asked if I do research for my stories. The answer is yes and no. No, in the sense that I seldom plow through books at the library to gather material. Yes, in the sense that the first fifteen years of my life turned out to be one big research project. - Author: Jerry Spinelli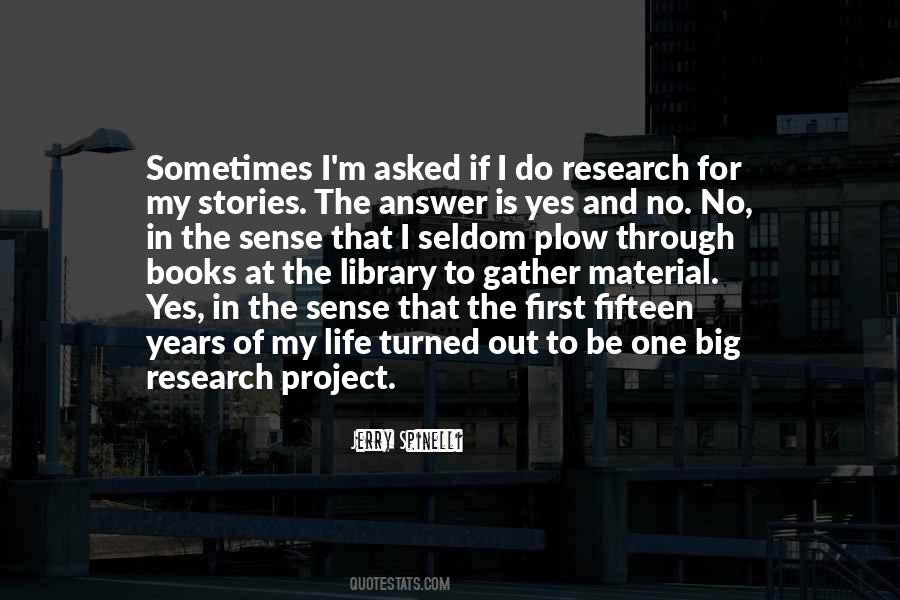 #81. The woman led us into a living room. A decent-sized space. Expensive furniture and rugs. A big TV. No stereo, no books. It all looked a bit halfhearted. Like somebody had spent twenty minutes with a catalog and ten thousand dollars. - Author: Lee Child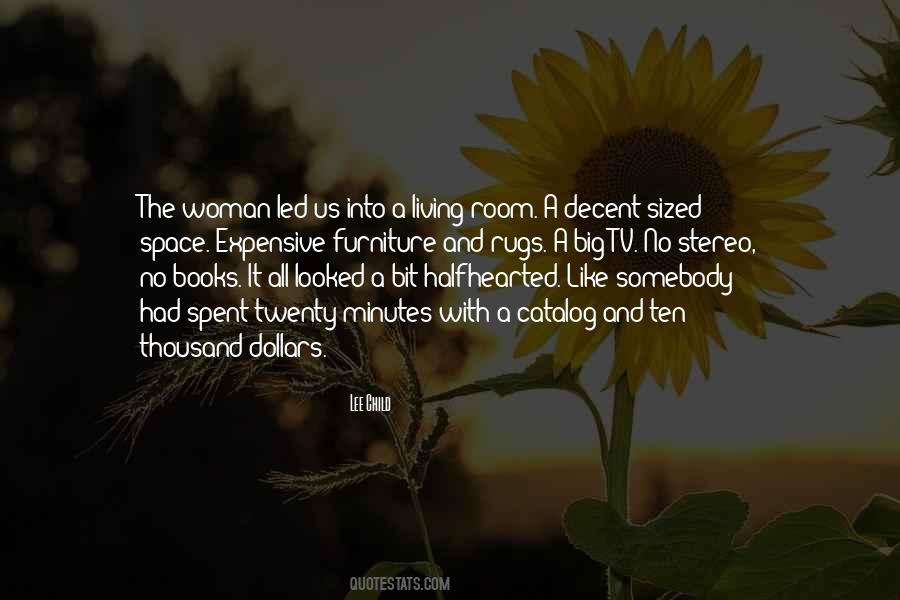 #82. One of the books we read a few years ago that had a big effect on us was Repeated Takes by Michael Chanan. - Author: Colin Greenwood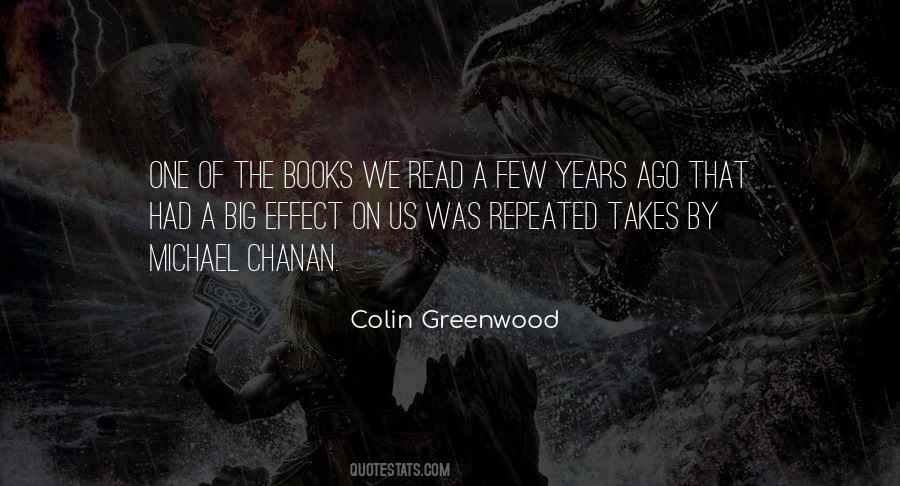 #83. For the rest of the afternoon, Miss Bloom smiled almost as bright as the big yellow sun shining through the front picture window. Her library was filled up with people who loved books. - Author: Augusta Scattergood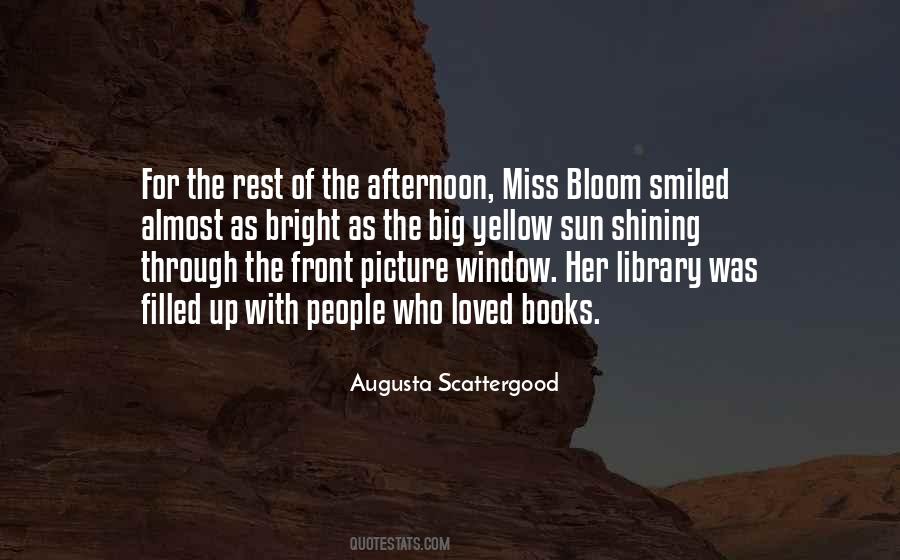 #84. I want to hold onto this funny thing. God, it's gotten big on me. I don't know what it is. I'm so damned unhappy, I'm so mad, and I don't know why. I feel like I'm putting on weight. I feel fat. I feel like I'm saving a lot of things, and I don't know what. I might even start reading books. - Author: Ray Bradbury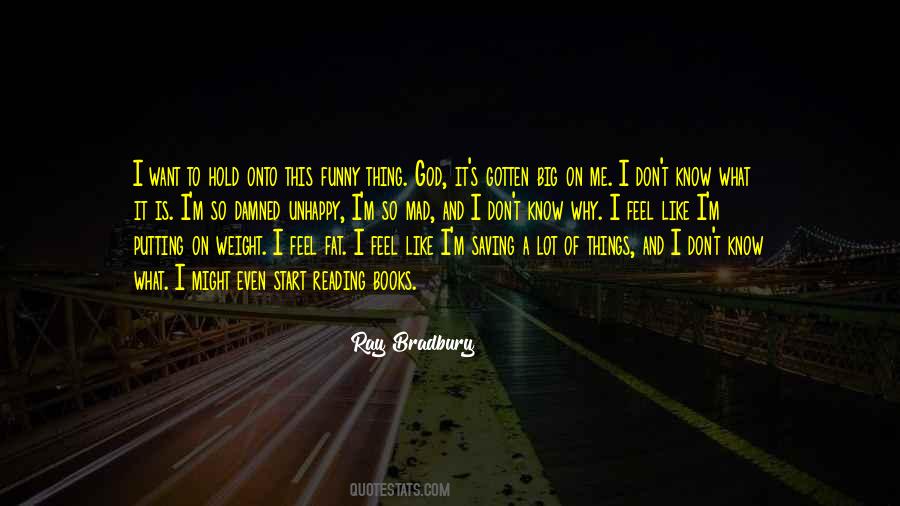 #85. I was never a big reader as a kid. My imagination wasn't captured by books very often. It was captured more often by boys and partying and riding horses. - Author: Bonnie Jo Campbell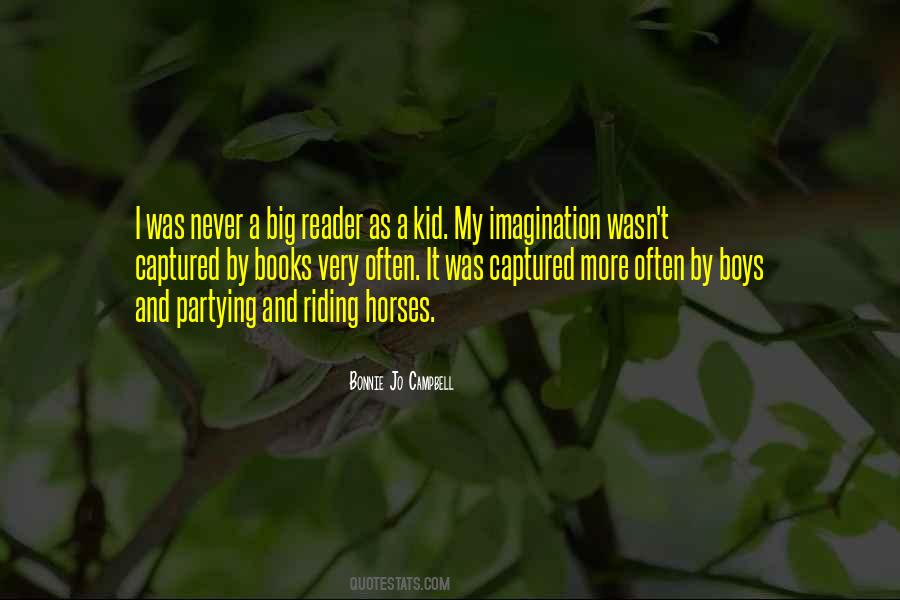 #86. The best data we have [concerning the Big Bang] are exactly what I would have predicted, had I nothing to go on but the five books of Moses, the Psalms, the bible as a whole. - Author: Arno Hintjens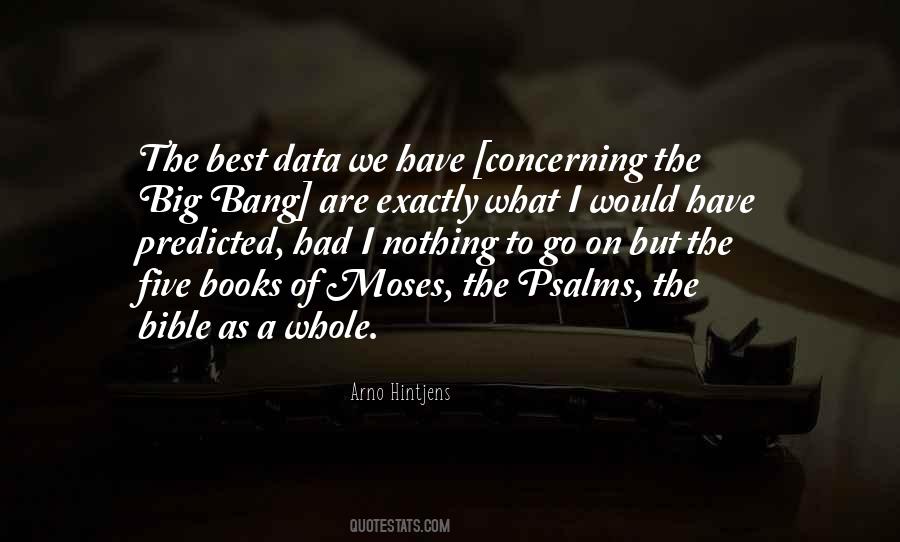 #87. I raise an eyebrow, working to achieve the right tone of intellectual superiority. If you've never read the Twilight books or the Hunger Games series you wouldn't understand. Not. One. Bit. They are complex stories. Big words. Probably beyond you. - Author: Anne Eliot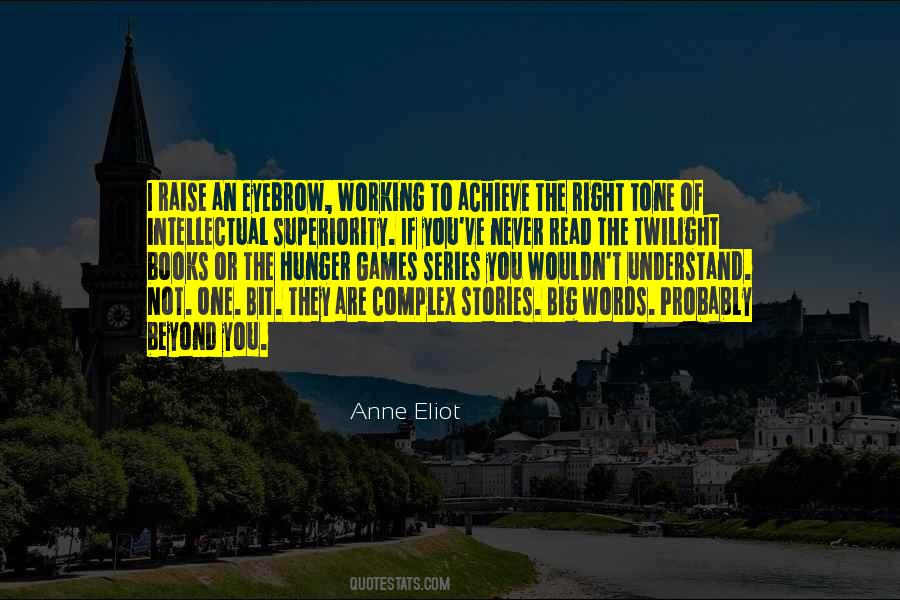 #88. You don't need to have big hairy feet to read The Hobbit, why should you be gay to read a gay book? - Author: Adriano Bulla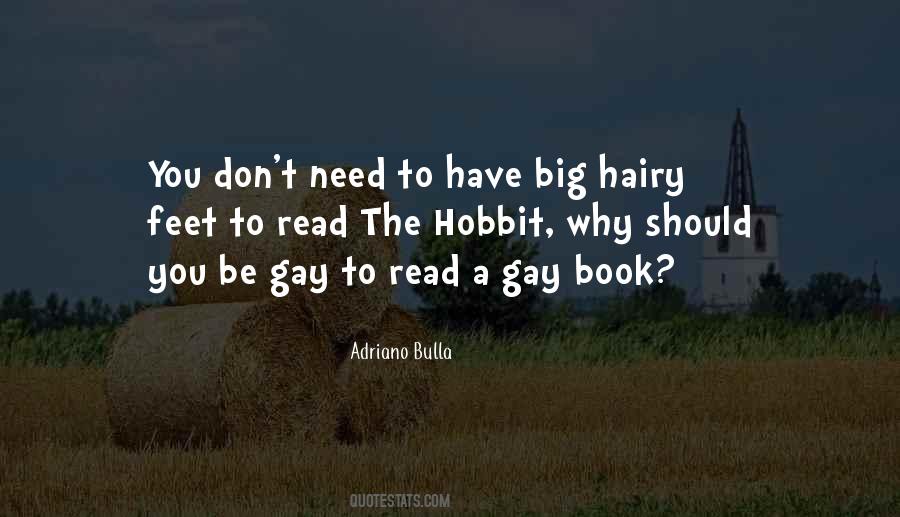 #89. Mary Daheim writes with wit, wisdom, and a big heart. I love her books. - Author: Carolyn Hart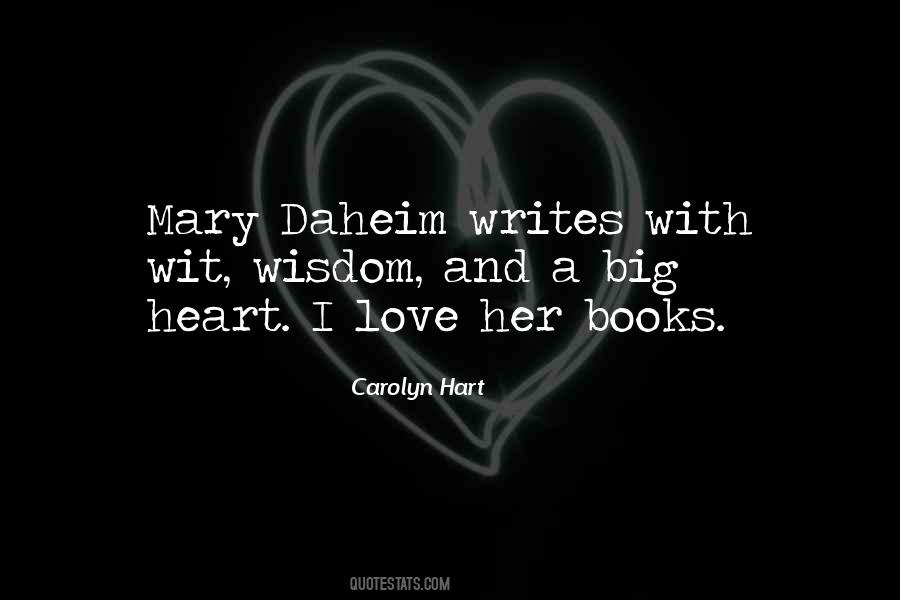 #90. I got into writing because books and stories were always a big part of my life. I loved listening to them and then reading them, and I loved making them up. - Author: Nick Earls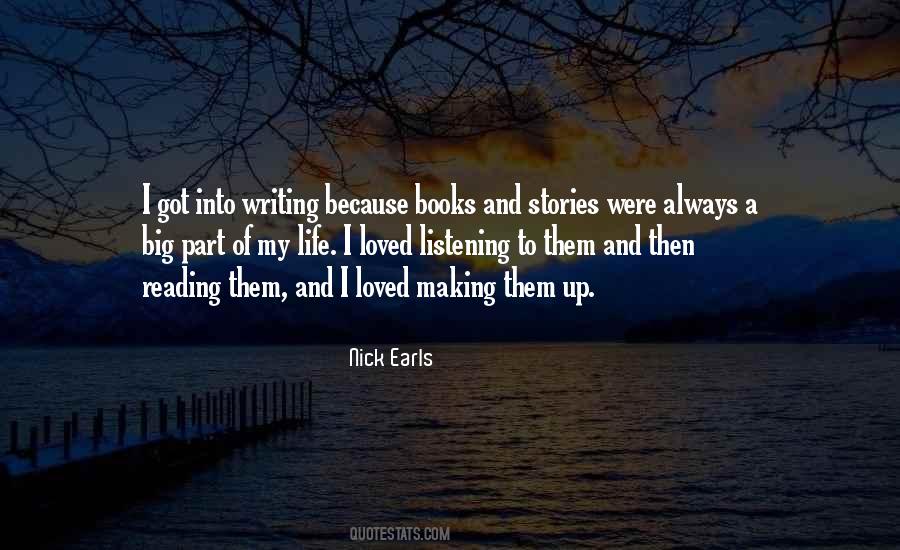 #91. I'm going to consult some witches' books. Not that I have many here to consult. But I'm not going to Bryn's house. I've made it twelve whole days without sleeping with him, and no scary skeleton in a tree is going to send me to Seduction Central now that Bryn's big case is finally over. - Author: Kimberly Frost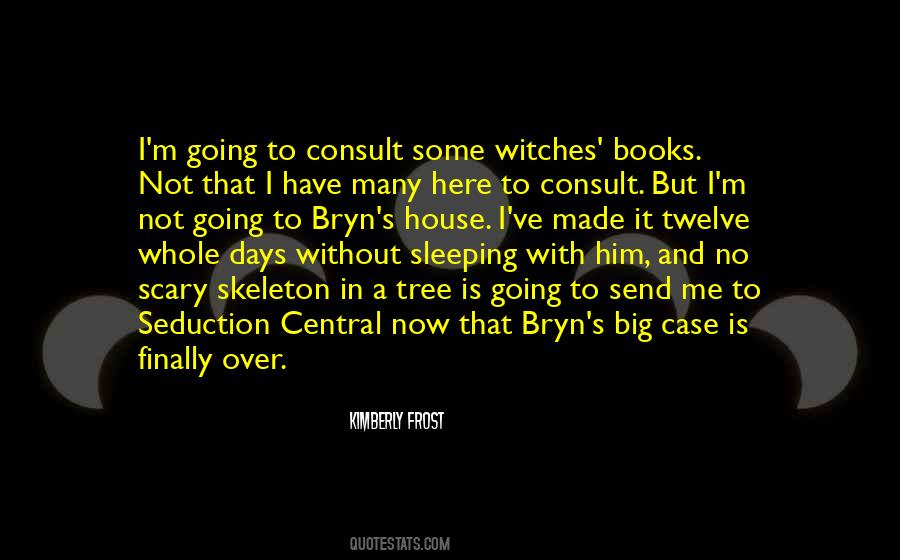 #92. The thing is, 'Discworld' had been going on for a very long time, and I've written children's books as well. Usually when people have a really big series they franchise it, which I thought is a bit of a no-no, so I thought what I'd do is I'd franchise it to myself. - Author: Terry Pratchett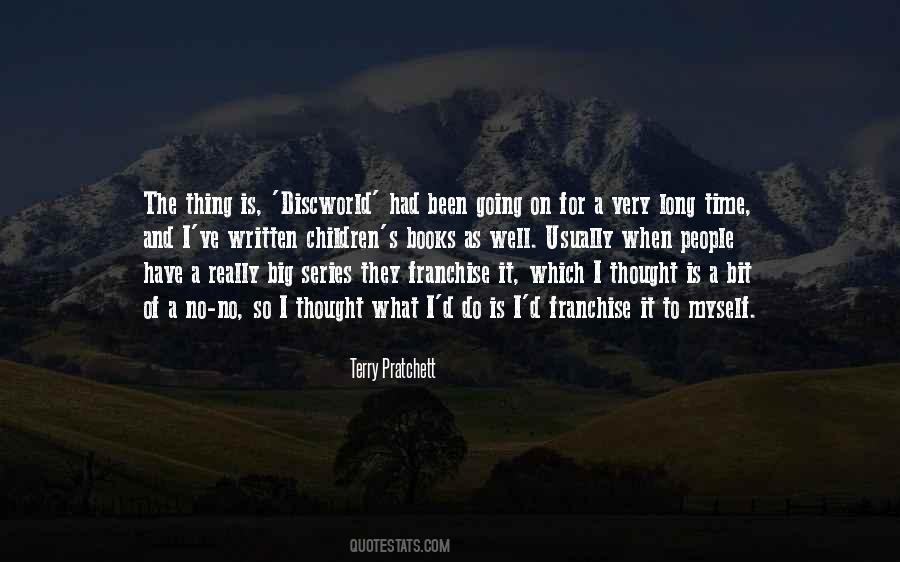 #93. I have three libraries. As a gift, a friend alphabetized and organized my main library of novels, history books, and nonfiction. Then I have a photo-book collection. Then there's this nearly whole room of my childhood books. I've also got cookbooks and a big collection of horse-related books. - Author: Sally Mann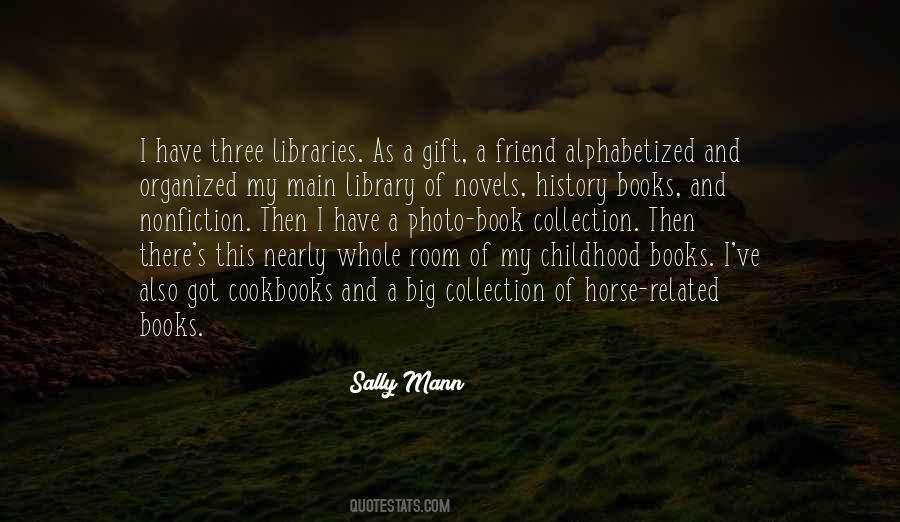 #94. Books are good, and I read my share, and TV's okay if you're stuck in a motel room during a rainstorm, but for Jamie Morton, there was nothing like a movie up there on the big screen. - Author: Stephen King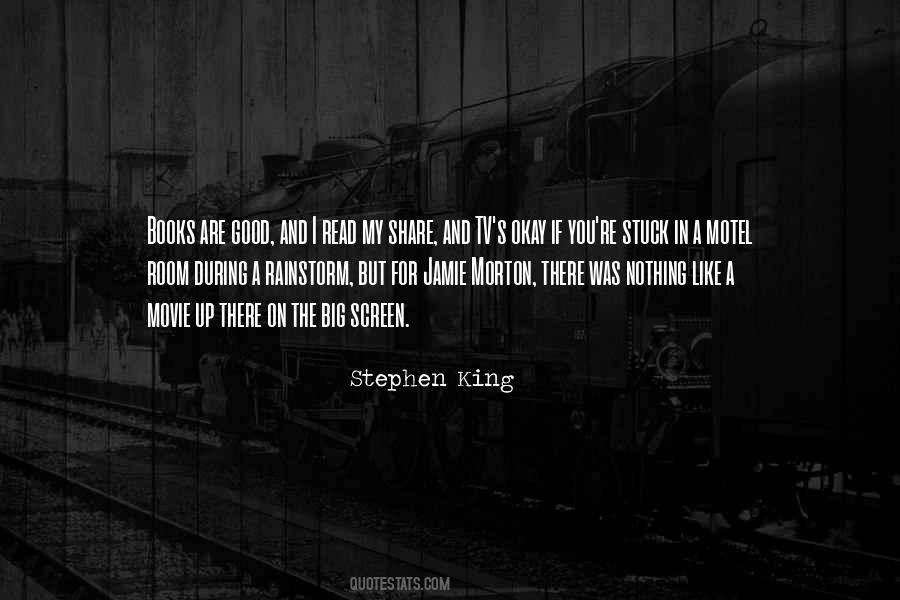 #95. I have learned to do more with less, so you don't see the big books anymore. - Author: Terry Brooks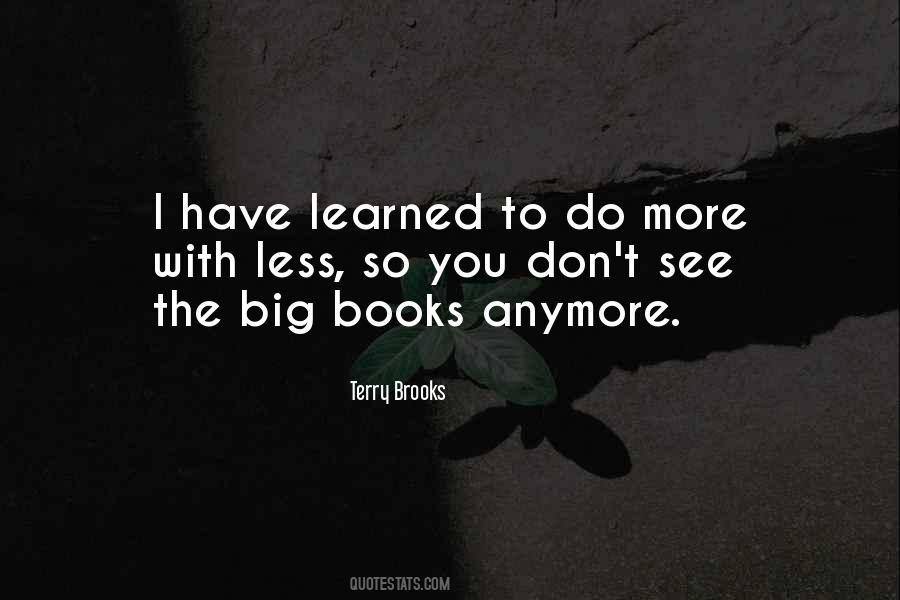 #96. When I read books, I actually really love imagining whomever I want to in the character's role. I get such vivid pictures on my own that that is a big part of the experience for me. - Author: Kristin Gore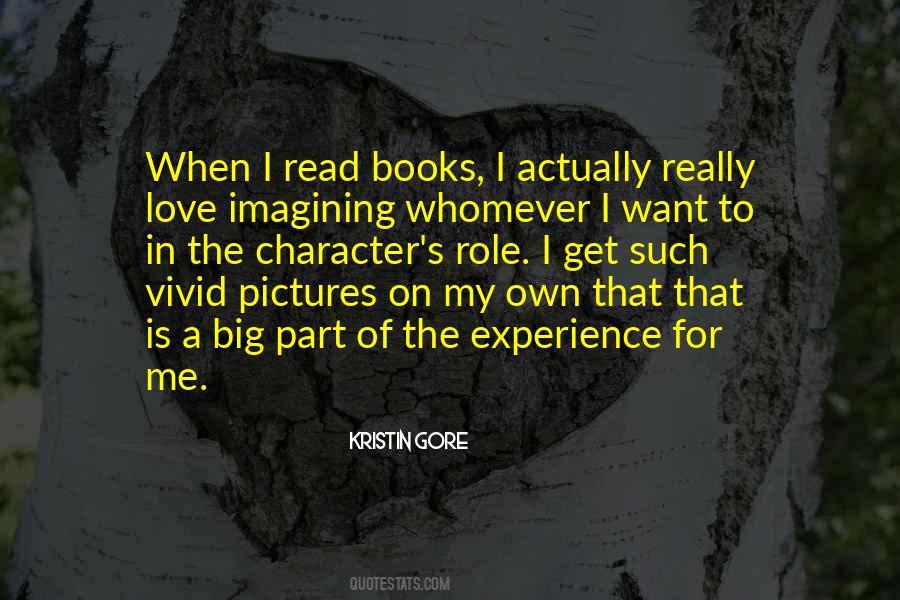 #97. A big desire is not enough to meet the expectations of lost dreams. - Author: Dejan Stojanovic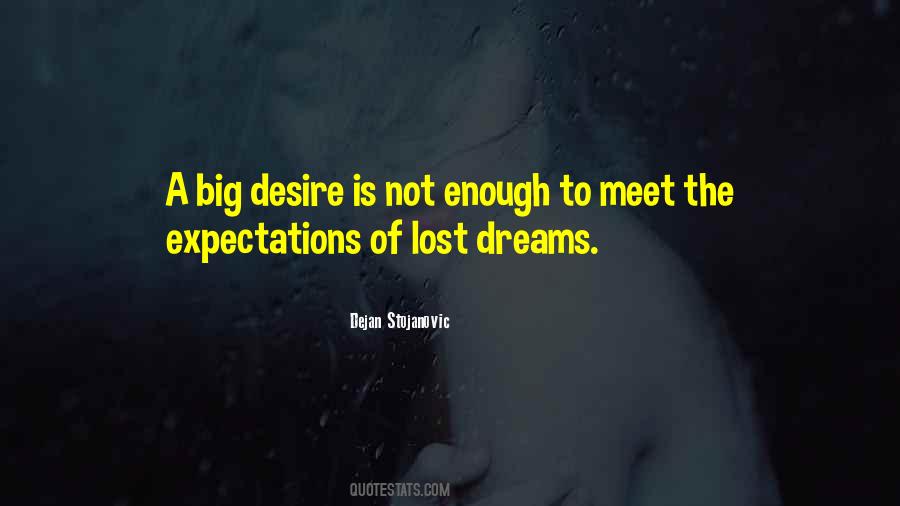 #98. Always in all my books I'm trying to reveal or help to reveal the hidden greatness of the small, of the little, of the unknown - and the pettiness of the big. - Author: Eduardo Galeano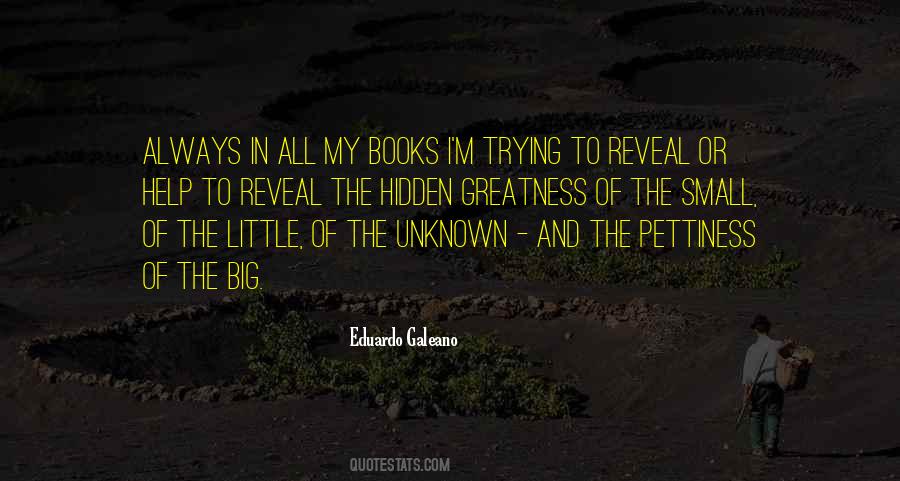 #99. Books allowed her vicarious tastes of infinite variety, but they didn't supplant the need to venture out into the big and the messy. In fact, just the opposite. Books convinced her that something more existed
something intuitive, beyond reason
and they whetted her appetite to find it. - Author: Masha Hamilton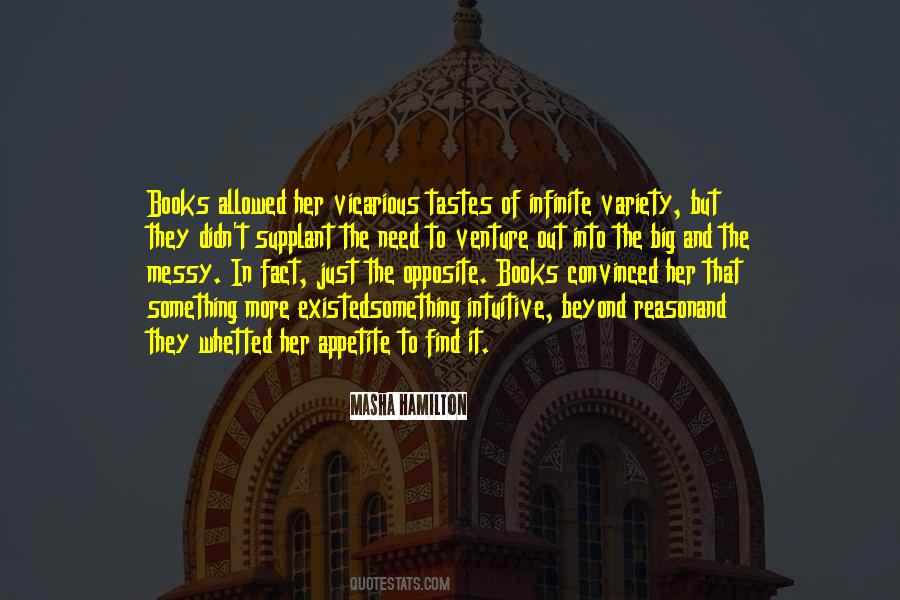 #100. BIG books are better. There, I said it and it's true. - Author: Richelle E. Goodrich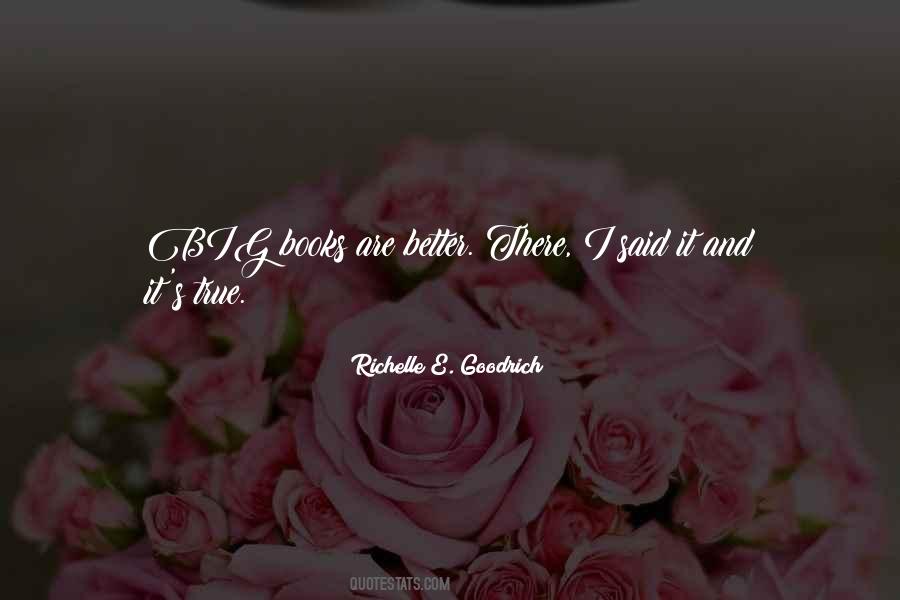 Famous Authors
Popular Topics