Believe Someone Famous Quotes & Sayings
List of top 100 famous quotes and sayings about believe someone to read and share with friends on your Facebook, Twitter, blogs.
Top 100 Quotes About Believe Someone
#1. I could never say that one religion is wrong. I could never say that this person's God is wrong, I could never say that someone is wrong because they don't believe in God. - Author: Amber Tamblyn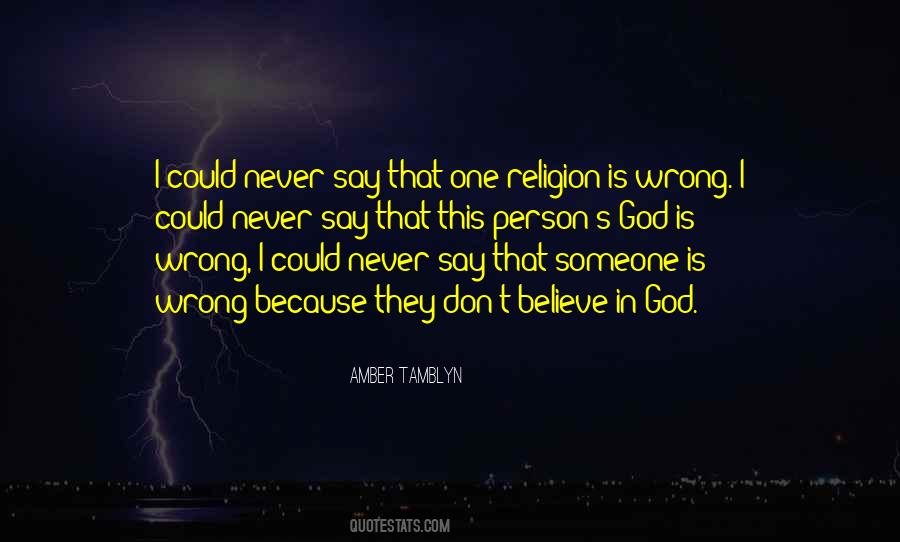 #2. I believe in the verb, not the noun - I am not a writer, but someone compelled to write. - Author: Richard Flanagan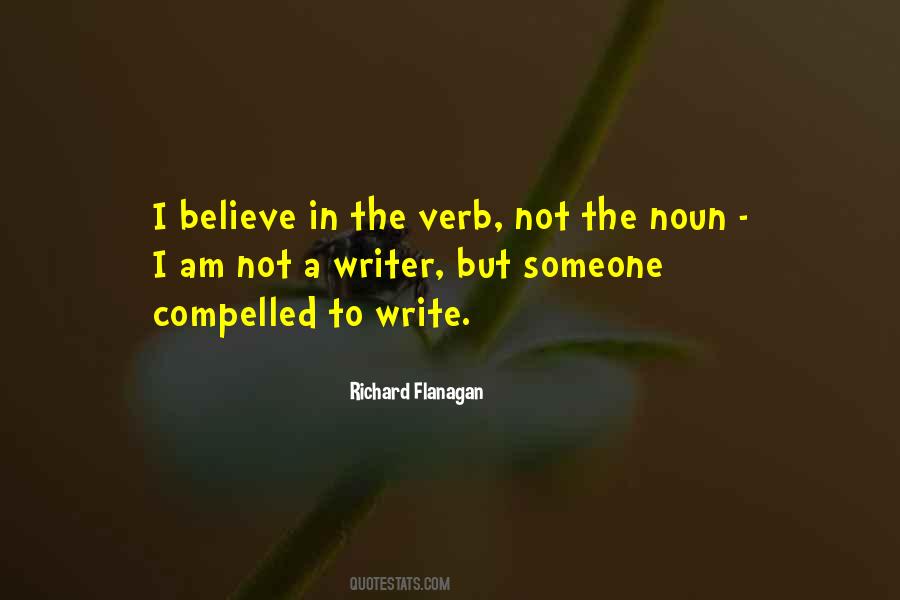 #3. My first reaction to finding Robert Smithson's Spiral Jetty in a book was, Wow, what a great photograph! I could not believe that someone had gone to so much trouble just to end up with a picture. - Author: Vik Muniz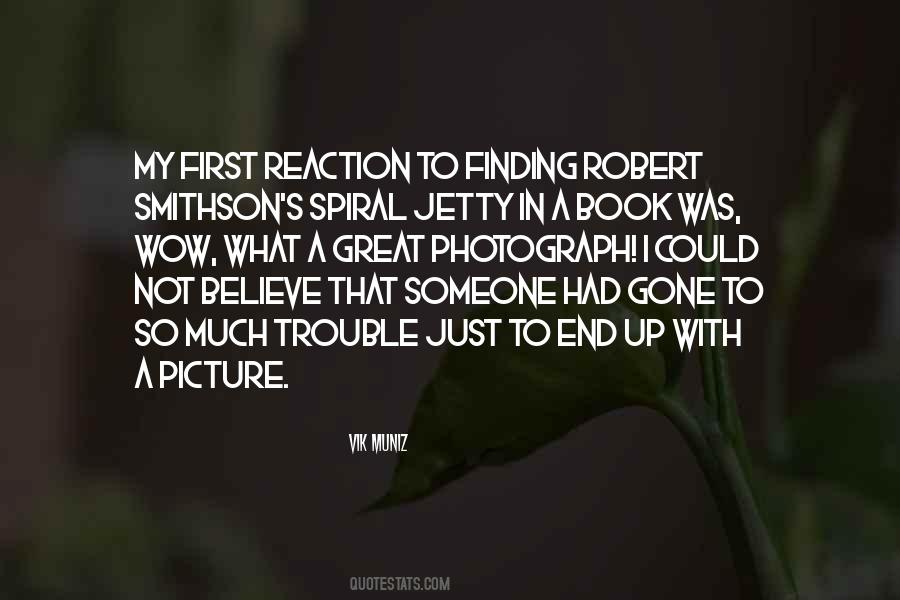 #4. Everybody needs four things in life: Something to do, someone to love, someone to believe in and something to hope for. - Author: Lou Holtz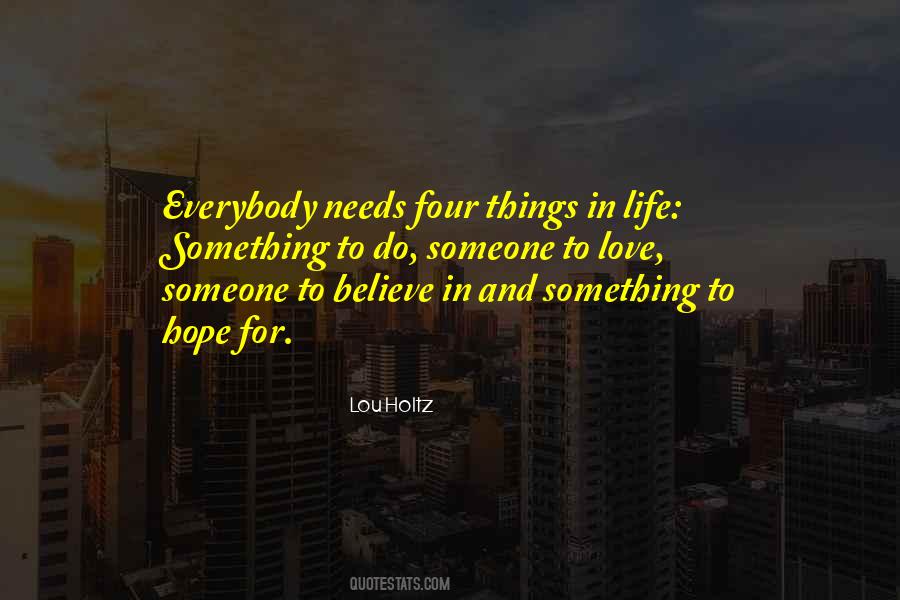 #5. The poetry I love is written with someone's voice and I believe its proper culmination is to be read with someone's voice. And the human voice in that sense is not electronically reproduced or amplified. - Author: Robert Pinsky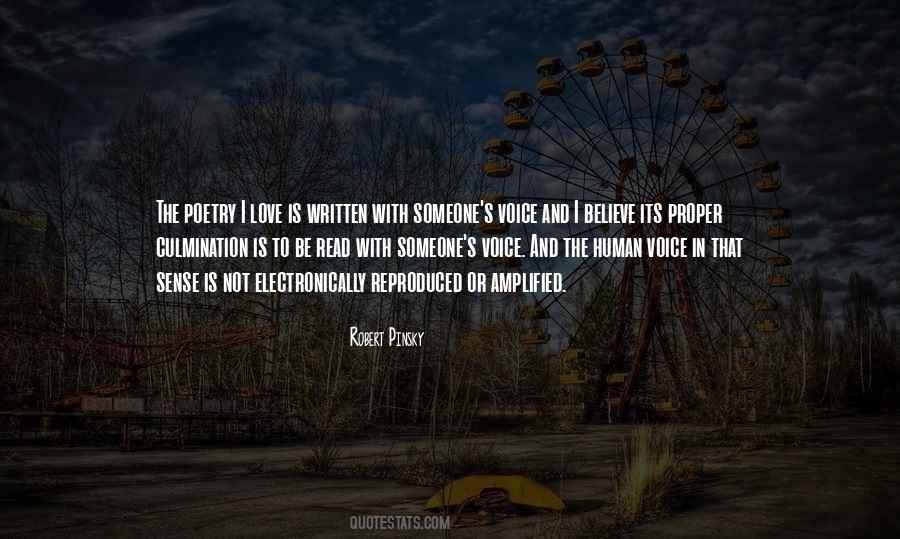 #6. Religion is believing someone else's experience, spirituality is having your own experience. - Author: Deepak Chopra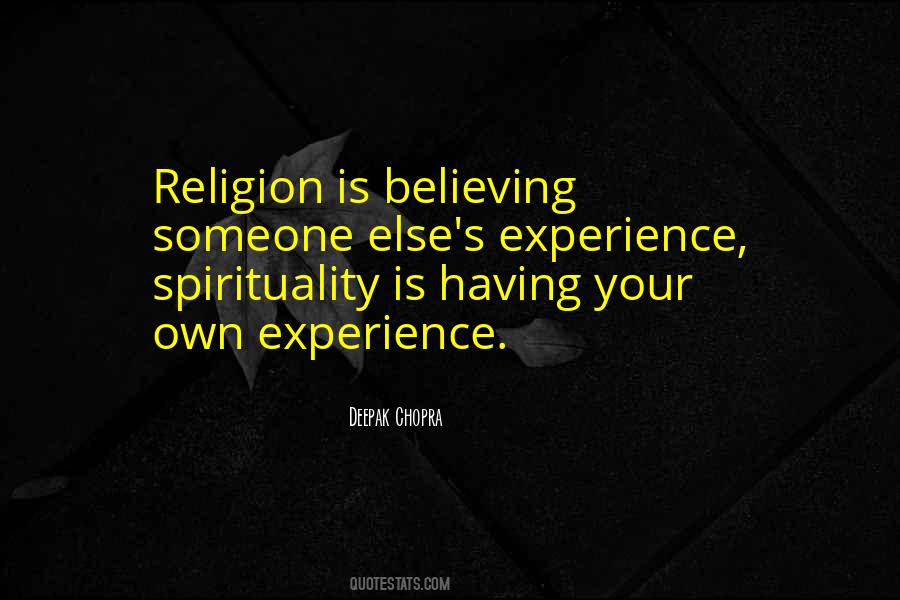 #7. Science has proved there's nothing to the talk of ghosts and spirits, no proof anything like the soul exists. And to my mind that's an argument against the existence of an omniscient force. I think people believe whatever makes living easiest, and who am I to deny someone comfort? - Author: Ann Aguirre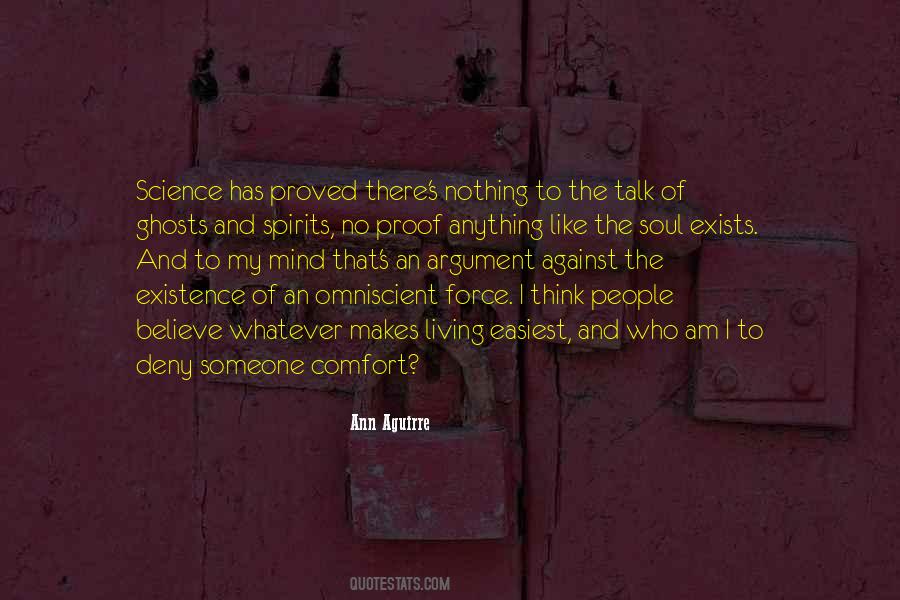 #8. I should say no more. Because when we dislike someone we are always very ready to believe any ill of them - Author: Jude Morgan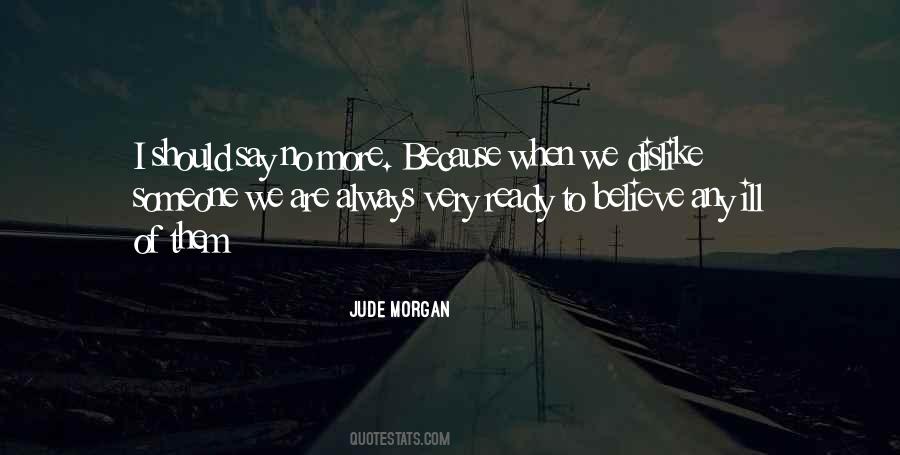 #9. If you believe someone believe blindly either you get a good relation or a good lesson - Author: Arun Kumar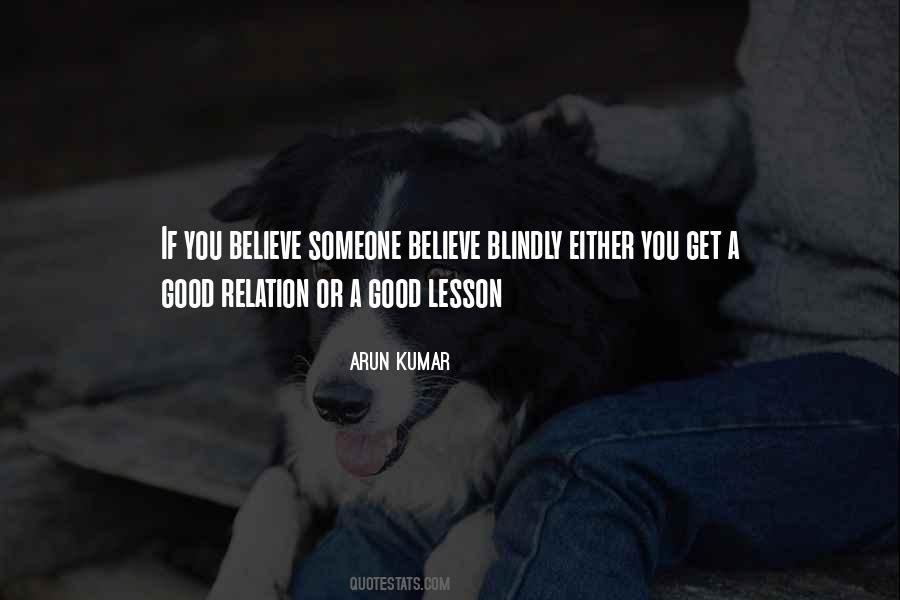 #10. While actors play with guns for make-believe, the guns themselves are by no means make-believe; they're real. Even when the actor is using blanks, there are all kinds of safety protocols to follow when shooting one at someone. Pulling the trigger is the easy part. - Author: Trieste Kelly Dunn
#11. But I'm willing to take a chance on believing there has to be a way. All I need is someone to believe with me. - Author: Koushun Takami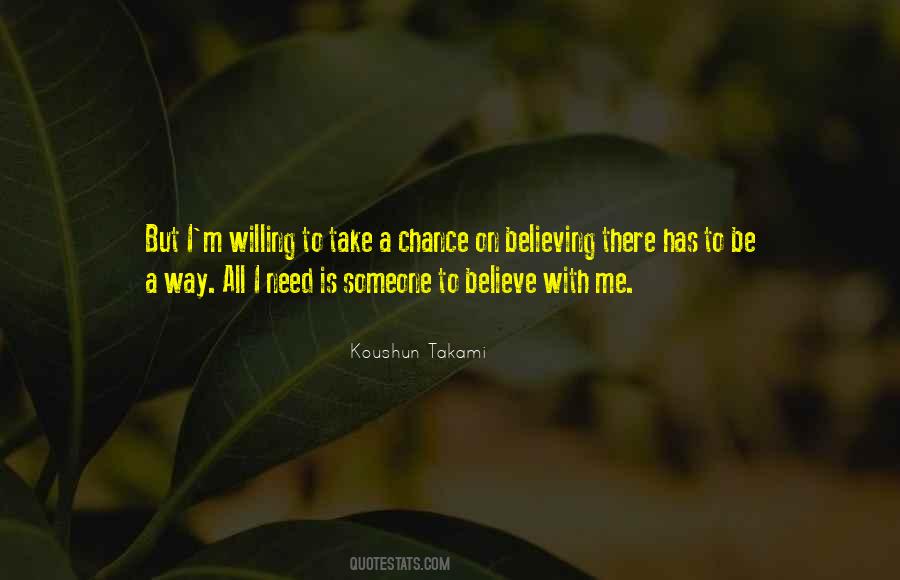 #12. If someone tells you that you cannot do something and you believe it, they are right. - Author: Carol Burnett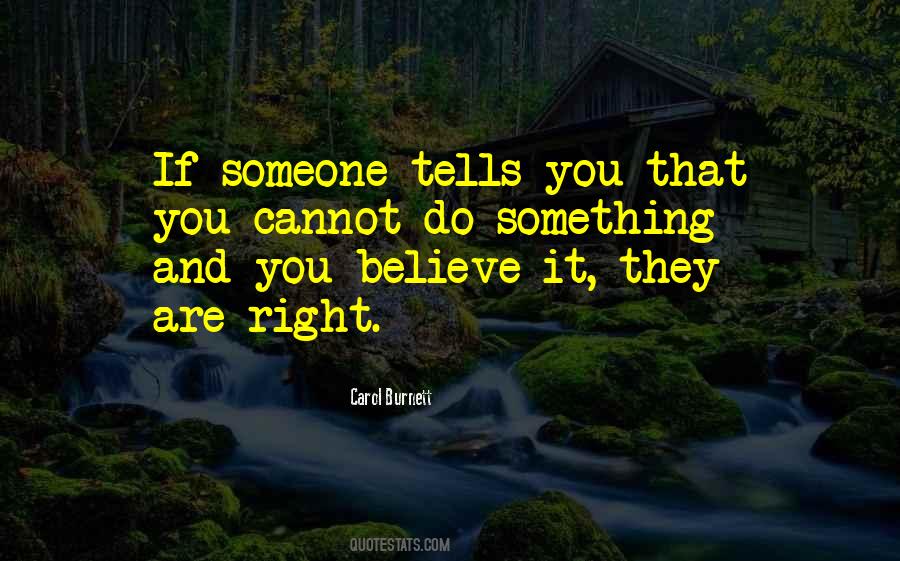 #13. If someone asks me if I believe in God, I shake my head like I couldn't give a shit, but the truth is, I do. I just don't know what to do about it. - Author: Ethan Hawke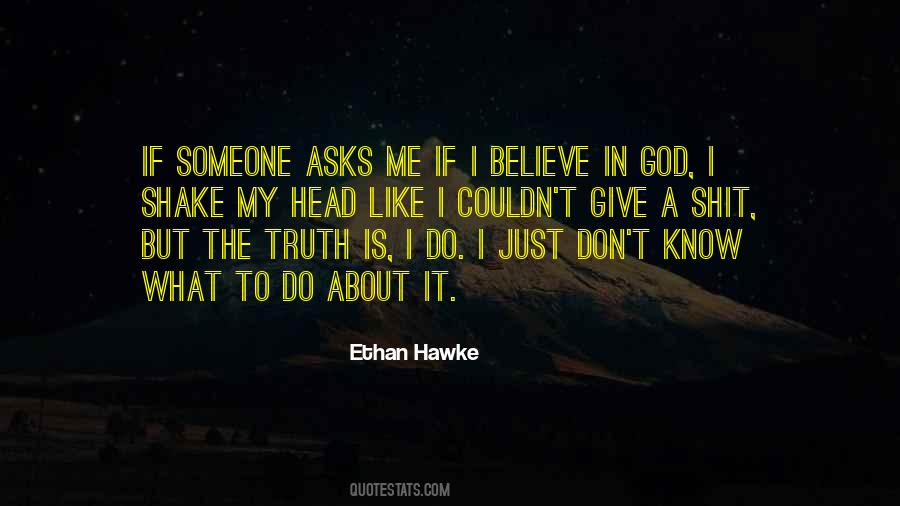 #14. A story went around that someone had asked Mozart how he intended to refute his detractors.
"I will refute them with new works," he said.
It was a confident, valiant thing for him to say, everyone thought. I thought so too, when I invented the story; and I still believe it today. (172) - Author: Joan Wickersham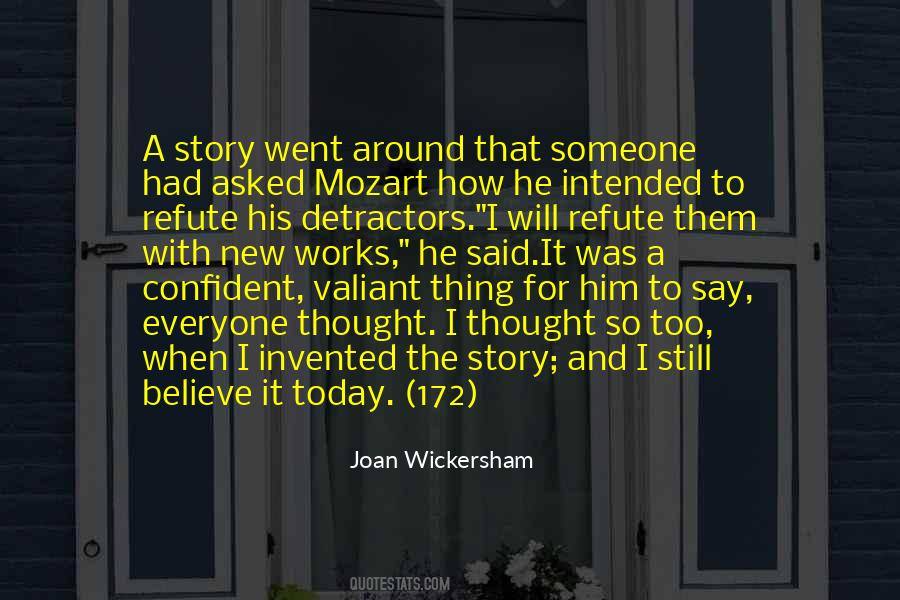 #15. Believe that you are someone worth saving. - Author: Slade Combs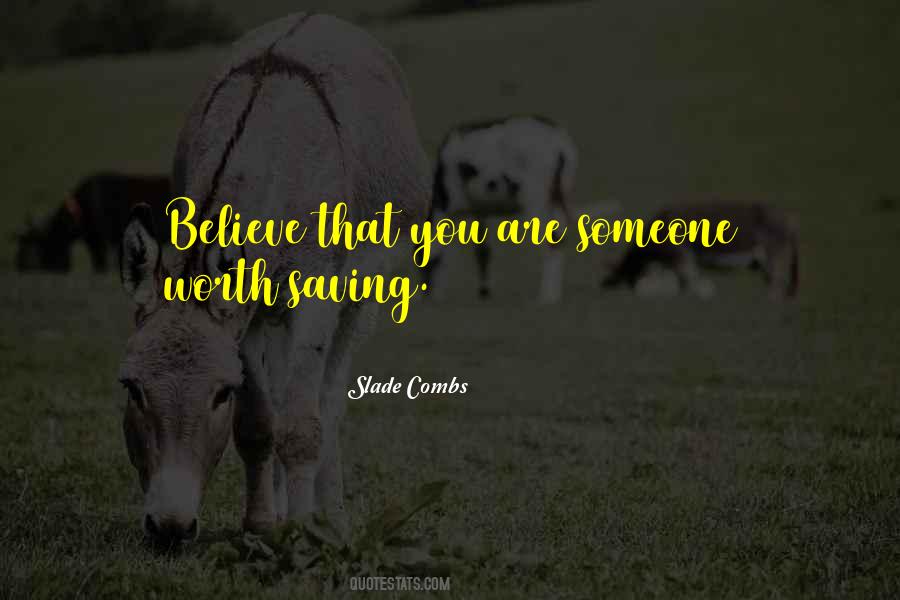 #16. I've been alone most of my life because I'm the only person in the world I can rely on. For a few days I deluded myself into thinking you were someone I could believe in. That I could trust you and lean on you, that you would never lie to me. What a mistake I made. - Author: Elizabeth Camden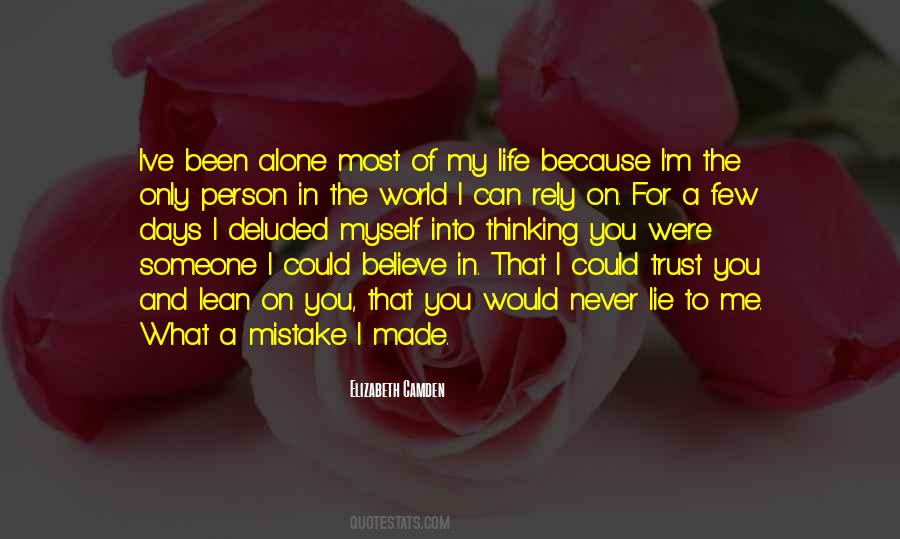 #17. You believe no one is watching because it helps you sleep at night, but someone is always watching. - Author: Shaun David Hutchinson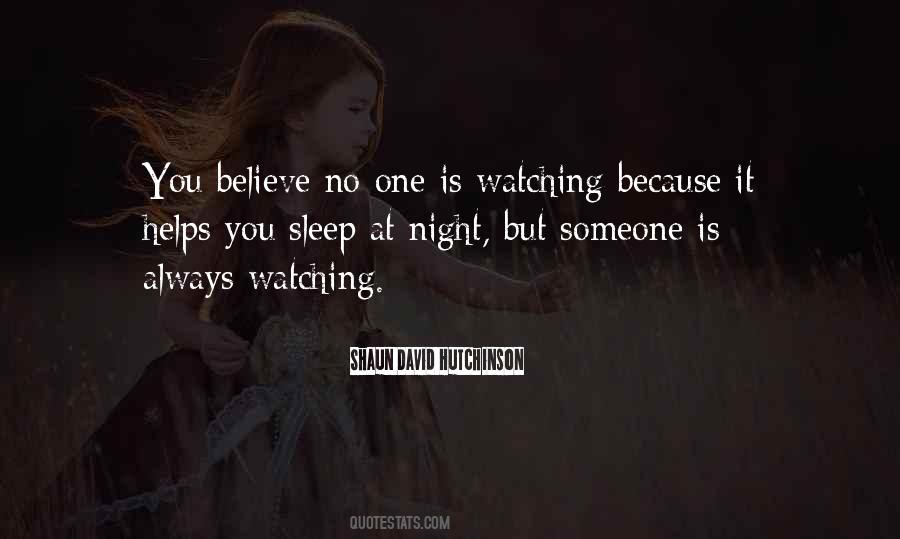 #18. The French believe that all errors are distant, someone else's fault. Americans believe that there is no distance, no difference, and therefore that there are no errors, that any troubles are simple misunderstandings, consequent on your not yet having spoken English loudly enough. - Author: Adam Gopnik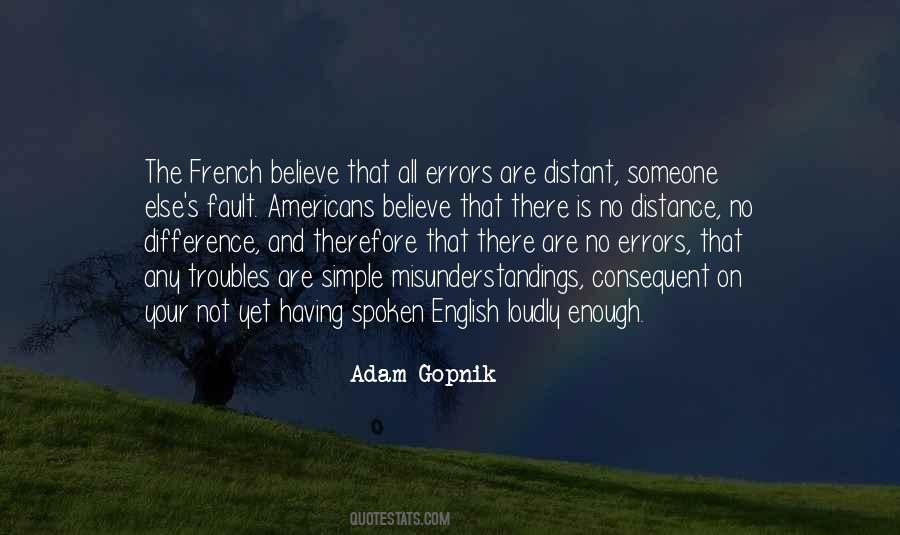 #19. I just don't believe in helping people who are going to torture me. Though I don't see any bamboo slivers. How can you possibly torture someone without bamboo slivers? - Author: Laurell K. Hamilton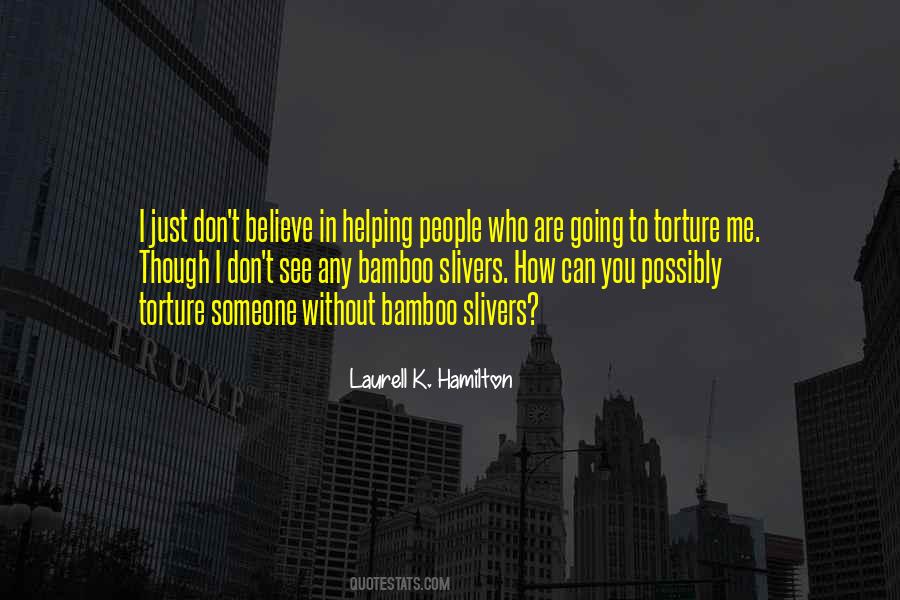 #20. It's hard to believe how much light you cand find in the darkness, when you have someone who loves you. - Author: Cassandra Clare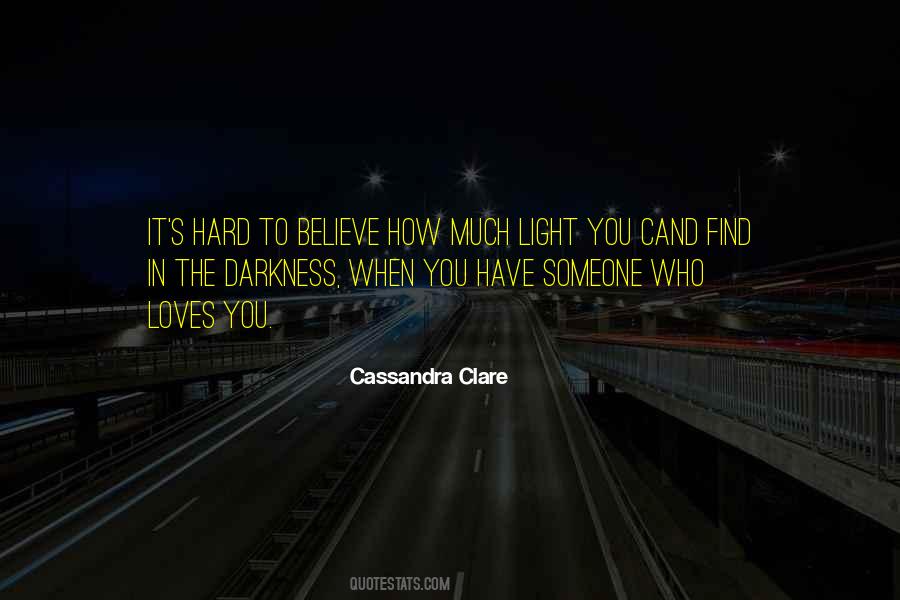 #21. I am not someone who believes to doing a film just because it is off beat. - Author: Shahrukh Khan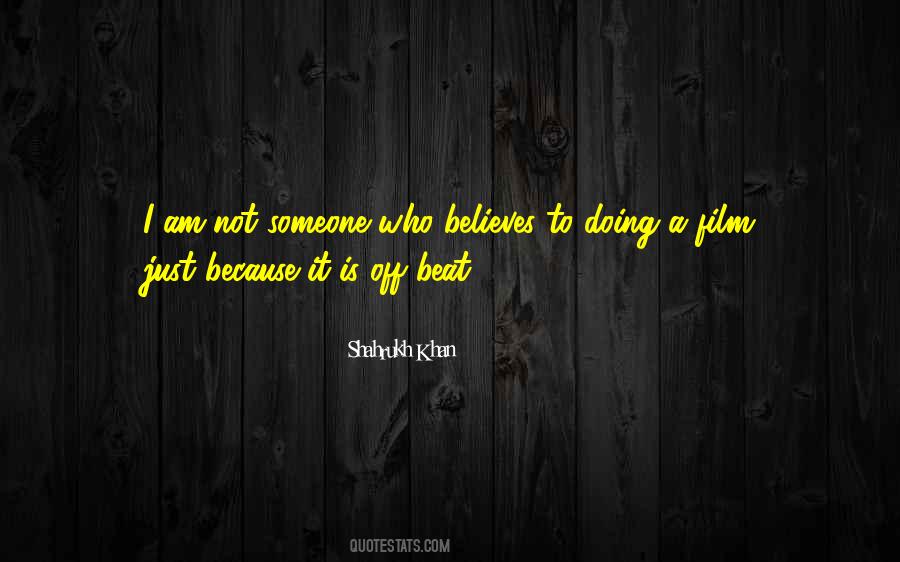 #22. I believe that bad taste is vulgar. It's like cursing. I think the world can be saved through design, because what is the most distasteful thing someone can do? Kill someone. So, good taste is the opposite of that. - Author: Kanye West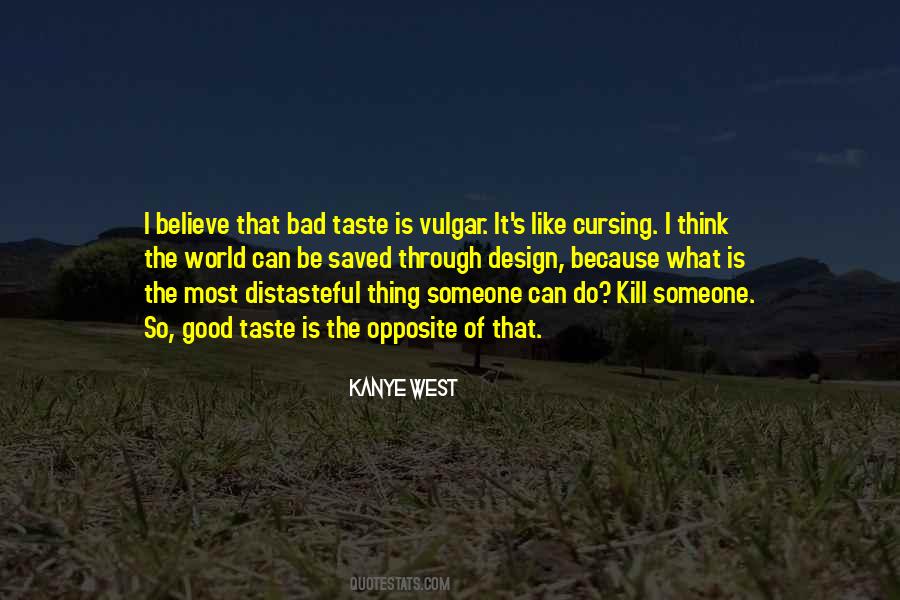 #23. Then, a life was ending. Here, one was about to begin. I didn't believe in signs. But it was hard to ignore the fact that someone, somewhere, might have wanted me to go through this again and see there was another outcome. - Author: Sarah Dessen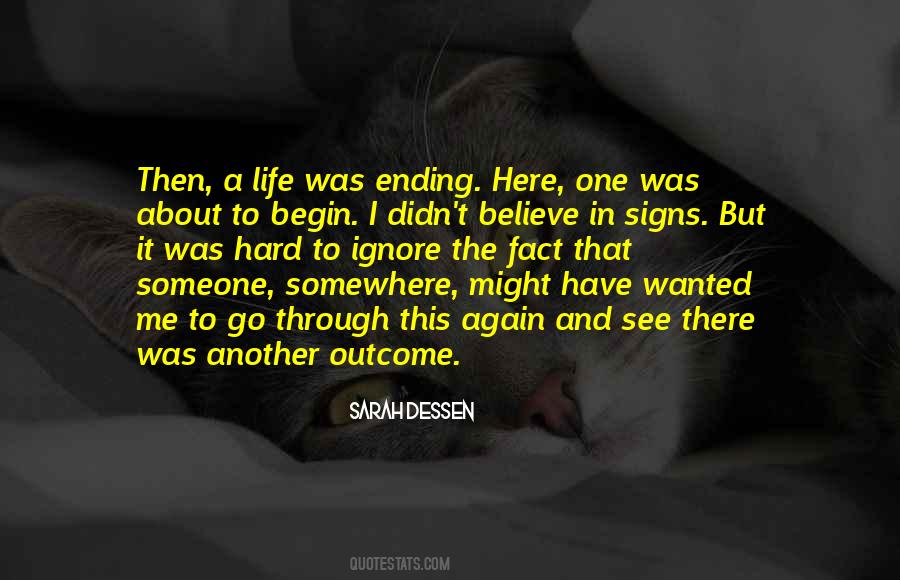 #24. I always believe that a person can learn so much by just jumping into something and trying to do it rather than having someone else teach you everything. - Author: Juliana Hatfield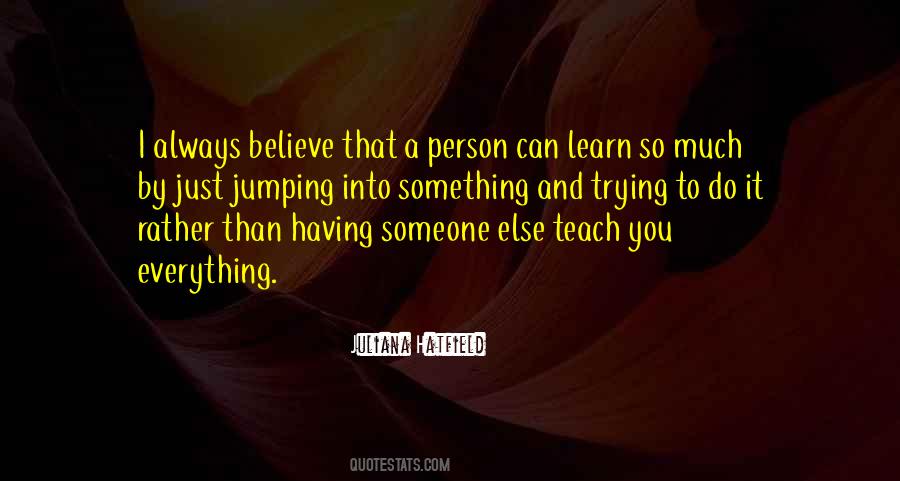 #25. And, I believe that one of the most loving things you can do is prepare a meal for someone you love. None of which I know how to do! - Author: Gayle King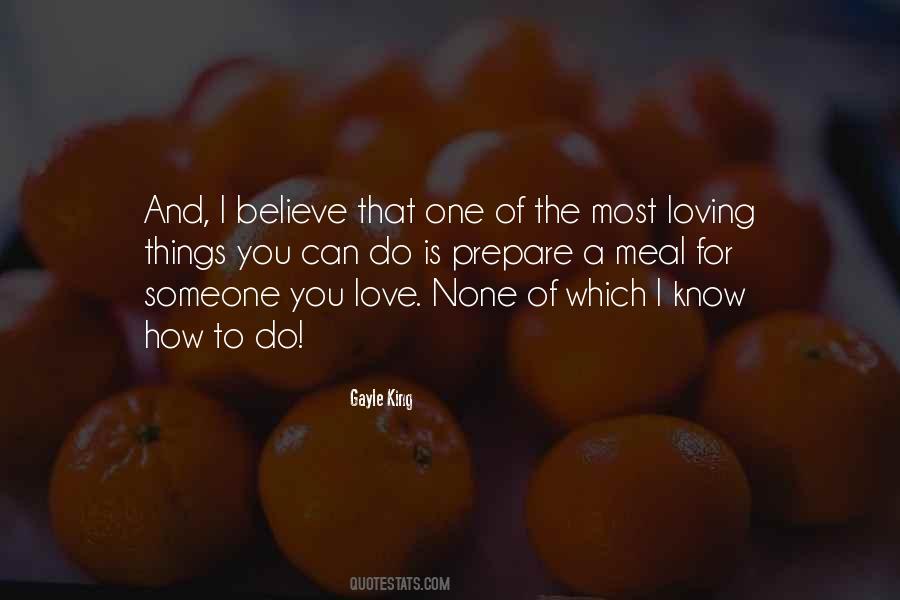 #26. I believe that Sean Quinn wouldn't be a man at all if he let someone steal his family's assets. - Author: Sean Quinn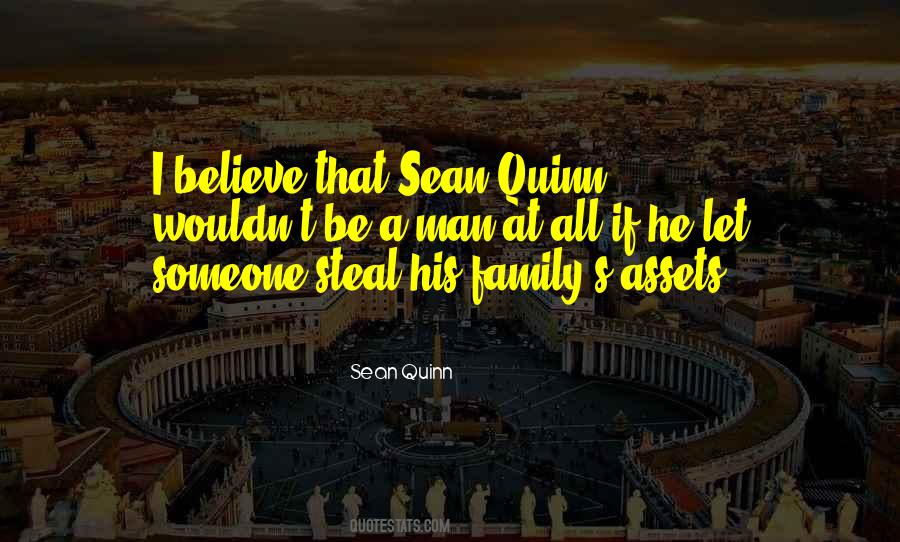 #27. I don't believe in second chances. If someone will do something once, they'll do it again. - Author: C.M. Owens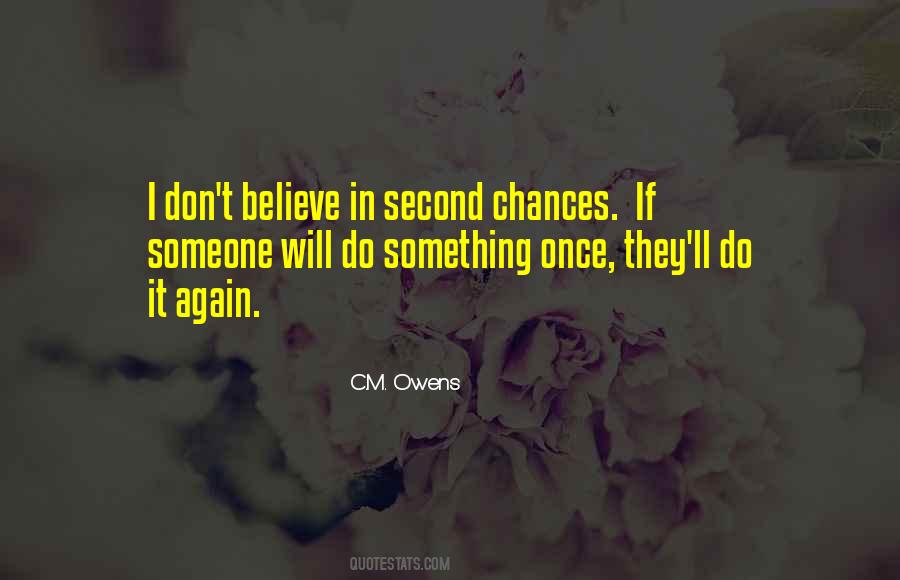 #28. I don't believe in pretending to be someone else. I'm what I actually am in real life. For instance, like any normal girl, I fight with my mother. I mean, it is just fine. In fact, I fight daily with my mother. - Author: Shreya Ghoshal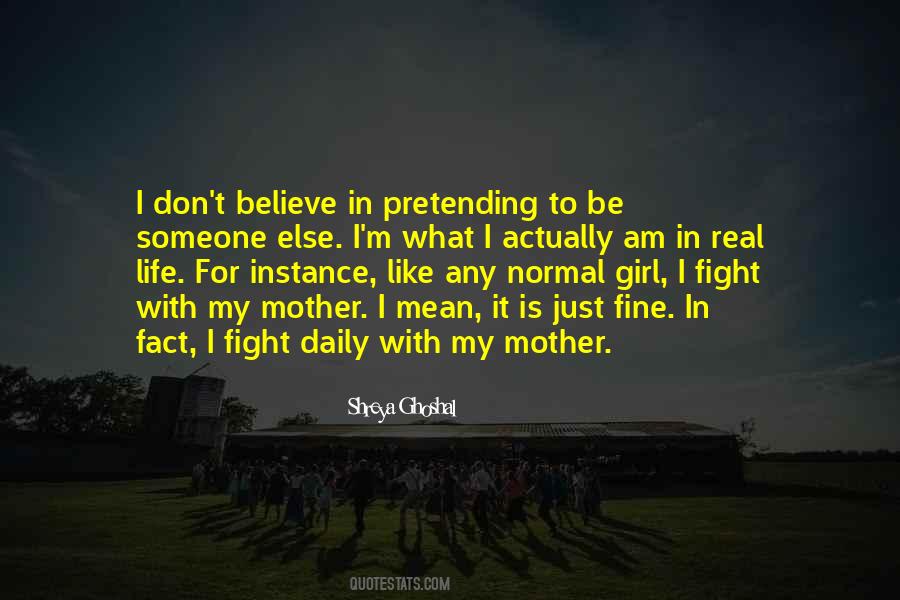 #29. I believe that every human being should try to do good for someone else. There are so many different ways to do it. My art can be an instrument for helping people ... What a good feeling - that I can do that with my art ... - Author: Romero Britto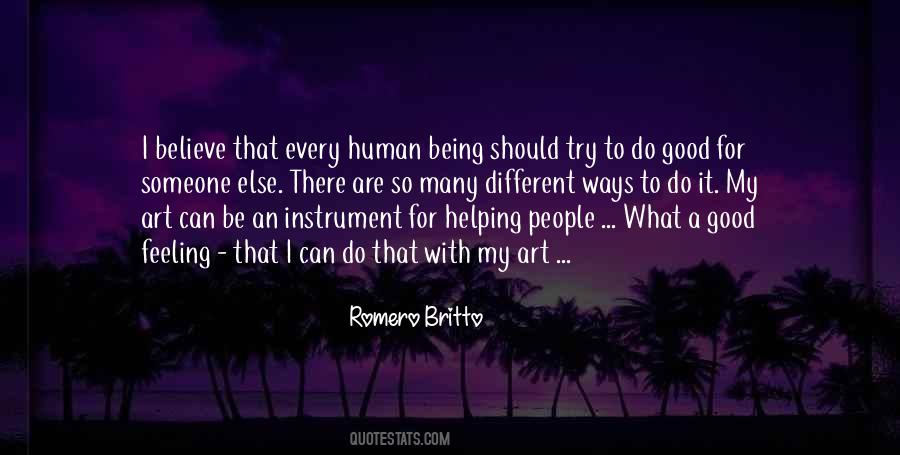 #30. If you love someone, you need to be honest. Brave. Tell them straight out and blow up the fucking rules. Because I'm starting to believe there shouldn't be any rules when you love someone. - Author: Jennifer Probst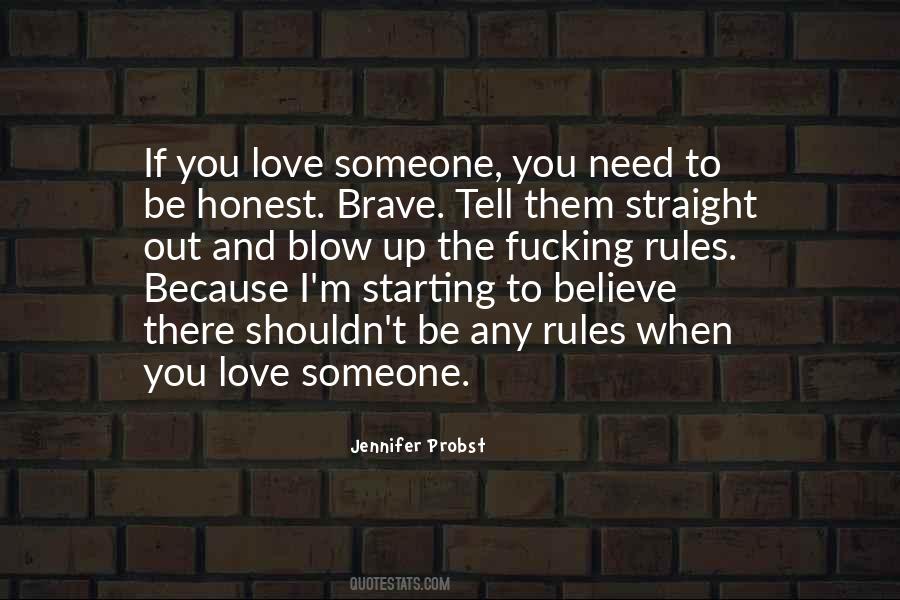 #31. I believe my high school book said I was most likely to become a candlestick maker. Guessing I didn't exactly exude confidence but just goes to show you that your path is yours to choose and make the best of and not for someone else to tell you what you can or cannot be. - Author: Arlene Dickinson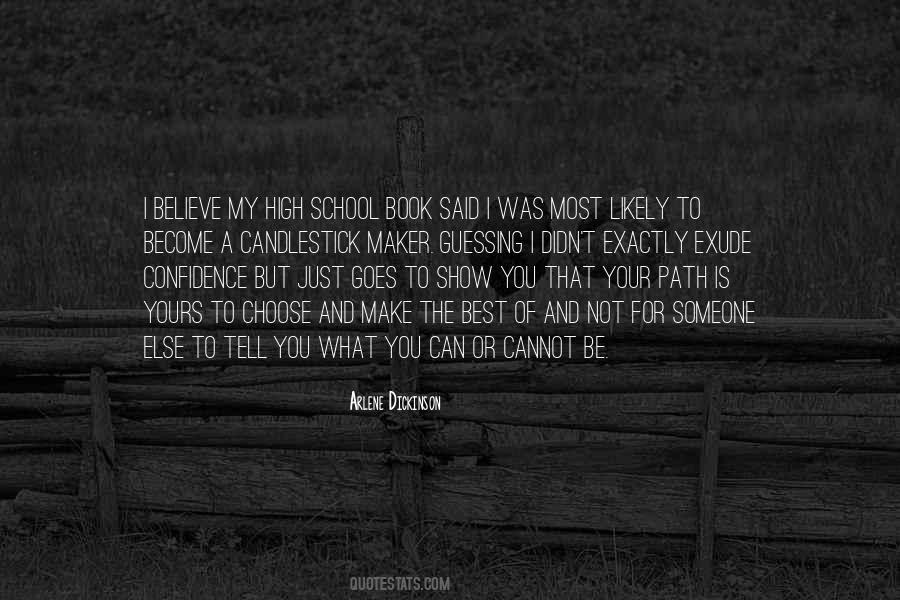 #32. Don't tell me I have latent sexism or racism that I need to confront. I don't believe that. I think we are so burned by the current situation that we want somebody that it isn't possible to have. We want someone who definitely looks like the messiah. - Author: Sara Paretsky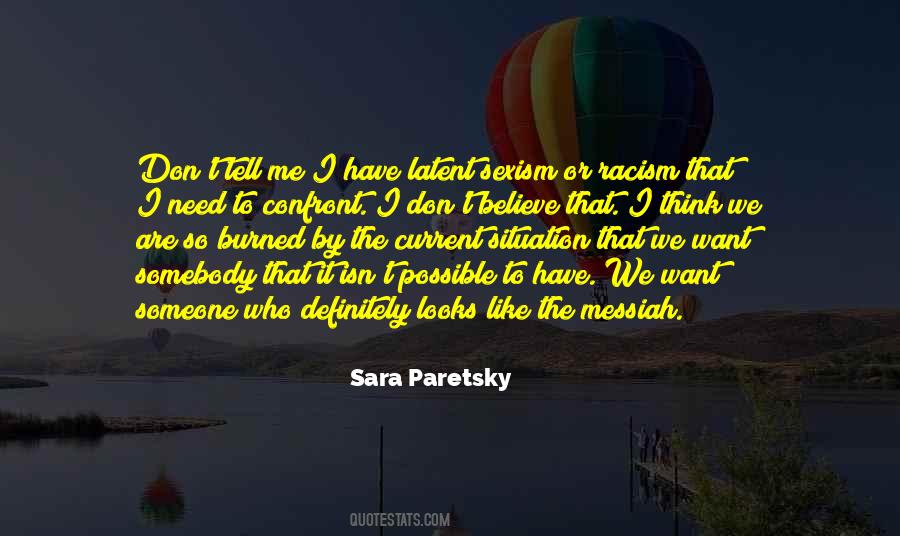 #33. To imagine Canada as a citizen requires that you enter into he mind of someone who does not believe what you believe or share what matters to you. - Author: Michael Ignatieff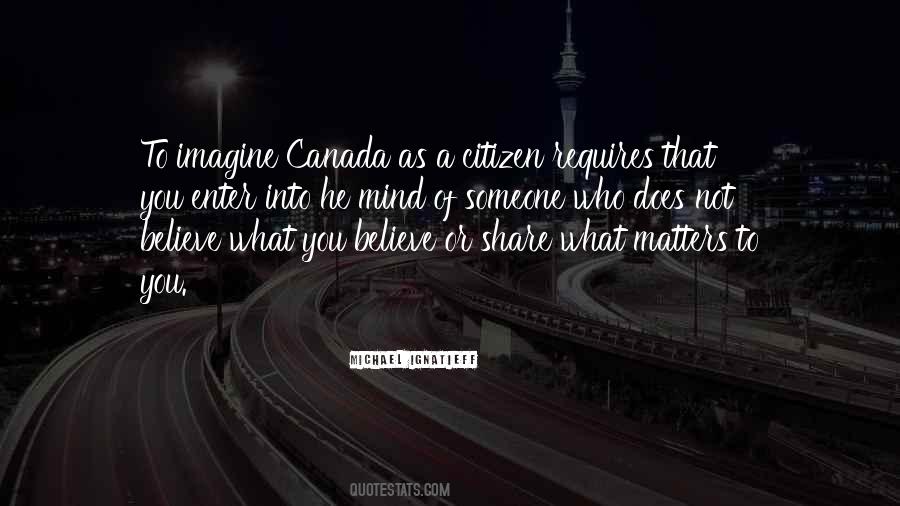 #34. I think people believe that I give ant aura of someone who has both feet on the ground. - Author: Joe Morton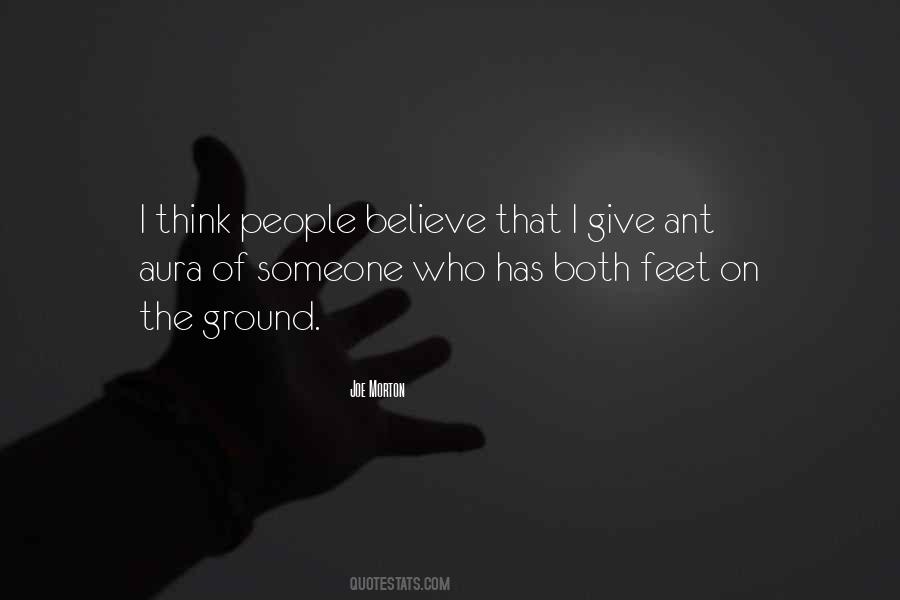 #35. If you can make someone believe that you believe in the idea then I think that's worth a lot. - Author: Alice Lowe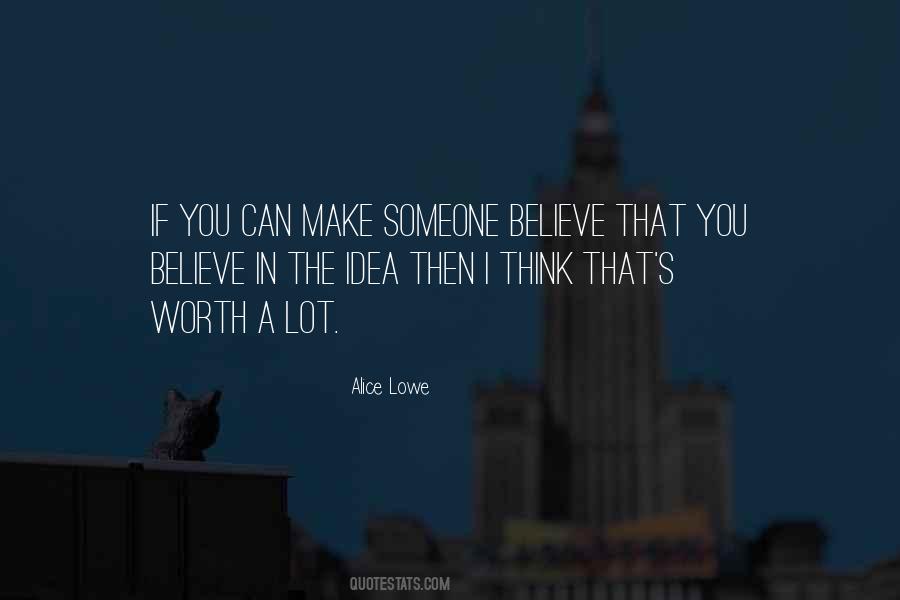 #36. Believe that if Allah wants you to know something, someone will tell you. - Author: Paulo Coelho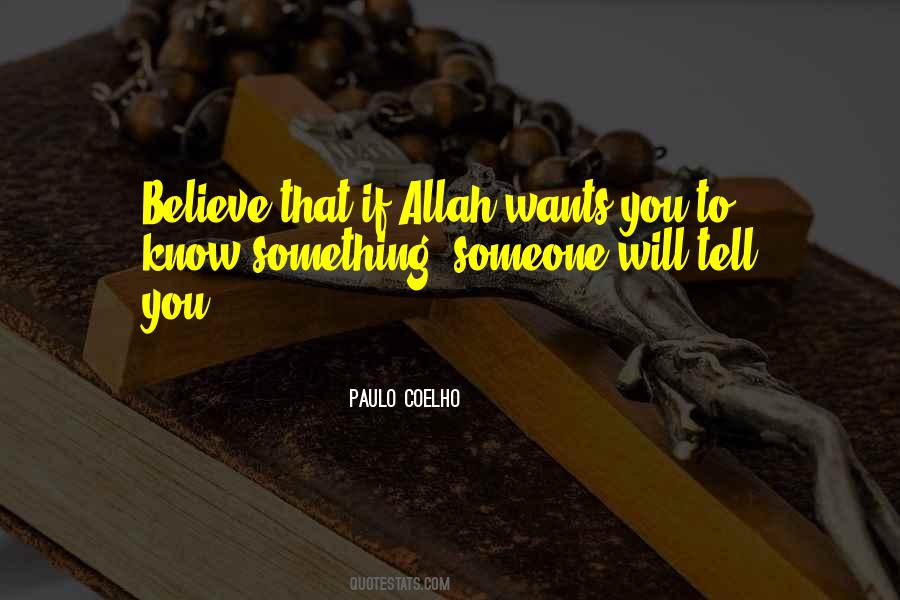 #37. When I was younger I would have told you it was my genius, but now I don't believe that for a second. Music just comes out of you, it flows through, it's weird. If you think about it intellectually, how does someone come up with two hundred riffs over their life time? - Author: Tracii Guns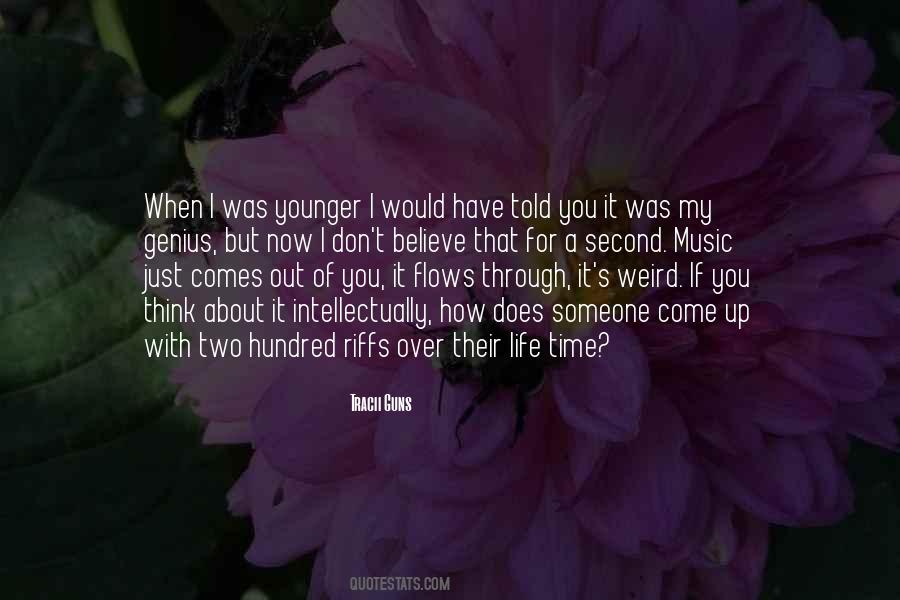 #38. But if you believe in Christ and that your main goal with your life is supposed to be to honor Him and do His will, then you don't have as much pressure as someone who bases all their happiness on whether they're a movie star. - Author: Victoria Jackson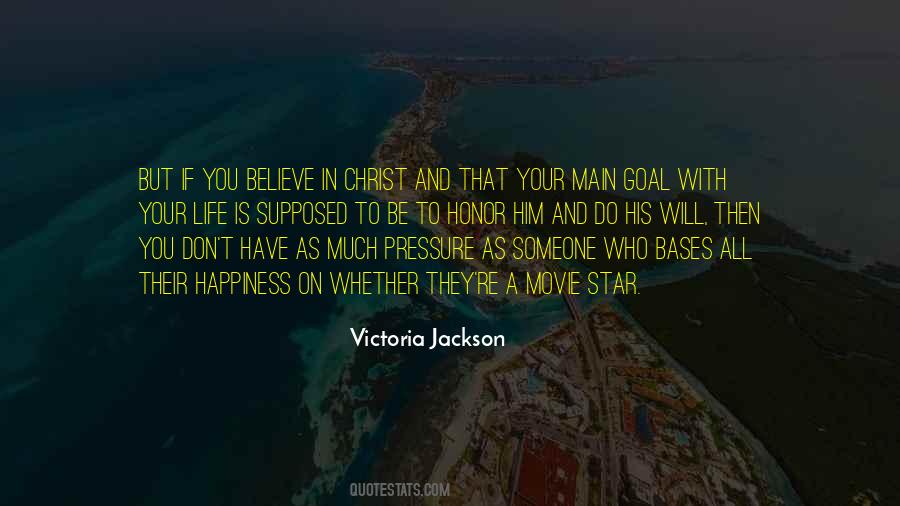 #39. I guess its because we all want to believe that what we do is very important, that people hang on to our very word, that they care what we think. The truth is, you should consider yourself lucky if you even occasionally get to make someone-anyone-feel a little better. - Author: J.D Scrubs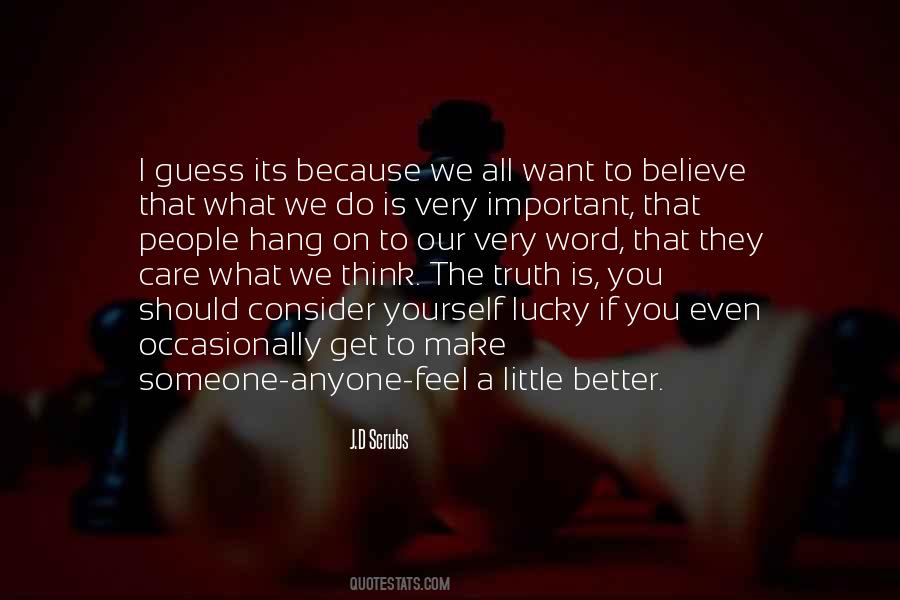 #40. I've done all the dumping, which is not a good thing. It's funny, because I married someone who has always done it as well. I believe I met my match. - Author: Josh Holloway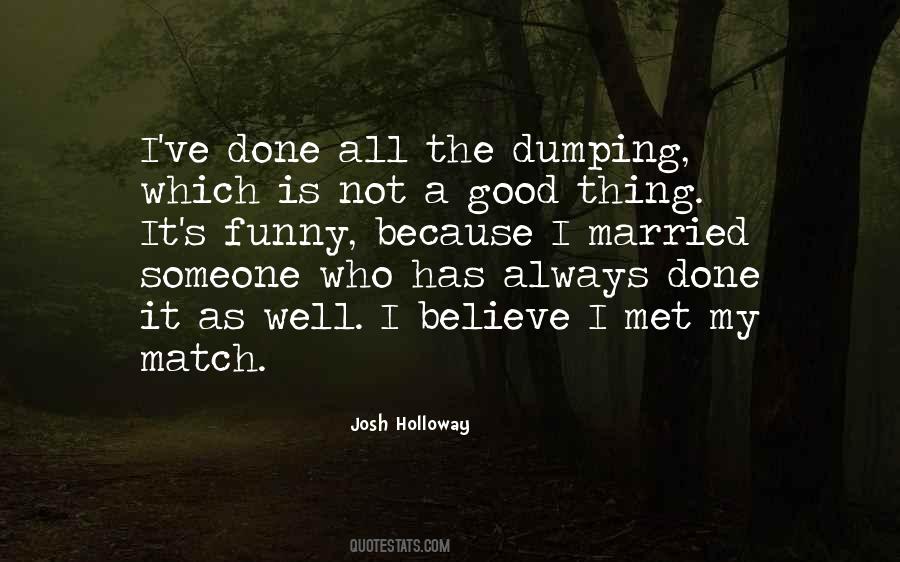 #41. You certainly wouldn't want to invest much time in an argument with someone who would believe it in the first place. - Author: Peter Van Inwagen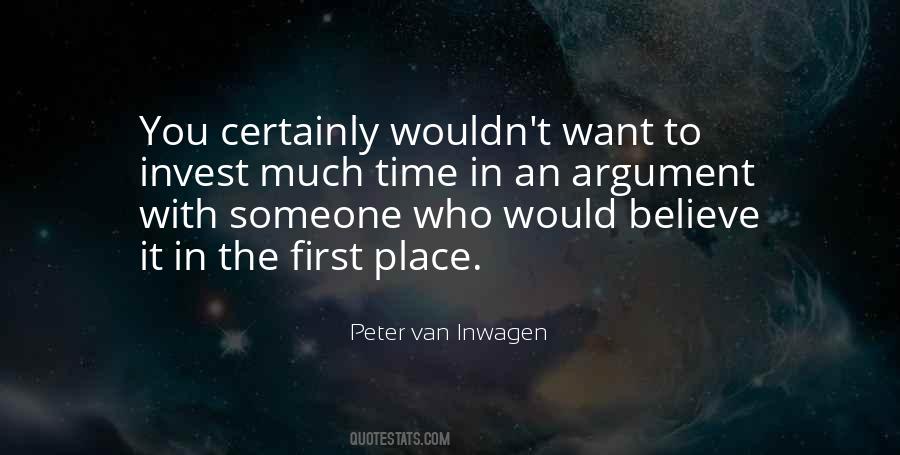 #42. When someone tells you something about themselves don't want to hear - believe them. - Author: Genna Rulon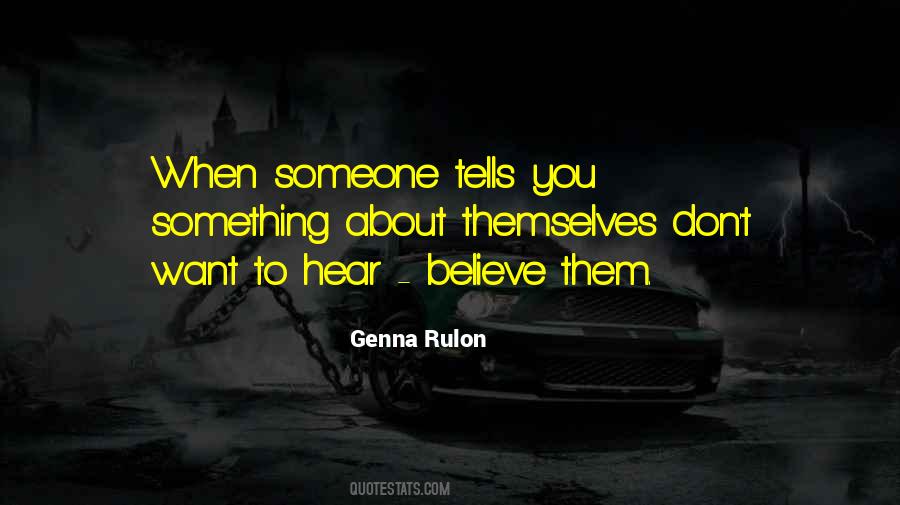 #43. If someone says 'Give me one word of advice,' I say 'be fearless.' And knowing without any shadow of a doubt that what they have to give - who they are - is totally unique and not shared by anybody else. And to believe in that uniqueness. It took me decades before I developed courage as an actor. - Author: Patrick Stewart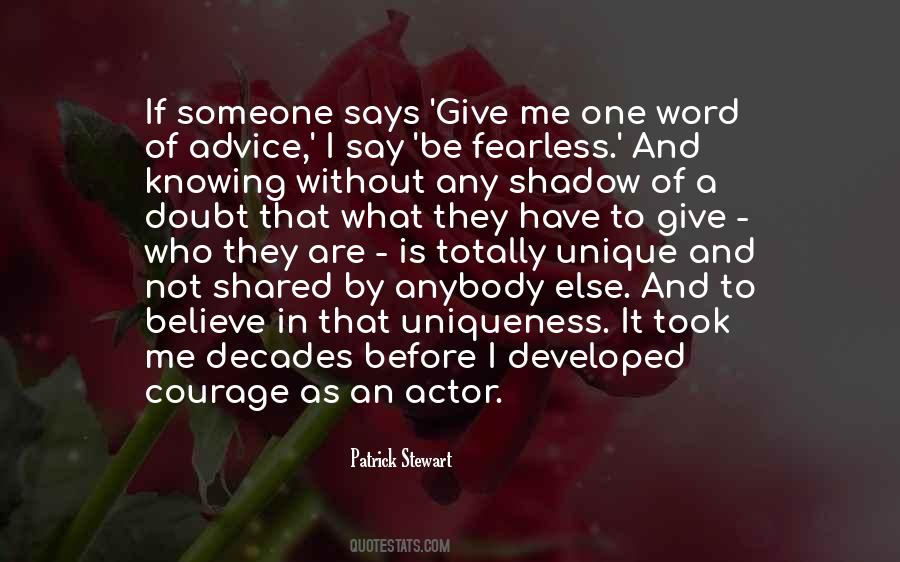 #44. Some people believe that if they yell and scream, others will get the point of just how serious they are. For me, all I get is the point of just how out of control that someone is. - Author: Cathy Burnham Martin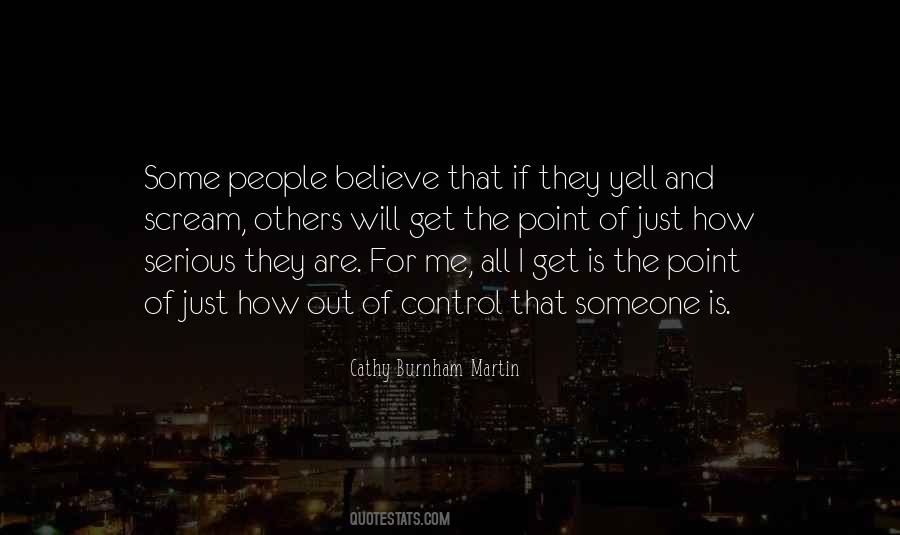 #45. Wherever you go you will find people lying to you, and as your awareness grows, you will notice that you also lie to yourself. Do not expect people to tell you the truth because they also lie to themselves. You have to trust yourself and choose to believe or not to believe what someone says to you. - Author: Miguel Ruiz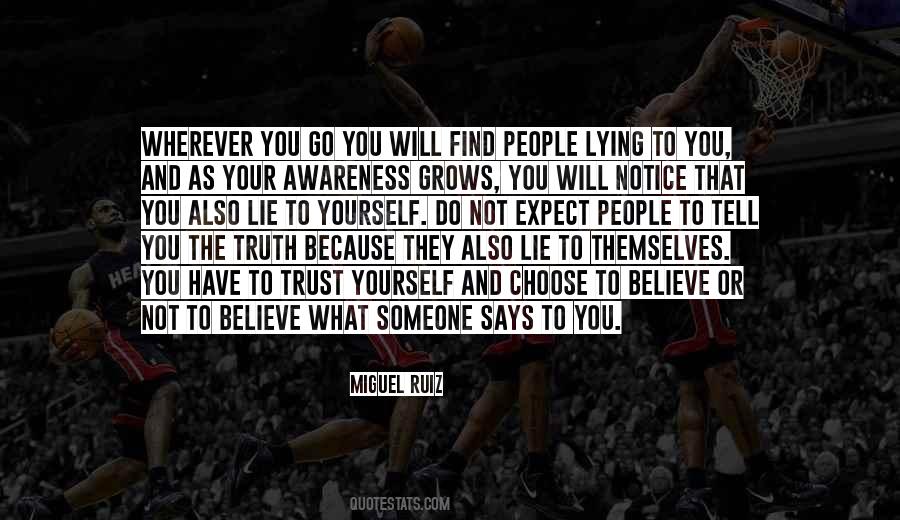 #46. I am not someone who believes we should build a fence around our country but I do believe there ought to be some fairness with respect to the rules of this globalization. - Author: Byron Dorgan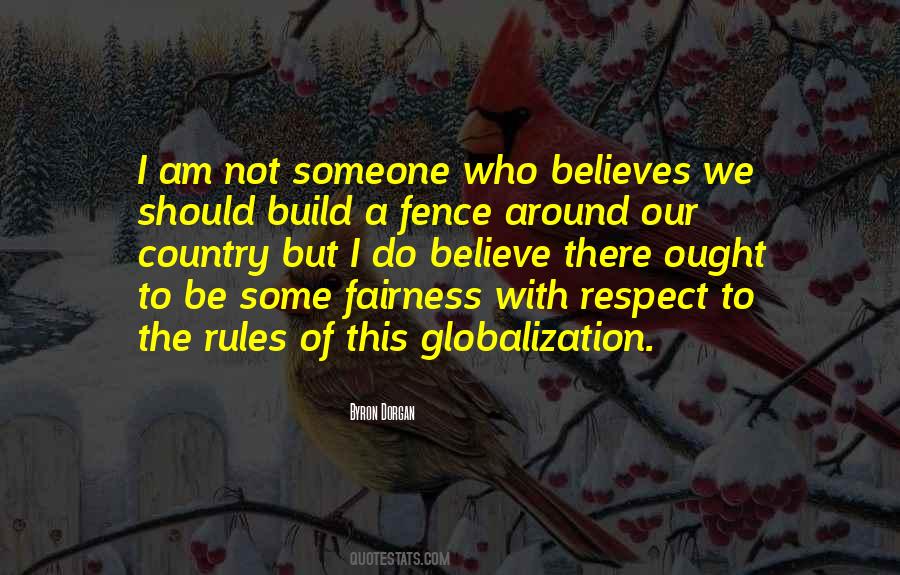 #47. When someone shows you who they are believe them; the first time. - Author: Maya Angelou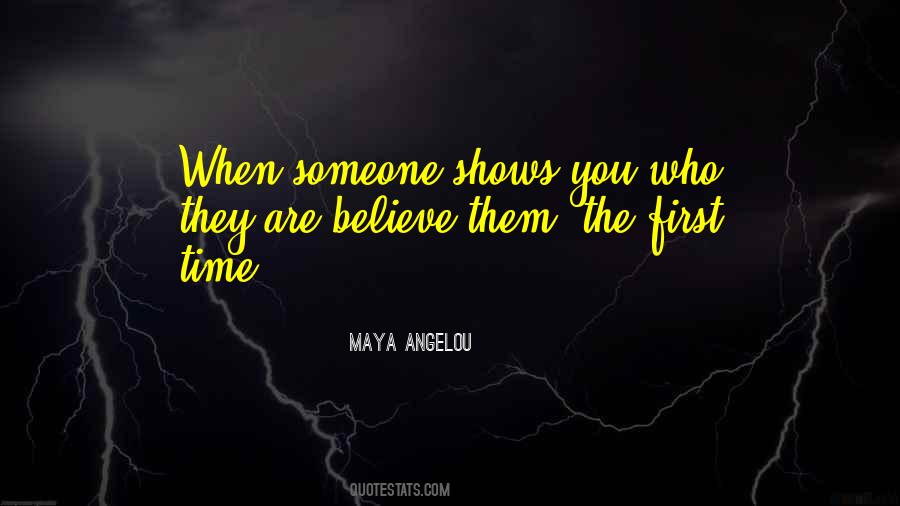 #48. A liberal is a person who believes that water can be made to run uphill. A conservative is someone who believes everybody should pay for his water. I'm somewhere in between: I believe water should be free, but that water flows downhill. - Author: Theodore White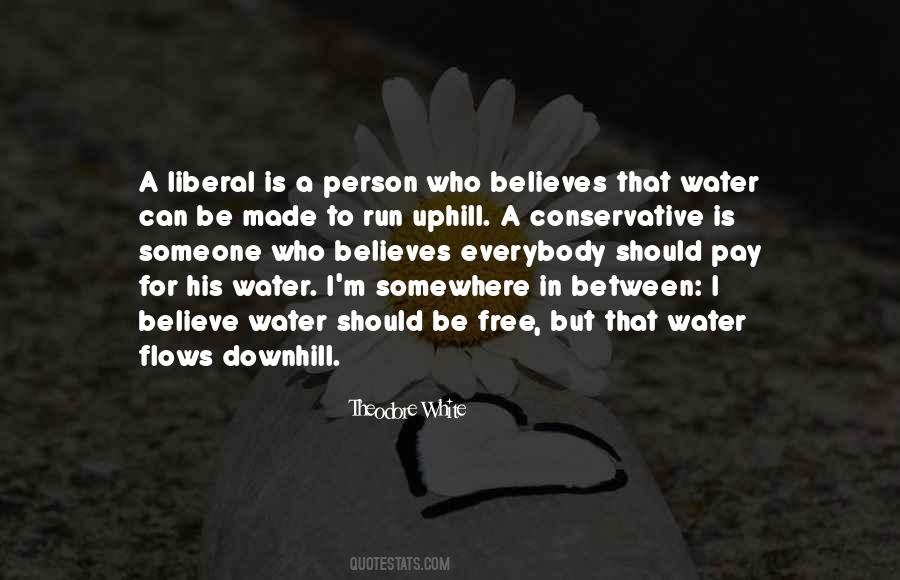 #49. The air we breathe is still free, but for how much time. I believe someone is busy patenting it to start selling it for profit - Author: Bangambiki Habyarimana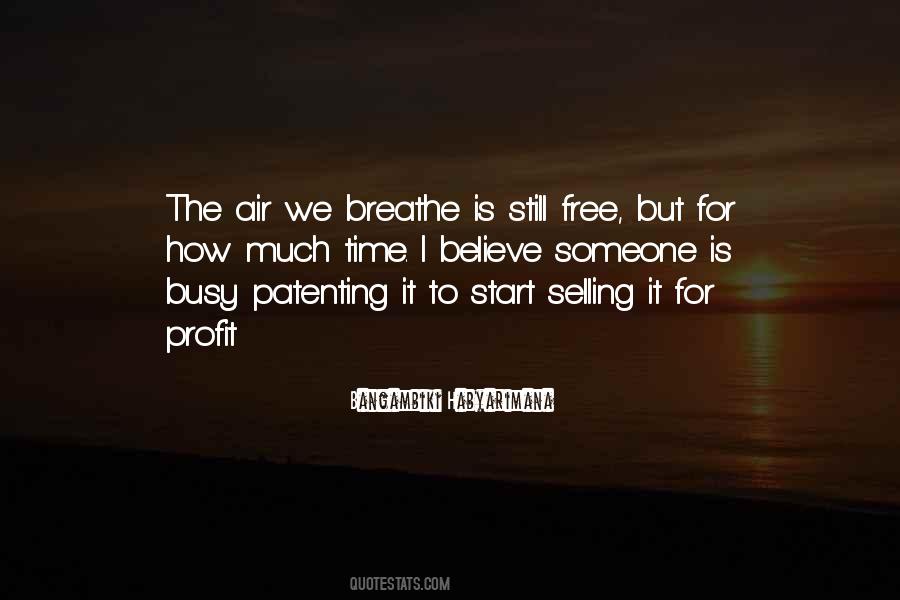 #50. When you believe in someone, they will do anything and everything to live up to those who believe in. - Author: Johnny Hunt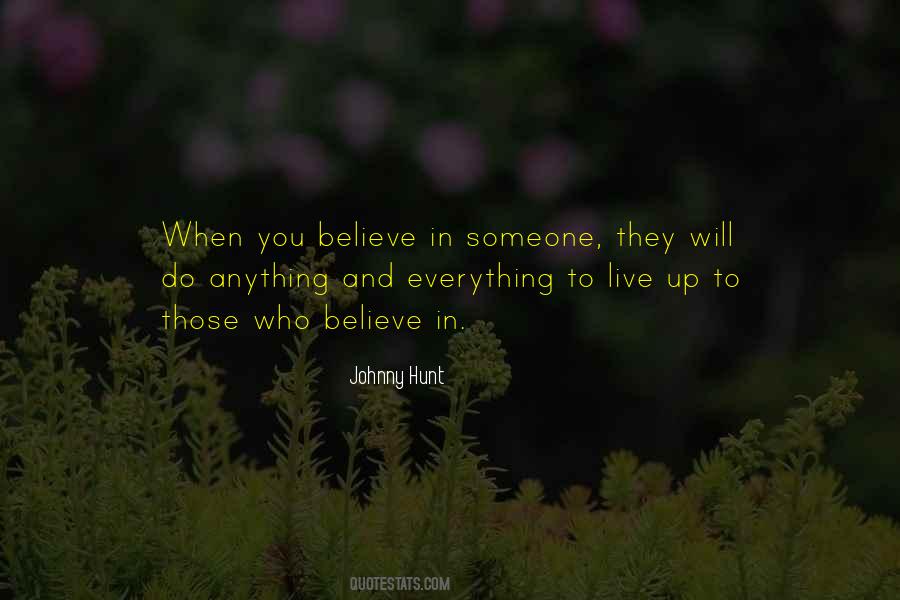 #51. I see myself as a man who is searching for meaning in life. This is rather different from being a staunch believer in something. A believer is someone who senses a consciousness or a direction and believes in it. The one who searches for meaning has not found the direction yet. - Author: Aharon Appelfeld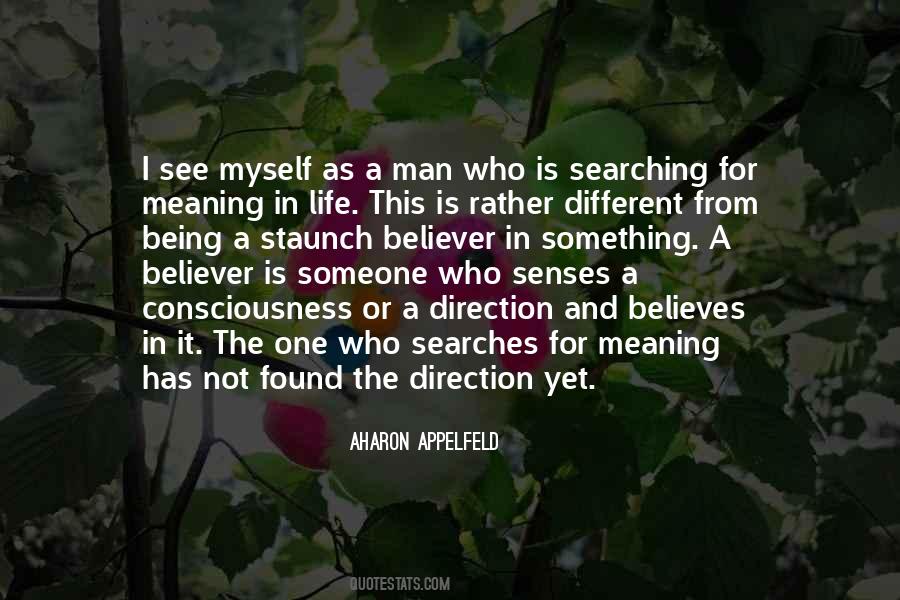 #52. Believe in yourself and you won't need someone else to fulfill your dreams. - Author: Coco Nicole Estef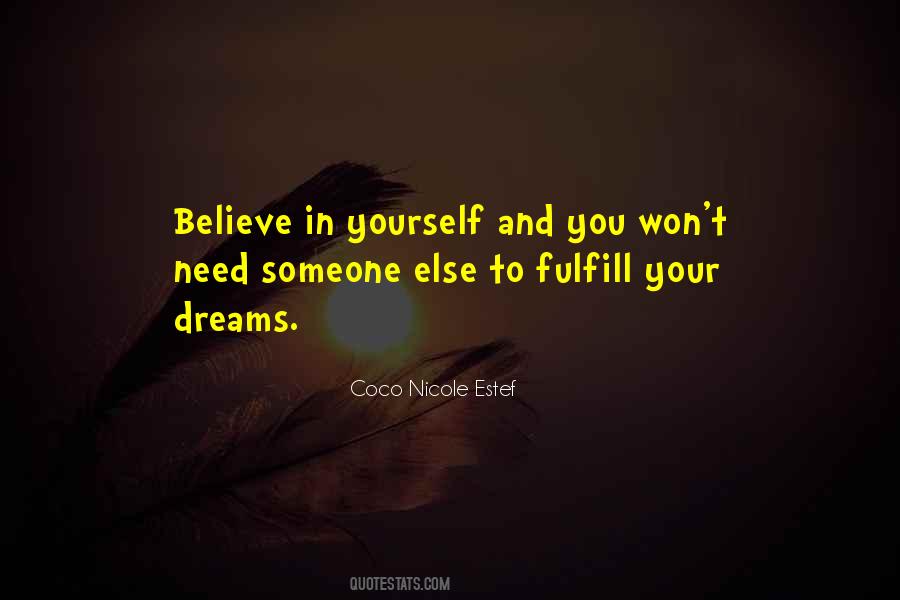 #53. If I never shed a tear or wondered what happened to someone I actually loved, what makes you believe I'd think twice about you, someone I never even cared for? - Author: Donna Lynn Hope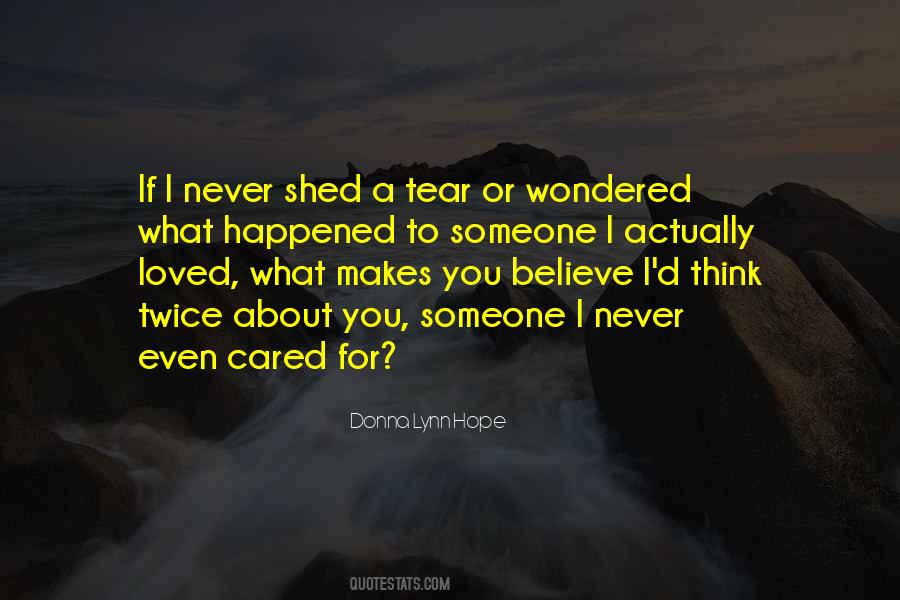 #54. I've never known before what it feels like to want someone - not to want to hook up with them or whatever, but to want them, to want them. And now I do. So maybe I do believe in epiphanies. - Author: John Green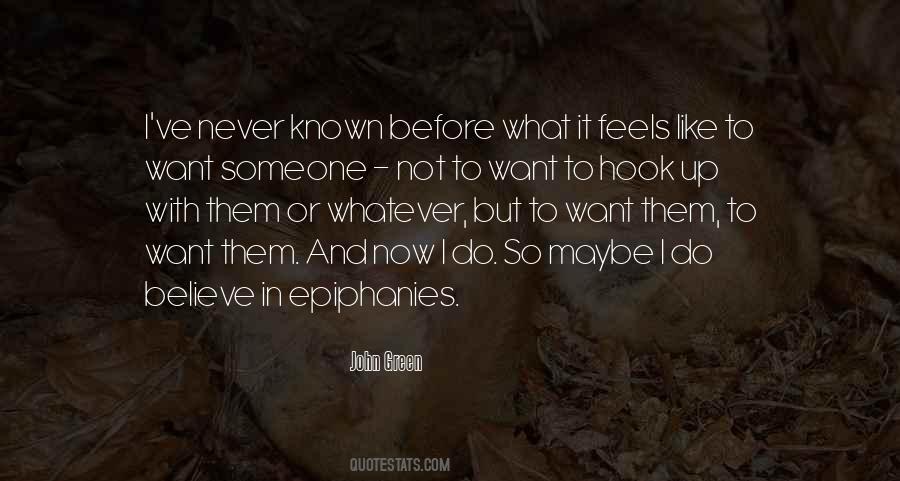 #55. When you believe that your problem is caused by someone or something else, you become your own victim. - Author: Byron Katie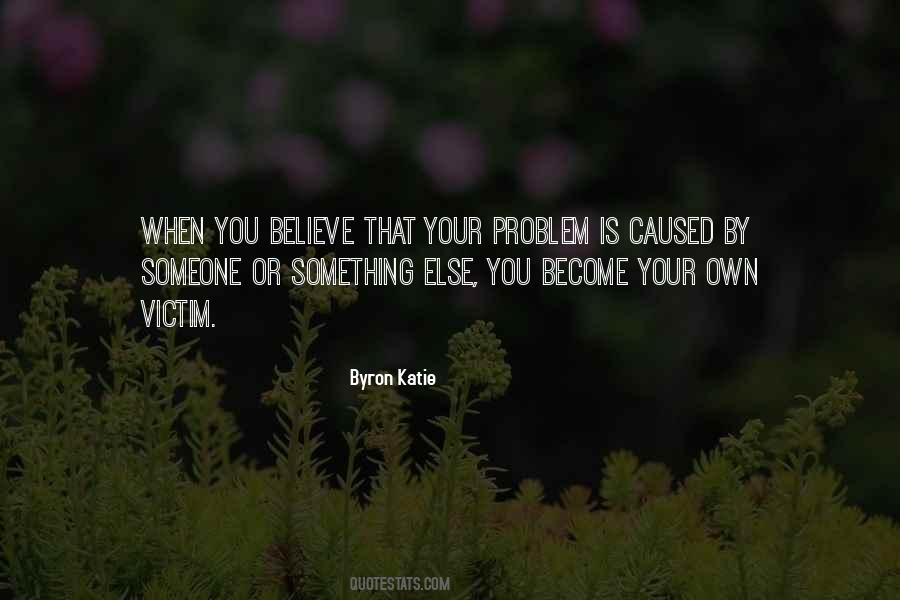 #56. We believe that God is like a giant vending machine in the sky. We put in our requests in the form of prayers, and then the vending machine dispenses these prayers based upon how well we've followed the rules that someone else has told us are God's rules. - Author: Wayne Dyer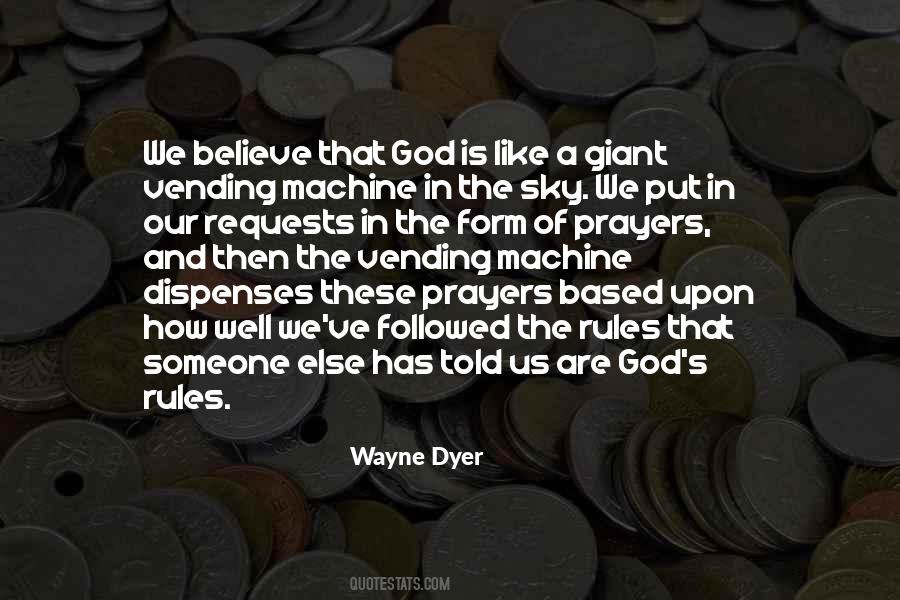 #57. One of the most frightening things in the Western world, and in this country in particular, is the number of people who believe in things that are scientifically false. If someone tells me that the earth is less than 10,000 years old, in my opinion he should see a psychiatrist. - Author: Francis Crick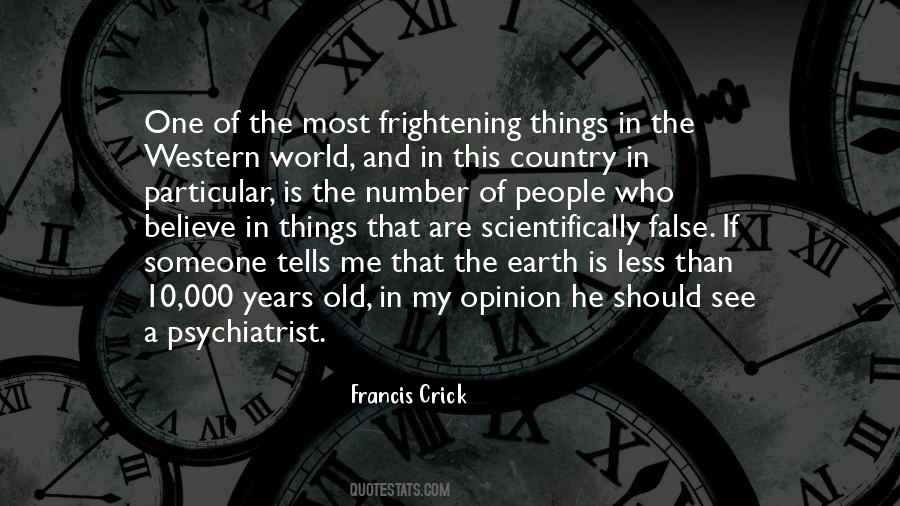 #58. When a liar uses words to convince someone to believe them it's like trying to swim with weight wrapped around your legs. It won't work. Eventually you'll tire out and sink. - Author: Rachel Van Dyken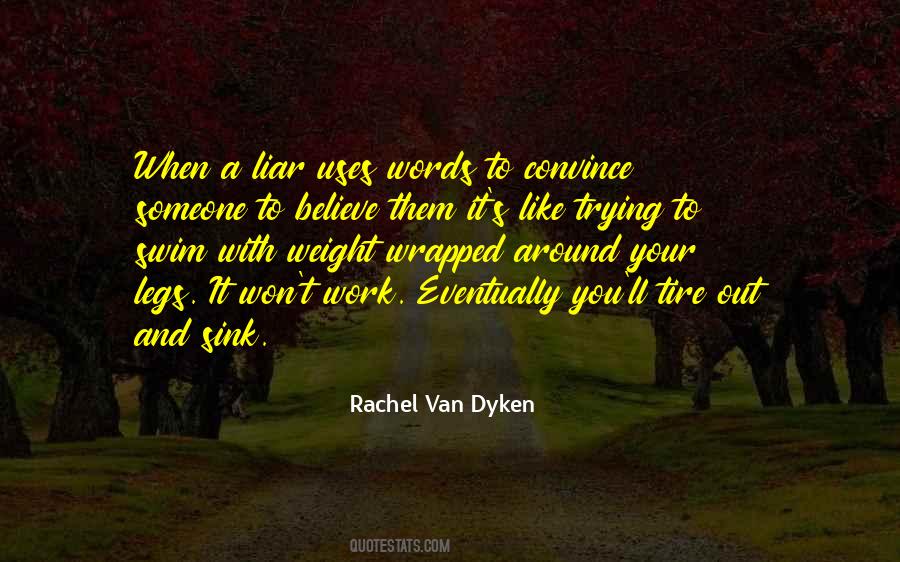 #59. I remember being in the same position as Ruby, when I no longer believed in God as I was raised to believe. But I still am a believer - it's a personality trait, to be someone who can believe. But then what do you believe in? - Author: K.M. Soehnlein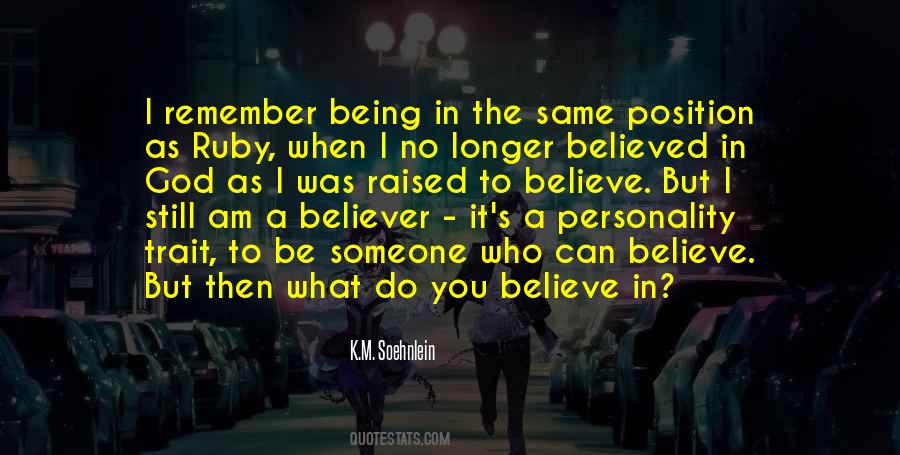 #60. As a young person, and I know it's hard to believe that I was shy, but you could take your camera, and it would take you to places: it was like having a friend, like having someone to go out with and look at the world. I would do things with a camera I wouldn't do normally if I was just by myself. - Author: Annie Leibovitz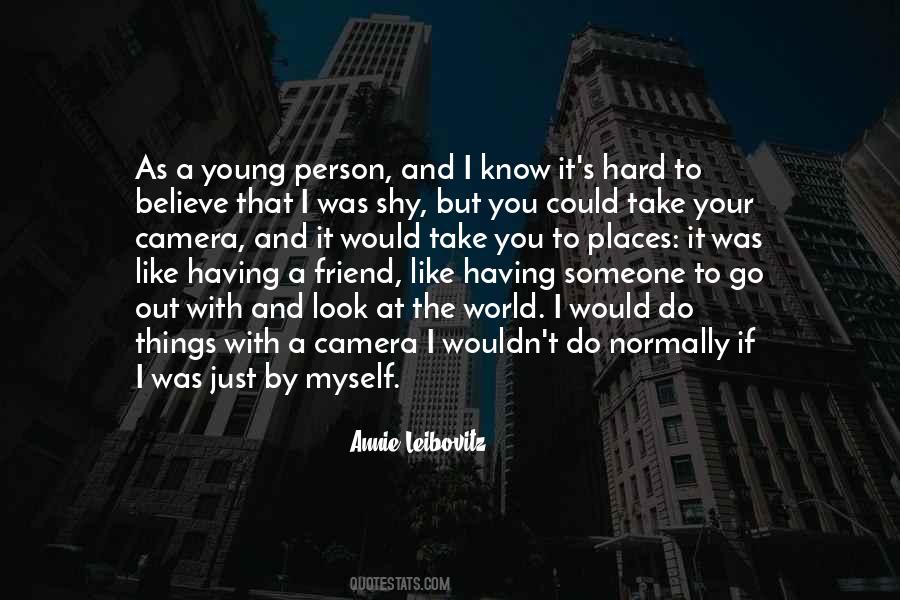 #61. This, I believe, is the great Western truth: that each of us is a completely unique creature and that, if we are ever to give any gift to the world, it will have to come out of our own experience and fulfillment of our own potentialities, not someone else's. - Author: Joseph Campbell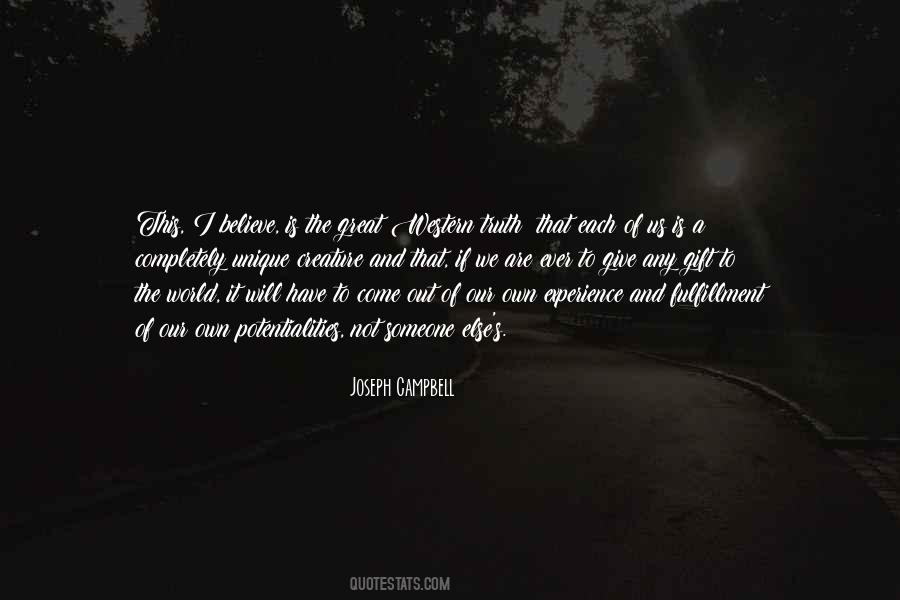 #62. All this hoping for something- or someone- that's maybe hopeless. I'm having a hard time processing what I am supposed to believe, or if I'm even supposed to. There is too much information, and I don't like a lot of it. - Author: David Levithan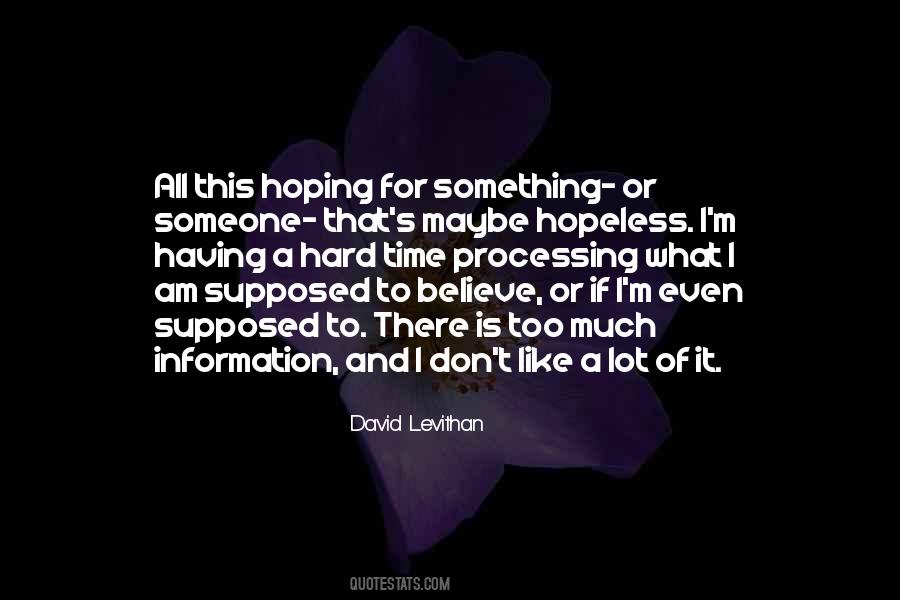 #63. If you believe that you can use sex to shore up your fragile self-esteem by stealing someone else's, we feel sorry for you, because this will never work to build a solid sense of self worth, and you will have to go on stealing more and more and never getting fulfilled. - Author: Dossie Easton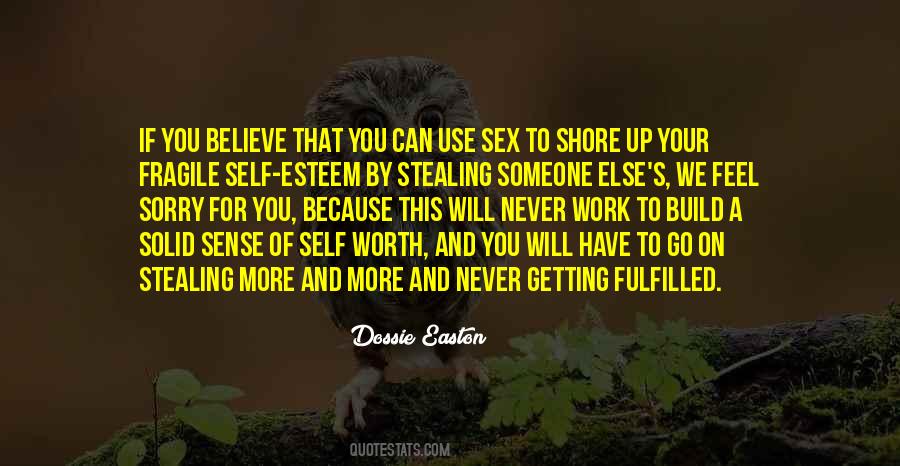 #64. Sometimes you've got to # believe in someone else's belief in you until your # belief kicks in. - Author: Les Brown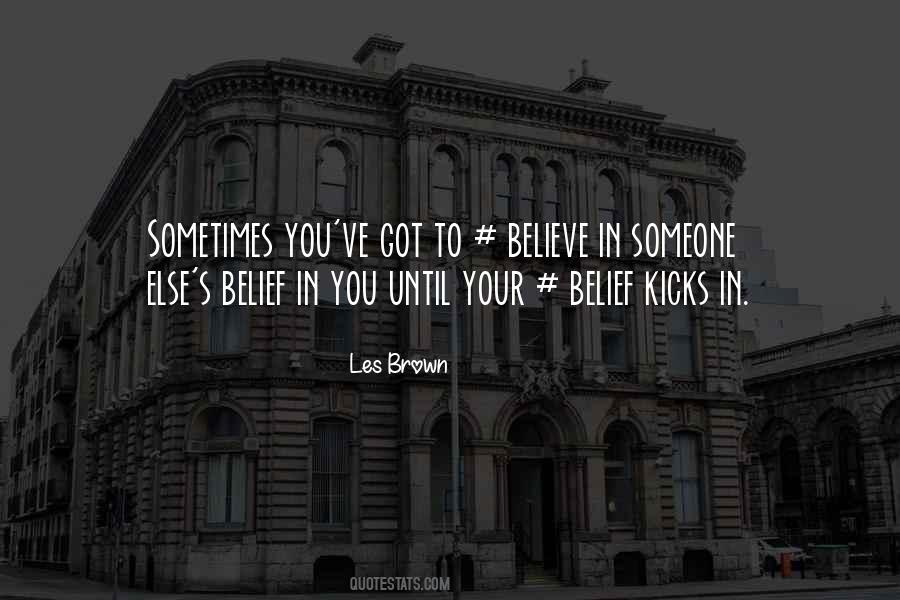 #65. Do you believe that our stories were written from before that we are but actors performing on the stage called life with neither rehearsals nor retakes, the dialogues of our own and a fleeting audience or are you someone who pens down his own story? - Author: Chirag Tulsiani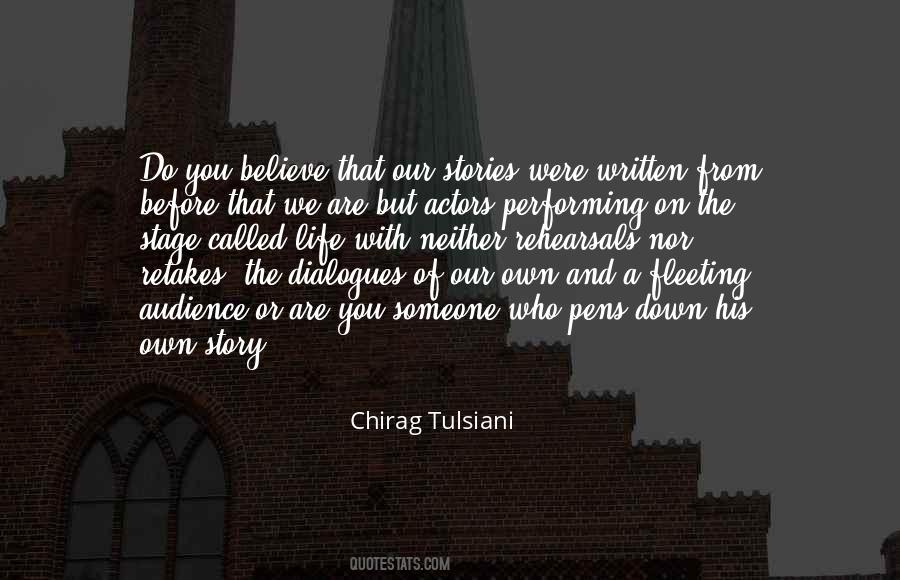 #66. I personally believe in some sort of divine order - or energy. I do believe that everything happens for a reason. I do think that when something bad happens to someone it's with the purpose of awakening them. I do think there is some force behind that. I don't think there are accidents. - Author: Gwyneth Paltrow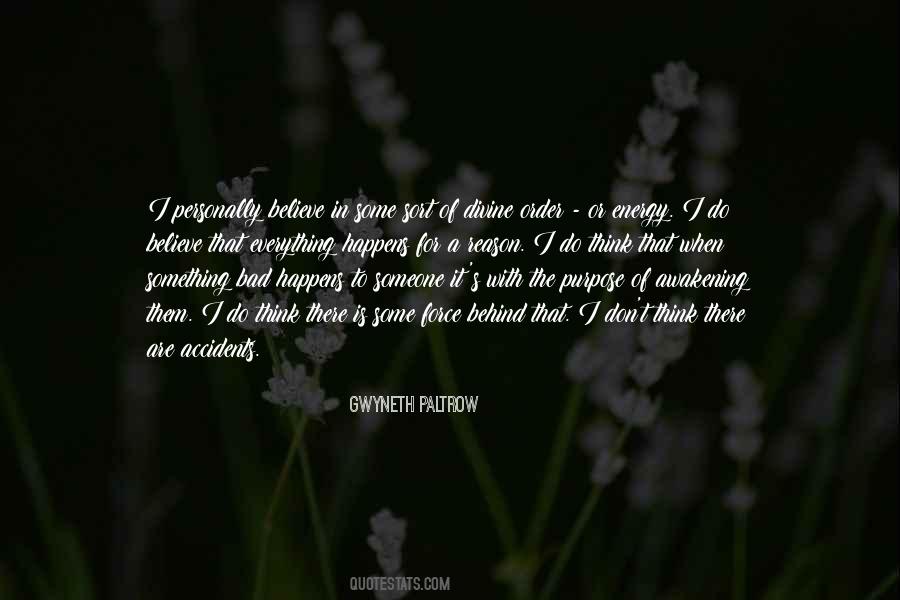 #67. It is very difficult for people to believe the simple fact that every persecutor was once a victim. Yet it should be very obvious that someone who was allowed to feel free and strong from childhood does not have the need to humiliate another person. - Author: Alice Miller
#68. I don't believe in revenge. When people are bullies it's because of a deeper-rooted issue - either their family life is tough or they're being bullied by someone bigger than they are. - Author: Khloe Kardashian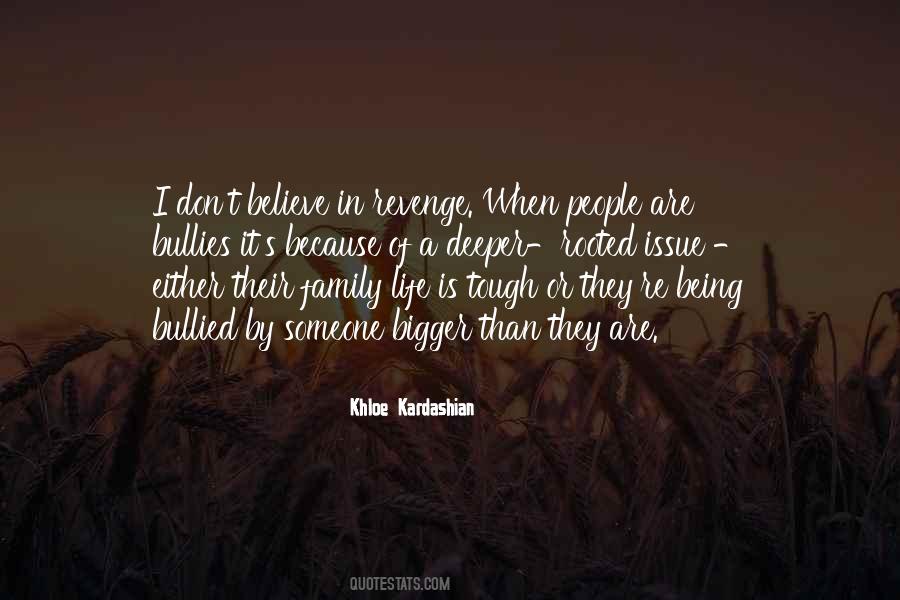 #69. When we are born we are magical and loving and full of wonder. But darkness and ignorance surround us at every corner. Until the day someone calls us a monster or a devil and we believe them. - Author: Philip Ridley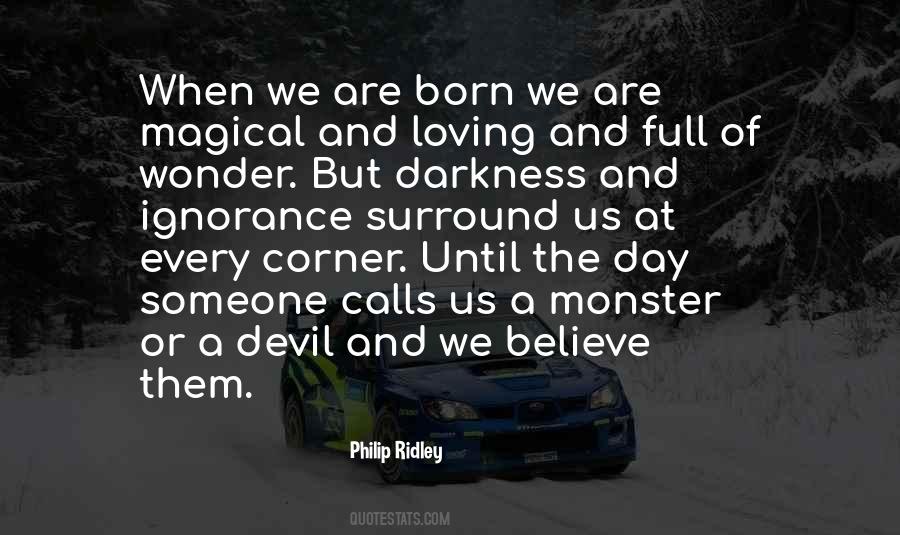 #70. Even that some people try deceived me many times ... I will not fail to believe that somewhere, someone deserves my trust. - Author: Aristotle.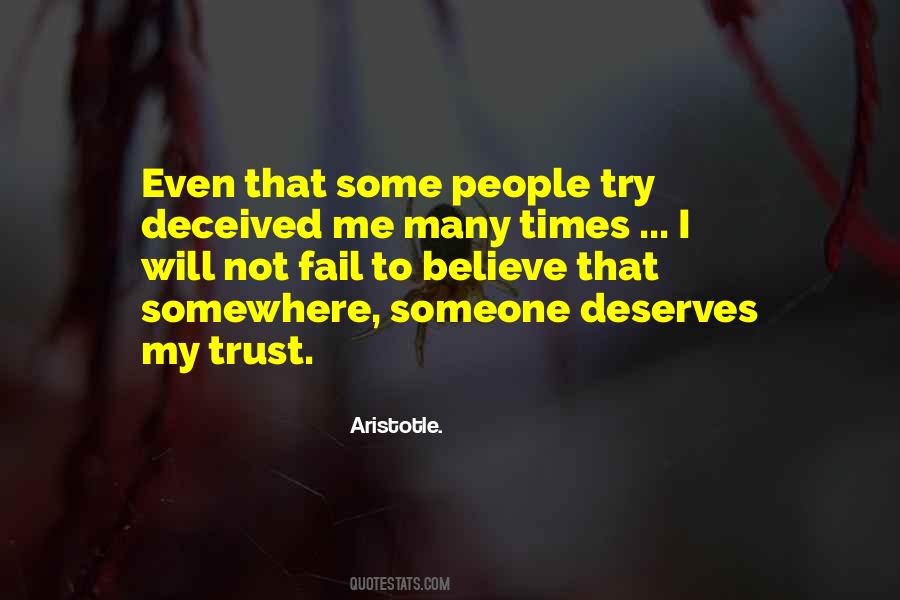 #71. Wouldn't you like to believe you're the center of someone's universe? To feel so special that the rest of the world didn't matter and it could all wait? What would you be willing to pay for that - any time you needed to feel that way? - Author: D.A. Rhine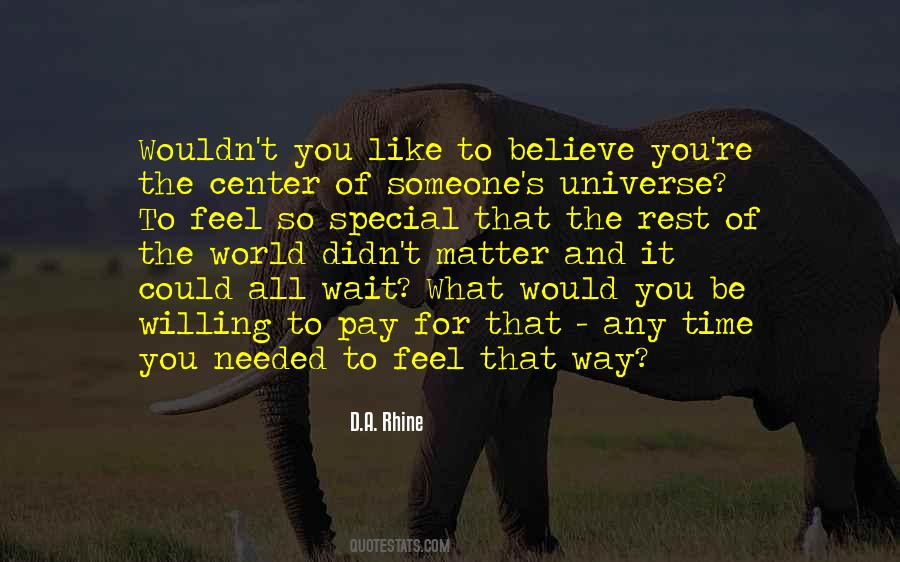 #72. When something bad happens to us, something good happens - often to someone else. And that's The Good Luck of Right Now. We must believe it. We must. We must. We must. - Author: Matthew Quick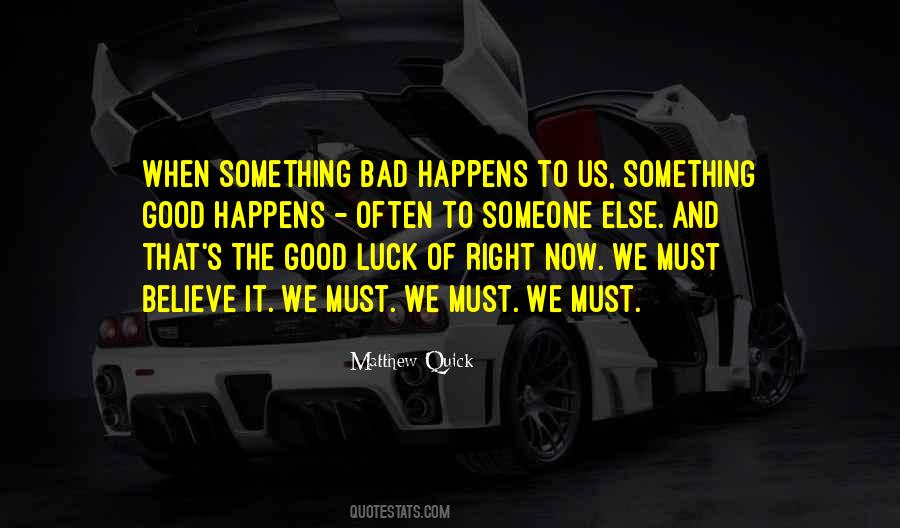 #73. I don't believe that happily ever after means we never have disagreements or go through conflicts. What I do believe is that there is someone who is willing to stick through all of these things with me, because we love each other more than we love ourselves. - Author: Marilyn Grey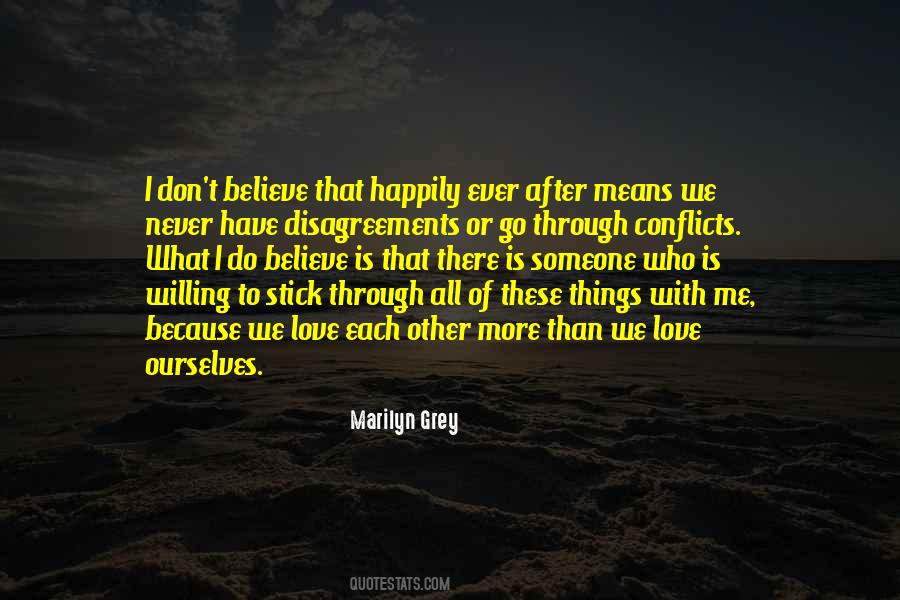 #74. There's always someone willing to believe malicious rumours. - Author: Stieg Larsson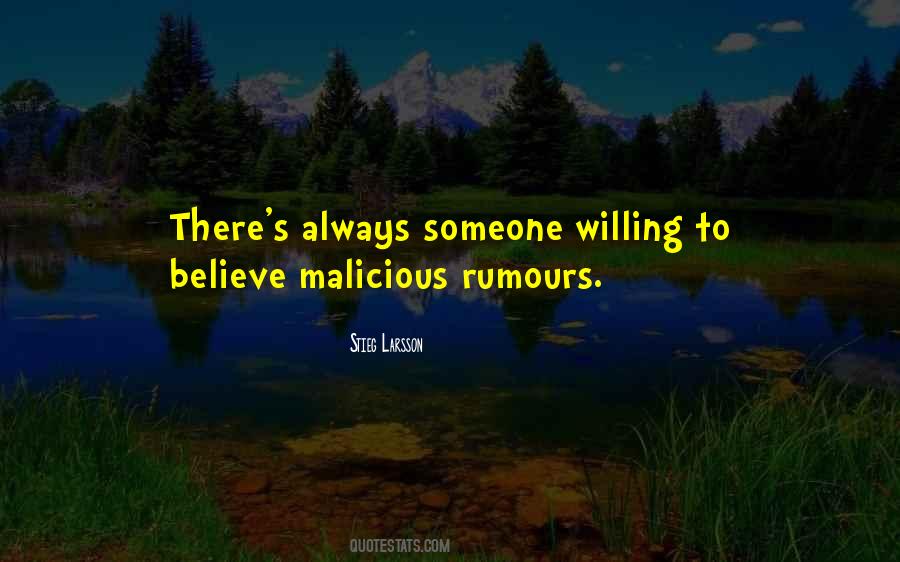 #75. If a person, in a position of authority, wants someone to believe a lie, usually all they have to do is tell it to them. If they want someone to believe a ridiculous lie, all they have to do is tell it to them enough. - Author: Derek R. Audette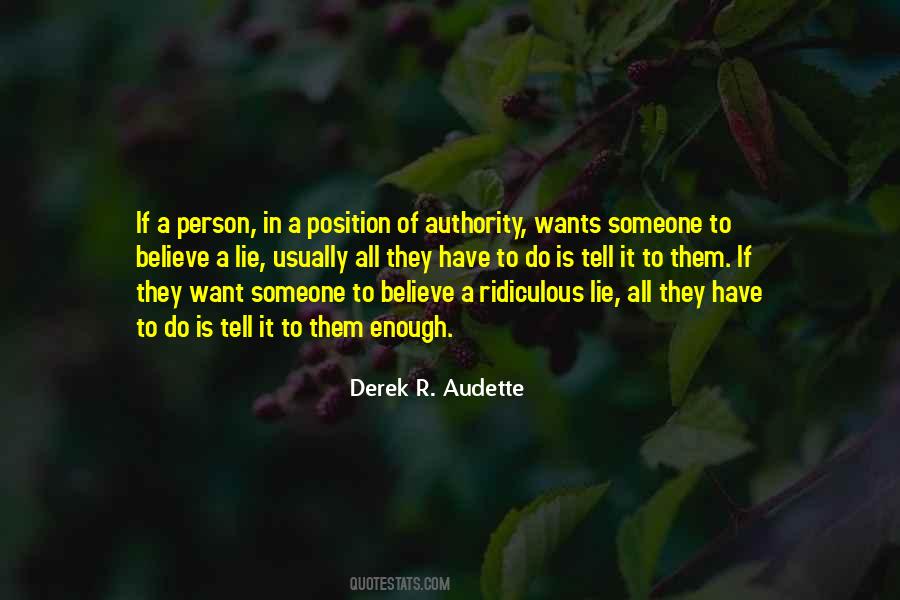 #76. If love is the greatest gift of all-and I believe it is- then the greatest privilege of all is to be able to love someone. - Author: Laura Schroff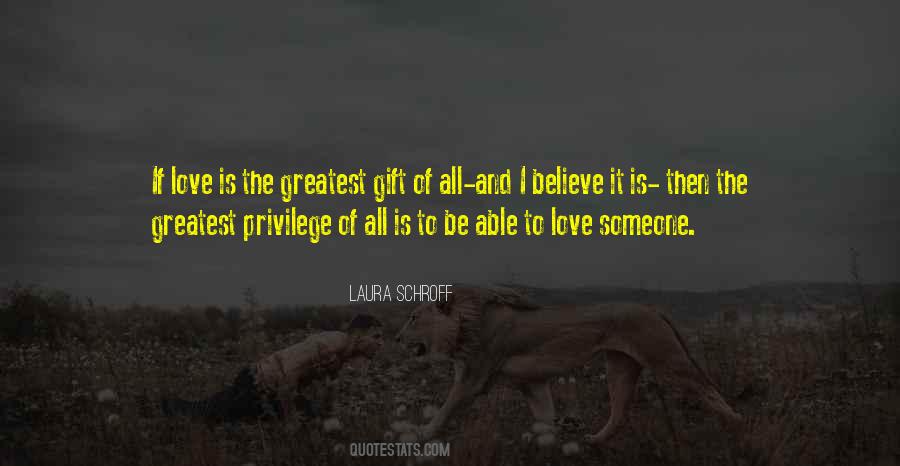 #77. I don't really believe that you need to be married to someone to be their life partner. - Author: Lindsey Vonn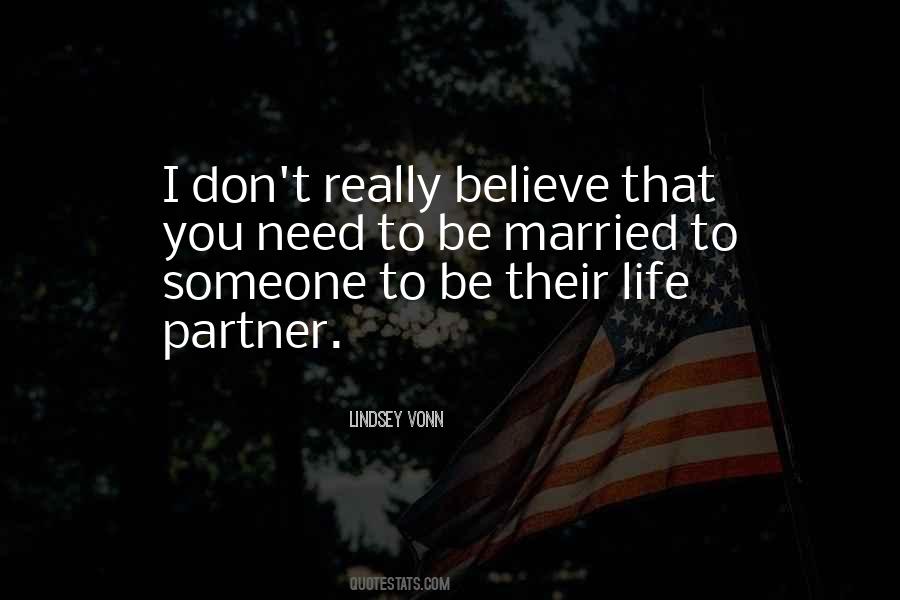 #78. If someone is there to believe in you, to care about you and support you, amazing things can happen. - Author: Tim Tebow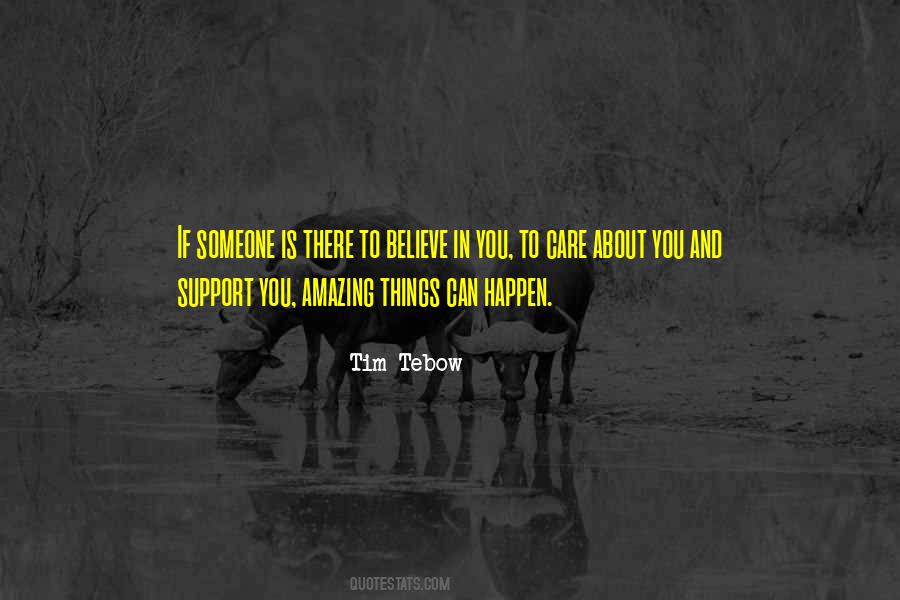 #79. If someone would have talked in school about safe touch and unsafe touch, I believe I would have spoken up as a child and not been victimized over and over again for years, but that day never came, which is why my mission now is to protect children from the childhood I could not be protected from. - Author: Erin Merryn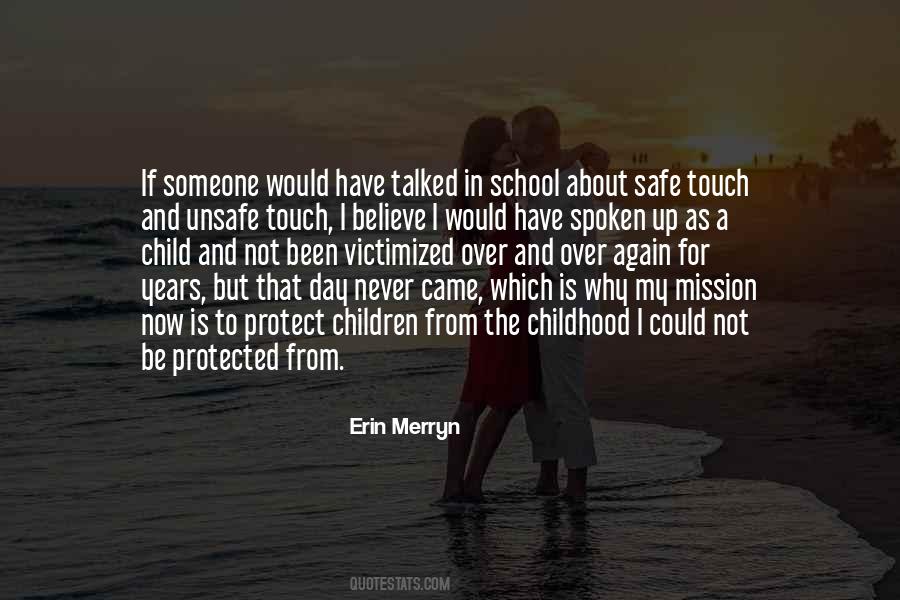 #80. I have always envied people who believe strongly in religion, people who could face a tragedy by praying and know that it would be all right. As unscientific as it seems, well, it would be nice to lay the responsibilities and pain on someone else's larger shoulders. - Author: Jodi Picoult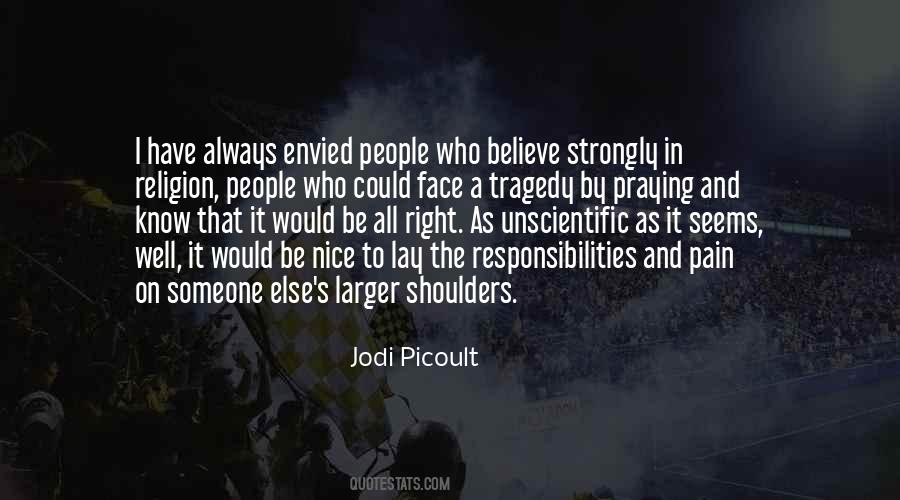 #81. It's easier to believe in yourself after someone else has believed in you first. - Author: Gabrielle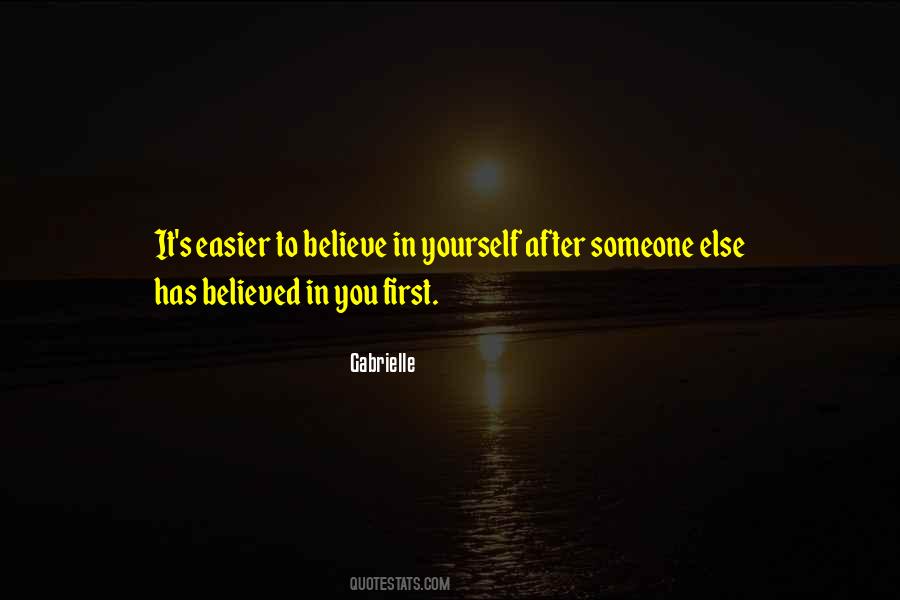 #82. The hardest thing in the world is believing someone can change. It's always easier to go along with the way things are than to admit that you might have been wrong in the first place. - Author: Jodi Picoult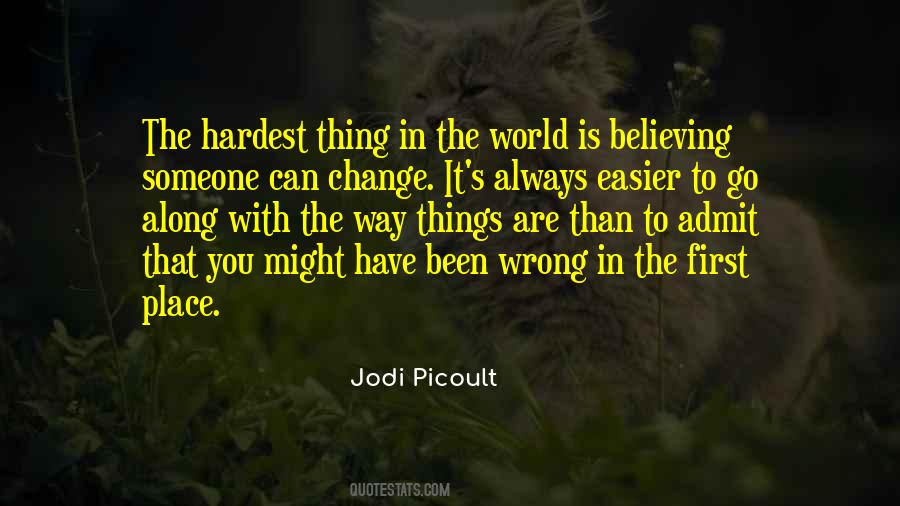 #83. I believe that every human soul is teaching something to someone nearly every minute here in mortality. - Author: M. Russell Ballard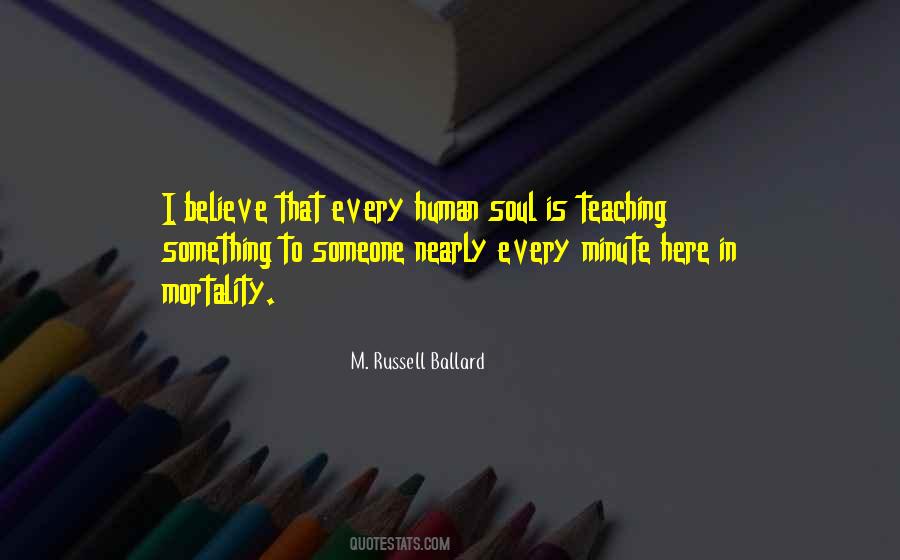 #84. I'm drawn to women who live in a world different from my own. I don't believe you have to marry someone from your own backyard. James Joyce married a woman who never read any of his books. - Author: Matt Dillon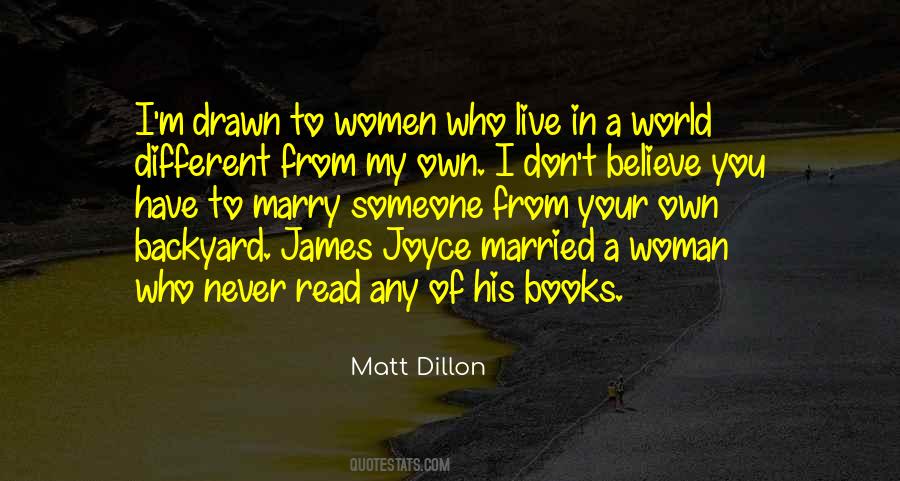 #85. Some Day Someone is going to pick up this book (The Bible) and believe it, and put us all to shame. - Author: Leonard Ravenhill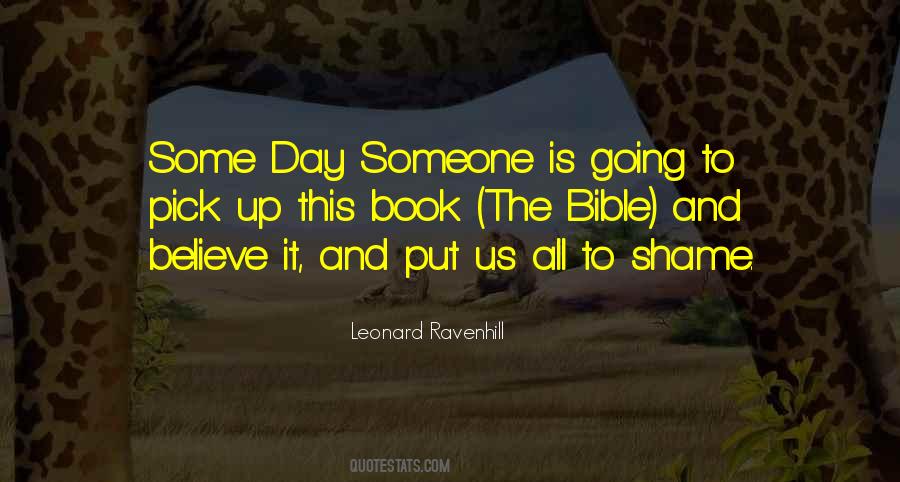 #86. Believe that there's light at the end of the tunnel. Believe that you might be that light for someone else. - Author: Kobi Yamada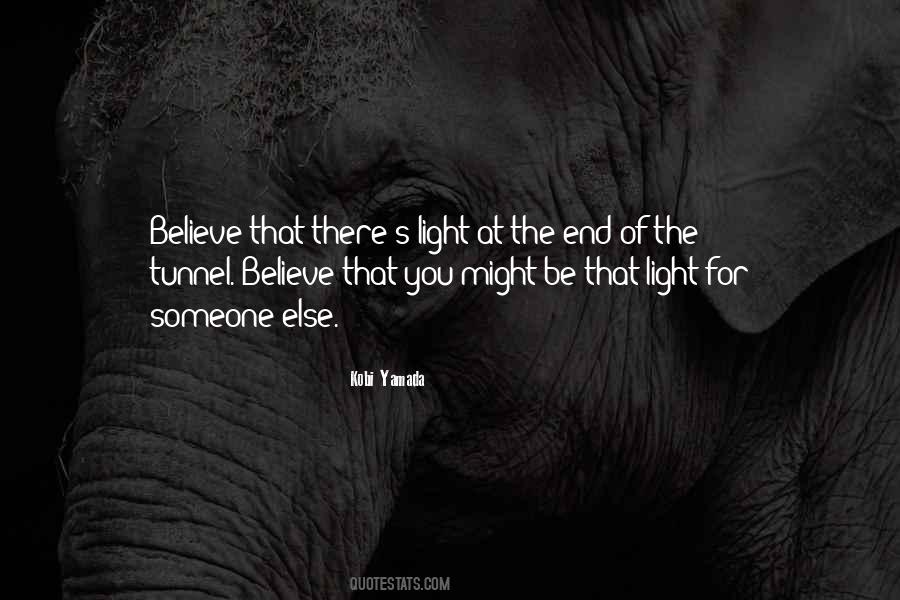 #87. I believe that it is sometimes less difficult to wake up and feel that I am alone when I really am, than to wake up with someone else and be lonely. - Author: Liv Ullmann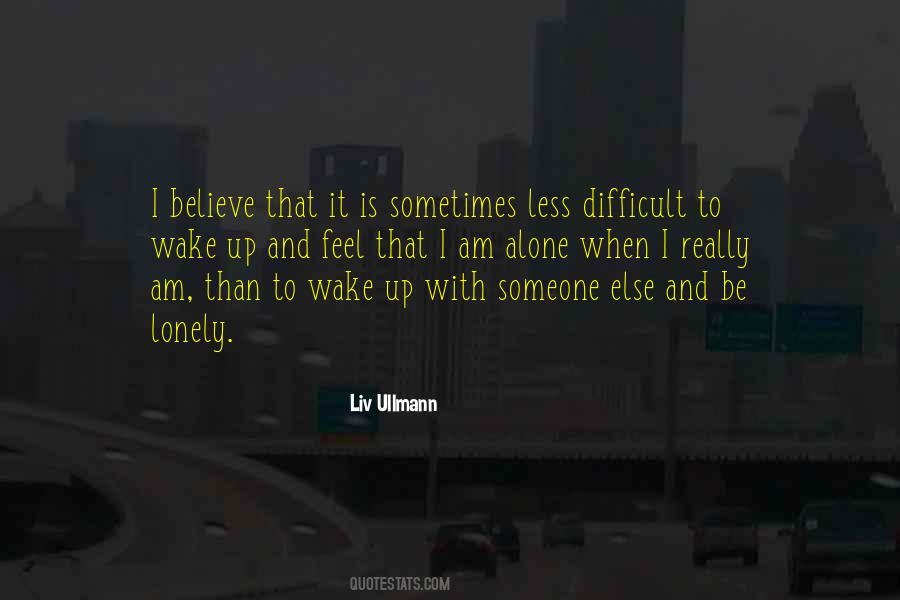 #88. Talk of poems and prayers and promises, and things that we believe in. How sweet it is to love someone, how right it is to care, how long it's been since yesterday. - Author: John Denver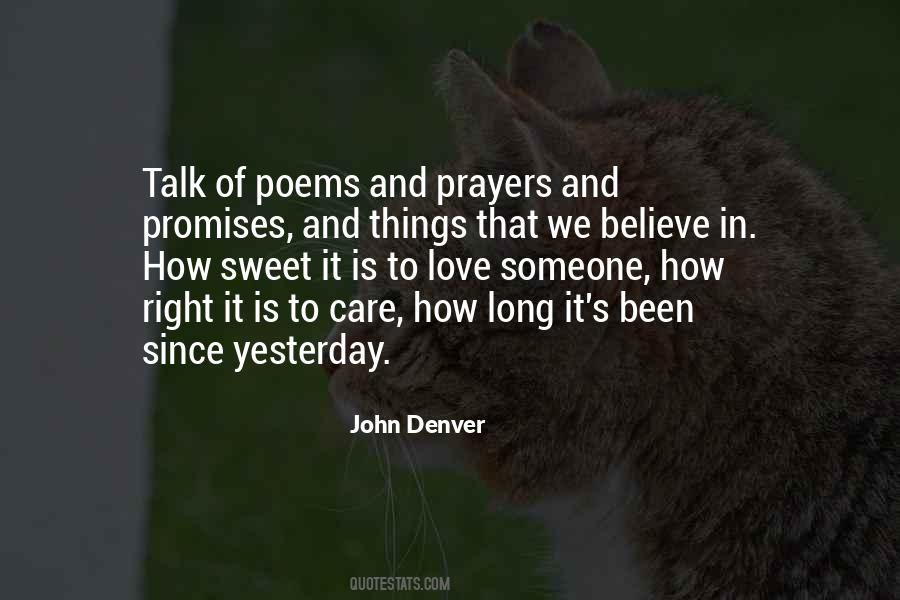 #89. I believe a lot about psychology, or I'd like to learn about it - I'm someone who likes to learn about everything. - Author: Marilyn Manson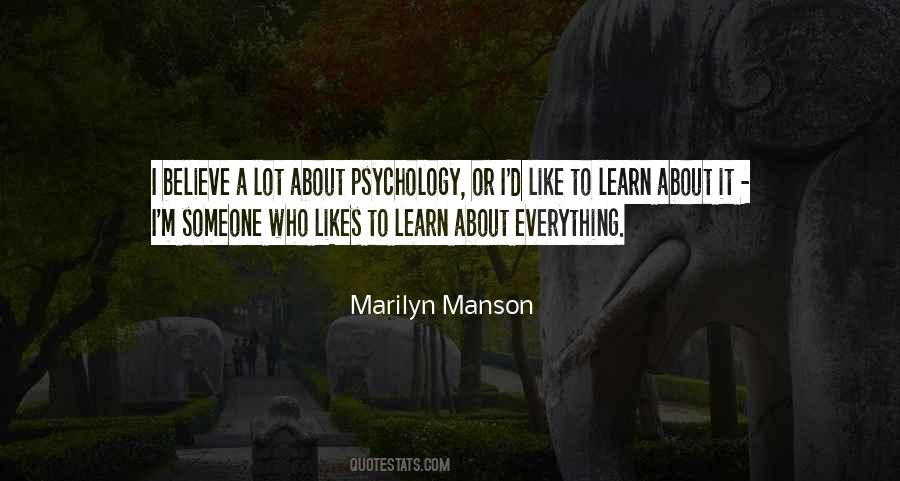 #90. The opposite is best. Whenever you're angry with someone, apply this maxim. I means doing the exact opposite of what your body's telling you to do. Believe me, it works miracles. Titus in Love in Lowercase - Author: Francesc Miralles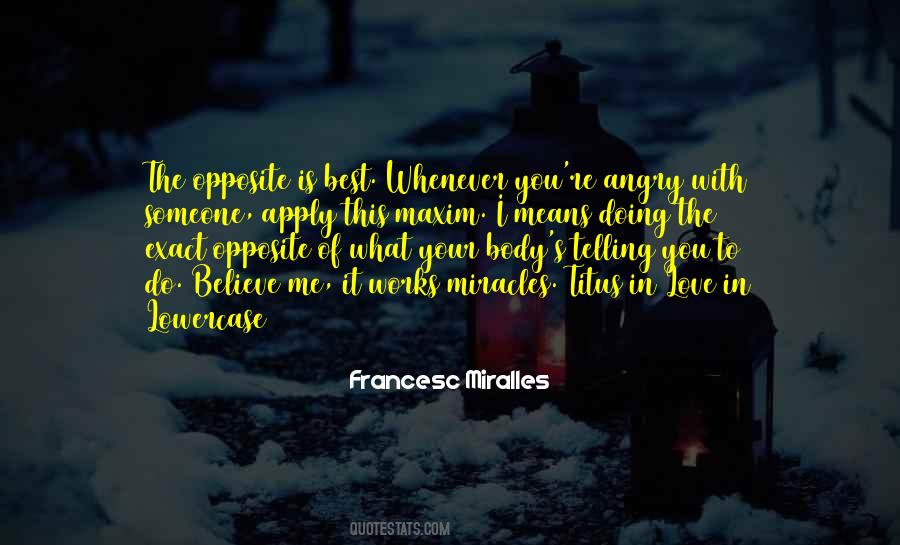 #91. Someone has said that culture is what remains with you after you have forgotten all you have read, and I believe there is much truth in that. - Author: Louis L'Amour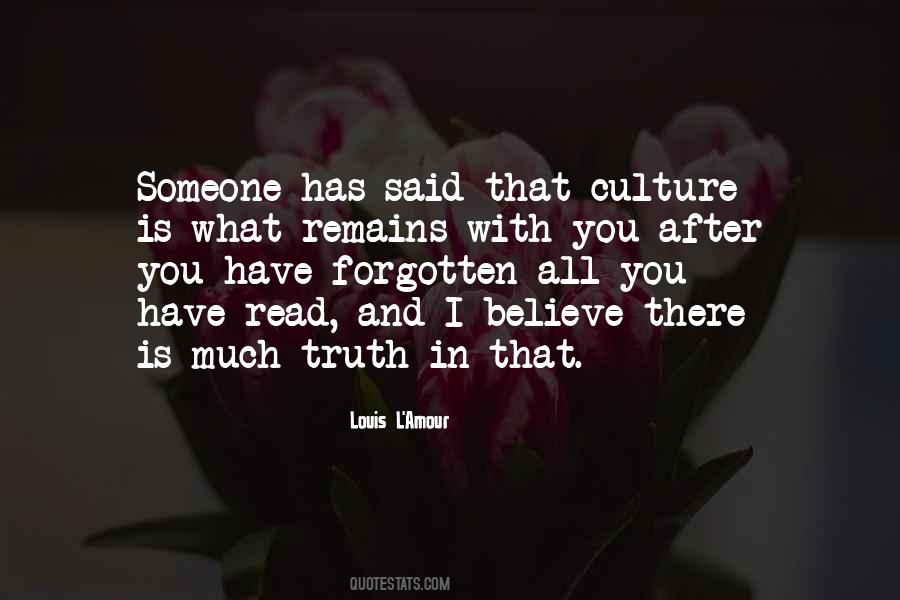 #92. I have goals and aspirations, and I believe that you can go after your dreams, and it can work if you have someone there that's supporting you. - Author: Tia Mowry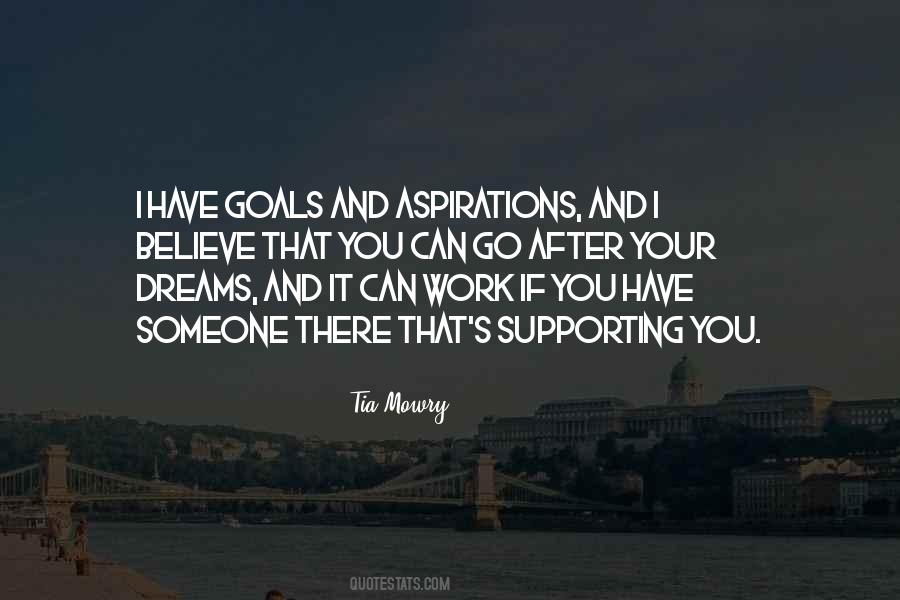 #93. If only he didn't believe he was Shamu's distant cousin. It was such a shame for someone so sublime to be certifiable. - Author: Rosanna Leo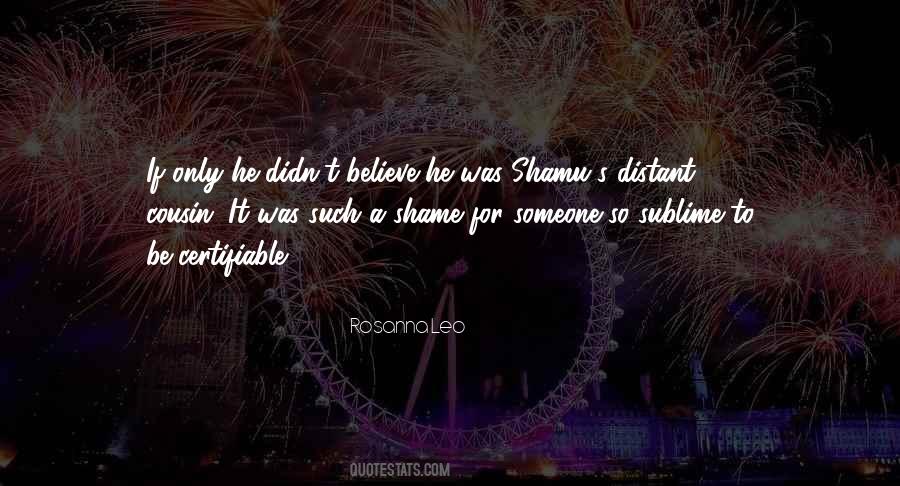 #94. When you love someone as much as that, you don't believe they can die. You think your love protects them. - Author: Irene Nemirovsky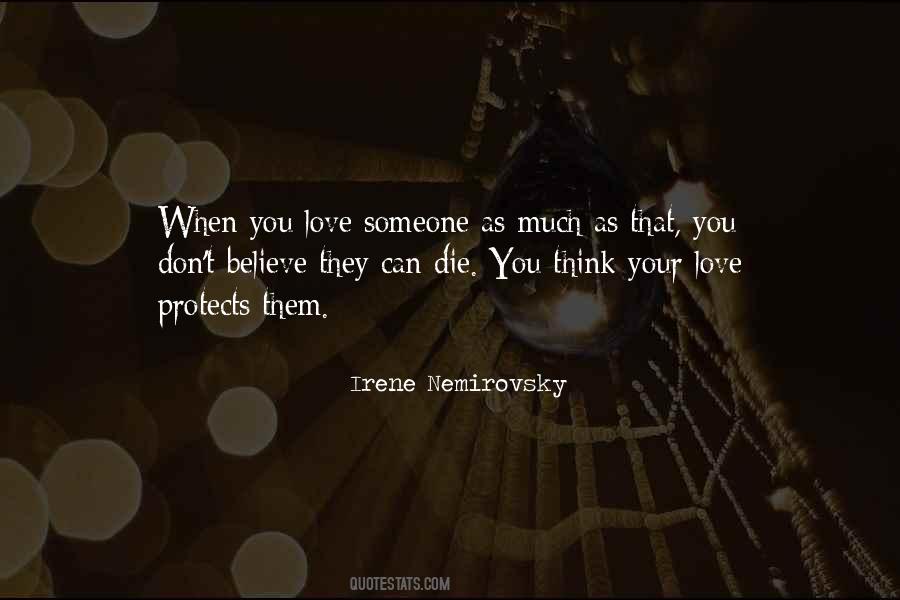 #95. If you are required to kill someone today, on the promise of a political leader that someone else shall live in peace tomorrow, believe me, you are not only a double murderer, you are a suicide, too. - Author: Katherine Anne Porter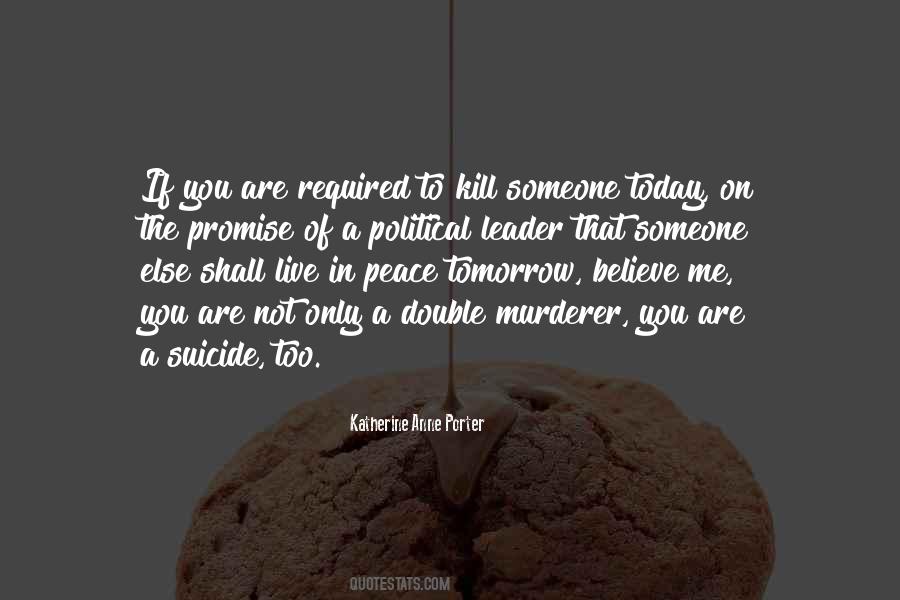 #96. The Bible rarely tells me to fight against someone who doesn't believe what I believe, but it frequently tells me to fight against my sin and the disease in me that's drawing me away from Jesus. - Author: Jefferson Bethke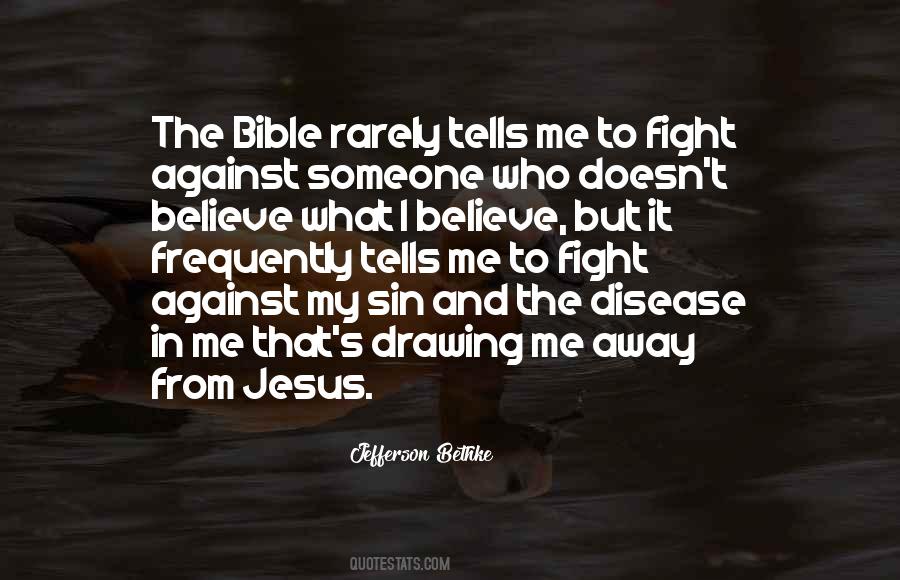 #97. Believing in things you cannot see Even with my trembling arms I want to protect someone dear to me The place my thought that proggressed up to now struggle on to To see hopes Even in a black, confined world - Author: Kanon Wakeshima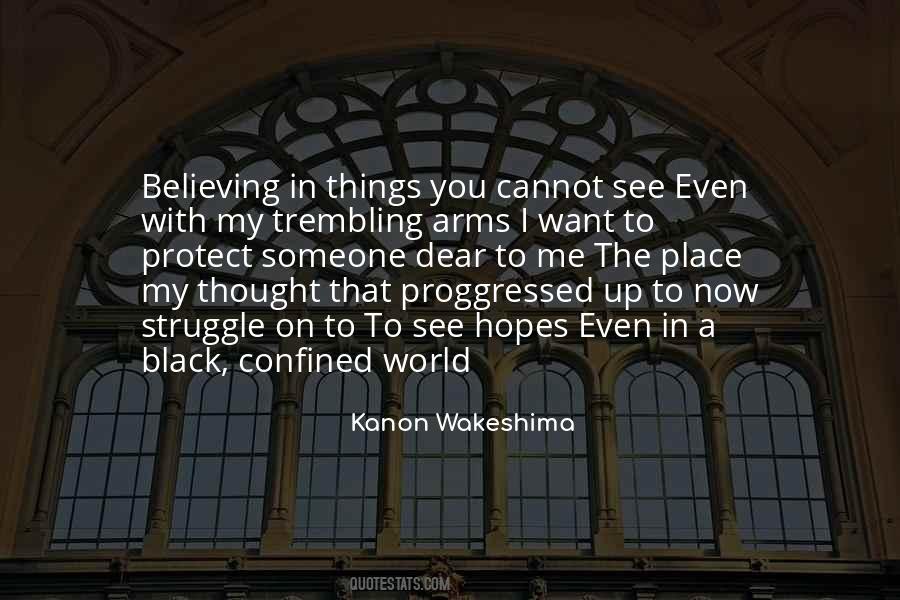 #98. I was always a liar. But one thing I failed to realize about being a liar is that you know when you are deceiving someone else, but when you deceive yourself you believe you are telling the truth. - Author: Jack Gantos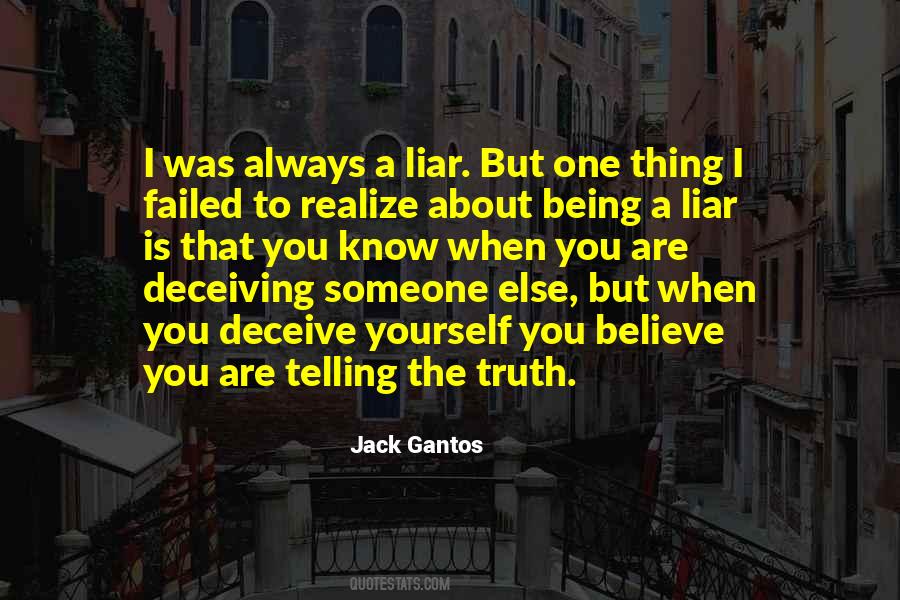 #99. Why are philosophers intent on forcing others to believe things? Is that a nice way to behave towards someone? - Author: Robert Nozick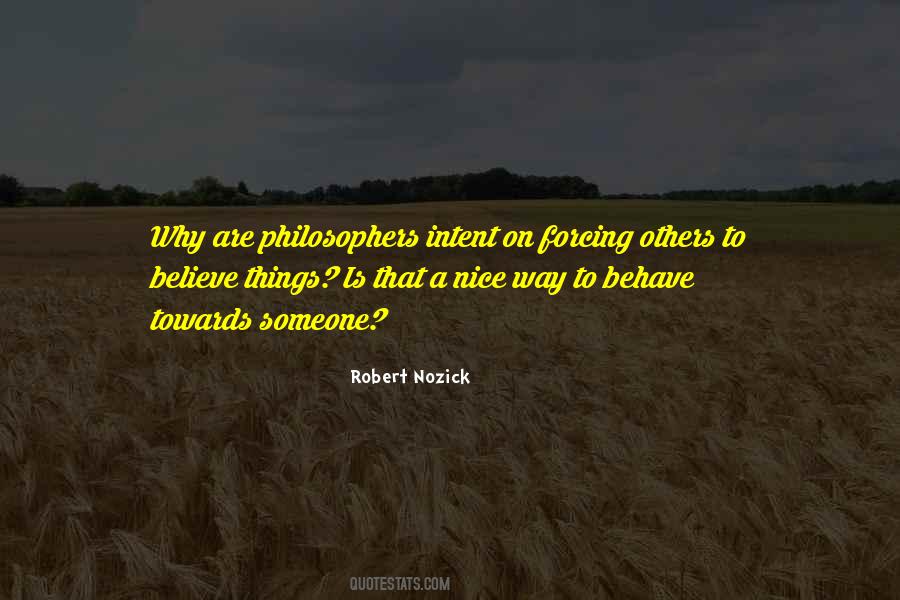 #100. I don't judge the character at all. It's a bit like being someone's defense lawyer - you have to believe in their innocence in order to defend them. - Author: Rachel Weisz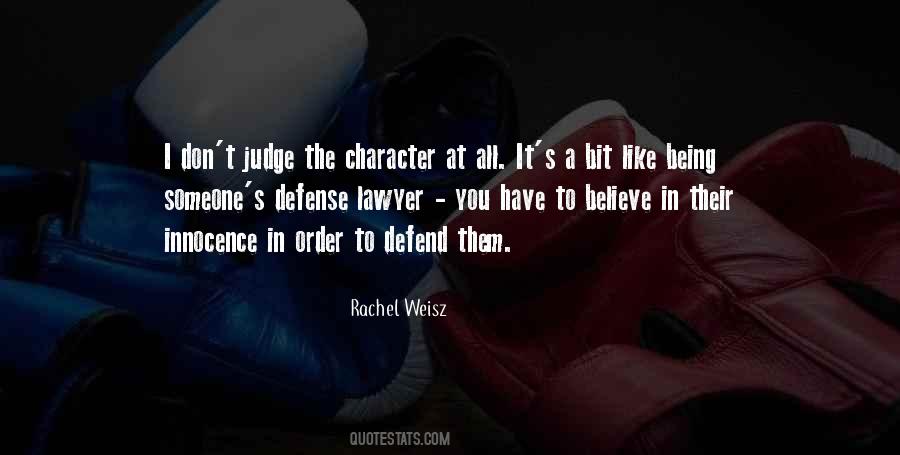 Famous Authors
Popular Topics