Become Better Famous Quotes & Sayings
List of top 100 famous quotes and sayings about become better to read and share with friends on your Facebook, Twitter, blogs.
Top 100 Quotes About Become Better
#1. While to propose to be a better man is a piece of unscientific cant, to have become a deeper man is the privilege of those who have suffered. And such I think I have become. - Author: Oscar Wilde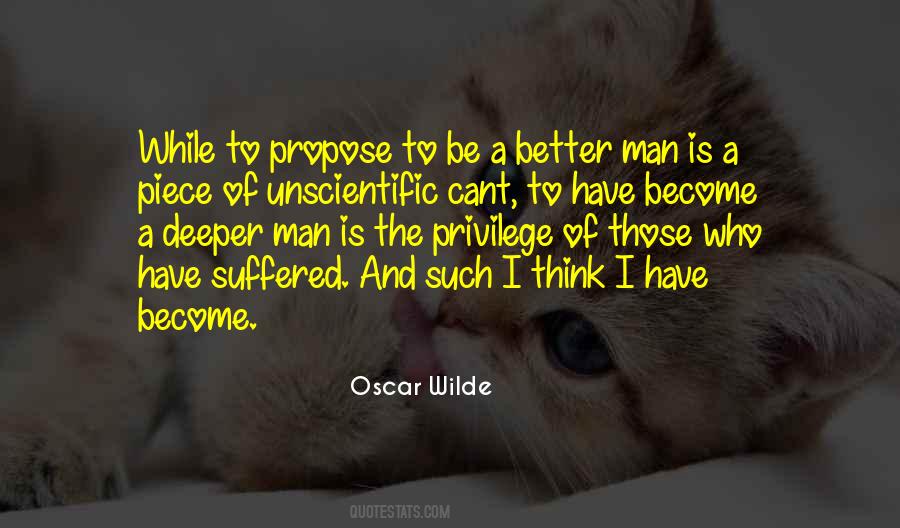 #2. I believe that we cannot live better than in seeking to become better, nor more agreeably than having a clear conscience. - Author: Socrates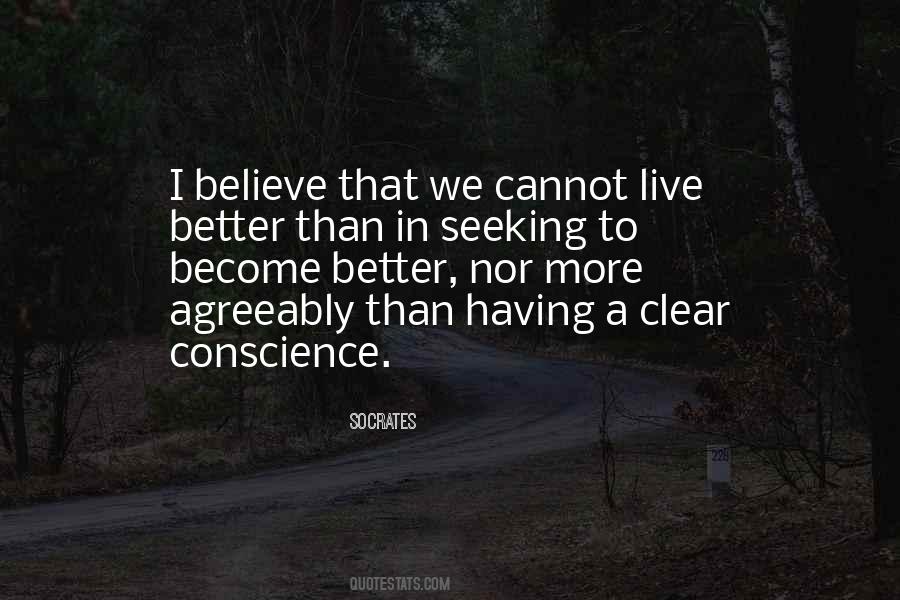 #3. Dog movies nowadays are not what dog movies were 50 or even 10 years ago. For one thing, the dogs have become better actors. - Author: Benjamin Cheever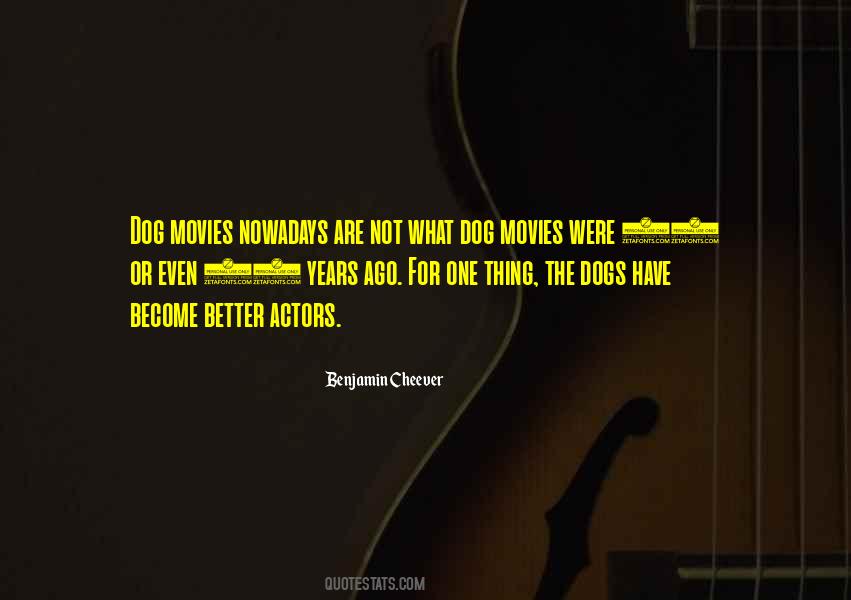 #4. In life we either become bitter or better'. And the only person who determines that outcome is ourselves. - Author: Anthony Venn-Brown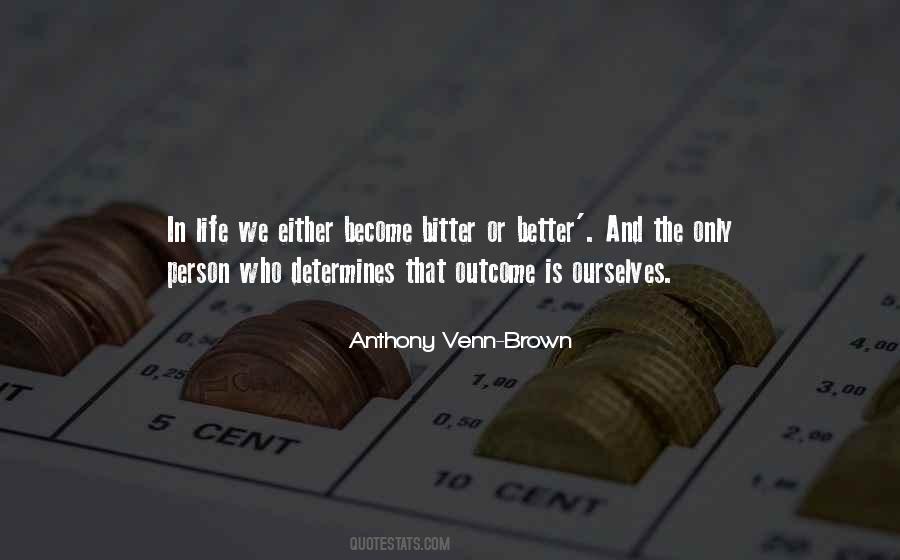 #5. To become successful and outstanding at something, we don't have to come up with something new; we need only find ways of doing it better. - Author: Earl Nightingale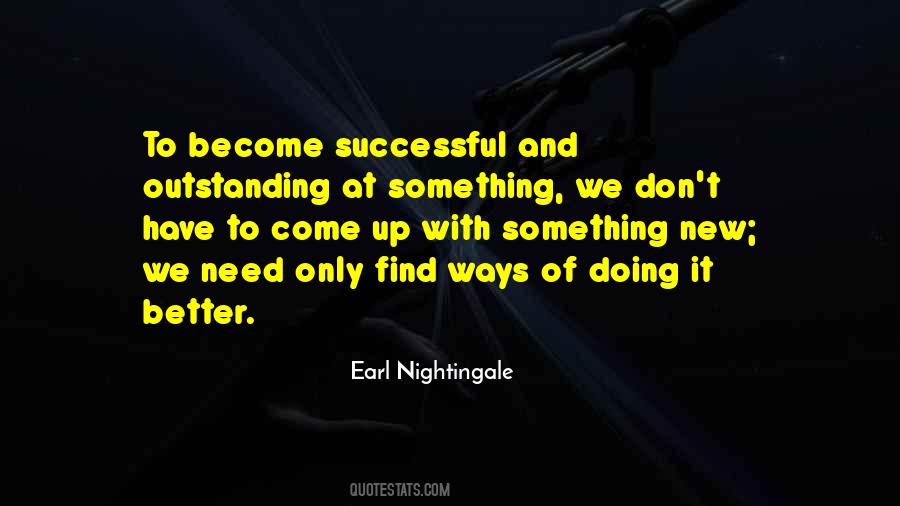 #6. I'm on a constant path of self-discovery and change. I'm trying to become a better person, a nicer person. I love therapy - it's brilliant. - Author: Julia Sawalha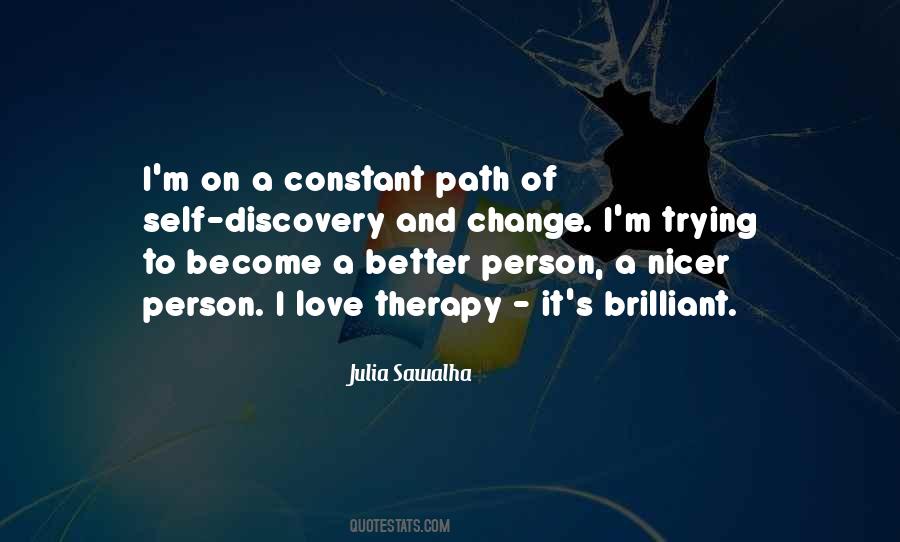 #7. Ask yourself: was there anything I could have done to prevent the situation? If the answer is yes, do something now and become a better person for it. - Author: Dave Pelzer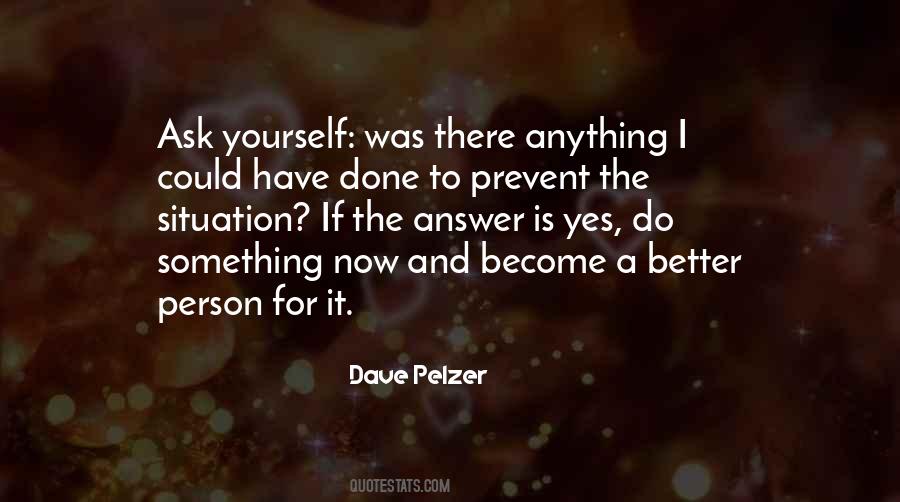 #8. I suppose I should be happy to be misread; better be that than some of the other things I have become. - Author: Aimee Mann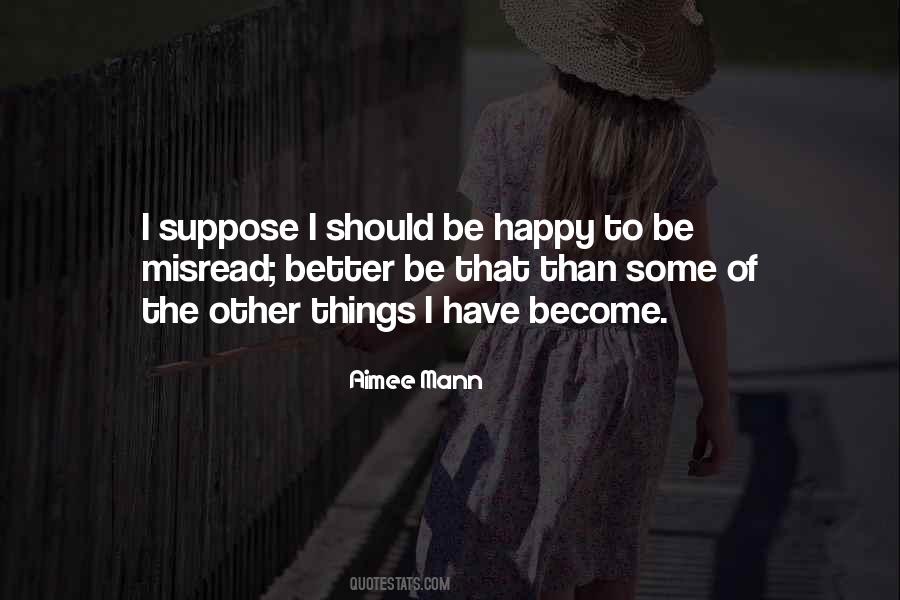 #9. As more men become more educated and women get educated, the value system has to be more enhanced and the respect for human dignity and human life is made better. - Author: Ellen Johnson Sirleaf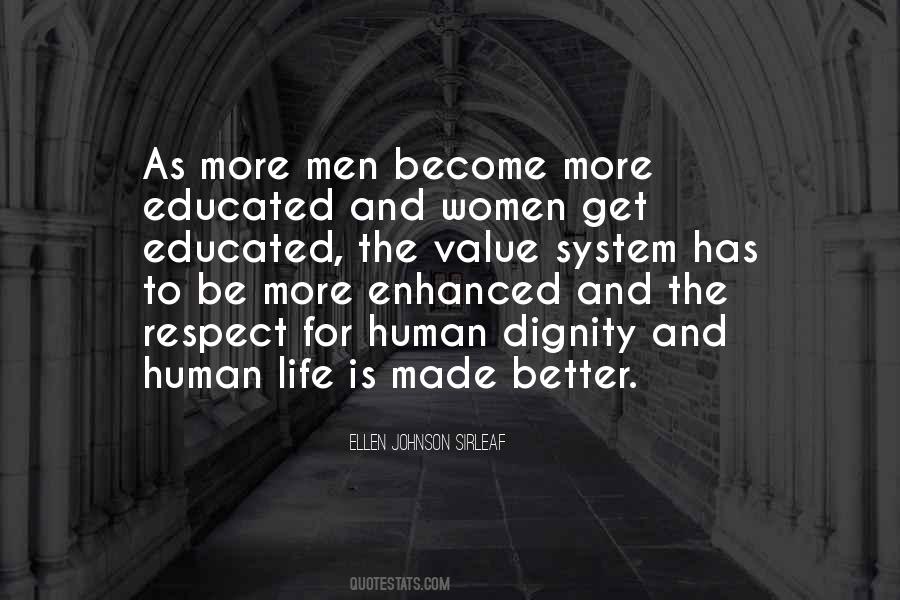 #10. I feel that, as an actor, you're constantly working to become better, which I love, but with painting, I can fail on my own terms. There's a freedom in that, so that's why I love to paint. - Author: J. August Richards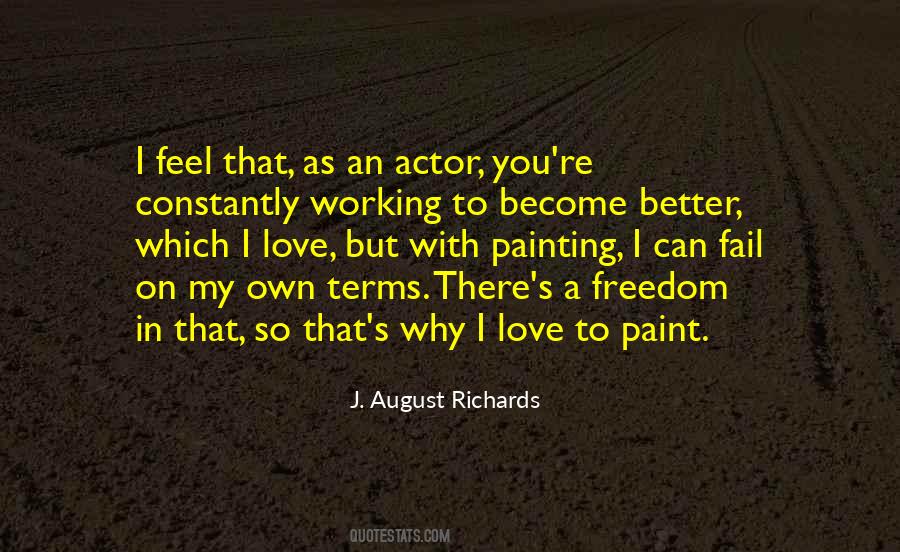 #11. I am not a professional coach but I believe being healthy inside and out and cleansing your demons ... helps you perform better in business and become a more positive person. - Author: Michelle Mone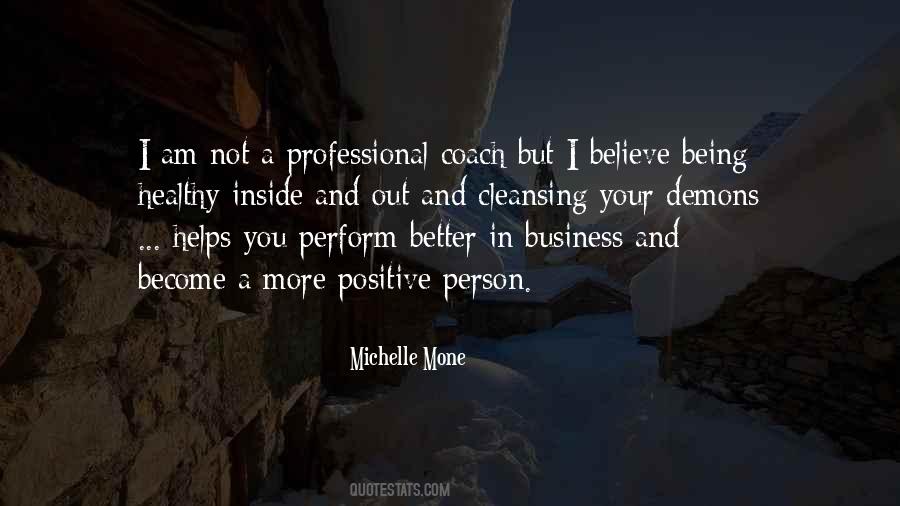 #12. Victor wants his children to have a better life. He encourages them to spend many years in college. Victor wants his children to become physicians, lawyers, accountants, executives, and so on. But in so encouraging them, Victor essentially discourages his children from becoming entrepreneurs. - Author: Thomas J. Stanley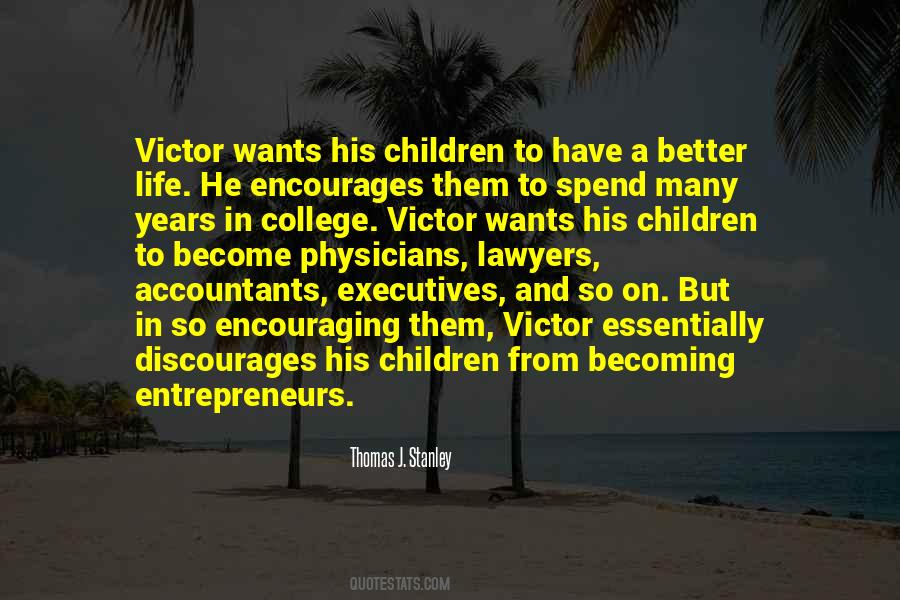 #13. The offender needs pity, not wrath; those who must needs be corrected, should be treated with tact and gentleness; and one must be always ready to learn better. 'The best kind of revenge is, not to become like unto them.' - Author: Marcus Aurelius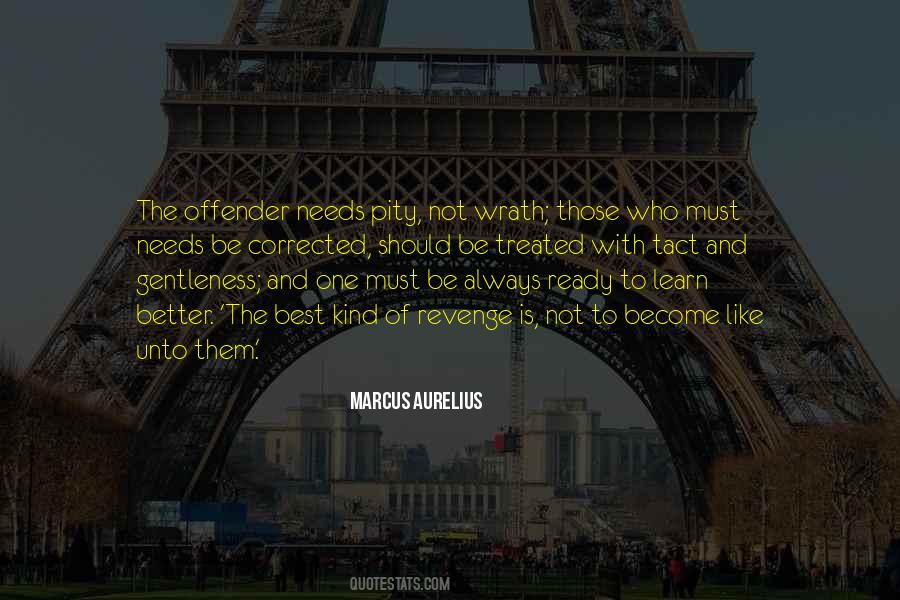 #14. The problem with thinking that you are the absolute best, is that it leaves no room for you to become any better and while you live life thinking that you're the best, truth is a lot of people around you are already better and becoming even more better. - Author: C. JoyBell C.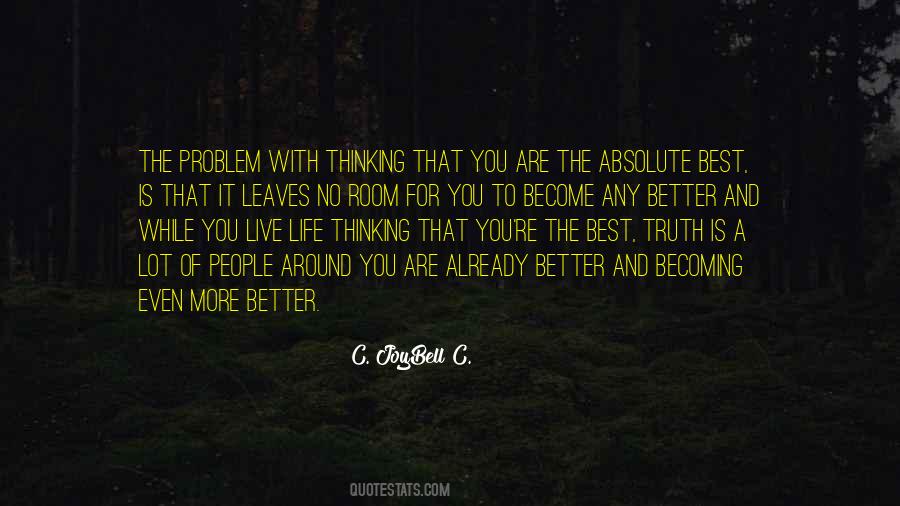 #15. The long conflict between Israel and Palestine has, for better or worse, become the world's conflict. It permanently destabilizes the Middle East, blocks the settlement of urgent crises, and intensifies looming threats to the West. - Author: Stephen Kinzer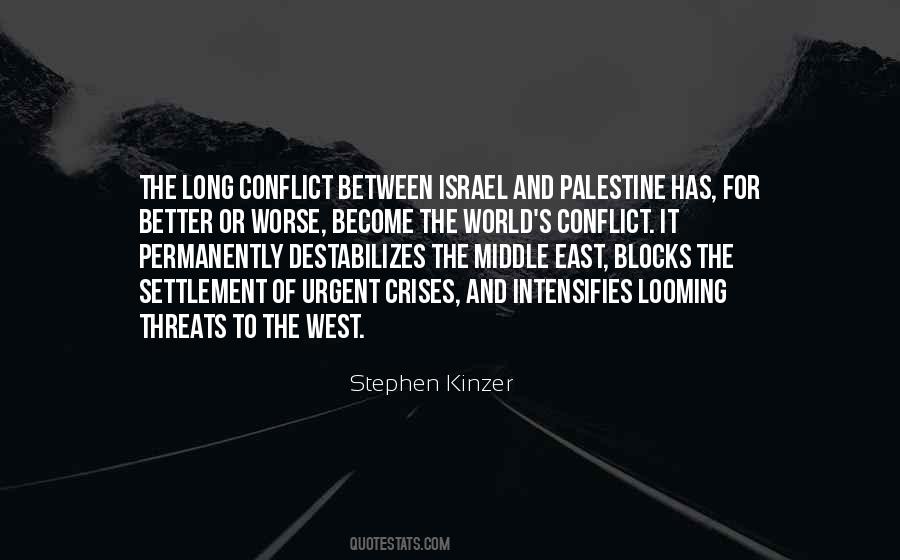 #16. You are solely responsible for doing the work required to become better. - Author: Sara Genn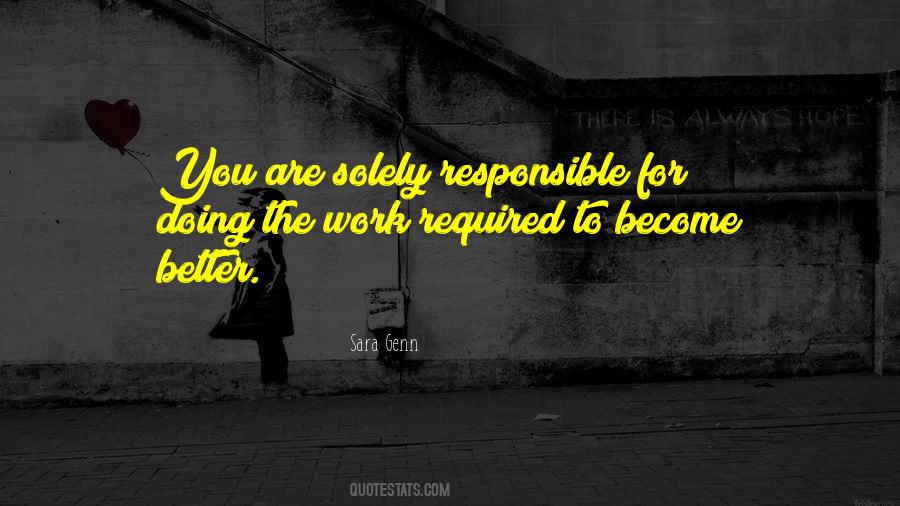 #17. The art world has become the R&D department for so much fashion and music, so knock-offs are getting better and better. - Author: Marco Brambilla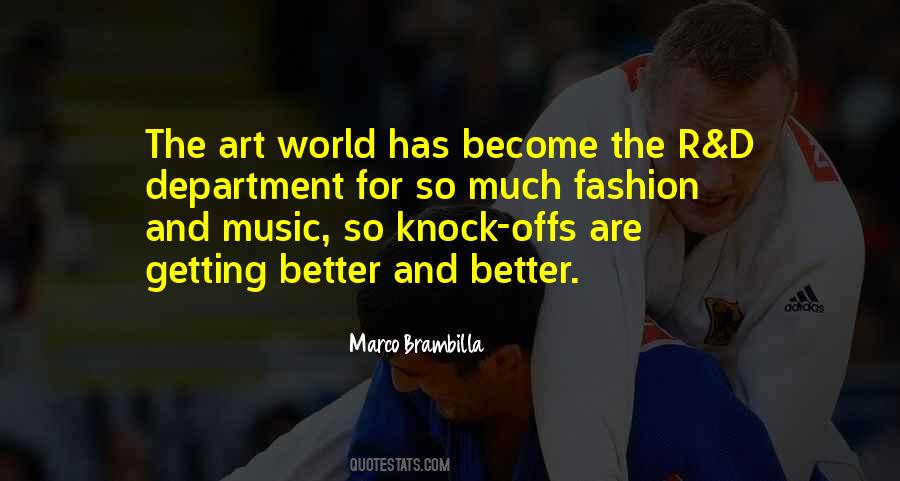 #18. Beauty can make you powerful in a way that isn't good for you. Being OK is better for the person I have become. - Author: Felicity Huffman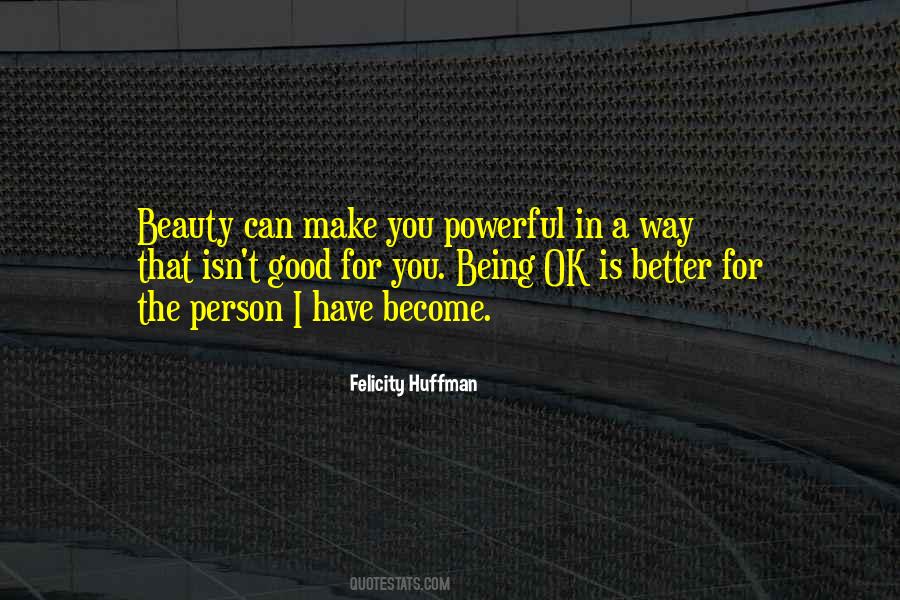 #19. It can be difficult to face the truth. And there's never a "good time" to face a difficult truth. So, I put it off for a better time, and become a prisoner of my own fear. It's the middle of Lent. There couldn't be a better time to face whatever truth I've been avoiding. - Author: Ken Untener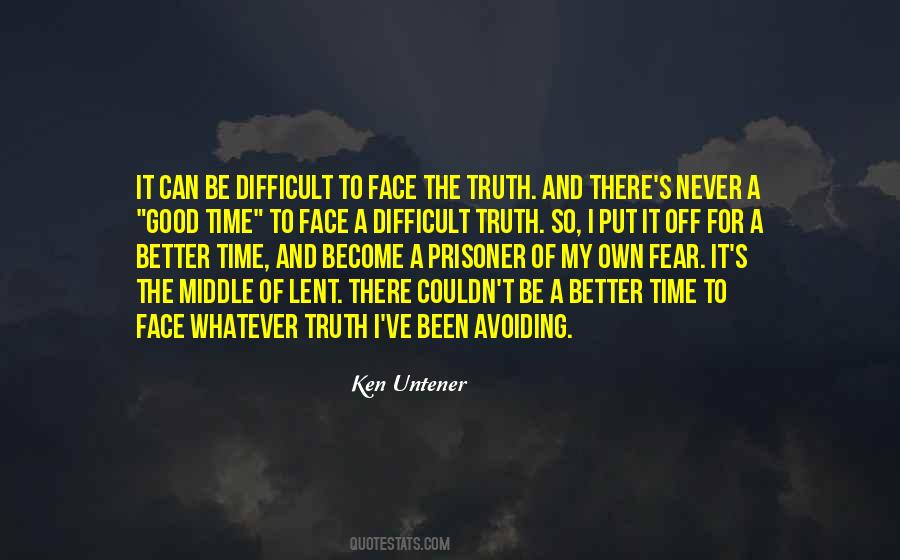 #20. Oh mysterious world ... I have become better for having understood and having loved thy human soul - a flower which has ceased to bloom and whose fragrance no one henceforth will breathe. - Author: Paul Gauguin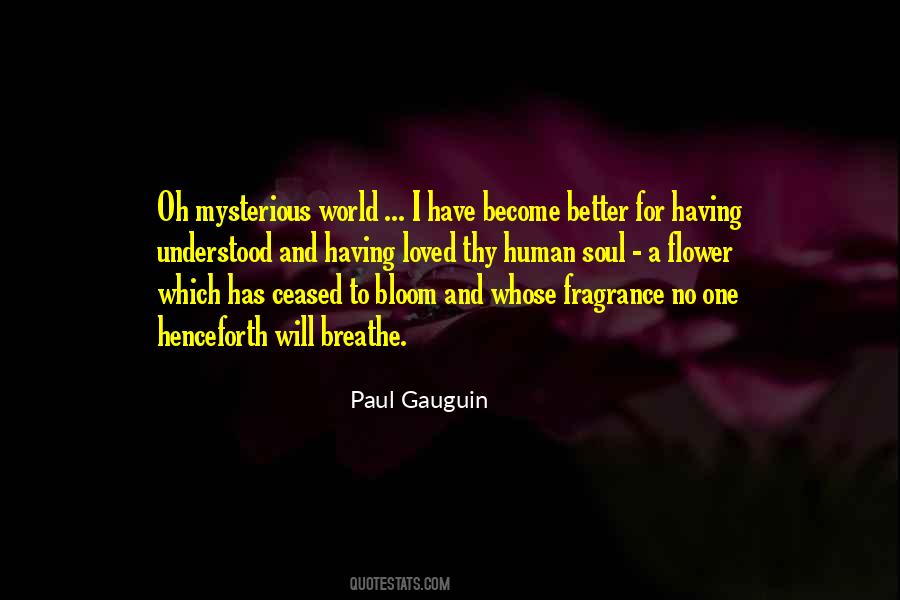 #21. If a Tory does not believe that private property is one of the main bulwarks of individual freedom, then he had better become a socialist and have done with it. - Author: Margaret Thatcher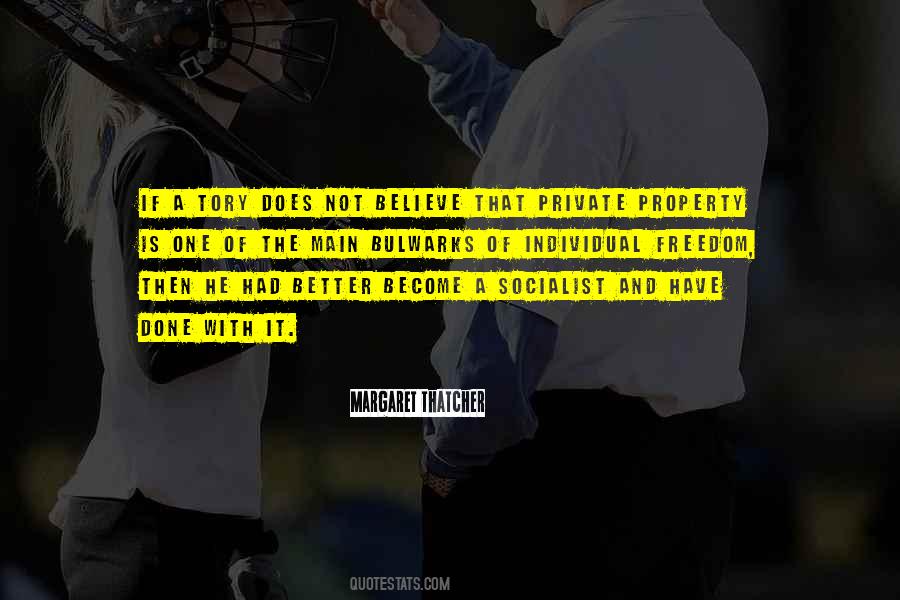 #22. Good does not become better by being exaggerated, but worse; And a small evil becomes a big one through being disregarded and repressed. - Author: Carl Jung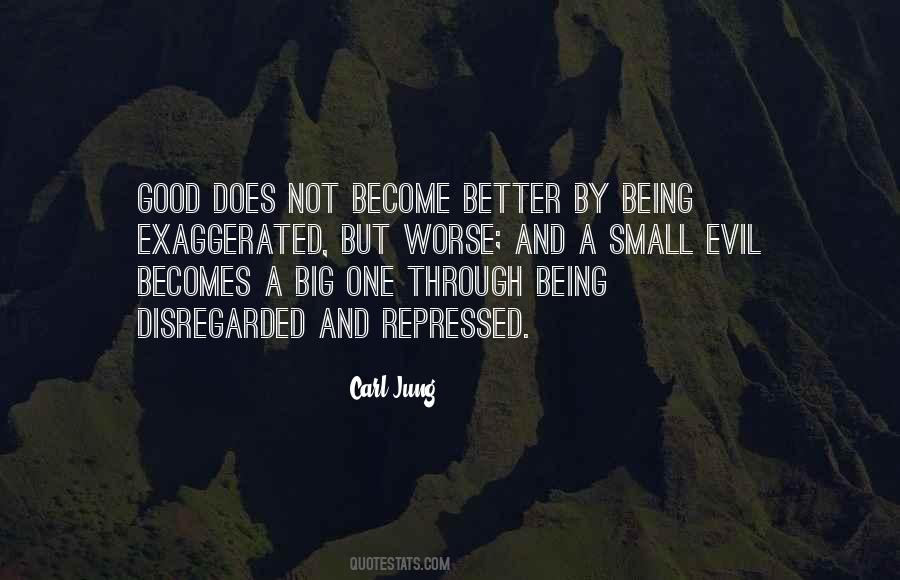 #23. Our hearts grow tender with childhood memories and love of kindred, and we are better throughout the year for having, in spirit, become a child again at Christmas-time. - Author: Laura Ingalls Wilder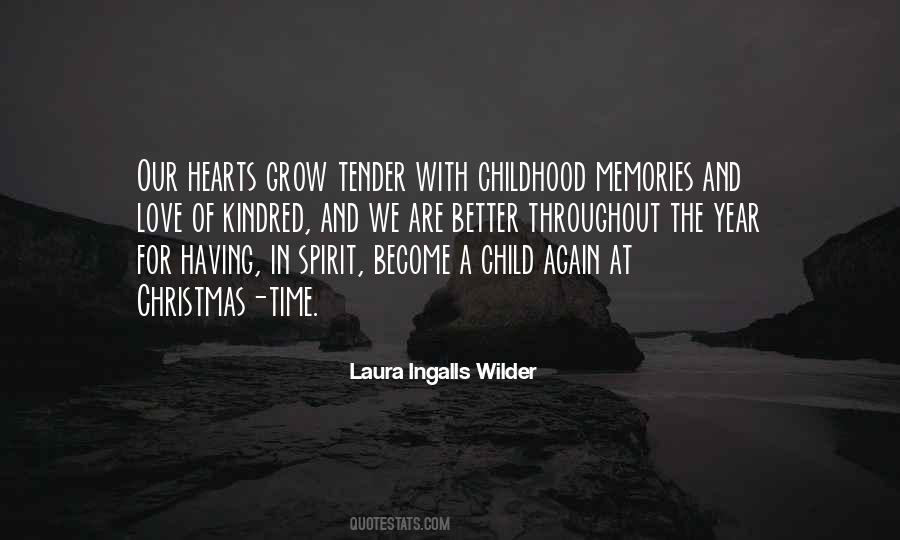 #24. Success is when you realize obstacles you face are challenges to help you become better - and your response equals the challenge. - Author: Stephen Covey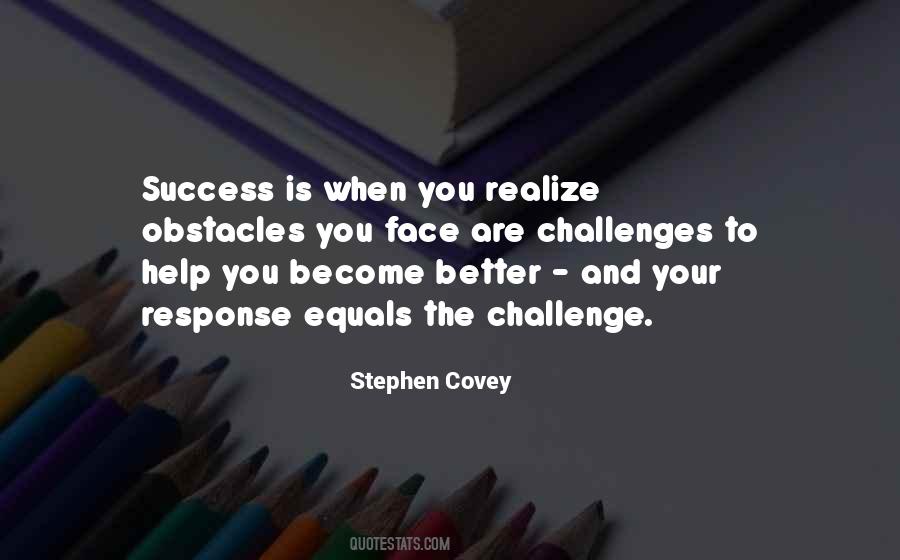 #25. It's my job for Oracle, the number two software company in the world; to become the number one software company in the world. My job is to build better than the competition, sell those products in the marketplace and eventually supplant Microsoft and move from being number two to number one. - Author: Larry Ellison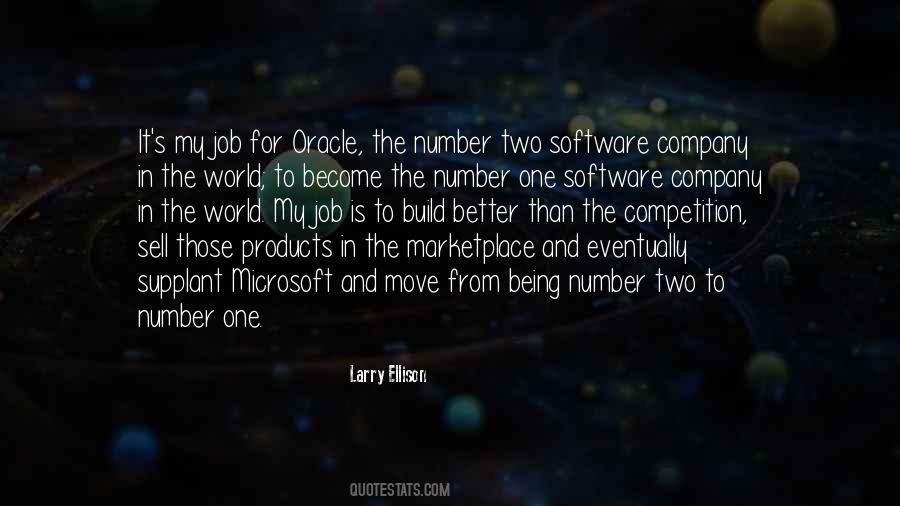 #26. If our hopes of building a better and safer world are to become more than wishful thinking, we will need the engagement of volunteers more than ever. - Author: Kofi Annan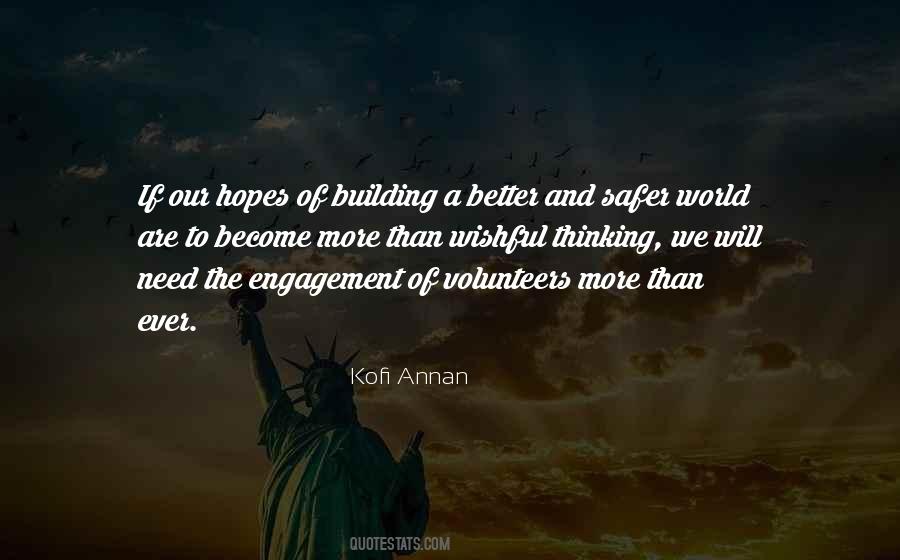 #27. Satan represents man as just another animal, sometimes better, more often worse than those that walk on all-fours, who, because of his "divine spiritual and intellectual development," has become the most vicious animal of all! - Author: Anton Szandor LaVey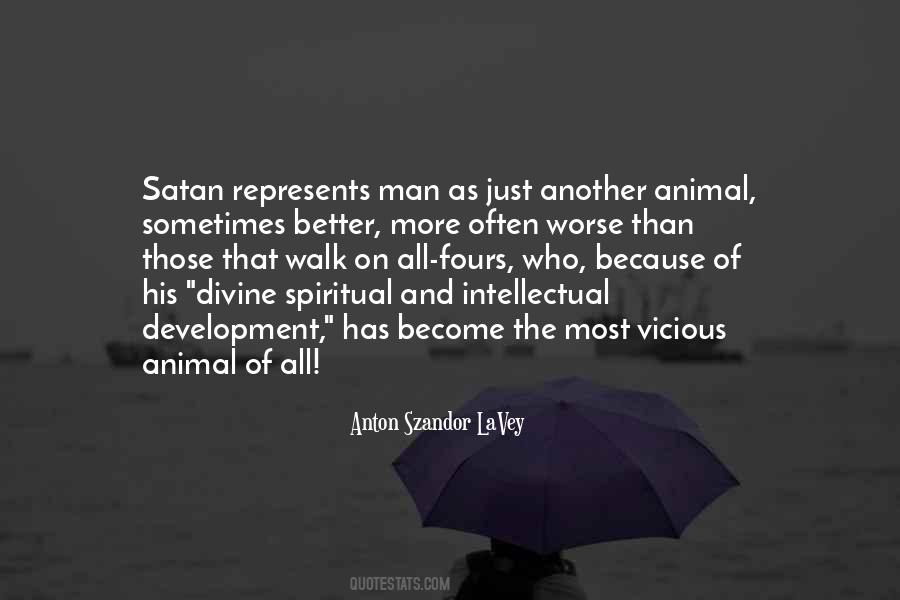 #28. You have to find some way to not become a cynical or negative person, a person who keeps walking around and opening your eyes in the outside world but inside you close down, a person who stops expecting tomorrow to be better than today. - Author: Richard Rohr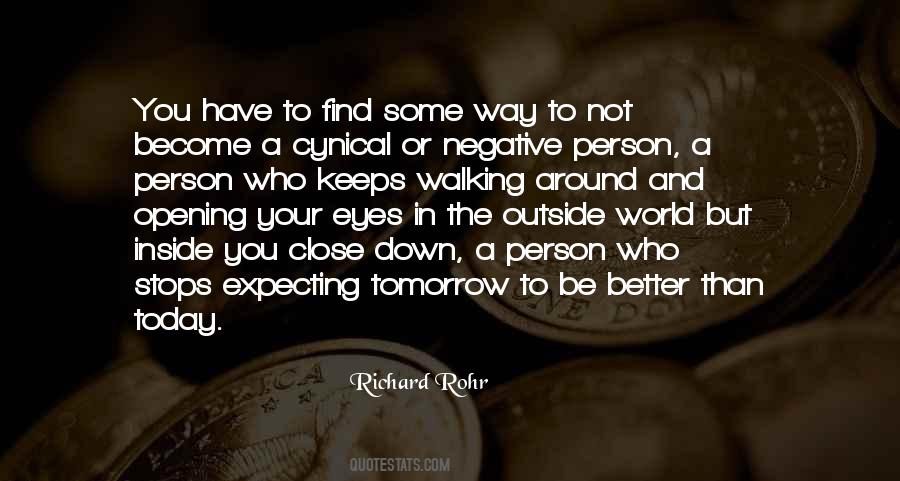 #29. Iraq has become, for better or for worse, the front on the war on terrorism, and so we've got to do this, and I can understand why congressmen and senators would take their responsibility seriously, but I think in the end we'll get the money. - Author: Paul Bremer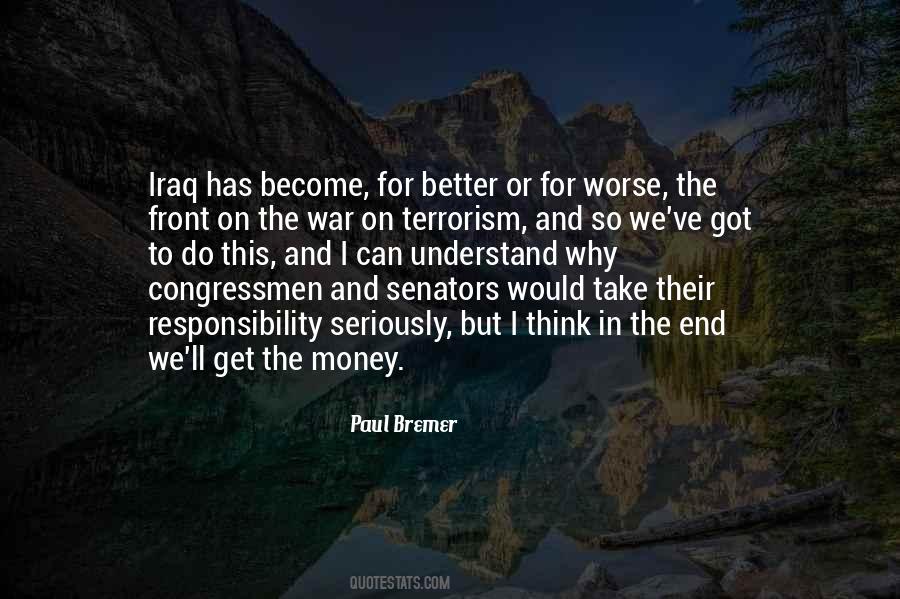 #30. To become a successful philosopher king, it is much better to start as a king than as a philosopher, - Author: Nassim Nicholas Taleb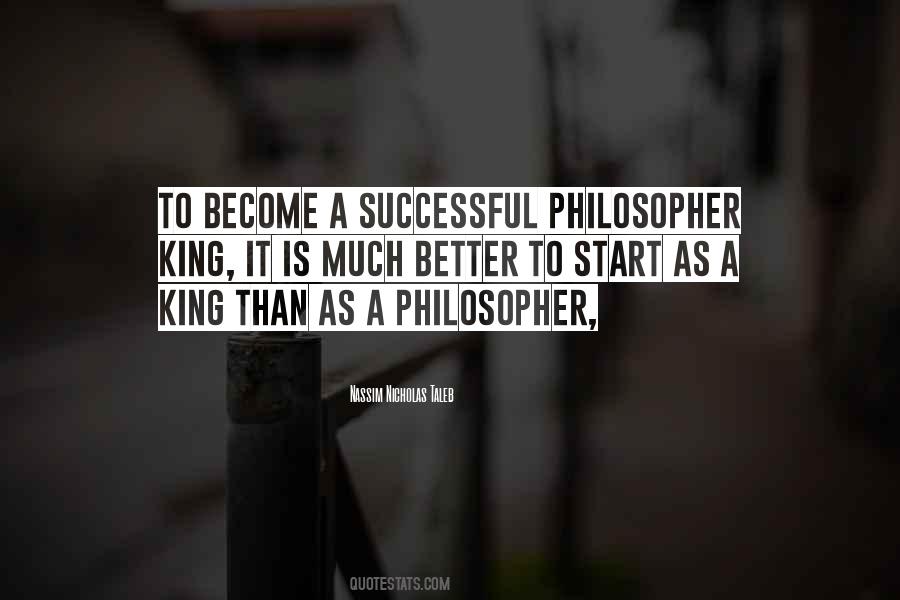 #31. I started acting long before I decided to pursue it. I started acting as an amateur when I was a kid, but I wanted to become a diplomat. It was self-centered and weird, but I had this idea of going out in the world and solving conflicts and making the world a better place. - Author: Stellan Skarsgard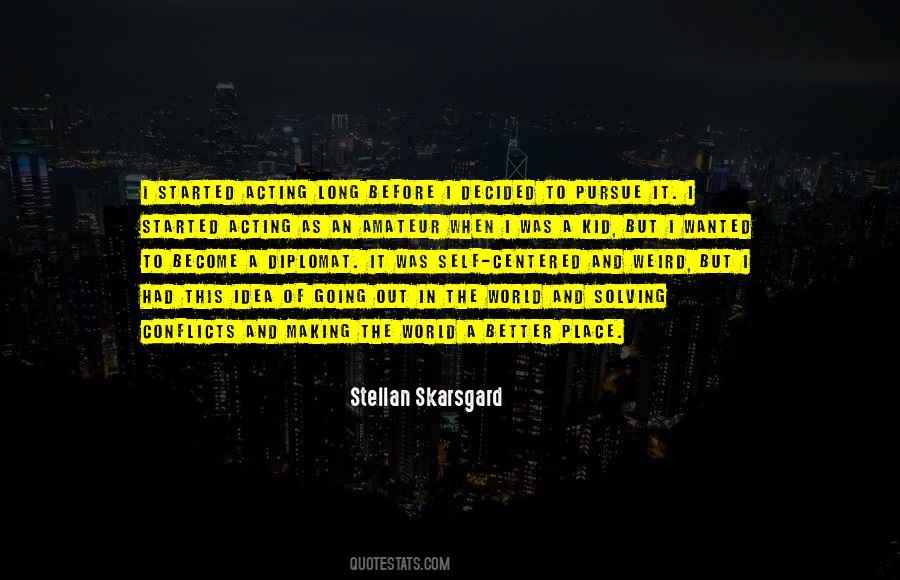 #32. I really don't need to suffer. I can really become a happy person and still make good music - in fact, better music. - Author: Rivers Cuomo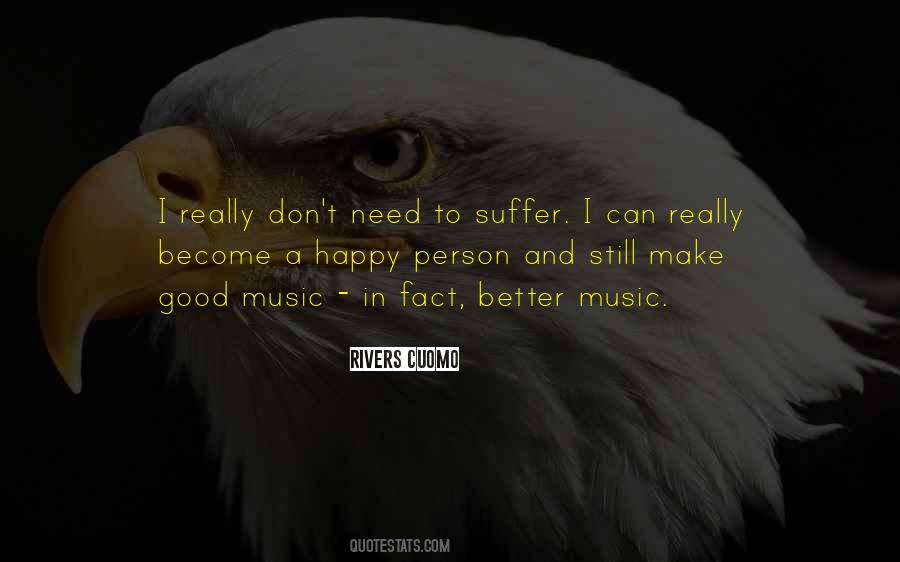 #33. Reading makes me feel I've accomplished something, learned something, become a better person ... Reading is bliss. - Author: Nora Ephron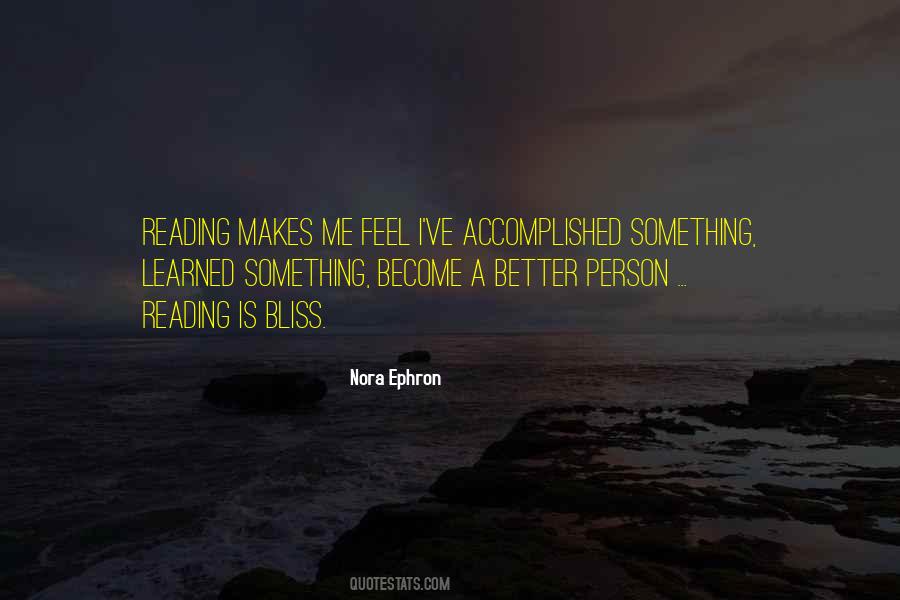 #34. As Plato: We become more worthy the more we bend our minds to the impersonal. We become better as we take in the universe, thinking more about the largeness that it is and laugh about the smallness that is us. - Author: Rebecca Goldstein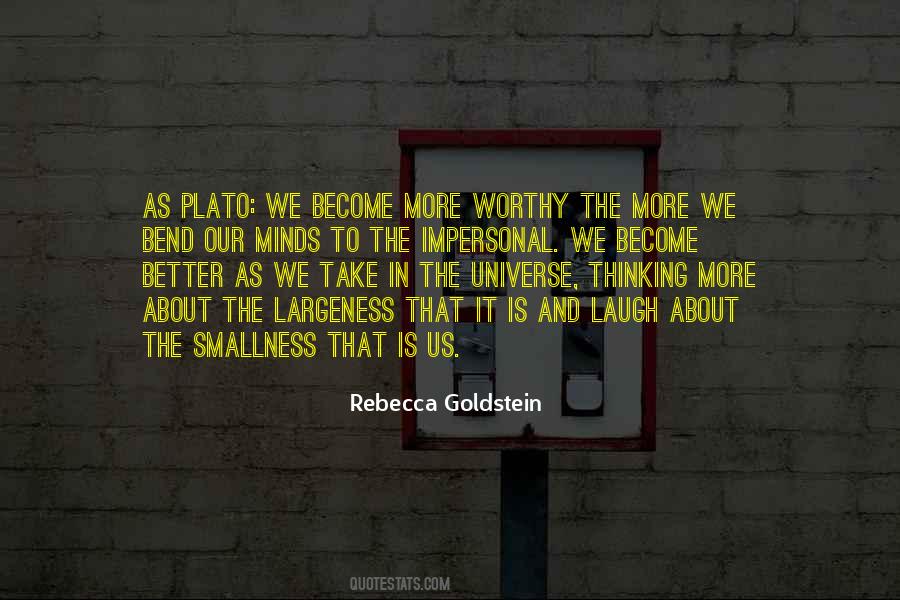 #35. You never actually solve a problem. You just become a better person by understanding it in a better way. Then it ceases to be a problem for you. - Author: Debasish Mridha
#36. We'd do better to follow the admonition of Jesus about loving our neighbours. People in the U.S. are capable of forgiveness and willing to see one another's point of view, but when matters become politicised, we're less able to do that. - Author: Kent Haruf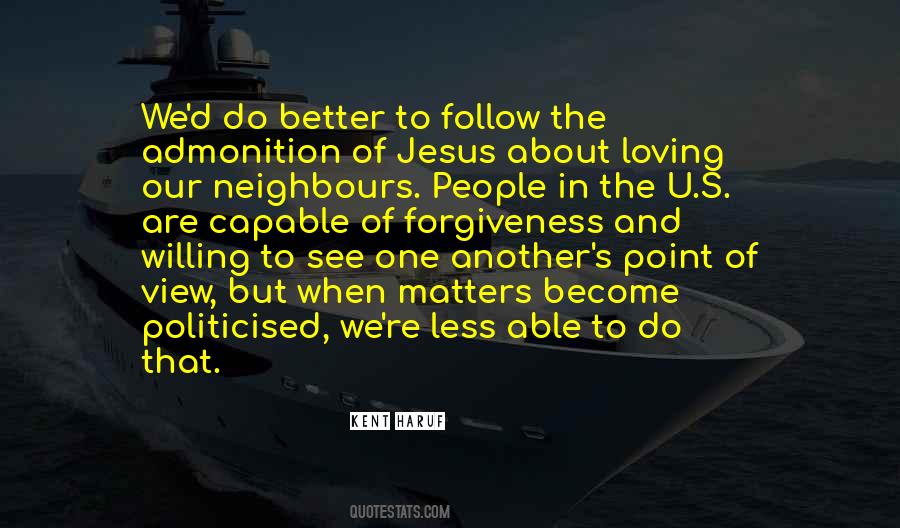 #37. Over the years, with all the experience, I've become more mature about the subjects I pick. I have a better understanding of what works at the box office. Once the story is finalised, I surrender to the director and follow him. After that, my performances speak for themselves. - Author: Mahesh Babu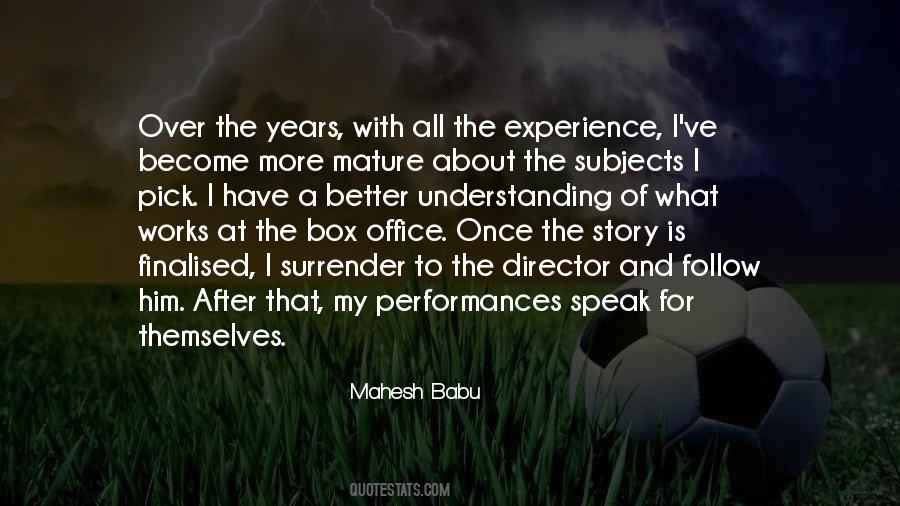 #38. If you want to be more effective when sharing yourself and your work, you need to become a better storyteller. - Author: Austin Kleon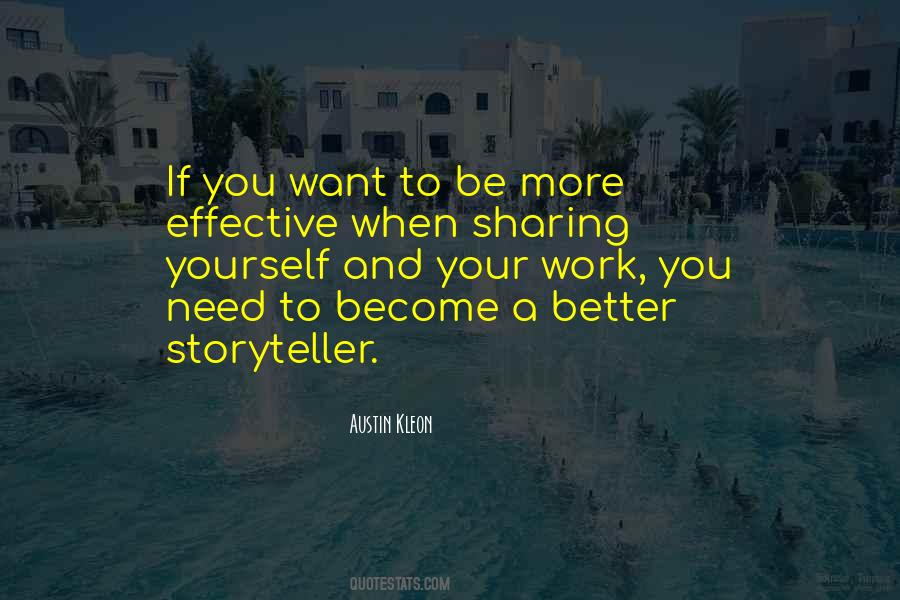 #39. Everything I do is to become better, the best ever and I'm not going to stop. - Author: Dolph Ziggler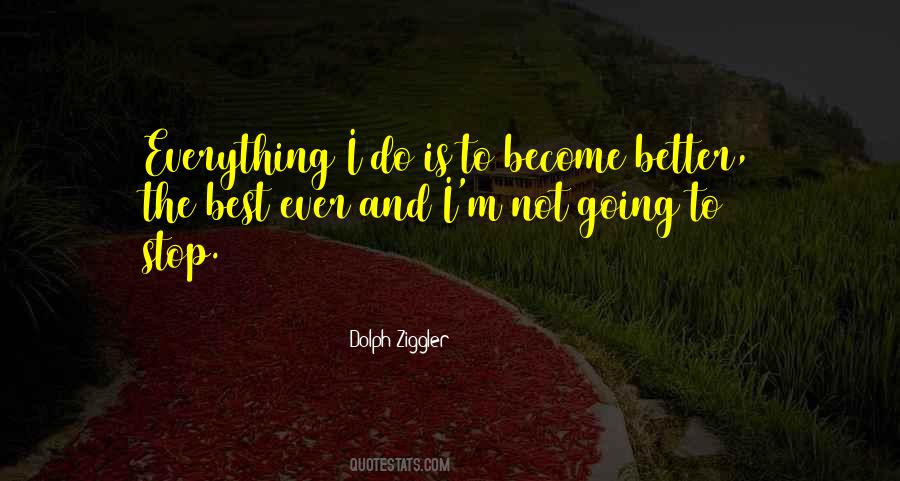 #40. A lot of people come to quote-unquote Hollywood thinking that all they just have to be different or do something outlandish or have a huge personality to become a star. But I think that if you just focus on the craft, you'll have a better chance at longevity. - Author: Morris Chestnut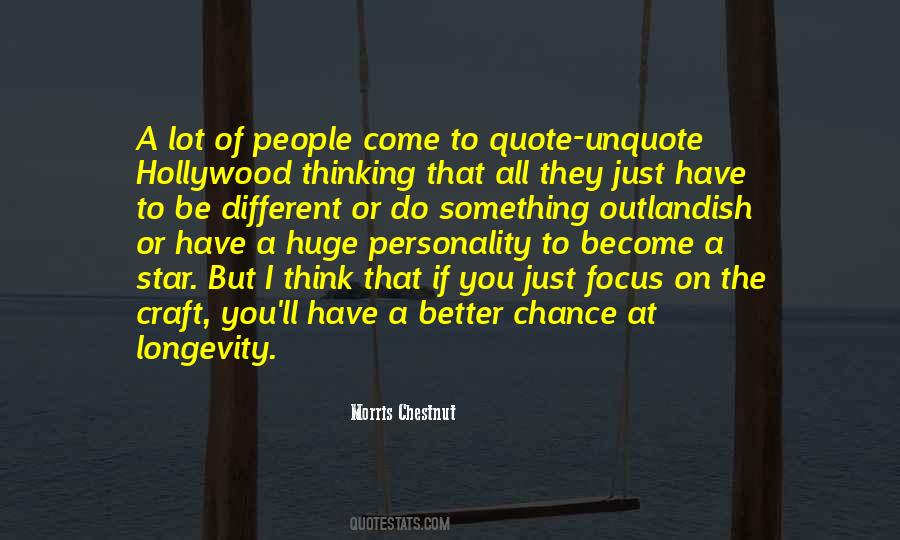 #41. They say best men are molded out of faults,
And, for the most, become much more the better
For being a little bad - Author: William Shakespeare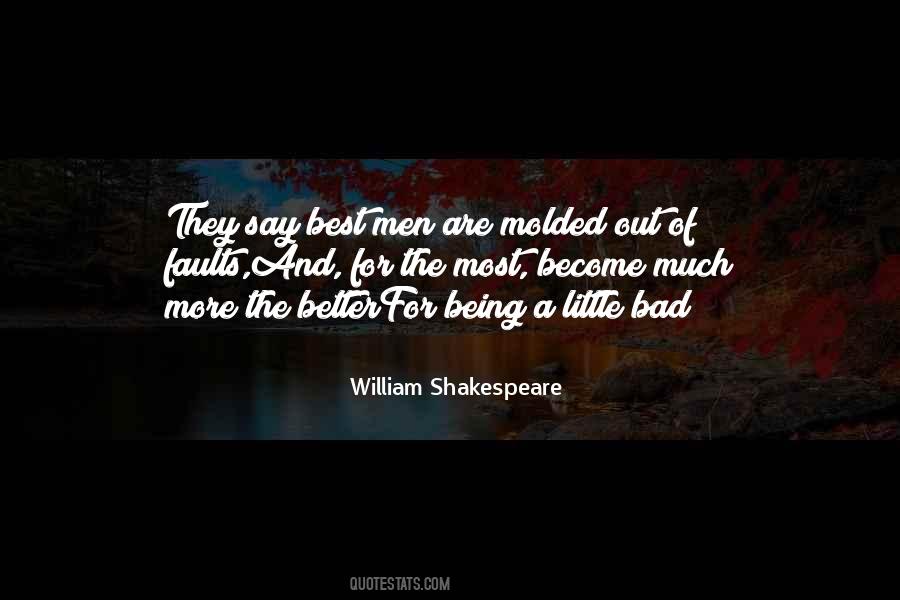 #42. I focus all my energy into become a faster, stronger, and better version of myself. - Author: Georgia Clark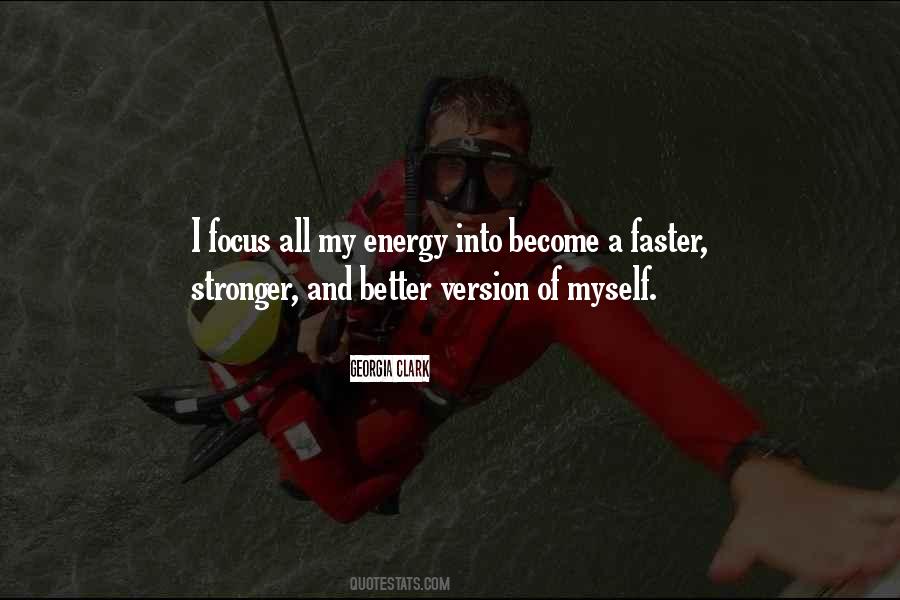 #43. And as her voice carried in the darkness, he wasn't sure where the borders between her story and his dream were. But he saw no more nightmares; he dreamed of a noble Sky Ghost and his little daughter, which he taught everything she needed to become a better warrior than he was. - Author: Alexandra Engellmann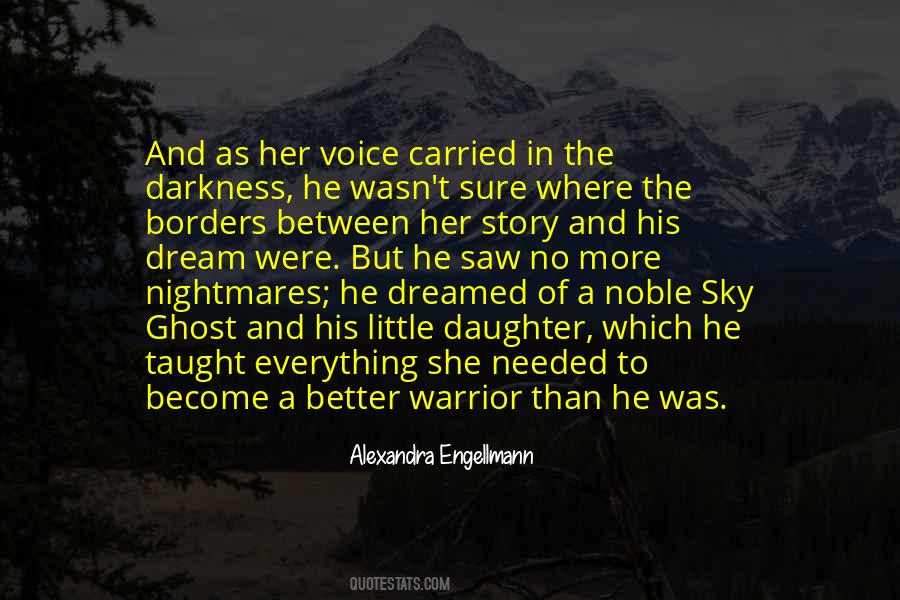 #44. I may have done some other things as good but I am sure none better. I haven't matured, progressed, grown, become deeper, wiser, or funnier. But then, I never thought I would. (Peter Cook about Beyond the Fringe) - Author: Peter Cook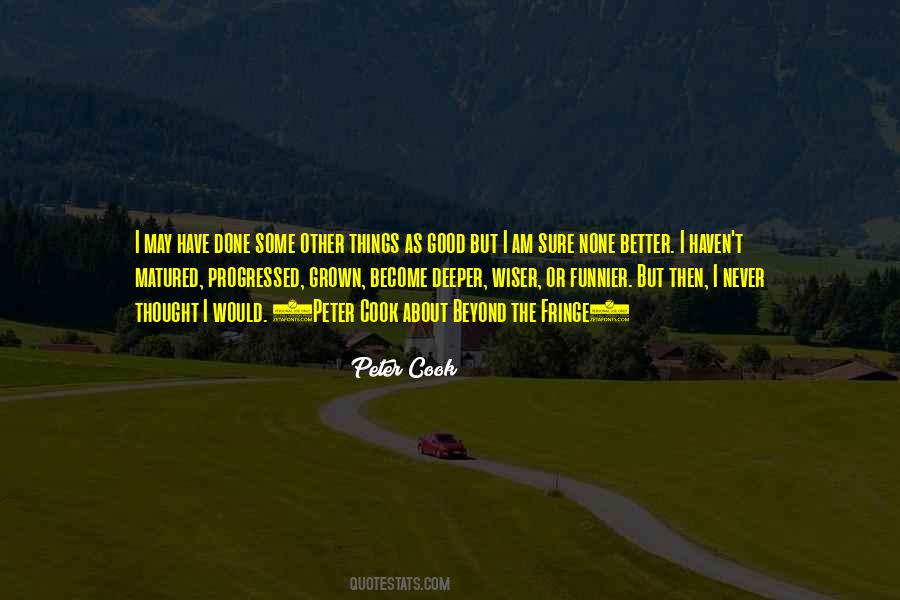 #45. If you truly want to become a better you, it is imperative that you learn to feel good about yourself. - Author: Joel Osteen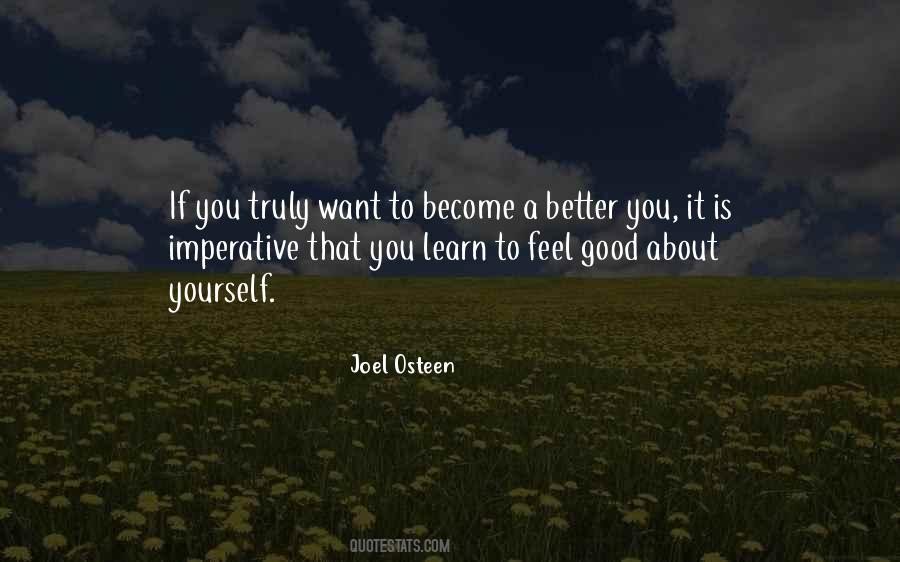 #46. Within me burns a flame which has been passed from generations uncounted and its heat is a constant irritation to my spirit to become better than I am, and I will. - Author: Og Mandino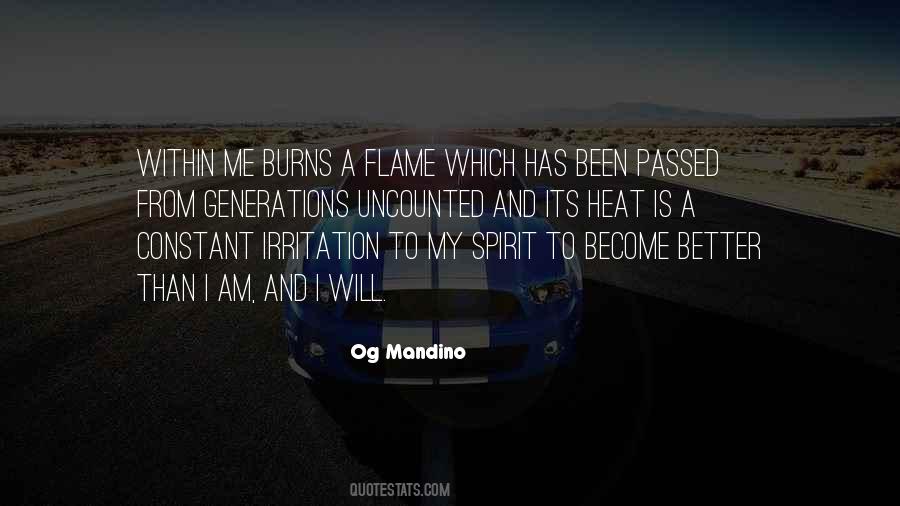 #47. The Lord needs us. He needs us to be knowledgeable, dependable, and competent disciples. We need to know not only that the gospel is true but we need to know the gospel, better than we do right now. We need to be in the right place at the right time. We will thereby become the right person. - Author: Robert L. Millet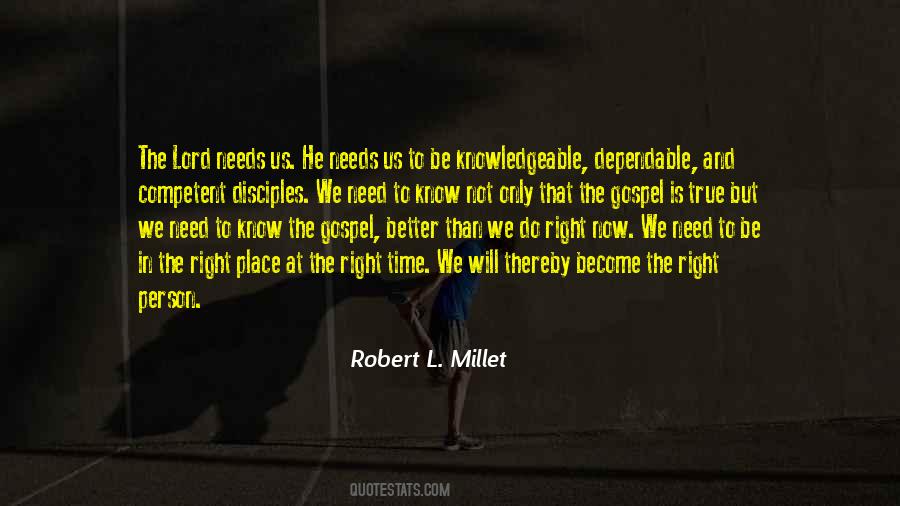 #48. I'd turned into a giant ball of questions and conflicts and desires. I'd pretty much become my biggest nightmare. I was a rougher version of Jesse Walker. But a better looking one. A far better looking one. - Author: Nicole Williams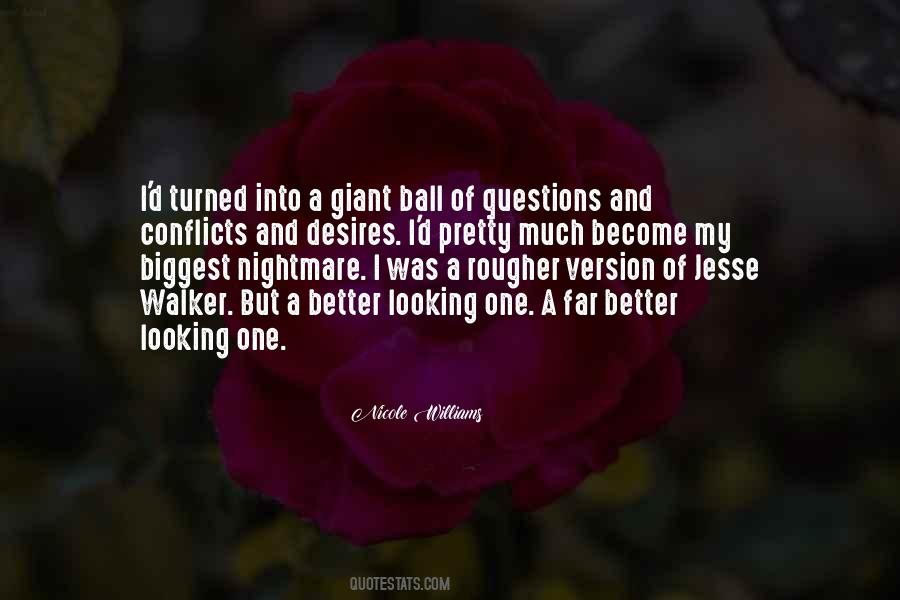 #49. This is the perfect place for insight, for a person to become somebody better. - Author: Junot Diaz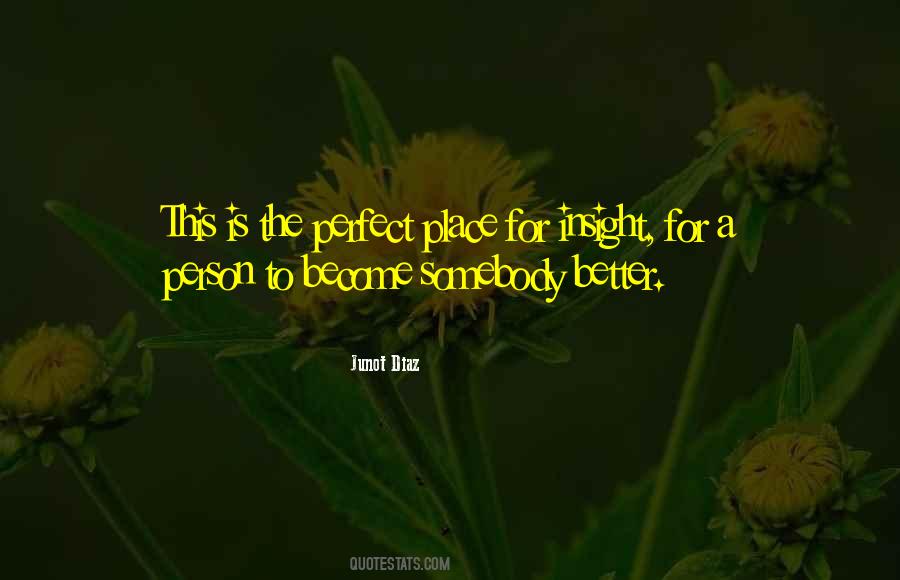 #50. You see, God has given us all the clues we need in a complex mystery, and we just need to figure it out. Along the way, we learn, and we become better people - Author: Amelia C. Adams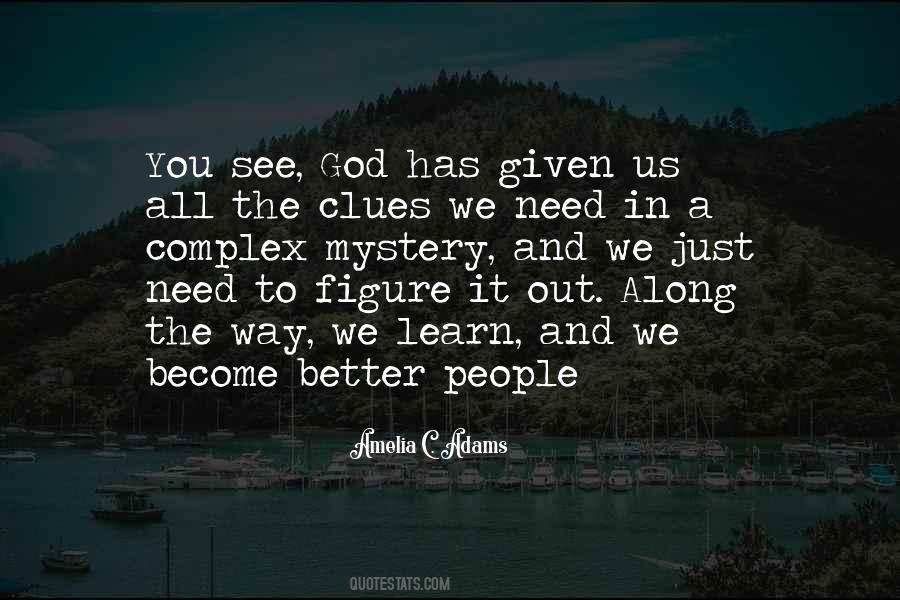 #51. I always think challenges are interesting and help you to become a better person. - Author: Aung San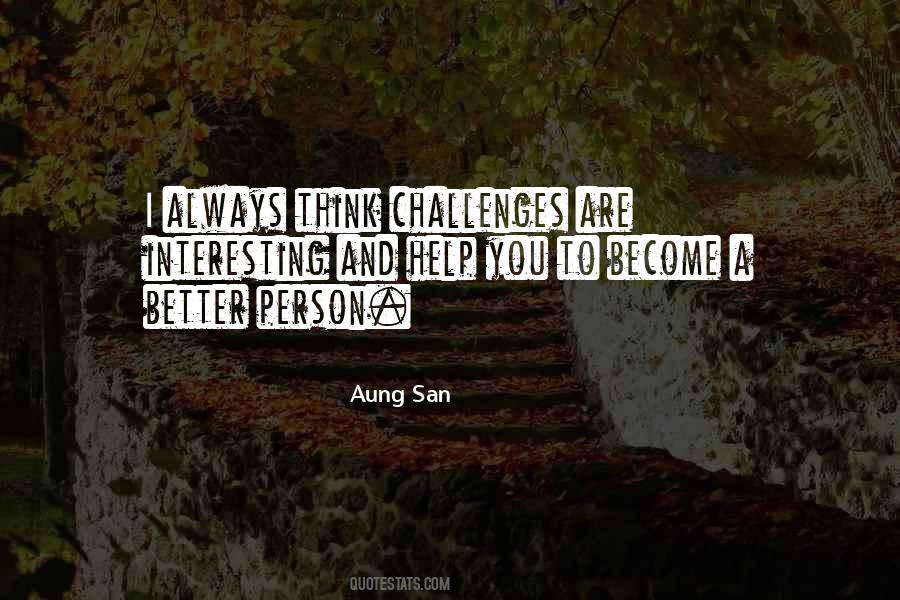 #52. The real reason for grounding ourselves in the truth that we are made for more is "so that you may know him better." The more we operate in the truth of who we are and the reality that we were made for more, the closer to God we'll become. - Author: Lysa TerKeurst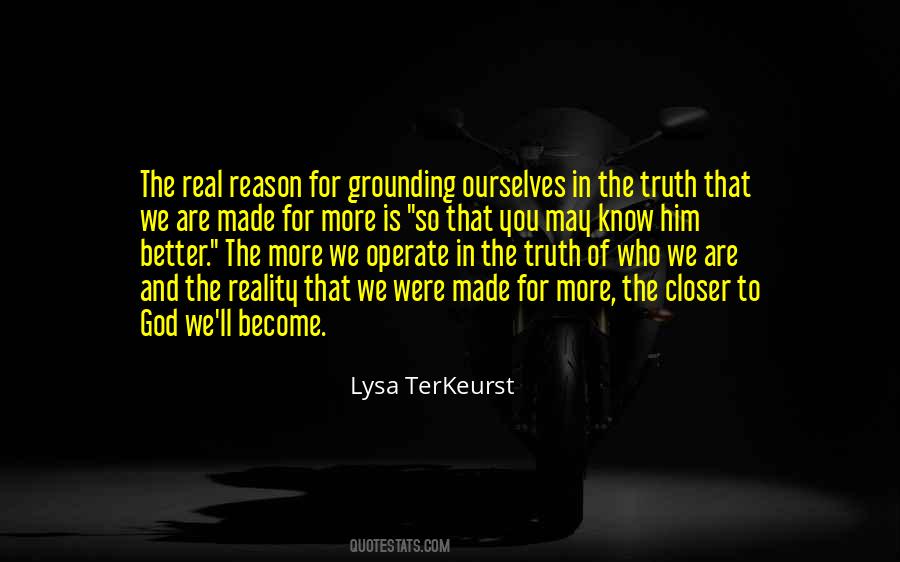 #53. I've become better at the net. I've got a 135 mph serve so I'd be stupid not to follow that in. Overall I'm a better player than I was last year. - Author: Andy Roddick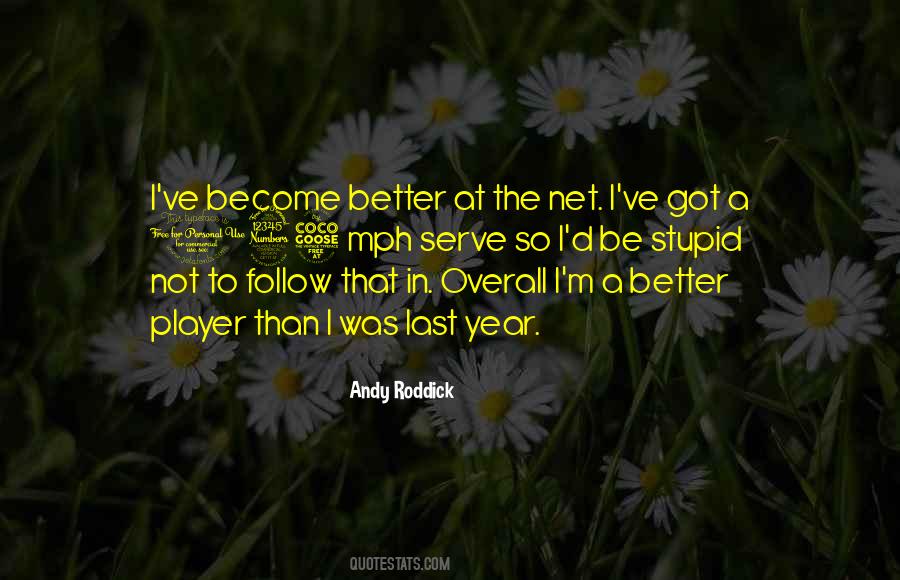 #54. Do not think the world will become better in terms of our own inner change. We should rather think we'll achieve this goal only, and only if, we rescue the fact that the ultimate treasure lies at the end of our most positive creative deeds. - Author: Francisco Leon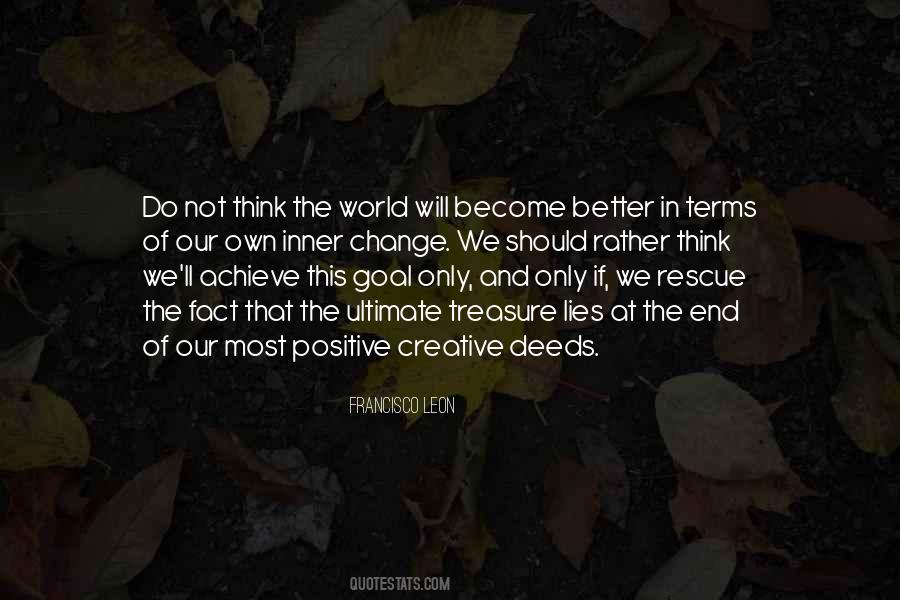 #55. What do you do when disappointment comes? When it weighs on you like a rock, you can either let it press you down until you become discouraged, even devastated, or you can use it as a stepping-stone to better things. - Author: Joyce Meyer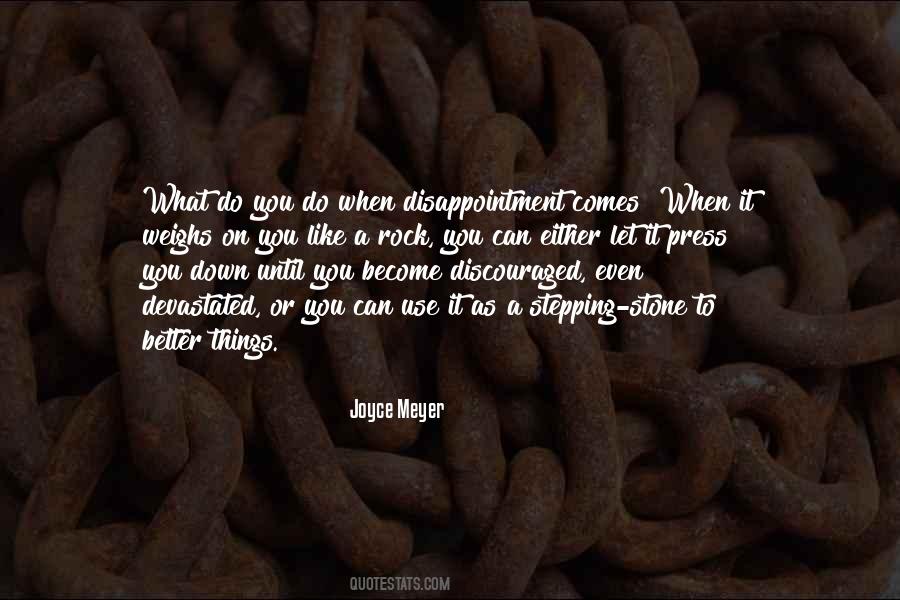 #56. Better grounded emotionally through patience, we become stronger mentally and spiritually, and tend to be healthier physically. - Author: Dalai Lama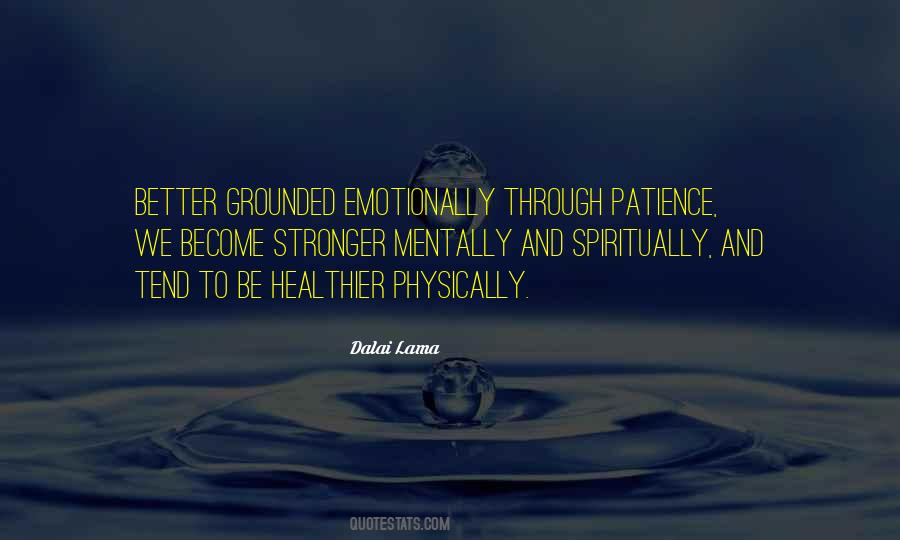 #57. We cannot become the world's policeman, but where our values and our interests are at stake, and where we can make a difference, we must act and we must lead. That is our job and we are better, stronger and safer because we are doing it. - Author: William J. Clinton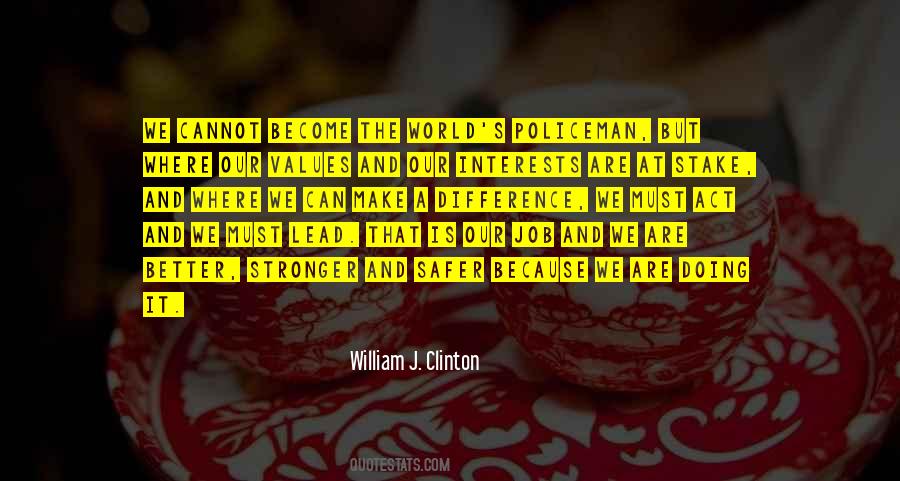 #58. Never be bitter, become better. A testimony is pain that has been reassigned - Author: Johnnie Dent Jr.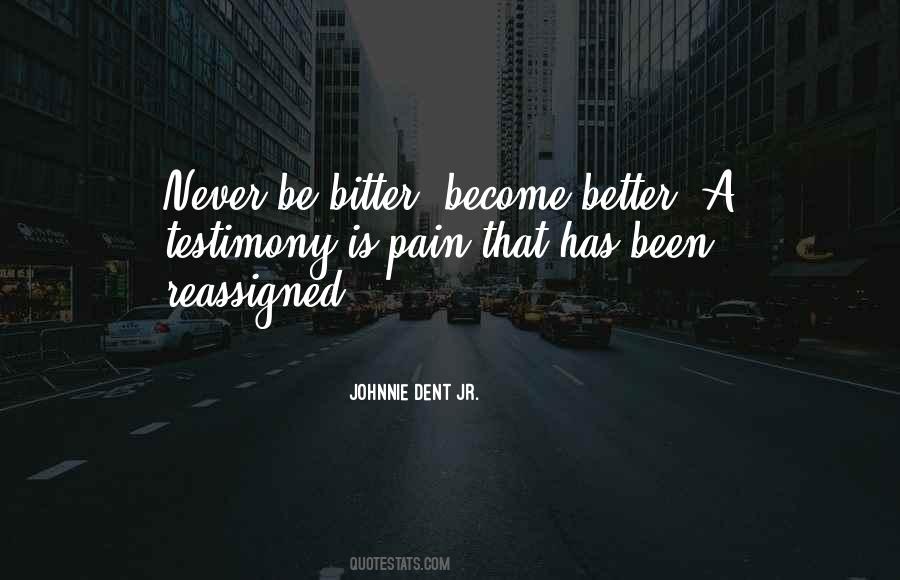 #59. No matter what happens or how difficult things become, you will eventually feel better. - Author: Chris Rock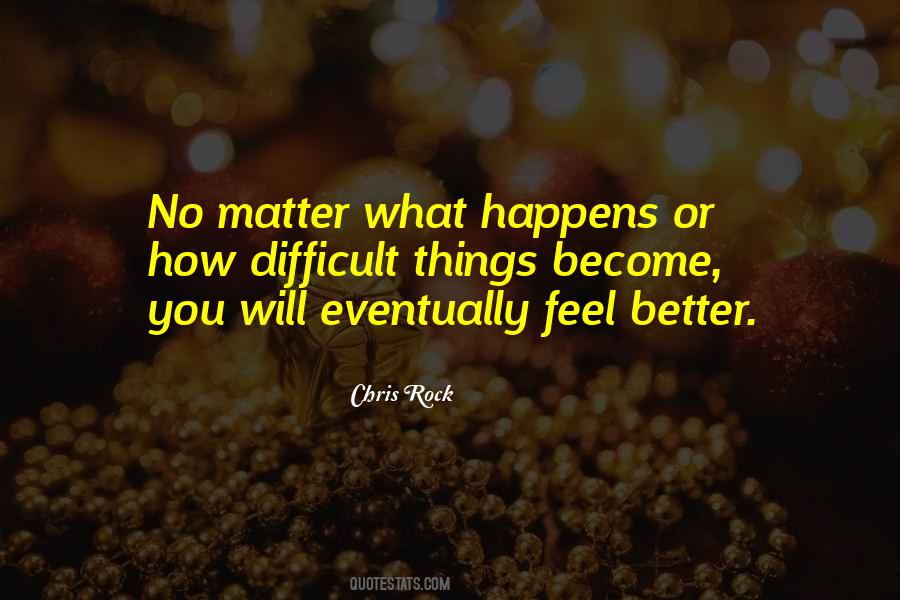 #60. Every dad, if he takes time out of his busy life to reflect upon his fatherhood, can learn ways to become an even better dad. - Author: Jack Baker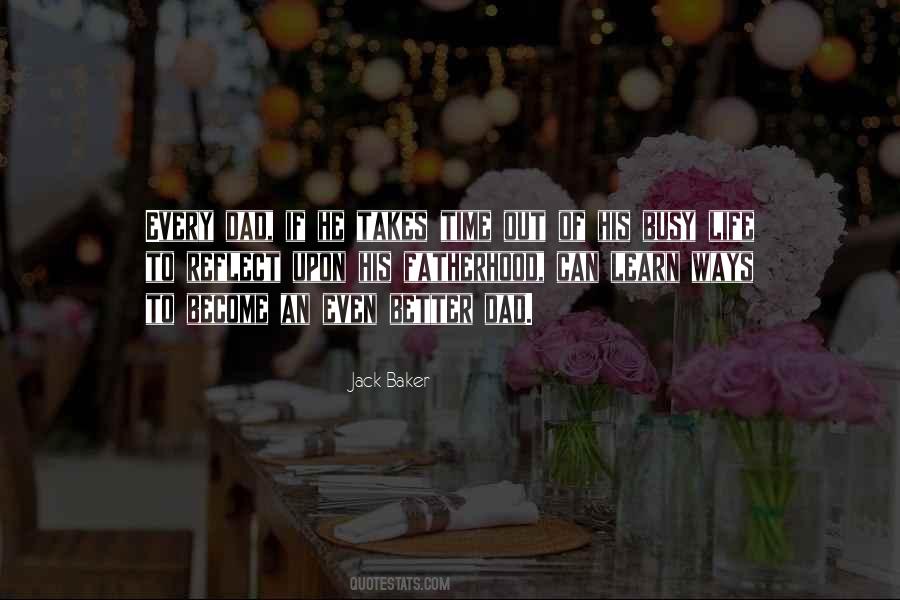 #61. Christian living does not mean to be good but to become good; not to be well, but to get well; not being but becoming; nor rest but training. We are not yet, but we shall be. It has not yet happened, but it is the way. Not everything shines and sparkles as yet, but everything is getting better. - Author: Martin Luther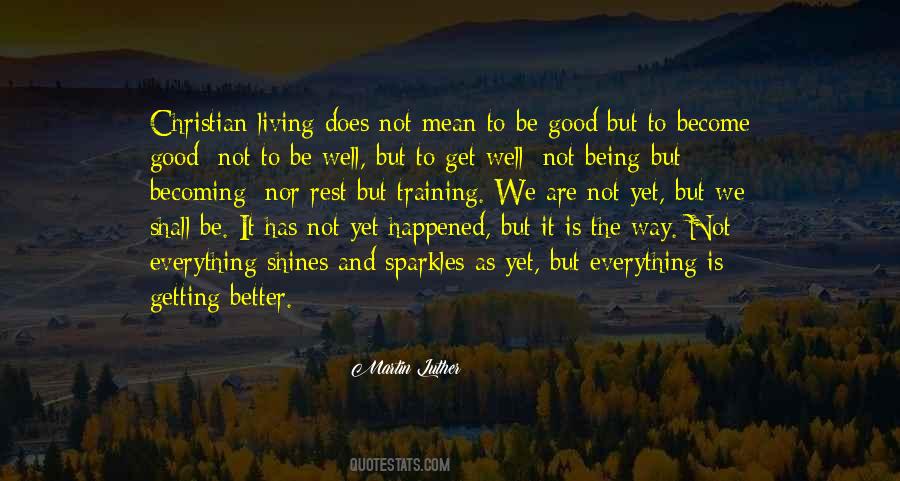 #62. Also, I plan to screw something up on every movie I do so that I can learn from my mistakes and become a better director with each project. - Author: Richard King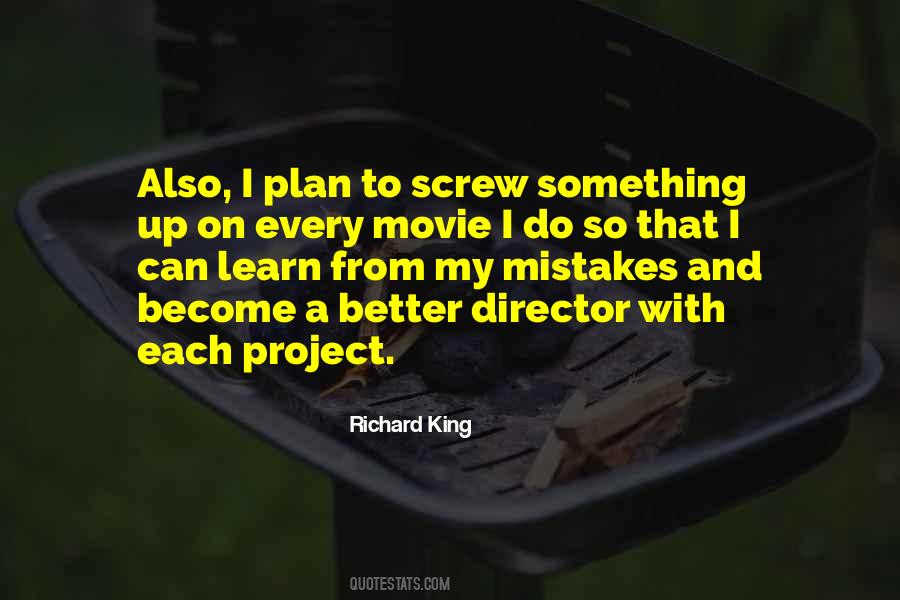 #63. I came to L.A. to work and become a better actress, not to be a star. - Author: Lauren Ambrose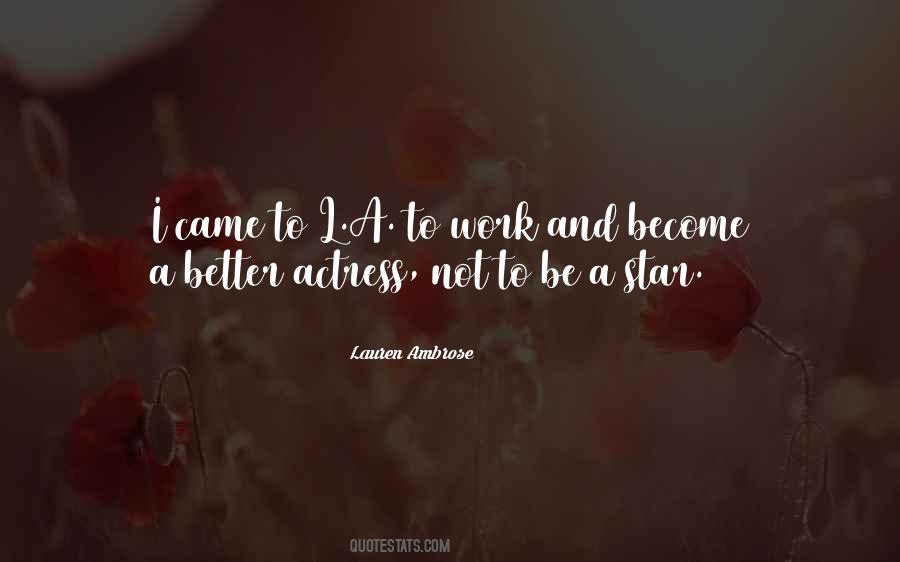 #64. Let us then remember the dead-and all wars-gratefully. And let us hope that because of them we may become a touch better, a thimbleful wiser, and a handshake more tolerant of this changing world they did not live to see. - Author: Arthur Hailey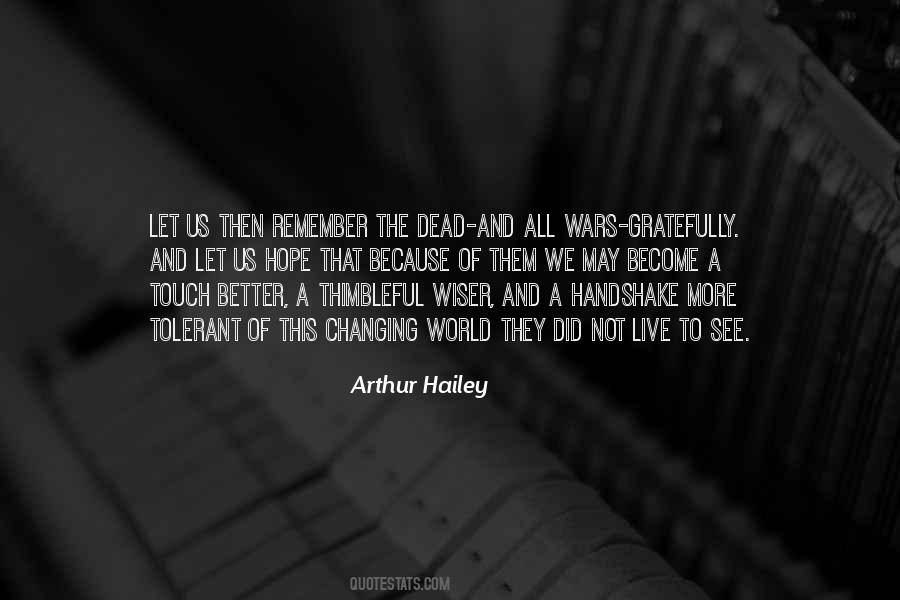 #65. In the end, science offers us the only way out of politics. And if we allow science to become politicized, then we are lost. We will enter the Internet version of the dark ages, an era of shifting fears and wild prejudices, transmitted to people who don't know any better. - Author: Michael Crichton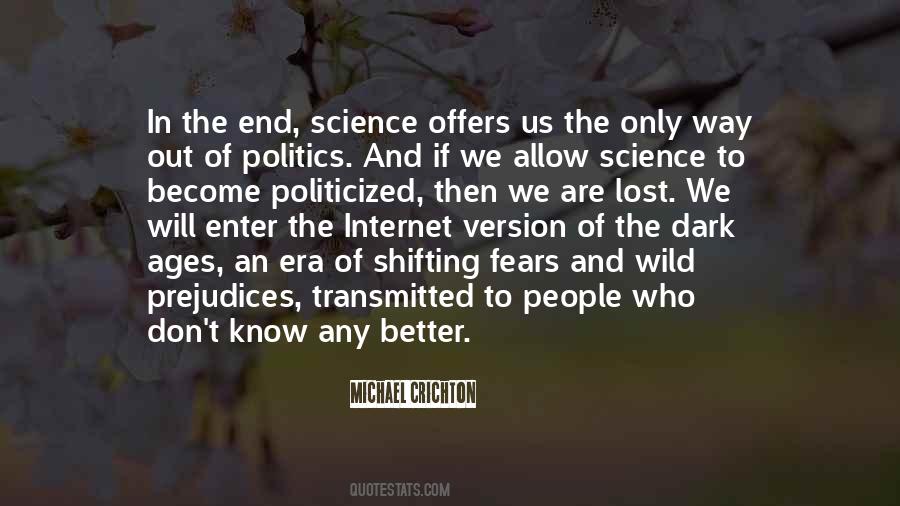 #66. The more efficient you are at doing the wrong thing, the wronger you become. It is much better to do the right thing wronger than the wrong thing righter. If you do the right thing wrong and correct it, you get better. - Author: Russell L. Ackoff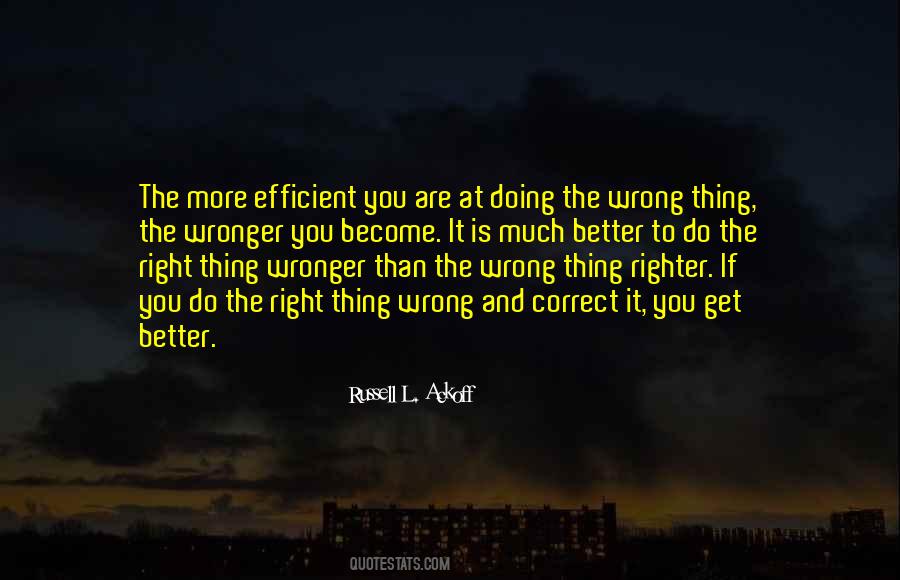 #67. While I do believe I become a technically better writer over time, in others ways writing gets harder because inspiration is finite. - Author: Steve Erickson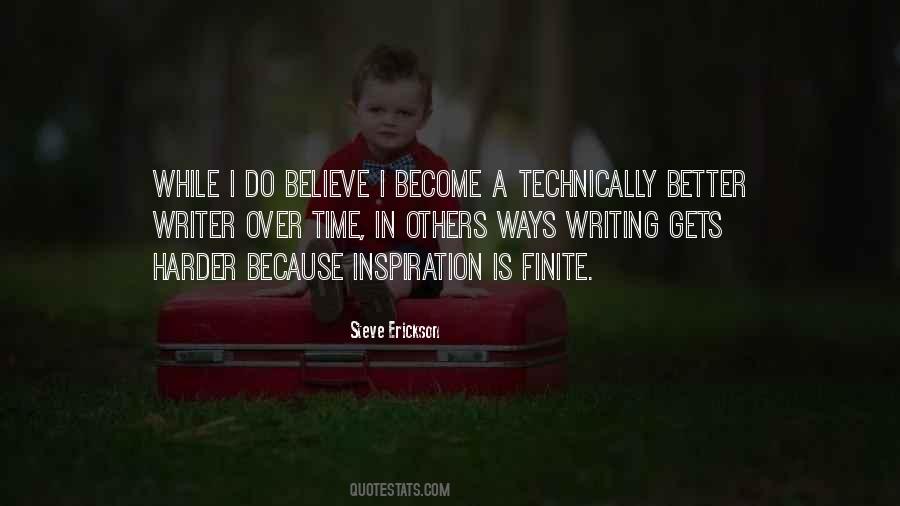 #68. We have laid the foundation for a better life. Things that were unimaginable a few years ago have become everyday reality. I belong to the generation of leaders for whom the achievement of democracy was the defining challenge. - Author: Nelson Mandela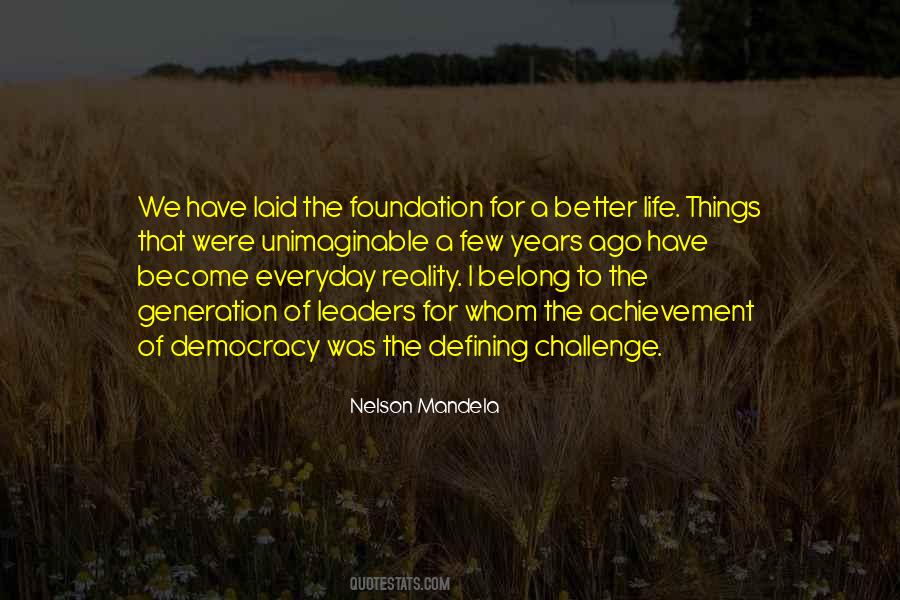 #69. As a woman, you feel that you shouldn't want to better yourself against others. Ambition has become such an ugly word, hasn't it? - Author: Rosamund Pike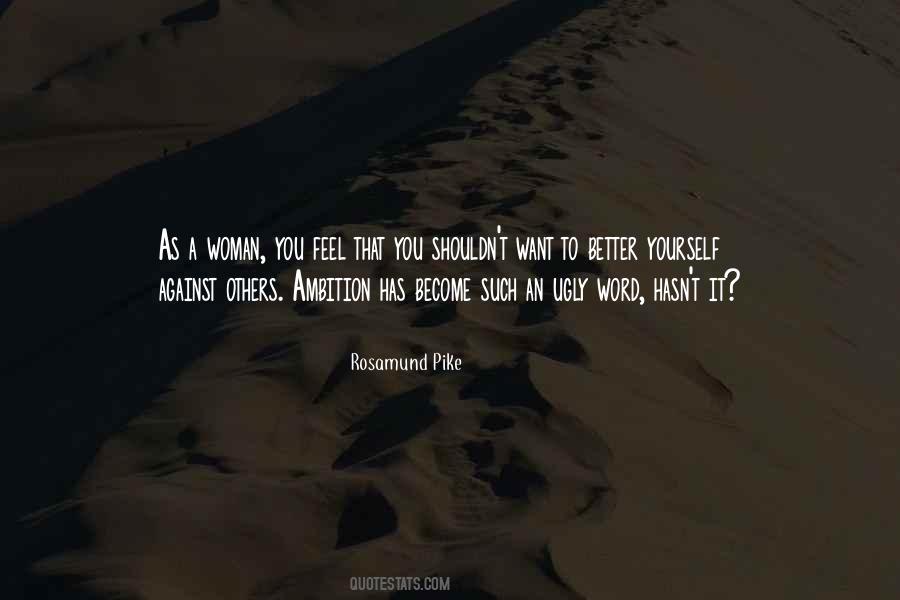 #70. But as a wise and great teacher once explained so patiently, all good stories - stories that touch your soul, stories that change your nature, stories that cause you to become a better person from their telling-these stories always contain truth. - Author: Camron Wright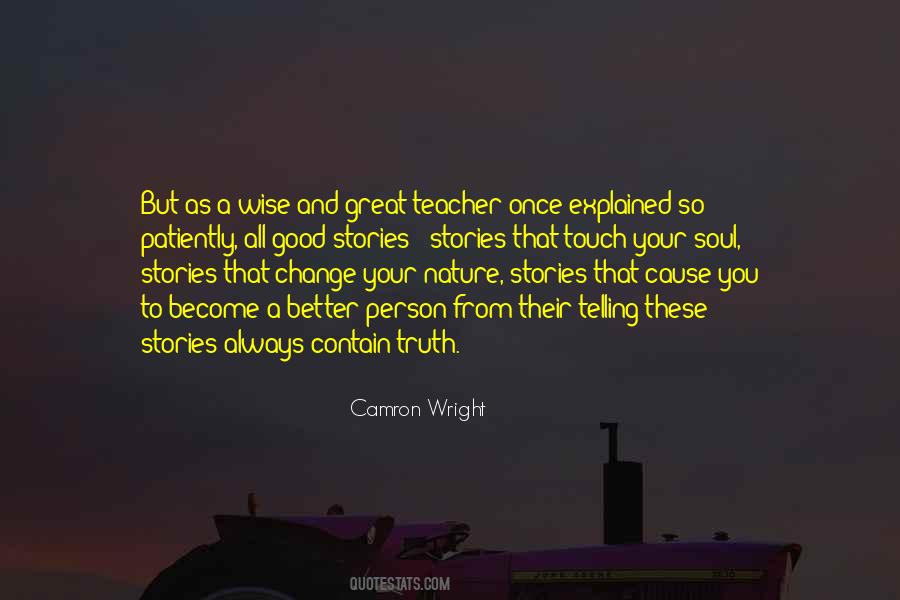 #71. In the school of success, information is the greatest asset. The more you read, the more you discover, the more you discover, the more you recover and the better your life become. - Author: Stella Oladiran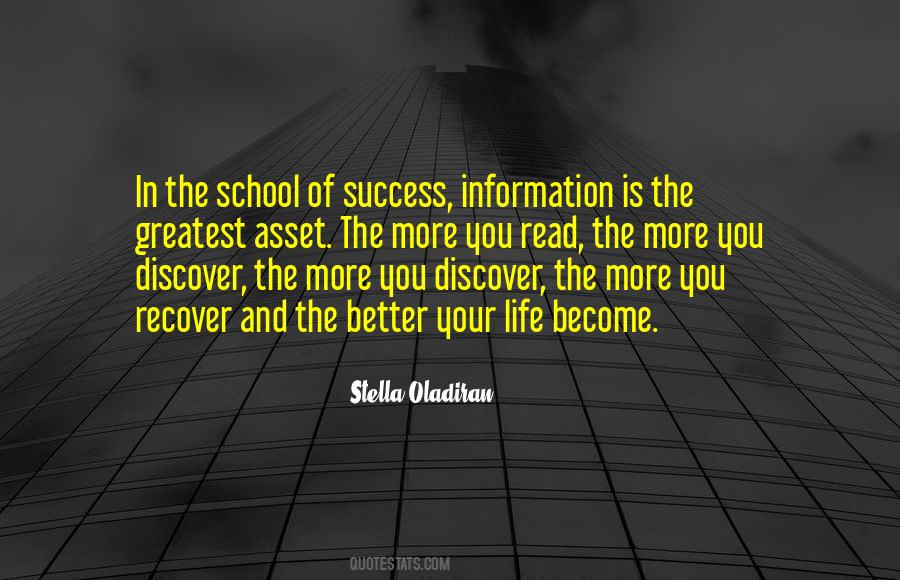 #72. Here is another paradox: We become better people only when we give up the quest to become better people. That - Author: Charles Eisenstein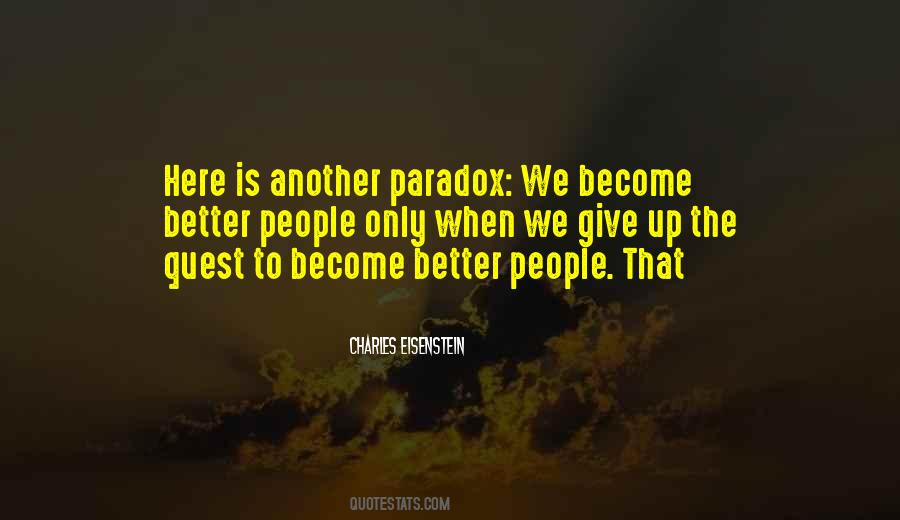 #73. Hold it down until you come up - Author: Johnnie Dent Jr.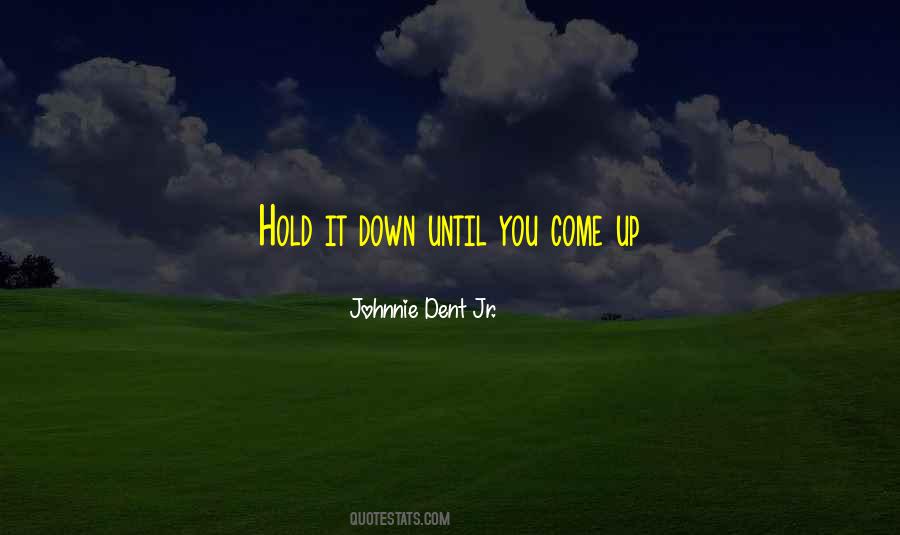 #74. When it comes to making the right moves at the right time, your dance partner is life itself or what can be referred to as your destiny. The more you pay attention and practice intuitive decision making skills, the better you will become at sensing the unique rhythm of your life. - Author: Paul O'Brien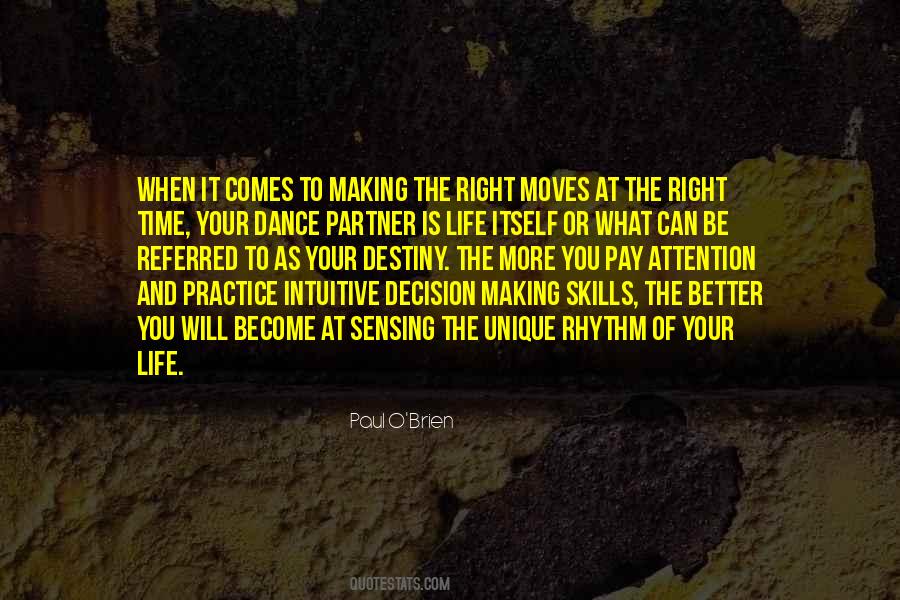 #75. If we don't see to it that our children turn out better than we did, what will become of the world? - Author: Esther M. Friesner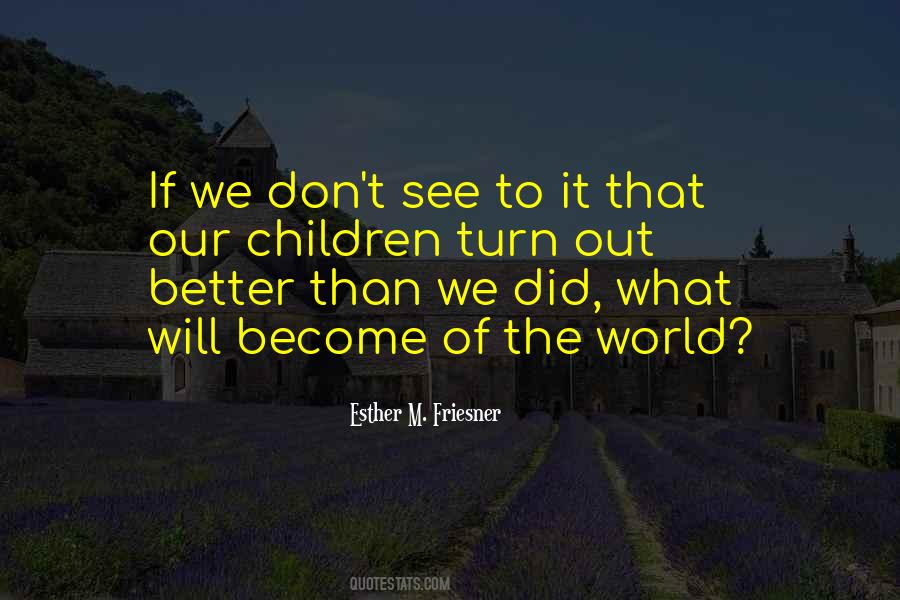 #76. When the same lessons of life that taught them teaches you, you get a good understanding of what made them become who and what they became; you appreciate them better and you uphold the dignity of their integrity in high esteem! - Author: Ernest Agyemang Yeboah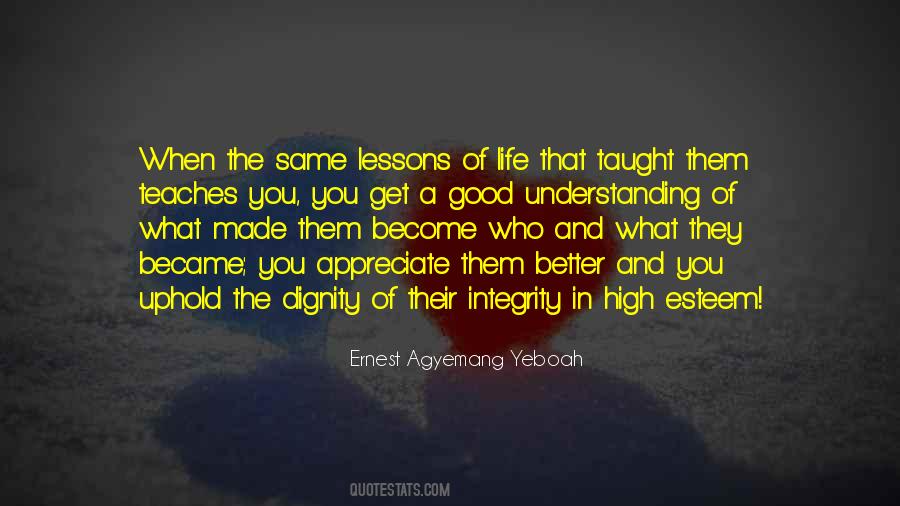 #77. A legend, Kludd, is a story that you begin to feel in your gizzard and then over time it becomes true in your heart. And perhaps makes you become a better owl. - Author: Kathryn Lasky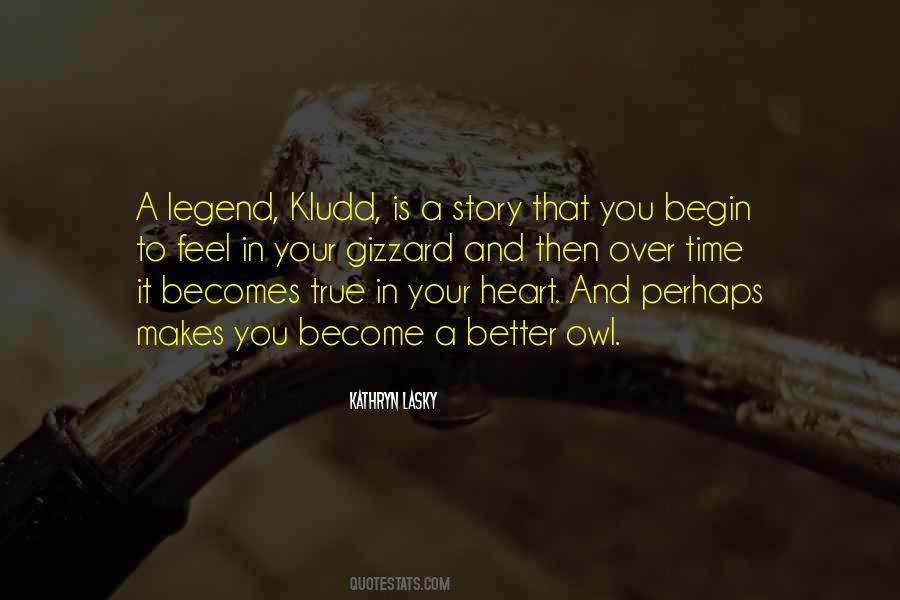 #78. Voting is no substitute for the eternal vigilance that every friend of freedom must demonstrate towards government. If our freedom is to survive, Americans must become far better informed of the dangers from Washington
regardless of who wins the Presidency. - Author: James Bovard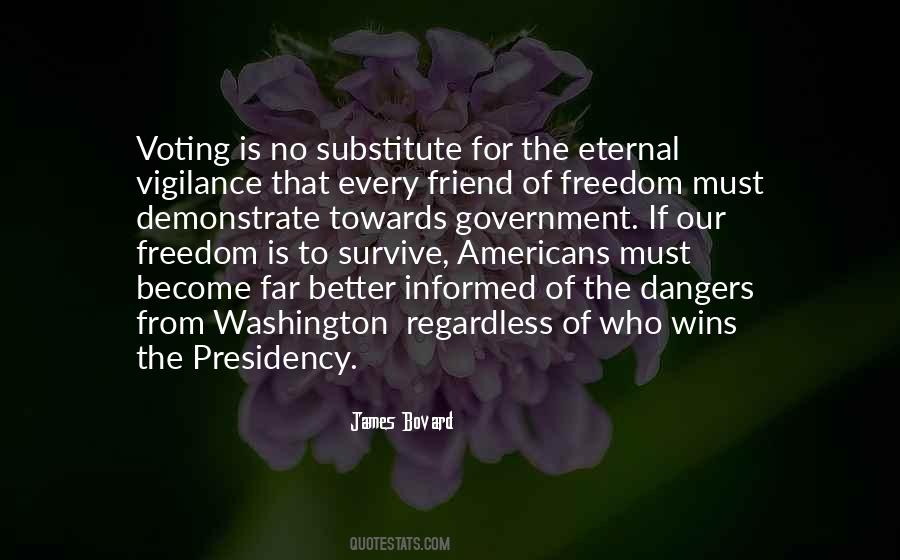 #79. By living such a negative lifestyle, we have become unaware of our effect on the world, and have given the power to people that wish nothing better for us than a life of servitude. - Author: Joseph P. Kauffman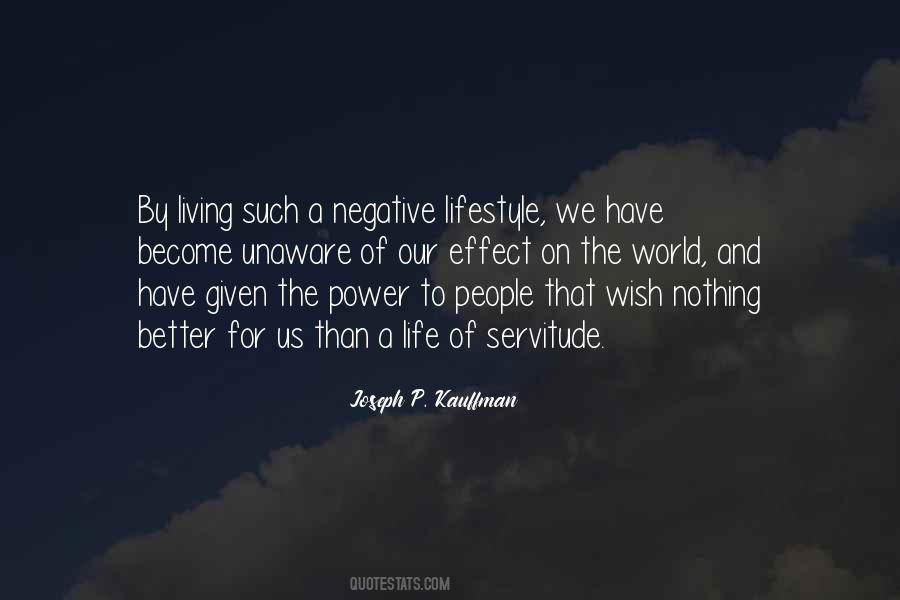 #80. I loved Cookie [Mueller]. She was a much better writer than actress. She shouldn't have stuck with me in the beginning; she should have immediately become a writer. She would have had more of a chance. - Author: John Waters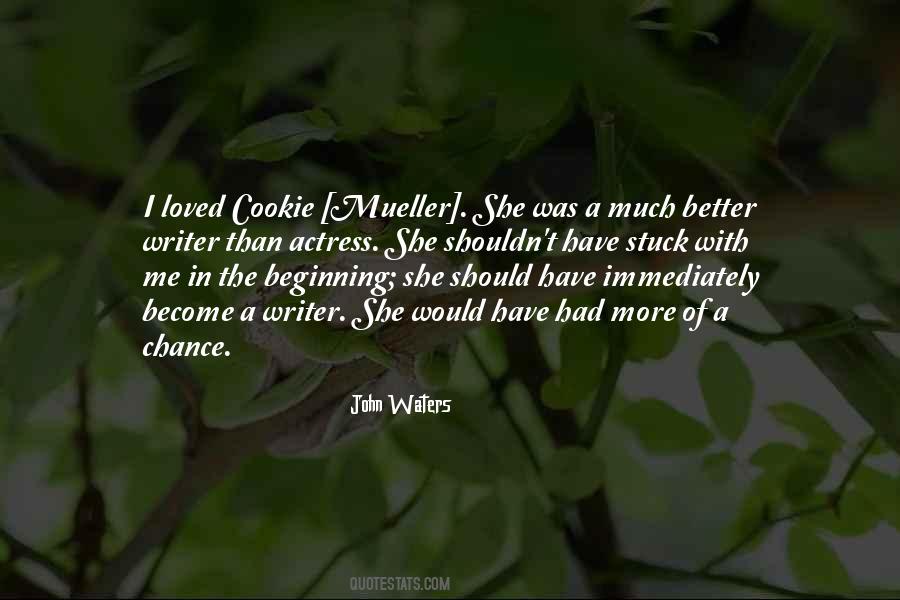 #81. When you try to help people become a better person, you're going to have to find out what's really going in their world. - Author: Ray Lewis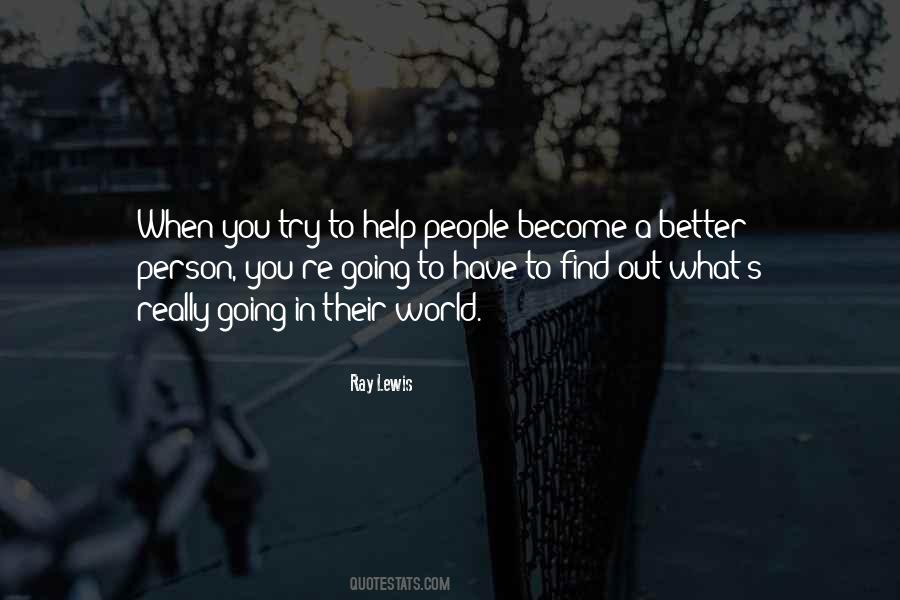 #82. Never give up on your dreams. No matter how many people say it's impossible, no matter how difficult your journey is, you can create your ideal life. Your heart's desires can become reality. Make things better now by taking steps every day to get closer to the life you want. And never, ever give up. - Author: Susane Colasanti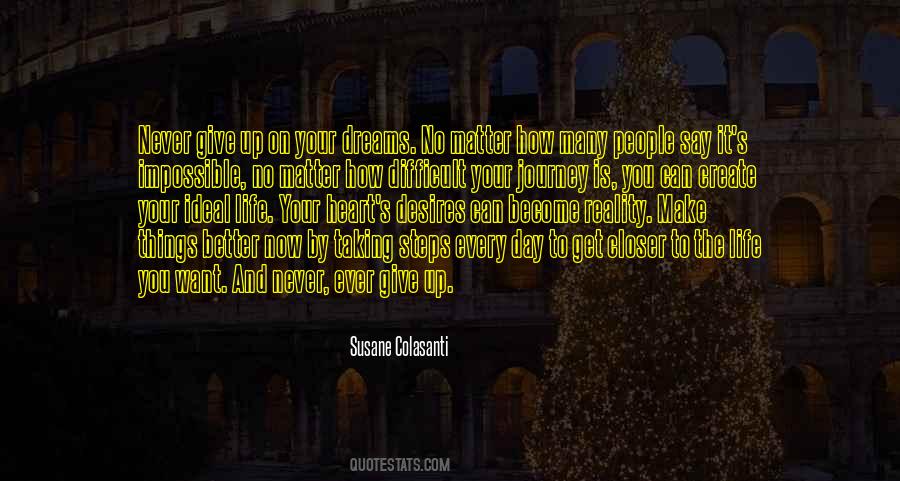 #83. I used to be very hands-on, but lately I've been more hands-off and I plan to become more hands-on and less hands-off and hope that hands-on will become better than hands-off, the way hands-on used to be. - Author: George Steinbrenner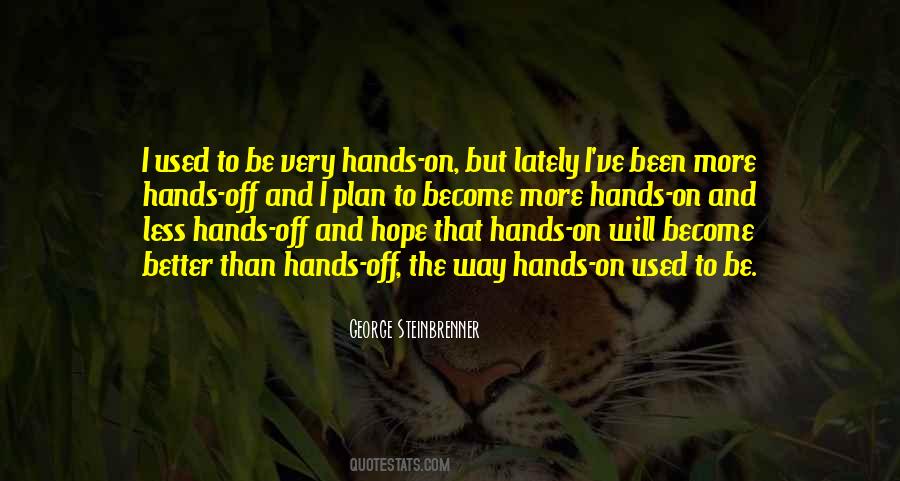 #84. If workmen are denied any increase in real wages and they can look forward only to a better standard of living through reduction of prices, progress for them is terribly slow, and they become impatient and dissatisfied. - Author: Charles E. Wilson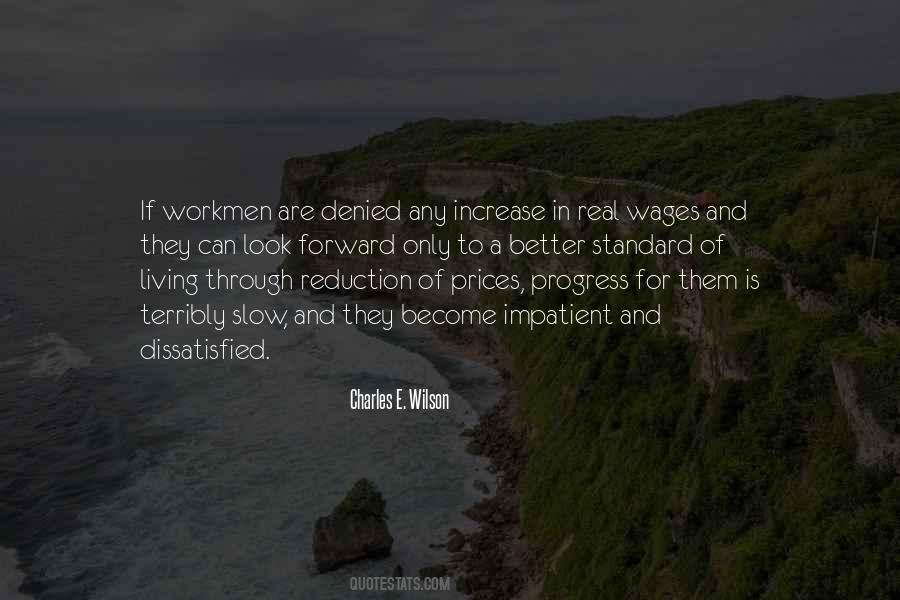 #85. Failure isn't a reason to give up. It's the price of progress. We learn from it, we grow from it, we become better for it. We're going to do amazing things, you and I. We will change the world. - Author: Jon Skovron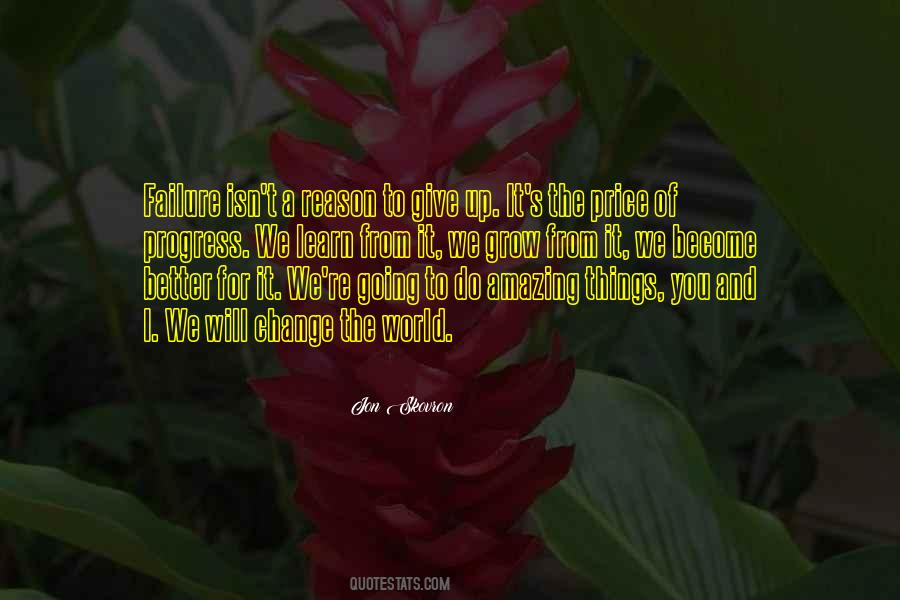 #86. Well Buddhism, 'shmoodism', I didn't go to India looking for Buddhism. I was looking for truth, or God, or a better way of life or happiness, fulfillment, meaning, purpose. And a way to become peace in the world and not just fight for peace, as we had in the 60's. - Author: Surya Das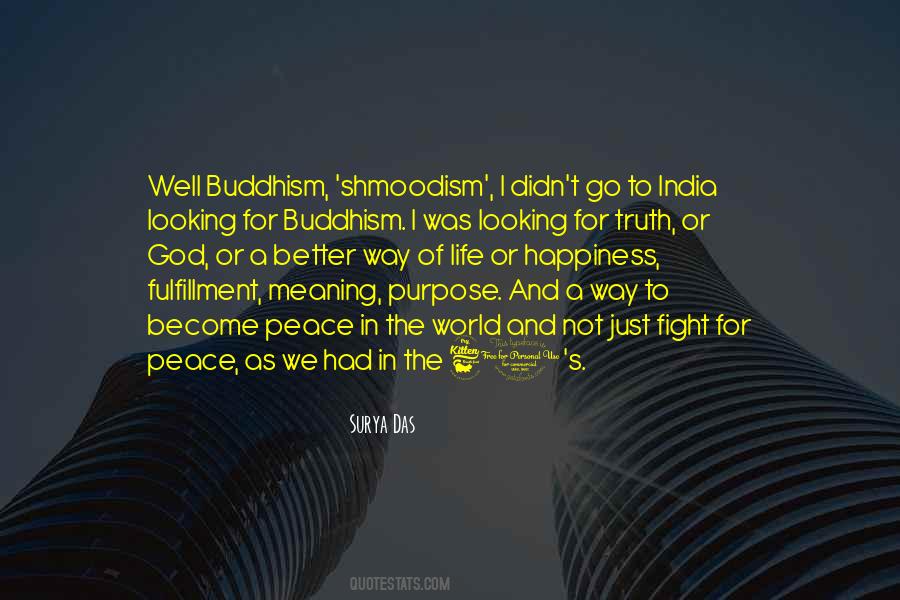 #87. He had wanted to go to the Academy and become a Shadowhunter, to learn more about his own life and remember everything he had lost, to become someone stronger and better.
Except that you did not become someone stronger and better by only thinking about yourself. - Author: Cassandra Clare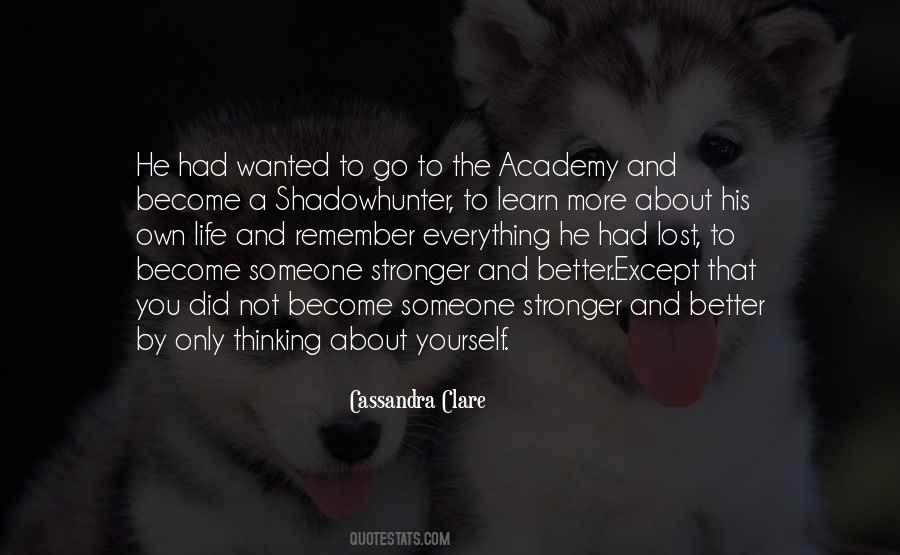 #88. It's about getting to a point in your life where you're ready to let go and move on and become the better version of yourself. - Author: Jared Leto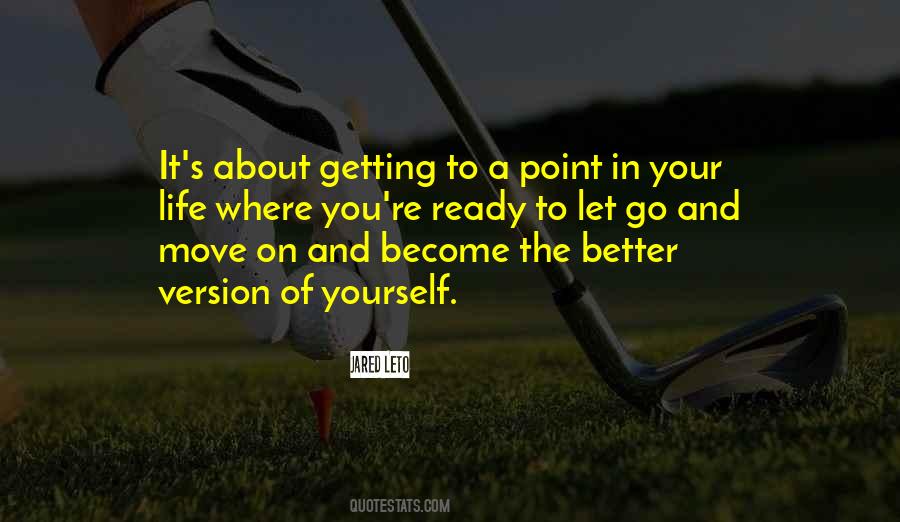 #89. Everyone grows and changes. It's not even to say that you become a better person than you were, but you're morphing. This whole thing is just a weird river that we're on. - Author: Katie Aselton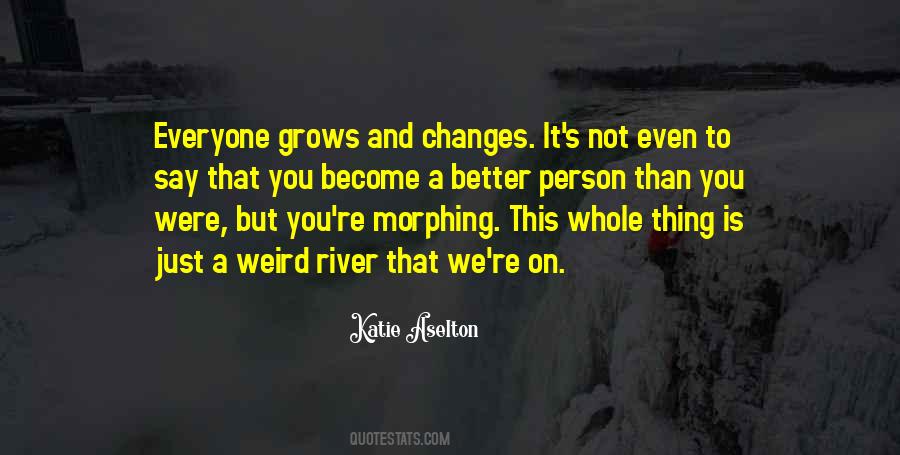 #90. There's no better way to become a disintegrated character than to be your own authority. - Author: Henry Cloud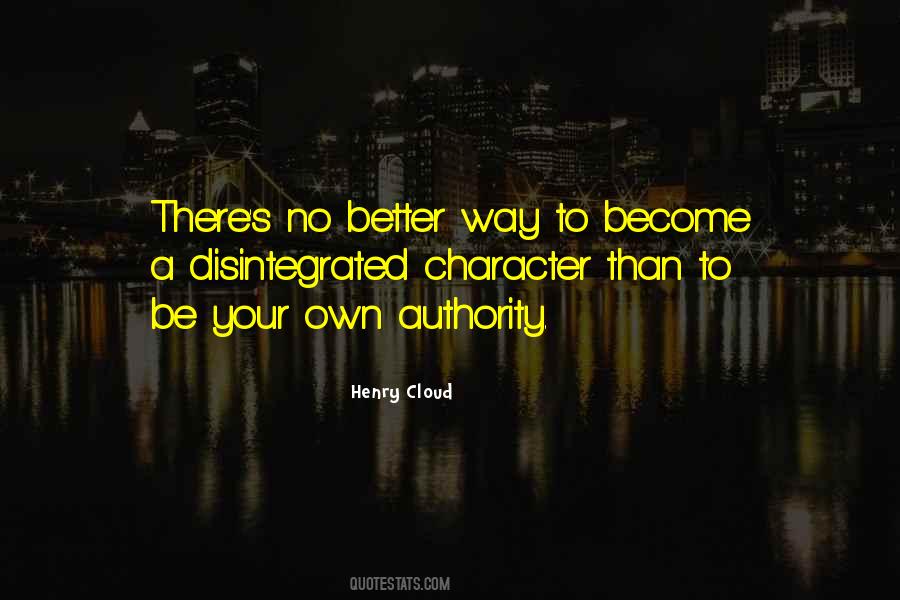 #91. I've always found that the better the book I'm reading, the smarter I feel, or, at least, the more able I am to imagine that I might, someday, become smarter. - Author: Francine Prose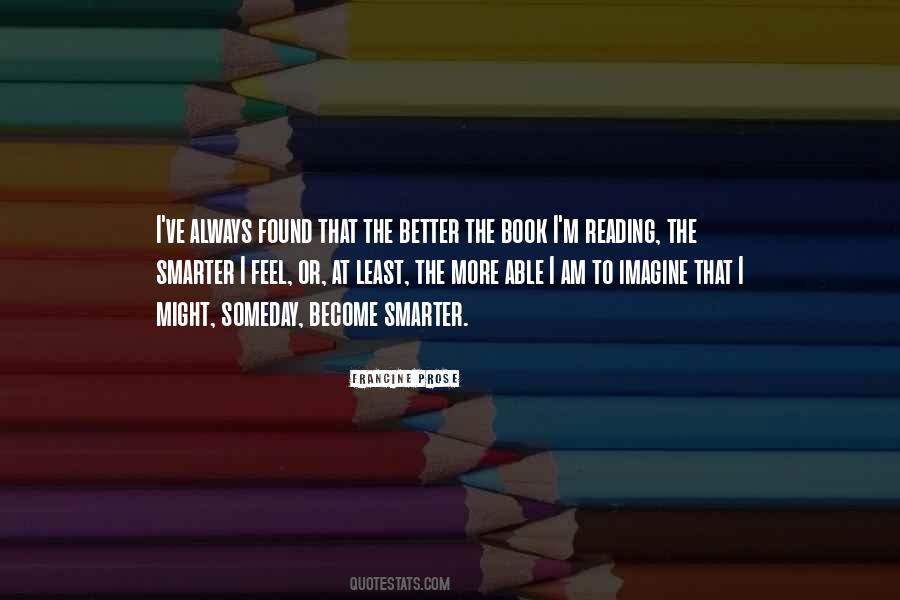 #92. The magician was studying her face with his green eyes. "Your face is wet," he said worriedly. "I hope that's spray. If you've become human enough to cry, then no magic in the world - oh, it must be spray. Come with me. It had better be spray. - Author: Peter S. Beagle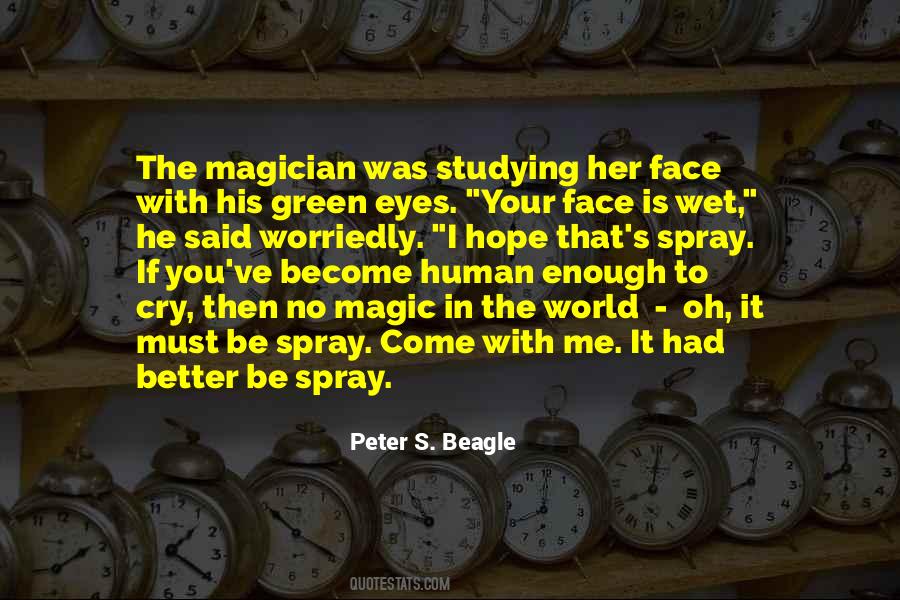 #93. Radio and television speech becomes standardized, perhaps better English than we have ever used. Just as our bread, mixed and baked, packaged and sold without benefit of accident of human frailty, is uniformly good and uniformly tasteless, so will our speech become one speech. - Author: John Steinbeck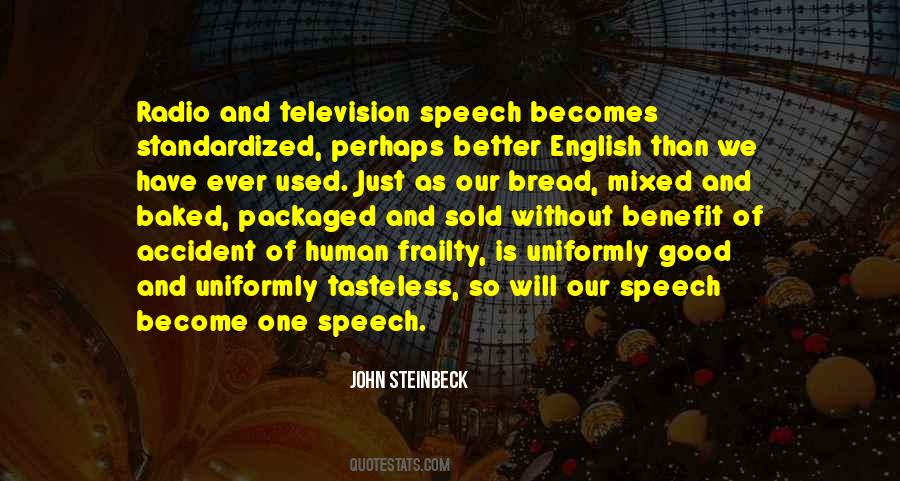 #94. What today throws at you will force you to become better or bitter for tomorrow; it will push you toward breakdown or breakthrough ... - Author: Brian D. McLaren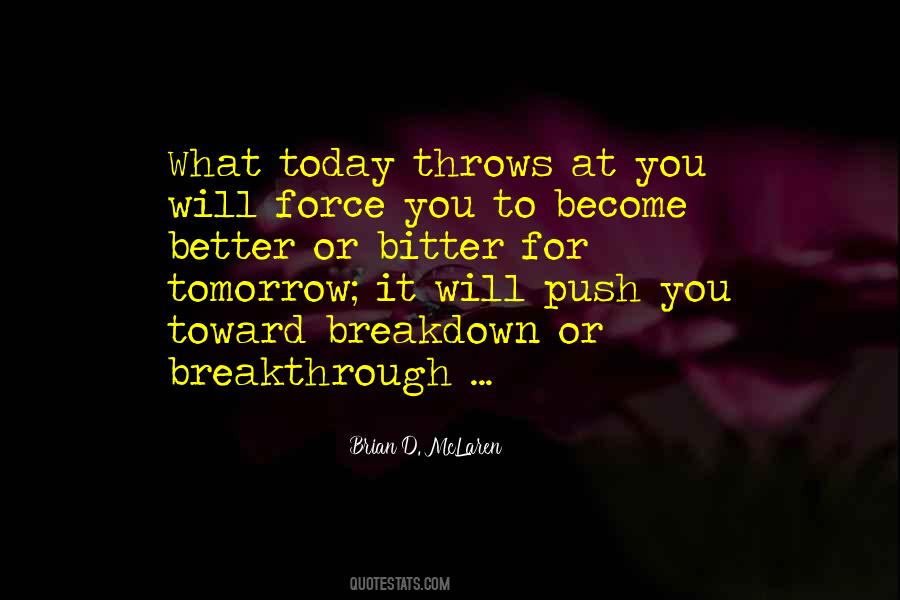 #95. You become better not by competing with someone else but by improving your awareness. - Author: Debasish Mridha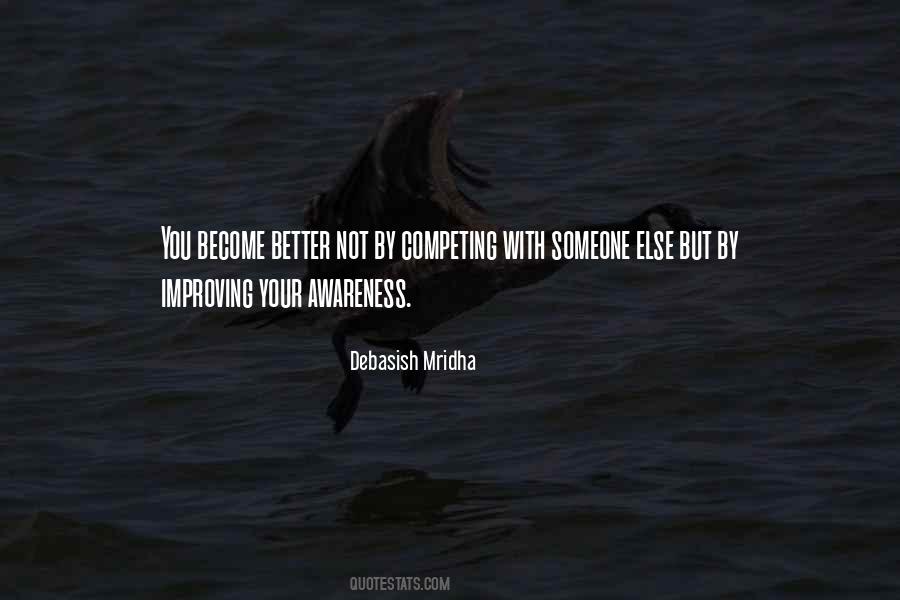 #96. In this life you will have some trials and tribulations. You cannot allow what happens to you to dictate who and what you become. Make a decision to do better and be better. - Author: Bobby F. Kimbrough Jr.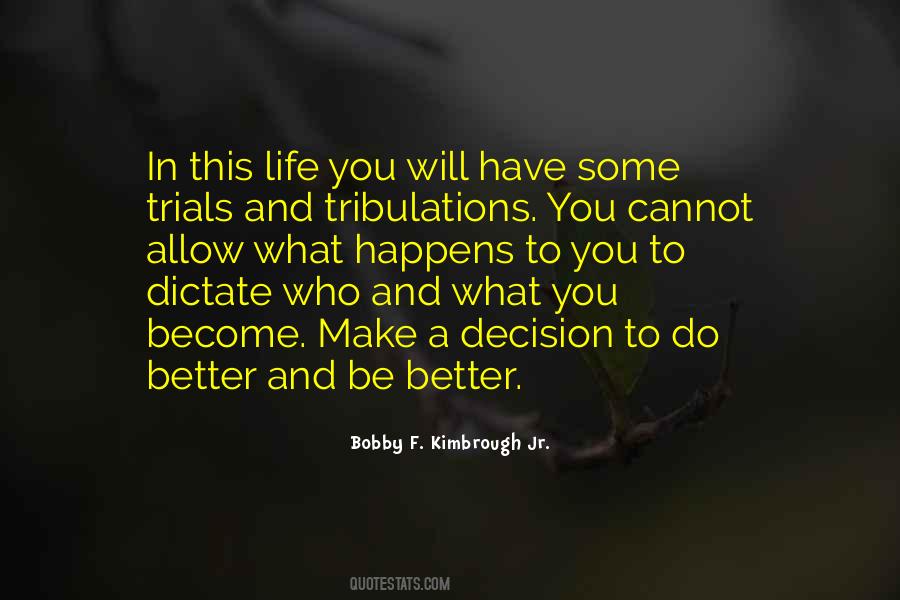 #97. Each day is a new opportunity to make ourselves better. Don't wait for things to change, become the change. - Author: Karen S. Shelton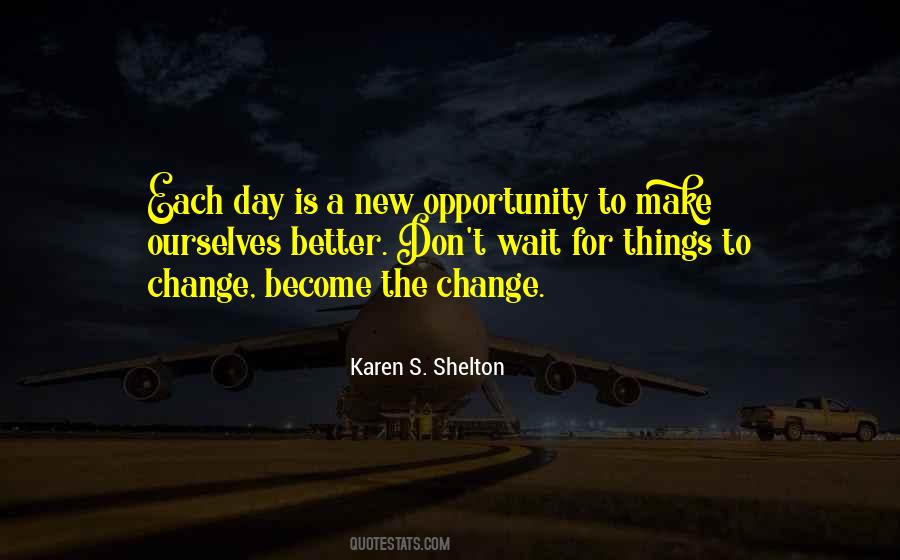 #98. Each time people come into contact with us, they must become different and better people because of having met us. We must radiate God's love. - Author: Mother Teresa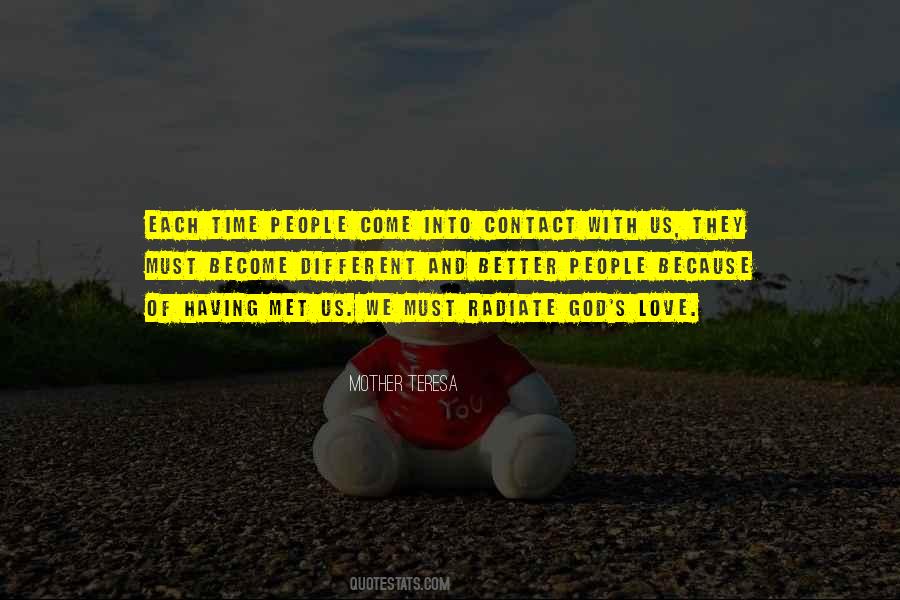 #99. When we stop believing the world can become a better place, when we stop caring about the lives and conditions of others, we lose a part of ourselves. - Author: Erwin McManus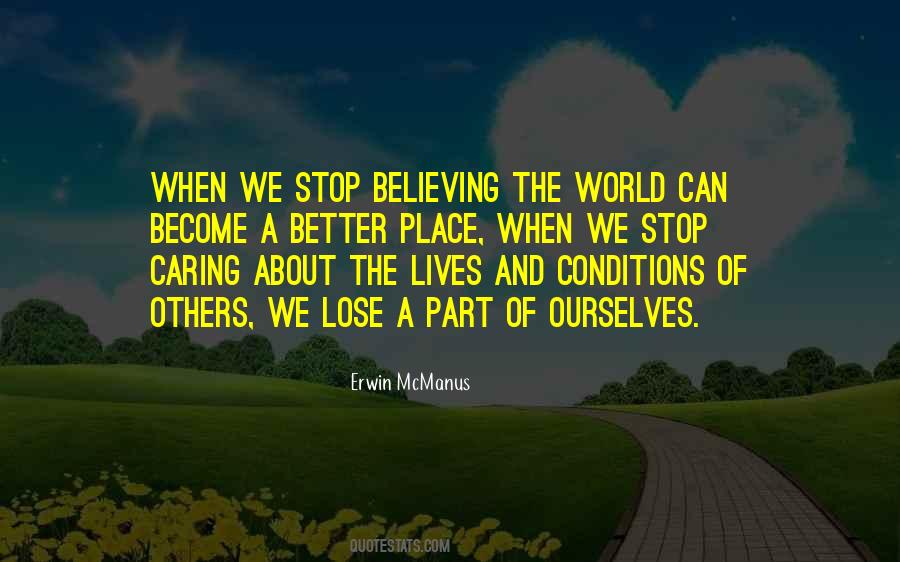 #100. If thou canst walk on water, thou art no better than a straw. If thou canst fly in the air, thou art no better than a fly. Conquer thy heart that thou mayest become somebody. - Author: Aziz Ansari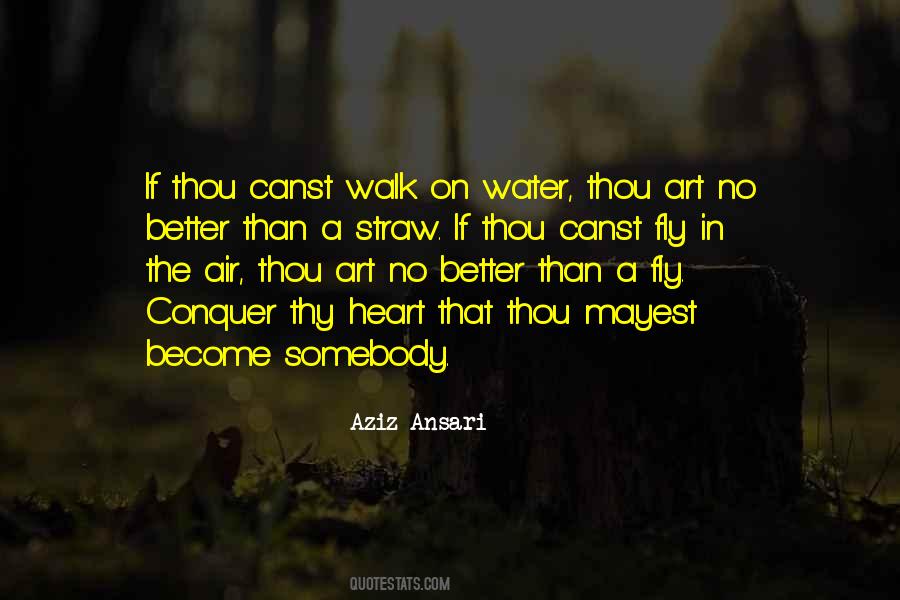 Famous Authors
Popular Topics